Supercharged K20a2 Vtec - Race Spec by cptkirk
By diyauto
You must be logged in to rate content!
Supercharged K20a2 Vtec - Race Spec
Compliments of cptkirk @ theminiforum.co.uk
10-26-2008
Completed Project Pictures on Pages 29 & 30http://www.theminifo...c/page__st__420

First Dyno graph on page 20 http://www.theminifo...c/page__st__285

Quest for more power begins on page 48 http://www.theminifo...c/page__st__705 Dyno results on page 54http://www.theminifo...c/page__st__795

As most people who start down the route of building or even part building a Zcars mini conversion, you initially ask Chris a few questions, then you go up to Gallows Farm for a tour and a taster in the demo car, were (I think most who have had a demo from Chris will agree) Chris erases any doubt in your head as to whether or not you should buy one of their kits. The fantastic noise, the unbelievable grip, the awesome stopping power of the demo car coupled with Chris's driving skill makes for one of the most exhilirating demo's I've ever had. Oh and dont forget Chris's no bullsh*t sales patter, he's got that down to an art form.

So I was well and truly sold, I simply had to have a Zcars mini. Looking around at the other cars and asking questions of the guys about the cost of building one of the beasts I got an idea of how much I wanted to spend. Then I went home, thought about it, thought about it some more, started to do a few sums and then took the plunge and got Richard to send me a quote.

Upon recieving the quote it dawned on me (some of you who have built one of these are probably gonna laugh in agreement at this statement) that my budget was about double if I was going to get all the things I wanted in the car. When I tell people that I could easily have bought a new Evo X or a very nice second hand Porsche for the money I am spending some scof and think I have lost my marbles, others understand that this is a one off and no-one in the world will have exactly the same car as I will have when I finish this journey, of which I am only halfway along.

So I bought a second hand shell from Chris, which was pretty much sound: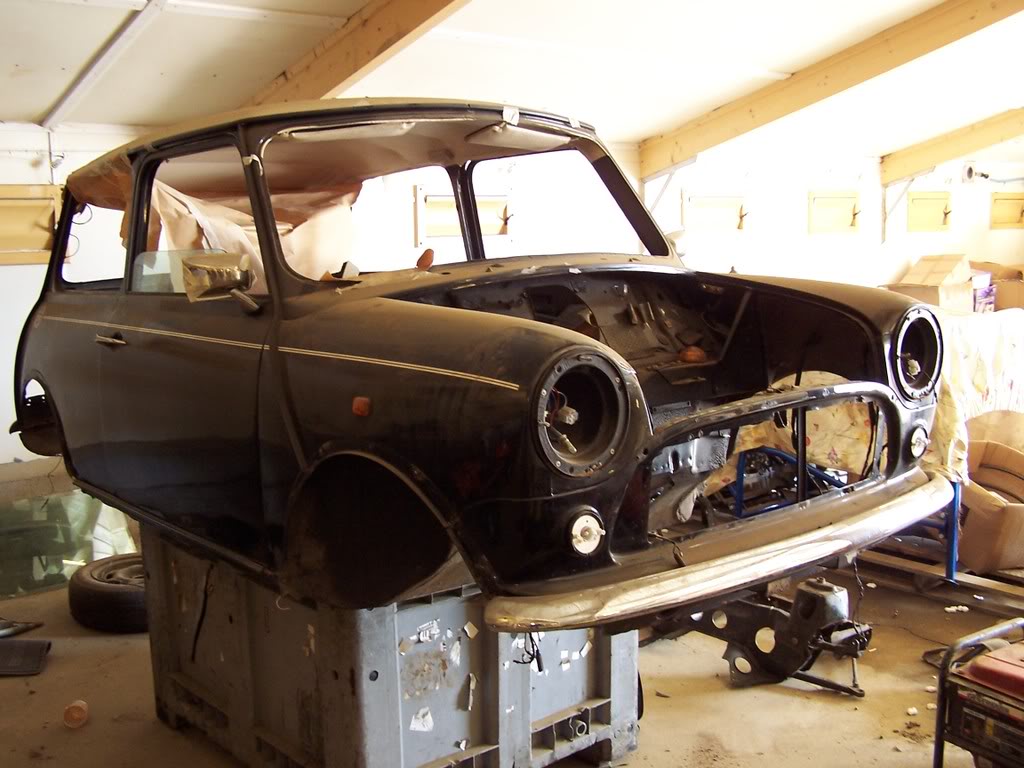 I then decided after driving an Accord Type R for a few years that the VTEC K20A2 from the Civic Type R was going to be the engine of choice, but being a bloke I thought it would be a good idea to get a few extra ponies out of the little 2litre engine so I ordered a Jackson Racing supercharger kit. The kit is for an RSX, American car. I got a couple of snaps of it before I took it to Zcars: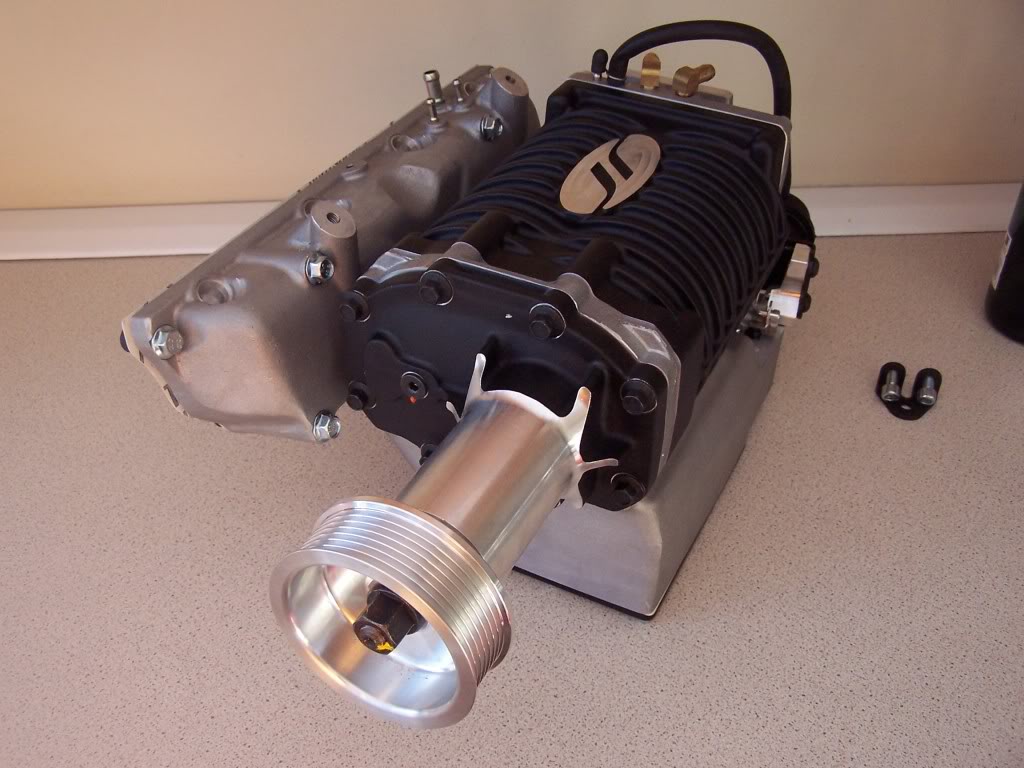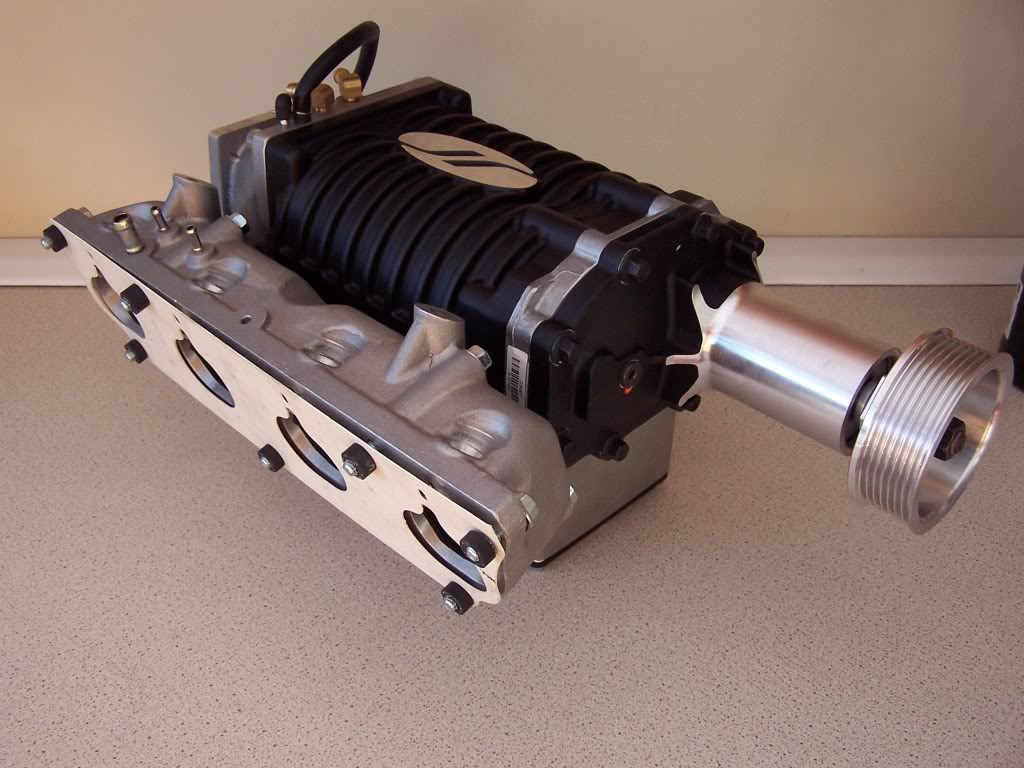 Then the guys strapped it the engine: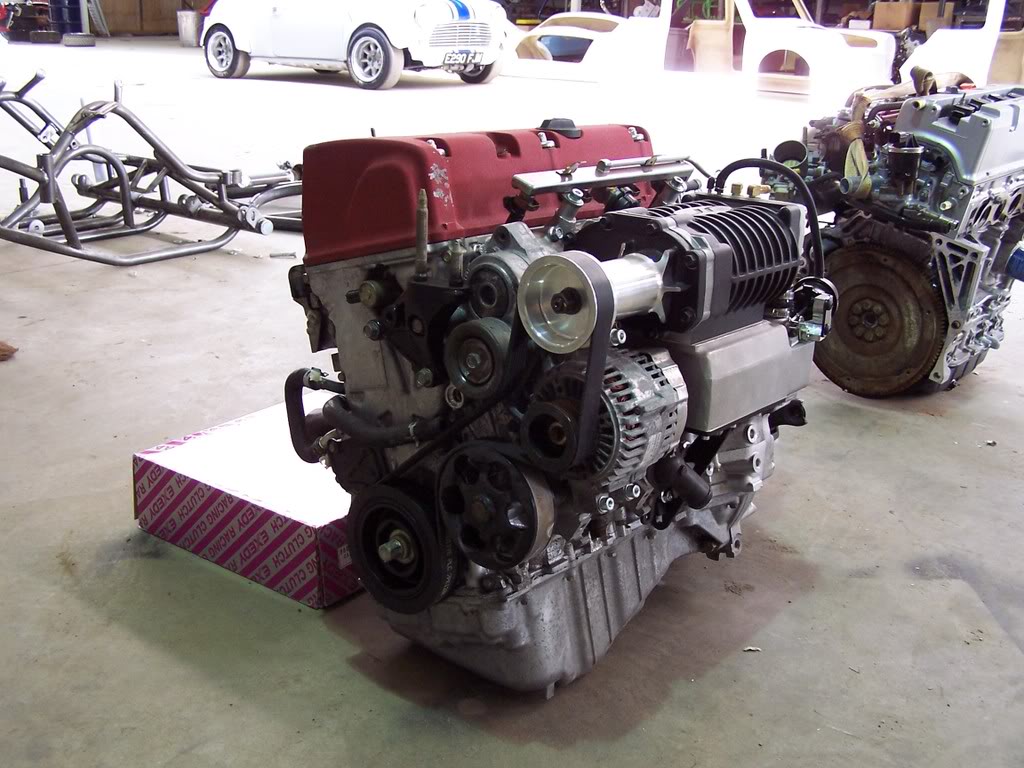 To be able to cope with the extra HP and Torque I opted for an Exedy Single Carbon Hyper Clutch and Flywheel (Part # - HH03SBMC), these things can take a max torque load of 254ft/lb which will give me around 50ft/lb to play with later down the line. I have to say it is quite a sext thing: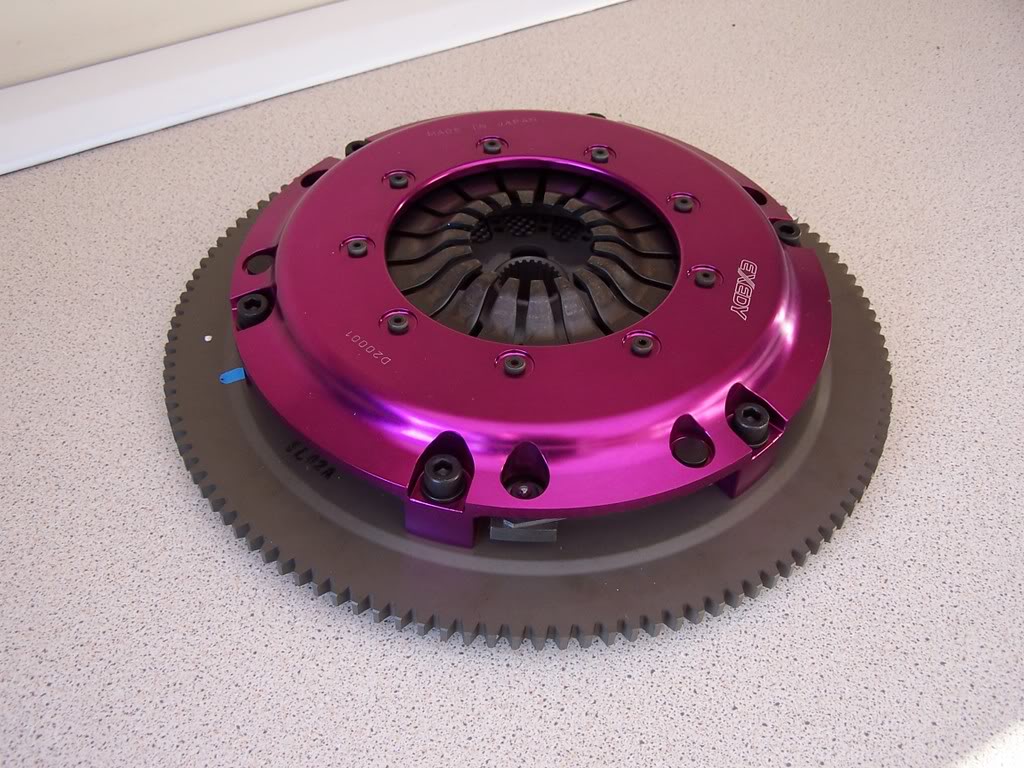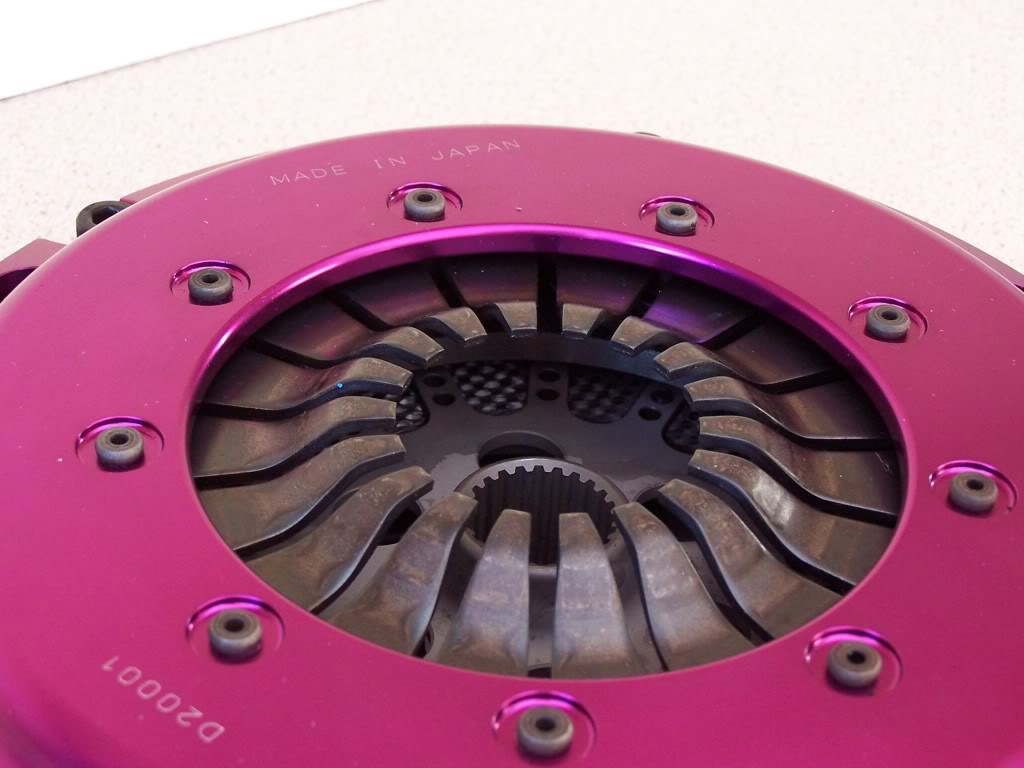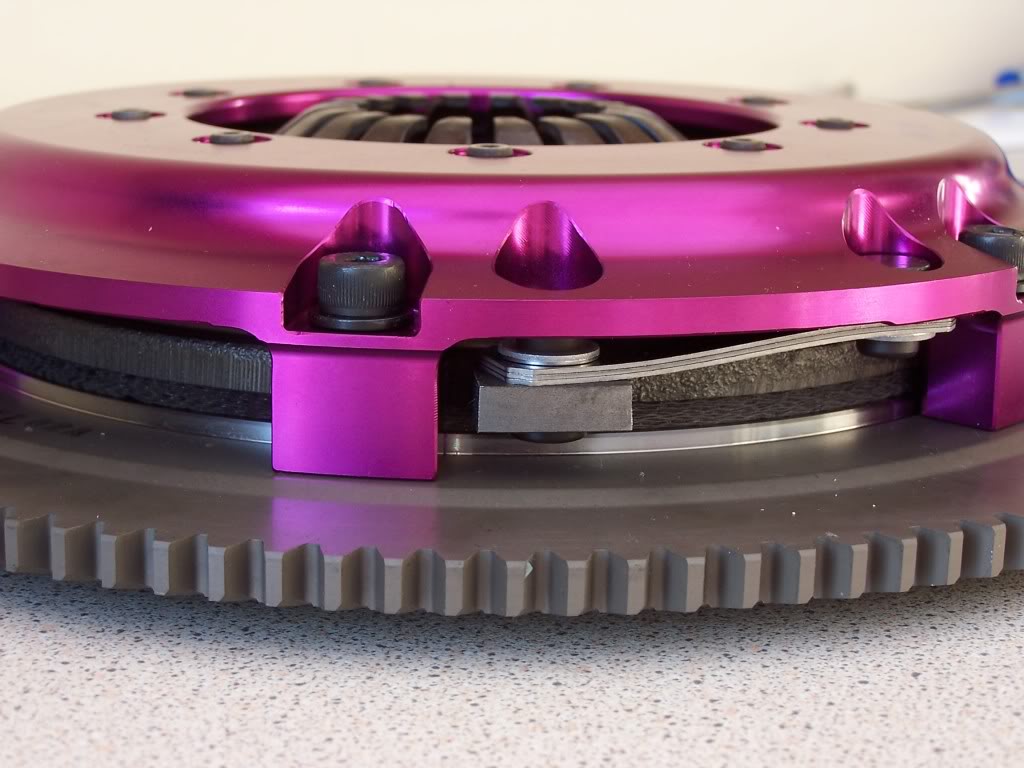 I took along time deciding which seats I was going to use, however one thing that really swung it for me (and I know this is fairly shallow of me) was the name of the manufacturer of the seats - Kirkey. How could I not have seats from a namesake? however it wasnt that easy as the Kirkey seats I had seen in some of the minis just did not look comfortable, that whole wrap around the ribs thing wasnt floating my boat. So after many hours on the kirkey website I decided on the Intermediate Road Race seats, they appeared to be the best comprimise between cost and comfort, plus having a larger frame than most I could order them in hip width. So here they are during the seat fitting, ignore the date on the photo + you can see more in later photo's: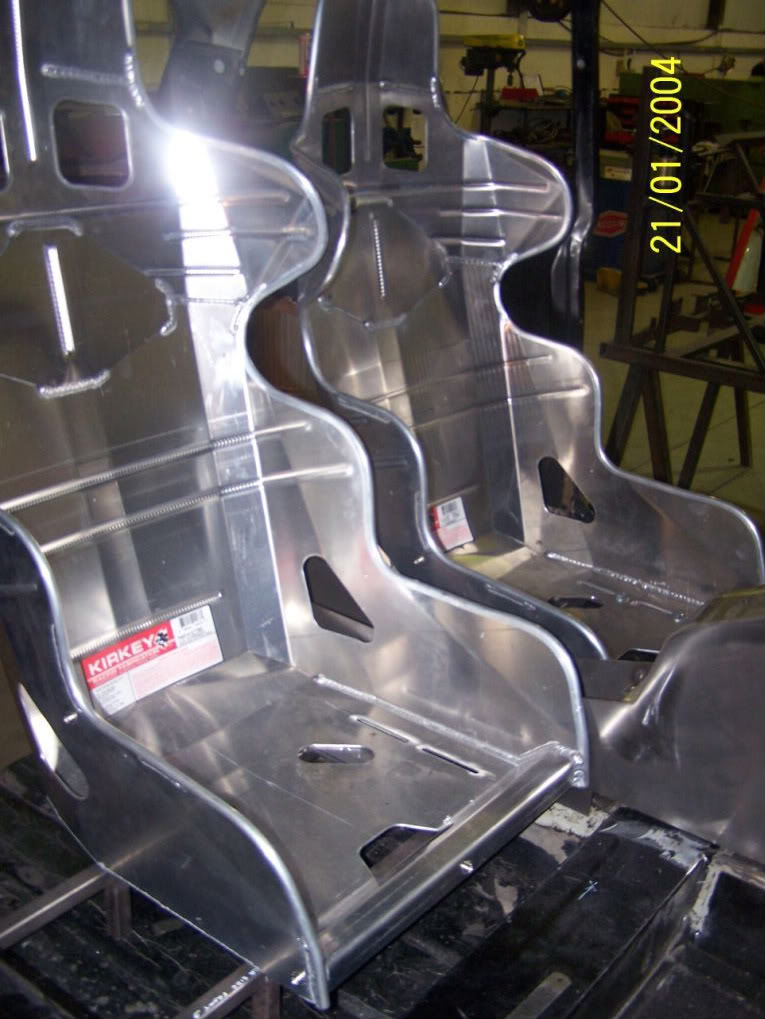 Wheels - again a long time deciding but in the end I opted for Image 3 peice Billet 60P, always a sucker for gimmick I thought the idea if drawing air from under the car to aid the cooling of brakes to be a good one especially when telling your mates over a few beers. I went for 7" on the front and 8" on the back. Again ignore the date on the photo.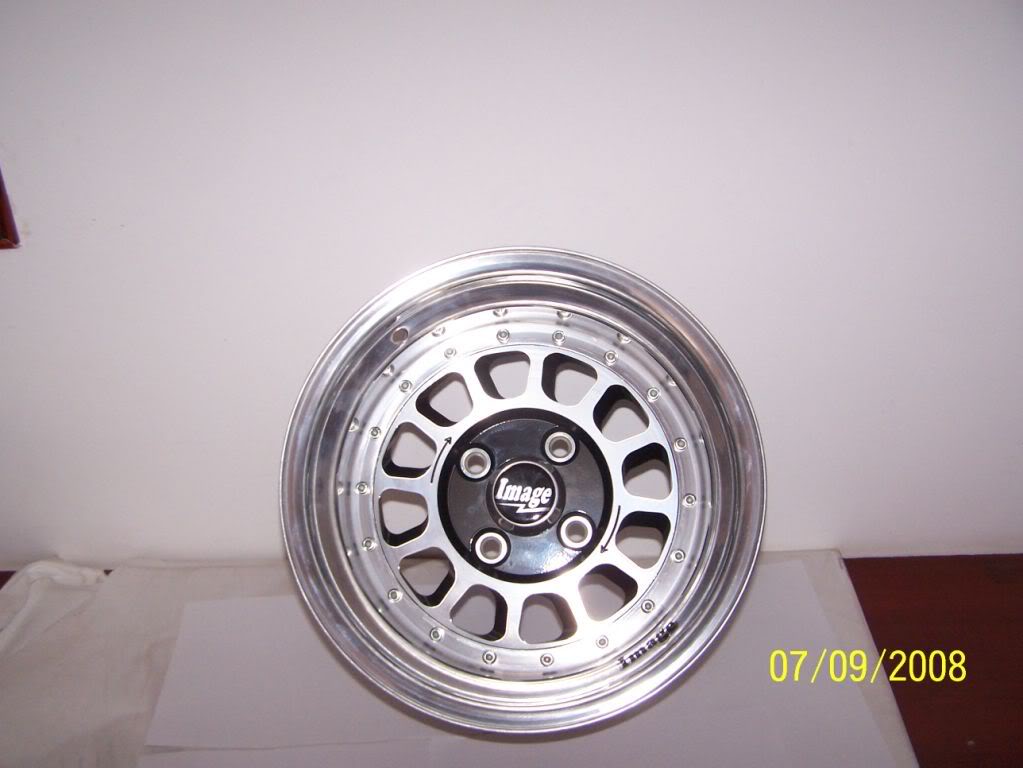 They are now wrapped in Toyo R888 tires, 185 front and 205 rear.



Arches were going to be a problem with the width of the rear wheels but Zcars came to rescue with the help of THE STIG, top fibreglasser. I would like to thank Chris and THE STIG for their help with getting these together for me. These are a few pictures of the car pre-spray with the new arches: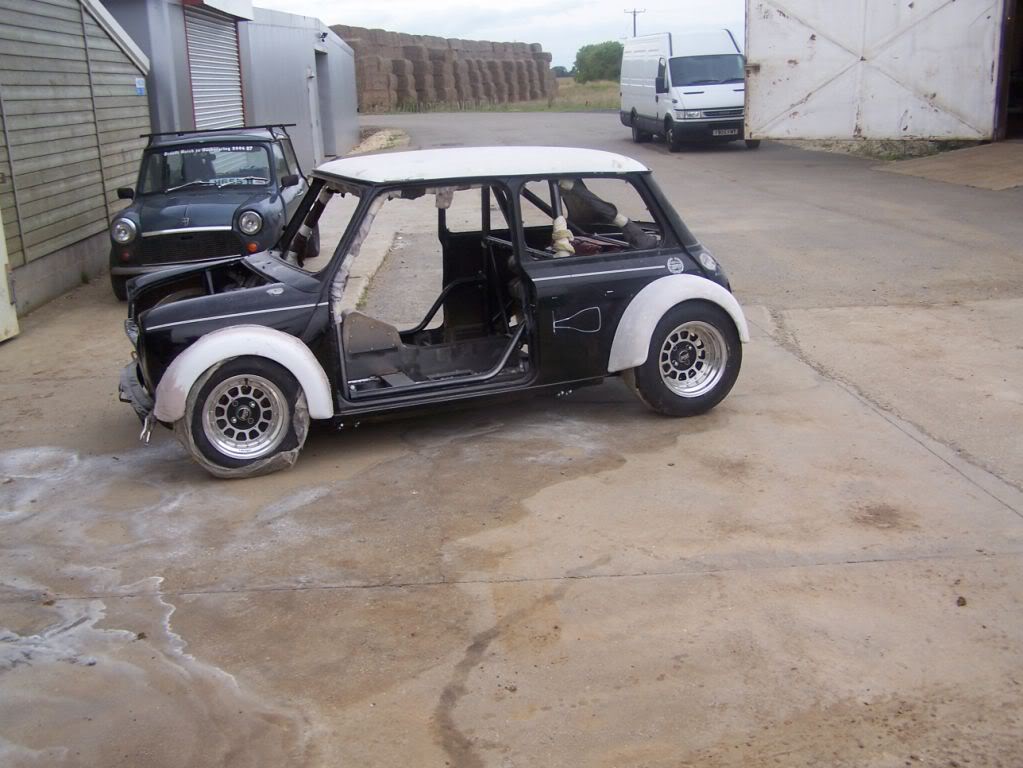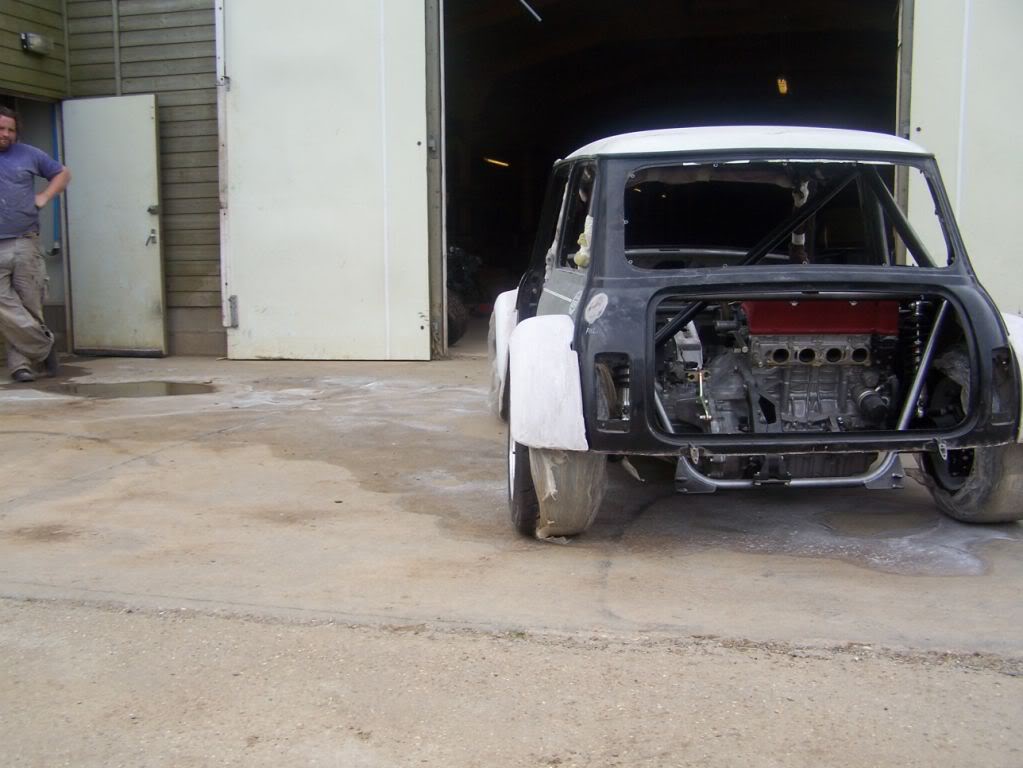 More on next post
As the months went by things slowed as the guys at Zcars were super busy but then we arranged for me to pick the car up in October. I hadnt actually seen it in the flesh with the arches on before it went for spraying so I was a bit nervous as to what it would look like when it was all in fresh paint. I need not have worried as the result was pretty awesome IMO.........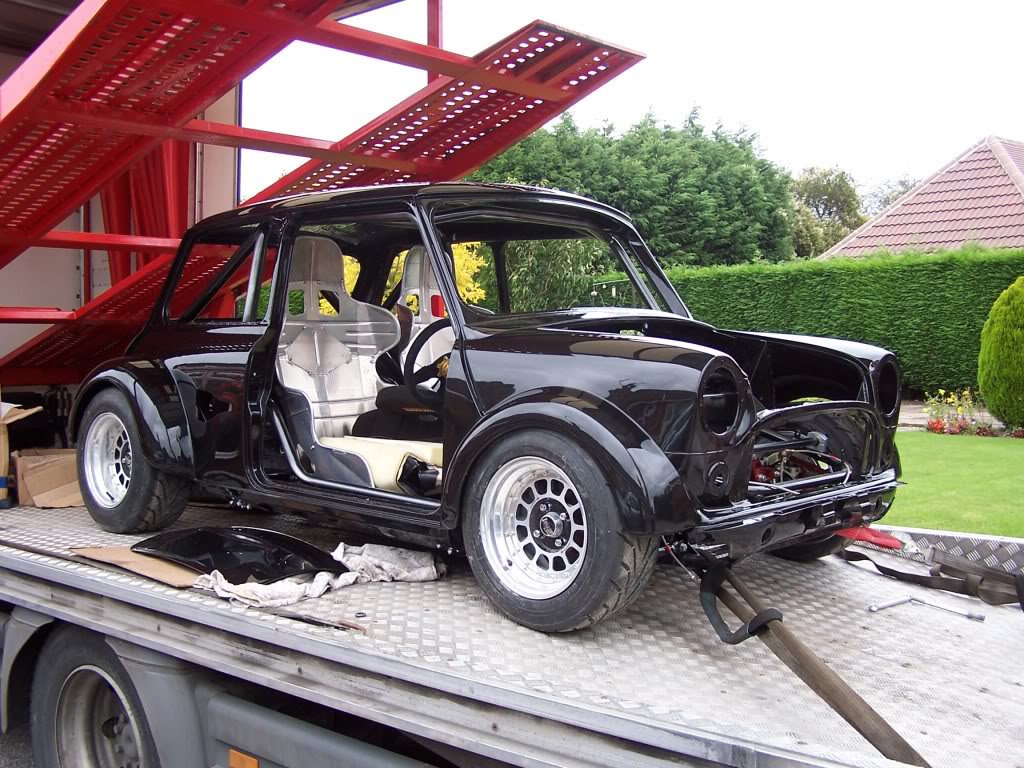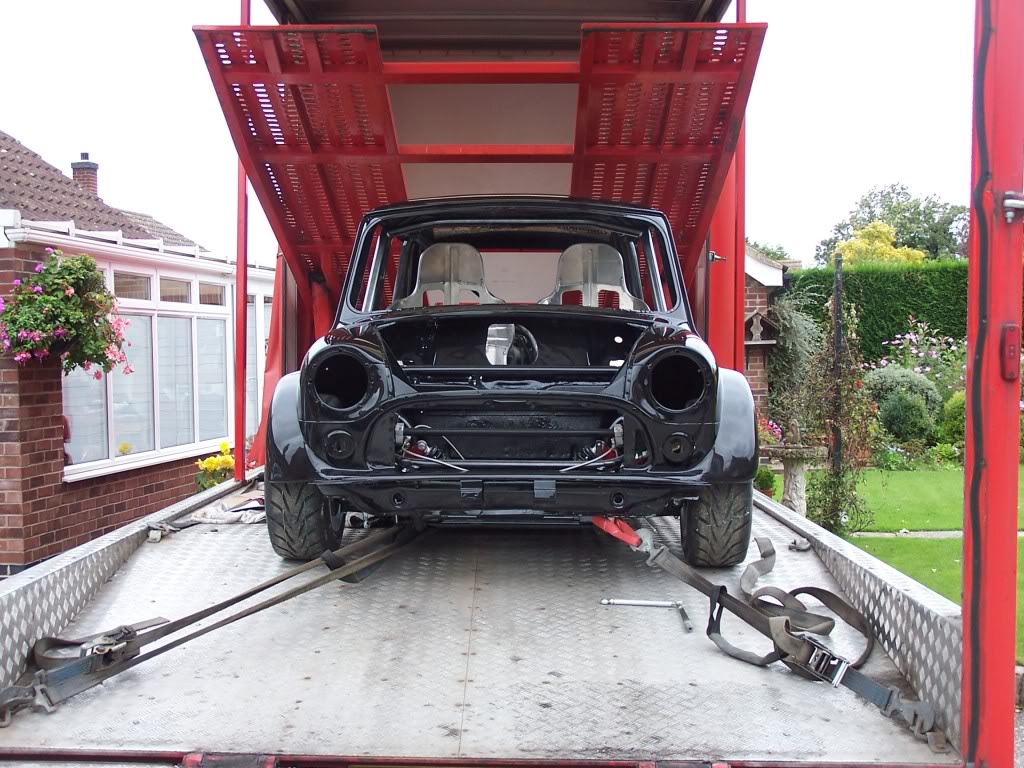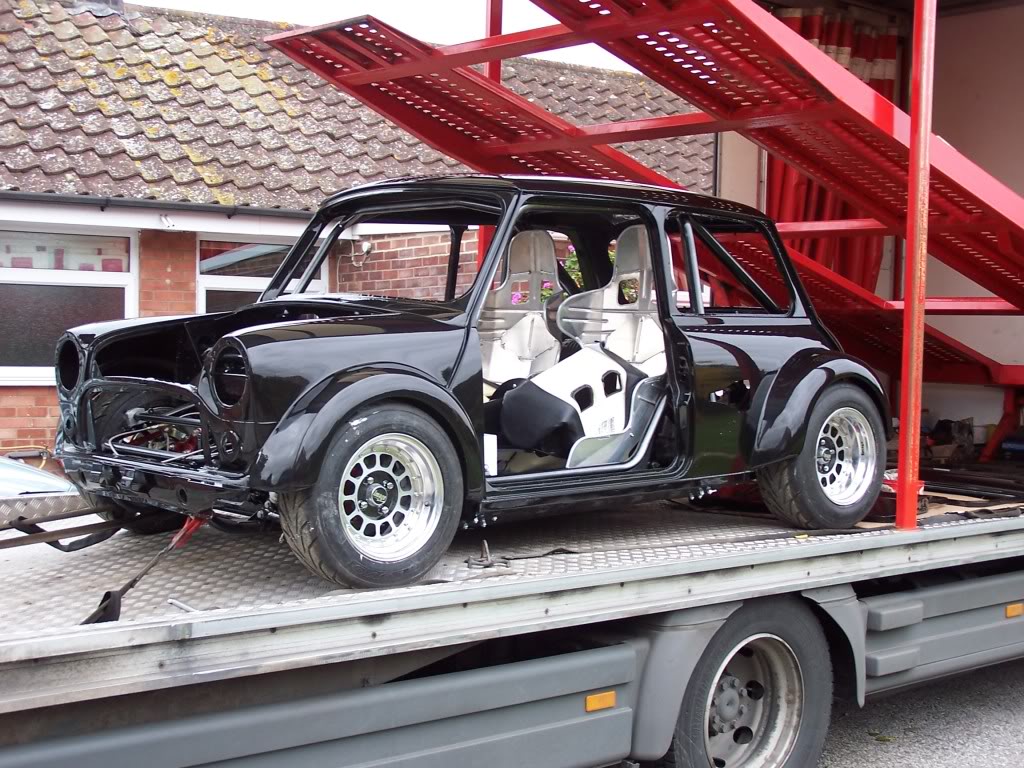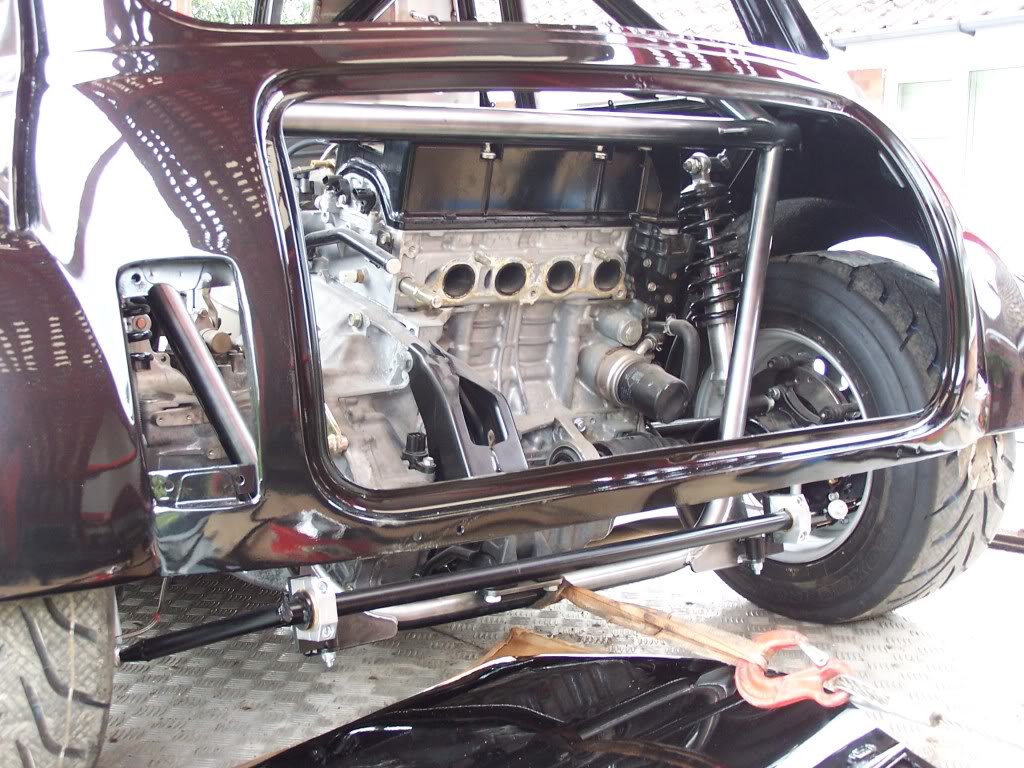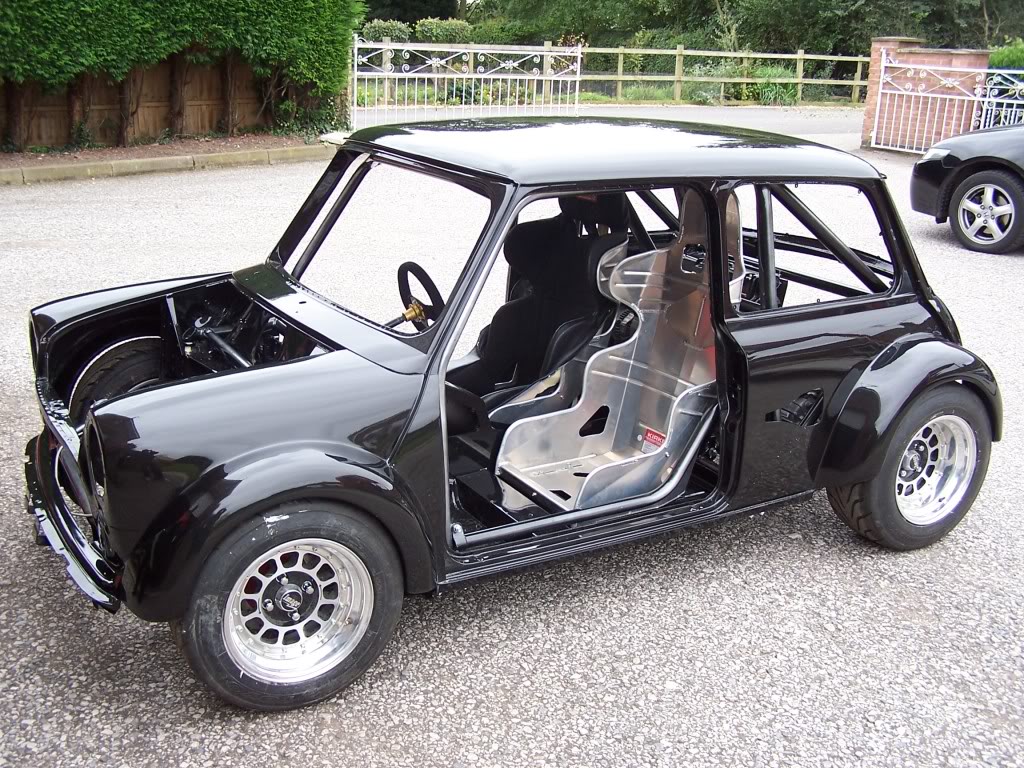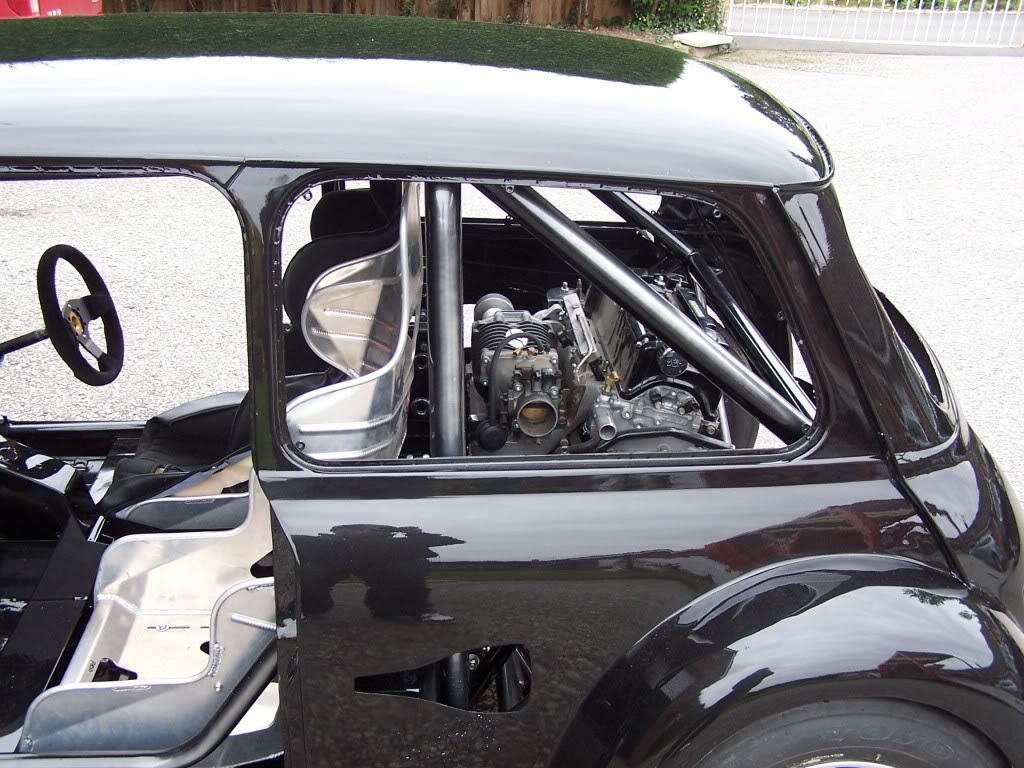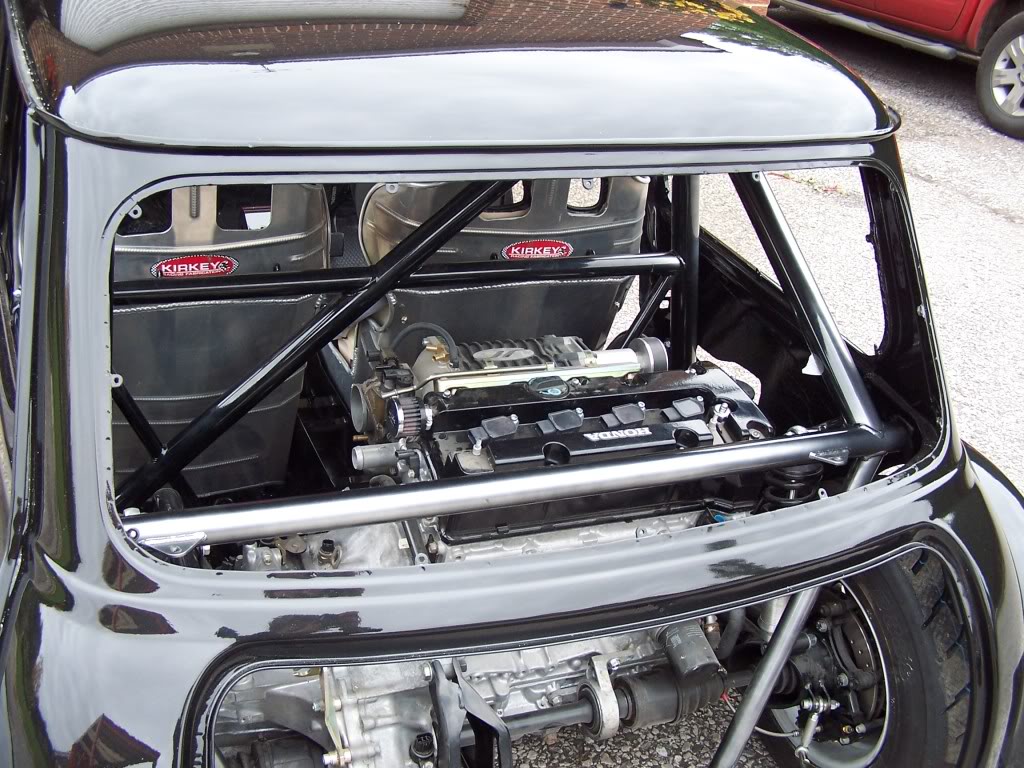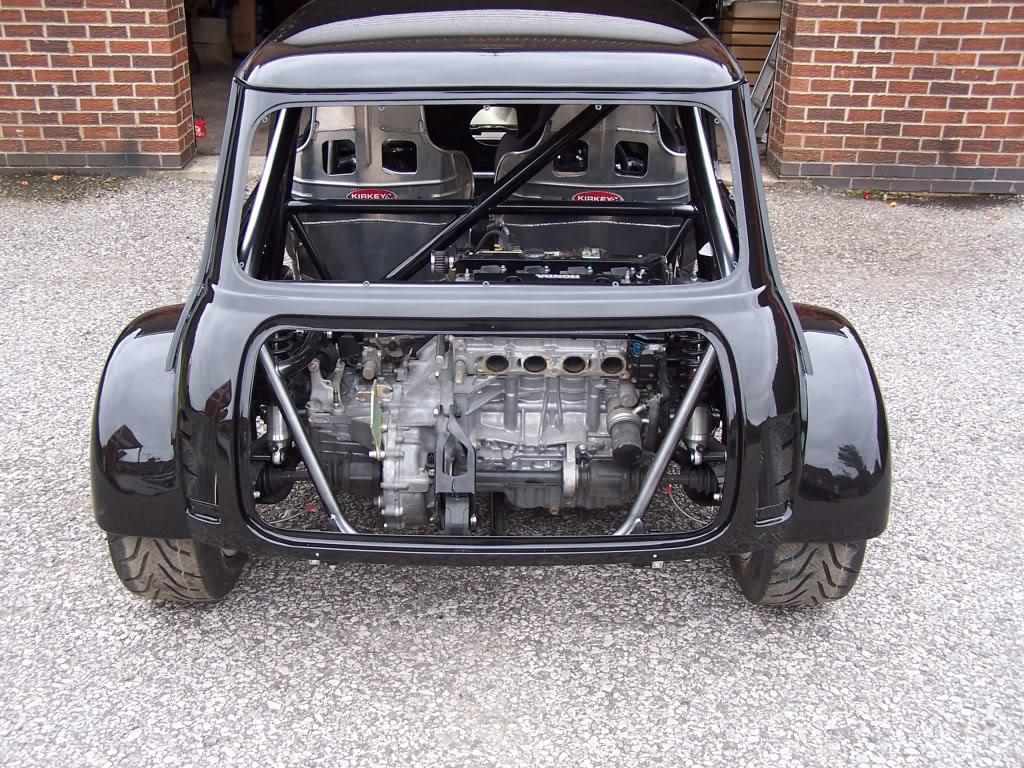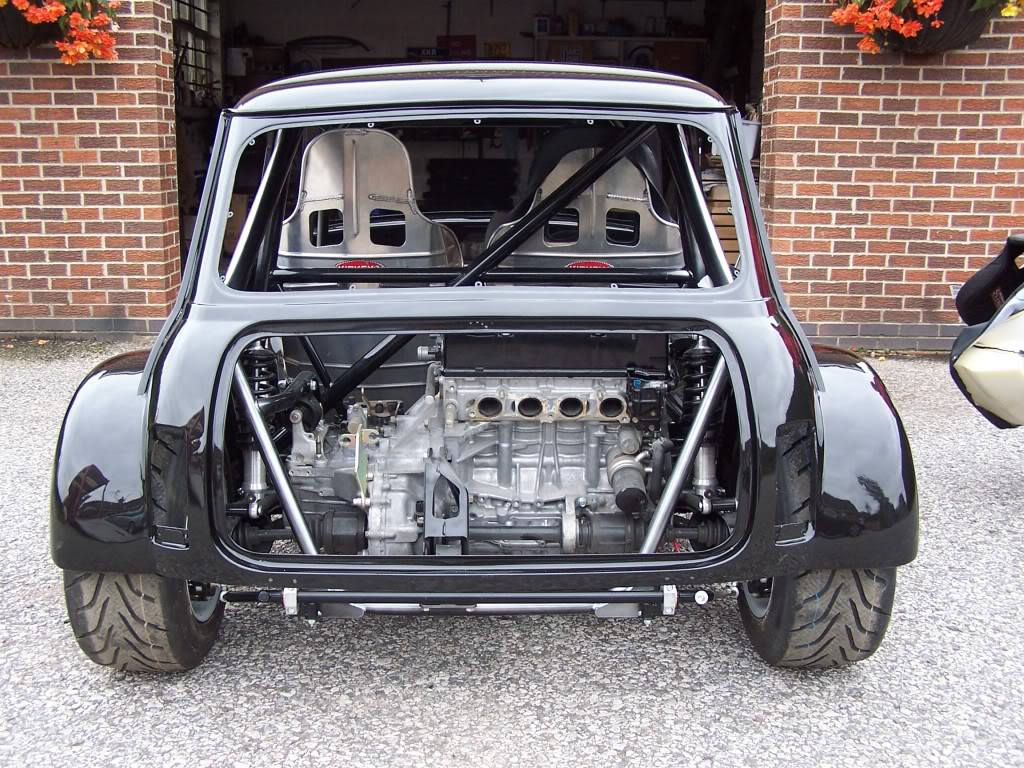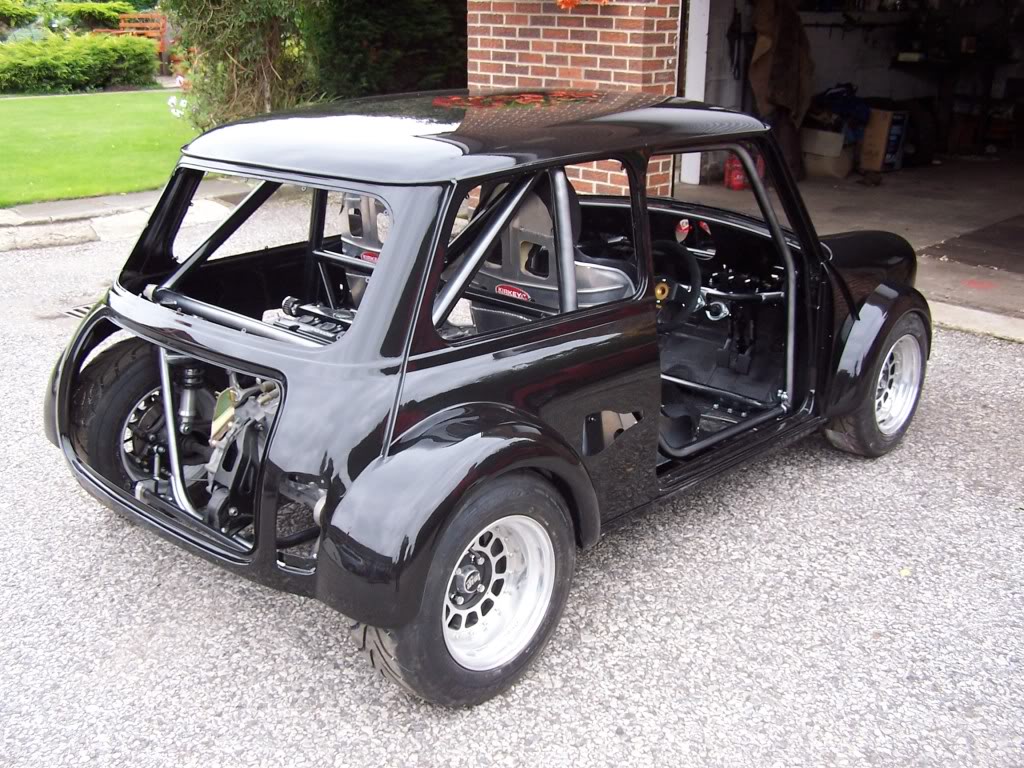 Specs and extras to follow when I get a bit more time and photographs.
10-27-2008
The car has had to take a quick trip up to Gallows farm for a couple of bits so will get it back mid November.

I dont have a completion date yet but once I get it back in the garage I will be working flat out to have it ready for early next year, get the most out of it in the 50th year of the best little car in the world.

Wheelbase, no the wheelbase is the same, the rear track is slightly wider due to me having 10mm spacers on the wheels, that way I have room to put 9" wheels on with 220-235 tires, however there arent too many companies that make tires that wide for 13" wheels, Kumho is one of the few I have found.

I am looking forward to that whine, its gonna sound great.......
11-9-2008
Sorry no updates as I dont have the car at the moment, picking it up again next weekend (15th Nov) so should have something more in a week or two.

11-11-2008
Taking the homage north this weekend to Gallows Farm, only a 600 mile round trip.

CharlieBrown, thanks for the compliments, I have to say that the pictures (although great) dont do it justice, once the car is out in the sunlight with those big ass arches it does look pretty mean.

Going to hit it hard in the next couple of weeks so should have updates fairly soon. Hope to be picking up a few more bits n peices on saturday that may well be worth taking a few snaps of.
11-12-2008
I beleive the car you saw is Jem Snowdens I havent actually met the bloke but I know he is running a Rotrex S/C in his and making more boost than I will be, his charger is a centrifucgal type, like a turbo but belt driven, mine is a Roots type with Helical rotors. The centrifugal chargers boost rises exponentially and gives max boost at top rpm (ideal for racing when your at top rpms most of the time) where as mine should give lots of low down grunt + good mid, the vtec changeover has been altered to reflect throttle position so can be vtec at 3000rpm with wide open throttle (what) or running at 6000rpm no vtec on 1/3 throttle. I have quite a flat torque curve to look forward to only starting to fade around the 7500rpm mark, making it ideal for road use, which mine will see way more of than track.
11-17-2008
Picked the car up on Saturday and here are a couple of snaps of how it is looking now: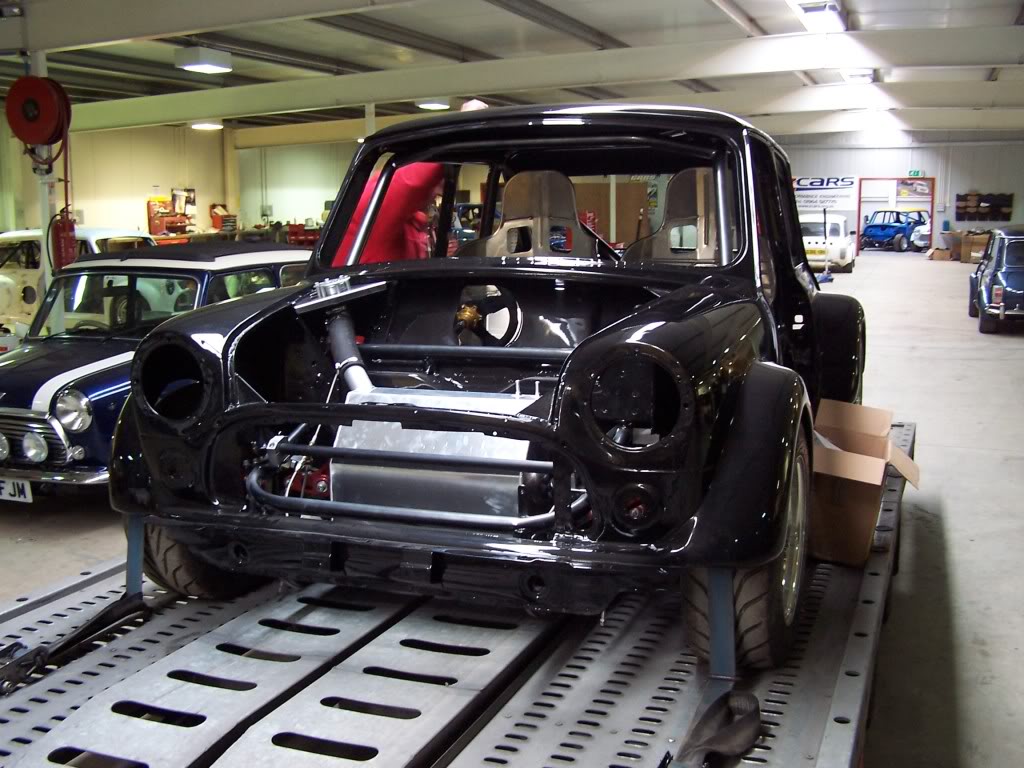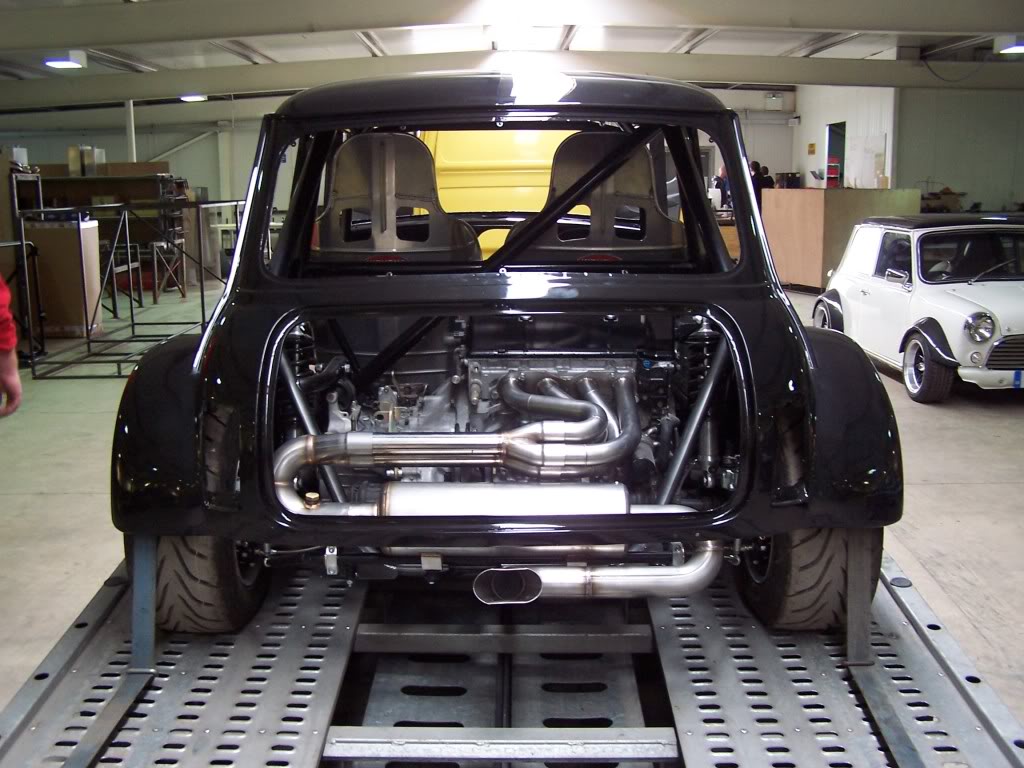 More images to come in the near future.
11-19-2008
Thanks guys.

I cant agree more in your statement about making these things unique, many hours spent pondering about what colour, what interior and now pondering how the f*ck I am going to do all the wiring, gear cables, cooling hose, brake system....aaargh the list is endless.

But then thats why we bought them because we love a challenge, even though in my case I will openly admit to getting Zcars to have done all the donkey work so far, I just came up with ideas. Wait til you see some ofthe other ideas I am going to put into practice.

Philly C get your camera out and get uploading, there few things I like more than looking through peoples build diaries, they are an inspiration to us all.
12-1-2008
A few more pictures from stuff done on the weekend, sorry I didnt get more, I was rushed to get these before I had to leave.

Radiator is fitted, tapped out the holes in the radiator to use 6mm bolts. This going to get a shroud to aid cooling.....will be a few weeks for that though.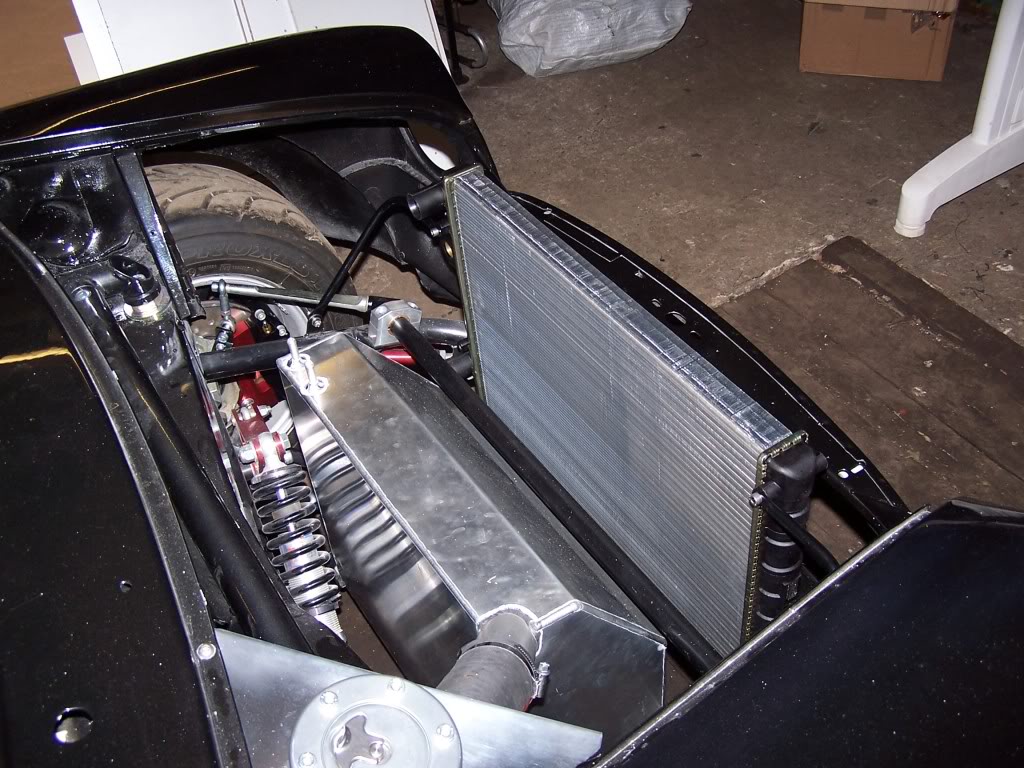 Here are the Fuel Pump, High Pres Fuel Filter and Fuelcat (inline fuel catalyst, ups the octane of the fuel, **before rushing out and getting one wait til I have this setup to see if it makes much difference**, I am working on a hunch with it but as it wont do any harm it is in the mix for good). They are all getting mounted in the tunnel and the solid pipes for the coolant are going to be lagged to try and help fight against the radiant heat affecting the fuel line and ancillaries. Notice the 'M' shaped mounting brackets, these still allow mounting of the solid coolant pipes in the tunnel. I will have more photos of them mounted shortly.

PUMP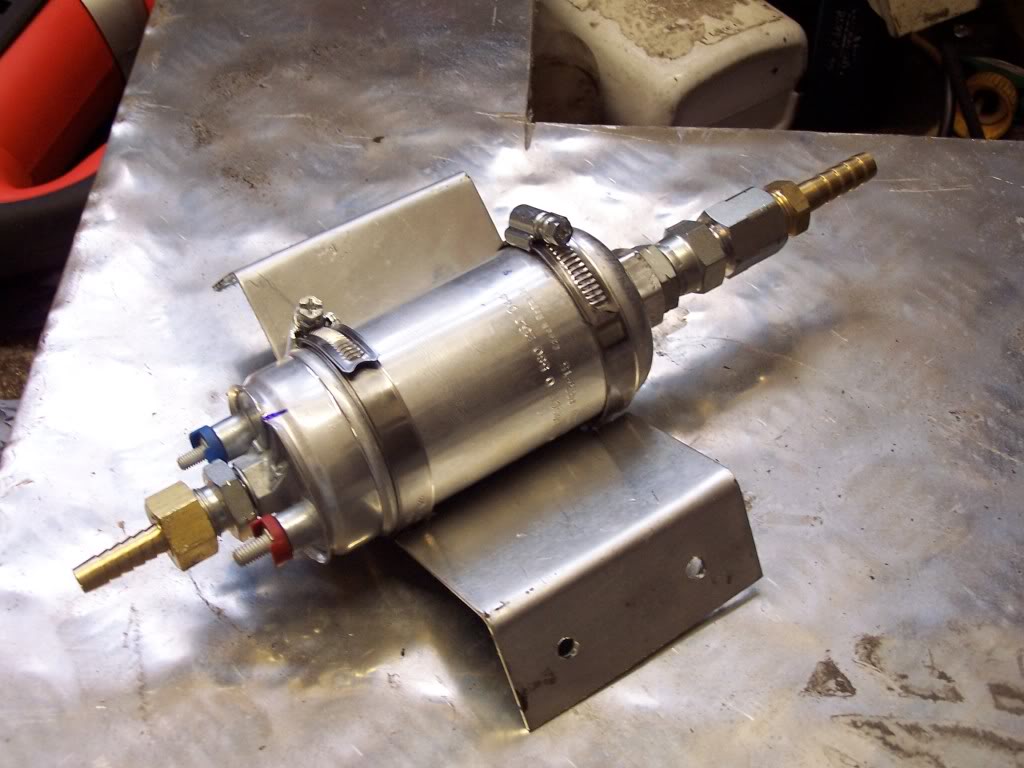 HIGH PRESSURE FILTER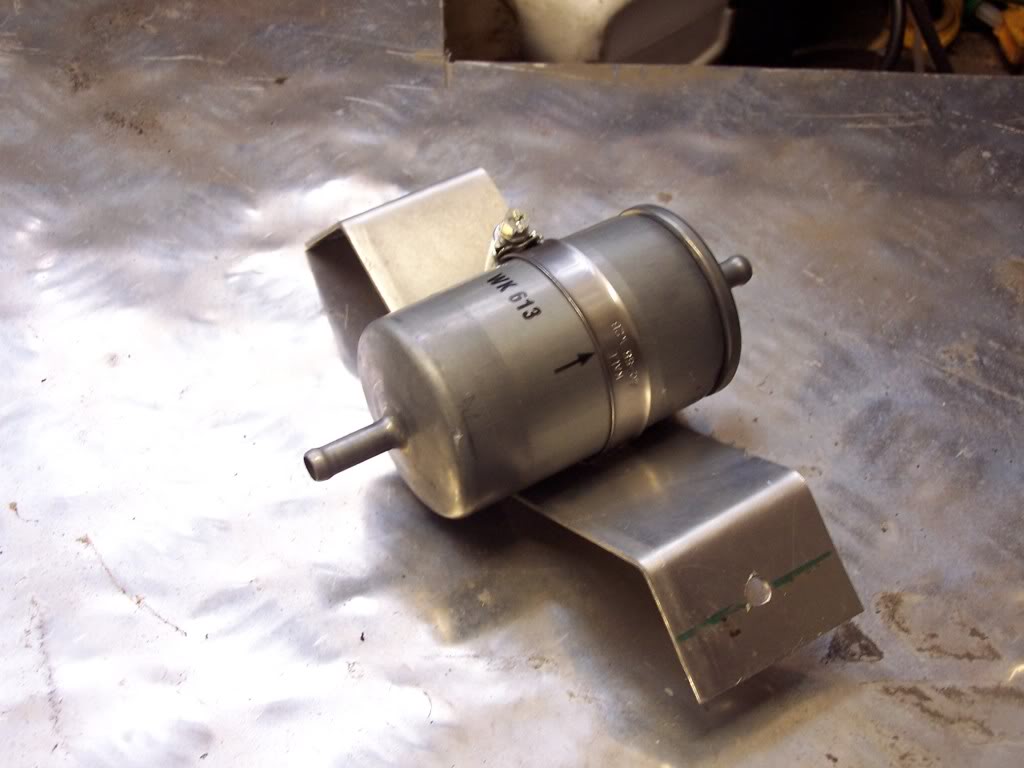 FUELCAT





Gear Lever is in but not connected. Note the original sound proofing decided to snap of while I was drilling holes to mount the fuel line ancillaries....bugger....good job its getting carpet.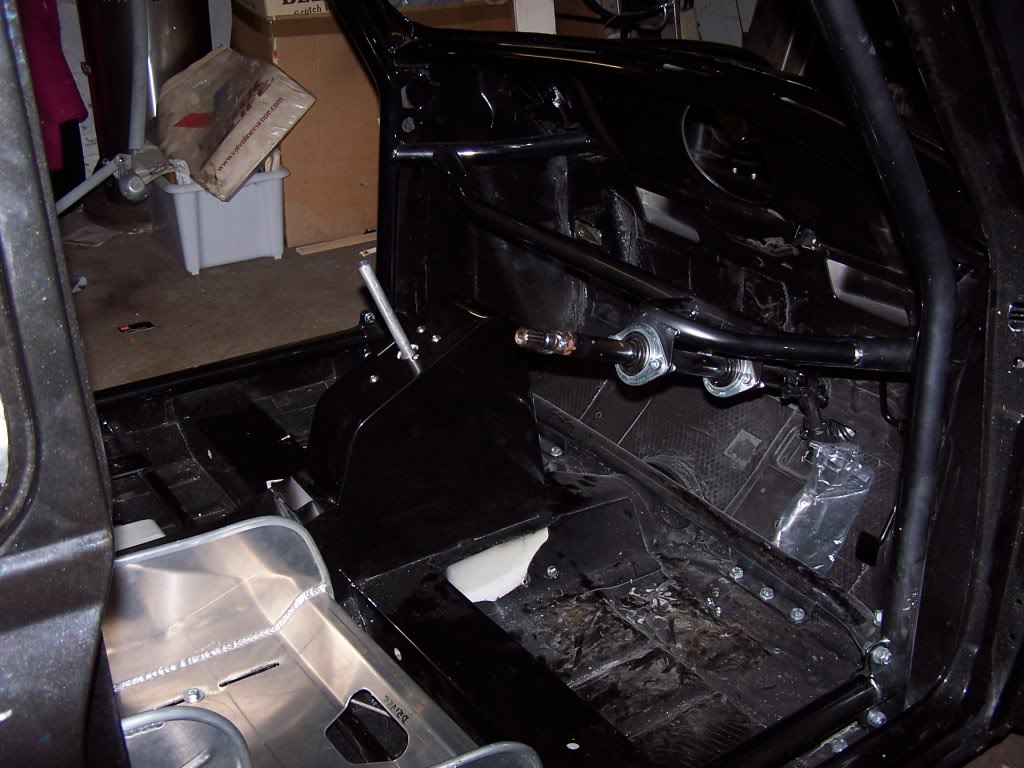 More photos as and when.



As for getting it dirty I wont mind too much as it is for driving after all, it will get showed but it is primarily for being driven..........fast.

Lots of work to do on watertighting it sometime in the future, that way I wont mind taking it out in the wet. Could be 'interesting' in the wet though.
12-9-2008
Got a big weekend planned with loads of stuff to get done while I have the car over a pit at my folks house, get the coolant plumbed in, fuel hose in place and hopefully the throttle cable. Going to be making a new throttle pedal so keep em peeled for how thats going.

Here are a few pictures of some of the stuff going in the beast, just a bit of something to wet the appetite:

Wipac Free Forms, their gonna get some serious bulbs in them too, might stretch to HIDS if I can afford it.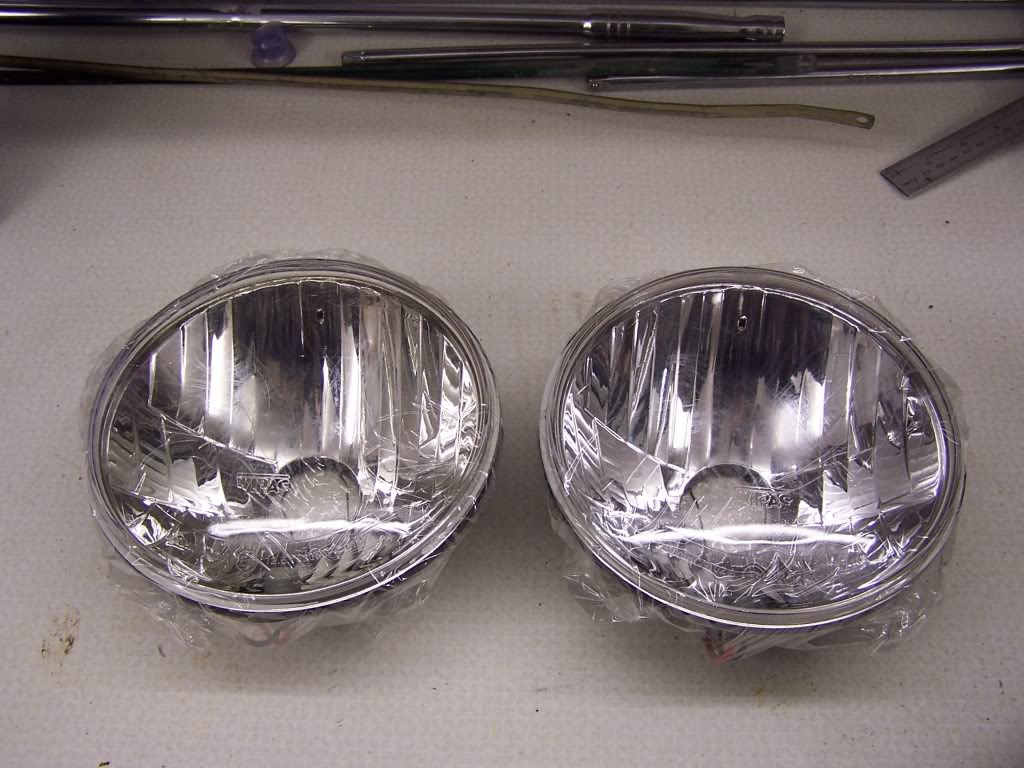 K&N Typhoon, thats going to see a lot of air being sucked through it....ha ha......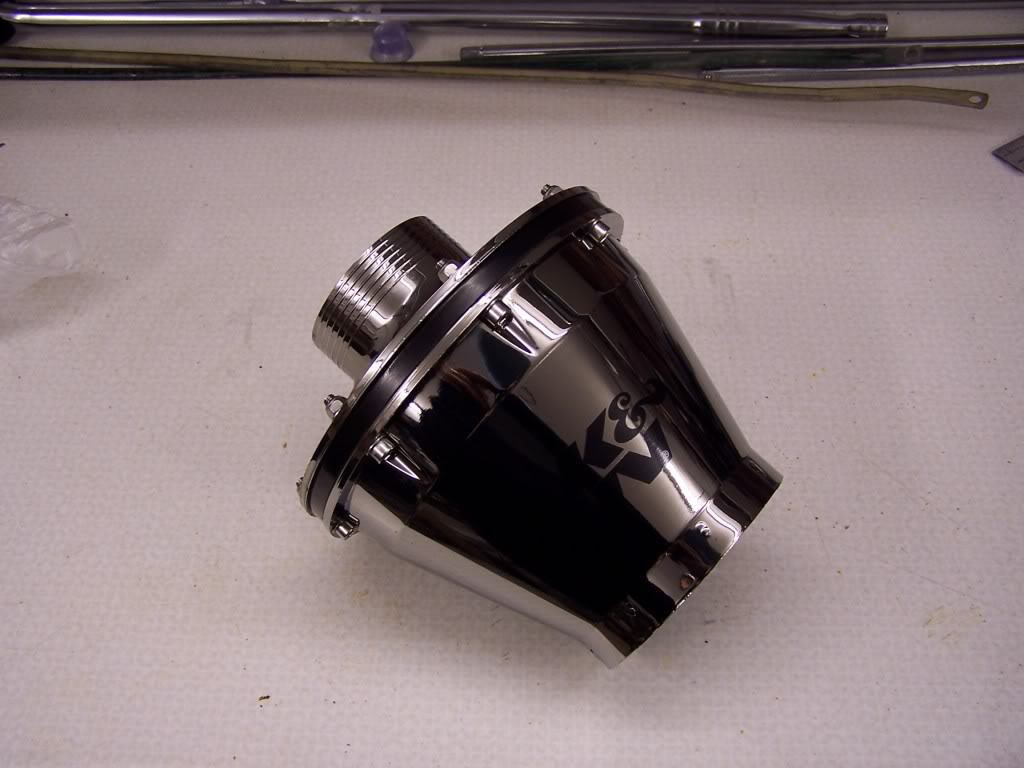 Plugs are 1 stage colder than normal to account for the Supercharger.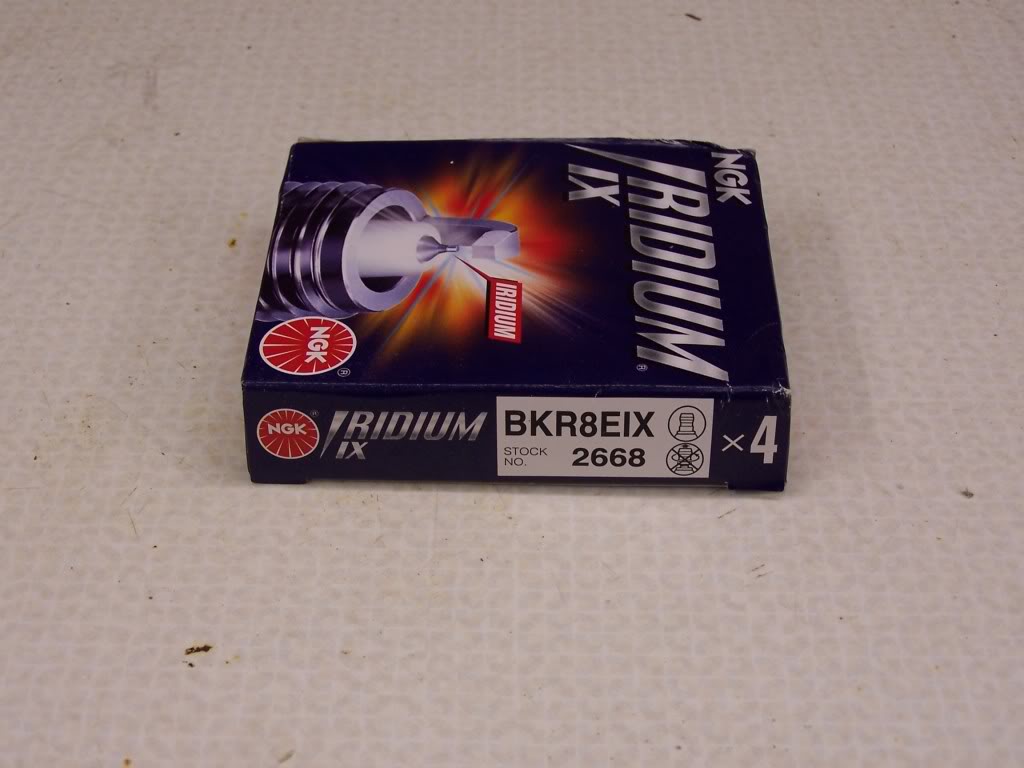 HONKERS - - cant wait to make em jump with those bad boys.......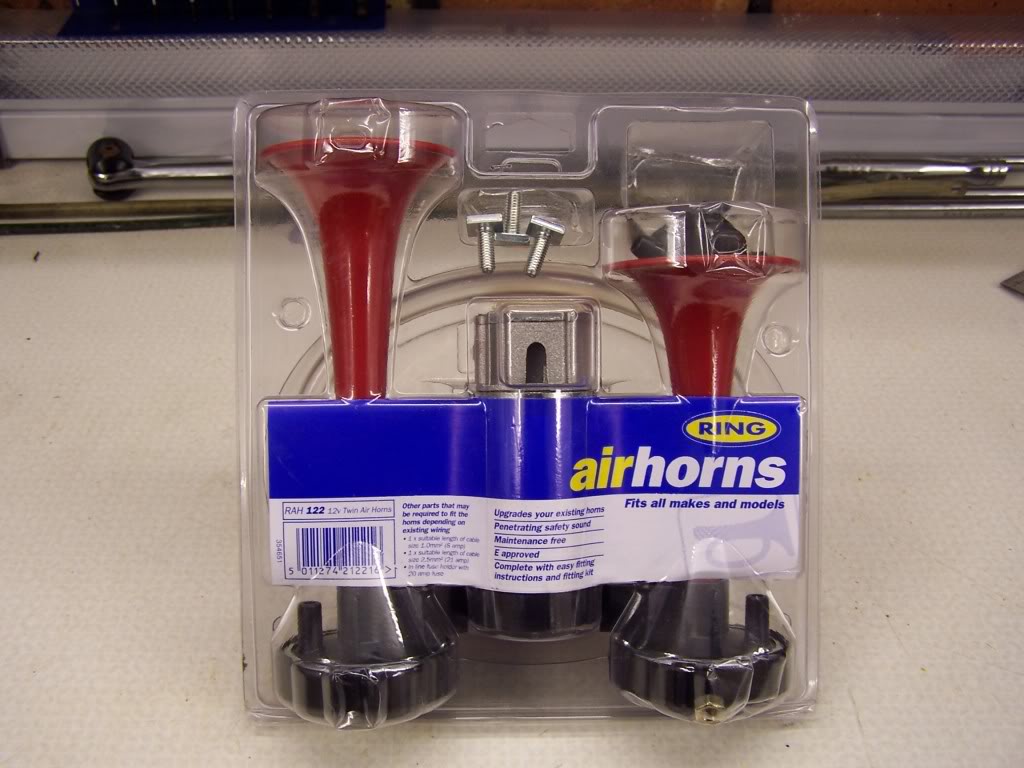 LIFELINE quick release steering boss, frankly if it didnt have it I couldnt get in or out of the car..........there will be an addition to this combo but you will have to wait for that - it's top secret......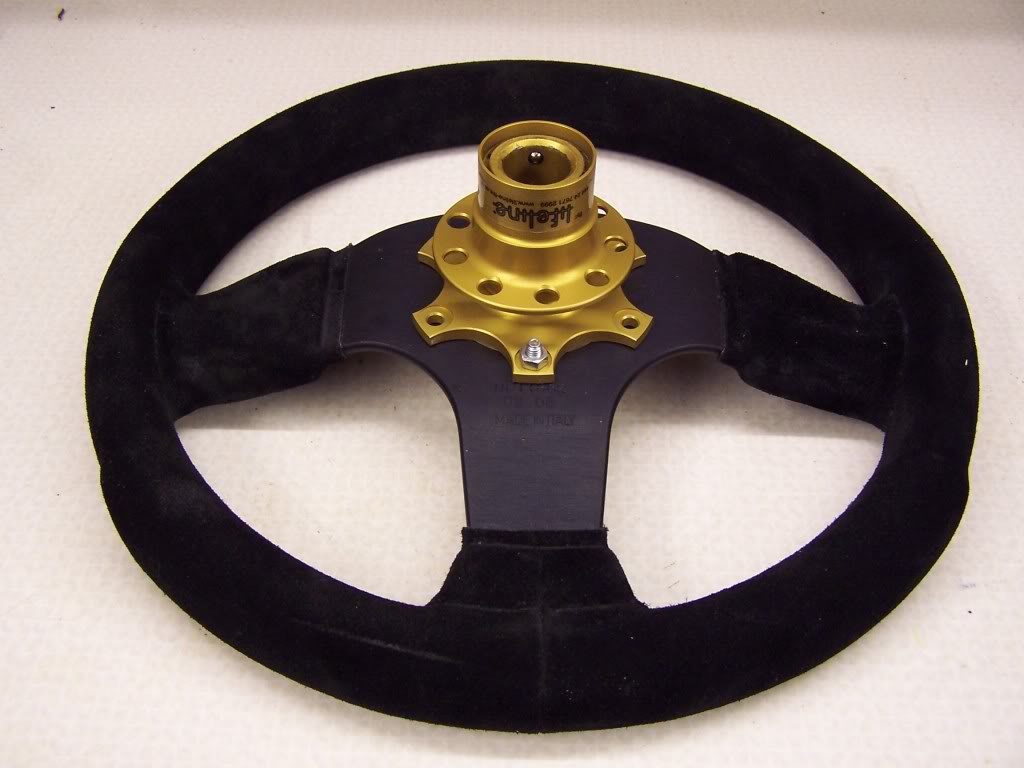 Schroth Harnesses, lifesavers,hope not to use them in ernest.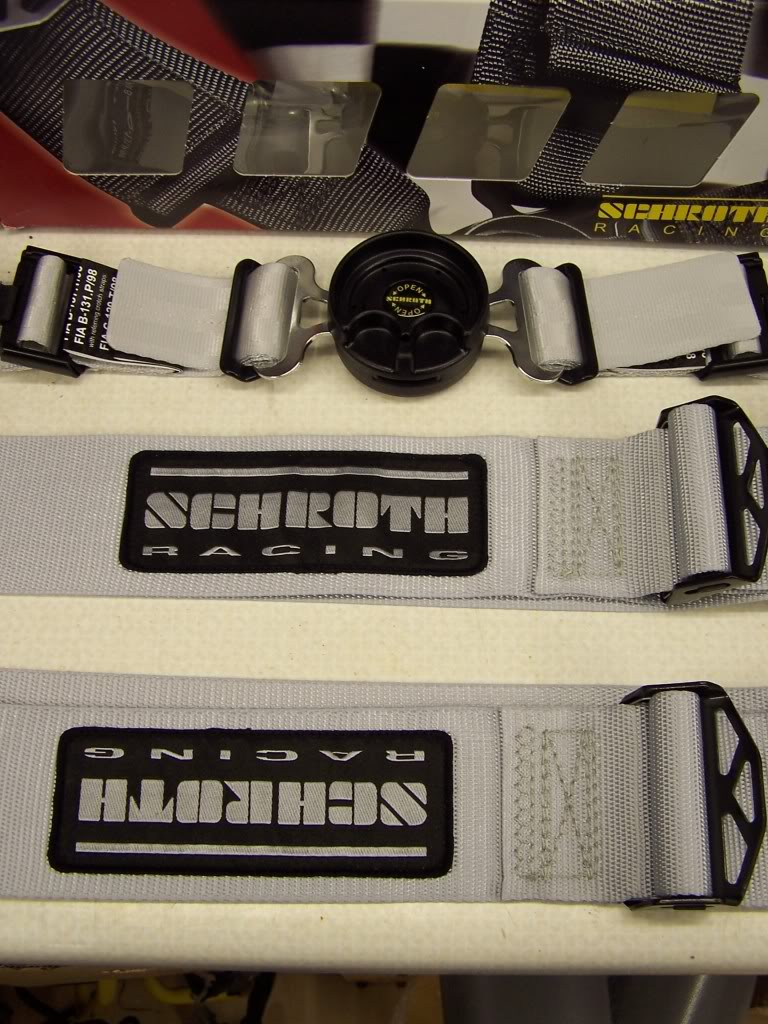 Wilwood Brake balance, speaks for itself really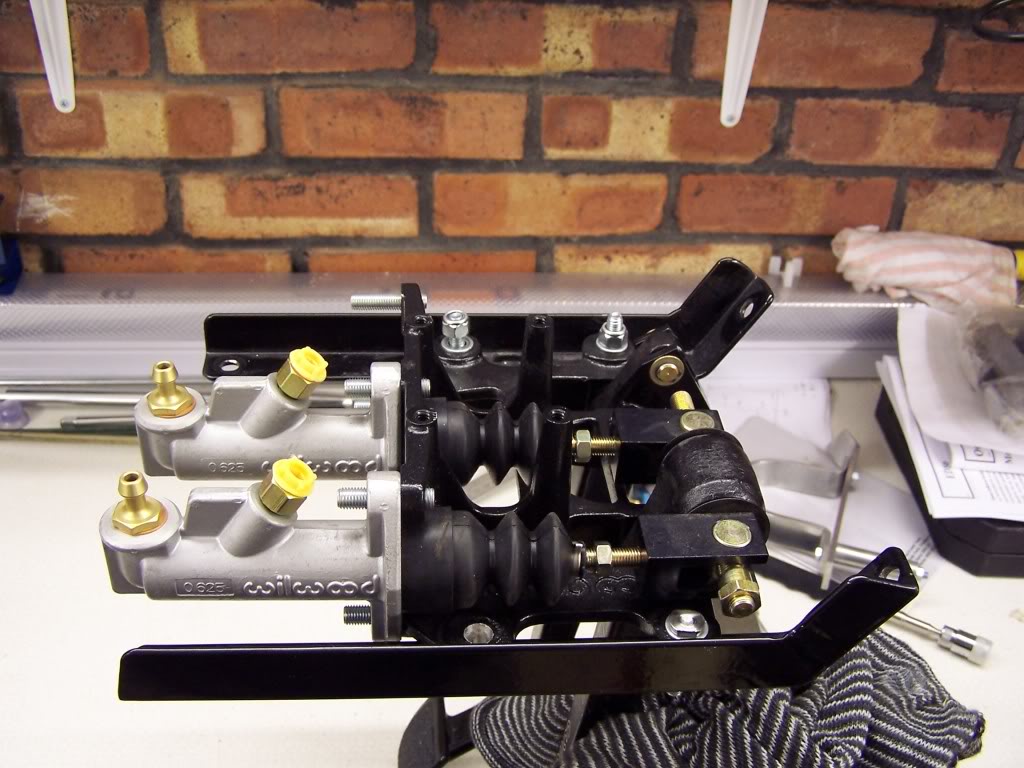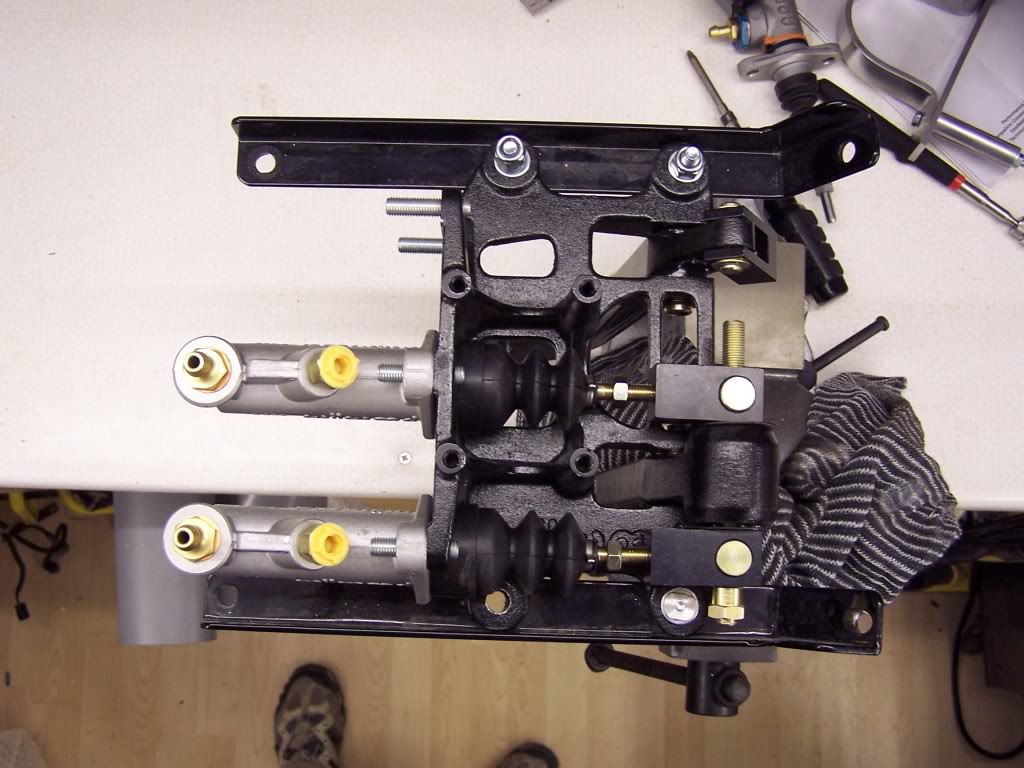 More updates next week.
12-20-2008
Hi Guys

Been busy working on the car, unfortunately not too many pictures right now. I do however have a couple of snaps of my new throttle pedal, all stainless with skateboard bearings keeping it super smooth. I decided to ditch the converter to the original pedal as the angle fo the pedal was awkward compared to the brake and clutch, so the new pedal has the same centre of rotation.

I will have many more pictures after christmas as it getting hit hard in the festive break.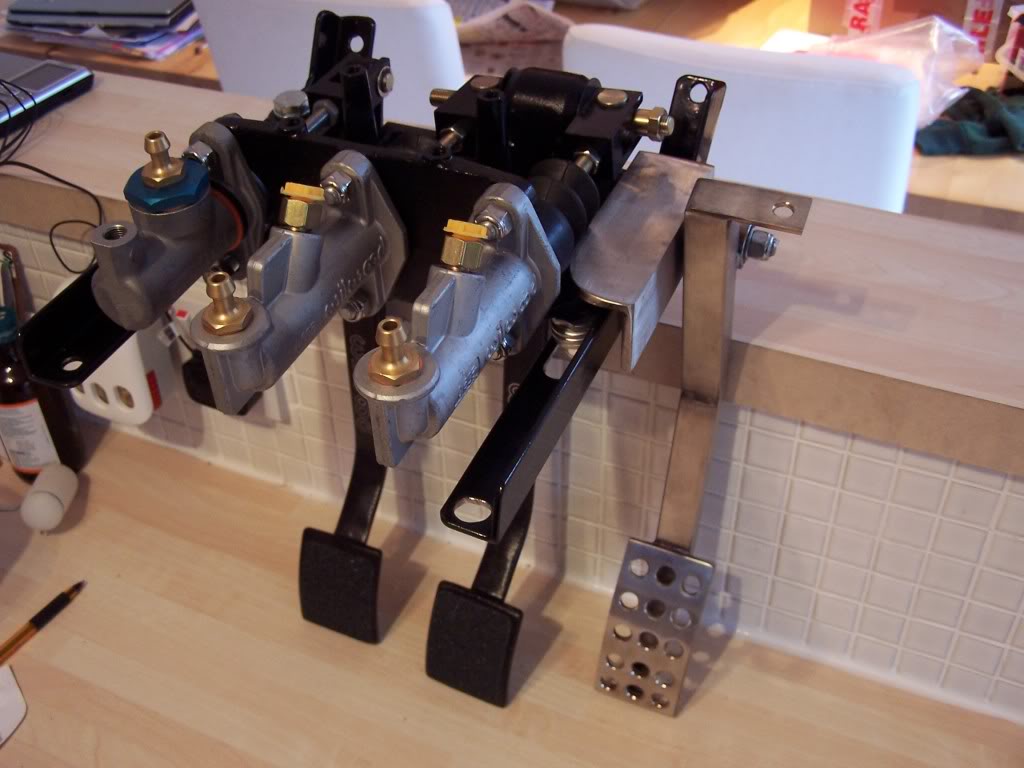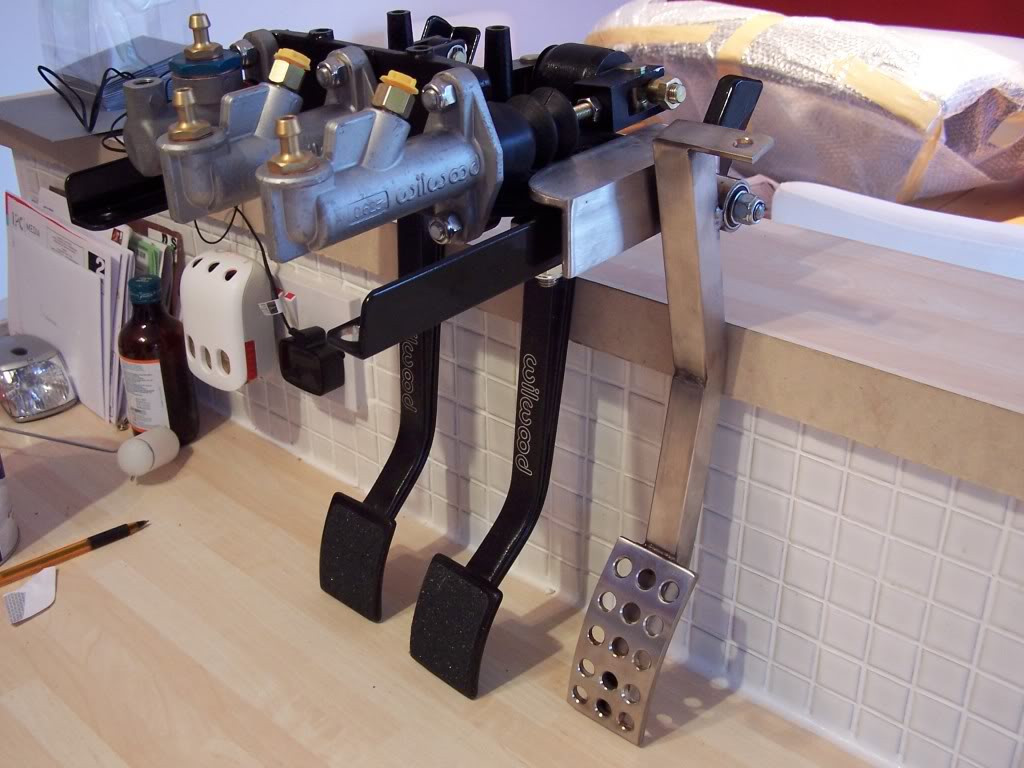 Merry Christmas everyone see you all on the other side in '09
1-5-2009
Bit of an update, been beavering away on it over the last five days, got lots of things done and now realise the full extent of what is to come to get it finished. Lots & lots more work, combined with a lot of head scratching followed by fettling to get everything to fit properly, not forgetting putting everything in place then taking it out again about four times. Oh the beauty of building cars. I shall rant no longer and get a few pictures up:-)

I got the bonnet fitted.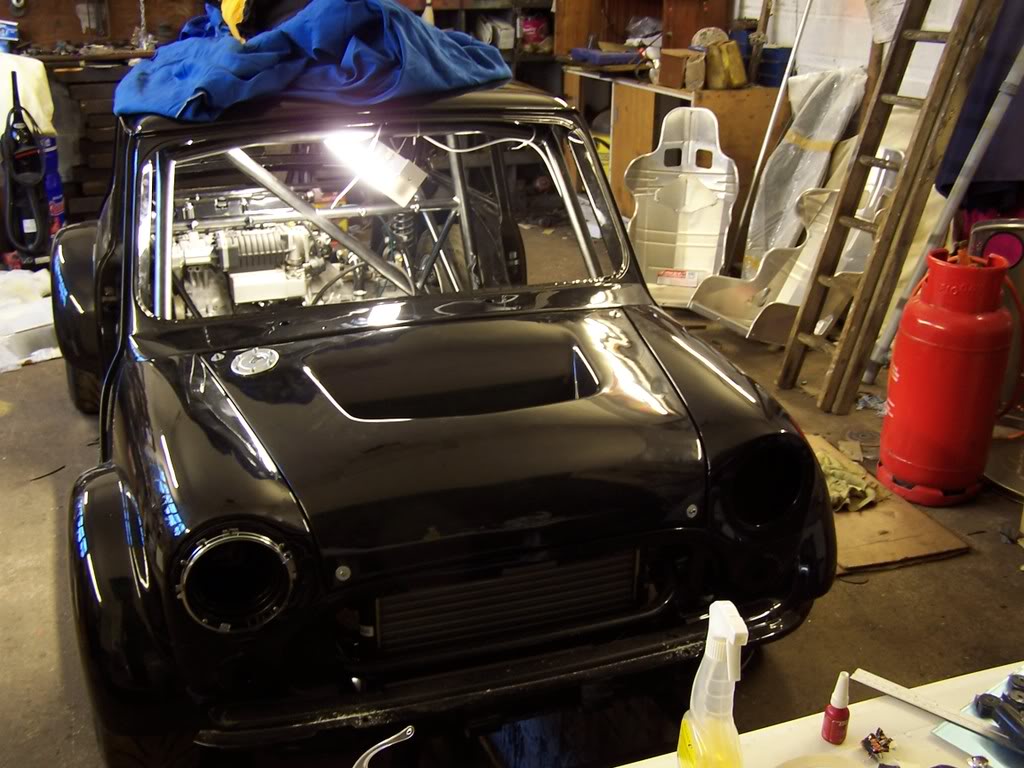 I got some of the sound deadening fitted.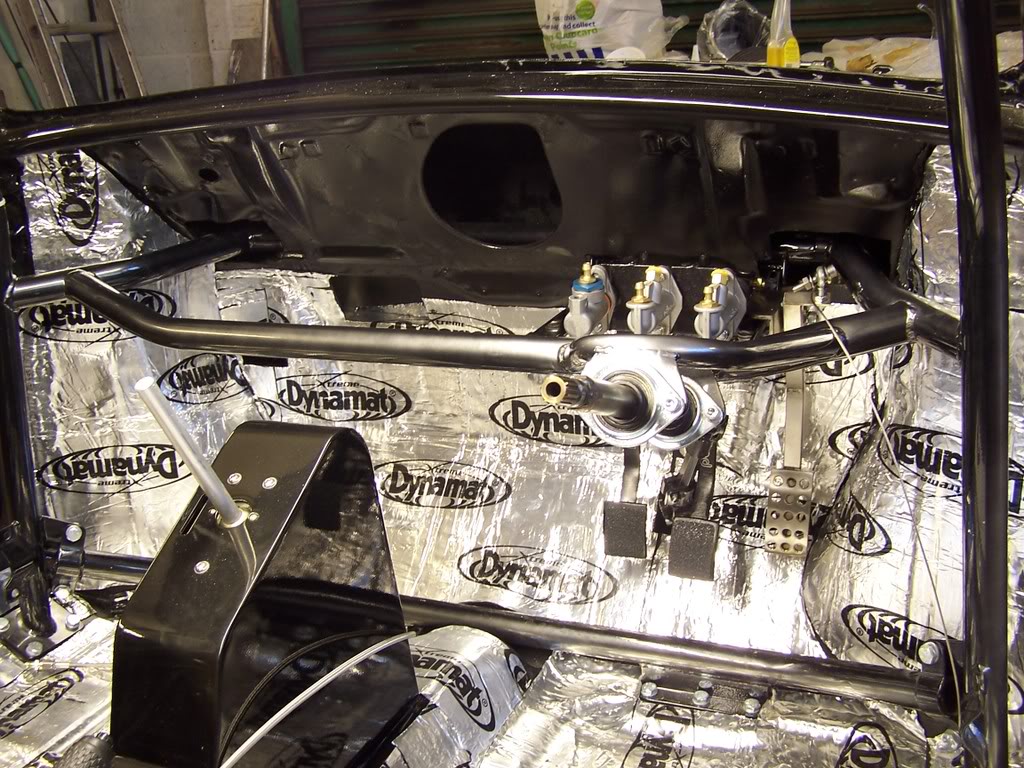 I then thought it would be a good idea to have somewhere to run my electrical cables & rear brake lines & clutch line right down the middle of the car.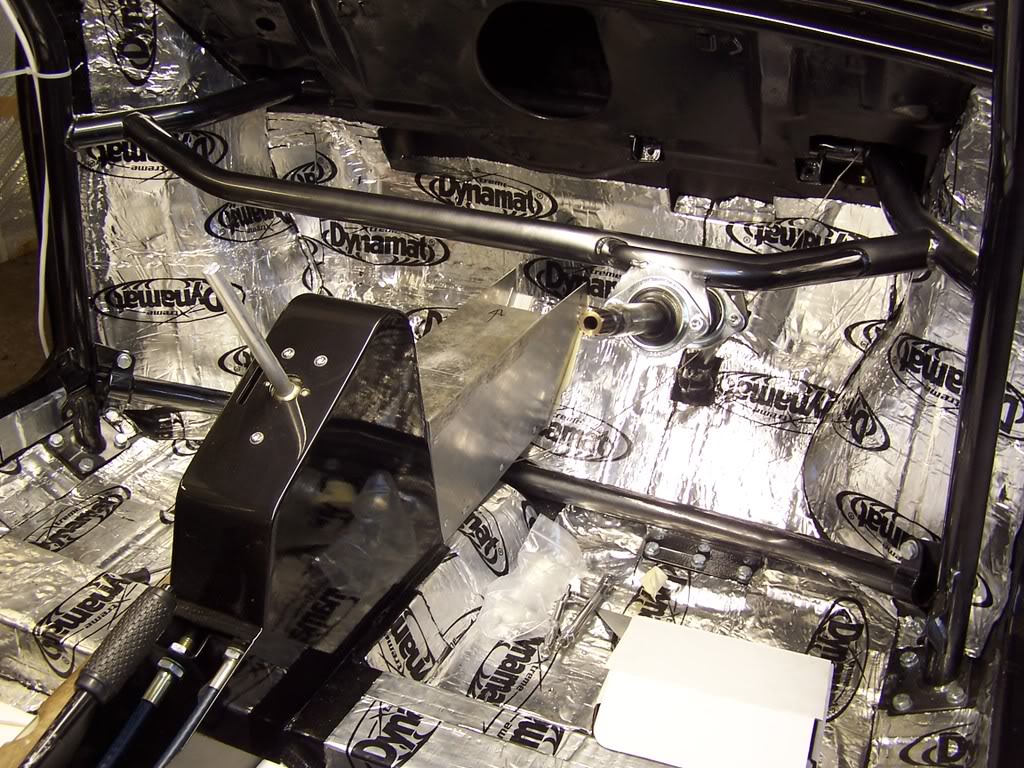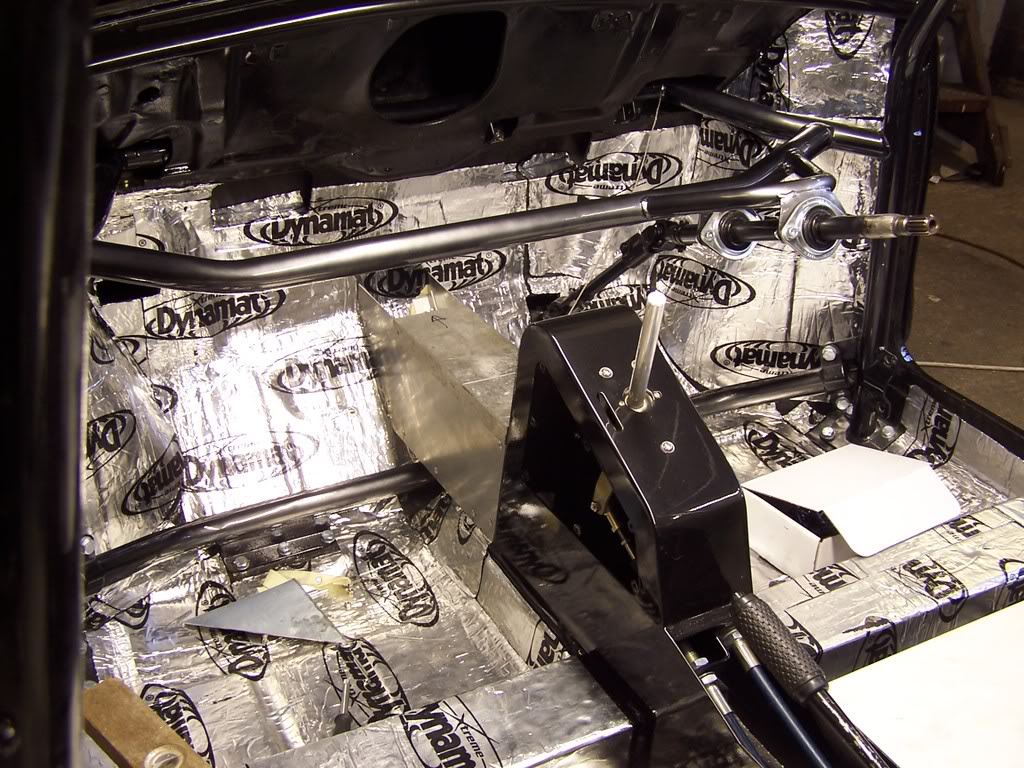 Then I started work on the rear bulkhead.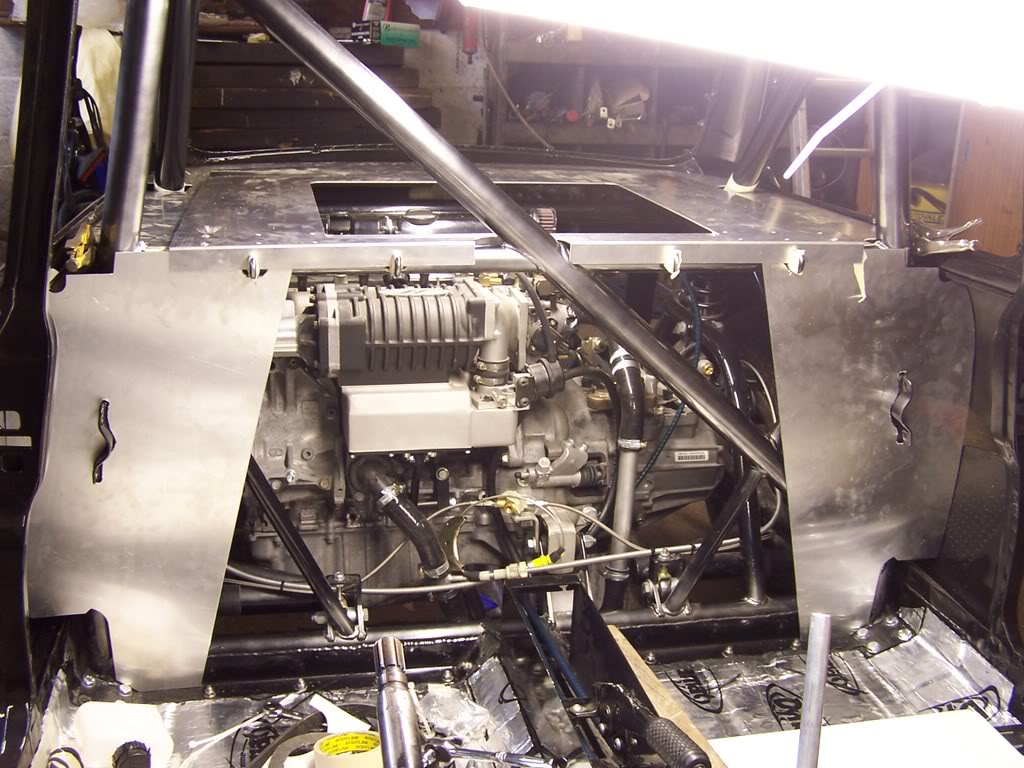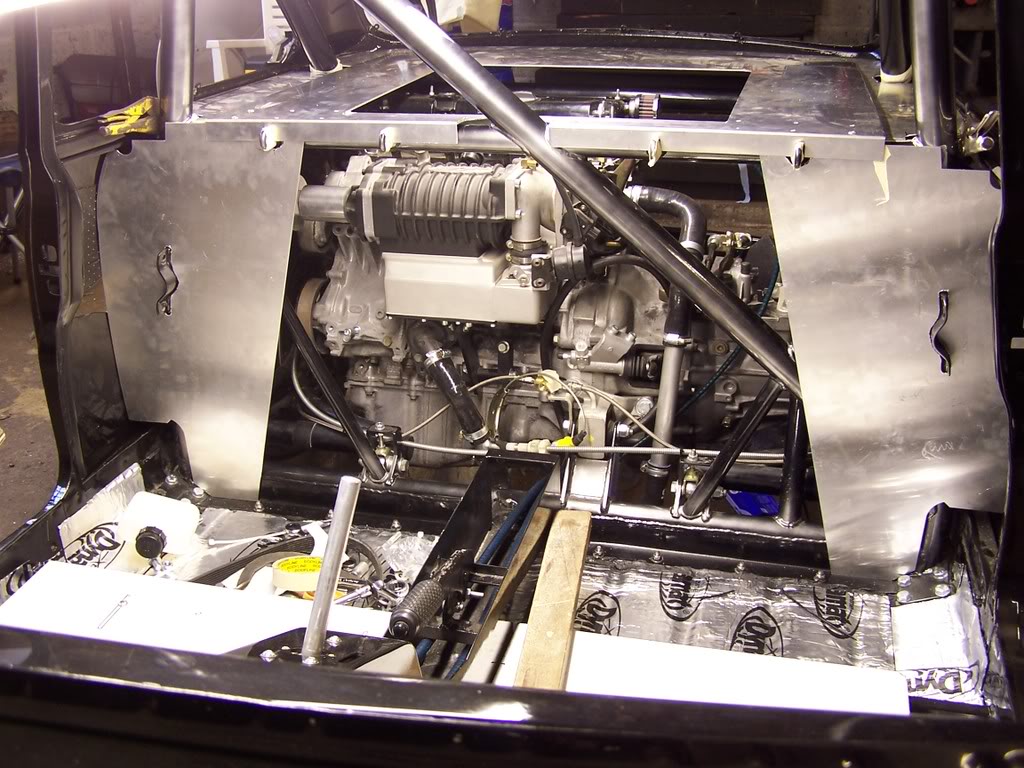 More to come soon...................
1-6-2009
Sterring column is from Zcars and I believe it is called the SVA column, but I am not 100% on that, I checked my invoice and all it says is 'Steering Column' ????

Stock rack used, however the new positioning on the front subframe means that the rack has moved, which has left a particularly large and awkward hole the try and watertight.

The brackets for mounting the brake/clutch pedal box were fab'd by Zcars as part of the race spec kit.

Dont worry about asking questions, always glad to help if I can.
Yep I planned a summer project but there were delays that meant I couldnt collect until October. Yes it is feckin freezing working on the it, I managed to get the garage up to the heady heights of 13 degrees celsius for two days then the gas ran out and I was back down to 9 which took the cold bite off the metal but you could still see your breath, it was -1 outside.

Dynamat - use a heat gun when applying and one of the dynamat rollers or similar and you get good results, apart from the bits were you cant get the roller due to frame being in the way. Beware of sitting on the dynamat once it place as the black stuff sticks like sh!t to a blanket and is now firmly stuck to the ar5e of my trousers.

I am aiming for completion by the L2B in May, unfortunately I wont be able to do anything to the car in Feb as I am having a back operation which means no work for a month and no touching the car. In a twisted way I am looking forward to it as it means when I do get back to working on the car it wont hurt like f*ck any more, building a car and a bad back do not go well. I have to find things that other peole can do for me for a month.
1-26-2009
I have been quiet on here for a while as I have been flat out trying to get as much done as poss before I go under the knife on Thursday.

So here goes, if you to come in to my garage and look you would probably say that I hadnt done a thing as I am in the midst of doing all the little jobs that take the time and look like you ahve achieved next to nothing.

So the car took a trip down from Notts to West Sussex exactly two weeks ago today, and is now living in my tiny little single garage in which I dont even have the room to swing a mouse, never mind about a cat. Still it is nice and cosy and I can get the temperature up to something near comfortable now.

So I made a start on mounting the fuse board/wiring loom (AKA 'The Snakes Wedding') and mounting the reservoir for the pedal box.

Bent up some ali sheet for the fuse board to live on (note the pedal box is out - again):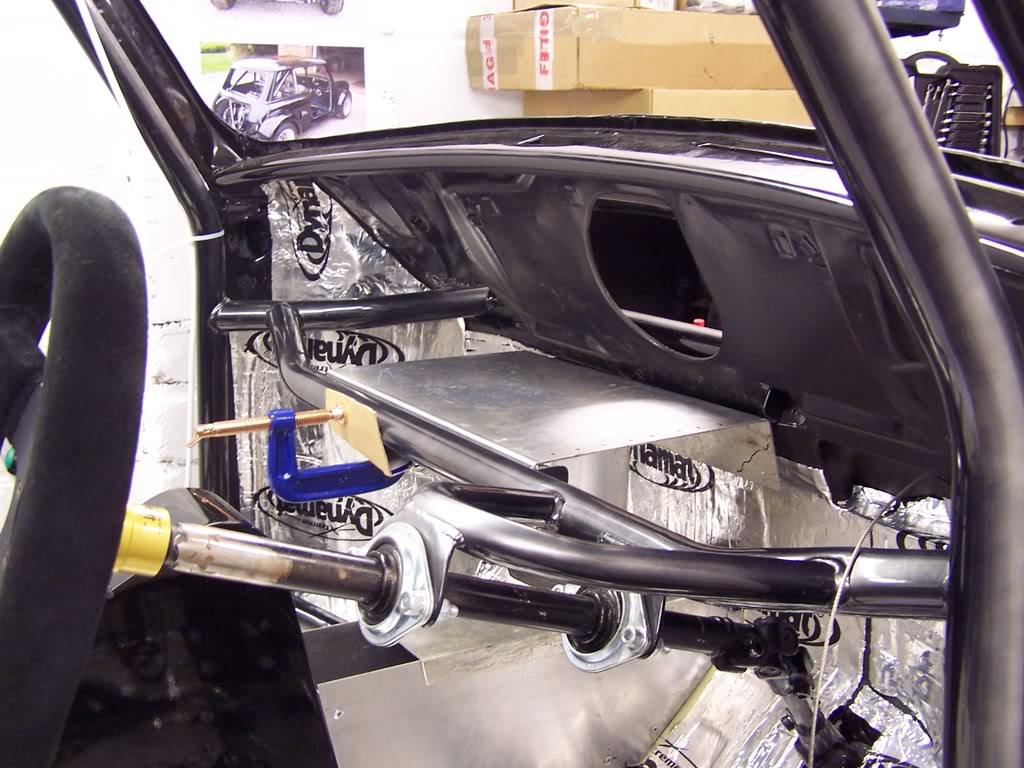 Made a mounting bracket for the reservoir: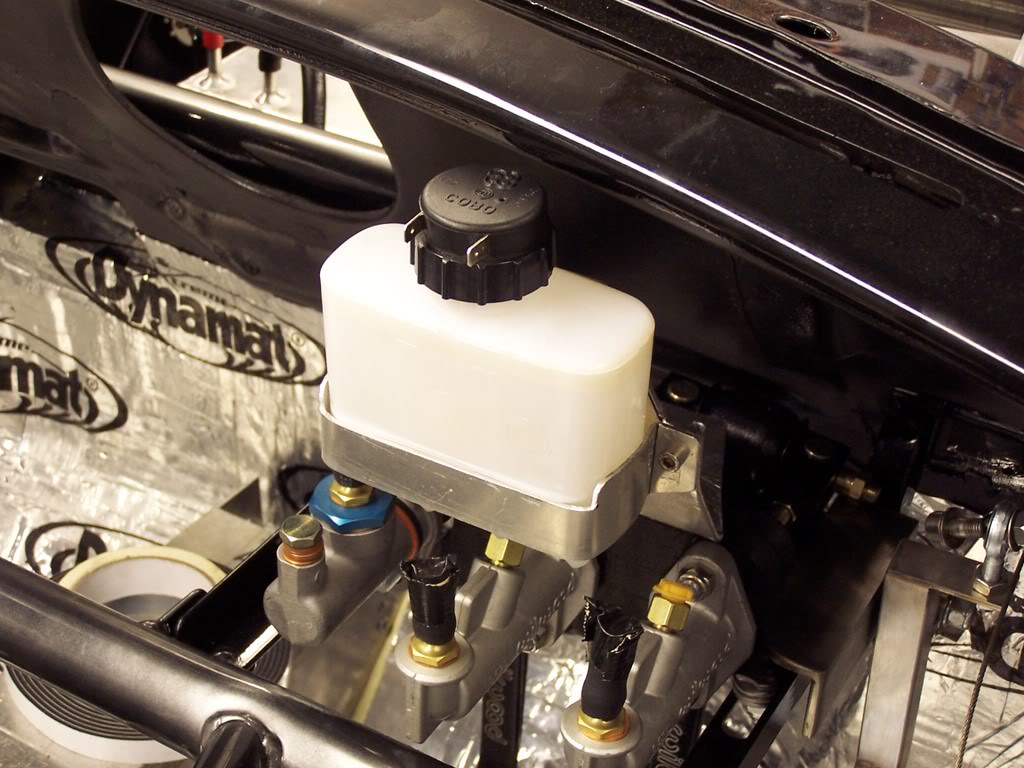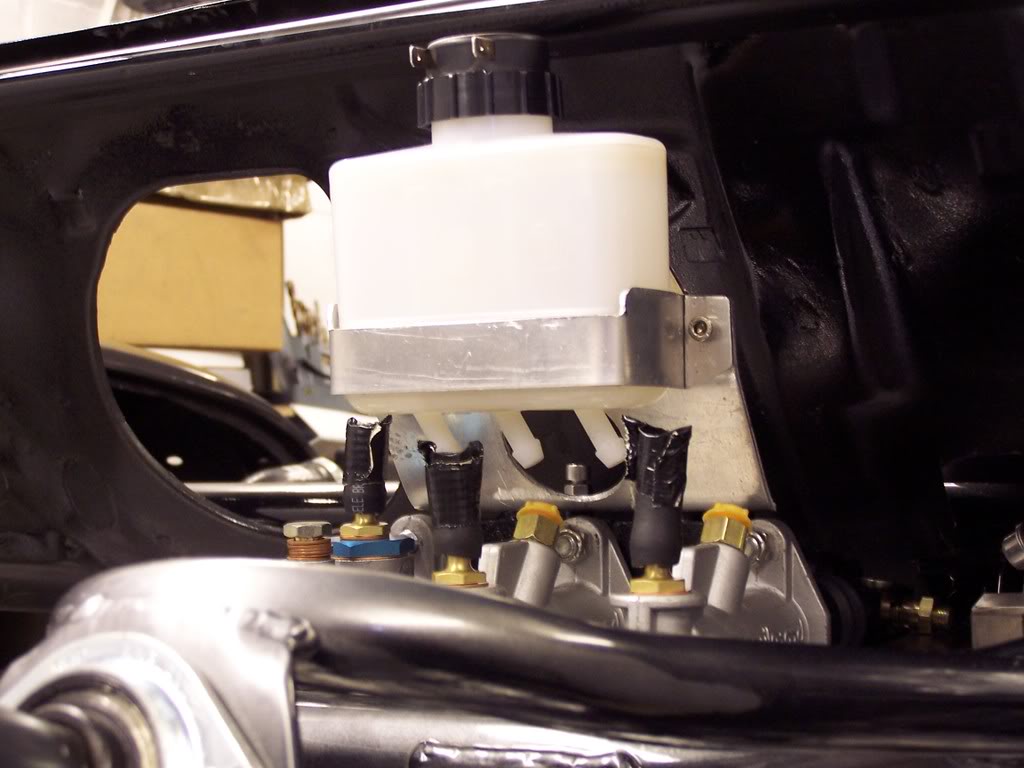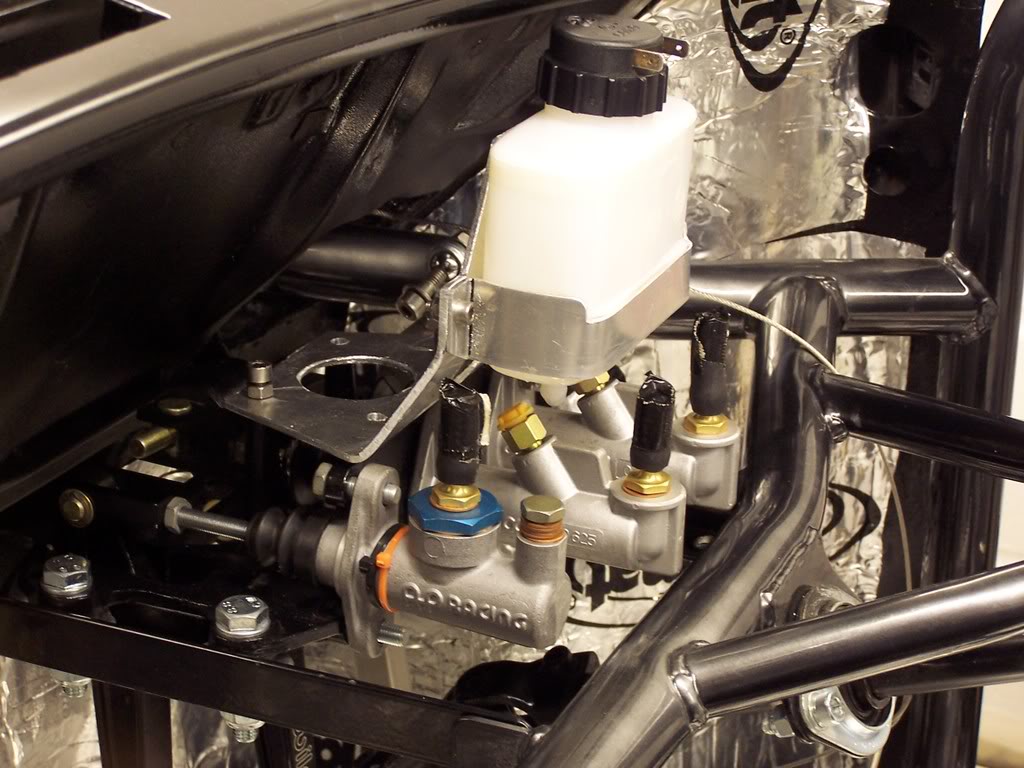 Then I went about mounting the fuse board: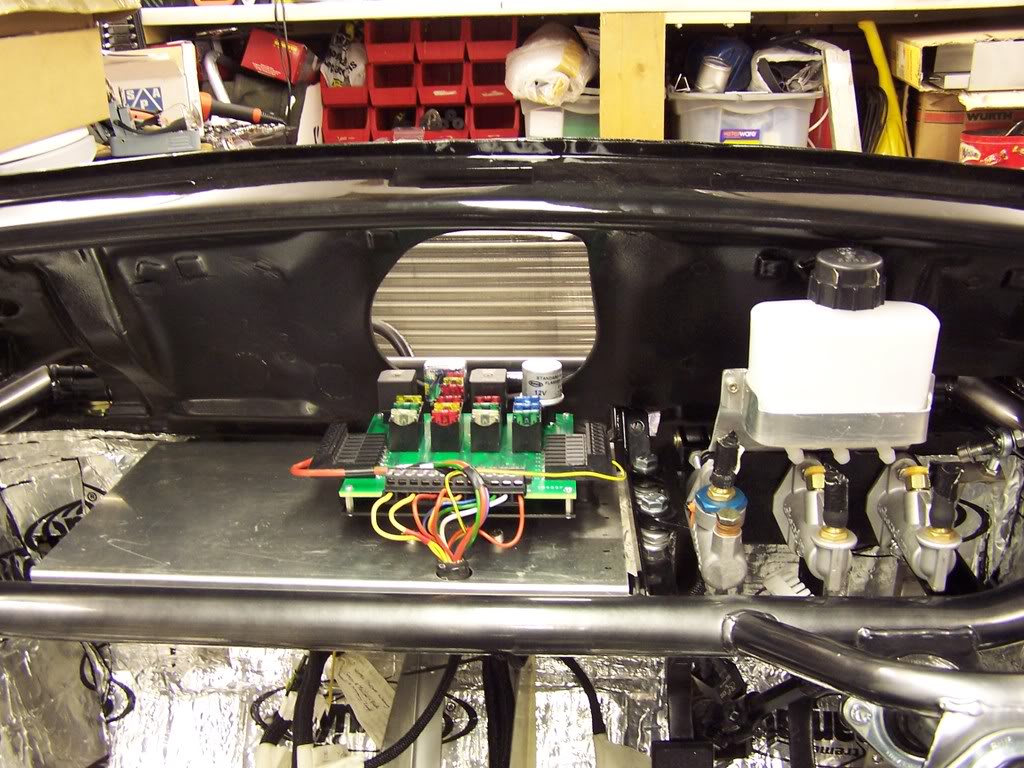 And over last weekend I have been moutning the engine wiring loom and making steps towards watertighting the rear bulkhead, a few snaps for a flavour: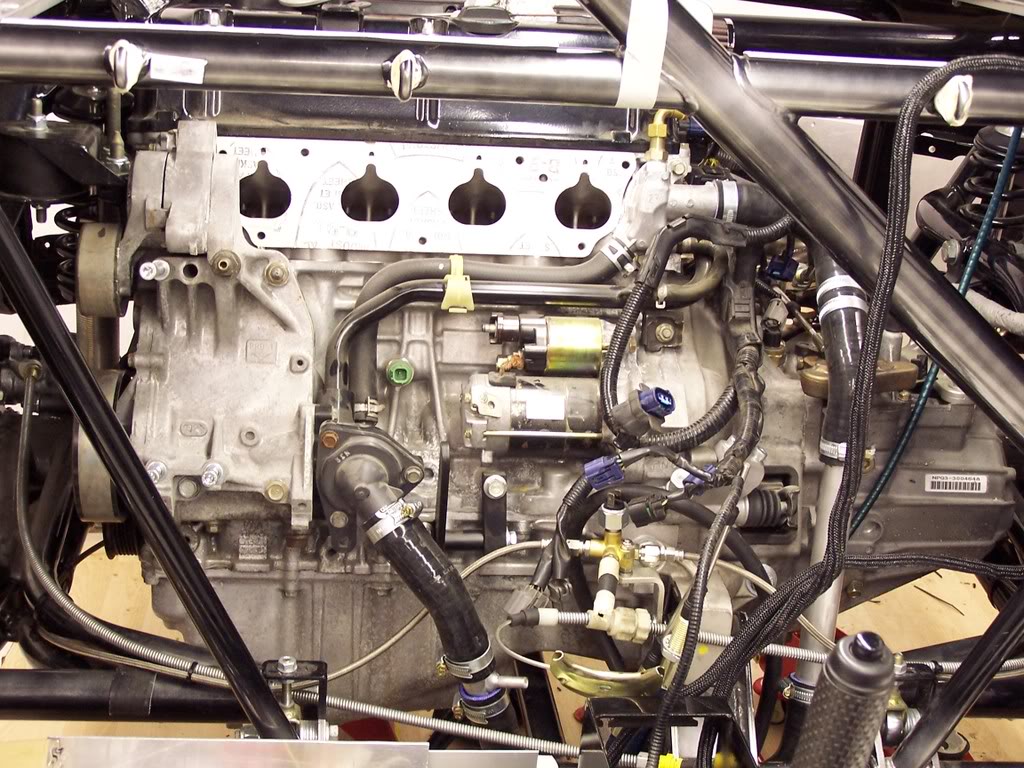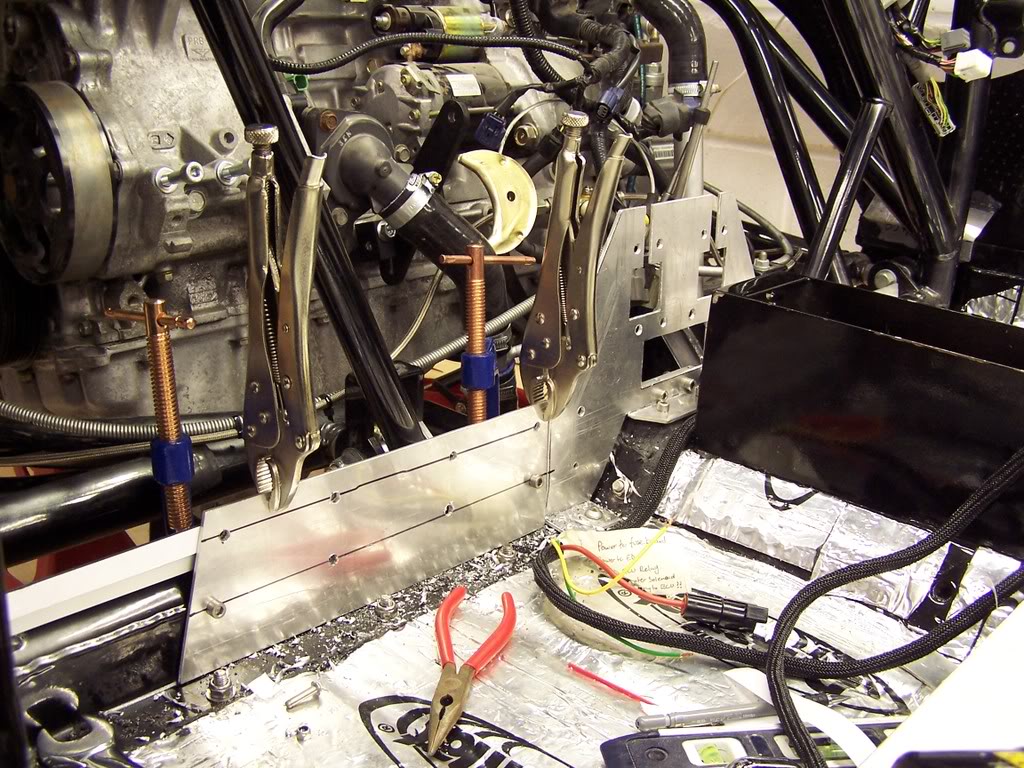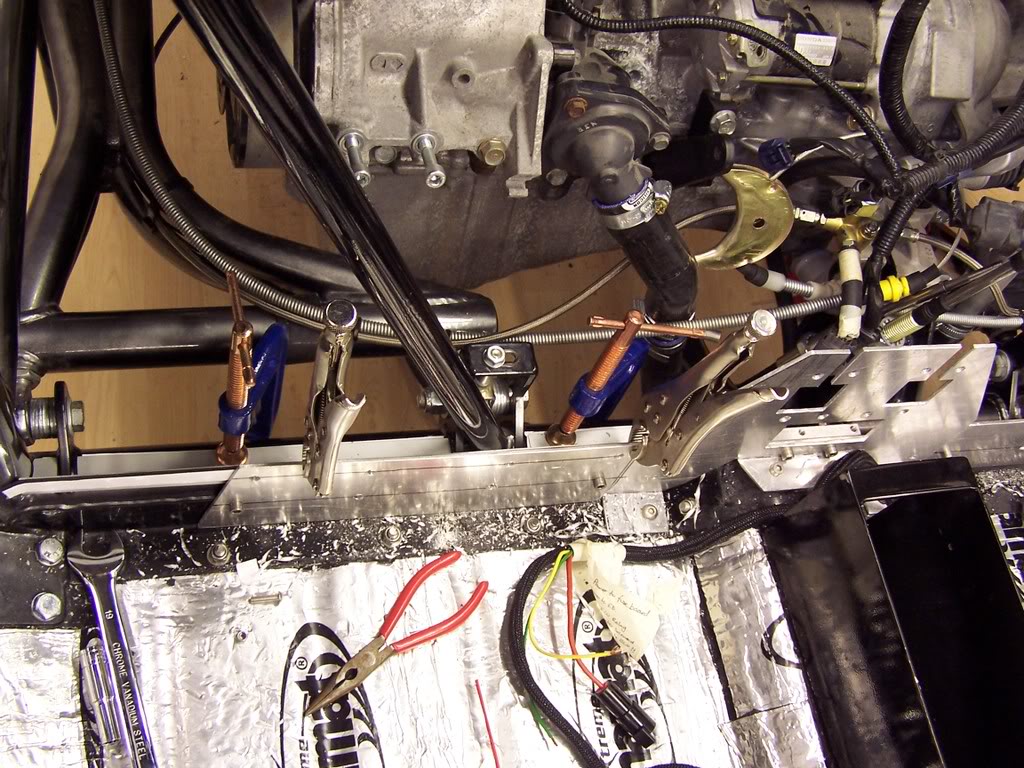 Aiming for 300BHP and 200ft/lb torque. Thats what this setup is getting in the Elises, however the exhaust is slightly different and I have a few other bits that may help me get there. Later down the line I intend to intercool and get a few more ponies from it but thats a bit of a way off.
2-16-2009
whilst laid up after my back op I have been designing an air deflector for my supercharger that will allow me to blow the air away to a PWR barrel air to water chargecooler (PWR Barrel I/C's), so here are a few rendering of the unit, to give and idea of size the tube has an OD of 63mm. The whole unit is designed to sit between the charger and the manifold, it does add a bit more to the vertical center of gravity of the car but gives cooler, denser air and ultimately more power. I am also looking into different ways to intercool the charger, if anyone knows of any let me know.

The holes in the side and the use of two plates will (in theory) reduce the amount of heat transfer from the hot air blowing out the charger to the cooled air coming in from the chargecooler. The first picture is a quick reminder of where the charger sits, the bent pipe will come out under the drive snout of the charger and the barrel chargecooler will sit underneath the manifold, will be a squeeze though.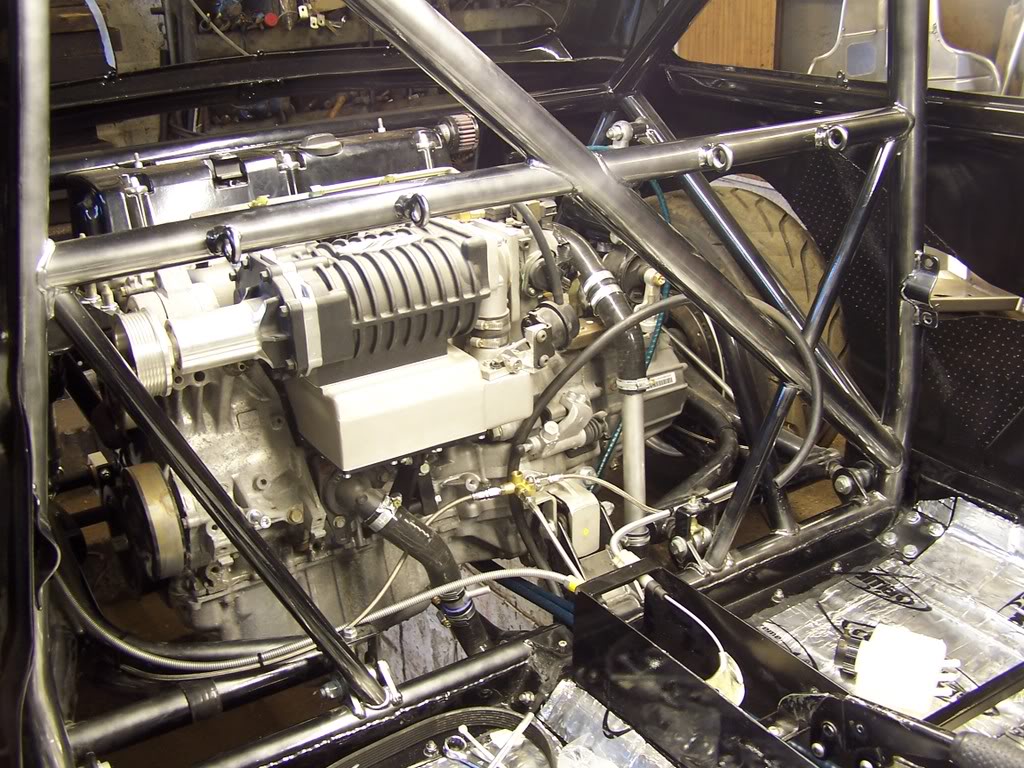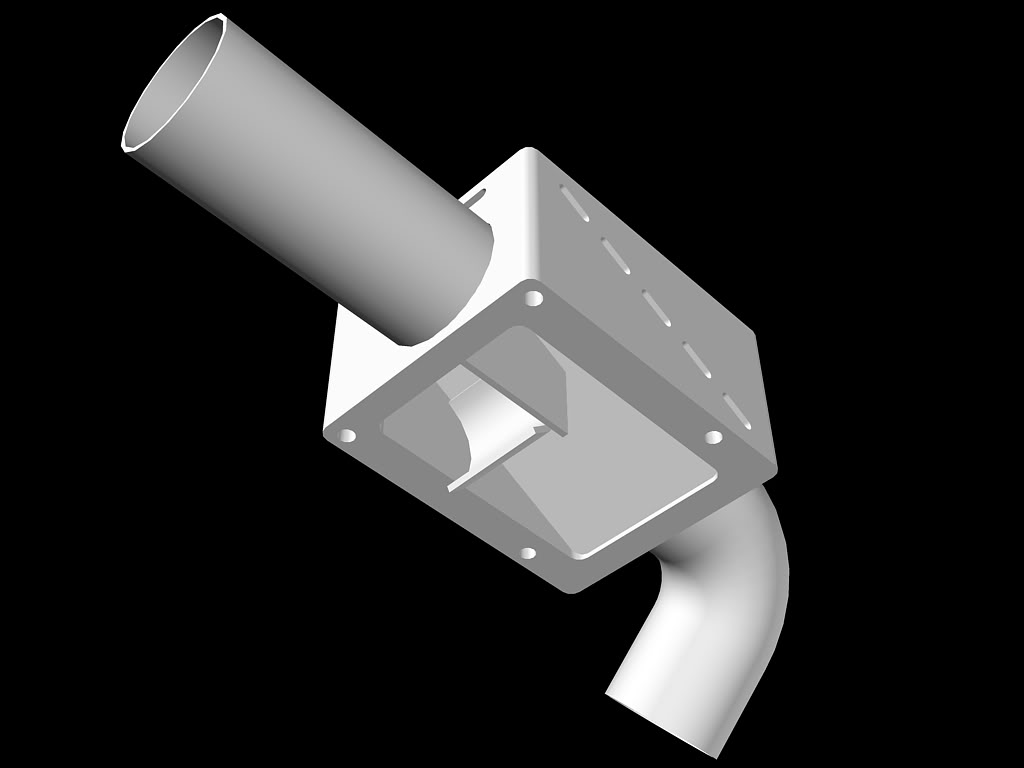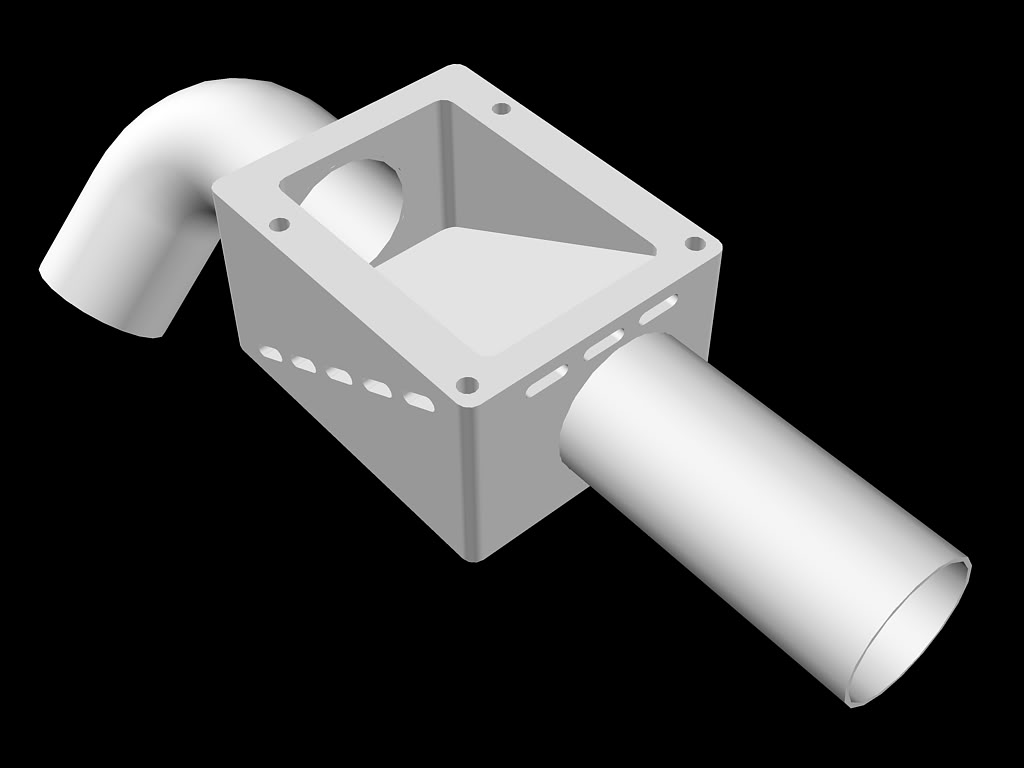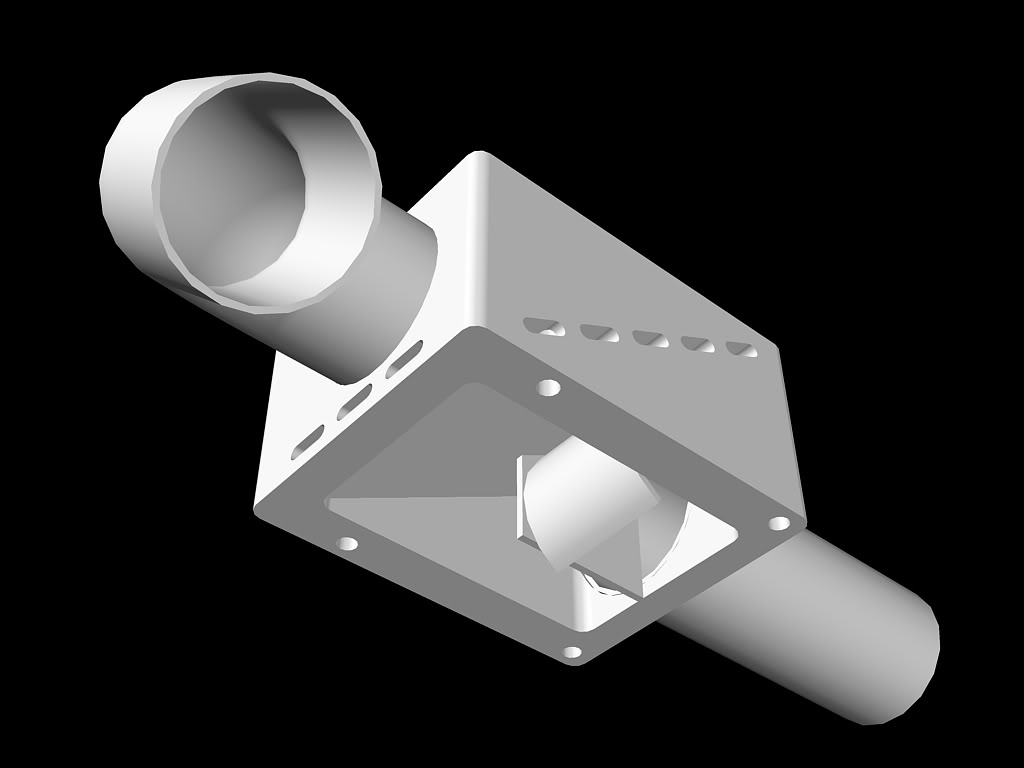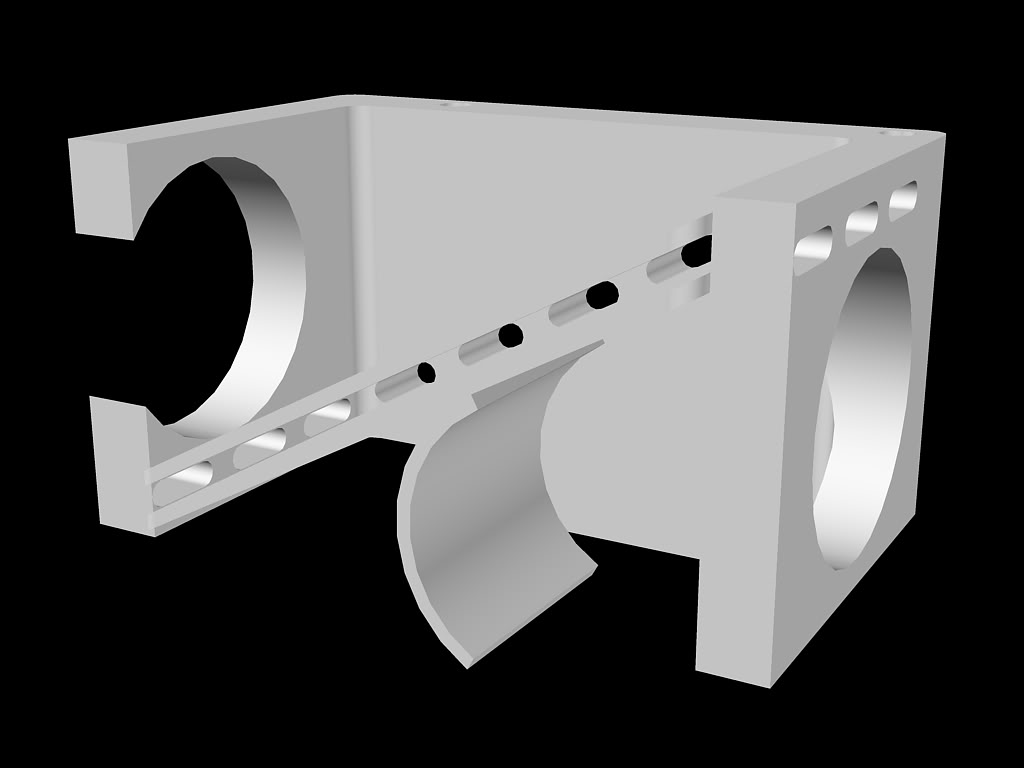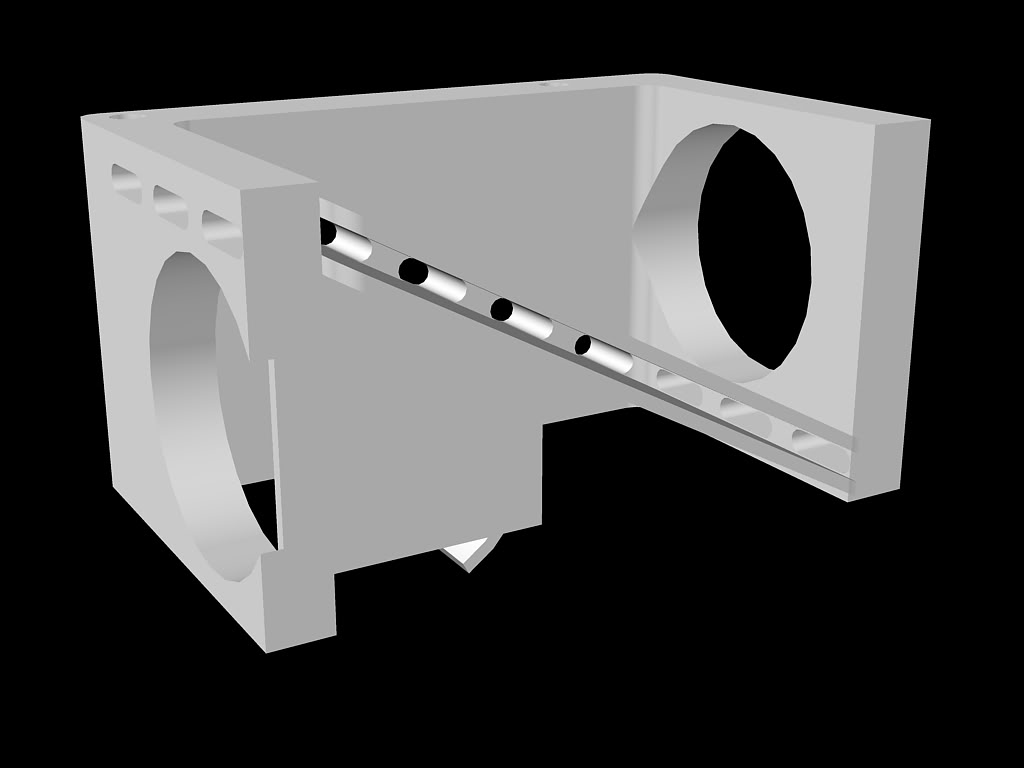 2-17-2009
Here is a copy of the drawing for my new throttle cable mount, it brings the angle of the cable down by about 30 degrees, the previous angle was necessary in the civic to allow the cable to sit on top of stuff in the engine bay but no longer needed.

I must say that I havent fitted this yet so dont know how effective it is or if there are any issues with it so if any of you decide to copy it, your on your own. However feel free to of you think it might help in some way.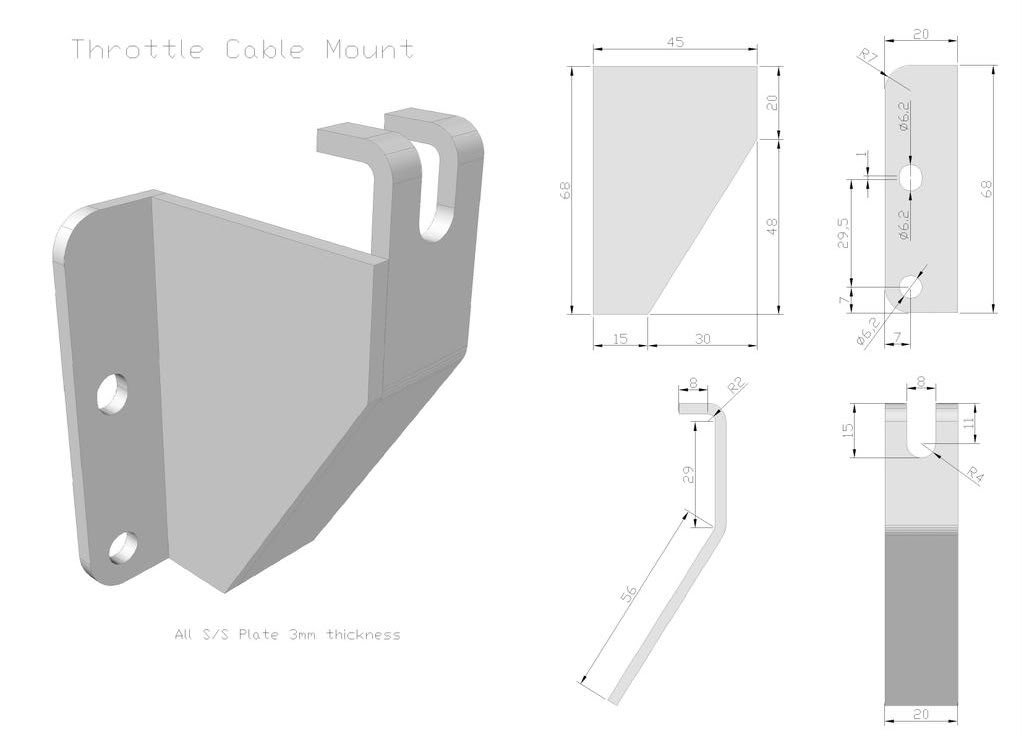 4-14-2009
Its a been a long time since I posted anything about the build so I have found the time and the energy to do a quick update.

I have to start by saying that I have had one of the worst runs of bad luck going, needless to say that L2B 2009 is well and truly out the window and I will be lucky if I have it ready for the IMM at this rate.

Firstly an engine problem, the specifics of which I will not go into (so please dont ask), has led to me needing a replacement engine, so my car went from this: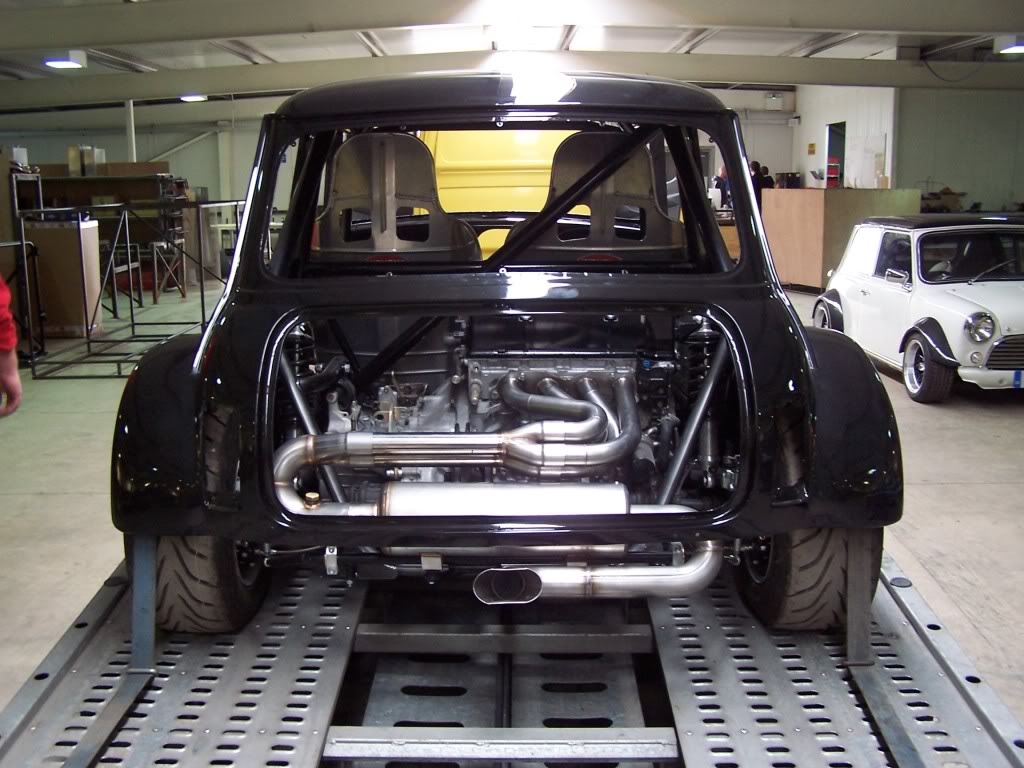 to this: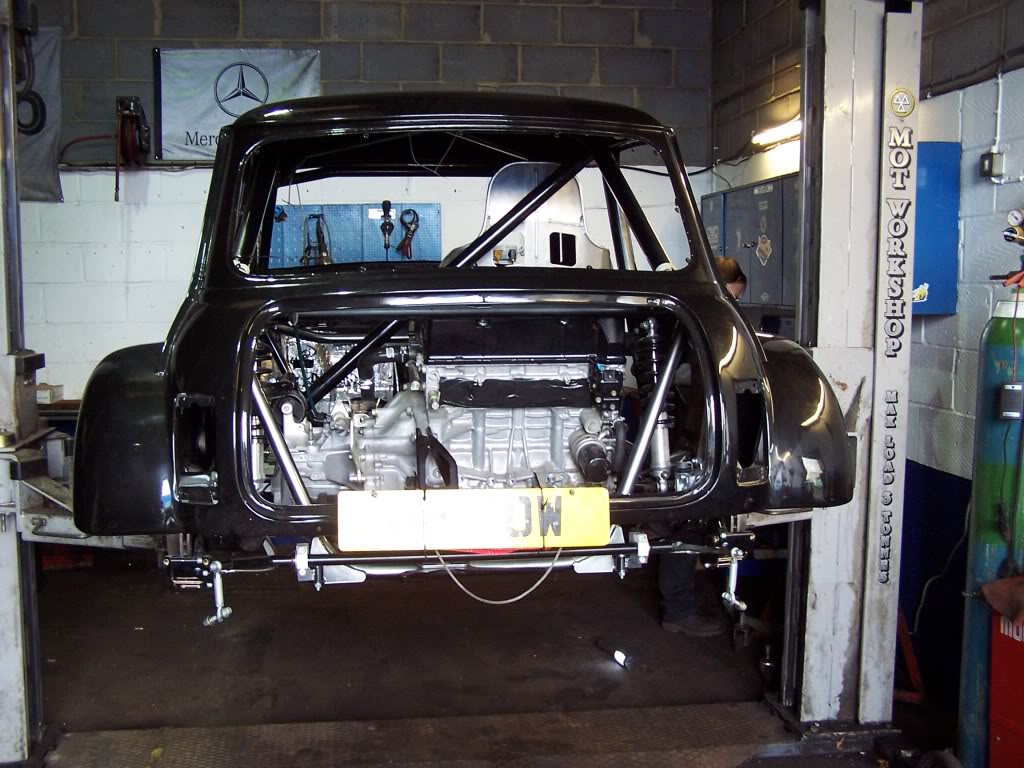 then this: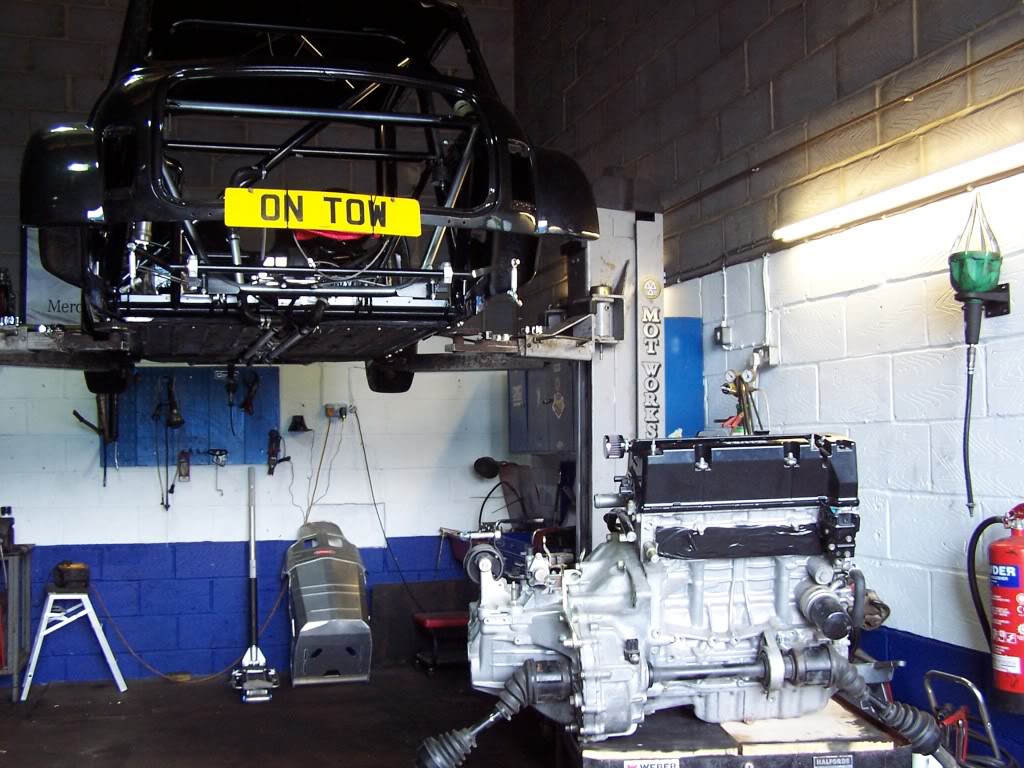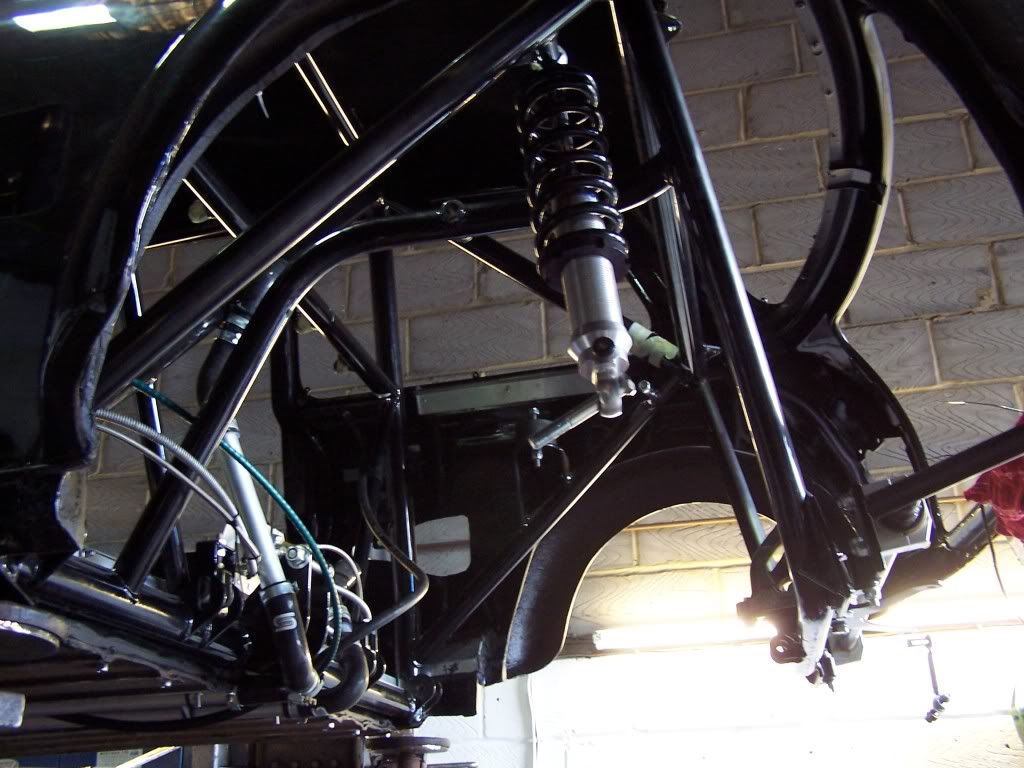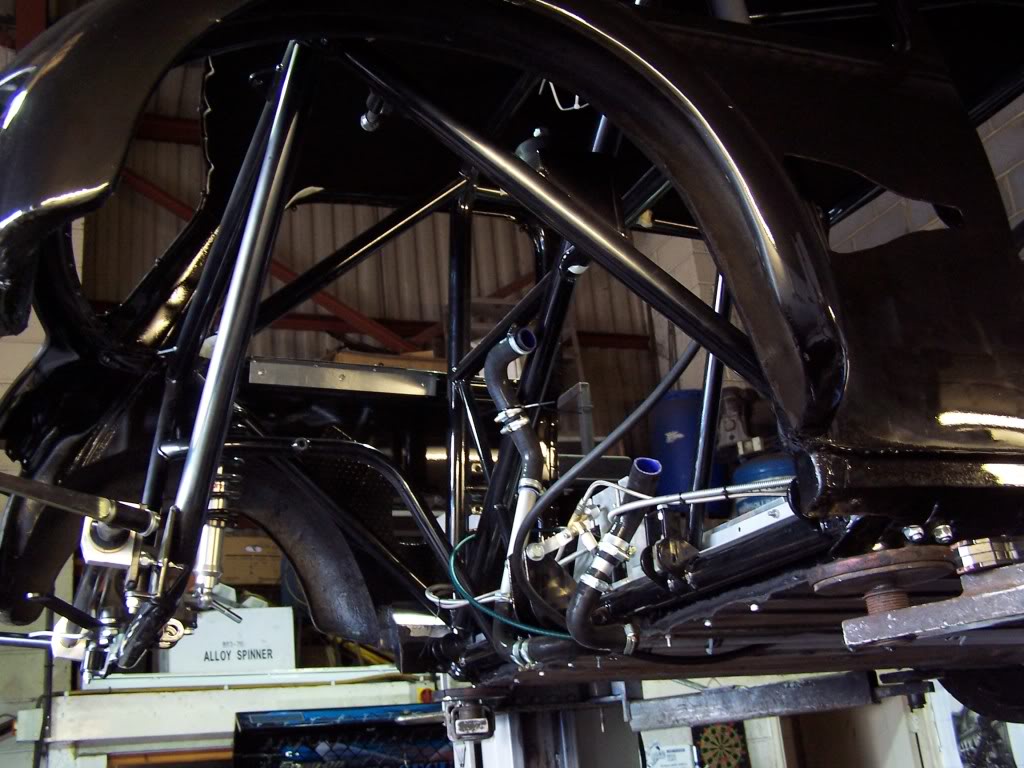 The fact that I had to tow the thing up to the my mates workshop meant that all electrics and stuff had to come out just incase it rained.

So I find myself about 20 steps back from when I started, which is quite demorallizing, one of the factors in not posting recently.

On a lighter note it has allowed me much greater access for building the bulkhead up and I am quite tempted to fab up some inner arches while I am in there. So the last few weeks has seen some progress in that area - unfortunatley I have photographed any of that. I have, however, found a solution to the steering rack now being mounted to the subframe leaving a wacking great hole in the floor. Going to a fresh thread for that one.
For those of you that have the newer race spec of newer front subframe that has the rack attached to teh subframe you may notice the void between the shell and the face of the rack that once sat neatly up against it. Something I definitiley wasnt expecting.

So I got the old thinking cap on a sat and pondered, then sat some more, then a little longer and finally came up with a fix.

So here goes in the first installment of how to fill what I am calling - "The Rack Gap"

For those of you who arent familiar with The Rack Gap allow me to show you: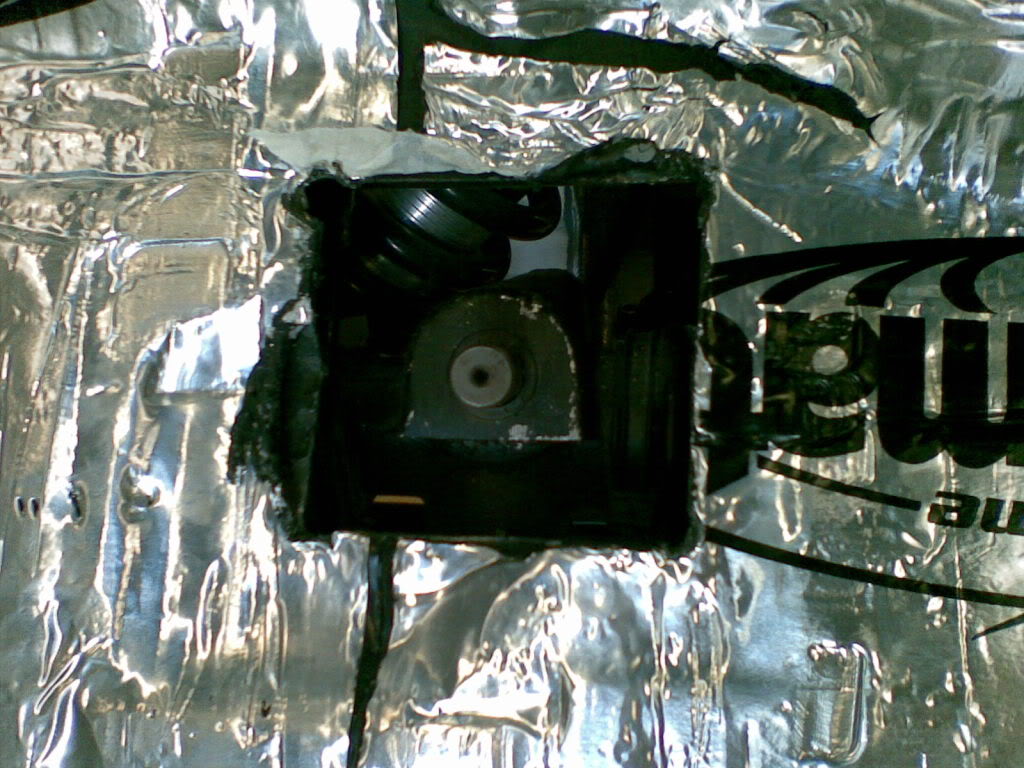 Now its not just a simple even gap between the two, its got a lovely angle to get over also - yippee.......

So I started out by cutting out the hole to what you in the above (80mm wide by 75mm deep) then cut a peice of Ali 200x80 and formed it into what you see now: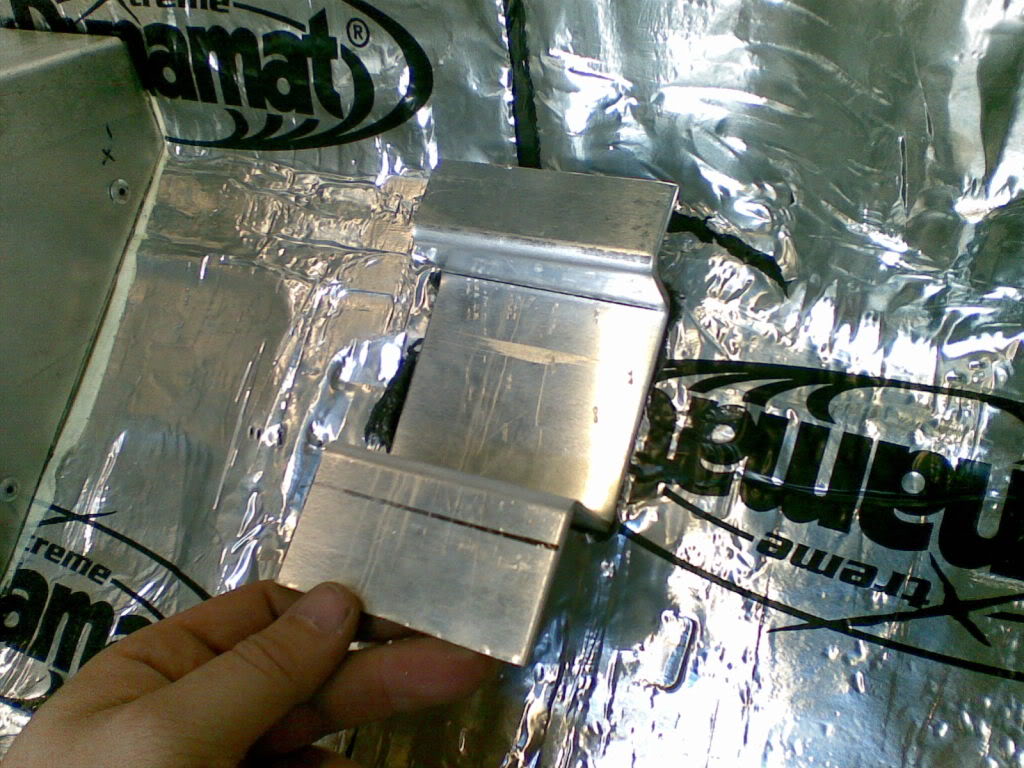 Check out the angle of rack:




So with this part made I went about making up some side to match: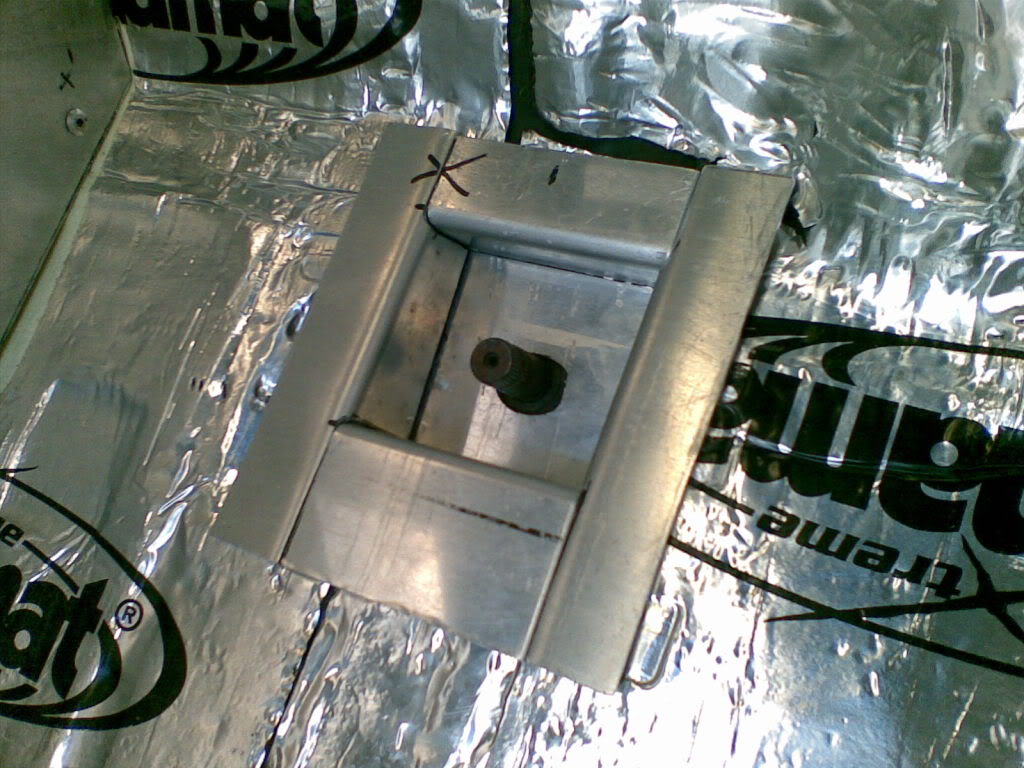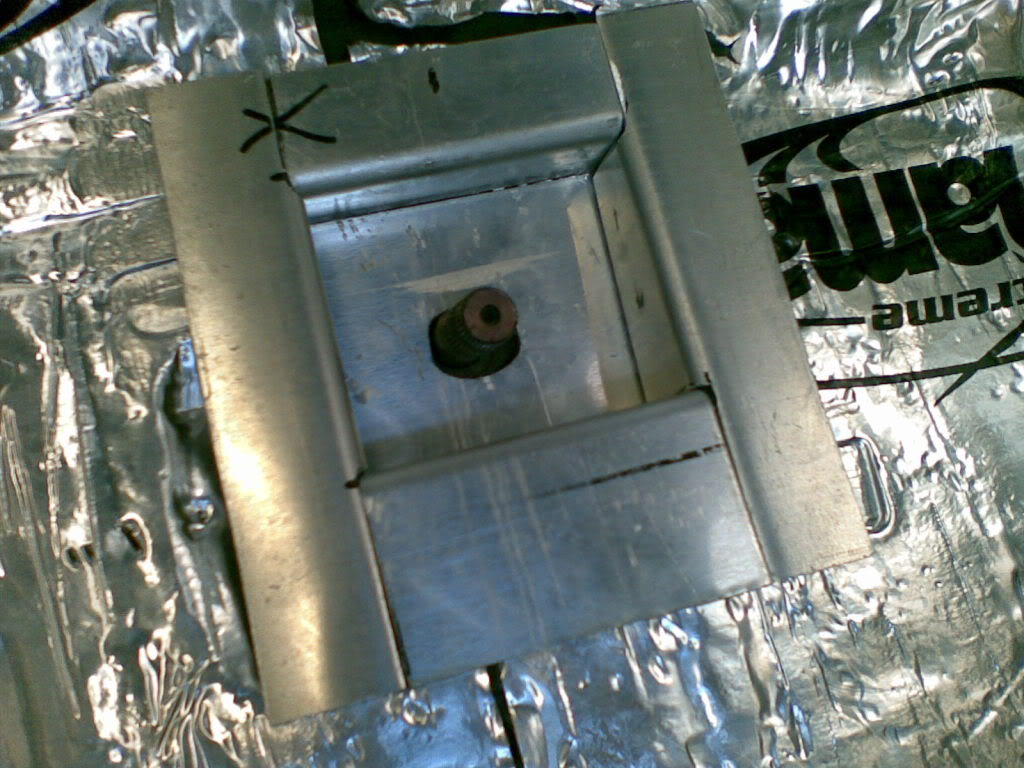 I am taking the bits to my good friend Stevie G in the morning to get them welded together, when I get the part back I will post the results.
For those that are interested in clutches and the like here is a snap of what my Carbon clutch looks like when pulled apart (excuse the grainy photos, they were done on my phone):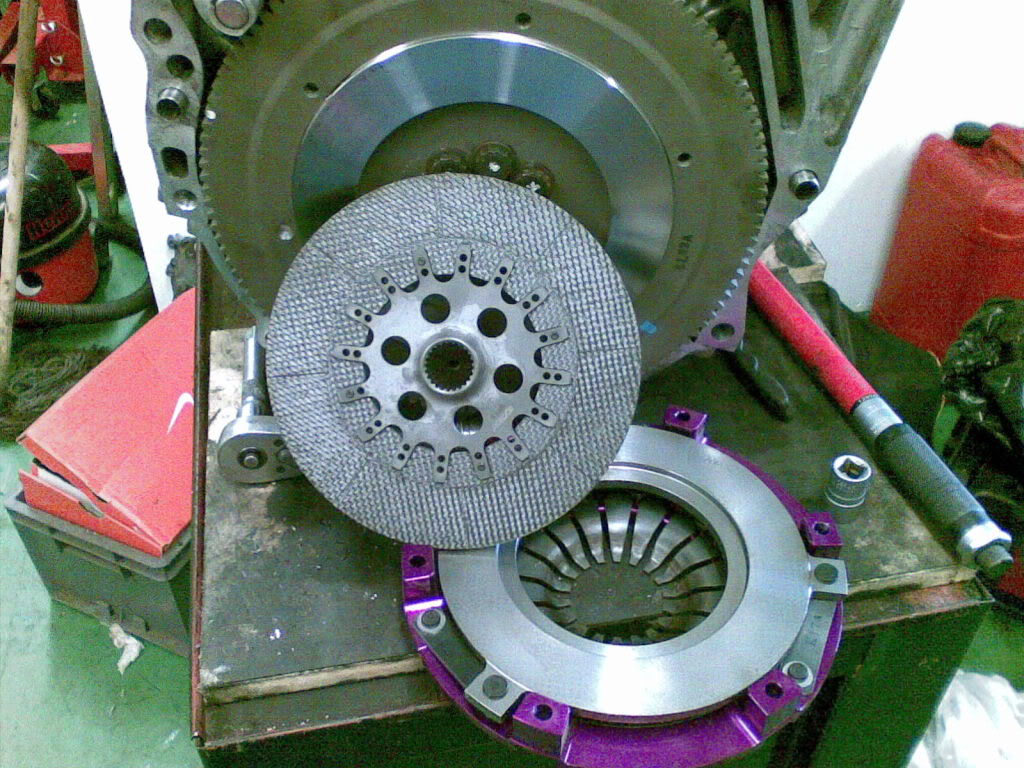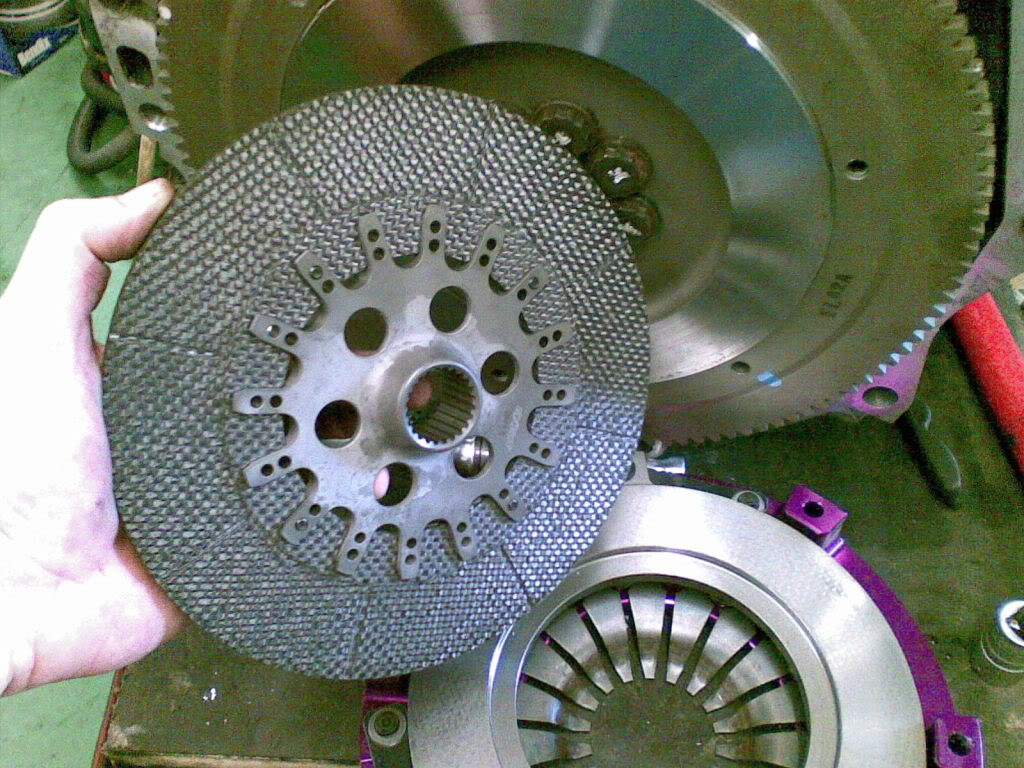 And once all back together on the new engine, this si the last time it will look like this: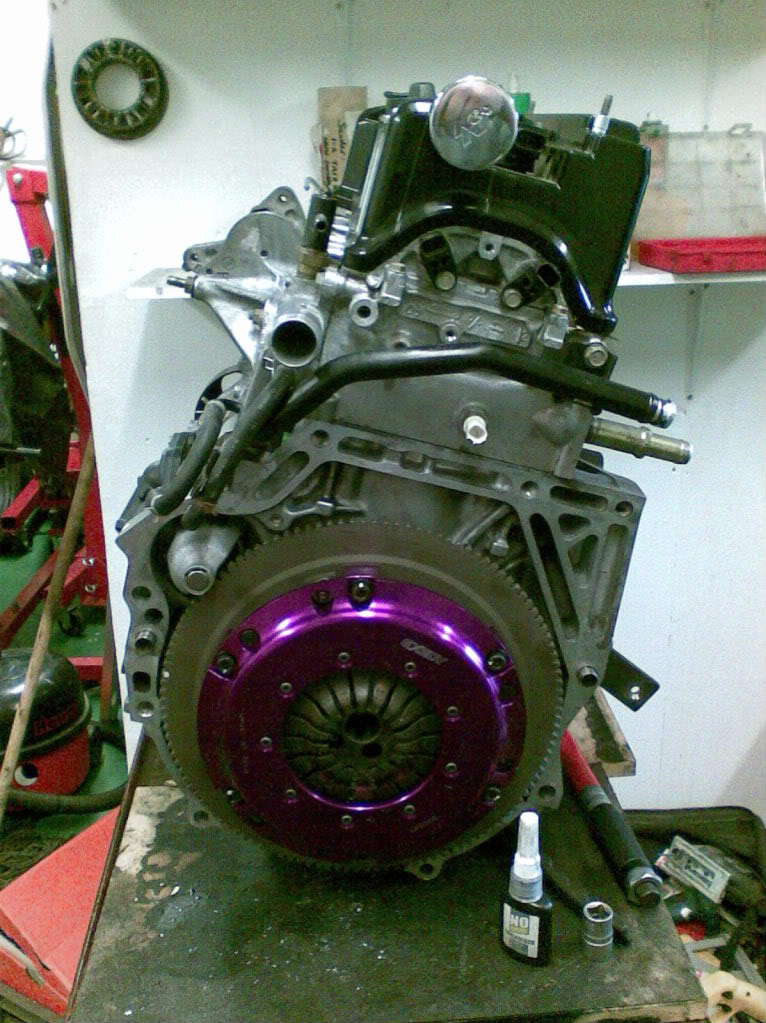 4-20-2009
I finished my Rack Gap filler over the weekend and will get some pictures up in due course.

I spent some time over the weekend fabbing up a shroud for my little fuel cooler, its a small 110mmx75mm matrix Mocal oil cooler thats going in the fuel line just before the fuel rail. What with all the radiant heat from the radiator onto the fuel tank and from the coolant pipes to the fuel line, pump and filters in the tunnel the fuel could do with a little cooling, I figure D.E.I. wouldnt sell a Cryogenic fuel bar (LINKY TO D.E.I. SITE) if cooling the fuel didnt do any good.

Anyway more on those two subjects in a short while, with photos n stuff to go with them.
So here goes on the completion of 'The Rack Gap':

I got the part back nicely welded up (really wish I had a tig welder, my mig just isnt up to the job), thanks to Steve.

And then set about making a hole in it. Problem is that without a hole in the side you cant get the bolt in or out of the column, which means you cant get the column on or off. So below are a series of photos showing the part and then bits added and holes made and a load of other stuff, enjoy.....

The Part welded together: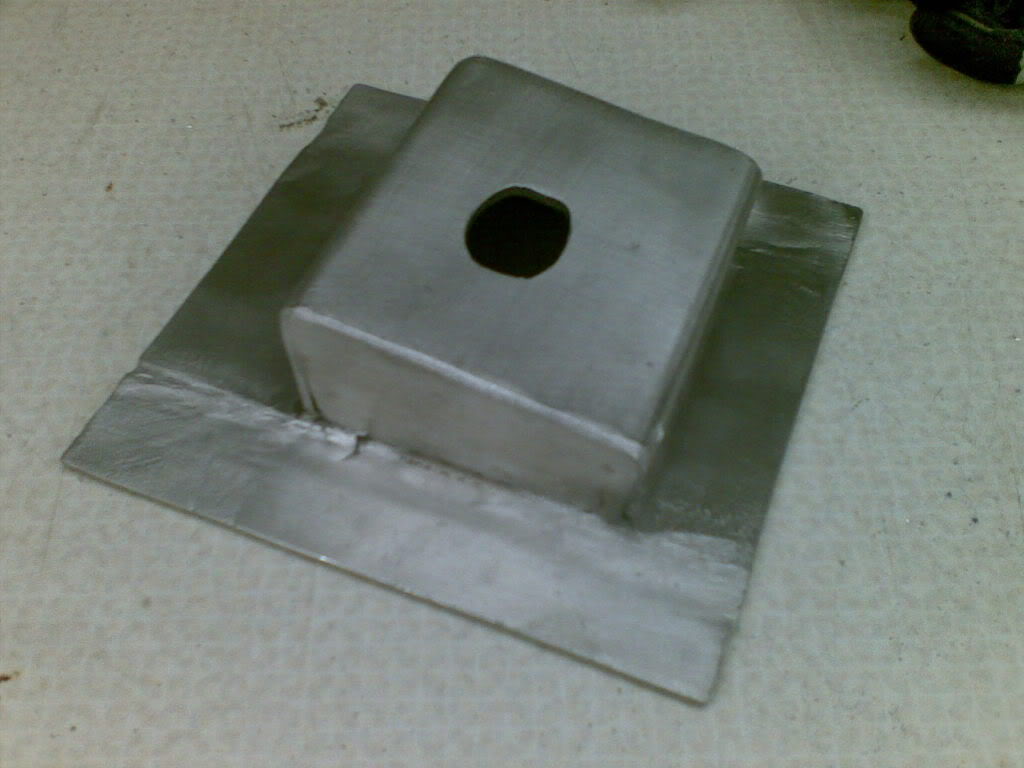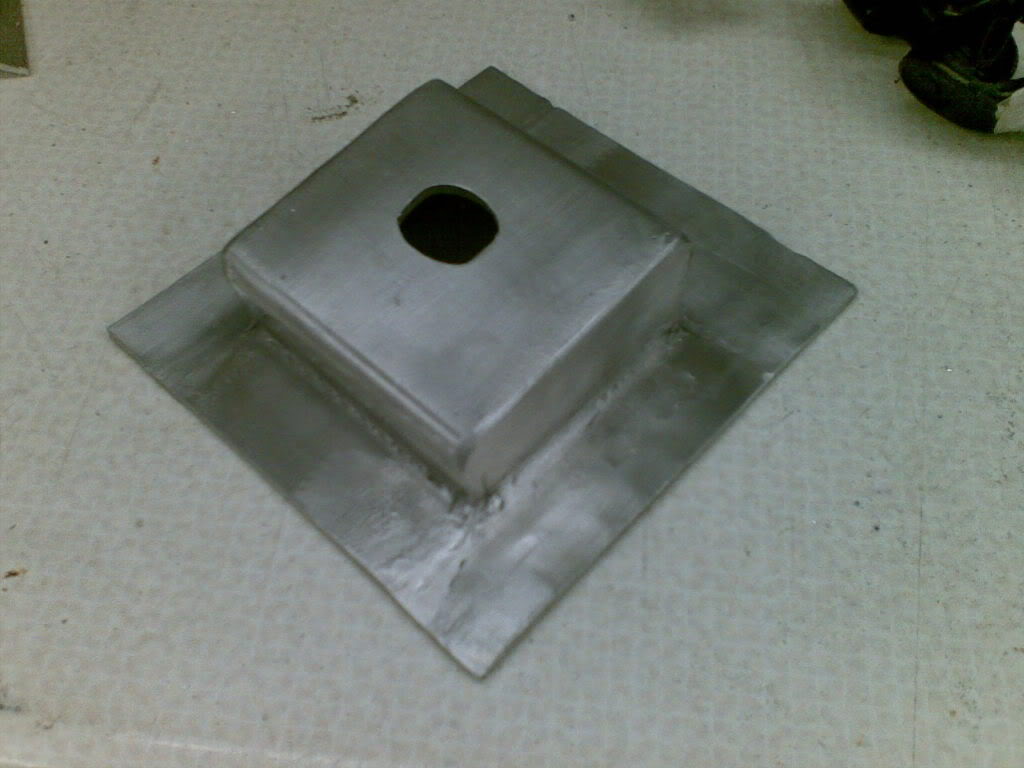 A couple of rivnuts in place and a cover plate made up from some 3mm plate: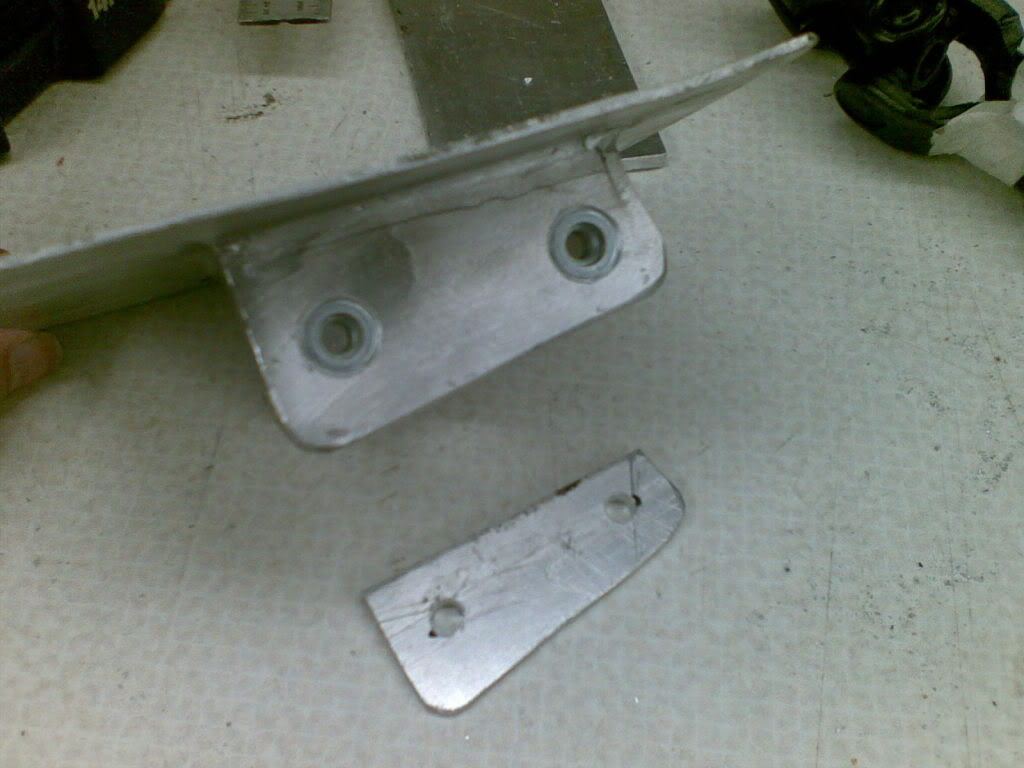 Now cut out a hole big enough to get the column bolt through quite happily (8mm bolt)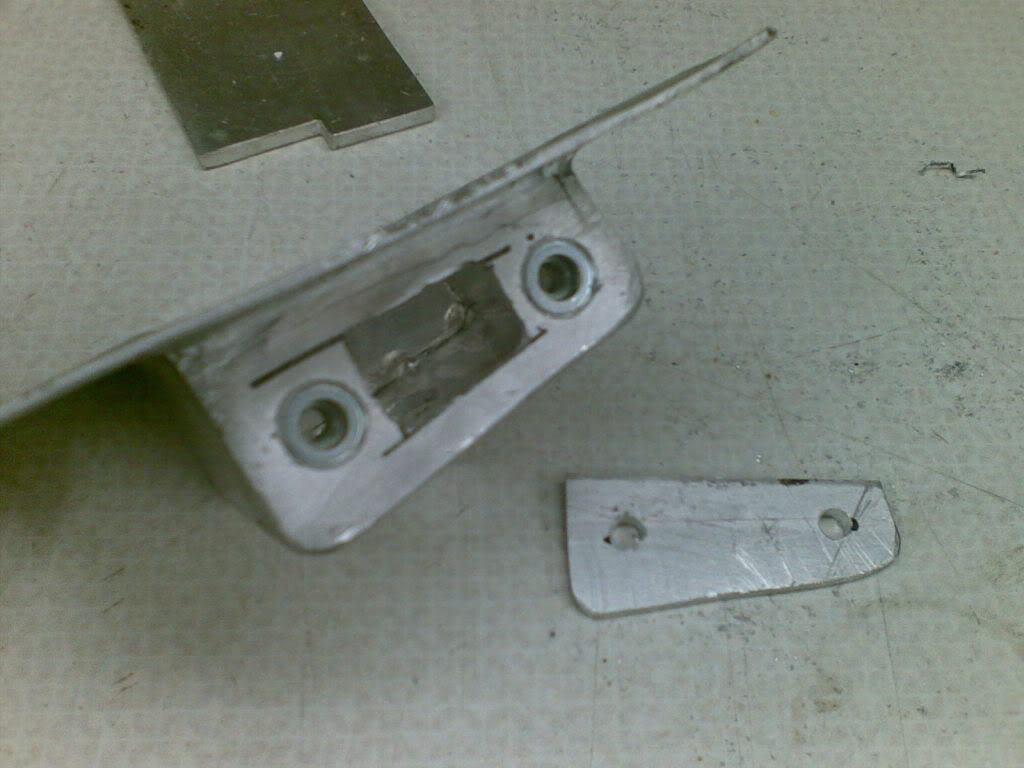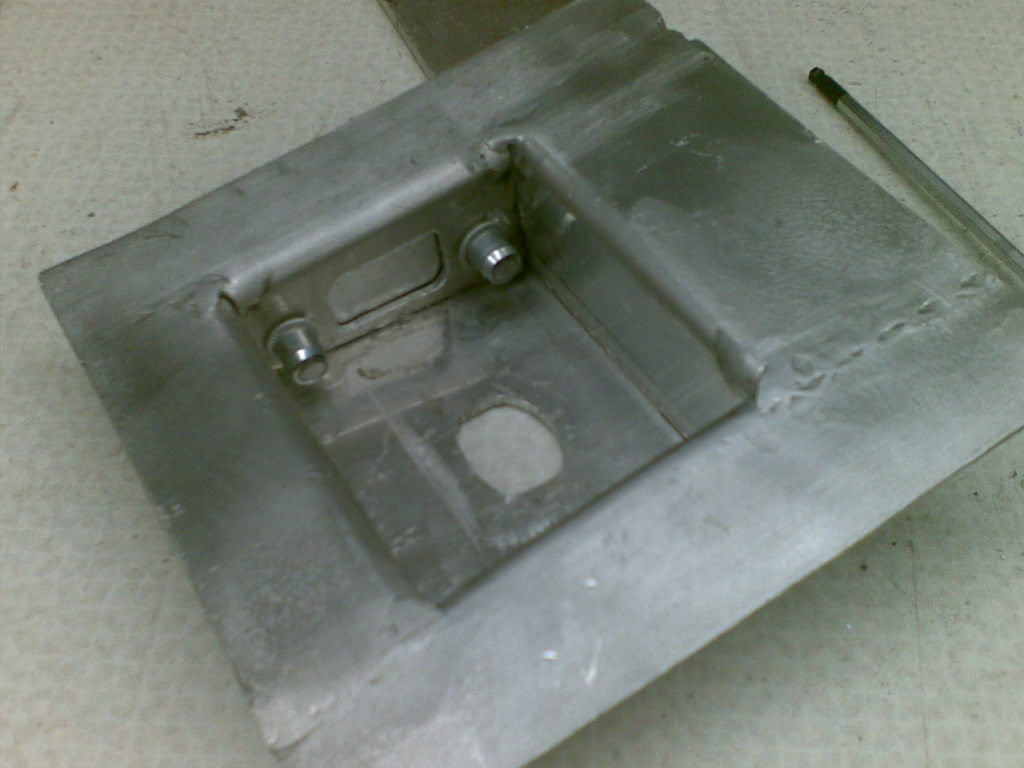 Mark out the fixing holes and offer it up: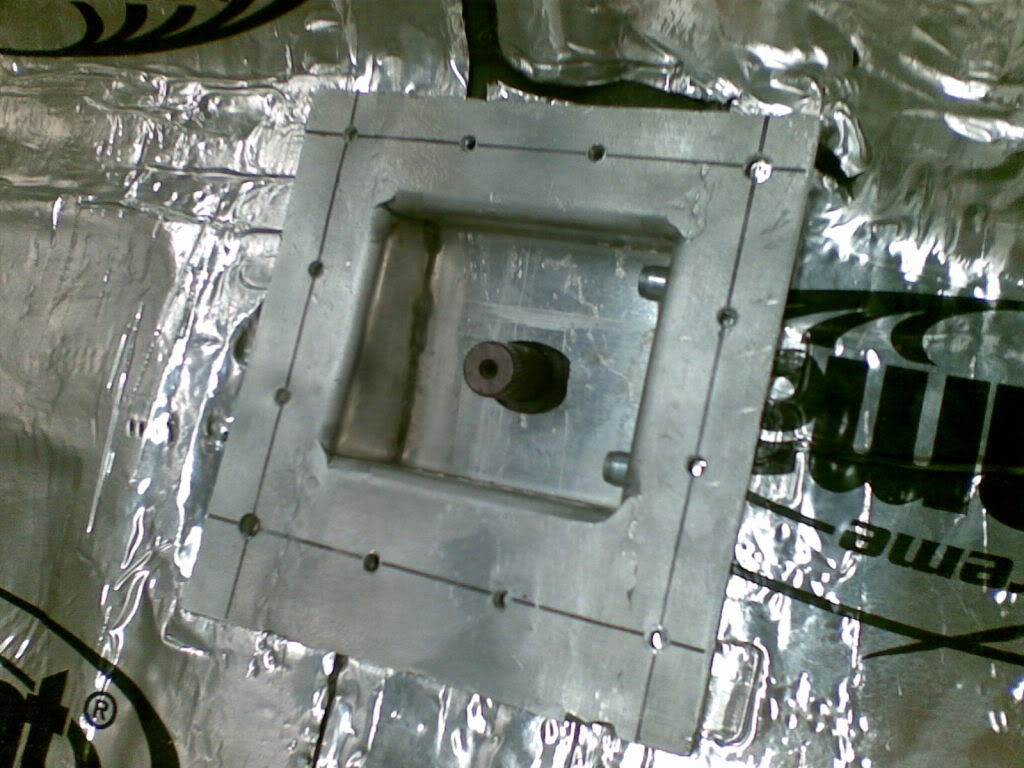 Now here is an interesting bit (well I think so), to aid in the watertighting of this part you need to consider that although the rack gap is almost closed it still has some gap and it is not even, so some lateral thinking was required, the donut you see below is made from the picking the backing off the dynamat, rolling into a sausage and then joining together. I figured it should work quite well when compressed between the two surfaces, the sealant around the outer rim is roof and gutter sealant, if you gonna use this make sure theres plenty of it so when it shrinks under drying it doesnt leave a gap, proper sticky stuff, it never really goes off like other seelants making it ideal if you ever have to remove the part. You'll get sticky finger - trust me: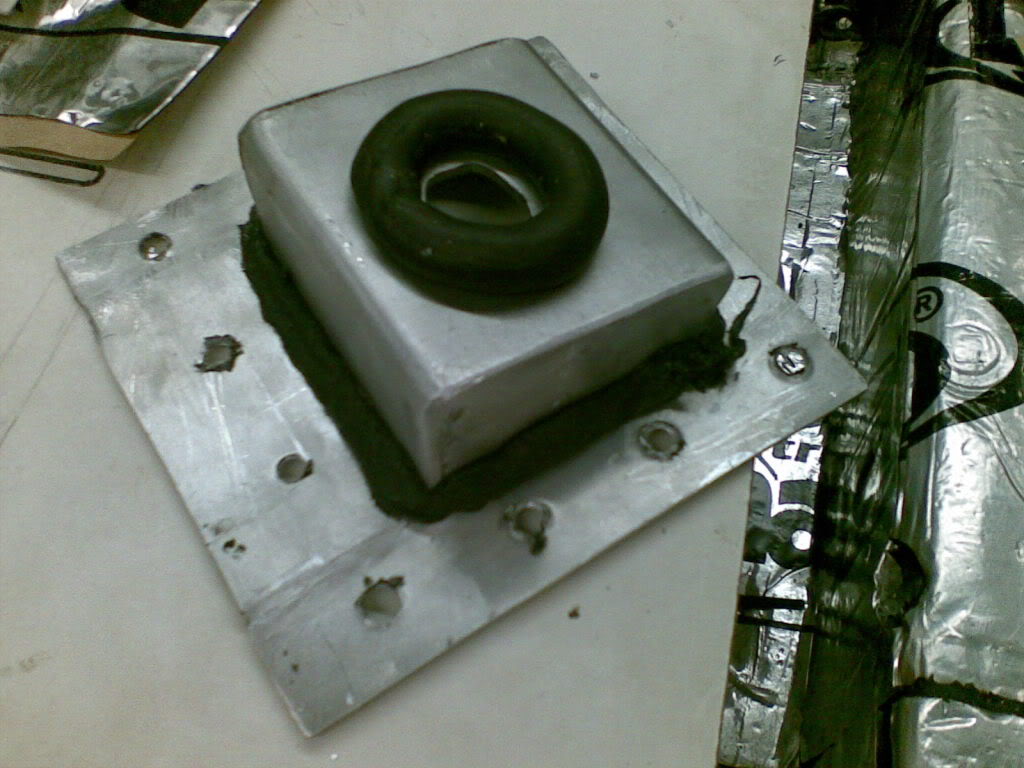 Liquid gasket used for the cover plate - dont forget the loctite on the bolts holding the plate on, if you not in a hurry you can wait til the gasket goes off before applying the loctite: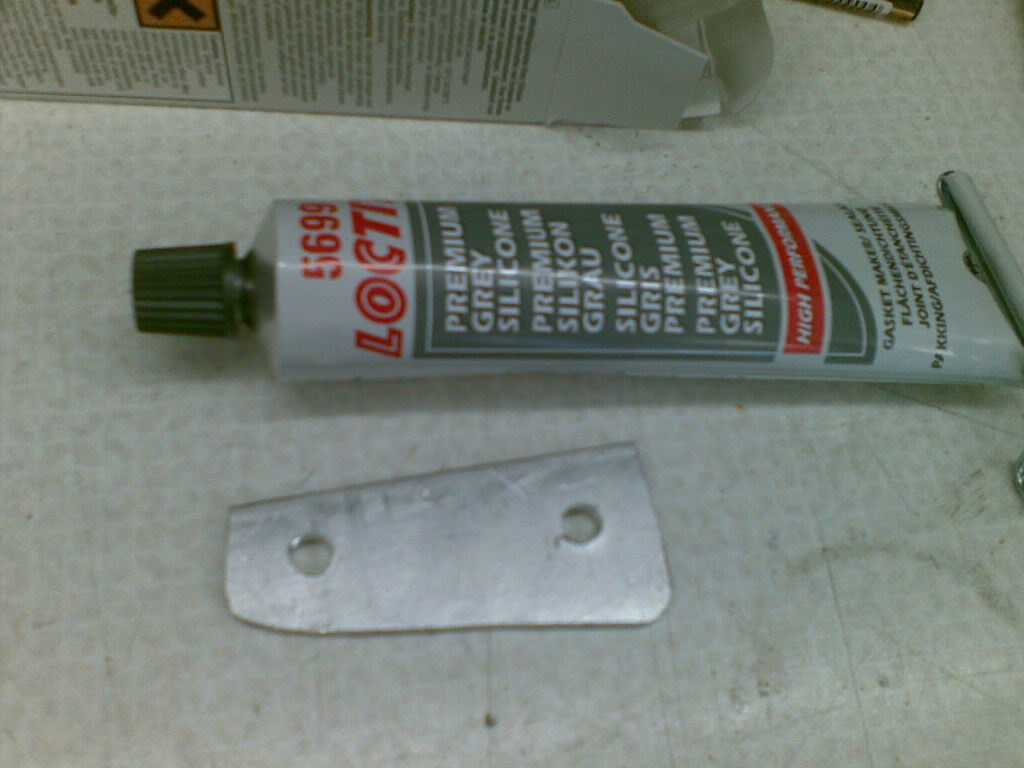 So here it from the inside: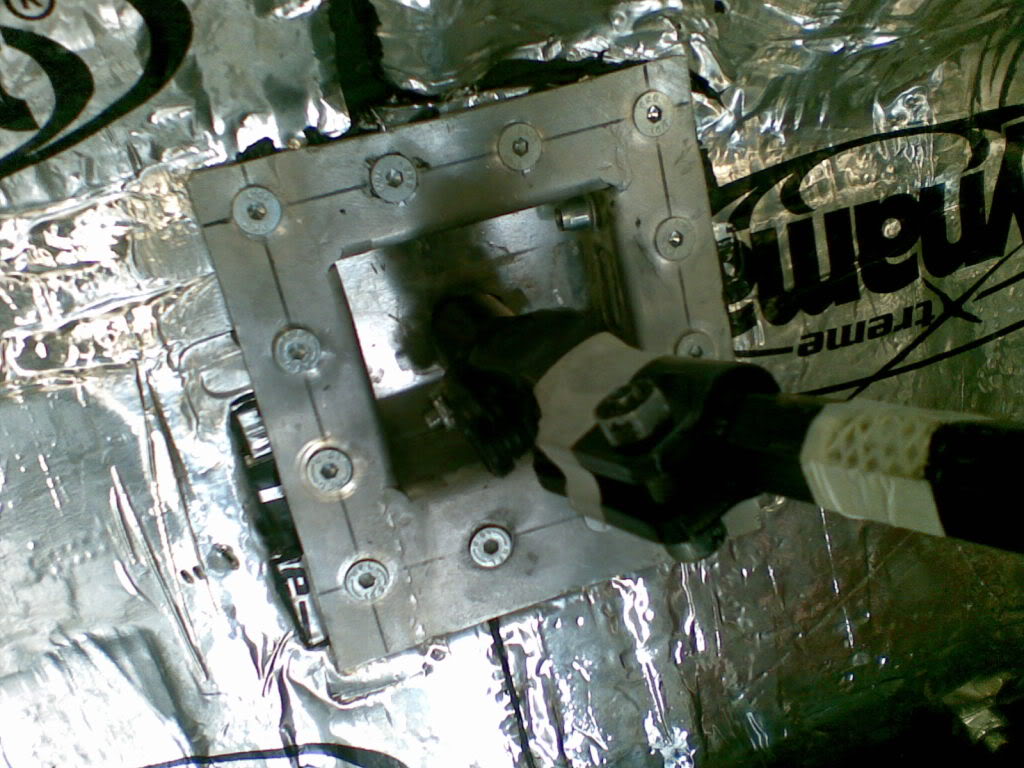 And here it is from underneath, (photos a rubbish - soz) firstly without cover plate, then with..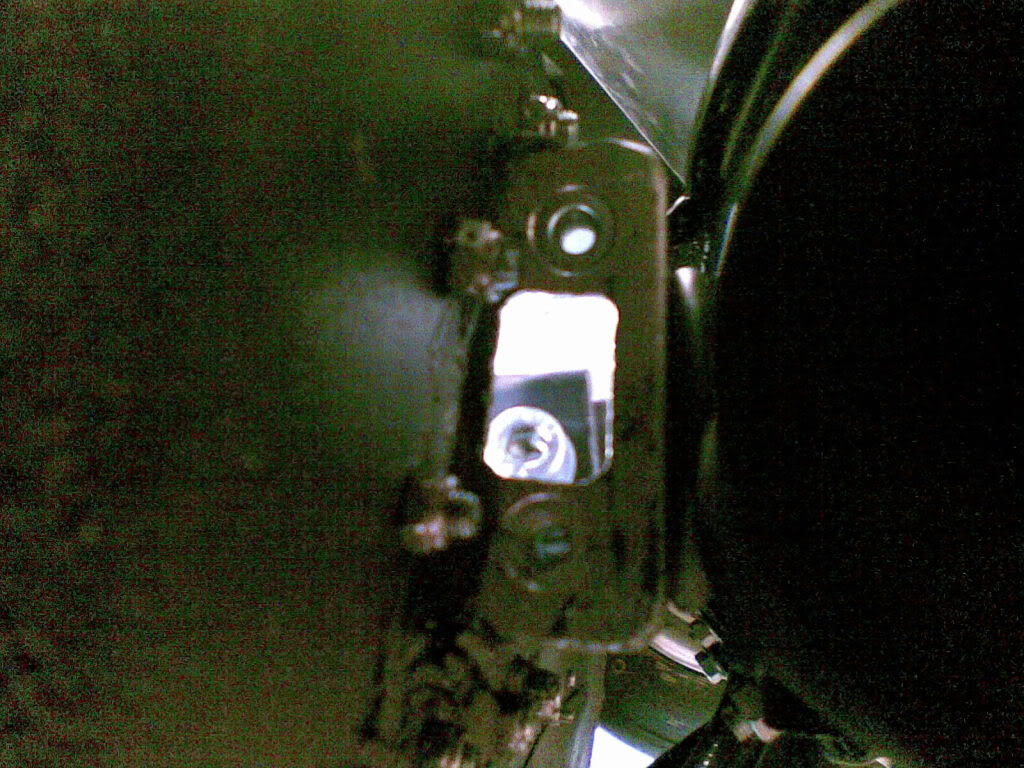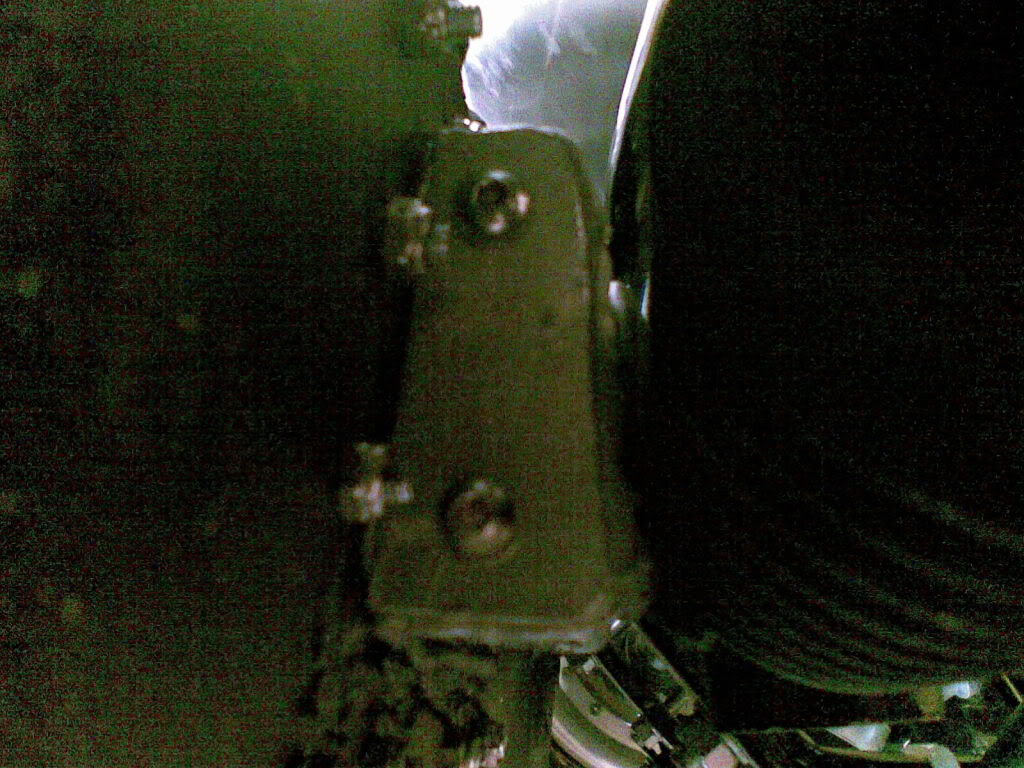 Lastly this is what you see from above, note the seal created by the dynamat donut.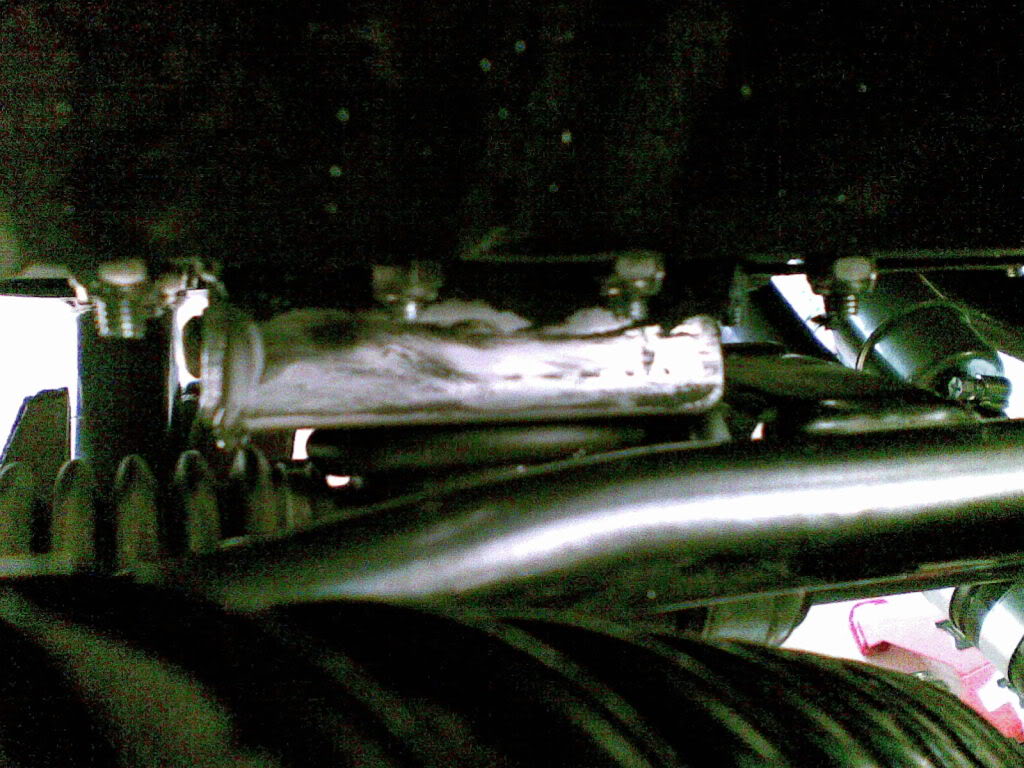 Onto the fuel cooler.

I whipped this bad boy up on Sunday, unfortunately I dont have any before or during shots of this as I just cracked on with it and didnt have a camera to hand, nevermind.

This going to be connected directly to the offside scoop, in such a way that you will see the matrix when looking in the scoop. As I said in an earlier thread with all the radiant heat that will inevitably transfer into my tank, filters, pump, fuel cat and fuel piping I think it will be prudent to cool the fuel.

Another big thanks to Stevie G for the welding, even though he got Barry to do it.

So here is the shroud and cooler (again excuse the grainy photos, my phone comes in handy for photos but doesnt take the best photos in the world):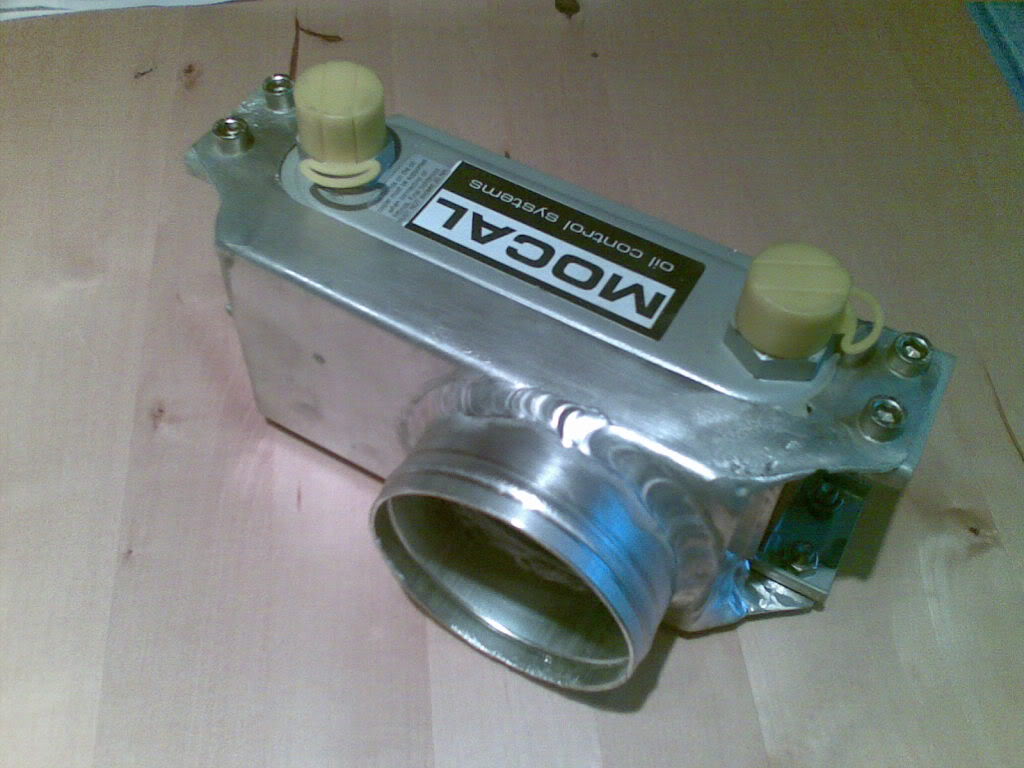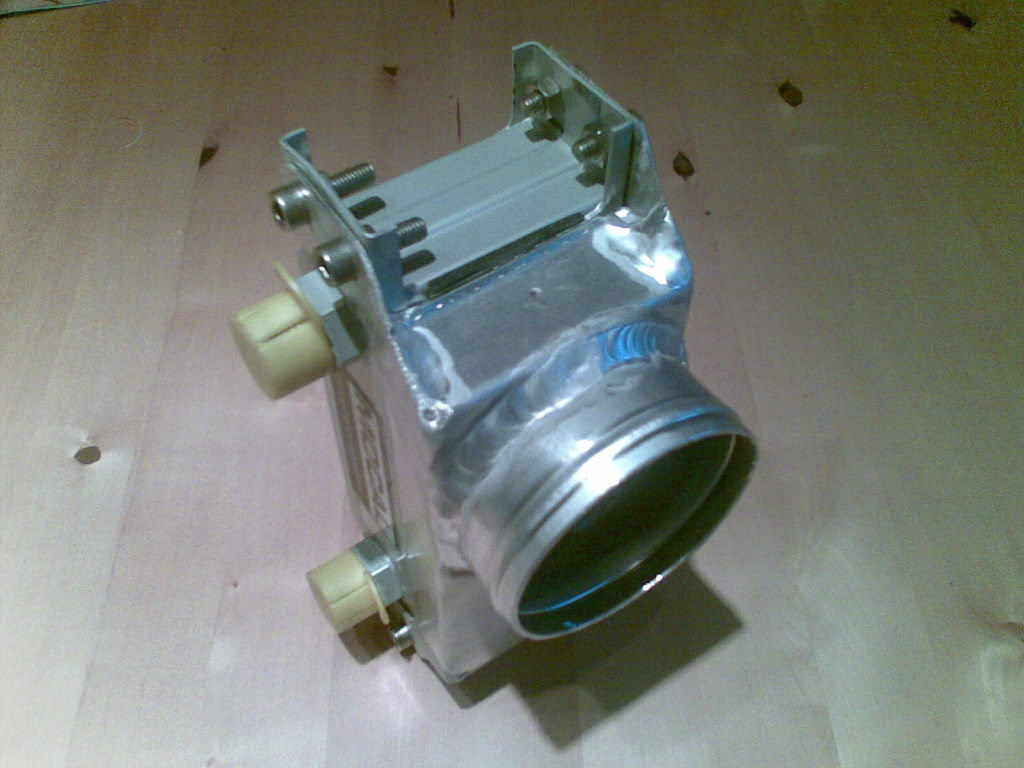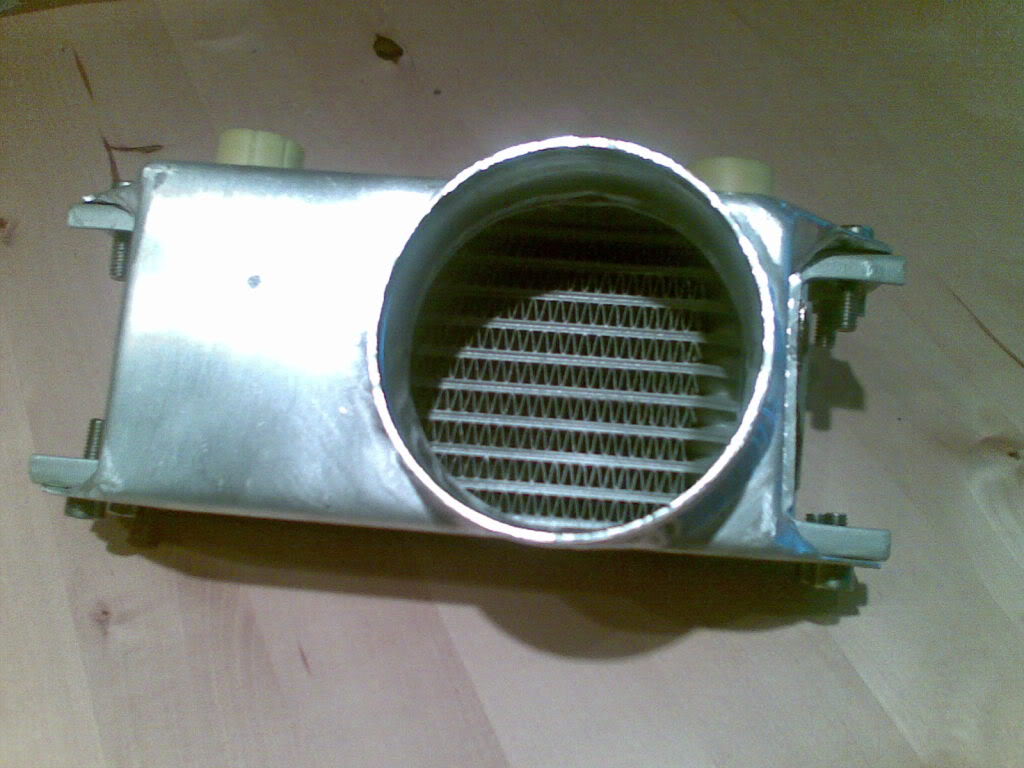 4-28-2009
I know it will be, thats what keep driving me forwards.

Not much to report, in the middle of making plugs for inner arch moulds. Due to the size of the arches they are proving somewhat challenging. Hope to have photos by the end of next weekend.

On the advice of a friend I made a list of all the jobs that need doing, crikey there is a shed load of stuff left to do and I now find myself waiting on two plates to hold the scoops in before I can move forward with the sealing of the rear bulkhead. Which is holding up putting the engine back. The one bonus is that because there is sooooo much still to do I dont find myself sitting idle.
4-29-2009
I am starting from nothing with the inner arches. Because the outer arches are sooooo massive they require a slightly different approach. And I think that the inner arches that Z's supply would have been too small. From what I can see the outer arches are mostly stuck to the body rather than bolted, but I still have a good 30mm of flange to work with inside the arch.

I have started making a plug that utilises the angled part of the frame that goes from the top of the suspension unit to the front of the rear suspension arm. The arch follows this angle to the top then follows the radius of the outer arch down to the rear of the car. Once I have made the plugs I will take a photo and post it on here, then all will make perfect sense – honest.

I wont have to cut mine as I will be putting them in place before the engine goes back in or if engine is in I will remove the suspension arms to get them in – that's the plan, but as we all know the best laid plans often go to sh!t.
So I spent some time on the inner arches this evening and have got the O/S to the gluing the flange to the main body of the plug (woop woop for Gripfill).

I would like to say that whoever thought up bendy MDF needs a medal it is just whats needed when you have the curves of the body to contend with when try to make a flange for the arch.

Maybe now you can see what I was ranting on about in the post before this.

I would like to point out it is a work in progress and there is still alot to do before it is ready to make a mould. Plus I still have to do the N/S.......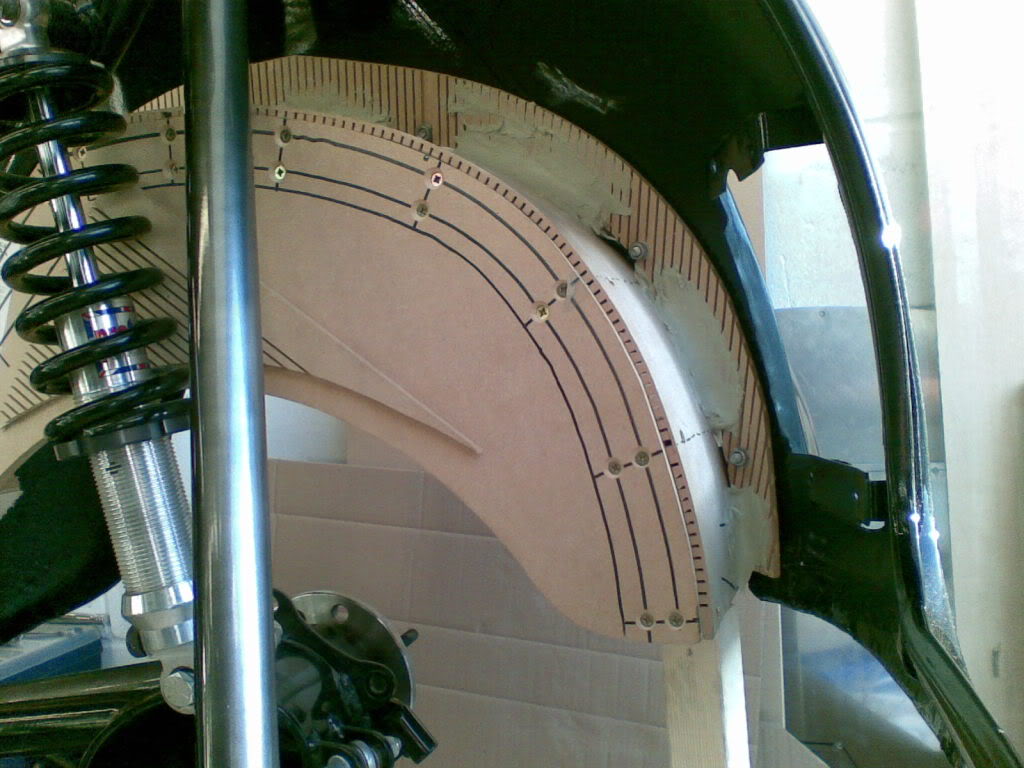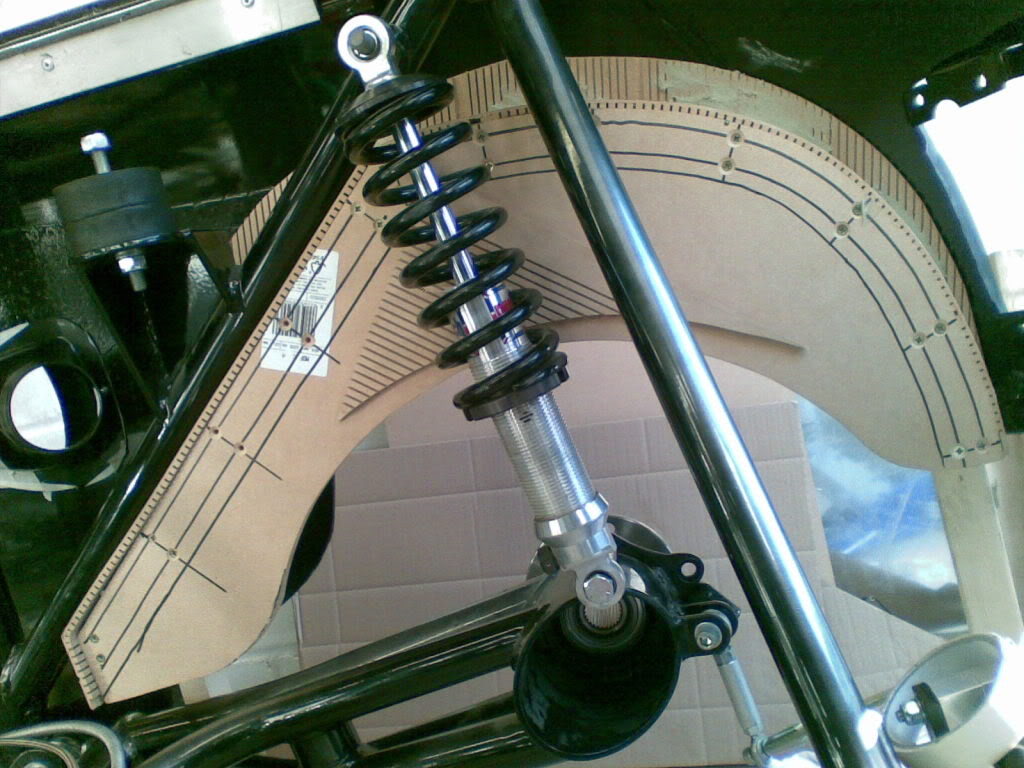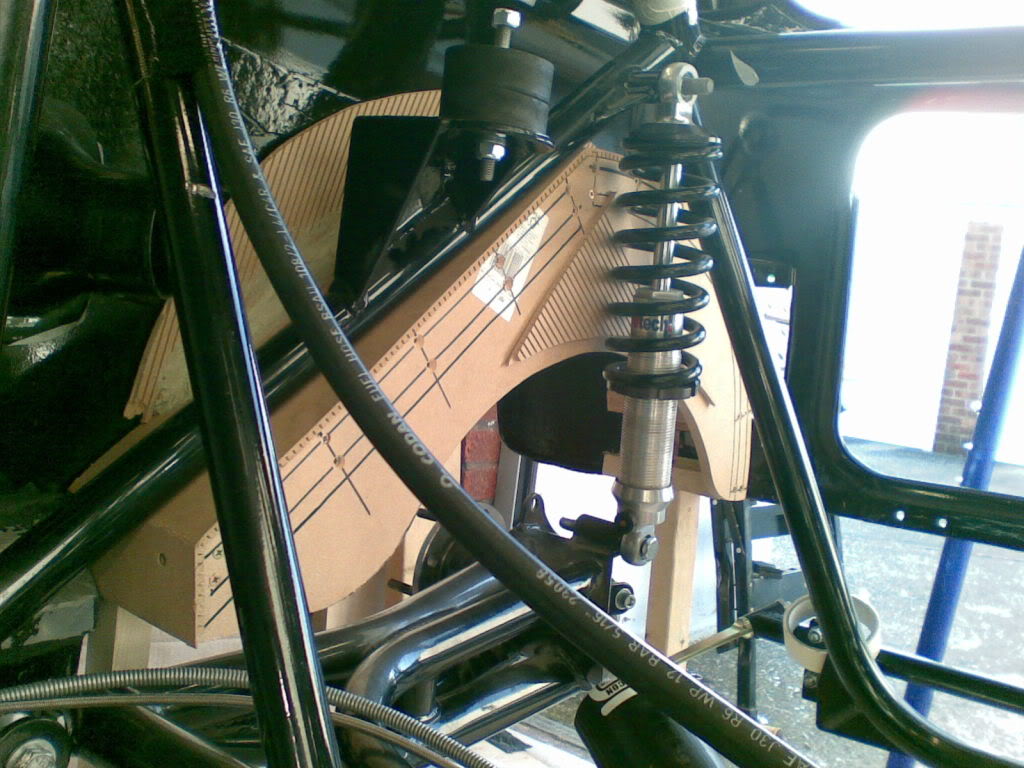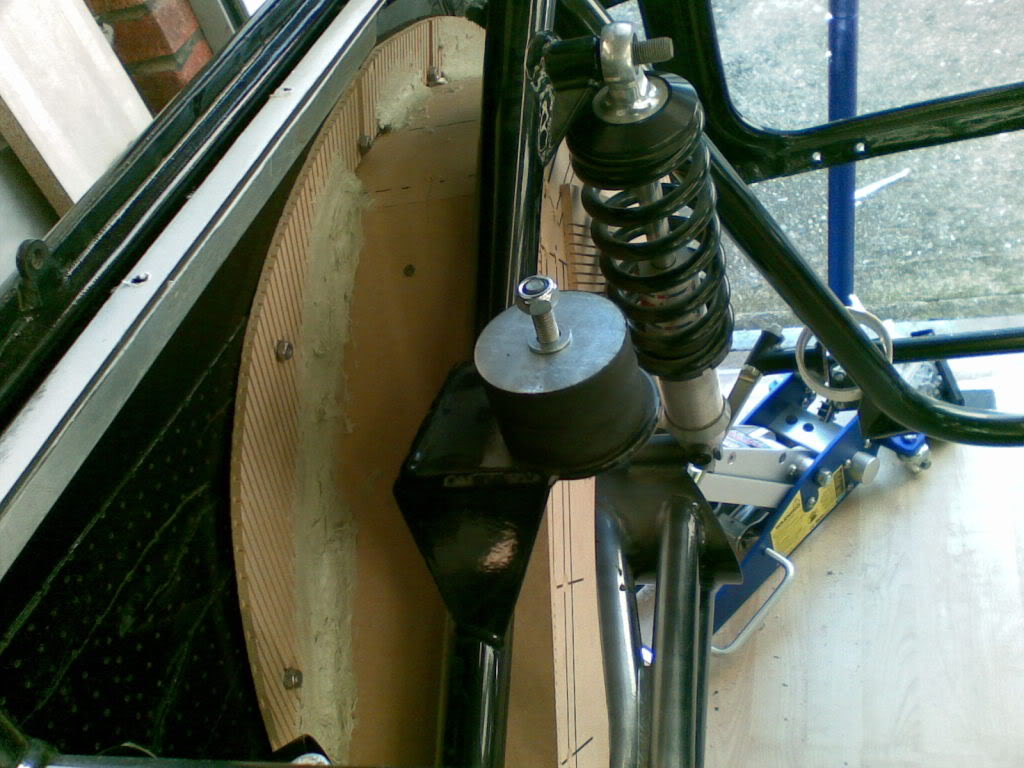 Once I had thoroughly covered my finger in gripfill making the inner arches I set about making the speed sensor mount, please excuse the photos, out of focus and grainy comes to midn but you get the idea:

We start with a picture of where it is going and then onto the mount with sensor in and then the mount in place (minus the sensor as I think I need to buy some longer bolts for the caliper so no point mounting fully at this point), I also need to stick the magnet to the shaft.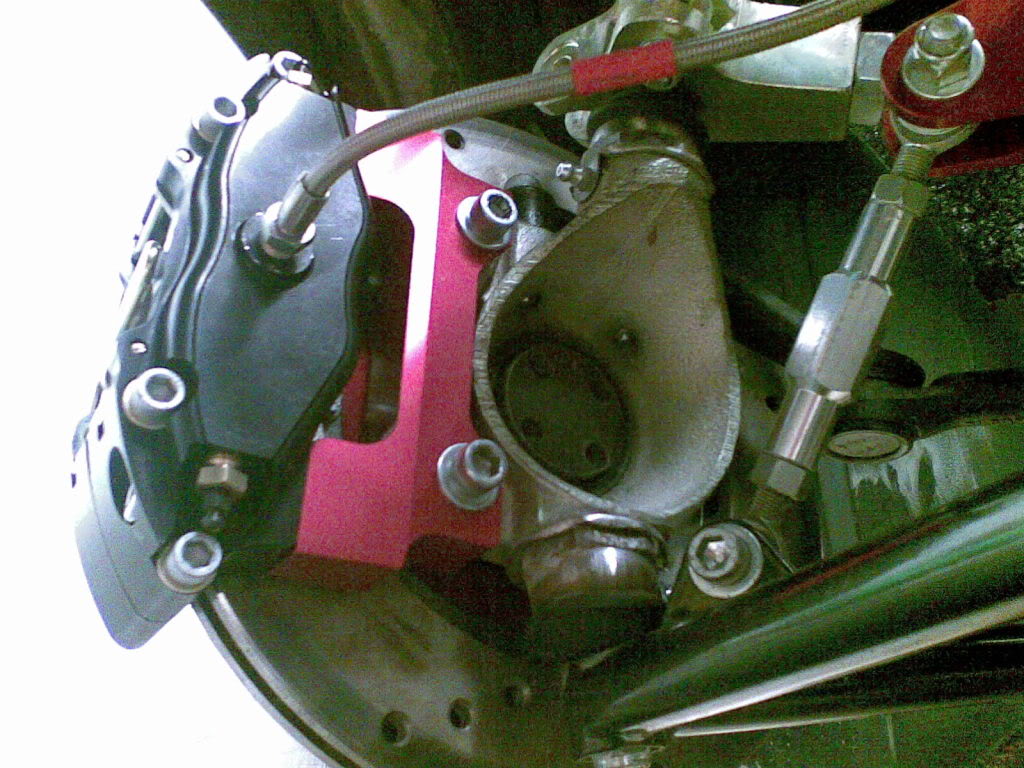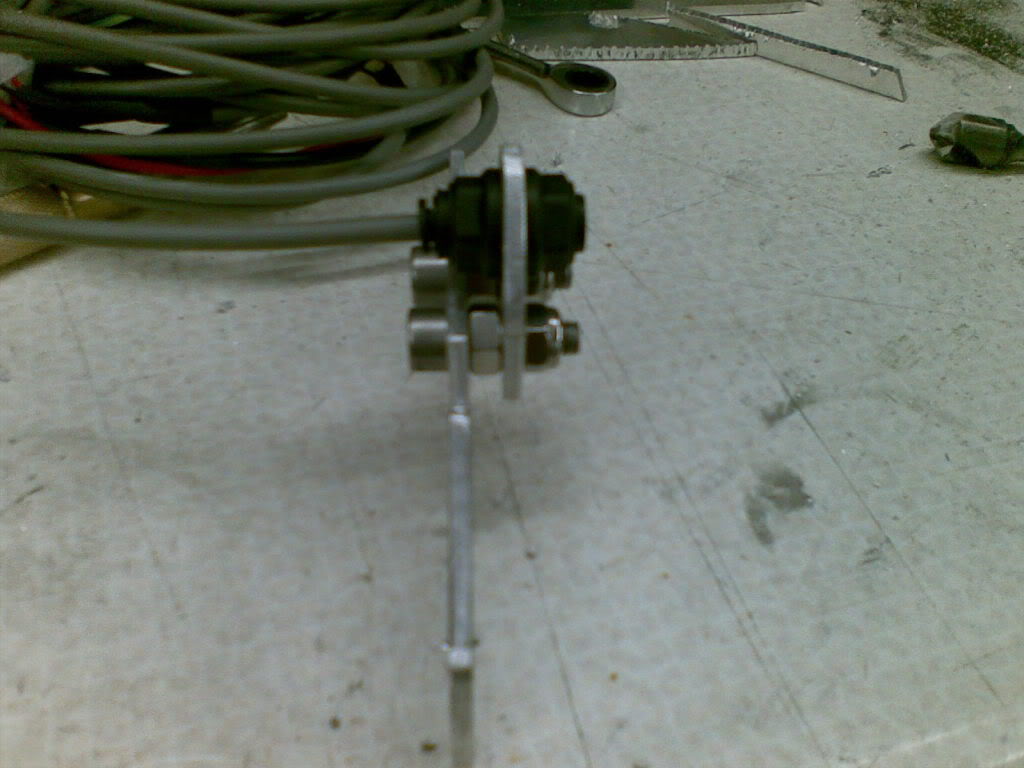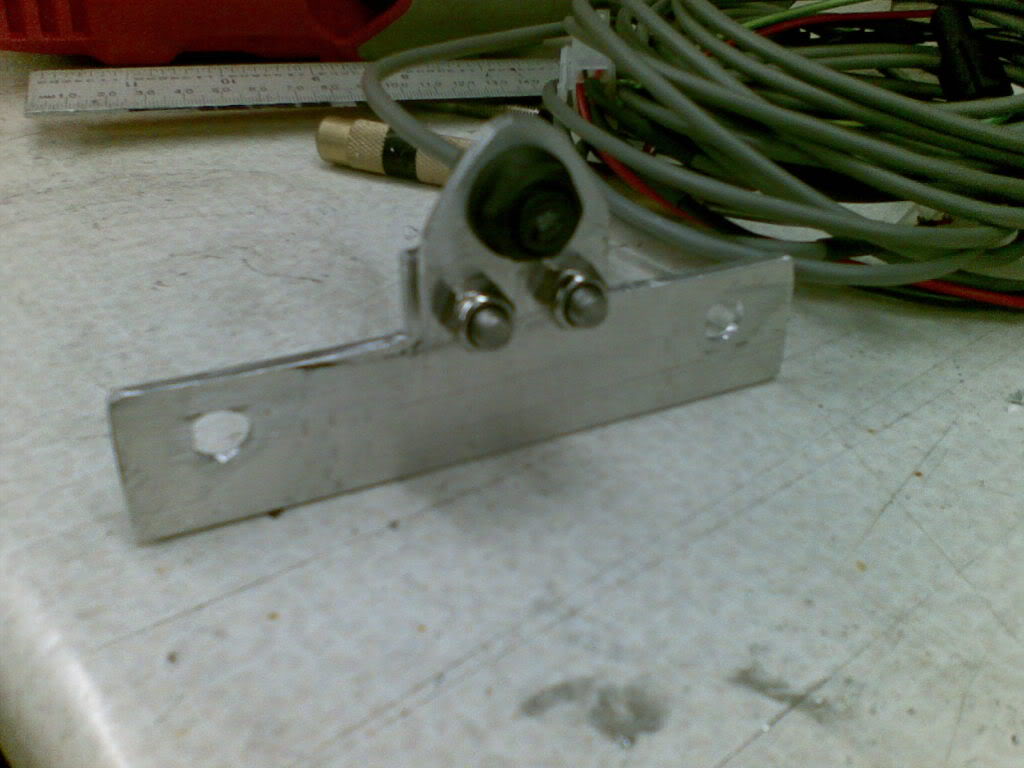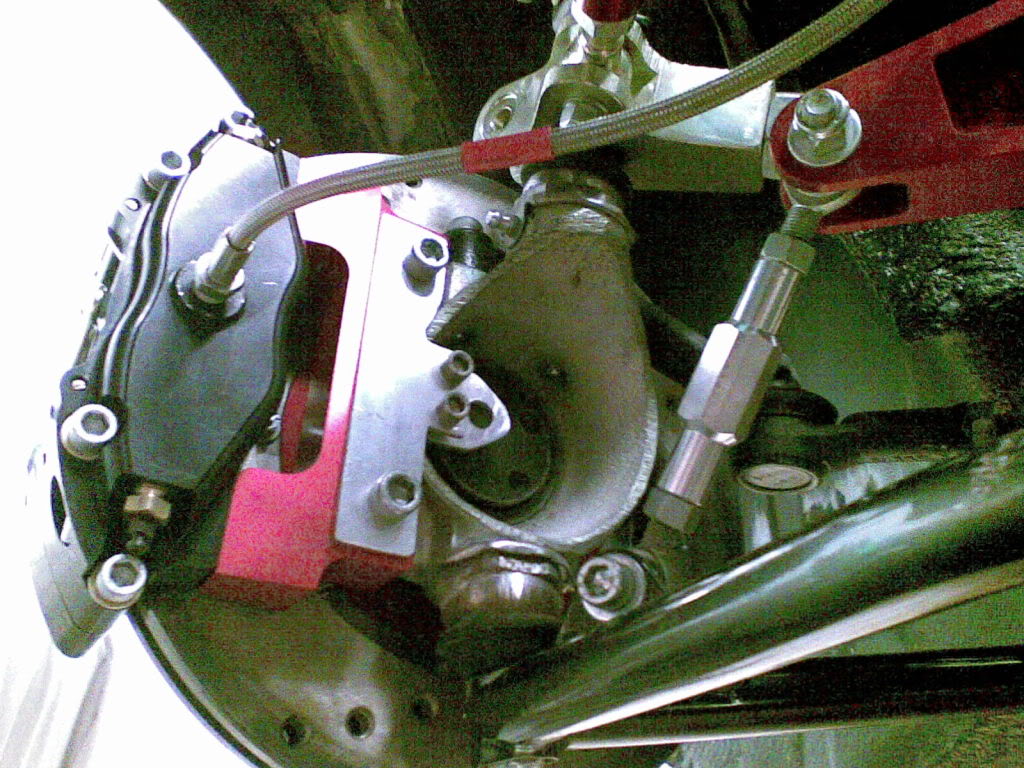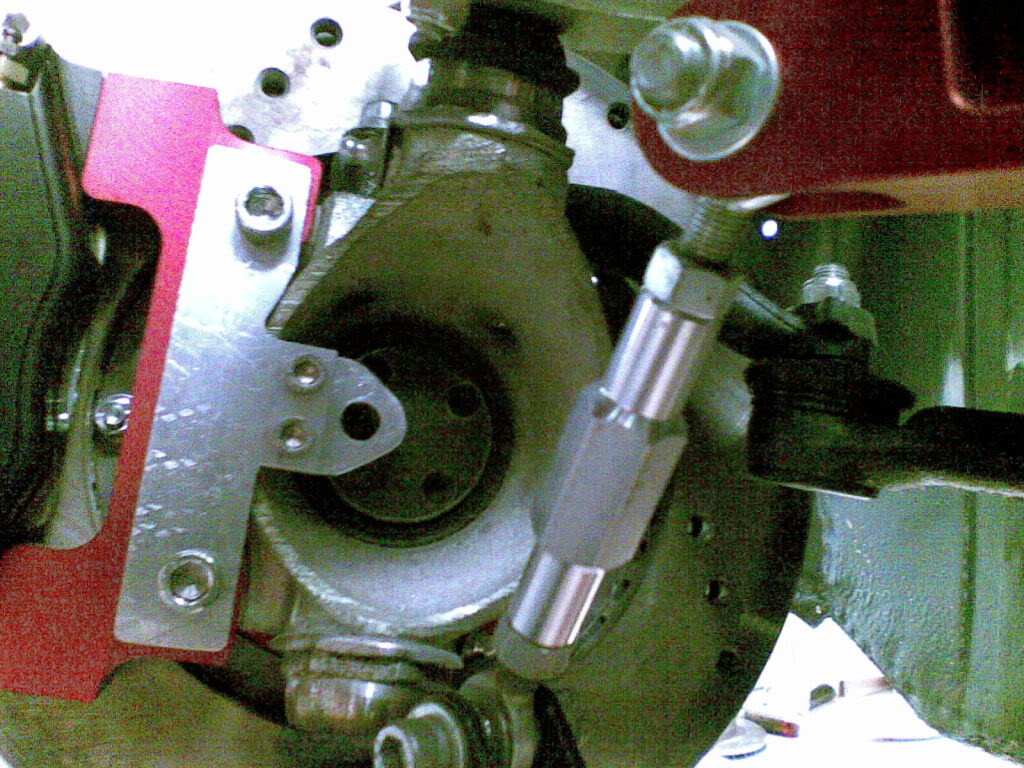 I also got around to taking a couple of snaps of the throttle pedal with the spring and adjustable return stop now attached: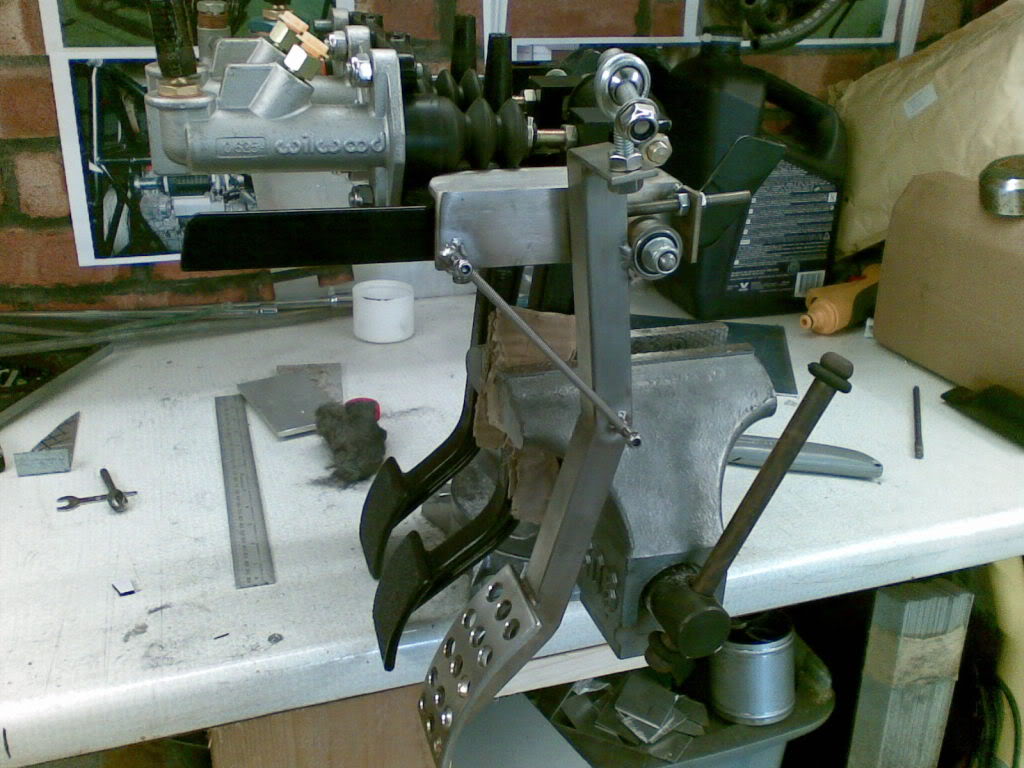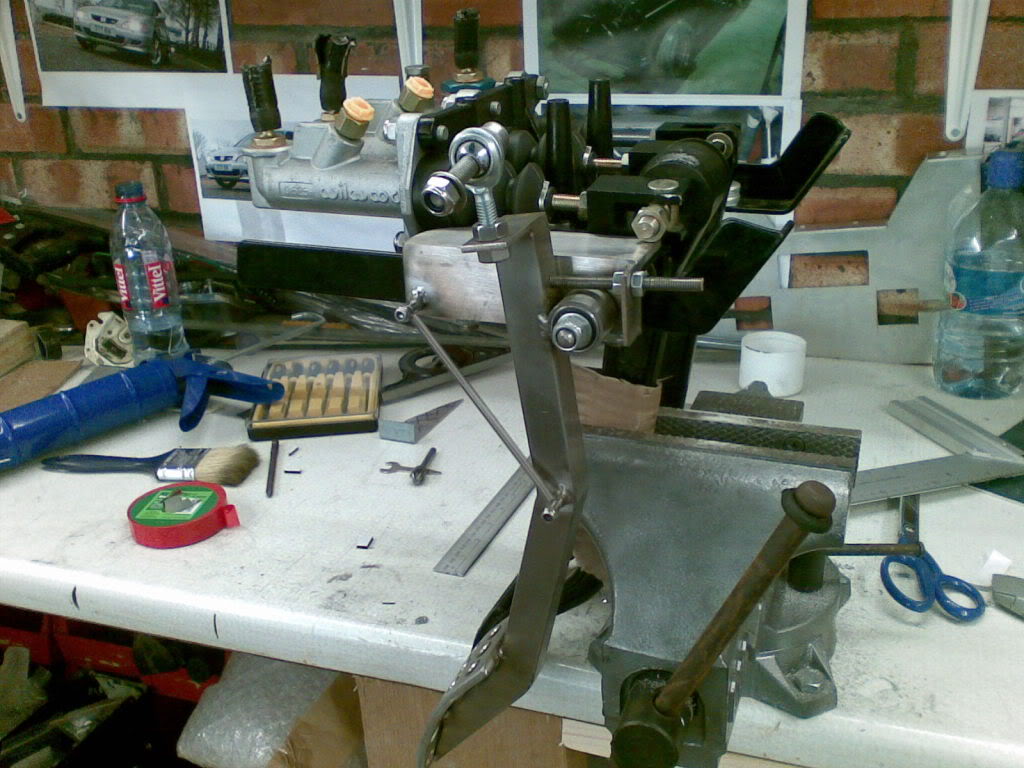 5-1-2009
I see it like this with these projects; everyone wants to do it differently and some may have no idea where to start, if I show the things that I have done people can choose to copy (which I dont mind as long as they dont end up with an identical car) or it can spark an idea for a different way of doing things. I also hasten to say that alot of what I am building I haven't tested in earnest so be aware, if copying, that it may not work.

All said I just love making things, there's few better feelings than coming up with an idea, drawing it out and then making it with your own two hands (plus sometimes the hands of others when you need a bit of machining or ali welding doing).

It's a man thing.........
5-2-2009
Update on inner arches:

O/S pulled out, thought I would show the photos so you can see why you have to use bendy mdf when trying attch the flange to the arch, serious curves: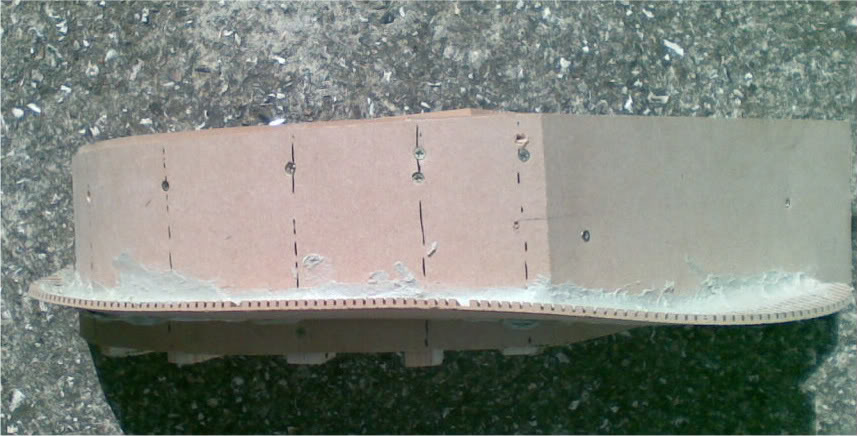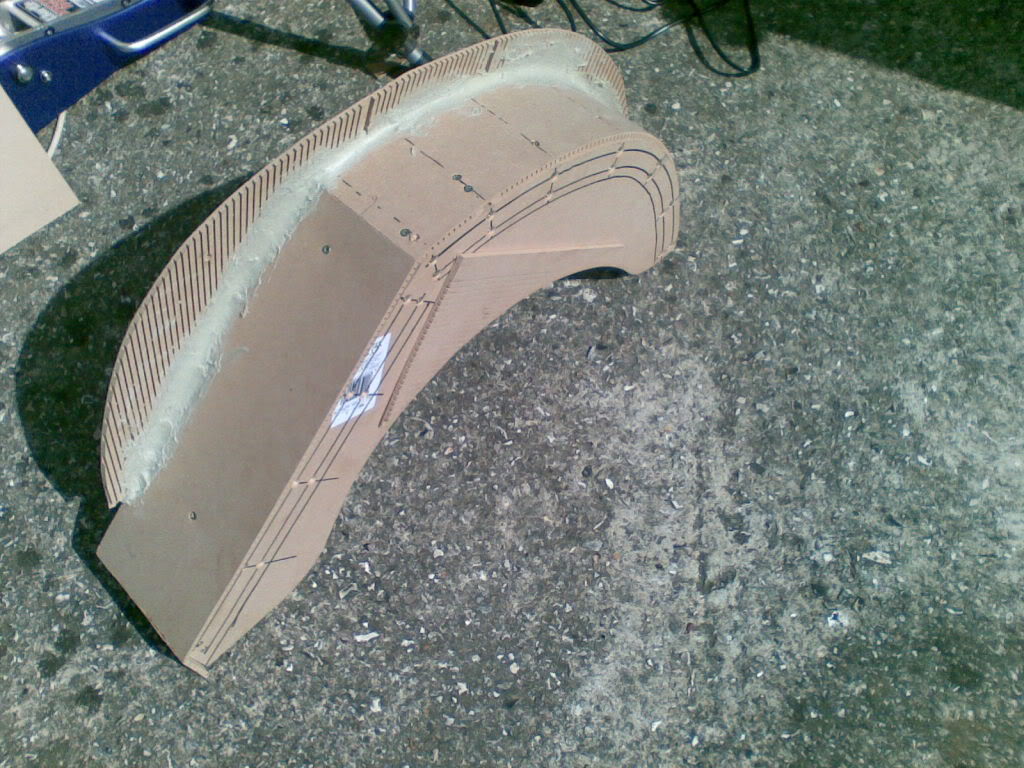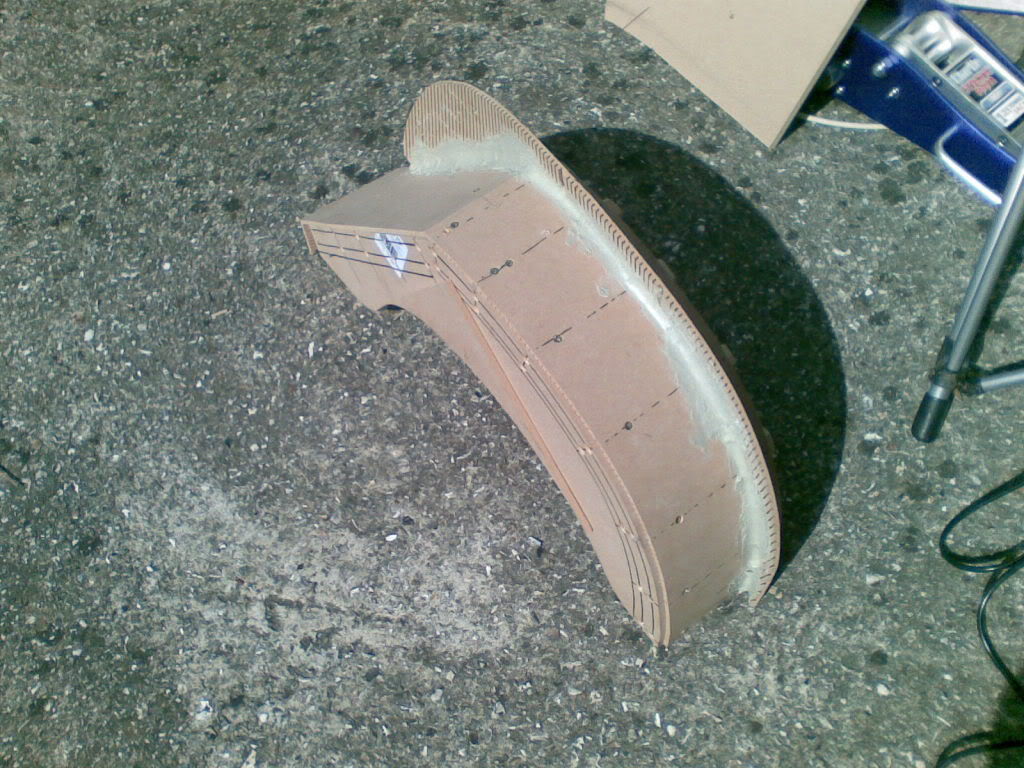 More to come as the N/S is made and then onto filling, smoothing, priming and then hand over to my mate Stuart to finish off and make me some fibreglass arches.......
Started making my expansion tank this morning at my good friend Stevie G's place.

So as you can see in the drawing in the first photo, I had drawn up and checked the volume of a suitable exp tank approx (2.25L) I have incorporated into the design a float switch to warn against low water in the tank, incase of leaks more tha anything else. The finished article will have the usual one inlet, high up, but two outlets, one for the engine coolant system and one will initially be unusd but is intended for the intercooler water system, the benefit of which is that the I/C coolant then is also pressurised, aiding to the efficiency of the pump if the outlet is connected in the right place.

I reached the stage of it needing welding and its missing the holes for the inlets and outlets as I need to talk to the Barry the Welder about hole distances.

We start with photos of the flats parts then onto a bit of bending and how to overcome not having a bending machine available, then just some shots of the parts offered up. Hopefully it will be welded up in the week and ready for installation next weekend - woo hoo.....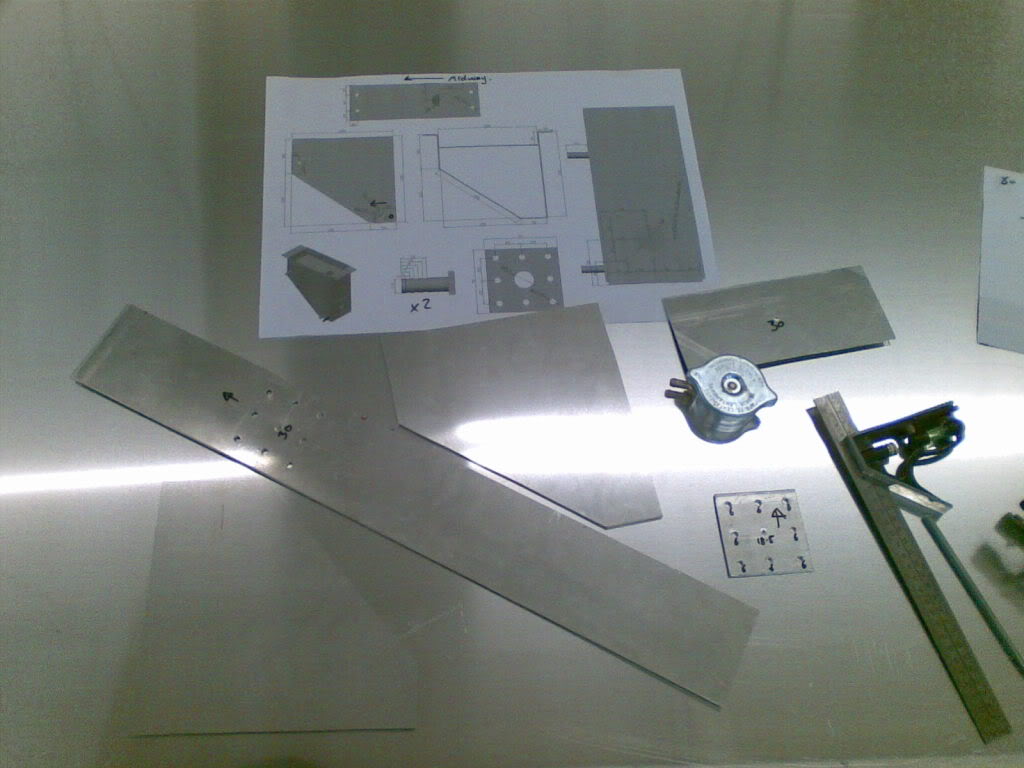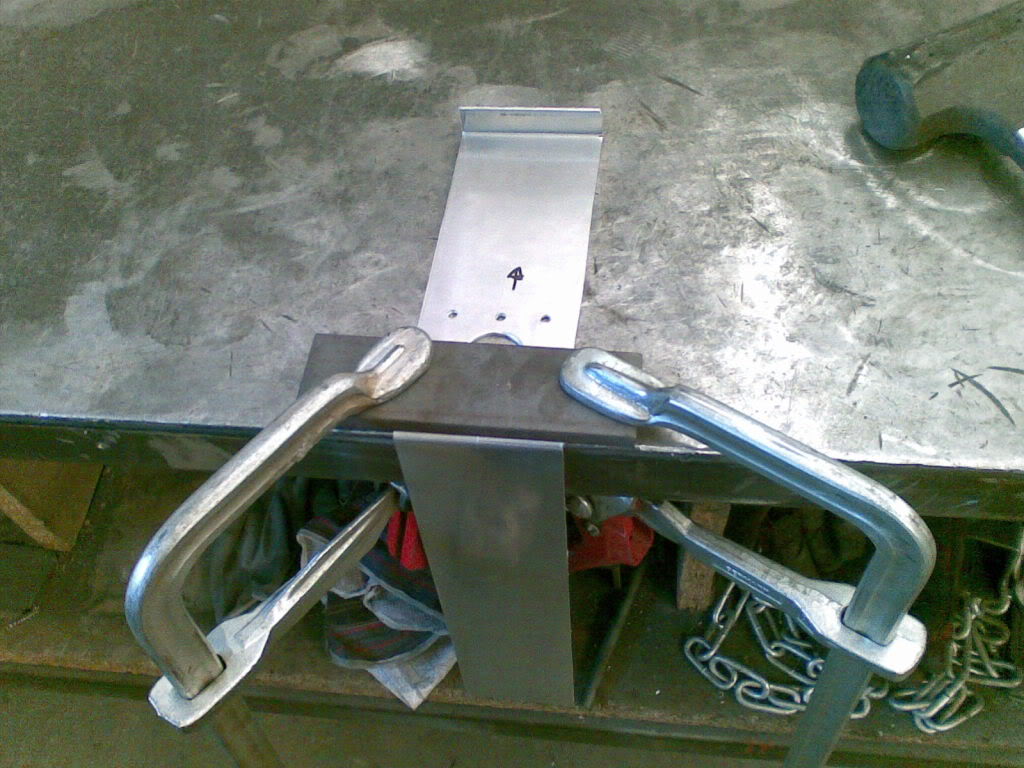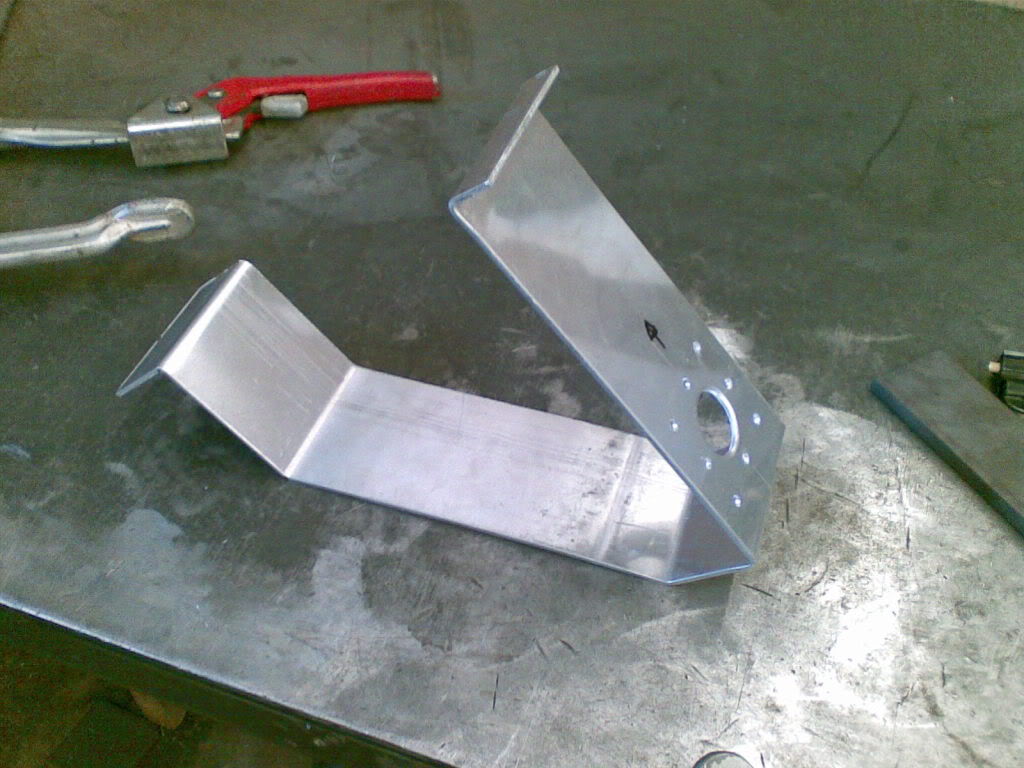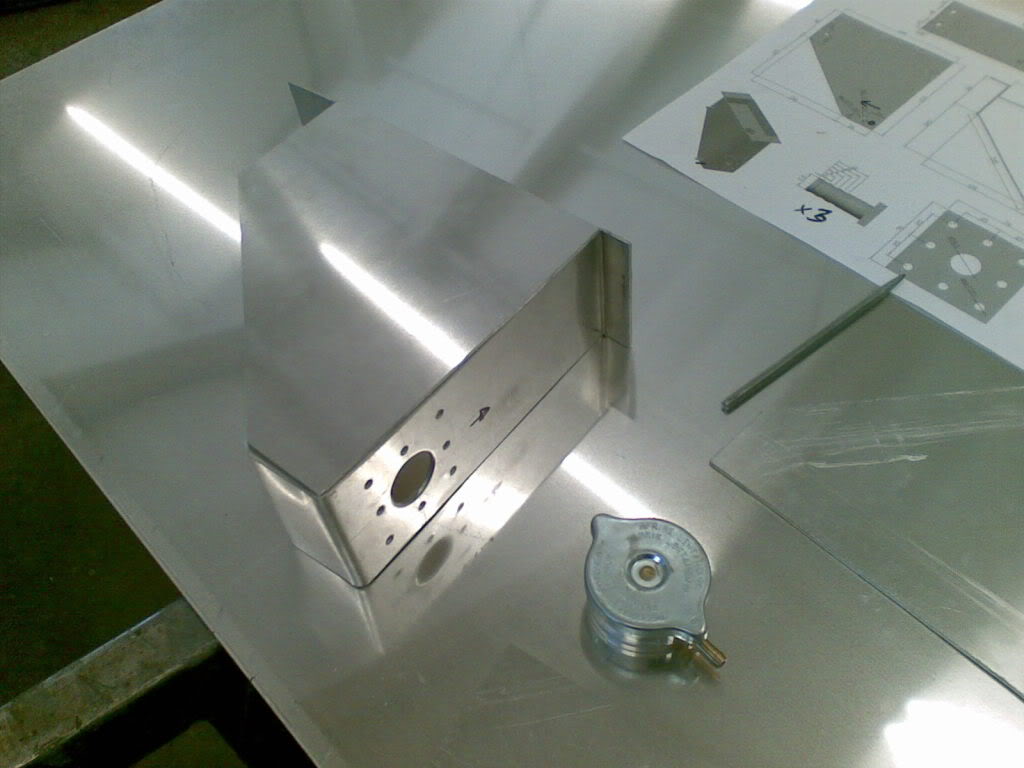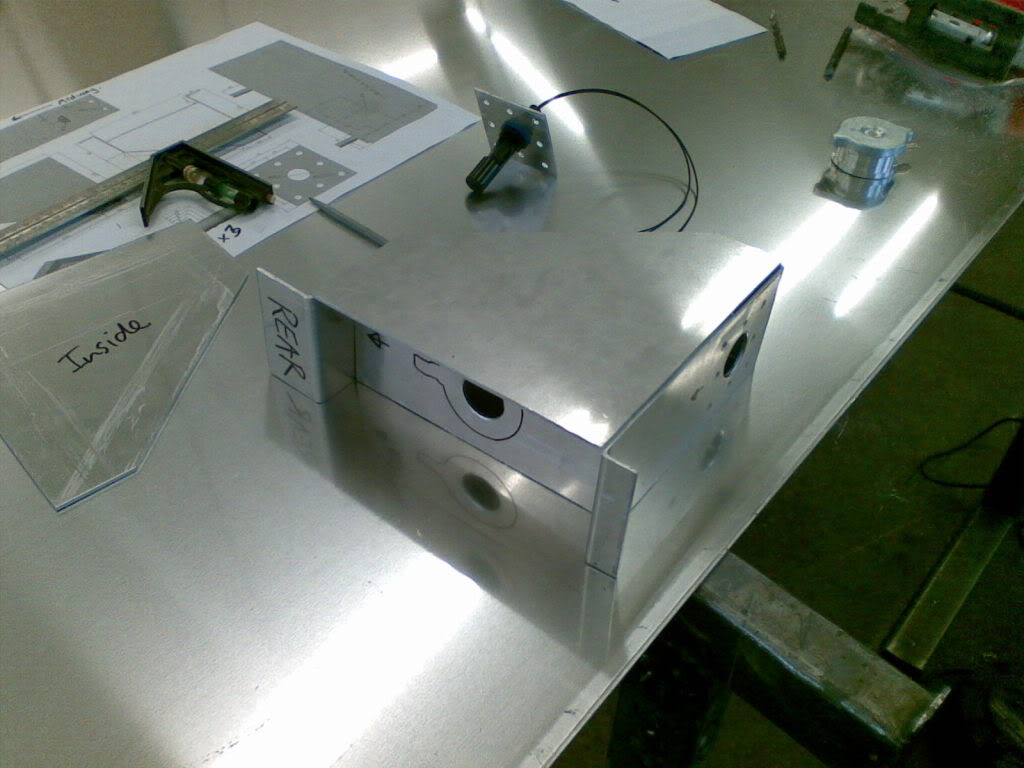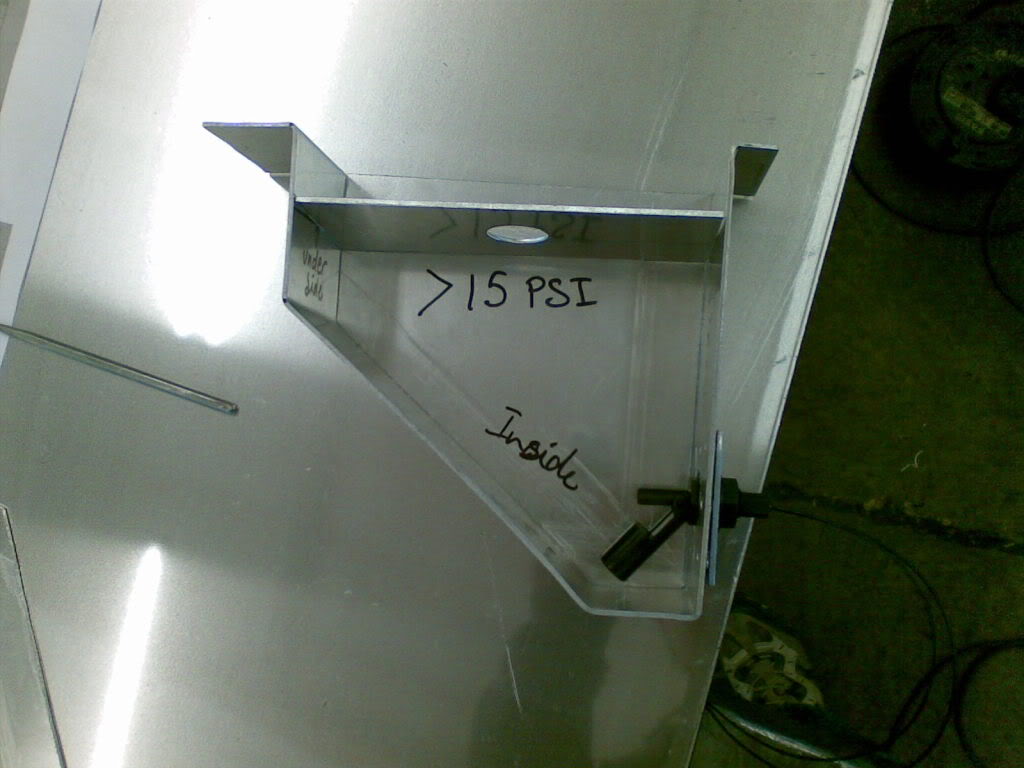 5-18-2009
Update on Inner Arches:

Made progress with N/S arch and have handed them to my friend Stuart Jago, who is a whiz with fibreglass and not too shabby at spray painting either.

Once the mdf was finished I had to fill all the holes and smooth the joins, I looked like casper when I had finished, will be totally worth it though. So here are a few snaps of the arches, some of the N/S and one of the two arches, they still had another round of filling and sanding after the photo before they went: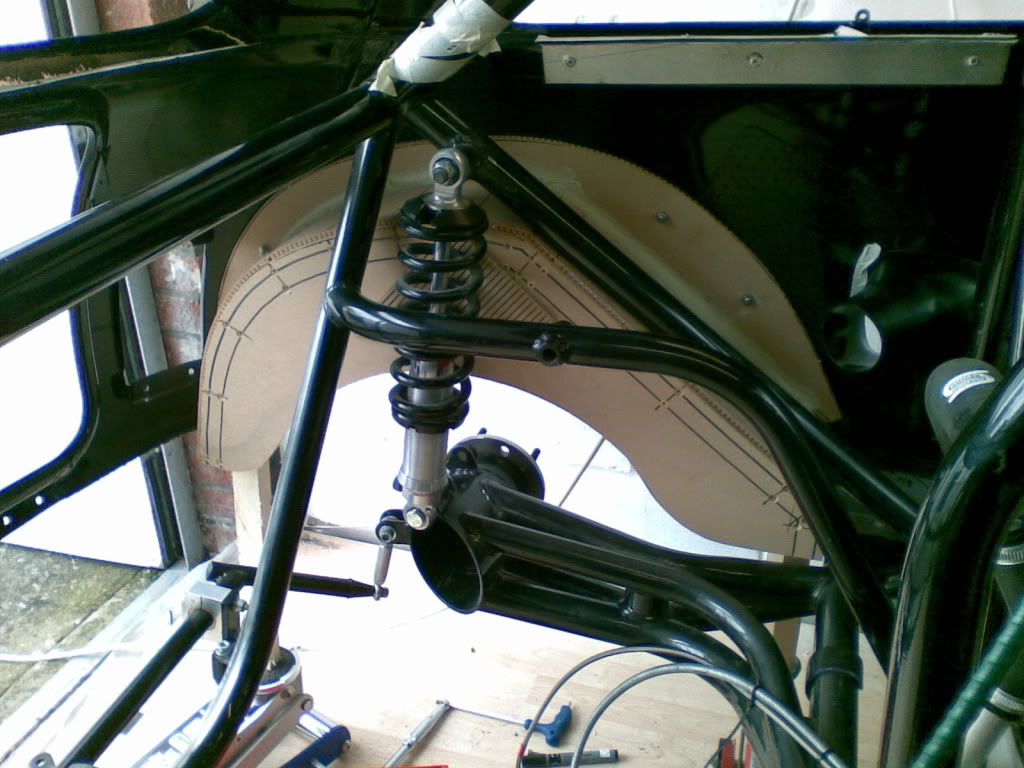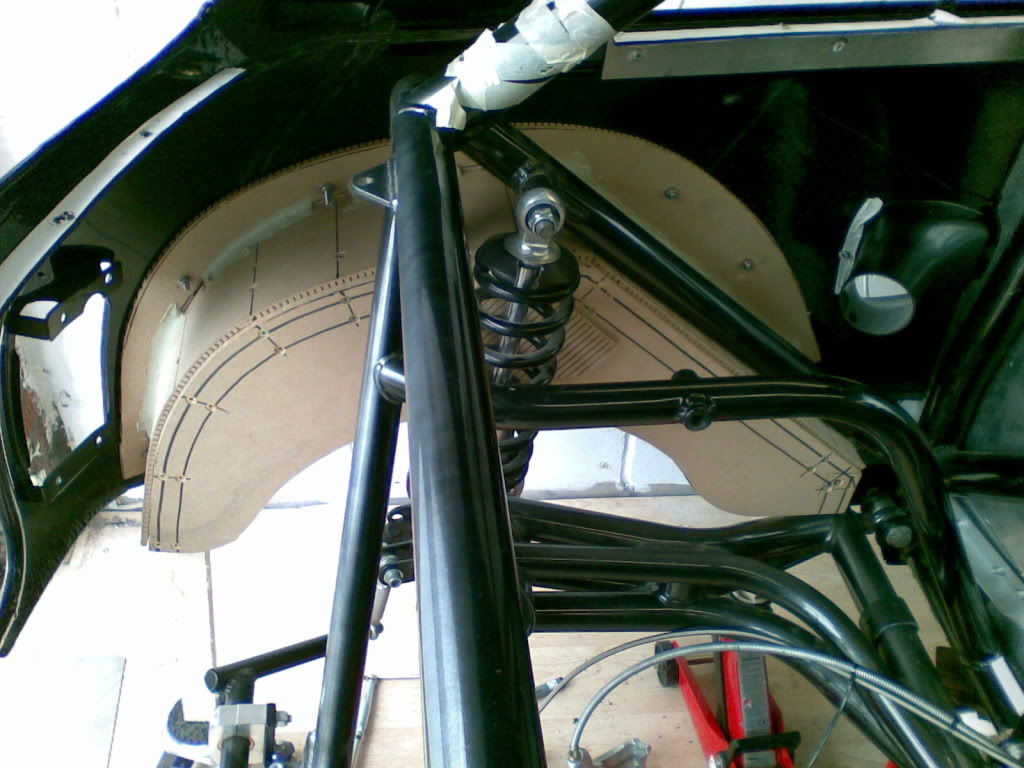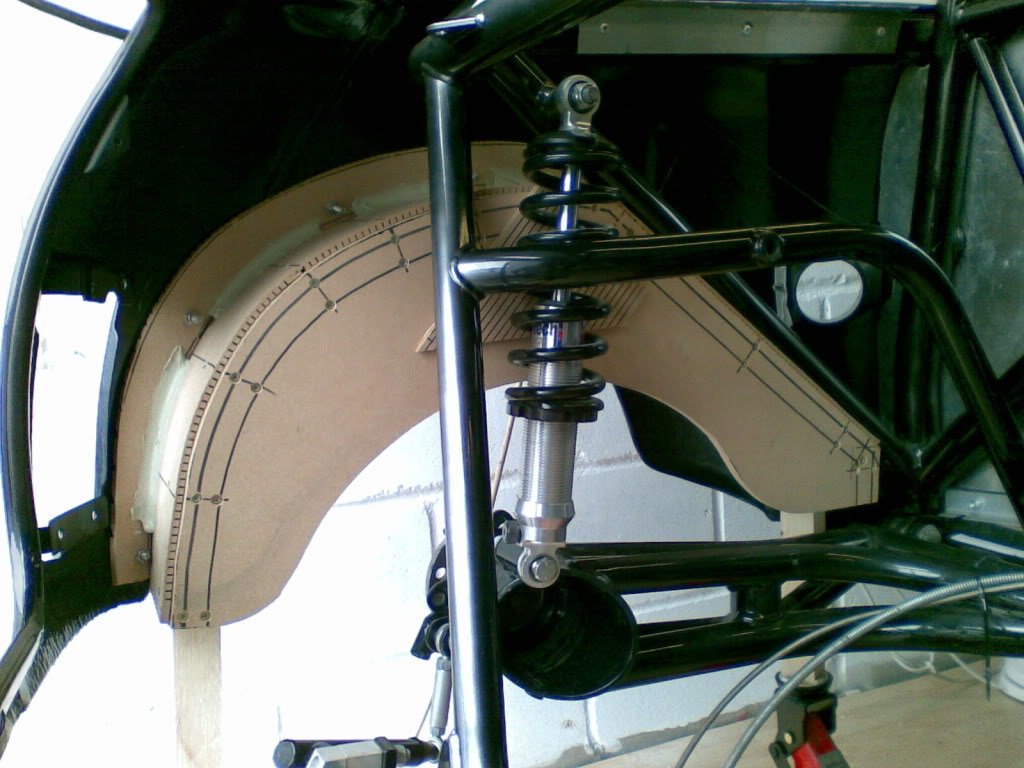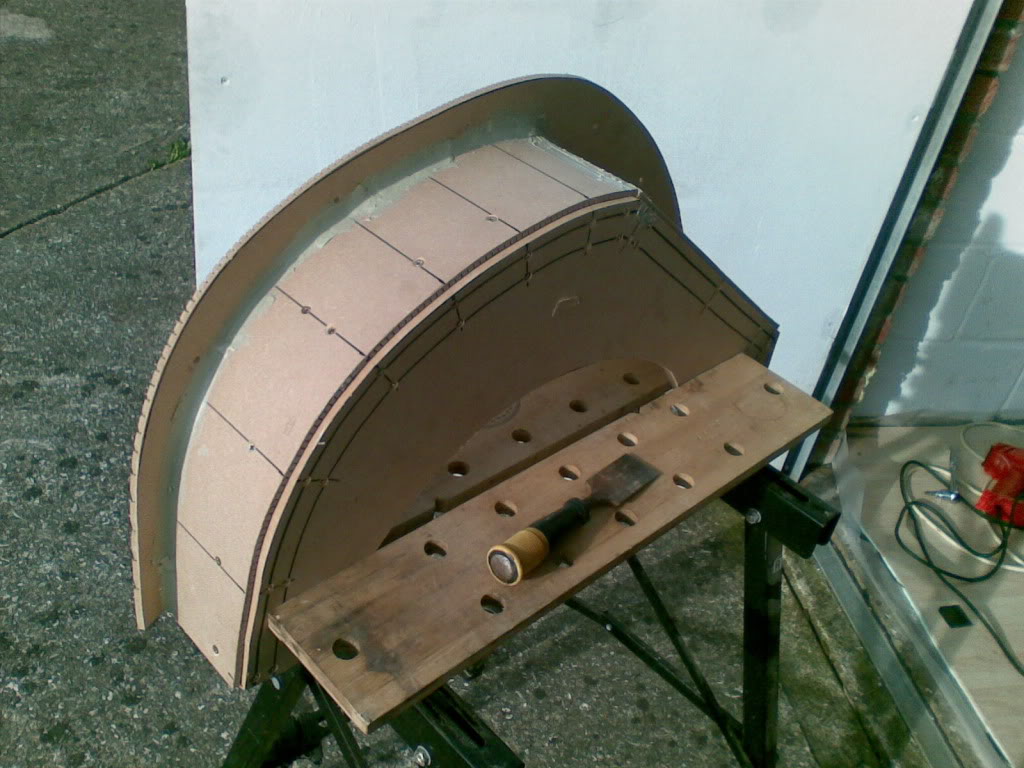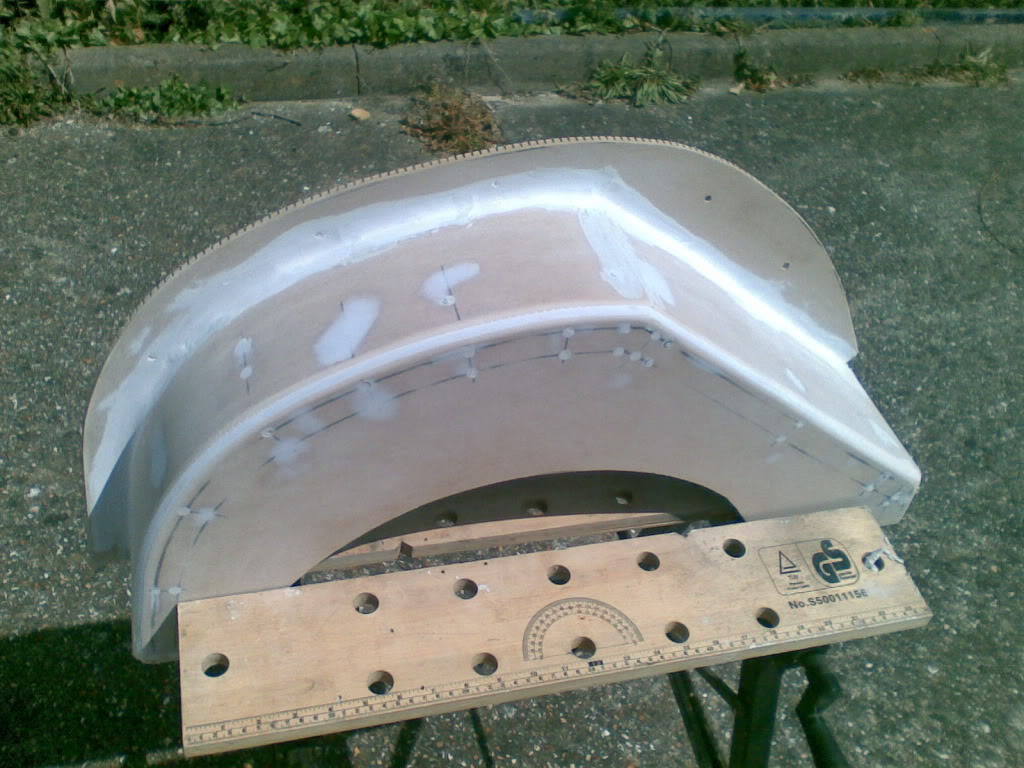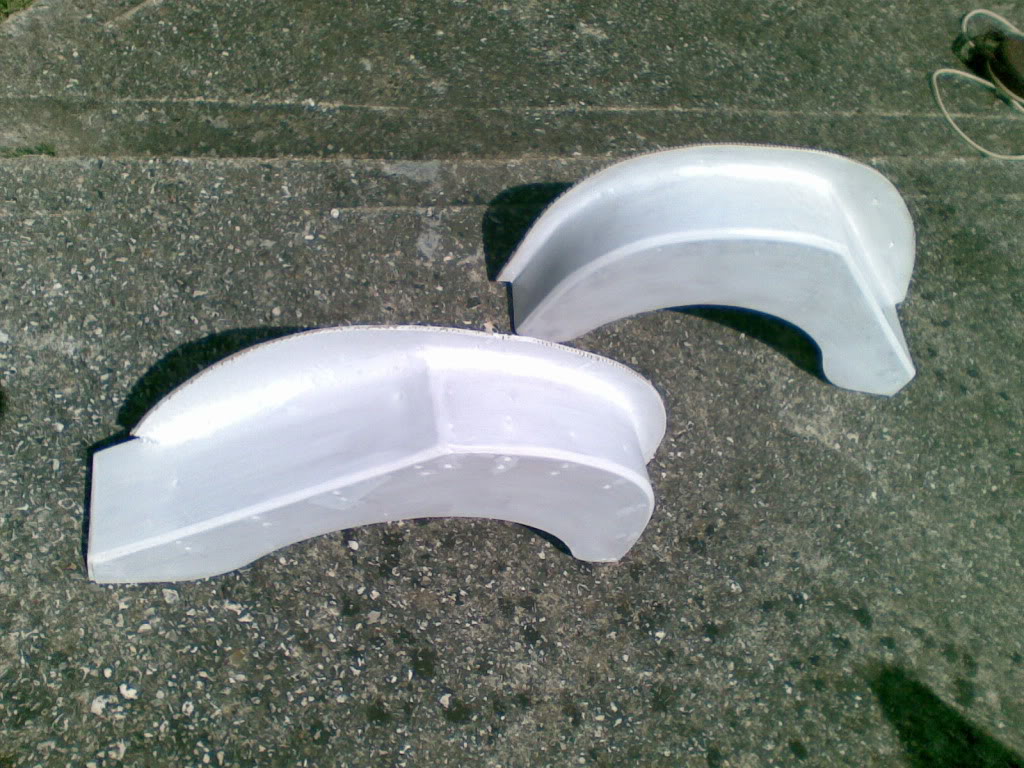 Some of you may have noticed a peice of ali at the rear of the tunnel with various sized rectangular and square holes in it, this is what I have called my gland plate. Another of my attempts to make the car as water tight as possible. The theory was to make rubber glands that fit snuggly around the brake lines, gear cables and handbrake cables. So as you can imagine this was a bit of a head scratcher for a while but has been sitting waiting to go together for a while now. The rubber was milled so that it has a shoulder that sits neatly in the holes.

The following sequence of photos show the block as drilled and then in situ, with and without the cable going through, I then fitted the handbrake cables in the same manner (will show these in a later post), it was not easy working it all out and the jigsaw of bolts and holes and threaded bar was 'interesting' to put together. It looks like it will work....bonus!!!

We start with a photo you will have seen before in a previous thread, remember it now??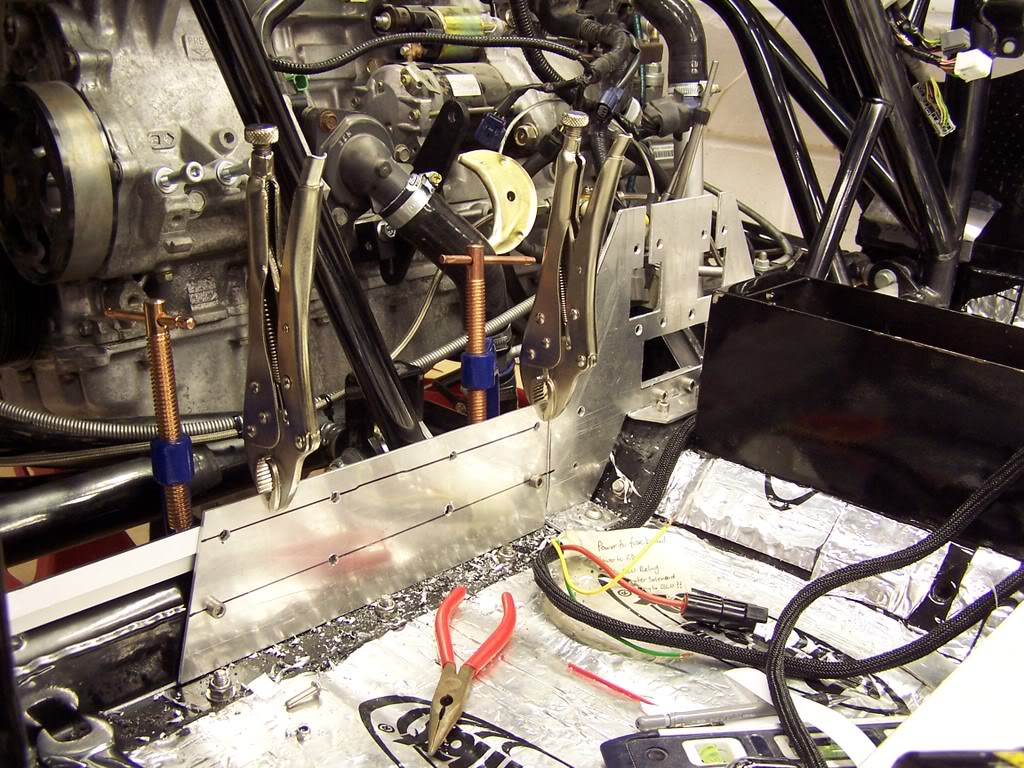 Now the rubber block is being drilled, this one is for the gear cables, brake lines (footbrake and hydraulic handbrake) and clutch line: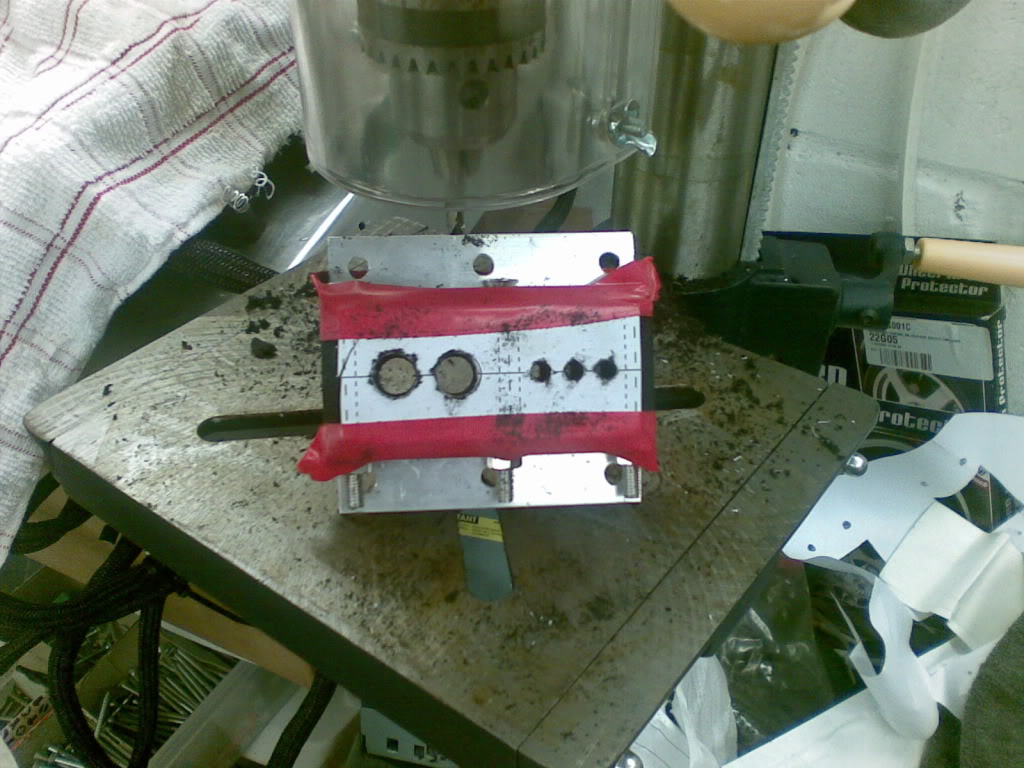 The block post drilling and seperated: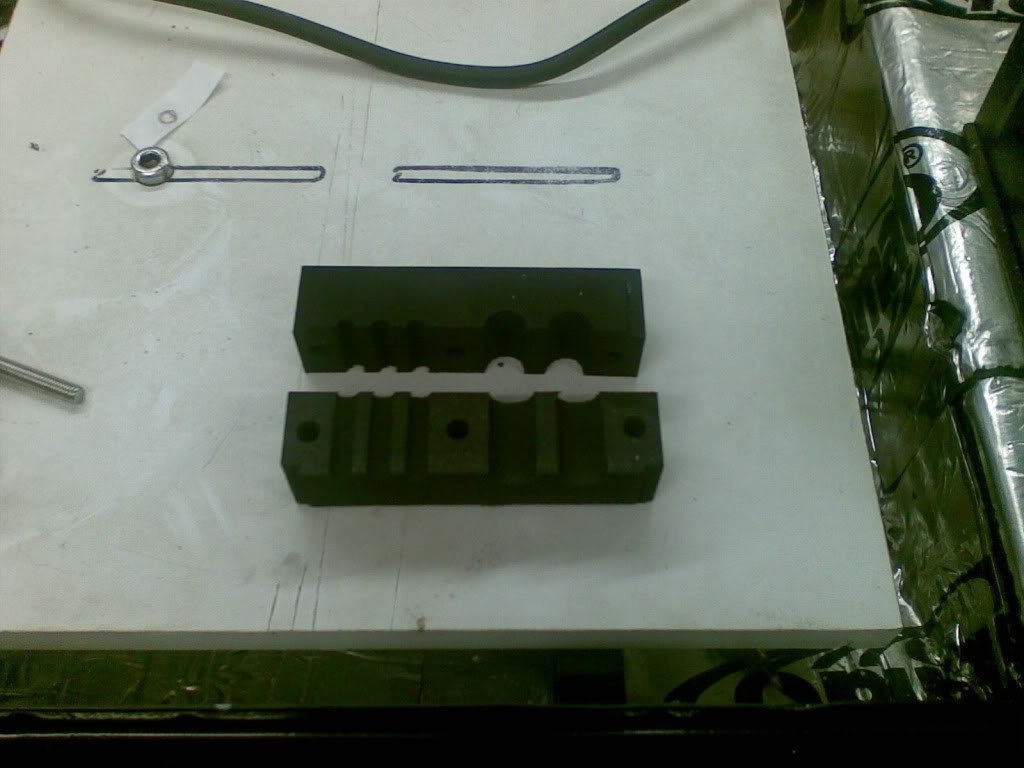 The block offered up to the gland plate: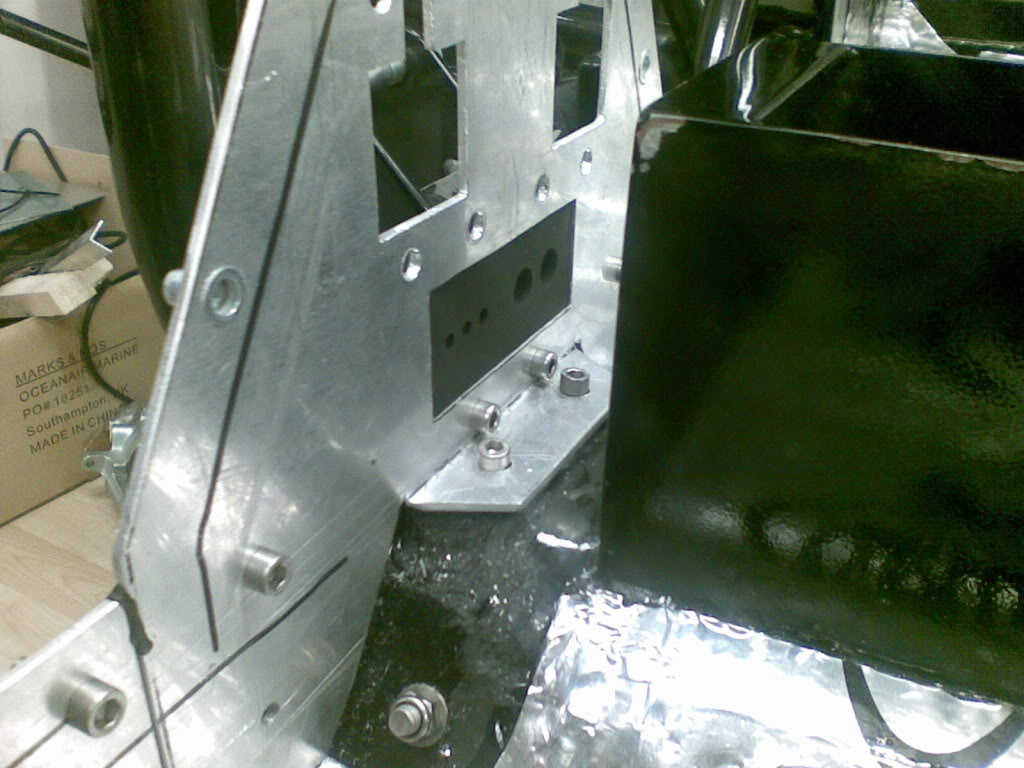 Now the block with the lines and cables running through: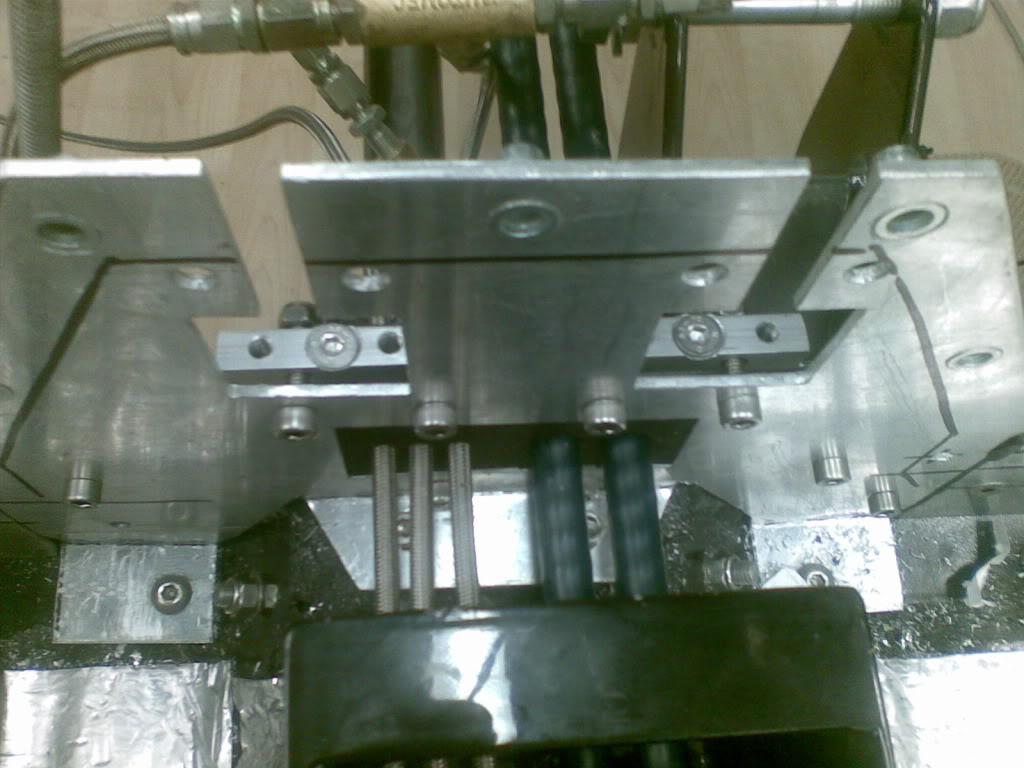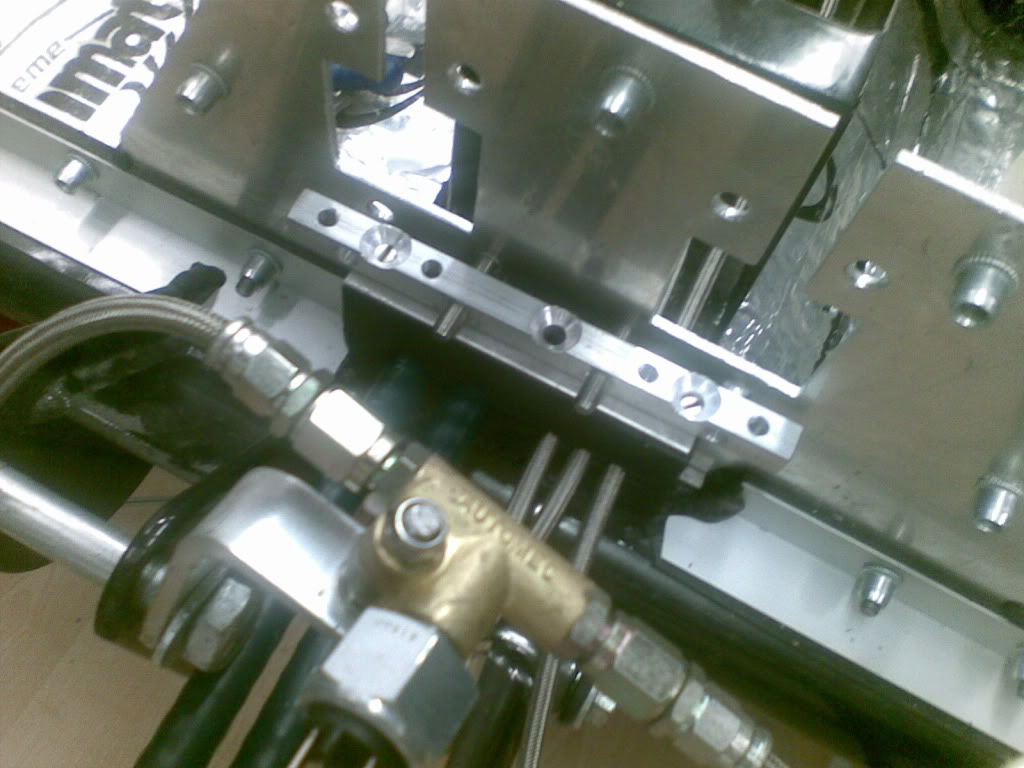 So I finally got my rear bulkhead fitted, wasnt the easiest of things to do as although the Z's bulkhead kit is a good fit to the inside of the shell I still needed to have bits welded to it so that is was a good fit all round.

The Dynamat has come in very handy indeed for my water tighting mission and I have to say that with that stuff stuck to the outer parts of the bulkhead it really makes a difference to the sound when you tap it - it is a dead sound, almost like tapping wood, sounds odd but the best thing I could come up with.

I had to make a decision to move forward with fitting the rear bulkhead even though I didnt have my fixing plates for the air scoops, that is another much longer thread and story.

Still a work in progress......

So here are a few shots of that lot going into place: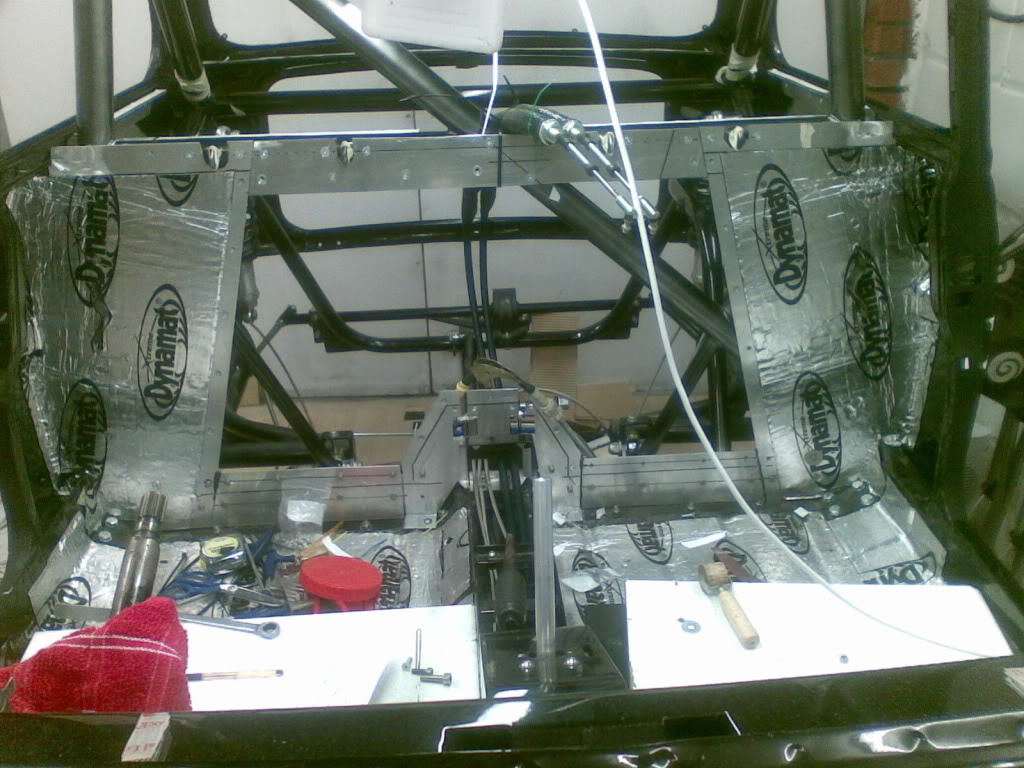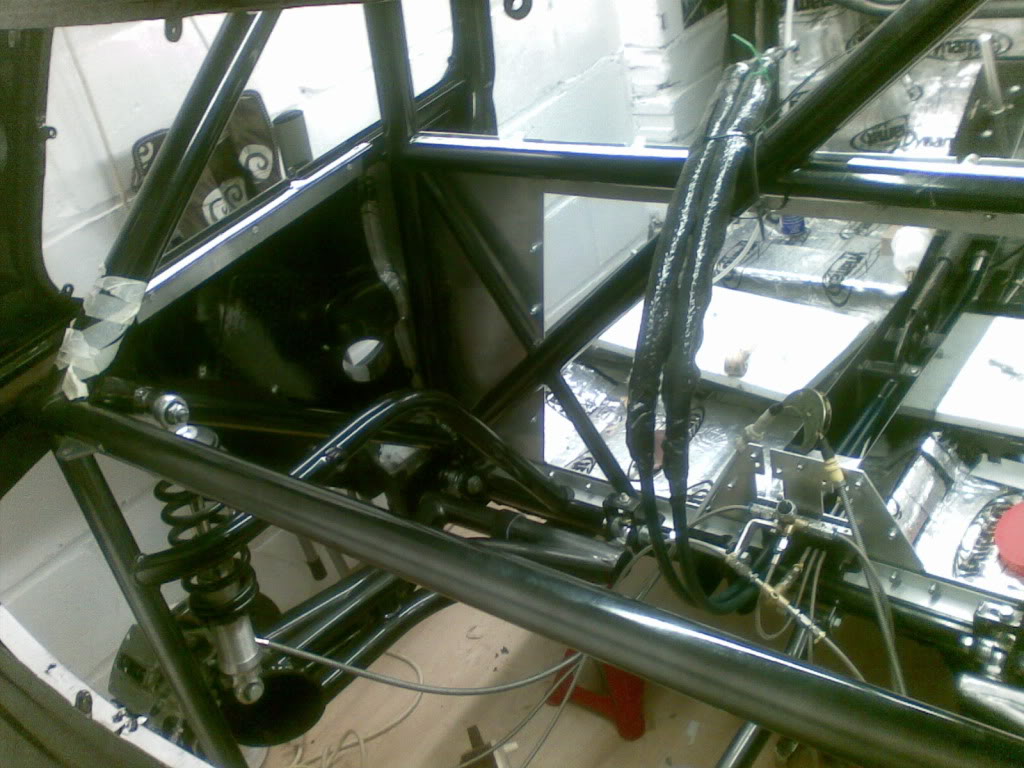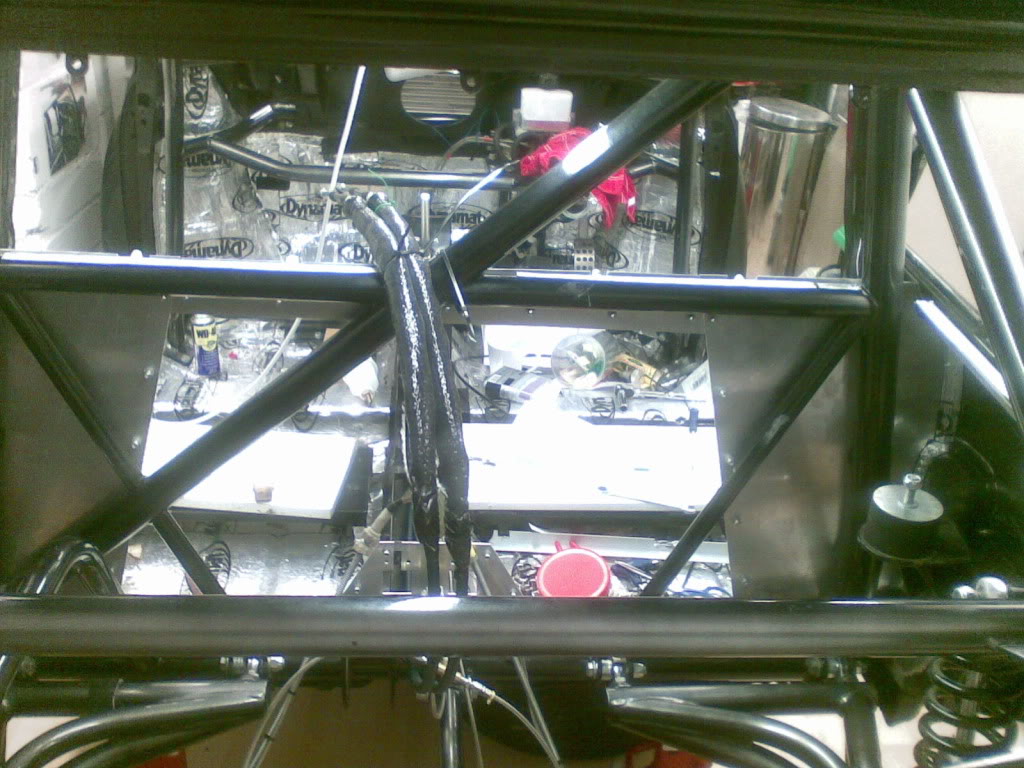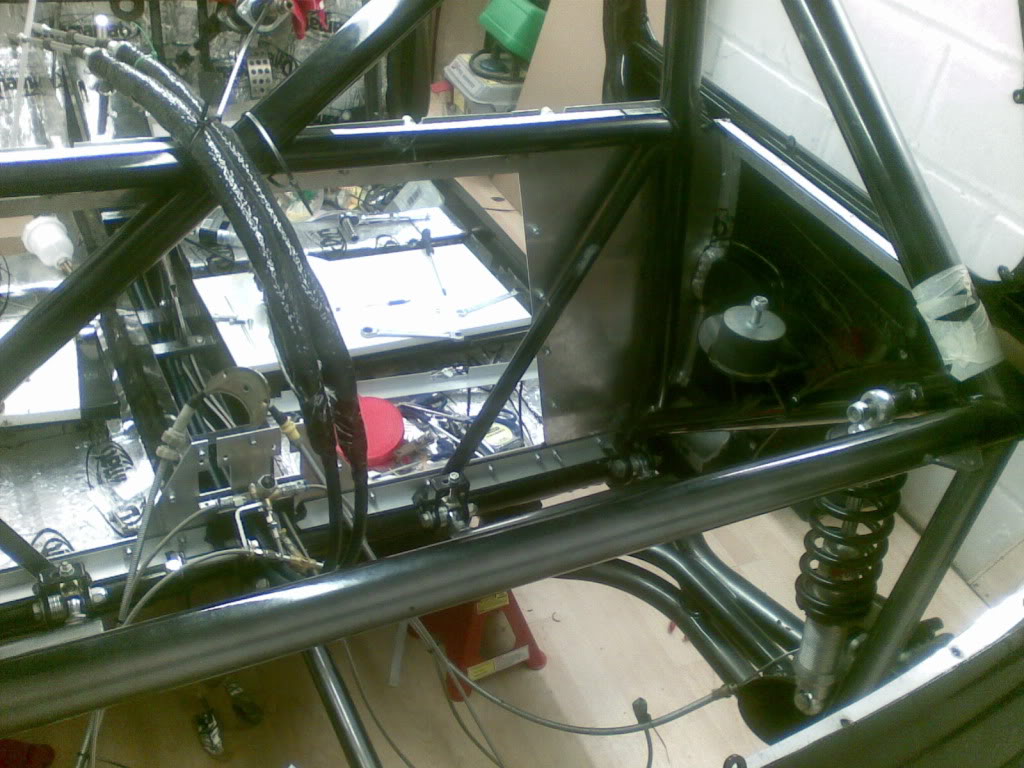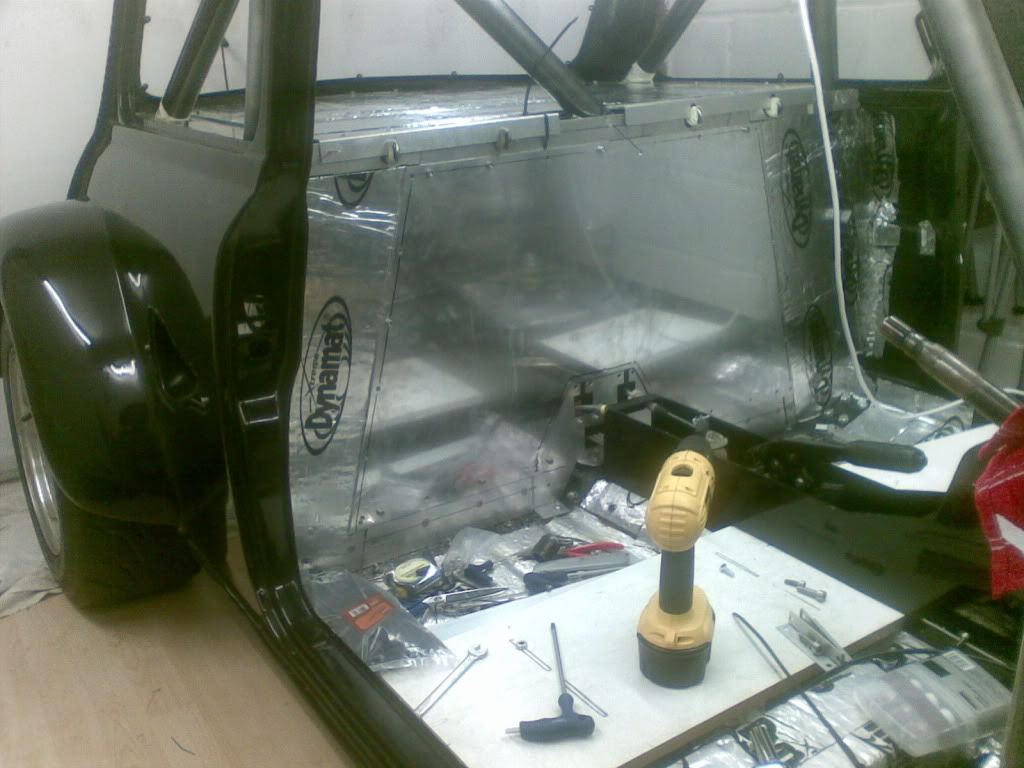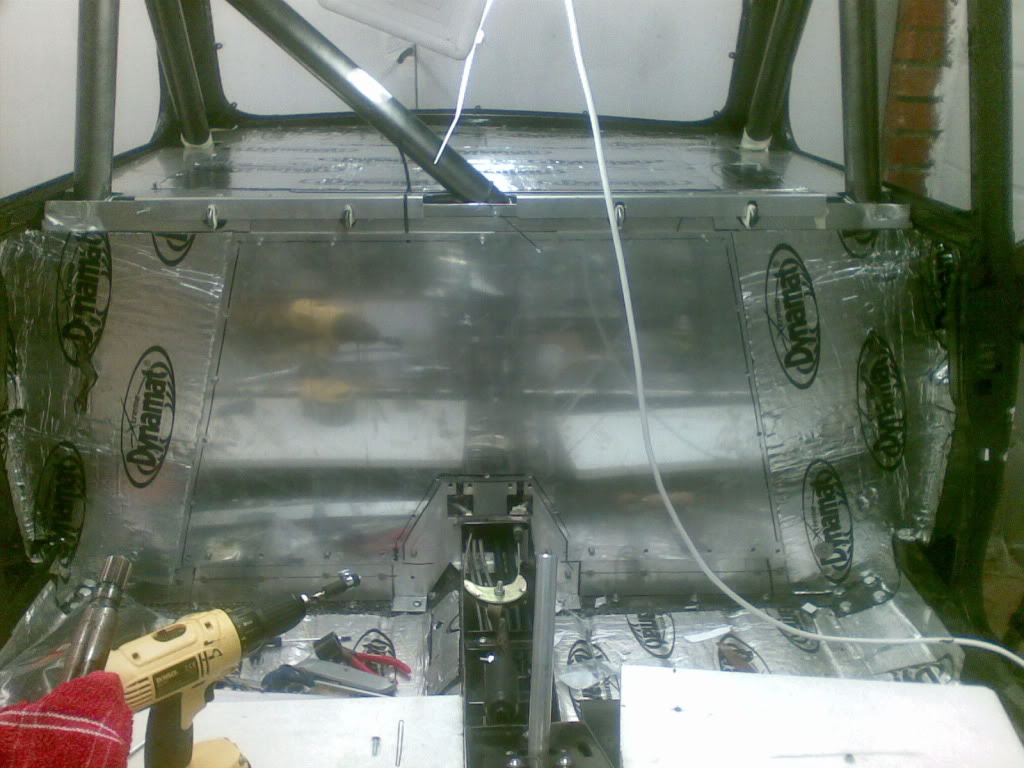 Quick note of advice for anyone fitting a raised tunnel:

The bolt for the N/S lever need to be as flush as you can make it so as to avoid collisionn with the main gear lever: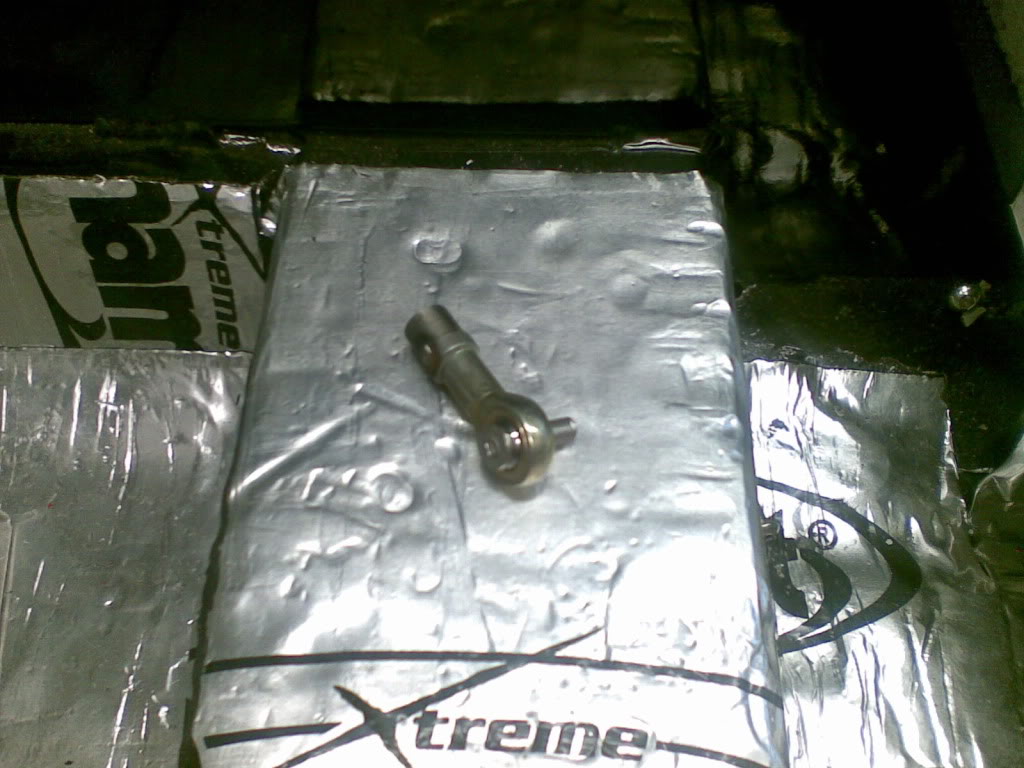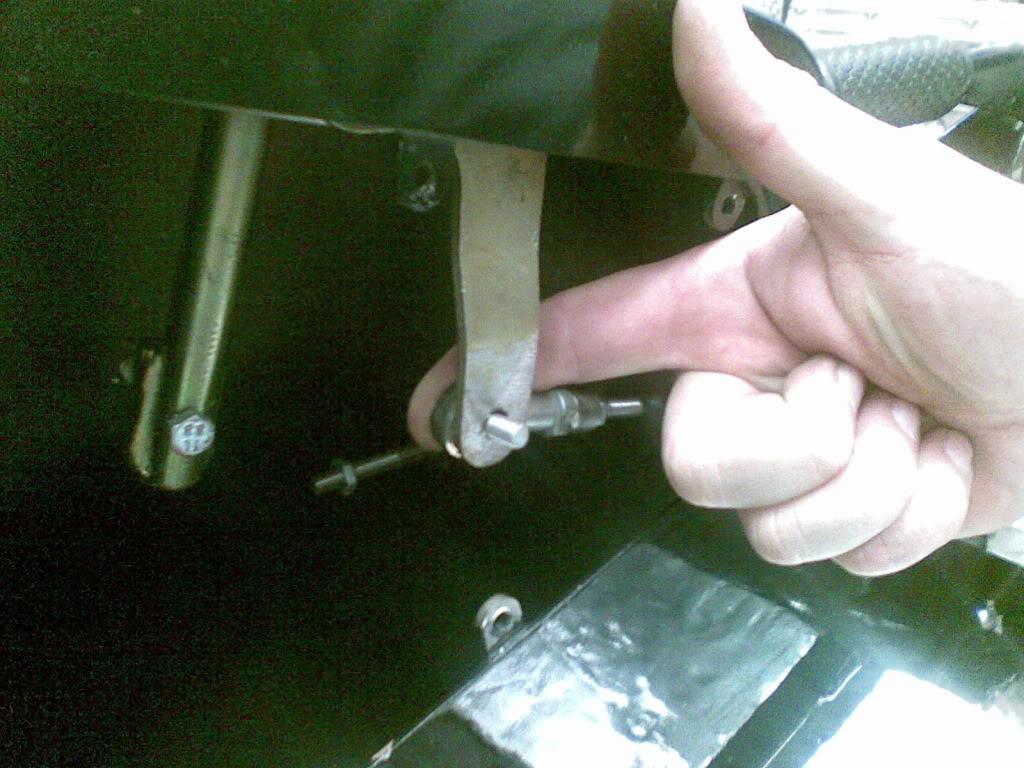 Gland Plate - part one
So all of the above things were being done over the last couple of weeks for one purpose, wonder of you can guess what that is.....


Well as it was a nice day on saturday I wheeled the car out into the sun-sheeeiiiine (Liam Gallagher stylee):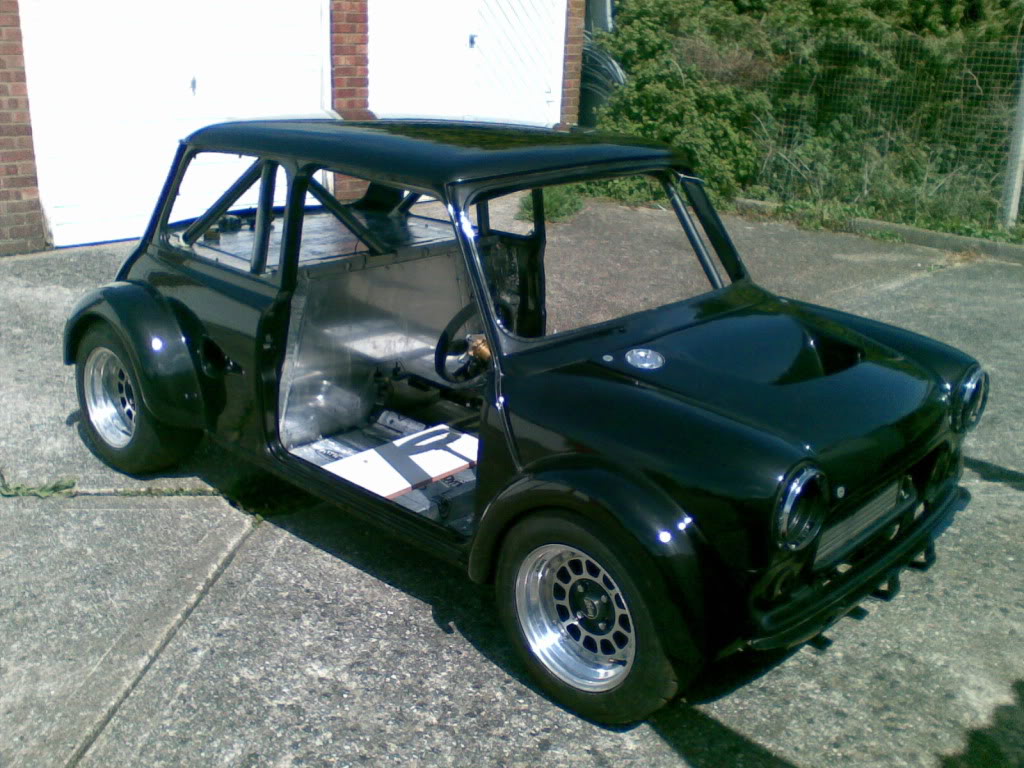 And then I took it for a ride on a trailer and it came back looking like this, can you spot the difference????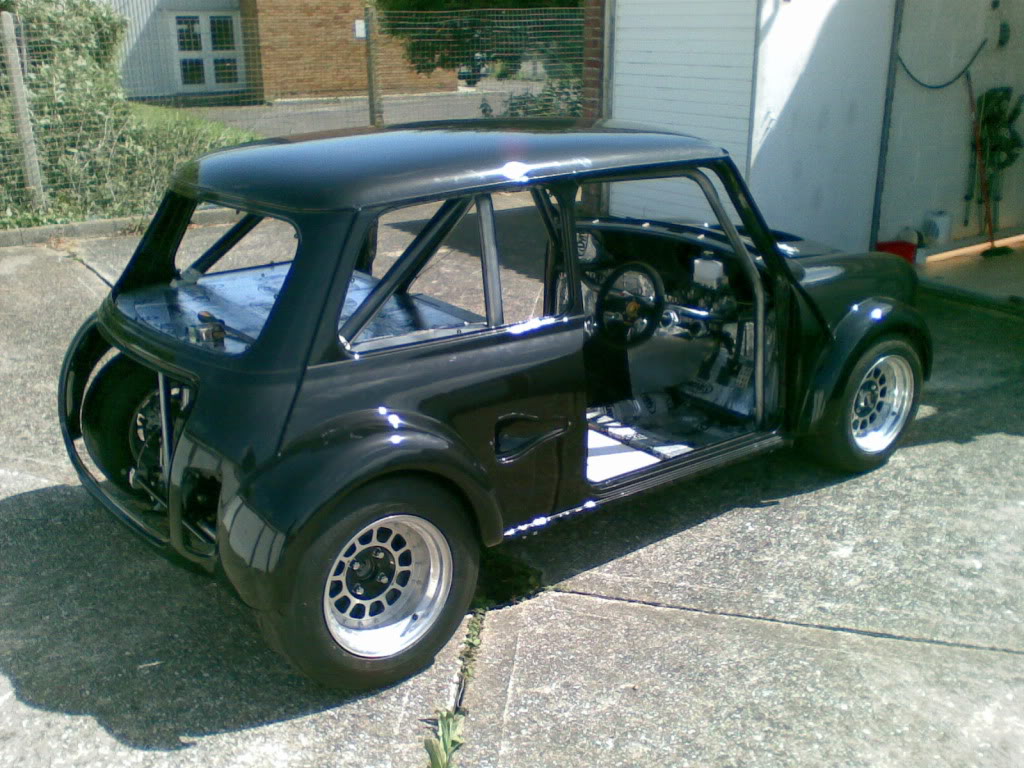 It's kinda difficult from that angle.


Maybe this will help: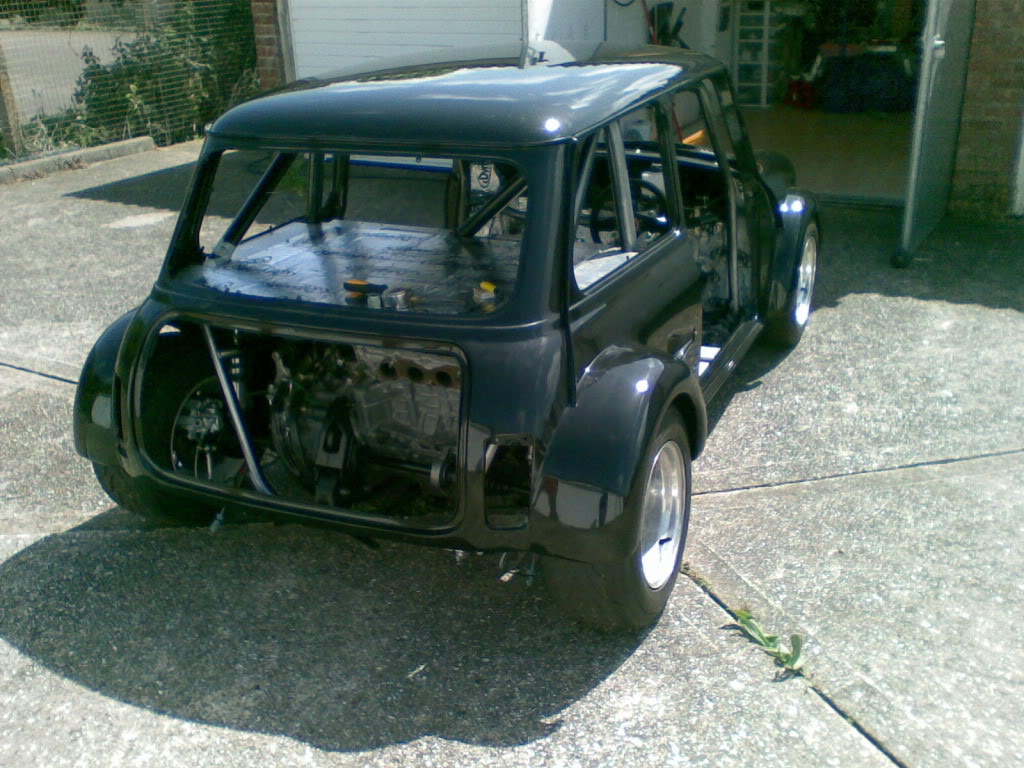 YEAH THATS RIGHT BABY - THE BEAST HAS AN ENGINE AGAIN - WOOOOO HOOOOOO
Gland Plate - part two


Now I can tell you about the rest of the gland plate, couldnt do it earlier as it would have given the game away as the engine is in the photos.

So today saw me fittiing the glands for the handbrake cable, I will let the photos do the talking: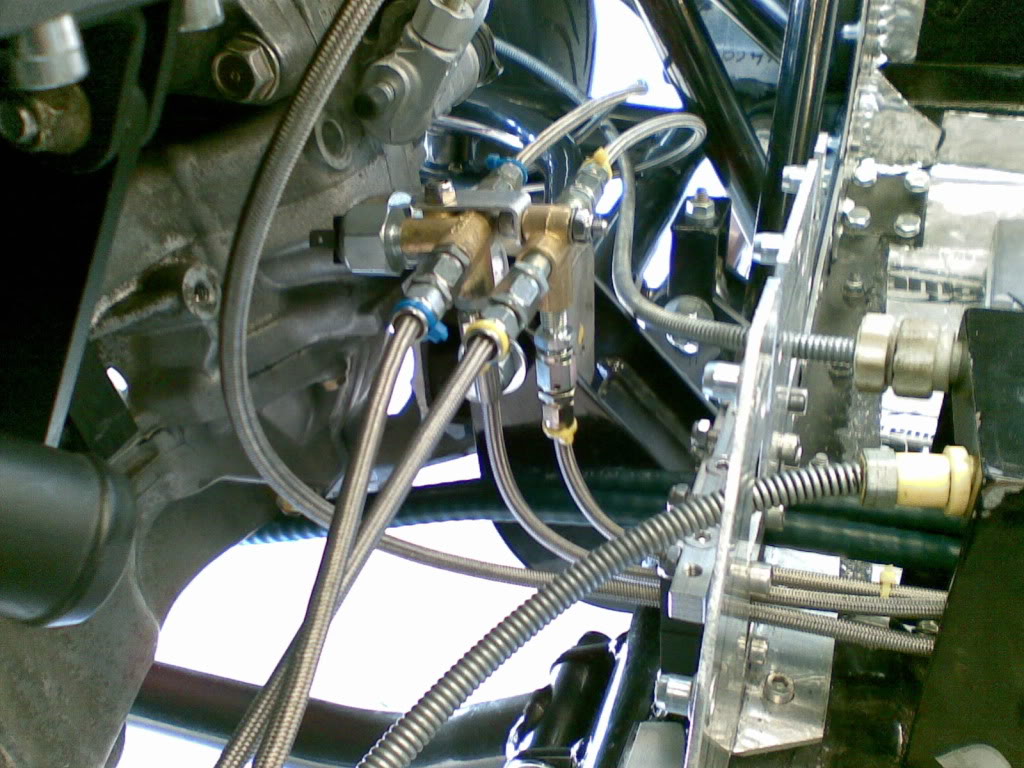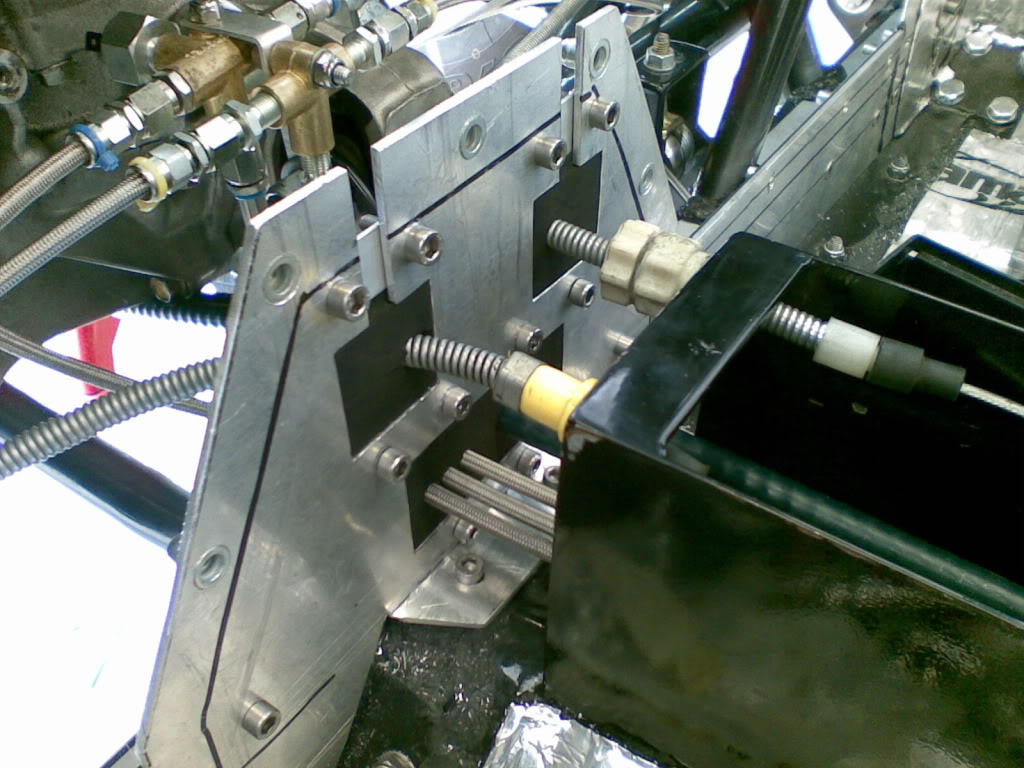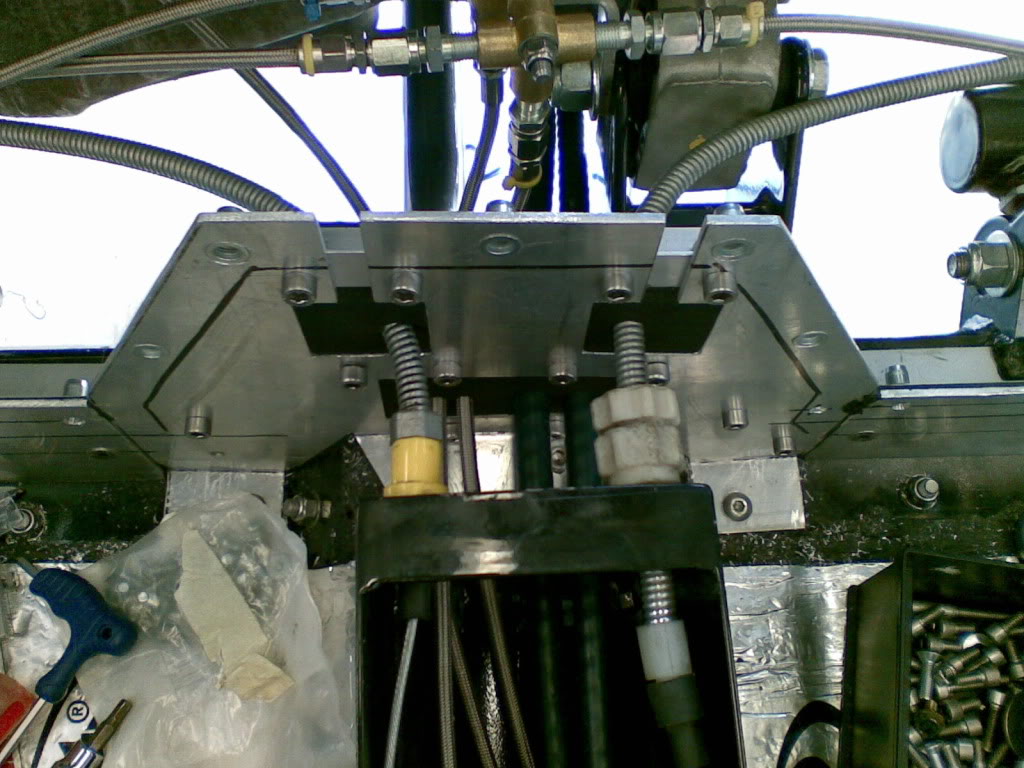 For those of you that have been following the progress you might remember me showing the drawing for a new throttle cable mount, well it has been made and here it is in all its gleeming glory. Unfortunately the cable isnt attached as I am doing stuff in the tunnel and it isnt mounted to the car at the moment.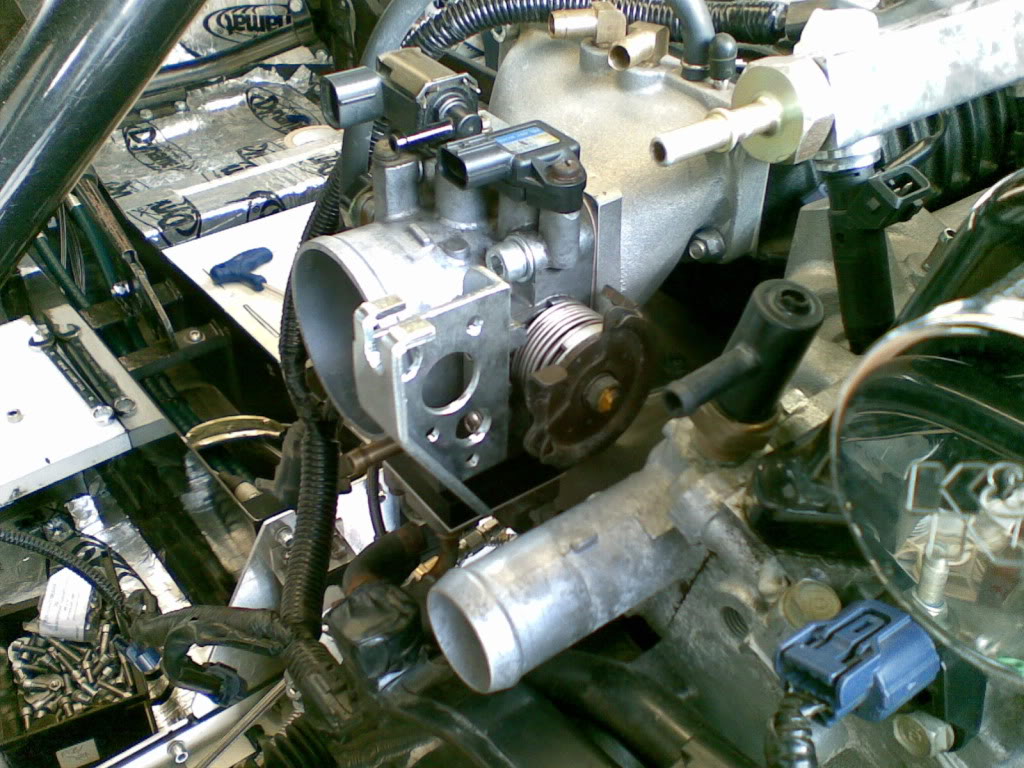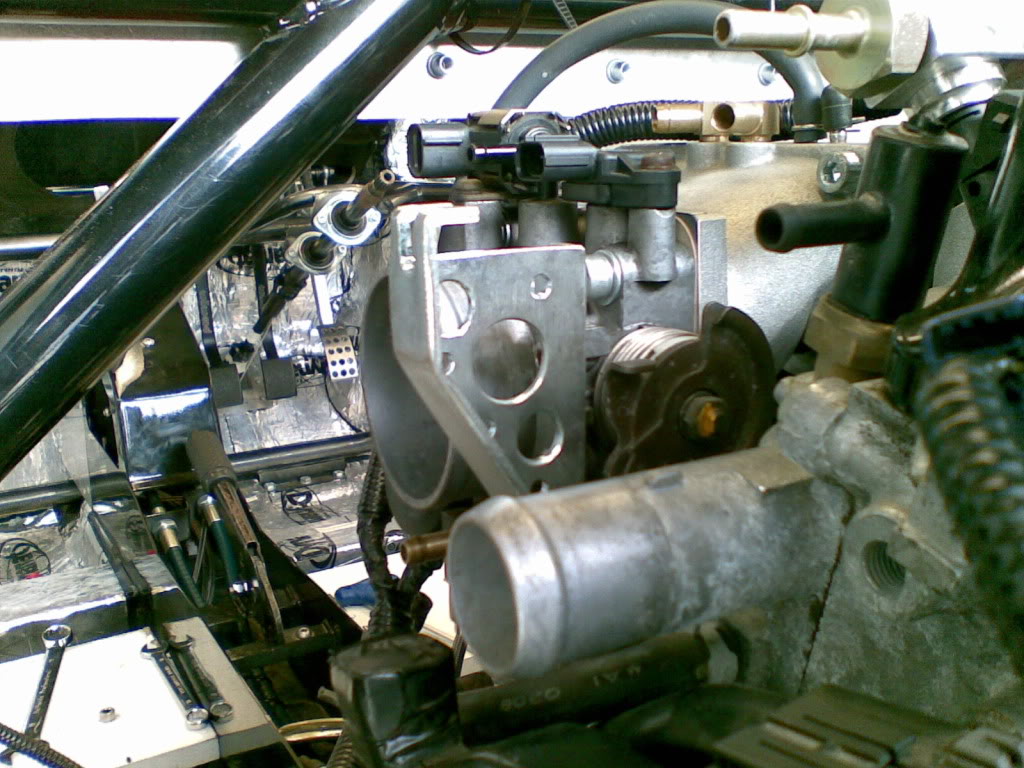 5-25-2009
Not a great deal to show you in this one, just adding shiny bits.

Charger is back on (with pulley properly aligned (3mm machined of the back face) and 5mm spacers on the alternator to give 4mm gap on the belt tensioner gauge), engine wiring loom is 90% there, just need to change the connectors to the injectors, they should arrive next week.

So here are a few shots of the engine bay: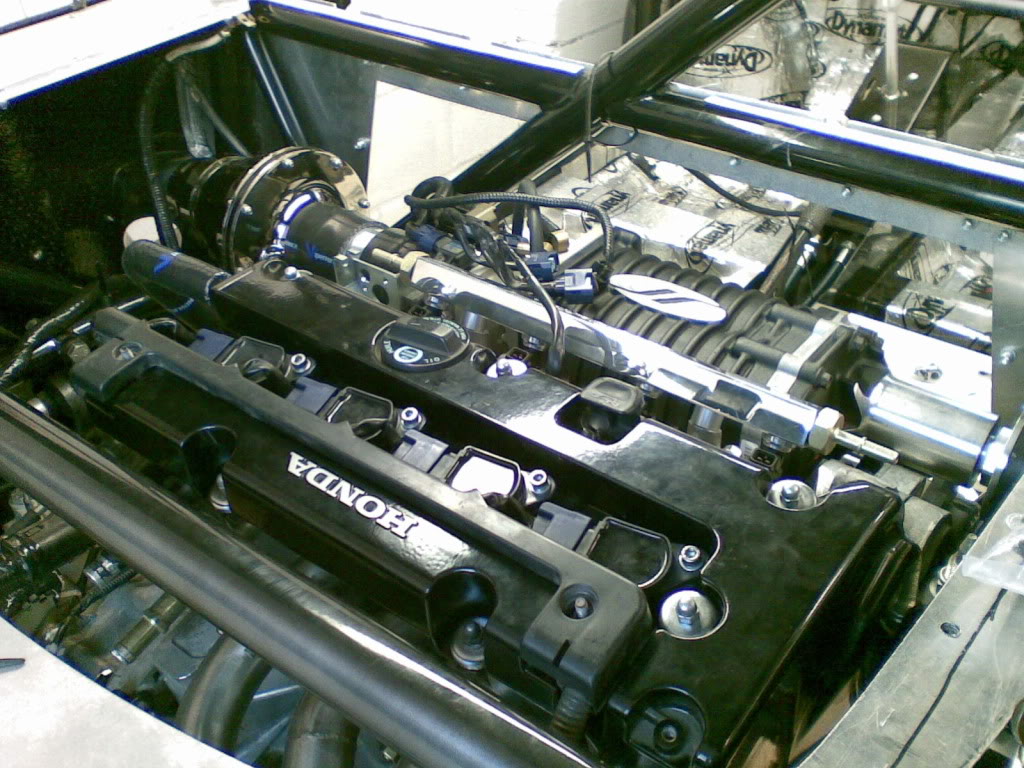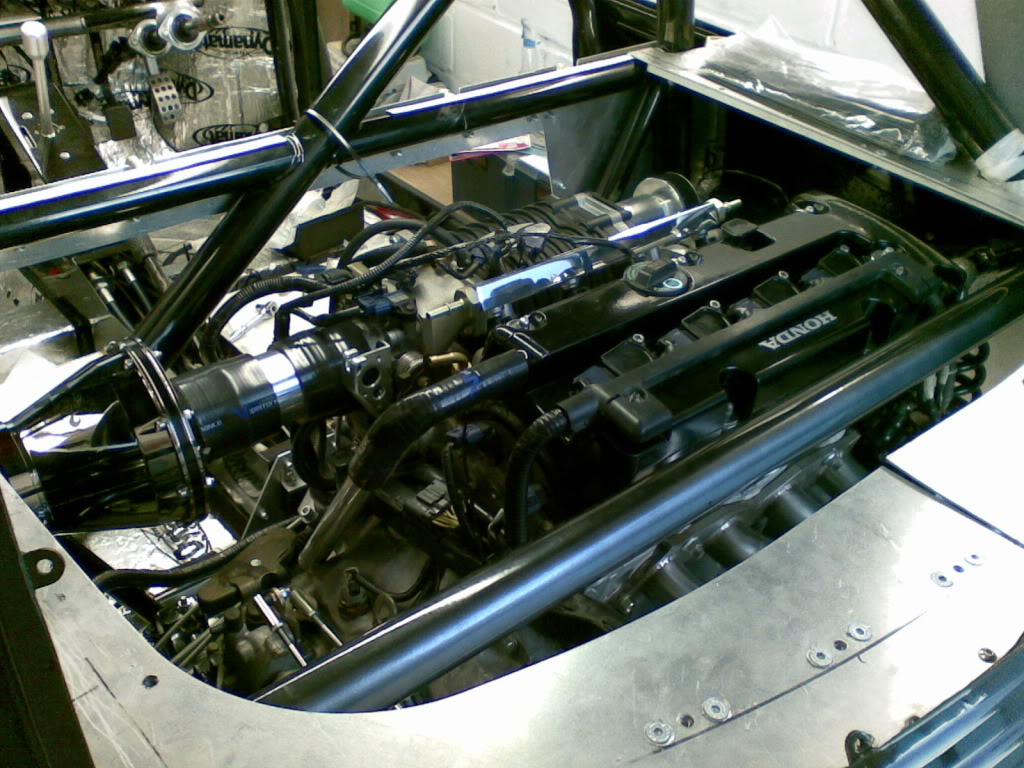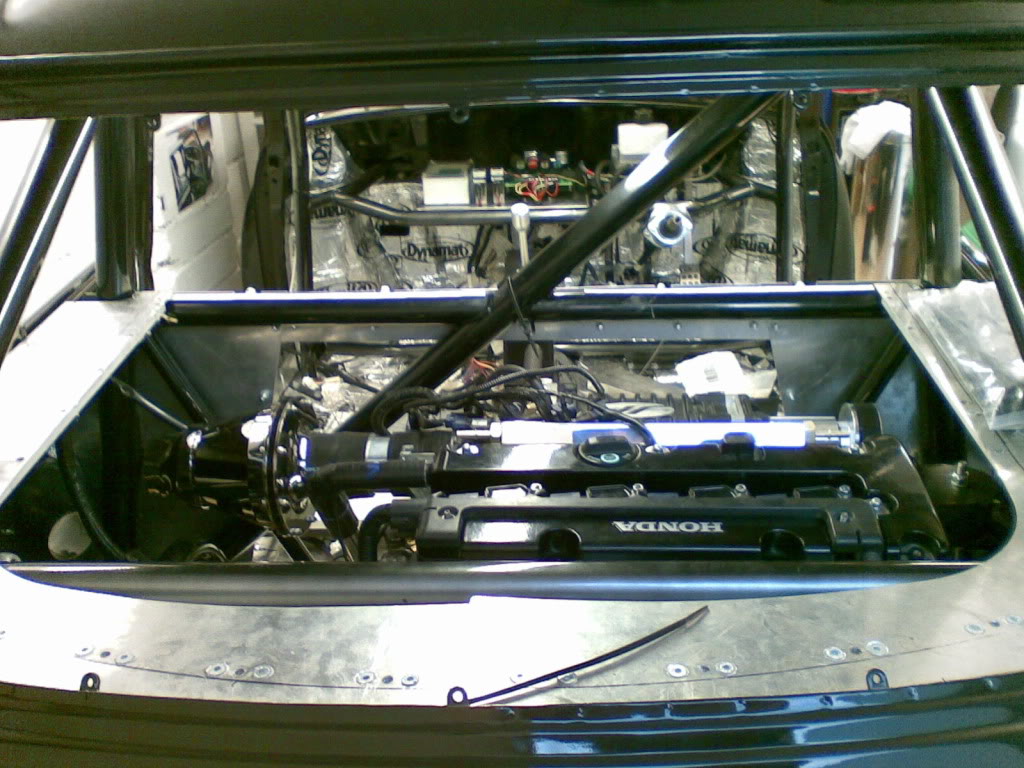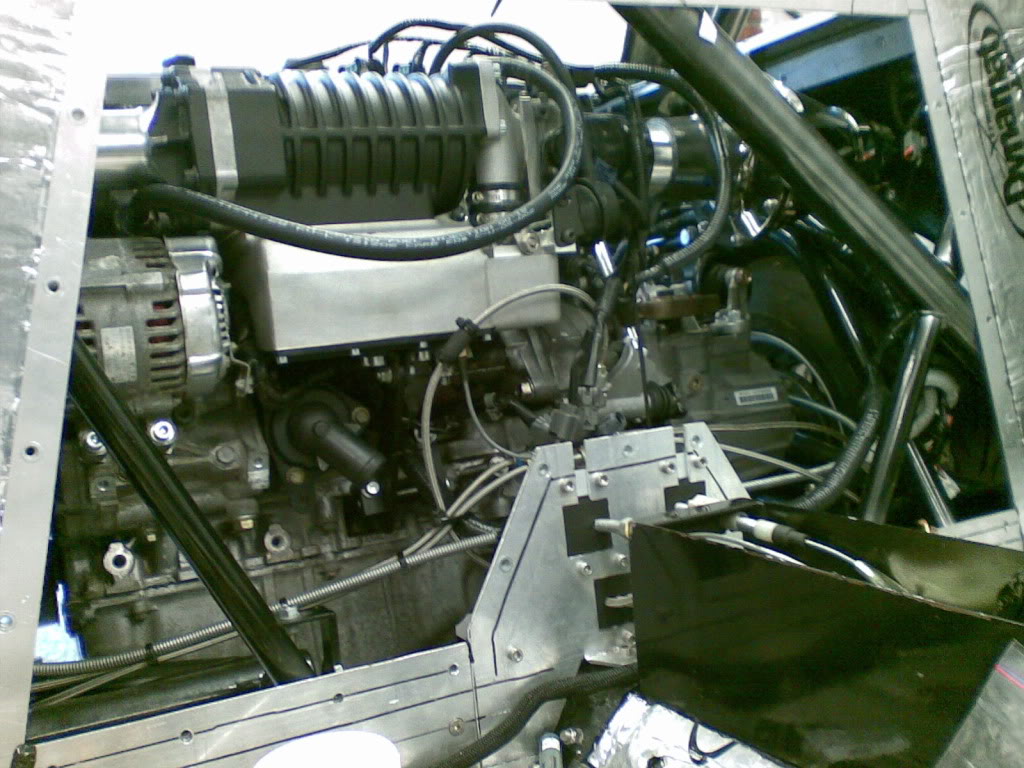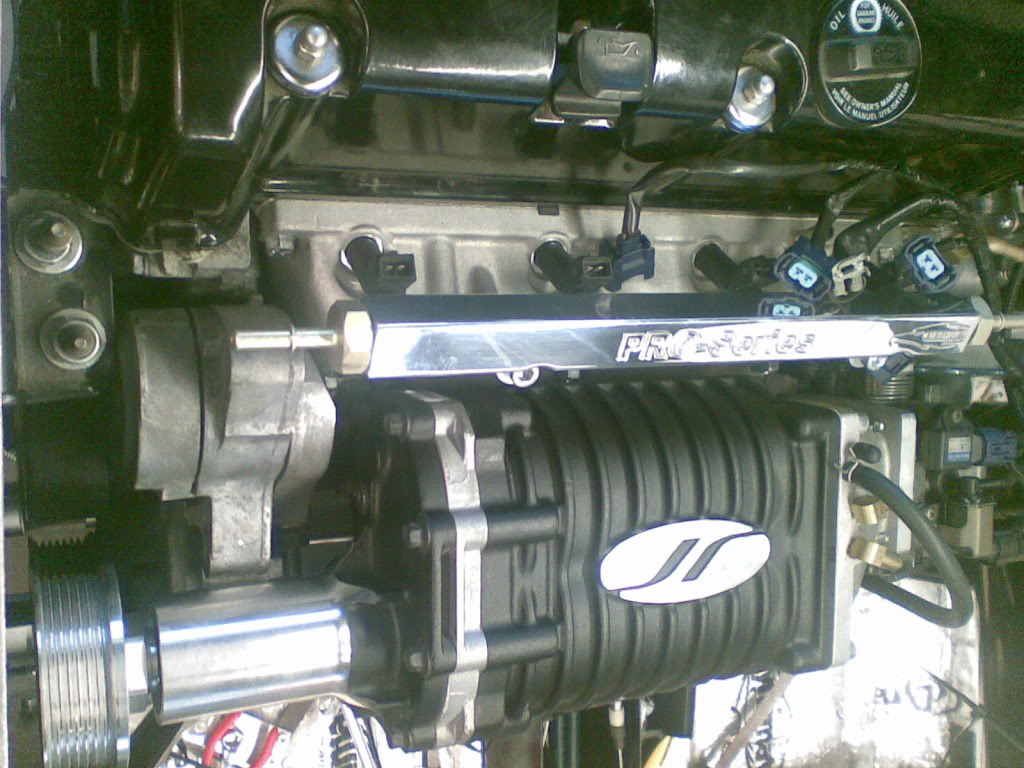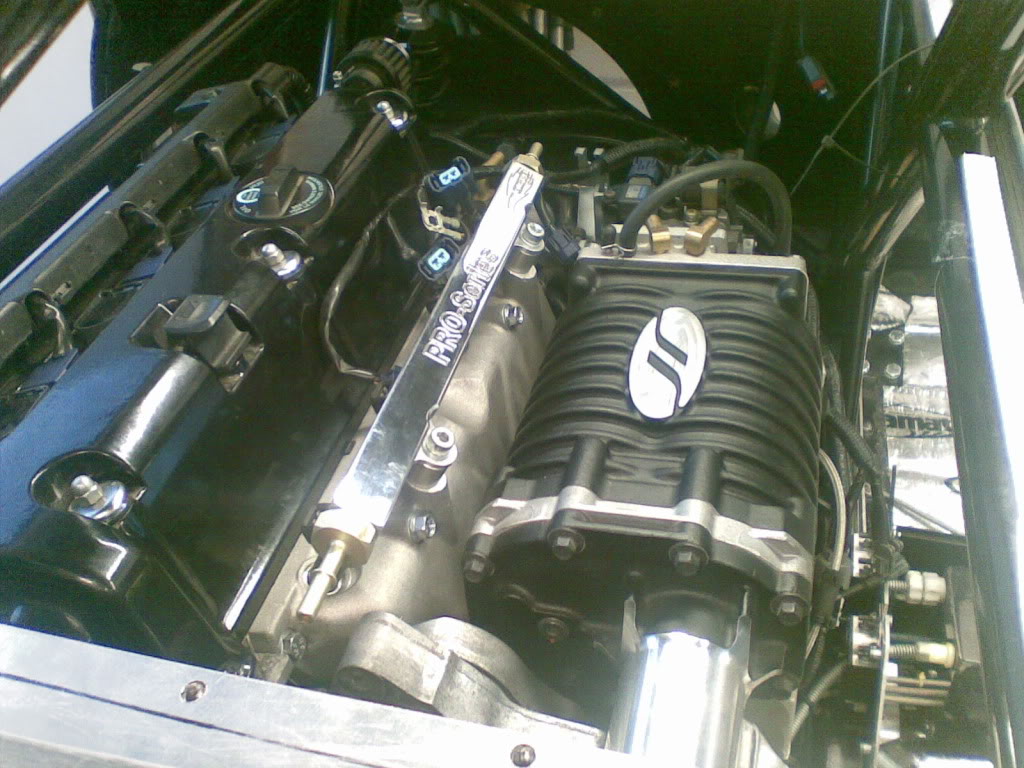 Fuel Pressure Regulator

I whipped up a mount for the fuel pressure regulator yesterday, For those wanting to know its a Webcon and it has the insert that sets it at 3.5bar.

Not much more to say on it really - 'does what it says on the tin' kinda part.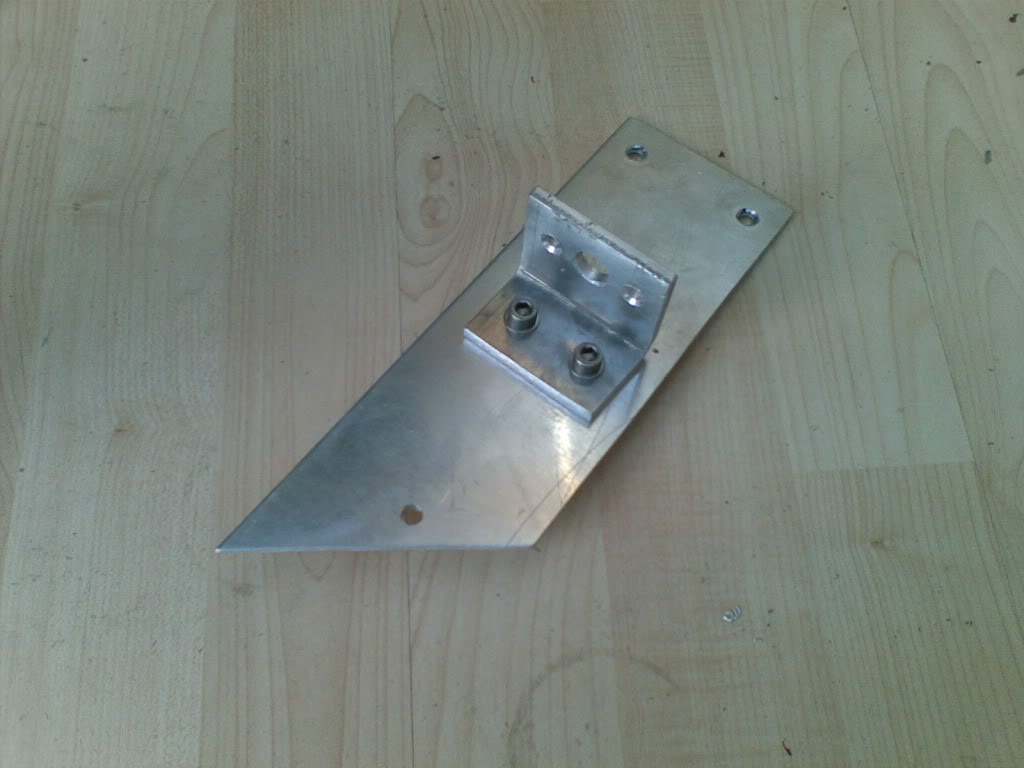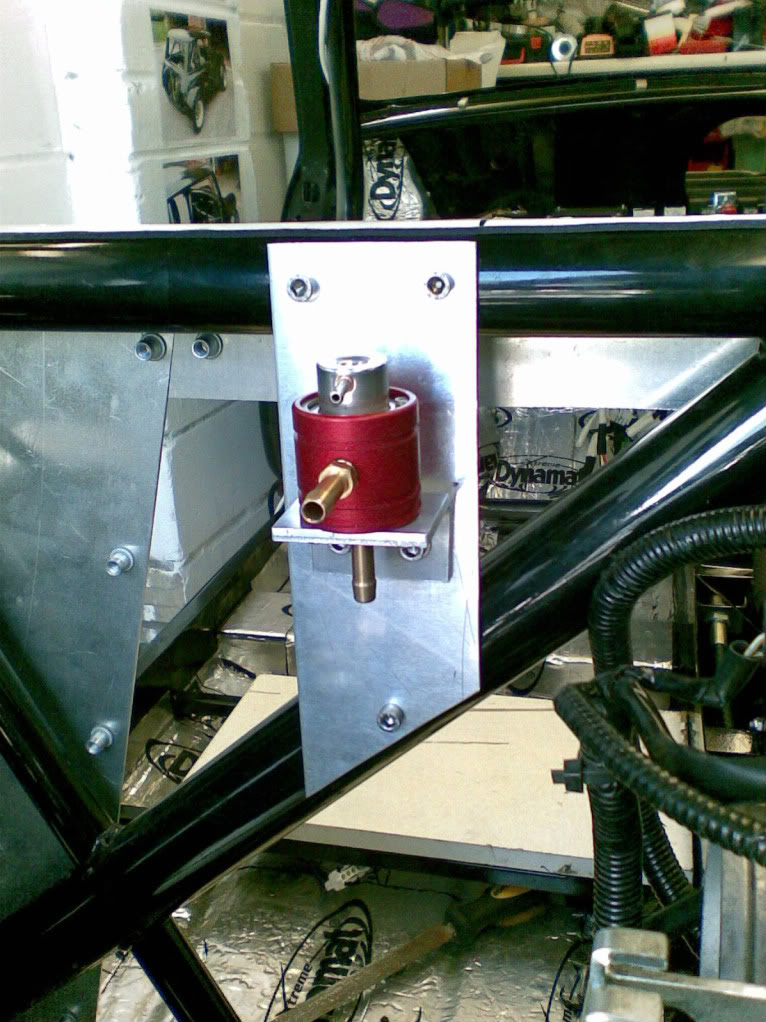 Rear Diffuser

Started making the rear diffuser plug yesterday. I have to admit to the design being slighlty wet finger in the wind, however its not completely without research. Simon McBeaths Competion Car Aerodynamics book is a good read even if you cant do the maths behind it - I cant. It does however enlighten you you into the witchcraft that is aerodynamics. When starting out with a car that is shaped pretty much like a breezeblock with house brick on top you know its not got the lowest drag coefficient but anything you can do to try and make the car stick a little better to the road will help - especially when you've just put a 300bhp engine in the back.

Even a flat bottom over the engine bay is better than nothing at all.

So below are a few snaps of the plug for the mould being made, still a work in progress: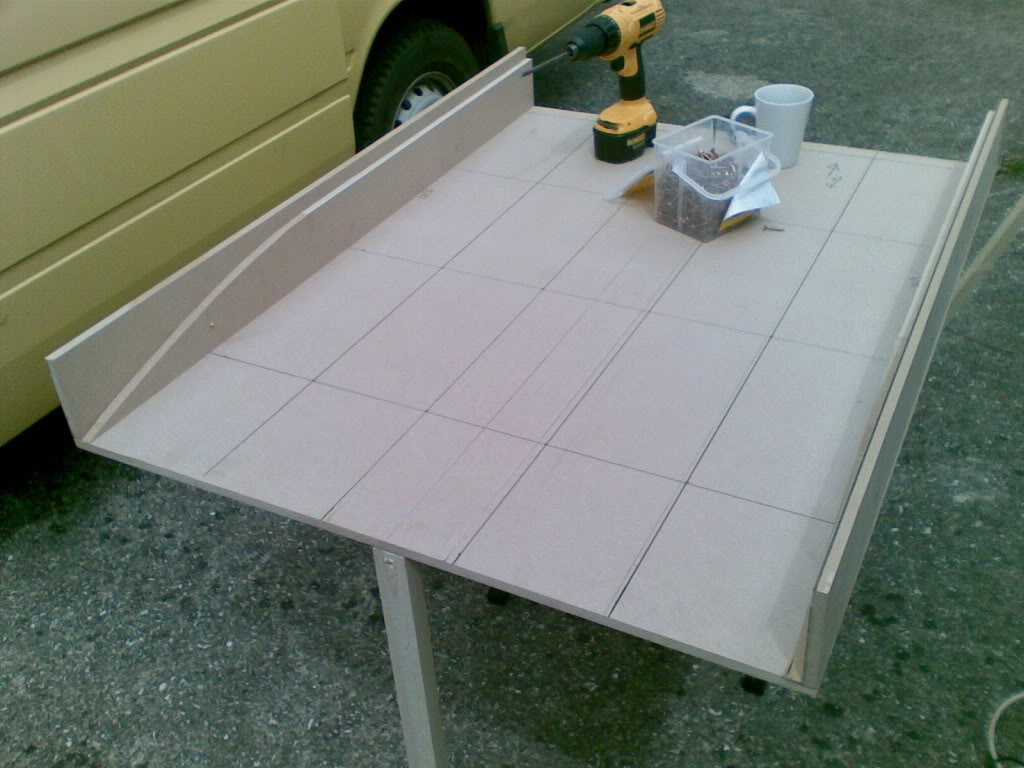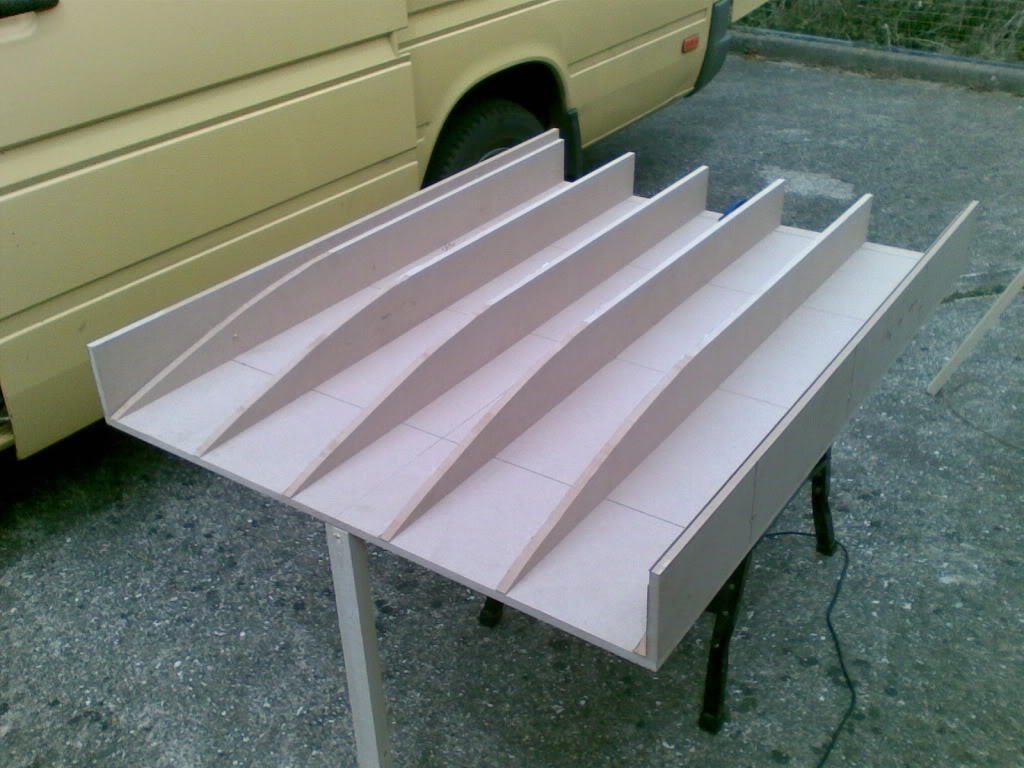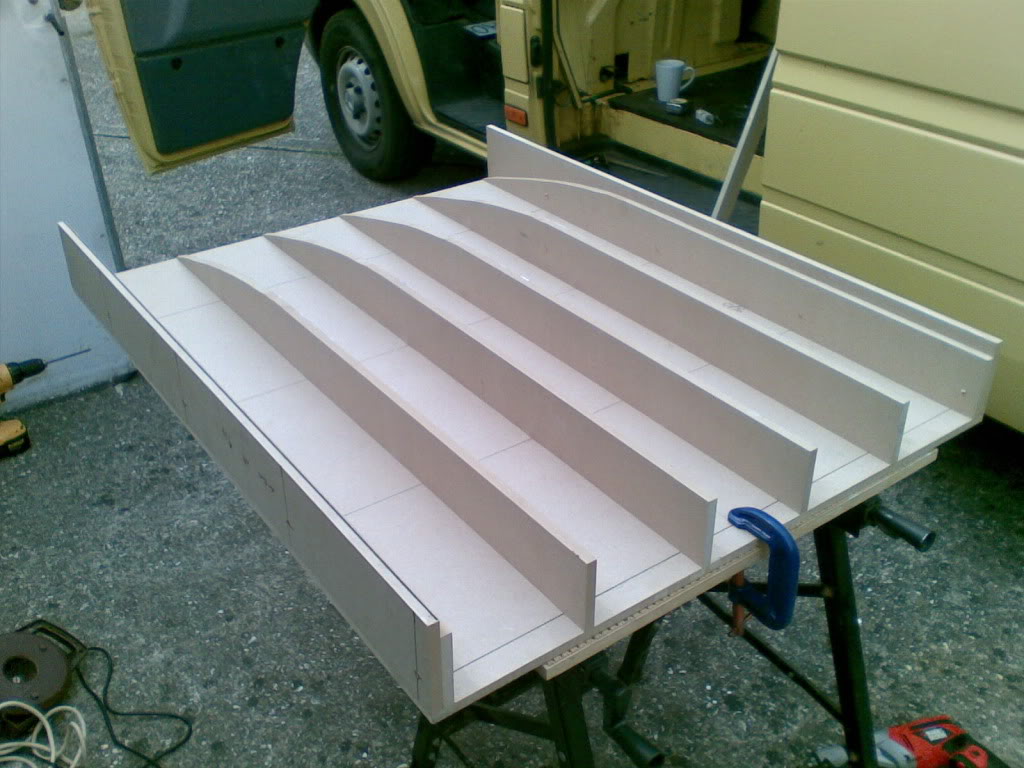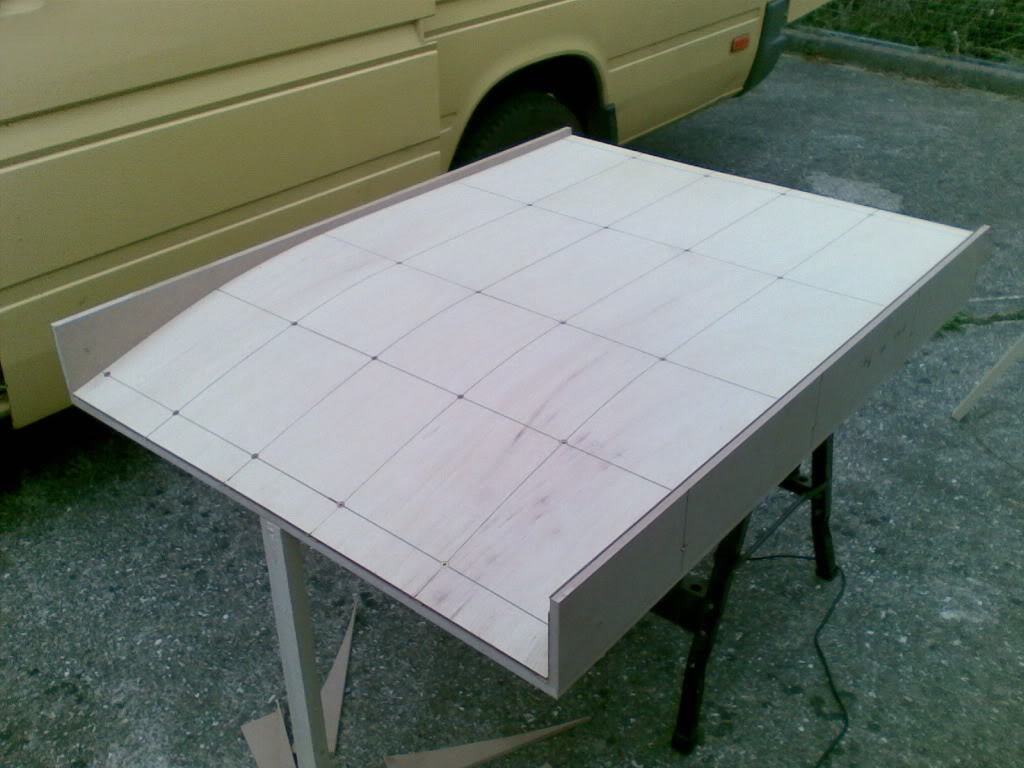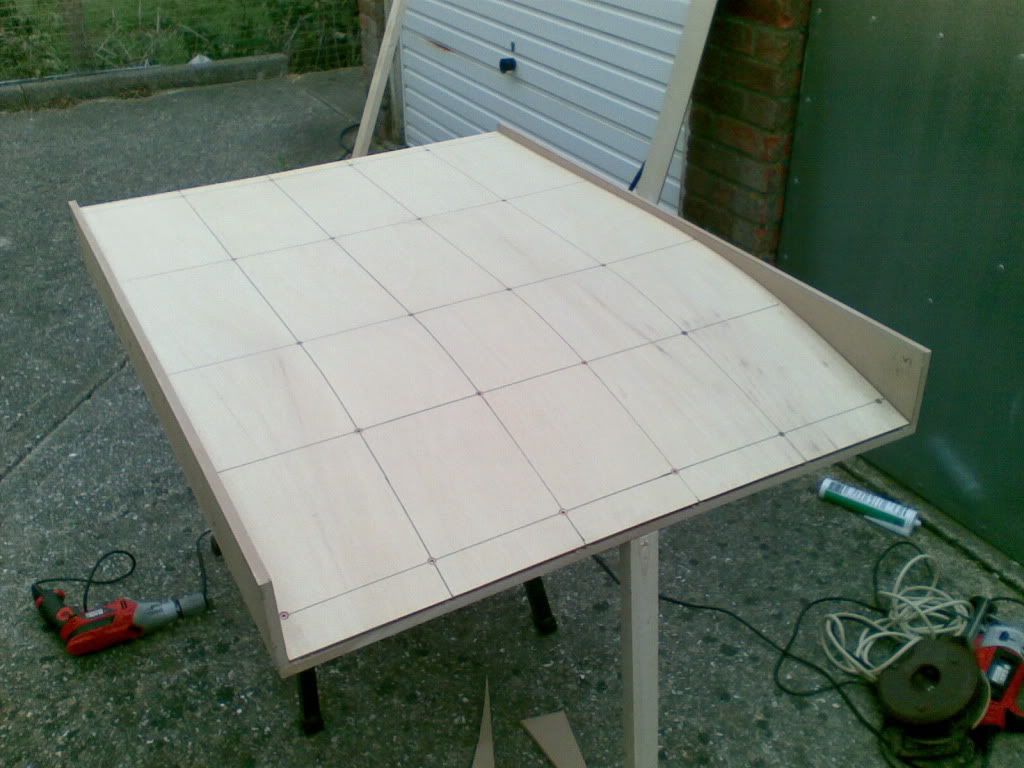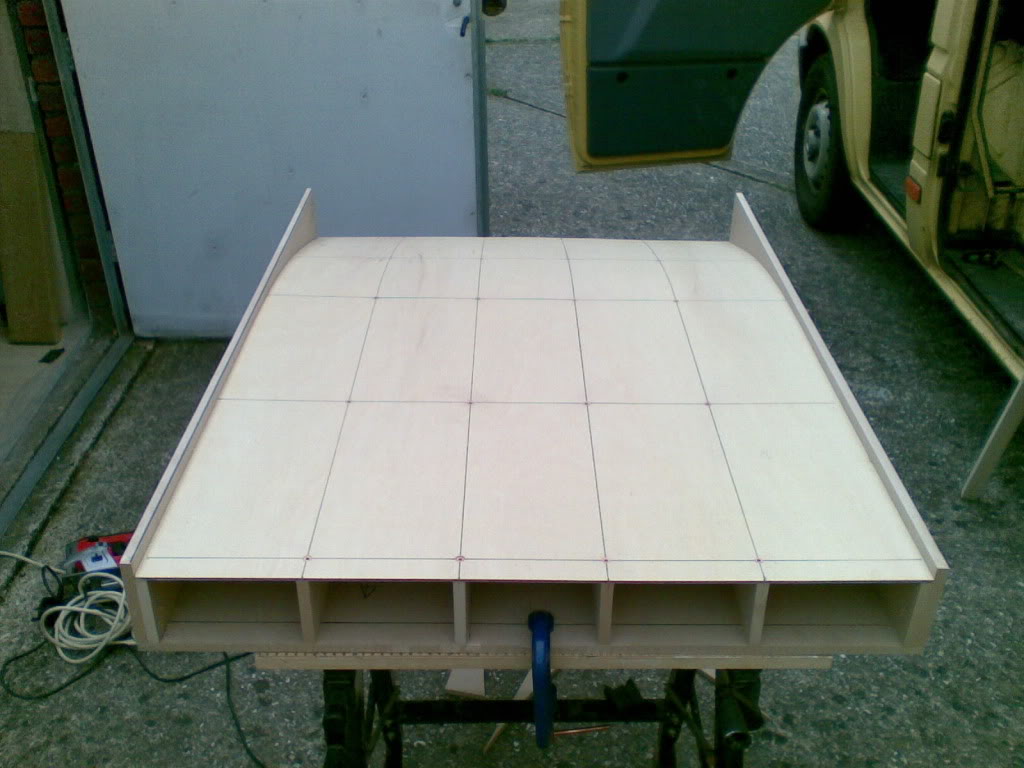 5-26-2009
Throttle Cable Mount

I had to make a slight alteration to the throttle mount to get it working sweet, my original calcs were a bit off. Anyhow - adapt and overcome......

I made use of a skateboard wheel bearing, an 8mm bolt, one standard 8mm nut, one nylock 8mm nut and two penny washers, the result is what you see below, even if I do say so myself it runs sweeeeet now..........: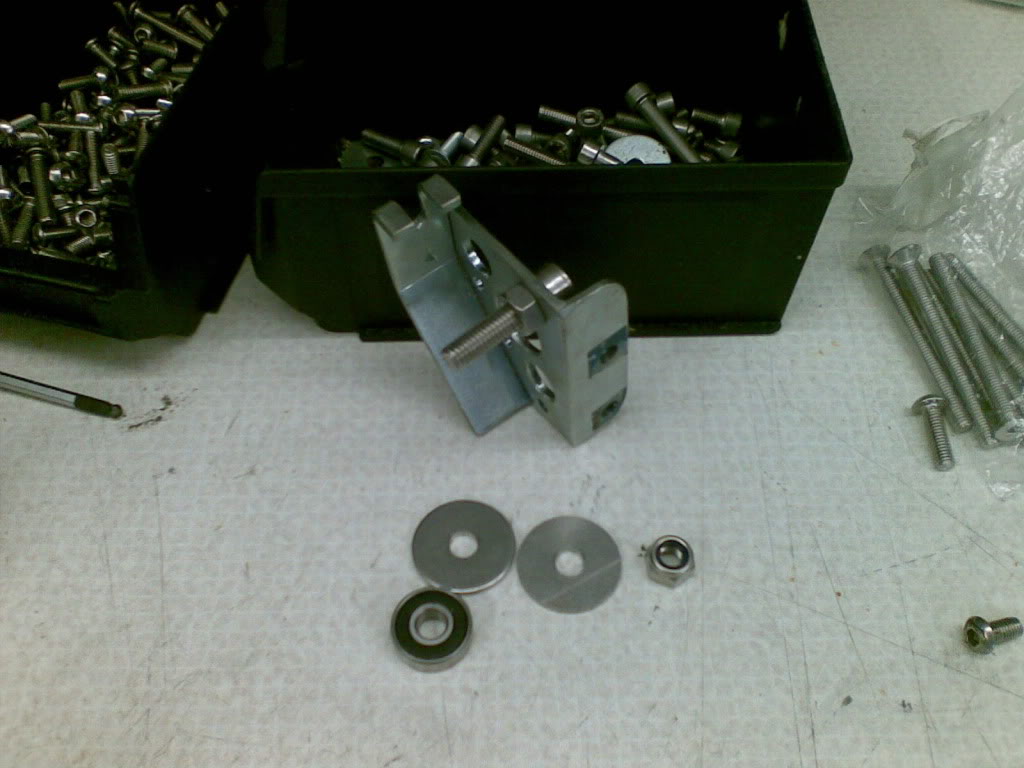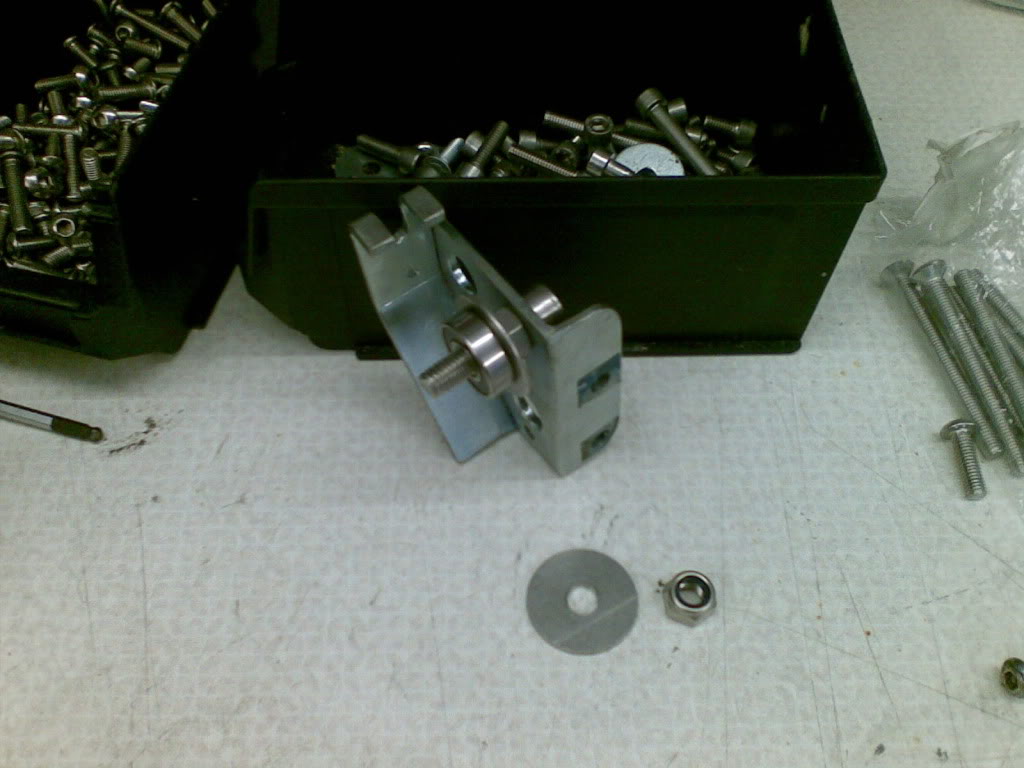 Rear Diffuser

So yesterday I finished off the diffuser plug, primed it and took it my friend Stuart, who's going to whip a mould off it and then make my diffuser.

The next and rather more difficult part will be making the joining peice between the lip below the boot and the diffuser.

Anyhow - here are a couple of shots of the diffuser just before it went in the van: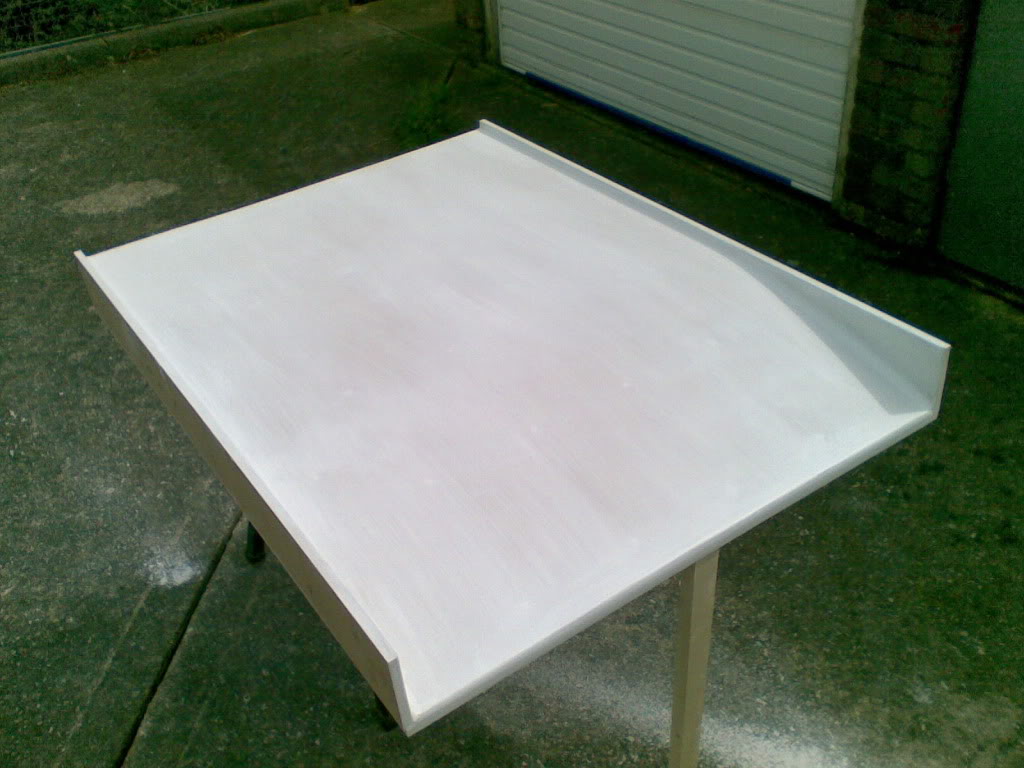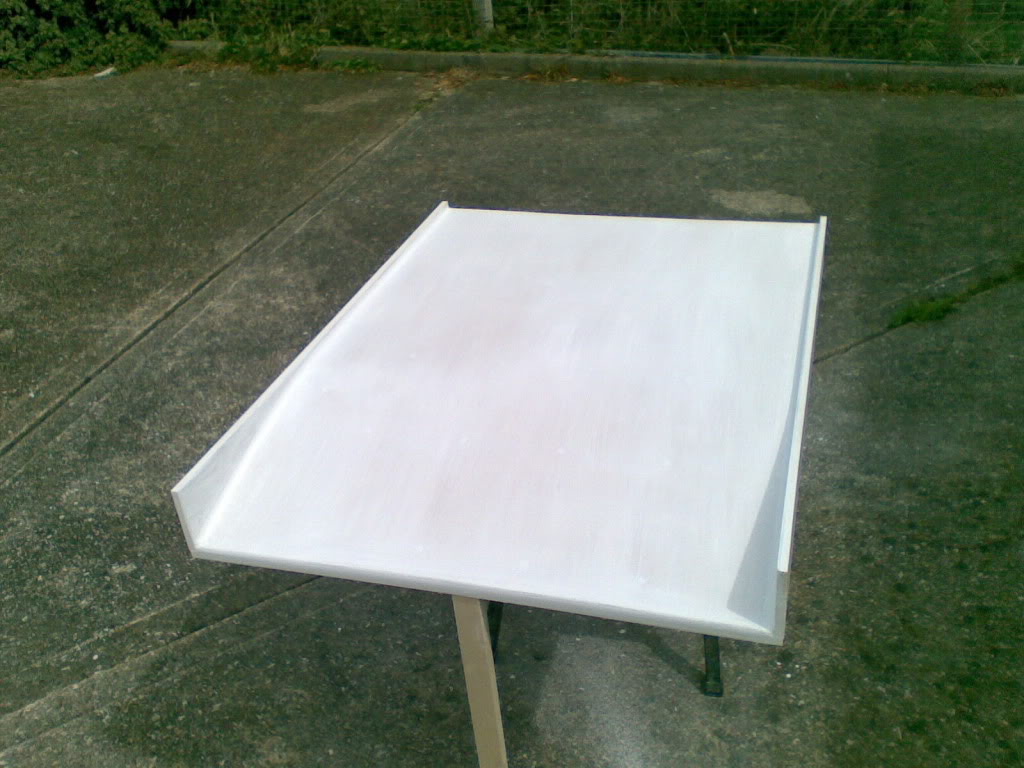 Tonights progress report:

After cleaning the spray paint off of my van and my garage door that some little chav had kindly put on there ( i dont mid the garage doors that much but do not under any circumstances f*ck with a mans vehicle, I hope Karma gives the kid Hemeroids for life) I went about making progress on the car.

I spliced in the new connectors for the injectors tonight, fiddly little buggers but I got there in the end.

Re-stuck the roof lining to the roof, original sticking was not up to the job and had sagged (not of my doing), so some industrial strength double sided sticky tape and the misses giving me a hand and we had it stuck up in no time, and the roof lining....way heeeey.........

No pictures in this one......boooo.....
5-27-2009
I got a delivery today - my Scoop Fixing Plates

They are made by Selective Laser Sintering and are made from Nylon so are strong enough to use as body part. They will be off to be sprayed by my mate Stuart to match the bodywork.

I sent them a 3D model in an STL file and they sent me the parts in the post - doesnt get much easier than that.

Laserproto.com if anyone is interested.

Another "SAW IT HERE FIRST" moment: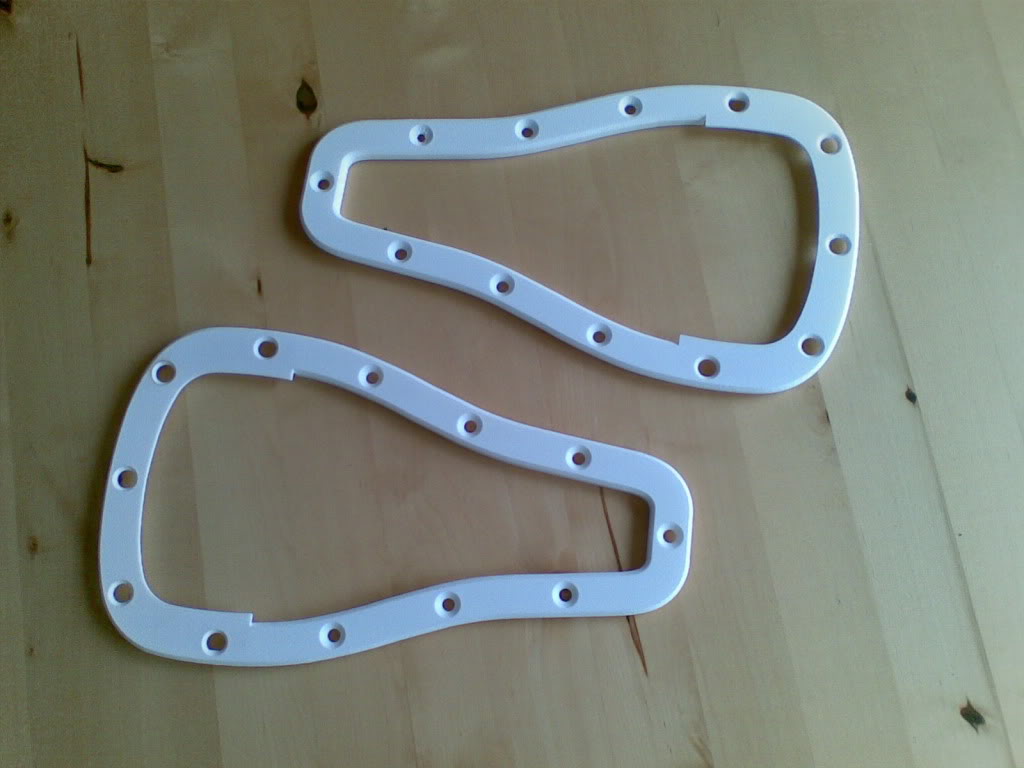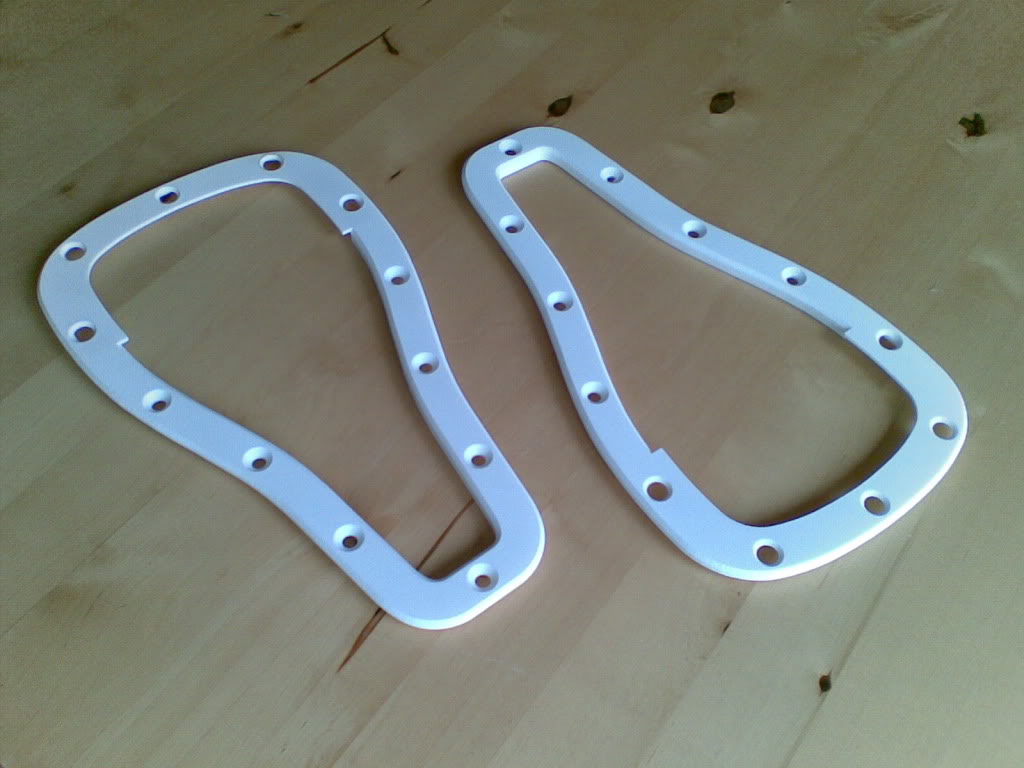 A quick snap of the new injectors connectors in place: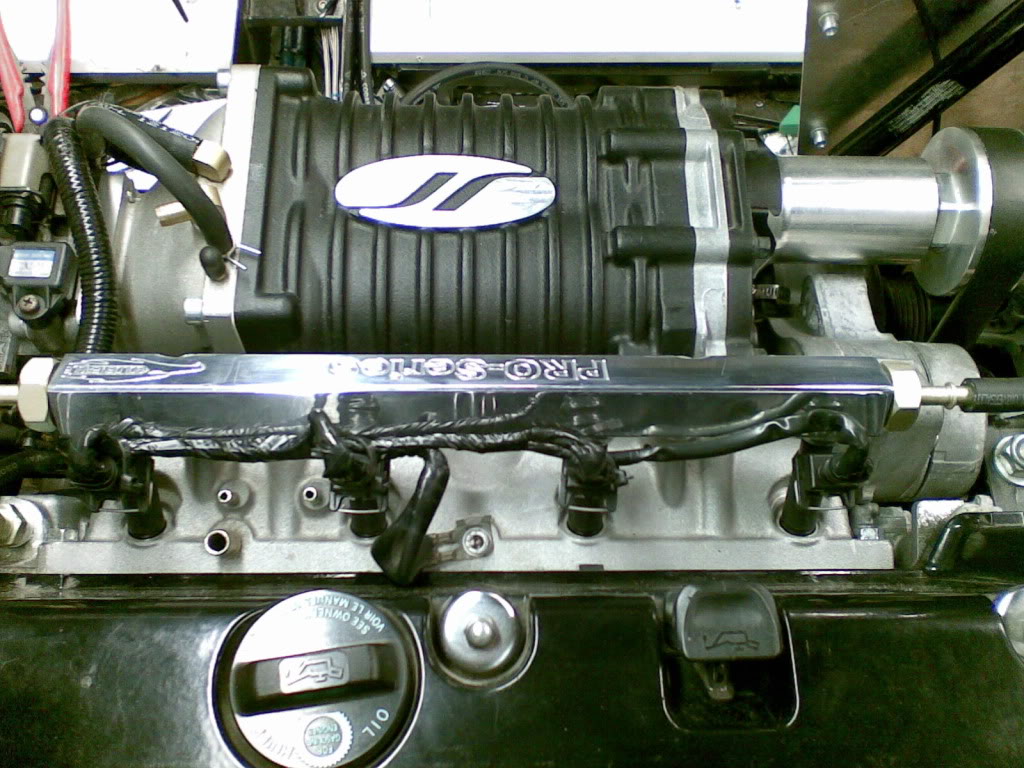 Tonights progress saw me drill a 60mm holes in the N/S bulkhead plate and feed through the engine wiring loom connectors. 90% fix the ECU into position and then remove it and piggyback the the multifunction relay unit onto the back of the ECU with Double sided foam and a couple of cable ties - solid as houses. A final go round with the cable ties to hold the engine wiring loom into position and that is 95% there, just a few little odds and sods to sort out.

Now do I feel I can do the wiring or do I get someone in to do it???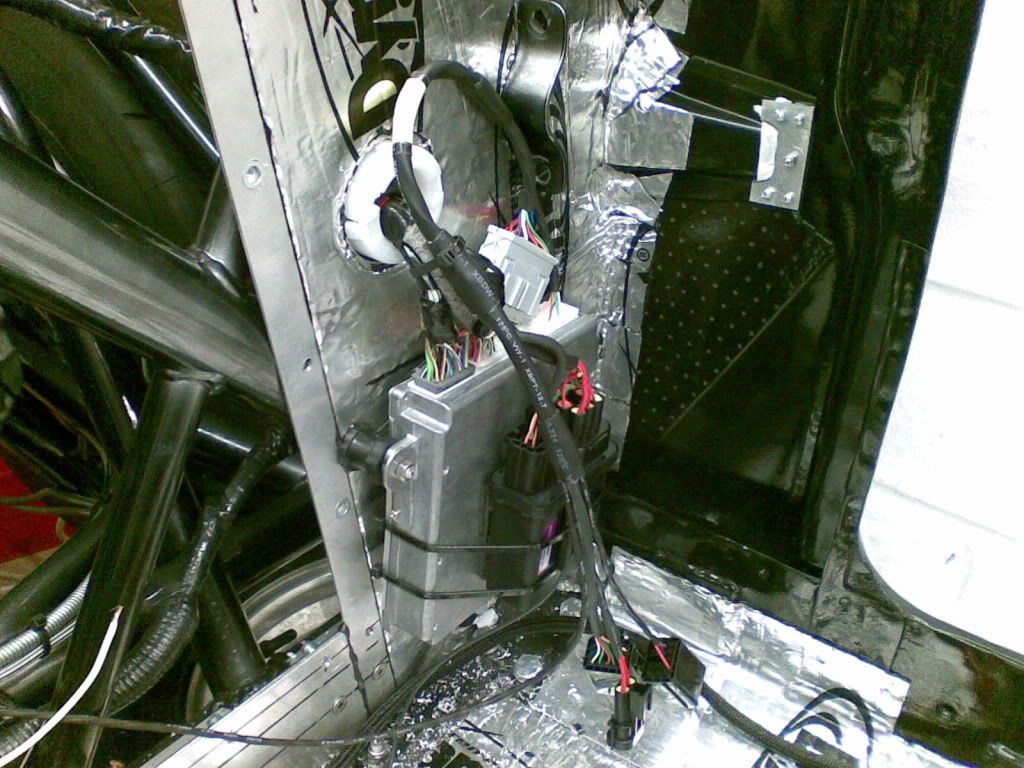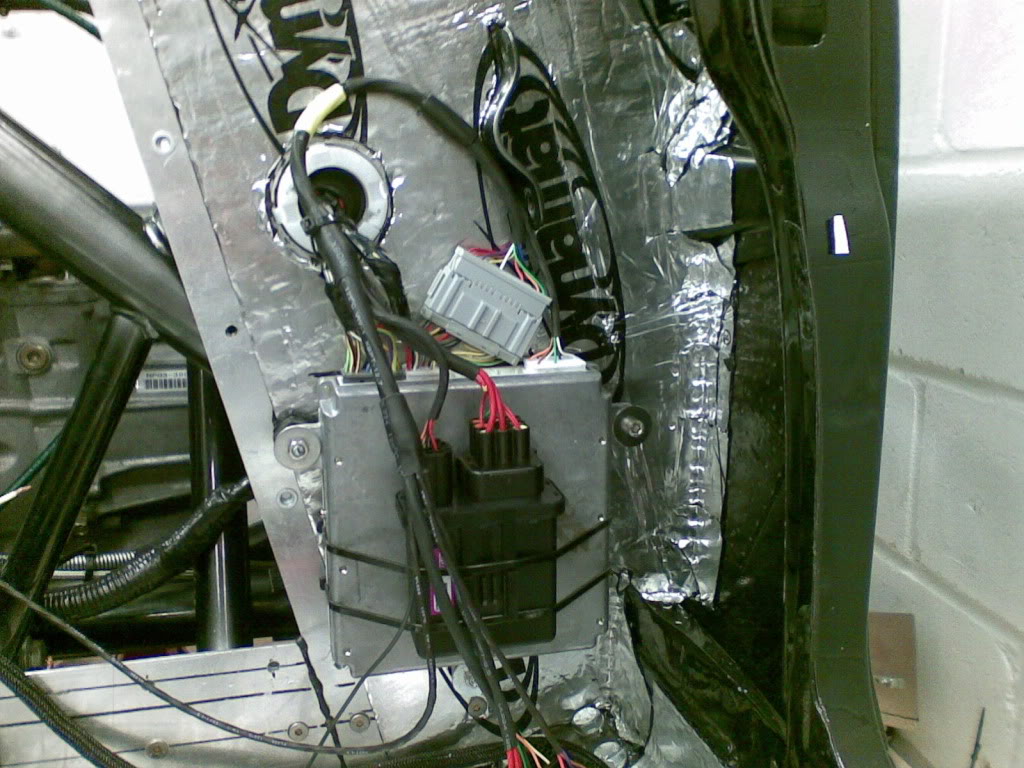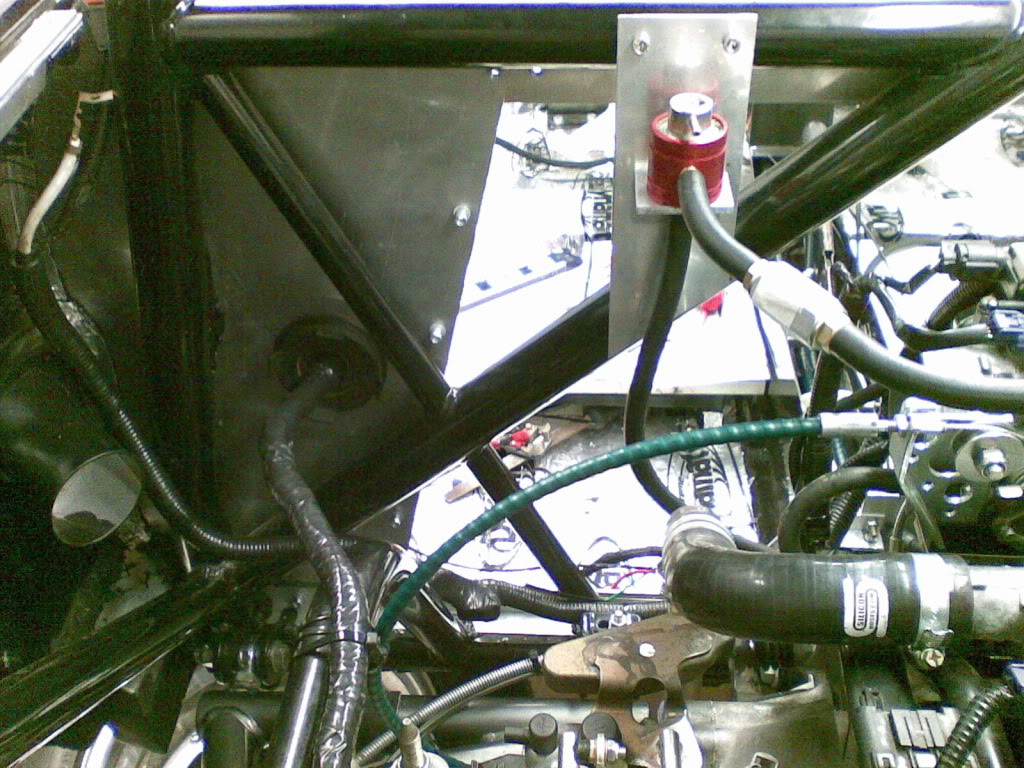 5-28-2009
The SLS parts have multi level on the underneath and I was quoted in the region of £500 for two parts made from Ali, so I went down this route. To be honest I sent the file to loads of companies and most of them couldnt even be arsed to reply and those that did werent really interested. IMO why would they deal with little Mr. two Peices when they have multi thousand pund customers to deal with. Hey Ho.... Got these now and they are exactly as my model so I am chuffed, cant wait to see them sprayed up and on the car.

I am guessing PEEK is stronger than Nylon? I dont have a Masters in Engineering so I dont know, advice welcomed on that subject.

I had previously had the outline Laser cut from 6mm plate and planned to mill it al out but the steel plates came in a 630g each and the Nylon is 56g each so a no brainer on the weight front. Also the Bolts going through the plate is what is taking the stress, not the plate so all good there. I could have designed a plate that incorporated its own 'ear', but I decided to go with what I had. You never know someone else might want some. will have to work a cheaper way to get them made.

Thanks for the comments, there's still more to come, its all in the Work In Progress file at the moment.
Tonights progress saw me offer up one of those bad boy scoop plates, pictures to come later.

Secondly I have been concentrating on the wiring loom(s), I have to say that I dont have much experience in wiring cars and this is really testing me. It's made even more difficult when there is no wiring diagram for the main loom. It may be time to admit defeat - I will wait until after the weekend and see if I can get my head around it. Need to order a few switches anyway.

Back to the scoop plates.....

So here are a few snaps of a plate offered up - literally offered up, not sitting flush yet as not bolted down......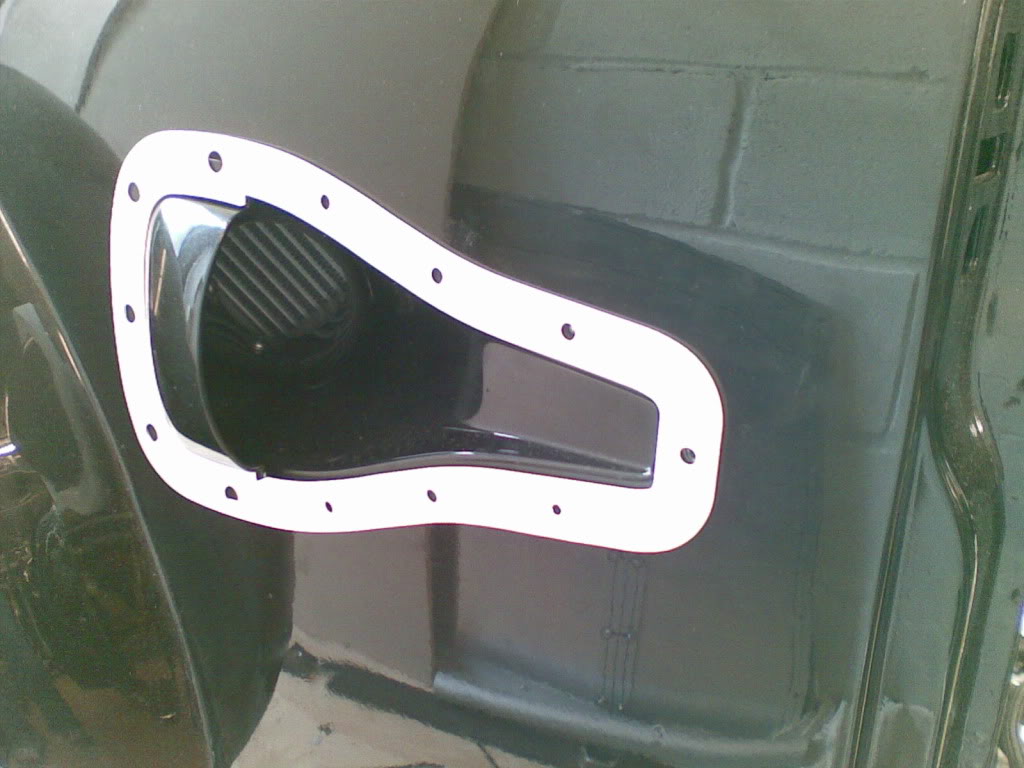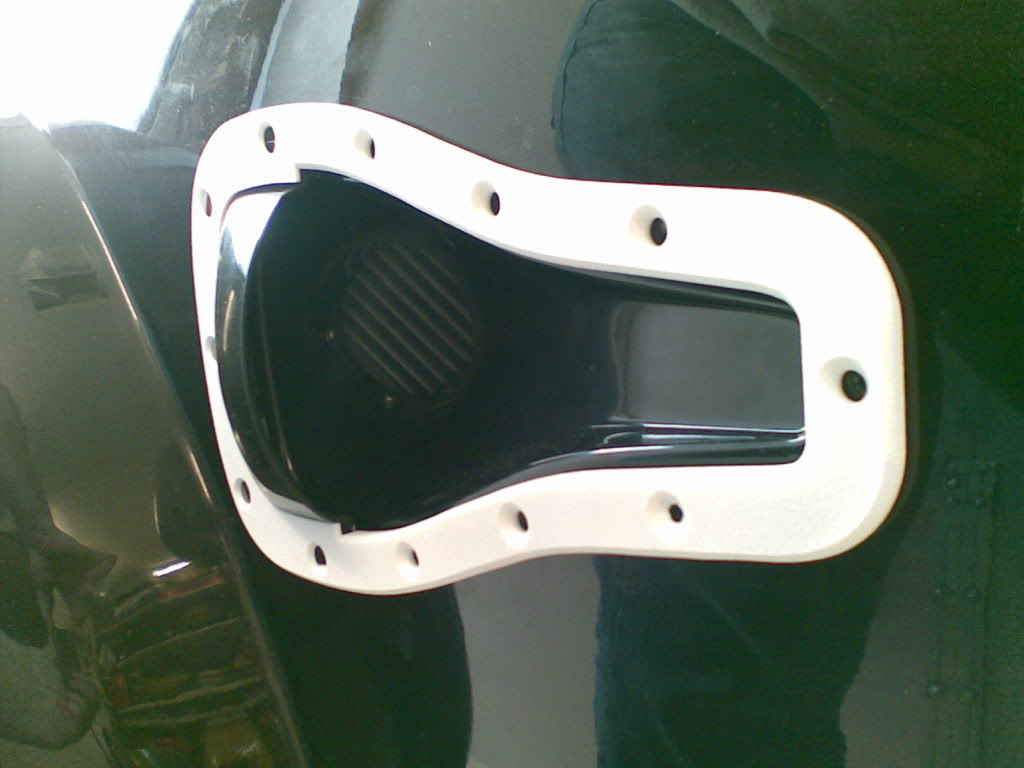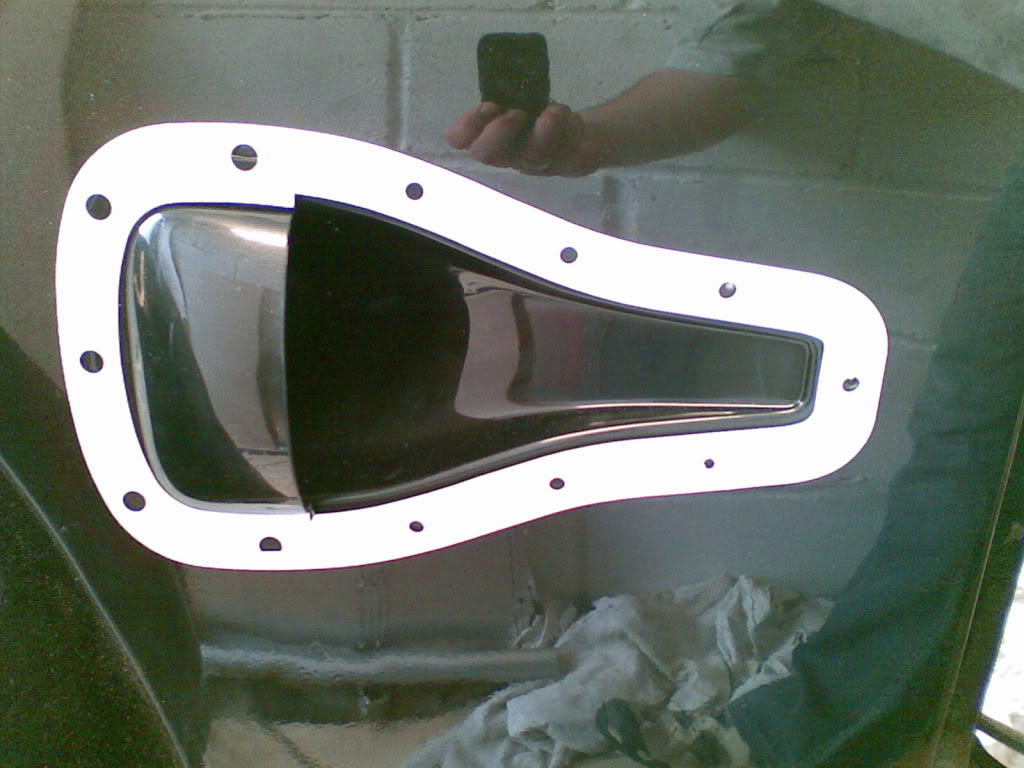 5-29-2009
OK, so I have sussed out where to connect the reverse light to. There are two wires that are marked up as to be used for the reverse switch - pretty bloody obvious really. When I first looked I thought it was for the reversing motor switch for the bike engined cars - we live and learn.

So the wiring loom is starting to make more sense the more testing I do, you have to just make things live and start working it all out, it's definitely not a 5min job, thats for sure. I have all this weekend to get my head around it, lets hope there's enough time to get it done for August.

Need to make a battery holder tomorrow, should have some pictures of that by the end of the weekend.
5-31-2009
So the weekend has been spent on the wiring loom - do you know what, it's not as bad as I thought it would be. Patience, a multimeter and a clear head have prevailed and I now have something that looks kinda like a wiring loom, it's not finished by any means but we are definitely making headway.

Didnt get time to make a battery holder so that'll have to wait til one night in the week.
6-2-2009
The 'Wiring Headache' continues:

Made a bit more progress tonight after realising that I didnt have a main beam flash circuit in my setup I now have another relay in palce for that. Just a couple of photos to show the snakes wedding in progress, note the 'in progress'.......

I have to admit that although I was not experienced in auto electrics I do however have an understanding of electrics and electronics (got a GCSE in electronics) so I had the basics but was put off by the unknown. It isnt easy and is you dont have any experience of electrics or electronics then I would leave it up to the pro's.

Not for the faint hearted - thats for sure.....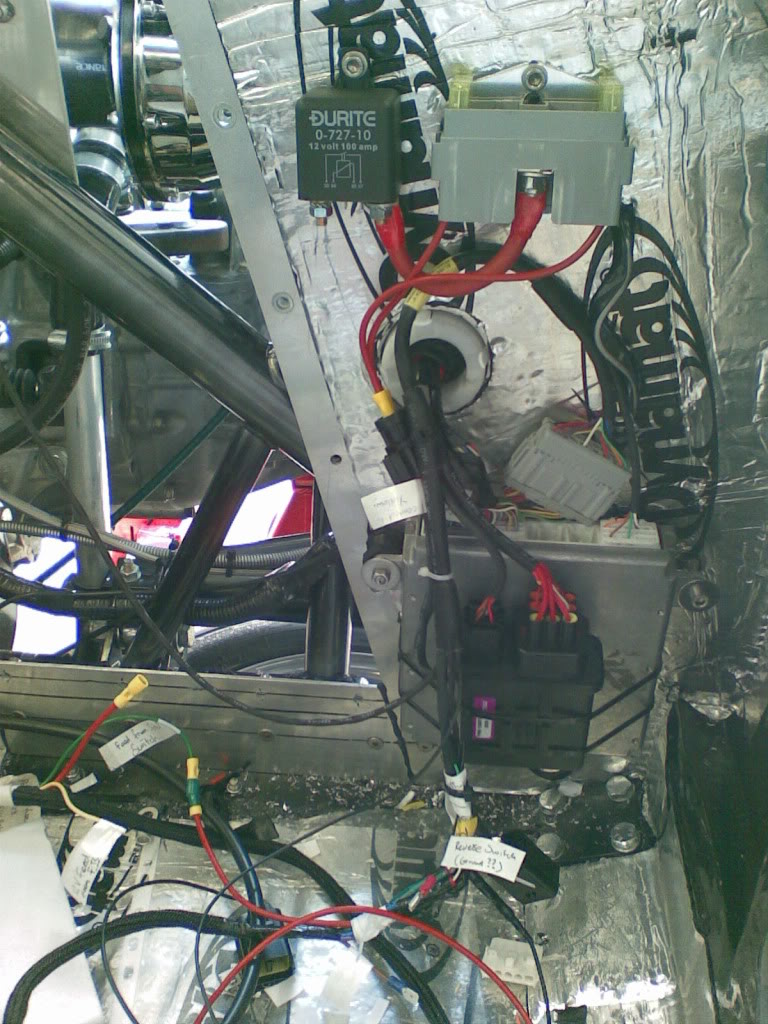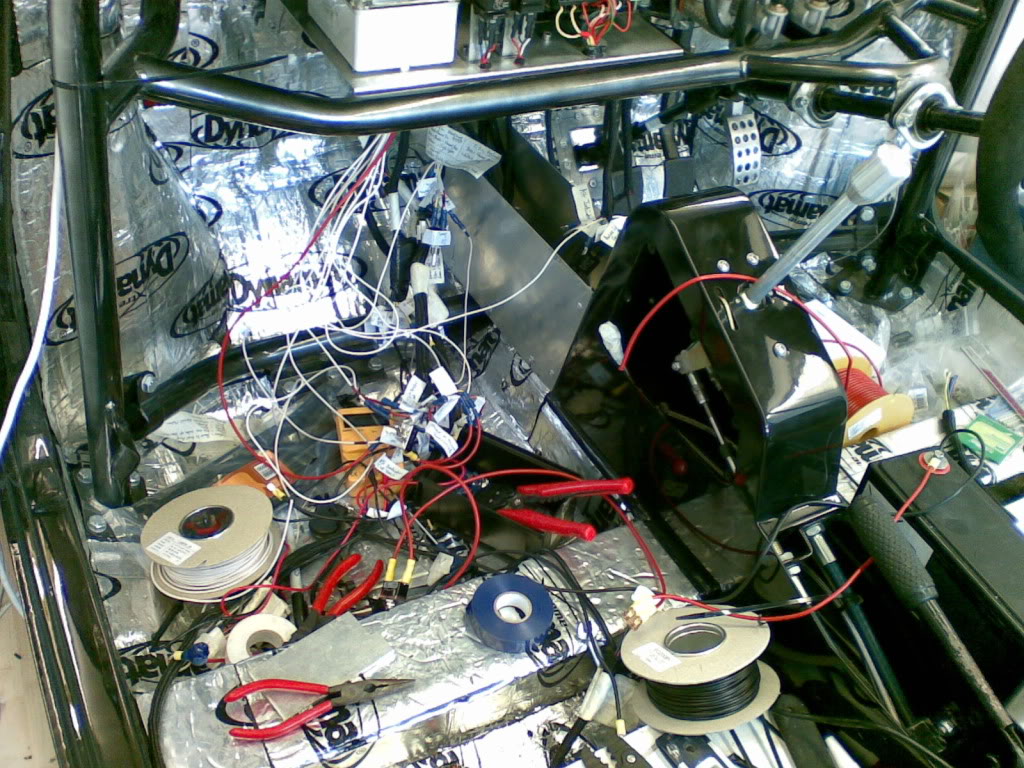 6-8-2009
Progress Report:

A busy weekend, but not all of it spent doing the car.

Mostly wiring still, placement of switches and stuff like that, not many pictures taken as its pretty boring stuff at the moment. Hope to get onto some more productive, sticking stuff on kind of work soon, even just getting to the stage putting the lights in will be a sense of acheivement.

So much to do, so little time...........
6-18-2009
Not as such, no.

There are a few sheets of A4 naming what each wire on the Zcars loom is but thats about it. As for the fuse board its a case of trial and error to find out which fuse goes with what wire.

Trust me when I say it is no easy task and if you dont have a clue then leave it to the Auto Electricians, I am going to have someone look over my work once it is done, just for peace of mind.
6-23-2009
Right been a long time since I posted anything with pretty pictures, so here goes.

I got my expansion tank back from the welders (cheers Barrie), there was a slight mistake along the way and it doesnt look quite like what I planned but it'll do the job just the same.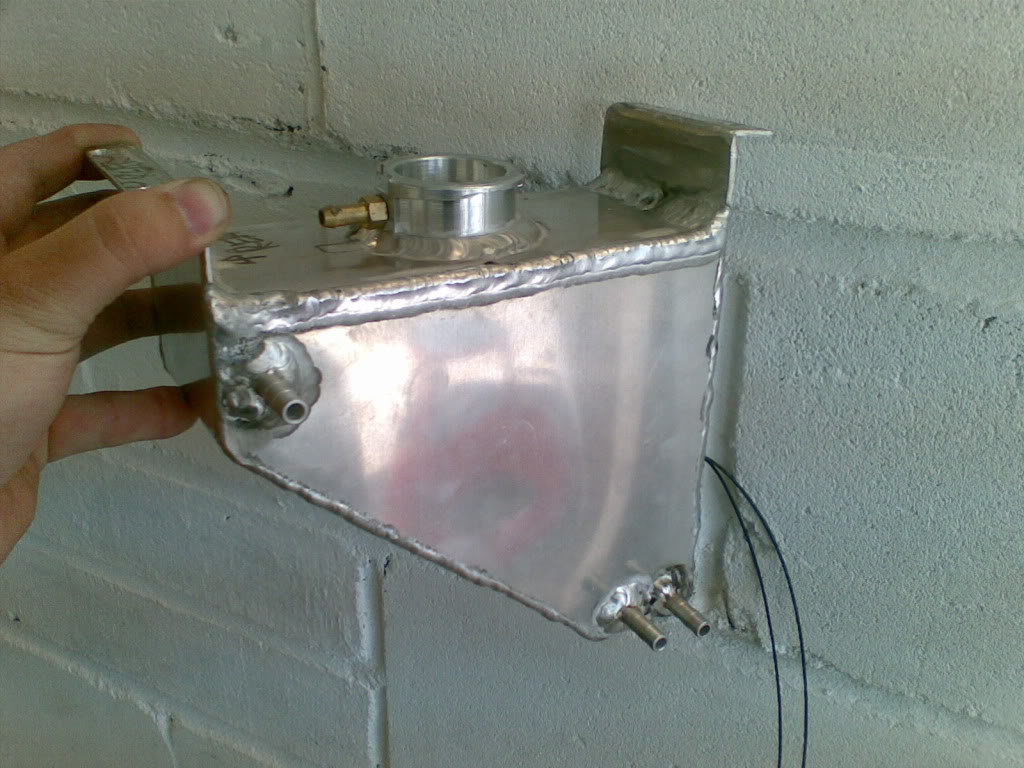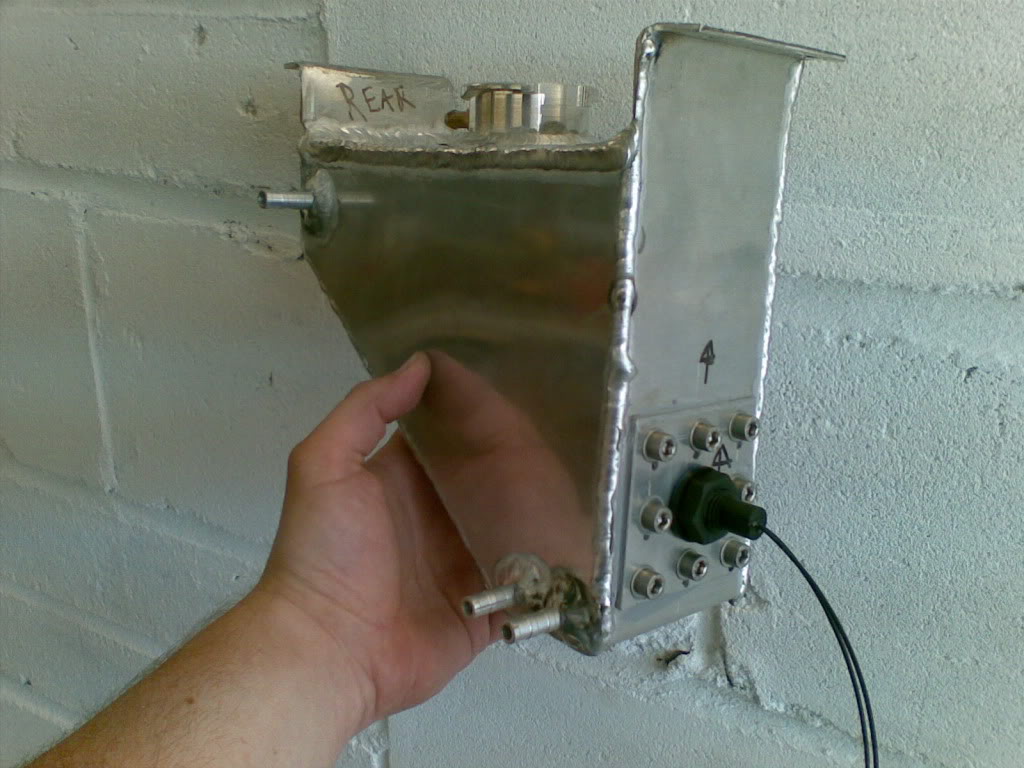 Radiator Cowling:

This one has been a long time in the making, I decided not to go with extra holes in the bonnet to increase the air flow to the radiator so decided to amke the most out of what I had. The idea is to make as much of the air that enters the opening for the radiator actually flow through it and then direct as much air as posiible back up and out of the scooped bonnet, rather than having a underbonnet full of hot air. I started out by modeling the radiator and then designing the fan mounting plate and cowling to match. I got a friend to lay me up a carbon/fibreglass sheet, the same angles as the dash as that was what I had laying around to take dimensions from. Then I had to get the fan plate and the front and rear cowlings laser cut. I would like take this opportunity to thanks Stuart at Wessex Metalcraft for the laser cutting, good rates and very helpful. Then got my old mate Barrie to weld the sides to the fan plate (once I had pre-bent them), as you can see from the series of photo's it worked out quite well.......

The Model in AutoCAD: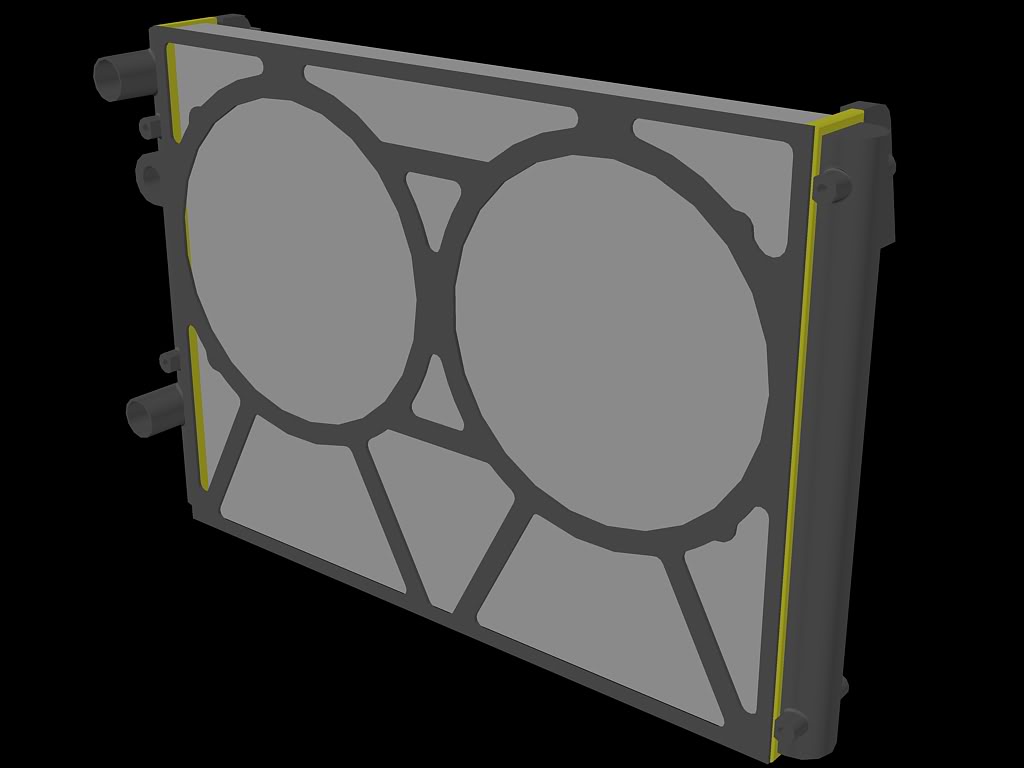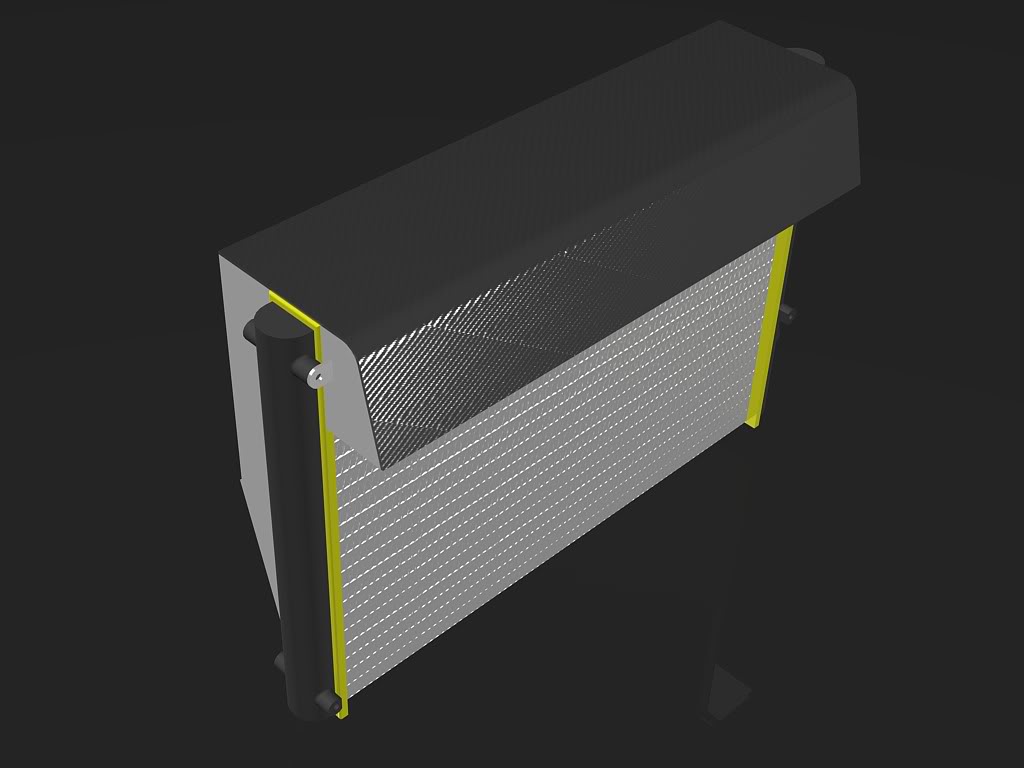 The front cowlings: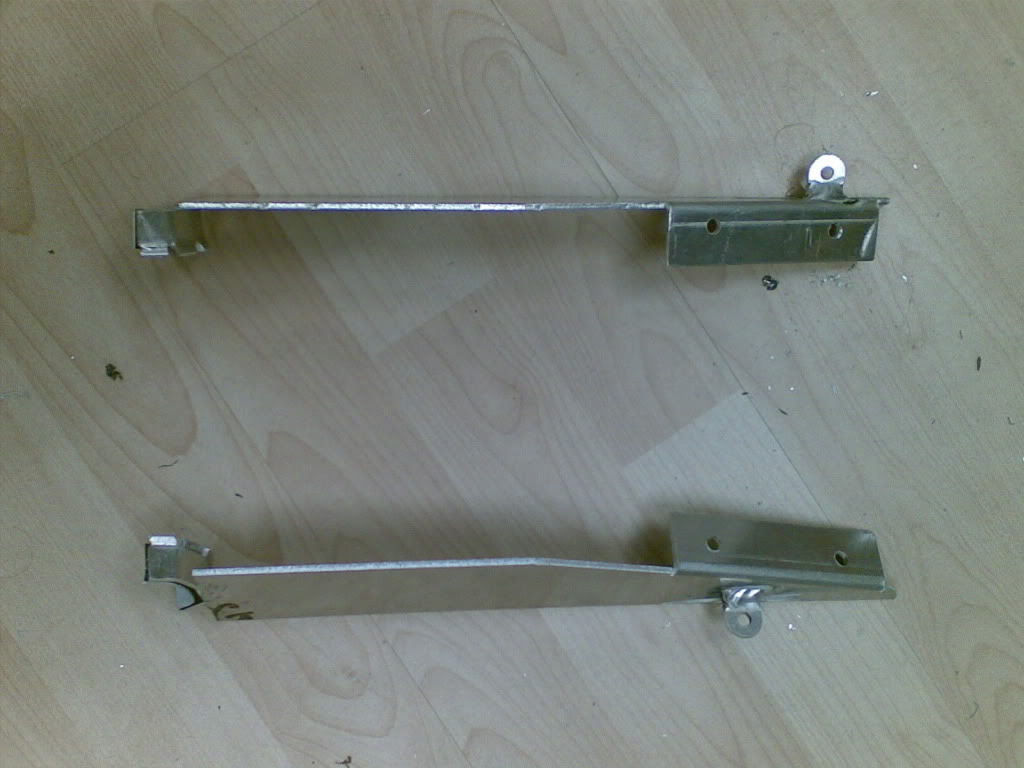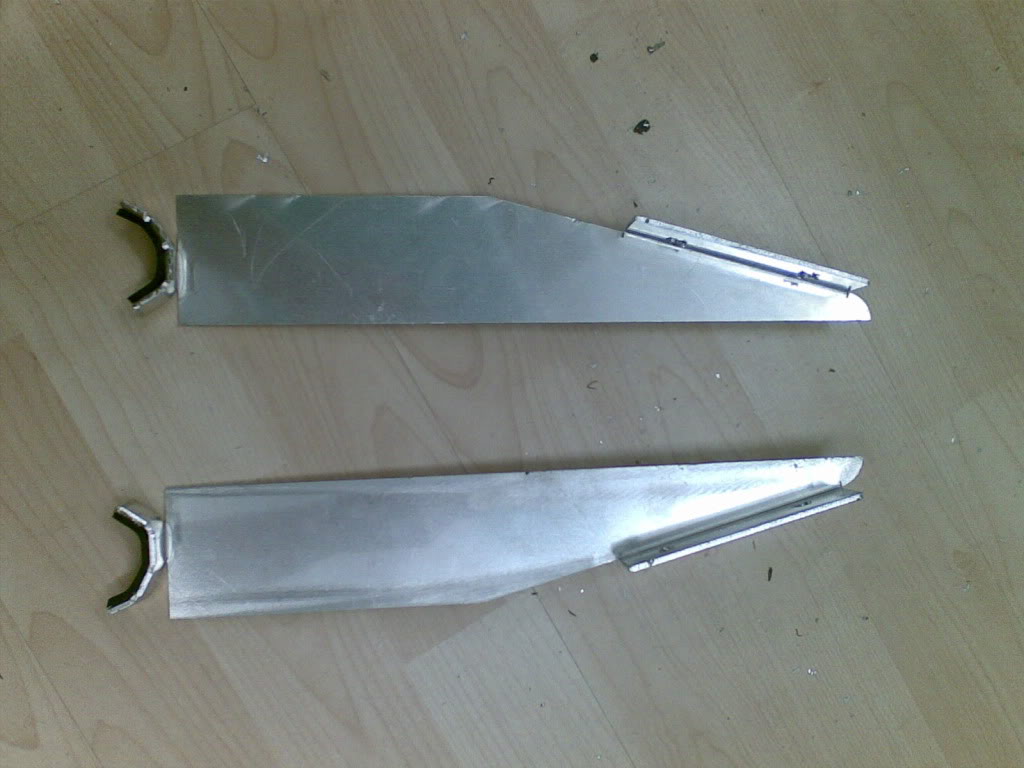 The fan mounting plate: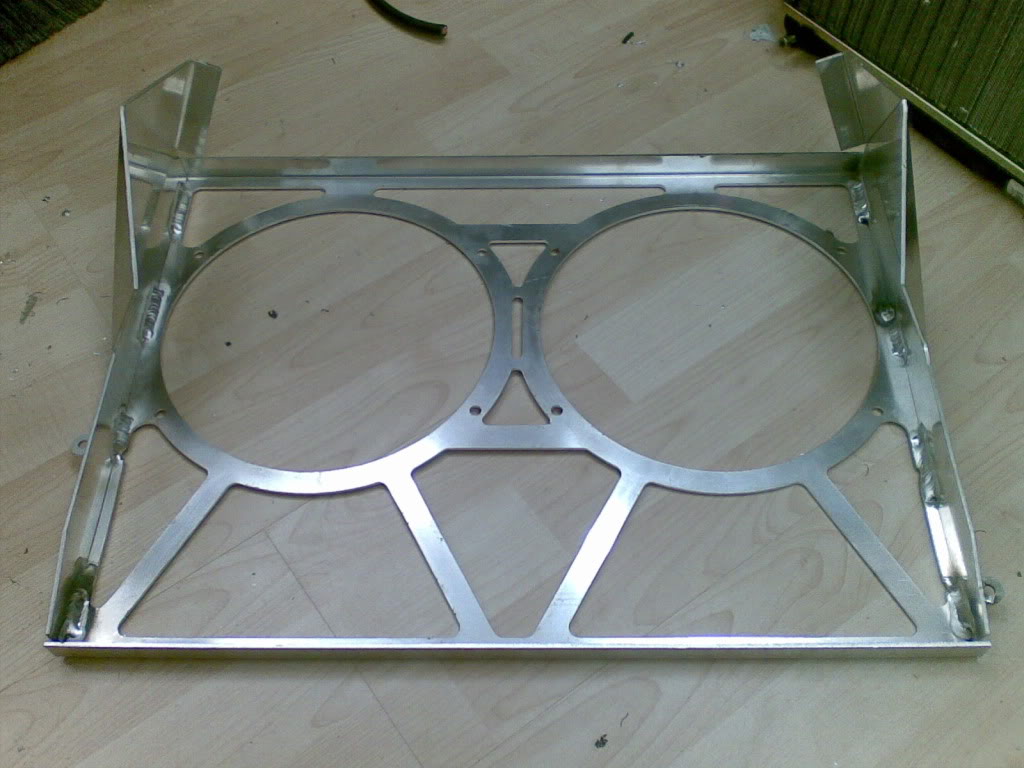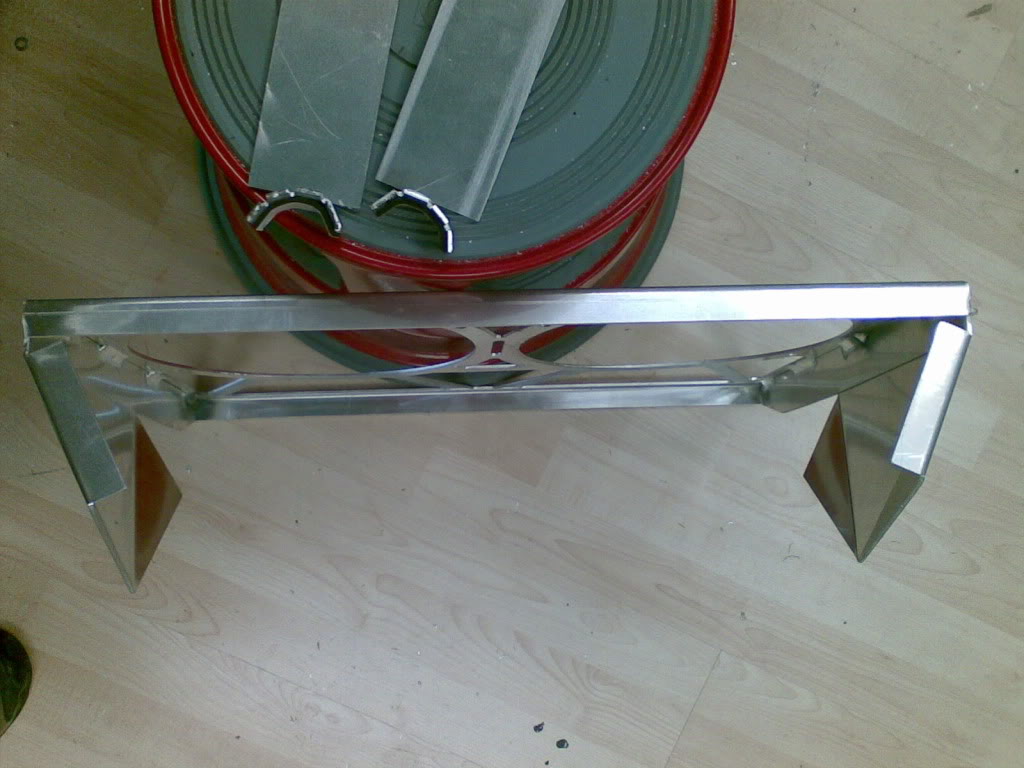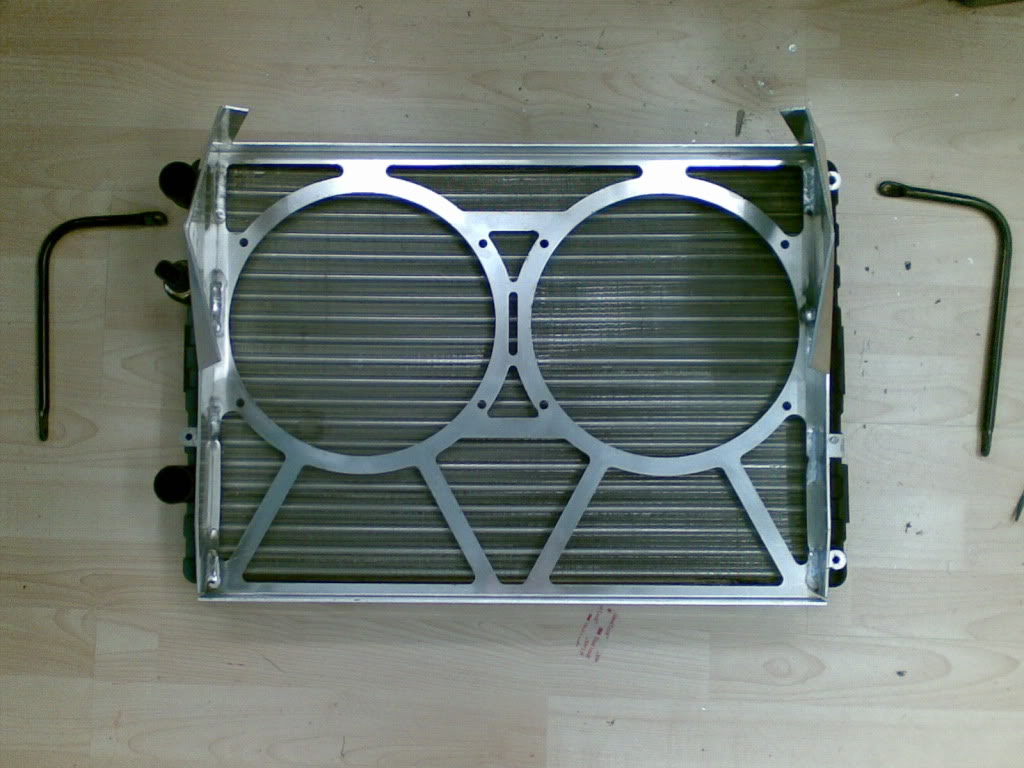 Offered up to the radiator in situ.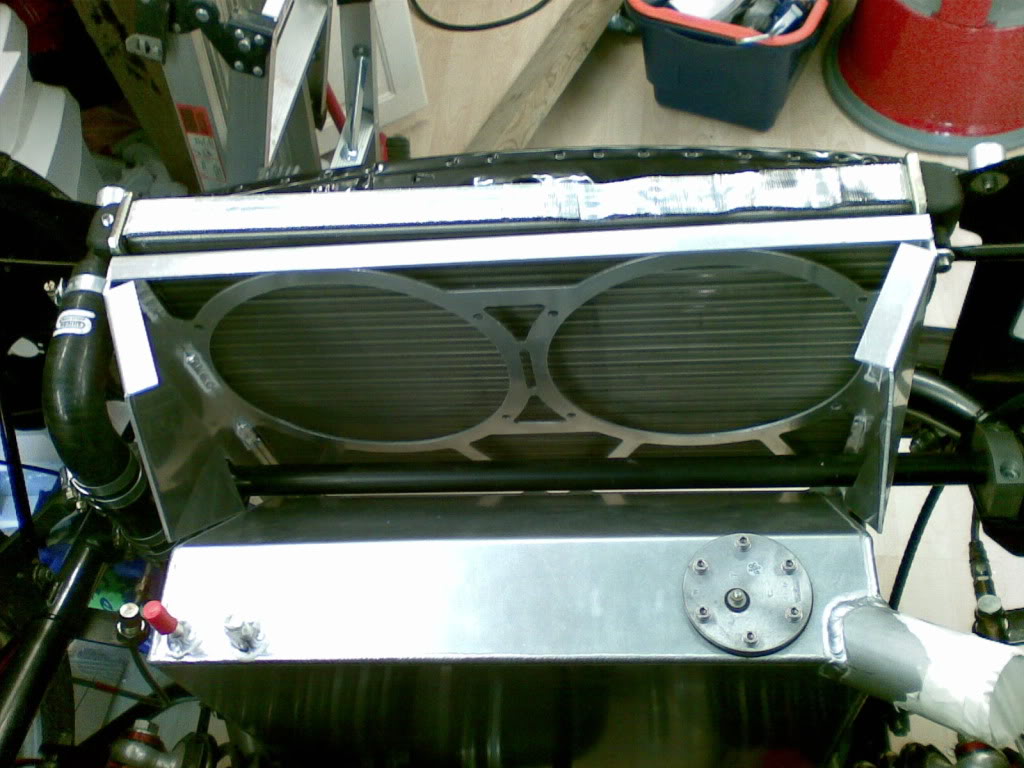 Then mounted the fans: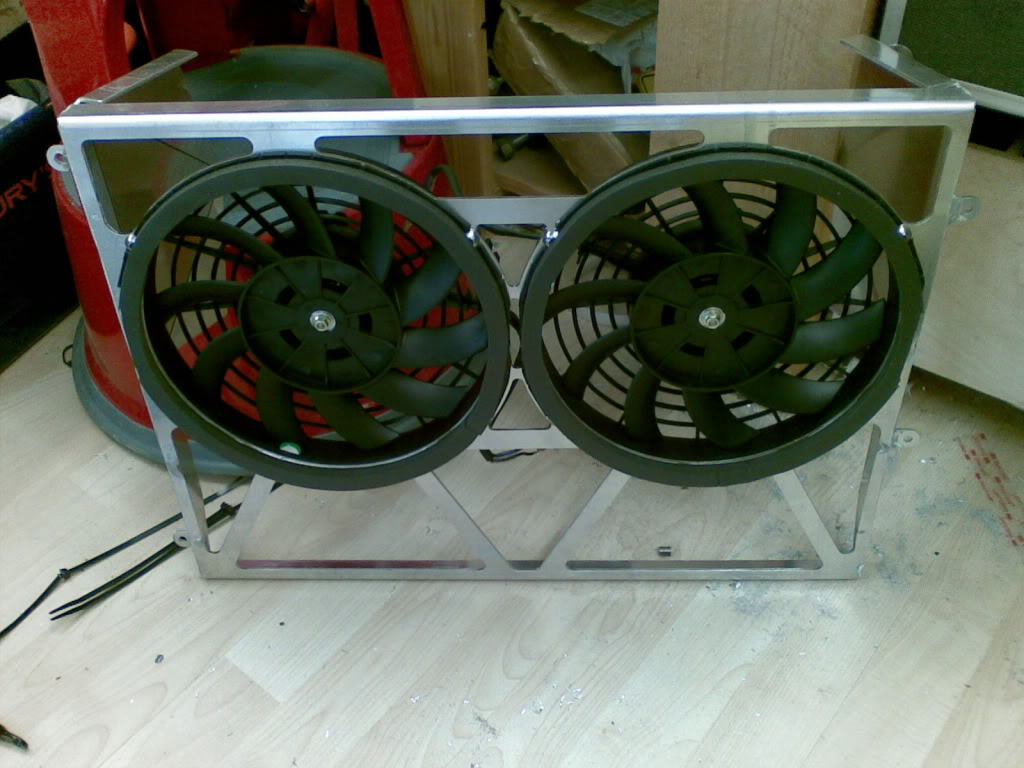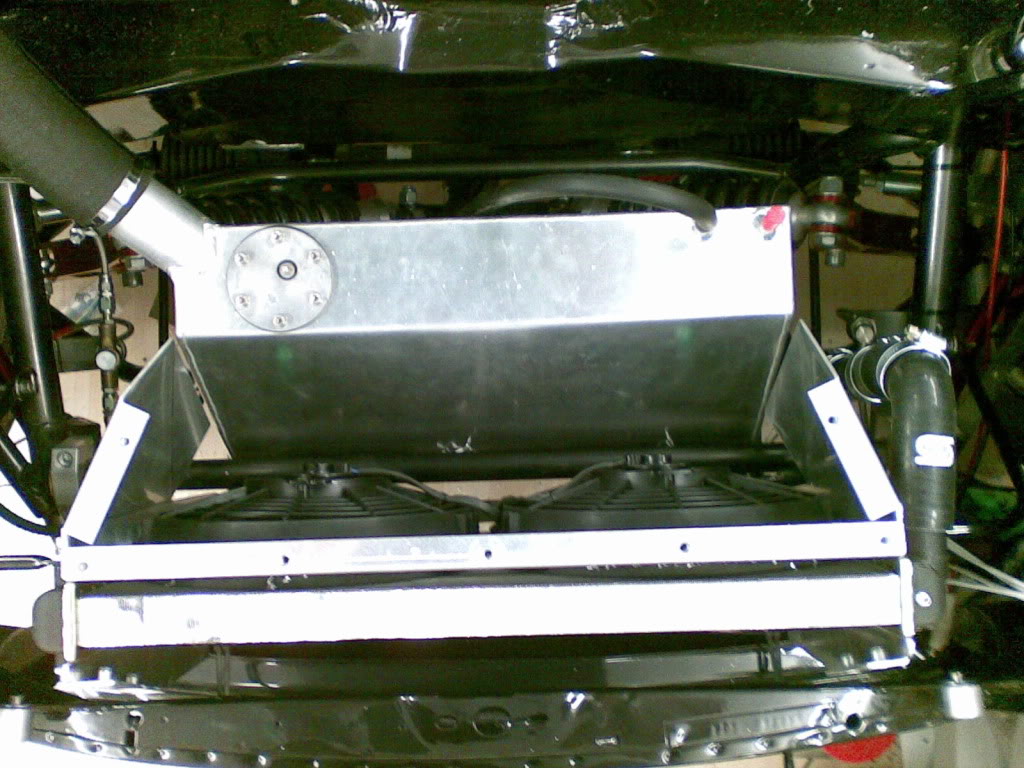 Then Mounted the new carbon cover thats gonna force the air through the radiator: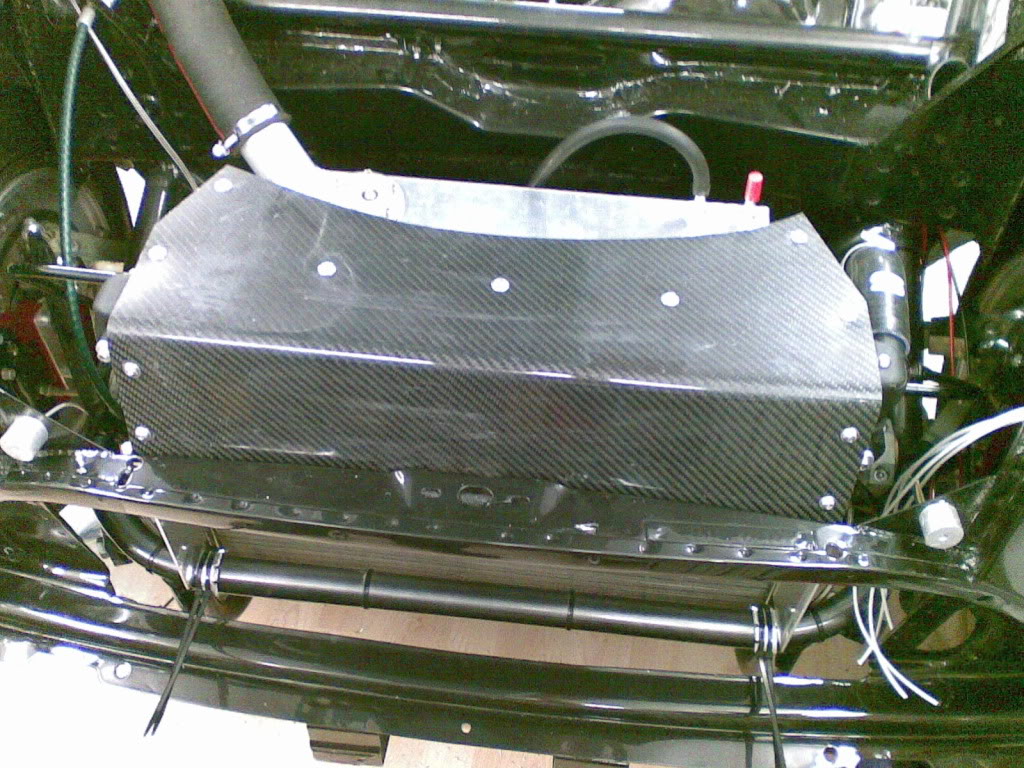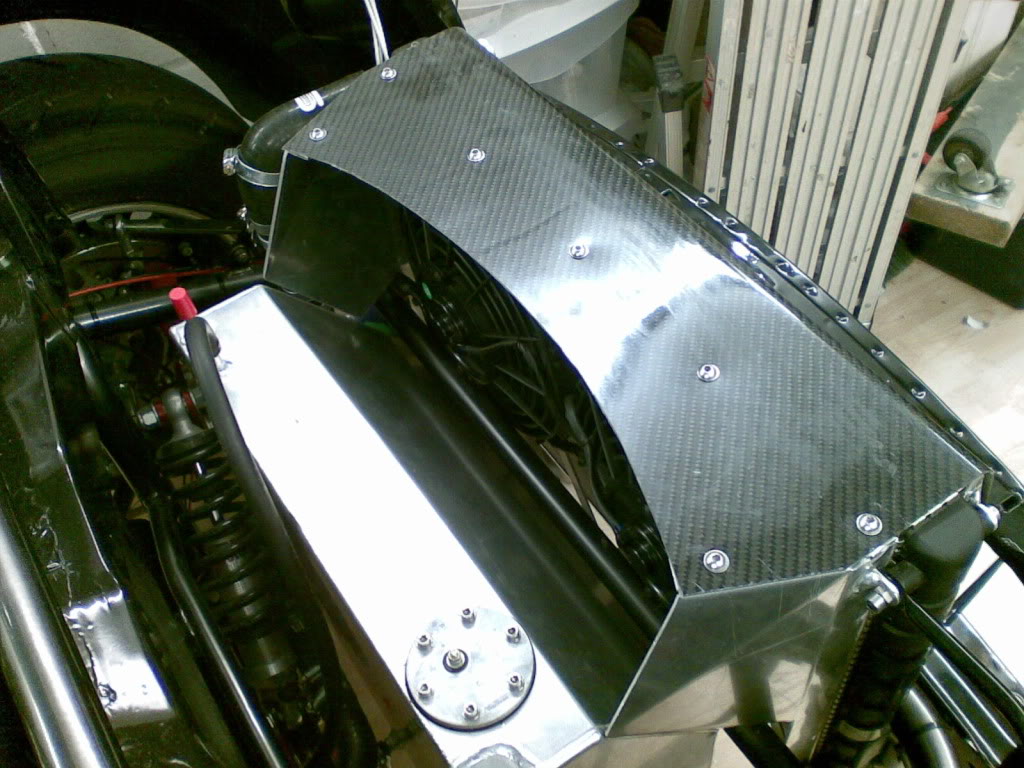 Then fitted the bonnet - looking goooood.......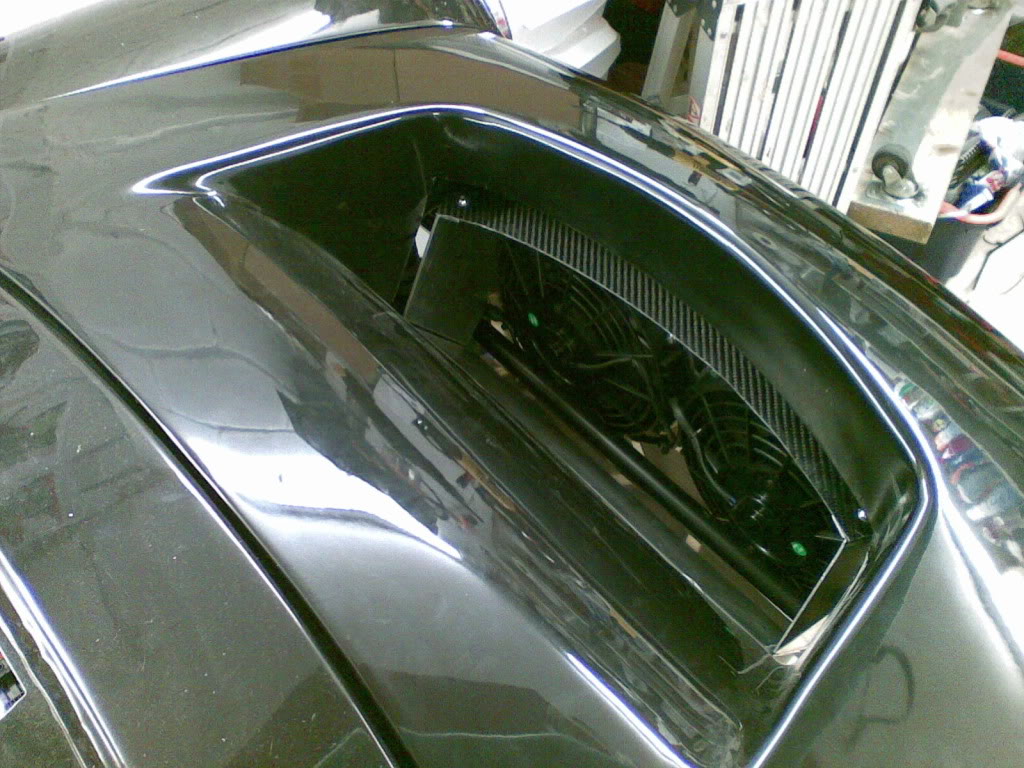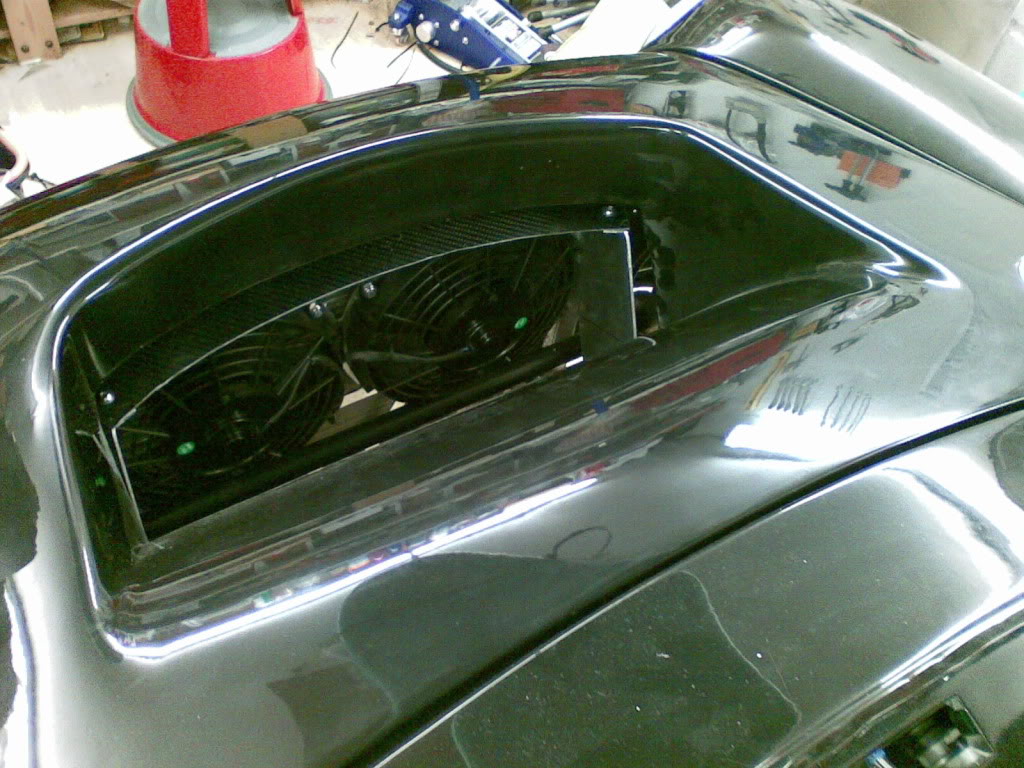 6-24-2009
I did a bit of work to the dash as well over the last couple of weeks, its now a 3 peice dash.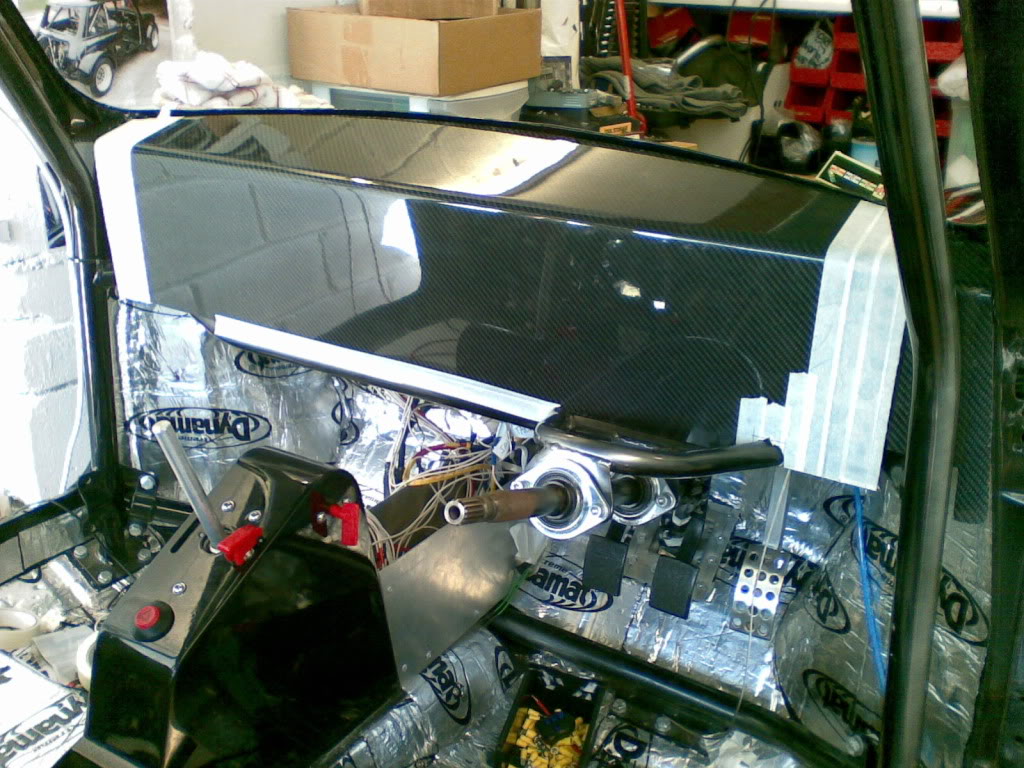 Then I fitted my 52mm Gauges (was going to go for overhead mounting but Lyle (PhotoguyUSA) beat me to it).

The pod for the tacho/speedo is still to come (another thing to get done...aaarrrgh)

You may notice some new switches in place, and still loads of wires everywhere - slowly but surely..........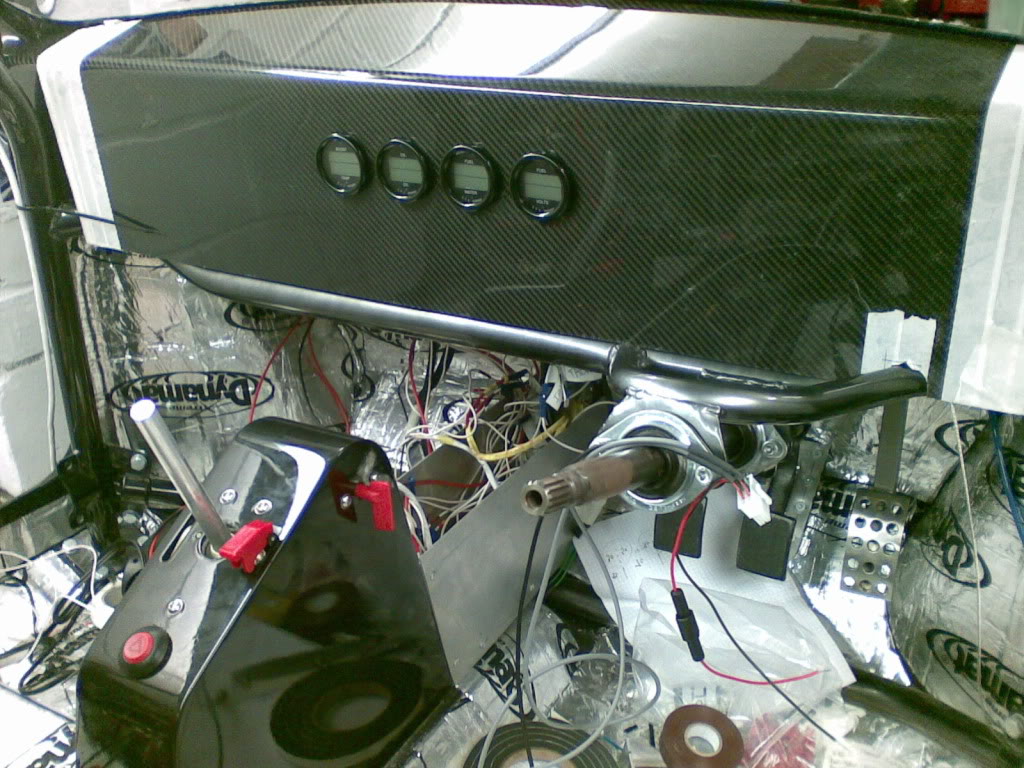 7-8-2009
Progress Report:

Engine Running - overfuelling, so either its a sensor up the spout or it needs a bit of mapping (shouldnt need mapping so working through sensors first), fitted Lmabda sensor yesterday so that might sort the fuelling issue, unable to run again due to bad weather and lack of gauges to keep an eye on things.

Side/Dip/Main lights working

Hazards working.

Gauges, all placed now, had 4 out of 5 working, just waiting on some more solder butts before cranking that lots up again.

Majority of the last couple of weeks has been spent doing the wiring, making sure all connections are good, putting all new wires in convoluted sleeving where necessary, adding switches and warning lights, rotary selector switches, multiple connectors.

I also had a major fuel leak, 5 out of 6 threads in the fuel line leaked when I first pressure tested the line, so all that lot had to come off and get loctited.

I balls'd up a pipe so had to re-order one from Silicon Hoses, very helpful guy there, and for those of you with a VTEC engine and want to run a return pipe instead of blanking the heater matrix pipes they make a pipe specifically for that, that they normally produce for the aerial atom, 16-19mm 180degree, its tight as hell to get on and I would have made it 17-20 as that what the pipe on the engine measure but at £10 for the pipe I wasnt about to argue...

Diffuser and arches close to being finished.

Car booked in for a bit of paintwork and some decals - watch this space....

Still got an absolute F-load to get done if I am to take to the IMM, its not going if it's not 100%.

More pictures to come, unfortunately wiring isnt the most inspiring thing to photograph, once the engine is running sweet I'll post a clip on youtube.
Ah ha - not my tigging unfortunately - my friend Barrie did it for me, cheers Bazza!!!

Just for you I'll post some of the wiring: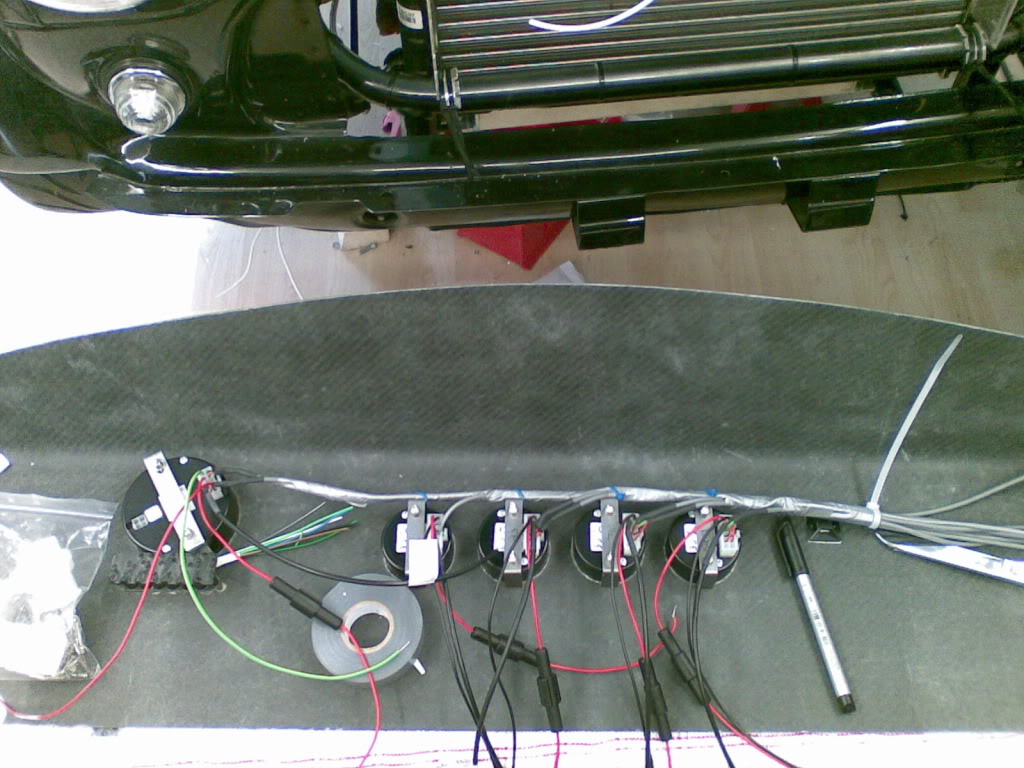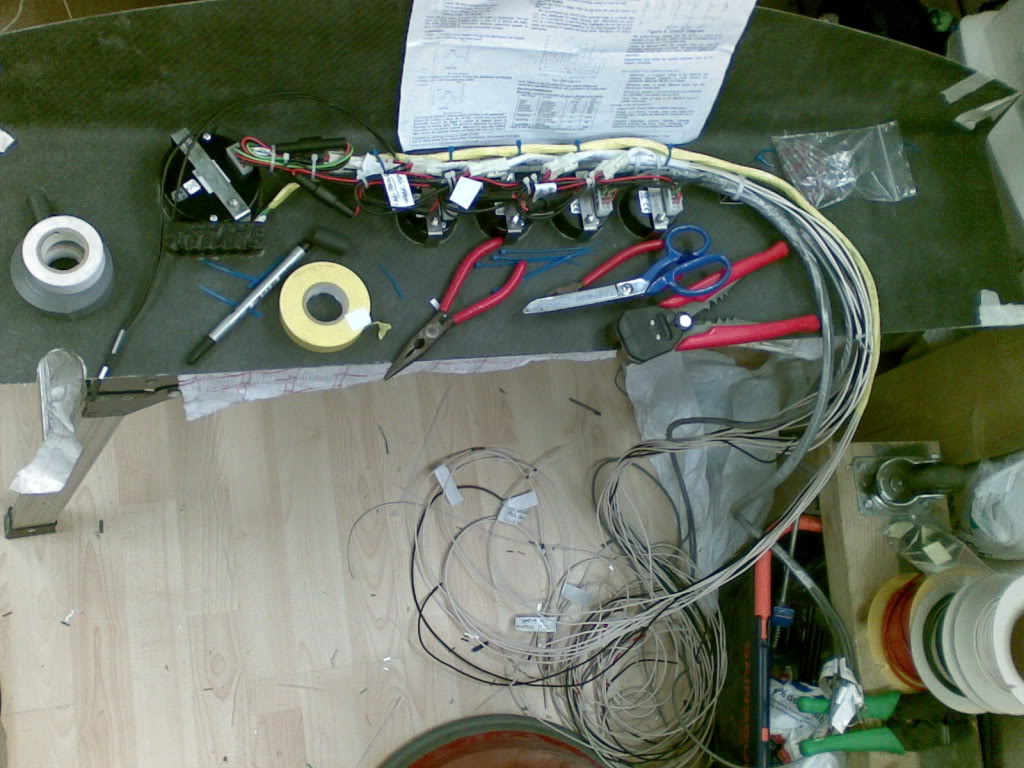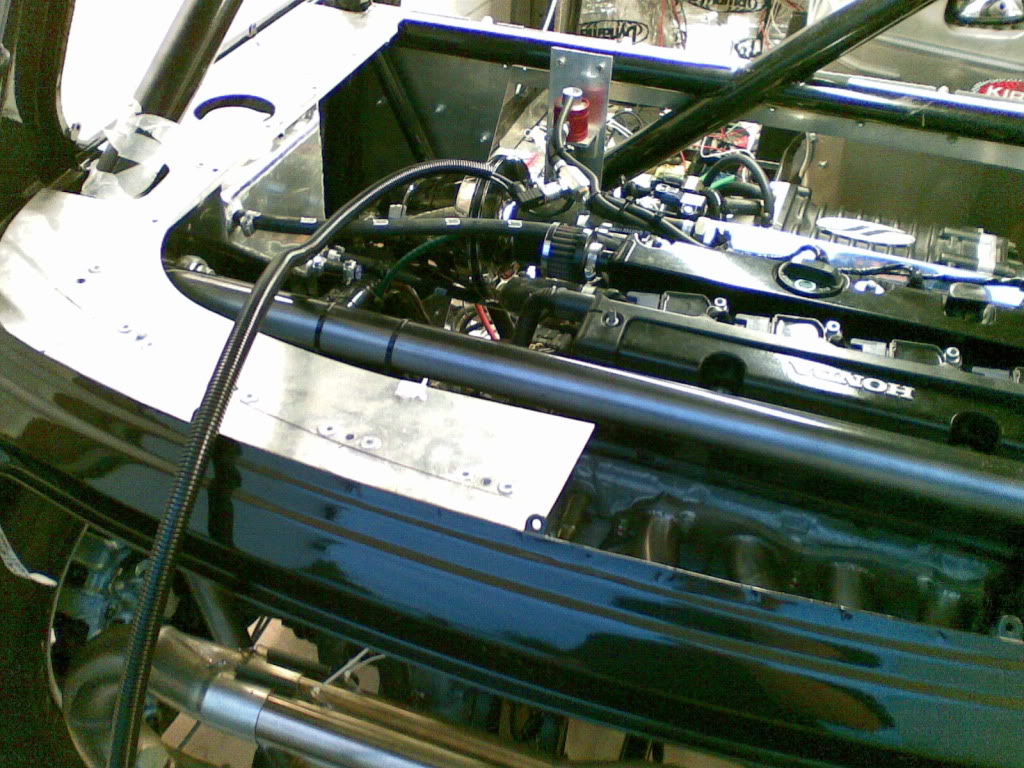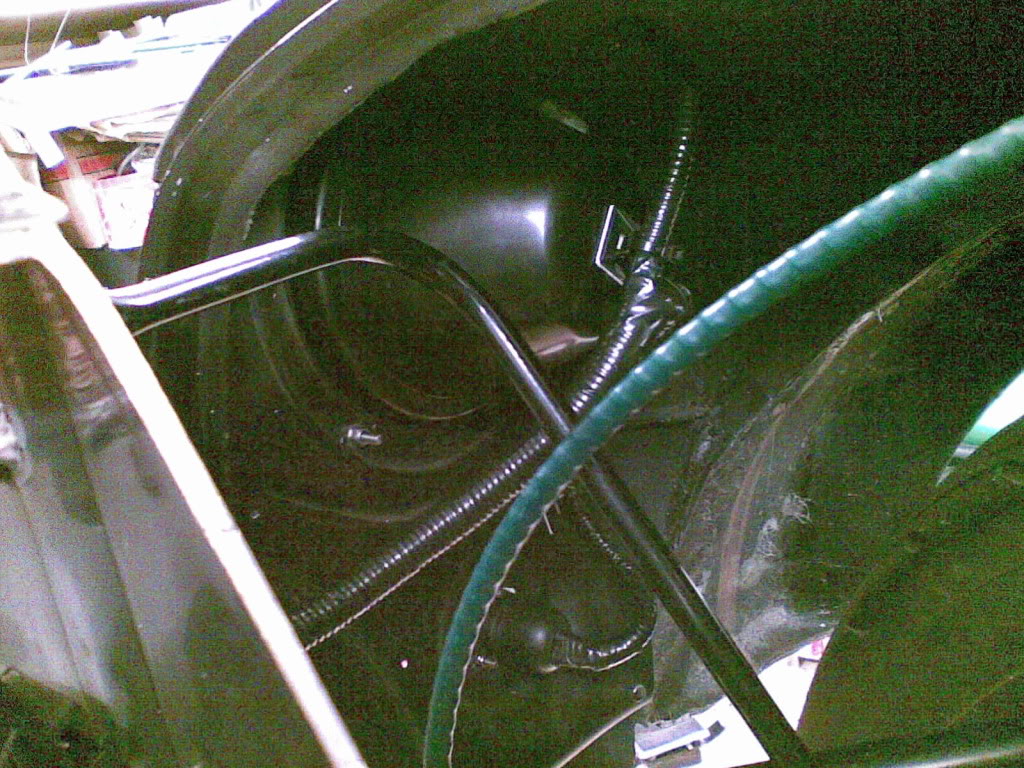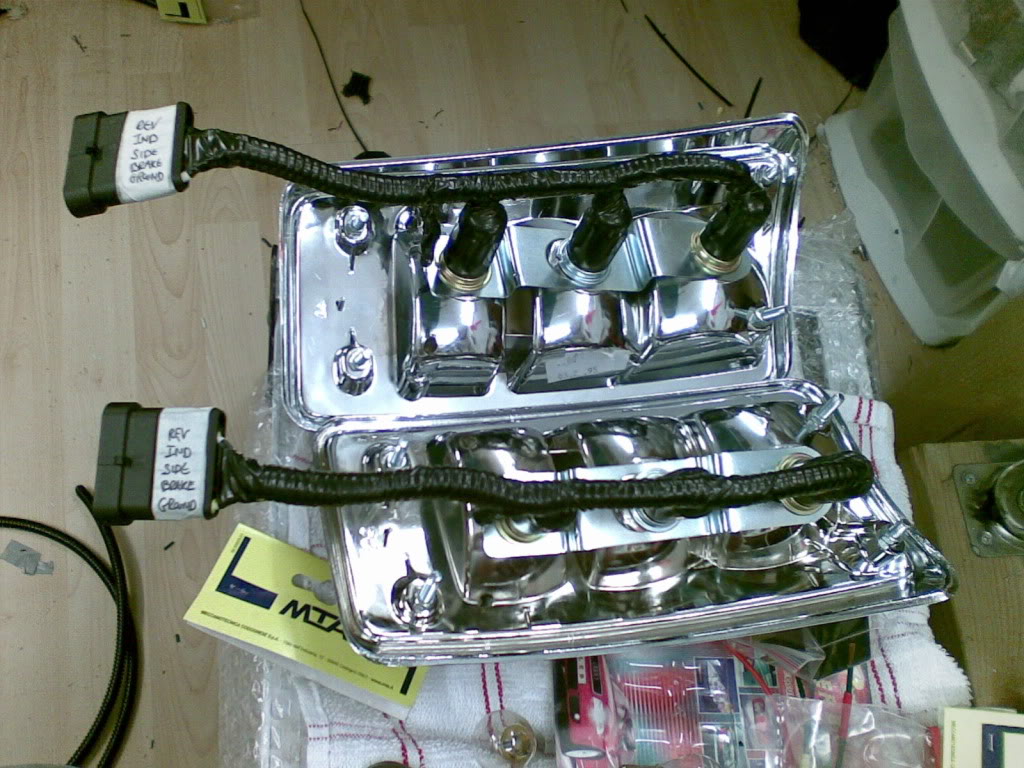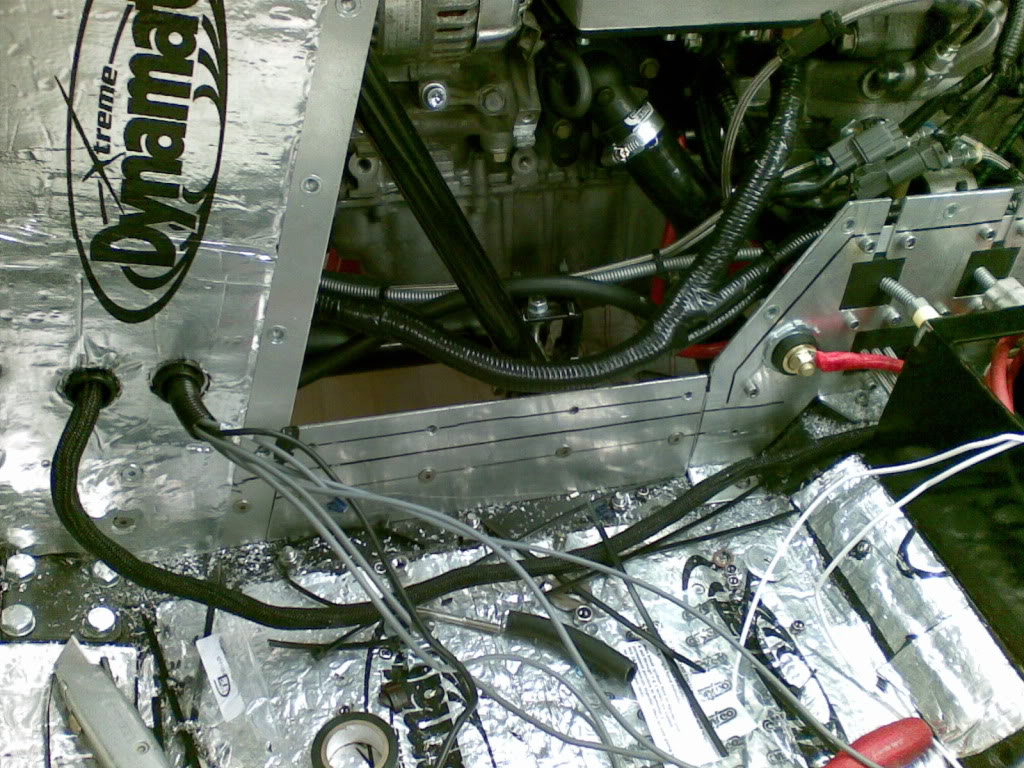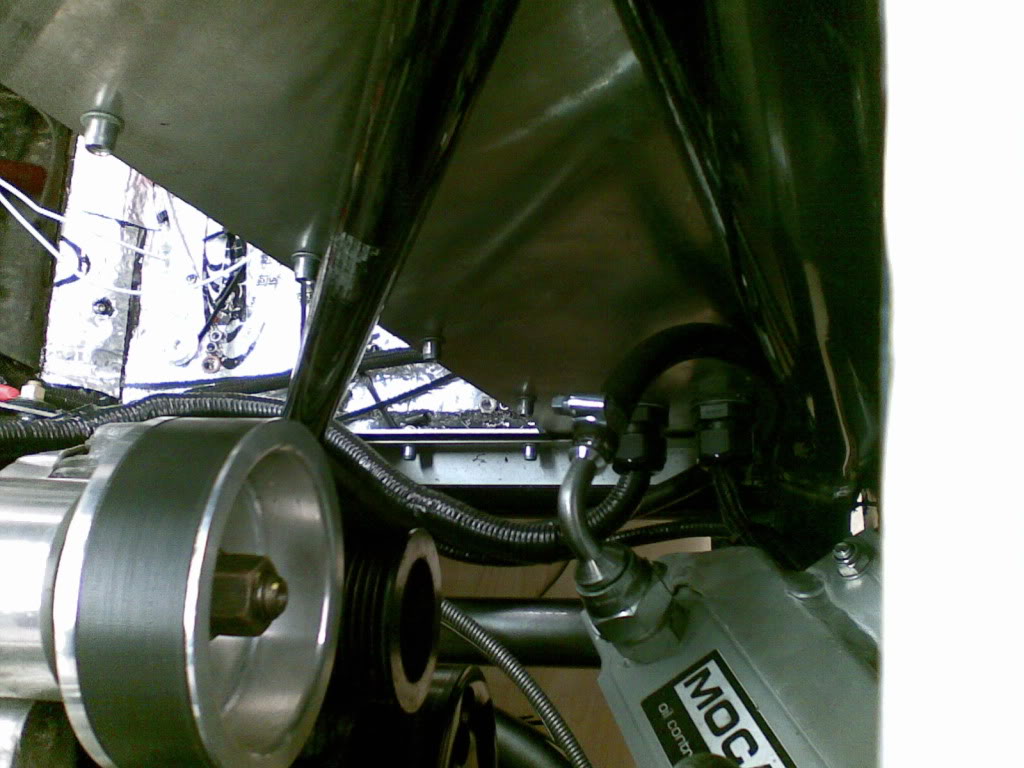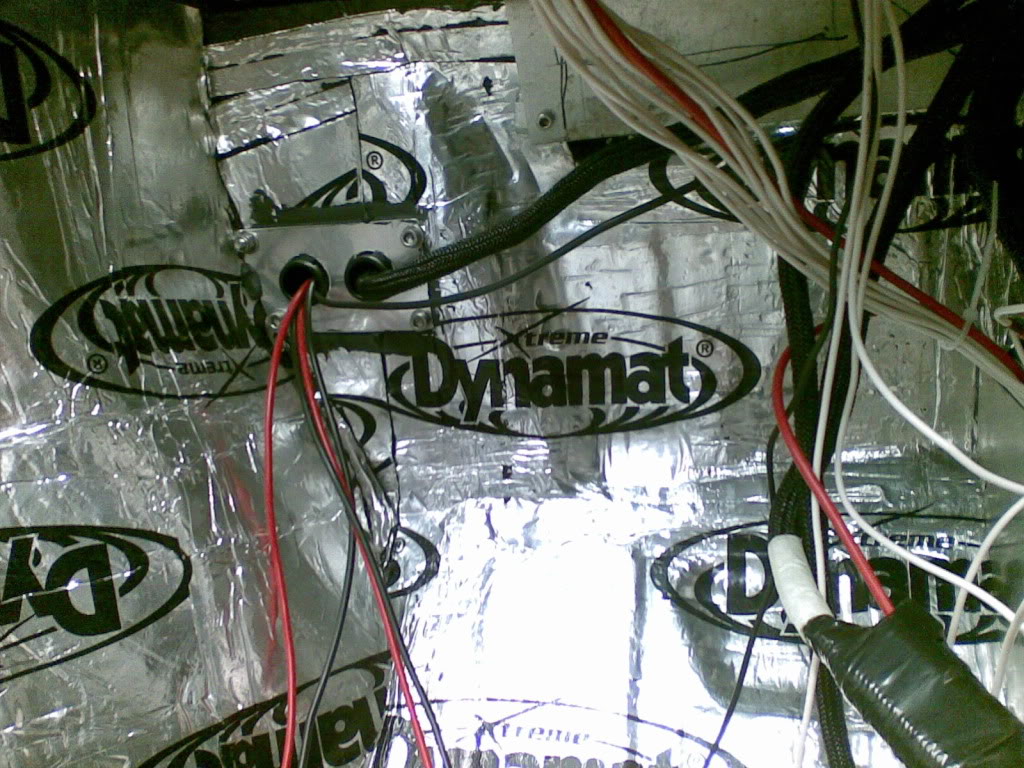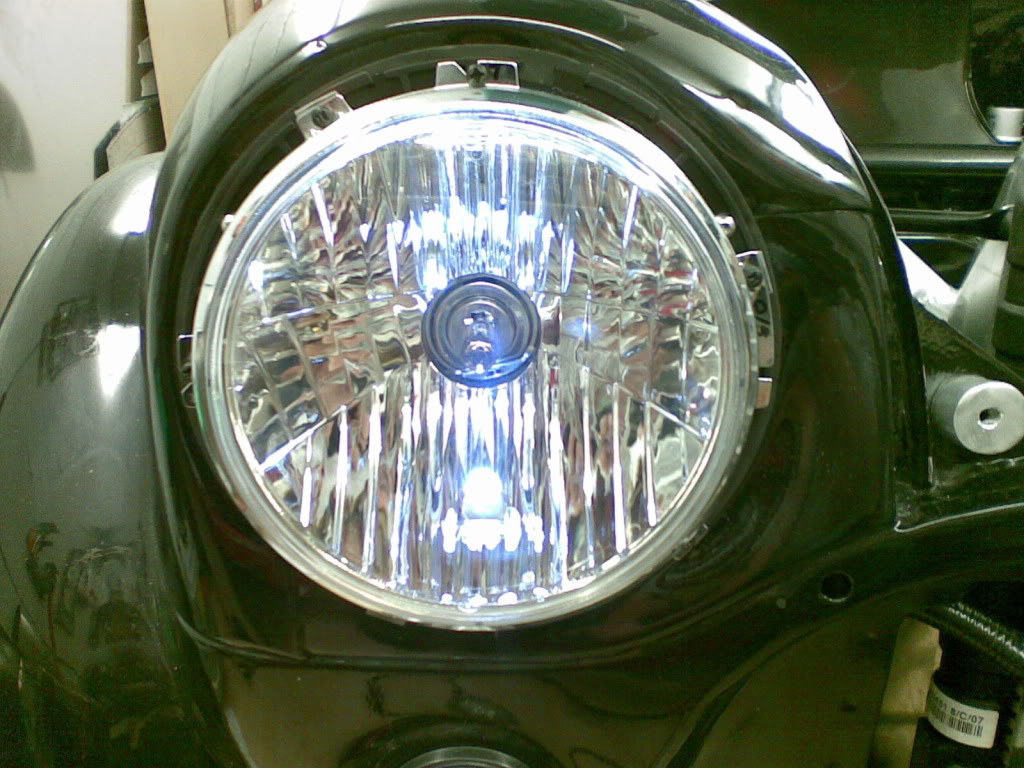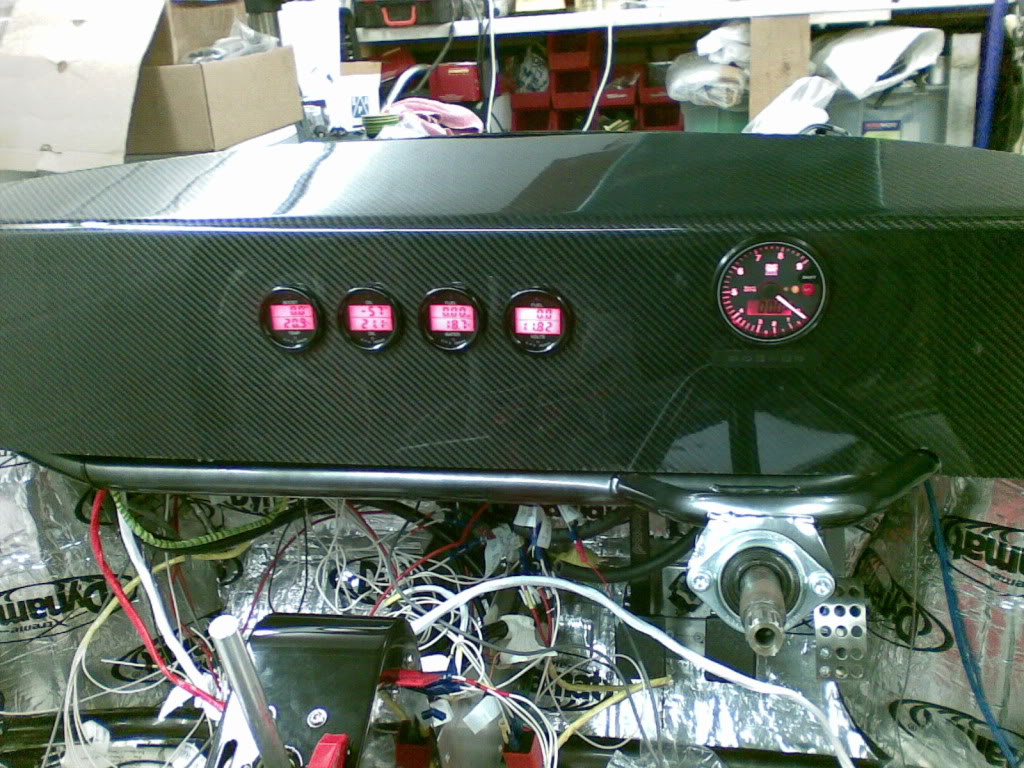 7-15-2009
Got some fibreglass bits back from my good friend Stuart Jago, cheers Stu.

Firstly the Diffuser and secondly the Inner Arches, all that time and effort making wooden plugs has finally paid off, I will get pictures of them mounted as soon as they are......: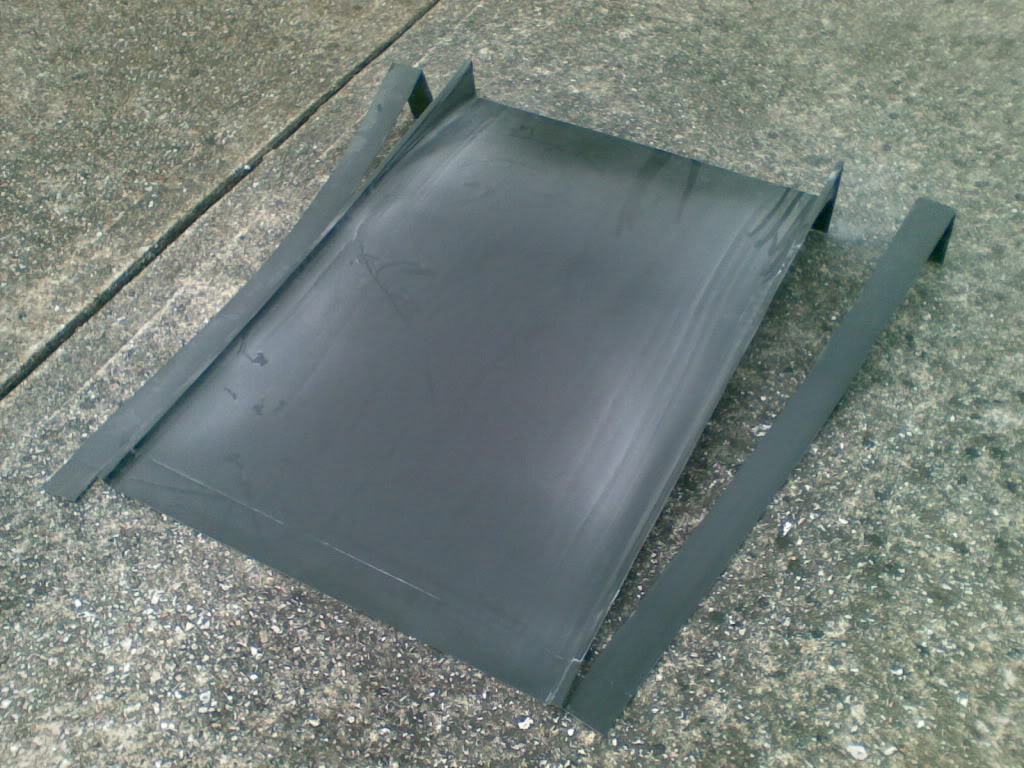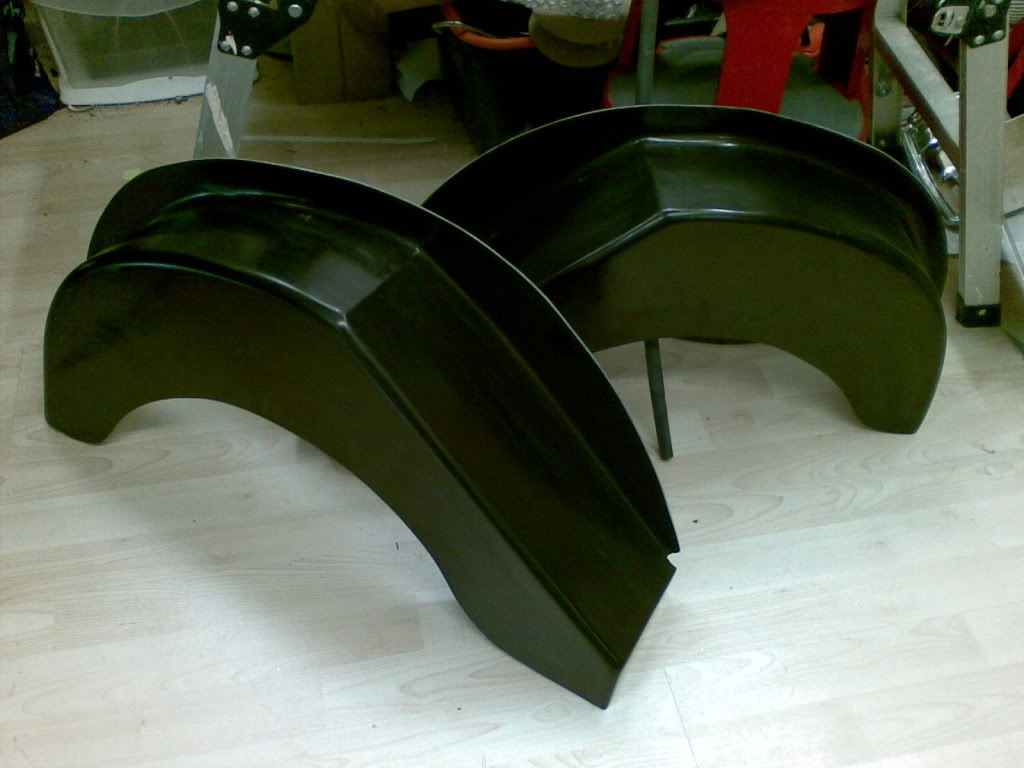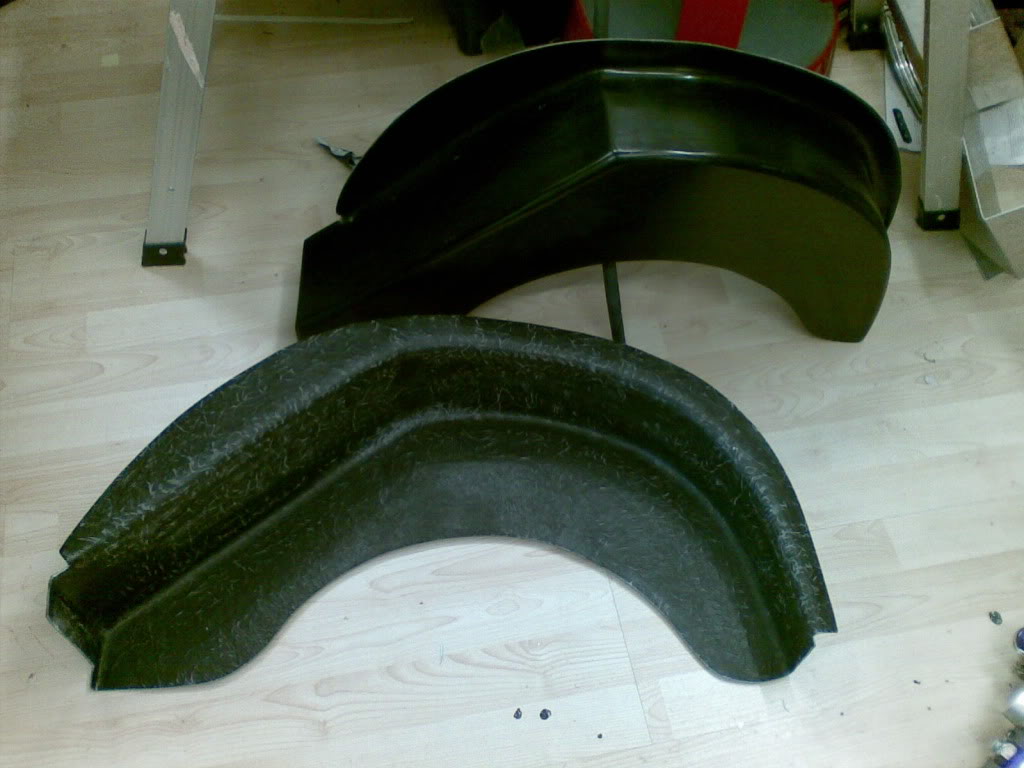 7-16-2009
A quick one to show a way of watertighting the brakelines as they come through a bulkhead, can be any bulkhead.

1x Skintop 25mm gland (17mm ID), 1x offcut of 8mm fuel line, 1x 3-1 heat shrink (12mm-4mm). Slit the fuel pipe along its length, slide over the brake line, slide the heat shrink on over the brake union and upto the fuel pipe, heat it up and hey presto you got yourself a watertight seal thats roughly a 17mm OD, just the right sixe for the gland.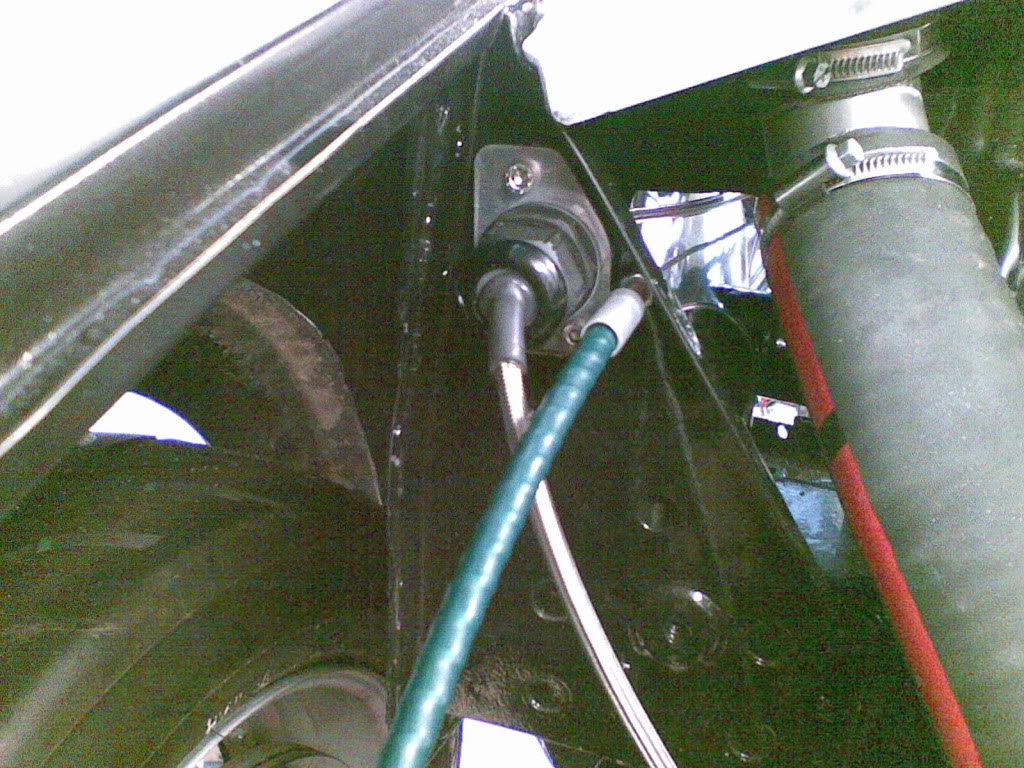 7-23-2009
I GOT STRIPES...........

After much 'changing the mind' I finally decided on my stripes for the car, wasnt an easy decision and there have been more changes than I care to mention. I think that what I finally went for does look the dogs danglies, but then thats my opinion.

Any how, here they are: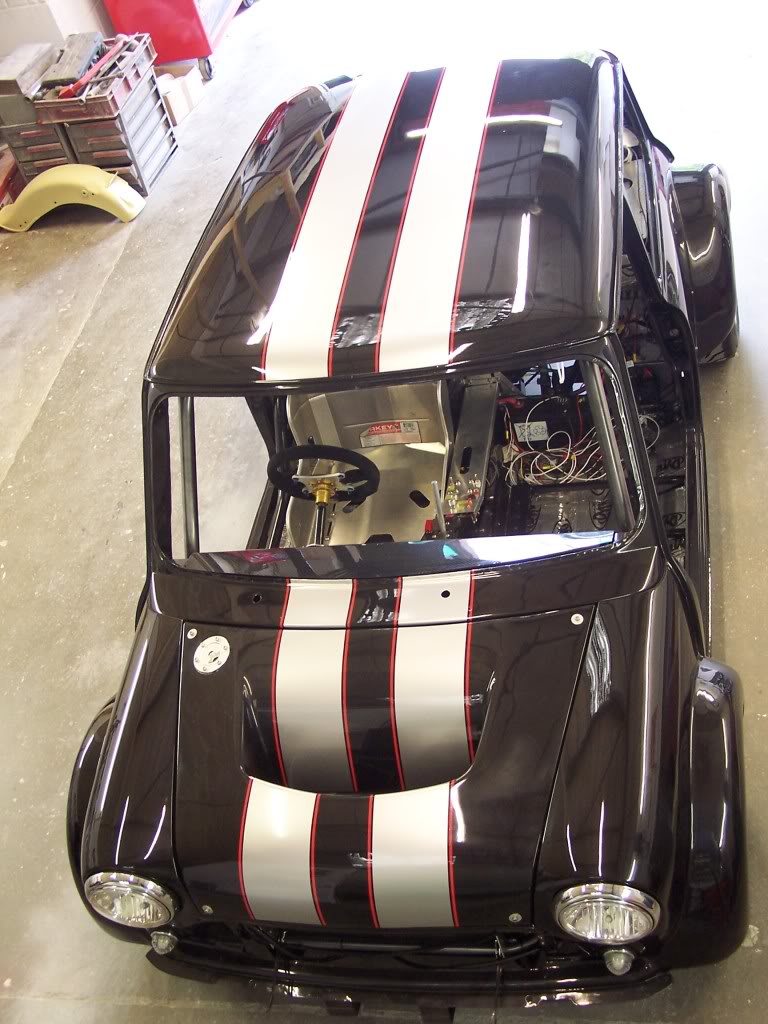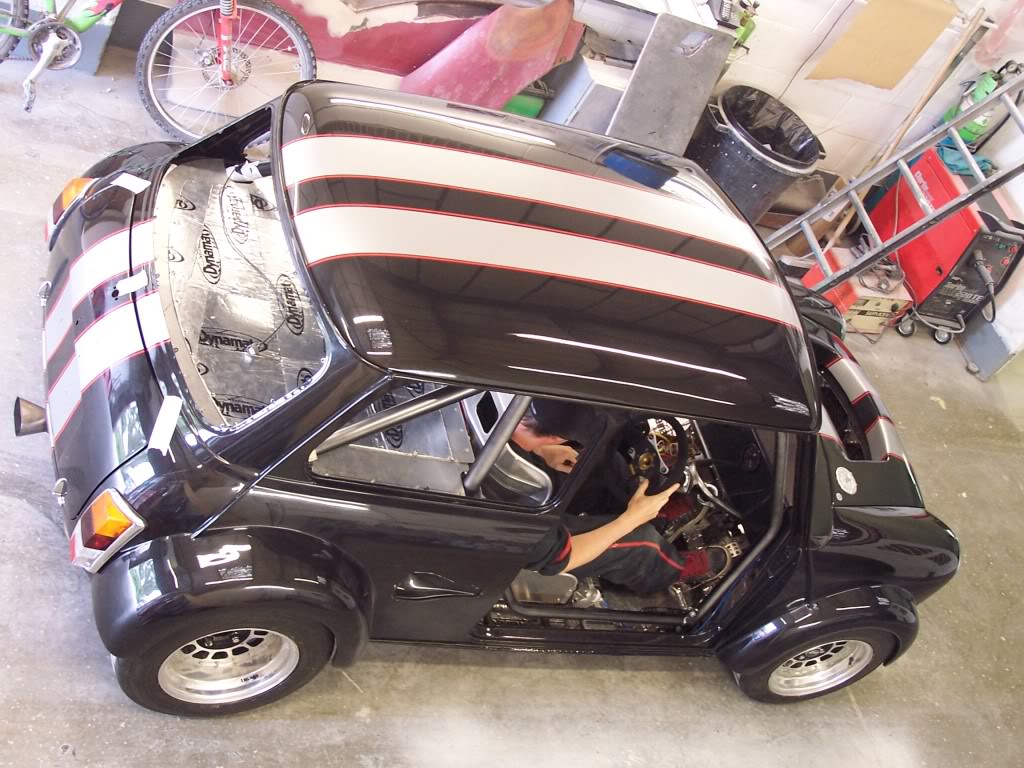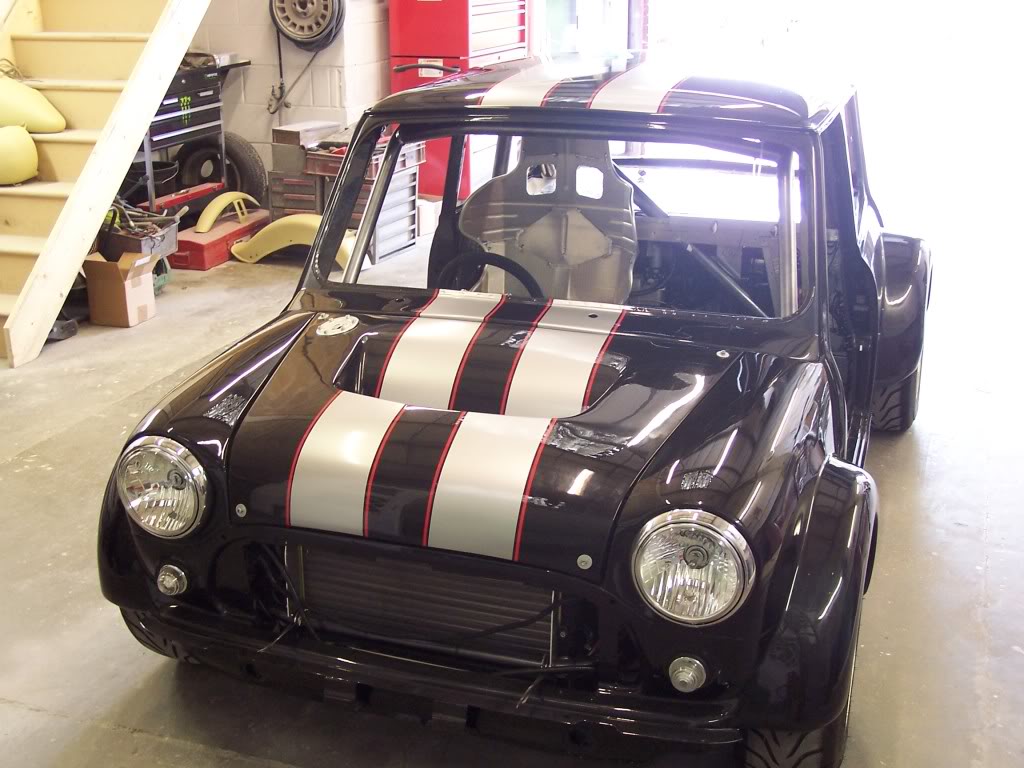 7-24-2009
Gradually creeping closer to completion, I took the last two days off to get stuff done and spent most of it with my thumb up my ass (figuratively speaking), some days you just dont get as much done as you would like.

I have to admit that I didnt think the wiring would take so long but it has opened my eyes to world of automotive wiring and it aint all bad, in fact I have got right into it. I still fall into the trap of thinking I have all the wires in place, then find I missed one, like just when I have put it all in the convoluted sleeving and taped it all up....aargh.....

Spent a lot of time on the engine today, still not right so that'll have to wait til my trailers done as it needs to be taken to Market Harborough to be sorted, shame as I want to hear the whine of that charger, mind you I am sure I will be hearing enough of it once its up and running, screaming away about a foot behind me - woo hoo........cant wait.....
7-27-2009
There were many times that I was thinking about the stripes and when I said to people about putting the red pin stripes down the outsides, almost everyone said dont do it. Ha ha.... in your face to all those that said it'd look bobbins.

I dont care much for most of the stripes you see on modern cars, even the new Mini, most are too thin or too close together or just plain shouldnt be on the car as it looks wrong...

As for the IMM/50th, nope its not gonna be ready, long story short, covered trailer not going to be ready so I have eased the pressure off myself, working all day and then in the garage til 10-10:30 was starting to take its toll. After the realization that I wasnt going to make the IMM it has been difficult to get the motivation but it is steadily coming back, I recently had some good news that a friend of mine can get me on a local track and they have a big old car park for having a good shake down before getting on track. As any other person that's building a Zcar conversion I am so looking forward to being able to outpace much more expensive machinery, in the knowledge that a lot of the build I did myself, it'll be such a satisfying feeling. Mind you thats after I have worked out how to drive it fast, as that alone will be a challenge.......
7-31-2009
Scoop Plates:

I got my scoop plates back today after they have been sprayed to match the car, I have to say that they do look good, yer I know I am biased, but seriously - they look good.

A few photos to go with, the first couple are the drilling template in place (6mm mild steel - that drill aint wandering nowhere), one of the holes drilled pre the scoop fitting, then some of the O/S scoop all done, both are on I just forgot to take a snap of the N/S before I pushed it back.

So here goes: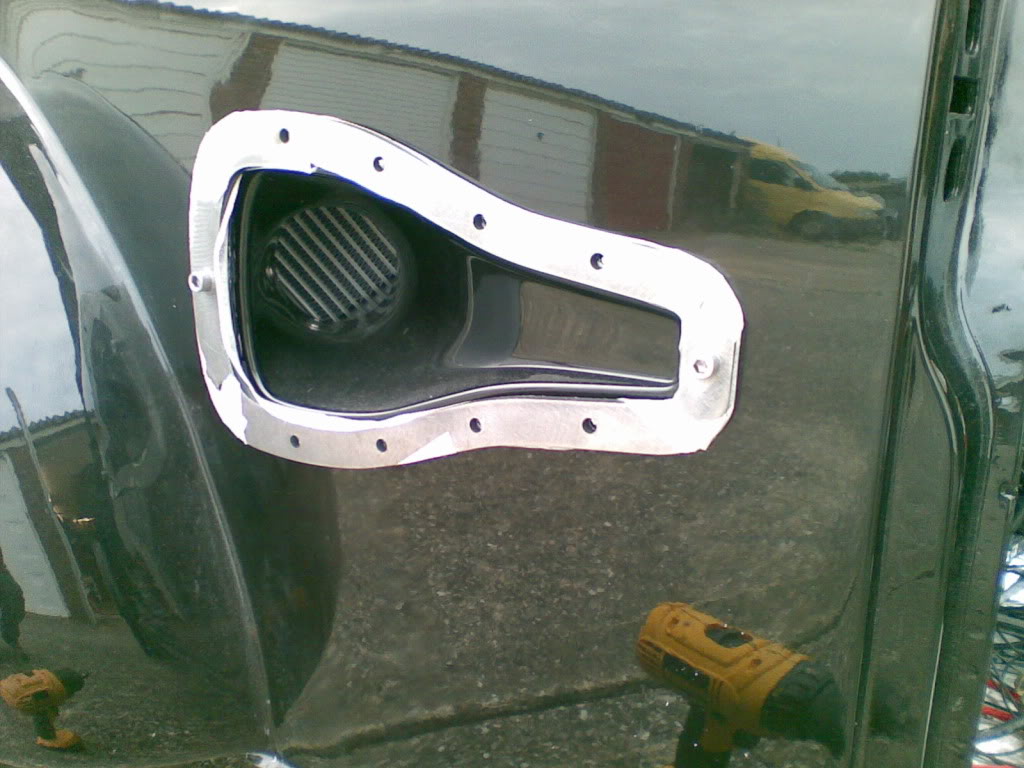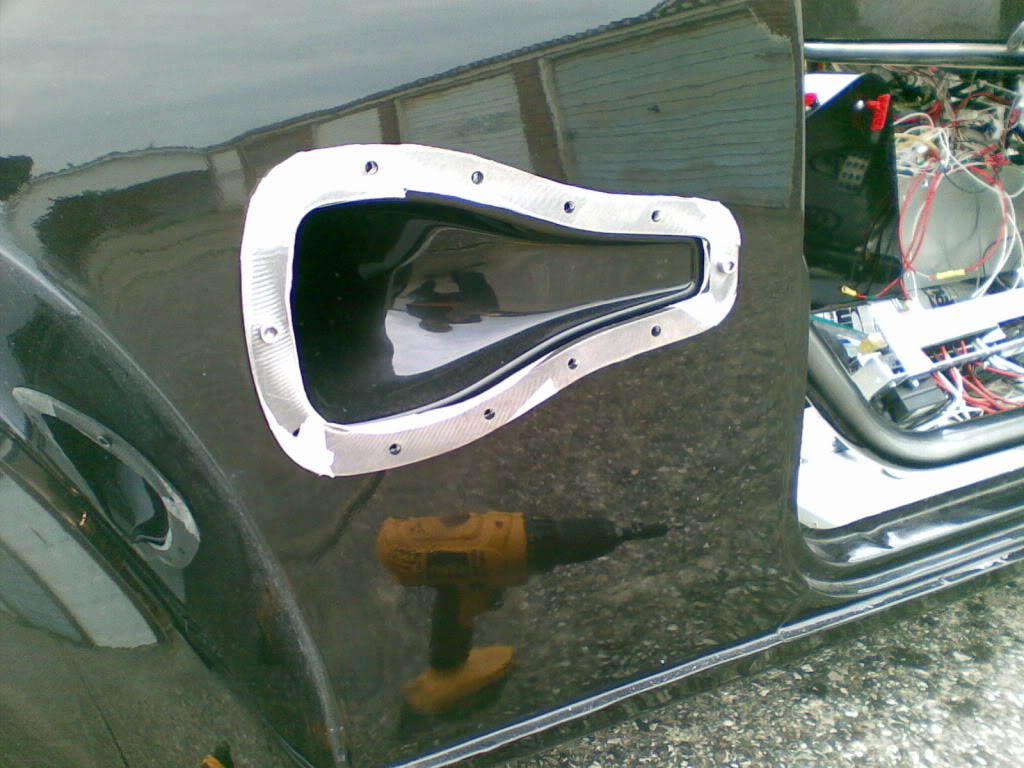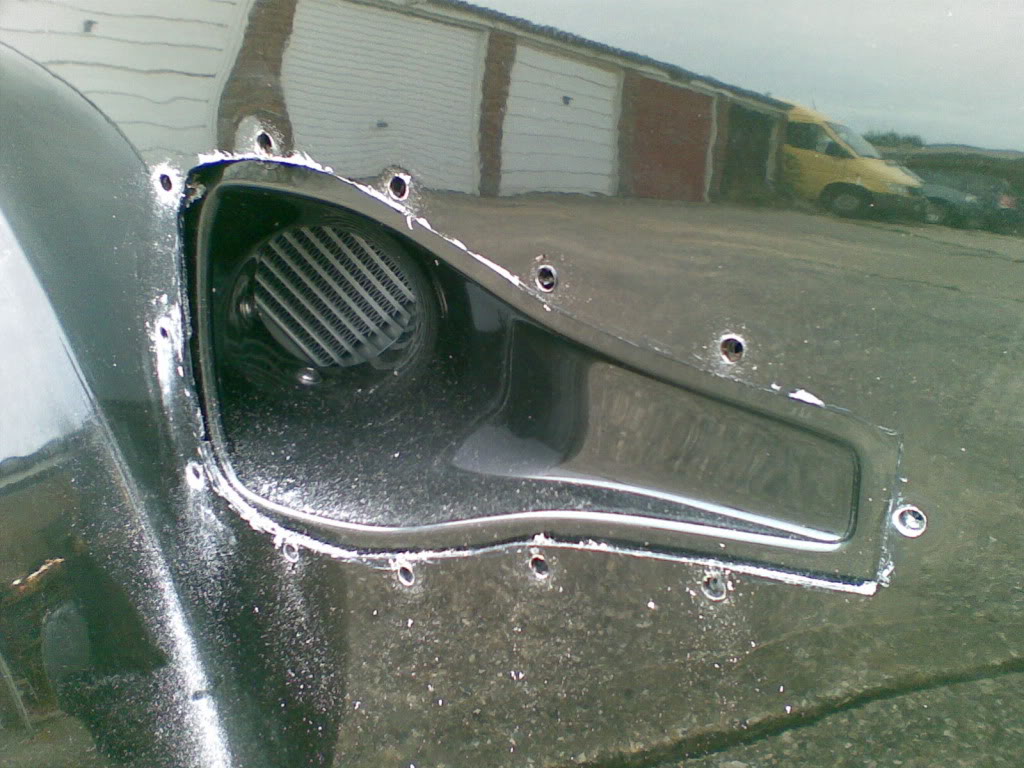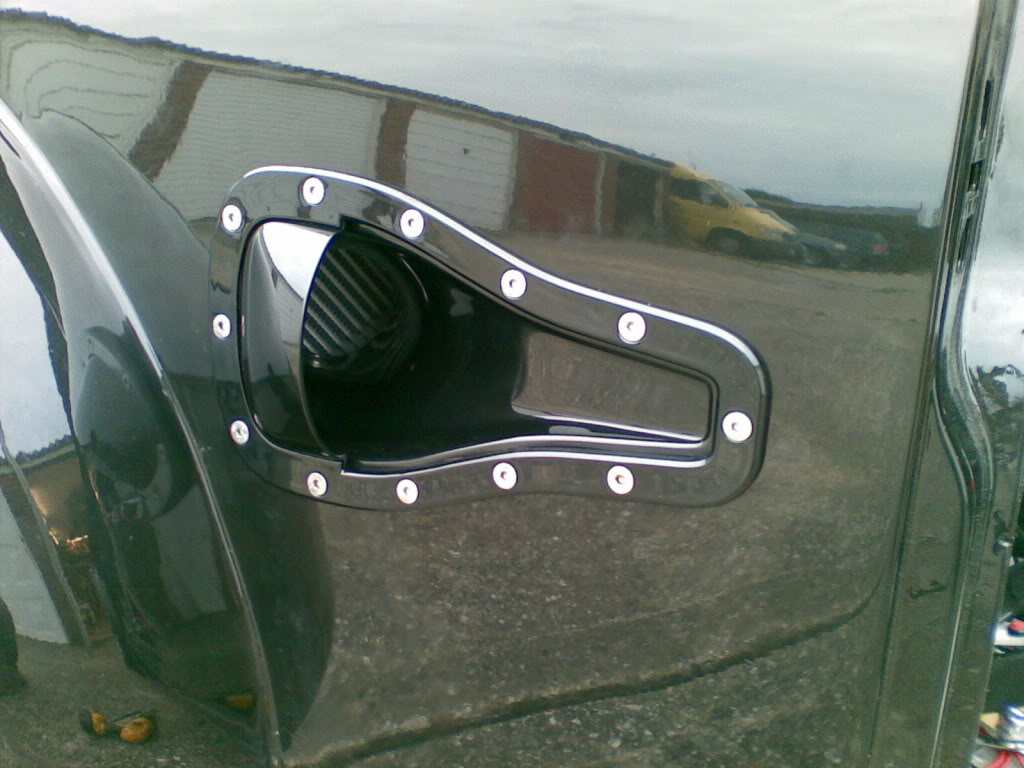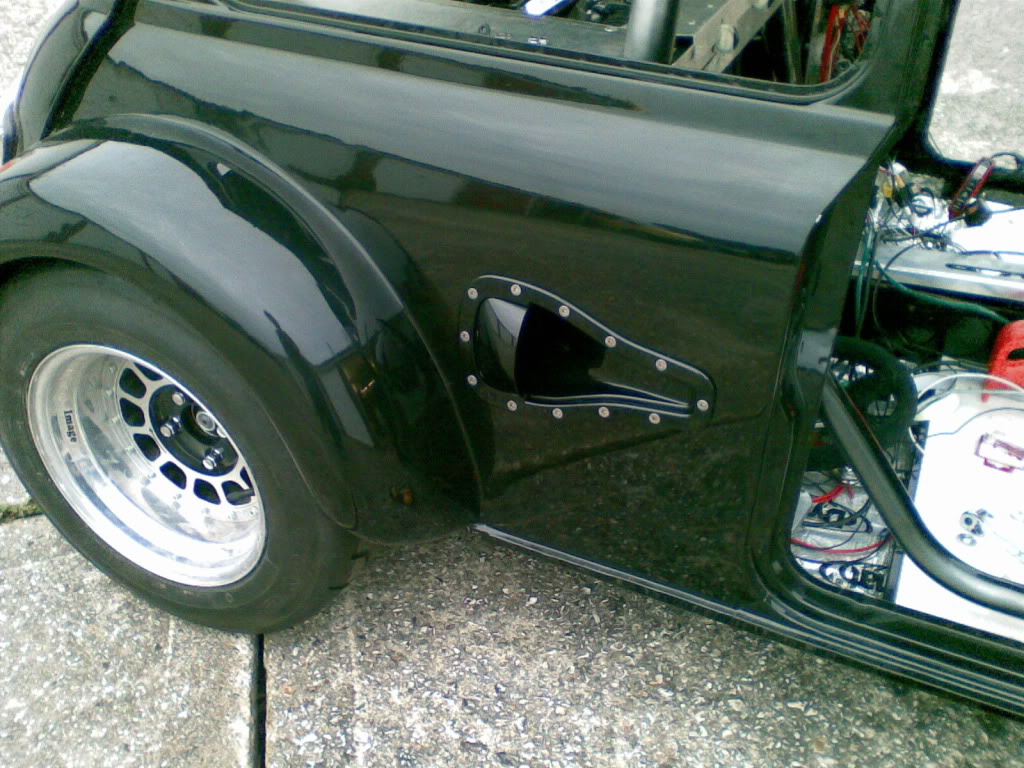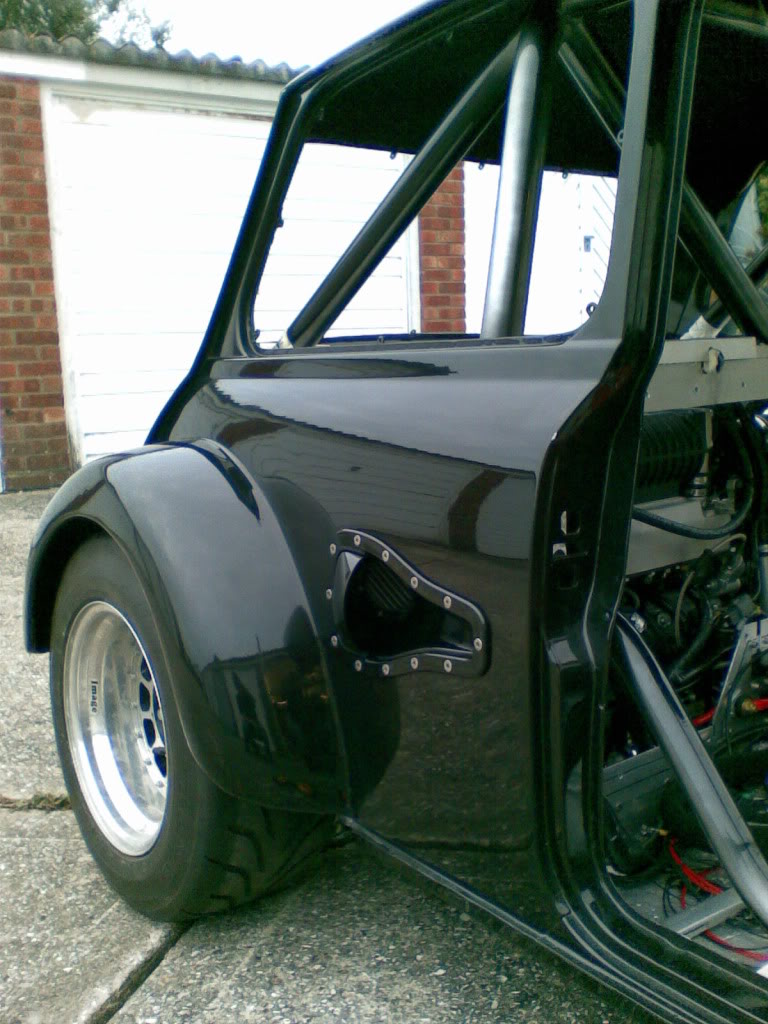 8-1-2009
I might look into a stone guard for the cooler, wouldnt be too difficult to whip one up., although they should be able to withstand a certain amount of punishment from stones, else whats the point of having an air to fuild cooler if you cant put it in the air flow.

I will ask the manufacturer what their views are on it and then make a decision.

As for air flow, the wheels will help as they draw air from inside the car for the brakes, and all the air that goes through the fuel cooler is going straight into the engine bay and there will be a slight gap between diffuser and boot lip. Also the diffuser does not cover the whole of the floor area so theres plenty of places for hot air to escape.

The exhaust is getting wrapped in DEI Titanium to help with the heat also.
8-4-2009
Fuel Cooler Debris Guard

For those of you following the thread, E11evns and I were having a discussion about possible rupture of the fuel cooler so in an effort to stop this I have made a debris guard.

Fortunately I just happened to have some perforated ali sheet lying around so I cut of a corner and whipped up a guard, well it took a couple of hours after having to remove the bloody thing....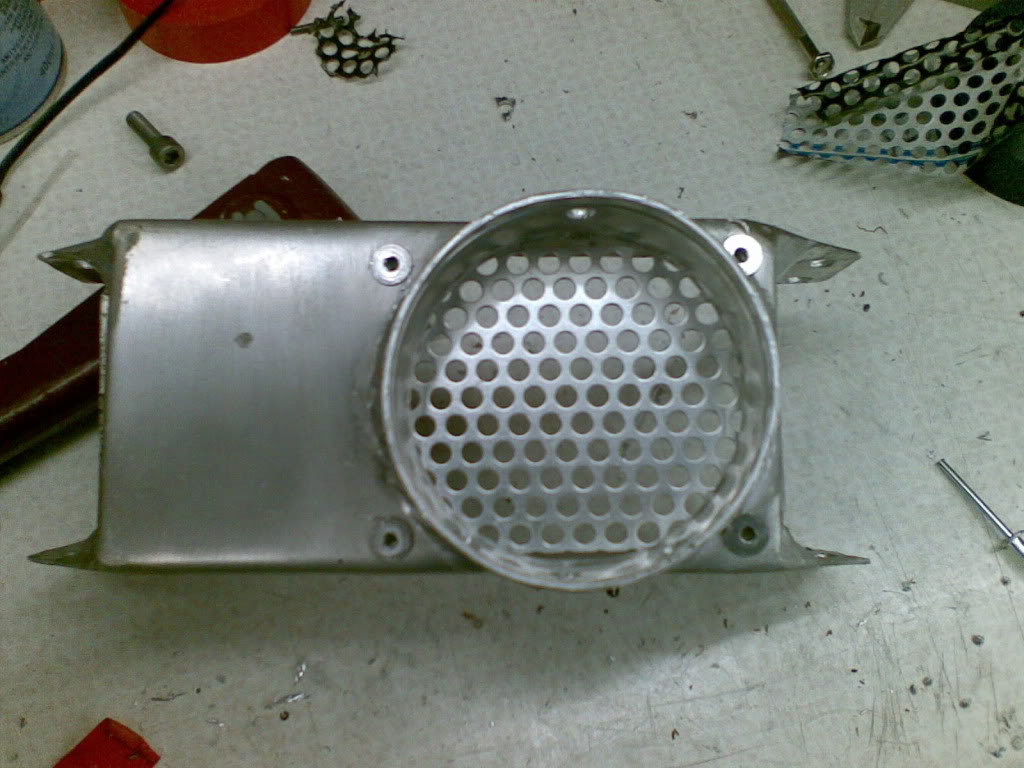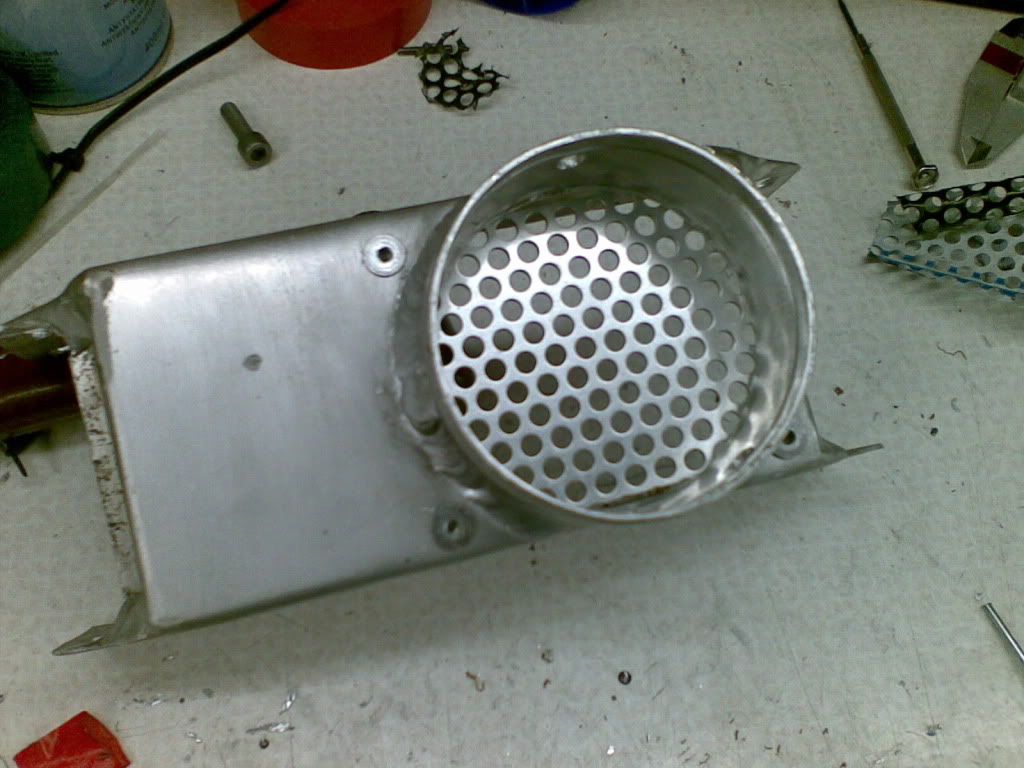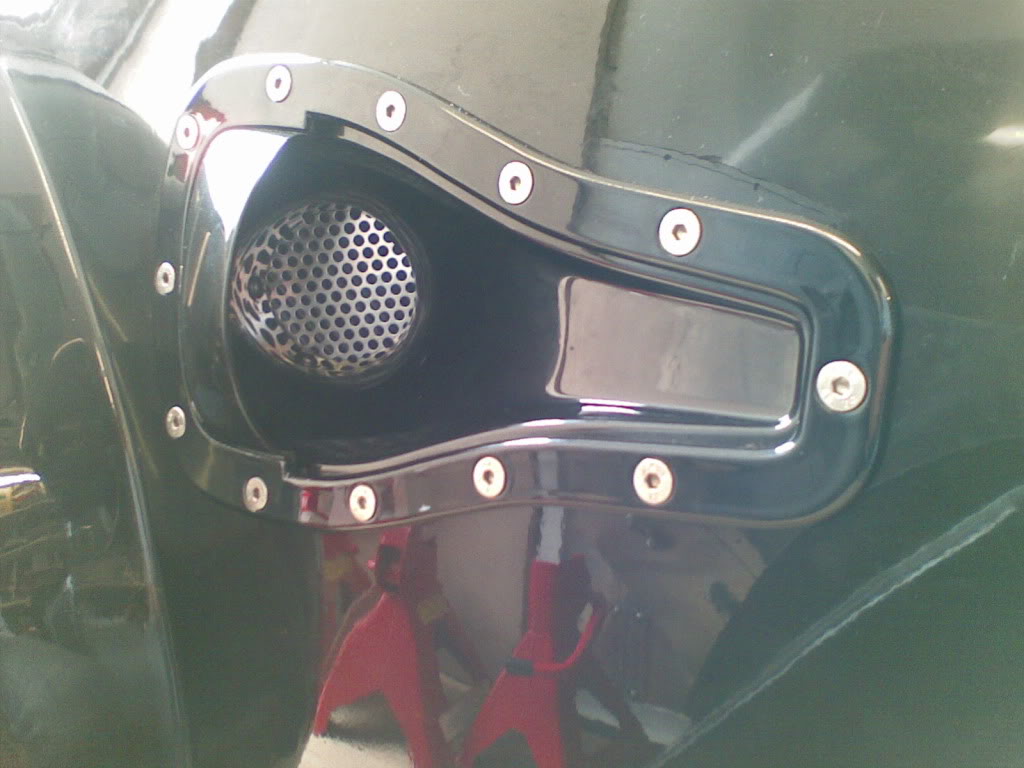 Battery Holder


Ages ago I said I was going to make a battery holder, but it fell by the wayside. So tonight I had my making stuff head on and I took the plunge and made one.

Dah dahhhh.....: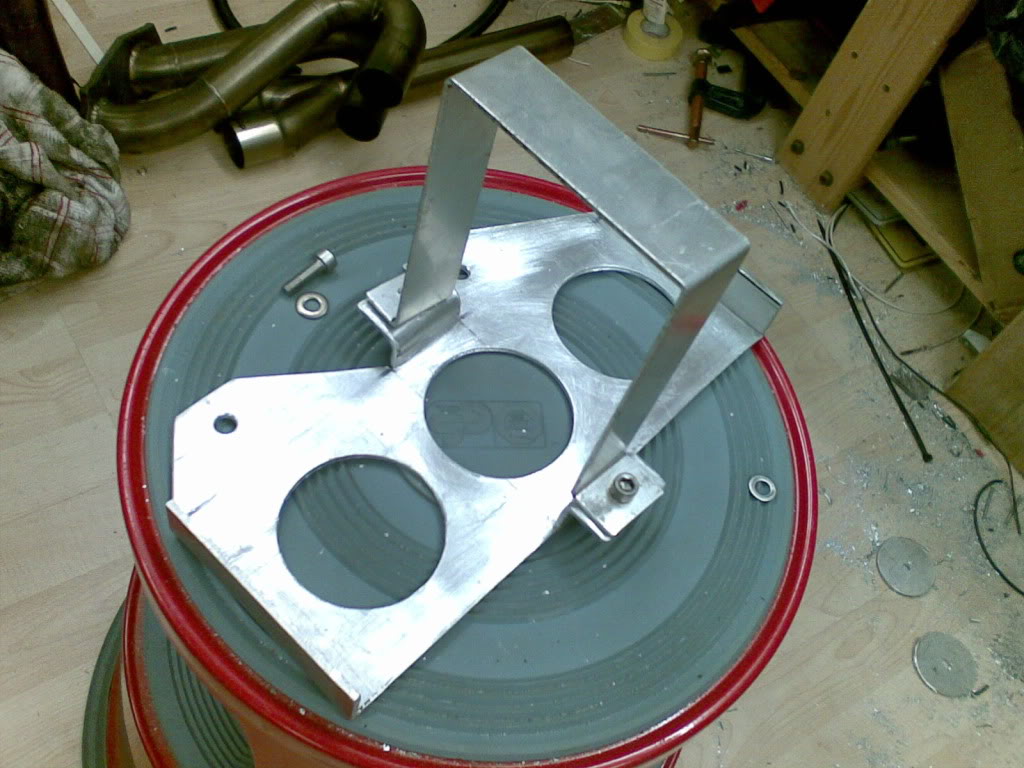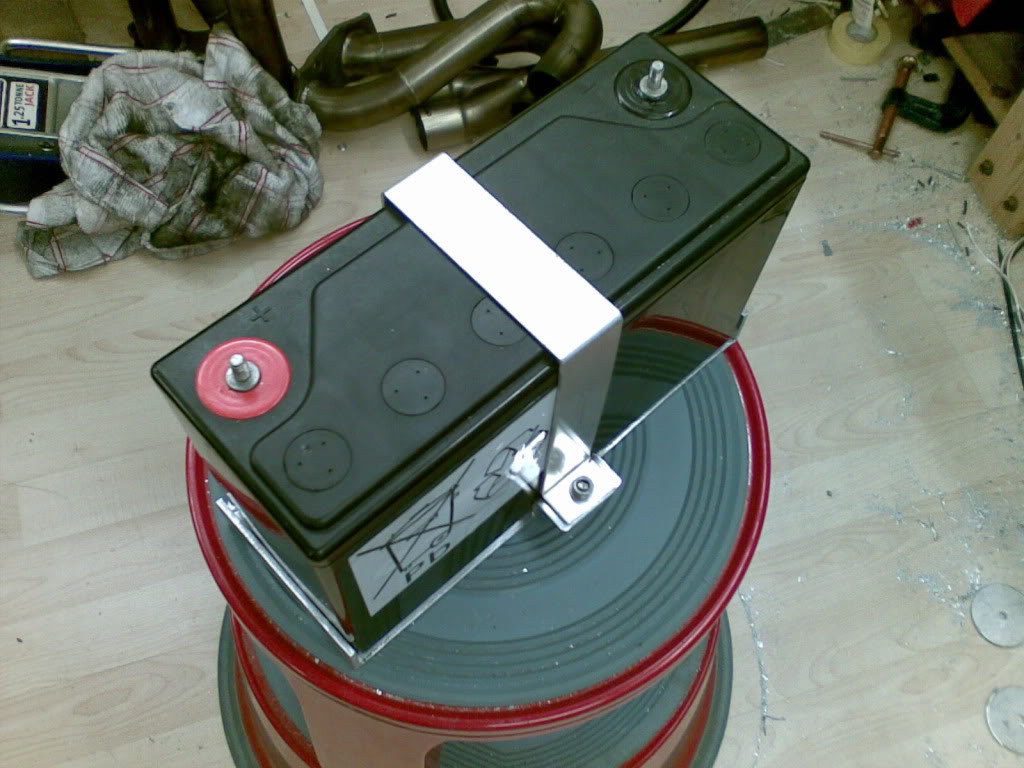 8-26-2009
Switches on Centre Console:

So it has taken ages to get this far with the wiring, I can honestly say I did not expect it to take so long but it has been an experience of which will stand me in good stead if I decide to do another project in a couple of years.

I am not going to go into too much detail yet as to the specifics of the switches, I will however say that all the switches you see on the centre console are all the switches in the car, other than main/dip, horn and indicators, I will reveal that little beauty nearer completion as I dont want anyone copying it before mine is finished.

The raised tunnel has been a real blessing when it comes to the wiring, it may have meant that I have had to extend a few of the original loom wires but it was worth it and the link from the front of the tunnel to the front firewall is invaluable, you can get all your wiring and brake lines through it and get your handbrake in there to boot (advisable to make a plate up to sit between the handbrake mech's and the wiring - will get a picture when I take the cover of next)

So here are a couple of snaps of the centre console with switches and LED warning lights.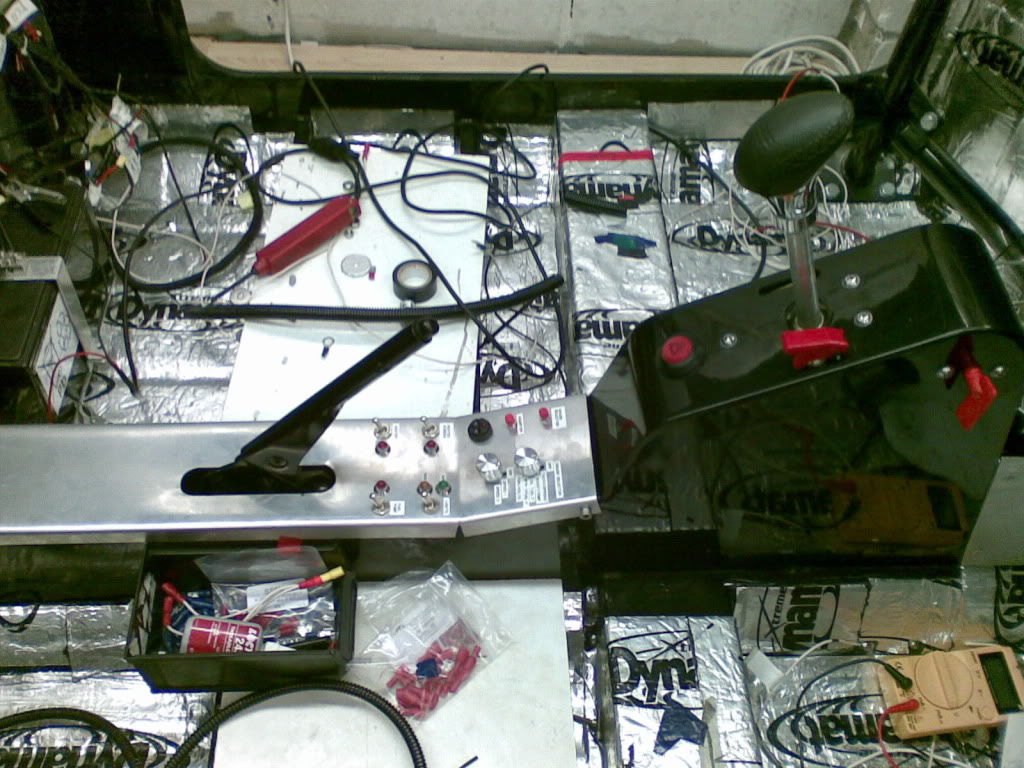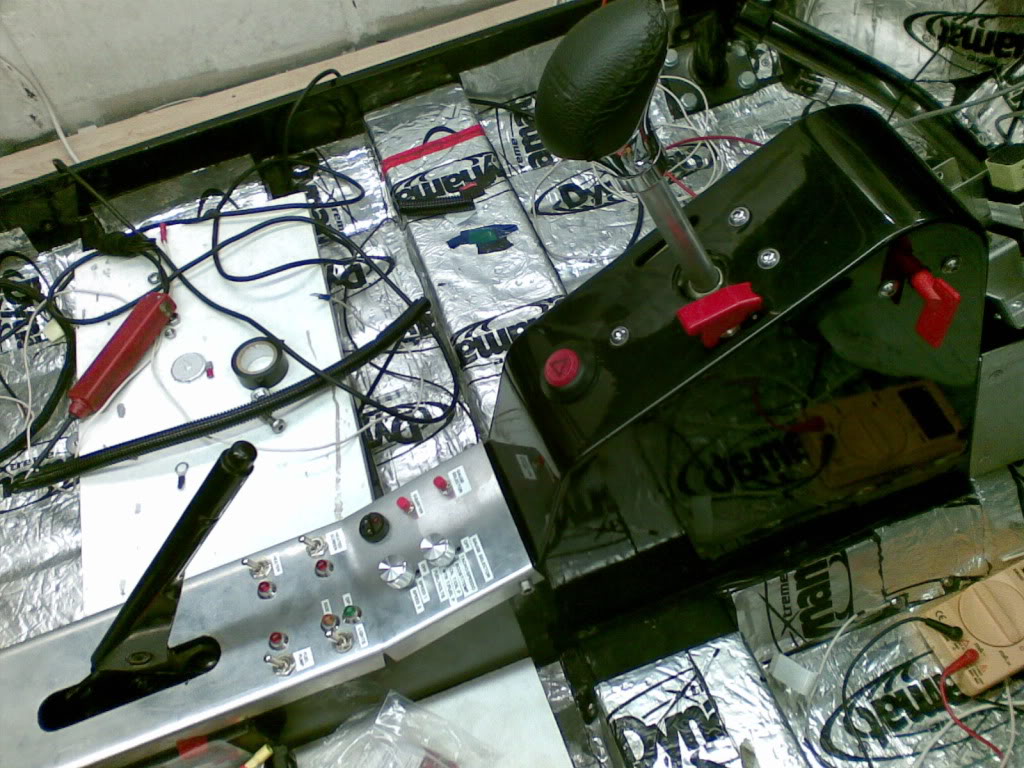 Those that noticed the different gear knob and are thinking of replacing theirs, beware - the gear lever has an OD of approx 15.8mm and the gear knob had and ID around 14. If your going to use and Non Z's knob make sure you are able to machine the knob before you waste your money, fortunately this one was cast ali so wasnt too bad and my mate Stevie G had a 16mm reem which worked a treat.
9-2-2009
The Trailer:

Thought I would post a picture of the trailer as it is being built, its made specifically for the mini, more importantly its made specifically for a Z's mini as it has a single axle far enough back to counteract the weight being at the rear of the car. Its got a workbench at the front end (the end closest in the picture), just enough room for a set of wheels and some tools, its high enough to stand in and has its own leisure battery to run the interior lights and exterior work lights which double up as reverse lights. We currently have the skin drilled and ready to go back on, however the frame needs cleaning then priming then painting, the bottom is getting undersealed. I should have some more pictures of it soon, unfortunately when working on it on the weekend I managed to drill the end off my finger (using the teeth of the chuck - I was holding something whils my brother was drilling - he couldnt stop laughing). Anyways - here it is: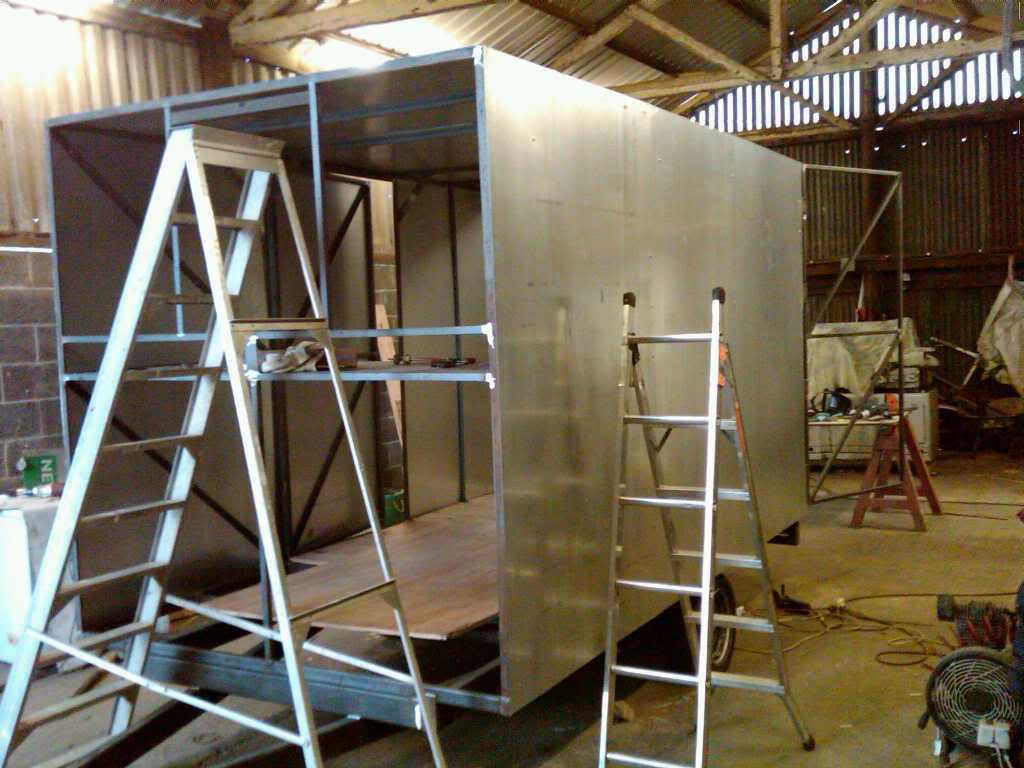 9-4-2009
Ha ha, yer your right I am a glutten for punishment, fortunately the trailer has been mostly built by my brother and my old man (to my initial design) and my brother has the perfect size shed to build it in. I am building my car in a single garage with barely enough room to swing a mouse never mind about a cat.

The trailer has been made so that it can be tilted and the surrounds for the lights have been made strong enough to double as landing points, although the ramps should be long enough (2.4m) to drive the car in without too much hassle or titlting.

What can I say about the topic? I try and make it as interesting as the car will be, I am aiming for every part of what I have done for and to the car to be the best that I can acheive and if people like what I have done then brilliant. Cars are very subjective and what one person may like another may find to boy racer-ish, to plain or just dont like it. As with anyone doing a project like this I have made it how I want it, and I like it so I guess thats all that matters.......
9-5-2009
Wiper Mount:

I ahd purchased a wiper mount from Z's some time ago and when I came to fitting it the other day it became apparent that it wasnt going to fit into my plan, so I had to think up another way of mounting the motor. I have utilised the upper bent bit of bar from the Z's mount and fabbed up a bottom mount, my reason for the change will become apparent in the next thread.

The motor is old and under closer inspection I found the contacts are so corroded that I had to order a new one, another qucik £100 - bugger.

So here is the mount: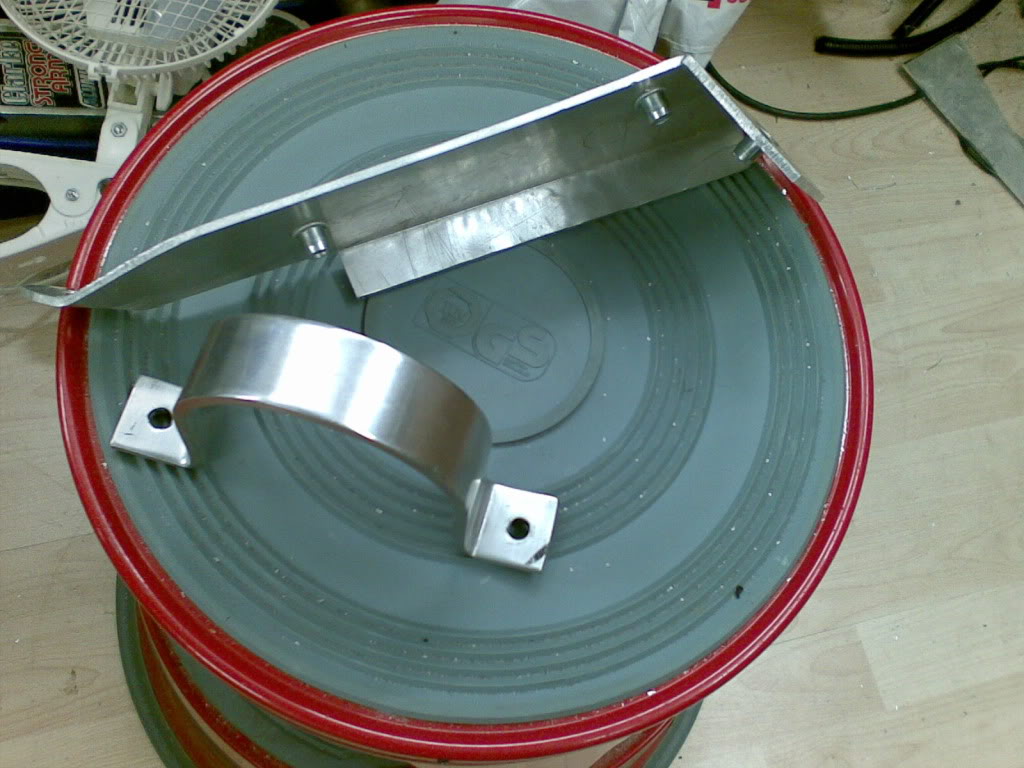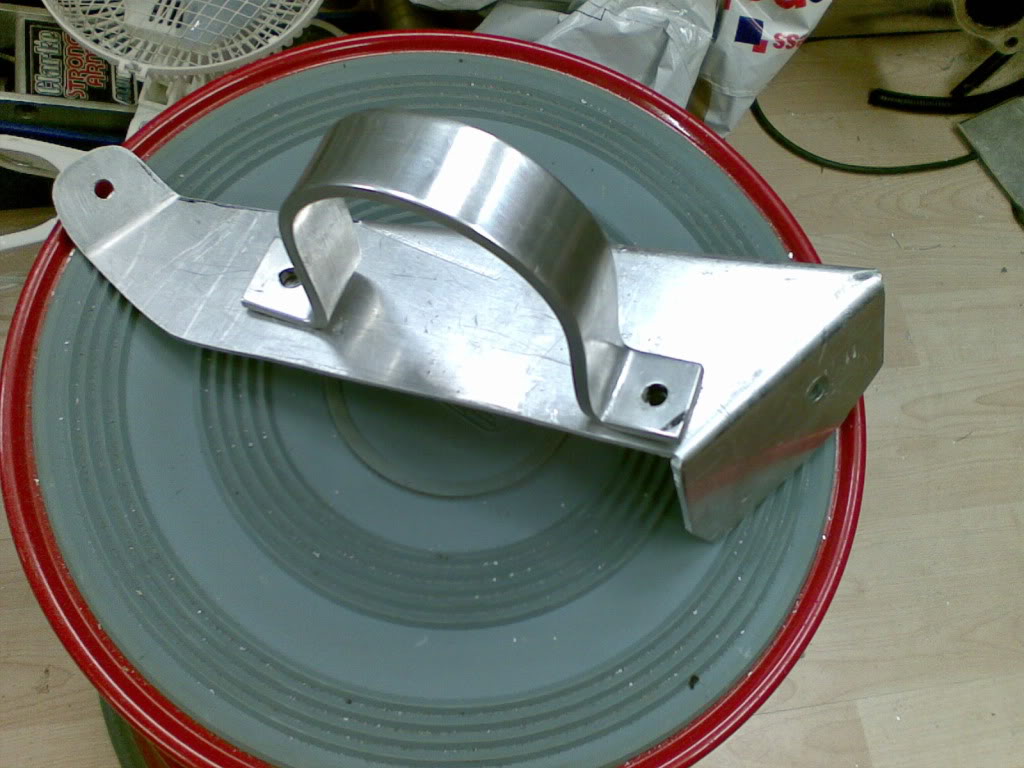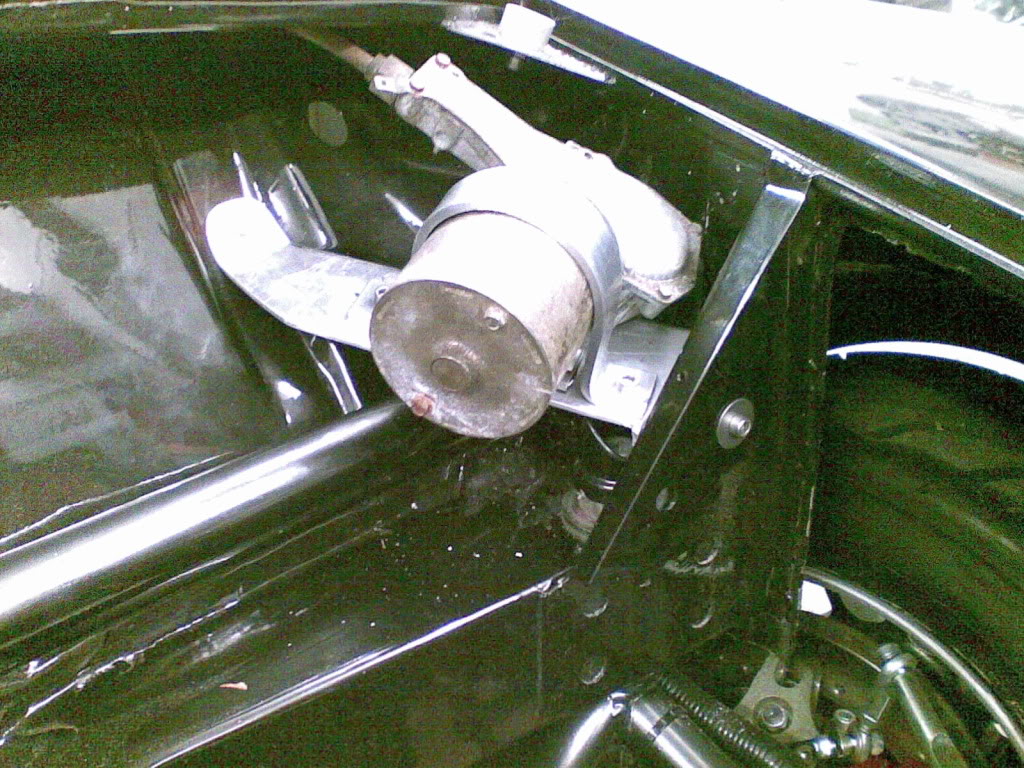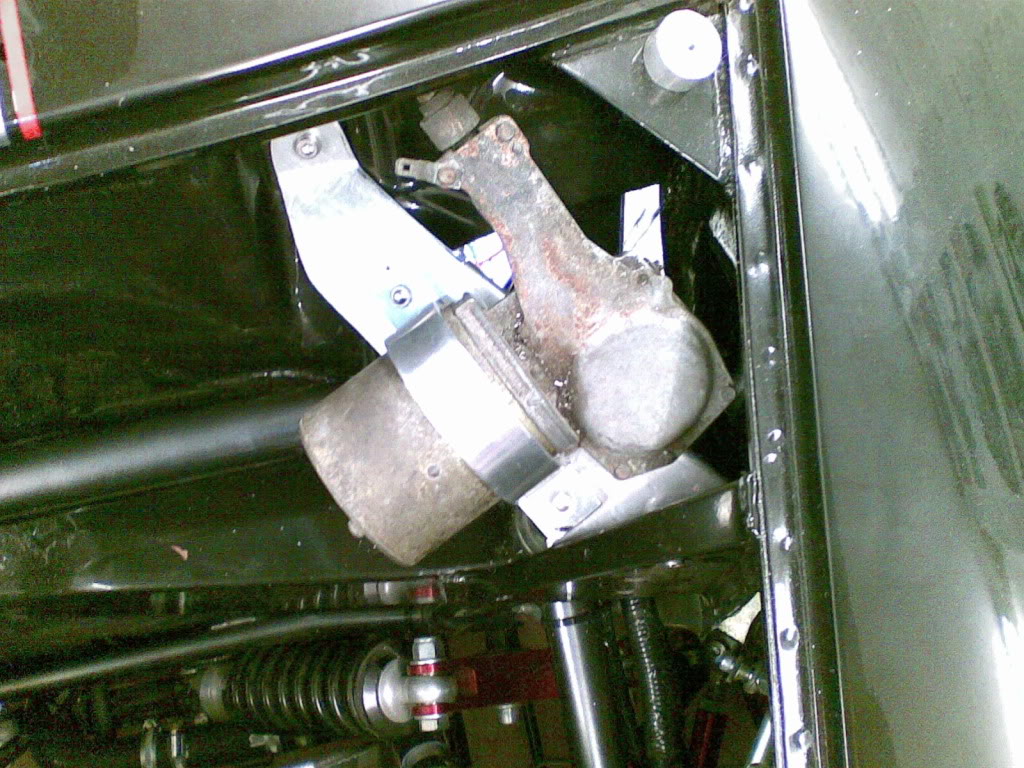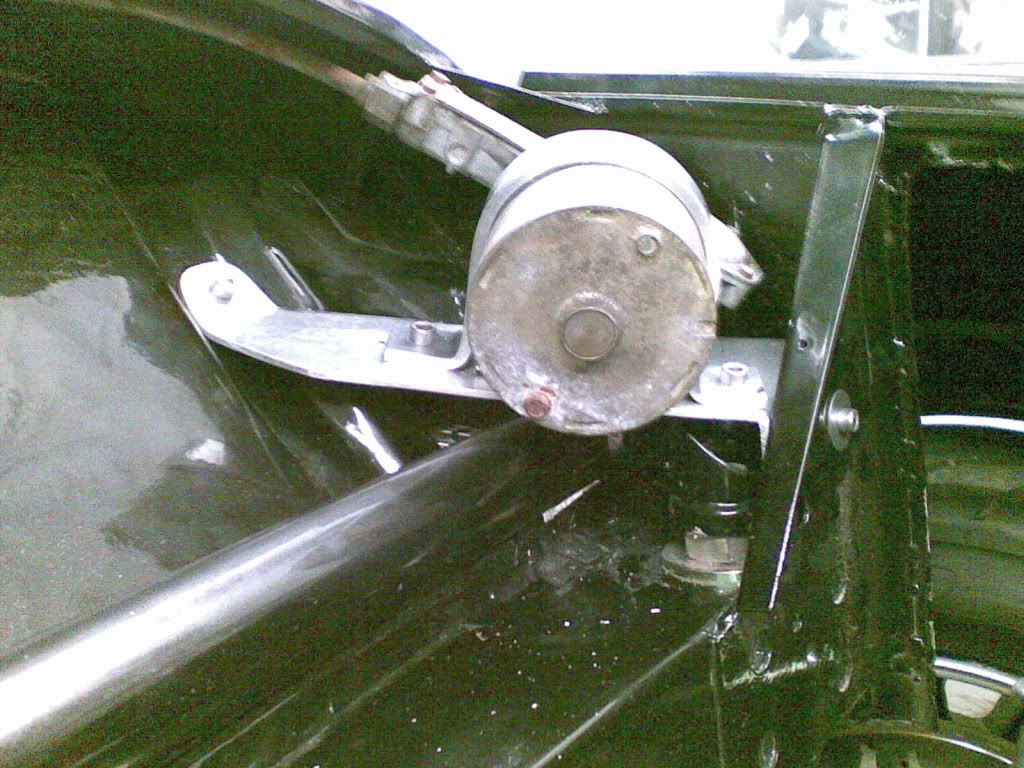 Front Bulkhead Watertighting - Part 1:

When using a Race Spec frame there is the need to cut through the front bulkhaed to mount onto the front subframe bolts, also as I had the full race spec pedal bias box there is another hole in the front bulkhead for moutning this to the bar that runs along the ffront of the bulkhead. Non of this looked easy to watertight, so fabbing head on I have decided to enclosed the front bulkhead in a 3 peice arrangement. I started out as normal with these things by making a cardboard template and then cutting out the ali plate, I have had to remove the fuel cap plate that I had Z's make and I still have to feed a pipe through to connect back to the fuel tank. I still have to make the centre plate that I will probably get engraved and polished, the two outer parts will be sprayed to match the car.


You will soon be able to see why I made the wiper mount as I did, although I wish I could have got the motor to fit further back thatn it does - too much hassle.


So here is the progres so far: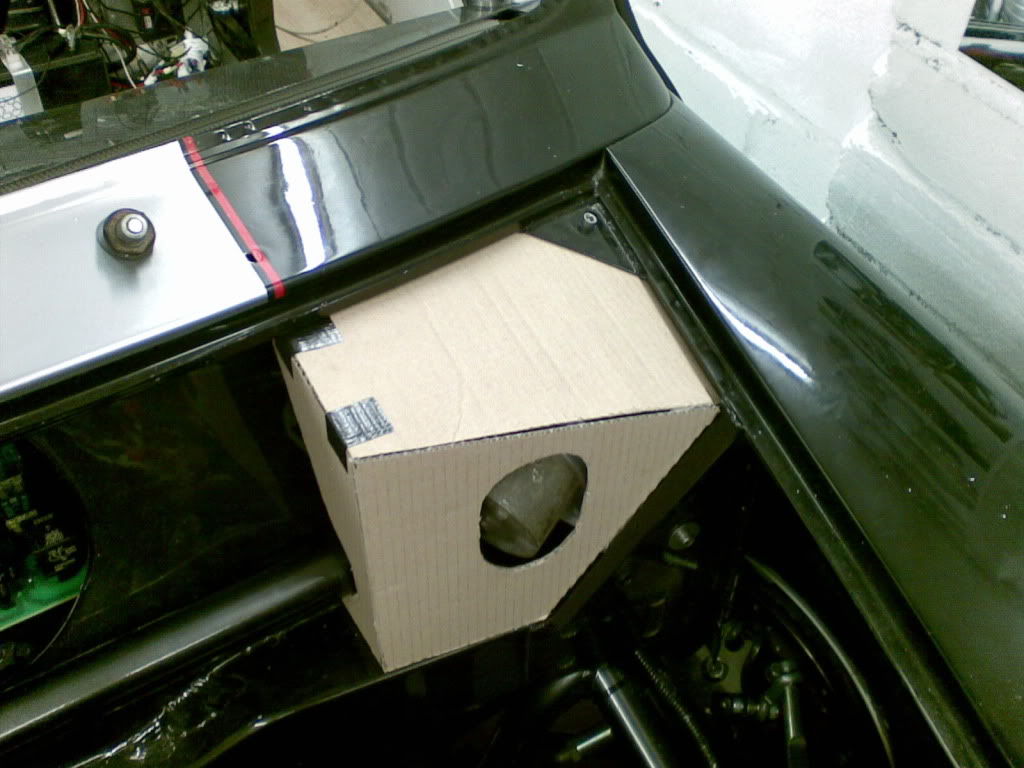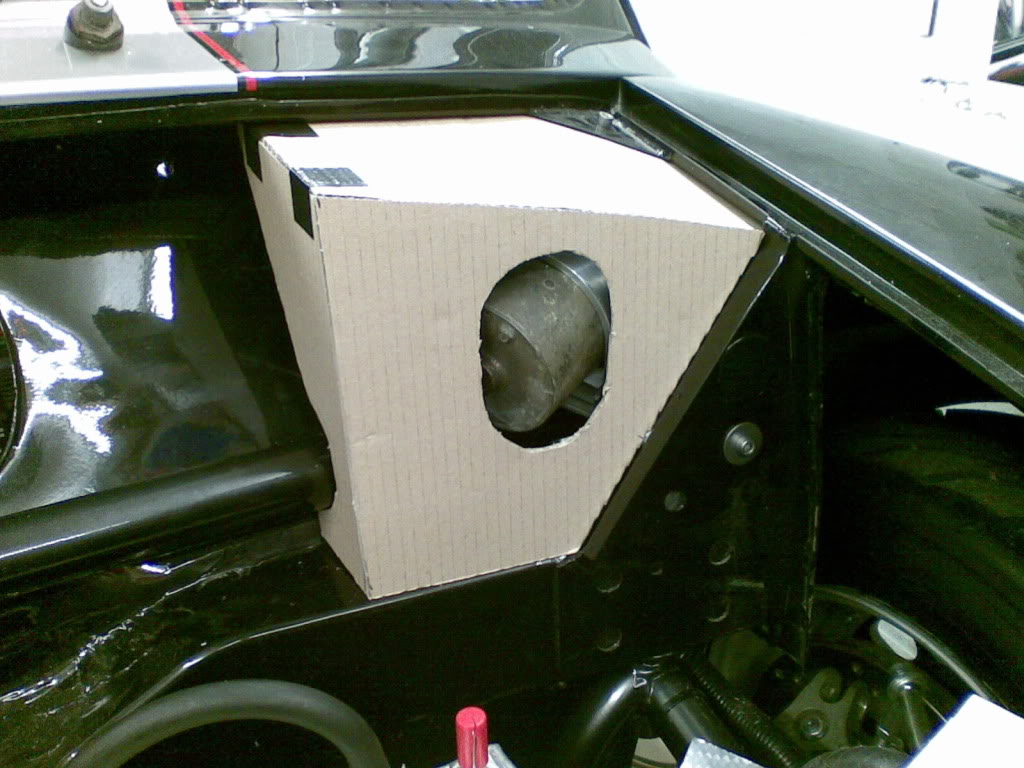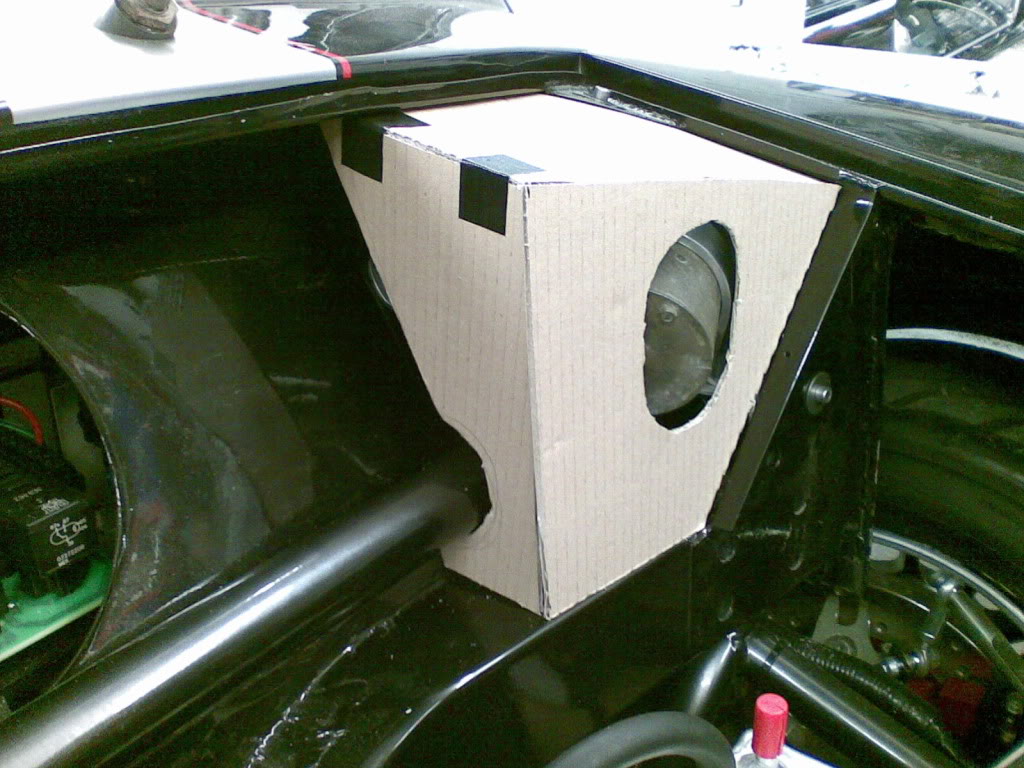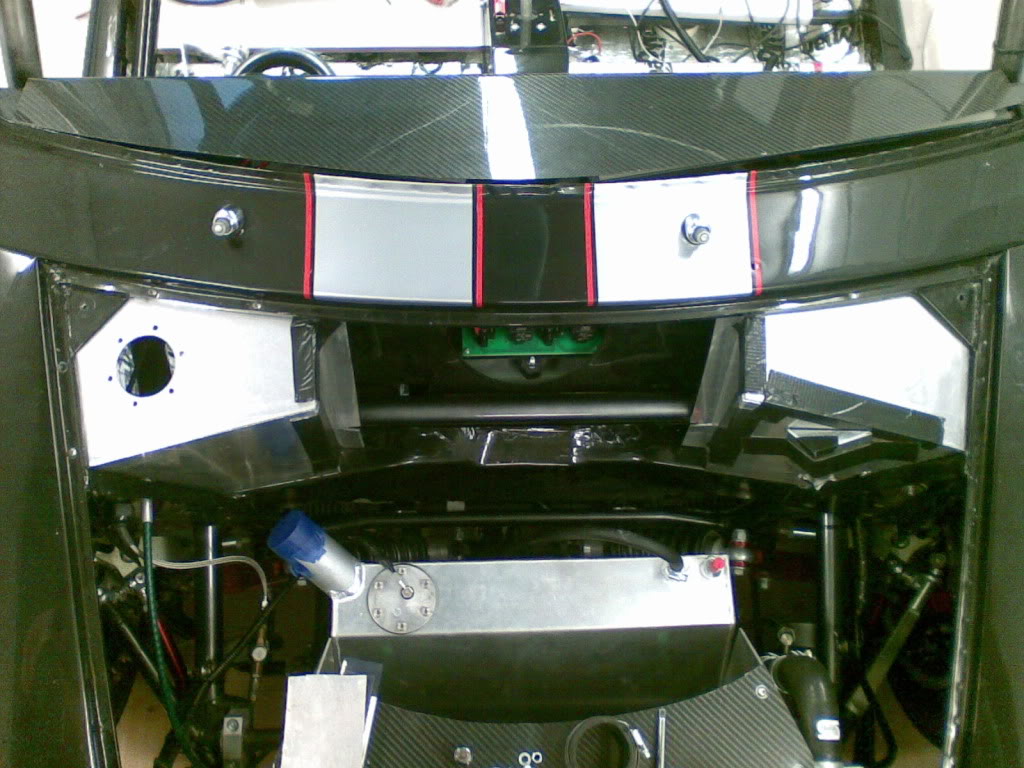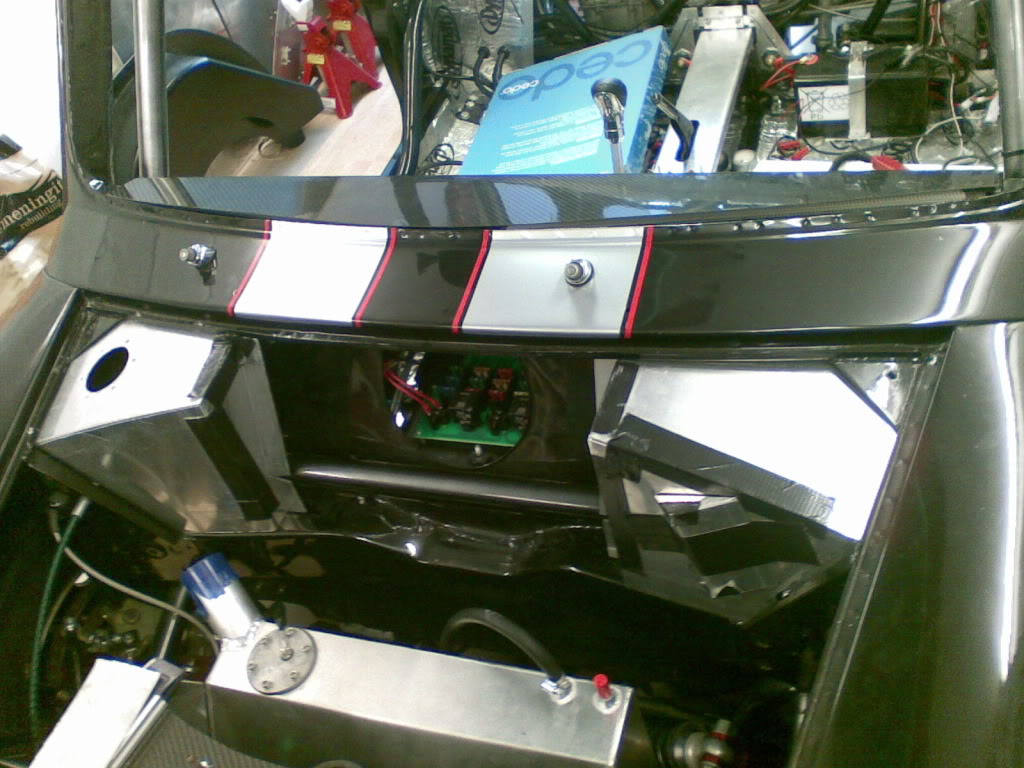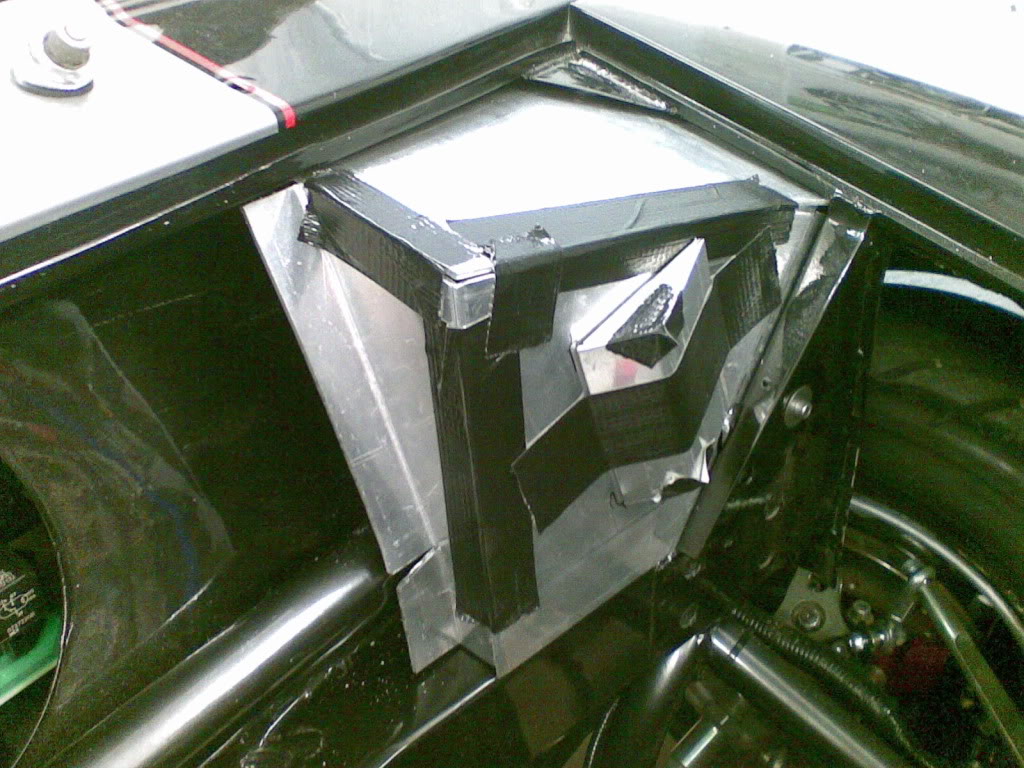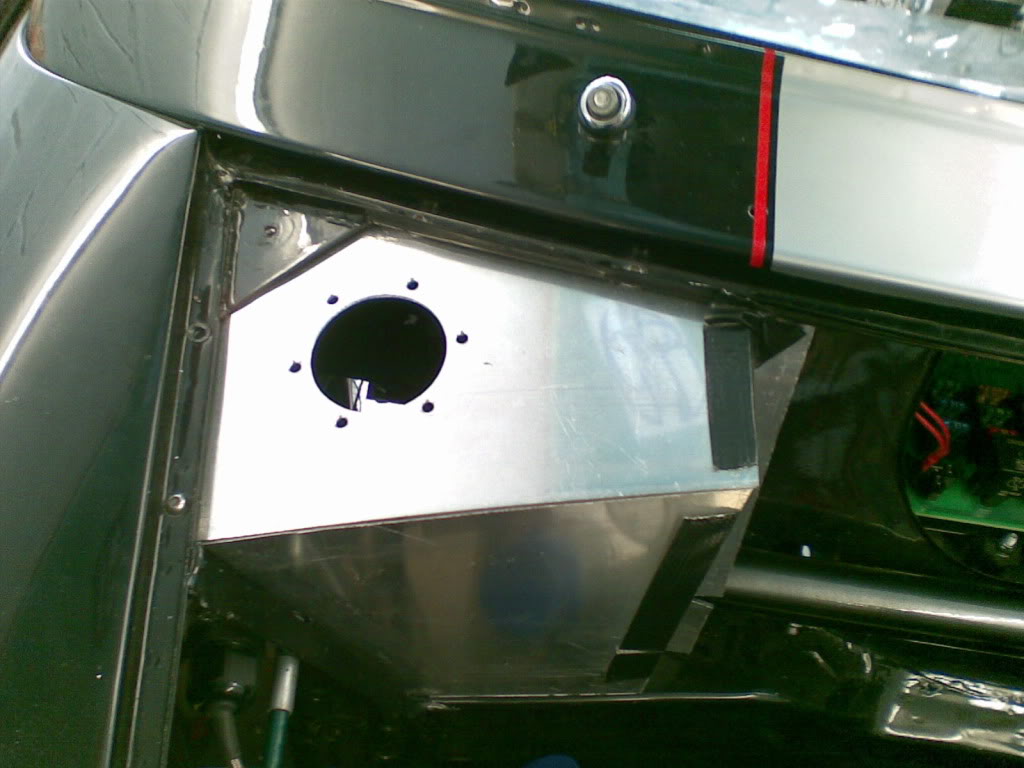 Exhaust Wrap:

As it says on the tin really - DEI Titanium Exhaust Wrap.

The more eagles eyed will pick up on the fact that the exhaust is in peices, so before anyone says it is being 're-modelled' so that I can fit the diffuser, havent 100% decided how yet, just another hurdle to overcome. Sorry to Simon at Z's I know he spent some time on my exhaust making a nice oval exit for me, I keep seeing other cars with an oval exit and want to have something different.

It does have a nice look to it and as it is made from pulverised lava rock (I always hear Dr Evil saying "melting hot magma" when I say/read that) not fibreglass it is a pleasure to use and you dont have to wet it to wrap it, dont know if it'll smoke like fibreglass yet, wait and see on that. Beleive it or not what you see is a full 50 foot roll used so I have to order some more now -bugger.... more bloody expense.

Before anyone comments on the use of stainless hose clips not stainless cable ties, I have tried both and the hose clips grip a *melon* load better and allow easier adjustment if required. There not the prettiest but they do the job.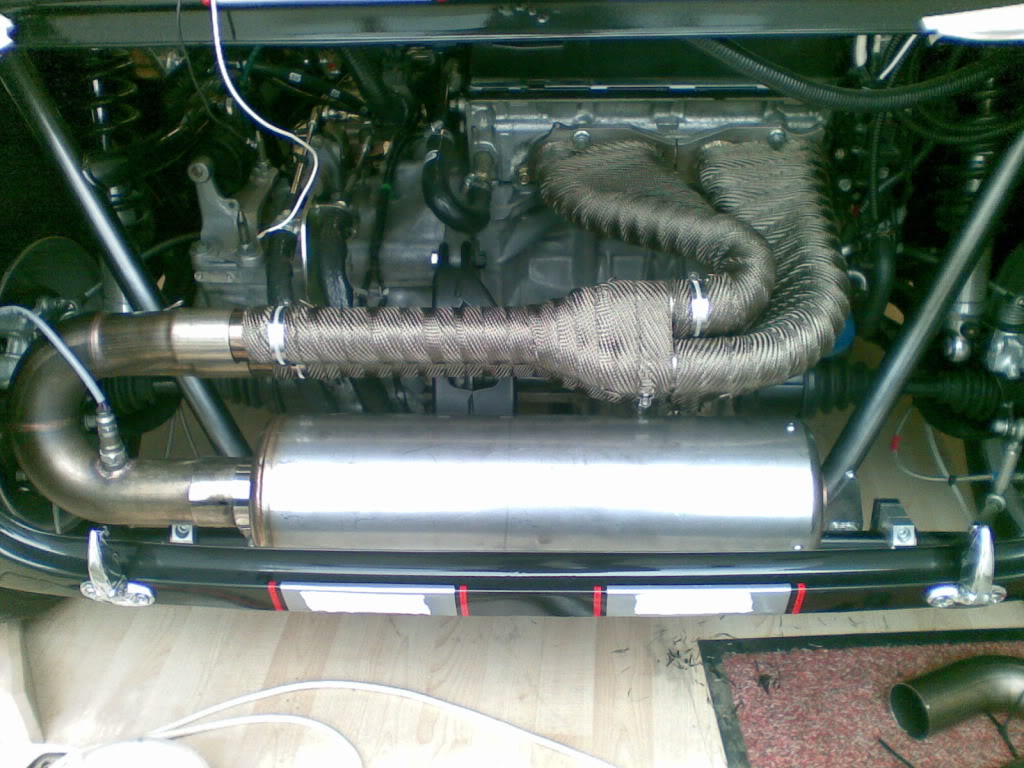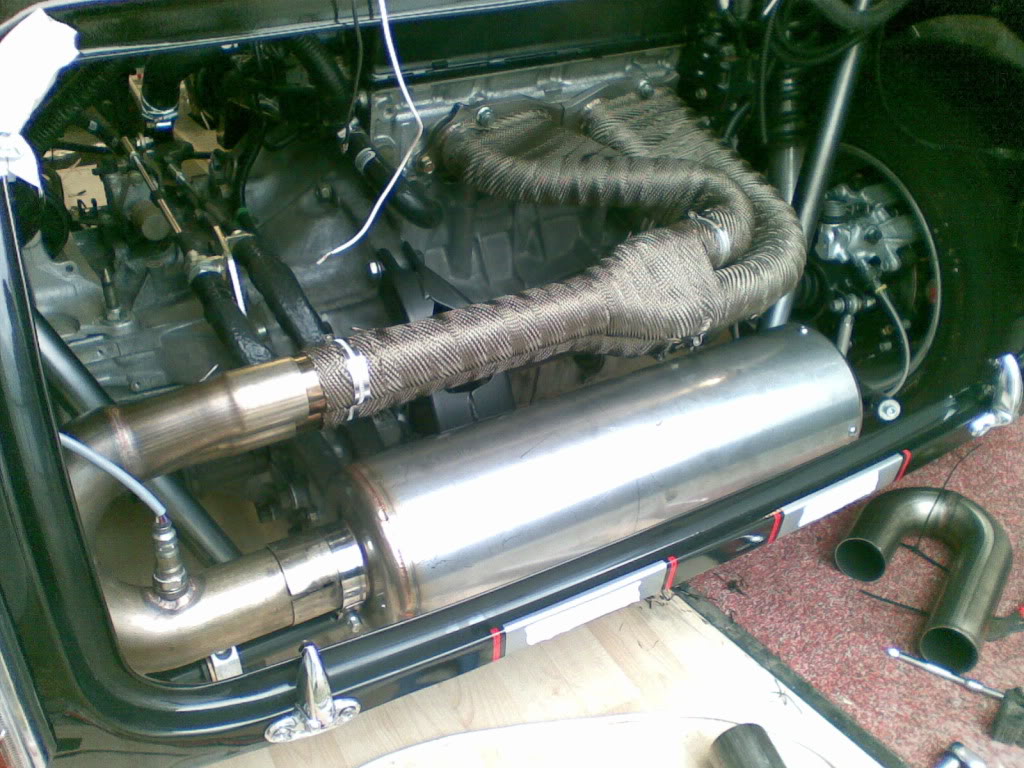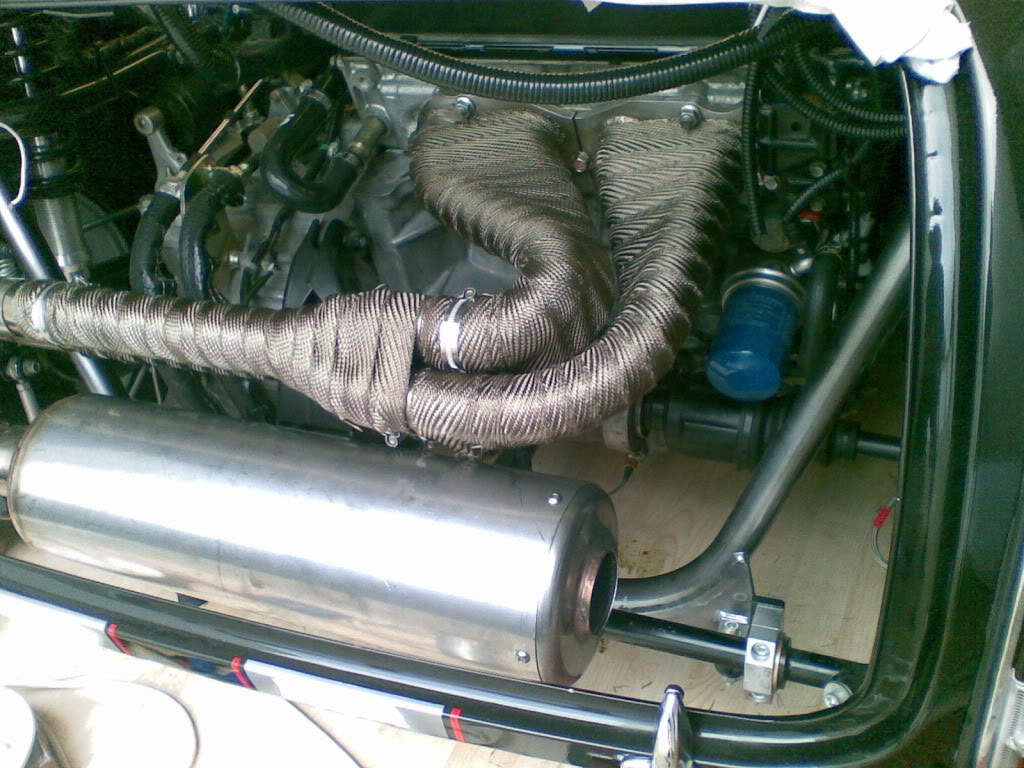 9-16-2009
Really struggling with motivation at the minute, will be better once I get the engine sorted. Trailer will be ready to collect on the 26th Sep - Woo Hoo, then its get the car loaded and off to get the engine sorted, then off to get brakes bled out properly as their not right (got a mate with the new sucking out type bleeder, so gonna give that a go).

On the note of brakes, I have had to weld the bottom UJ to the hex shaft as the bolt that clamped the arrangement together kept getting in the way of the brake pedal, even to the point of getting caught under it at one point while trying to get it off a trailer. Far from ideal but sorted now.

Then I am getting the doors hung and the door workings put back together by the guys at Minis-R-Us (Twyford) which is about the closest mini specialist to me. One of the problems with buying doors with all the bits in a box, you have no idea where it all goes and what screw/bolt does what, so therefore I am going to save myself the headache and get someone that knows what they are doing to finish it off for me. If I had taken them apart I would have no quarms in putting them back together. I am now at a point where I just want it finished and this way it will save time.


Am I prepared for how fast it gonna be??? - Honestly, probably not.....but I have a healthy respect for it, not a nonchanlant view of it, I know that it will bite me in the ass if I dont give it the respect it deserves, it is also a beast that needs taming and to that end I intend to hone my driving skills to enable me to do so - even if that means getting specialist tuition that will then allow me to get the maximum from the car. It will handle very differently to pretty much everything else I have driven, other than my old 250cc kart, so I dont mind holding my hand up and saying that I might need to go back to school for this one.....

The geek in me recently made me do a spreadsheet comparing the mini against other cars available on the current market, I think it makes for interesting reading, if you like that sort of thing. Note only the values in red are greater than the mini.
Yer I understand about the torque multiplier (good link by the way), I just thought it a flipant comment, to dismiss power to weight ratio's because the cars dont have the same top speed, without backing up the statement. Therefore if we read the statement correctly we are to dismiss all power to weight comparisons because the cars dont have the same top speed, that would then render pretty much all power to weights useless as I am pretty sure most cars dont have the same top speed. You could have two vehicles with the same engine, gearbox, wheel/tyres and weighing the same but if one is shaped like a house brick then they are not going to get the same top speed but the power to weight is the same and there is no change to gearing. If the topspeed is lower it doesnt always mean that the gearing is different and doesnt mean more power, sorry but IMO it was a sweeping statement that didnt have much substance.

For everyones information I have changed my final drive (taller - exact ratio figures I have not been able to get out of Z's - Chris/Richard if your reading maybe you can shed some light on that) to allow me to use all 6 gears, plus the profile of the tyres I am using (205/60 R13) are bigger than the regular 45's used on these cars so if anything it is higher geared than a civic, with the torque to pull it to a yet unknown top speed, I think aerodymanics (lack of) will come into play before I can reach the redline in top gear.

The power to weight ratio debate will rage long and hard and has done on many other forums, rather than make my build diary into one of them, I think we can leave it there.



10-5-2009
Front Bulkhead Watertighting - Part 2:

I got my good mate Barrie to do some more ali welding for me last week. A fair amount of fiddly marking then cutting of tube and fettling to get the filler pipe to match up was undertaken but I got it spot on with only a 10mm gap between the two pipes. All in all the parts came out quite well, they just need spraying up now then sealing into place.

This is how it used to look: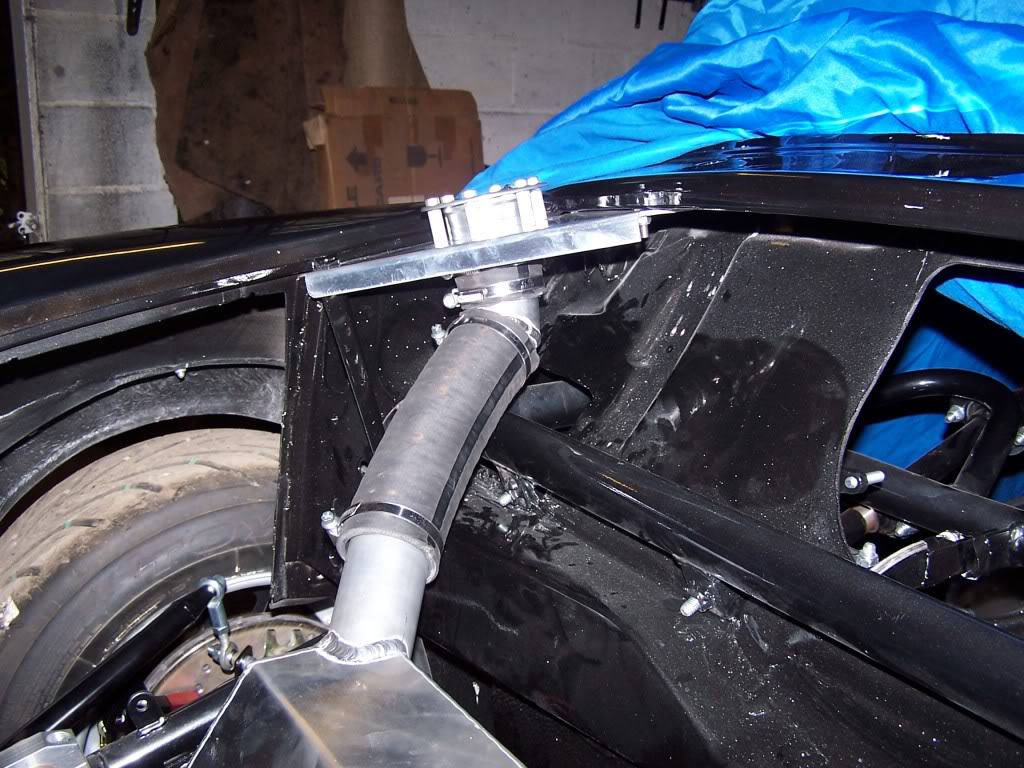 And this is how it looks now: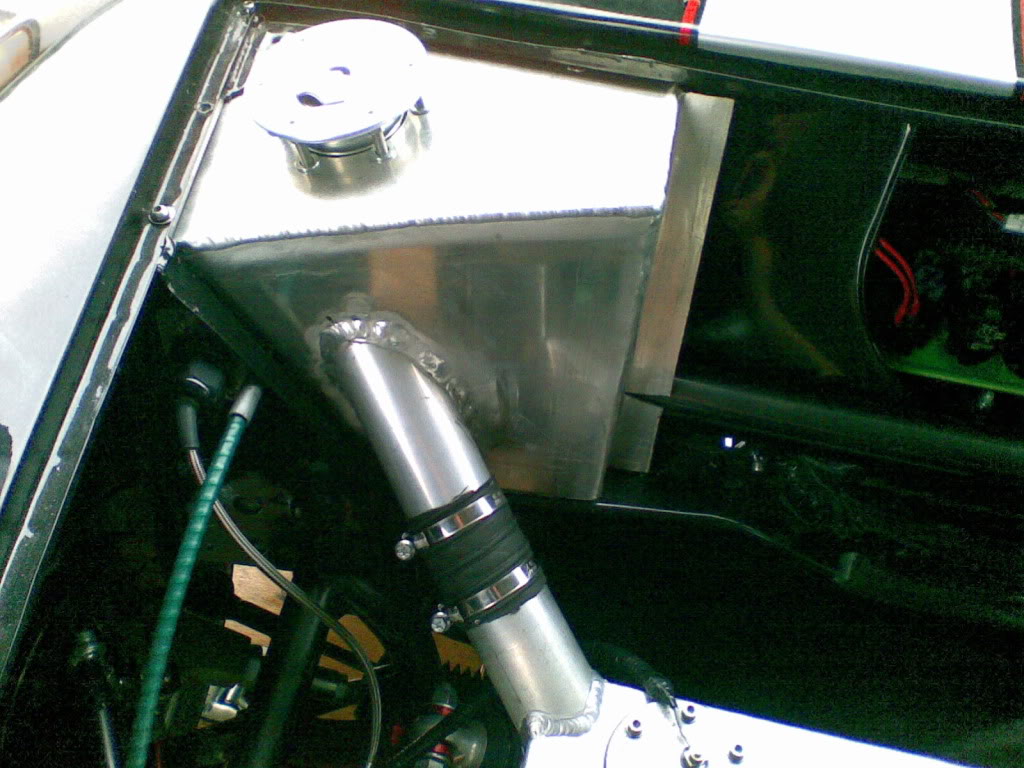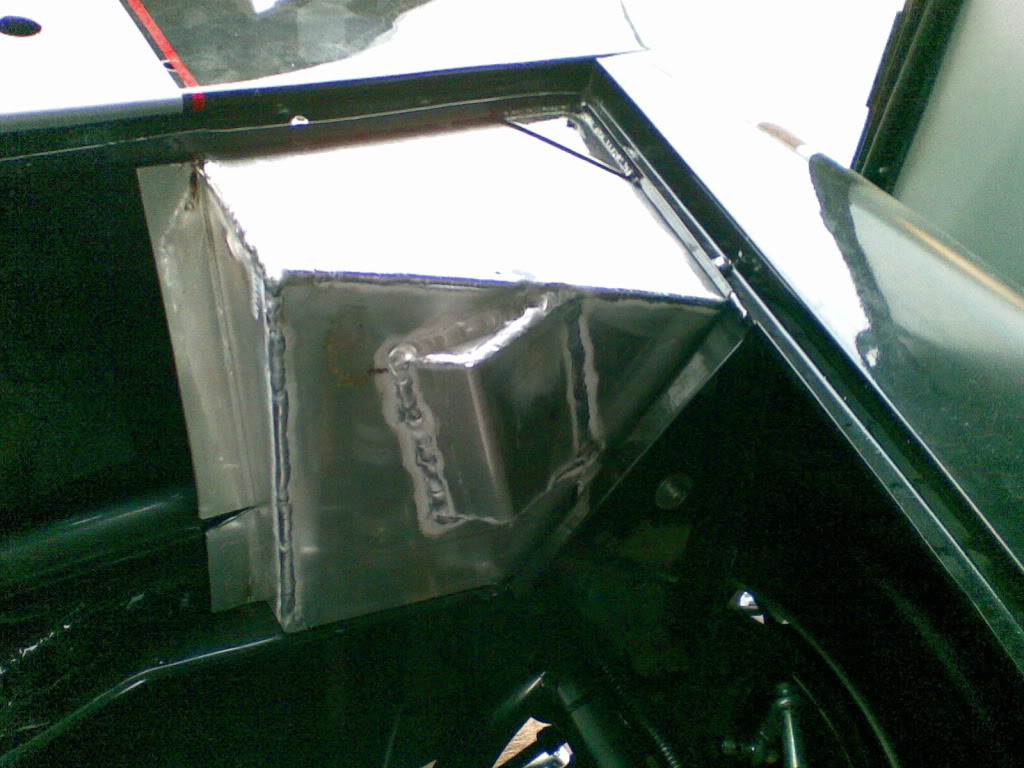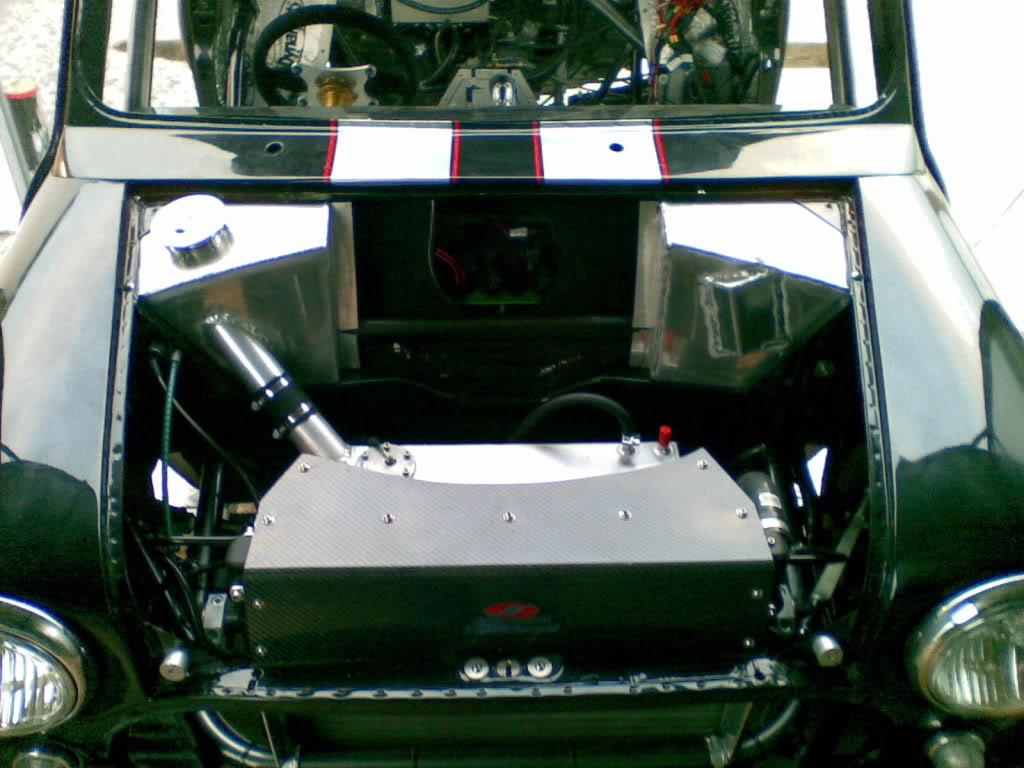 A sneaky look in the rear as to how to connect the filler cap: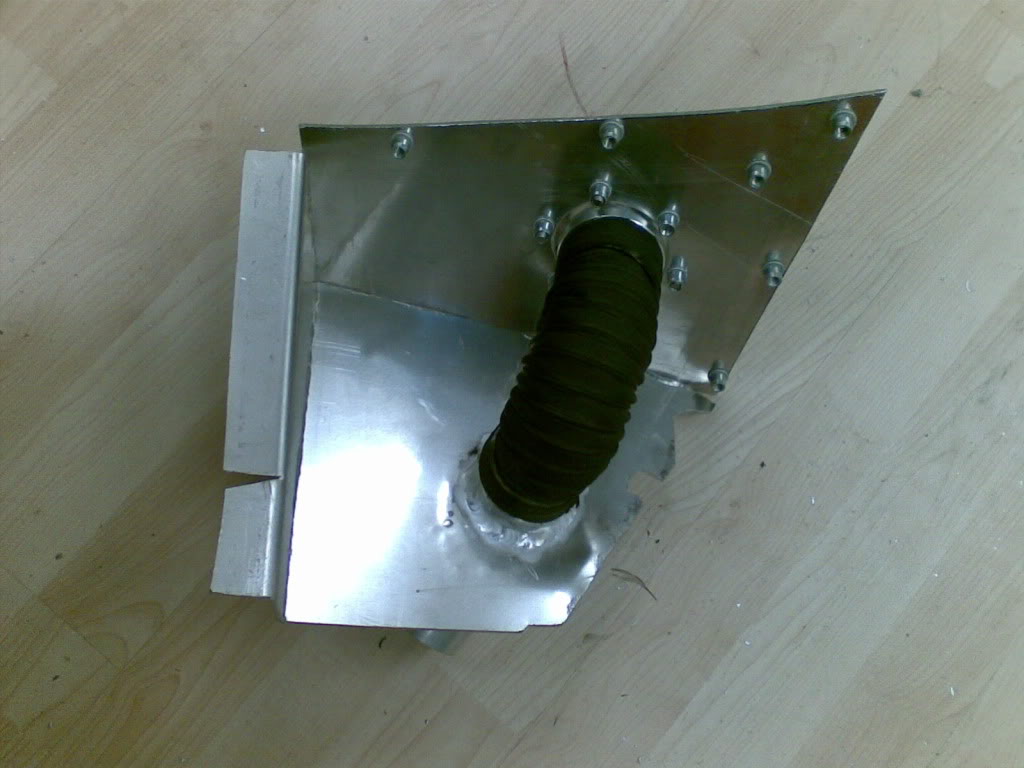 One on its own.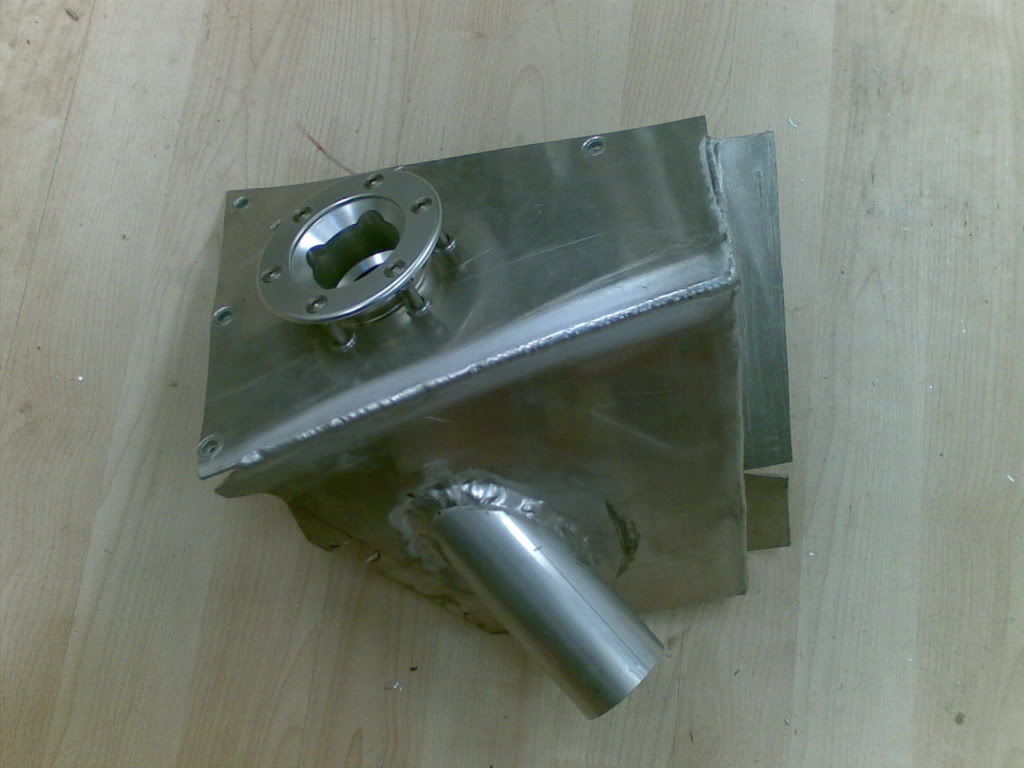 Exhaust:

So in my search for a bit of aerodynamics I have had to ditch the centre exit exhaust, there is an alterior motive to this, I have also re-worked the exhaust so that it will be infinitely easire to make and connect an extra silencer should I need one (most likely).

So I finished off wrapping the exhaust, another 15' of wrap was ordered and used in one go just for the 2-1 corner bit you see in the pictures.

I plan to add another silencer inside the car as I am not a big fan of the extra silencer on the outside, looks too much of an after thought for my personal liking, each to their own and all that.....

Big thanks again to Stevie G who without his help alot of what I have done would not be possible.

Any Hows, here it is finished, note extra silencer still to be made: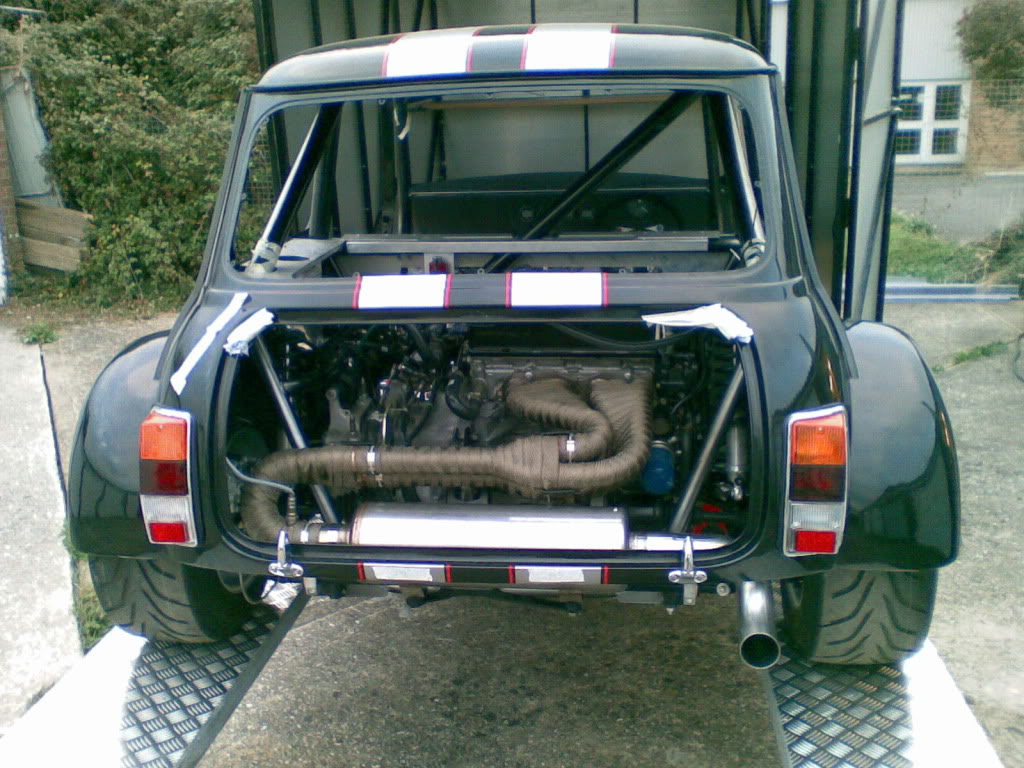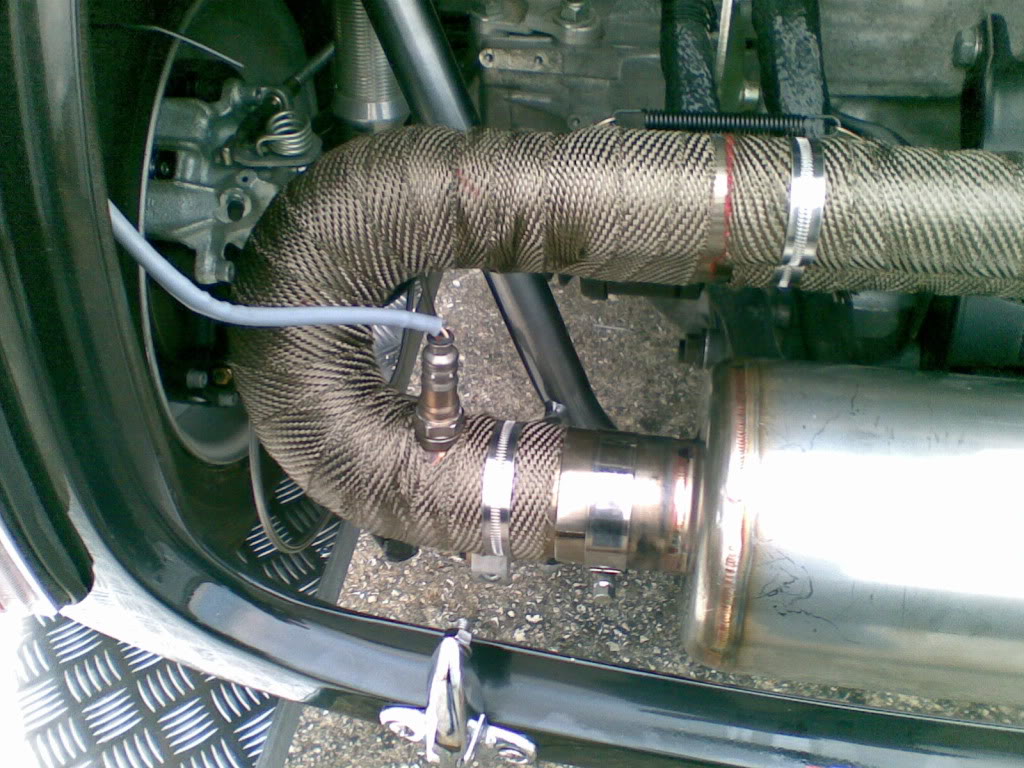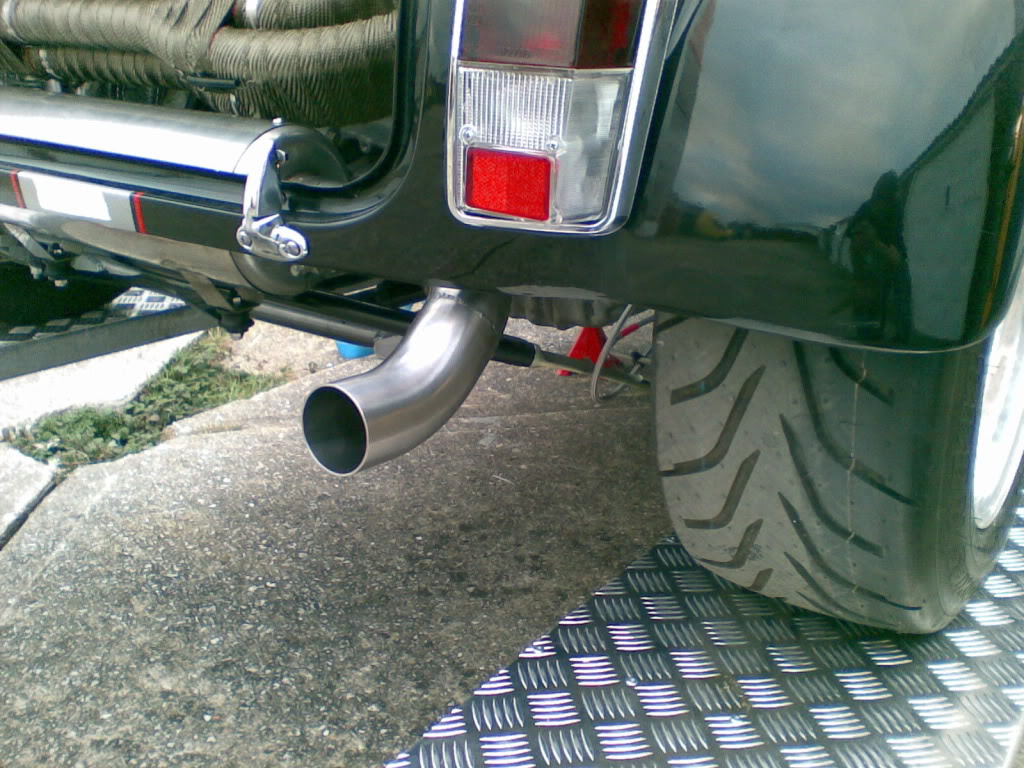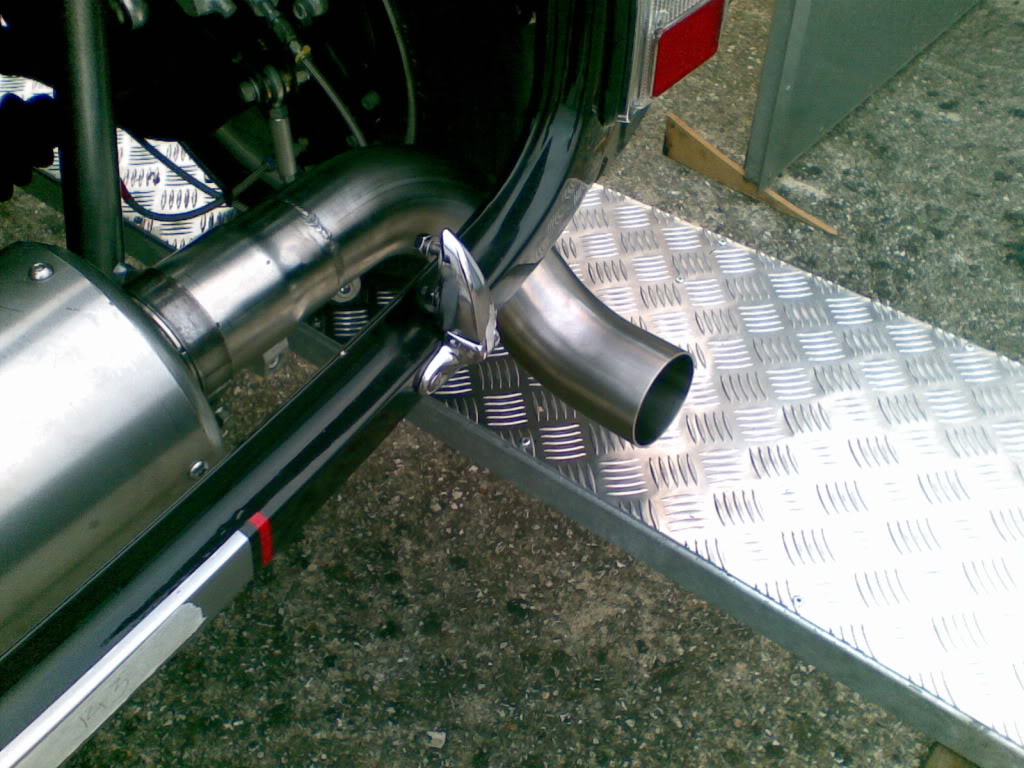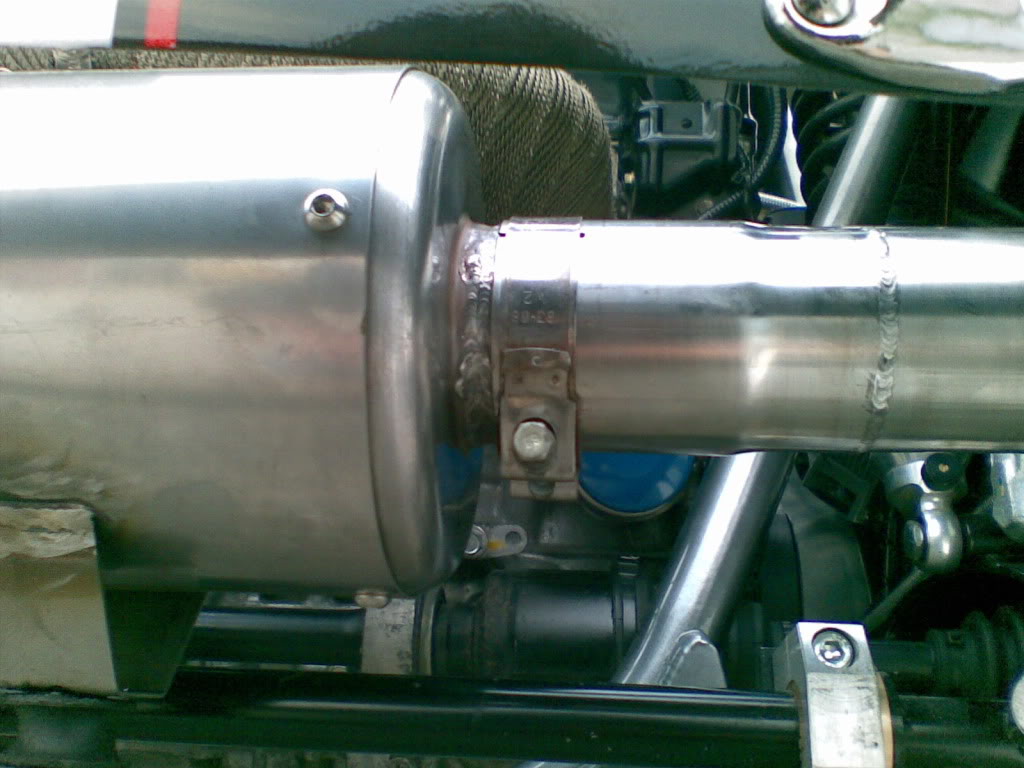 The Trailer Part 2:

So two weekends ago I drove up to Notts to help finish off my trailer, a solid days work saw it completed, it was 11 hours of hard graft but it was worth every bead of sweat.

Note in the previous post that you can use the ramps as a way of raising the car to work on it by putting a 4" square post on two axle stands and then place the end of the ramps on it, briiliant for getting underneath it.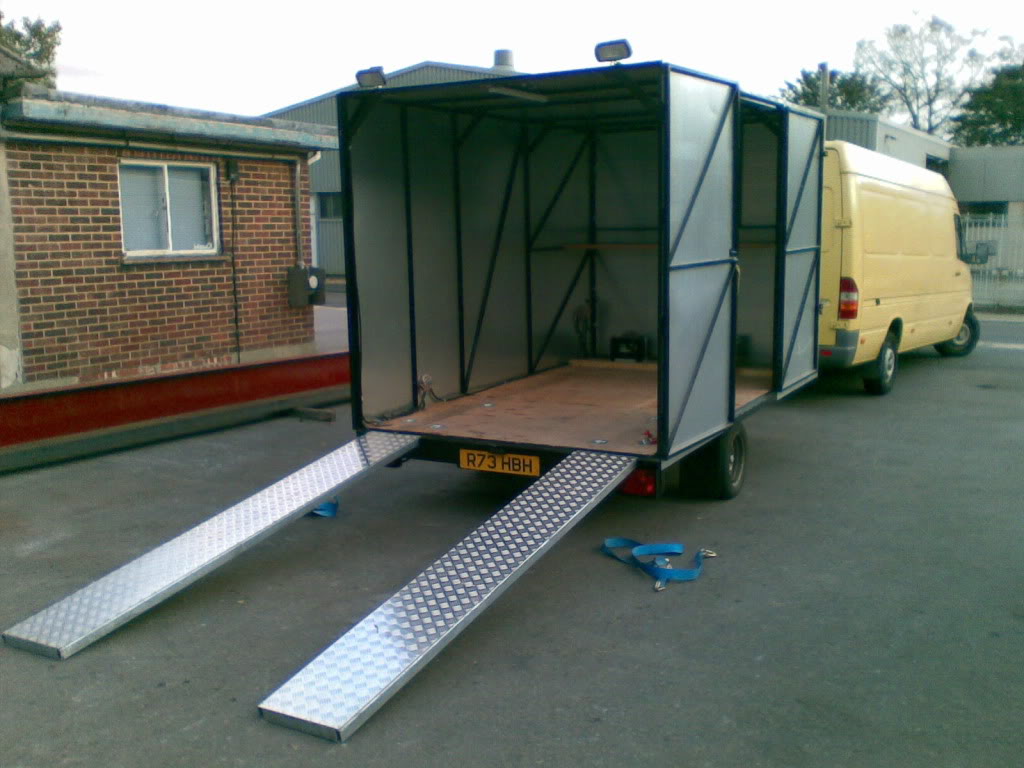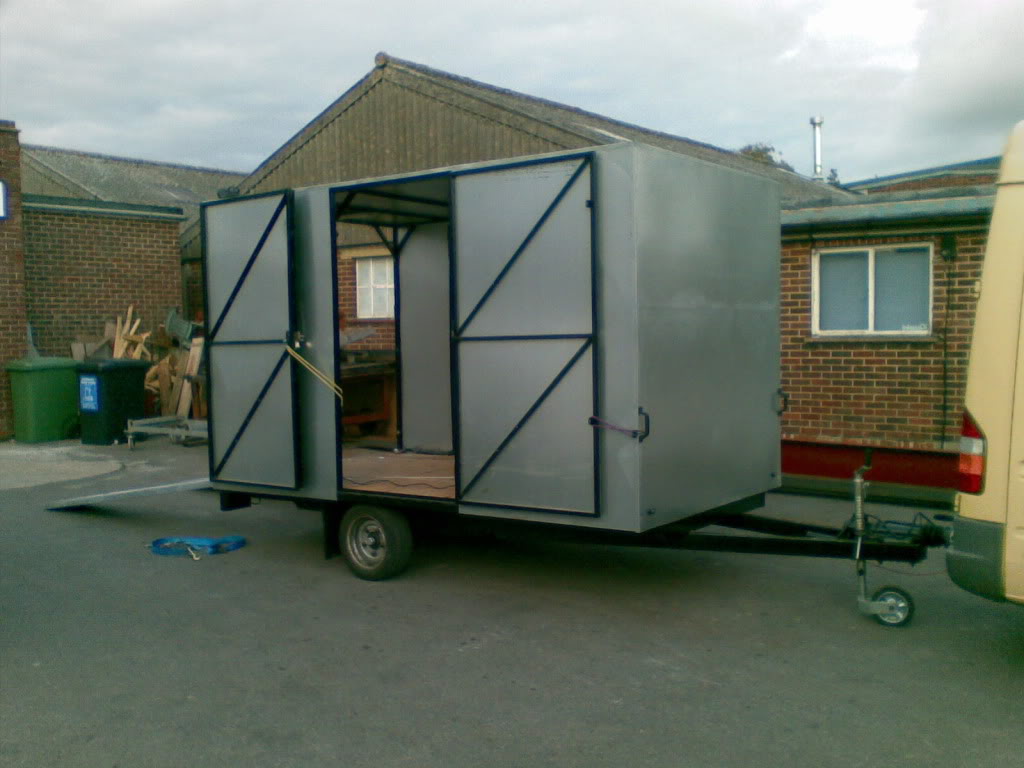 I fitted the winch and leisure battery last week also: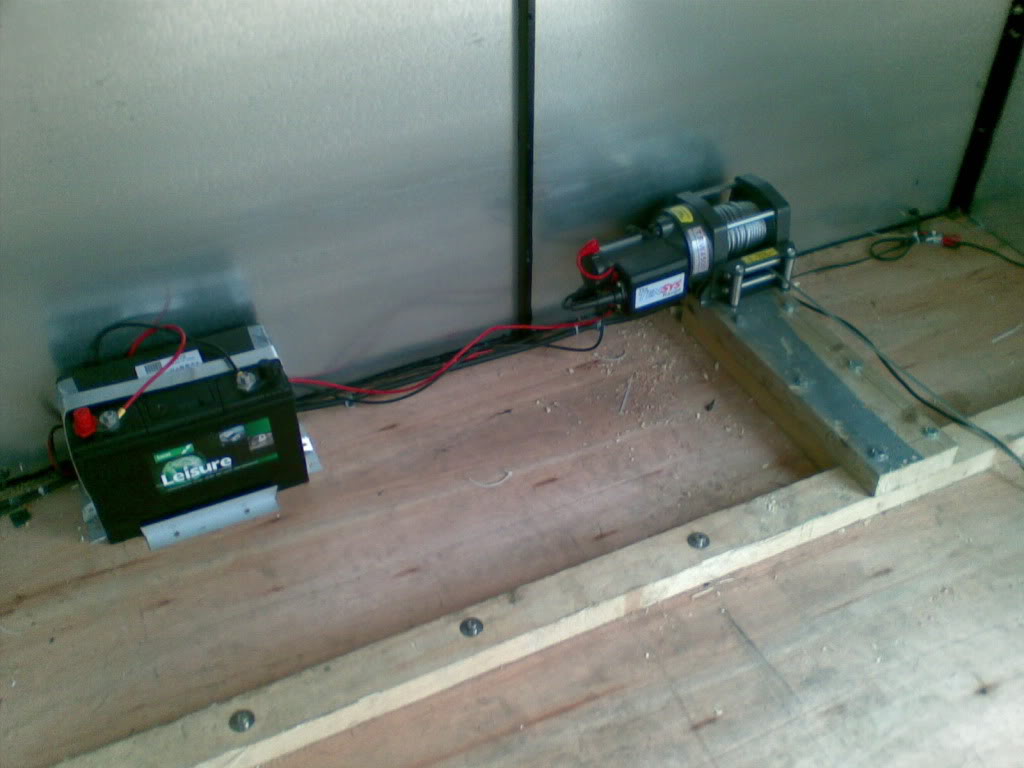 Status Update:
Car is currently up in Northants to have the engine sorted out, I will be picking it up on wednesday night and hope to psot some footage of it running on the weekend, then its full steam ahead to get it completed - cant wait to drive it.
10-6-2009
Just got these photos sent through, showing the car on some scales, I have been told to ignore the corner weights as the floor was not level but the total weight is correct. So once the doors, windows, bulkheads, seats and a full tank of fuel it wont be far off 750kg's, will get it re-weighed once it is all together.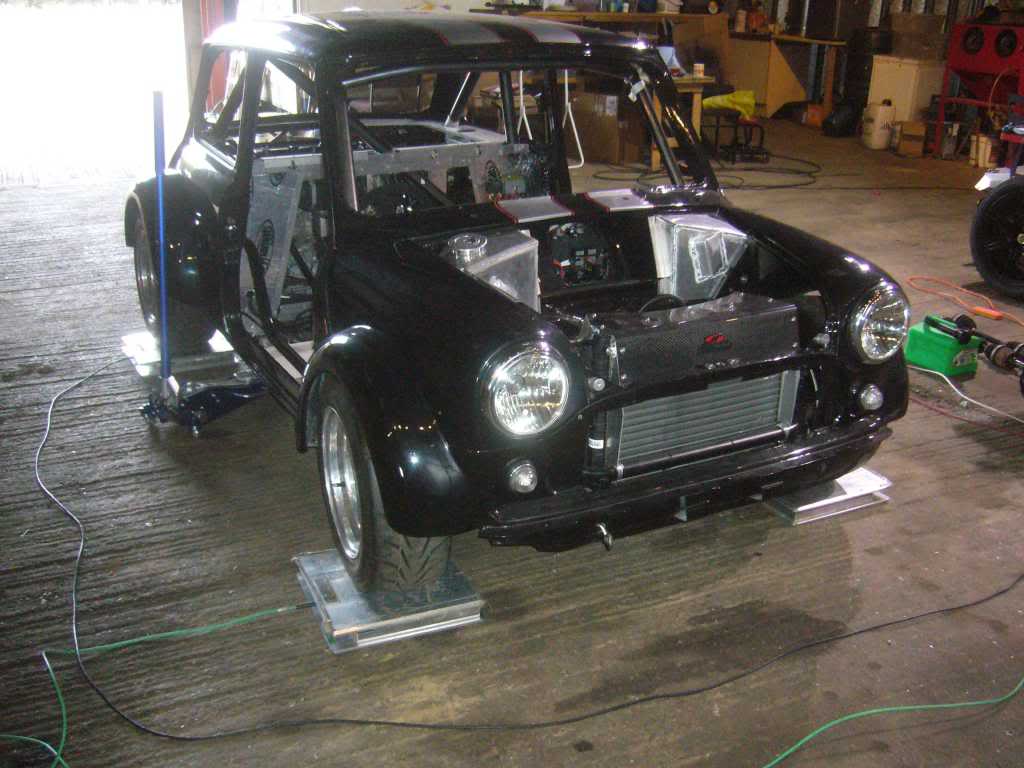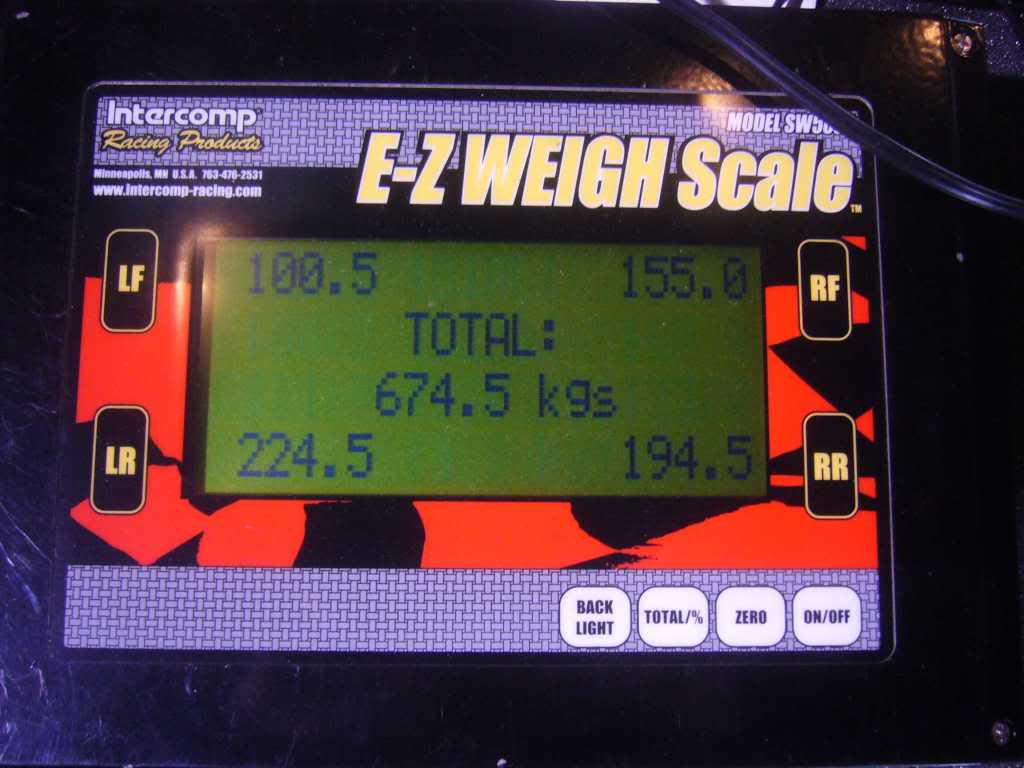 10-8-2009
Got the car back last night from the Dyno, it needs some bits and bobs sorting then back to the dyno. Good to know the engine is all ok, I need to sort a couple of electrical issues and rework some of the plumbing for the coolant.

The K&N Apollo doesnt appear to be the best filter when you get up to the 300's and will be looking to replace, watch this space. It lost 10bhp over having no filter, not good.

The dyno plot below doesnt show a very good reflection as the spike/glitch is caused something unknown at this point, ignore the peaks/spikes as they are caused by the glitch.

Note the values are at the hubs, not the crank.

Once new filter applied and a few other bits sorted out it will go back for another few runs and final tweeks. I will try and get some footage of the car running up on youtube asap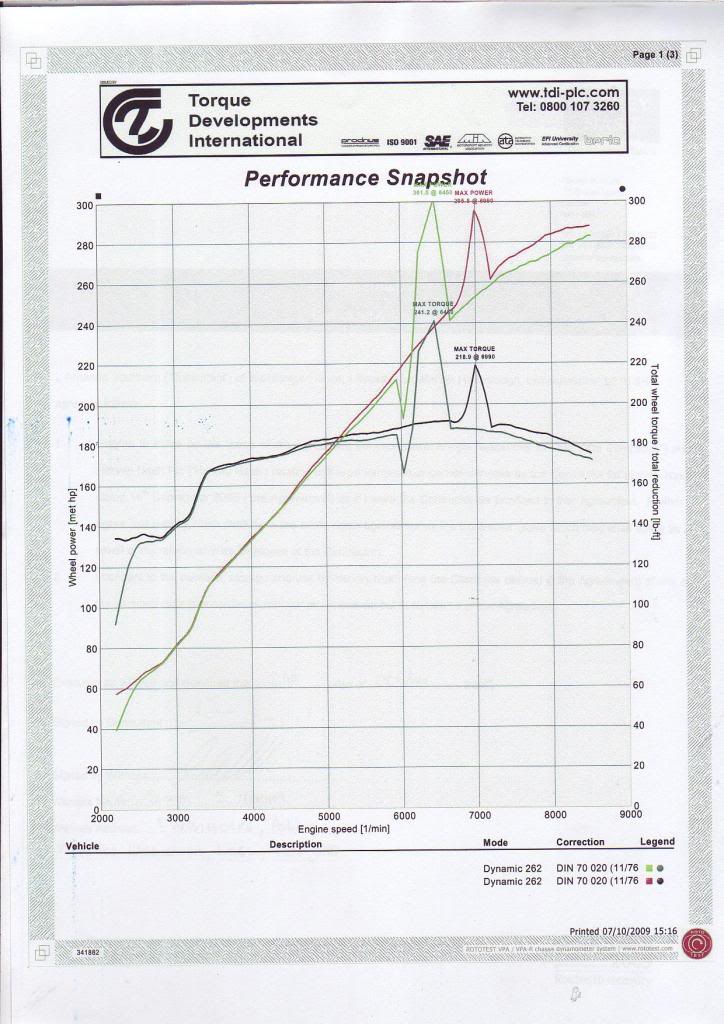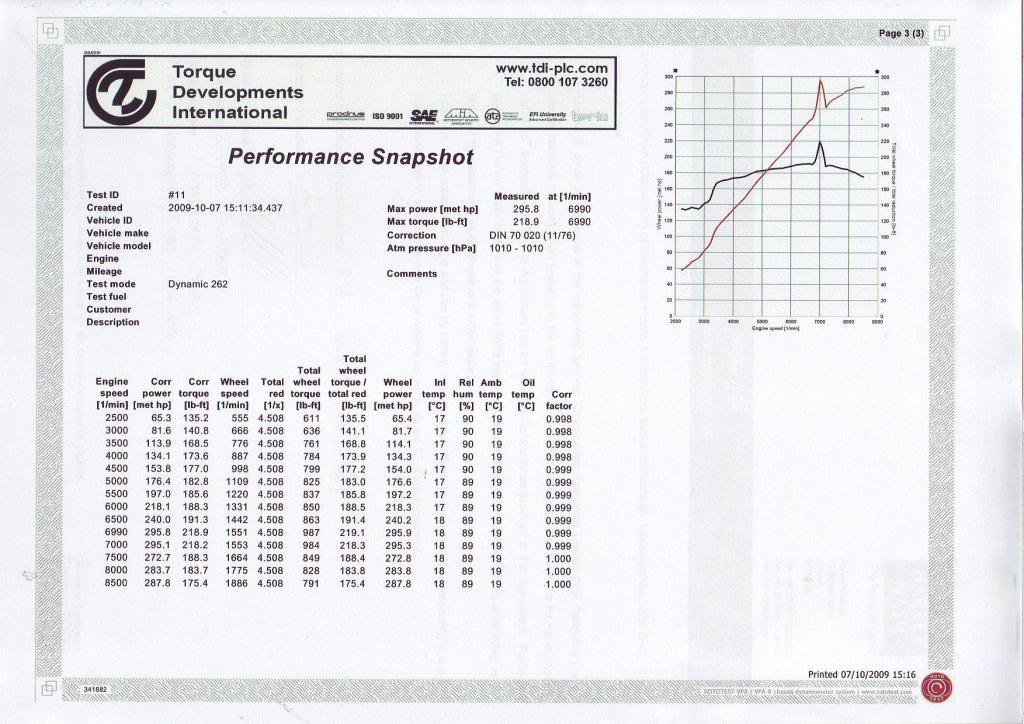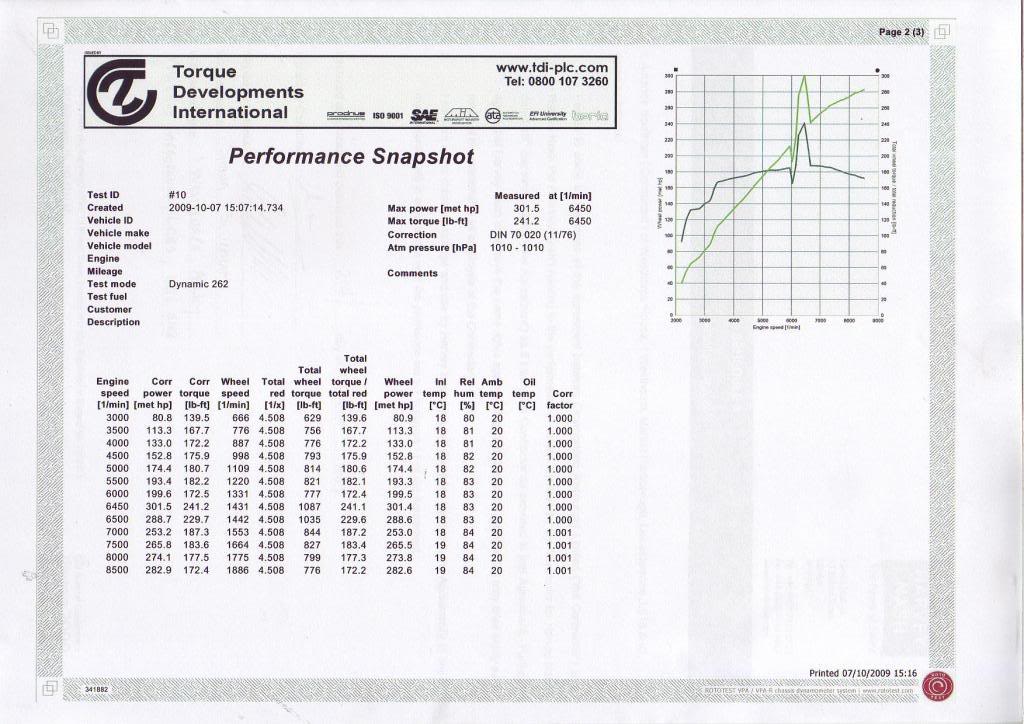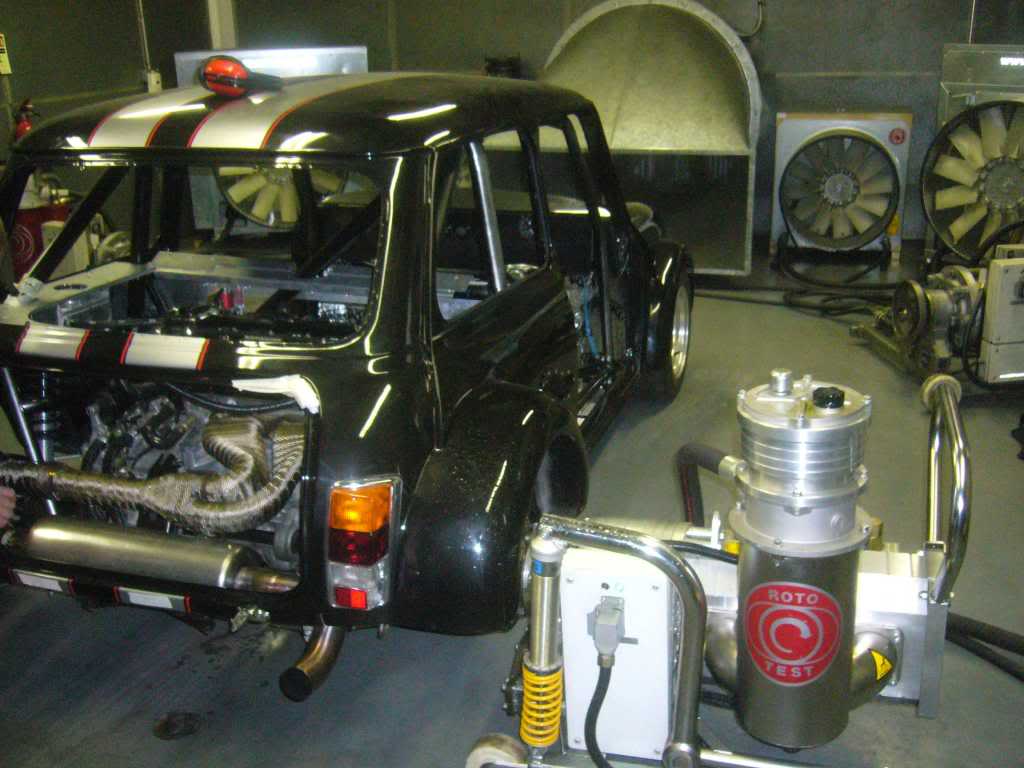 10-12-2009
Here is the first video of the car running, a few blips of the throttle, loving the flames.....


Now I need to extract the digit and get it finished.
10-15-2009
Latest Updates:


The new wiper motor is in: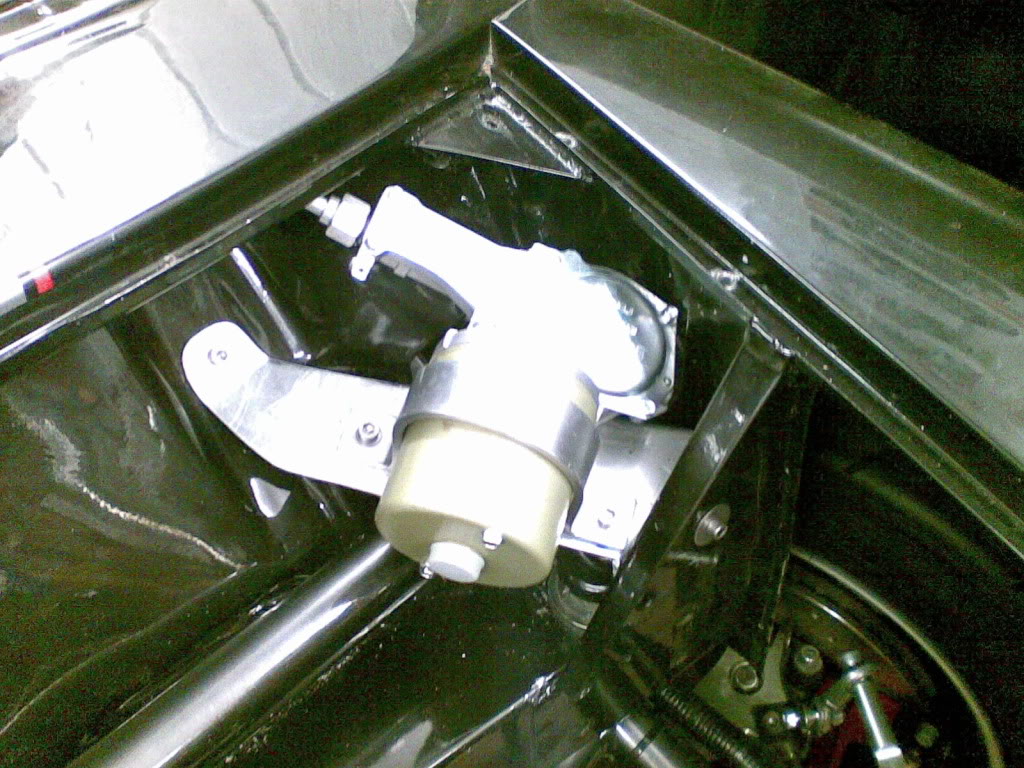 Along with the new tank breather from the guys at THINKAUTO (5/16 inline tank breather) + 8mm ID flange K&N filter, ordered in to my local Halfrauds, they can get me any K&N I like within two days if its in stock in the UK, I know Halfrauds arent the cheapest but they can get the goods if you need it..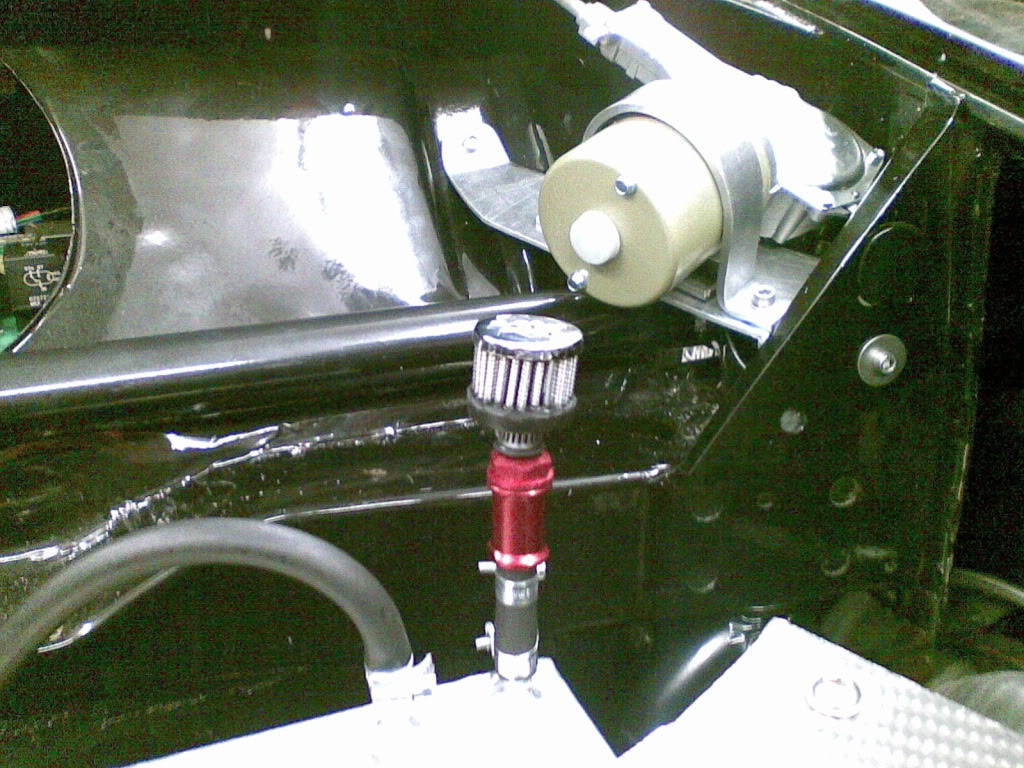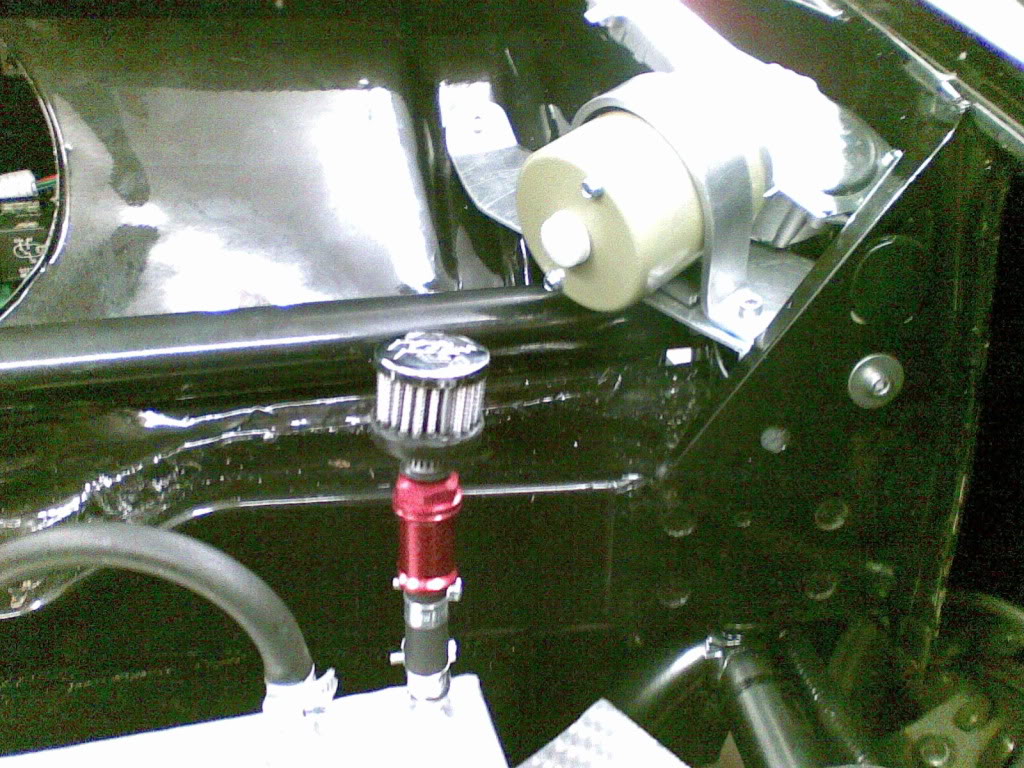 I removed the two front bulkhead side peices after the dyno session so I could get them ready for spraying, all welds sanded back and a bit of filler to get them nice and soooth and hey presto, ready for Stuart to spray them: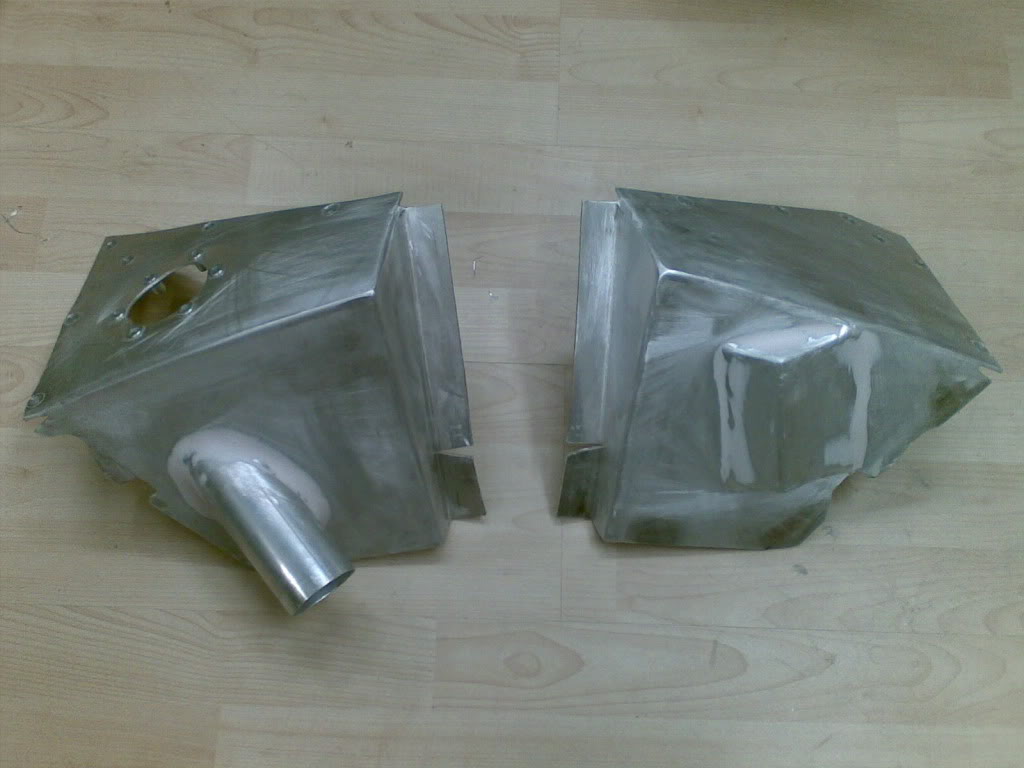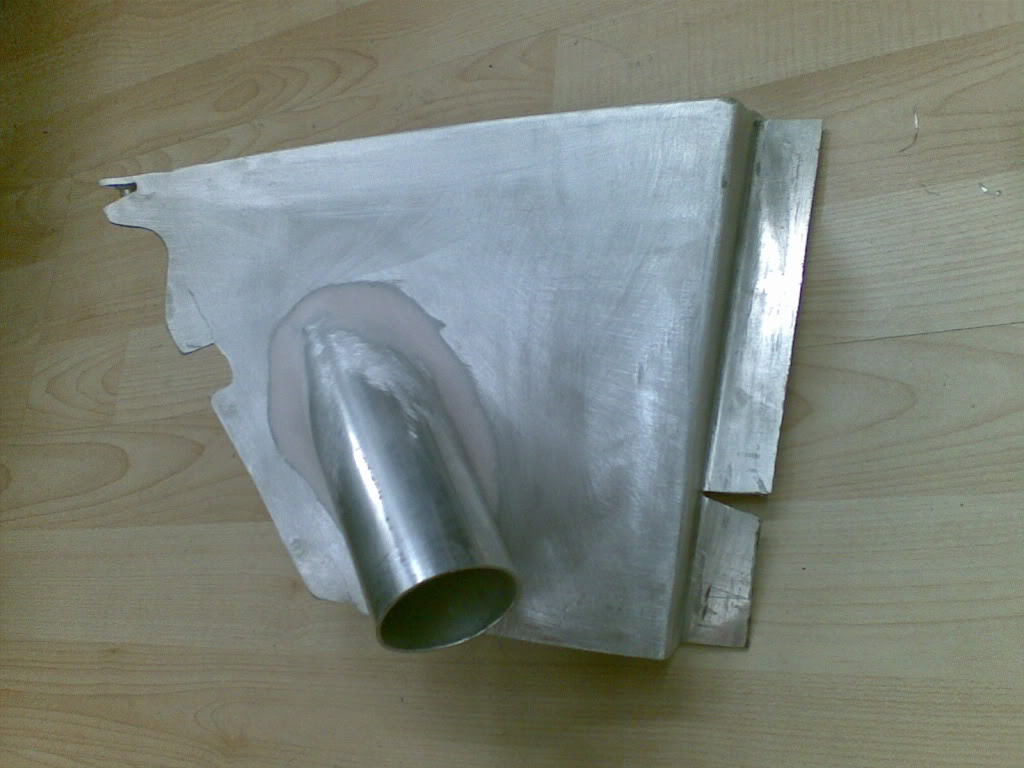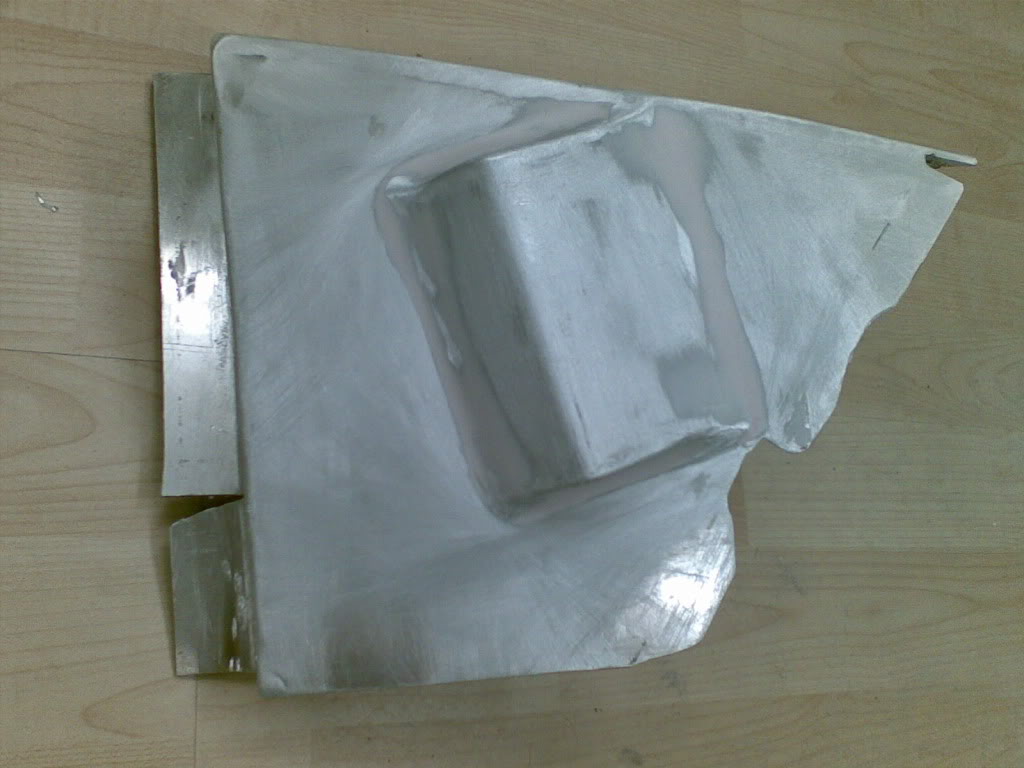 The I went about fitting the grille, bit of a barsteward tryign to fit a mk1 grille to a mk4 shell, plus I have a fwe extra holes that I dont need but you have to look close to notice them. The bumper got cut down a few weeks ago and I have thrown it there for good measure, I need to get two outer stays welded on st the original two were cut of when shortening it to accept the new massive arches. Also my super duper air directing carbon fibre bit makes it a real sod to get any form of nut on the back of the bolts (3mm), I had to tape a nut to my finger and feel my way onto the back of the bolt.

For anyone thinking of doing one of these conversions but only have a small signle garage, check out how much room I have in mine in the next two photos, it can be done, its a squeeze and you have to plan your work, but it is possible.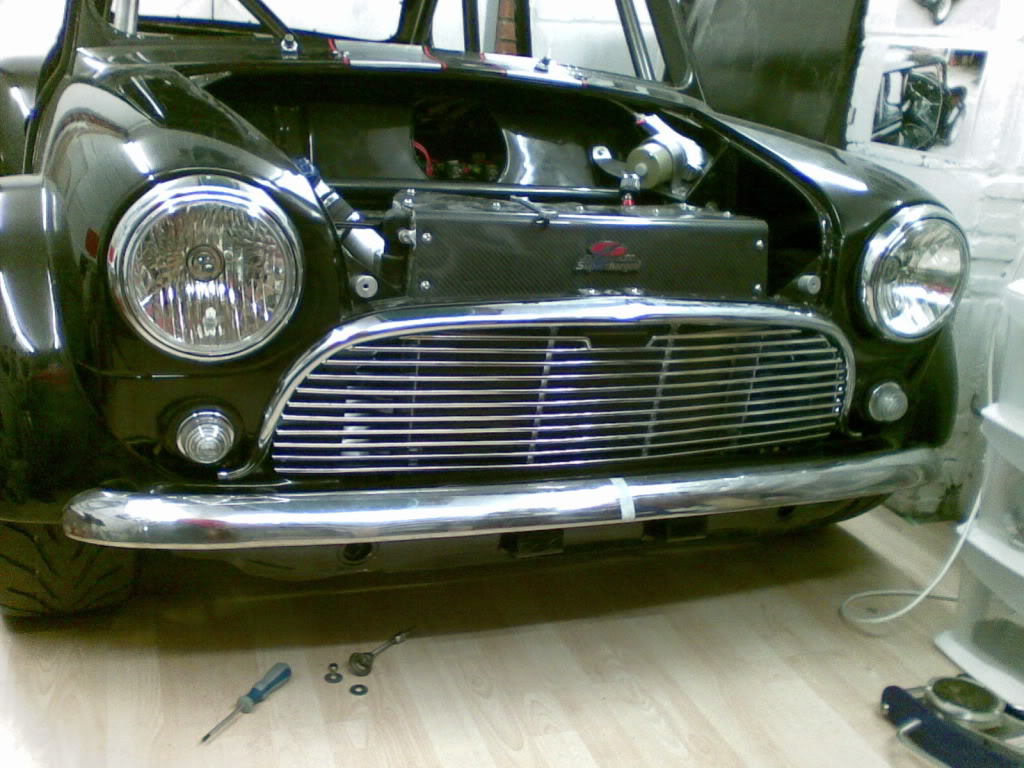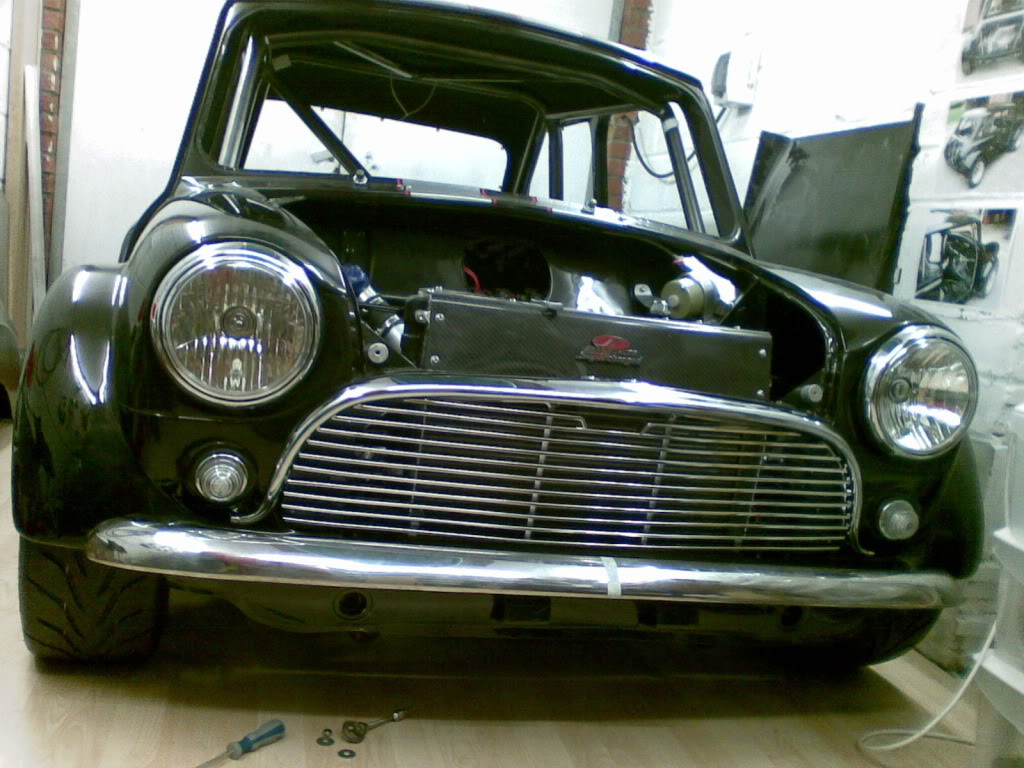 10-18-2009
Still aiming for 14th Nov at Rockingham, I reckon I can make that a reality, just got to keep going at it.

There are still some issues to be ironed out but I want to take it and give it a shakedown, see what works, what comes loose, what I like, what I dont like, what needs adding, does anything need removing, what rattles, what blows a fuse all that kind of stuff.

Although the engine is running it needs some more work to aid the stratigies used by the Hondata ECU, so it runs ok but can run better with a bit more work.

Then over the winter months I can get it finished off completely ready for the dryer weather in the new year. I've still got aero mods that I need to make and fit that'll take some time and require it to be on a ramp for measuring and fitting, thank crunchy I have the trailer as it makes getting places a whole lot easier.
10-22-2009
Rear Body Stabilizer:

Once the parcel shelf surrounds are added to the mix it does stiffen up the rear of the car considerably but for good measure I decided to add a proper stablizer bar and now the back of the car is absolutely solid. Thanks to Stevie G for welding that bad boy up for me.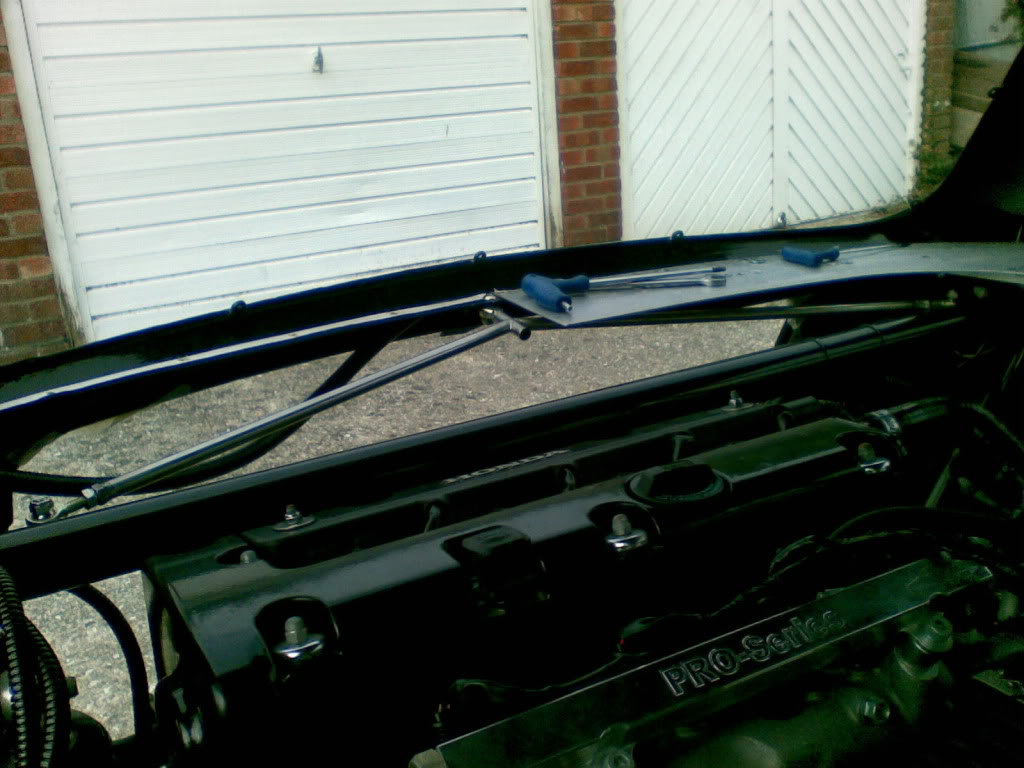 Front Bulkhead:

I got my two side bulkhead bits back today from bring sprayed, they look so freekin black in the photos (phone camera - not the best) that you can hardly tell what they are. I took a few snaps on the table and then out to the garage to get them fitted, they still need sealant around them but they do look the shizzle. I offered up my template for the centre plate also and it looks like it will fit a treat, get that cut out on the weekend.

Start with a before and after: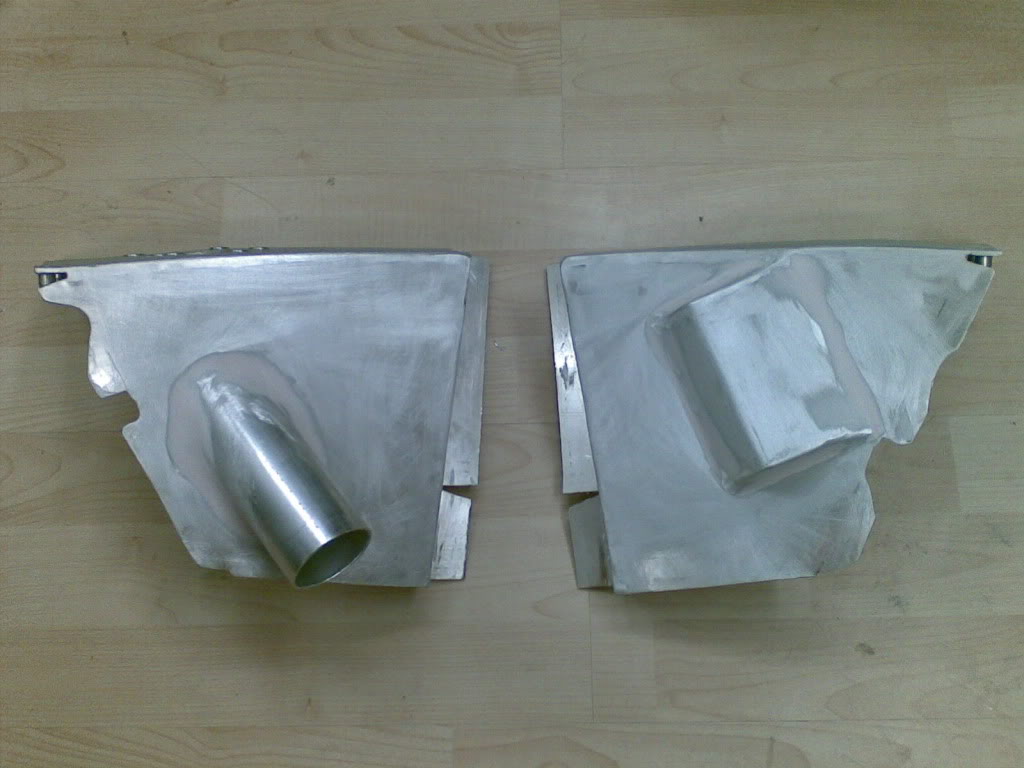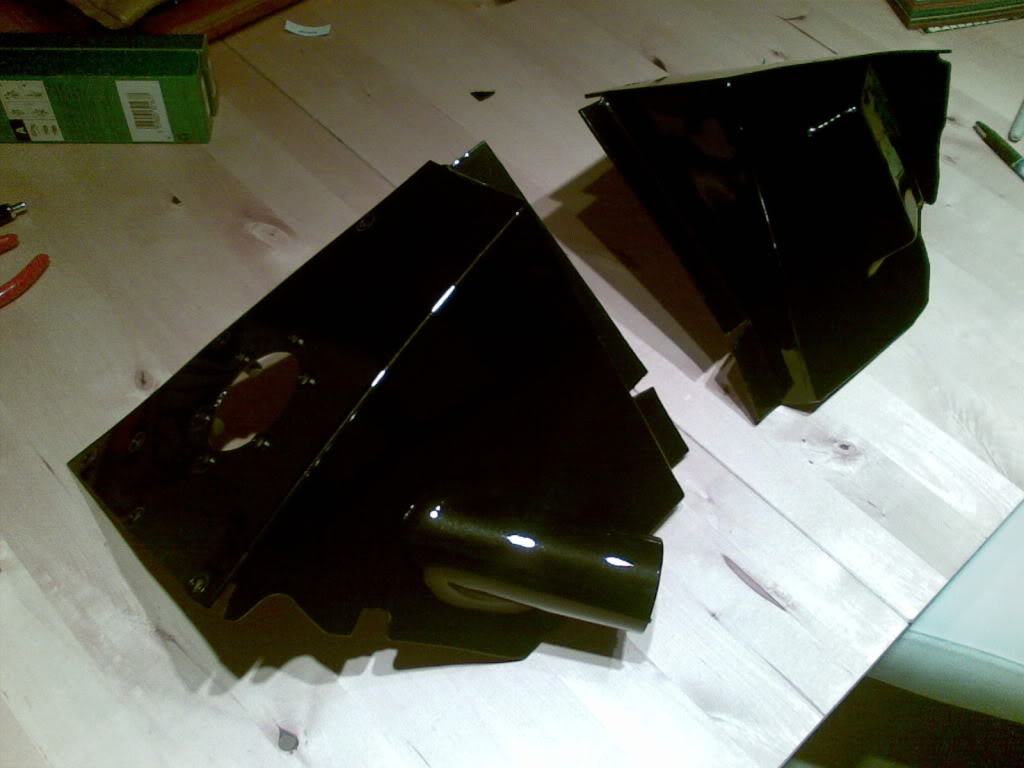 Now first offer up on the car: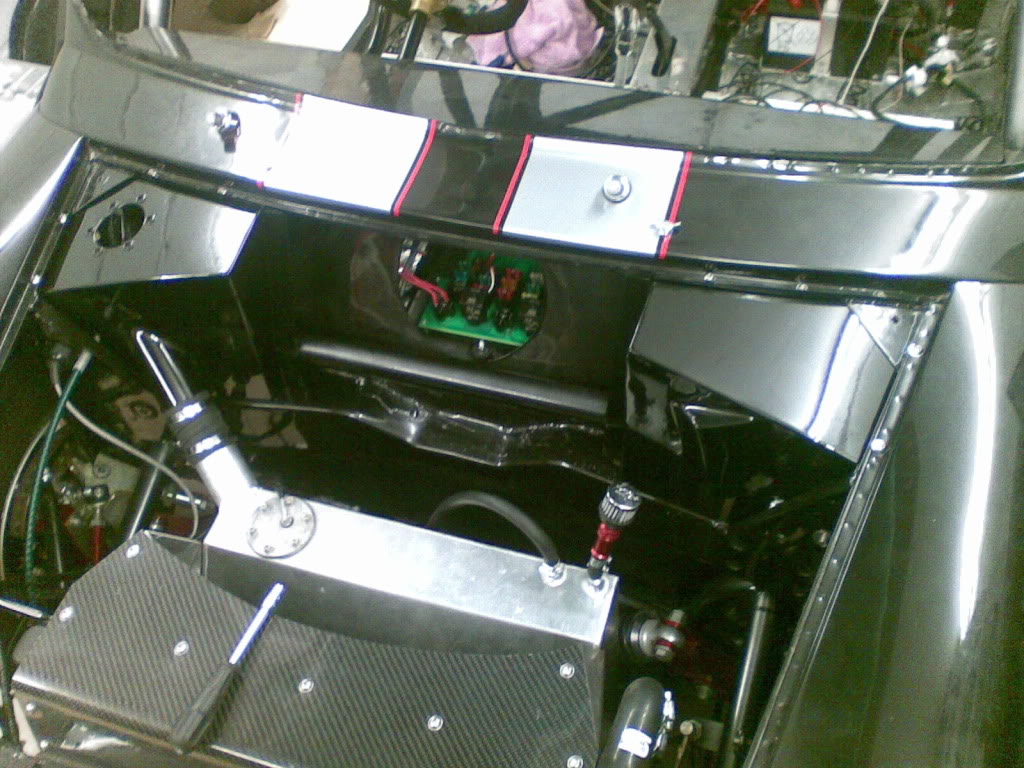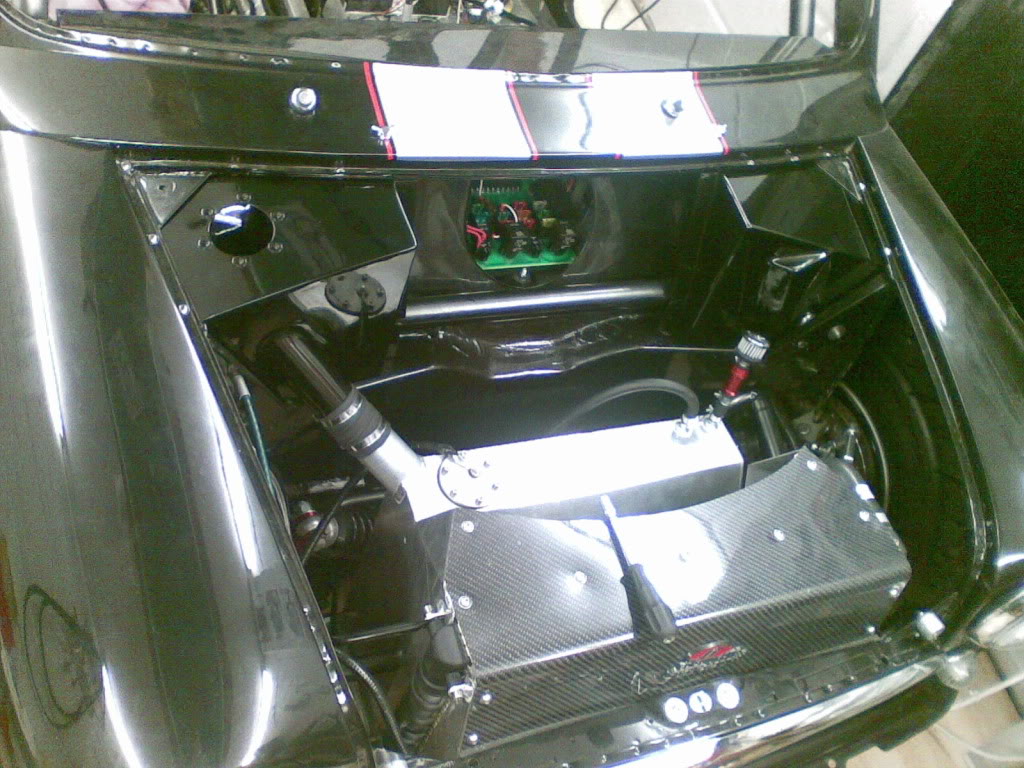 With the petrol cap in place: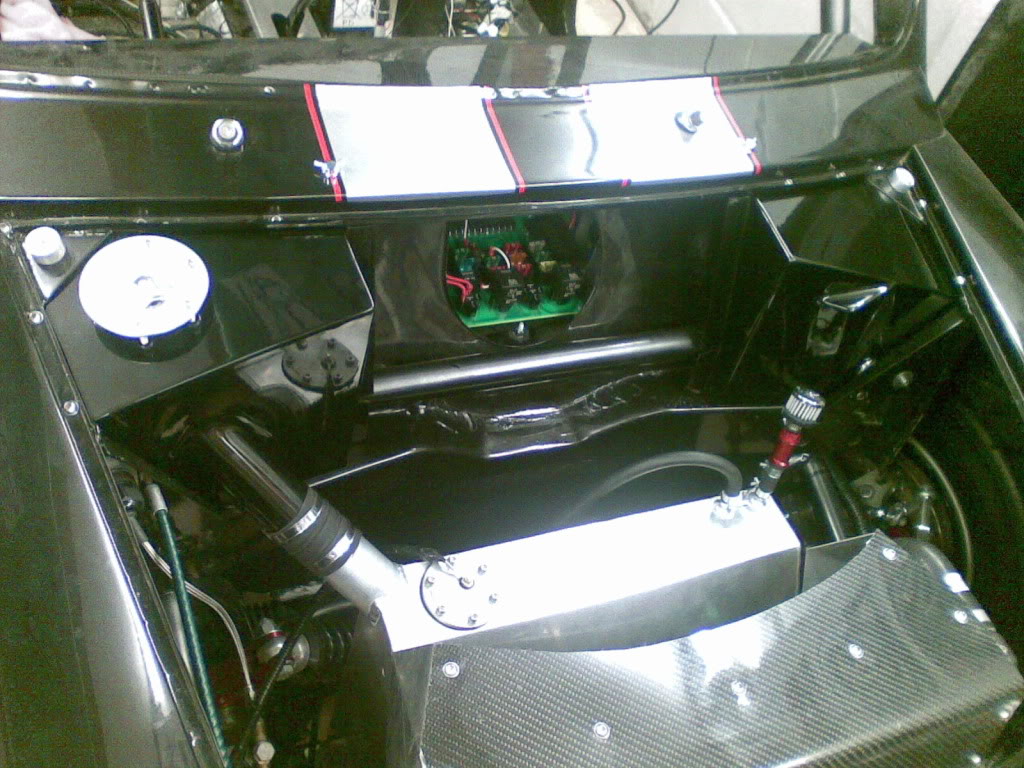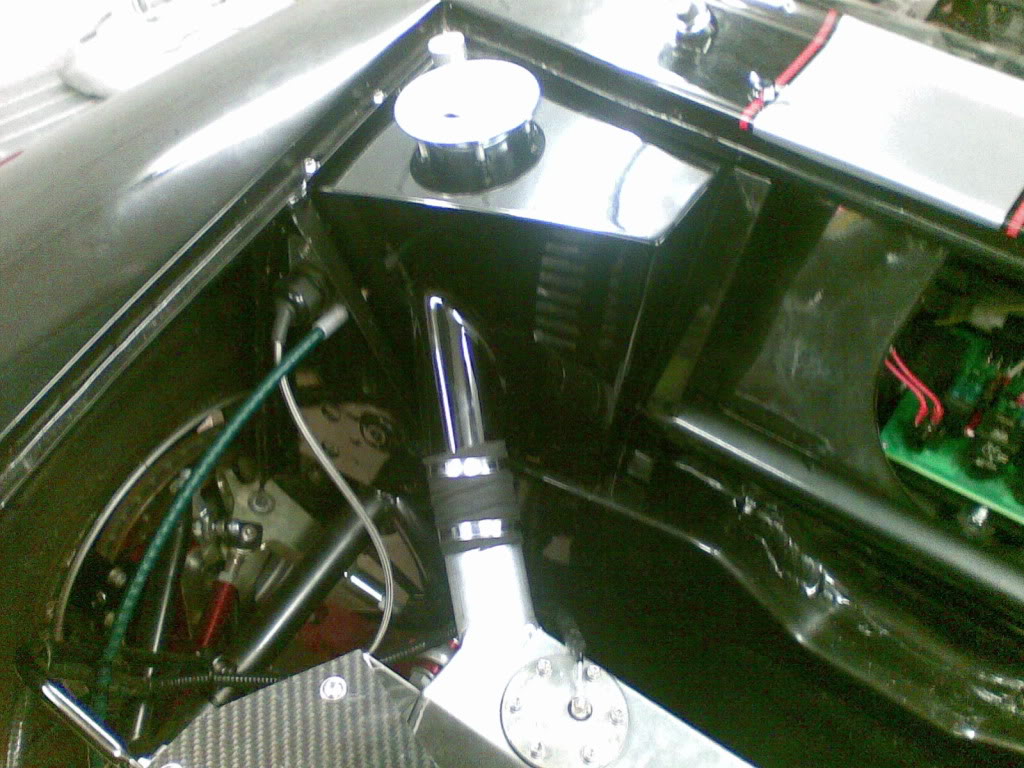 Wiper motor cover: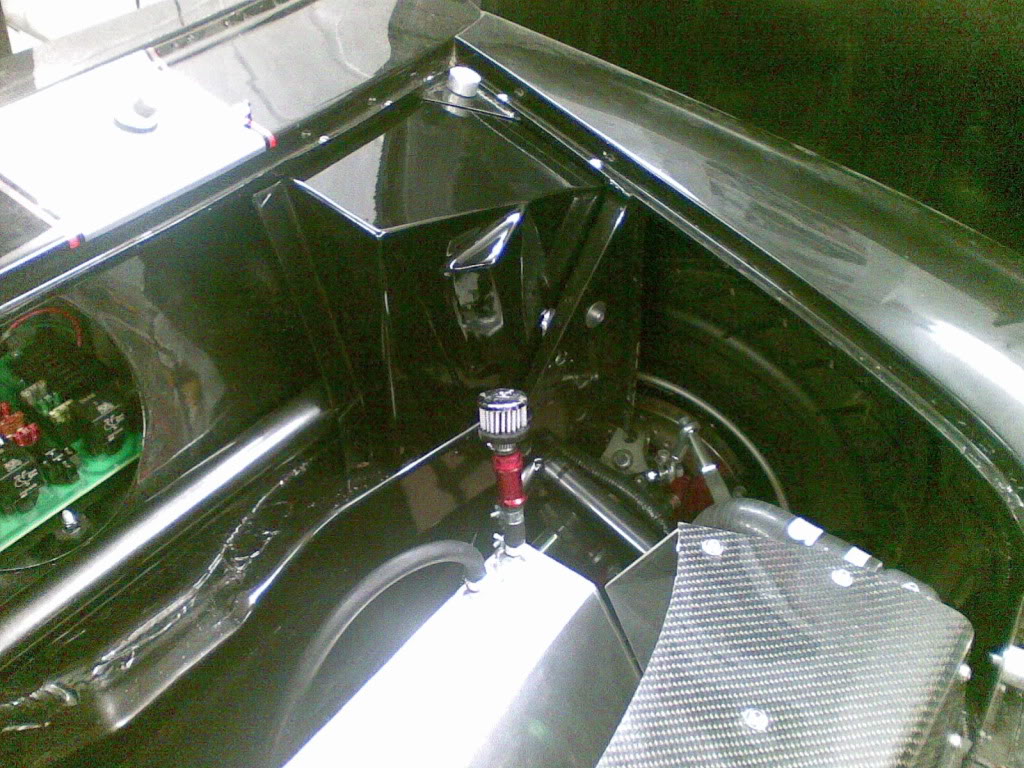 Centre plate template offered up:





Whilst I had the car out on the weekend I took a couple of snaps: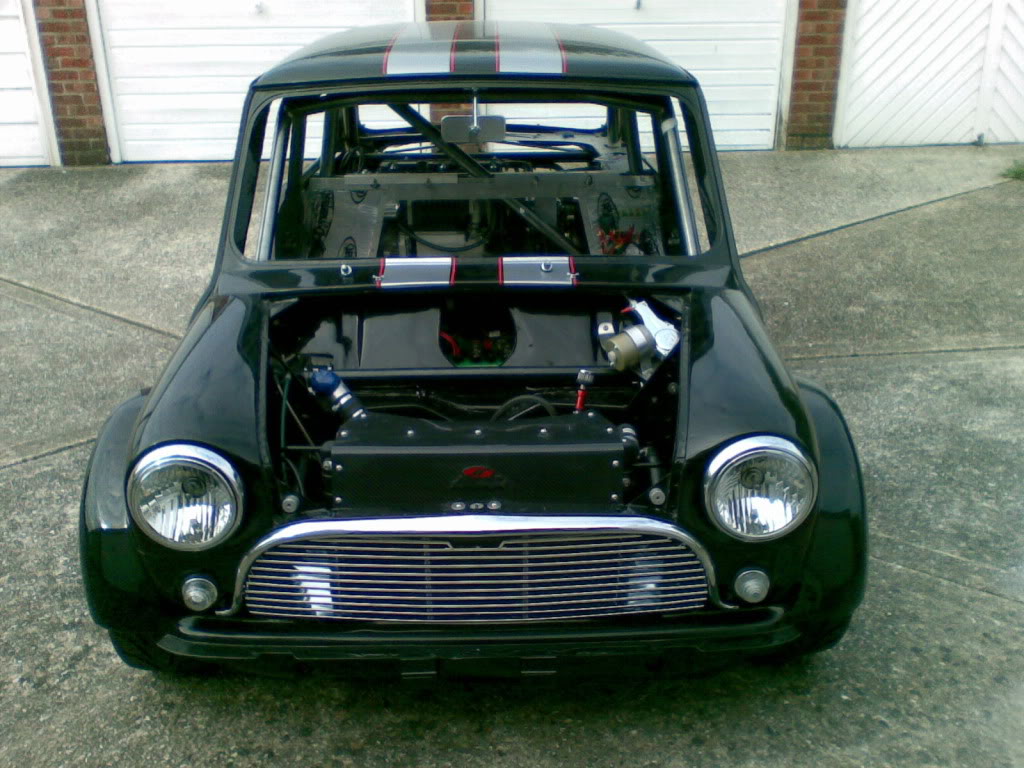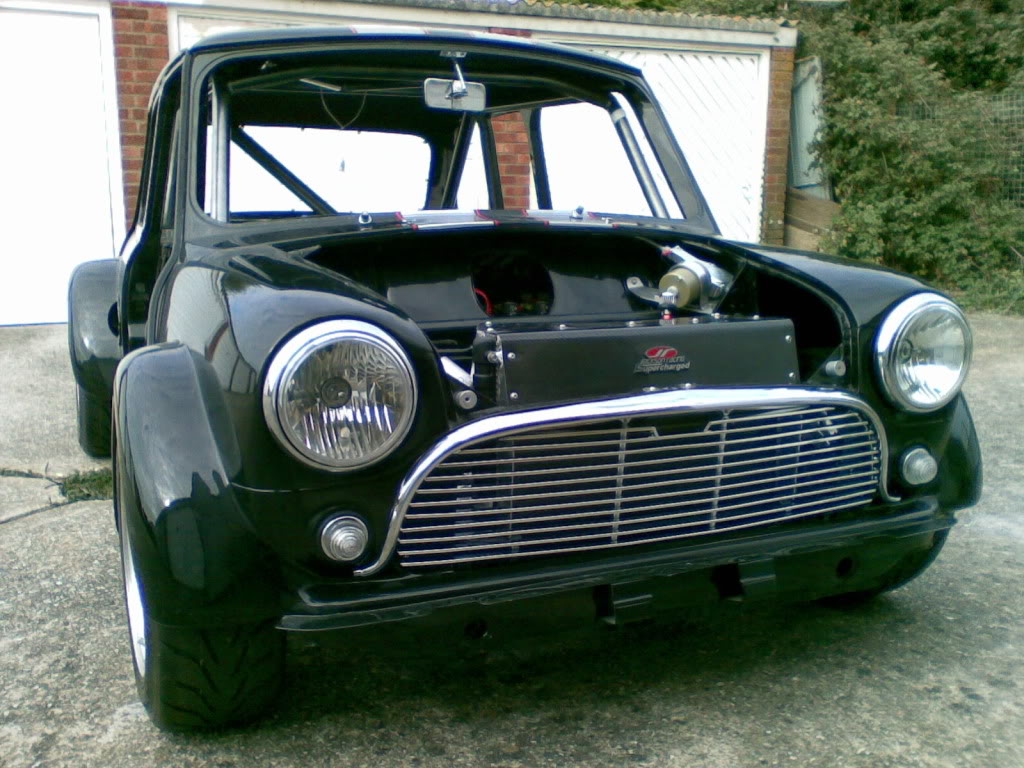 11-3-2009
Rockingham = Not Happening

Me making any more deadlines to try and stick to = Not Happening

The winter is here so I am going to be taking my time now (like I wasnt taking my time before I hear you say, in my defence doing pretty much everything on your own takes a lot of time).

Work continues but I dont have much in the way of photos right now, will try and get some over the weekend and get stuff posted.
12-14-2009
Progress has been slow, to say the least.

When I took the car to have it tuned I asked the guy to take a look over the car and advise of anything he saw that I might have done wrong or that were problematic or could prove to be problematic in the future. This has led me to to require a new diff for the car along with considerable reworking of the coolant piping and a few other bits. So its fair to say that I have recently hit rock bottom with the project, not only has the money run out but the weather is rubbish and the thought of running a cable round to my little cold garage isnt floating my boat right now.

However in the midst of all this woe I can see the light and will start to hit it again over christmas as i have some time off. Then January will see me hitting both the wagon and the car.

So over the last month or so I have had a Quaife ATB installed in the car, which wasnt cheap as for some reason the Gripper diff in the car had 10mm bolts in it but Honda use 11mm so I had to pay to have the holes in the final drive ring gear made 1mm bigger at £12 +vat per hole by spark eroding, plus new bearings, plus new bolts for the ring gear. I have to praise Guy at CPL Racing for his help and advice through this change and he only charged 2 hours labour as I dropped the box off to him.

You may be asking yourself why I had to change the diff - the Hondata ECU I am using relies on the use of the speedo pickup for some of its stratigies, like locking out reverse and allowing the vtec to work. So the Gripper diff didnt have a speedo ring gear, and after speaking to Chris at Z's I was told it didnt have the facility for the speedo ring gear.

So I spent the best part of a fortnight on the internet researching the different diff types out there for the K20. There quite a few and I was very close to buying a Wavetrac Diff as they seem to have overcome the only downside to the Torsen type diff (the Quaife is a Torsen type diff), the downside being that when one wheel lifts the diff will react like an open diff. If you want to read up on it heres the link: Quaife ATB.

The diff that I used was not the normal diff used for the Civic Type R, it is the diff specifically designed for the Ariel Atom, the helical gears in the diff are cut at 23deg not 31deg as normal. This makes the diff less agressive and ultimately much better for a lightweight, mid engined, high powered vehicle. I know and knew before I purchased it that it has the downfall of the losing dive if one wheel is off the ground but its major selling point to me was that its biasing is progressive (not like a clutch type LSD which is either on or off), this will make the car far easier to drive in day to day situations, OK it might let me down on a super tight corner on a track but as its not an out and out racer I am arsed......

Another consideration is that the Quaife is a fit and forget, not requiring any maintenance, unlike clutch types..

Another niggle that was brought up was that where I had mounted the temperature sensor for the coolant system was not ideal (I had mounted it on the outlet from the radiator), so again on advice I need to get it as close to the block as possible. The second problem with the coolant was that it wasnt pumping fluid to the radiator under 3000rpm, not helped by the heater matrix bypass pipe that I had purchased a few months before, so I hatched a plan to kill two birds with one stone.

I decided to make a bung/temp sensor adaptor to fit in the block where the outlet for the heater matrix was. This would involve me getting a blank for the heater matrix pipe that goes to the thermostat, some solid brass hex bar and an M20x1.0 Die, the 1/8NPT tap for the temp sensor I already had. I ordered the Die off fleabay on the 2nd Nov and only received it last week, the first brass bar that I ordered got lsot in the post, leading me to get a refund and having to order some more at nearly twice the price, this time it did turn up. Last week the prevous bar ordered in early October turned up as well, the only bonus of the last few months.

So I now need to make the part and install it. My only reservation is it proximity to the eggsauce, although I will make a shield for the outer housing of the sensor. The sensor itself will be well and truly in the flow of the coolant fuild so although it might show a slightly warmer temp than normal it should still be more accurate at showing the engine temps than near the radiator. As a safeguard to over heating I have three linked switches for the fans, one being the radiator switch, one being ECU and another being the external output from the SPA gauge, which can be set to whatever temp you want and can be easily turned on or off, so you can have an over-ride facility allowing constant fan if necessary.

So as you can see its been a testing time recently, not helped by lack of funds.

On the bright side only 7 more days until the days start getting longer..............
One more thing that was thrown up was the engine mounts needed upgrading due to the engine moving about 1" under load. So I bought some Innovatives from the states and have to install them at soem point also, typically they arrived 3 days after re-installing the gearbox (couldnt wait any longer as the car was booked in at a mates garage to use his two poster ramp), so another trip to the two poster in the future to change those over.

For info I ordered the 75A (track) version, 75A being the hardness of the rubber (for those that didnt know) and I only ordered the front and rear mounts as a different side mount is used on the Zcars kit. Approx £230 for the two inc P&P.

I got stung for VAT and a £16 handling charge from the robbing gits at Parcelforce.....If possible when ordering stuff from over the pond dont use USPS as everything they send comes via parcelforce, happened a couple times now.
The one thing I did get done recently was mount the Air Horns. I will let the pictures do the talking on this one as my fingers are aching from the two previous post - ha ha......

compressor mounted behind washer motor.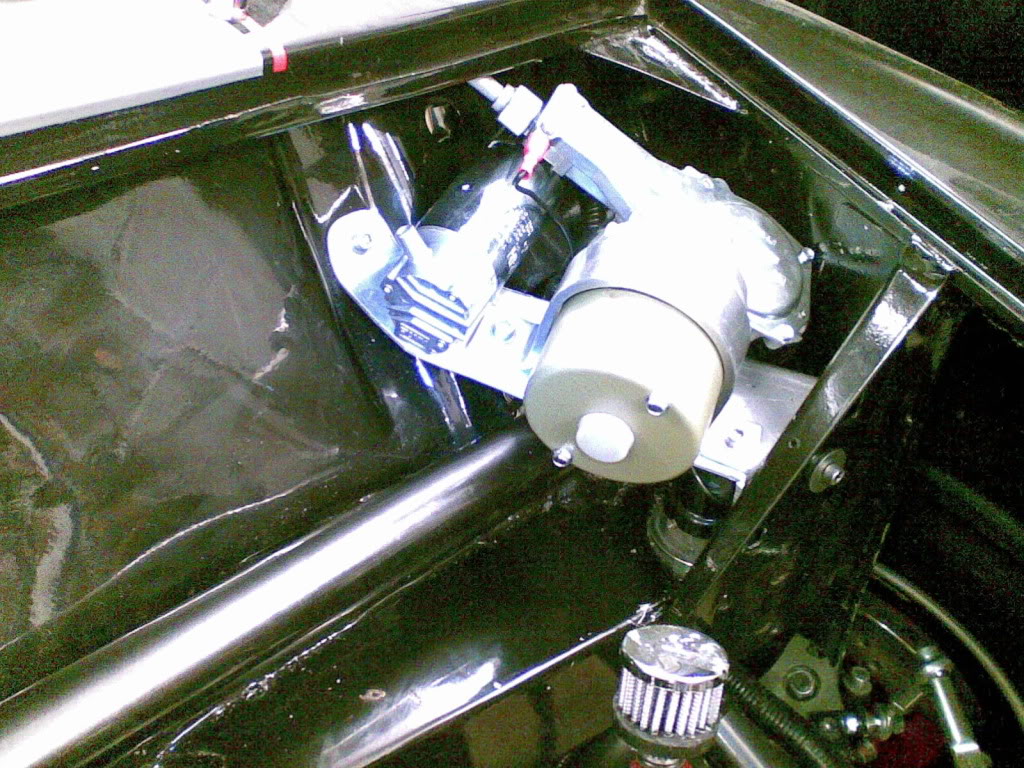 piping fed through another gland - handy things those glands....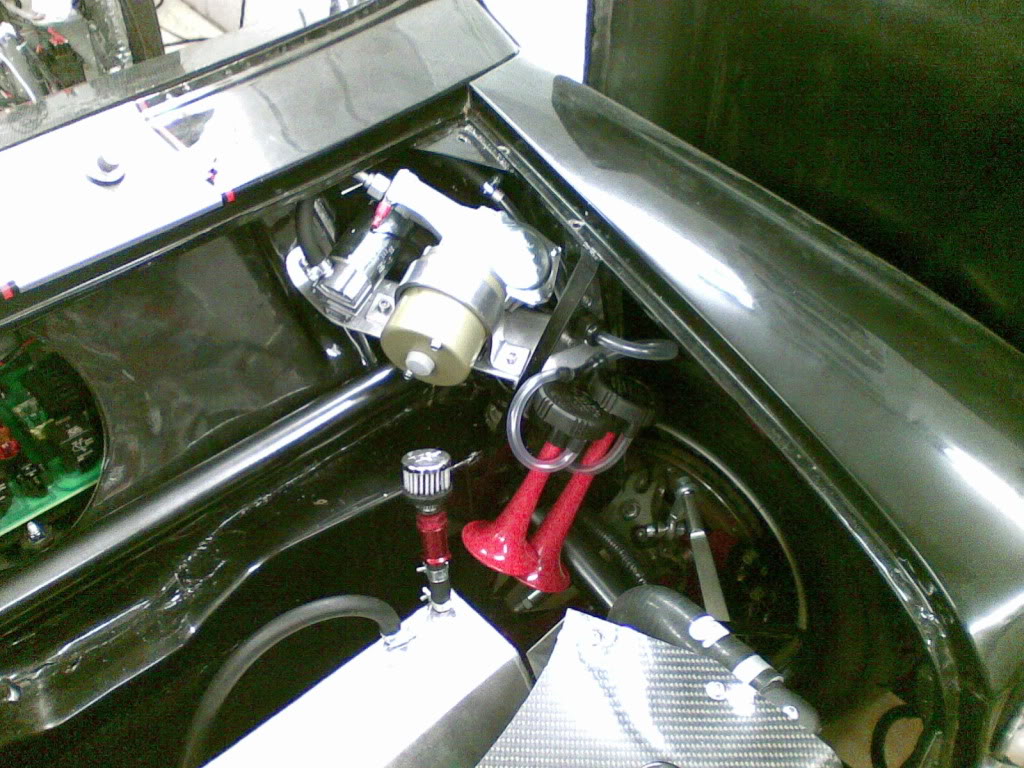 with the cover in place - neat eh?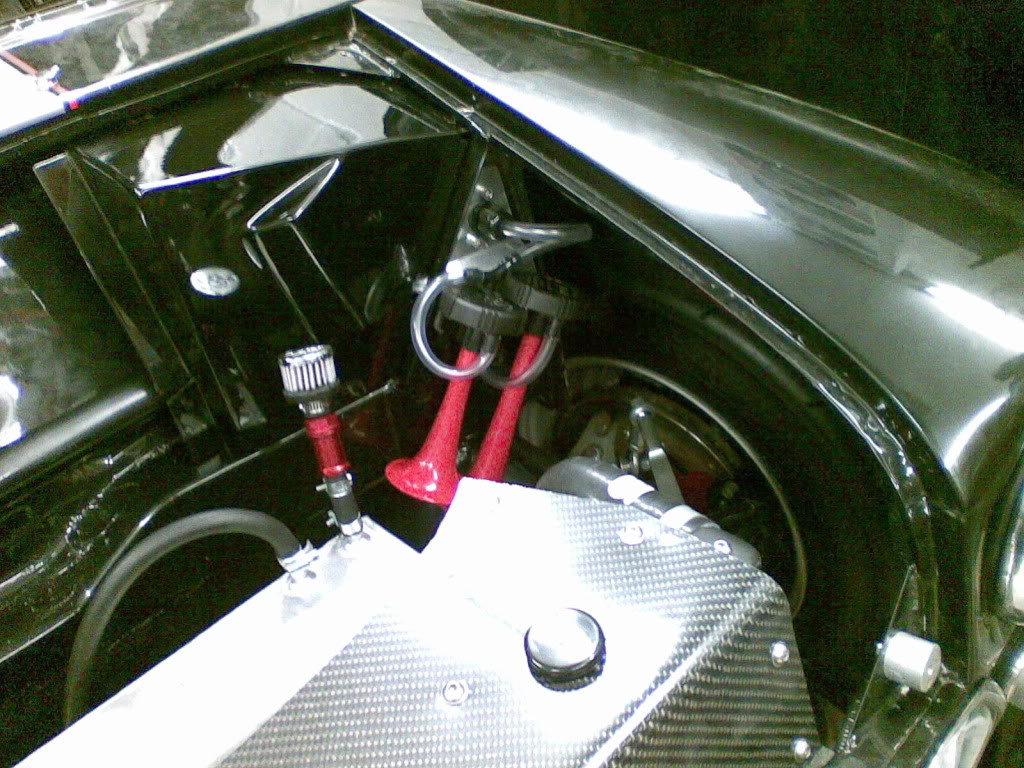 12-16-2009
Thanks.

The temptation to stick a seat in it and go for a blast has been very great at times, even recently after having the engine tuned I was going to just slap the doors on and take it to a track for a blast round but knowing that I had to swap the diff out made me see sense.

I can hand on heart say that I did not expect it to take this long but I have had a countless amount of setbacks along the way, the majority have not been of my making.

For anyone thinking of doing one of these consider that it isnt like a Caterham where you get every last nut and bolt and a nice instruction manual (I also apreciate that other kits dont) - Oh no, there is virtually diddly squat in the way of how to put one of these together (although Z's are alway happy to talk you through anything) and be prepared to fettle almost everything to make it fit, not just a little fettle but great big ones and maybe even the need to add metal during a fettle (I am poet and I dont know it).

However with all that said when I get to the end of this project I should have a much greater sense of acheivement than your basic kit car in a box person and I will have achieved what I set out to build - A one of a kind mini that will ruin most other cars on the road.

Others that have been down this road will probably agree with the following sentence;

During the build process the car has evolved into something far greater than I ever expected it to be.

I am not going to give up on it now, I am waaaaaaaay too far down the line for that, in fact writing this is giving me renewed vigour to get my sorry ass out in the garage and get tinkering.
1-26-2010
So with Christmas out the way and the snow now gone I have run out of excuses not to get on with the car, so the weekend saw me out in the garage getting stuck back into it - at last.......

Not out there tonight as its a bit too cold for me so I thought I would share my plans and some fo the stuff I have been up to.

First thing was I made another list of stuff to do, which keeps growing each time I go out to the garage but I am finding it the best way to deal with it, pick a thing that needs doing, knowing how much time you have and get it done - simples....

So in one of my prevoius threads I was talking about making a bung/temp sensor holder, well I decided against that idea and have now decided to go with just a stright blanking plug/bung for the old heater matirx output from the block. I have also decided (last night) that I need to take the supercharger and manifold off one more time so that I can get to the solid coolant pipe that runs from the thermostat to where it would have been connected to the heater matrix, pretty much right next to the bung I was just going on about. In the photo below you can see the solid pipe I am going on about. Note the flexi hose that follows that up and more importantly the housing at the top of the pipe.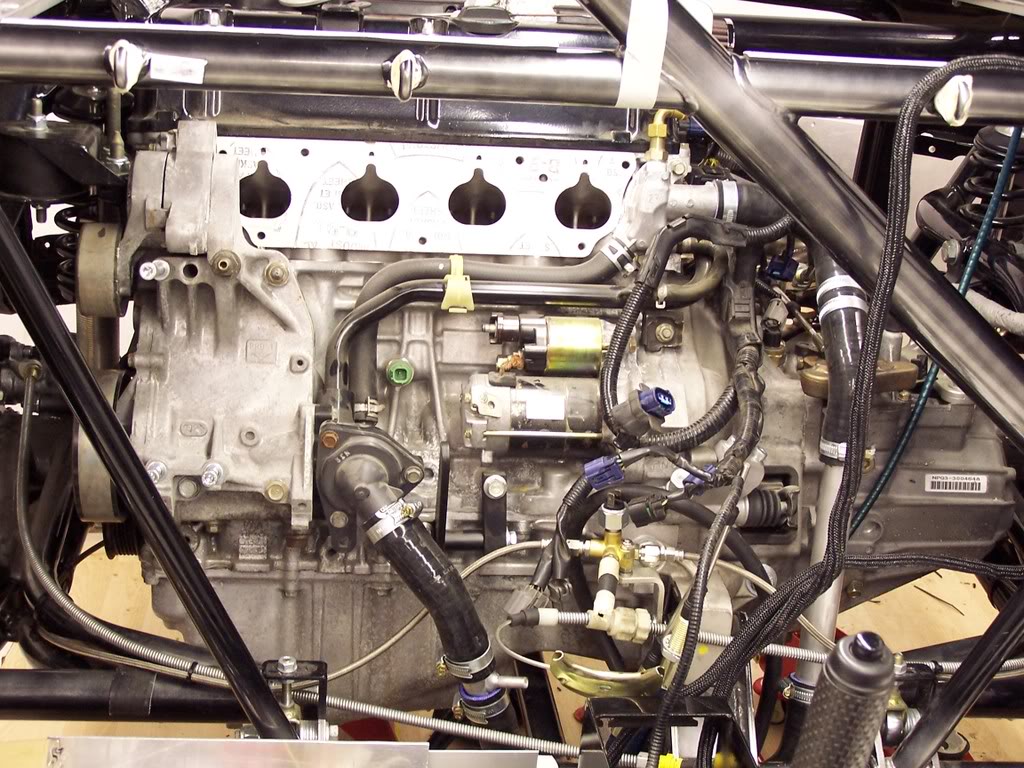 So I decided to put my water temp sensor right into this housing. I had made the decision some time ago that I wasnt going to run the pre-warm coolant pipes to the throttle body as I wasnt going to be driving it in conditions that would warrant it and I will always take the time to thoroughly warm the engine before taking it out. Also there will be much more heat coming back towards the throttle body from the supercharger than with a N/A engine.

I drilled out the lower 8mm steel pipes from the housing and tonight I popped into my mate Stevie G's as I had given him my 1/8" NPT tap to make my previously mentioned bung/sensor holder with (now just a bung - as above), we tapped that bad boy out and here it is - excuse fingers: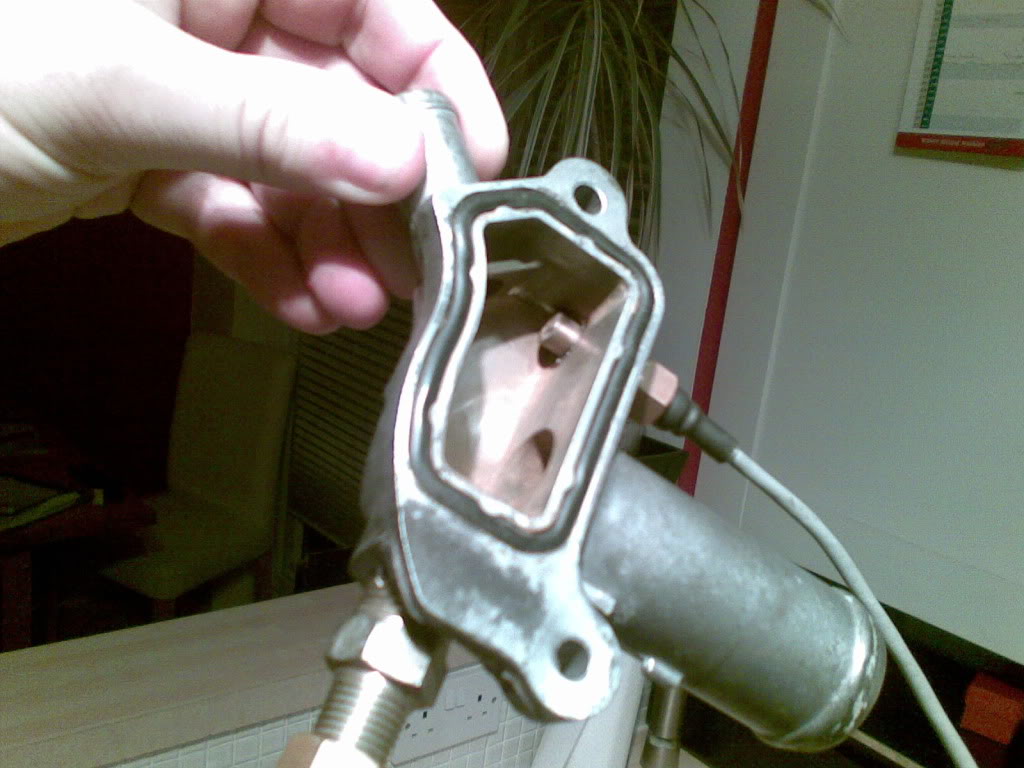 And here are a couple more shots - pretty poor quality though......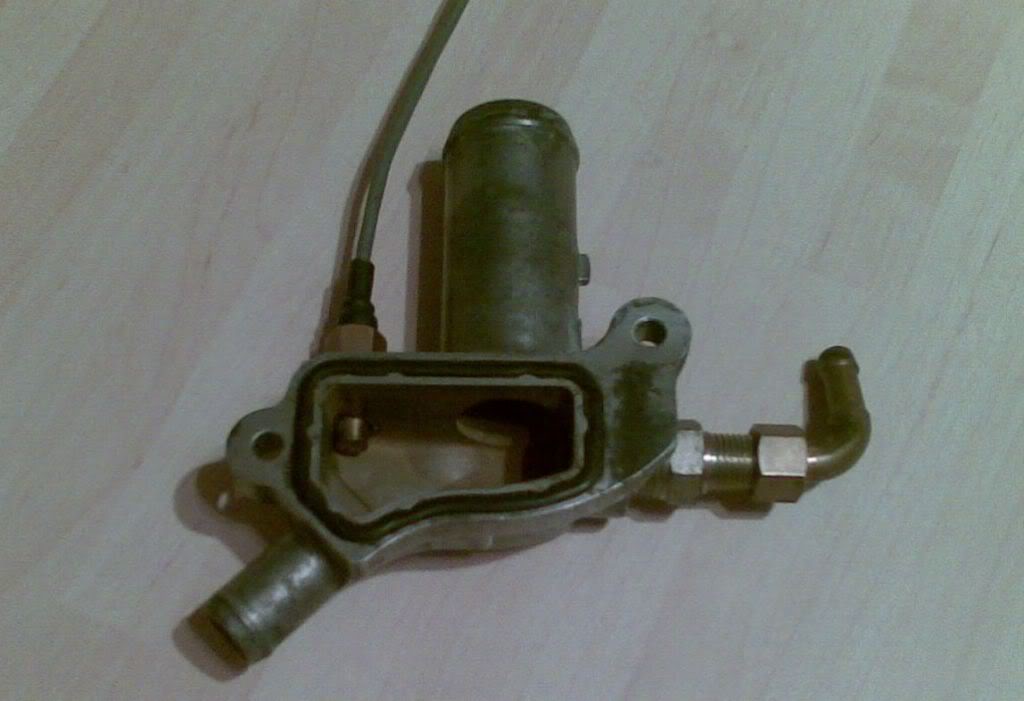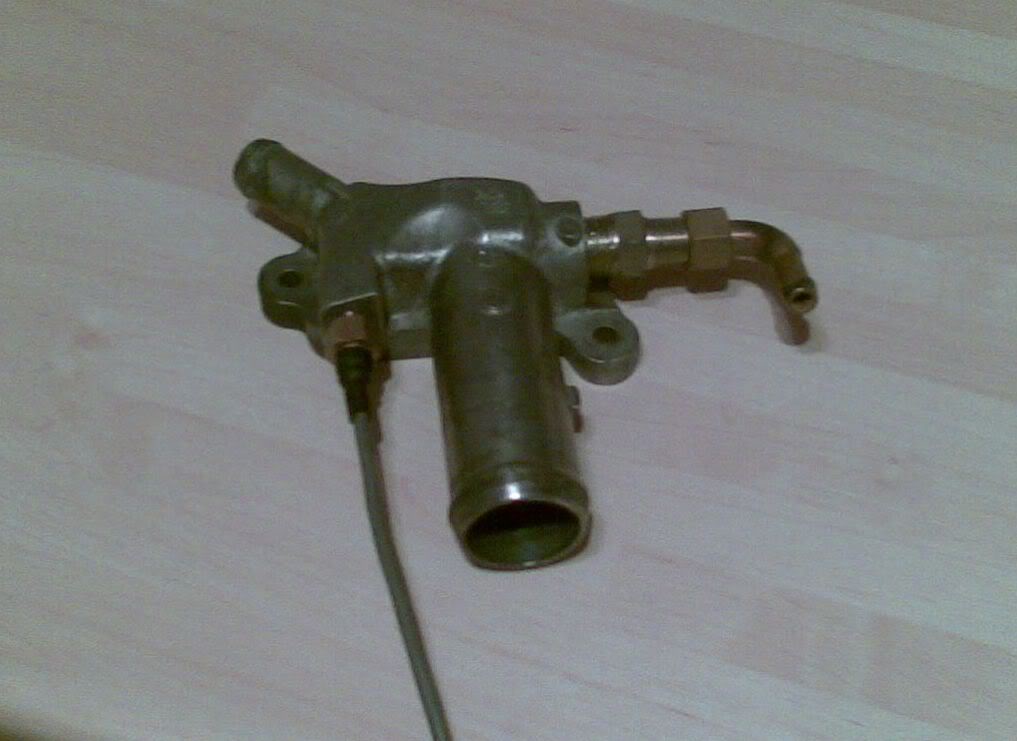 A got a couple of shots of my new engine mounts - I plan to get them in once I can get to back up to Crazy Mikes and abuse one of his his two poster ramps - seen previously when I took the engine out. Anyhow enough blah - here are the mounts (dont get too excited):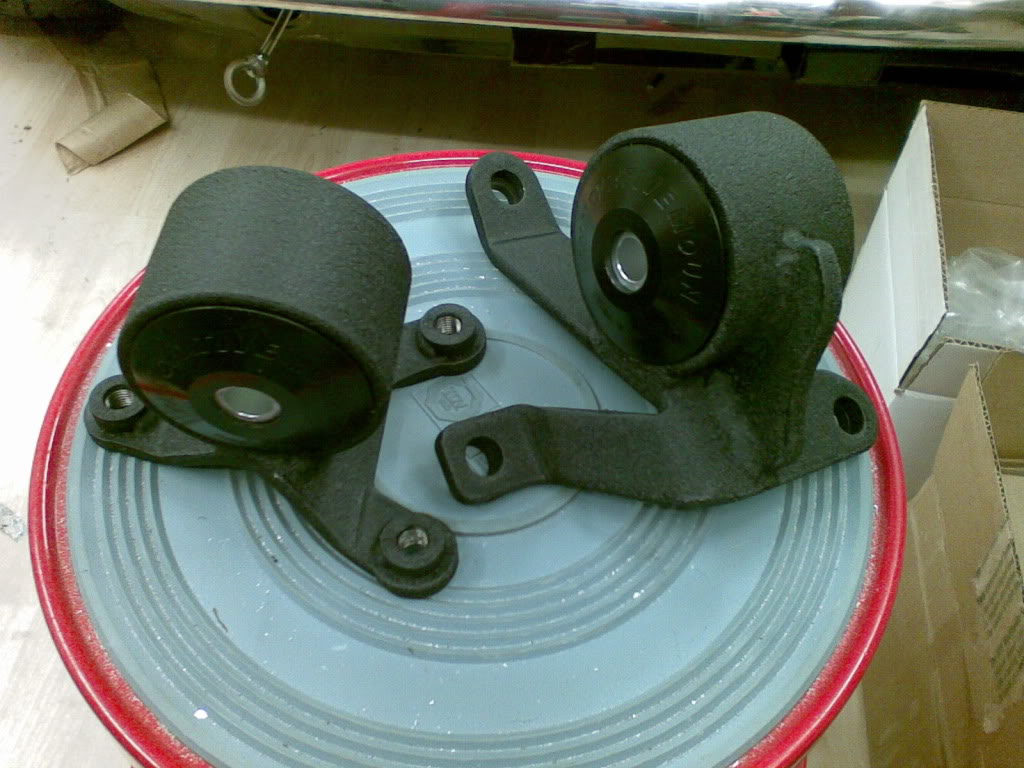 Yer I know there not the billet ones but it was what I could afford................

So the plan from here - get these coolant system bits nailed, finish off the few electrical bits I have yet to do, still a few bodywork (under bonnet) bits to do, doors need hanging, carpeting, in fact I already have a list why the feck am I repeating it all here, its safe to say that I still have a couple of months of work ahead of me to get it ready for a shakedown, my problem is I want everything to be just right before I take it out for a spin. I realise I will have to go over it again with the spanners to make sure all is tight but I dont want to go half hearted into driving it or things jsut wont get finished, even though I realise it will probaly never truly be finished as I already have plans developing in my head for intercoolers and other stuff


I knows its been a long road but I remember when it used to look like this back in May '08, its come along way since then: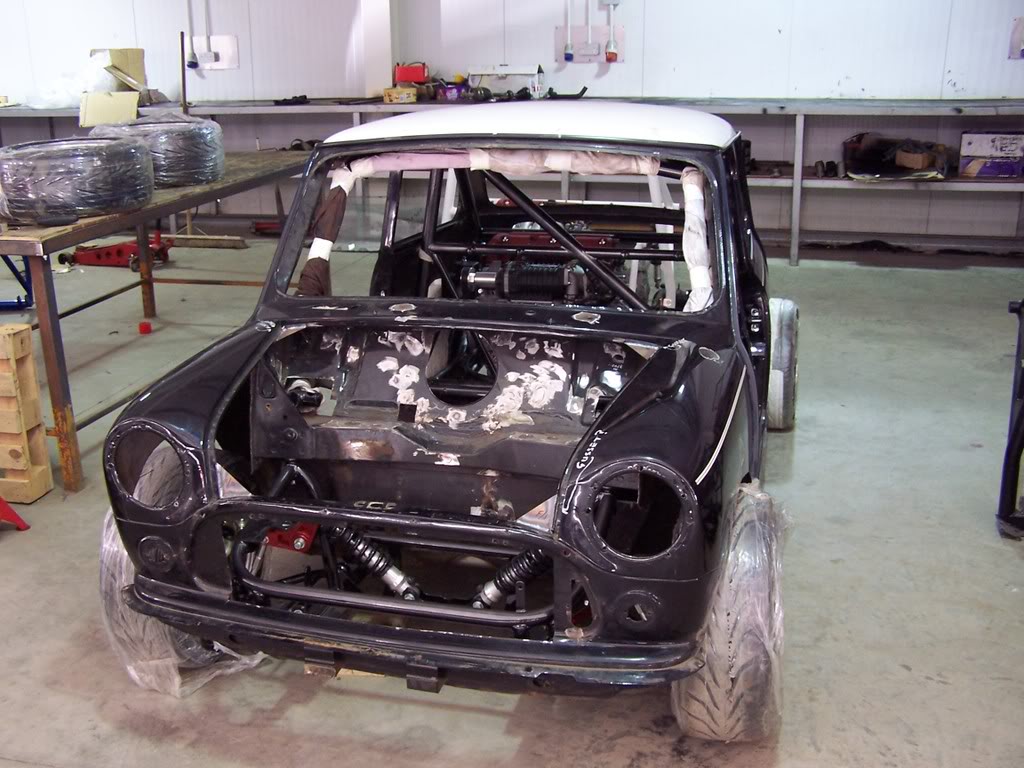 1-27-2010
If it aint finished by the summer someone come and shoot me.

I do plan to get over to the ring, I have a mate who is bang into the ring, he buys a season ticket & shares a tricked out scooby with his mate that lives in Luxembourg and they are getting 8:15 round it and he is always talking about getting the mini over there, plus my brothers into fast bikes and he plans to go over this year so need it ready for May time really - it is acheivable......I just need to extract the digit.
2-1-2010
The weekend was fruitful.

I managed to strip off the supercharger and manifold and got to the heater matrix pipe that I wanted to remove. Not without its problems I hasten to add, you forget how much stuff needs unplugging before you can get the S/C off, also the fuel rail needs to come off, which allowed me to fit some braided lines to it - bling....

In my quest to delete the unwanted pipe I stumbled across a part that I had made that I forgot to post up on here. It is the connection between the vlave cover and the air intake. Some might disagree with what I have done and say that the only reason that you breathe the valve cover back into the air intake is for emissions. On the other side fo the coin a very good reason for breathing into the air intake is the same reason for a PCV valve (positive crankcase ventilation), it creates a vacuum for the rotating parts to work in, especially good for high revving engines.

Not much to look at but you get the idea: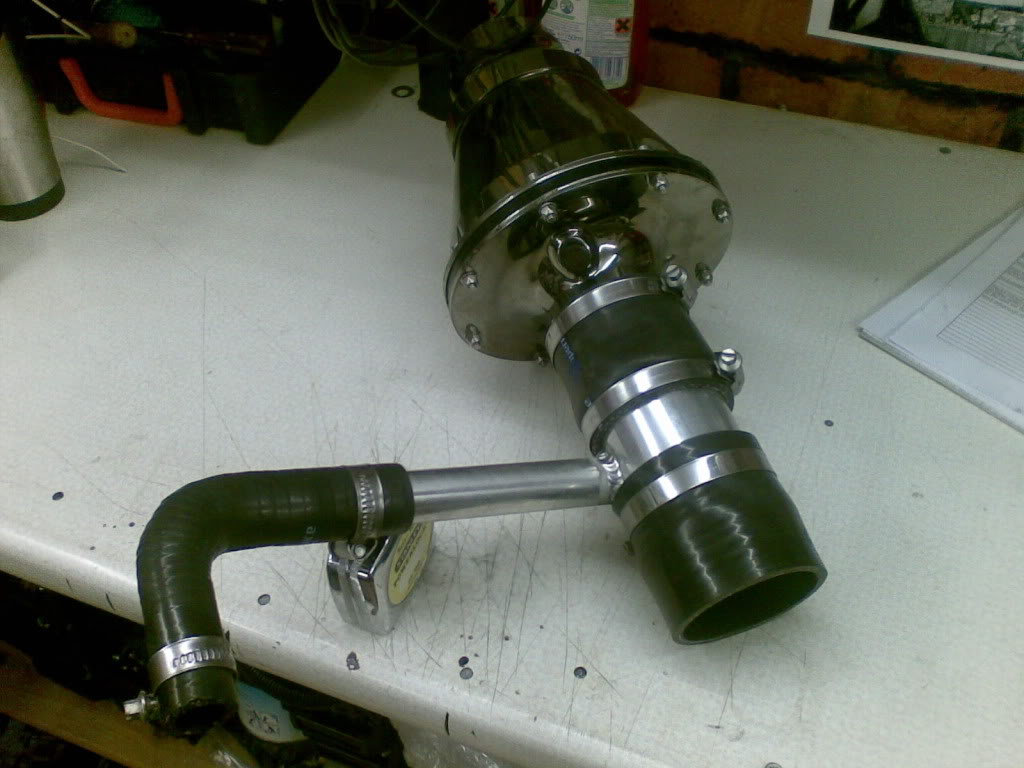 So I took off the old solid pipe I have been going on about, I had a good measure up and then got designing a bung for it, I was thinking somehting similar to what you can buy from k-tuned.com but then I realised that there was a floor in my thinking as the filling of the coolant system is different to that of the civic and that currently the coolant is fed to the pipe that sits just outside the thermostat, so in theory the coooant will fill the front-back coolant lines and the radiator, however I am not 100% confident at its ability to fill the block. So I decided that the bung was now going to be a second filling point in the system. I drew up a design and got my good mate Stevie G to turn it up for me, while he was at it he also turned the bung for the rear of the block (heater matrix output from the block - M20x1.0). Utilising the o-ring that was on the original pipe I have got a second feed. All I need to do now is fit it into the thermostat housing, pilot drill a hole then tap it out to ensure it doenst pop out under pressure.......

Supercharger and manifold off and onto the bench: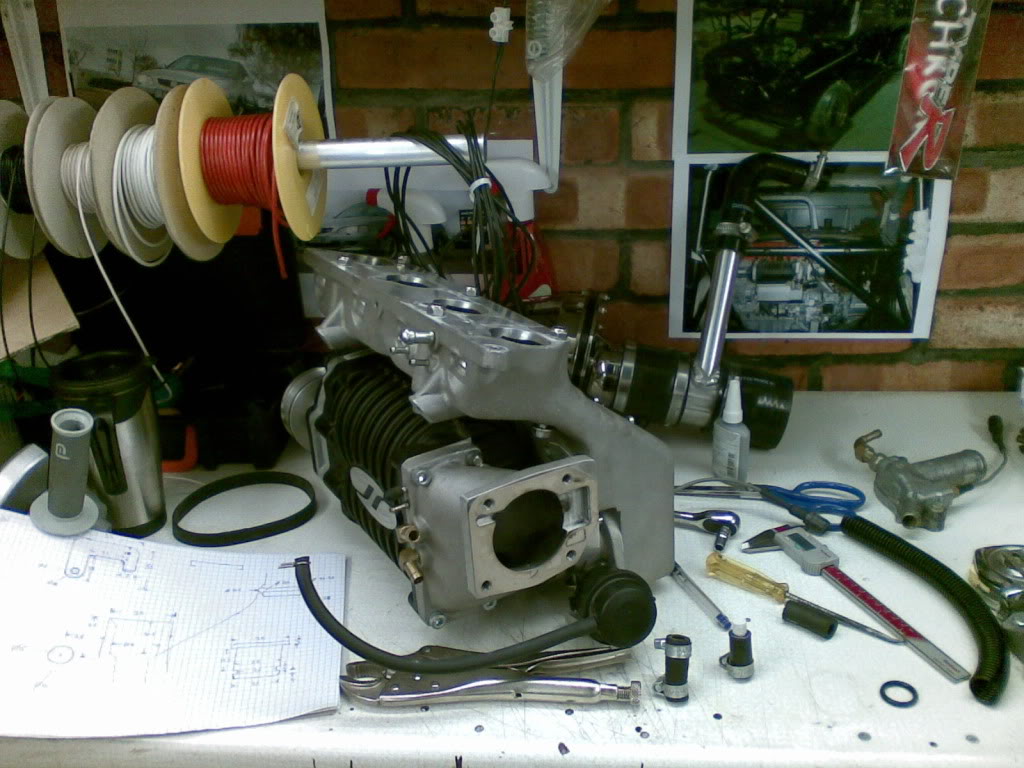 Old Solid pipe removed from the equation: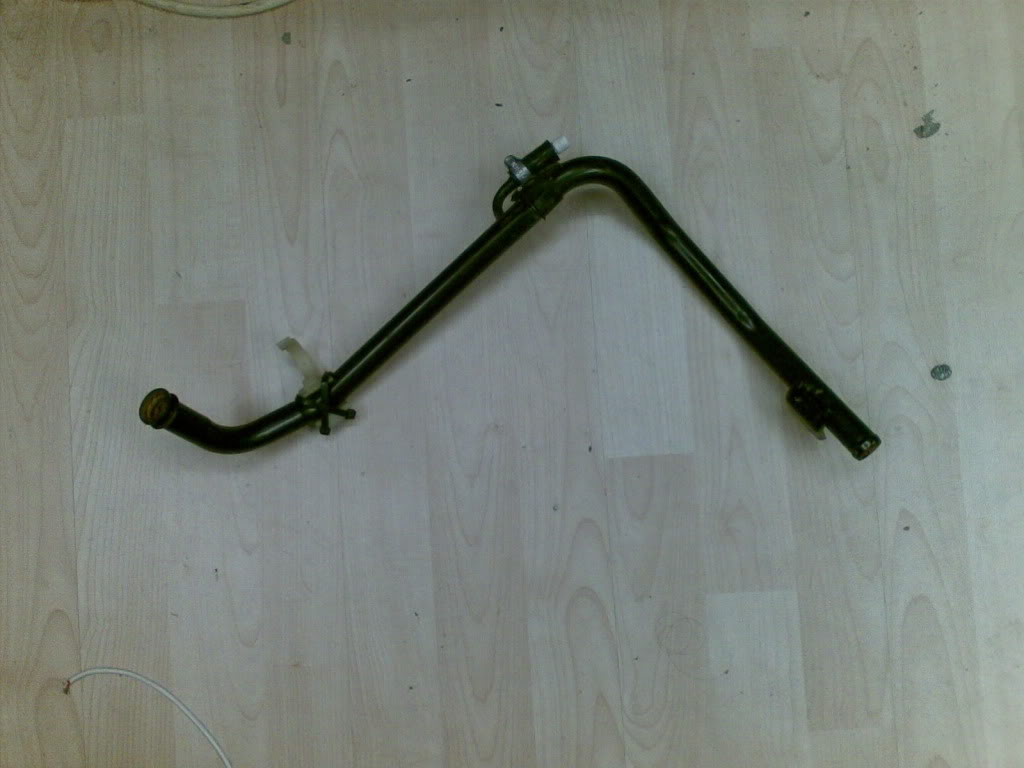 New filler bung in its new shiny glory: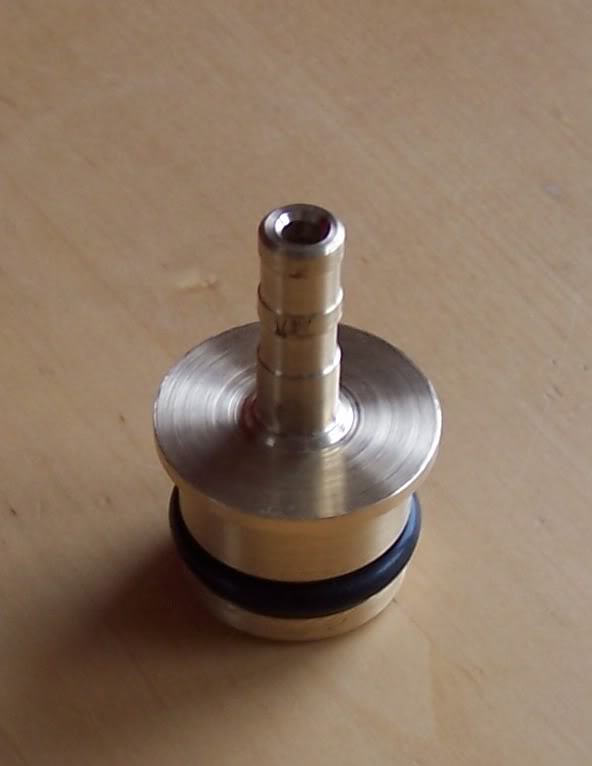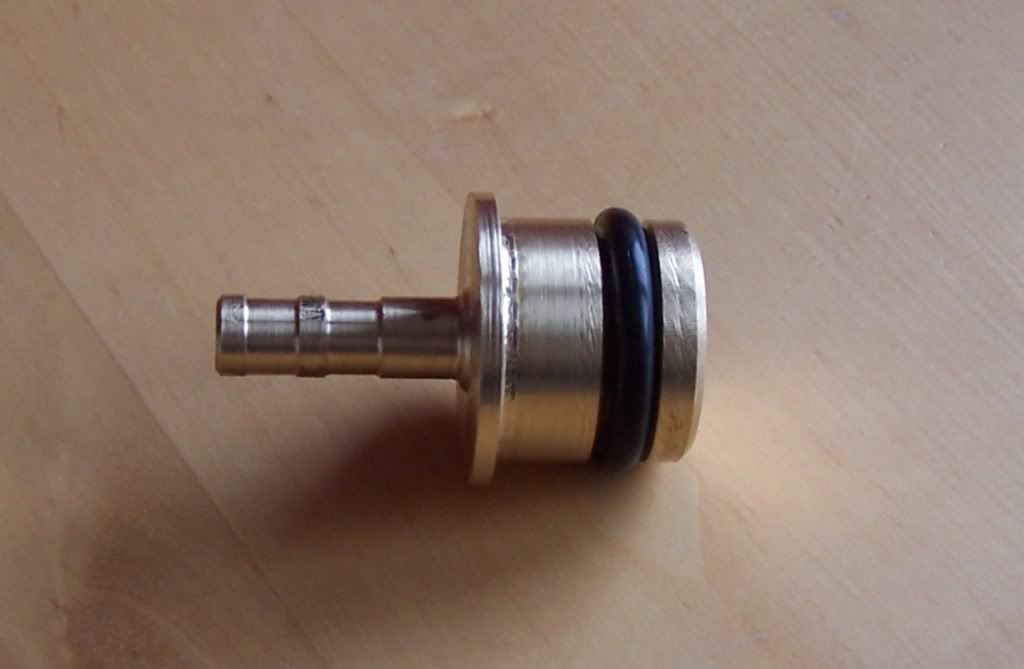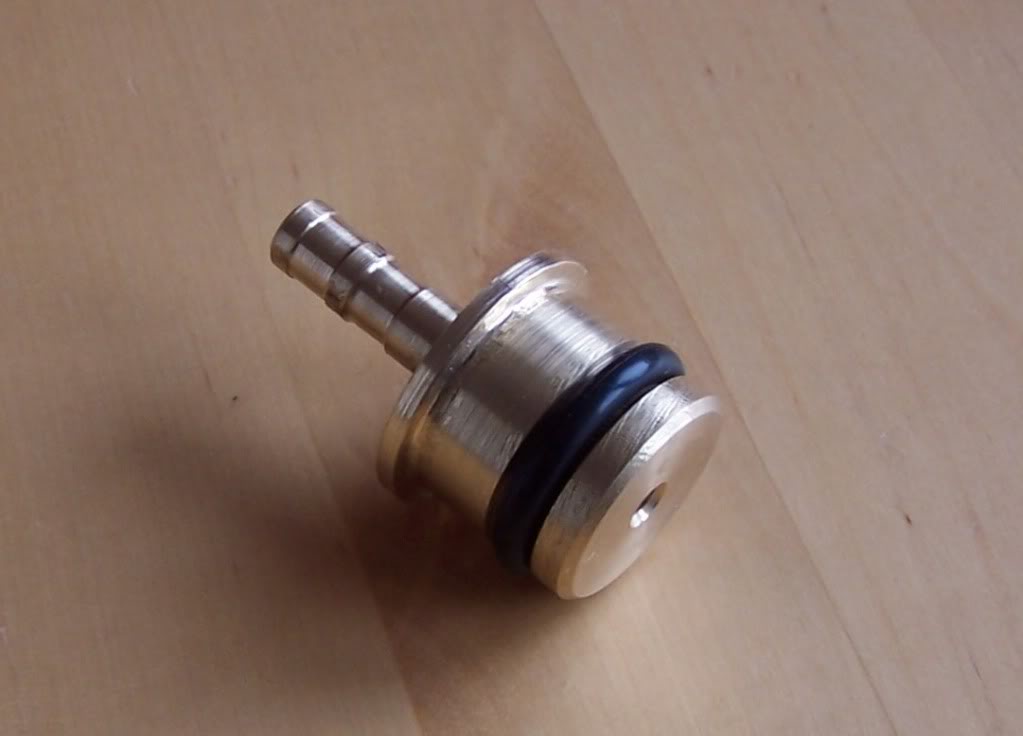 The new heater output bung, also in its new shiny glory (thanks to Mike at K-tuned for telling me the size of the threads, even the guys at Honda couldnt tell me):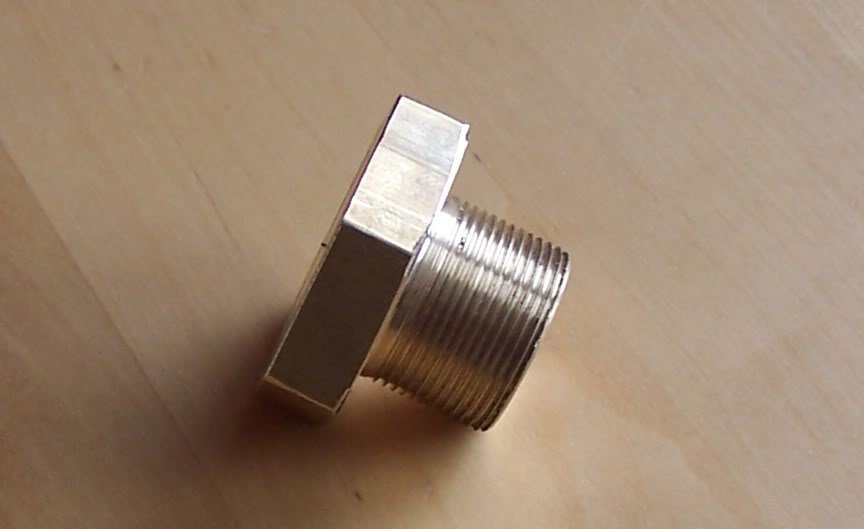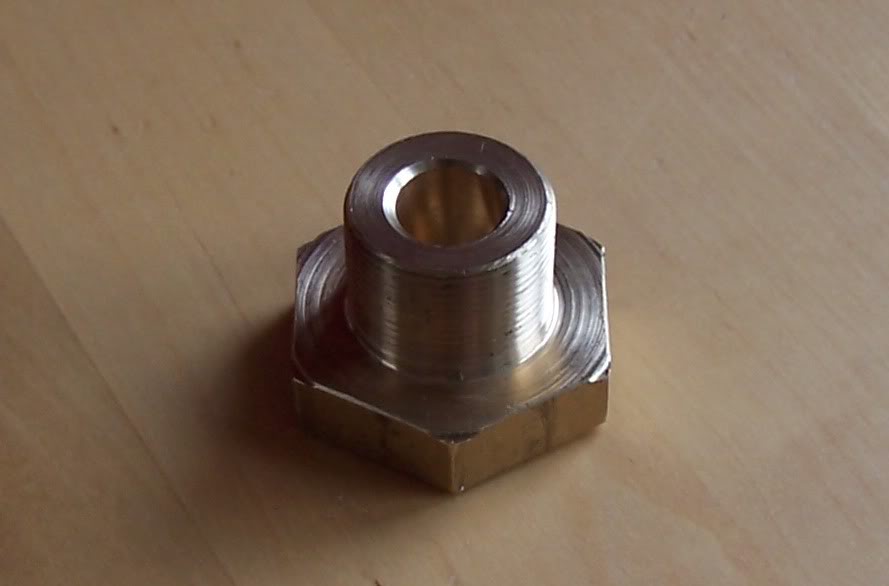 And here they are ready to go in, I only offered them up as I have some other work needs doing before I install them: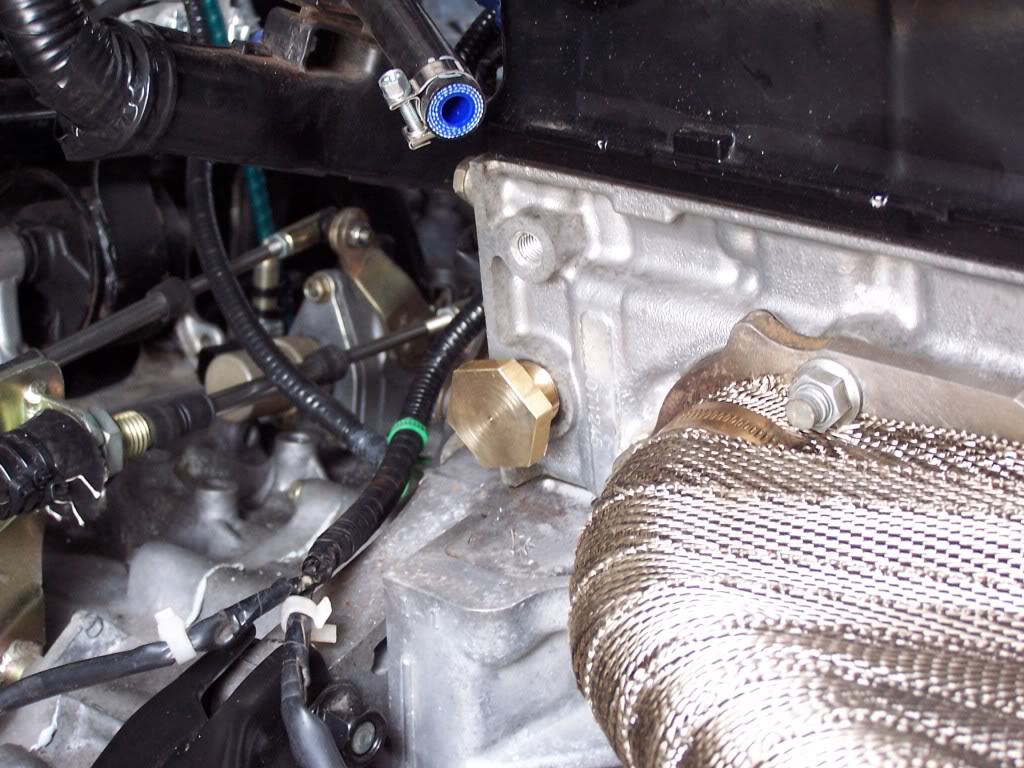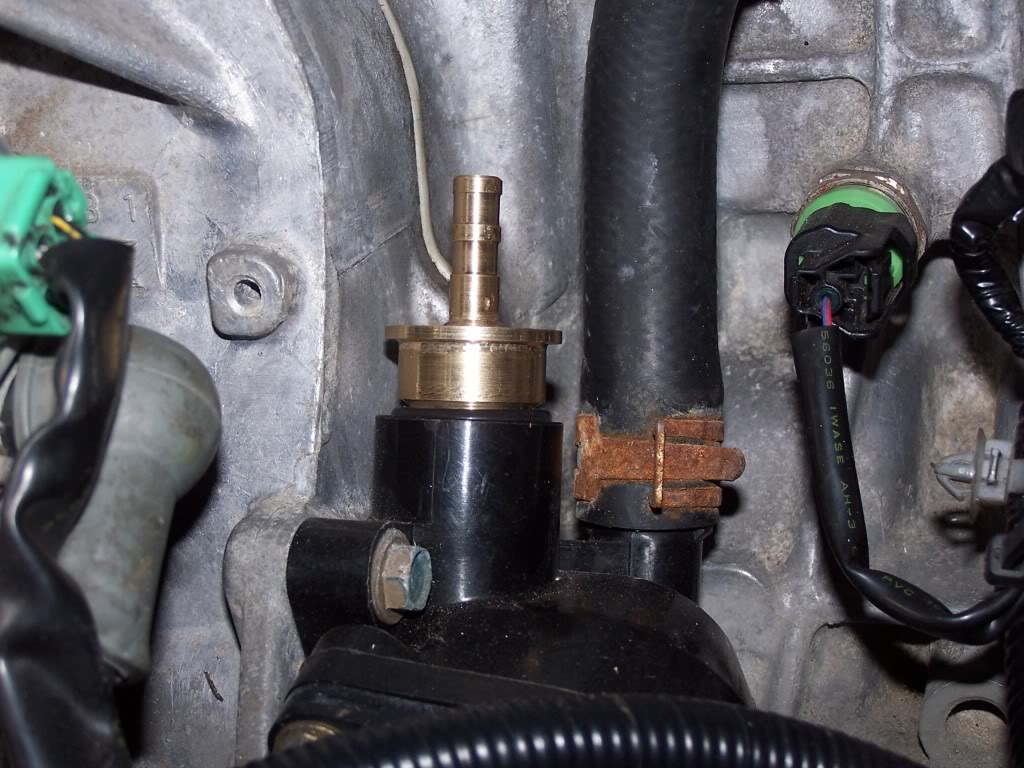 The assault continues..................
On the subject of the valve breather, in an ideal world you would send the blow by gasses via a catch can. I do intend to do this in the future and after lots of research when I had my back op I have designed my own catch can, right now its a distraction that I dont need so it will have to wait til the car is finished, then I will fabricate one for testing. Trust me when I say its not the usual BS catch can you buy off ebay, its foundations are similar to catch cans used in aeroplanes and helicopters. This should stop the engine pulling in loads of unwanted oil into the combustion chamber.
2-2-2010
Coolant Filler/Bung:

Tonight saw me fettle the fitting for the filler/bung. All done by hand tools (minus the drill if you dont count that as a hand tool).

I have been searching the tinterweb and have found a few different solutions for this problem, none of them offering the filler option but a couple of companies that sell bungs with different ways of fixing them into place. My first choice would have been from k-tuned - CLICK ME FOR K-TUNED BUNG, the second was Rcrew Racing - CLICK ME FOR RCREW BUNG, SCROLL DOWN THE PAGE A LITTLE.

Both options were good, I particularly liked the K-tuned because it didnt rely on drillng through the thermostat housing, so that is the path I have chosen...........even if a little sideways in my attack.


I will let the pictures do the talking, because I could go on for hours...........................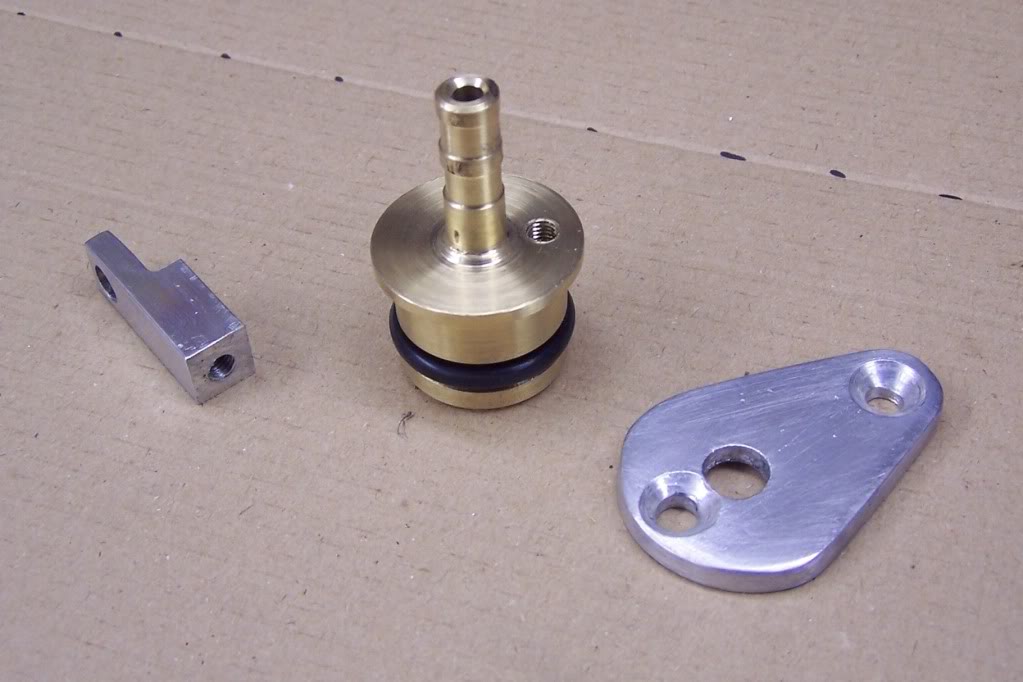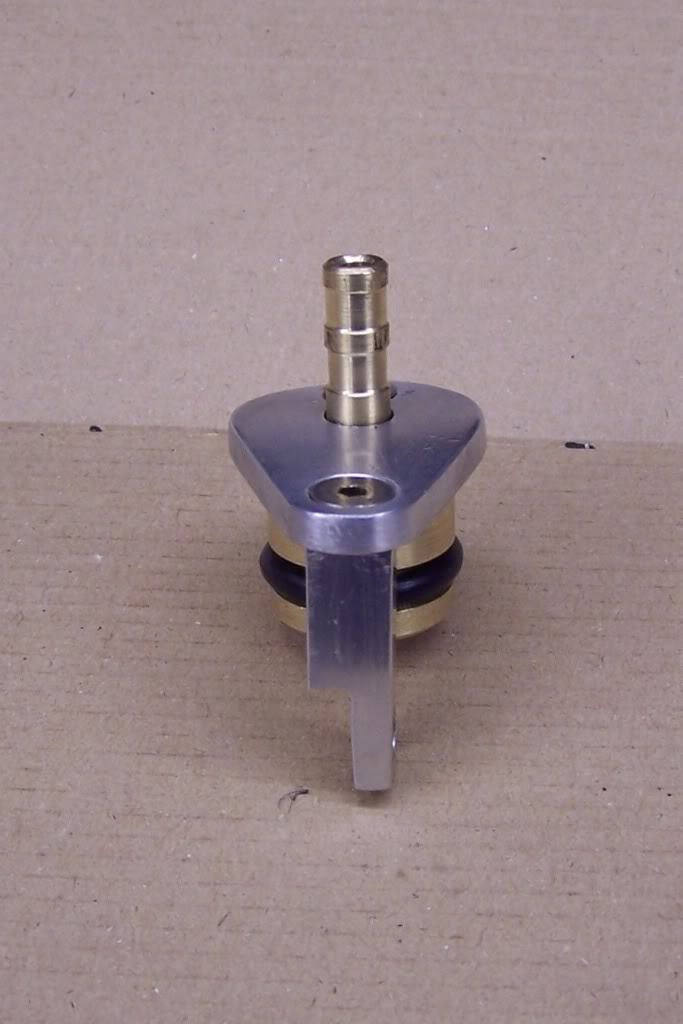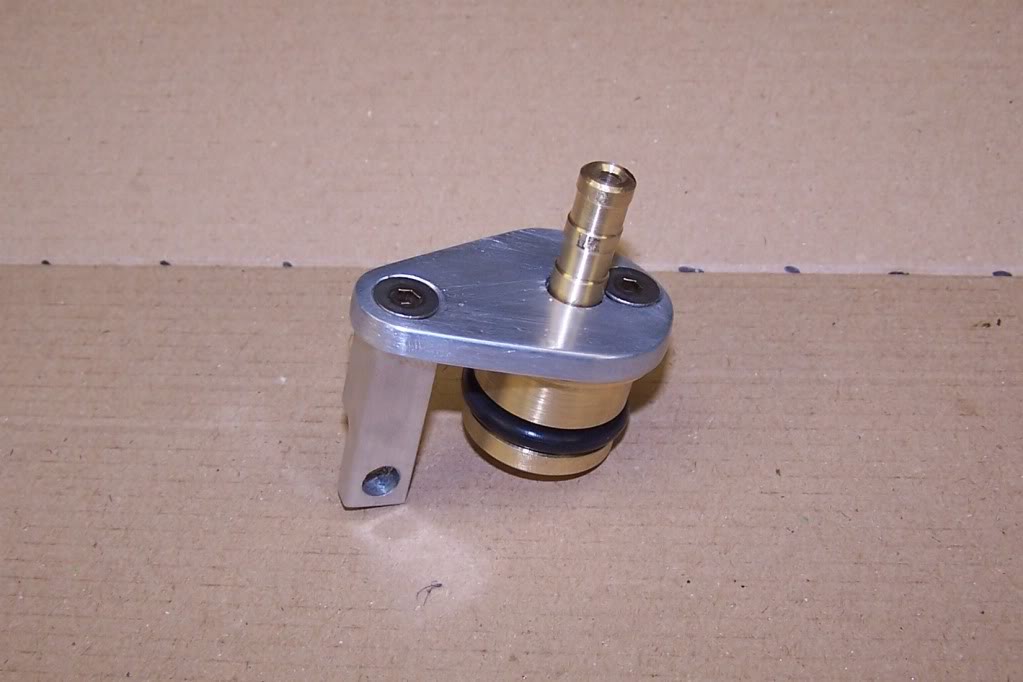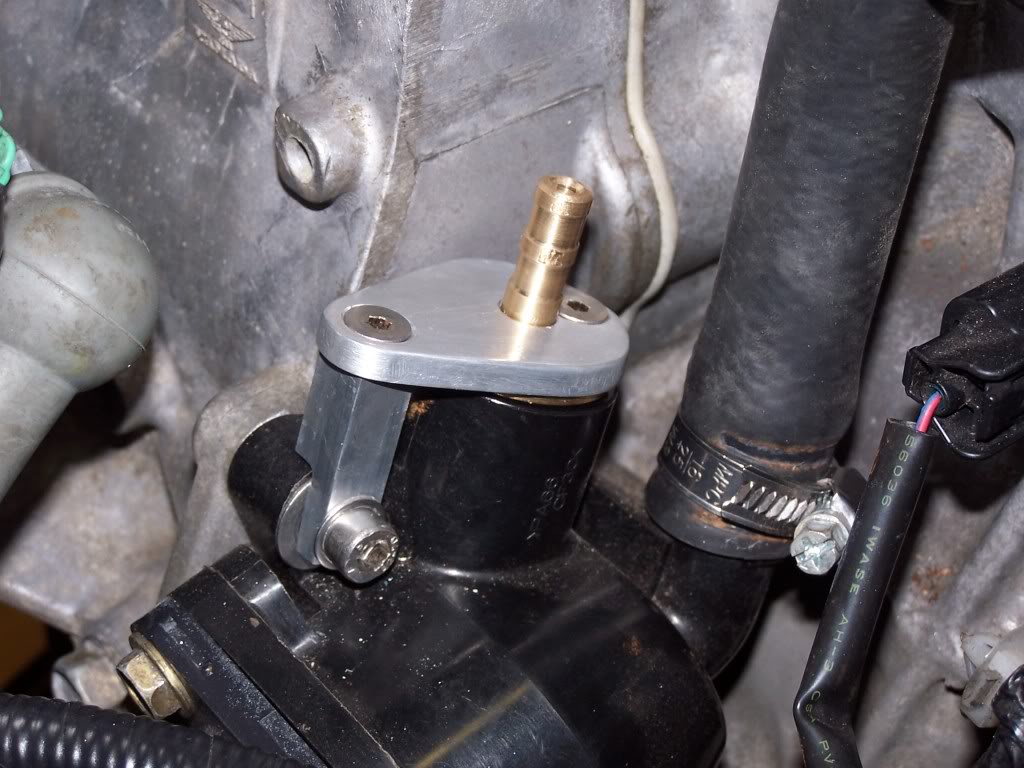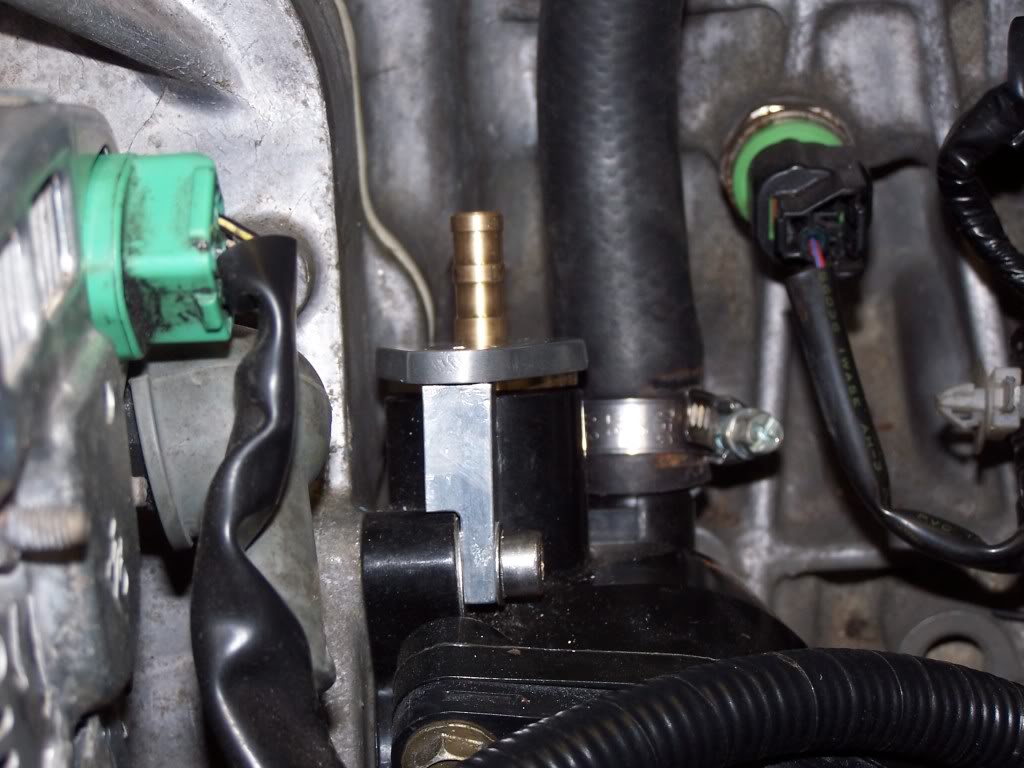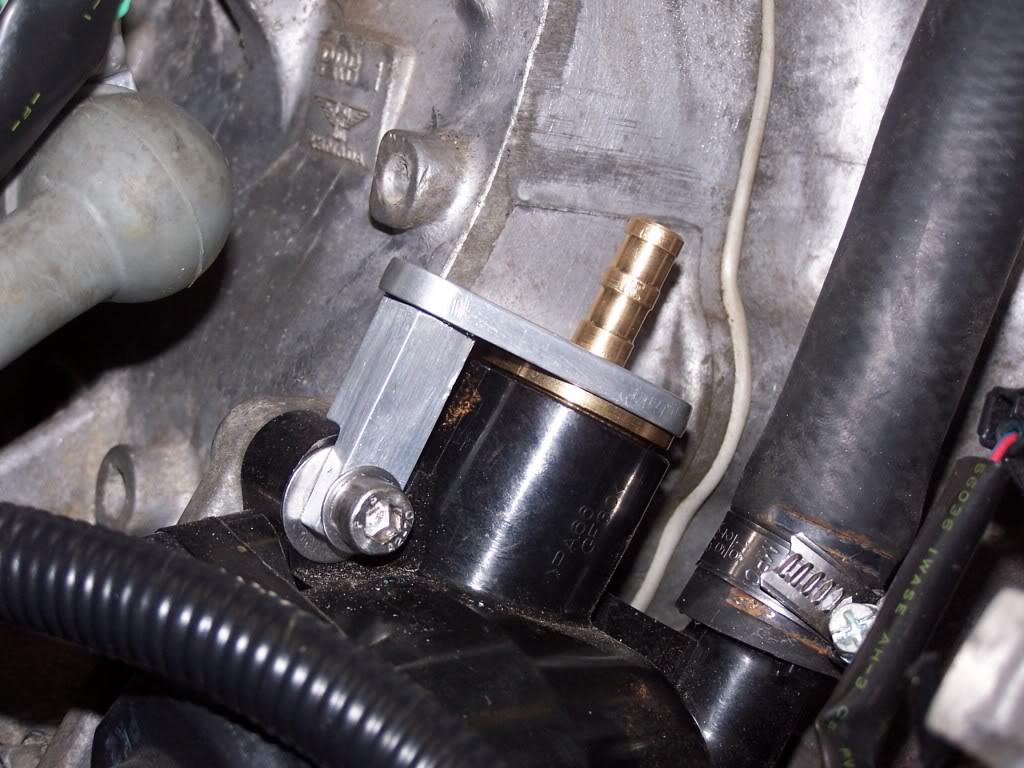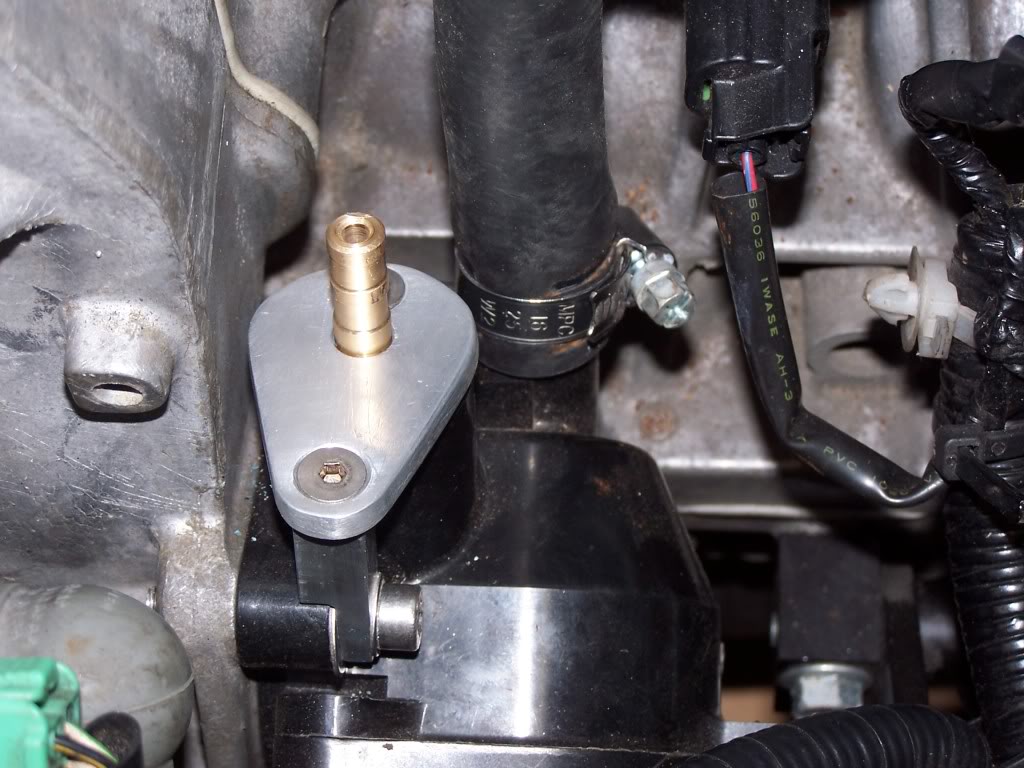 Lets hope I am doing it right, else we'll both be buggered......ha ha.......

There has been much learnt along the way with this, some of it might not pan out as planned but most should. I try to do as much research as possible before making a decision, the problem with the internet is there are too many self claimed experts that dont know sh!t............. I would like to take this oportunity to say that I do not think of myself as an expert in any way, I am just sharing my journey with the good people of the forum.

Lets see what tomorrow brings



2-3-2010
FRONT ENGINE MOUNT (What a *illegitimate person*.......)

Tonight took me three hours to replace the front engine mount with the new Innovative mount, reason being - the new mount was an F-ing mile out when it came to lining up the holes, not only that but the mount is about 4mm wider than the old one and the old one was an interference fit.

First time in and I get the two top holes lined up and the bolt through the middle of the mount (with lots of smacking with a nylon head hammer because its so chuffin tight) to find that the bottom hole isnt wide enough for the bolt to go through because the monkey that fabbed them didnt weld the collar in the right place. So out it came (with a crow bar and a lot of swearing), hole drilled out allow bolt.

Second time in and I get the the two top holes lined up and the bolt through the middle of the mount (this time with a bit of silicone lubricant and minimal smacking) to find that the bottom holes is an effing mile out. So I try swinging on it with a bar but it wont budge so out it came again to ahve the hole made considerably wider, more of a rectanlge with radiused ends.

Third time in and got the two top holes lined up, couldnt get the bottom one so undid the two top ones, lined up the bottom ones, re-lined up the two top one and then couldnt get the middle hole lined up for ages, lifted the jack under the engine, gave it a few whacks, swore at it, gave it another whack and eventually got the thread started on the housing, once a few threads through it got the same hammer treatment.

Everything tightened up and its good to go, tomorrow night will see me try and swap out the rear mount, should be fun.


Any how enough of me rrrrranting on.......... I took a few snaps tonight, two of the new an old to show the difference, one of the hole where the mount lives and another of the mount in place, enjoy: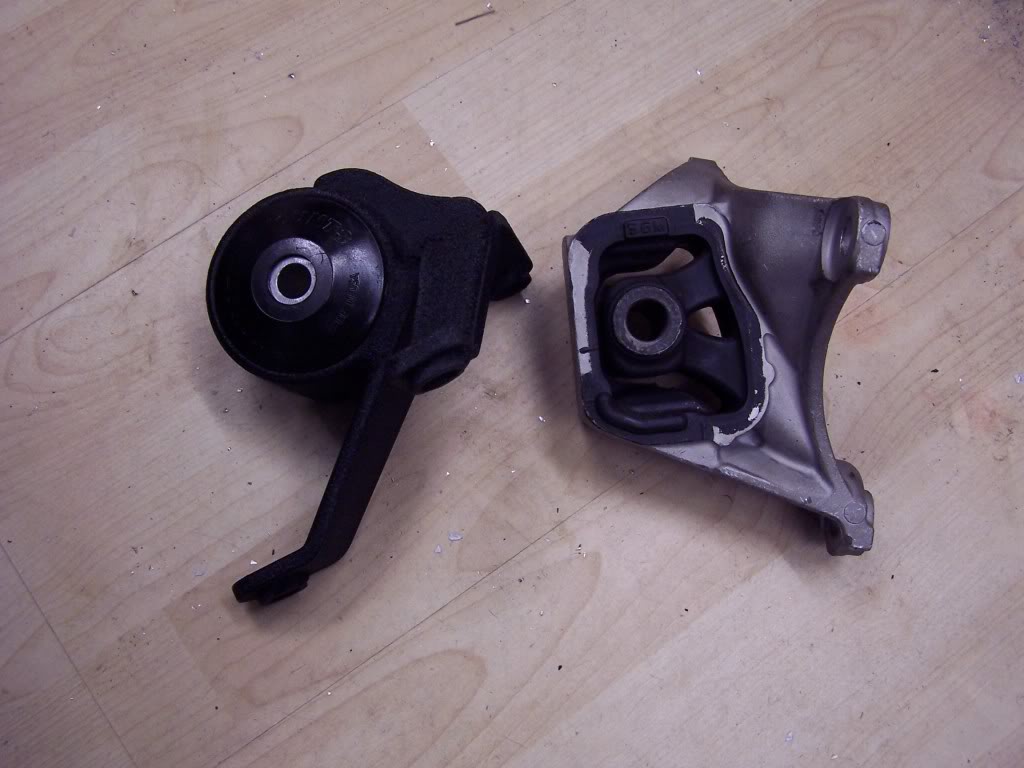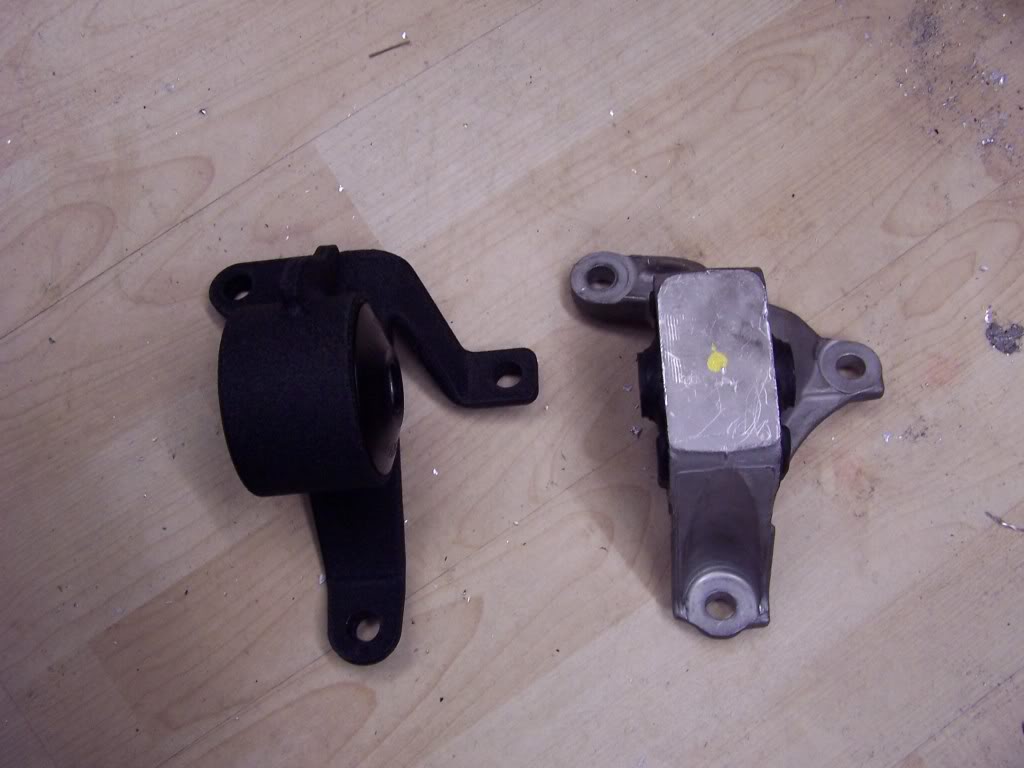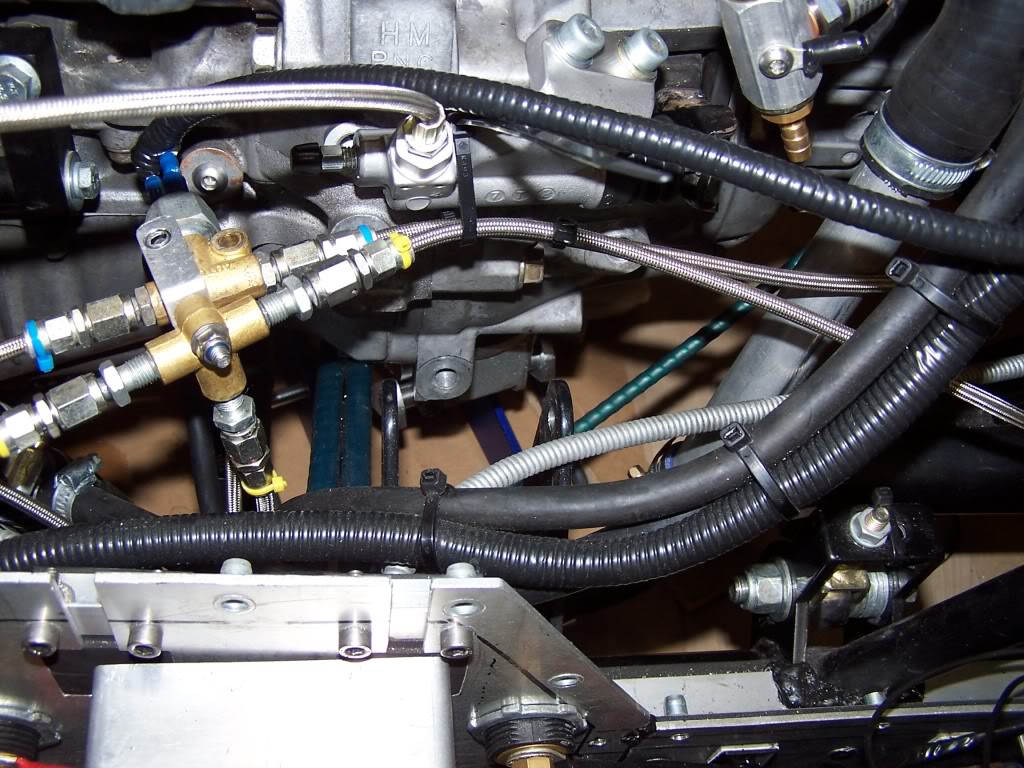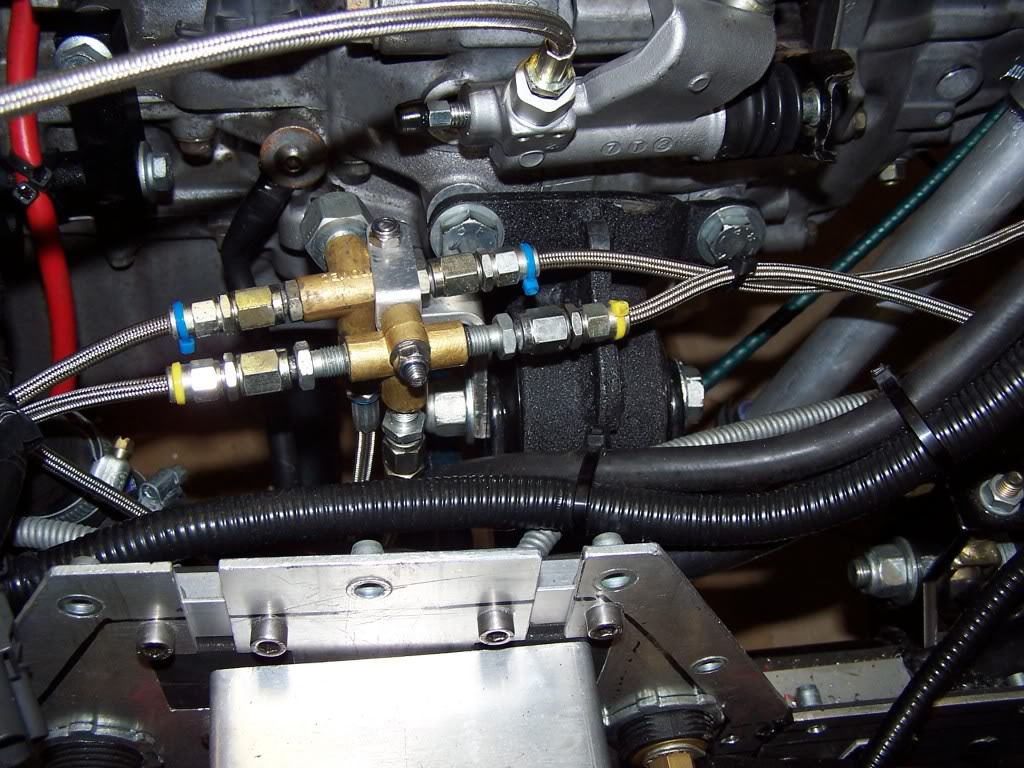 2-10-2010
Rear Engine Mount:

Not as much as pain in the arse as the fwd mount but it was still telling trying to get the holes lined up, due mostly to the fact that the mounting plate on the frame didnt line up with the engine (3rd photo), not as much of a problem when your only dealing with normal mounts as they have lots of play in them.

Anyhoo, its in now, a few snaps to keep em happy: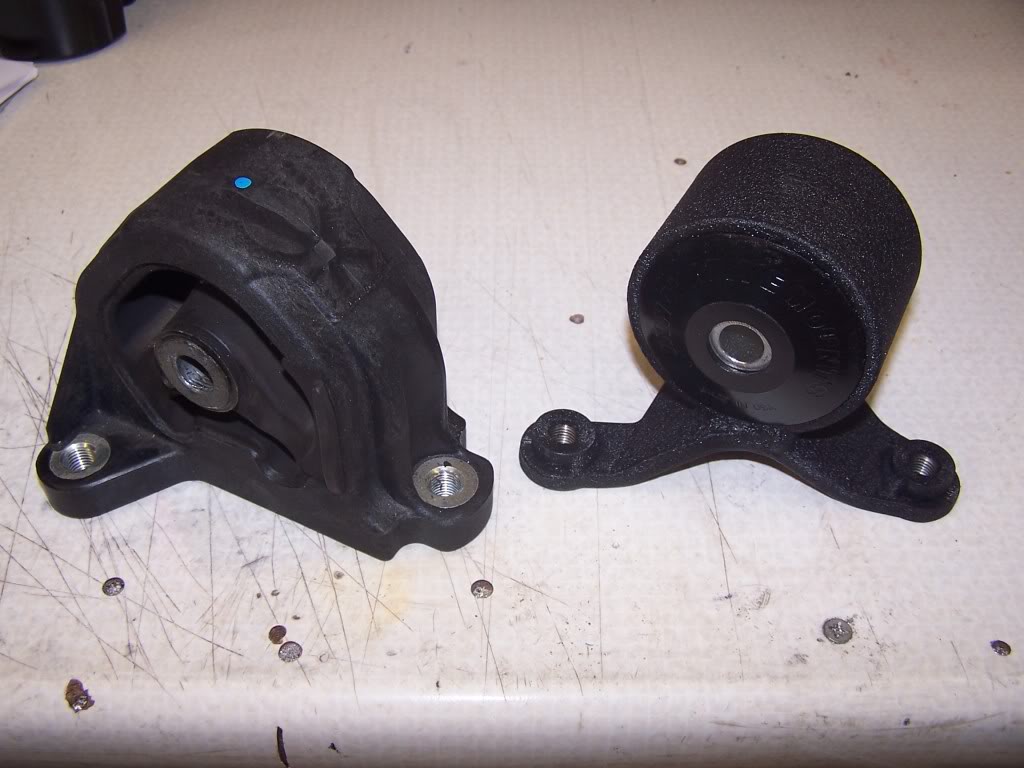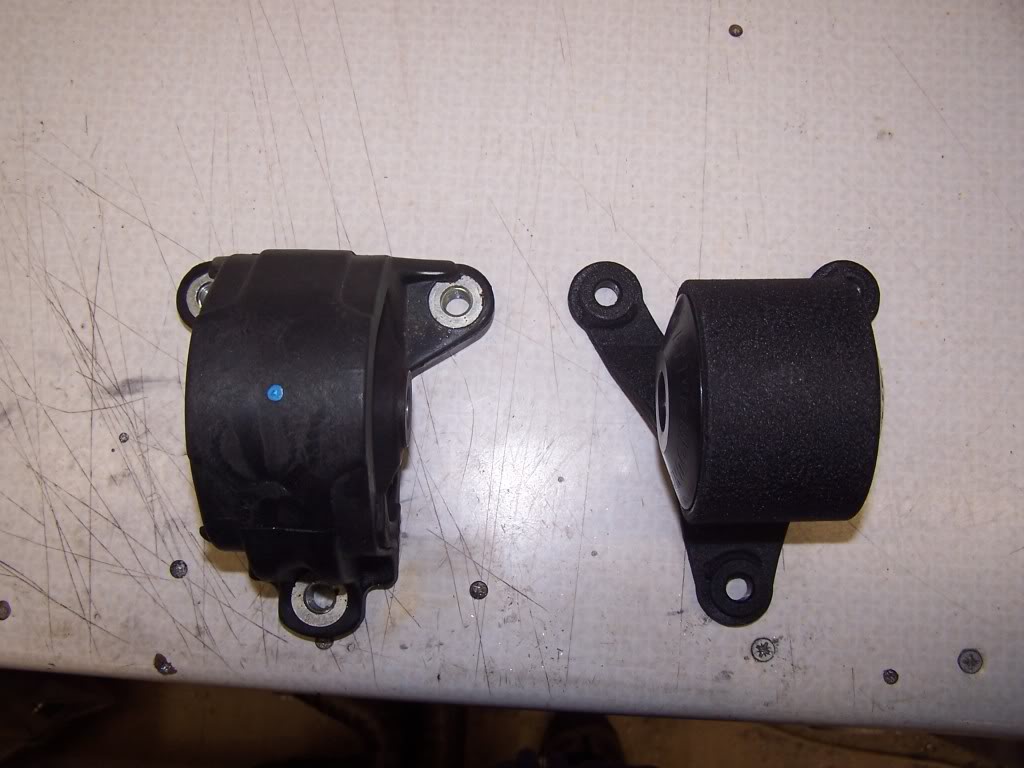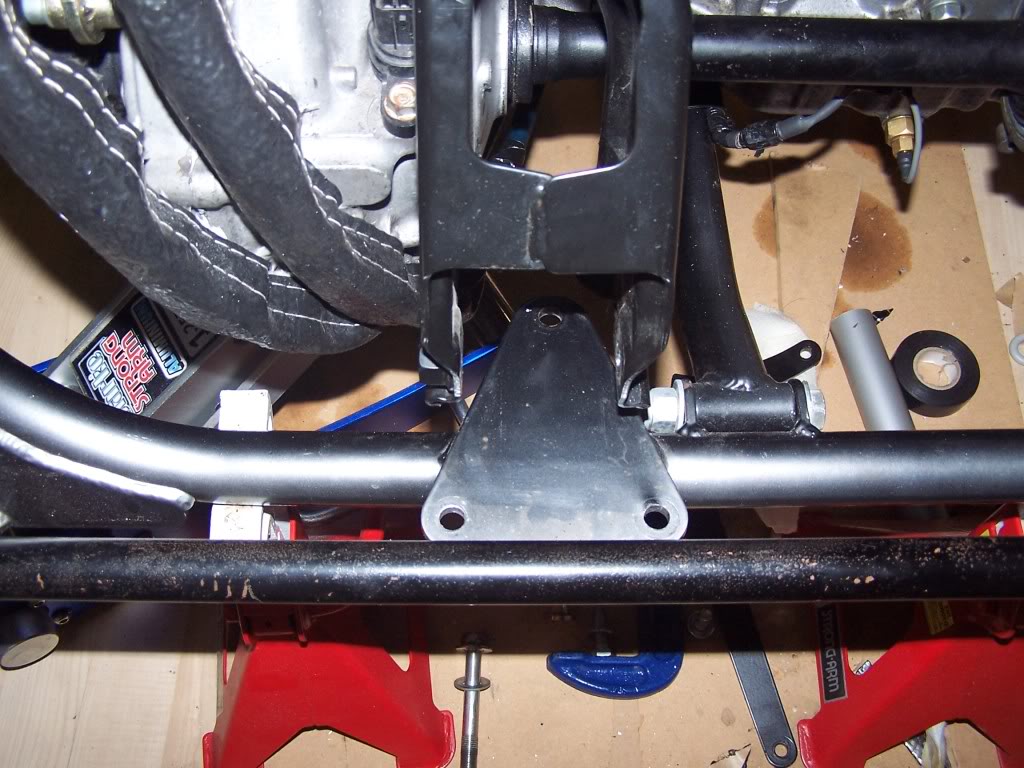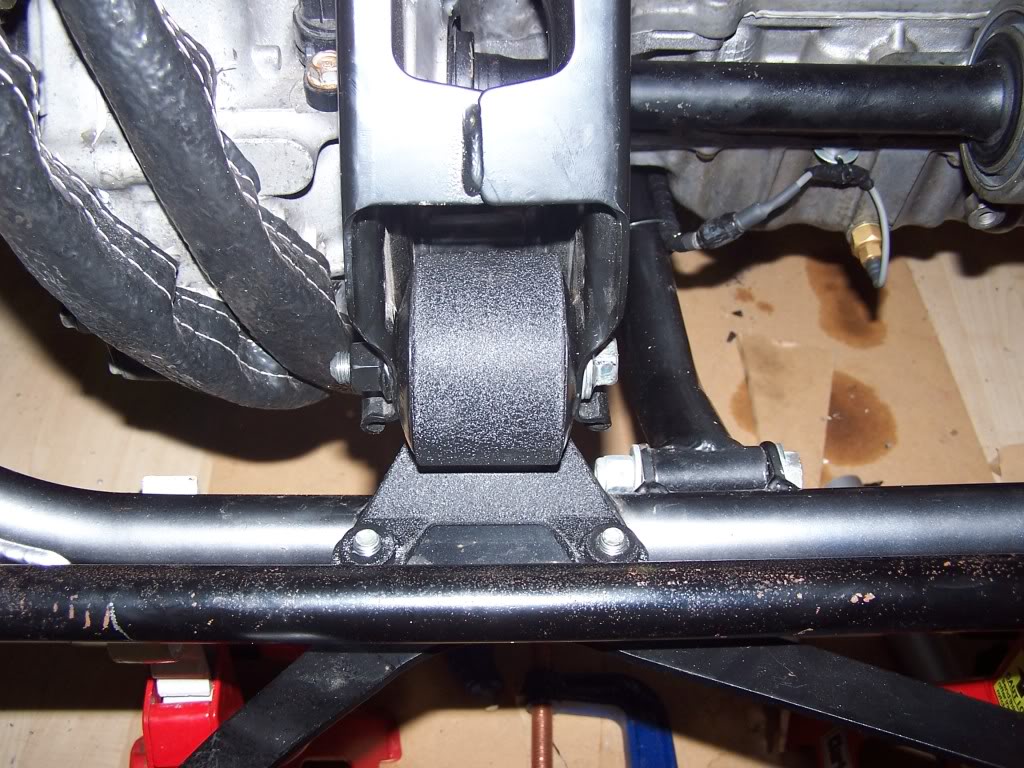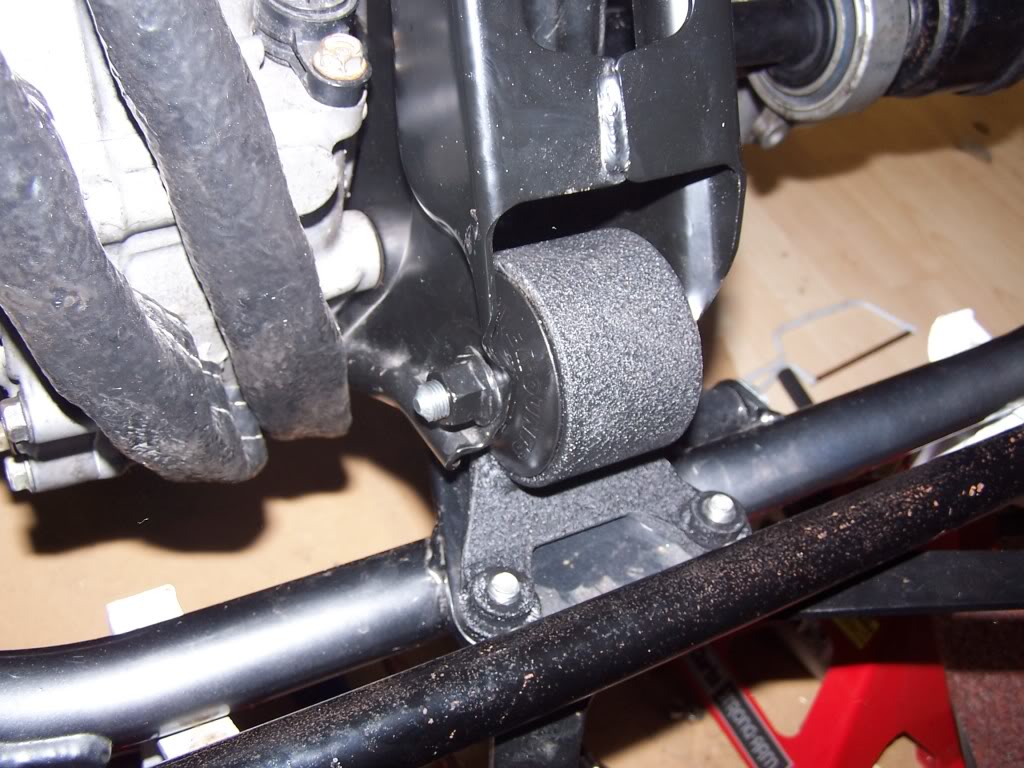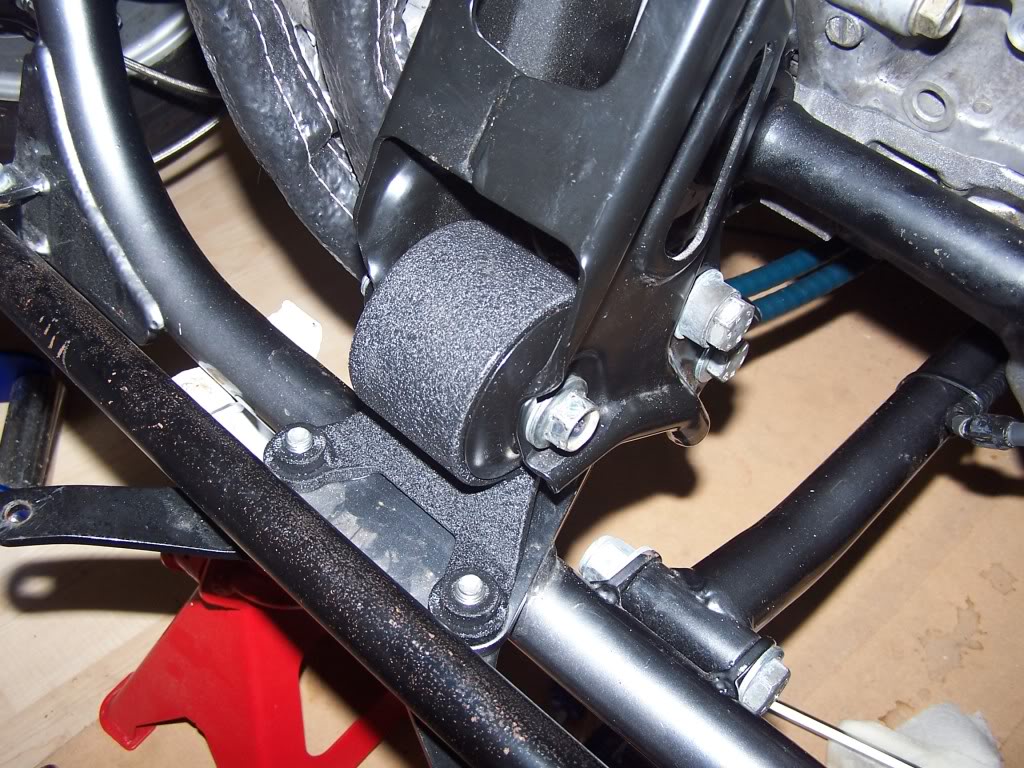 Brake Bias Controller:

I had a few issues along the way with the fittings of the controller were it met the balance bar, so sent it of to Z's and they sent me back the right bit, only on its return the piping that holds the cable had been replaced with blue (was black - ideal), so rather than being a perpetual pain in the arse I thought I would sort it later, well later is now and I have sorted it. The beauty of heatshrink:

Was Blue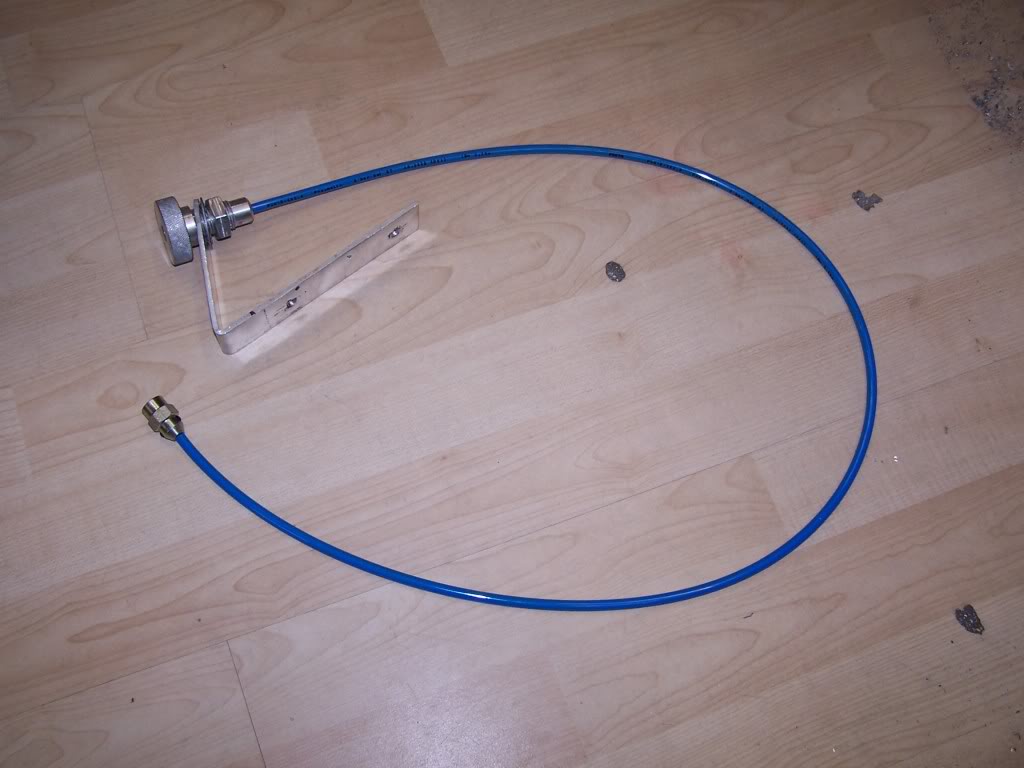 Now its black - again.....in a roundabout way......: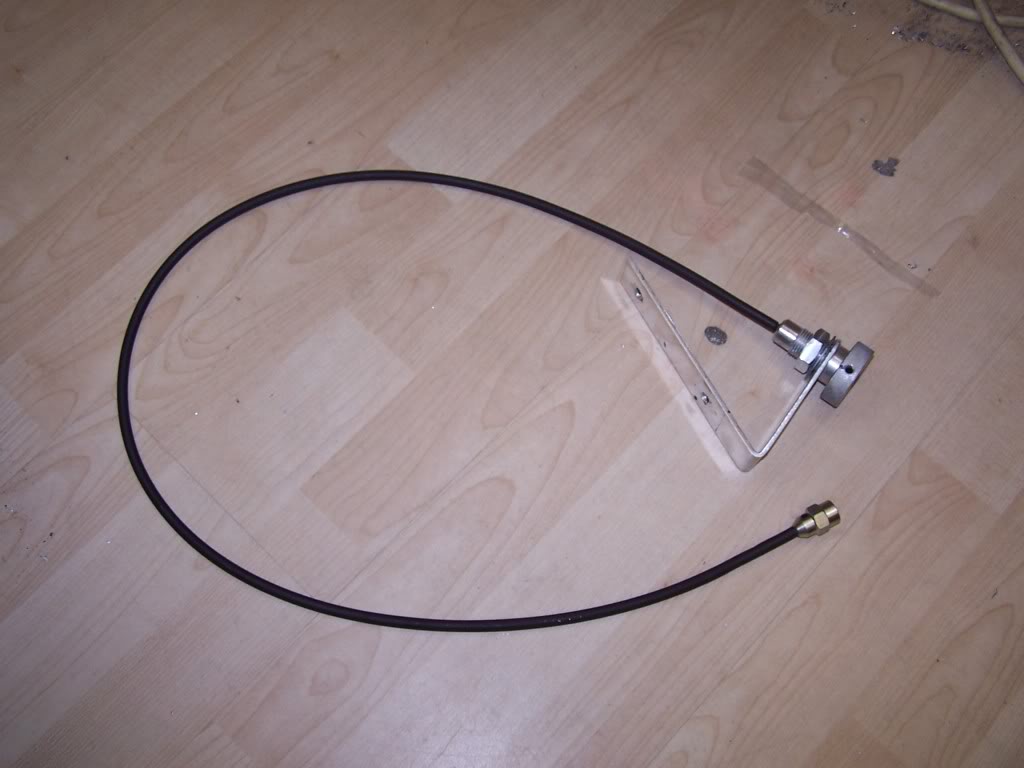 Coolant line delete:

What can I say, my smart little fix as shown earlier in the thread ended up fouling on the bottom of the intake manifold (fine if you havent got a Jackson Racing Supercharger on it). So I had to resort to drilling out the housing and bolting it into place as I simply didnt have any room or the mental energy to fix it any other way. I do hope the O-ring hasnt split (the last two did due to the new hole in the side), cant tell until the system is under pressure.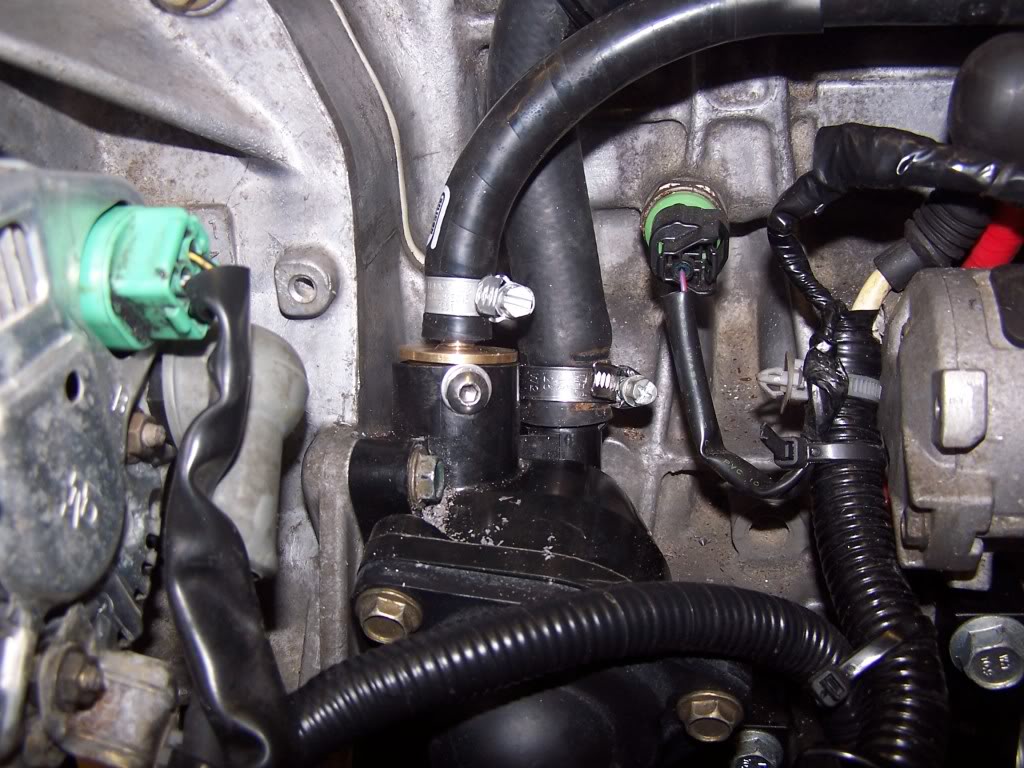 Coolant line delete:

Whilst I had the charger off I took the time to delete some other smaller coolant pipes, namely the two that lead to and from the throttle body, I have drilled out the two holes and tapped them out to 10mm, so if ever they were needed again they could easily be retro fitted.

These few photos only show the lower of the two pipes, the top one is drilled and tapped I am awaiting a 10mm grub screw to put in it:

First photo shows pipe mid hacking off: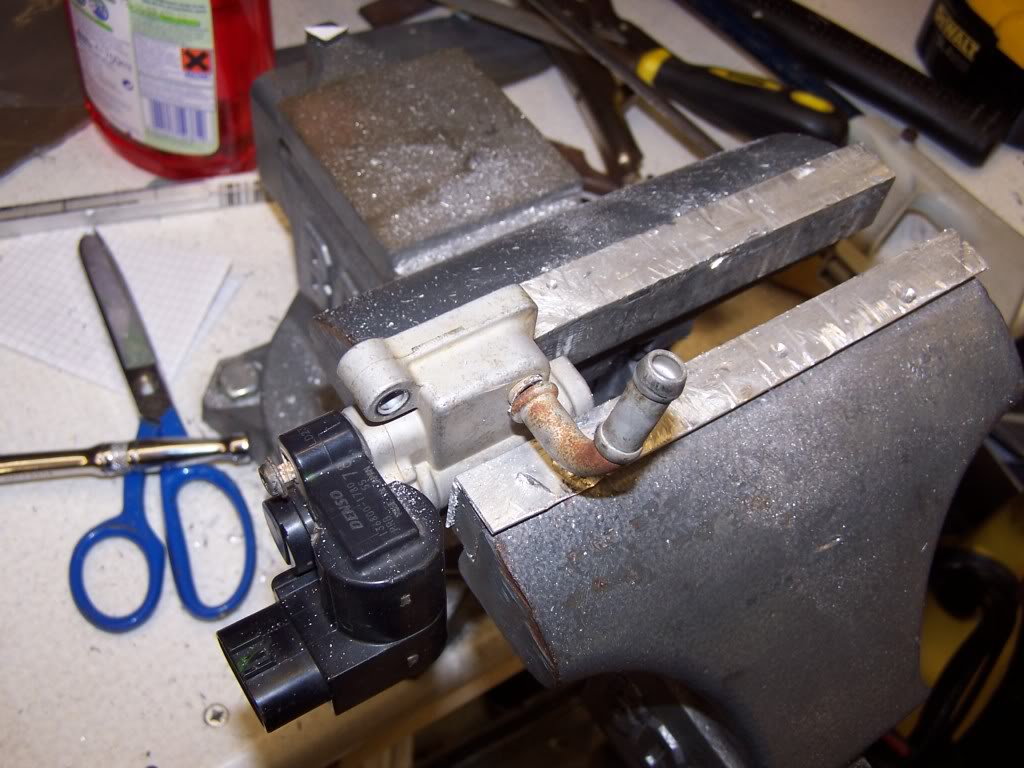 Second shows cut down bolt in place: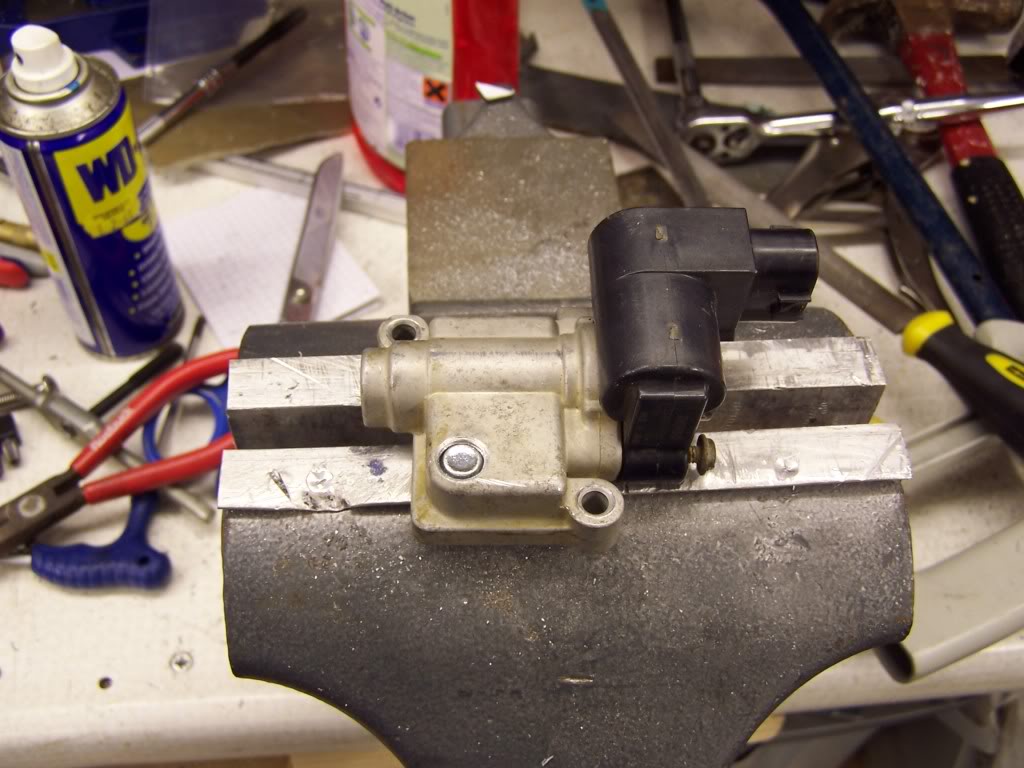 Third shows how I managed to get the cut off end of the bolt into the hole, good old slot cut into the bolt and a flat headed screwdriver, finally a bit of loctite: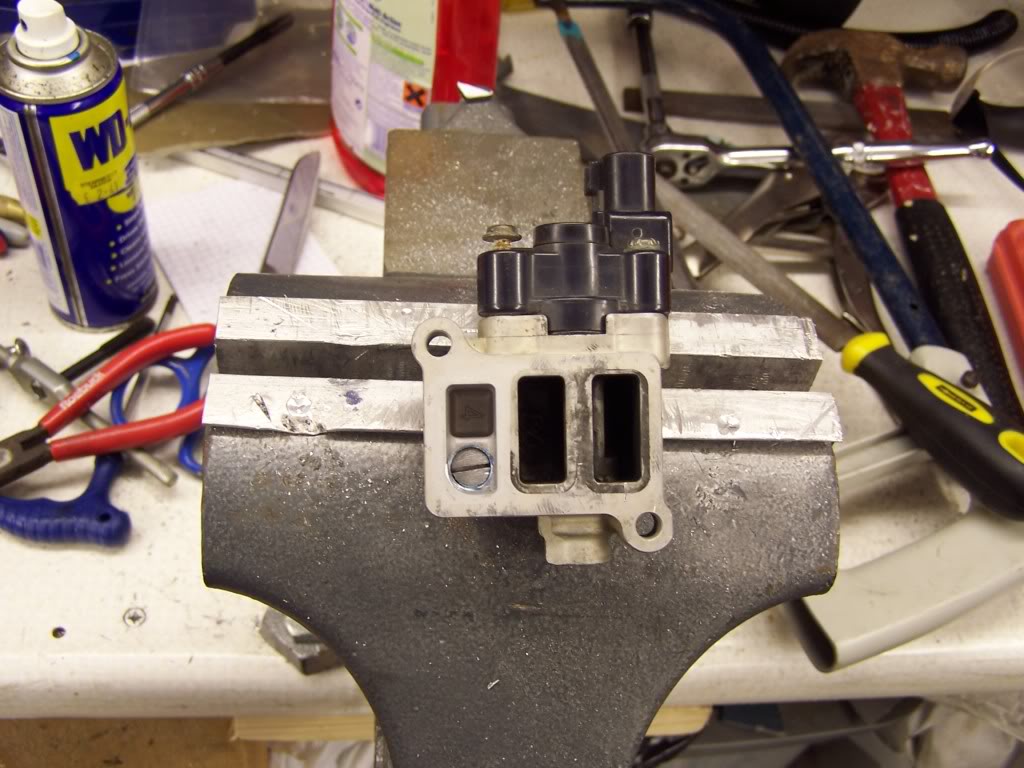 Tonight I managed to get the Supercharger back into position, I even figured out haw to get the aux belt on on my own (normally have to have someone holding the autotensioner off for me, fix = long lever and cable ties).

As I strike one thing off the list one or two more go on it - will it ever end??????????
3-5-2010
Upper Seat Mount - Required for Kirkey Seats (as advised on their website Kirkey Installation Page)

Again I will let the pictures do the talking: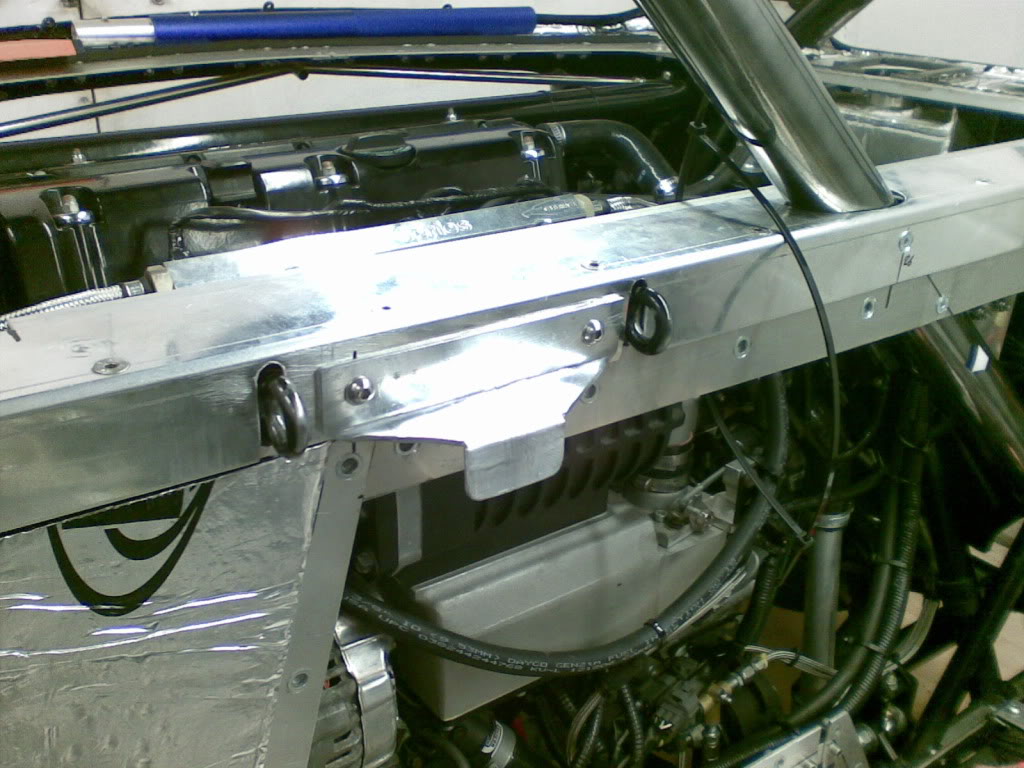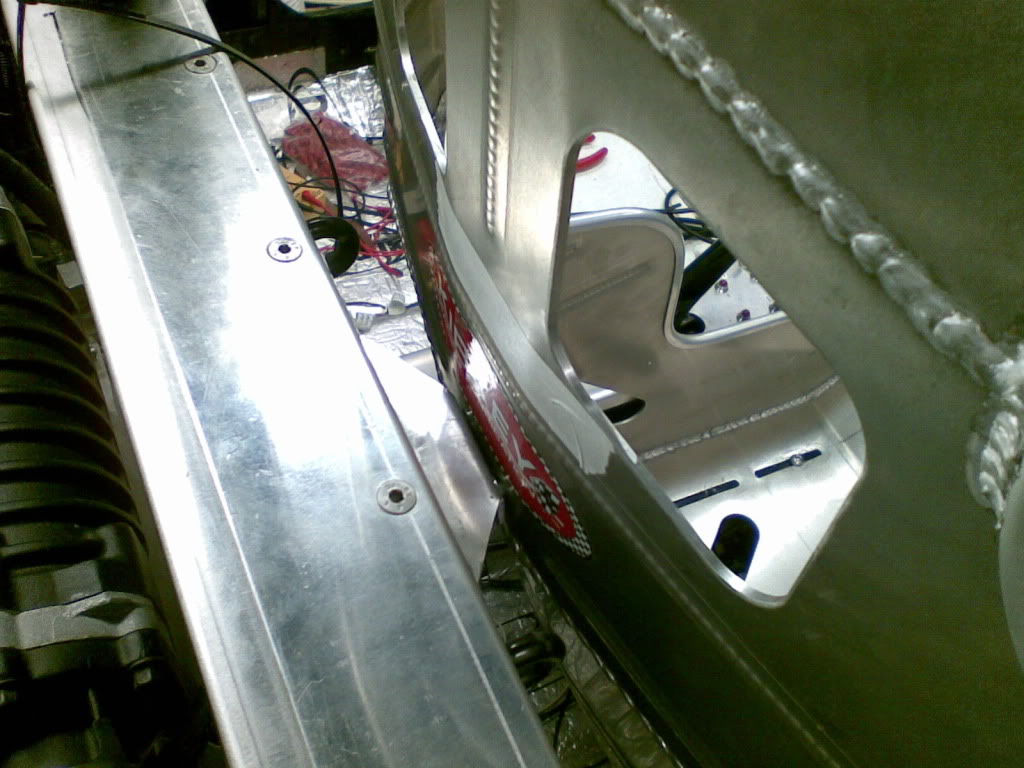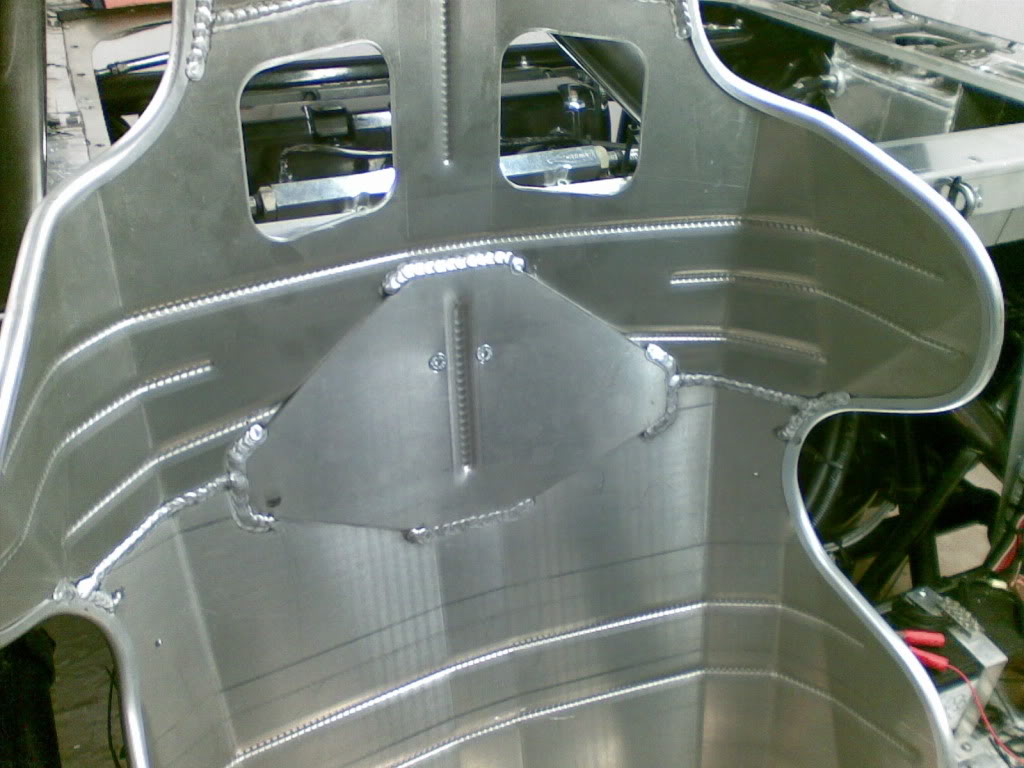 Side Fills to cover inside of Scoops:

put together a set side fills, using the old hook in from the original rear cards and then my own fitting on the bottom edge, note no bolts used in the construciton of these, just dual lock (industrial velcro). Some befores, one of the O/S infill before it went in then some of the infills in place....enjoy.......if thats what gets you off??!!??.....:

Befores: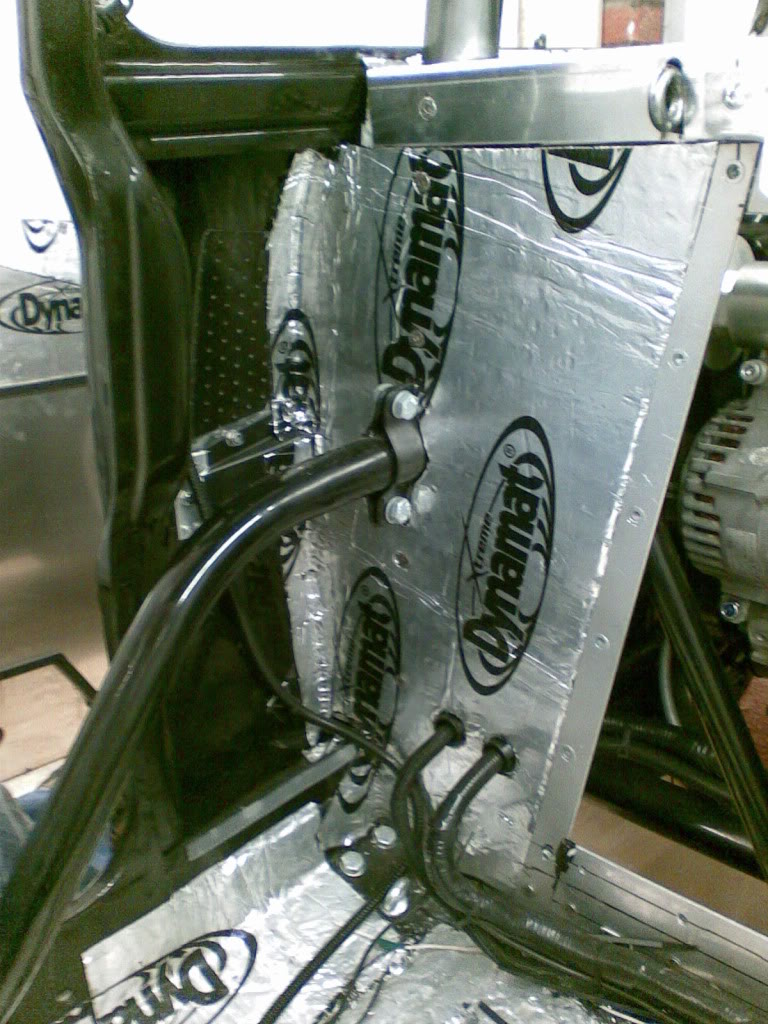 One of the infill off:




And of them in place: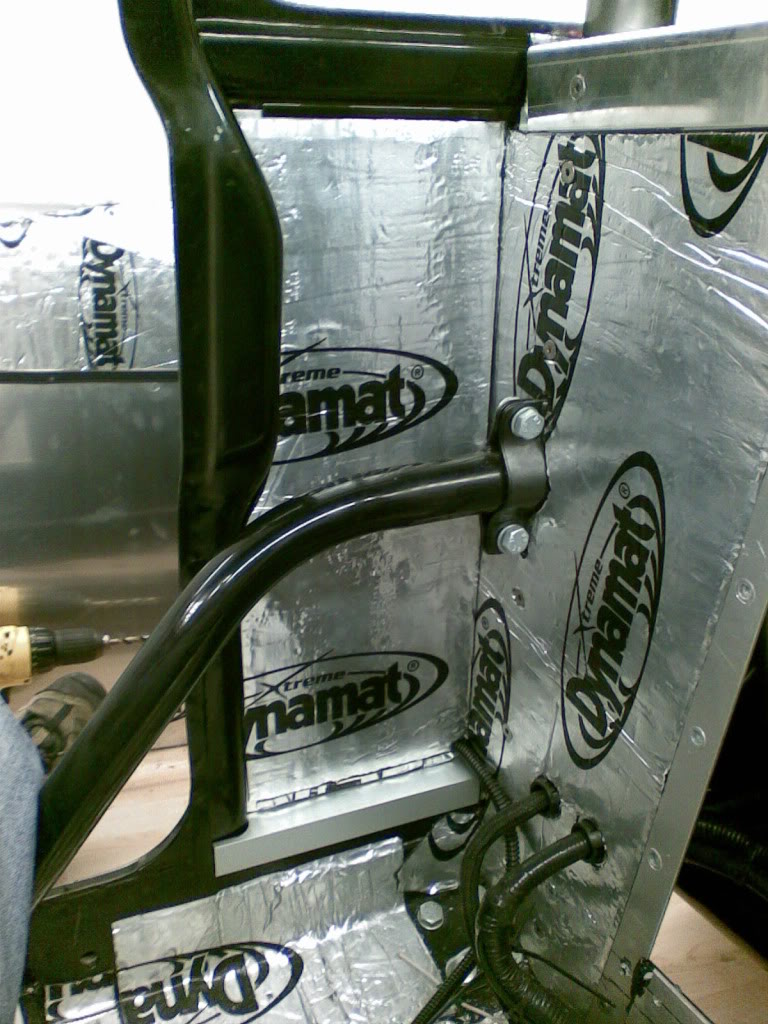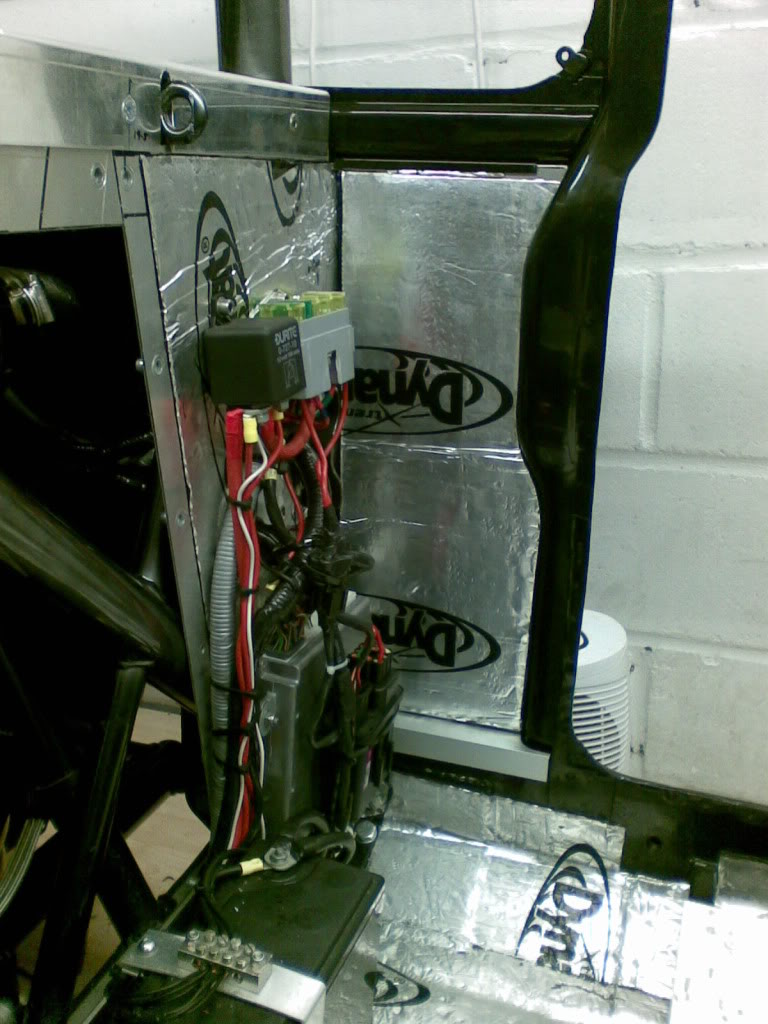 3-16-2010
Centre Plate for Front Bulkhead

Good old Barrie welded up my centre plate/washer fluid reservoir for me (not forgetting Stevie G sorted out the outlet for me), So I got to work over the weekend on fitting the plate in place, unfortunately it meant having to remove both of the outer peices to be able to drill some of the holes, but it was worth it. So below are a few pictures of the centre plate pre spraying, I will be working on filling and smoothing the plate ready to hand over to my mate Stuart on Thursday for him to spray for me.

On a side note I got my rear perspex windows fitted on the weekend, then took them off again as I am not finished in the engine bay quite yet.

He are the photos, first one of the centre plate and side piece off during the drilling proccess and then two of the plate in position: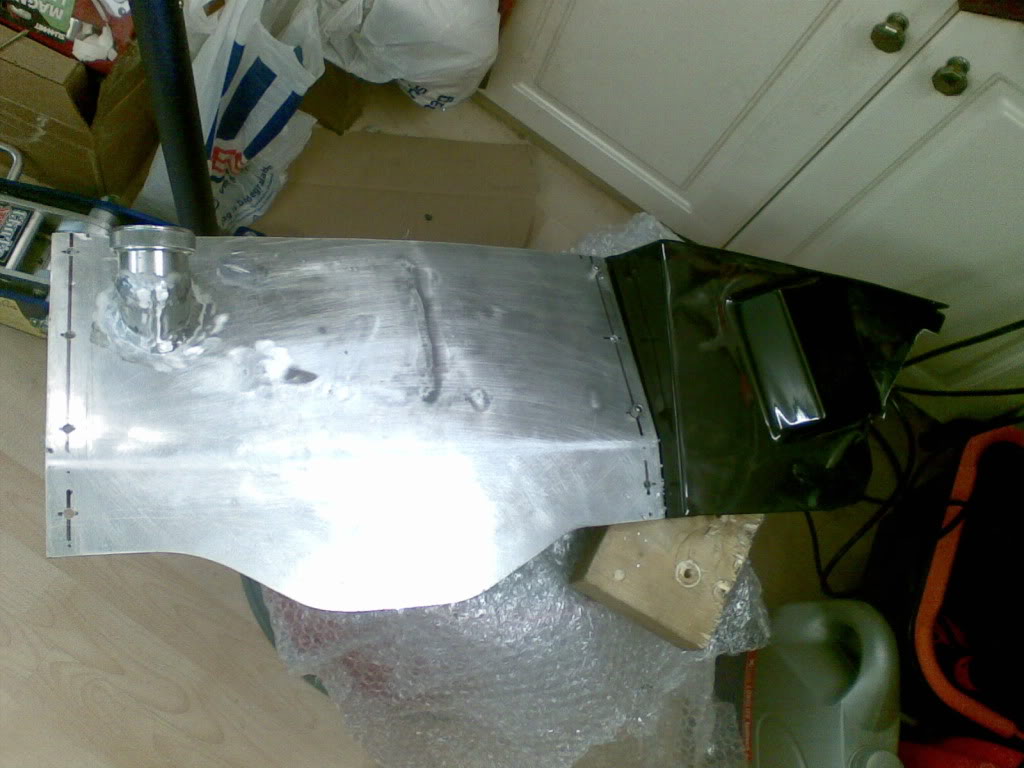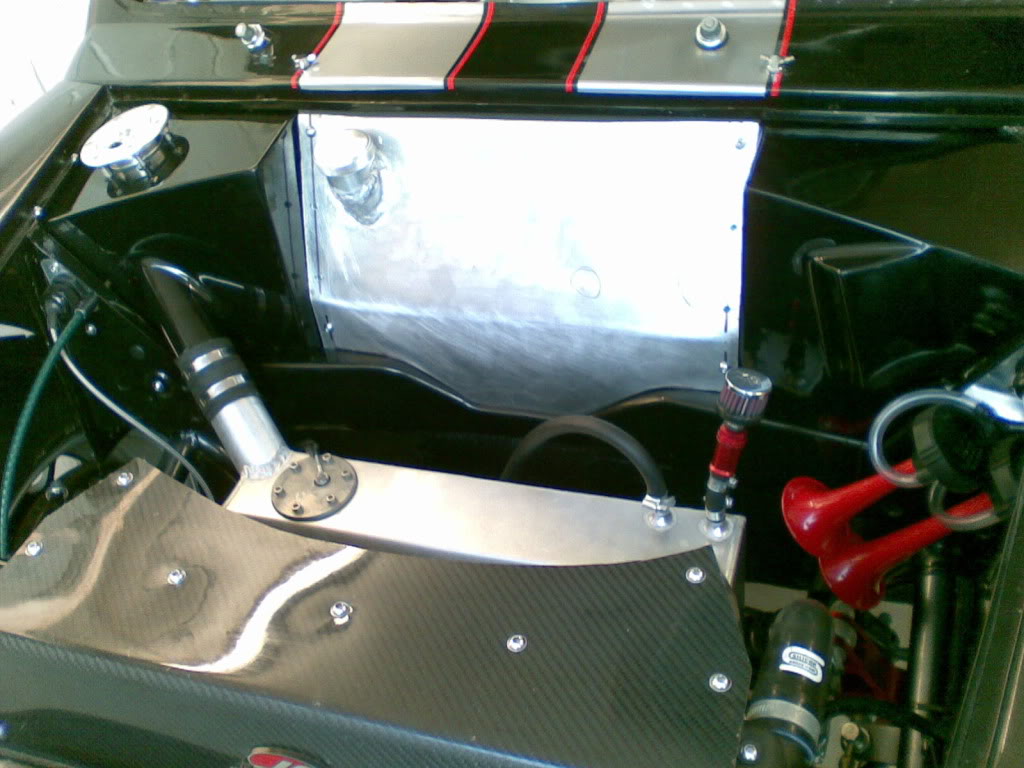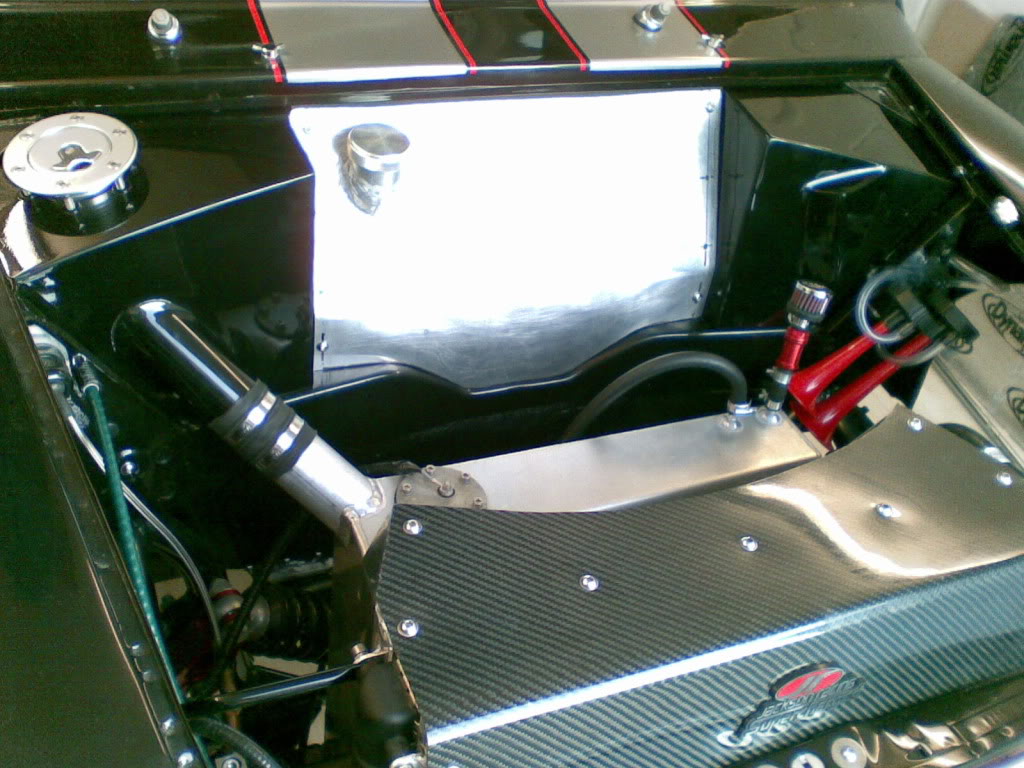 Yer starting to wrap things up now, it'll be ready for the nicer weather (frickin better be I hear you say), although its spanking gorgeous outside today.

House cleaning = not my dept, thank god.

When I started the build I had no idea I was going to end up being so *rec of the tum* about everything, some say I have got OCD then I correct them by pointing out it should be CDO if you put the letters in alphabetical order..........ha ha.....

It went from a car to just go fast into a car that goes fast and looks good to boot into an anally obsessed proper fast car that must have all the screws turned horizontal - if you know what I mean.... OK its not that bad but you get the idea.

Really looking forward to putting in some miles in it...................
3-17-2010
I had a break from the car from November through to January and it was needed, it helped refocus the mind to what it was I was trying to acheive, so when I set about the car again I am coming at it from a slightly different angle in which I am doing all the jobs I put off and revisiting all the jobs I half assed did the first time around so the car has a much better feel to it at the moment, nothing rattles anymore, well the car now vibrates more because of the new engine mounts but you get what I mean.

Taking apart in a hurry - I guess as its not an out and out racer I shouldnt need to pull it apart in a hurry, however that was always in my mind when I was building this thing. Thats the main reason why I went for Perspex in the rear windows as this would give me the quickest acees to the engine, one of my fears was the serpentine belt giving up on me, especially with it driving the supercharger. This fear was confirmed (in a roundabout way) recently as I have been suffering with a belt that keeps stretching. Soa fter a bit of research and asking around I have managed to source a Goodyear belt for it - what a mission that was, anyhooo it arrived the other day and when I check it against my old belt it was approx 1.2mm thicker than the original FAI belt, the supercharged RSX (Integra DC5) boys over in the states have been using Goodyears for some time and no-one is reporting any problems with them (I ordered a couple just incase though).

As for the work, other than body work, tuning and ali welding I have done pretty much everything else myself, another reason why its taking so long when it is only one person doing all the work. I do get a good sense of achivement every time I stand back to look at the car and the work I have done, as I am sure you do to.

Trying to be as original as possible with mini has been alot of work, introducing new things into the mix has been fun and hard work, I am looking forward showing you lot my finest work, although I still cant tell anyone about it yet as I dont want anyone to steal my idea before I get mine finished.
Another reason for things taking so long is I keep getting sidetracked into other little projects, this is more for VTEC minded people than mini people, although some may find it interesting, it is something I intend to do in the future.

This one is a redesign of the intake between the throttle body and the S/C inlet. I was doing this for the RSX guys, these are just preliminary drawings I am going to be finalizing designs with a couple of different people, one for the Honda RSX and the other to go in a VTEC Lotus. Thing is with my Jackson Racing S/C setup there are thousands of them the same being used in various cars and there is a wealth of knowledge about them on the internet if you know where to look.

The design is born out of people looking at gains from using bigger throttle bodies, problem with the original design is the TB has a smaller cross sectional area than the inlet into the S/C, so to achieve a greater flow of air into the S/C I determined you will need to use a 74mm throttle body, see 1st picture below (note the TB in the picture is a 70mm Skunk2). Also the step up in the inlet is not the best for air flow, so I straightened out the neck and took the TB further away from the S/C. The 2nd and 3rd pictures show the original inlet, note to closeness between the flanges (S/C inlet is the oval one for those that arent sure) and the steep step up. Then the rest of the photos are of the new design with a straighter neck and made for a 74mm TB.

Horsepower gains arent going to be great from such a change but it all helps when you start making these engines work for a living.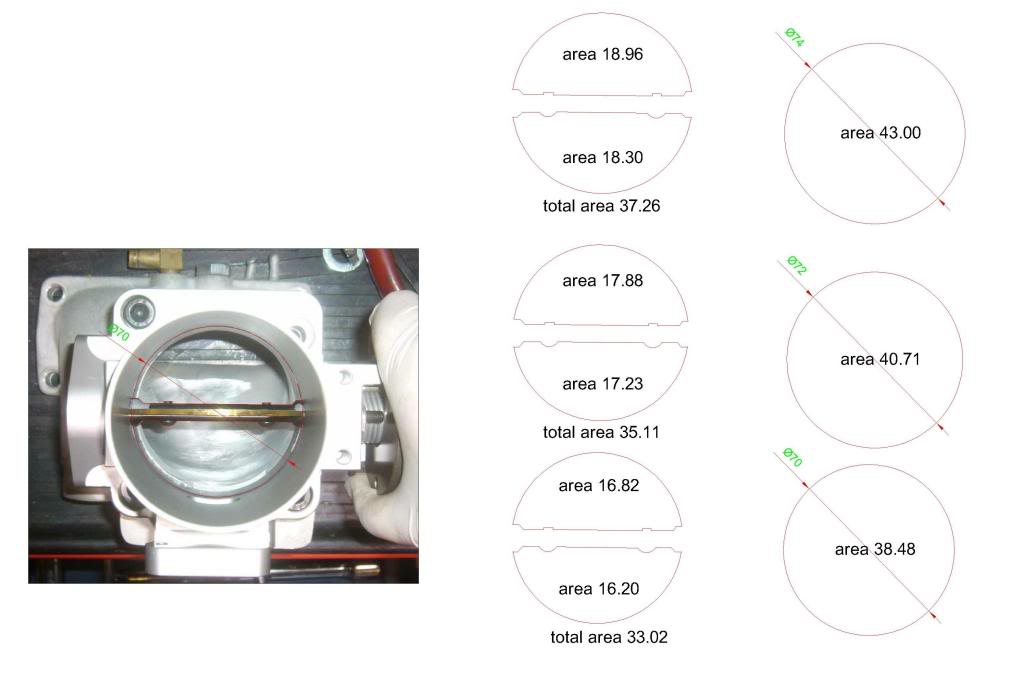 Original inlet on S/C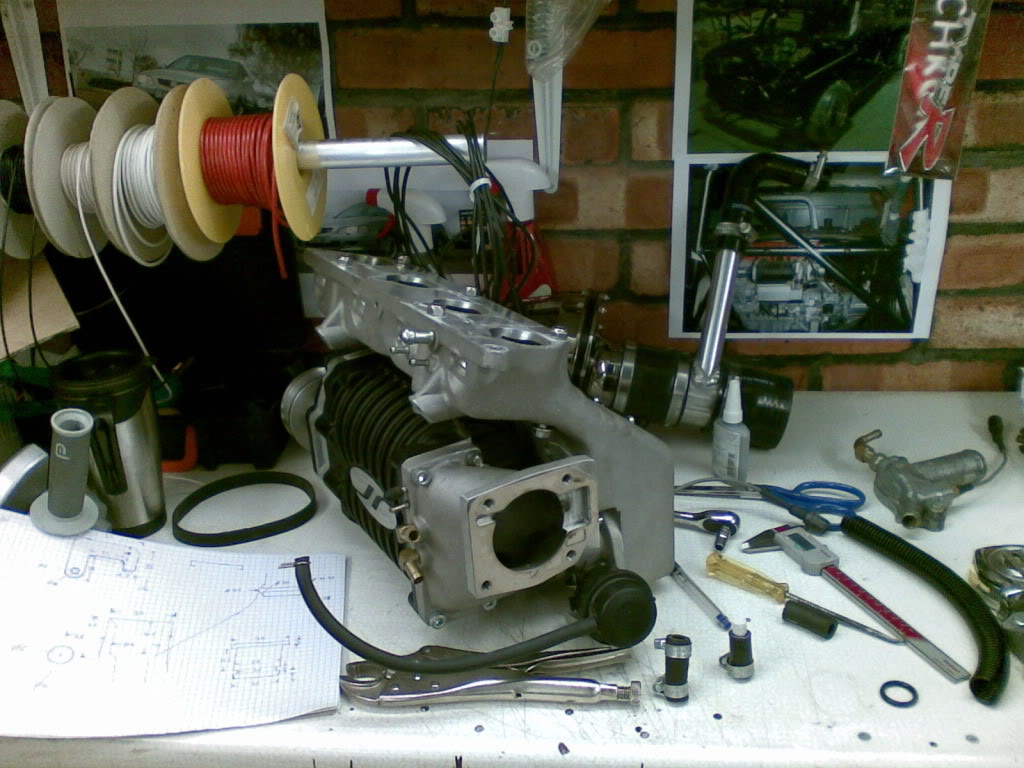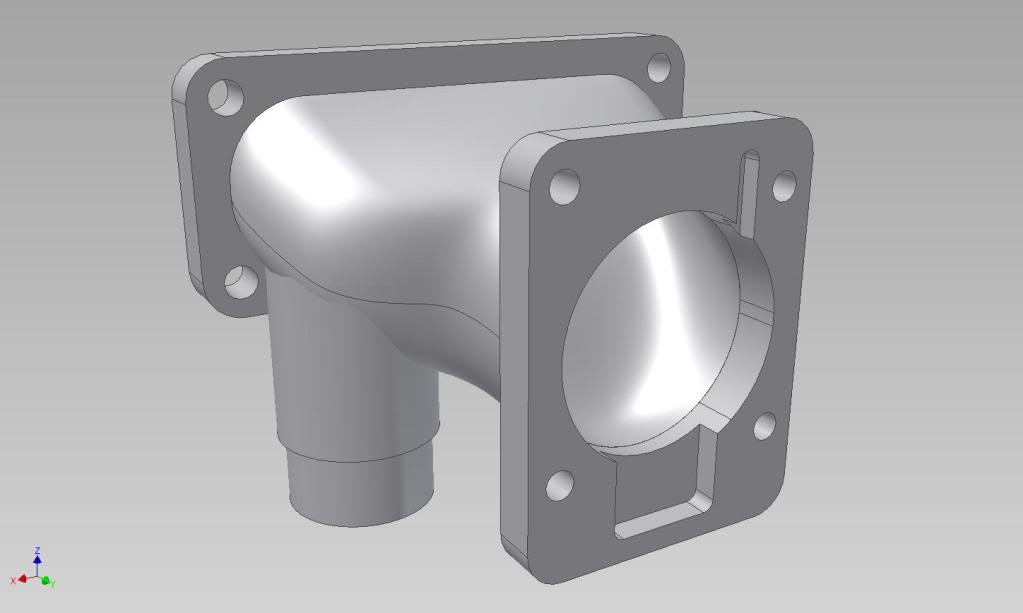 The new design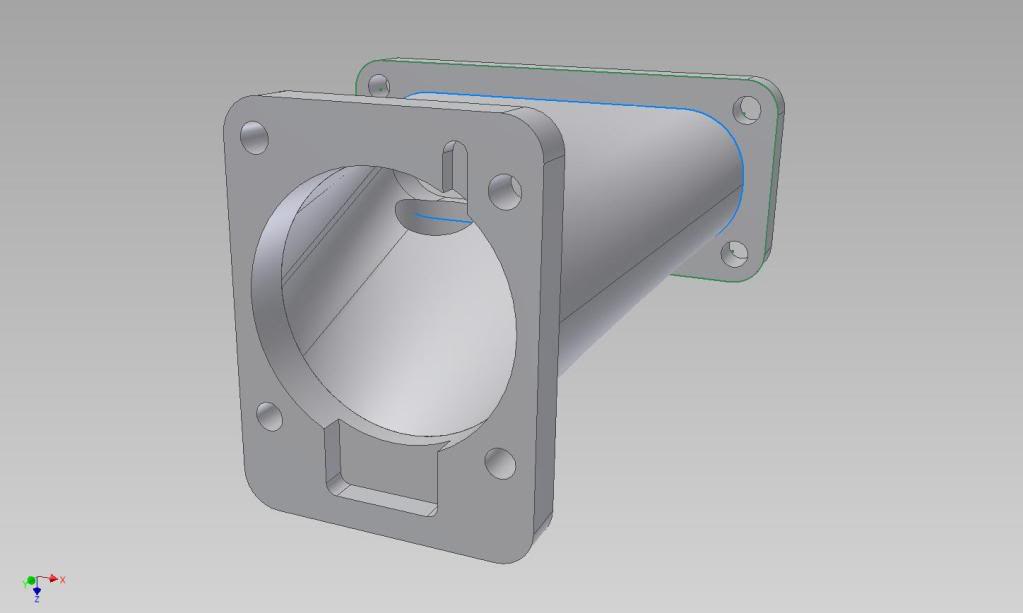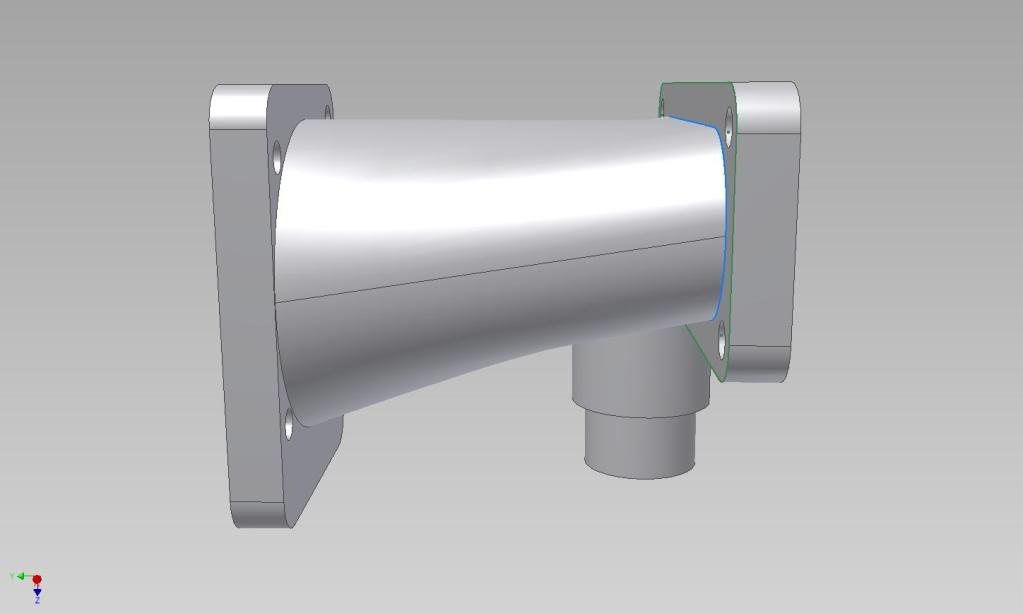 3-19-2010
I managed to take a couple of snaps before it went off to spray last night. The tank is self explanitory and the upstand is to fix the washer fluid pump to. The last two pictures are just showing the plate, filled and ready to go to be sprayed (the welding tends to warp the metal a little, hence why it needs filling pre-spray).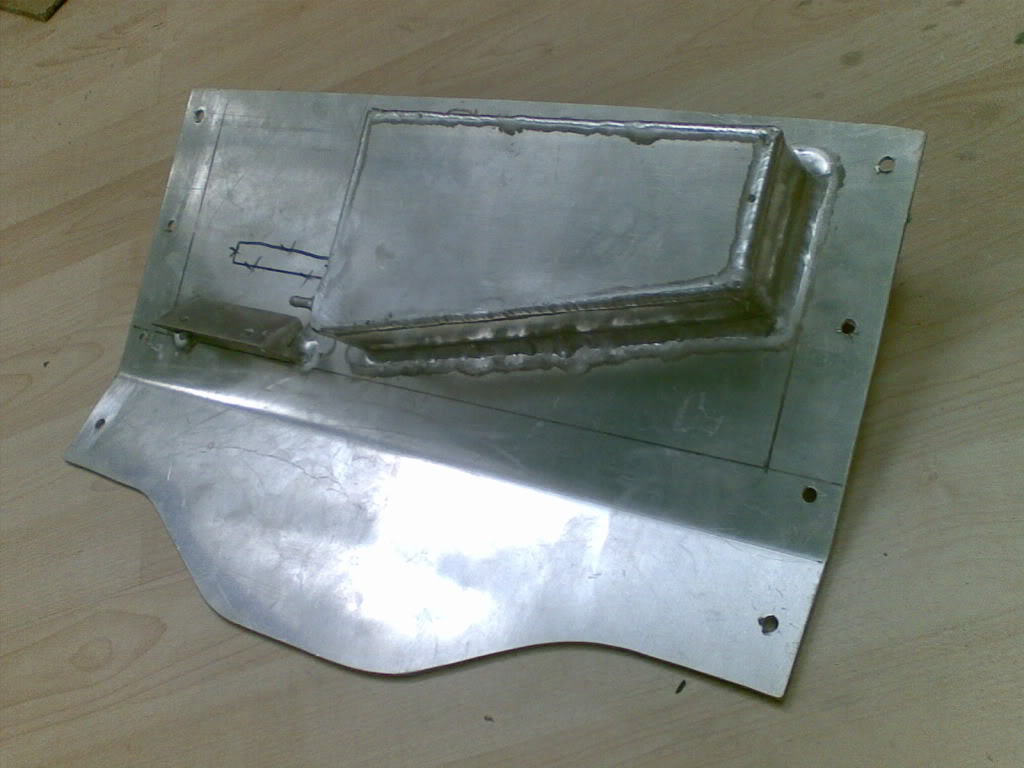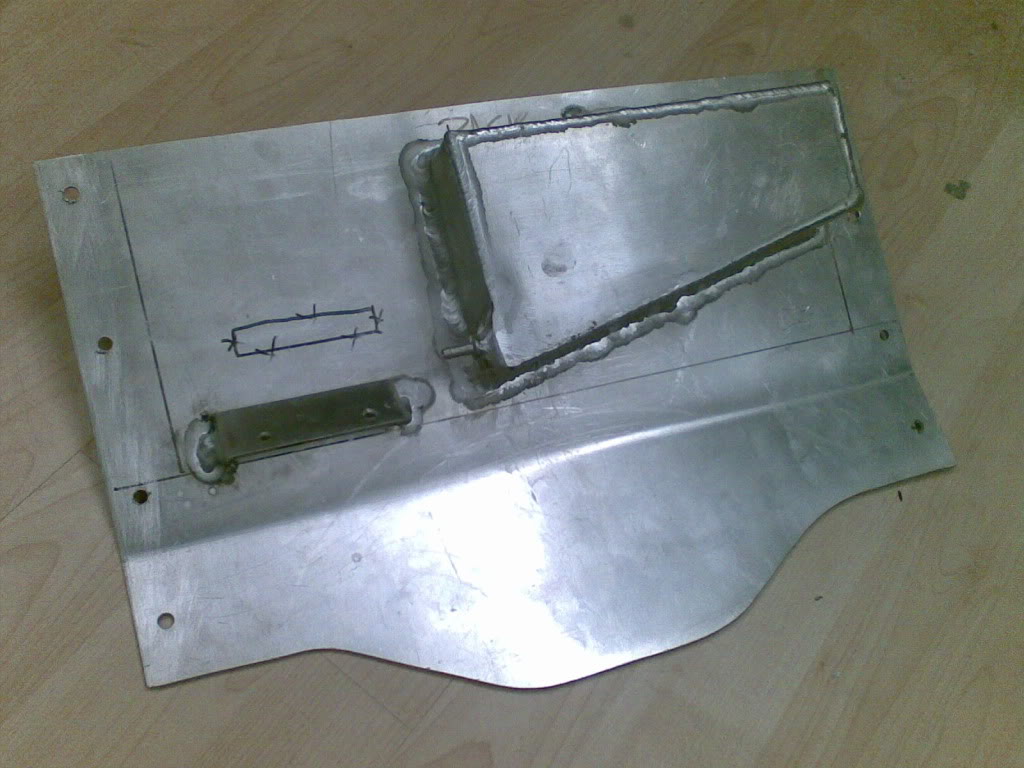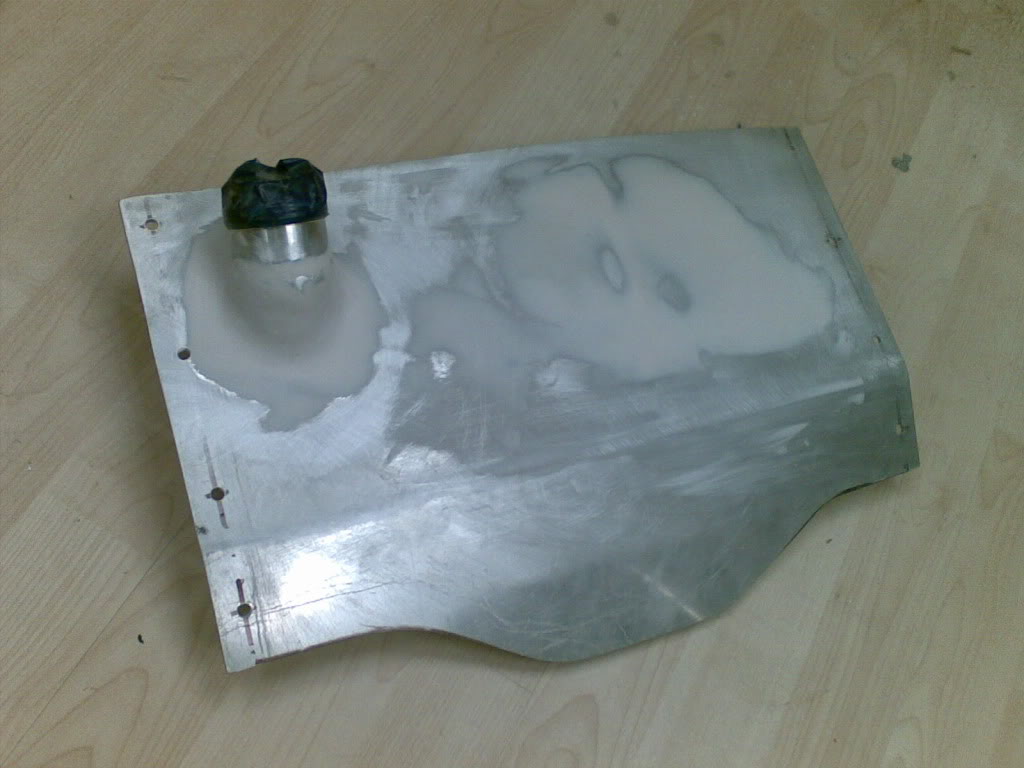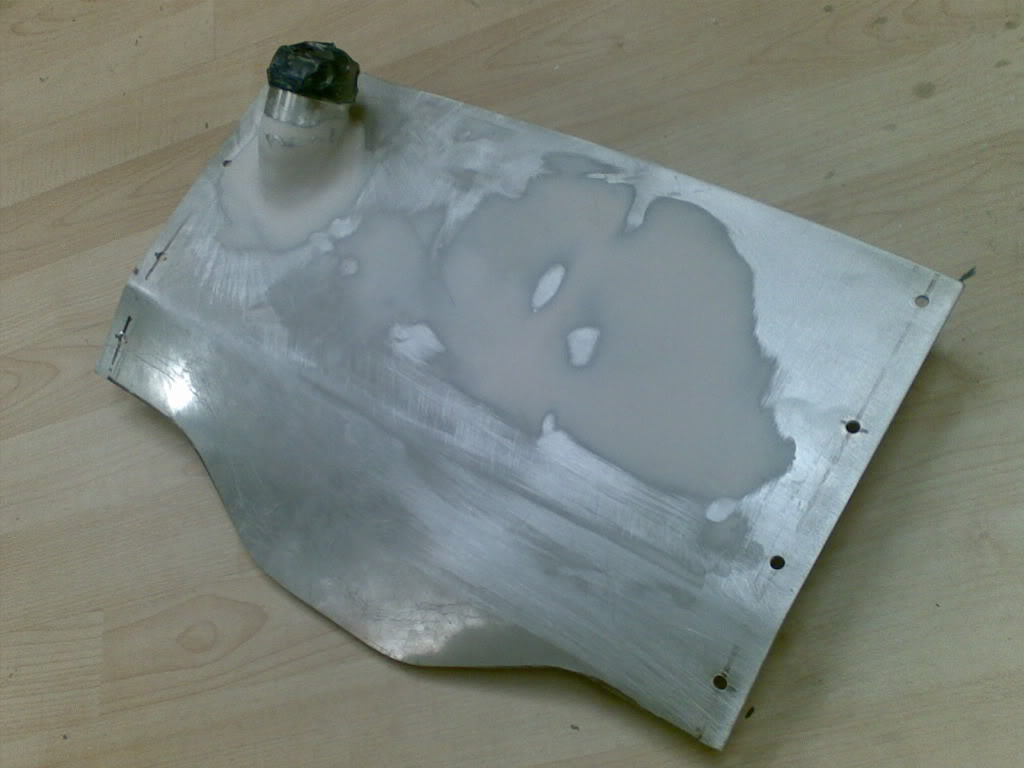 3-24-2010
I picked up my replacement master cylinders on Saturday morning, thanks Chris.

I have gone from 0.625 to 0.75, the smaller cylinders just didnt have the capacity to work the calipers properly.

I will be reinstating the master cylinders into the pedal box and then the whole pedal box back into the car tonight. I managed to save alot of the silicone brake fluid when removing the pedal box, that stuff aint cheap so as much as I can get back in the better.

Hopefully will have some pictures to follow soon.
3-30-2010
Brakes are all back in, bled and the pedal feel is so much better than before, I did a few short runs (20m runs) and it feels better, I jsut need some more room now to have a blat around and get them bedded in before I can make an informed report on the true braking perfomance.

Next big thing to go in is the carpets, just waiting on some samples coming through, I have all of April to fit them as I dont get my towbar fitted to my new (secondhand) van until early May, then it should be off to get the doors hung.
4-8-2010
My tuner just posted this video of his tuning handywork on another site. This is what an Intercooled JRSC'd K20A2 lump can do in a Lotus Exige, note the GT40 is running in excess of 700HP - Cant wait to get mine intercooled.........



Check out some of the other videos by the same guy.
4-21-2010
My Run of Bad Luck Continues...........

I guess i should have known that things were going too smoothly.

Jackson Racings Metalurgical dept has another fail on its hands, it happened last night when running the car up to temp, just to give the battery a bit of a charge as it been sitting there a while and I have been fiddling with the electrics.

Whilst it was ticking over I heard a noise like I had left a tool on the engine and it had dropped onto the floor, I looked underneath to find the serpentine belt on the floor and the pulley was in the engine bay. At first I thought the nut had come loose but the input shaft had clean snapped off - feck it - another set back (not of my making). Oh well, been so many I will just add it to the list.

I am having it fixed free of charge as the charger hasnt done any miles, turns out there was a small batch of chargers produced a couple of years ago that had this problem, just goes to show how long this has taken. It hasnt shaken my belief in the JRSC as I know how many of them out there and this is not the norm.

In the meantime I will be templating my carpets and sending off the .dxf file for them to be CNC cut and then edged, where necessary.

Here are a couple of pictures of the failed unit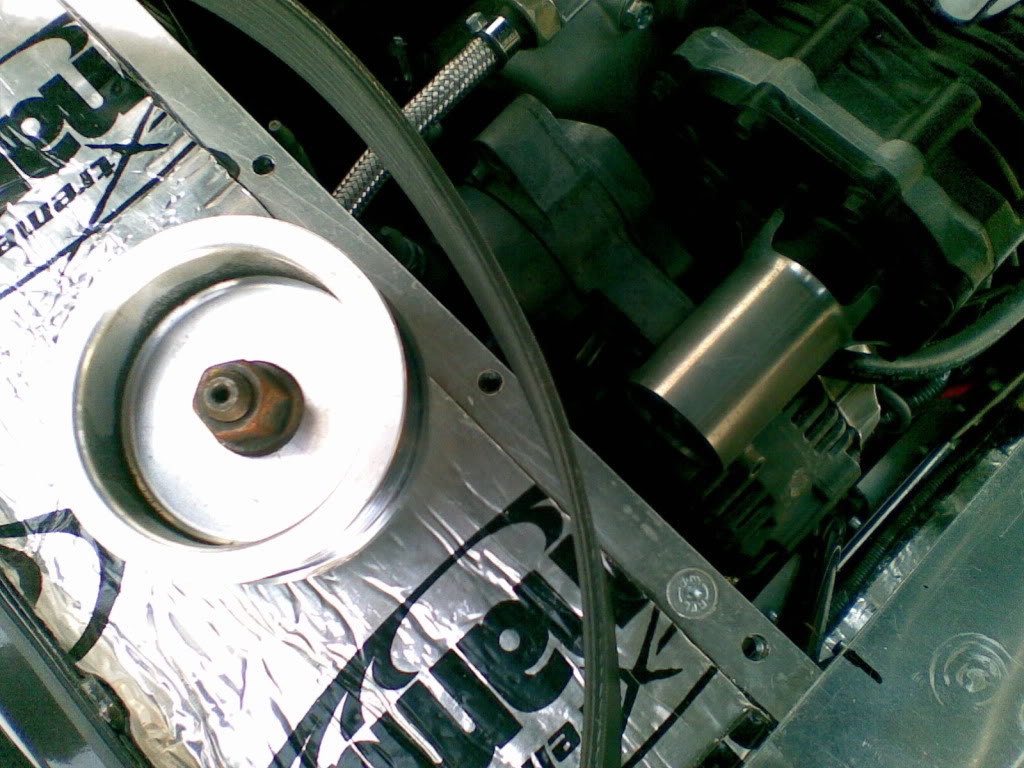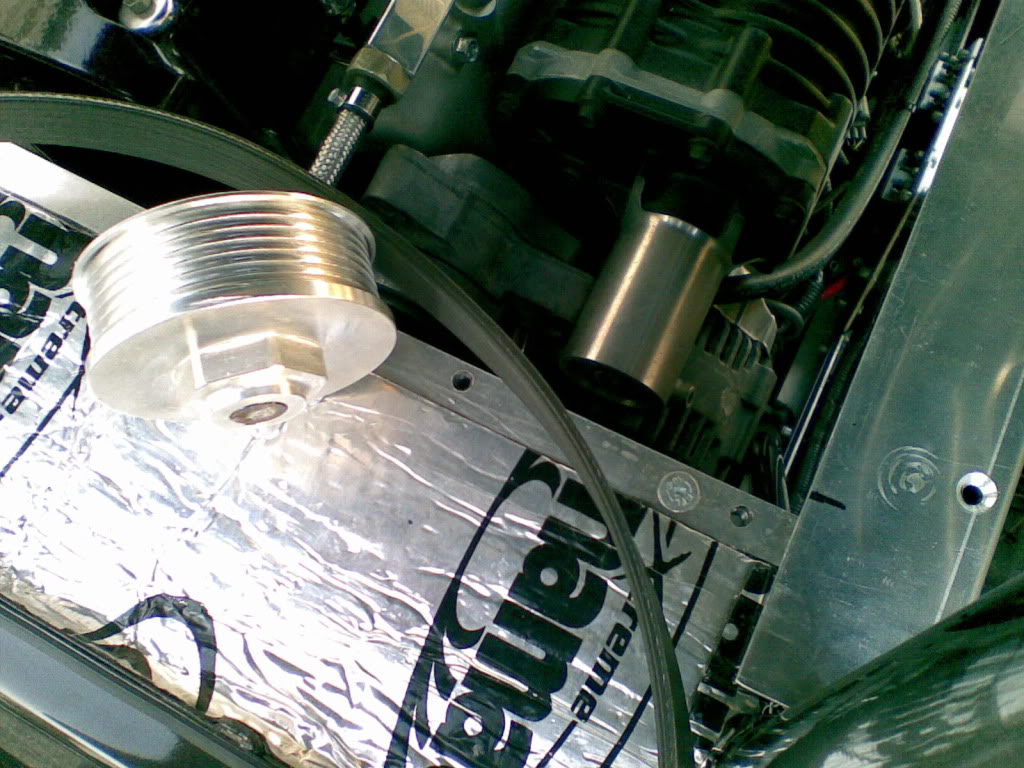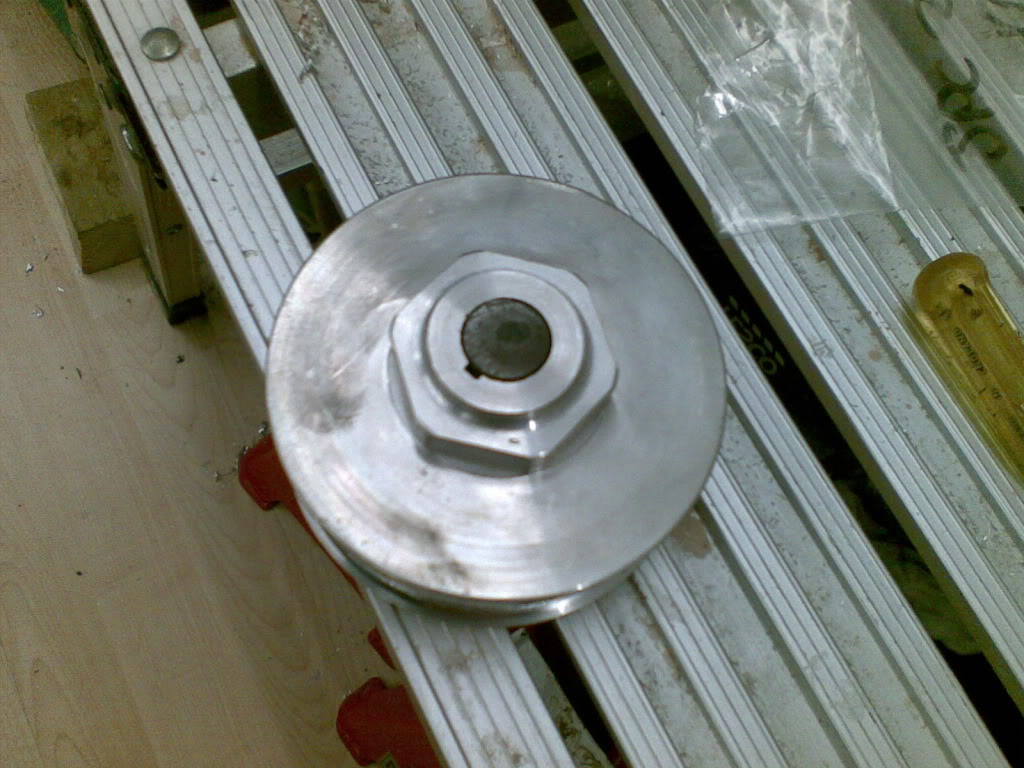 4-21-2010
I have gotten so used to the setbacks now that when this happened I didnt even bat an eyelid over it, just took some photos, checked all was well around the area it fell into and then got on with fitting the locking strip for the windscreen and remaking my forward part of the raised tunnel.

A few emails this morning and a fix is all sorted, not too bothered as it will stop me running the car all the time for nor eason other than to run it.

Rene - Thanks for the booster though.........
4-22-2010
Windscreen is in

Woo hoo I got the windscreen in with minimal assistance, I just needed my mate Stuarts locking strip insertion tool and while he was there he helped feed in the locking strip as I went round with the tool. Then fitted the wipers, which was amazingly easy.

I aim to get the charger off on the weekend ready to be fixed the following weekend.

Borrowed a carpet set of a mate (Kristian) who's mini should be ready fairly soon. So I am going to measure up and get a design laid out in CAD then fire that off to the carpet people.

My Whole reasoning for putting off having the doors hung is that once they are on it stops me from being able to work on the car in my little garage, which as you can imagine would make it quite restrictive and weather permitting.


Enough of my going on, here are a few pictures of the windscreen and wipers all in place (shouldnt need to use them much as its not exactly a wet weather car)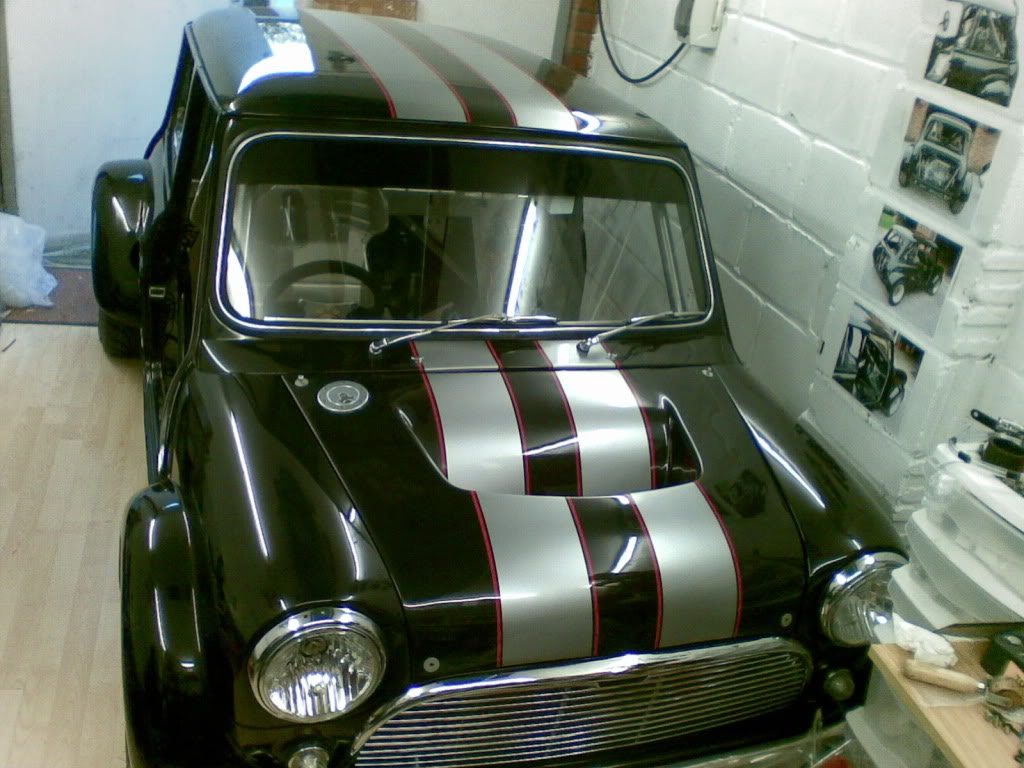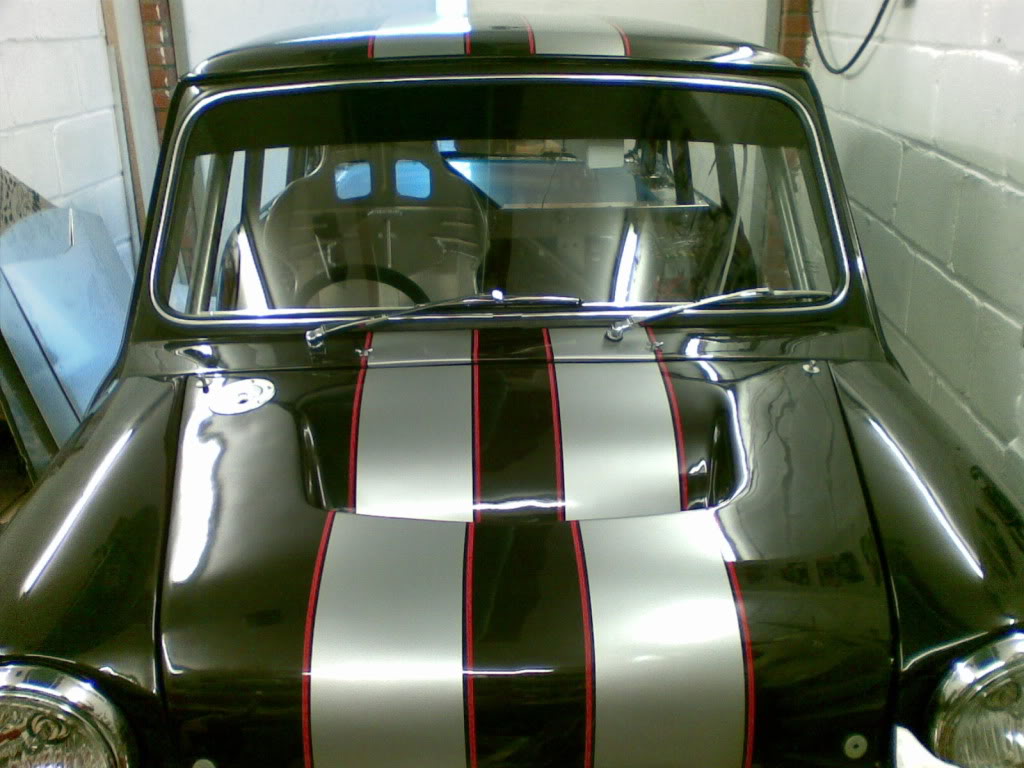 Finally one from the inside: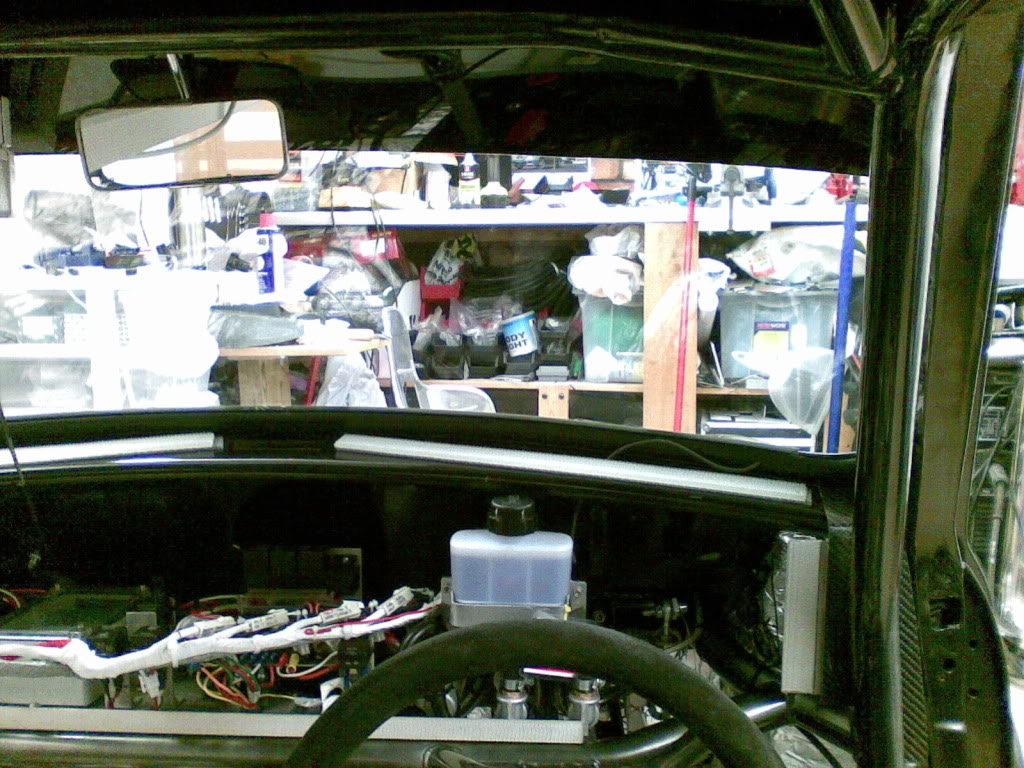 5-10-2010
EXPANSION TANK

An issue that had arisen along the way was a tiny pin hole in the weld of the expansion tank, just enough to bubble out when temps got high, coupled with the fact that I didnt have an easy way to drain excess coolant if I had over filled the system. So I had to remove the tank (which I dint think I would have to so didnt put electrical connectors to it or easy access to the bolts holding it in place - oops) to get the weld redone, thanks Barrie for sorting that for me.

I figured out a way to drain excess using a simple ball valve that I tee'd off from the future intercooler output from the expansion tank, maybe a sight gauge in the side would have been hadny I just couldnt find the bits to make one - I guess I just didnt try hard enough. Anyhooo - I put the hoses together for drain off and joined the expansion tank overflow/over pressure to the low pressure side of the ball valve.

here you go................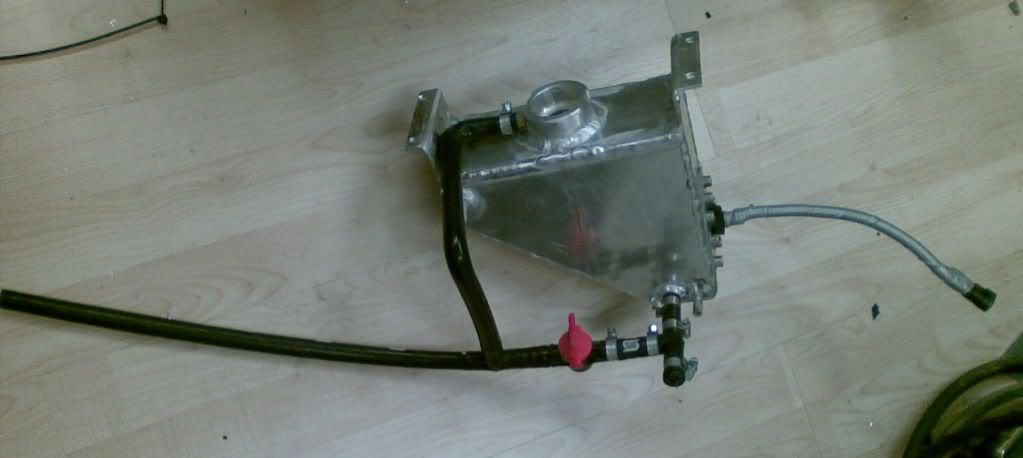 And a couple of pictures of the tank in place with the hoses all sorted: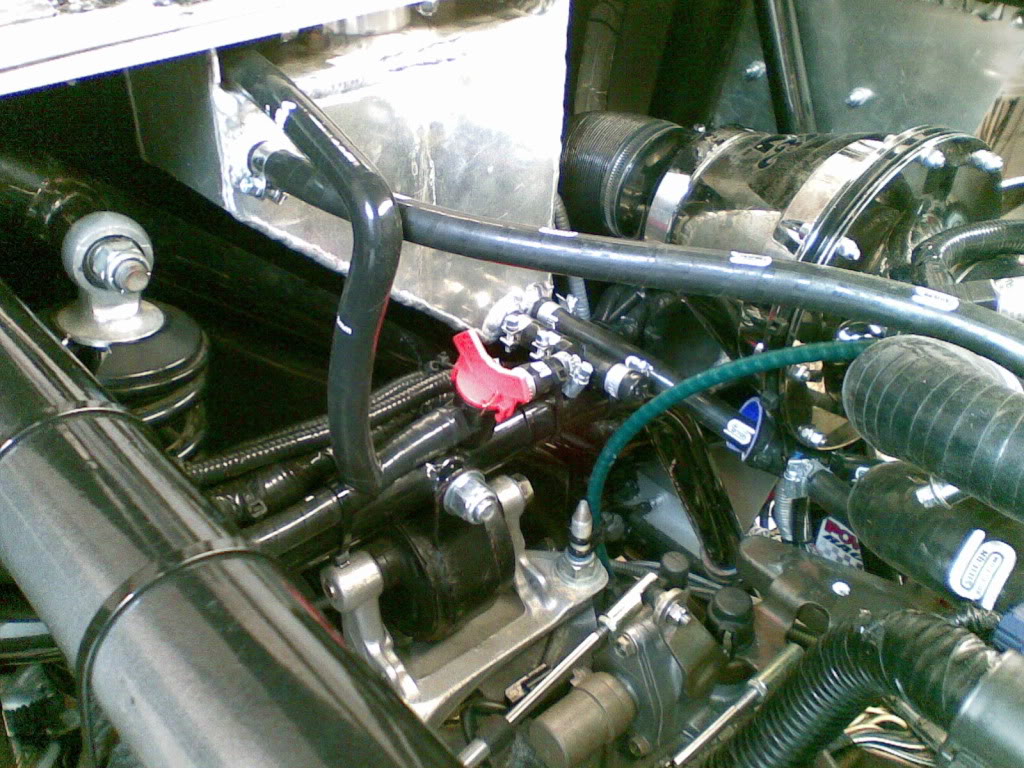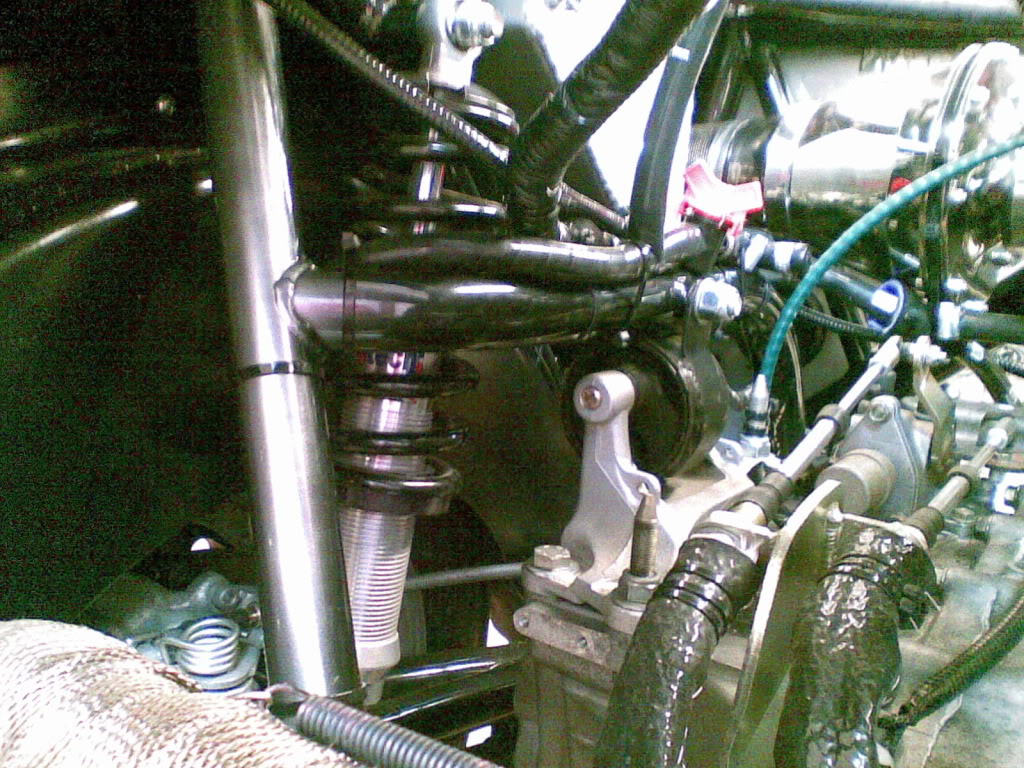 RAISED TUNNEL - GOING FORWARD

As with most projects things develop along the way, I originally put in place an extension forward of the raised tunnel, primarily as this is where I wanted to route my wiring and brake lines through to the rear of the car. The panels that I had put in place were OK but i felt they needed a bit of work as the wires down from the fuse board were visible from the seating position. So I have remade the panels with an extension upwards, unfortunately I havent got a cover done for it yet but its on the list of things to do.

So I am going to show a couple of before and afters ->>>>>>


One showing no extension: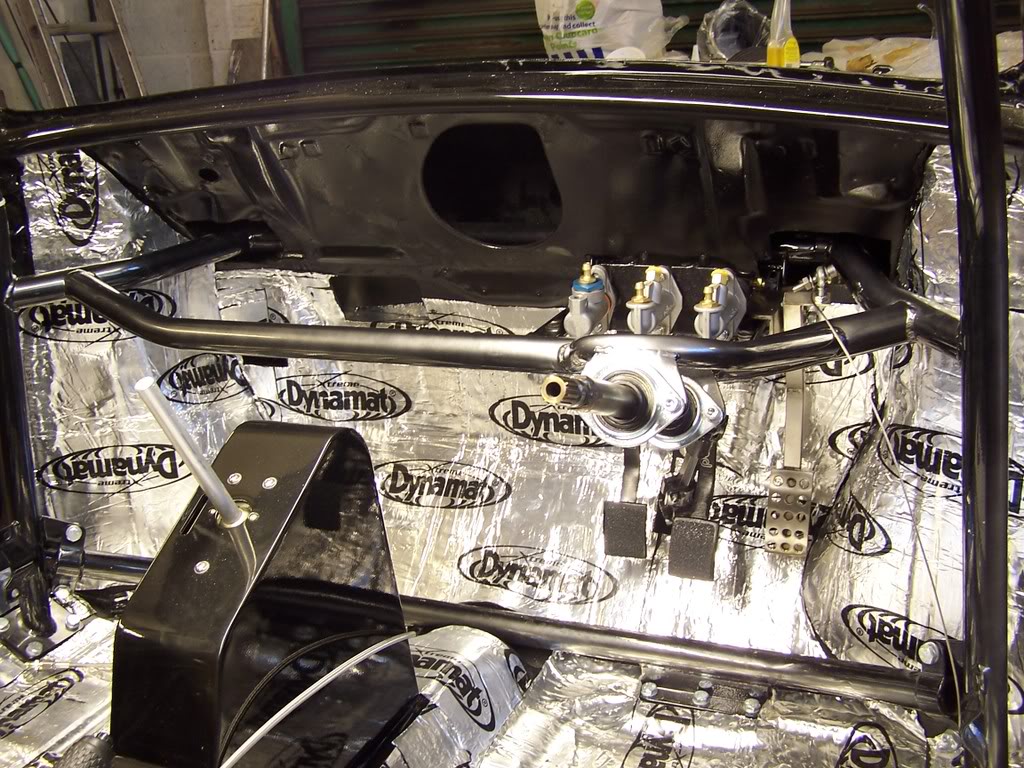 A couple of the old style: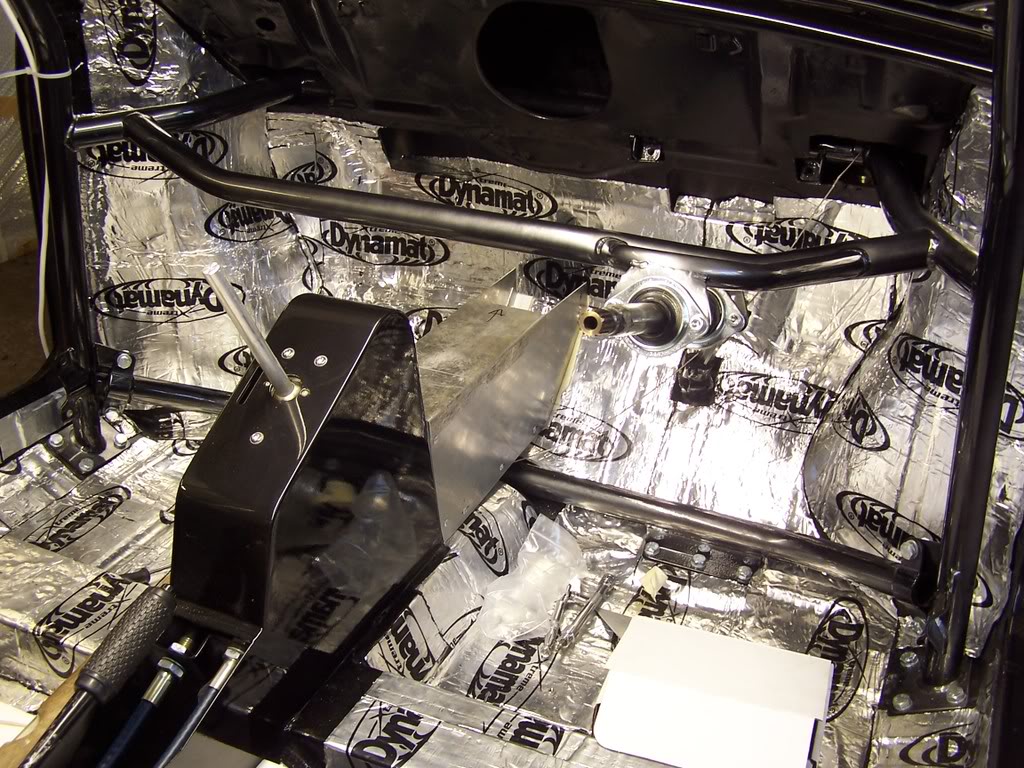 And now some of the new panels (excuse the poor quality photos - I only had the phone to hand):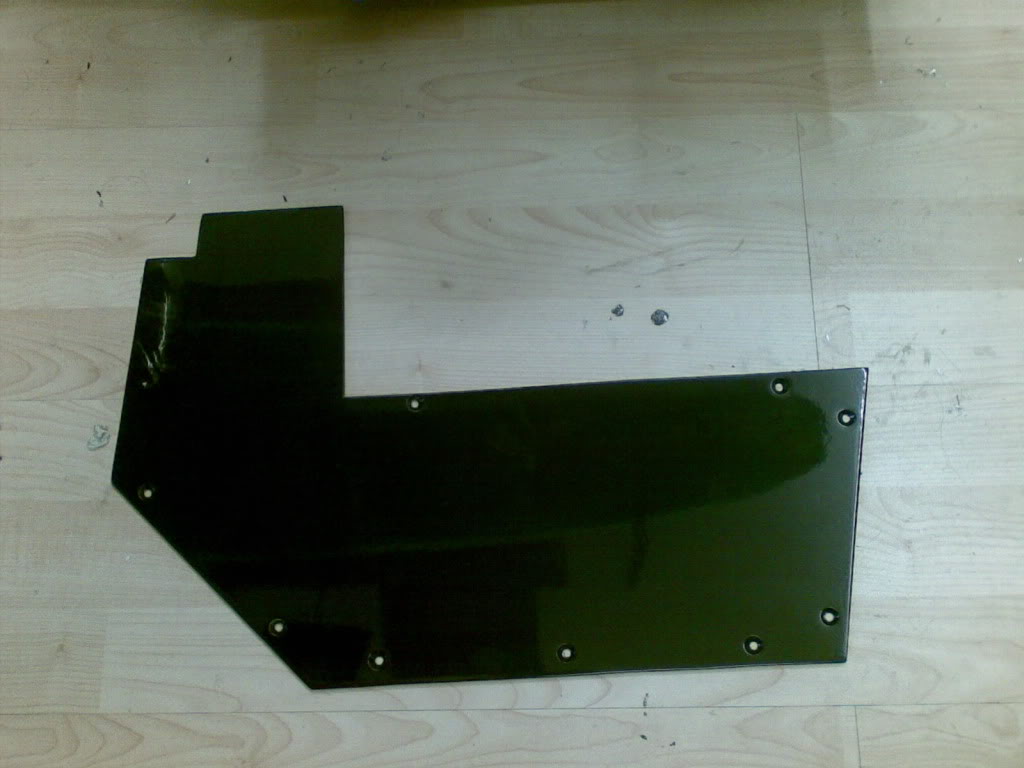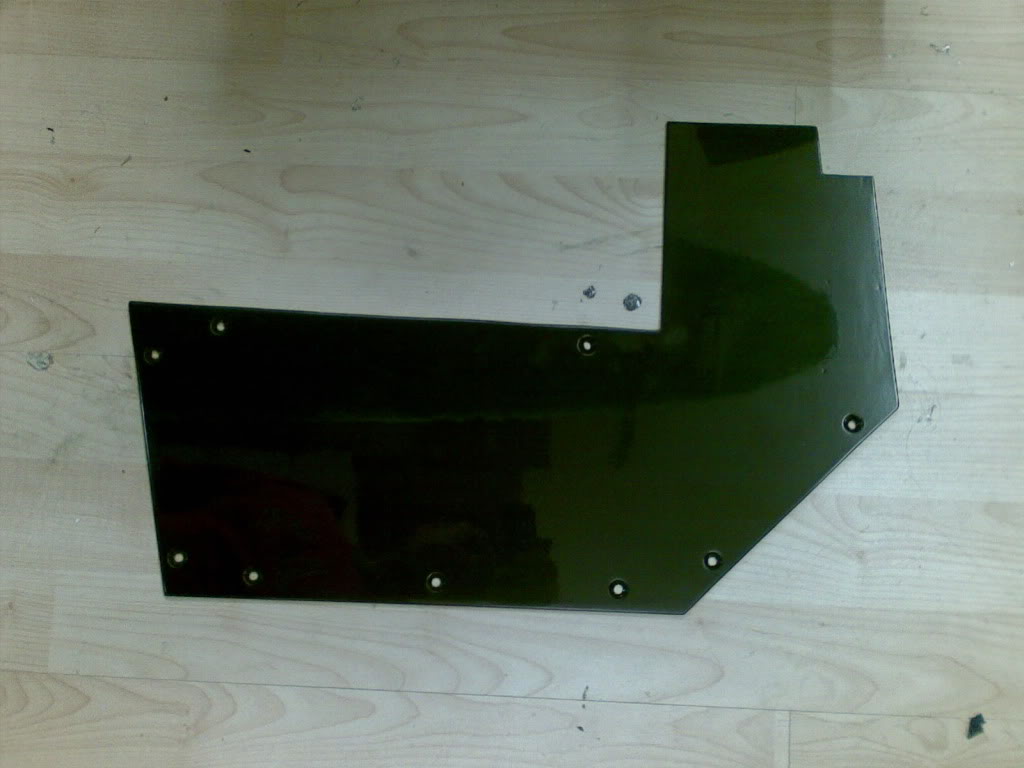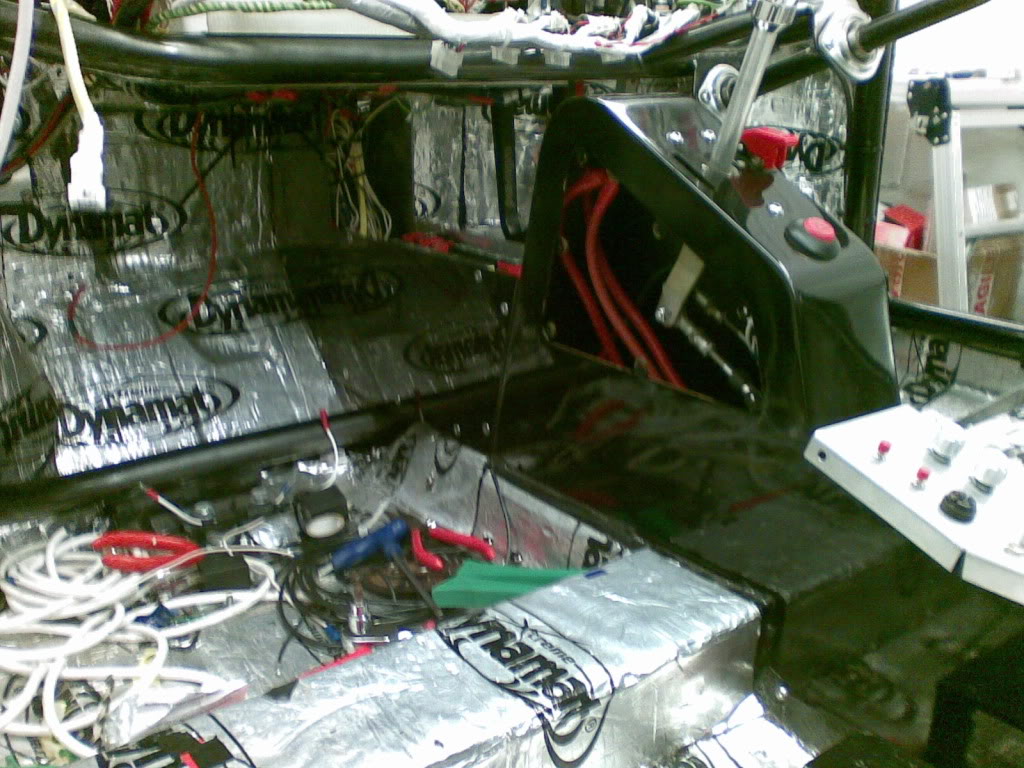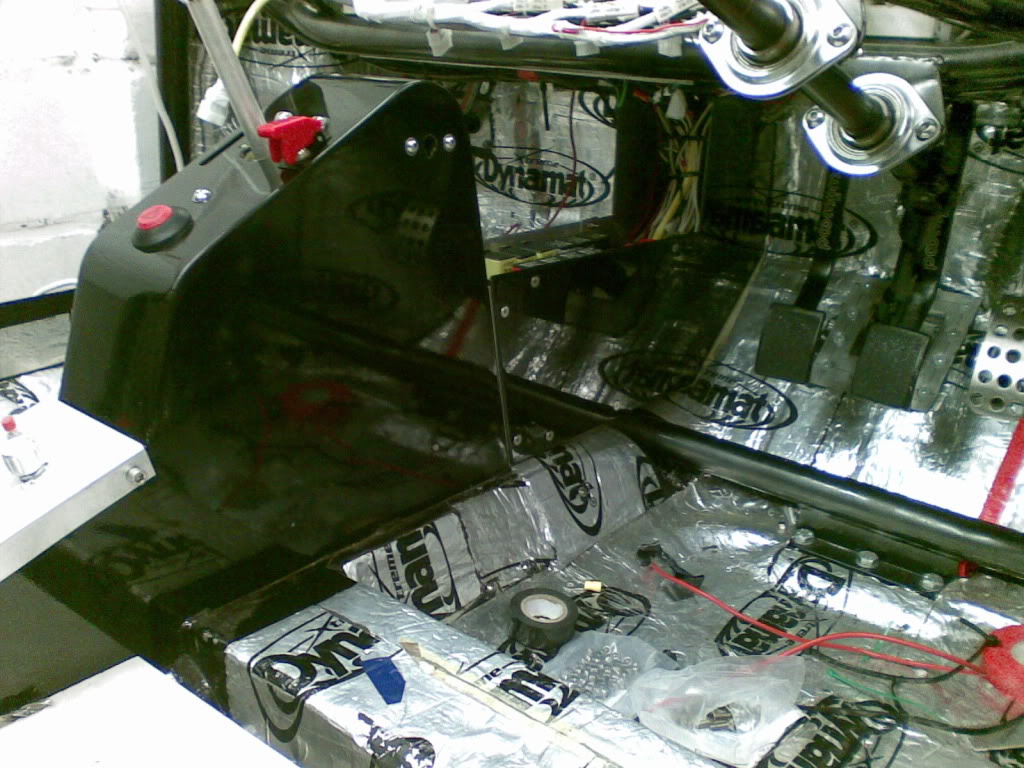 FRONT BULKHEAD CENTRE PLATE

Whilst i had the rasied tunnel extensions sprayed I also had the front bulkhead centre plate sprayed, I connected up the washer motor and I am glad to say it all works fine and its looks the dogs danglies to boot.

A few before and afters for you: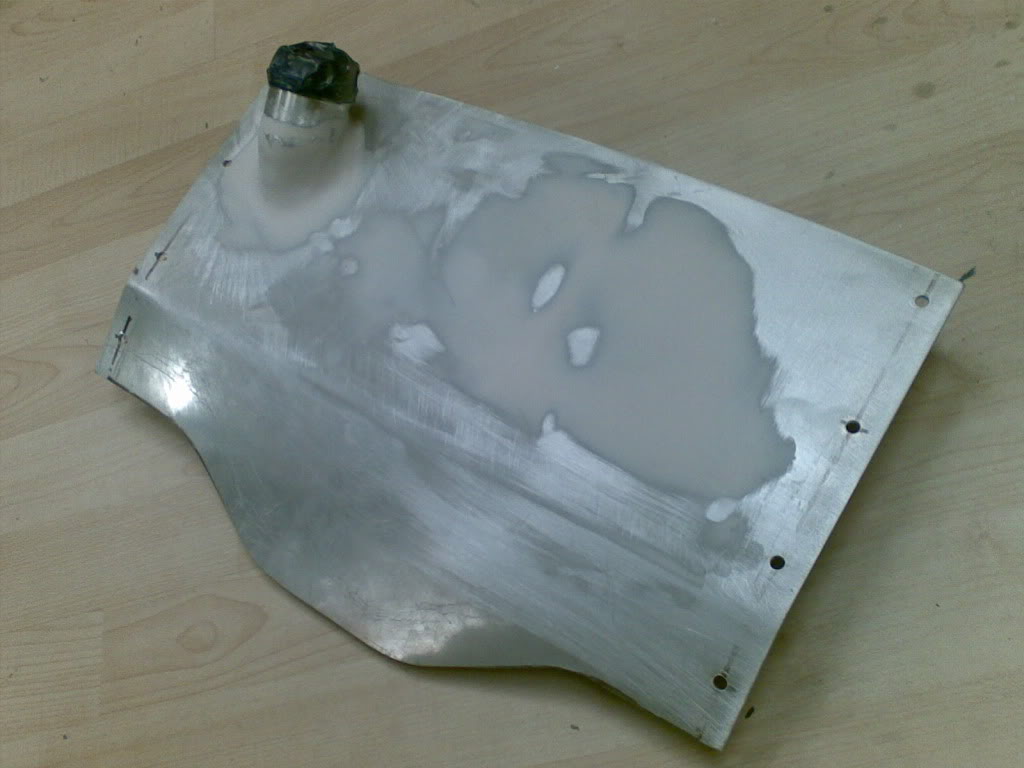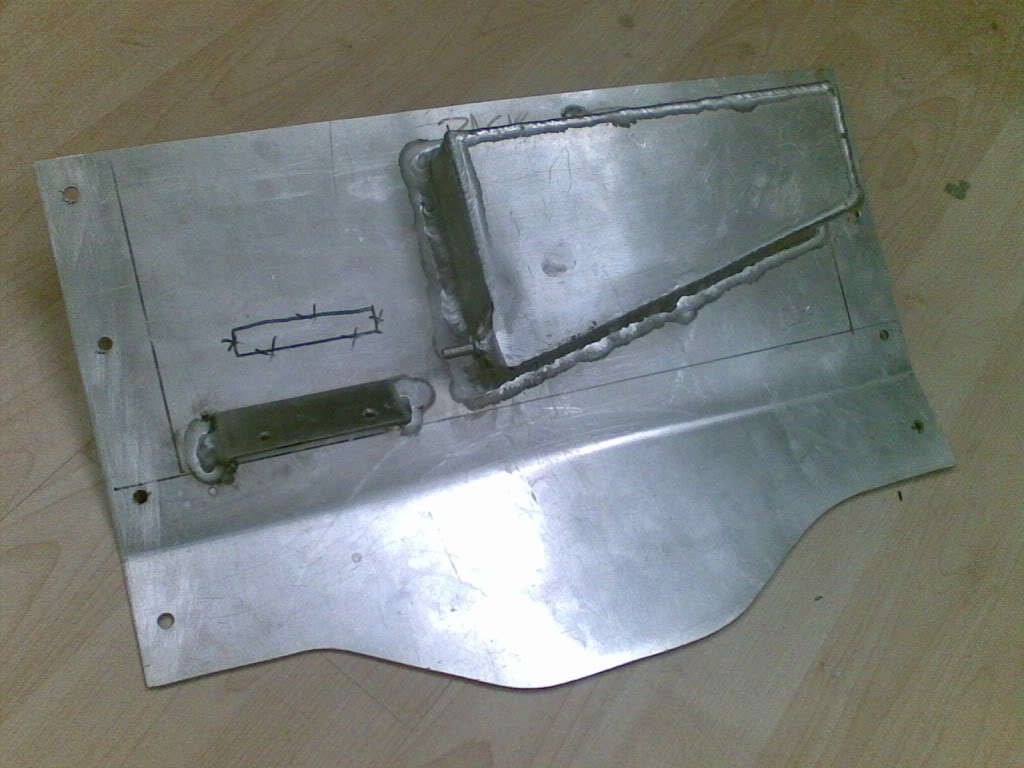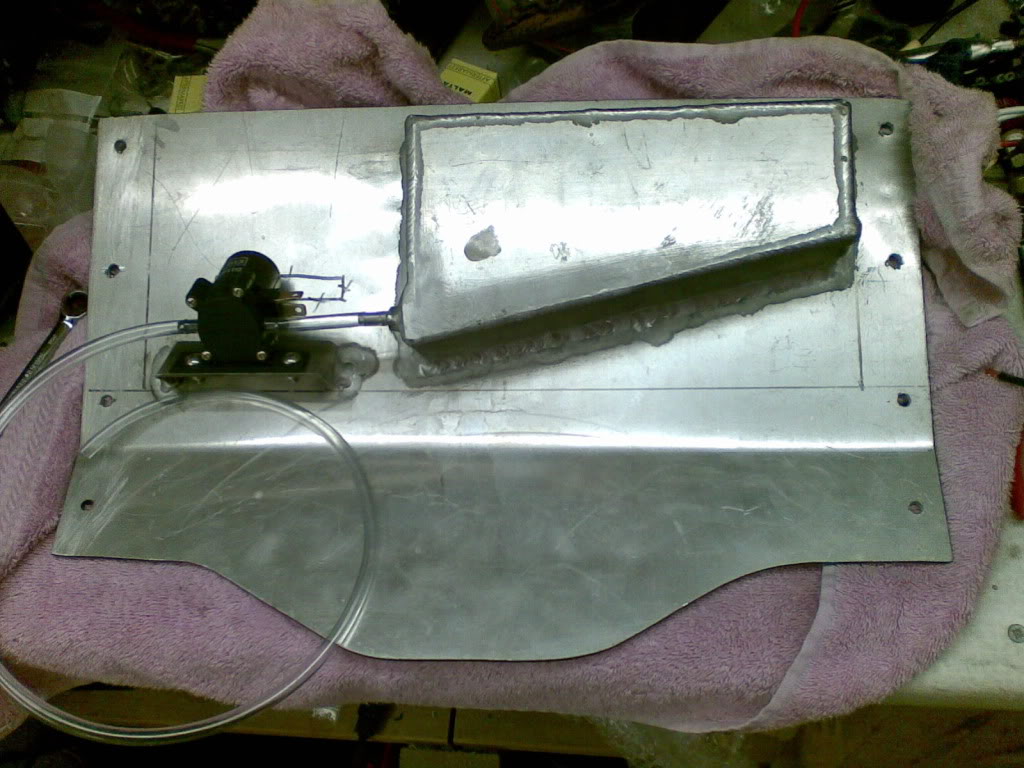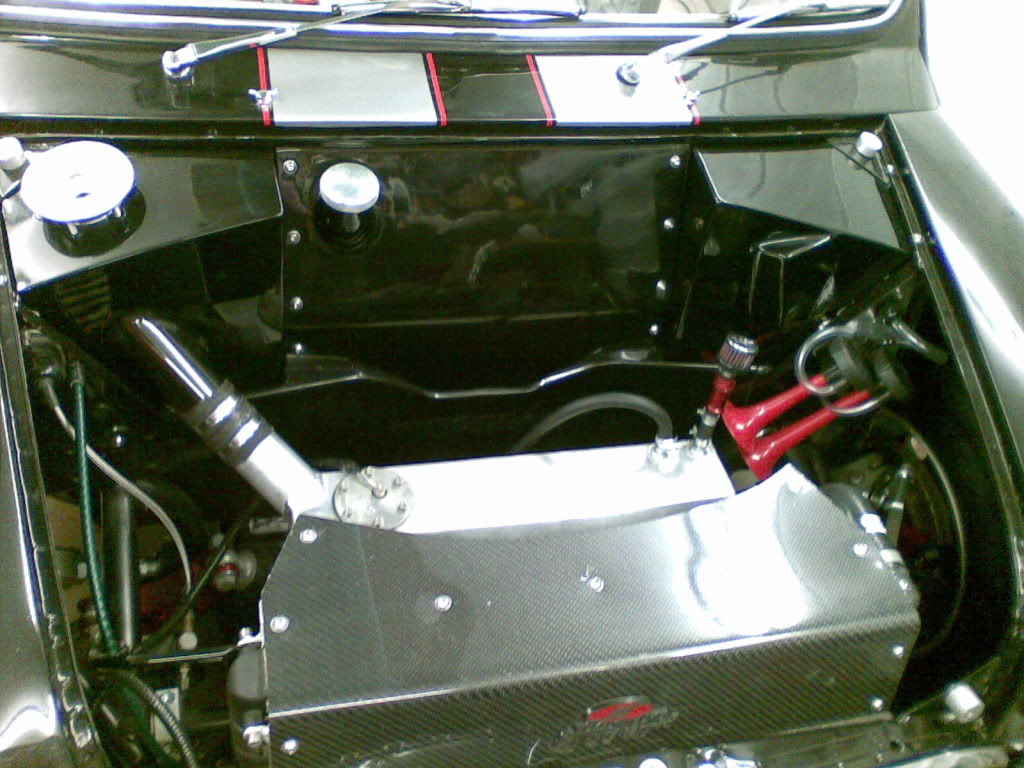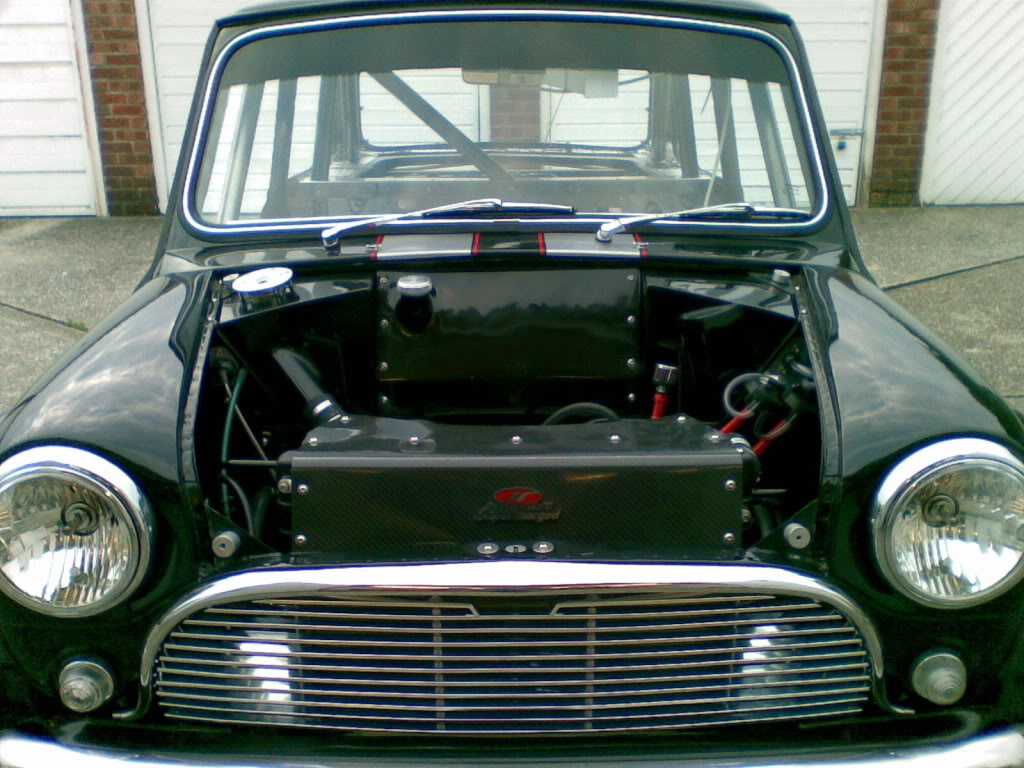 5-17-2010
NEVER NOTICED THIS BEFORE

Check out the front indicator lenses, aaaargh - another thing to get changed.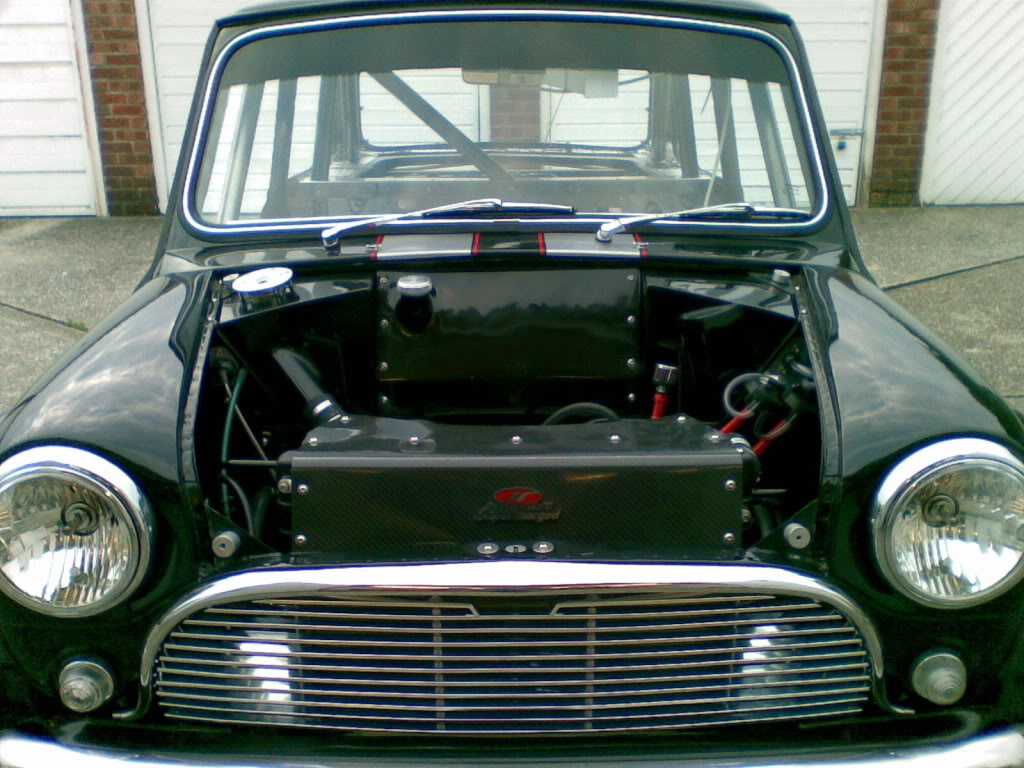 5-19-2010
CARPET TEMPLATING

So I made a decision to cut out the carpets myself, as I had done the hard work of measuring the car and drawing up the templates, then printed out 1:1 and what you see below is the templates in place. I ordered some black carpet (its the same as used in the Bini) and will be doing the carpetting myself, I do intend to order some bespoke mats for the car with some silver beading/edging.

Here are a few snaps of the footwell templates in place, note not all templates are printed yet - thats todays job: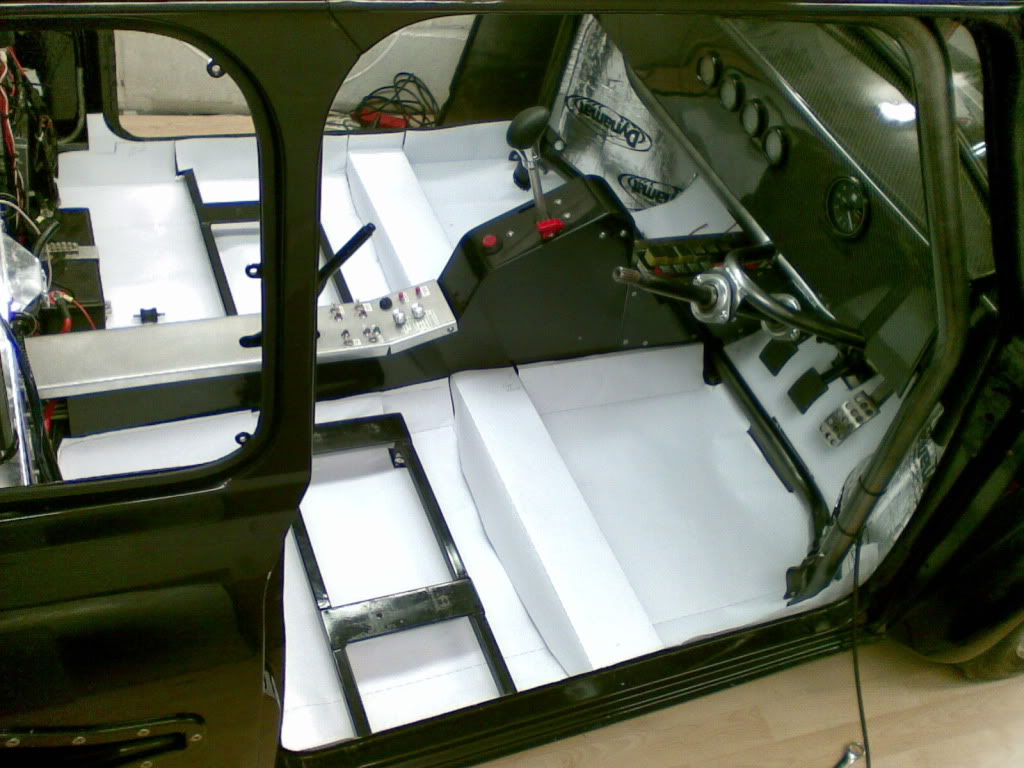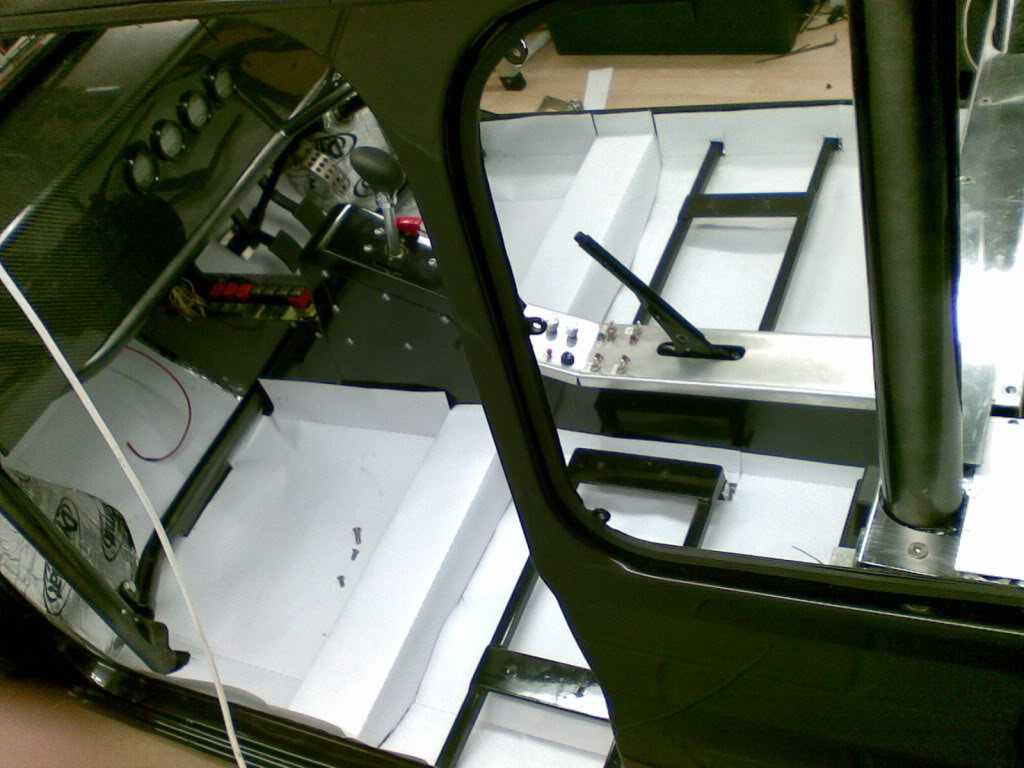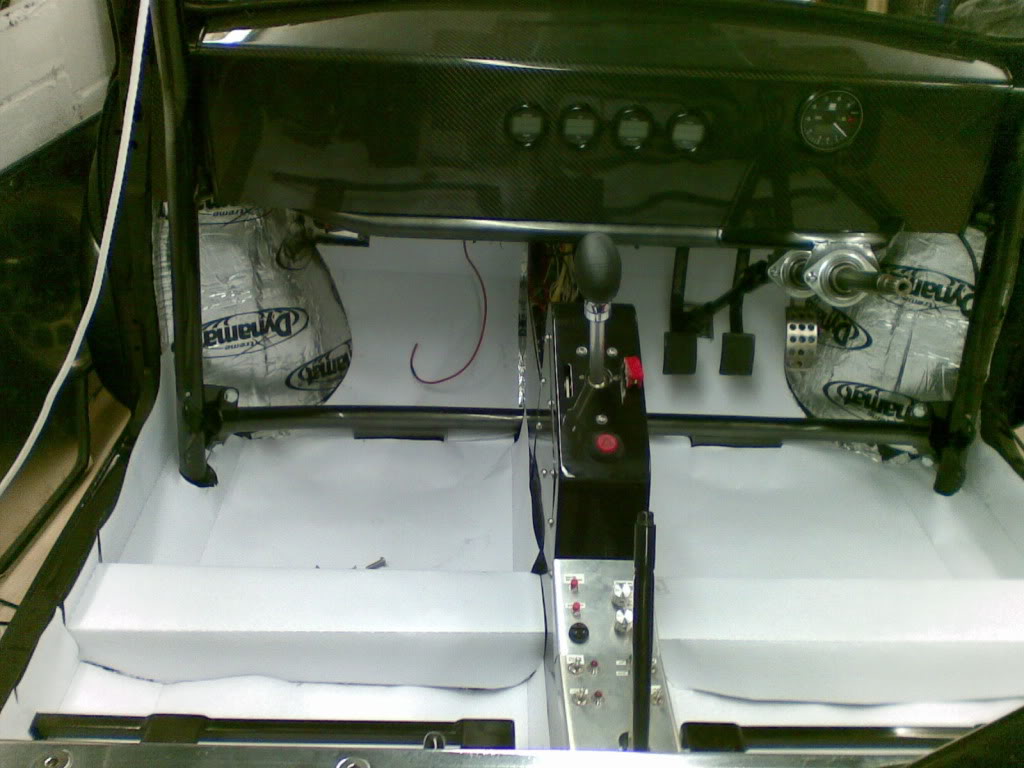 For those interested in engine stuff in the next two photos you can see the engine bay and it is pretty much as it will be for the rest of its life, there are now proper blanking pulgs on top of the charger along with a much tidier layout of the loom (cant really see the loom - dah dahhhhh)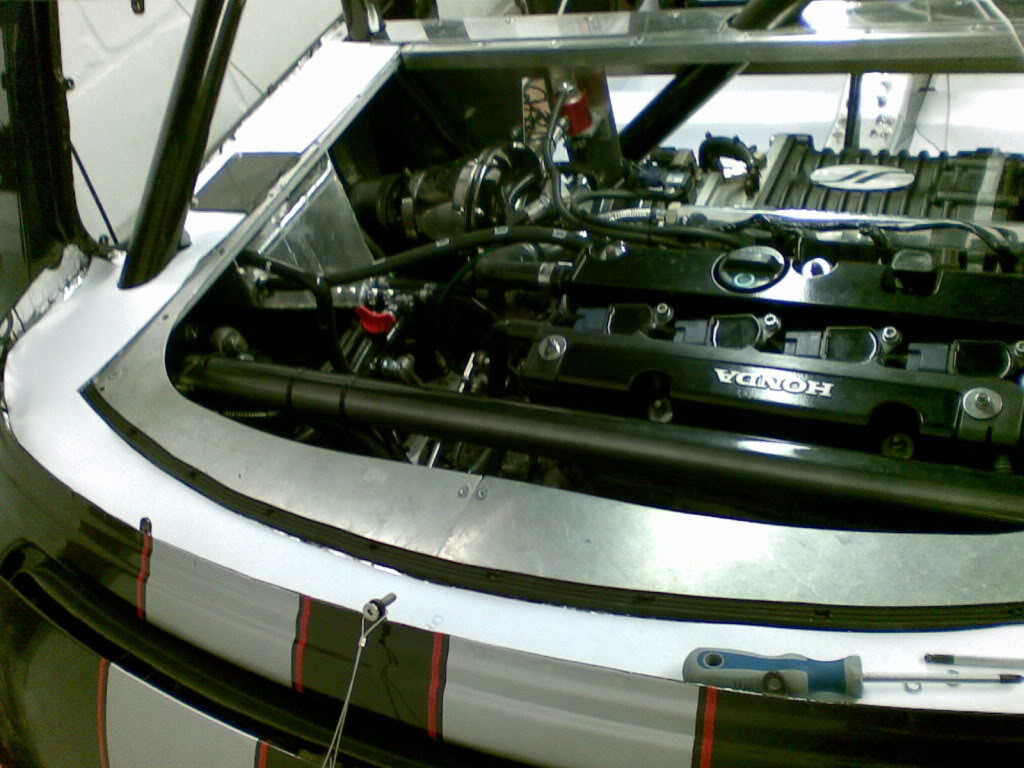 5-24-2010
THE WEEKEND WAS FRUITFUL

I got much achieved on the weekend, I got the fuel tank protector (75x50 3mm right angle ali along the bottom forward edge), undertray fitted, diffuser semi fitted (requiring support brackets to be fabricated this week), 90% of carpet cut, ready to be stuck in, 50% of carpet stuck in place. but not many pictures as I was pressed for time as I have just dropped the car off to have the doors hung (yer I could probably have hung them myself I just wanted someone else to do it as the doors came with nothing fitted and all the bits in a box), picking it up later in the week.

Undertray and diffuser needed to be fitted before the carpet went in as I needed to drill through the floor.

Fisrt picture shows the car up on the closest thing I have got to a set of ramps, it is jsut the right height to work on the underneath of the car when lying flat on your back.

Second picture is of the ali plate (3mm thick, will take a good battering) before the side rails were fitted. Thanks to Stevie G for letting me in the workshop on a sunday morning to cut it out.

Last picture is of the undertray in place, as you can see it is still in the original wax oil so now needs fresh black wax oil to bring it into line with the rest of the car.

That was all the pictures I got, once it is back with doors I will get the good camera out and start to take some better photos of all the recent work.


Enjoy: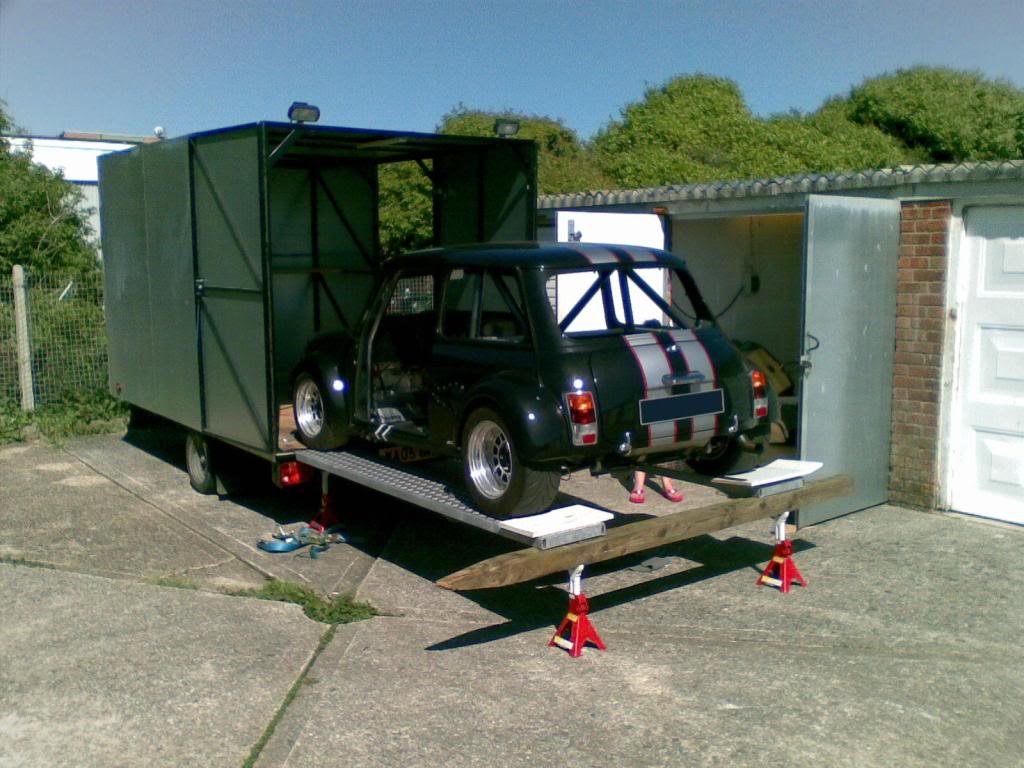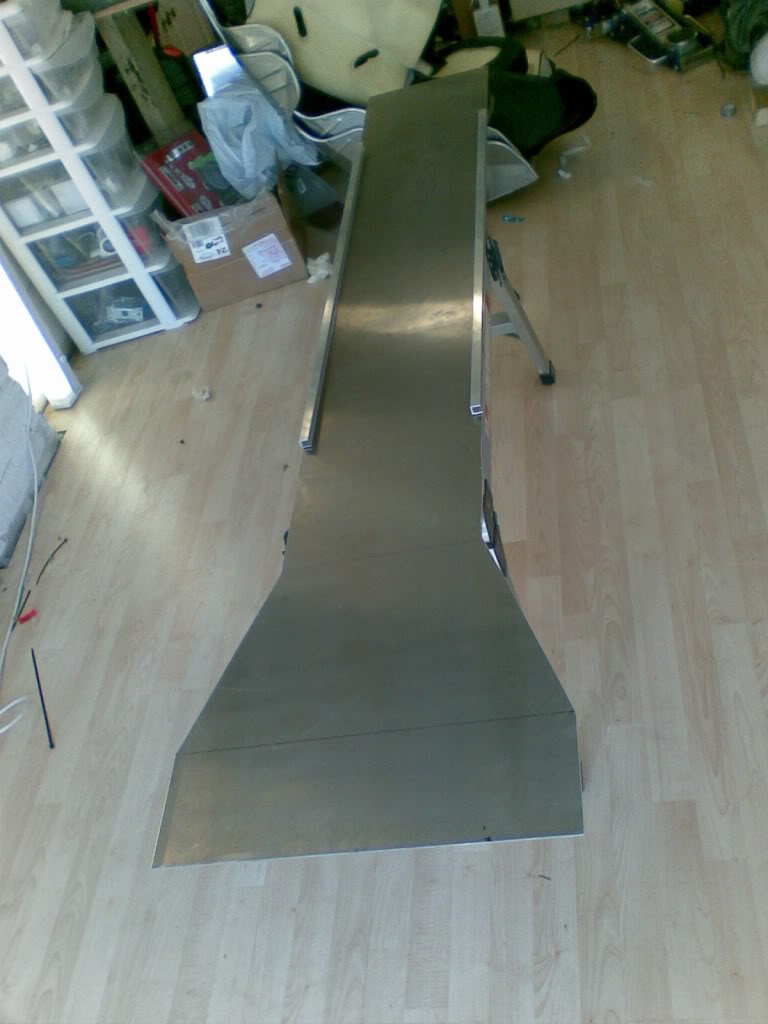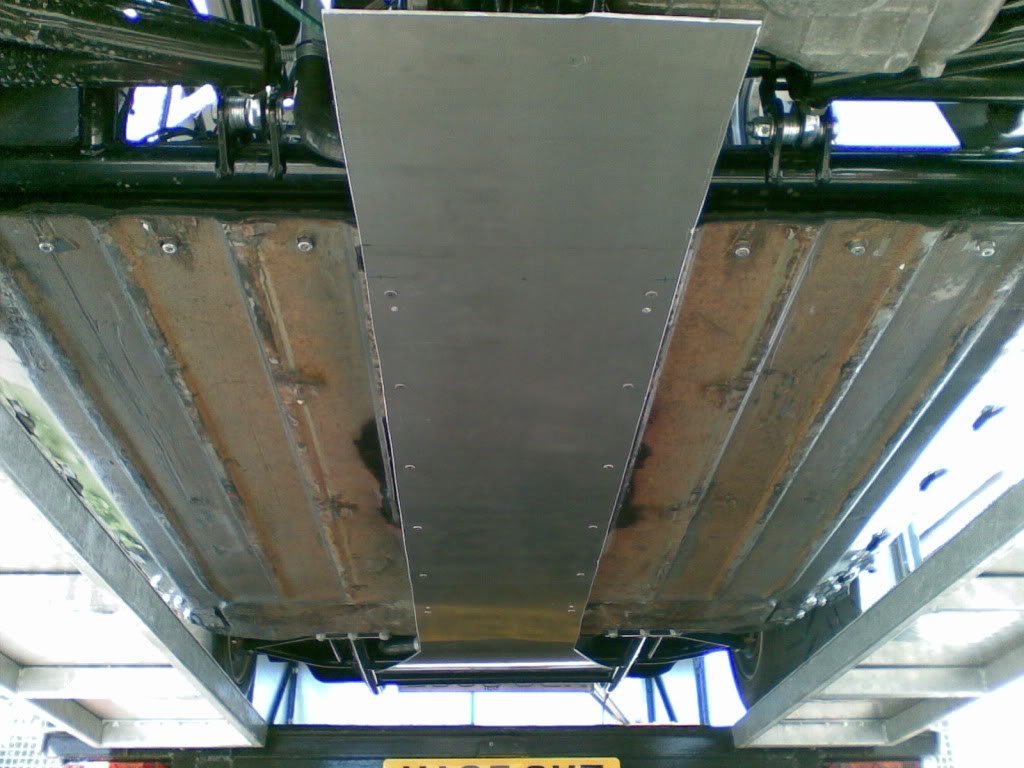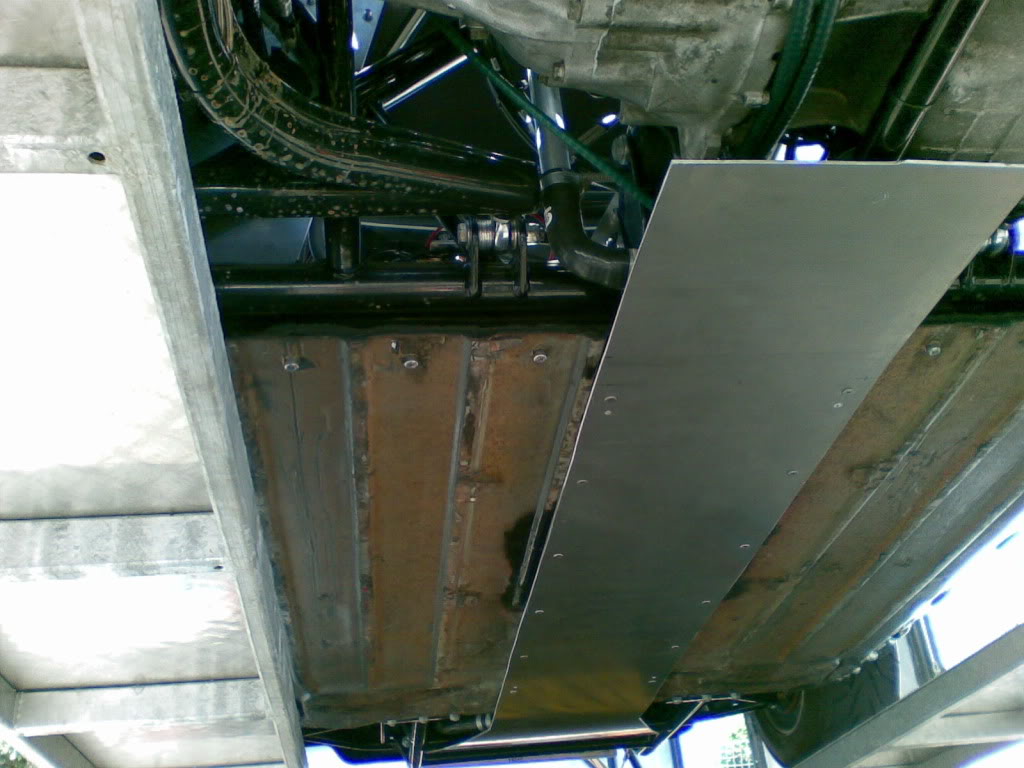 Just found a photo of what it looked like before, with the inlcusion of the cut out/new floor for the floor bar into the tunnel, the coolant lines are the closet thing to the floor, so you can see why I wanted to cover the tunnel: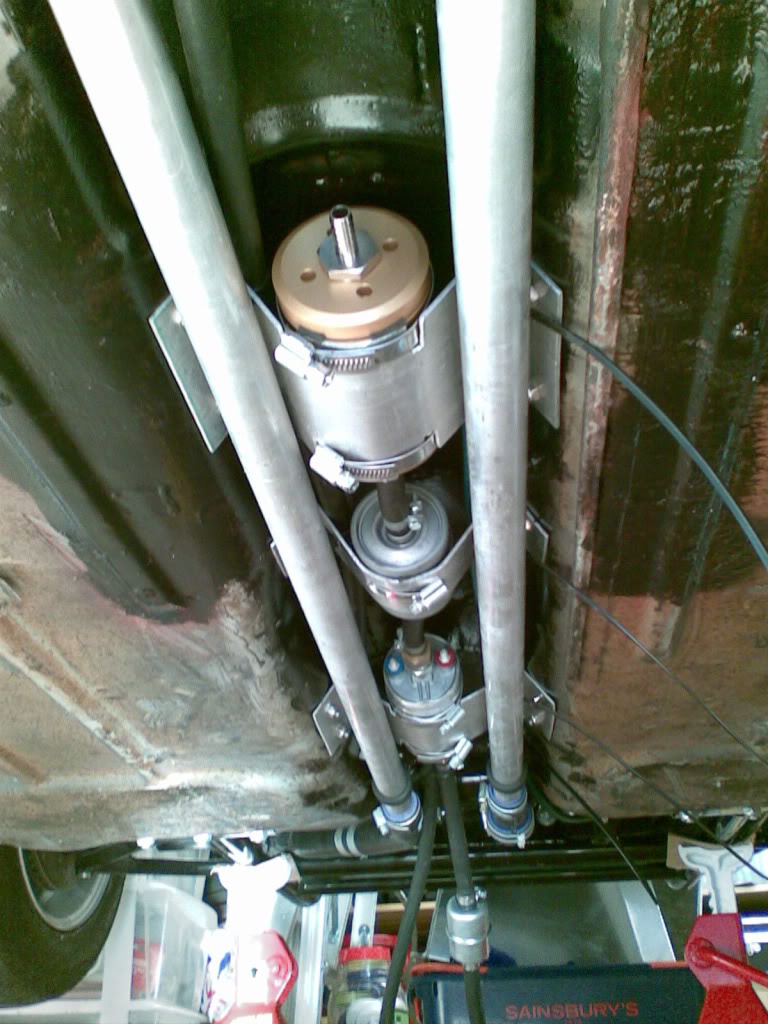 No worries, running from furthest away (nearest to fuel tank):

starting with 10mm pipe
10mm low pressure fuel filter
fuel pump exiting into 8mm fuel pipe
high pressure fuel filter
fuelcat (octane booster),check their website for more details.

then from there (out of picture) the fuel runs to the fuel cooler that is attached to the O/S side vent then into one side of the fuel rail, across the injectors into a fuel pressure sensor for the gauges into a fuel pressure regulator then into the return line that exits into the fuel tank.

I am getting better results with my setup than the regular 8psi JRSC and K20A2 that my tuner is geting from his normal setup, admittedly the exhaust is different to his but the uelcat has got be helping.
5-28-2010
Interior Has Carpet

Been busy busy again getting the carpet done, last bit of carpet to do is the front wheel wells as they are a right barsteward.

The pictures can do the rest of the talking.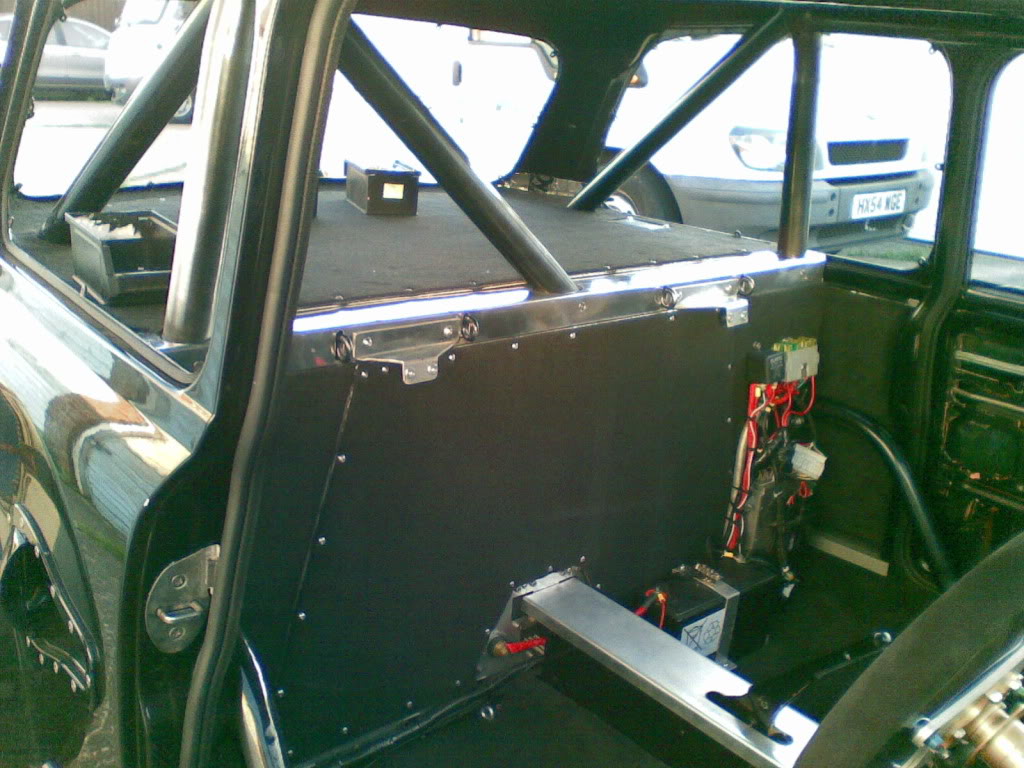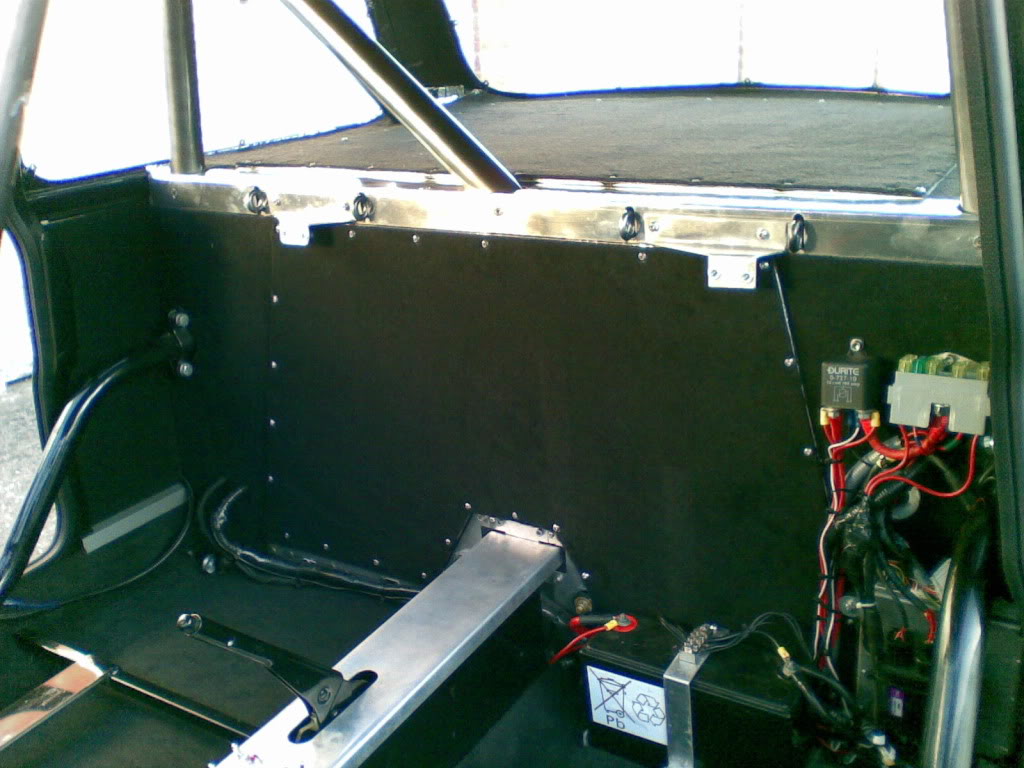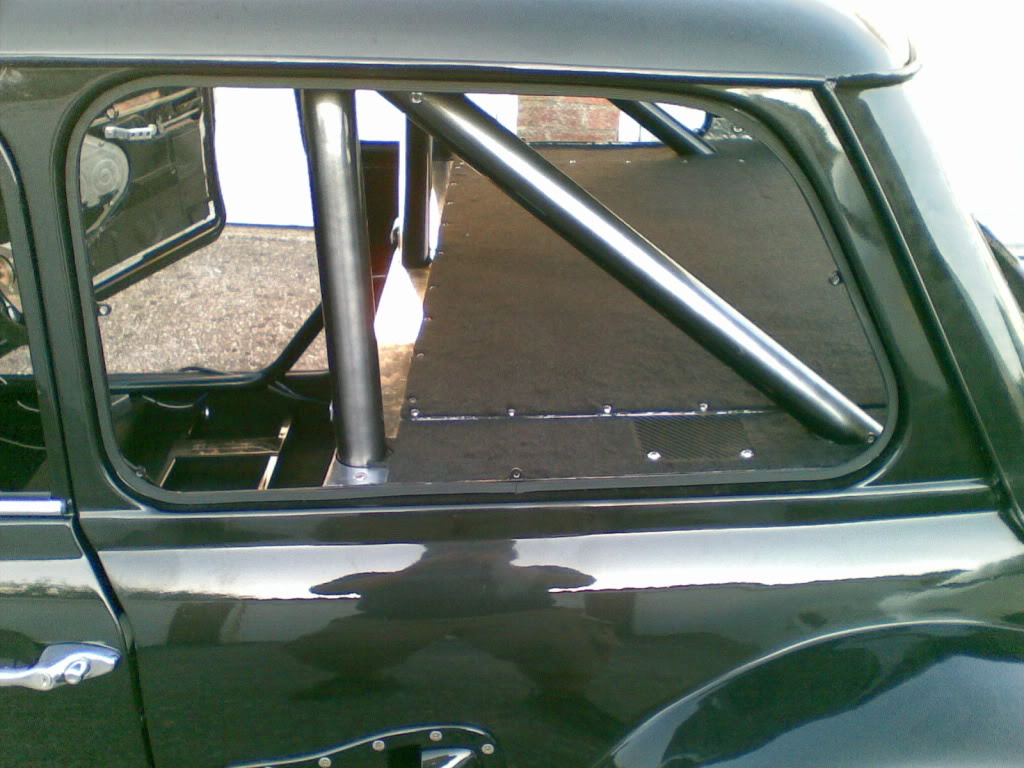 OH by the way I now have doors, thanks to Trevor at Minis R Us at Twyford (Winchester) more of that to come soon.......
Its actually not brutal to drive, it is fast, theres no getting away from that and the sound is good, was hoping to get the db's checked on the weekend but it looks like its gonna p1ss it down on saturday so no chance of that.

The wheels are a bit on the chubby side but it gives it a retro look that I quite like. Probably going to go with a different tyre make as Toyo R888's have gone up almost 50% in the last year, robbing gits. So next set of rubbers will most probably be Kumho, which will have a smaller side wall.

I have a perspex cover for show days but I like to keep people guessing as to exactly what is under the parcel shelf, its a sublte as it can be with wide wheels, side scoops and those stripes..........
7 x 13 front - 8 x 13 rear
BHP - approx 315 (288HP at the hubs)
should weigh in around 750 kg's (1650lbs) That makes a power to weight ratio of 420BHP/Tonne
0-102km/h (0-60mph), go here and put in the stats: CLICK ME FOR 0-60 Calculator dont put driver weight in as thats considered already.

I cant say for sure what the 0-60mph will be as its about skill as well as having the fast car.
6-2-2010
BOOT LID HEAT PROTECTION

Pretty much what it says on the tin really: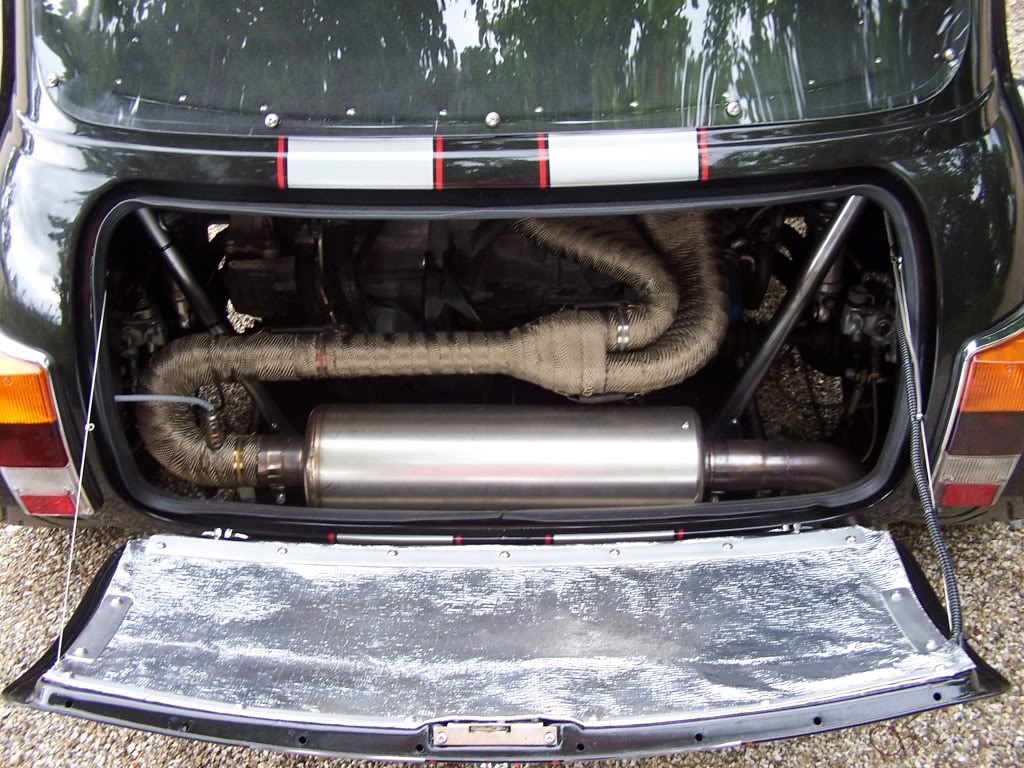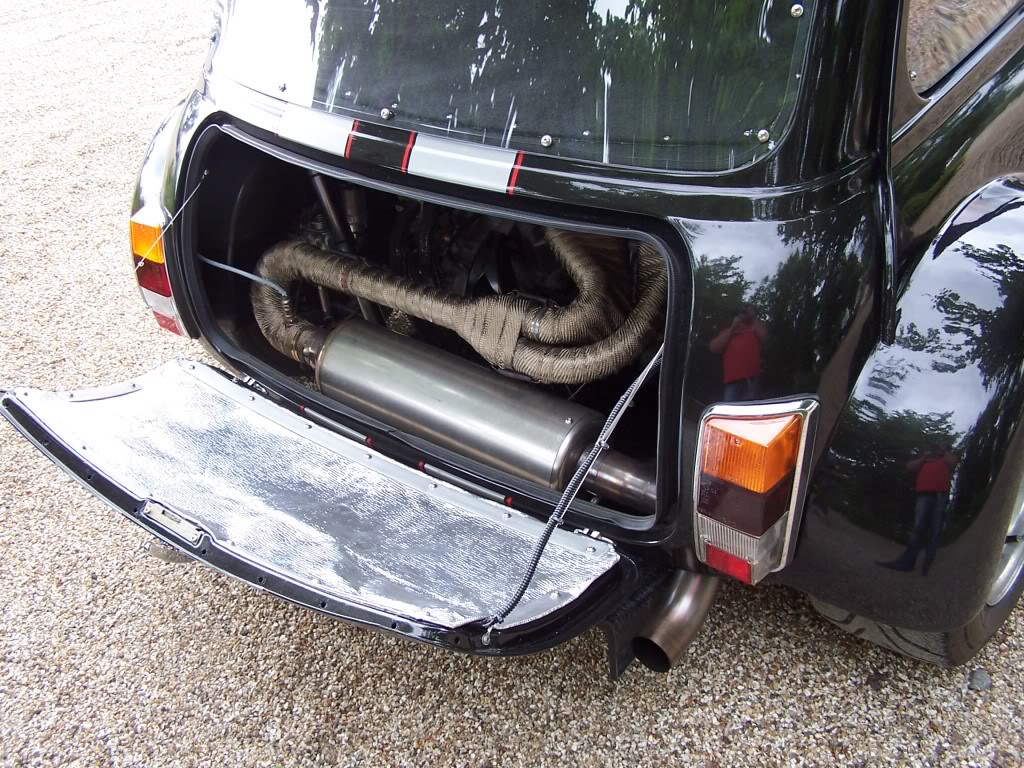 So I got to drive the car around abit over the weekend.

1st thing to note is the standard single baffle exhaust on this supercharged setup is 106db's, not a problem if your not going near a track, big problem if you are. Now I need to sort out a second baffle, I have an idea of what I want to do with this, I'll keep you'all posted

2nd thing, I advise all Zcar owners to check that the hats on the top of the coil-overs are properly tightened to its locking nut as mine wasnt and the whole suspension unit came apart doing about 60mph. I say this as it must have come from Protech loose. Its not the kind of thing you can normally check as the nut is hidden up in the cap of the suspension unit, I was really very fortunate that the damage was minimal, I did have a serious sense of humour failure over it though. Big thanks go out so a guy called Simon that lives just over Portsdown hill, near Portsmouth as he stopped, took me to his house, loaded me with tools and within 45mins I had it fixed and back on the road. The only tell tale sign is the dent in the under-slope of the expansion tank where the coil came to rest, thank god for the anti roll bar as this helped no end, also helped when trying to put it back together at the side of the road, threads on the piston shaft were flattened, which needed some attention, however now the threads are tight when tightening so it should not happen again. Also testament to the exp tank as it took a real battering.

The steering wheel is not straight when running in a straight line, so that needs sorting, it does run fairly true in a straight line, the large scrub radius is evident as it wants to pull on uneven roads, also under braking with a small amount of either lock on.

I can confirm that the car is fast as foook, stops on a dime and IMO looks awesome to boot.

I will show one picture of the car 98% complete for now, its not the best photo of it, but rest assured there will be more I just need to find the time to take some good photos.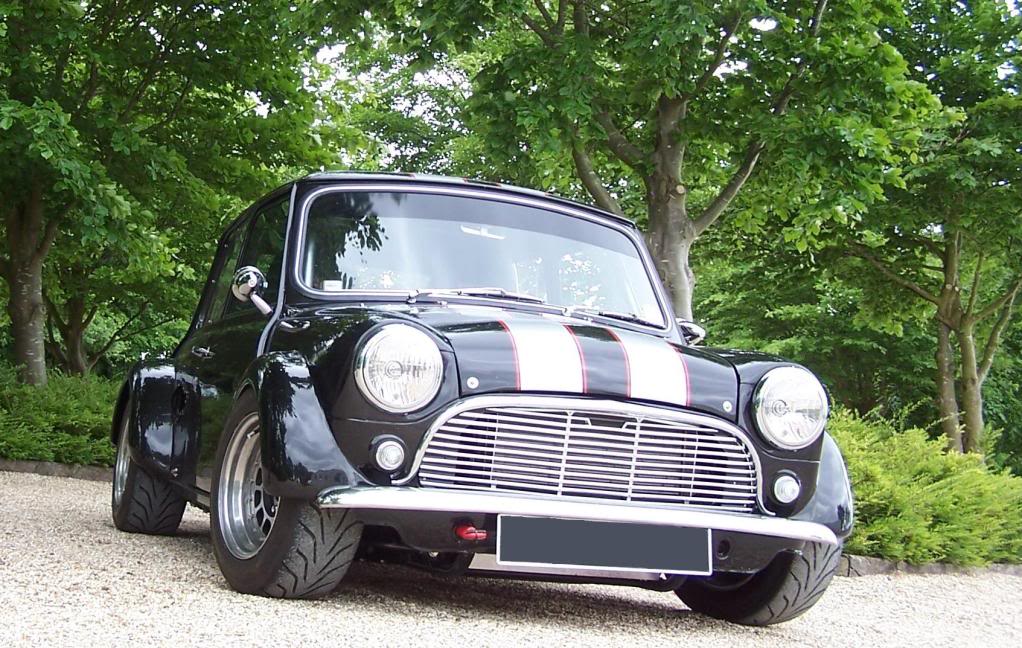 Maybe I didnt exlain myself very well, the dyno used connects straight to the wheel hubs (see the dyno chart post in the thread and you will see what I mean) so it measured 288HP at the hubs, which when you consider 10% loss through transmission gives a reading at the crank (where BHP is measured) of approx 315BHP. WHP is something different and is pretty much what is being read at the hubs, minus the weight of the wheels.

I am not wanting to teach you how to suck eggs so please dont take offence if you've read all this before, it might help others to understand. Here are a few examples of the differences between the various types of horsepower:

Brake horsepower (bhp) is the measure of an engine's horsepower without the loss in power caused by the gearbox, alternator, differential, water pump, and other auxiliary components such as power steering pump, muffled exhaust system, etc. Brake refers to a device which was used to load an engine and hold it at a desired RPM. During testing, the output torque and rotational speed were measured to determine the brake horsepower

Horsepower Measurements

The power of an engine may be measured or estimated at several points in the transmission of the power from its generation to its application. A number of names are used for the power developed at various stages in this process, but none is a clear indicator of either the measurement system or definition used.

In the case of an engine dynamometer, power is measured at the engine's flywheel (i.e., at the crankshaft output). With a chassis dynamometer or rolling road, power output is measured at the driving wheels. This accounts for the significant power loss through the drive train.

In general:

Nominal is derived from the size of the engine and the piston speed and is only accurate at a pressure of 48 kPa (7 psi).[11]

Indicated or gross horsepower (theoretical capability of the engine)

Minus frictional losses within the engine (bearing drag, rod and crankshaft windage losses, oil film drag, etc.), equals Brake / net / crankshaft horsepower (power delivered directly to and measured at the engine's crankshaft)

Minus frictional losses in the transmission (bearings, gears, oil drag, windage, etc.), equals Shaft horsepower (power delivered to and measured at the output shaft of the transmission, when present in the system)

Minus frictional losses in the universal joint/s, differential, wheel bearings, tire and chain, (if present), equals Effective, True (thp) or commonly referred to as wheel horsepower (whp)
Got a few more photo's tonight, some turned out OK but the sun was still abit to strong in some of the photo's - must try harder:

Anyhoo, here are a few from tonight, no prizes for guessing where they were taken.

You can start to see why it has taken me so long to get to the finished article, there are many, many subtle bits that needed doing, in a couple of days I will have the interior complete and will post some photos of it for you'all.......

This is the first showing of the badge on the boot, anyone recognise the style of writing?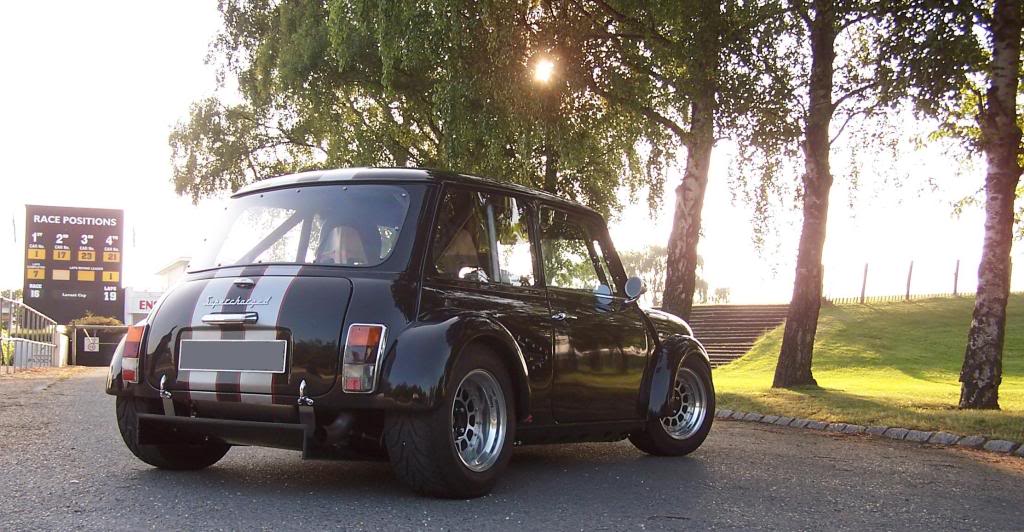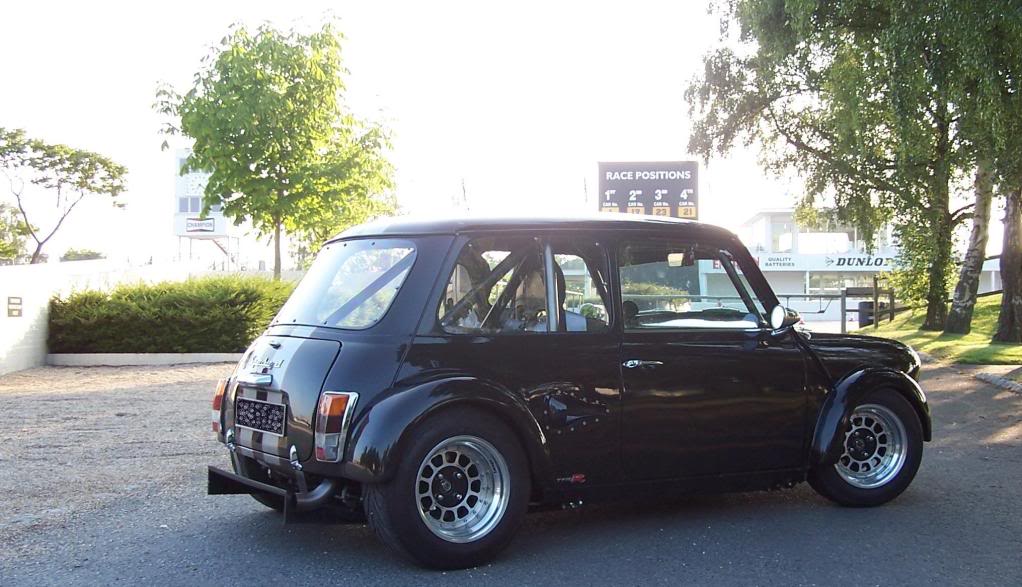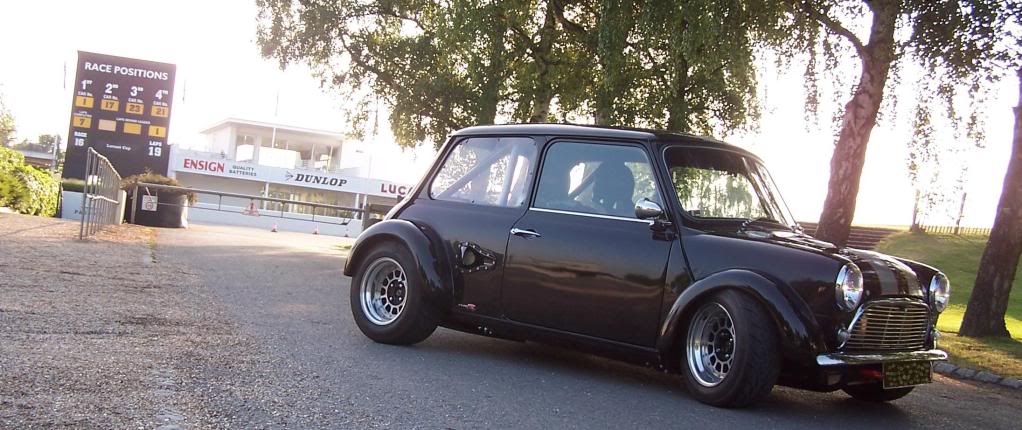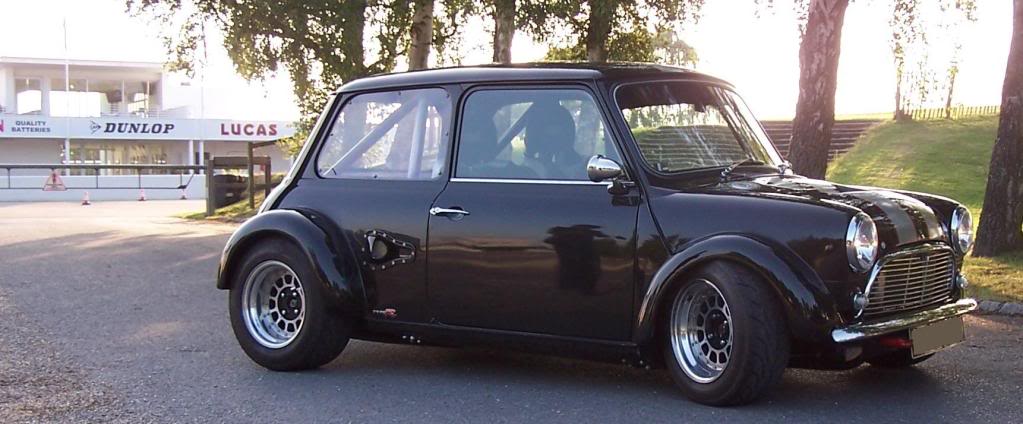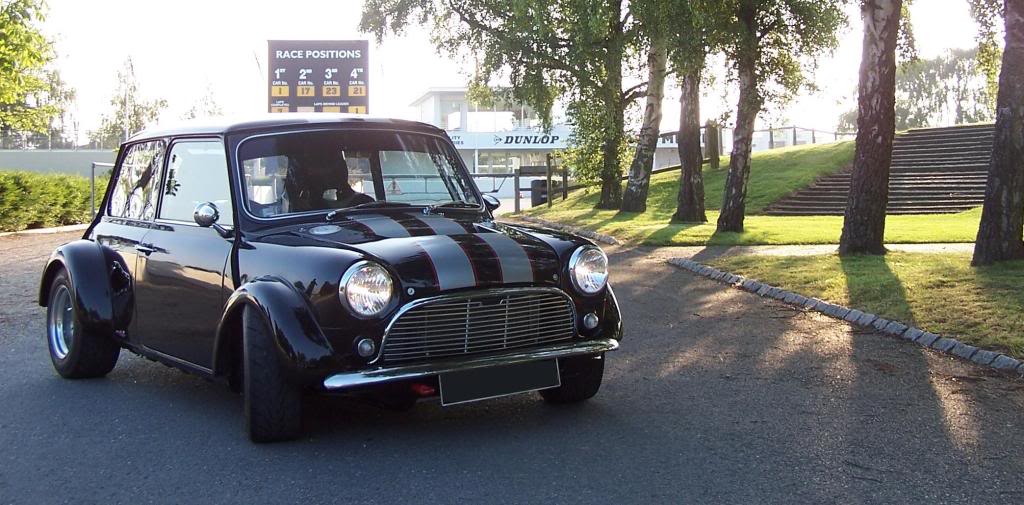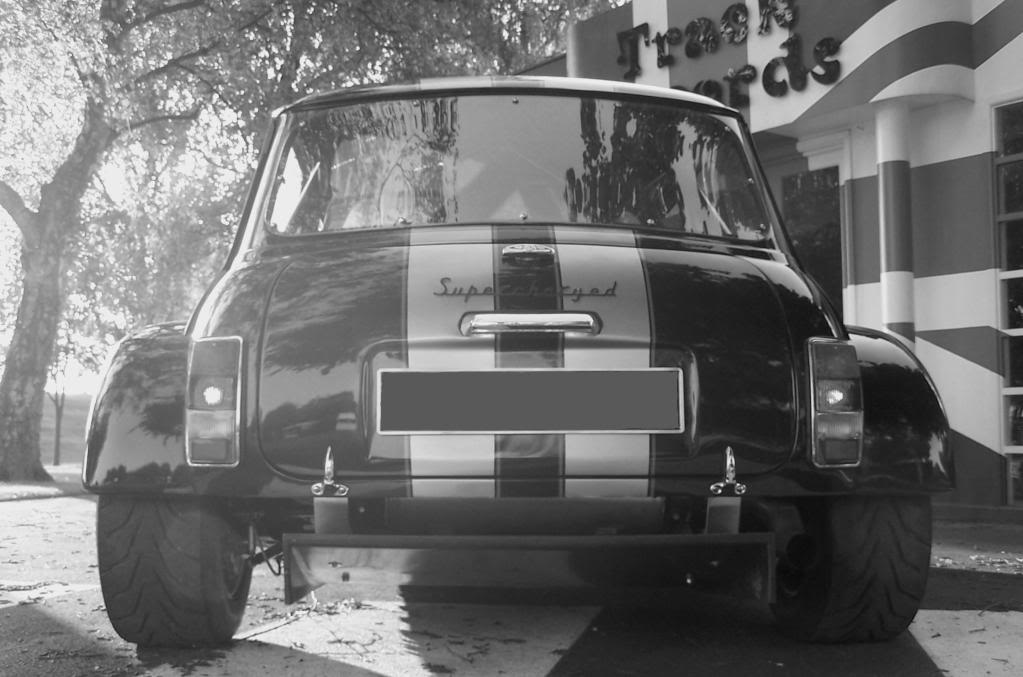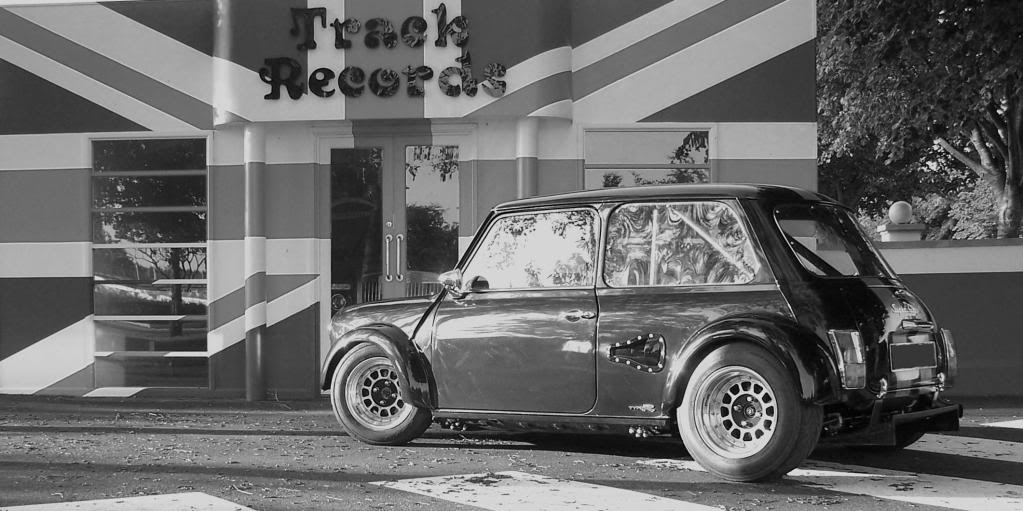 6-7-2010
In the week that I have been driving it the front suspension has 'settled', leaving the front wheels toeing out like a barsteward and has worn the inside of the front tires to the limit in a week. So this weeks mission is to find someone local that can do me a 4 wheel align as it just doesnt feel right. The front wheels are now so far up in the arches that they rub so it needs some ride height putting back into it.

In answer to your question the ass is a bit wobbly, mostly due to the size of tyre wall, it tends to roll over on the tyre abit. It skips all over the place down a bumpy back lane which is a bit disconcerting and due to the toe out it nows pulls like a fecker under braking. I now have to pay for a second 4 wheel alignment, which combined with some new tyres should hopefully cure all the niggles of the handling.
6-8-2010
I have just booked in to get my car 4 wheel aligned and corner weights done, so come friday 25th June when I pick it up it should be well and truly sorted on the handling front.

Rene, your quite right my friend, thats why I will let someone else have the headache, although I would love to have the equipment and the know how for this task as it is a black art from what I can see.
FRONT TOWING POINT, UNDERTRAY AND OTHER RANDOM STUFF

When I had the wheels off checking all the suspension was still tight after the hoohaa with rear suspension unit I took the tiem to take a couple of photos of how I overcame the lack of front towing point. I like to use this to tow the car into the trailer as it then acts as a stop for the front of the car.

In the photos you can see the fuel tank protector I put in place and you also get a glimpse of how the undertray sits at the front of the car.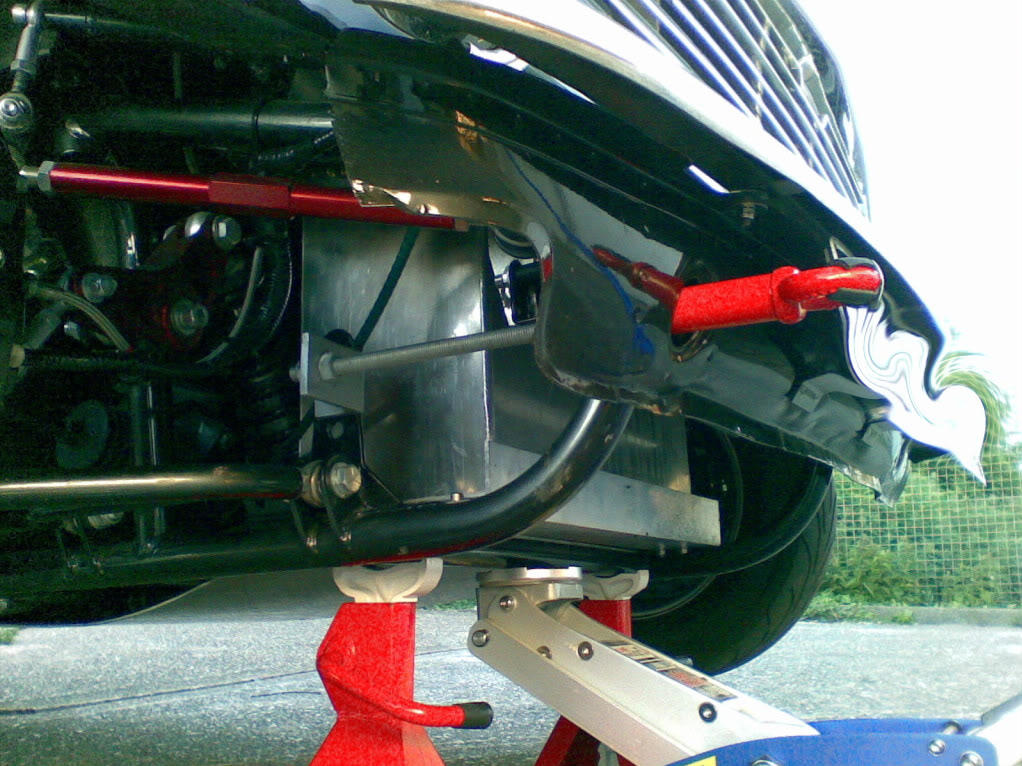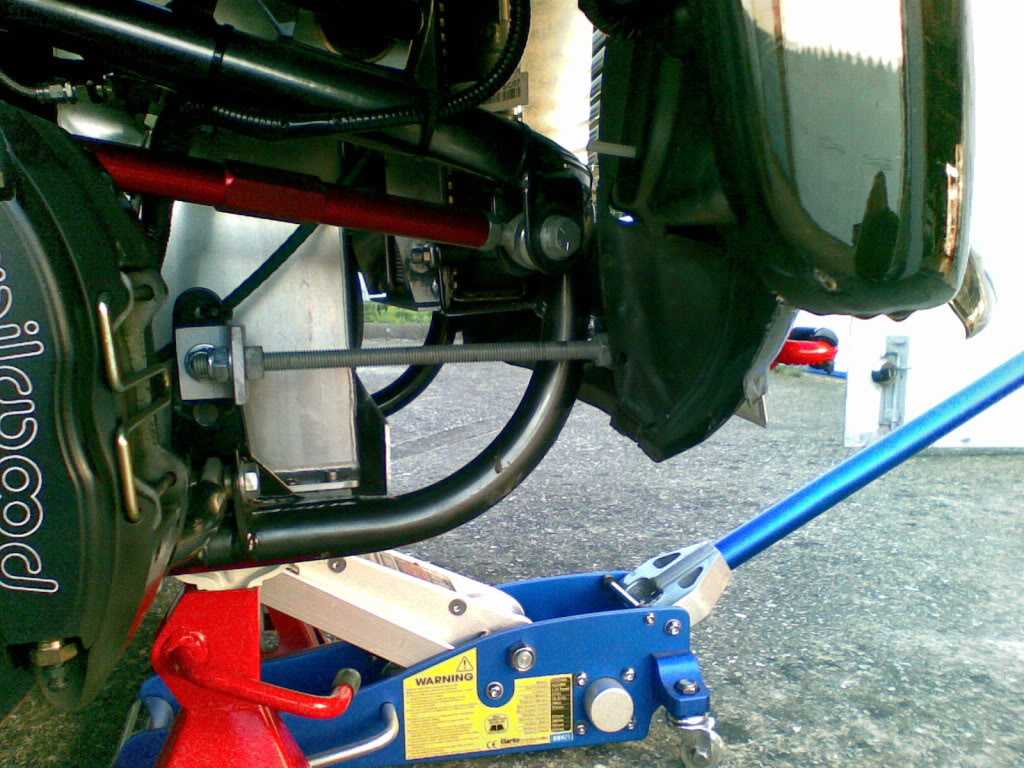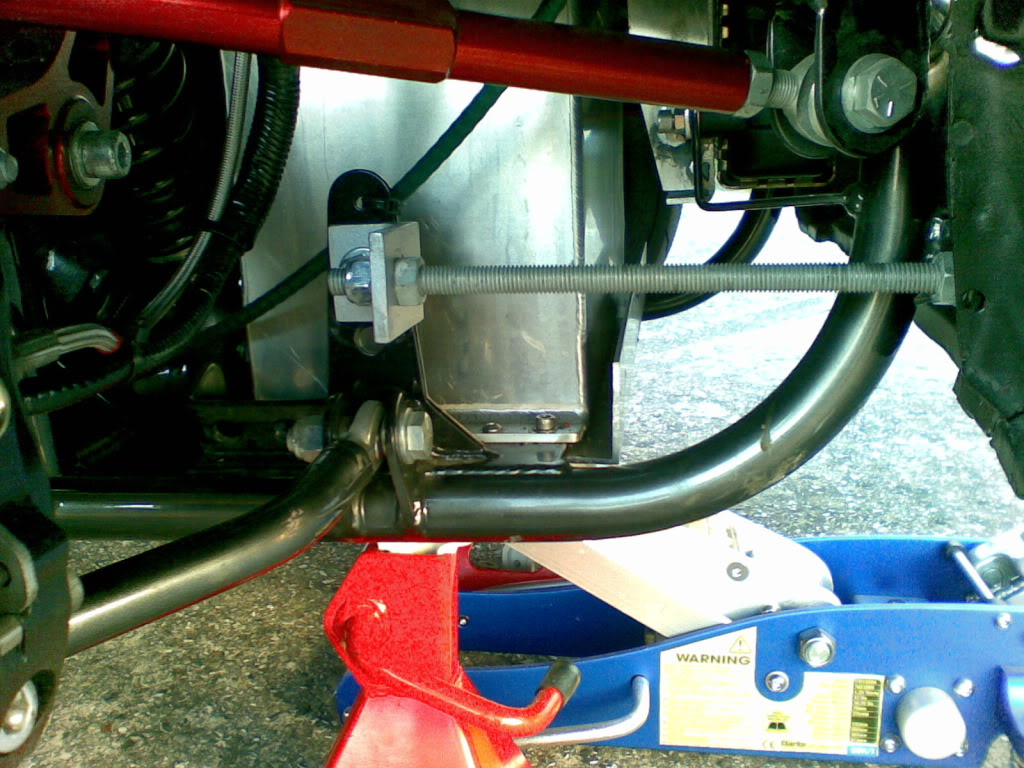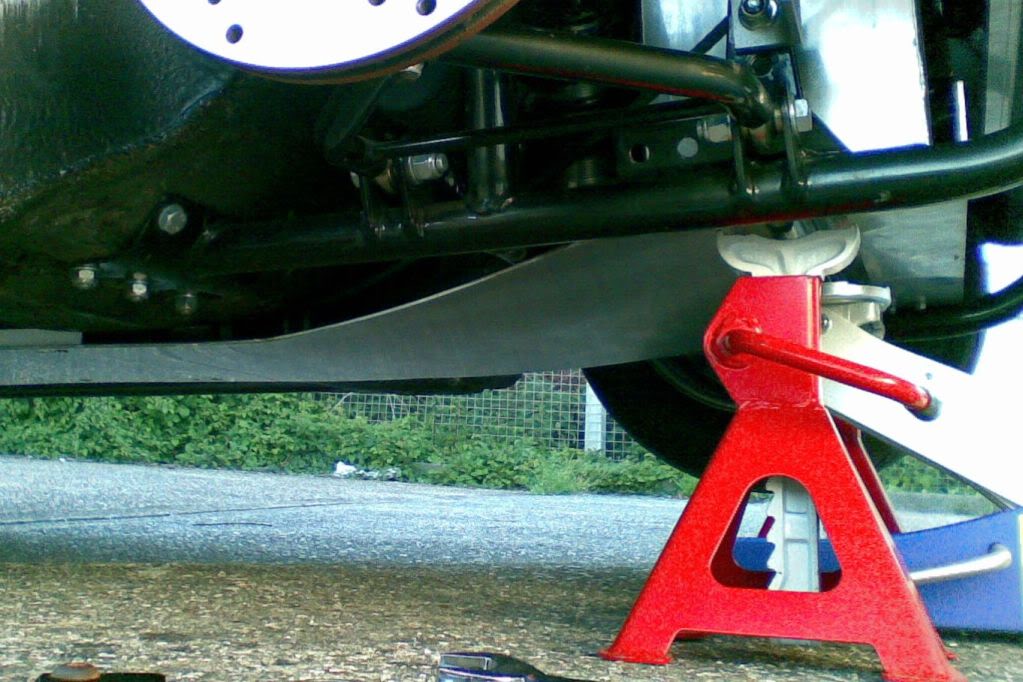 6-9-2010
Some Interior Pictures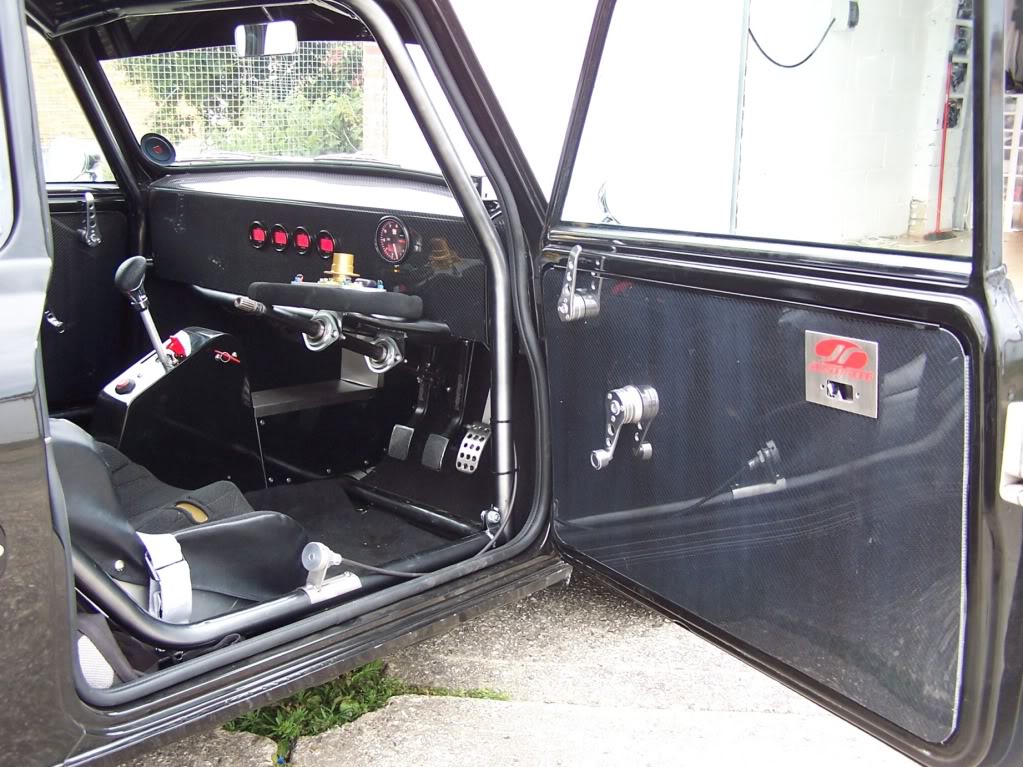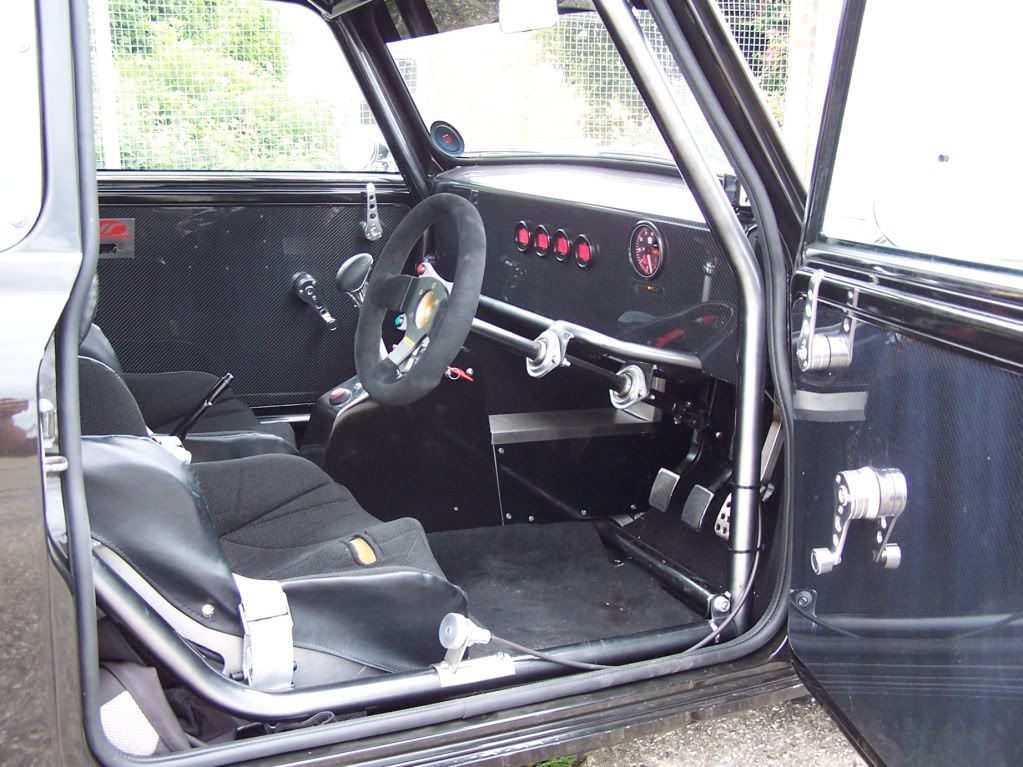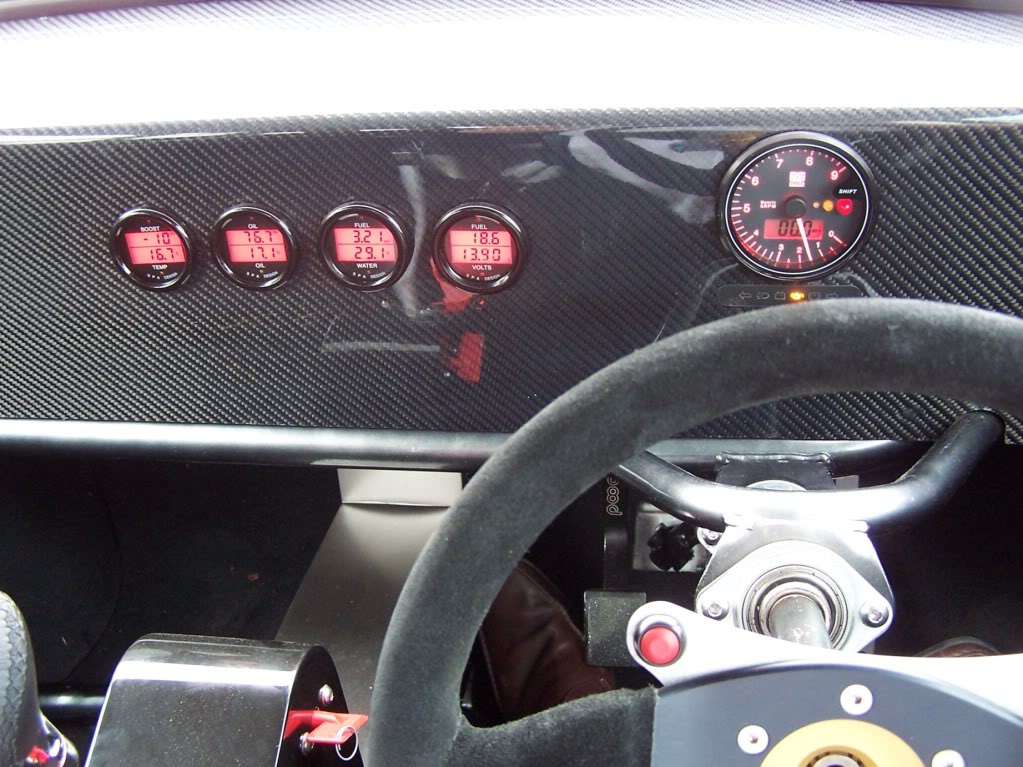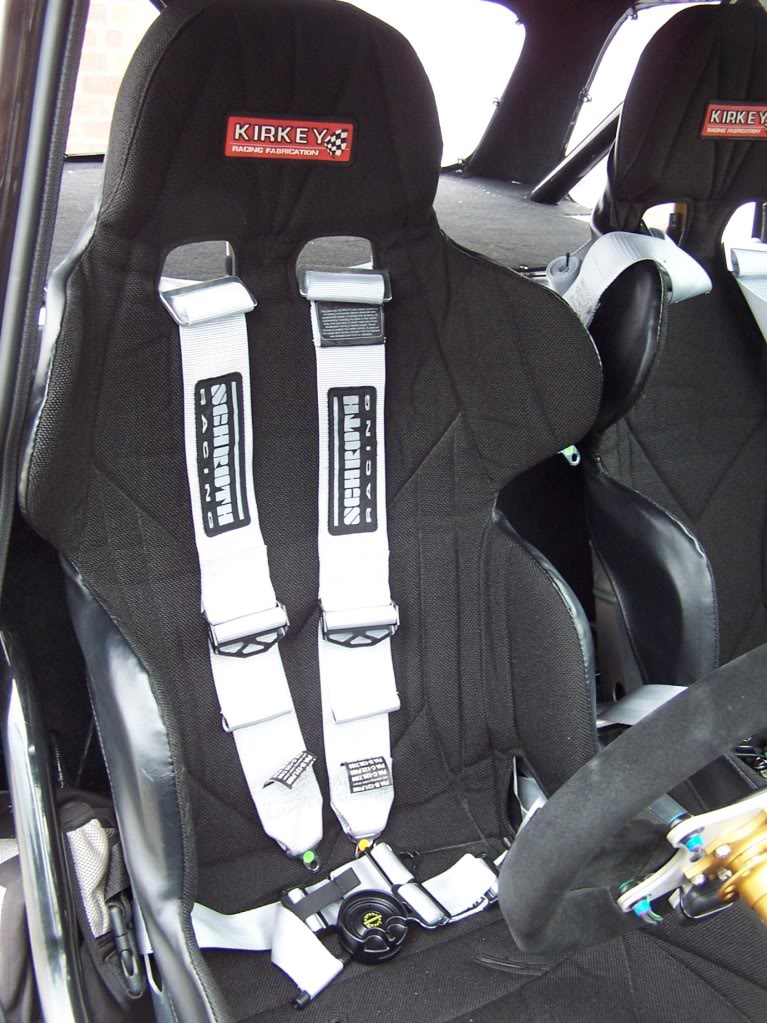 THESE BAD BOYS JUST ARRIVED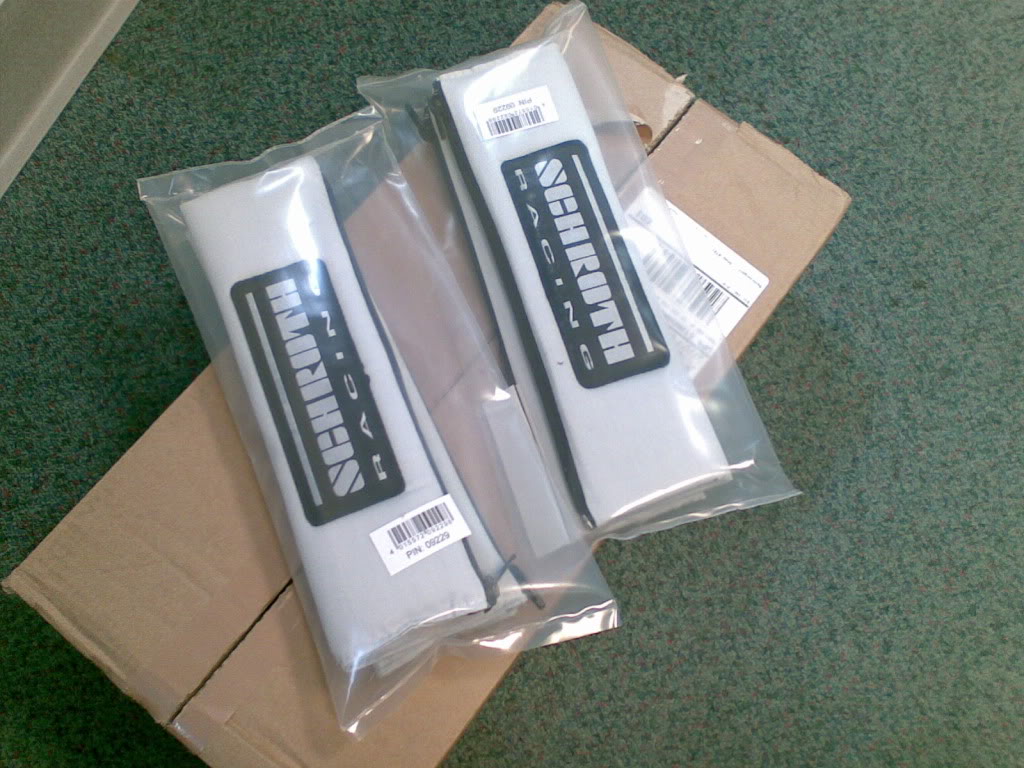 No more harness digging into the neck, giving me hickies......
Supercharged Badge

So here is the inspiration for the badge, followed by a close up of the badge on the boot. Another great thing about having CAD skills, drew up the lettering sent off a dxf file and got the badge back laser cut in 3mm stainless steel.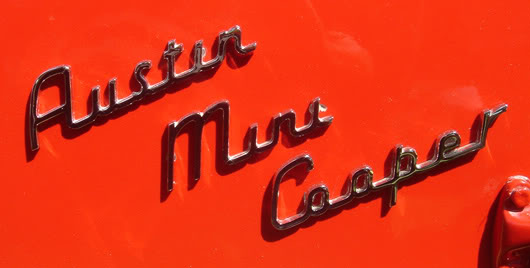 +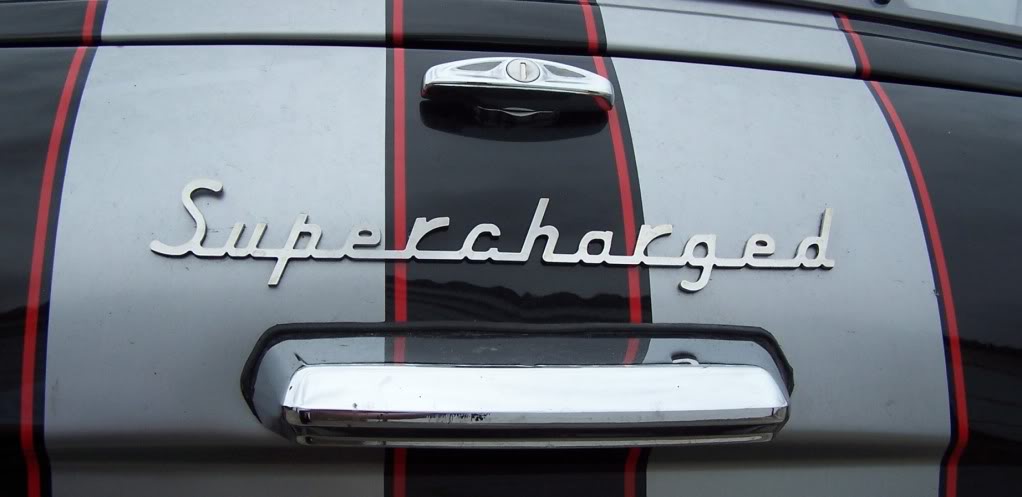 6-22-2010
Update:

Car is away having a full 4 wheel laser align and corner weights done, dropped off yesterday, collect friday.

Made camera mount last week and am in the middle of making a remote on/off for the video camera using a small 12V solenoid and some ingenuity as the camera is too far back to be able to touch. Videos coming soon - watch this space.
6-30-2010
Idle Control Valve:

I took the car for run on Sunday, when the footy was on - as not a footy fan, figured the roads might be quiet - wrong!!

Anyhoo, got back near to home and the engine starts hunting through the revs, from 1->4k, constantly revving up and down. Last night I stripped the bulkheads off and found the Idle Air Control Valve to be hanging on by one bolt and about to fall off all together. I fortuntately had a long M3 bolt in the garage so was able to replace the lost bolt, and this time loctited those barstewards in place, feck knows why they werent tight and loctited in the first place!?!

I guess I am just getting this experience out there incase people have a similar problem.

I will bring you the suspension geometry saga later.......
Suspension Geometry:

I am baffeld as to how far out this was considering it was supposed to have been setup at Zcars before I got the car. Note I have never taken any of the front suspension apart and when taking the rear apart was aaaanaly precise as to what went where when putting it back together as theres so many washers in there you need to have your wits about you. Plus even after settling it shouldnt be that far out.

So figure this out:

Front

Camber N/S 0.6 O/S 0.7
Toe N/S 10mm out O/S 4mm out

Rear

Camber N/S 2.2 O/S 2.5
Toe N/S 7mm in O/S 1mm out

what the hell???

I can tell you exactly how bad it was as it had worn a set of fronts down to the legal limit within 200miles.

It is safe to say that thanks to Tony at Redesign Racing near Brands Hatch that the car is now setup properly and feels like a different motor. I hasten to add that two new front tyres (R888's) and the setup was cheaper than just getting the setup done at Z's - yes that's right I am not a happy bunny about it.........



Edited because I got the name of the Company wrong - duh!
7-2-2010
Good question.

As for Zcars recommendations I can only go on what Chris had posted on here >>Click me for the original post<<:

the settings we now use after tweeking for several years are as follows
front half a degree negative camber each side
toe 1 mm each side
caster 3.5 degrees
rear 1.5 degrees negative camber
1.5 mm toe in each side


I will have to get back to you with my setting as they are written down at home and I am currently at work.

As for the sidewall, yer you get a bit of roll especially in the slower corners but it aint too bad, I will wait until I can run it with some 225/45's before I make a final judgement.
7-6-2010
So I have now ordered the correct spec bolts and will fit them also. I am starting to get a bit fed up with having to fix things that shouldnt be going wrong so early into the life of the car and simple things like using the wrong grade bolts for steering arms just isnt good. I appreciate that there will be teething problems and fully expected that but wheel bearings going so early - errr I dont think so......

Pictures: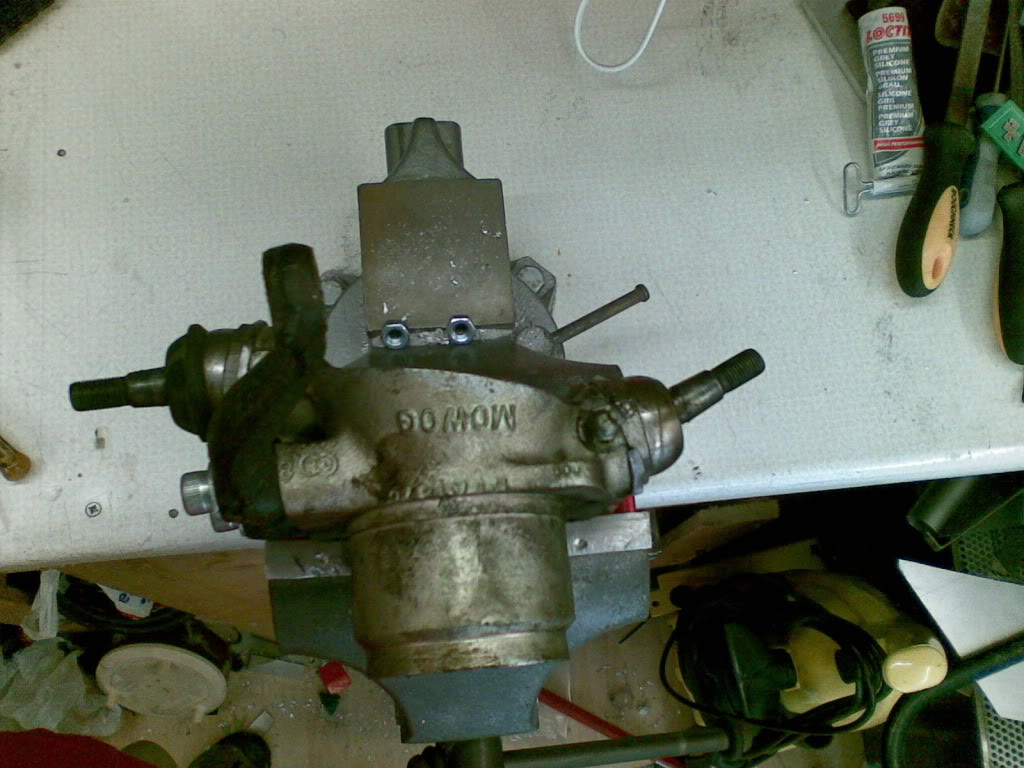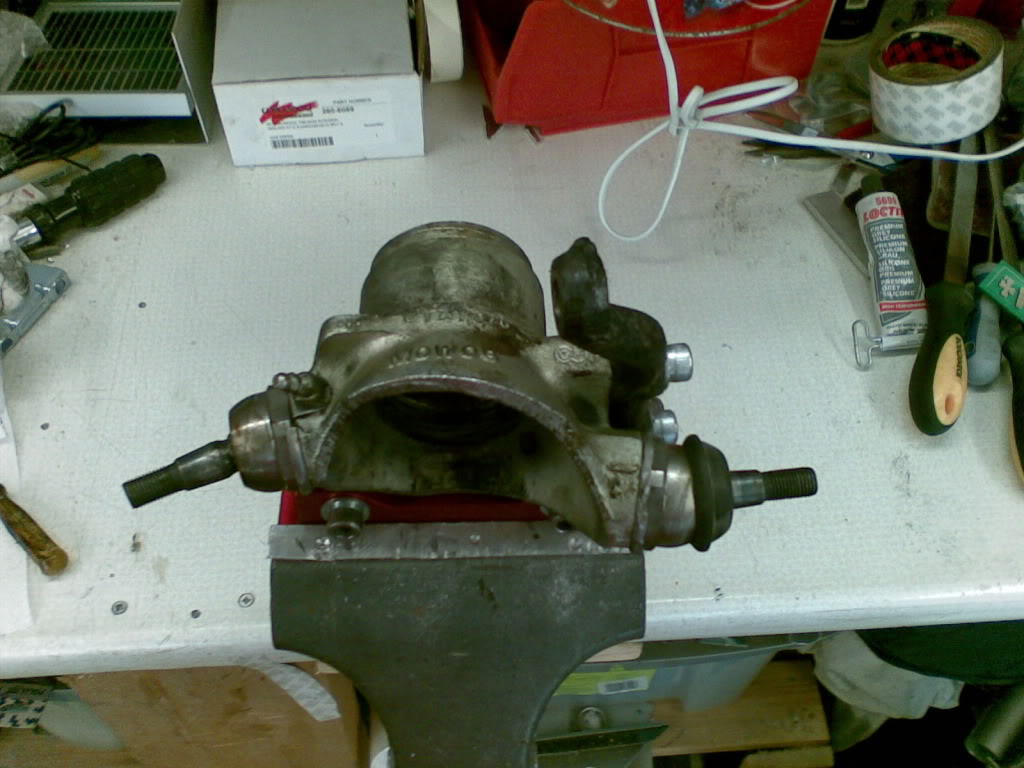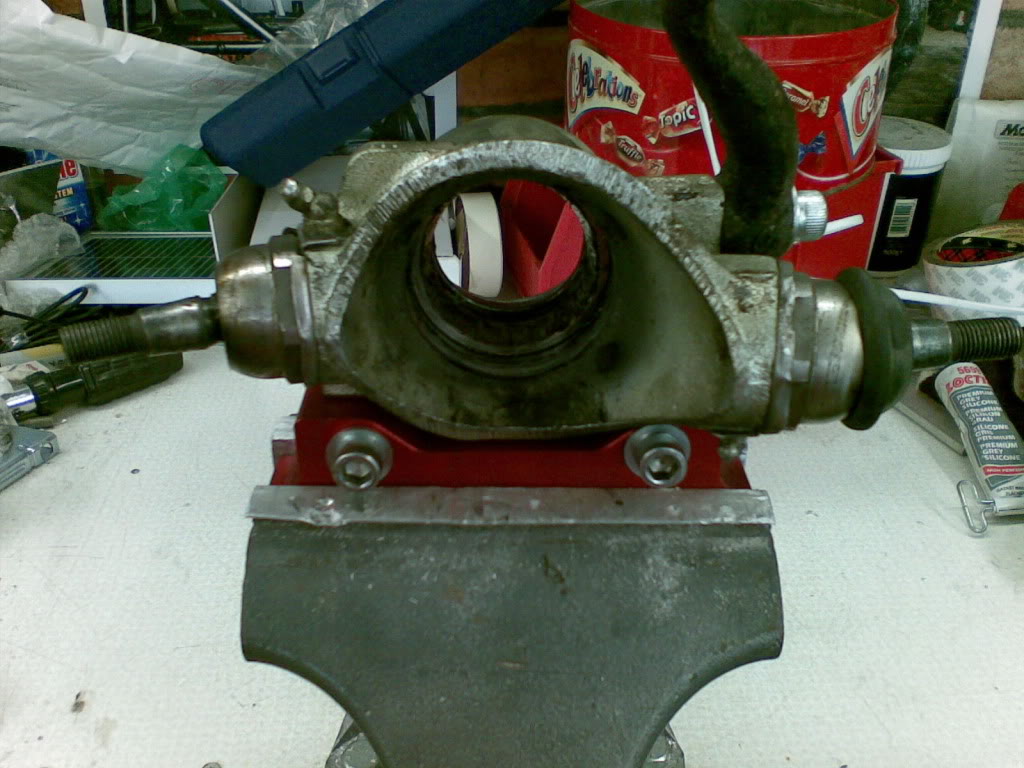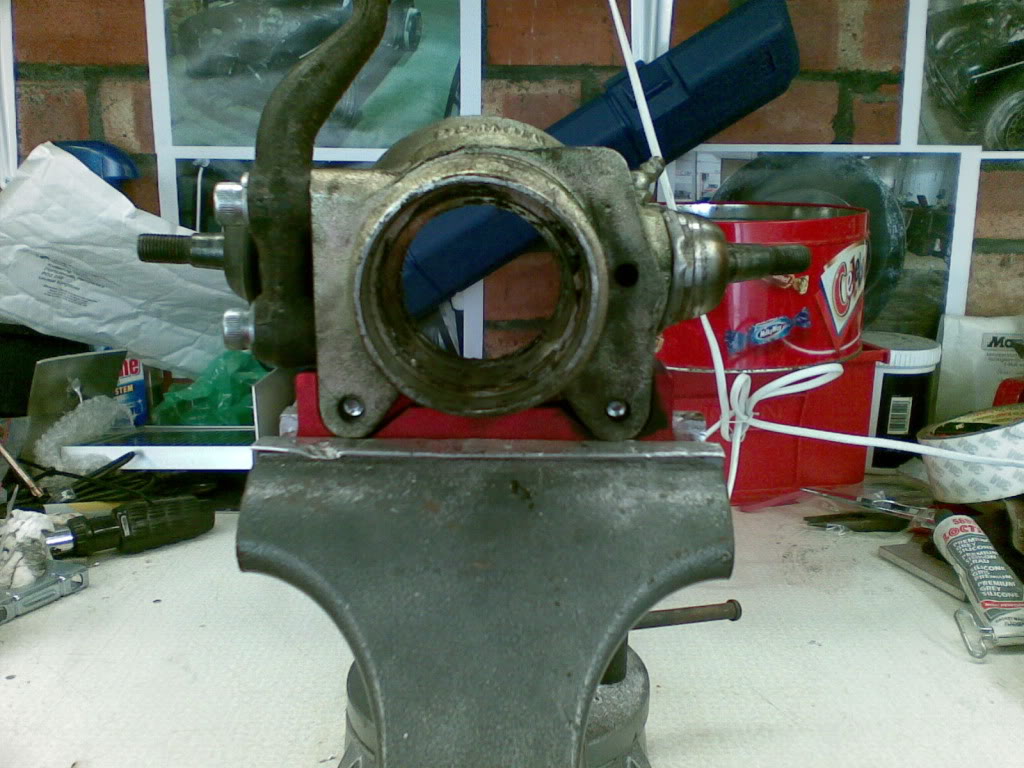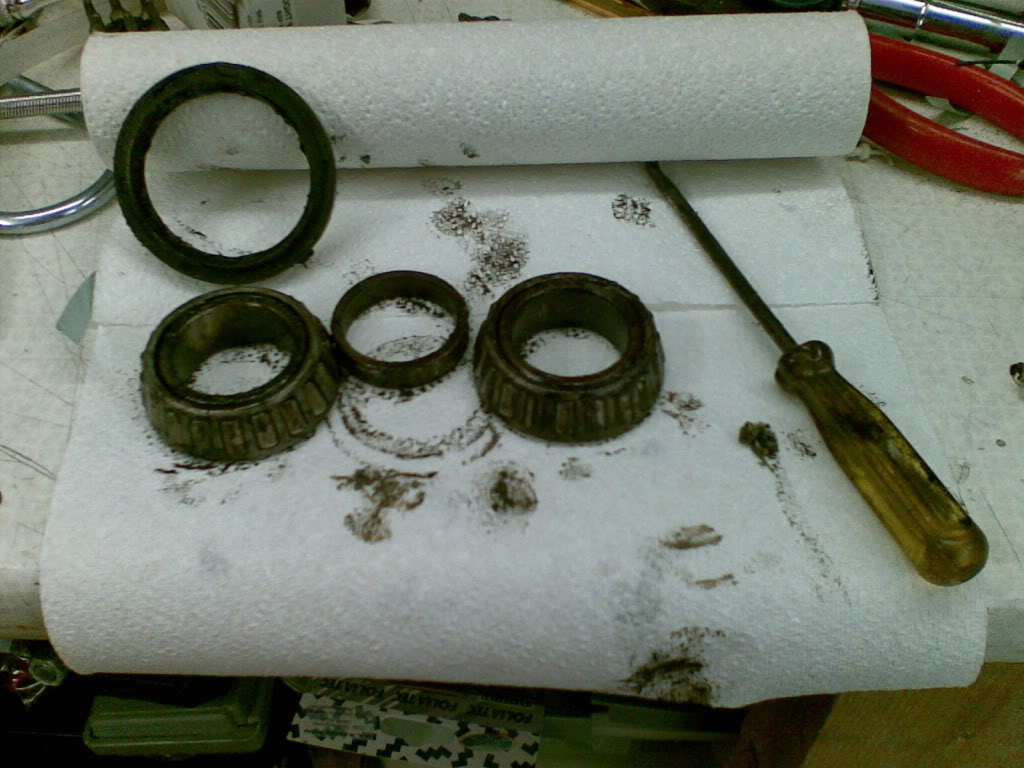 On the subject of suspension settings, I found this the other day, I received it 05-May-09 so might be out of date in terms of tweeking/development:
7-23-2010
Wheel Bearing Update

Whilst fitting my new wheel bearings (Timken) I noticed that the tapered thrust washer was looking a bit sorry for itself, not really thinking much of it I re-used the washer and ordered a new one later in the week to be fitted the following weekend. So bearing fitted, I went out for a razz around and within 15 miles the bearing was loose again. Upon closer inspection it appears that the previously mentioned thrust washer was disintergrating and once I had the new washer to compare it against, the old one was about 2/3 to 1/2 its original size with lots of what looked like iron filings around the inner part of the rotor. A new nut, new thrust washer, new split pin, new bearings and its all running ok, for now......

So something to note, if your getting a knocking noise (from the front) when cornering and you notice a lot of travel in the brake pedal (caused by the rotor being slightly p1ssed due to the loosened bearings therefore pushing the pads in the calipers out) a possible reason could be the disintergration of the thrust washer.
7-29-2010
Wheel Bearing Update

Wheel bearing all sorted, not a hint of wobble in the bearing.

Went out for a spin last night and something still did not feel right, so I came back and checked the bearing, nothing, no movement at all (it used to just take a small amount of force to feel that the bearing was loose), then I grabbed a hold of the bottom of the wheel and give it a big old pull and funk me sideways there must have been an inch of movement at the bottom of the wheel caused by the bottom ball joint being loose- what the hell?

Another thing to fix, I had forgotten what owning a mini was like......
8-4-2010
Fixed the above, now I need to replace the recon steering rack for a decent one as way too much slack in it. If your thinking of using a recon unit - Just Dont, they are rubbish and for the sake of an extra £80 just get a new one.

All Zcar owners be aware that the bottom ball joint may need nipping up if you havent already done so. After replacing the N/S joint I checked the O/S it was loose on the threads (another one I had never touched). You need to apply pressure to the underneath of the bottom A arm to be able to get a good purchase on the tapered part of the joint, allowing you to tighten the nut, thats if you can get the socket on the nut in the space to tighten it.
Just ordered a brand new RHD Sportspack steering rack from Minispares, £148.34 inc P&P (the unit is exactly that same price at Minisport £118.75 +vat, unsure of P&P costs)

That should stop the slop, if it doesnt I shall be most displeased.
8-9-2010
More Woes - will it ever end?

Saturday morning saw me driving around for the best part of two hours, lots of bumpy back roads and the like to exercise the new ball joint and make doubly sure the wheel bearing was sorted. After driving around I returned home, jacked the beast up and checked for loose play in both side of the front suspension - nothing - chuffed to bits, it was finally fixed.

So I offered to give the misses a lift into town and I would go for a raz round to Goodwood to watch the sprint that was on up there until she was finished. Just around the corner from Goodwood the N/S front suspension unit (Protech) decided to come apart. For those of you that have followed this build will know that this had previously happened to me on the rear N/S and that I had given out a warning of the problem, however as mine was fully built at the time and checking the front suspension was a massive job I gave my two front Protech units the benefit of the doubt, surely lightning cant strike twice kind of attitude, well how fecking wrong could I be. Obviously I am p!ssed off with myself for not checking them but I am even more p!ssed off that they even came apart in the first place - I mean, seriously, what the feck is going on.

I have yet to fully assess the damage done by the spring as it rattled round under the bonnet, I know it has chipped a few bits of paint of here and there but thats just cosmetic & the threads have taken a beating on the damper shaft, lets hope it hasnt caused any real damage - the kind that costs lots of money.....

So for the second time and this time I really mean it, if you have a Zcars conversion please check the locking nut on the suspension damper shaft is tight against the top hat that holds the spring in place, you may have to wind the spring down away from the top to be able to do so but it will be worth it - trust me.


Last time it happened I didnt manage to get any pictures, however whilst waiting for my mate Benson to pick me up so I could go and get my trailer I took a couple: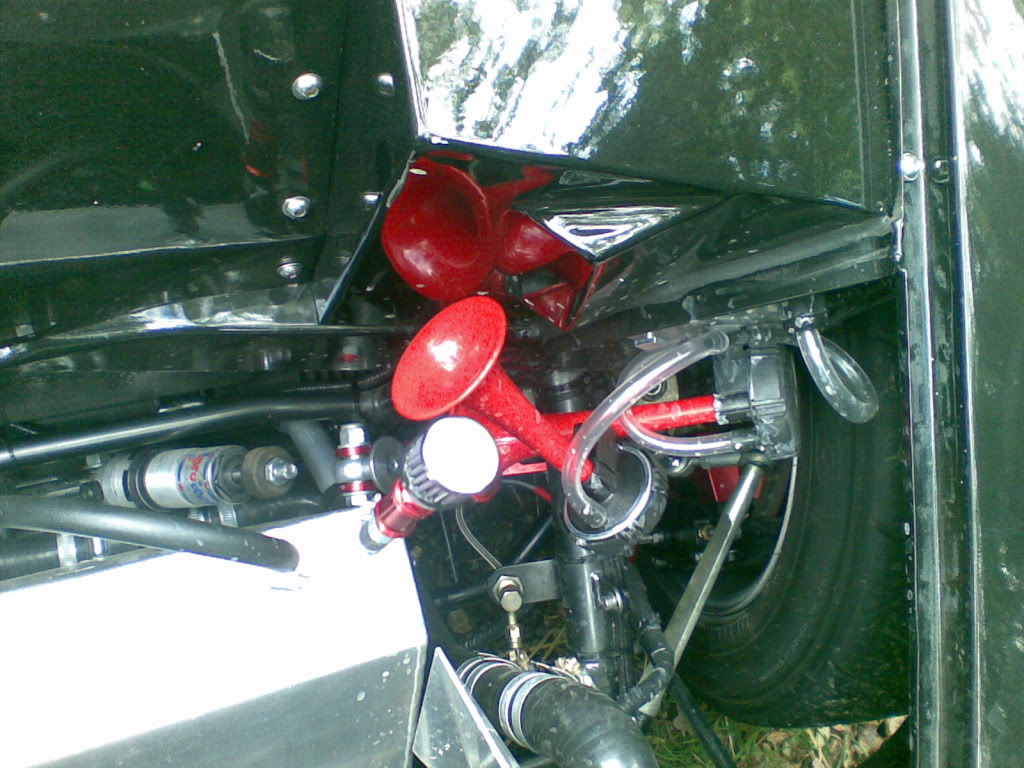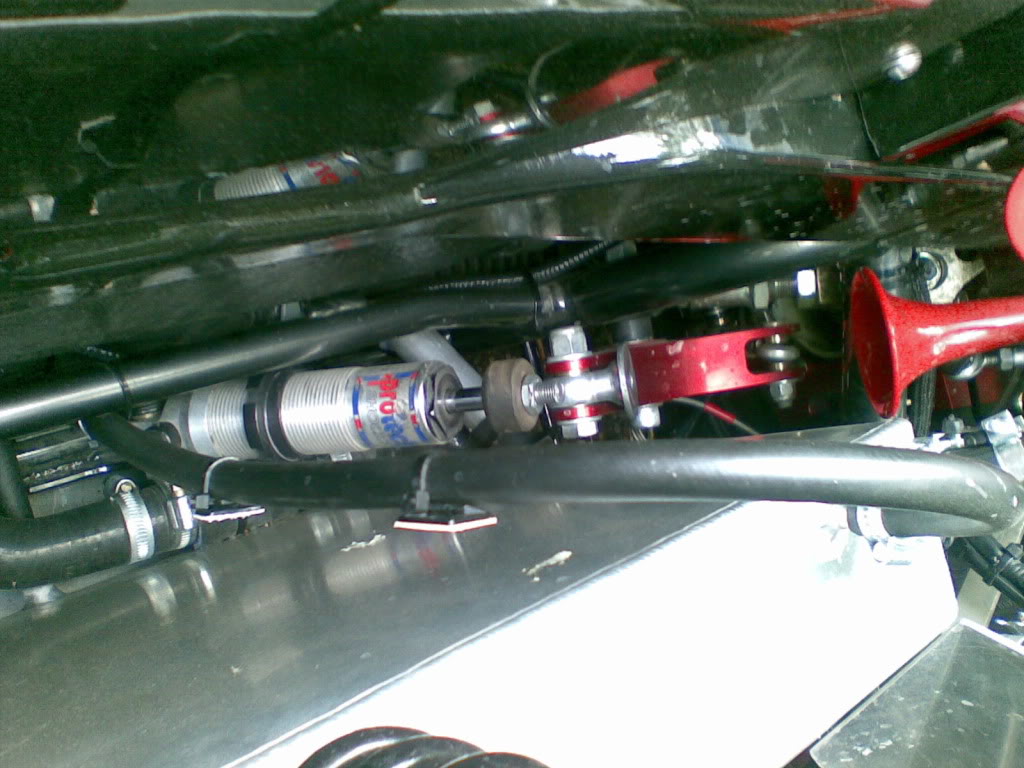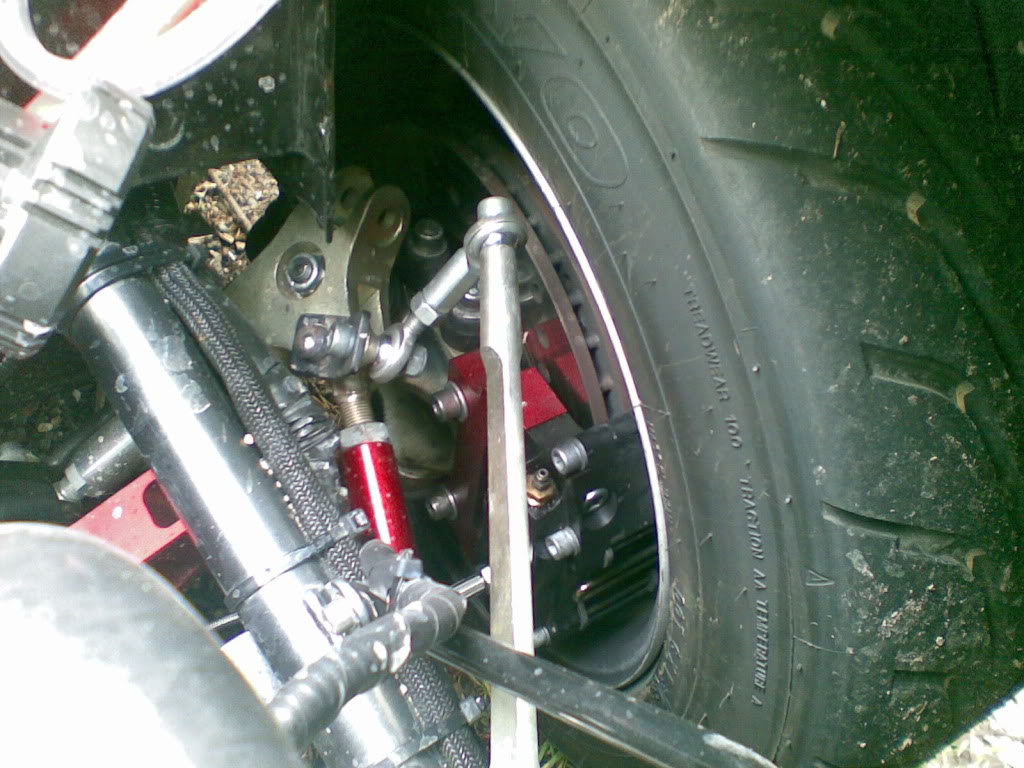 9-1-2010
Additions to Order:

I ordered these two bad boys yesterday - uprated Cooper S steering arms, in an effort to stave of rotational forces caused by adding a spacer to the steering where the track rod end would normally go.

I am going to get my head together with Stevie G soon to sort out the required fabrication and then will have some more to show, for now a couple of snaps of the new arms: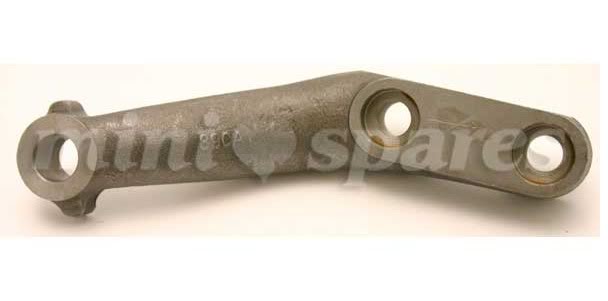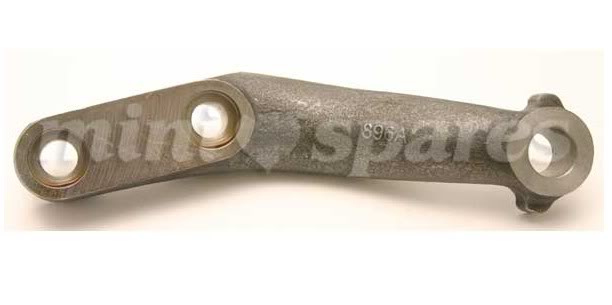 9-16-2010
Its not a good feeling is it.......

With all of these things going wrong it has definitely taken the enjoyment out of driving the car and with that lack of enjoyment trying to find the gusto to fix it is hard work. I spoke to Protech about the problem and they had only one prior instance of this before, another Zcars owner, I can only assume it was Mark (Brandon7) - maybe not....?.... When I was checking mine again this time I realised you can use loctite if you want as the nut on the shaft will always allow you the undo from the top eye without having to hold the shaft itself.

Still, things are moving along even if they are at a snails pace. Bits are off to be machined for the steering so fingers crossed that'll sort the wandering sensation out on lift off and braking - really disconcerting.....

I have been suffering for some time with alternator problems - not charge but the actual housing. Because I have the supercharger I am using a different sized belt and one of the things required to be able to use the OEM tensioner is to put spacers on the alternator, however the alternator I was supplied with this engine had part of the top mounting missing, the bit nearest the block (photos to come later). When I got it I didnt think it would be a problem, how ever I have now extracted 2 high tensile bolts from the block - TWICE....and aint doing that a third time. I hasten to add that I wholy believe this would have happened even without spacers as the broken part allows for the alternator to twist - live and learn.

So it is safe to say that I need a new alternator, so good old ebay got me one, if the charge isnt good I can swap internals. I am getting a proper spacer set made that will allow for belt stretching but will offer solid support, the main body of the spacer set will cover all three bolt holes and utilise one of the water pump housing bolts to hold it in place and then a set of matching spacers of varying sizes will be produced, these will be able to be fixed/bolted to the main body of the spacer set so as to ensure the spacer is solid also.

The mounts that hold the drop link of the anti-roll bar to the front hubs are, well no polite way to put it - RUBBISH. so I need to design a new fixing for them, if you dont beleive me then look back at the photos of when the suspension came apart and you will see, they appear to have been made from a bent bit of mild steel and they looked like that before the suspension came apart, they were once at 90deg's. Hopefully I will have enough billet left to machine some nice shiny new ones that'll stand up to the job a bit better.

In many ways it is deeply frustrating to have to fix things that should have been right in the first instance, although I have to say there is a certain amount of satisfaction from working out and designing new and ultimately better parts which will give you the confidence back in the car that was there before it all started falling apart..........
9-27-2010
Alternator Plate - Round 1

I know no-one else will have this issue but I thought I would throw it in here to keep things lively....

So as per my previous post I have been having alternator issues, so I have been designing a new mount which as previously stated will cover all three alternator mounting holes and will be held in place by one of the water pump housing bolts.

So in the first picture you will see the newly purchased alternator on the also newly purchased block of billet ali ready for machining, well, wire cutting for a start. then drill holes for mounting, the spacers are also going to get wire cut from the same block so should be a spot on fit and the spacers will be locked in place via a seperate bolt to ensure not movement at all from the spacer set up.

I whipped up a quick 3D of what the initial plate will look like, no mounting holes yet but you get a feel for what it'll end up like, you are veiwing them in roughly the same plane as the block is in the first photo under the alternator, once its all cut and done I will post pictures: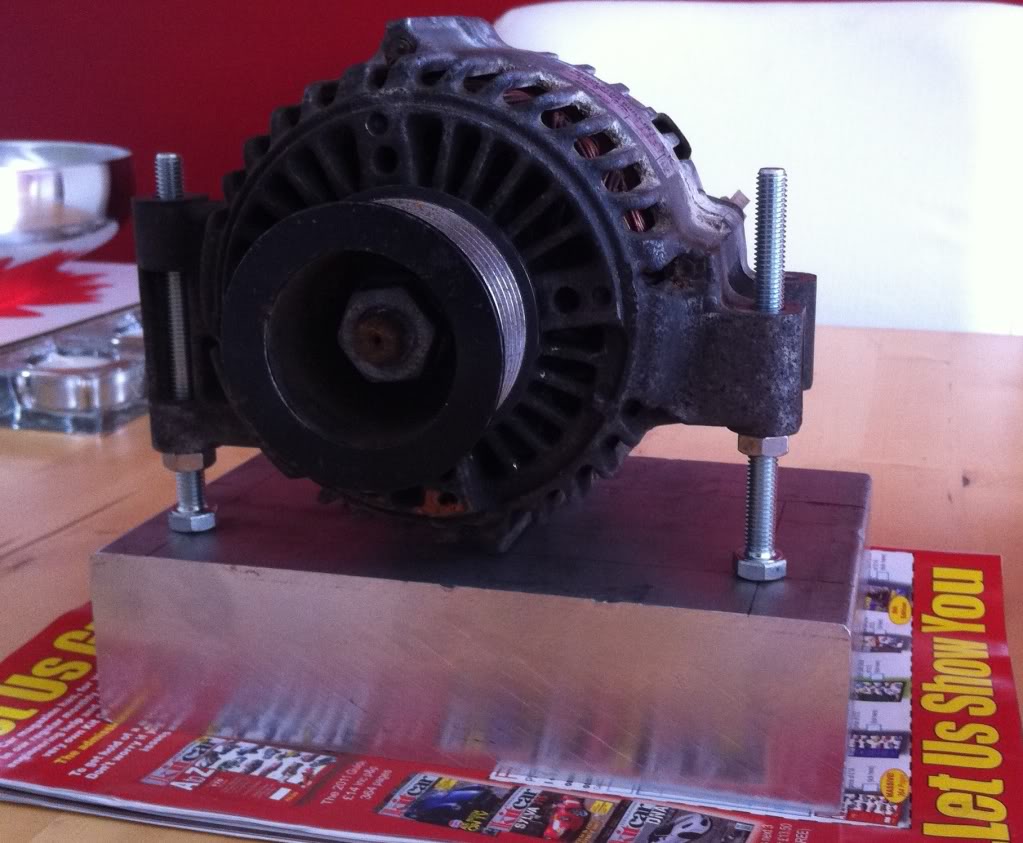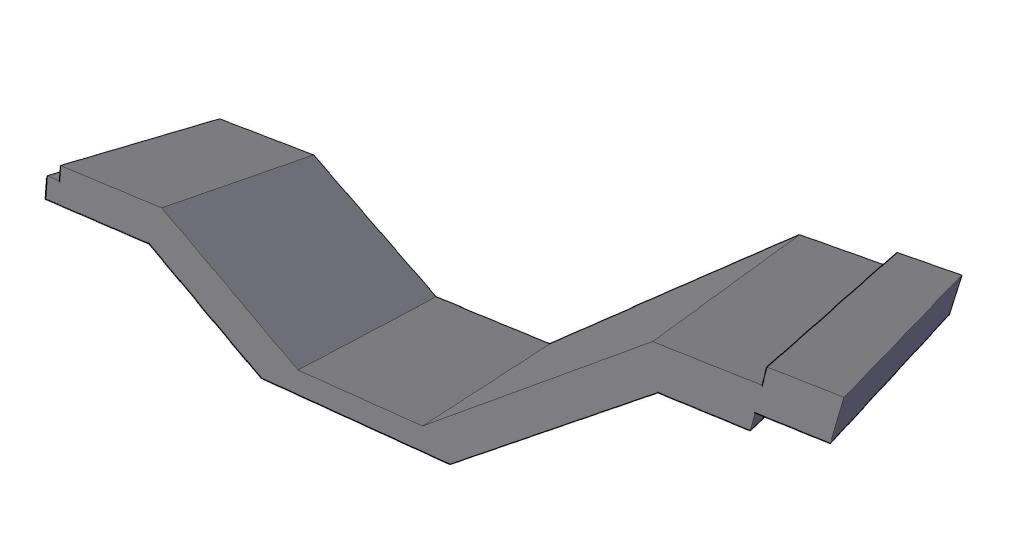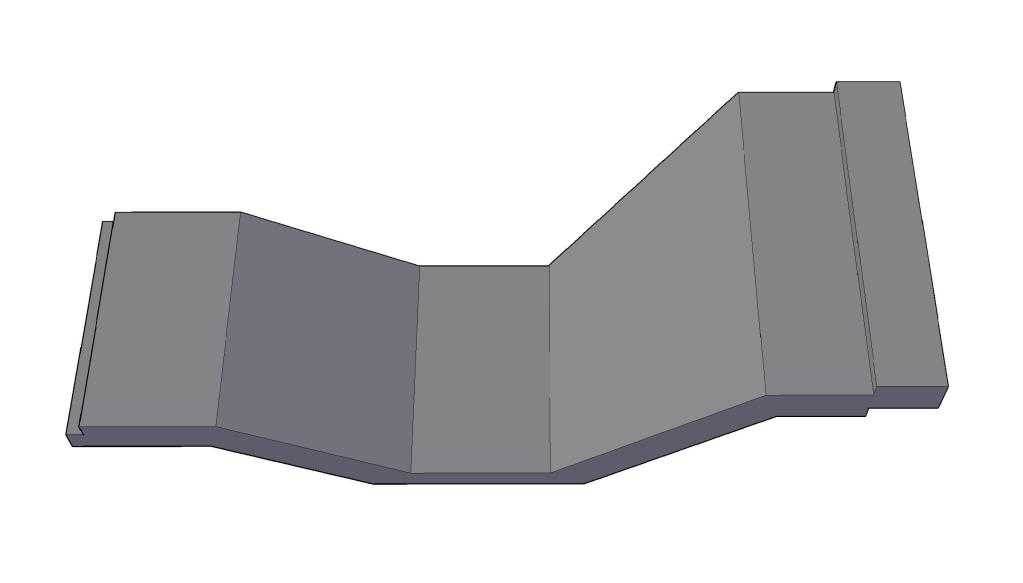 NEW STEERING RACK + BUMP STEER ALLEVIATION

So Saturday saw me attempt to fit my shiny new steering rack and the my really shiny new track rod end replacements. First thing to note is that I didnt get them fitted, the primary reason being that I need to shorten the length of the track rods and add thread by 25mm, to enable the use of my really shiny new bits, so with that in mind yesterday I ordered a 1/2" UNF Die to be able to carry out that task, fortunately the new rack has enough meat on the track rods to allow this. So in the ineterst of keeping people happy I thought I would post some pictures of the new really shiny bits I mentioned earlier. So here they are, LH/RH turnbuckle, LH Rose joint, 45mm spacer (A bit long me thinks but wont know till all together), Cooper S arm with tapered hole reamed out to 1/2" straight hole and a misalignment spacer: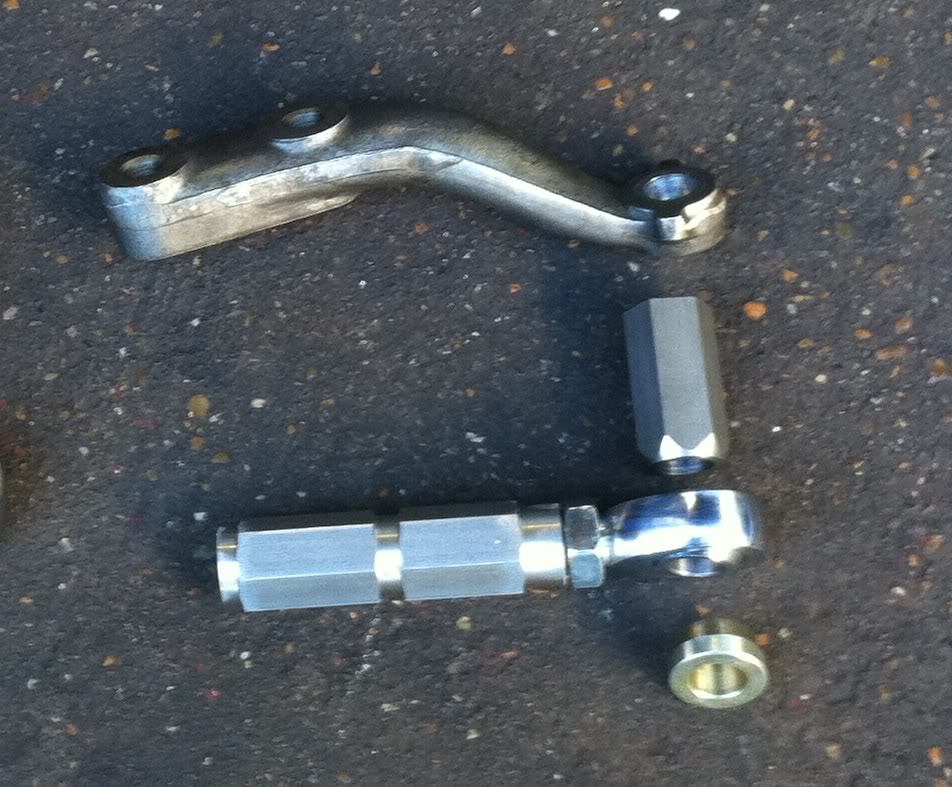 One of the things I did manage to do on Saturday was change the steering arms over to the new Cooper S arms. Now I dont know if its me being too picky about things so I will post up my findings and see what you lot think.

When I removed the steering arms that were on the car as supplied, I found two rather alarming things, one being that the n/s arm was a normal arm (as I thought as this was the side I had recently been working on) and the o/s was a Cooper S arm??? Why would you fit two different types?


The other alarming thing was when I removed the Cooper S arm I found one of the (what I call 'quite critical') dowels to not be an interference fit, in fact it wasnt even a proper dowel, looks like a bit of tube cut to fit (badly), so it wasnt supporting the bolt in any way and as it was slack in the hole wasnt even helping that much with keeping the steering arm in position.

Anyhoo in my moment of disbelief I took a snap of the two arms I removed together and one of the botched dowel against a new proper dowel (new dowel on the left incase you were unsure).



Is it me being too picky??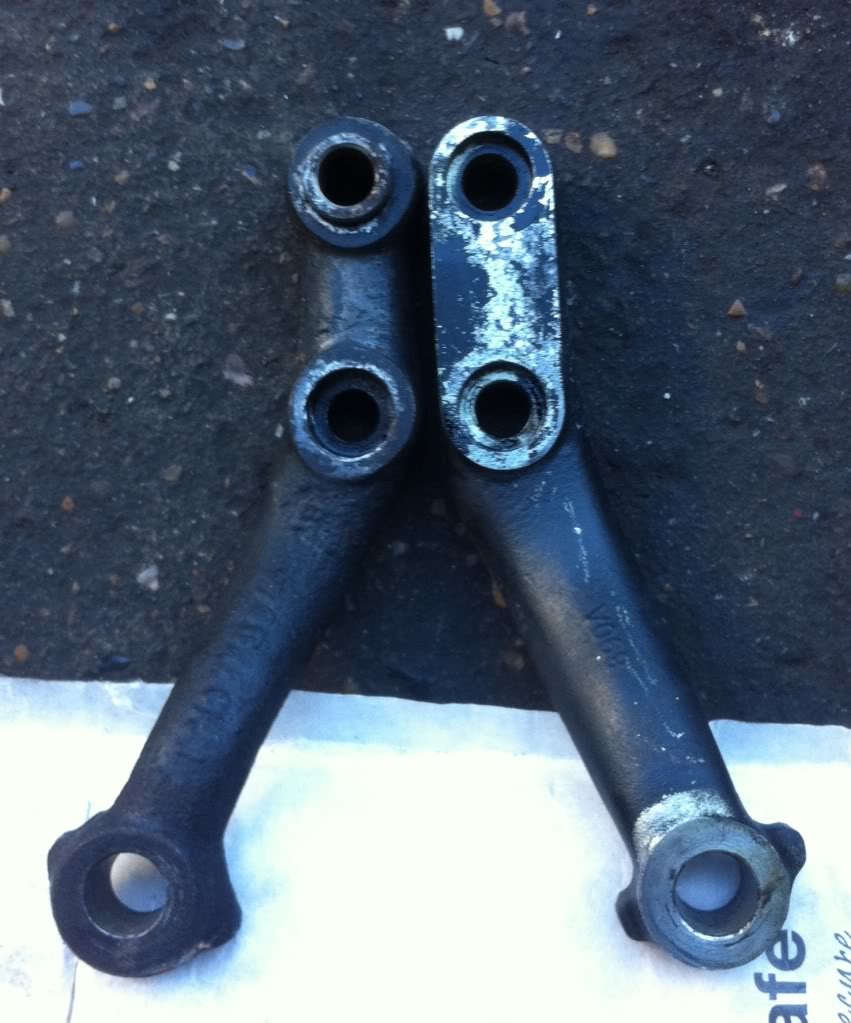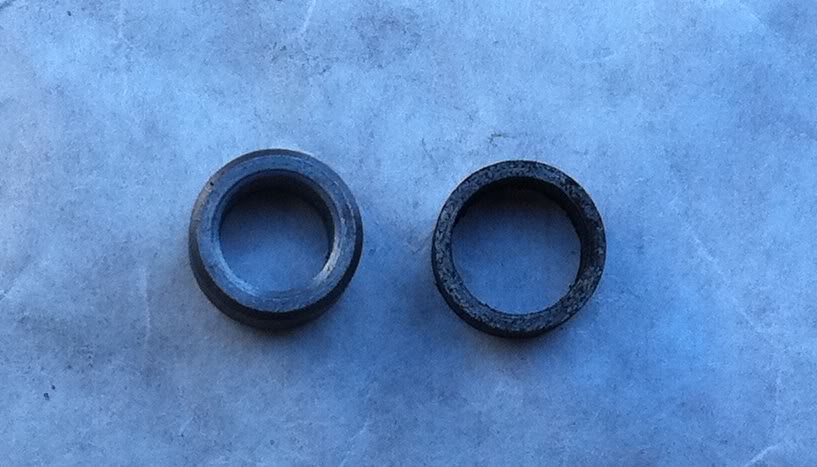 10-4-2010
I test fitted the rack two weeks ago and realised that I needed some length taken out of the track rods, re-fitted this weekend but again it needs some more off the track rods so that is being done today and I hope to refit on the weekend.

Just got a quote back for the wire erosion of the alternator plate - £350, so I am gonna keep searching as that is too much, worse case scenario is I have to get it all milled out which would leave a lot of waste.

Your right about the weather, it was proper karzi over the weekend so I didnt get to breakfast club @ Goodwood on Sunday, next year....
10-6-2010
I got my track rods back now, they have had 50mm taken ot of their length and 50mm added threads, this would not have been possible on my original rack as the track rods did not have any meat on them past the threads, so if your thinking of doing this then you will need to check. The track rods require turning down to the correct diameter for the 1/2"UNF die. They obviously need splitting from the rack to be able to do this, something that doesnt appear possible if the rack is still in place.

The main problem I foresee from here is where the column meets the splined part of the rack, on the old one the splined bit had a depression all the way round for the fixing bolt, the new rack only allows the bolt to be fixed in one angle on the slpines and as the splines are hardened steel you cant exactly go maching them with normal maching equipment. The problem lies in that the column is made of a hex bar which only allows 60deg of movement in any one turn so lining up with the rack could prove to be a nightmare - I will let you know........

I have two sets of spacers, 30mm and 45mm, you can guarantee that it'll be 25 or 55 but we need to start somewhere. SO fingers crossed on the weekend I will be getting the rack back together and putting it on the car. Its been a bit hairy driving the car over the past few weekends as there has only been hand tight bolts holding everything together. so its been tickover in first gear everywhere - which hasnt been far - garage to trailer and vice versa really.

The new brackets for the anti-roll bar are currently being machined for me - cheers Steve... made from billet, they should really do the job very well.

Defo looks like the alternator bracket is going to be milled, pity as its now not going to have the curves that I had re-drawn into the design thinking it would be wire eroded. I guess it'll never really be seen anyway so theres no real need for curves. ho hum.......
10-7-2010
We could probably make the effort and get some nice curves in it, however in the interest of getting it done swiftly and at little cost I think straight lines will do, this project has truly broken the bank so anyhting I get done now needs to be at minimum cost.

Roll on the weekend so I can put it all back together........

Here's a rendering of what the bracket is to look like(minus fixing holes):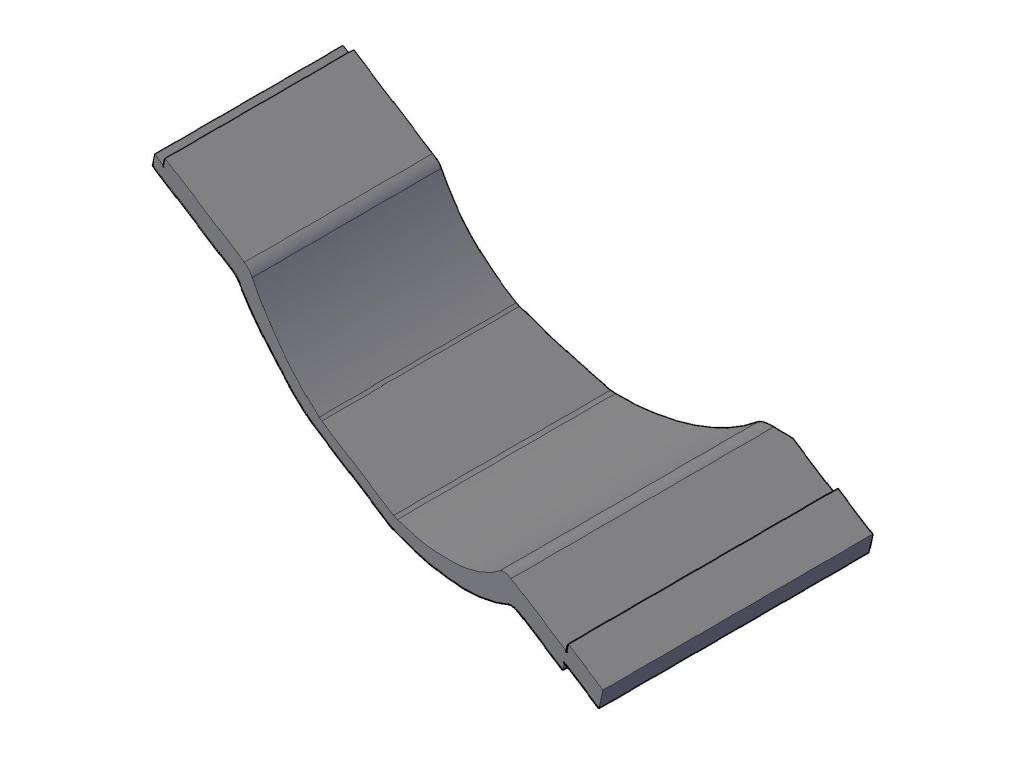 10-11-2010
NEW STEERING RACK + BUMP STEER ALLEVIATION - ROUND 2

SUCCESS - I got my new rack fitted on the weekend with all my shiny new bits as well and I have to say it has improved the feel of the car by a huge amount. although I have to report that my rack is not self centring due to it being too stiff, now I have read the Haynes manual I have to get at it again to remove some preload shims, bit of a pain in the ar5e but not the end of the world. It makes you concentrate even harder driving it when it doesnt self centre - I love a challenge. On the plus side the wheels no longer rub on the wells due to the restricted movement in the sportspack rack.

I am still considering putting a kit together but need to look into it a bit further now I have the information from my build.

So anyhoo, I got a couple of snaps of the kit in place on the weekend and here they are: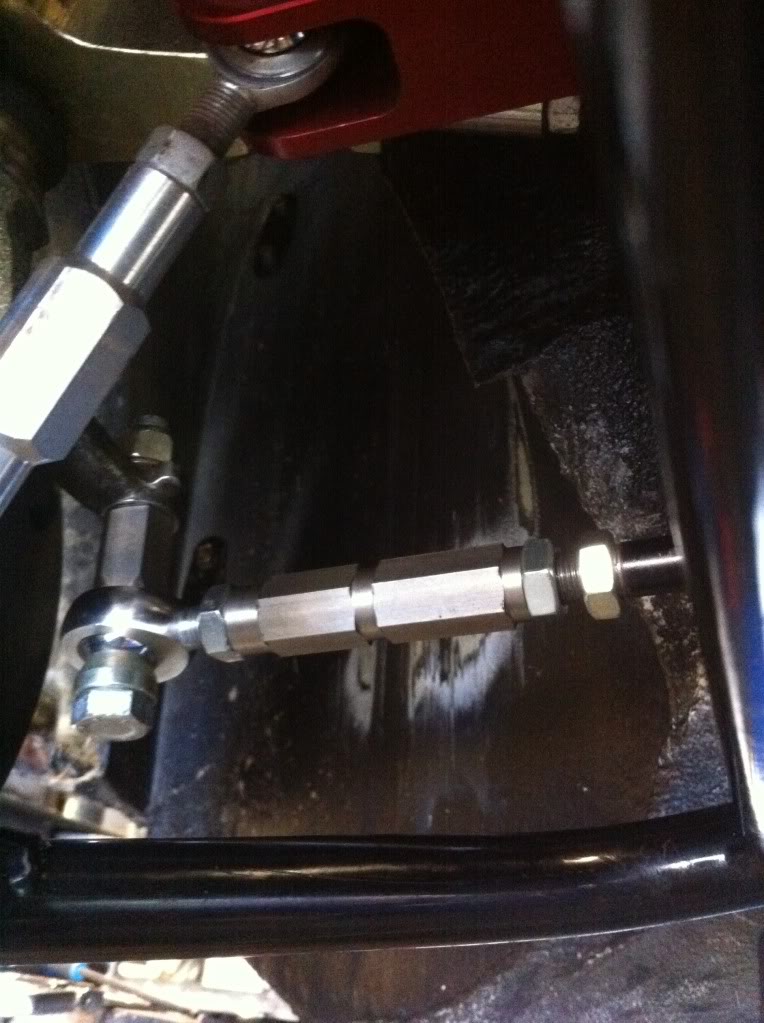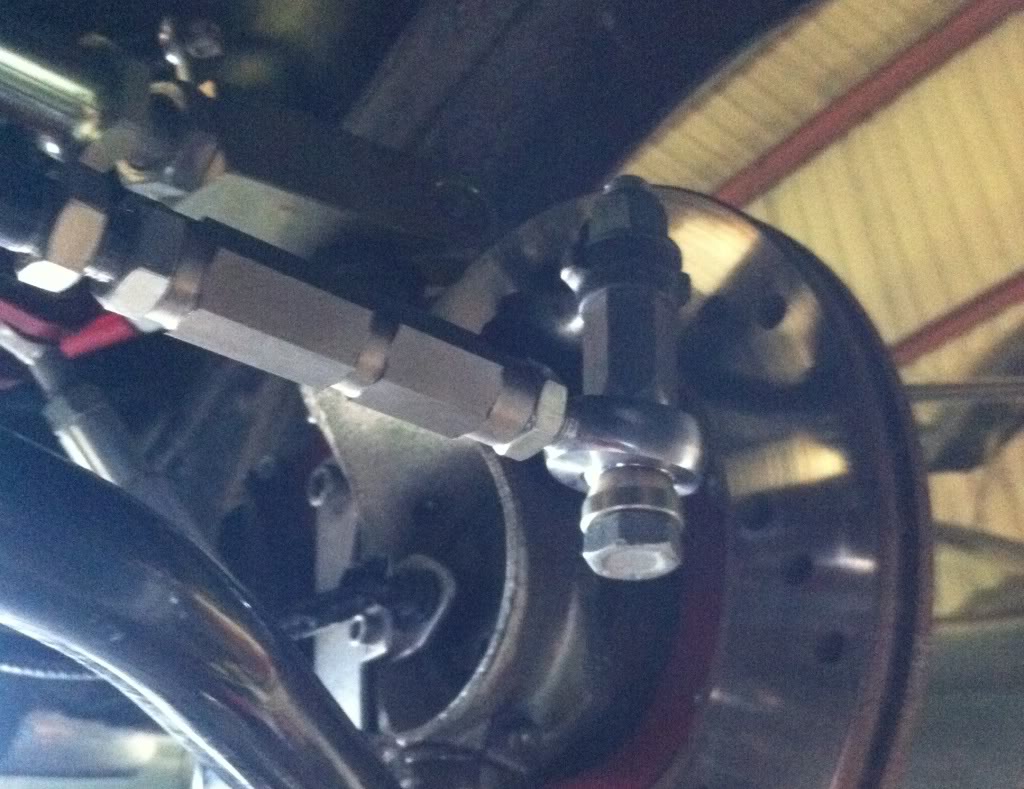 Anti Roll Bar Pick Ups


This week when I took the O/S front wheel off I was really surprised to find the original ARB pick up completely snapped, now I know I said they were rubbish before but I didnt think they were going to snap at the point that it did - right across the horizontal bolt hole (see picture later on). the surprise was more for the fact that last week it hadnt snapped and this week it was yet all I did was drive about 100metres ticking over in first, guess it was the final straw.

Fortunately my good mate Stevie G had milled up some new ones to my design which I promptly fitted on saturday.

When I removed the old pick ups I though I had best check the ARB to see if it was rotating freely, guess what? Yer thats right it was pretty much solid and I could literally put all of my weight on it before it would move (and thats quite a lot of weight) and it would only move with a yank. So ARB bushes apart, lubricated and back together, hey presto the front ARB now rotates.

The thinking behind the new pick ups was to spread the load over the two sides and the gulley in the middle is exactly 13mm to hold the bolt hex captive when tightening, I have to say it worked a treat. The upright of the pick up furthest away from the rose joint is threaded allowing the nut in the middle to lock off against the pick up so as not to cause pinching of the two uprights when tightening the bolt that supports the rose joint.


So again I got a few snaps along the way, the first is of the failed unit supplied with the car and the following two are of the new billet piece: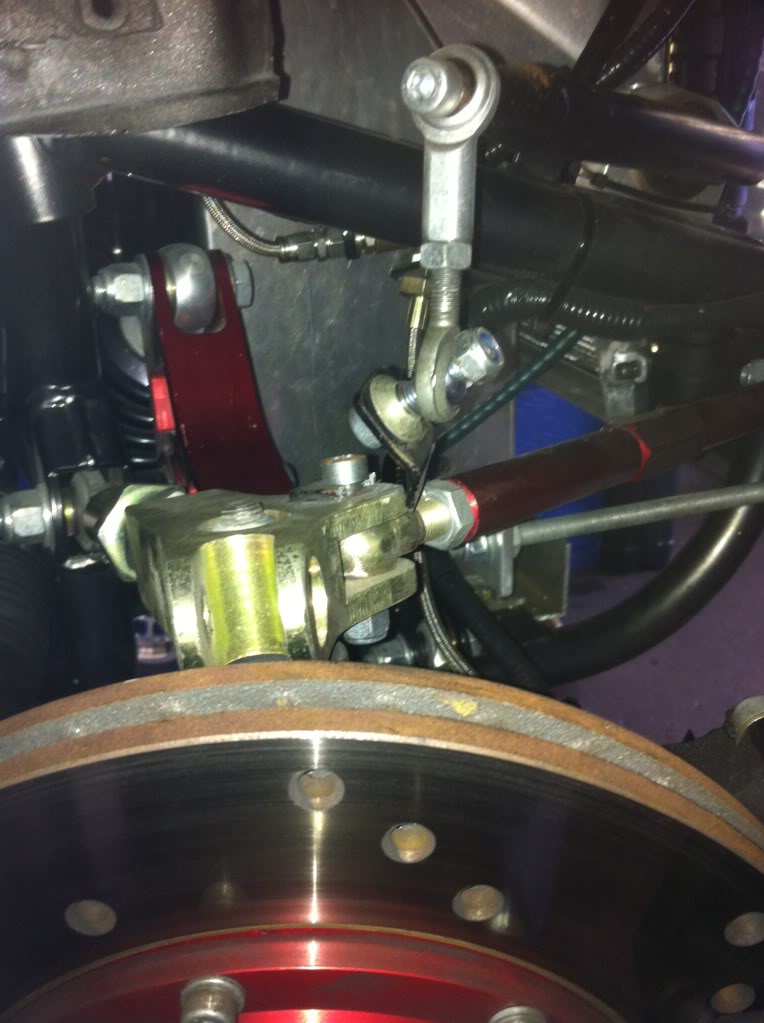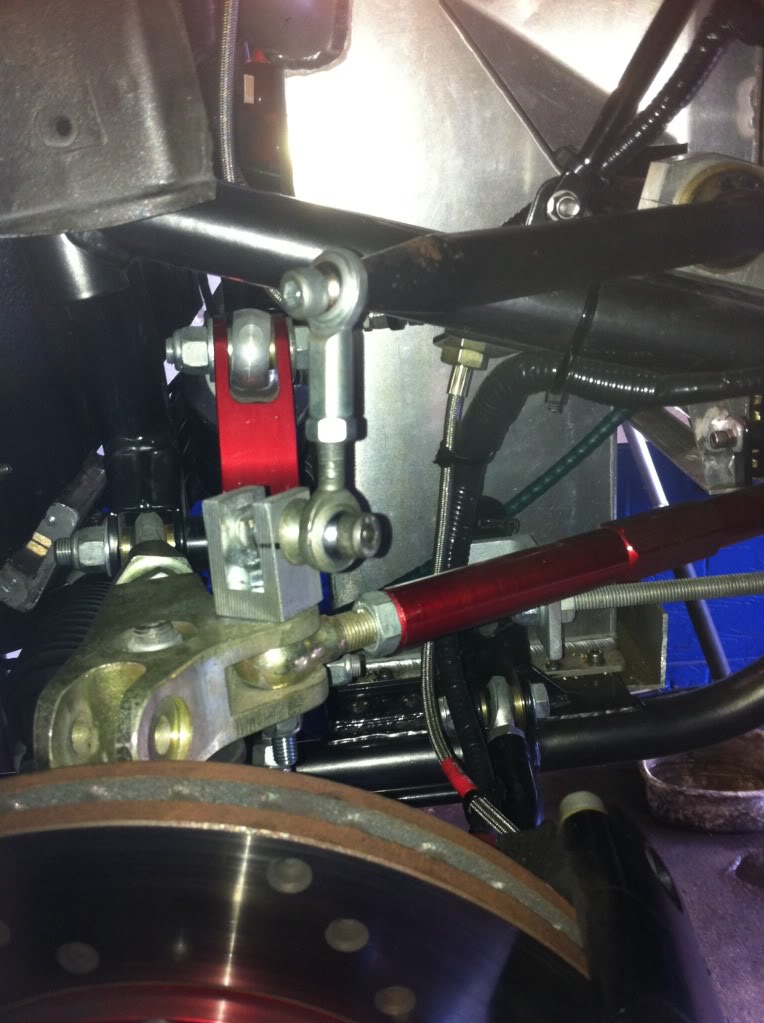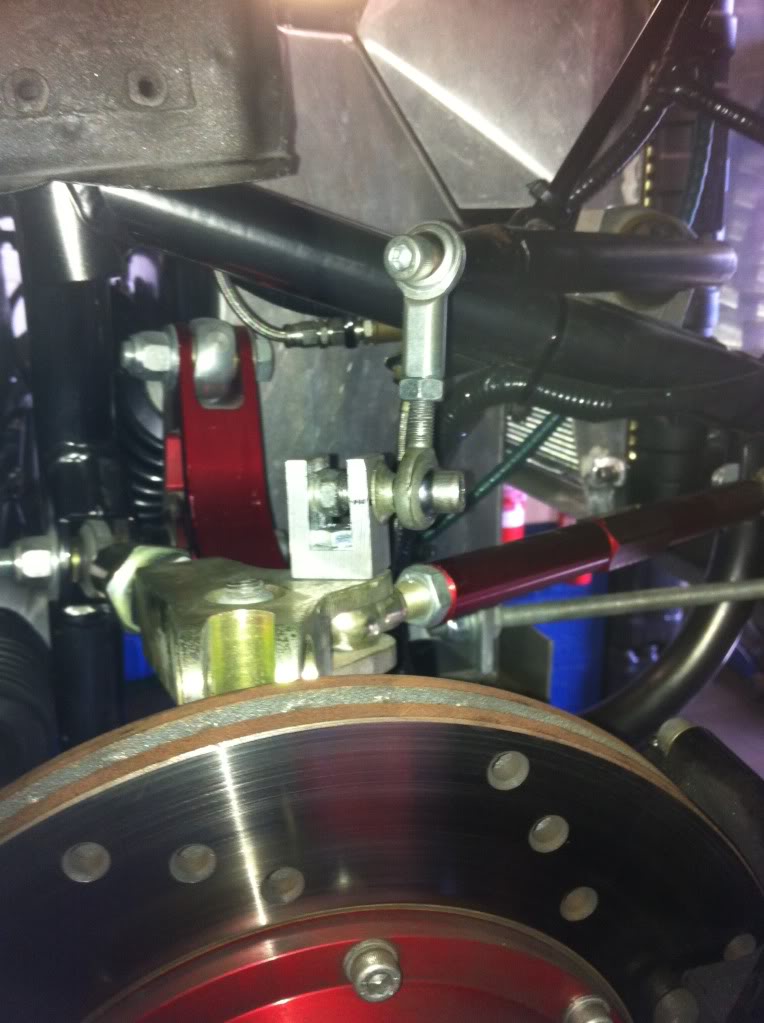 10-25-2010
Yesterday I decided to go out for a run with two of my mates (they were on sportsbikes so I didnt have to wait around for anyone). As my photoshoot for Miniworld is coming up soon I was going to leave it in the garage but damn it was nice yesterday so I had to go..

With the photoshoot in mind I hadnt yet done any timings for the car and as my SPA speedo gauge allows me to do whatever timings I want I thought I would give it ago. So I found a nice flat and fairly smooth bit of road (private road of course

) and then first I set up for my 0-60, then 0-100 and then 40-60 as these are the most talked about numbers. I hasten to add at this point I have my speedo calibrated to within 1mph of my GPS speed camera locator so its pretty frickin accurate.

The Results:

0-60 = 3.4 seconds
0-100 = 8.0 seconds
40-60 = 1.6 seconds

I only had three or four attempts at the standing starts and the 40-60 is just from one run and needs a few more runs to see if I can get it down with different gear selection. The standing starts were done taking off in first, minimal slip, no wheel spin, drop it and go. I reckon I can get both times down with practice and a clutch I didnt care too much about, still there not bad for an amateuer......

Car is now off the raod for a cleaning session ready for the photoshoot, so keep em peeled for the article in Miniworld sometime in the future.....
11-17-2010
Cheers

Yer I am also pretty sure I can get the 0-60 down but need to practice, like I said in a previous post lower profile tyres are gonna help as well when I come to change mine for the 225/45 R13 R888's.

I have been doing some research on gearing and I reckon I can get to 100mph in third which should shave a load of time off. I got my gear ratios from HERE (K-Series, RSX Type S K20A2 is the gearing) and then put my tyre and wheel info into HERE. For everyones info that cant be arsed to go back through the build diary the rears are 205/60 R13 and the final drive is 3.9.

The gearspeed program only goes up to 8000rpm but working it out I should get exactly 100.12 mph @ 8800rpm so next time I am out on that same bit of private road

I will try resetting my maximum recalls (SPA speedo records maximum revs and speed all the time so if you set a new high speed it will then be available next time you press the button for max recall) getting it into third and seeing what the max recall is when I stop. if it comes in at 100 mph like it should then I will re-try for the 0-100.

I am waiting for the next dry weekend to try and get some footage of the car in action and hope to be adding to the lonely video I have on You Tube curently.... keep em peeled.......
11-22-2010
WHEEL FAILURE:

So my run of good luck with the car came to an abrupt end with a POP and a HISSSS from the rear O/S tyre on the weekend, with what at first glance looked like a regular puncture. Fortunately I was only doing about 50mph round a long sweeping bend (hardly any lateral g-force) and was able to bring it to a controlled stop.

I friend was passing and collected me, we went and bought some tyre wled with a view to it getting me home, but two cans of that didnt work, Del then went off and got a bottle of nitrogen at 50bar and we tried pumping it up with that, the tyre went up and then straight back down again, at this point we noticed the tyre weld solution coming out the centre of the rims as they meet the centre wheel part.

I took a closer look and found one of the twenty bolts that hold the wheels together to be loose, so I gave it a jiggle and it come out in my hand, I then put my fingers through the wheel to check the nut side of the bolt to find that 7 of the bolts had snapped. These aren't monkey metal bolts either, they are 12.9 High tensile bolts.

Anyhoo, I have loaded some pictures below for you'all to have a look, I have emailed Image Wheels with the photos and await a reply, I will keep you posted on that.


So here are a few snaps, firslty of the car with the flat, one of the wheel on the car and the rest of the back of the wheel: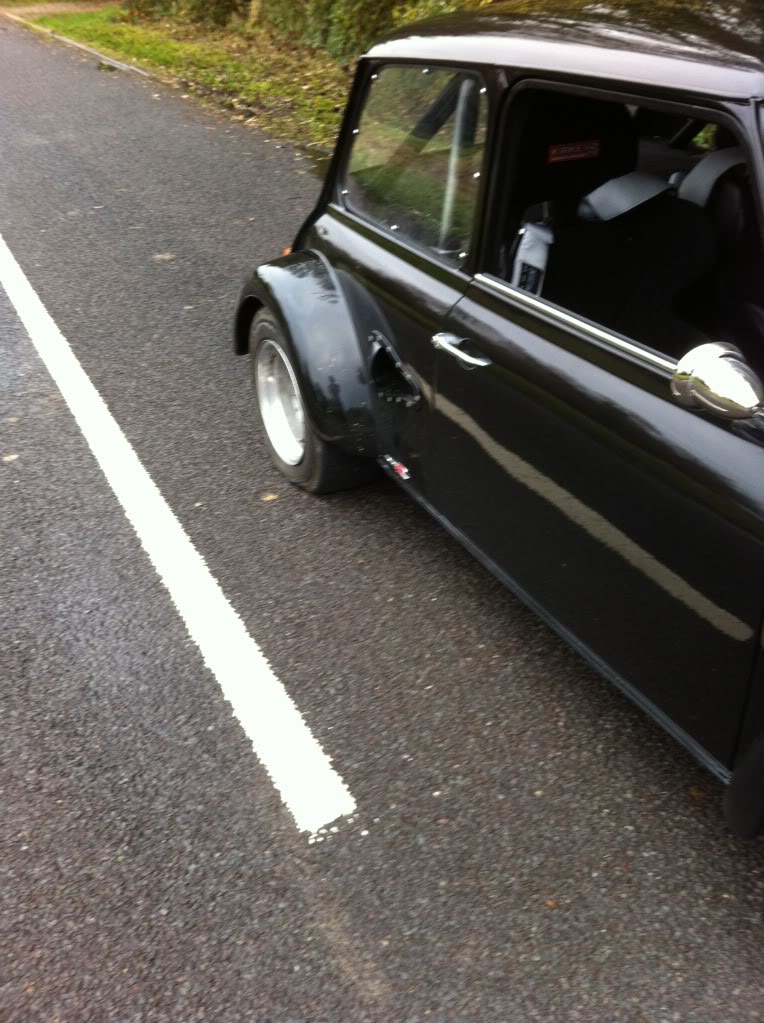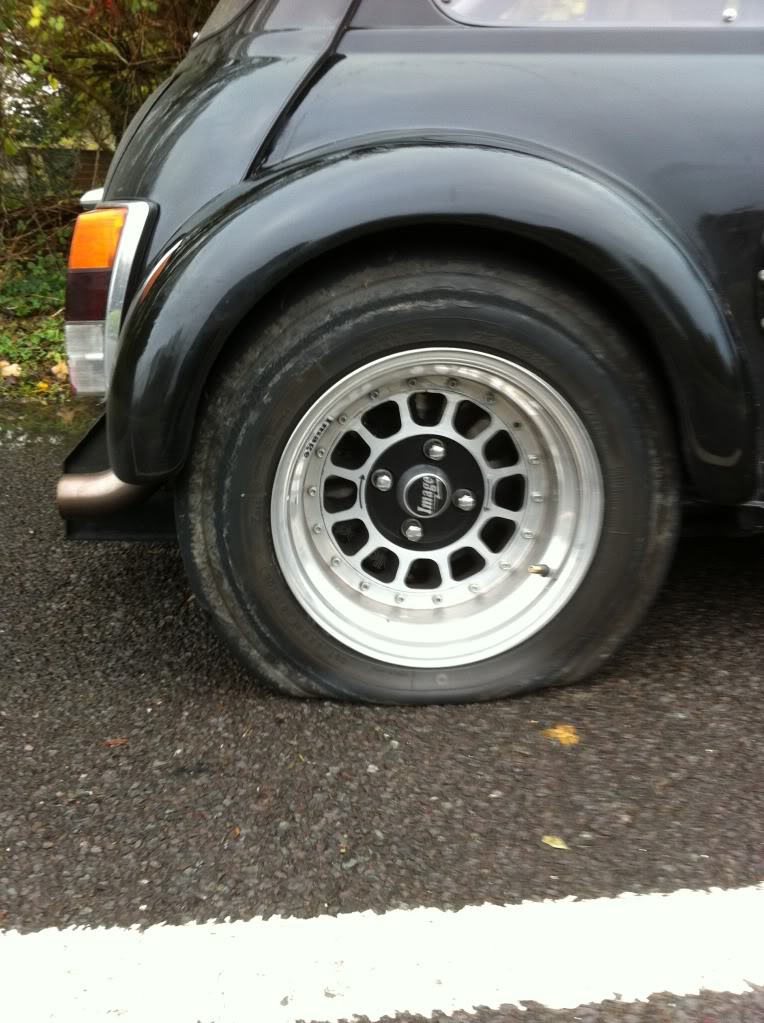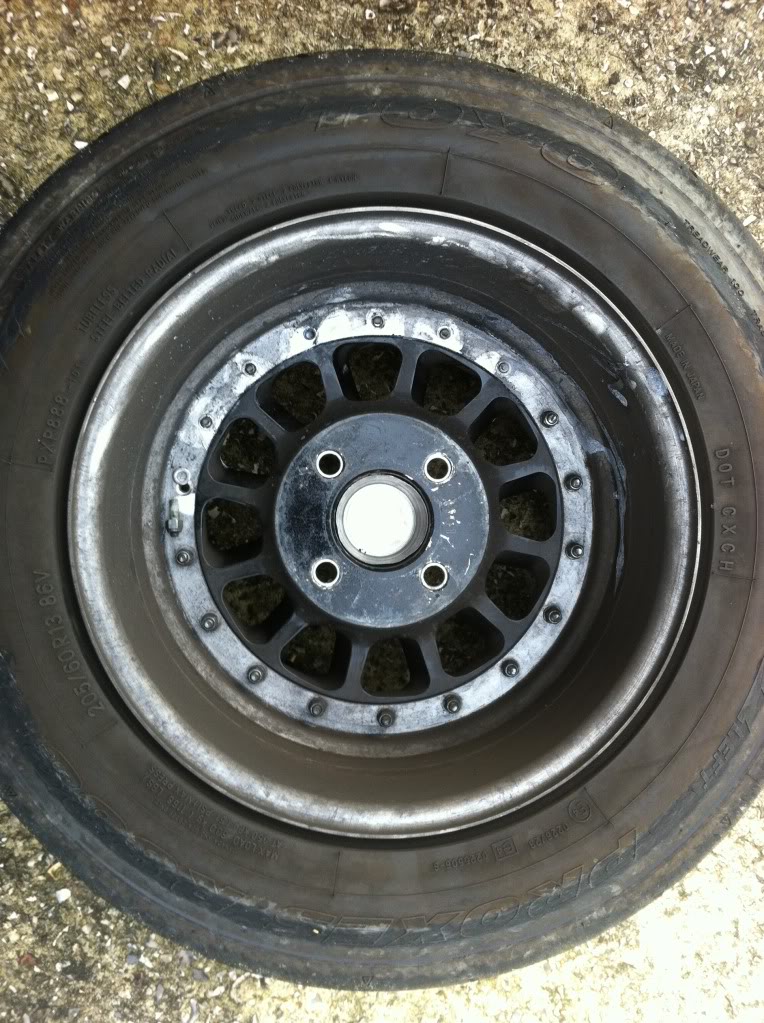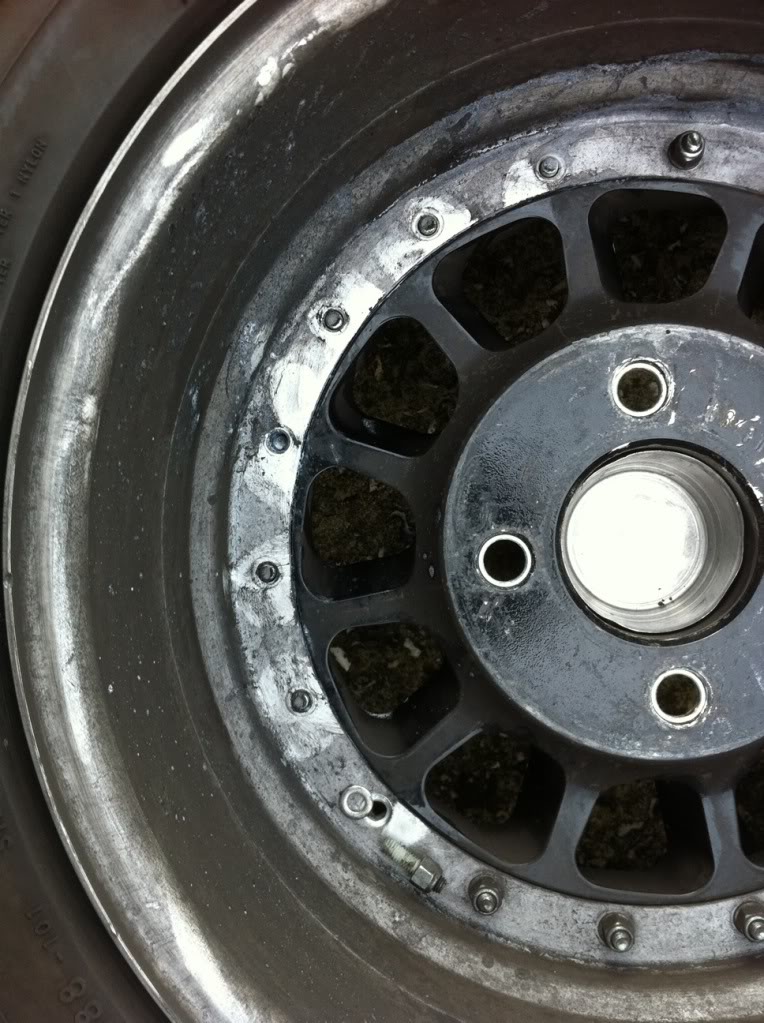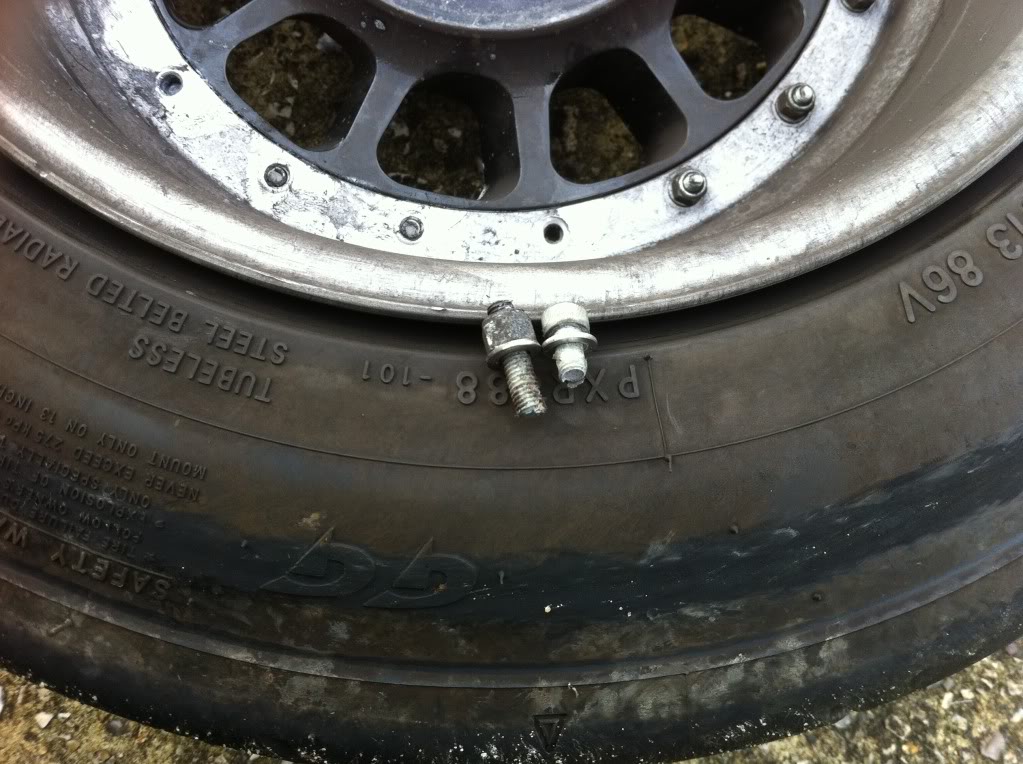 PLEASING..............................
11-2-2010
Been in contact with them and they are being good as gold, I think I am going to fix the wheel myself and then double check all the torque setting on the rest of the wheels. Harry at Image has explained how there production line is unable to overtighten the nuts and that they order the bolts in the hundreds of thousands and they havent had a bolt failure before.

It'll get fixed and thats all that matters really.

I am gonna chalk it up to an unexplained.
11-24-2010
I am getting new nuts and bolts (enough for four wheels) and silicone (for one) and are going to replace every bolt and re-seal the wheel. Jobs a good un, will be fixed by the end of the weekend, then back on the road, although I am gutted as all week its been dry and could have been out razzing around, but hey ho it wasnt to be.....

Next job on the agenda is to get my camcorder working, I have a mount for it that goes across the rear diagonals but its too far back for me to reach so I have a small solenoid that I am going to use to start/stop the recording. Got a feeling its not going to like tickover as it tends to vibrate a bit due to the harder engine mounts, a small sacrifice for such a tight feeling car. Then get the vids up on youtube.
11-29-2010
Not wrong there......


So I got the wheel apart on the weekend, bit of a barsteward trying to get all the old silicone off but I got there in the end, not much to show really but I took a snap whilst the wheel was apart jsut so people can see what they are like in their seperate pieces: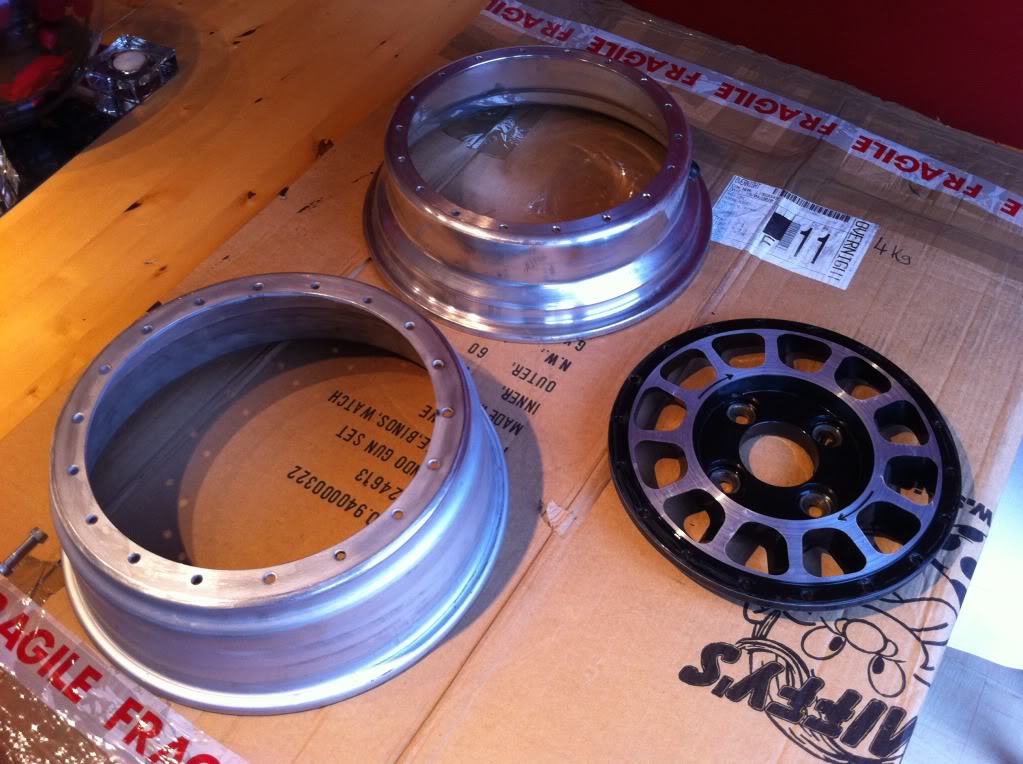 1-23-2011
NEW YEAR - NEW CHALLENGES

I have been working on a new manifold to go between the Throttle Body (TB) and the Supercharger (SC) over the last two weeks, I hasten to add that I am not finished but I am well on the way.

I have been doing a lot of 3D modelling of parts and thought I would show what I have been up to as its been a bit slow on my build recently.
This all stems from conversation over on another forum for people in the USA that use this JRSC setup in the Acura RSX. Over time one thing that keeps popping up over there is the restrictive TB-SC manifold, so I decided to design my own. Some pages back in the build diary I posted some renders of initial ideas I was having.

Two weeks ago I removed the SC from the car and the intake manifold (they need to come out together) as I had a noisy bearing in the SC snout that needed replacing. With the SC in bits I decided I was going to draw up the SC and intake manifold to aid with the designing of the new TB-SC manifold. The drawing of the charger I started last night and still have to draw up the input shaft and its relative bearings and other parts but you get the idea.
The drawing of the TB-SC is still abit of work in progress until I can get the intake manifold and throttle body drawn up.
Talking of TB's, I ordered myself a nice big 72mm TB from the States the other day, the OEM TB is 65mm so its quite a big step up. My reasoning for the bigger TB is that the cross sectional area (CSA) of the inlet into the SC body is a match to the CSA of a 72mm TB with the butterfly at wide open throttle, therefore removing any restriction at that point.

Secondly I am ditching the K&N Apollo as it lost me 15BHP over an open TB when it was being Dyno'd, I am going to get a K&N X-Stream 76mm (size TBC when I receive the new TB) and make a new housing to shield the new open air filter from the heat of the engine bay, still being fed cold air from the N/S Scoop.

There will be more drawings as and when its done. So for starters theres a few renders of the original TB-SC, you can see how it steps upwards, the main problem is that as the butterfly opens in the TB it restricts the flow against the bottom edge. So as I have about 65mm of headroom under the parcel shelf I have straightened the path of the TB-SC and also lined it up centrally to the SC. The new TB-SC is designed to be machined from a block of billet rather than being cast, primarily because mine is a one off its worth getting it machined, if you were turning out hundreds then casting would the way forward.


The next set of renders is of the new TB-SC on the SC. The rest of them are just showing off my drawing work.


OLD TB-SC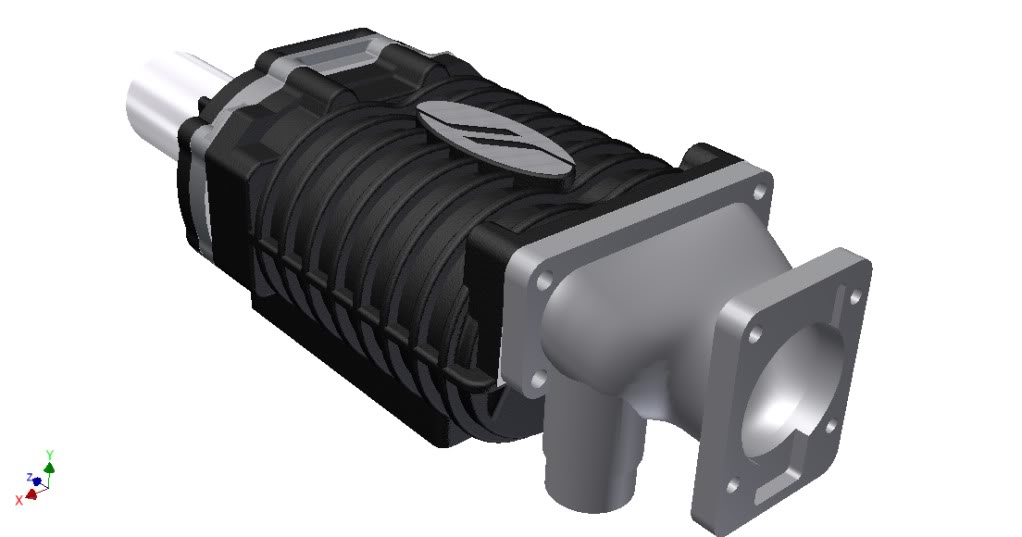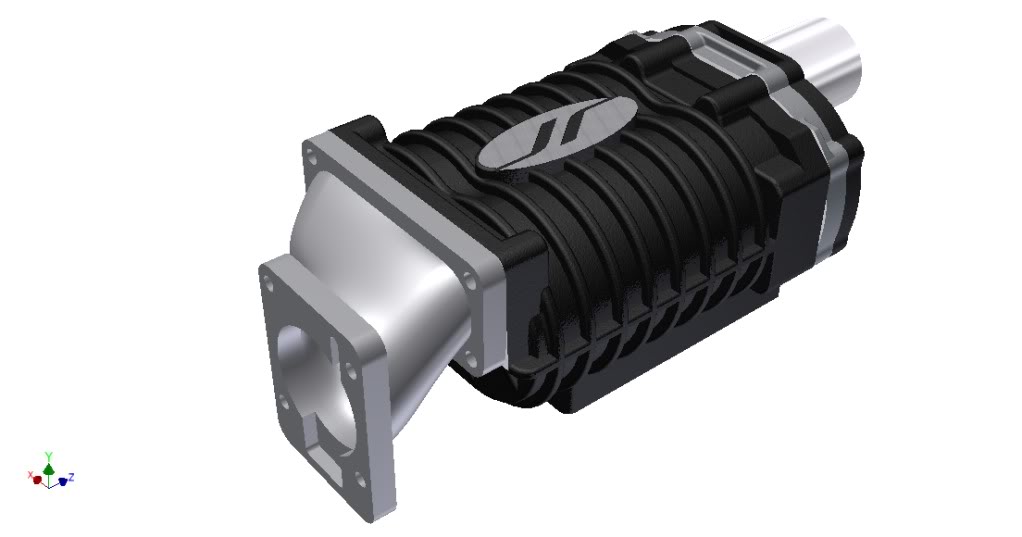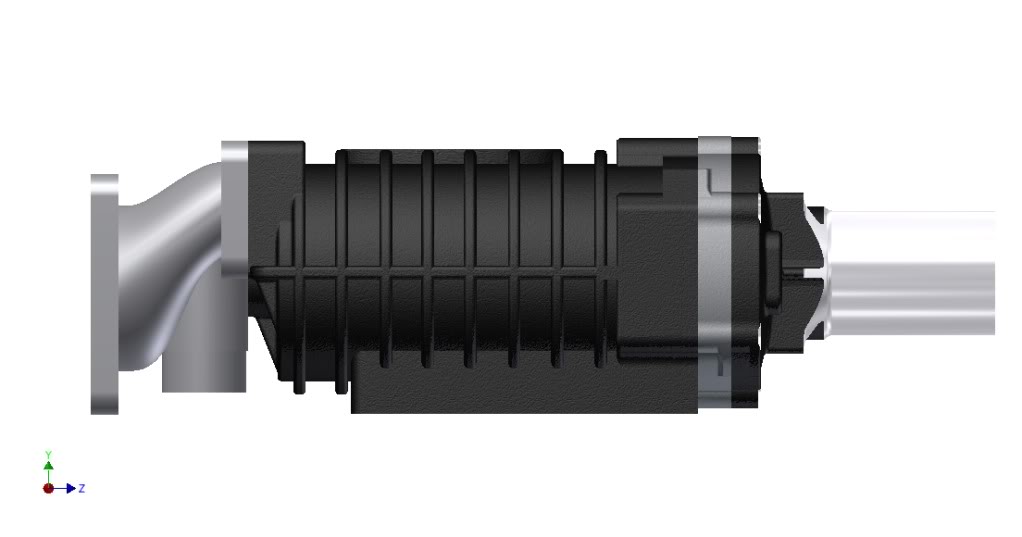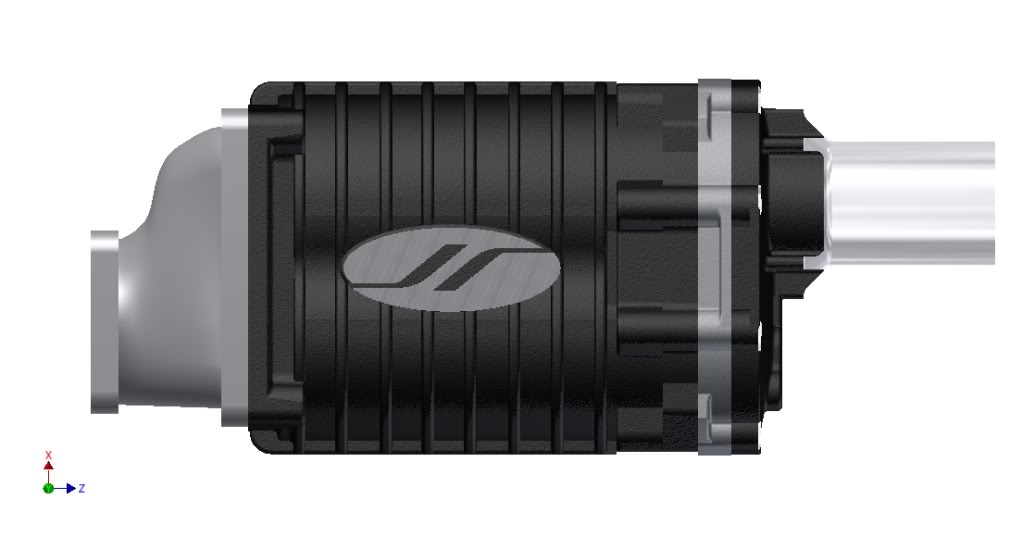 NEW TB-SC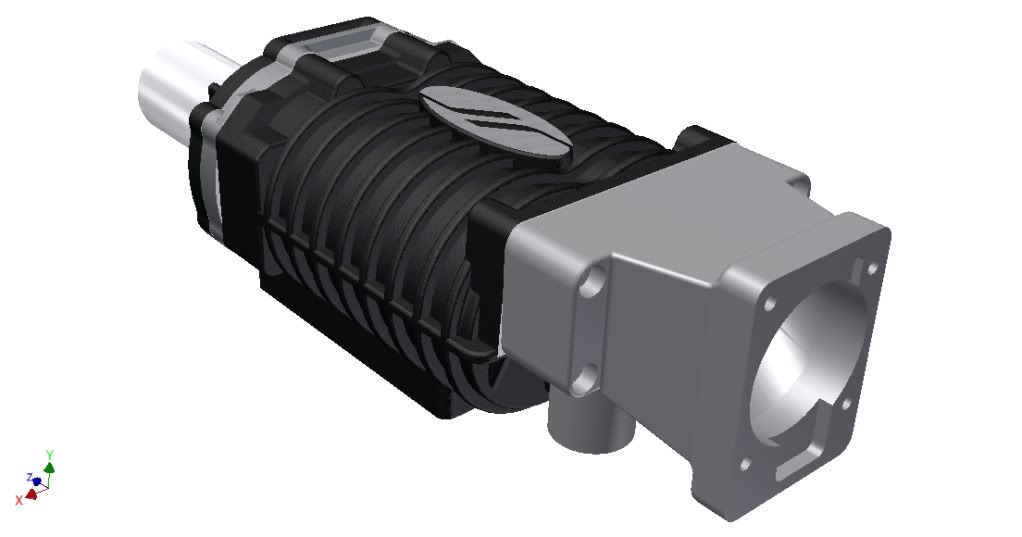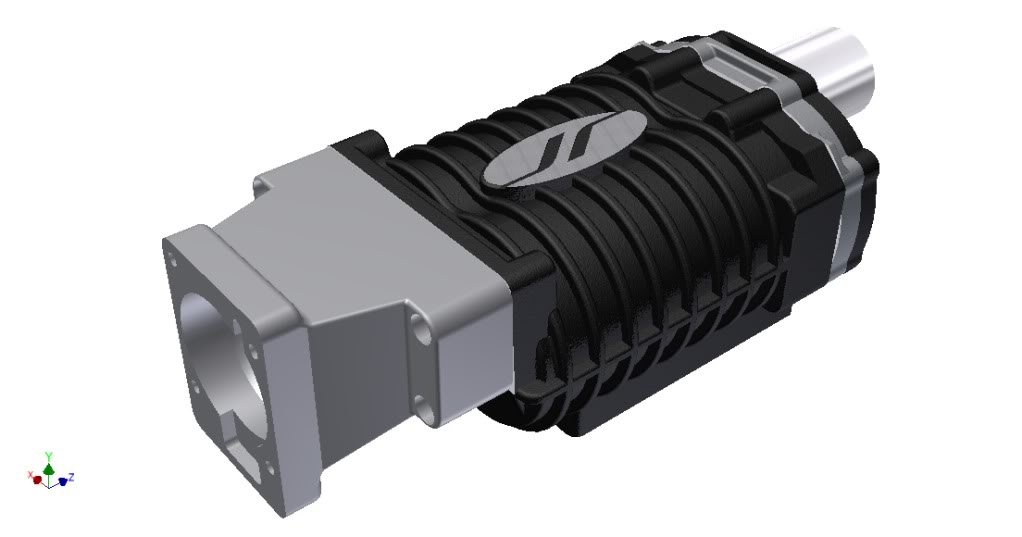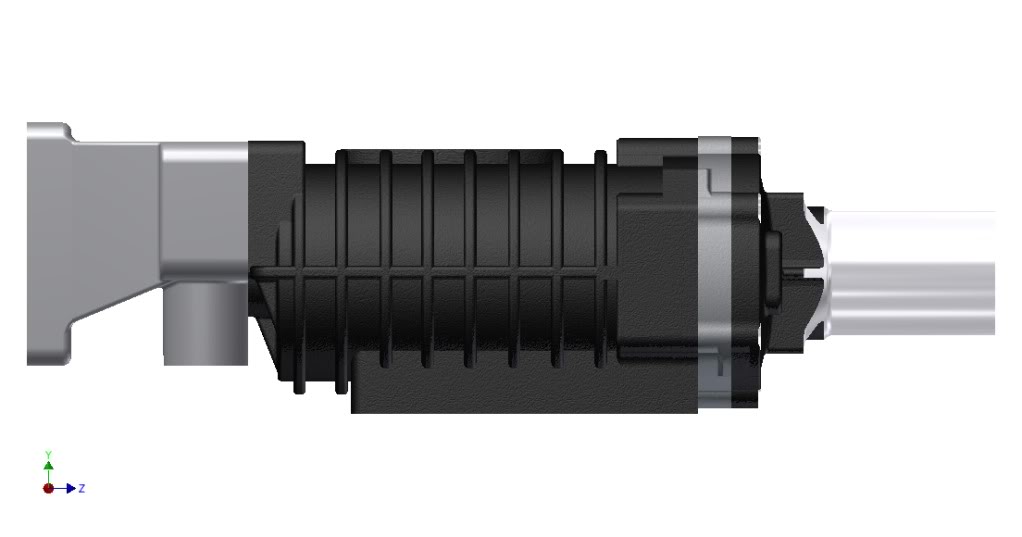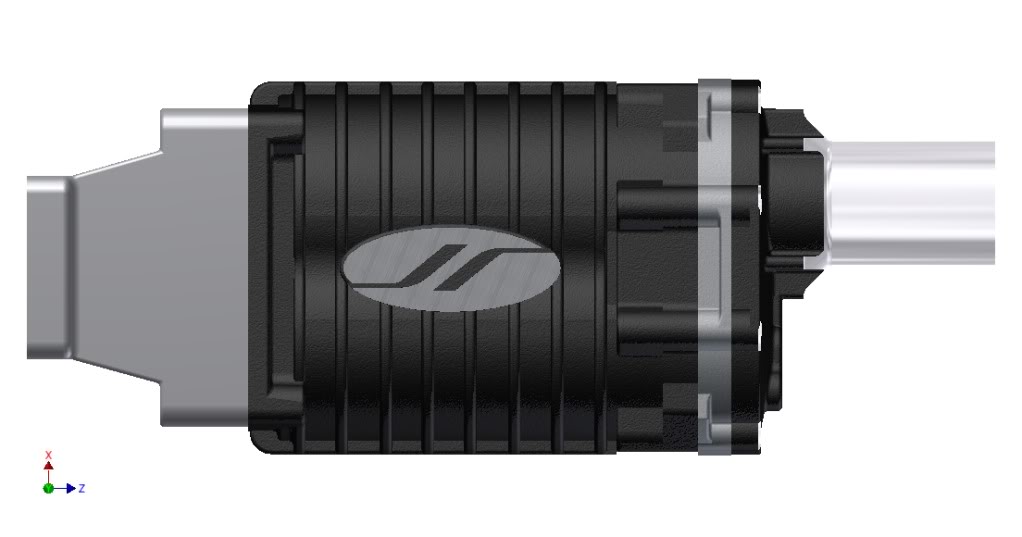 THE REST ARE DRAWINGS OF THE CHARGER UNIT ON ITS OWN: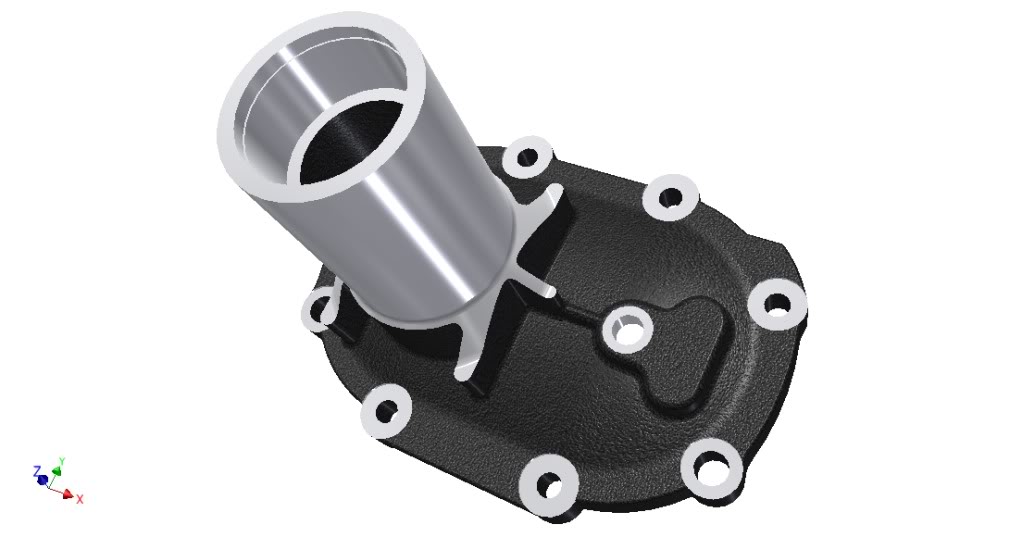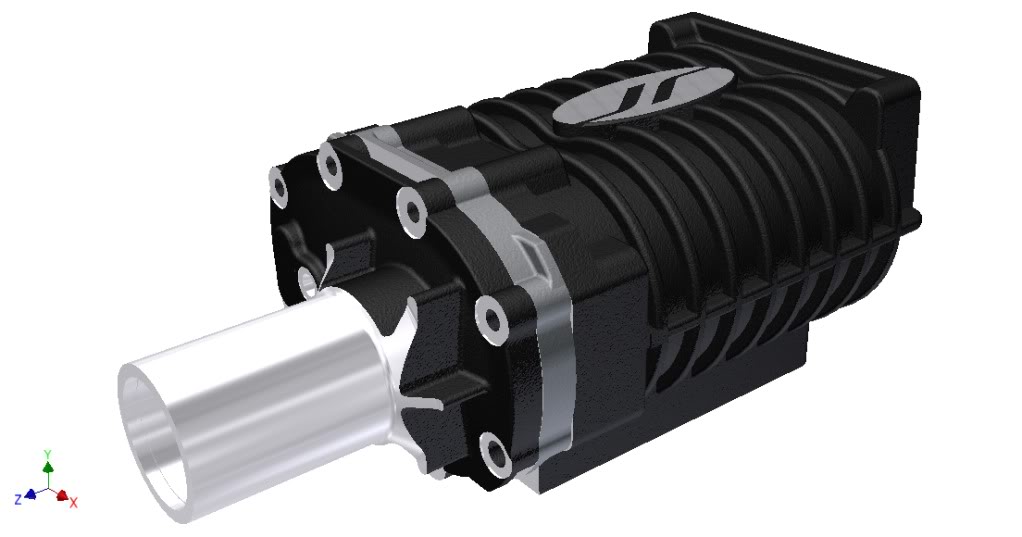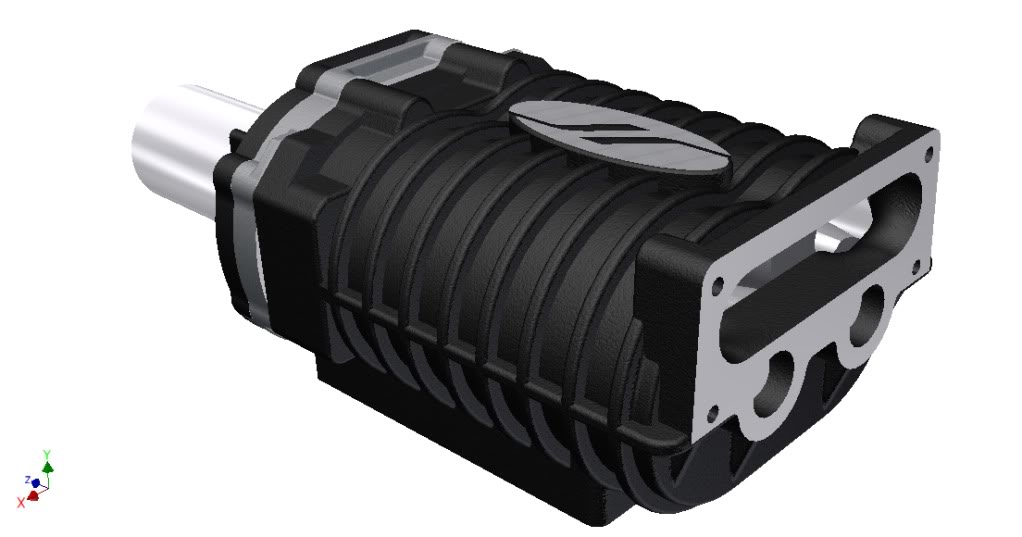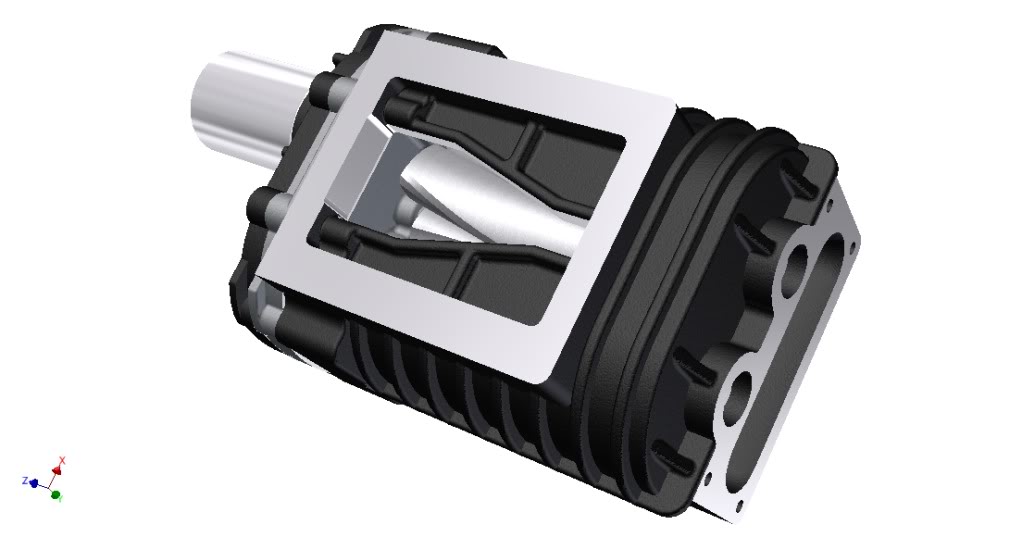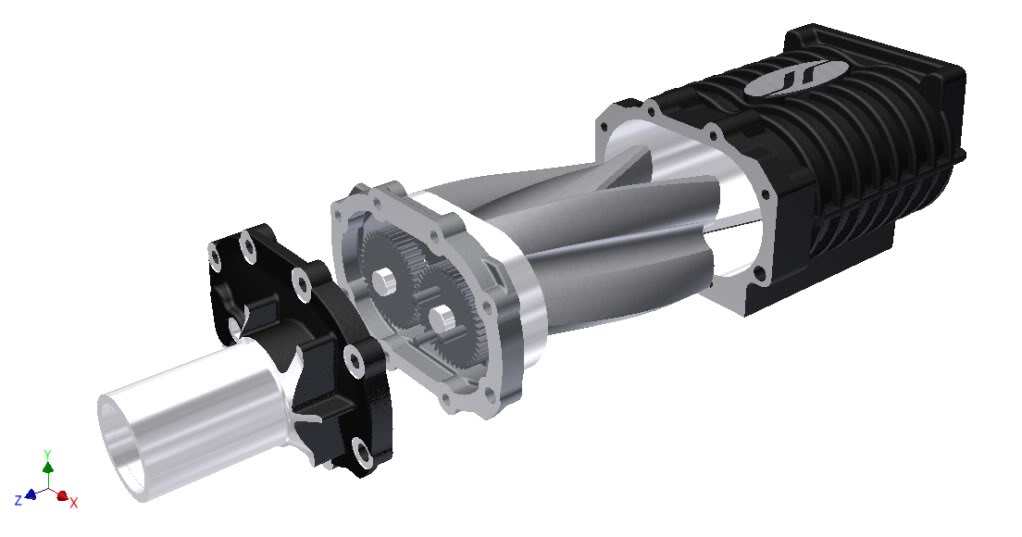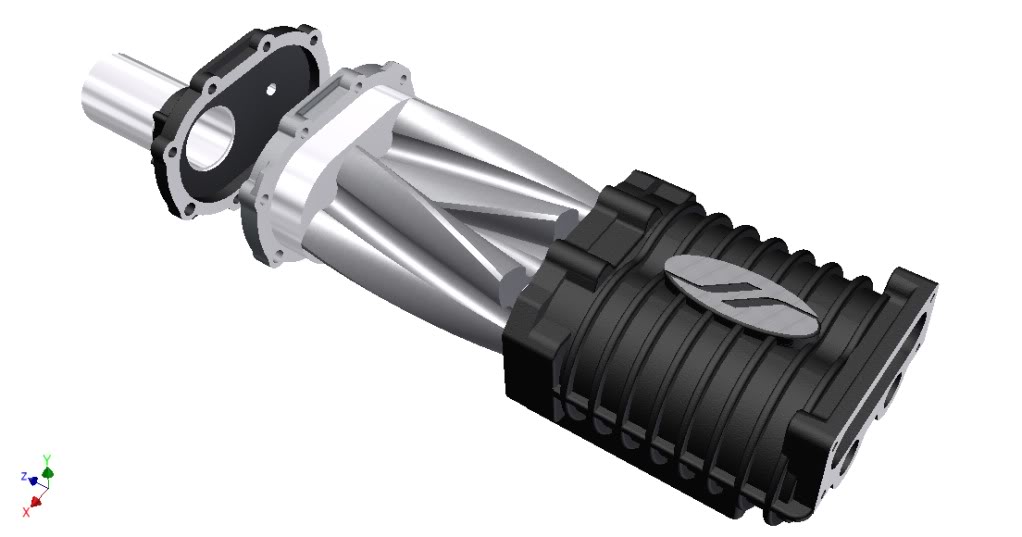 1-24-2011
Finished drawing the input shaft, just got bearings to do then its the charger is fully drawn, just the intake manifold, TB, injectors, fuel rail & fuel pipe left to do. I love setting myself massive goals to achieve.....not.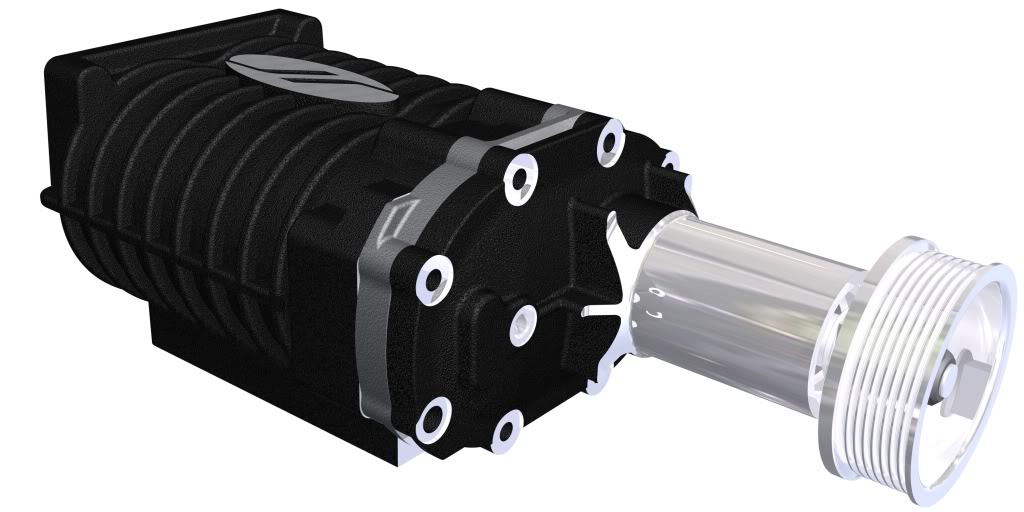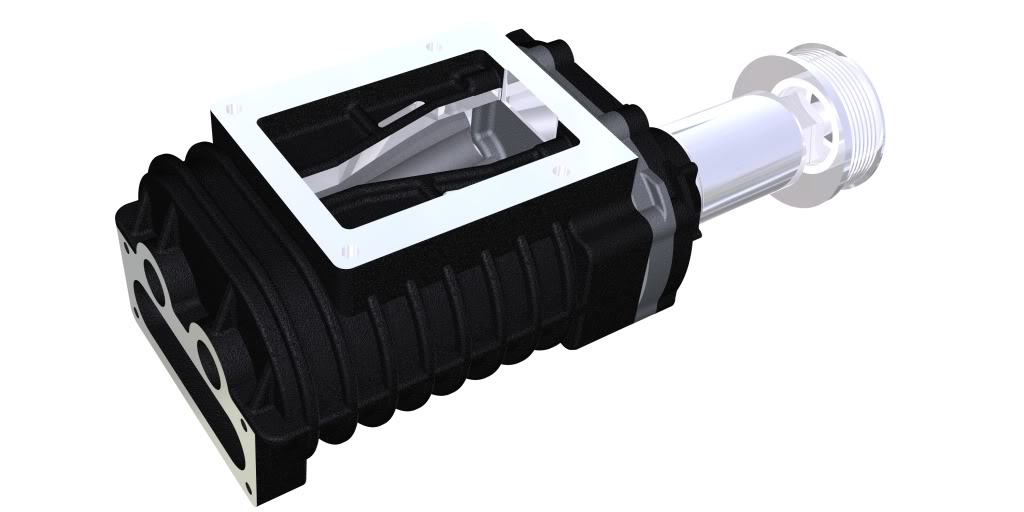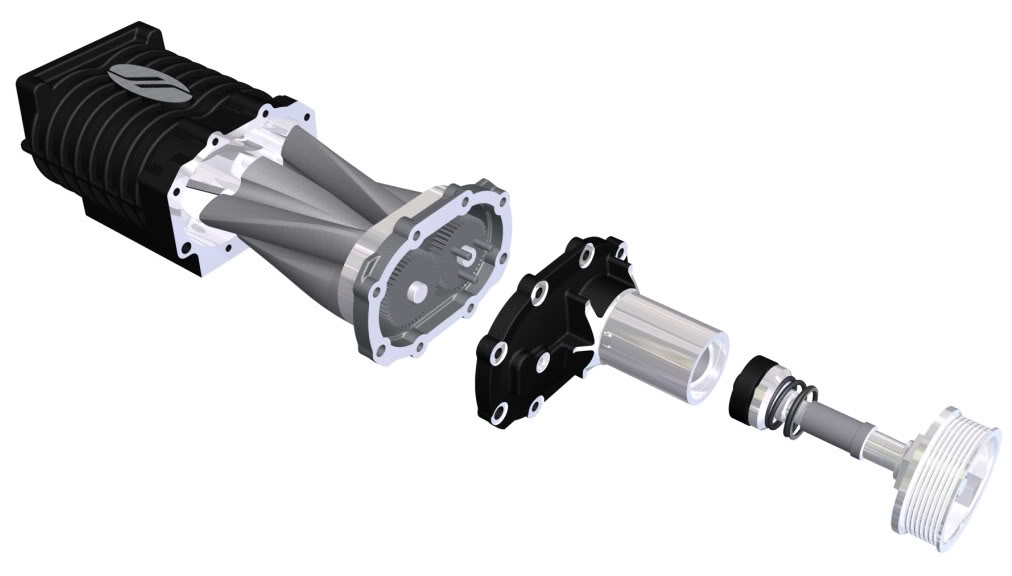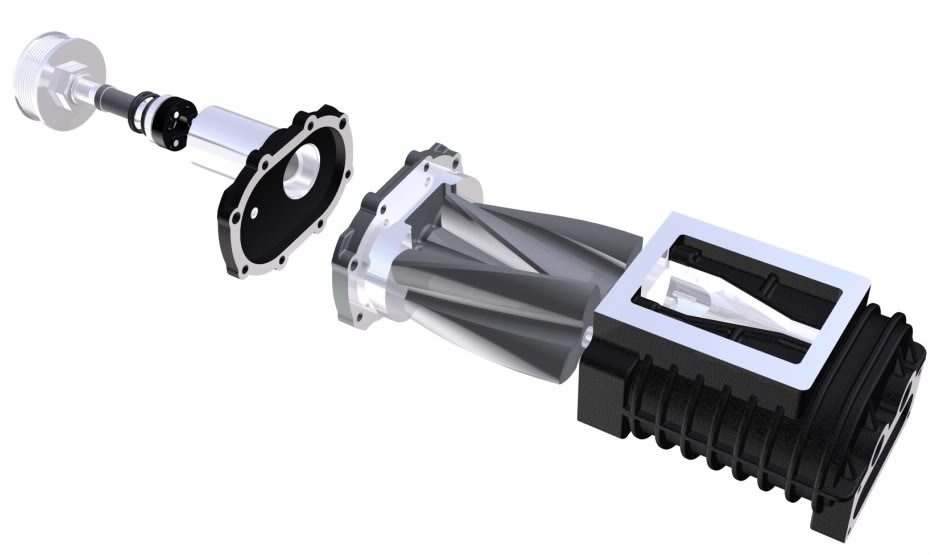 1-27-2011
I made a bit more progress with my Charger and Manifold drawing, I still have to model the throttle body but it hasnt arrive yet so not much I can do about it.

Heres the progress so far: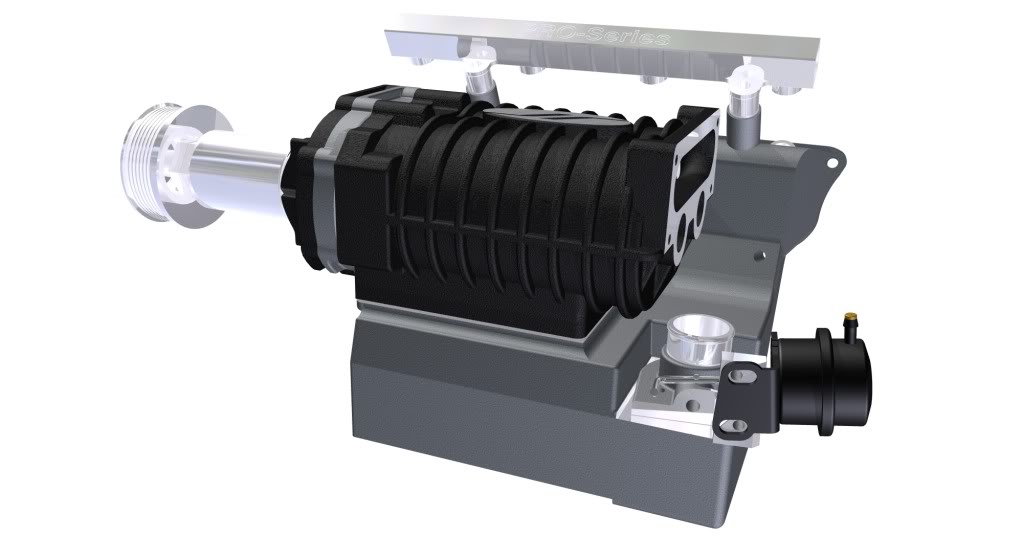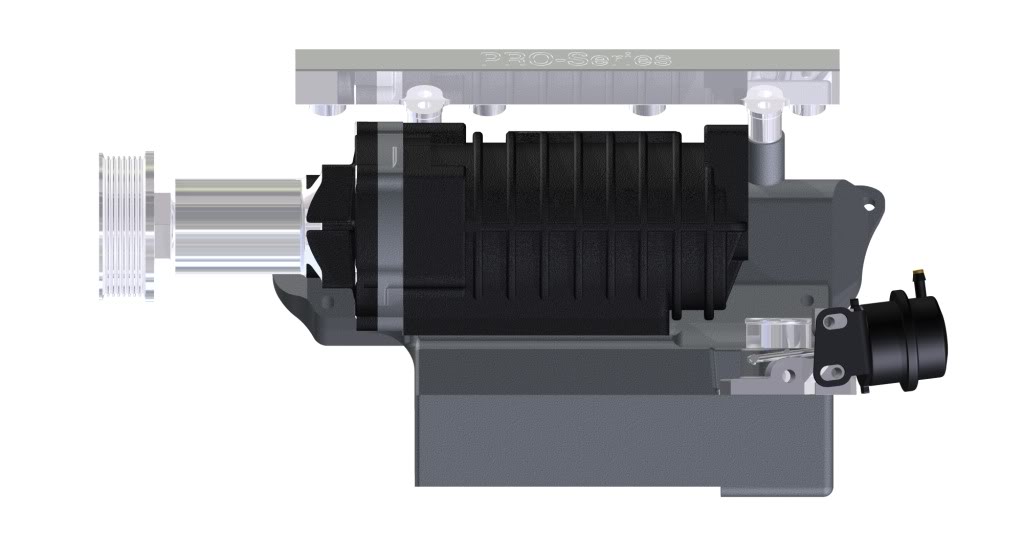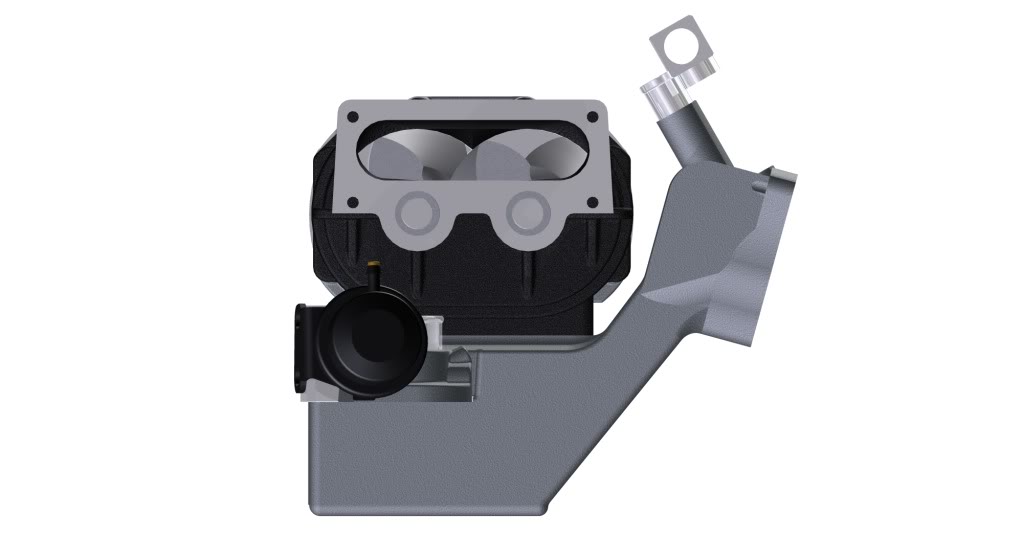 1-28-2011
WOO HOO

I just got my new 72mm Throttle body through......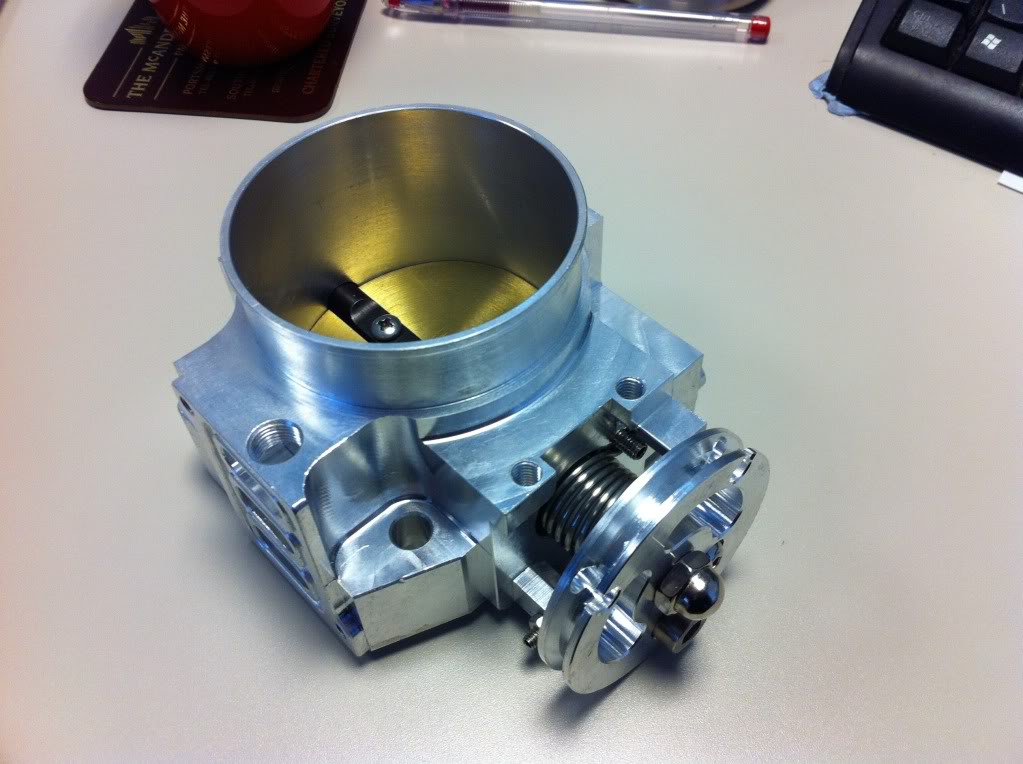 1-29-2011
BOOOOOOO

The idiots sent me a 70mm and as you can see from the working out drawing below it is not the match of the 72mm to the charger inlet, some might say i should have gone for the 74mm but I figured the 72 is the compromise between unworkable low revs and unrestricted air flow but I guess thats all in the mapping as well.

That'll be another fortnight waiting for another one and then paying more duty and handling fees - T0ssers.....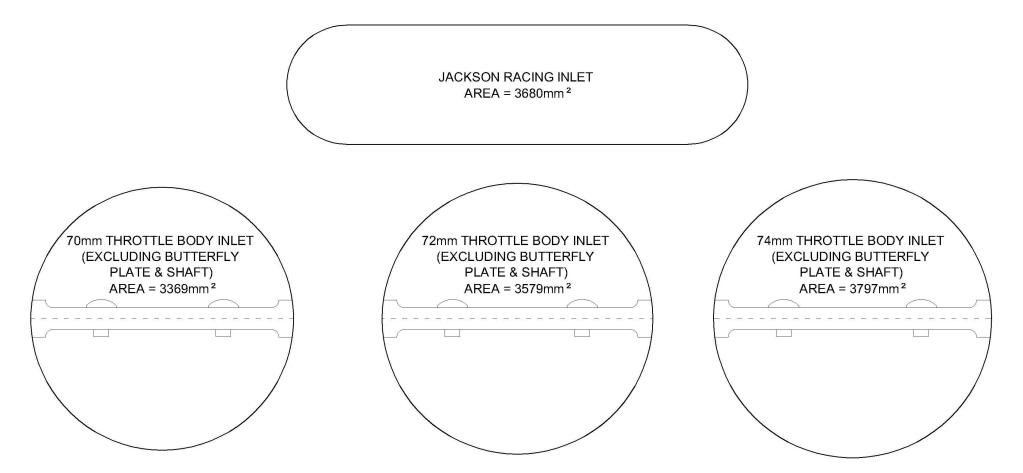 1-30-2011
Another busy weekend drawing.

I have what I consider my first true revision of what I would like to have made for my setup.

For the flow through the unit the top of the TB inlet it 5mm higher than the top of the charger inlet so the flow should be really good through the new TB-SC Manifold (thats what I am calling my version of it).

I really tried to consider the production of it on the mill, well on the outer edges anway as theres not much I can about the shape on the inside. The bottom of the manifold sits lower on the charger than the original (covering the front rotor bearings), this will help with the stresses on the bolts in the charger and have supported the TB end with a simple support strut that will have RH/LH threaded rod between the two rose joints. I did this because the weight of the new TB-SC Manifold and the TB was going to be alot more than in the original setup. I removed as much weight as possible from the underneath to help with this. At any point on the model the wall thickness is no less than 5mm.

Its a two piece design with the pipe for the bypass being machined seperately and then held in place with grubs screws and gakset sealant.

I need to get a price for machining now I have something I can give them.

I did a few illustration type renders of it as its easier to see what is going on with the design as things started getting a bit too reflective and shadowy: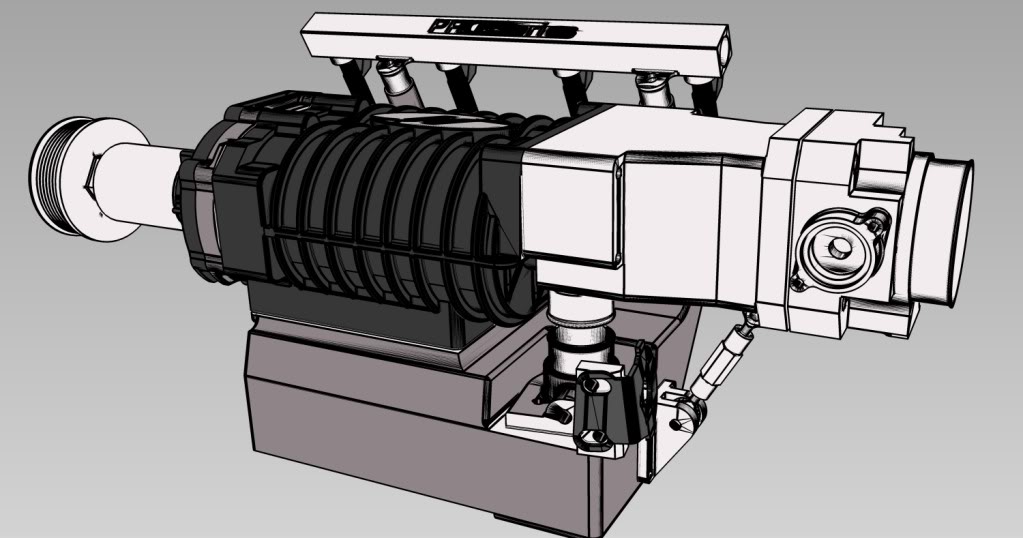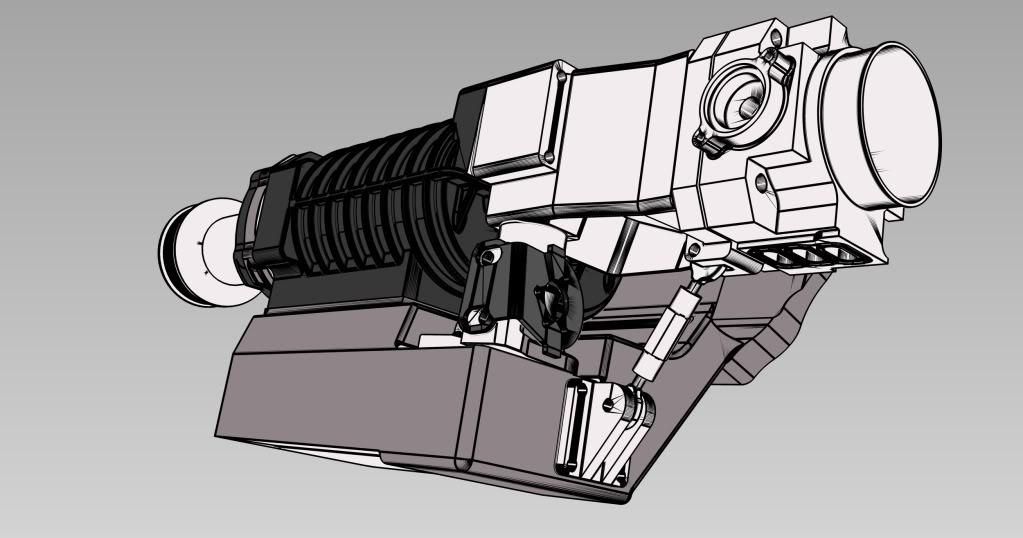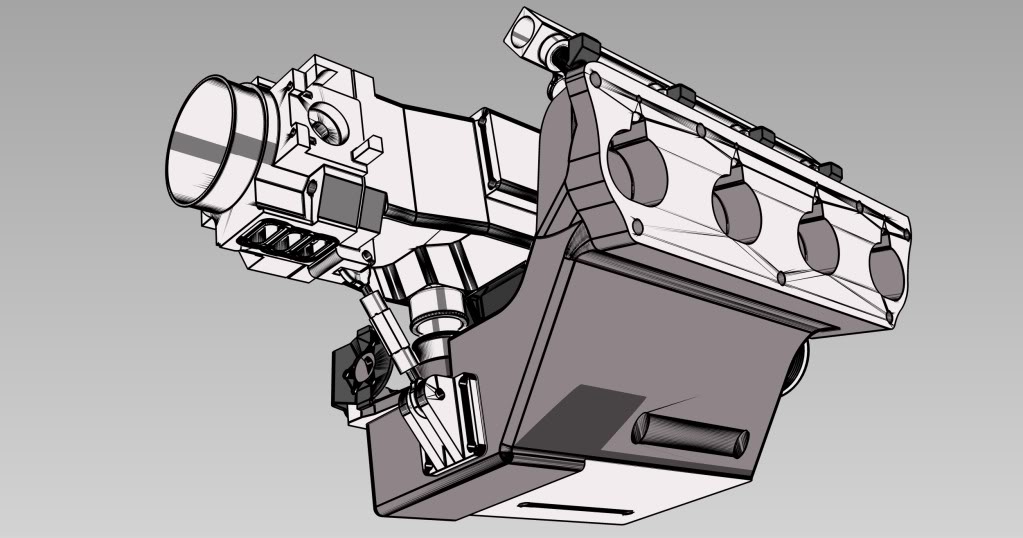 2-10-2011
Slowly, Slowly catch a monkey.....


Things have slowed as I await people getting back to me with regards to machining the new manifold, if only I had my own mill this would be much less painful.

So I sent my recent purchase of the 72mm Tb that turned out to be a 70mm TB and they think that all they have marked as 72's are in fact 70's so I have ahd to order a different make which isnt all bad when I looked at the craftsmanship of the original.

I got my new TPS (throttle position sensor) through today from the good old US of A, it was only £30 summink quid, bargain compared to the Honda stealers oh sorry I meant dealers.....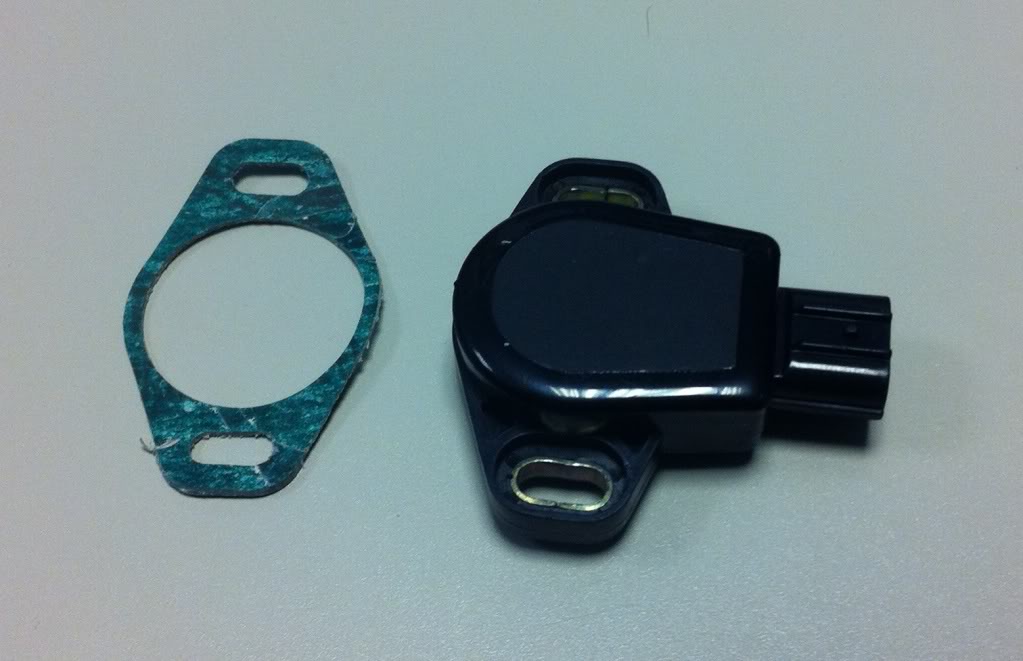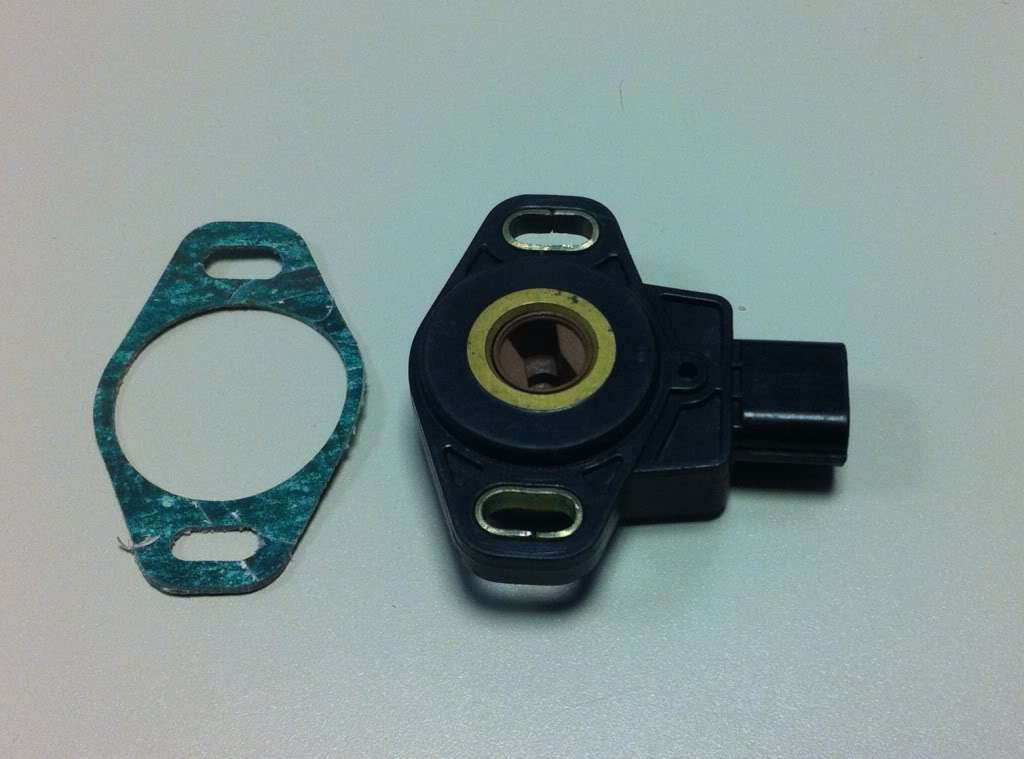 I ordered my new air filter, its a K&N RX-4730, I am hoping it'll arrive on Monday, so I can start to design the shroud to shield it from the hot air of the engine bay. I only have a picture of it from the tinternet at the moment but you can see it is a proper decent one, I checked with K&N UK and its rated to 660BHP with a S/C or Turbo setup so I am not reaching anywhere near its limits with my current configuration. I am going to measure up the Apollo to see jsut how much difference in surface area there is between the two - will post figures once done...

Here's a snap of it from t'tinternet: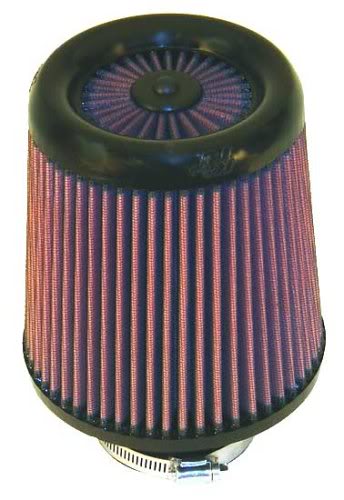 more updates as when stuff arrives.....
2-16-2011
TB-SC Manifold

I am having issues trying to get the new TB-SC Manifold machined so it looks like I am going to have to do it the old fashioned way, with a hand operated mill, some skill and a lot of patience. by the way thanks to Martin at MRA Minis he would have been able to do it but I already ordered the material and a 1 1/4" slot drill to do the work with.

So as for the drawings I have been busy, drawn up the new K&N, nice bit of kit by the way... I have been very busy trying to work out a design that may be useful for others that use the same setup as I in the Acura RSX over the pond. For those that havent been following I am making a new manifold that goes between the Throttle Body and the Supercharger, the old one made the air go round an S bend which isnt great for flow, secondly the OEM TB is 65mm which is restrictive when compared to the opening of the charger body onto the rotors, so a 72mm TB was ordered, received, sent back, another 72mm ordered, recieved and now sits on my table waiting to be sorted into the mix.

The drawings below show how the flow of the new setup pretty much follows a straight line, I am going to have to make another shroud for the filter to keep the intake temps down and feed it from the 76mm NACA duct on the N/S. I am currently toying with two feeds to air filter but yet to decide where I would source more cold air from.

Still waiting for the snout bearings over 28days after ordering....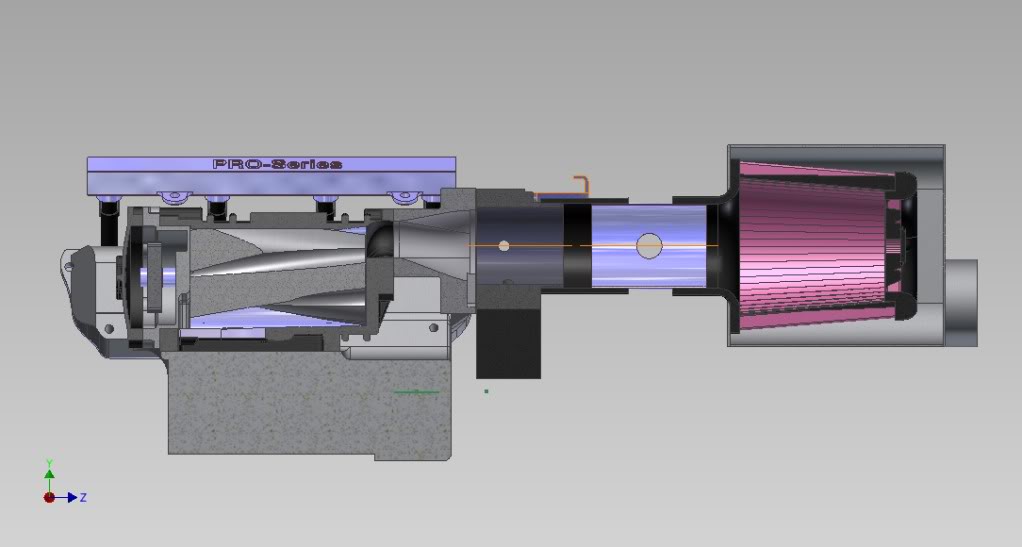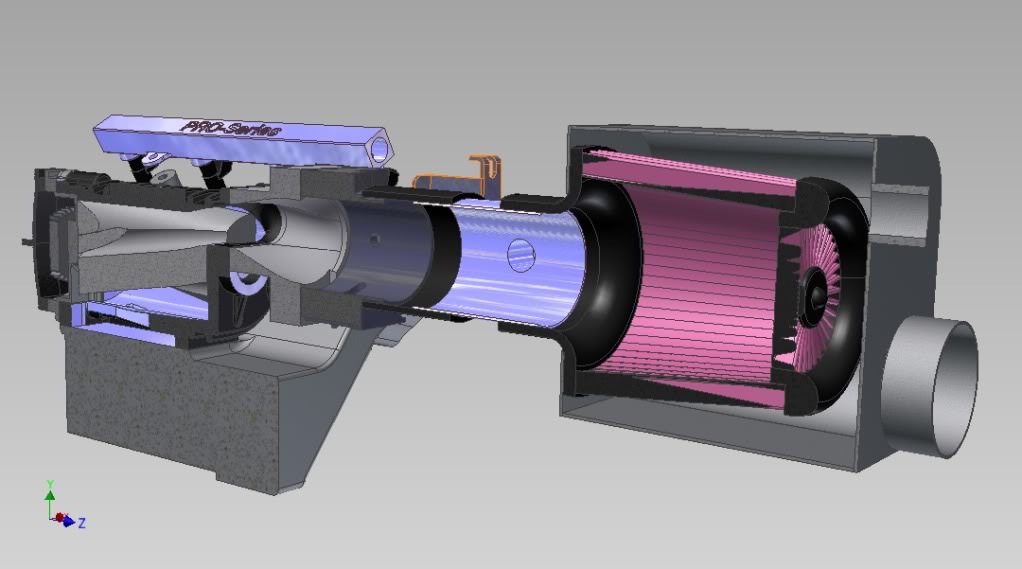 Below is a picture of the new TB verses the OEM, its a bit misleading as the new 72mm actually measures 74mm at the intake and 72 at the outlet, a TB with a built in velocity stack - not bad.....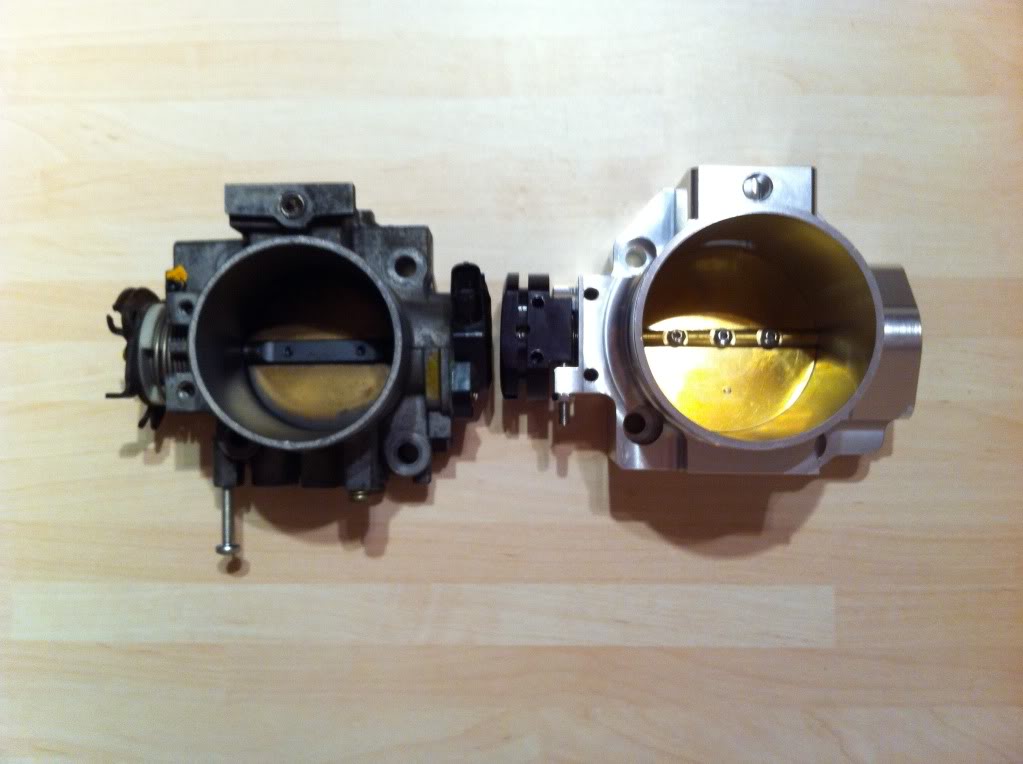 2-17-2011
OBX RACING 72mm Throttle Body Dissected

In my plight for more ponies I decided to go to a 72mm TB, I was lured by the cost of the OBX unit, even though I am well aware of 'You get what you pay for'.

So when it arrived I promptly got it out to measure it after being duped by a previous and even more inferior TB that I had previously ordered receiving a 70mm not a 72mm. So I measured the air filter end of the TB throat and that was 73.75mm - initially prompting me to think they had sent the wrong part but before opening my big mouth I measured the outlet and that measures 71.70mm so its fair to say they had sent me the right part. After noticing the big 72 laser etched into the side I was pretty convinced I had the right part.

First appearances aren't great, some of the machining leaves a lot to be desired, never the less it does look like a hoofing great throttle body.

First turn of the shaft via the cable fixing confirmed everything I had read on the web about them being sticky and this was without any heat of the engine bay to make everything expand. So I was intrigued as to what was causing the shaft to labour like it was - out came the tools.......

On turning the first bolt it became apparent that there wasn't a lot of Loctite or fixant in use, even on the butterfly valve bolts. I got the TPS fixing off to notice a cheap rubber oil seal. Under the cable fixing was another oil seal, below the two outer fixings are two Chinese (ZXZC) made 608RS bearings, rubber seals, they feel average – a bit sloppy.

So once this lot was apart it was really evident that the oil seals are what are causing the sticking with the TB at room temperature. I obviously have yet to see if sticks with added heat.

With all of that in mind I ordered new bearings 608RS-2 C3 SKF and 2x Viton Seals (8x22x7) and await to see how it feels once they arrive....... I will keep you posted.

It is very true - you do get what you pay for and this can be made a whole lot better by spending an hour and about £20 on new bearings and seals - I might even fore-go the seals if the Vitons are any where near as sticky as the rubbers, again got to wait and see, I doubt it knowing other Viton seals but still......

I took a load of photos so people can see what I am going on about: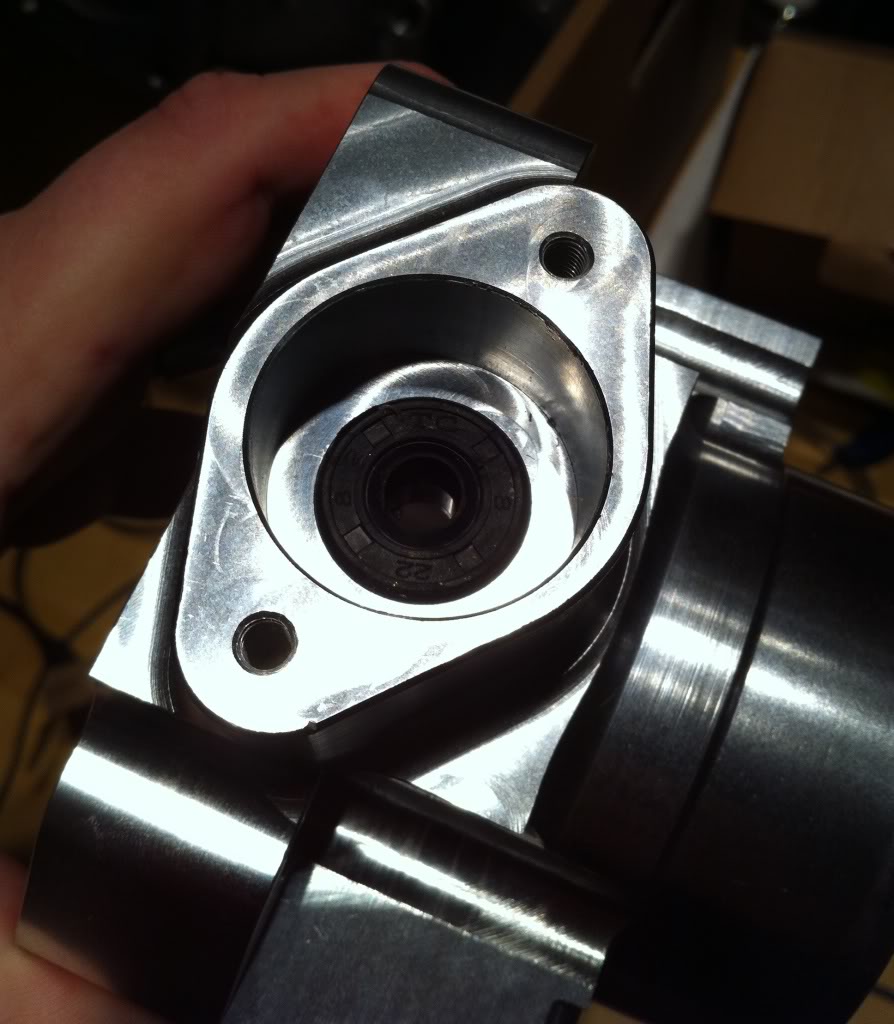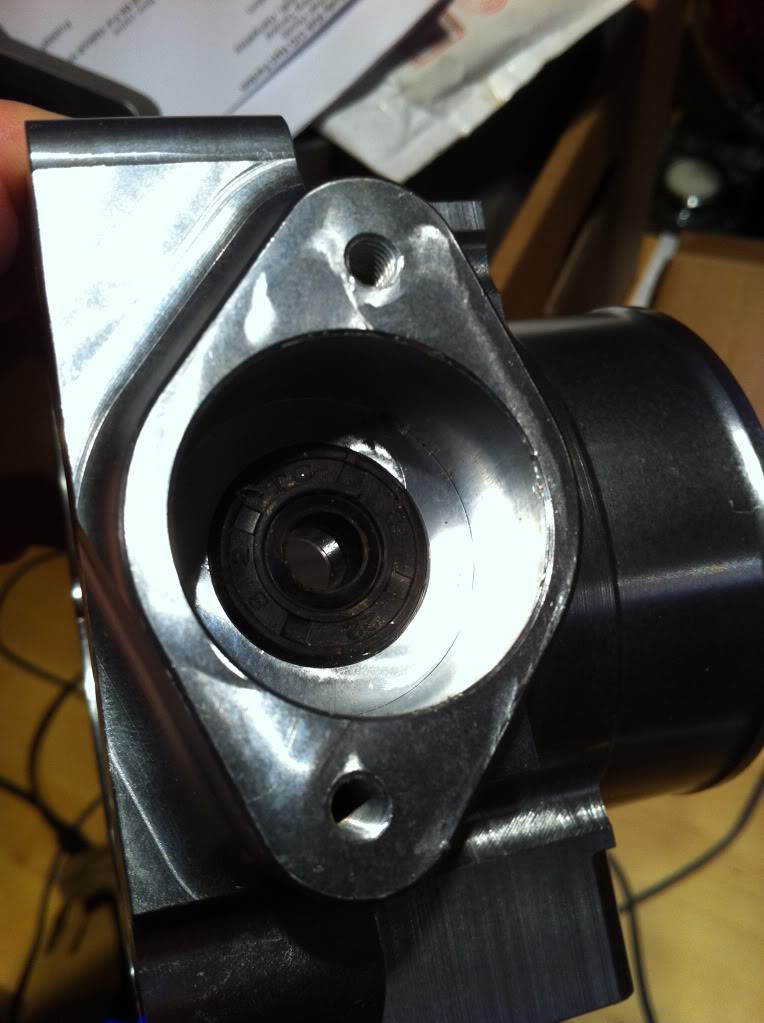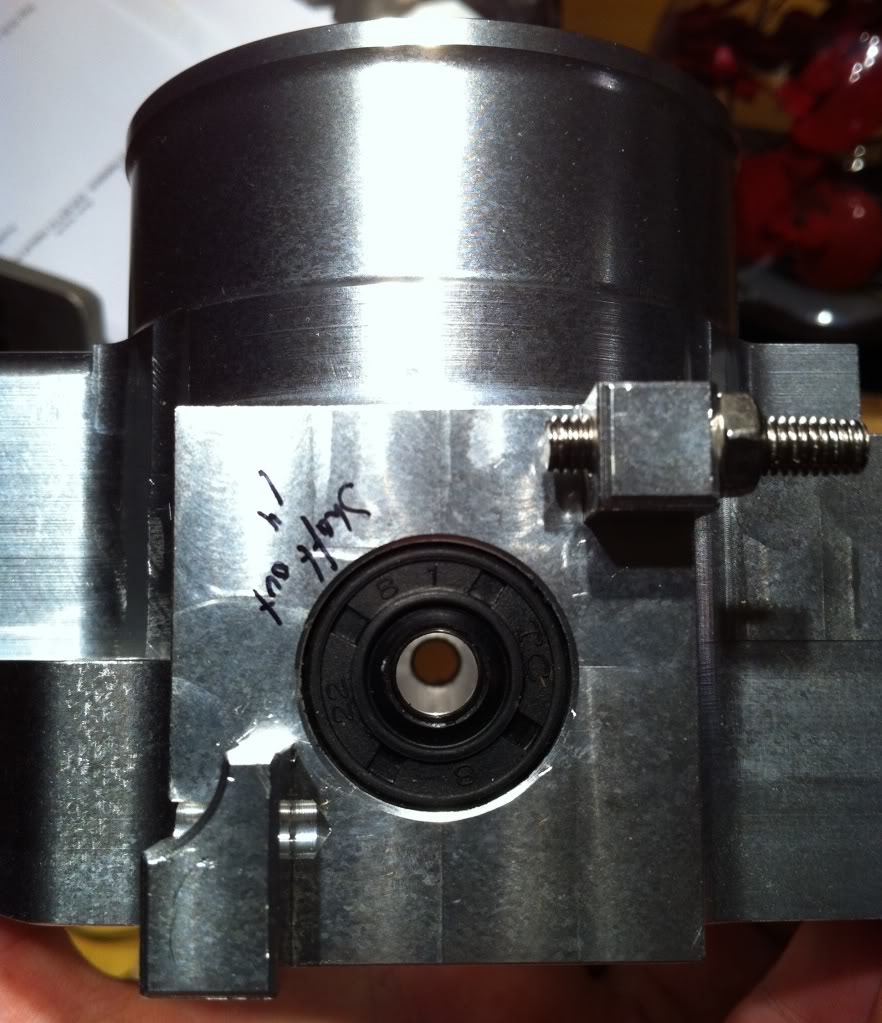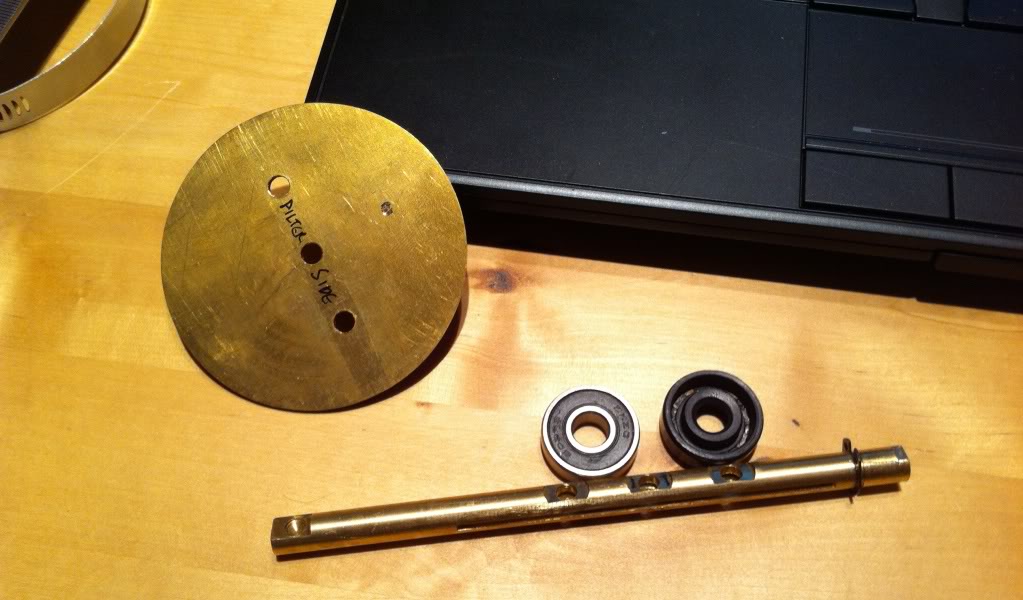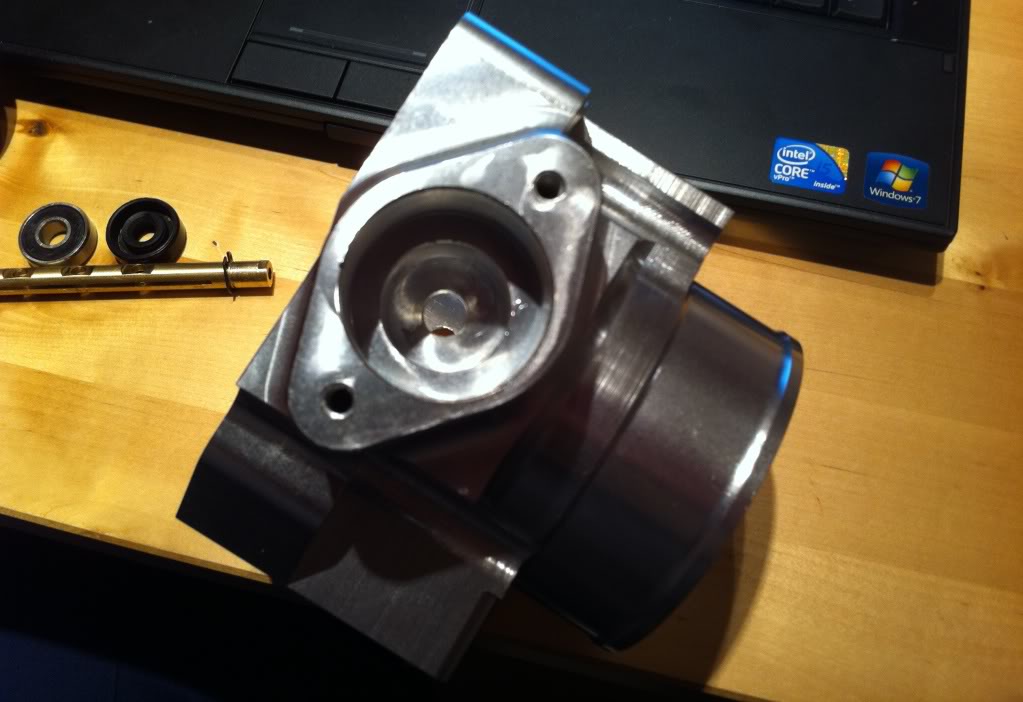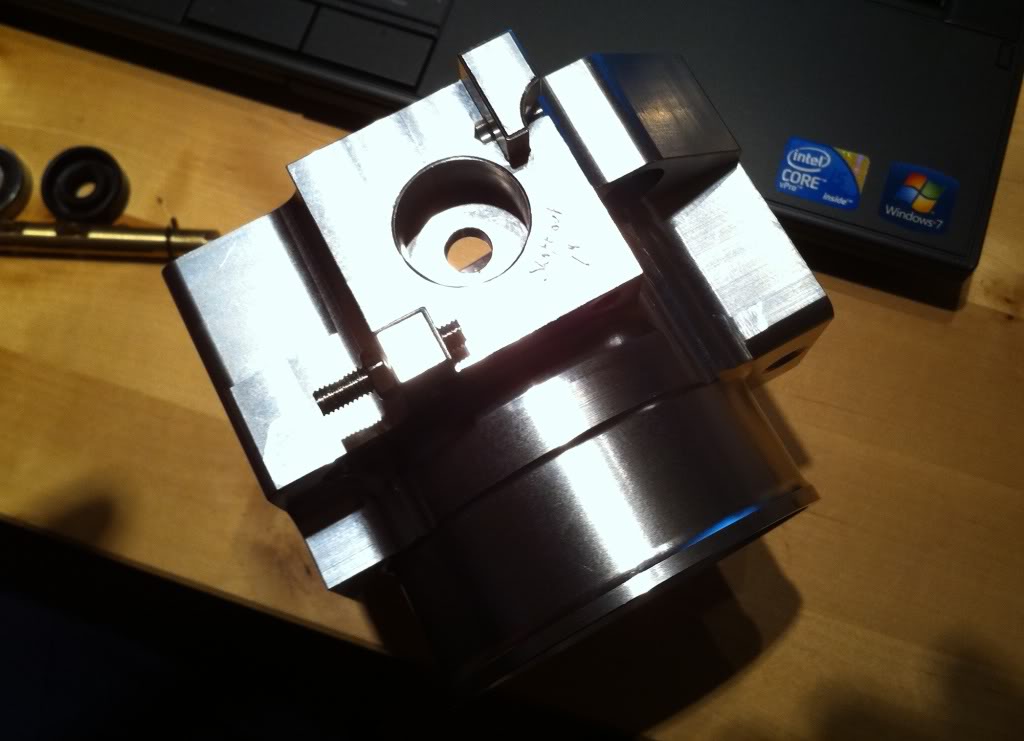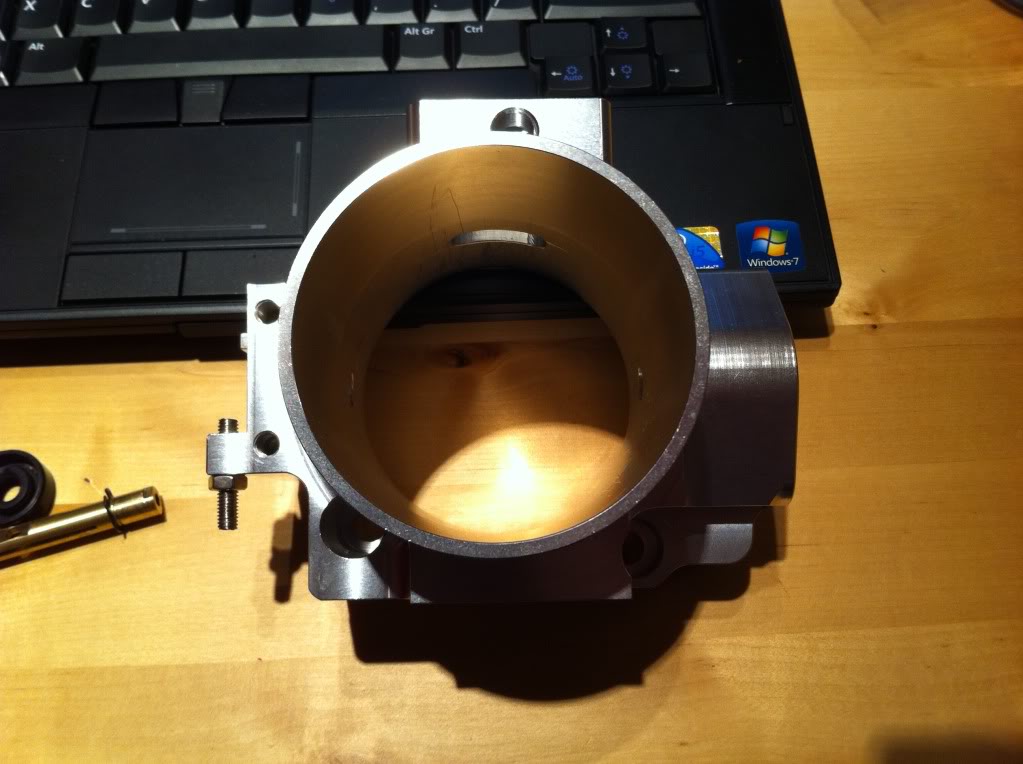 2-20-2011
This is what you're looking for when you next pop to the shops: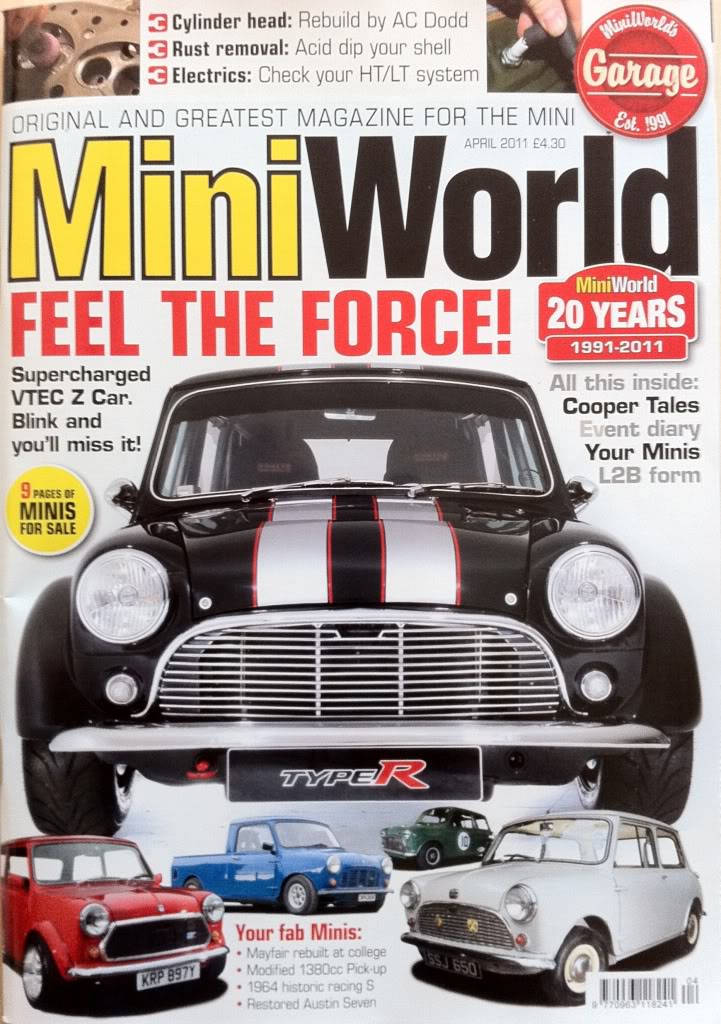 After spending today drawing it up I am considerably more familiar with the new 72mm throttle body, bearings and seals should be here early in the week.

Once I get the bearings and seals I will make a decision on the use of the seals or get some spacers made up to go in there place, I dont see any reason for an oil seal on the TPS side as there is a gasket under the TPS keeping the crud out so maybe one seal used on the cable fixing side??!!?

The TPS side of the TB has thrown up a problem with my current design for the TB-SC manifold so that'll need a re-think before I get it machined which was due next week - it is alot wider than the OEM TB.......

OK so here's how its looking (minus the oil seals and fixings):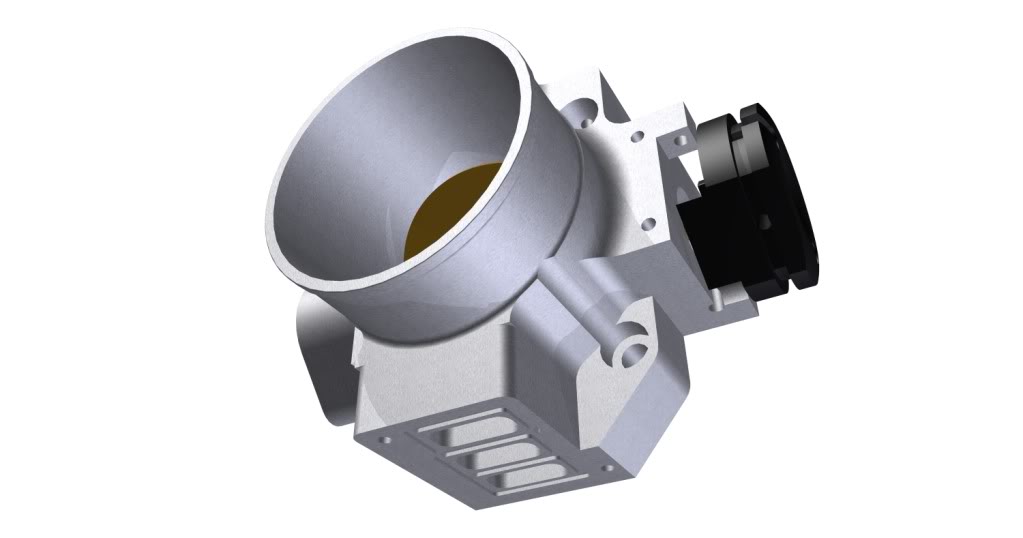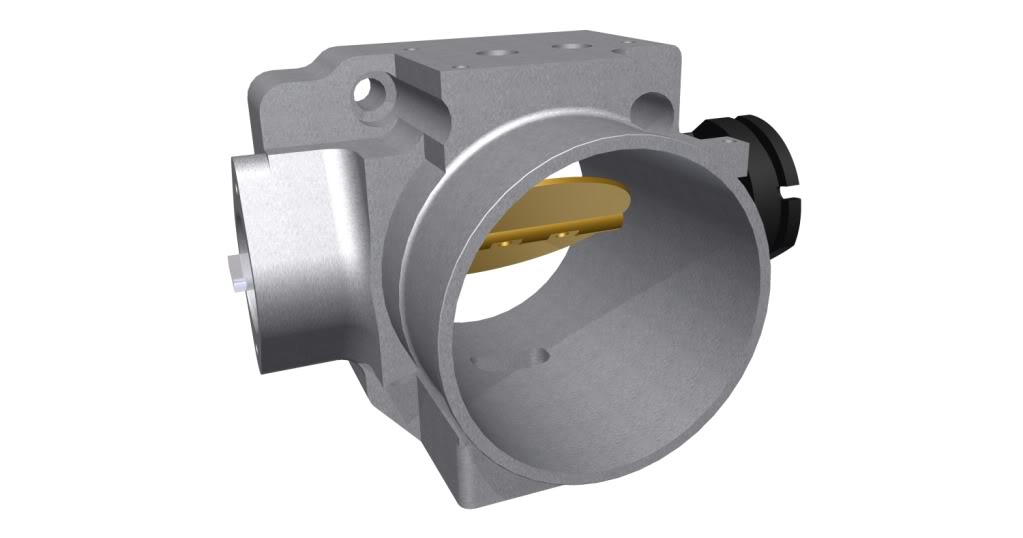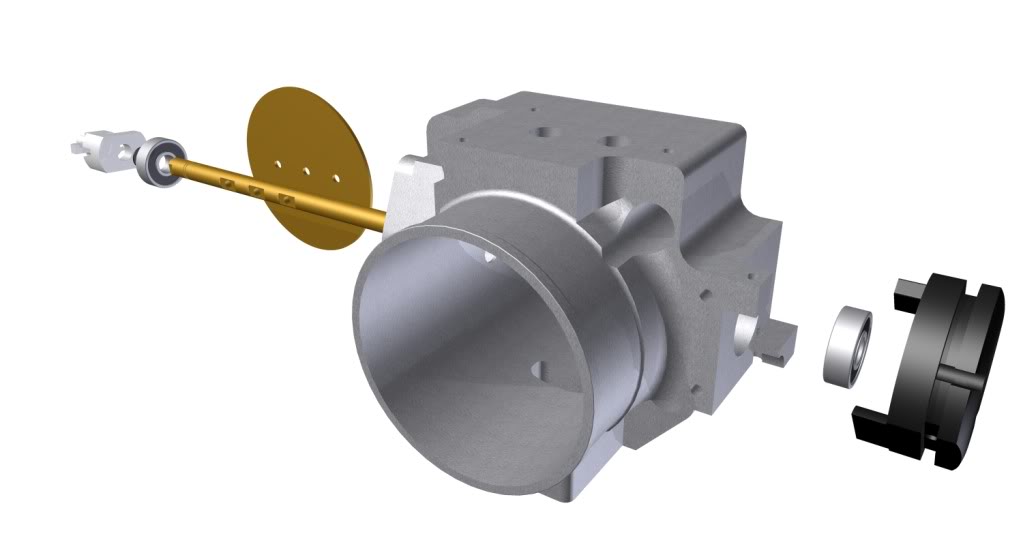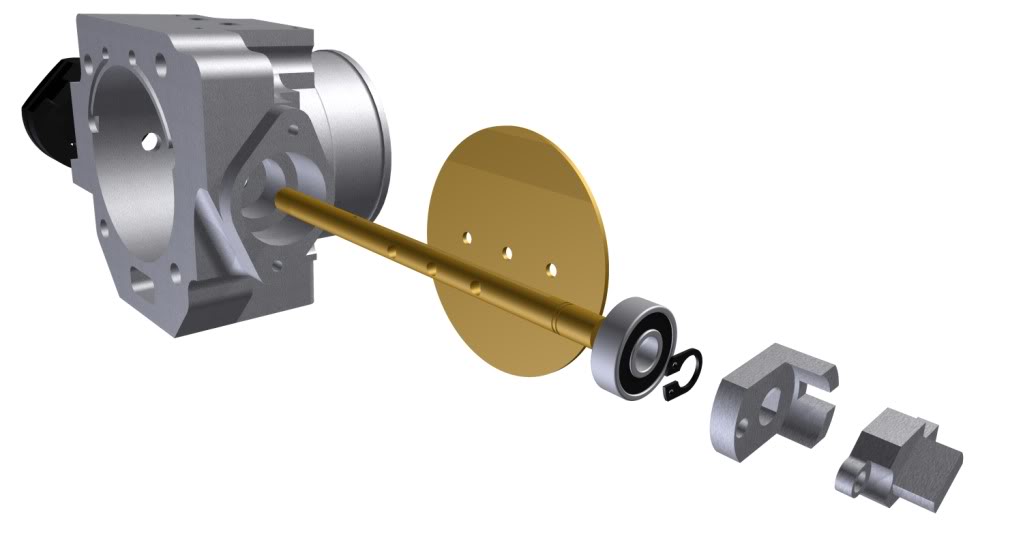 3-7-2011
I got my new bearings in my supercharger snout, I went in the end for regular deep ball but the C3 version which have greater tolerances to allow for expansion caused by heat, if I get the problem again I will swap it out for a different type of bearing.

So a mate of mine (Jim Bright - thanks mate) did the pressing of the bearings and used the old outer race of the snout bearing to press the new bearing in, he had split the old outer race to do this and found that the inner race had a fault which you can see below. Looks like there was a fault in the original casting before machining.

Another thing that I think will help is once the charger is back together - rest it on the pulley for a day or two to make sure that the oil makes its way to the outer snout bearing to ensure it gets good lubrication from the off.

So here's what we found:




TB-SC MANIFOLD PRODUCTION - 01

We (myself and Stevie G) made a start on the TB-SC Manifold over the weekend. It is slow work and will prove quite challenging as we get to the more tricky geometry but we are pretty confident that we can get something that resembles my drawing.

I have produced sectional drawings every 2mm through the manifold to give us the required geometry, so we have ended up with 4x A1 sheets of drawings, admittedly one of the sheets is the outer dimension but three are purely sectional at 1:1 scale so we can measure off them if we need extra dimensions. We started at the SC side of the manifold and are primarily concentrating our efforts on the centrral tunnel as this is the worst bit. We started with a block measuring 169x111x111 and we will end up with a part measuring 142x110x110

I dont have a great amount to show but here are a few snaps of what we have been up to: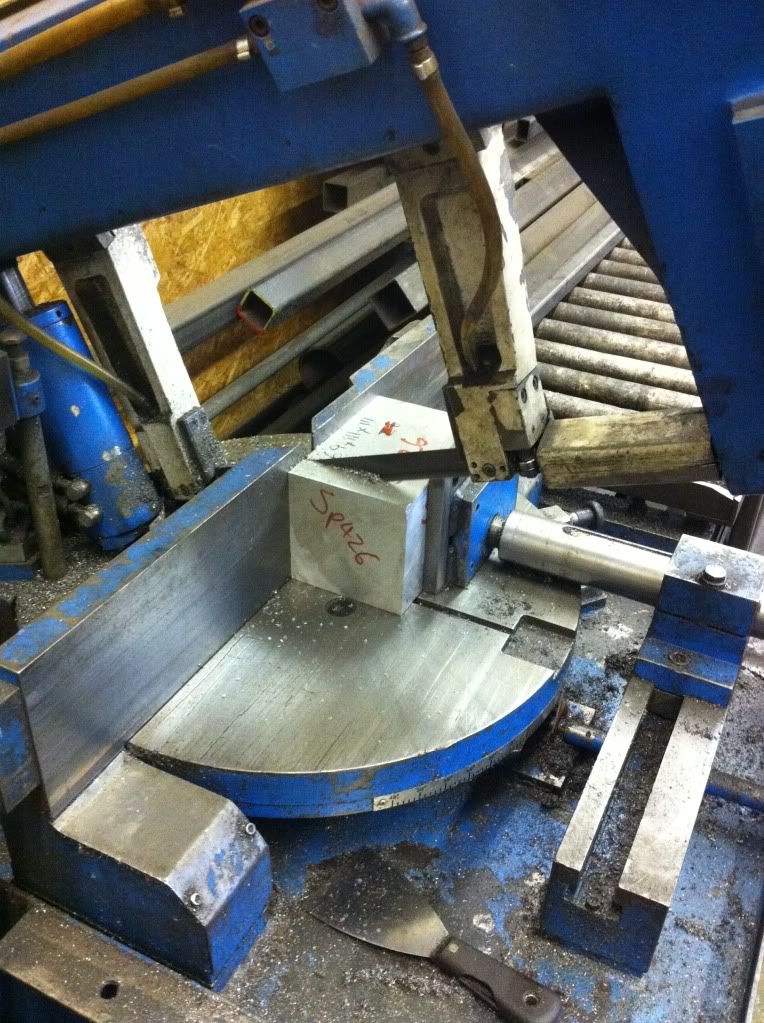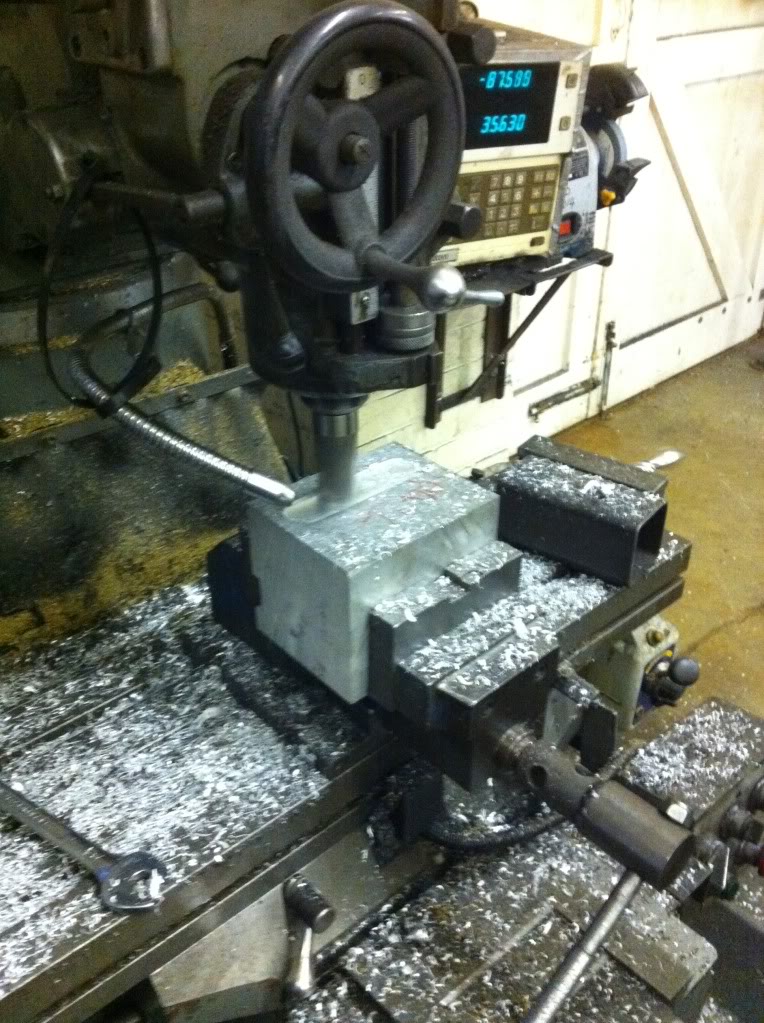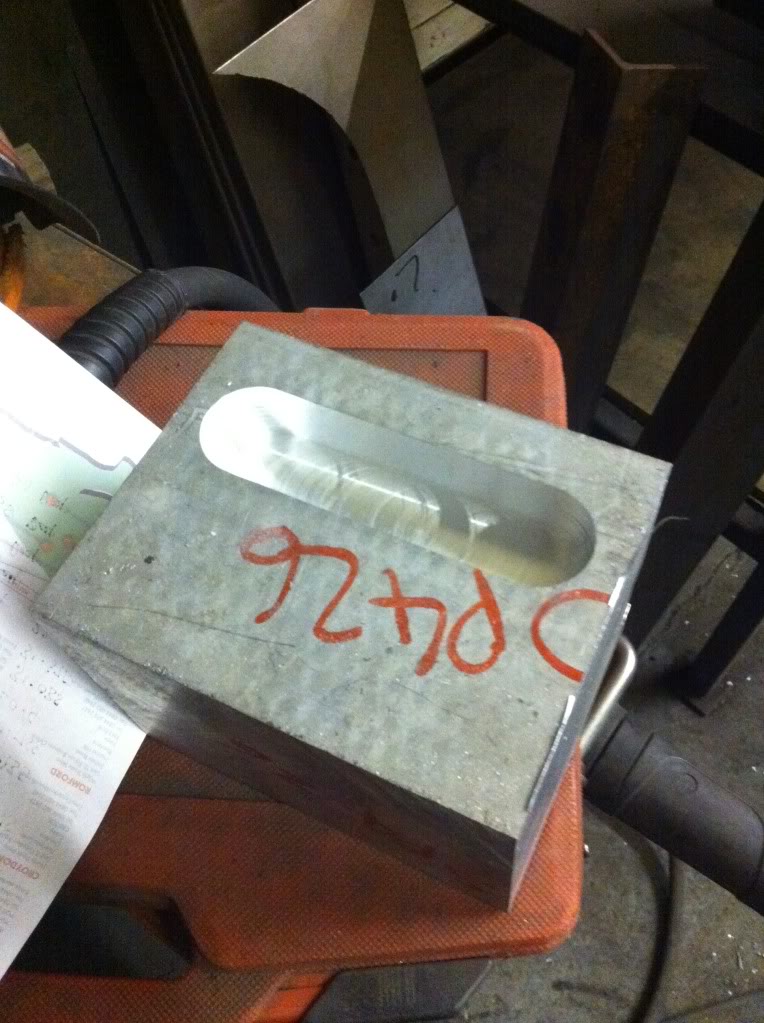 3-10-2011
Charger Rebuild 01


In preparation of rebuilding the charger and getting it back on the car, last night saw me making new gaskets for the charger and manifold, no its not shredded wheat box it is proper gasket sheet purchased off the bay - there are five new ones, can you spot them all?: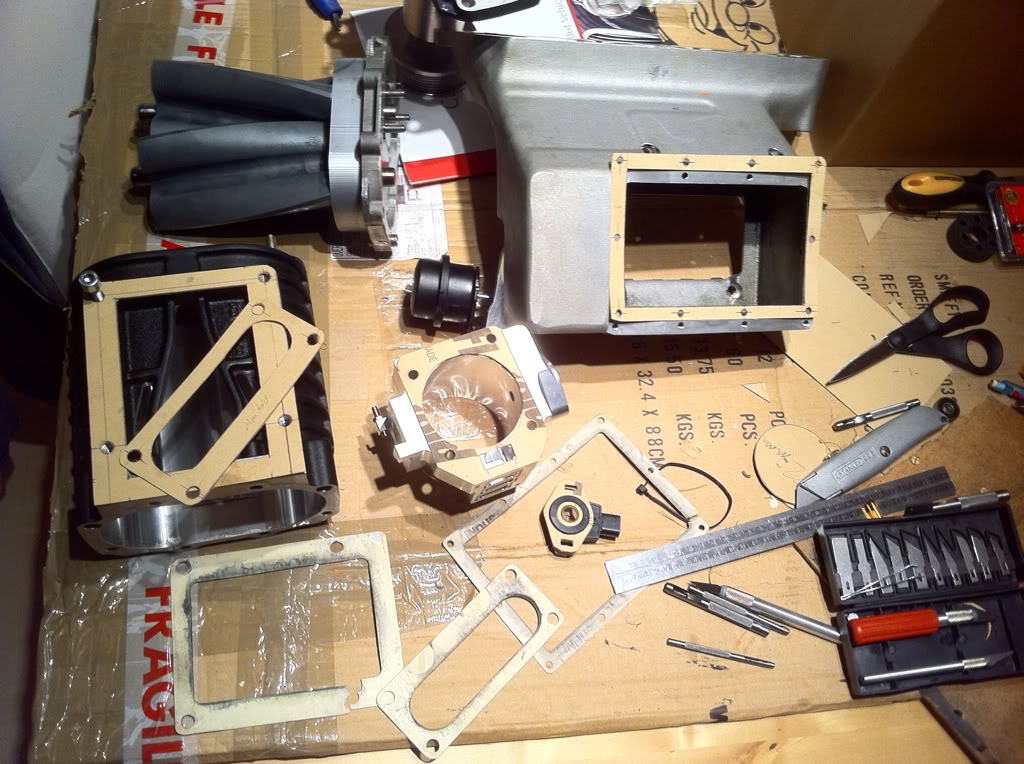 Unsure if the new manifold is going to be ready in time for Marham, gutted if it isnt, as those extra few ponies could well have helped with my top speed attempt........
3-16-2011
TB-SC MANIFOLD PRODUCTION - 02

We made some more progress last night with this, the first couple of pictures show where we had removed a lot of material to allow us to use a boring tool to open it up to a round shape as seen in the later photos. We now need to work out how to get in and get more of the material out, we are currently looking at small fly cutters and dovetail cutters. It is slow work but we are getting there......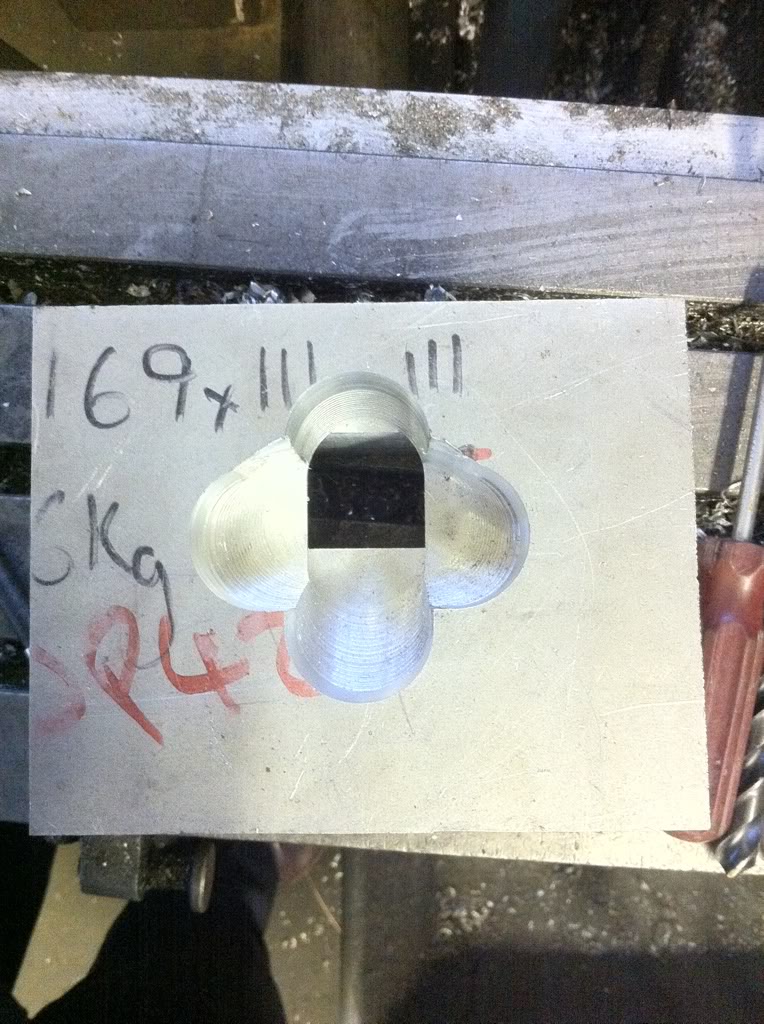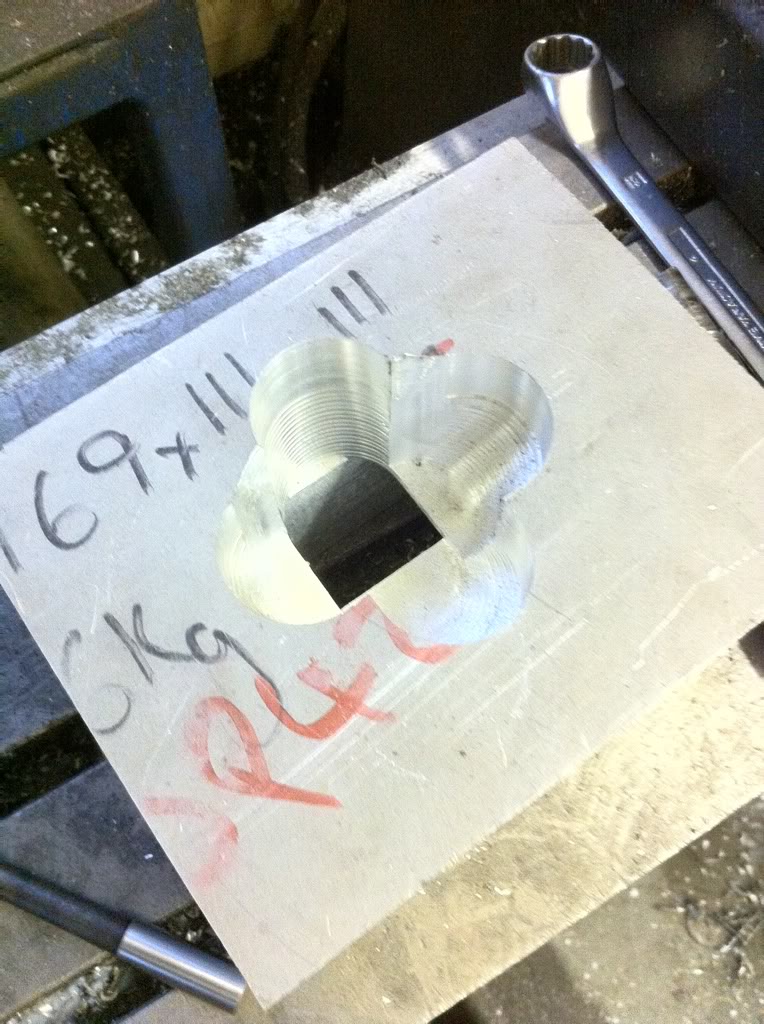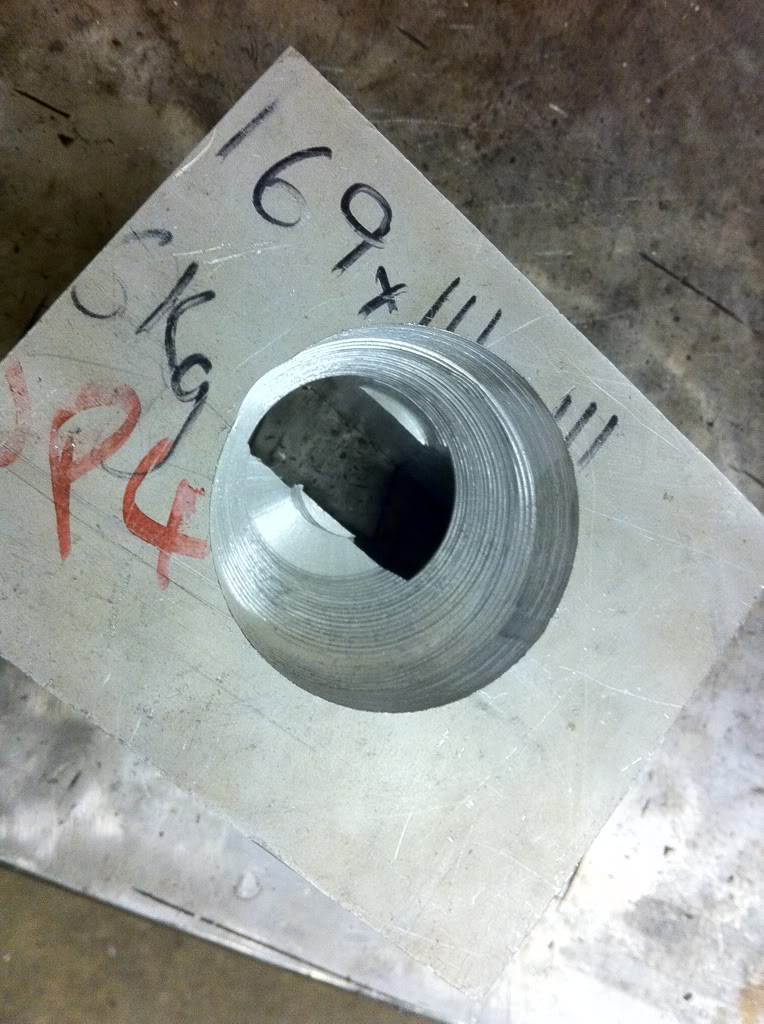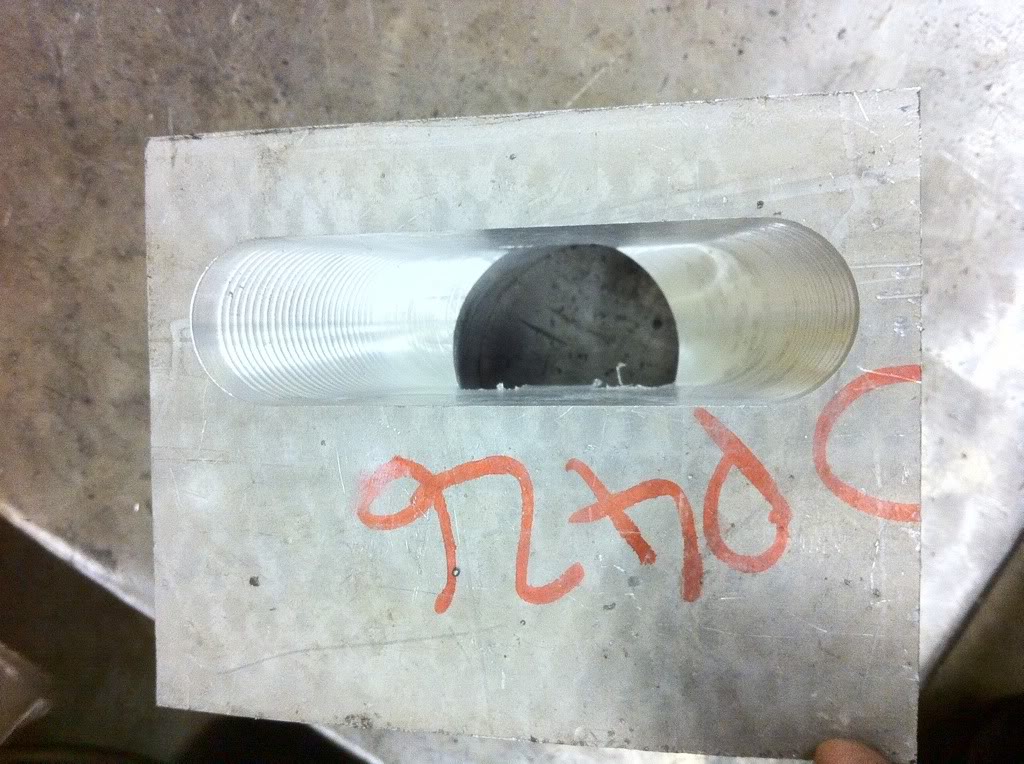 by the way this is what I am aiming for, apologies for the quality, however I cant give all my secrets away:




So as to show where I have come from to where I am going I have put together a drawing showing sections of the original inlet as supplied by Jackson Racing and the new straighter flowing design I have put together.

In the drawing below the New version is on the left and the old on the right, you can see that not only is it straighter in the section but when viewed from above it is also a straighter shot to the charger entrance: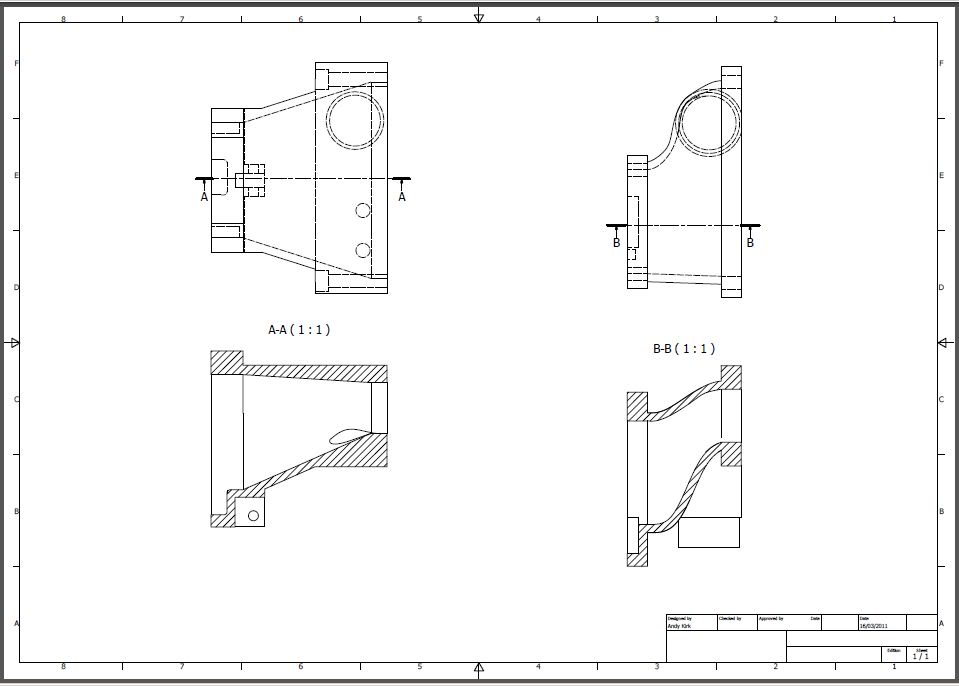 3-23-2011
TB-SC MANIFOLD PRODUCTION - 03

Last saw a bit more work to the manifold, we made one slight boo boo but we can recover that by boring the entrance hole some more once we get nearer to completion.

It might not seem like uch but it tokk us a couple of hours to get to where we are now: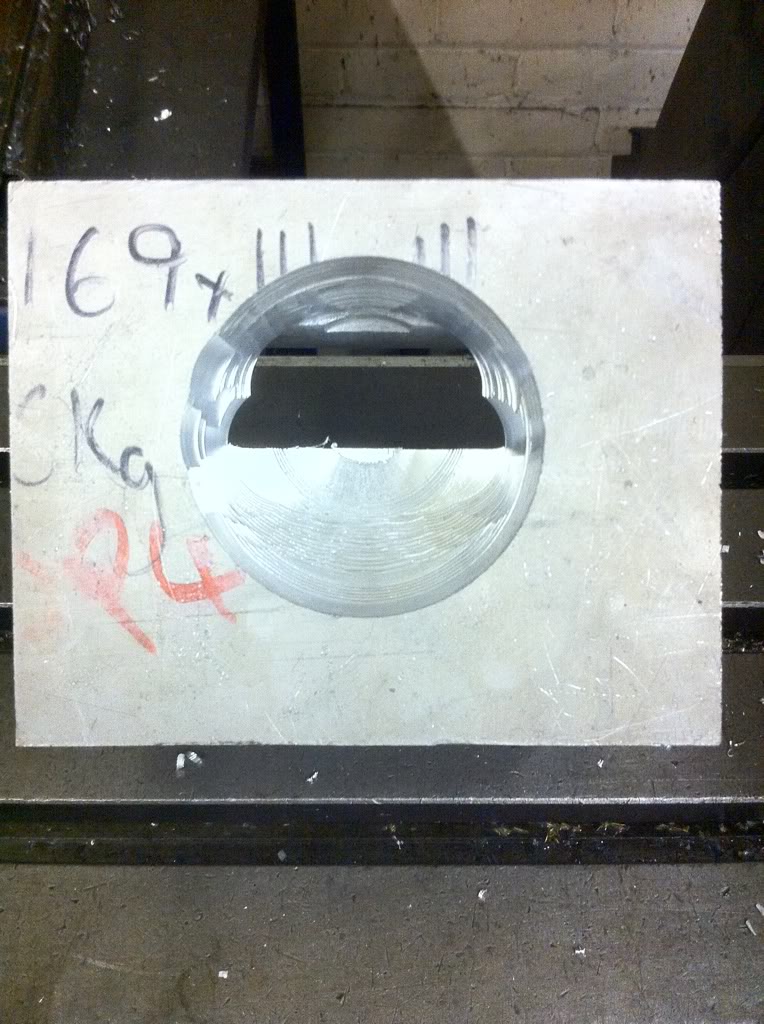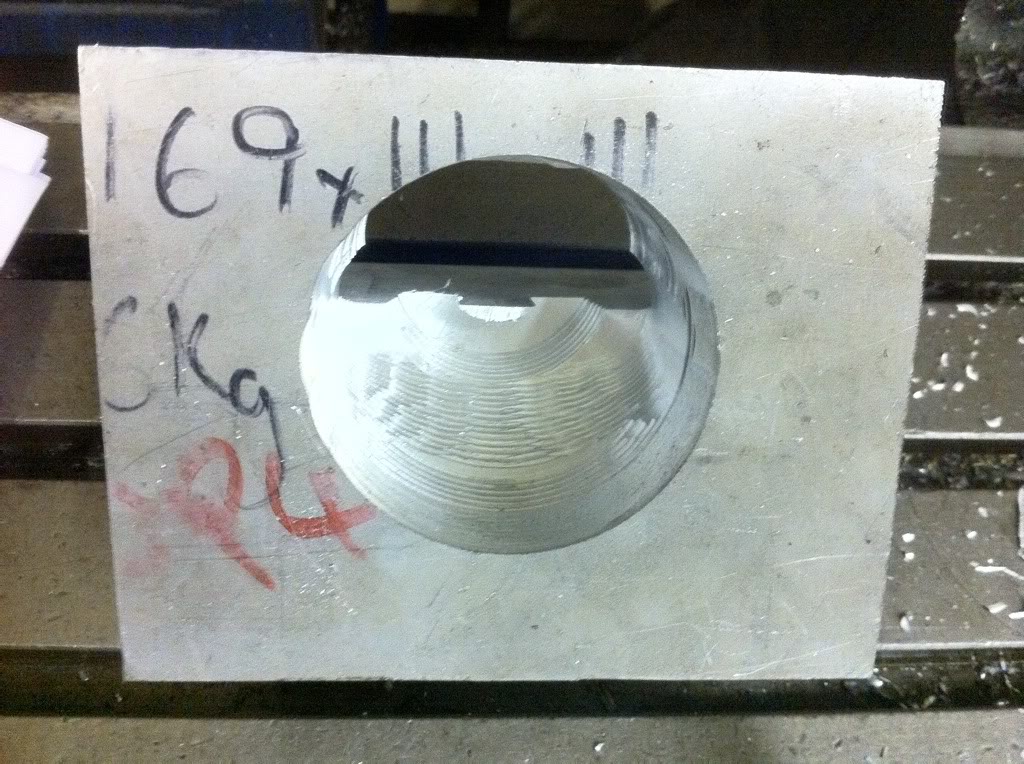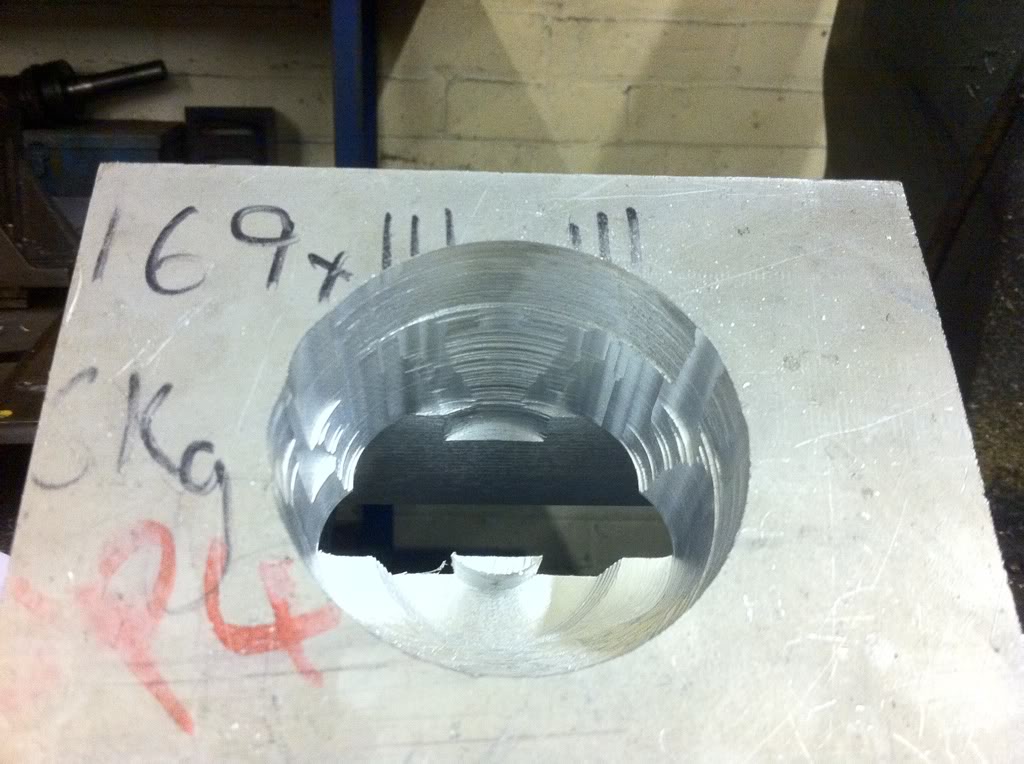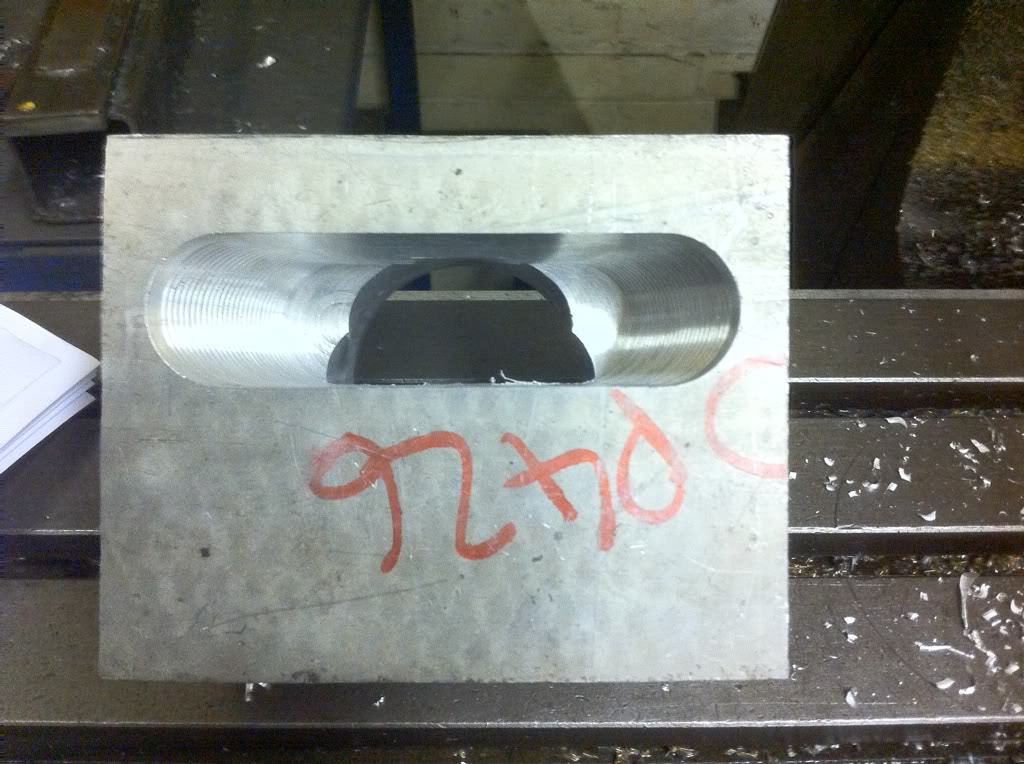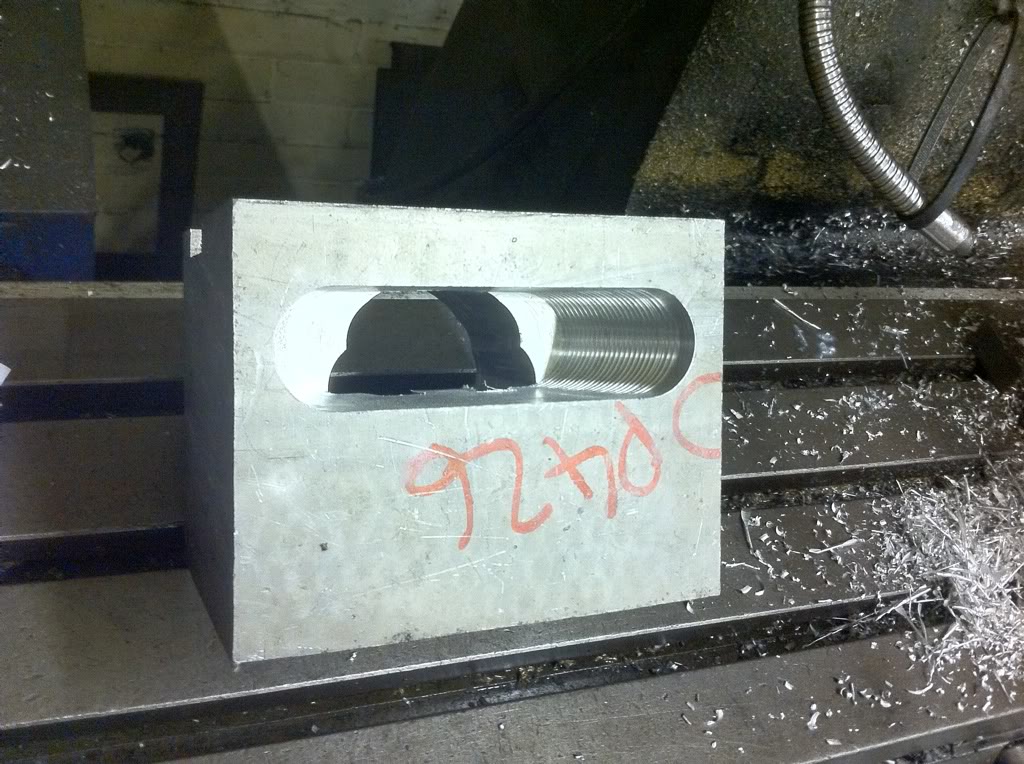 3-24-2011
As of last night the car is now up and running again, minus the whirring/grating supercharger bearing - it now sits and purrs.......

All I have to do tonight is put the seats back in, belts back on, rear windows in then take it for a its first drive of 2011 - I am soooooooo looking forward to it.....I want to go home right now and finish it.........

I might look at getting the video camera mounted and see what the footage is like - no promises.....
3-25-2011
Sorry no vids, but I will - honest...

So it had its first run out last night - feck me I had forgotten how fast it was......

the squeeks and rattles seem louder than last year, I can cure the squeeks as thats the rose joints that have dried out, a bit of oil will sort that out, the rear anti roll defo needs some lube as that really squeeks and it didnt before.

Its safe to say that I had a big old grin on my face last night when I got home......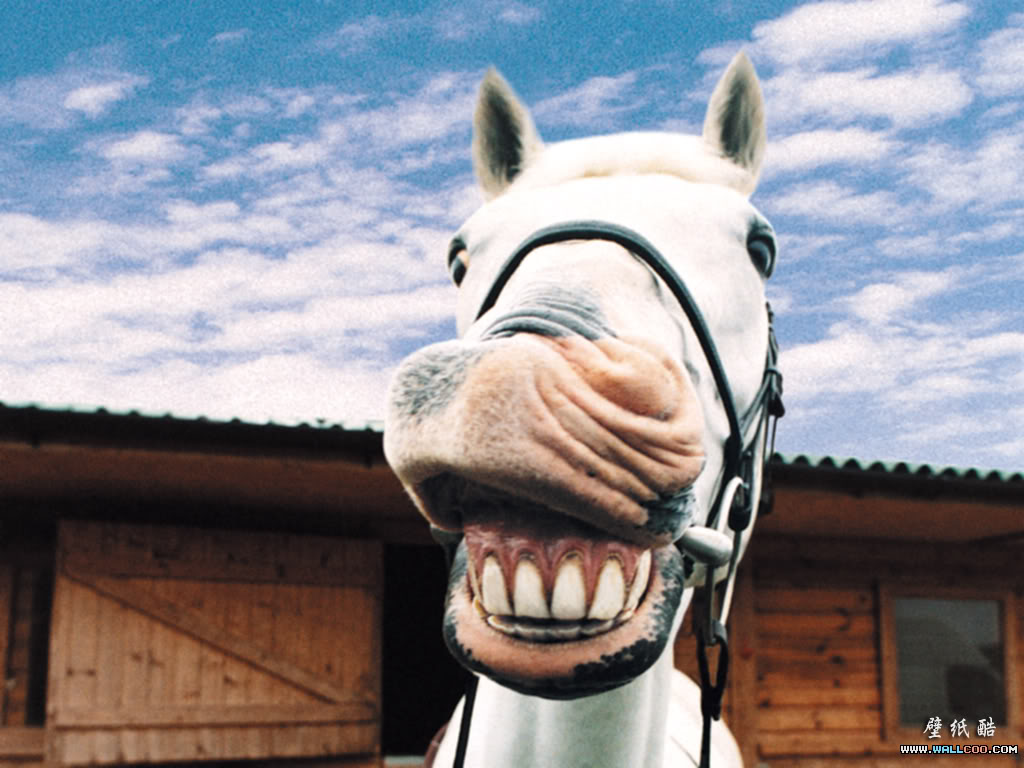 4-4-2011
I got noise tested again on the weekend, wasnt as bed as I thought it would be, well on the static noise test, havent done a drive by yet.

So some months ago I bought a stubby race can as used by big sports bikes in the hope that it was a cheap way to get the db's down, it wasnt until saturday that I actually got to test it. I rang the pit office at Goodwood and organised a time to get up there, it was Saywell International day which brings in teh crowds to oggle over Saywells collection of cars, plus lots of other interesting machinery up there just visiting. I got myself over to the Noise Test area to be promptly swamped by people wanting a look round the car, which was nice but I was there on business. The Marshalls came over with the DB meter and we set about testing:

Car standard: 105db's - surprised as it was 106 last time....

With Stubby can - no baffle: 101db's not a bad drop in noise for a 12" can

Stubby Can + Baffle: 98db's - Woo Hoo

My biggest problem from here is that when the car is revving at a constant rpm the bypass valve is wide open, letting the excess air flow back aorund from the manifold into the charger, therefore the extra noise made by the charger isnt being heard. So the drive by test will be the one to watch out for, I honestly have no idea what the drive by test will be like if I have the accelerator planted when going past a db meter.

Going to have a look for a supertrap but gettting that past the financial controoler at the minute might prove tricky......
4-6-2011
No production photos yet as I ahve been workign on how to make a table that we can we can use for compound angles, kind of like the extra axes that you would get on a 4 axis.....

I have been able to draw up where we need to be heading, the thoughts from here are using rose joints and threaded bar, or rose joints and set length spacers to mount them to - leaning more towards the latter.

No-one said it was going be easy....................


So not to let the thread go stale here are a few screen dumps of where I am heading with the compund angle machining table: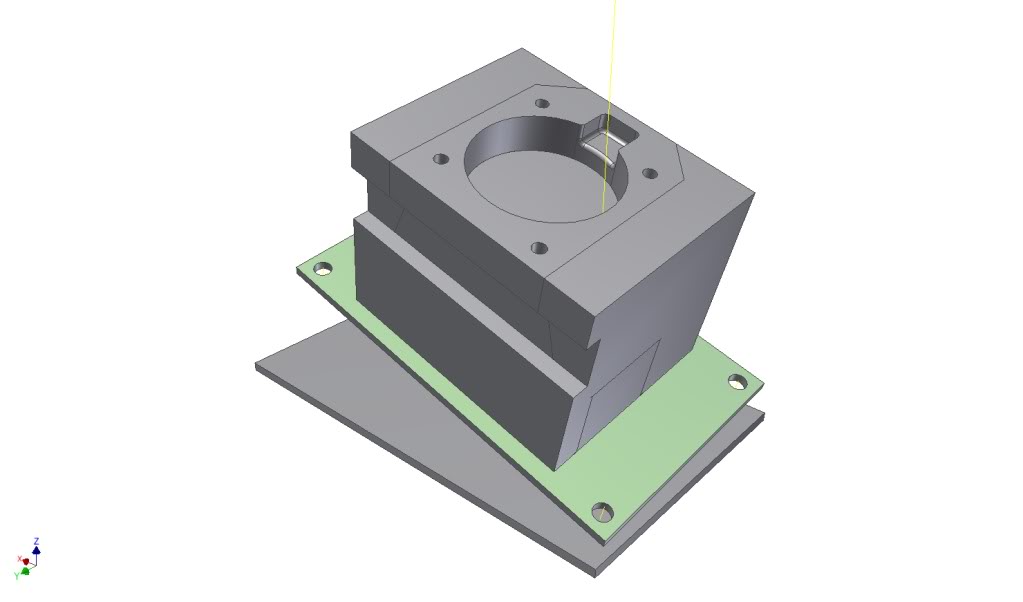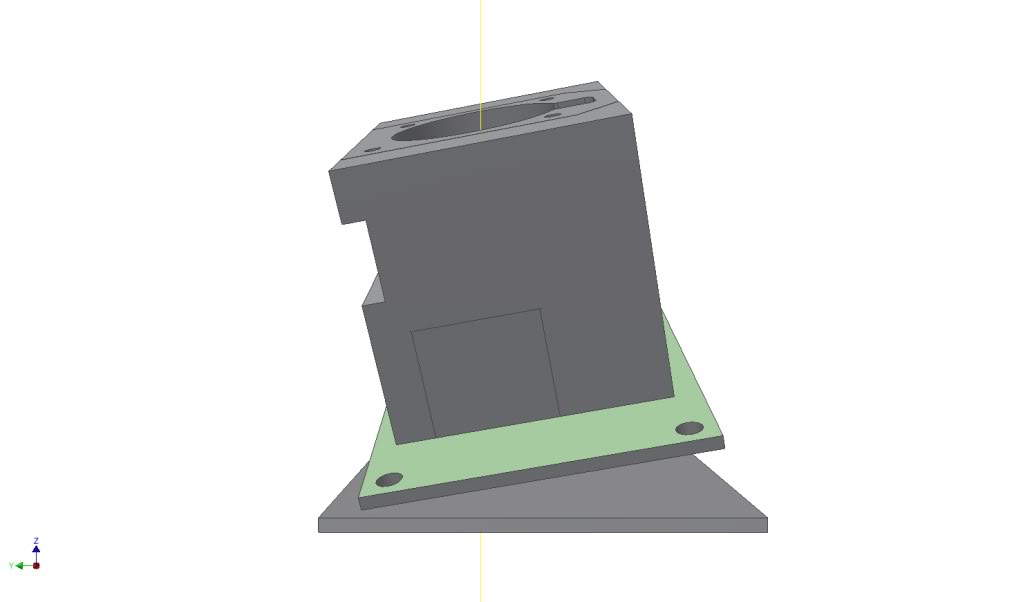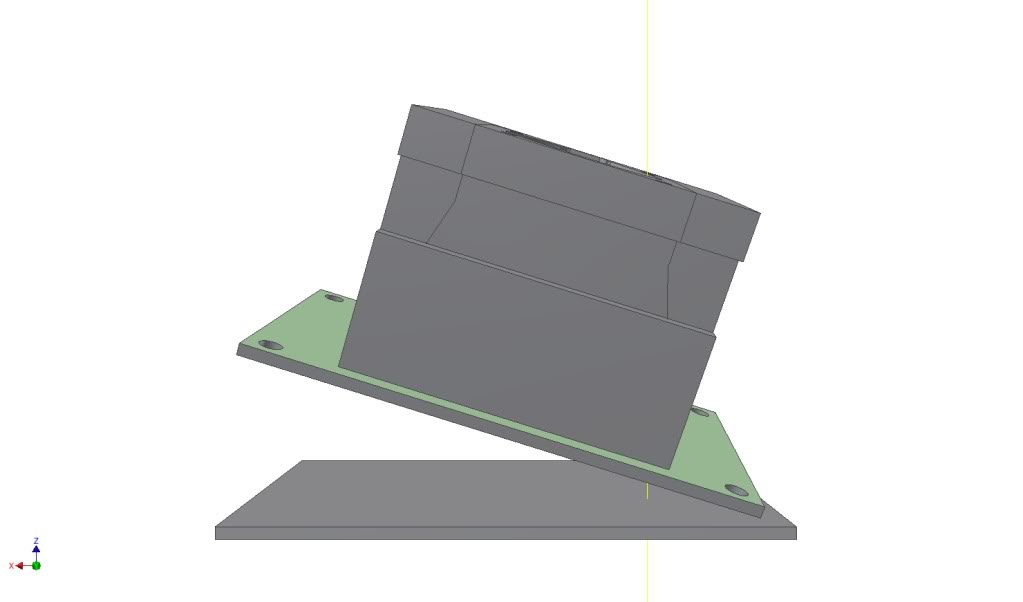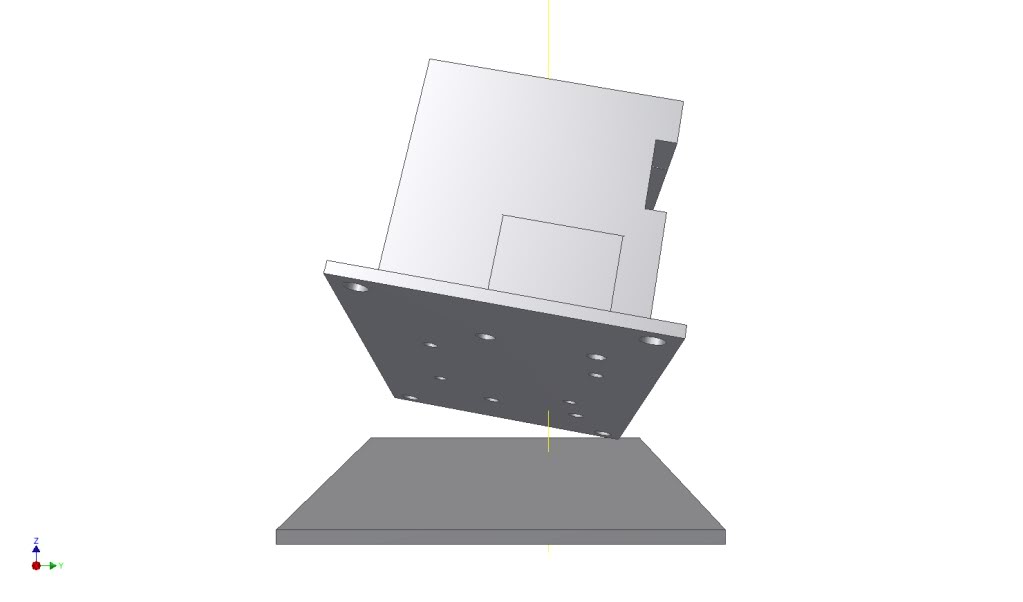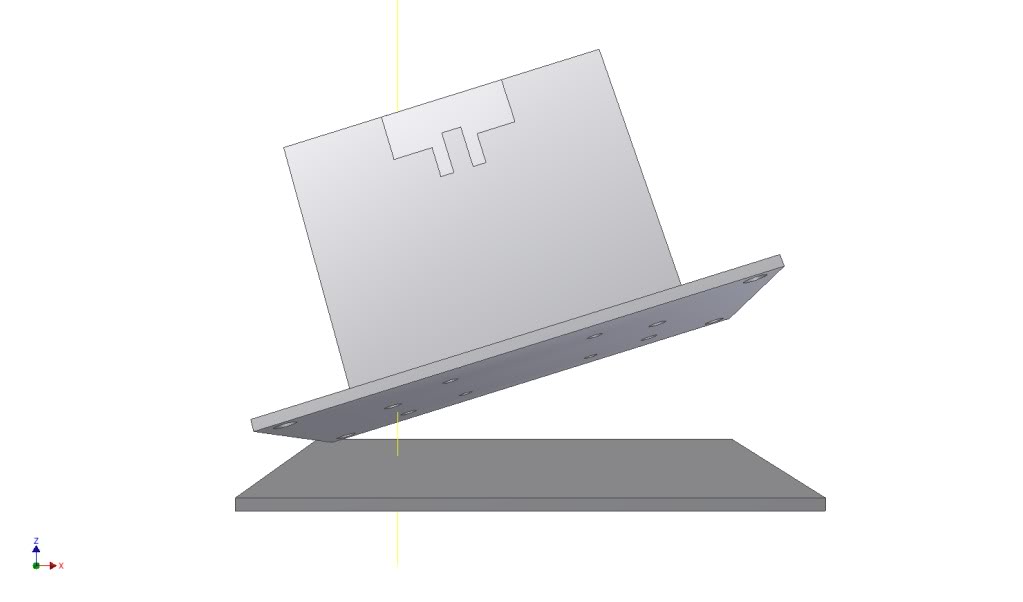 4-8-2011
So last night I went out for a razz around, a guy from work had come round to have a P-ride in the car so off we went round the Chichester area. We were going down a back roaad when we came up behind a guy in Ford Anglia, he was following something irrelevant, he then proceeded to overtake, I went with him and Feck me sideways he accelerated as quickly as I did, a few more mile down the road and I had a funny noise from the rear and pulled over to investigate - more of that later. As I was investigating the nocie the guy had spun around at the next roundabout and came back, he was running a 300bhp cossie lump in it, no wonder he could pull so well. We had a chat abotu the cars and then we got on our merry ways.

Back to the noise - at some point in the spirited drive with the Anglia the boot had come open, broken the supporting straps and at points was dragging along the ground by the handle, the exhaust has burnt away a big amount of the paintwork. So its a new Boot handle for me, the locking system needs revising as it could easily happen again and a bit of a respray for the boot - feck it....

Heres the damage:


4-11-2011
I got some M10 Rose joints through from fleabay, cheap and nasty really but they wont be doing much work. Now I look at the design I could probably have gotten away without using rose joints but I got em now so they're gonna get used.

Just a few pictures of where I am heading with it, I should be able to get some work done on this later in the week.



Pictures of the new design: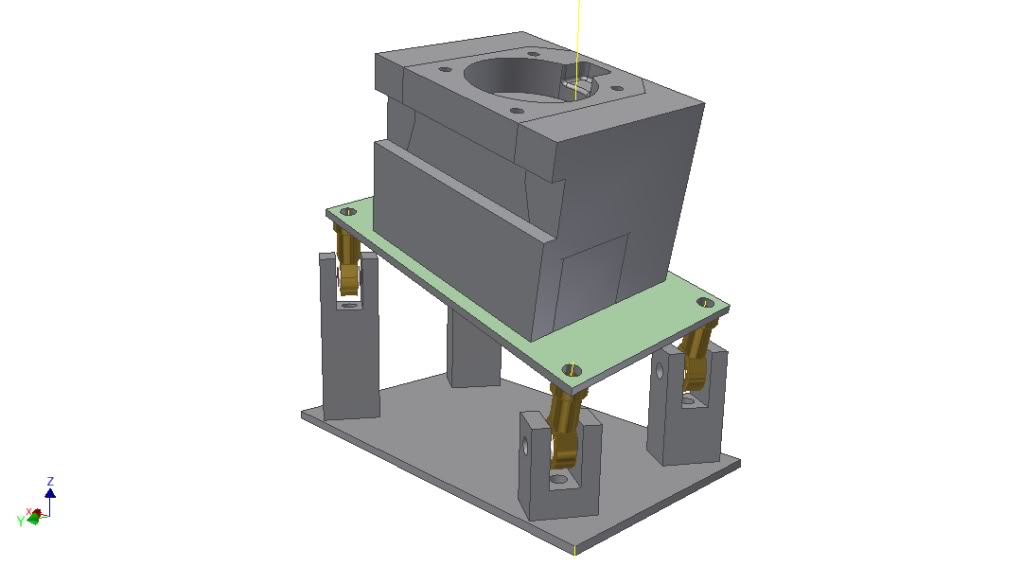 I had a eureka moment last night whilst trying to get to sleep - I realized exactly what was causing the boot come open.

Last week I had the rear anti roll bar apart to lubricate and at this point I noticed that two nuts that normally hold the diffuser up weren't there, reason being that there isnt enough thread on them for a nylock to grab to. I didnt replace them at that time (will now) as I figured that the diffuser had enough stuff holding it on. So rather than incriminate myself I will suggest that the speeds reached might or might not have been in the three figure field and that the diffuser is working so well that it has pulled the flimsy bit of lower valance downwards (I dont have the normal rear valance and the bottom lip under the boot is super flimsy without it), in turn puling the bootlid down just enough to pop it open with the built up pressure inside the engine bay. The boot popped open again on Sunday when I may or may not have been in the three figure field of mph, this time I could hear it happen and there was a definite noise from the diffuser. My next move is to loctite a nut onto the ARB bolts to aid the holding up of the diffuser along with adding a bit of length to the locking mechanism.

The bootlid is already prepped and will be sprayed and returned by the end of the week if not earlier and it'll all be back together by the weekend - fingers crossed.......
4-27-2011
OK I got some video - its on the road video so dont expect anything wild and crazy or me breaking the speed limit, just incase that happened during filming I made sure the speedo is not visible, you can see the tacho and when the needle changes colour its around 7000rpm. The sound needs some work, I think theres something loose in the camera and the recording level is way too high. The video makes it seem very slow compared to being in it.
5-13-2011
Rear Arch Protection

I gave the car a good clean (when I say I, I mean me and my mate Benson as if I were elft to y own devices it'd get cleaned with glass cleaner and no polish but apperently thats not the way to do it....) as its on the Miniworld Stand in Brighton on Sunday. After its deep cleanse it became apparent that the front of the rear arches are getting very badly stone-chipped from stuff being thrown up from the front tyres. So as a temporary measure I got another mate of mine, Steve Beard, to fit some matte black vinyl on them with a view to in the future ordering some matte carbon fibre effect vinyl and having that fiited in place of the temp stuff. Anyhoo enough of my rambling here's a couple of snaps taken last night after he had finished one side - by the way these arches are a b@stard to fit regular vinyl to, the proper car wrap will give a better finish.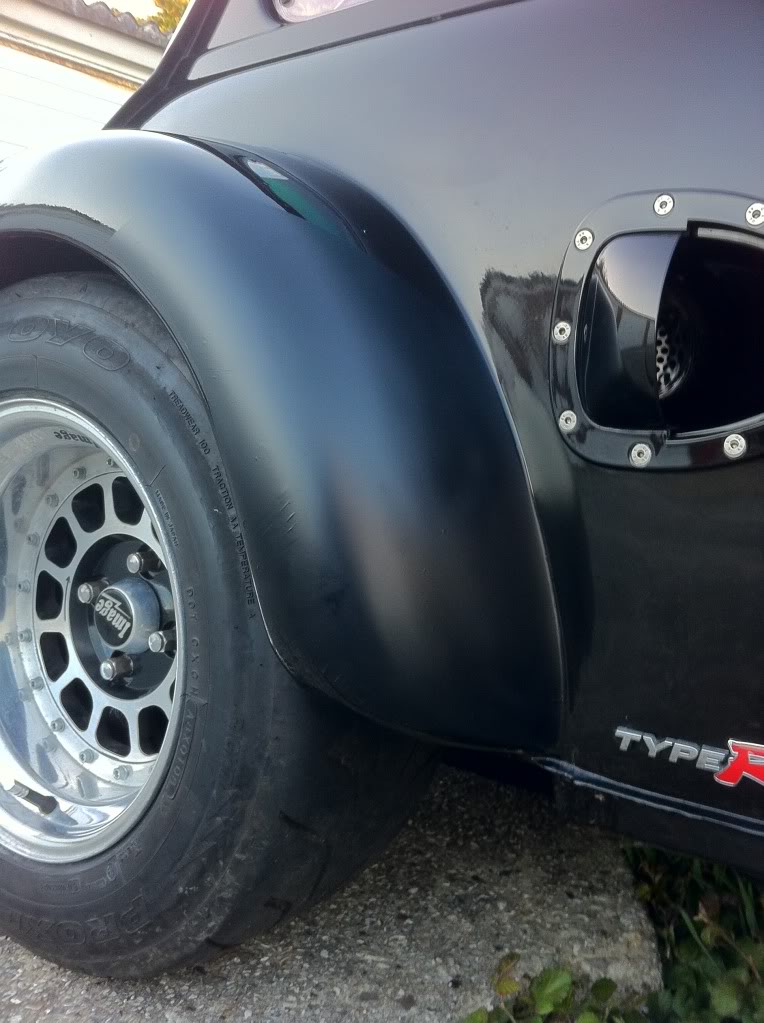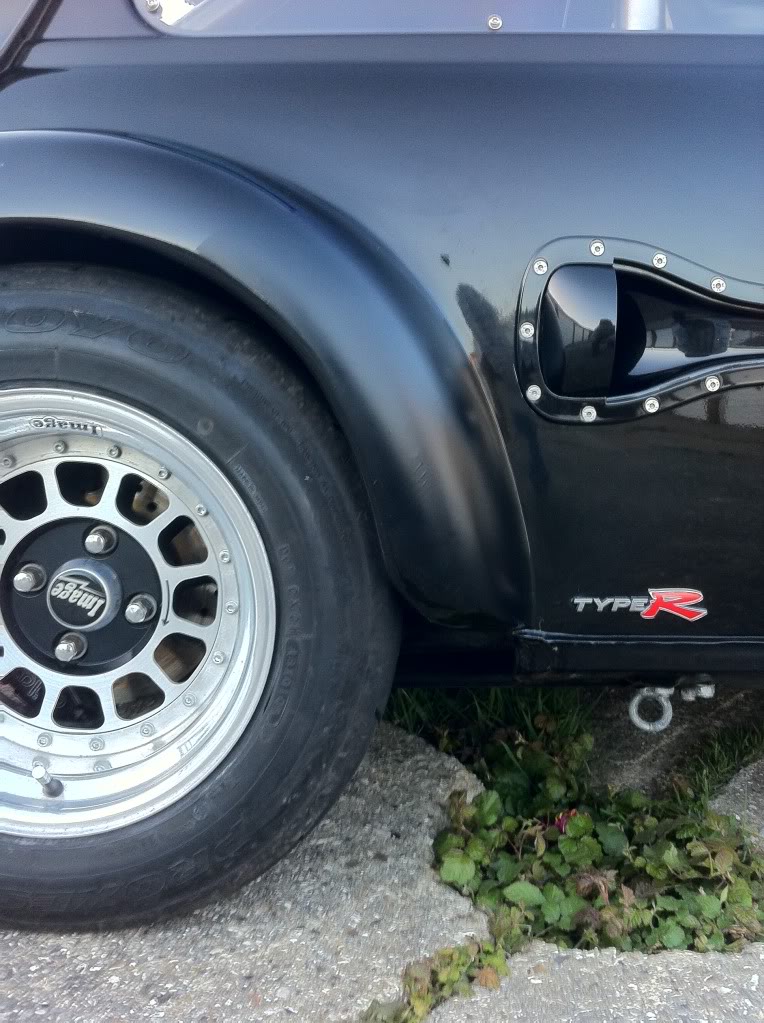 6-14-2011
I got a bit more press coverage last week in Auto Express, they were at the L2B with a new Countryman to get the views of the die hard Classic mini fans - Didnt go down well from what I saw. However they took a piccy of The Beast and put it in the mag, they got the power figures from the guys at miniworld and somehow got that wrong but hey ho.....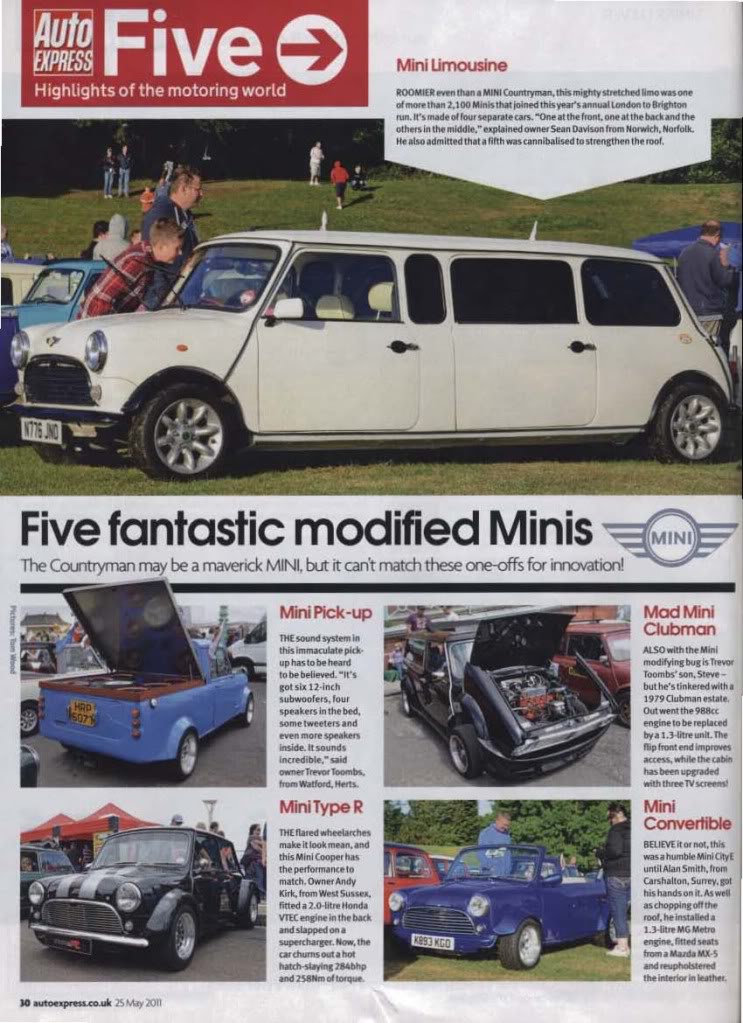 8-11-2011
I showed the car in the weekend at the Goodwood Road Racing Club Open Day, there were 300 applicants to show their cars and mine made it into the final 50 that were there on the day. There was loads of interesting cars there, from a MKI 1600 Twin Cam Escort, to a Steam driven Stanley car and many things in between, even a couple of bikes. Mine was definitely one of the quickest 0-60 cars there, only a superlightweight Atom being a quicker car 0-60. I got a couple of snaps fo the car in situ, I got one of the better spots for sure. The car of the day was won by a Ferrari 250 short wheel base, probably worth 1.5-2million, nice car but not my favourite.

Looking forward to the winter months to be able to start tinkering again, I digress......heres a couple of pictures at Goodwood, in the second one its off in the distance in front of the house: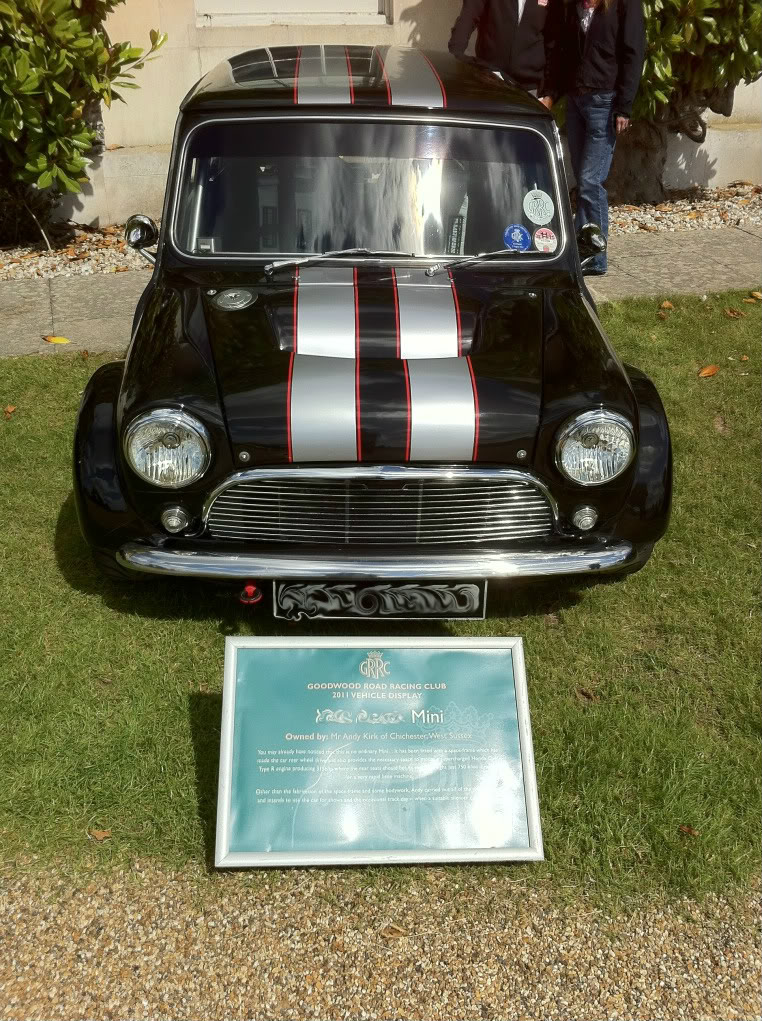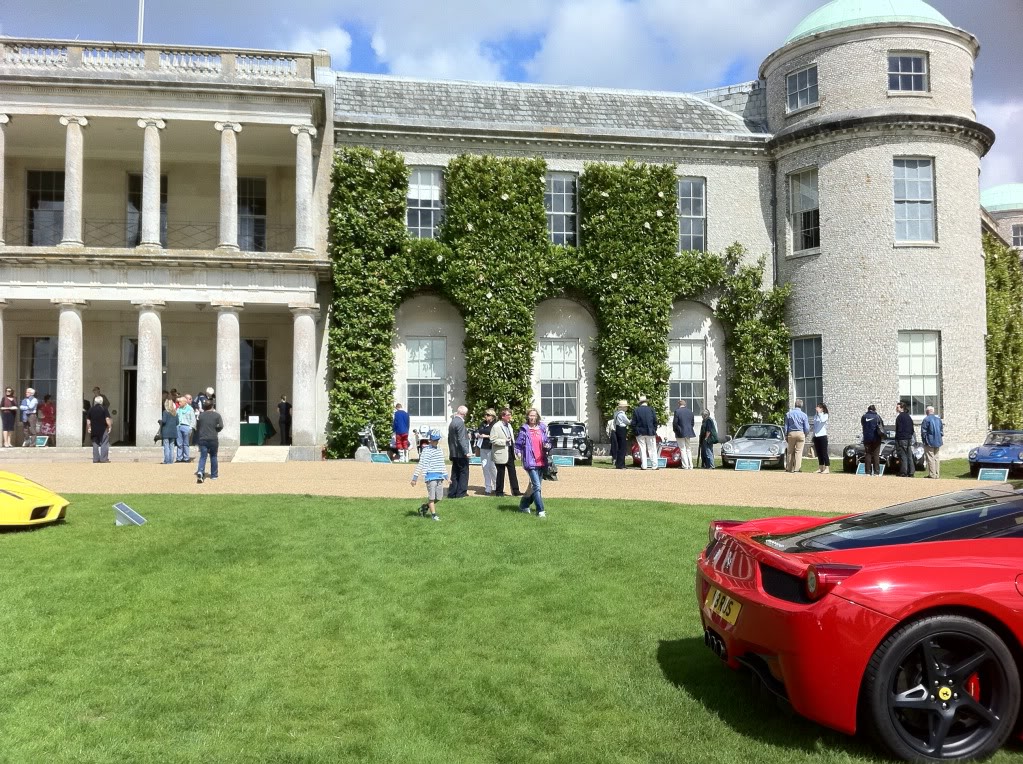 9-26-2011
This is from yesterday:
As I put in the video info, excuse the driving as its my first time on track, frickin loved it though.......one of the problems with having this car is some people will try there damnedest to get past you even if that means overtaking on the apex of bends where your not supposed to.

I saw it like this - if they want to get past that bad then just let them go rather than have them push it too hard to get past and take you out in the process......

Unfortunately I only made 2 and bit sessions as the sprung steel part of the anti-roll bar snapped so I now need to get another of those - the joys of motoring.......

The red metro had an Elise engine in, very quick and a good driver, he knows his cars limits better than I do mine.
9-27-2011
So I though I would add a couple of pictures of the offending item that stopped my fun at Combe. I have emailed Steve @ Zcars to see if they're covered under any form of warranty, I will keep you posted........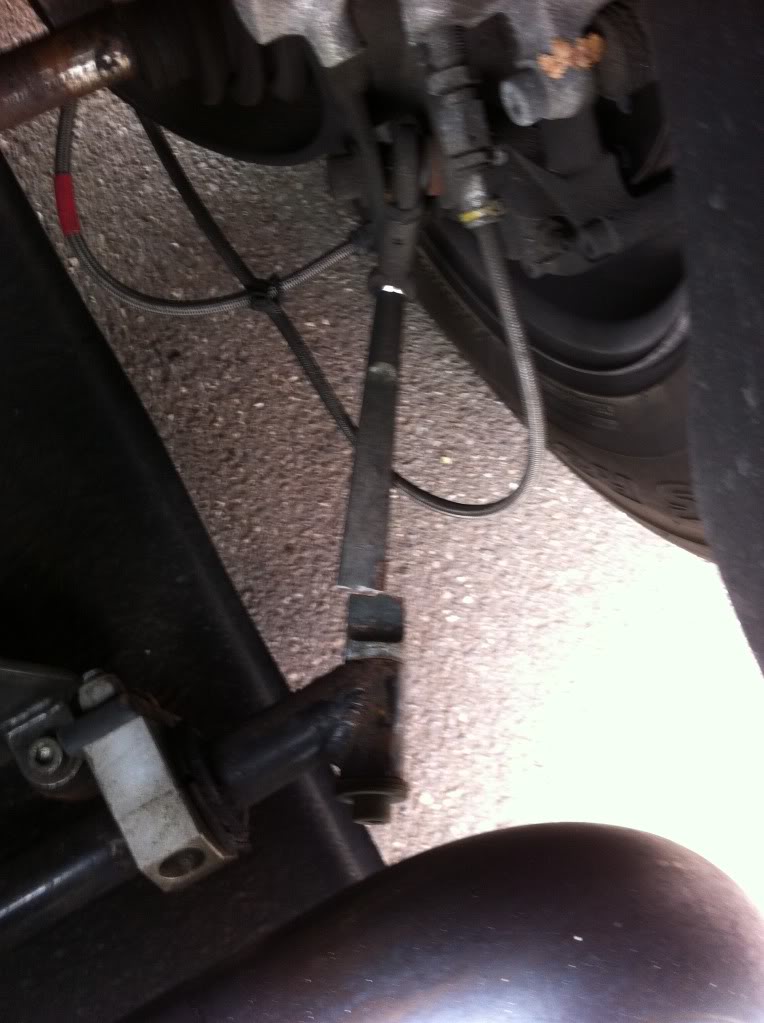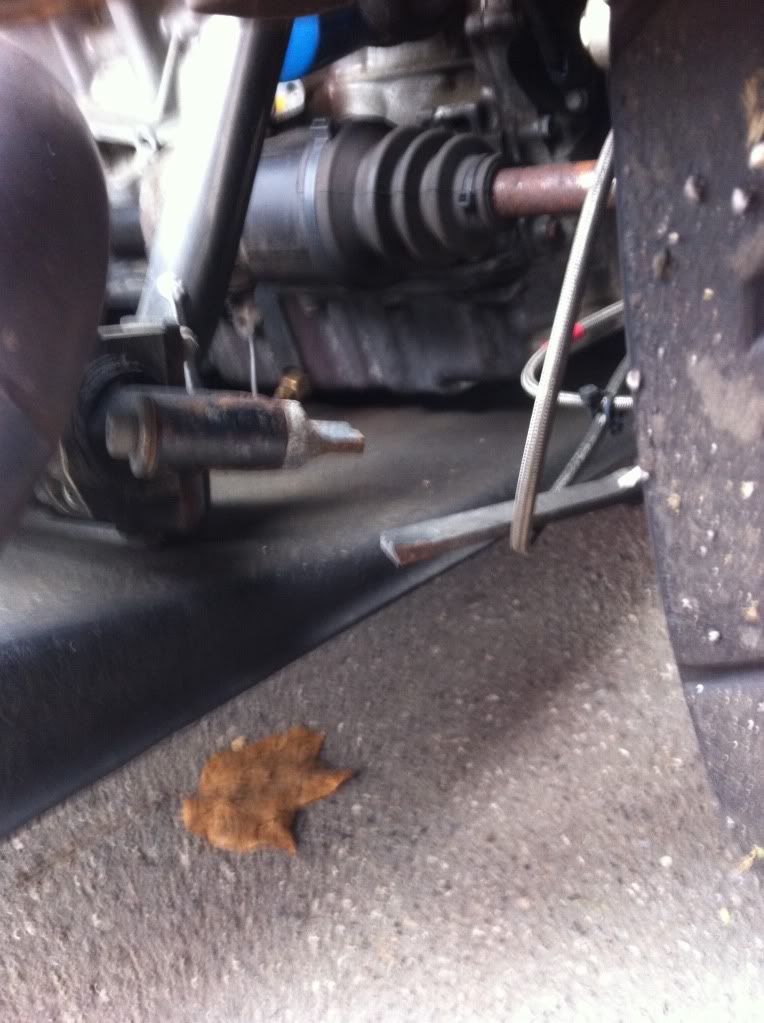 9-30-2011
Thanks to mini-Rustandoil (Mike) I got a few more photos of the car at Castle Combe. In the first picture you can see how much tyre roll I get on those big sidewalled rear tyres, defo time to get the 225/45's on there, also you can see how flat the car corners compared to the PUG205 race car behind. I think with new tyres, lower and stiffer rear springs it should handle really well in the corners, I jsut need to find the pace in my head to go quicker, also going around without a passenger will help matters. Anyhoo, enough of my ramblings here a couple of snaps courtesy of mini-rustandoil: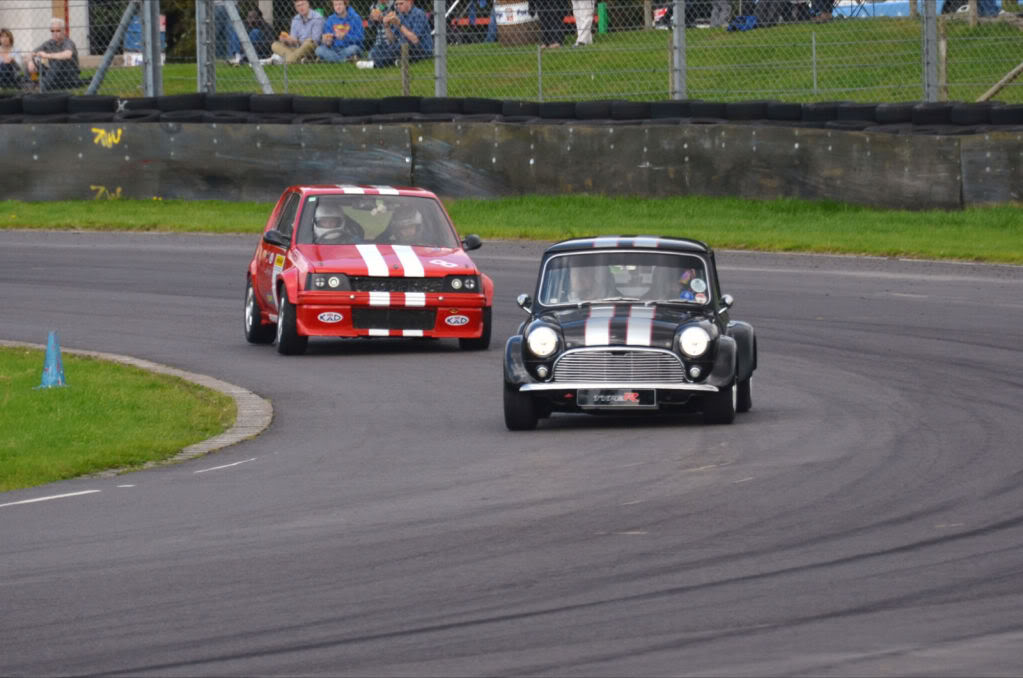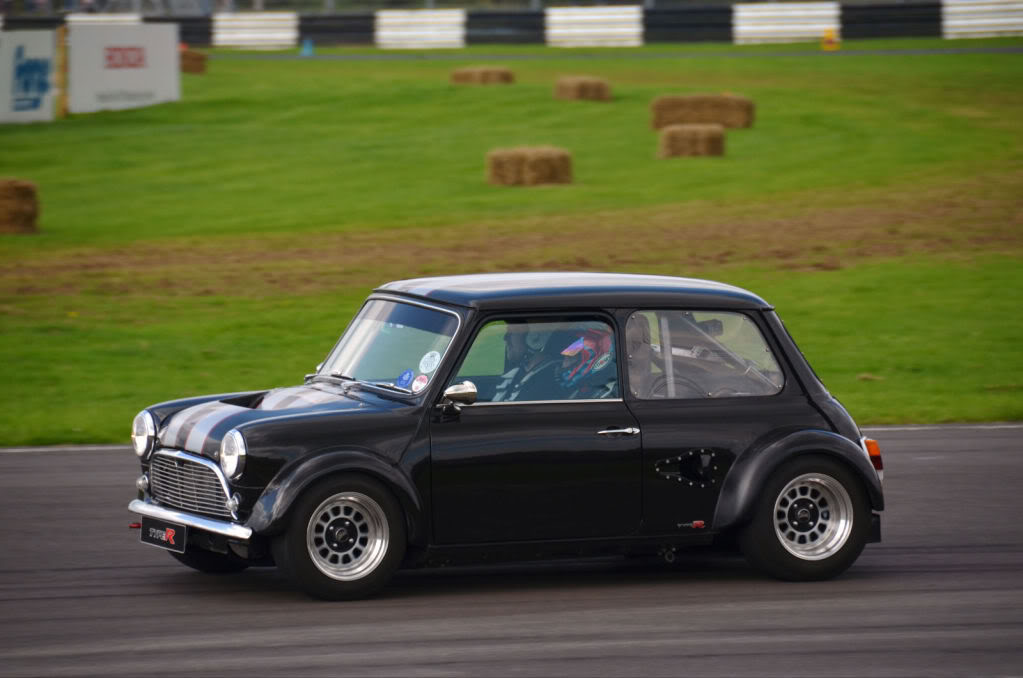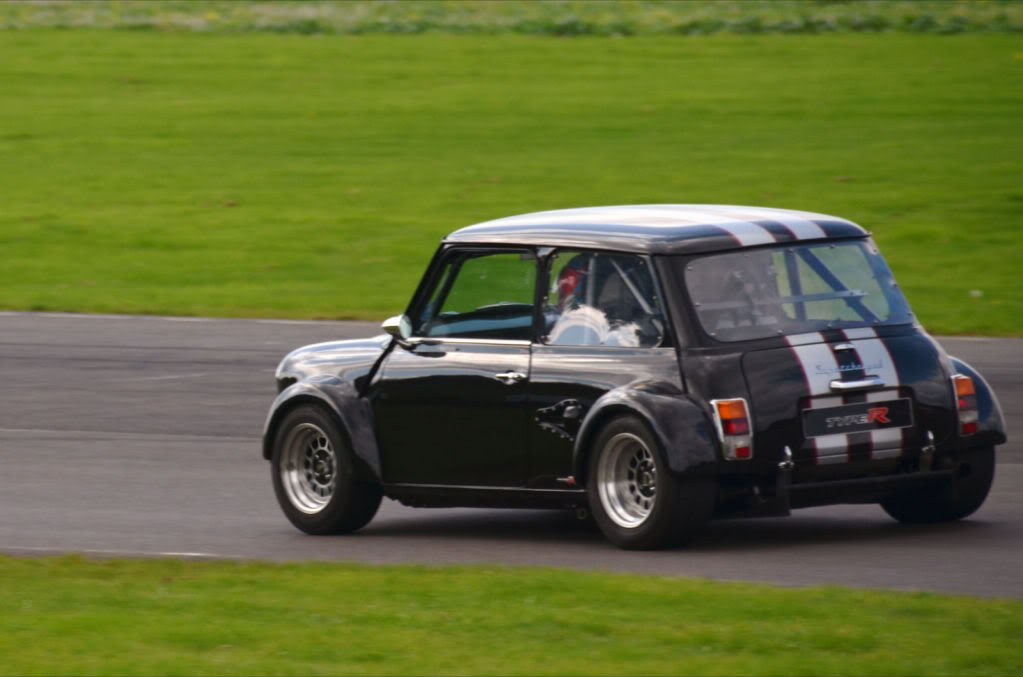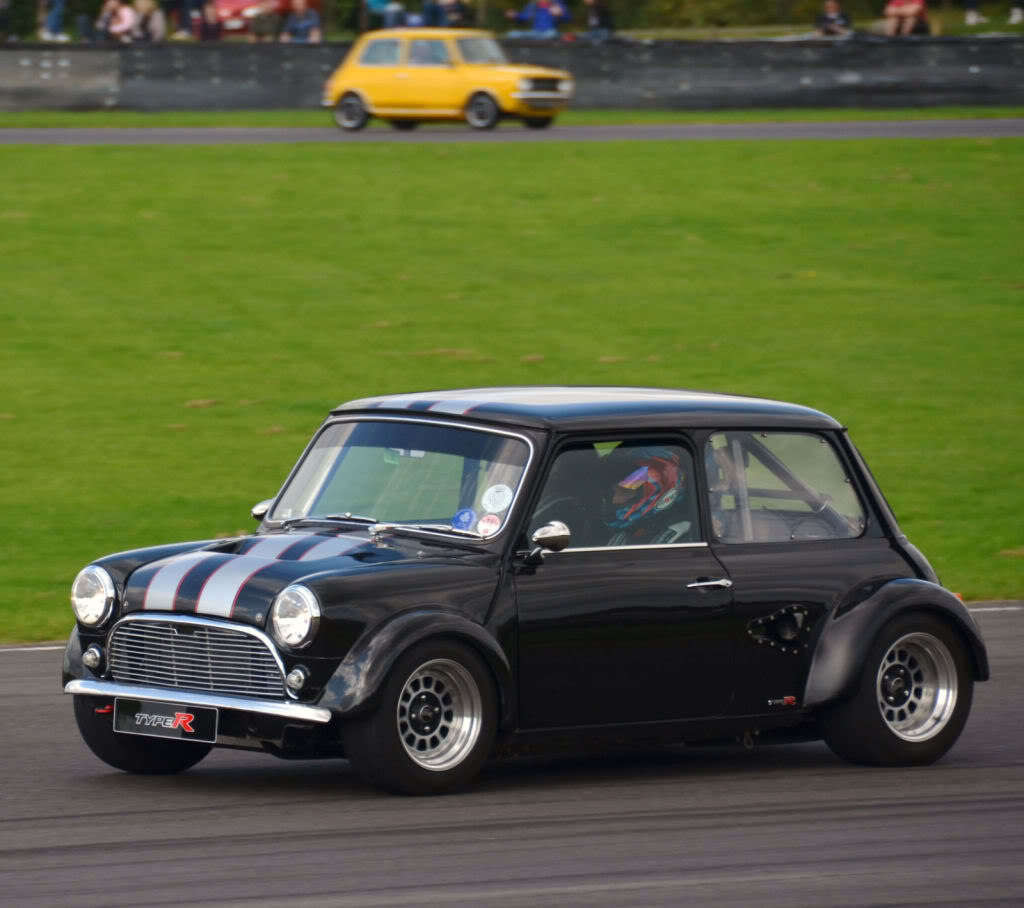 News on the ARB, my replacement was sent out yesterday, hoping to recieve today. - thanks Steve @ Zcars...


One slight problem - I wont get to test it out as my clutch gave out on me on Wednesday night, so I am going to replace the carbon disc affair with a whole new setup, Exedy Organic Stage 1 Racing Clutch (Part No. 08806) and Exedy Chromoly Flywheel (Part no. HF02). I am getting the whole setup for £432 including shipping from the Good'ol US of A, looking at prices over here the Flywheel alone is £460 ex P&P and the Clutch around the £300 ex P&P so I can make a huge saving even if I have to pay the 20% VAT on the import.

Also my brakes have gone spongy since the ride out at Combe so I will be looking into that problem.

This will give me a perfect opportunity to give the car a good overhaul, just gutted because its gonna be an awesome weekend weatherwise......
I jsut found another good photo showing tyre roll on the Castle Combe Miniworld day on Facebook, if I remember rightly the guy chasing me down in his R1 mini is called Jason and is a mate of Les (Custom Minis Ltd), he got me on a corner in the esses where my back end went out a bit then the engine cut - at the next esses he went for a spin, good fun.....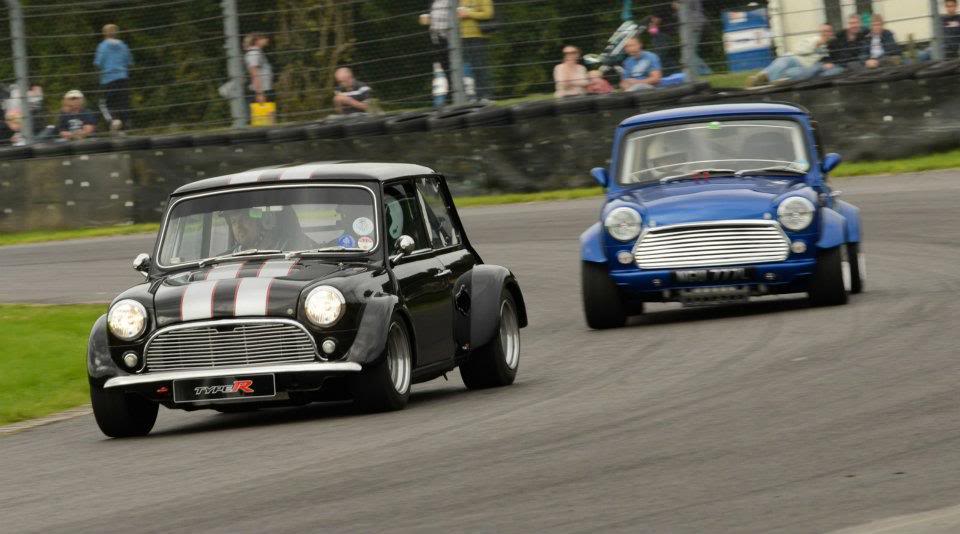 10-7-2011
Oh OK, I thought it was a new size just been brought out my Kumho, I was already aware of that size. I get a discount of Toyo's so will probably be sticking with them purely from a cost point of view.



I put this table of R13 track day tyre sizes together for my own use but figured it might be of use to others -some of the info I could not find yet, if anyone can fill in the blanks it would be appreciated: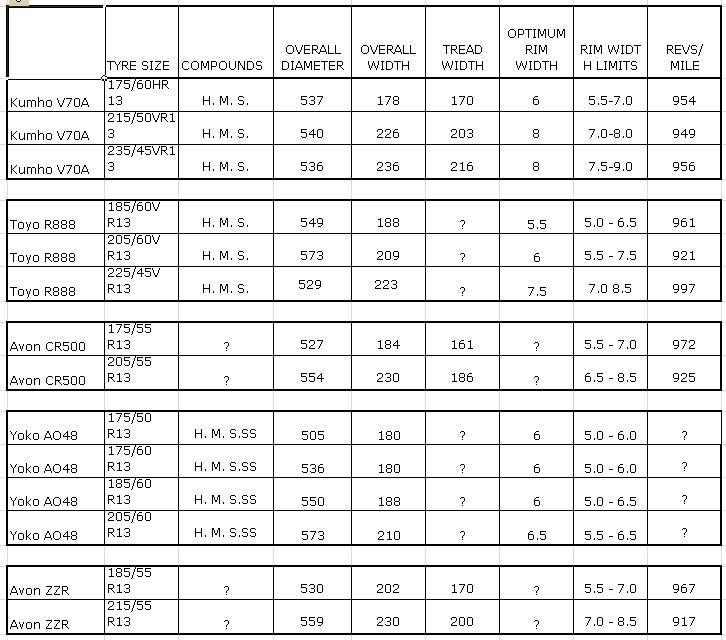 Updated, however I cand find any informaiton on the Avon site for CR500's in a 195/45 size????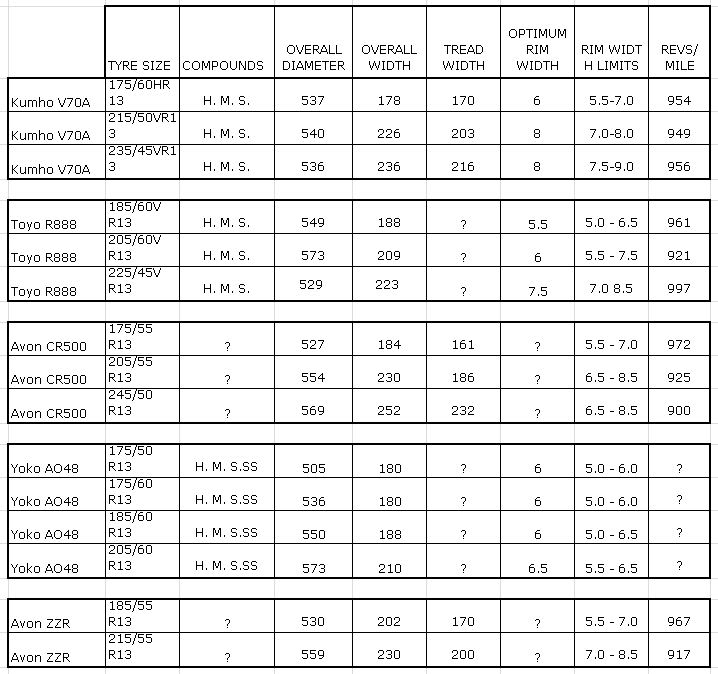 11-15-2011
CHARGECOOLER ORDERED

Oh yes, my need for more power has at last been quenched, well the thought if it has as I have no idea exactly what numbers it'll put out with the chargecooler.

I am having the chargecooler cartidge made by Bell Intercoolers in the good ol US of A to my design. You will see in the pictures below that the unit sits between the charger and the intake manifold. Fingers crossed I got the design right - ha ha - only time will tell but its not that hard to do with the modelling of the charger and manifold I did last winter. I am hoping to get my TB-SC manifold finished this winter also so the gains should be pretty good. I am adding a snout clamp into the mix to hold the snout of charger firmly in place as it'll be using more BHP to spin it and it'll be spinning faster, this will remove a lot of stress from the bolts holding the intake manifold and I am looking to beef up the support under the intake manifold also.


So here are a couple of views of the intercooler unit as I designed it: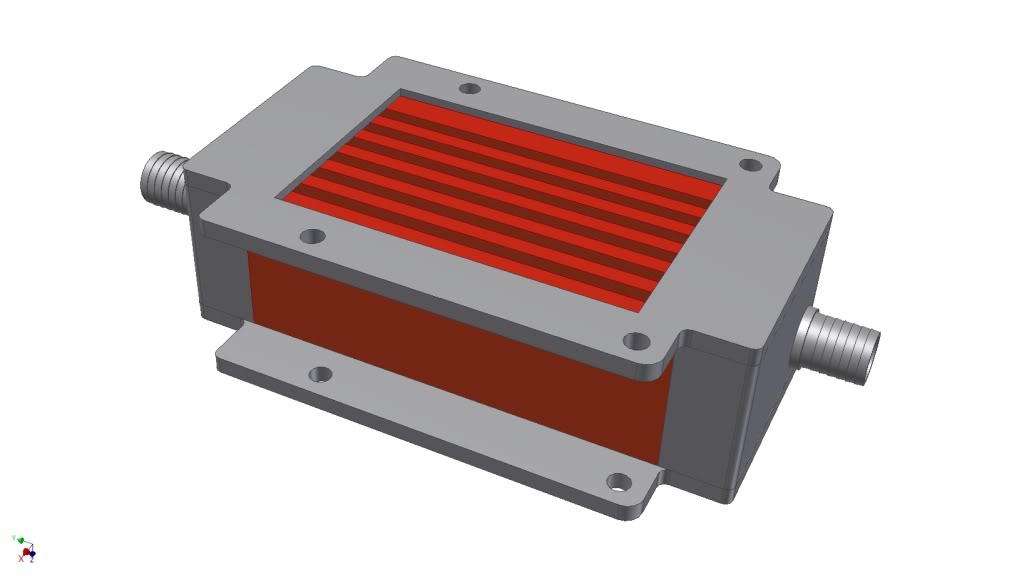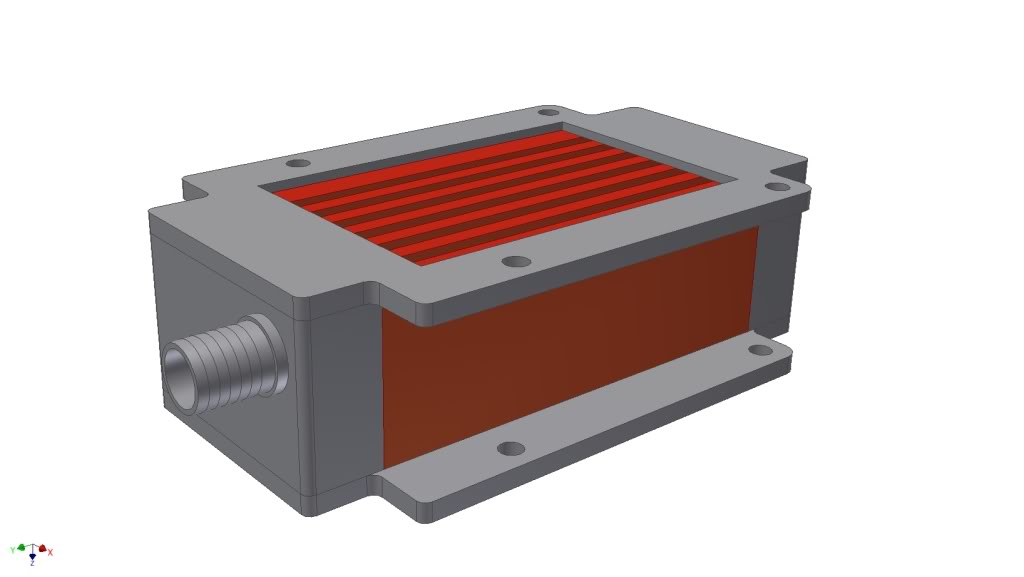 And here are a few of it in situ with the new TB-SC manifold and the 72mm Throttle body (both of which didnt get fitted earlier in the year):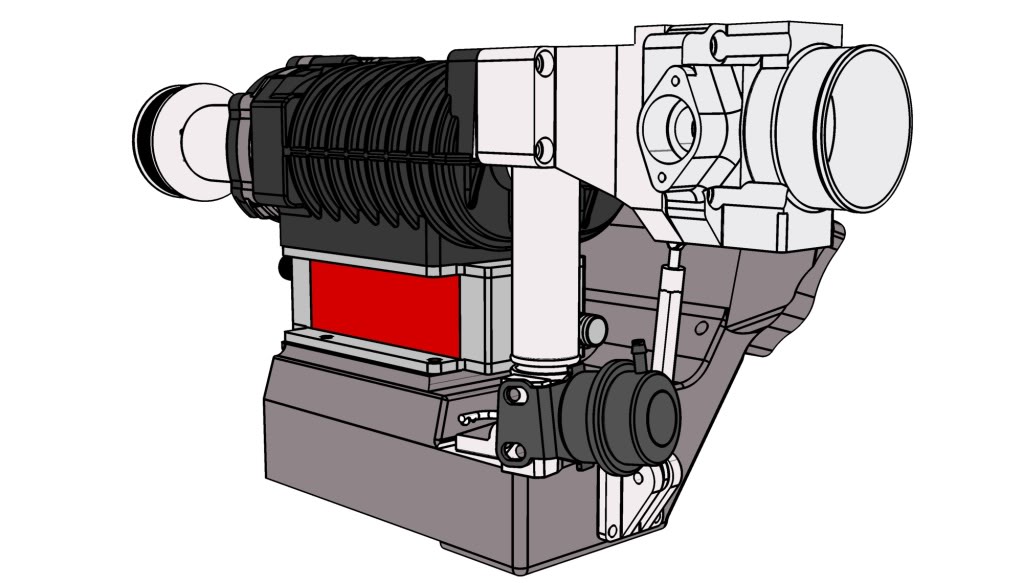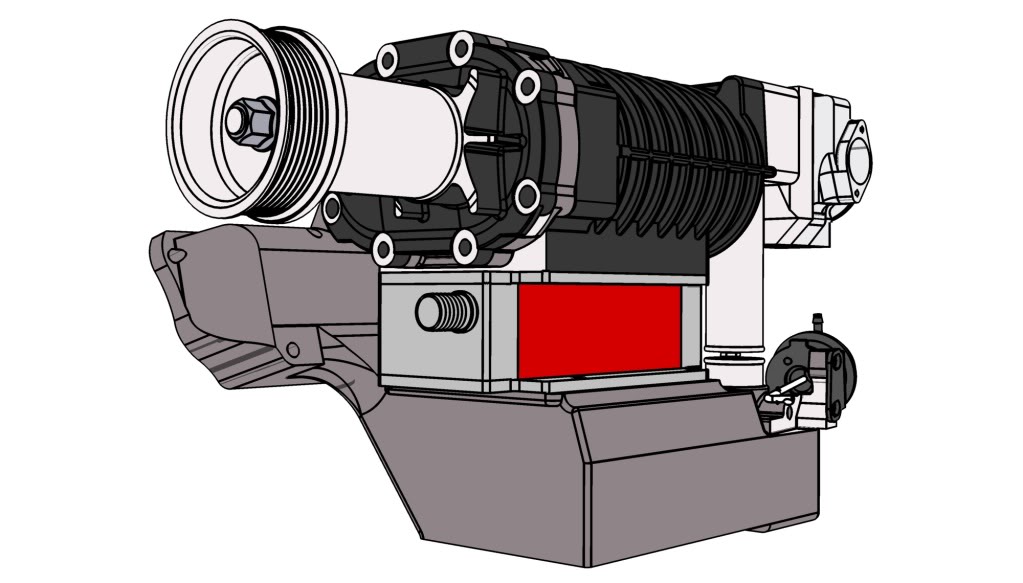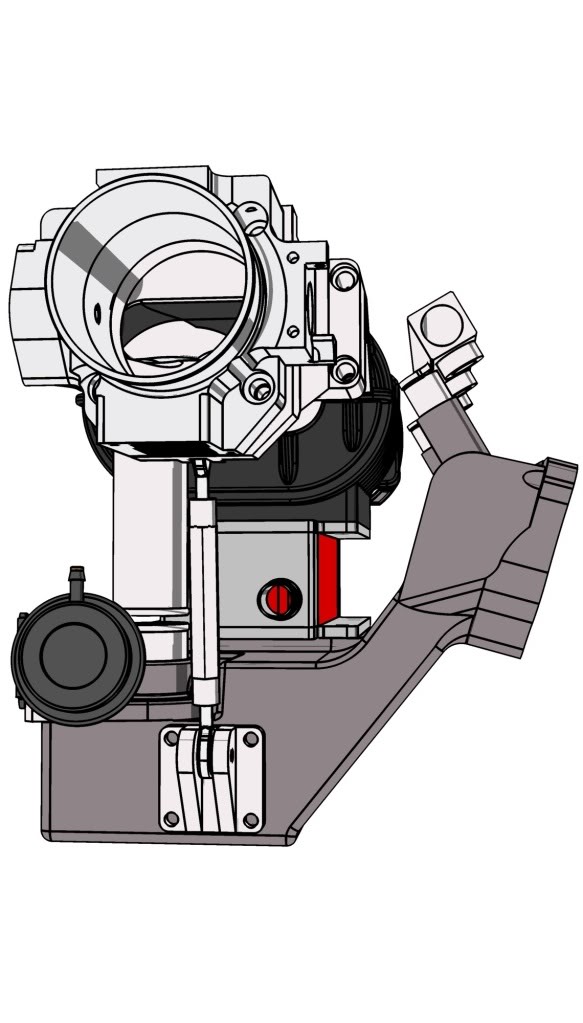 As i get the part delivered I will get photos and update the build diary, I dont want to guess at final horsepower yet but cant wait to get it dyno'd in the spring - Whoop whoop.......
11-16-2011
SPRUNG EXHAUST FLANGES

I have been suffering with lots of exhaust fumes in the cabin of the car which I can only put down to the sprung non gas tight exhaust fittings that are used on the exhaust system.

So I got my thinking cap on and what I am about to show you is the 5th revision of the design. I modelled one of the headers as thats all that is currently required and their compound angles are tricky to model so I am saving the other header pipes for a rainy day. The two Y-pipes as I am calling themn the 2-1 Collector, the Silencer and finally the Tail Pipe.

You might think this over kill but I had to model the whole thing so as make sure there werent going to be any clashes between the header flanges and the silencer.

I first considered amking the flanges solid and adding a flexible pipe to the mix but that wasnt going to happen due to the diameter of the flexi pipes. I was also advised even though I have pretty solid engine mounts that solid flanges would fail as the vibration would shake the thing to pieces.

So this lead me to think of sprung joints but also with a flange, still utilising the pipes sliding into one another. Then I had to work out how to use the least amount of bolts and springs so as not to over-do it. I had to consider how to ensure that all plates were being held using only four bolts per set of flanges - cracked it though.....

So the .dxf file is off to the laser cutters and I hope to have them in my hands fairly soon.

As always here are a few renders of the work: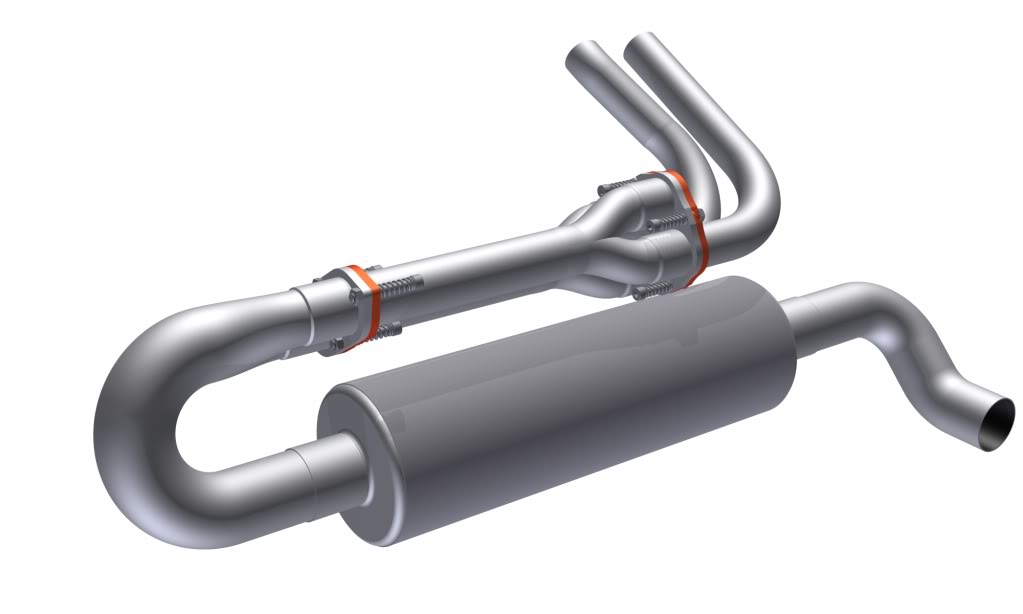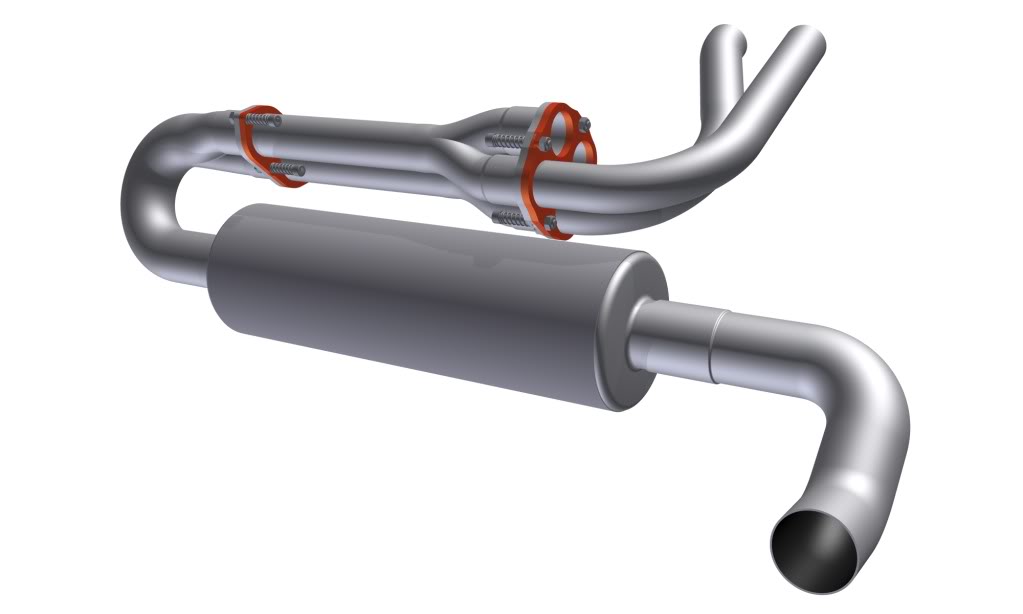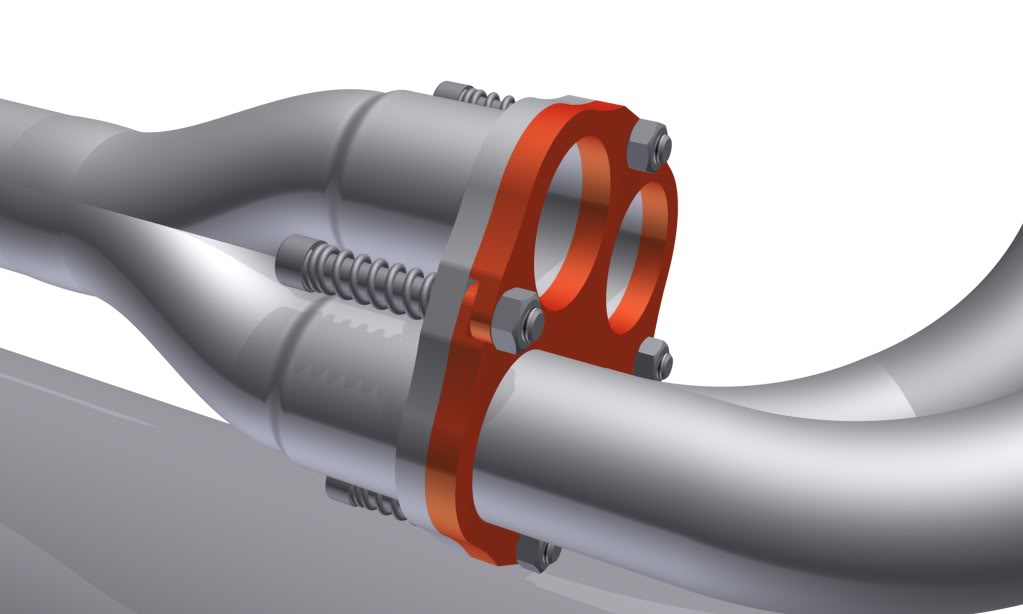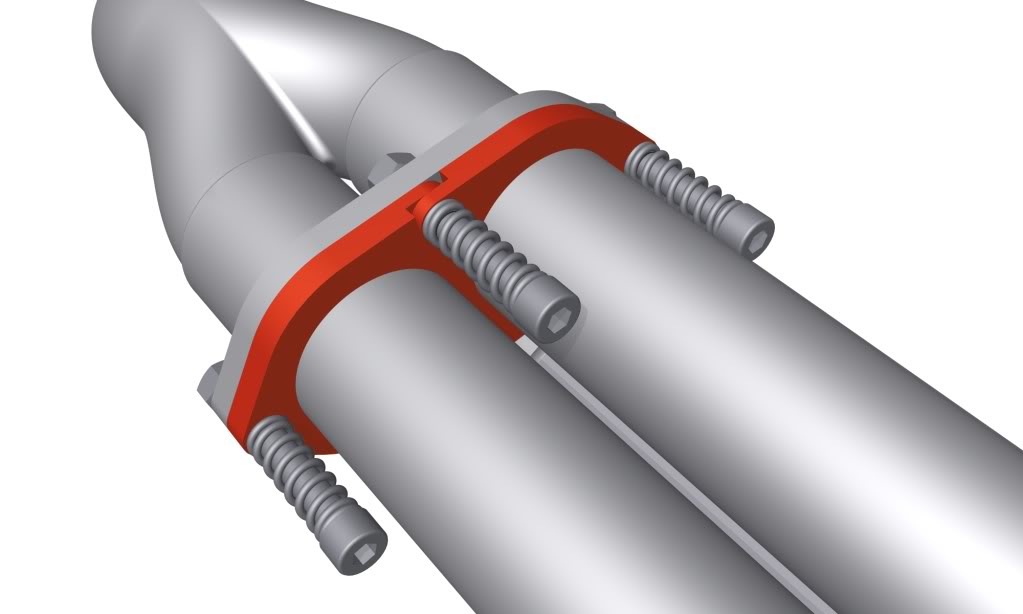 Some cut through views to show the pipes slid inside one another: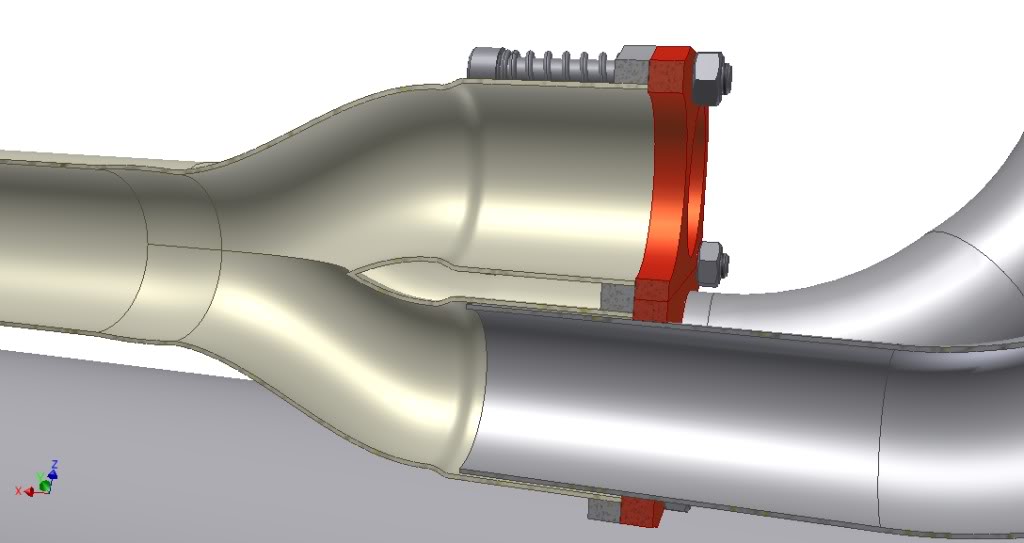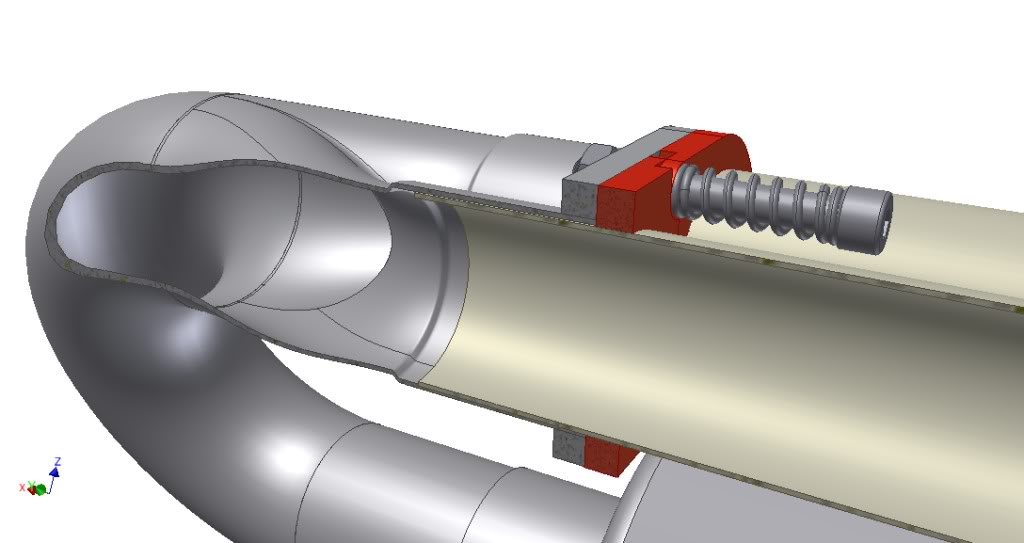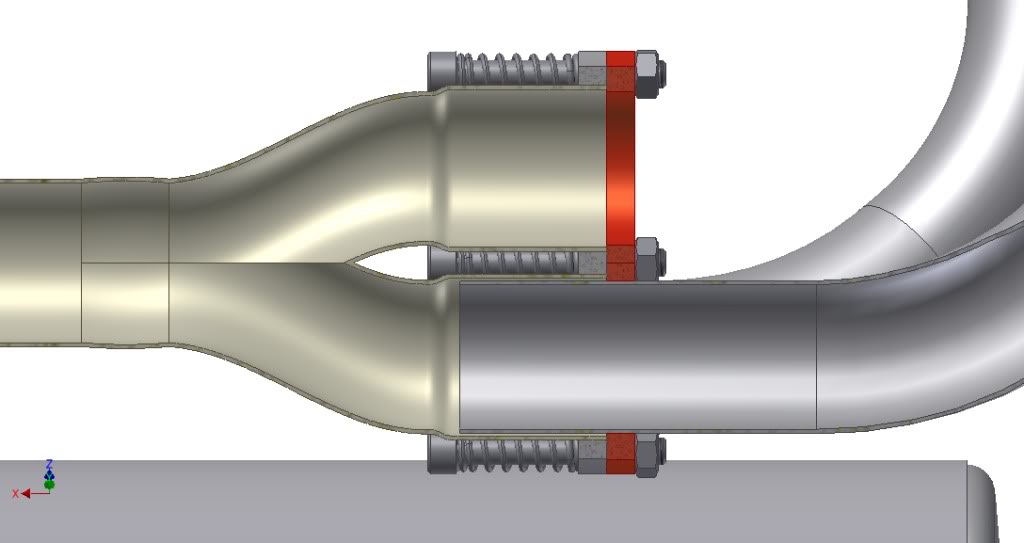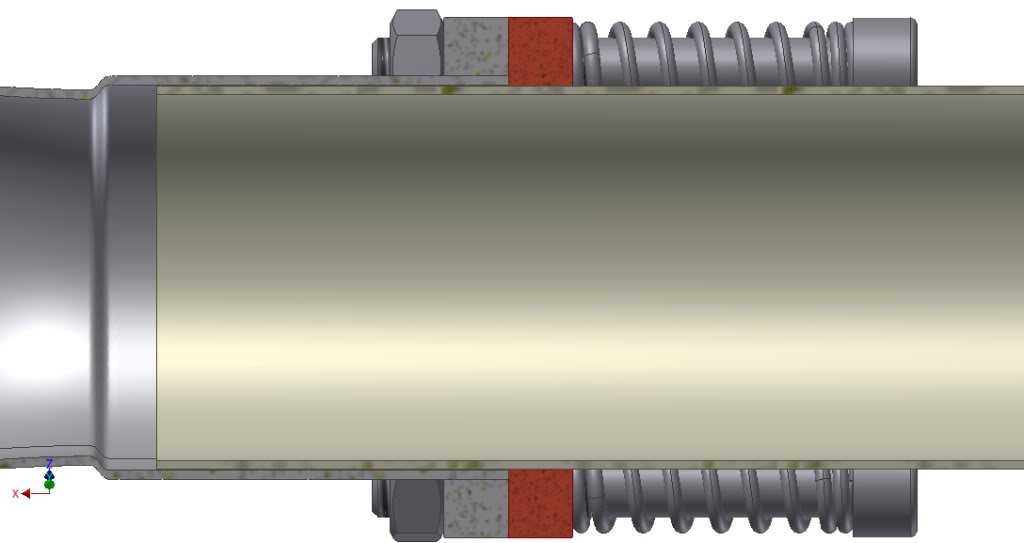 YOU SAW IT HERE FIRST
11-17-2011
Hi Al

I use Autodesk Inventor for the drawings.

The bolts are simply Stainless Steel M8x60 with a 2x13x35mm Compression spring, the flanges nearest the nut are threaded and the nut locks off the bolt this way you can set the amount of compression on the spring/flange.

Below is one of the few pictures I have of the exhaust when I first got it, you can see that the pipes simply slide into on another and are held together by a tension spring that clips onto two loops either side of the pipe mating - this is regularly used and is a good cheap way of building exhausts, only down side is they leak.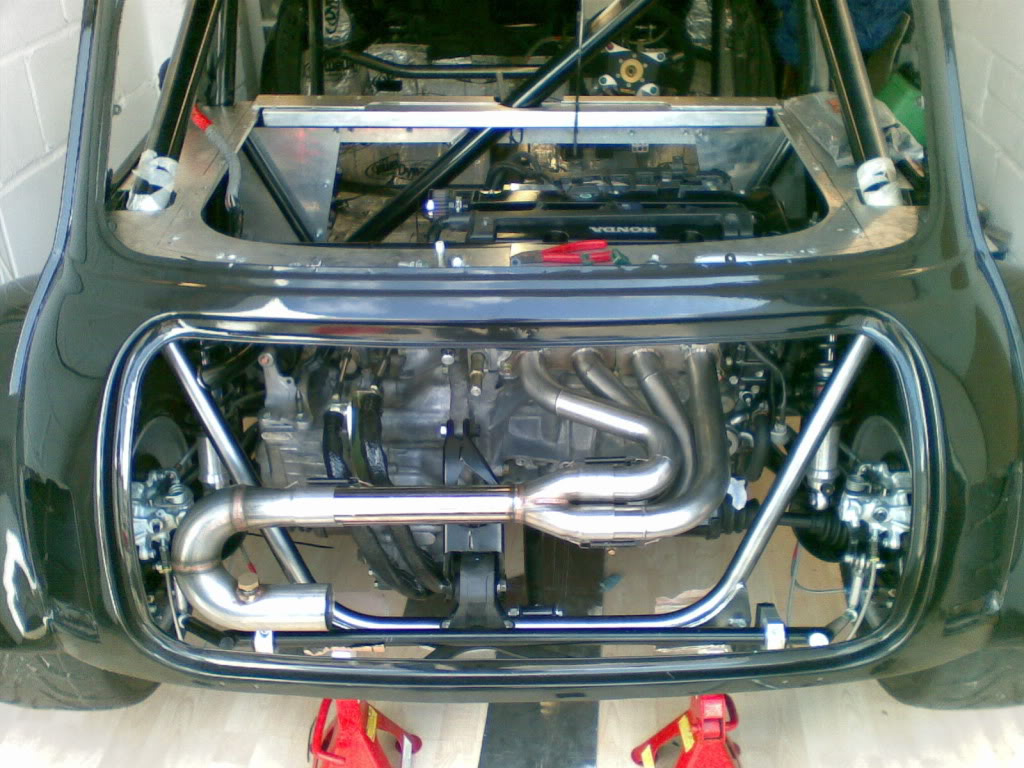 11-21-2011
Supercharger Snout Clamp

Another one of my winter mods will be a snout clamp to help with the extra forces that will be placed on the pulley and supercharger when the blower starts to be spun faster. Again I have been through a few design changes with this one but settle for what you will see below. I have the billet for the clamp sat on my table in front of me and plan to get some machining done asap, with the help of my good mate Stevie G.

So here are a few renders of what its going to look like, its a bit chunky but I might cut some fins into it to help dissipate some heat as the snout gets really quite hot, due to the deep groove bearing being used.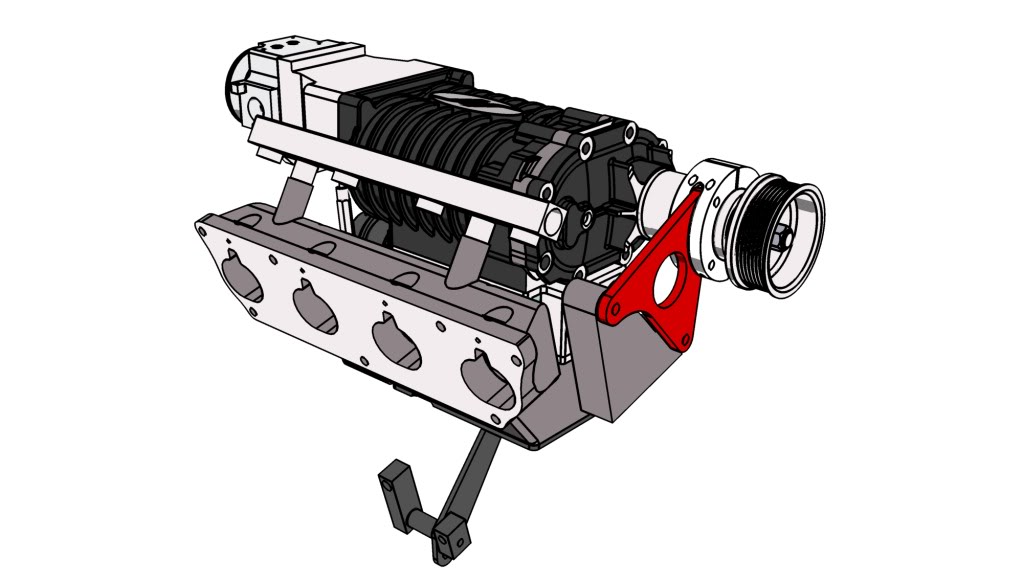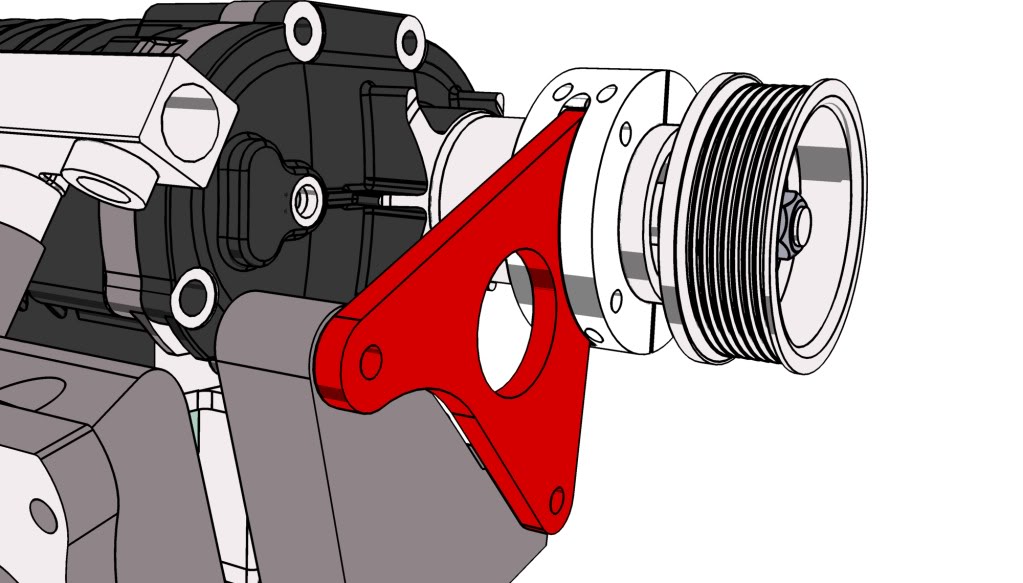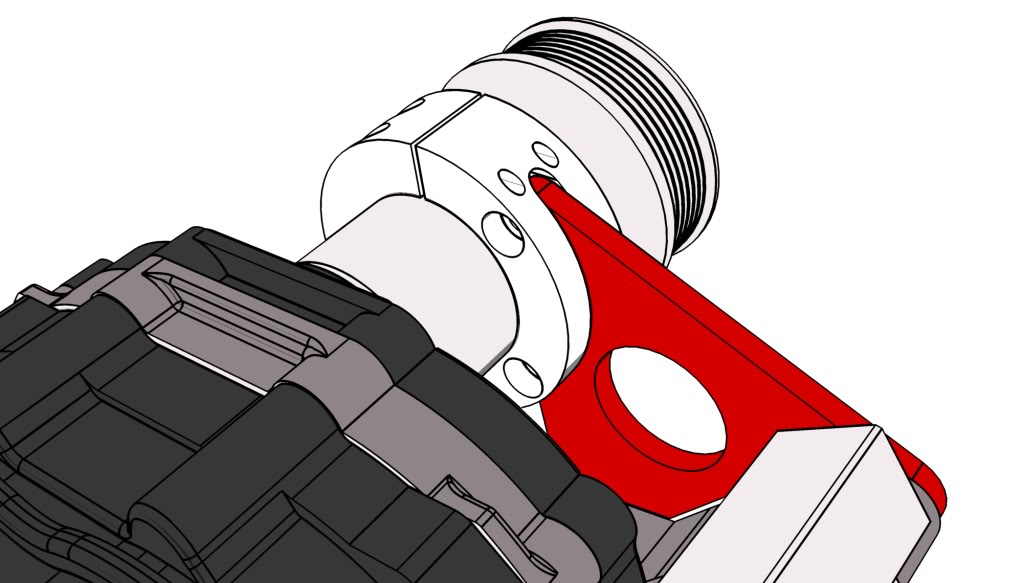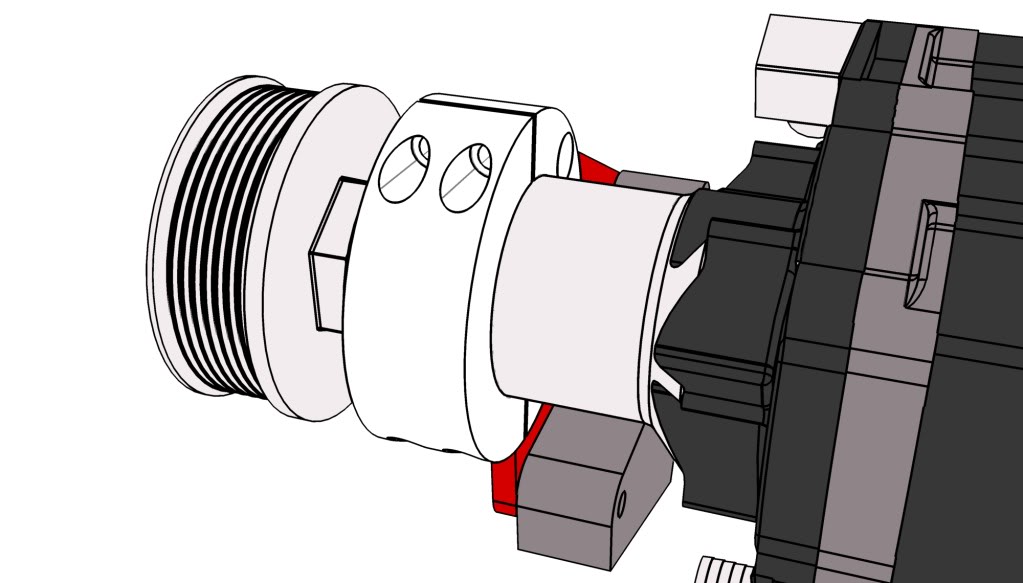 I hope to soon be able to show you the real thing of some of these parts, but even more I want to get them on the car and get it running again.....
11-23-2011
So it looks like I am going to have to put a little lump in my nice flat parcel shelf - bugger....on the plus side it means I can go from a 2.25" intercooler core to a 3". I think thats a fair trade off.

I had a measure up of proposed components and then went and got my ruler dirty checking it all out, Looks like the very top edge of the throttle body is going to be 20mm higher than the highest point of the valve cover/oil filler cap, which in turn is roughly 10-15mm higher than the parcel shelf.

For those that are intersted heres a couple of photos showing how might the charger will sit: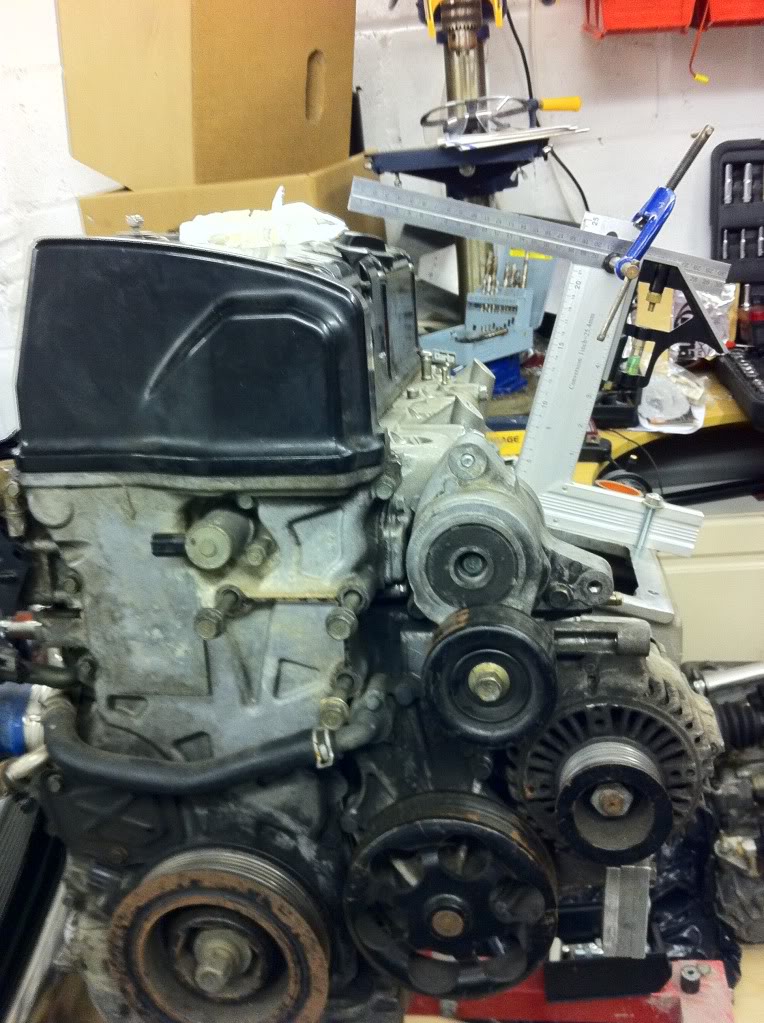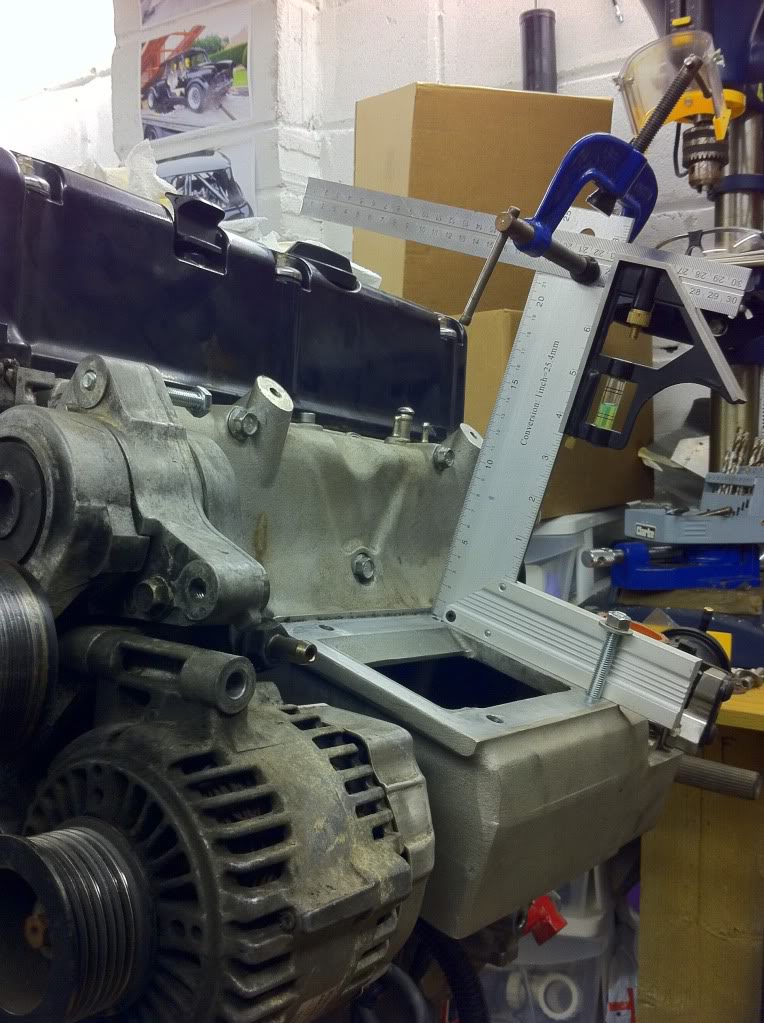 11-25-2011
It all jut got a whole lot closer as well as after Bell received numerous revisions from me they decided (on the last revision where I thought everything was good) that the opening on the intercooler need to match the core, where I had it stepping from the sizee of the output of the charger to the size of the core. So it now looks like I am going to have to add adaptor plates to the mix to cover the size difference between the core and the charger - well annoying....and makes it sit another 16mm higher..... parcel shelf lump getting bigger......

As you can see below it is a perfect match width ways but lengthways in needs to be stepped (adaptor plates in green), oh well, I guess if I dont want to pay for a bespoke sized core then this is the sacrifice I am going to have to make: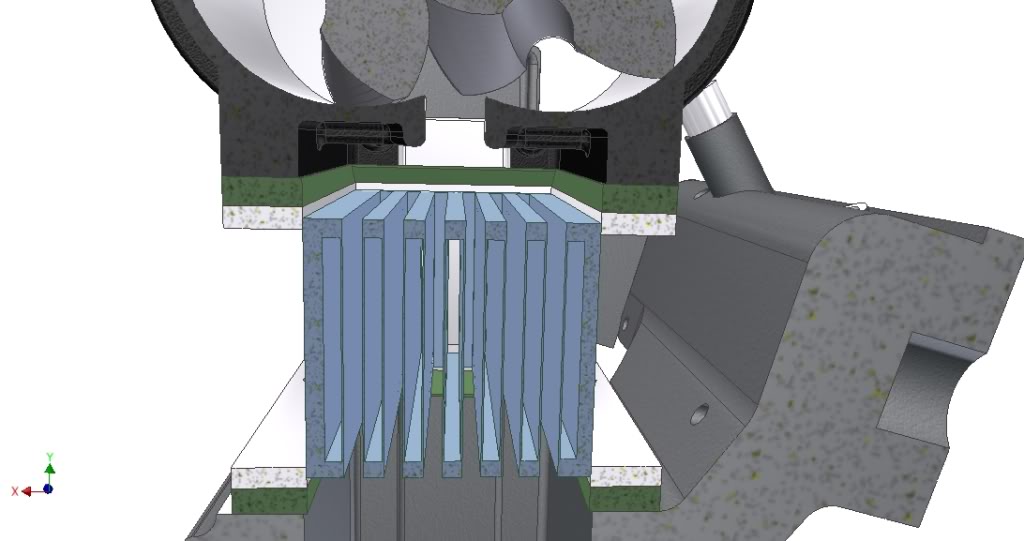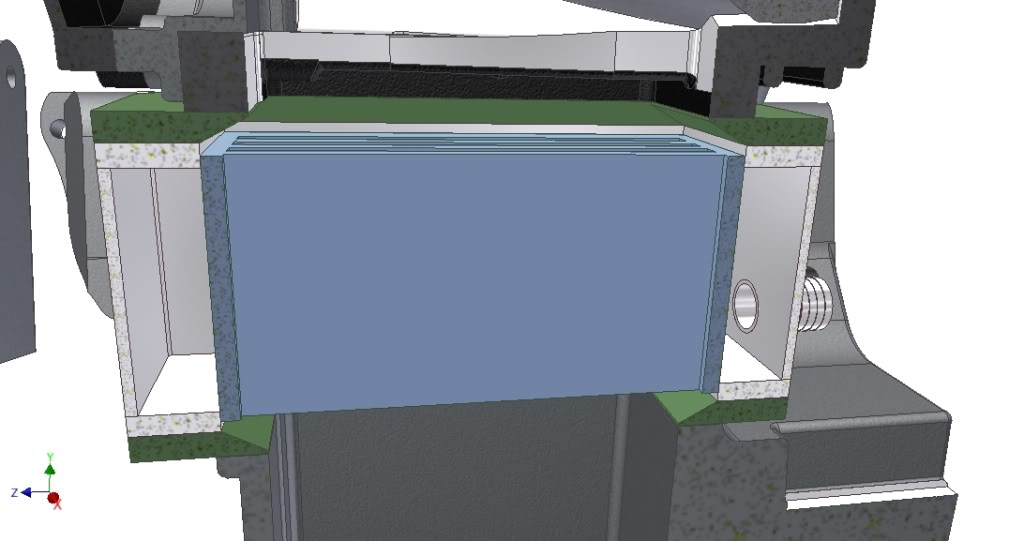 11-28-2011
No news on the I/C yet, still doing revisions in response to comments from the guys at Bell.

I downloaded some photos from the camera that I took last weekend, they are just to show what state the car is in at the minute and how tight it has become in the garage. I am having to clear stuff away as when its used to try and keep some free surface to work on.

Anyhooo, here's a few photos that might be of interest to anyone wanting to see what the engine bay of a VTEC Zcars mini looks like without an engine in it: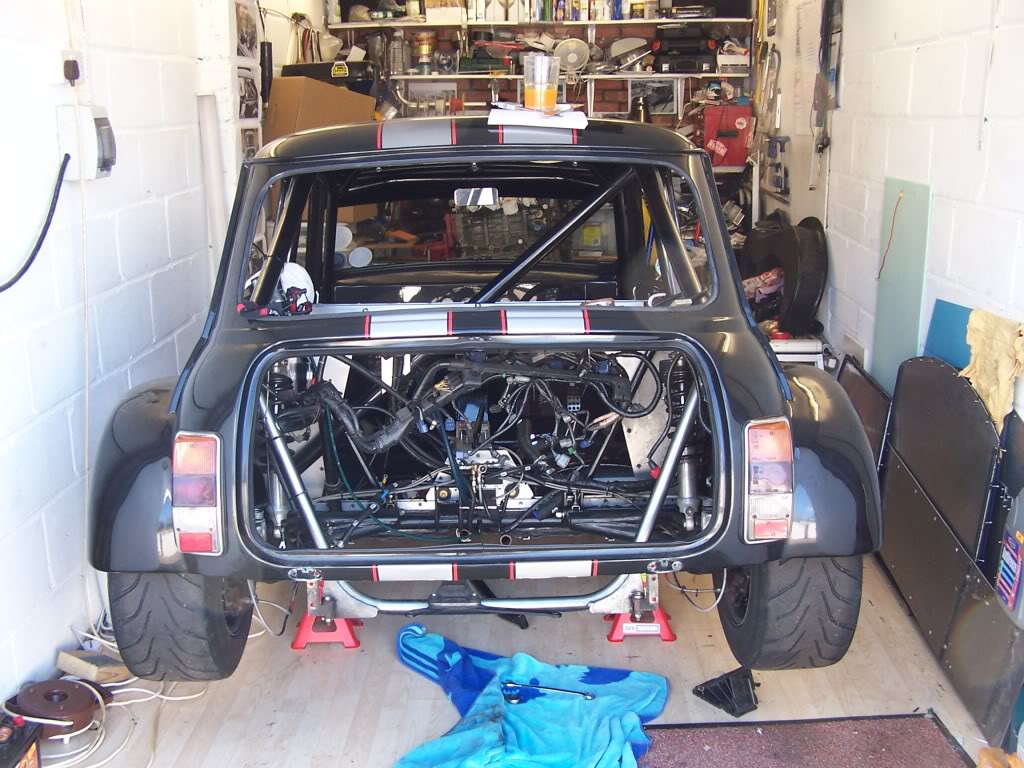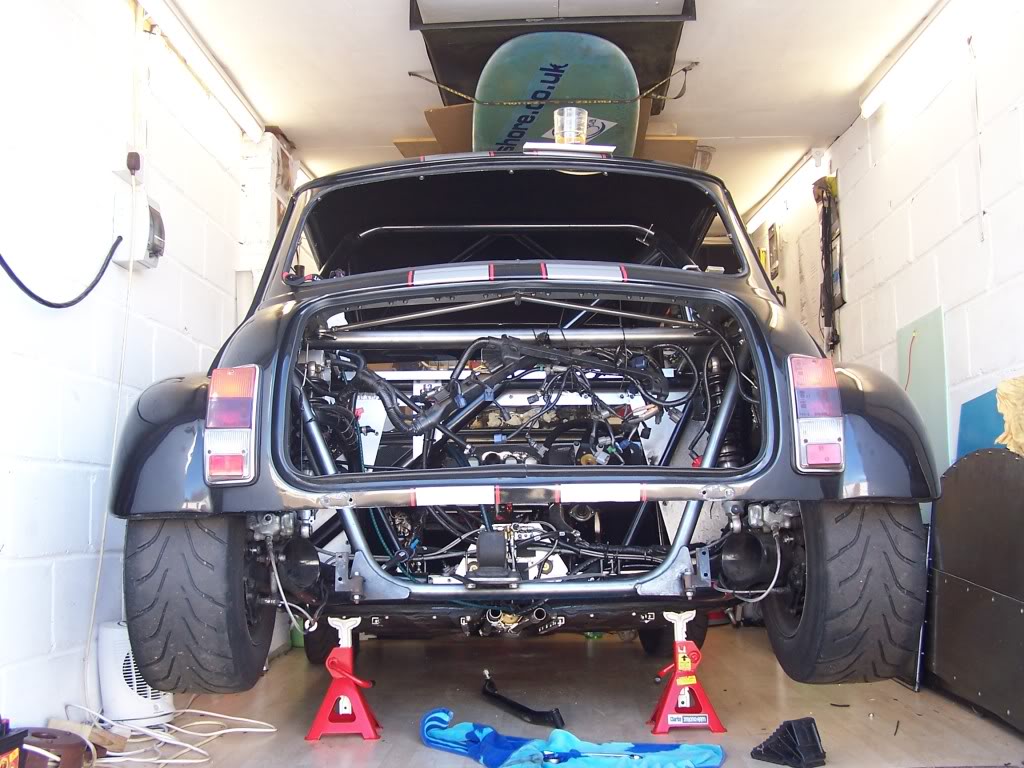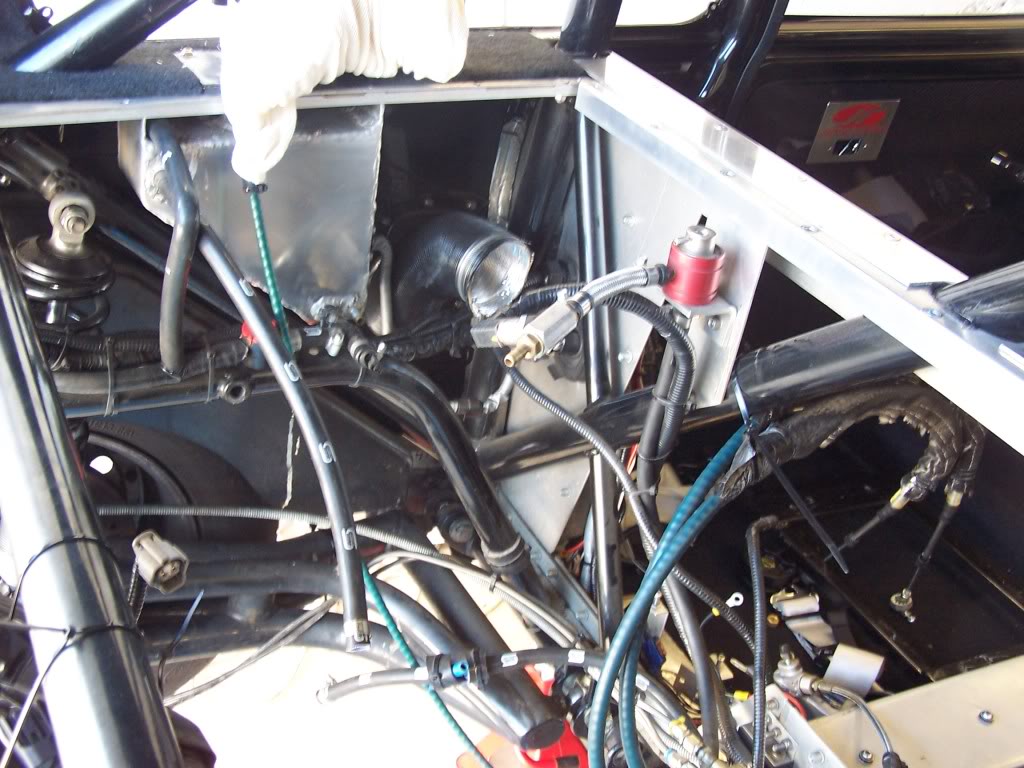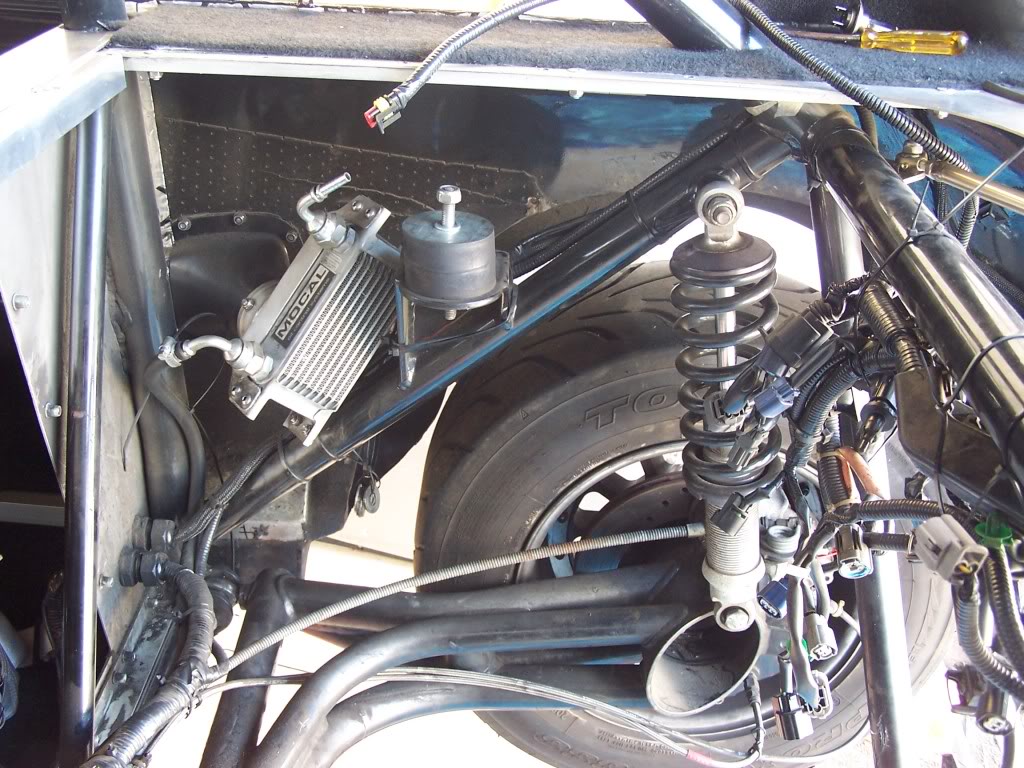 Below is a picture showing the main reason that I took the whole engine out, it wasnt just to change the clutch. The top rear suspension mounts have been bugging me ever since I got the car, as yet they havent failed but I know of some cars that have. So in an effort to eliminate the problem I am going to be making some additional supports to really beef up the mounts and greatly reduce the sheer forces on them. So you can see what I am going on about look at the photo below and you can see that all the force from the suspension unit is trying to make the bolt and its mount sheer from the frame. Since my frame has been made Zcars have beefed up this bit by adding a small rod in the mix to the top diagonal. As I am not intending to strip mine out and have it re-powder coated I am going to fabricate a brace bar that will hold the inner end of the bolt solid, more of that to come: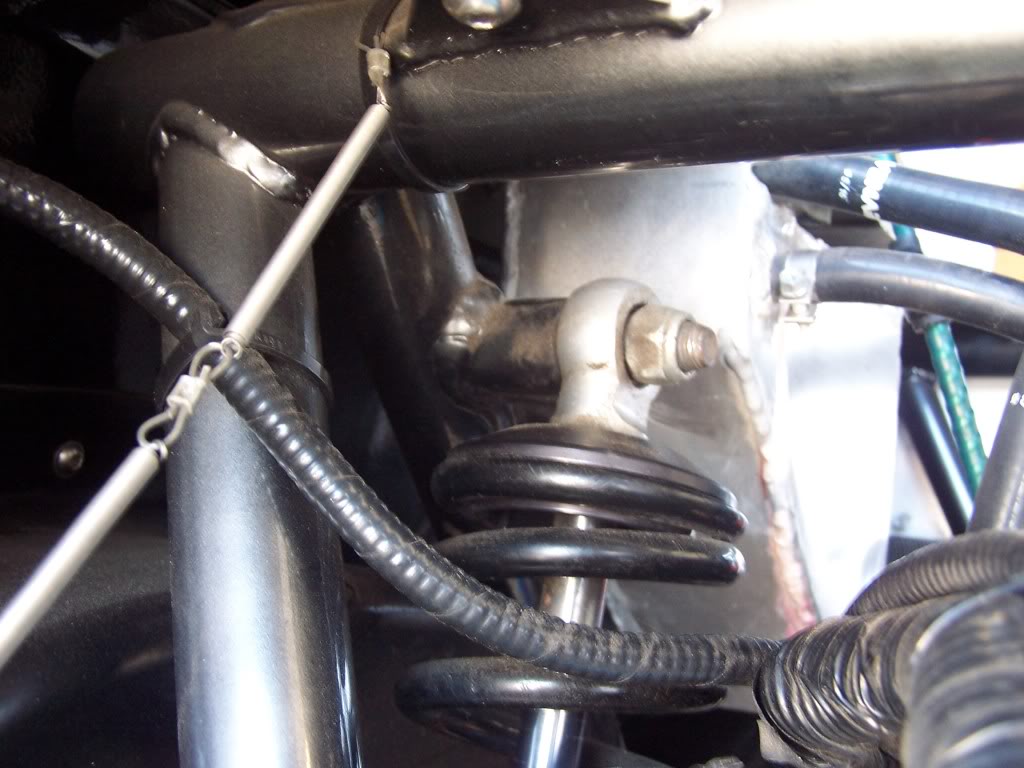 Good old facebook got me the loan of an engine stand to allow me to tinker to my hearts content.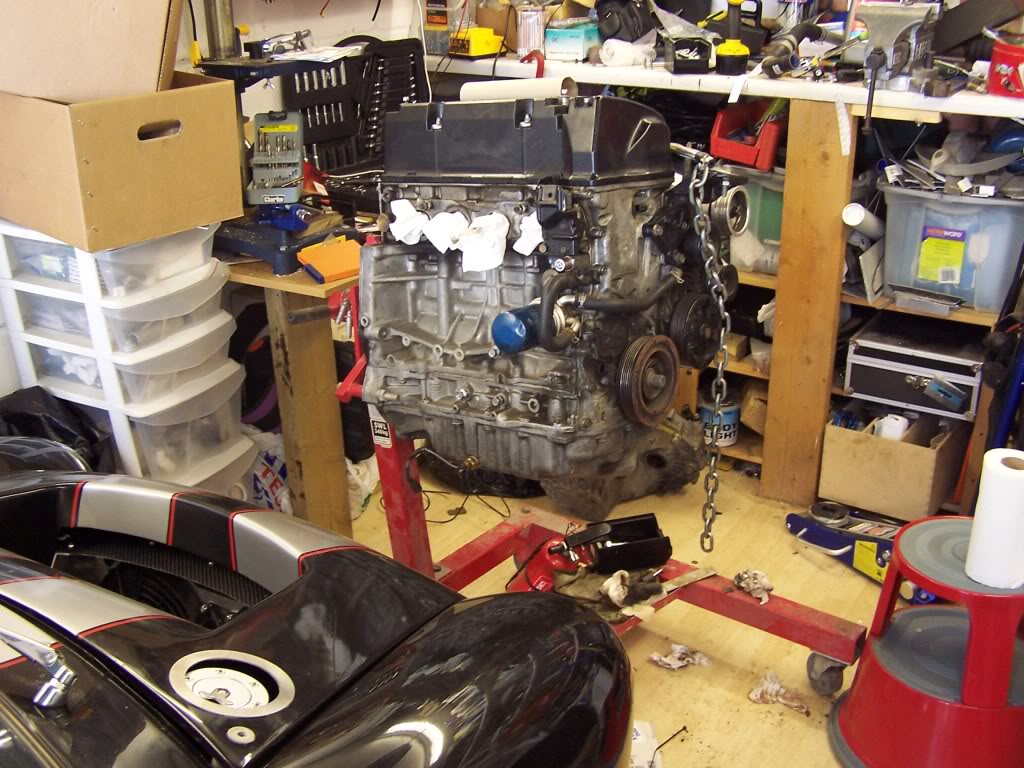 In the picture below is a card version of my first attempt at a snout clamp, before I decided to go chargecooled, the design has definitely come on a long way since this version.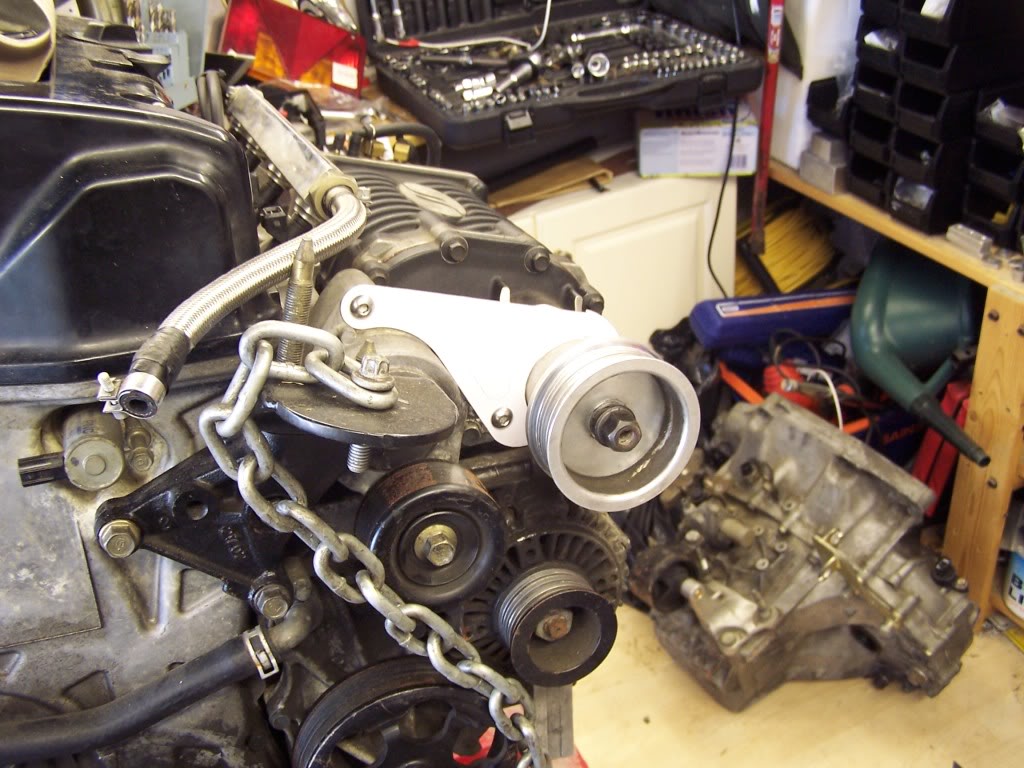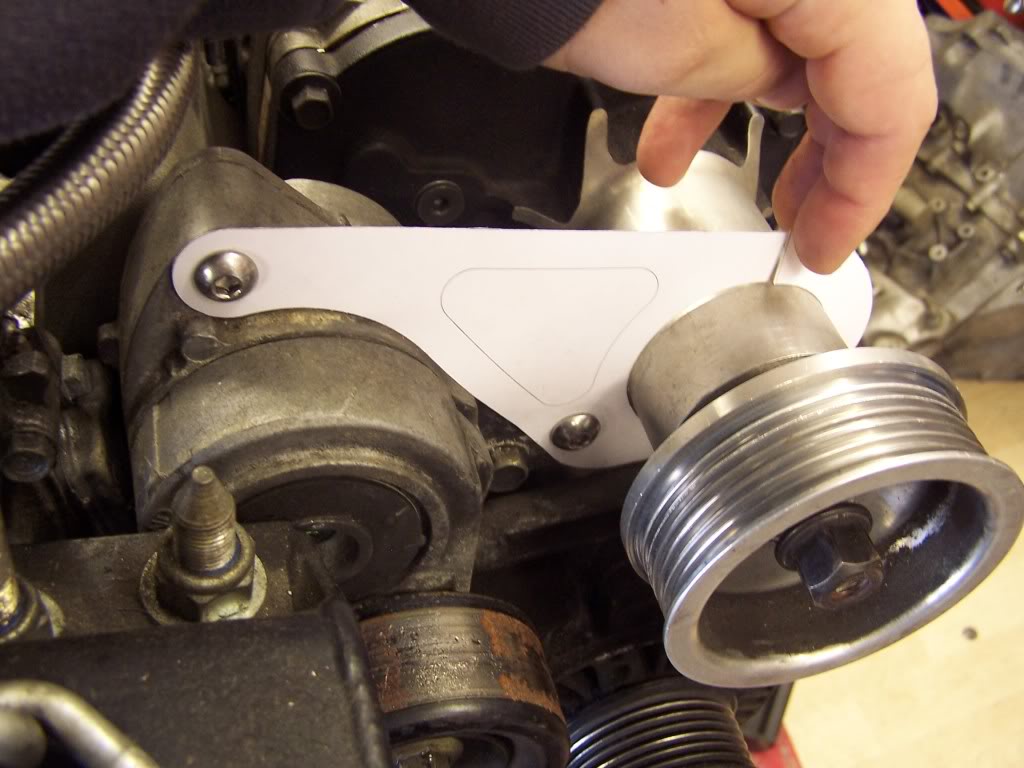 Below shows a broken sensor, its the VTEC oil pressure sensor of which Honda UK want approx £96 for one, I have managed to get one from the USA for £42 inc P&P, genuine Honda part..... Feck knows how long its been like that, the clip just came off in my hand with the top of the sensor still inside it - ooops...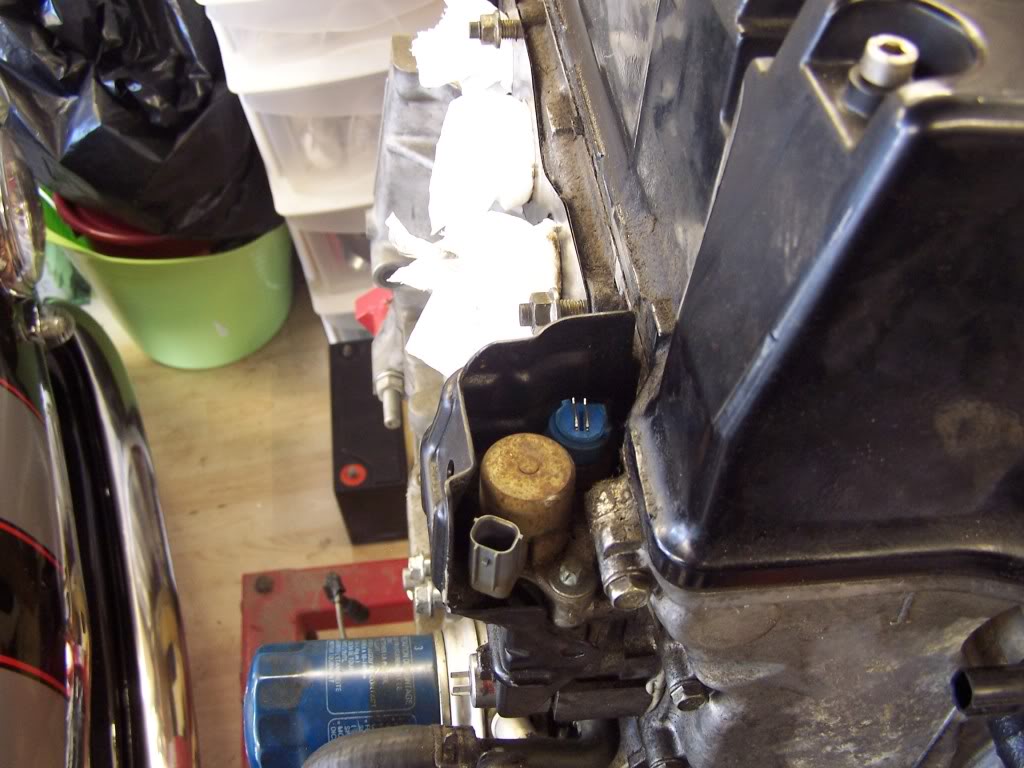 That's all for now folks.........
11-29-2011
I took the car to a mates garage and used his two poster ramp, it sits pretty much flat on the bottom of the sump when dropped onto a flat surface, we used an old tool chest with castors so we could move it around. front and rear engine mounts have to be removed, the gearbox mount jsut needs the bold dropping out of it when theres some pressure from underneath on the engine and then finally the O/S mount needs weight taken up and then theres three bolts in the side of the block that need removing. Then its just a case of taking the car up on the ramp and pulling the engine from underneath, this is the second time I have taken the engine out, this is my second engine as the first one was well and truly water damaged.
12-23-2011
ONE STEP CLOSER TO MORE POWAHHHHH


I got an email yesterday from the guys at Bell in the USA, my new Intercooler cartridge (as they call them) is winging its way to me.........AWESOME.....

They were kind enough to send a couple of photos, unfortunately they arent the most interesting of angles, hey ho you get what you're given......

Turns out it looks alot like the drawing I sent them - which is nice, as if it didnt I'd be a bit peeved... So below we have the drawing I sent to them (not great quality but then I dont want to give all my secrets away followed by the photos from Bell, more to come as and when.....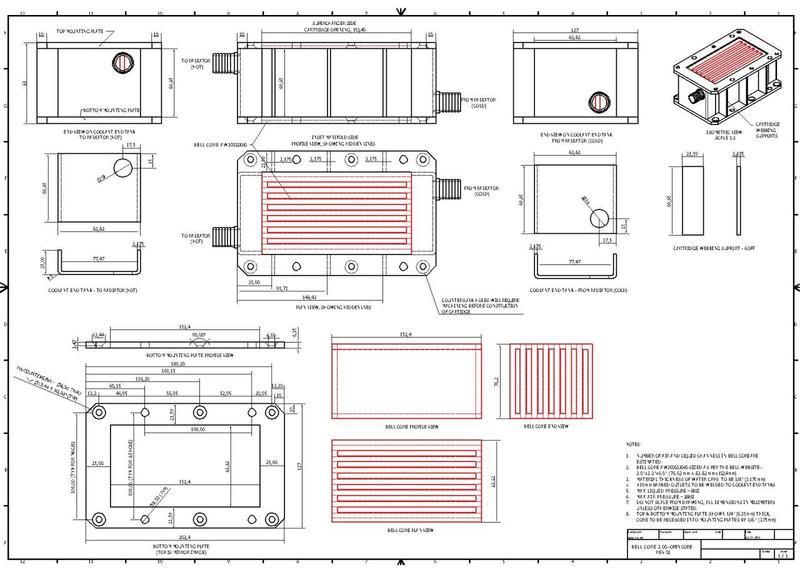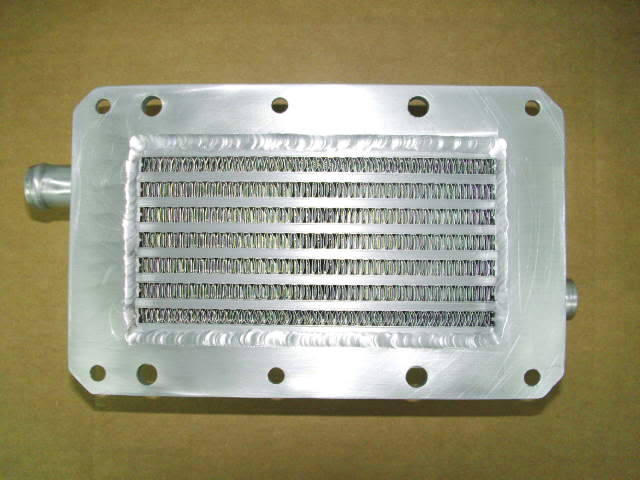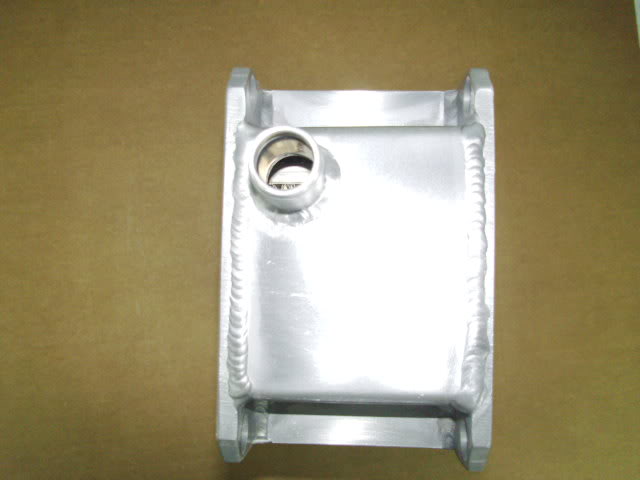 12-28-2011
The Intercooler is Here

It arrived today and looks really good, there will be more photos to come once I get the adaptor plates machined which will make more sense of the holes in the top and bottom plates.

I have also been doing some work on a heat barrier intake manifold gasket, you can buy these from Hondata and others but they are only 3-4mm thick, I went for 10mm Acetal for its high melting point. I am only half way through and hope to get more done to it tomorrow, photos of that at the end...


Intercooler Cartridge: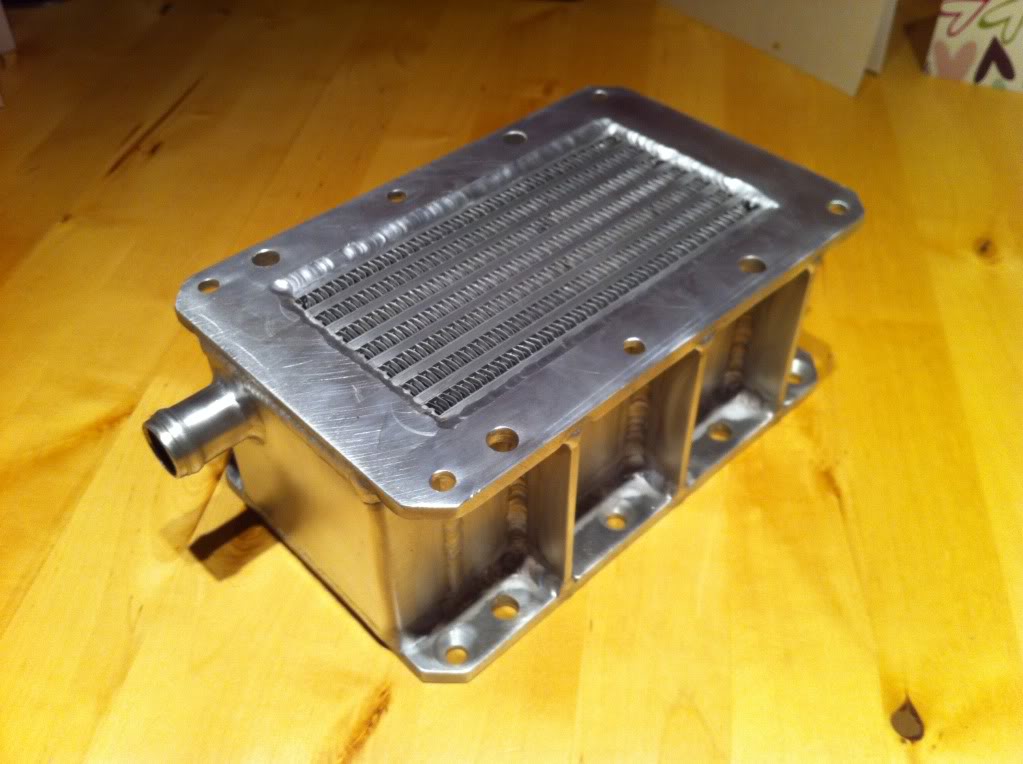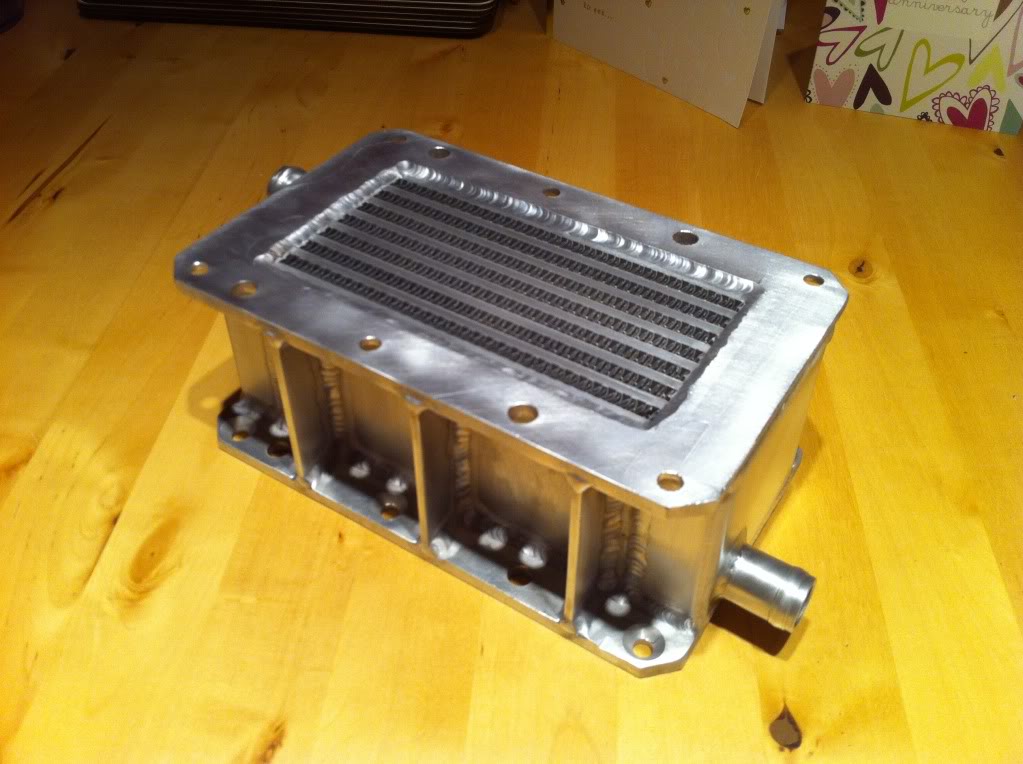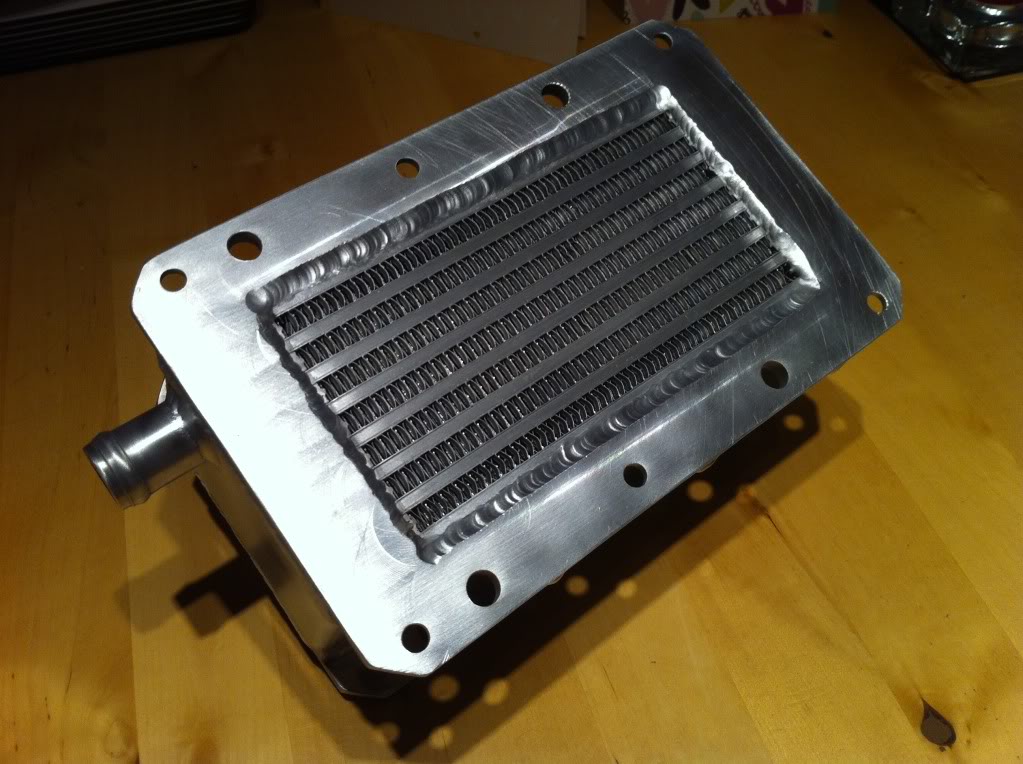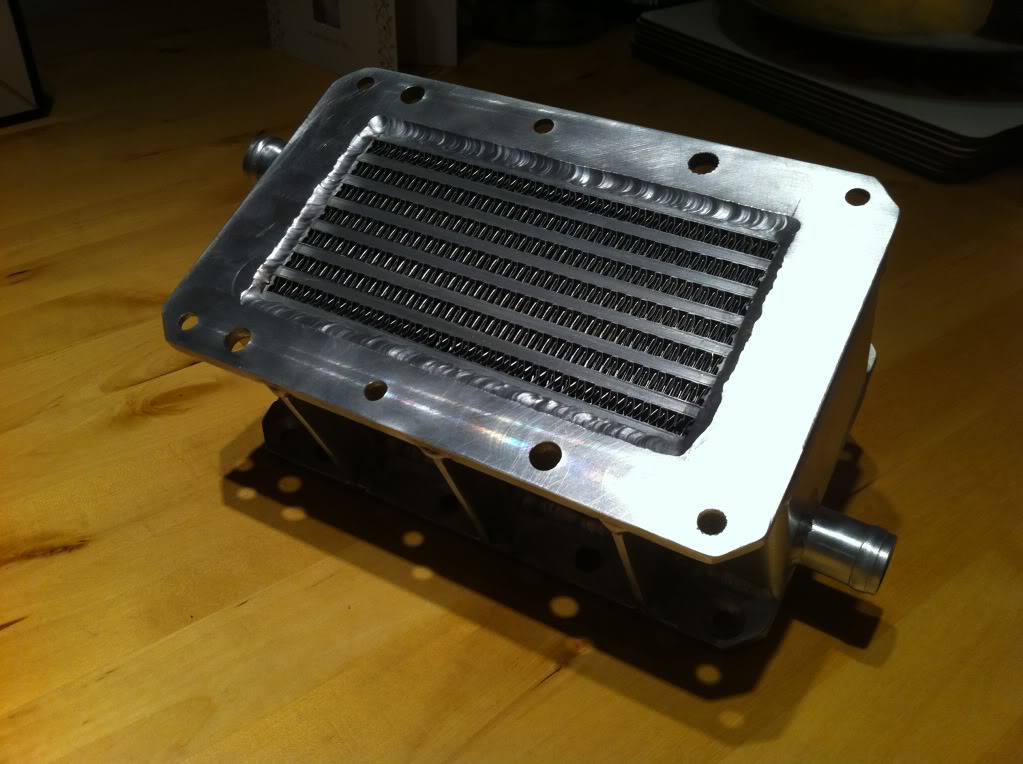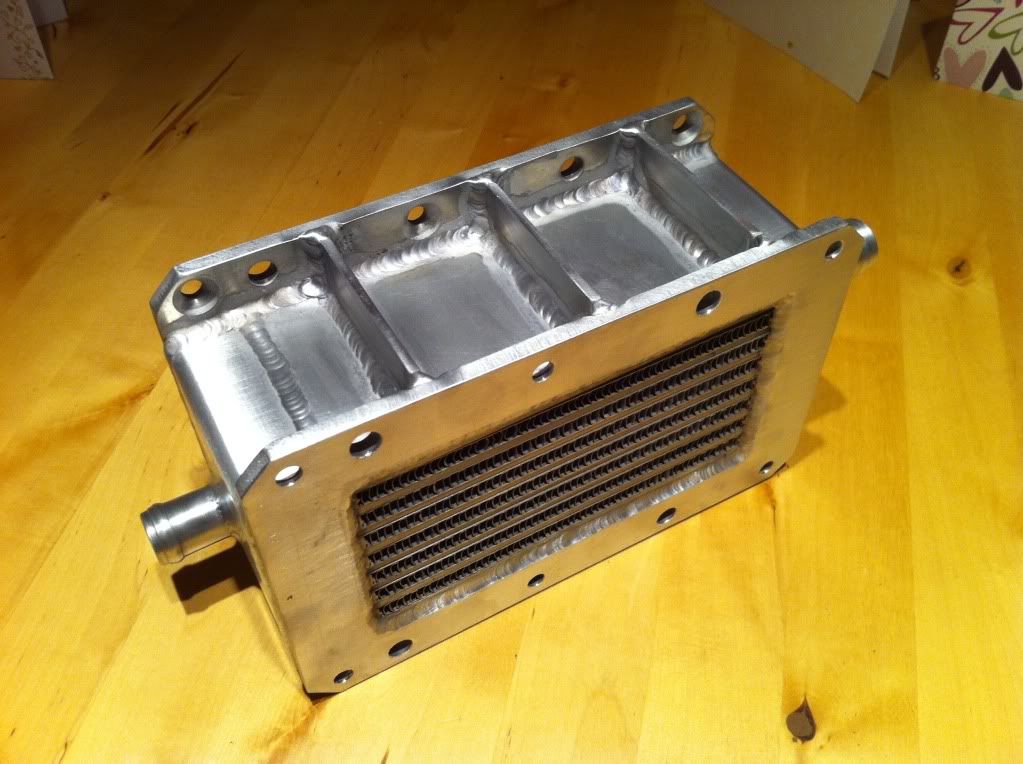 Heatshield:


the OEM gasket and the blank of Acetal - Gasket made for a good template.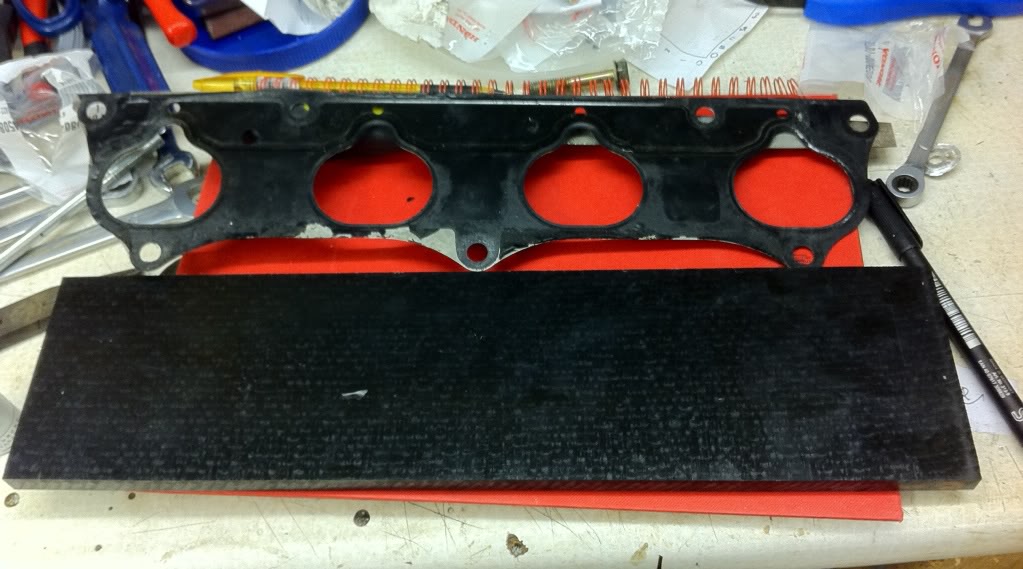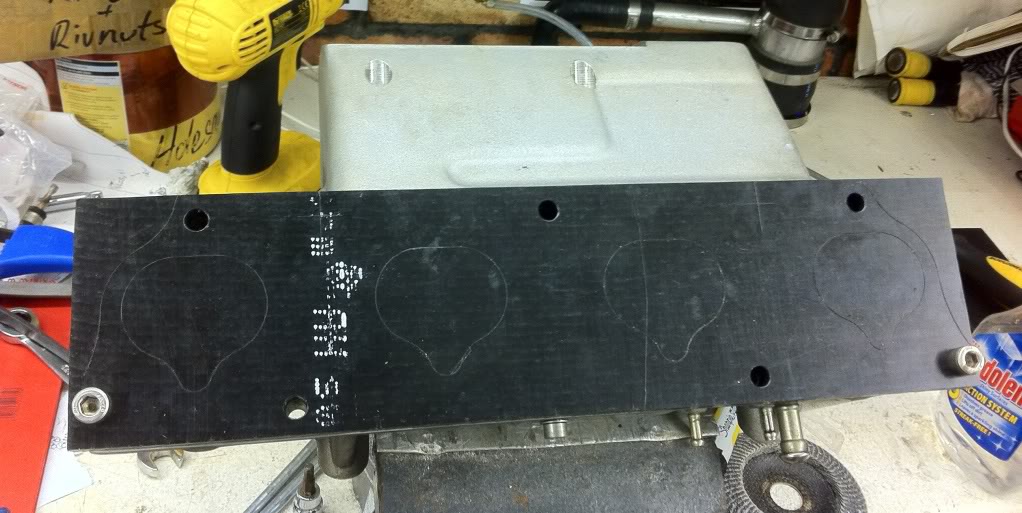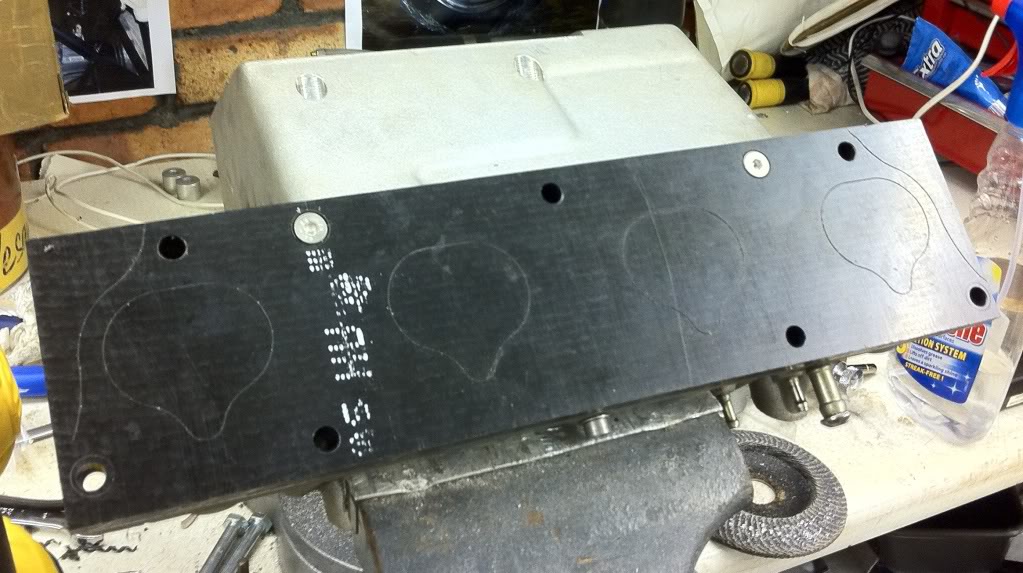 12-31-2011
Heatshield

I managed a few more hours on the car and got the heatshield finished, considering all I used was a pillar drill, hand files and a stanley blade I thought I did alright.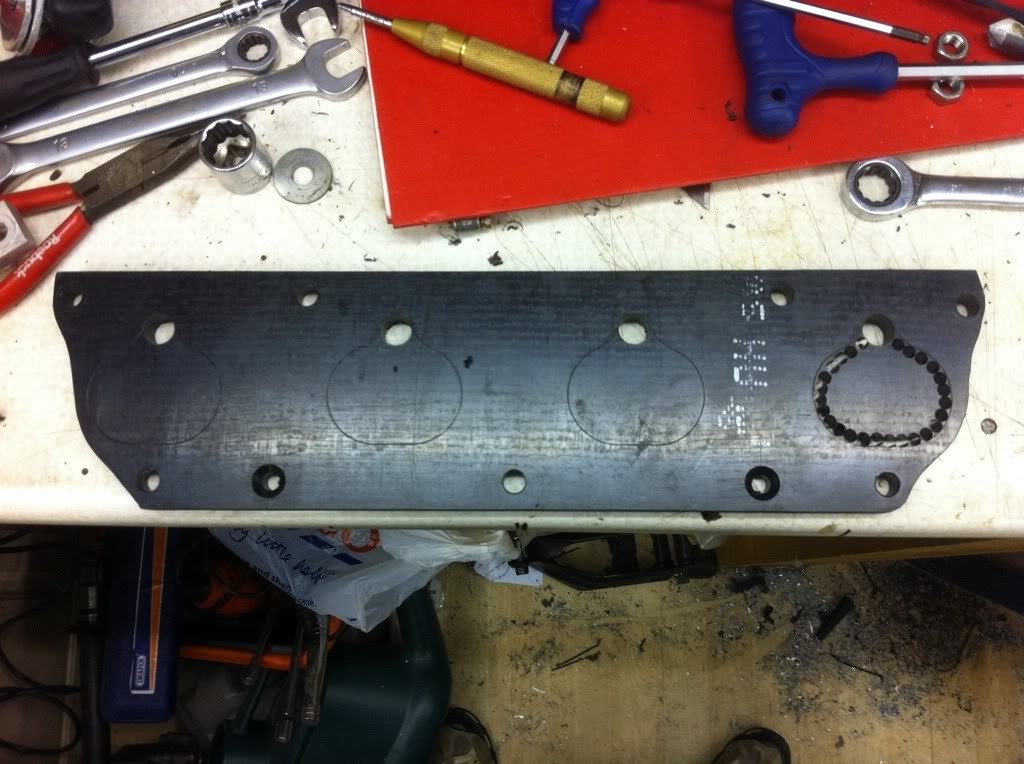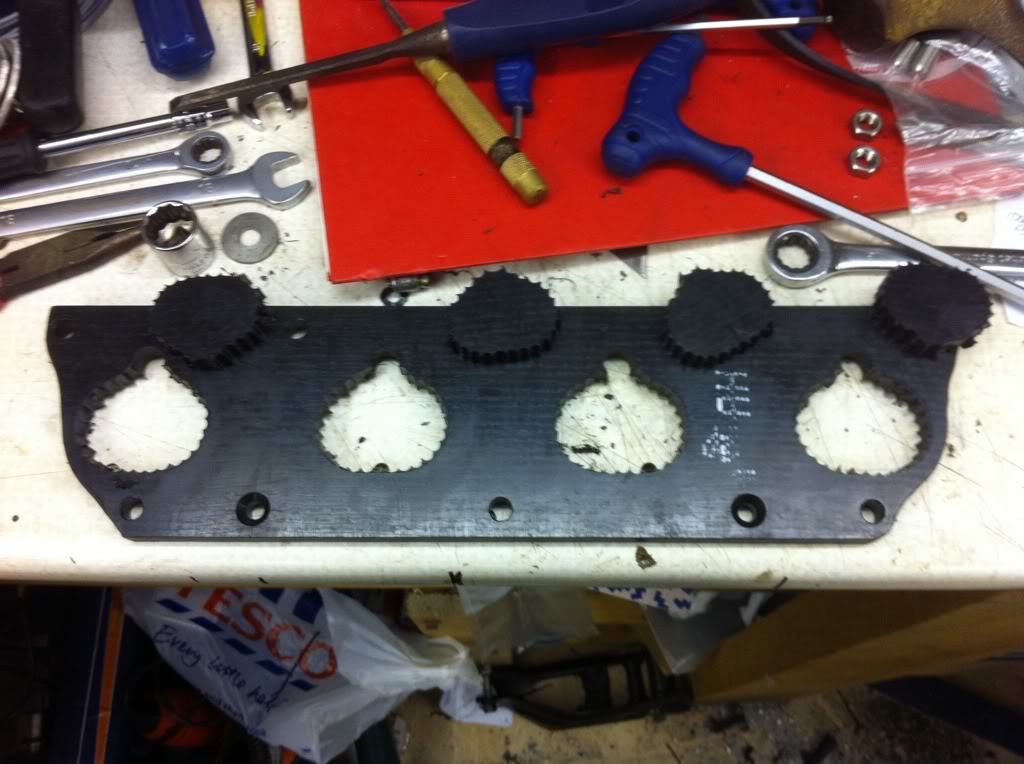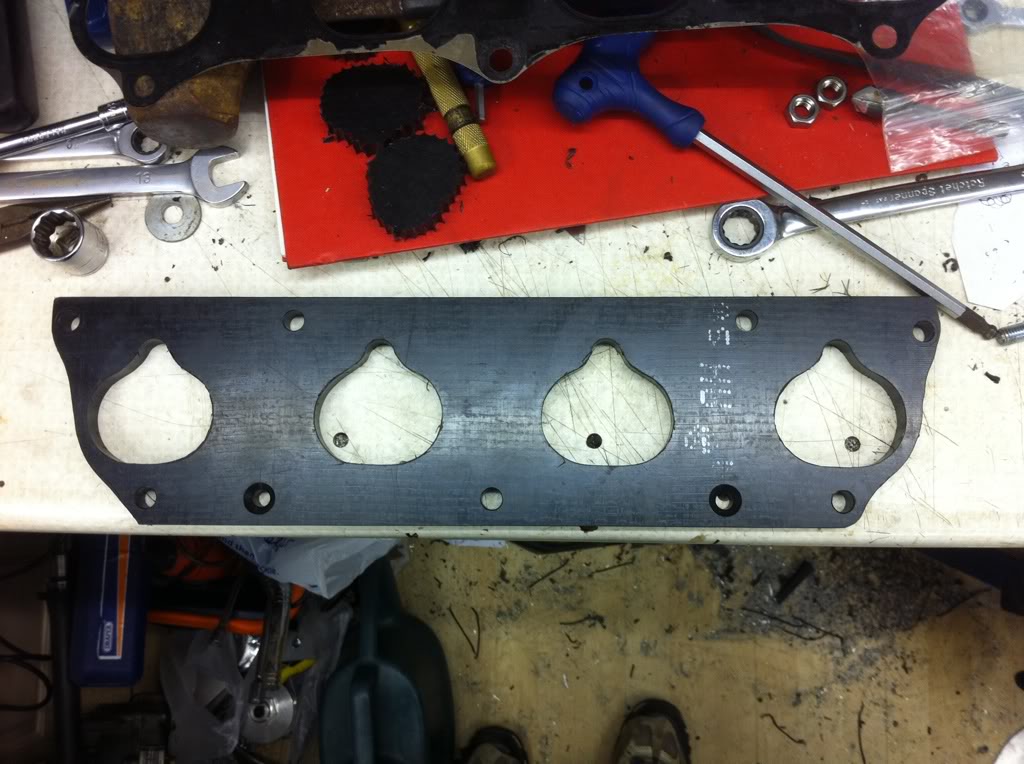 This is one with the OEM gasket over the new Heatshield: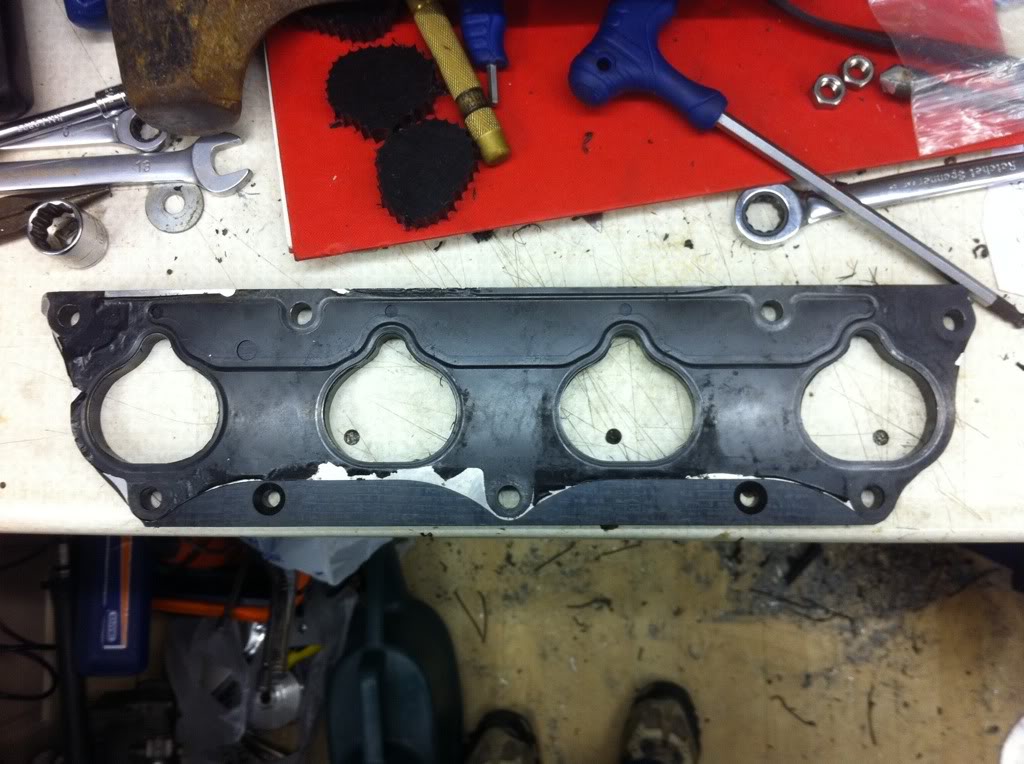 This is with the new Heatshield on the intake manifold, it shows how much the Jackson Racing manifold can be ported to improve the flow. I hope to borrow a die grinder and sort that soon enough.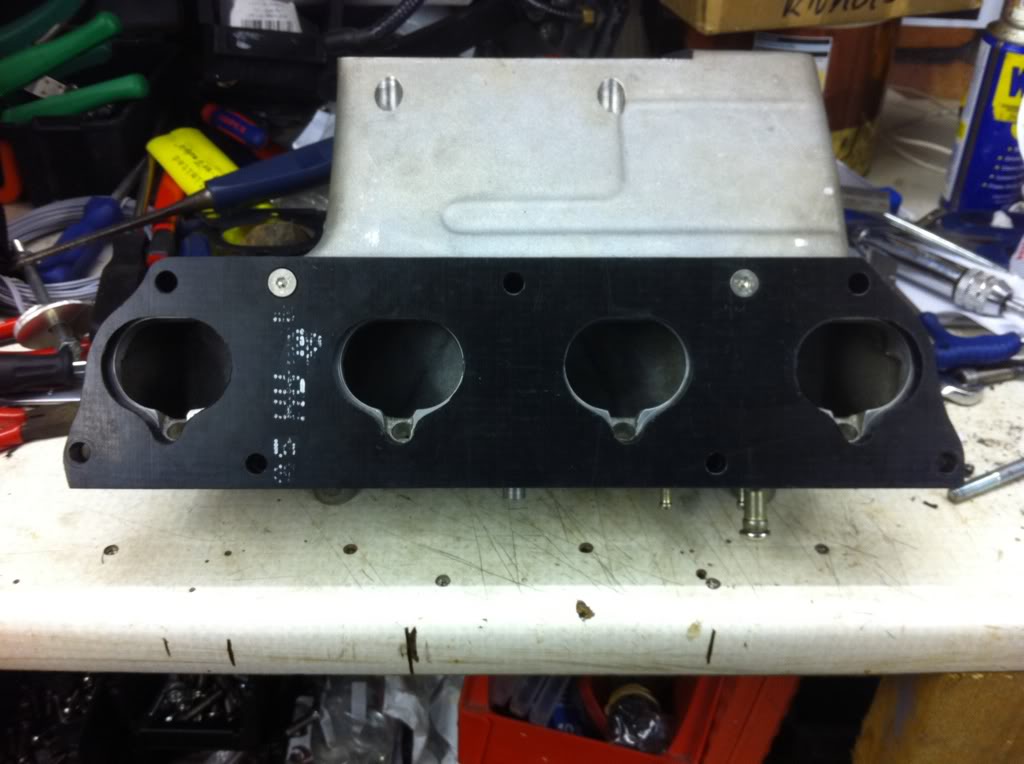 Intercooler Cartridge Adaptor Plates

I made a start to the adaptor plates that will sit either side of the intercooler cartridge, as shown in the CAD model this will make all the air flow through the intercooler. I am still undecided as to whether I use acetal on both side or make the top plate from ali, that way transferring heat from the body of the charger into I/C....mmmm....time will tell. I managed to cut out the central hole but didnt get a picture, all that remains now is to get the sloped edges machined in.

After that I couldnt resist putting the charger on it and then the manifold back on the engine as you see in the photos at the end of the post.

Adaptor plates: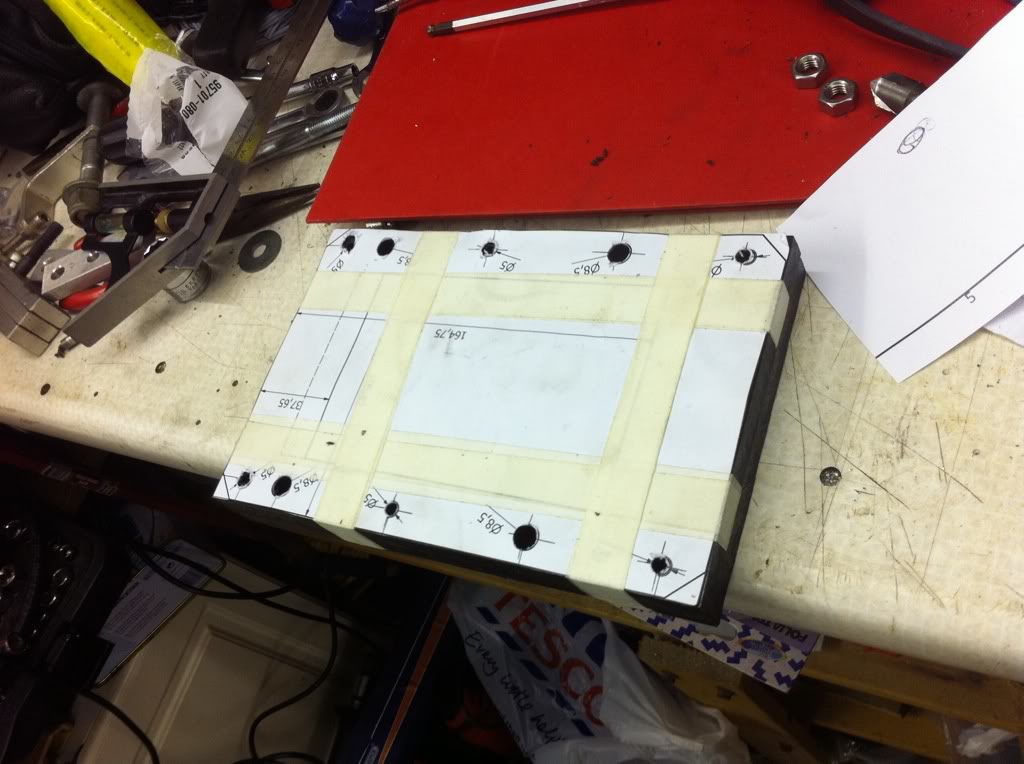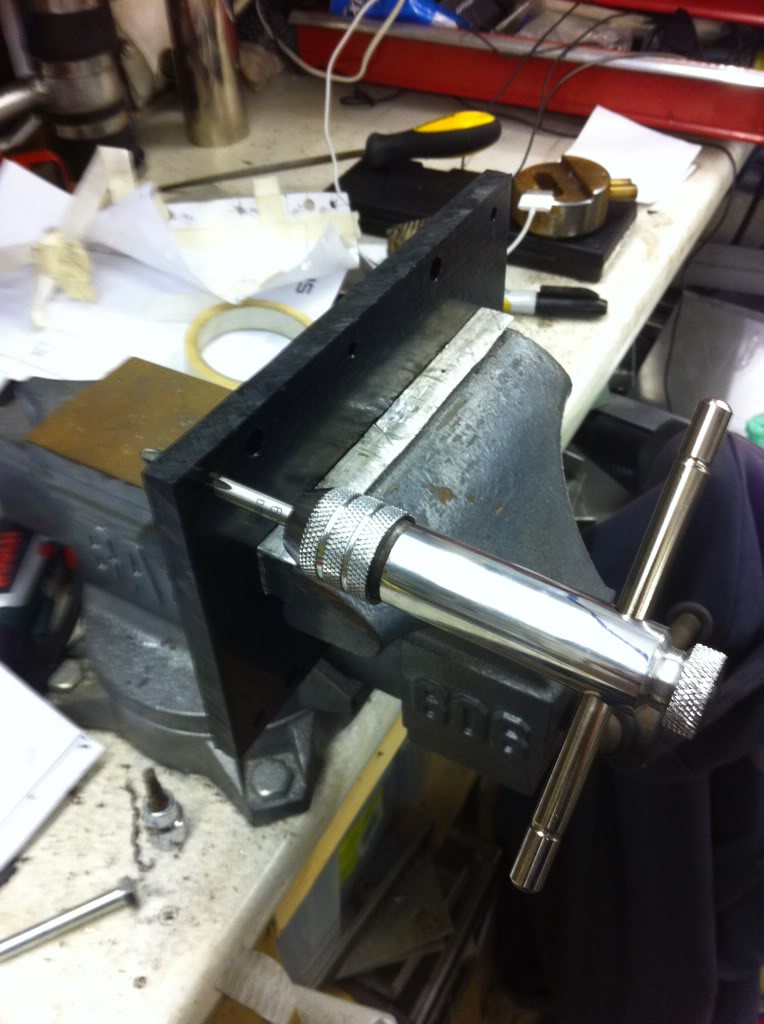 Intercooler Cartridge in place: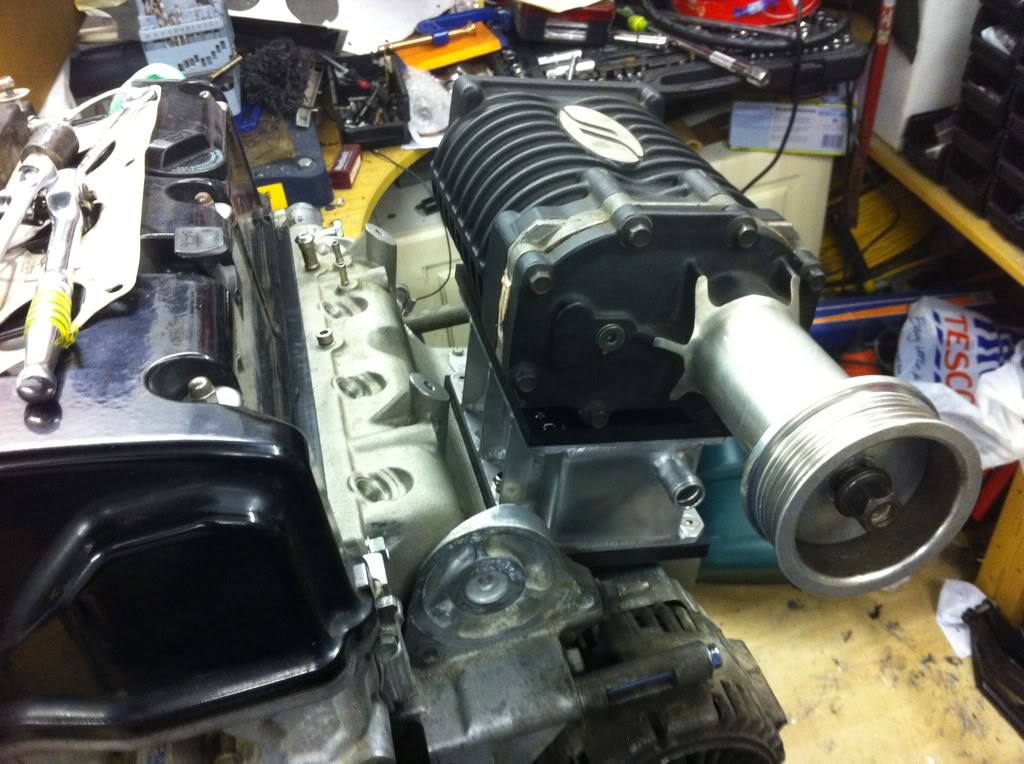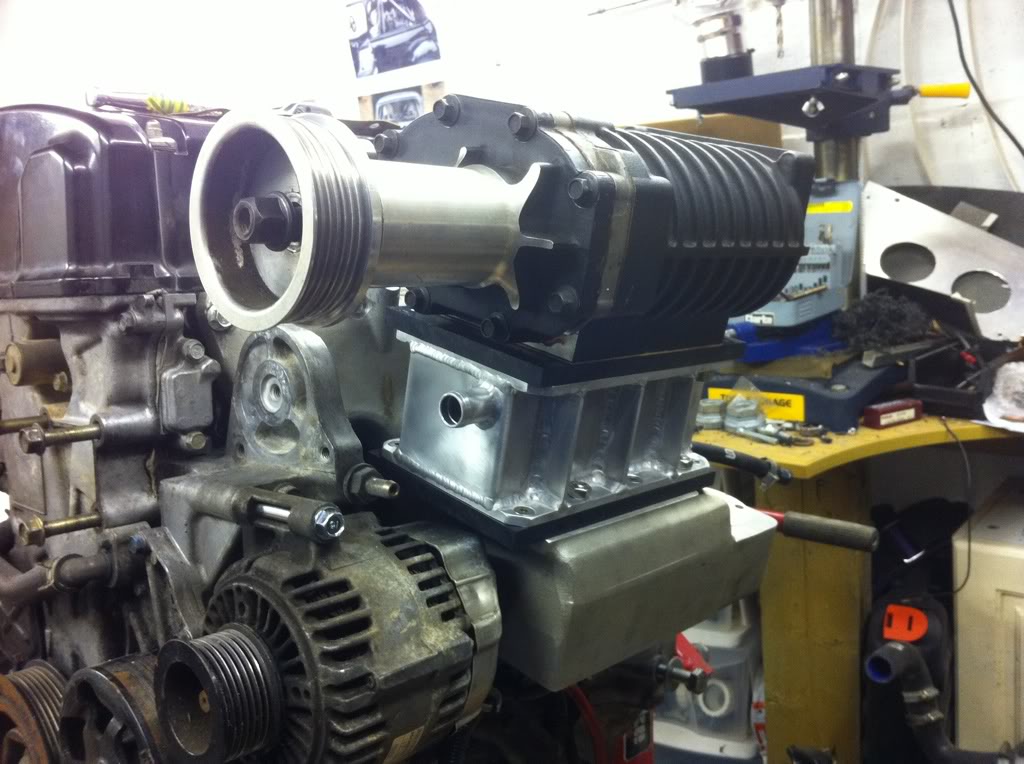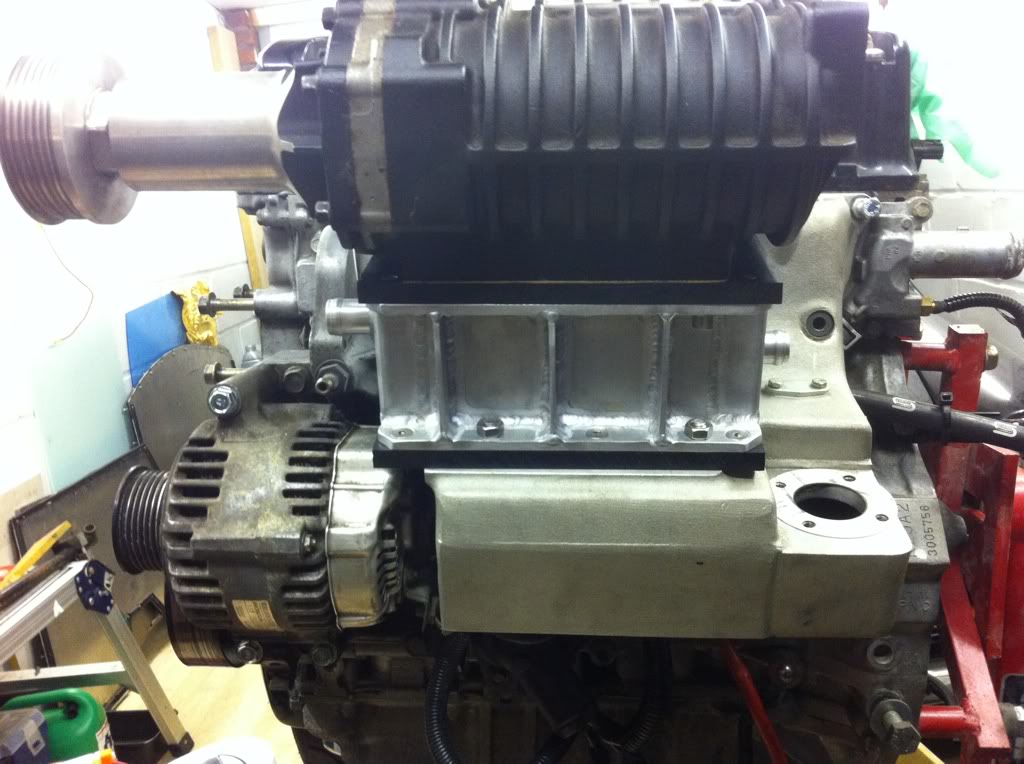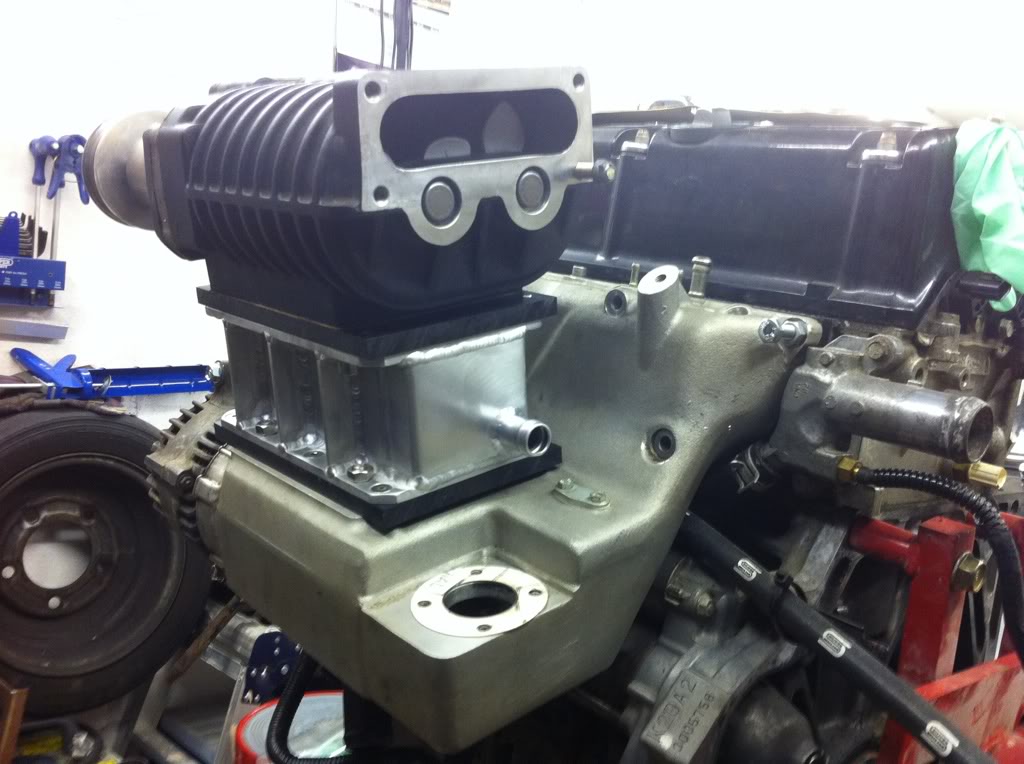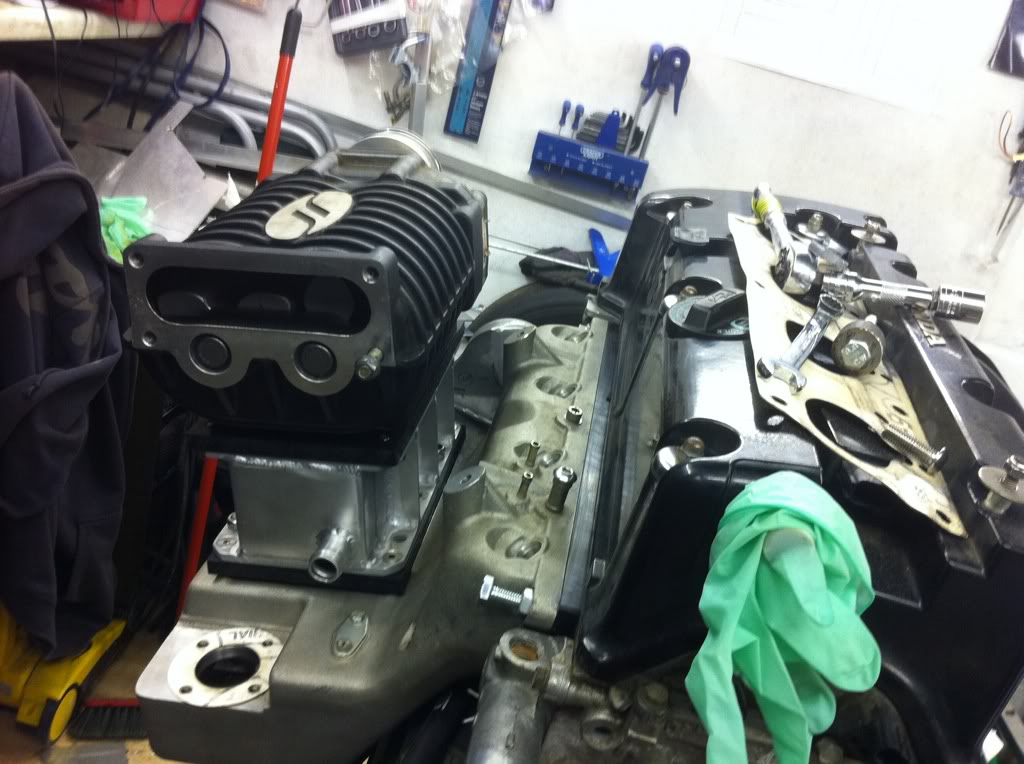 1-11-2012
Bolt Problems

Here's a word from the now '1 fact wiser' person - when taking on a project that means you need bolts of a specific Japanese Industry Stnadard check you can get them before ordering all your parts.

For anyone wanting to order bolts to be used to hold the intake manifold on the bolts you require are JIS 1189 (small head flanged bolt) M8. Due to the 10mm thermal barrier gasket I needed 2x35mm and 5x85mm long bolts, the 35's were not an issue, however the 85's - aaaaaaaaargh.......

I could find a similar type of bolt in titanium at £14 per bolt which you just couldnt justify that amount on bolts. I searched for days on'tinternet and come up empty handed every time.

I then had what alchoholics call 'a moment of clarity' and got on the phone to the guys at my local Honda Stealership, now the parts guy their - James (Yeomans at Chichester) is a legend, he will not only provide me with any Honda part numbers I require so that I might order them somewhere else much cheaper but he also took the time to search the Honda parts system to find me JIS 1189 M8 85mm bolts - geezer......

So to save anyone else the trouble heres the part numbers: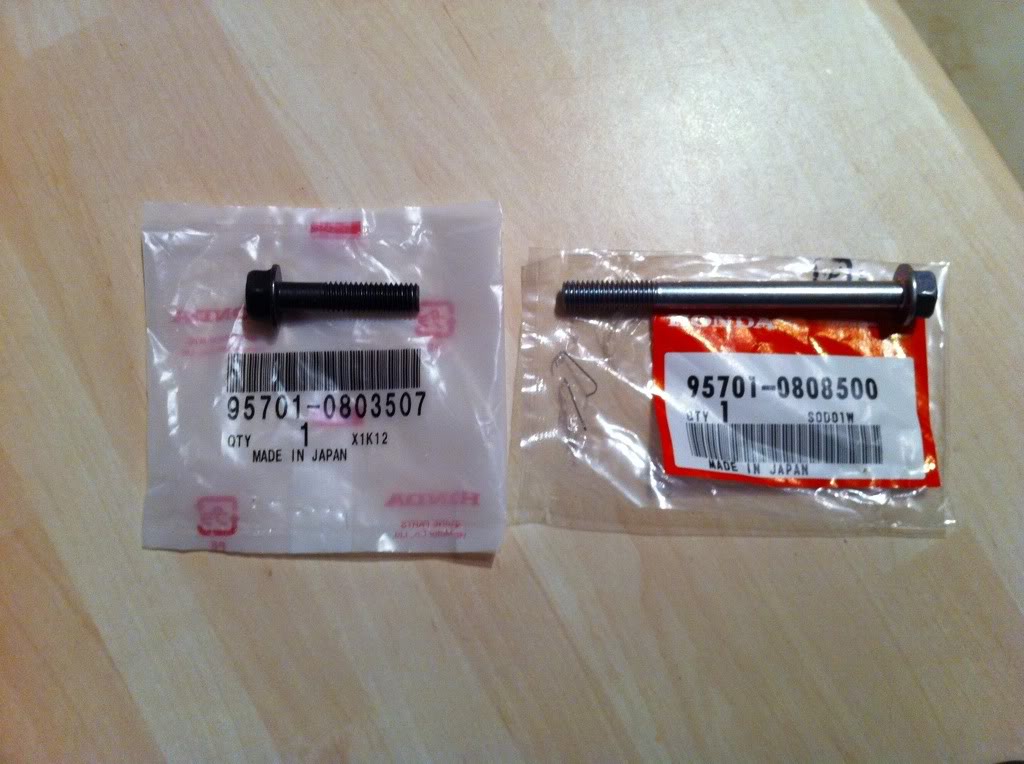 1-18-2012
A few more updates...


I finished my adaptor plates, instead of a flat angled side I used a ball nosed mill cutter. Thanks again to Stevie G for doing this for me.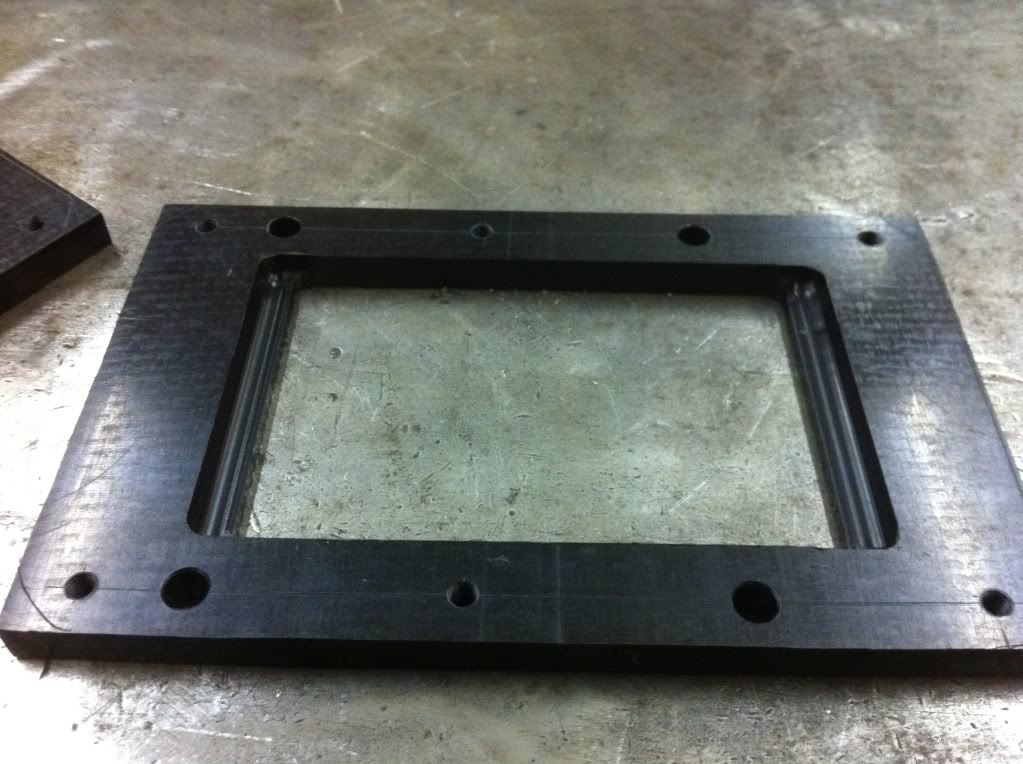 Whilst Steve was milling my adaptor plates I took the time to use his die grinder and open up the inlet ports on the intake manifold, you can see in the picture below the scribed lines taken from the OEM gasket, this shows how the casting isnt the best especially around the injectors so I opened it up and whilst in there I did a bit of flow work on the manifold as it had some 'interesting' angles before the openings.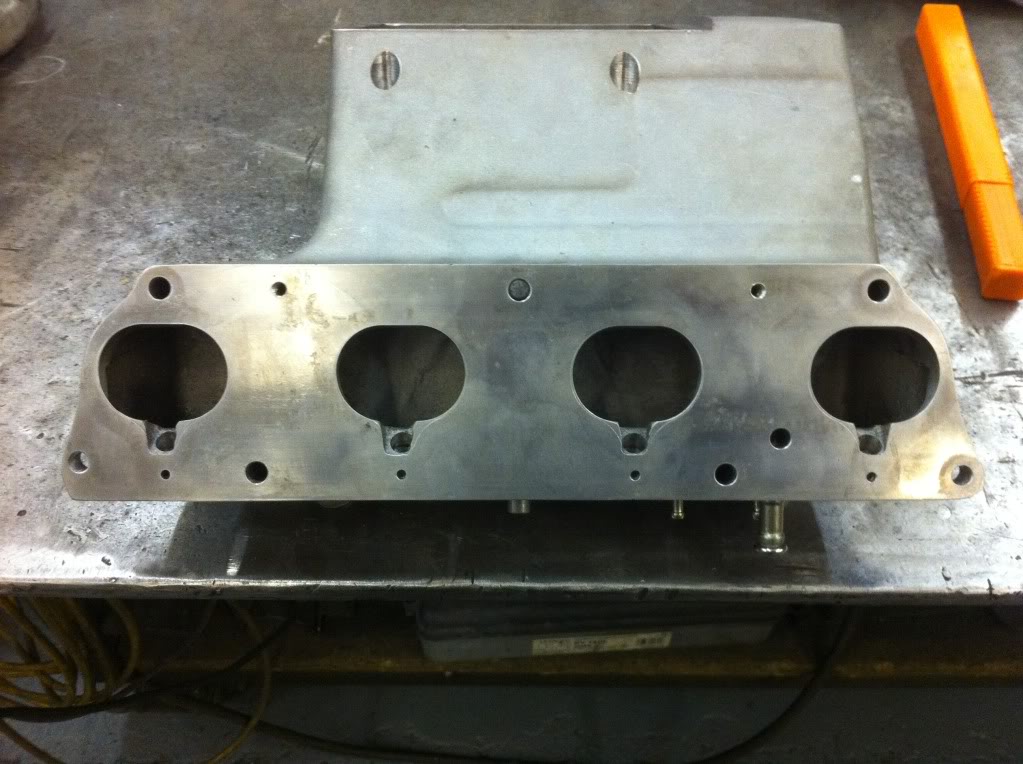 After: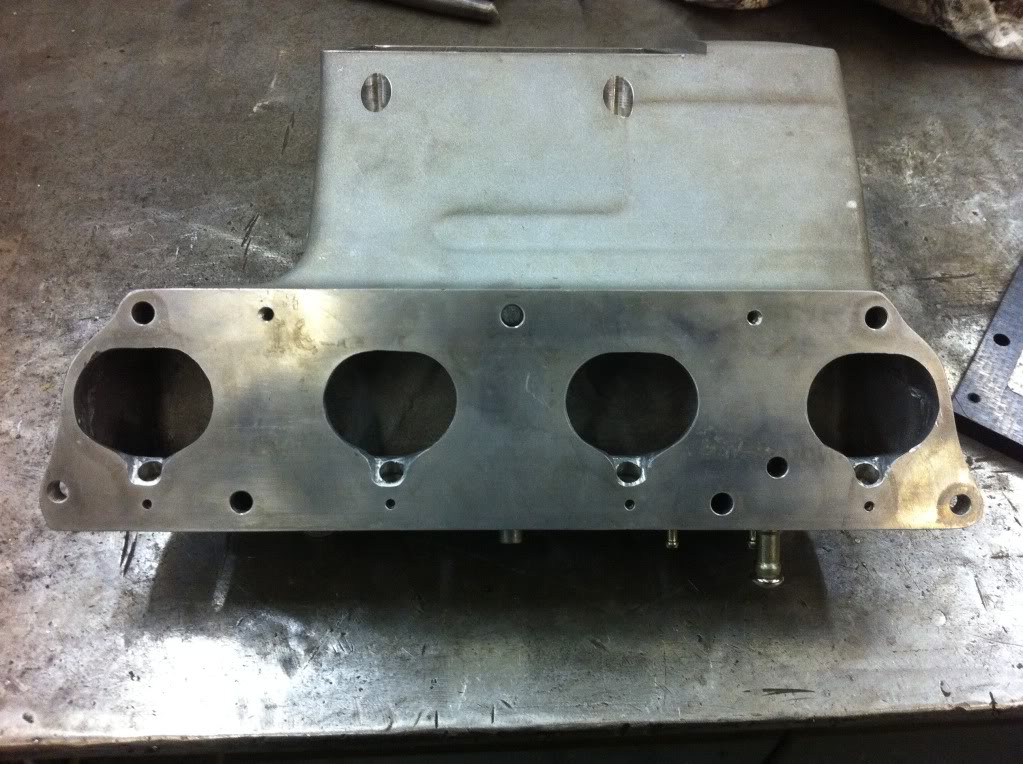 I managed to source a 35mm bolt in a zinc coating from Honda and put the intake manifold on to test fit it and make sure nothing was fouling.



Bolt: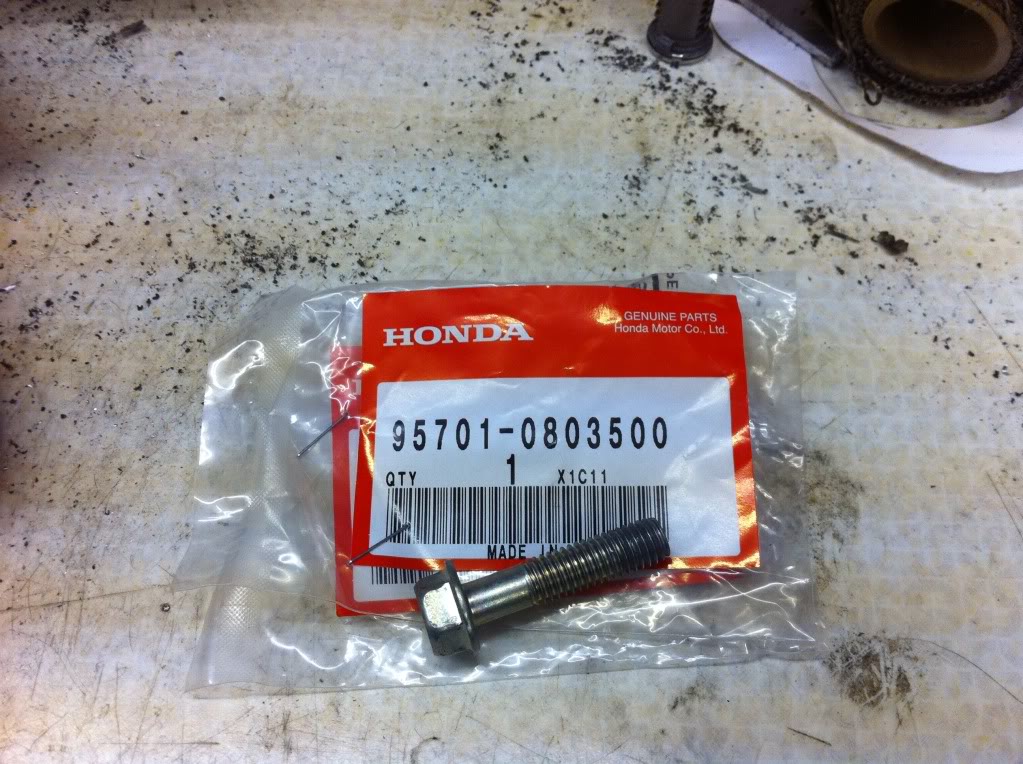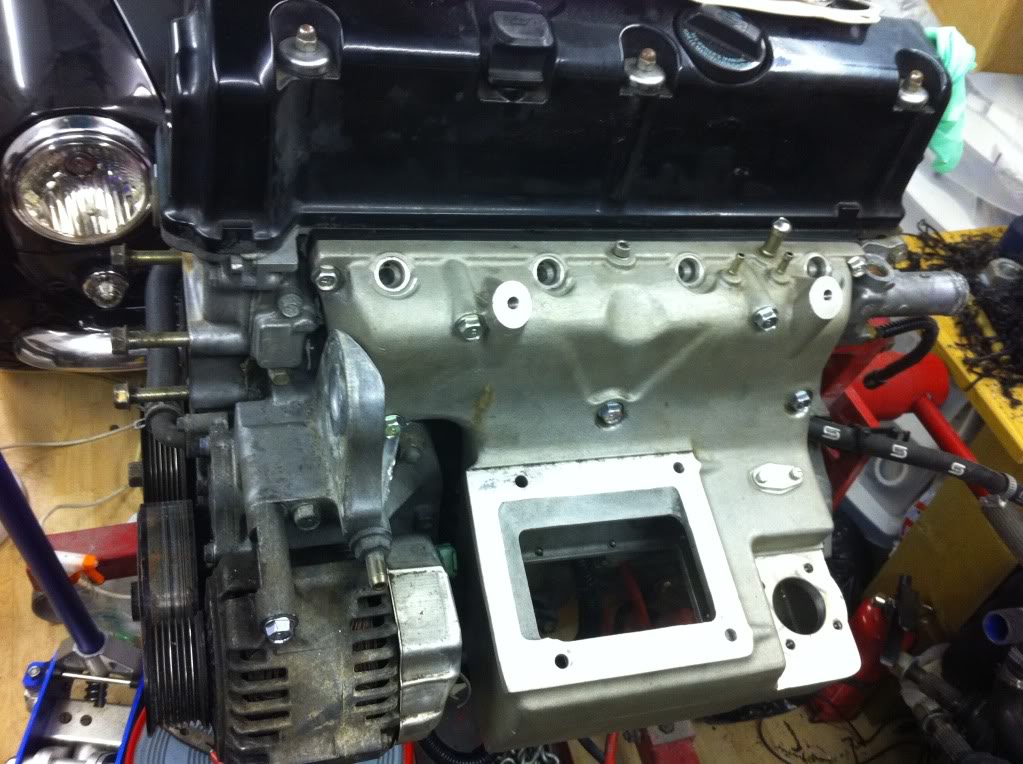 I also got my I/C water pump yesterday from the good ol US of A - its a Johnson CM30 pump, reputedly one of the better 19mm pumps on the market and very compact, even compared to the bosch unit: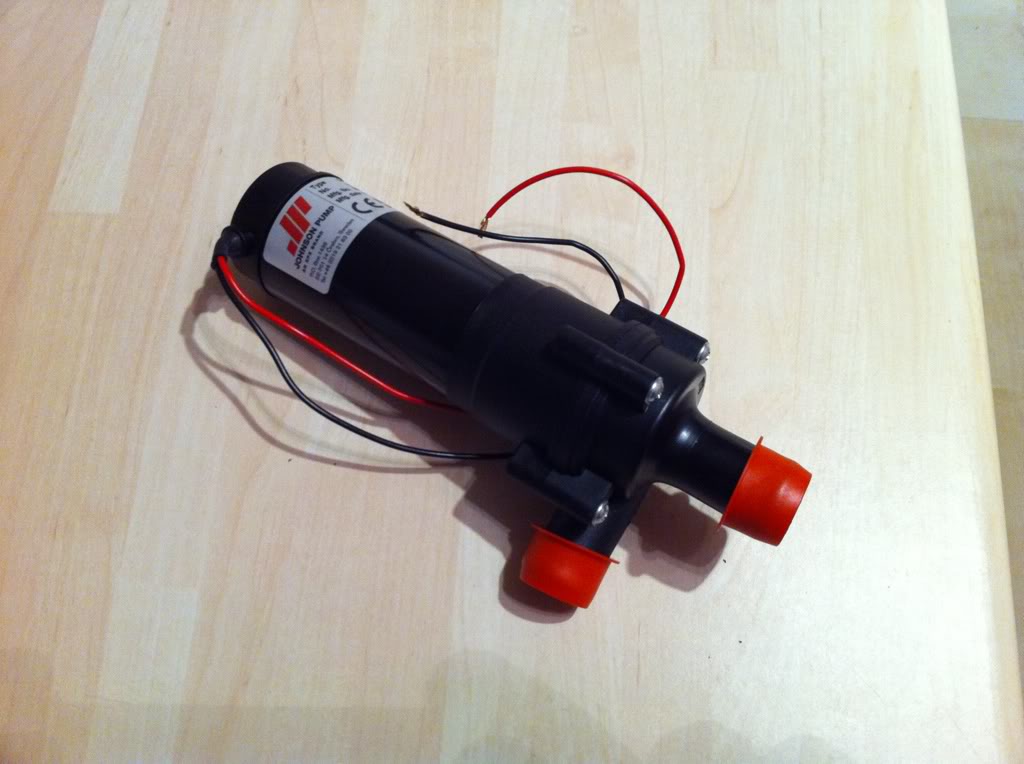 Intercooler Radiator

I got my radiator through today, I ordered it from FrozenBoost in the states as it worked out cheaper including taxes than buying in the UK. Now I have to work out how to squeeze it in behind the grille without too much messing around, time will tell.......


Intercooler Radiator: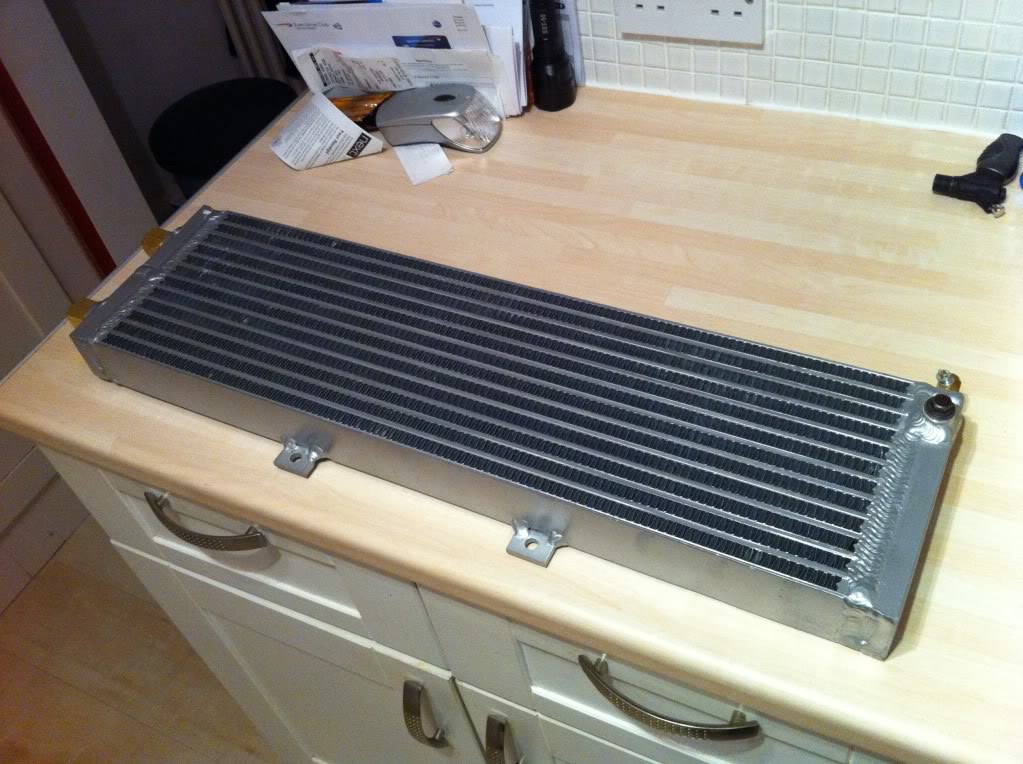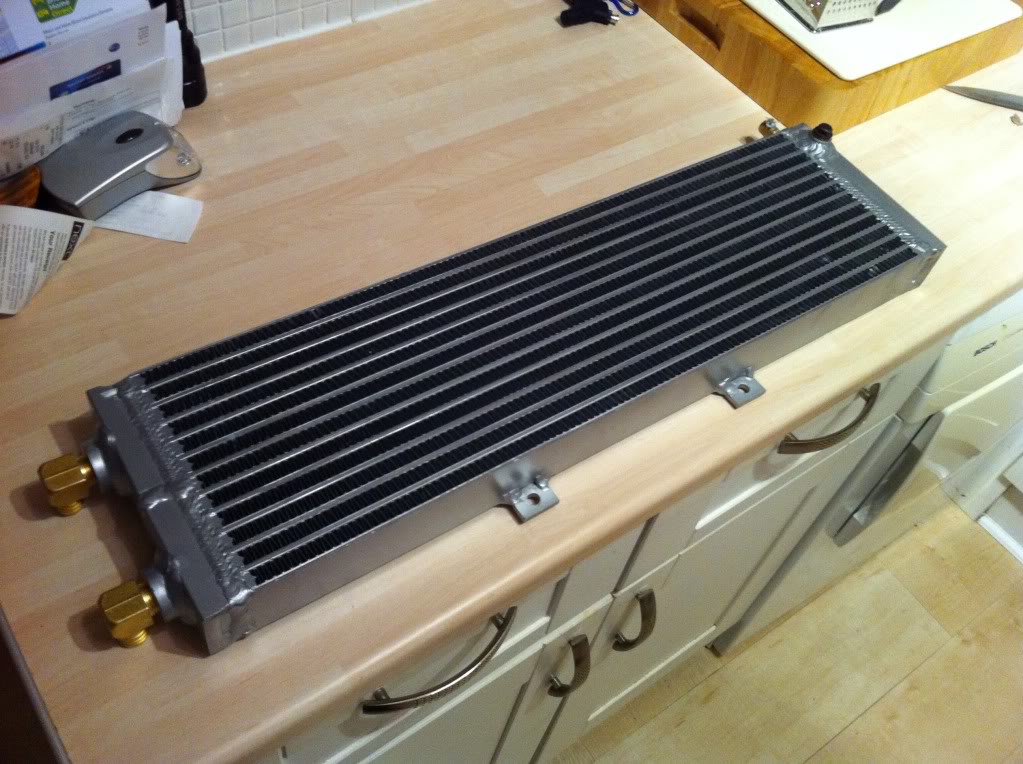 2-1-2012
FLANGES - heh heh heh


Yes I got my flanges through, I now need to machine the tabs and then get them welded into place - simples......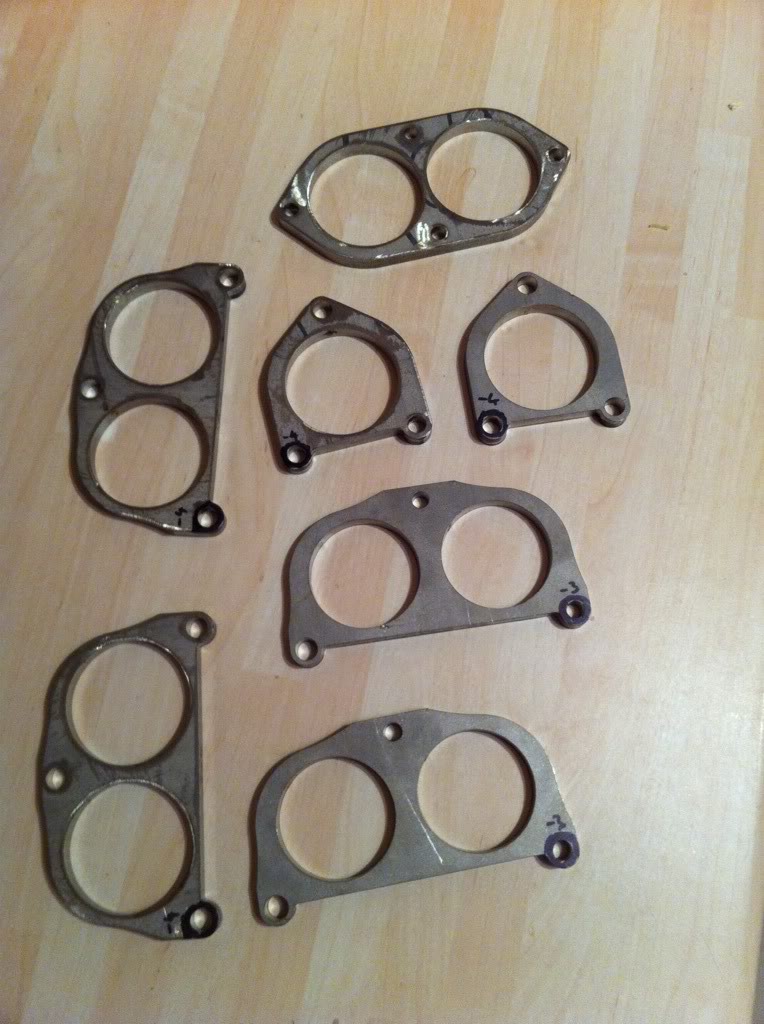 2-16-2012
FLANGES 02

I got some more work done to my exhaust system last night, flanges are machined now so that they overlap (thanks Steve) and I threaded the holes that required threading. Even though they now overlap there appears to have been an amount of distortion during the laser cutting process so what looks like a nice straight edge where the two flanges meet it is infact a nice curved edge so I need to make that flat now. One of the flanges fits like an absolute dream as you can see in the photos there is one flange sat on the pipe where it goes from 2 to 1 and then round 180degs. Fingers crossed this should I should have done enough fettling by the end of the weekend to get this little lot welded up to a point then I need engine back in before I can weld the last two pieces in place.

I made a list of stuff to do before April and I have come to the decision that I really need to extract the digit if I am going to get it remapped and ready for RAF Marham late April........


Pictures of flanges - heh heh heh.......I know its childish but hey........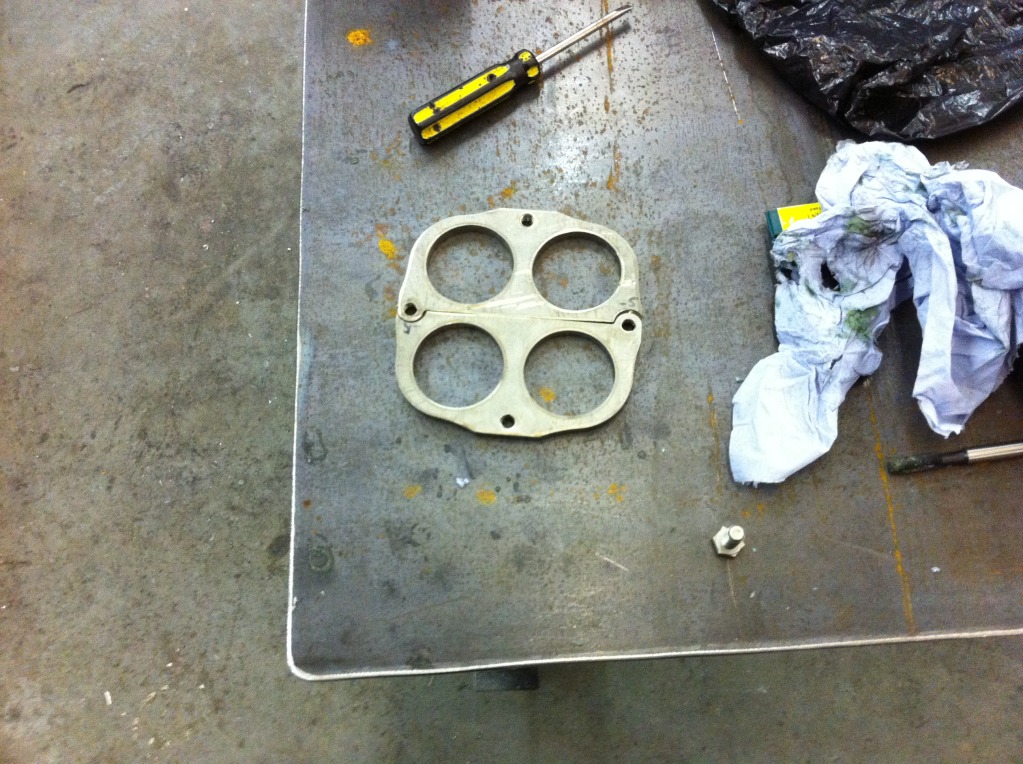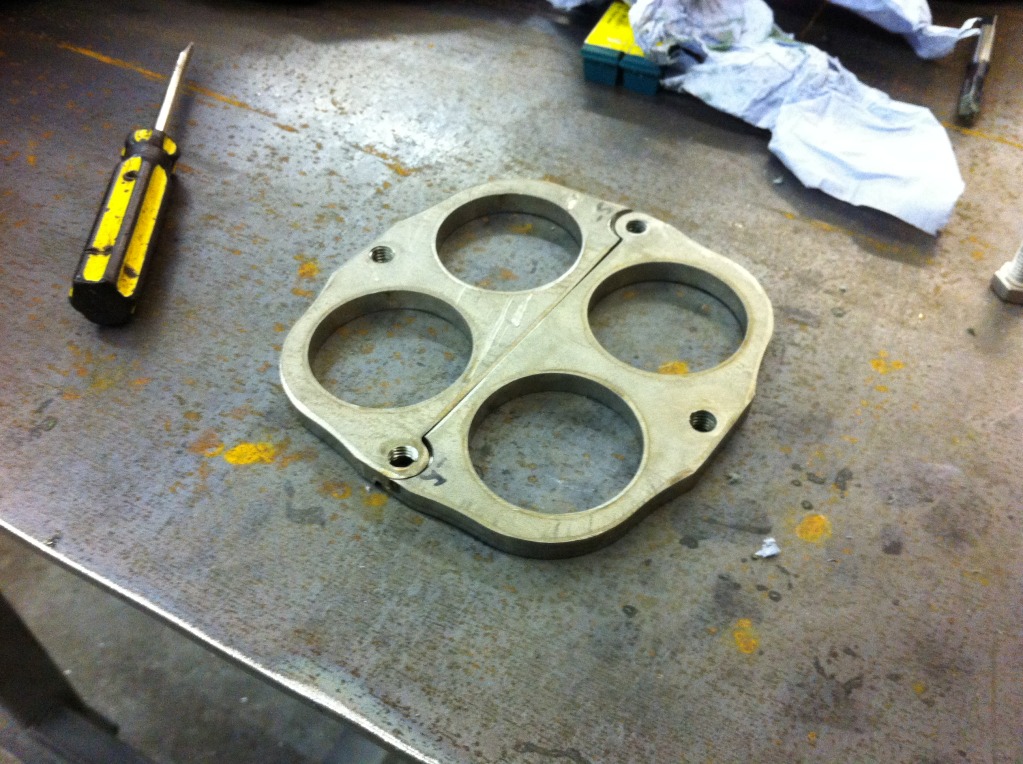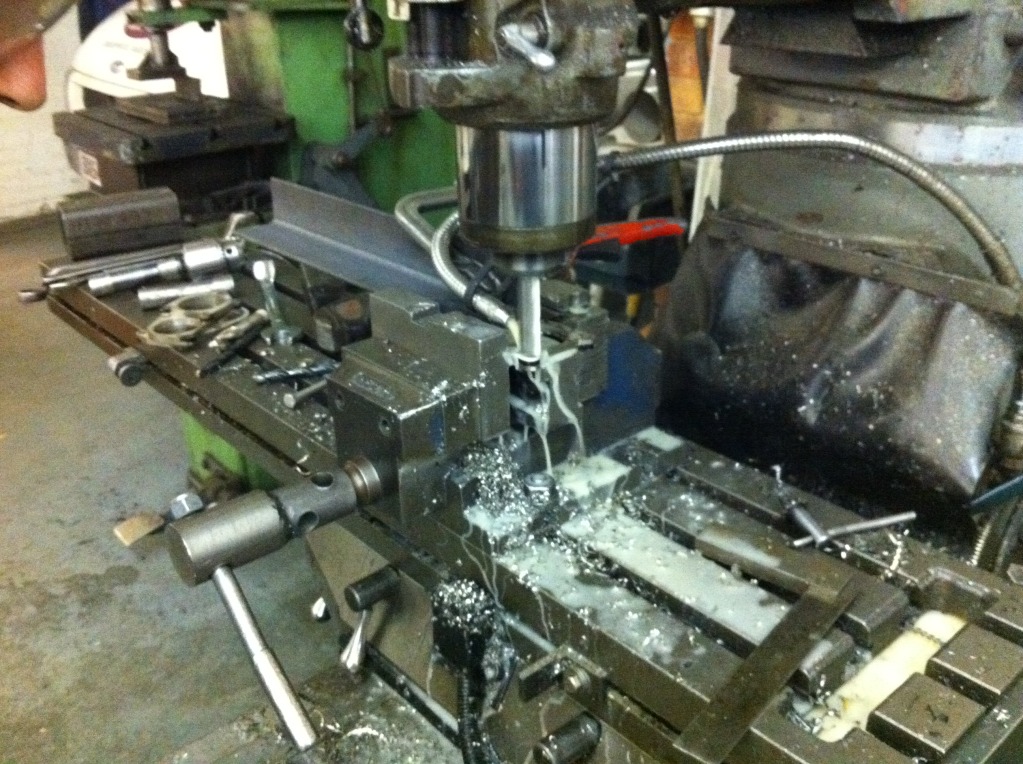 These are of me removing the old spring connections - basically a loop of welding wire that you hook the spring to to hold the exhaust system together - great if you're racing as it saves weight and you can pull the system apart really easily, however in a road car not great as they leak fumes into the engine bay/cabin and the loops of wire snap off, in turn your springs drop off and let even more fumes into the cabin.....moan over.....


A snapped loop: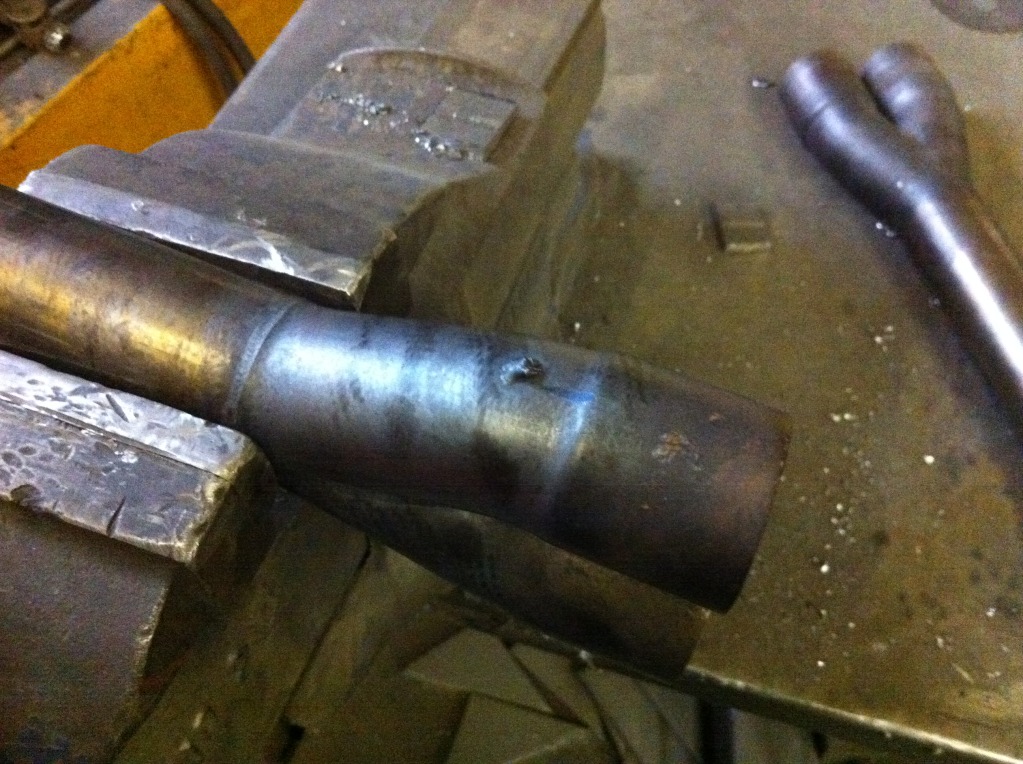 A recently removed loop and some old loops: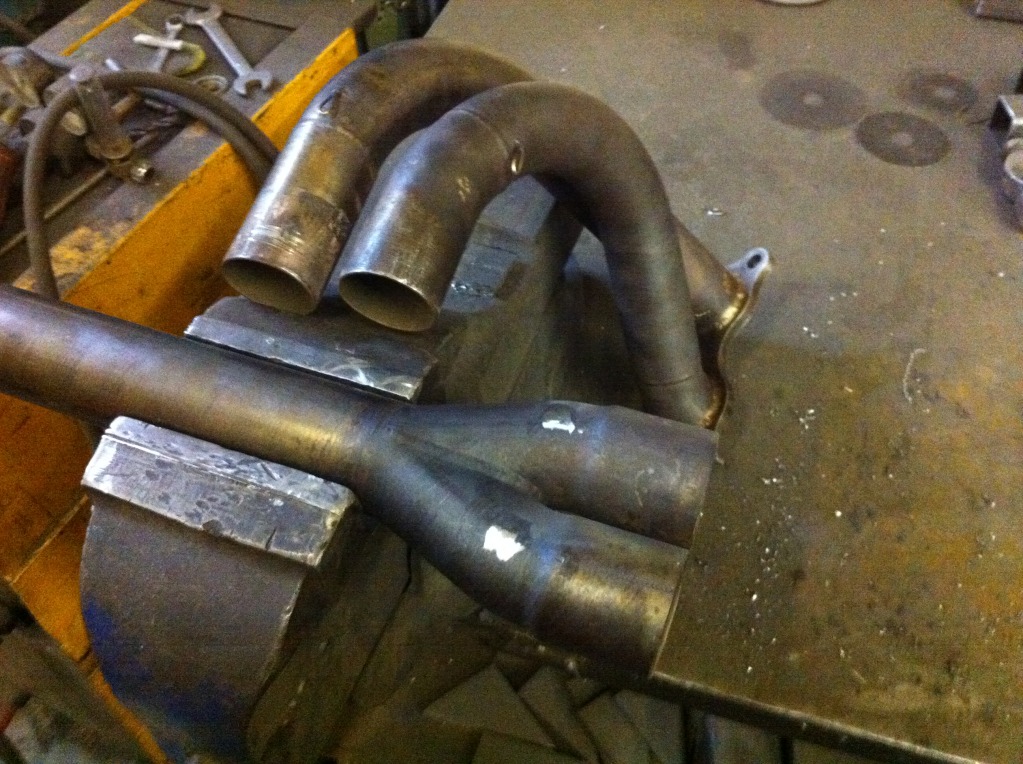 General photo - you can see the good flange in this one: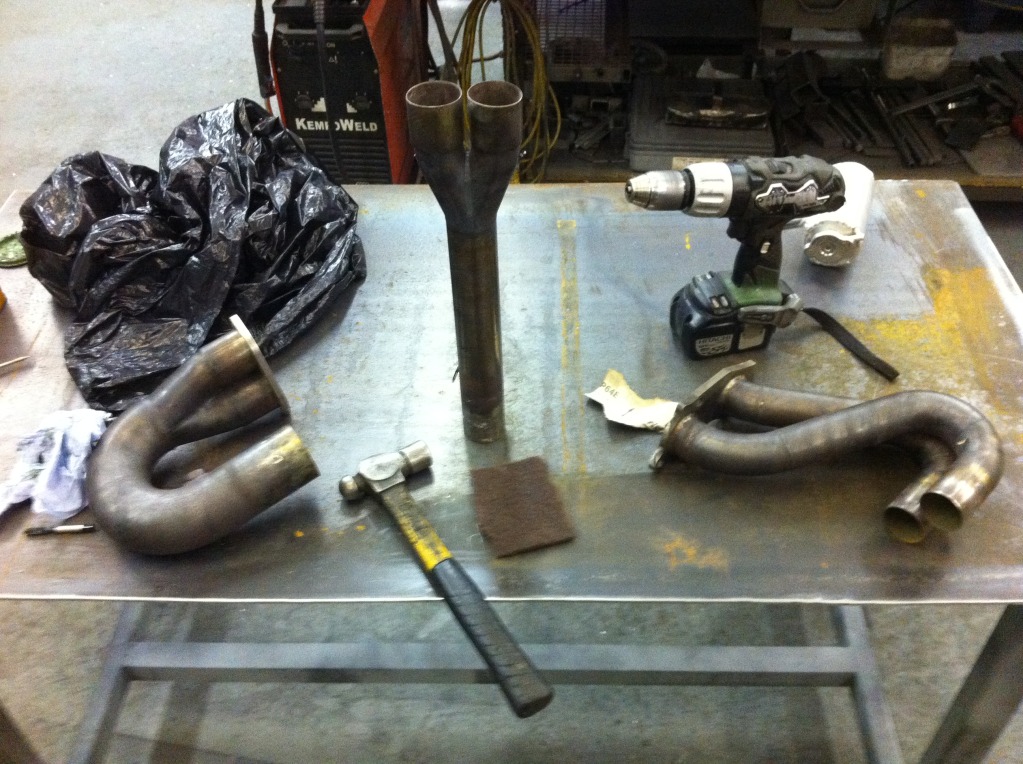 2-19-2012
MORE FLANGES...


After an amount of fettling I managed to get all the flanges to sit sweet with each other and offered them to their relative flanges and test bolted them together as you can see in the photos below. I then fitted the flanges onto the pipes with a little persuasion. One thing that has come to light is that I will need to make a slight alteration to one half of the headers (header comes in two pieces, two pipes on each), you can also see this on the photos below.

I am going to be working on the car today so hope to have more progress to show......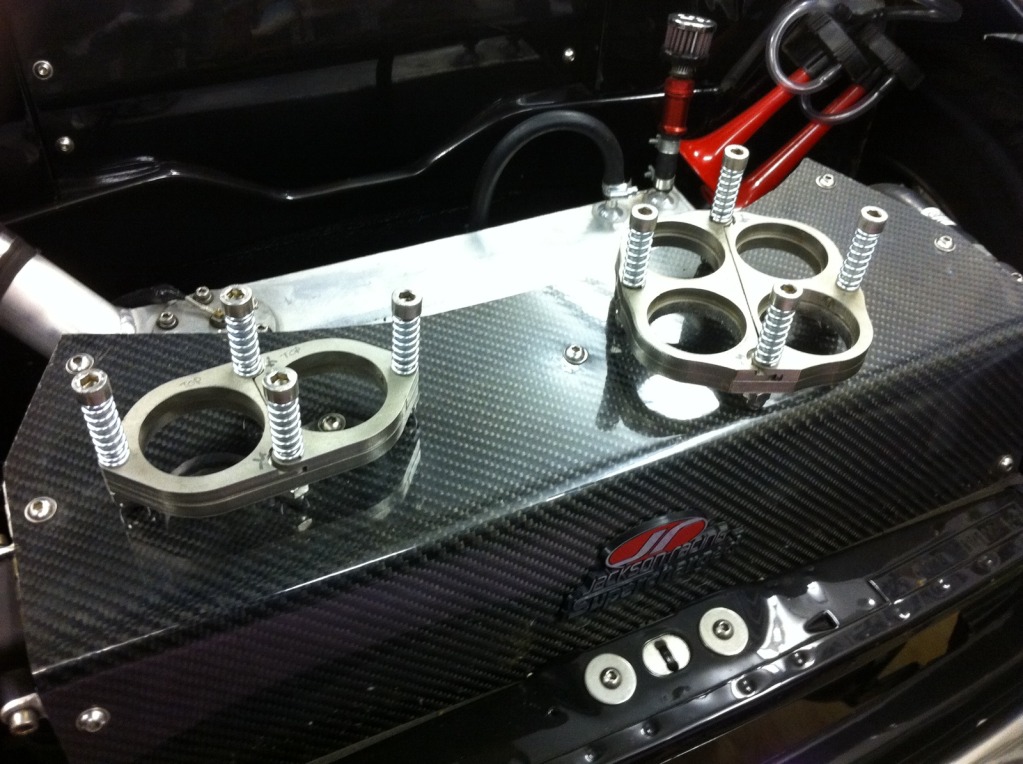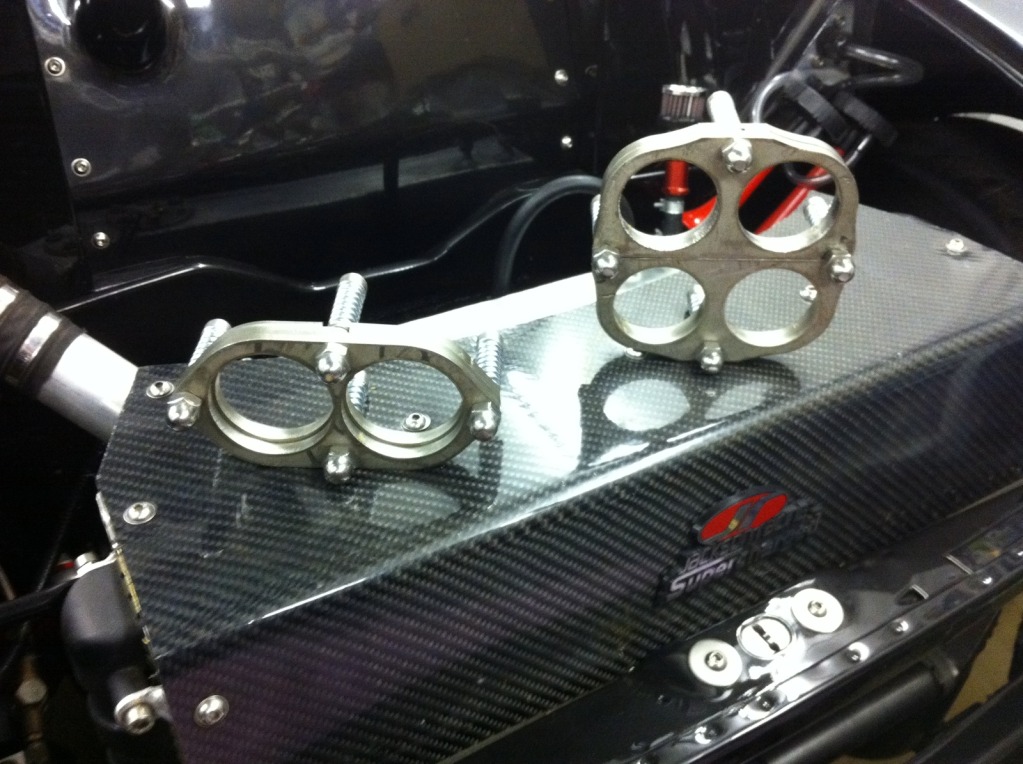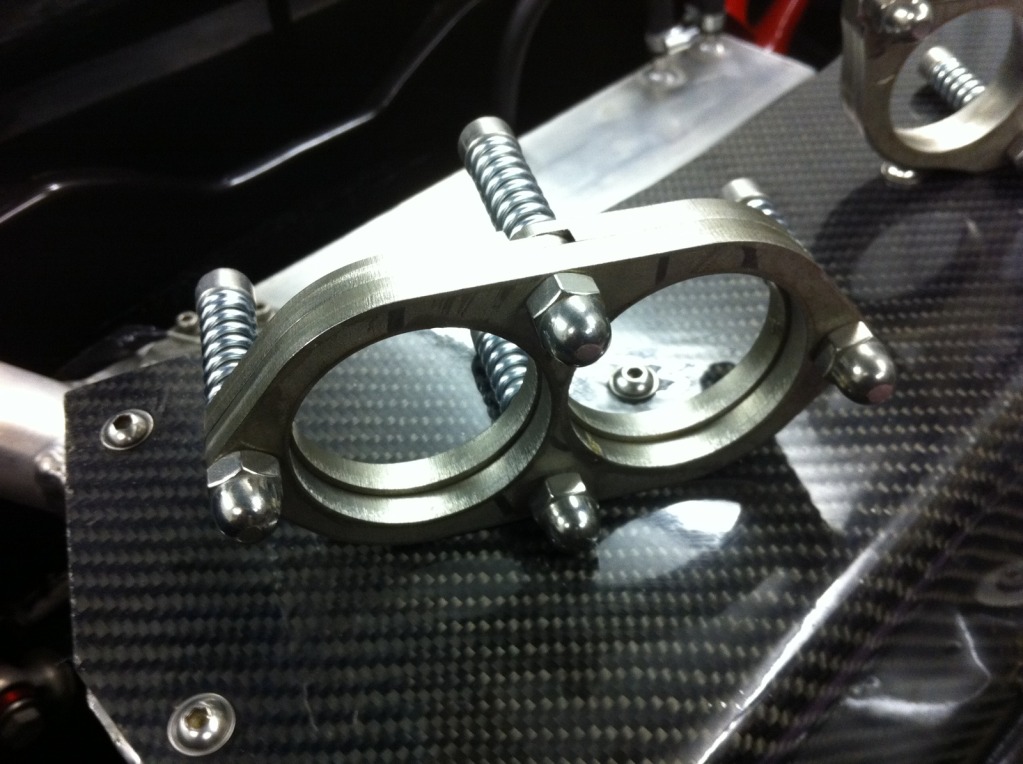 Offering the pipes to each other to get a feel if everything was ok: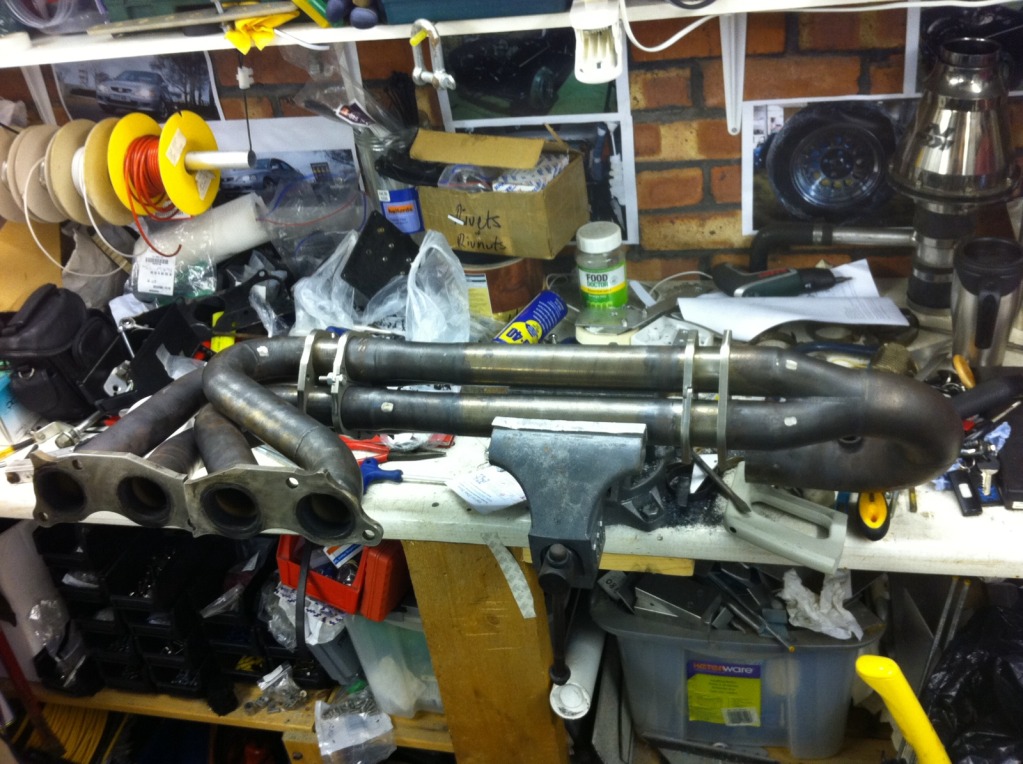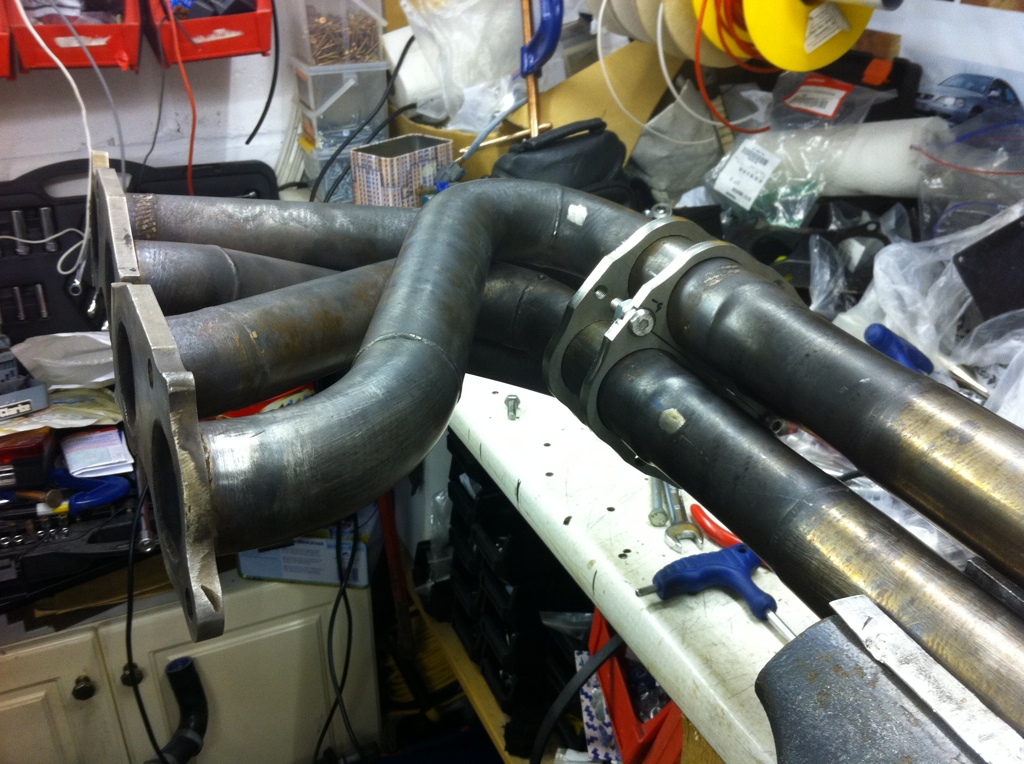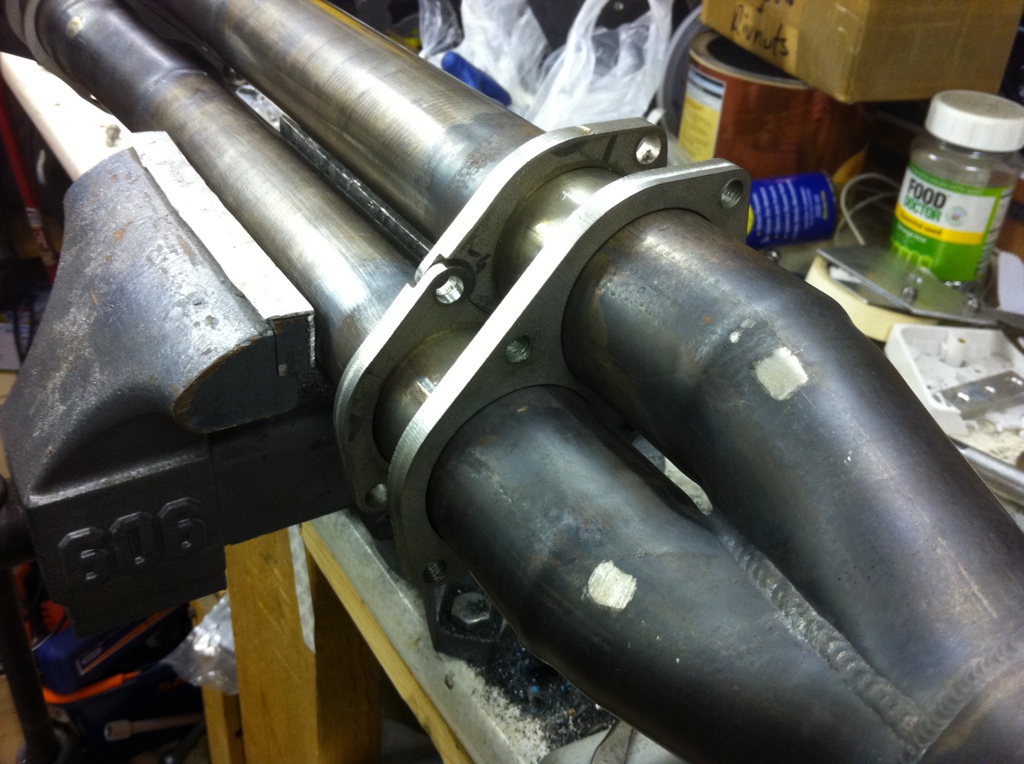 Finally the new misalignment of the header manifold: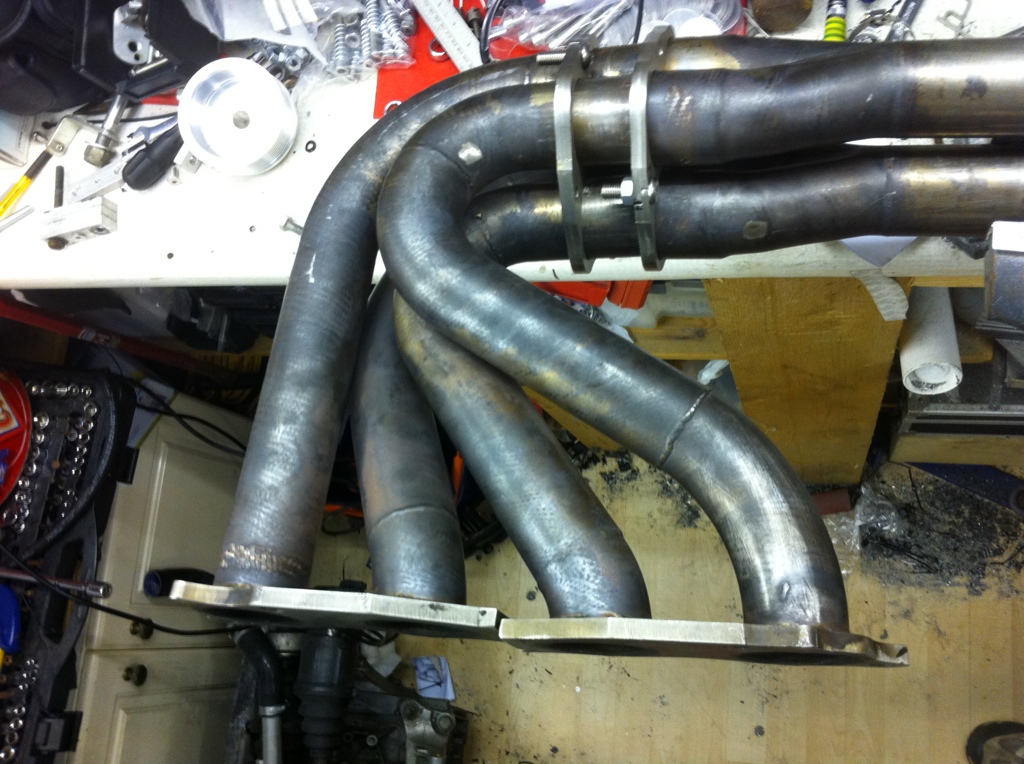 PRE RAD - BIT OF A SQUEEZE

I spent the morning trying fit my pre-rad in, safe to say it wasnt straight forward. The front engine radiator mount had to be removed and the lump of pastic that was the fixing hole on the engine radiator. The tabs that were on the top and bottom of the pre-rad needed to be removed, then it was a quick snap fo the engine rad as is then I began work and it'll never look the same again.

So a run of photos showing the rad how it is now then onto offering it up, chopping the mount and finally the pre-rad in situ......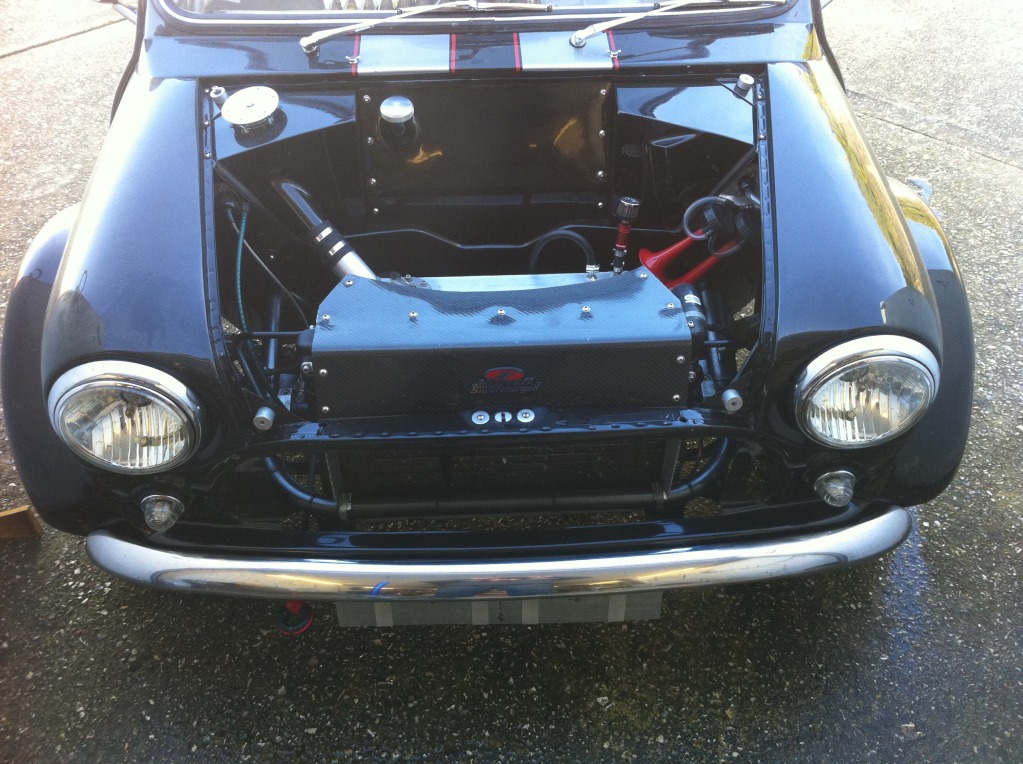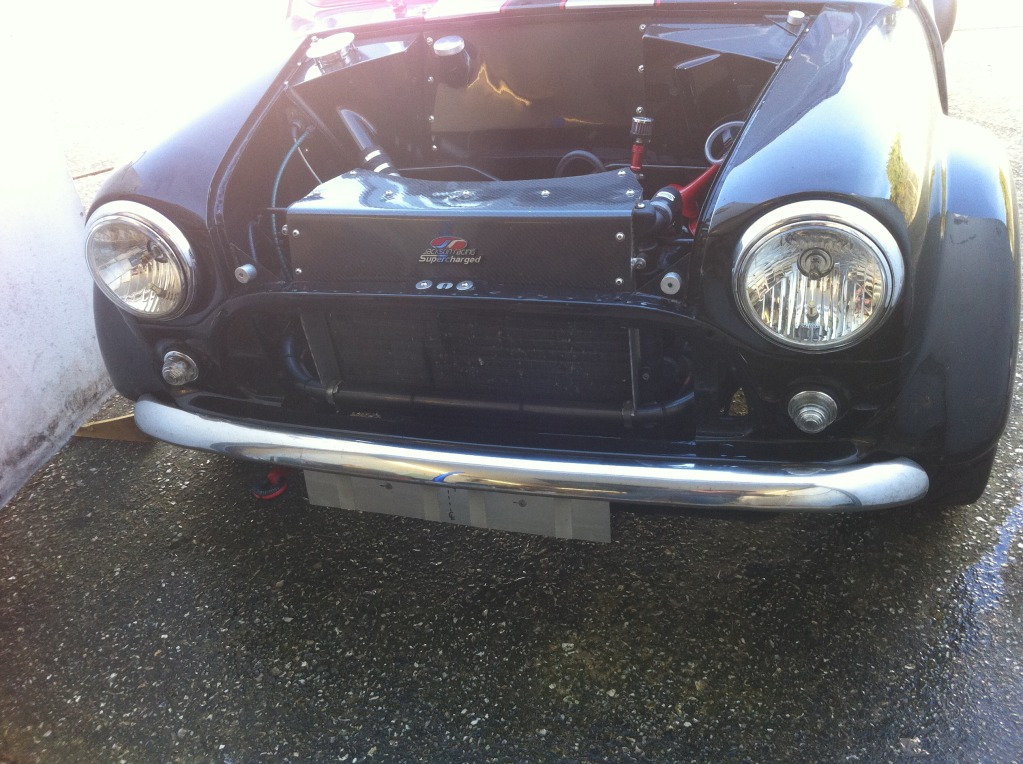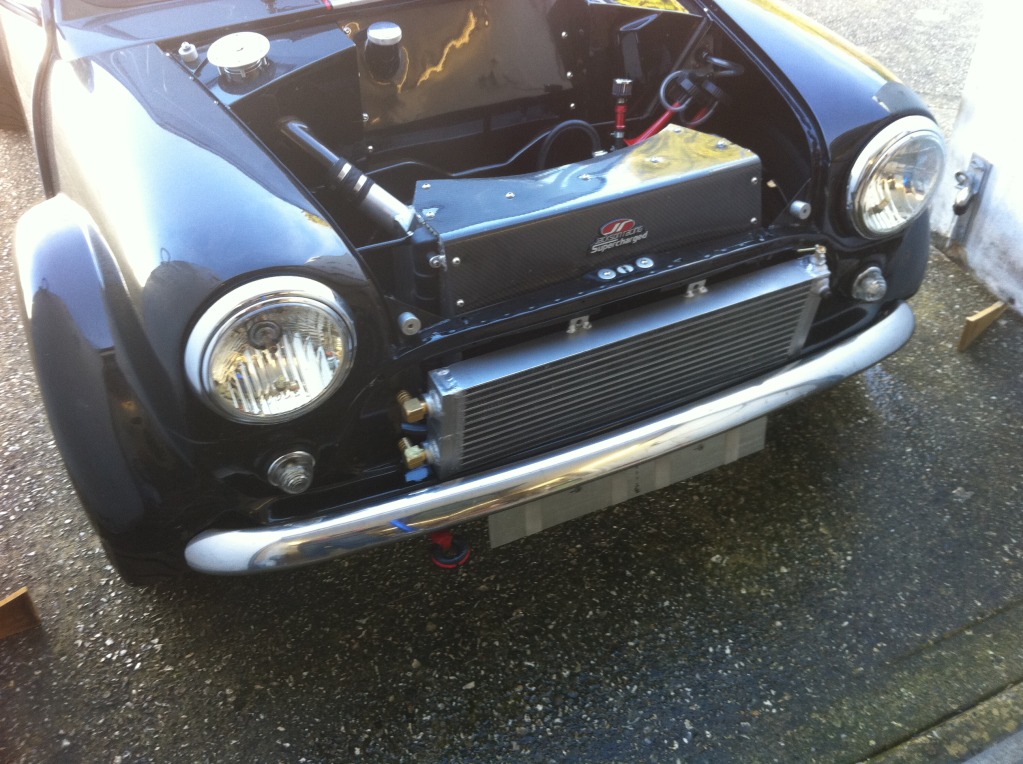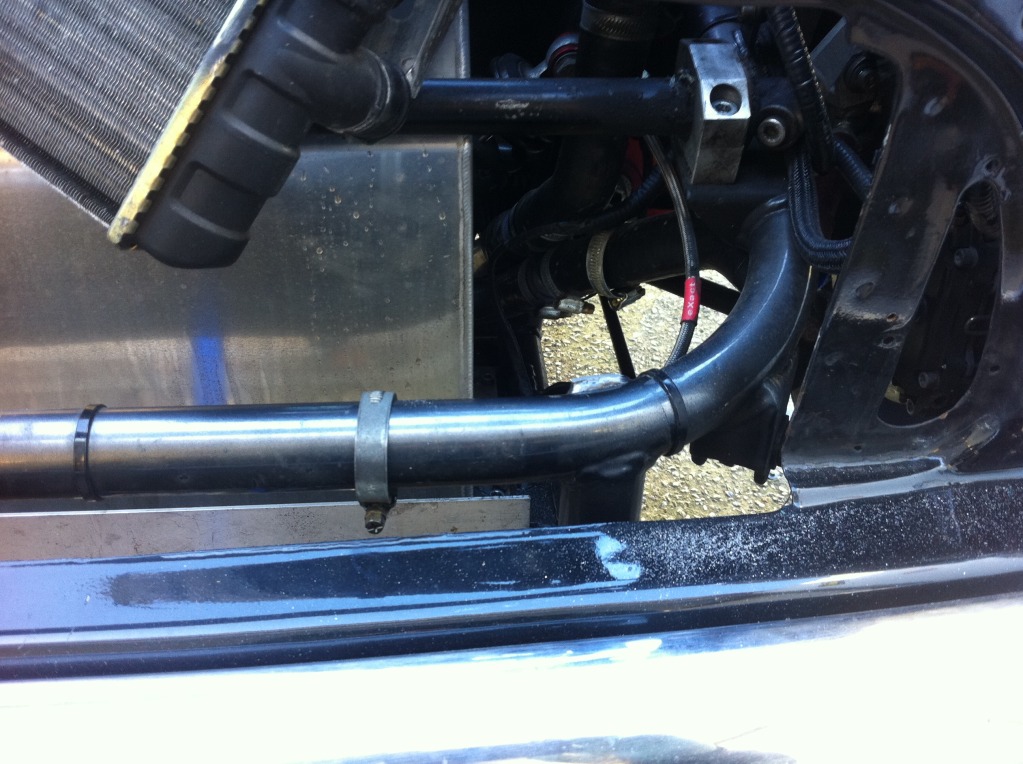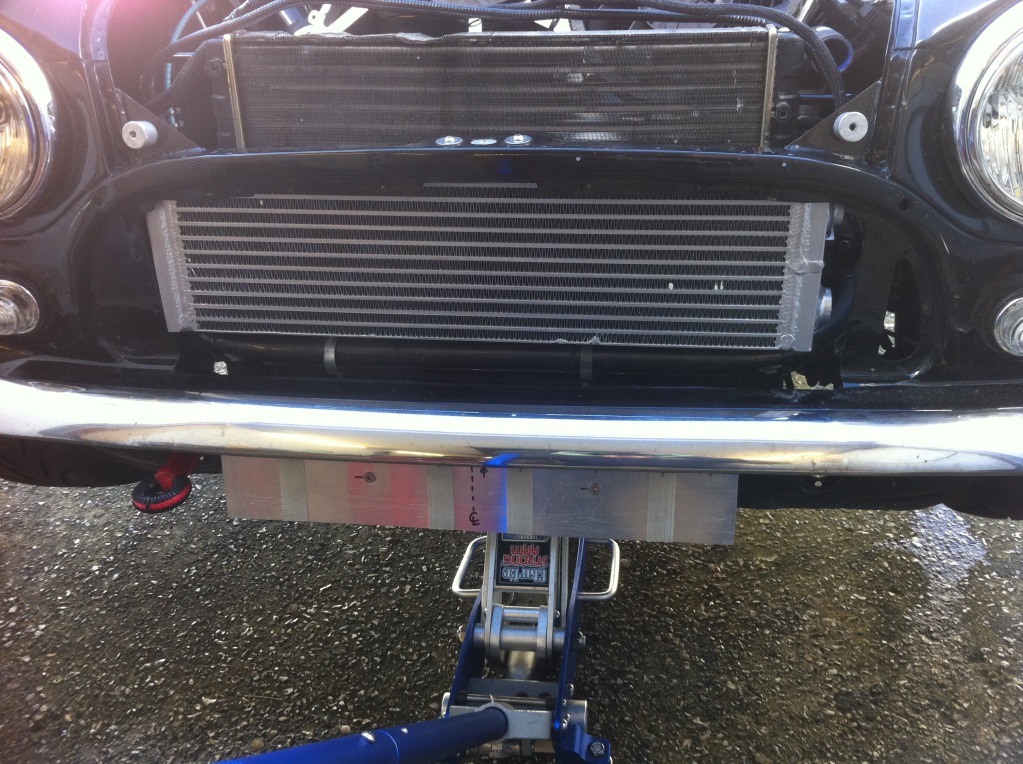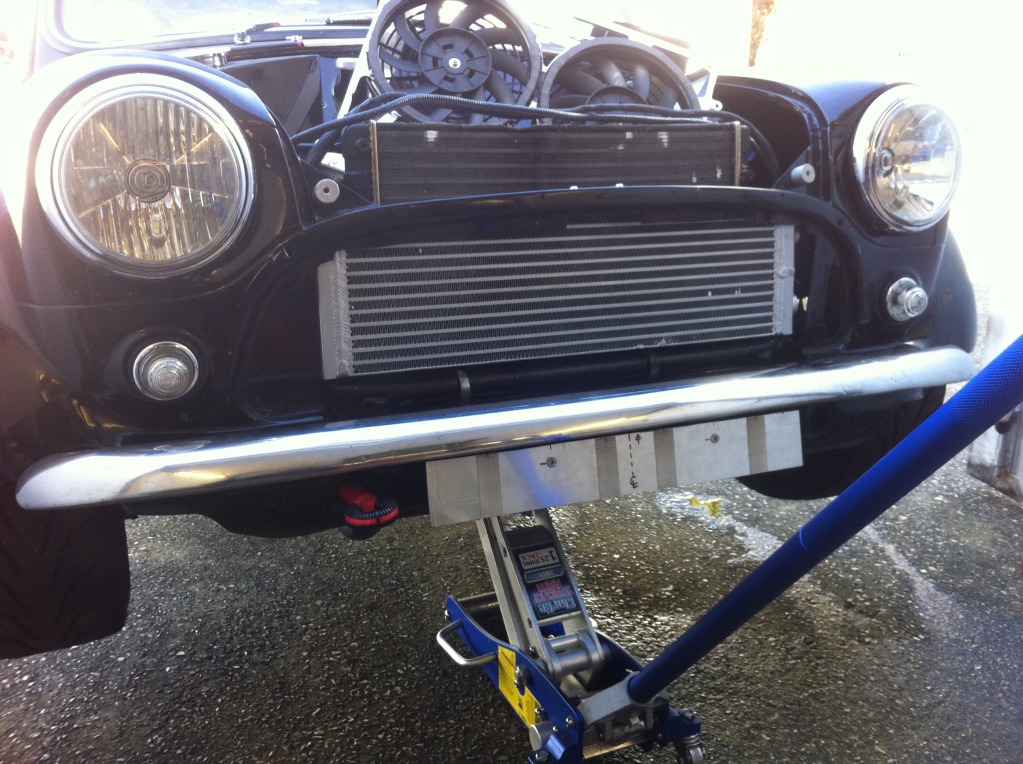 2-27-2012
I am not only charge cooling it but I am putting on a bigger crank pulley (6.37" - original is 5.465") (this will help with low rev water flow) and believe it or not a bigger blower pulley (3.4" from a 3.3"), now that might sound odd as you would normally put on a smaller blower pulley to spin the blower faster. In this case the CP is that much bigger that it would be spinning the blower beyond its comfort zone. With the new setup the blower is spinning approx 2000rpm faster than before (was 14500rpm, now 16500rpm @ 8800 engine rpm). The actuall PSI seen in the manifold wont be that much greater as there will be a pressure drop in the intercooler, not as great as an air to air I/C but still an amount.

I also never got around to finishing my new manifold to go between the throttle body and charger, this will be done and I will be fitting the 72mm throttle body to it along with a new air filter I should see some serious gains. It was 288HP at the hubs last time on the dyno - I am going to wet finger in the air and say I am hoping for 340-350hp at the hubs, if it does come in at that I will be very happy. To get a BHP figure at the crank I add 10% for drivetrain losses.

I cant admit to it being all my idea as others have put an intercooler in the same position but none with the same cooler as mine as it is a bespoke item.

I never did see the twin rad setup, maybe post it up in your build diary for us to see, so others might have an idea of how to do it.
3-8-2012
I decided to ditch my Acetal thermal gasket as I was concerned about heatsoak when shutting down a hot engine after being on track so I looked deeper into plastics and their respective thermal properties and have decided to use Polytetraflouroethylene (PTFE) as it has amzing heat resistant properties, its good from -260 to +260 Deg C (-436degF to + 500degF) and is readily available in sheet form of many thicknesses.

I am going to stick with the Acetal between the charger/aftercooler and the aftercooler/manifold.

The PTFE is also much easier to work with if you have limited resources, again I produced the part with a pillar drill, a 4mm drill for chain drilling, a 12mm drill for the top of the ports and then also for smoothing the ports and finally a 9mm drill for the bolt holes. Be warned if using a hand drill the material will pull you into it as it is quite soft material.

Unfortunately the only photo I took so far is with the OEM gasket on it being used as a template.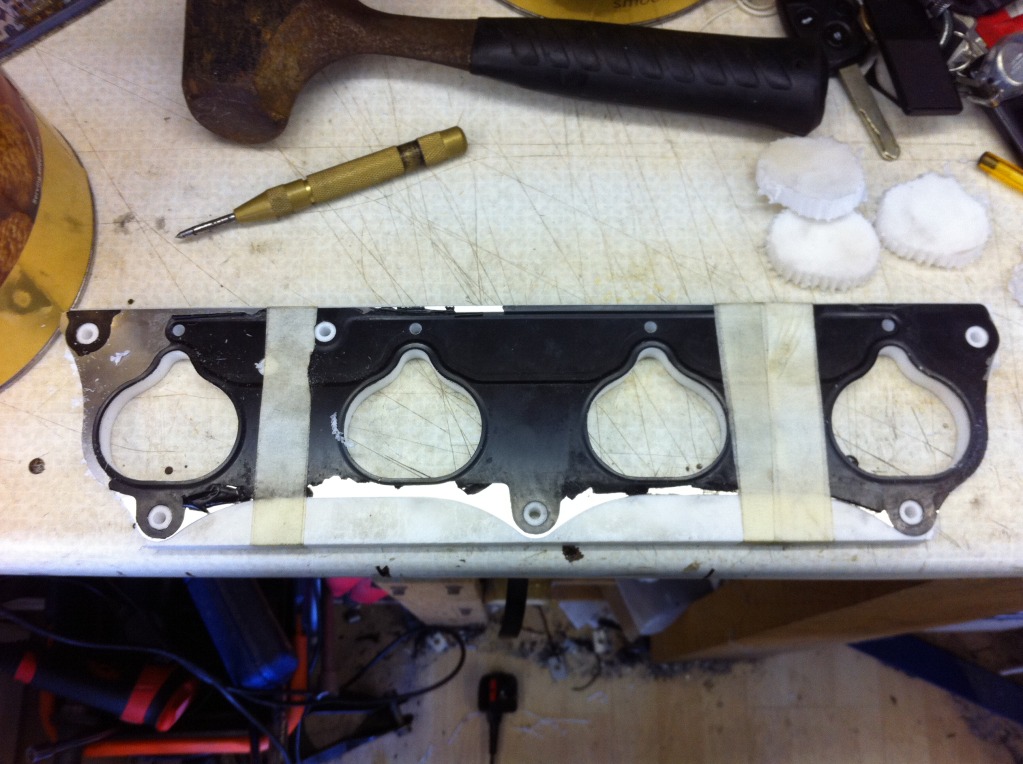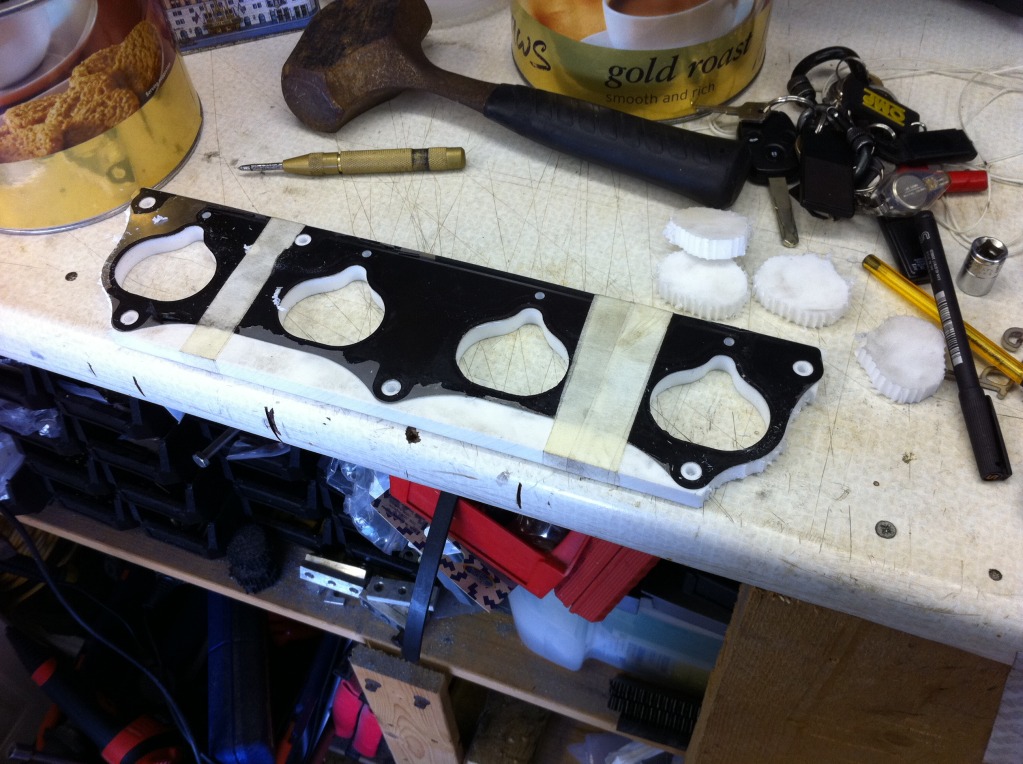 And this came through the post the other day (K24 crank pulley, 6.37"):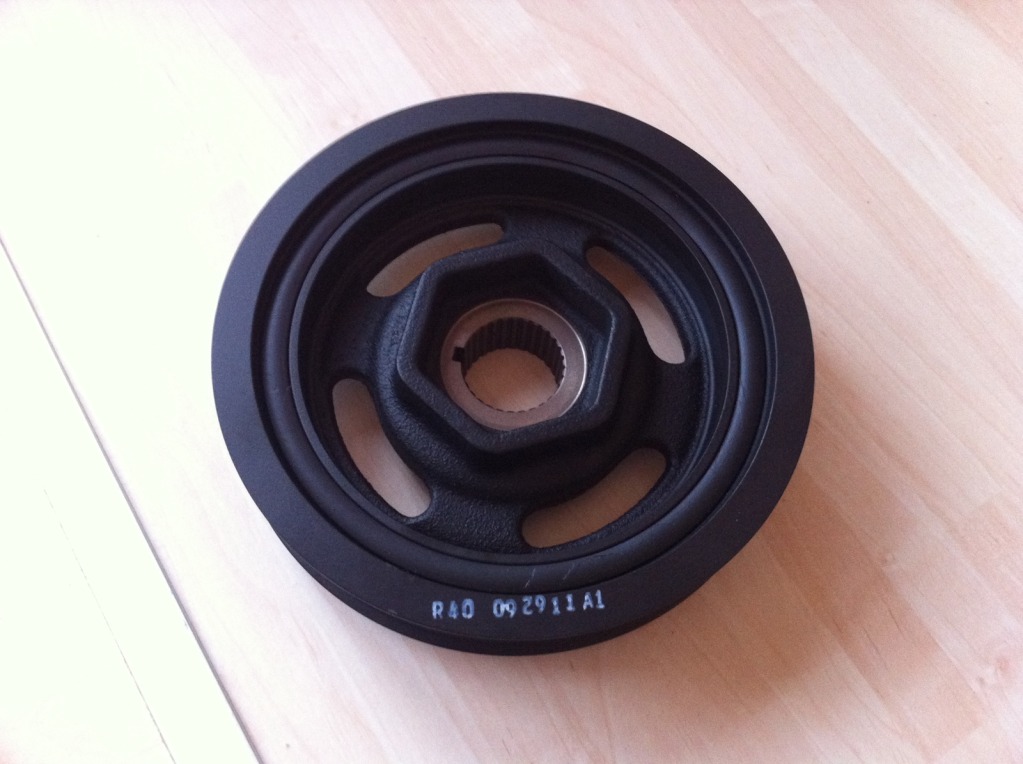 I need to start extracting the digit or summer will be here before I know it.
3-14-2012
Some more done over the weekend:


1) Crank Pulley replaced.

Before I put the new pulley on I decided to weigh it, more out of curiosity thatn anything else and the results were really quite surprising. Below is a photo of the two next to one another and then them seperately on the scales.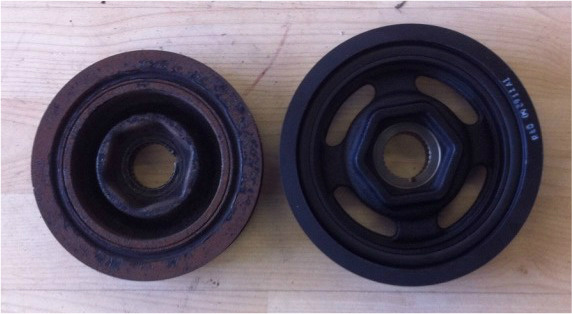 K20 original: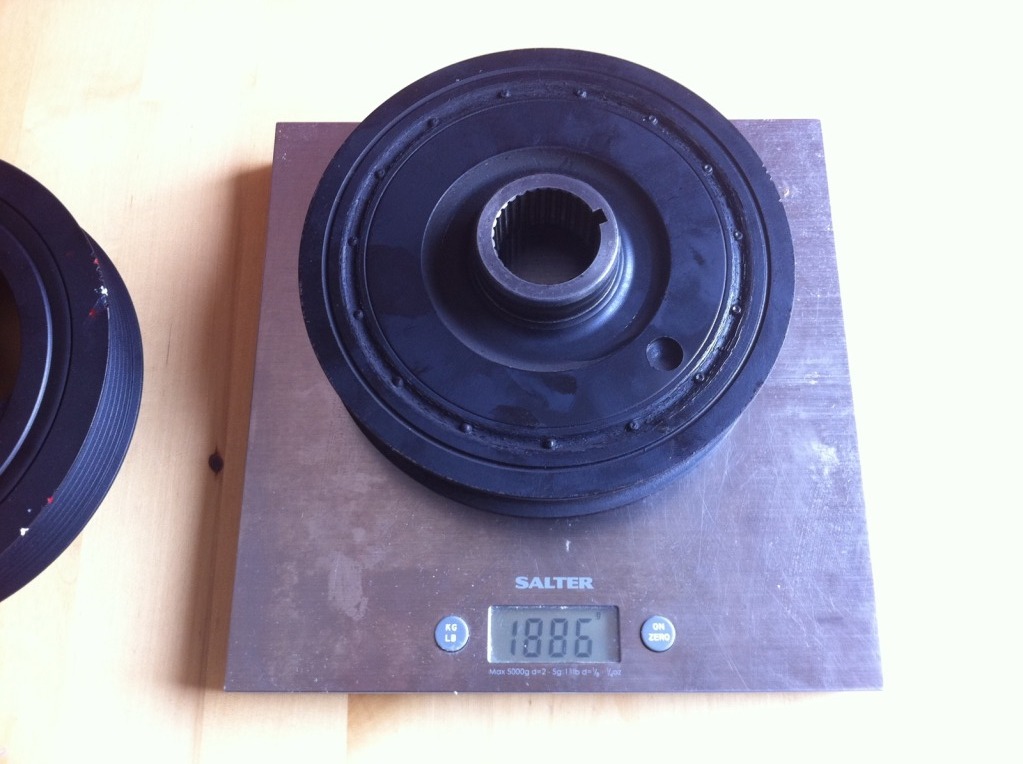 K24 6.37":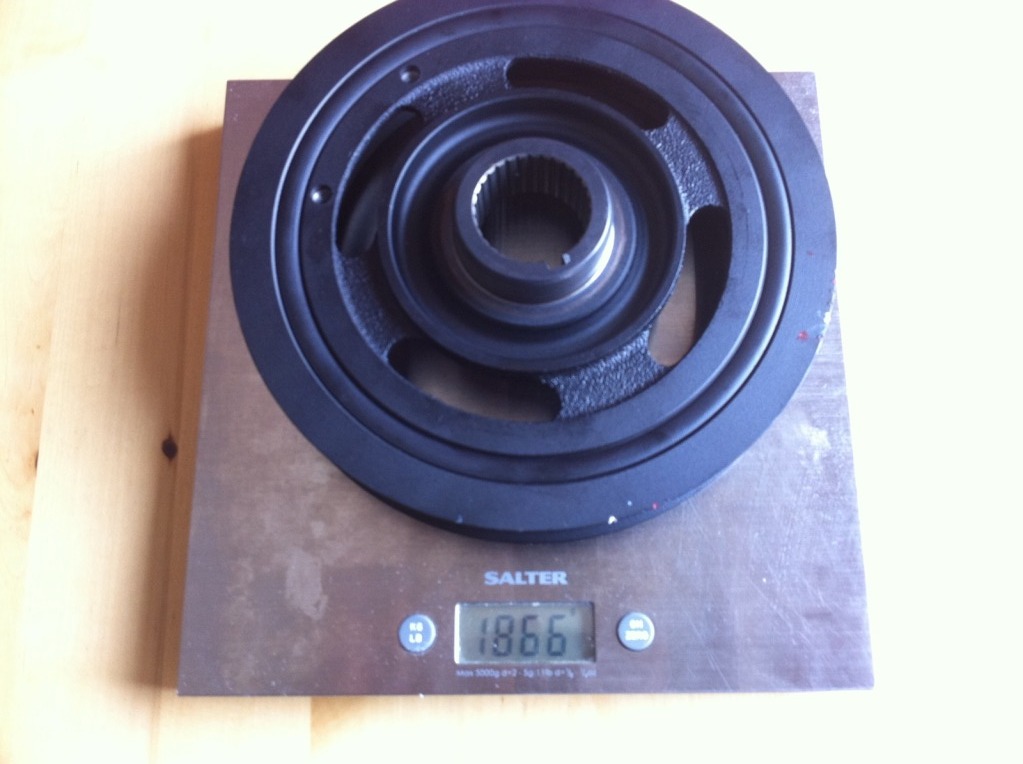 Yes thats right, 20g's lighter and considerably bigger.


2) Snout Clamp

I offered up a paper template of the latest and simplest design, pretty close, just a couple of mm adjustment and we are there.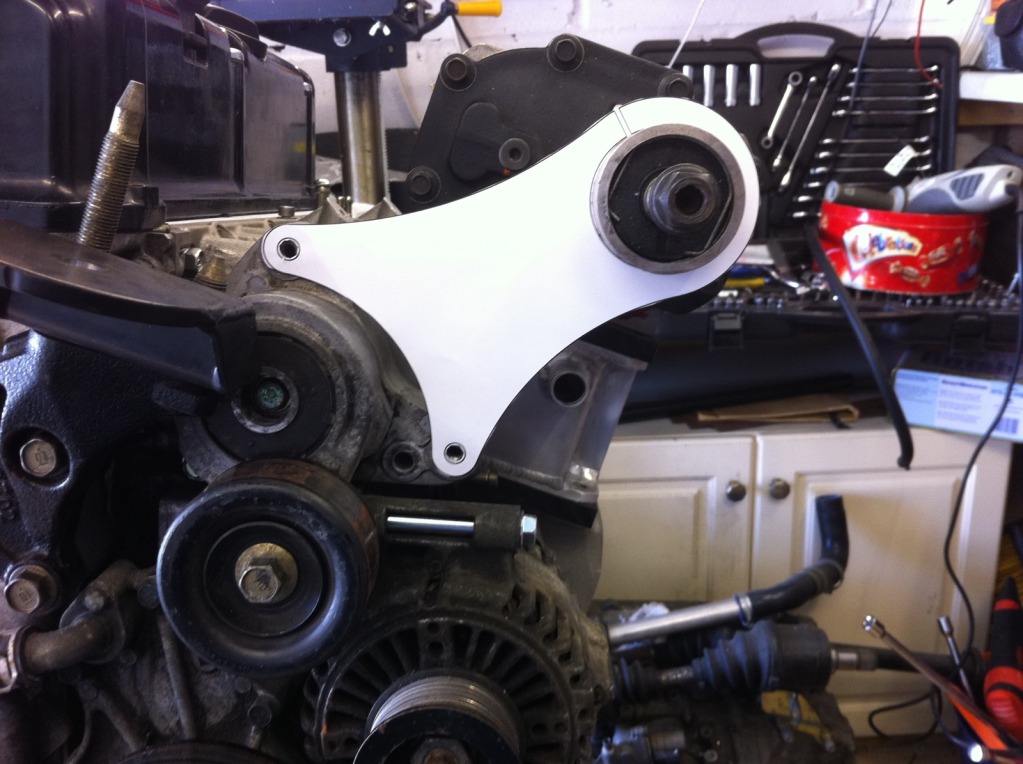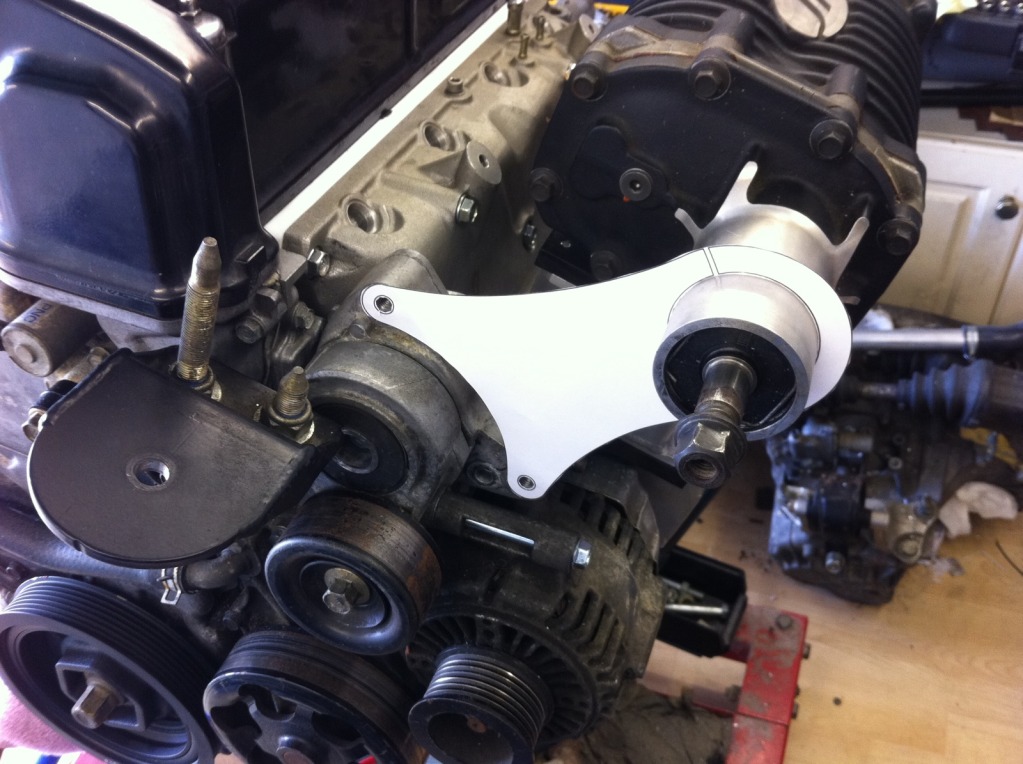 3) Thermal Gasket

I got a better photo of the new PTFE Thermal Gasket when I pulled the charger off the motor again.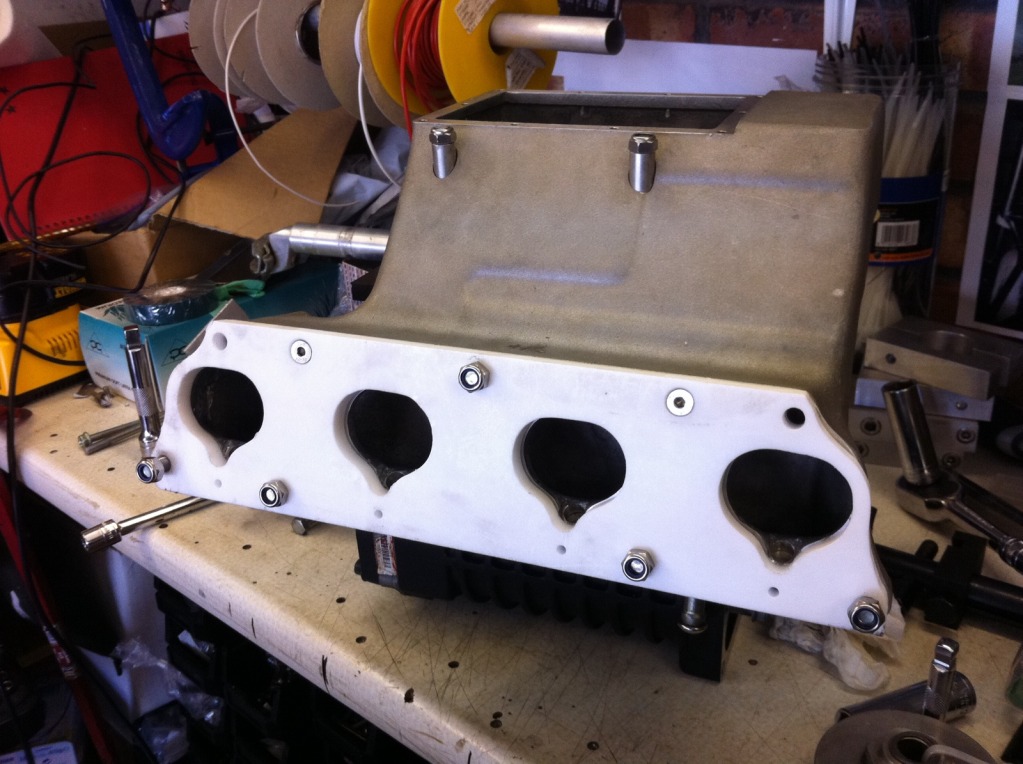 3-24-2012
Well theres not much been happening actually on the car but theres been some more research and design work going on.

I now have a new design for the belt routing which incorporates the latest revision of the snout clamp (version No.11).

I am going to be using the OEM grooved idler pulley that is used on the EP3 Civic and will be using another smooth tensioner, the same as in use on the auto tensioner. I have drawn up 2D pulley layouts as was suffering with what appeared to be belt stretch and wanted to know how effective the auto tensioner was in its current configuration compared to the OEM setup. I drew two setups, measuring the theoretical belt length, one with the tensioner completely off and one with it as it would be without a belt (fully on). So my current setup on had a difference of 21mm in belt length, hence it being a b1tch to get on and n ot able to keep the tension very well, compared to the OEM setup that had 60mm difference in belt length. As an added bonus it has increased the amount of wrap on the supercharger pulley by a considerable amount, very happy.

I have the plate and billet rod sat here waiting to be machined and should be able to get the turning done in the week and the mill work next week. Bring on the light nights so I can work on the car.

For those that are interested I did a few renders of what the new setup will look like:


Heres what the current setup route would be, the red arrow shows how the tension goes on to the belt: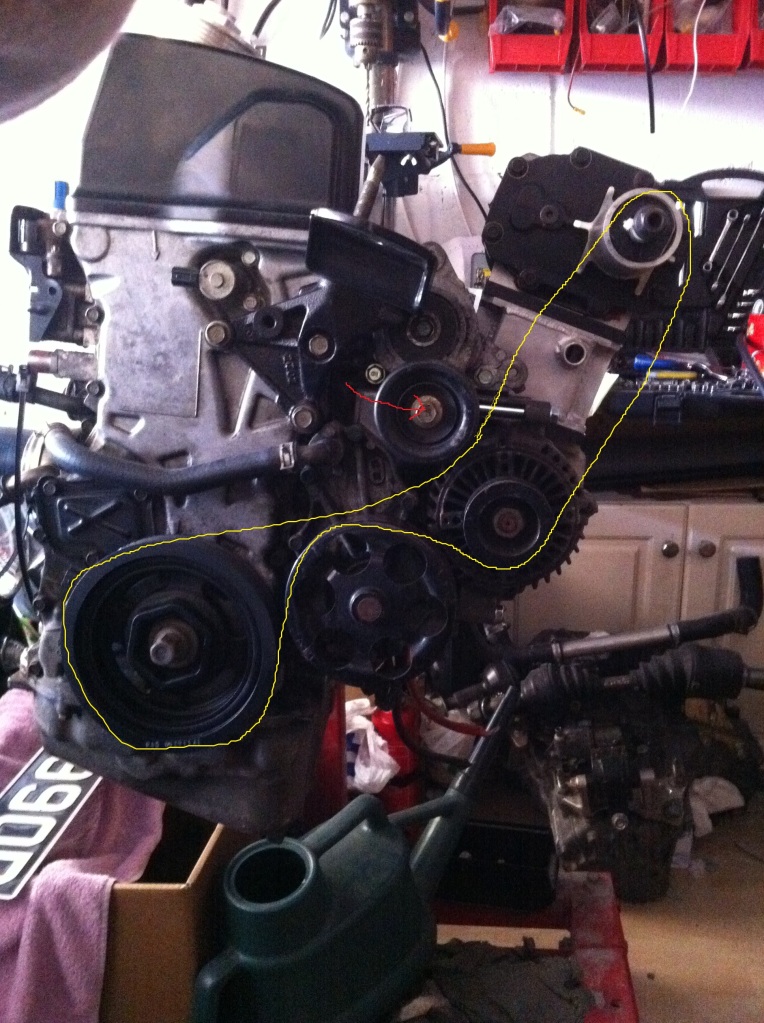 Heres the new setup: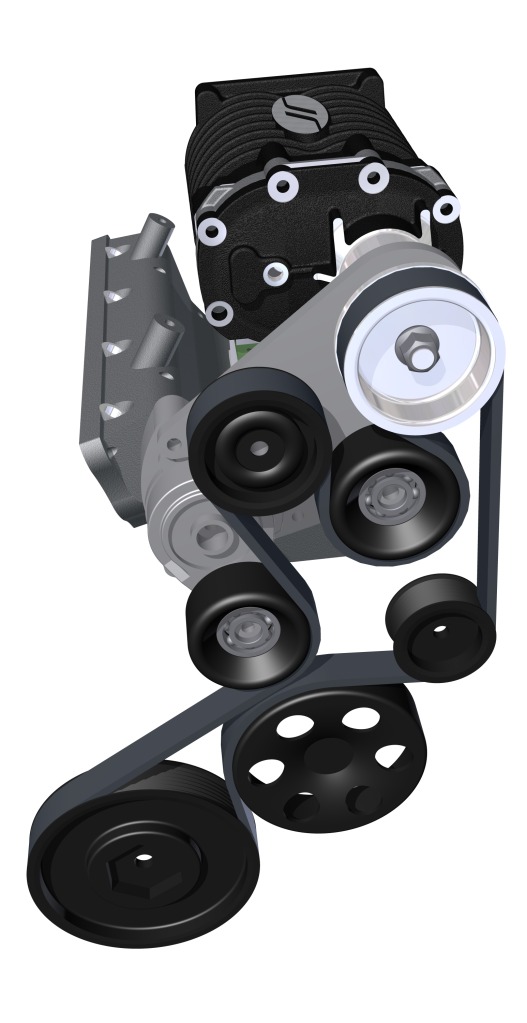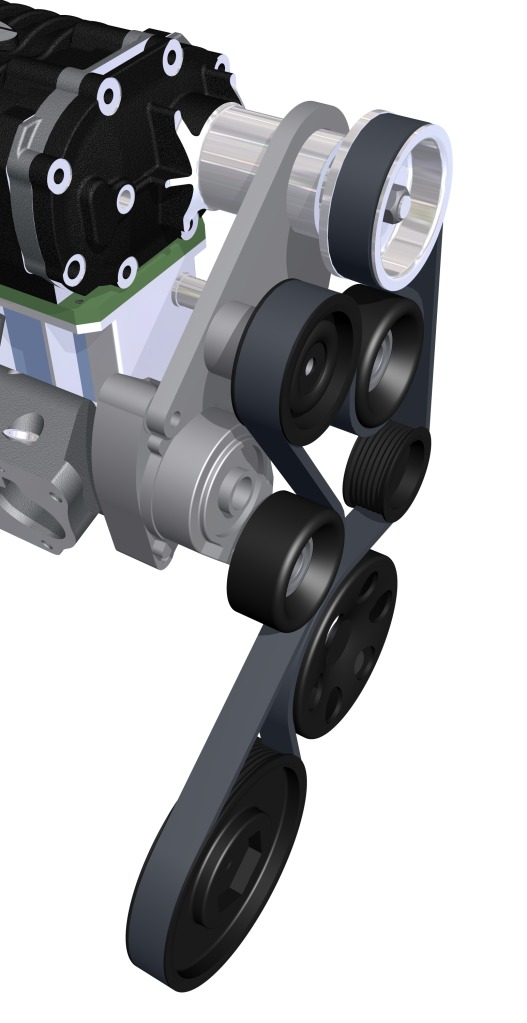 One showing the new snout clamp/pulley mount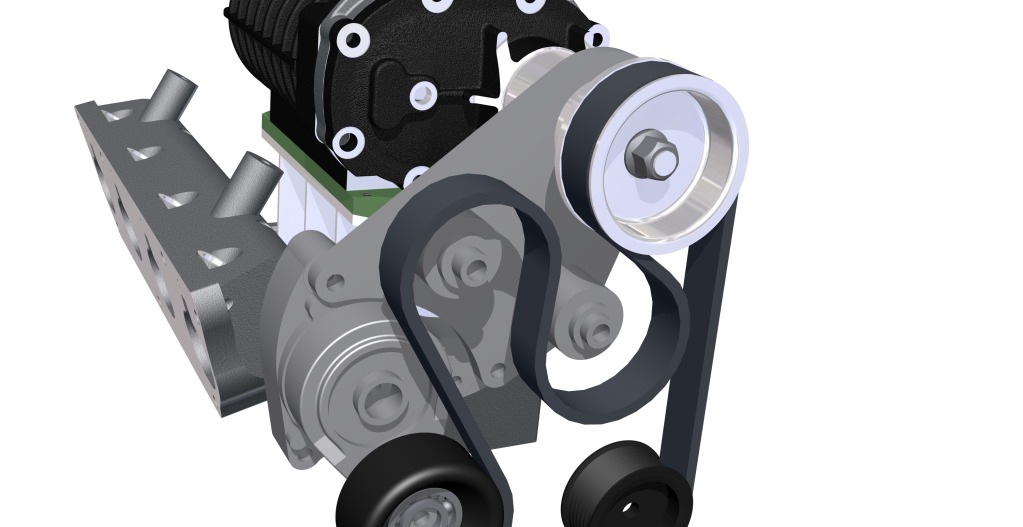 My mate Jim Bright turned these for me the other day: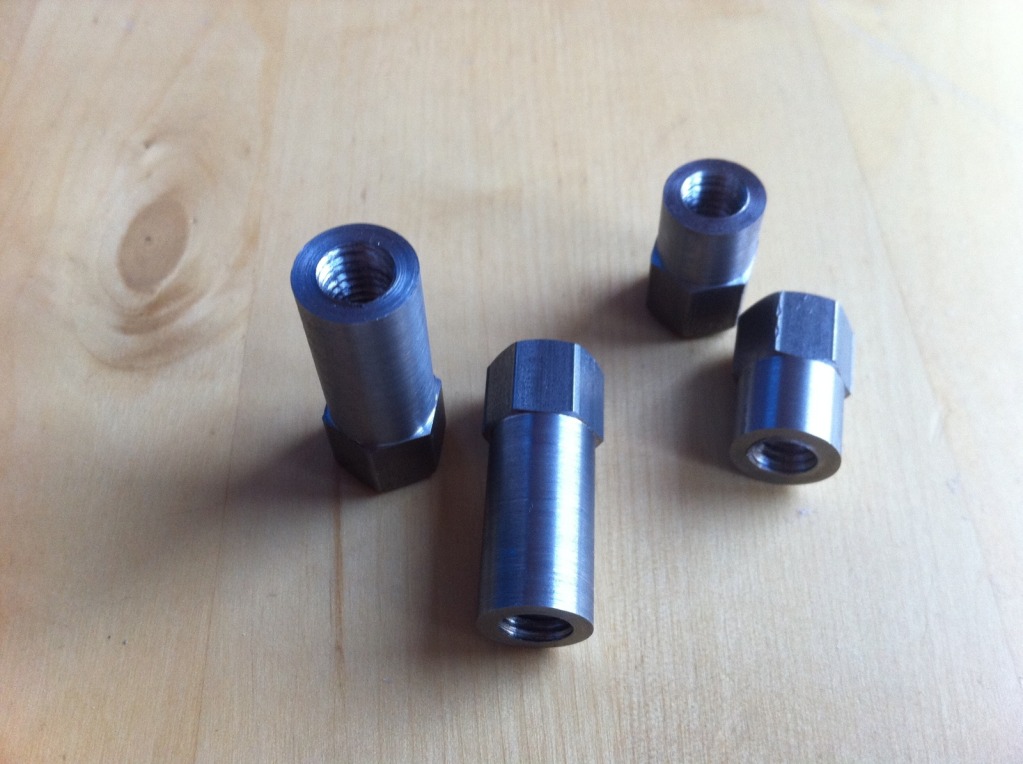 They are to go on the end of these: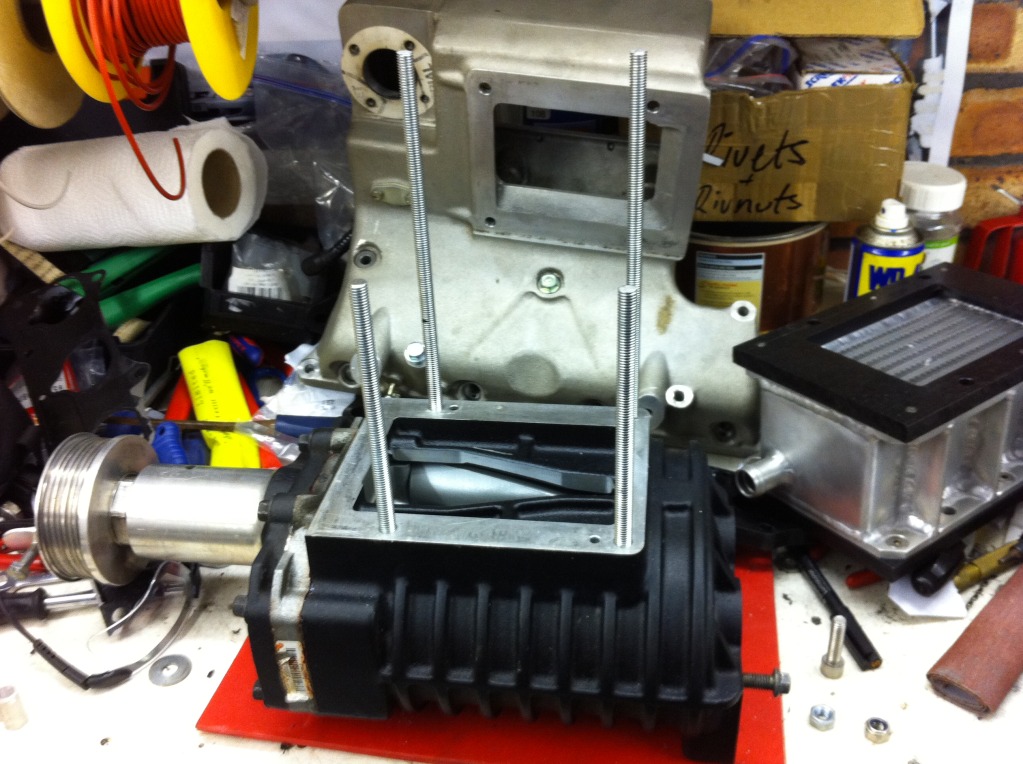 To replace the ones you can see in this shot and the two that sit inside the intake manifold: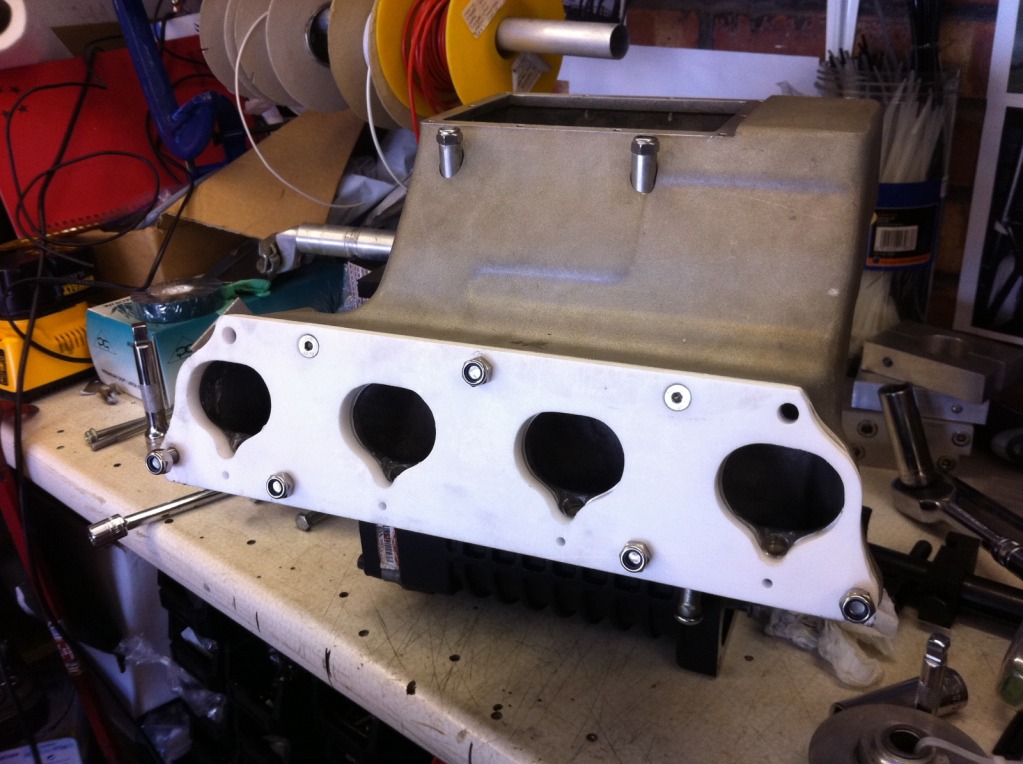 4-3-2012
PRE RAD IS FIXED IN PLACE

I got my pre rad fully fitted into place on saturday, proper chuffed with it, I even got the grille back on and it only fouls a tiny amount, not that anyone would ever notice, unfortunately I dint get any with the grille on but I will in the near future.

I am going to see what the engine temps are like before I decide if I need anymore cool air ducting past the pre rad into the engine rad.

I ended up with the pre rad upside down to its normal usage position, this might sound odd but it has worked out for the best as its drainage plug is now a bleed screw, perfectly placed to get rid of any air in the system at the top on the drivers side of the rad. By jacking the beast up on the drivers side whilst bleeding out the air will totally get rid of any air in the rad.

I havent got it piped yet as I was waiting til I put the engine back in so I have it on ramps to fit the pipework.

A few photos of it installed: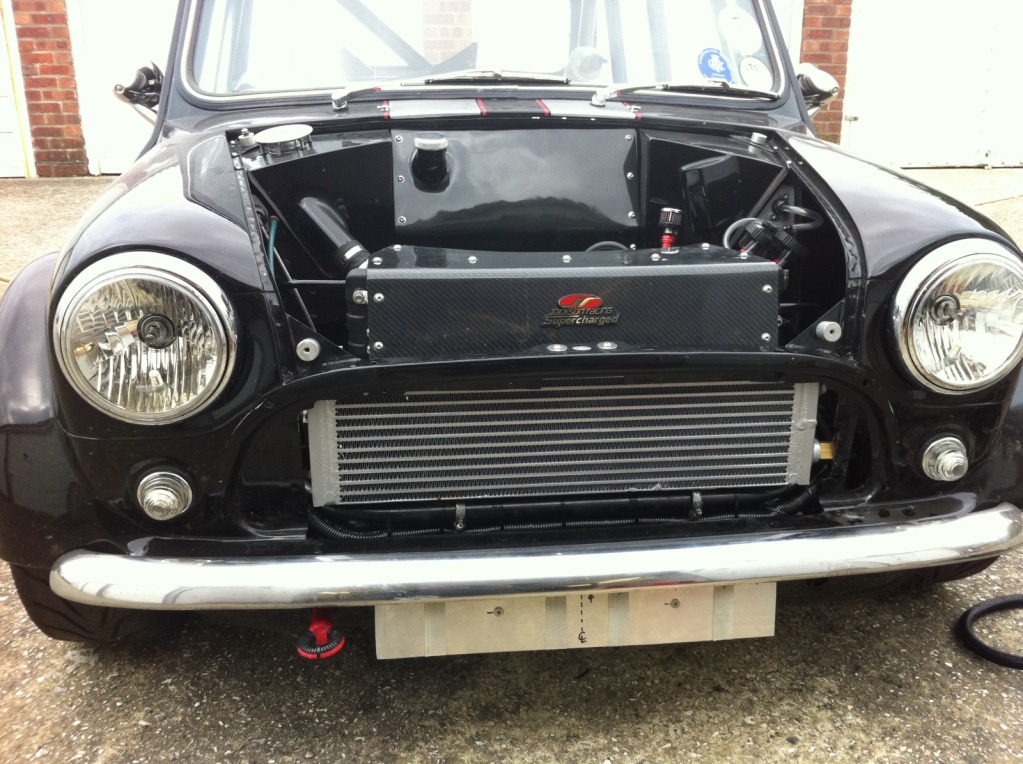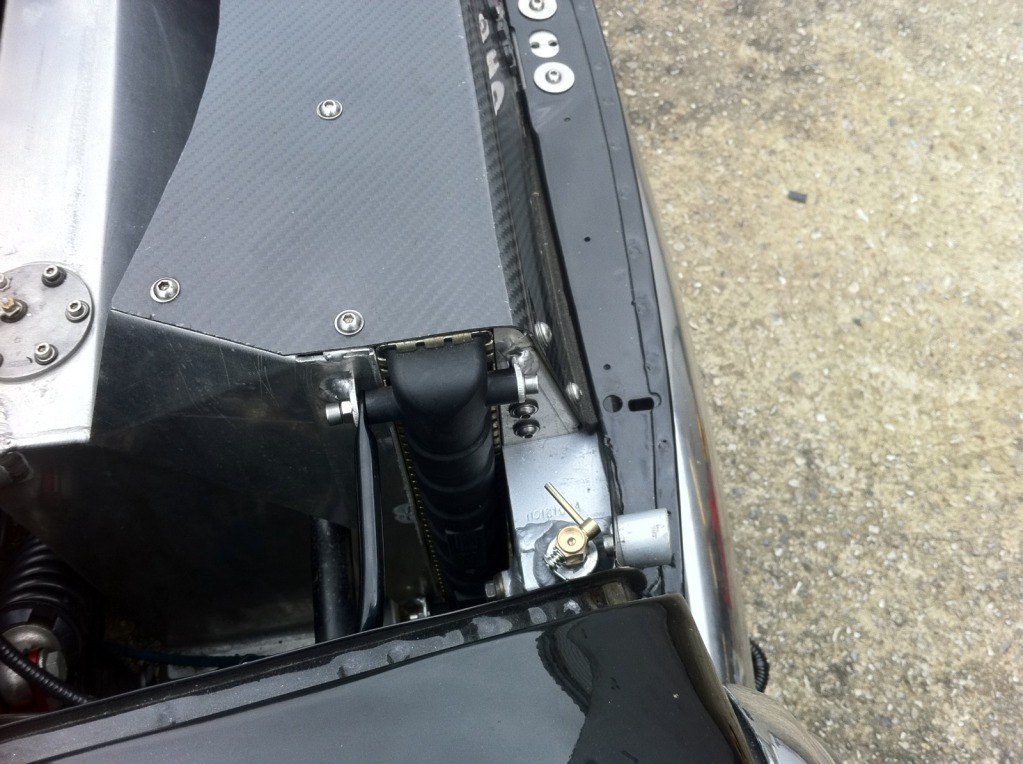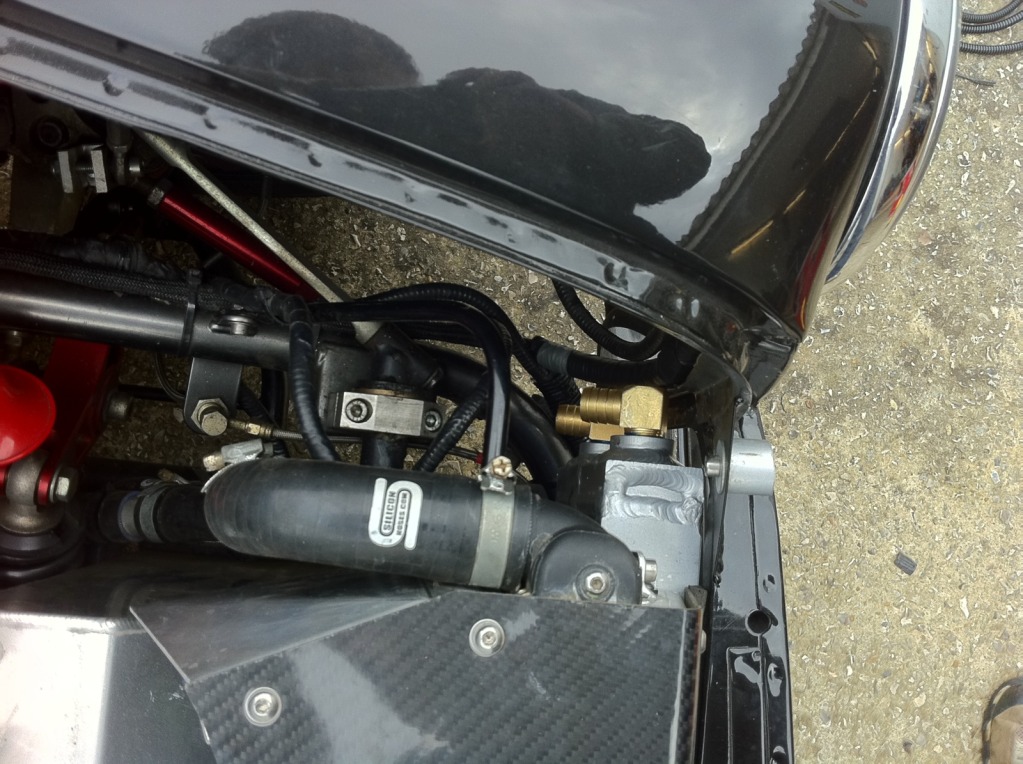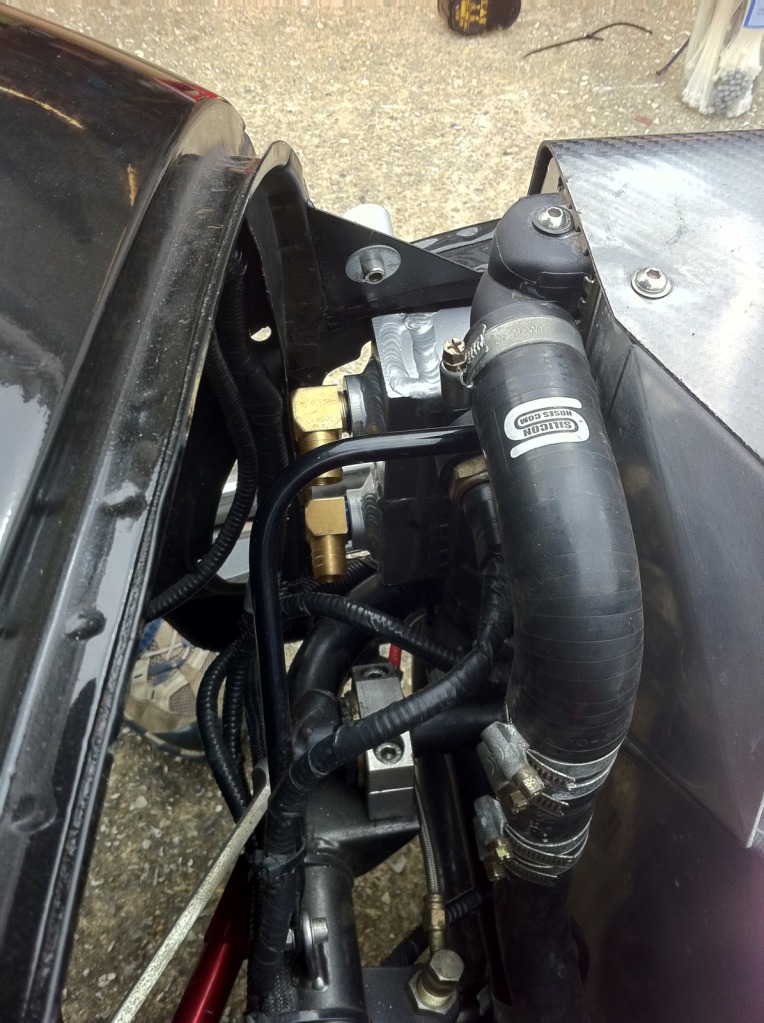 4-5-2012
SNOUT CLAMP IN PRODUCTION

Myself and my good mate Stevie G started on creating the snout clamp last night, its so much easier when you have all the right tools for the job. I left steve doing the milling whilst I made the little pulley cover. Unfortunately the only photo I have of the snout clamp is early on when the holes are being drilled, however with the Easter weekend upon us there will be a lot of progress by Tuesday and I will keep everyone updated.

Over the last couple of weeks my other good mate Jim Bright has been doing some turning for me on his lathe, making the fixings for the two extra pulleys that you can see in the photos below.


Snout clamp in the mill: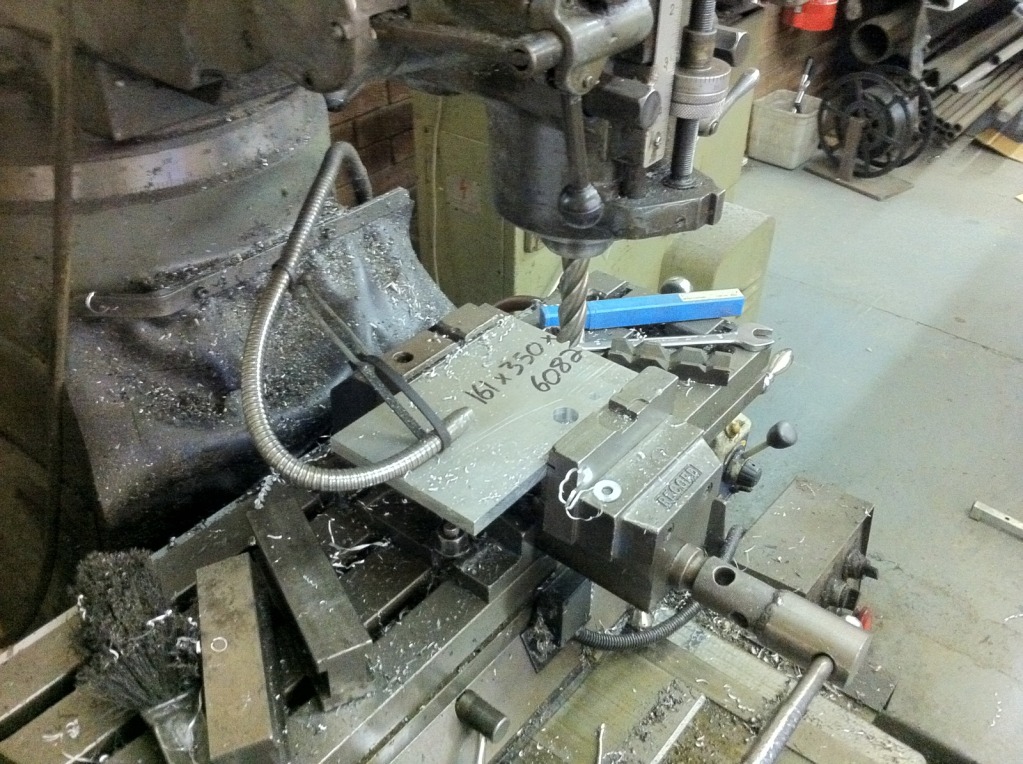 Pulleys, mounts and covers: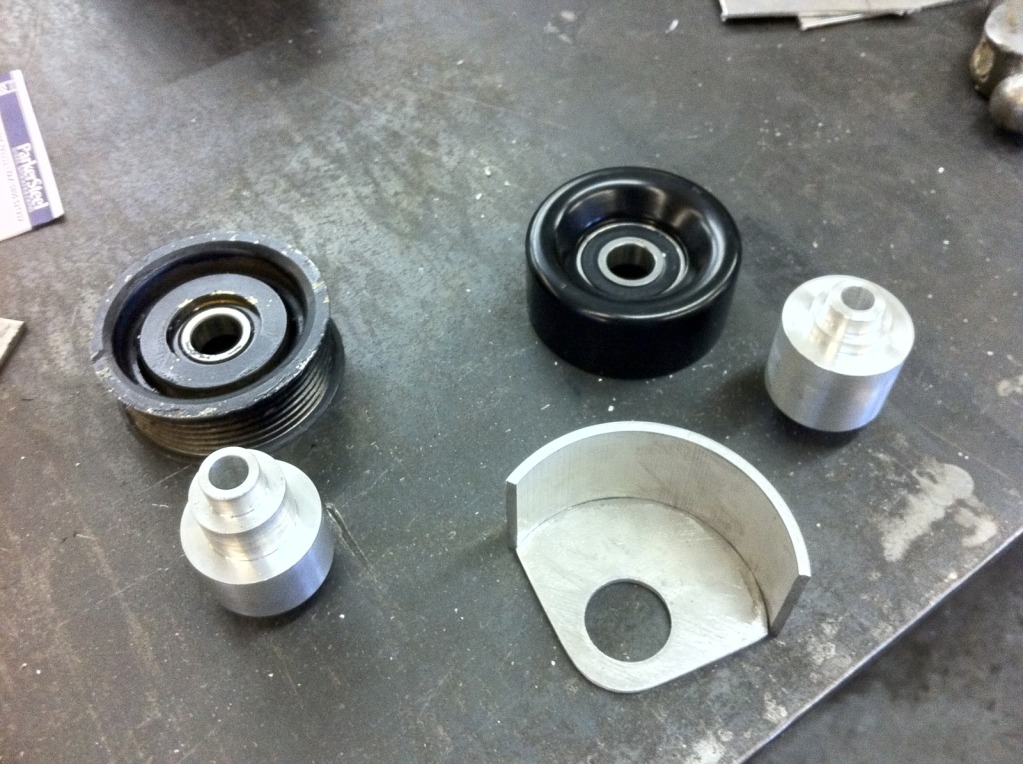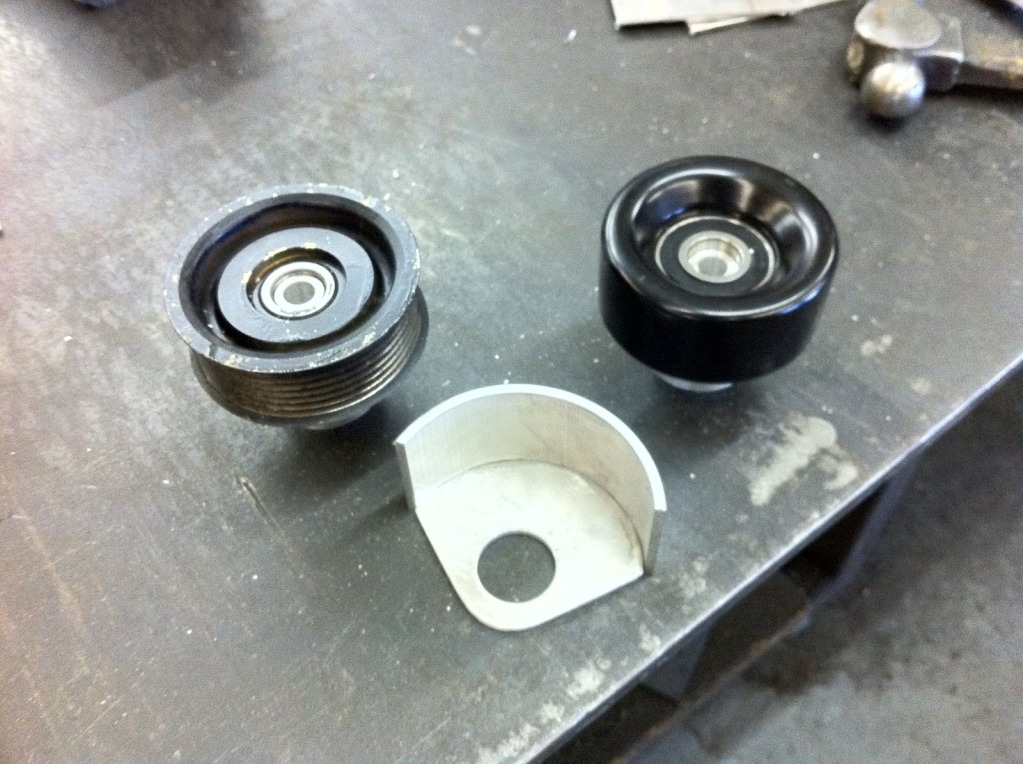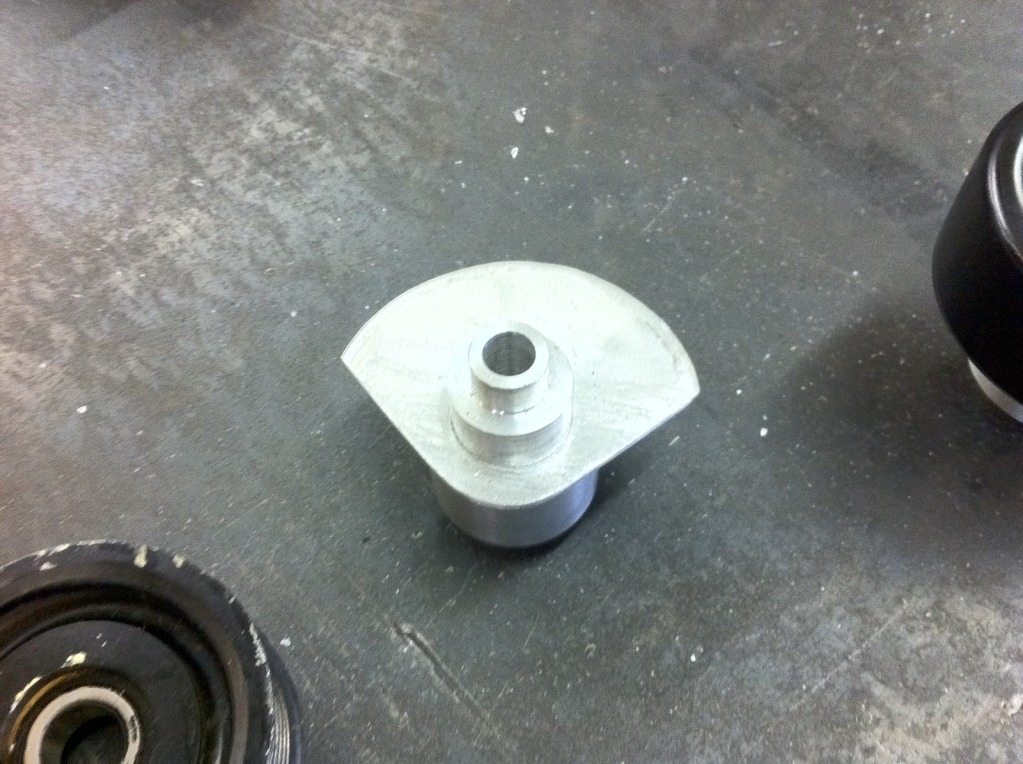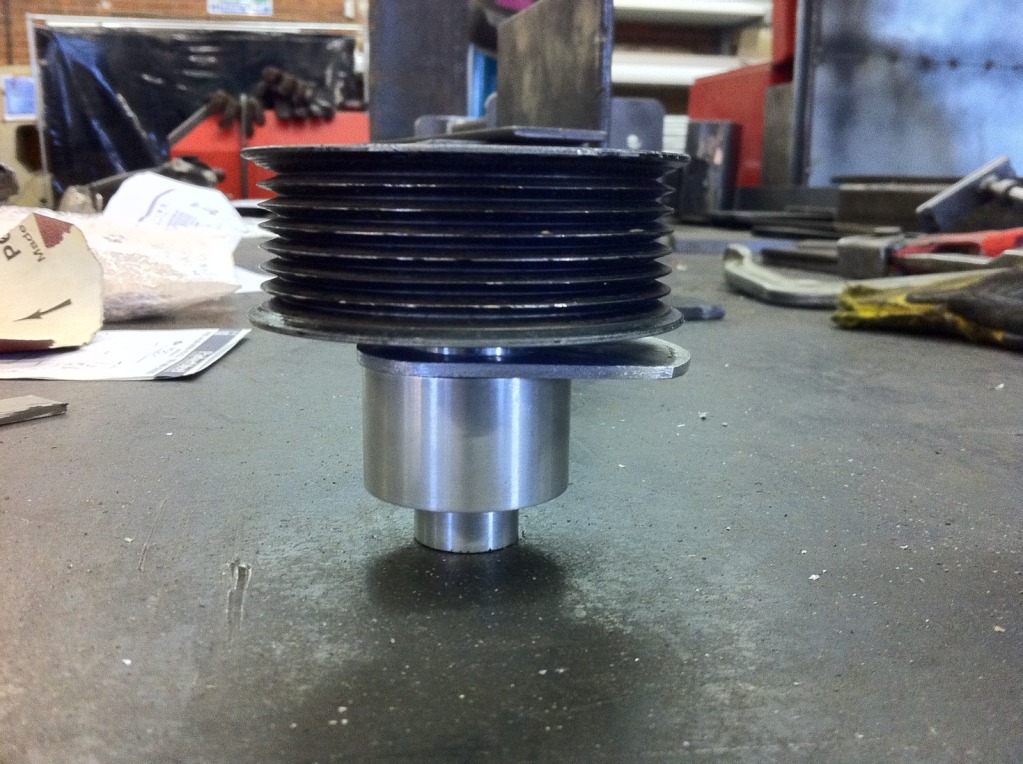 4-8-2012
SNOUT CLAMP FITTED


First trail fit of the clamp on the auto tensioner to make sure holes line up.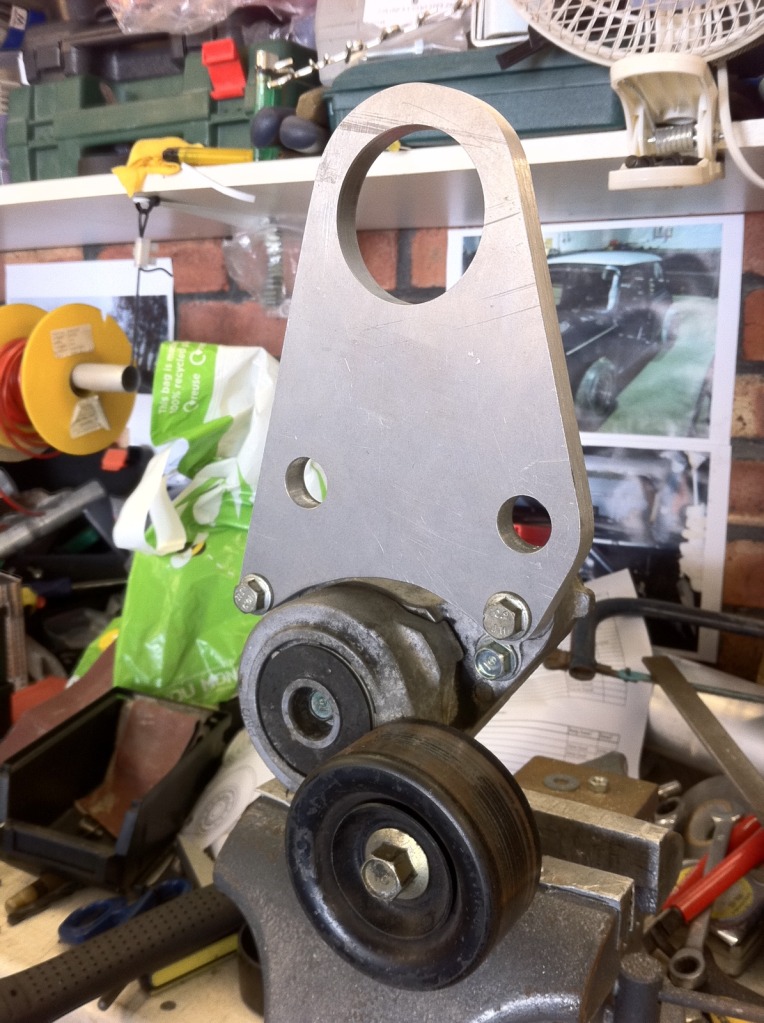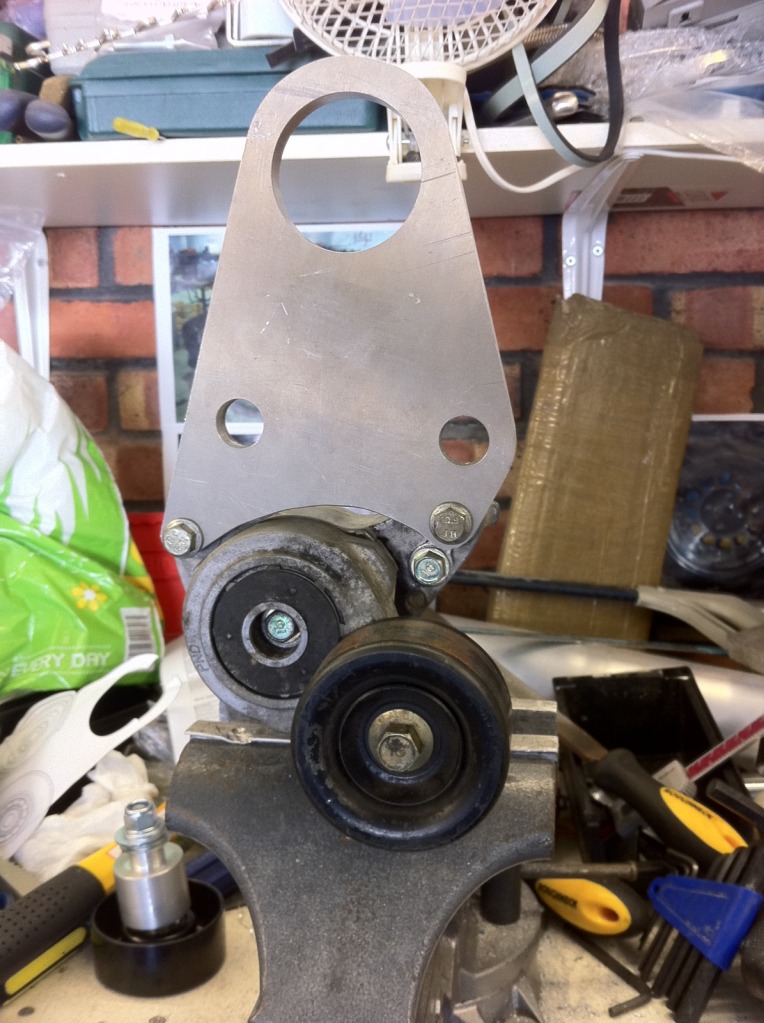 It took a bit of gentle sanding and a bit of persuasion to get it on the snout but then as I ended up with a design that isnt a true clamp then that it exactly what I needed, a slight interference fit.....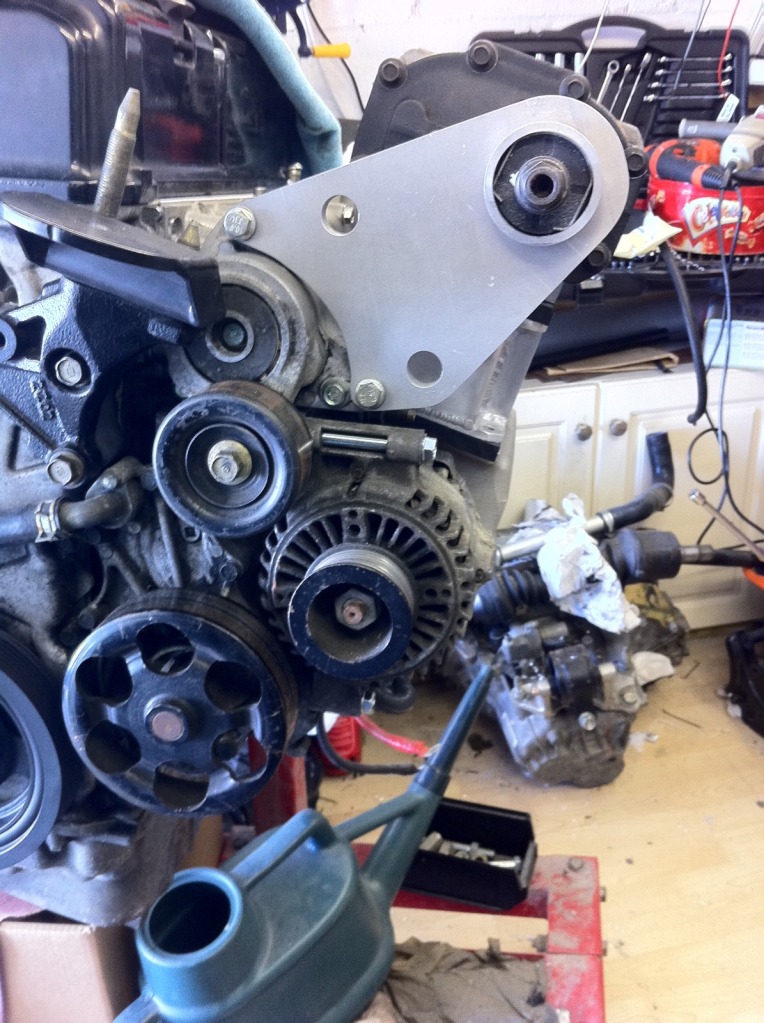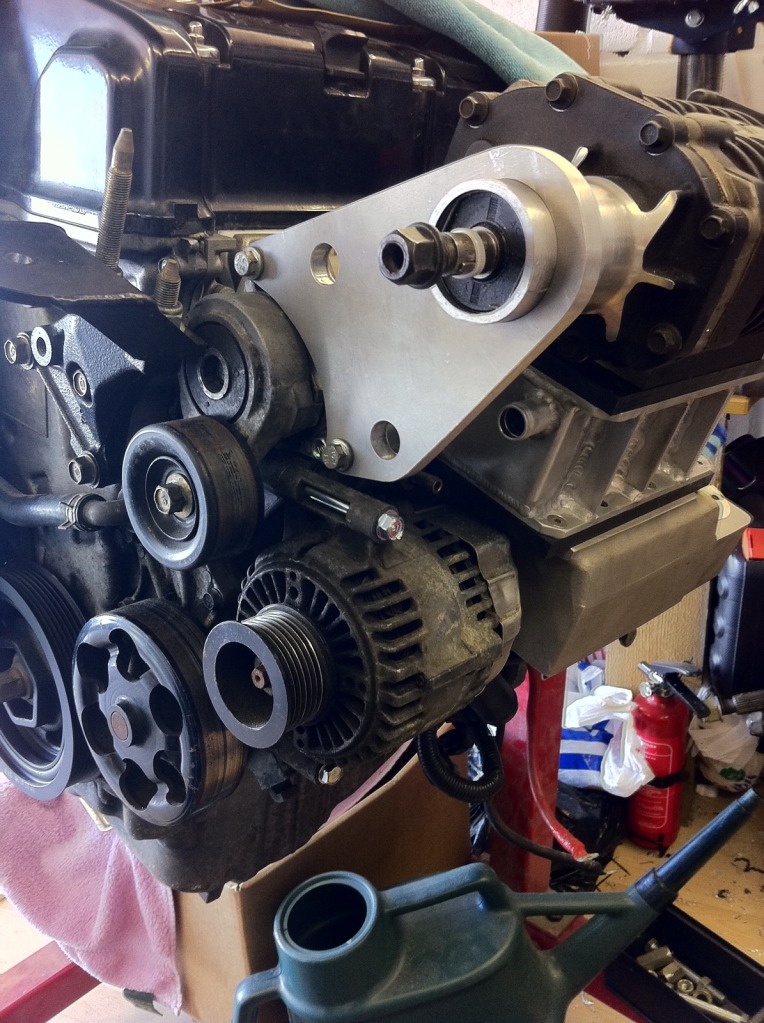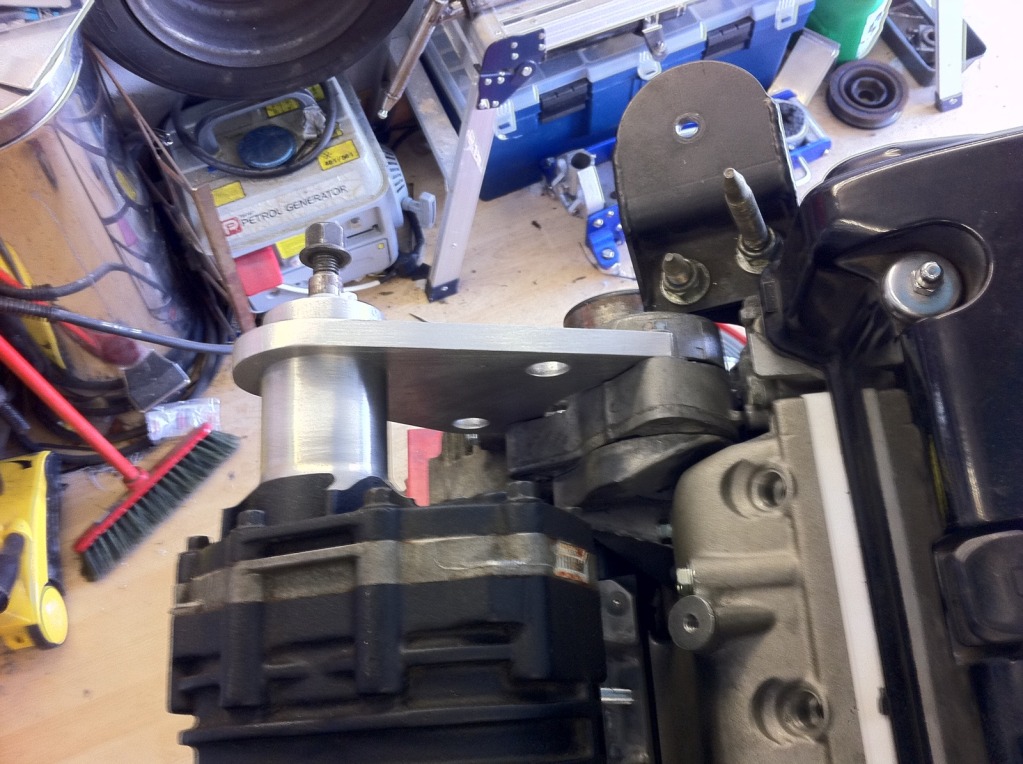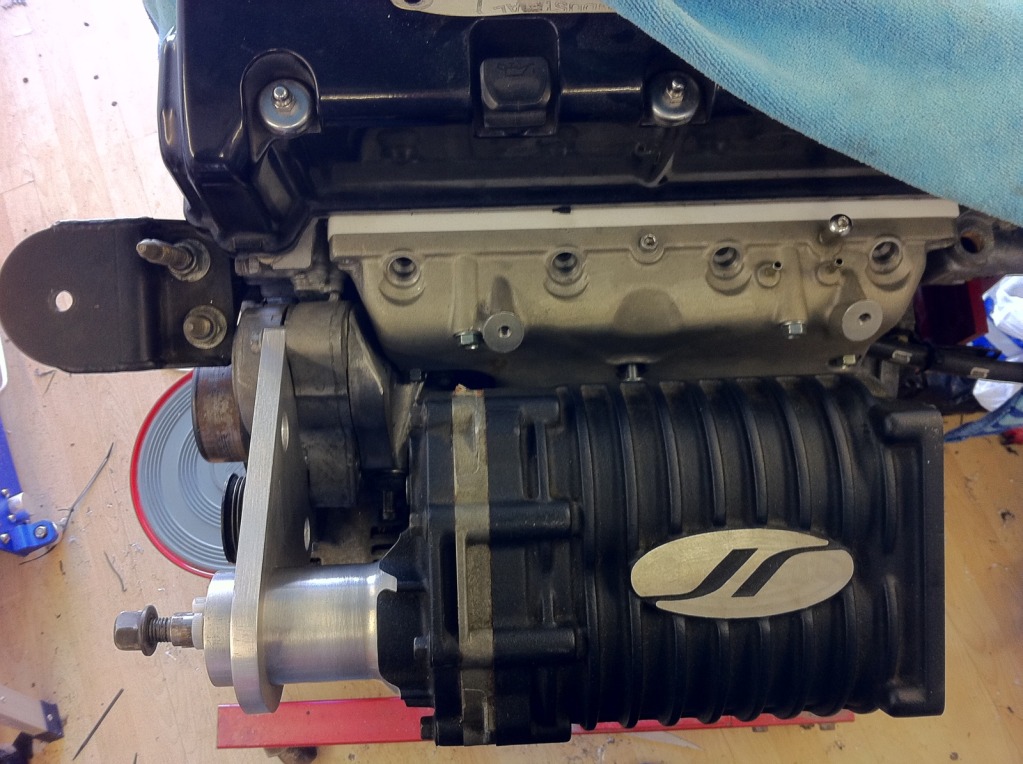 Then I fitted all the pulleys and relative fittings to the clamp plate.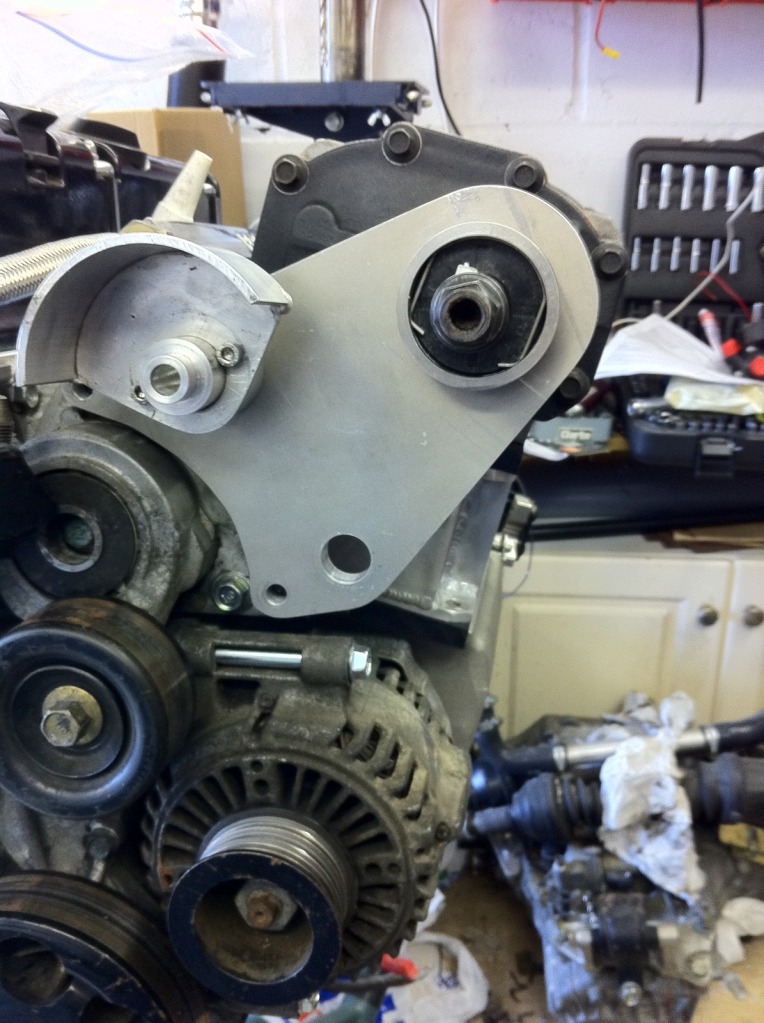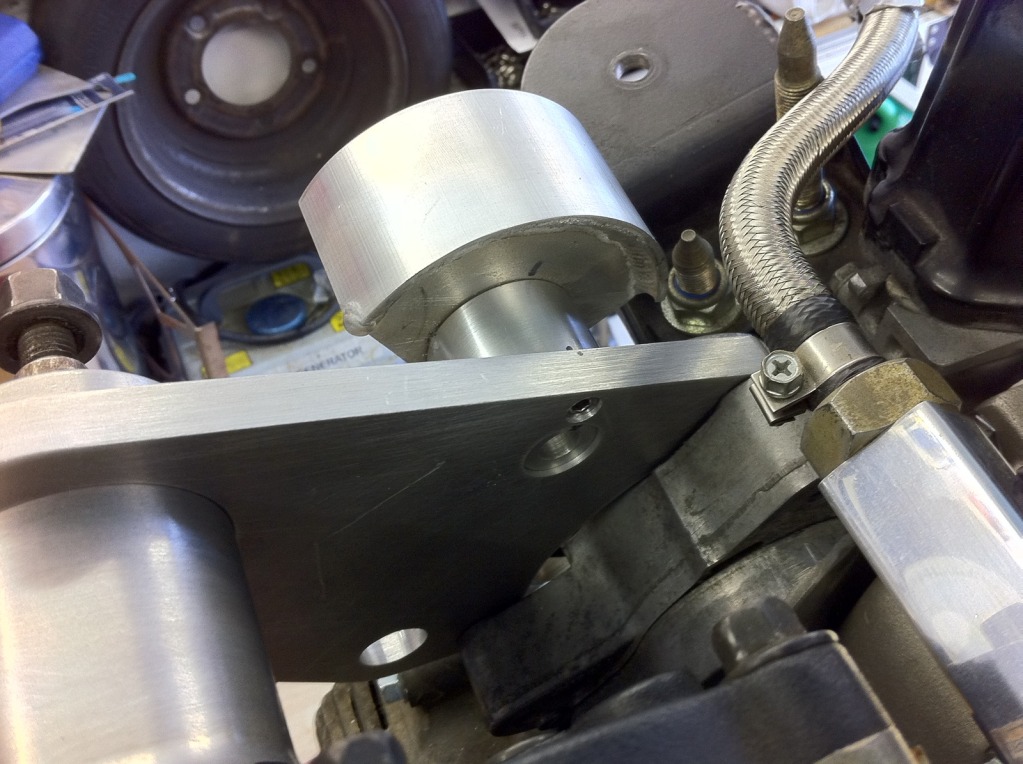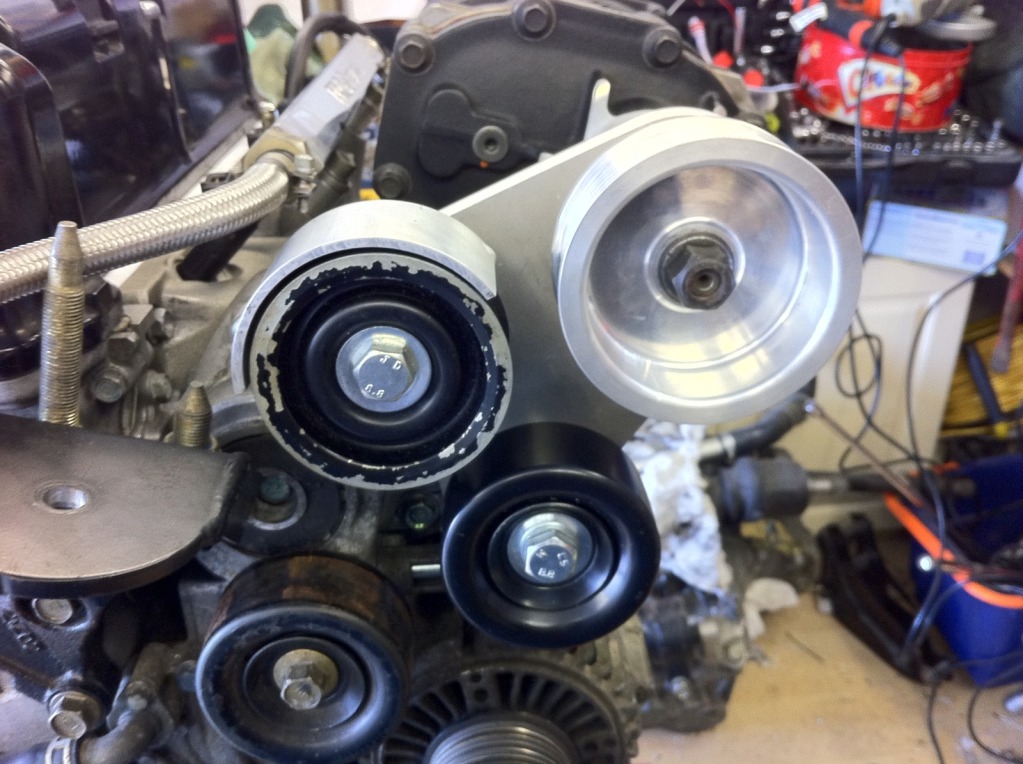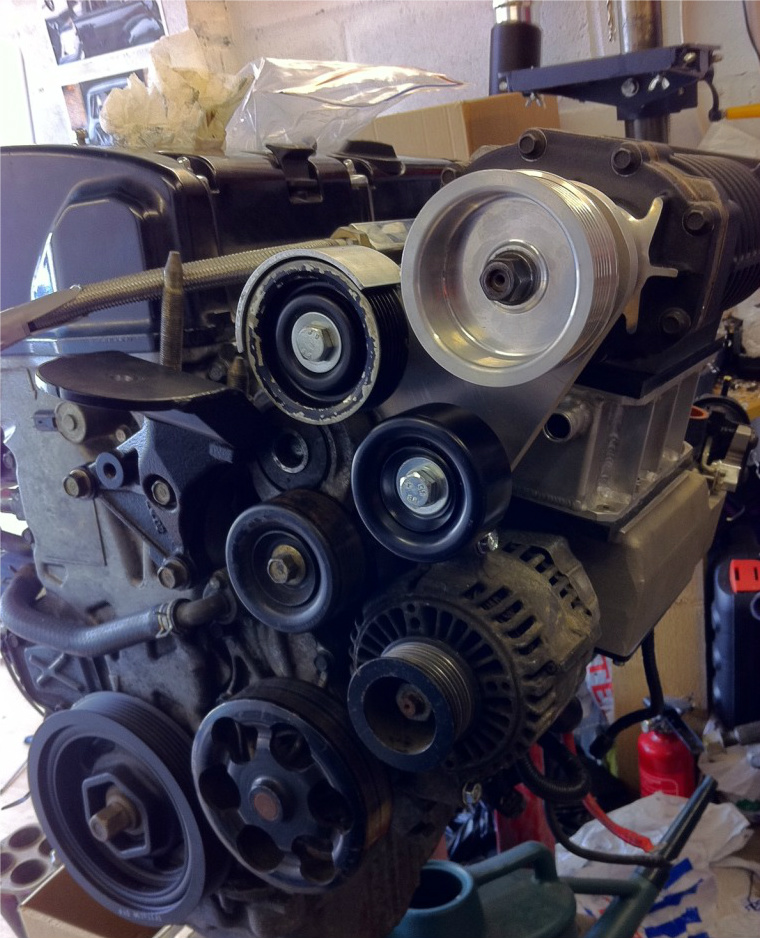 4-10-2012
TB-SC Manifold

I spent 3.5hours with a die grinder trying to get the inner tunnel shape of the TB-SC Manifold done, I got the basic shape but the finish to the tunnel surface needs some work.


So it went from this: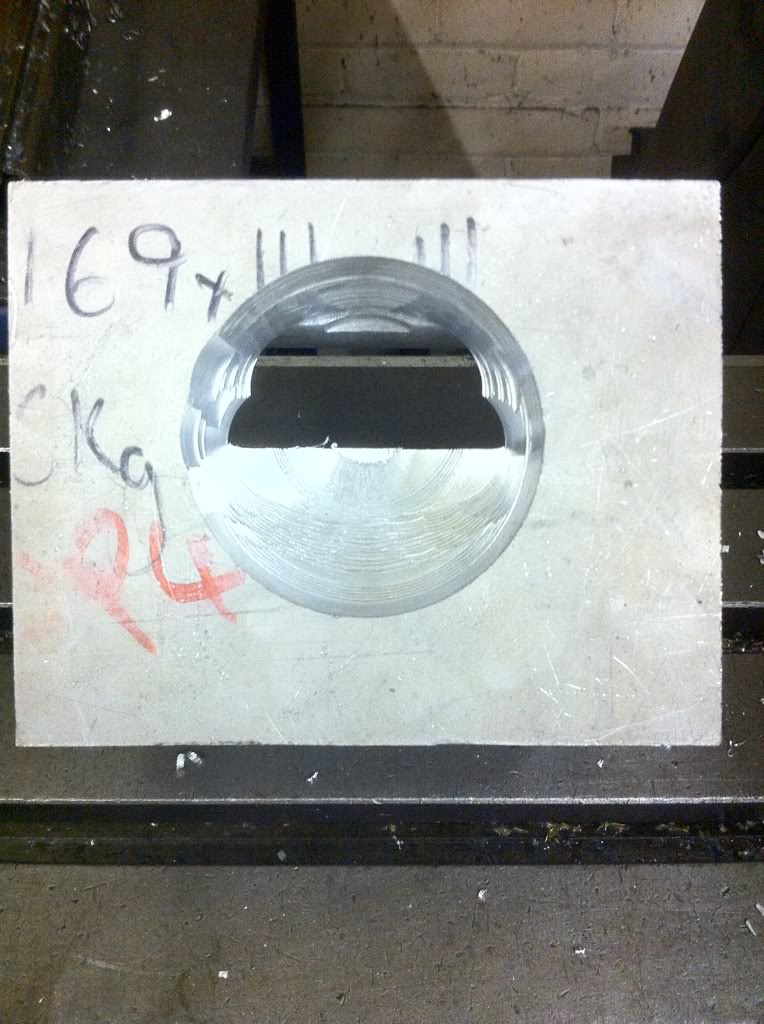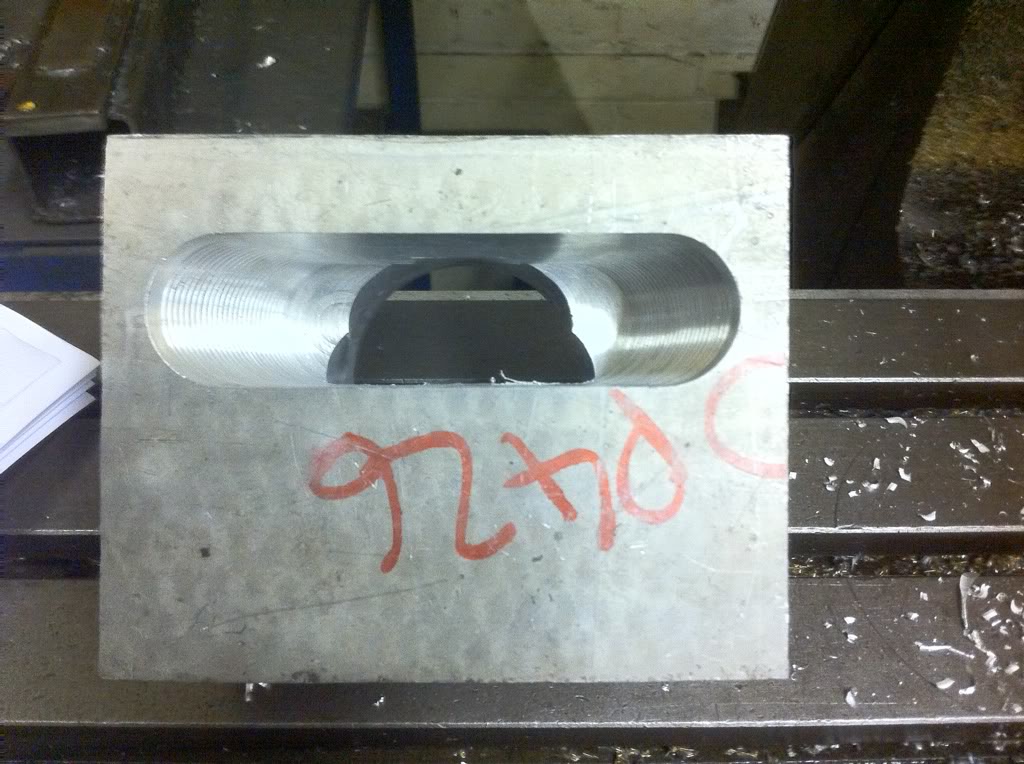 To this: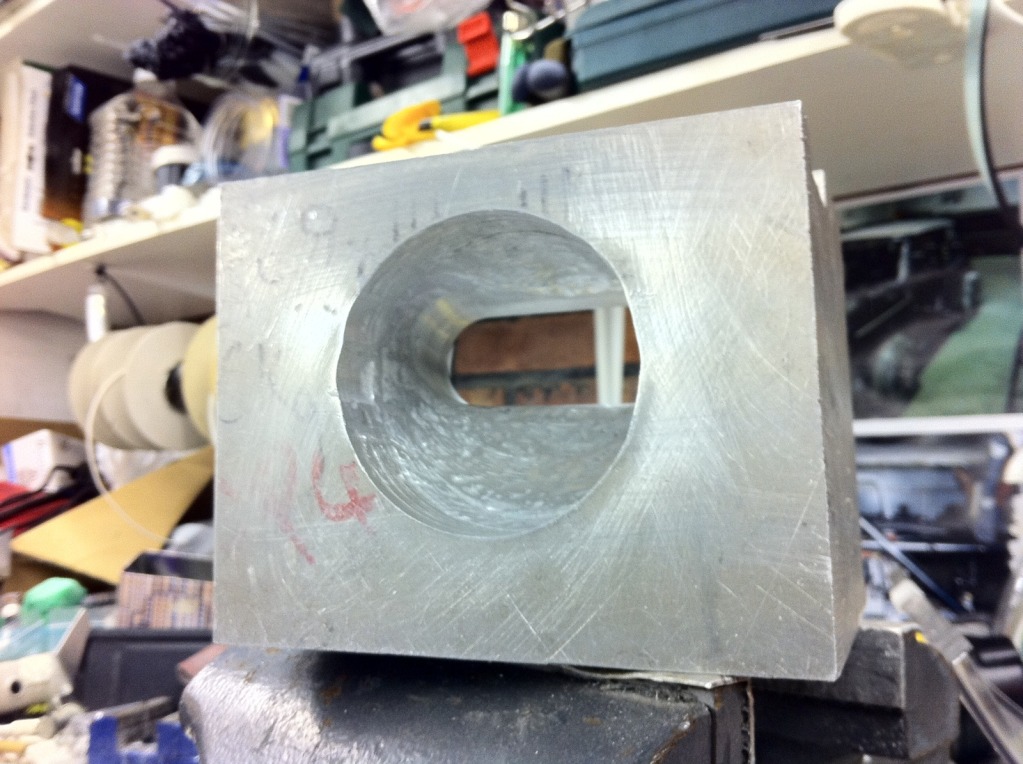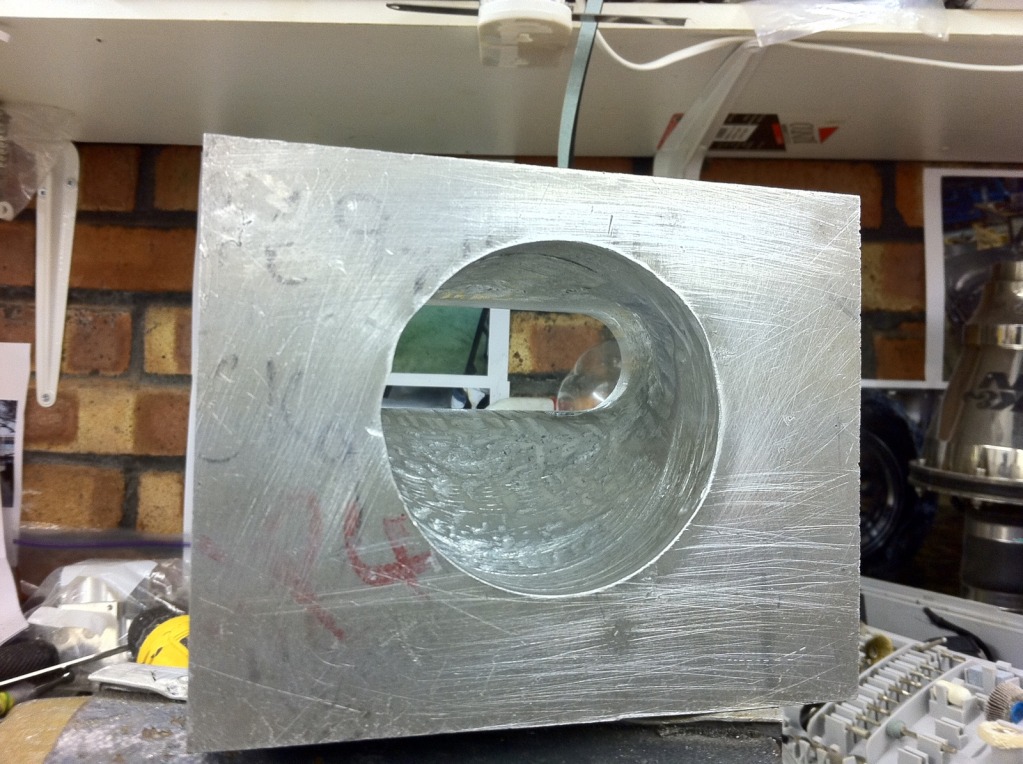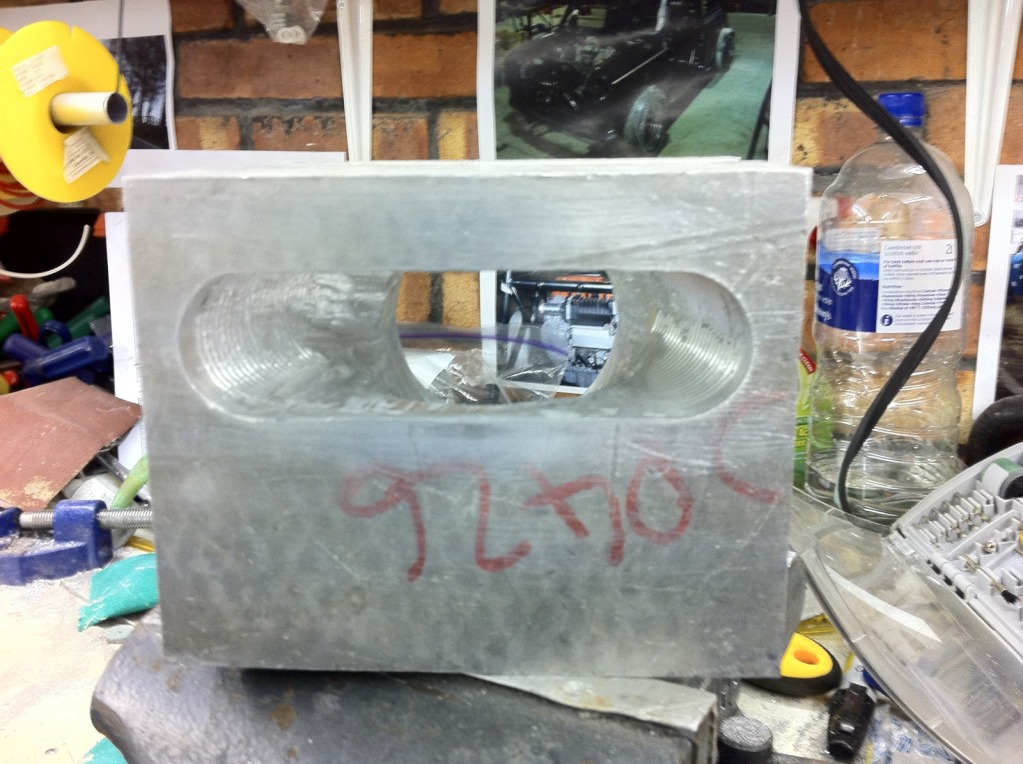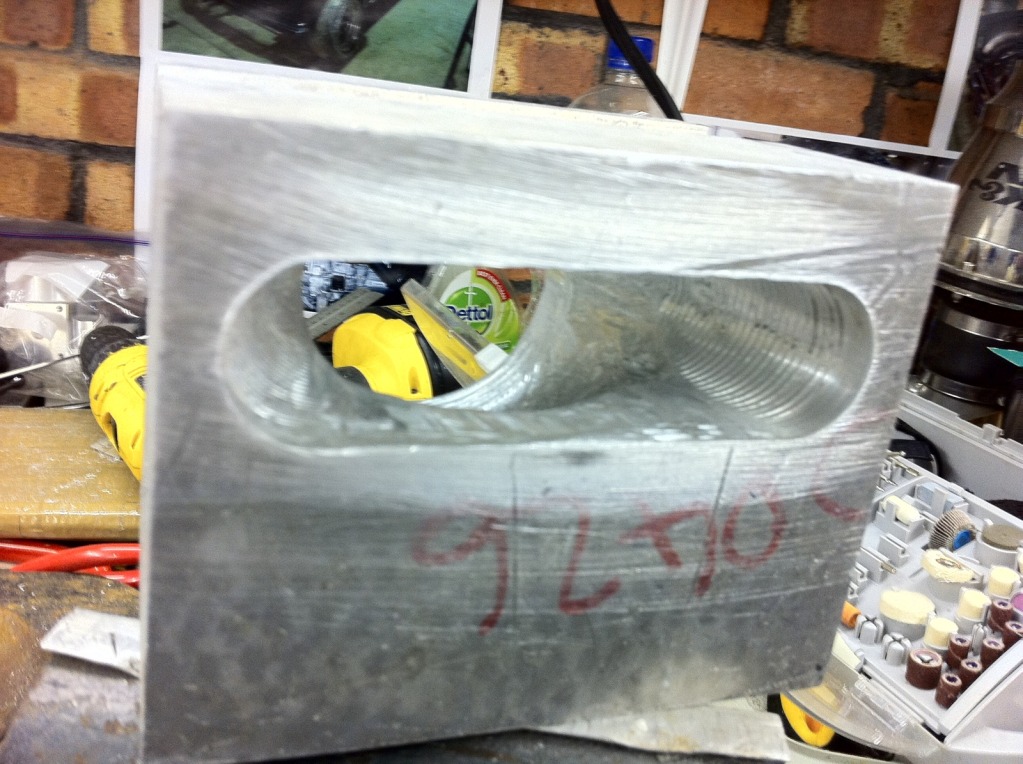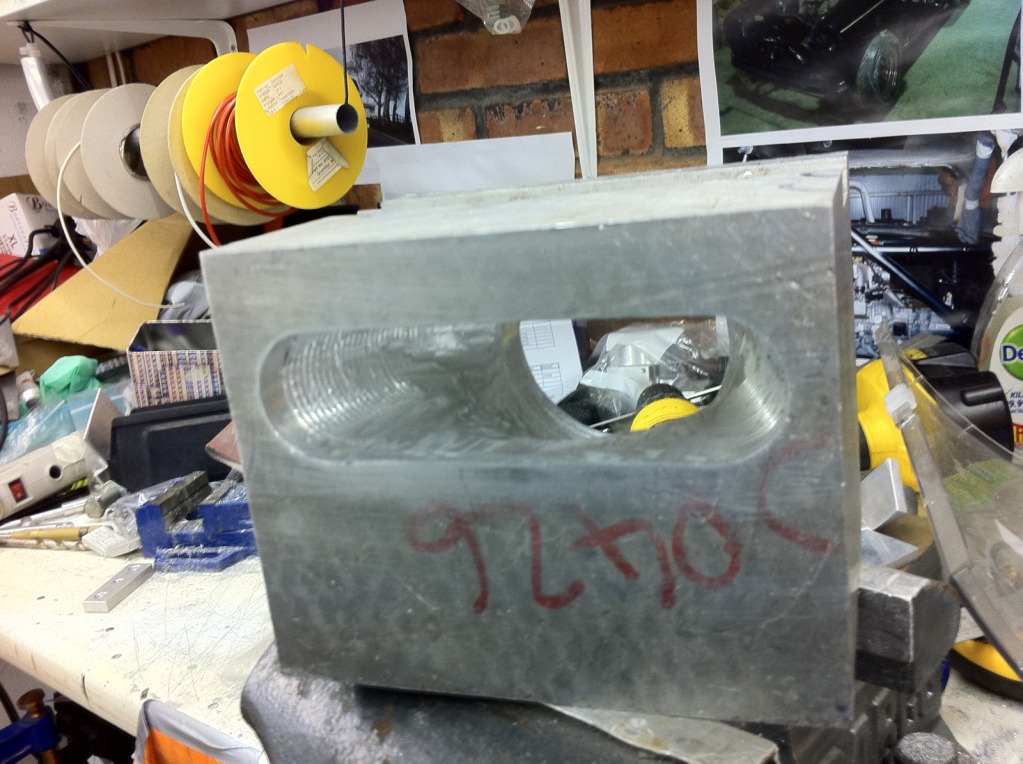 Going to do some more sanding and smoothing to the tunnel, but at least we can now start on the outer machining which shouldnt take too long.
4-11-2012
NEW THROTTLE CABLE HOLDER

Fisrt things first I have to give a massive thanks to Martin (AKA Rust and Oil) as he has very kindly made this part for me.

Due to the repositioning of the throttle body I have had to redesign the throttle cable holder, the TB is now 3" more outboard and 3.5" higher, the throtle cable did not have enough extra length in it to be able to meet the old throttle cable holder.

So a series of pictures, running from the design in CAD, through the production to the final part: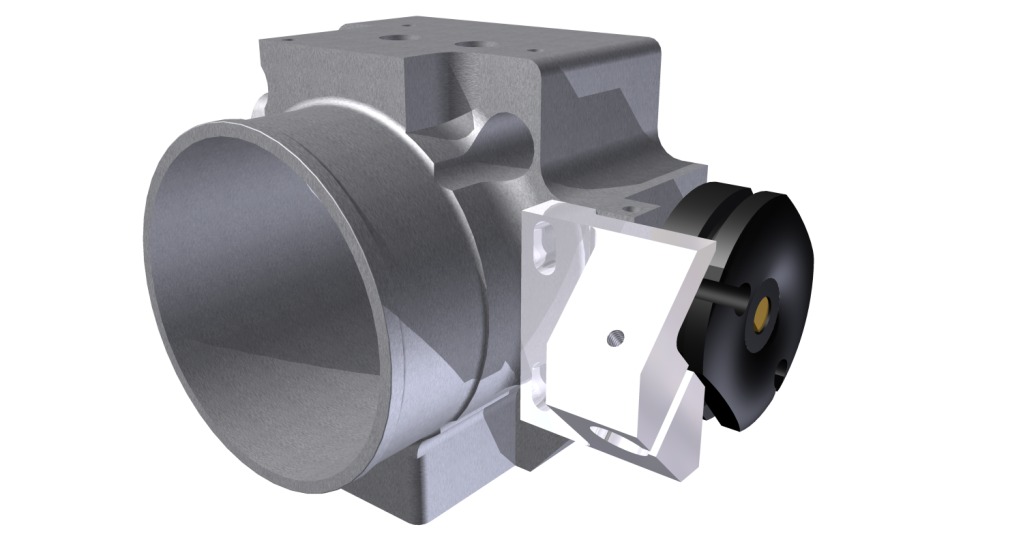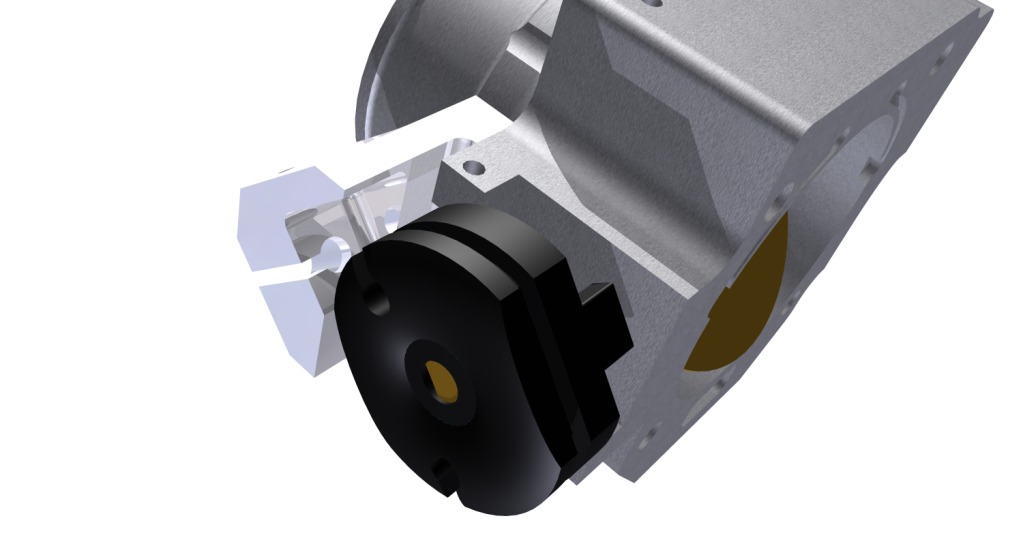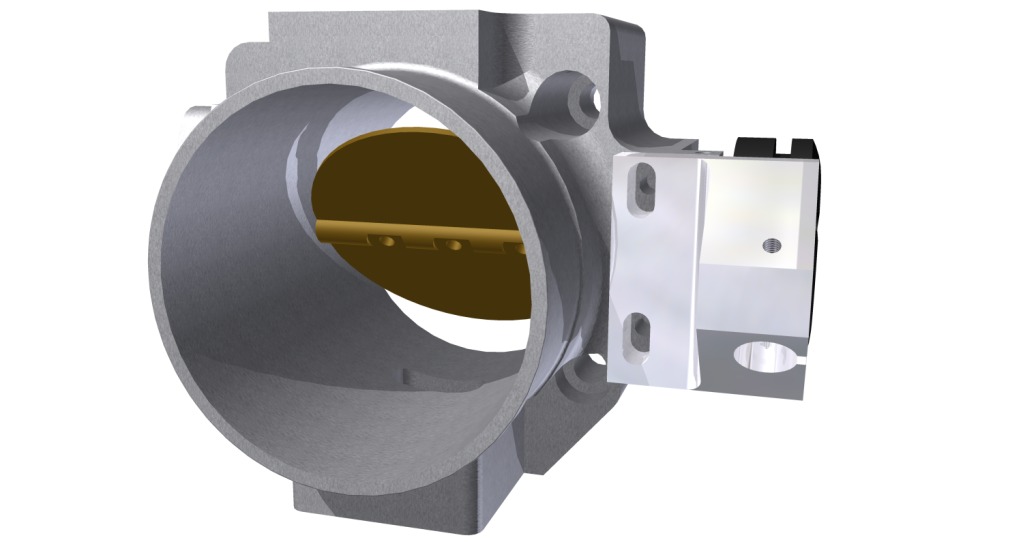 In production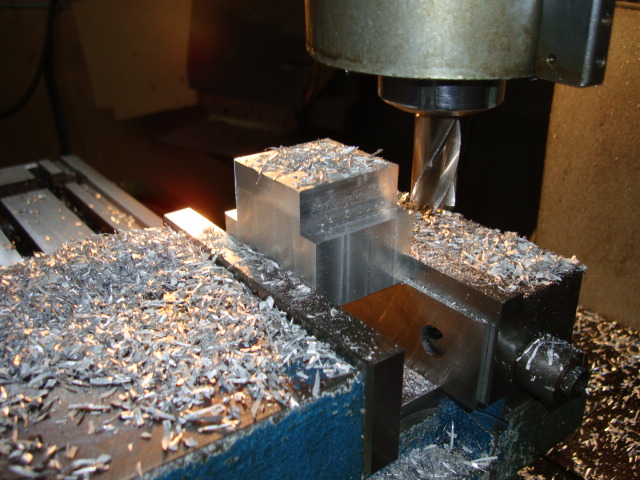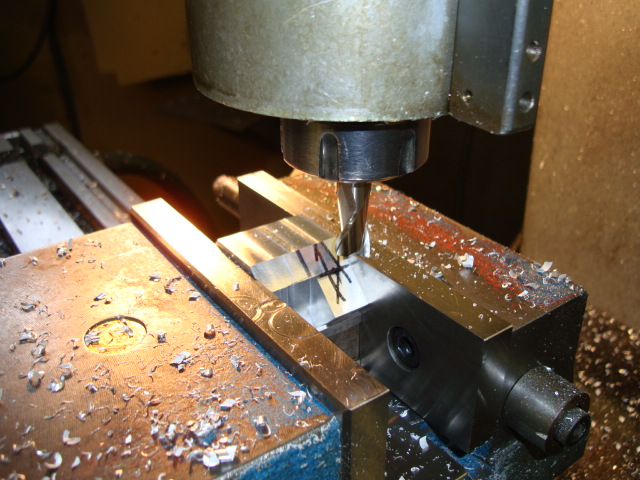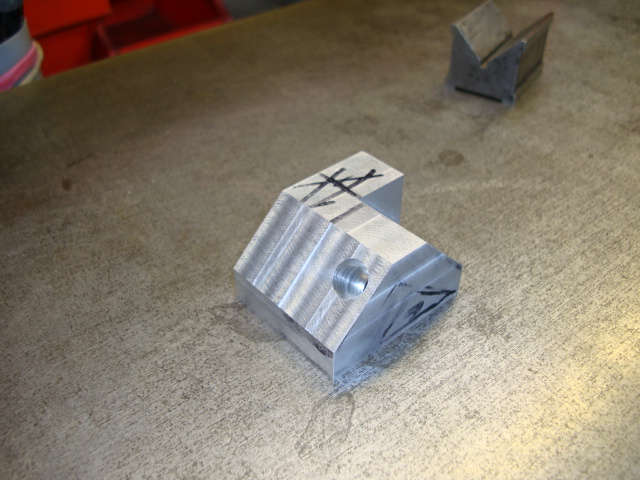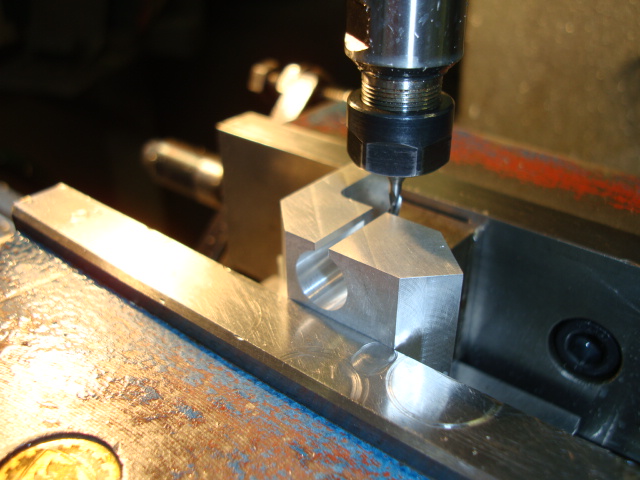 The final Part, as receieved this morning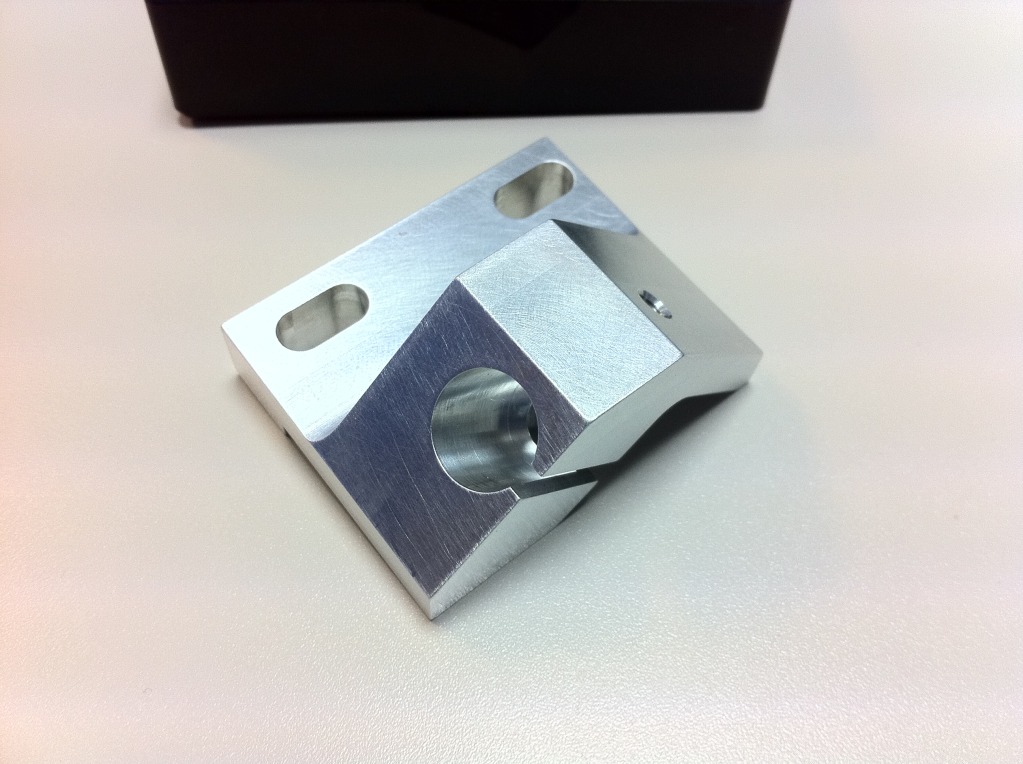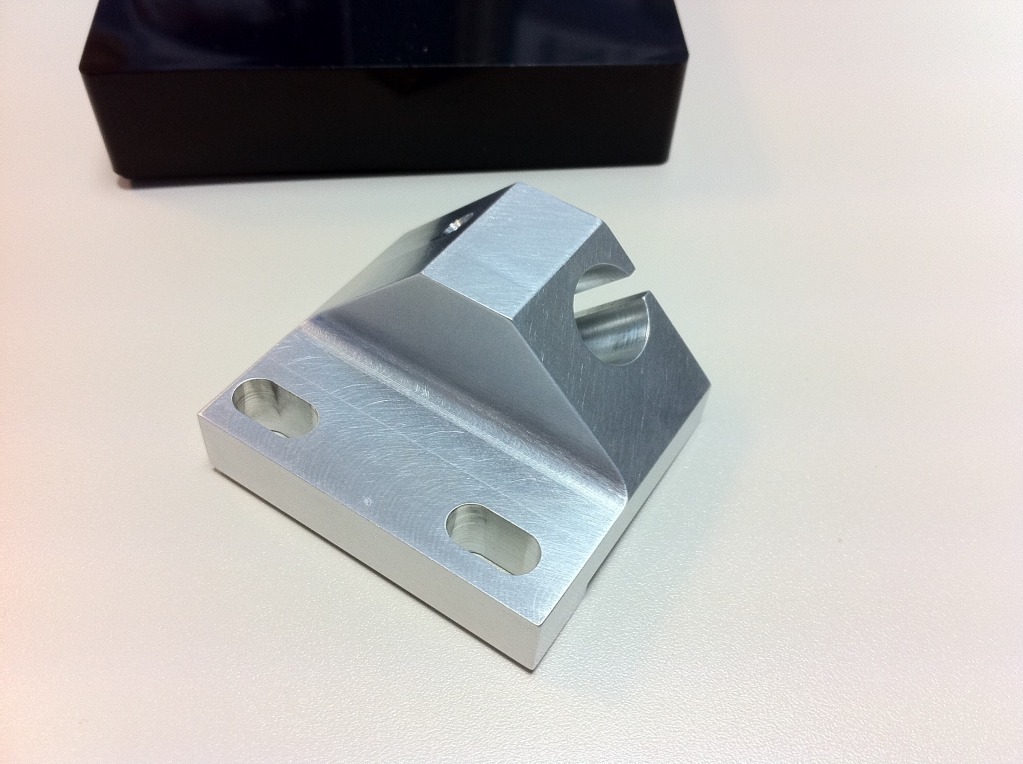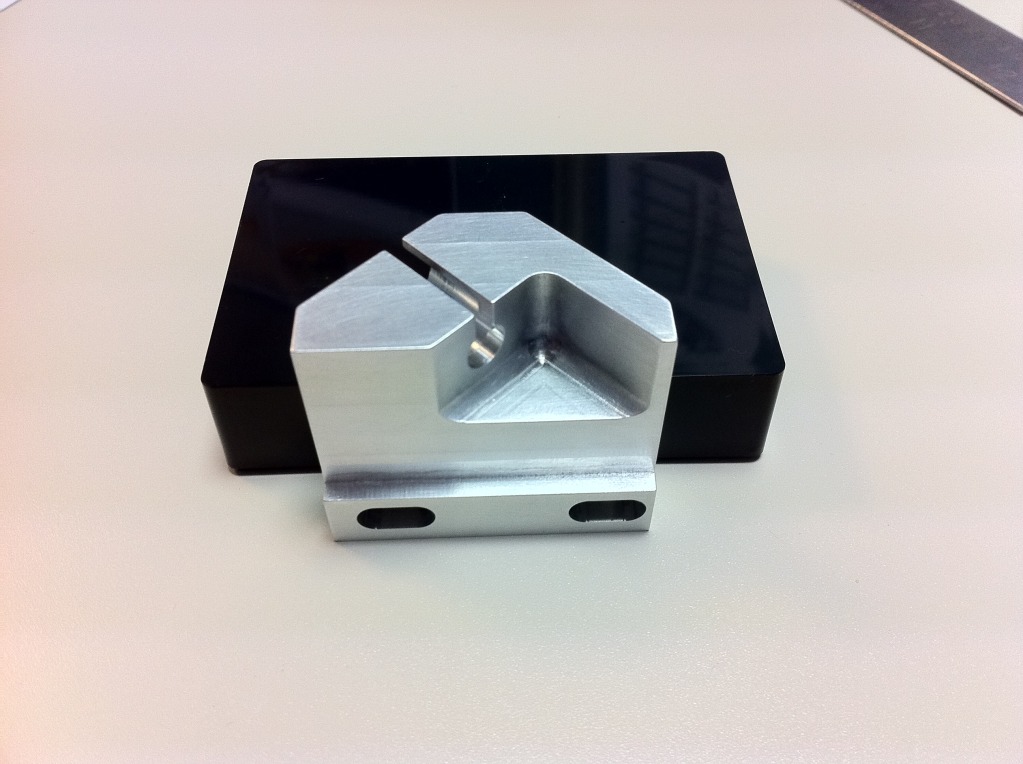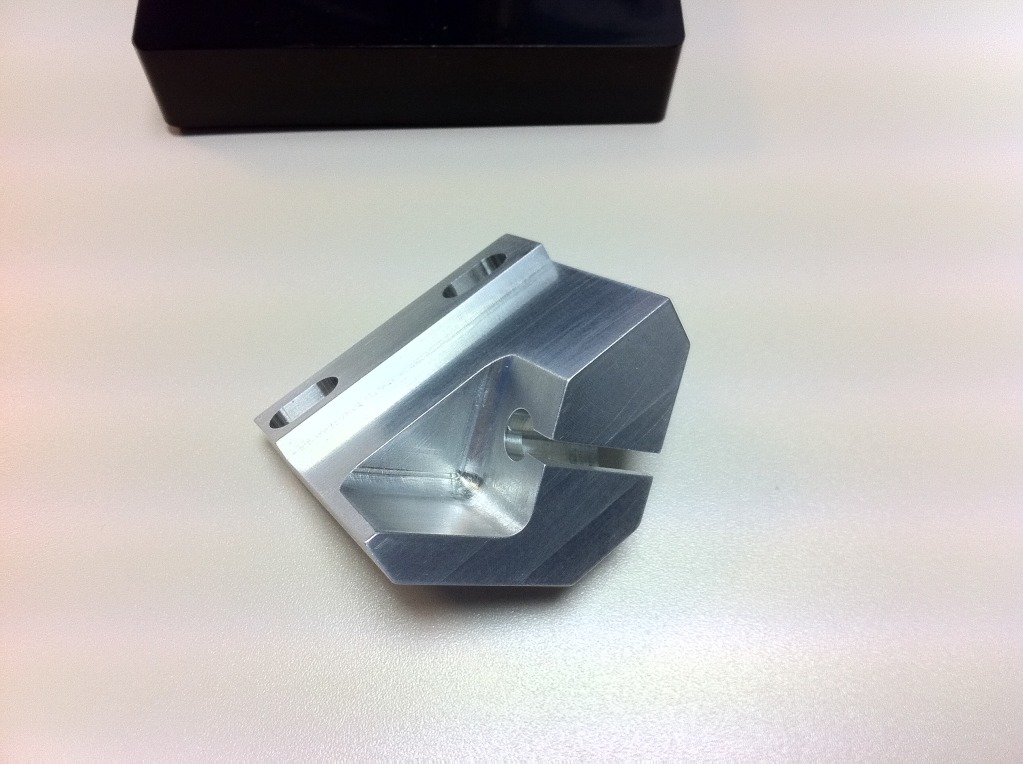 4-25-2012
For some reason recent posts have gone missing, oh well...

Here it is again:

Fitted new cltuch and flywheel and the weekend and also the new belt (fits like a dream), I also got the motor back in the car so its all go to get it running and ready for a track day on 2nd June.


New clutch and flywheel: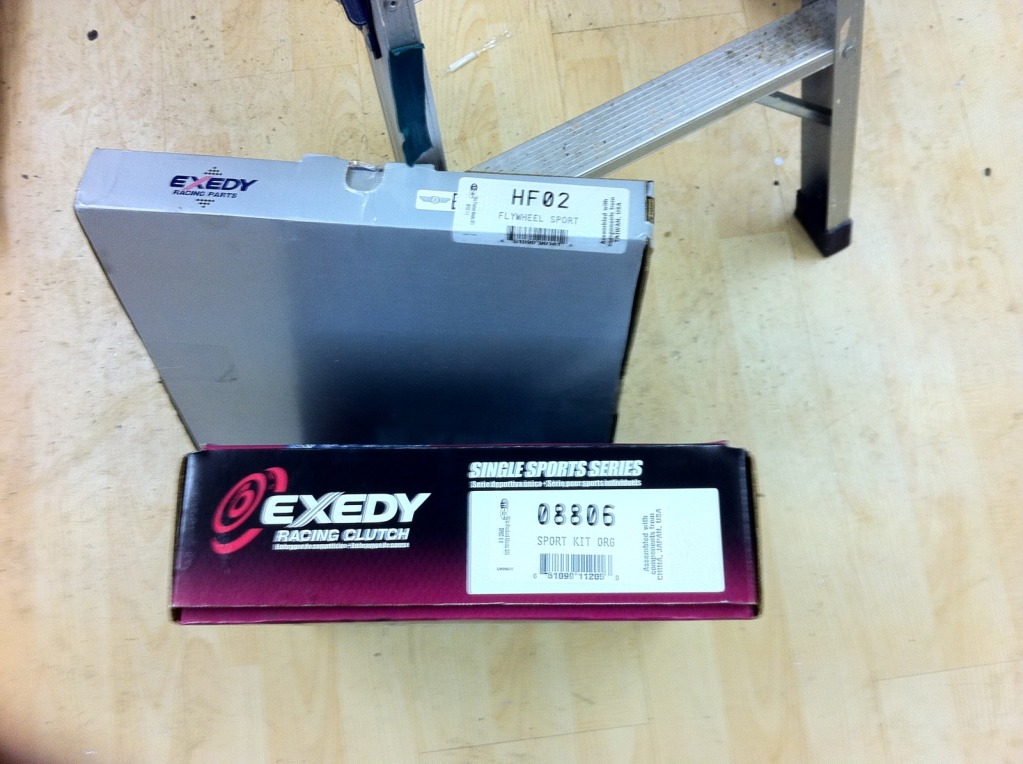 new belt: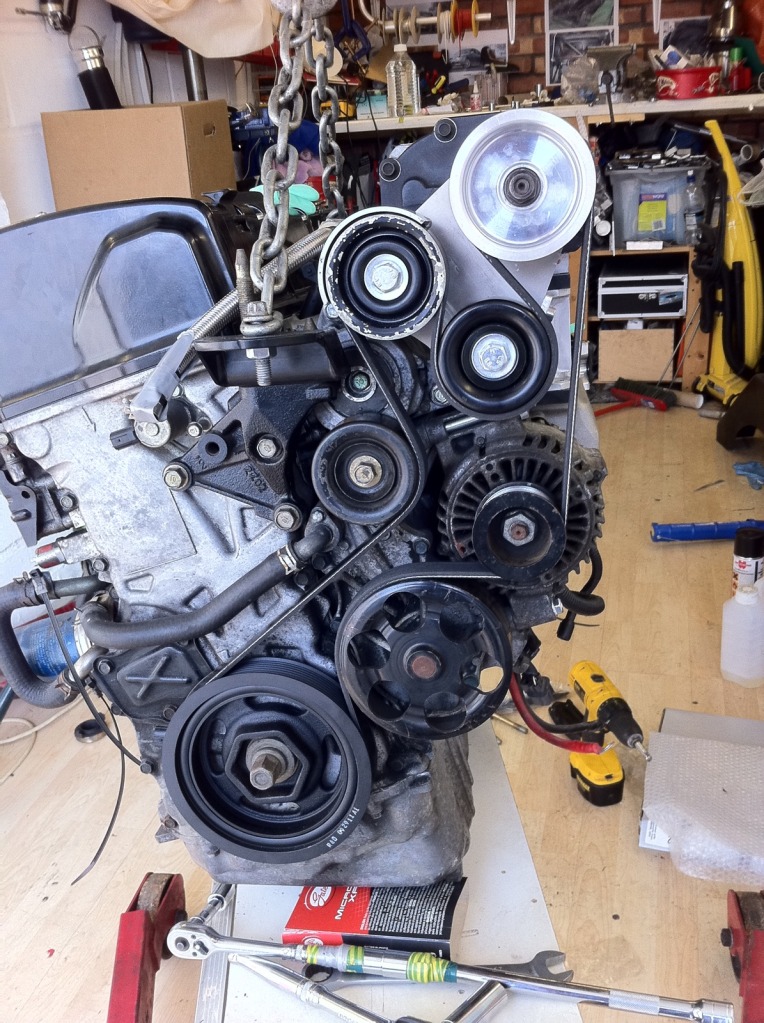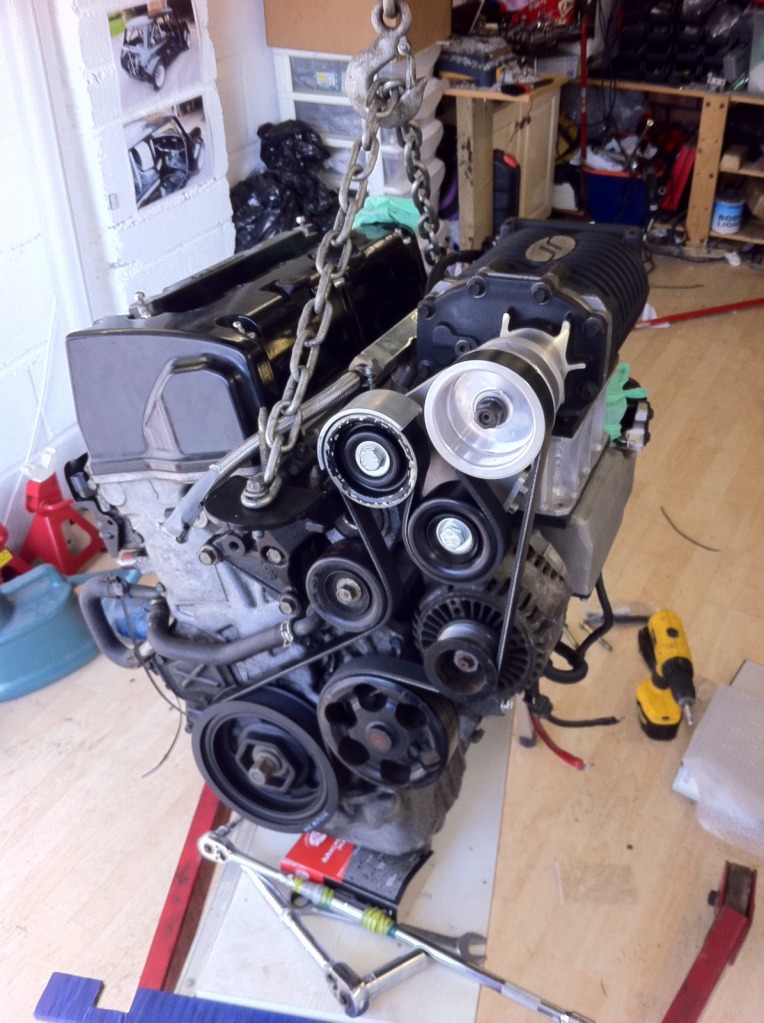 4-26-2012
Exhaust

I managed to get the new exhaust flanges all welded on and exhaust is off getting ceramic coated (inside and out) and due back in a week or so - coating done at Camcoat.co.uk

A few shots of the various parts before they went off for coating:


Headers: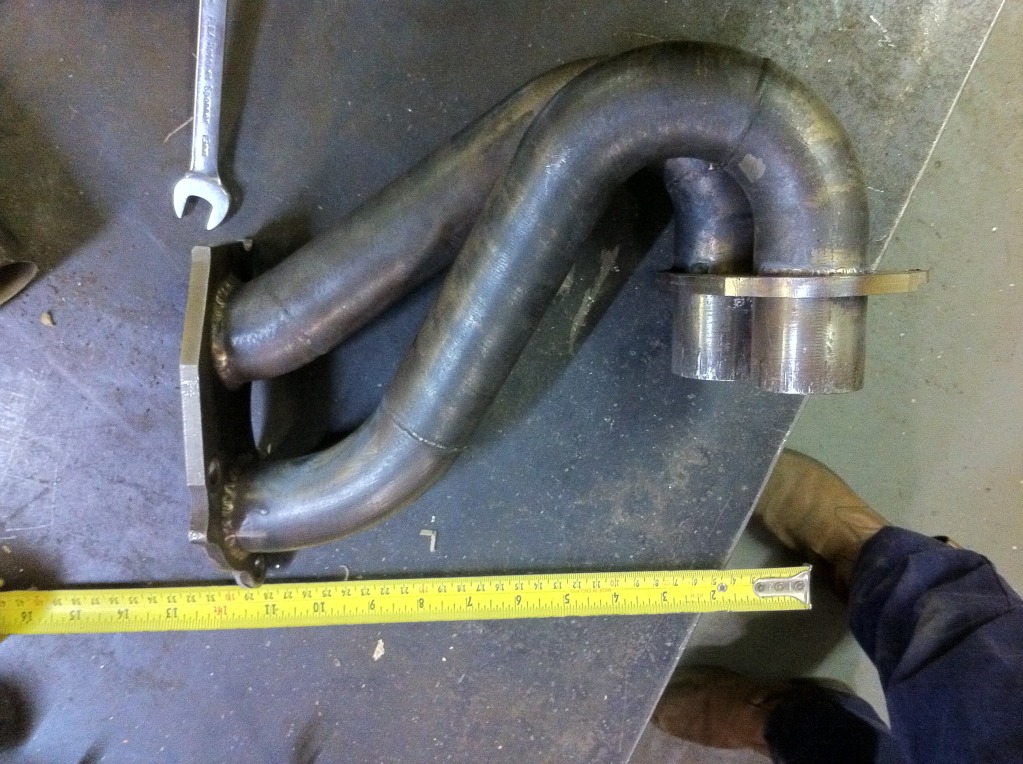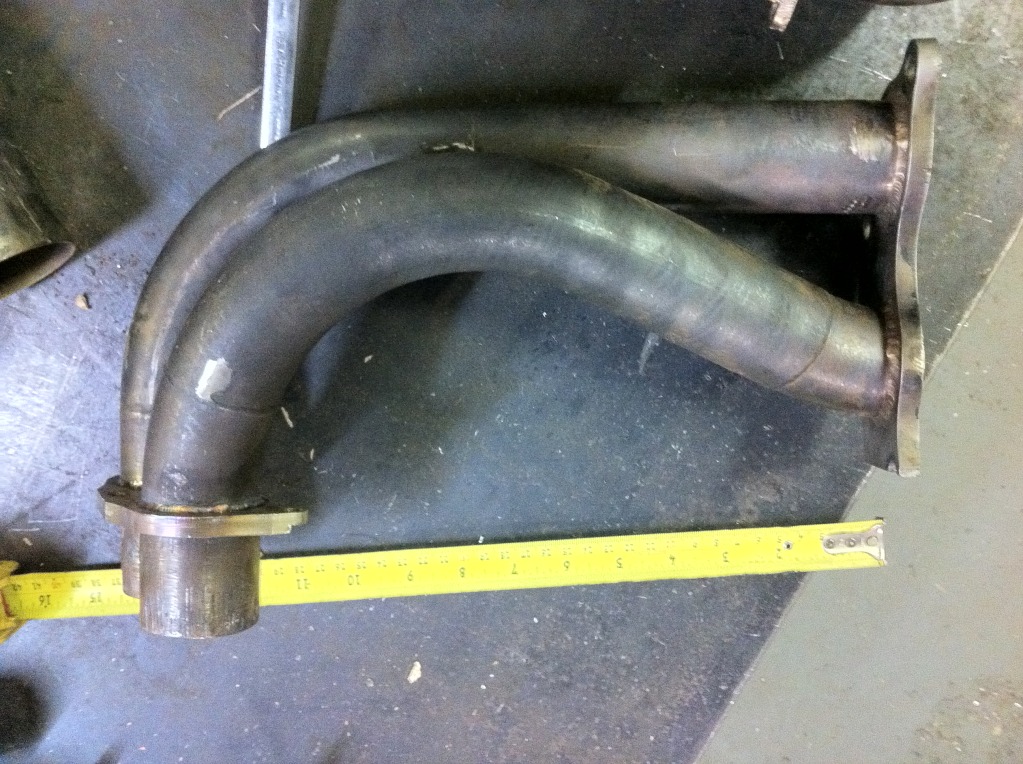 Y-Pieces: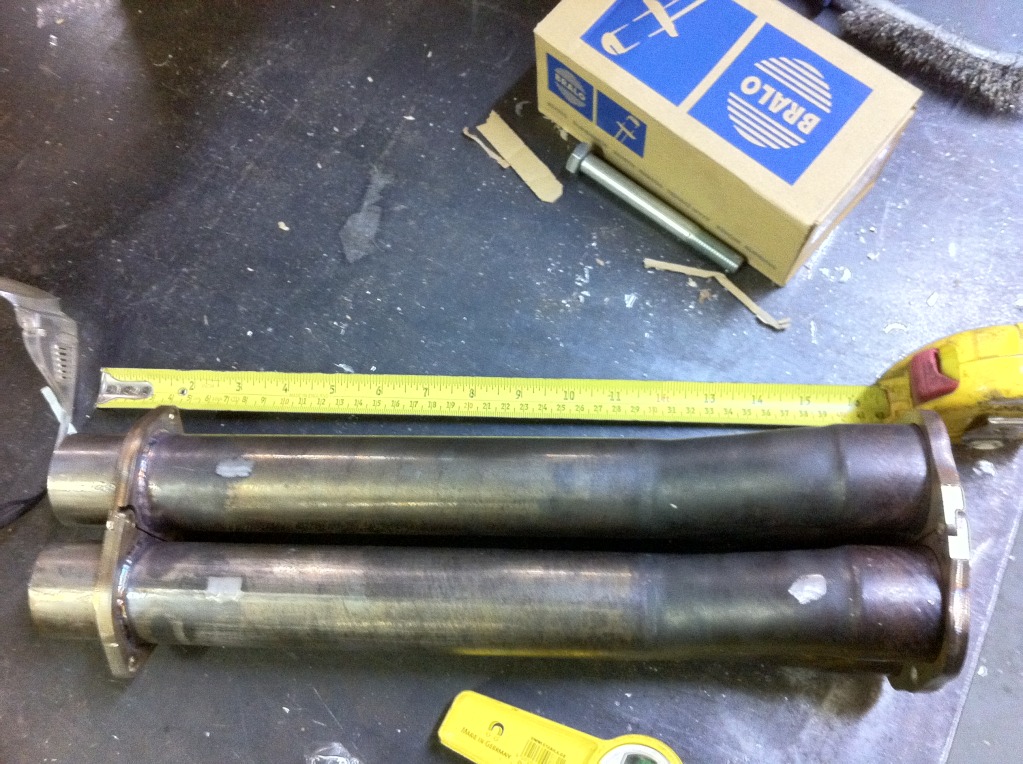 !80 turn:


TB-SC inlet manifold

A bit more progress has been made.

I discovered a fouling of the TPS on the roll cage so I have had to rotate the TB through approx 30degs (didnt get the angle right the first time as you might tell by the small pilot holes). the last few photos show it marked up ready for another go at machining (marked black to be removed). I am waiting on some grinding stones and flap wheels to sort the inner tunnel smoothness.....


Photos: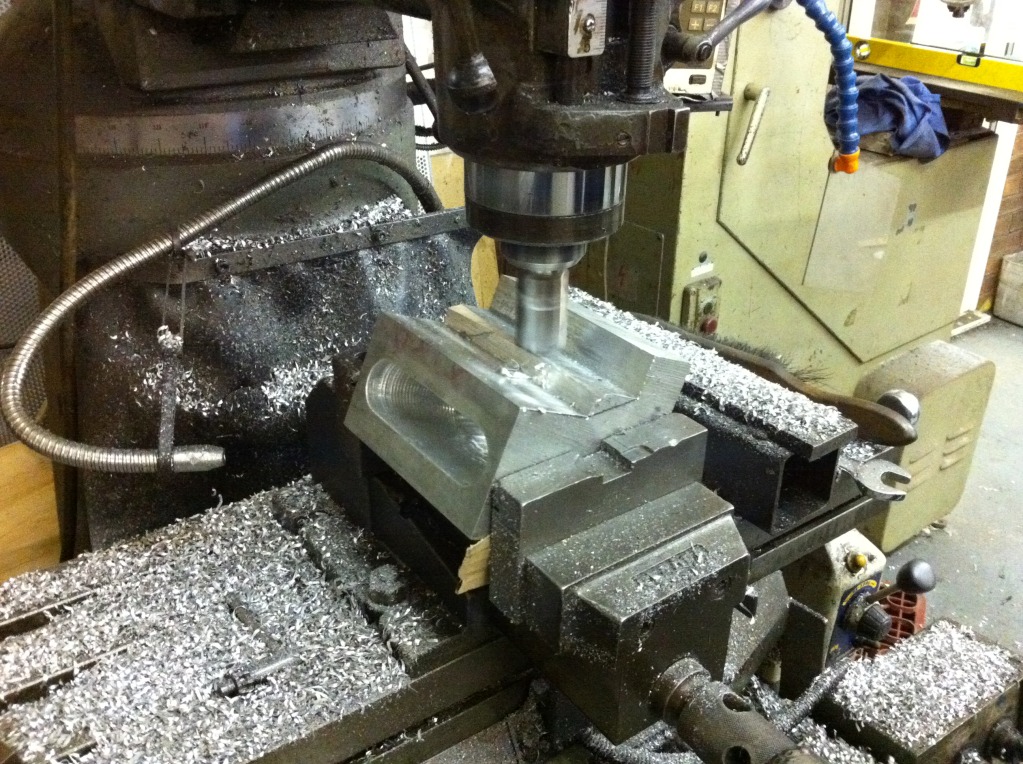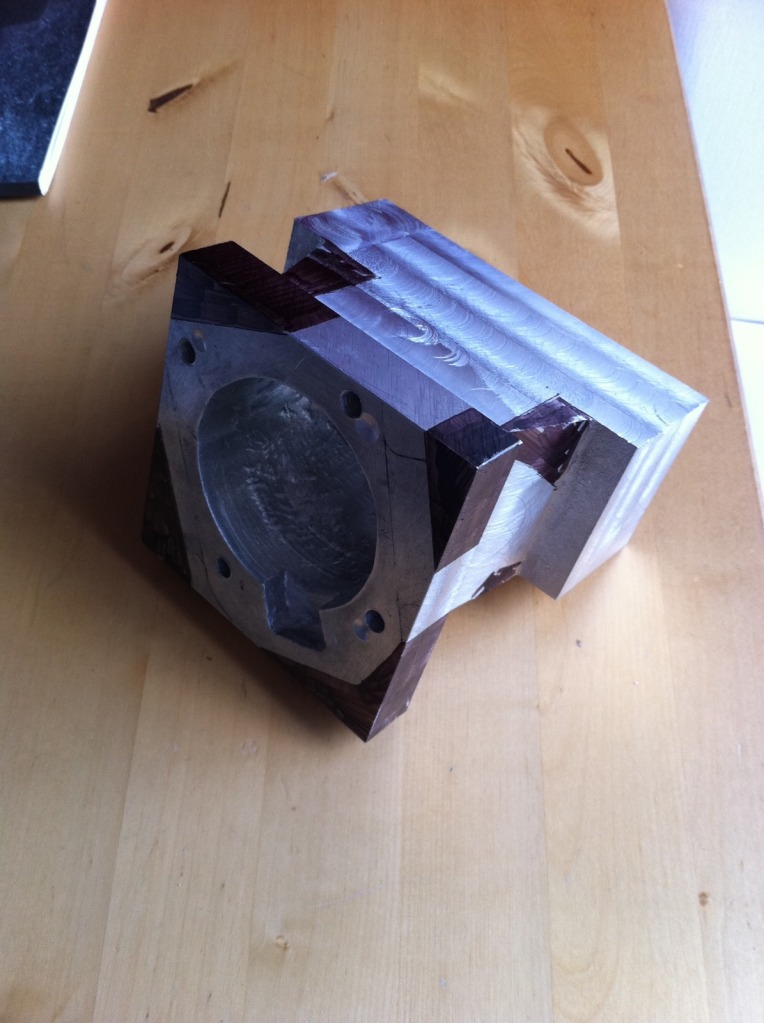 5-15-2012
I got remapped by my tuner Scuffers yesterday with my new setup. I am very pleased with the numbers.

Dyno'd on a Rototest Dyno, bolted straight to the hubs.

Mods since last dyno =

Bell Intercooler (own design - made by Bell)
Johnson CM30 pump
Pre Rad, 26"x7"x2" Aluminium
10mm PTFE Thermal Gasket on Intake manifold (own design - made by me)
TB-SC Manifold (own design - made by me and my buddy Stevie G)
6.37" Crank Pulley
3.4" Blower Pulley
72mm Throttle Body (OBX - not a good make, steer clear of them)
Snout Clamp + extra pulleys for belt wrap and improved effectiveness of OEM auto tensioner (own design - made by me, and buddy's Stevie G and Jim Bright)
Ceramic Coating - Header, 4-2 & 2-1 parts of the exhaust

Dyno Plots:

RUN 1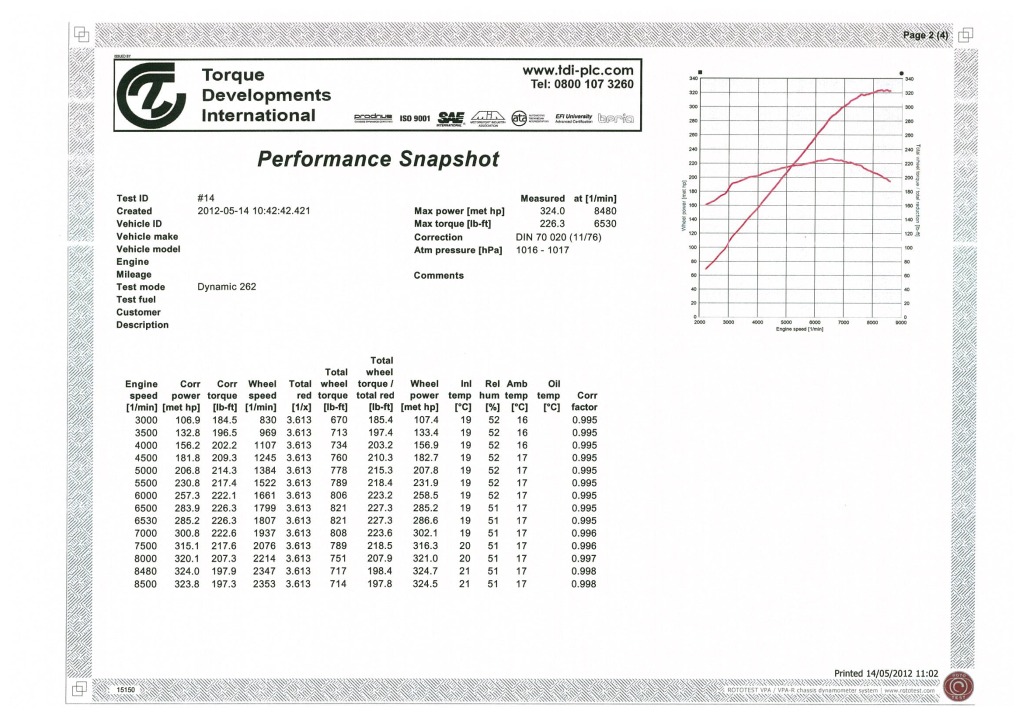 RUN 2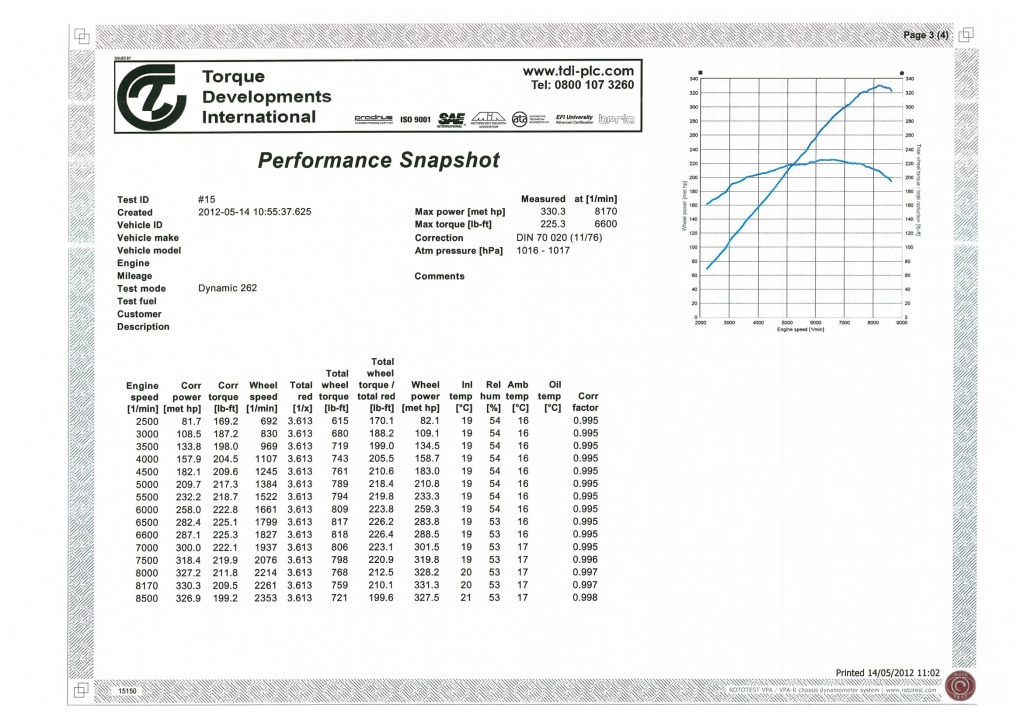 RUN 3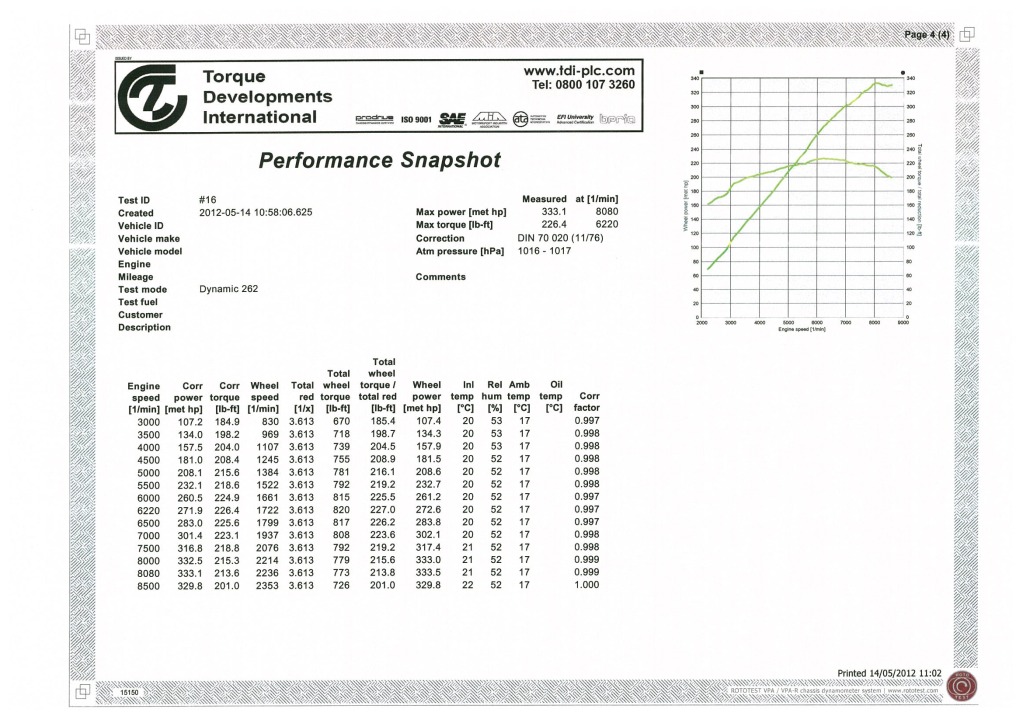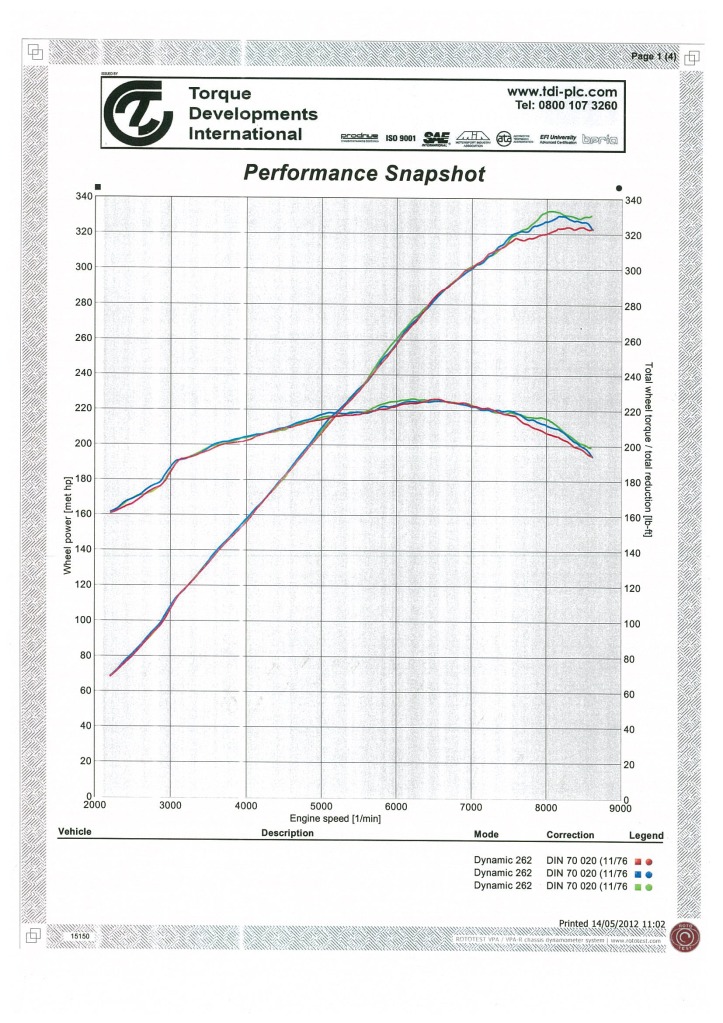 The numbers above are HP at the Hubs, to work out the BHP at the Flywheel add 10% for transmission losses, so 333.1 x 1.1 = 366.4BHP




And a video of the last pull - watch for the exhaust glowing red through the ceramic coating then the F-ing great flame when it hits the limiter:
I still have work to do before its back on the road but I am dead chuffed with what I got and there is room for even more power by using a smaller blower pulley......
5-31-2012
I finsihed of my rear parcel shelf and the car is going for its MOT real soon, I am Goodwood this Saturday afternoon for a track day, well looking forward to it.

Any Hoo, here's a few snaps fo the new viewing window parcel shelf, I have to raise it due to the new height of the Supercharger and Throttle Body: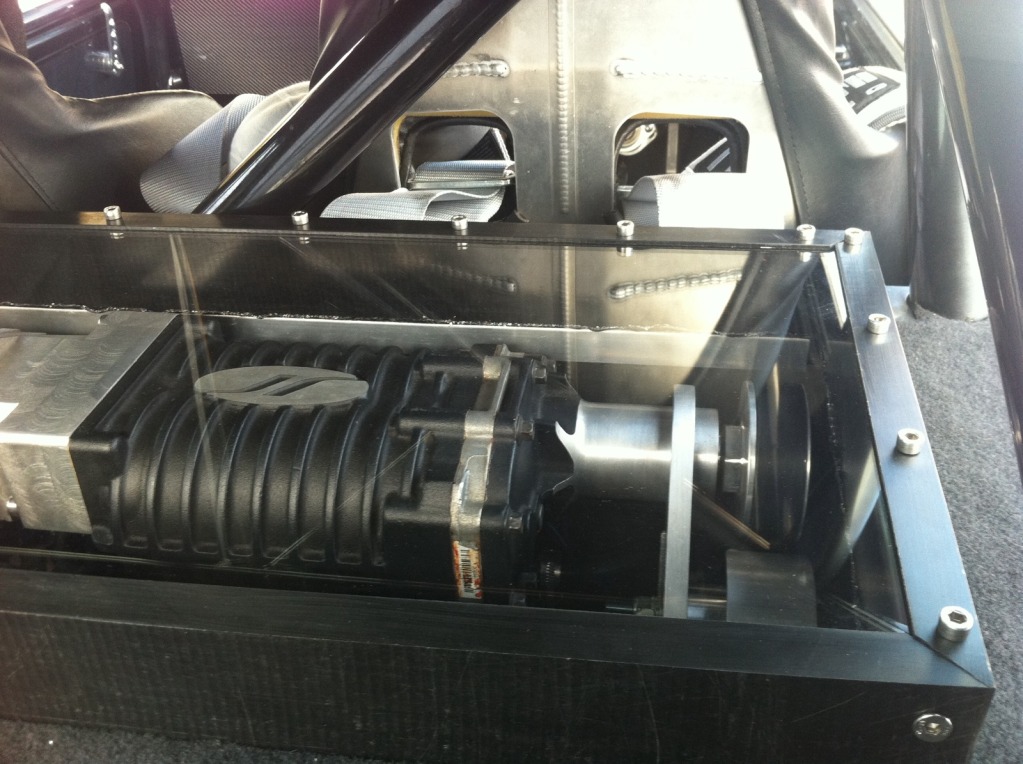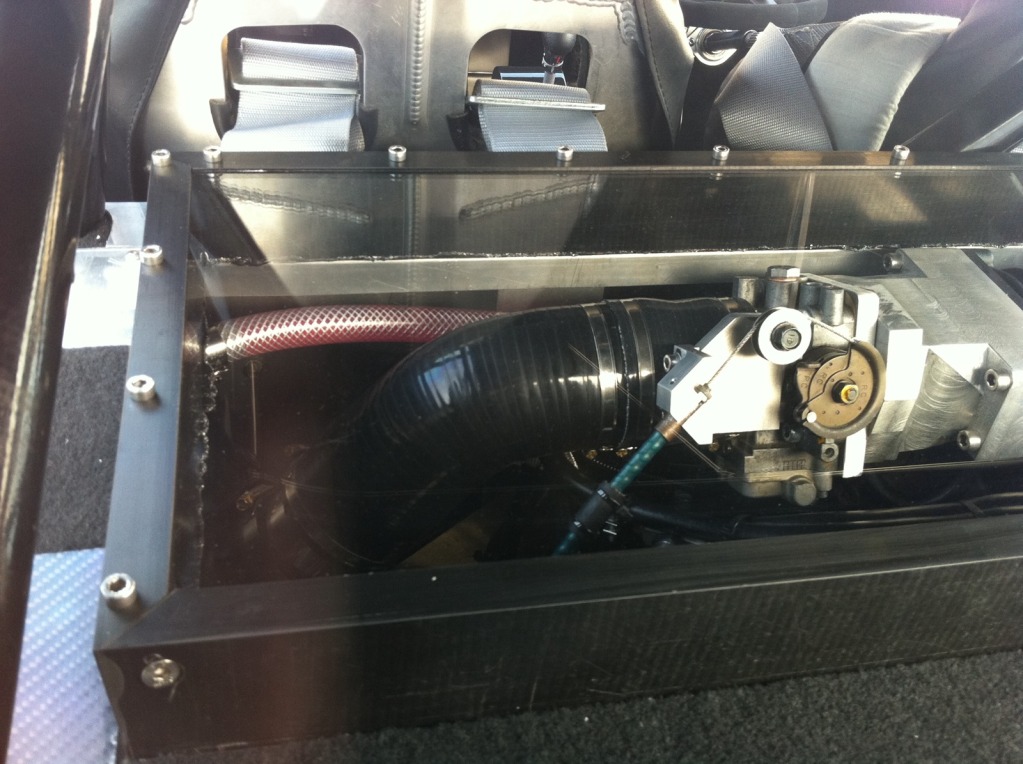 6-28-2012
I got a still from the video of the car on the dyno, looks pretty sweet: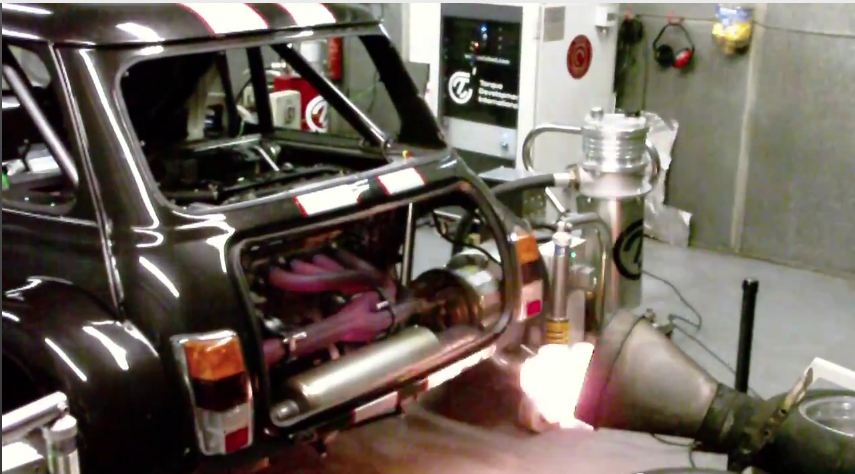 On a slightly different note I developed a rattle, pulled the parcel shelf last night and found something a little more than loose, I only have myself to blame for it but are super thankful it didnt make more of a mess considering its proximity to the fuel line.


OK, look at this pitcure and see the cowling on the idler pulley: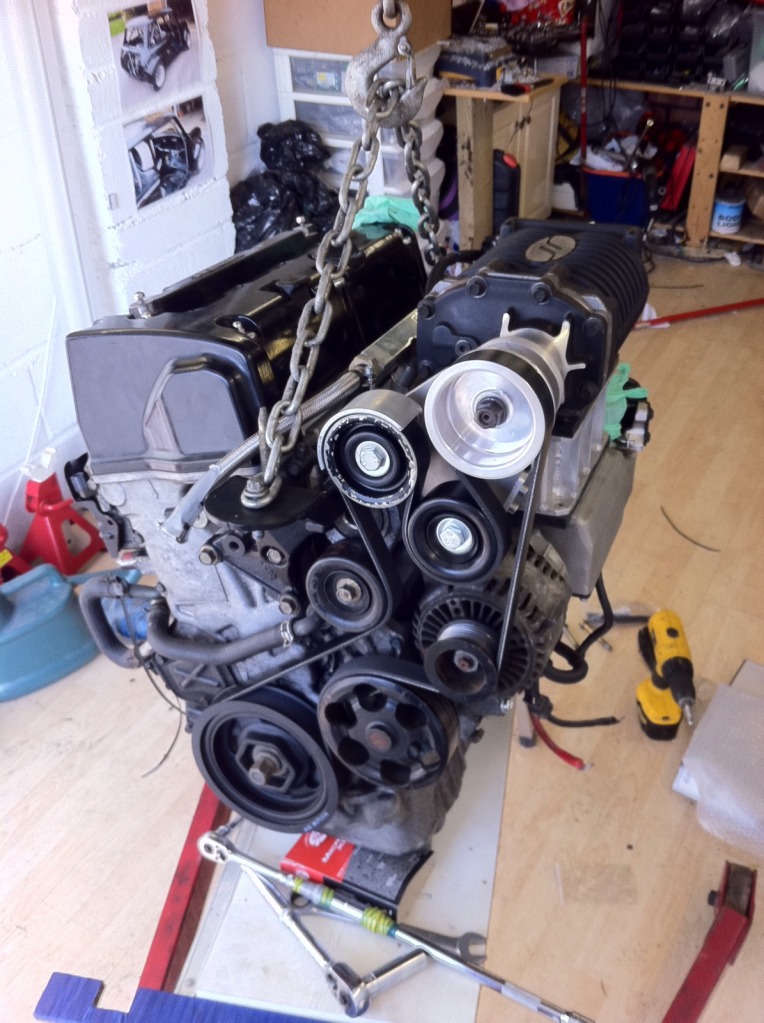 and now look where it is, no wonder I could hear a rattle, one more thing to fix........: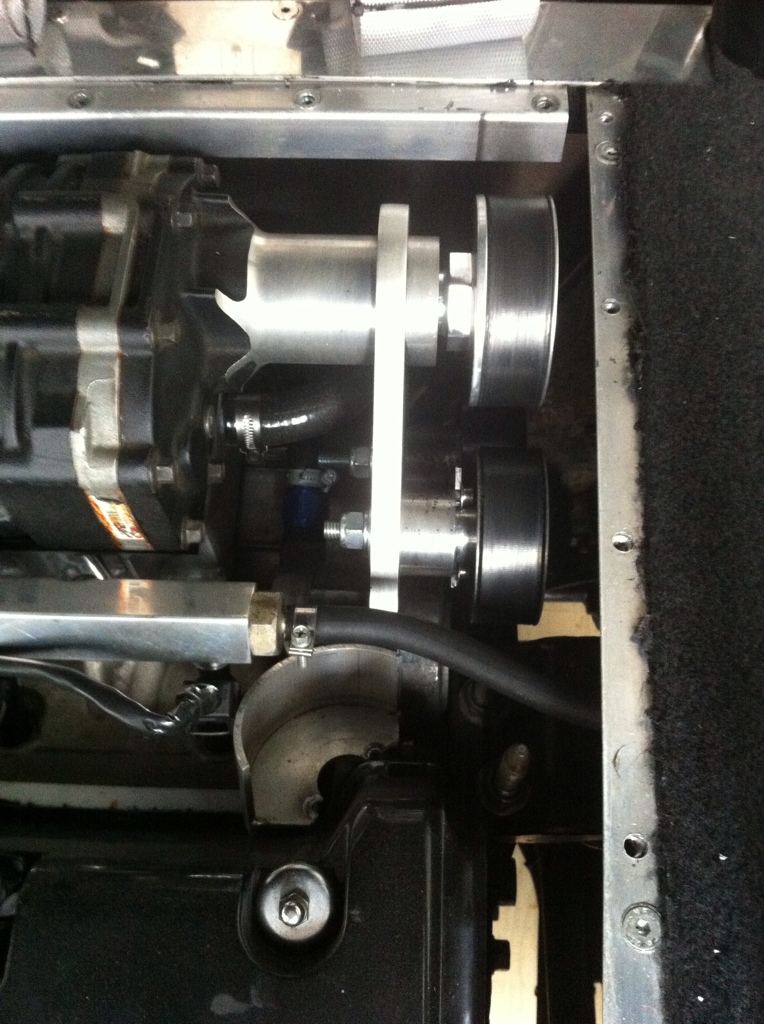 8-2-2012
TYRES

I eventually accepted the fact that the rears (Toyo R888 205/60 R13) had seen better days and were likely to land me 6 points if I got stopped by the Police, so I opted for two new Toyo R888 225/45 R13's. I should probably take this time to say that I get a discount on Toyos and had I not I would have opted for Kumho 235/45 R13's

I offered them up against the old tyres and was quite surprised as to just how much smaller the new tyres were in height. The extra width looks good but now I have fitted them I believe I could have gone wider, next time.....

First impressions of the tyres are good, less roll for sure and makes the car feel a bit more nimble. The ride comfort hasn't been affected by any great amount. The acceleration will be improved and now I have to get new acceleration timings, just waiting for good weather.

For those that are interested here are a couple of photos of new and old for comparison.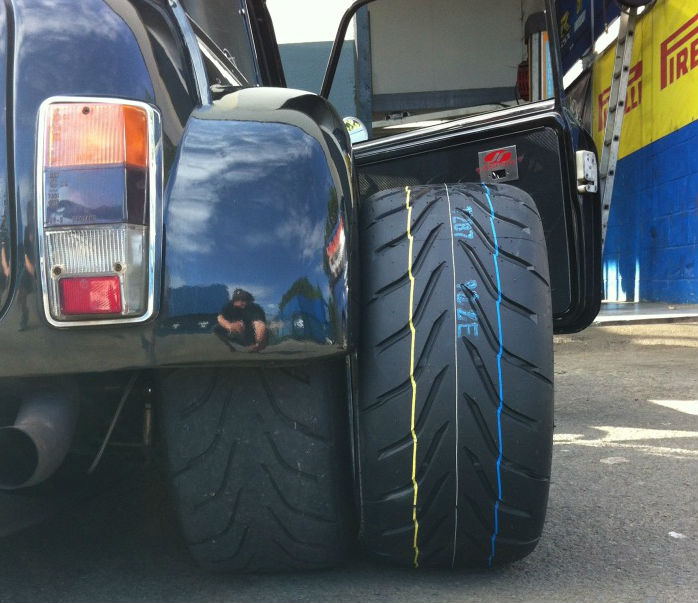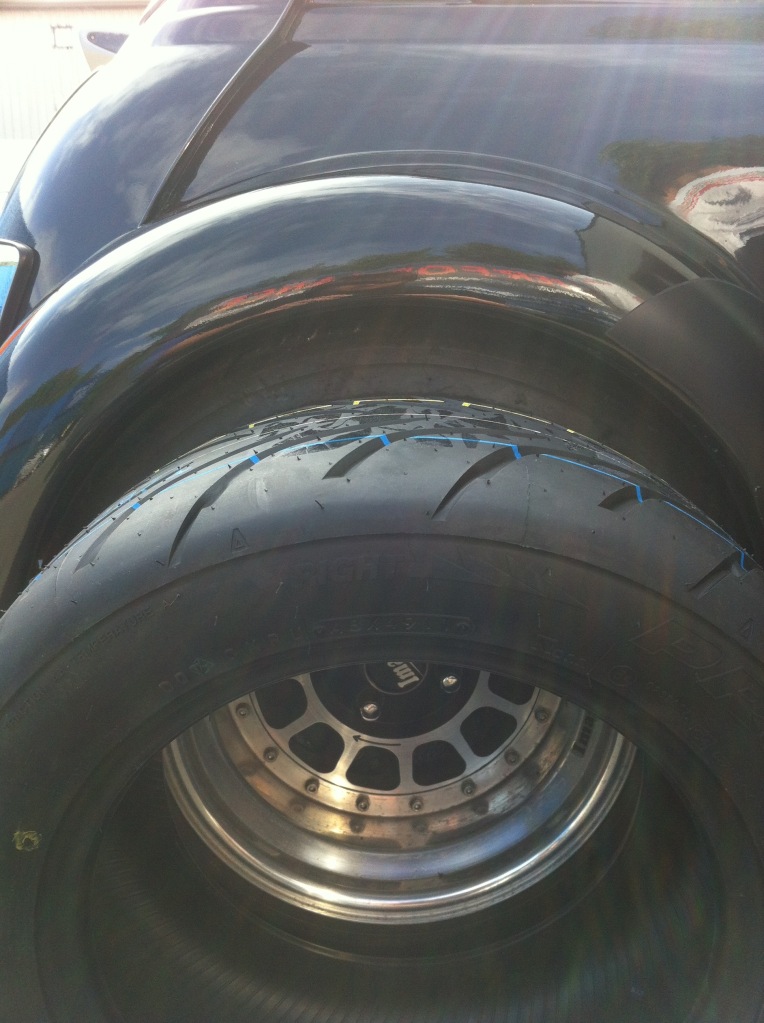 10-3-2012
OK, after 24hours of uploading and then another few hours of clipping & processing I now have one of the sessions from the weekend sorted.

As you can see from the rev counter and even from the noise of the charger, there is still a lot more to be had from the car, I still need to grow bigger kahunas, that said on a track day like that its difficult to know what everyone else's skill level is so I found myself backing off quite a fair amount and only overtaking where it was safe to do so.

All comments on the spin welcome.......


ENJOY:
10-8-2012
Here's the a video from my first run at the Miniworld Action Day 2012, I get three good laps in before I get black flagged, I have timed the laps and put the times in the video. Looking at the footage there's a lot more to be had from the wee Beasty, mind you as it's only my third ever track day I didnt think I did too bad......enjoy and sorry about the sound, going to ask Santa for a Go-Pro for Xmas.....
I just checked the lap recorded lap times of Castle Combe and my time is pathetic, considering the power to weight of the car I should be more like 1:15 - 1:20 (my best so far is 1:31), man I need to get some track driving lessons.........
11-8-2012
NOISE - the car passed the static and registered 97db's, then according to the clerk of course it registered at 101db's on a drive by, apparently the drive by limits was 92db's. He then went on to tell me that normally if a car is registering so high on a drive by that it would register around the 120db's on a static.

Then I had to try and explain how the supercharger is on bypass when the car is being held at a constant rpm and it gets a whole lot noisier when its under load.

To keep the CoC sweet I offered to stick my extra bike silencer on the wee beastie. It was static tested again (dropped 4db's) then he sent me out for 3 laps, one to warm it up and the next to raz it past then an in lap. So instead of hitting 8800rpm out of the corner I went to 7000rpm (and continued to do that on camp corner for the rest of the day) the CoC registered me at 94db's on the drive by but allowed me to carry on - Good man..... You can see the difference in the two videos, the one with the black flag you can see that I take it higher in the revs up the start finish.

It really is nowhere near as loud as it seems in the videos from inside the car, more than anything you can hear the charger whining like a disgruntled girlfriend/wife.
3-12-2013
I can report that the new clutch is alot better for regular driving than the old carbon clutch, I cant even say it was nice while it lasted as it was just a pain in the a55 having to keep it warm to make good engagement. The best thing about having a carbon clutch is telling people that you've got one, living with one is quite different.....I can't recommend the new Exedy clutch and flywheel that I have in mine now (can remember the part codes of the top of my head).

Changing the Crank pulley was done primarily to spin the charger faster but a great addition to the mix was the fact that it spins the water pump faster. I wouldn't consider an electric pump at this point as what I have is more than adequate now. Also the blocking off of unnecessary heater matrix pipework was a big help to getting the water flowing properly - for anyone reading wondering, do not use the bypass pipe as supplied by Z's to loop the heater pipes together it creates a pass with little resistance that does not flow to the radiator.

I haven't been doing anything to the car recently due to lack of funds, credit cards need paying off...

Thanks for the kind words, I am glad I built the car and hope I can pass on anything I have learnt to the others in the community/forum...
4-23-2013
Well I went to RAF Marham Charity Track Day on Saturday and had a good time, right up until the point that my boot lid came undone, it doesn't sound much but the strap that holds the boot open in normal circumstances snapped and then the lid dropped to the ground, in doing this it bent some bodywork and cracked my diffuser, whilst it was dragging down the road it ruined the boot handle, got stone chipped to death and the exhaust melted the paint. It will be fixed in a few weeks, just an expense I could have done without.

Anyhooo, footage was taken and its up on YouTube:
4-24-2013
Link to a video that shows all the participants of the Saturday morning session, a real varied bunch of cars:
6-25-2013
In an attempt to get my noise levels down to get onto 98db track days I have added a removable extra silencer to my system now and I still have the ability to add my little bike silencer to mix as well should I require it. Also for the mini purists the exhaust comes out the correct side now (I personally like the centre exit look but its not an option with the diffuser).
So Last night Stevie G and myself set about making the new parts of the system and finally finished at 01:00 this morning which was good as there wasn't anything on the road when we went for the road test at unmentionable speeds.
So I removed all the wadding from the original silencer which was not in good shape as the outer skin of the silencer was colouring up with heat patches where the wadding had blown out of the exhaust. I have replaced the old wire wool/fibreglass wadding with Acoustafil High Temp wadding from PTR Exhausts. Its got a good rep and is a piece of p!ss to fit as it expands with heat so was jsut a case of taking out the old, wrapping the new around the perforated pipe and slotting it all back together. Anyone thinking of doing this will require 2 linear meters to fill a 6" silencer, width is dependent on size of silencer (I used 500mm wide for an 18" wide box).
Anyhooo, here are a few pictures of the work: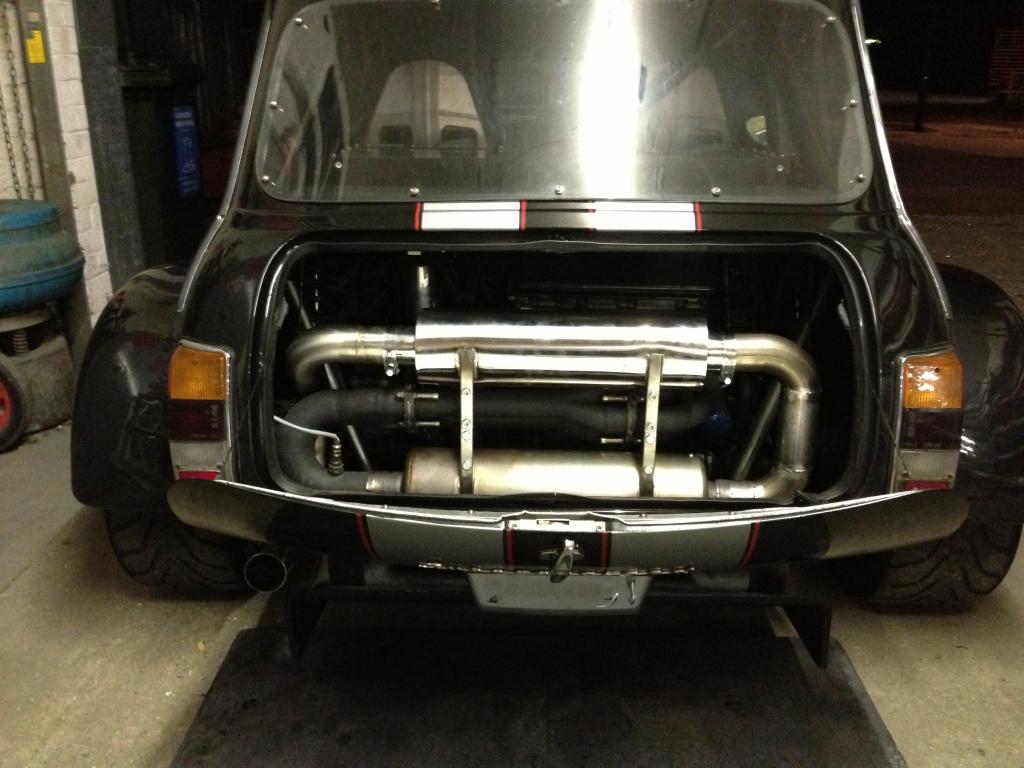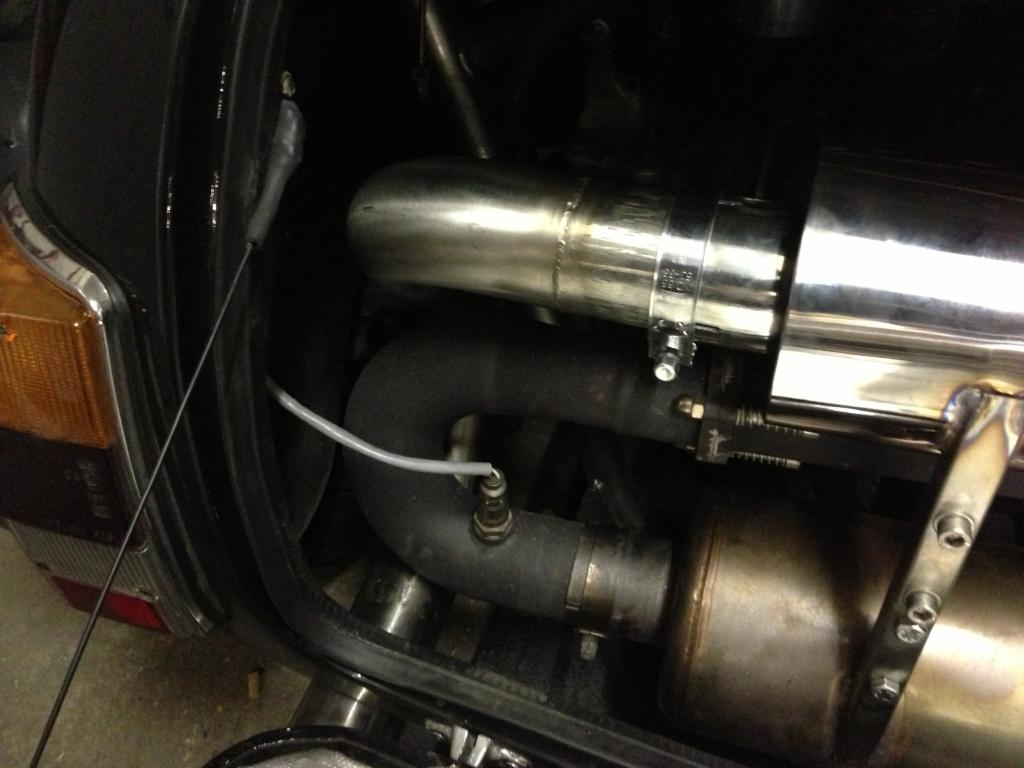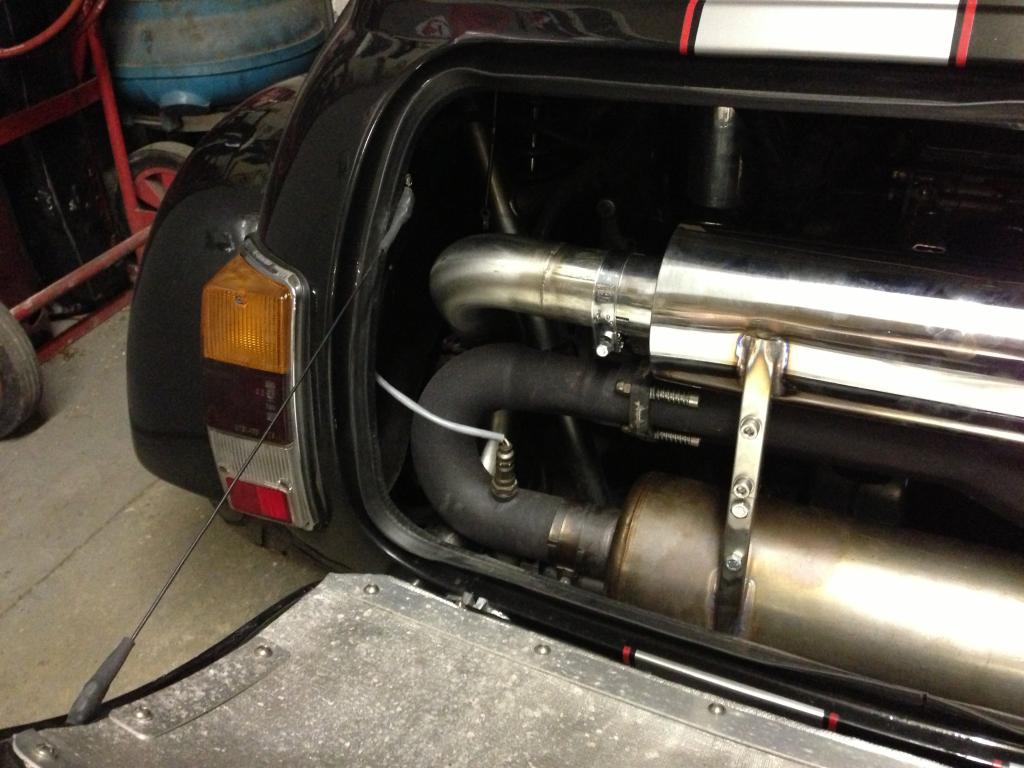 6-25-2013
Personally I am not a fan of the Supertrap as they choke the system a bit too much for my liking especially in forced induction engines, I am not doubting their ability to reduce the decibels though as I know they do work. After seeing my manifold glowing bright red through the ceramic coating I figured that an absorption setup is the only way to silence the car, any form of restriction will just cause unwanted heat build up.
Hopefully with all this work should see the end of my black flag woes. As I said before if this still isnt enough I have the bike silencer that I know reduces the noise by approx 4db on a static (Stevie G if your reading this might need another stay making for the little silencer.....)
On a positive note I have to say that the whine of the charger never sounded so loud or so sweet......
9-5-2013
Thanks, it would be even more fun if they weren't so strict on noise limits, having to lift for noise meters and going into higher gears to avoid being black flagged........it was good fun though.......
For those that haven't seen them here they are:
9-10-2013
A mate of mine came to see me at the LSMOC day at Goodwood and took the picture below, I kinda like it.......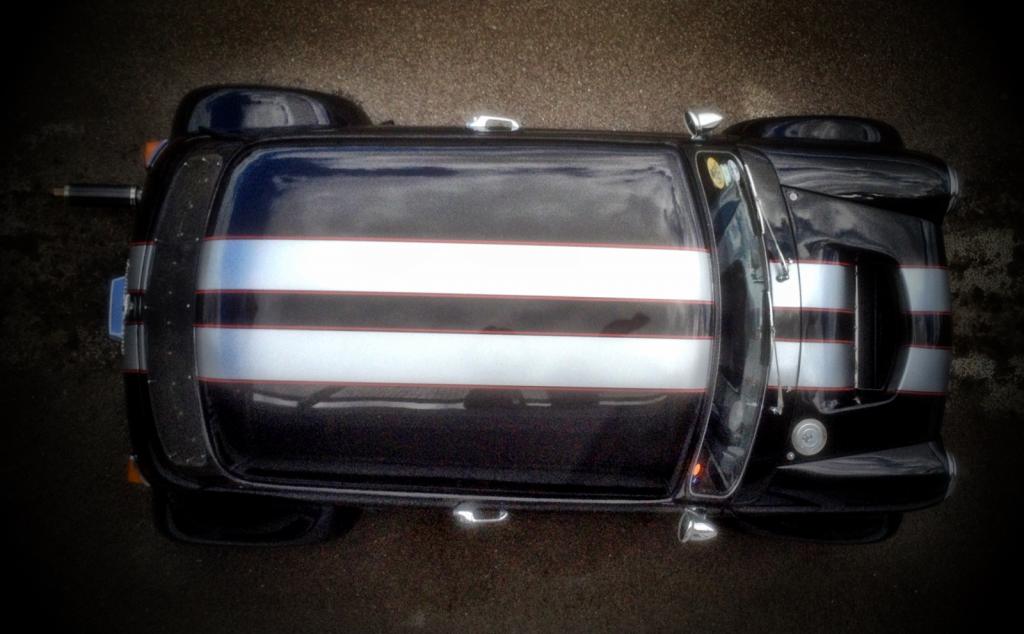 9-18-2013
The below is copy and pasted from the comments box in YouTube:
I managed to get some footage of a few 0-60 runs, this was the best of the day, I still think there's room for improvement.
This attempt was setting of in 2nd, as it hits the rev limiter the needle goes blue to indicate that it has reached 60mph and then shows the 3.3 in the speedo LCD display - you might have to get close to the screen to see it clearly.
The SPA speedo/tacho is calibrated to within 1mph of my GPS speedo/camera detector.
Apologies for the quality of the footage - its difficult holding onto an iphone and trying to get a good 0-60....
I would really like to footage of other peoples 0-60's as knowing what mine can do with 370BHP I struggle to believe other claimed 0-60 times.
Its one thing to claim your car can do something on the strength of what you've heard others can do - its another putting the proof out there....
10-1-2013
WHEN IS TOO MUCH POWER TOO MUCH????
Well for the Z's supplied drive shafts it would appear that their 'Race Drive Shafts' is about 333RWHP: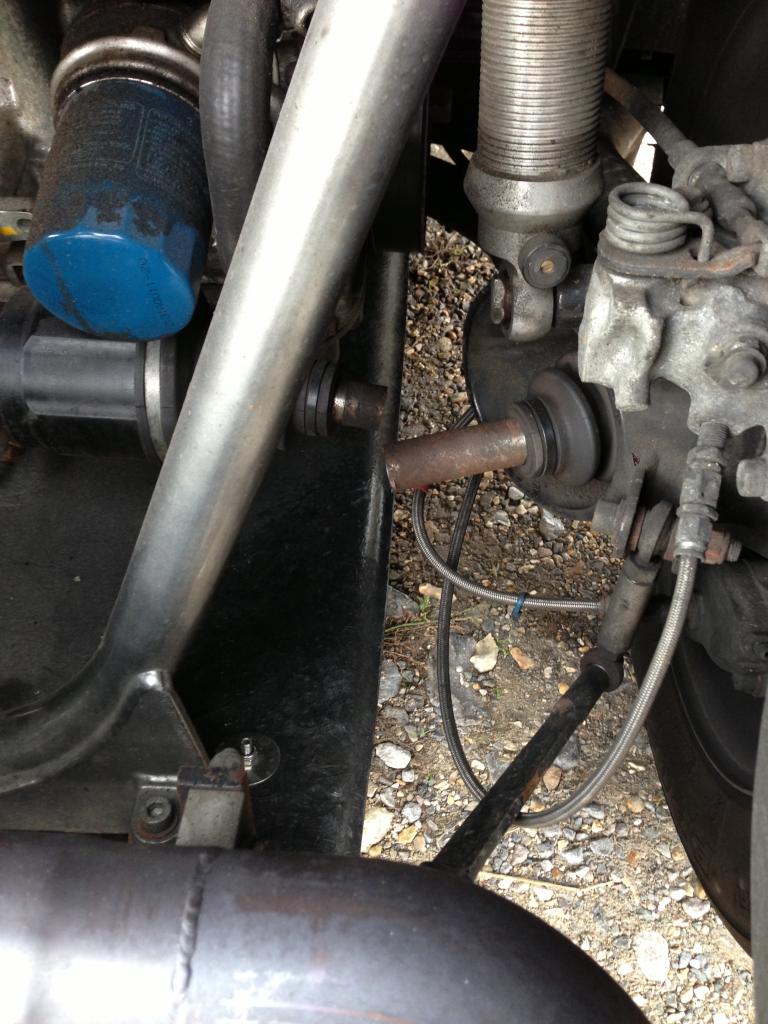 Setting off from traffic lights with a fair amount of revs but by no means dropping the clutch in like an idiot and BANG - one snapped driveshaft..
Waiting to see what the cost is of a new one from Z's and also looking into getting a more heavy duty bespoke version made for it as not sure that replacing like for like is the best way forward.........It could have been a faulty bit of steel but do I want to take that chance again??????
Haven't even covered 9000 miles in it yet.
Struggling to hold back the expletives.
10-4-2013
I have been in contact with Zcars about buying a replacement unit but was asking if there was any difference to the one I had on mine and their newer versions?? Turns out the ones I am running are the same, however in discussion they said that this is the first time they have had anyone break a driveshaft and we both agreed that there were other setups out there running bigger numbers than I without issue. Also as I looked deeper into driveshaft failures it would appear this is more than likely a case of a bad bit of metal as driveshafts tend to break on or near the transition to the splines, not in the middle as mine did. So with this in mind and the very kind offer of a free replacement I am going to stick with the Z's supplied unit.
Thanks to everyone for their suggestions of other driveshaft suppliers and words of encouragement. Hopefully get the new shaft fitted next weekend and then back on the road.....
11-27-2013
For those that are interested this is what my snapped driveshaft looked like when I removed it - Shear Failure in Torsion: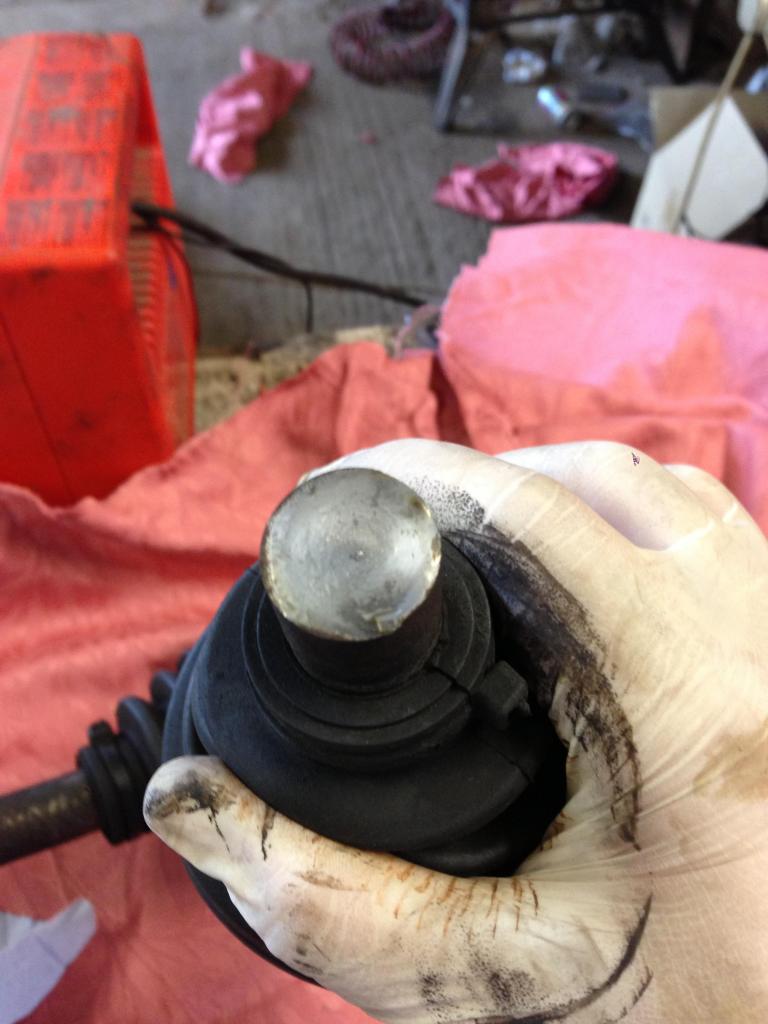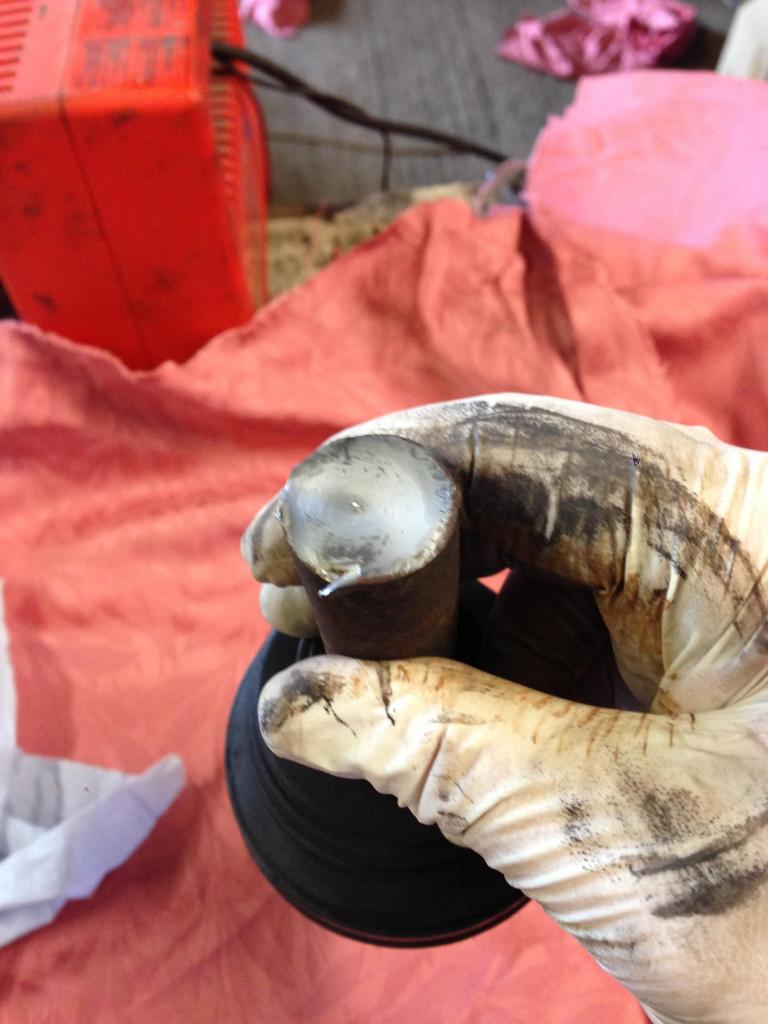 1-29-2014
'They' say imitation is the sincerest form of flattery.......
Well I should be flattered then as this morning I received a pm from a guy called Emin who is a mini collector and restorer in the US. He did the below for a buddy of his, turns out he liked my paintwork.............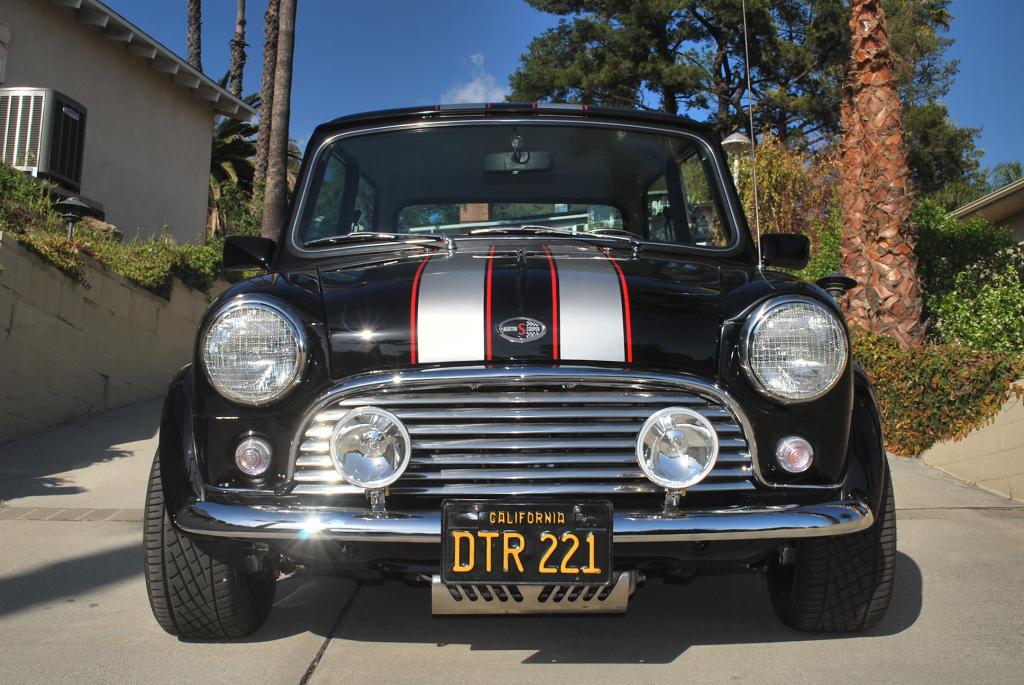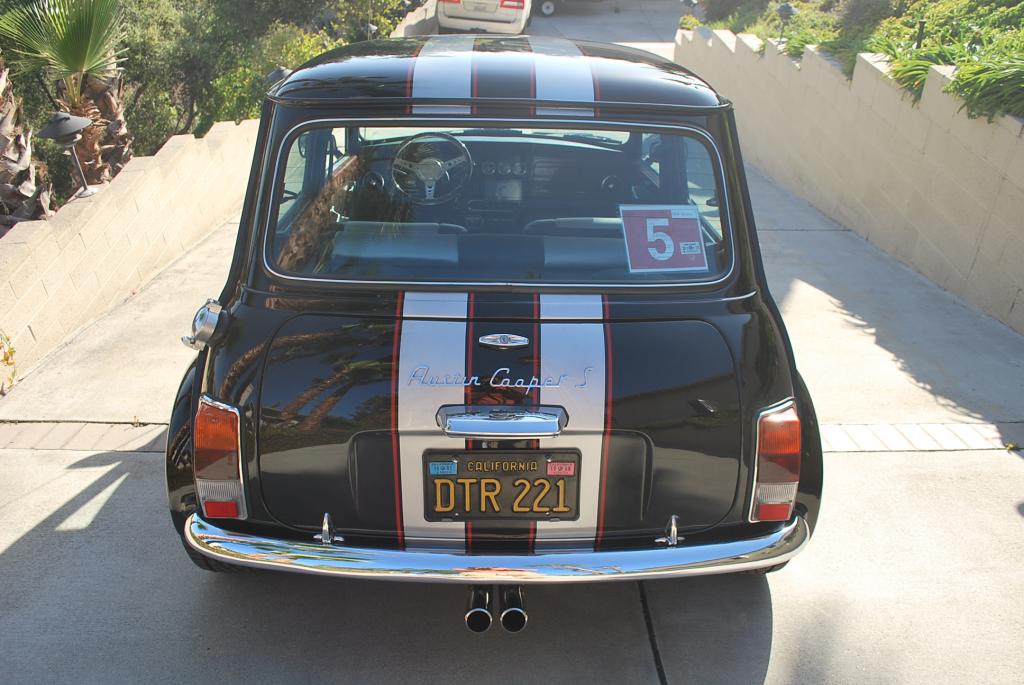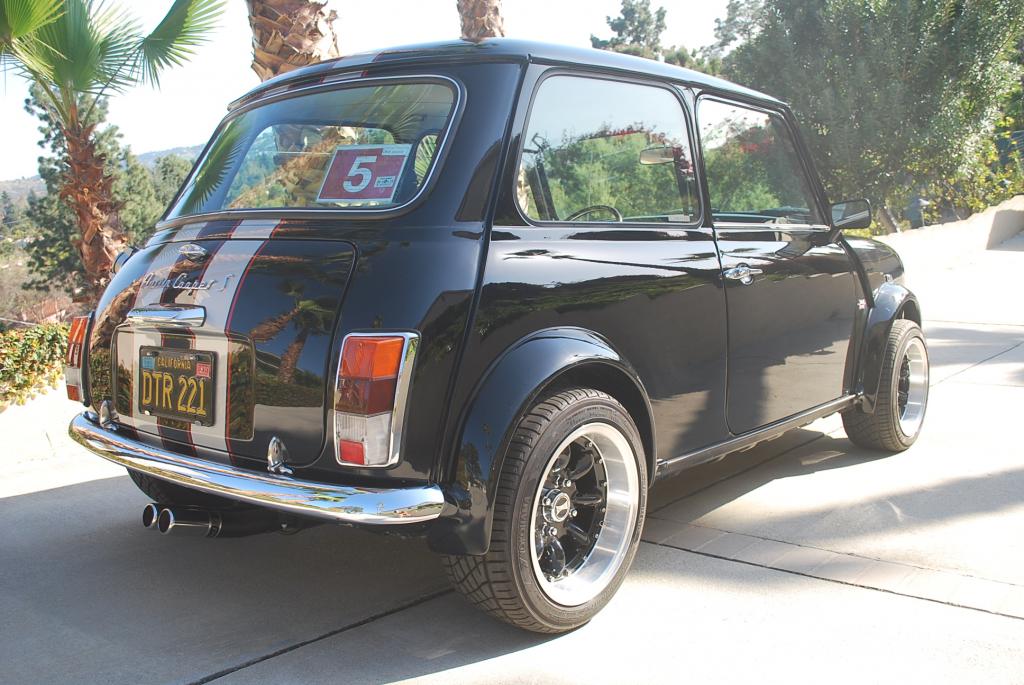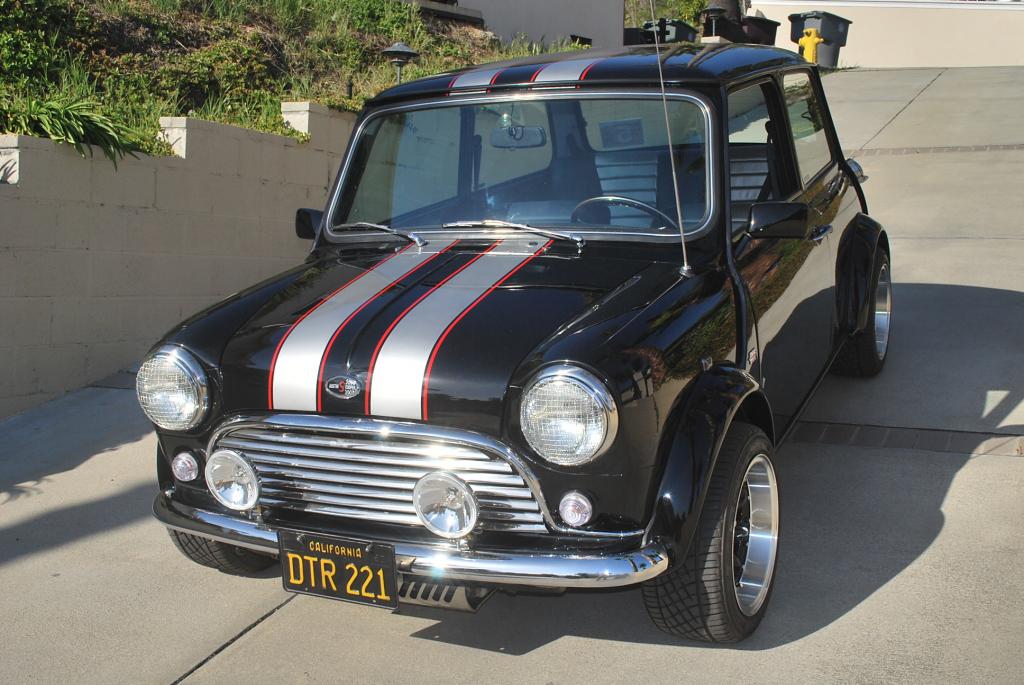 1-30-2014
My ceramic coating was around the £250 mark from these guys: http://www.camcoat.u...om/Exhausts.htm I havent seen a Zircotec covered exhaust be put through the same as my coating to know if you still get a glow when under load, I know Zircotec is more expensive?!?!? Watch my dyno video to see what I mean by glow http://www.theminifo...spec/?p=2479498
As for bleeding brakes you just have to be methodical and ask someone to help you. I started with the inner bleed valves on each four pot, then to the outer and then checked the inner again just for piece of mind. If you've never bled a brake system before I suggest you google it.
2-13-2014
The first dry day in weeks was not going to go without blowing the cobwebs out

I happened across a buddy of mine in his M5, this was his response: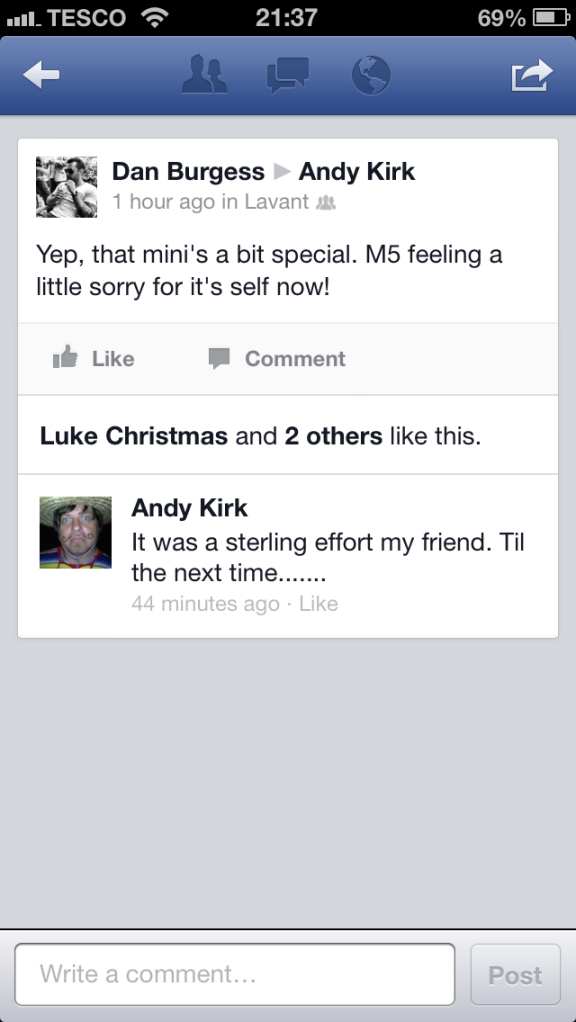 5-7-2014
I attended the Supercar Sunday Breakfast Club at Goodwood on the weekend, amazing turn out of cars and about 15,000 people. I blagged it past the car parkign guys to get myself to the gate to be confronted by a man insisting that I had to have registered online before the event to be able to get the car on the circuit to display it. Fortunately one of the people in charge at the gate, a few meters in front of where I had been stopped recognised the car as I could see him mouth "I've seen that car before, it goes like F**K", consequently I was given a circuit pass.....
Note crowd round mini, not so much round the 458 next to it........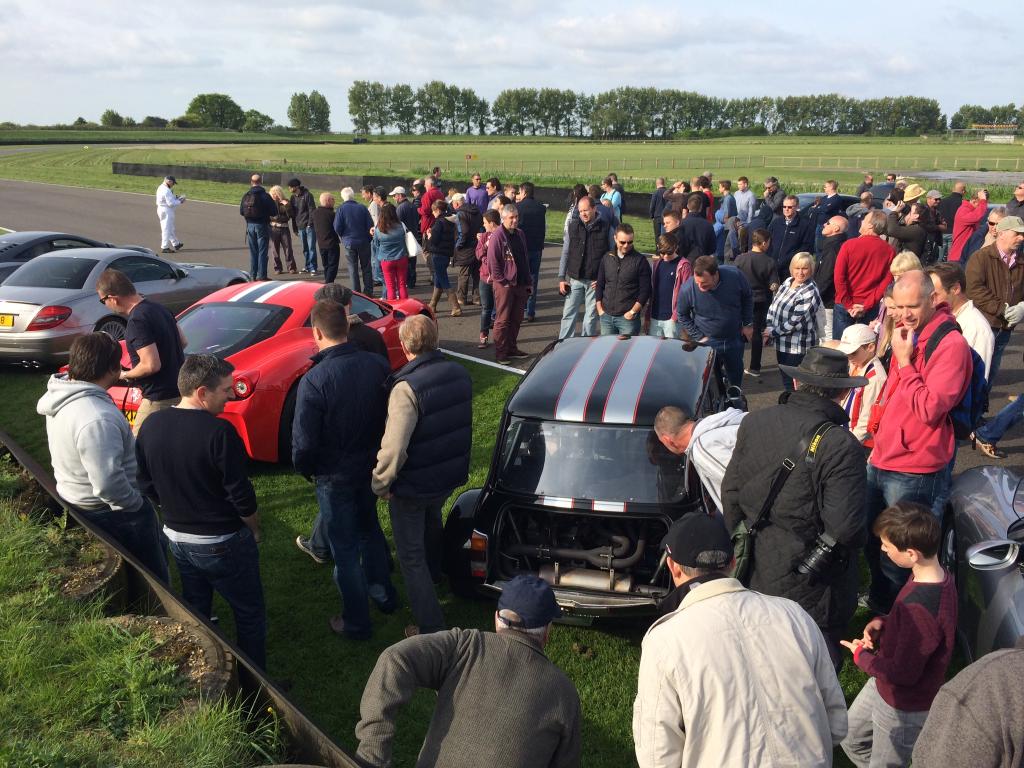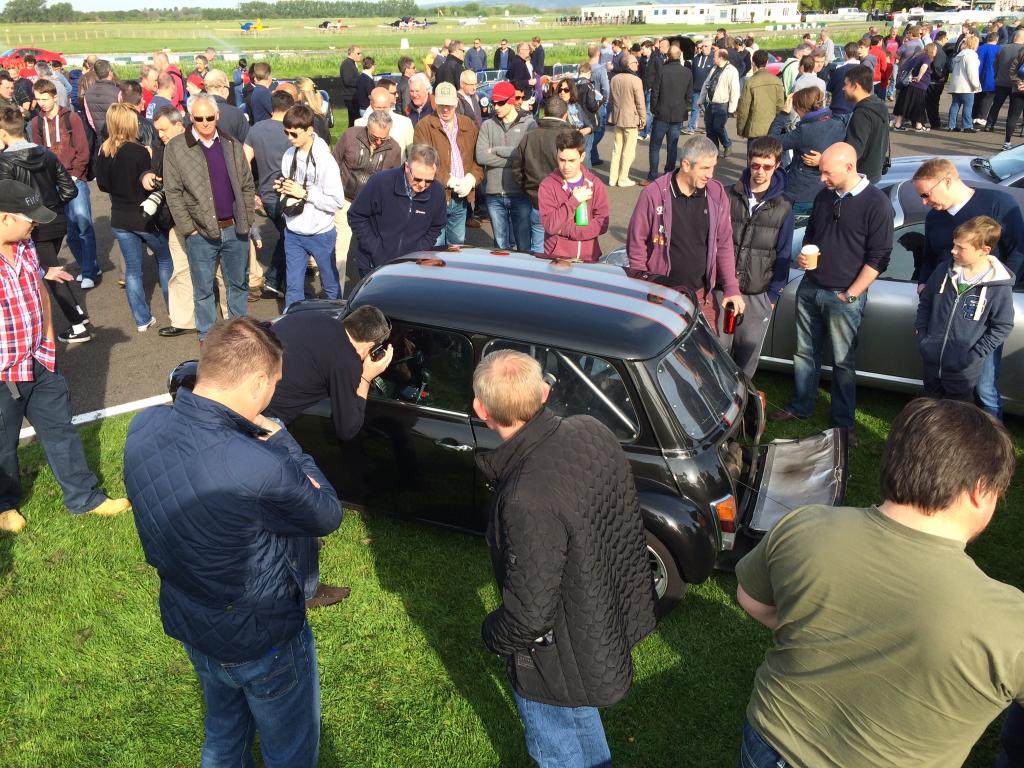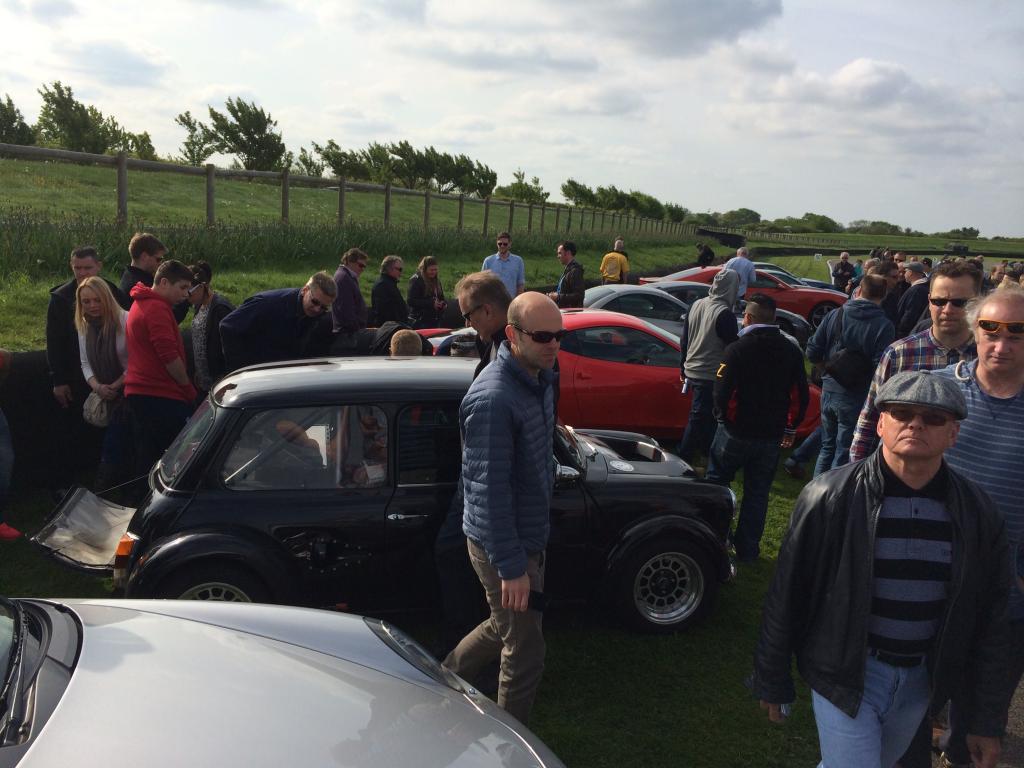 5-21-2014
I was at Goodwood on Monday (19th May) hooning around, this is my best lap of the day - 1:37:8.
6-20-2014
Here's another clip from Goodwood the other week, it shows how it reels in the other cars....
7-2-2014
Stefan, If you're referring to the K20 site then yes I have and I also follow that lot closely. If you know that site and others you may know the name Jose Mercado, or Merc Racing?? I do a lot of 3D work for him, almost all of what you have seen from him in the last year or more has been through me. We have been working on an supercharged air to air intake manifold for the K20, for use with various superchargers. Unfortunately it wont fit in the mini so I wont get to use the fruits of my labour. I have designed multiple throttle body to supercharger inlets for him and a belt tensioner/extra idler pulley for greater belt wrap on the charger pulley. Here's a link to the site (http://mercracing.ne...ercharger-kits/) and a few renders of the work I did: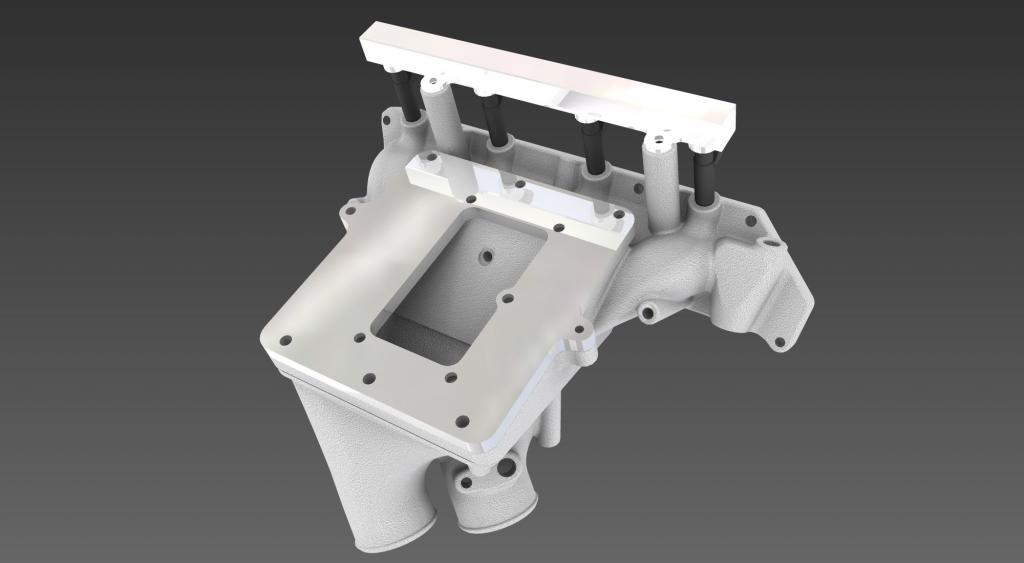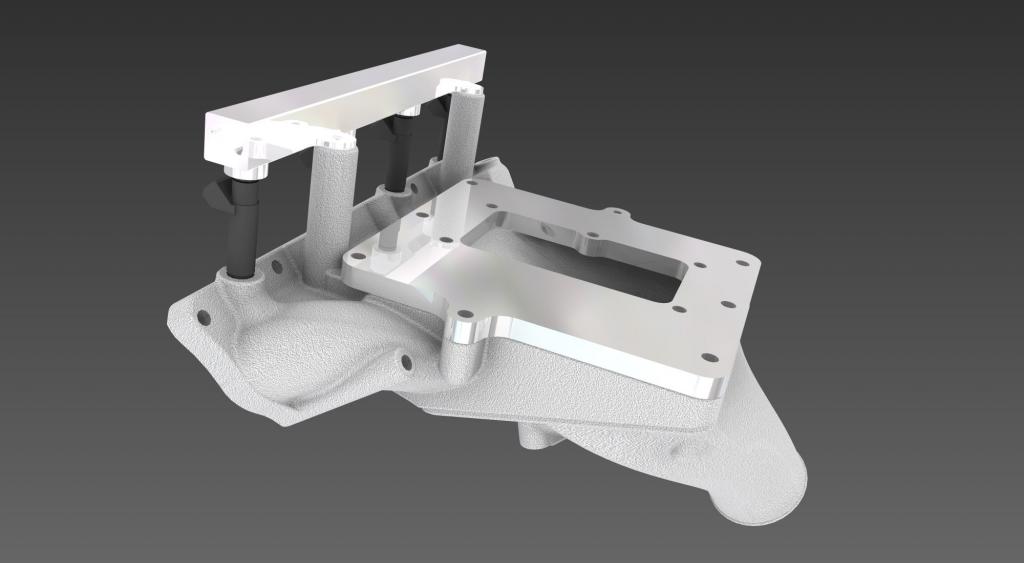 As for my quest for more power I don't have any firm plans or the cash to do so. Ultimately the plan is to swap out the M62 for a 2.3L Whipple Twin Screw, water to air intercooled, dual 60mm throttle body (like on the big block US stuff), remove engine coolant water pump and replace with electric pump to allow me to mount the SC low on the front of the motor, reducing the c of g. All in I reckon about £4k to upgrade, I might get some back if I sell my JRSC and I have a good source for parts from the US.
The only problem is if I do the above I'll never get started on my sprint mini so I am torn, I would love to build my own from scratch and have started on some modelling work but arent far enough to warrant starting anything yet, plus I am struggling for room in my current place.....
Those with a keen eye will be able to tell this space frame design is not to scale for a mini, it was a first pass at a spaceframe and I was using very rough dimensions. I have improved the design considerably since this attempt but gonna keep it under wraps for now. I have a rough Hayabusa engine model and My wheels, tyres and brakes are also modelled but there is so much more to do and not enough hours in the week.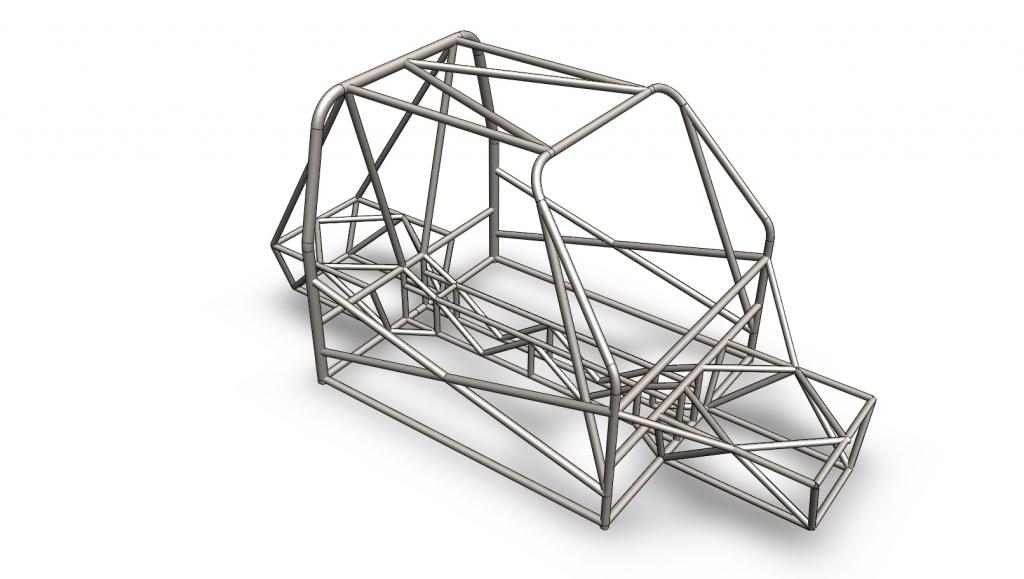 Planned Upgrade of Exhaust System:
I am getting fed up with constantly being hassled at track days for being too noisy so I have hatched a plan. I am going to swap out the original 6" x 18" absorption silencer and the extra 5"x18" absorption silencer that I add for track days and replace them with 2x 2.5" inlet 6"x14" round Flowmaster DBX silencers from the US, two of these in series should remove a ton of noise and not be much more restrictive that the two straight throughs.
If you're interested in the information on the silencers here's a link: http://www.carid.com...technology.html
I have been static tested and drive by tested at Goodwood so I know where I am starting from, so will be able to report how well/or not they have been in reducing the noise.
8-8-2014
So, the post above would have been true had there not have been a mix up with the labels on the packages sent from the US, so I found myself with less than a week to go to the track day and no frickin silencers.
I needed to hatch a plan to try and drop some decibels with what I currently have, plus a few cheap extras. I ended up using some 1.5" perforated tube and some 2.5" perforated discs welded into the tube and approx 45degs and at differing positions around the 360degs of the tube along the length. I have also had a bespoke end can made of which the top is enclosed and all gases are to pass through some 2.5" perforated tube onto the ground to help dissipate the sound (unfortunately I don't have a photo of the end can, will get one once its in place).
Here's a couple of snaps of the work, thanks to my mate Stevie G for doing the welding at short notice.....: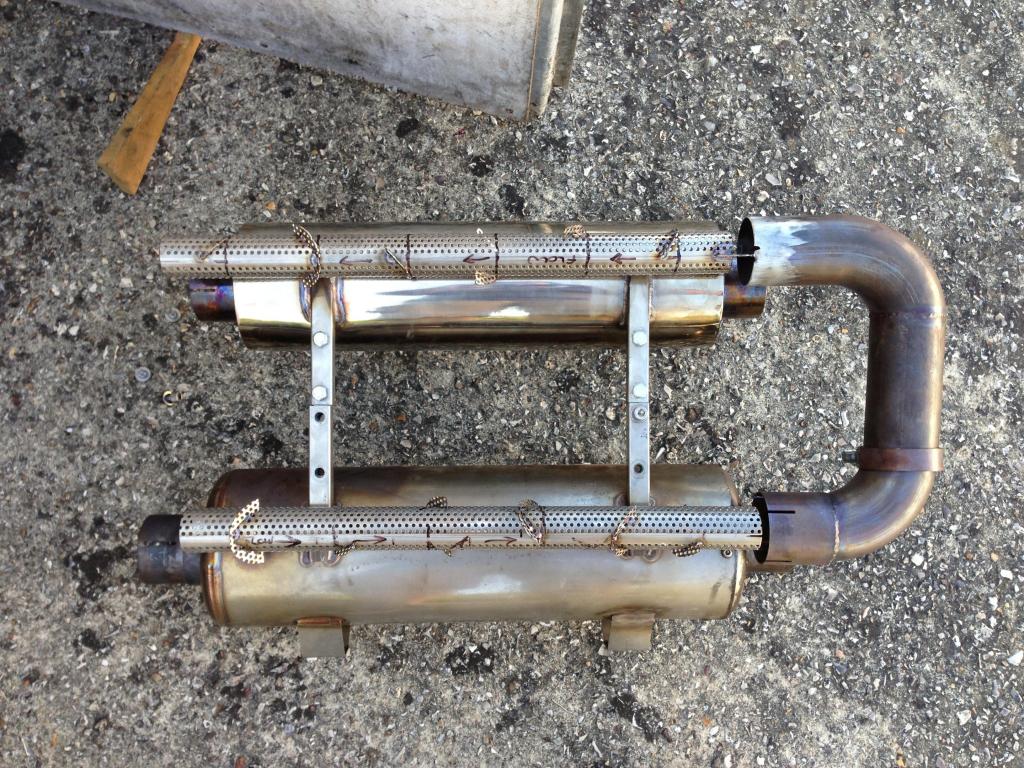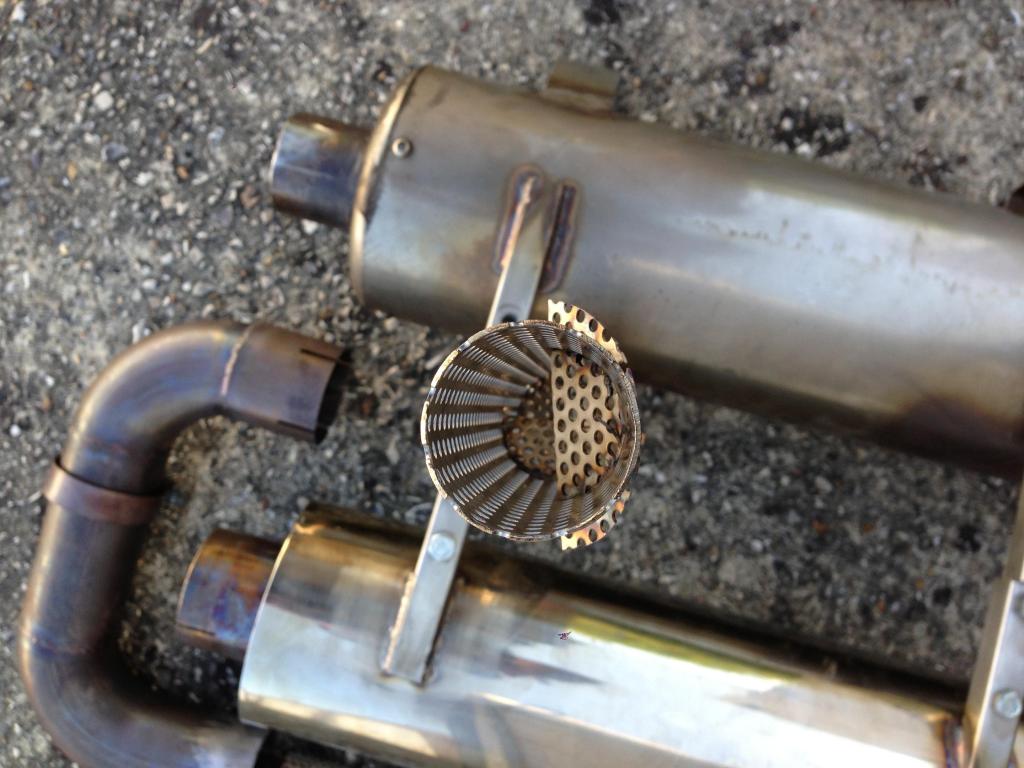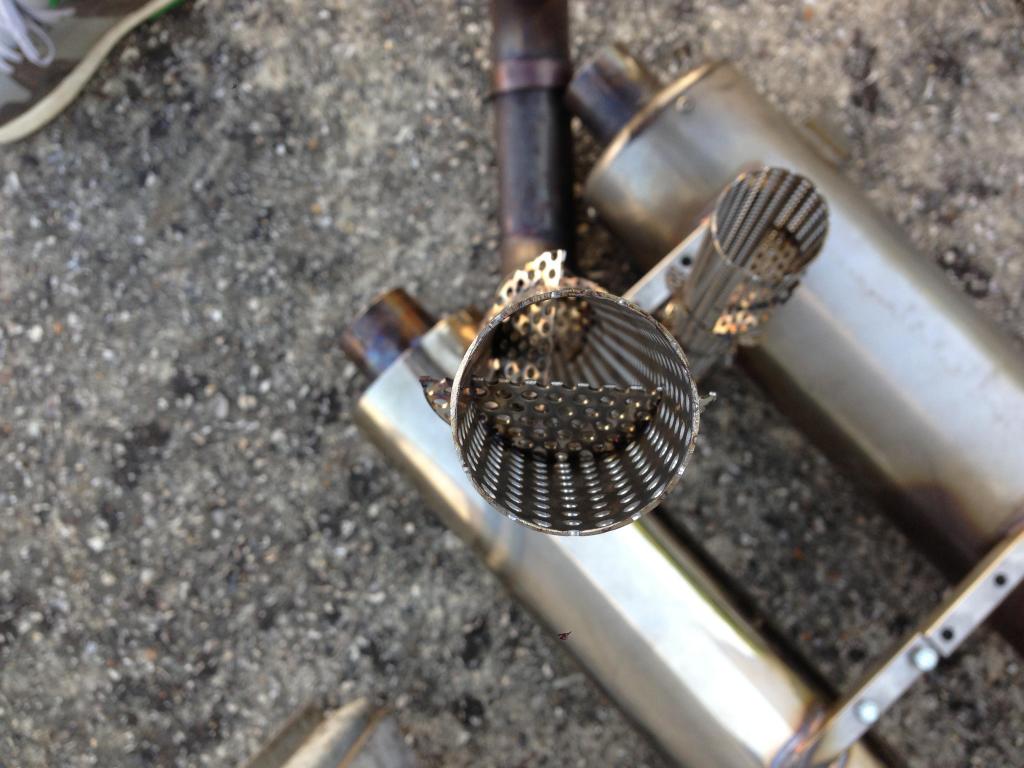 it defo sounds quieter, the only problem is you can feel its getting choked at high revs........bummer.......
Fingers crossed for good weather on Monday at Goodwood, maybe see some of you there???
9-4-2014
LSMOC @ Goodwood 11th Aug 2014 - 98db static, 96db drive by.
Car feeling very choked due to extra silencer work as shown in my build diary, I was two's up with my good buddy Jim in the car and still managed only 0.7 slower than my fastest lap in May. Difference this time was that I took the time to sort my tyre pressures properly, hot = 22psi....first lap is a bit interesting as the nearside rear comes up to temperature but by the second lap you can get on it more.....
I only got black flagged once for noise and was hoofing most of the day, well, when it was dry anyway, there were some interesting moments in the wet morning sessions, coming round St Mary's, up the rise towards Lavant Corner to see a literal wall of water and the rain bouncing a good foot off the tarmac.....Oh Bejesus....
These videos are of the two fastest laps of the day, Lap 22 (video 031) was a 1:38:58, Lap 23 (video 032) was 1:38:67 (0.09 difference)
The Harry's Laptimer App on the phone seems to go awry at St. Mary's, going invest in a stand alone GPS for next time (Dual SkyPro XGPS160)
9-10-2014
Some more footage from Goodwood 11 Aug 2014, this is from the GoPro, the session with the fastest laps. As you can see by the lack of sawing at the steering wheel the cars got a lot more to give in the corners. I think its more the fact that I put so much into it, not just financially but emotionally that is holding me back from driving it like I stole it......
The hand actions as I go round Fordwater were me saying how windy it was that I could feel the wind holding the car from pushing out on the corner at 100+ mph....
I just tried playing this back and for some reason it starts at the end, feck knows why......
A few slower laps - damned rain:
getting drier:
2-4-2015
It can be done cheaper, frankly I was financially raped along the way by people who took advantage of me being a newbie to the whole car building scene.
My advice is to put together a budget and then get someone that's been through it to have a look for you as they might spot things that are missing that you hadn't considered.
I have attached my budget sheet from 2008, you can see how it all starts to add up. Consider the total on the budget doesnt include the rapings, travel/transport, all of my labour hours, the later upgrade to intercooled and then re-dyno'd.
Andy kirk - Mini budget - 02-Apr-2008.pdf
2-4-2015
I am up to my normal winter tinkering now.....
Got a couple of things on the go, one of them being fitting my 2x Flowmaster DBX silencers. I am undecided as to go with a similar in series setup as I had with the two absorption cans or to split the gasses and go parallel with the new cans?? and then that led me to thinking if I have split the flow of gasses and effectively slowed them down this means there is less back pressure as the gasses flow through the two cans, now do I send the gases back together or do I keep them separate and have two exits pipes???
Here's what I've come up with so far:
Into one exit pipe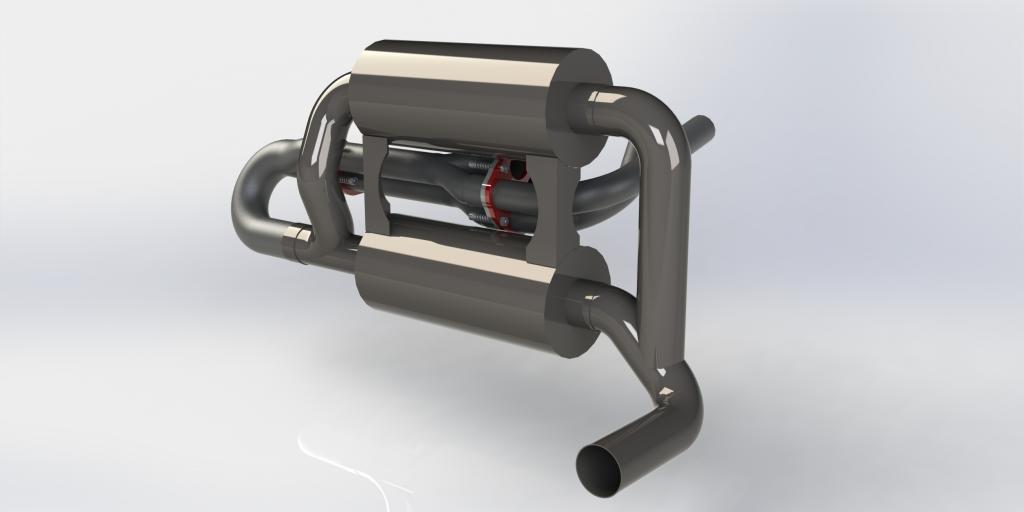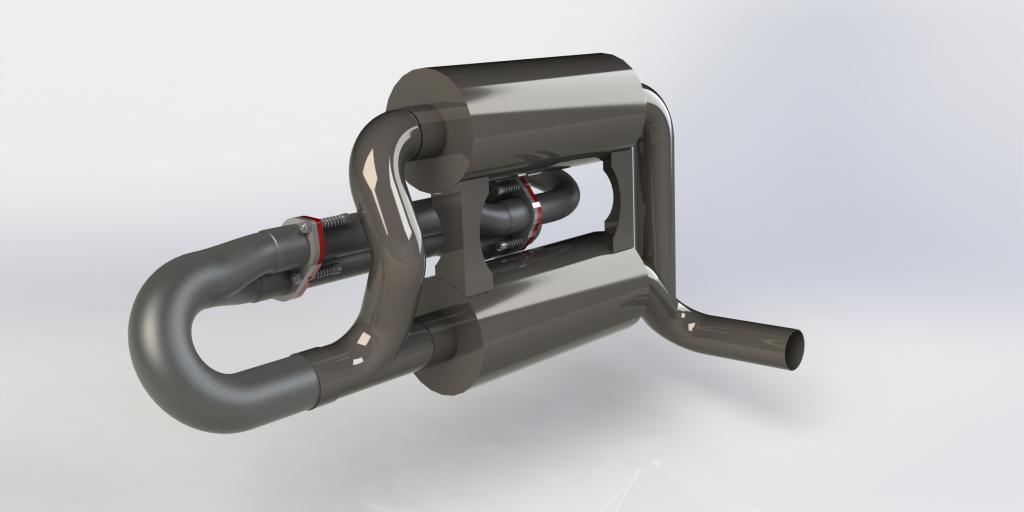 or into two exit pipes...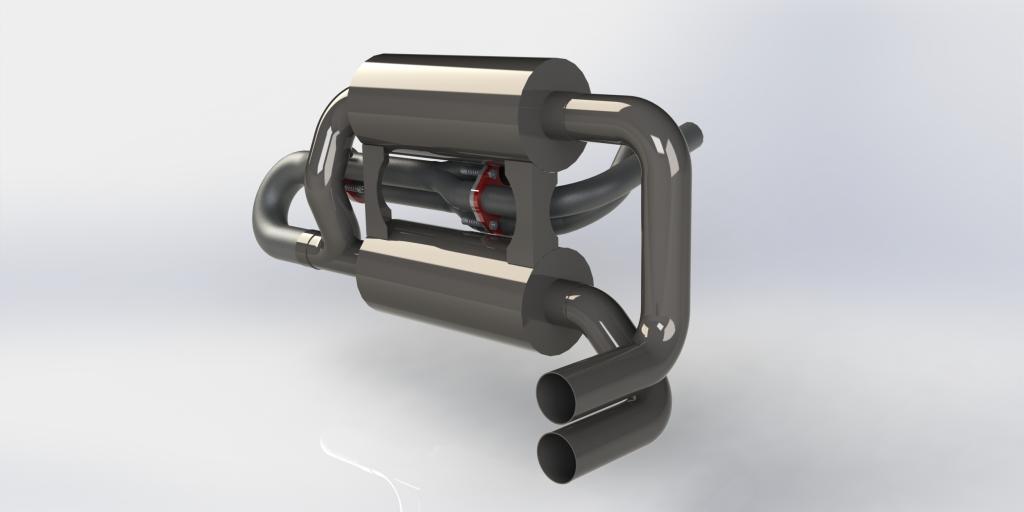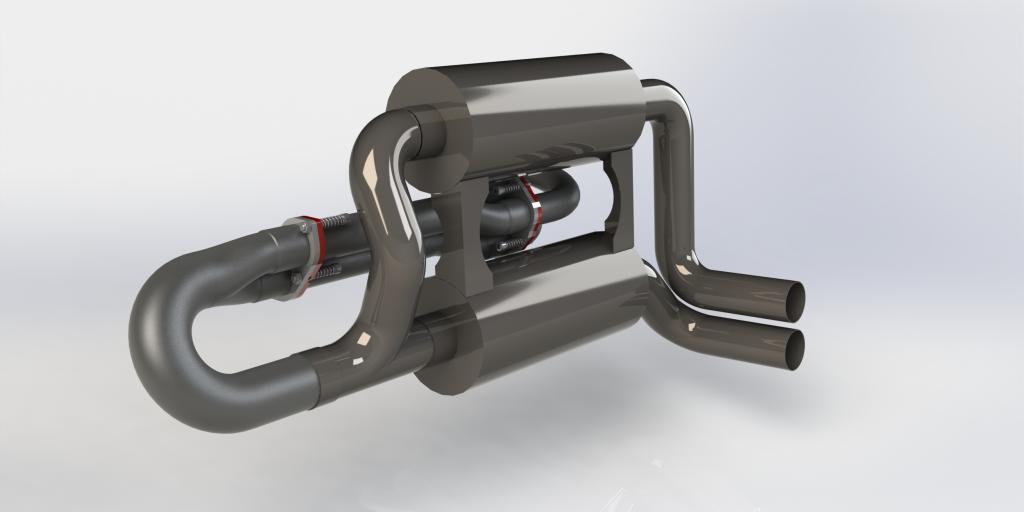 And for those looking at the Y conenction thinking it'd just flow past into the bottom can here's how I will over come that: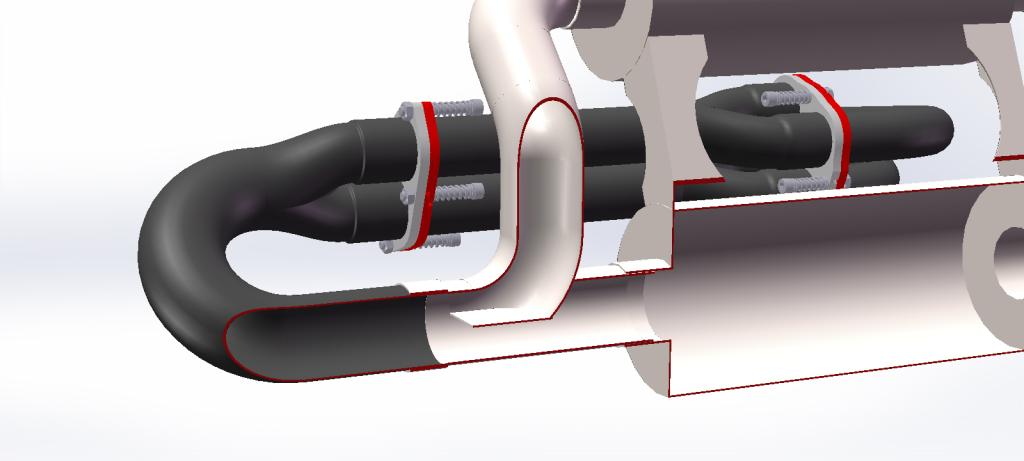 I received a new part from Clockwise Motion today - however you'll have to wait for more info on that as I am waiting on other parts - lets just say its a replacement for a cheap piece of sh!!t I bought earlier in the project.
2-6-2015
OK, so did a bit more design work tonight and decided that splitting the flow and keeping it split makes sense but rather than try to get both out one side I decided to build on the success of the series setup and use one of the series bits of exhaust.
Remember this???: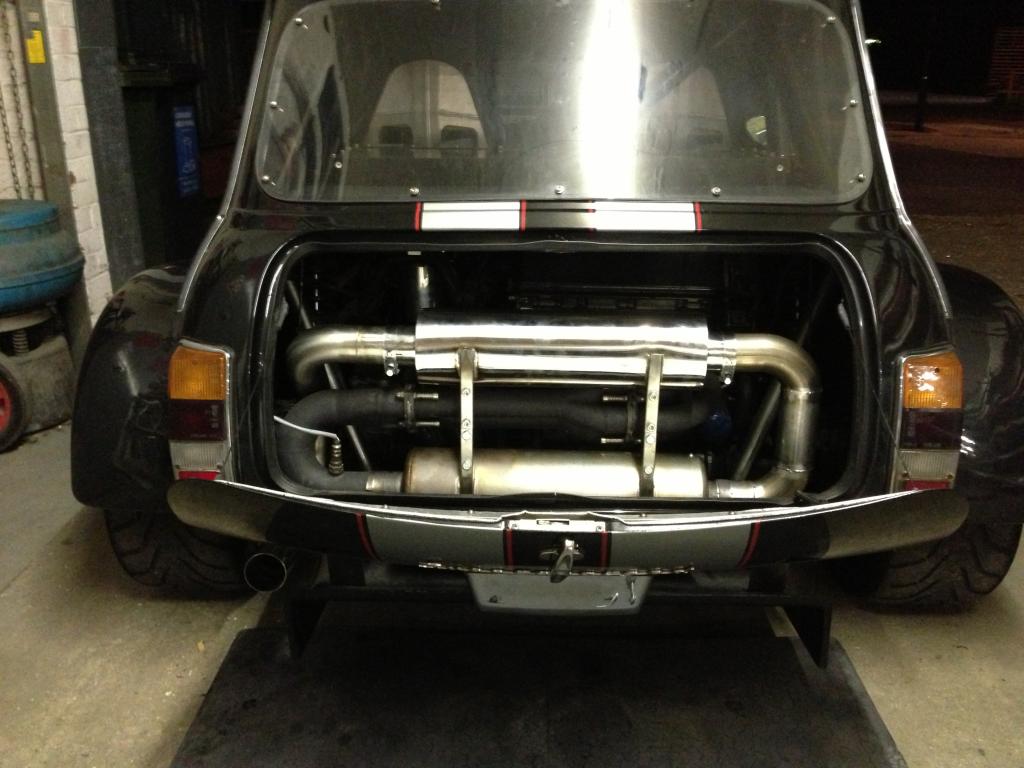 So the bit on the left hand side that runs forward before coming aft, is the bit I am on about re-using.
So the aim is to get twin exit pipes either side of the diffuser. I had a fair amount of success with a cheeky down turned tip (with peforated pipe on the underside) to get my db's down last year so if this is still too loud I can get another one made and fit two - that'll fix it but it'll feel choked
So here are this evenings renders of the latest design: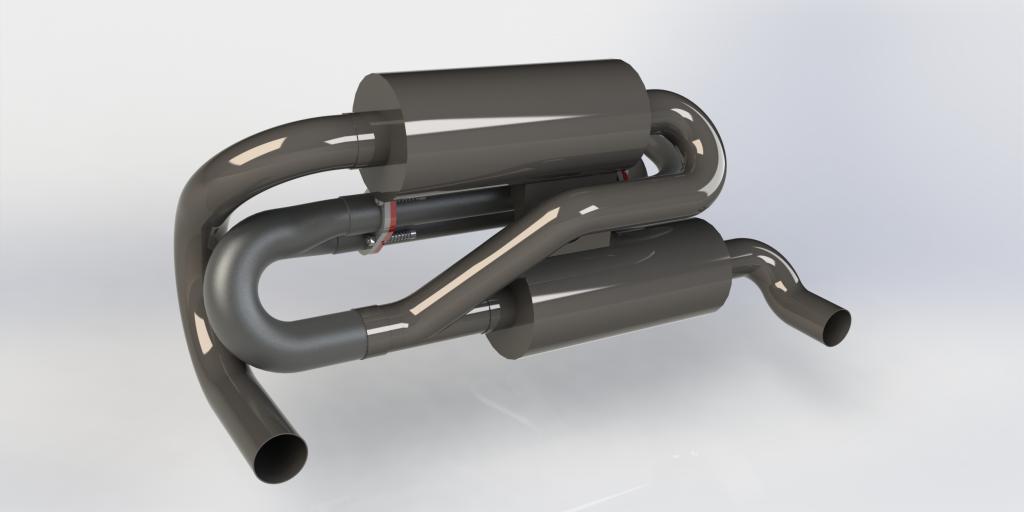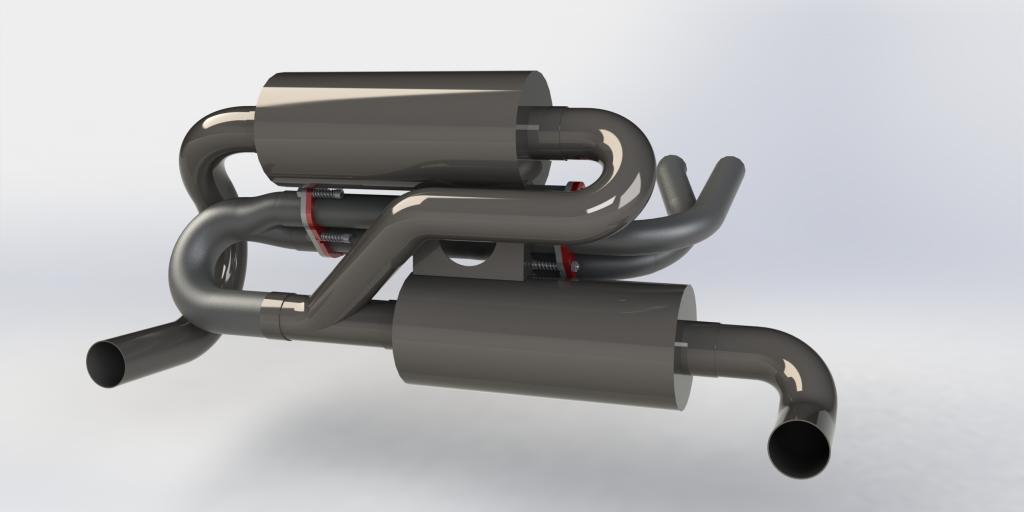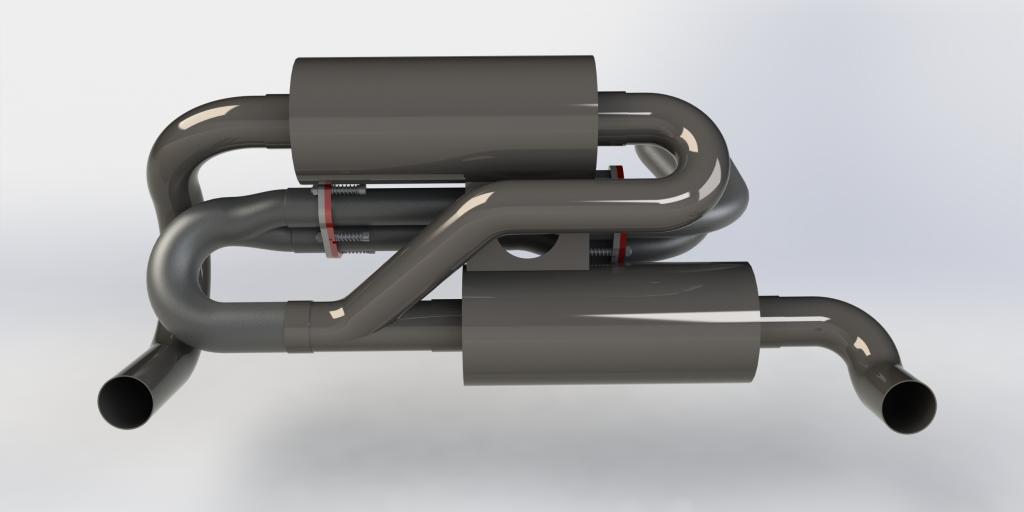 For those that missed what cans I am using here is a link to the bumpf:
http://www.carid.com...technology.html
2-16-2015
70mm Clockwise Motion Throttle Body
Some of you might recall that I had previously bought an OBX 72mm Throttle Body, well - it was a piece of cr4p - and returning home, after getting it dyno'd last (two years ago) I couldn't get it to idle as air was p!ss!ng past the throttle plate. So I had to replace it with the original 62mm TB, this was robbing the motor of power as the supercharger is quite sensitive to restrictions up stream - approx 20hp missing (based on back to back test guys in the US had done).
Recently I had decided I want that missing power back and tried to get the throttle plate fitting better. However after much fettling and f-ing around it still leaked like a *******. the problem is that I couldn't do anything about the gaps by the spindle which were 5thousandths of an inch both sides, now this might not sound a lot but when there's 2litres of the vacuum every 2 revolutions you be surprised how much air it can suck through those tiny gaps
I had been searching the tinterweb for some time trying to find a suitable 72mm replacement but couldnt. I chanced upon this 70mm Clockwise Motion TB when doing a search, I ordered it from http://r-motion.co.uk/. Great service and very quick to send the part once the order was made. These guys look to only stock top notch parts and Mike, the owner, races, so knows his sh!t...
FYI - anyone trying to Google Clockwise Motion wont find any way website, these are the people that make the baffled sump insert that is used in the VTEC Zcars conversion and are very popular in the Honda scene. Years ago I spoke to Ian @ Clockwise and I got the impression that he was getting lots of calls from people asking stupid questions. I know everyone has to start somewhere but if you're constantly plagued with newbie questions your gonna get cheesed of with it. From what I can gather they are still an operating company but only deal with distributors now.
Anyhow, I also decided that in an effort to compensate for using a 70mm instead of 72mm that I was going to improve the cold air intake. I am changing from the old 3" up to a 4" intake right up to the throttle body. This is throwing up its own problems, firstly the old setup I had for the throttle cable cant be used as you physically cant fit it on the TB with the new 4" silicone adapter on there. So the old grey matter got out into use, in an ideal world I would have made a 3D model and got it machined out of a single block, buts that expensive and frankly I couldn't be ar53d to get quotes and wait for it to be done. So I whipped up a new cable holder/adapter/turn around a corner thingy majig....
So here's a few photo's of the old TB with the old throttle cable holder (Martin AKA Rust and Oil (Minibusa Van build) made the nicely machined part for me) the rest of the ghetto setup I had made myself - in a rush I might add....However what I ended up with saved me having to order a longer cable.....
Old Setup - on new TB: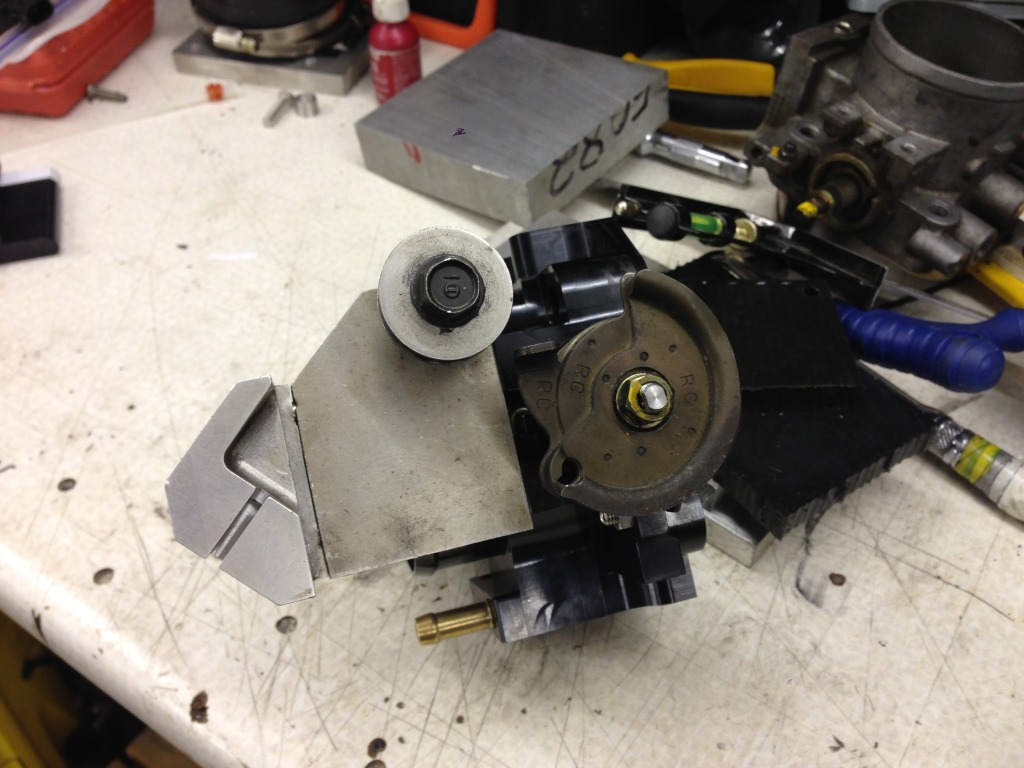 New Setup: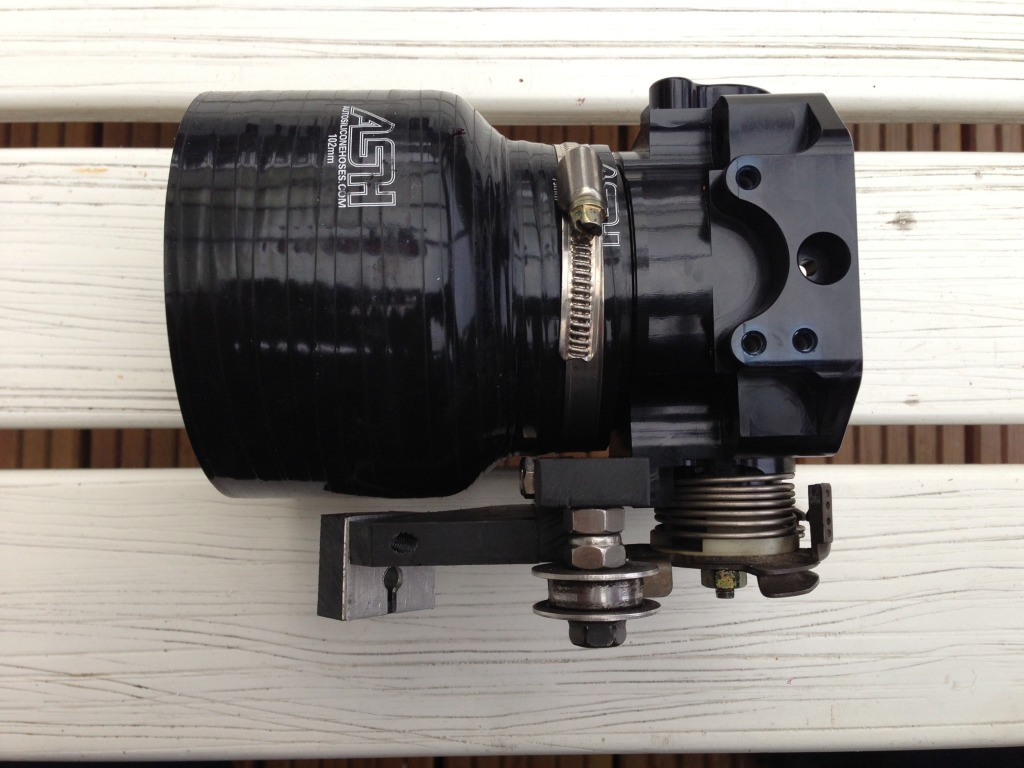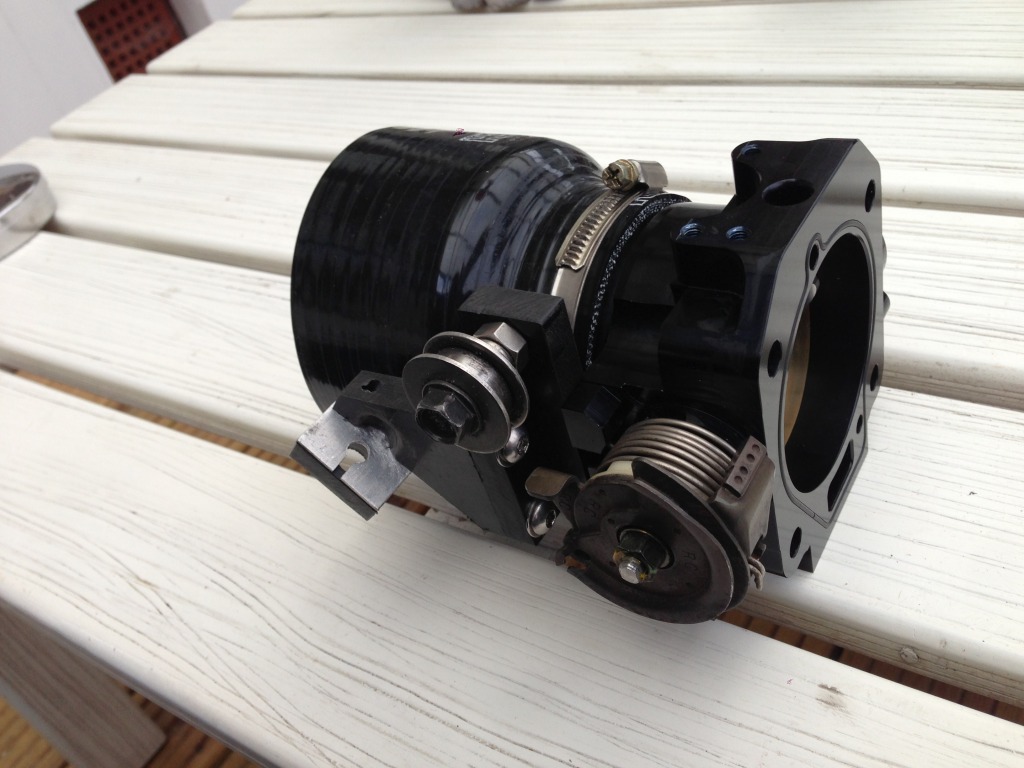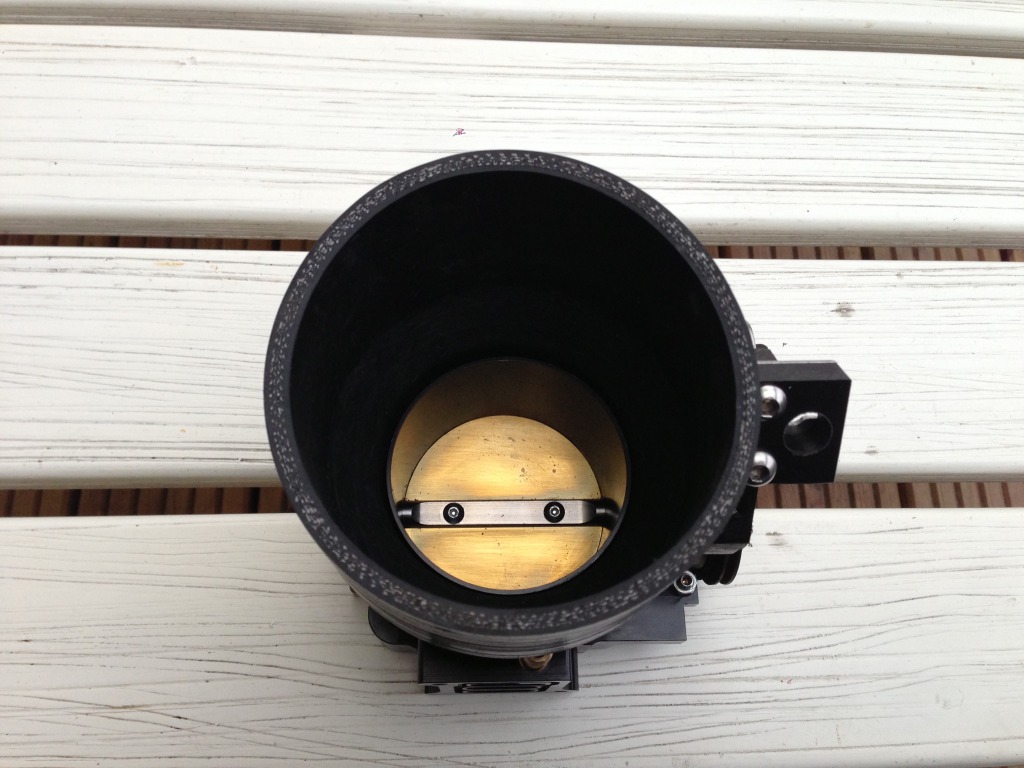 For the eagle eyed among you, you might be wondering how I pass the cable through the acetal part of the mount - if you disassemble that part of the mount you can slide the acetal part over the cable and then reassemble, making the hole where the cable end sits much stronger than with a slot in the side of it for the cable to pass through during assembly.
I also realize that the air flow, pre throttle body, would be much better if the transition from 4" to 3" was more slight, ho hum.....
Now I have to work out how I am going to make a true cold air box and feed it with multiple 3" cold air pipes....
More to come later - waiting on bits now.....
.
Oh, here's the old TB verses the new: its defo going to be worth swapping them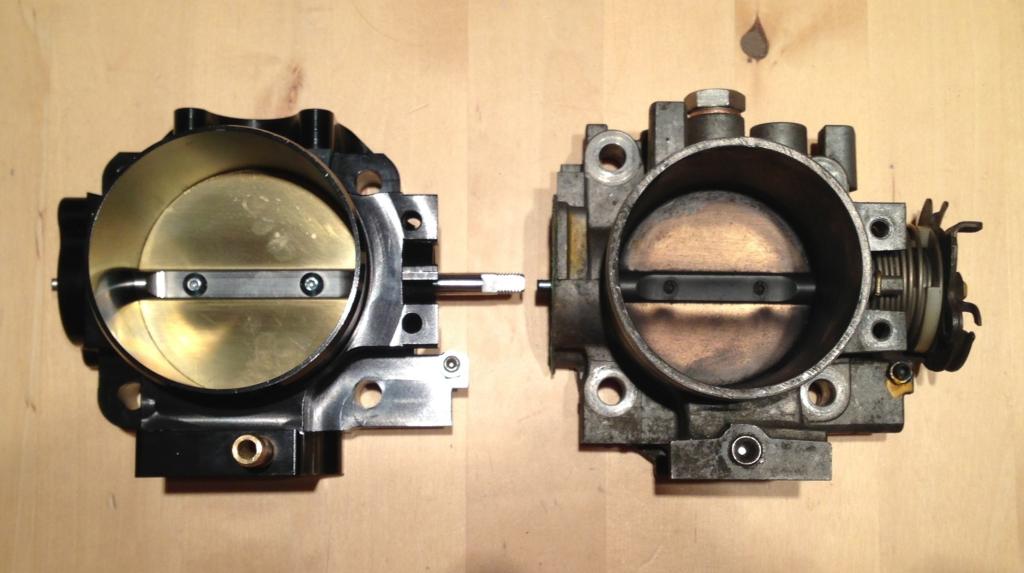 2-17-2015
From what I can gather, from the reading I've done on the US forums for supercharging, once the air is compressed it wont make a massive difference, however restrictions up stream of the SC do. The Rotrex kits tend to keep the OEM throttle body, sometimes they go for an RBC manifold (flows better than original) which can be mated to a 70mm TB but I haven't seen any with crazy big TB's like you get on some of the, TB first, big Whipple/Lysholm Twin Screw or Eaton TVS chargers (sometimes 90mm or big oval TB's). I think in the case of the Rotrex kits they try to keep the piping sized to what the outlet from the charger is and this is similar to the OEM TB.
The problem with bigger TB's is town driving and light throttle as they let in a hell of a lot more air on very small throttle movements from closed. If its a track car then no worries as you'll either be wide open throttle or braking.
One very good thing about DBW TB's is that you can have big TB's and program really small amounts of movement for the first half of the throttle pedal action so town driving isnt really affected.
If you only have cable - like me, you could try using a snail cam on the cable to get constantly rising rate of opening or Jenvey utilize a parallelogram arrangement to get the same effect - I am gonna invest in a bionic foot, hey if its good enough for Steve Austin (showing my age now)........
I think I got a bit off track there....
Edited for typo's
3-10-2015
NEW EXHAUST SYSTEM
The fun has begun. I got all the bits , bar one (the flat plate to do the splitting) cut for the 45degree splitter for the new exhaust system, just need to pin down my mate to get them welded up.
As you all know I started out with the 3D model, I then flattened the parts out to make paper templates: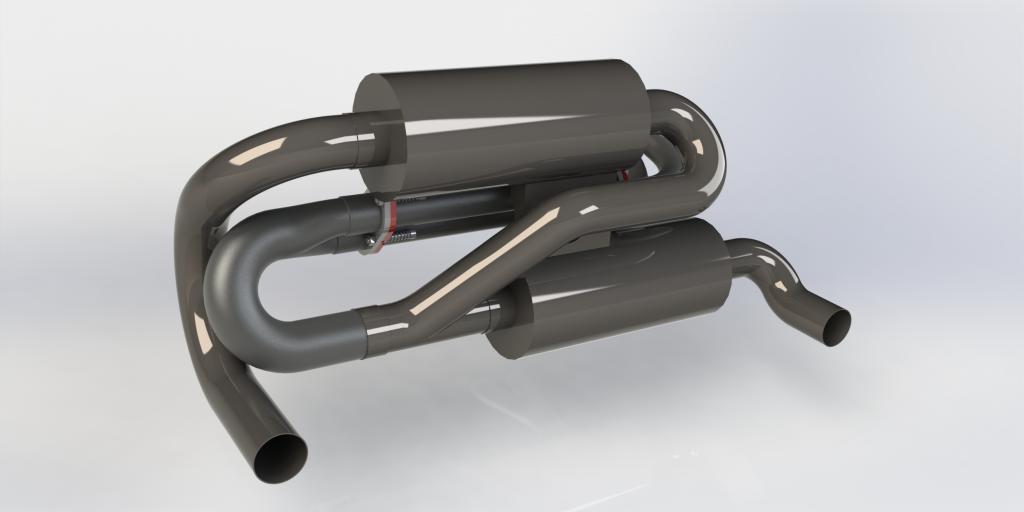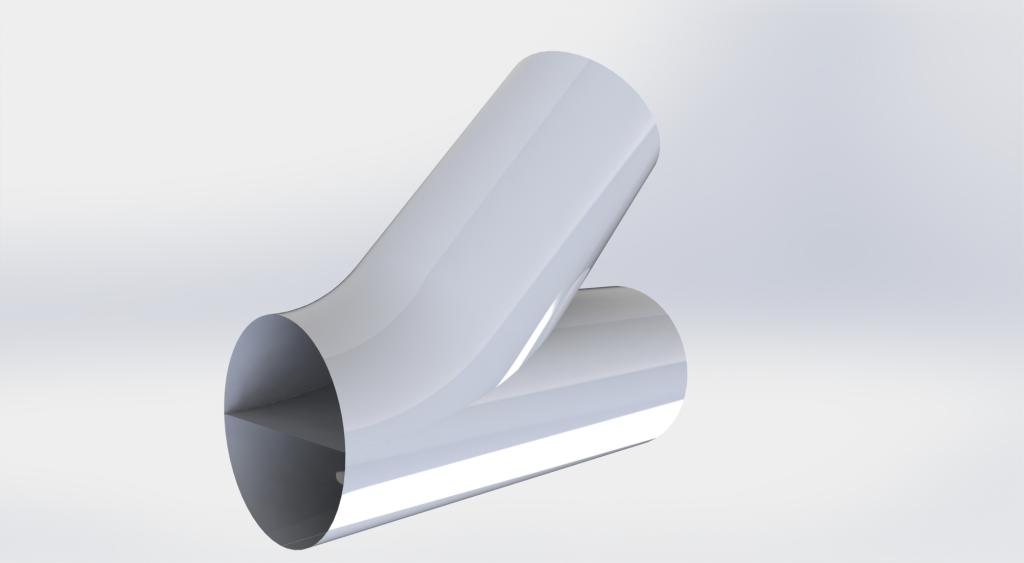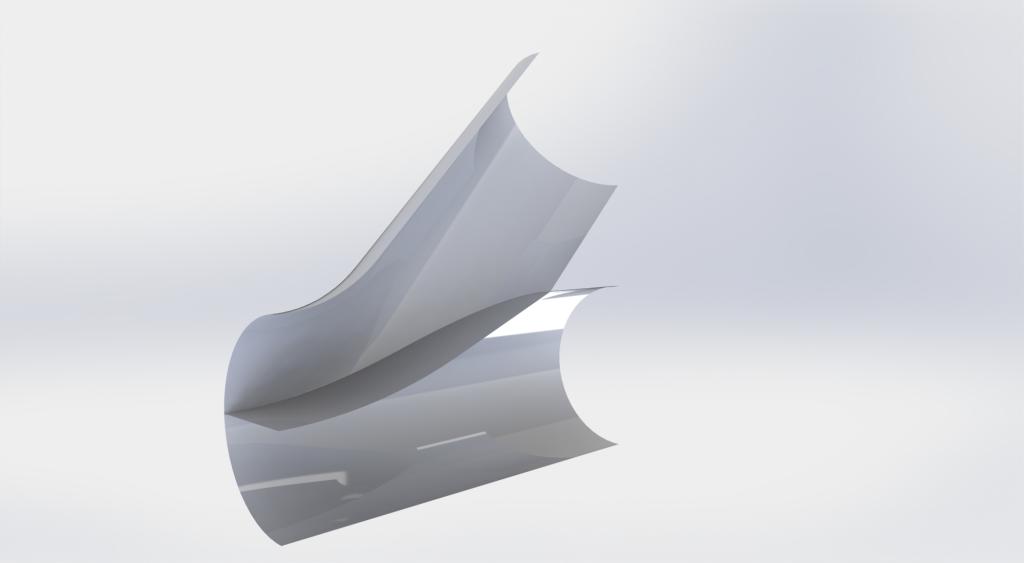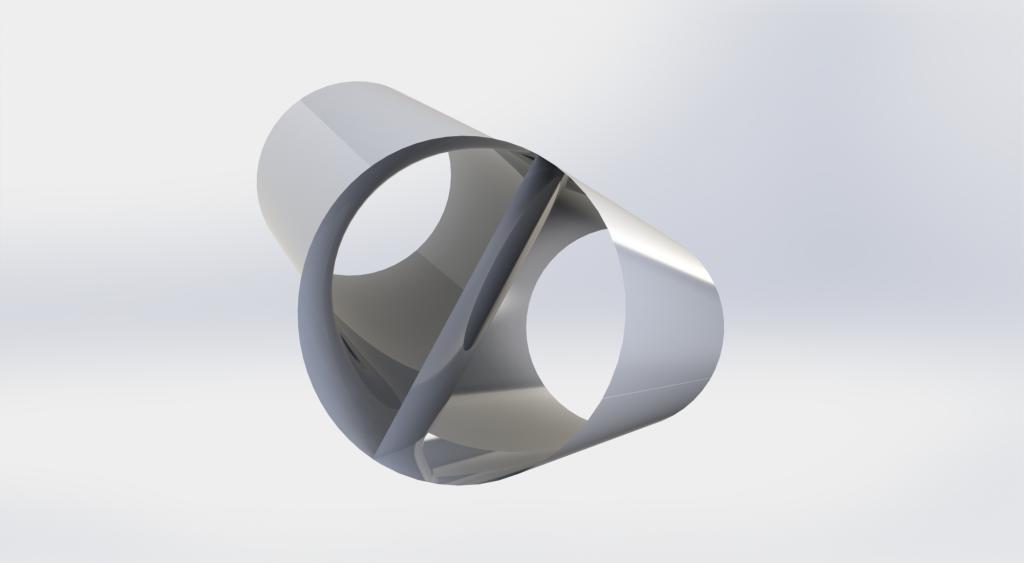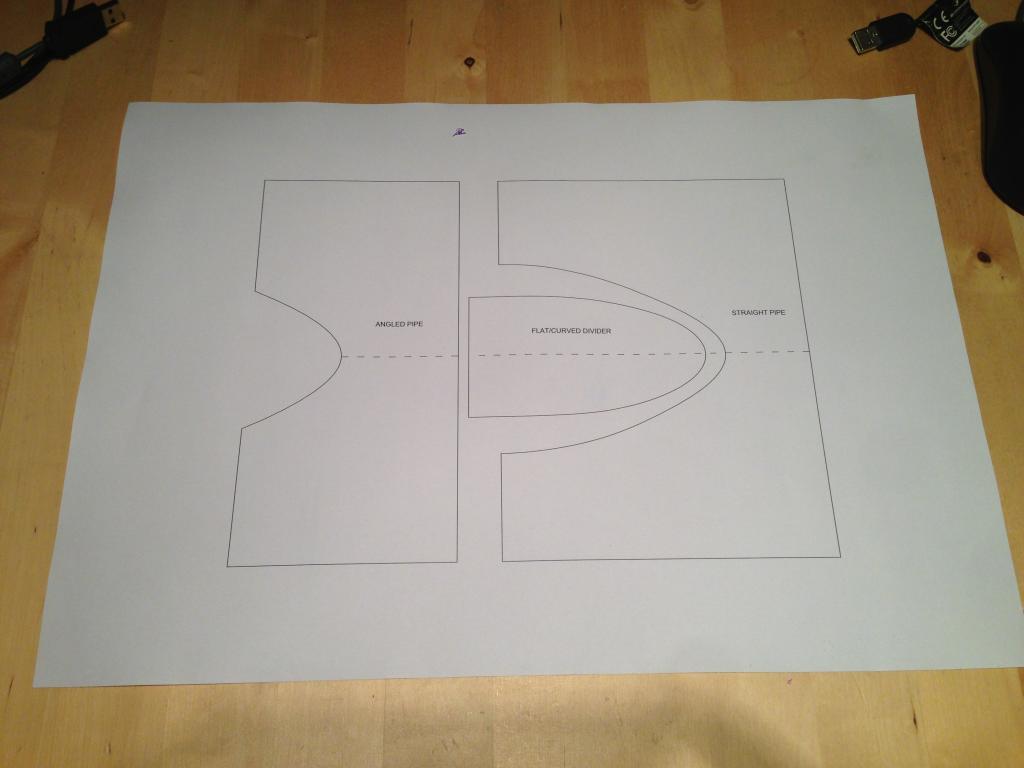 Then cut them out and wrap them round the pipe to get the shapes required: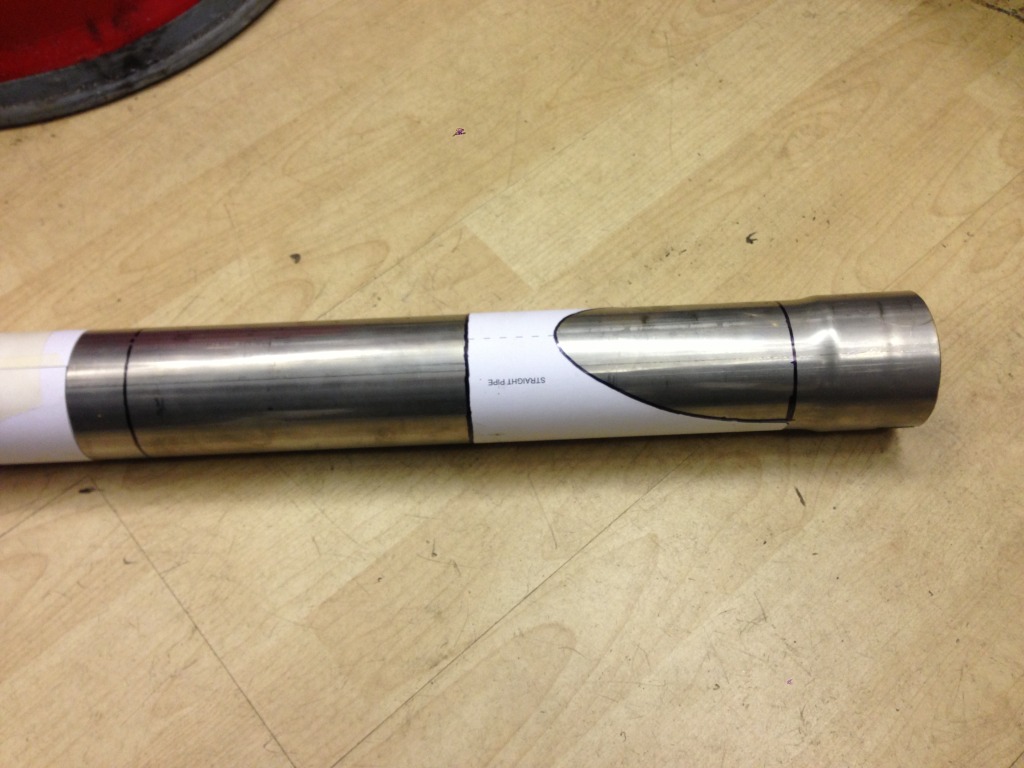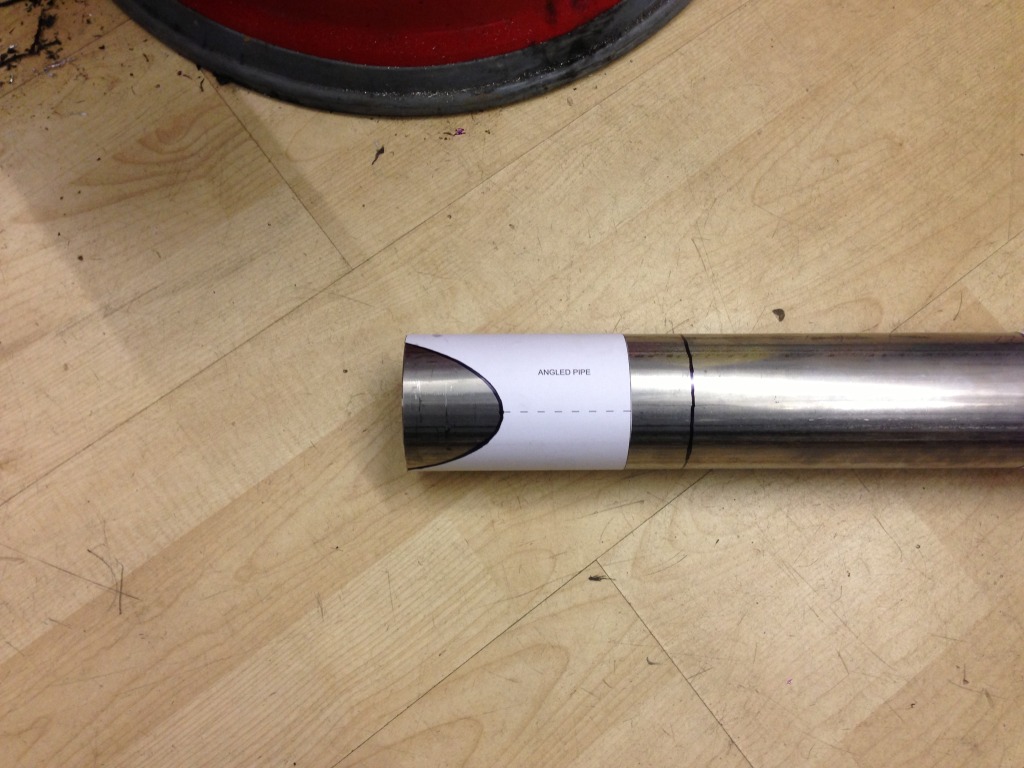 Then cut them out - 4" angle grinder with stainless slitting disc works a treat.: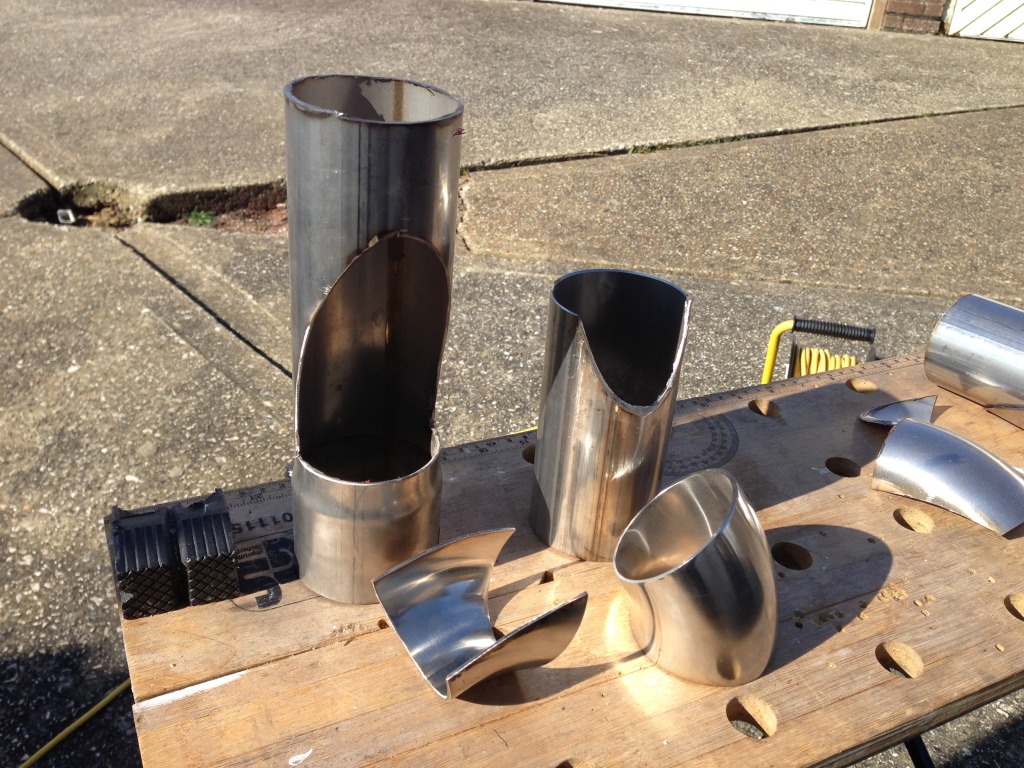 Then bring the puzzle together: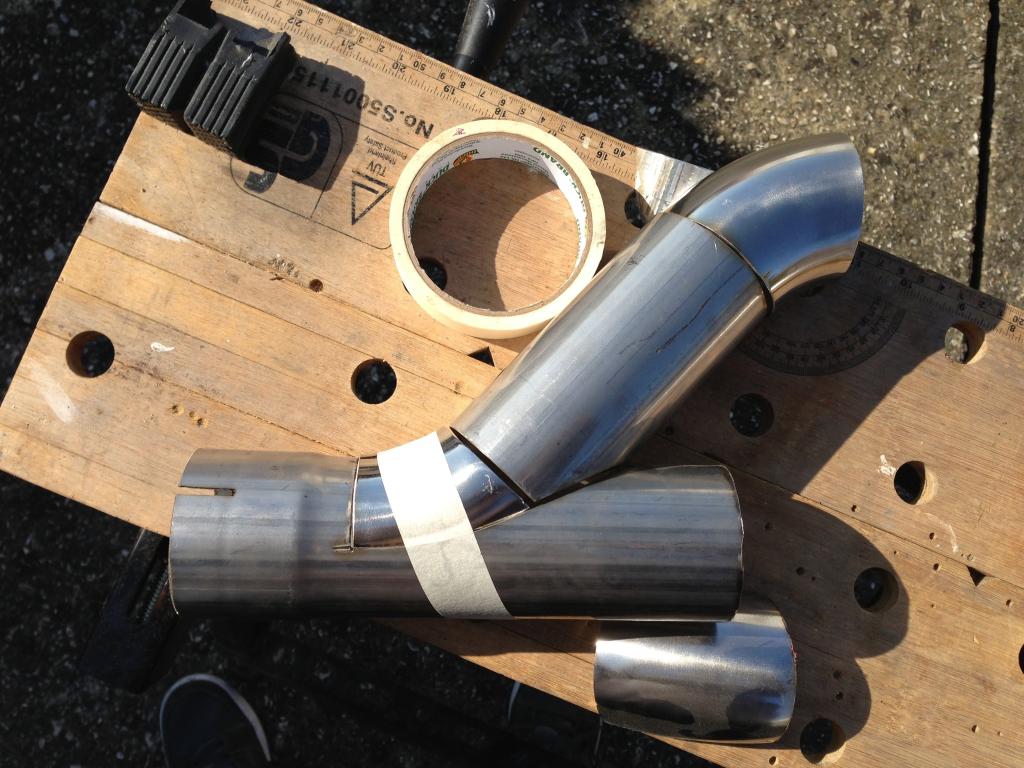 Really need to invest in a TIG welder then I can do all of this myself.....
AUTOMATIC THROTTLE BLIPPER
The long winter nights have got me thinking about making my own automatic throttle blipper for downshifts - before any one says anything, yes I could learn to heel n toe but I am too old to give a Monkeys about it and want my life made easier.
I have seen it has been done by others, most noticeably a guy on the K20.org forum called MacLotus. He, however, got a company to make the stuff for him but it was initially his idea. His idea is a different take on it, than mine, and if you google DIY Throttle Blipper his system will come up as he posted it onto every forum he could. The finished product can be bought here: http://flatshifter.c...atshifter-blip/ you can see a link at the top of the page to a K24 Lotus.Now if you've got that kind of cash hanging around then that would be great - I dont...and I like making stuff myself.
So I am tackling my problem a little differently from the flatshifter product. They use fancy pants strain gauges in the gear linkage which cost a lot of money, a control box and a linear vacuum actuator, only blipping when the brake is applied and force on the gear lever. My system will have a fancy pants control box made by me (it wont be fancy at all), it is using two proximity switches that will be mounted at the brake pedal and clutch pedal and a solenoid with a load of grunt to do the blipping. I am able to control a delay time before the ON period and the length of the ON period when the solenoid will be activated. The whole system will be easily turned on/off so as not to look like a t!t in town.
My system will be activated when the clutch is depressed, however before that can happen the brake must also be applied, so both feet are being used on the brake and clutch, leaving the throttle pedal free. So this is where I am going to make the solenoid work. I've got a bit of space in the area around the top of the throttle pedal and as this is where I have connected my throttle cable it makes good sense to use it.
The throttle requires 30mm of linear travel to go from closed to wide open throttle, I only have 10mm of linear travel in the solenoid and in the interest of keeping things a simple as possible I dont want to be adding fulcrum points and levers so am going to need to get a hold of the throttle pedal closer to its fulcrum to get approx 2/3 open throttle which should be enough to get the revs up to help slip the lower gear in.
Normally at this point I'd be going on about how I'd made a super duper 3D model of it but I havent, not even a 2D sketch in CAD.......
I have however been working on the electronics side of it to make sure that side of it is possible before I go ahead and model the solenoid and its relationship with the pedal. I put together a basic test of the first round of parts and have got some really good results. I have some digital timers coming that I can control to 0.1seconds that will help me to fine tune the final product.
Here's a video of the initial testing of the electronics, note there is a slight delay before the solenoid is activated and that both switches need to be activated to get the system to work:
Now I need to go away and design the interface for the solenoid/throttle pedal.......more to come later......
3-12-2015
I know what its like to write a questioning reply to something and try not to offend, I completely understand and welcome constructive questions/comments, hopefully it'll lead to a better solution/answer any questions.....
I will only be using this when tracking the car and it should cover the majority of the downshifts I will be doing as they will all be dropping into a lower gear at high revs when braking like mad.
Until I test it I wont know how effective it will be, whether a delay will be required (I figured the delay should last as long as it takes to depress the clutch, but the time this takes might be the same as the time it make to make the circuit, activate the solenoid, pull the pedal and rev up the engine) and how long the blip needs to be will all need fine tuning. I will make the circuit so it kills the feed to the solenoid should the clutch get released early or you get a foot slip off - not currently in the setup on the video.
The solenoid/throttle interface is proving interesting to design, due to the snappy nature of the solenoid, I am aiming to use some springs to soften the initial pull, to be a bit kinder on the throttle pedal/cable/body. There are various changes in angle between the rotating pedal and the linear solenoid which need to be overcome, the solenoid also needs to rotate slightly to take up the angular changes in one plane. I have some hand sketches now and some parts ordered so I shall be making a 3D model to prove the theory soon. Trying to keep the mechanical side of it simple is the biggest challenge, consider also that it must not affect the throttle pedal when not in use.
3-19-2015
I have Toyo R888 225/45 R13 (E marked (list 1B in the MSA rulebook) medium compound track tyre) on my rears and you do not need to do any monkeying around to get them on the same size rims, they will grip a feck load better than continental road tyres. They aren't bad in the wet, just not great with standing water as there's not enough grooves to expel the water.
I have posted this before but here it is again, a list of track/performance tyres and sizes - you might want to try the Kumho 215/50 if you're wanting a track tyre or the ZZR 215/55 for a road tyre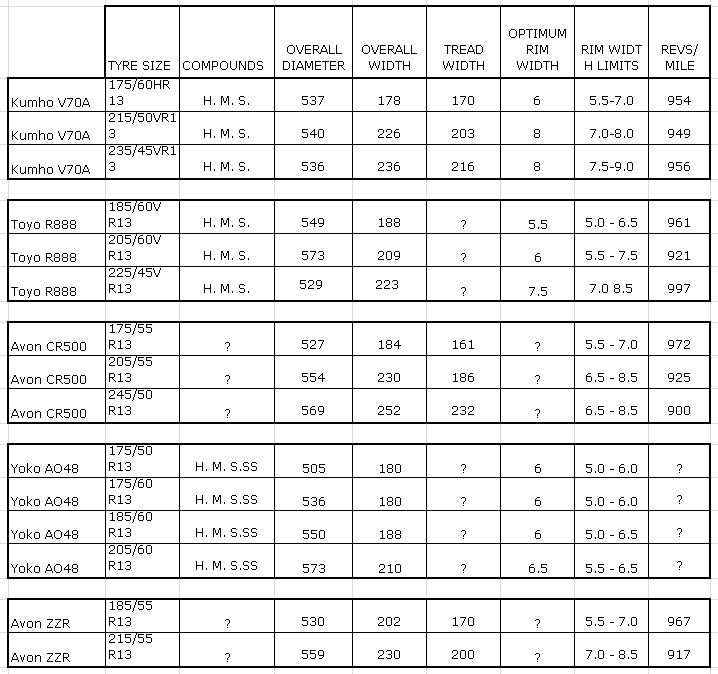 Still waiting on parts from the east to make any progress on the throttle blipper...
3-20-2015
Flowmaster DBX Silencer Setup
With the help of my good mate Stevie G we made some progress on the welding up of the new silencer setup. WE hope to make more progress next week, I'll let the photos do the talking: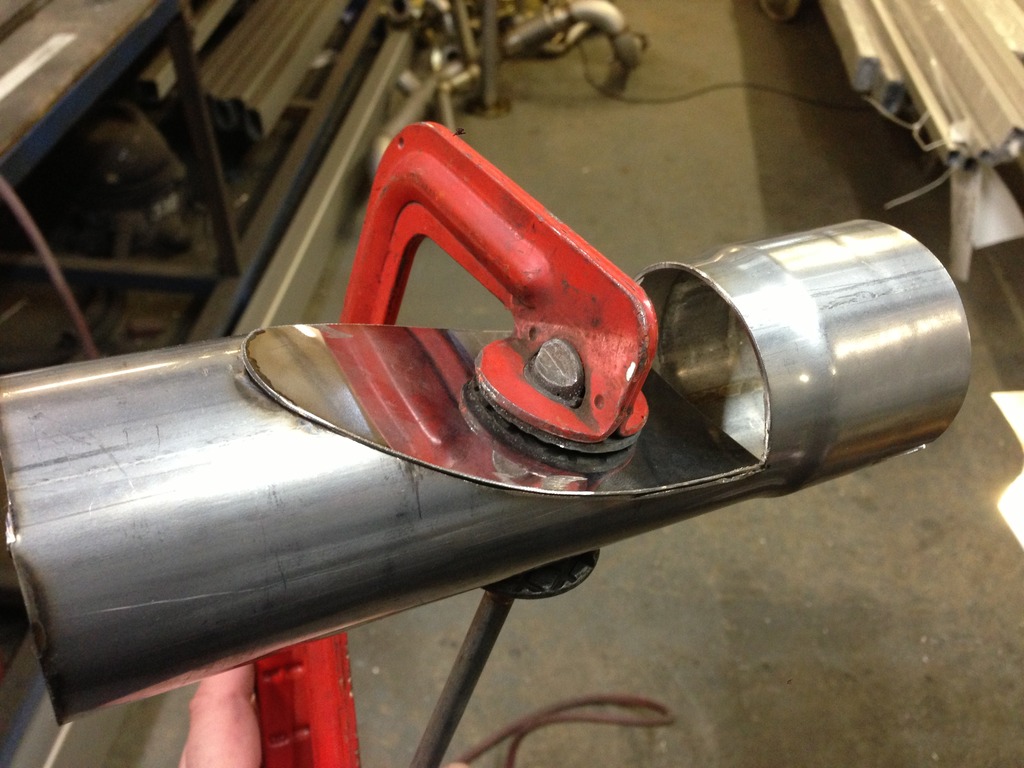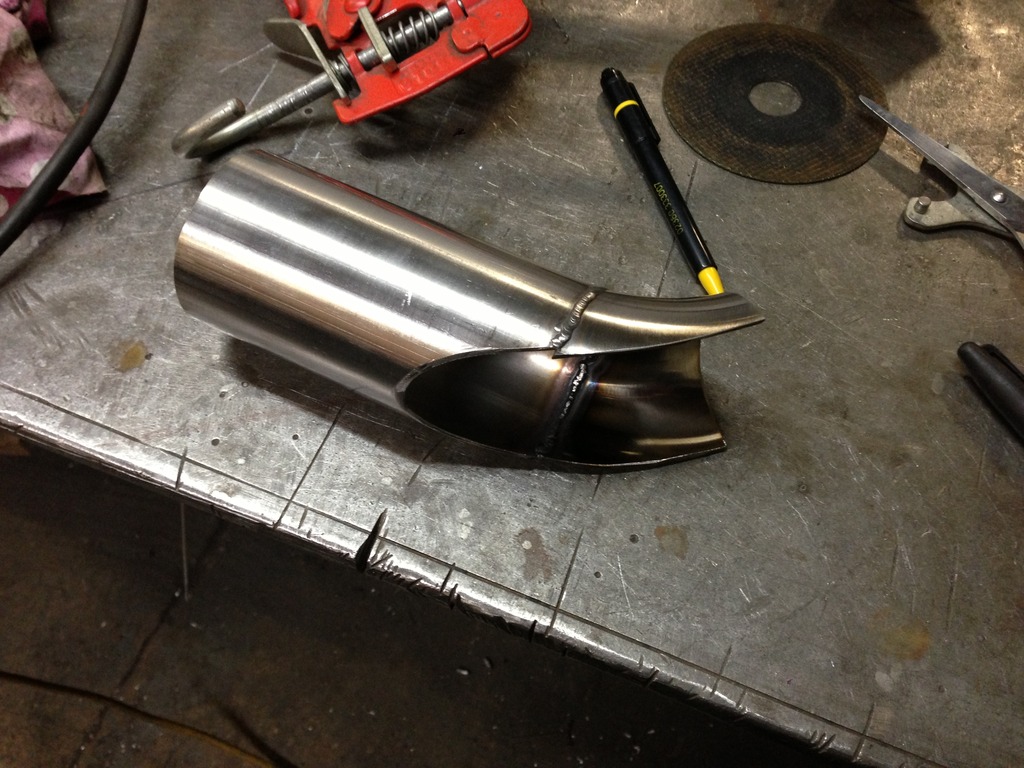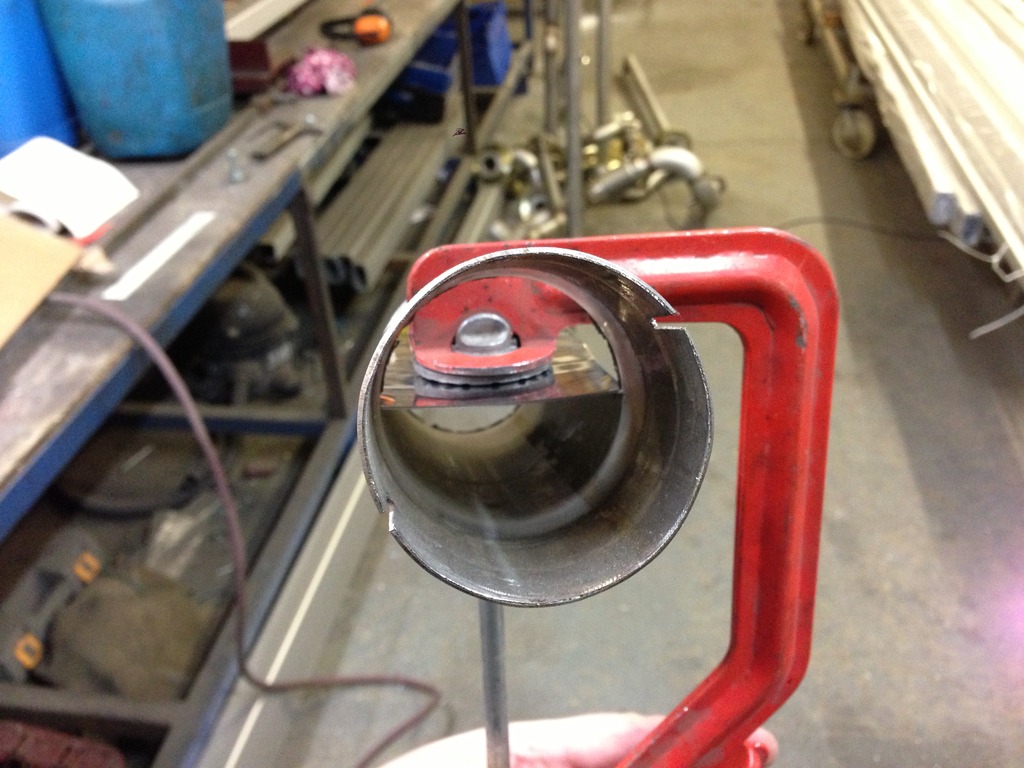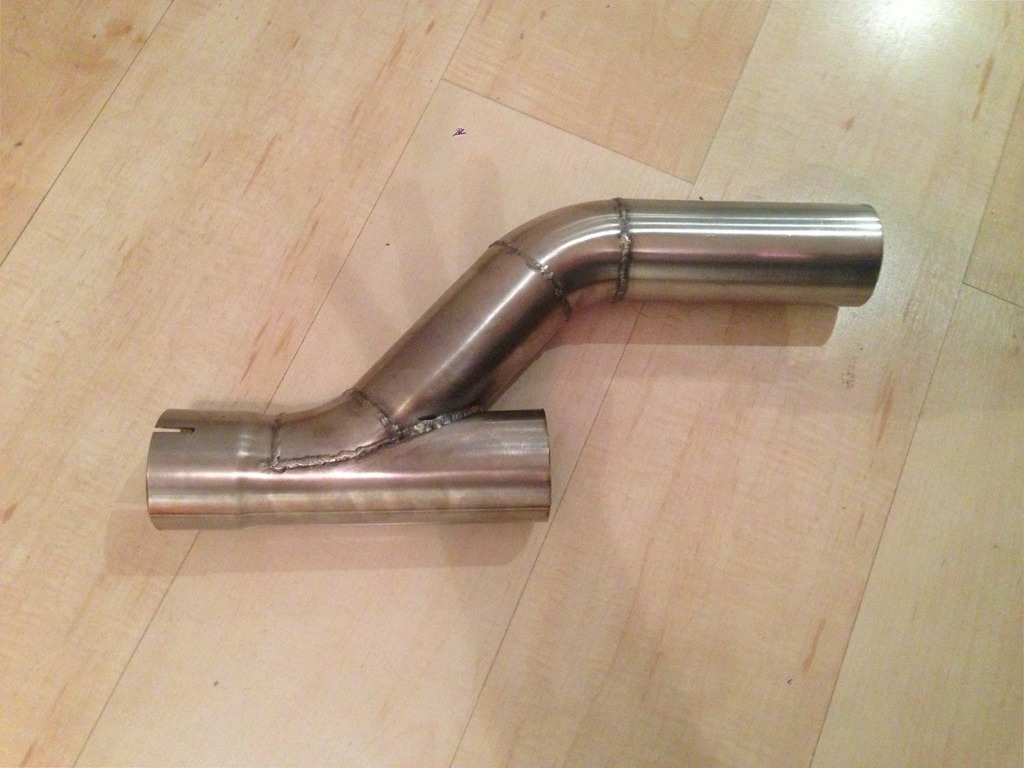 AUTOMATIC THROTTLE BLIPPER
I got my new Solenoid through, to give a sense of scale, there is the original 5kg solenoid and a 13mm spanner in the photo. The new solenoid is good for 45kg so shouldnt have any bother doing what I need it to do....
Now I need to draw it up and model the whole setup to know what I need to manufacture to get it working.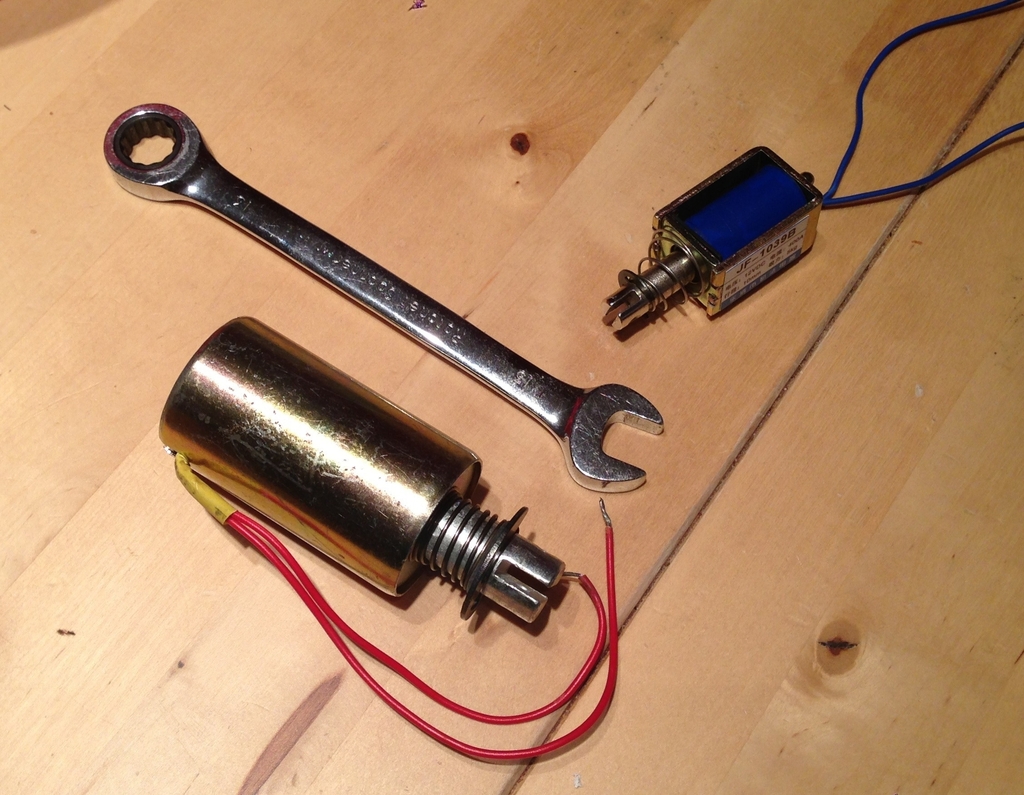 Here's a hand sketch of initial ideas of how to mount it, the pedal isnt in view yet...after receiving the new solenoid I might look at getting a new insert for it machined that will incorporate a lot of this - maybe, depends on the hassle factor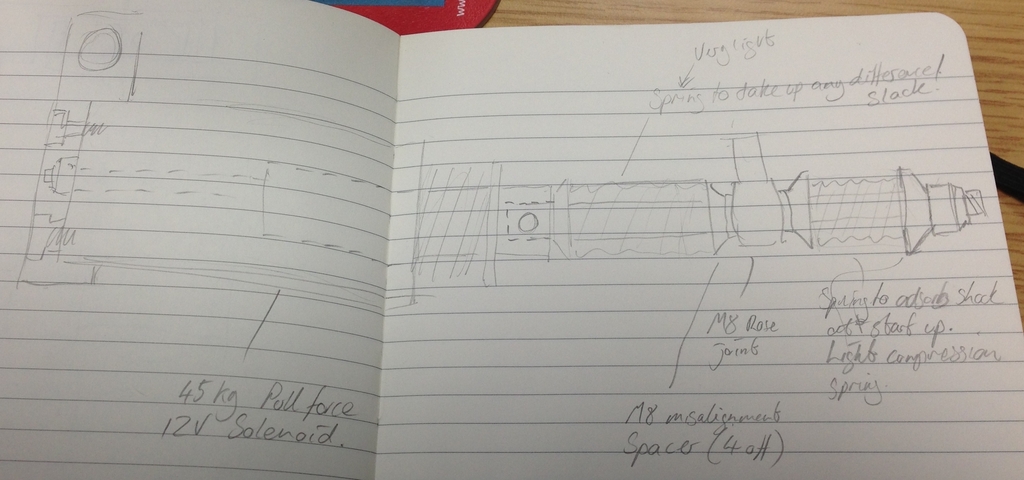 I hope to have some modelling done next week to show.
3-23-2015
Re the tyres, I had a quick look and although a ACB10 245/45 is tempting, the tread width is 31mm less than the ZZS (ACB10 = 206, ZZS = 237):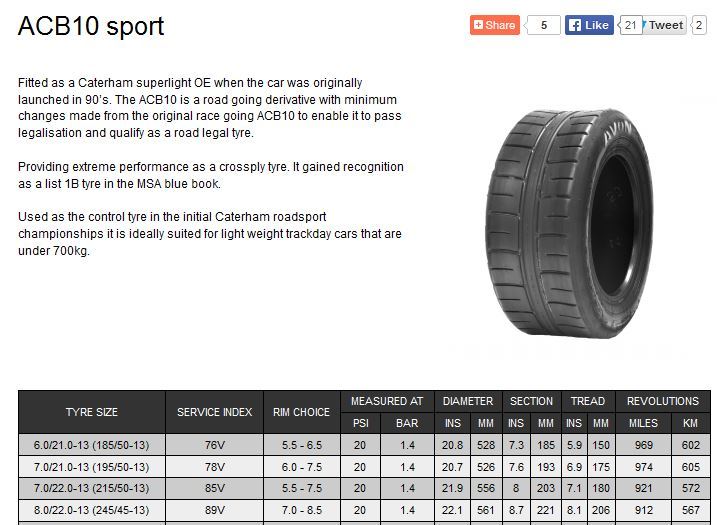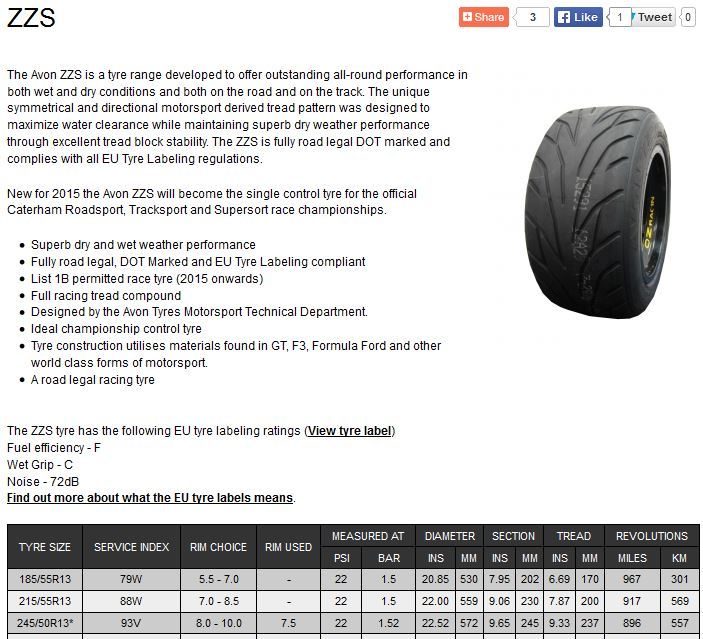 If the tyres are as Cheap as Jim is saying I will be tempted to get some, however I do get R888's at pretty much cost price so they are going to need to be a really good deal for me to swap over to them.......Also ZZS noisier than R888's at a reported 69dbs (ZZS 72db's):

3-27-2015
Going to repost the photo's of how I made my inner arches, hopefully this will show how big they are for people that might want a set. I need people to realize that they were made specifcally for my car and the big Zcars arches that are on it, combined with fitting flush to the Zcars spaceframe forward of the wheel. What I am trying to avoid is people ordering some and then telling me they are too big or that they dont match the cut for their outer arches.
After loading the photos and looking at them again there may be different options to fix them to the car, maybe using the sapceframe and a rubber gasket to the body??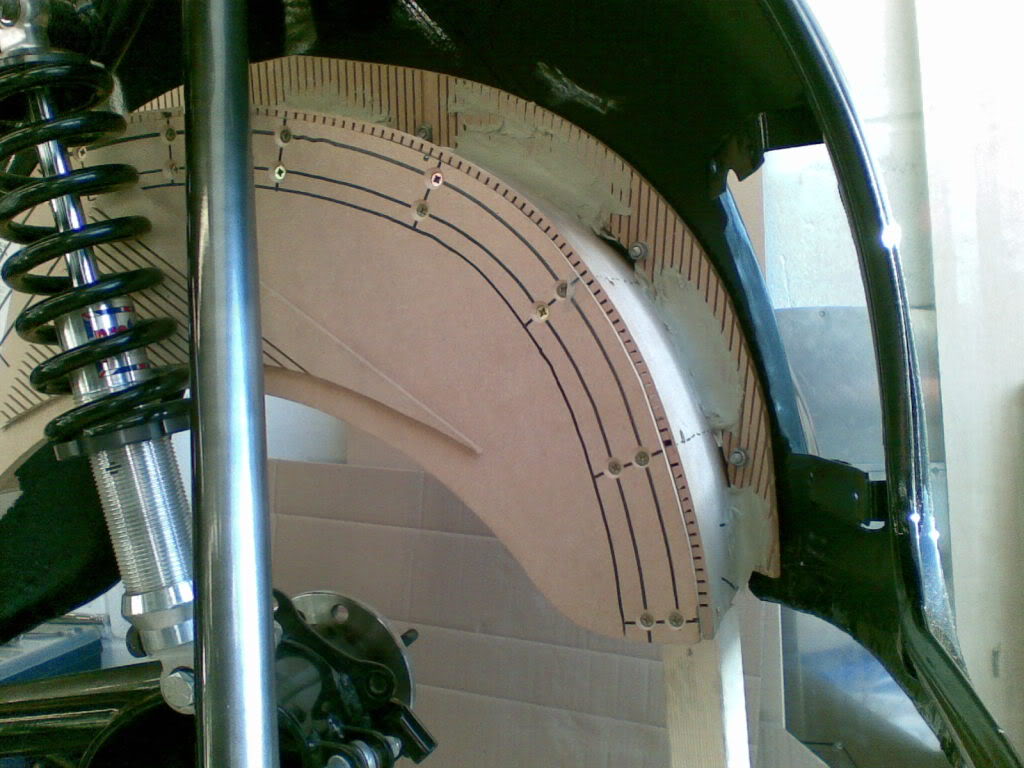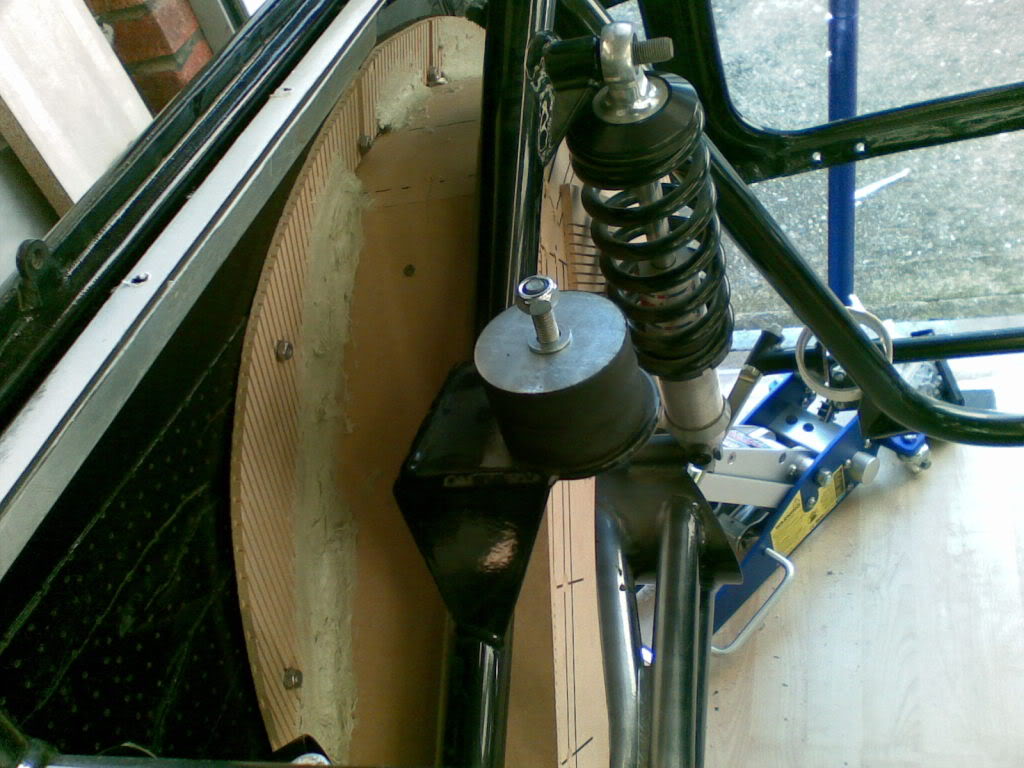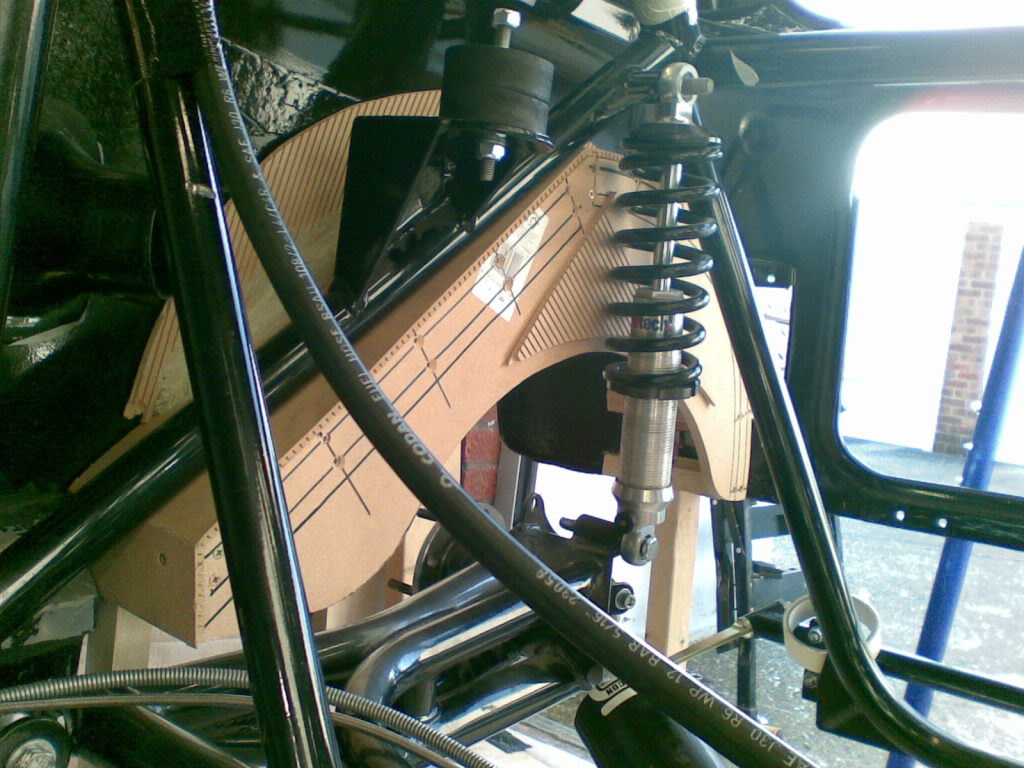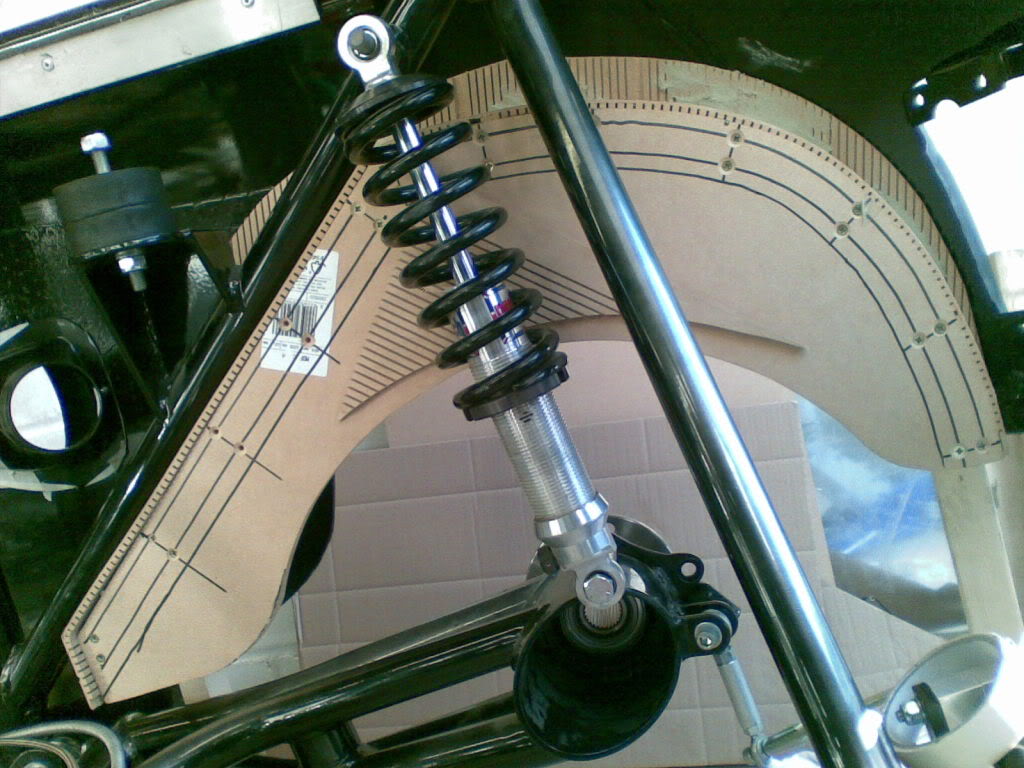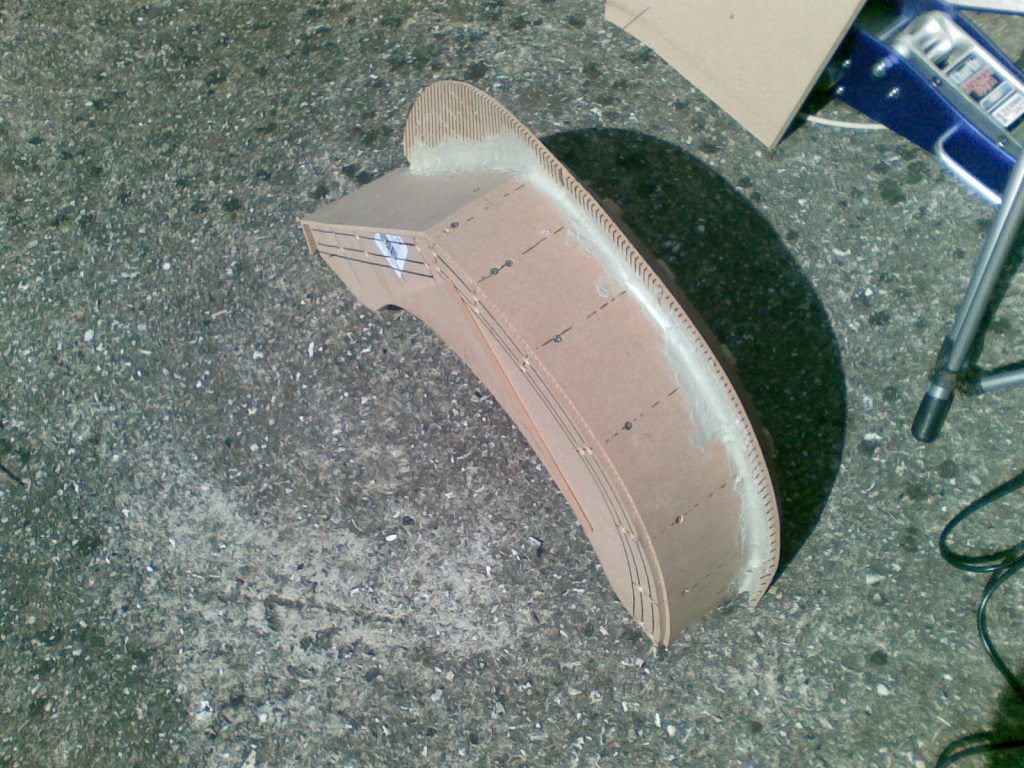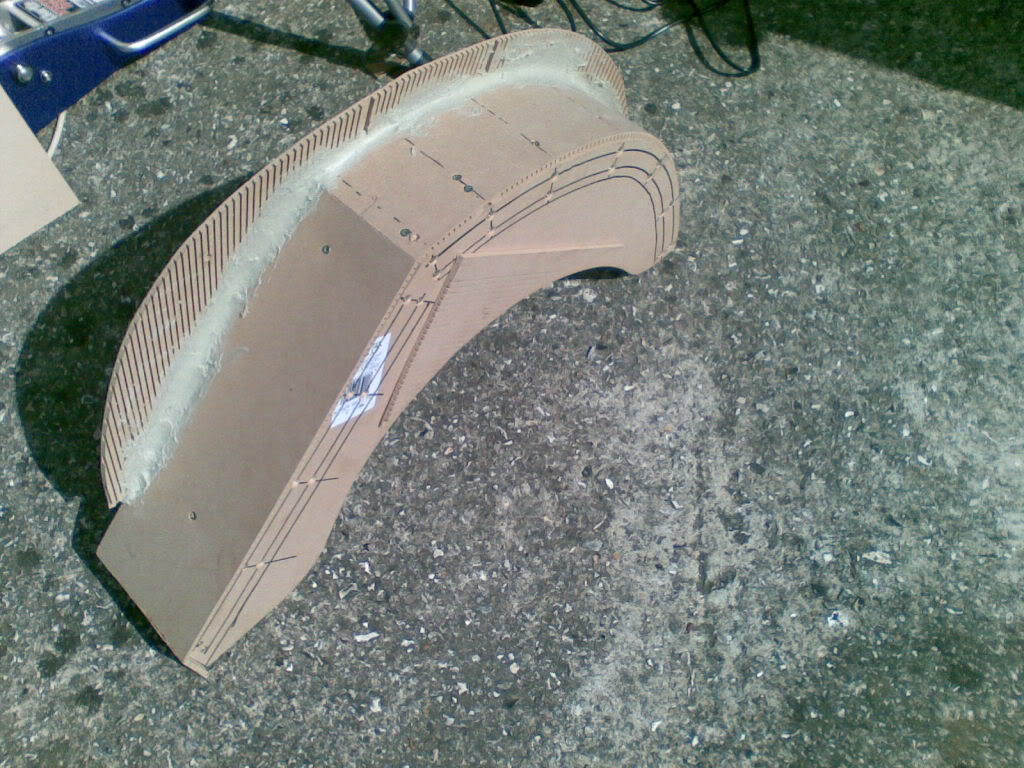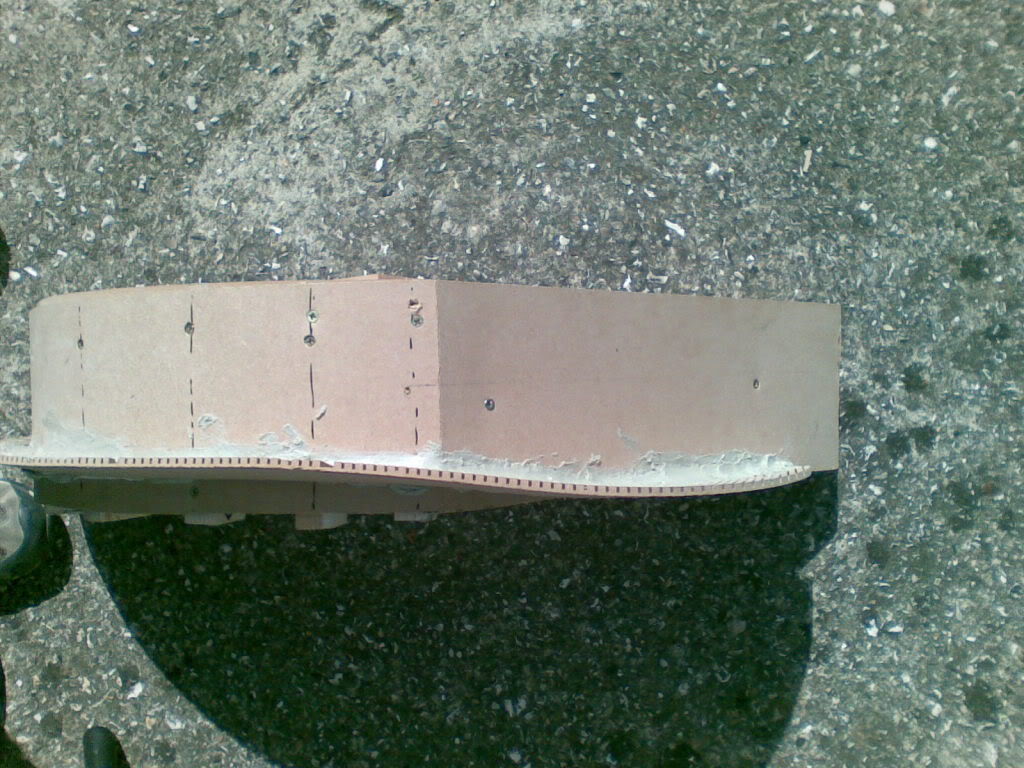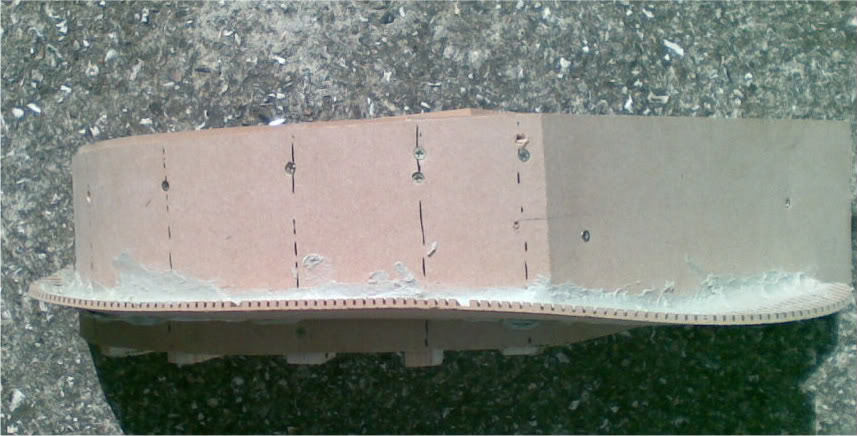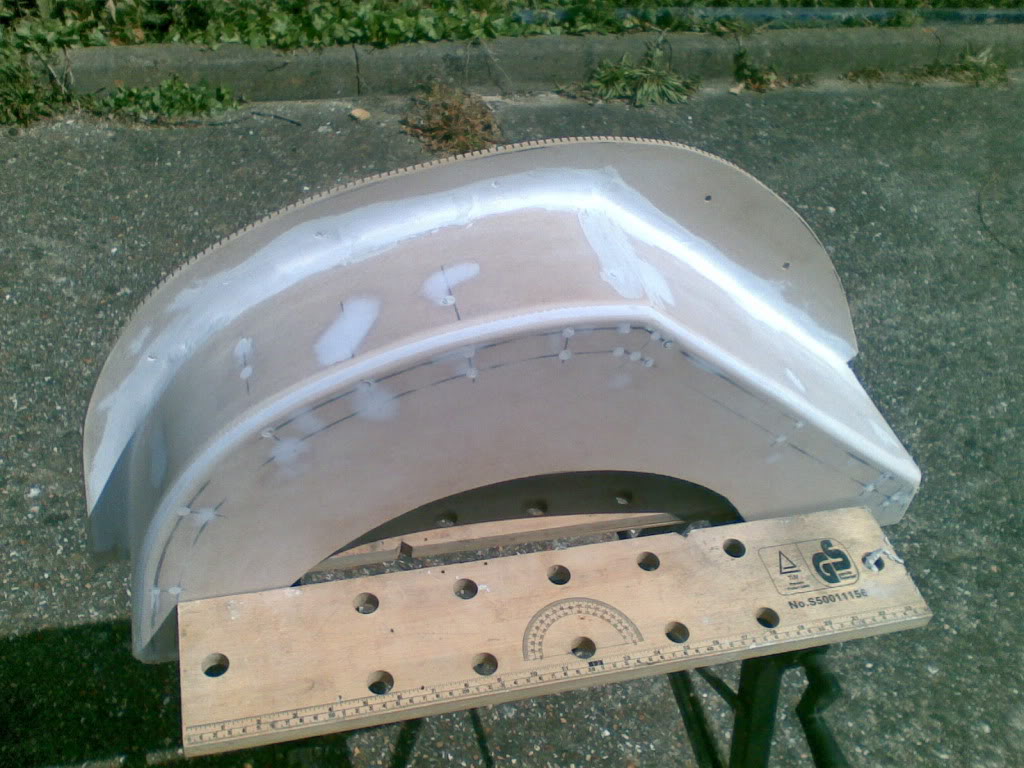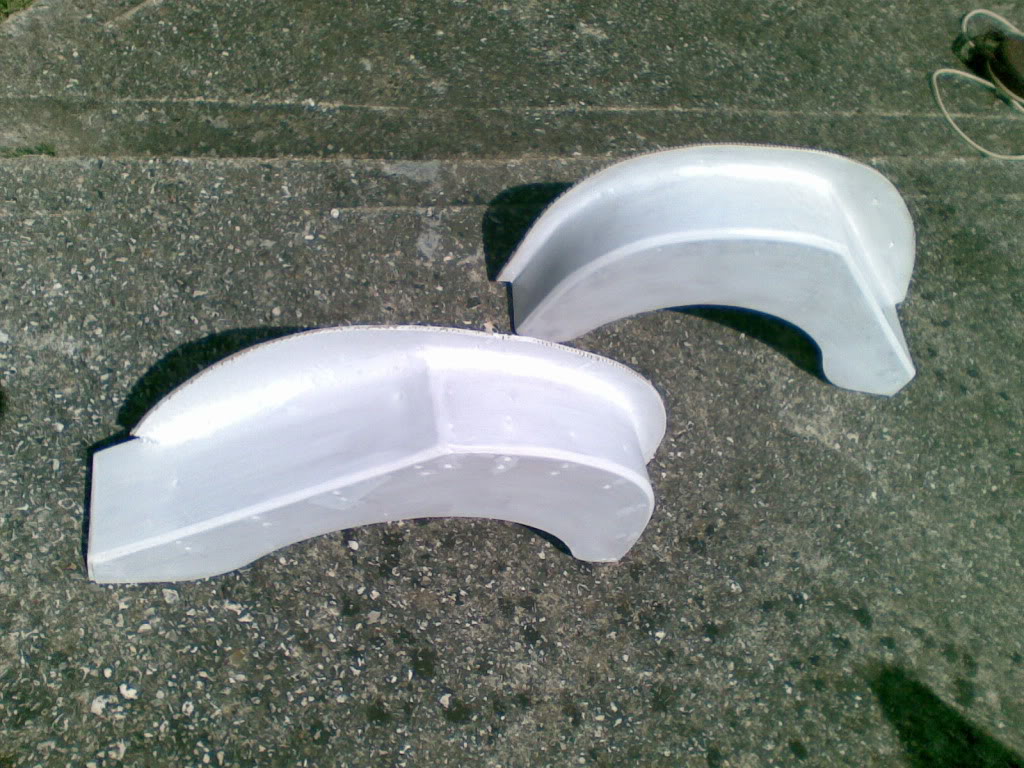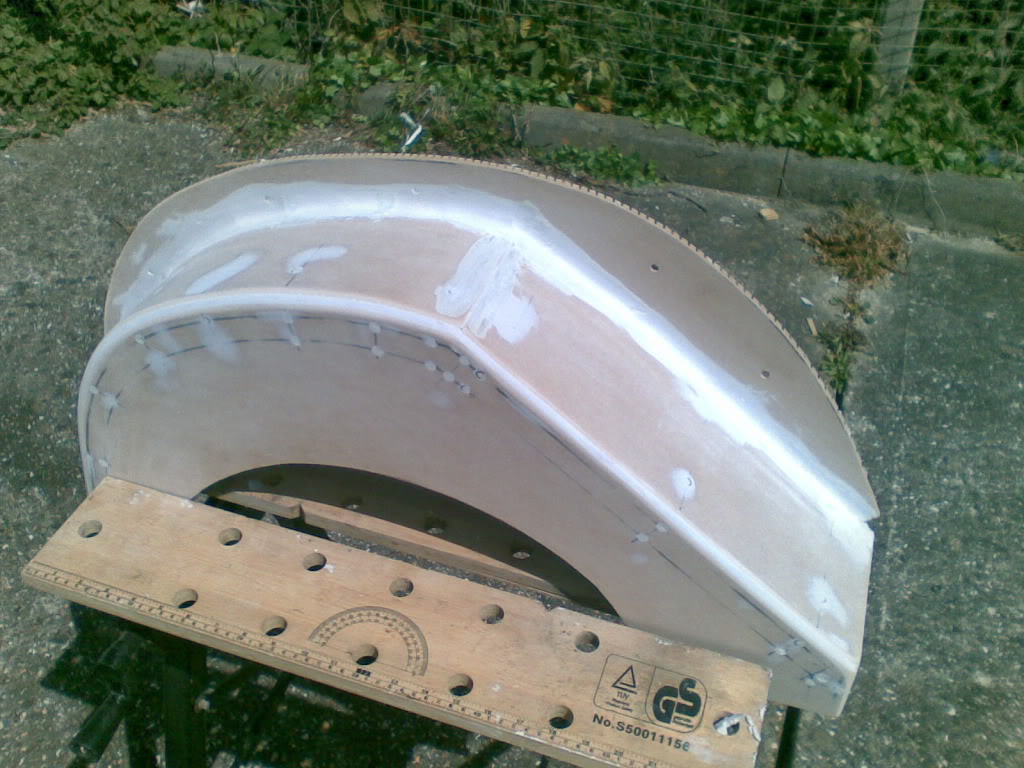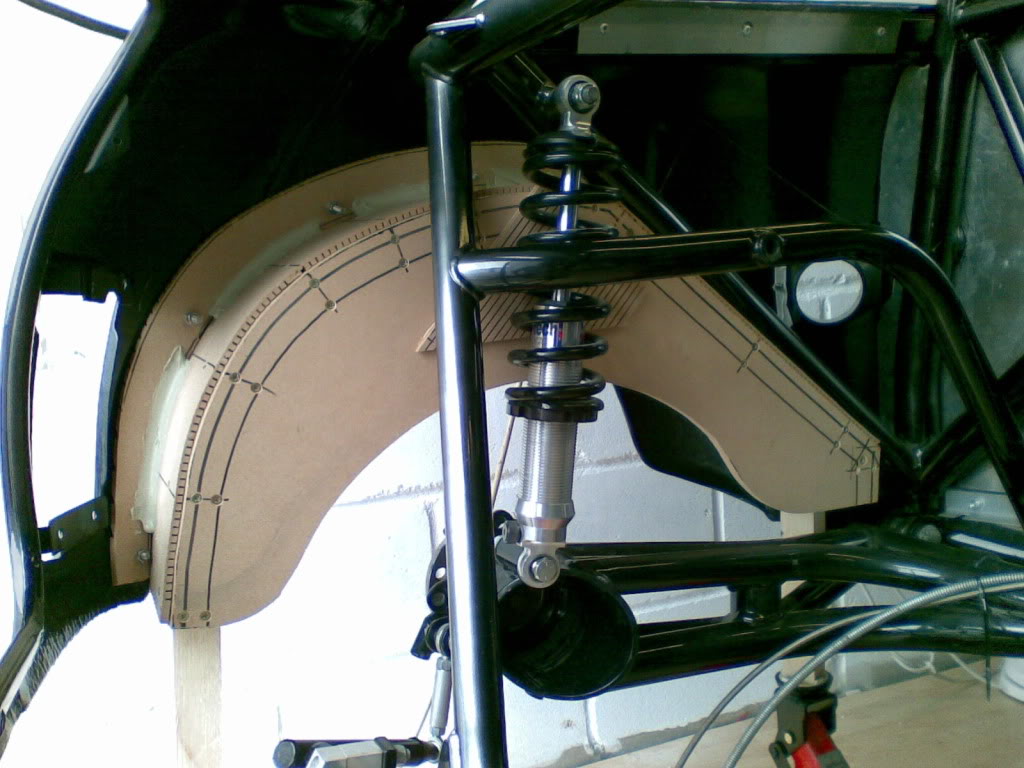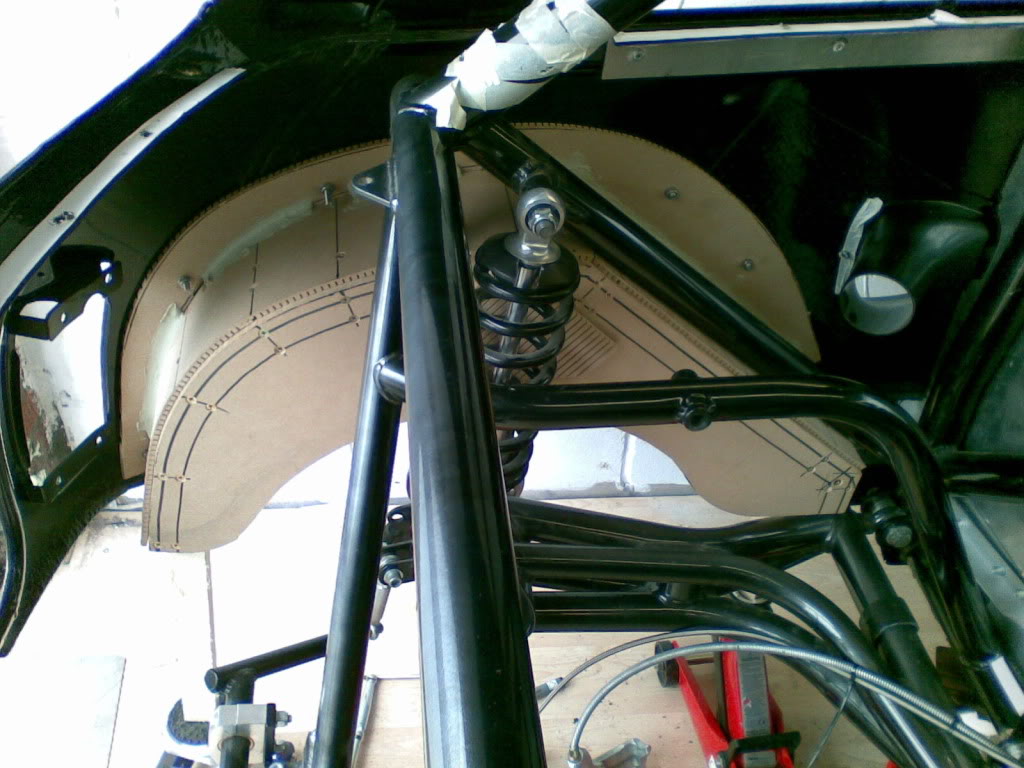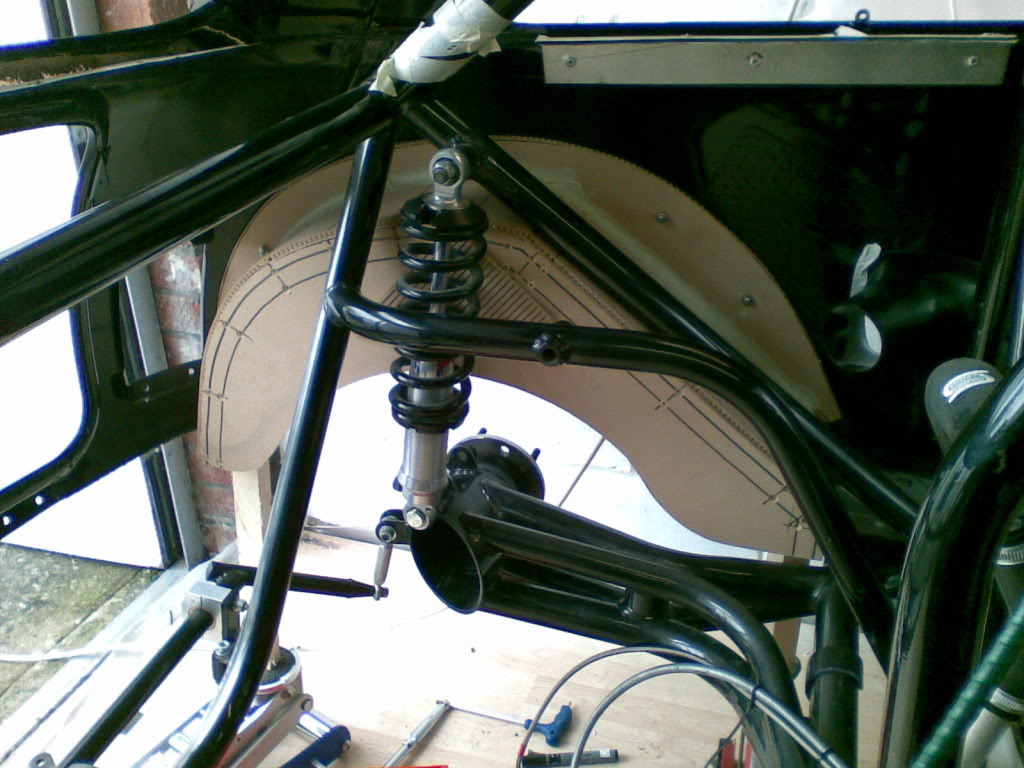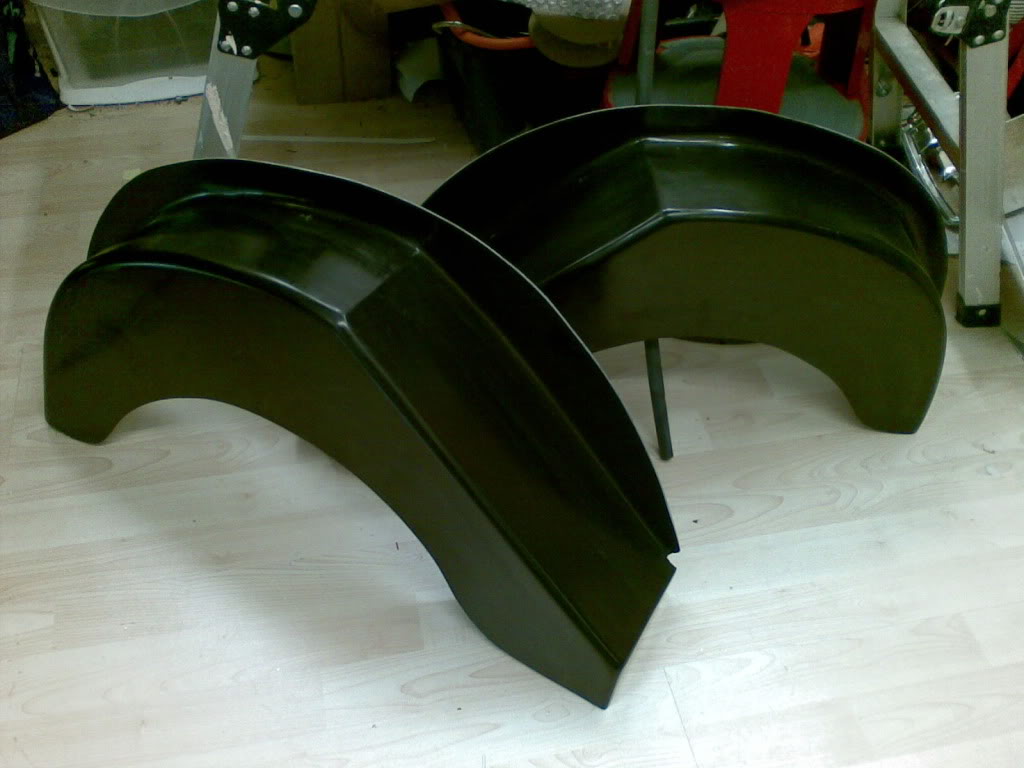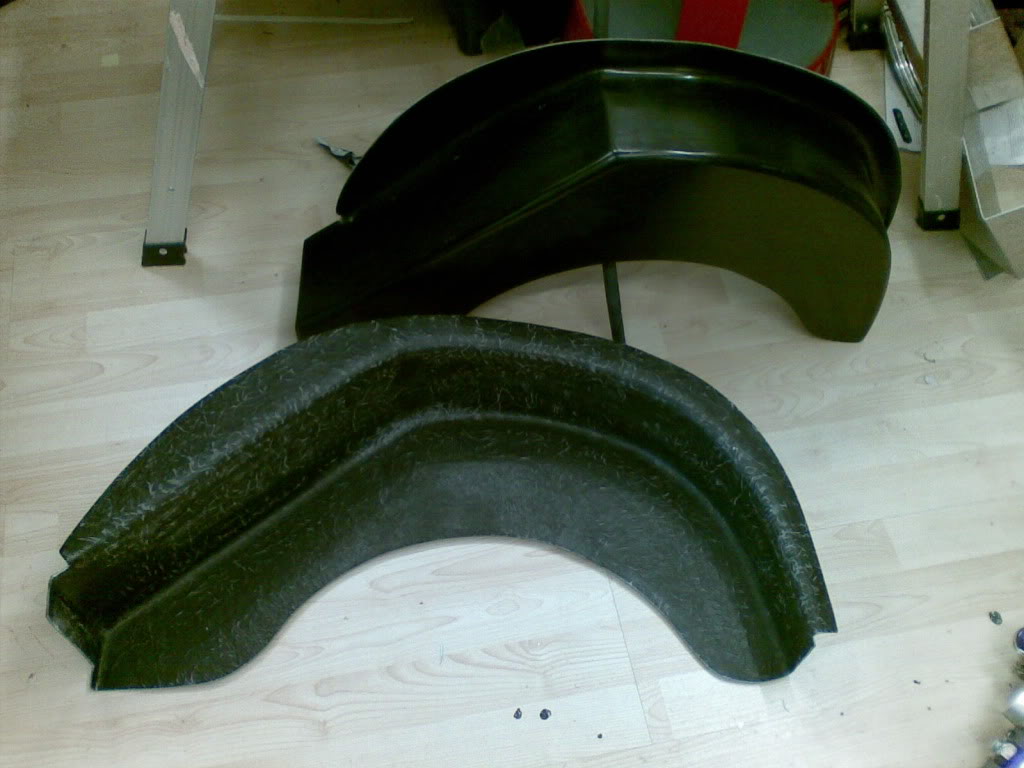 3-31-2015
Flowmaster DBX Silencer Setup
A bit more work done on the silencer set up.....I will make it stupid quiet so I dont get blag flagged......Damn you - decibel meters.....
Here's a couple of photos of the silencers, it's a little difficult to see the conical shape of the perforated material but you get the idea, the inlet looks to be about 6" deep and the exit about 10".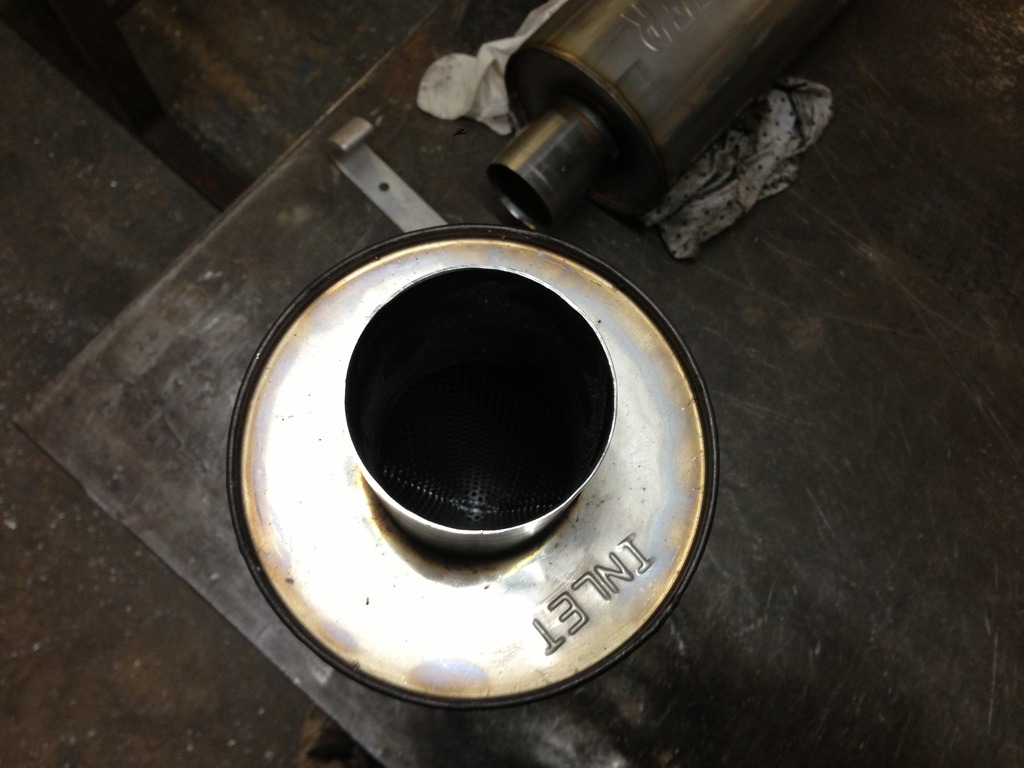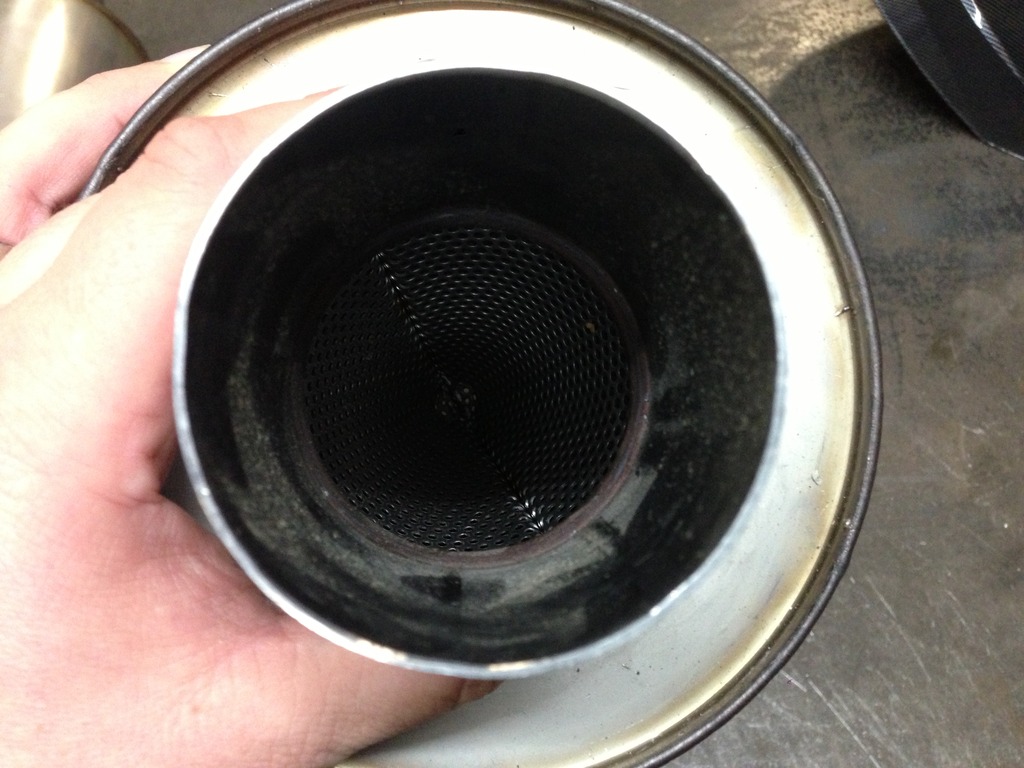 exit end: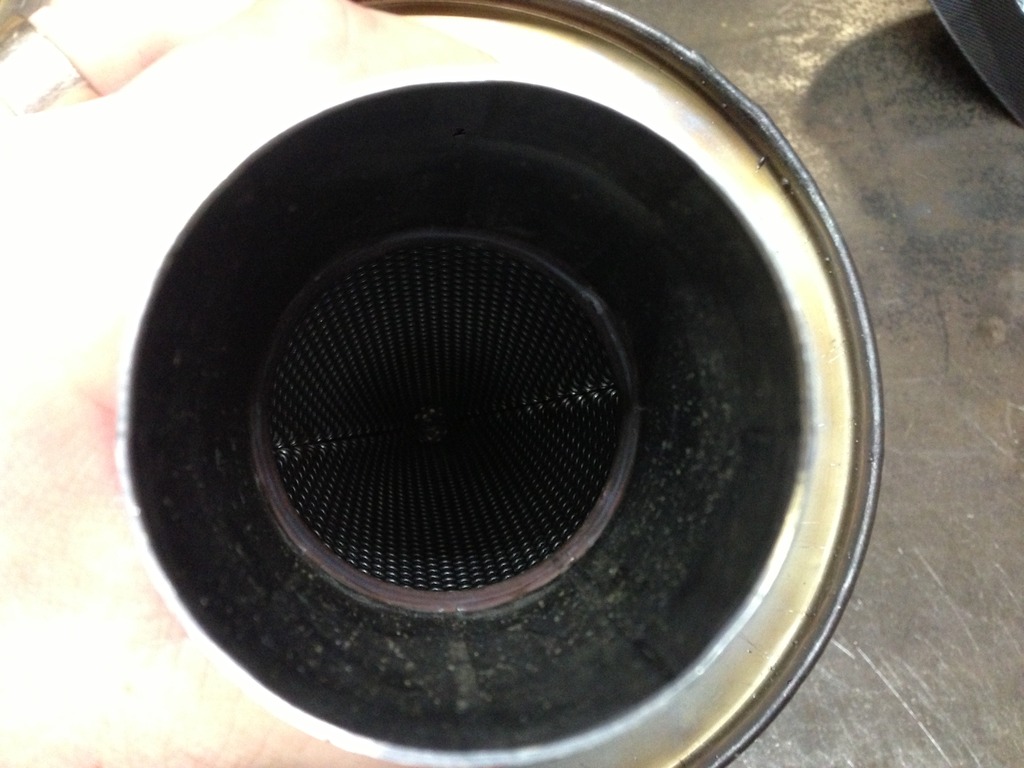 A few of last nights welding - thanks Stevie G...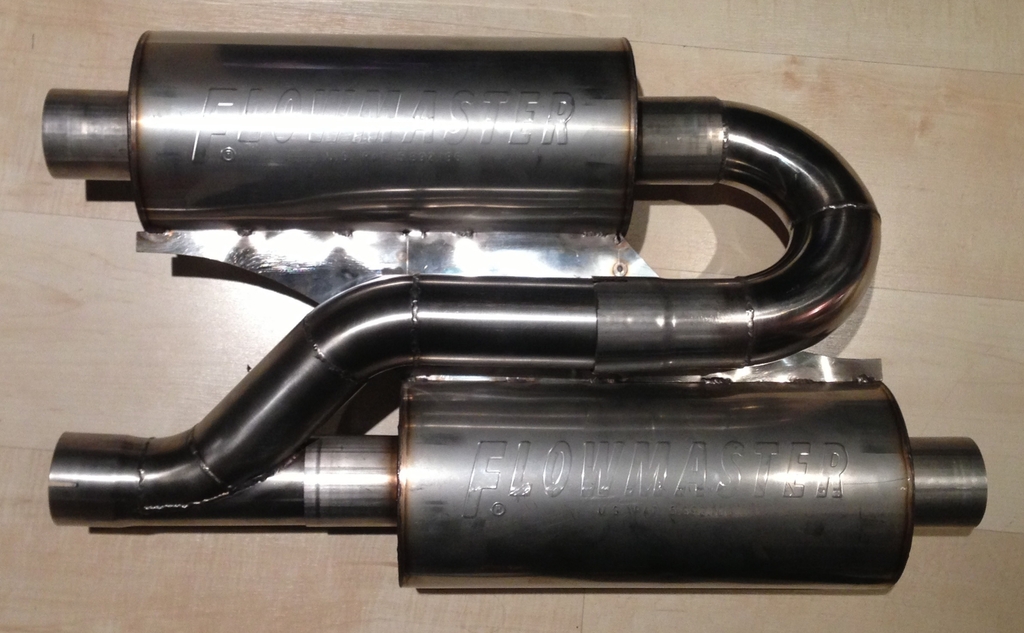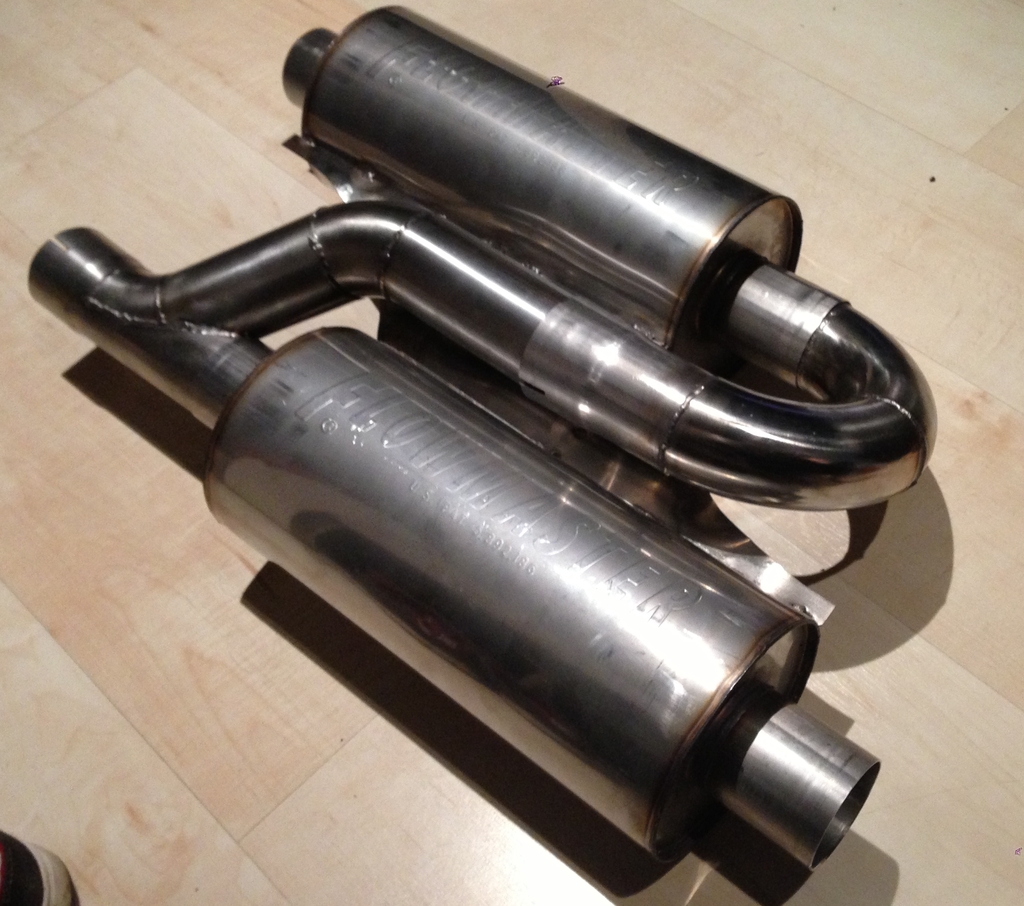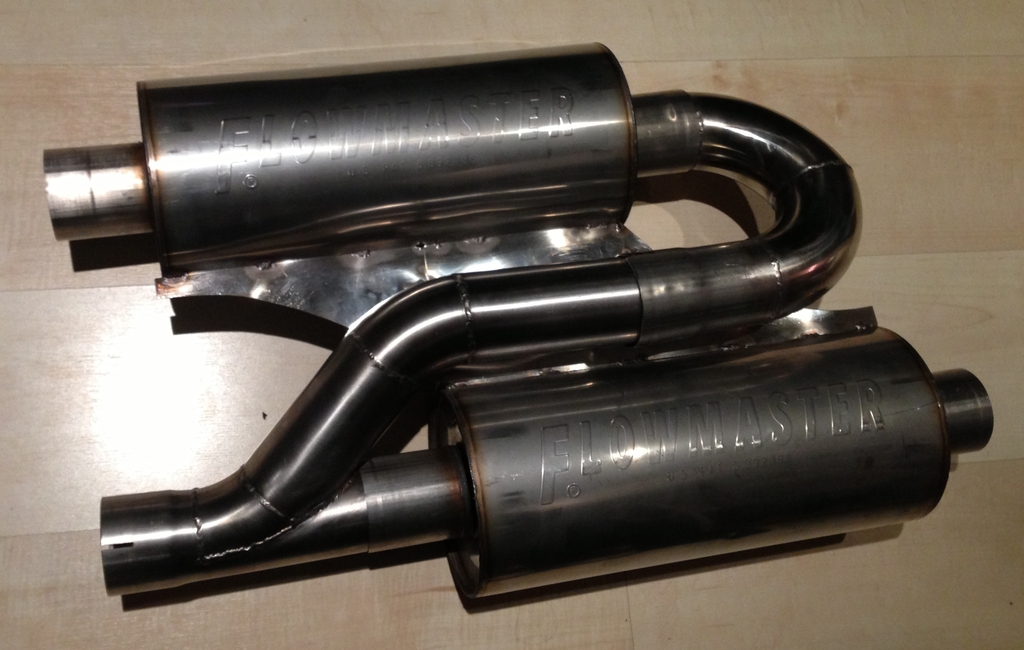 4-7-2015
70mm Throttle Body
I made some progress with the new TB over the weekend, I had to spend some time lapping in the throttle plate to body to ensure zero leakage of air at closed throttle, it purrs like a kitten at idle now.
I had to made a spacer for the intake air control valve (IACV) so that the loom would reach it. I used some acetal as it's easy to work with and can stand the heat of the bay.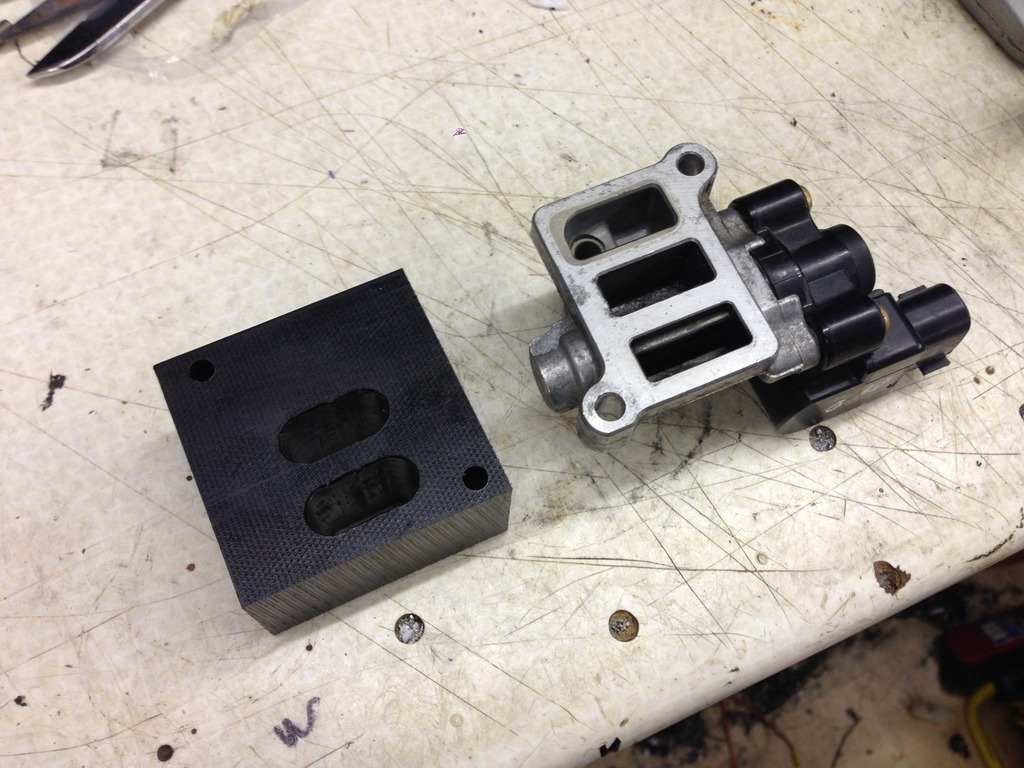 I got the whole lot back together again and this is how it looks currently (note the throttle cable is not connected):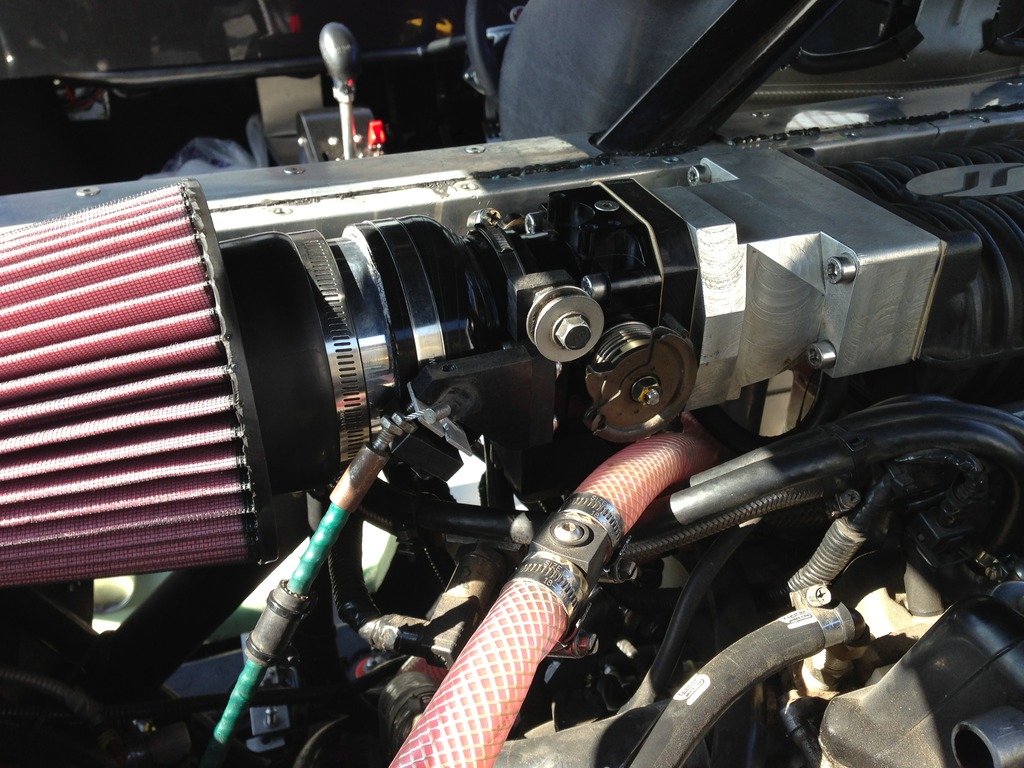 4-8-2015
AUTOMATIC THROTTLE BLIPPER
Not a great deal to report on this right now, other than I got a new timer unit through so now I only need a single timer unit as this has a delay built in and its tunable to 0.1 of a second, you can see in the photo that it reads 00.2, meaning the initial delay is 0.2 of a second and I have the on period set at 0.6 of a second, although I think that might be too long.....
I am using two relays to ensure that, should I catch both pedals accidentally, for a split second, that it will not send power to the solenoid, even though the timer will go through its cycle. The timer now has permanent power to it and uses a signal wire from one of the relays, again both pedals need to be depressed for this to happen.
I've got a nice little enclosure for it, that will initially sit within easy reach of the seat (probably next to the seat) so I can do any fine tuning really easily.
My only problem now is that when I fitted the 70mm TB over the weekend I noticed that I can get to 6-7k rpm with about 1/3 opening of the throttle so my initial plans with the solenoid setup might have to be changed slightly.....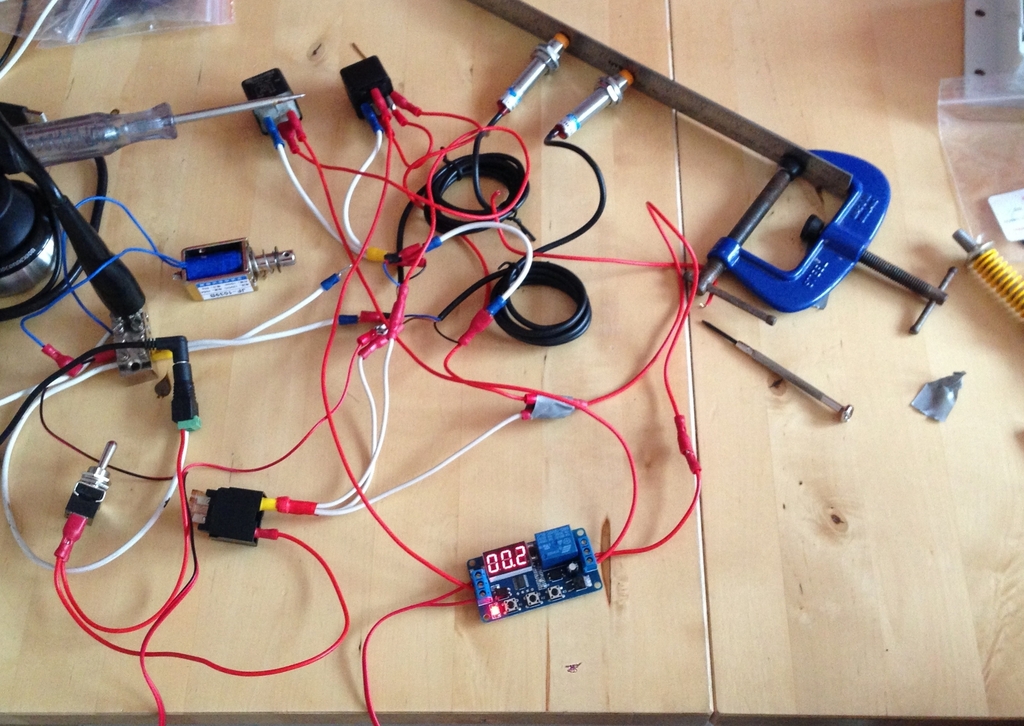 4-9-2015
I am running:
Front - 7x13 rim with 185/60 R13 R888
Rear - 8x13 rim with 225/45 R13 R888
You could easily get the 225/45 to fit a 9" rim. and if you want wider than 185 on the front you could go 205/60 (R888) but be aware the sidewalls are massive...I was glad to get rid of mine as the tyre roll on the rear was considerable. Conversely the tyre roll on the front 185/60 is virtually none existent, I think this is due to there being very little weight on the front of the car...
I get on fine with them and recently I have been playing with pressures and made good gains.....That said I haven't had any other make of tyre on the car.
Here is the difference between 205/60 (on the car) and 225/45: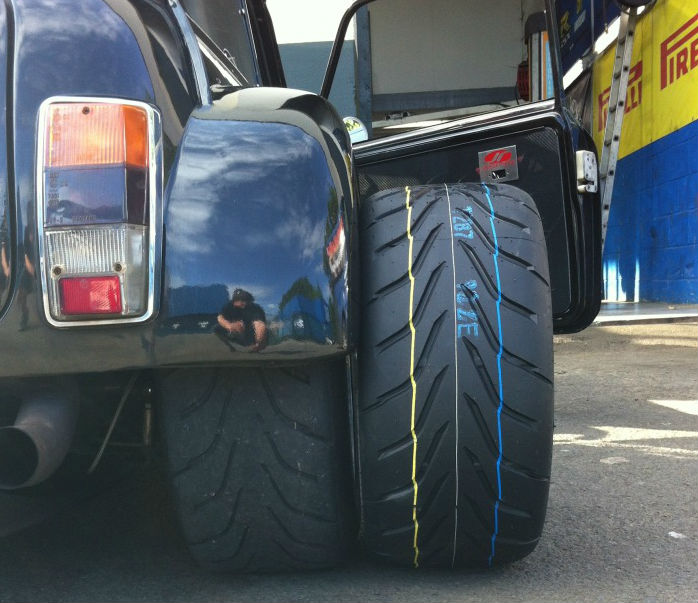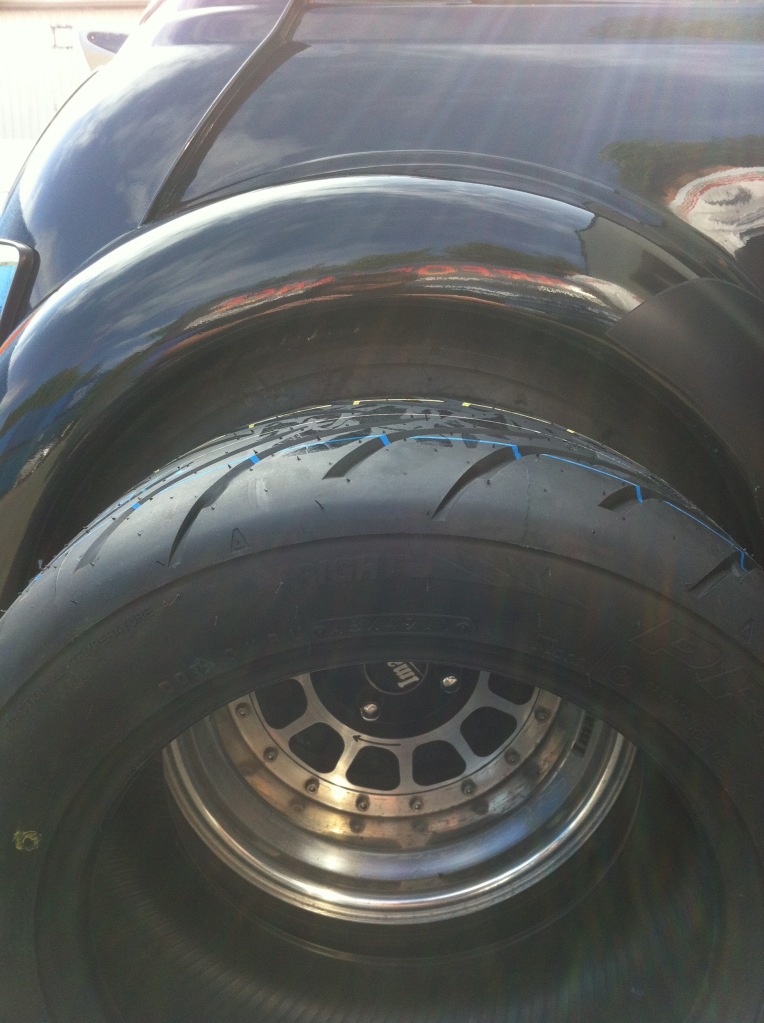 4-16-2015
Flowmaster DBX Silencer Setup
I have been busy working on the car, trying to get it all back together for a track day at Goodwood on May 25th (Bank holiday Monday).
Among many other things I test fitted the exhaust last night, not much more to say than that really at this point.
I don't think the photo's do it justice but here they are: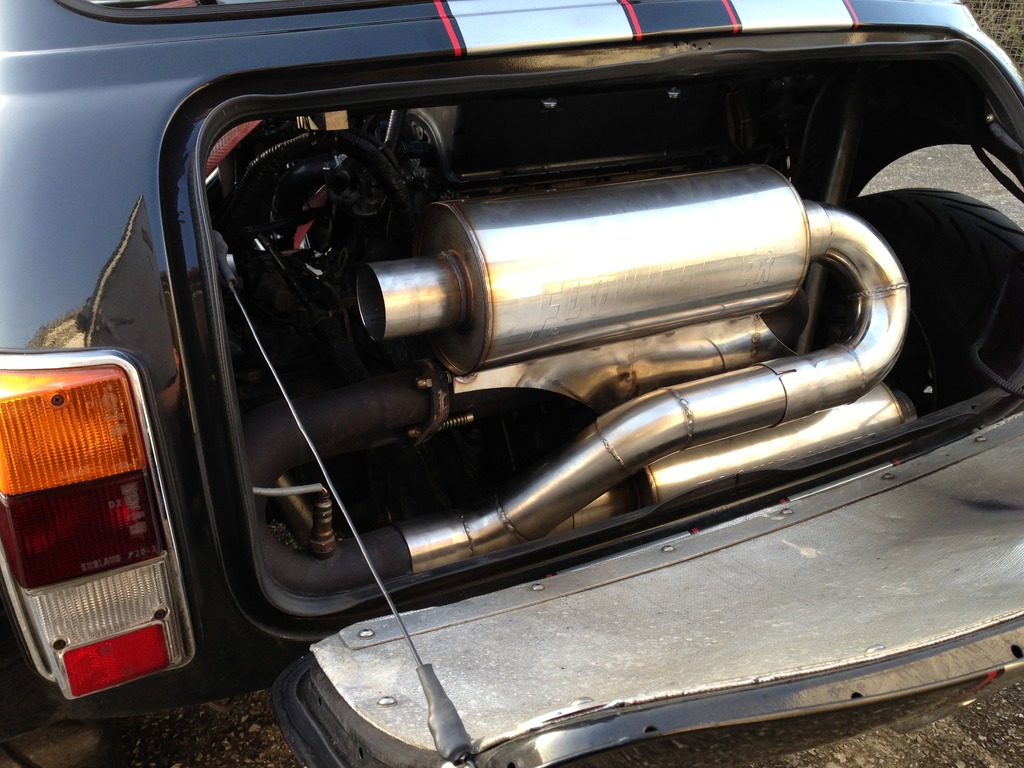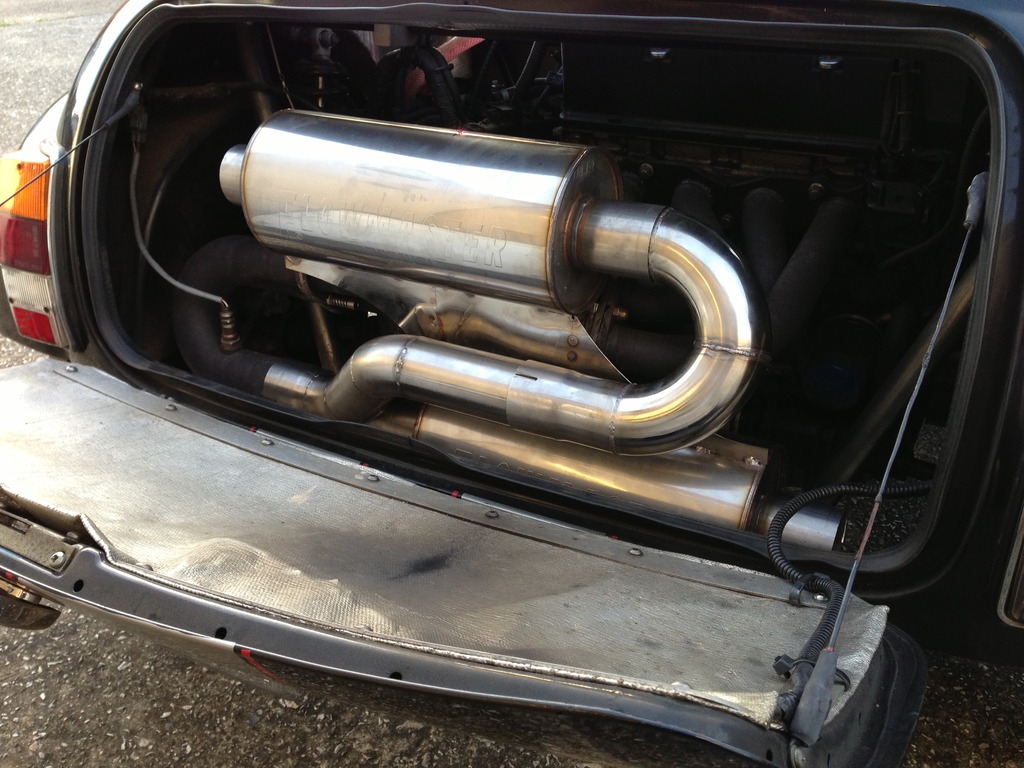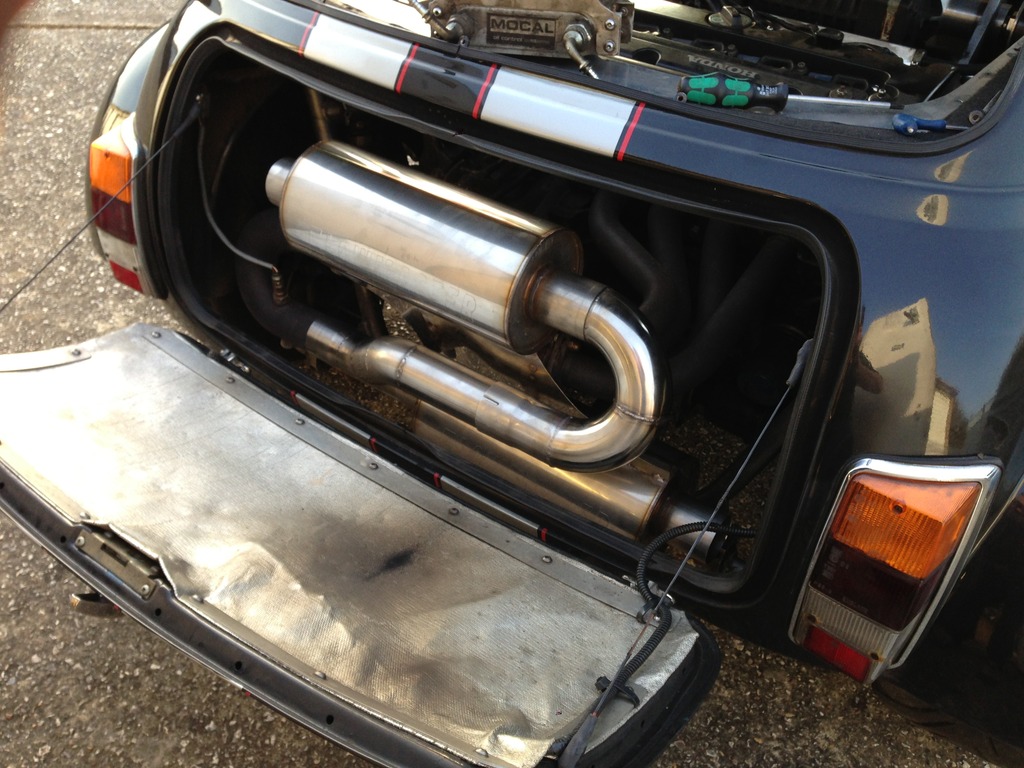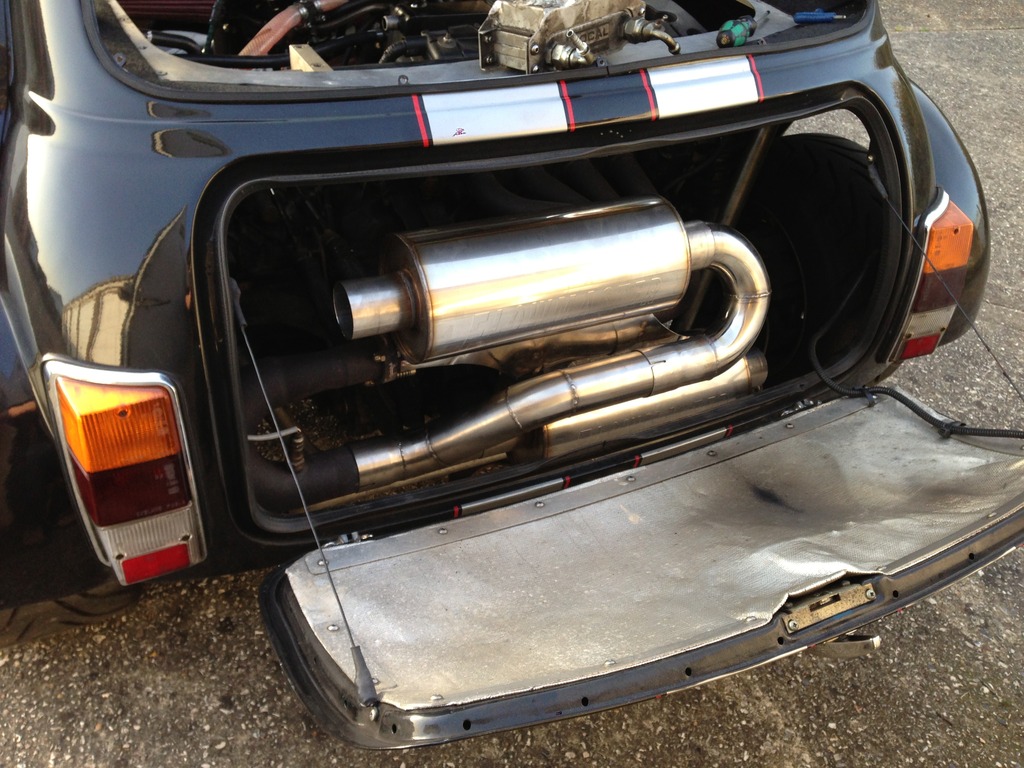 4-17-2015
No Jim, I didnt, to be fair on tickover its pretty bl00dy quiet and didnt want to be revving it without tail pipes directing possible fuel over-run flames away from the car. Considering I've only ever had absorption cans on it before these should make a massive difference and by putting them in parallel I am reducing the back pressure they will inevitably create due to their design.
I am making a housing for the air filter to sit in that is going to be fed by 3" piping to the two scoops on either side of the car, this will reduce the intake noise/whine of the SC and by sucking in from both sides should half the amount of intake noise seen by trackside decibel meters (there's never one on both sides of the track at any one point).
To be fair there are a lot of tracks that you wouldn't need to go this level of noise reduction for, however Goodwood is really strict and there db meters are linked to the local council offices so anyone going over the limit get black flagged and registration number reported. Its more so that they can be seen to be "doing something about it". And as Goodwood is less than 10 miles from my house it seems a good idea to get in their good books as so far every time I get black flagged. Annoyingly though the last two times I've been pulled it was when there was another vehicle involved but as mine has always been the noisy one I get the naughty noise sticker on my car......
4-23-2015
Flowmaster DBX Silencer Setup
Final welding session last night for the silencer setup, I now have a sweet looking double silencer/ exhaust that should be one hell of a lot more effective (even if a little more restrictive) than the original setup. Don't get me wrong though, when it's not on track I am going back to a single absorption can because its sounds fricking awesome and I've had it reported to em that you hear me coming from behind (finaar finaar)......
I am waiting on a couple of parts before I can final fit it but here's a couple of snaps from last night, was double chuffed when I realized it would stand on its own.....
It's a shame the old part that I am re-using isn't as shiny as the rest of it but hey ho, you cant have everything.
Big thanks to Stevie G for giving up yet another evening for me and the car....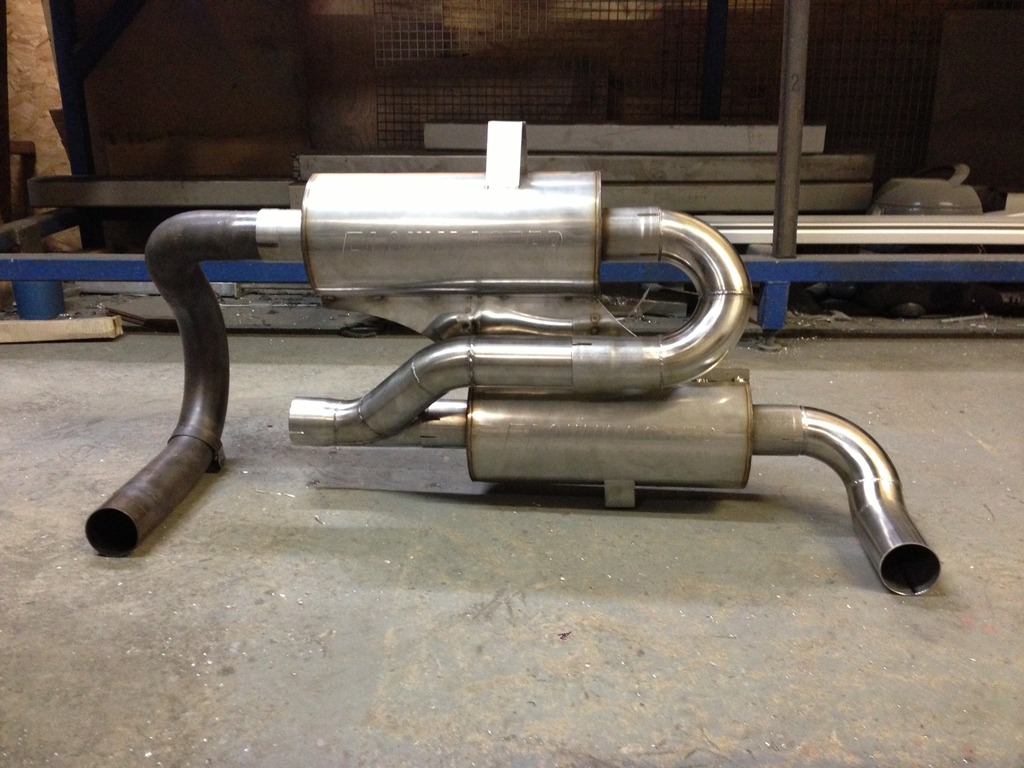 turns out it does look like the design: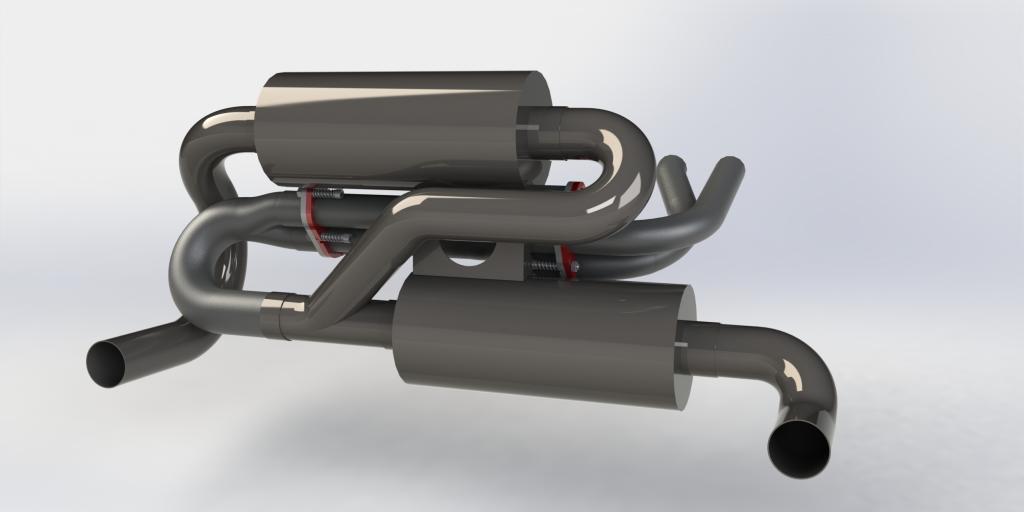 A few more shots: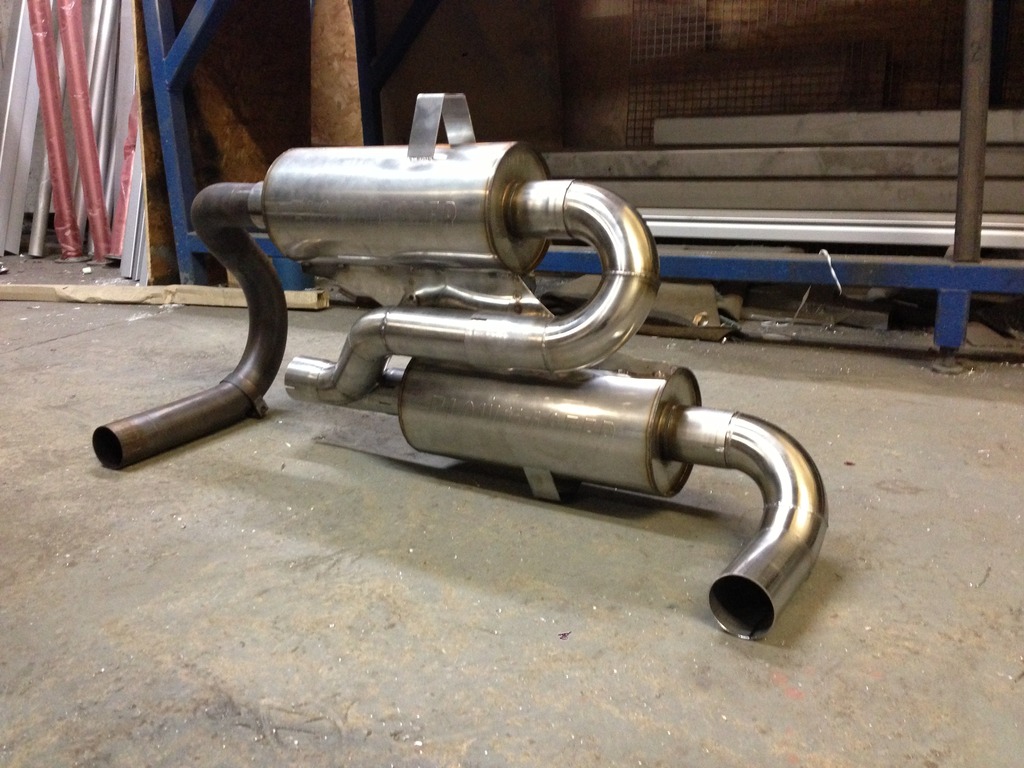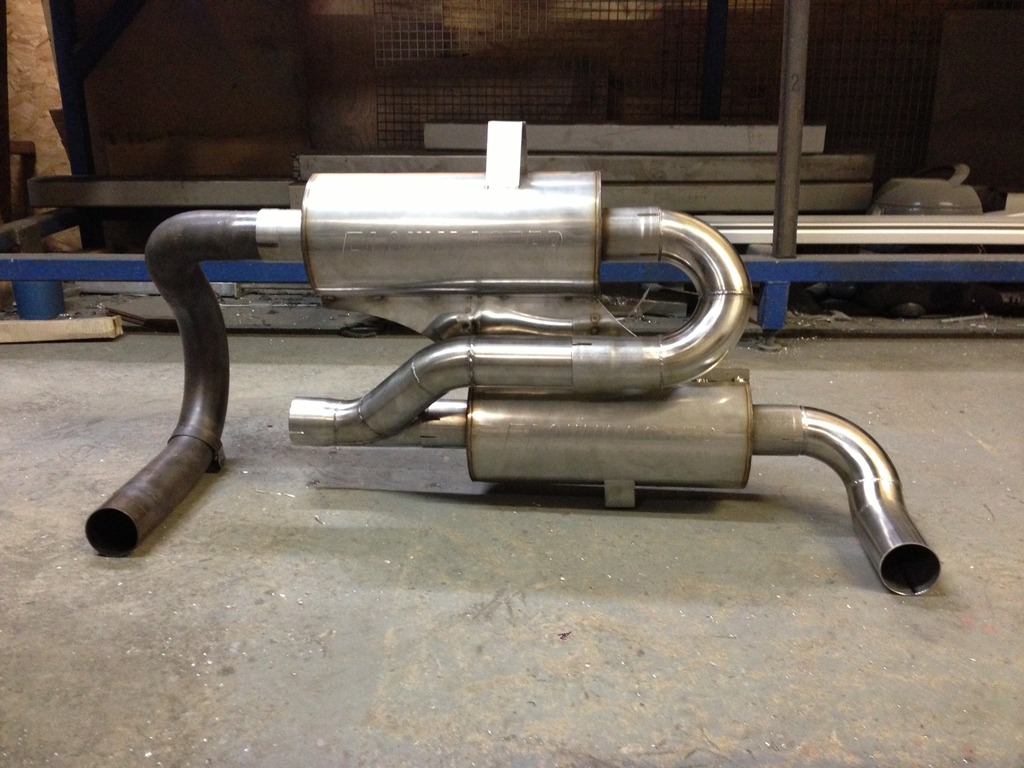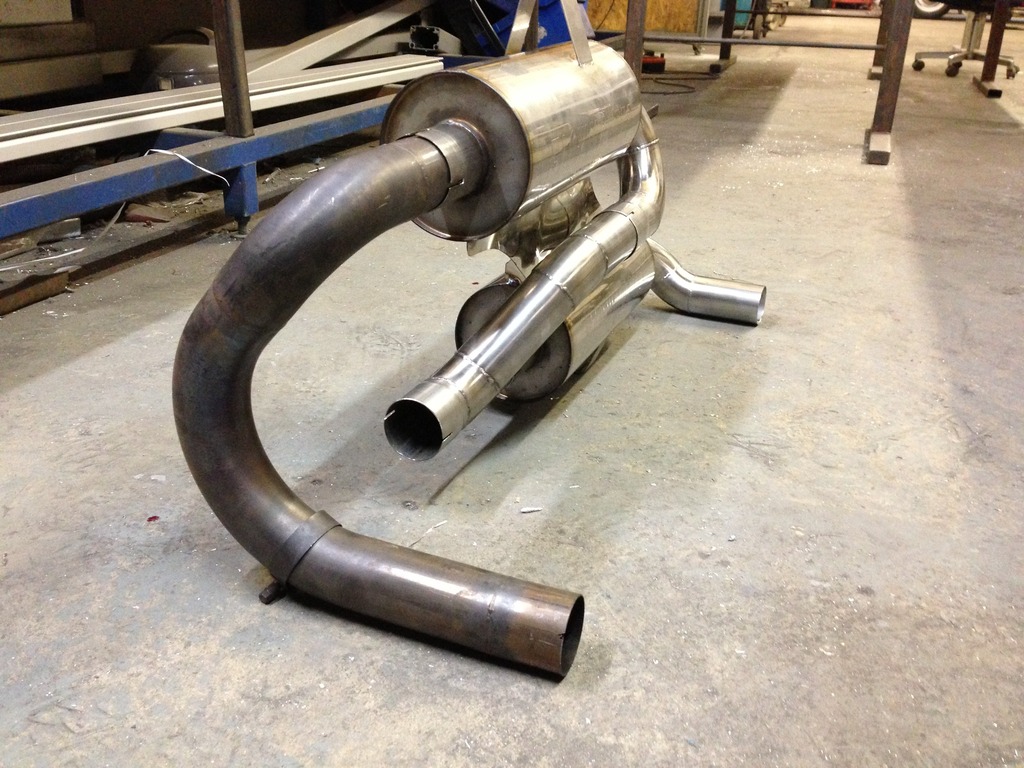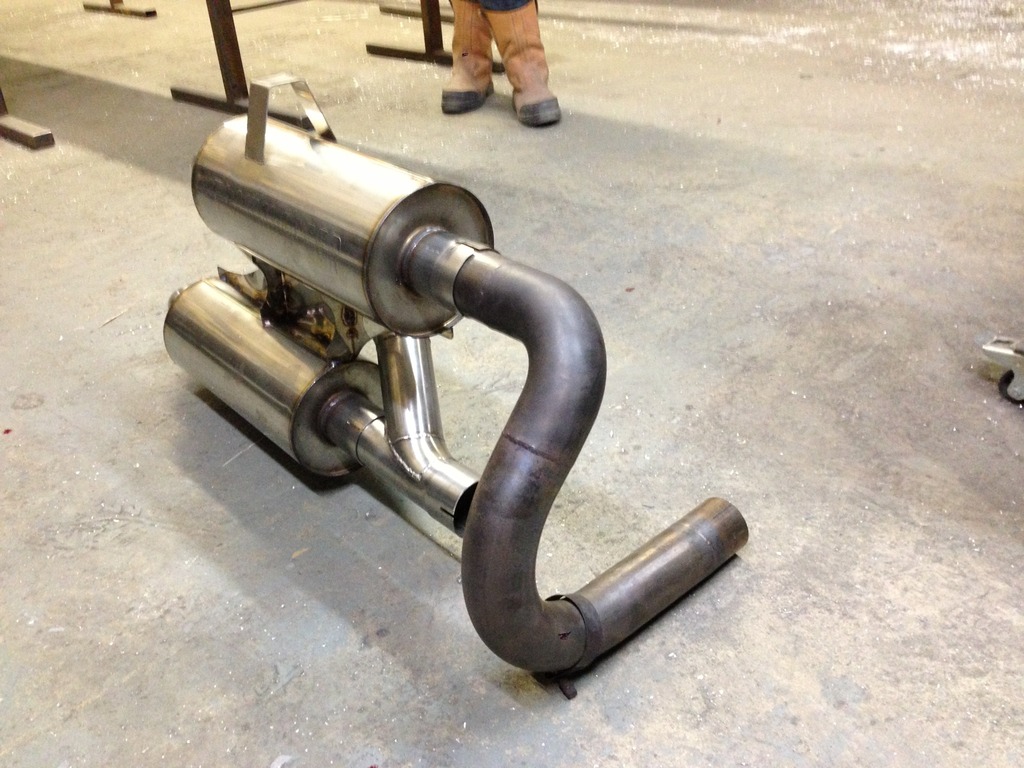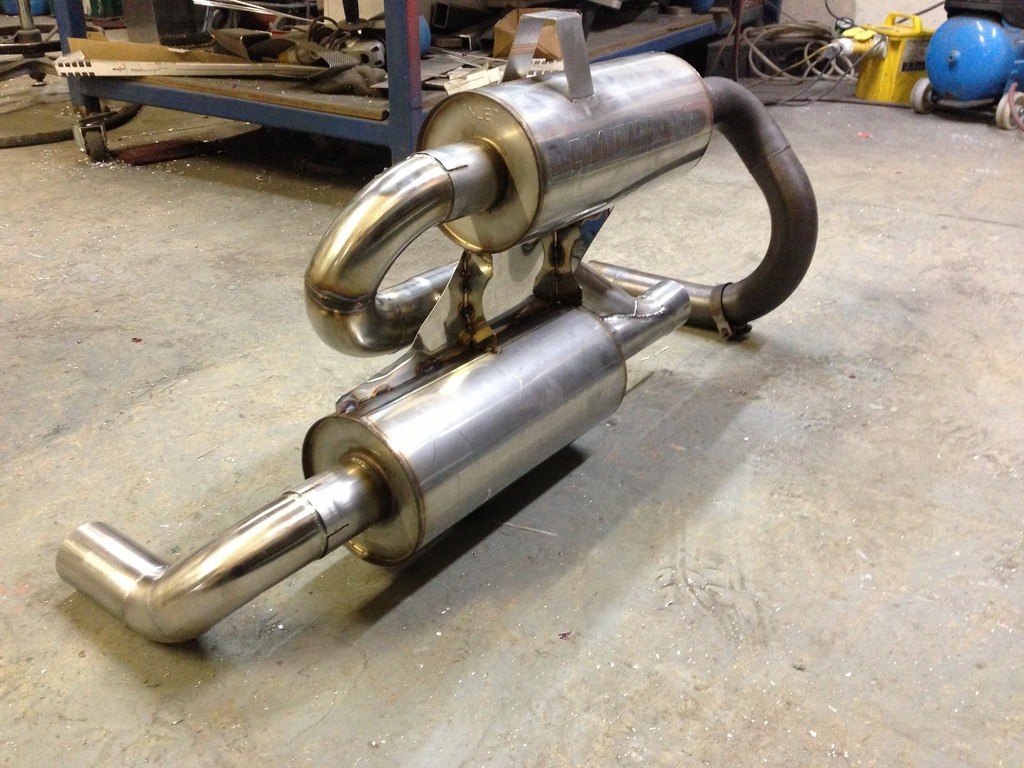 4-24-2015
Flowmaster DBX Silencer Setup
Well, I fitted them last night and run it up to temp, then gave it a few blips and I am undecided as to whether its quieter than before?!?!? Before making judgement I am going to wait until I have it out on the road under load. I would have got some video of the blips but it was getting late and I didn't want to p!ss the neighbours off, it has more of a raspy sound to it now. I did get a couple of photo's, not the best but they show how it fits in there.....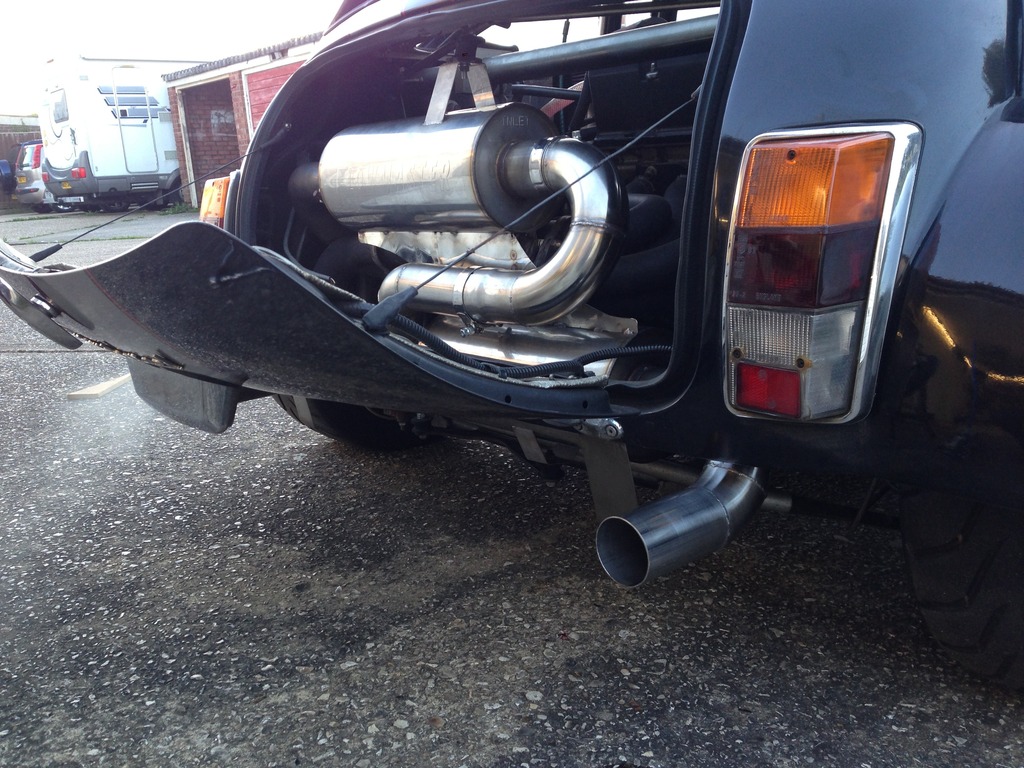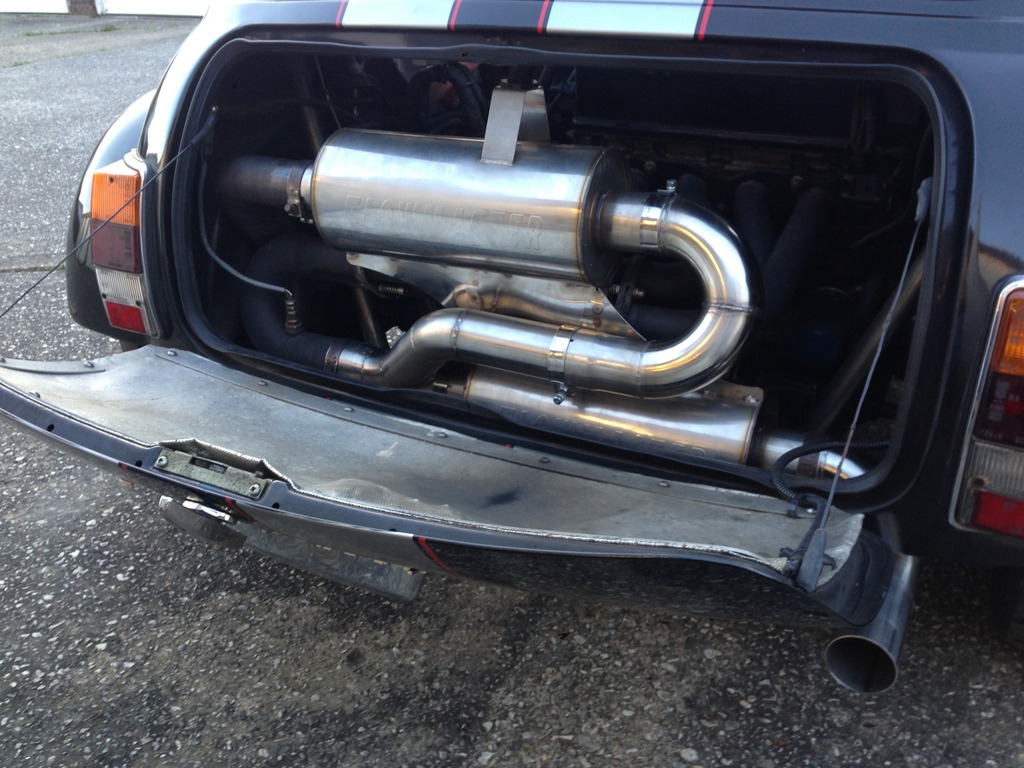 4-26-2015
AUTOMATIC THROTTLE BLIPPER
I made a first pass at the design for the throttle blipper solenoid setup. I am still wanting to explore having the push/pull linkage above the solenoid but need to have a think about it. However before doing this I need to model the brake hose that heads over the solenoid to ensure no clashing, I've got feeling its going to....
The M8 fittings are overkill but are driven by the ID of the springs. The springs work in two ways, one they take the jolt out of the soleniod action and two they allow the throttle to be pushed past the resting position of the solenoid as when the throttle blips I don't think it will need to be wide open, time will tell and an amount of adjustment is being built into the system.
I made a video that I will post up on you tube of the model working, I will tag it into this post once its done uploading.
Here's a couple of renders of the first pass: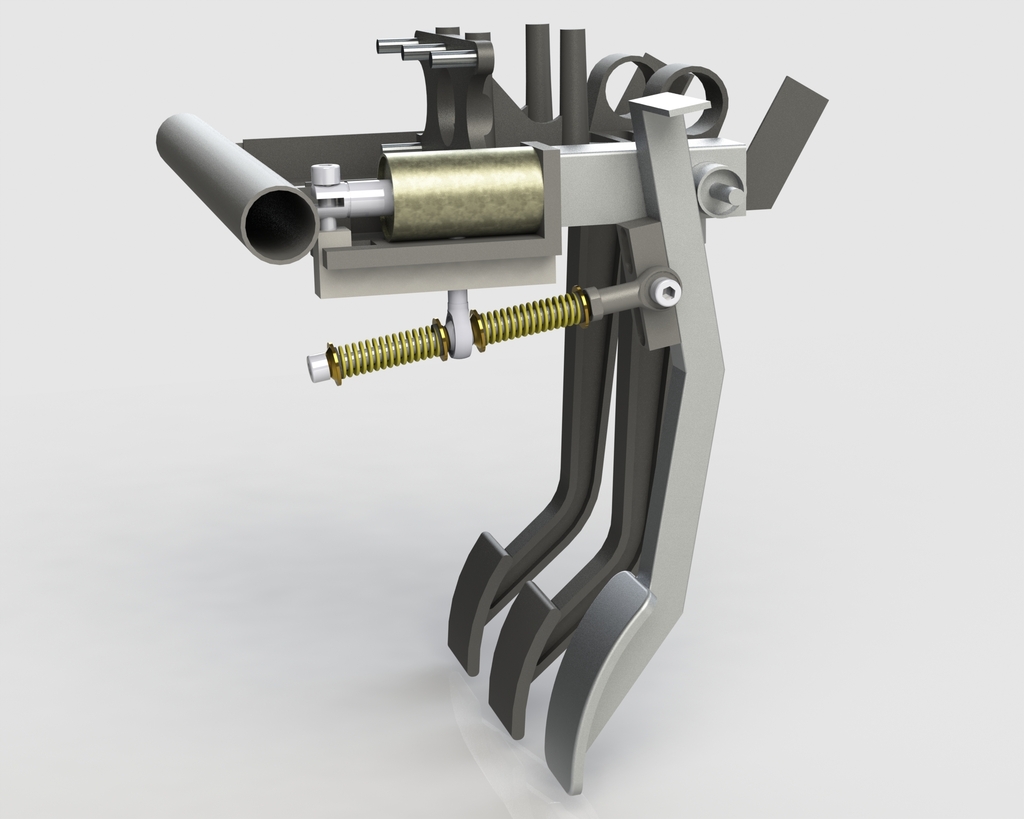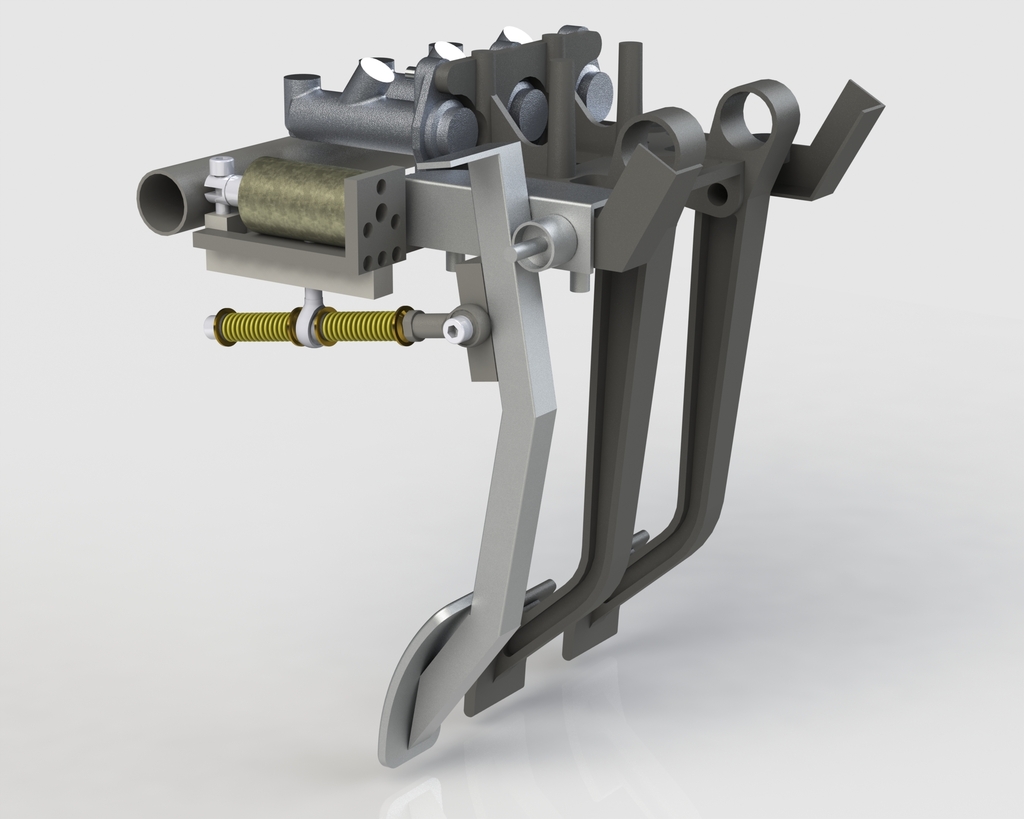 4-27-2015
Throttle blipper video
I have no other point of reference to compare it to but it seems OK, nothing has flaked off so I am guessing its OK. One thing I would say is that if you're looking to reduce engine bay temps I'd wrap it as well as you can see how hot it gets even with the ceramic coating:
4-30-2015
AIR FILTER HOUSING (AFH)
My obsession with feeding cold air to the supercharger has reached new heights. Those of you that have followed this from the beginning will know that I originally had a K&N Apollo, which when I first went to the dyno was told that it was robbing me of about 15-20bhp over an open throttle body (no filter - you can make gains with a well designed intake with filter) and when looking at it now the filter in it is tiny, I mean tiny....
This led me to buy a different filter when I went intercooled, it was much bigger and better but it just lived in the engine bay, near the nearside scoop so wasnt necessarily getting the cold air it should. I guess part of me was thinking "oh well, it's intercooled now so that'll be alright....Nope.....it was pointed out to me at the dyno that the cooler the air going in the cooler the air coming out the charger and therefore the less work the intercooler had to do and therefore a much more efficient setup could have been designed. Also the inlet was all 3" from filter to throttle body.
As with the new throttle body effort this was all brought about by my wanting to re-instate the 72mm throttle body that the car had been dyno'd on, as I know from many many posts on K20 supercharged forums, in the US, that superchargers need as little restriction as possible ahead of the throttle body to make good numbers and there have been gains of over 30hp just from swapping from a std TB (62mm) to a 74mm with 3" piping from filter. Couple that with nice dense cold air and you got a recipe for a good bang.
I decided that I needed to suck cold air from both scoops to a bespoke enclosed air filter housing, so that is exactly what I am going to do.....
it will be fed by two 3"/76mm pipes which have a combined cross sectional area greater than a single 4"/102mm, so no restriction there. The air filter is the one you have seen in previous photos of the throttle body setup, with a 4" outlet, actually its not a 4" outlet, its more like 95mm but never mind, its still bigger than the 3" it had before and the area of the filtering fibre is considerably greater than the old one, and p!sses all over the Apollo piece of crap.
My problem now is that with such a big air filter and housing it cant go where it used to and it is a very tight fit, that tight that with jsut the filter (no housing) i could only jsut get it on the throttle body. So I am utilizing a 4" Vee Band connection so that I can slot the AFH down into it mounted position, this has brought about its own challenges. I have had to make a new half of the vee band from acetal to be able to bolt the connecting half to the AFH, the other half remains aluminium. I have had to cut the neck off the filter to make if fit in the AFH also, that was fun.....not.....
As a nod to the viewing screen I put on the rear parcel shelf I am going to put a clear top to the AFH so you can see the filter as the top of the AFH will sit about 10mm under the perspex of the viewing screen.
I have made good progress with this but am not quite finished. Here are a few photos of the work undertaken so far:
Basic idea: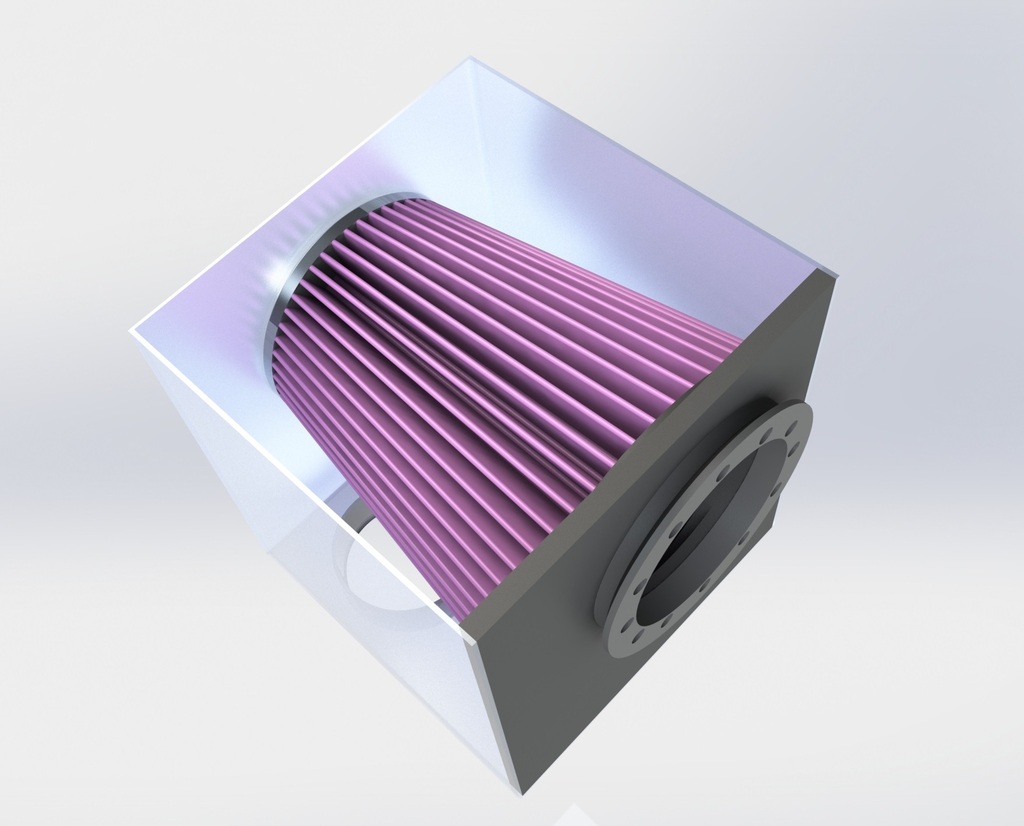 Where I started with the bare material: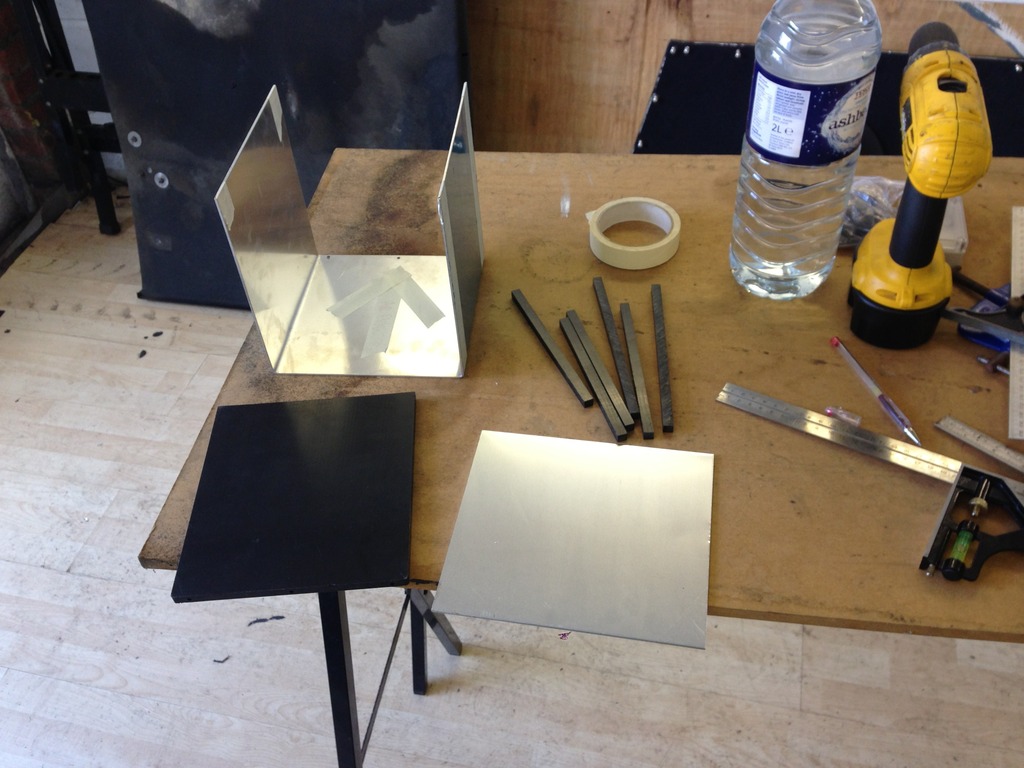 Building it all up: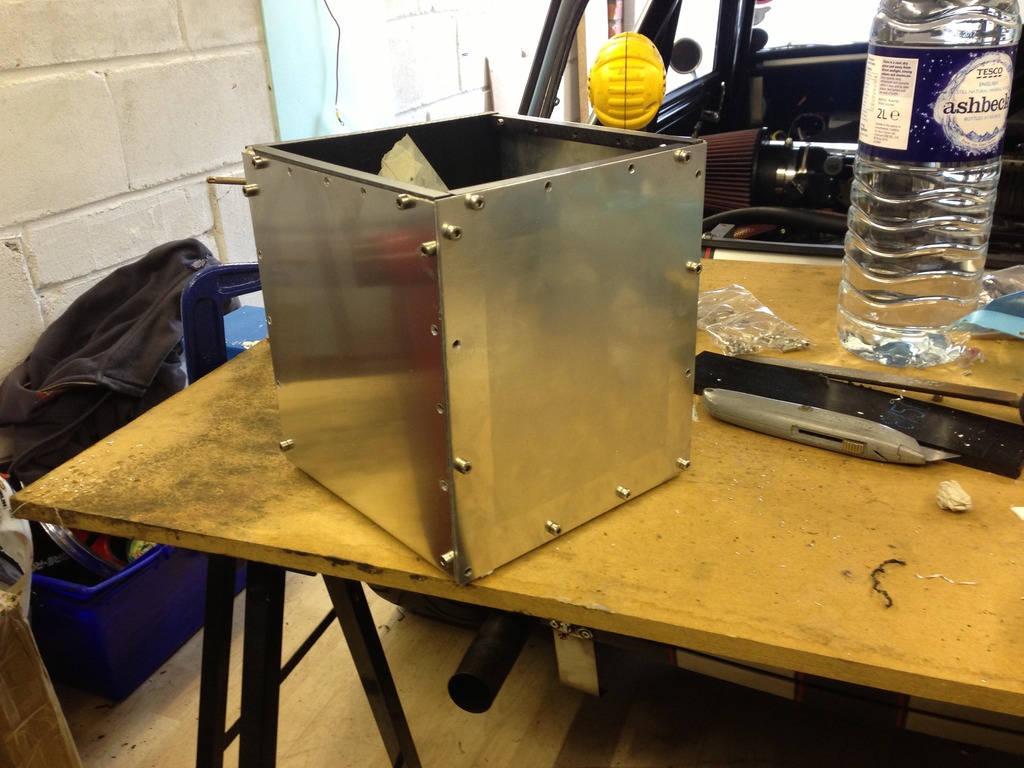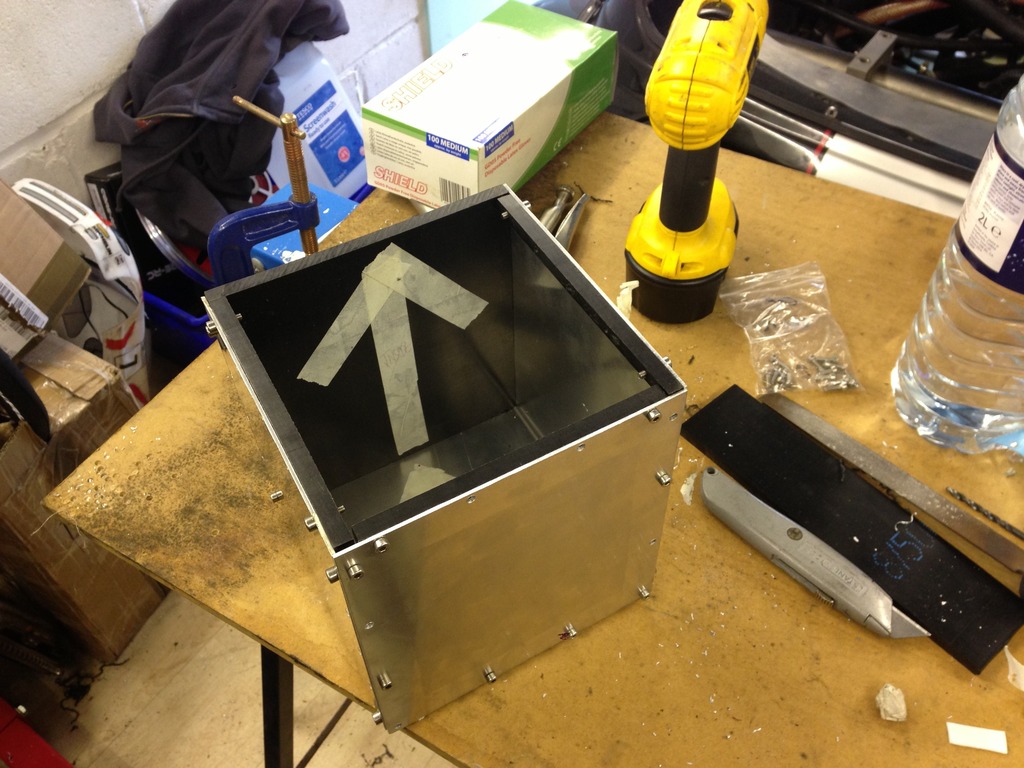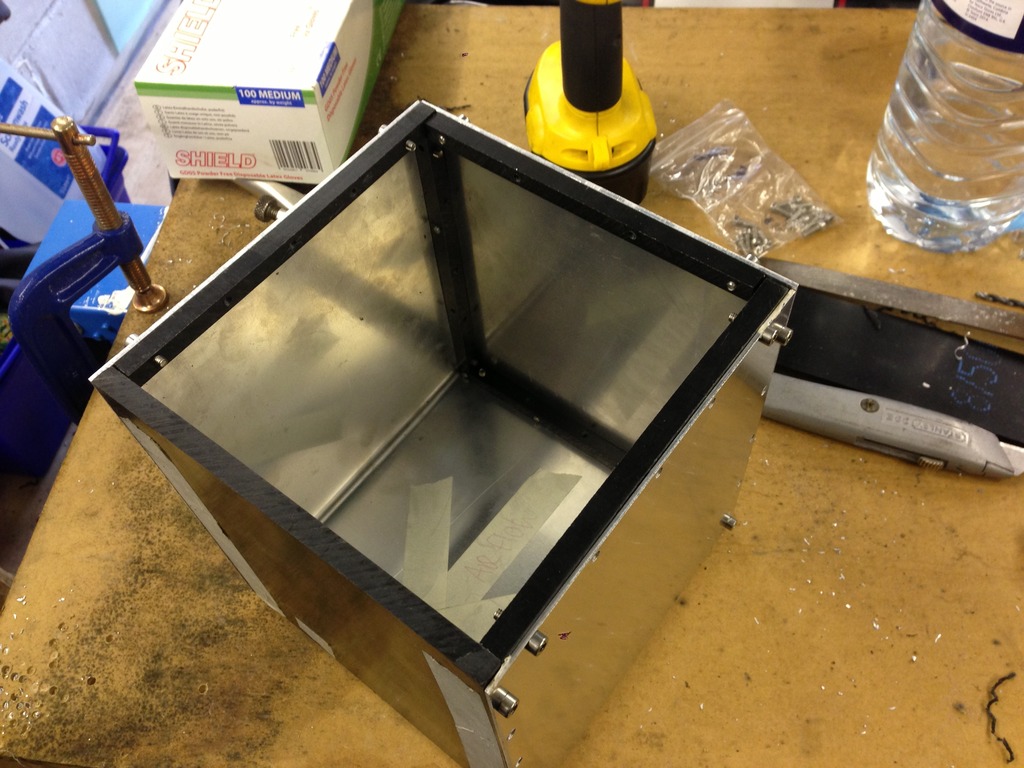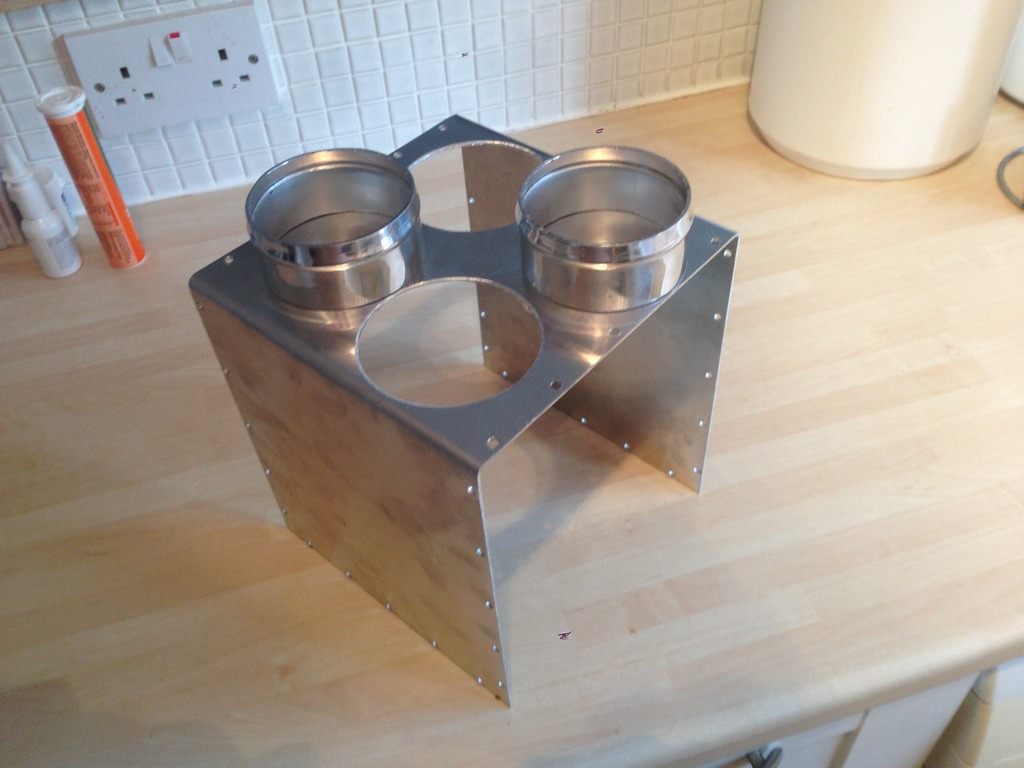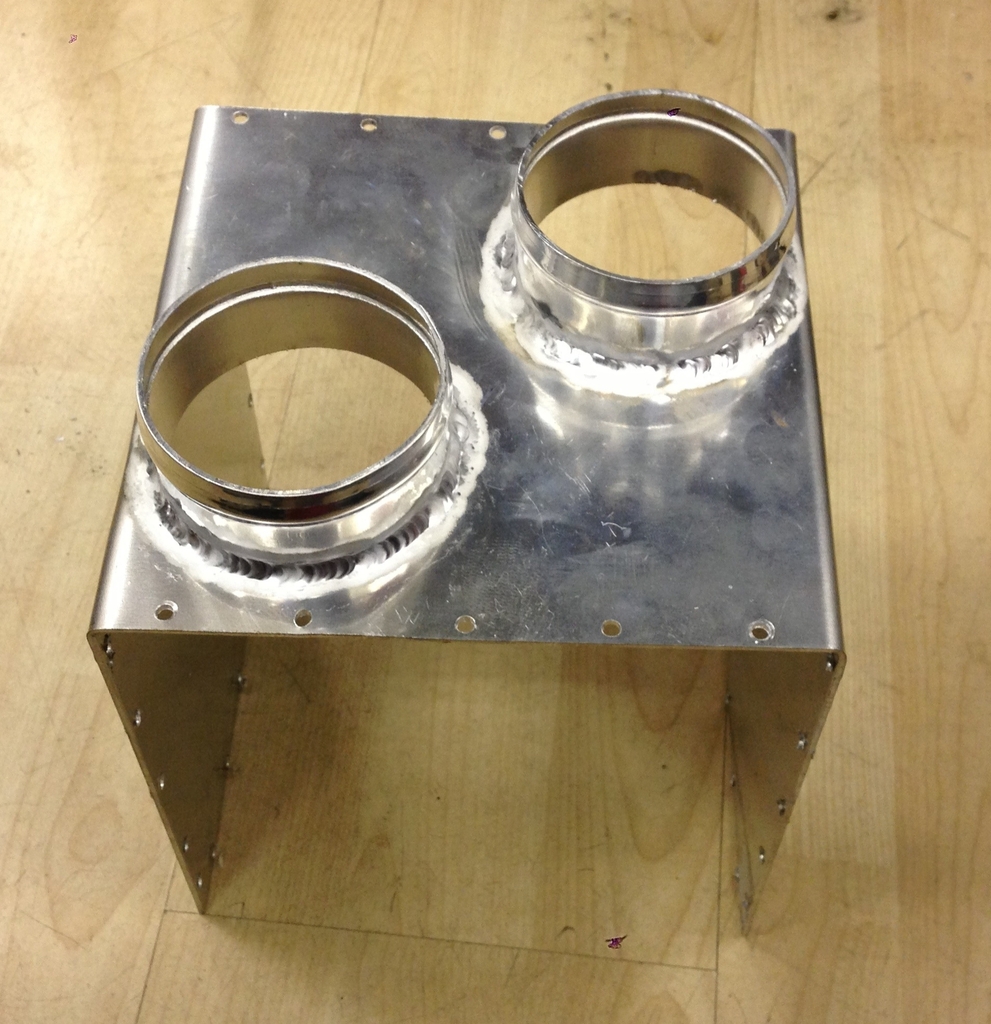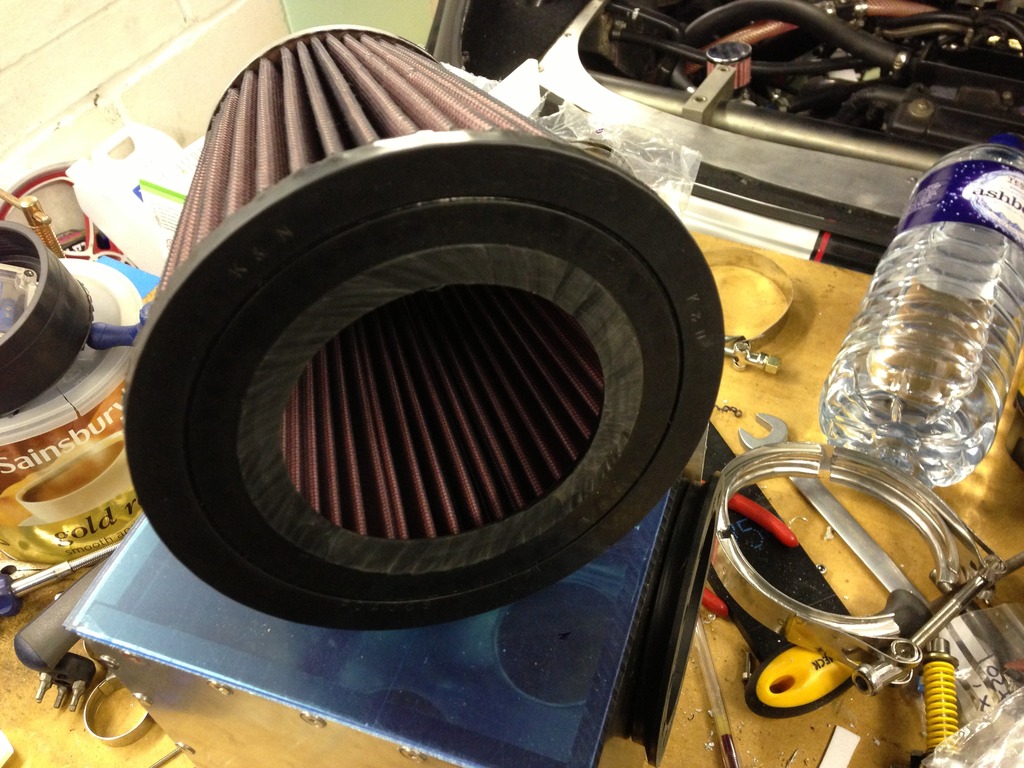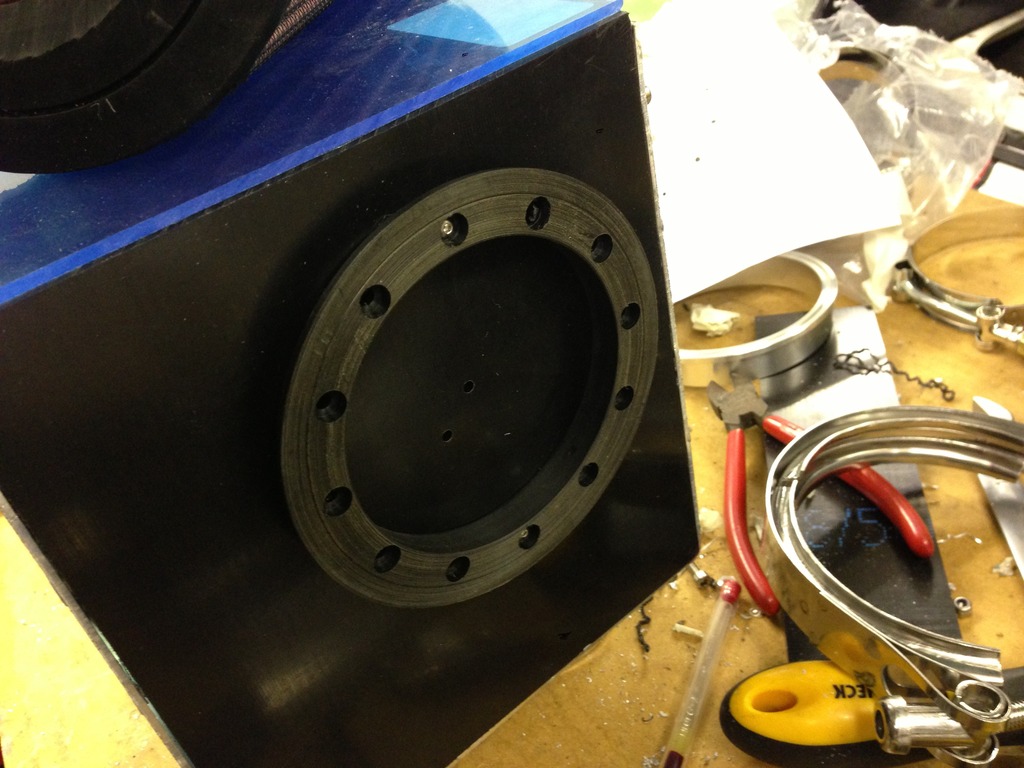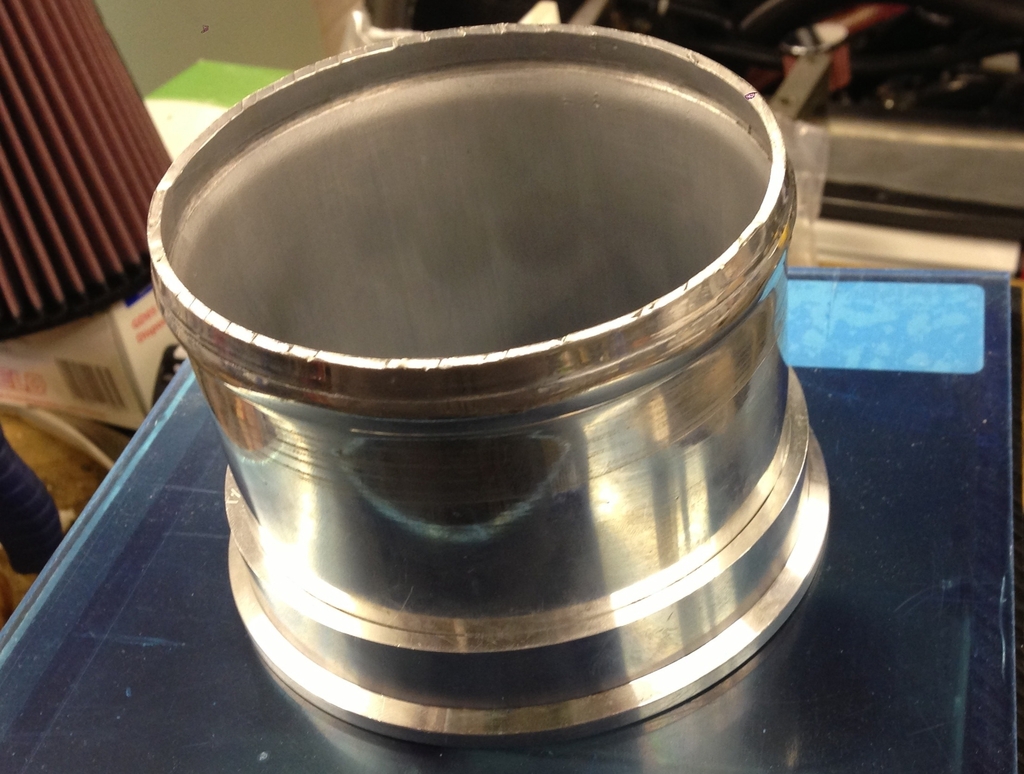 I will post more as it happens......
5-6-2015
AIR FILTER HOUSING (AFH)
More work went on over the Bank Holiday weekend, I got it all back together and looking smart.
In my quest to get the air filter to fit in there I also had to:
Reposition the Fuel Pressure regulator
Rework the throttle cable holder
Change the pipe routing for the intercooler
Change the orientation of the Intake Air Control Valve (on the bottom of the throttle body) by 180deg
Reposition the MAP sensor onto the new IACV block
Old versus new air filters: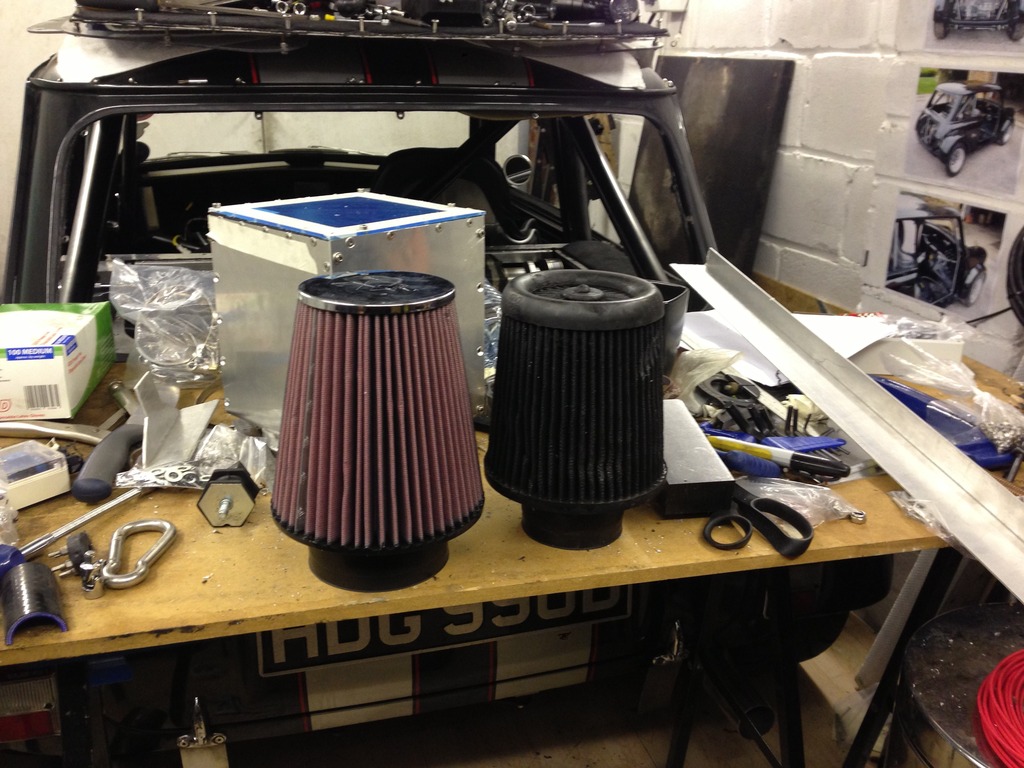 Stevie G and his massive mill making the recess for the large end of the filter to sit in: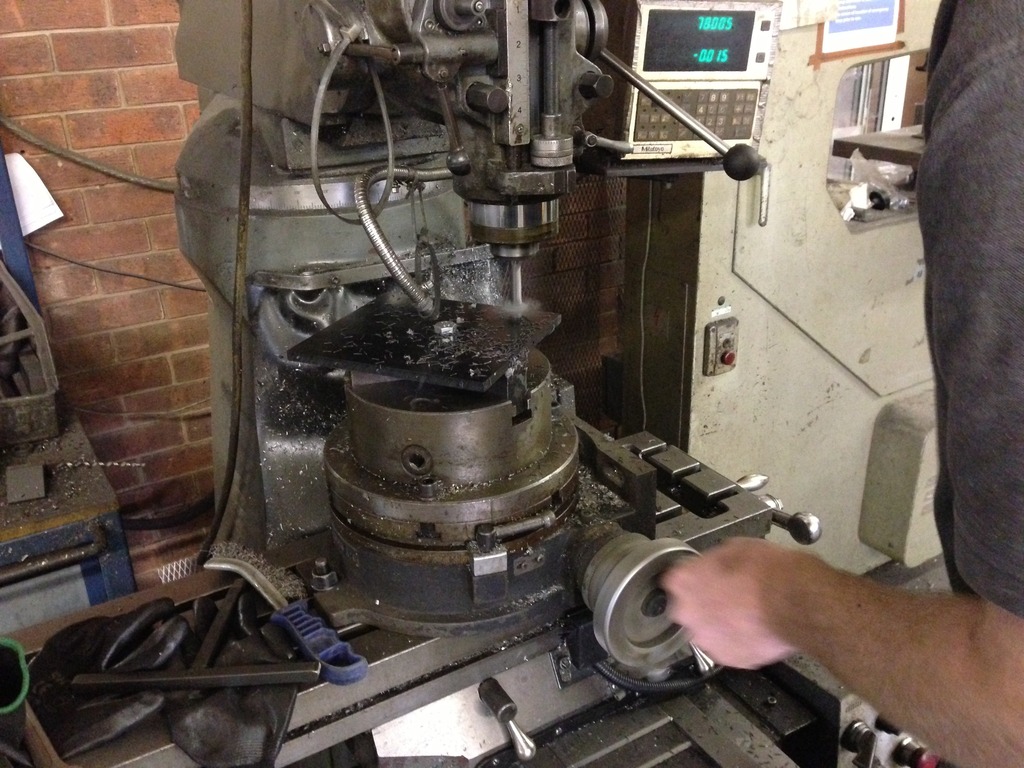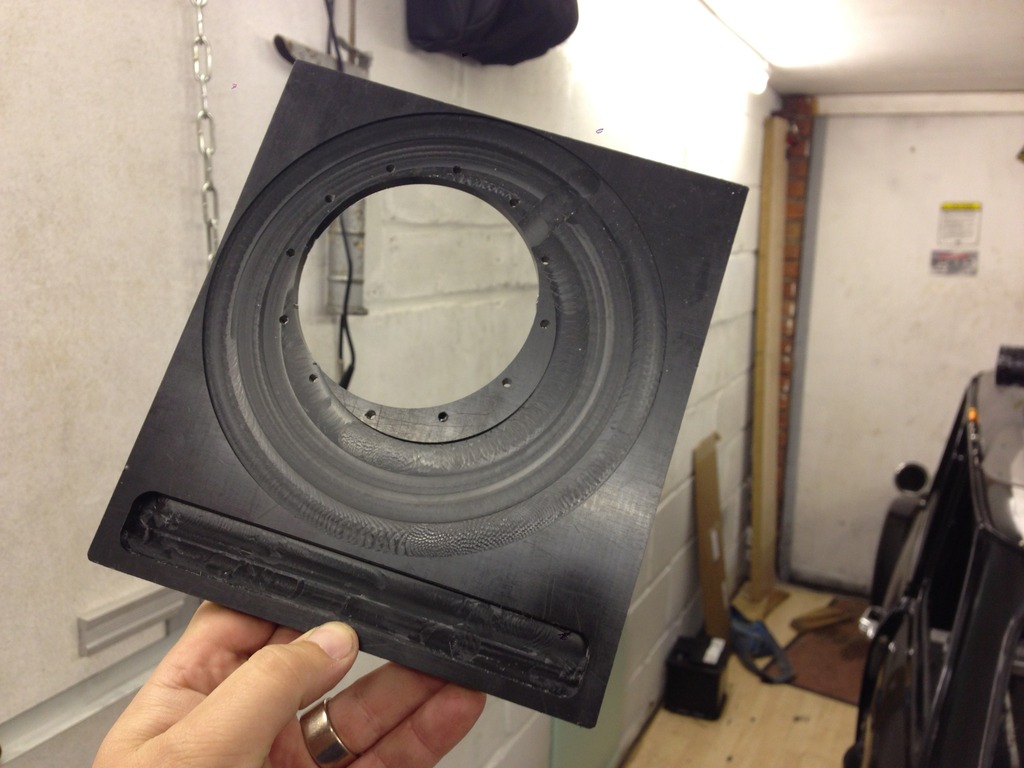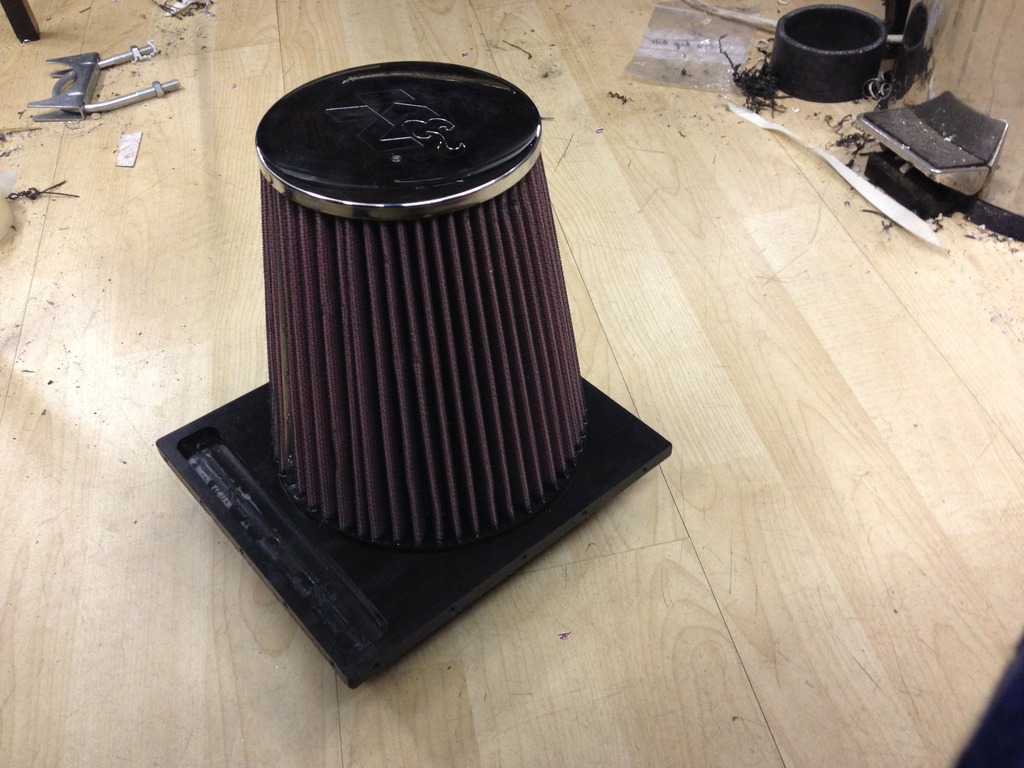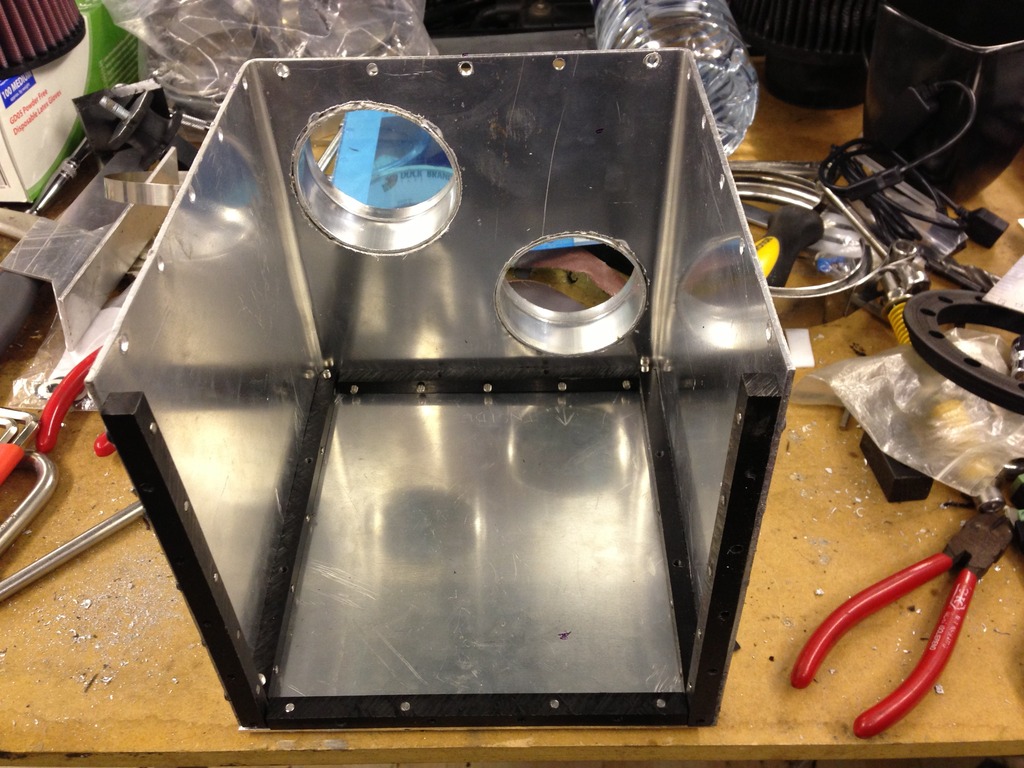 The odd shaped hole I needed to cut out of the air filter: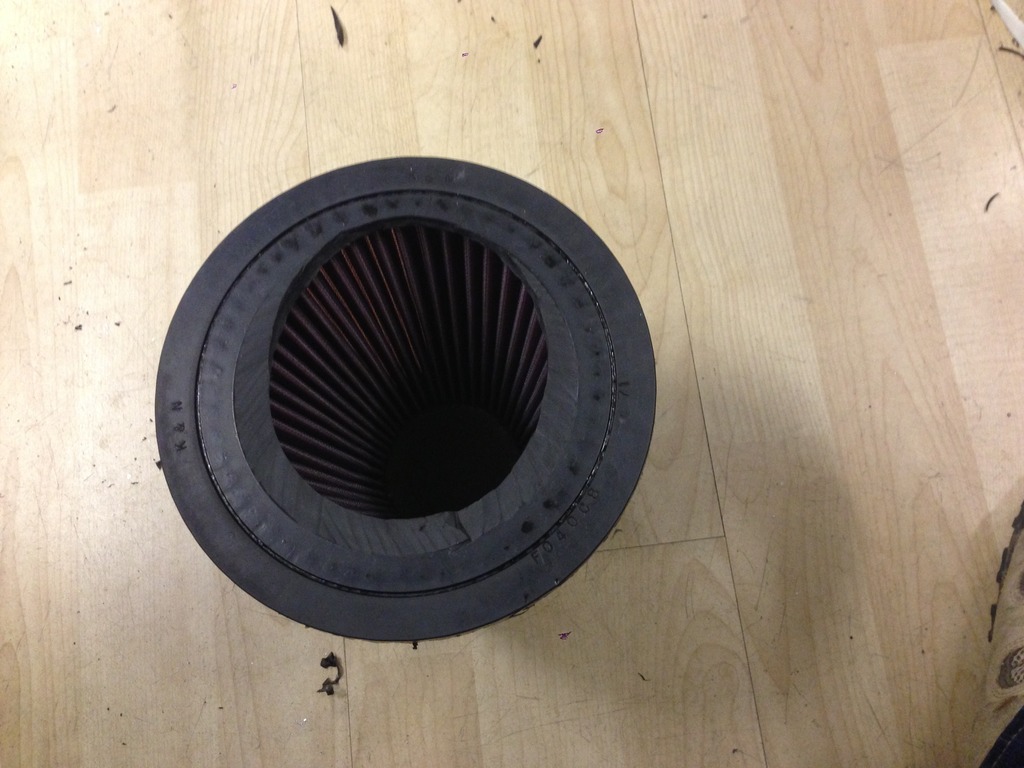 Holes tapped in the acetal before adding the vee band connection: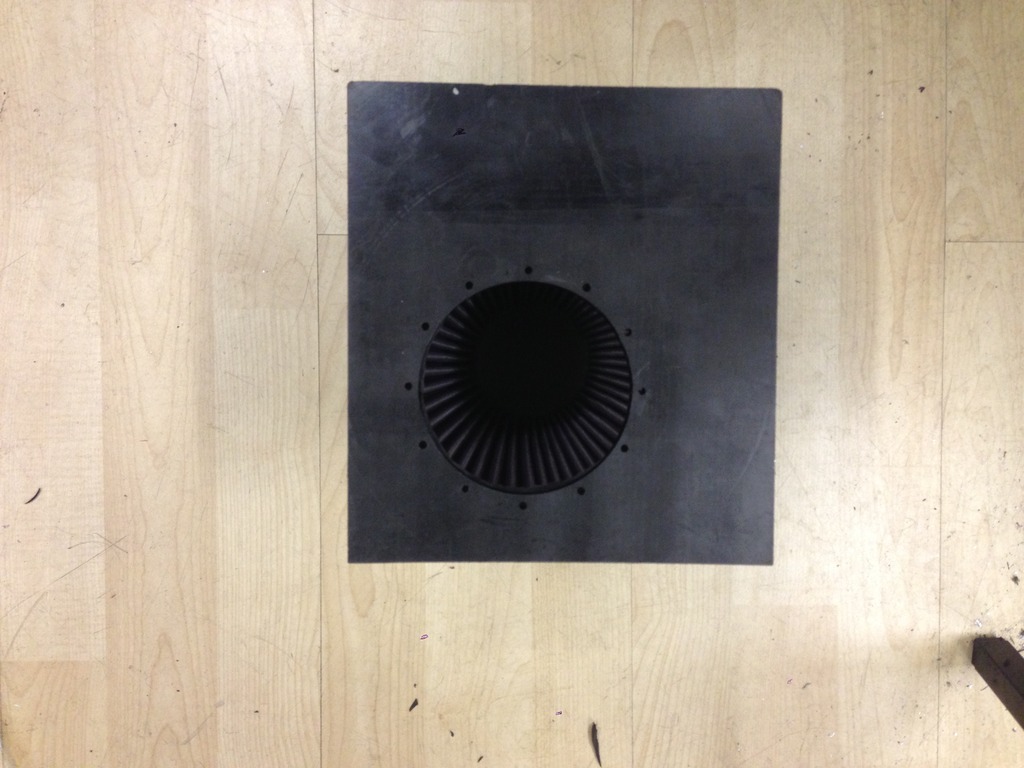 Vee Band Connection: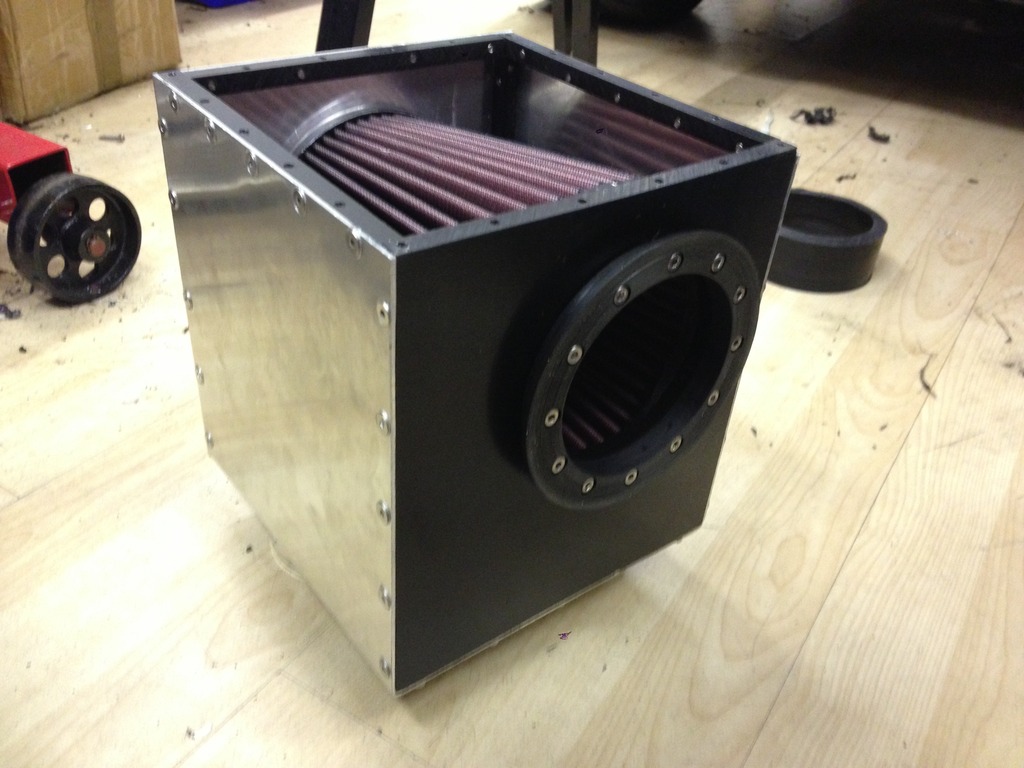 Filter in the housing: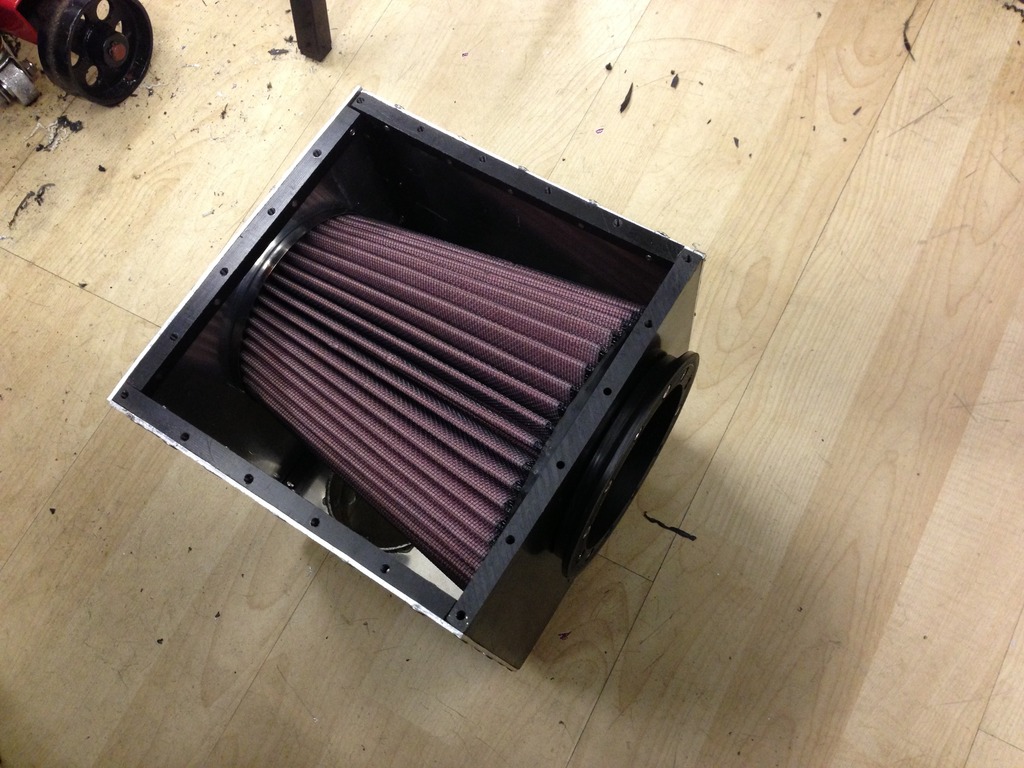 Finally the Filter in place, note that the filter housing has its own 8mm exhaust bobbin support so the weight of it is not hanging off the end of the throttle body: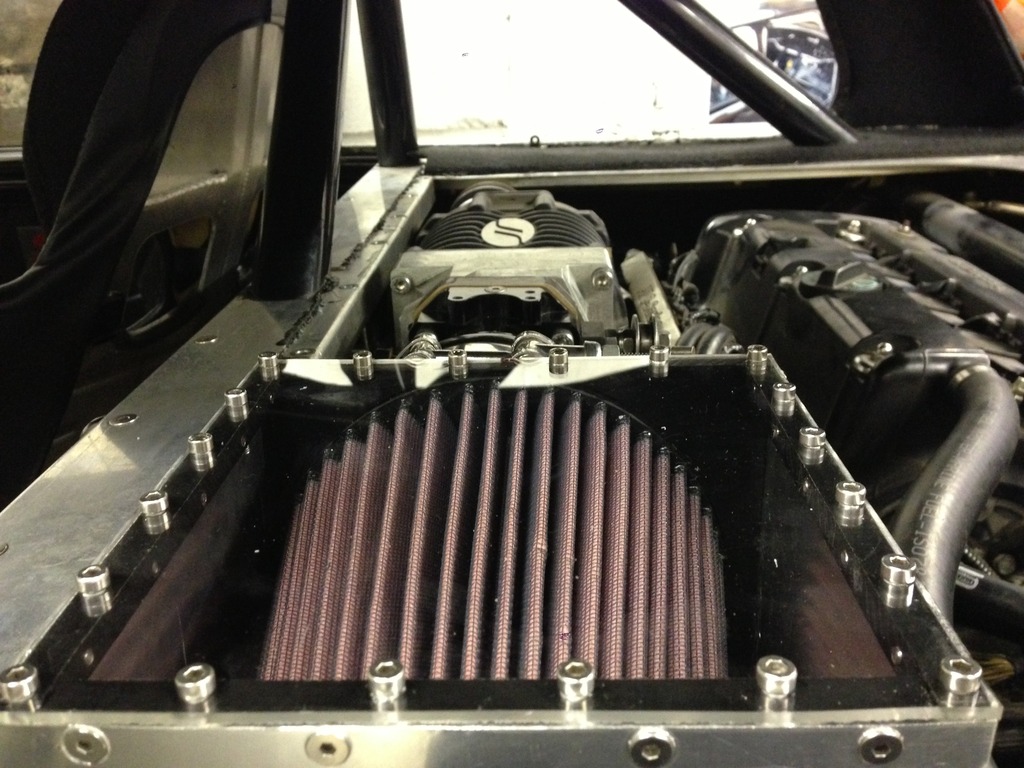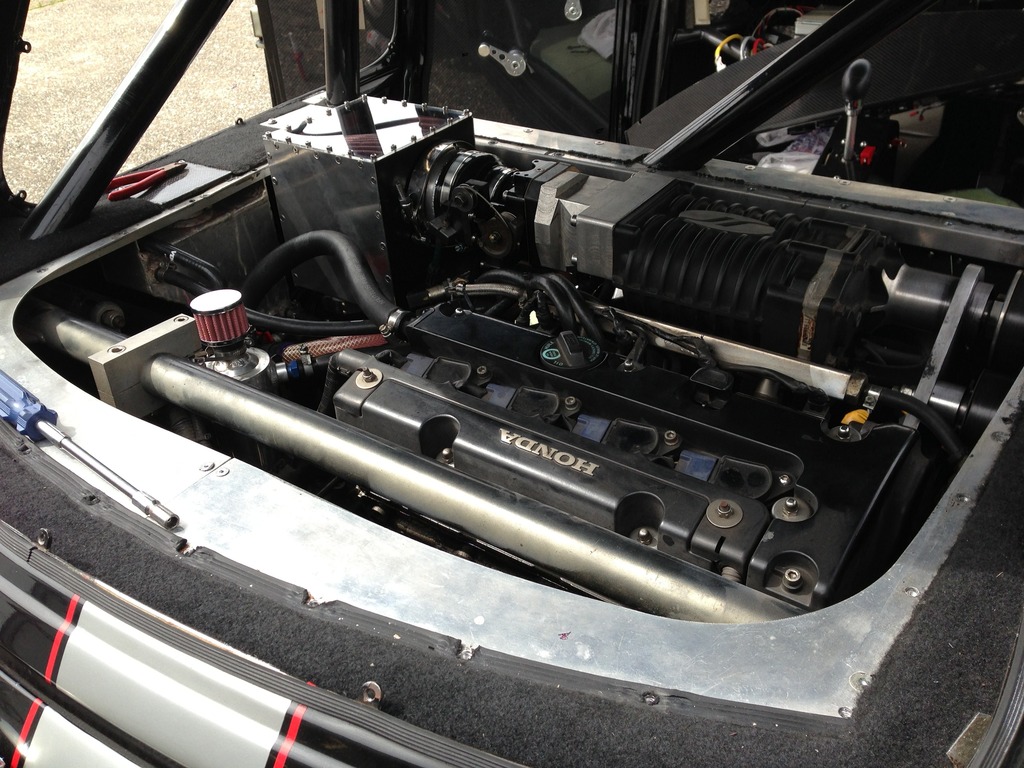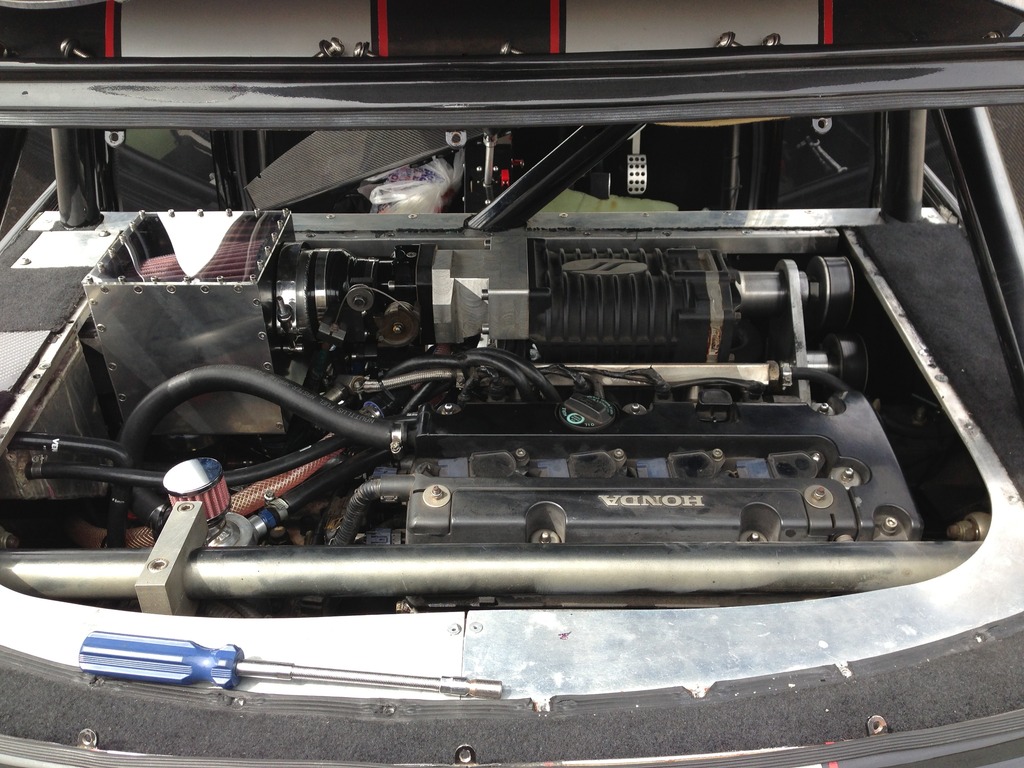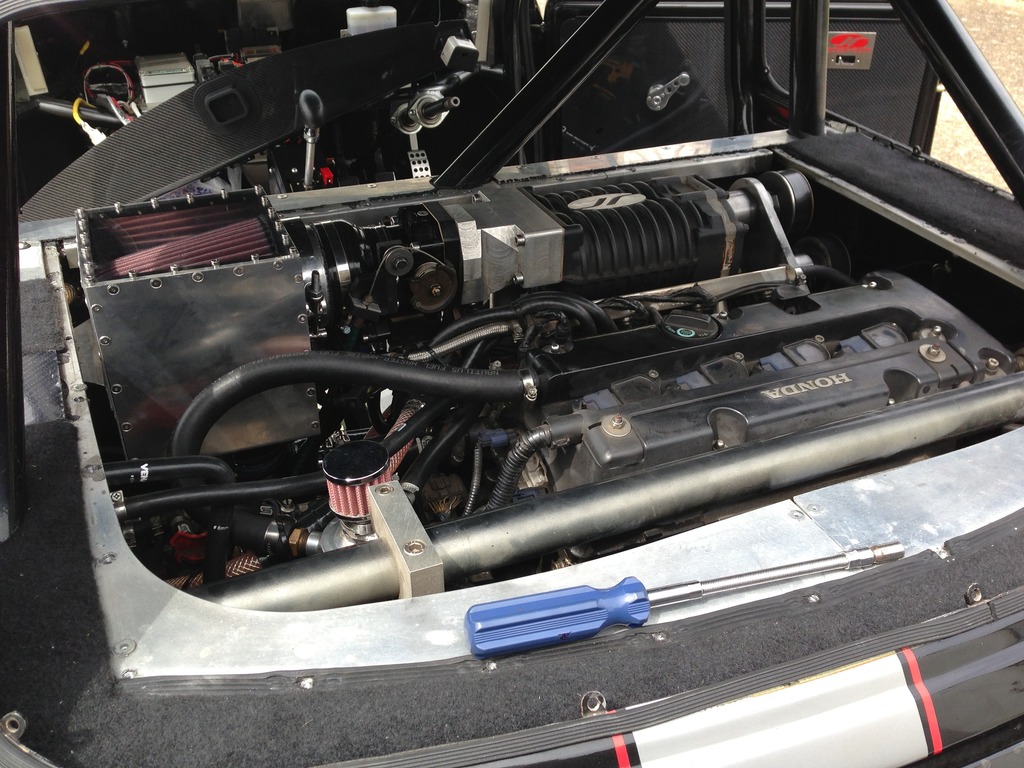 Here's the piping from the O/S: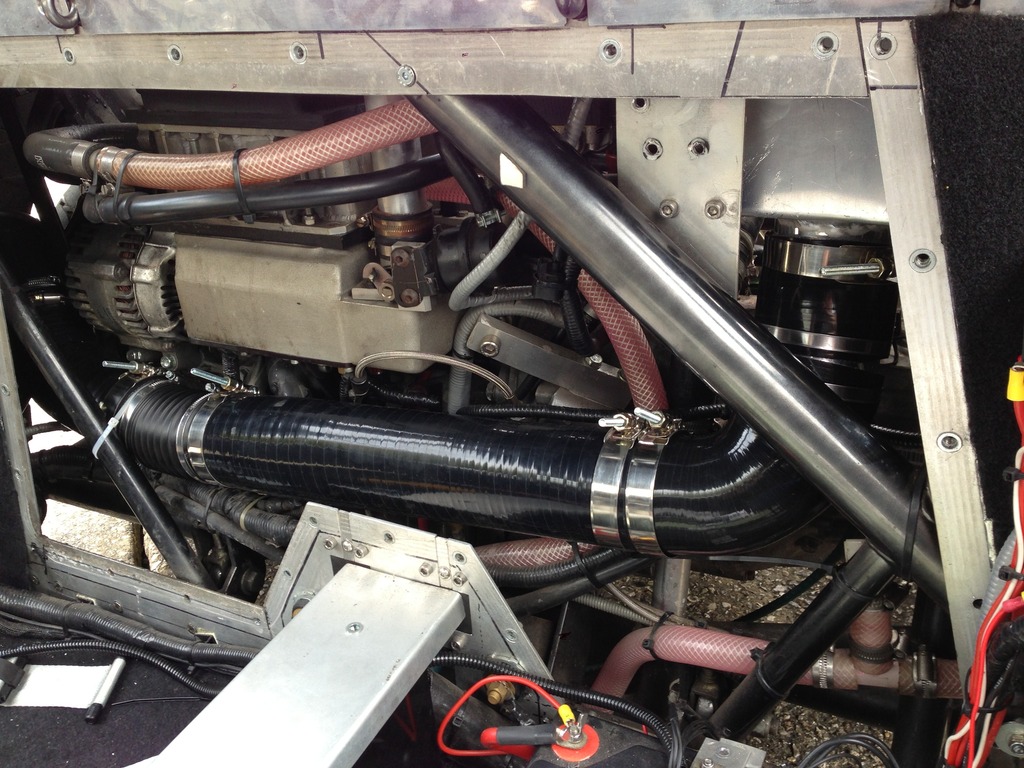 you can just see the piping to the N/S: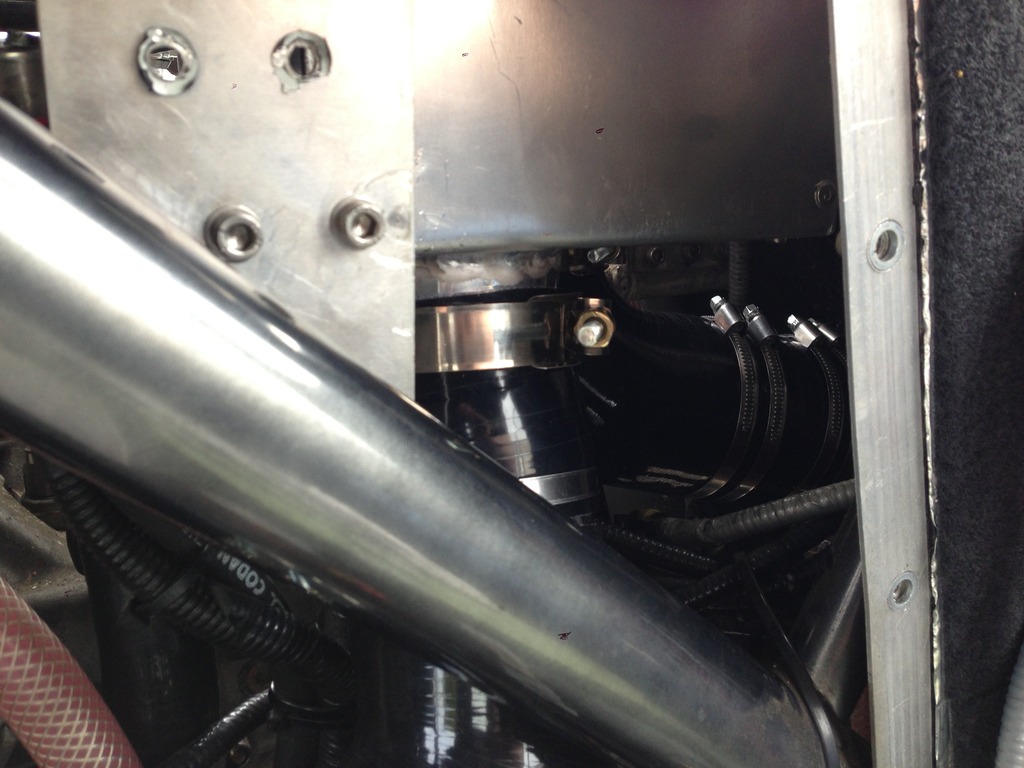 5-7-2015
AUTOMATIC THROTTLE BLIPPER
Made some ground with this, well I got the timer unit into its housing, still unsure where to mount it and whether to have a local switch (on the housing) or a remote switch (down on the tunnel with all the other switches).
I have got all the bits of acetal I need to start making the mounting plates so that will be next weeks project.
Not much to show, just the enclosure and the spring setup ready to go.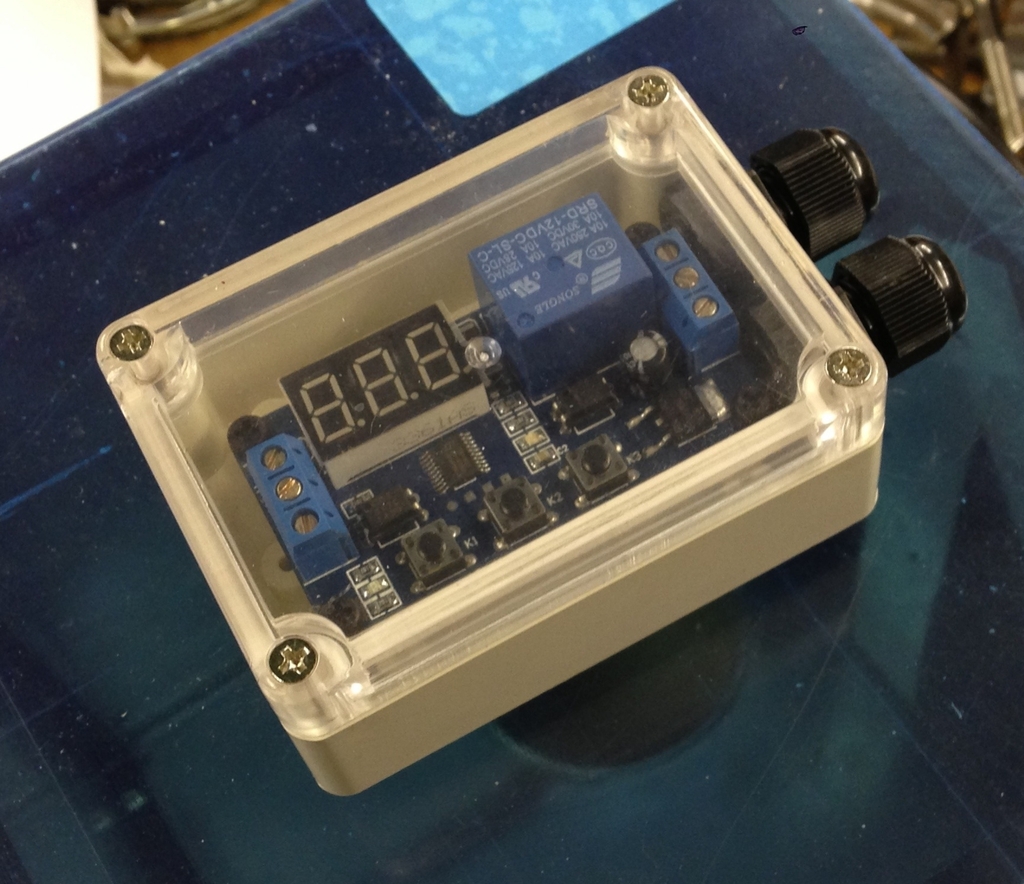 6-2-2015
AUTOMATIC THROTTLE BLIPPER
Slight change of direction on this, I made the executive decision that the 8mm bolt/spring arrangement was just complete overkill and that the stiffness of the springs wouldnt take any of the harshness out of the solenoid pull. I also didnt like the fact that you would be able to see the bolt/spring arrgt under the dash so I went and re-designed the the whole thing to use a 4mm ID spring and relative M4 fittings. This in itself has proved challenging as when you order 4mm rod it seems to come in sizes ranging from 4.0 (stainless) to 4.4 (acetal) and after failing to get a thread on the stainless rod I was forced to reduce the OD of the acetal rod by using a drill and some sand paper. There are renders of the recent modelling below.
I recenlty purchased a cross vice to use with my pillar drill to make it into a ghetto milling machine, which although it still needs some refinement is giving some half decent results. I dont need 0.1mm accuracy for these little bits, so it does me fine for now.....
So with some acetal sheet purchased I set about making the housing/sliding mechanism, of which you can see the photos below.
This view shows the new design, note in this view the solenoid is activated.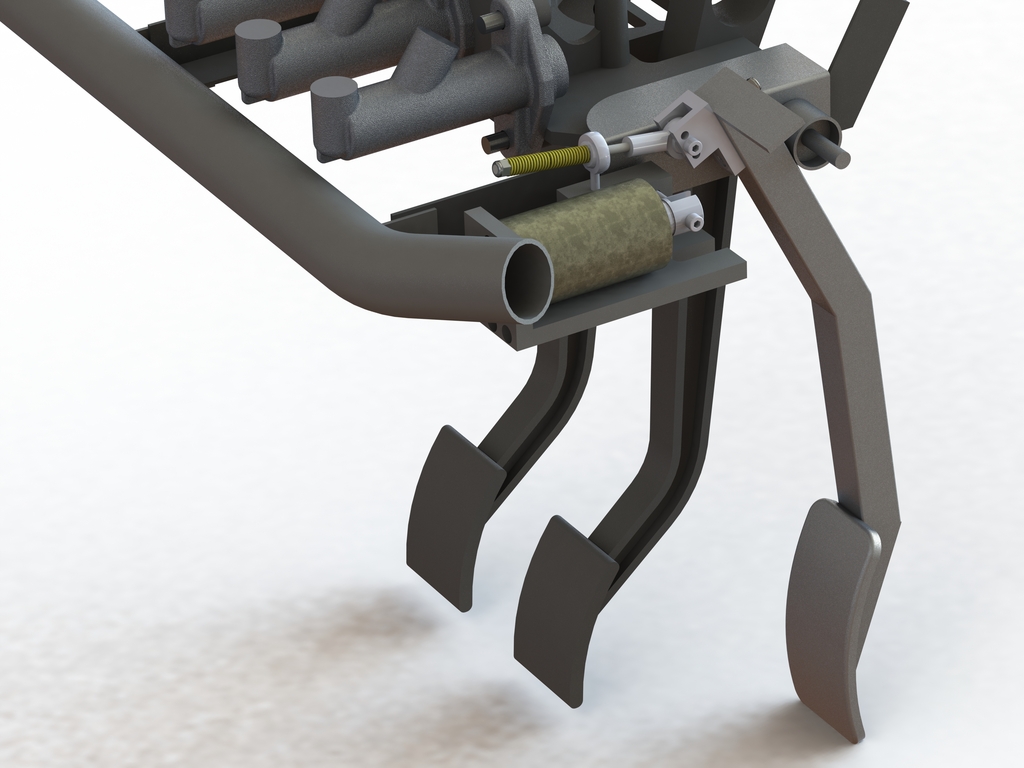 This view show the throttle pdel is depressed but the solenoid isnt activated: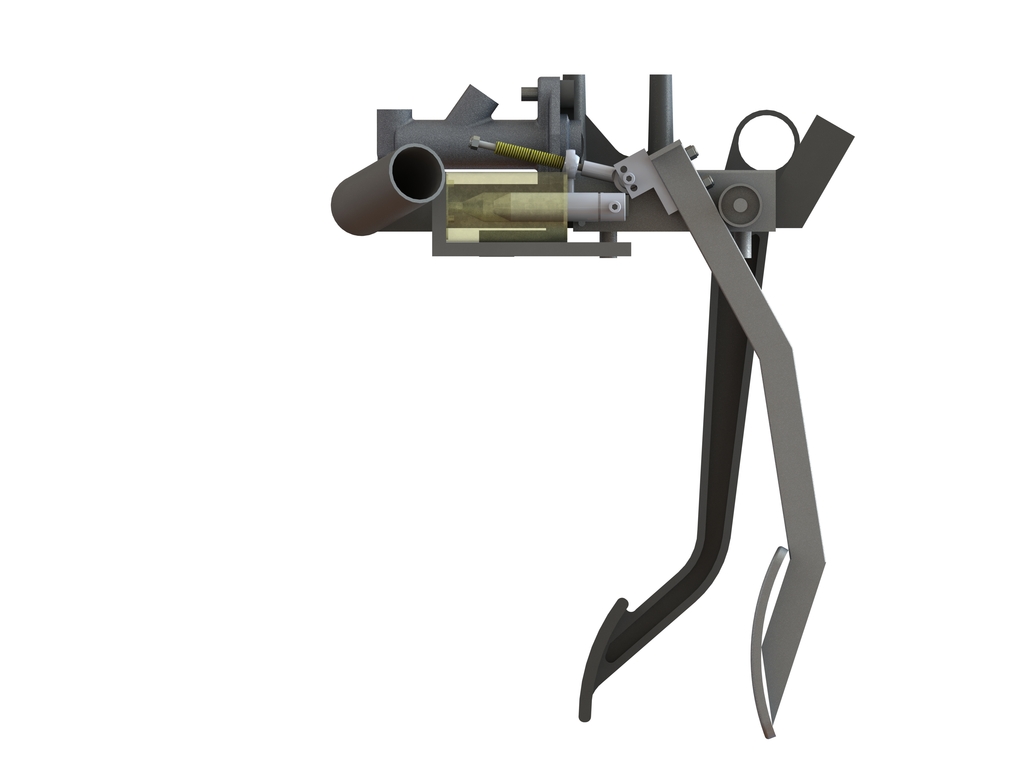 This one shows the throttle pedal at rest: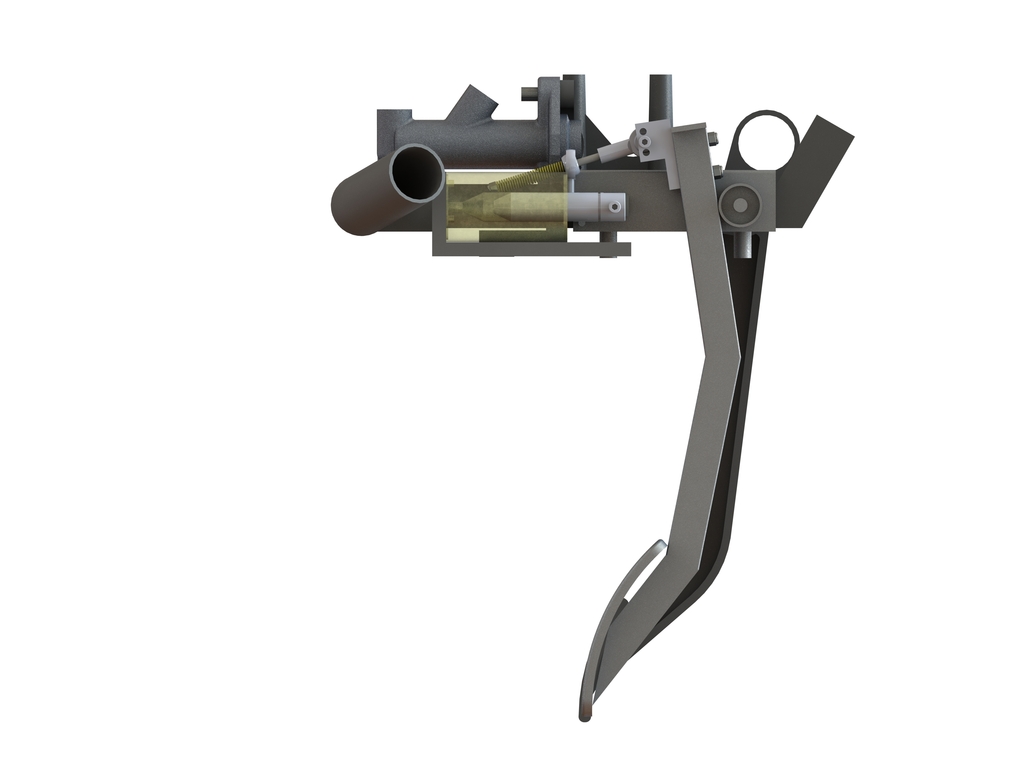 Here are a few snaps of the housing/sliding mechanism: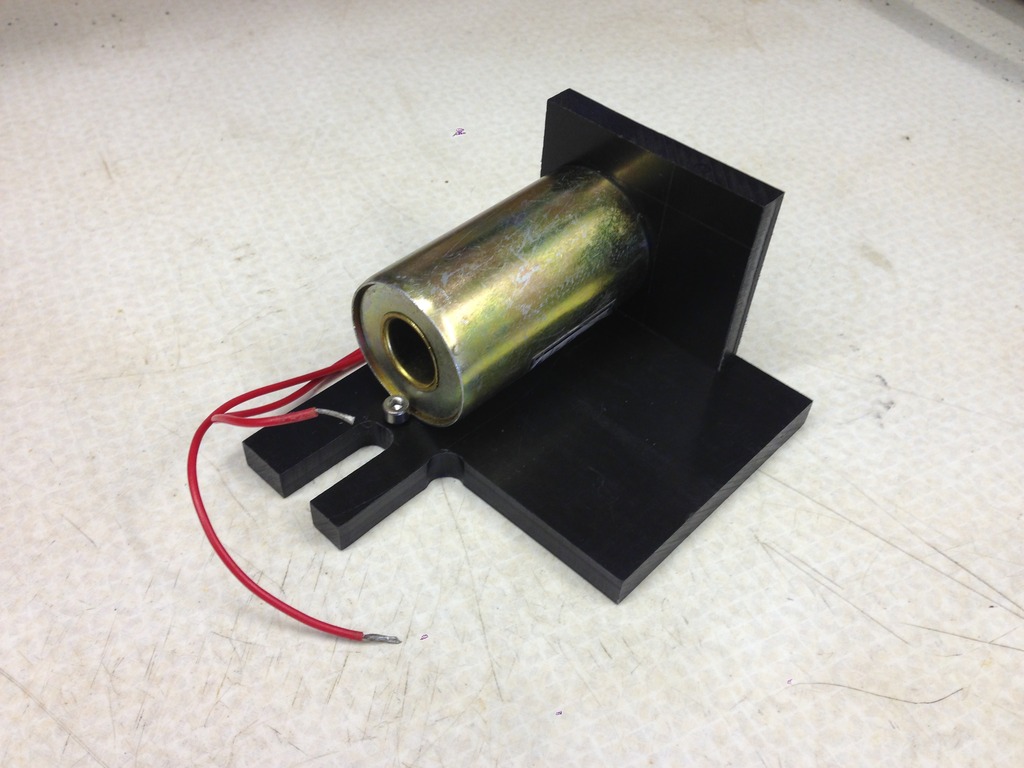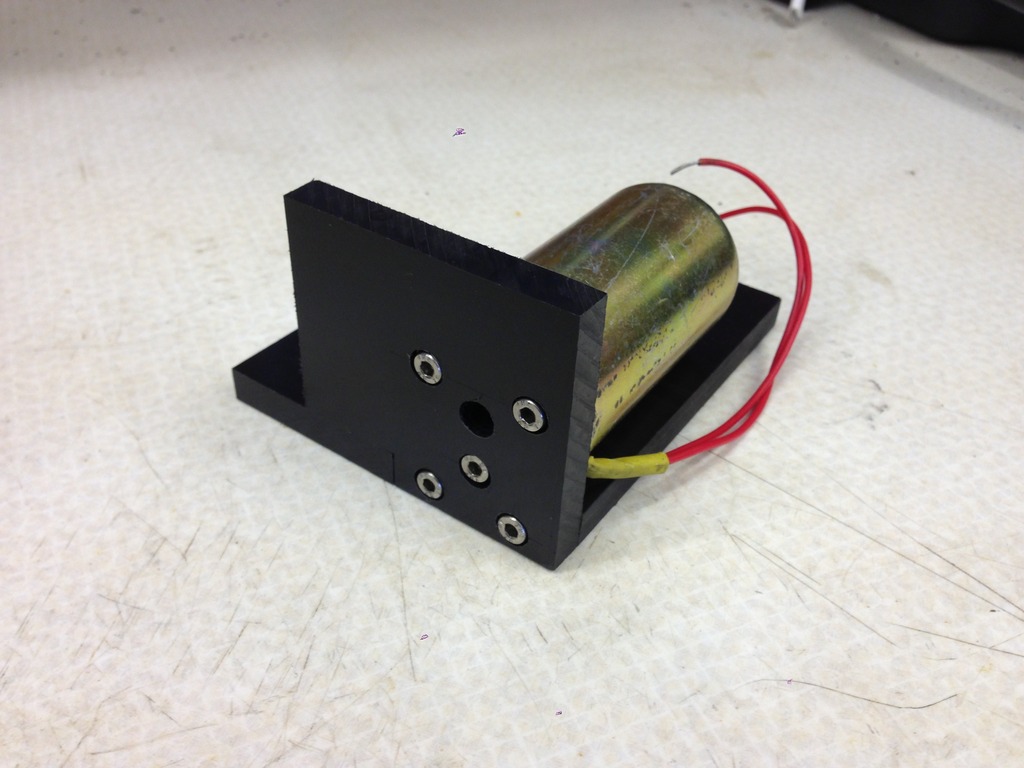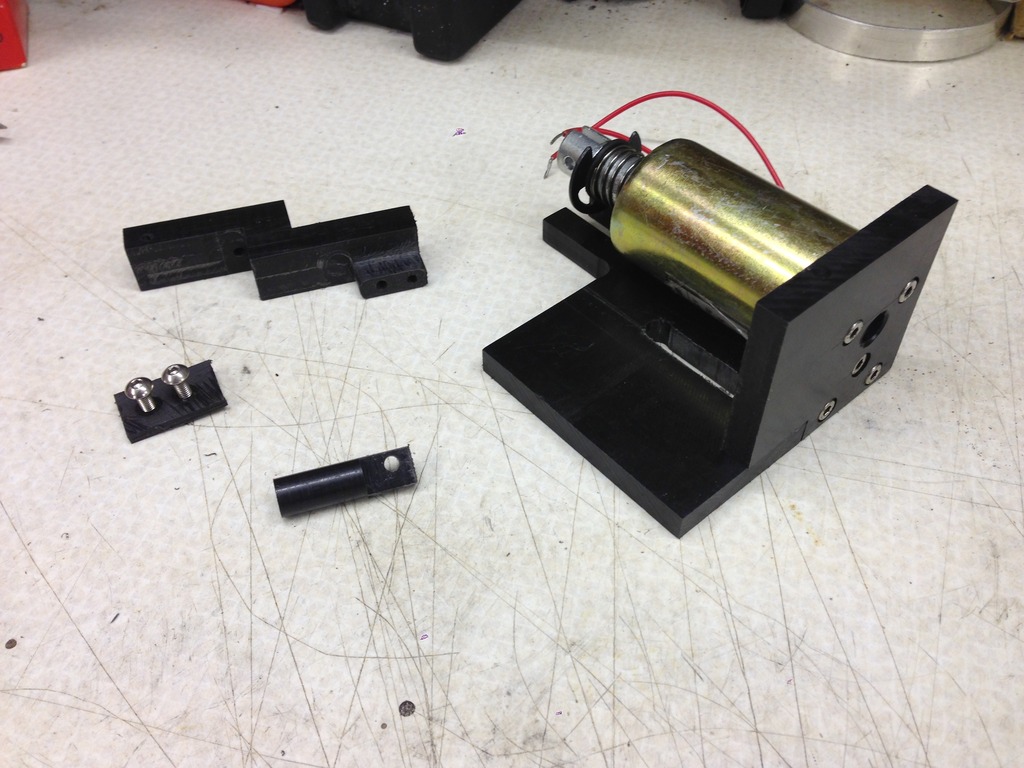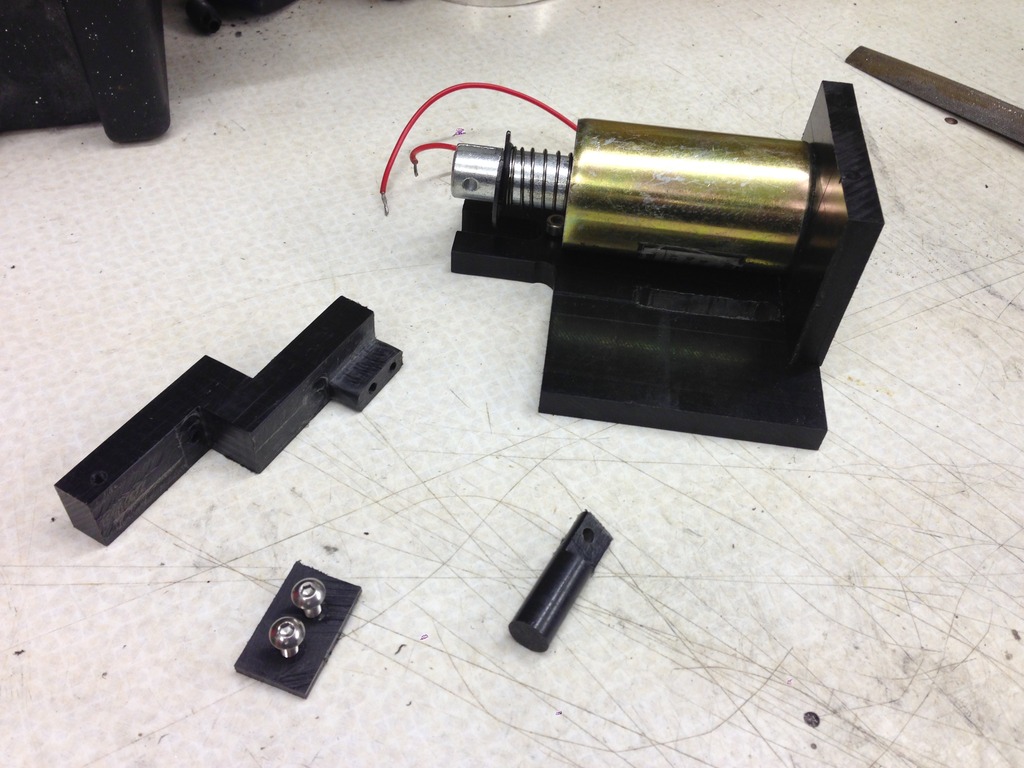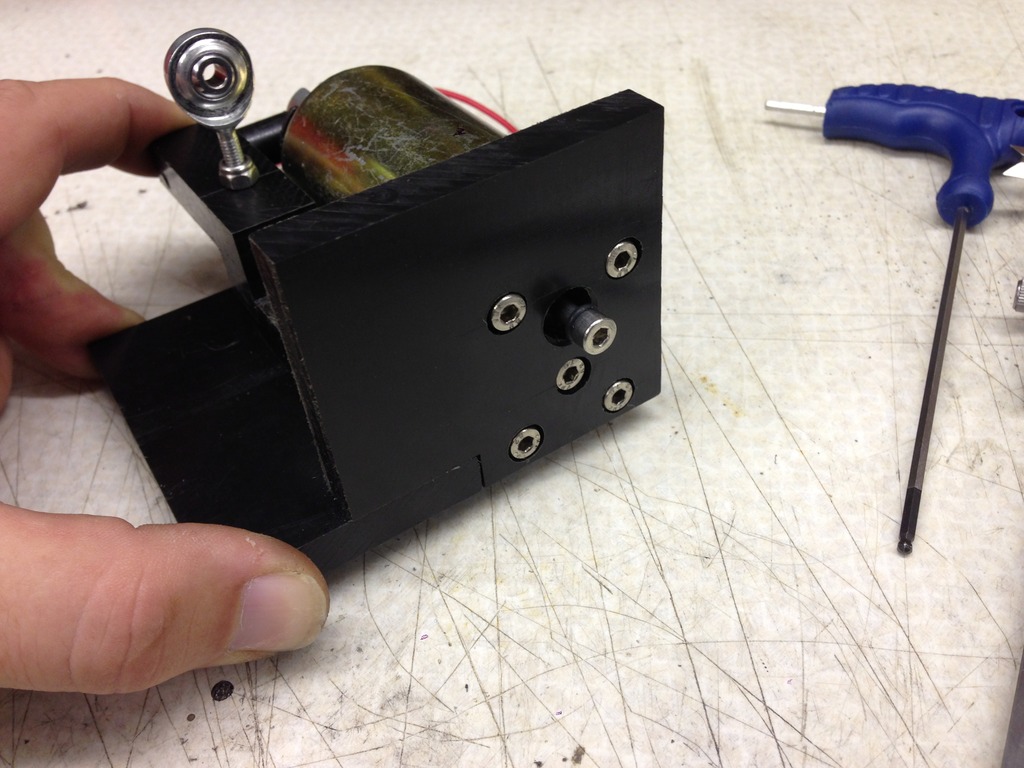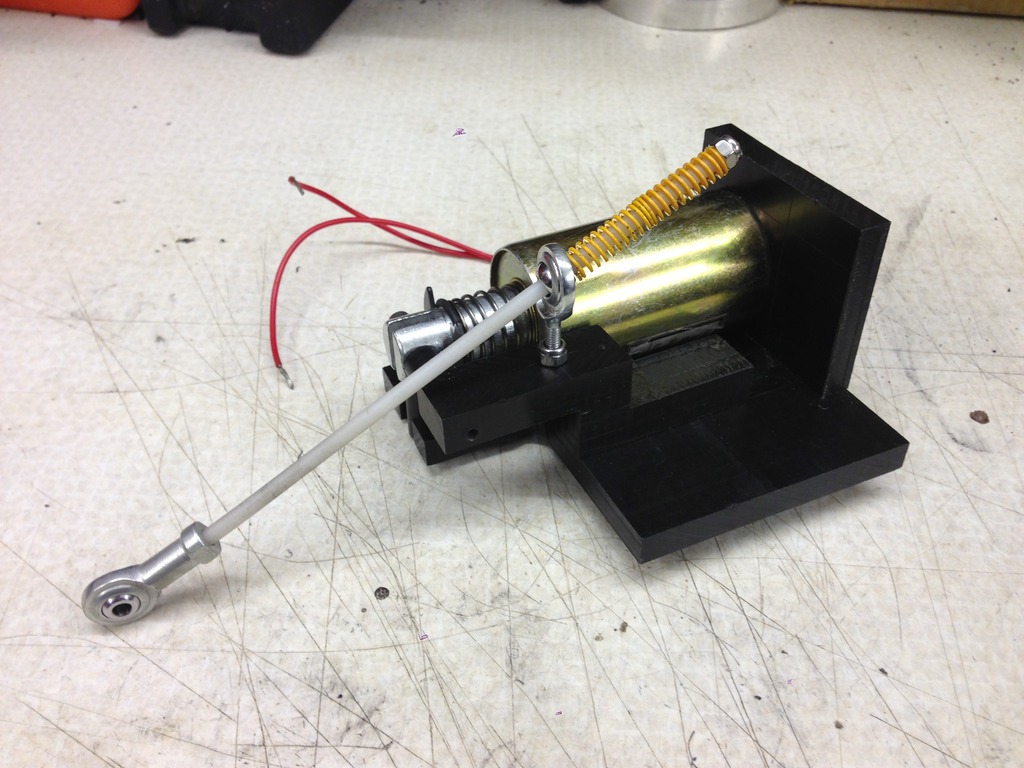 6-10-2015
Quite simply it was a space issue, the solenoid is 40mm diameter and about 95mm long, so trying to find somewhere for it to sit in that engine bay (next to the throttle body, with a strong enough mounting structure) was going to be a squeeze. Trust me when I say I've thought long and hard about ways to get it into the engine bay.
In an ideal world I would have the solenoid acting on the TB end of the TB outer cable (where the nuts are to hold the cable end in place), this way the throttle pedal would remain still at all times and you dont run the risk of the cable coming off the throttle body if you were to just have the solenoid acting on the throttle body cable holder.
What I am currently creating will probably be the first iteration of many to come. I am already thinking of linear actuator with a raspberry Pi or other PLC, linked to speed sensors/revs to effect realtime rev matching, although with this recent round of upgrades I have promised to ease off for a bit with spending on the car.
6-23-2015
Flowmaster DBX Silencer Setup
So the twin exit setup appears to be quite a bit louder than I had hoped.....
In an effort to keep the db's down I have now gone for a 'Series' setup, very similar to my old twin silencer setup, just with the Flowmaster DBX units instead fo the absoprtion cans: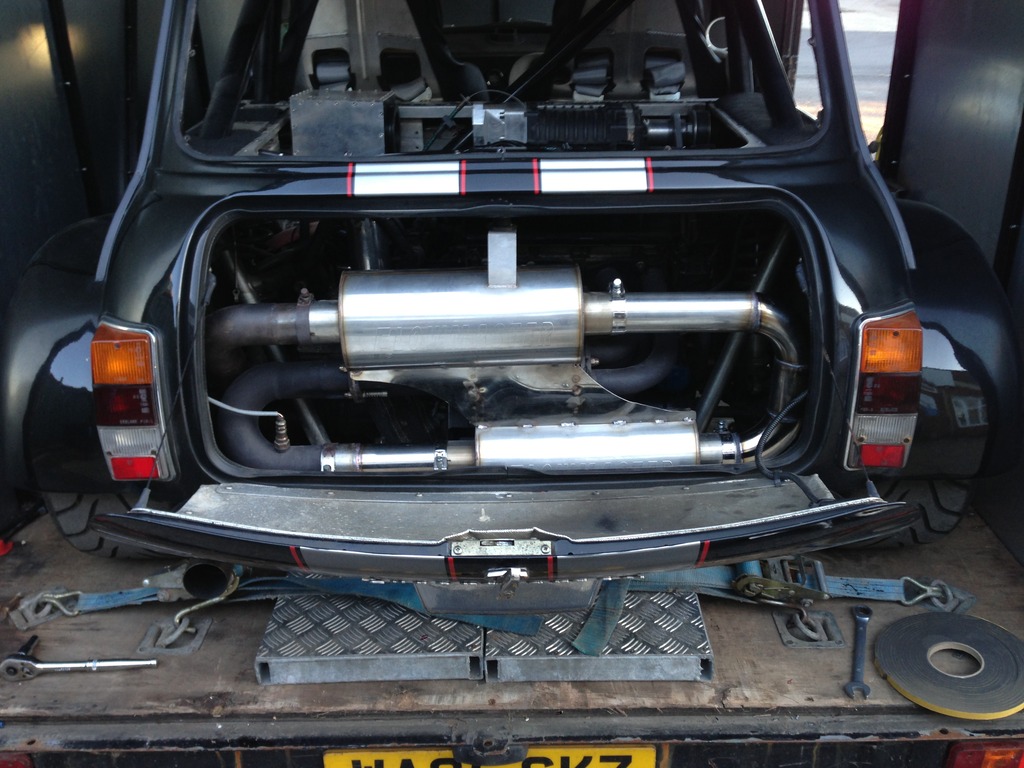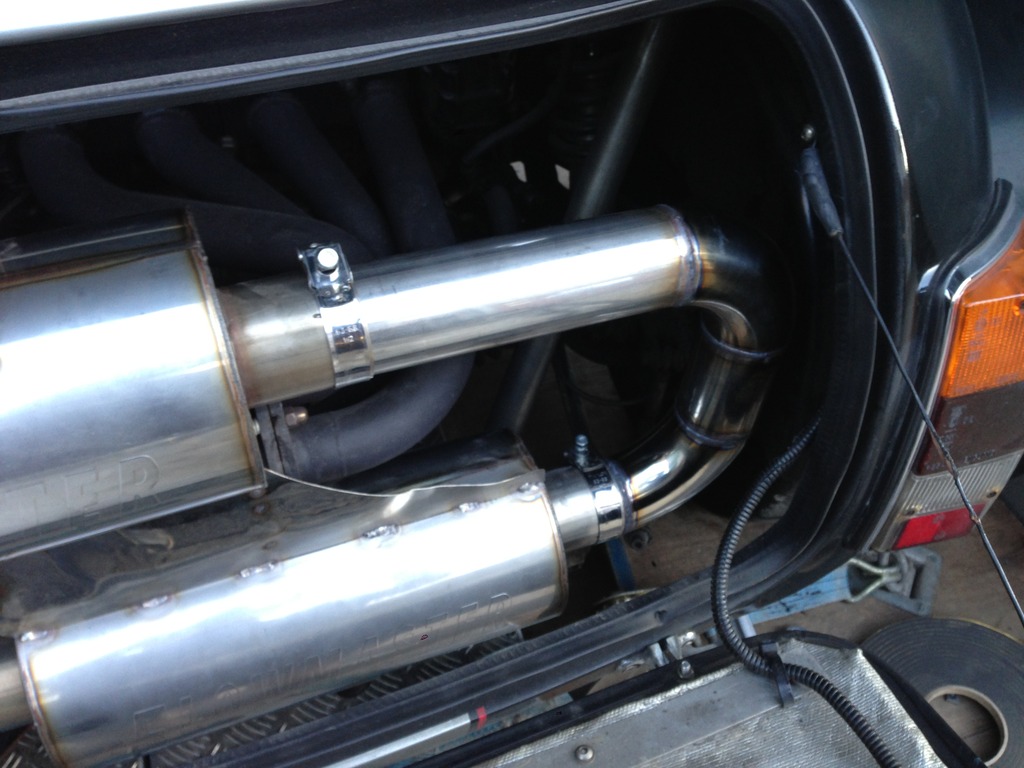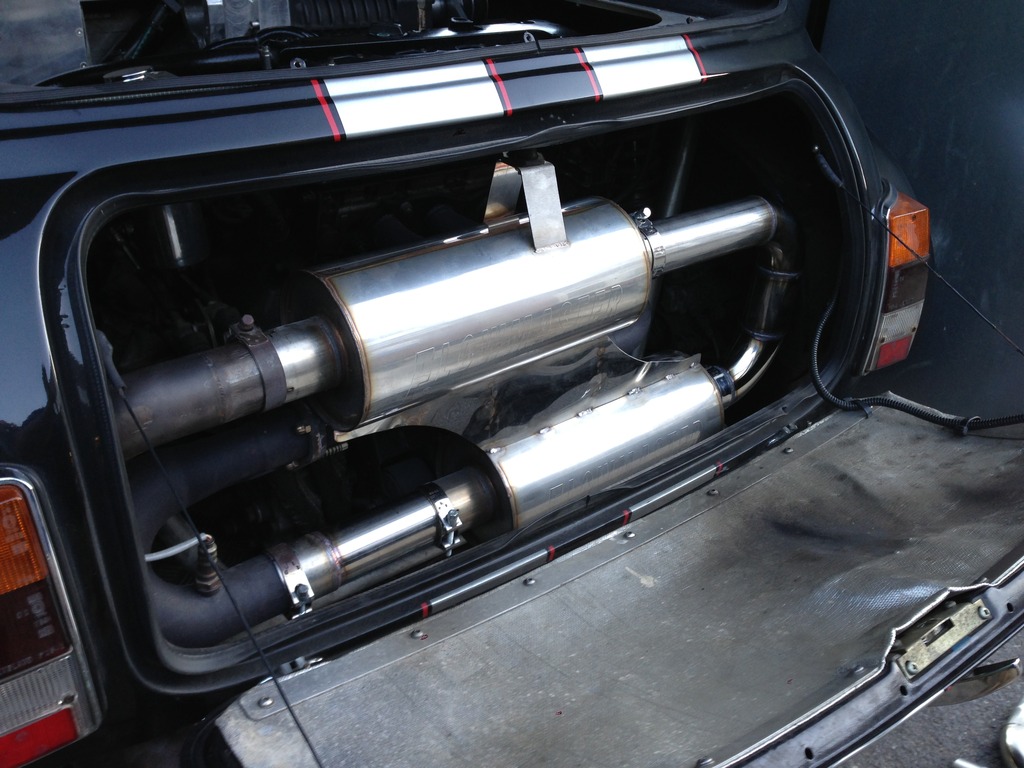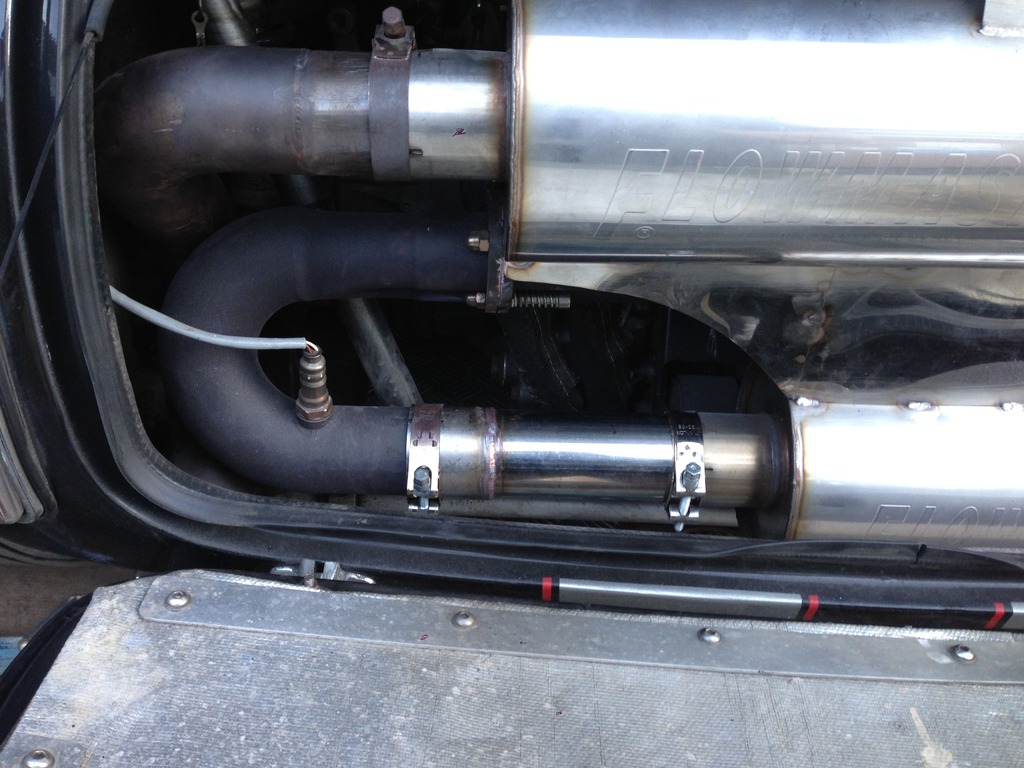 I should add that this setup is for track use, I will be reverting to the twin setup for regular road use as, although loud, it does sound sweet.....
6-25-2015
70mm Throttle Body Idling Issues - fixed.
AS some of you will remember I had bought a 70mm Throttle Body from Clockwise Motion, on the understanding that I wouldnt have to do anything to the throttle body to get good idling (as per the discussion with the vendor). Turns out that was a load of horsesh!t, the first time I tried it it idled at about 3k, then would hunt the revs once you'd given it some throttle.
So in an effort to fix the problem I went about lapping in the throttle plate to the throttle body, using really fine lapping compound that comes as a powder and mixed with thin oil. After hours of doing this I got the plate sitting sweet with virtually no light coming through, but when you breath tested it there were still streams of moisture breaking through and when I tried it on the car it would still hunt the revs and high idle - I am amazed as to how little amount of air is required for the engine to run.
A chat with one of our engineers at work brought up an 'Testors' enamel paint as a possible fix to the problem and is something that has been used in the US for years when trying to cure the very same problem. However in my tinternet exploration of Testors paint I stumbled across people using Dry Moly Lube as an alternative, might I add a much better alternative. Dry Moly Lube is, as it says, a dry lubricant but it has a bonding agent in it so when you spray it onto something it sticks like paint. So I went about masking up the throttle body so it would only spray on the required parts.
Once sprayed I light tested it and there was no light what so ever coming through, and a breath test showed no signs of moisture breaking through. It was time to mount it back on the car, I was feeling confident.....
I got it all on the car and started it up - it revved at 3K then hunted after blipping the throttle - aaaaaaaaaarrrggghhhhhhh
So here is where the investigation started,
Firstly I tried covering the hole that feeds the IACV (Idle Air Control Valve), this did not stop the engine, therefore this leaves two possible problems, its leaking past the throttle plate or theres another leak somewhere else.
Secondly I put my hand over the opening of the throttle body, this will tell whether there is a leak other than past the throttle plate......the engine still ran.......ah ha.......
Then I tried spraying some brake cleaner around the TBa nd inlet to find the leak with no joy, then I started to fumble around it with my hand to find I hadnt replaced the pipe that opens the bypass valve - TW4T.....
With the pipe clamped up properly I then started the engine and it now runs and idles..............thank god because it was really starting to feck me off.....
Here's a few photo's of the throttle body before I fitted it, so you can see what I did to it:
Firstly the dry moly: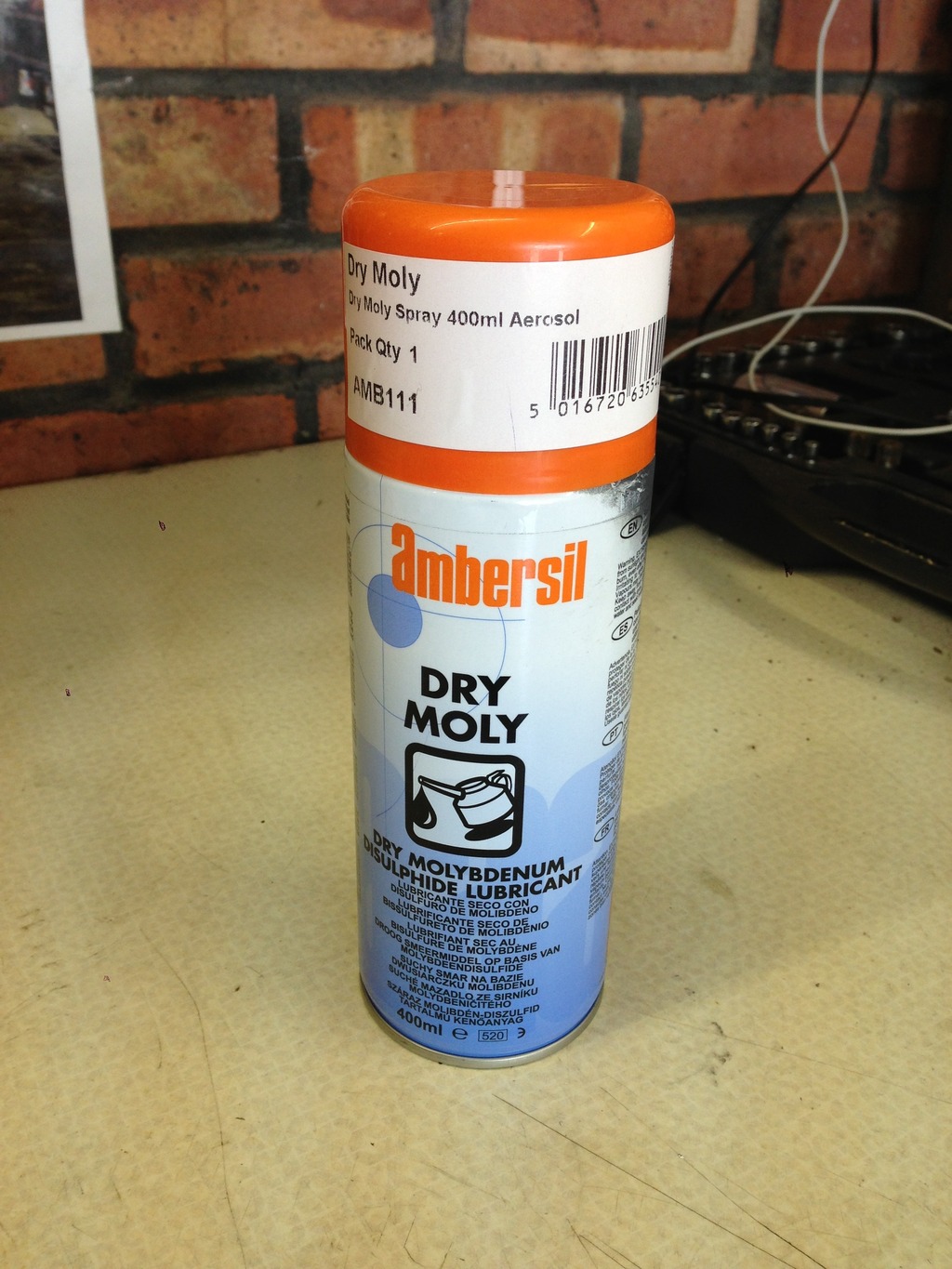 Throttle body, the opposite side is similar but on the top side: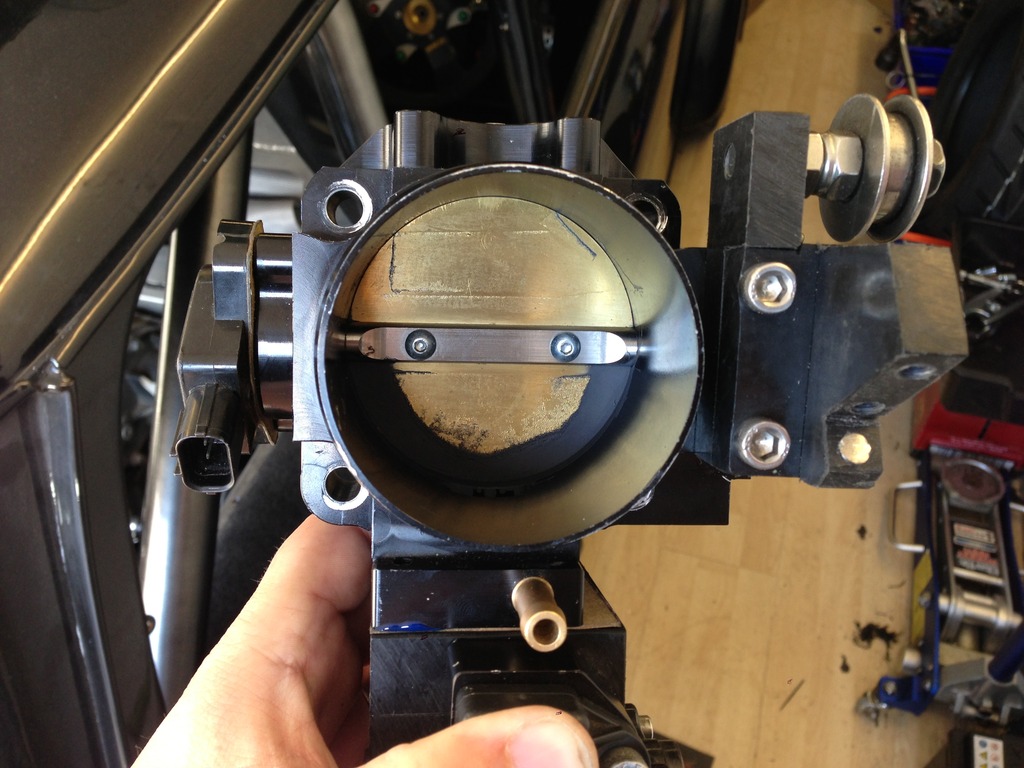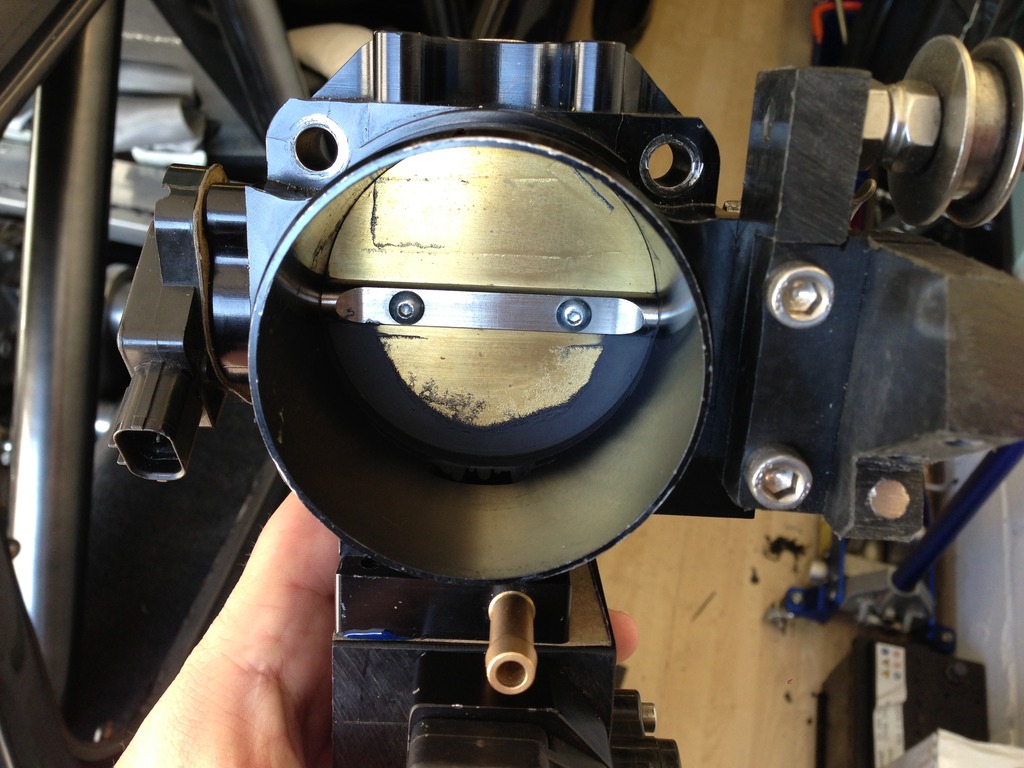 7-13-2015
Flowmaster DBX Silencer Setup
I arranged a static noise test, on the weekend just gone, at Goodwood.
After a chat with the guy that does the noise metering we decided to try a few different rev ranges, with and without the extra can that some of you may have seen hanging off the back of the car at Castle Combe and even Goodwood.
The results were as follows
DBX in Series - No Extra Can
6000rpm - 101db's
5200rpm - 100 db's
DBX IN Series - Extra Can
6000rpm - 100 db's
5200rpm - 98 db's
Better than the single absorption can, not quite as good as two absoprtion cans in series.
Going to try the Walker quiet flow silencer as soon as I get it put together and will report back with figures....
I can confirm that the new air filter box has reduced the charger whine in the car and if it still audible outside the car is it from both sides, which will reduce the intake noise by half when being measured from one side.
8-7-2015
Flowmaster DBX Silencer Setup
I attended a track day at Goodwood on Monday, so get this, using the same db meter as three weeks previous the db's came in at 95 db's @ 5200rpm ????/ what the hell....
I am seeing higher engine coolant temps than before, I can only assume this is from increased back pressure.
Brake Fade
Whilst at the same track day I experienced a new problem with the braking system. I had recently upgraded my brake pads to Polymatrix A to get better performance from my brakes, they stop much much better but the downside to this is the increased heat from the increased friction. So during a session I could feel there was an issue with the brake pedal as it was going long, I finished the session, came into teh paddocks for a minute or two then headed out to the petrol station. As i drove out of the circuit the brake pedal went to the floor - sh!tballs.....
At that point I thought it might be that the wheel bearing had come lose and the disc had lent over causing the pedal to need pumping to get it to work, so I headed of home in in the daily driver to get some tools, this took me an hour. When I got back I jacked the car to check the bearing and they were fine, as good as they've ever been. I dropped it back down and checked the pedal and it was back... no pumping required....what the hell?
There is no loss of fluid so it can only be that the Dot5 Silicone fluid had boiled over (or water had entered the system and pooled in a caliper and this had boiled over)....feck it. So I now have the unenviable task of flushing the silicone from the brake and clutch lines and am going to replace it with Wilwood EXP600 which has a dry boiling point of 310degC, 50degC higher than the Silicone. Hopefully this will cure it as I have another track day at Goodwood on 31st Aug (Bank Holiday Monday) with Lotus on track and I need to be able to drive it hard to keep up with some of those boys.
9-2-2015
I attended a track day at Goodwood on Monday with the Lotus on track boys. It was wet and horrible, R888's not great in the wet. The day semi dried later on and I got a few half decent laps in, no PB's broken but was on track for a decent lap on vid 039 but slowed due to seeing engine coolant at 104deg C and Oil at 125deg C, so more work for me over the winter to get air flowing better to the engine coolant rad, the I/C rad is being a bit too much of a block out, the top 3-4 inches of the rad aren't doing anything currently, so going to sort that and scoop from below also.
Here's the vids:
1-12-2016
EXTRA AIR FOR THE RADIATOR.
At the end of last year I was still struggling with high water temps on track and decided to add some extra ducting to the top of the radiator.
Pre intercooling the car the whole of the radiator saw fresh air but since the intercooler rad has been in place it cuts off a good 4" from the top, basically everything behind the carbon cover you can see in the photo below.
So the plan is to get some cheeky ducts 3D printed and attached the the front of the carbon cover and then feed some fresh air from the front of the car somewhere - still working on that as trying to be as discreet as possible with it, trying the keep the front lookin fairly standard so as to jinx people into thinking its just a normal mini behind.
So here is the area in question: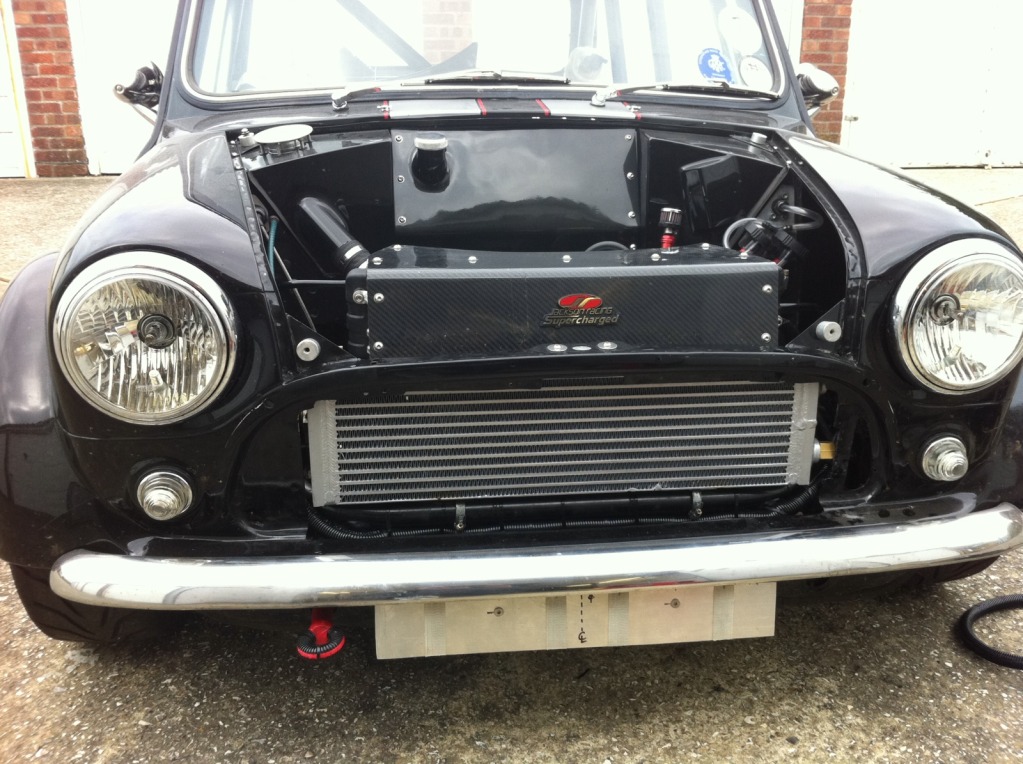 Here is a a handful of renders showing the proposed duct fixings that are going to be made this week. Note that I only modeled the essential bit required to ensure nothing was hitting around that area.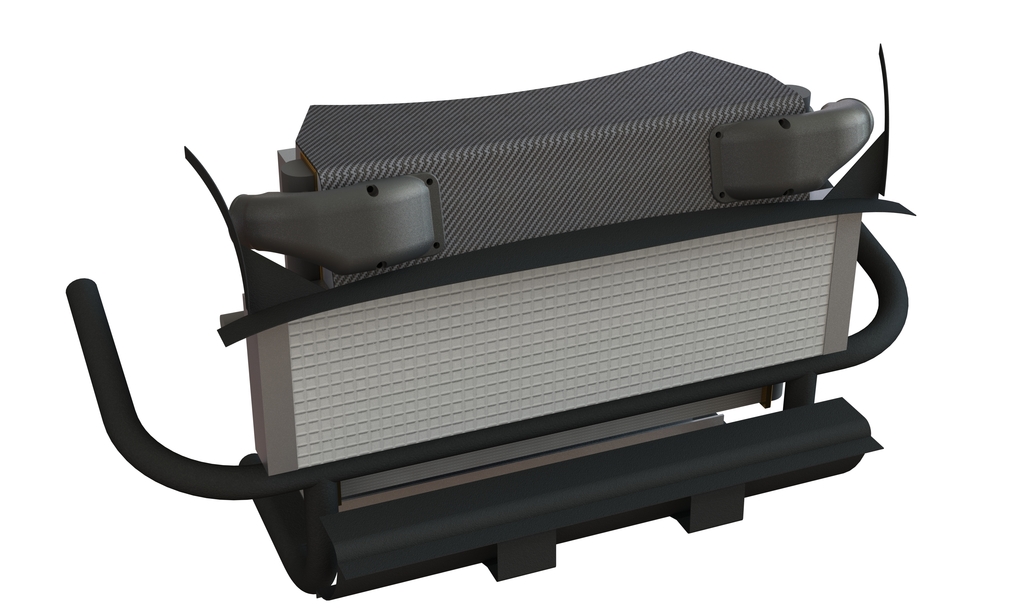 A horizontal section through the ducts, air should fill the cavity nicely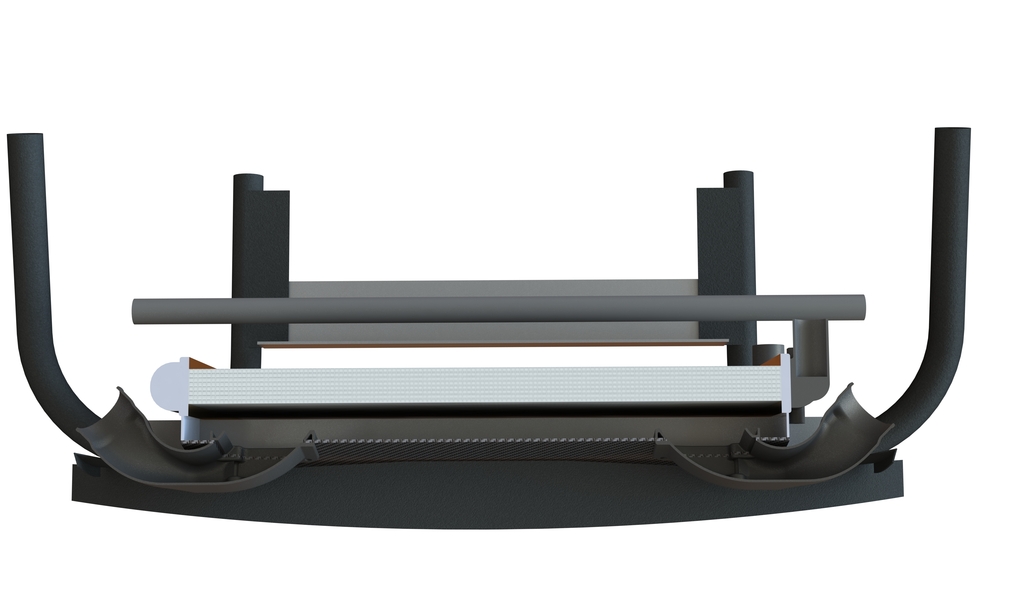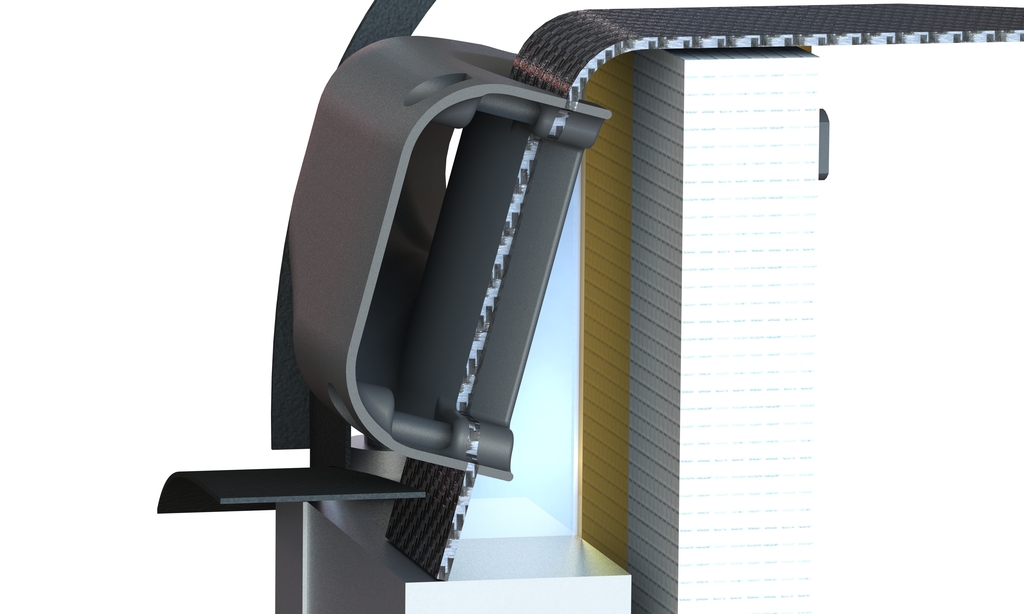 One from the back side with the radiator removed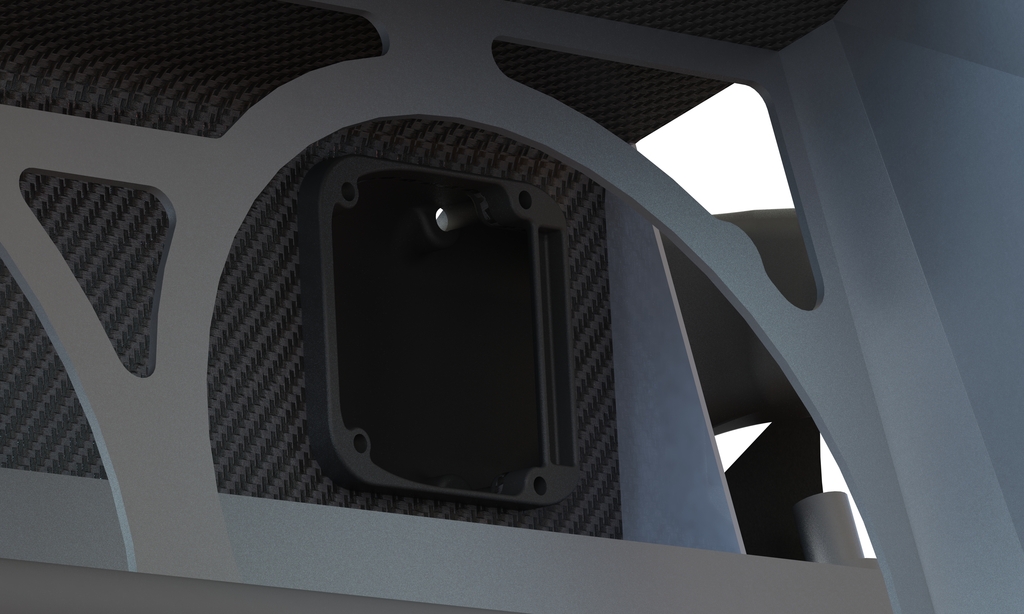 1-15-2016
I just found this the other day, excuse the wobbly camera. As you can see it was still a bit wet so no records being broken.
1-23-2016
EXTRA AIR FOR THE RADIATOR
I got the 3D printed parts through, they're a bit course in appearance and if I so had the inclination I would filer them and get them sprayed but right now they are purely functional and therefore they are not getting treated to any prettying up.
I still have to find the time to sort out the feeds to them and frankly its a bit too cold at the minute so it can wait for a month or two, most important is that just by fitting these two parts it will allow the air to get to the top 4" of radiator so when the fans are sucking air they can draw some through there. The high pressure created in the top of the wheel wells might also force some air in there as well.
Anyhooo, here's a few photos: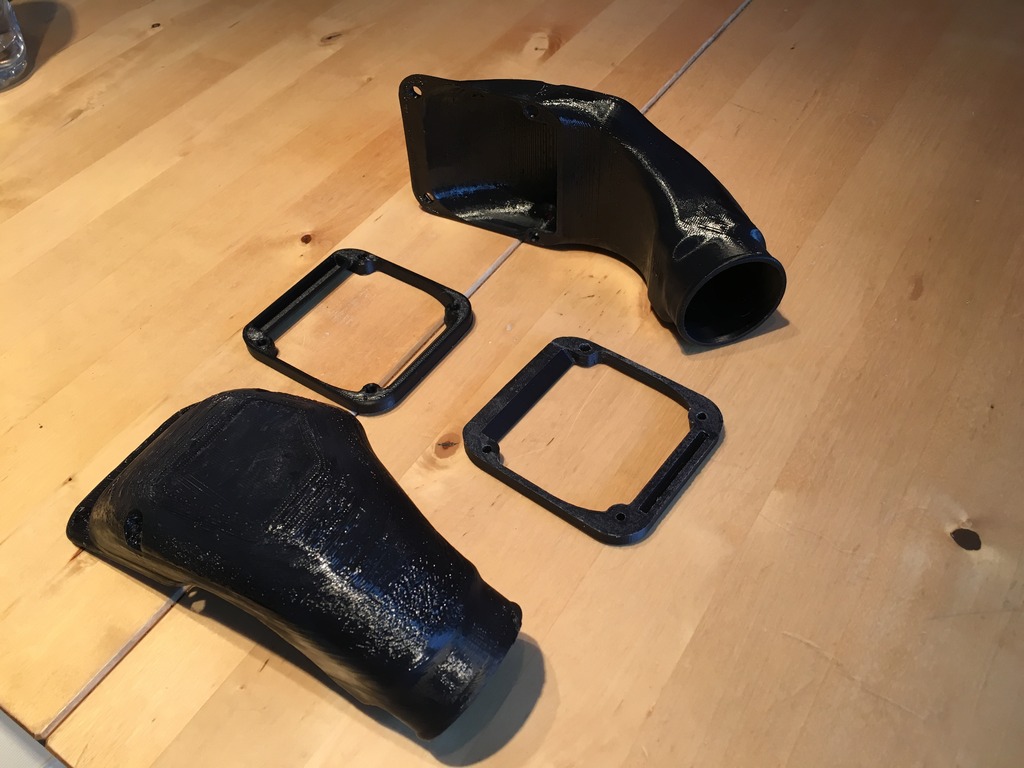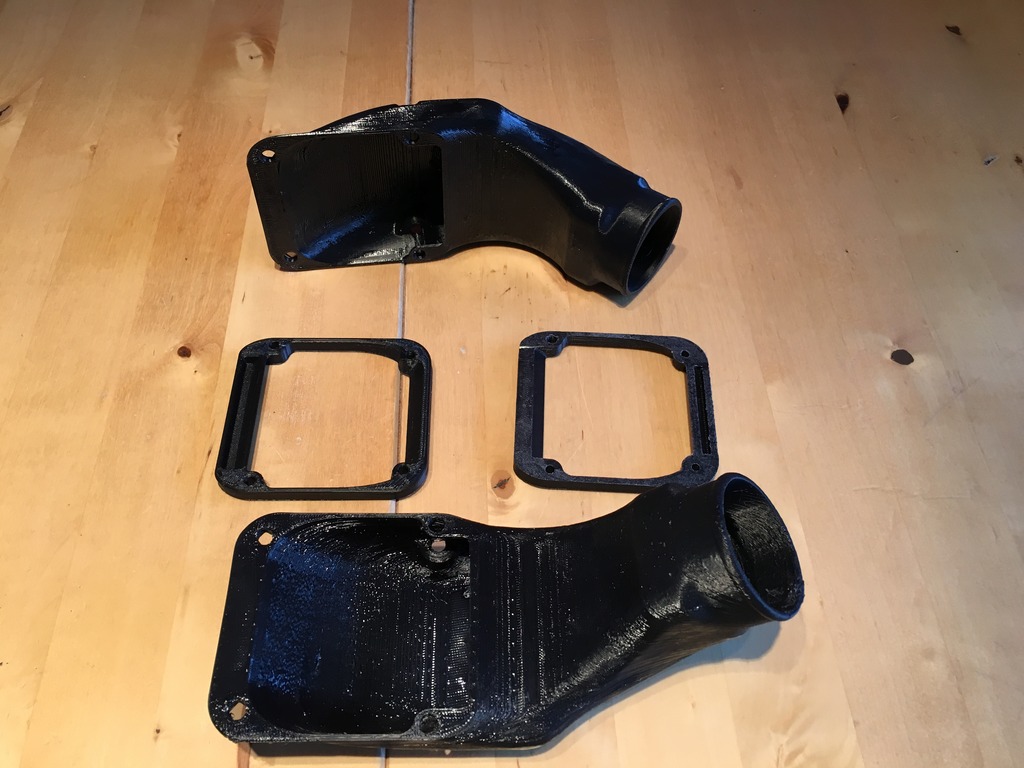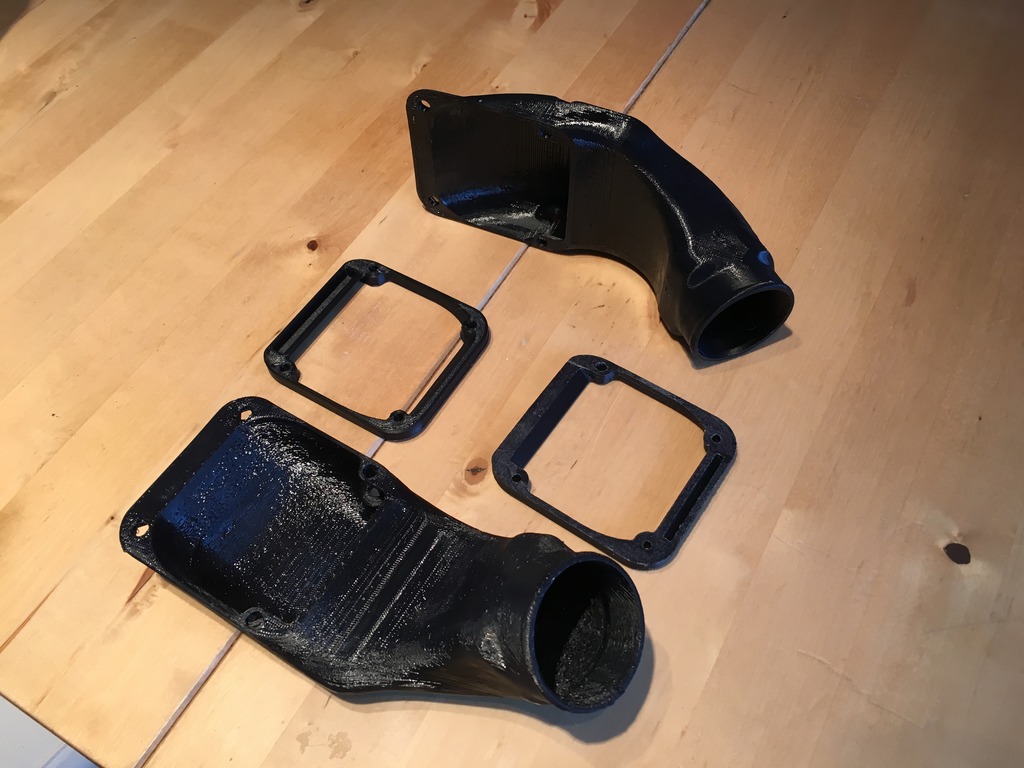 .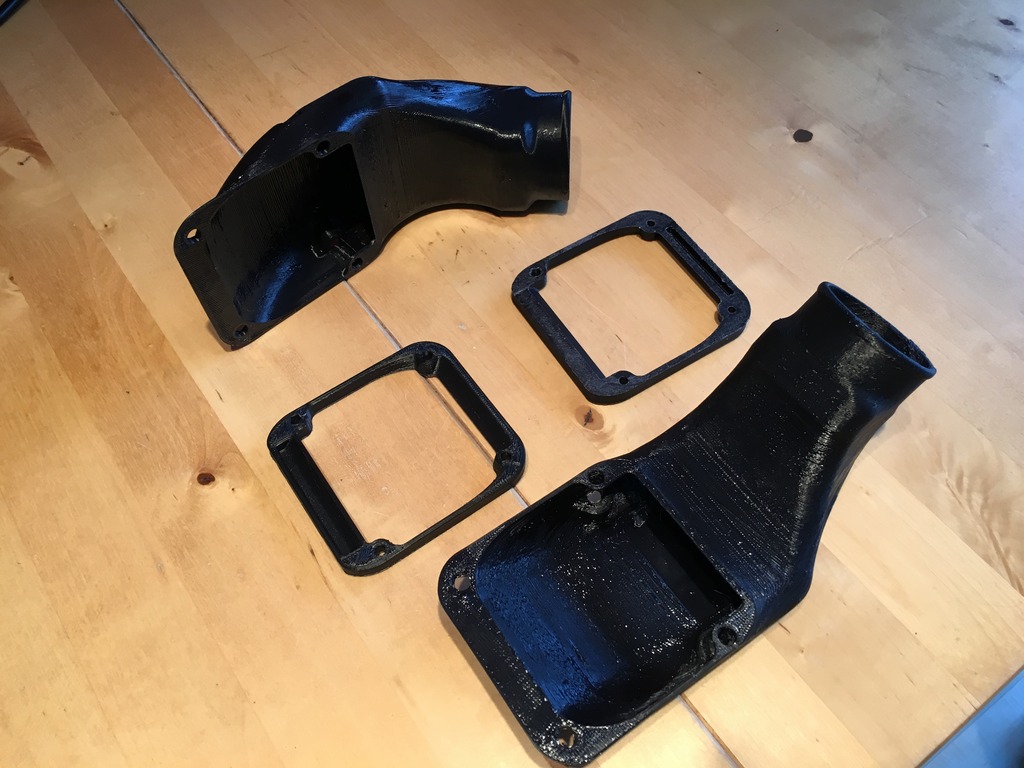 4-26-2016
EXTRA AIR FOR THE RADIATOR
I tried to fit the new scoops (a few weeks back) to the rad but unfortunately they stick out about 5mm too far and I can get the bonnet back on. I have just moved house so don't have the tools to fix the issue, waiting on a new garage being built before I can get my stuff out of storage. I did get a few photos when I was doing it......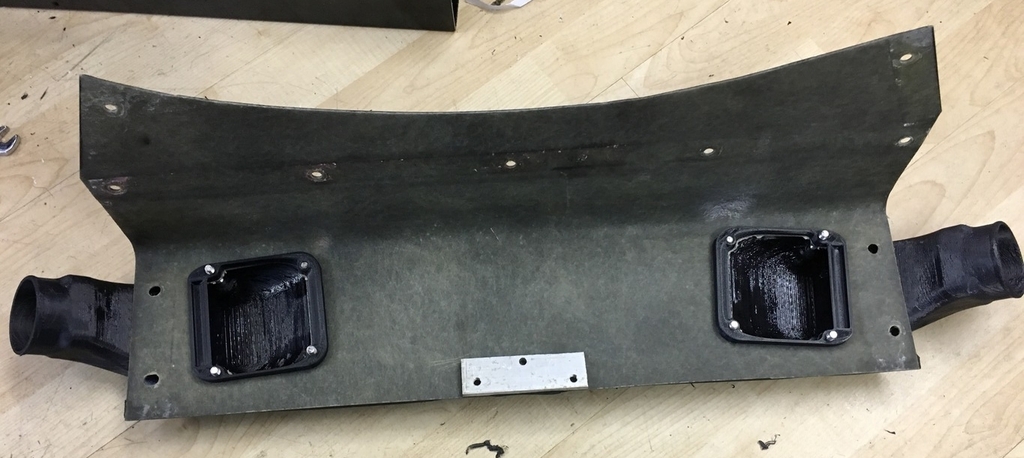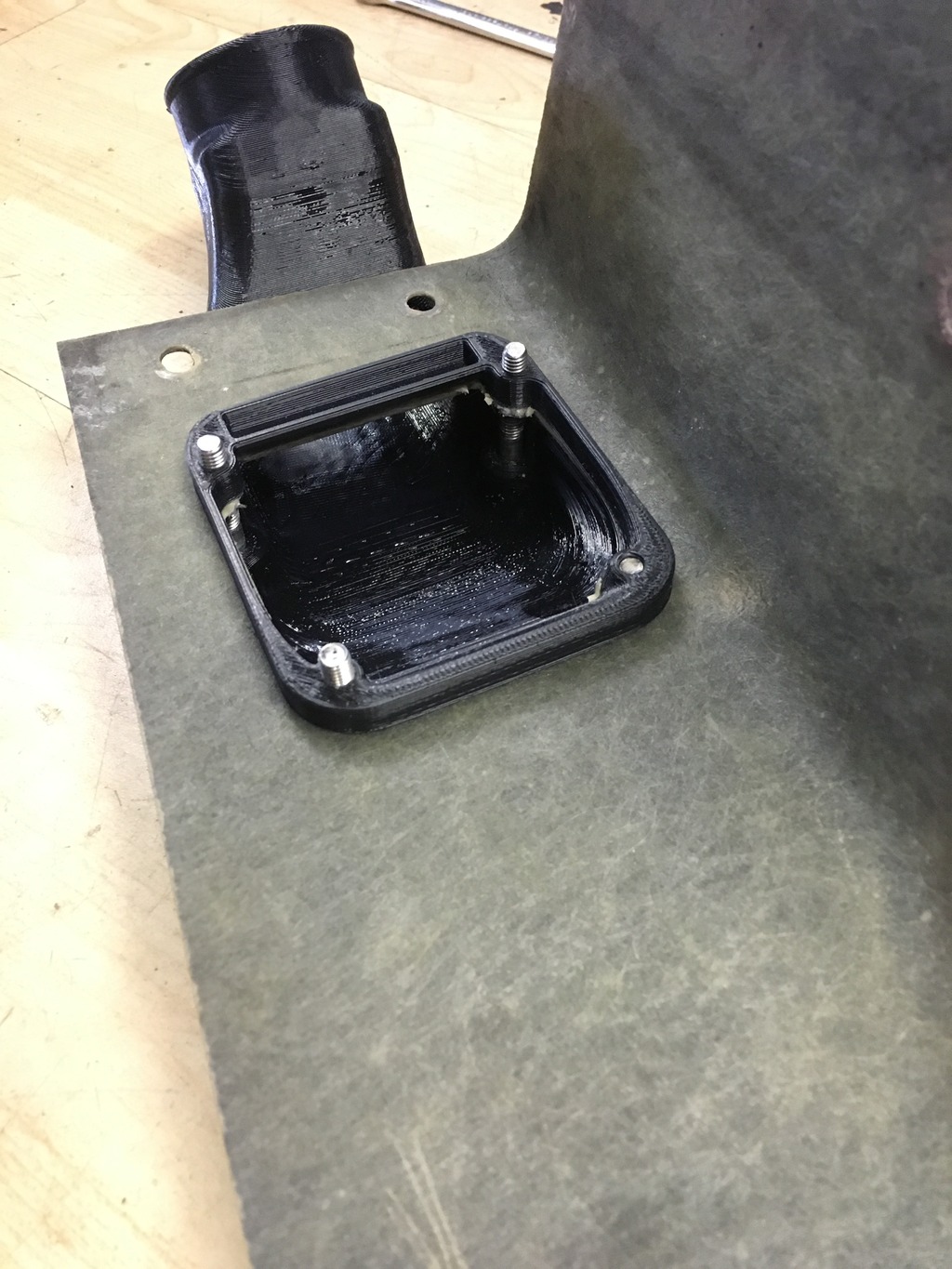 6-2-2016
Fastest lap from Goodwood on Monday 1:34:11 - a much more respectable time, more than 3.5 secs shaved off my last outing. No mods since last outing, all a case of watching video playback and working out where I needed to grow a pair....later braking and slightly higher corner speeds all add up.
6-30-2016
The theory is sound but the solenoid was not up to the job so I haven't completed the idea yet. I need my new garage to be done so I can get back to fecking around with the car.
Here's a link to a similar timer module, note if you try searching for a different one you need one that will work to 0.1-99.9 seconds (not 0-999):
http://www.ebay.co.uk/itm/12V-Automation-Digital-Delay-Timer-Control-Switch-Relay-Module-LED-Display-KB8H-/131659838558?hash=item1ea789b45e
As for the solenoid I am still on the lookout for something with decent guts, I might have to try a vacuum linear actuator but it means holes in bulkheads to do, hence why it hasnt happened yet.
7-4-2016
Wow, I made it into the 25 favourite cars of the last 25years of Miniworld......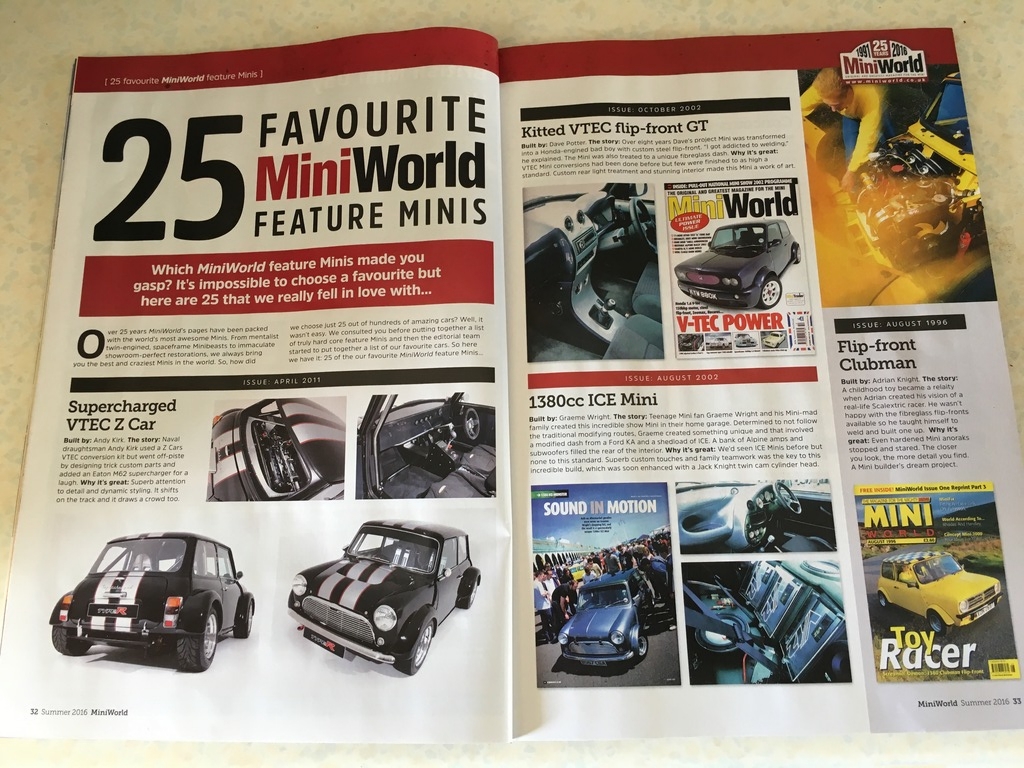 It's still on sale in the shops, looks like this on the cover: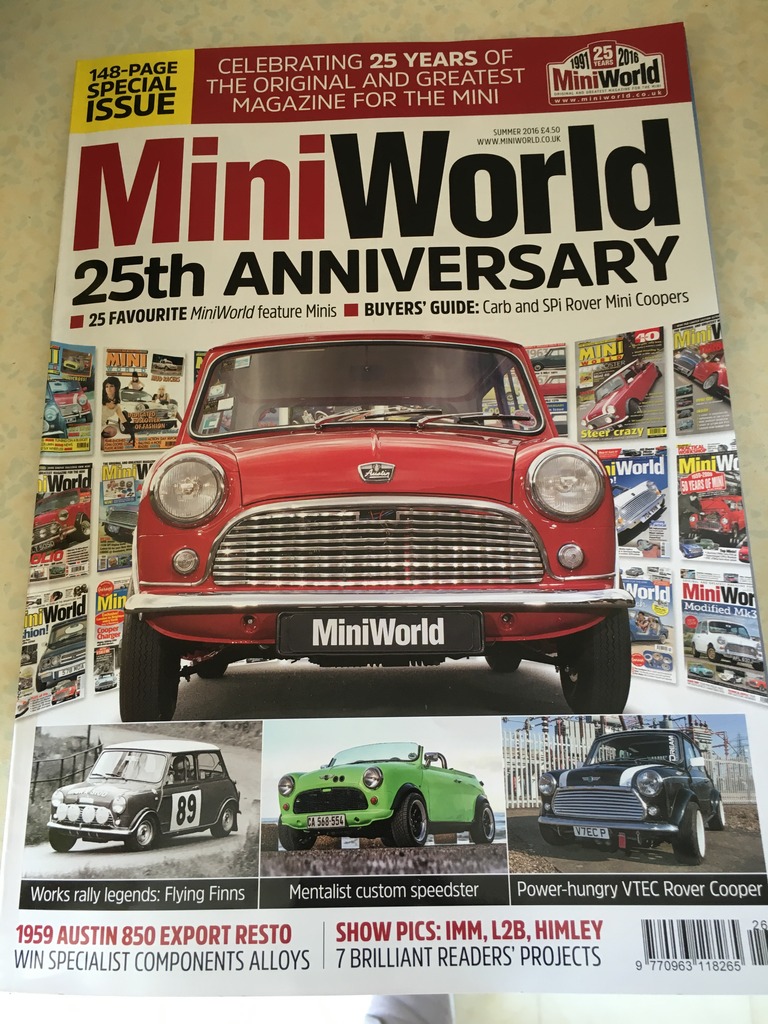 8-8-2016
Castle Combe Track Day 03 Aug 2016
I tagged onto a BMW day at Combe last week, here is my fastest of the day and below is a bit of accidental 70mph sideways.
I got a bit crossed up coming out of camp on one of the laps, pity you couldn't see just how crossed up my arms were, kept my foot in though.........
8-11-2016
I was recently contacted by the guys at DIYAuto.com to see if they could feature my car in one of their build threads, sure no problem I said. Nick from DIY Auto sent me the link to the page and it is a filtered version of the build without the replies from everyone. I have put a link to it ion the very first post of the build thread.
Here is a link to it also:
http://www.diyauto.c...spec-by-cptkirk
Really handy to flick through it and not have to wade through the hundreds of replies.
On another note my build hit 300,000 views the other day, thanks to everyone that has looked and continues to look. Its been a bit stale on the building side of things as I don't currently have a garage to do any work in but soon my mega garage will be built and I will start on a few things again.
1-24-2017
Winter Fettling......
Now I have somewhere to work on the car I have started ordering a few things in, first to hit are some new tyres. This time I've gone for Avon ZZS 245/50 R13, I think this is far as I can go with tyres in my arches, fingers crossed they dont rub.
The new Avon's are the same rolling diameter as my old Toyo 205/60 R13 (572mm OD), I am hoping the sidewalls are a lot stiffer than the old Toyo 205's as they had a lot of tyre roll.
Here are a couple of side by side views next to the old Toyo R888 225/45 R13's: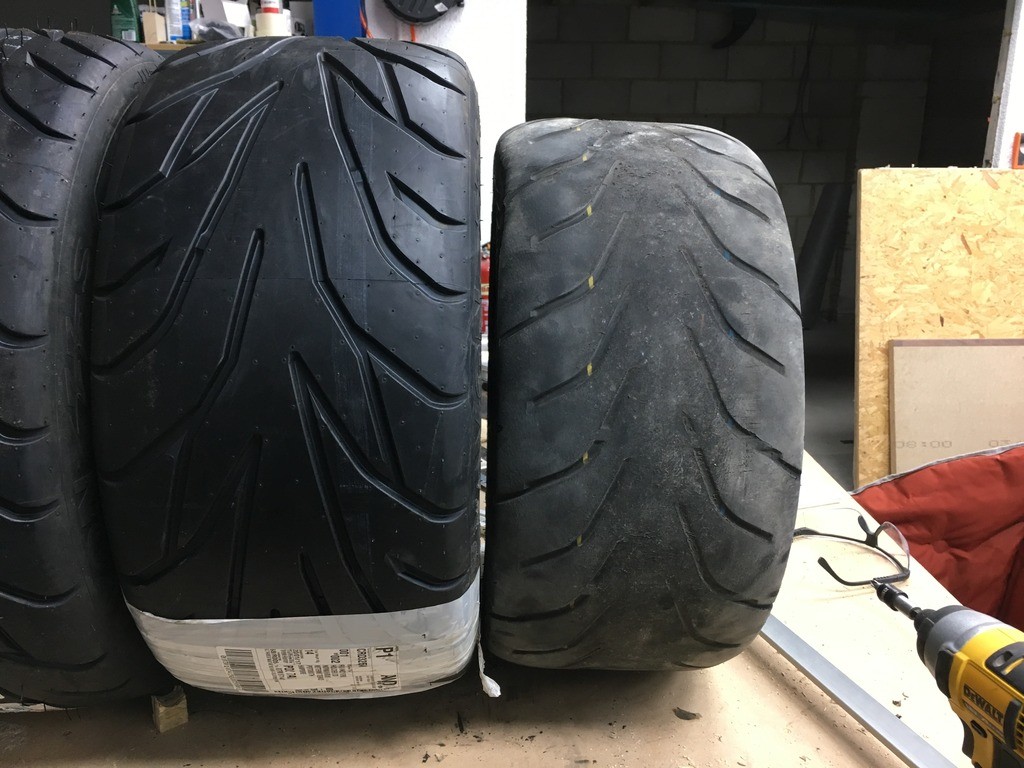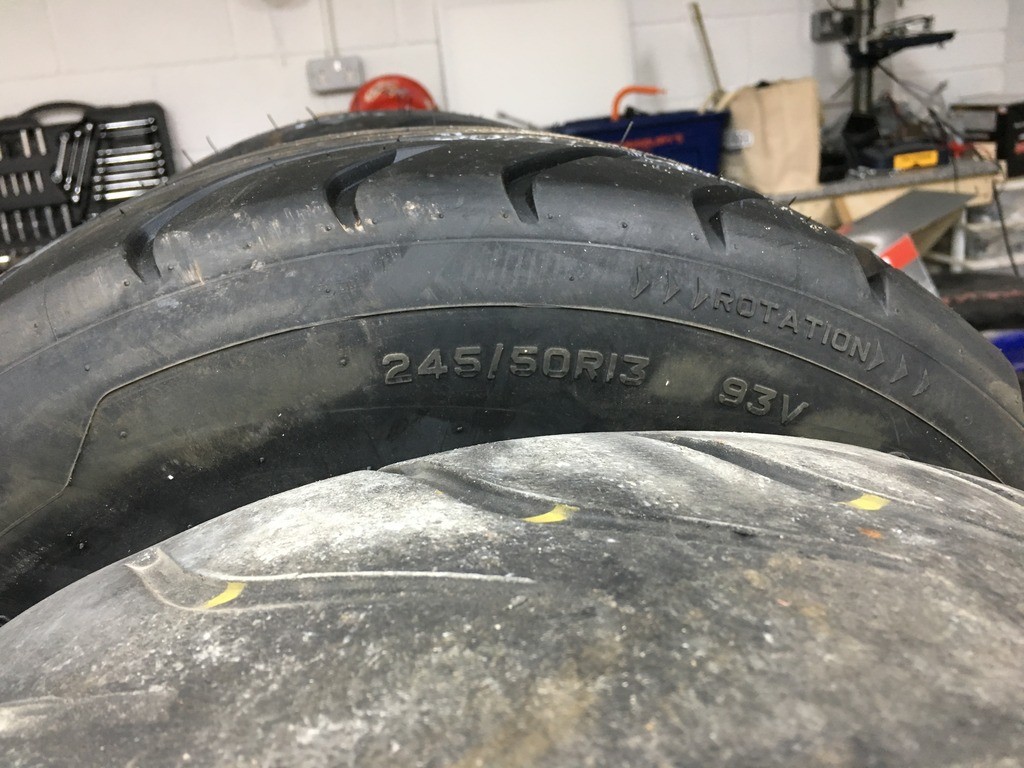 I'll let you all know how they turn out.........

2-27-2017
Good question and yes it does a bit, not masses to the point where you feel a huge difference as the old 205/60's I had on in the beginning where the same rolling diameter.
I went away and used a gear calculator to show the difference between the three different tyres I've used.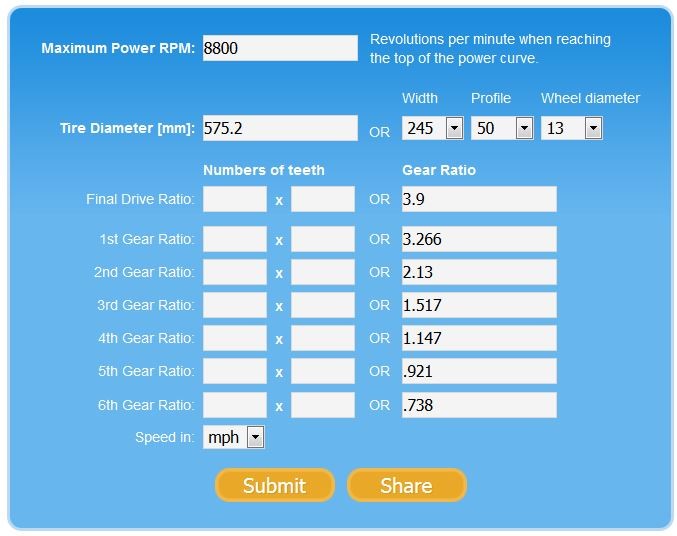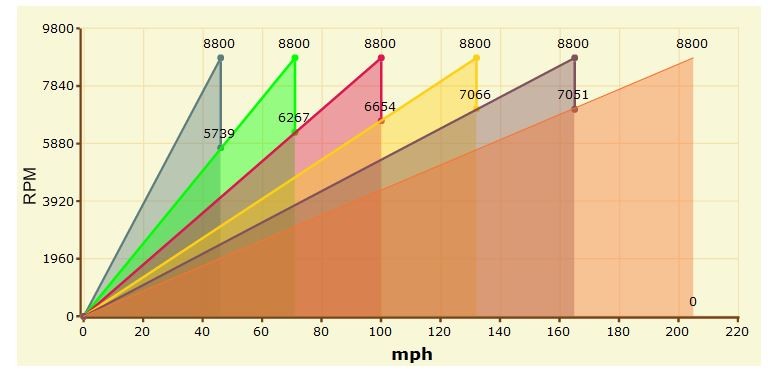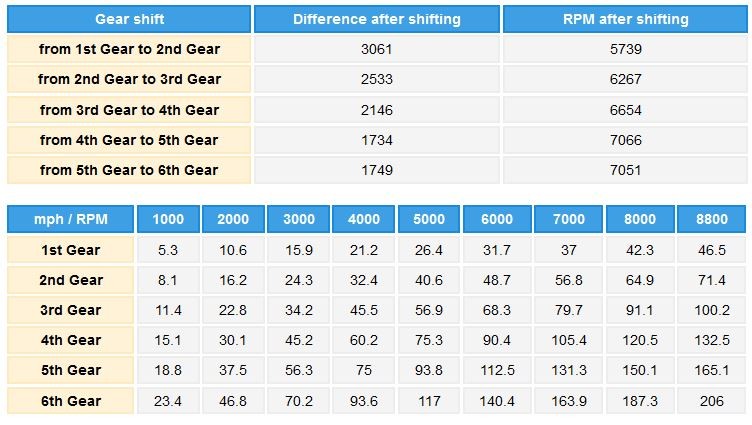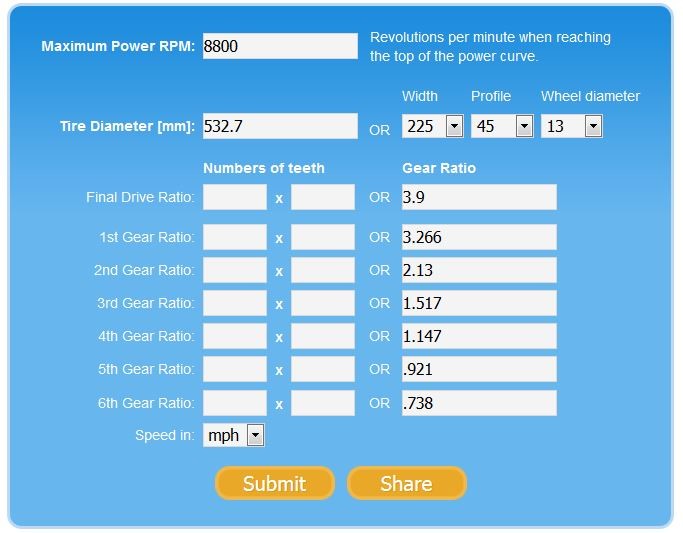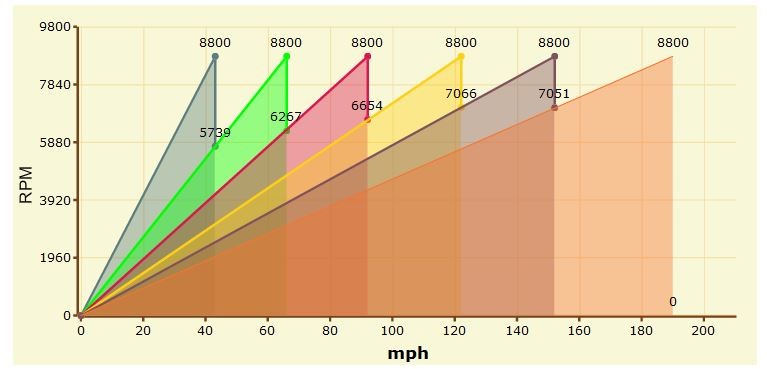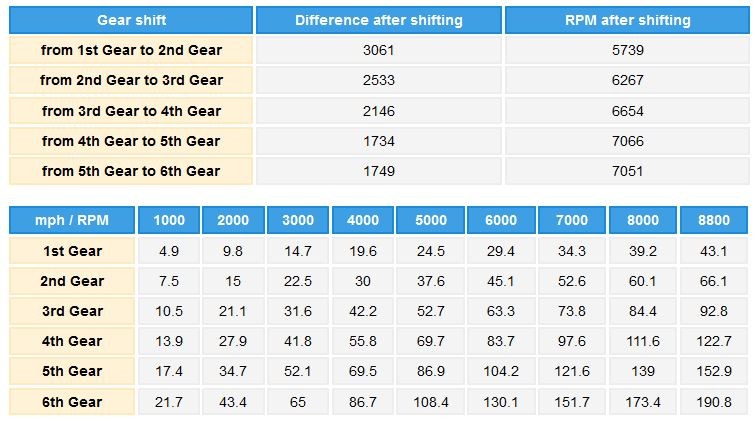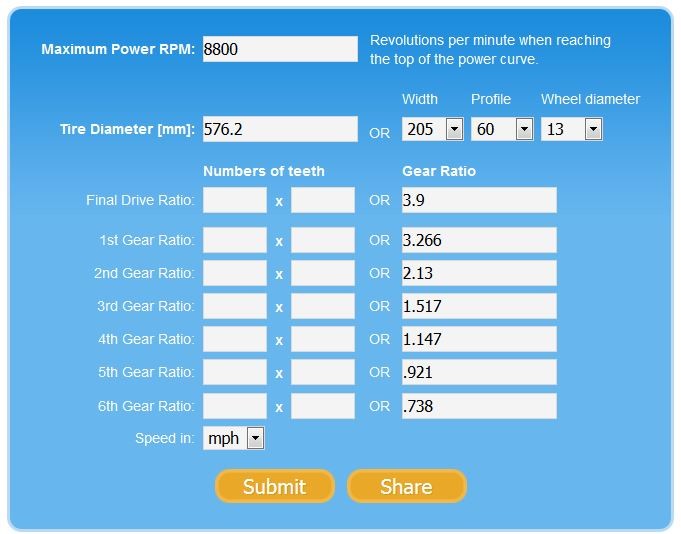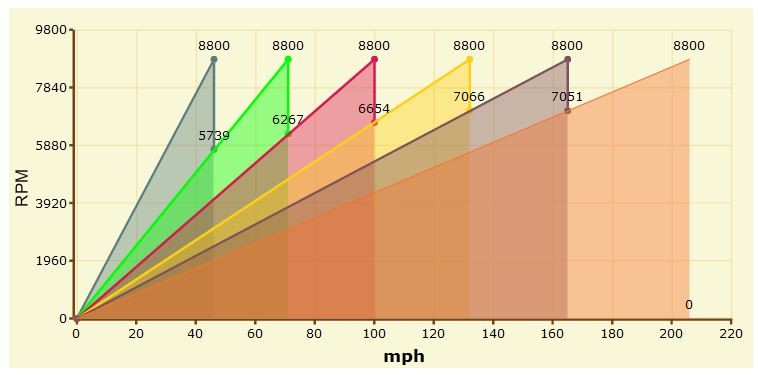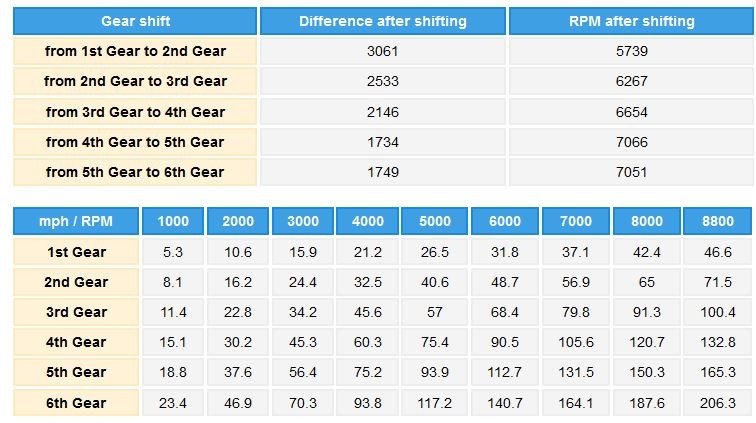 5-1-2017
As you can see in the below picture I am running 2 calipers, the Sierra type and the Wilwood. I am using the Sierra with a cable for the MOT handbrake and am going to be connecting up the hydraulic of the same caliper to a fly-off hand brake (for hill starts, not getting sideways - honest.....OK its all lies).....Even after all these years of ownership I haven't got around to fitting the fly off, I only need a couple of parts and I could do it, just another 5 min job, right.!!....
Re inner arches I made the molds and a buddy did the fibre-glassing for me.
I am based just outside Chichester, West Sussex, not far from Goodwood, if you're in the area give me a shout.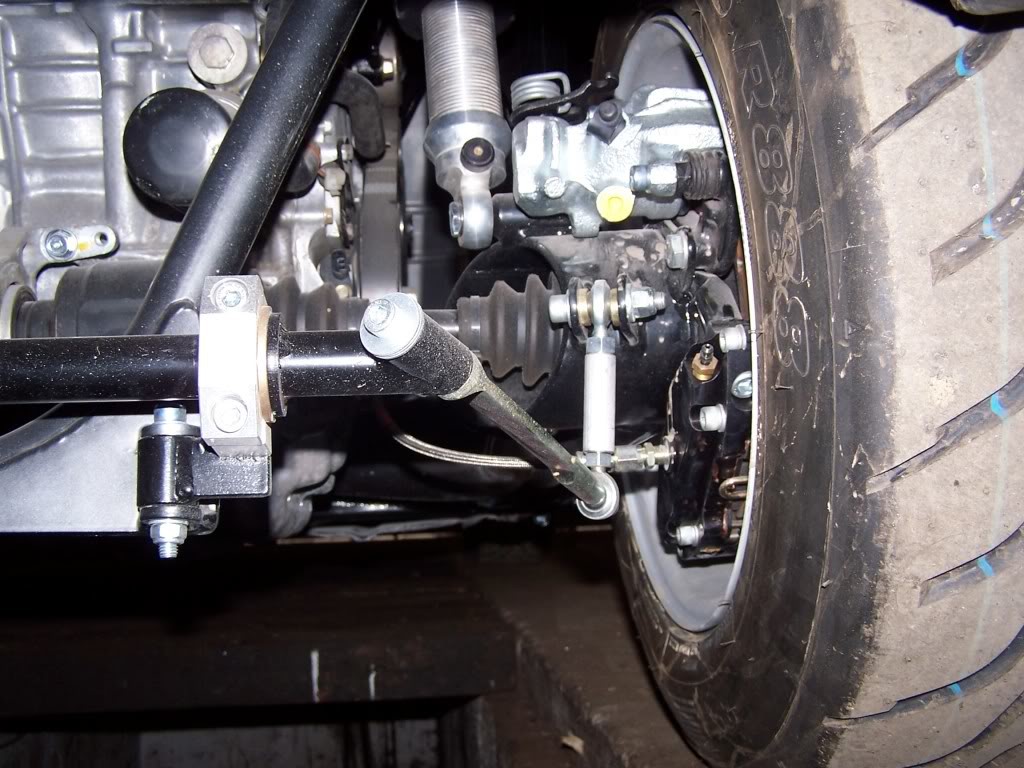 Avon ZZS 245/50 R13
I eventually got around to getting them fitted and thank god they work under the arches. I took off the 5mm spacer I was using but to be fair it could've stayed on as there's room for it. Fortunately I didn't have to monkey around with the wheel studs, however be aware if you're going really deep into the wheel nuts you can suffer from bad threads and pick up as recently happened to me......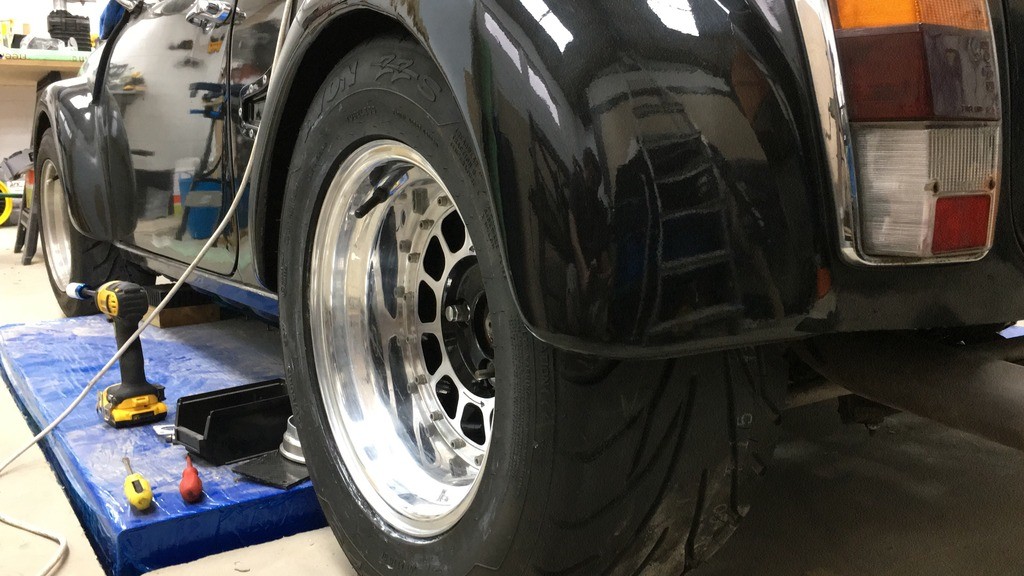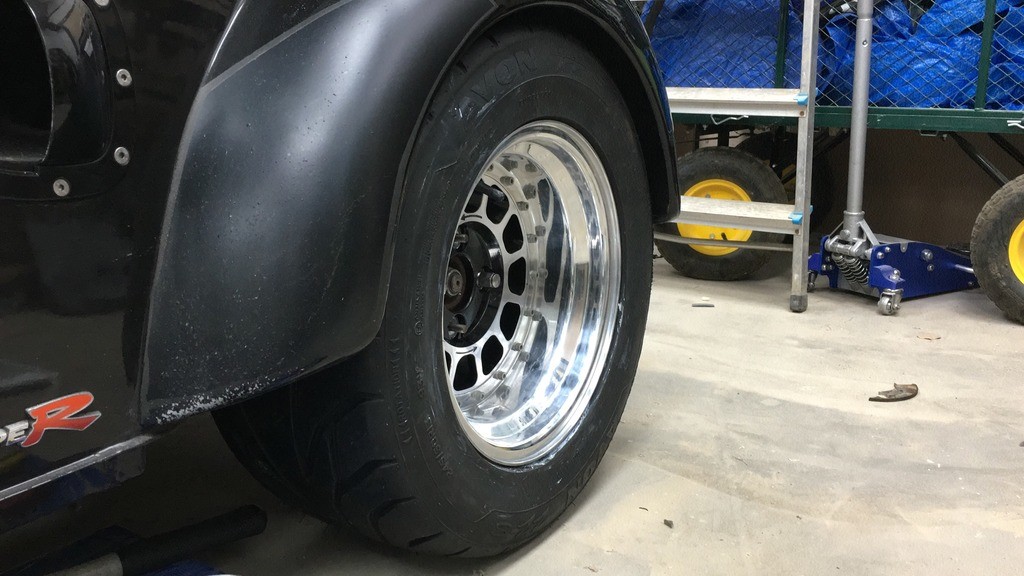 Supercharger Snout Brace/Clamp
Quite some time back, when I put the chargecooler on, I made a snout brace for the supercharger.
My thinking behind it was to:
a) relieve stress from the intake manifold to cylinder head bolts,
b) to replace the original idler pulley position to greatly improve the effectiveness of the belt tensioner (JRSC setup without idler was rubbish)
c) adding a further idler pulley would greatly improve the amount of belt wrap on the charger pulley as it was getting spun faster I didn't want belt slip.
I mistakenly thought that a slight interference fit would suffice to keep everything in check, nope...... I cant begin to explain the amount of black cr4p produced by the two parts rubbing. So below we see it as was (1st picture) and then how it is now after a cheeky bit of machining by my good mate Stevie G....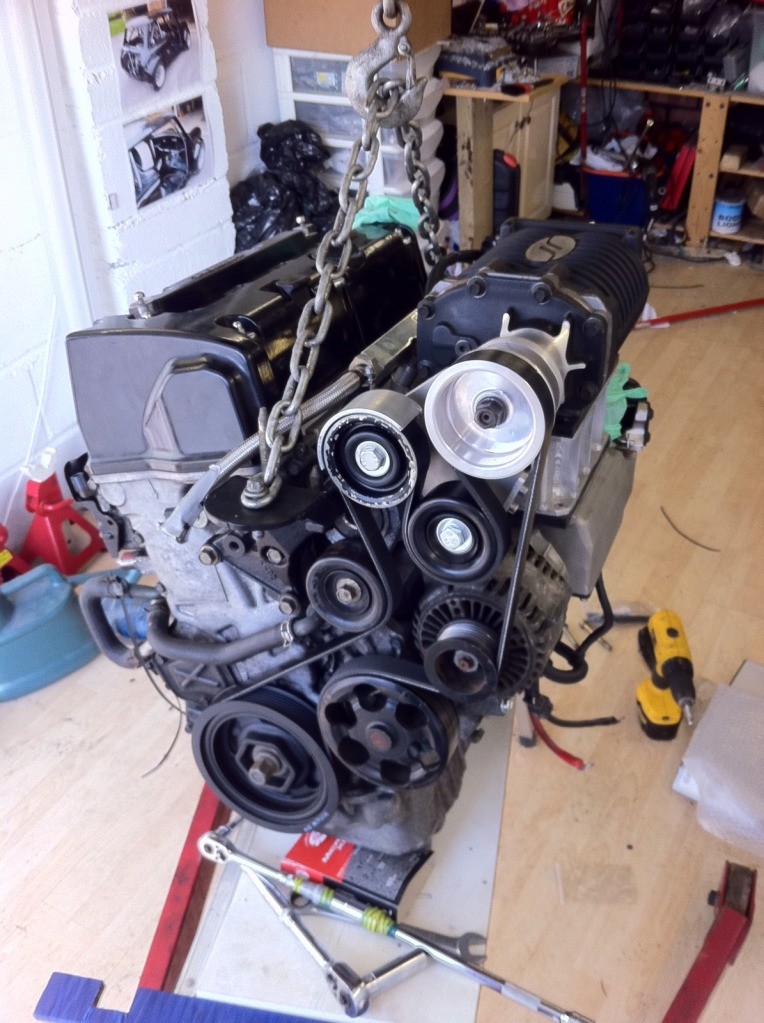 That bad boy is not going anywhere now it's clamped down properly...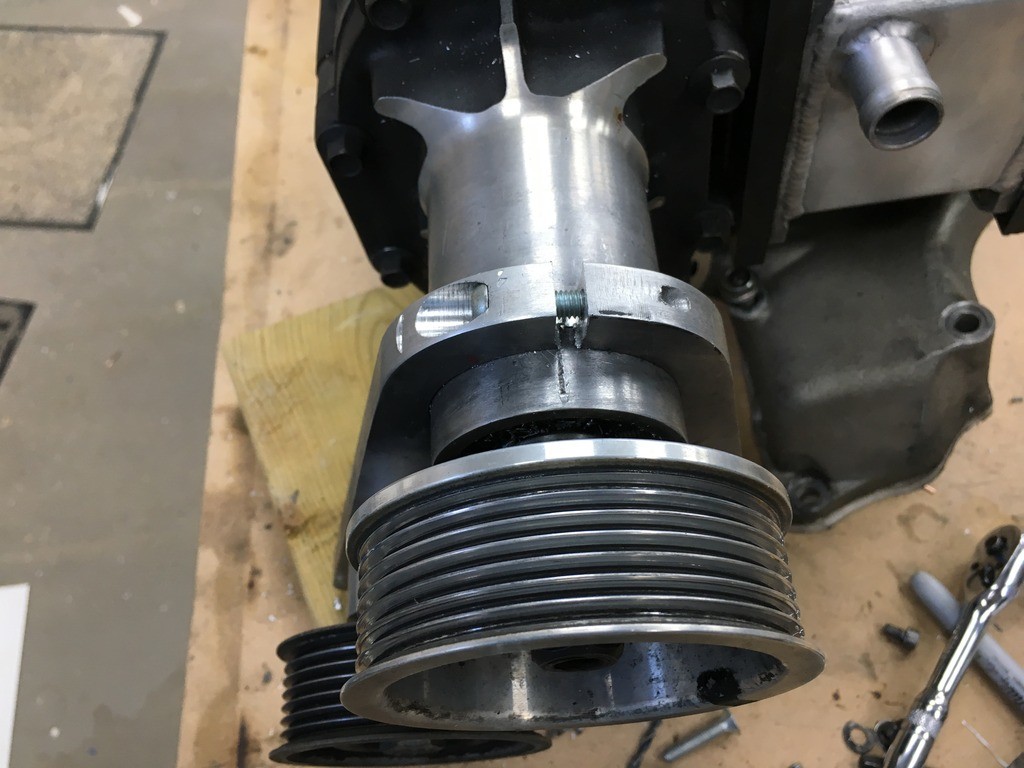 4-30-2018
New Driveshafts
So late autumn last year I had been out for a hoon and when setting off onto a roundabout I snapped a driveshaft. The same side as had previously snapped. Not happy, more than anything not happy because had to push the fecking thing myself off the roundabout, with everyone I'd previously overtaken going past.....I'd like to add that I consider myself fairly mechaincally sympathetic when driving and absolutely do not clutch drop when setting off so this happening a second time was disconcerting.
I got in touch with David at Zcars in Ashford, about getting new ones and went for a trip to see them in the new (to me) premises. For those that haven't been it's a really professional outfit and is so good to see someone trying to make a go of the company. If anyone ahd any doubt about the new company being as good, I can tell you they are and their customer service is top notch.
In our discussion we agreed that just using the same driveshafts as previously supplied was not going to work long-term. The new driveshafts are made from gearshaft steel so should be able to take the abuse, especially as I plan to add a few more ponies down the line (more of that later).
Old snapped one: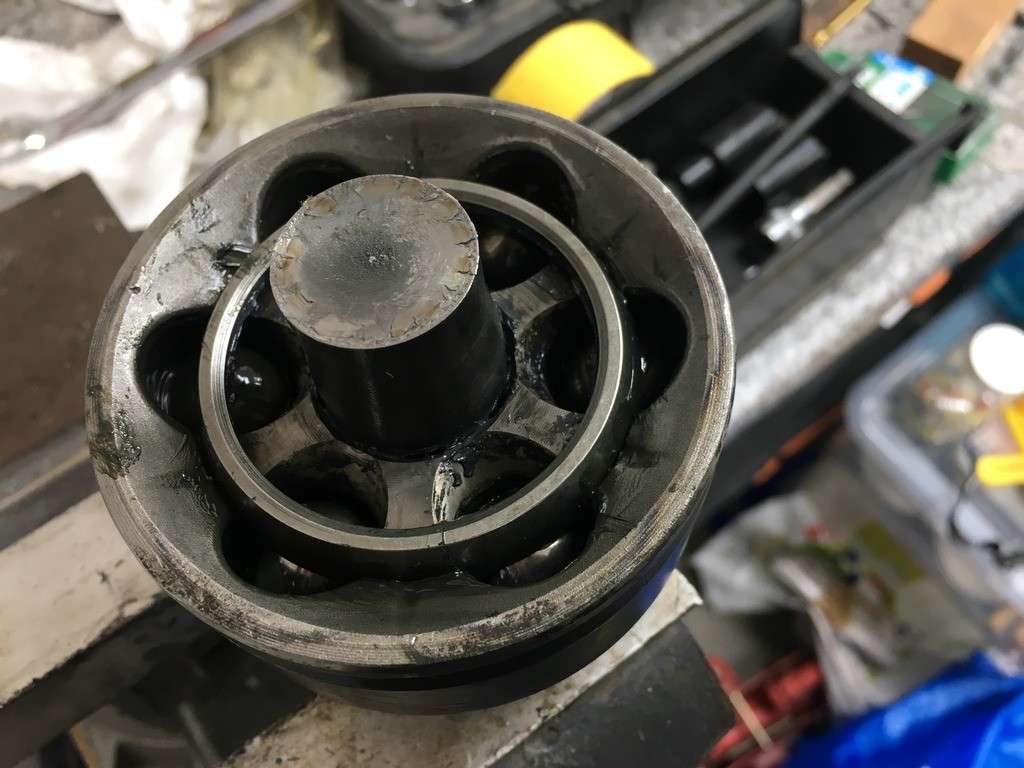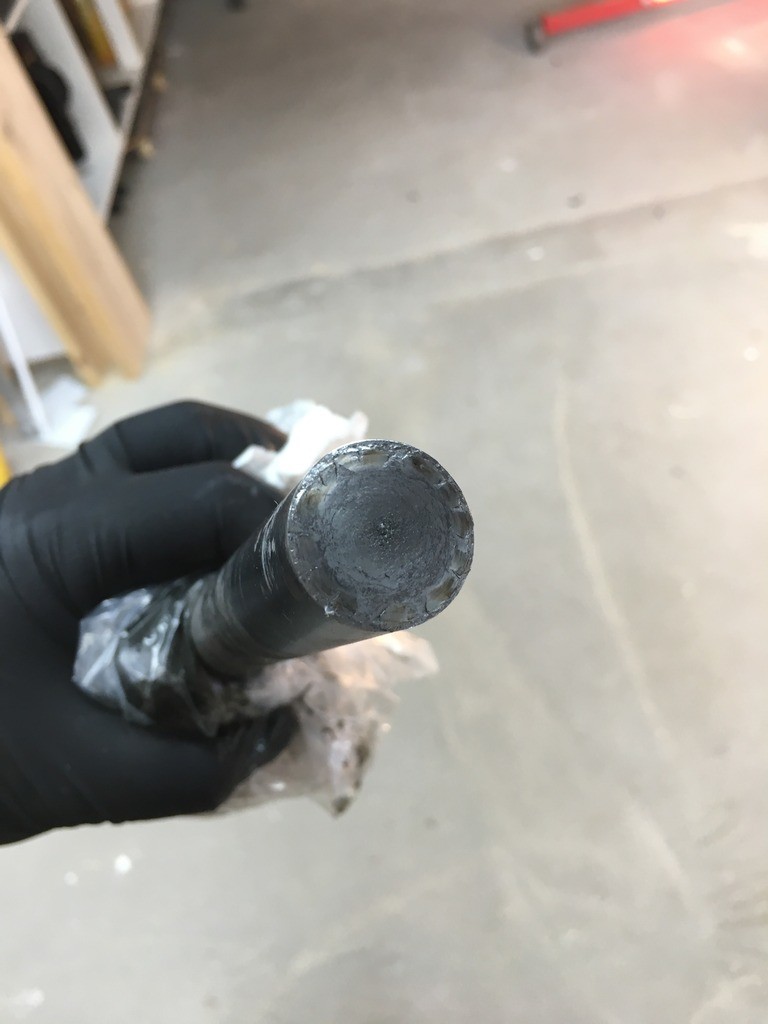 New shiny ones: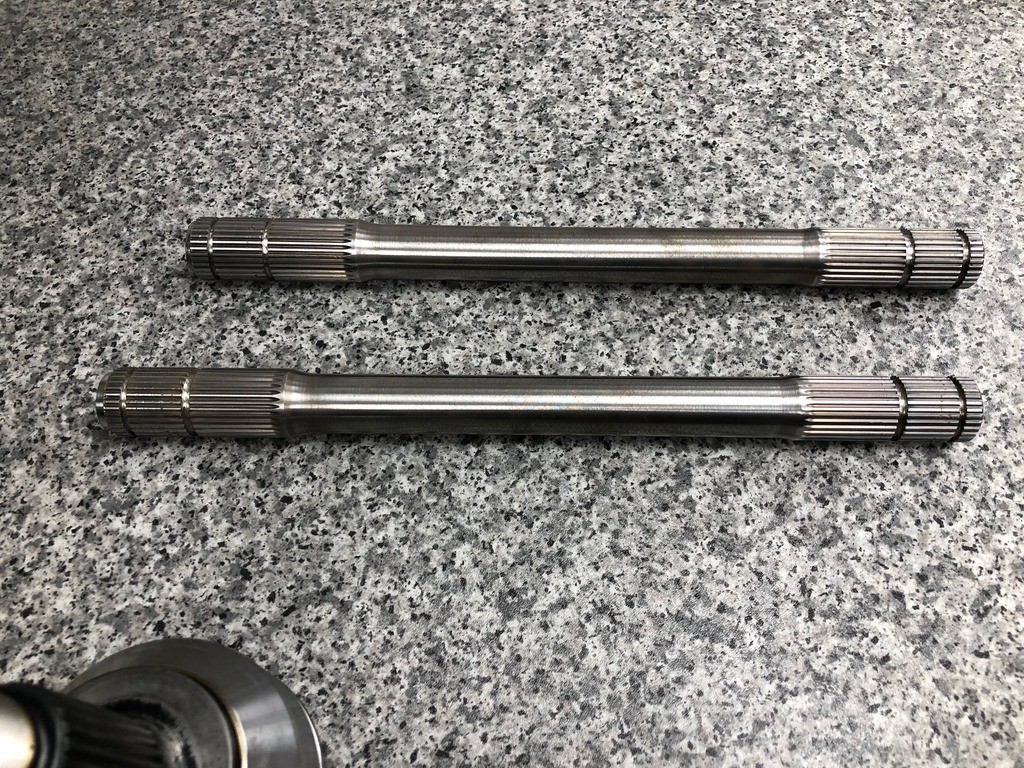 I am trying to get them fitted asap.
Total of new shiny bits: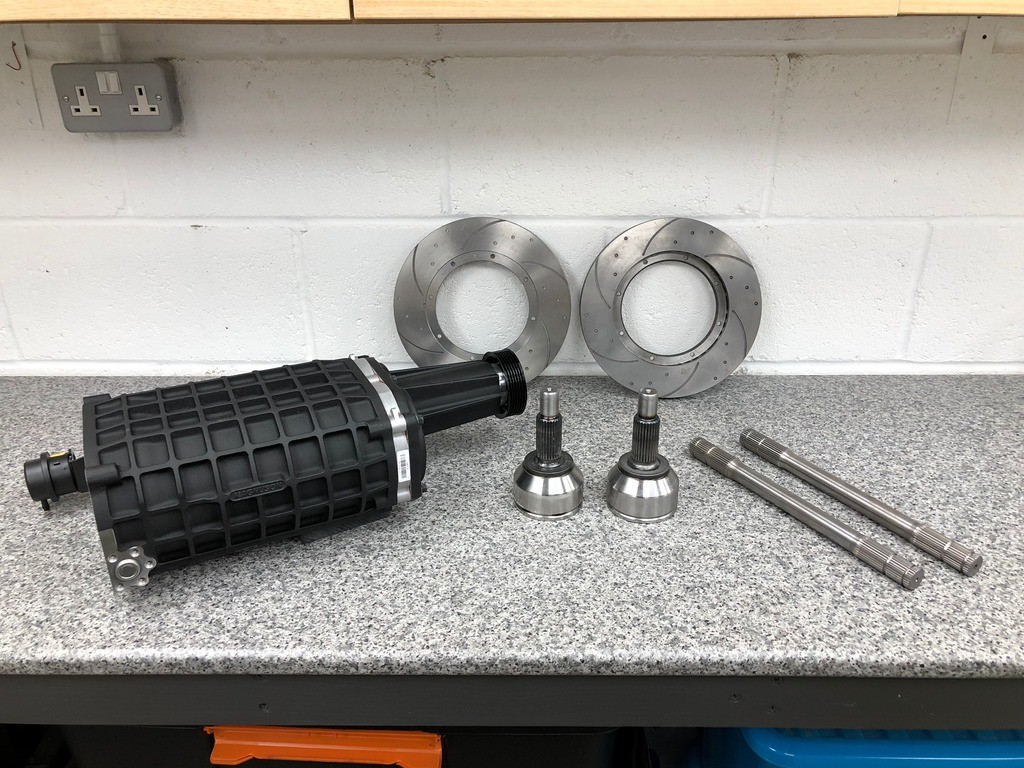 New Supercharger:
Some of you may have noticed a new SC in the photo of new shiny bits. Well this payment for CAD work for my man at Merc Racing in the US. I've been designing a new intake manifold for use with the Honda K20 engines that can take different sized superchargers and also have the facility to add a water to air intercooler core if required.
The old Jackson Racing unit I have currently strapped to the car produces 1.02L per revolution (3 lobe 60degree twist). The new SC is a Magnuson TVS2300 and produces 2.3L per revolution, not only does it move more air but it uses a 4 lobe design with 160degree twist which is better for peak performance.
I am currently waiting on the new manifolds being cast so wont have one in my hands any time soon.
Here are a few renders of what it looks like: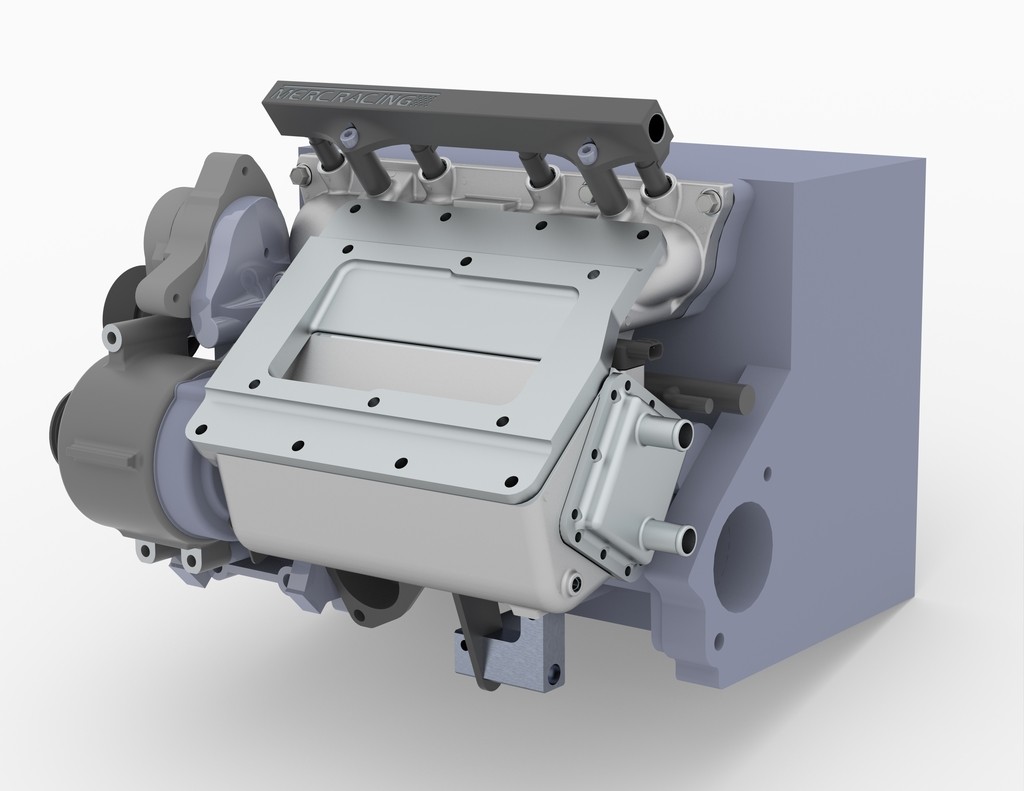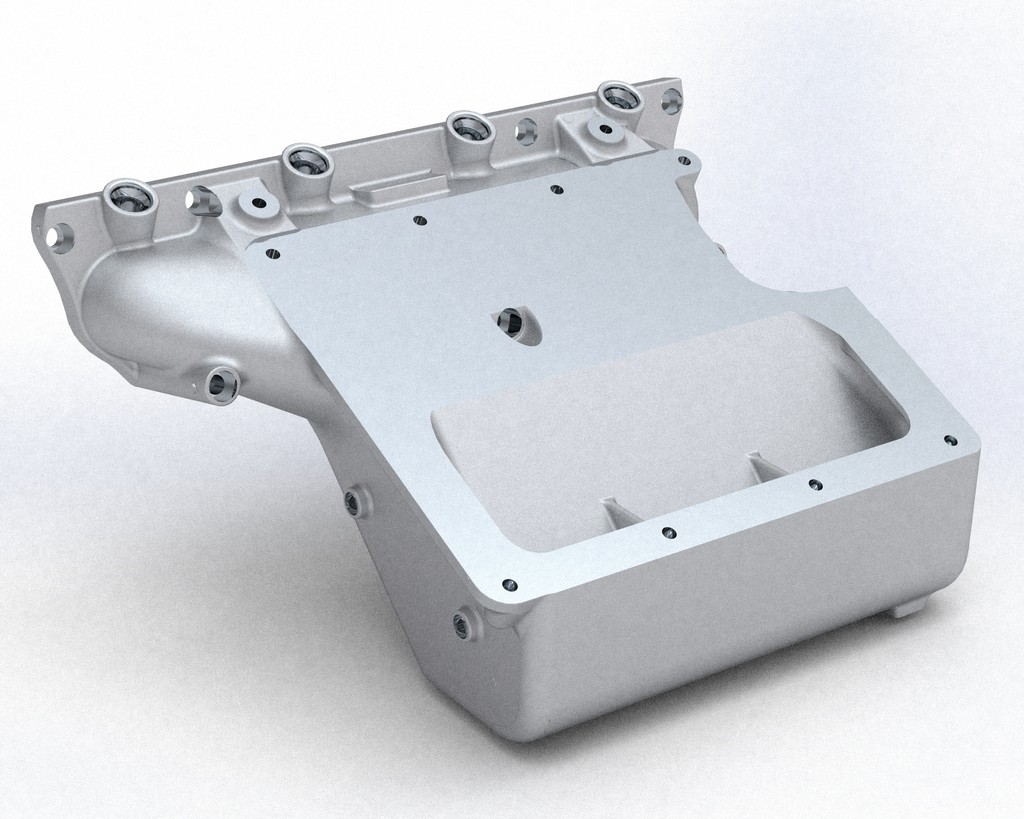 I invested in a 3D printer earlier in the year so I could validate the design, here's a few pictures of the print: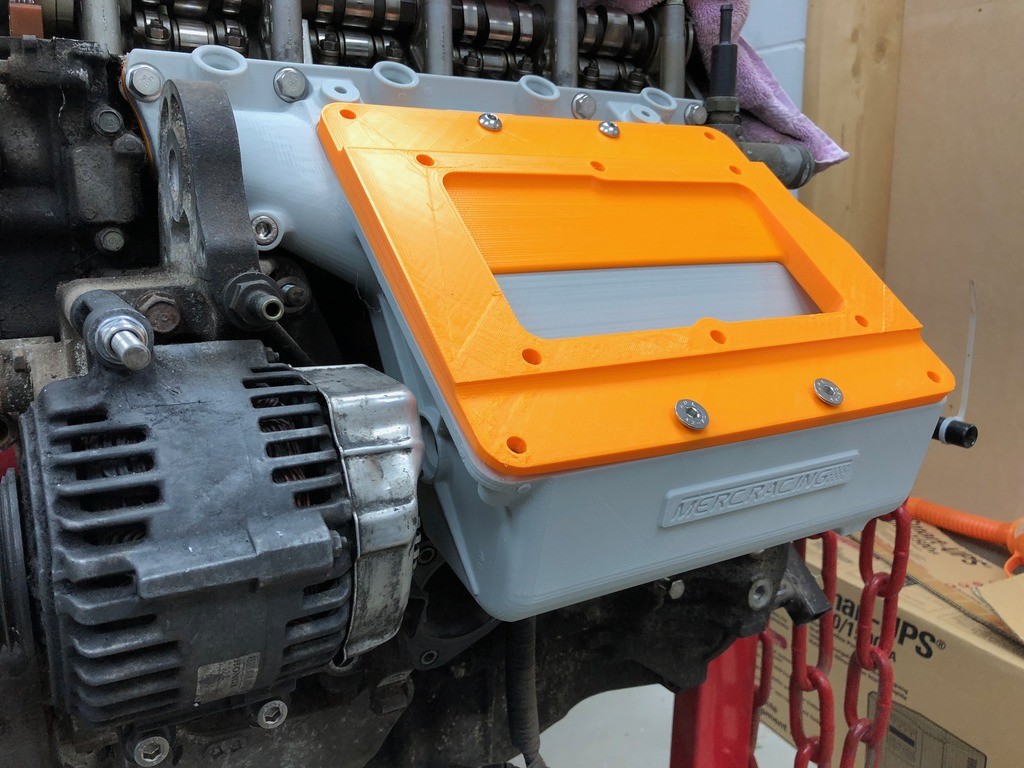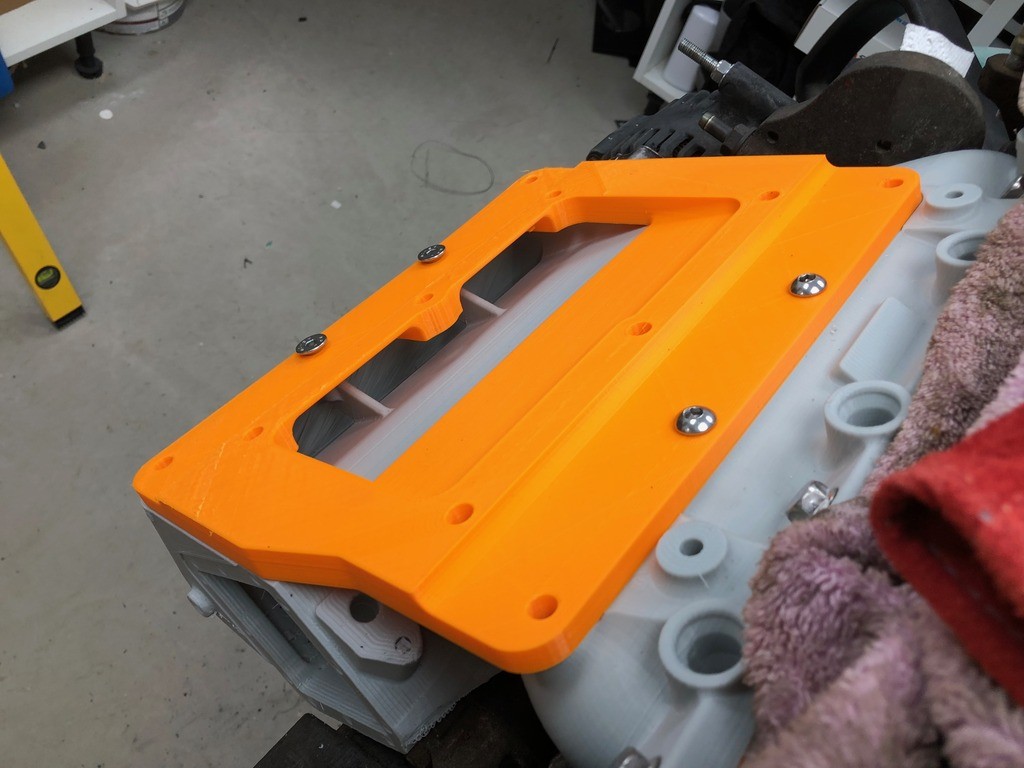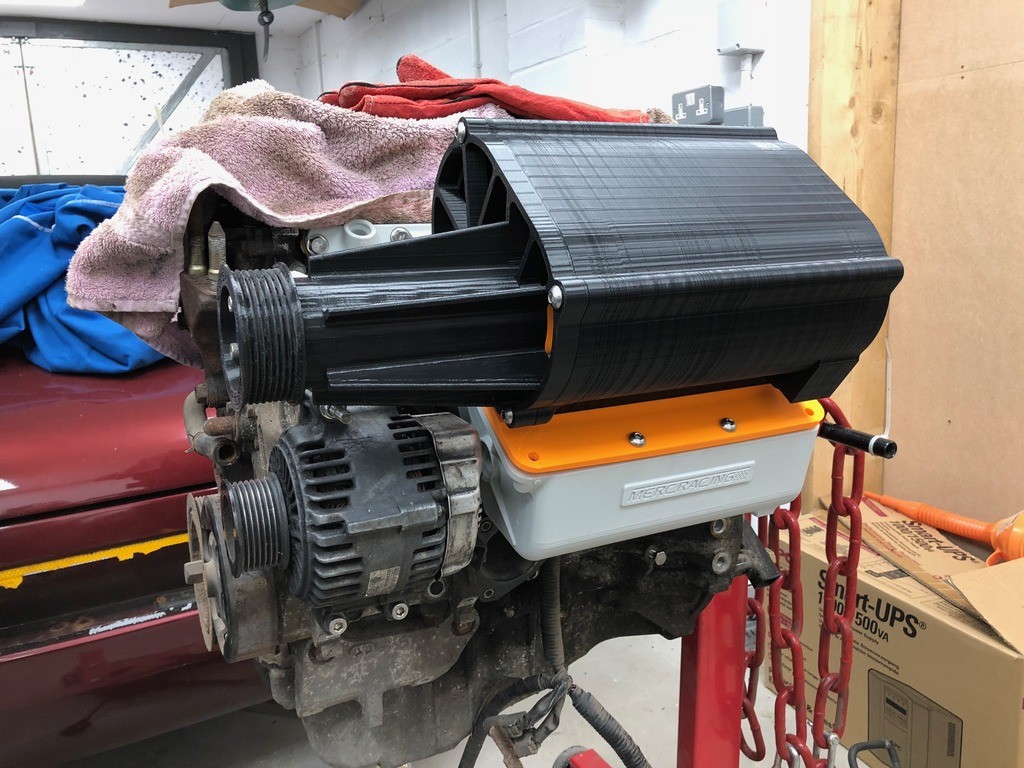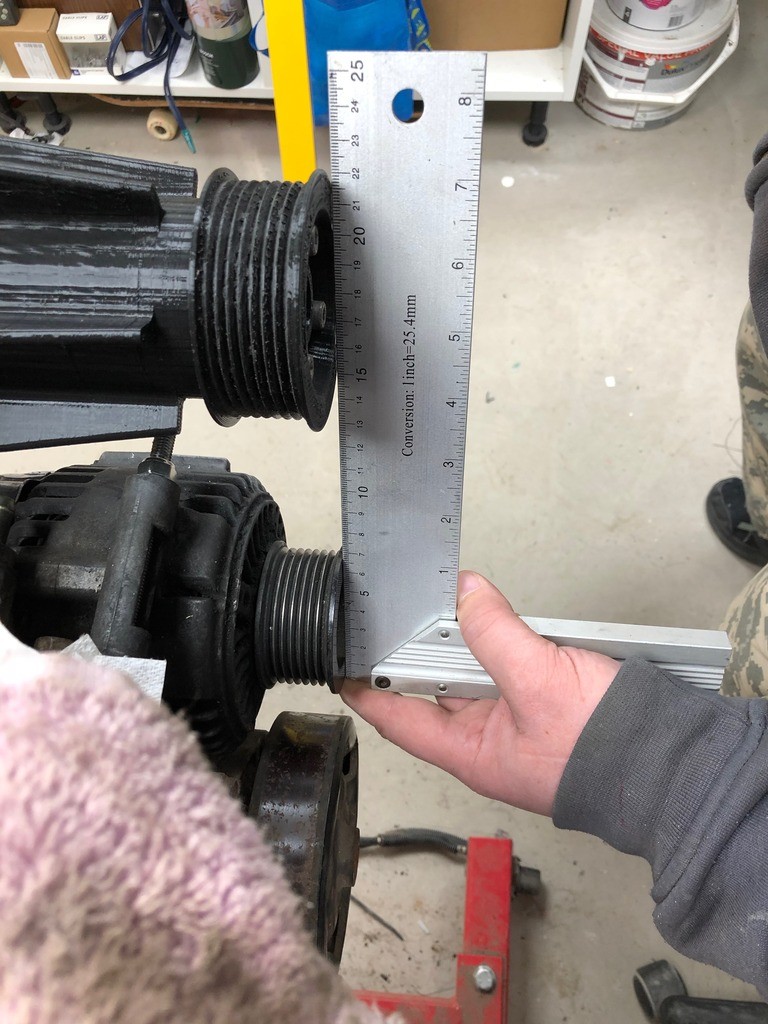 Here's a few more of the TVS2300: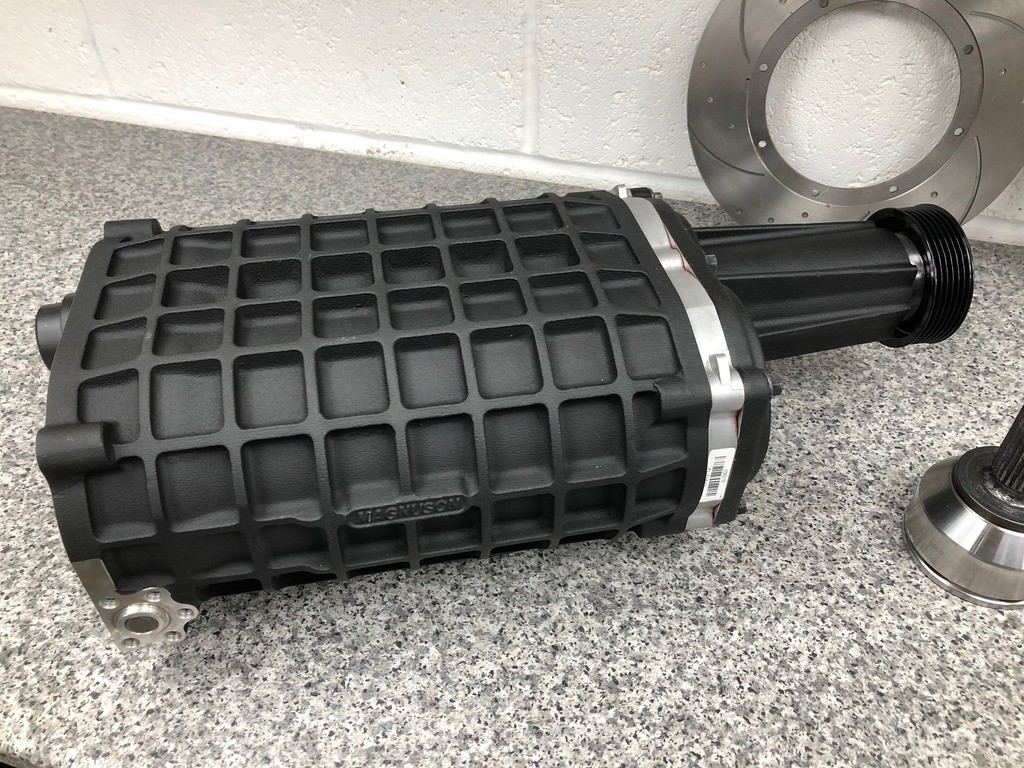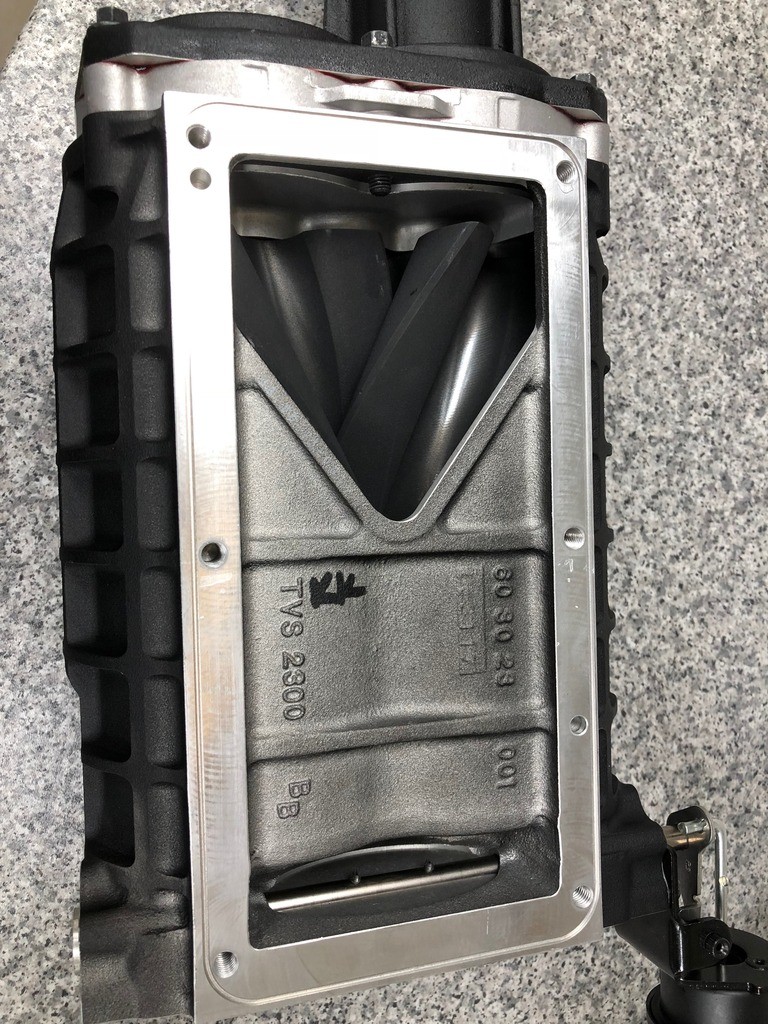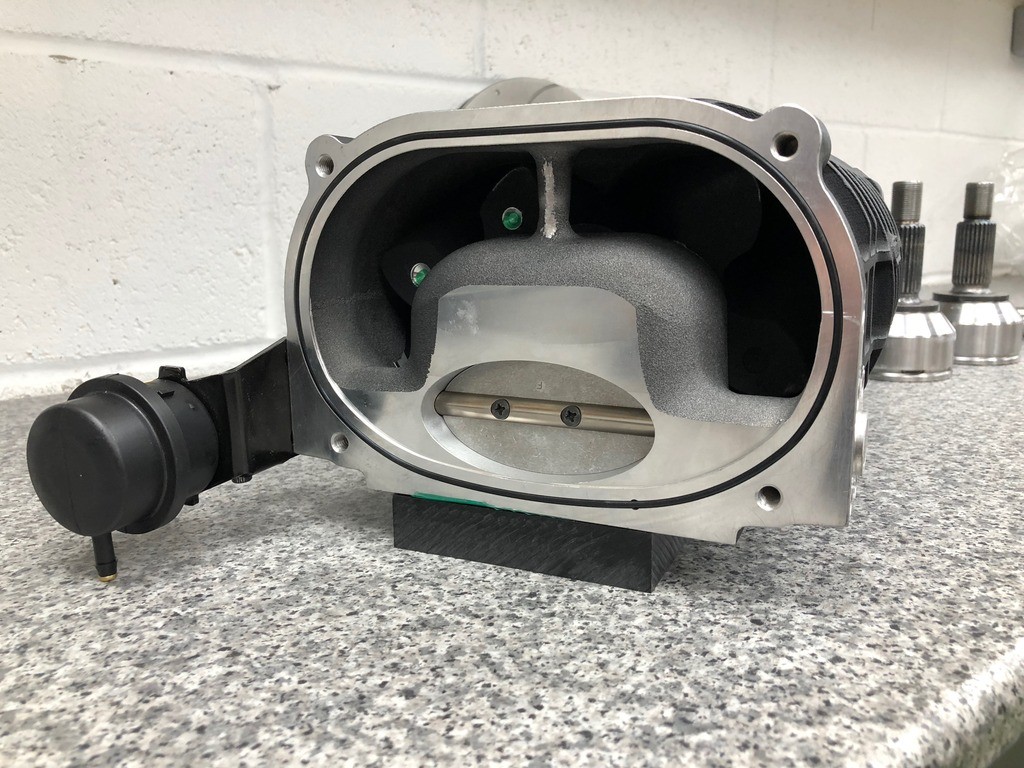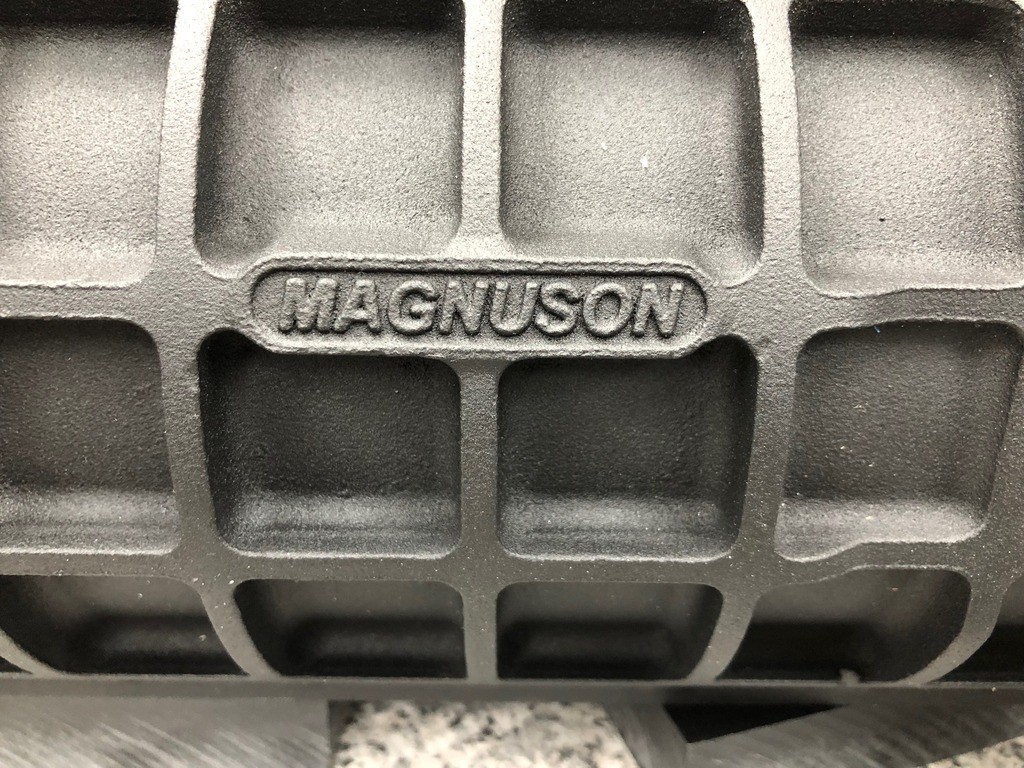 It's only downside: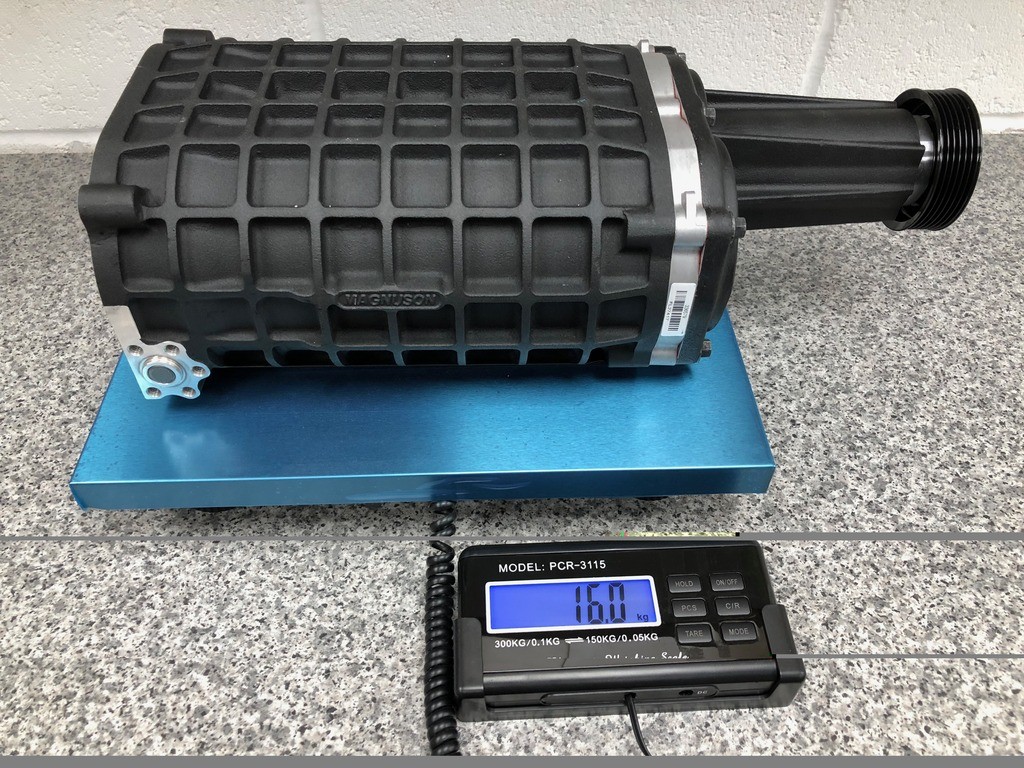 Obviously more to come as and when things progress.....
5-29-2018
Rotrex will net you nice peak power numbers but power ends up right at the top of the rev range, if you're racing then great to have it up there but for daily drive I'd look more to the Roots, the newer TVS from Magnuson are aimed to produce power a bit higher in the rev range but the power curve will be mostly flat, with a slight rise, rather than constantly rising like a Rotrex.
It all depends on how you like your power delivered, mine currently has a pretty flat torque curve so the power feels pretty constant through the rev range. Having good torque lower down is nice for overtaking on normal roads as you know exactly whats coming......no massive boost (turbo), not waiting for PSI/torque to build with revs (Rotrex)....but some people like it like that.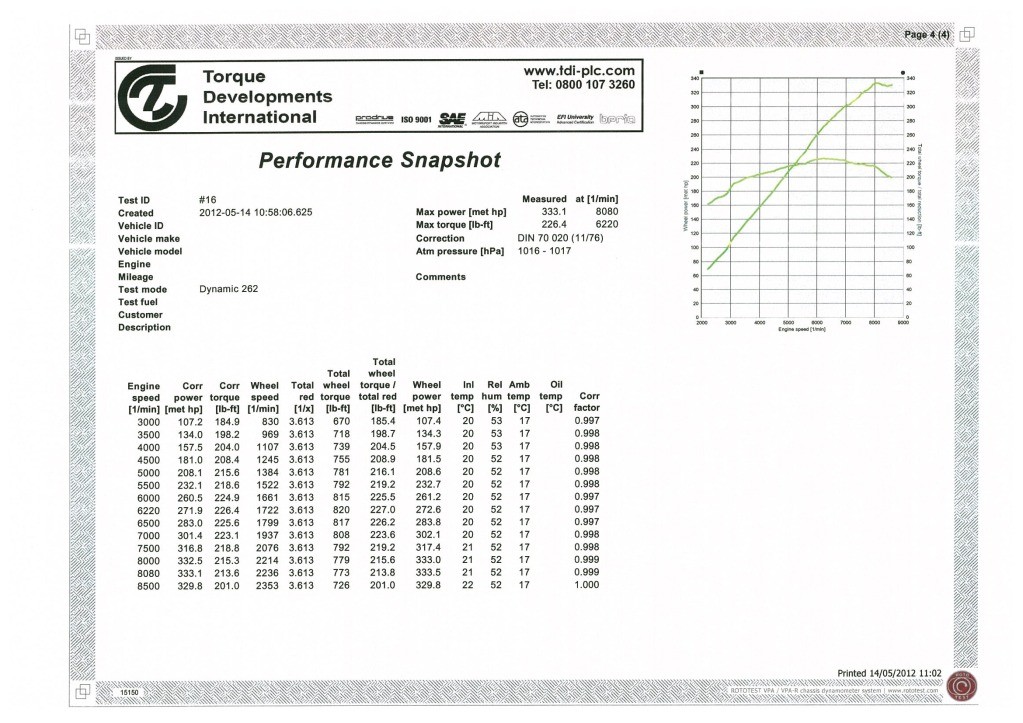 2-7-2019
Intake manifold casting finally arrived

Its been a while since posting, been turbo busy doing an extension on the house and anyone that has done one can tell you it is all consuming and unfortunately I am not even near completion.

Yesterday the fruits of my 3D designing labour came to fruition when I received my own intake manifold to strap my supercharger too. Jose at Mercracing also bunged in a manual tensioner that we designed a few years back. As suspected the casting looks identical to the 3D print I made of it early last year. It's taken quite a few rounds of changes to get it all where it is today and I am hoping for good thigns from it. My only problem now is finding the time to do anything with it.

These kits can be purchased from Mercracing in the US (Pro-Street Kit) and can use a whole host of different superchargers, from the JRSC (Eaton M62) that I have in mine currently, a CT Engineering (Eaton M62 different body), Magnuson TVS 900, 1320, 1900 & 2300 (my new one).

Pictures:

Kit all wrapped up: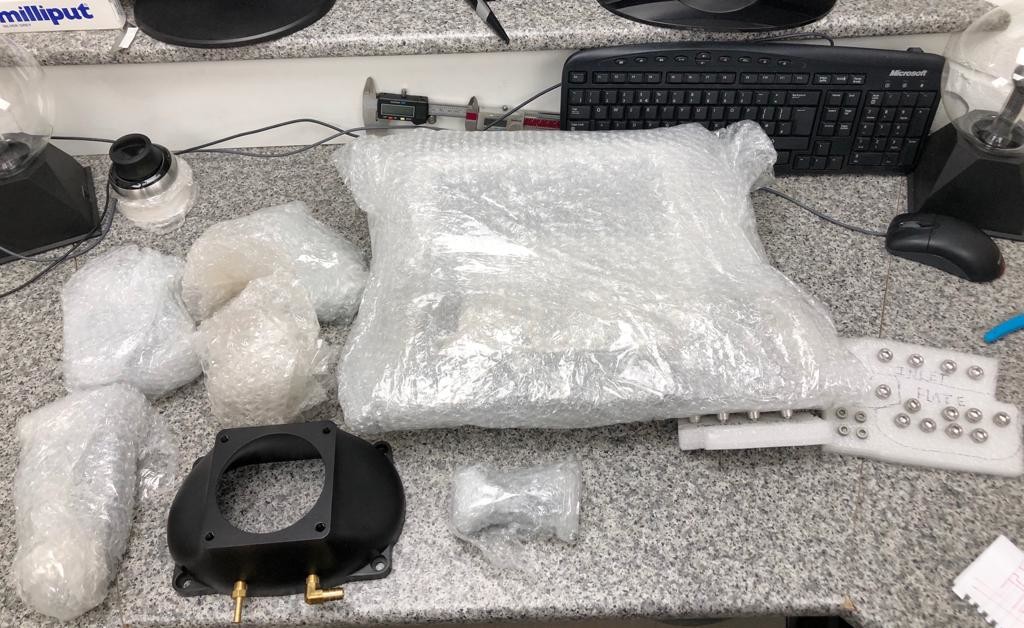 Unwrapped: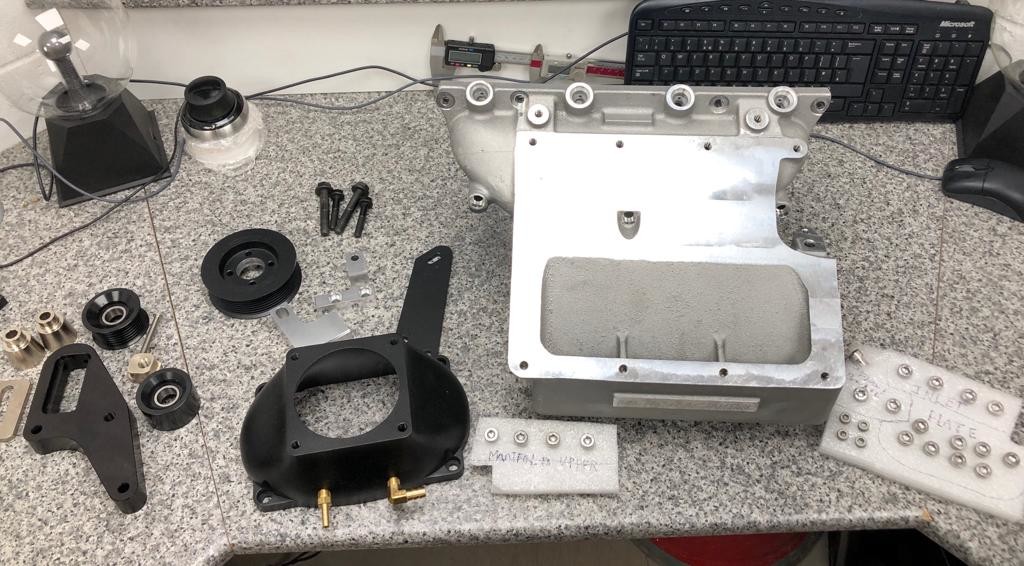 Nice to see it comes with all the bolts required for the build


A few close ups: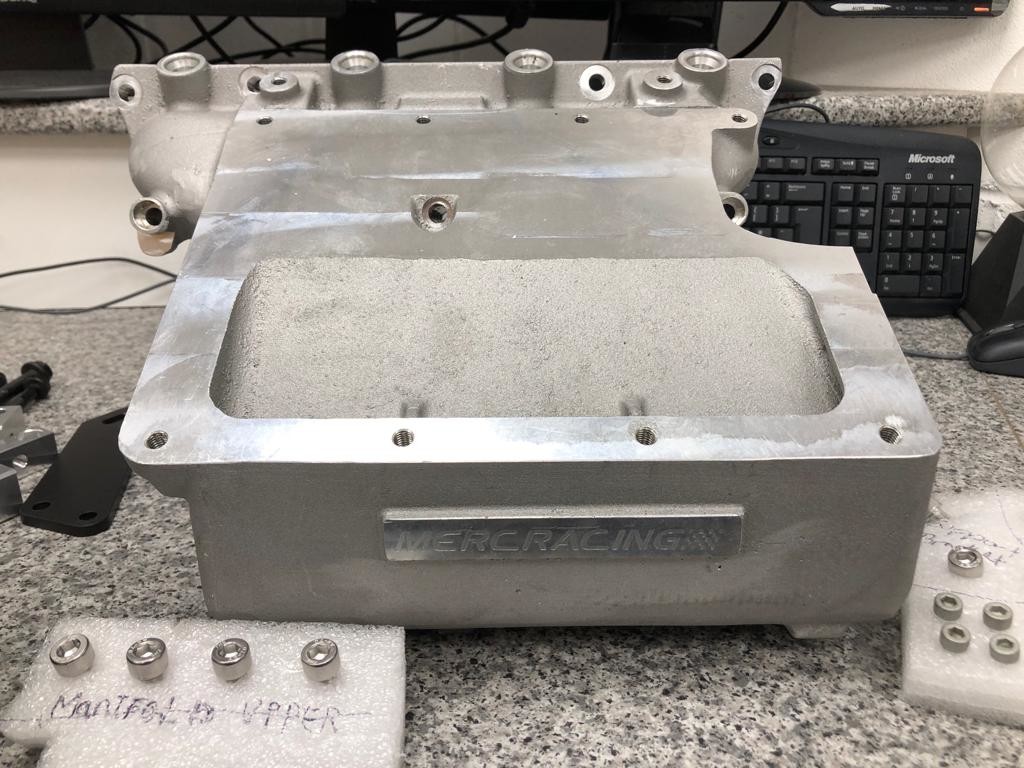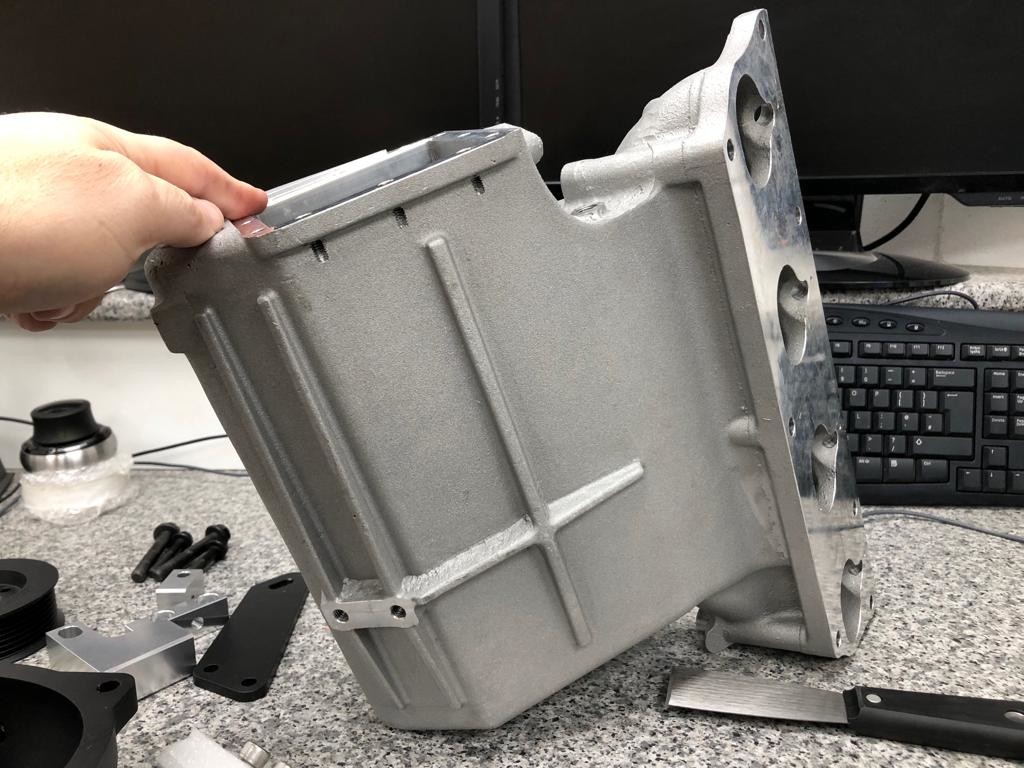 One of the casting against the 3D print: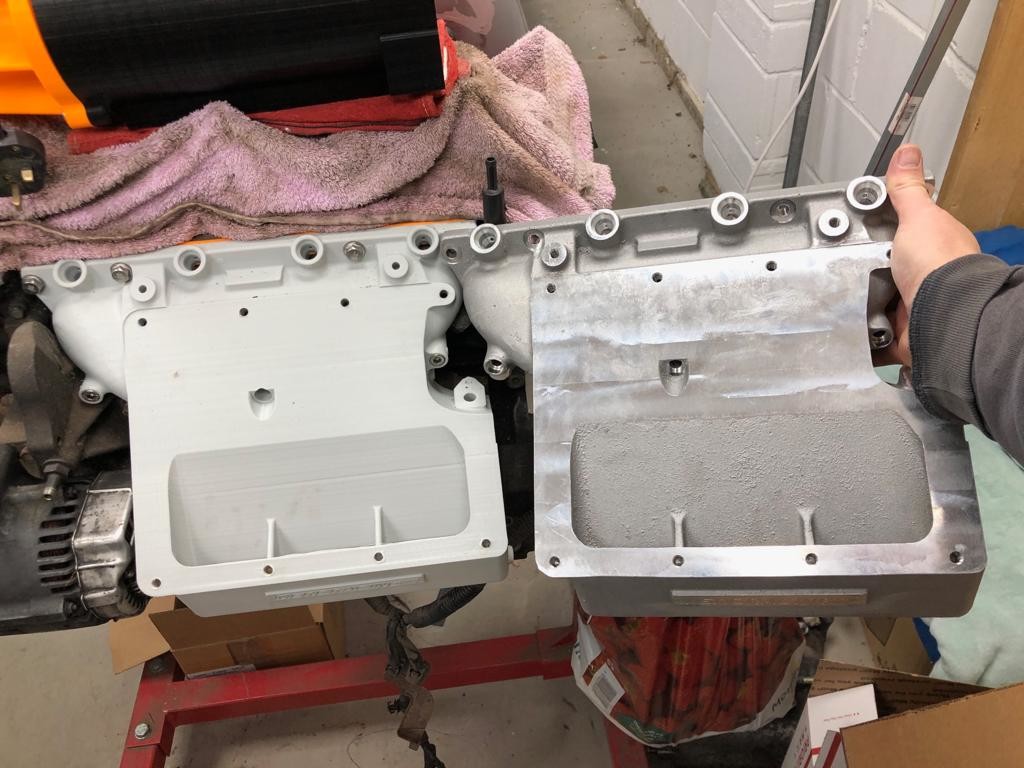 Inlet manifold to fit to the charger for a 90mm Throttle body, should suck some air in.....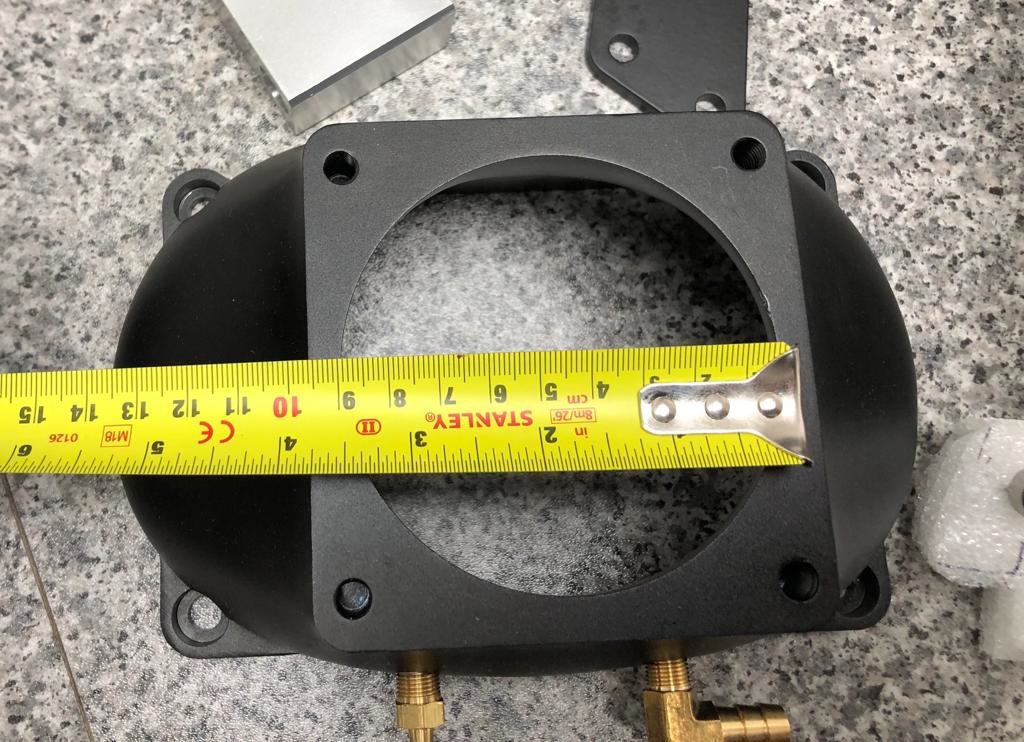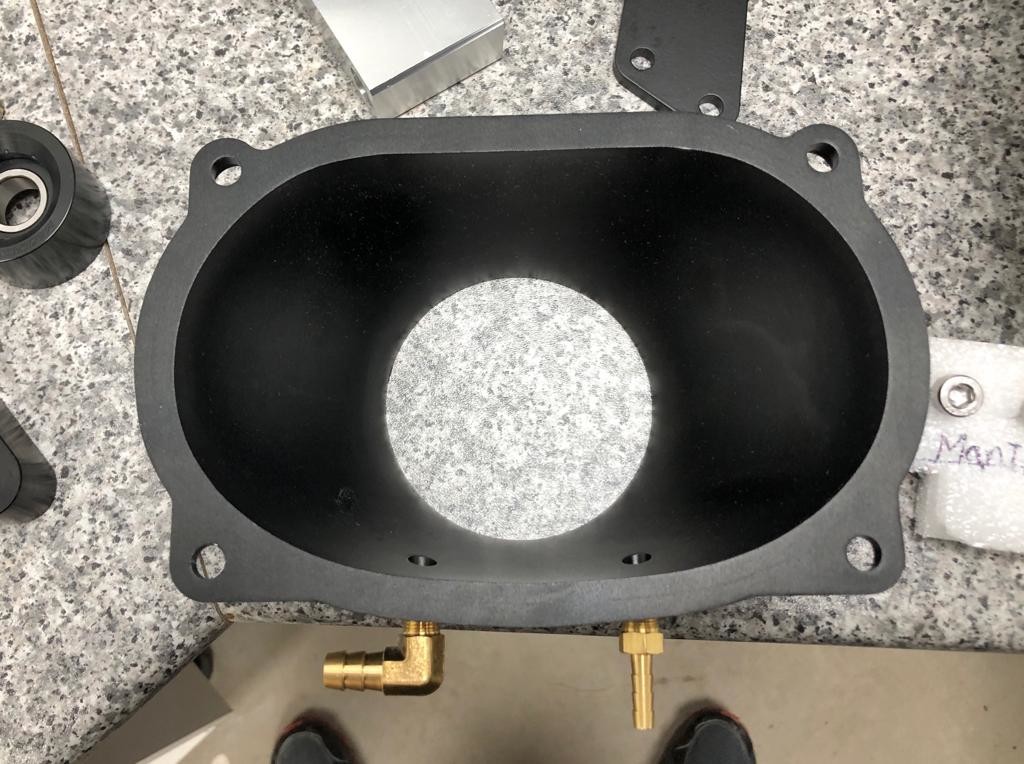 Finally the Manual Tensioner, especially useful if you cant find a 7PK belt that's a spot on fit: