Badev0's Build part 2 - Built 2.0/FF 6266 by badev0
By diyauto
Badev0's Build part 2 - Built 2.0/FF 6266
Compliments of badev0 @ www.evolutionm.net
Part 1 is found here: http://forums.evolutionm.net/evo-dyn...mph-traps.html
2012 DSM Shootout. This was the best Shootout yet. We had a very large group of friends from our area come down and enjoy the weekend. We arrived Thursday night, then enjoyed the day at Buschur's for the car show/dyno day. I was not planning on dyno'ing my car, but my friends somehow had my name on the clip board and money in my hand, so dammit I guess its getting dyno'd....
It put down 631/485.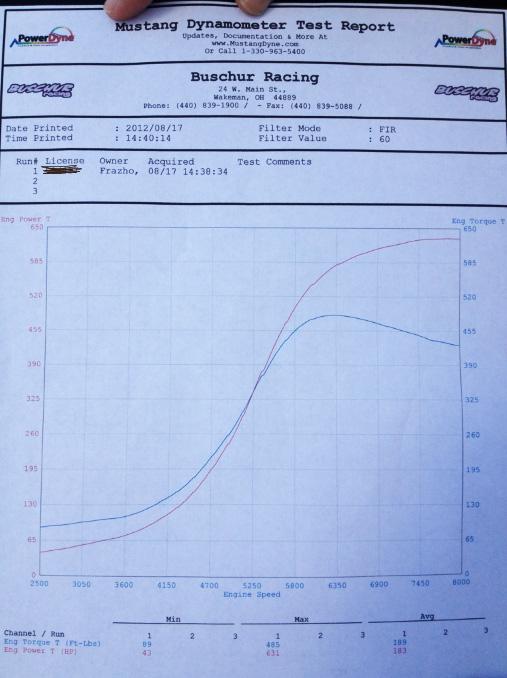 Come Saturday, we got to the track around 2:30, just in time to get my tech card filled out and make some time trial passes. First run, the car broke up really bad. Studdering all the way to redline. Odd, I did a clean pull on the way to the track to make sure things were OK. I checked the plugs and they all looked fine. Everything else in the bay appears perfect as usual. I headed over to Buschur's booth and grabbed a new set of plugs. Gapped, installed, did another run, same thing. Must be ignition related, that sucks. Grabbed my friends stock ignition and threw it in, same thing. Tom and I lowered the boost and richened the tune almost 25% which got it to pull clean. Went and did a pass, 10.1@139. The issue is also very intermittent, it'll happen, then the next pull it wont.
At this point, we aren't really sure is going on. Tune looks fine until it breaks up. I turned the car on after watching races, and it started running super lean at idle. That tells me its the primary pump.
We swapped in another primary pump back at the hotel after our amazing dinner at a little diner in downtown Norwalk with our 20 group of people. Fired her up, back to normal. Awesome. Went and did a 2-3 pull to verify things are good, and it's back to full power.
It is now Sunday, up at 7:30AM to check out our hotel to be at the track by 9. I line up to do my first pass, ready to throw down something good in the 9s hopefully.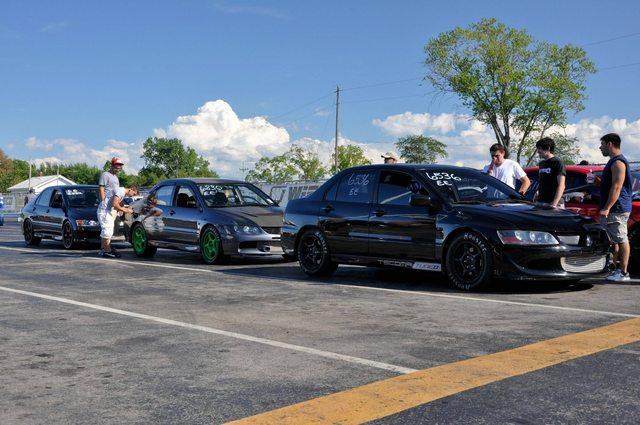 Launched off 7k, 1.49 60', grabbed 2nd...
...broke up all the way to redline...

At this point I have no clue what is going on. Cory @ STM with the black 2g offers to lend us his compression tester to check on the motor. First cyl, 150sh. 2nd, 150sh, 3rd, 120.... 4th, 150sh. (150 is pretty good for GSC S3's). Well, our guess is we burned a valve or a ring. The car only breaks up when the internal parts are really hot... especially when leaving off the two step that builds boost and crazy timing.
Turns out I did qualify into the EE class, and after watching the class, I would have done real good it seems like.
MONDAY NIGHT 8/20/12 - We did a leak down test to verify what the issue is. Turns out its either the rings or a ring land. About 25% loss. Combustion is getting into the crankcase for sure. It could also be the head gasket that failed in such away where that is happening. Possibly... I do still run standard ARP's at 90ft lbs that were installed almost 3 years ago using the 1x1 method.
I removed the head and everything looks dandy. I was able to verify the motor was indeed stock. Must be the rings or ringlands on #3. I could easily just fix that issue, but I think its time I build the motor before a rod shoots through the block and causes way more damage and money. I took the StockECU/Stock block record so that's cool at least.
Machining will be done by a local shop around the corner from my house.
Manley Turbo Tuff I-beam rods
Wiseco HD 1400 10.5:1 compression pistons
ACL Race bearings
ARP Main studs
O-ringed block
OEM Gasket
MAP H11 headstuds
Custom "AMS" style balance shaft delete
Head will be sent to Curt Brown for:
Supertech Nitrate coated SS valves
Race port
Bronze valve guides
Competition multi angle valve job
New seals
Pressure checked
Here is the full mod list:
2.0L
Manley Turbo Tuff I-beam Rods
Wiseco 10.5:1 pistons
Curt Brown Street/Race head
GSC S3 Cams
Kiggly HLA
MAP "UD" Beehives
PTE 6266 JB T3 .82a/r
STM FF T3 Manifold
Tial 44MM WG
DeadHookTuning custom 4" SS to Aluminum Exhaust
CBRD Half-size Rad
STM Coolant Reservoir
STM -6AN VC fittings
AMS F1-I IM
Full Blown 70MM TB
Buschur UICP
Buschur Race FMIC
Tial Q 50MM BOV
AMS Catch can
FIC 2150cc Injectors
Buschur Double pumper
-6AN feed
AMS Fuel rail
Stock ECU/Speed Density tuned by TSCOMPUSA
Grimmspeed 3 port EBCS
Omnipower 4bar
Spoolinup COP
Bushwacker Trans
Quartermaster 8-leg
STM fork stop
Torque Solution Shifter cable bushings
Torque Solution Shifter base bushings
Torque Solution Driveshaft bushings
Torque Solution Motormounts
AMS Mustache bar elminiator
15x7 Rota Slipstreams
Hoosier 26x9.5-15" QTP's
STM Drag Brake kit
STM wheel spacers
Hotchkis Lowering springs
Tubular front end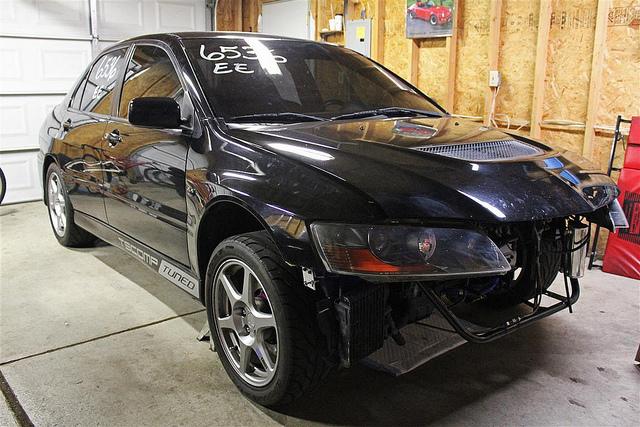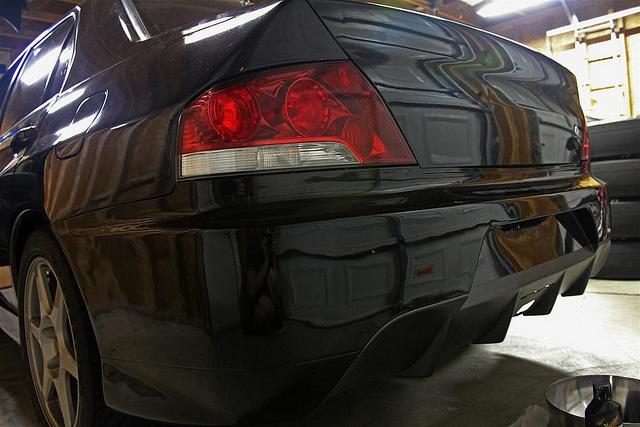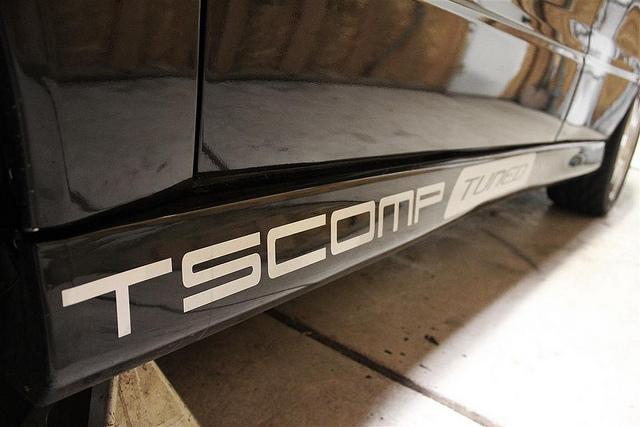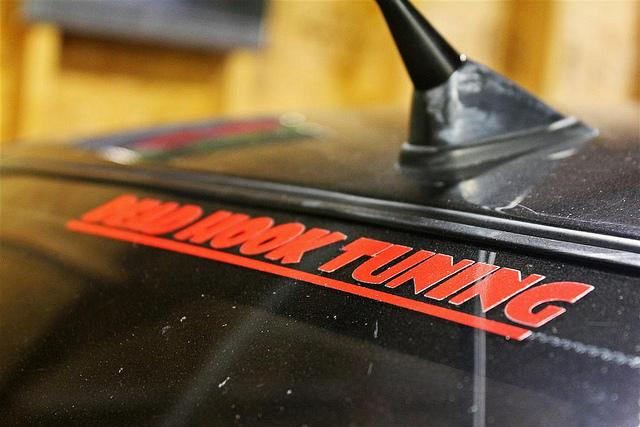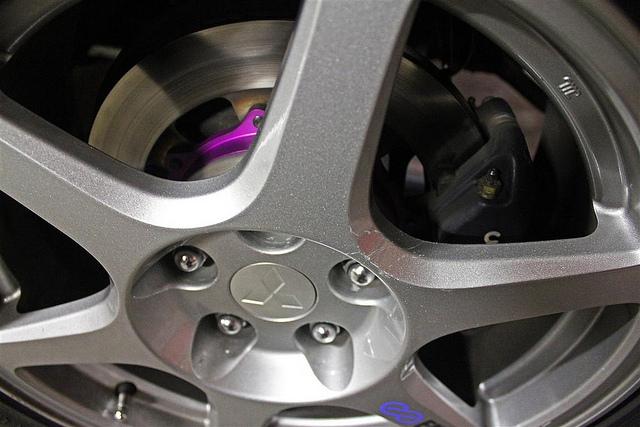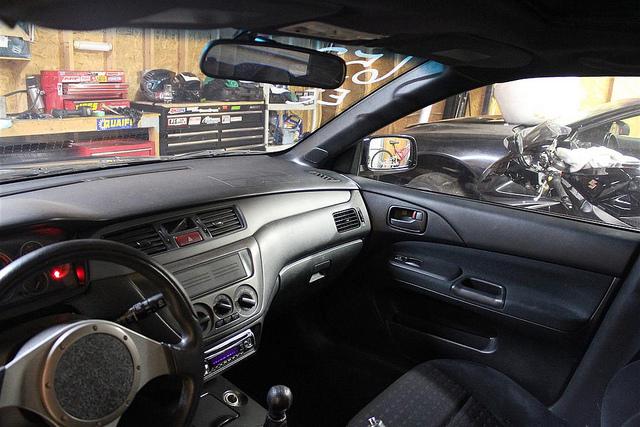 Going after this class next year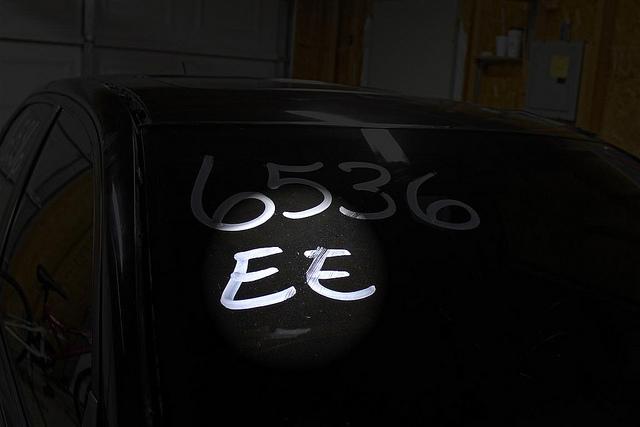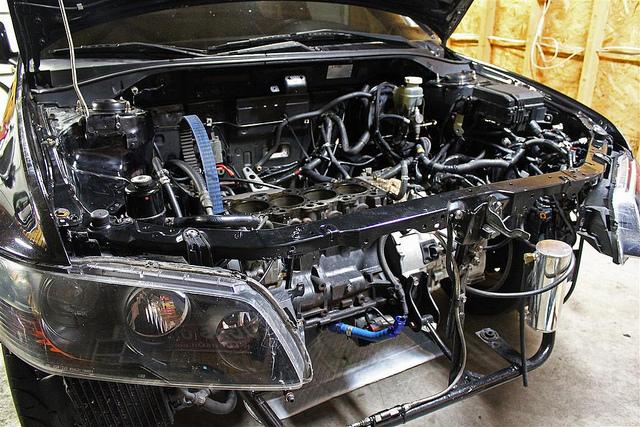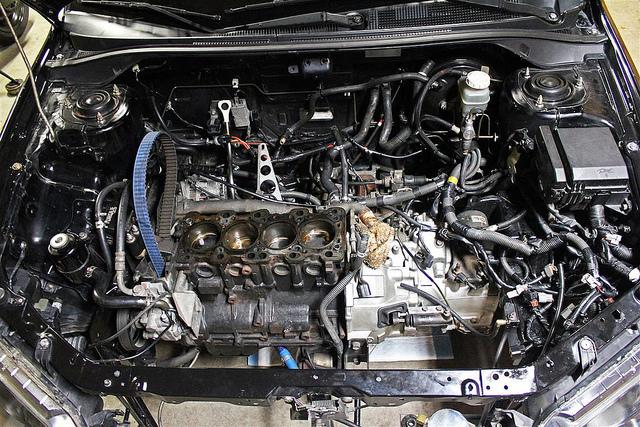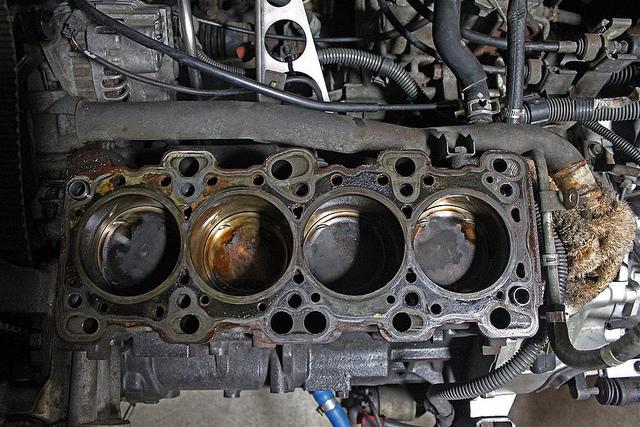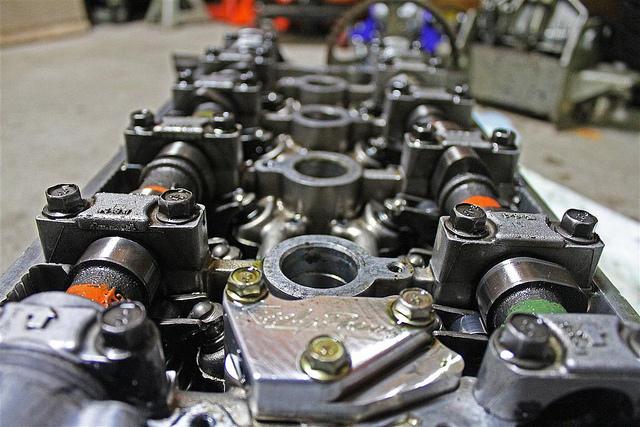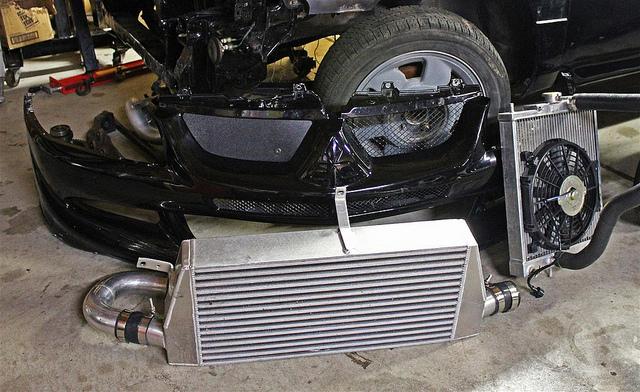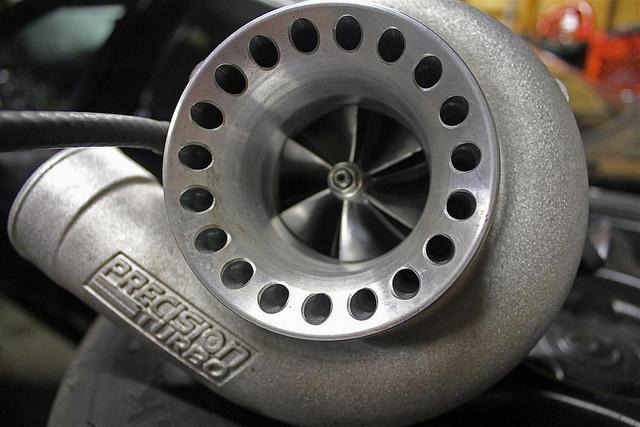 9-6-2012
Thanks for the nice comments everyone! I'm pretty excited to get it back on the road. I still think I am going to pass on the cage for now.
I have ordered every part for the build including the STM FF manifold so far excluding the engine gaskets which I will get in a week or two.
The cylinder head is getting shipped to Curt tomorrow morning

Block will go the machine shop as soon as I get the engine parts.. hoping by early next week.
14403R6-4 - Manley Turbo Tuff I-Beam Rods w/ ARP 625
K656M855 - Wiseco 1400HD Pistons 10.5:1
4B1185H - ACL Race rod bearings
5M1219H-STD - ACL Race main bearings
MAP EVO-UDHS - Map Perfromance H11 Headstuds
207-5401 - ARP Main Studs
Progress pics of the manifold from Cory @ STM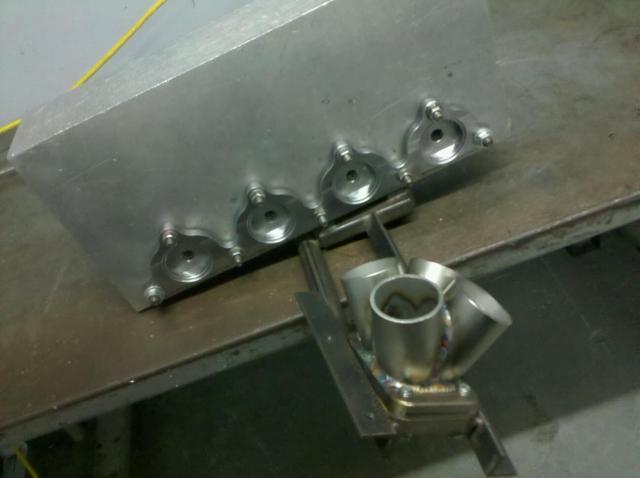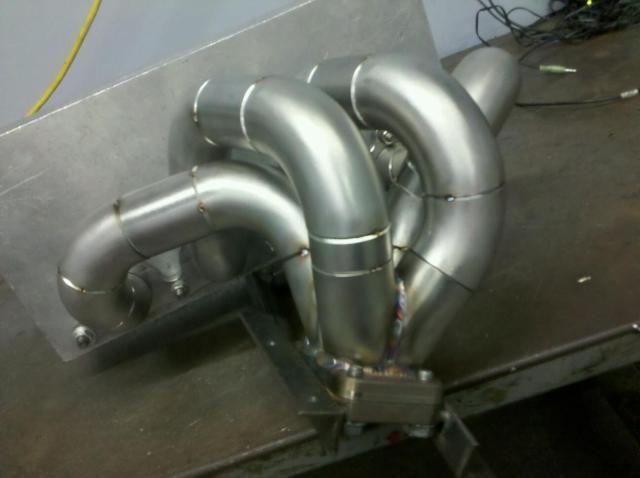 9-7-2013
All finished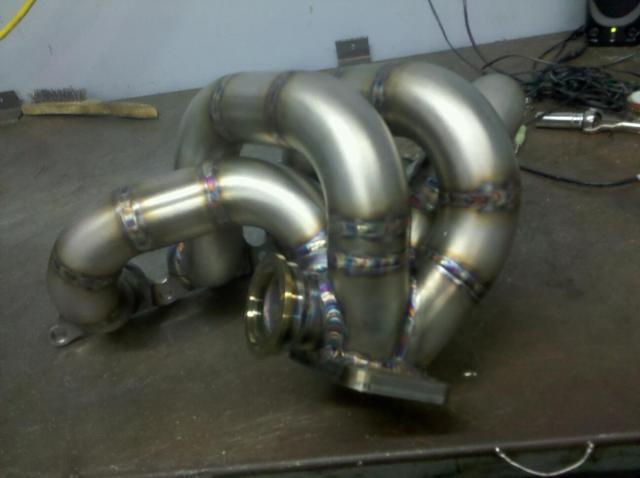 9-10-2012
Removed the motor from the car yesterday and disassembled the block. Once my parts arrive today or tomorrow i'll drop it off at the machine shop.
The head was shipped to Curt Brown Saturday. Should have that back within 10 days.
Going to clean up this engine bay nicely and repaint it i'm pretty sure.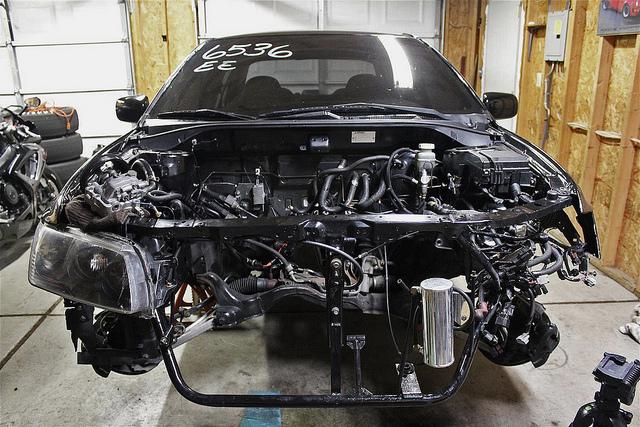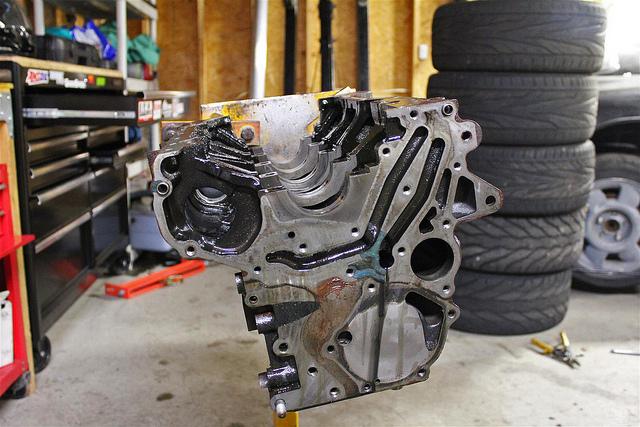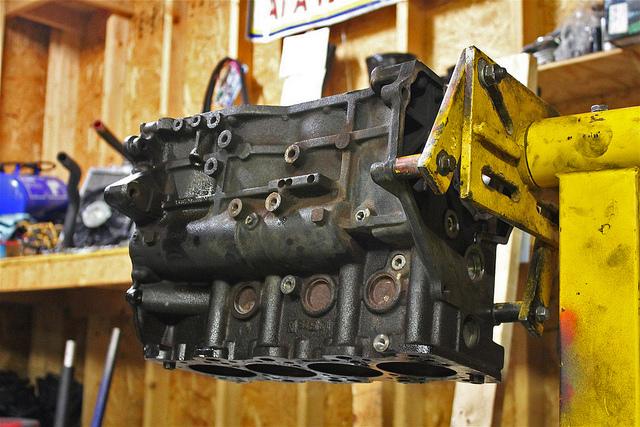 Found a bent rod on cylinder #3.... LOL (the one on the right). This cylinder had 25% leak down loss where the others were 3-5%. The piston/rings/wall were perfect and the head looked good as well.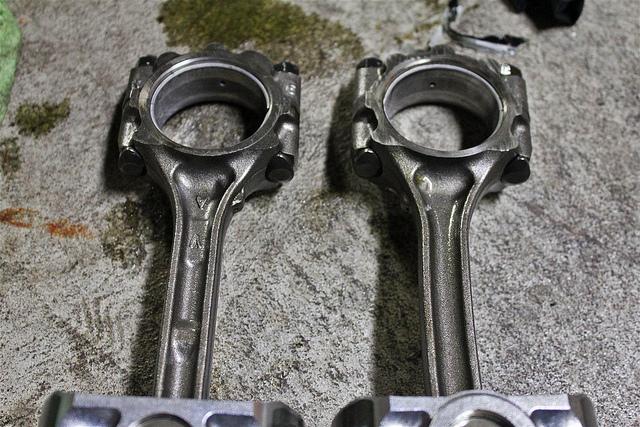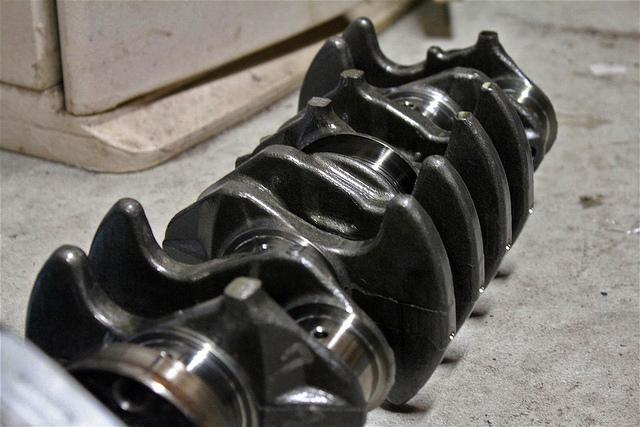 Cluster fu** of parts lol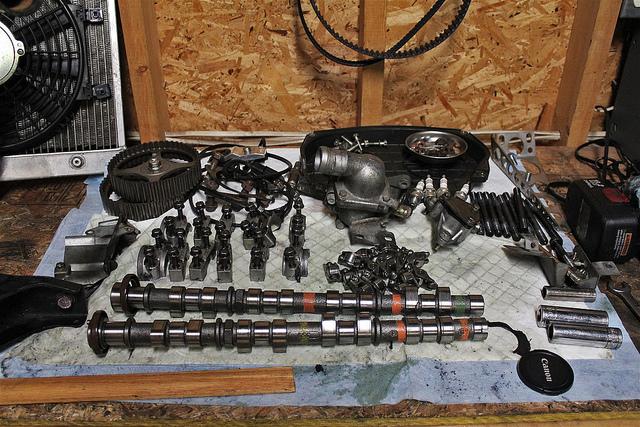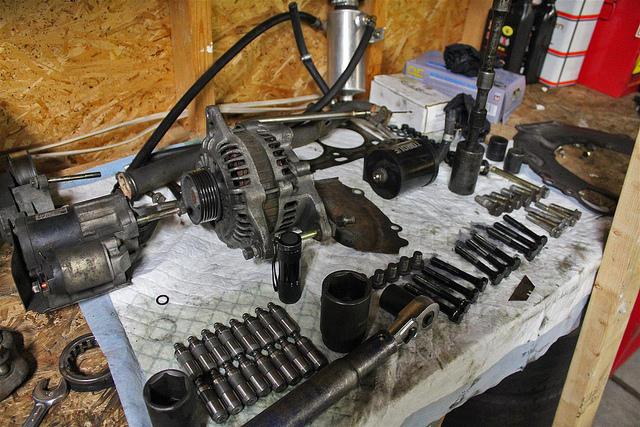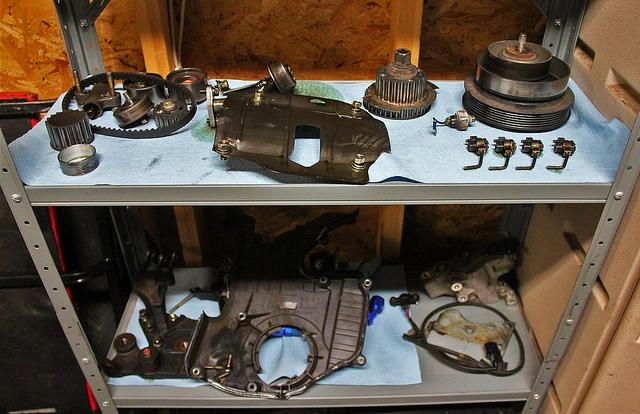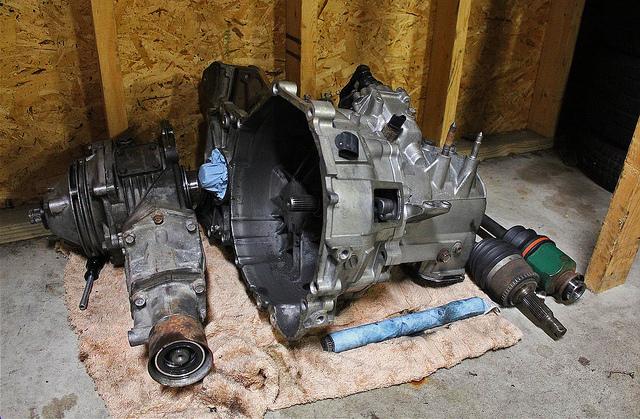 9-11-2012
Lol, pretty crazy lucky I would agree!. thanks sir, I can't wait either

So far the pistons and arp main studs have arrived: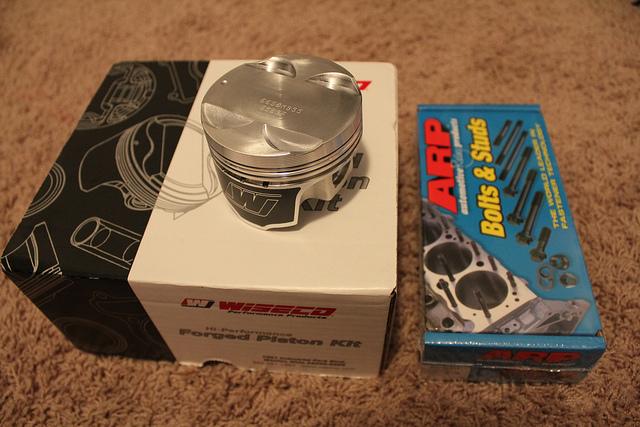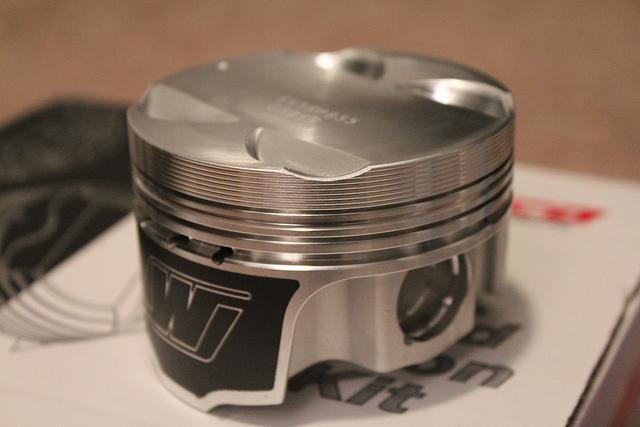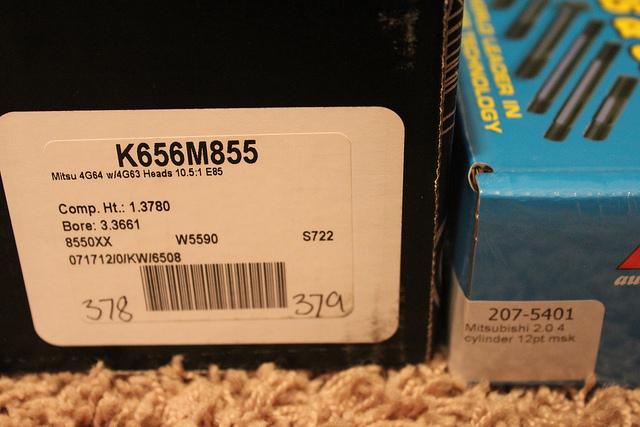 9-12-2012
Thanks Tom

STM FF manifold, turbo tuff rods with ARP 625+ bolts, and MAP H11 head studs have arrived. Now i'm just waiting for the engine bearings, then its off to the machine shop.
I'm very happy with the quality of the manifold. Can't wait to mock it up with the turbo on the car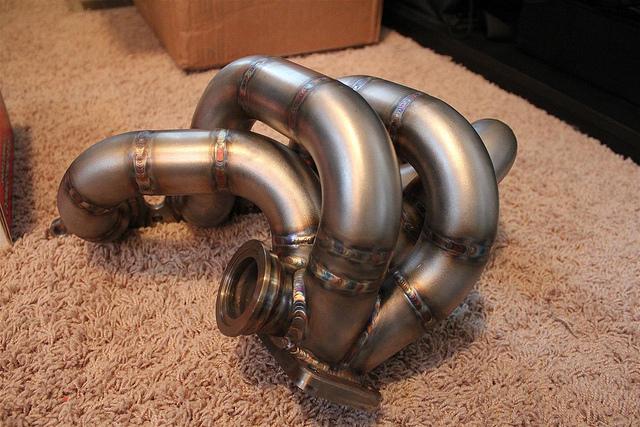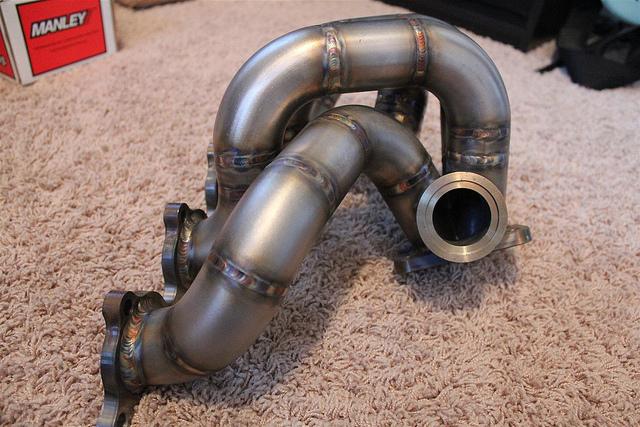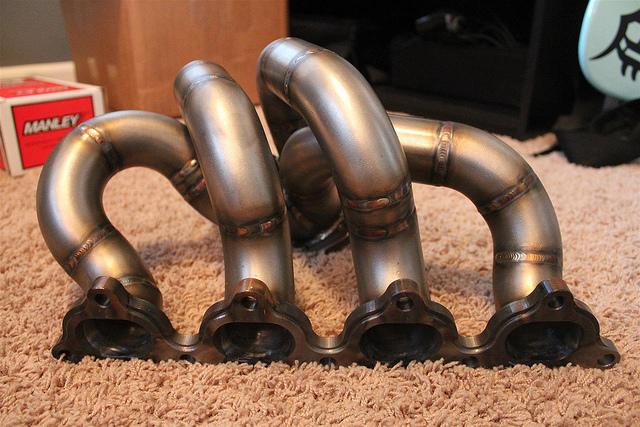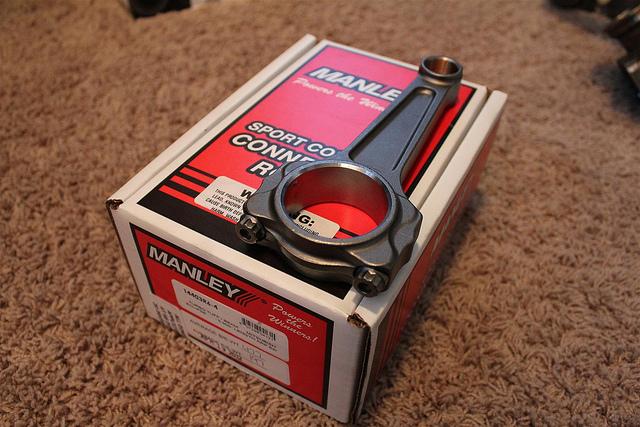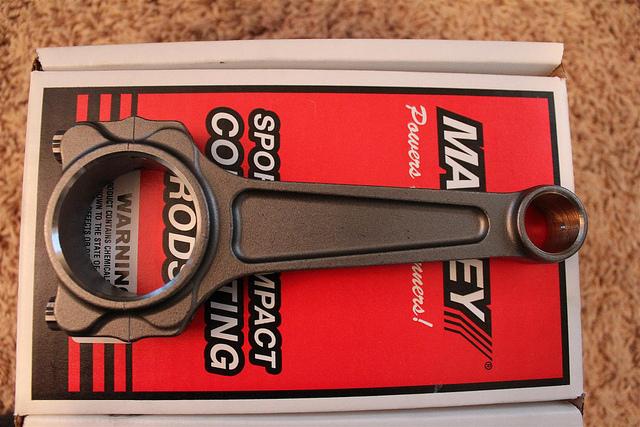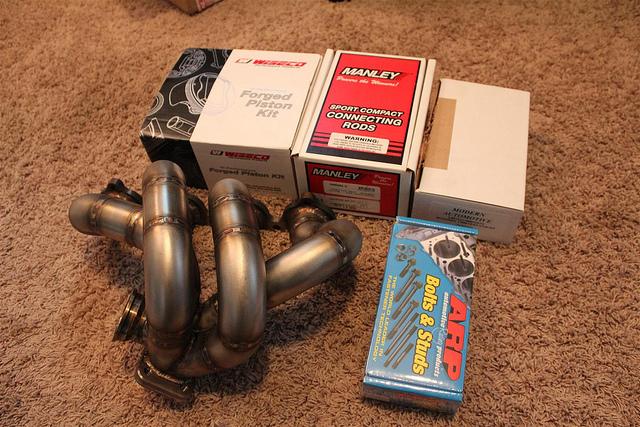 9-15-2012
Should be a blast man.
The last of the major engine parts arrived. Main, rod, and thrust bearings. I am going to drop the motor off to the machine shop Monday or Tuesday

Thank you Tom for getting me good deals on all the parts you see in this thread

Everything arrived so fast.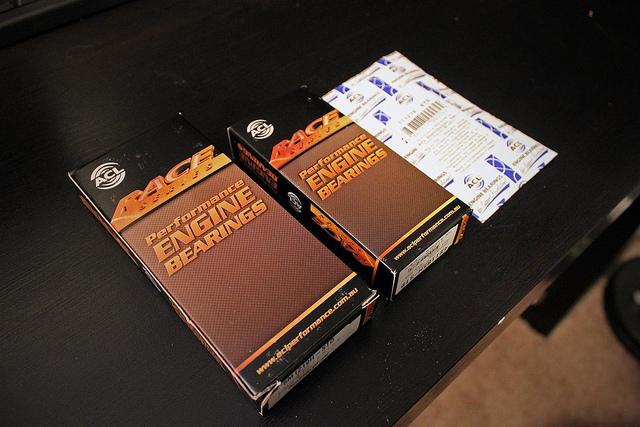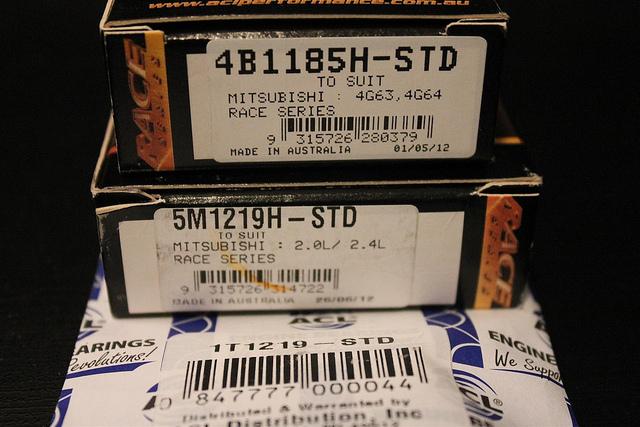 Took the engine harness out so I can delete a crap ton of wire/plugs, make it cleaner, tucked style, and wrap with techflex or similar braided sleeve on all of it.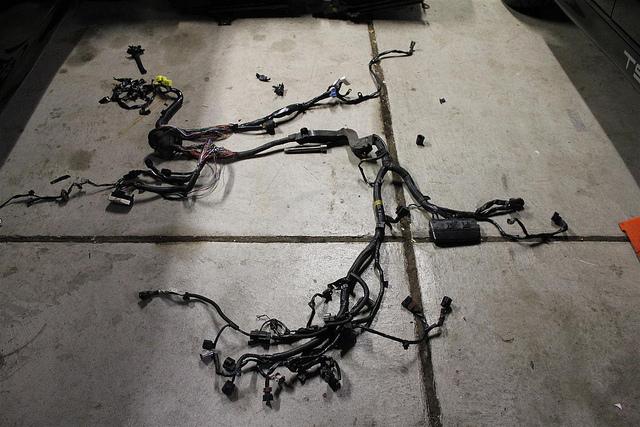 ABS plug itself has a stupid amount of wires.....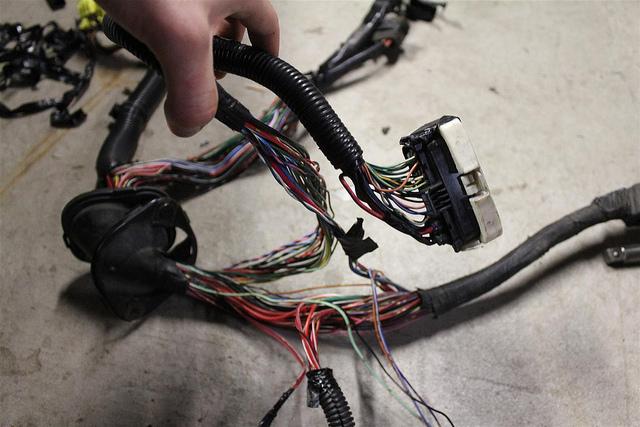 9-18-2012
Haven't gotten it back yet. Hopefully soon

The machine shop has the block and all my parts. I should have it all back early next week.
Recap of what they're doing:
Hot tanking the block
Magnafluxing
Boring .020 over with TQ plate
Surfacing the deck
Line honing my main journals for the ARP main studs
Blue printing
Balancing the internals
9-20-2012
Got the head back today from Curt. This has to be the nicest port work I've seen.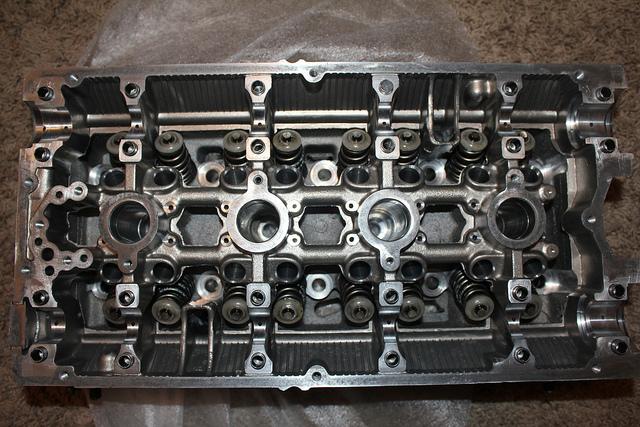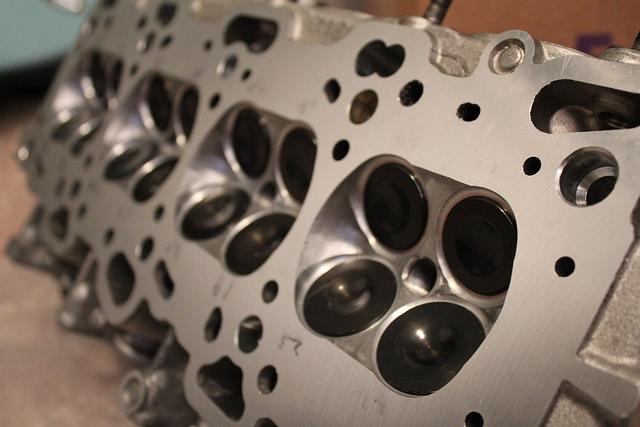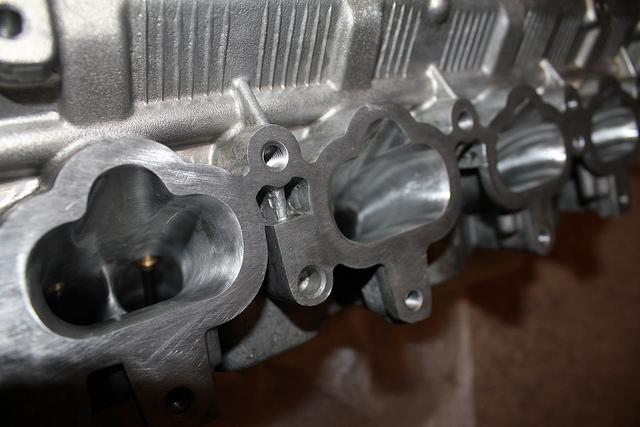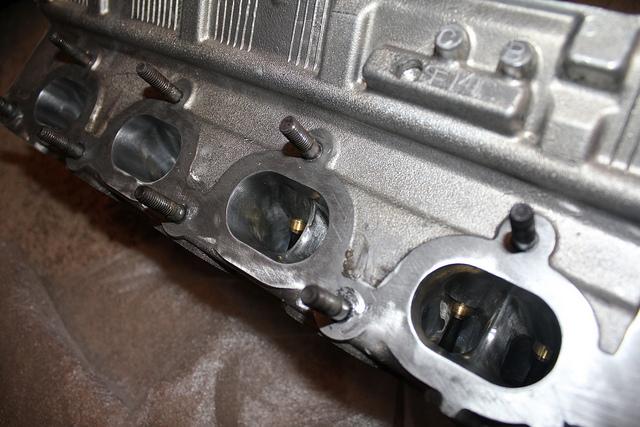 9-28-2012
Got my clutch today. It is the QM 8-leg street version. I chose the street because the car mostly see's the street, and it will still hold whatever power I throw at it

Ordered through TSCOMPUSA, thanks for the killer deal.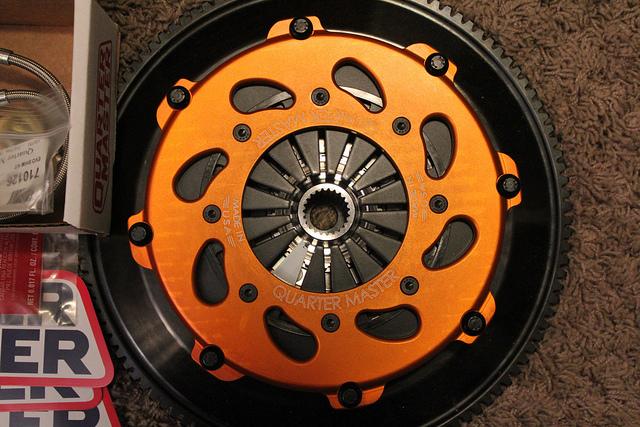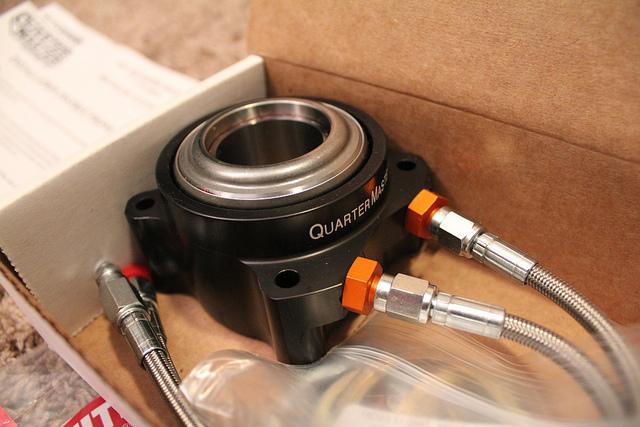 Also got a few other things I needed for getting the engine together:
STM balance shaft delete kit
STM oil cooler delete kit
Gates waterpump
OEM headgasket
Various other gaskets/seals/etc.
The machine shop said I should have the motor back by the end of this week. Hopefully its ready tomorrow so I can assemble the motor and get the engine/trans back in the car this weekend.
9-29-2012
Thanks all.
Motor stuff is back from the machine shop. Too bad they forgot to balance my rotating assembly. Taking the crank/rods/pistons back Monday for them to do that.
Block looks pretty good. I'll be the judge of how good they did however with the tools you'll see below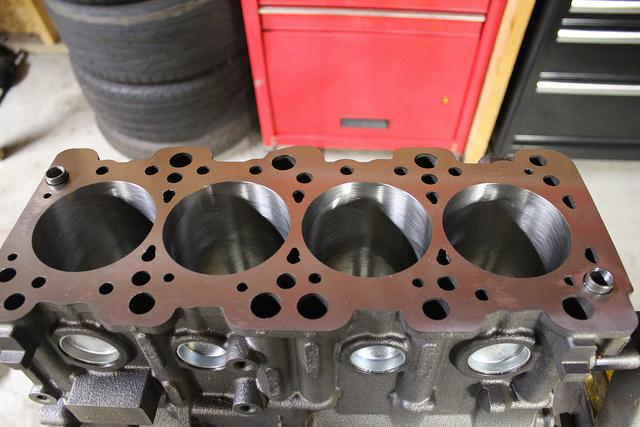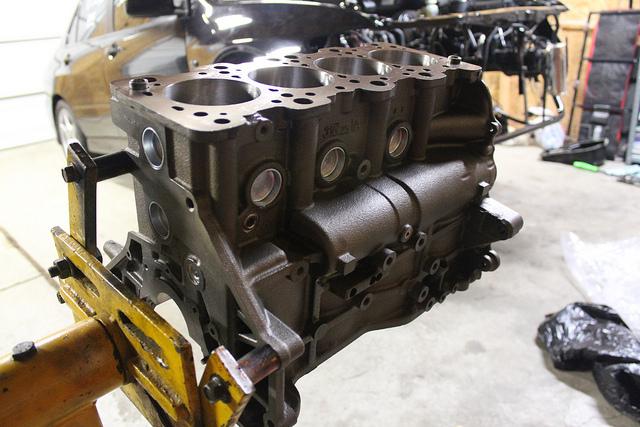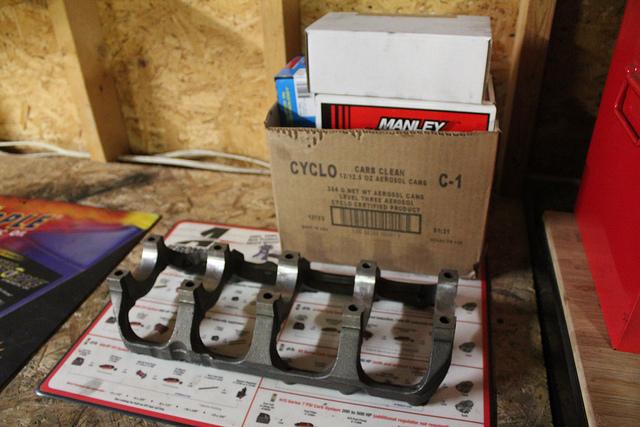 It's vital to have a clean environment when assembling your motor.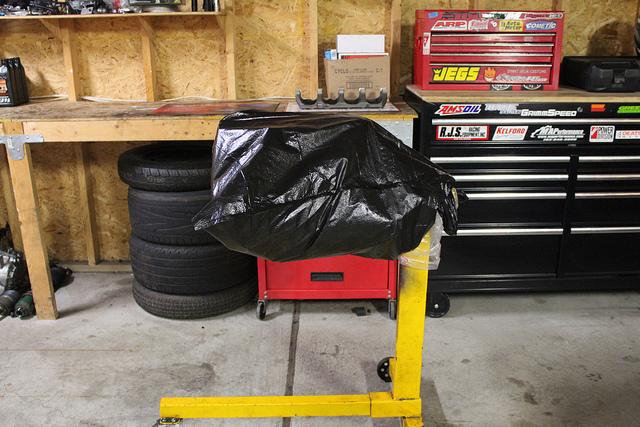 Here's the tools you need to blue print the motor. Missing from the picture is the TQ wrench and ring compressor.
1) Rod bolt stretch gauge
2) Ring filer
3) 0-4" Mic set. Mitutoyo is the industry standard for good priced accurate mic's.
4) Dial bore gauge
5) Set of feeler gauges
6) Piston ring expander tool
7) Piston ring compressor tool
8) Accurate TQ wrench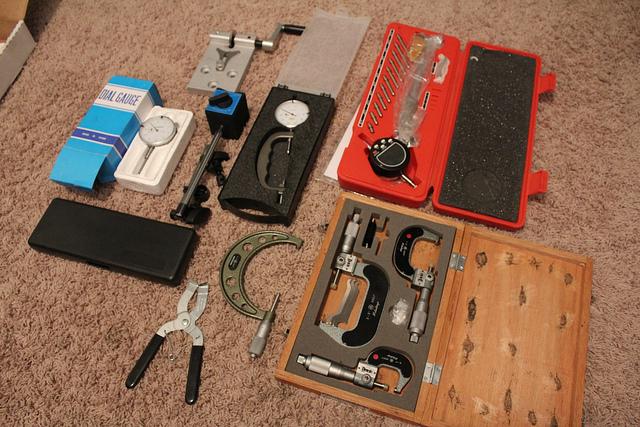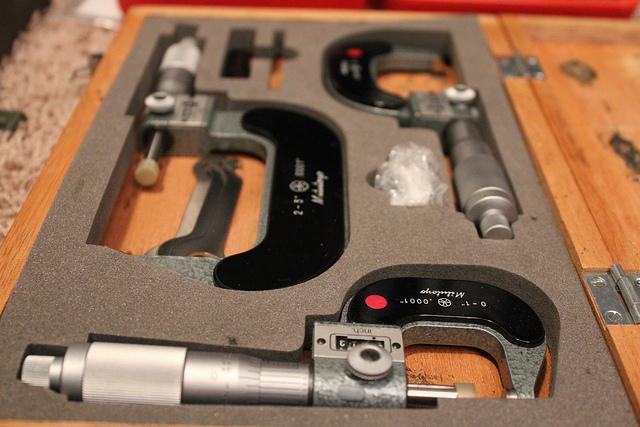 And here's the shop manager.. Cody.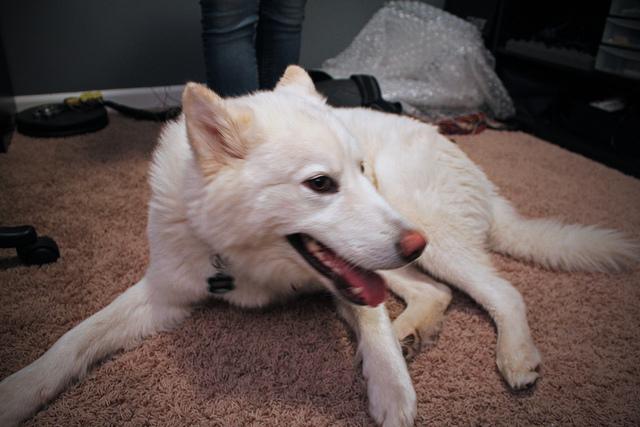 10-7-2012
Got the motor assembled 100%. Was thinking of putting the motor/trans in the car but for some reason QM doesn't include the bolts to bolt the throw out bearing to trans... Going to grab some from the hardware store tomorrow...
Didn't take as many pictures as I wanted but here's what I have.. All bearing clearances are spot on to what the machine shop told me.
Crank dropped in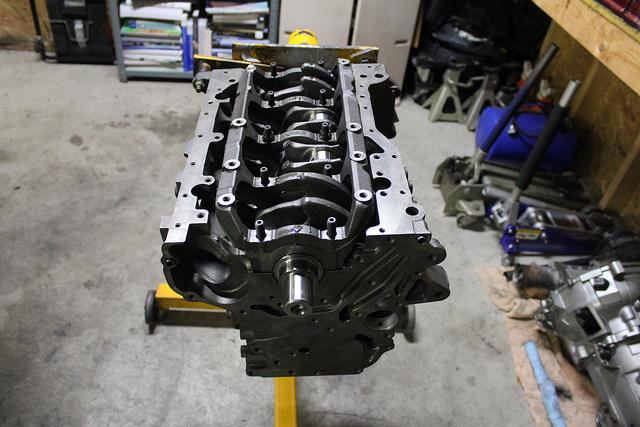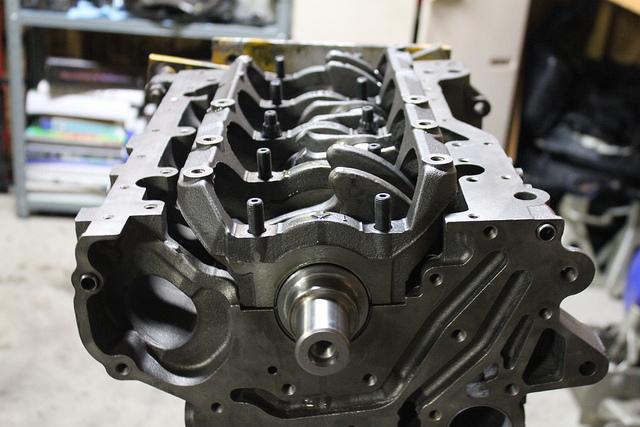 Rods/pistons/rings assembled. Rings were filed before this already.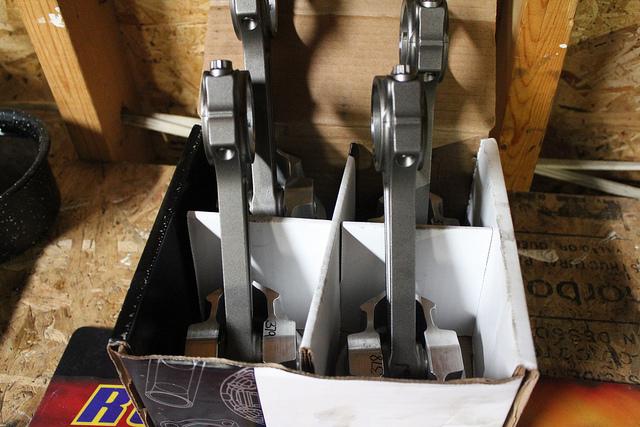 Crankshaft end play within spec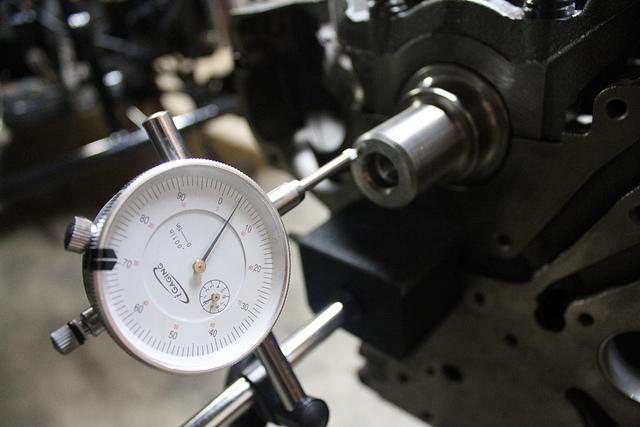 Pistons/rods installed and TQ'd. Rod bolts torqued with the included Manley lube. Stretch and recommended torque both spot on.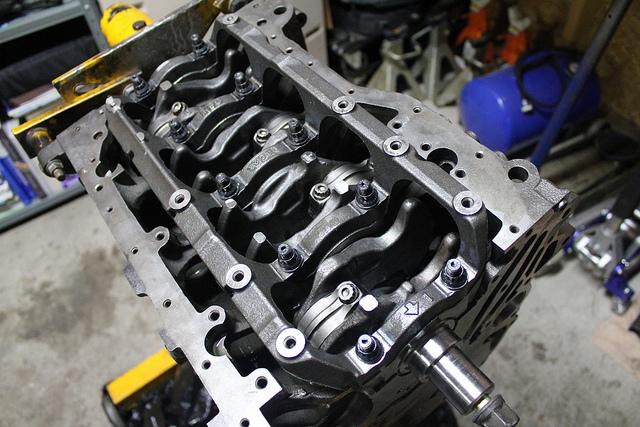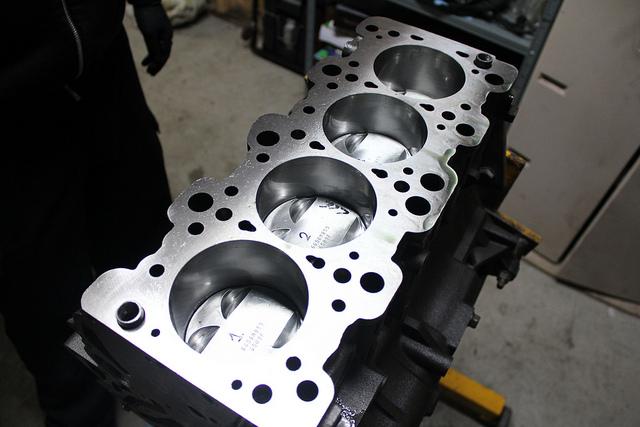 Headgasket/MAP H11's. Applying the included lube for the studs before spreading around the threads.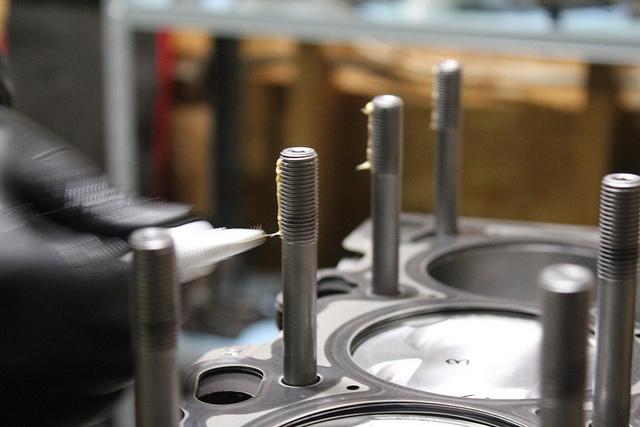 Head on a torqued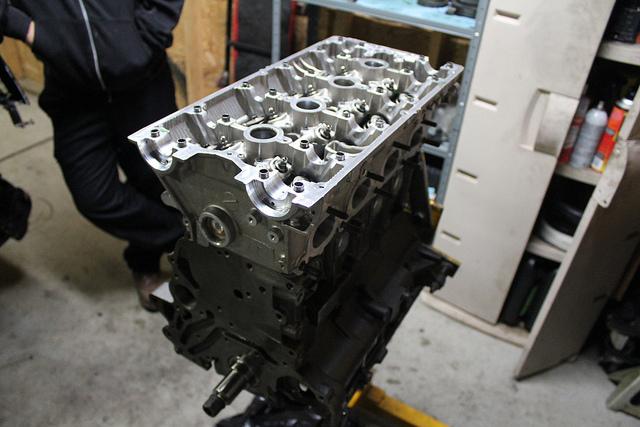 Timed and mostly together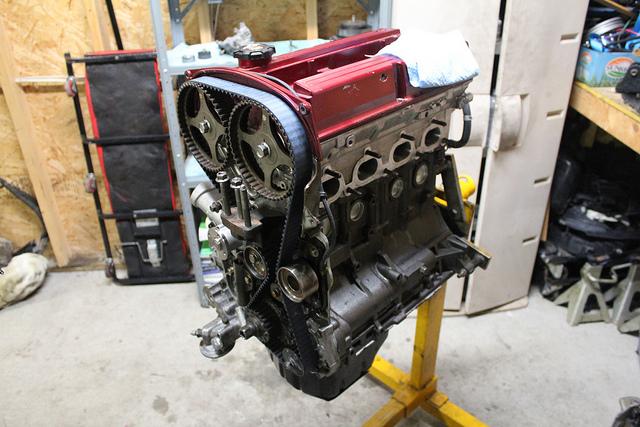 All together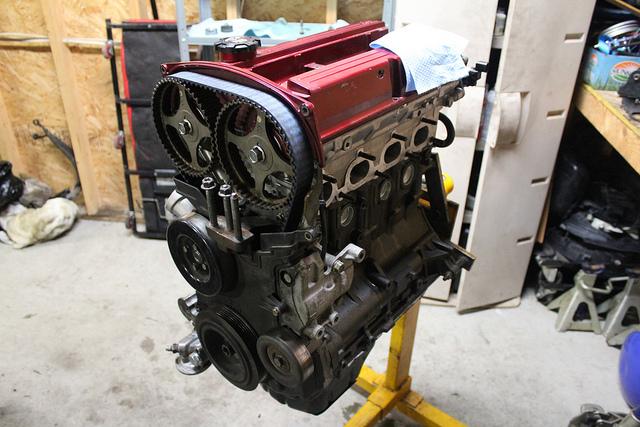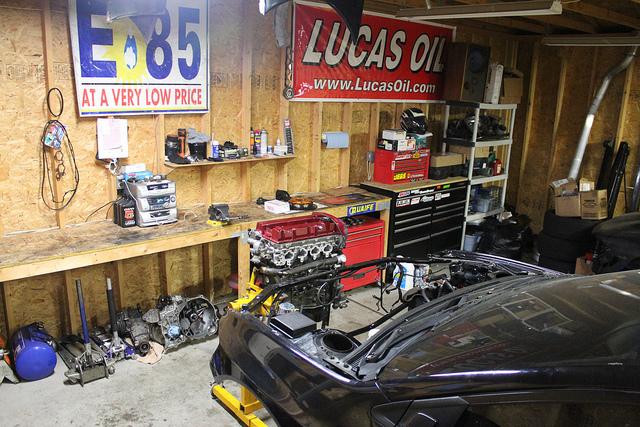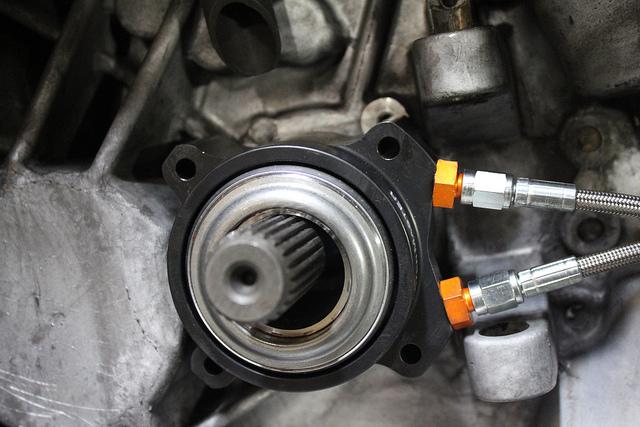 Daily driver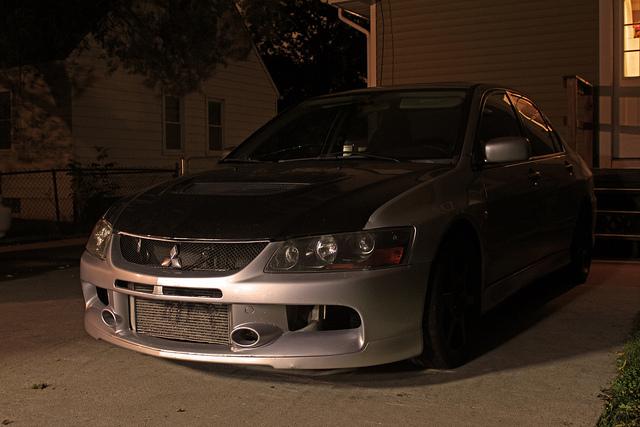 Bolt solution for the throw out bearing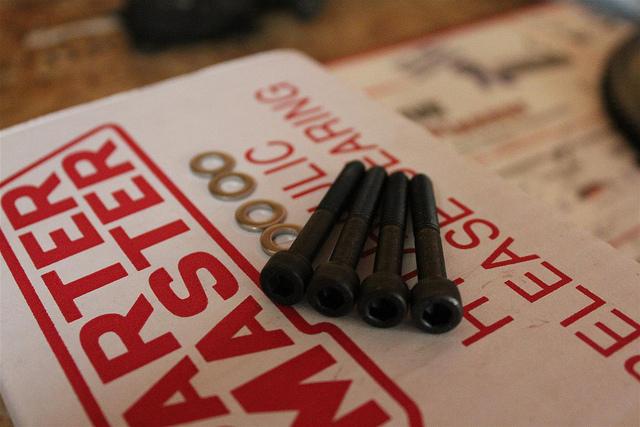 Good bolt length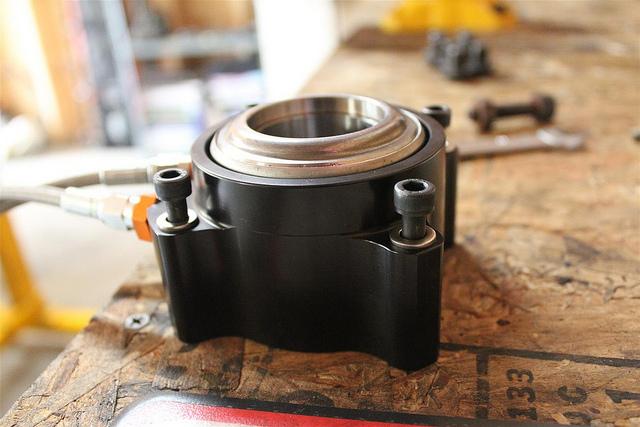 Installed. I used blue loctite on the threads.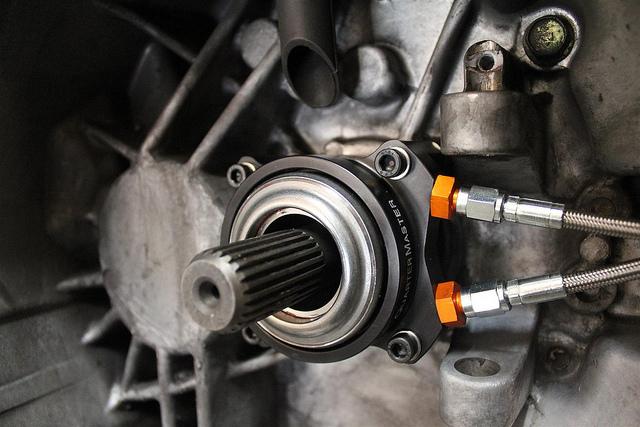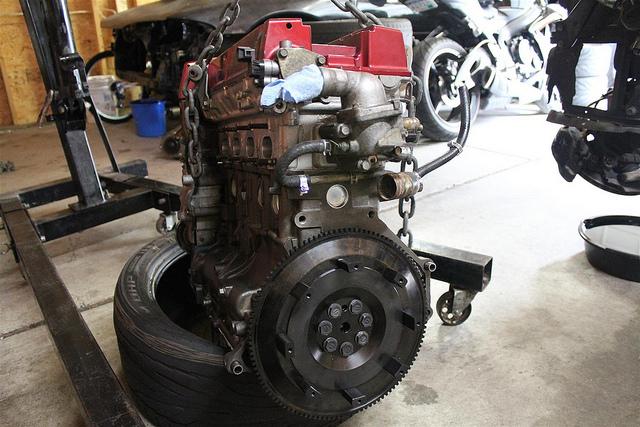 Some one asked for pictures of the plates and discs of this clutch so here they are...
Disc 1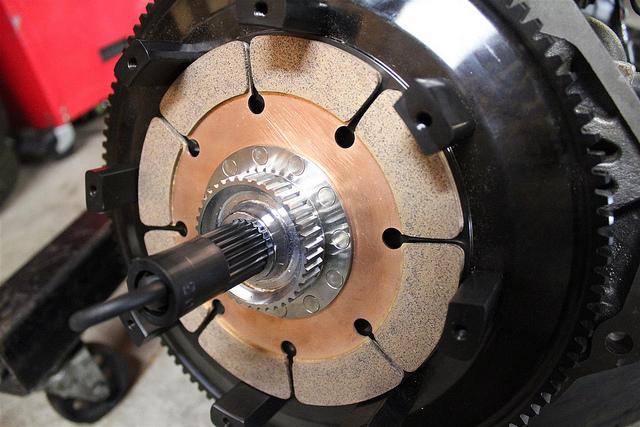 Plate 1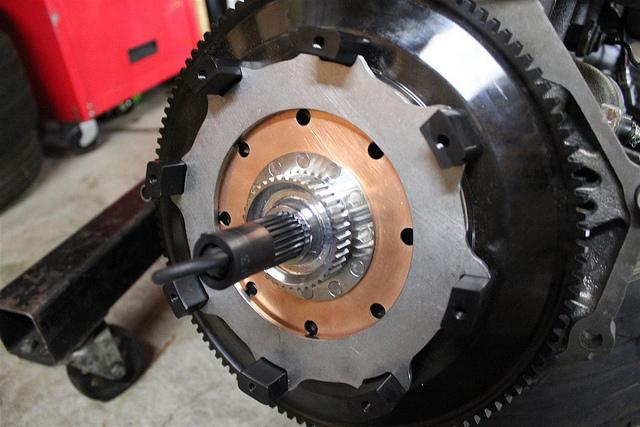 Disc 2 > Plate 2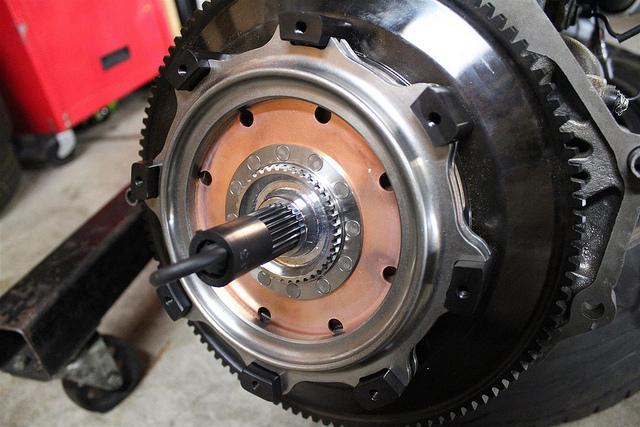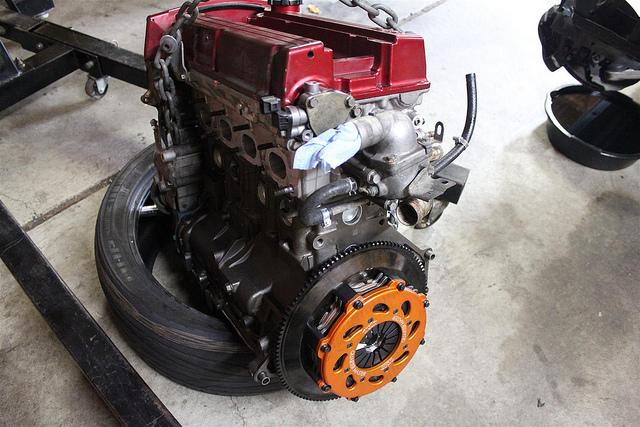 Ready to go in the car.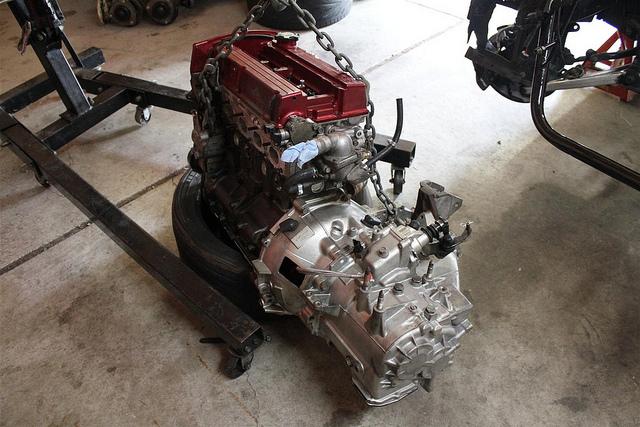 Looks good. No shims required for stock crank.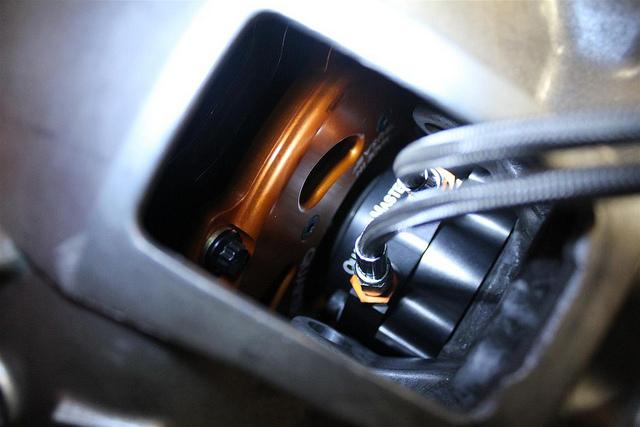 Cell phone pic of the manifold/turbo mock up

10-8-2012
Thanks guys. Everything is coming together very smooth. Put the motor in a little while ago and got the manifold/turbo installed so I can start to fab the LICP and the downpipe.
Ignore the crappy valve cover. It'll be glossy or maybe wrinkle black before it runs.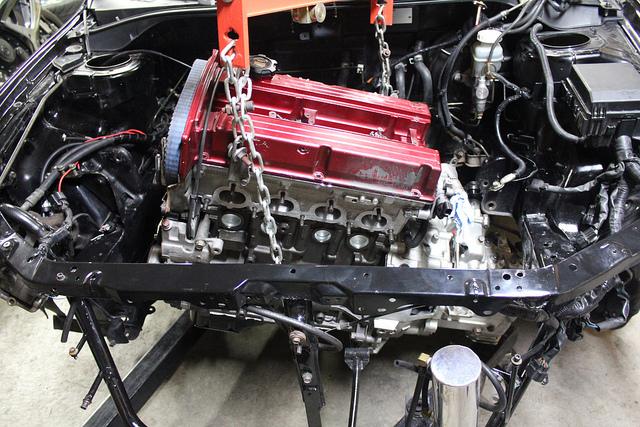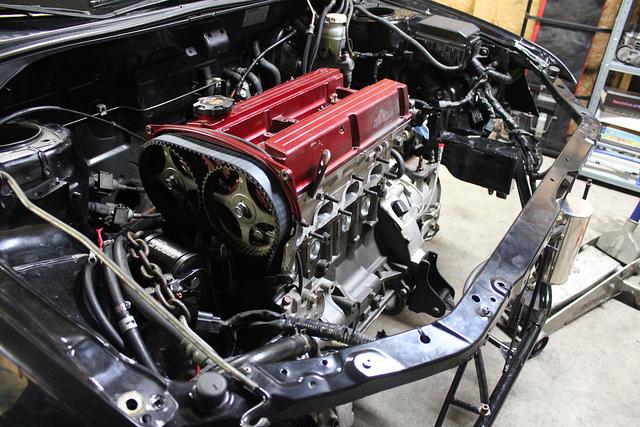 Making sure things are good..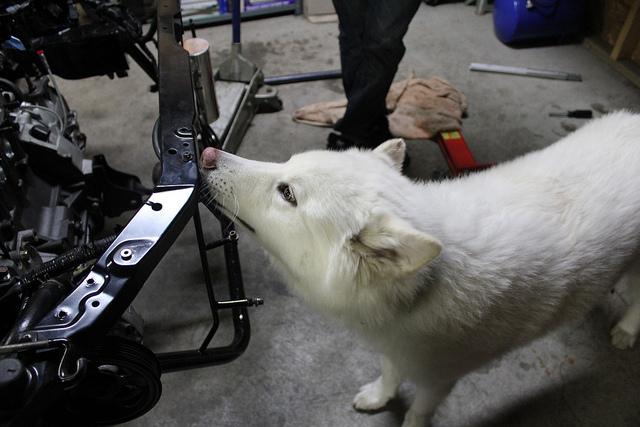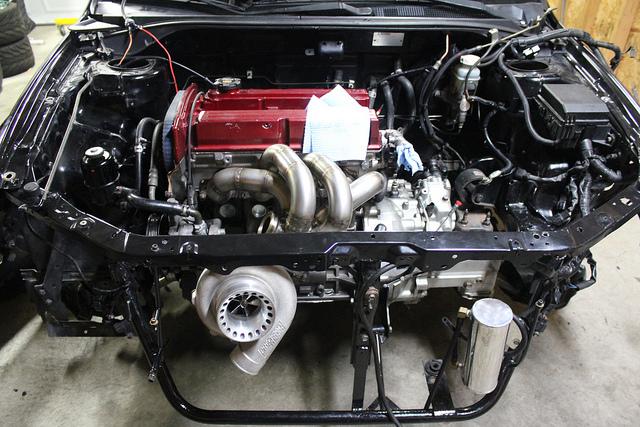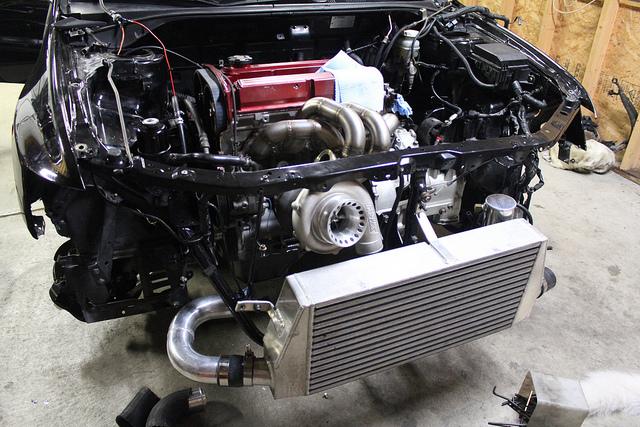 Pic for you Tom. No way in hell you would be able to run any kind of filter if you bought this manifold lol.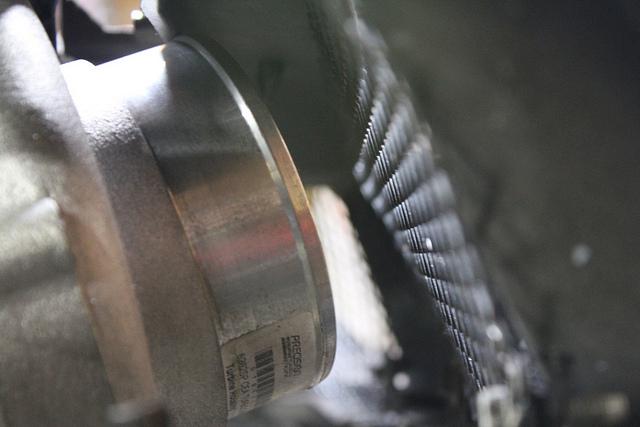 10-9-2012
Got a few more things done today.. (Alternator, accessory belt, painted the valve cover yesterday wrinkle black & installed it today, routed the oil feed line). Waiting for a few goodies in the mail from TSCOMP, MAP, Toxic Fab, STM, ETC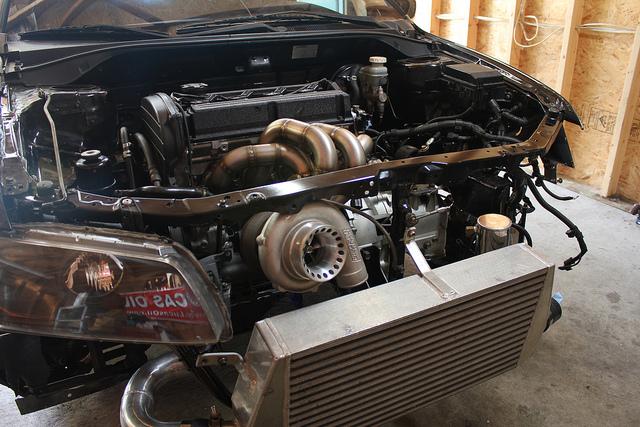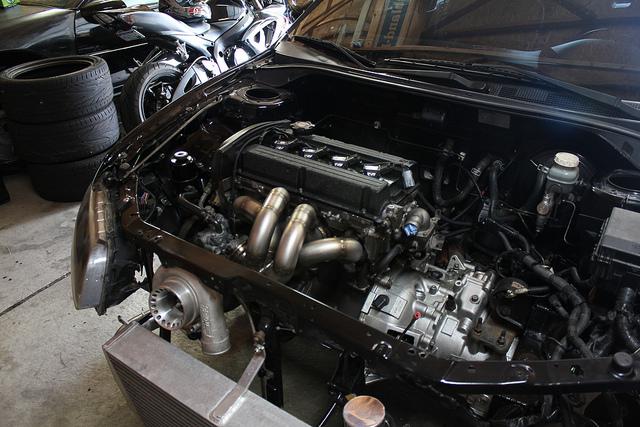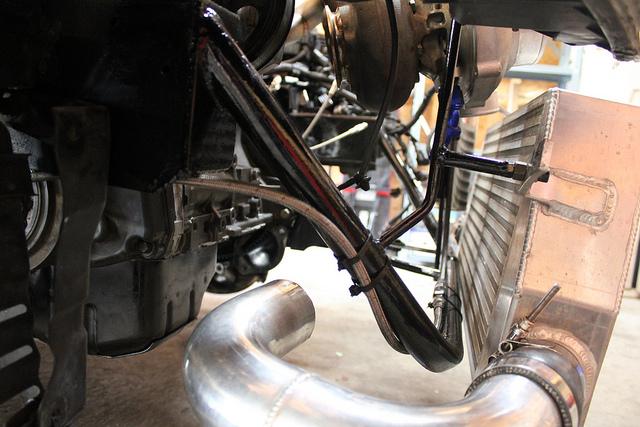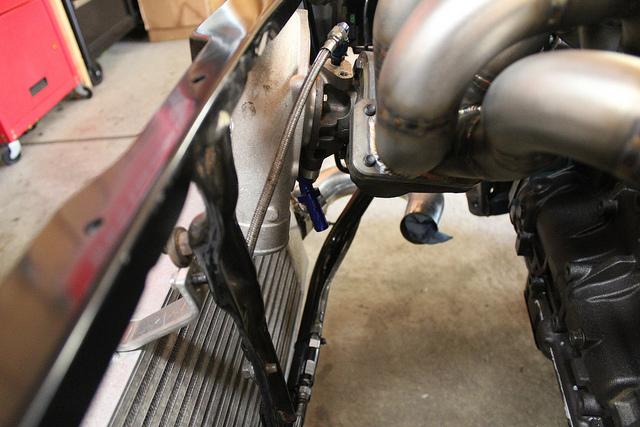 10-16-2012
Haha I agree. Thanks again for the clutch pedal stop!
Here's a picture of her all buttoned up I snapped with my phone on my way out today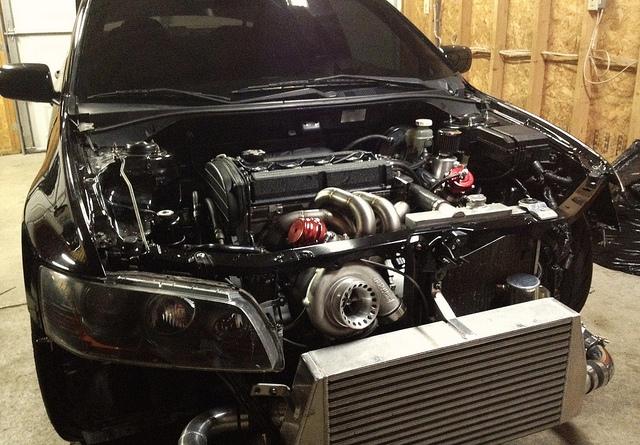 10-17-2012
Car is alive and very well. No leaks, good oil pressure, no odd noises, etc

10-22-2012
Made block-offs for both left and right bumper holes and both center pieces on the front bumper. I already had the piece that goes in front of the turbo from last year (used it so people couldn't look in).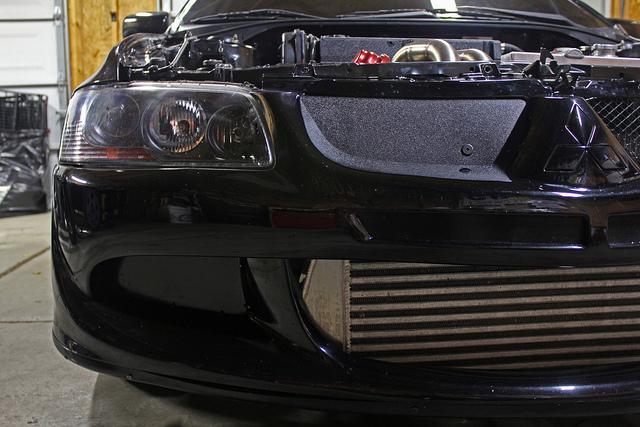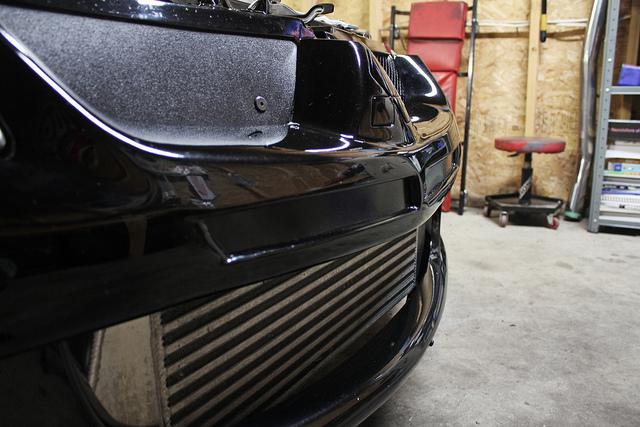 Factory interior with no mods or gauges. Only thing is the air bag delete that I think i'm going to carve the factory mitsu logo on that's on the oem airbag.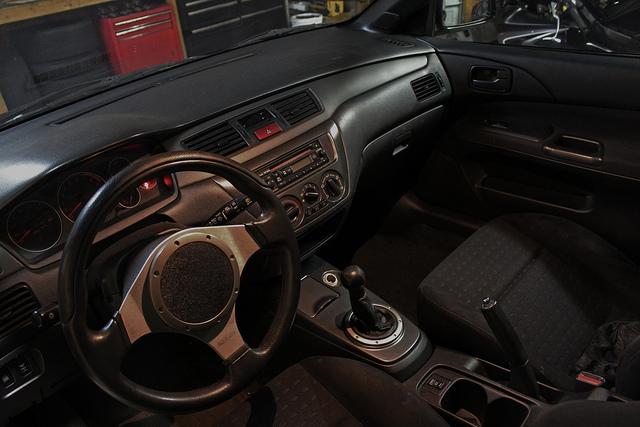 Wideband gauge location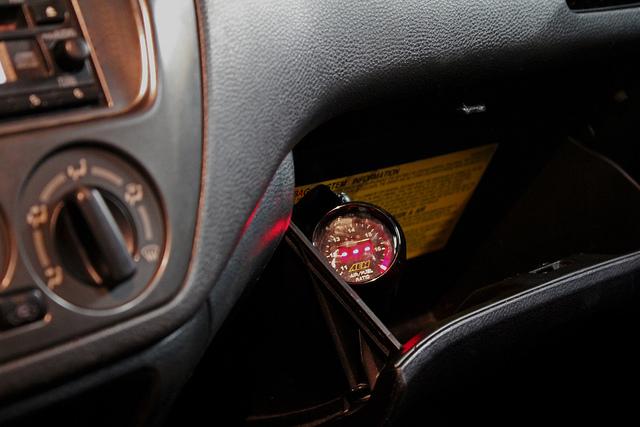 Started driving it this weekend. All is well. I really like the QM. It is not harsh at all, grabs the millisecond the clutch leaves the pedal stop almost like an on/off button, but I'm used to it now

very sweet.
No one will think this thing is fast. I think its a good sleeper. 2800lbs + 800hp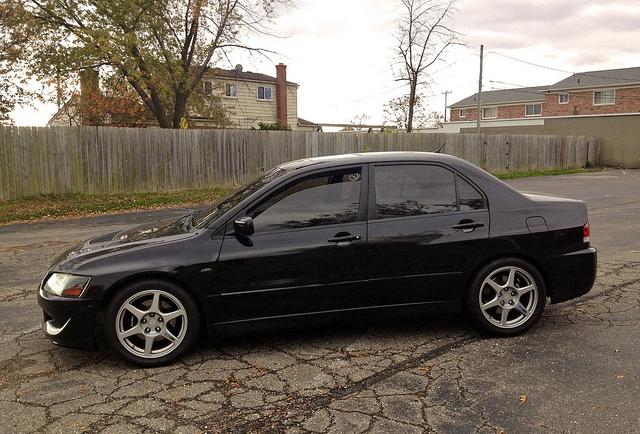 11-5-2012
Not many updates really, i've just been driving it. Tom and I are going to tune it soon.
Over the weekend I converted the feed line to -6an from the stock and also replaced my fuel filter while I was at it.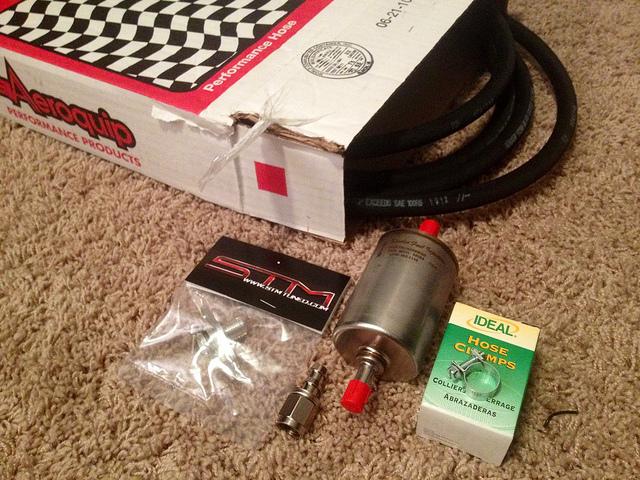 Trying to find someone to trade my red WG for a silver one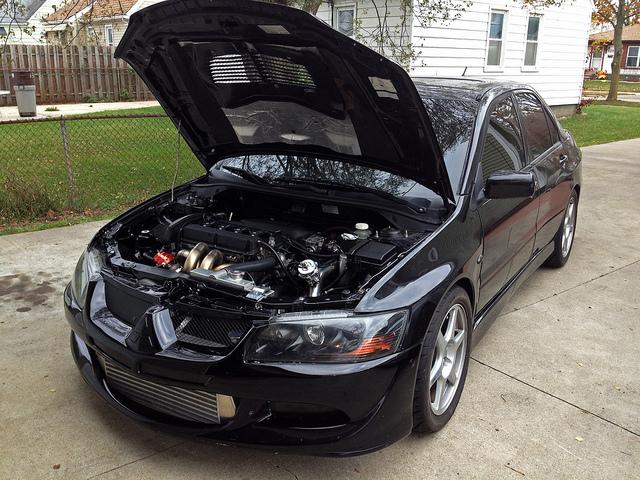 11-20-2012
Thank you sir.
The car has about 150 miles on it now on the new motor (snapped a pic at 100).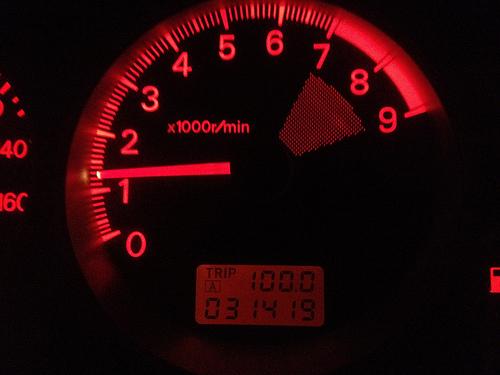 I also swapped out the red Tial WG for a silver one so both my Tial products match

Future plans include fabbing a catch can that mounts behind the drivers side headlight and to start buying my new 15" drag wheel/tire setup.
I may buy the STM one but building your own stuff is fun. We will see.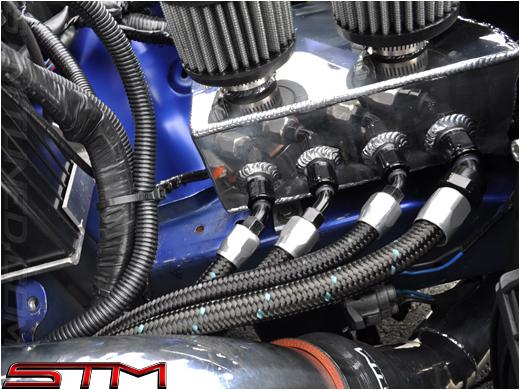 11-28-2012
So I sold my FD/QTP drag setup to fund the clutch so I could get my car back on the road.
The new wheel setup is going to be:
-15x7 +40mm Flat black rota slipstreams
-26x9.5-15 Hoosier QTP's so I can still run in the EE class at the shootout. I might look into a MT DOT approved tire as well but i'm leaving towards the QTP's again.
-STM spacers with ARP studs
-Blox aluminum lug nuts (I've used them before, nice and light).
Should have the wheels and spacers this weekend. I'll probably order the tires with my tax return check come February

12-5-2012
Thanks man!! Tom should make your car move out for sure

I got the wheels, studs, and spacers so far.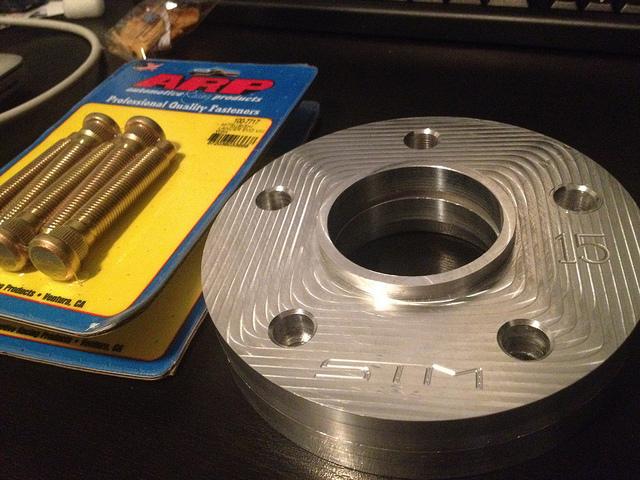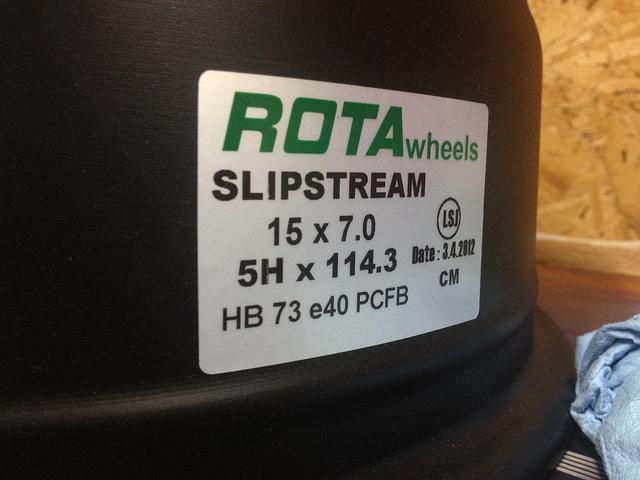 Test fit just to be sure. STM drag brakes and STM 15mm spacers. Still need to install the ARP studs.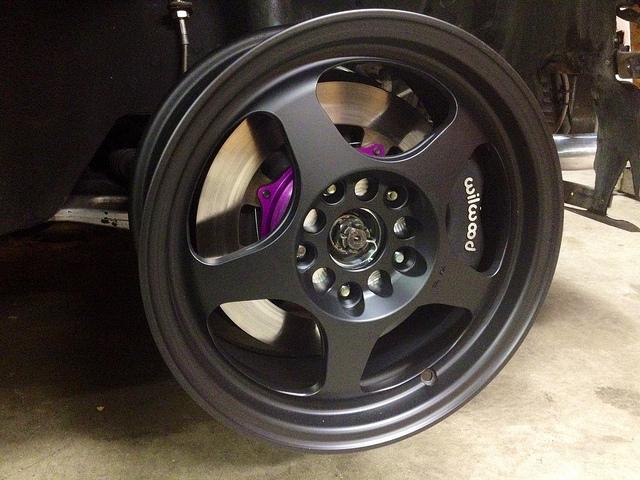 12-6-2012
Yes, the 15x7 fits, they are lighter, cheaper in price, and a better fit for a 26x9.5-15" Hoosier qtp tire. Max recommended is 8" wide, minimum is 6". Plus it'll look sexier making the tire look fatter

12-17-2012
Cool video of my car launching at the 2012 dsm/evo shootout back on the stock motor. Aborted run after I shifted into 2nd as it broke up. Announcer got my state wrong, lol.
12-23-2012
I weighed the car today while I was out driving it. I'm pretty happy. This is WITH me in the car in street mode. Full interior, full exhaust, street wheels, etc... The scale is accurate as I've weighed my stock Evo on it which was over 3400lbs with me in it.
I weigh 140 so that comes out to 2580. The car has a little under 1/4 tank of fuel. It still has all luxuries including factory sunroof minus A/C. I daily drive this to work a lot... No gutted race car business here lol. With the passenger seat out and rear seats, and the 15" rota slipstreams on that will be another 130lbs off the car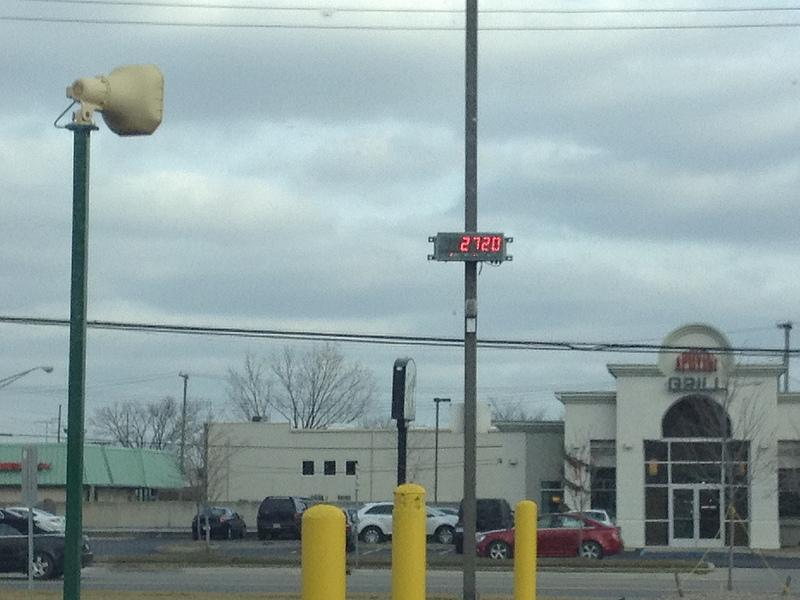 (Made myself some front bumper block-off plates, including FF turbo block off plate - great for daily drivers)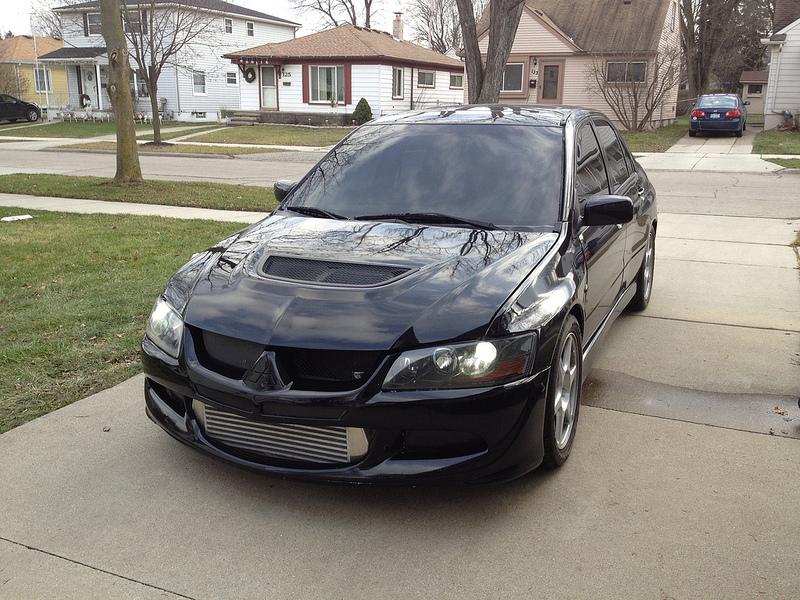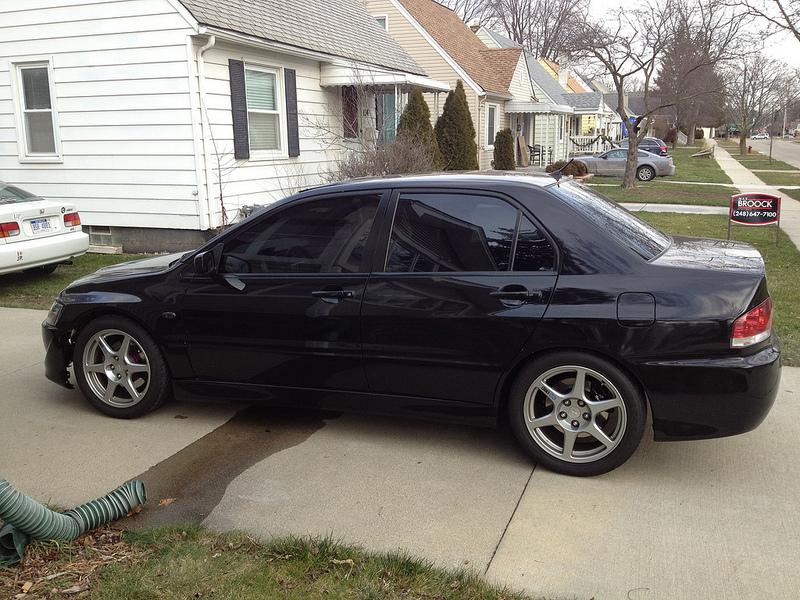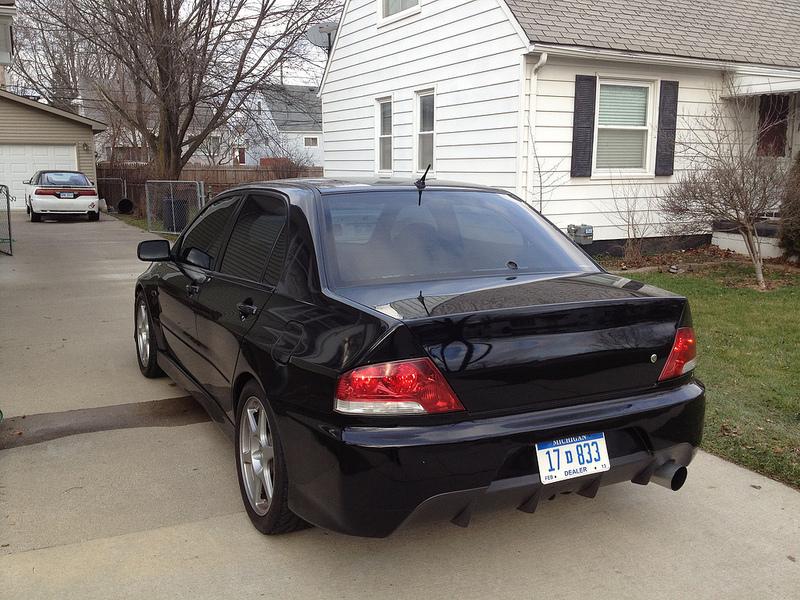 12-30-2012
Tom and I and ready to tune it for power. I've been pretty busy through the Holiday's so we will probably do that this week.
Grimmspeed 3 port mounted: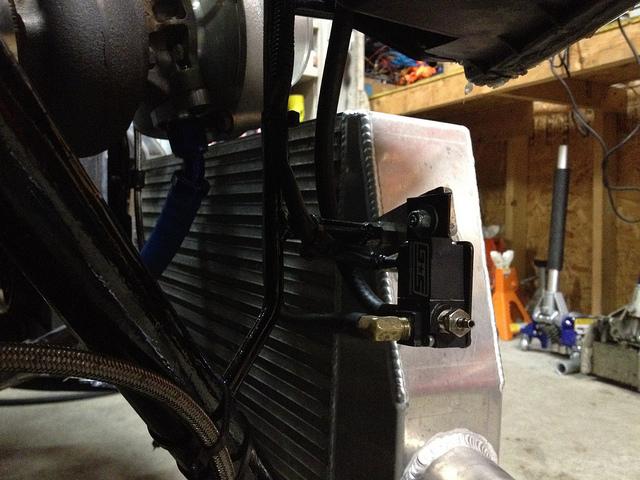 WG is going to be dumped out the hood vent. I still need to slash cut it so its flush with the top grill. It will sit directly under with less than a MM of clearance. I don't want it sticking out the hood.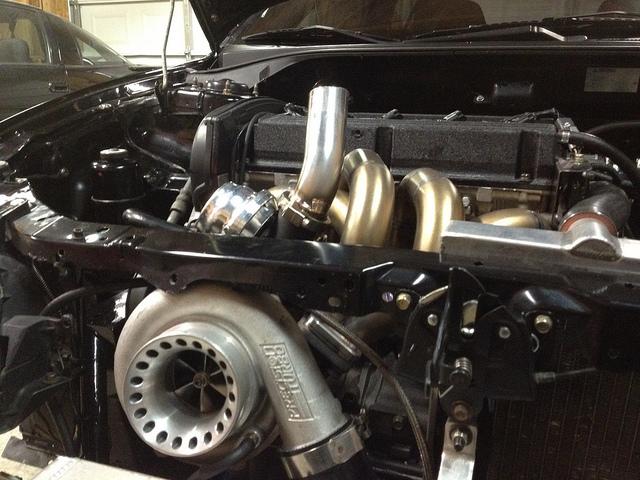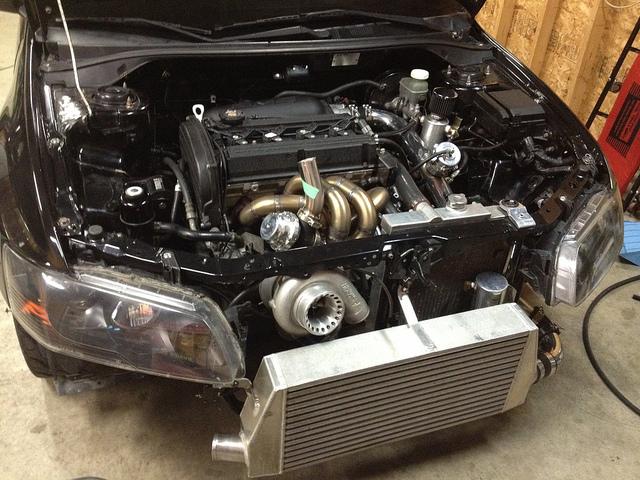 The last thing to do is make this this into 2 pieces or possibly 1. Below was only used for mock up and to get the car on the road. Pretty much just threw crap together I had laying around the garage...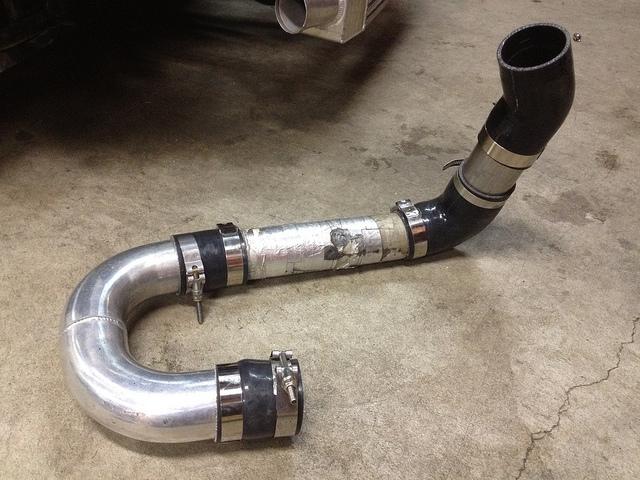 Before spring the catch can setup with be ditched and i'll have a new setup that mounts behind the driver side headlight. I will also be venting the block from the balance shaft inspection hole.
1-9-2013
Got the lower IC pipe finished. All that's left to do is slash cut the dump tube lol.
.065" wall aluminum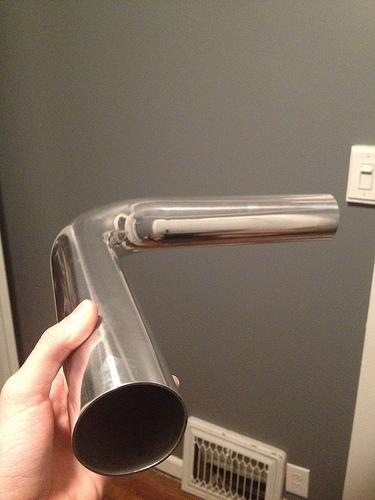 DIY bead rolled the ends with a $2.50 2.5" muffler clamp and a washer + vice grip...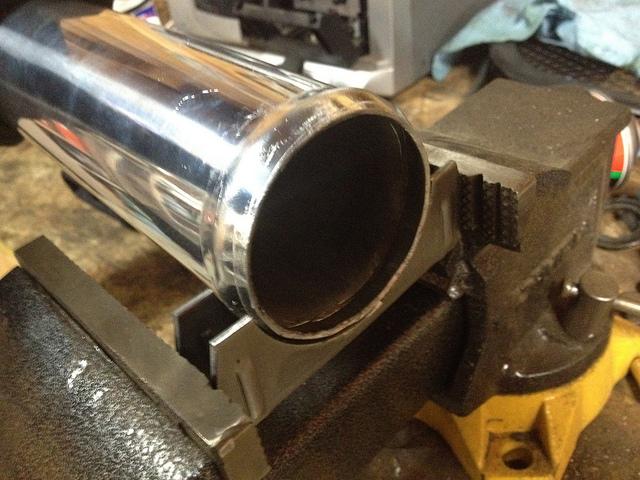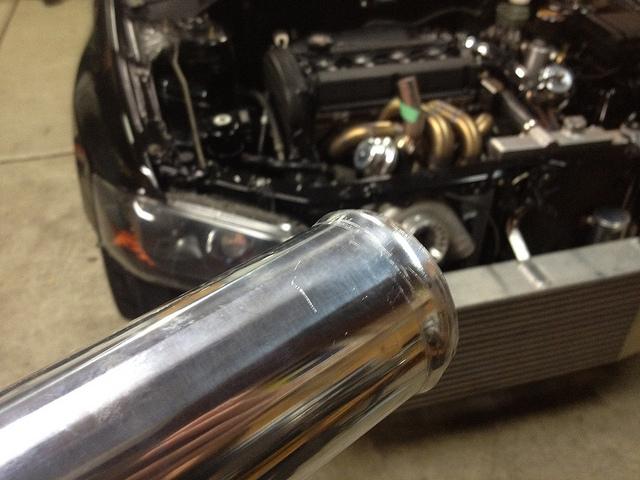 Much better!!!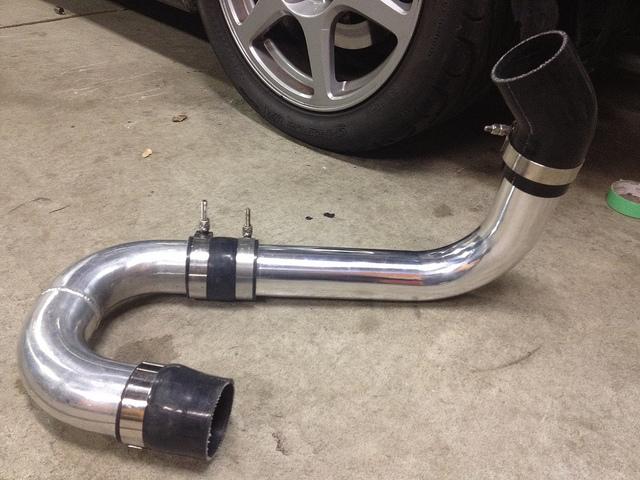 For those interesting in the bead rolling:
http://www.dsmtuners.com/forums/cust...bead-tool.html
1-13-2013
I tightened the vacuum fitting and went to do a real pull. The engine seems smoother in boost then the stock motor. It pulls incredibly nice at 34.5lbs. It made about 630 in virtual dyno which in my car is about 140 traps. Pretty good for a low boost base map lol.
We found an old data log for comparison, the car is currently making the same power as early last year with 4lbs less boost. That is good. I'll get a graph up once we up the boost for full power. The car also spools a little faster as well.
I attempted to slash cut the dump tube as well. Oh yeah, in WOT this sounds crazy!!! Much easier to tell when you're at full boost then before when it dumped under the car.
Sorry the crappy photo.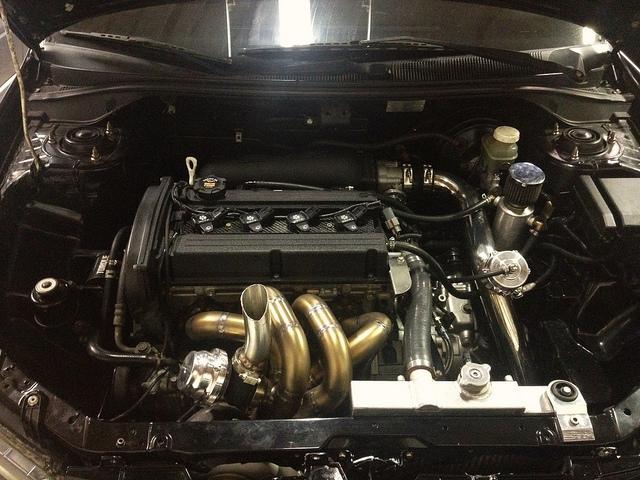 It does not touch the hood or grill, good clearance so nothing will melt.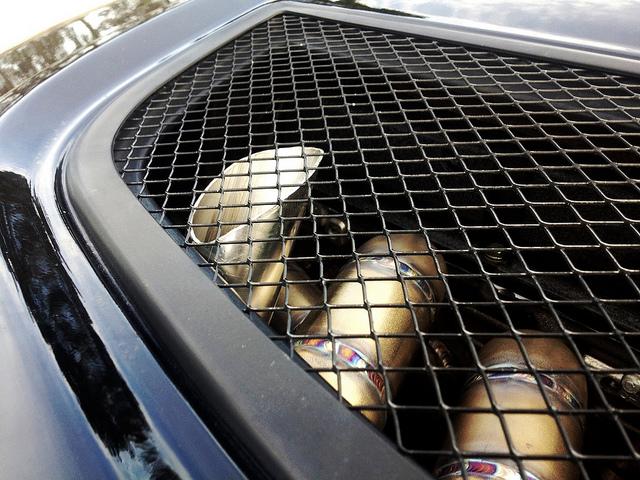 1-23-2013
Got the lug nuts i'll be using for the slipstreams. I had used these same nuts two years ago when I had 5zigen fn01rc's on the car. I like them a lot and the price is right!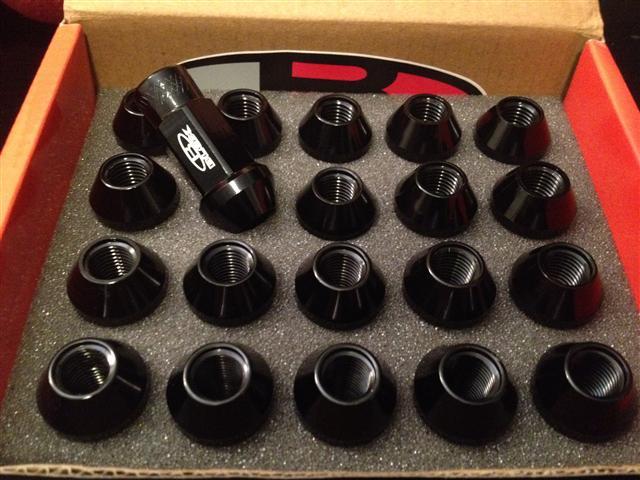 Tires will be ordered the first week of February

2-4-2013
I wish I had more updates here but I don't right now. The winter weather has been in full force... It's mostly just a waiting game until the warm weather is back & the track opens haha.
I'll be ordering the tires next week though, so I'll get those mounted and throw up a picture of them on the car asap

Here's a picture of the car and my daily driver on the left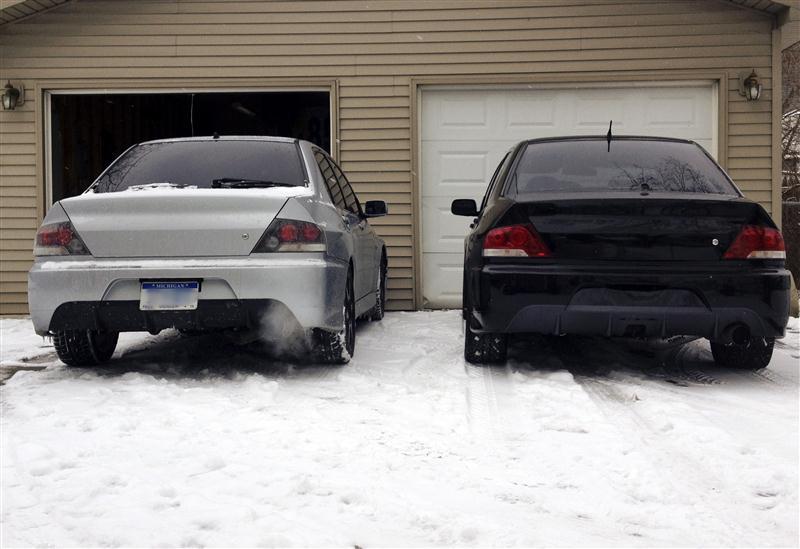 2-9-2013
Tires arrived today. I'll get them mounted and some pictures of them on the car soon.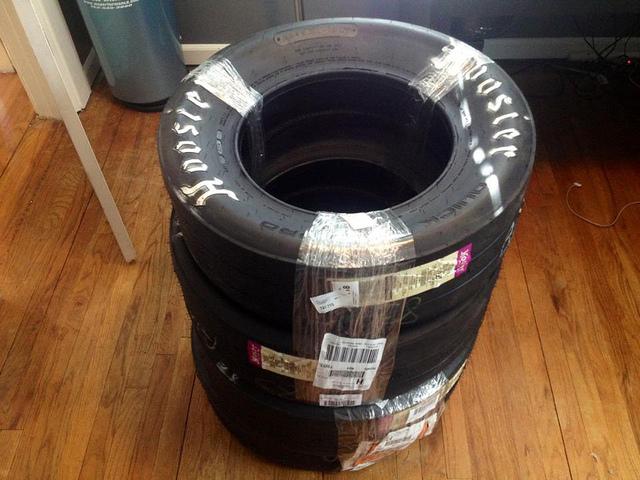 2-22-2013
Here are the lug nuts I am going to use for my stock wheels on the street

They are OEM toyota/lexus lug nuts. 10 for the front. Do not need arp extended studs for the rear.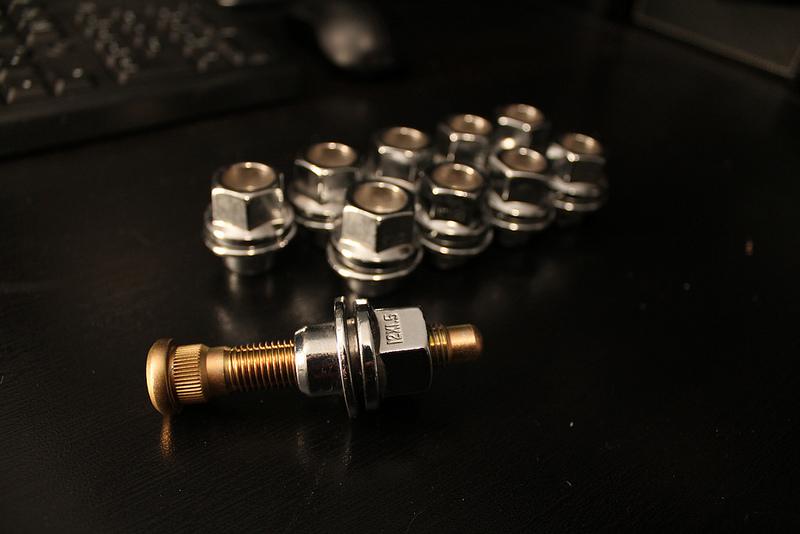 Currently the injectors are with FIC getting cleaned for 2013.
2-23-2013
Finally had my friend mount up the tires today. They fit and look pretty good.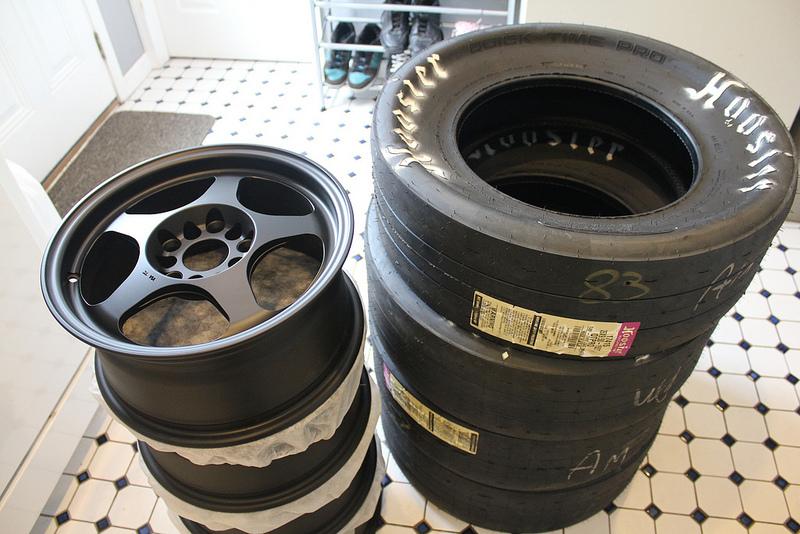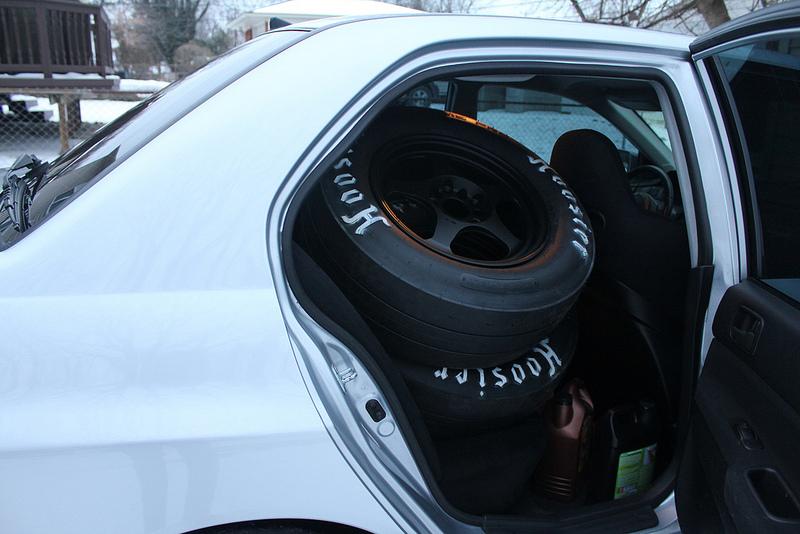 Rear: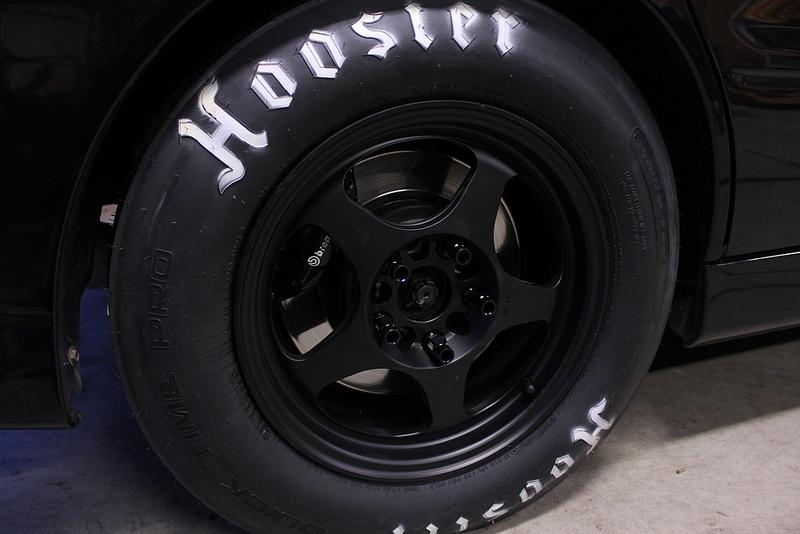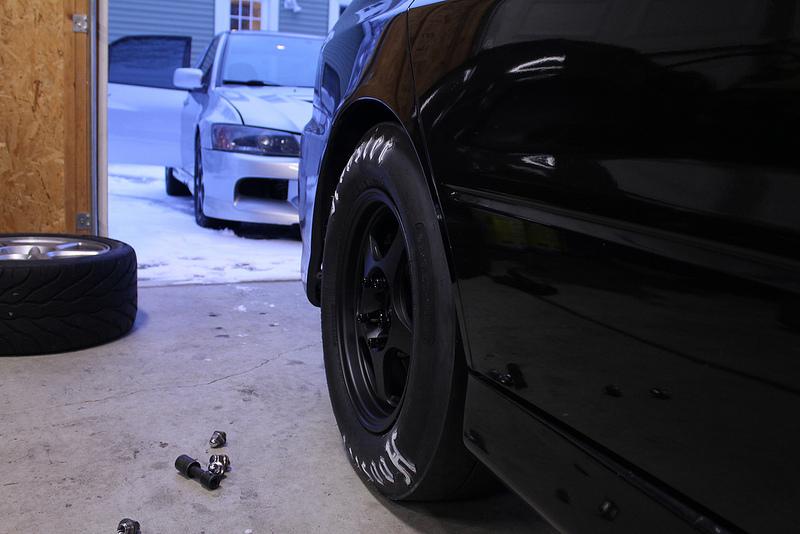 Front: Not bolted on because I need to throw on my ARP extended studs still. There will be a 10mm spacer behind the wheel.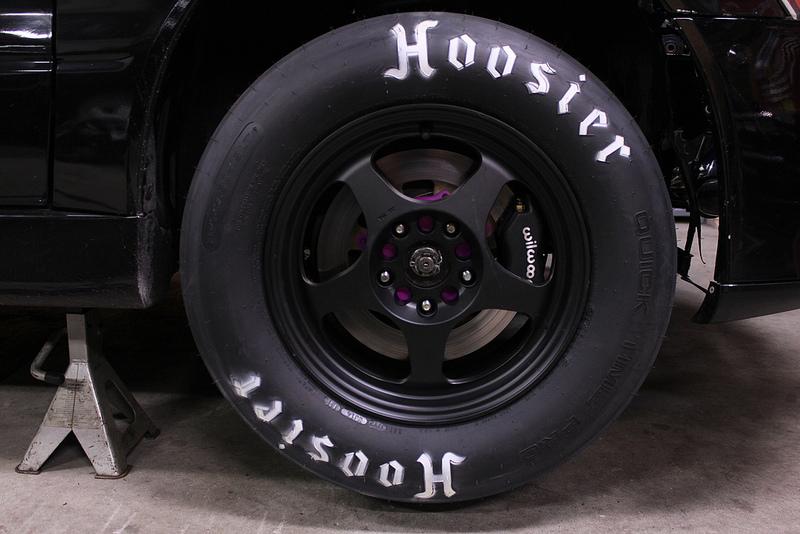 Going to be putting these EVO 9 MR tail lights on the car, except i'm adding special vinyl to them so they appear as EVO 9 JDM tails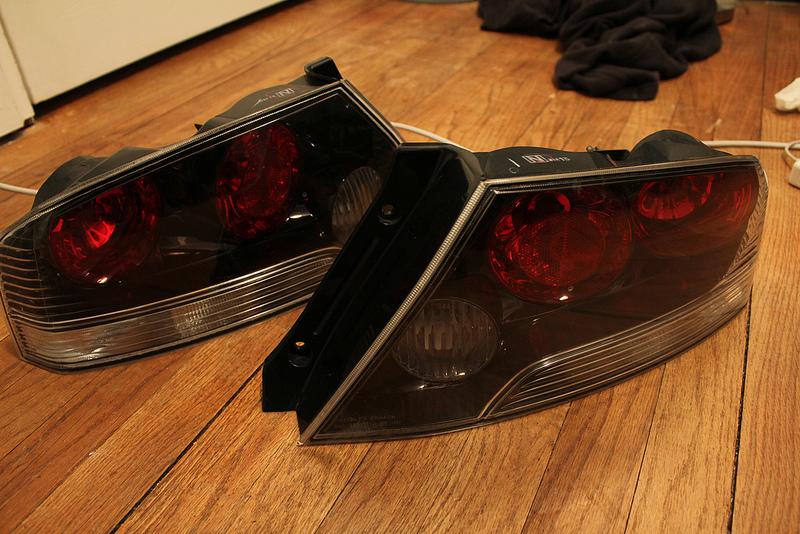 2-24-2013
I added the amber/orange vinyl to the 9 MR tails.
Before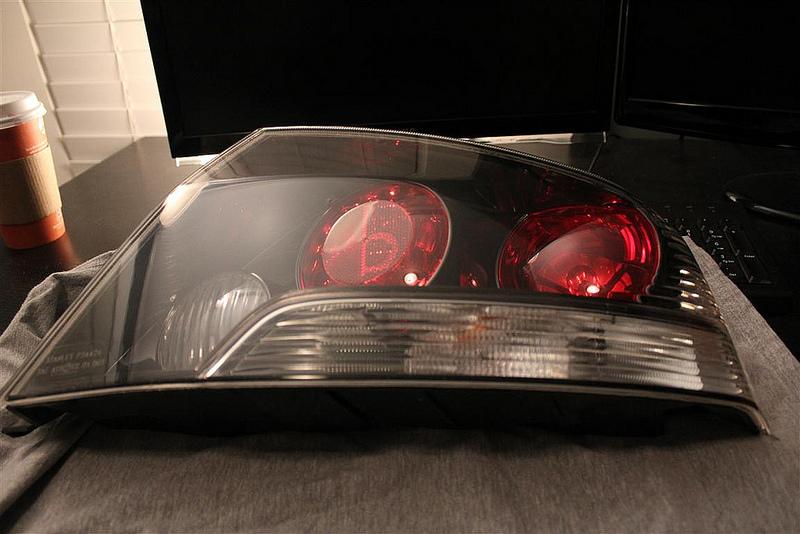 Orange/amber transparent found on ebay for under $10. It's pretty thick.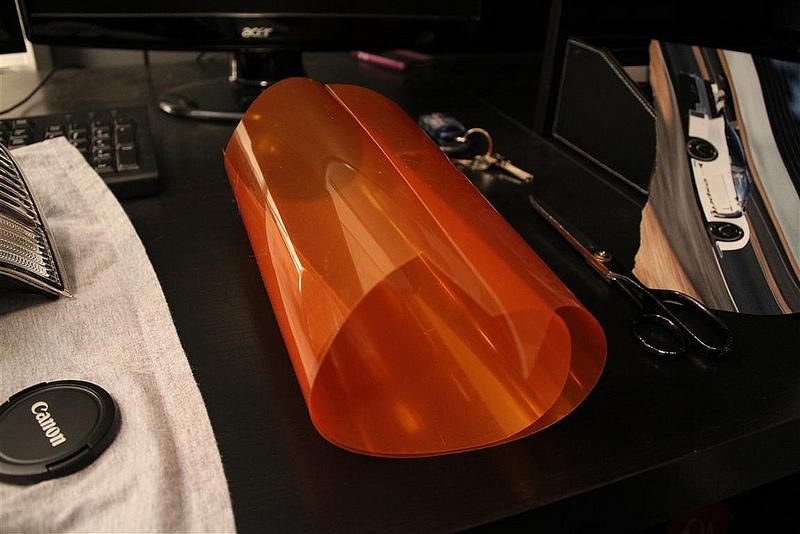 Create template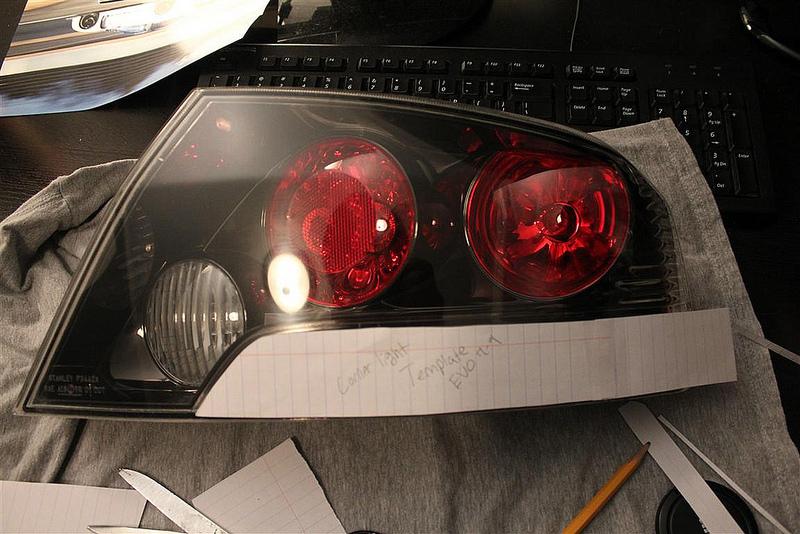 Cut vinyl then apply water/soap solution to the headlight surface and on top of the vinyl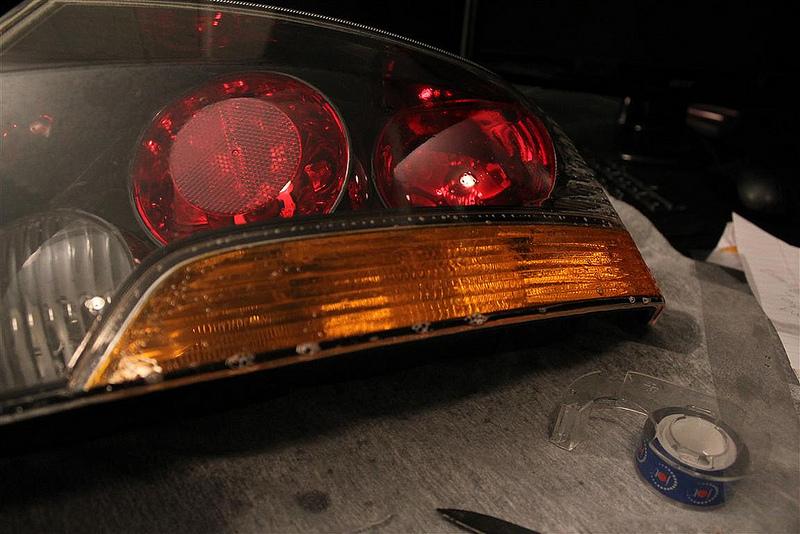 Get all air bubbles out with a squeegee/vinyl applicator/or credit card. Use a heatgun while doing this if there are any imperfections.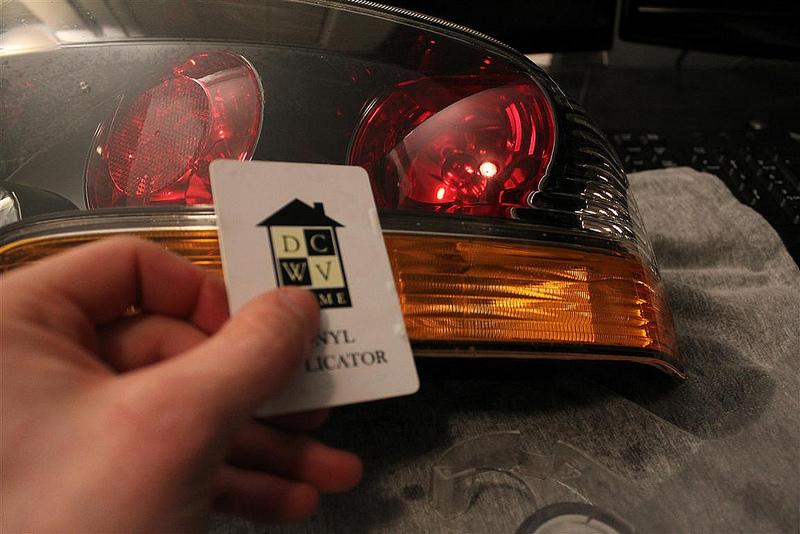 Done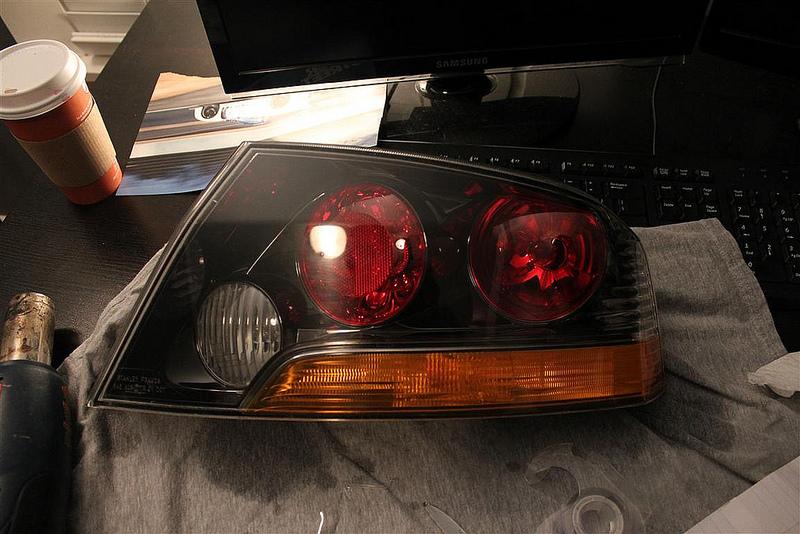 Now to enjoy some JDM IX tails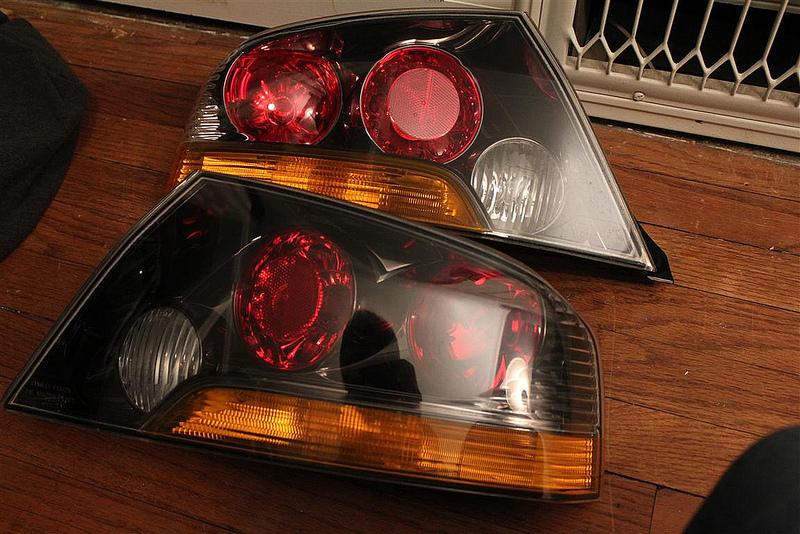 3-1-2013
I got the injectors back from FIC. #4 was totally jacked and cleaning did not fix it so they hooked me up huge on a replacement. Those guys have great customer service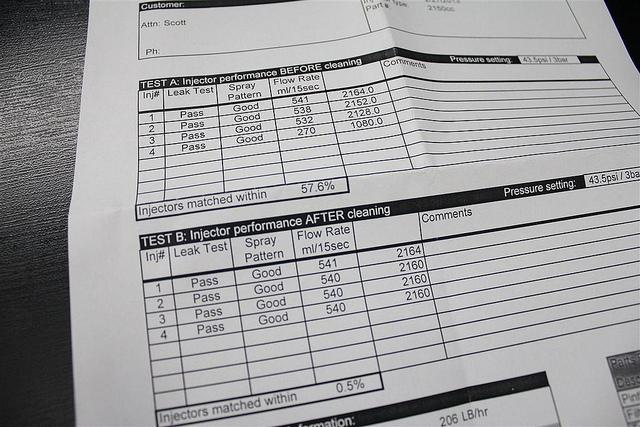 I made some bolt on mirror block off plates. I used thick lexan and wrapped with carbon fiber vinyl found on eBay. I basically traced the mounting plate of the side mirror for the shape so it was like OEM. The bolts go through the factory mounting spots that the studs on the factory side mirror uses (all stainless hardware of course). Also uses the factory nuts that hold on the side mirror. Bolts are countersunk under the vinyl.
Used for the track of course... Should be able to handle well over 200mph for a standing mile race (I'm attending one in july) With the front bumper block off plates I made and these I think it should do decent Aero wise.
I've never worked with lexan before or wrapped anything with vinyl but I think they turned out alright.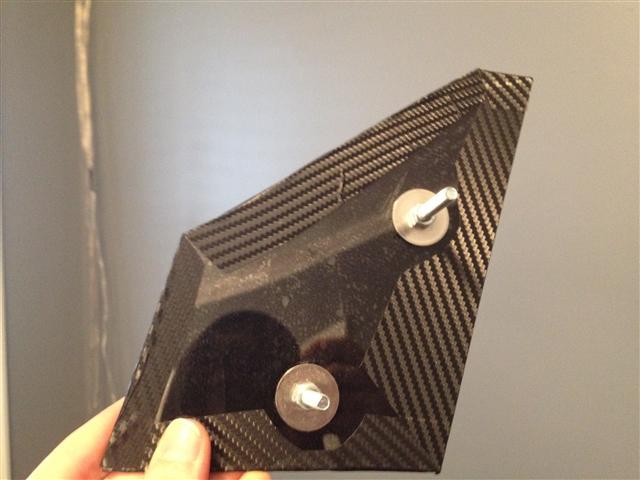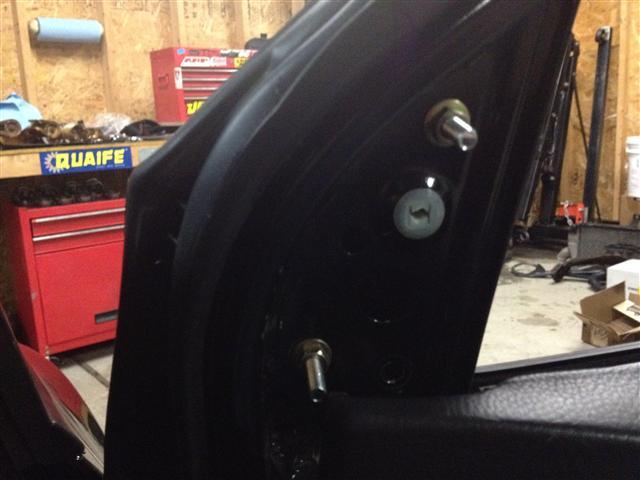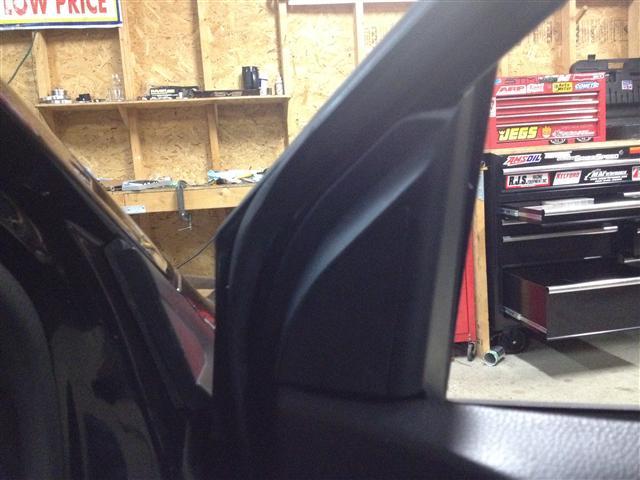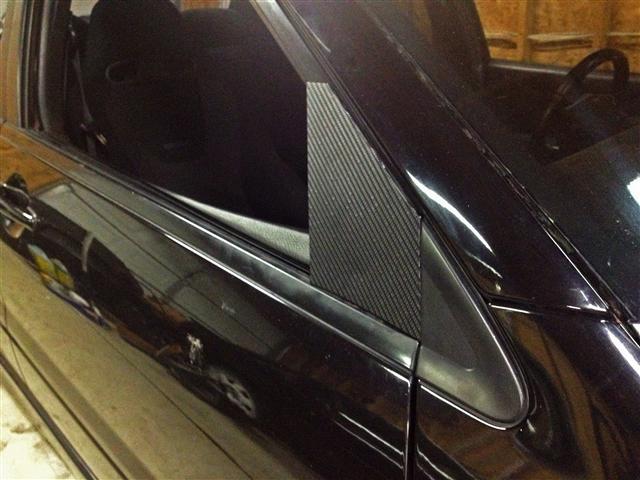 I promise I wasn't trying to copy the angry aero ones... If you want block off's buy them off Angry Aero.
3-2-2013
You definitely have to come to the sport compact man! It's a blast.
Also, I think I may have to put a project log thread up of my daily driver that I brought back to life from being smashed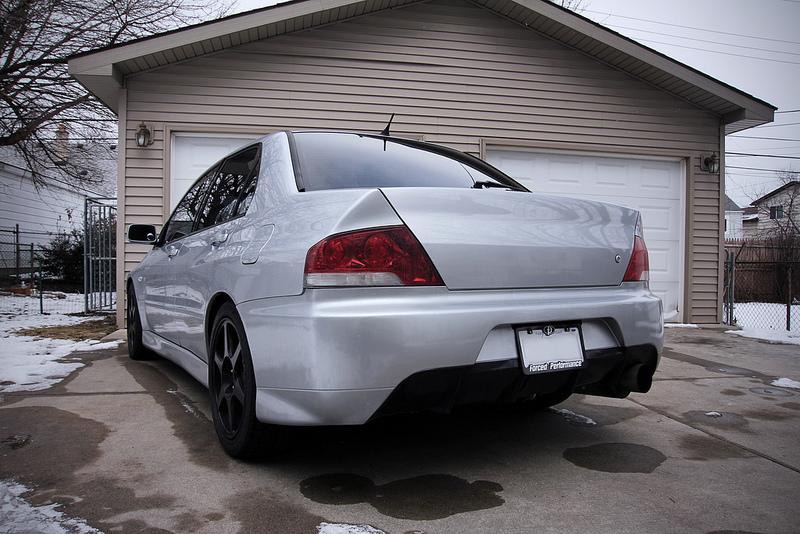 3-19-2013
So I'm switching from the AMS f1i to Curt Browns extreme 70mm manifold. It's going to make more power and TQ before 6500, then either stay close or loose power up top. I am doing a back to back comparison to see the true changes in the powerband.. If it was a 2.3 or 2.4l i'd consider keeping it. People have gone high 150mph on these so it should work quite well (with buschur basic ported buschur and AWD have gone 159/160 - STM went 150 with 6262 on their ported manifold).
a) i miss the stock manifold, having everything on top is nice
b) im willing to sacrifice a little power for it
c) i need money for another area of the car that is another update I'll have soon.
here's some pics, came in the mail today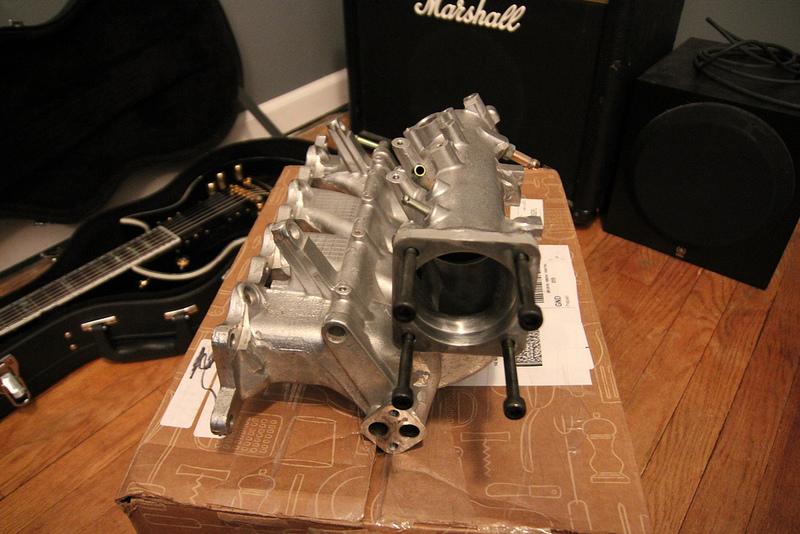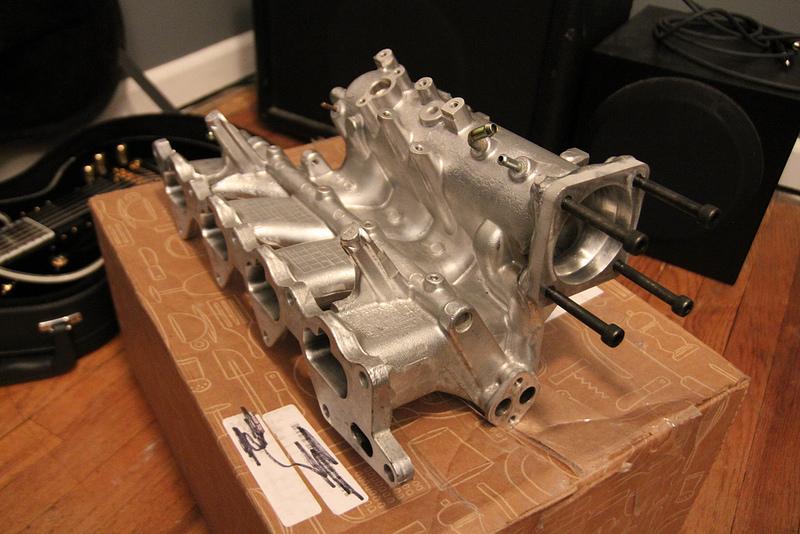 3-20-2013
I don't care about the numbers either, just track results. That's also why I created this thread:
http://forums.evolutionm.net/drag-ra...-you-gone.html
The overlay dyno graph i'll be posting is to see how the power band / curve changes. It should be interesting

3-22-2013
Here's a preview of the can. Warren (antilag_200) engineered and built it for me. It has a very nice dual chambered baffle setup inside.
two pics of it mounted on his car. will be given the brushed aluminum look. it'll be on my car and fully functional this weekend with black pushlock fittings/line.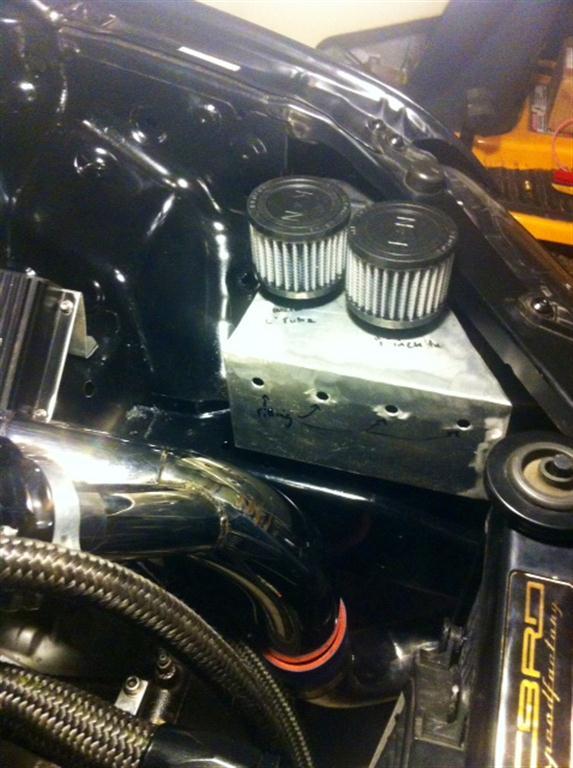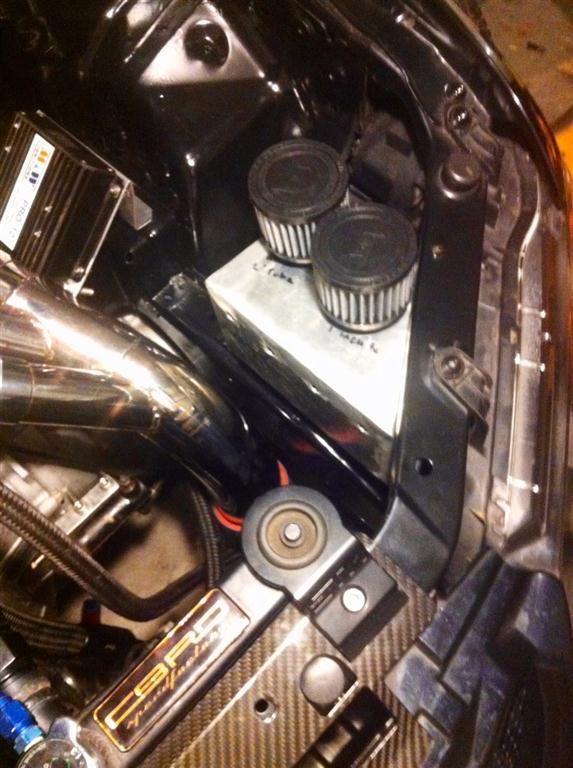 Thought I'd post this:
120 runs in the past 2 years on the stock block between 300-700hp lol.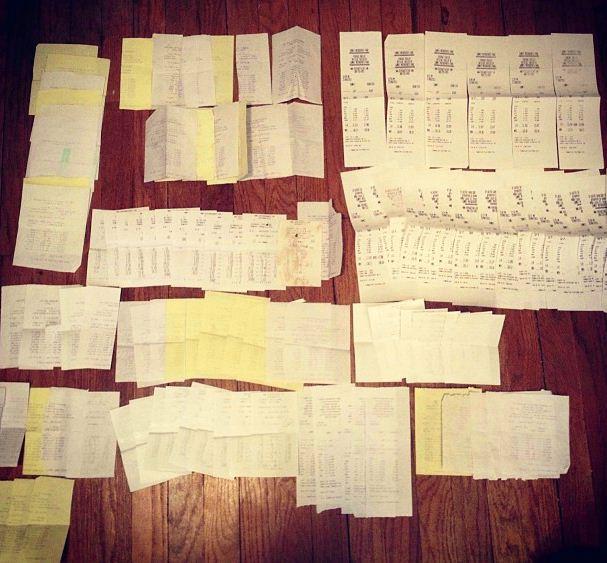 3-25-2013
Installed the Curt Brown 70mm extreme intake manifold. AMS F1i is sold to a local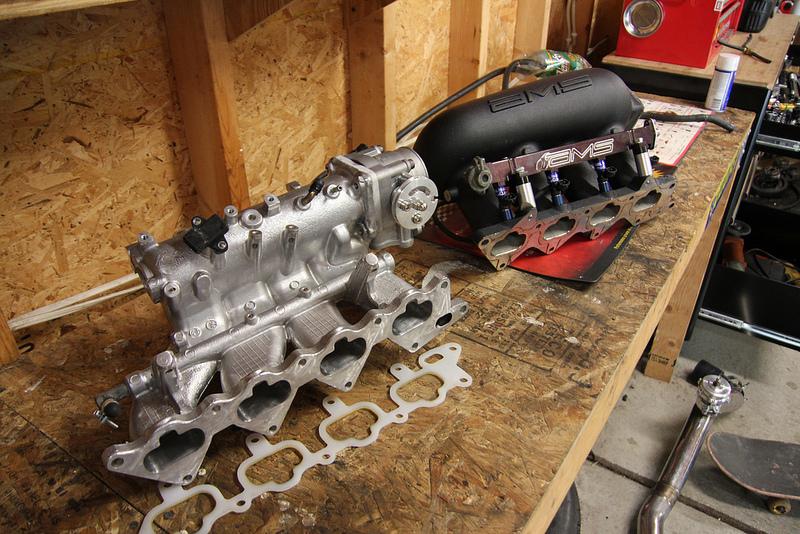 Pretty sure i'm going to eventually rewire this portion of the harness...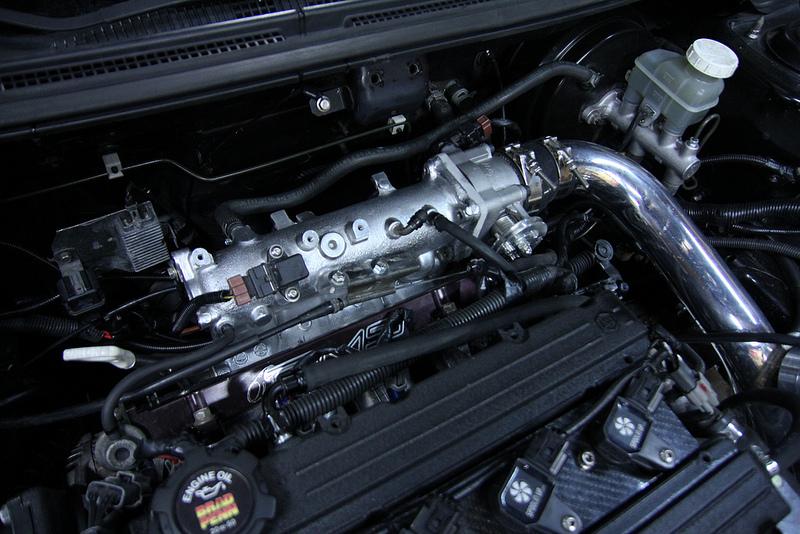 New catch can fabbed by a local- Warren (antilag_200)

. Dual chambered and quite large (it comes down past the frame rail infront of the wheel well area).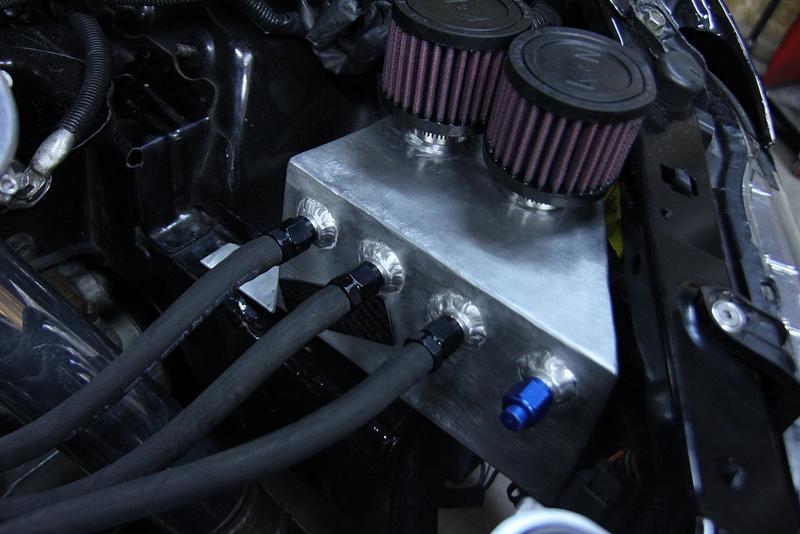 All together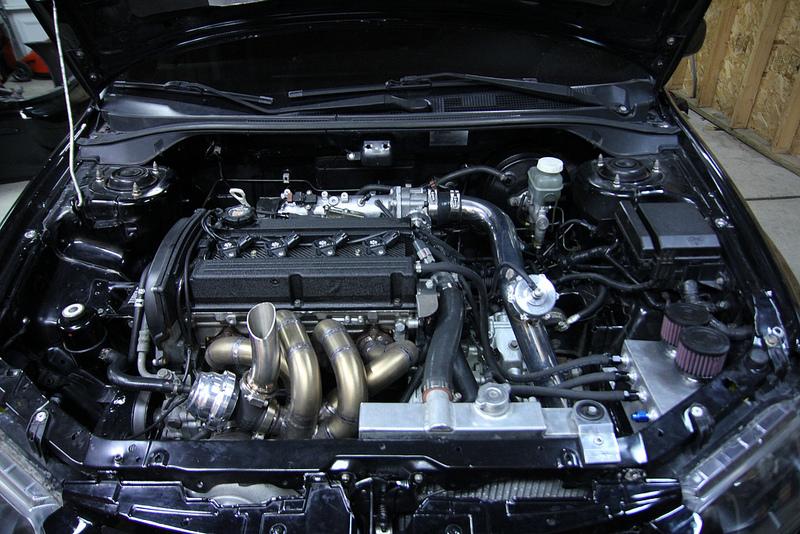 So, I know people are wondering what the differences will be between the AMS f1I and the Curt Brown manifold. I did a pull two days ago on the F1I on my base map which doesn't have any fine tuning yet and got some numbers. I went out last night and did a pull on the curt brown manifold, the car blew spark and popped a freeze plug. So I do not have an accurate graph for the Curt Brown yet, maybe next week. You can tell in the graph below how the car spools faster and picks up nice HP and crazy amounts of TQ below 6k. This may not be 100% accurate, but it gives you an idea.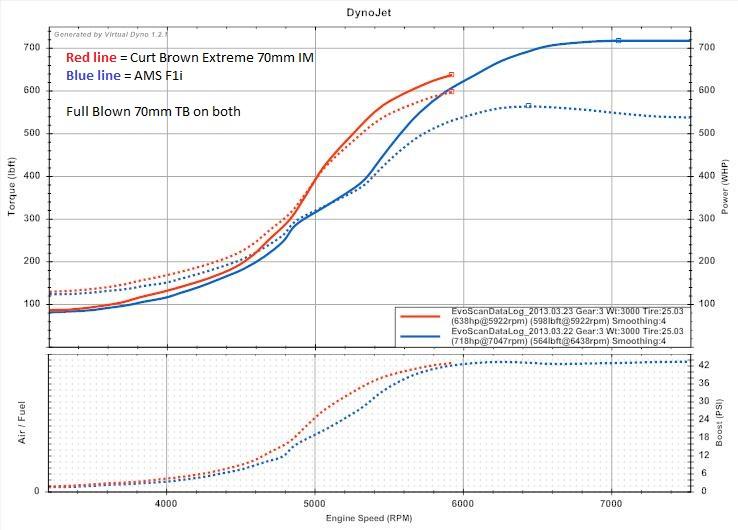 4-1-2013
Car is up and running good. Freeze plug probably wasn't sealed very good plus the bad misfire caused it to pop out. Compression and leak down was perfect.
Here's a comparison between the f1i and curt brown 70mm extreme at 34psi. Only changes in the before/after pull was the f1i was in 15* weather, no tuning here.. Not sure if this is accurate or not, I can tell the car is a lot faster though, possibly the tq speaking. Curt brown says the results are spot on and the only intake manifold in his testing to see similar results was a ported skunk 2.
Accurate or not, it spools faster, makes more boost, and doesn't fall off up top. This power level in my car will trap between 144-146.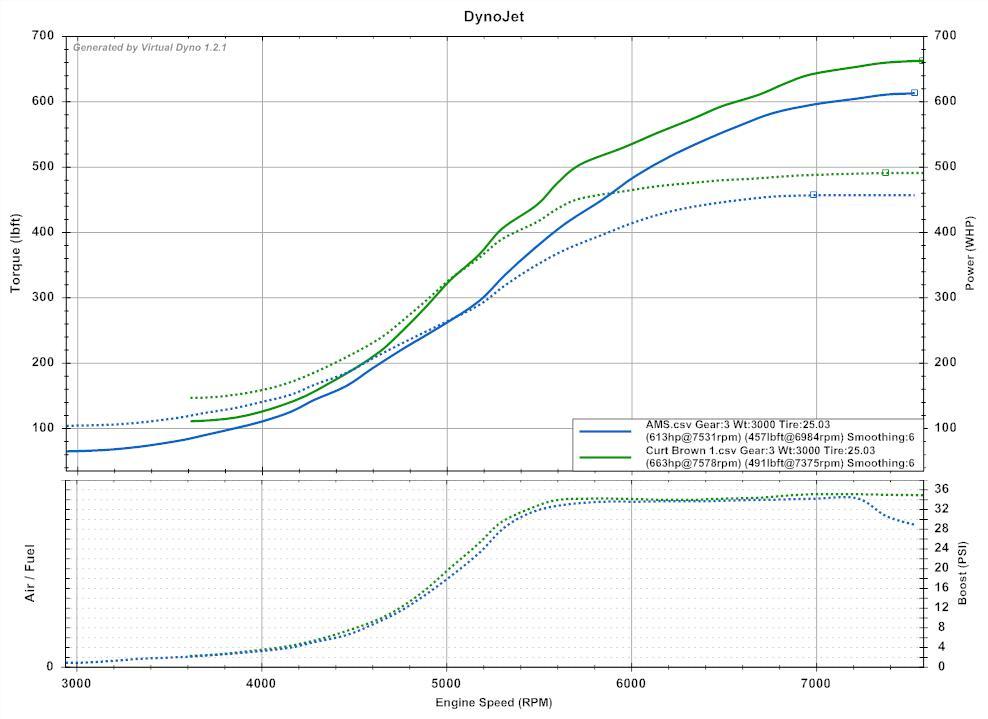 got around to installing the ARP extended studs: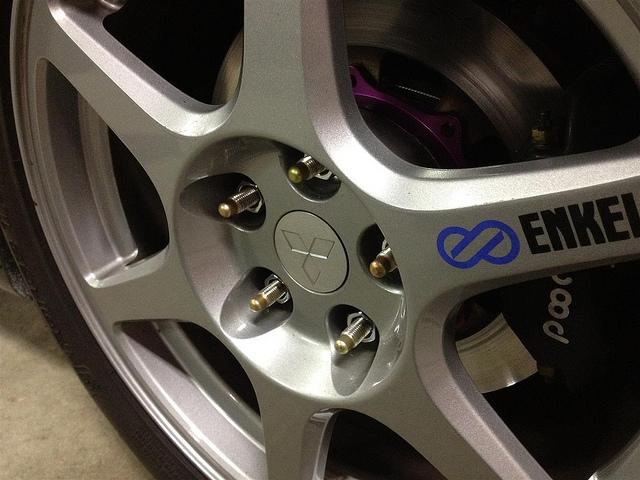 Two random pics my friend took at a car meet I was at over the weekend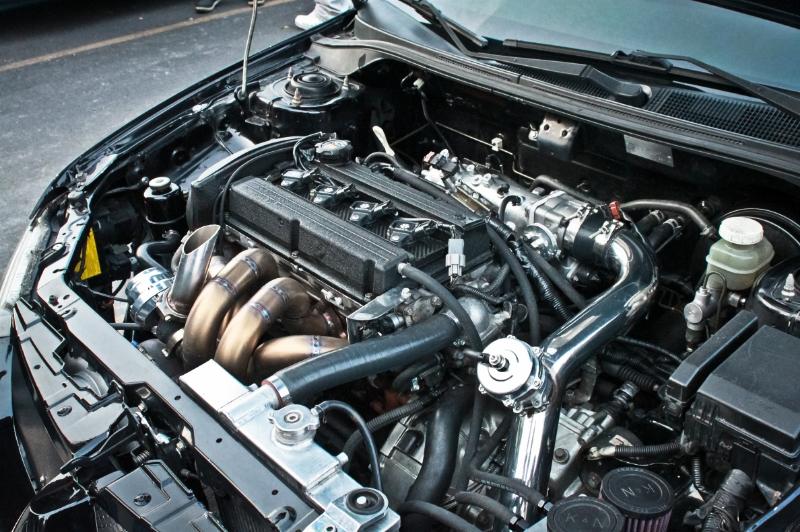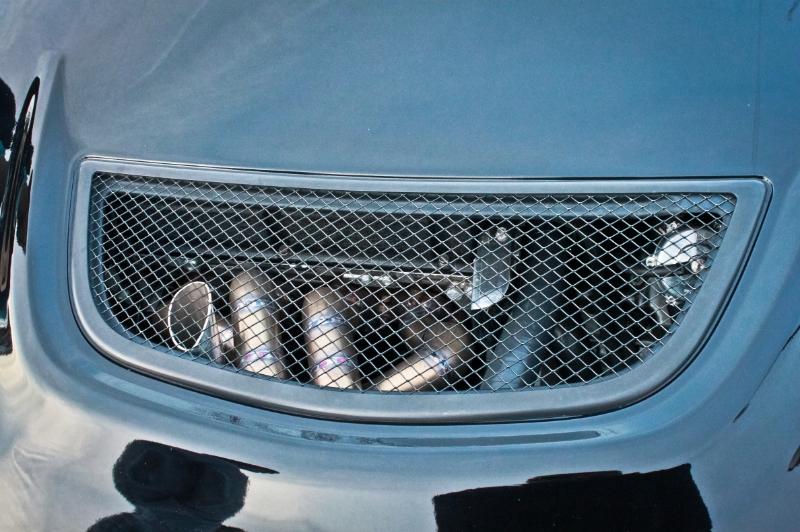 4-6-2013
I dropped my car off with my friend at his work a little while ago to do the cage. He is doing it on the side. 10pt chromoly with window net and will be certified for 8.50's. You won't know it has a cage unless you look inside.
I'm a little sad as this is the first time the car has been away from home over night, but its in a very nice facility @ Moran Motorsports (they build pro mod, pro street race cars). I feel lucky the owner even let my little import 4-banger in there. Very nice guy and crew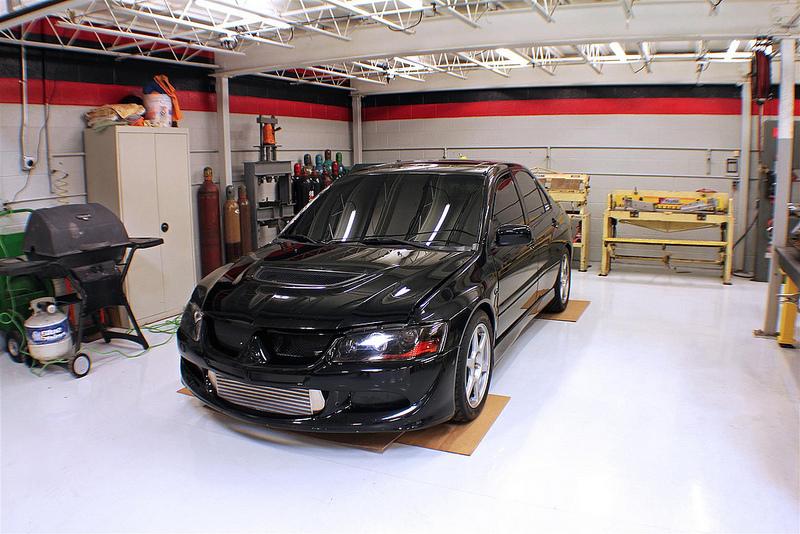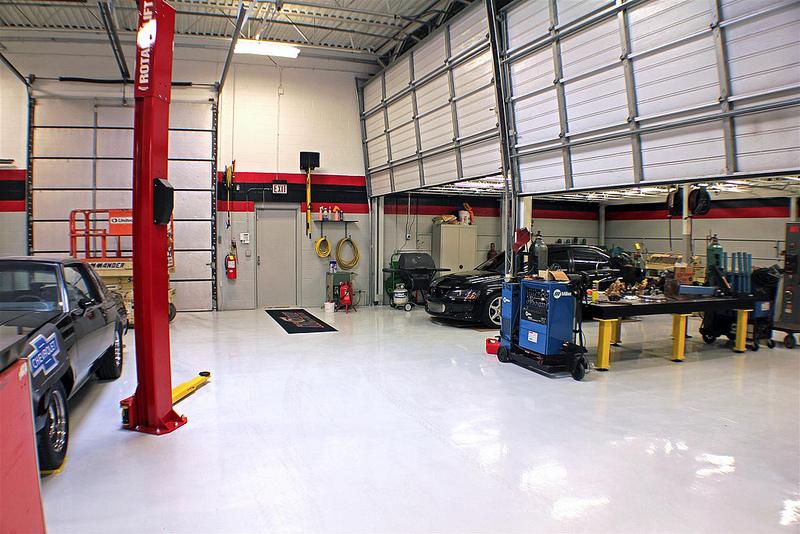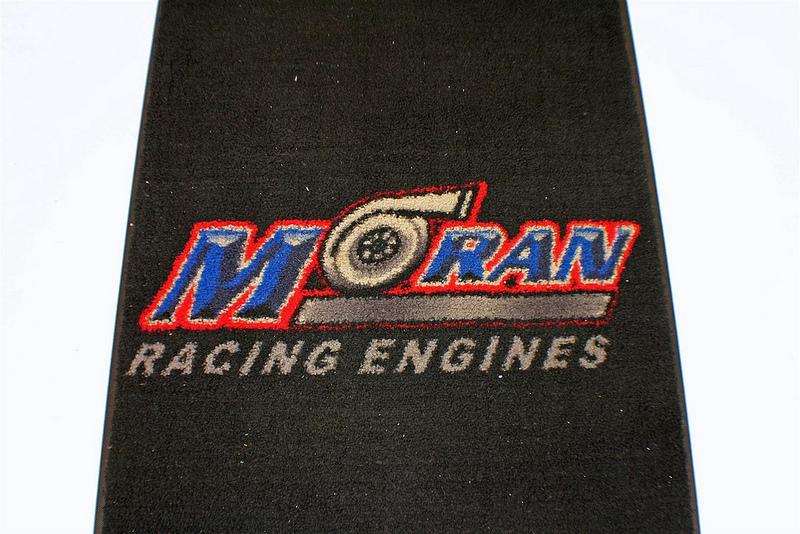 I wish I could show you guys the inside of the trailer. It's unbelievable. Cars go on second level.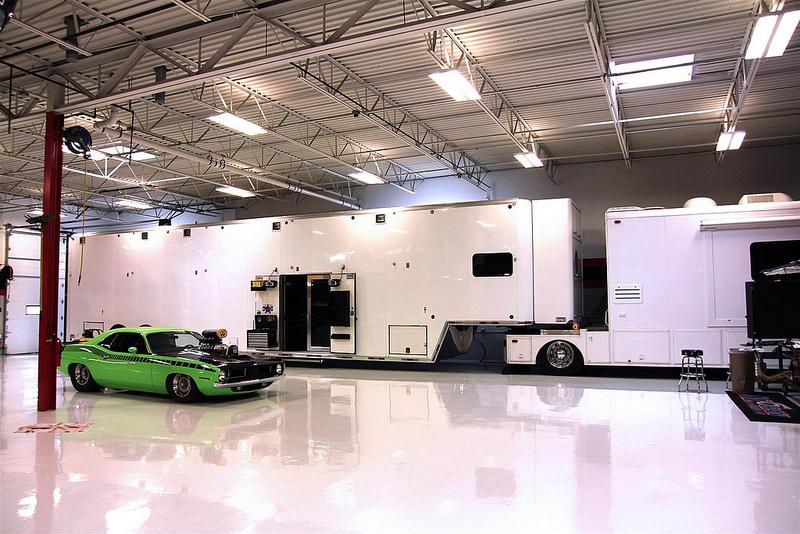 Kick-ass injector flow tester/cleaner they built. I know where i'm taking my injectors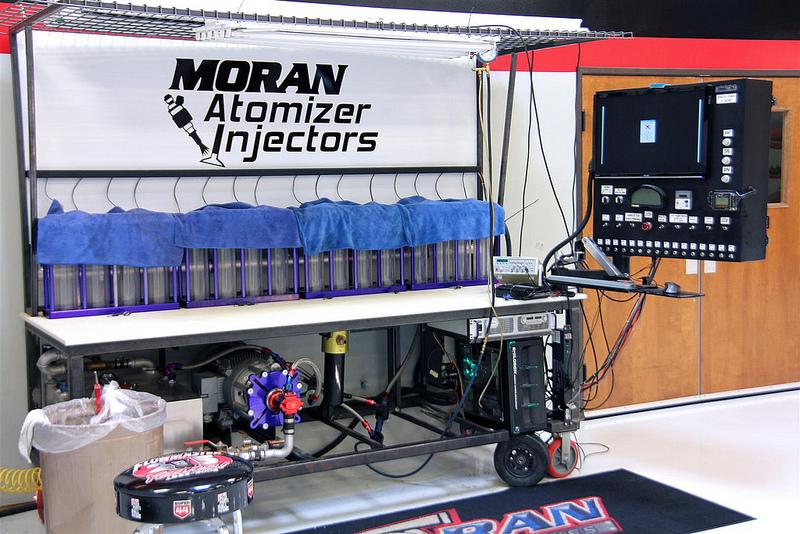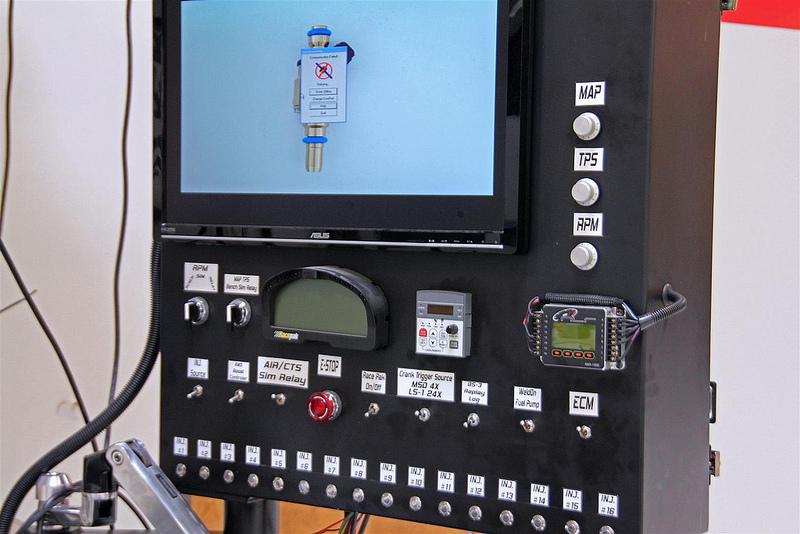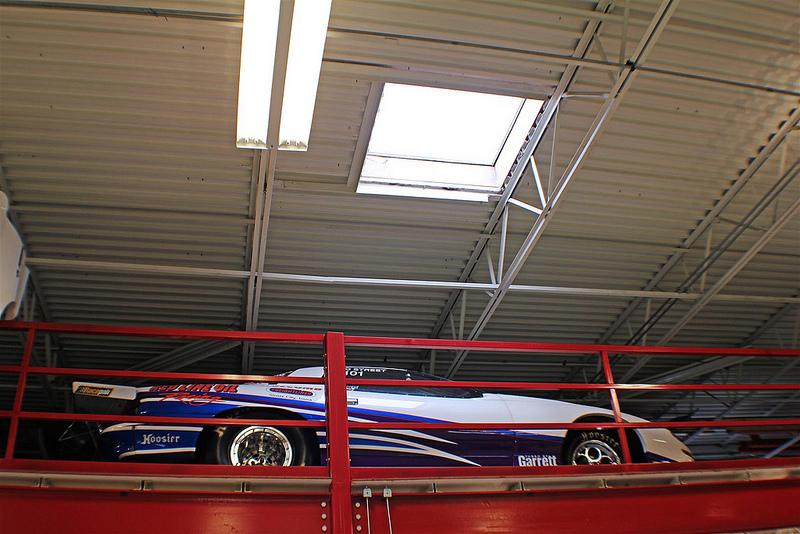 Everything they build in house is billet. Average engine is from 3,500 to 4,500hp lol.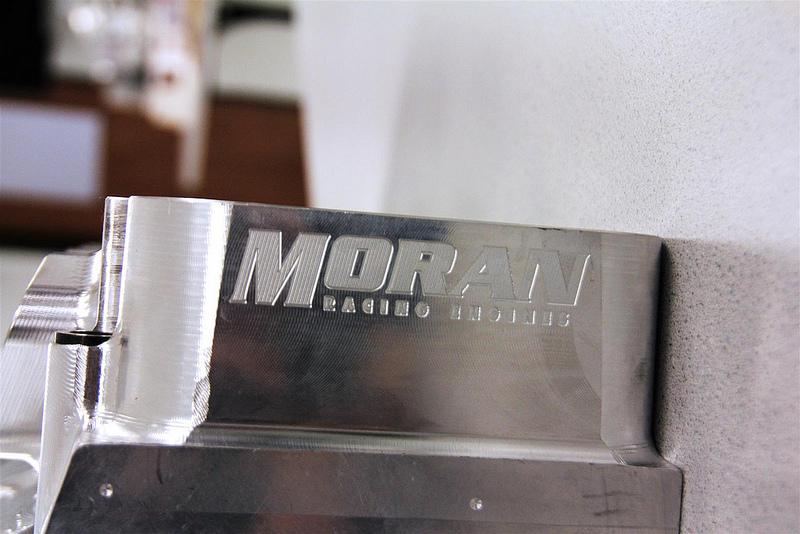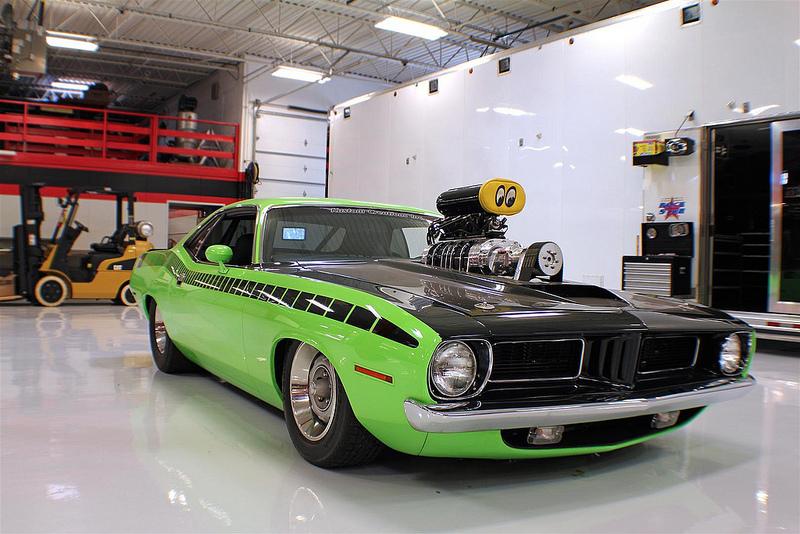 Blur your eyes a bit, do you even see a cage in this thing?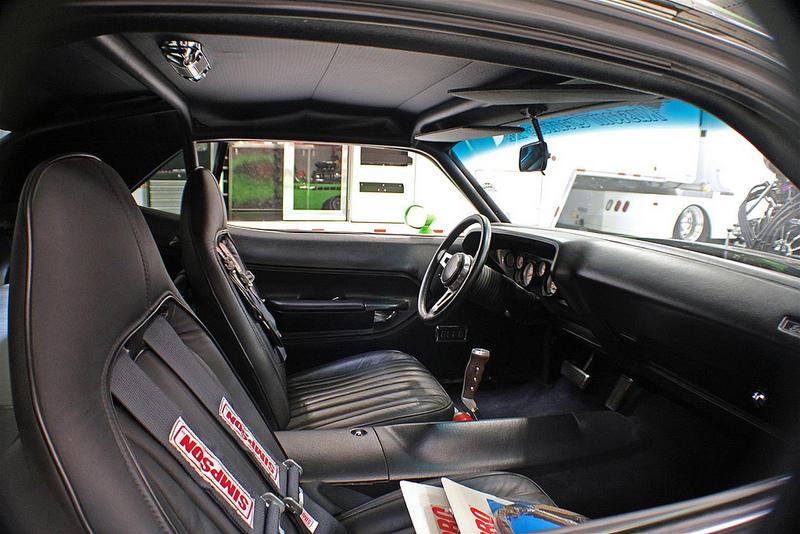 4-15-2013
Main hoop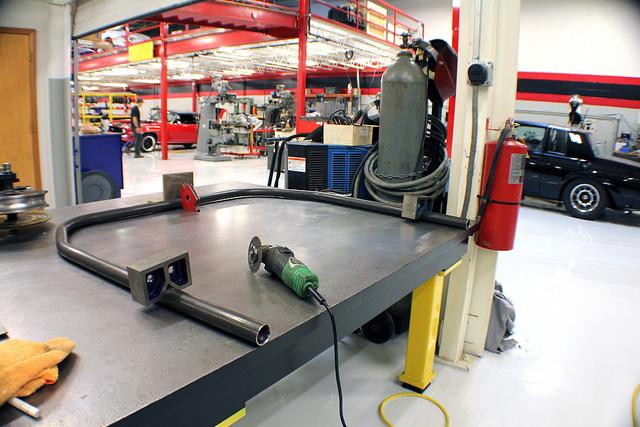 Main hoop roof fitment, nice and tight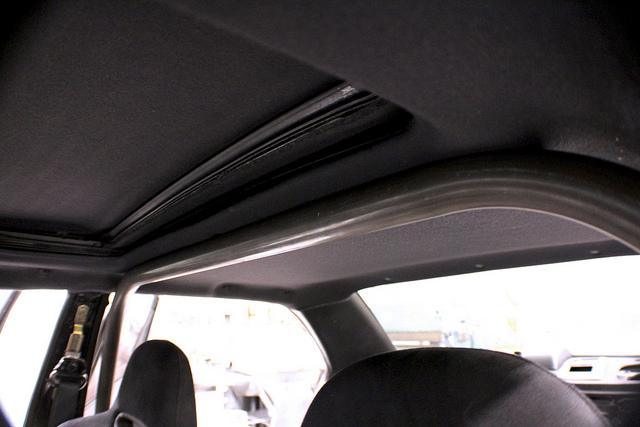 I'm also making a short film for my friend - should have it finished when the cage is done if I can ever find a good song..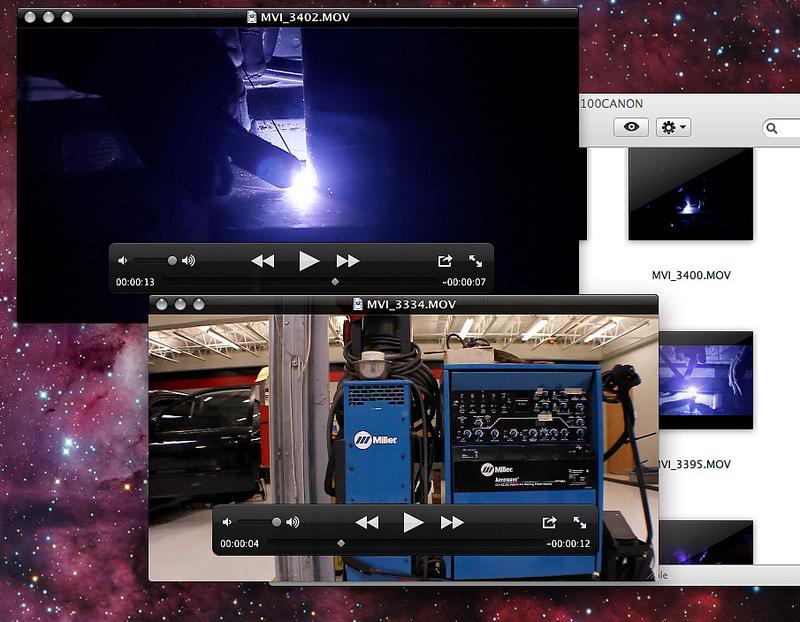 4-19-2013
It's a 6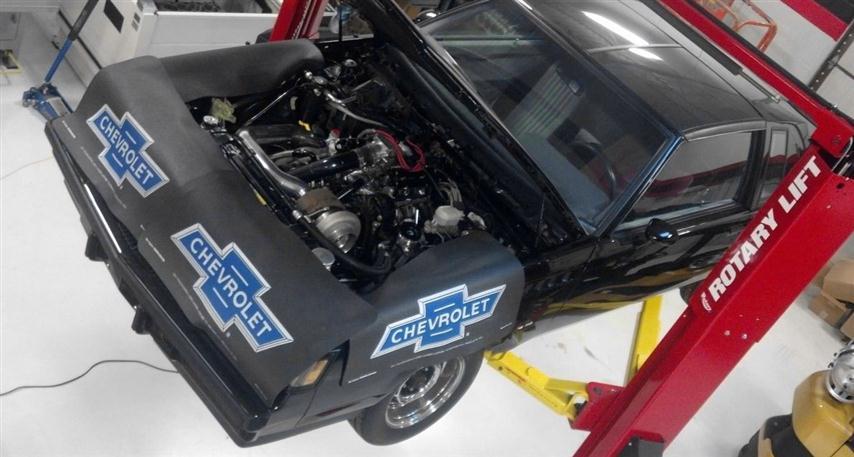 4-24-2013
The cage is getting pretty close . Here's a pic from last week during mock up. Nice and tight

I've been getting more video footage for a short film I am making during the process which I hope to have up shortly once the cage is finished. I believe we are going to do a satin black for the bars.
Rear bars are centered in the stock speaker holes. The speaker covers will be installed when done.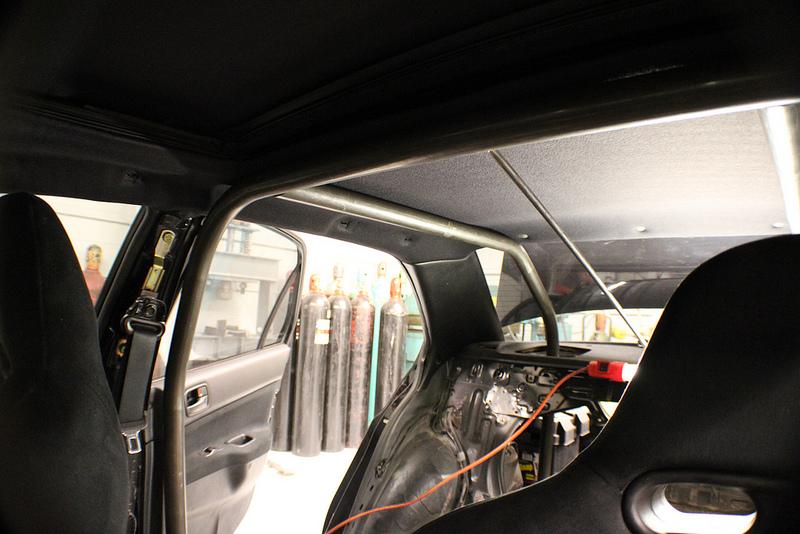 Also, I didn't know this, but the GN was bought by the owner (he is the first owner) and it has 14k original miles on it... It also has the aluminum GN v6 block in it.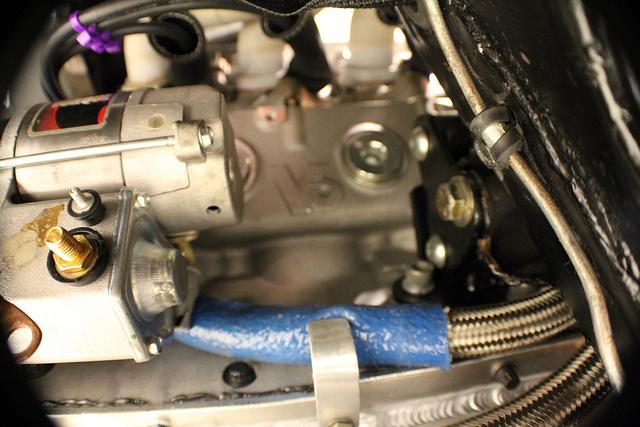 5-12-2013
The cage is almost complete. He has not been able to work on it for a few weeks due to projects at work but started on it again today. It will be finished next week and be getting dialed in next Sunday the 19th at my local track

The car will be at the Sport Compact Shootout!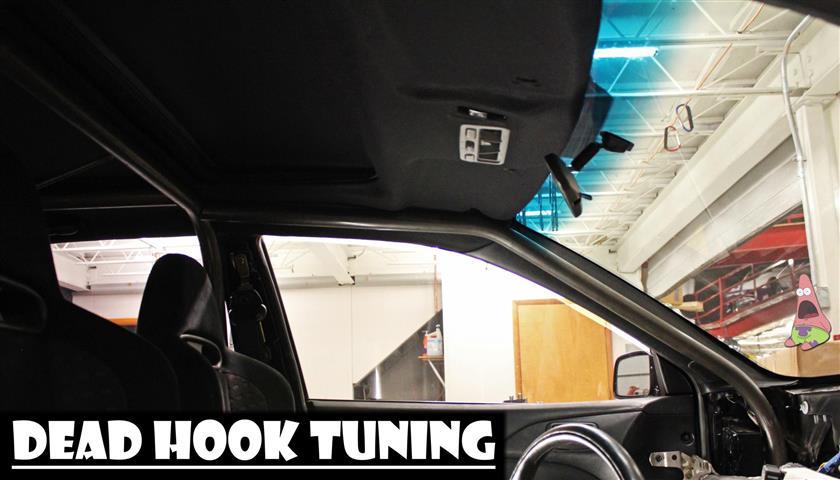 5-17-2013
All bars are finished and we will be painting them tomorrow before they go in for final welding Saturday. Sunday we will be dialing in the car at the track so its ready for the Sport Compact race next weekend. My wife and I have decided leave early Saturday AM for the dyno day at Buschur's, then spend the rest of the afternoon/night at Cedar point. I'm driving the car down...
Going to use the VHT satin black roll bar paint. I've looked at a lot of cages/reviews online of the stuff and looks pretty awesome. I'm also going to eventually get jerry bickel cf protectors for the door bars.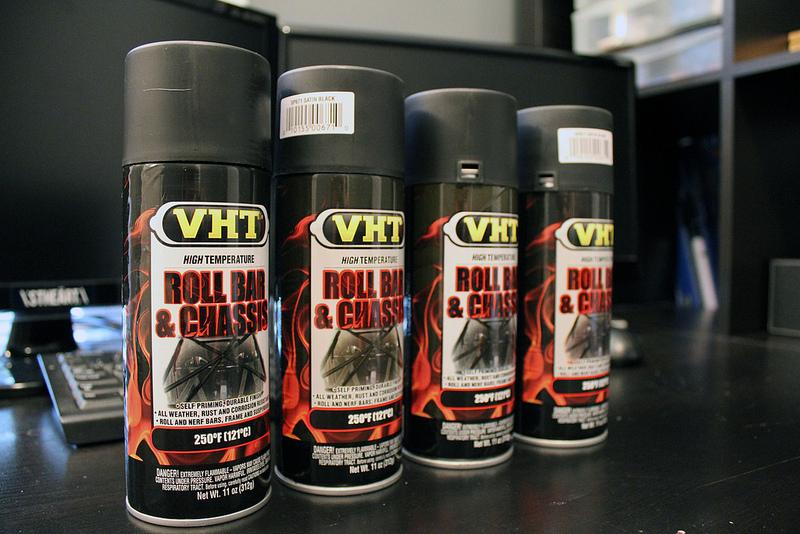 Driveshaft is en-route from Tom/Tscomp. It's a TSCOMP spec/bill engelwood driveshaft. Superior to any aluminum shaft out there available for the Evo platform.. I'll install it next week before we leave for the Shootout.
Pics from Tom: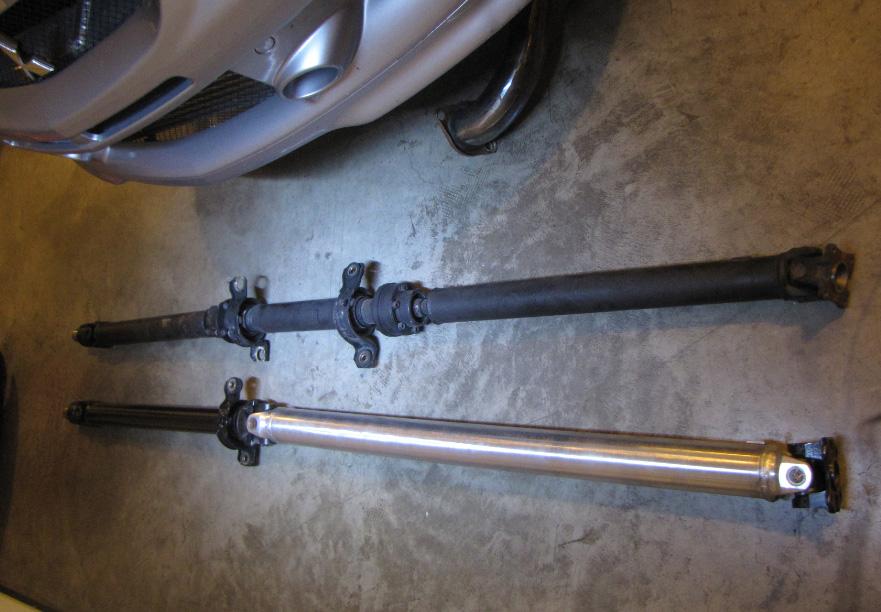 5-18-2013
Good info Tom. Can't wait to get it Monday!
All bars are out and being painted. They are going in the car tomorrow morning for final welding and finishing it up.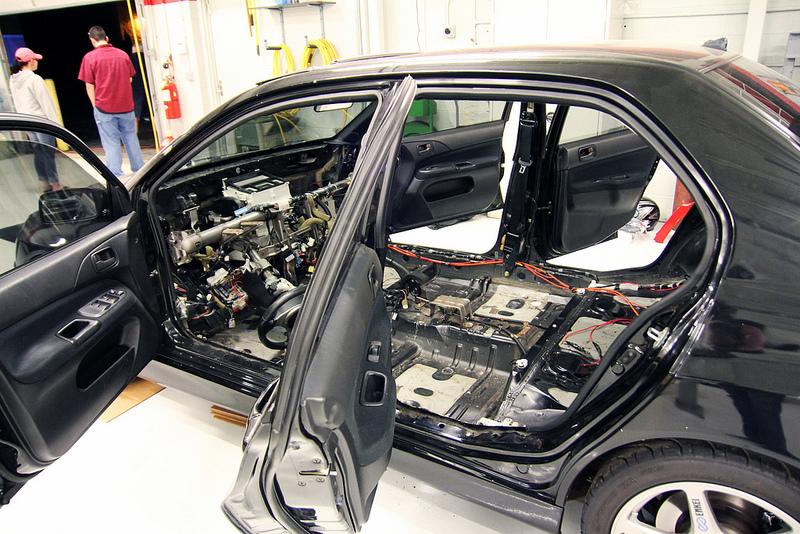 Decided to throw all the interior stuff in where its placed and scale the car before cage goes in (a very accurate scale). It is 2802lbs with street tires on. With slicks and driveshaft it should be close to 80 more lbs. I'm guessing the cage is 70-80 but we will know for sure once its in.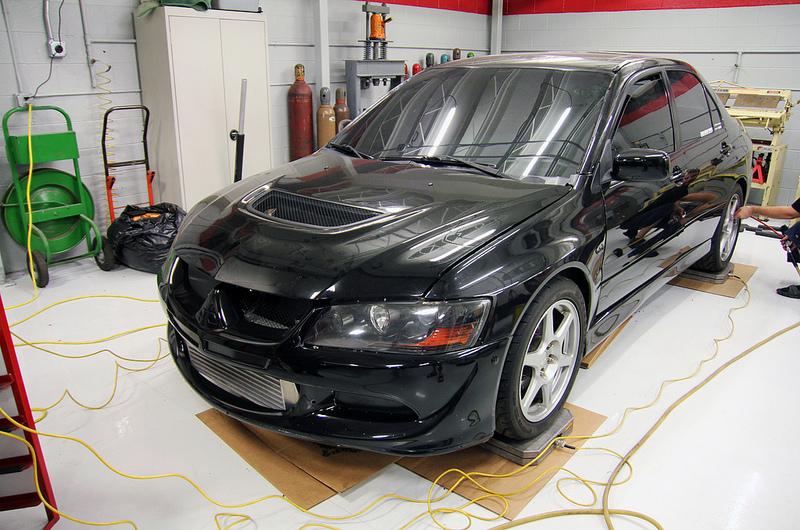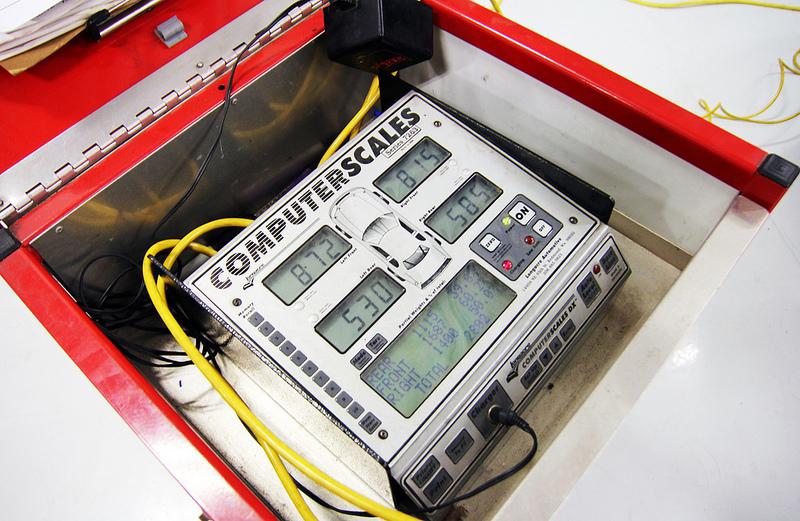 And the GN you all love

5-19-2013
That's not too bad!
Yesterday I changed out the passenger side front wheel bearing. It was beyond destroyed. Drive shaft arrives tomorrow

Here's the finish on the bars. I think they look awesome. We prepped them pretty good. I couldn't imagine painting these inside the car and getting all the way around the bars lol.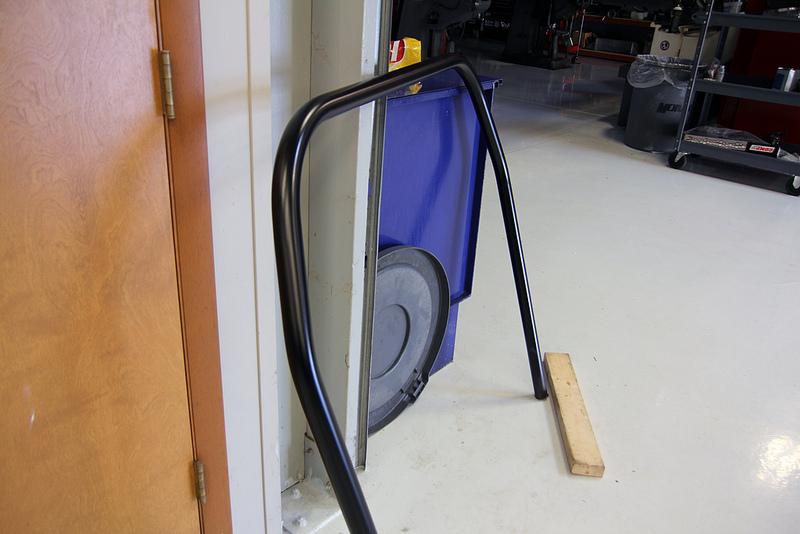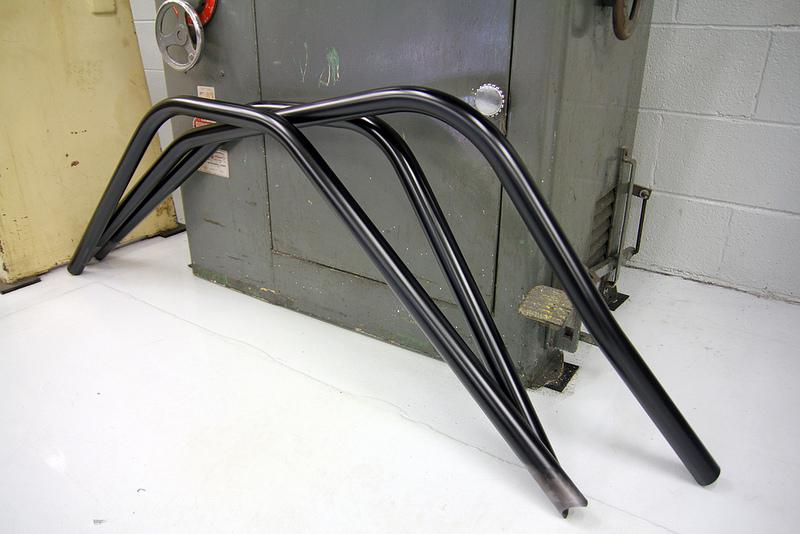 5-20-2013
thanks warren! I'll text you with how it goes.
Here's some fun data:
Stock wheel with 255/40/17 KDW :............44lb...(x4 = 176lb)
FD RX7 wheel with Hoosier 26x9.5-16":.....32lb...(x4 = 128lb)..48lb savings over stock.
15x7 Slipstream with Hoosier 26x9.5-15":.29lb...(x4 = 116lb)..60lb savings over stock.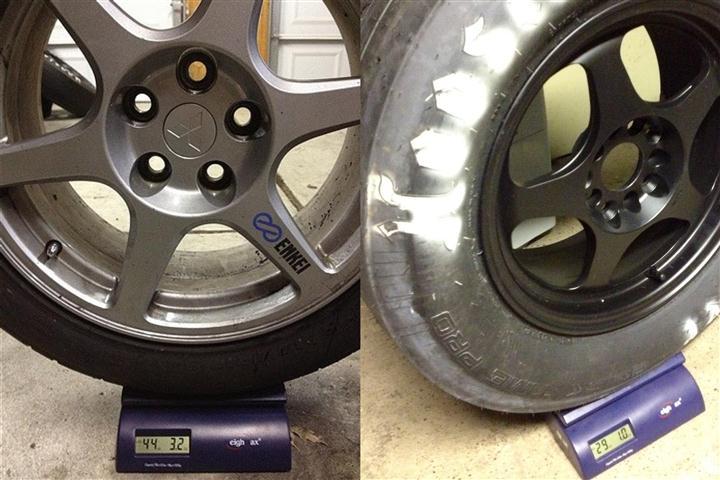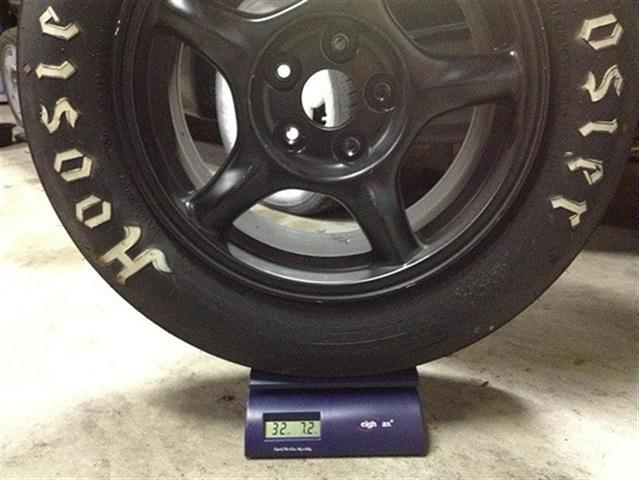 5-23-2013
I am driving the car home tonight. Have the day off work tomorrow to install the aluminum driveshaft, fluids, plugs, touch up the tune and what not before we leave for Norwalk.
Here's two crappy pics from my phone of the cage before completion. Will get finished pics soon. It turned out amazing!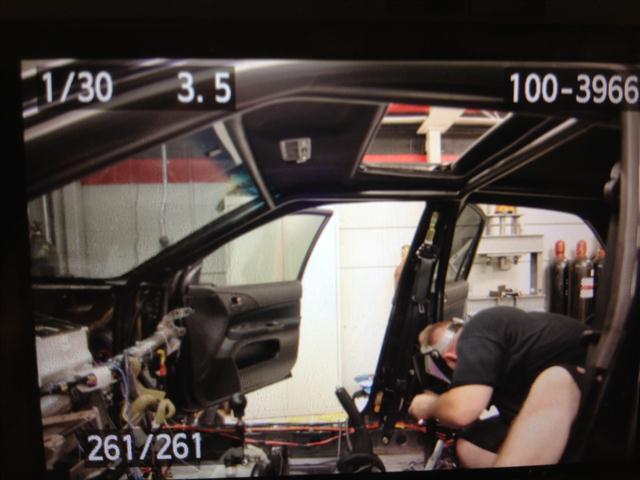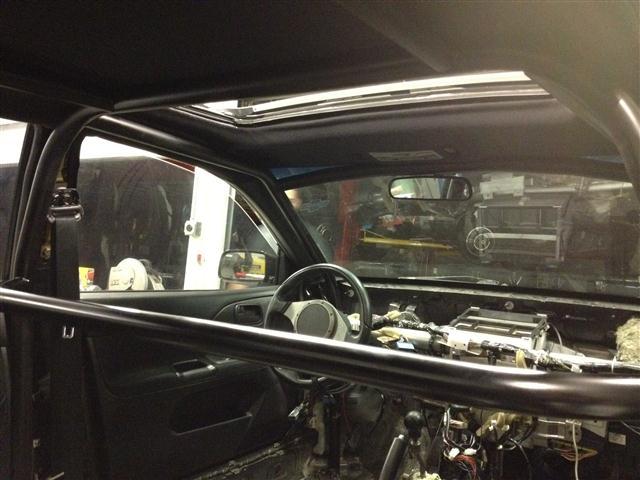 5-28-2013
The cage is all done with the exception of putting in the window net and harness. Ran out of time Friday night.
I drove the car down to Ohio for the IDRC, it was a great drive. Car got 20.5mpg . I took it to Buschur's on Saturday then Cedar point afterwards. I think I put close to 400 miles on the car. I wish we could have tested the car prior to the event but had no time.
The car popped out the same freeze plug again Saturday night when tuning it a bit more. We replaced it and it held good then, hoping it would stay in to race... Well it did not and came out after a launch at the track. Same one Joey popped out as well which is crazy. Thank you Boostin Performance for the freeze plug so I could get home

And thank you Wheatley for the fuel as the pump was broken at the only E85 station in Norwalk.
We inspected the hole the freeze plug popped out of, looks like its scored pretty bad (seem's like the machine shop may have messed it up). We will be taking care of these issues shortly whether the head is lifting or not and be testing the car at the local track soon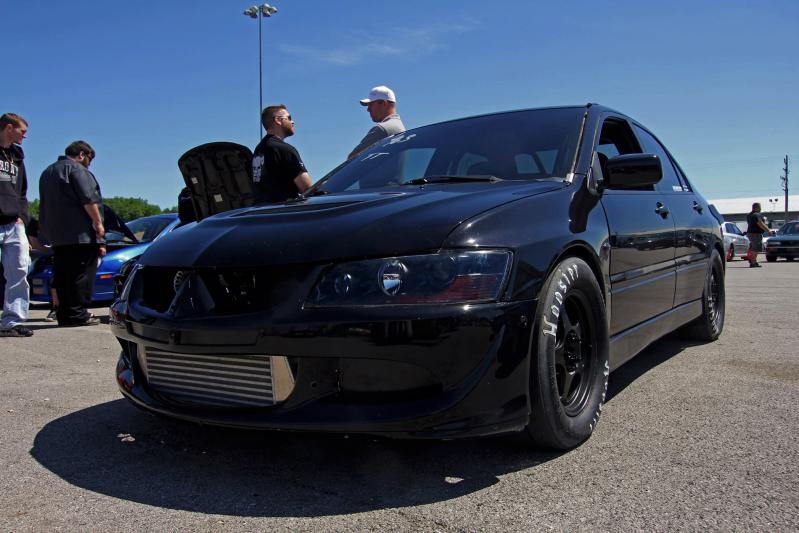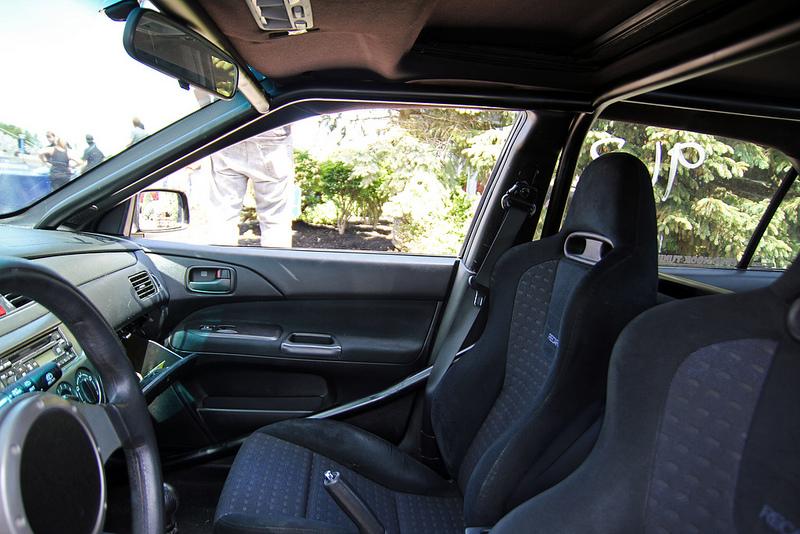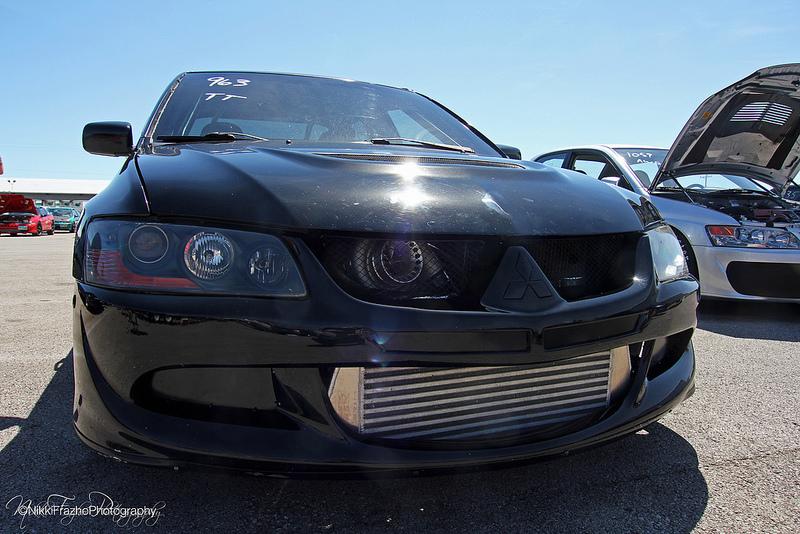 5-29-2013
They are for your cooling system.. and there is 8 of them.
You must be thinking of something else.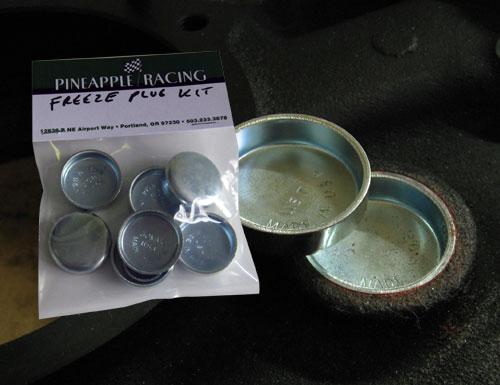 6-2-2013
I took the motor out Friday night. It will be going to my friends shop where the cage was done for some threaded billet freeze plugs and some o-ringing for cheap insurance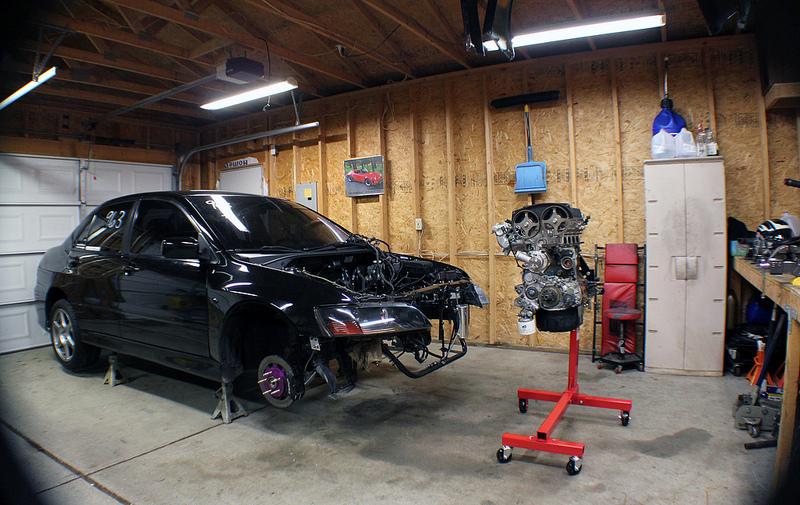 6-5-2013
Threw this together when looking through some pics of old slips I have. Kind of cool looking at. These are on the stock motor.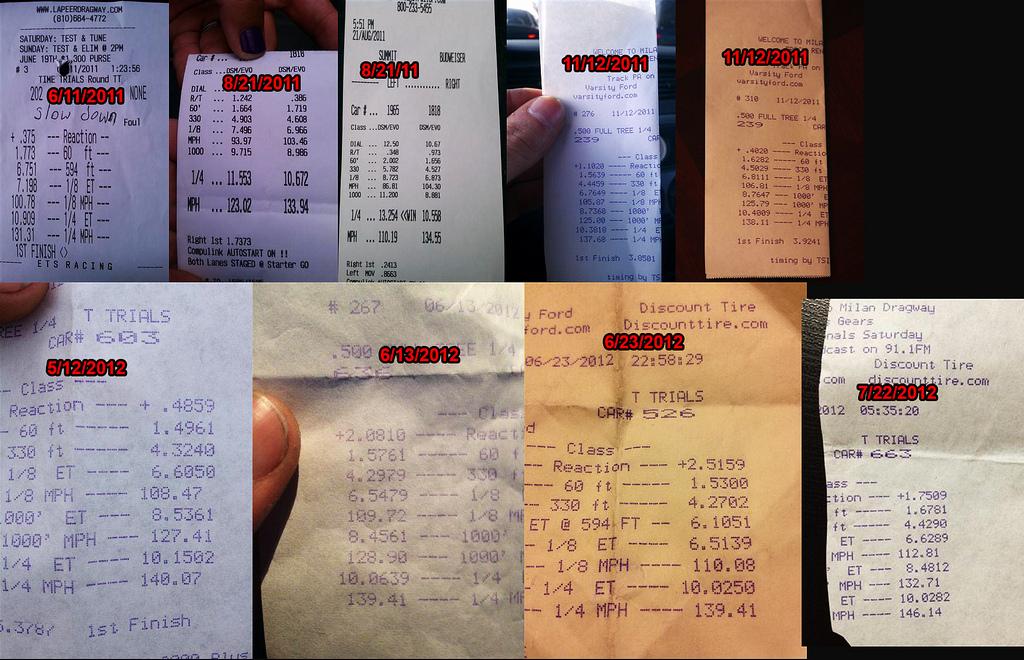 6-10-2013
Turns out the car is now getting a TRE 12-plate max lock rear diff while its down.
The rear diff in my daily driver burnt up from using the OEM spare ( I didn't think this would be an issue since the car is on OEM wheels with OEM tire size). Well, mitsubishi is stupid and turns out the diamater of the spare is 23.x and not 25.3 (stock diameter). I took the stock rear diff out of the black car and put it in my daily driver. Burnt up diff from daily is getting the rebuild/upgrade service from TRE which will go in the black car. Kind of works out

7-2-2013
TRE 12-plate max lock rear diff... TRE FTW!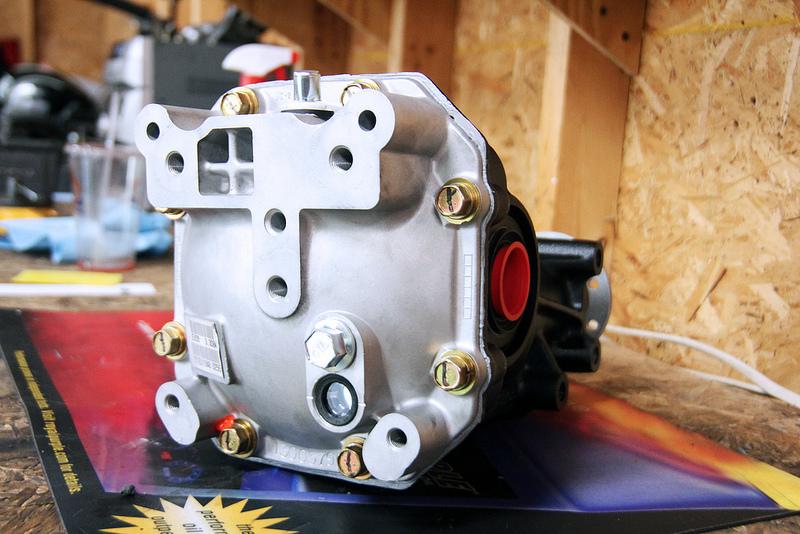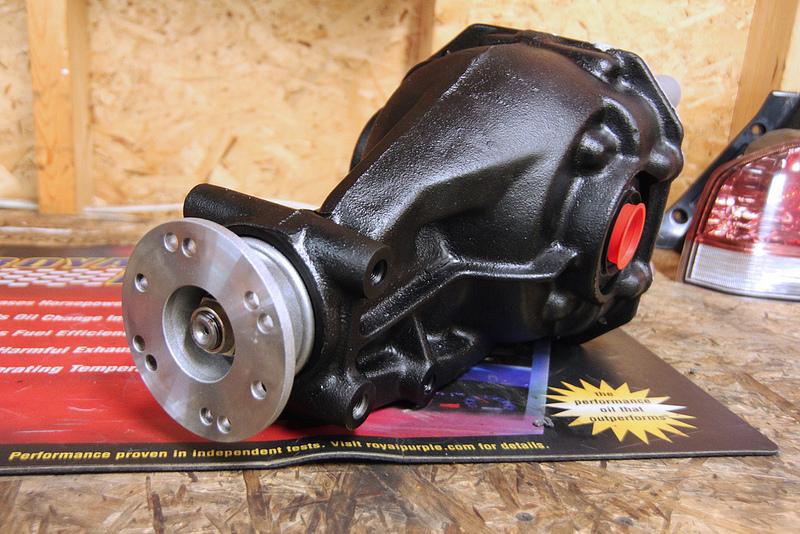 Here's a quick teasier video I made for a film i'm making for my friend who built the cage

7-30-2013
I never posted this, but when we initially took the motor apart to have the o-ringing done, we saw the pistons were touching the head....
It turns out the machine shop took too much off the deck (we verified this after measuring deck height). The easiest way to solve this issue is to go with a custom piston. Luckily, one of the baddest piston manufacturers our local to us. They will be custom through Moran Motorsports.
The motor is machined and ready to go back together as soon as the pistons arrive which will be any day. Once they arrive the car will be up in no time and ready for the Shootout

Motor crap... gaskets, fluids..
Drivers wheel bearing was totally shot, installed a new OEM one.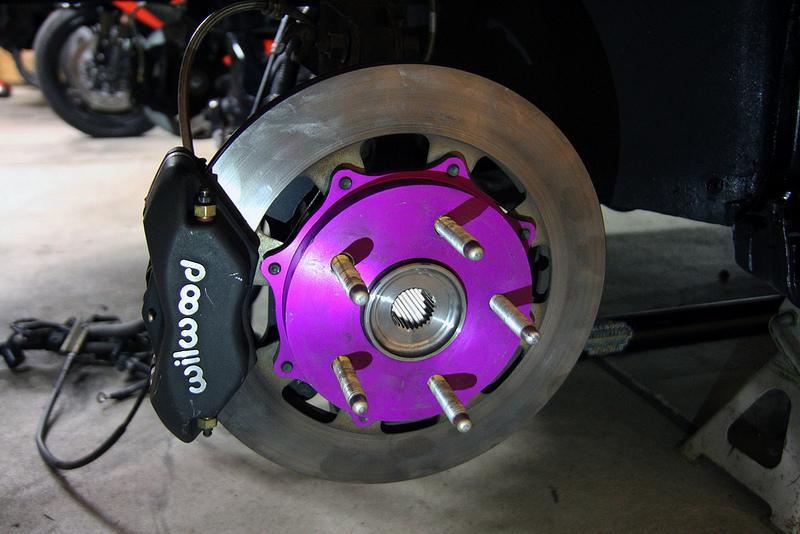 Painted the catch can wrinkle black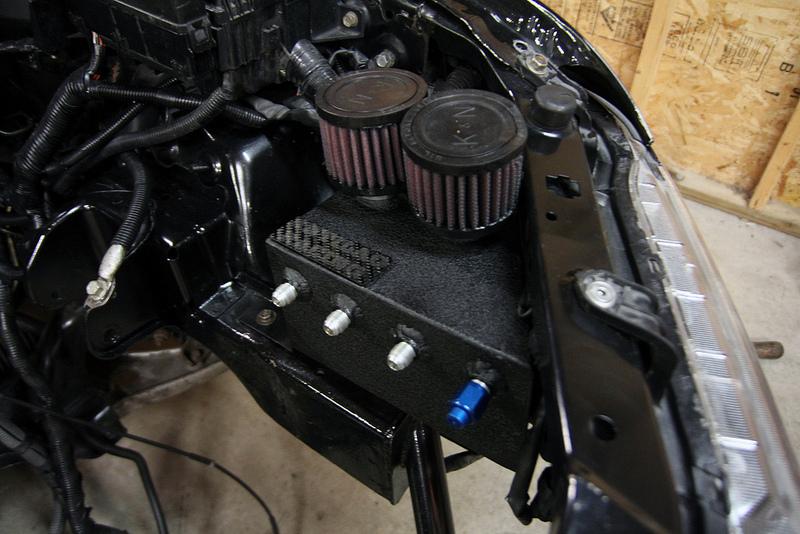 USB to serial port in the cig lighter location. Used for logging wideband for stock ECU and for AEM port in the future.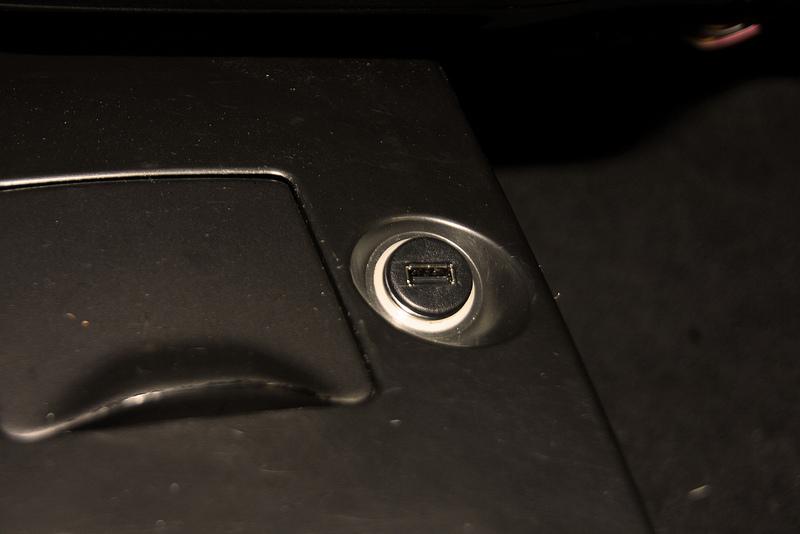 8-6-2013
I wish, haha. It's pretty much all done except the motor. I'm hoping to have it in by this weekend or early next week

Last night I installed the TRE max lock rear diff. I'll install the drive shaft and fill it with fluid this week.
(Need to get the dirty finger prints off the new cover

)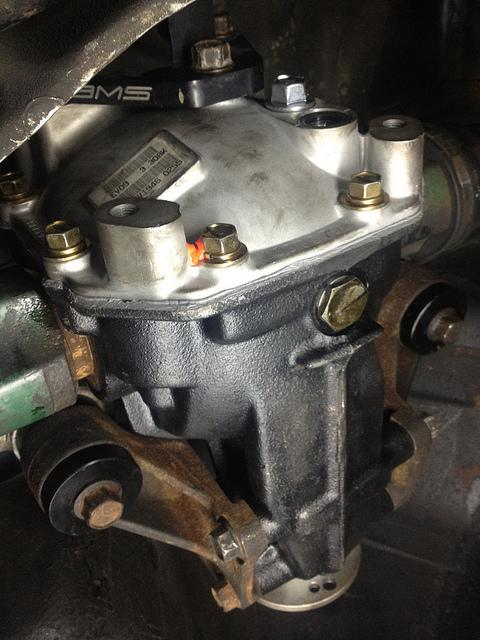 8-11-2013
The pistons came in Friday. Assembly started yesterday and will be done today. I should be able to get the motor in tonight or tomorrow. It's looking pretty good for making it to the Shootout.
8-13-2013
She is 100% together. See everyone this weekend!!!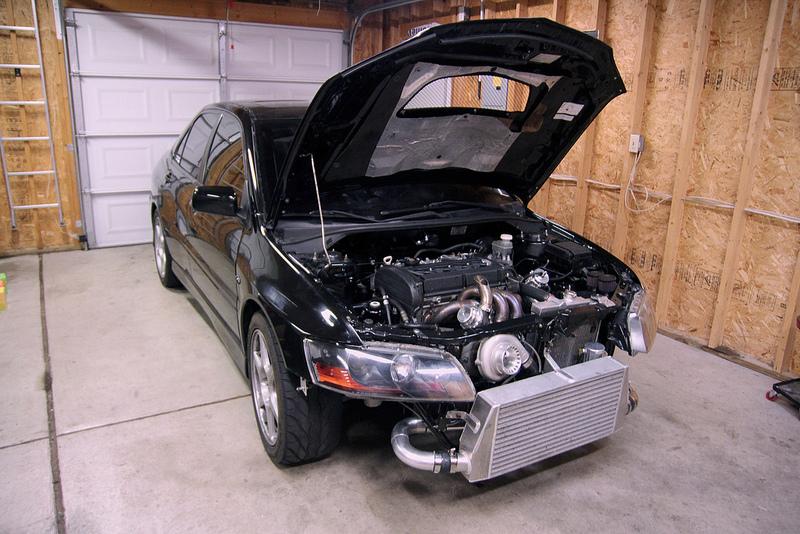 8-20-2013
The car did excellent this weekend. I drove it down to Ohio, we made a bunch of hits and drove home without a single issue.
We tuned it on WG pressure (26psi) the night before the Shootout. I ended up installing AEM V1 in the car the night before and had my friend Russ at Deadhooktuning tune it (same person who built the motor and also did the roll cage). We were having some issues with the boost control solenoid and could not up it. The car at 26 psi feels pretty good so we left it.
The best from this weekend was a 10.1@139 with a 60' of 1.51. Best MPH of 142. I think the car is going to be able to 60' a low 1.4, high 1.3 based on how well it grips. I just have to better my driving with the QM and shift way faster. I watched videos and saw logs and there is huge area's I can improve on my driving. We plan to hit the local track soon with the power it sits at as I'd like to get it into the 9s before we go adding another 10psi!
I'll get more pictures and a video up this week.
Big thanks to everyone involved including local friends, Russ @ Deadhooktuning/Moranmotorsports, Tom @ Tscomp, and Brian @ STM.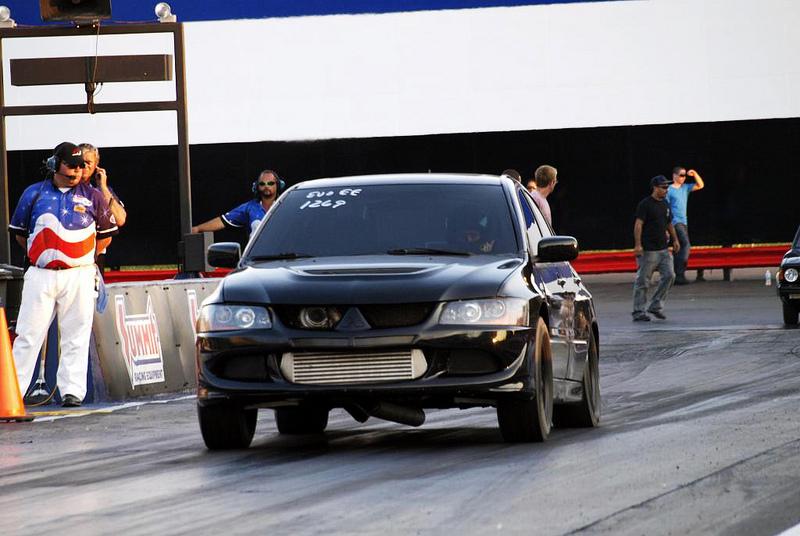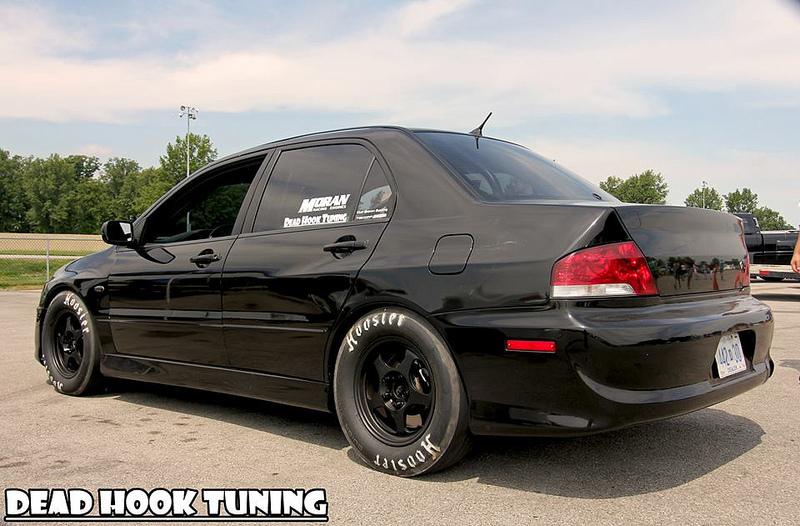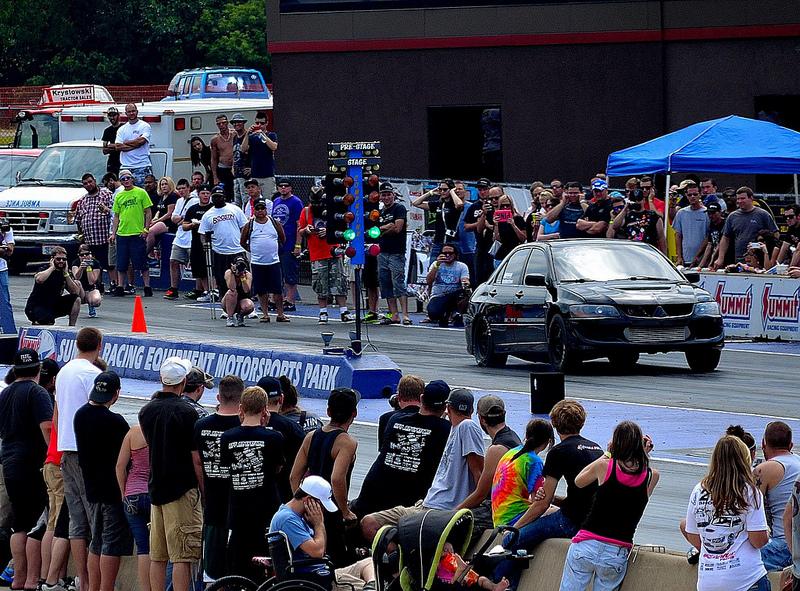 10-1-2013
Since the Shootout I have not done much with the car except enjoy every minute of it! Local car meets etc... It is still on WG pressure at 26psi which is pretty fun no doubt (142mph traps).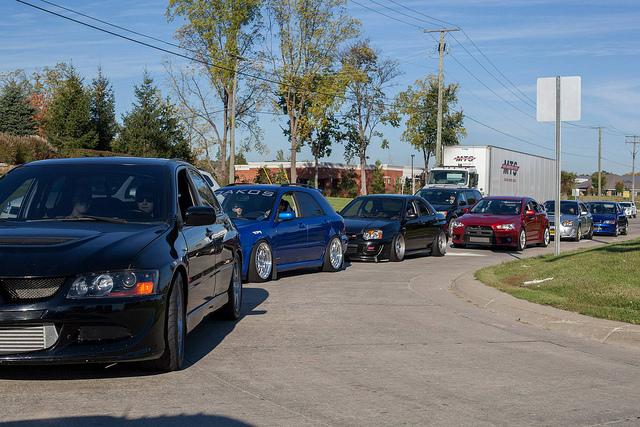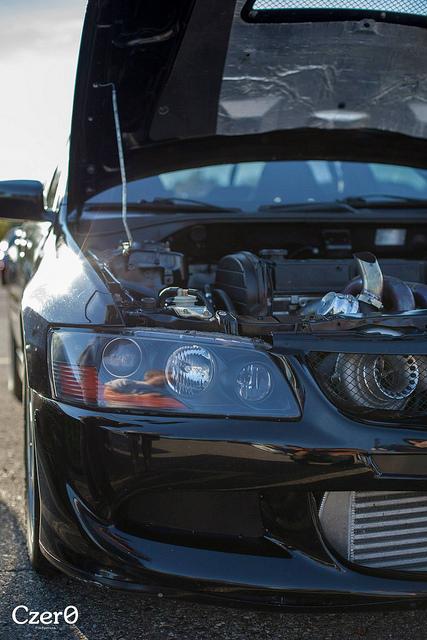 This week or next week we are going to be upping the boost another 15-20lbs for "kill mode" and visiting the track October 12th. I wonder what the 6266 record is? The goal for that track visit is for some mid 9s at 150+ mph.
I've also planned for what I am going to do to the car over winter. The paint looks good in pictures, but I assure you its trashed. It's also a few different blacks from previous owner cheaping out on paint when it was wrecked.
Java Black Pearl paint job
AWD D2 coilovers
17x9 RPF1's
I realized I never posted these on here. Here is the dyno graph and time slips from the car back in August.
The difference from 139 to 141/142 mph is the turbo block-off plate being off. Notice how the 1/8th MPH stays pretty close.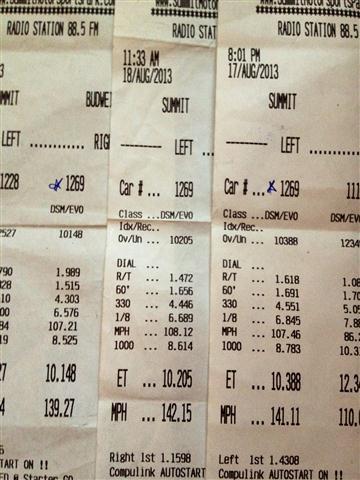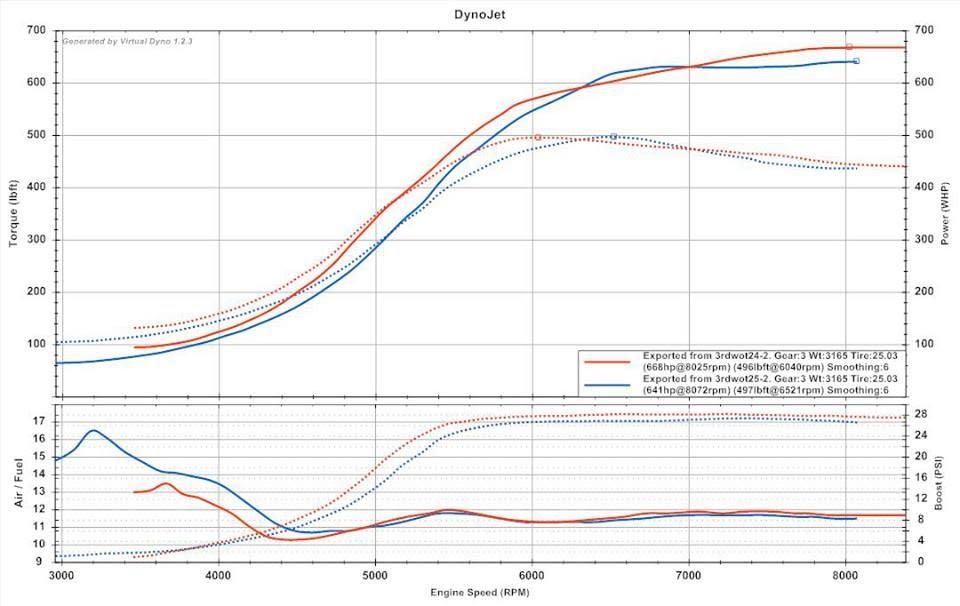 New time slips and comparison dyno graph with 15-20 more lbs of boost to come as well!
It's just an ABS plastic plate I made that attaches to the front bumper so small rocks and debris don't get sucked in/ruin the turbo. I always use it when I drive on the street. I've made a couple of them for local's who don't want to ruin their turbo.
Plate installed here. I did back to back runs with it on/off for comparison to see what the real advantage is of having a forward facing setup.. Obviously the faster you go the more it will help.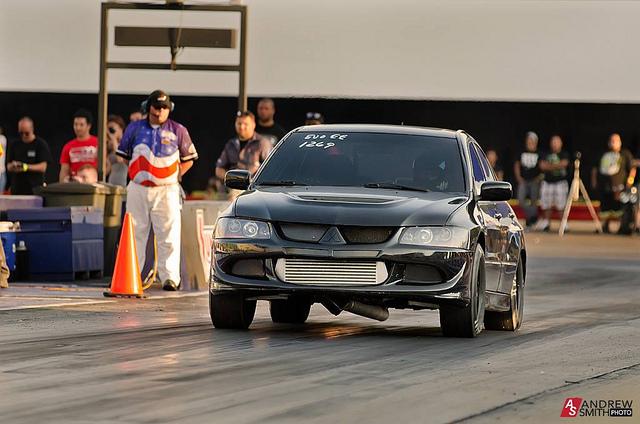 10-10-2013
Started upping the boost last night. She's starting to make some real jam above wastegate pressure

Had to stop due to the copper plugs. Throwing in iridium's and finishing her up tonight.
I also got these BBS MR wheels. I think they look pretty good.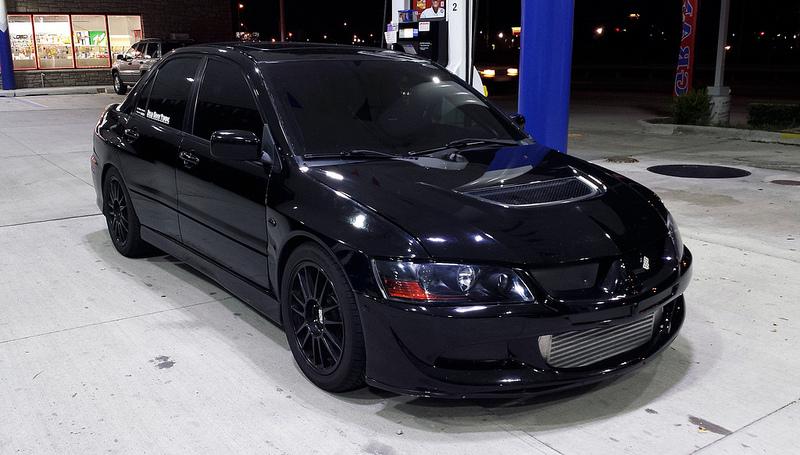 10-11-2013
Here's a graph of the car at 38psi. Turbo cover was on, so I'd expect 15-20 more with the plate off. It boogies for sure. The lower graph is when it was going 10.0@141-142 (139mph with plate on). We did few small pulls at 44psi and made 780whp and 650wtq at only 6900/7000rpm. There's definitely a lot more in it. We are going to race it at 38psi and go from there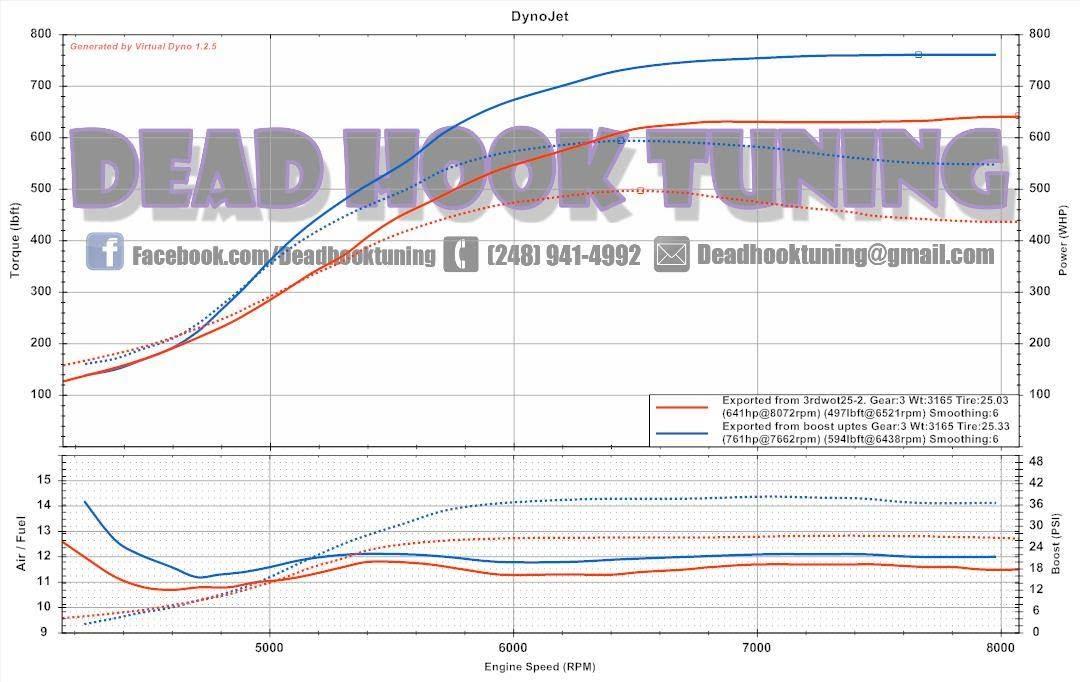 11-2-2013
Sorry for taking so long to update! Been a busy guy...
The last track day was pretty crazy that we attended after upping the boost which felt very awesome. The car was tuned up to 44psi. We decided to start running at 38psi and go from there. Previously it had gone 10.1@139 on 26-27lbs.
First run, out the hole nicely and feeling great. Fastest i've ever felt the car at the track by far. Near the middle of fourth gear the car shot water onto the windshield and instantly spun. The side freeze plug that had come out multiple times before when the car was pushing coolant came out again getting water all over the tire. The car had not pushed or had any issues when we were street tuning at 44psi.
Here's the in car video from the truck in other lane via go-pro.
This is the same damn plug that Joey's Junkbox kept popping out also. He was not pushing coolant. We believe its from the block slightly flexing.
That pretty much ended the season for me. I'm glad I was able to save it. The only real damage is the tires need to be replaced.
New plans for next year which have started include half-filling the block and welding in the plugs so they do not ever come out again! The motor is currently out and ready to be filled. I have also picked up a set of AWD spec D2 drag coilovers for next year. We also plan to upgrade the fuel pumps in the BR double pumper, add a Weldon FPR, stronger ignition, and go with a different style of porting/valve work for next year. I plan to look into removing some more weight as well without compromising much. This year it weighed 2980 with me in the car with full interior. The coilovers drop 24lbs, and another 60 if I remove the front passenger seat and rear seats when racing. I'd like to get the car to the 2800-2850 area with me in it at the track.
Stay tuned for more updates!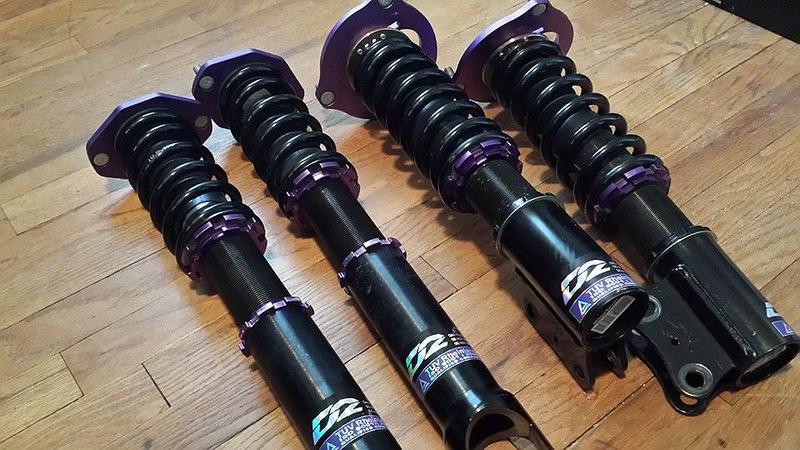 1-28-2014
Being winter and -15 degree's some days I haven't had much motivation to go out and physically work on the car, however I have been collecting parts and pretty soon she will be back on the road! Stay tuned for some excellent updates

3-1-2014
Picked up the wheels yesterday, these are going to look awesome on the car.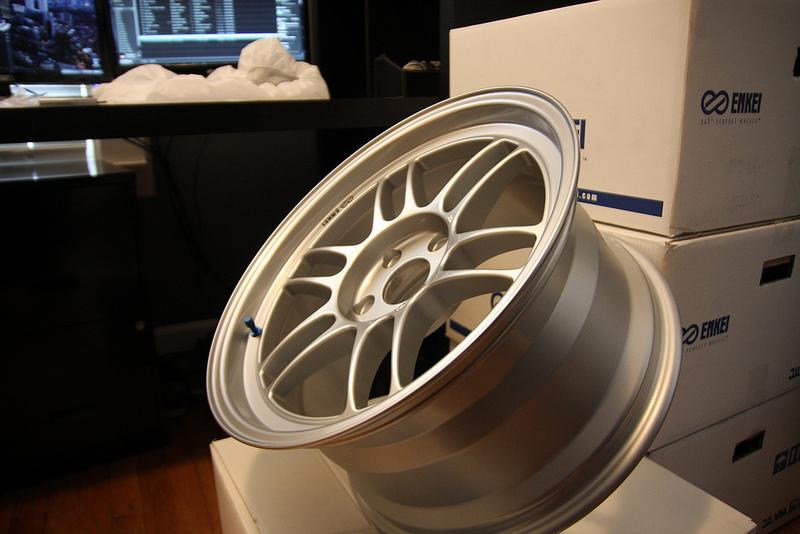 4-6-2014
Kiggly high pressure beehive valve springs came in. We'll be using these going forward.
The block should be back in a few weeks!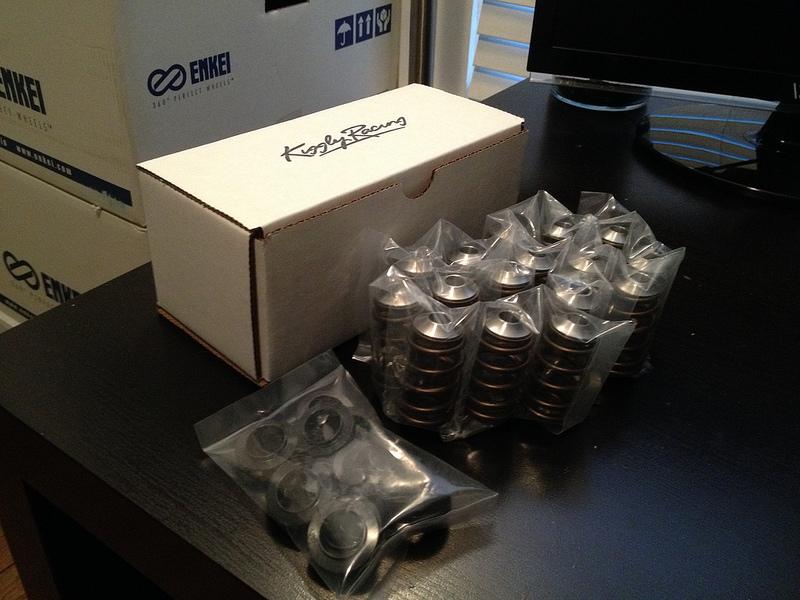 4-10-2014
Thanks again for deal Tom..

Got all the stuff for the 3" aluminum IC piping we will be fabbing up

I also traded the Buschur race FMIC for a 4" garrett core which has 3" inlet/outlets.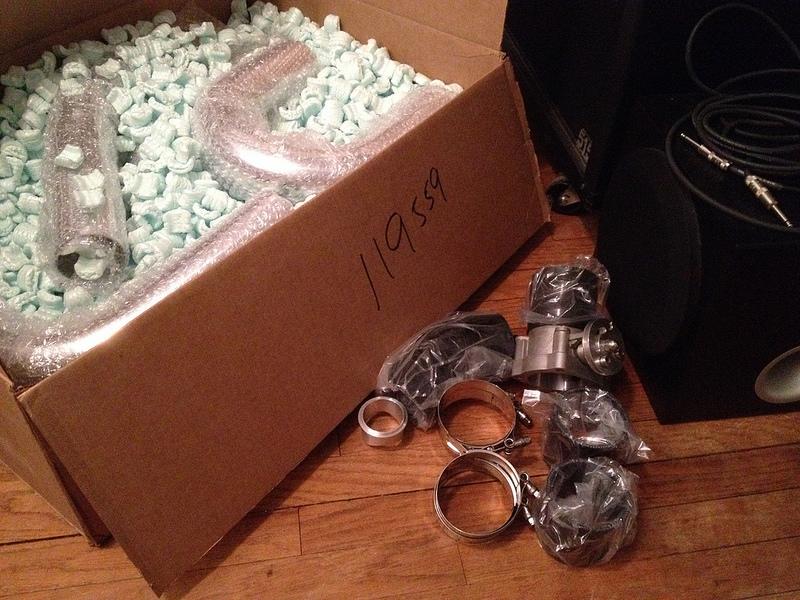 4-20-2014
Finally got the wheels test fitted on the car. The fitment is perfect with not having to use a front spacer you would normally need with Brembo's.
17x9 +35 RPF1's, 255/40/17 tires, no spacers (wilwood front brakes).
(sorry for the low quality iphone pictures)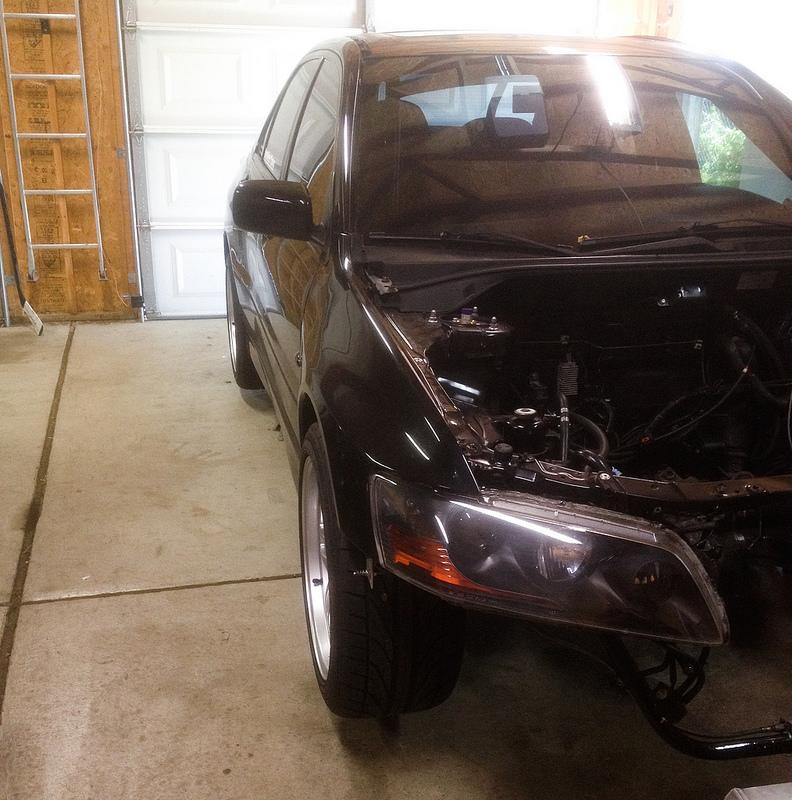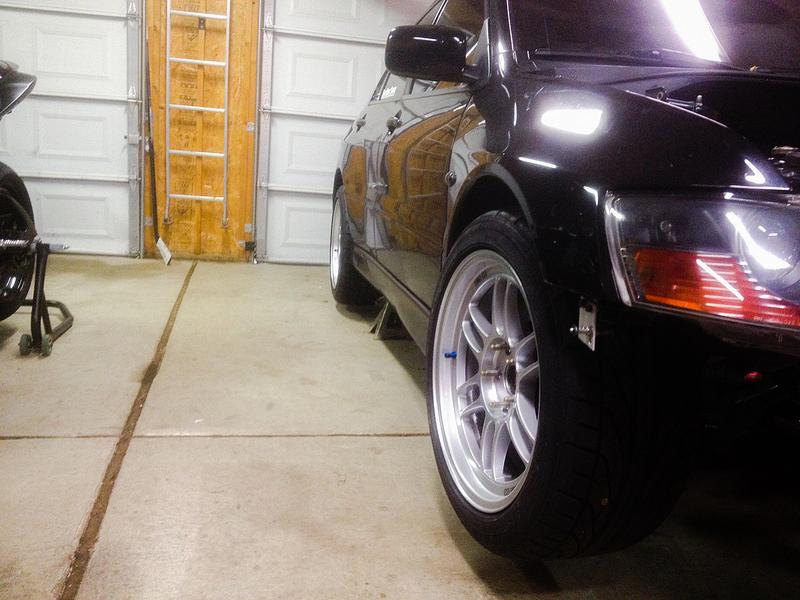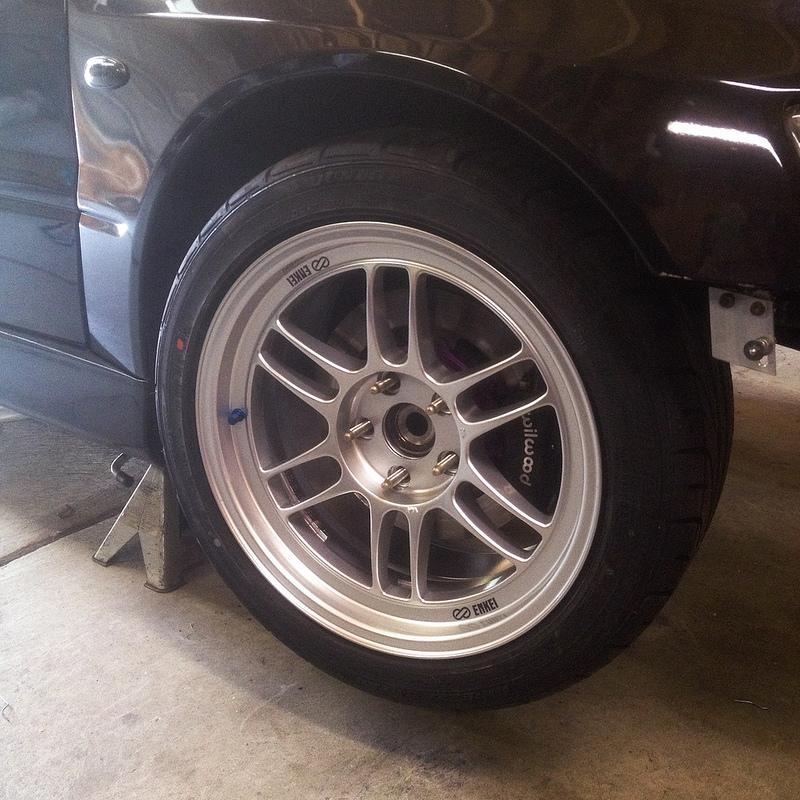 6-6-2014
No major updates yet. I should have a great one in the next week or two. I should have something arriving from Evodan today

Some small things while waiting around for the block. Someone needed an intercooler switch so I gave them mine and made a carbon block off plate...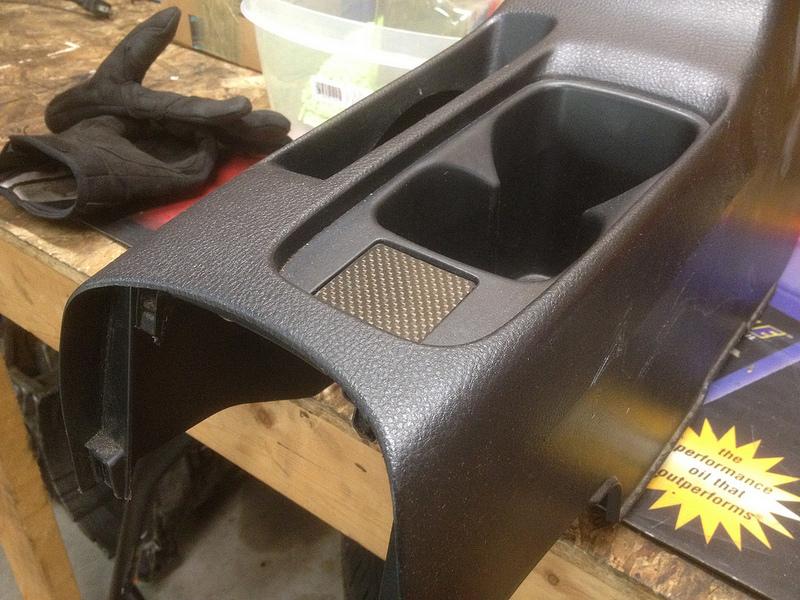 Also had some fake CF matte vinyl laying around, so I covered the area on the door bars of cage where the paint gets scratched from people going in and out.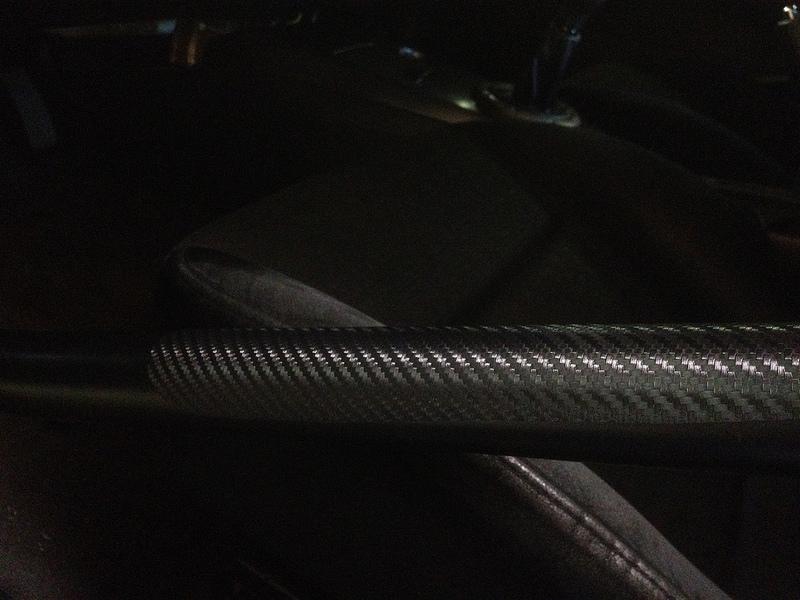 6-8-2014
Received this from Evodan. Manual serpentine belt tensioner. This allows me trash the factory auto unit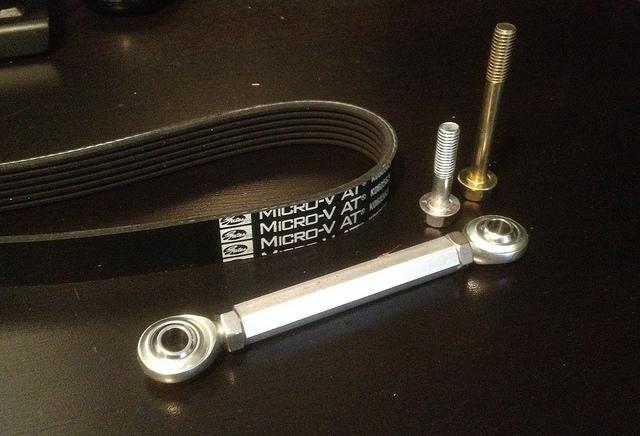 6-9-2014
Also today I washed the car. It hasn't been washed since last October when we were at the track...
It should be moving under its own power in 1-2 weeks.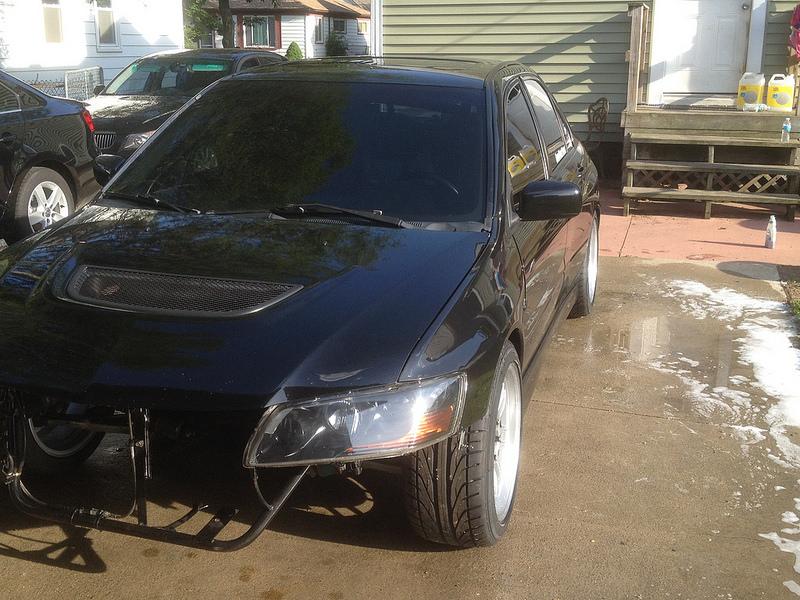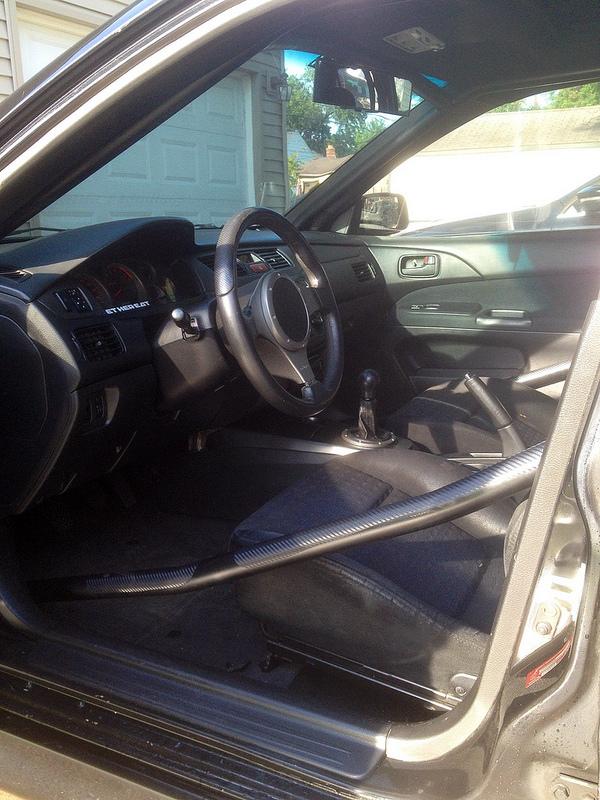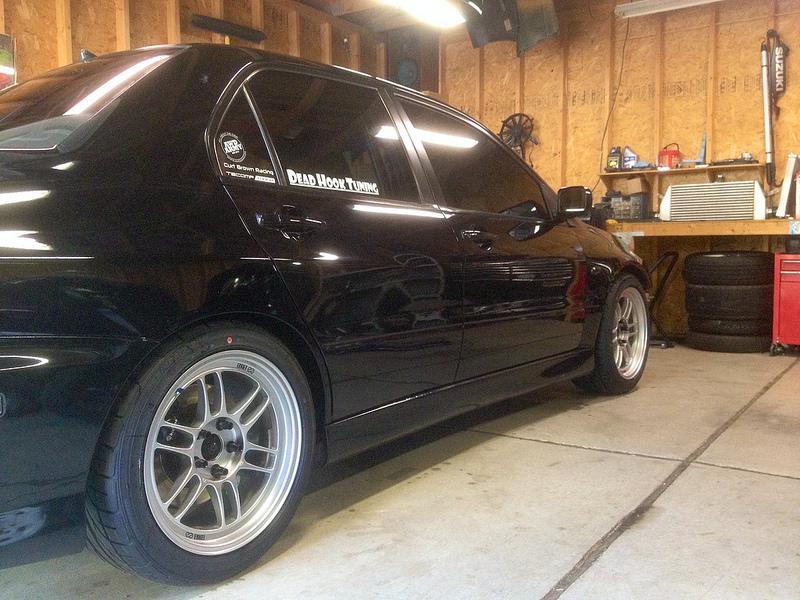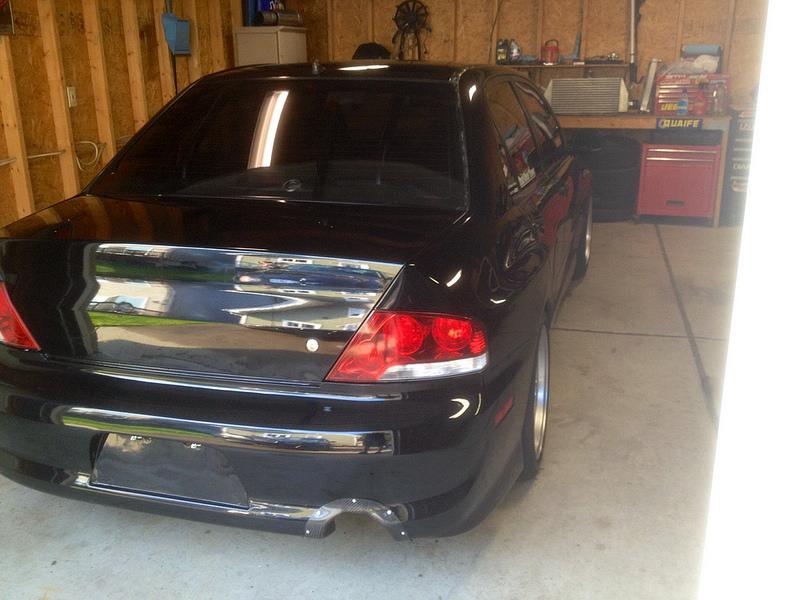 7-11-2014
Motor will be going in this weekend. I have all the fluids and gaskets and everything needed so it should be up and running during the week or next weekend after we fab the IC pipes and other small things. Only 35 days or so until the Shootout, which should give me plenty of time to drive it around and hit a test and tune at our local track to dial it in at full power.
I did all new t-case seals and trans seals. They weren't leaking but I know they're getting old. I also replaced the outer metal round piece on the end of the t-case. It was severely rusted and had some weird dents.
I haven't posted anything yet, but the car has a new ignition that offers full CDI power at a 1/4 of the cost. I'll post up some information once she's tuned

From what I can tell, no one has gone this route but its pretty popular in other platforms.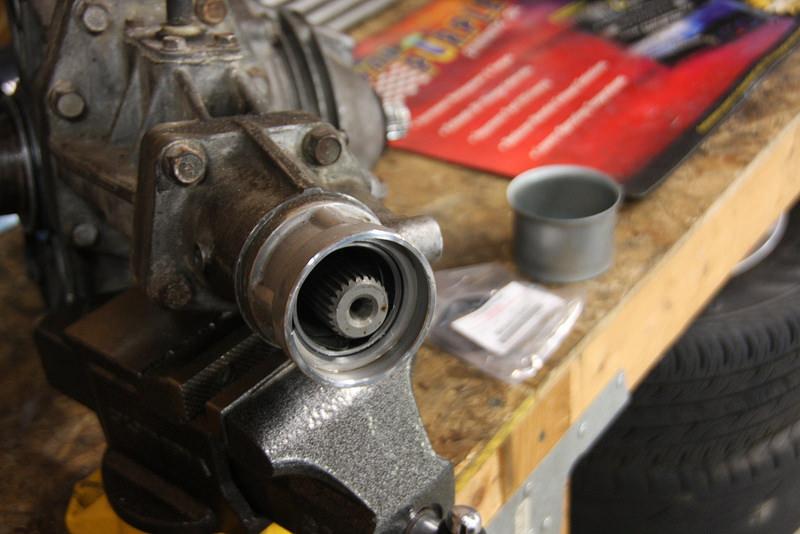 Too much time on my hands so I cleaned and painted it also.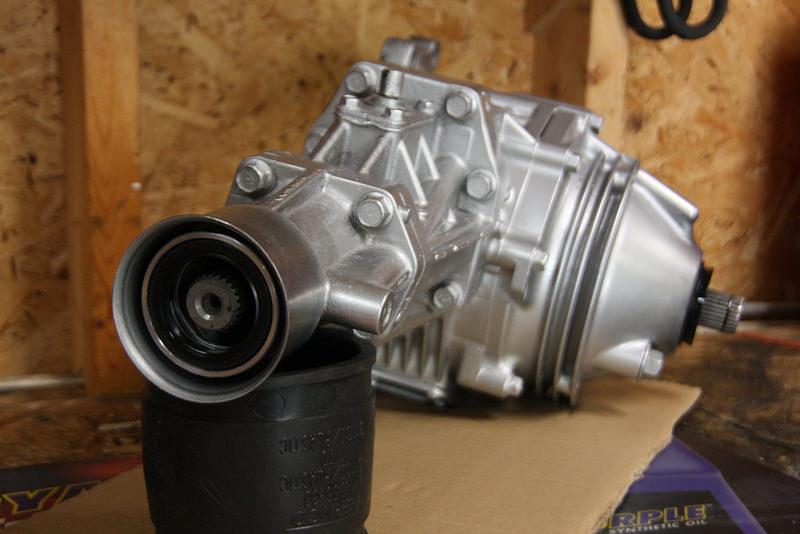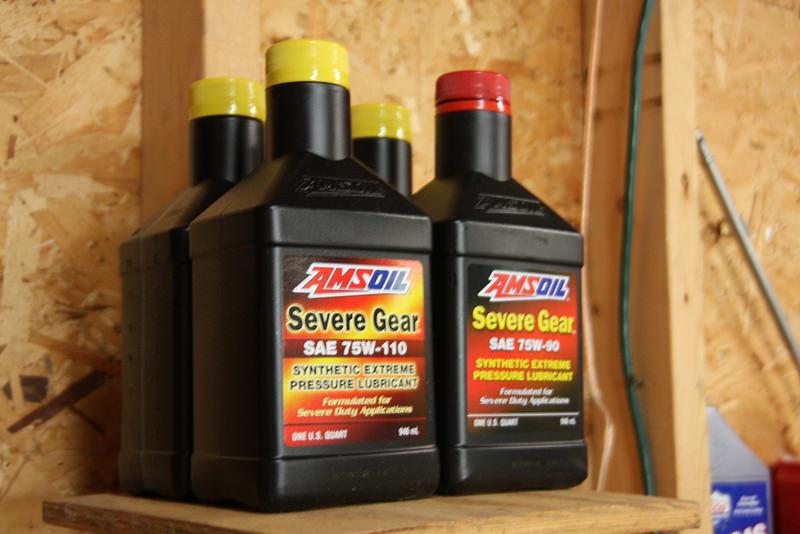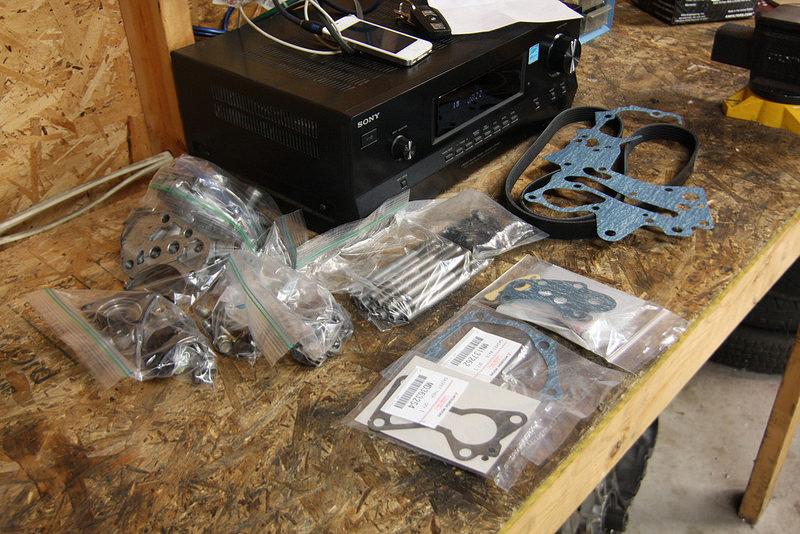 I found this weird jdm wide angle clip on mirror attachment in my friends garage and tried it out. It's actually kind of nice! You can fully see out of the back side windows.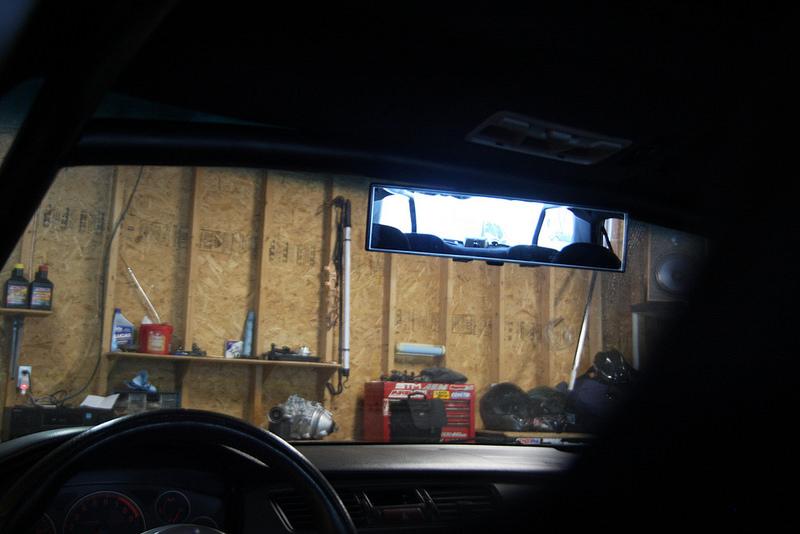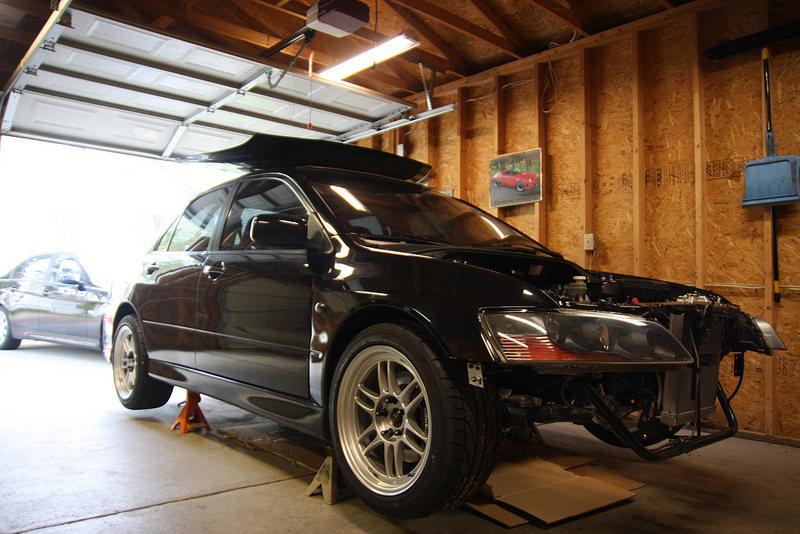 7-16-2014
Thanks man. My tires came yesterday. When the car spun out last year I destroyed all four tires.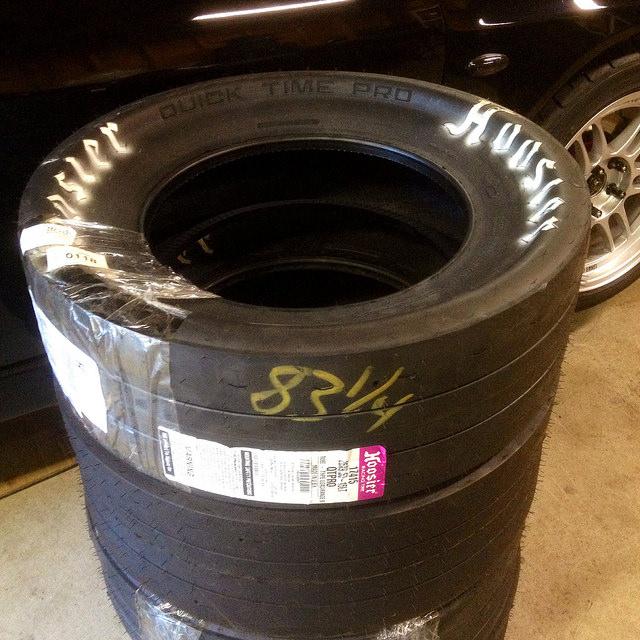 10-17-2014
Sorry I have not updated the thread much this year. I have been busy with a new job and I mostly took a break from the car to catch up on some things.
We are planning to hit the track November 1st! She is still on the 2.0L and 6266. Last outing with this setup it ran a 10.0@139-141mph on WG pressure (26psi). We will be back out with 35-40psi. I honestly believe it could have done a 9.7 or 9.8 @140mph. There were some huge driving mistakes I never knew about until we looked through the logs so I am looking forward to racing it again with a better driving technique. The car is also now on the AWD D2 drag spec coilovers, where last time I was on the stock suspension almost pulling the front wheels up.
We've done a couple things to the car in the meantime.
Rewired some of the engine harness and moved the fusebox to under the dash. Over winter I plan to tackle the rest of the harness with a milspec connector at the firewall. No more wires cross the front of the car either. I saved 9lbs in wiring alone.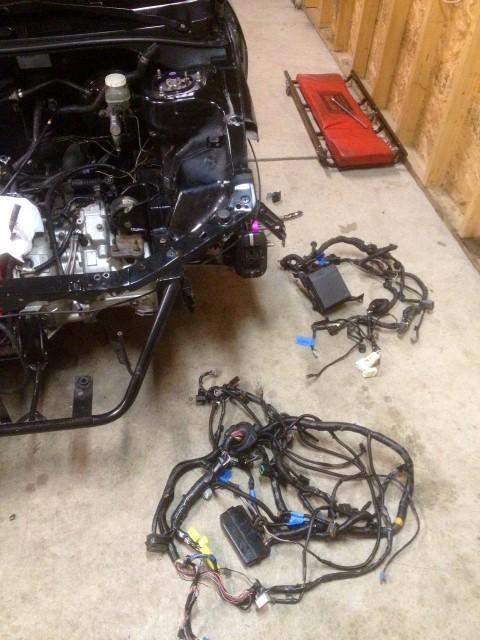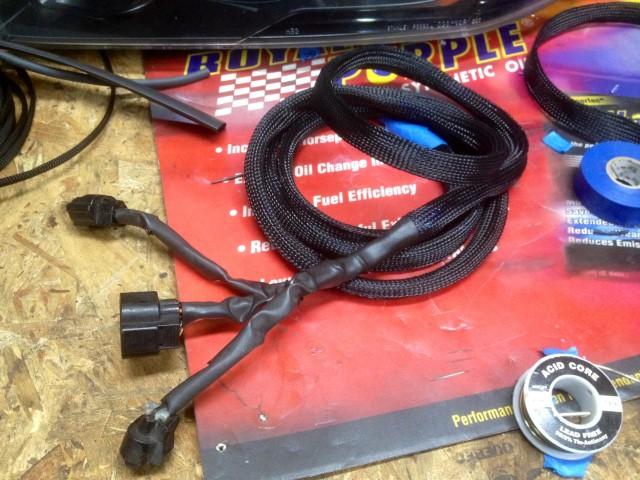 Finished result. Really cleans up that area nicely.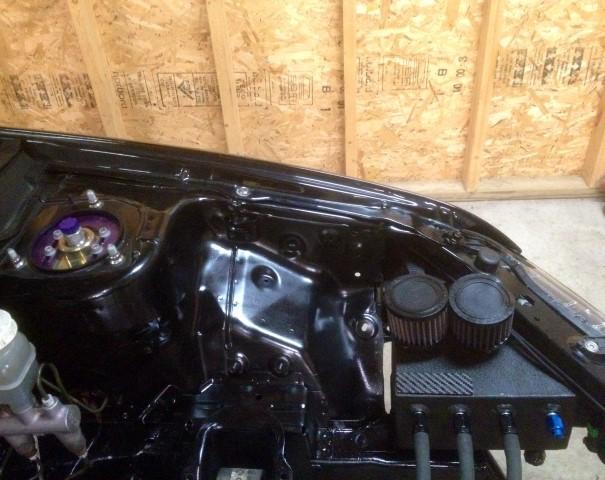 We fitted a 4" garrett core FMIC with 3"inlet/outlet for 3" IC pipes. I believe the 4" core is perfect for my little 62mm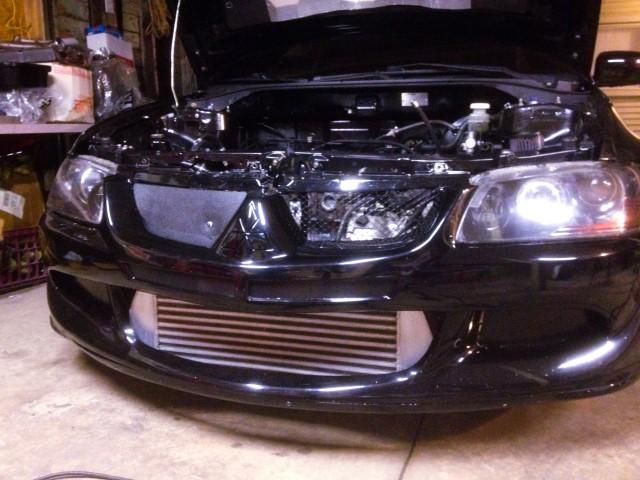 We found the limit of the sparktech Non-CDI ignition on my car around 45lbs of boost (around 830hp). Instead of going with an expensive CDI unit we decided to run AEM smart coils. They have built in ignitors and will be triggered sequentially directly from the AEM. This setup will be good for up to 300hp/cylinder. They have already been well proven in the race industry. Did I mention all 4 coils cost under $300 new?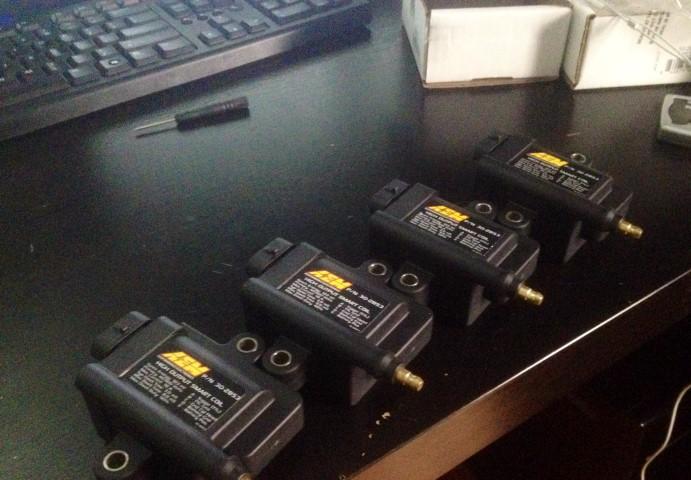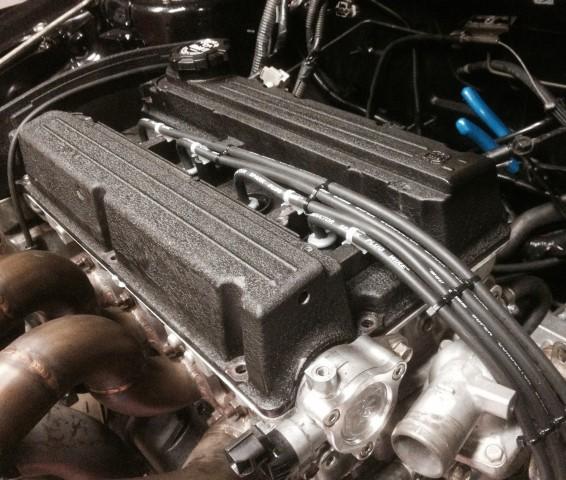 More billet!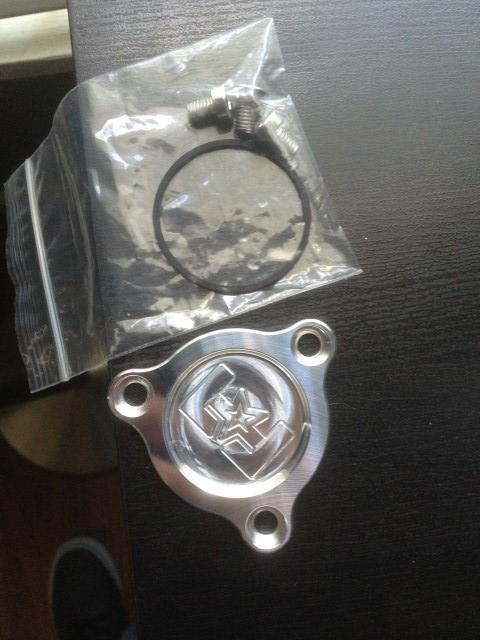 Finally got around to putting the window net in.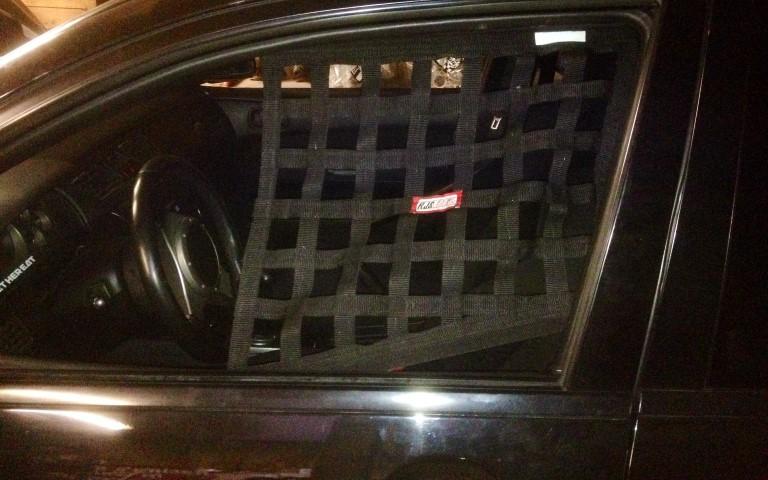 I plan to clean up the car and take some good pictures with my camera. These were just grabbed off my phone.
10-18-2014
Oh and these push lock fittings are amazing!!! Rated to 250psi. Never again am I touching vacuum line...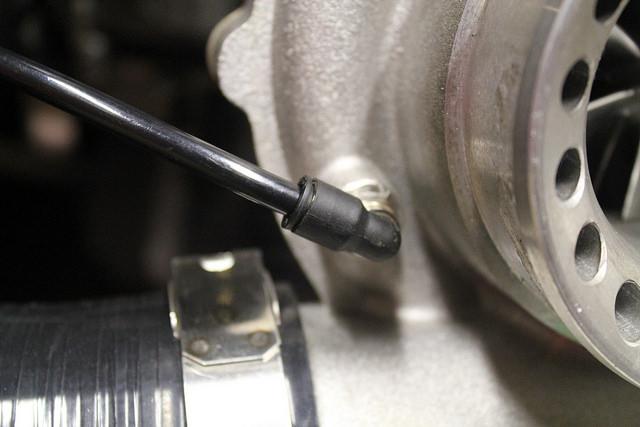 10-19-2014
Thanks guys!
AEM coils getting wired up: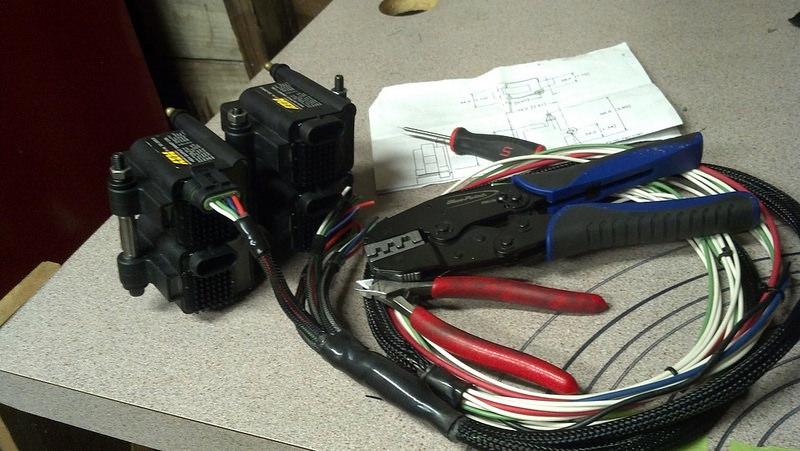 Here's how the lower IC pipe came out. Much shorter than your average FF LICP. It's also no longer crammed near downpipe, radiator, etc. This was fabbed by Cory @ Deadhooktuning. I'll post a picture of the upper tonight!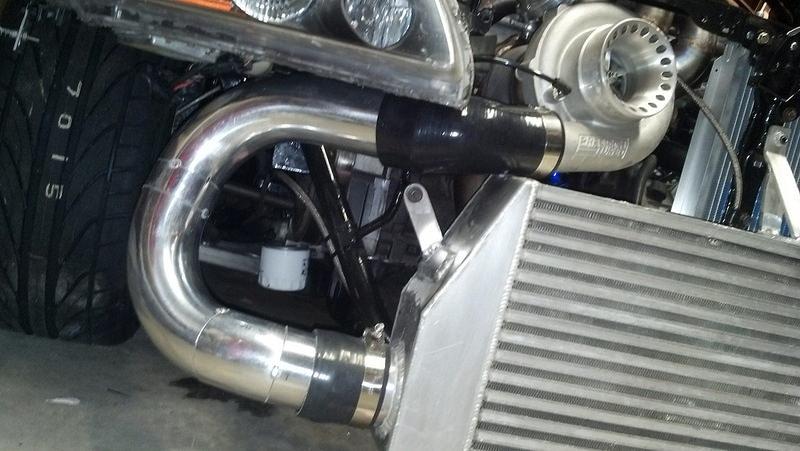 10-20-2014
Upper pipe was finished last night. Only thing left to do is re-do the WG dump. I think we're going to do a tear drop. We are also going to make a dump that goes under the car to comply with the street eliminator rules at next years shootout.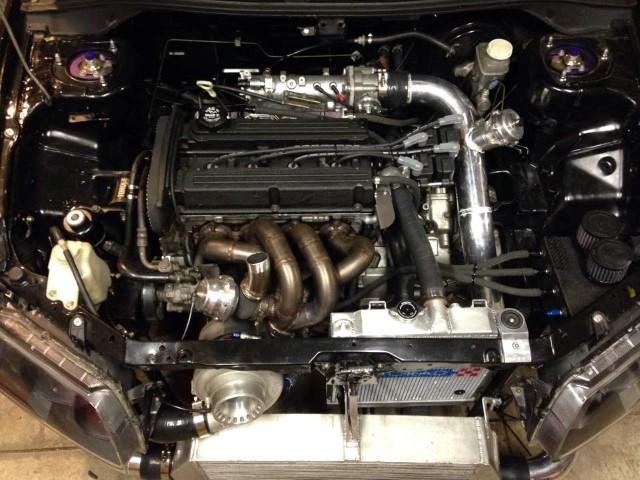 The radiator isn't perfectly spaced from the radiator support but I am going to fix that with an adjustable black spacer.
One last thing, the turbo that is on the car was suppose to be a 6266. I bought it 2 years ago from MAP. This weekend I realized the sticker on the compressor cover inlet said 6262... Need to measure turbine wheel... I would find it funny if it was really a 6262 the whole time.
10-30-2014
Here it is all finished up... sorry for the poor quality iphone photo.
Over winter I am going to have the IC pipes powdercoated a wrinkle black like the catch can and valve cover. Then I will need to acquire purple Tial goodies and powdercoat the compressor housing of the turbo purple as well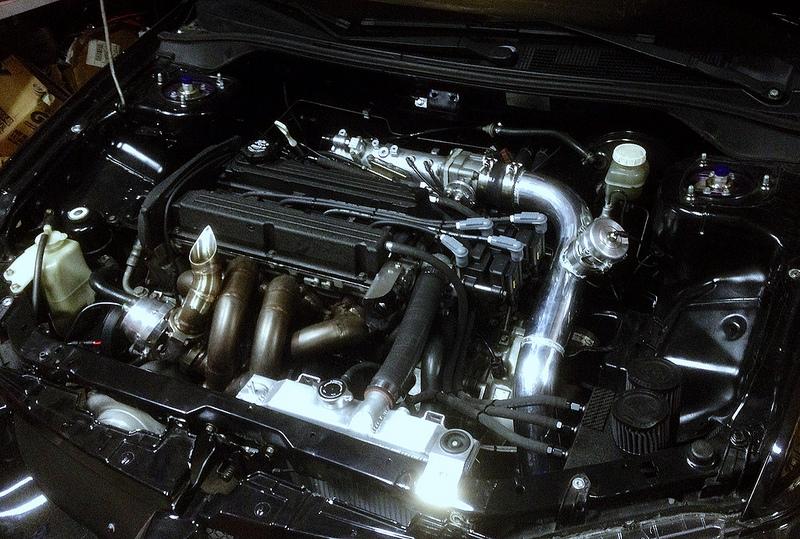 11-9-2014
Copied from the Shootout rules:
STREET ELIMINATOR-Sponsored by FUEL INJECTOR CLINIC(SE)
-Any Talon, Eclipse, Laser, Galant VR4, Evolution 7's, 8's, 9's, X or FWD/AWD Mitsubishi bodied AND 4g63/64 powered vehicle.
-ANY DOT tire. Full exhaust with muffler exiting the rear of the car.
-Wastegates MUST exit under the car.
-Air filters mandatory.
-Car must run FULL interior, back seats, front seats, full dash, door panels, head liner, wipers, carpet, center console, mirrors and factory glass.
-On your windshield you will put in large print, SE followed by the number from your tech card. This is your class/car number for the day.
1-7-2015
I measured the turbo as I wasn't sure what it was, and the turbine exducer measured out to be a 61.XXmm, so the turbo is actually a 6262. The past two years I thought it was a 6266 as that's what I ordered from MAP. I may look into upgrading further down the road, but the 62 will do for now. It's a tad larger than showed in pic because it was hard to hold while snapping a picture, but its just below 62mm.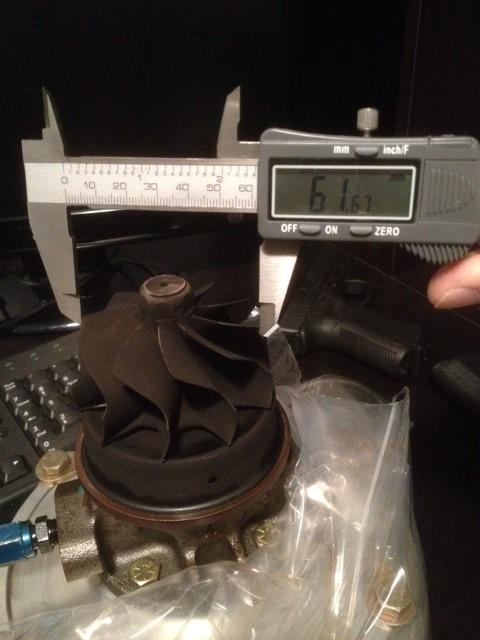 I made a front lip for the bumper, credit goes to Jason/angryevo8 for letting me use his idea.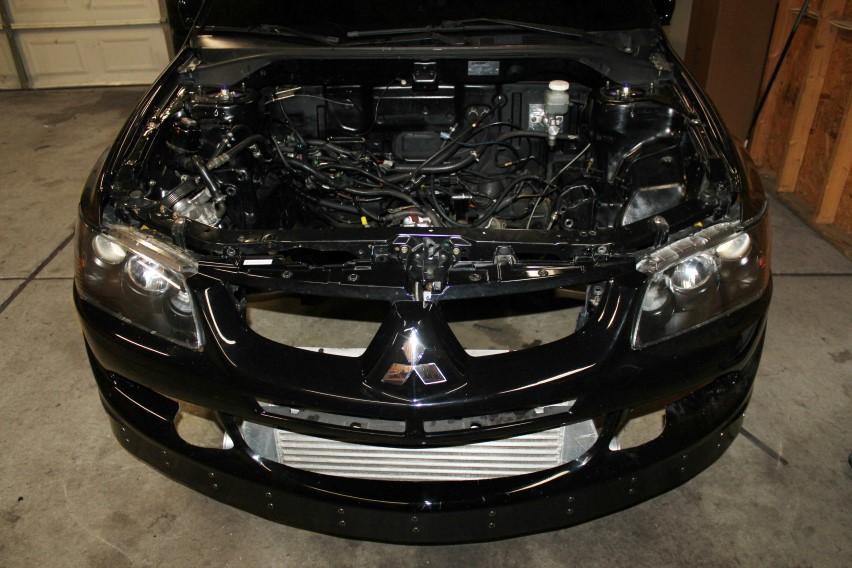 I'll be making block off's to cover the front holes.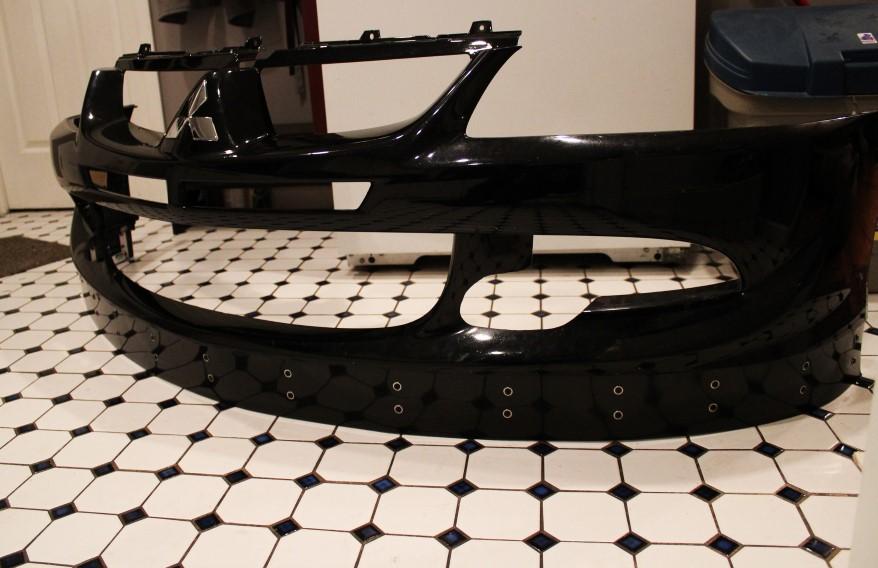 I also deleted the brake booster with the Whalen Speed R&D delete kit. IMO it's nicer than the Buschur Racing kit and lines used.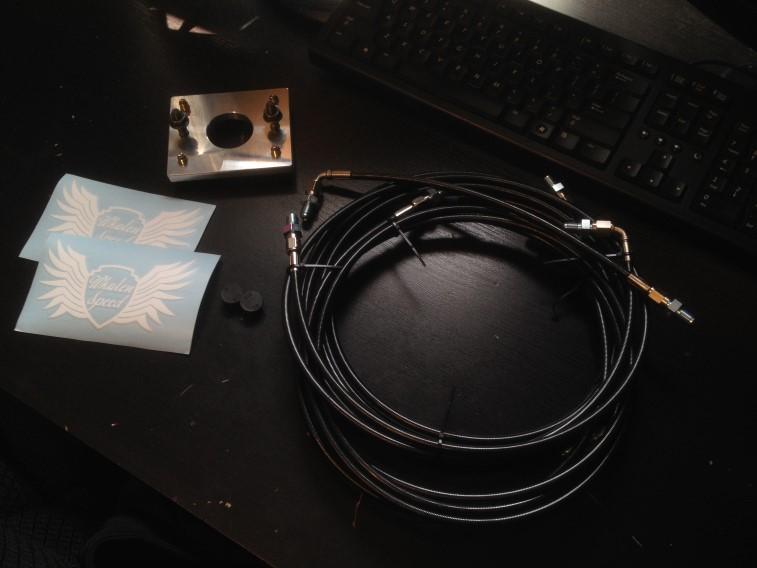 Also, a fresh tscomptuned bottom end will be going in the car for 2015+
ARP 625+ head studs, fancy...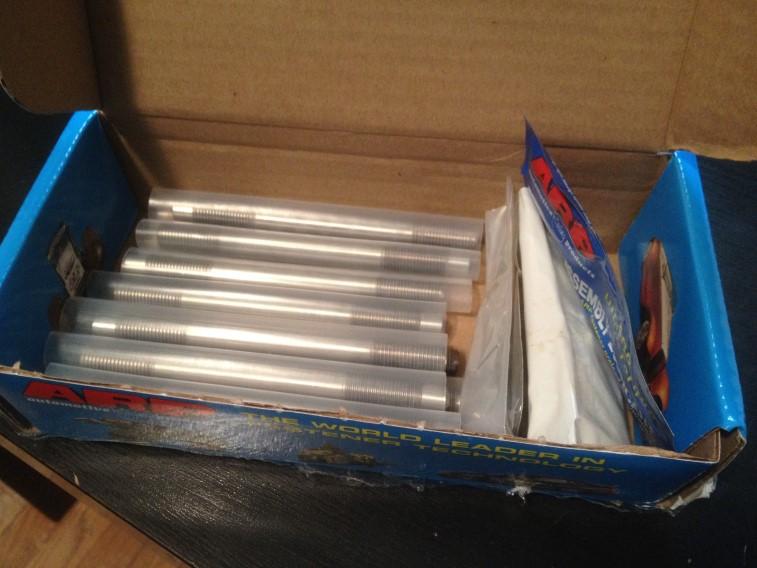 I'll write a review of the coils once we start tuning and such. Dead hook motorsports made the bracket and wiring for them

.
Here's a little teaser video from the last time I raced the car to current. The last time I went out raced it was at the end of 2013 when it spun out. Planning on making 2015 a great race season

1-13-2015
Pre-machining pics.
(TSCOMPUSA's pictures)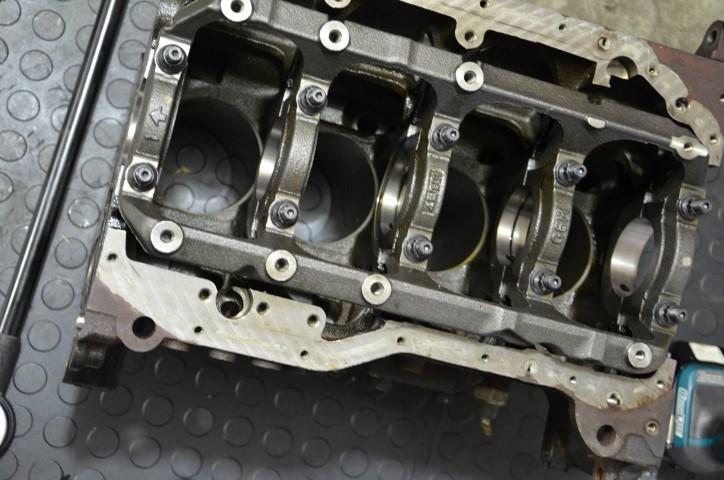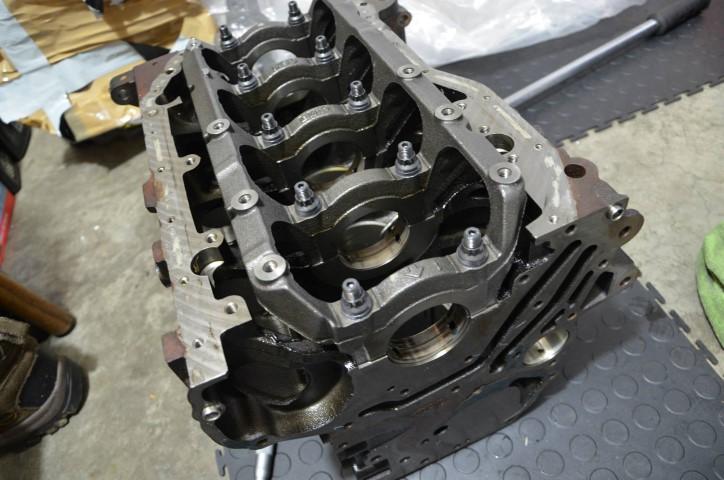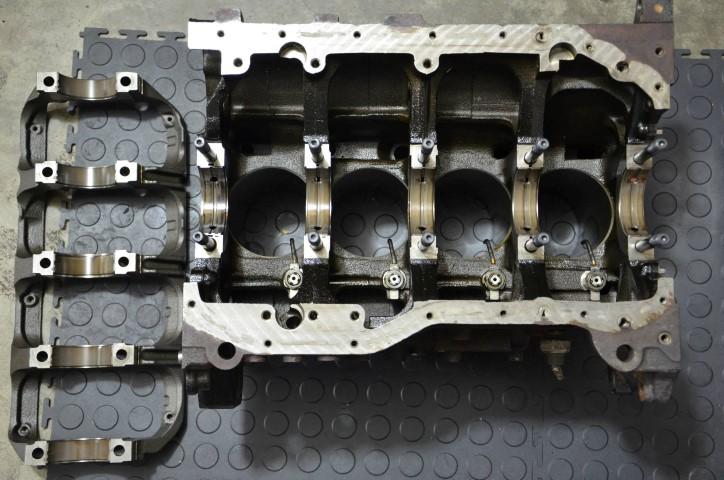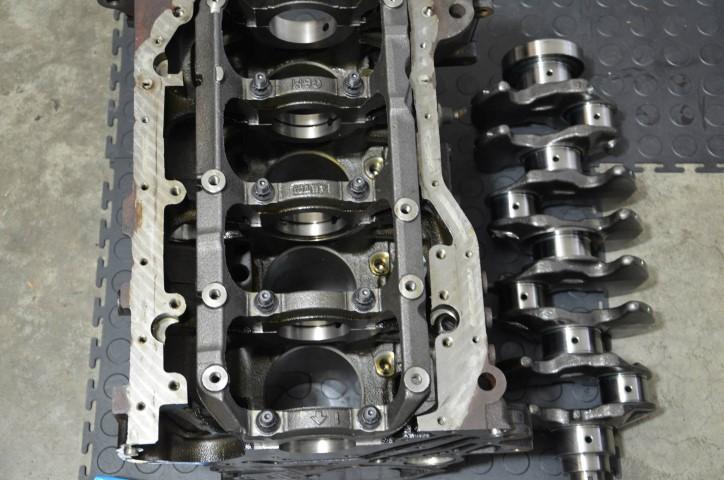 1-16-2015
I got the head back today from John at Whalen Speed R&D. Great guy to work with.
Mirror finish deck, valve job, and oil drain mods. This head also consists of Kiggly high pressure valve springs, kiggly HLA, and GSC S3's. Gaskets and such also came. The only major thing left is the block and then she'll be ready to make some JAM!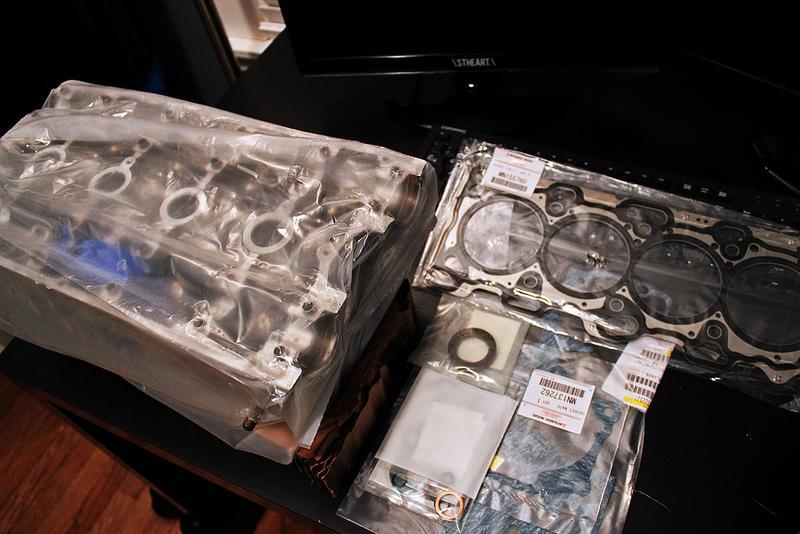 I have also re-acquired my old JDM rear bumper. The person I sold it to parted out his car, and of course I had to get it back.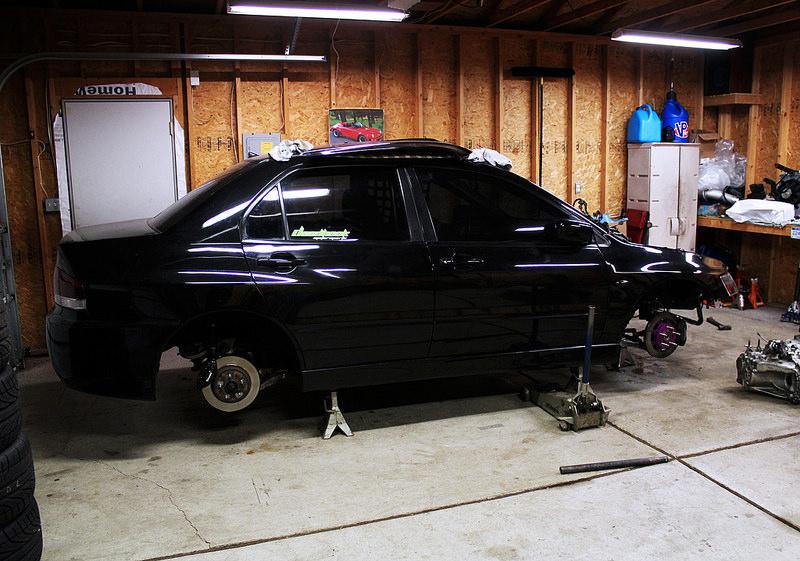 ...come spring i'll be starting the garage reno (insulation, drywall, paint, and epoxy floors)
2-25-2015
Tom assembled the block and it will be picked up this week!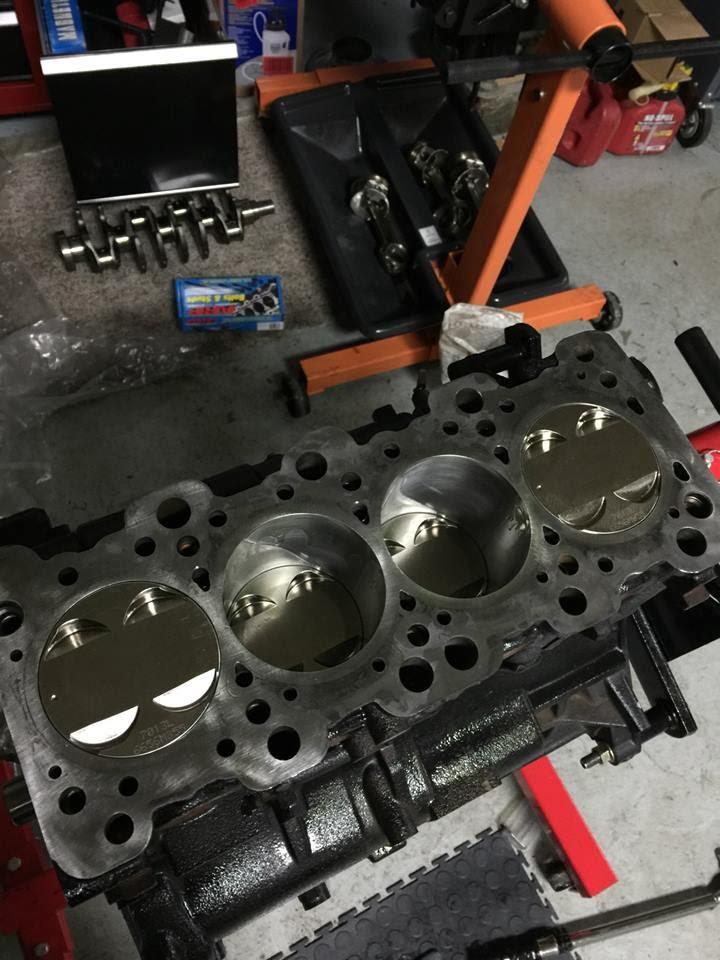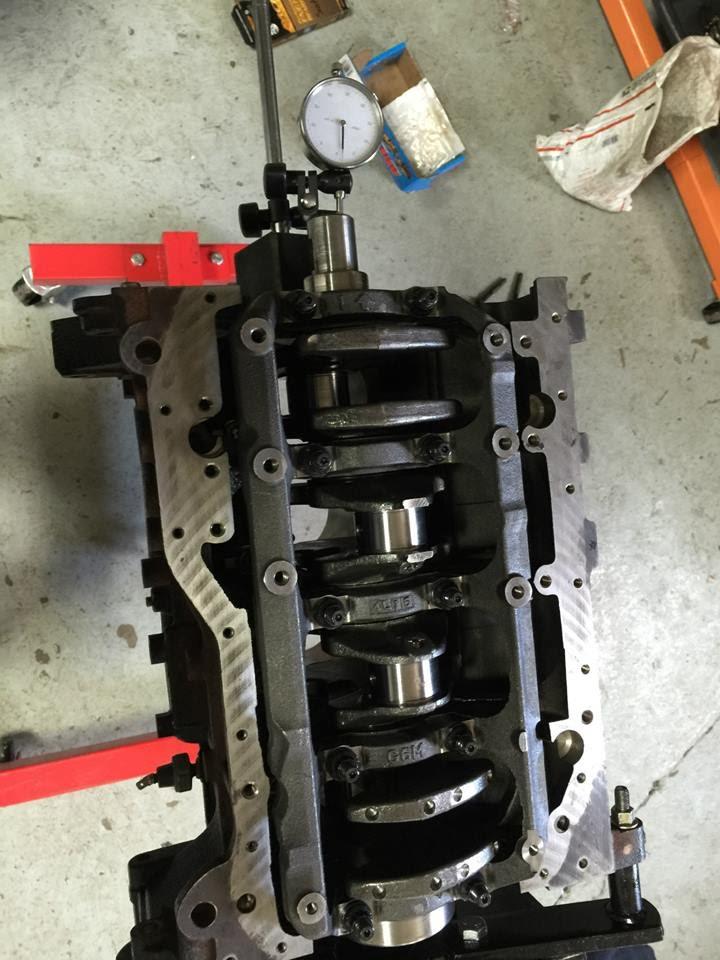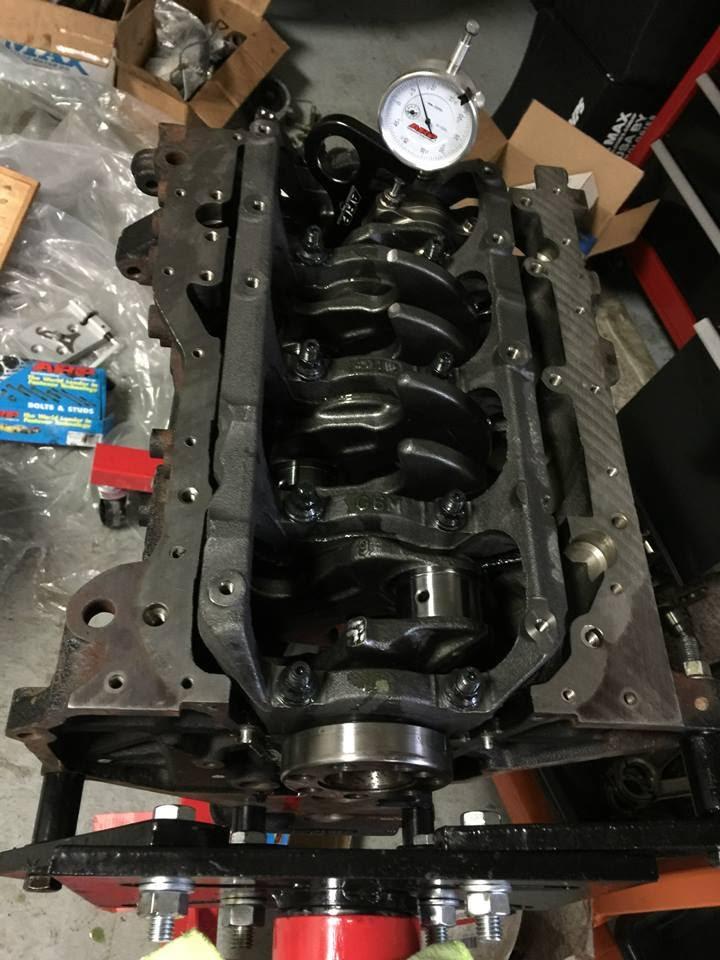 3-2-2015
Block will be here this week. I'll probably get it all together this up coming weekend and possibly in the car. Now that the weather is a good bit above 0* I went and installed the brake booster delete and all the new lines it came with. Very awesome kit from Whalen Speed R&D. You don't need to bend or make your own lines. It comes with very high quality lines with fittings.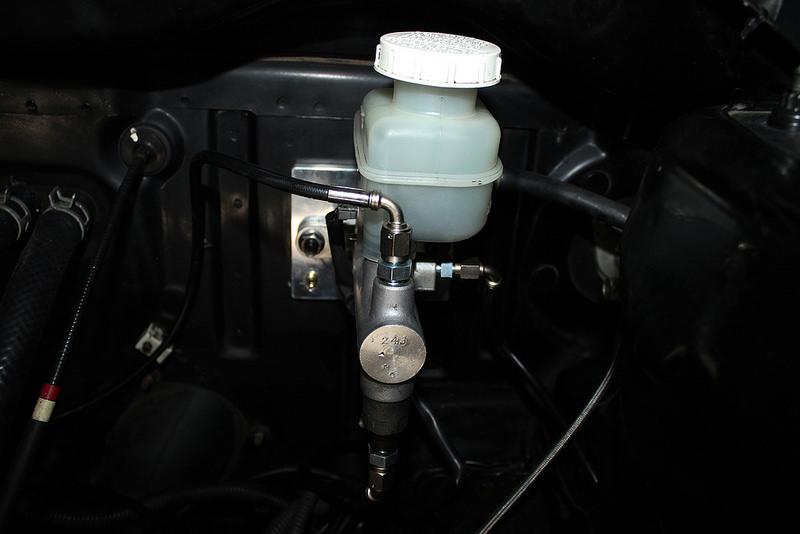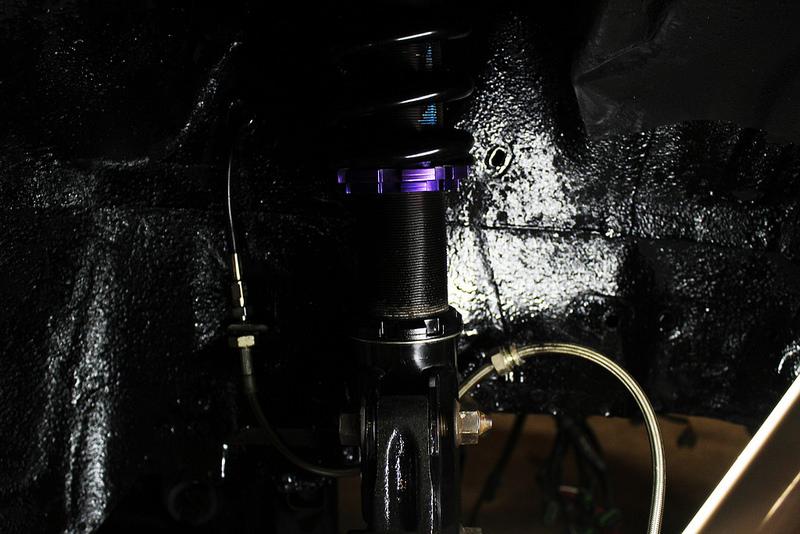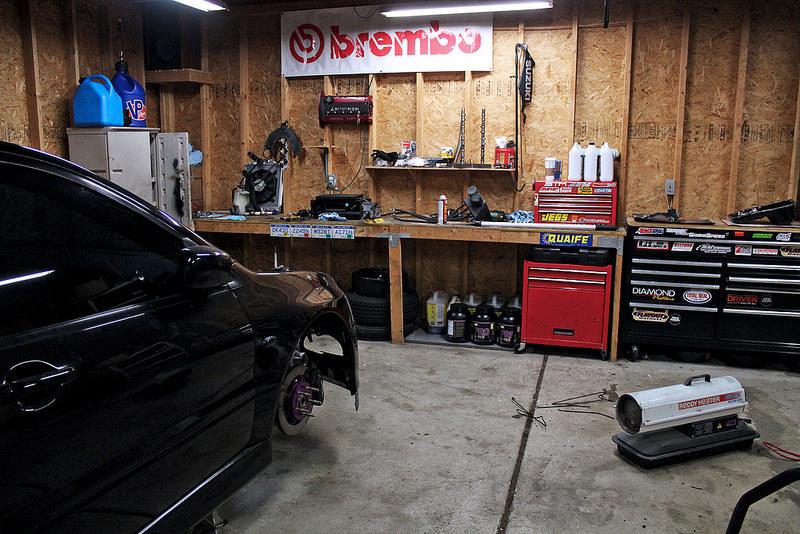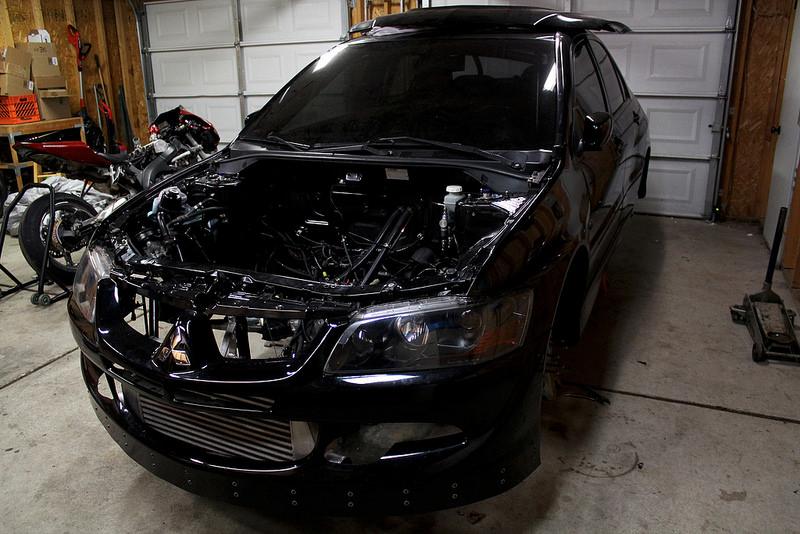 3-7-2015
Wheels are back from powdercoat. They turned out amazing. They should look almost black at night, and they pop in the sunshine.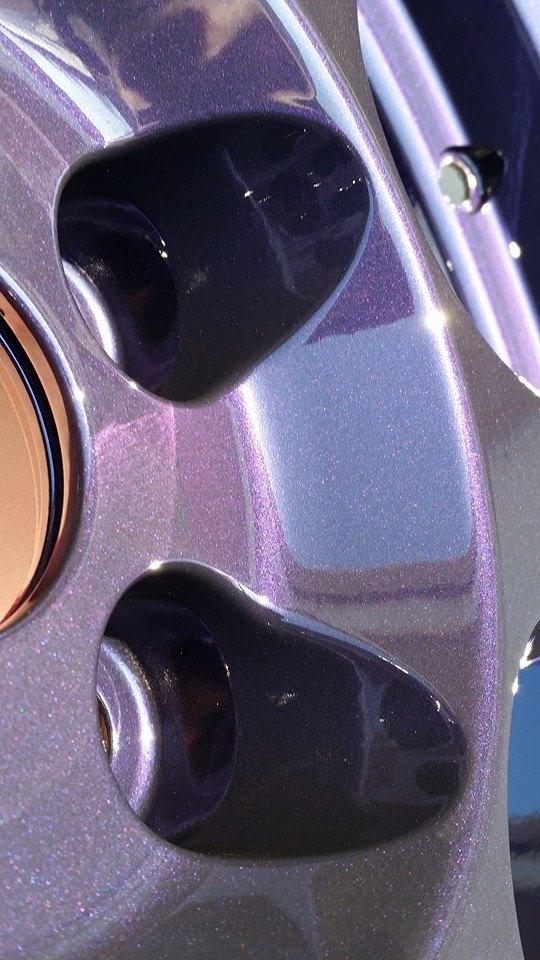 3-8-2015
Few more photo's. The pipes were done wrinkle black.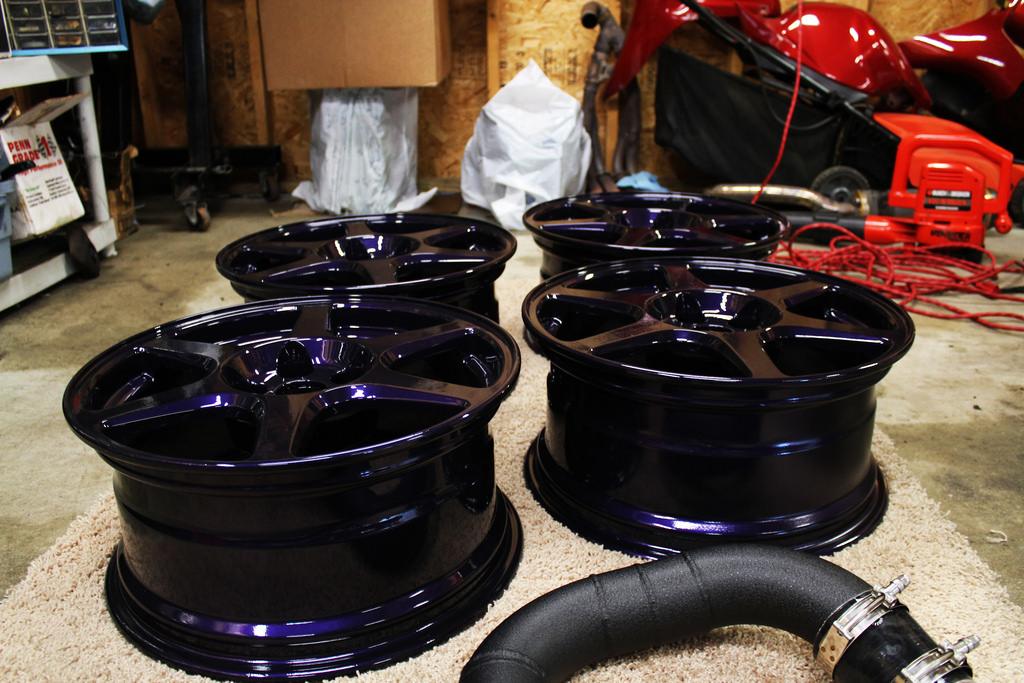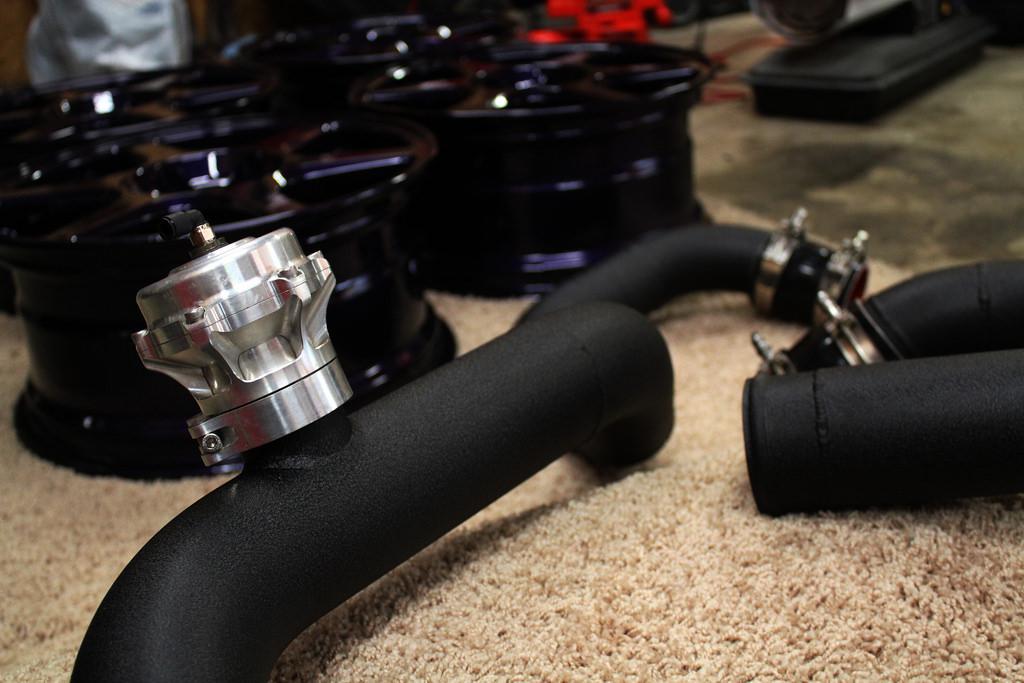 3-12-2015
Thanks everyone!
The block from Tom arrived today. It is just about ready to be dropped in, just waiting on my new timing belt parts so I can time it. Much easier to do it while on the stand...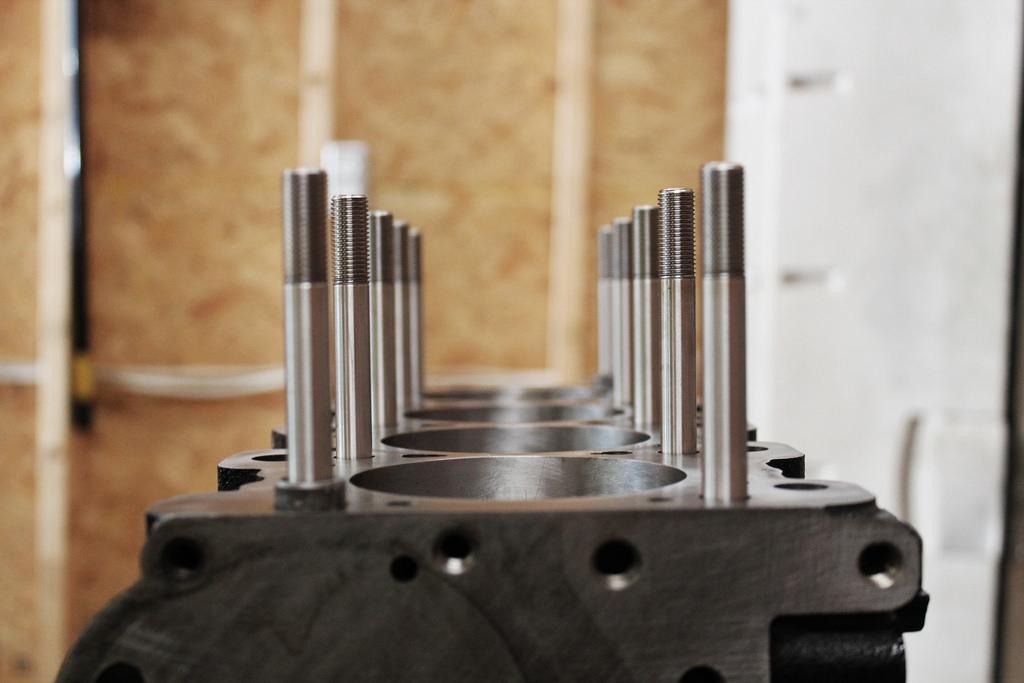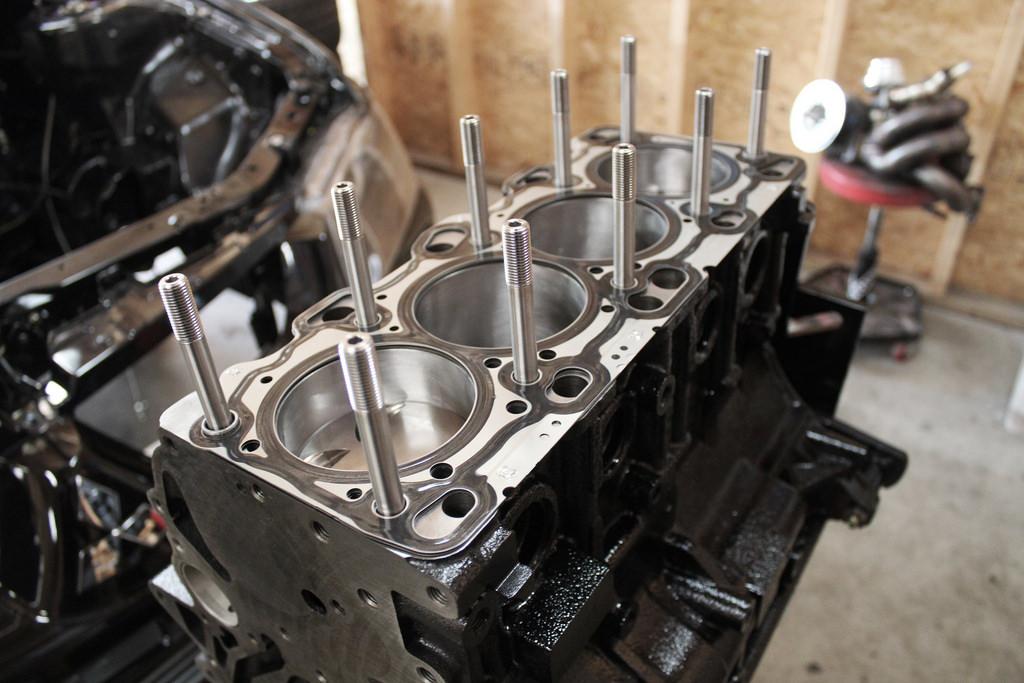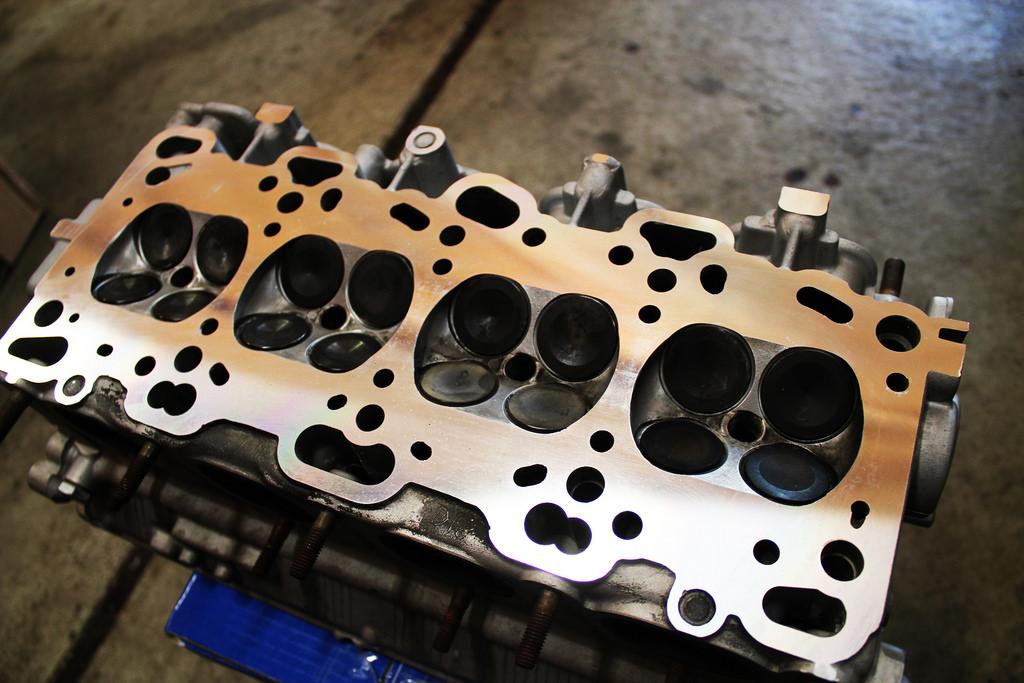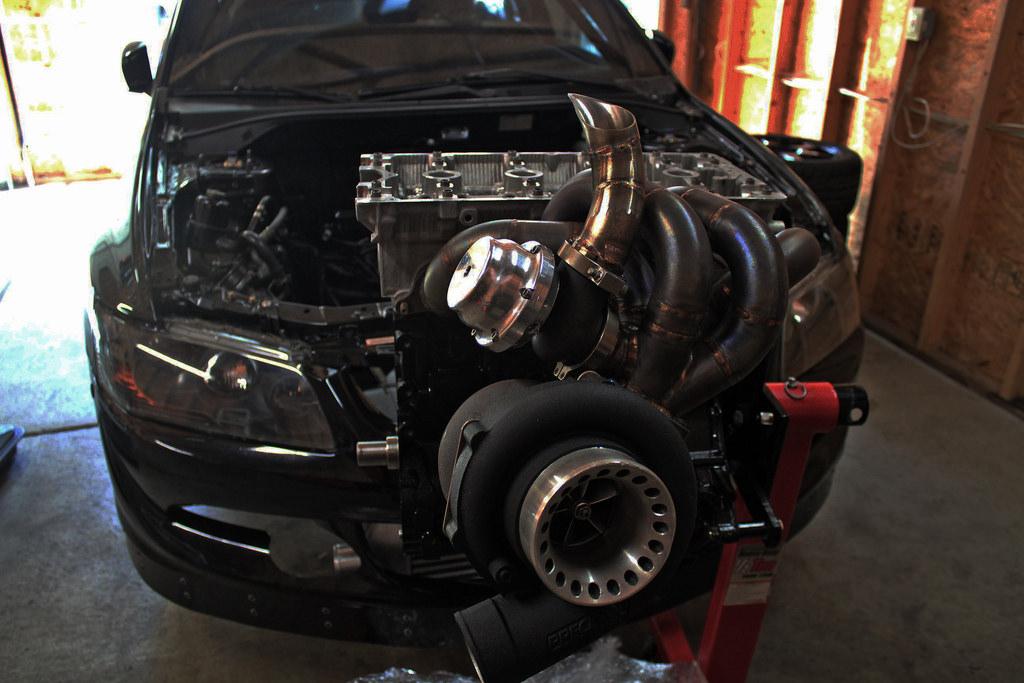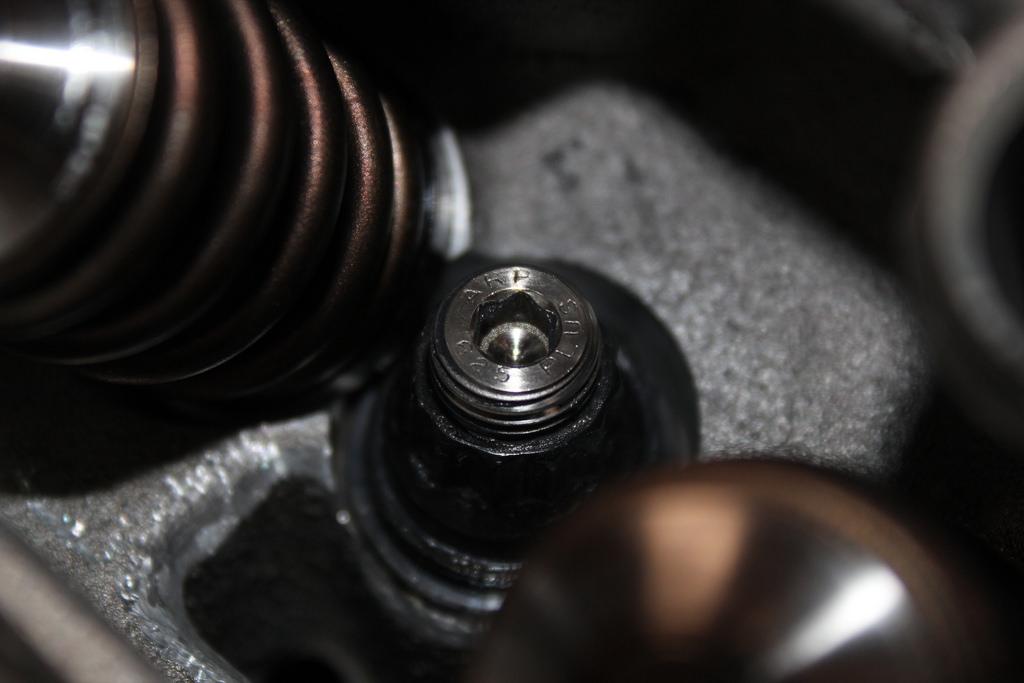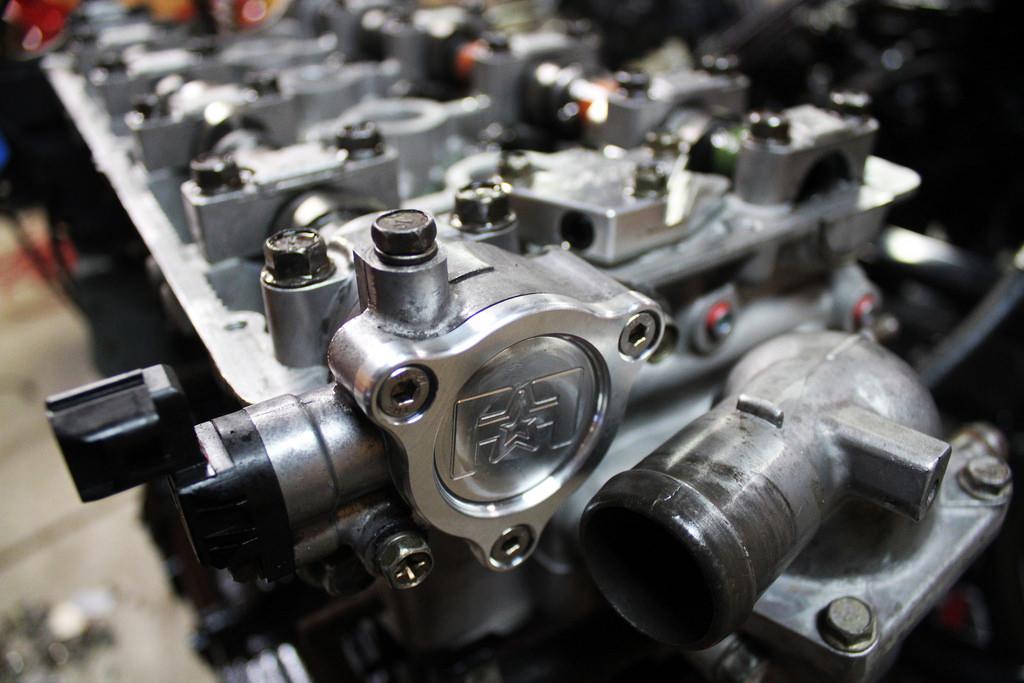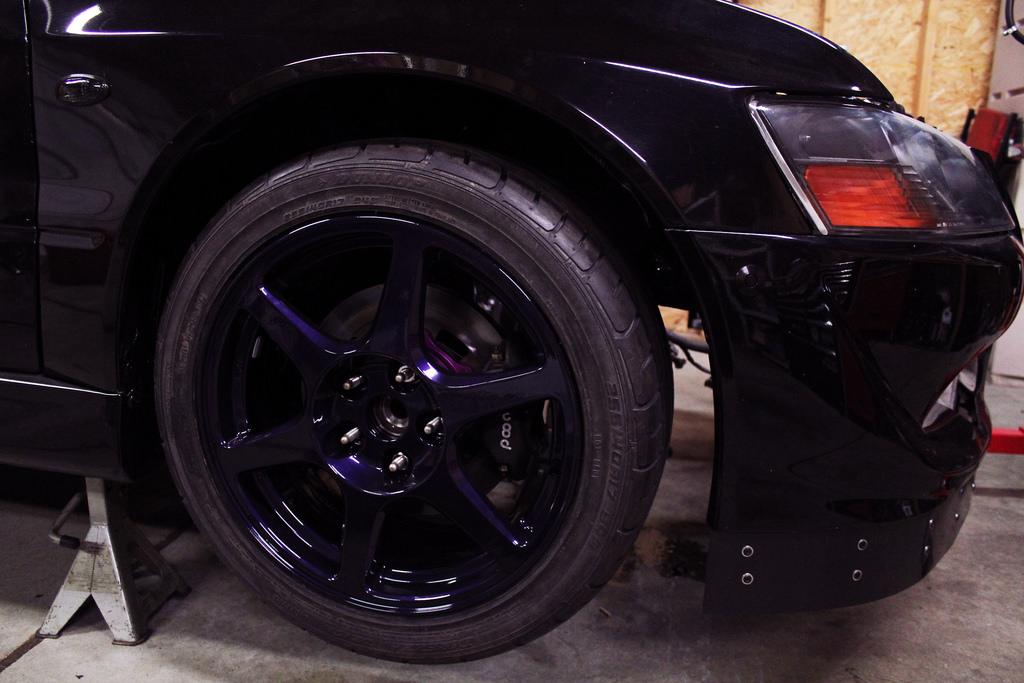 3-14-2015
Thanks everyone! It's just about ready to fire up.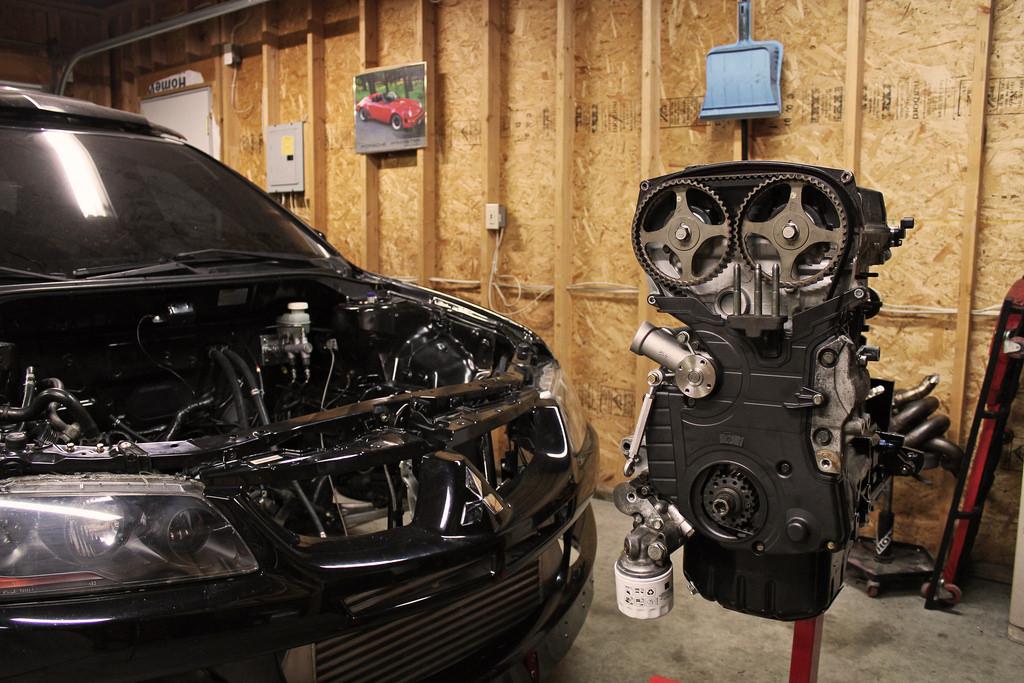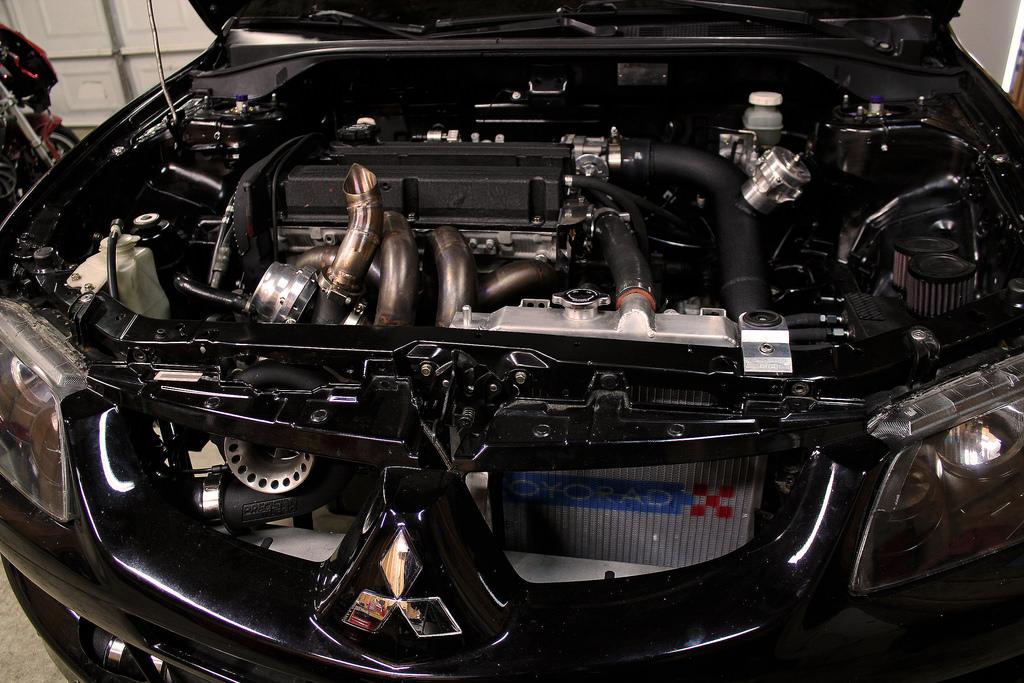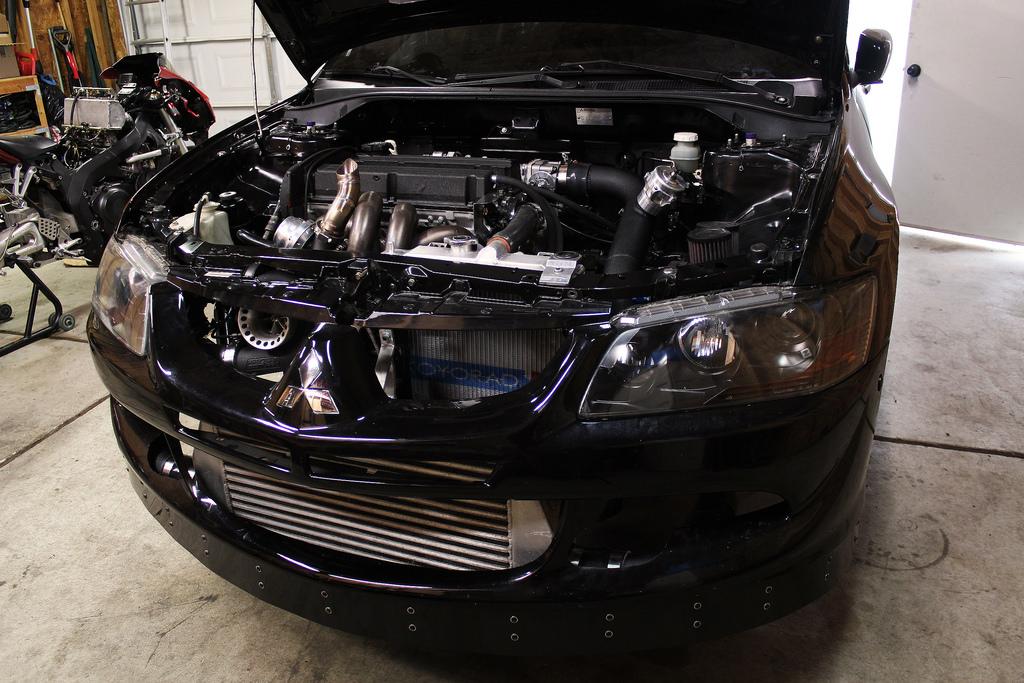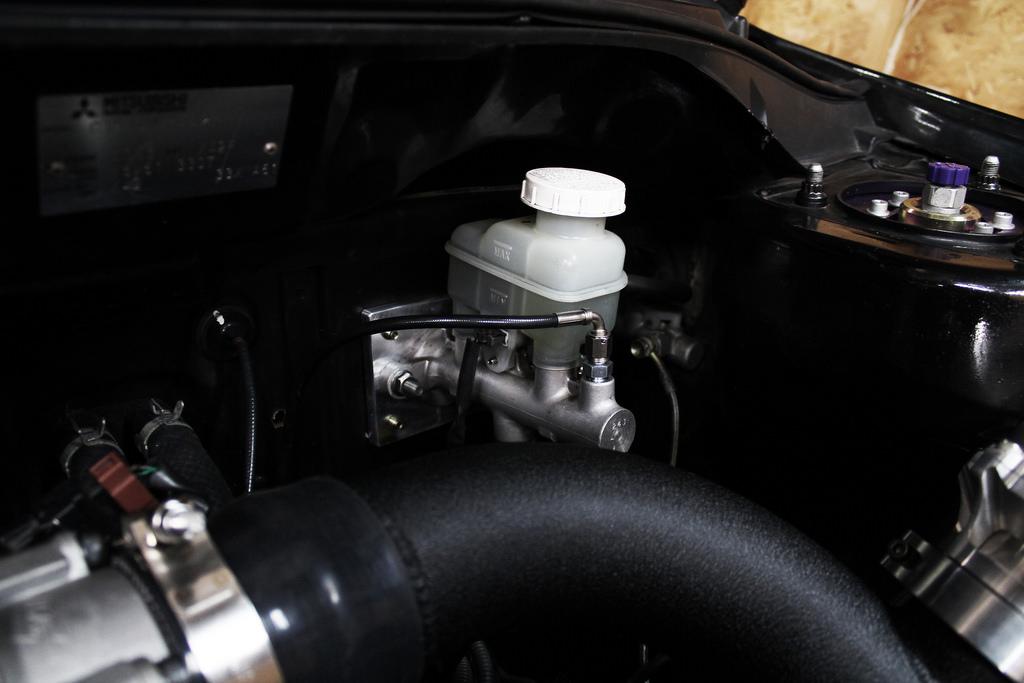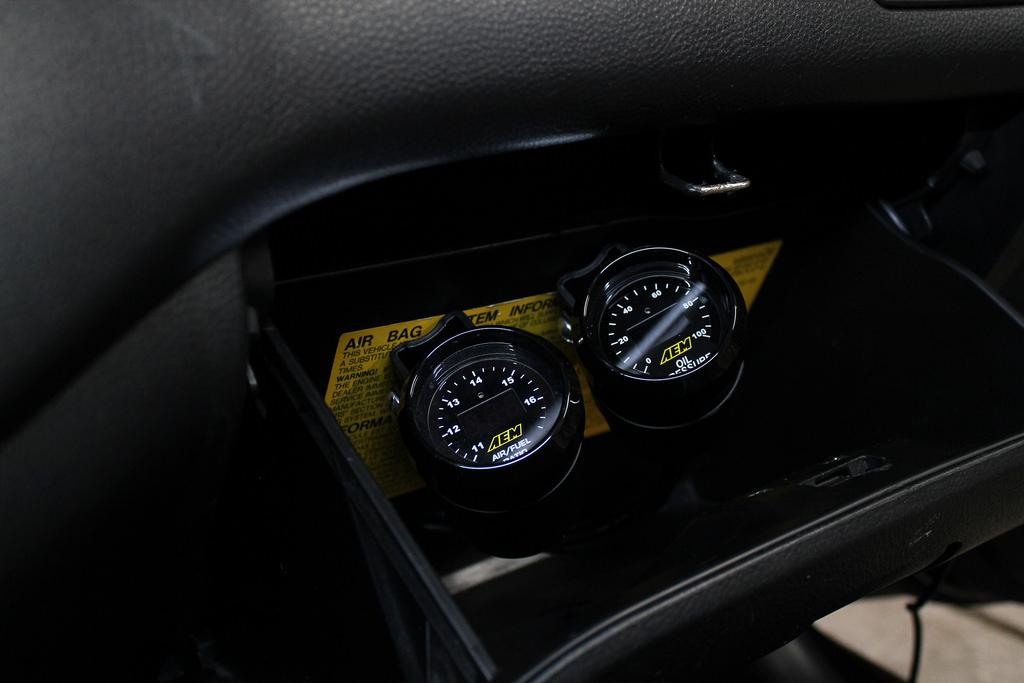 3-24-2015
Fired it up this past weekend and everything is excellent.
Going to do some break in later this week and start tuning this weekend!