MAP Stage 2 LR 2.4L Build by Blue91lx
By diyauto
MAP Stage 2 LR 2.4L Build
Compliments of Blue91lx @ www.evolutionm.net
3-11-2012
Alright guys,
I bought my first Evo off of EvoM Summer of 2011. I had built three Mustangs prior and was excited about the new platform.
However, the car was neglected and fell apart on me completely a few weeks after I had it. The only good parts that were on the car were the built shortblock and the turbo. The kit was bad, the head was junk, there were eBay parts that were said to be good aftermarket parts, there were fabricated parts that looked as if a child had welded them, gaskets reused, engine bay had never been cleaned, oil leaks, improper installation of many parts, PATHETIC wiring, neglect of maintenance, etc.
You get the point.
After MUCH trial and error since then, I have learned this platform inside and out.
So far I have replaced everything on the car except for the drivetrain, and decided it was time to do just that.
Thus, my before and after mod list is as follows, and the build started yesterday!
My goals for the car are as follows:
-I want to make torque. I have carefully chosen my parts with that in mind. I'll be running the stock IX turbo until summer, at which time I will send it out for a stock frame upgraded (TBA).
-I want the car to be fun, and most importantly, reliable.
Before:
Motor
-Built 2.0L
-JE 10:1 Pistons
-Eagle Rods
-ARP Head Studs
-AMS Balance shaft delete
Head
-Brian Crower 272s
-Brian Crower Springs/Retainers
-Everything else stock
Cooling:
-Destroyed PWR Radiator
-Thermostat installed upside down (causing blown head gasket)
Turbo Kit:
-Garrett GT35R w/ .63 housing
-Tial 38mm wastegate
-Shearer t3/t4 tubular manifold
-ETS UICP
-FabThis custom 3"inch vband downpipe (awful quality)
-FabThis custom intercooler piping (awful quality)
-FabThis custom dump tube (awful quality)
-XS Power FMIC
Fuel:
-Precision 1000cc injectors
-Dual walbro 255LPH fuel pumps (1 inline before fuel rail...awful setup)
-Steel braided fuel rail line
Drivetrain:
-Exedy twin disk clutch
-Installed completely wrong. Wasn't even salvageable when removed.
-Stock Trans/T-Case
Electric:
-AEM EMS
-AEM wideband
-AEM Boost controller
-AEM oil pressure gauge
-Stewart Warner 40psi boost gauge
Other Mods:
-Thermal Research full 3" exhaust fit to jdm rear bumper (awful quality welds)
-No intake at all
After:
Motor:
MAP Stage 2 2.4L
-Wiseco HD Pistons
-MAP Ultimate Duty 156mm Rods
-MAP H11 Head Studs
-Cosworth Cosmetic Head Gasket
-JMFab Catch Can
-Two -10an lines off of head
-One -6an off of breather on front of motor
Head
-Blended Bowls and casting cleanup
-Supertech Seals
-Valve Job
-Hot tank
-Decked
-GSC S2 Cams
-SuperTech Duals
Cooling:
-Koyo Evo 6 Radiator
-OEM Thermostat
-Custom -12an Upper Coolant Line
Turbo Kit:
-Stock IX Turbo (for now)
-Curt Brown Ported Exhaust Manifold
-Curt Brown Ported Intake Manifold
-JMFab 2.5" UICP
-Nisei LICP
-Nisei FMIC
-Hallman Pro RX MBC
Fuel
-FIC 1250cc BlueMax
-Warlbo 400lph In-Tank Fuel Pump w/ STM Rewire
-FuelLab AFPR with MAP Install Kit
-Stainless Fuel Rail Line
Drivetrain
-Shep Stage 2 Trans
-Ultimate Ratio
-Double Synchros
-REM Treated
-Magnus Fuel Rail
-Stock Rebuilt T-Case
-Comp HD 6 Puck Ceramic Sprung Clutch
-ACT Streetlite Flywheel
Other Mods
-SpoolinUp COP
-AMS Stainless 3" Exhaust w/Ti Tip
-Mil Spec Throttle Body Seals
-JMFab 3" Speed Density Intake
Electric
-Stock ECU with Tephra V7
-AEM Wideband
-AEM Oil Pressure Gauge
-Stewart Warner 40psi Boost Gauge
And the build has begun!
3-12-2012
New Parts!!
Nisei LICP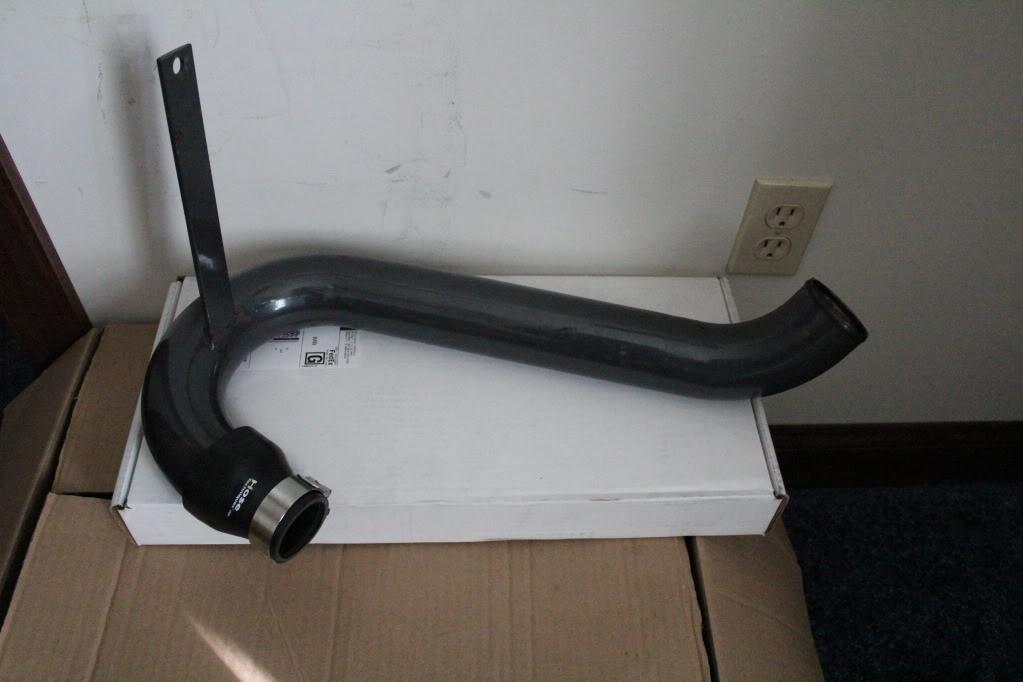 Cosworth Cosmetic Head Gasket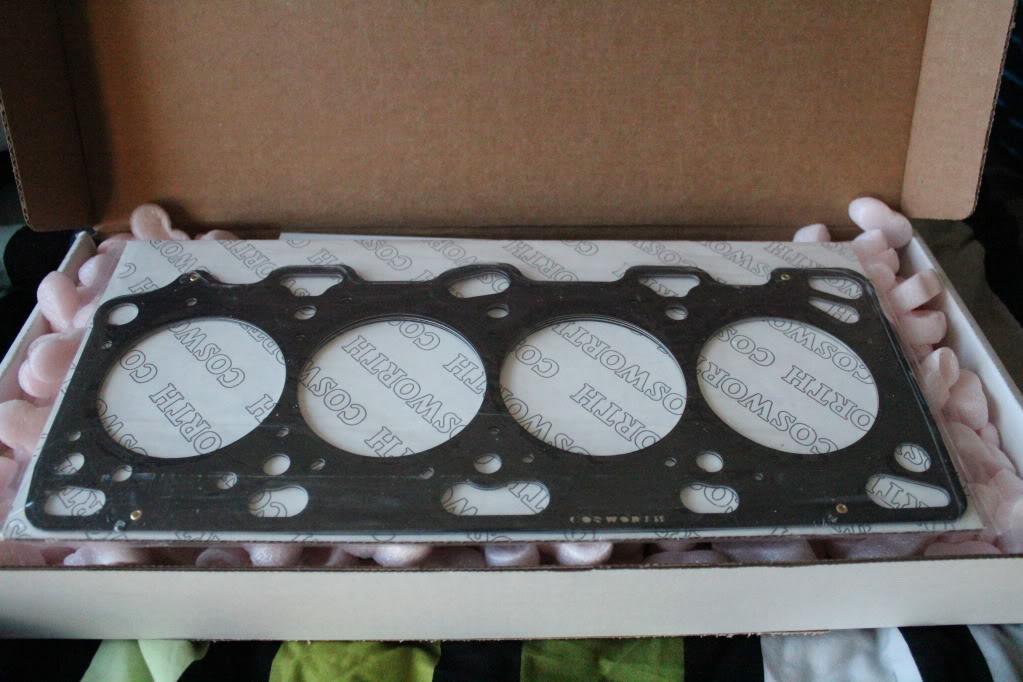 JMFab 2.5" UICP w/Vibrant Couplers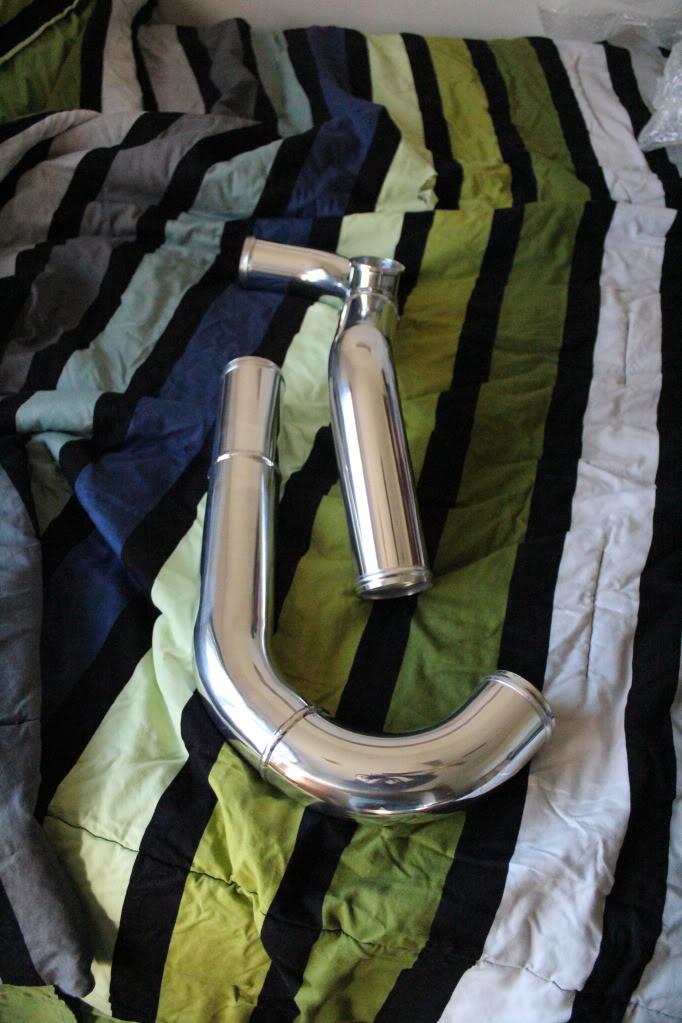 Build Pictures
Deleted EGR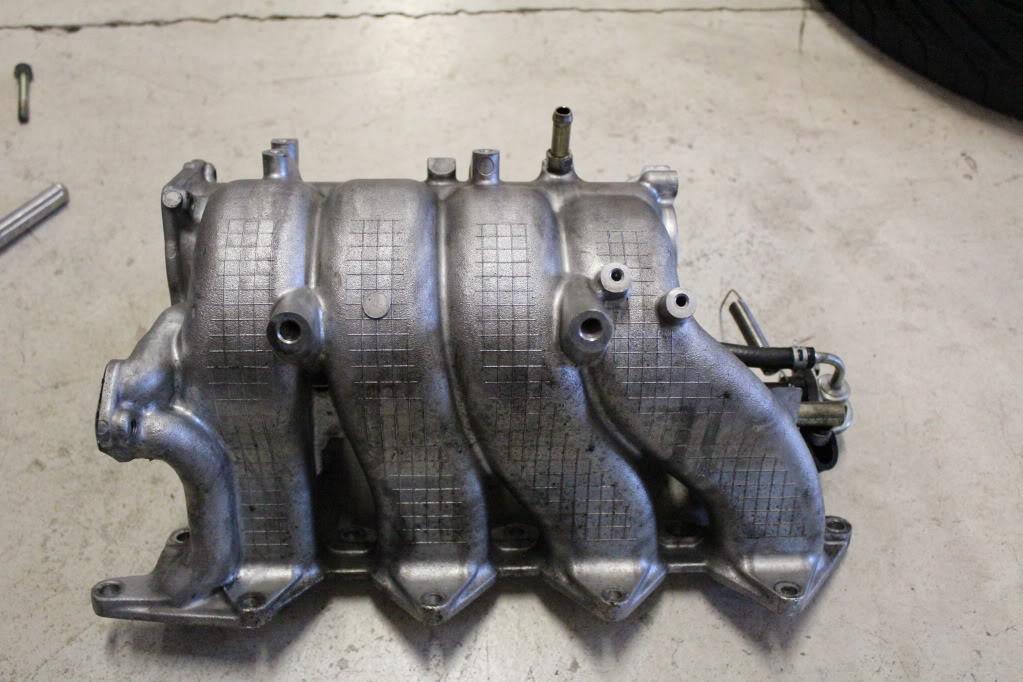 Pulled Motor Sequence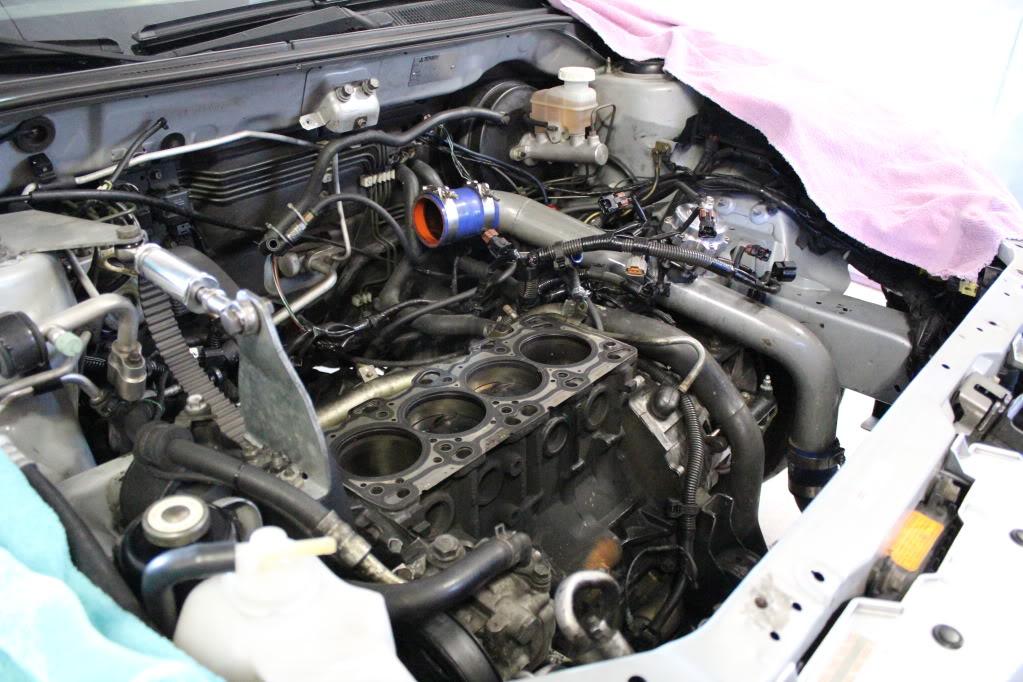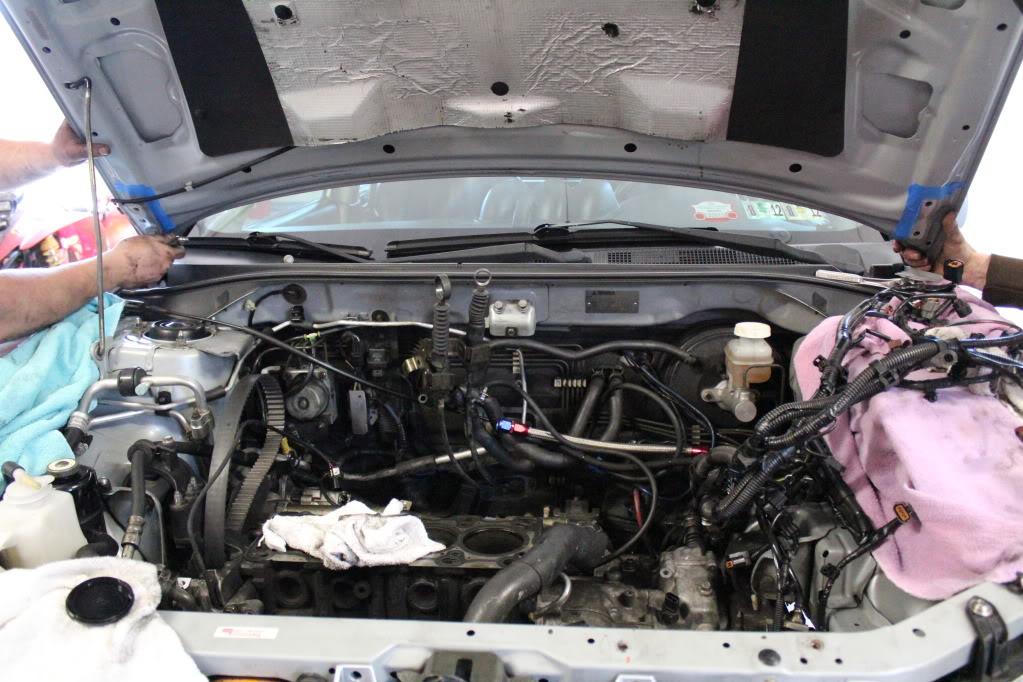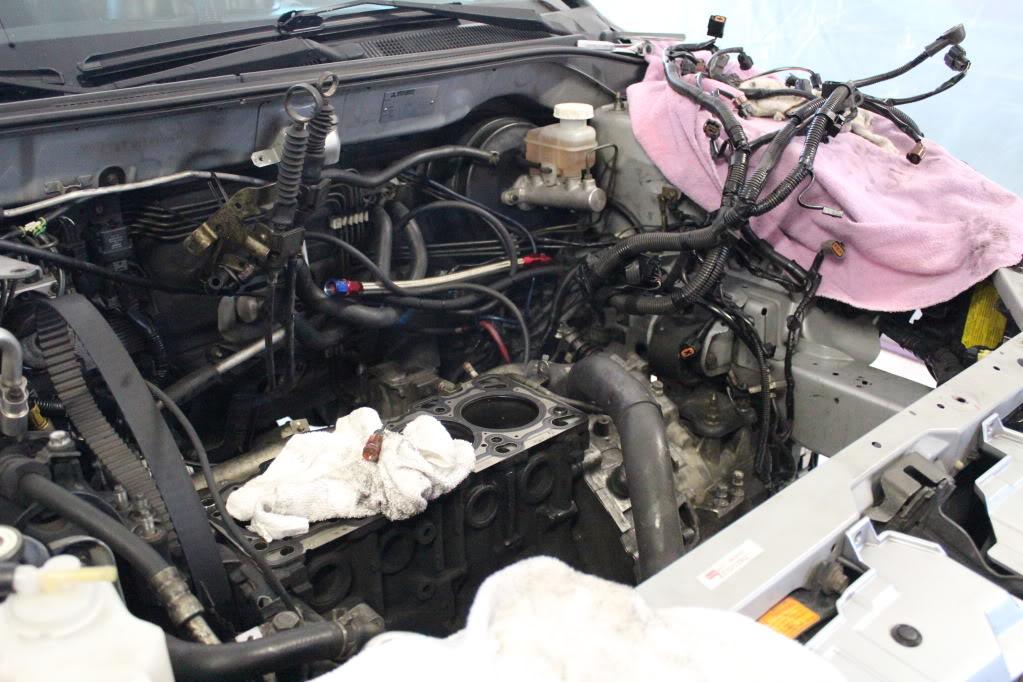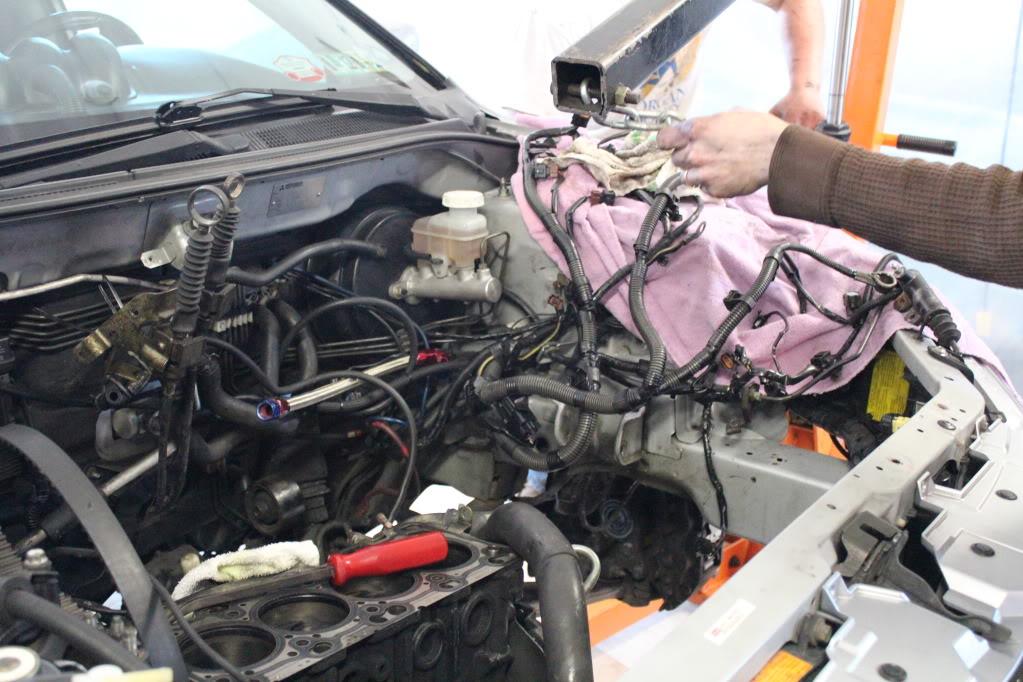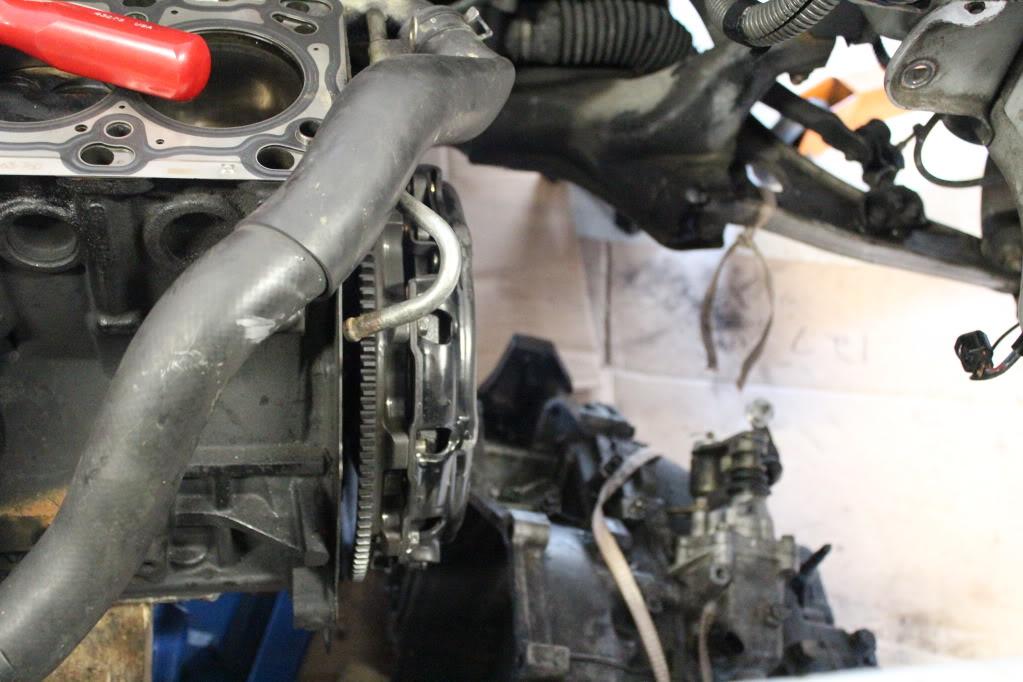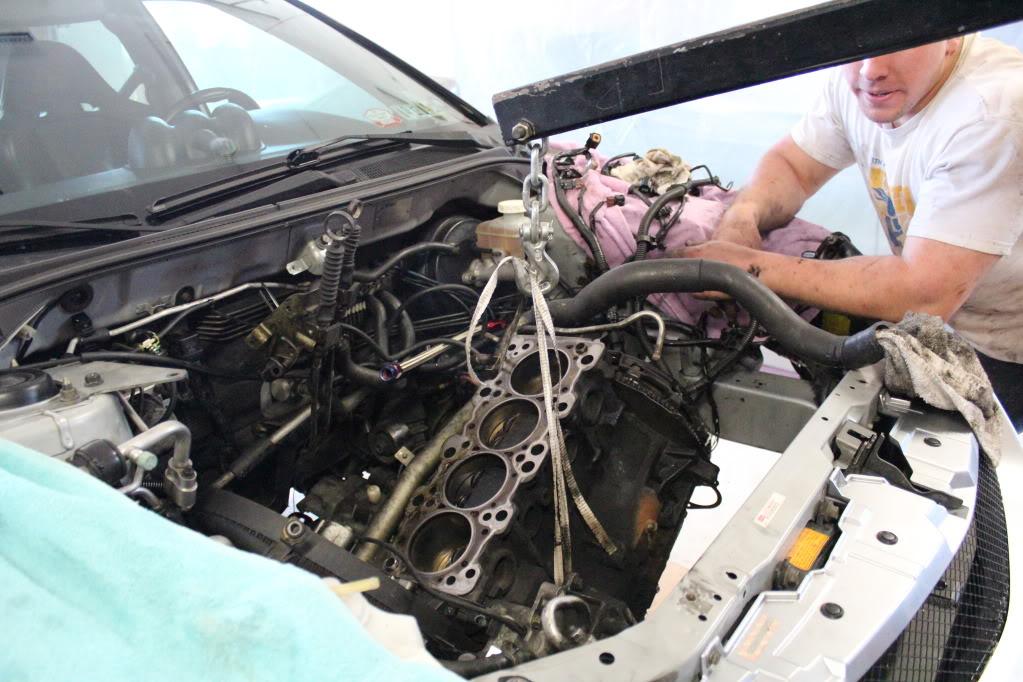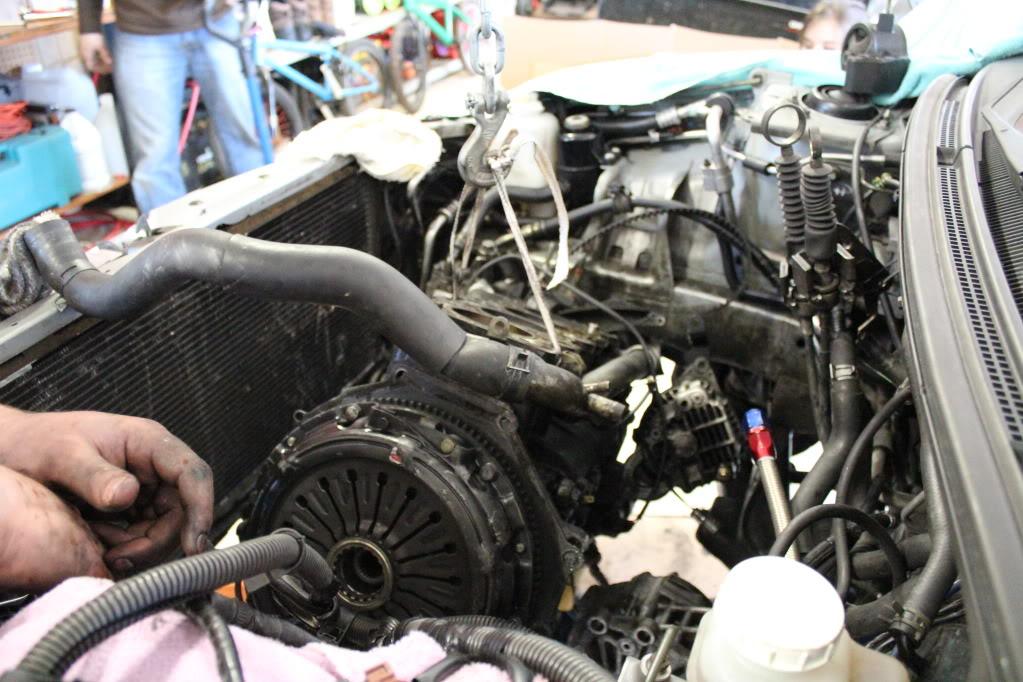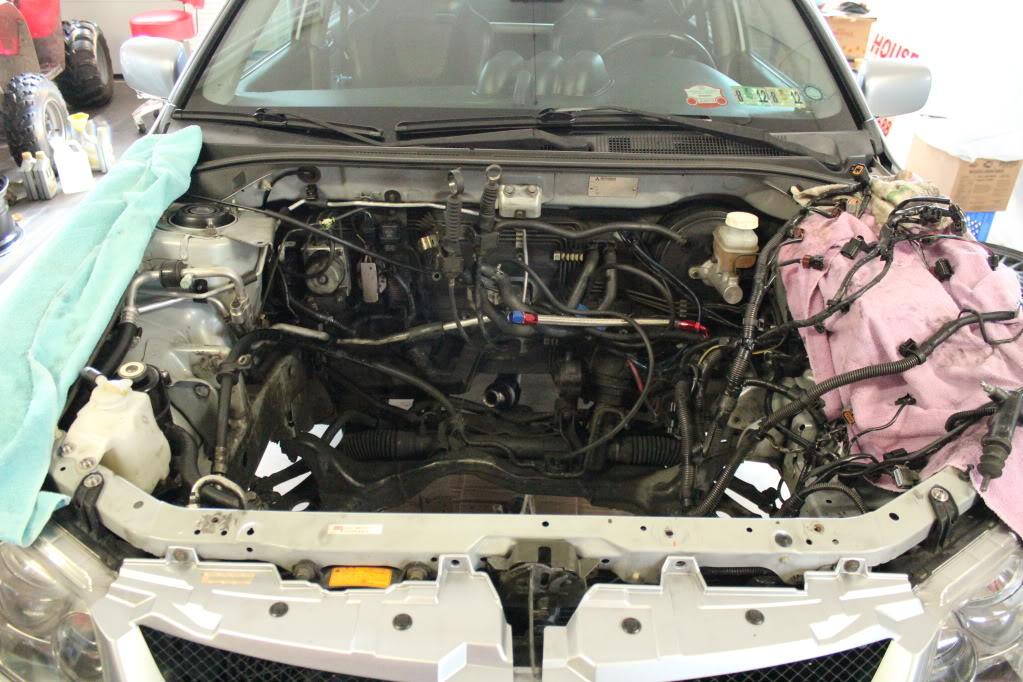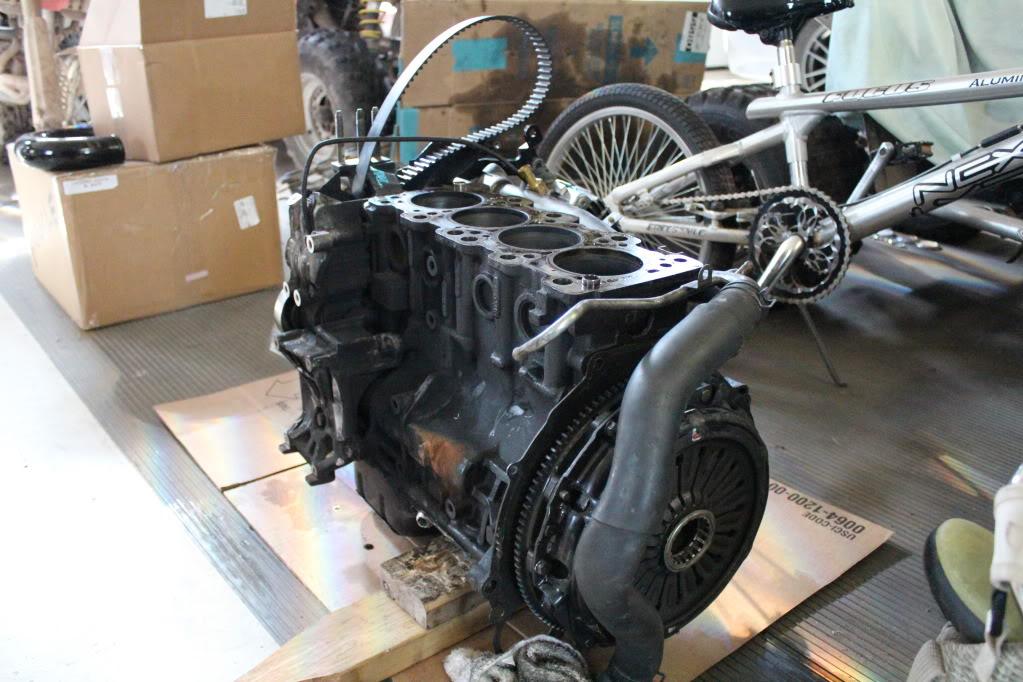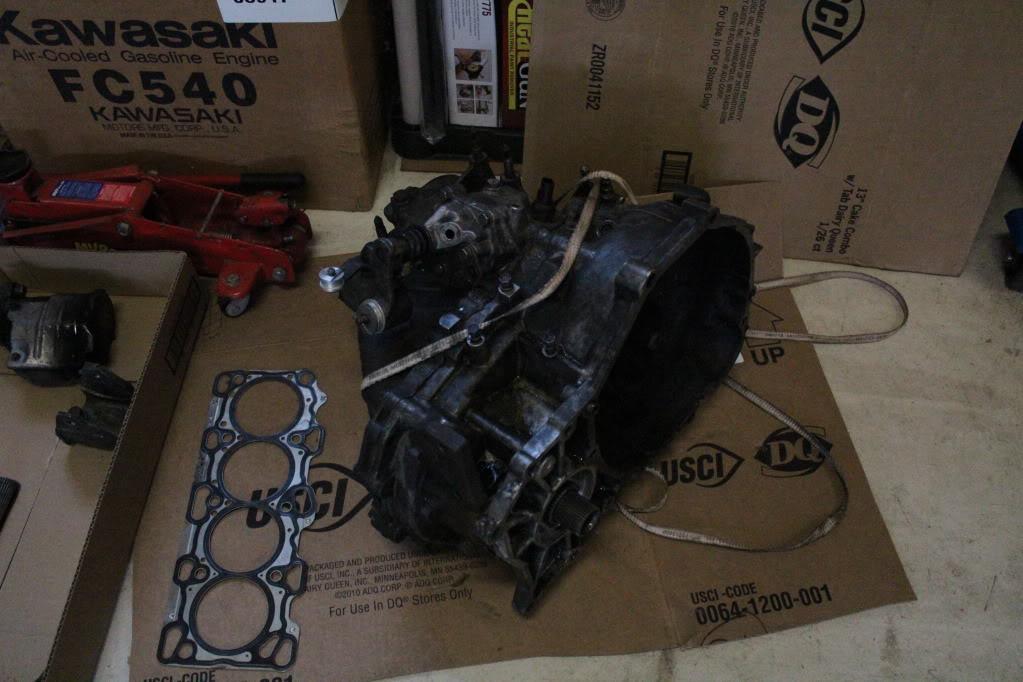 Before cleaning and minor tuck on passenger side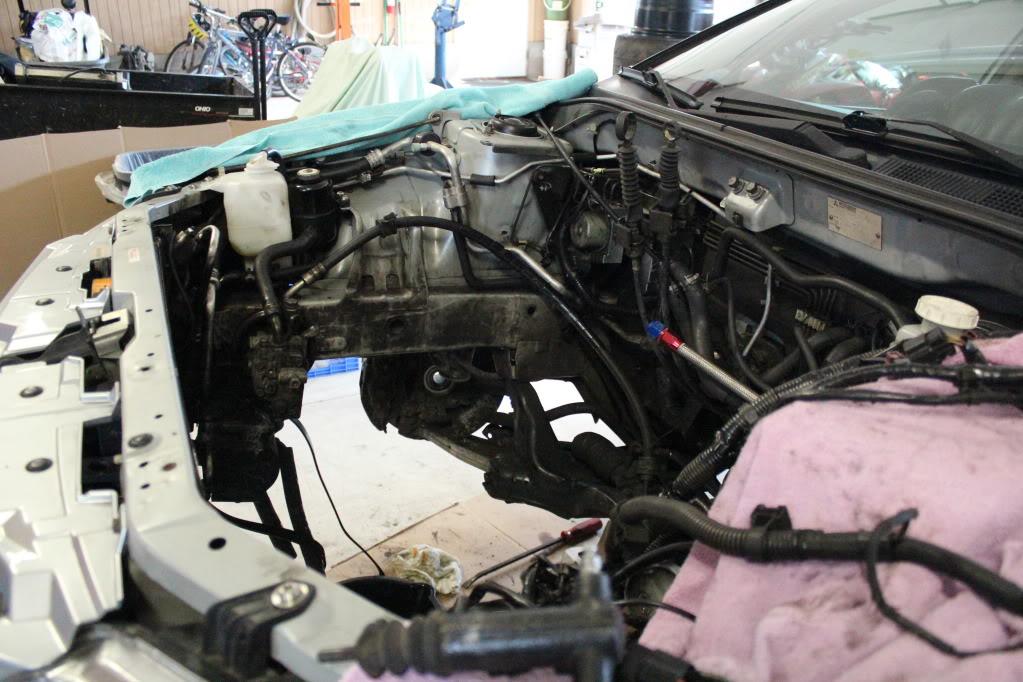 After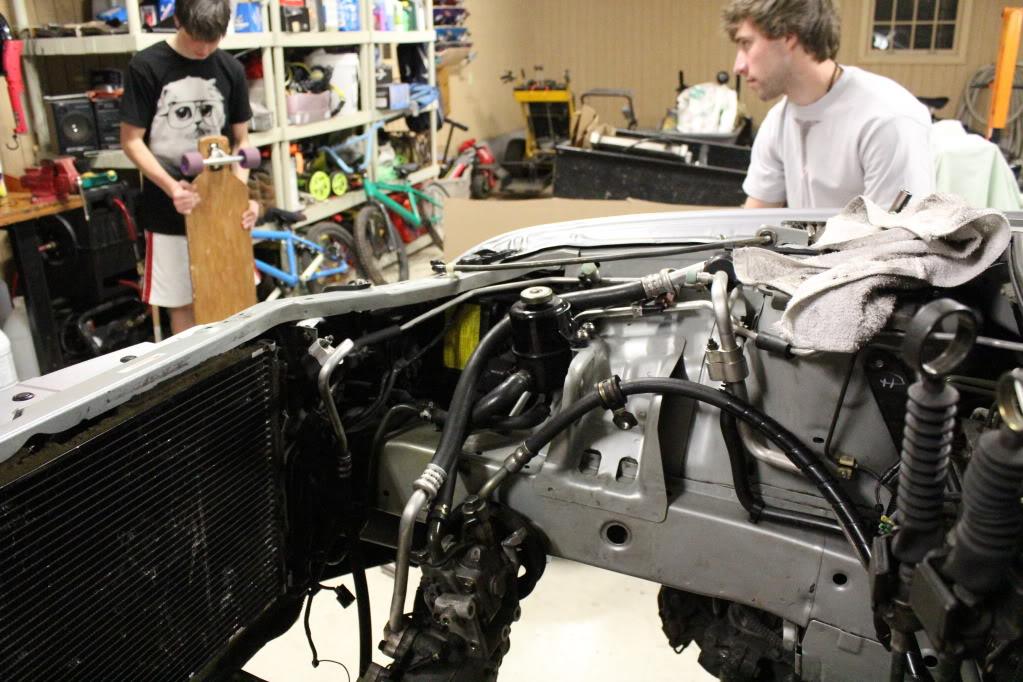 3-13-2012
Thanks guys!
Fedex just pulled up the driveway so I'll surely have some more updates today!
I just did throttle body seals last night and found out that my stocker is ported to a 65mm!
I have a STM Fuel Pump Rewire and a Energy Bushing Kit that need to go on the car as well. I'm still awaiting the motor from MAP, and then I can start assembling the longblock.
Meanwhile, enjoy these pictures I took of the car itself, and my parts car!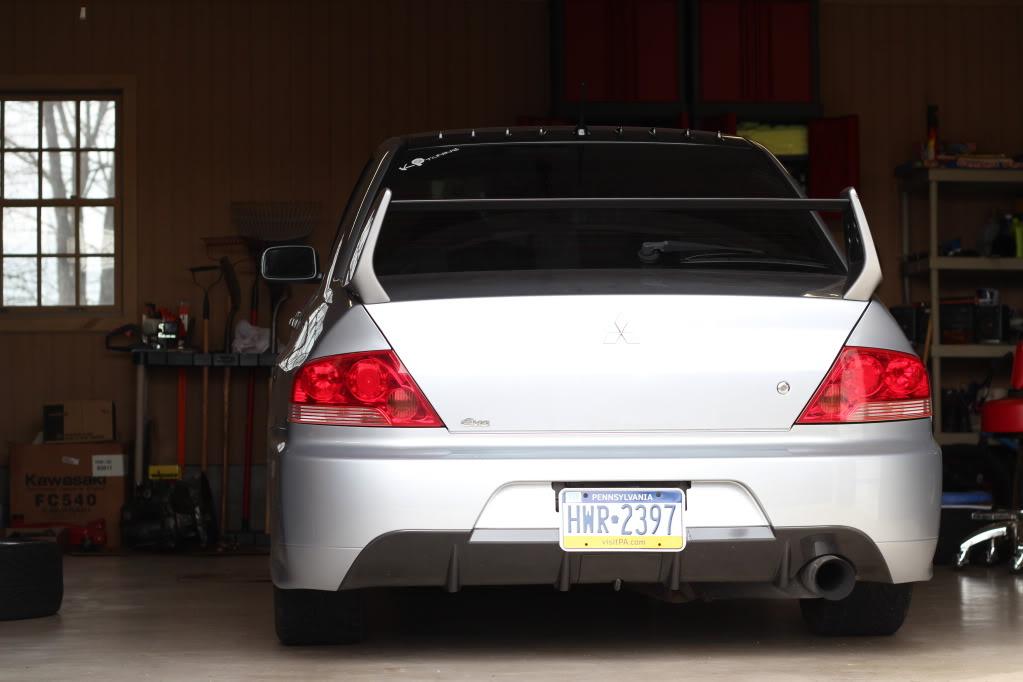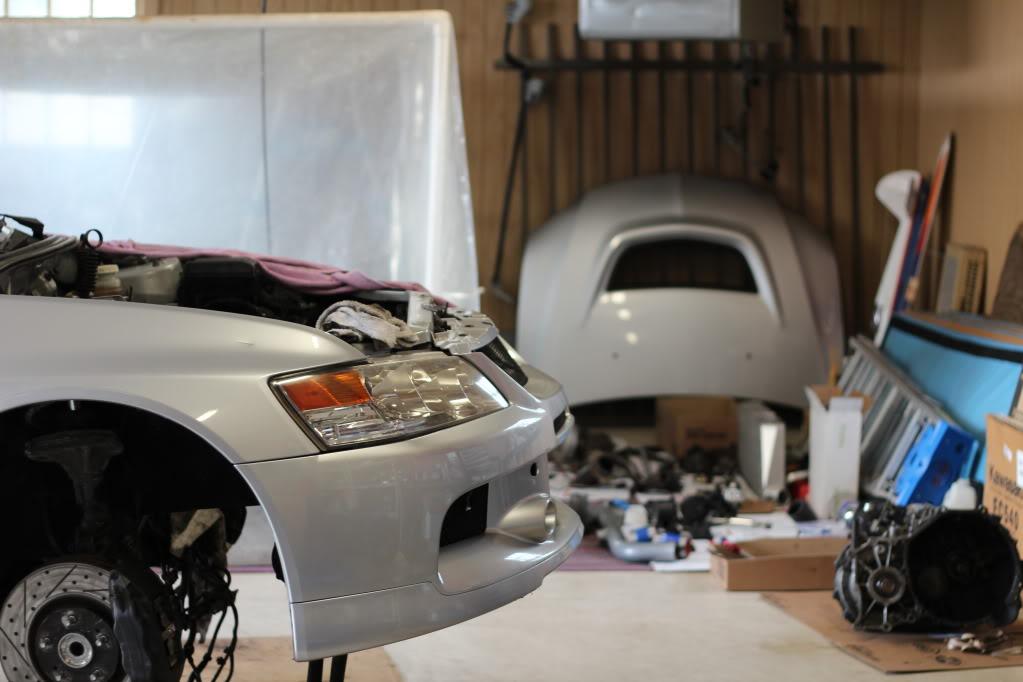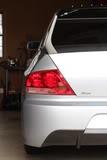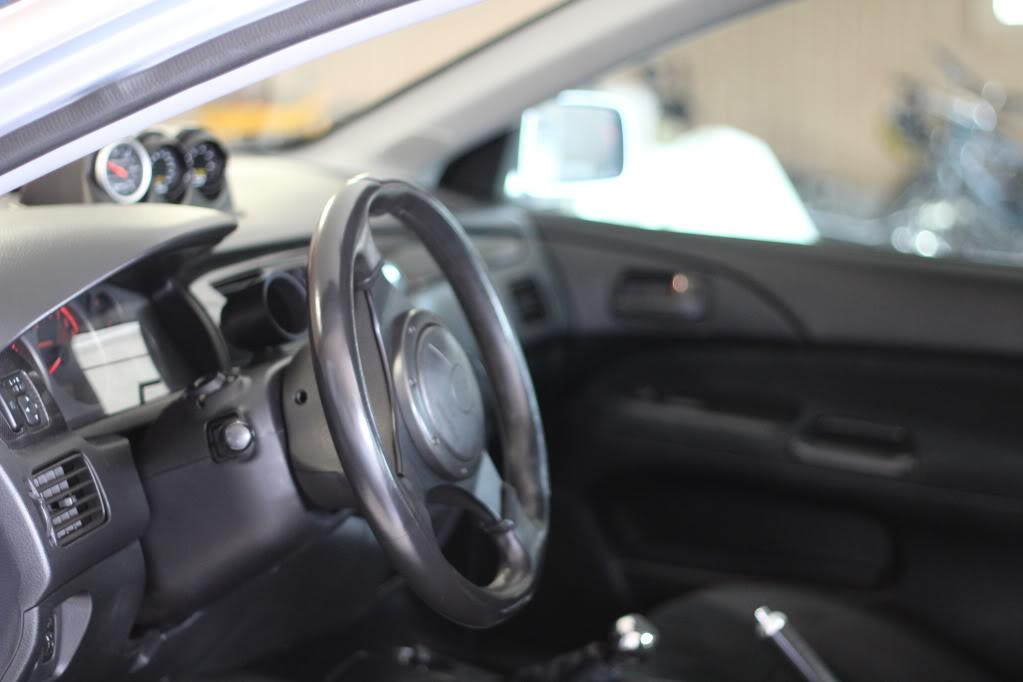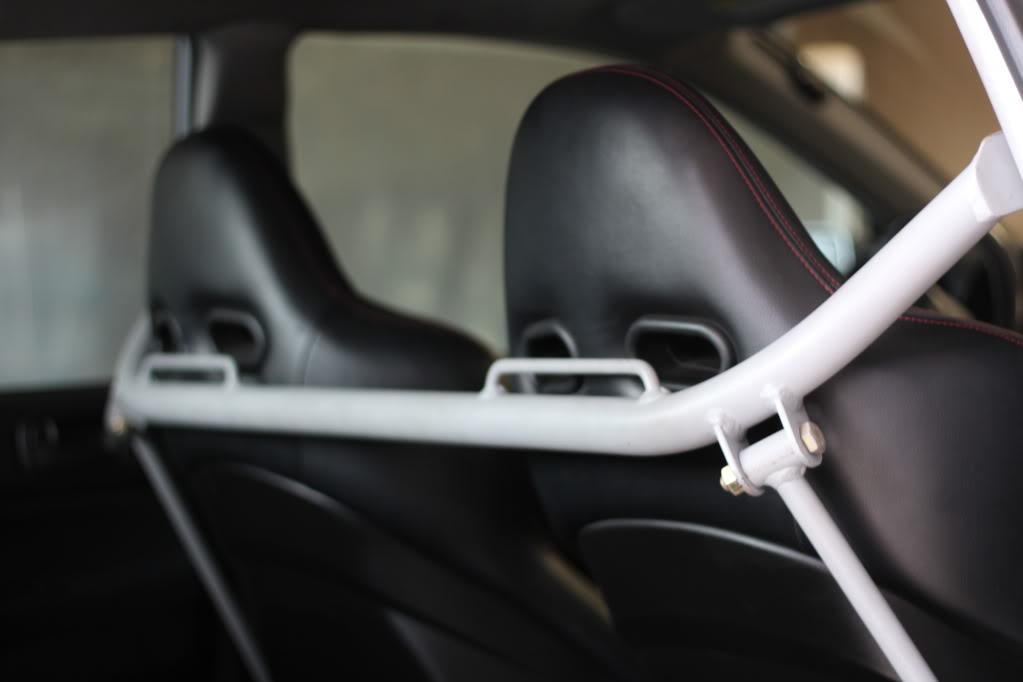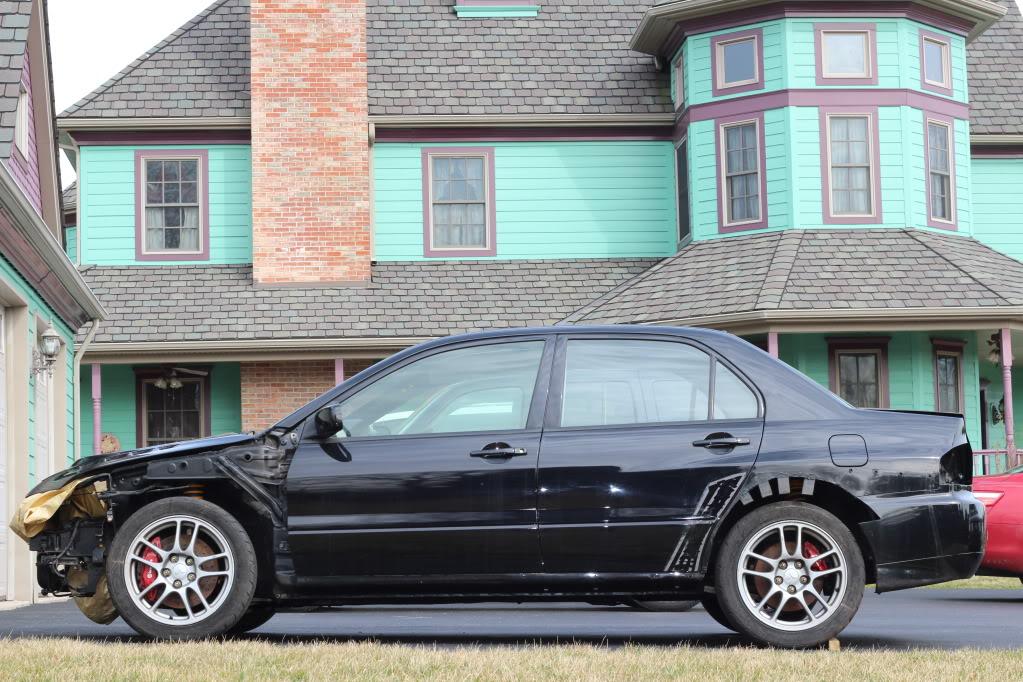 3-15-2012
Mil Spec Throttle Body Seals and refurbishing the TB, which is indeed a 65mm ported piece:
Dirty: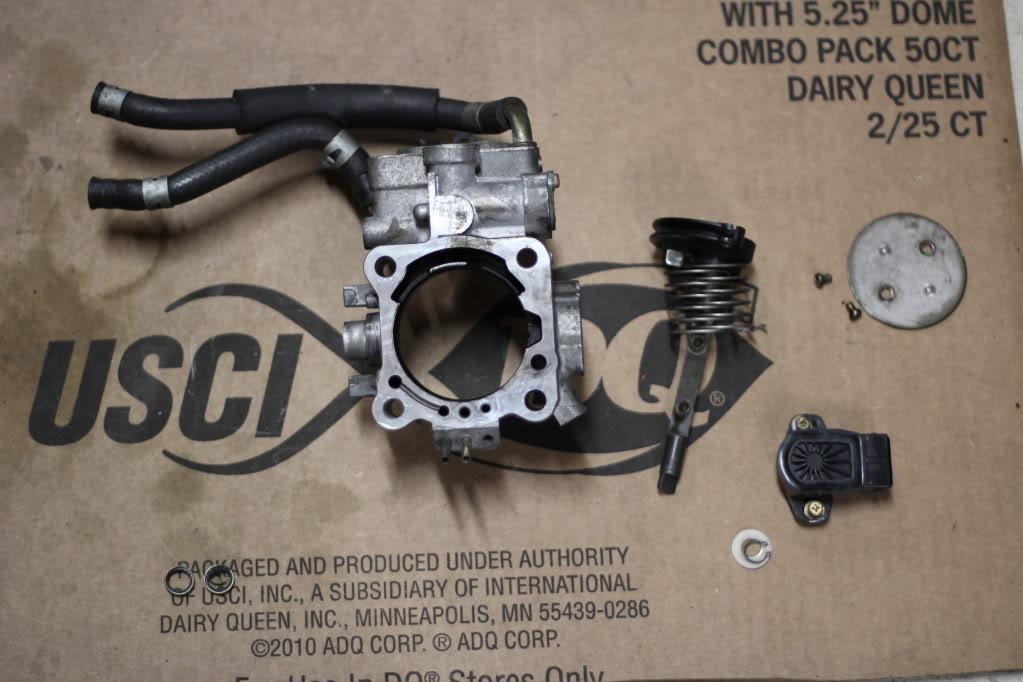 Old seals:
New seals: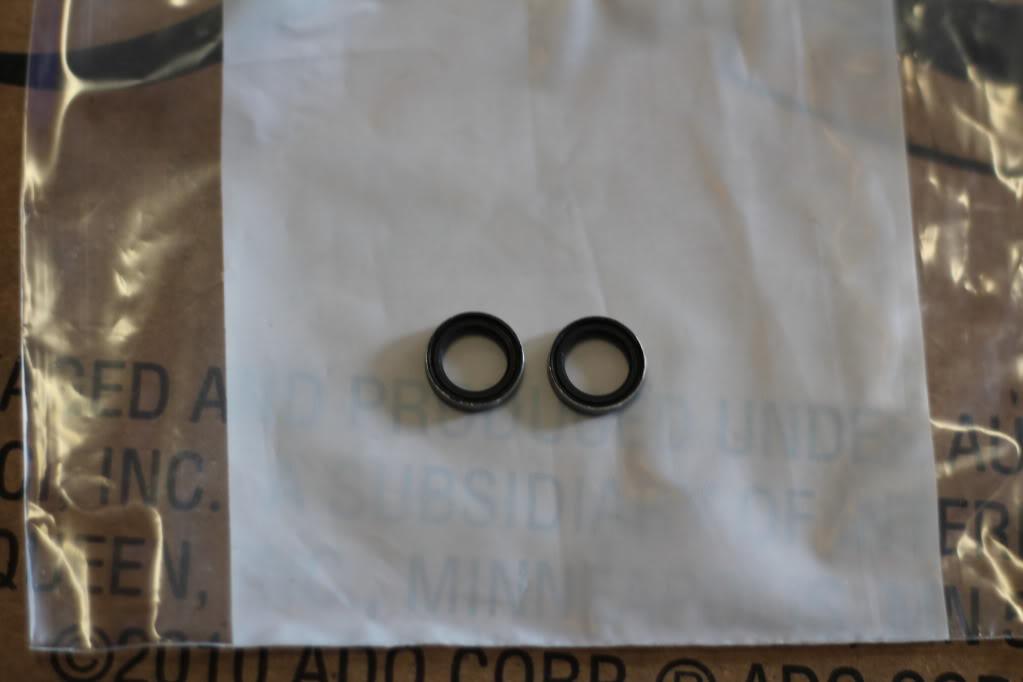 Clean and apart: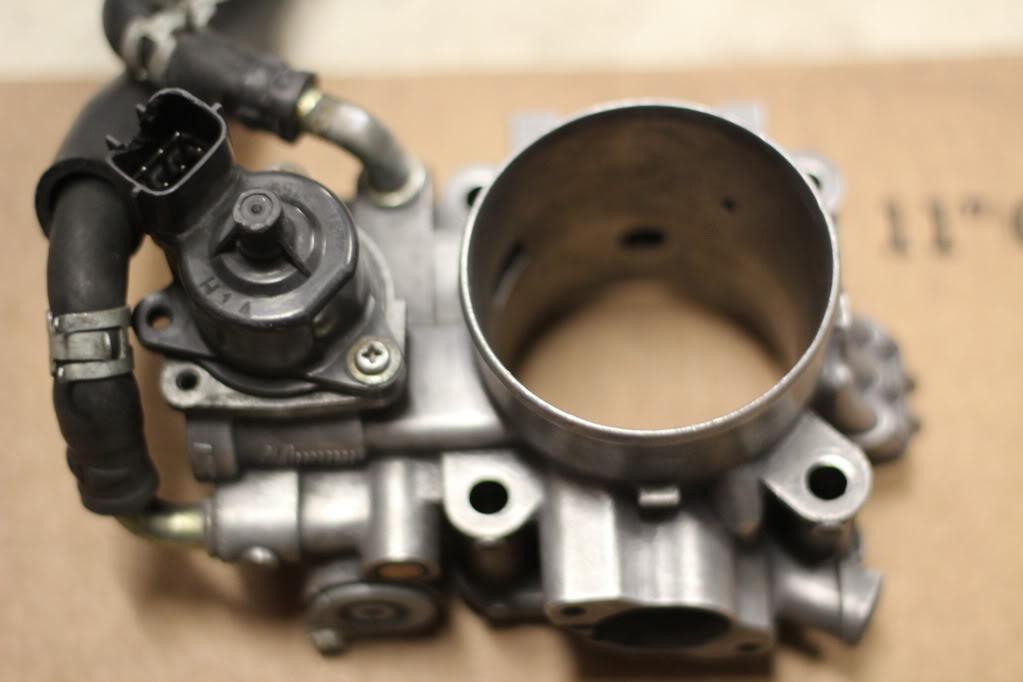 Clean and reassembled: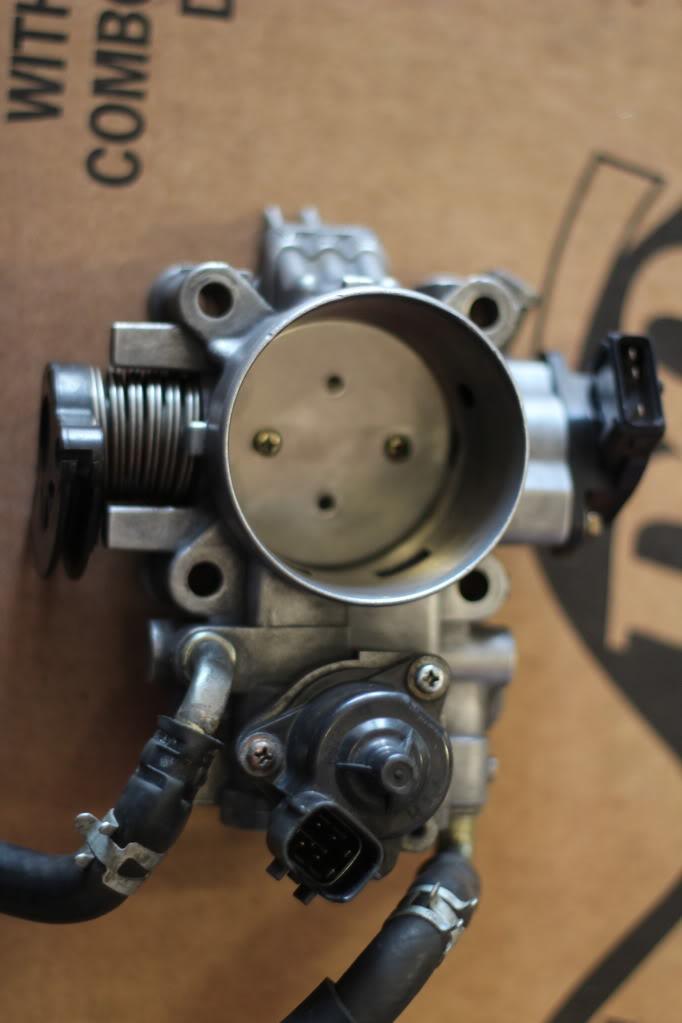 STM Fuel Pump Rewire: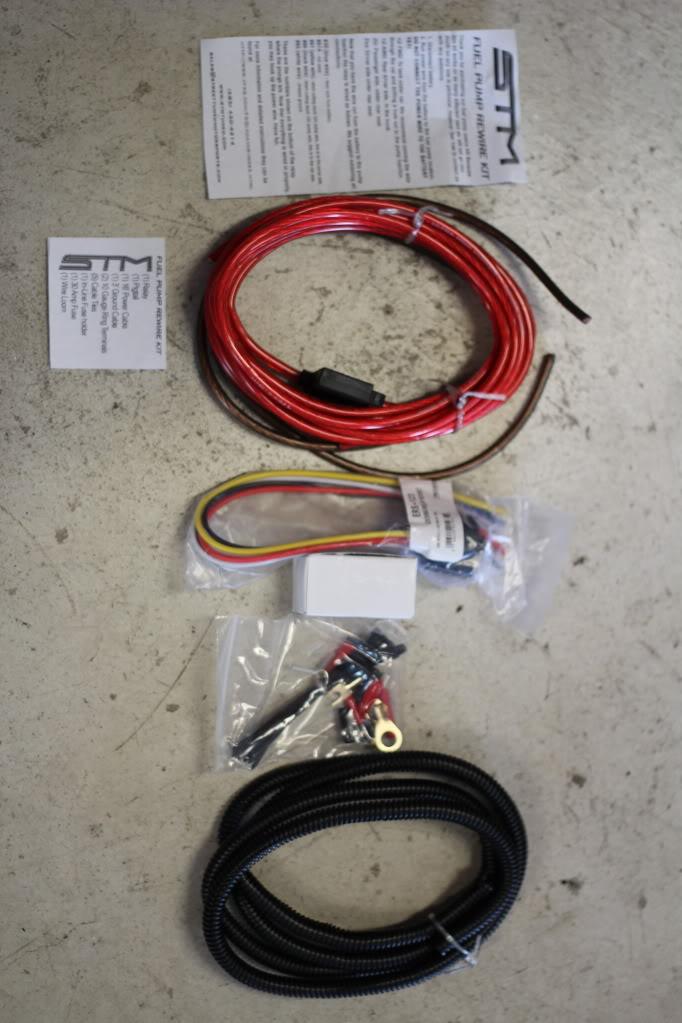 STM Valve Cover Fitting: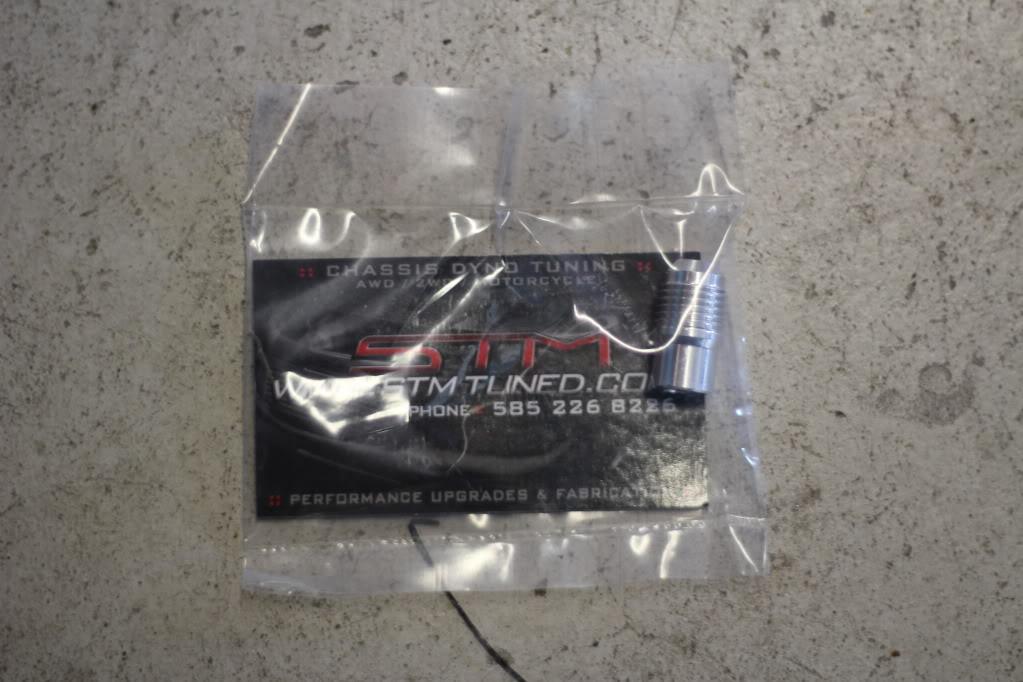 Energy Suspension Bushing Kit: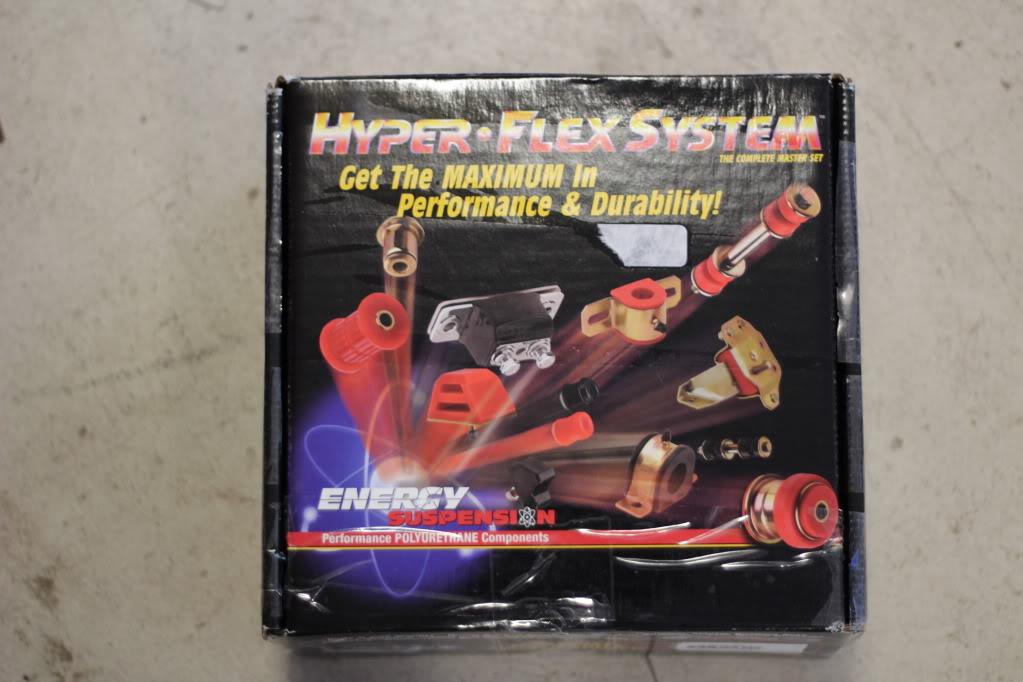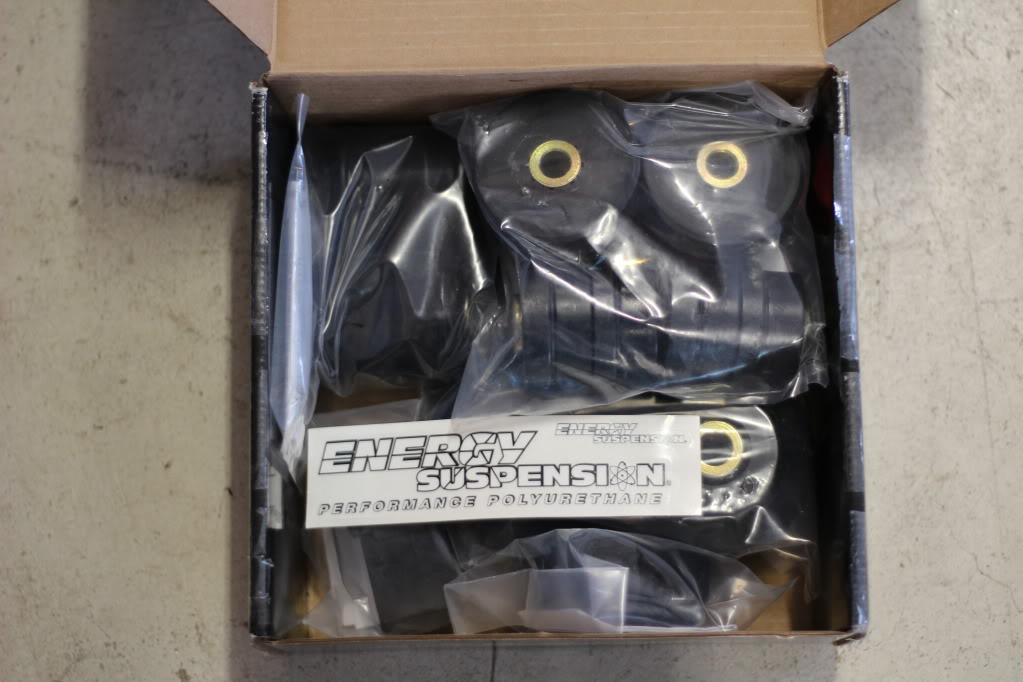 Most importantly, a clean engine bay!!!!!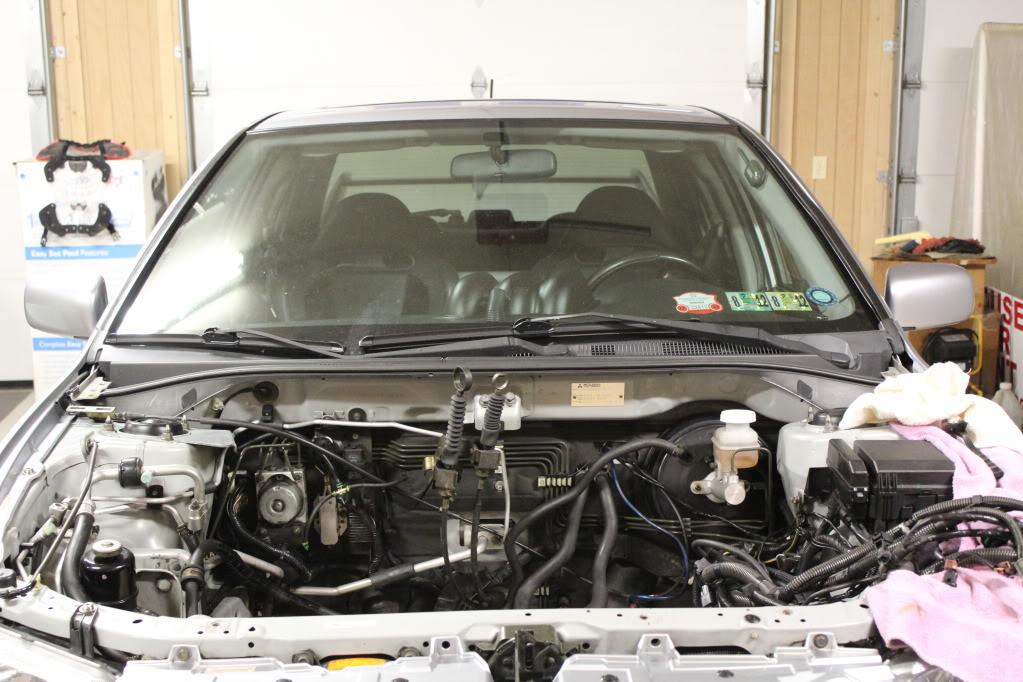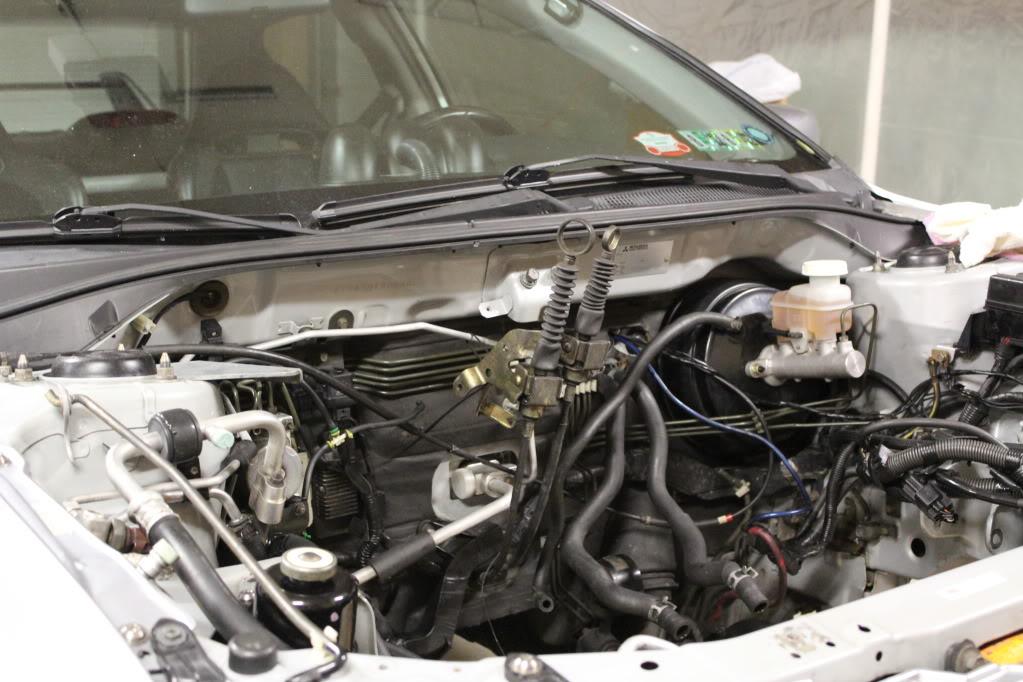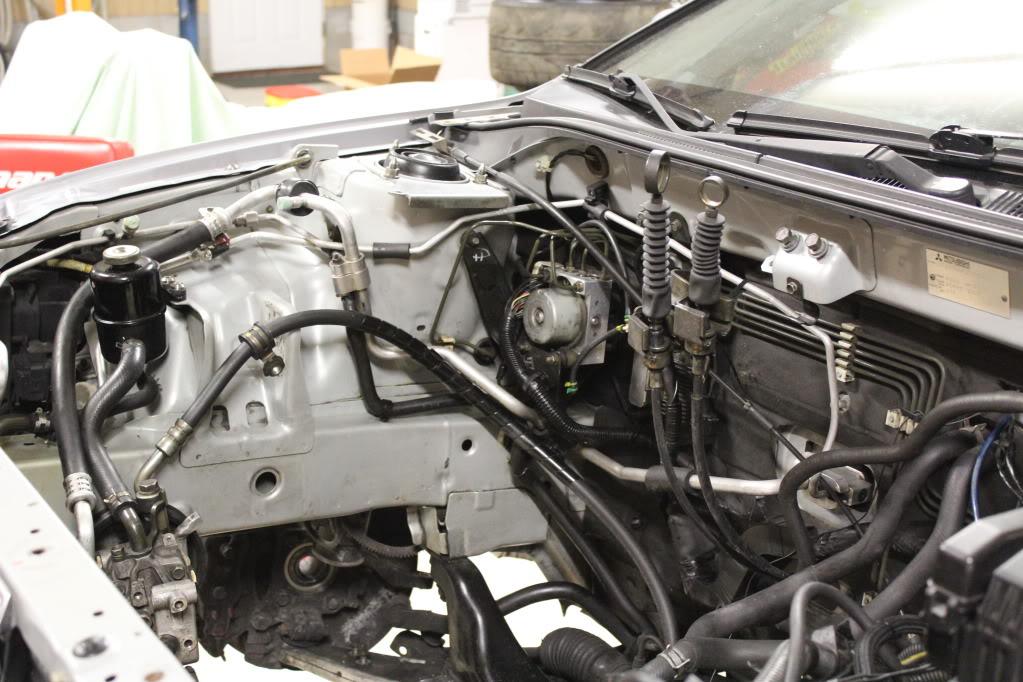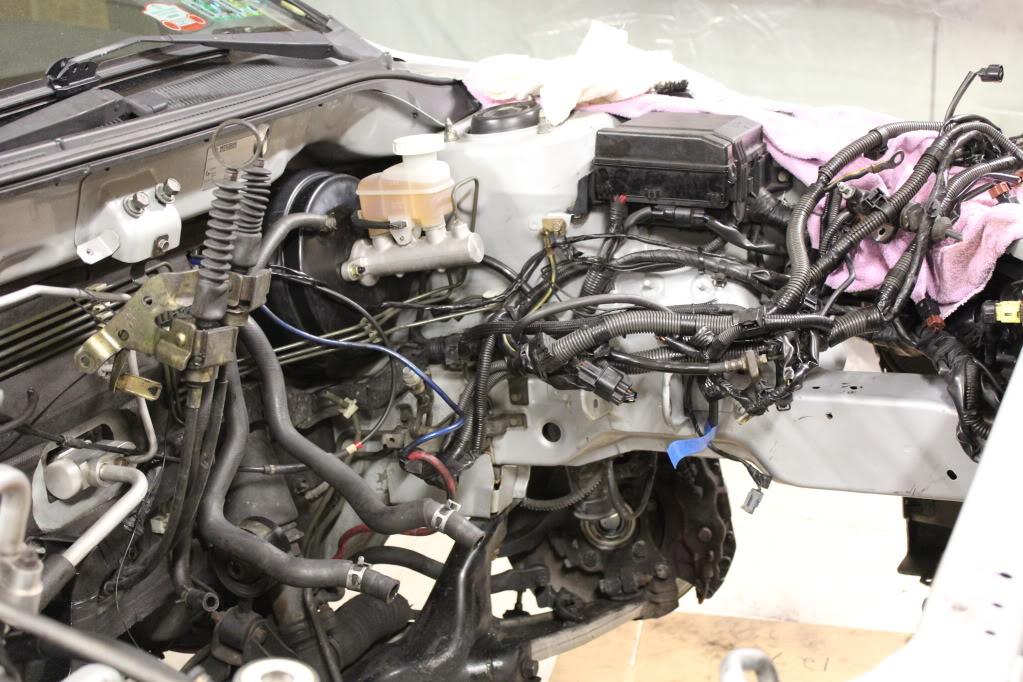 3-16-2012
I spent half of my day yesterday making my T-Stat housing pretty, so not too many new updates.
Also, are you guys thinking white for the harness bar?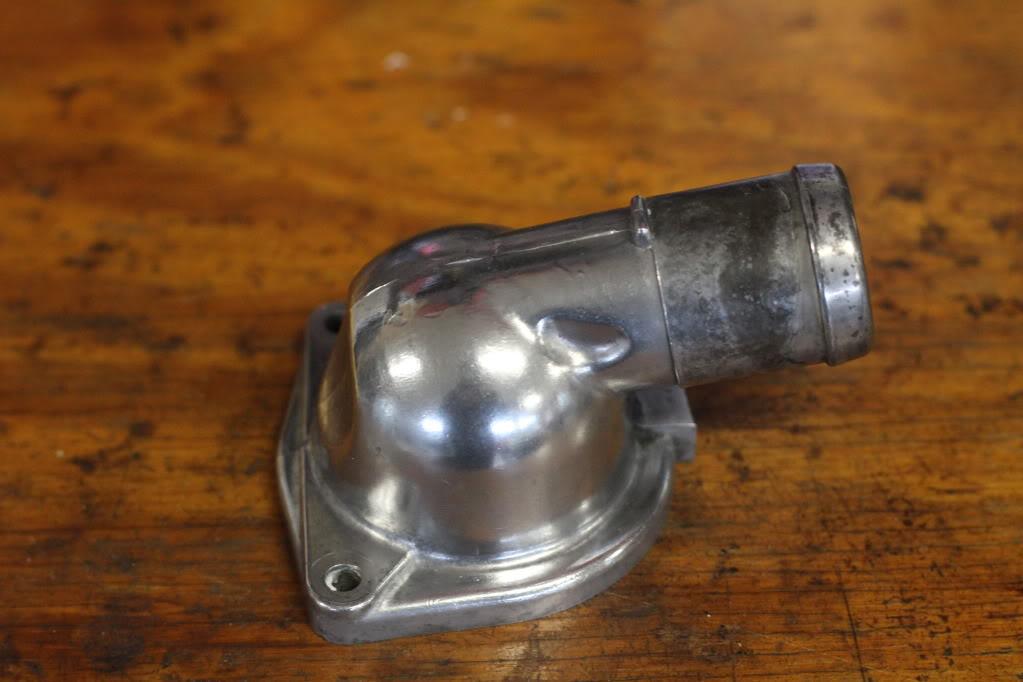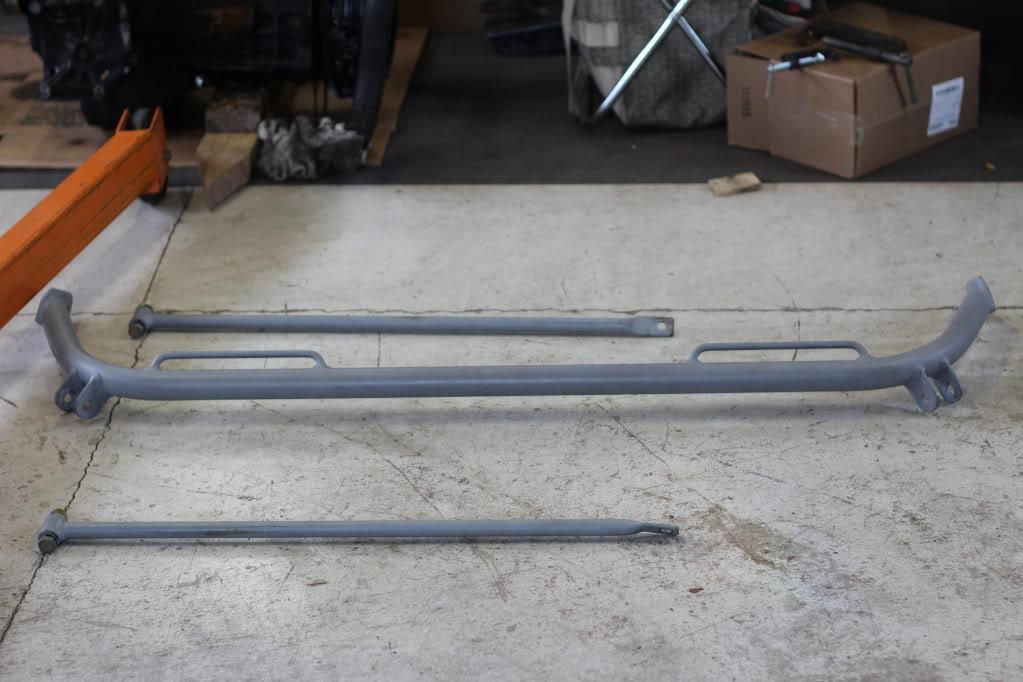 Also, I bought caliper paint for my Brembos, as well as new hi-temp stickers, so I'll be refinishing them as well.
I decided today that I'm going to run the STM T-Stat housing and weld a -12an fitting on my Evo VI Koyo and run a stainless braided upper coolant line. Shouldn't cost me too much more than buying new Rad Pipes, and should look pretty rad (no pun intended).
Example: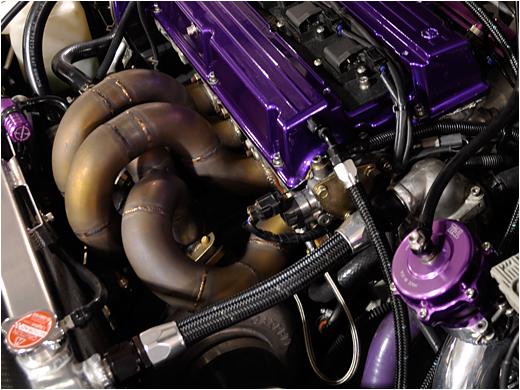 I now have my semi-final parts list for the build, too:
-Fuel Rail (Haven't decided on brand)
-FIC 1680cc Injectors (Hi-Z)
-T-Case rebuild from TRE
-Koyo VI Rad
-JMF Catch Can
-JMF Coolant Overflow
-60K Maintenance Kit for 4g64
-STM EGR Blockoff Plate
I'm really looking for ideas on how to run my catch can lines. I have one fitting for the back of the valve cover, but don't know where to run the other line. I was thinking maybe the STM Vented Dipstick, but I'm completely open to ideas.
Thoughts?
4-5-2012
Got the timing components off of the old motor today and put the new shortblock on the stand!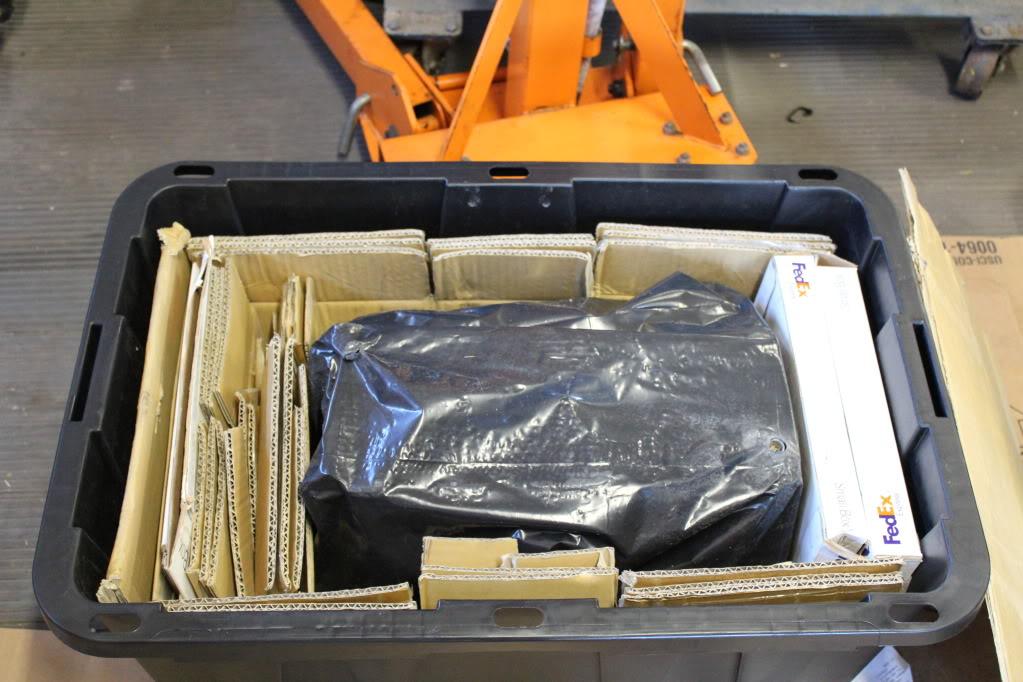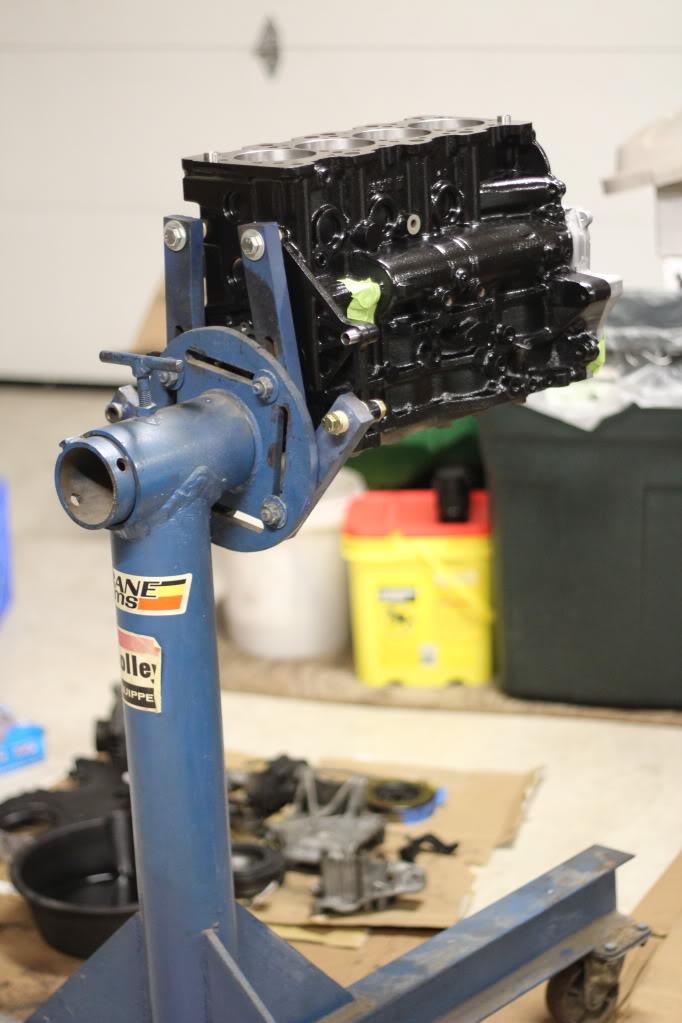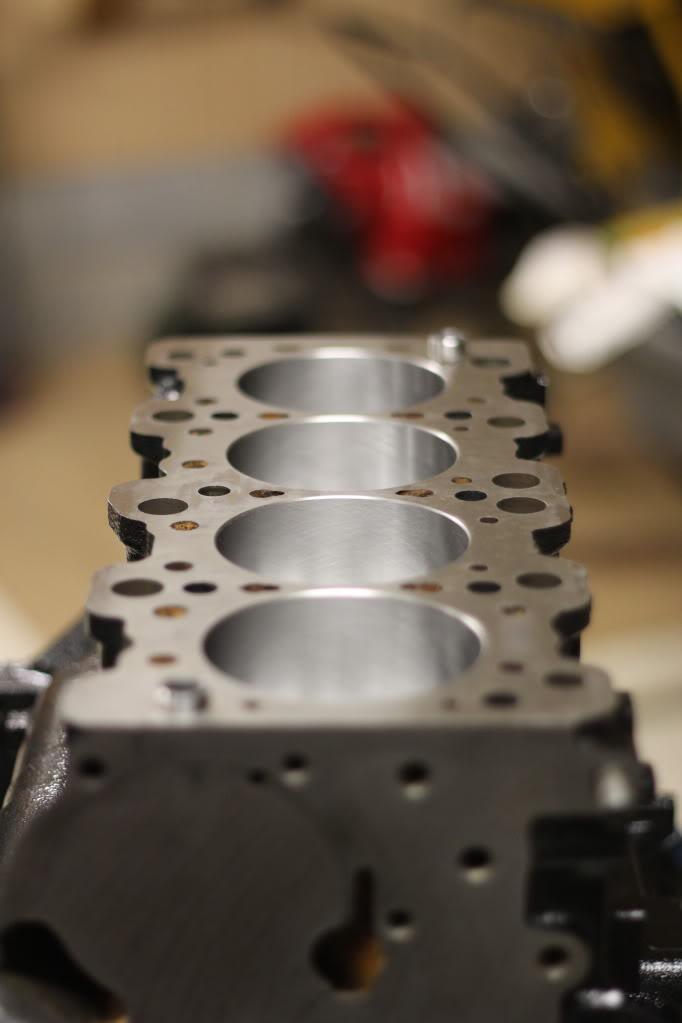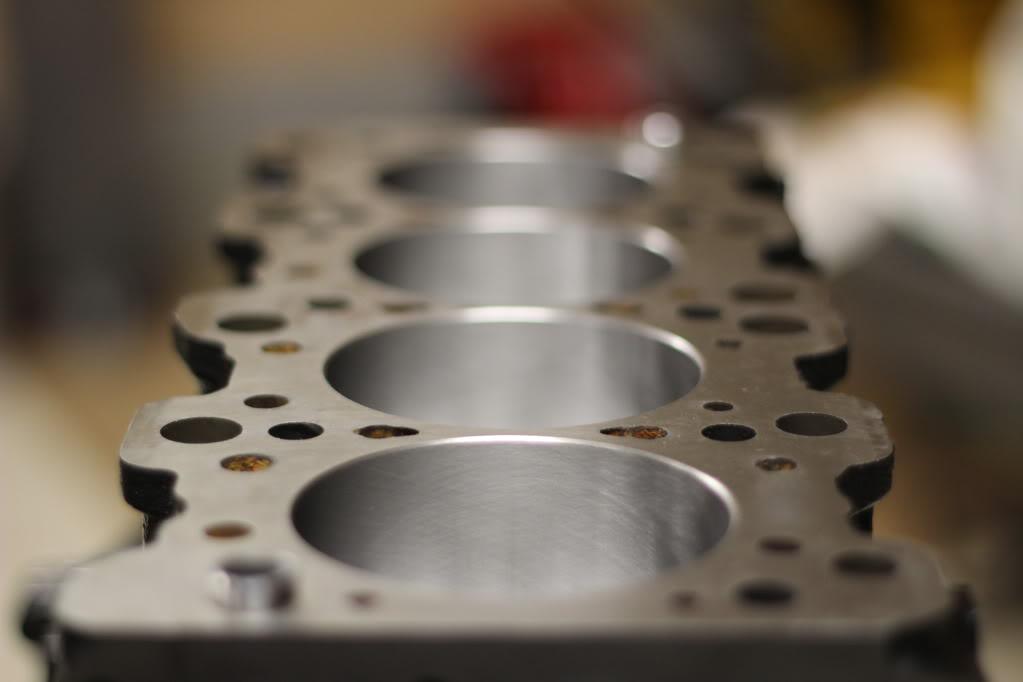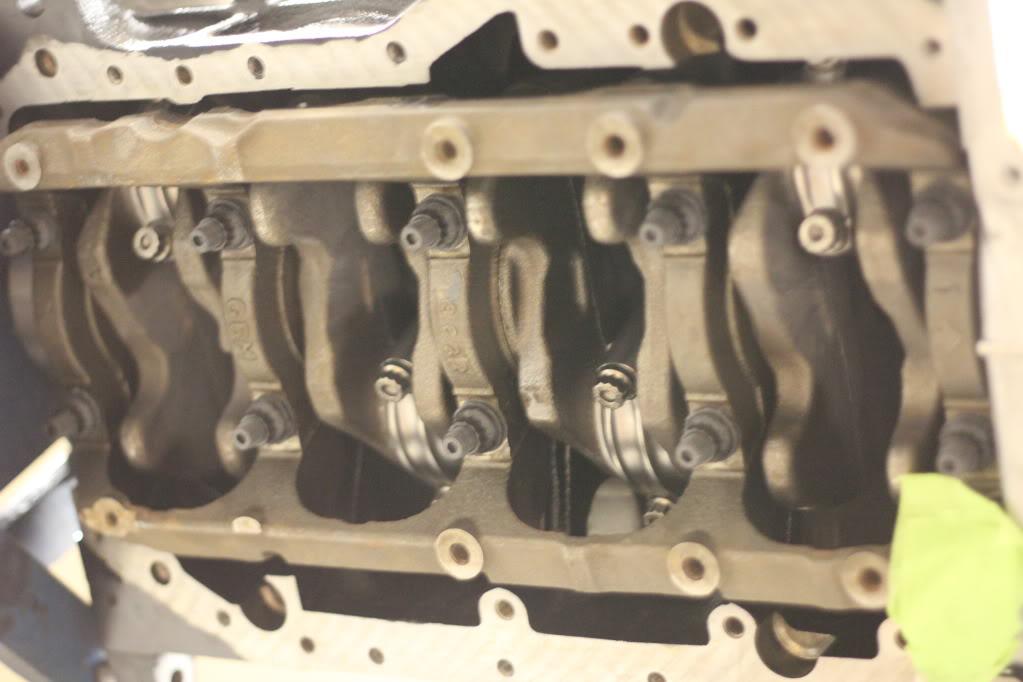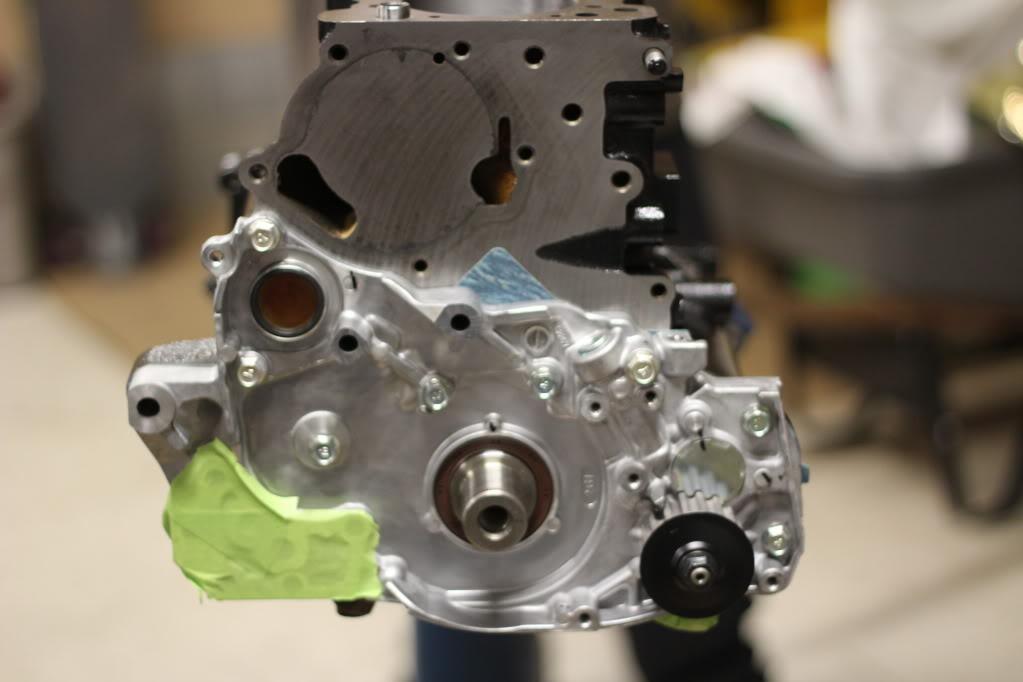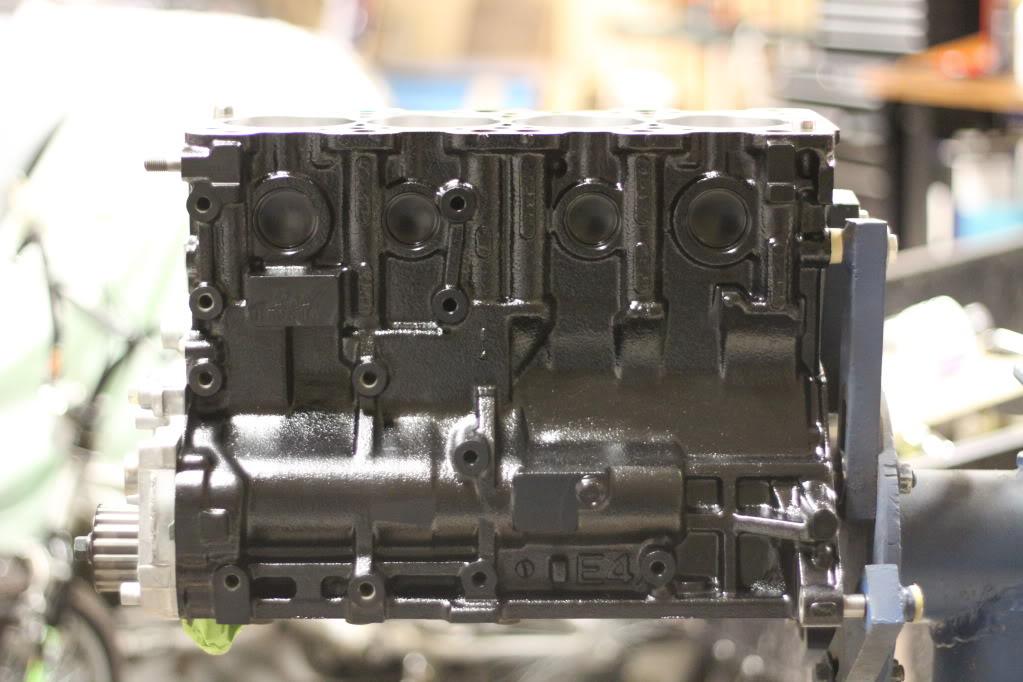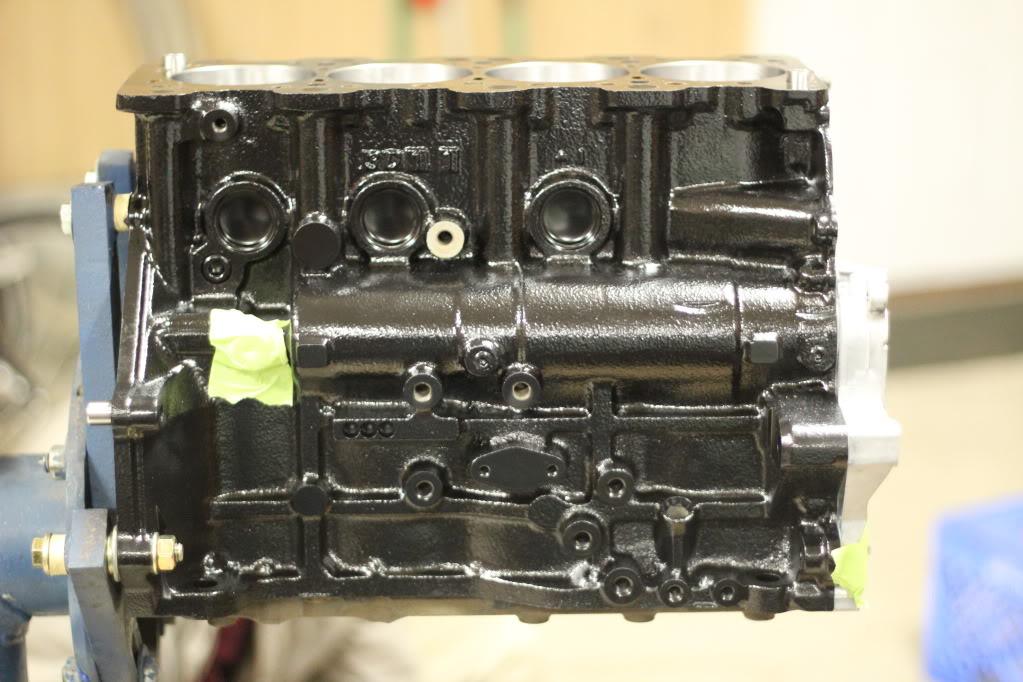 Throwback: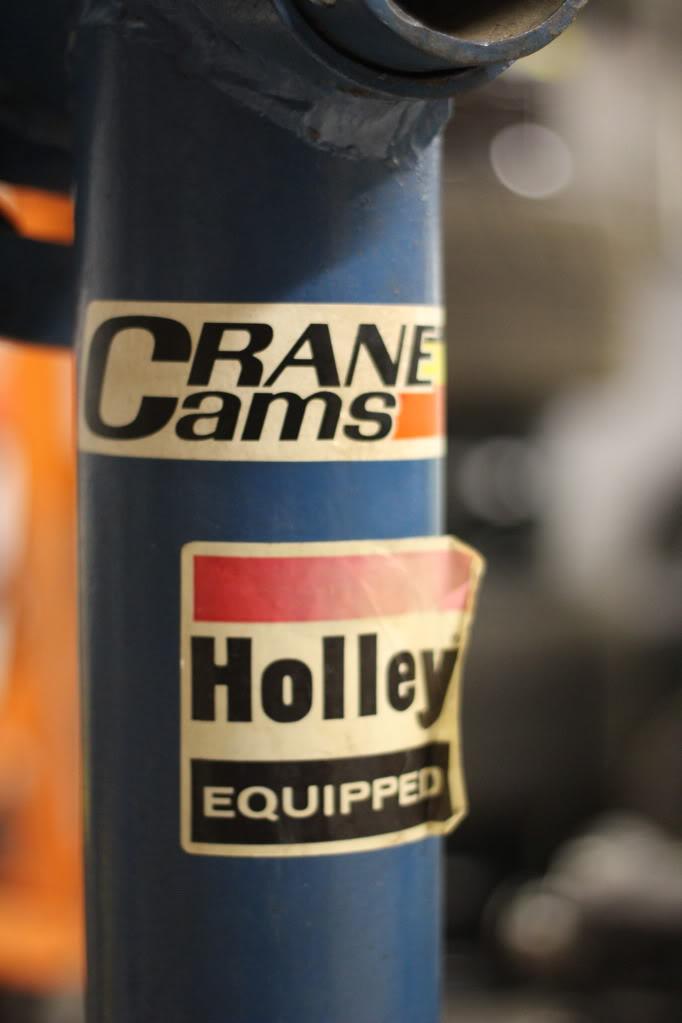 Had my little Brother slaving away cleaning stuff: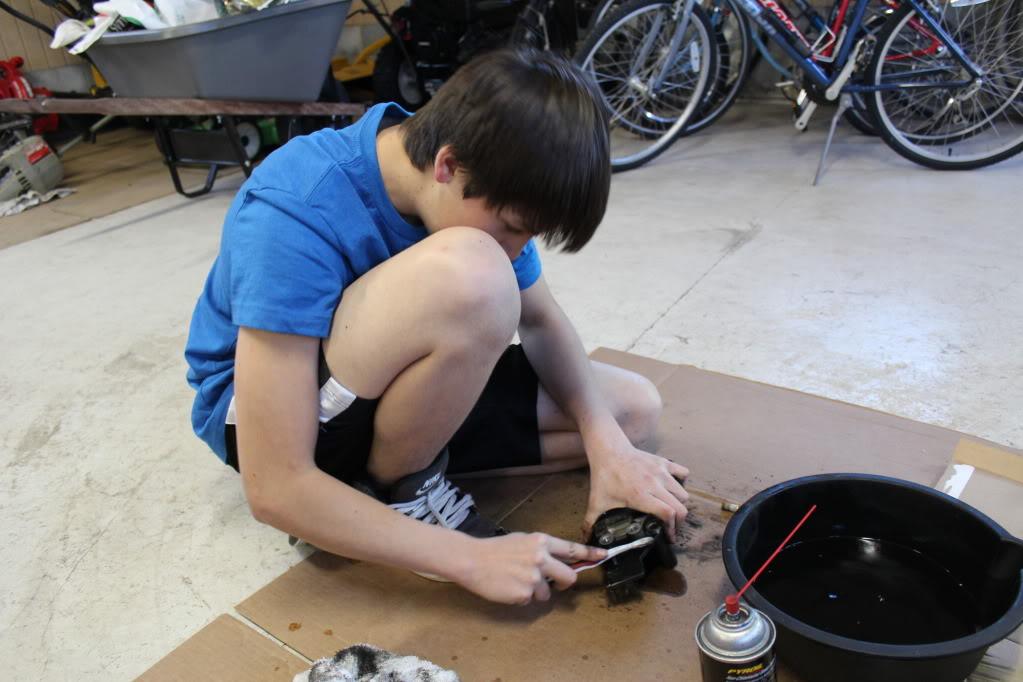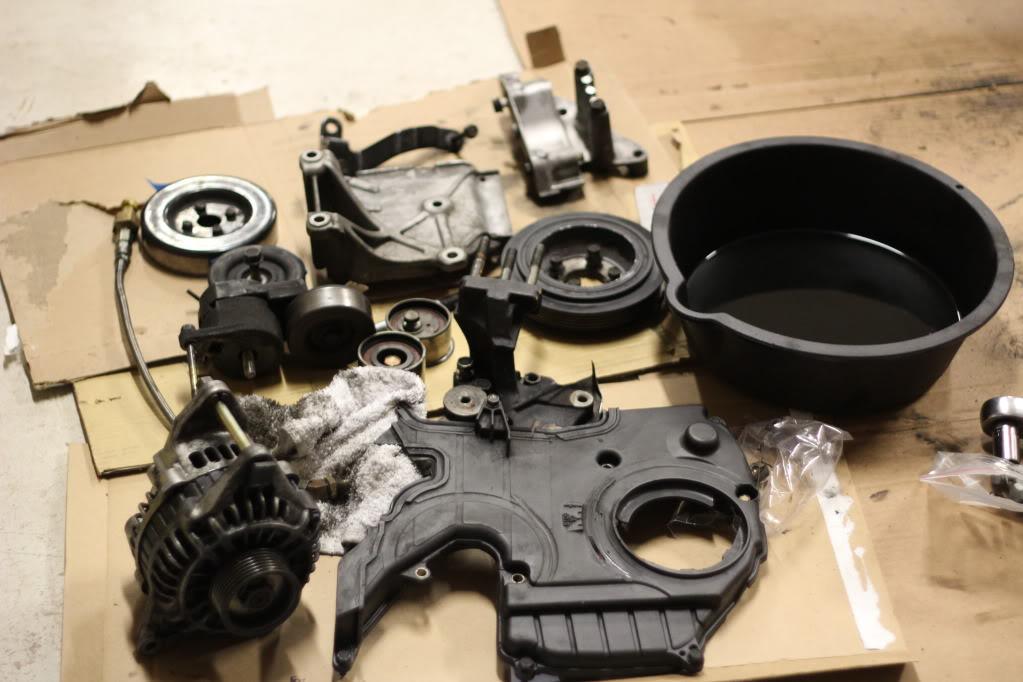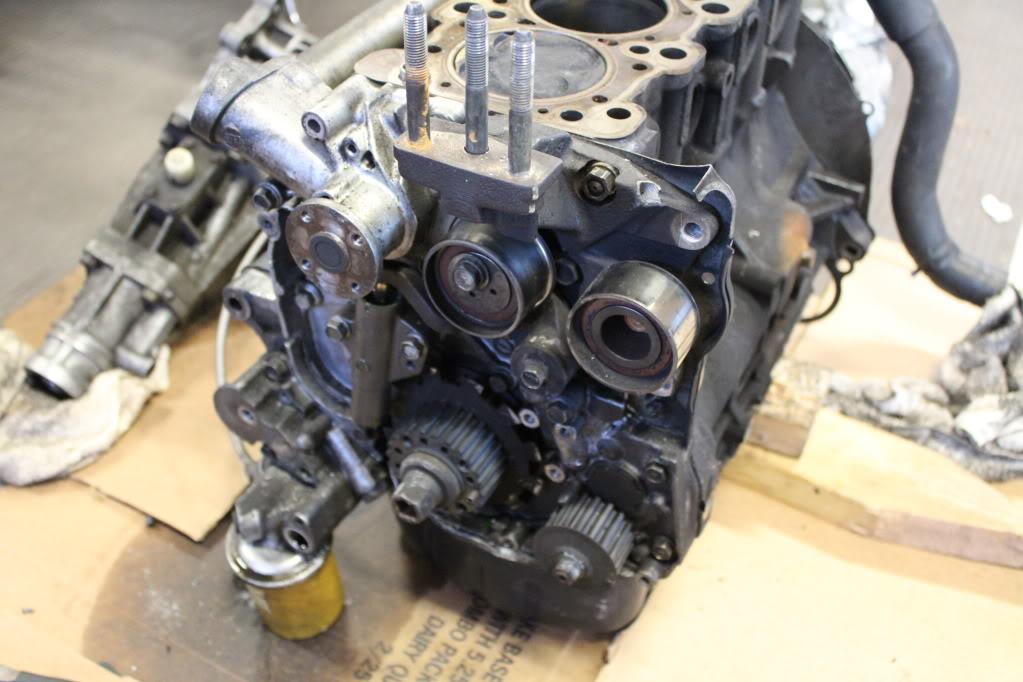 Got my Curt Brown ported manifolds as well!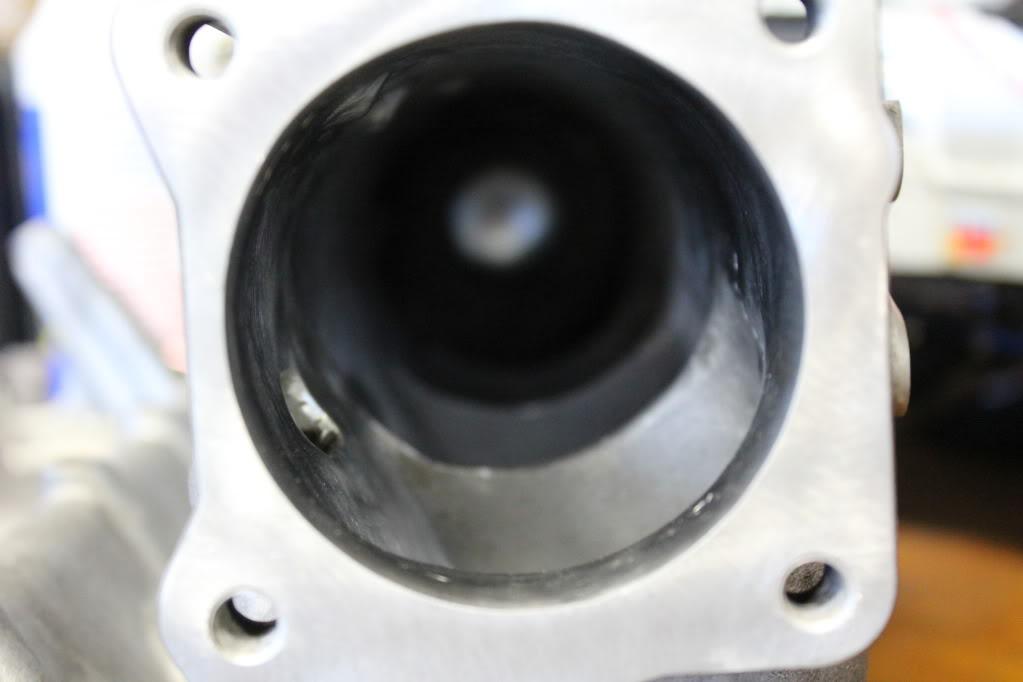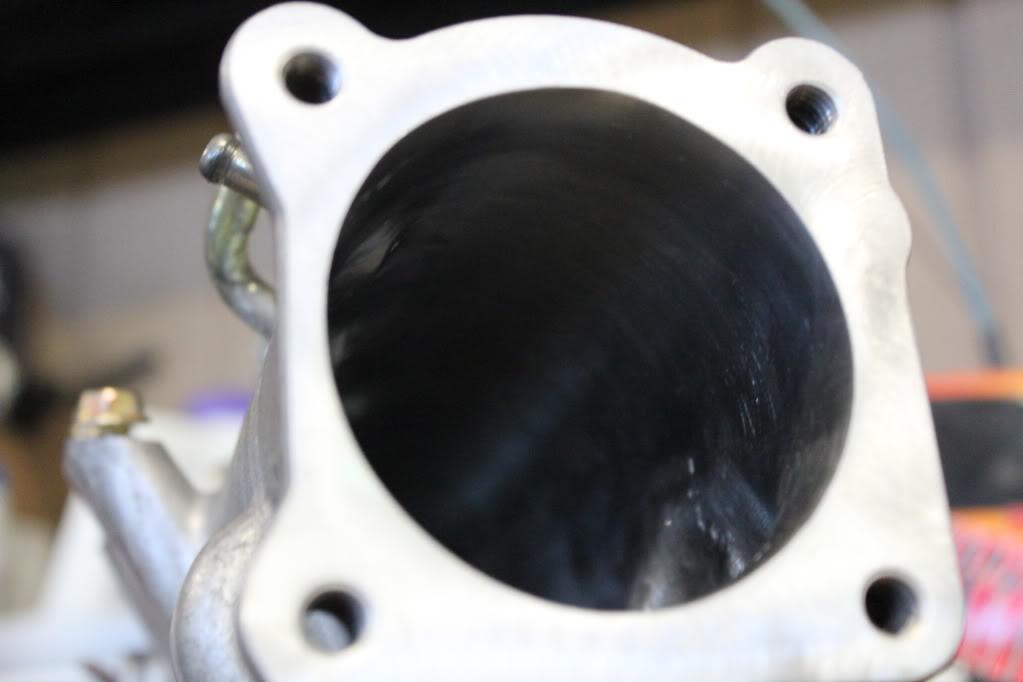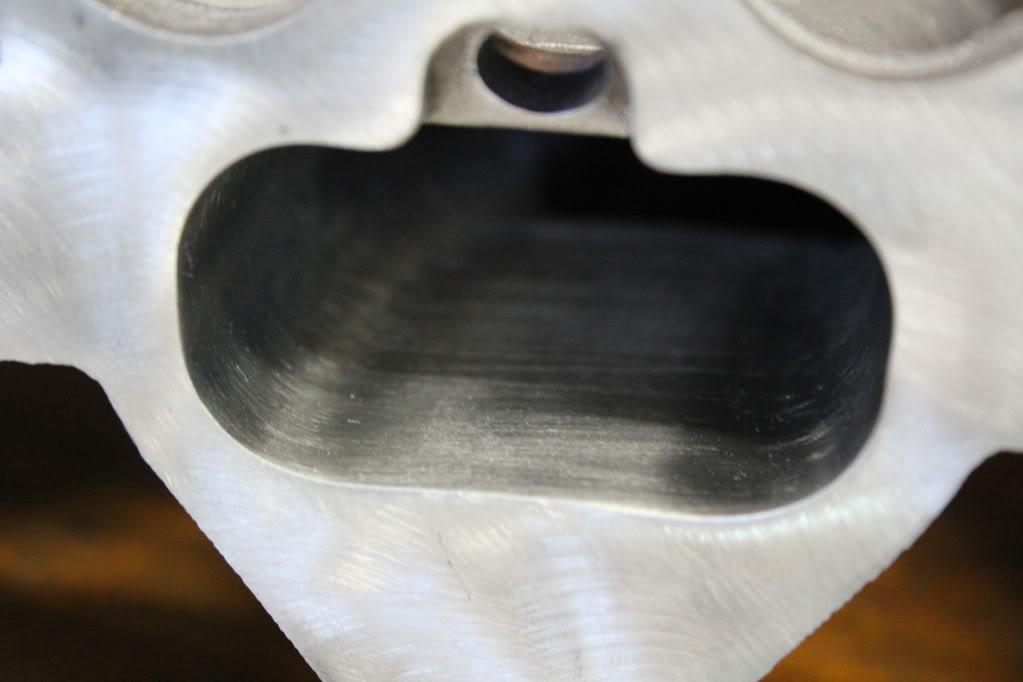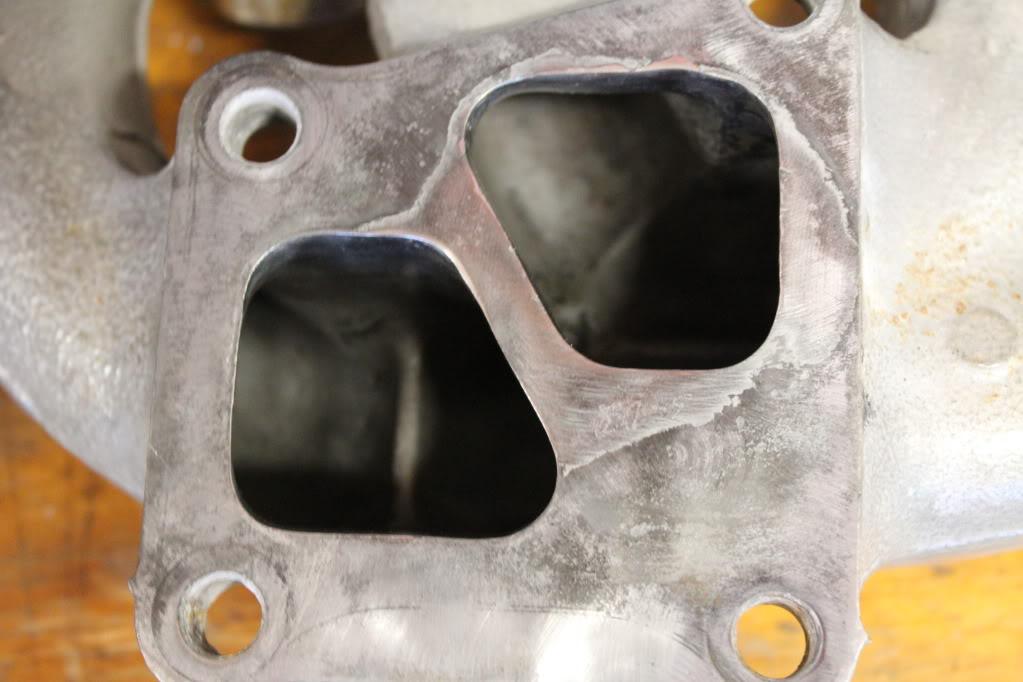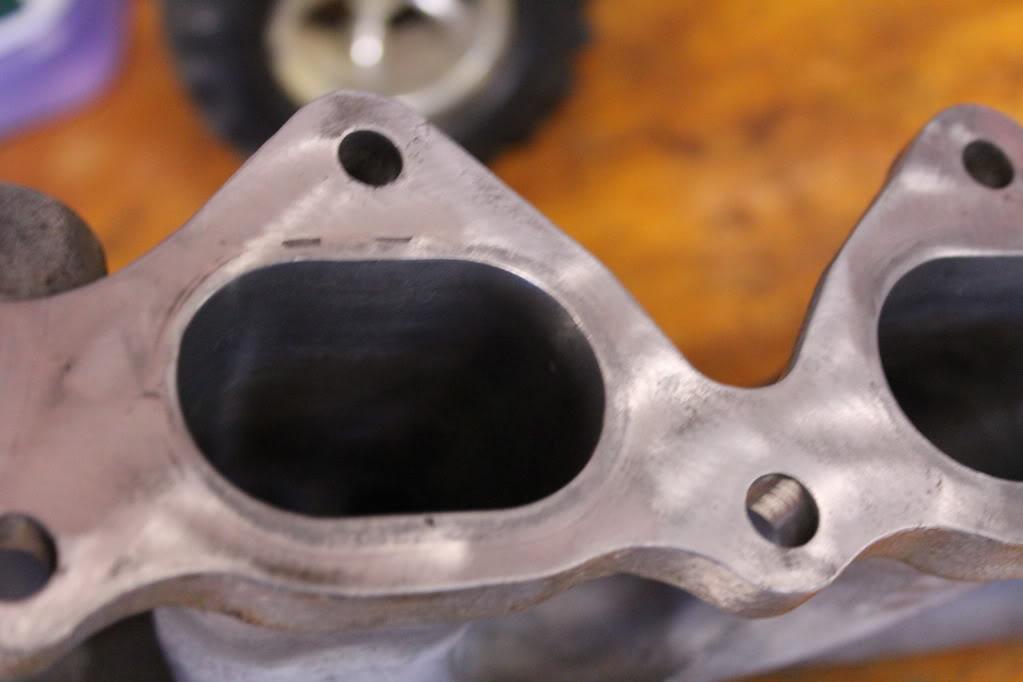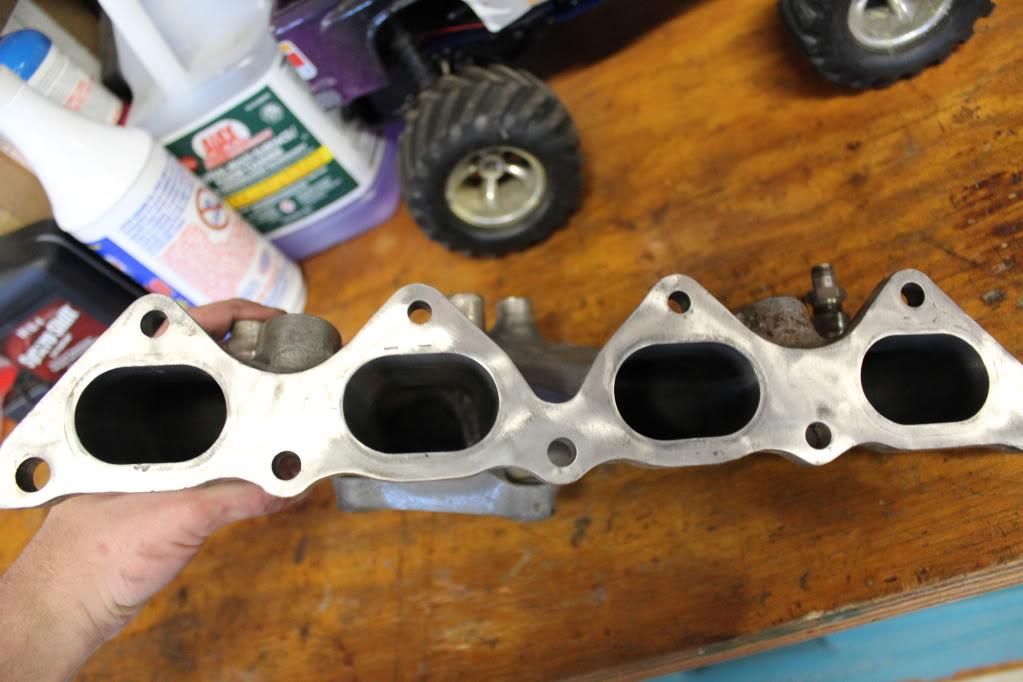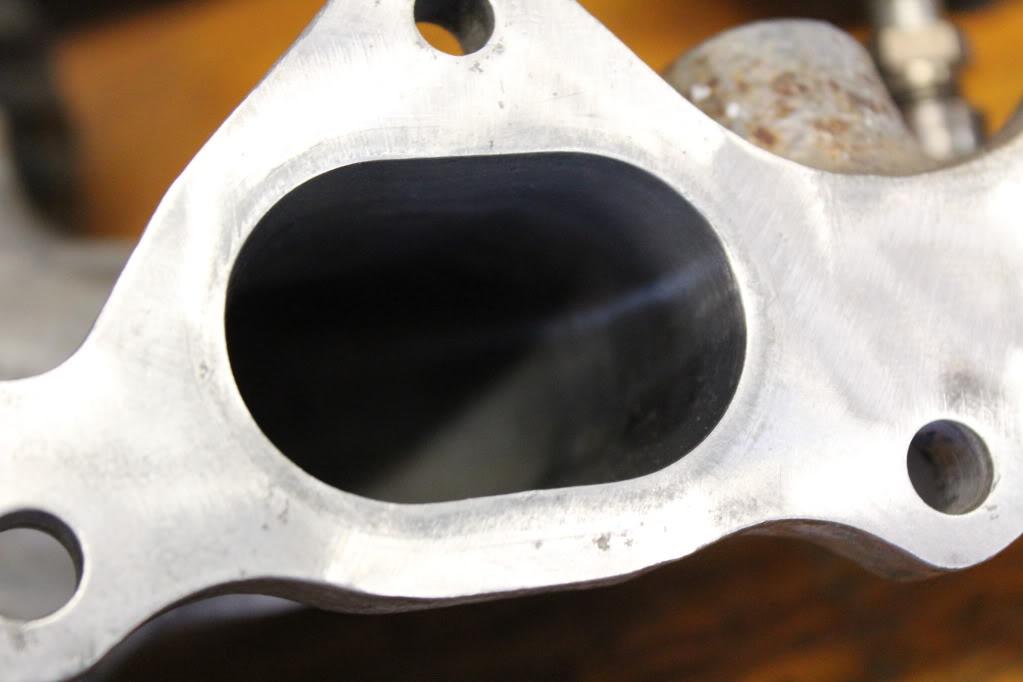 Oh and here's the head from MAP with a fresh rebuild: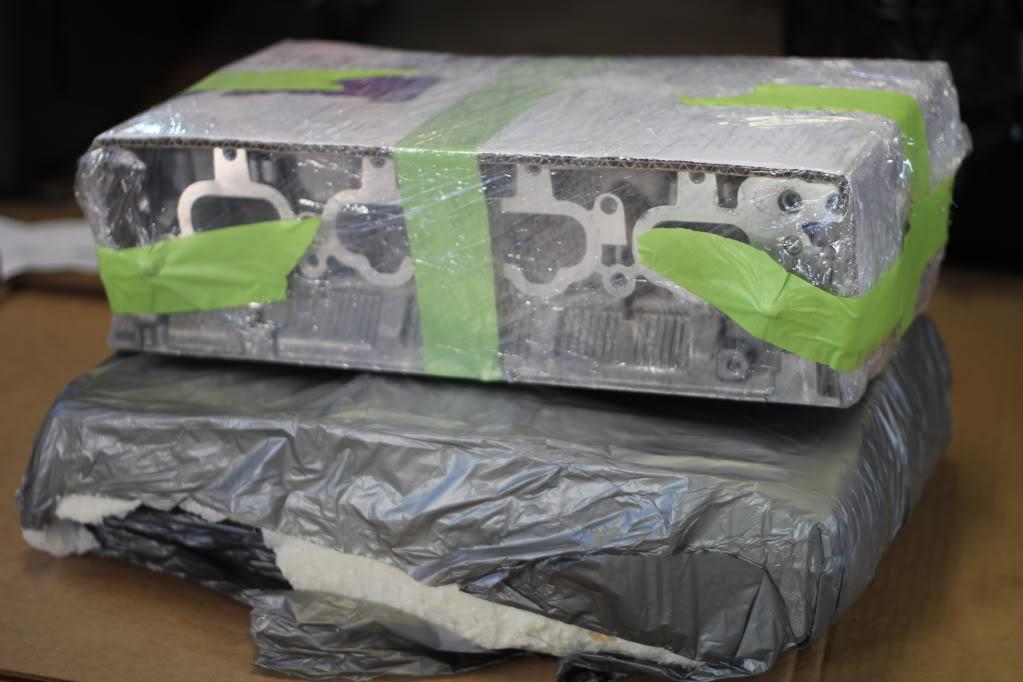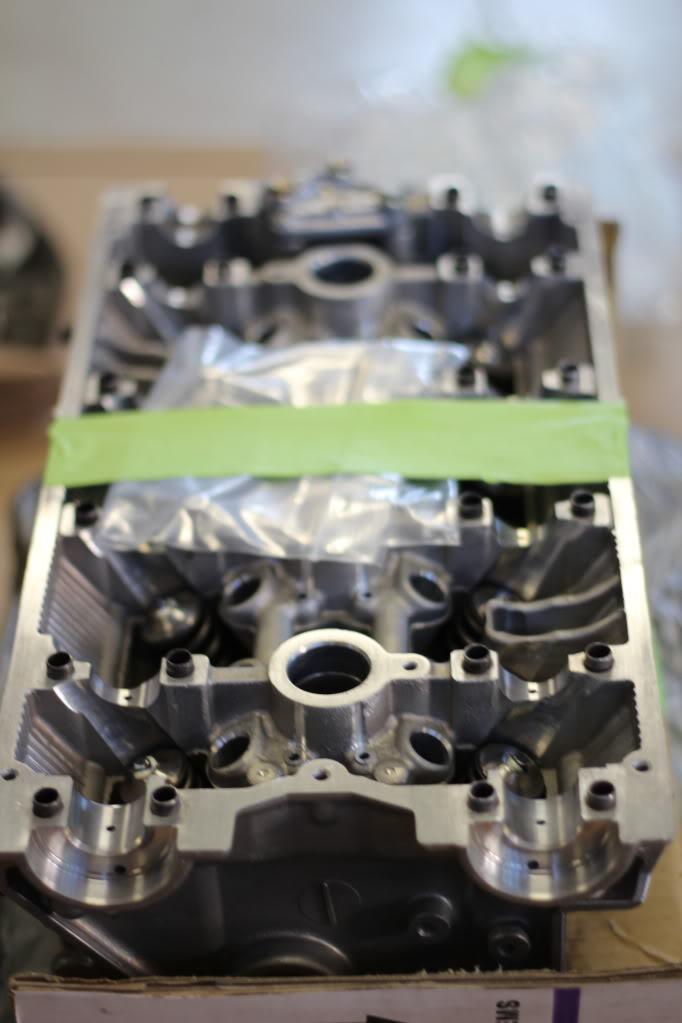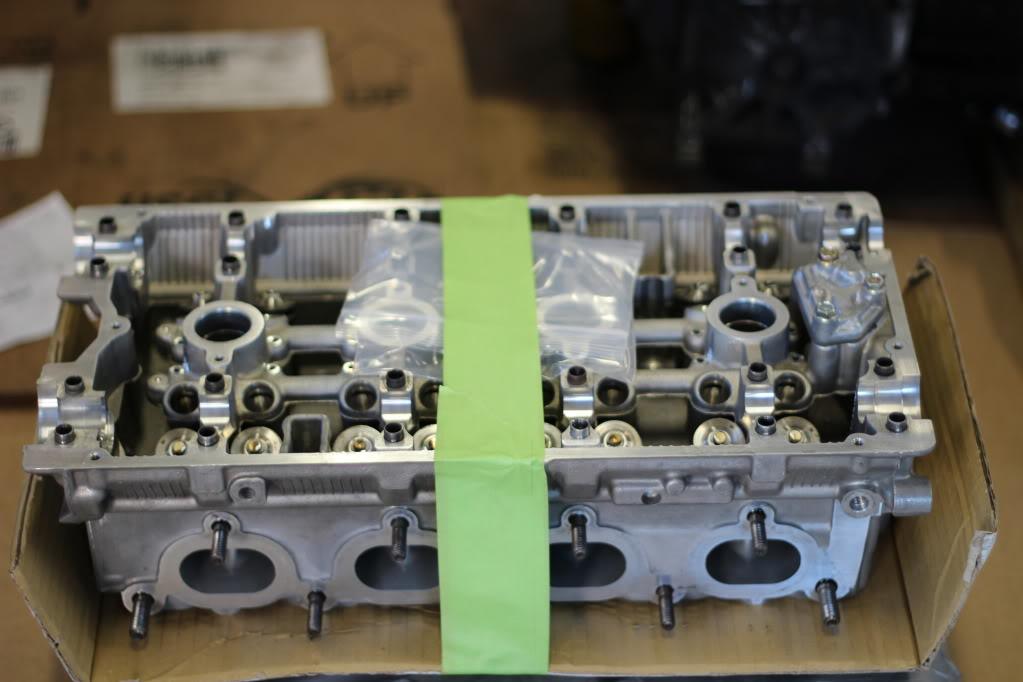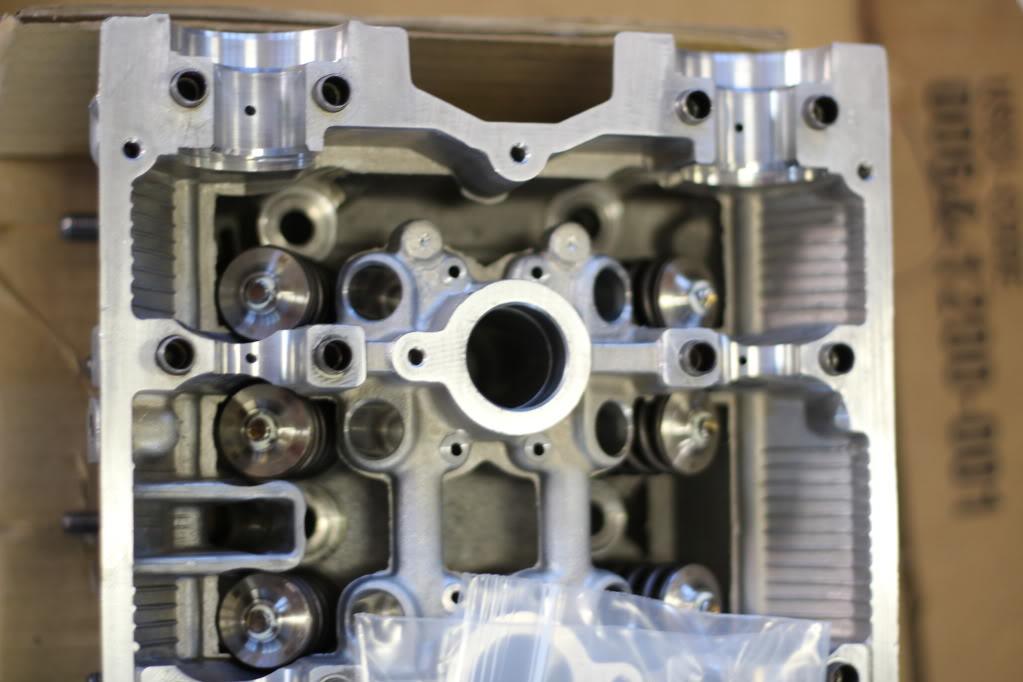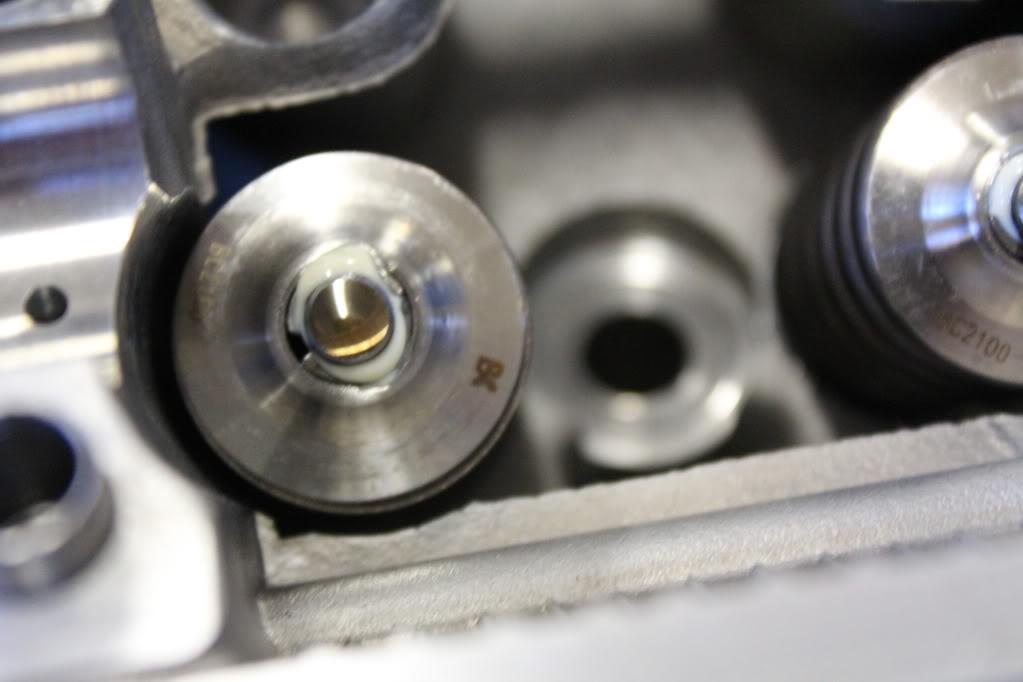 H11s: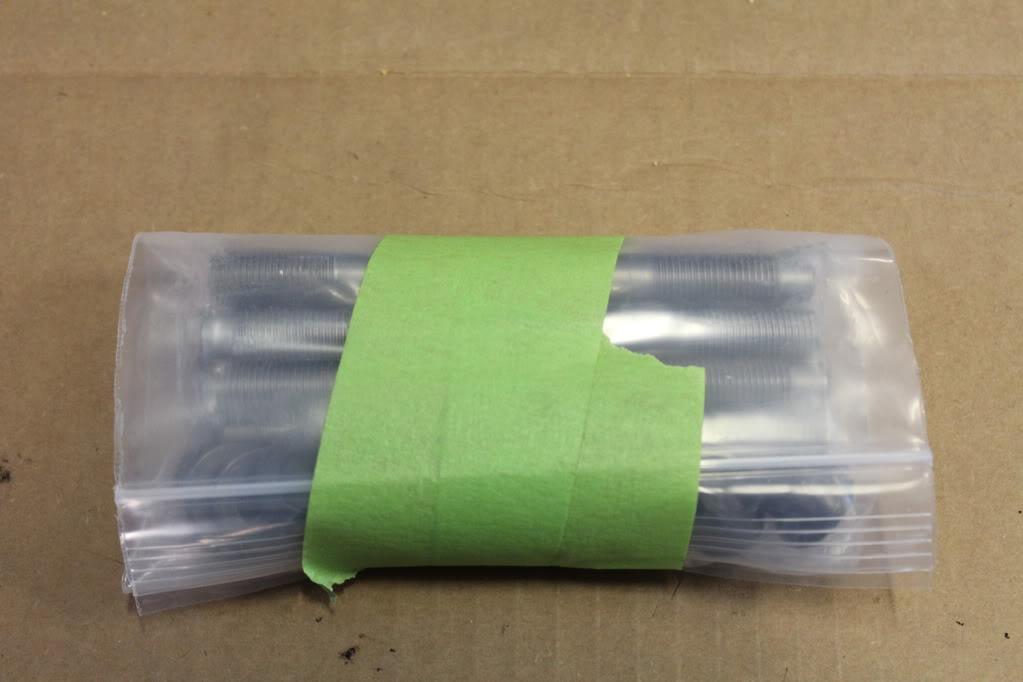 Omni 4 Bar came in: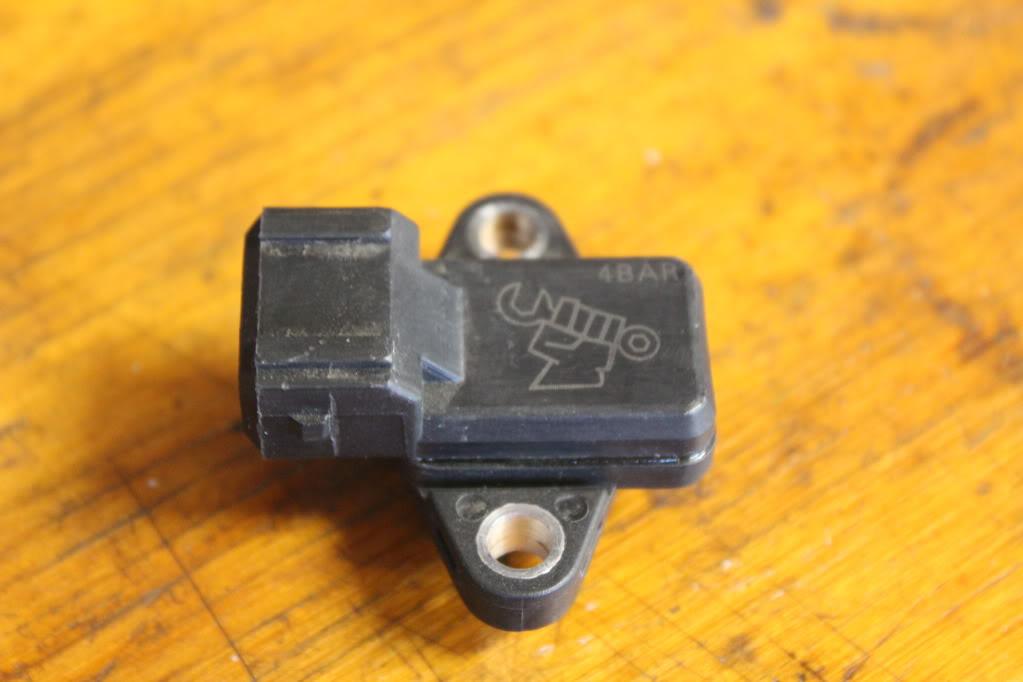 IX Turbo: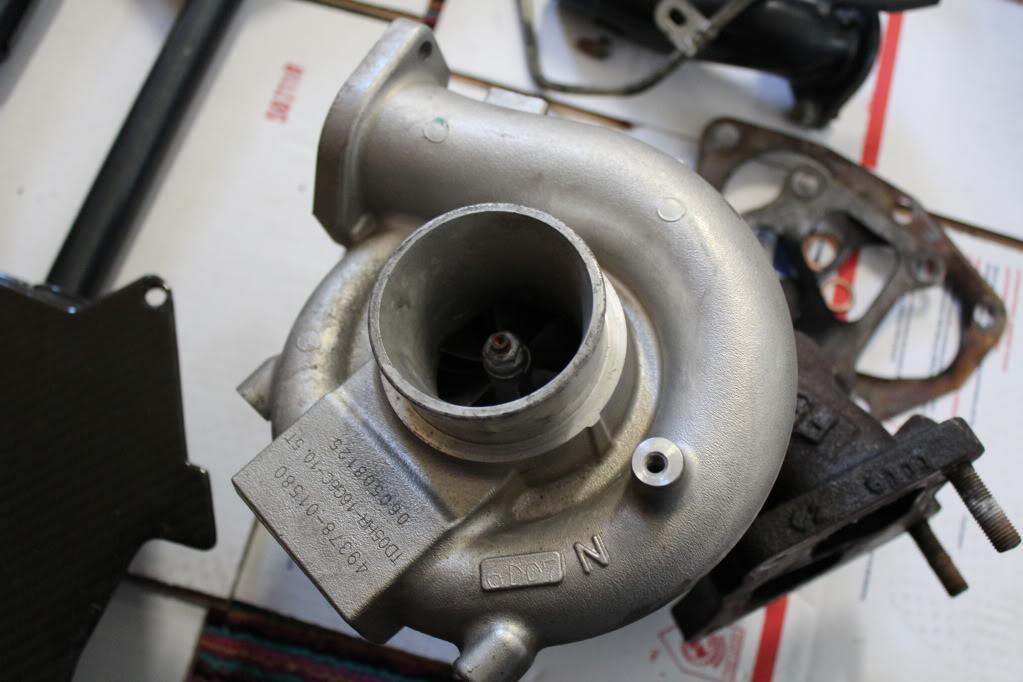 JMF Dump: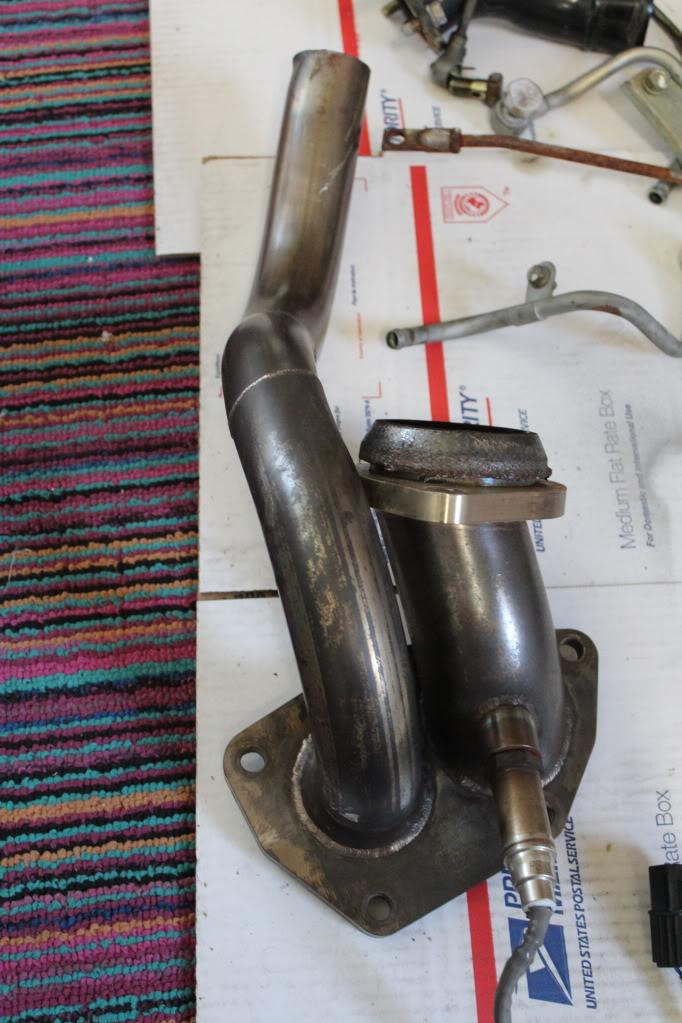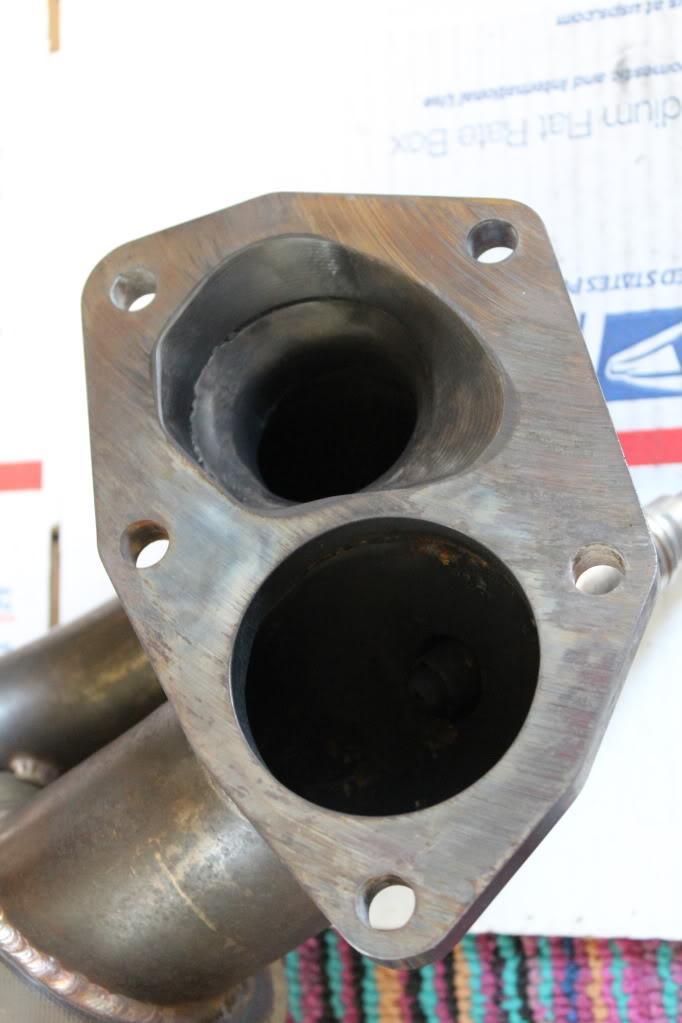 Oh, and how about some polished A-Arms: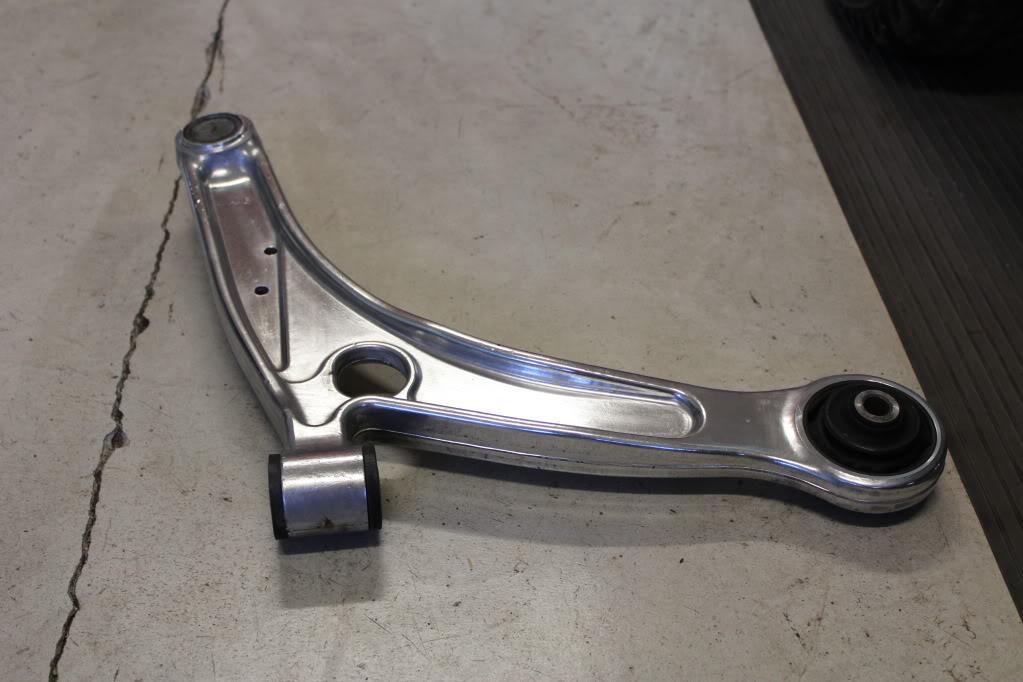 Thanks man!
The motor should be right around 9:1. I run mostly pump gas so I didn't see the point in running higher compression in a daily driver. (My 2.0L was 10:1).
I used:
-OEM 100mm Crank
-87mm Custom Wiseco HD Pistons
-156mm MAP Ulimate Duty Billet Steel Rods
-ACL Race Bearings
-ARP Main Studs/Rod Bolts
Should be a pretty solid motor!
4-7-2012
For now though, here's what I did in a few minutes today:
Torqued the head down: 10 30 55 95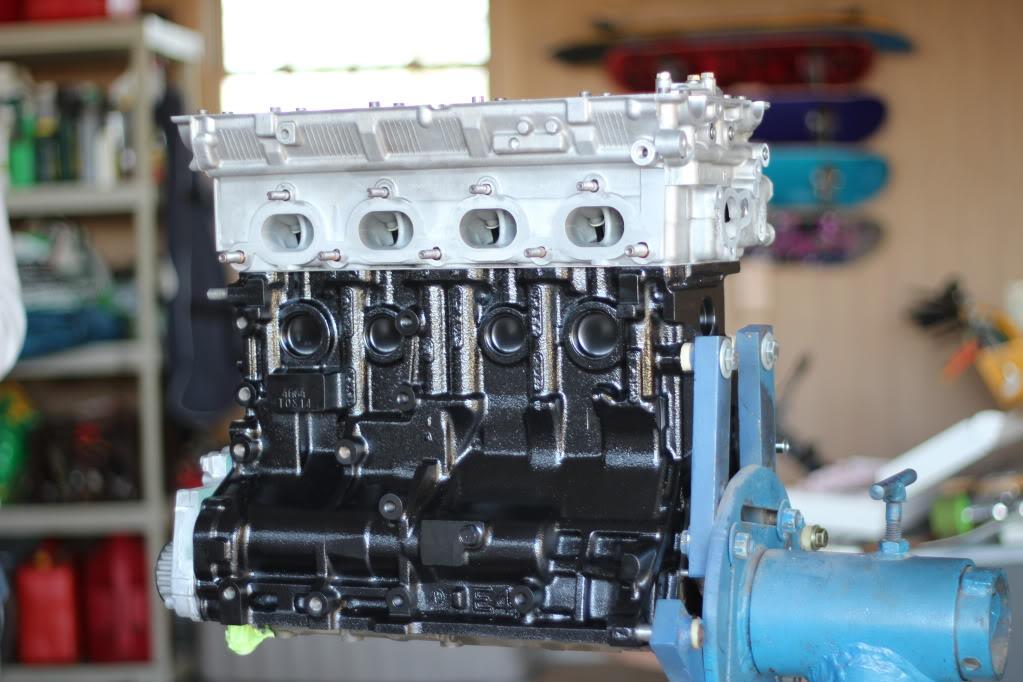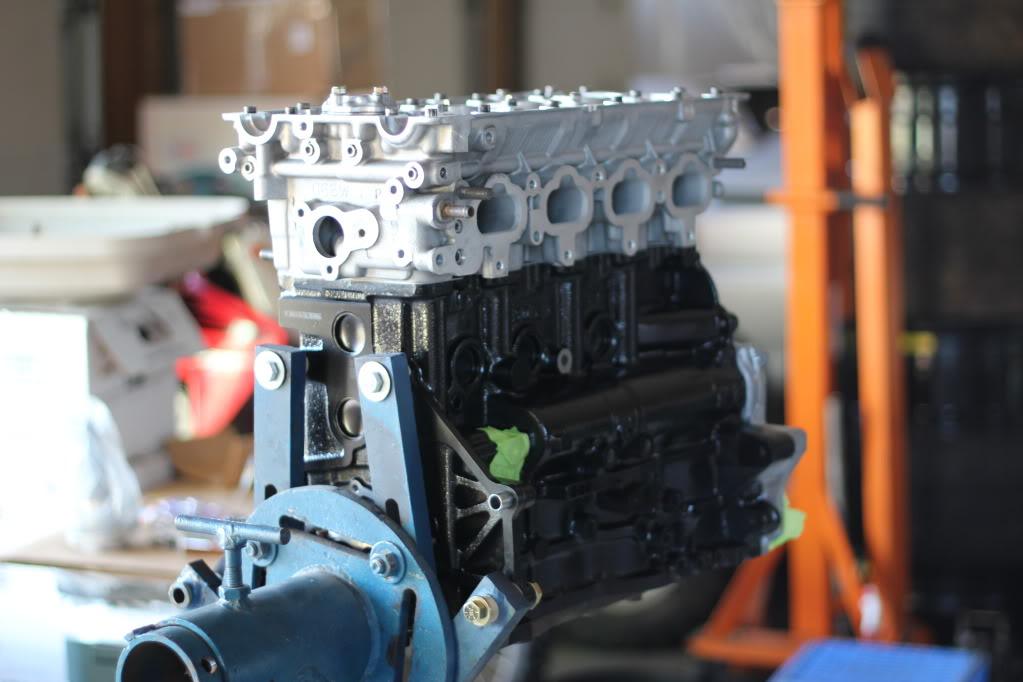 I didn't go any further....
Here are a few parts:
4g64 WORD UP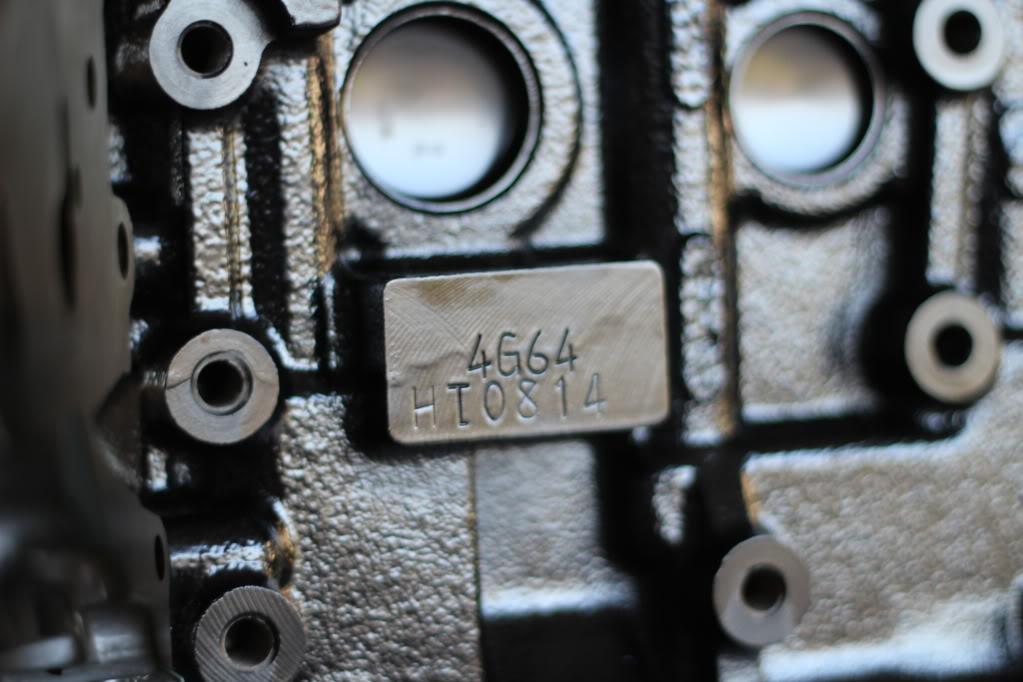 Koyo Goodness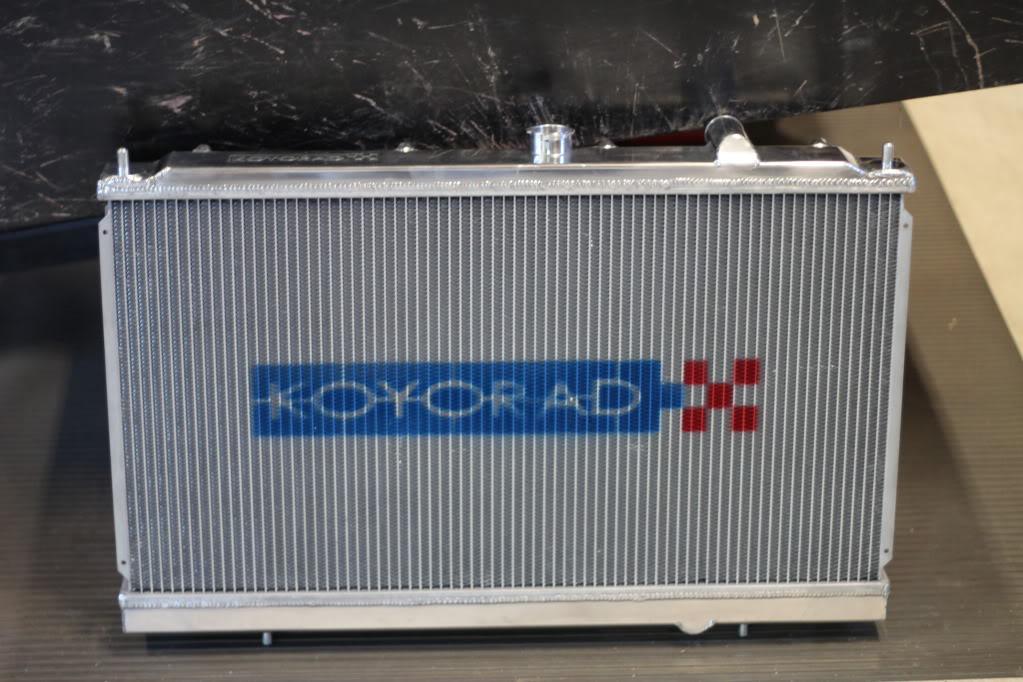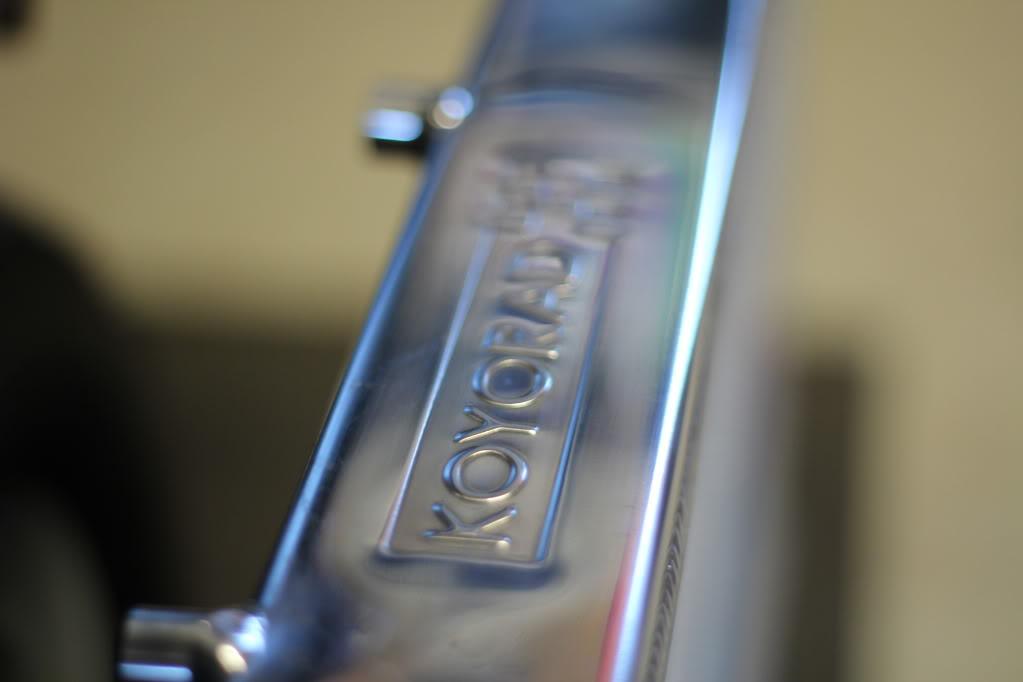 Custom -12AN Coolant Hose Setup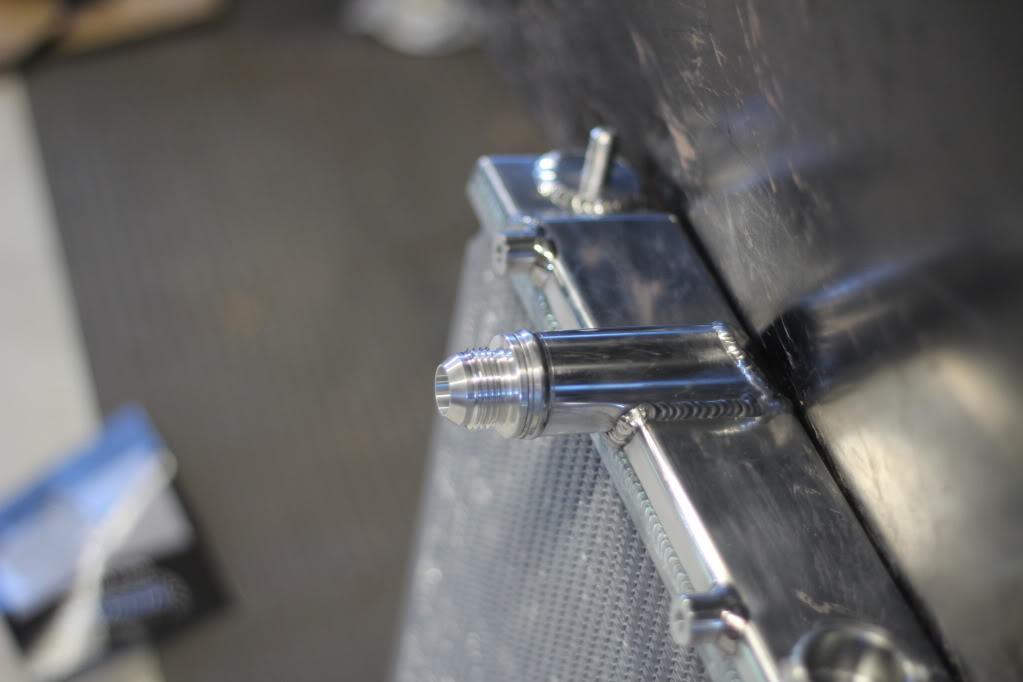 A few of the million fittings I have coming in: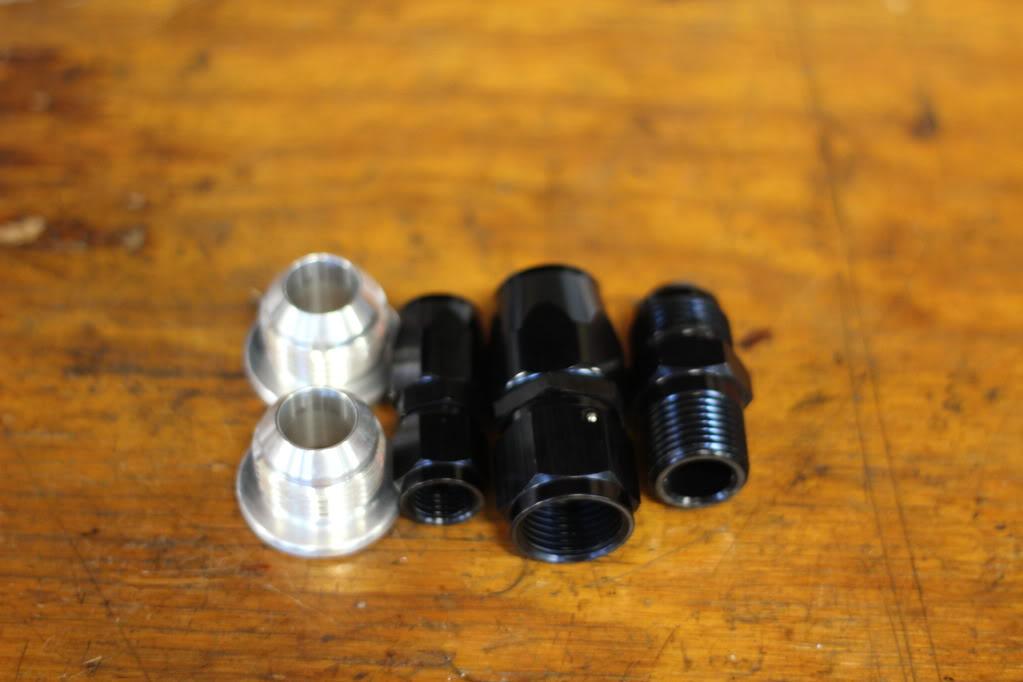 Torque Solutions EGR Blockoff: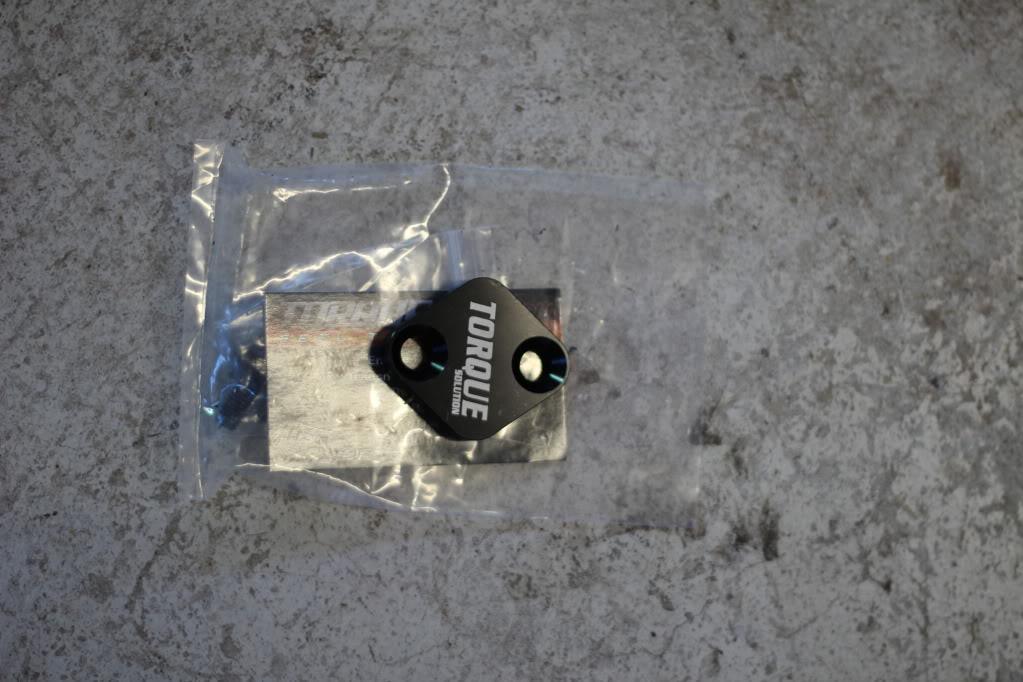 Part of my 60K Maintenance (The rest is coming out of Atlanta):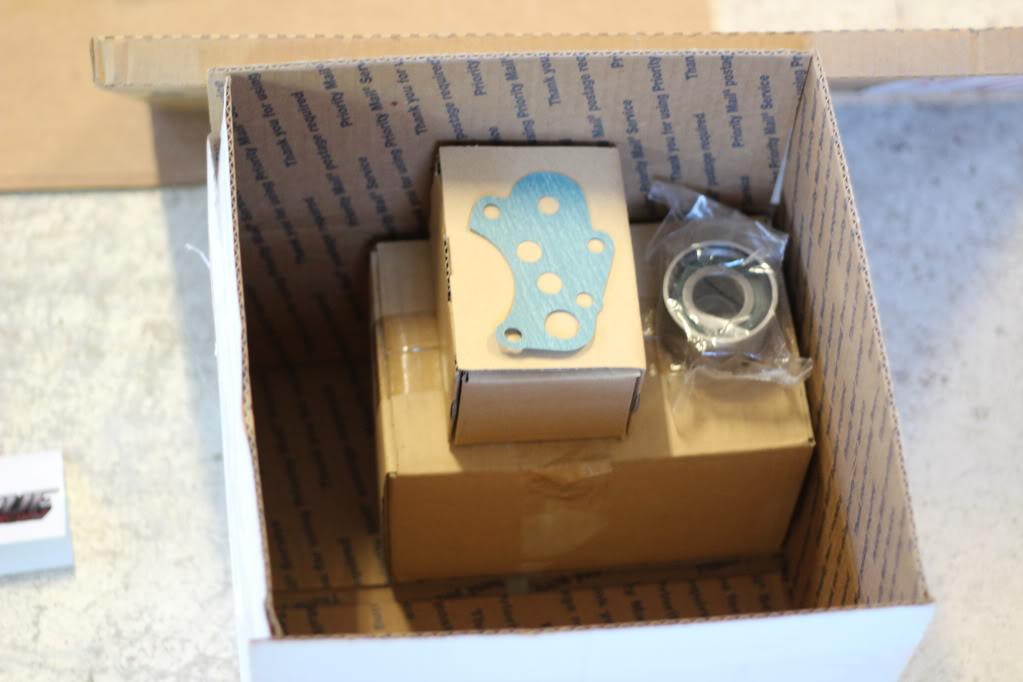 4-24-2012
Decided on/ordered a few parts I wasn't sure on:
FIC BlueMax 1250cc
-These should be more than enough for when I change my setup in the future.
FuelLab Mini Adjustable Fuel Pressure Regulator
-This will allow me to re-wire my Walbro 400lph (STM Re-wire Kit).
Stock Fuel Rail
-Shouldn't hinder performance, and it already has an -8an fitting welded on.
JMFab Large Catch Can
-Two -10an Fittings (ran from -10 off head)
-One -6an Fitting (ran from balance shaft inspection hole).
JMFab 3" Speed Density Intake
-Non-recirculating.
4-29-2012
Unfortunately, in my area I have no E85, so my break in miles will be on 93 octane. However, once my tune is finalized I would like to pick up a 55 gallon drum of E98 from Ignite Racing Fuels and run that during the summer time. I set up my fuel system in such a way that it will run great on both pump or corn.
Lesson learned: You really don't need that much injector, and, above a certain size injector, the run awful on pump gas. Ie. I bought FIC 1650s and returned them for FIC 1250s after learning that the 1650s will be terrible on pump gas.

As for MAP, they're awesome. Adam's pricing is always incredible, and he's always willing to make suggestions on setups rather than just taking orders. They really take care of their customers.
5-4-2012
I'm finally home from school for the summer, so updates will be made frequently.
First note, here is some information I've gathered about venting your crankcase from the Balance Shaft Inspection Hole in the front of the block:
The bolt size in question is a 10mm x 1.25.
For those of us who don't have space for a straight fitting, I'm utilizing a 10mm x 1.25 banjo bolt, to a 10mm to -6AN banjo fitting, then routed to my catch can.
I can't find the banjo fitting anywhere online, but the fitting guy I use made one for me. To get that fitting you can contact JNZ Tuning, and he'll be able to get you one.
Just thought I'd share this, as it saves quite a bit of space over a 10mm x 1.25 to -6AN straight fitting, and for those running bigger turbos, this is crucial.
I'll throw some pictures up when I get my block back!
Second, I picked up some sweet stuff today:
First, my custom JMF Catch Can. I had him make me a large catch can with no sight gauge, with two -10AN fittings (Valve Cover), and one -6AN fitting (BS Inspection Hole). They're in order so the lines should be easy to mount. I'll mount this somewhere near the fuse box.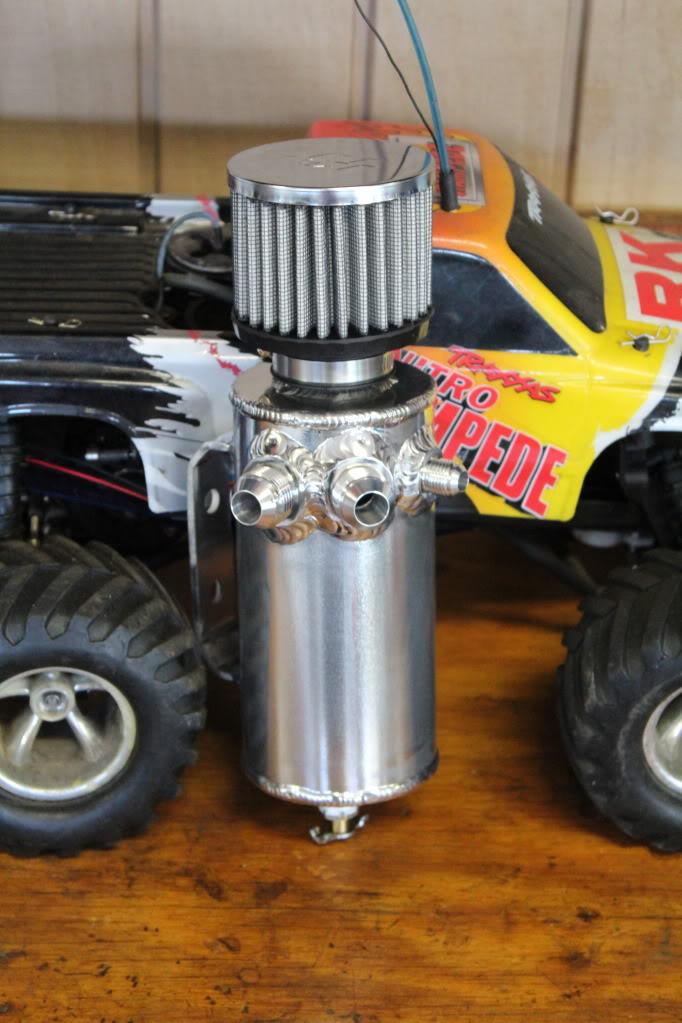 Second, my custom JMF 3" Speed Density Intake: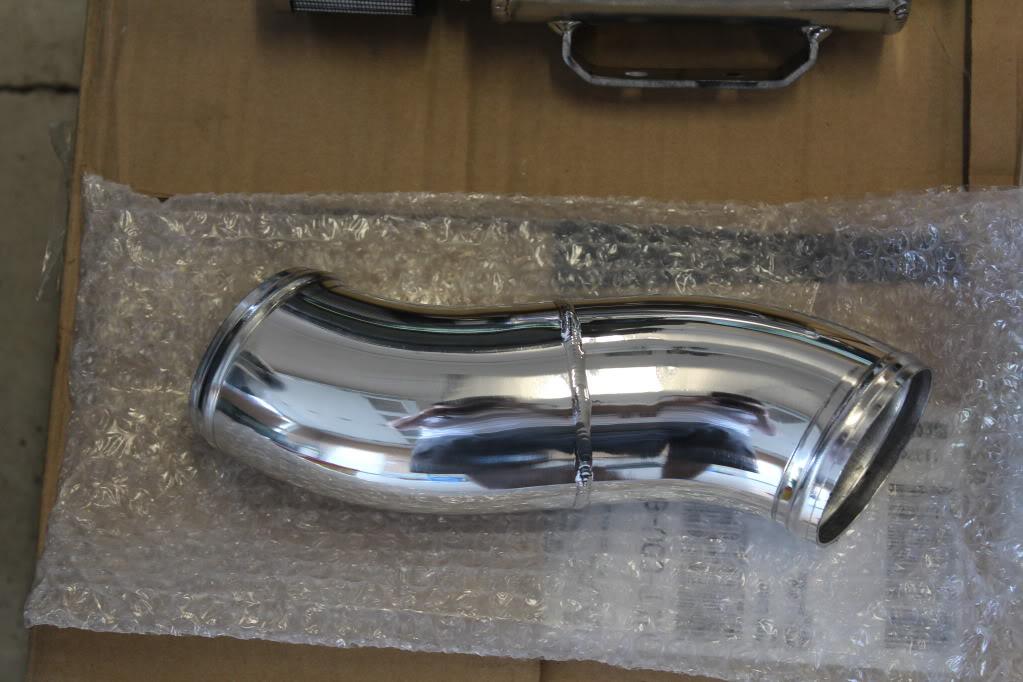 Third, my Oil Filter Housing Turbo Oil Feed Kit that I made for HALF THE PRICE OF FP'S KIT. I got this through Paul at JNZ Tuning. It utilizes an FP Filter, but he pre-made all of the lines and saved me half of the outrageous price FP charges.
I wanted to put together a turbo feed line kit, but didn't want to pay the price of FP's, so I made my own FOR HALF THE PRICE, while still using FP's filter.
I had some stuff already, but here are the majority of the part numbers for yah'll! This was through Paul at JNZ Tuning, BTW. (Ignore the -10AN fittings on the invoice).

Here's a shot of the complete kit: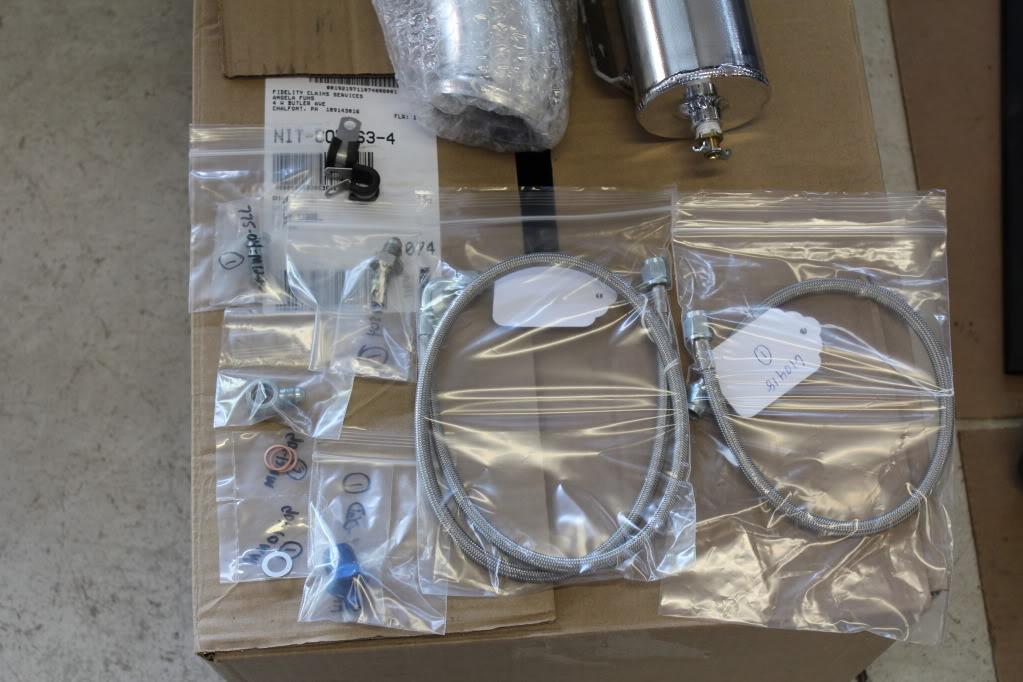 So, if you're into saving money like I am, I made this for about $130 total, as compared to $250. All lines/fittings are of great quality.
Save on!

I finally got my 60K kit, and all the random gaskets I'll need to throw this bad boy back together, so expect the motor to be in soon!
5-11-2012
Thanks yah'll! I'm "gettin' mad work in tonight, yo".
So I'll update later!
I'm finally ripping the Shep Stage 2 out of my other car, which I've been putting off for quite some time.
Oh, and....got some parts!
Fuel Lab Mini AFPR, in purple, of course. I have black snap fit lines coming in from MAP to finish that off. I opted to do this instead of a fuel rail so I can re-wire my Walbro 400lph without overrunning the stock FPR.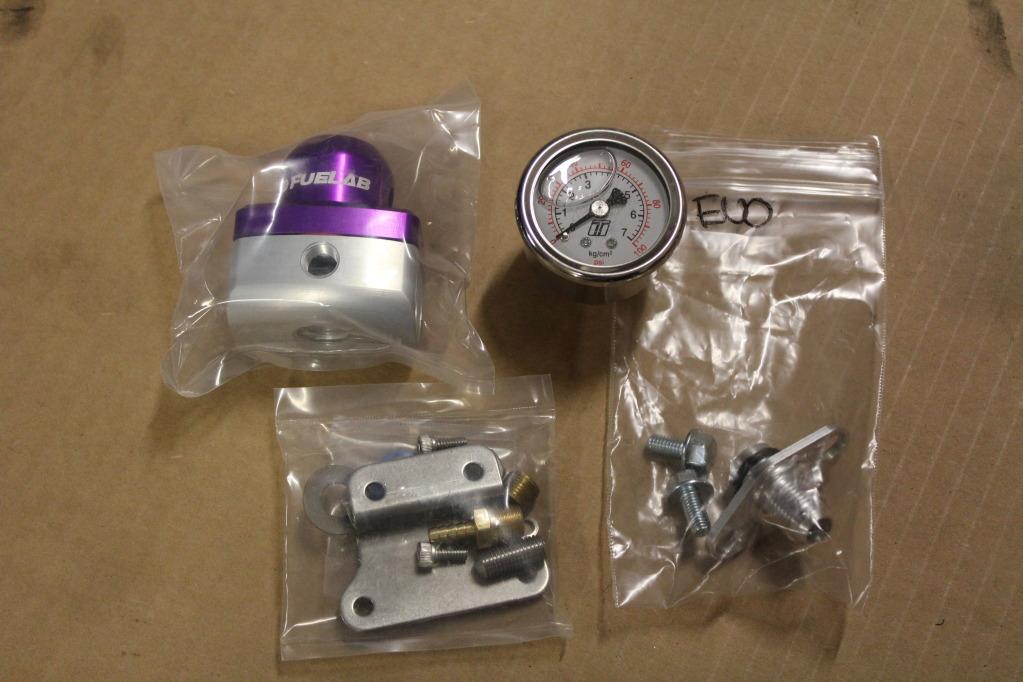 And...INJECTORS!! Picked up some 1250cc FIC BlueMax jobbers, as I'm realistic about my fuel needs and will feed this EGT skyrocketing monster with 93 until PHILLY decides to get a few more E85 pumps in my ureah.
Welp, I got some work done tonight, and got bored, and did some more work.
First off, I torqued the head down per the previous specs. The Service Manual sequence, with a torque sequence something like 10-30-55-95.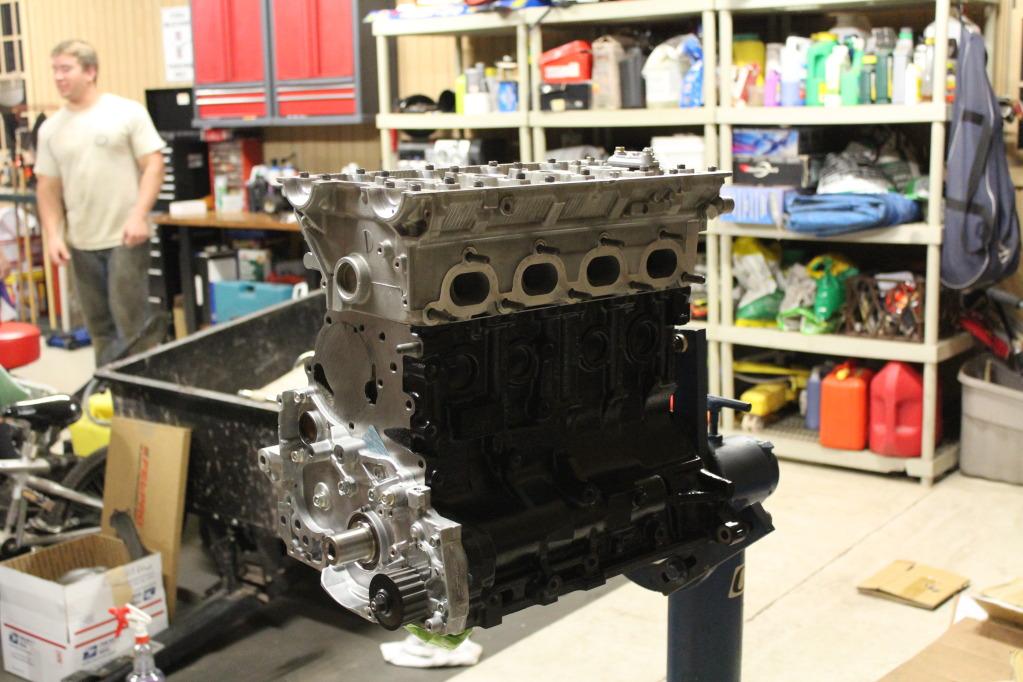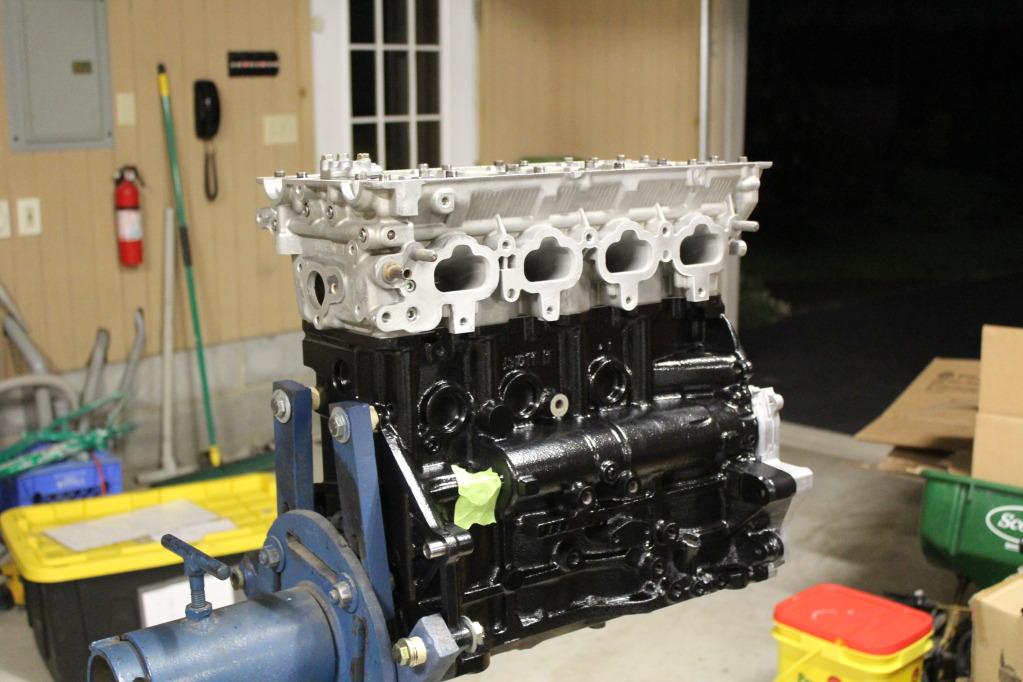 I then realized that I never received the Water Pump Adapter from MAP, and didn't want to finish the timing side of the motor without doing that. Thus, I proceeded to put a bunch of other crap on that I would've had to do at some point.
Threw on the Torque Solutions EGR Delete Plate and the Omni 4 Bar: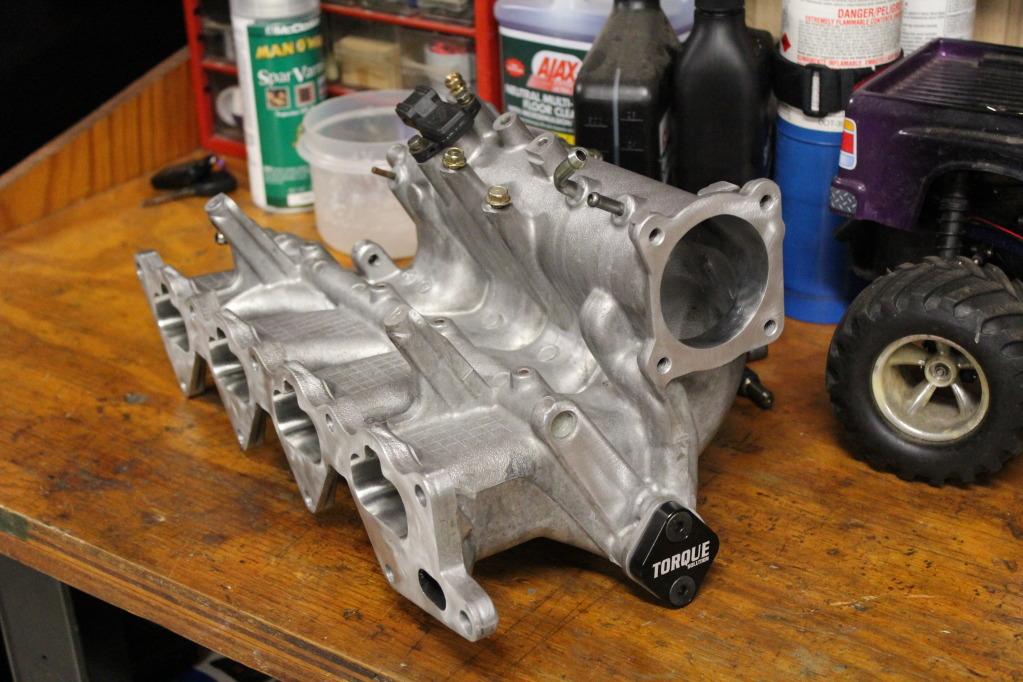 Threw on the Oil Filter Housing (Torqued everything to ~25ft/lbs), and an ugly bracket that I cleaned frivolously beforehand. Oh, and I started bolting the IM down at this point, too.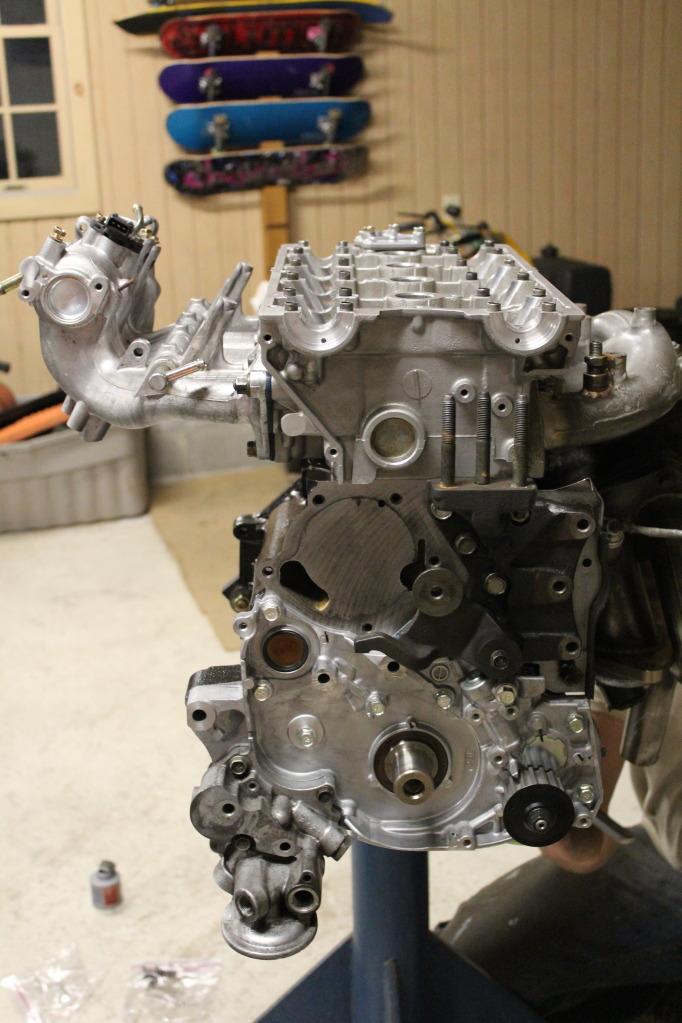 Torqued down the IM, and the turbo kit next (EM, Dump, Oil Feed Kit)!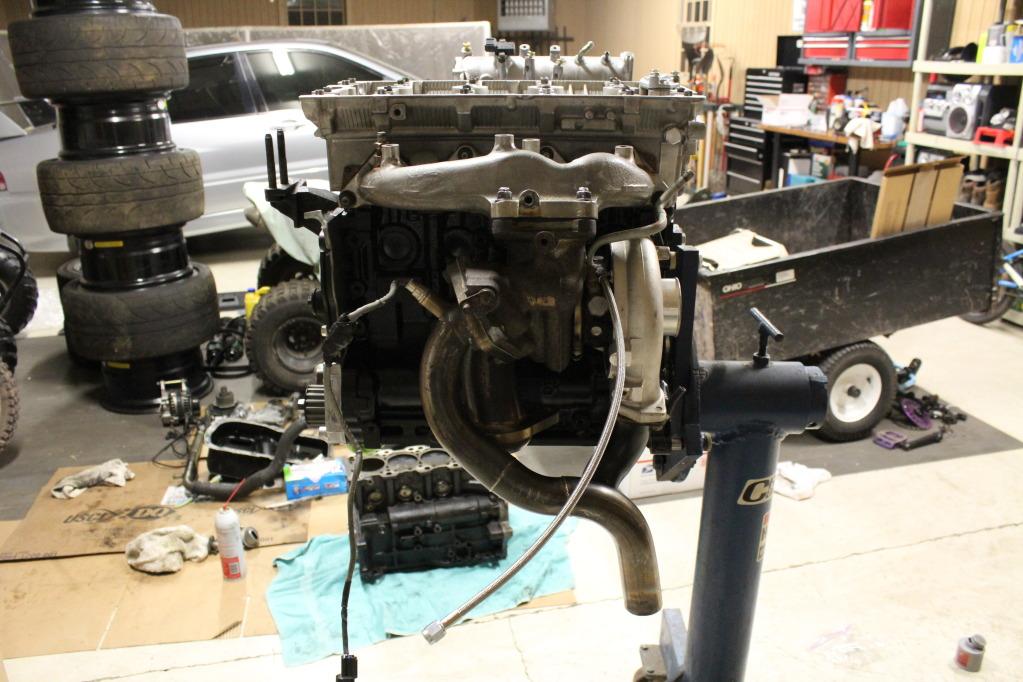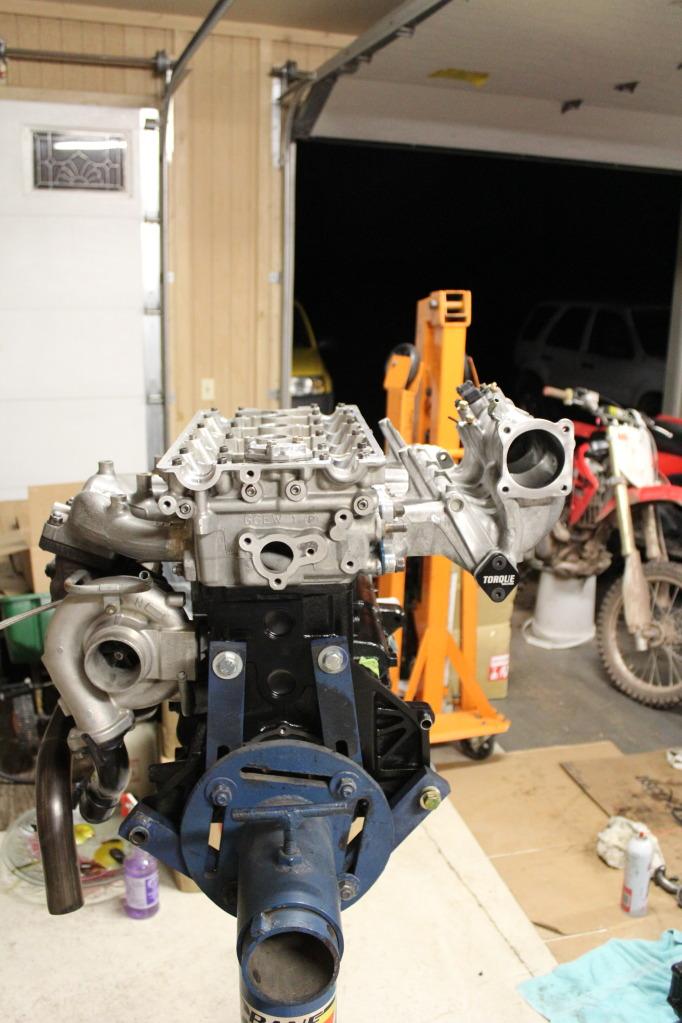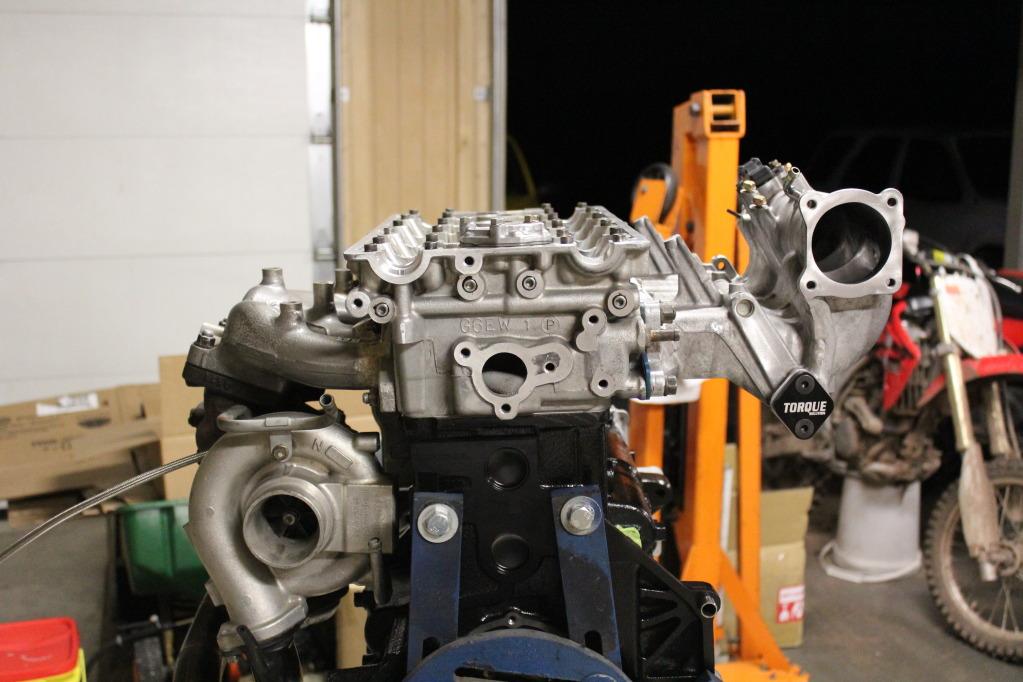 This is where I got pissed off. I came to the conclusion that nothing will really fit in regards to venting the balance shaft inspection hole.
A) There's no way I can use a 10x1.25 to -6AN Fitting (STM) and fit a 90* out of there. Even with a cast 90* I don't think it will fit. Thus........I don't know how I'm going to vent my crankcase.
B) My previous banjo bolt idea won't work, as I can't get a 10mm to -6AN banjo fitting, although I was told I could before. Oh well.
I'm now at a loss of how to vent the crankcase.
This how tight it is in there: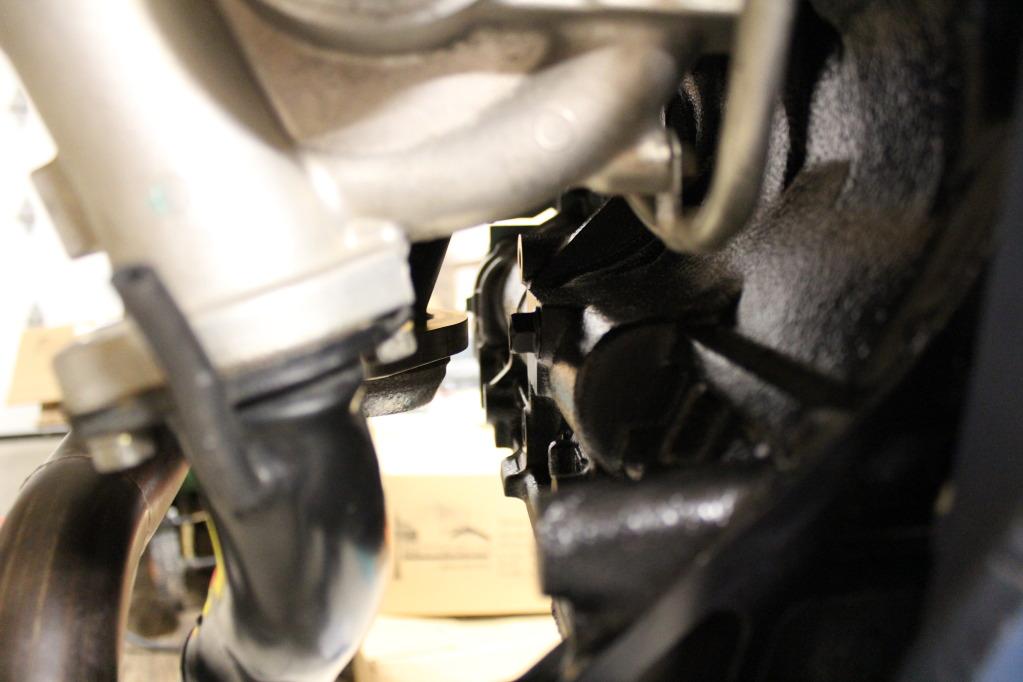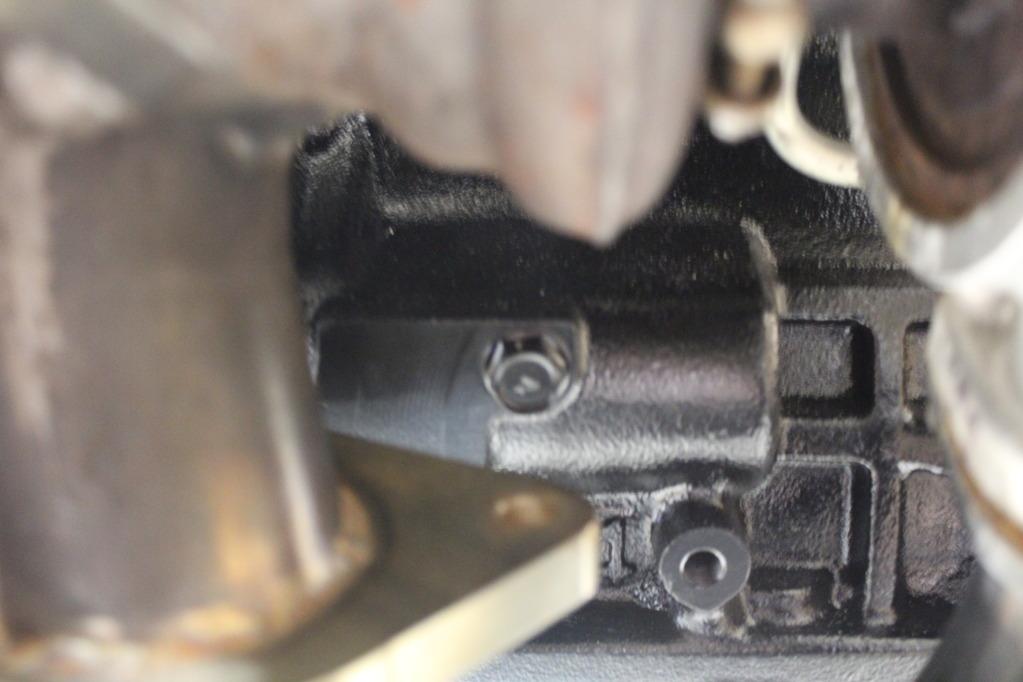 Next is the point in the night where I got sick of bolting stuff on, and decided to polish my stock Fuel Rail since I'm not wasting any cayesh on a shiny aftermarket one.
With a quick 400 sand: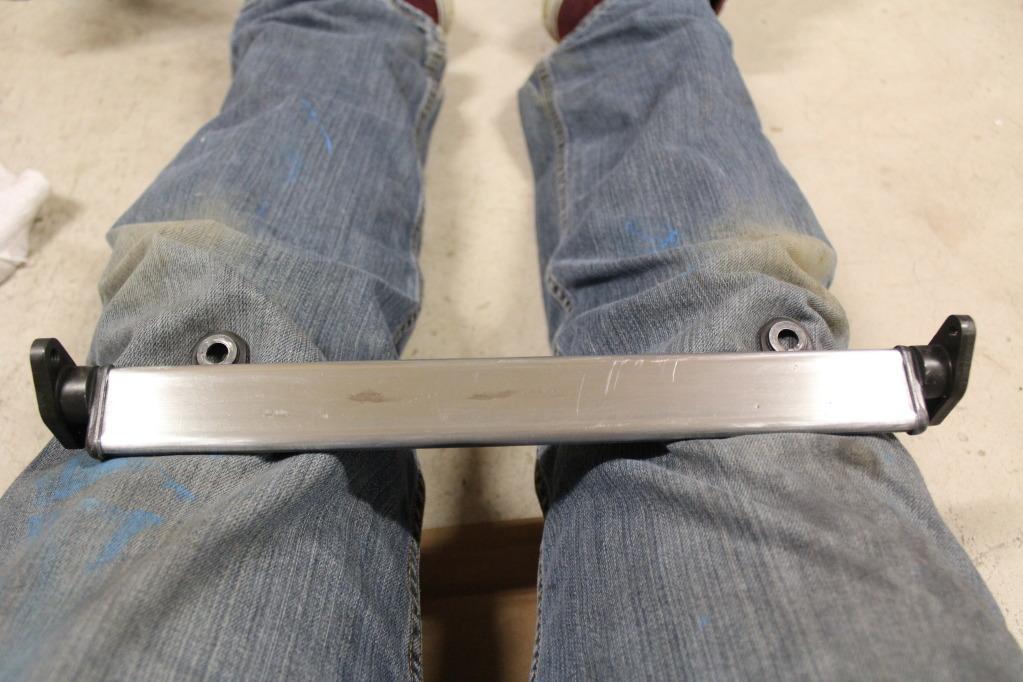 With a 400 and a 600: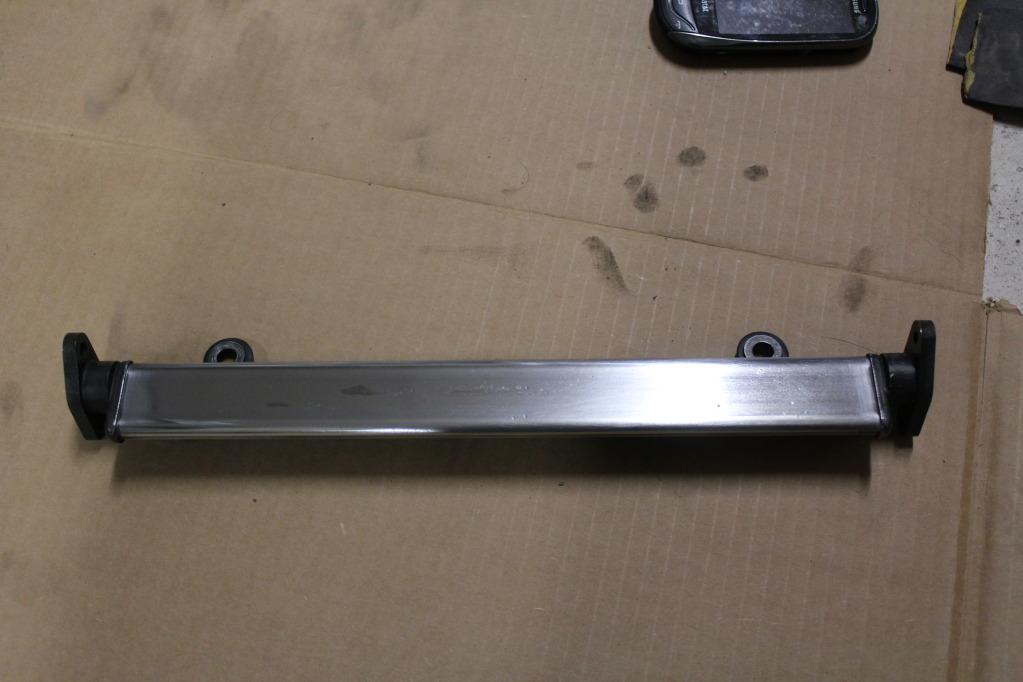 I didn't like leaving the ends unpolished: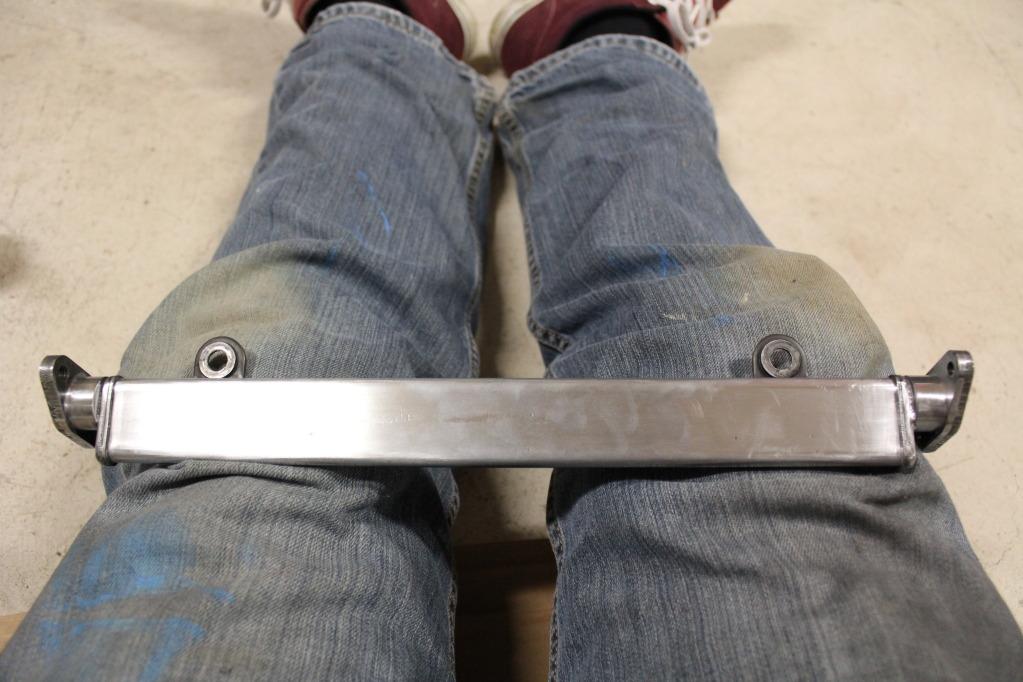 Everything with 400, 600, and Mothers: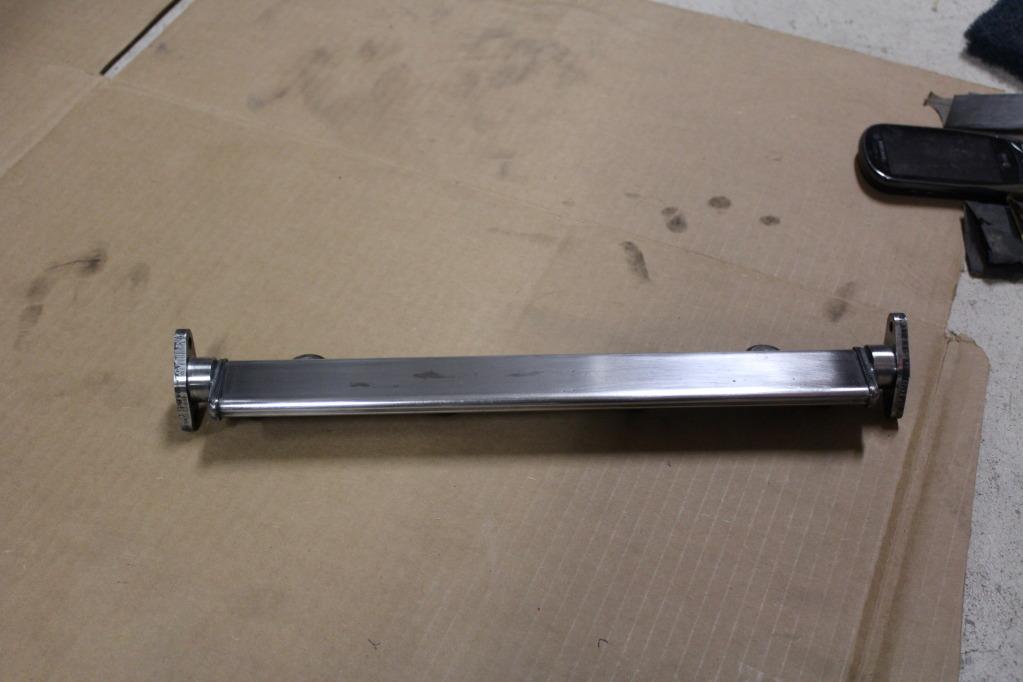 Unfortunately, I got bored of that and took apart and rebuilt the throttle body, throwing it on the IM afterwords.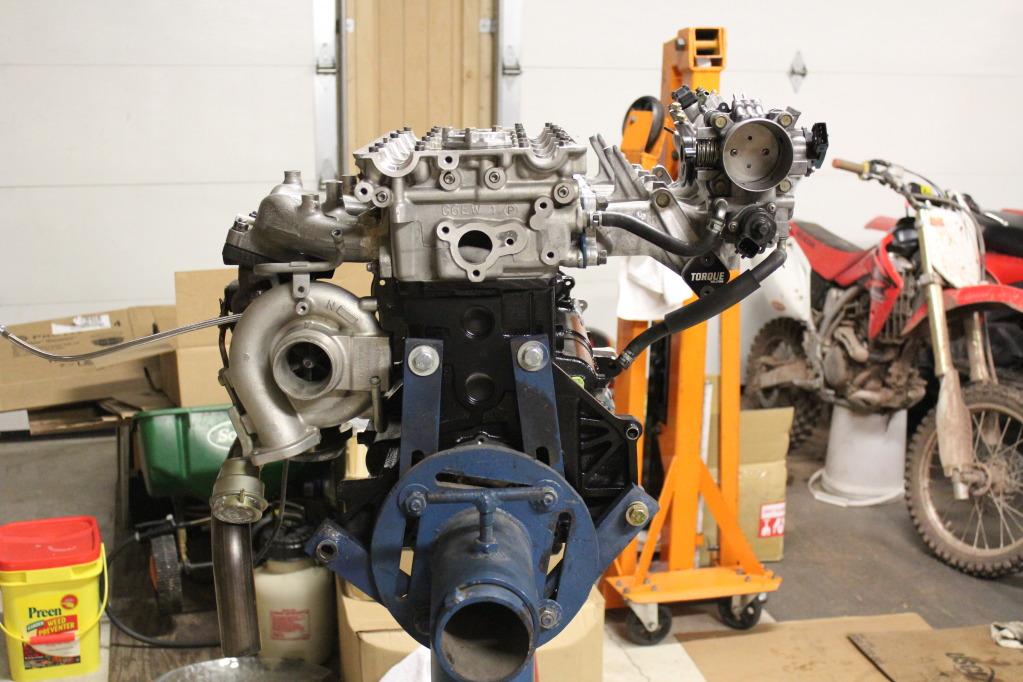 And last but not least, some random shots before I went inside: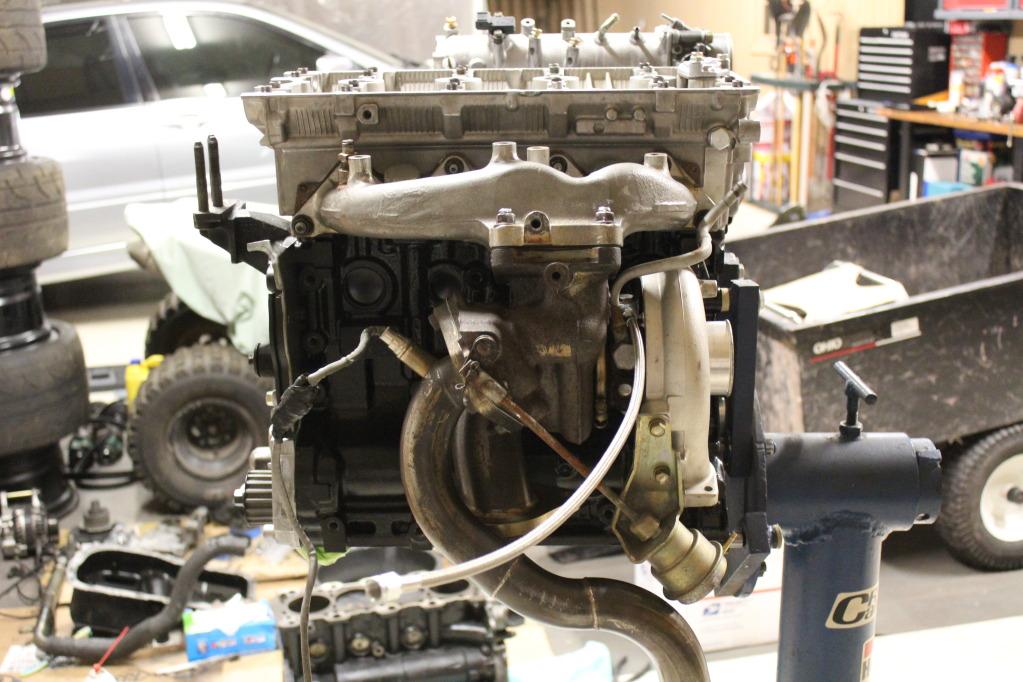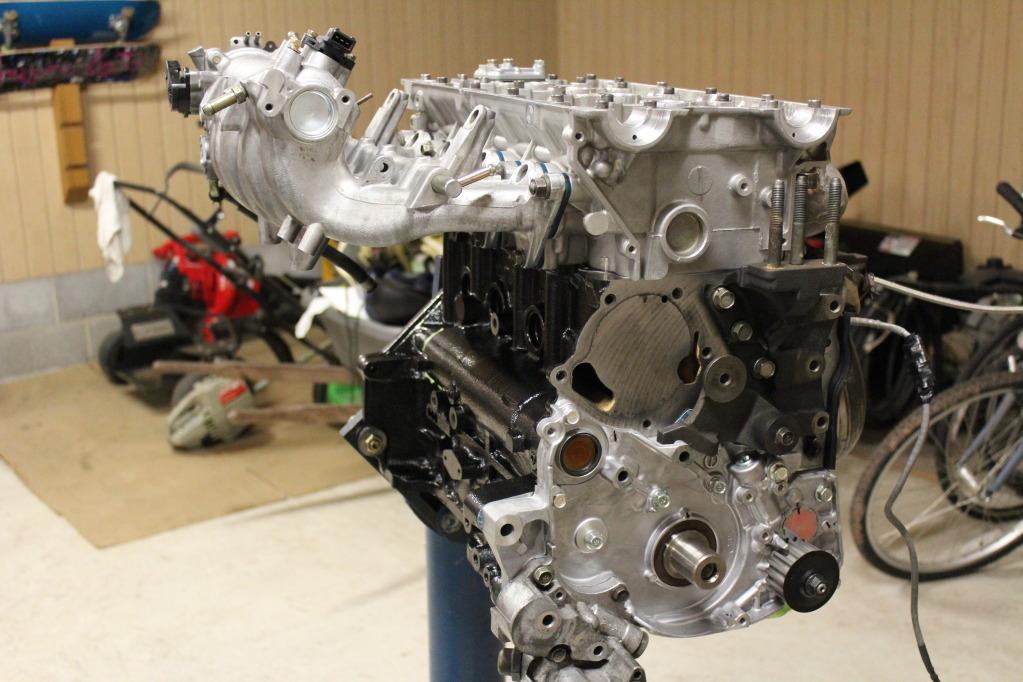 My slowly shrinking parts pile: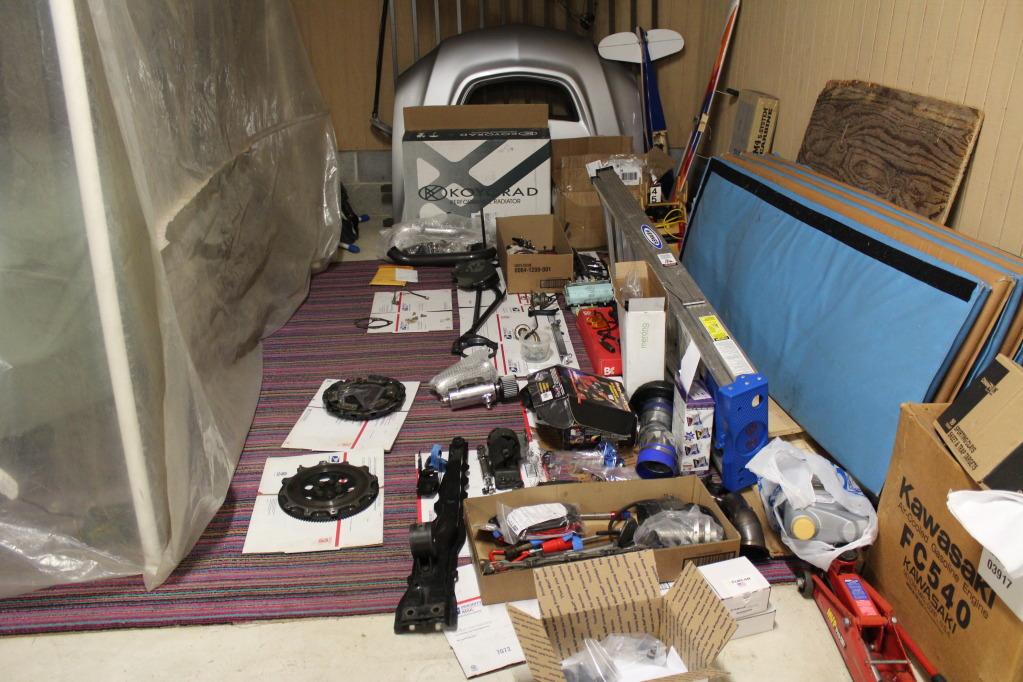 The new pile (of crap) I must overcome: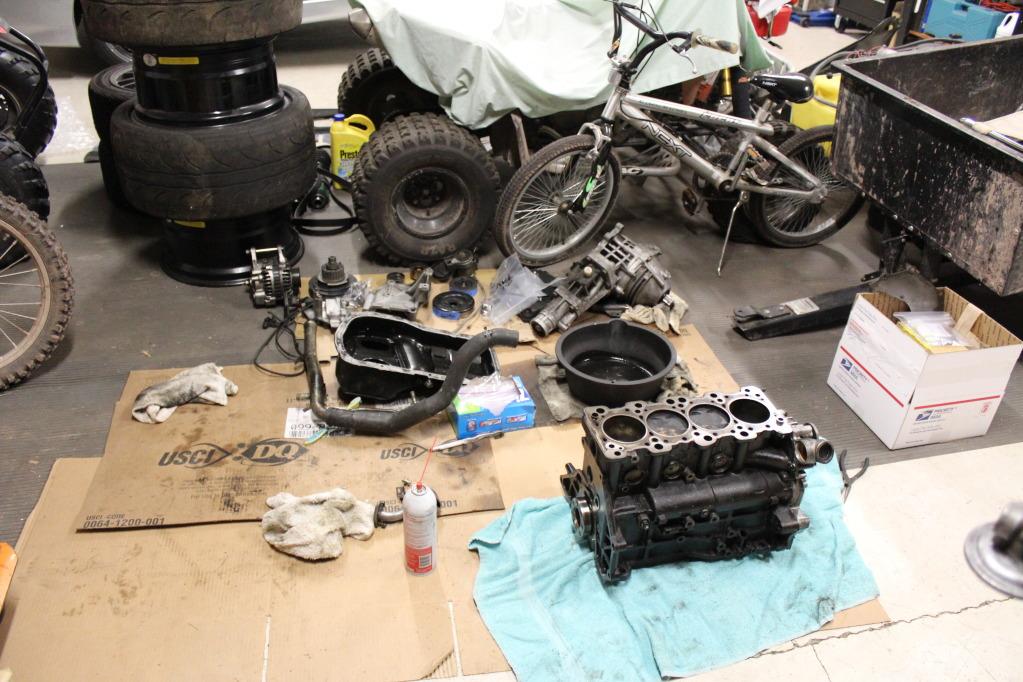 From here on out, the only think stopping me is the water pump adapter. Once I get that I'll throw all of my new shiny OEM Mitsu timing components on, time the car, throw the longblock in the car, etc.
Oh, and I drilled the baffles out of my valve cover, tapped the holes, and drilled out the head for -10AN ports. I'll take some pictures of that and throw them up eventually.
Word!
5-13-2012
Well, I sure had another fun night in the garage. My task was to rip the 36K Mivec Motor, T-Case, and fresh Shep Stage 2 Ultimate Ratio trans out of my parts car, mainly because I'm using the Shep in my car!
We ended up having to drop the motor still attached to the trans out of the bottom of the engine bay!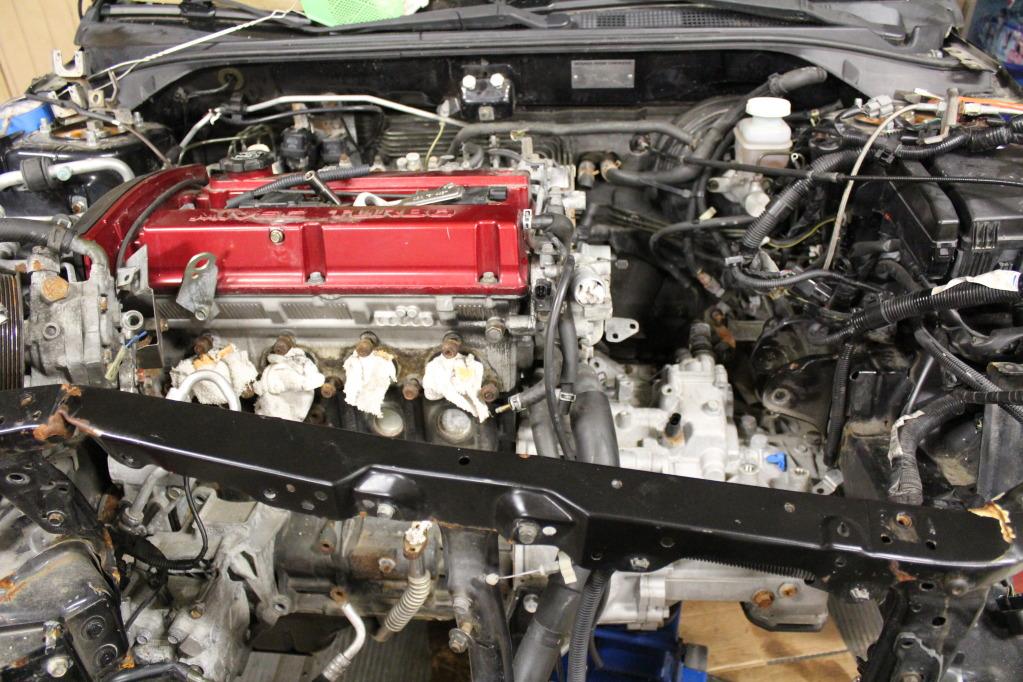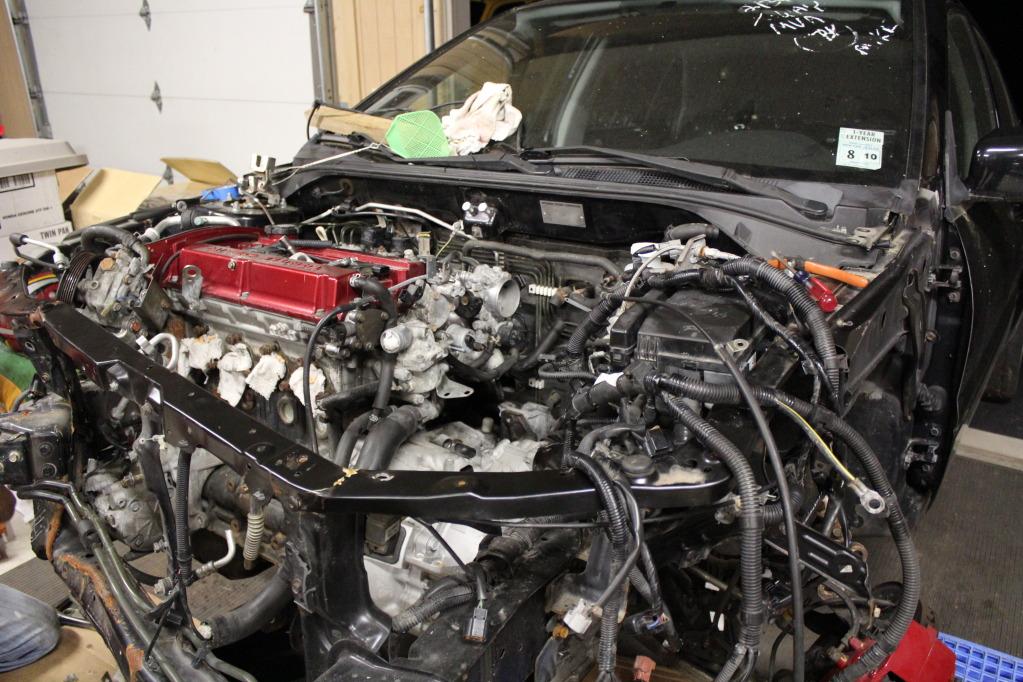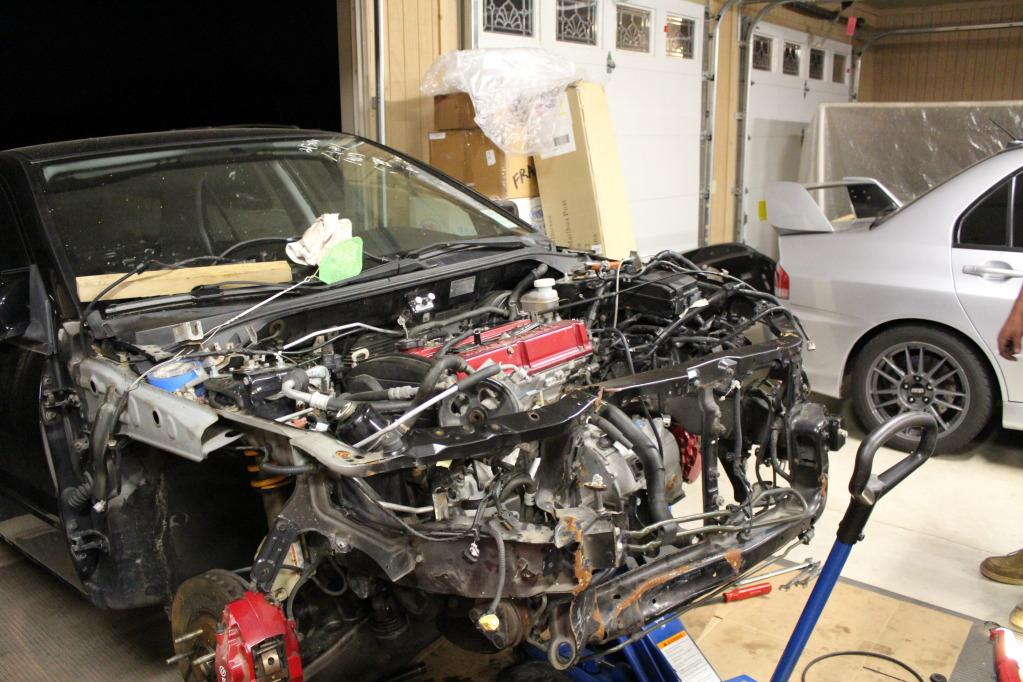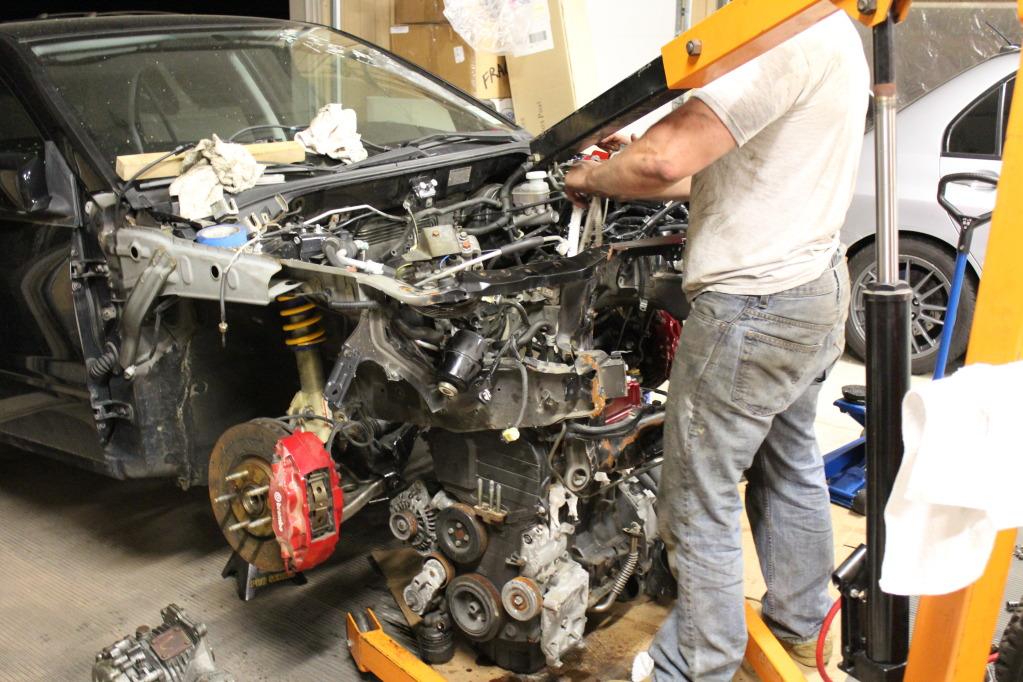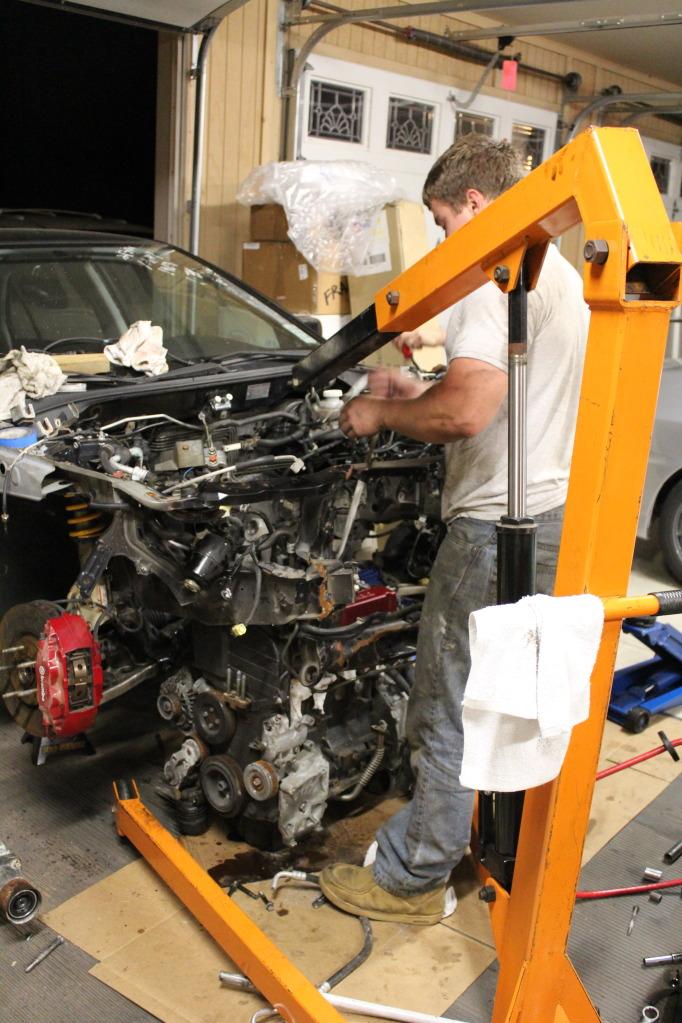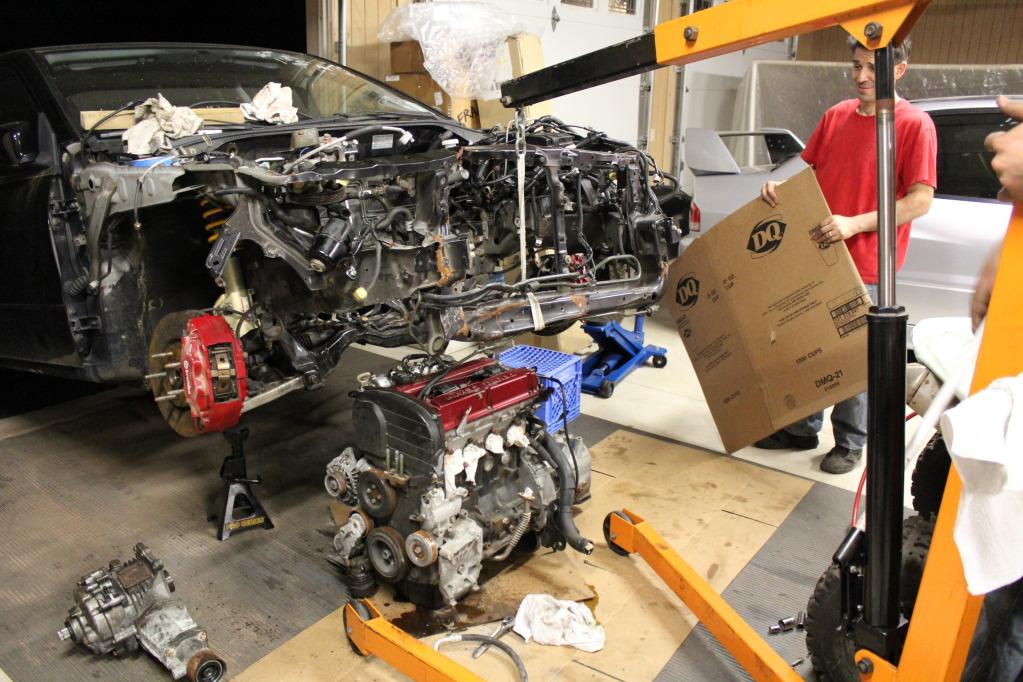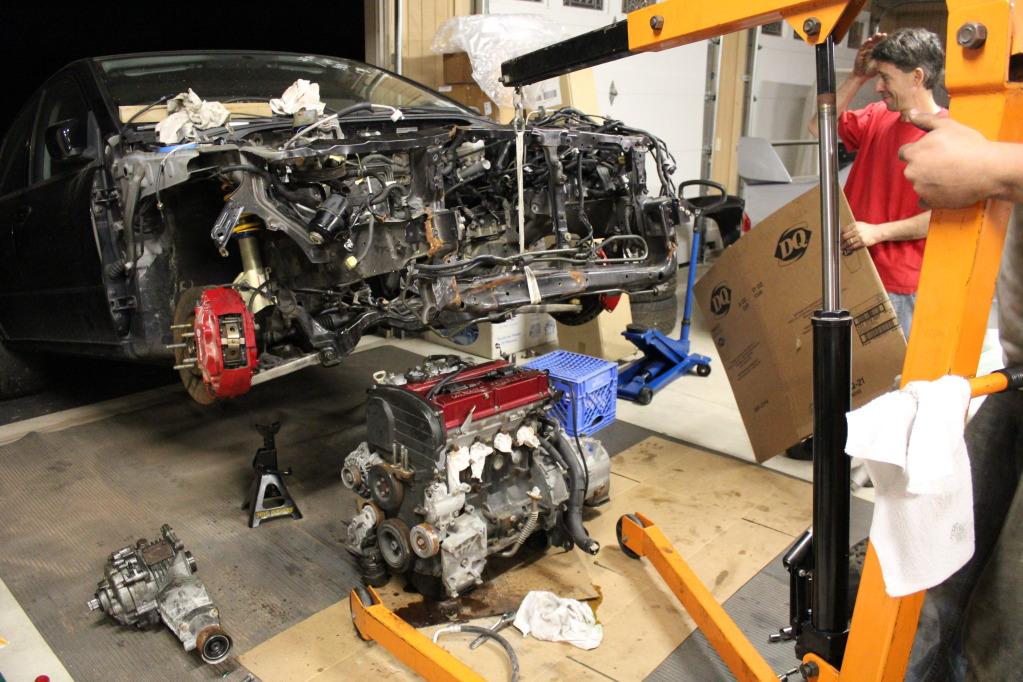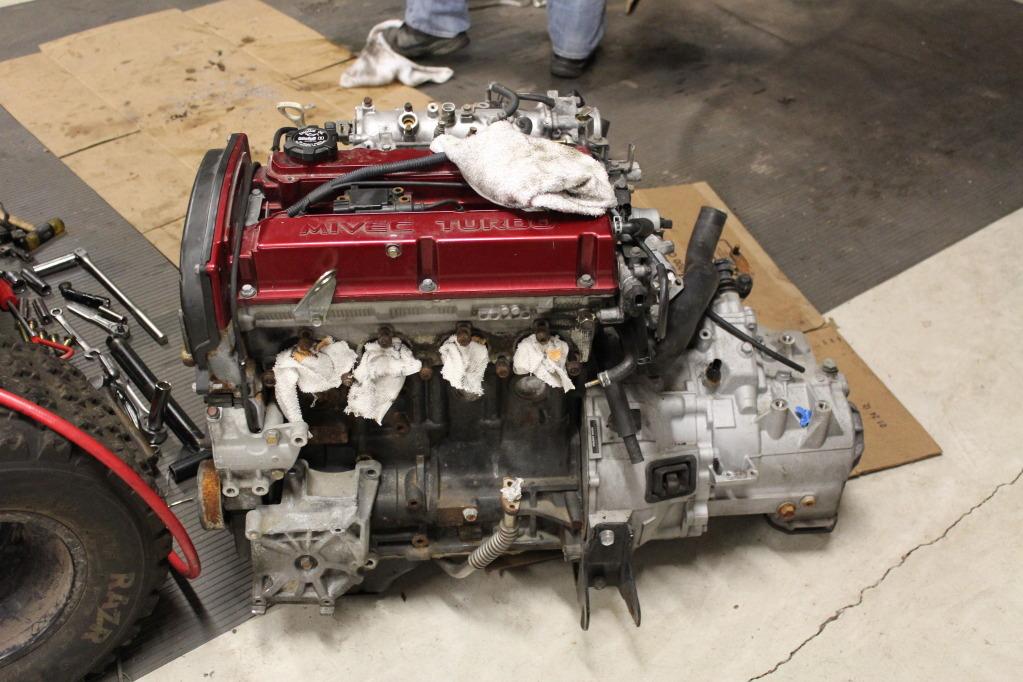 My br0 Stanlsha sitting after we conquered this rigorous task: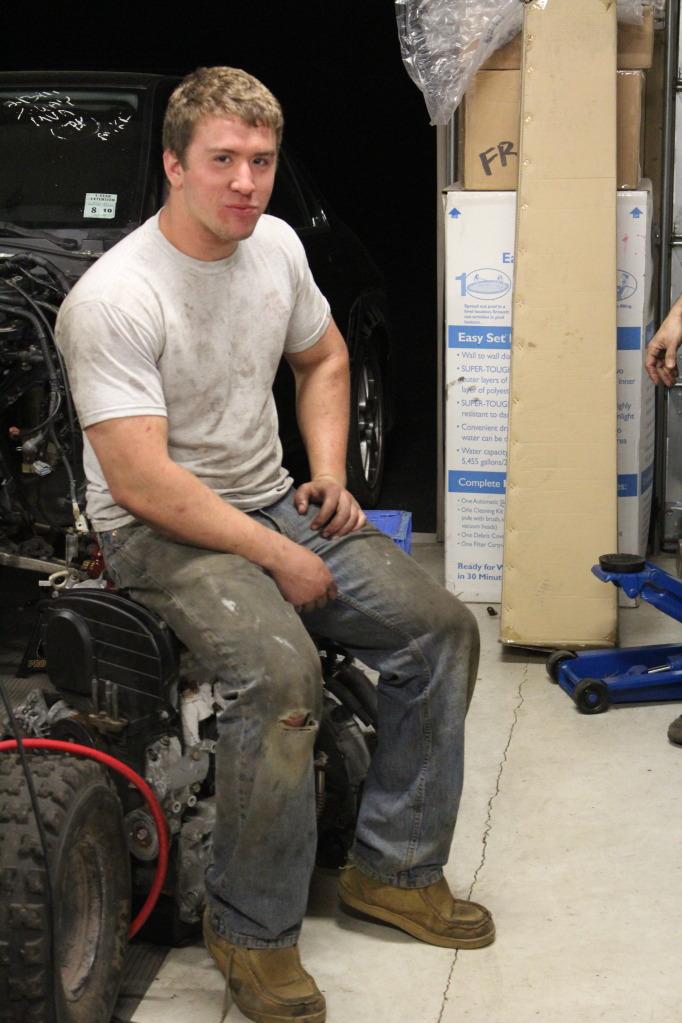 Scored some Avid Solid Mounts for my car (I will obviously work my magic polishing them):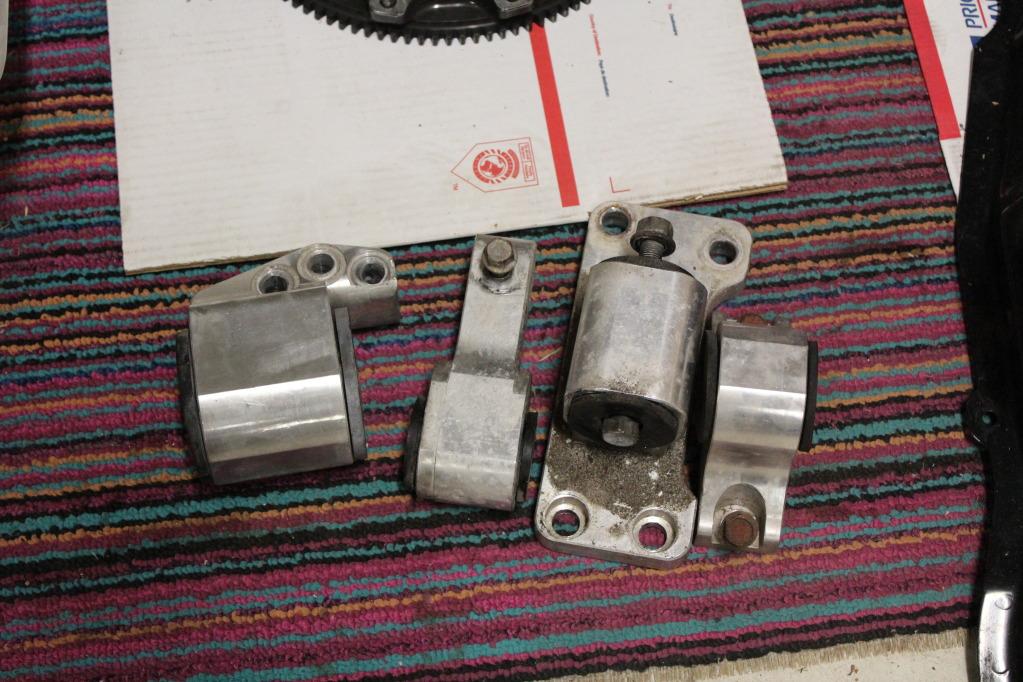 Regardless, trans is ready to go in my car, and I'll be doing the cams and such tomorrow. I can't get an 45/64 drill bit anywhere (or an 11/16), so tapping my head for the -10AN lines is on hold until I can find a bit.
Oh, and these are quite yummy: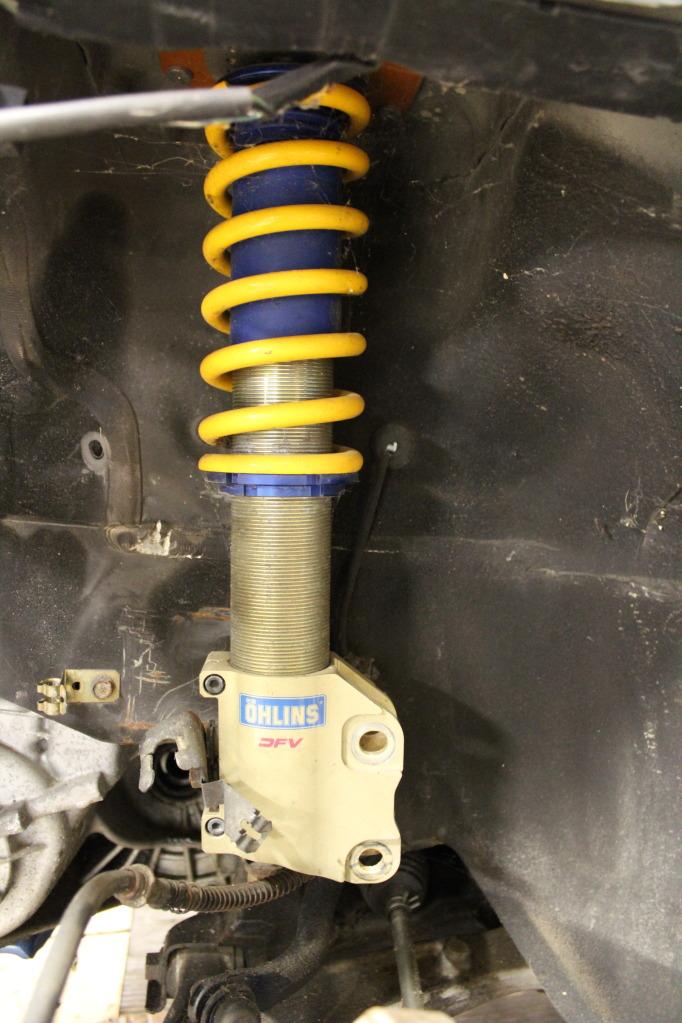 Sall good brotha! I think your WRX idea will play out quite nicely......if you don't plan on making any power

Did the only thing left before I time the motor; bolted the cams down.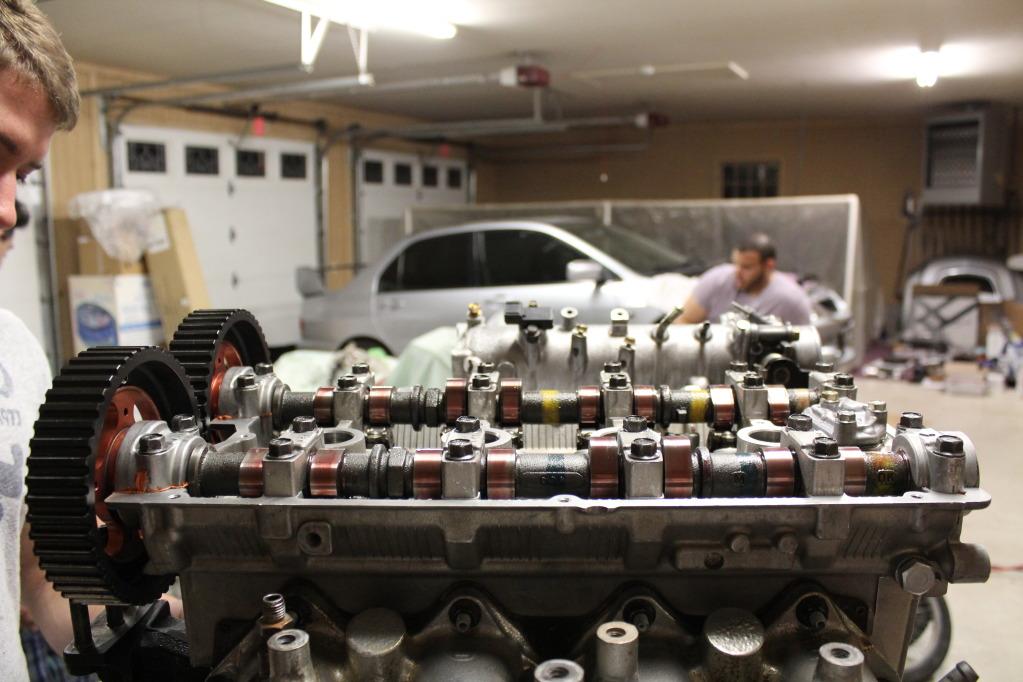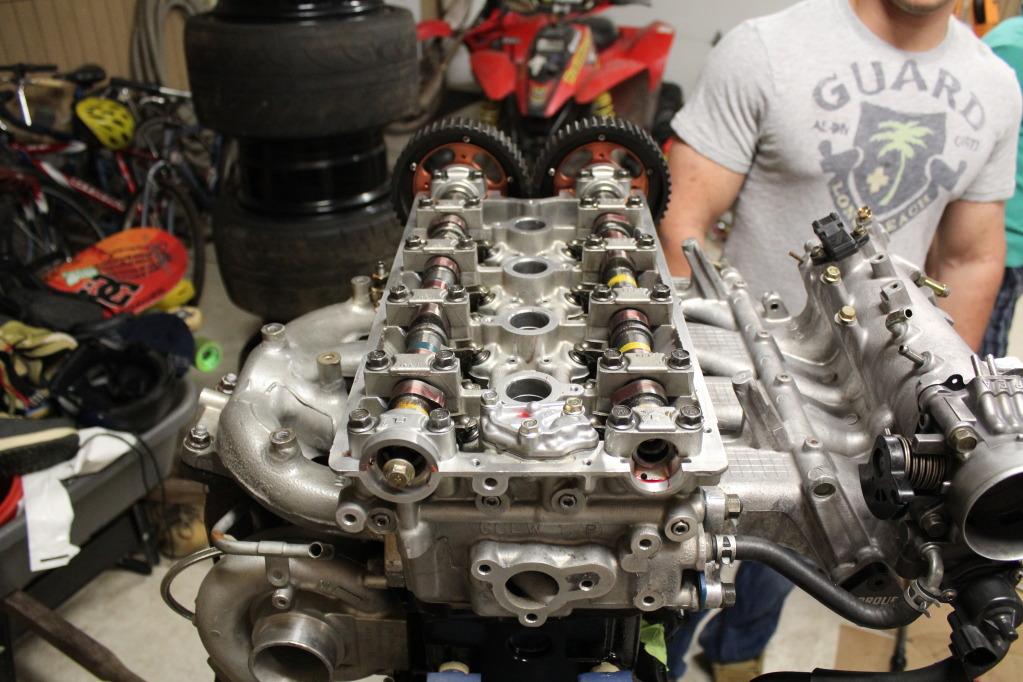 Hopefully I'll pick up the 11/16" drill bit at Granger tomorrow so I can finish my valve cover project.
5-16-2012
I got the water pump adapter! This means business.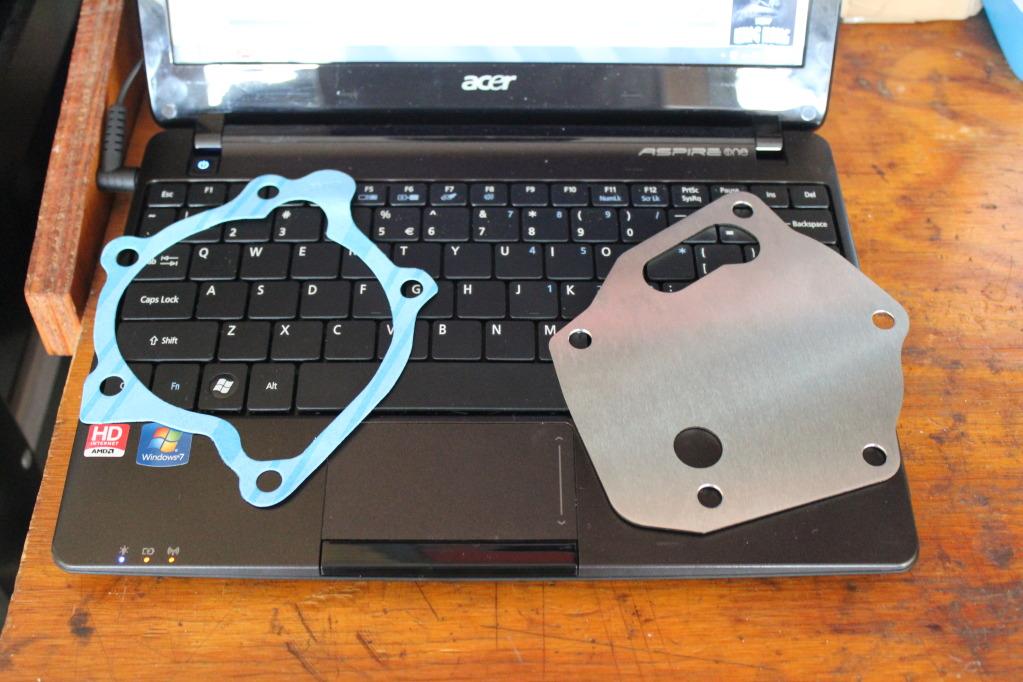 My -10an valve cover project. All drilled and tapped, ready to be reassembled.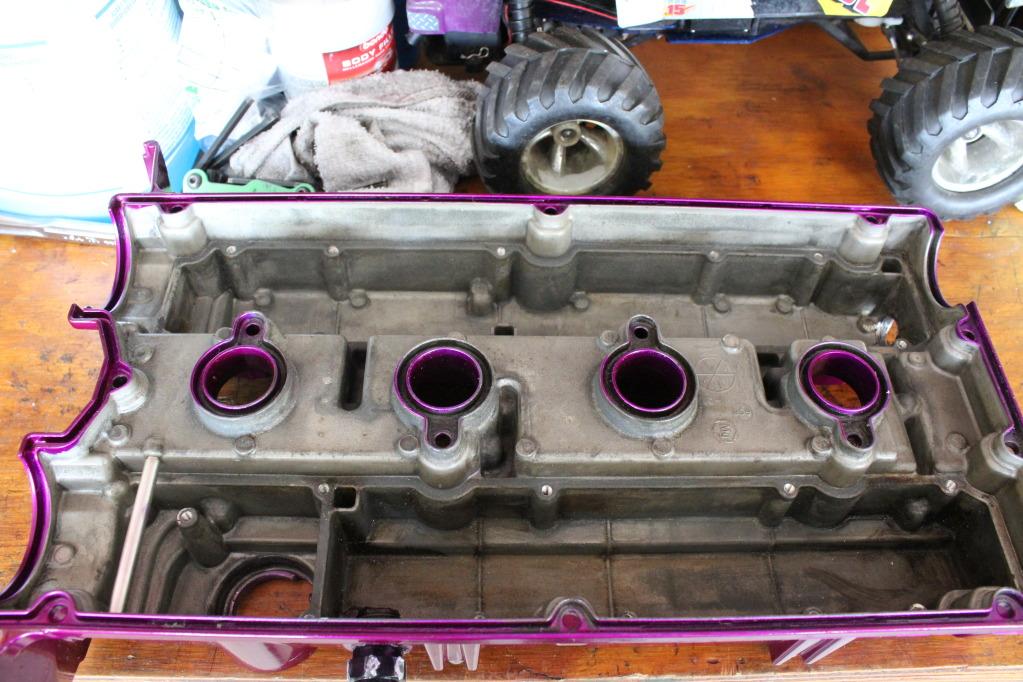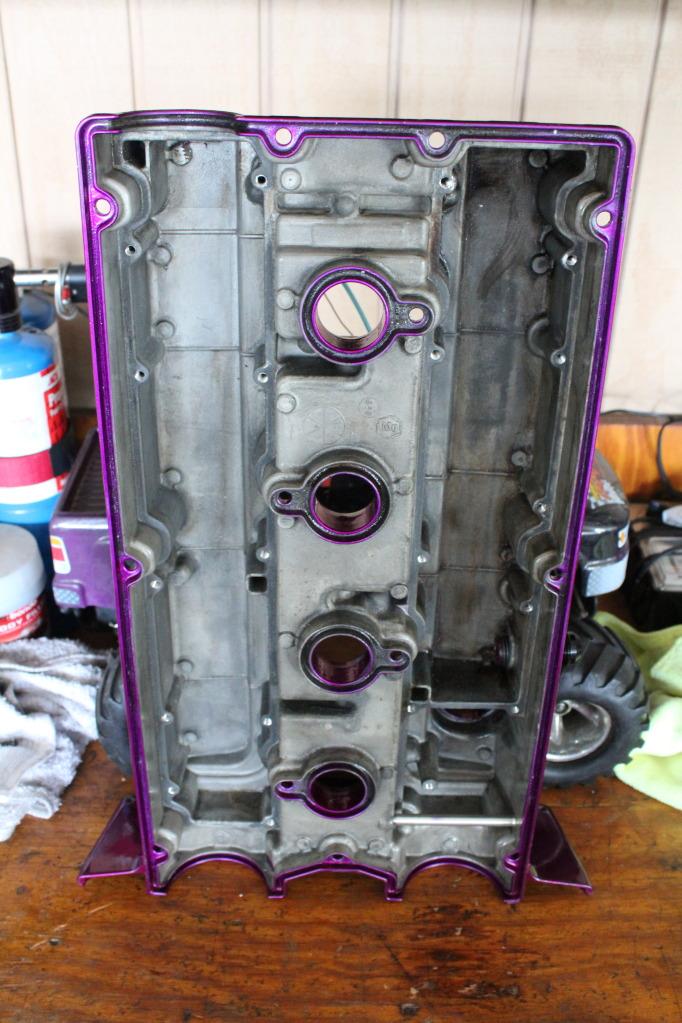 Bolts used: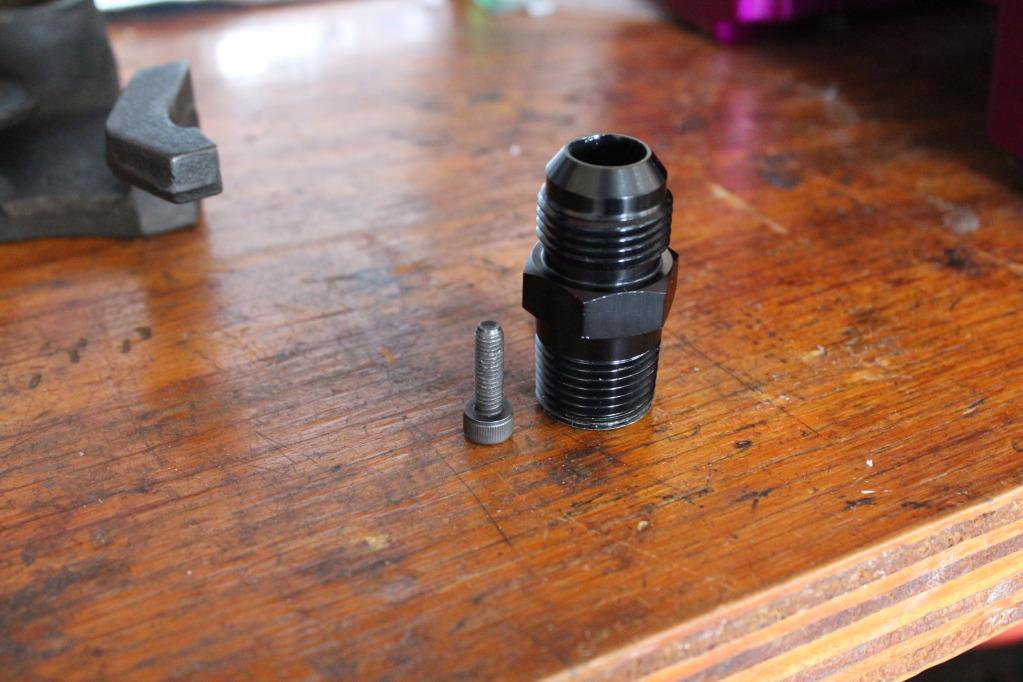 Timing components on: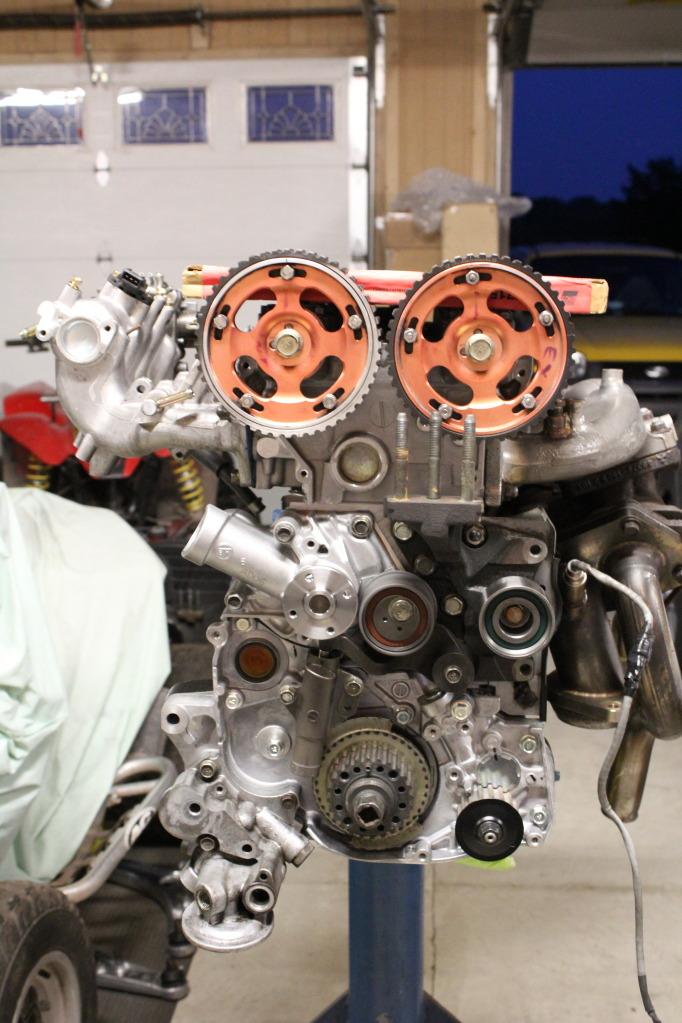 Water Pump Adapter Close-Up: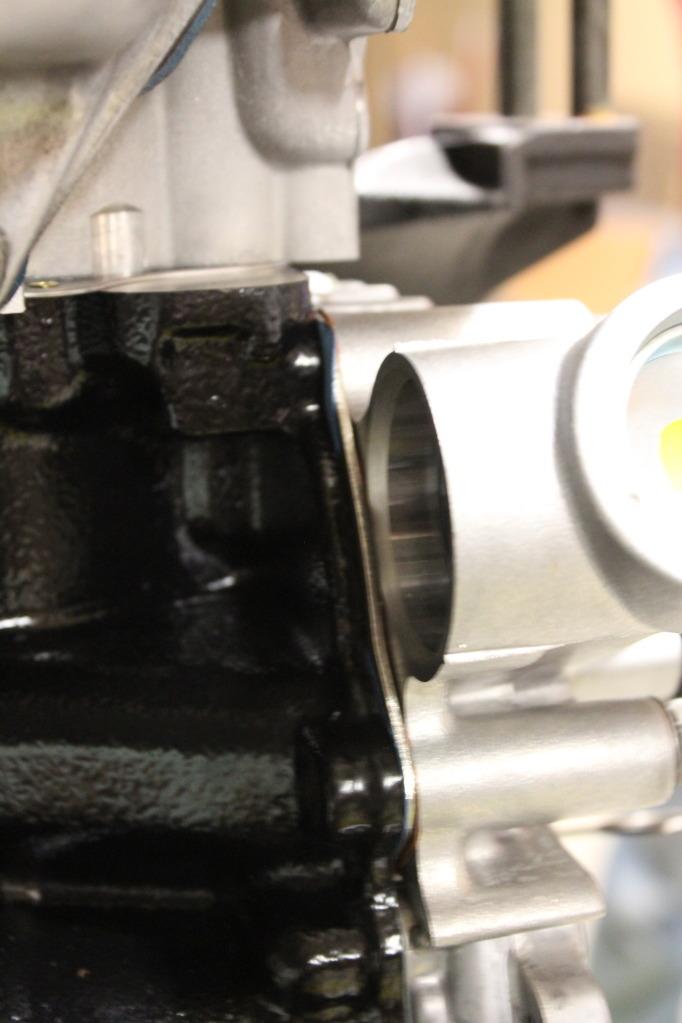 5-20-2012
Slowly but surely: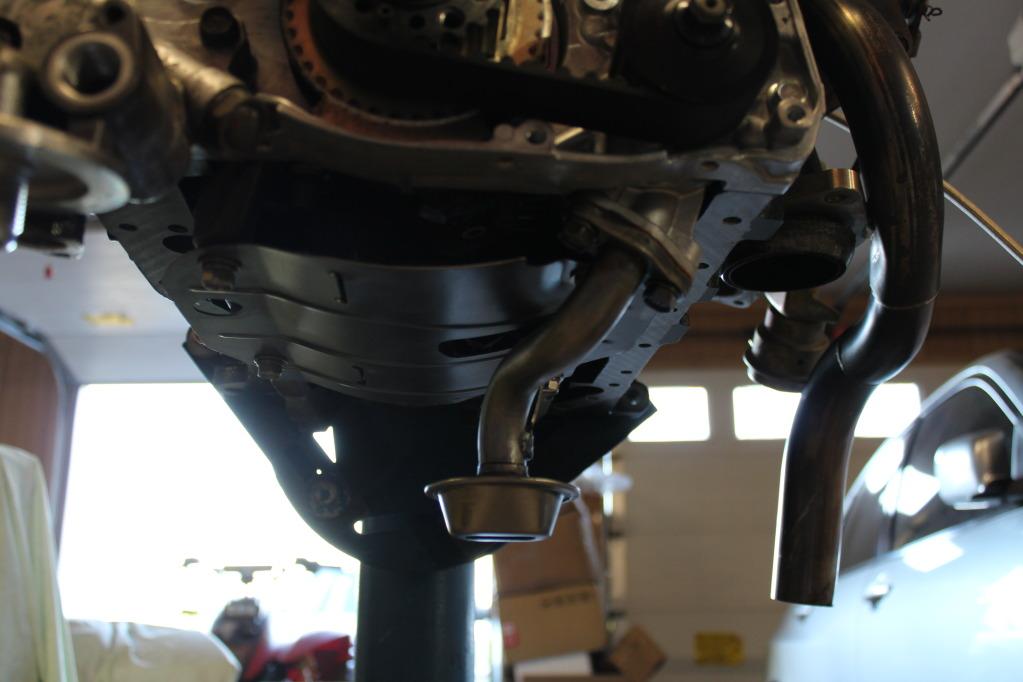 Aaron (aka JohnBradley) sent me my first ROM, so needless to say I'm STOKED to get 'er up and running.
I'm headed over to JMFab tomorrow to get my T-Stat housing and radiator welded for -12an fittings, and I'm getting the last few things from Paul at JNZ, so as soon as I get a Valve Cover and ECU I can get the ball rolling.
Decided today that I'm keeping these guys: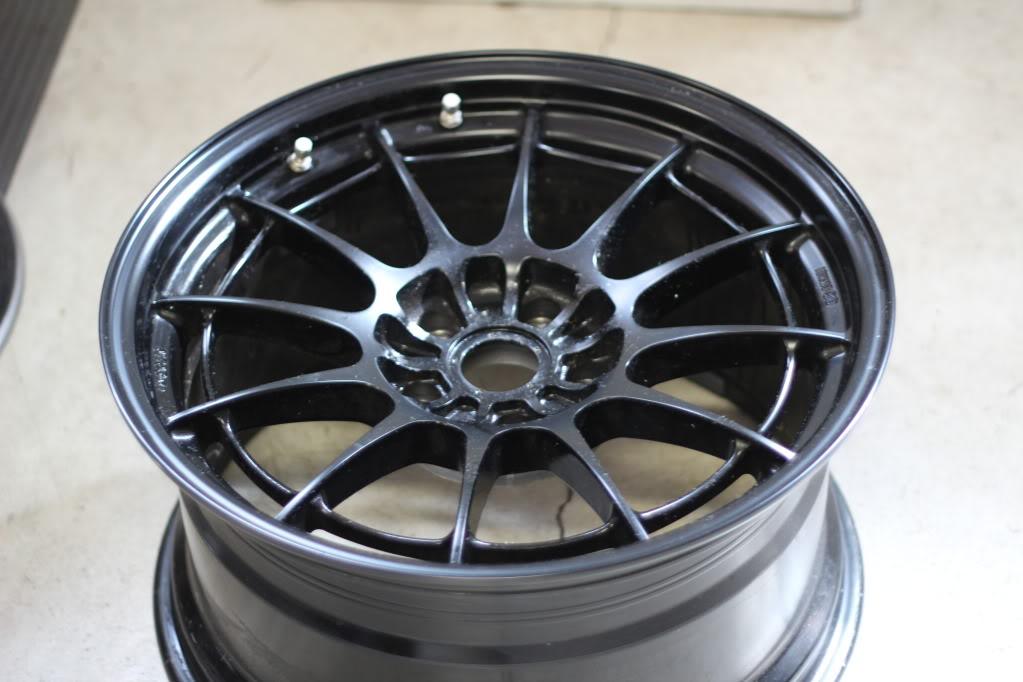 I'm going to run a 265/35, a 10mm spacer up front, and have the fenders rolled flat. If I need to I'll pick up the EvoDave FenderMod, but I don't think I'll have to with the 265s. Any input on fitting them is appreciated!
5-21-2012
Talked with Jim today and we came up with another solution!
Worked on the car a bit today.
Cleaned the wheels a little better. I'm ordering a fourth wheel tomorrow. Thus, if anyone wants to purchase my BBS' they'll be up for sale with tires.
If anyone has a used set of 265/35/18 tires, let me know!!!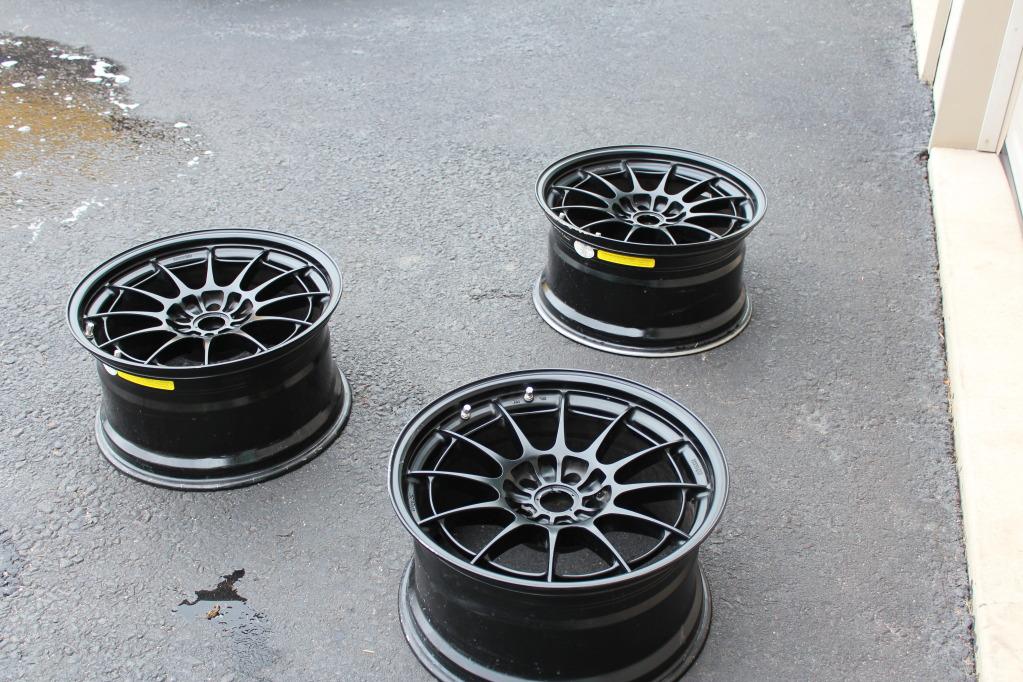 Timed the motor and cleaned my gross cam gears: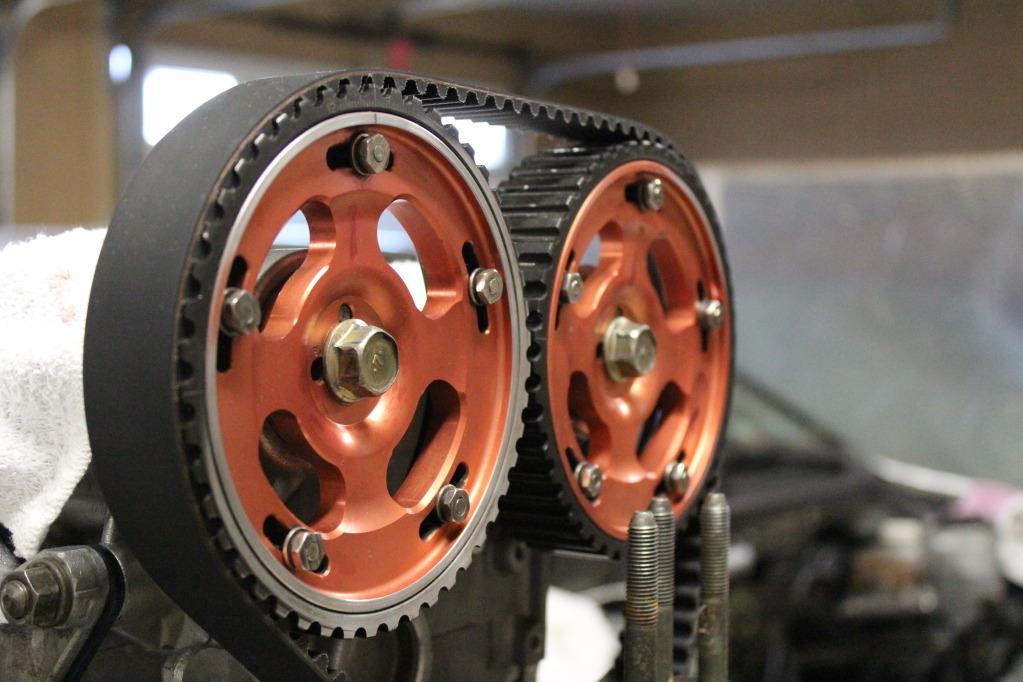 Got Jim @JMFab to weld on my fittings for my custom upper coolant hose setup!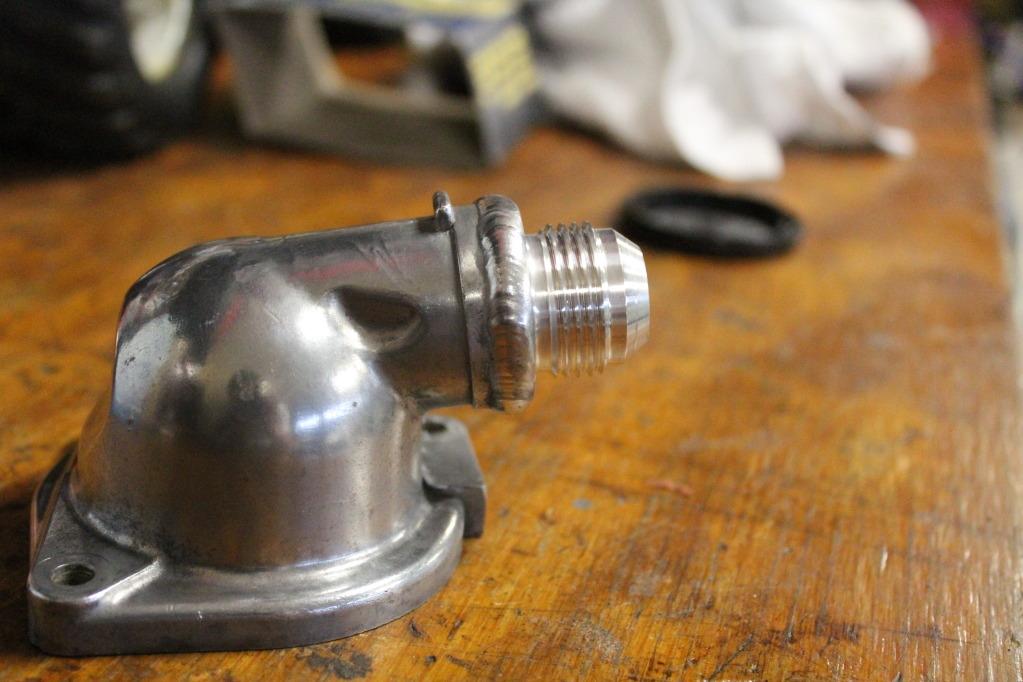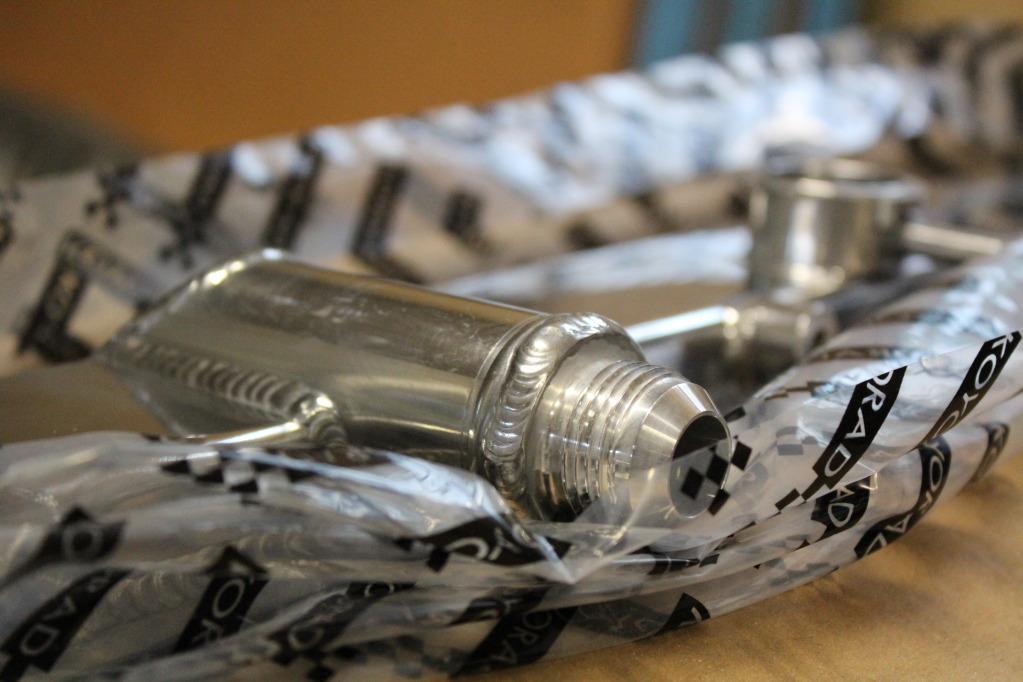 A few more OEM Parts came in today!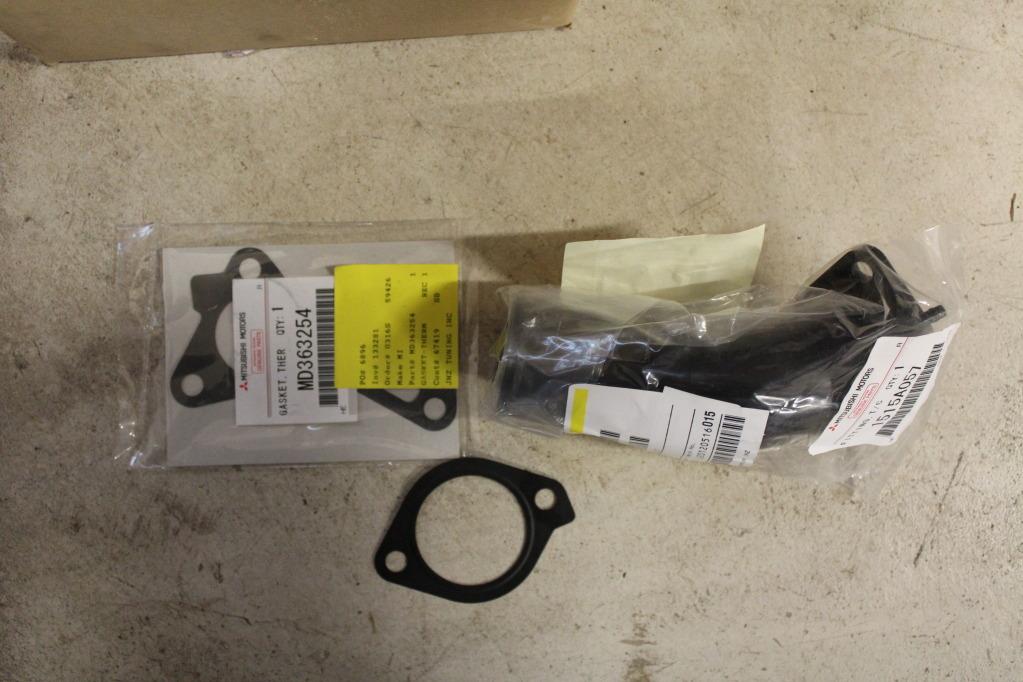 Painted the coolant hose that goes on the back of the block with some rattle can wrinkle silver. It doesn't look half bad!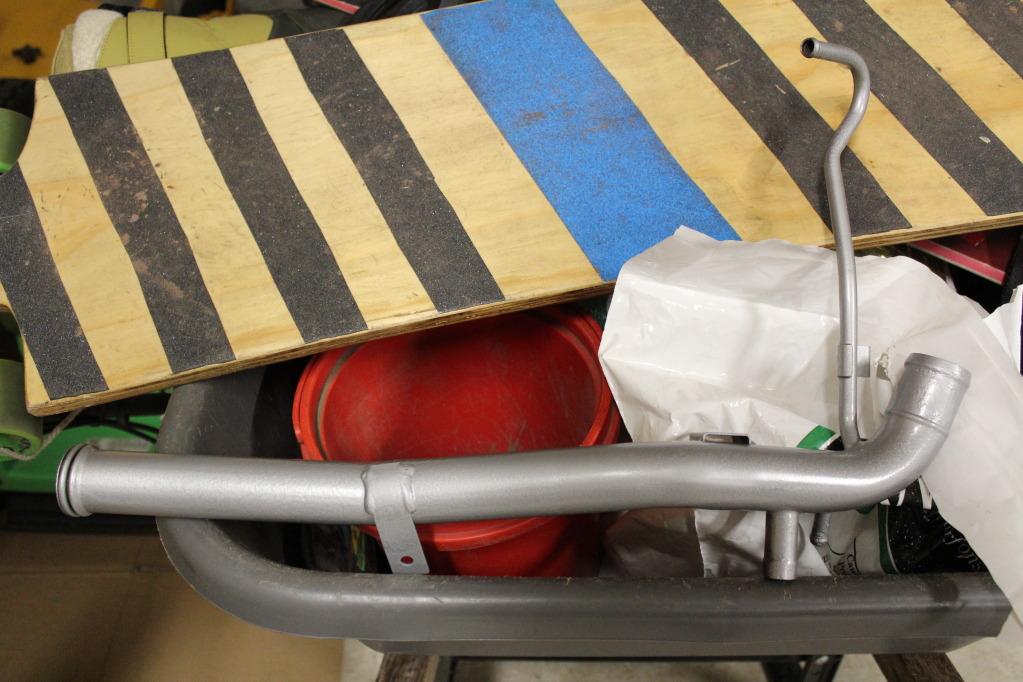 I purchased a Stock ECU and a Valve Cover today. She's starting to come together!
Oh, and here's my wheels on Apexi Silver. I CAN'T WAIT to get them on.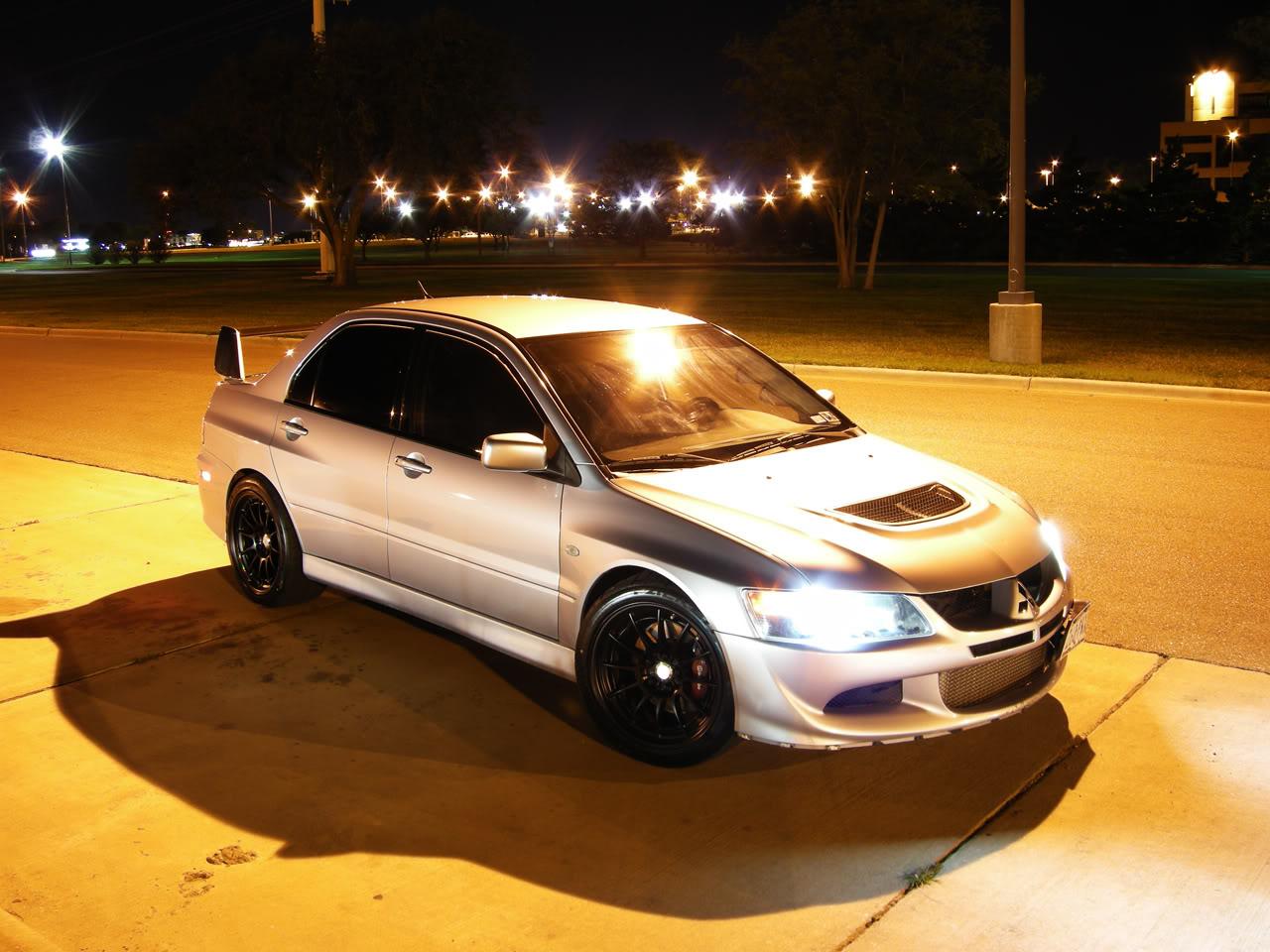 5-23-2012
Did some schtuff. I'm still waiting on OEM parts and a valve cover before I tension the timing belt and put my accessories on.
Got a package from Amsoil!!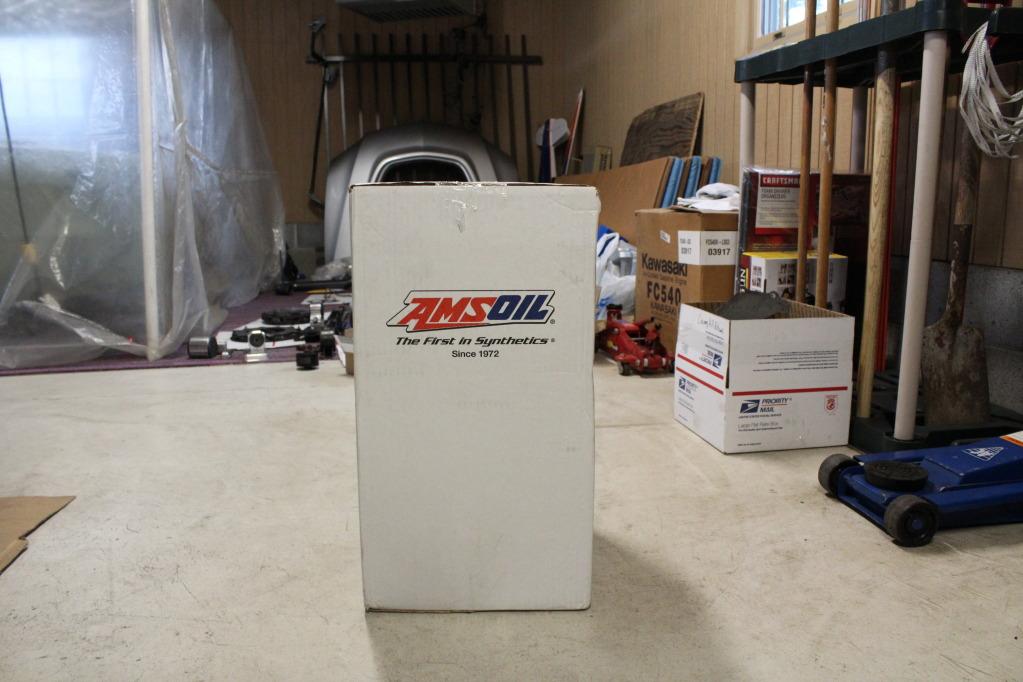 Break in oil: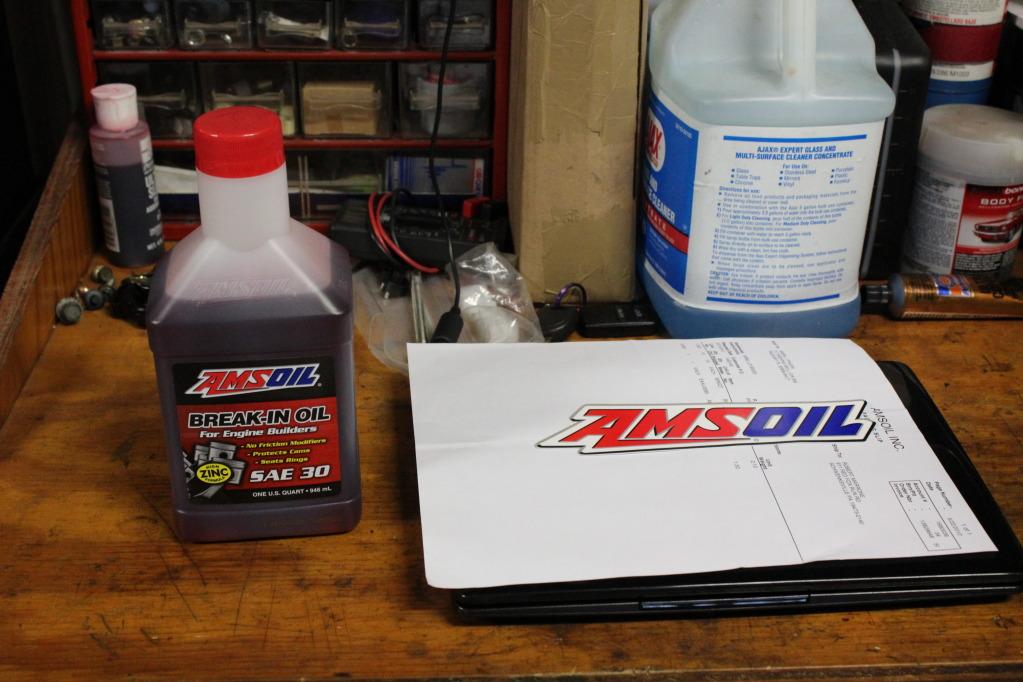 My Air Filter for my 3" SD setup, which is a BEAST: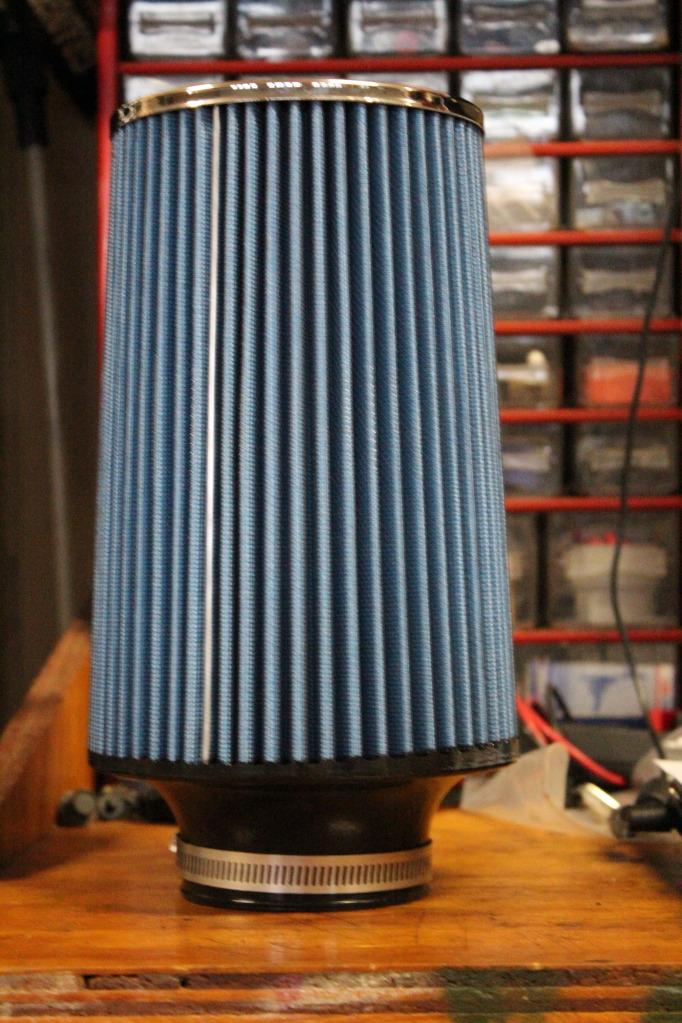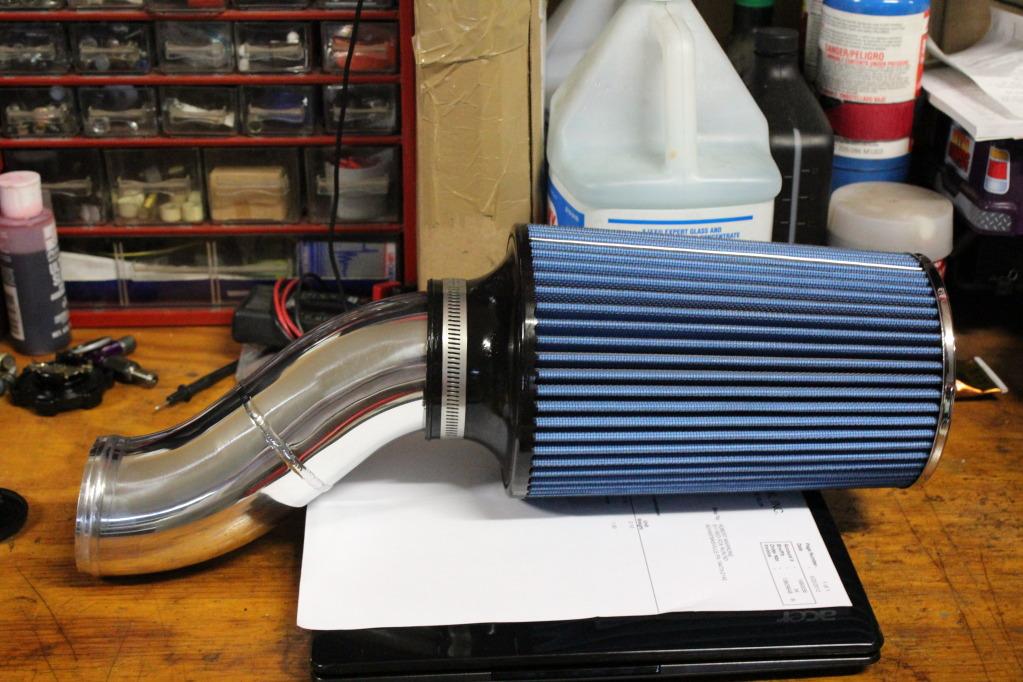 Rail and injectors on: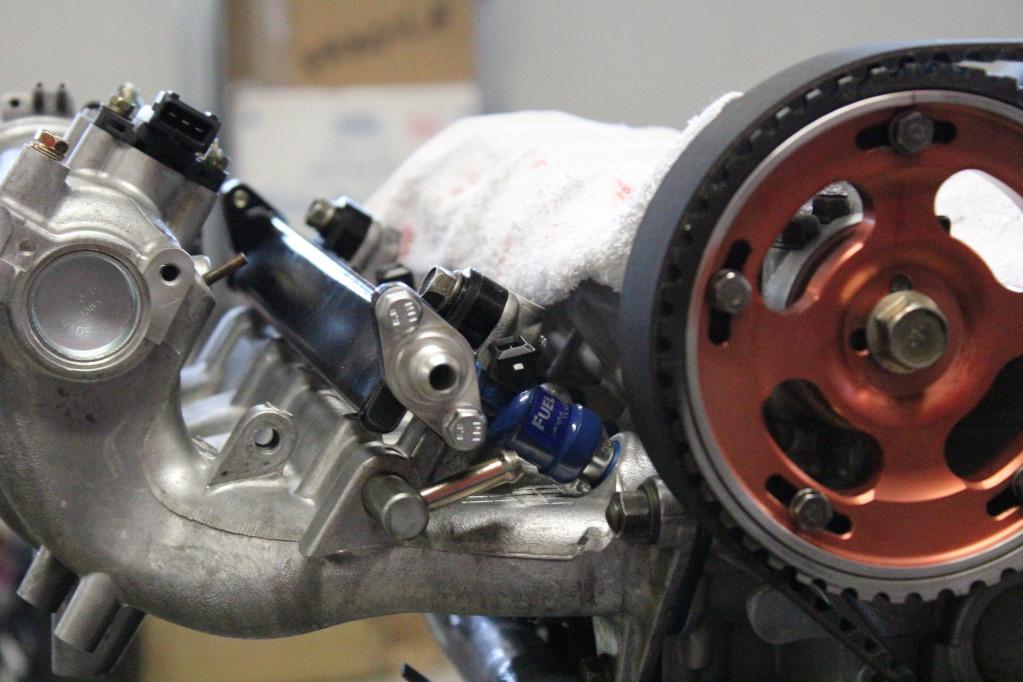 Fresh coolant pipe on: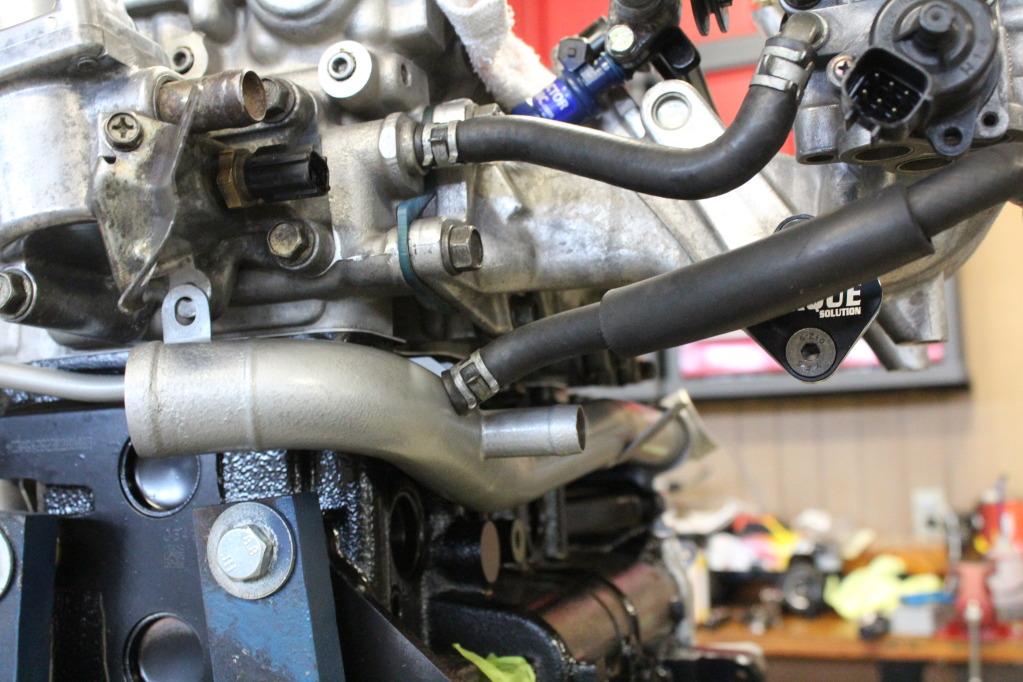 Thermostat Housing on: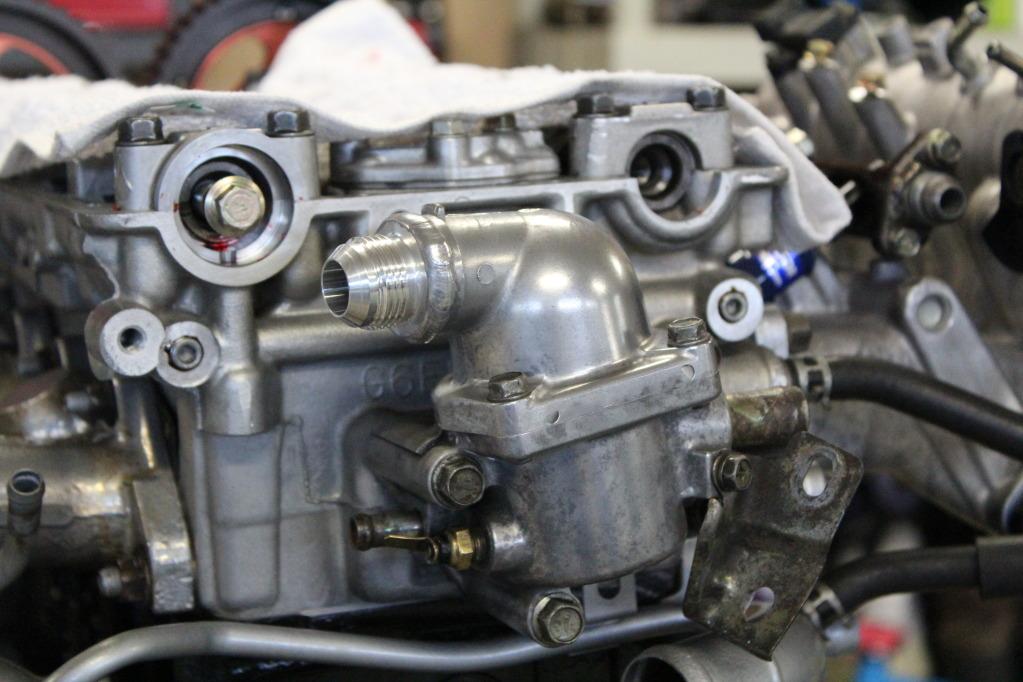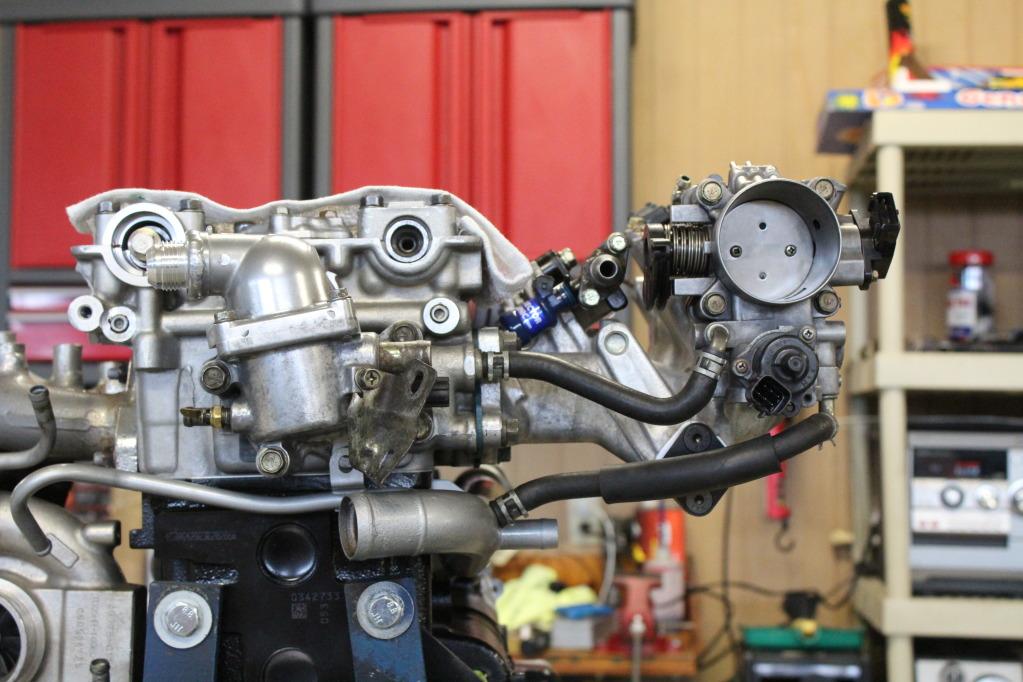 I've been trying to think out how to hide wires, and this was a no brainer! You can just unplug it, route it behind the bracket, and plug it back in!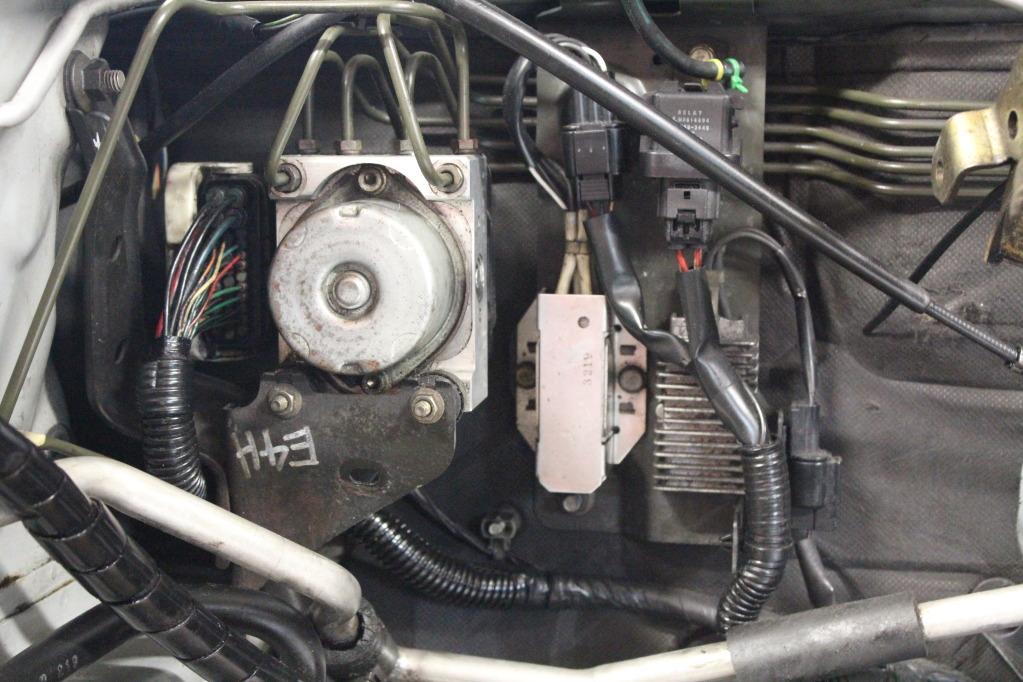 5-24-2012
Thank ya!.
I'm really never going to expect this car to get done. I purchased a valve cover so I can finish timing the car, and it turns out that the guy misunderstood what I needed and sent me a Spark Plug Cover by accident. He's a great guy and dealt with the situation in a very professional manner, but I just thought to myself that it's "my luck" with the car thus far.
Thus, I think I'll finish working over my old VC with some JB Weld and use it until I can locate another one, just so I can get this dang thing on the road. I need to throw the VC on, time it, put the accessories on, put it on the hoist to do the rear main, then the oil pan, then put the motor in the car. Seems like a world away.
However, I did receive the stock VIII ECU, my new NT03+m that will be painted to match the rest of the set, and a million Wix filters.
I've been working on my own AN/Stainless Line Power Steering Kit with an inline Cooler recently, and I'll be sure to post up pictures. I'll be getting the materials for a few sets to see if there's any interest out there for them!
I'll update this later with pictures.
5-29-2012
I've been holding back, as I really haven't worked on the car much.
Here's summm to hold yah'll over.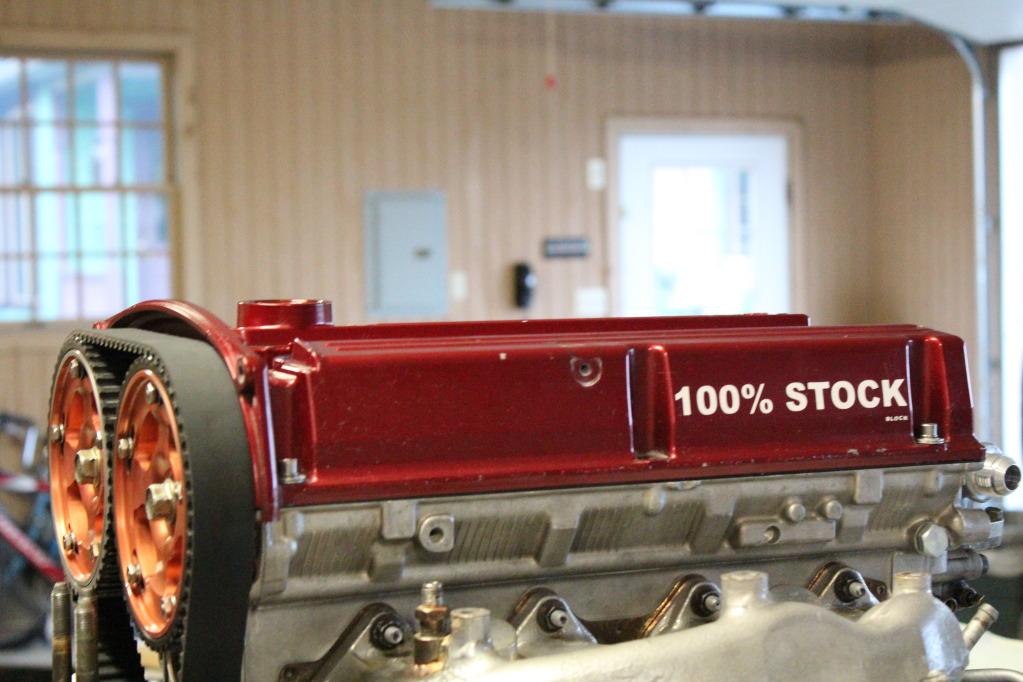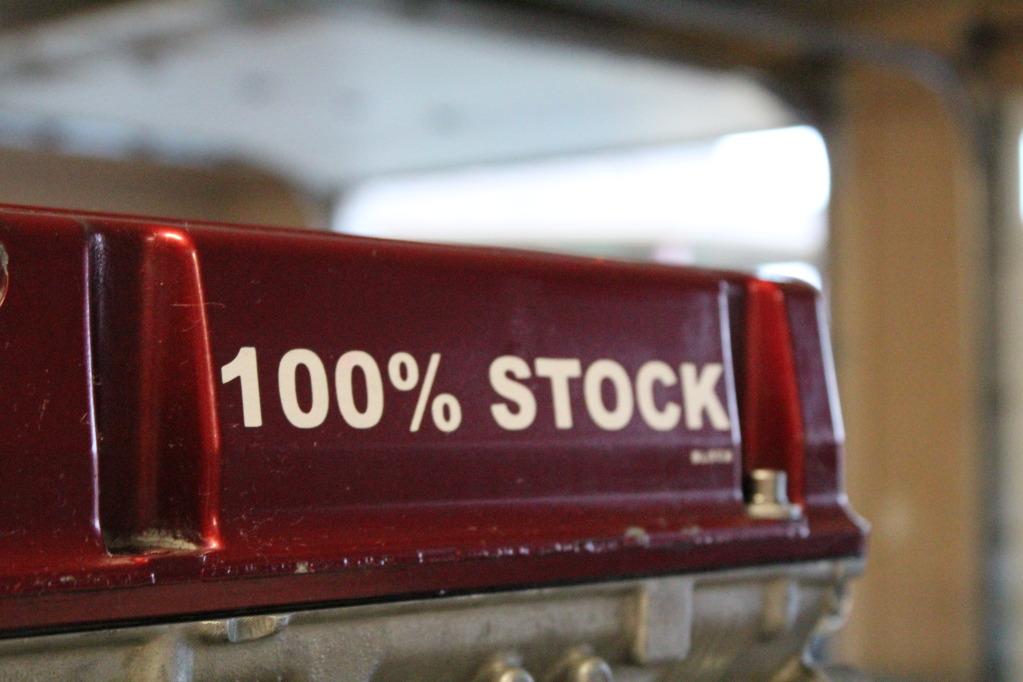 I've decided on a color that should go very well with the engine bay: Wrinkle Plum.
http://www.liquidpowdercoats.com/gal...ple/index.html
One of these days I'll get some work done and get this on the road. I'm in no rush any more.
6-3-2012
Some updates!!
Timed the motor and got some accessories on: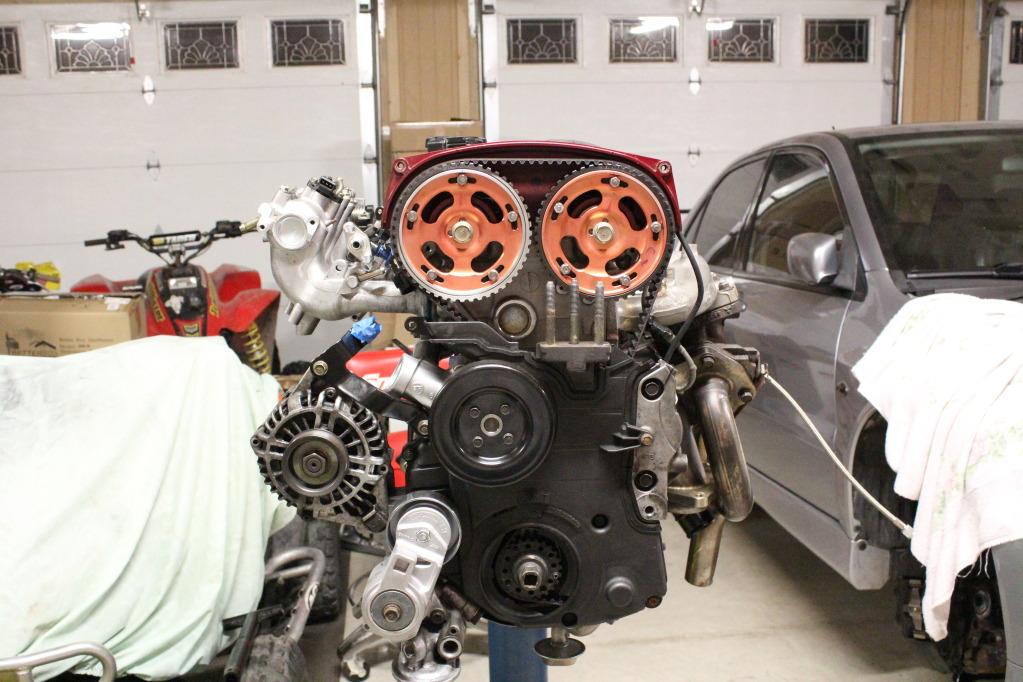 For those using a water pump spacer:
Check out how close this water pump bolt is to the timing belt. It was nearly touching on my car so I trimmed the bolt head down.
Some pictures of this: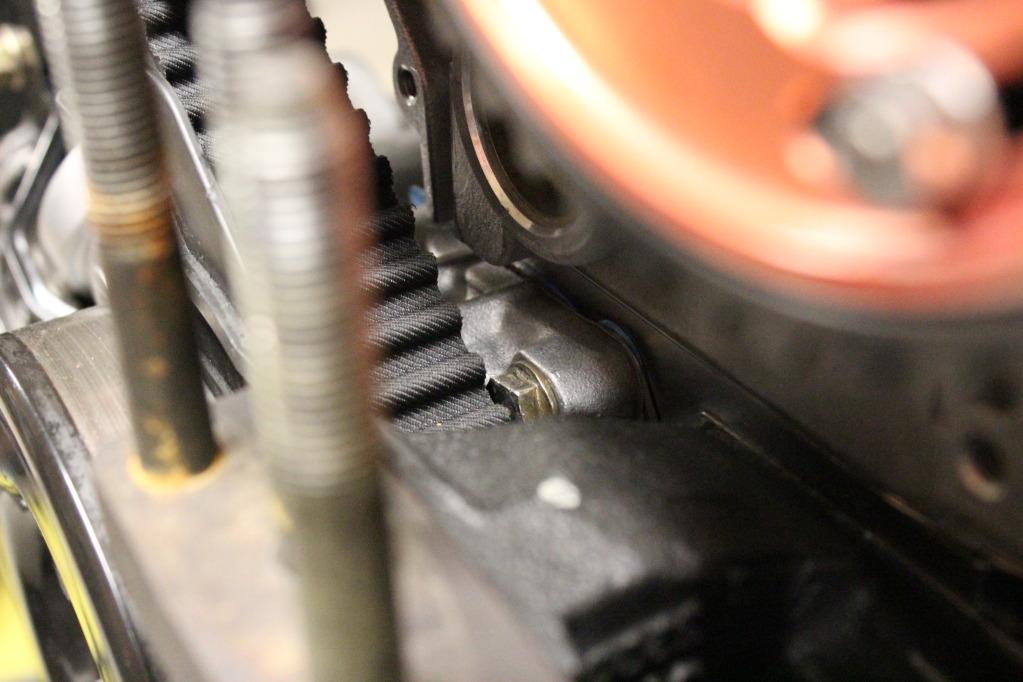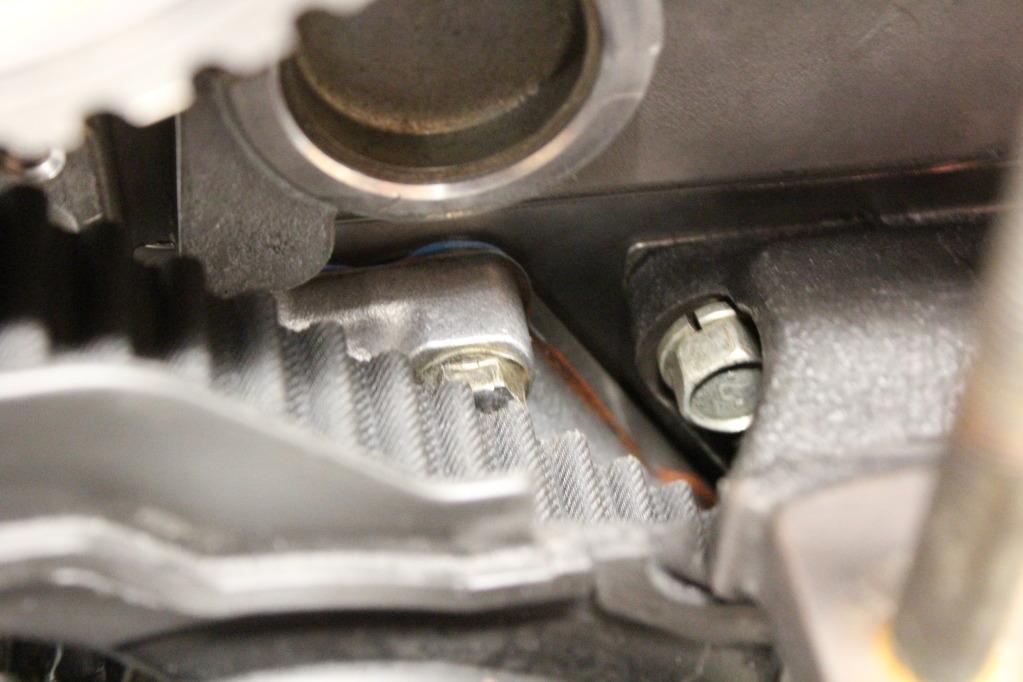 Finished assembling the Longblock and dropped her in the car!!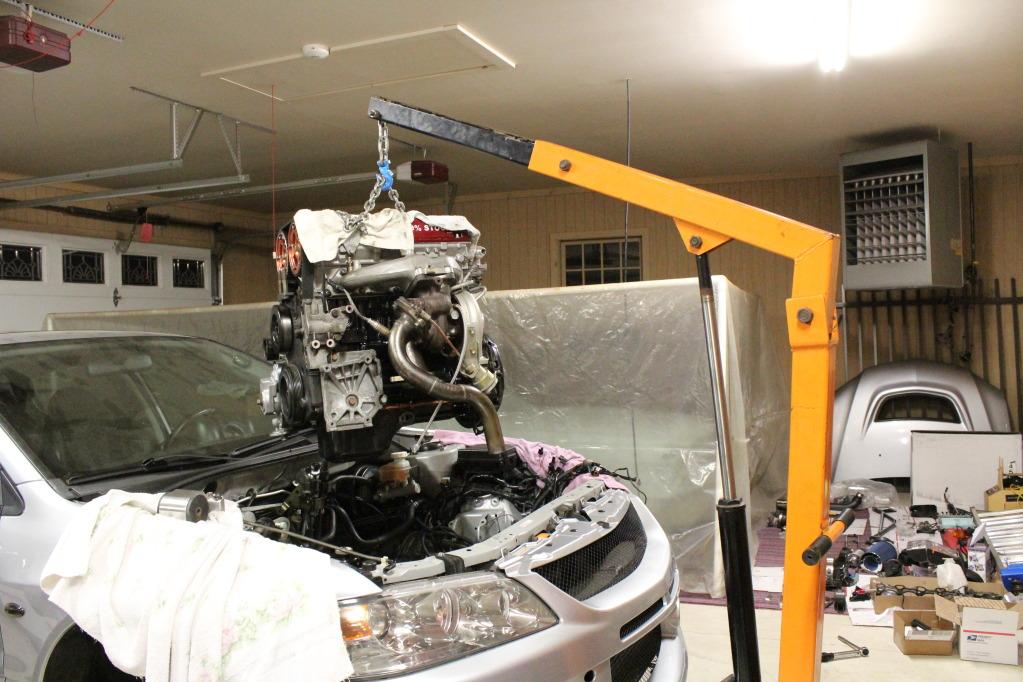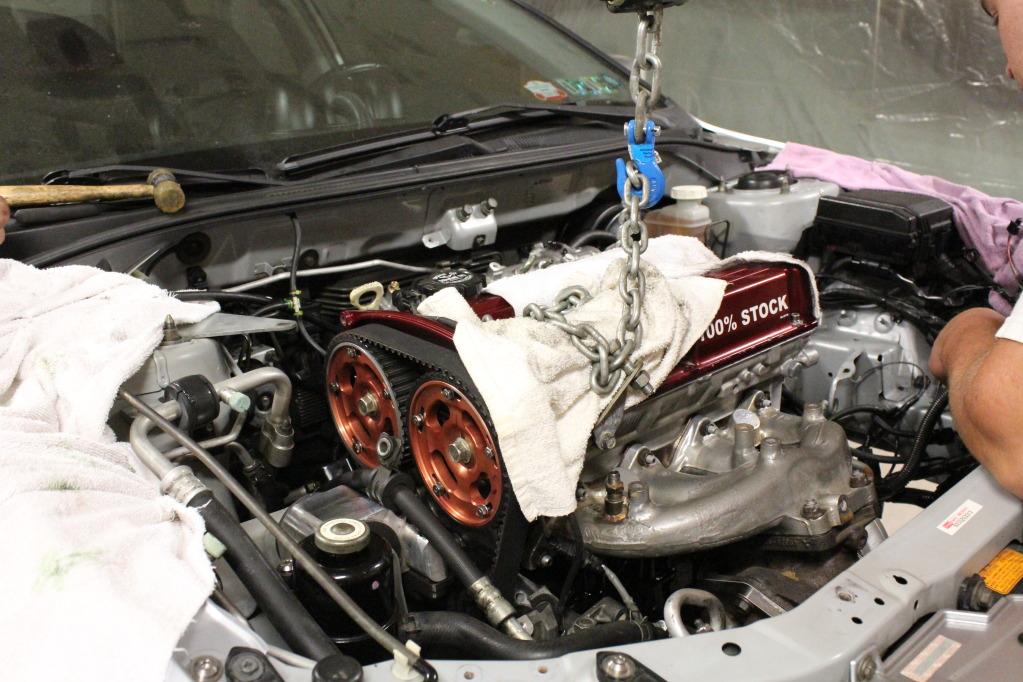 Got my Shep Stage 2 Trans off of my Mivec Longblock! Since the TOB wouldn't release we got it off by removing the bolts on the pressure plate.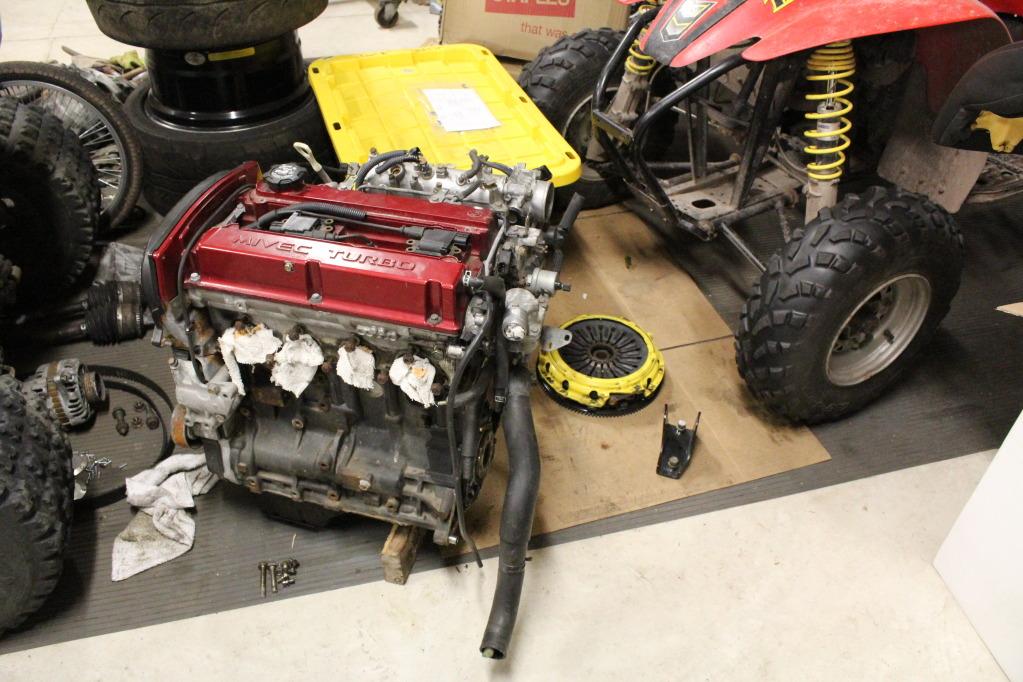 She's in her new home: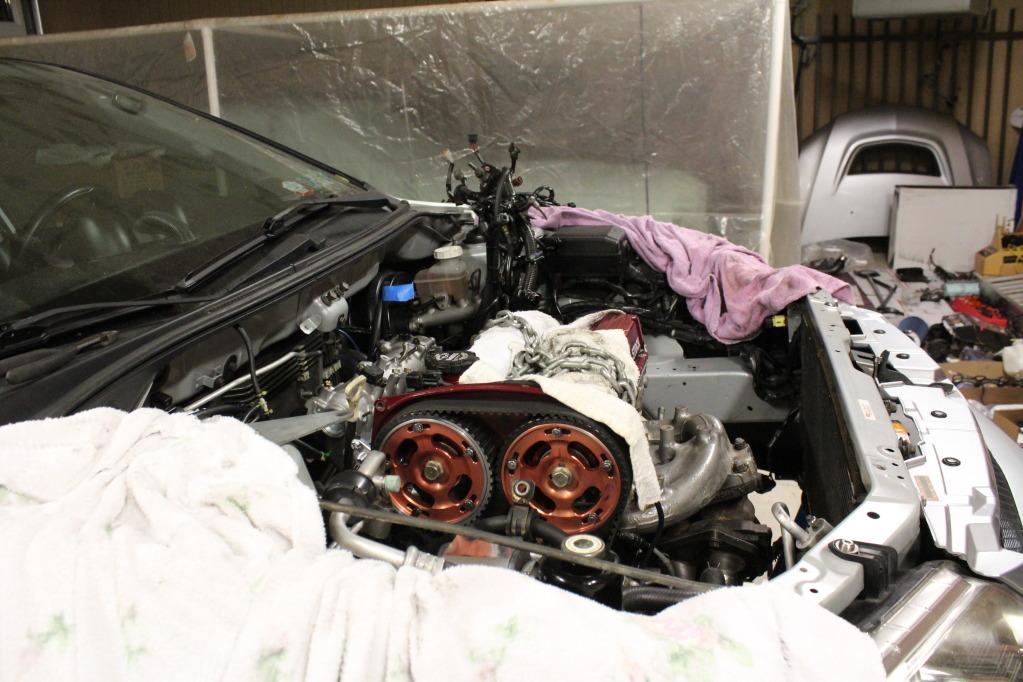 Clutch in! (Take note to my monster turbo peaking out).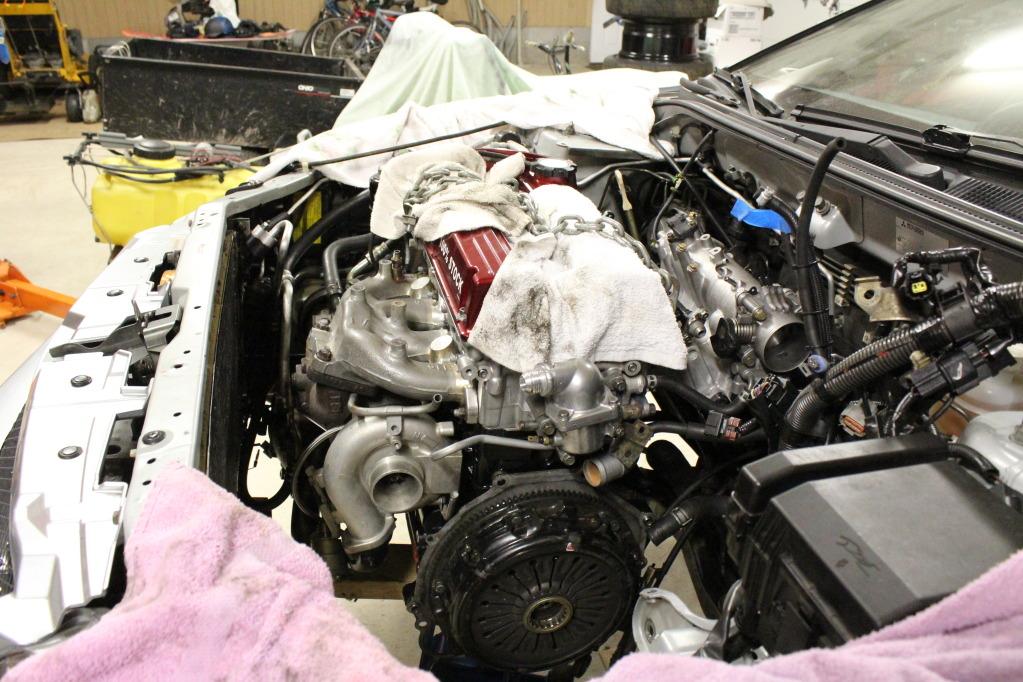 Avid Solid Motor Mounts made everything a pain to get right, but finally, all mounts are in and torqued, along with the bellhousing.
Trans!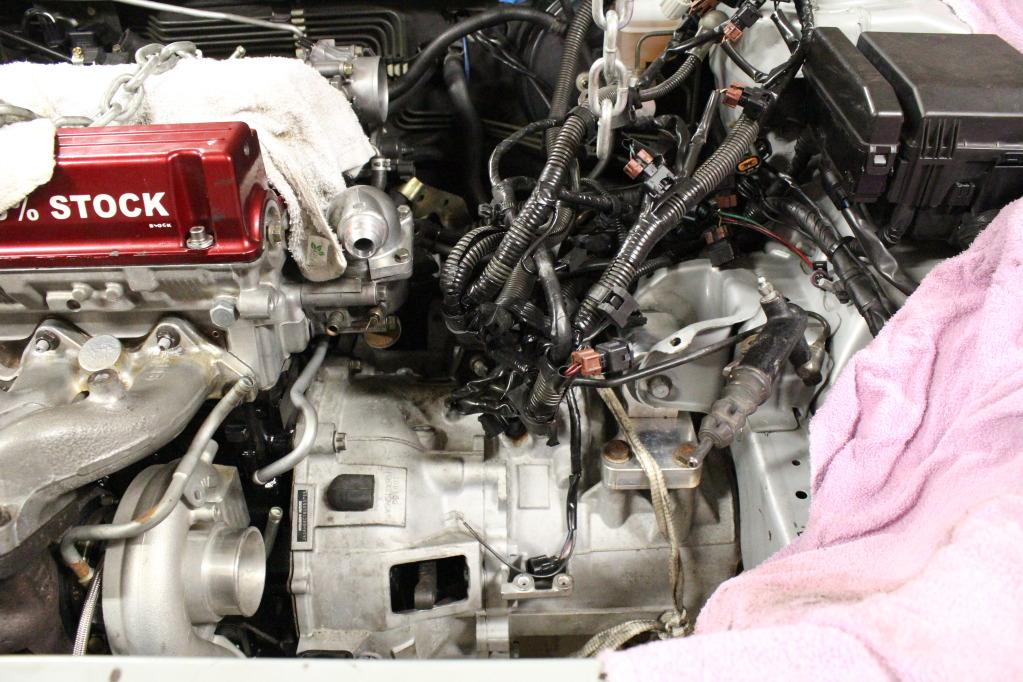 Tomorrow I'll be finishing up everything.
-Wiring
-Mounting AFPR
-Mounting Catch Can
-Power Steering & AC
We're nearing the finish line!!
More progress!
I first plugged in the harness. Everything went well, however, I have three extra plugs because I deleted my EGR junk. I'm going to snip them and delete them properly. I also plan on tucking the injector harness. Does anyone have any advice on that?
In this picture, I also test fitted my Catch Can and Intake. I'll be mounting the CC as it's seen in the picture, as this I feel this is the best place for clean line routing and is conducive to the aesthetics in the engine bay.
Routed my Oil Feed Line (Take 1):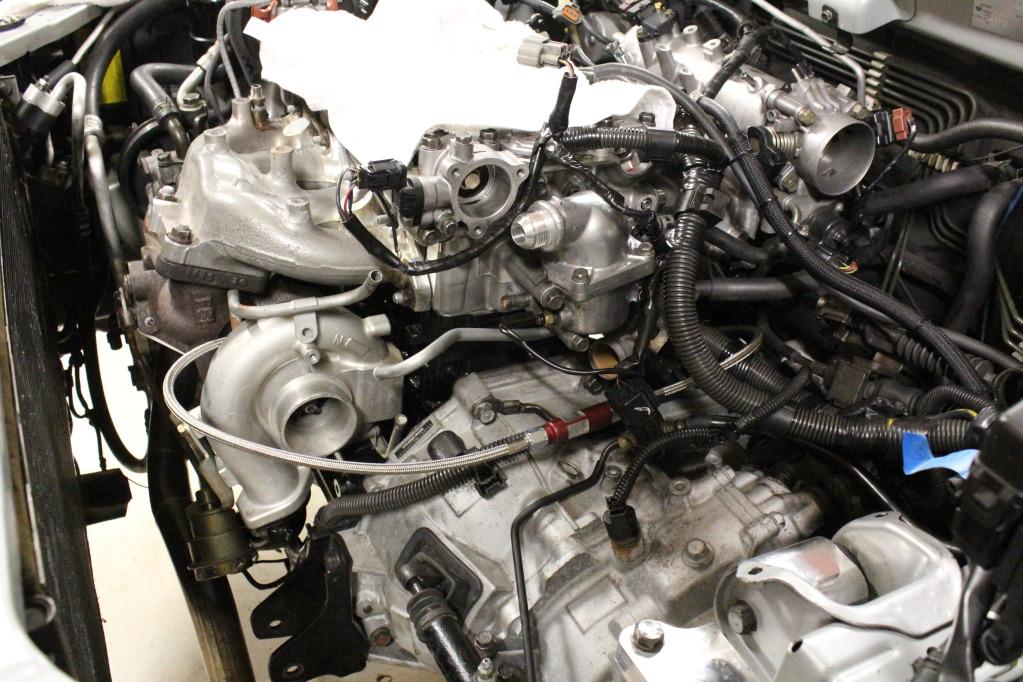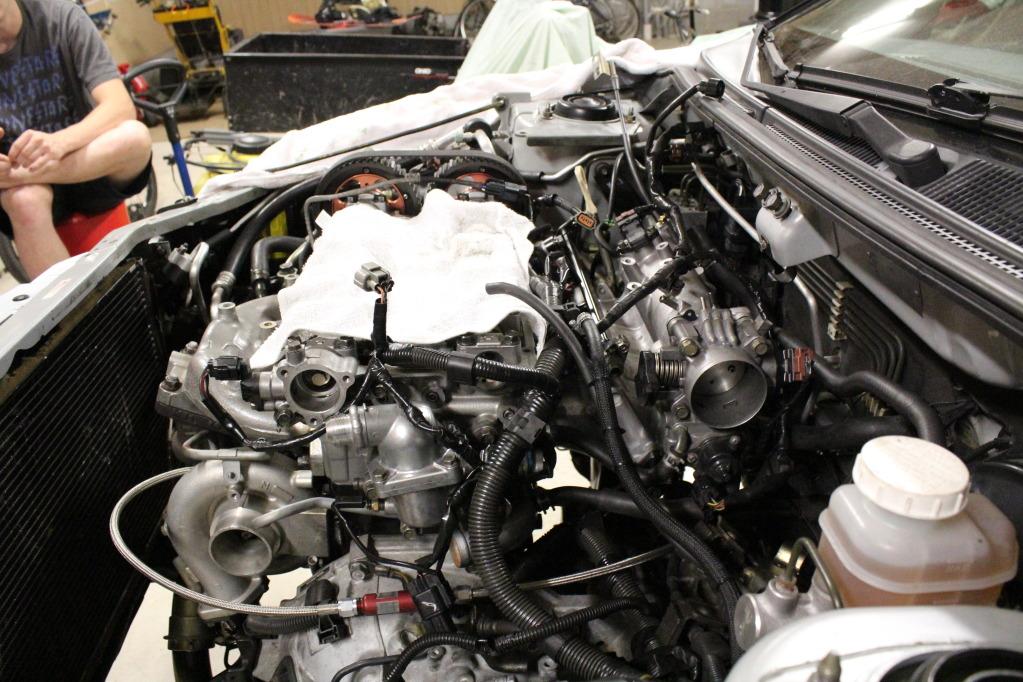 Routed my Oil Feed (Take 2). This way was much cleaner. I still have to clamp the line down, however, I feel this routing was much more effective than any other possibility, as I tried them all.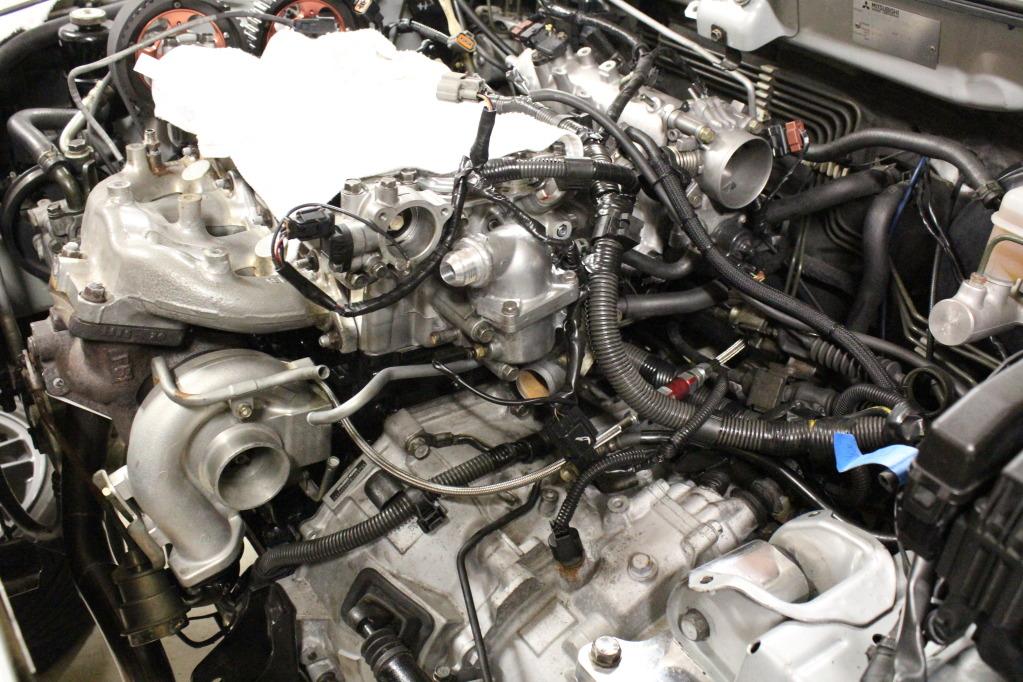 Ran into about a thousand issues, though.
A) Dump tube is bent and hits the front lower motor mount and the radiator. I took it off the parts car, and it was literally one of the only parts to take any impact. I'm going to heat it up tomorrow and straighten her out.
B) I'm using an Evo 6 Rad so my upper coolant hose lines up with the thermostat housing. Unbeknownst to me, the stock IX fan I have doesn't fit on this radiator. Also, the rad is far too thick for my taste, so it's up for sale with the -12AN line on it, and I'll be picking up the CBRD Slim Rad w/Fan, which I should've done from the beginning.
C) My UICP was completely off. I think Jim just gave me the wrong lower piece, as it was like 4" off or something ridiculous, and wasn't even close to fitting. I have a stock placement Nisei FMIC and had ETS pipes on it before so I think I simply have the wrong piece. However, since he's 10 minutes down the road, I'll swing by tomorrow and see what he thinks.
D) I have about a million fittings I need to order to complete my catch can install, so it may be a week or so before that's powdercoated, tapped, and on the car.
With the aforementioned delays, I'm expecting to start the car in about two weeks, being optimistic about the situation.
6-5-2012
I have a heck of an update. I decided to do a wire tuck... I'll be EvoM's first to do a writeup on it so you all can accomplish the simple task with some guidance.
But before that:
I got my Energy Suspension Bushings pressed into my LCA's, which I just happened to polish: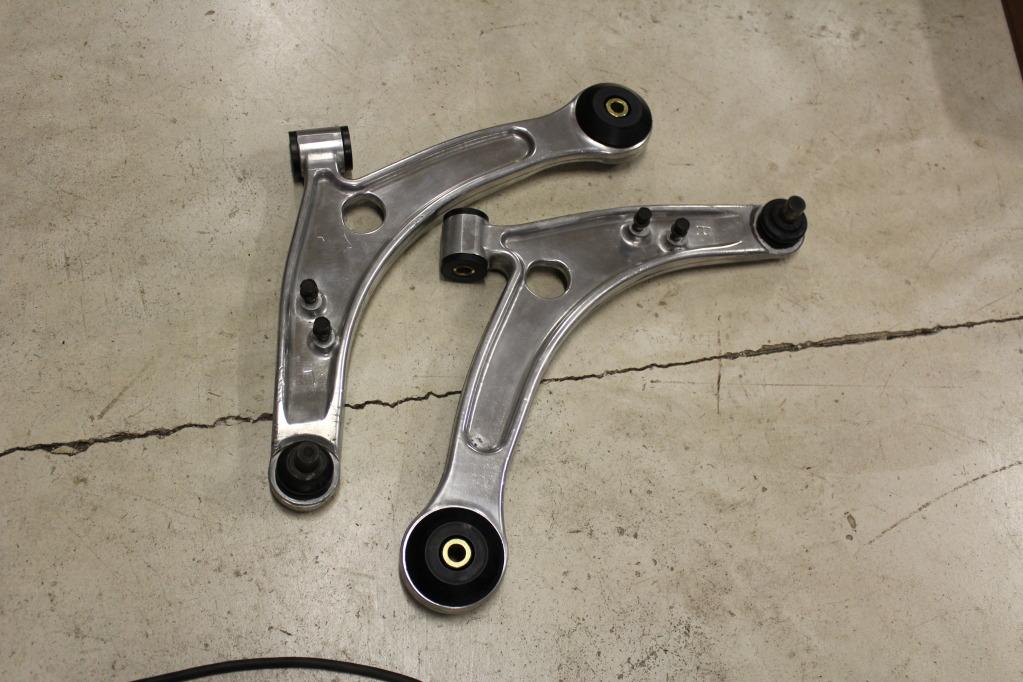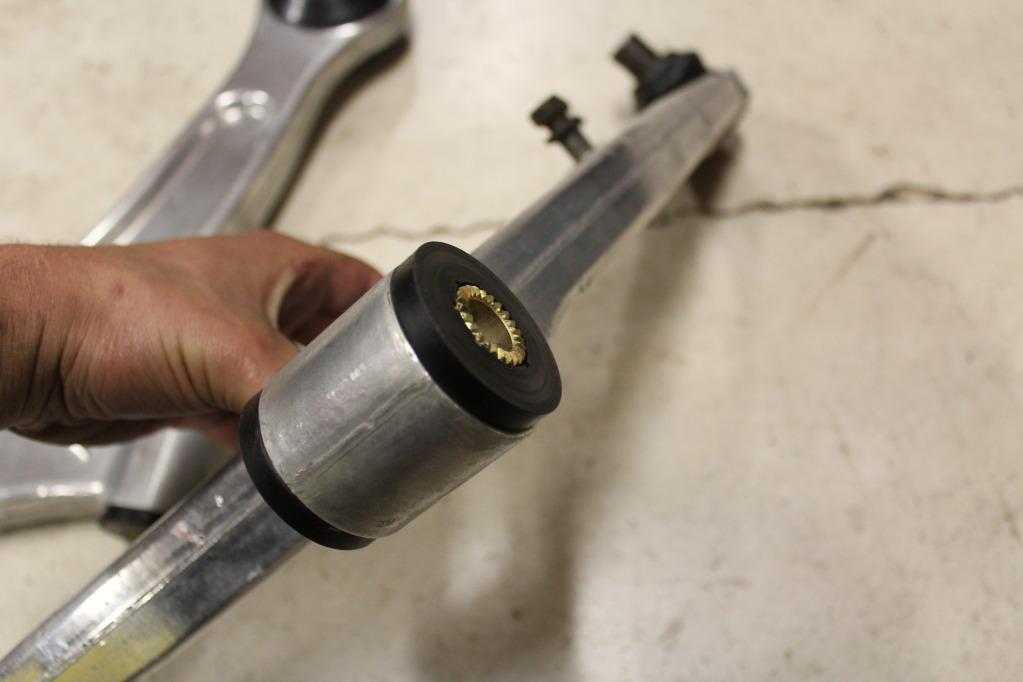 I went a little crazy with the Vibrant stainless T-Bolt clamps. I'm sick of couplers flying off to say the least.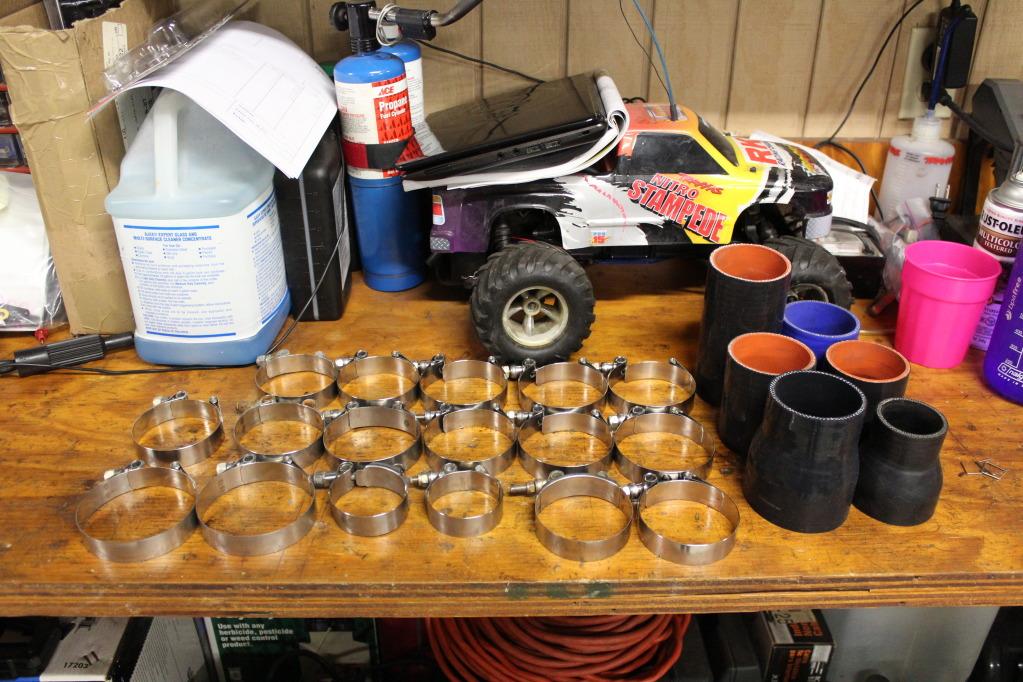 Oh, and I sanded/sprayed my LICP a textured graphite grey: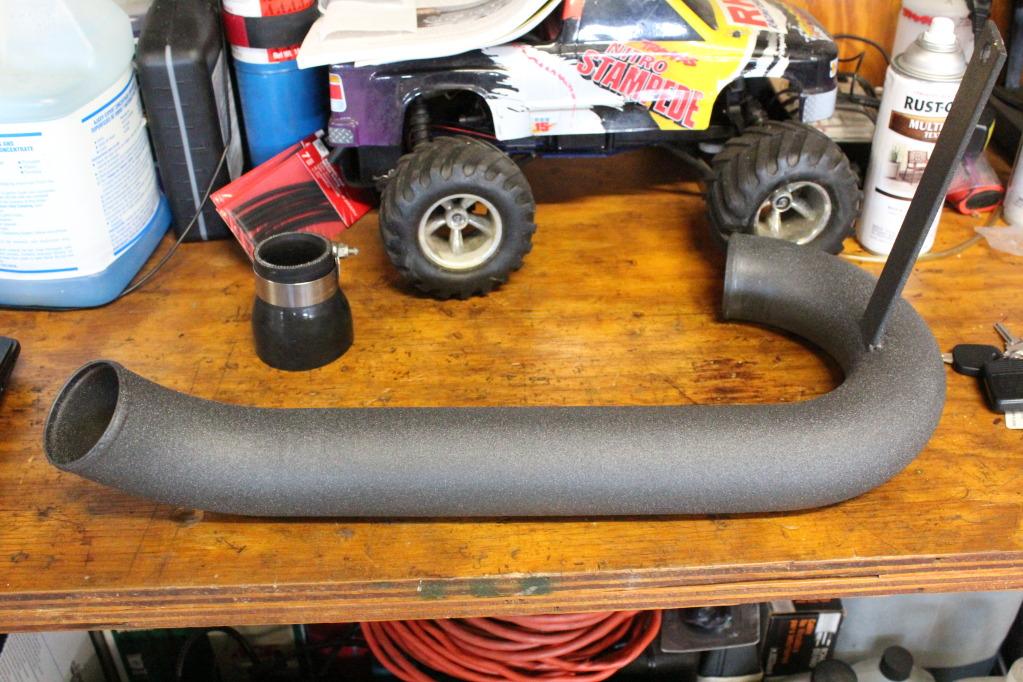 Now for the wire tuck.
First, my soldering station: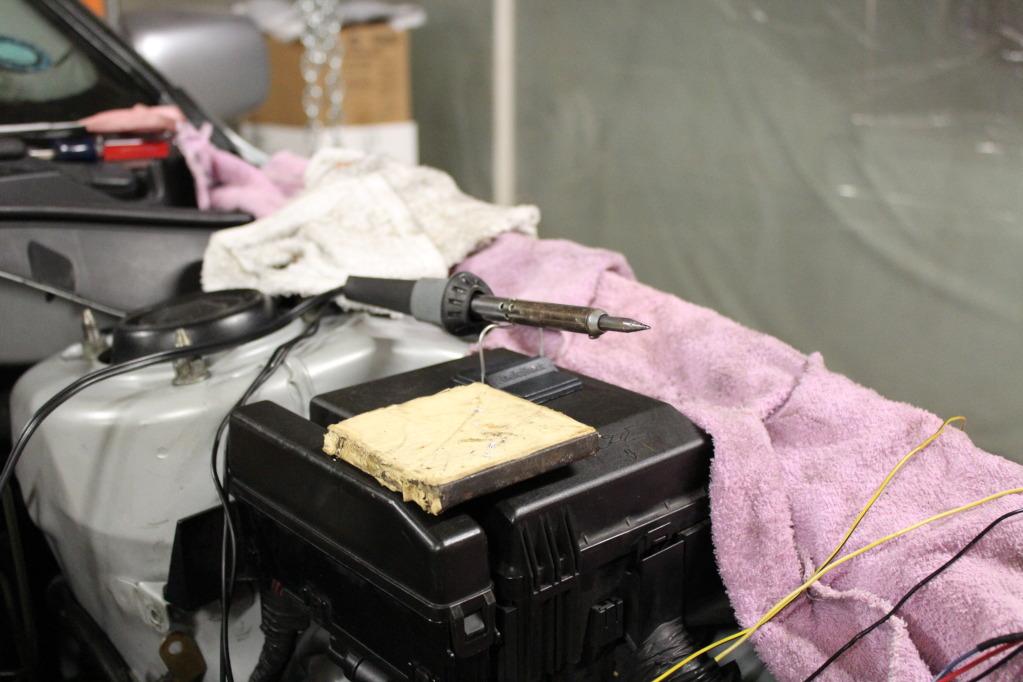 The first step in this is de-looming all of your wire: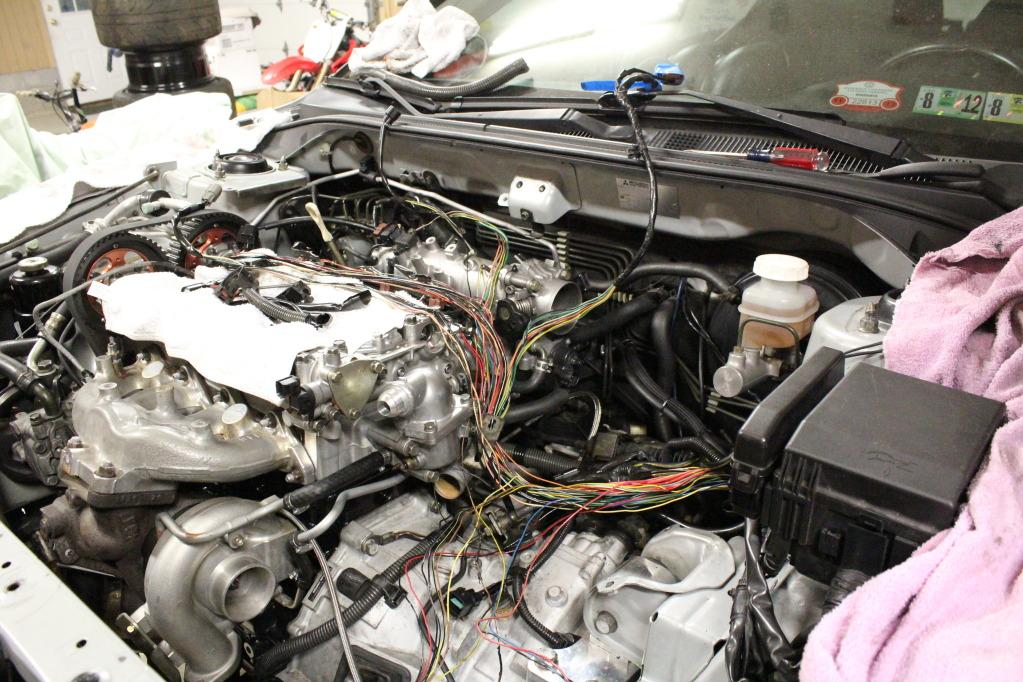 I had a drain in my car before and I could never find it. I then discovered this wire, which was completely burnt and bare. It was the ground for my passenger side coil pack plug.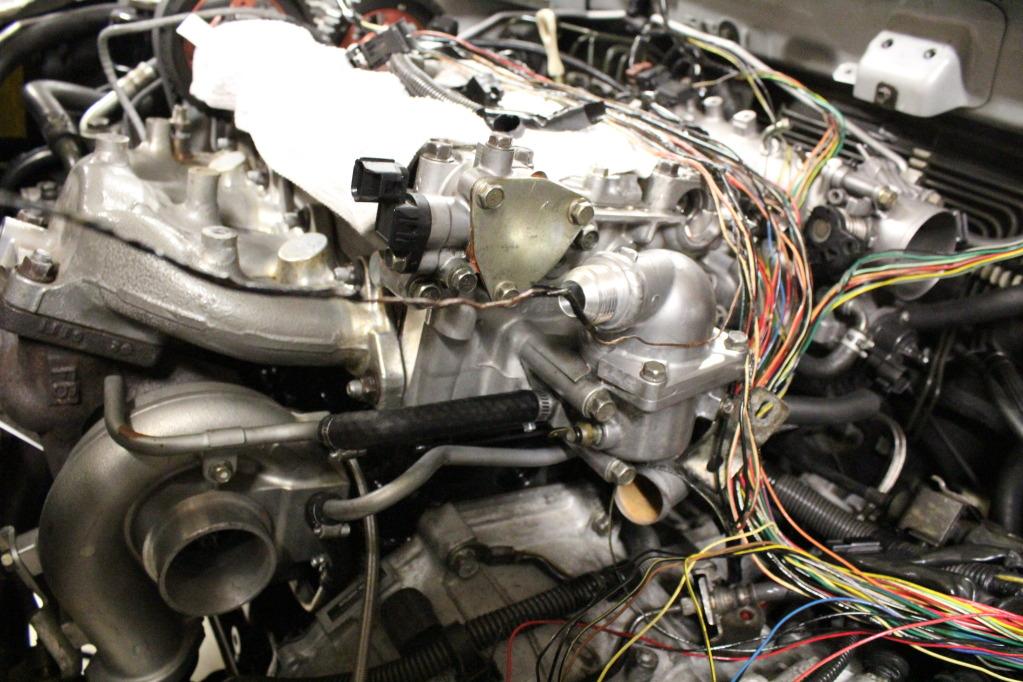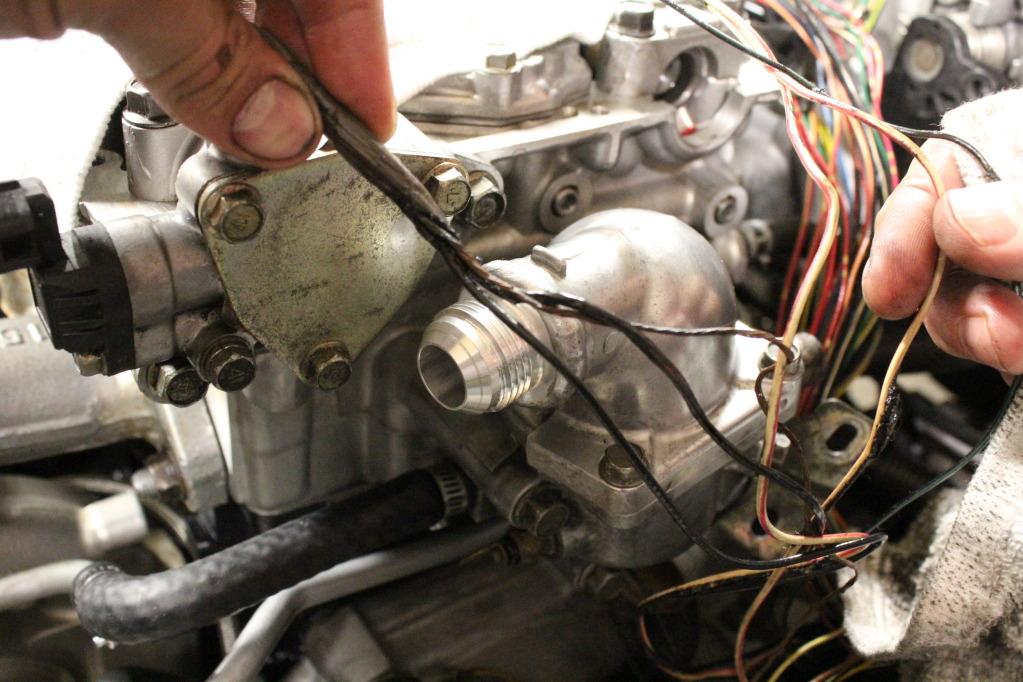 Some more de-looming: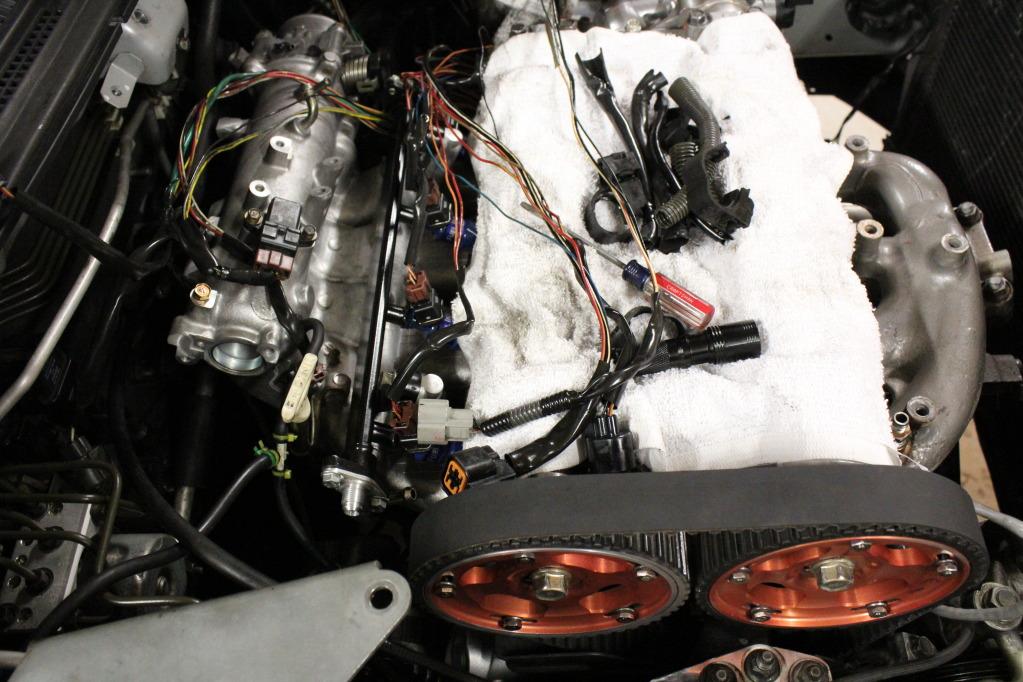 Taking pictures just to know which few plugs work best when routed together: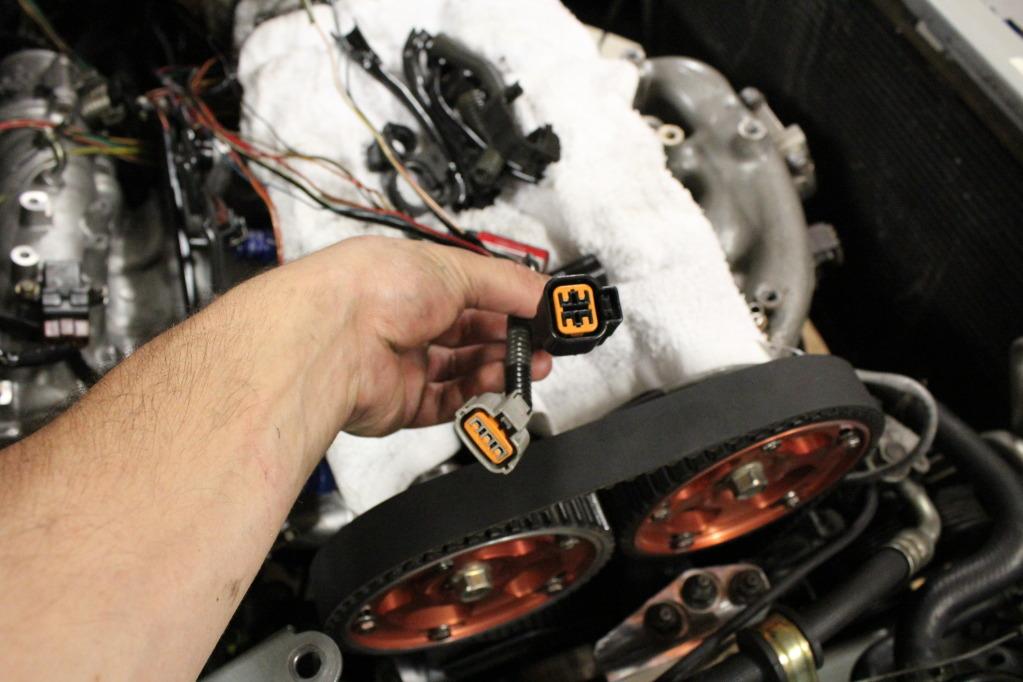 The three EGR Plugs you (barely) see on the far left I wanted to delete and shrink wrap off, as I'm not using my EGR system any longer.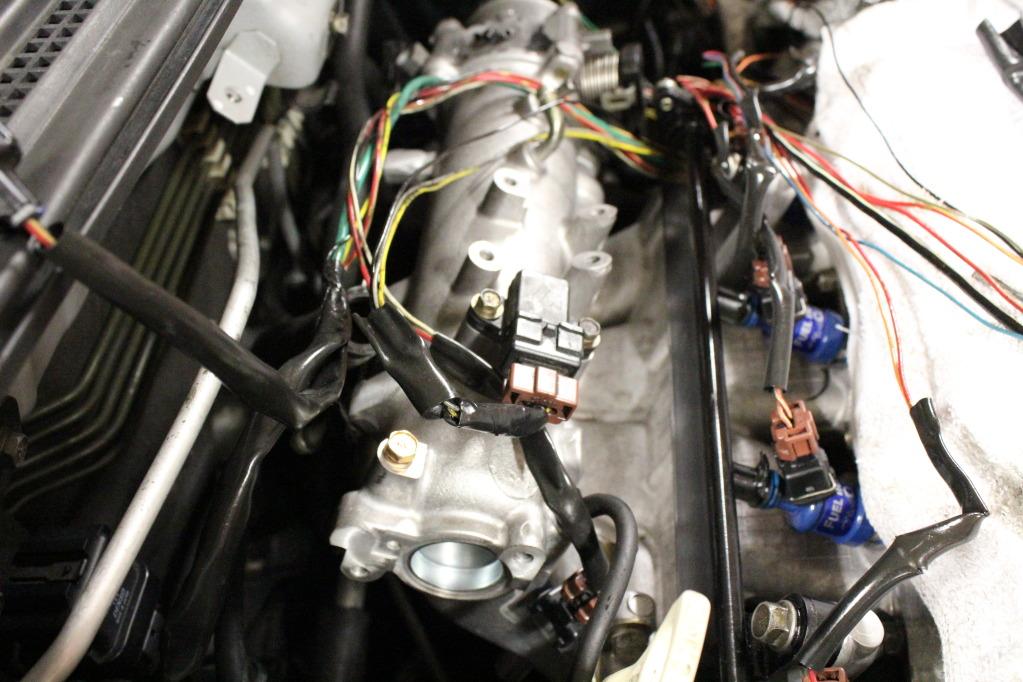 Done: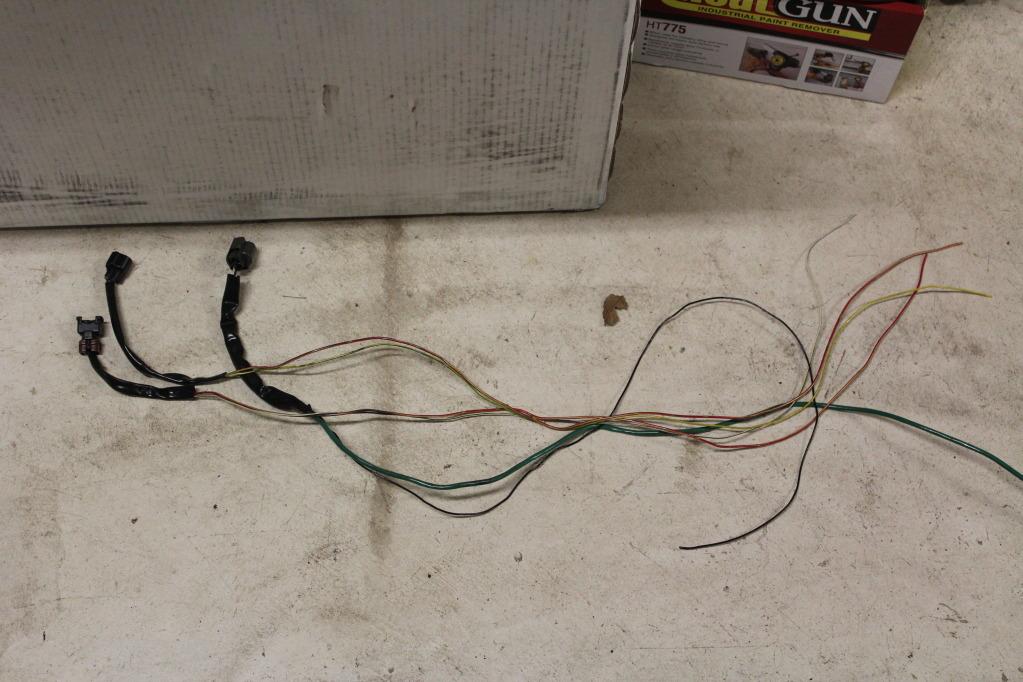 Starting to organize each plug's wires separately so I can individually loom them: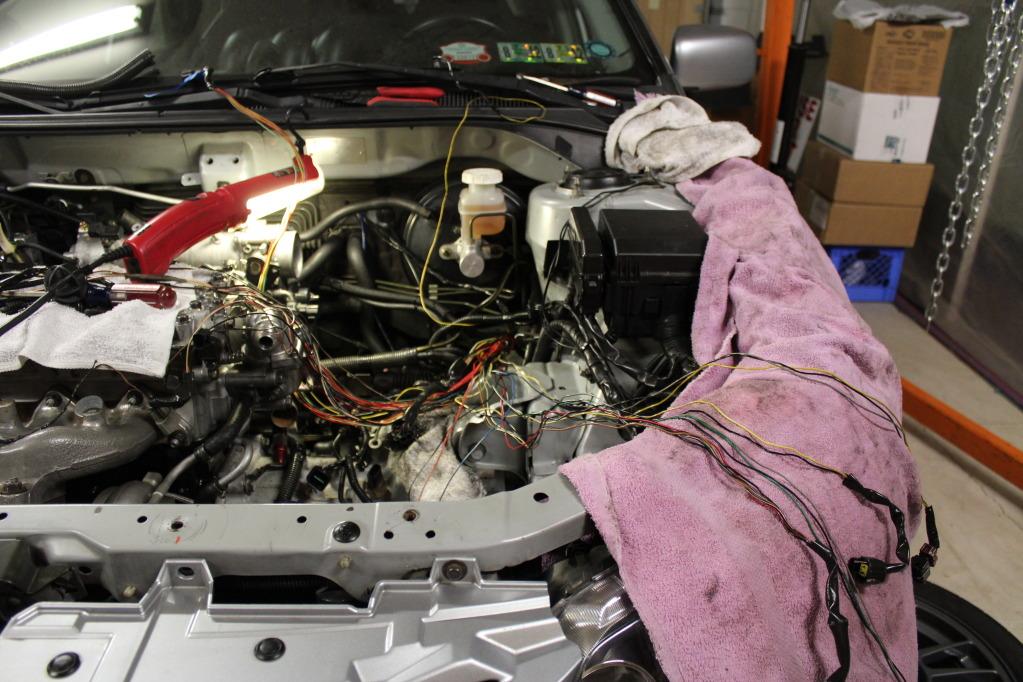 Uncovered my battery relocation piece: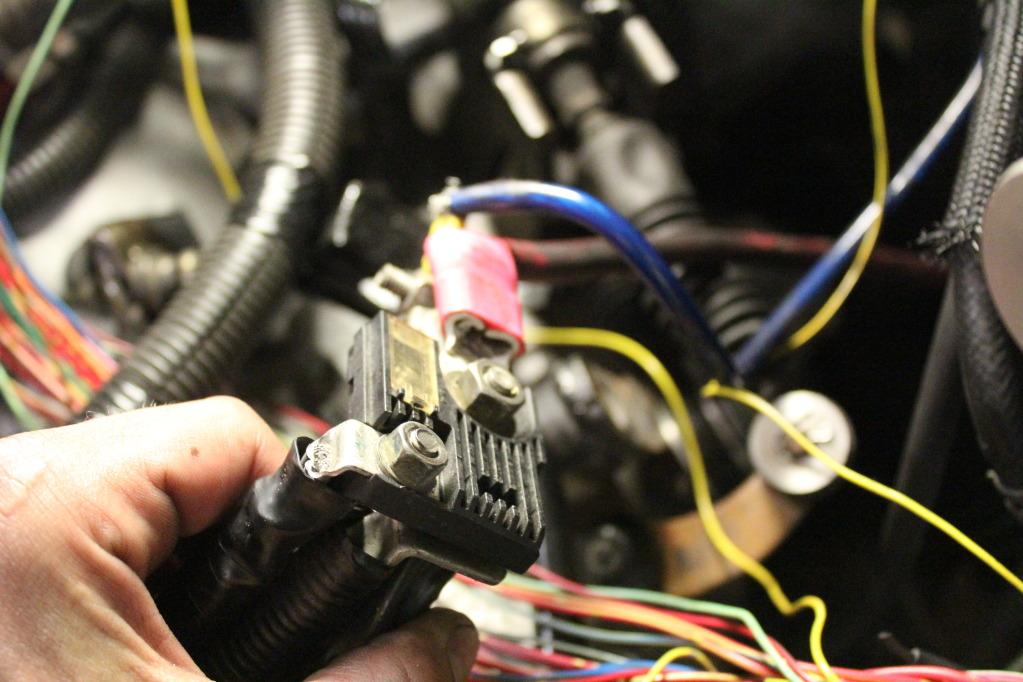 Getting more organized: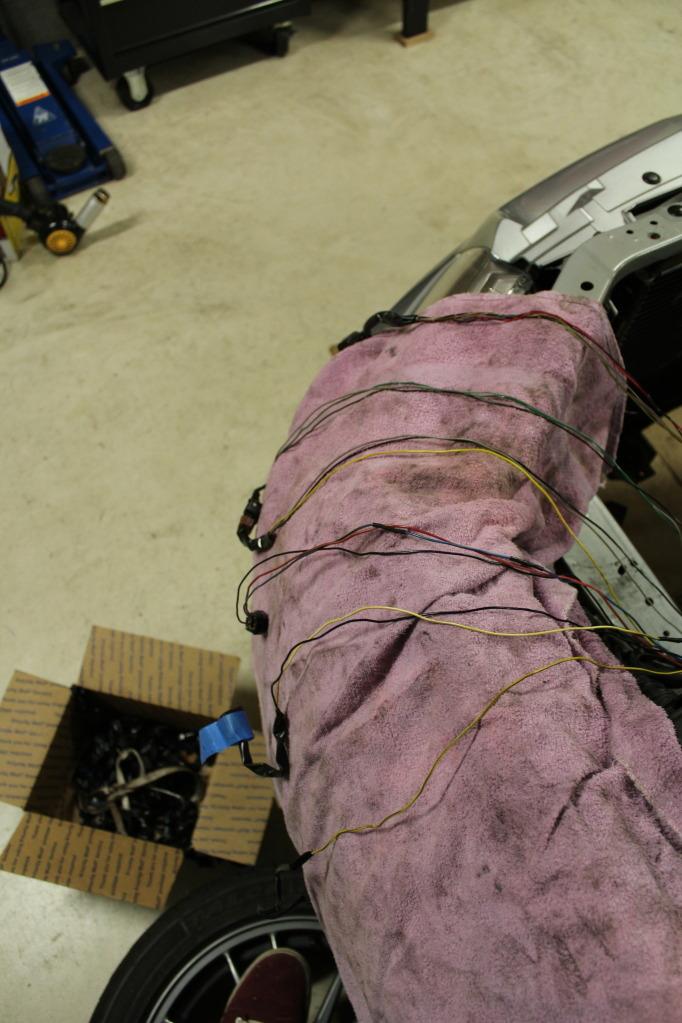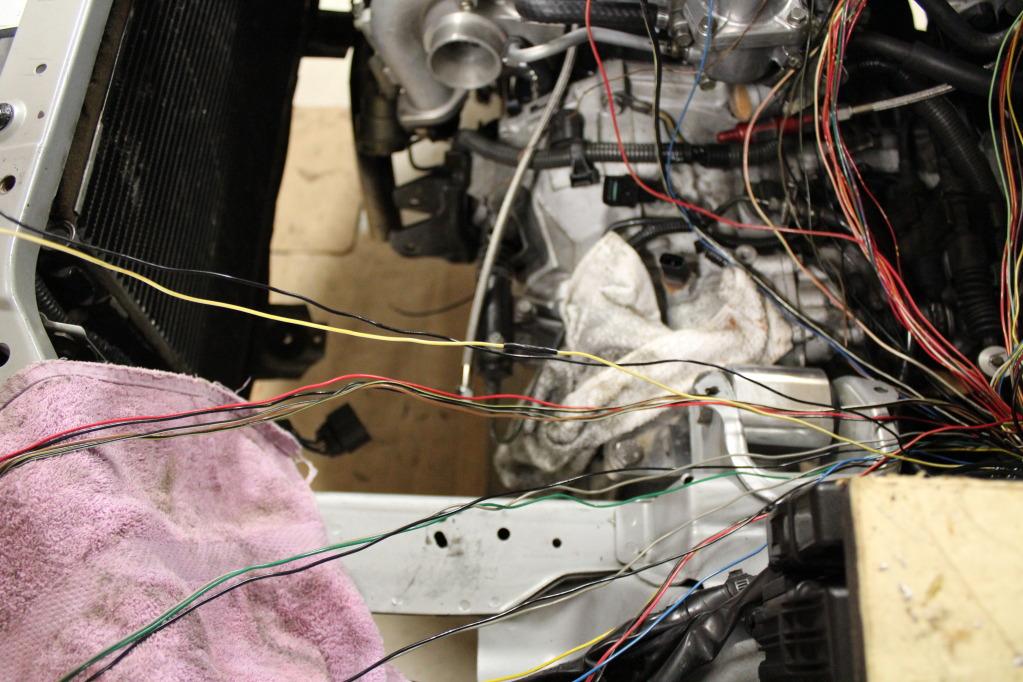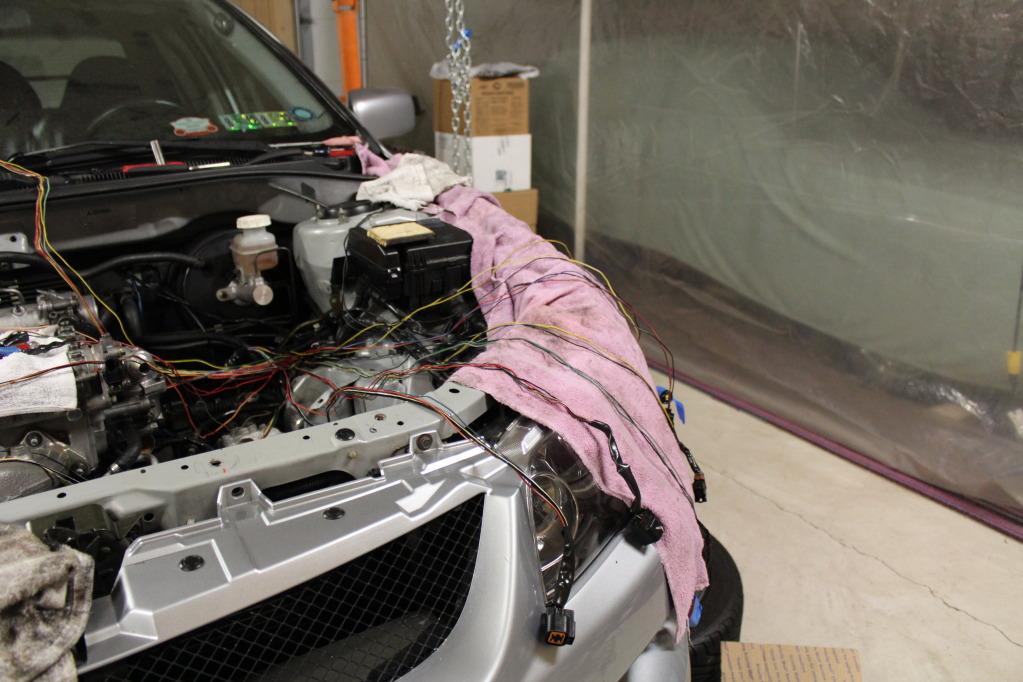 All separated: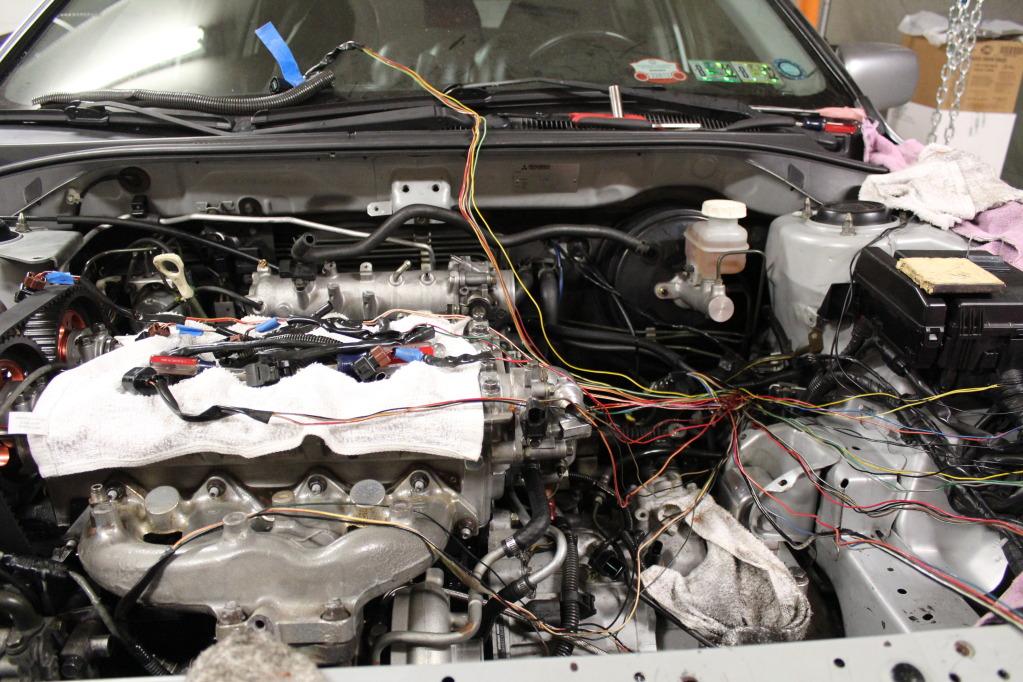 And a close up: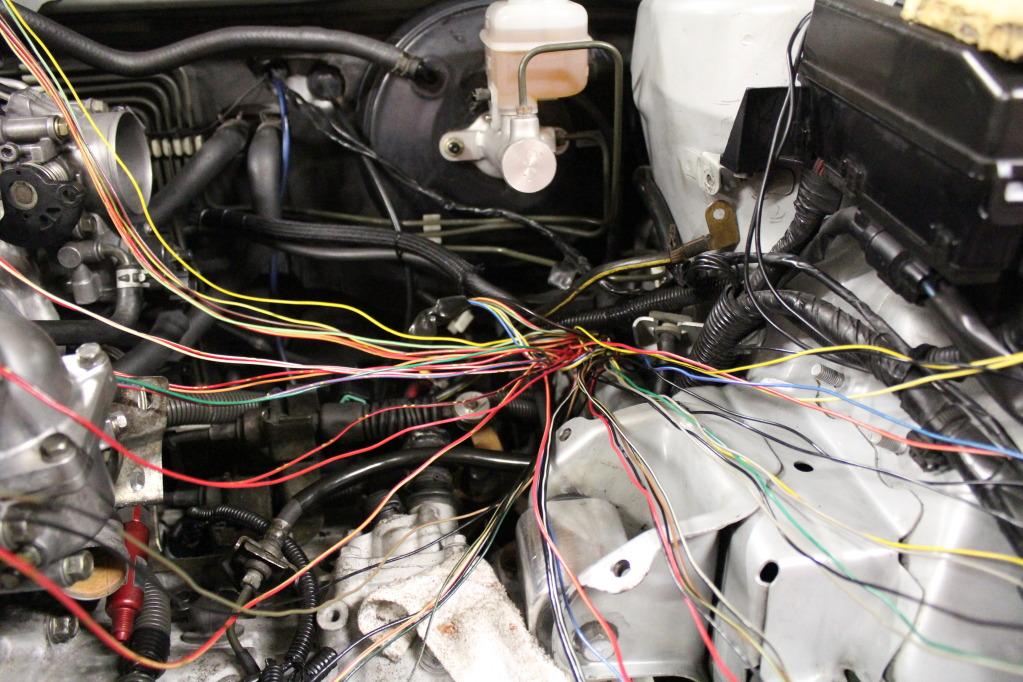 Believe it or not, to separate each plug you only need to cut two wires.
There's a blue wire and a yellow wire that screw up everything.
The yellow: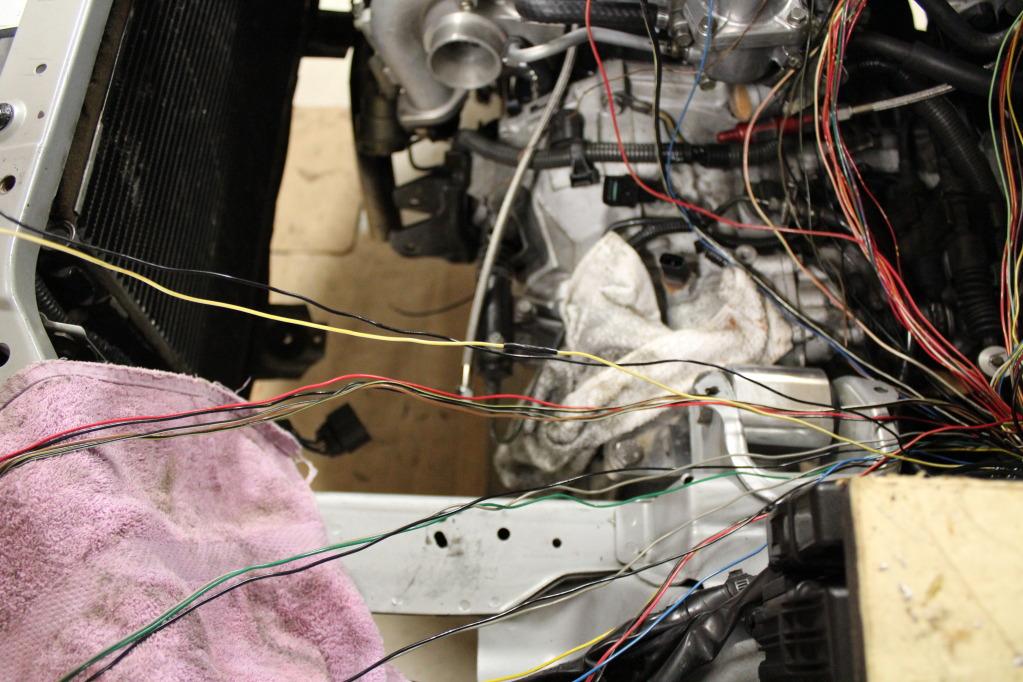 The blue: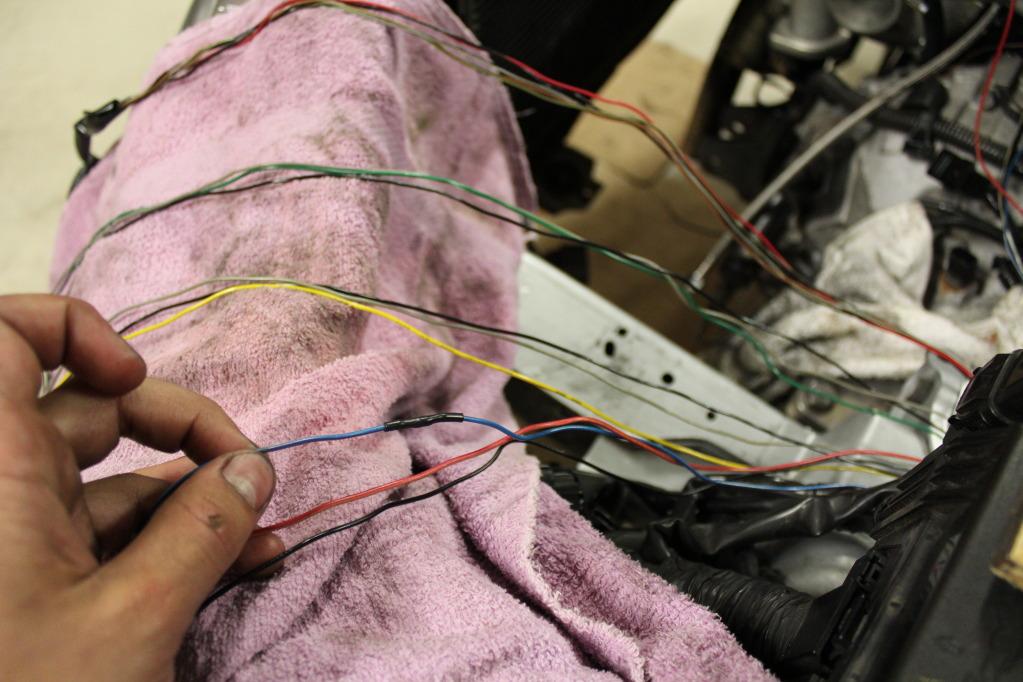 Cut these, and while they're cut, re-route everything so that all looms are individually free from the source. Then, you're good to go!
I'll be picking up loom tomorrow and will route everything and cut it to length, and update with final pictures.
6-6-2012
I worked on the harness a little tonight.
I thought this was hilarious. A 3ft wire that literally only needed to be about 8".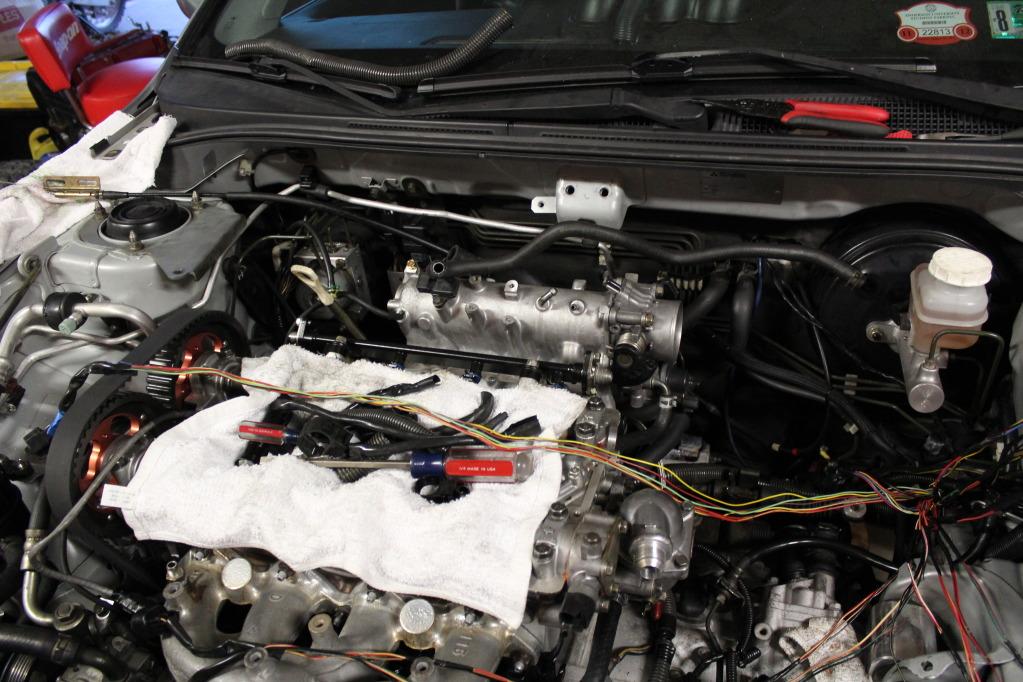 I first ran each separated harness in their "hidden" locations.
Injectors: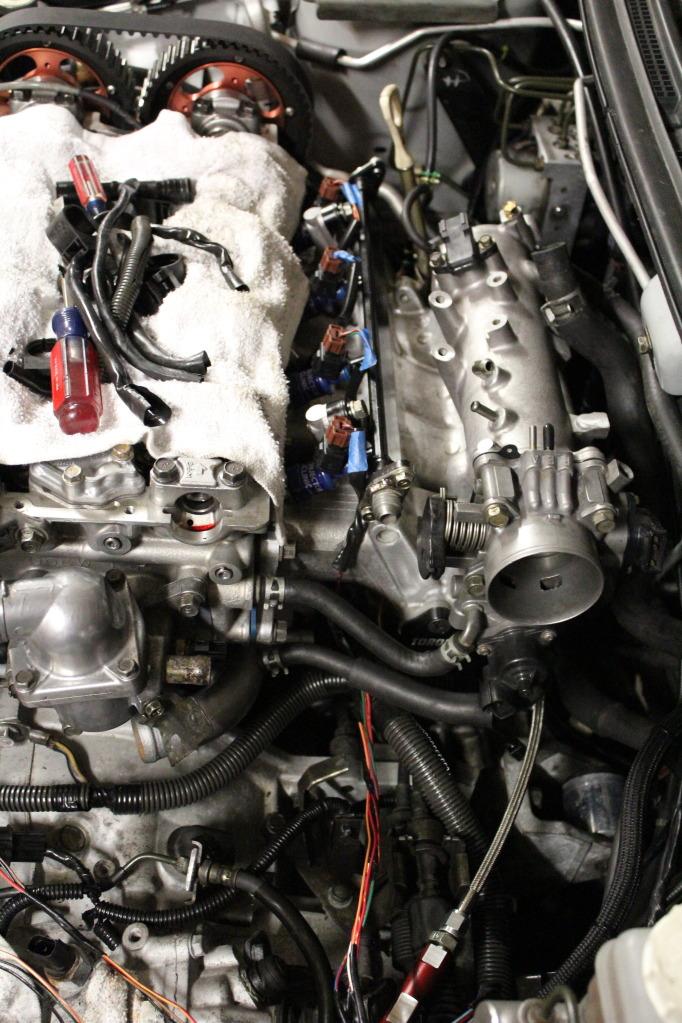 CAS: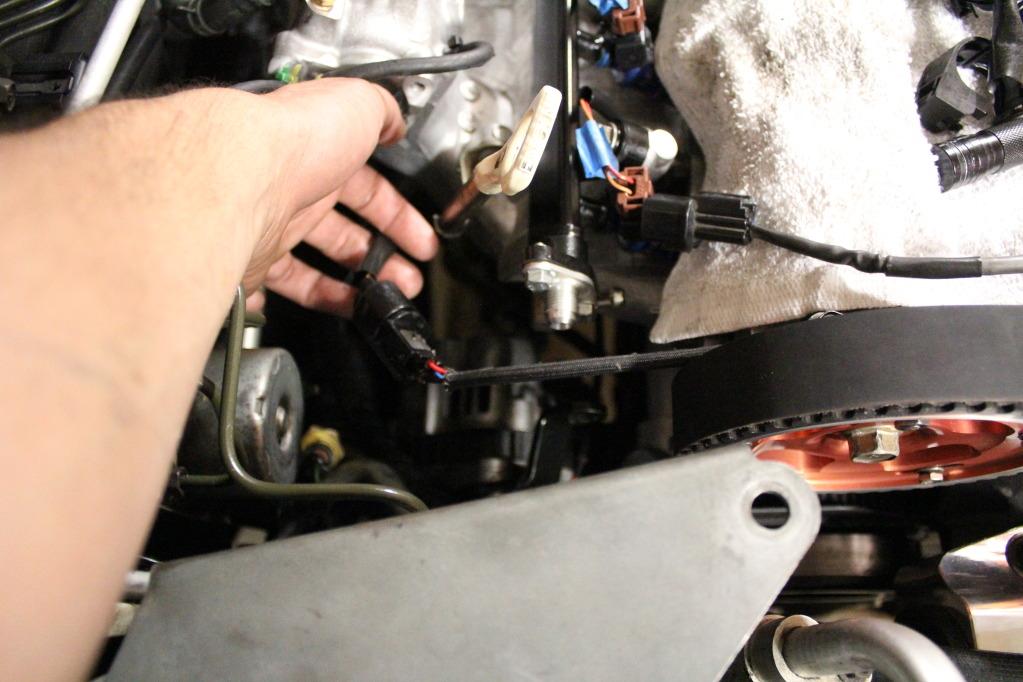 MAP Sensor: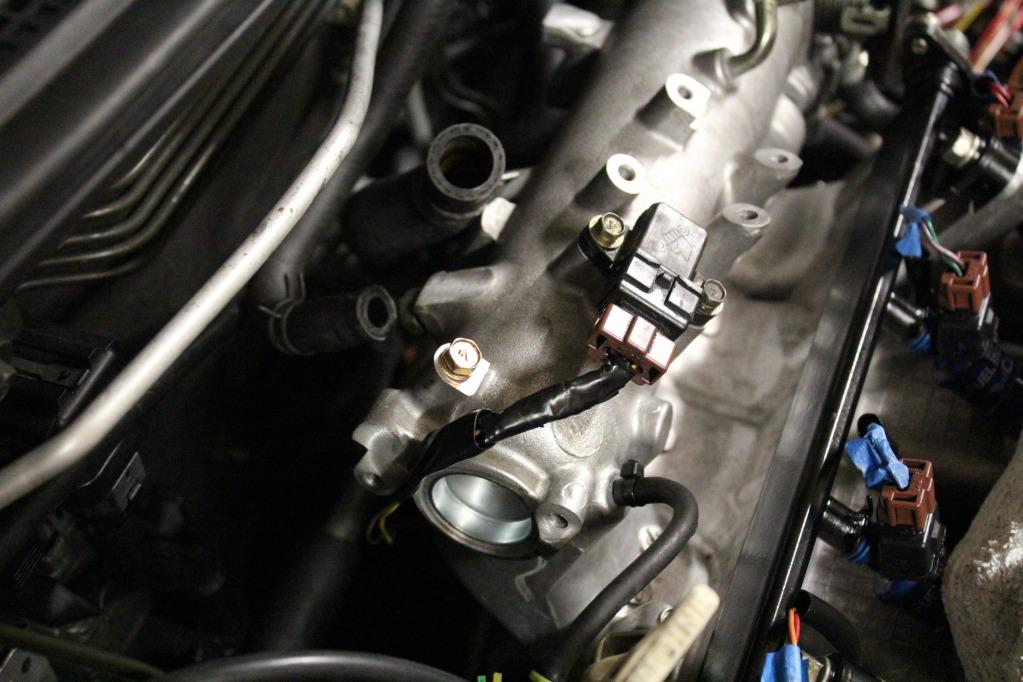 02 Sensor: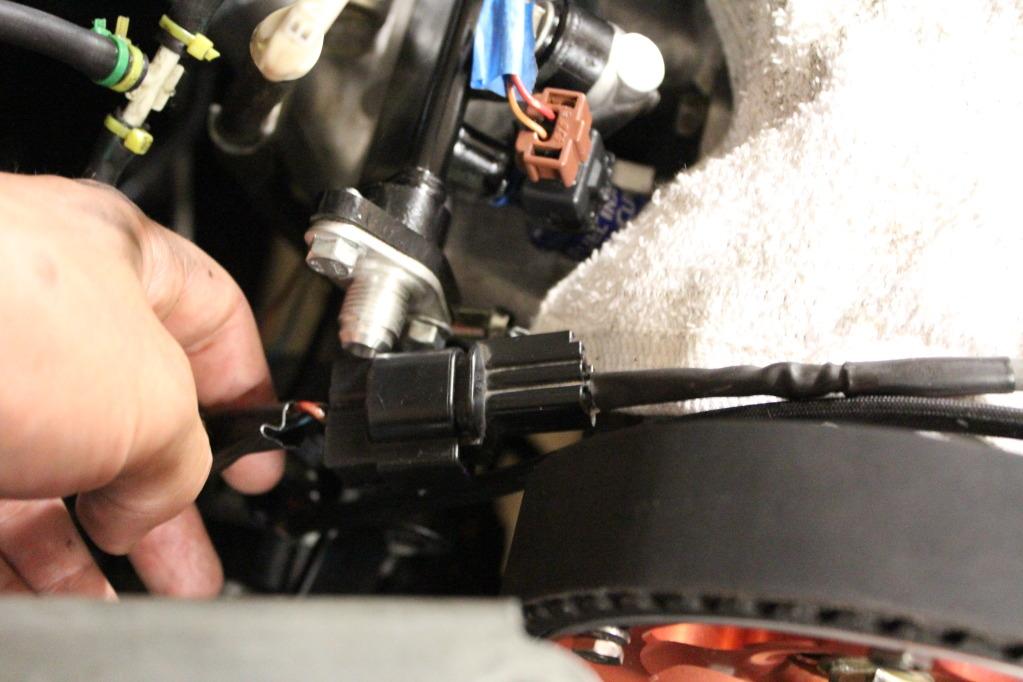 In doing this, I noticed there were three plugs that were WAY too long. Because I don't want to cut any wires for reliability purposes, I chose to neatly rap up their excess and place it in the main harness. It really helped clean everything up without cutting anything.
One plug that was far too long: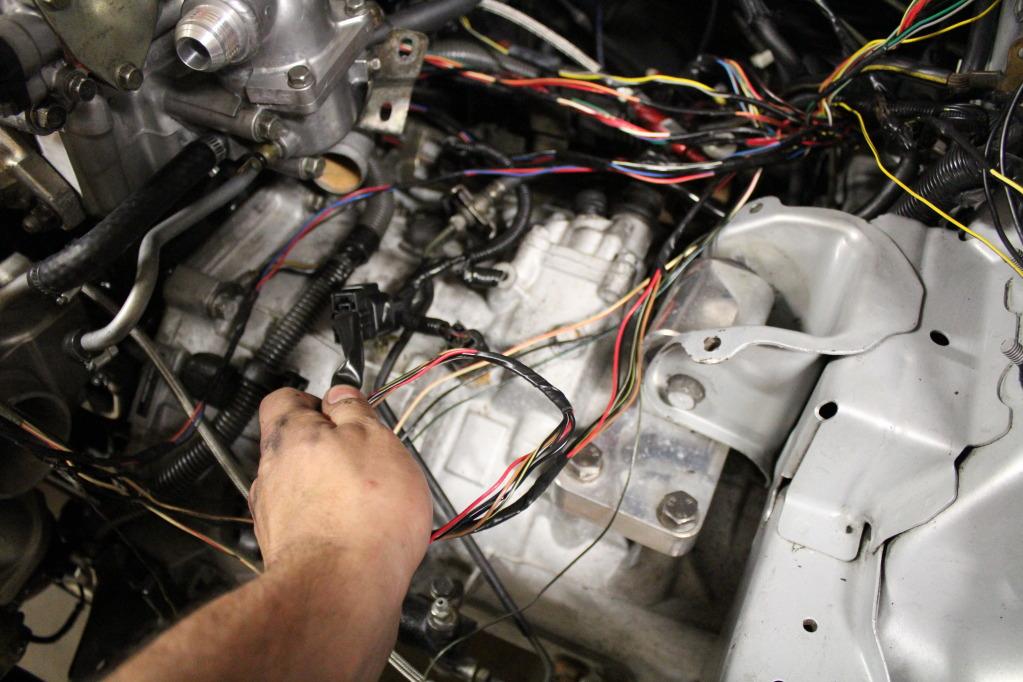 And the other two: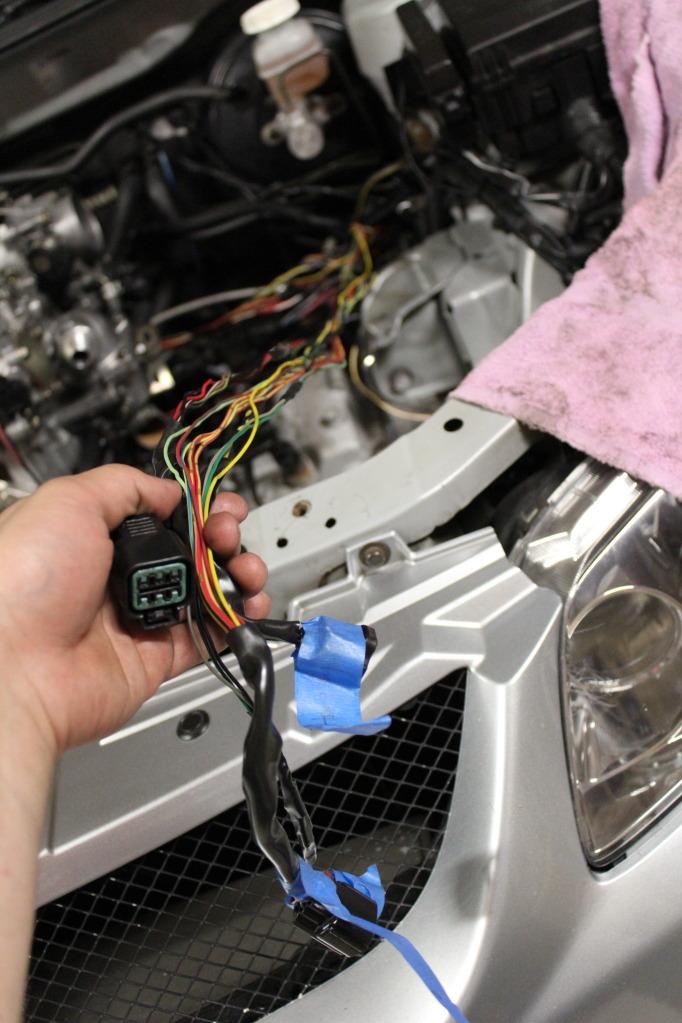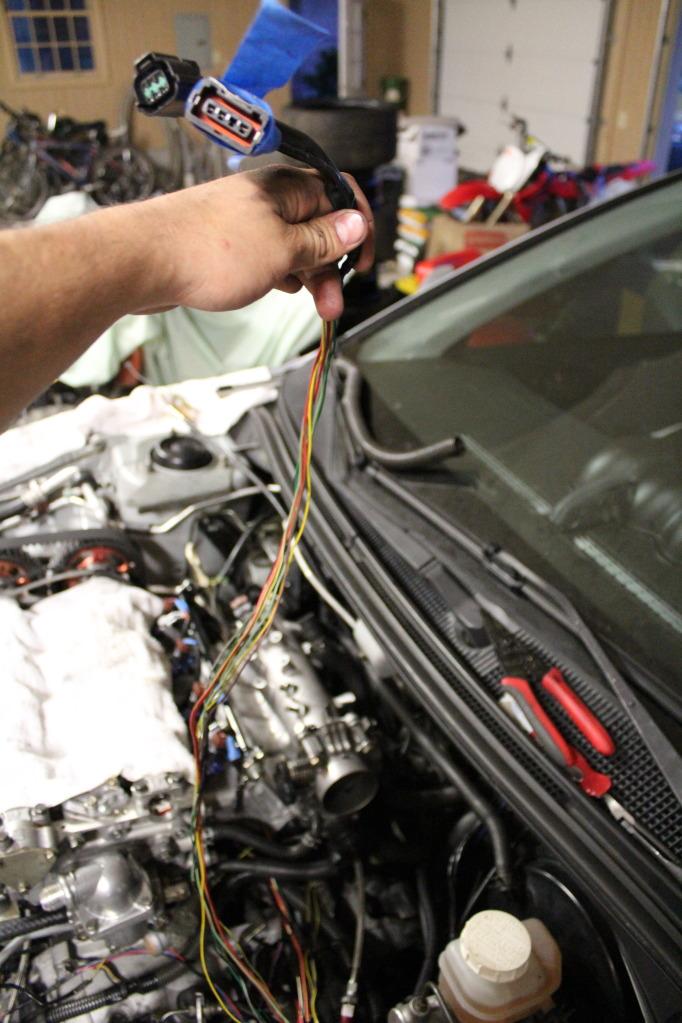 Everything routed and hooked up for a test fit: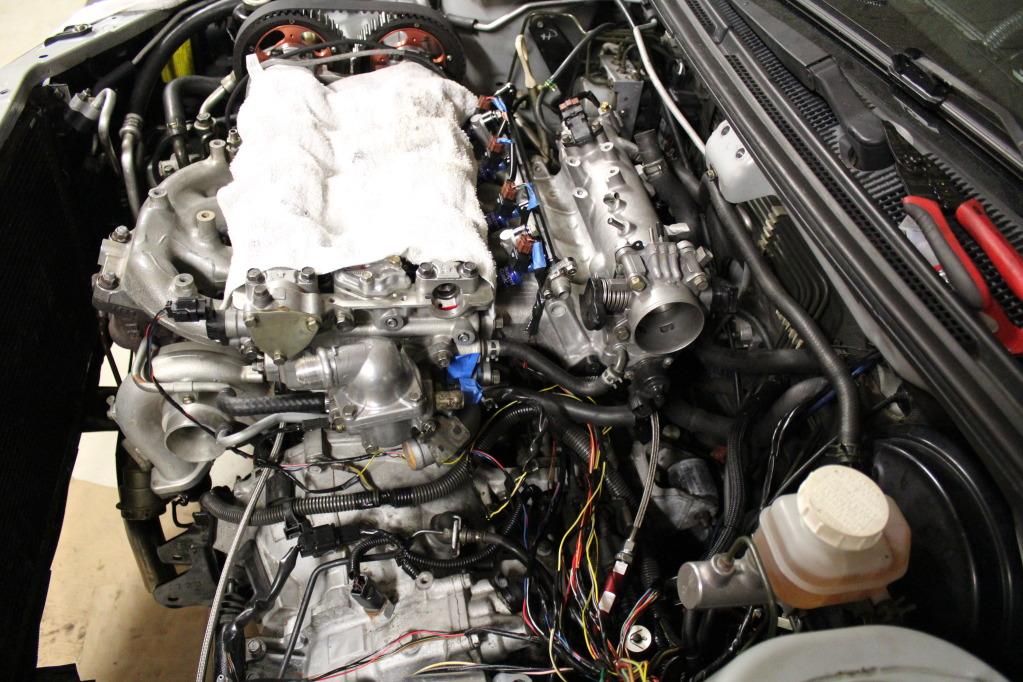 After everything was hidden, I then connected everything into a "main harness" type of deal to add strength to the harness.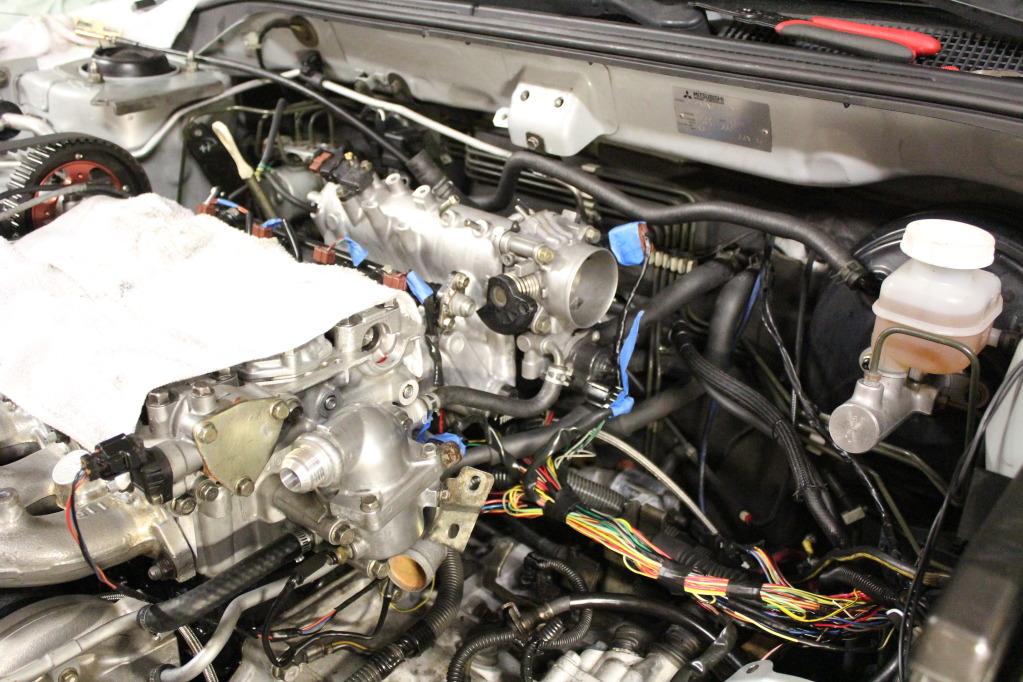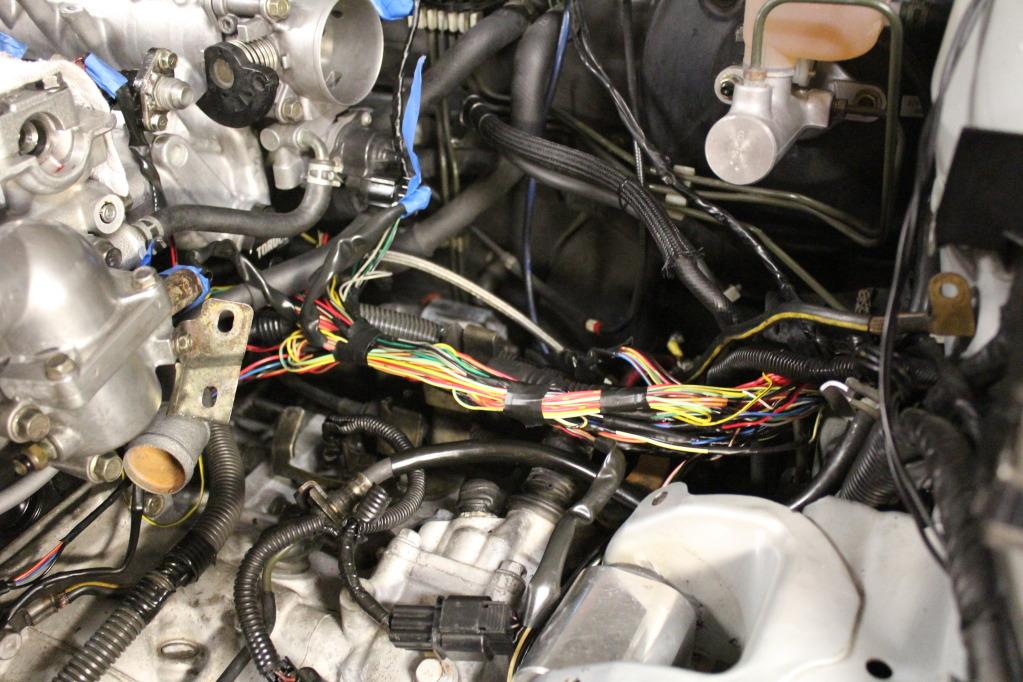 I then took it all back of and did a pre-loom wrap job: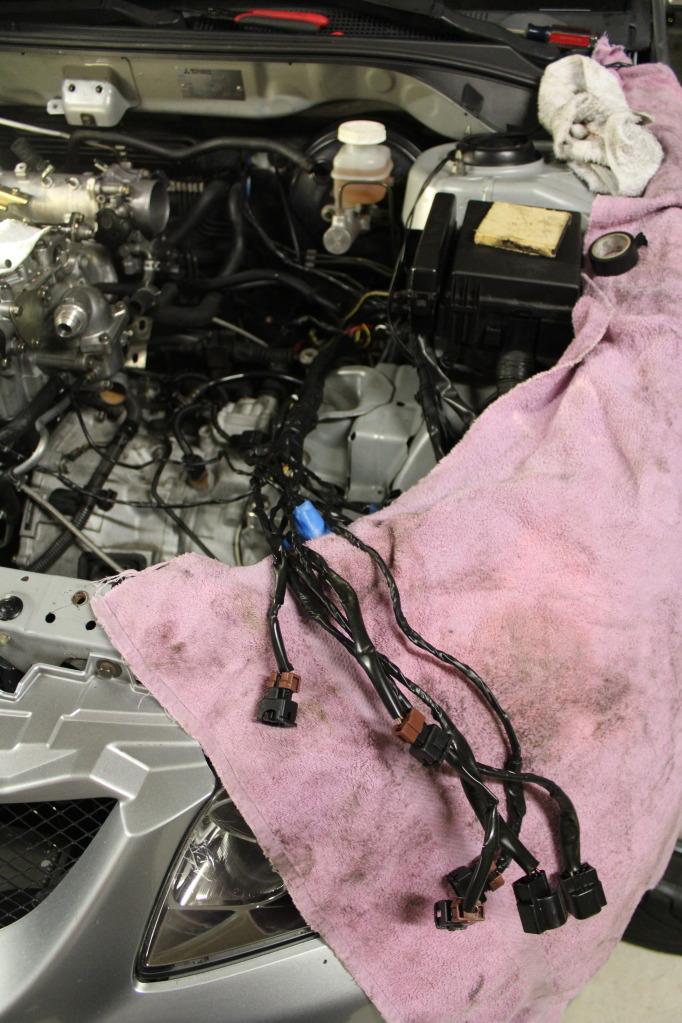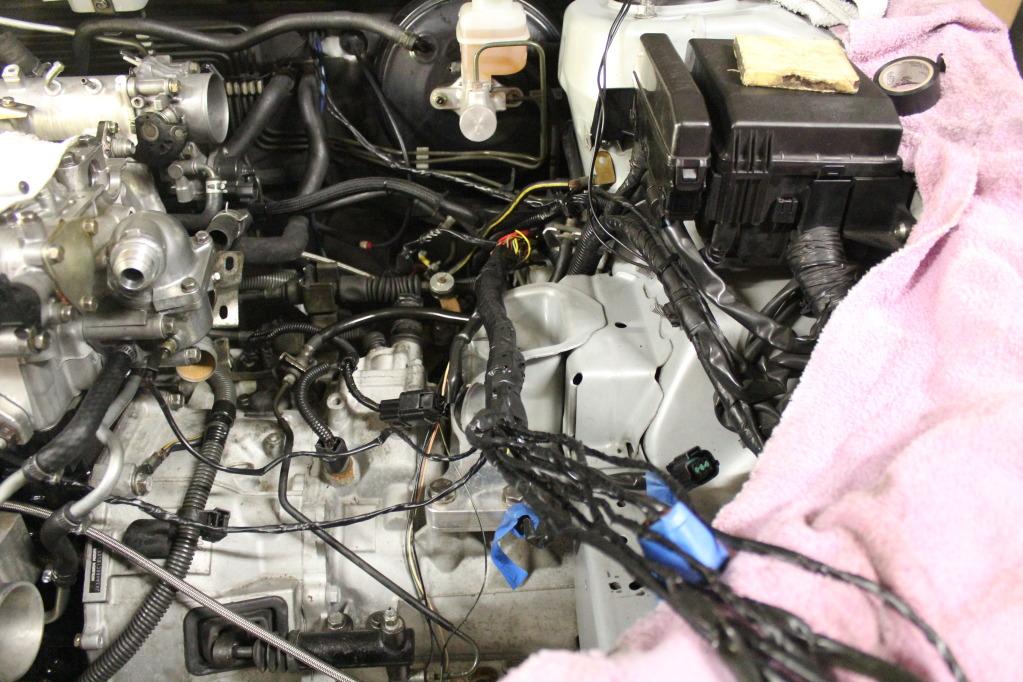 This is the final routing I chose for everything, but didn't feel like re-routing it again after I had sealed it all up. You get the idea, nonetheless.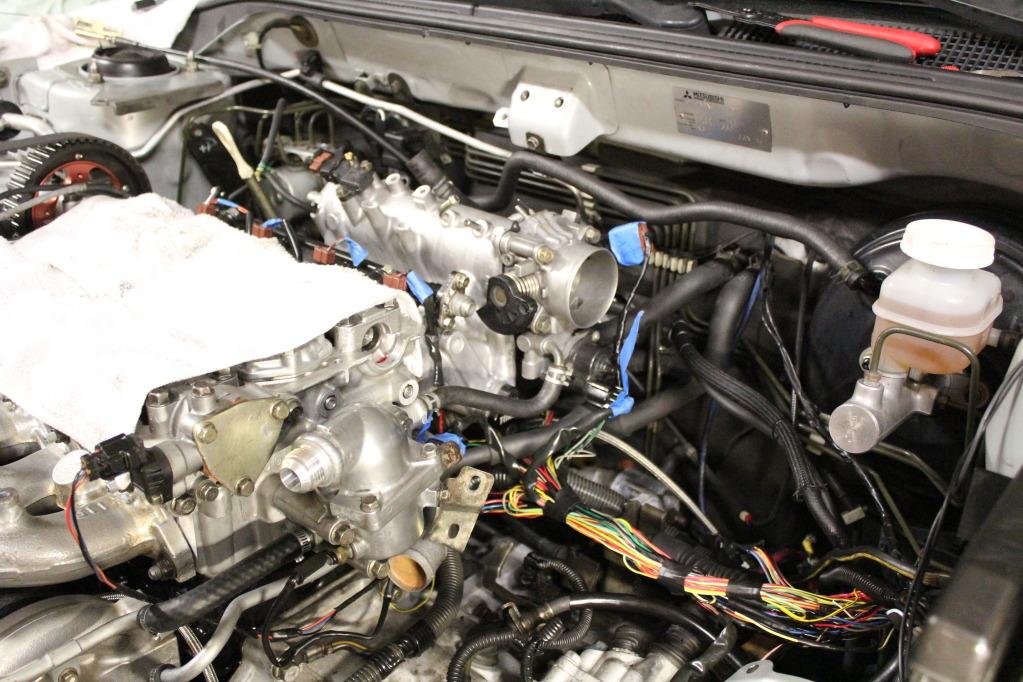 6-9-2012
I took a break from the wiring stuff and mounted my AFPR. This is the only decent place I found that I could put it.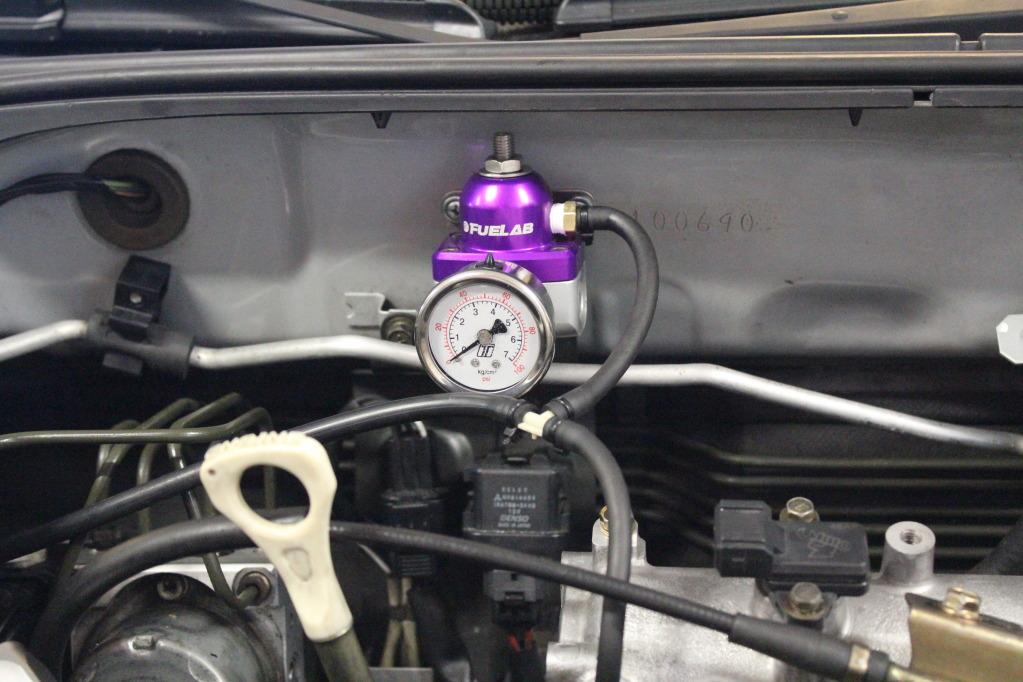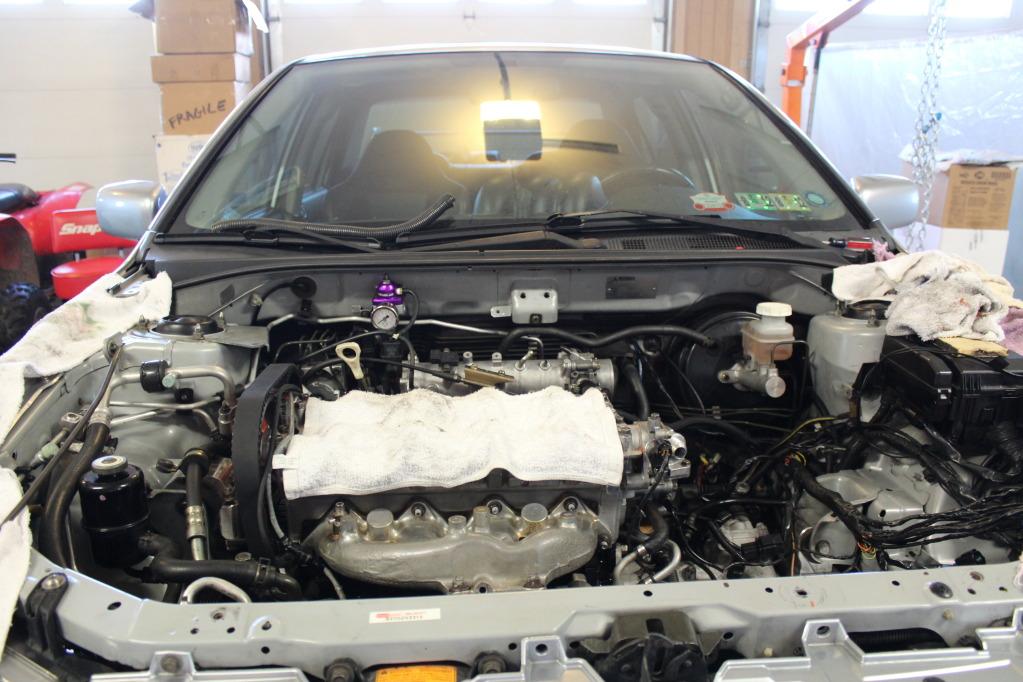 Oh, and since I'm all about spool/torque, and since I couldn't stand the idea of not going T3, AND since I hate stock frame turbos, I bought a Cast T3 kit with Bushur O2 housing and Dump tube.
I'll be running an HTA 3582 (with a .63 housing) and have a goal to hit full boost by 4000 RPMs on the 2.4L. The big stock frames are far too laggy without the punch up top that I'd like to have.
Keep in mind this setup probably won't go on until next Winter, I still want to be prepared

.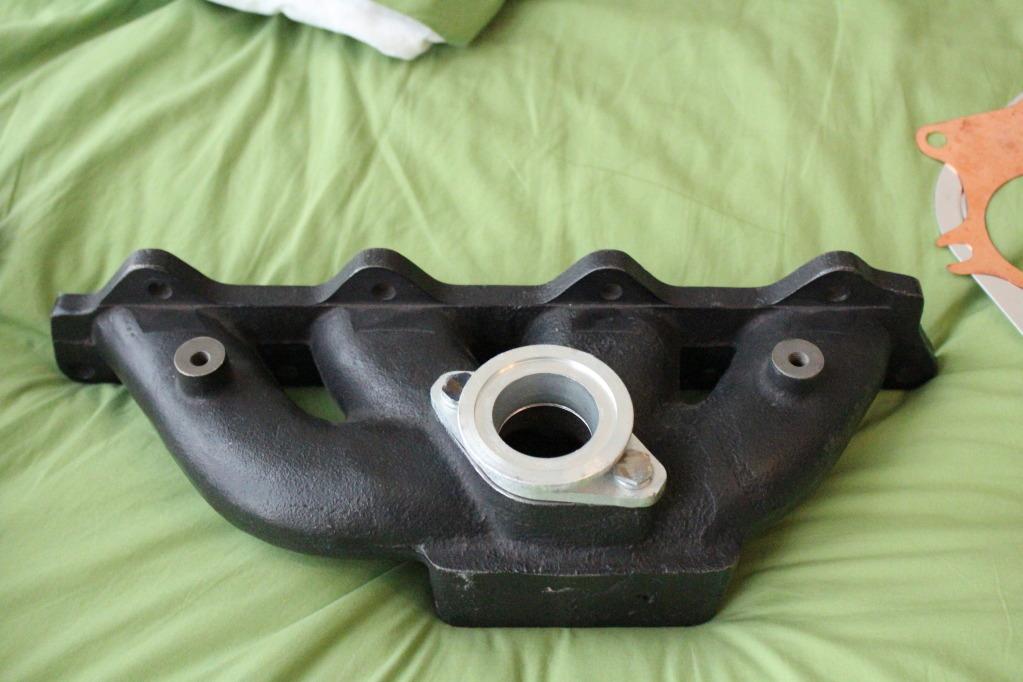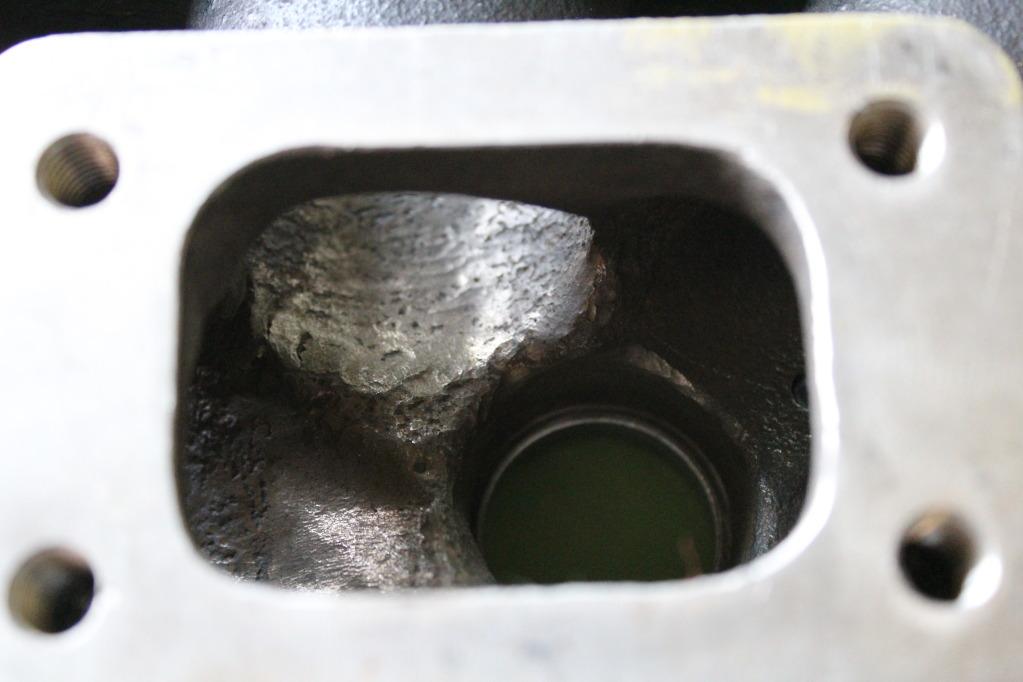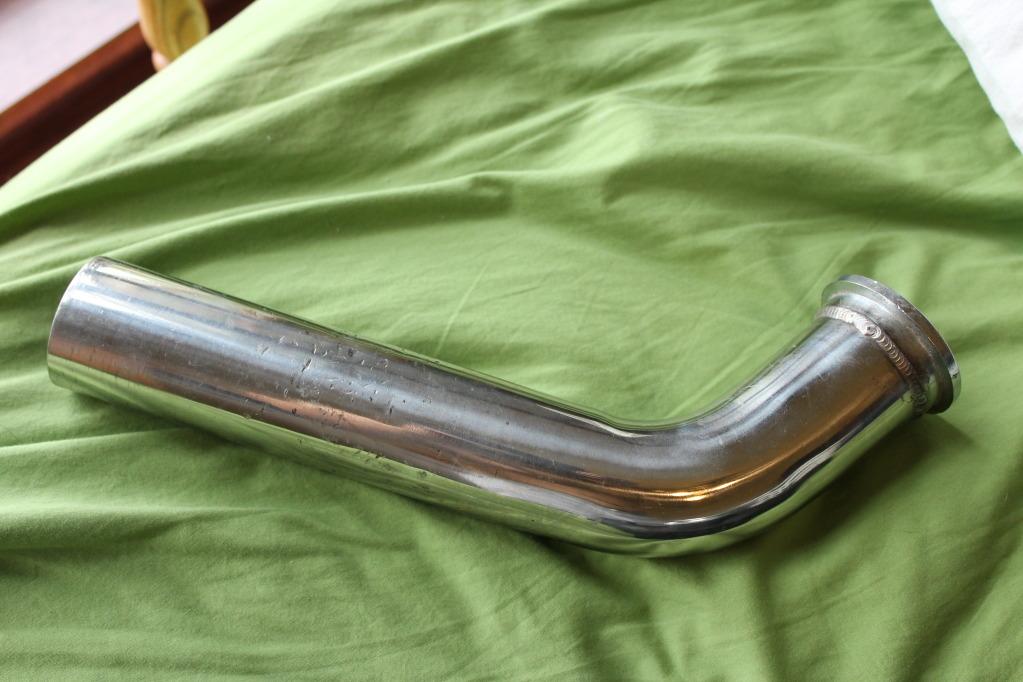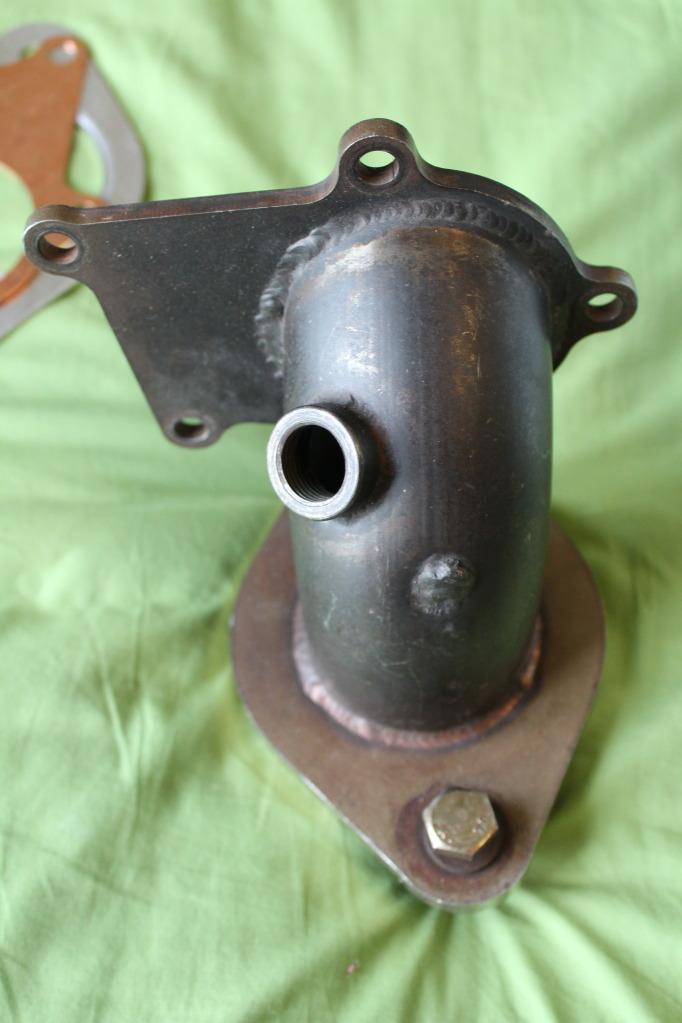 I may have Curt Brown work his magic on this manifold as well. We'll see.
6-11-2012
I got my other NT03s back from their refinish! Now they all look brand new.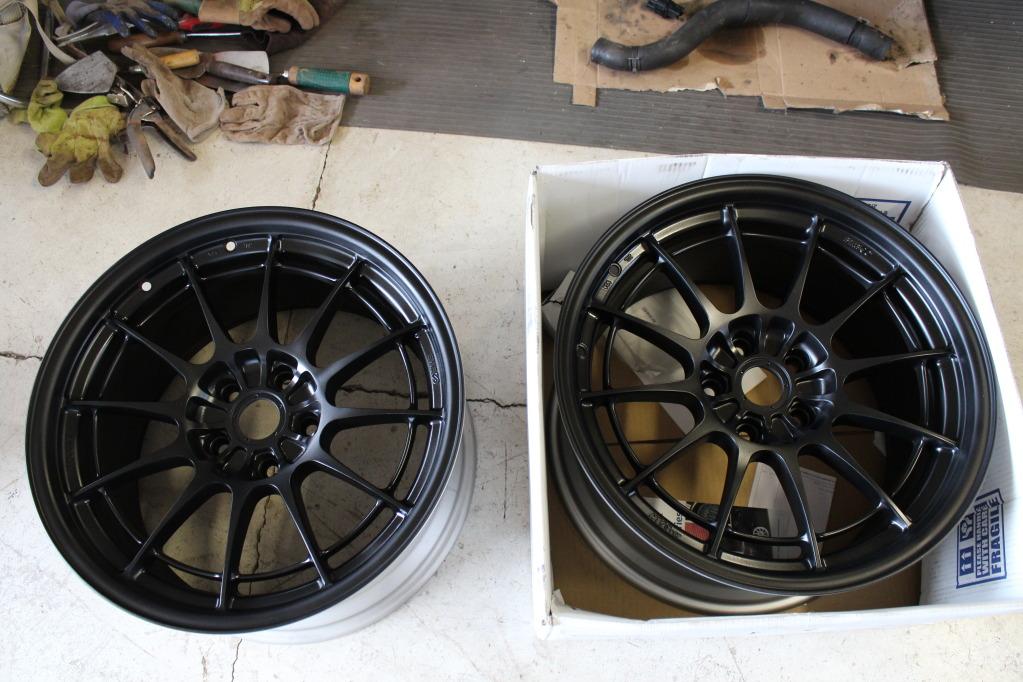 Modified my Evo VI Radiator to work with an VIII/IX fan, so if one goes in the future it will be easily replaceable.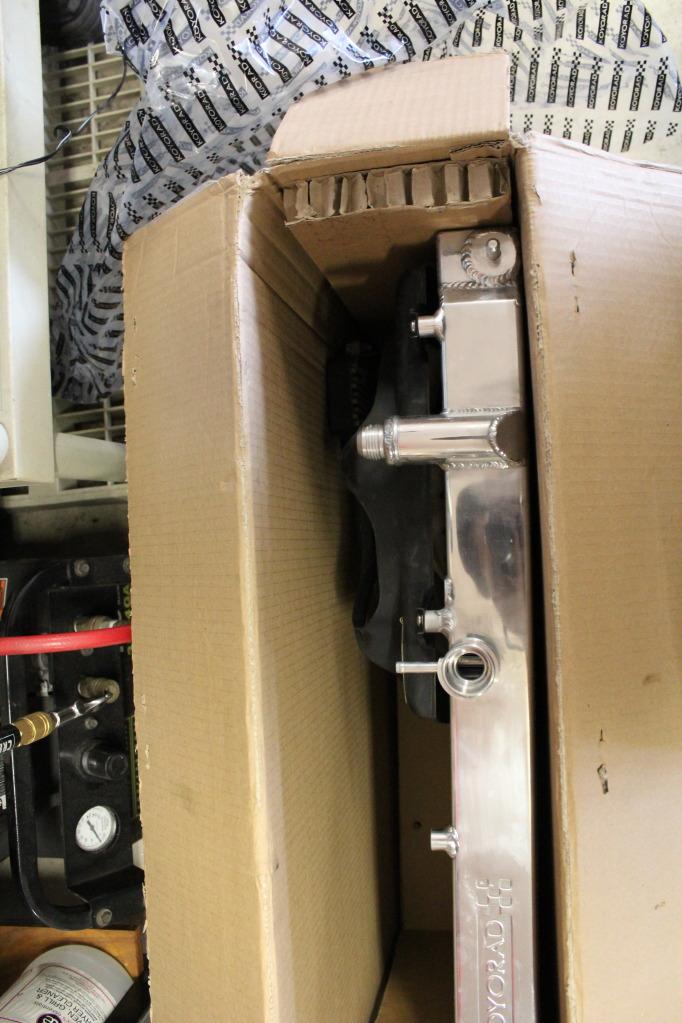 The tuck is done!! I'm just waiting on loom. Here are a few teasers with just the wrap, no loom.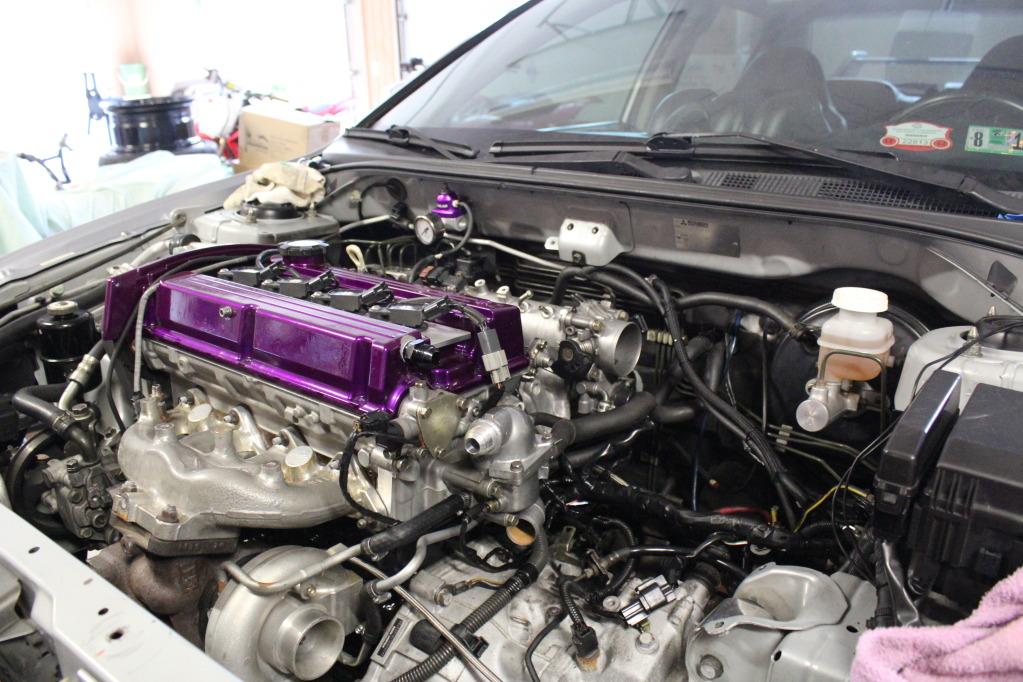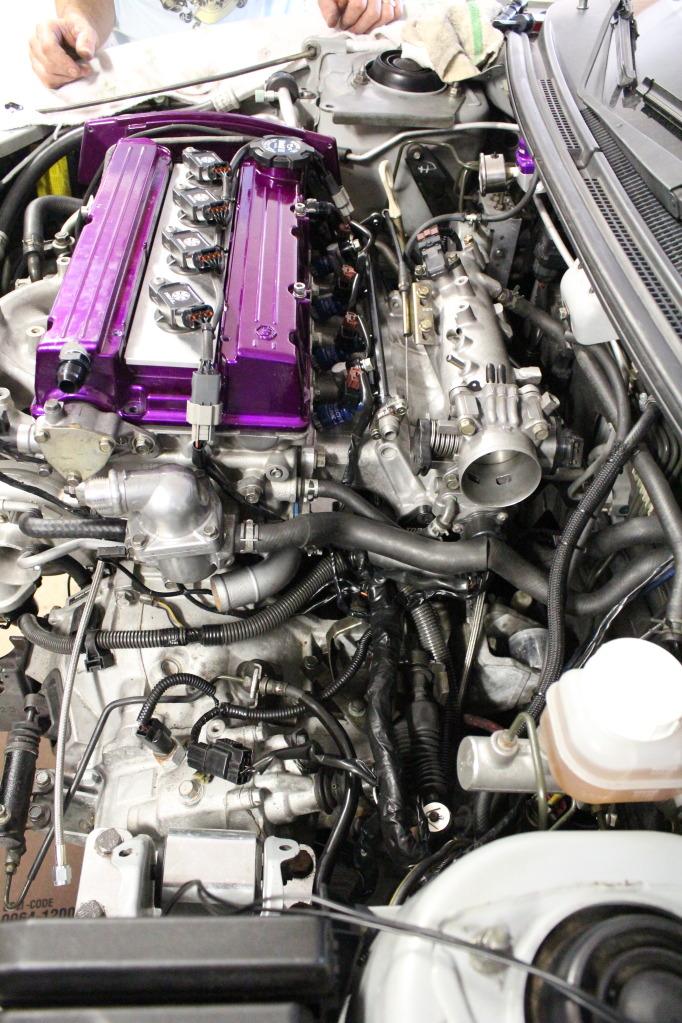 Mounted the catch can and made a little bracket for my Turbo Oil Feed Line so it sits nice and snug. FP tells you to route it under the front of the car, but that just seemed far too risky to me, as it's fully exposed to road debris and rocks.... I'd rather protect that line.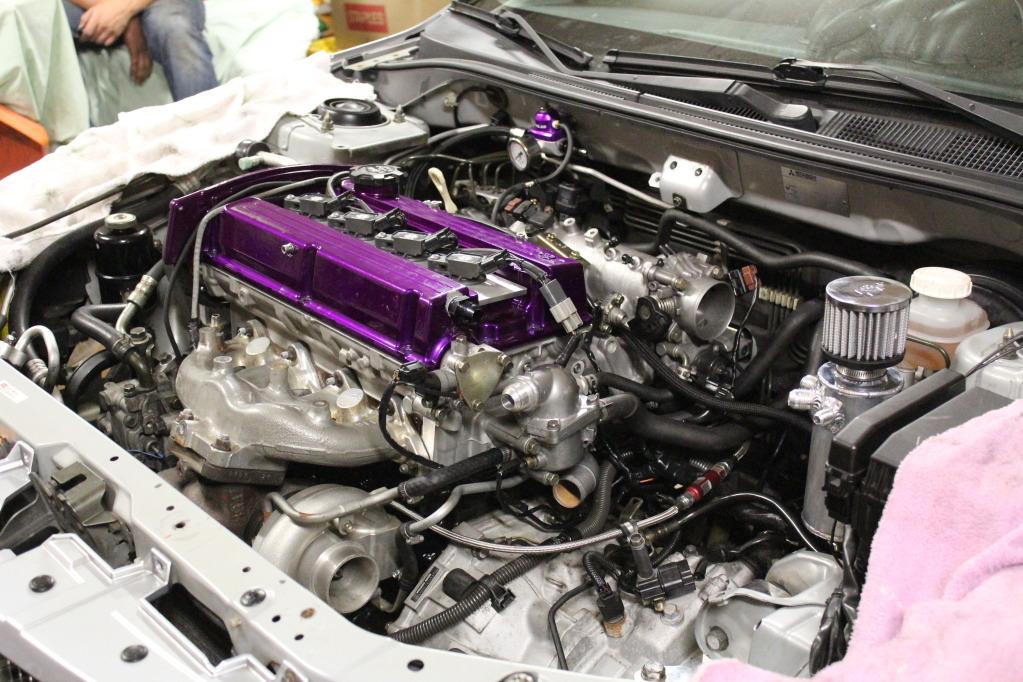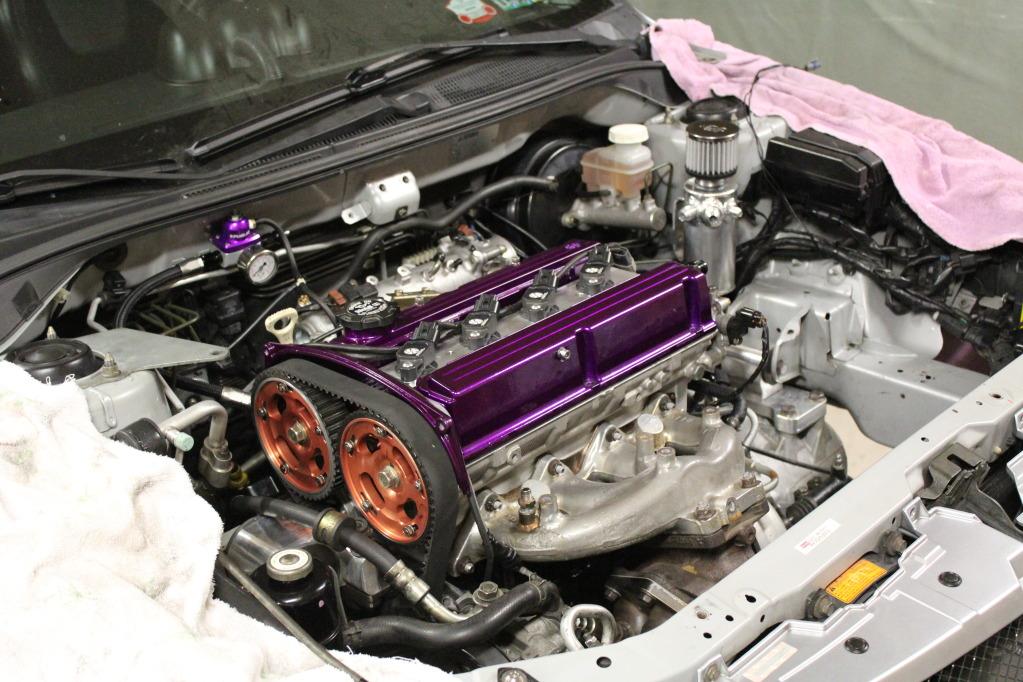 Now all I'm waiting on to finish the car is an 02 Dump....It's always thing after thing. Every little thing is buttoned up and ready to go!!
6-19-2012
That post broke my heart so much that I went out and took pictures.
New JMFab Dump looks schaweet. Jim hooked it up and left me a little extra space for the AMS Downpipe flange.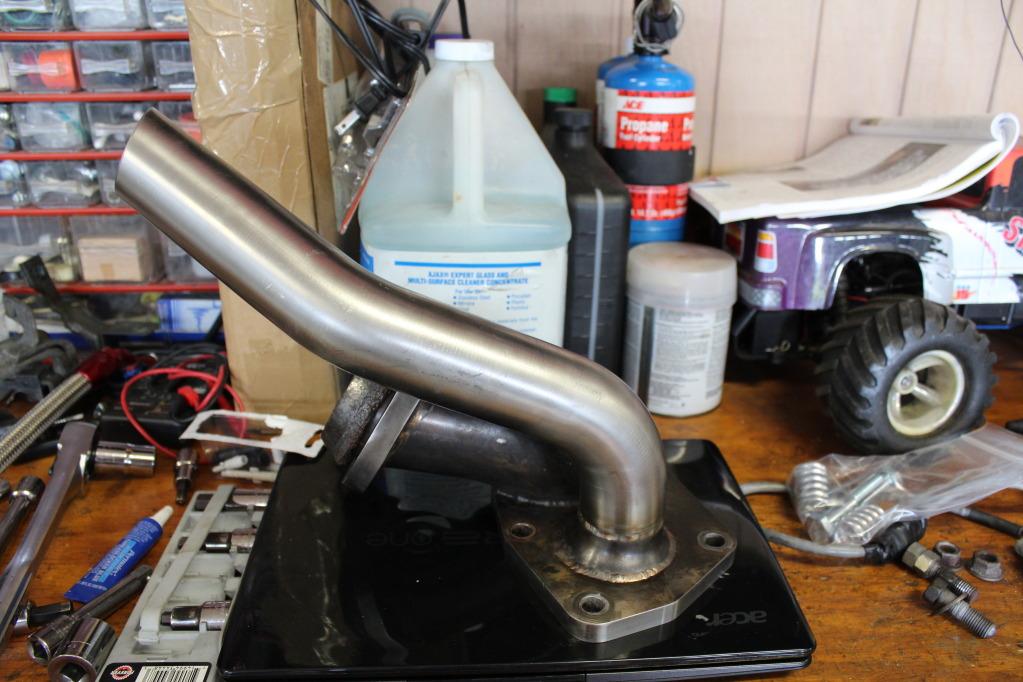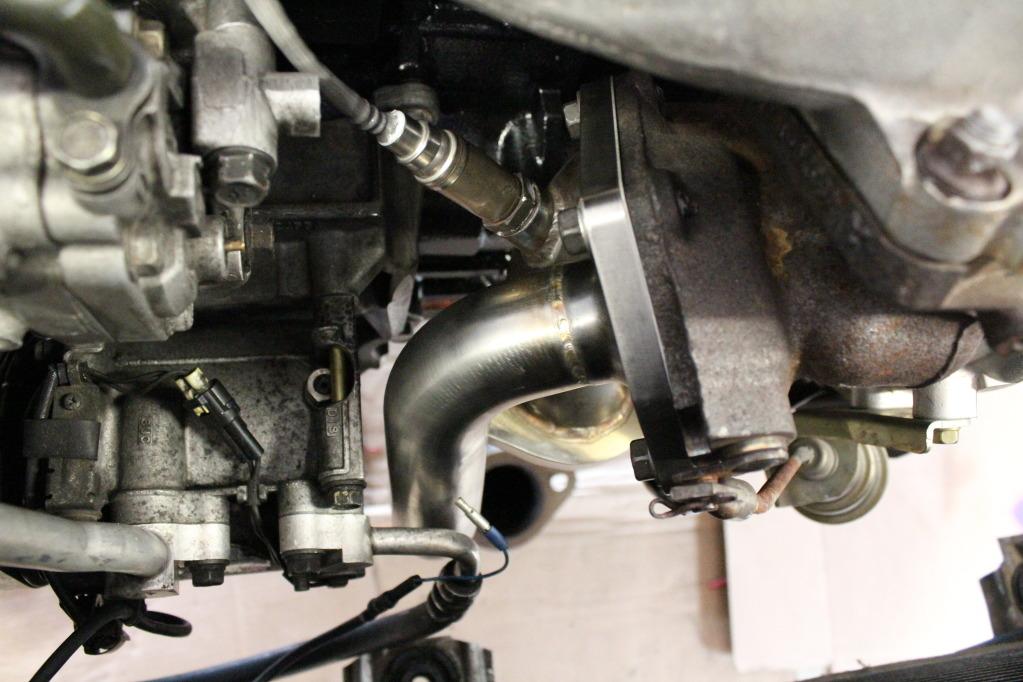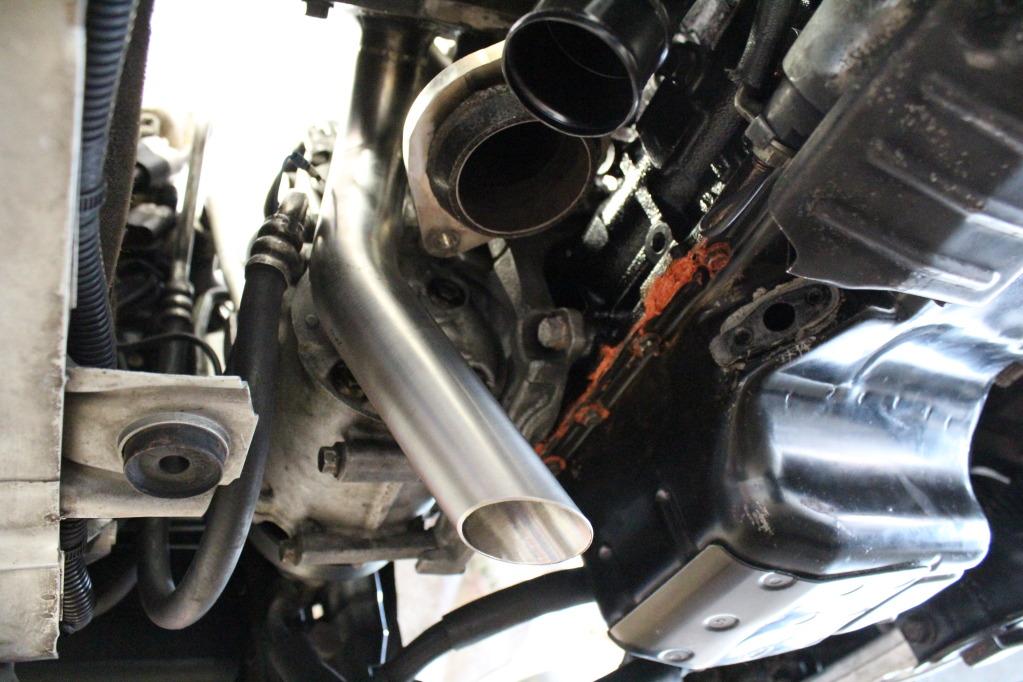 Koyo Radiators are huge. Too huge for my taste. I'll run it until I become a millionaire and can afford a CBRD Slim.
Barely fits, even with the stock turbo.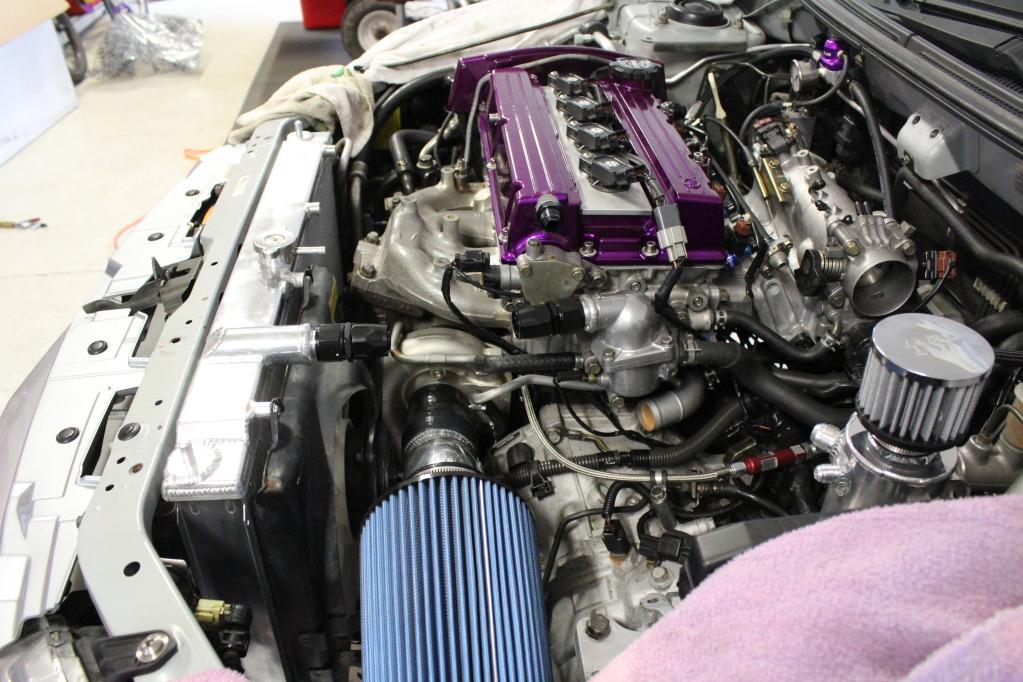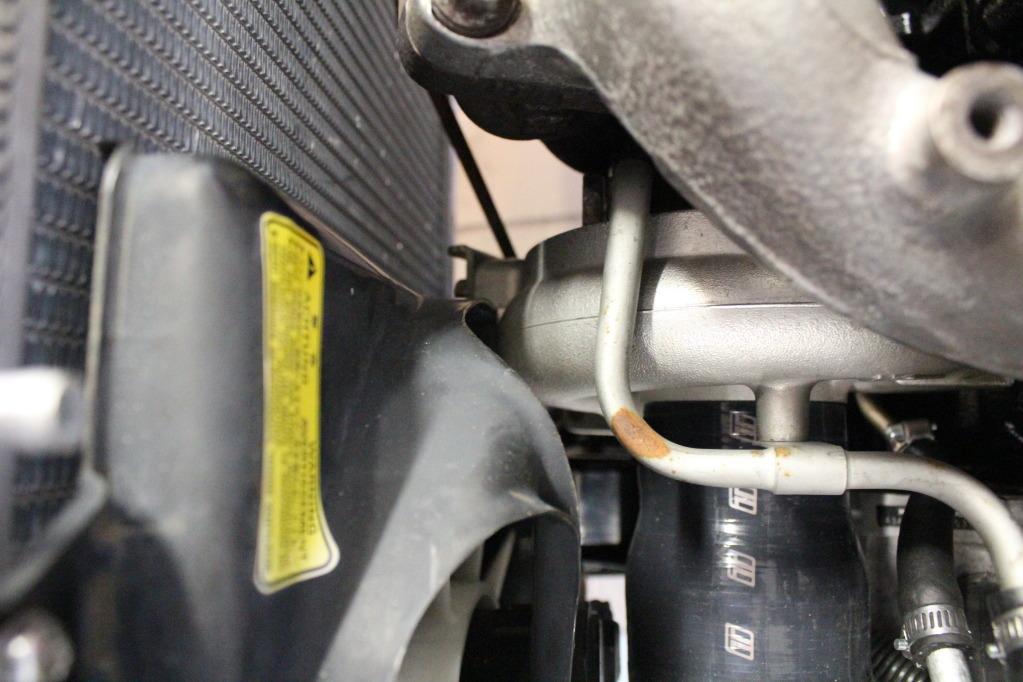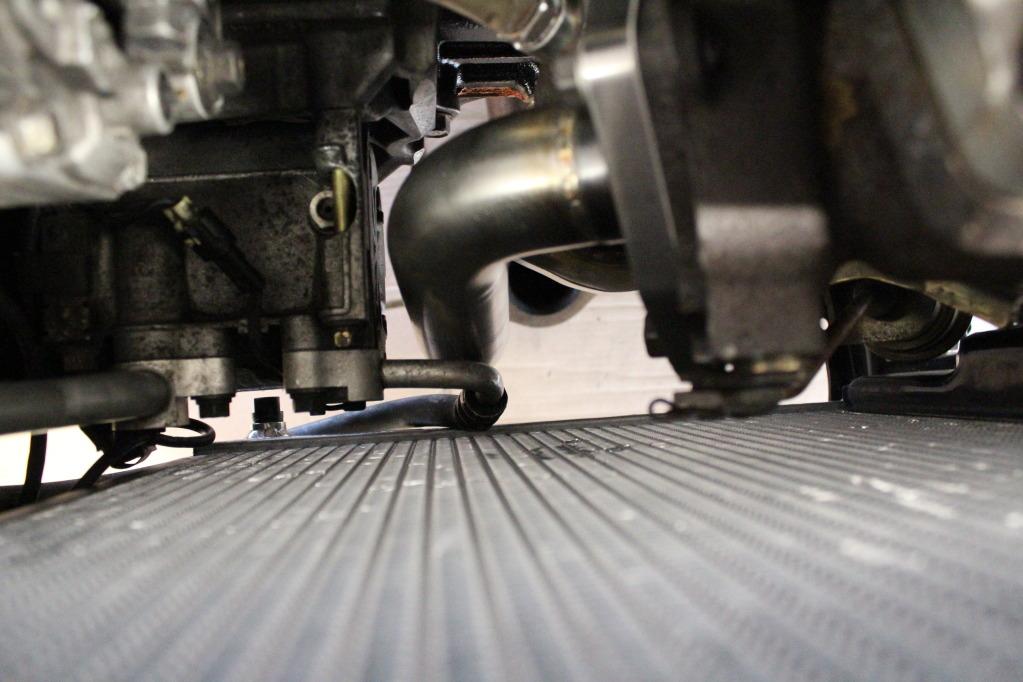 I've been waiting on these stupid black fittings for two weeks, along with a ton of other stuff.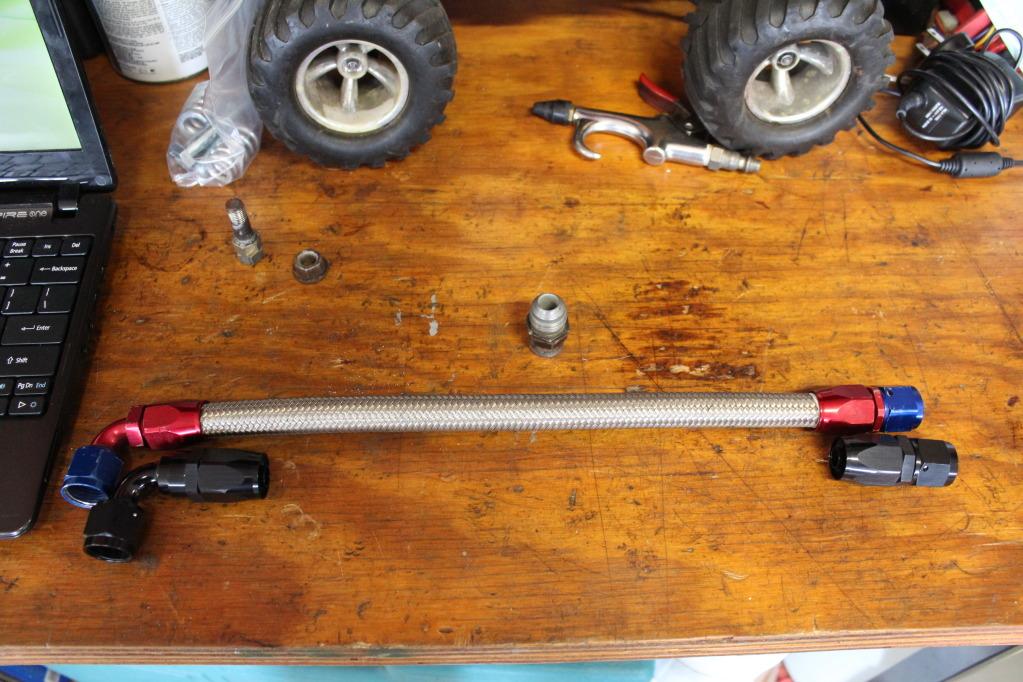 I also painted my harness bar a black/graphite metallic and cleared it. I think it'll go great with the interior.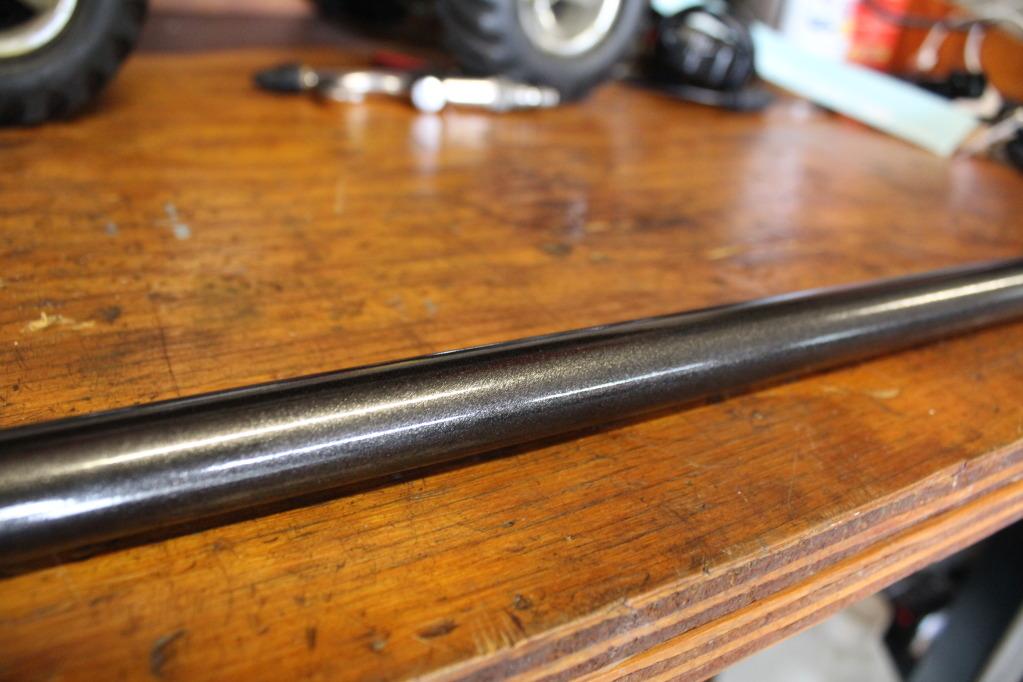 6-22-2012
I know, the heat is on

.
I did some monotonous work today, like normal.
Got my Ti Exhaust tip fitted/riveted on after I picked up some stainless rivets. This is an eBay exhaust tip, and honestly, I could not have asked for better fitment. It fit so snug on the end of the muffler a rivet was barely necessary, and I only put one in for good measure. Great buy for $60 or whatever it was.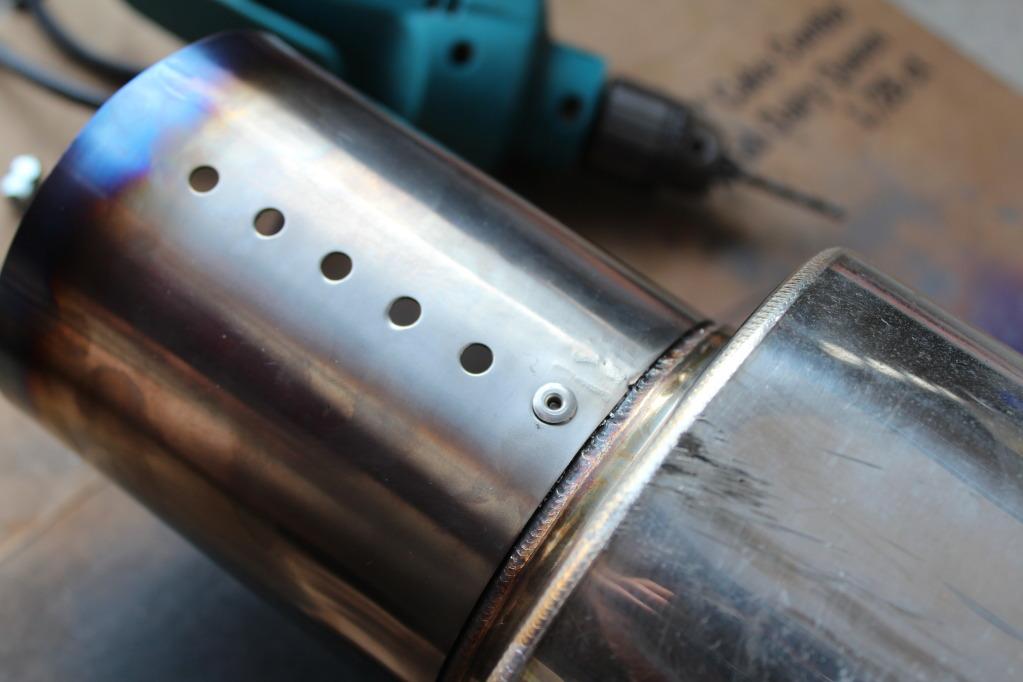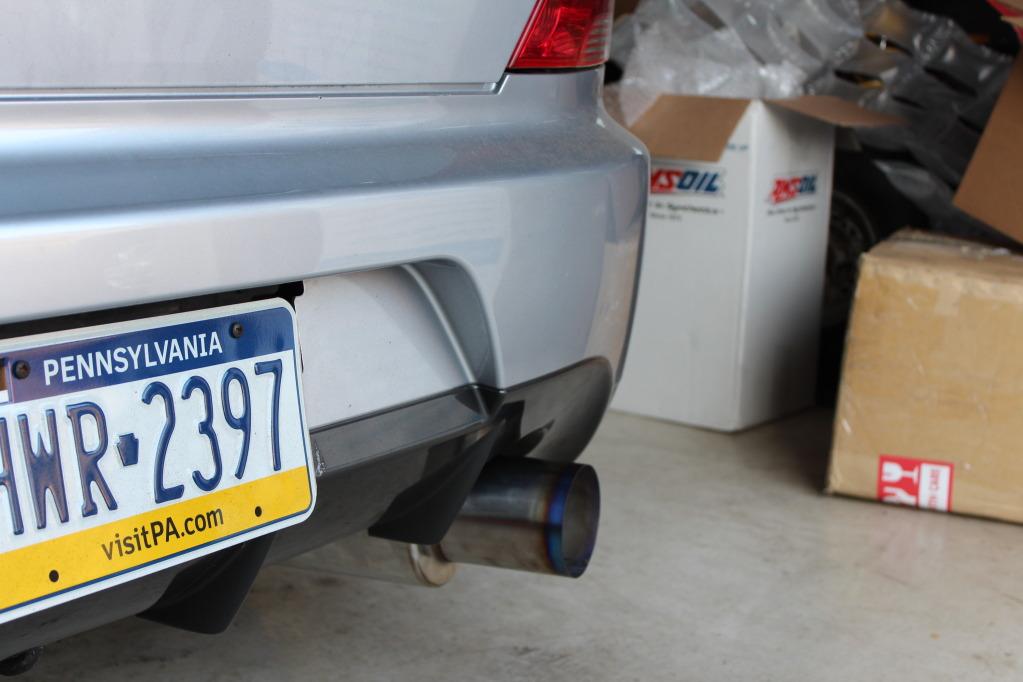 I didn't like the chinsey stainless line I had for my fuel line so I picked up some Earls braided line and swapped over the fittings. This is the line I'll be running for my catch can stuff as well.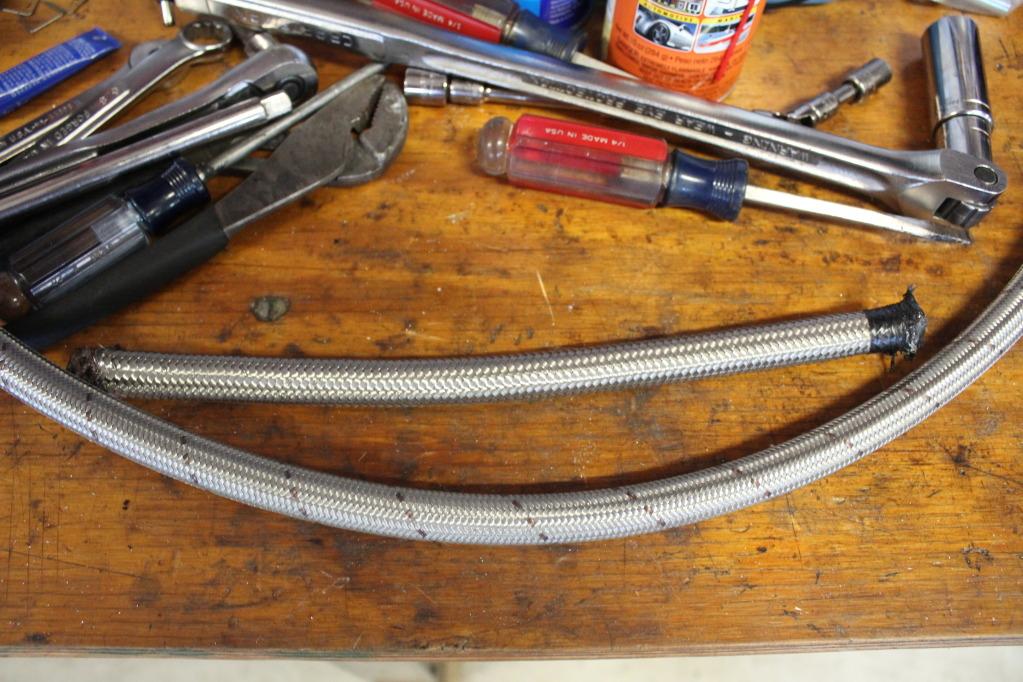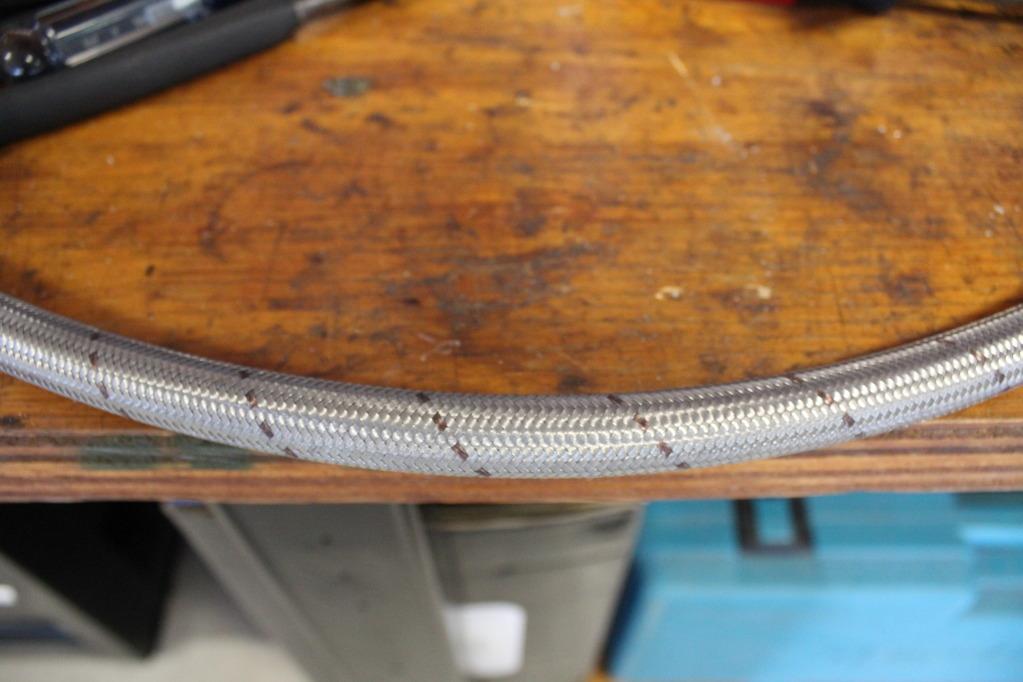 Got my UICP back from Jim @JMFab. He fabbed me up a lower piece to work with the straight end tanks on my Nisei, which was a huge help. My catch can also interferes with the first BOV flange, so I had him make a new flange closer towards the bend. We figured that would be the best location. He is going to be out of the shop for a few weeks, so the old flange was just capped due to time and materials. When he's back I'll have a new elbow to the TB welded on to get rid of that old flange.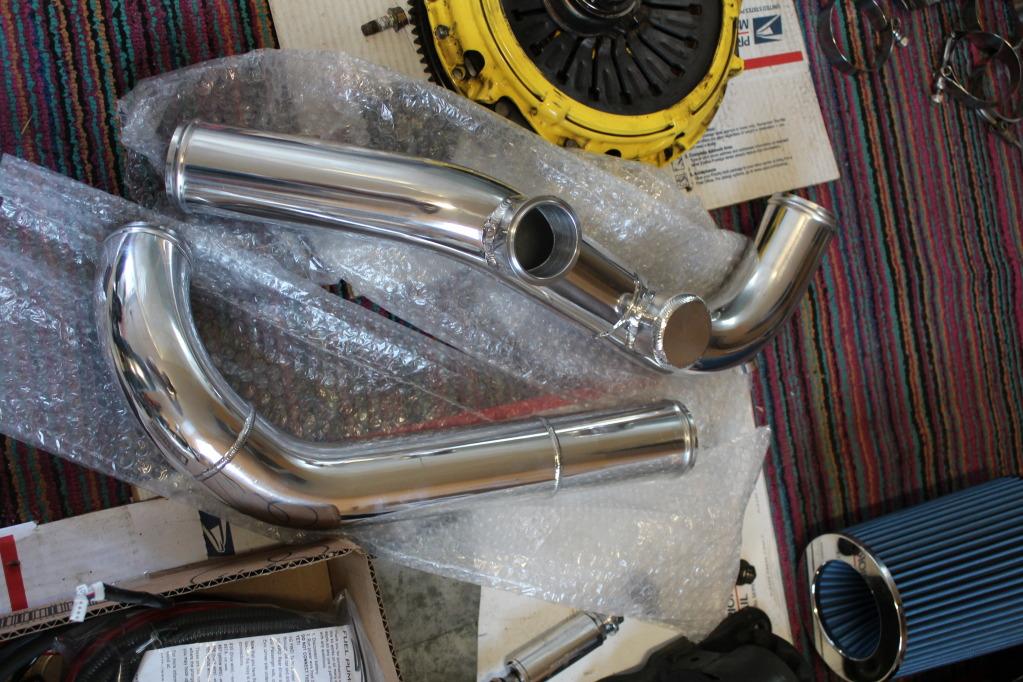 Got my fittings on and set up. I'm just waiting on the Earl's line and wiring loom to come in.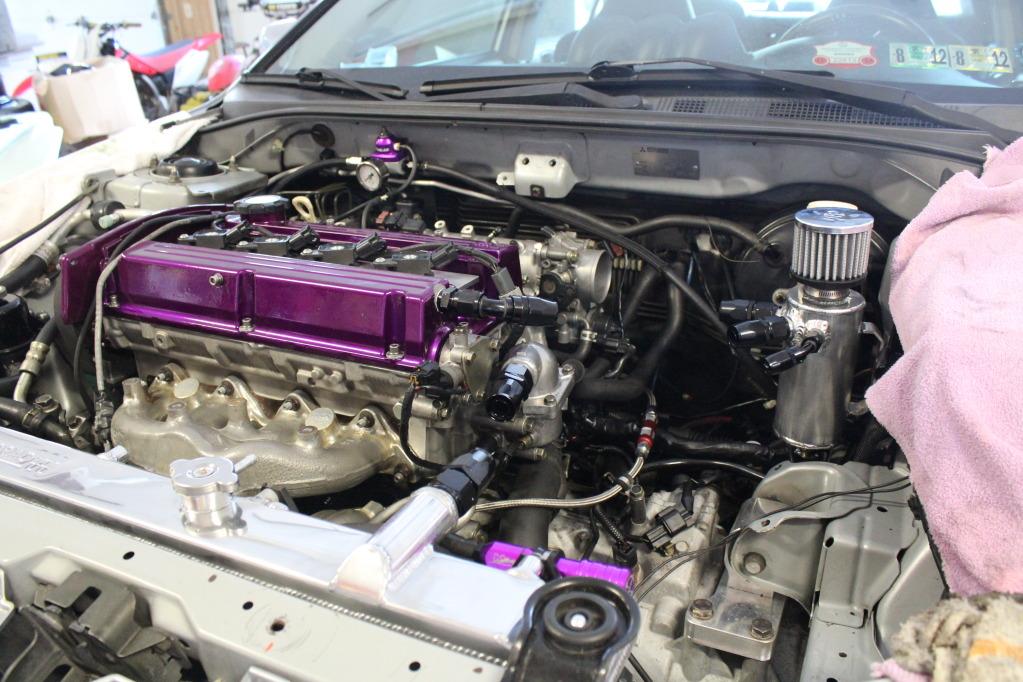 6-27-2012
I've been working on fitting my wheels and stripping the parts car the past few days.
However, I got the Nisei LICP and AMS turbo-back exhaust on. I cut the bracket off of the LICP as it was a pain to deal with and in my eyes, completely unnecessary.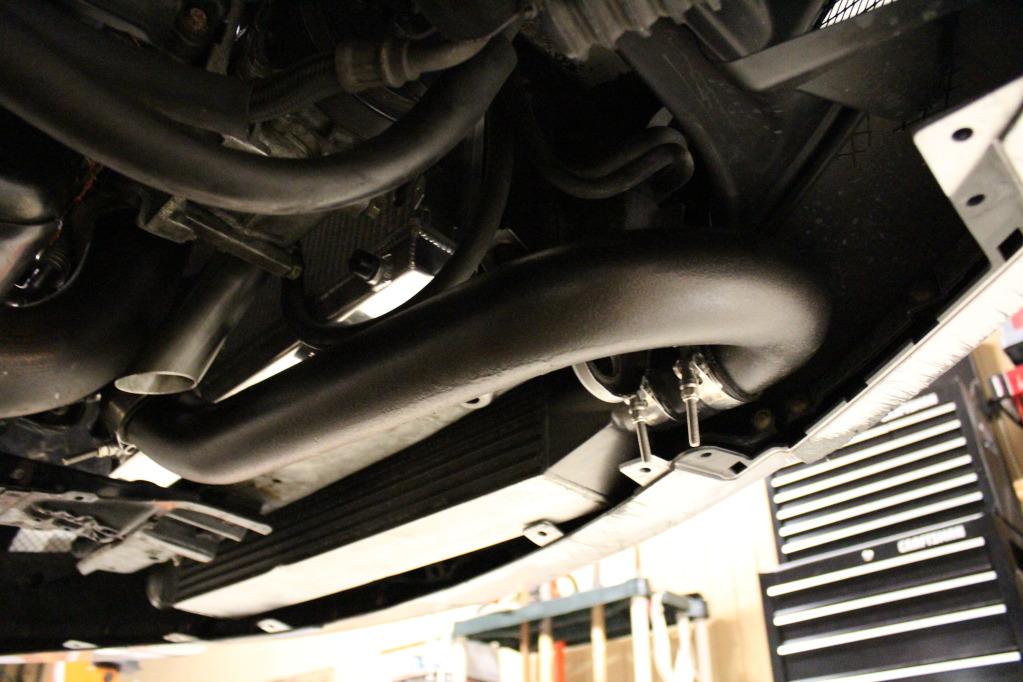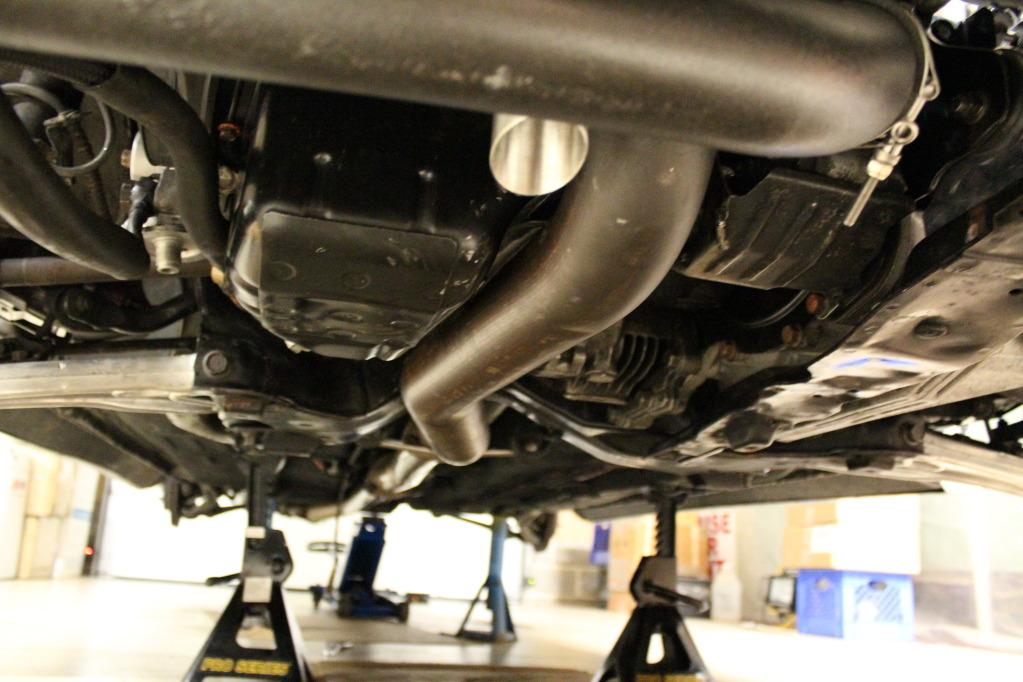 Got the old studs out, and put the extended ARP studs in, along with some new (but rusty) rotors: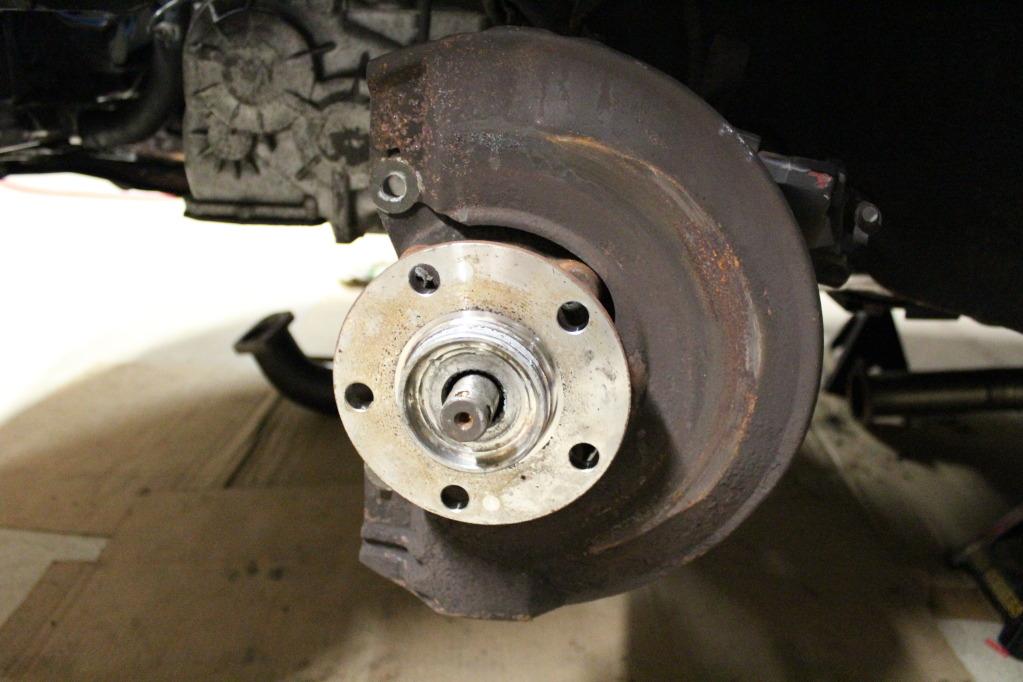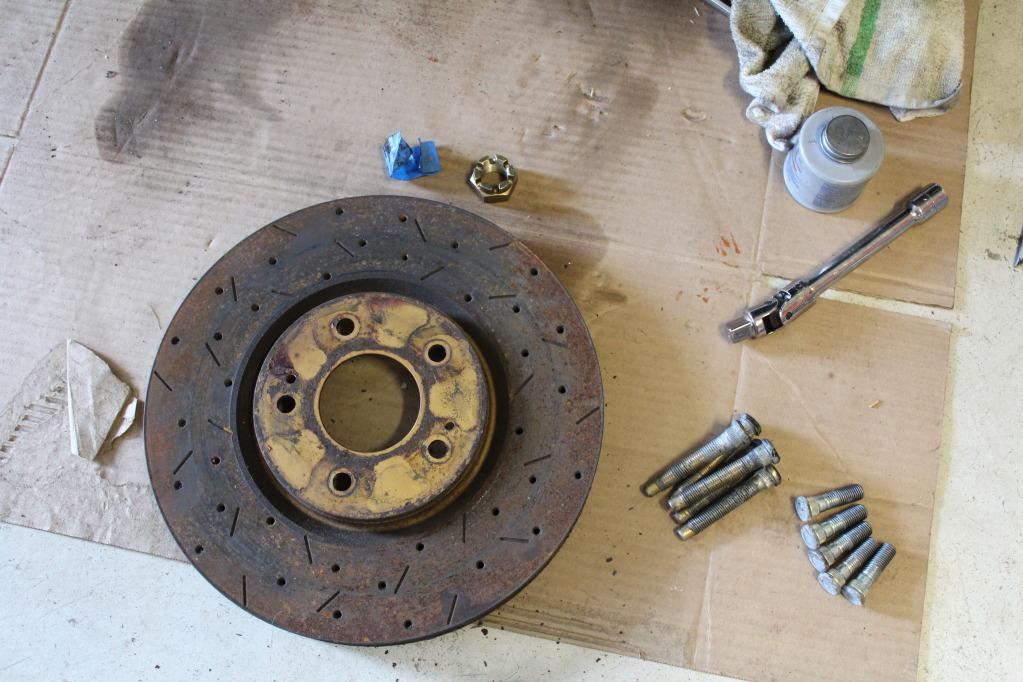 Test fitment of the wheels: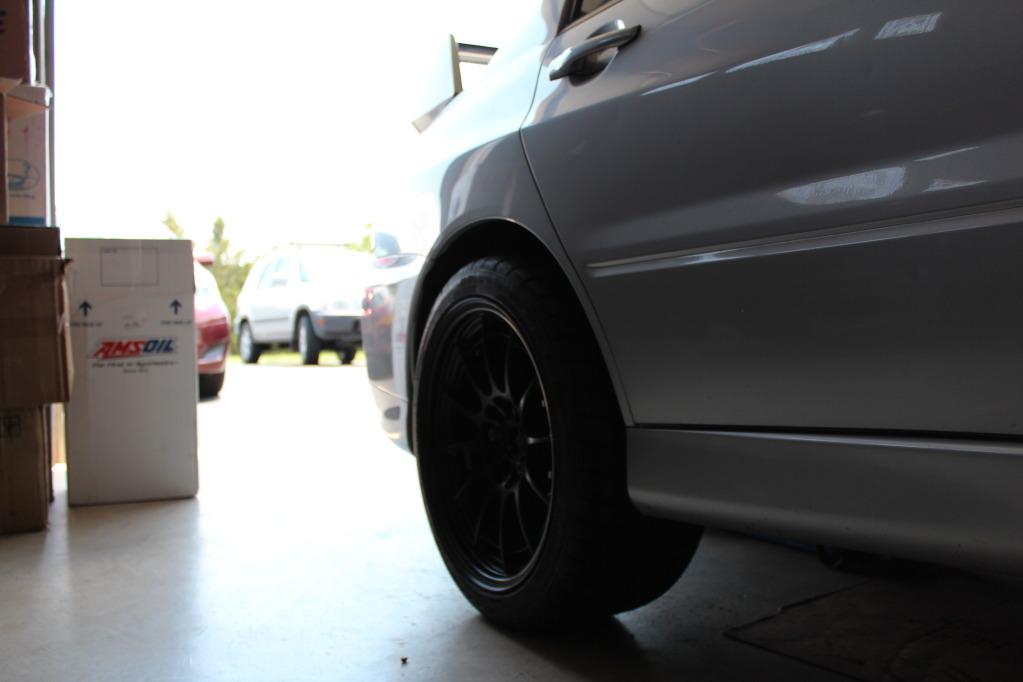 Got the tires. Went with a Nitto NT555 in a 265/35R18.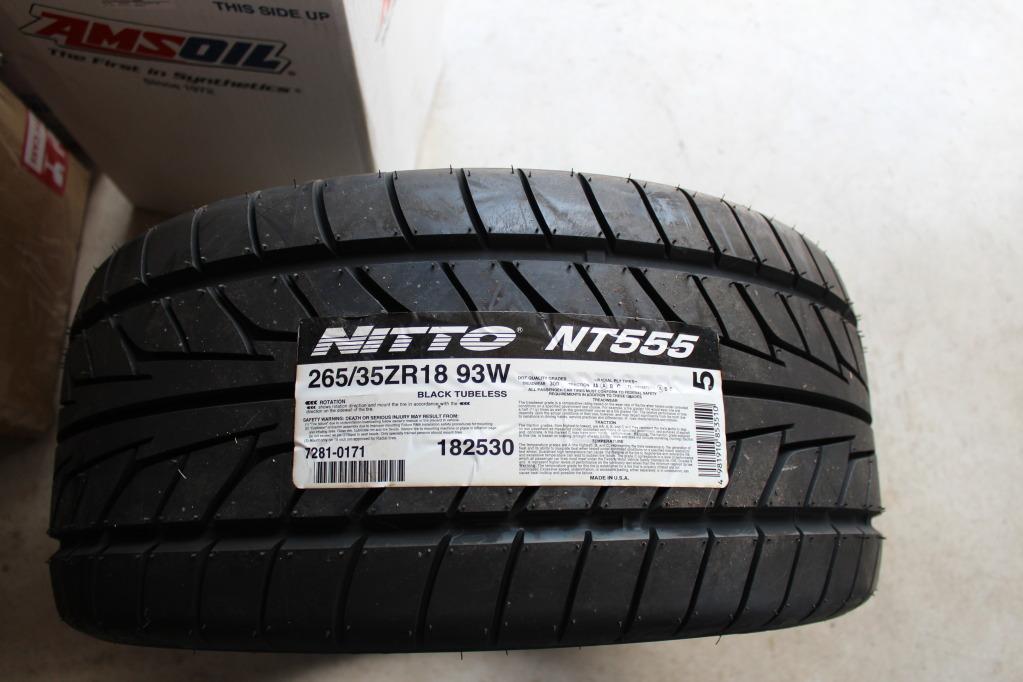 Next to a Dunlop 275/35: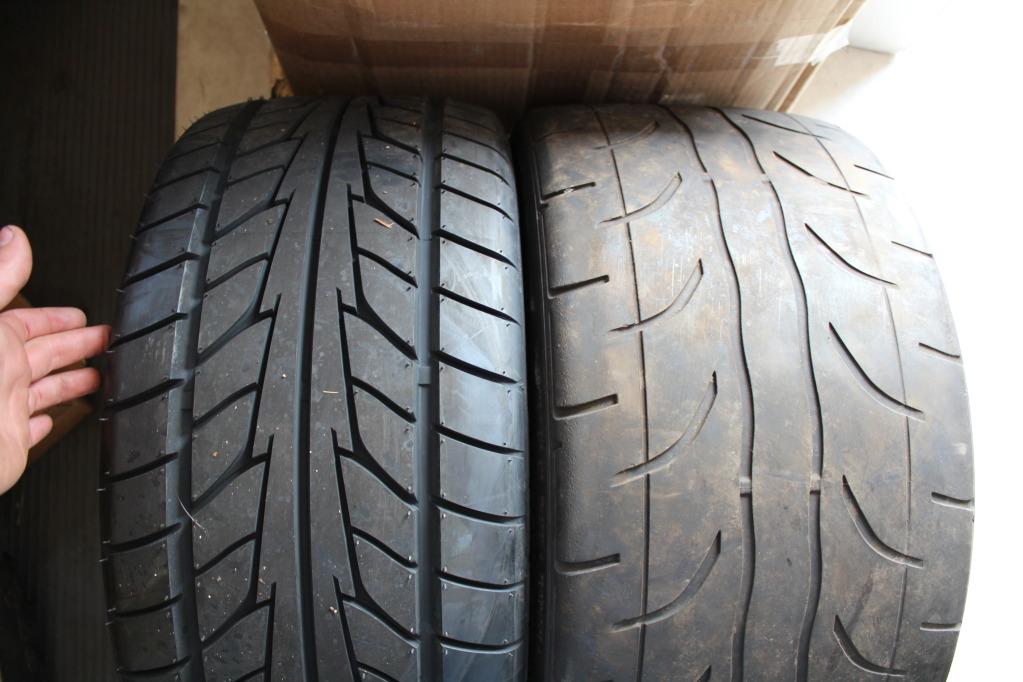 Rolled the fenders: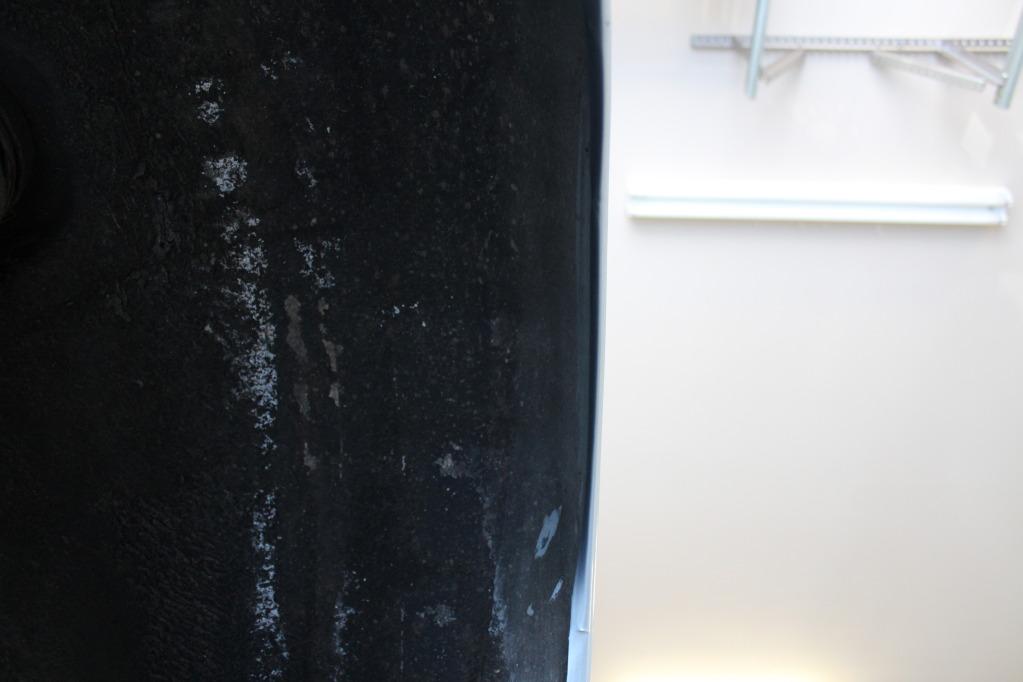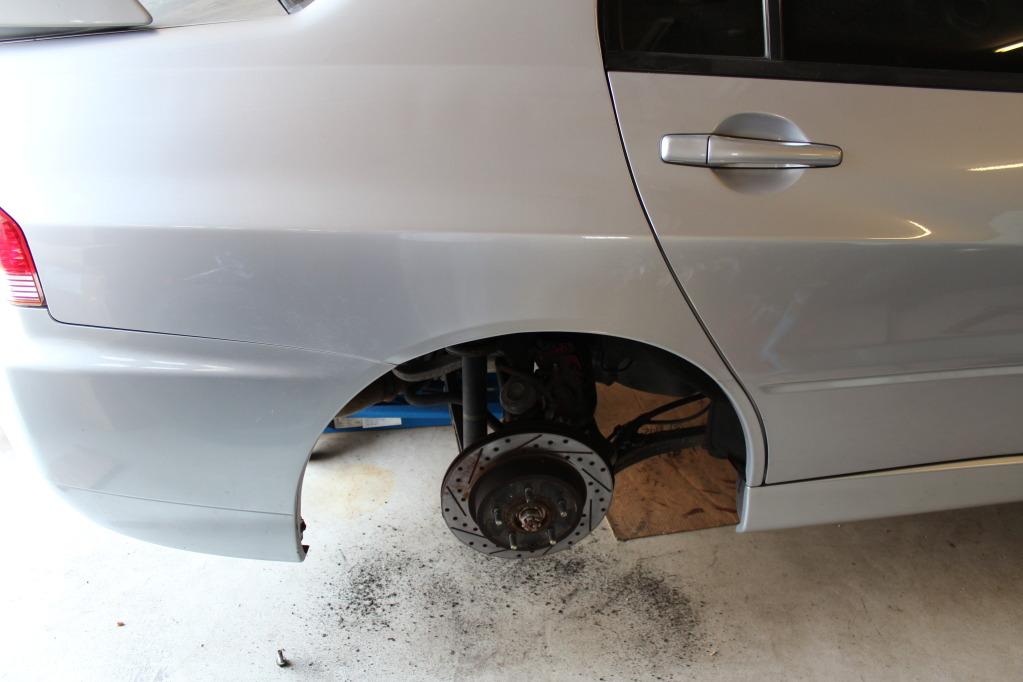 Fitted the wheel: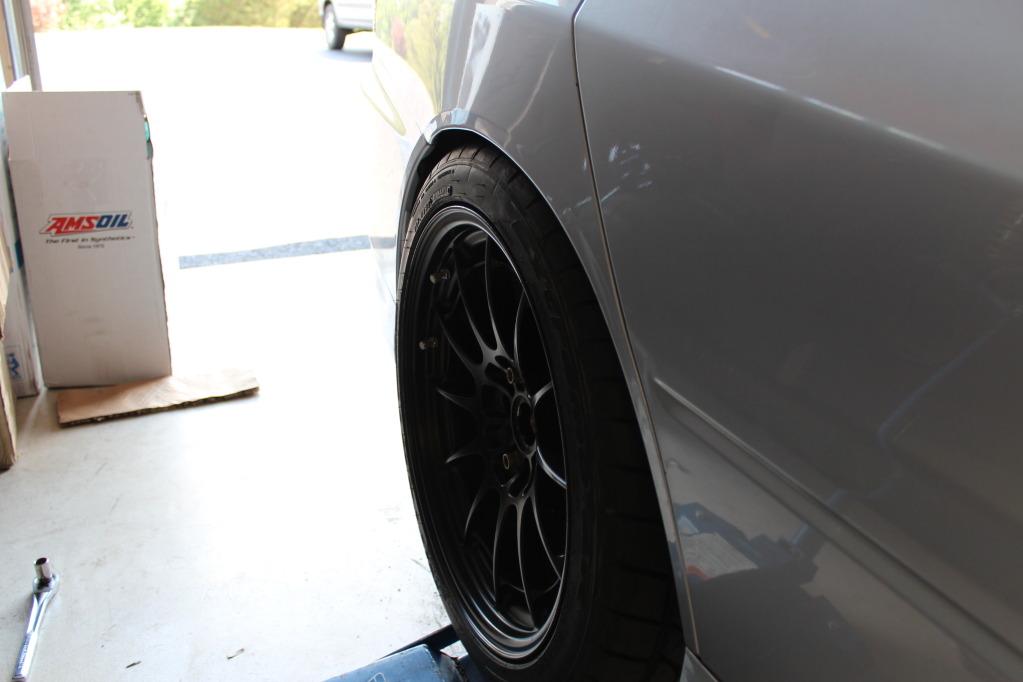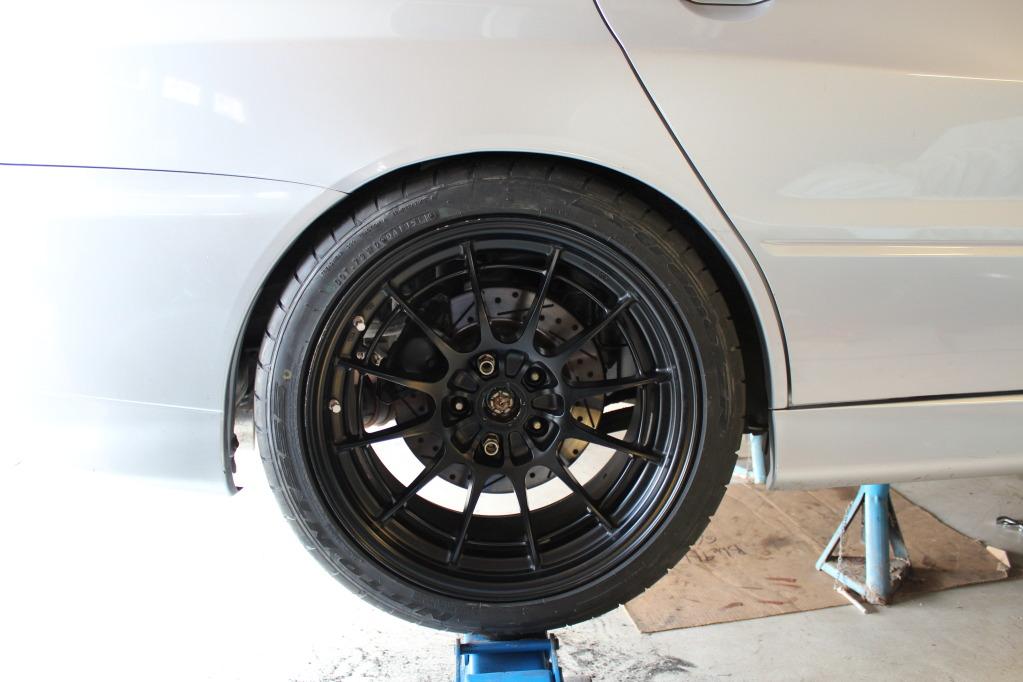 I'm VERY happy with the tire size, the wheel size, and how it all came together. Just waiting on spacers and some braided line and I'll start her up and start breaking it in!
6-29-2012
I shall measure.
But until then..... Pictures!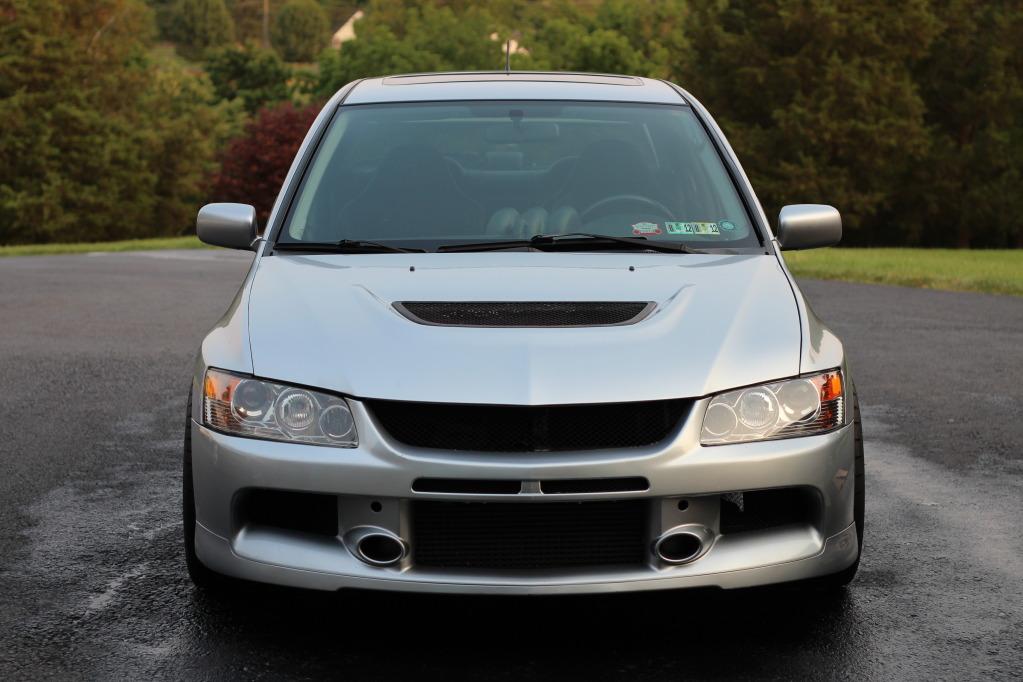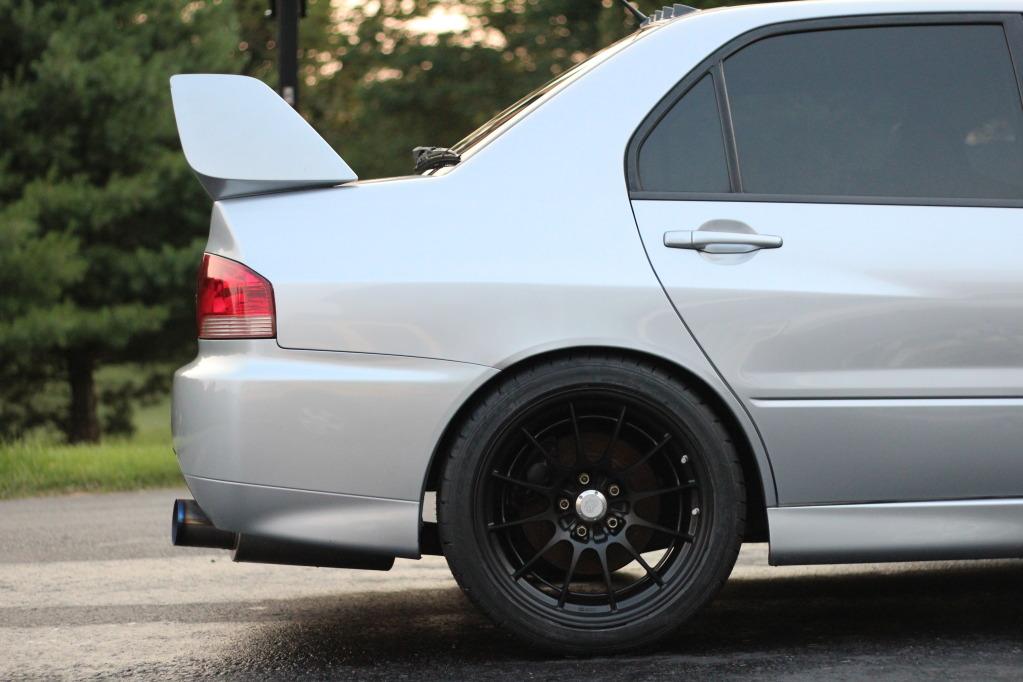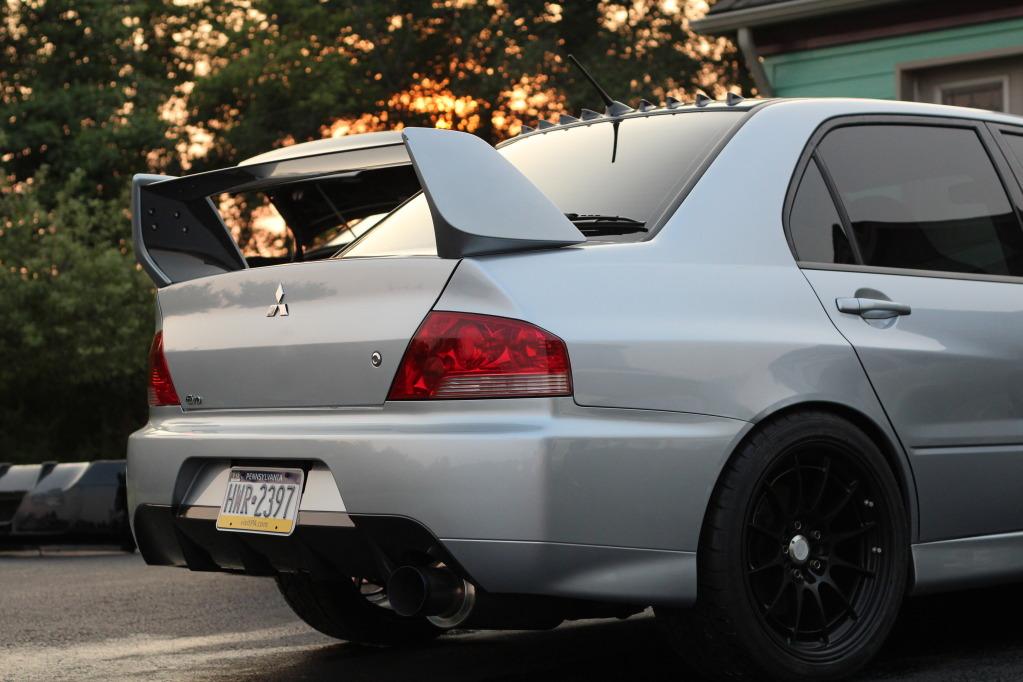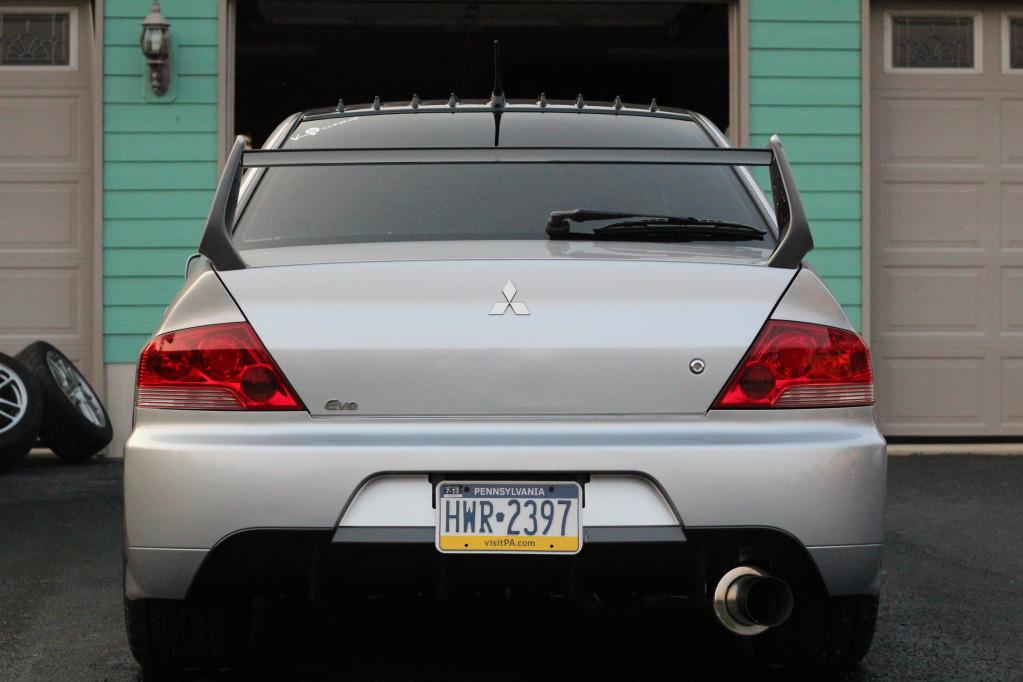 7-1-2012
Did my 50 mile break in drive, and it went very well! I accidentally hit about 7# of boost for a split second and hit a cut, but once I shut the car down and restarted her it was fine.
Oil pressure is great and consistent, fuel pressure is at 40PSI, and coolant temp is right where it should be.
Going to be logging all this week!
The only thing I'm battling is a high idle, around 1400.
Aaron set it to about 1050 via the tune, I messed with the TPS and that changed nothing, I messed with the idle screw and that did nothing.
I also went over ALL vacuum lines and found no leaks!
I did change the scaling a bit, and that helped a bit, but still didn't bring it down enough.
I'm thinking my cam timing is still off a degree or so.
7-2-2012

I have mine each 2 degrees advanced and I think I need to go one or two more. There are 10 million different things people say. Check out this thread I made a little while back. I literally can't even tell you what's right, as it's still the most unclear thing ever.
Check out this thread I started to confuse yourself more:
http://forums.evolutionm.net/evo-eng...ctly-time.html
Before I do any WOT tuning, I'm going to most likely take my car to CBRD and get them to actually "degree" the motor, as there is no other way to truly find out what is correct.
Like this:
http://cranecams.com/uploads/instructions/803.pdf
7-9-2012
Found this quite funny.
The night I got the car: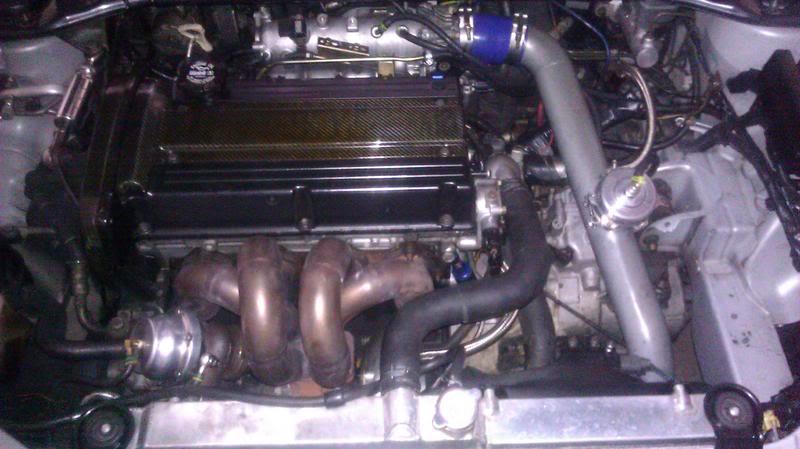 After the build: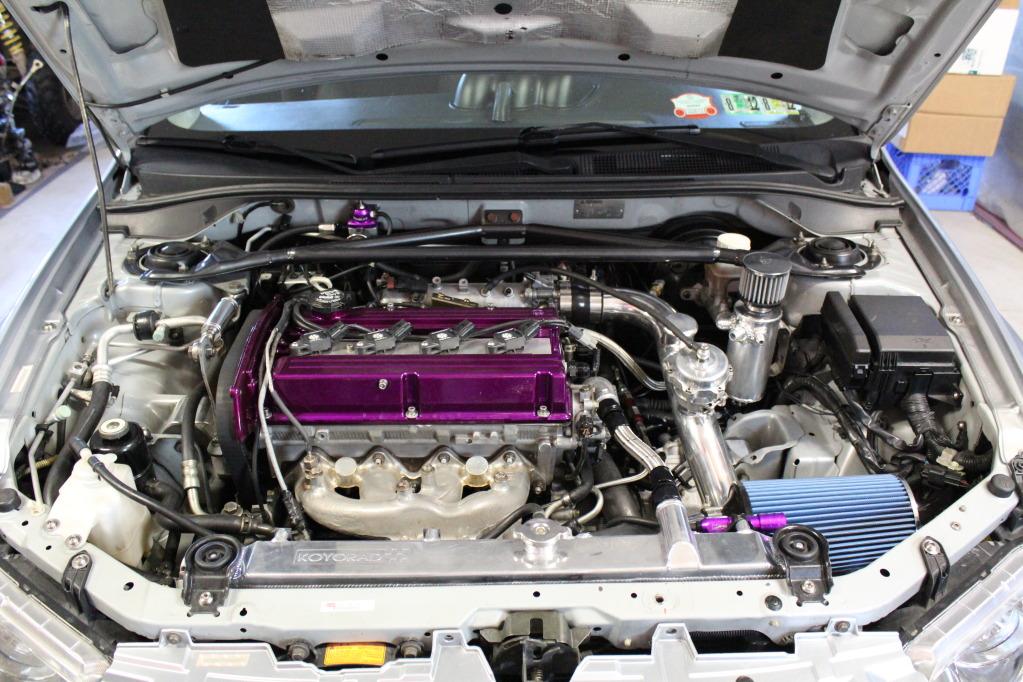 7-13-2012
Indeed you do.
I took some lame pictures of some lame work today.
Harness bar in the car: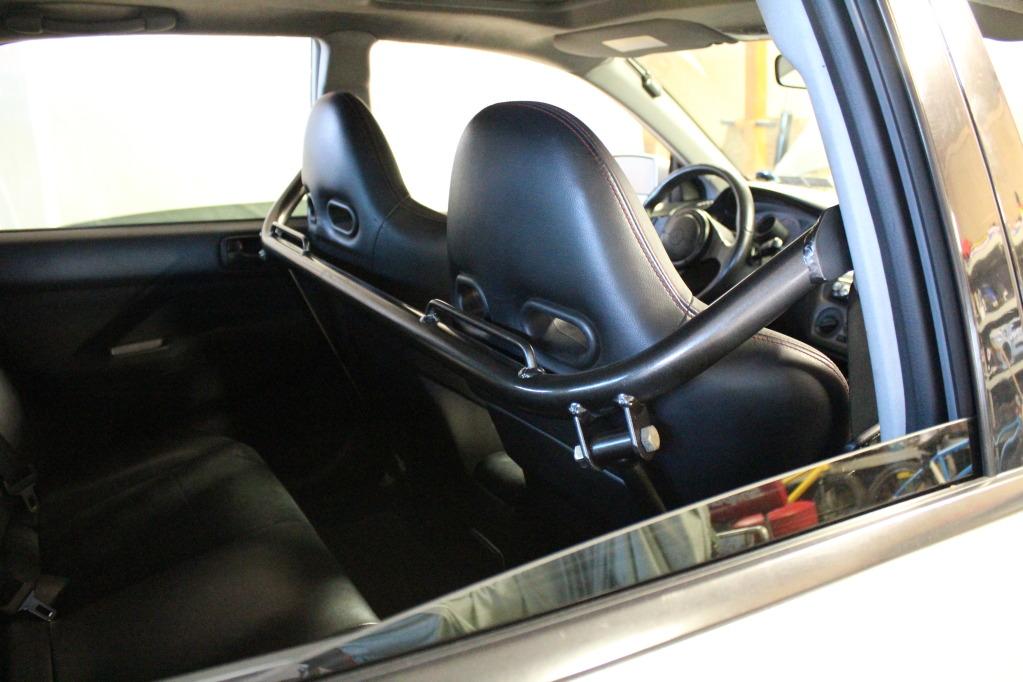 Before EvoDave: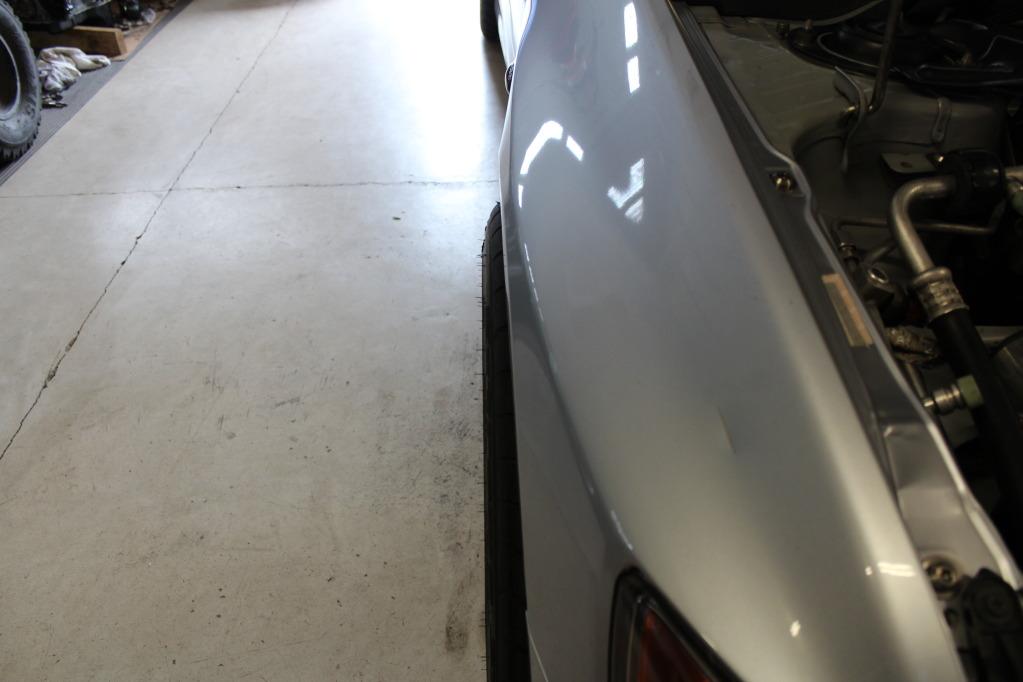 After EvoDave: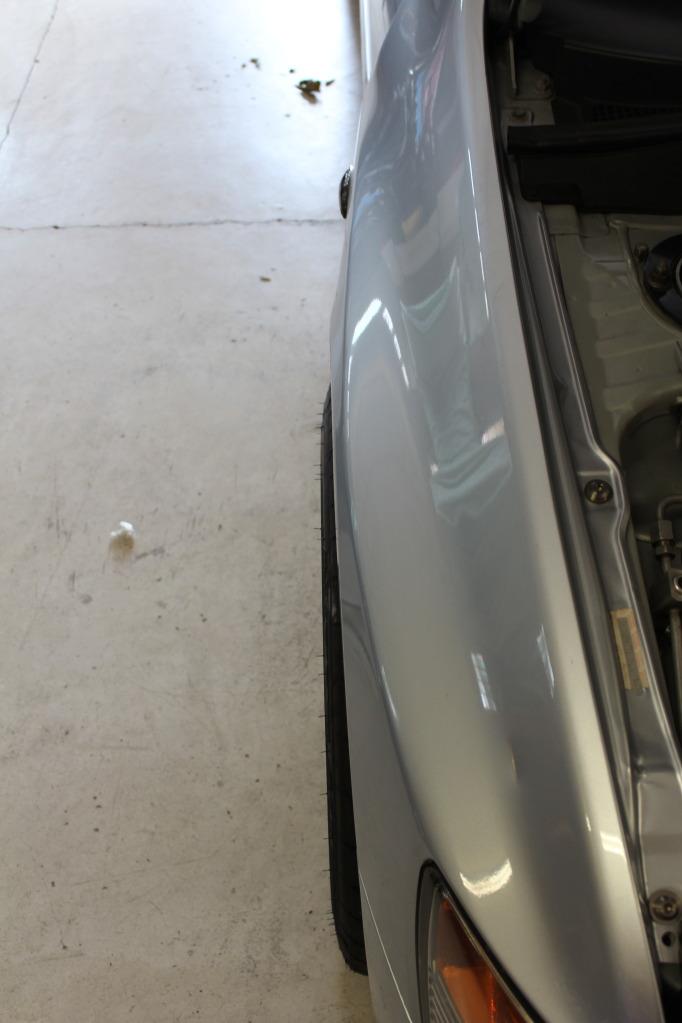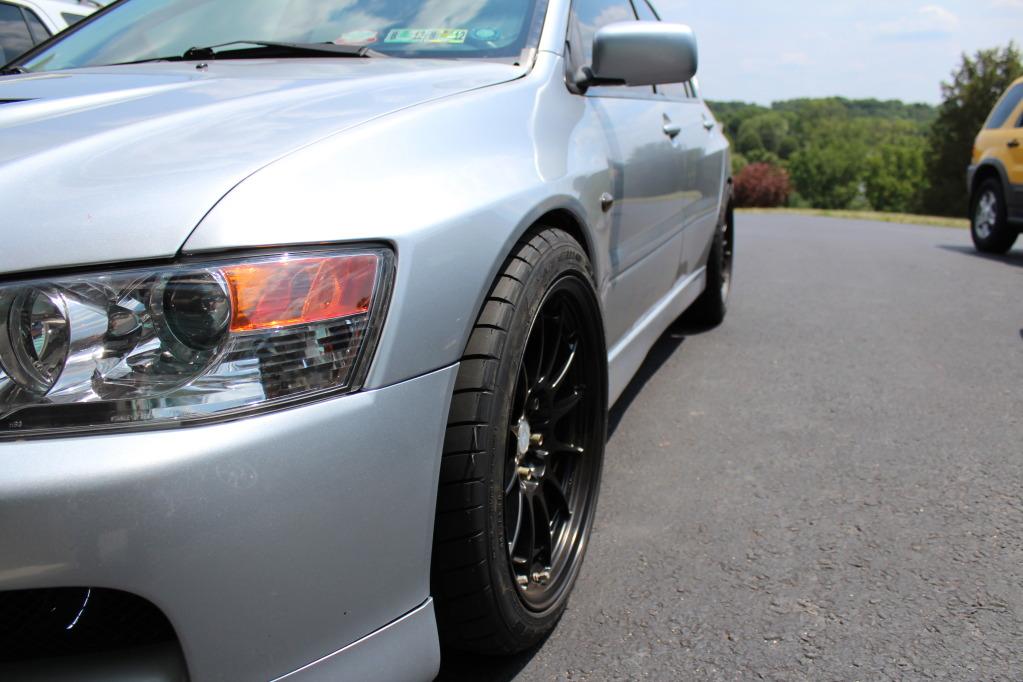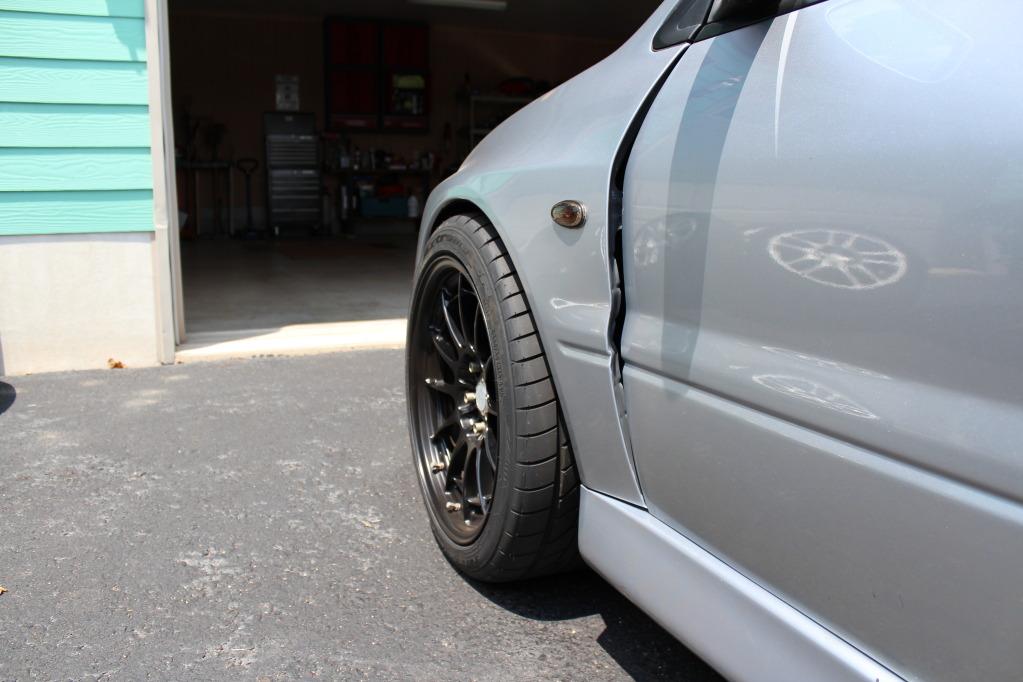 The only thing left on the car that the prev. owner did was the gauges, so I re-did the wiring stuff for them and set them up to utilize the 42DD mount instead of the ugly POD on my dash.
Looks great....not.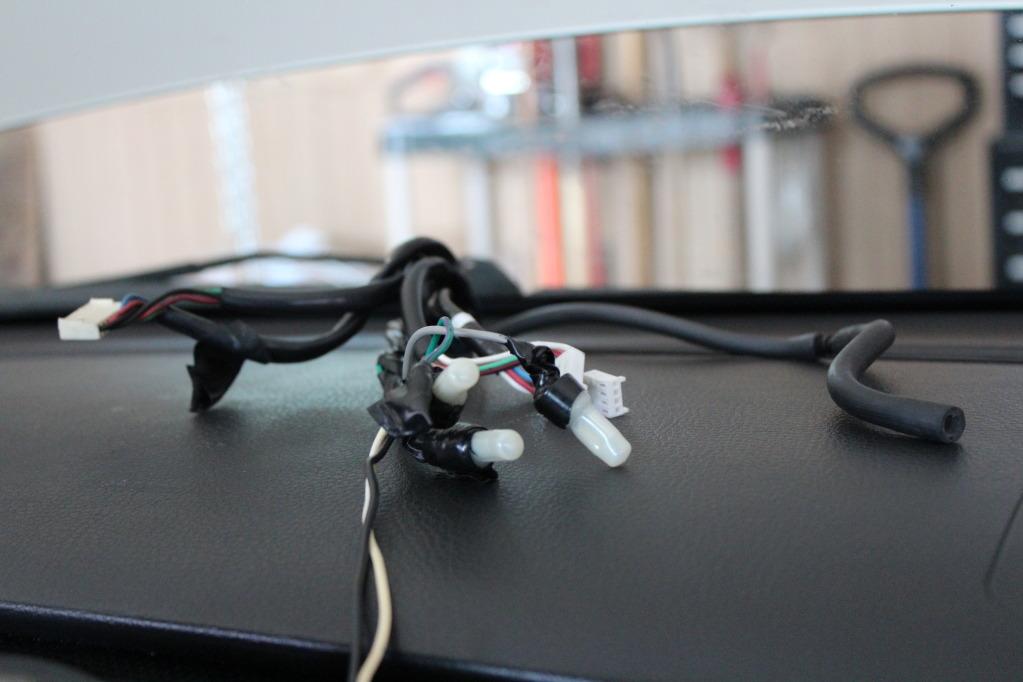 Until the gauge pod comes...........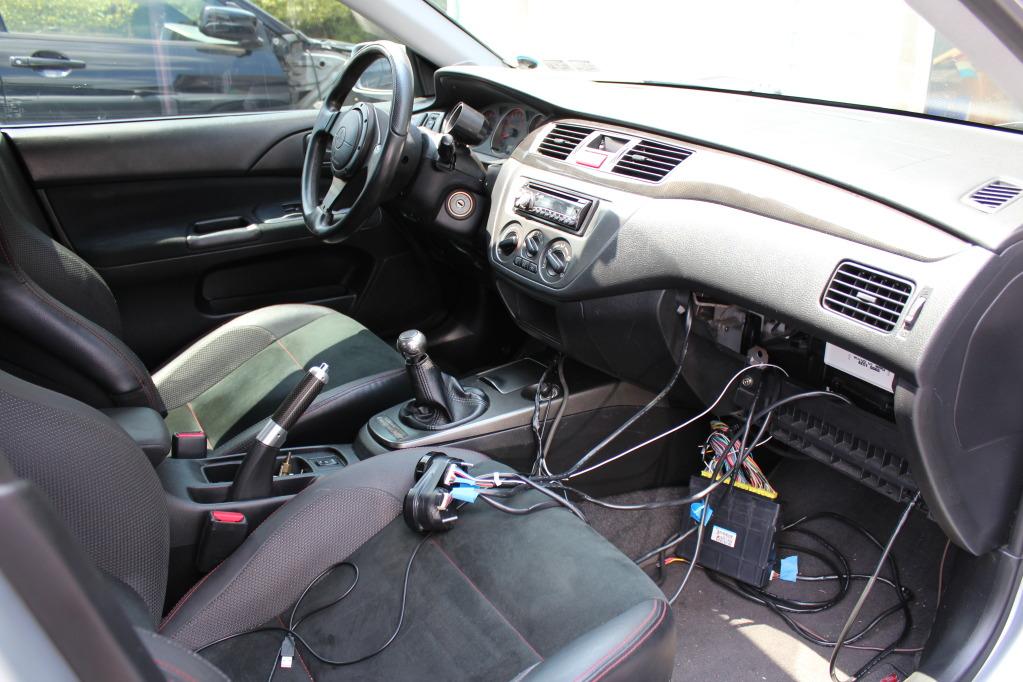 Now someone help me log my Wideband!
7-20-2012
I've been denying that I needed these for awhile. Such a high quality piece, especially compared to the Fidanzas.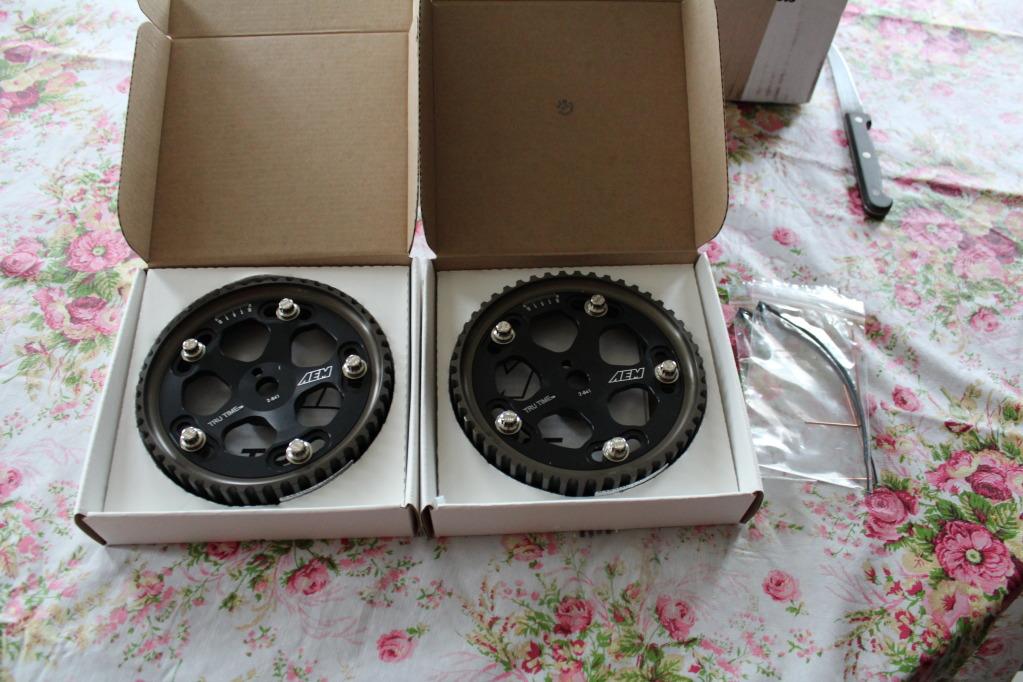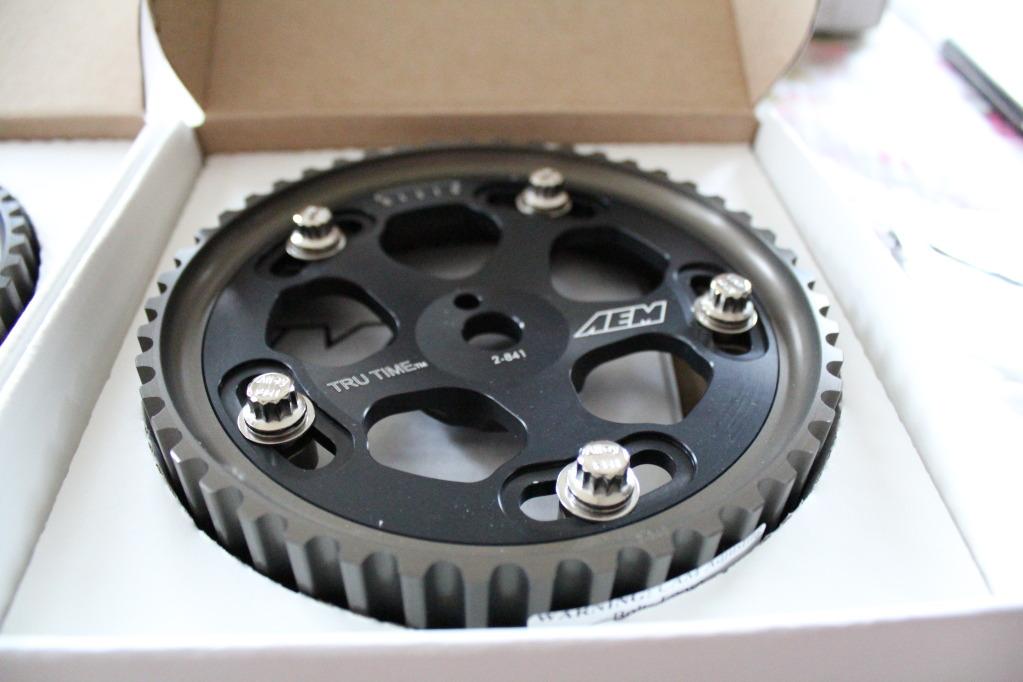 7-26-2012
Got my dumb 120* fitting!! Paid extra for it to be black, got a call that said black was out of stock, so I said the red/blue would be fine. Got no refund for the difference and paid them $7.50 for "handling" which literally entailed them throwing the effing thing in an envelope with no packaging. ExtremePSI fail.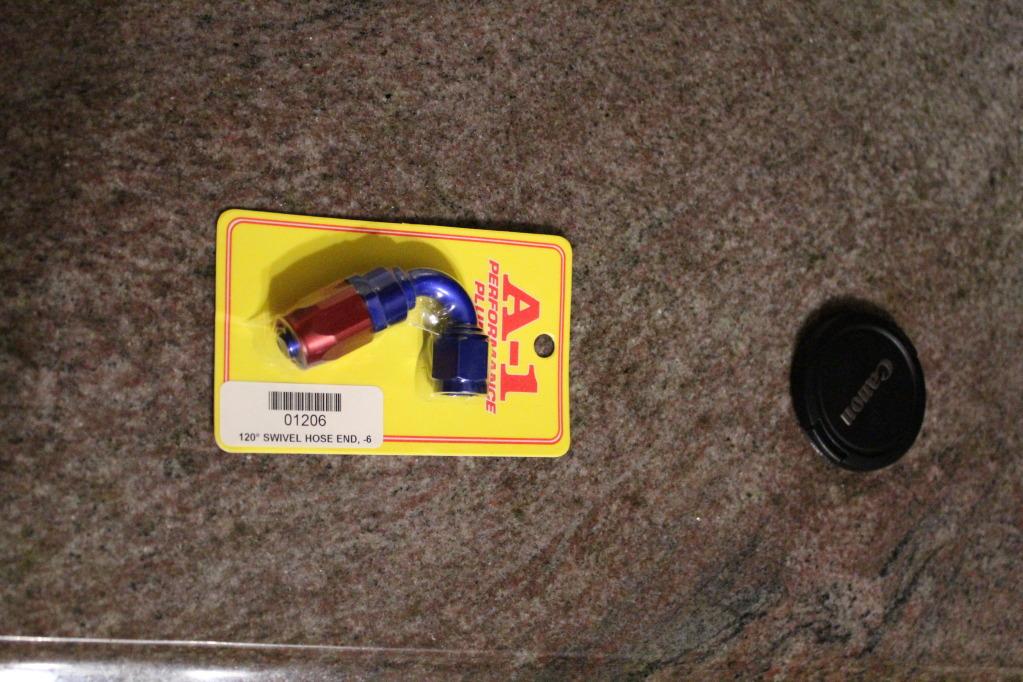 Also, since there are 300,000 Silver Evo's within a 10 mile radius of me, I'm making my car look different than your average Apexi.
First, I threw the black mirrors sitting in my garage on, and am extremely happy with how they came out. The roof is also getting sprayed gloss black hopefully next week.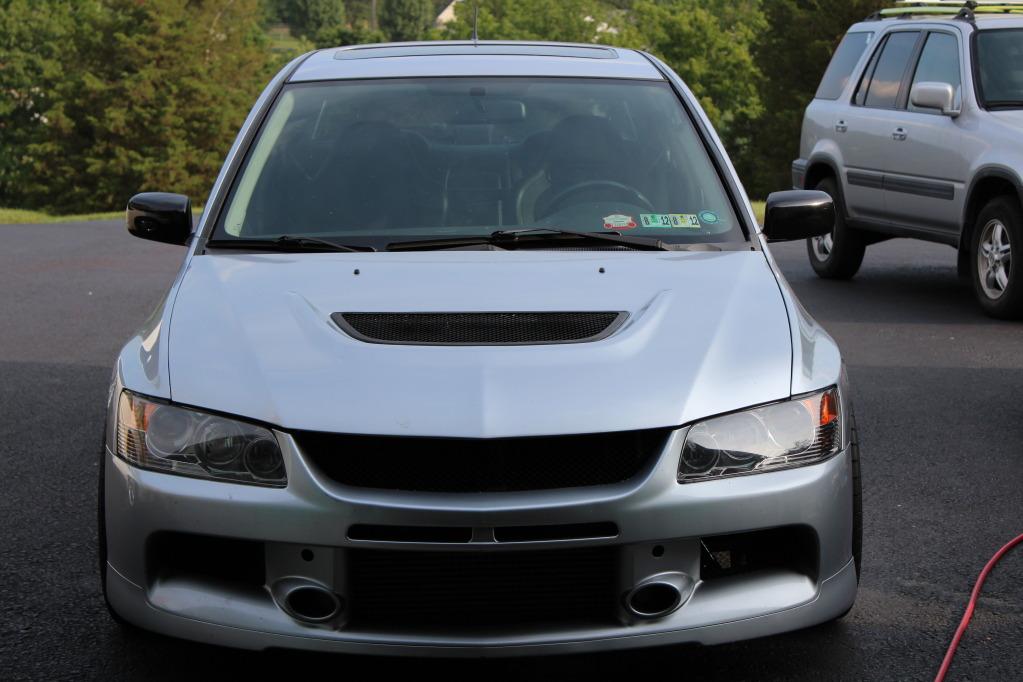 7-30-2012
So, sometime before my motor was in the car my pistons must've contacted my valves, seeing as I have bent valves in cylinders two and four.
Oh well, this just means S3s and a ported head.
The only $500 purchase cooler than bigger cams would be the new daily: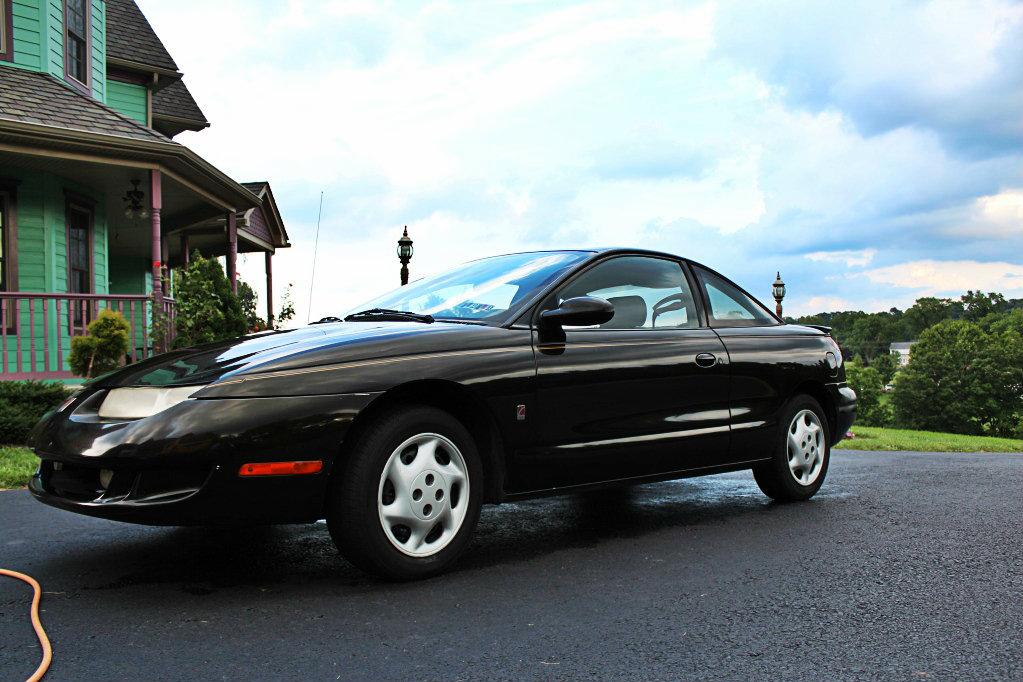 7-31-2012
Haha you don't need to keep giving more information. I completely understand what you're saying and why you're saying it, and totally get that you have experience.
However, you have half the community saying their switch to S3s was the best thing they did to their car, and you have the other half saying that you don't need S3s until 800whp.
My point:
I don't need this car. I didn't need a 4g64. I didn't just need to buy a built head. I clearly had already made up my mind on getting 280s when I first posted "this means a ported head and S3s". I'm going in there, so I want to do it now, rather than later. I hate having something on my mind like "I wonder what my car would feel like with those 280s". I can always go back if I don't like it, and until then, accept me as a dumb, stubborn kid who likes to learn for himself.
In another respect, my 2.4L kills the IX turbo up top, so until I upgrade my turbo to whatever I choose to upgrade to, the extra punch up top will be nice, as I'll taper to like 17#s up there and need all the extra help I can get. The 2.4L will spool the IX turbo regardless. Sven made 43#s at 3750 with S3s.
I don't think I'll go Kelford 280s at this point, as they seem to be a bit more sluggish than S3s, however, S3s are known to be very well mannered down low on a stroker without anything but maybe a 200rpm loss in spool on a bigger turbo.
Again, I completely respect your opinion, Adam, as I know you've been around this stuff a lot longer than me, but going with an S3 is something that I've wanted to do for awhile, for no reason other than "just to do it".
I wanted a damn TIG anyway, not to fix this stupid car again

.
8-3-2012
I'm glad my misfortunes could be of assistance to your motivation

. Every time something breaks it just gives me a chance to make it better!
....and on that note..... I got some secret sauce a brewin' for her comeback.
Oh, and a gay picture:
Oh, and one more thing. Yes, the lift is wrong on this, but take it for what it's worth.
The advertised powerband of an S3 on a 2.2L...

Ordered:
-GSC S3s
-Kiggly HLA
-Curt Brown's ExtremePort IM (http://www.curtbrownracing.com/70mm_...ifolds_11.html)
Back Apart: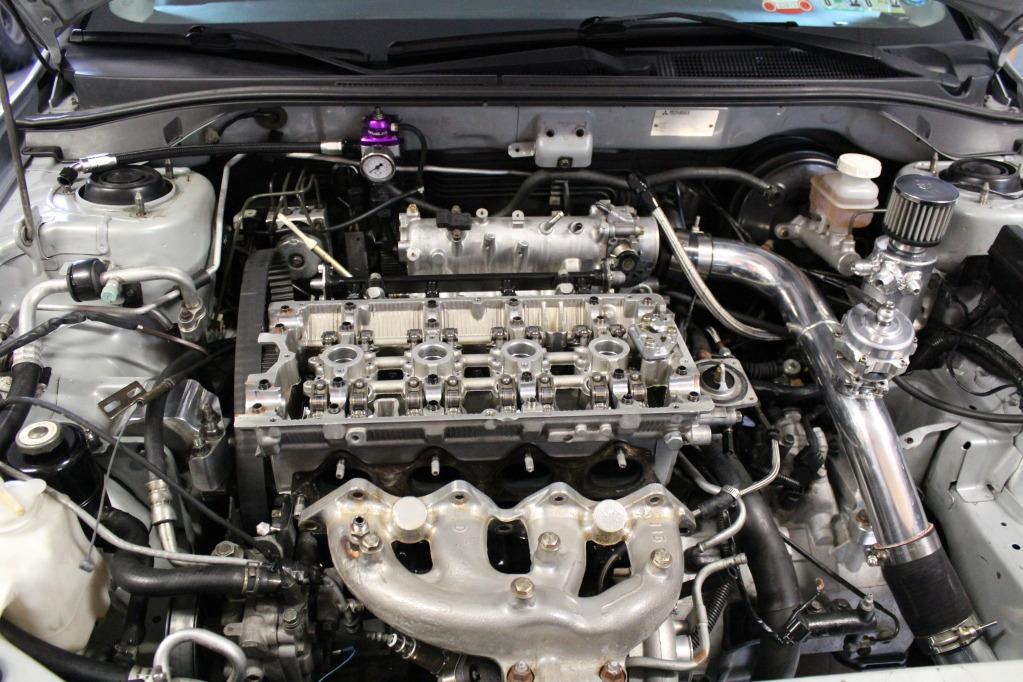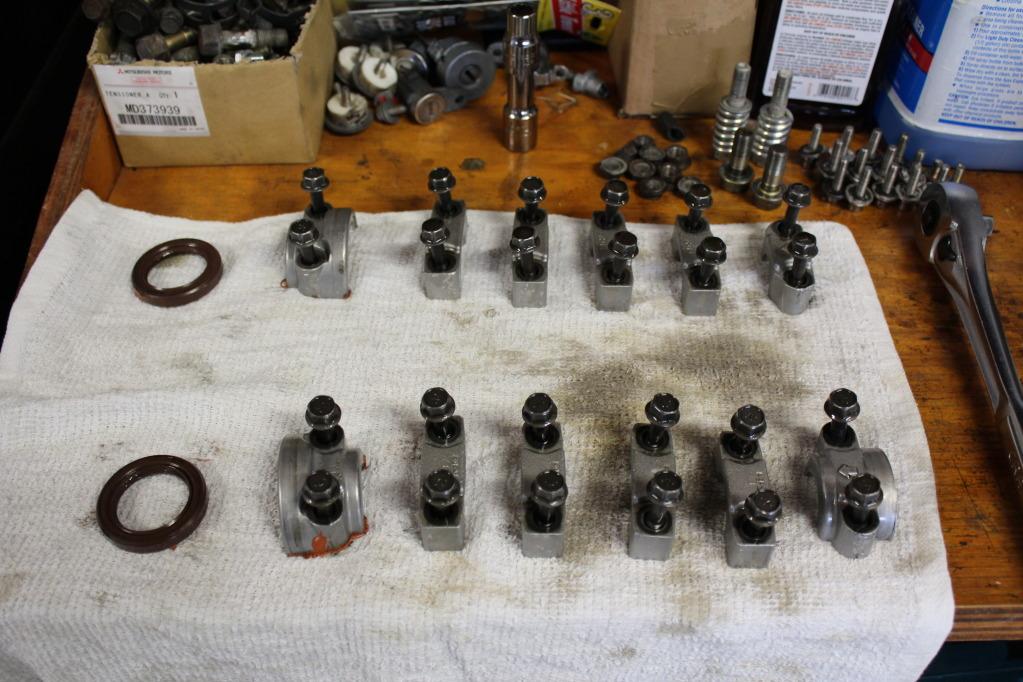 New Head:
Specs:
-Blended Bowls and Castings Knocked Down
-SuperTech Duals
-TopLine Lifters
-SS Stock Size Valves
-Competition Valve Job
-Only cut once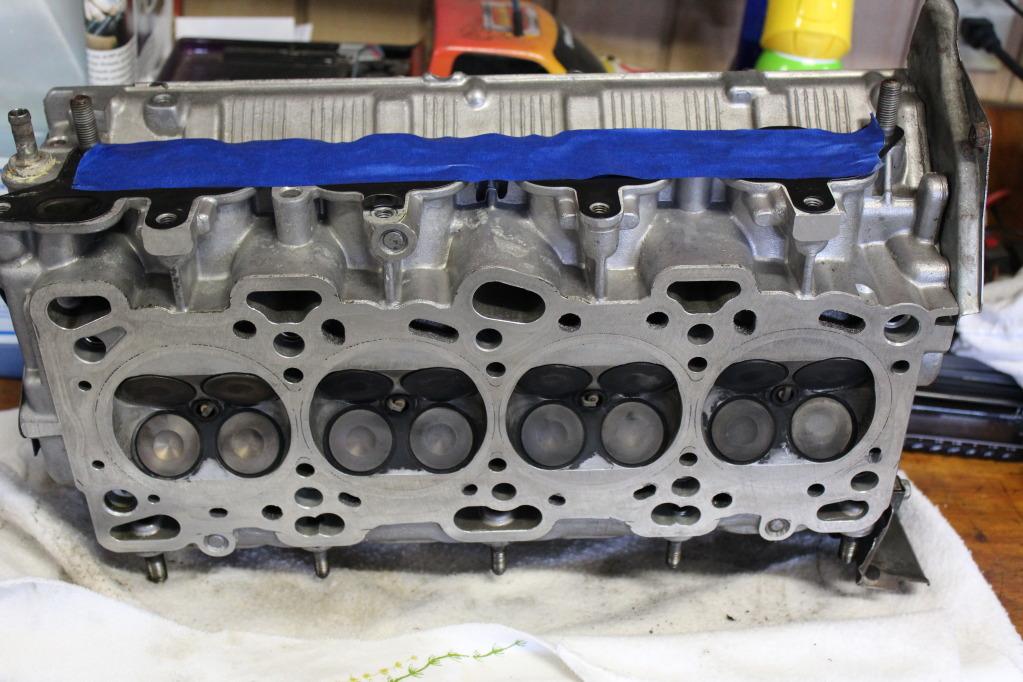 8-5-2012
Worked on the car a bit today.
First order of business: remove head.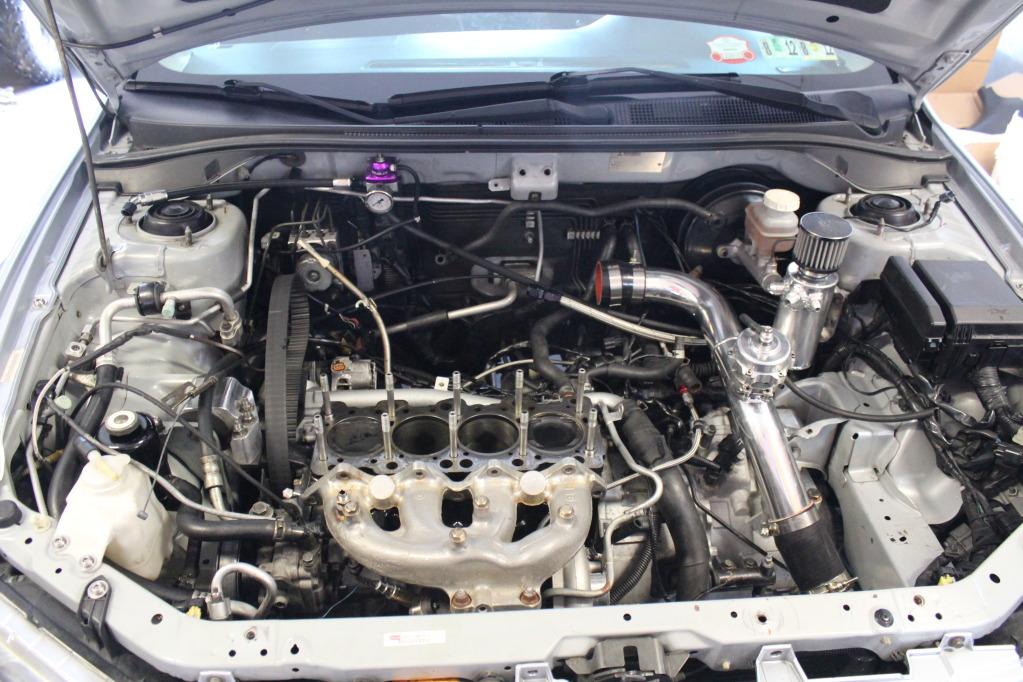 Garage cat: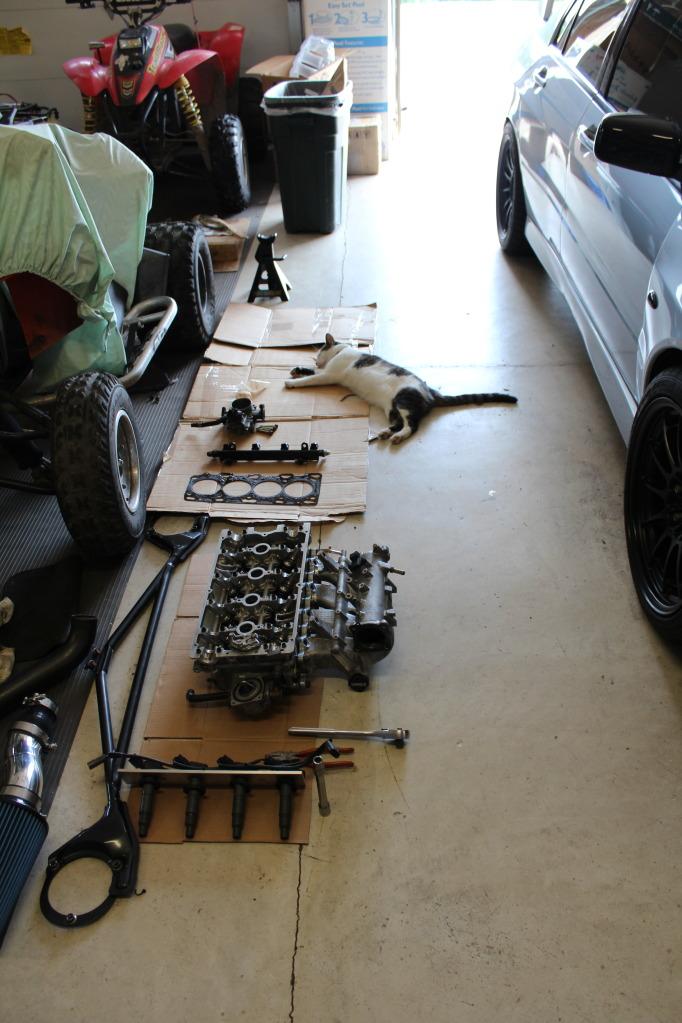 Castings knocked down: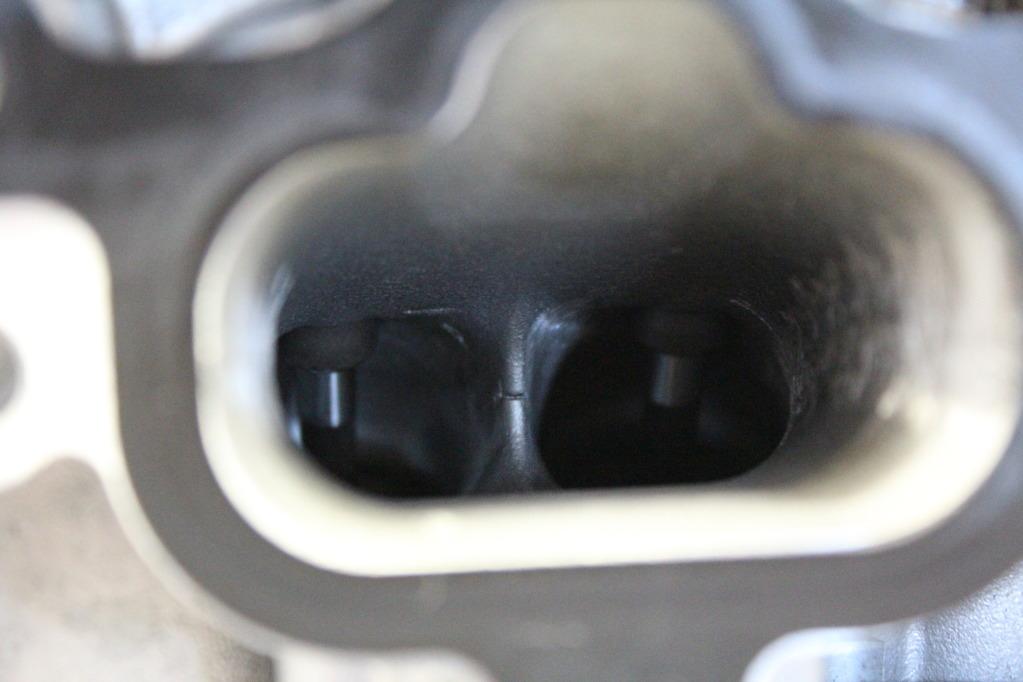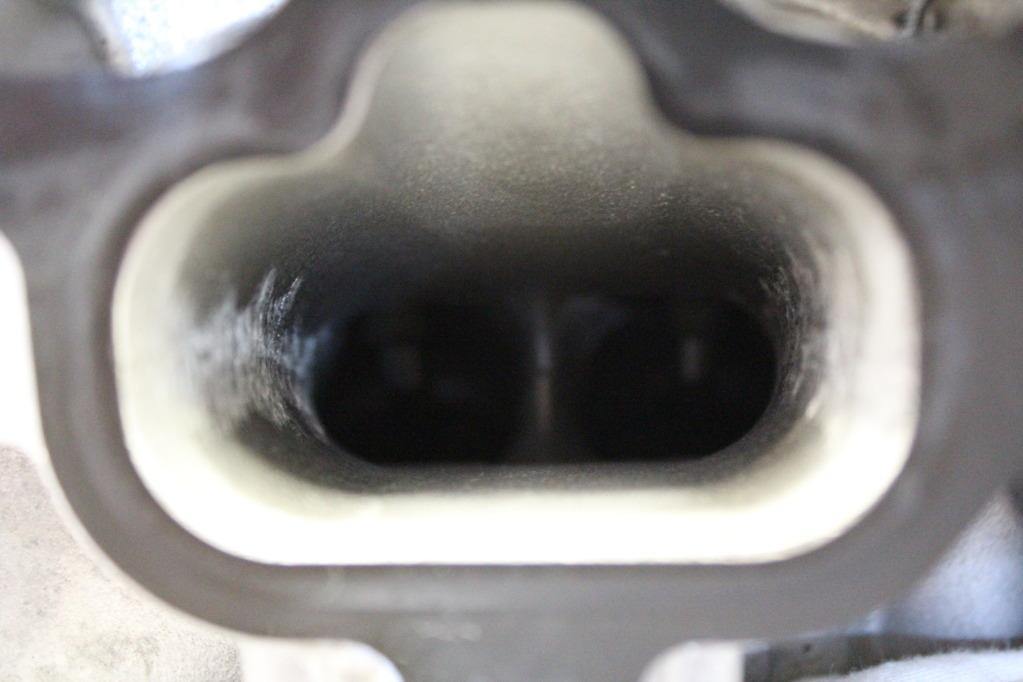 Because I'm sick in the head I decided to re-do my harness.
Loom: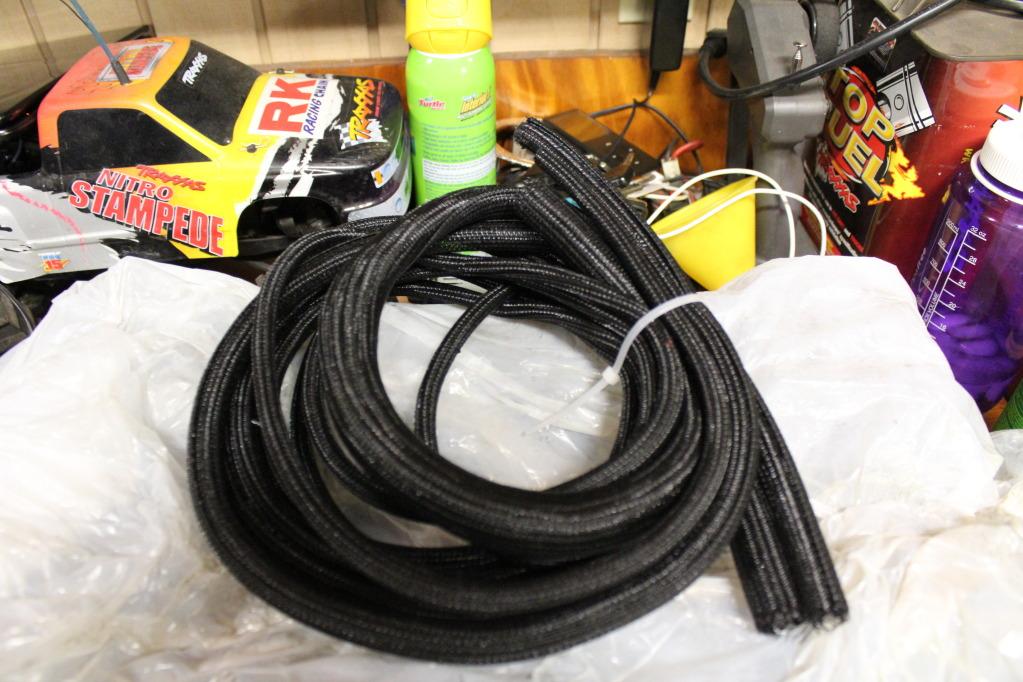 Awesome industrial electrical tape I got from a friend who works for Verizon. Just so happens to be PERFECT for harness work.
I was happy with how it came out: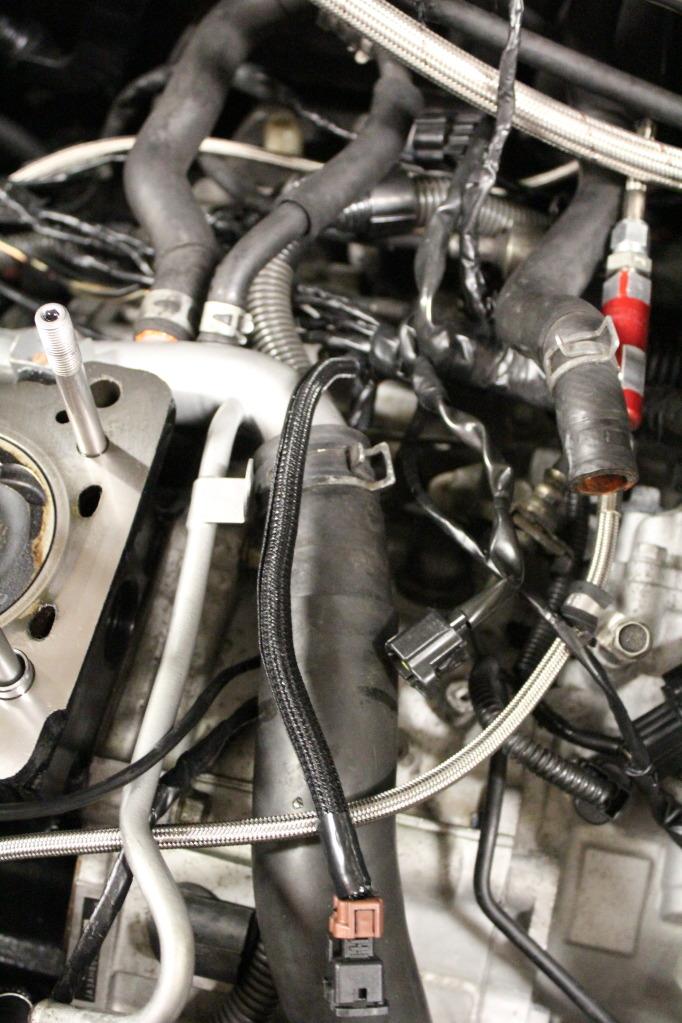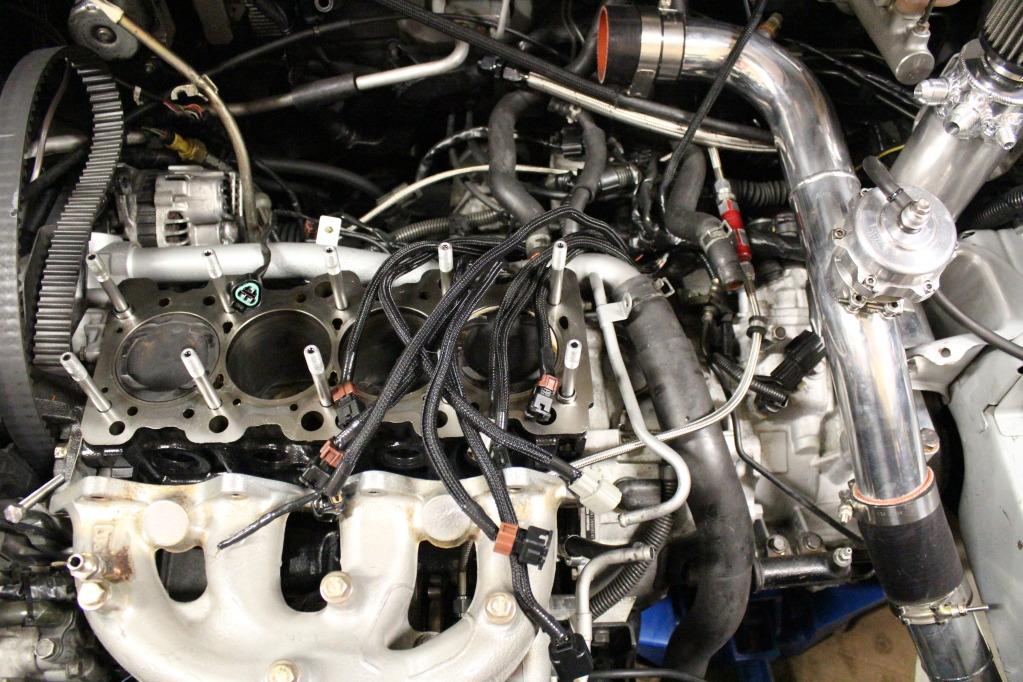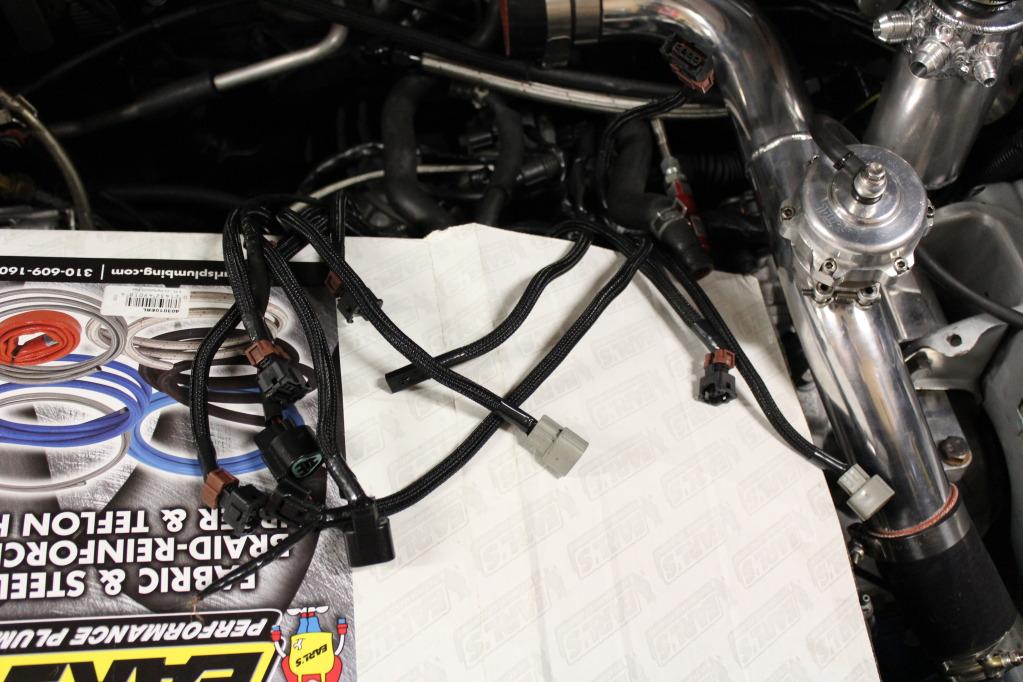 8-6-2012
Did my research. This wear, which is wear from the piston skirt, can apparently be caused by two things:
1) PTW Clearance is too tight
2) Bores are out of round (no torque plate)
If left untouched, this thing wouldn't have lasted very long..
Thank God I pulled the head.
Oh, and Christmas came a wee bit early: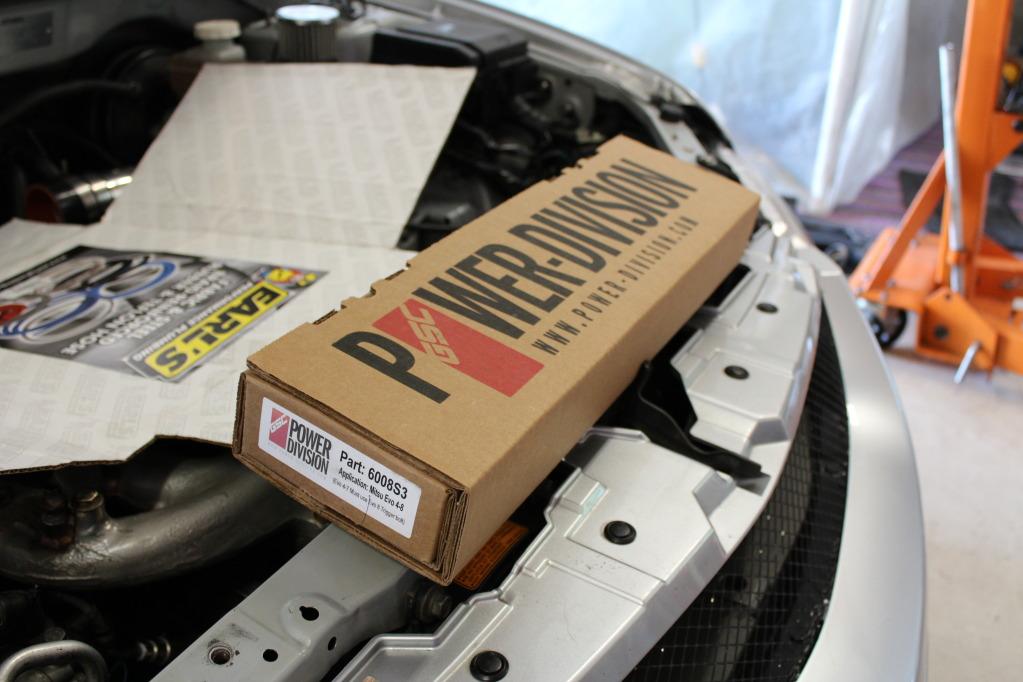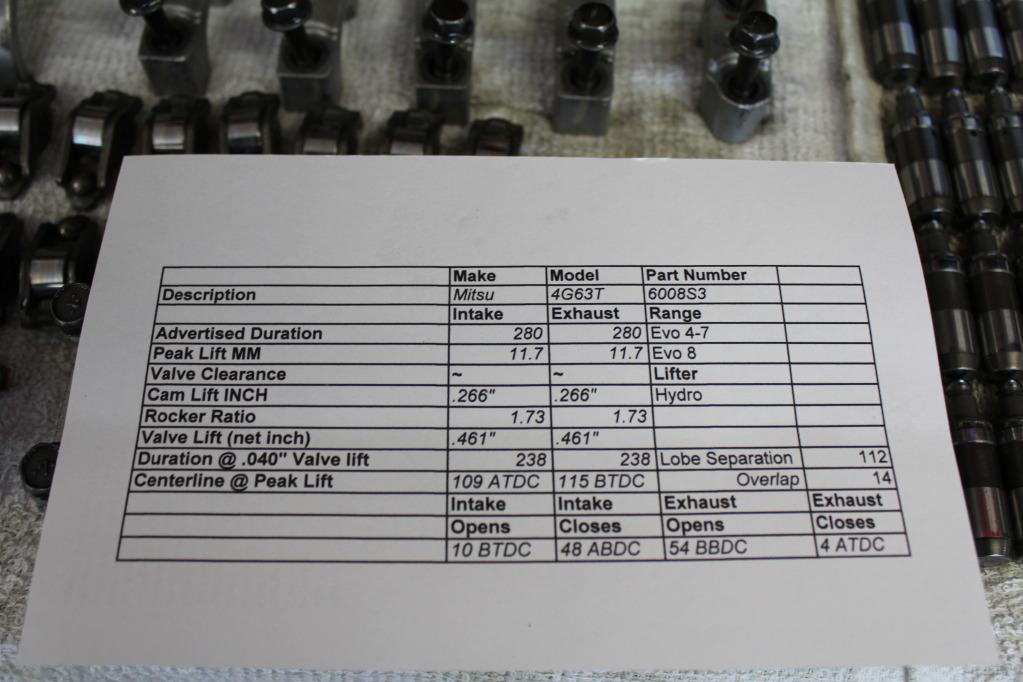 8-10-2012
I notice a little slap when she's cold, and after hearing my old motor with JEs I know the sound quite well

.
I'm just going to run it and give it hell. If it fails we'll all know who was actually right, seeing as everything is built/being lubricated properly and I'll be at ~400whp for awhile.
Unfortunately I sold my 65mm to purchase the Full Blown so I won't really be doing any testing. However, you'll see by the graphs how everything is working

.
If I don't crack 400whp on pump I'll shed a little tear.
And also, Chris, I apologize for being overly skeptical about this wear, however, seeing as I'm a broke college student that dropped ample money (to me) on a motor, I'm overly cautions about every aspect of my build, as I really don't have the budget to fix anything big at this point.
It's more or less common knowledge that .0035" is quite tight, especially for higher HP levels, but I'm trusting what you're saying in that the wear is normal and I'm going to run the motor.
Like I've said above, I only use the best oil, Wix Filters, my car doesn't leak a drop, my inline FP filter is always cleaned, I'm running a Kiggly HLA, and I've nearly crashed my car because I keep such a close eye on my Oil Pressure.
My new head is mint, I'm using a Cosworth Cosmetic HG, and I'll be keeping a very close eye on my compression and leak down numbers.
Thus, if I notice something is up with the motor, we'll know about it and can easily rule out oil starvation/contamination, unless I get a bad batch of Brad Penn 10w30 or my oil pump fails.
8-14-2012

Nope no need for a turbo at all with that thing. It's the epitome of efficiency.
Got some crap today. I might put it on sometime soon, or I might not. Depends on how I feel tomorrow/the rest of the summer.
I heard Kiggly made a cool thing that did something with oil, so I bought it. Just kidding. I think this will be extremely useful when pushin' the G forces to the limit.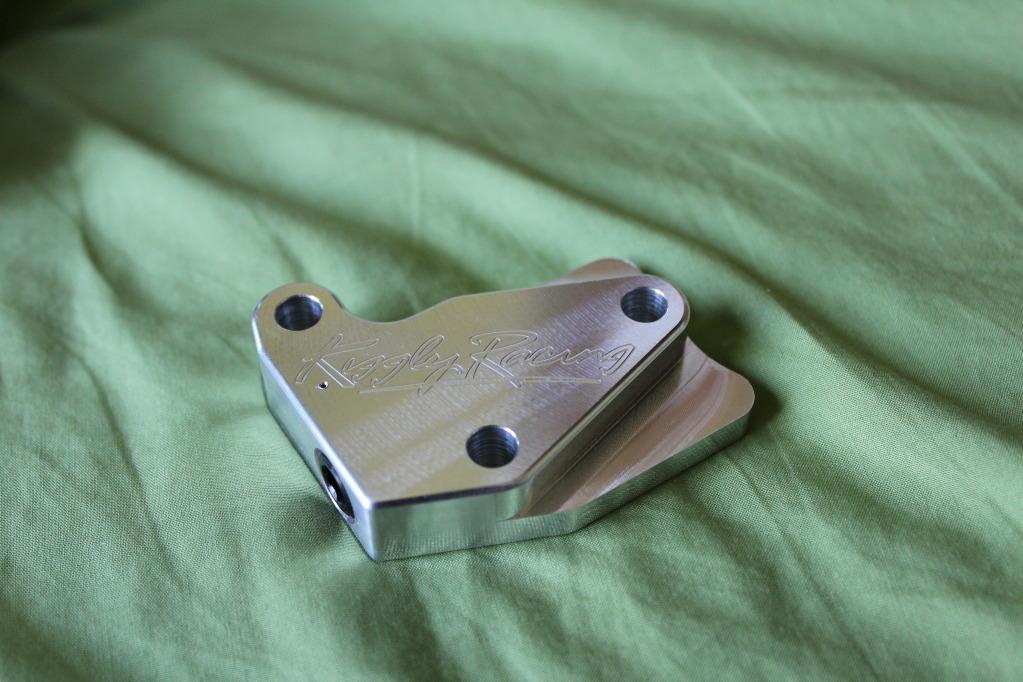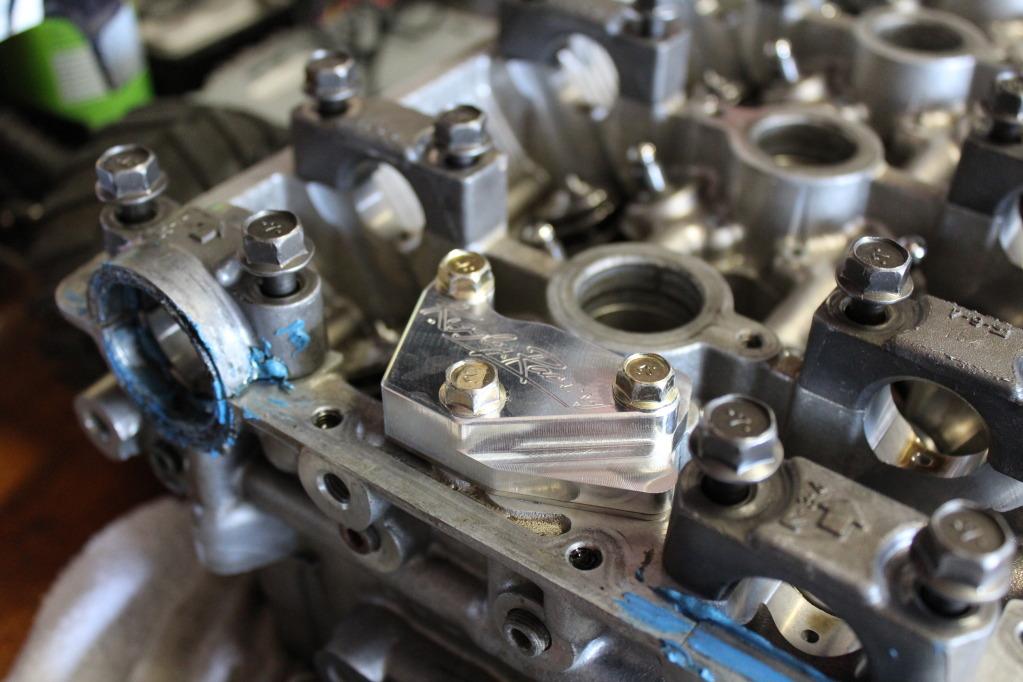 Oh, and if you didn't know already, Curt Brown is the man. If you ever need anything ported, I wouldn't ever hesitate to send it to him.
Extreme Port Intake Manifold w/ 70mm TB Flange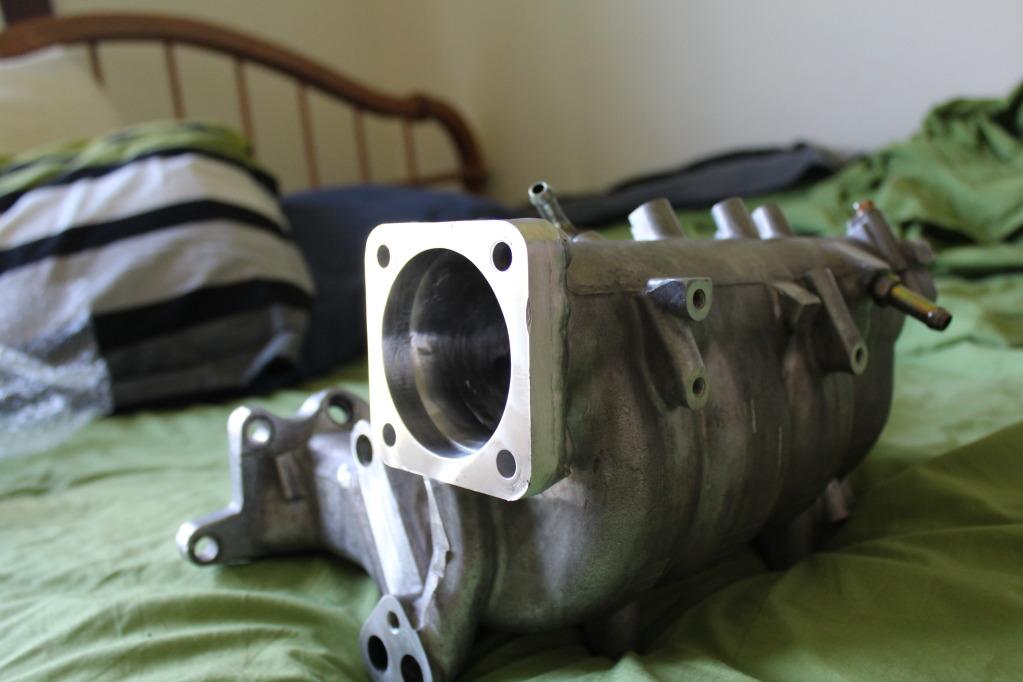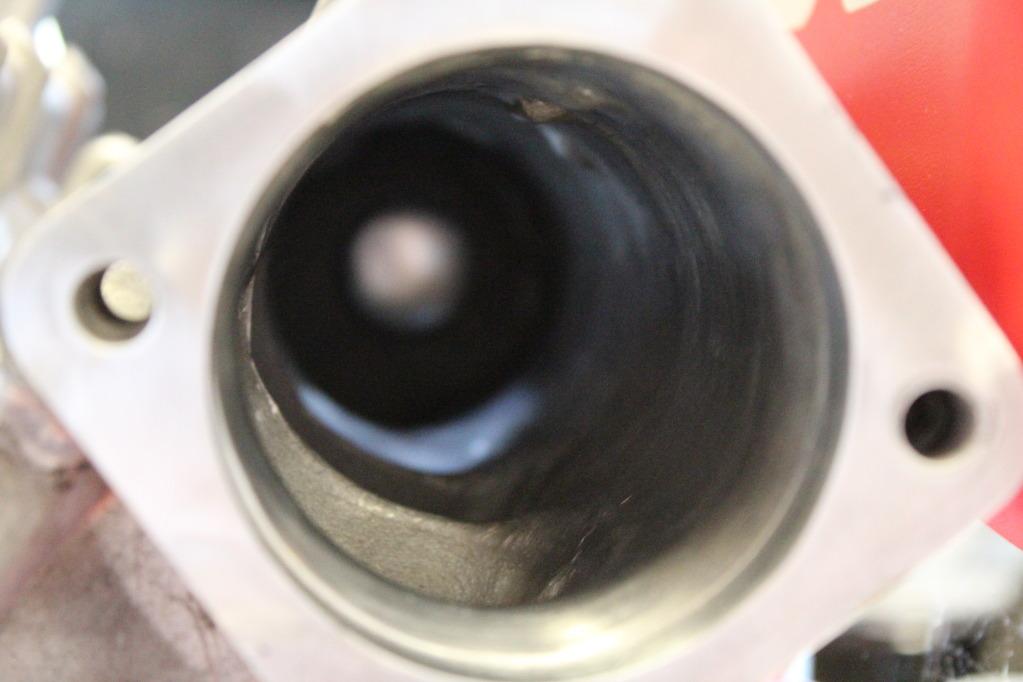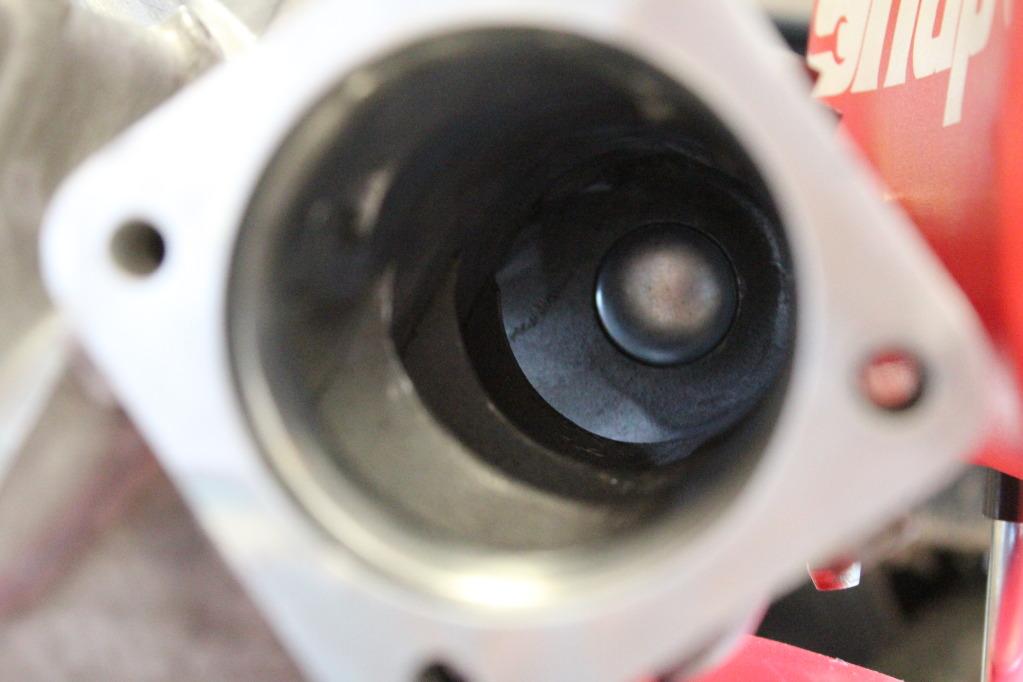 My new valve cover back from powder coating, thanks to JNZ Finishing! This time I went the smart route and used -10an bulkhead fittings seeing as my 1/2" NPT to -10an setup I used last time cracked the living hell out of the Magnesium.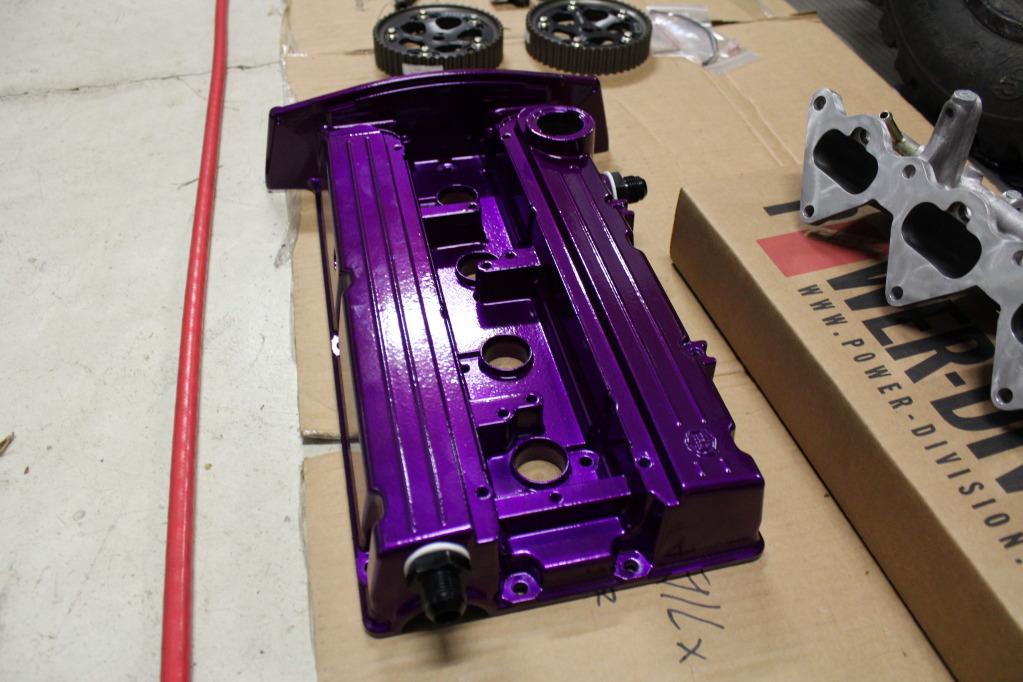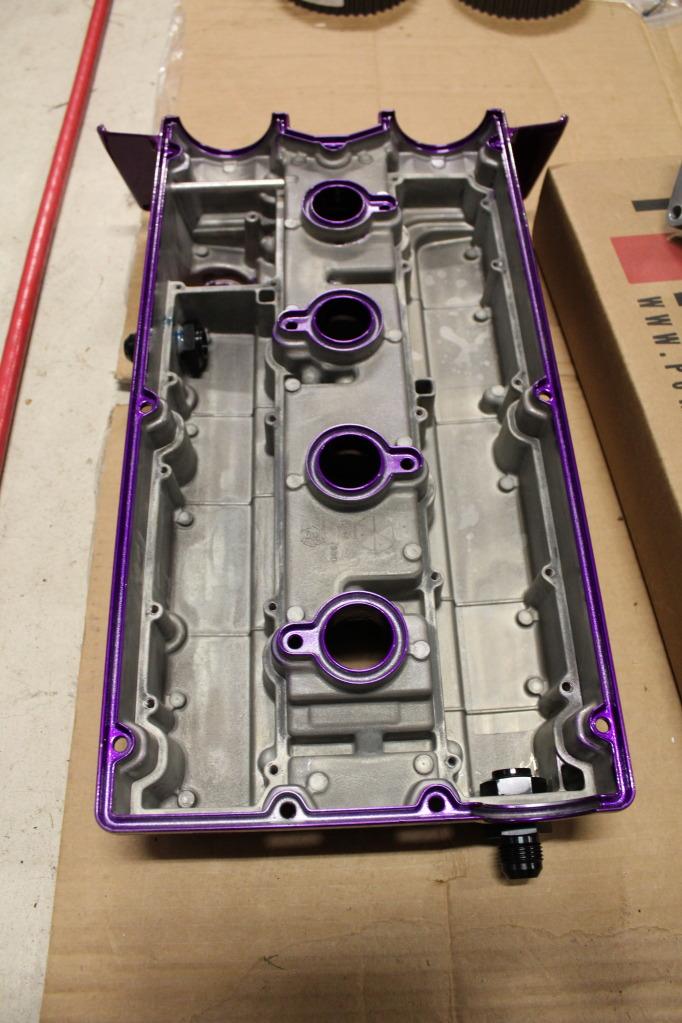 Cleaned the baffles too.
8-15-2012
Since I routinely update with very little progress to at least give you pictures, I've done that yet again.
First, I got sick of hot gasses entering my intake manifold so I got my 1/8" NPT tap out and tapped the EGR hole in the head, and threw a plug in there.
For those who will say "don't use a brass plug", here's my opinion on the matter:
Brass is actually stronger than aluminum, but only by a little bit, so the metals should expand and contract at nearly the same rate, thus helping the plug stay snug in there. If (stainless) steel was used, the aluminum would expand with heat while the steel would not, thus giving the plug room to vibrate out over time.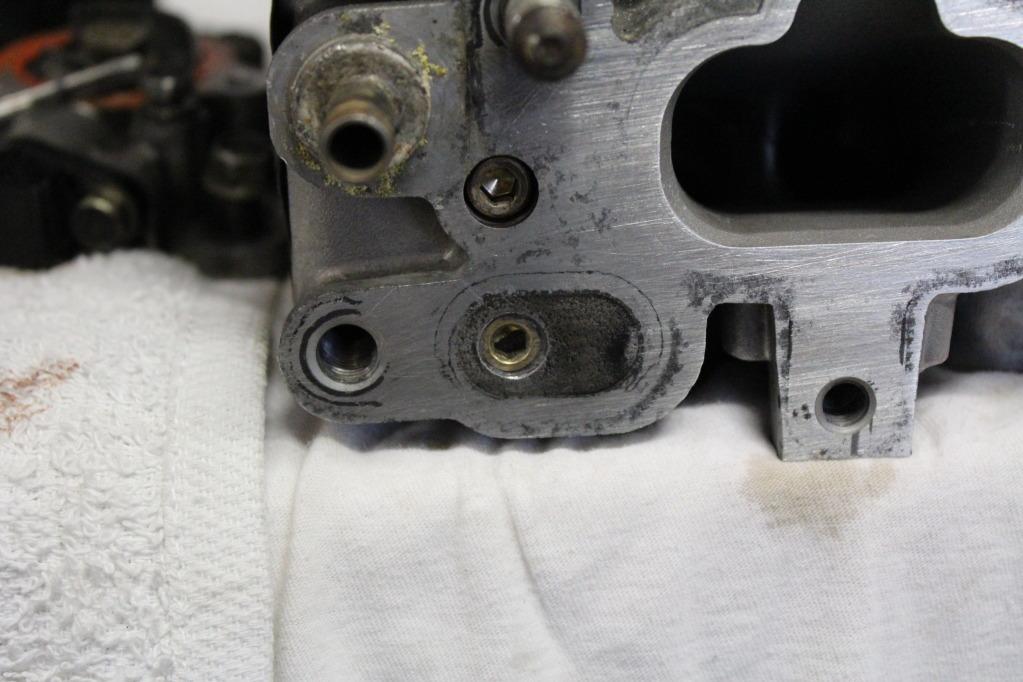 Torqued everything down: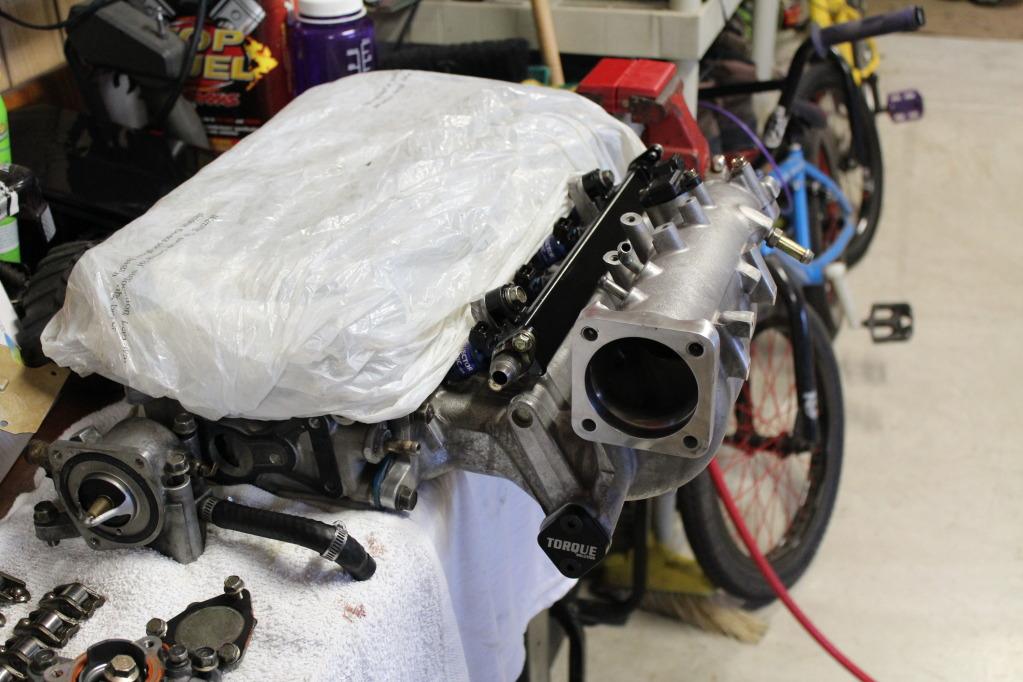 Got my FullBlown TB! Very nice piece indeed.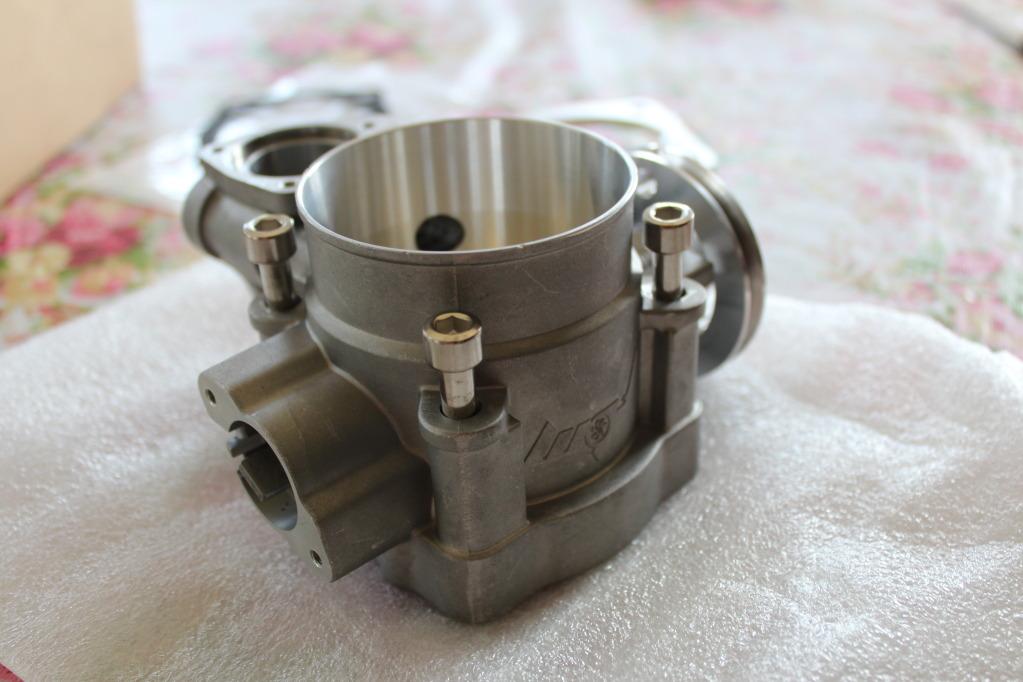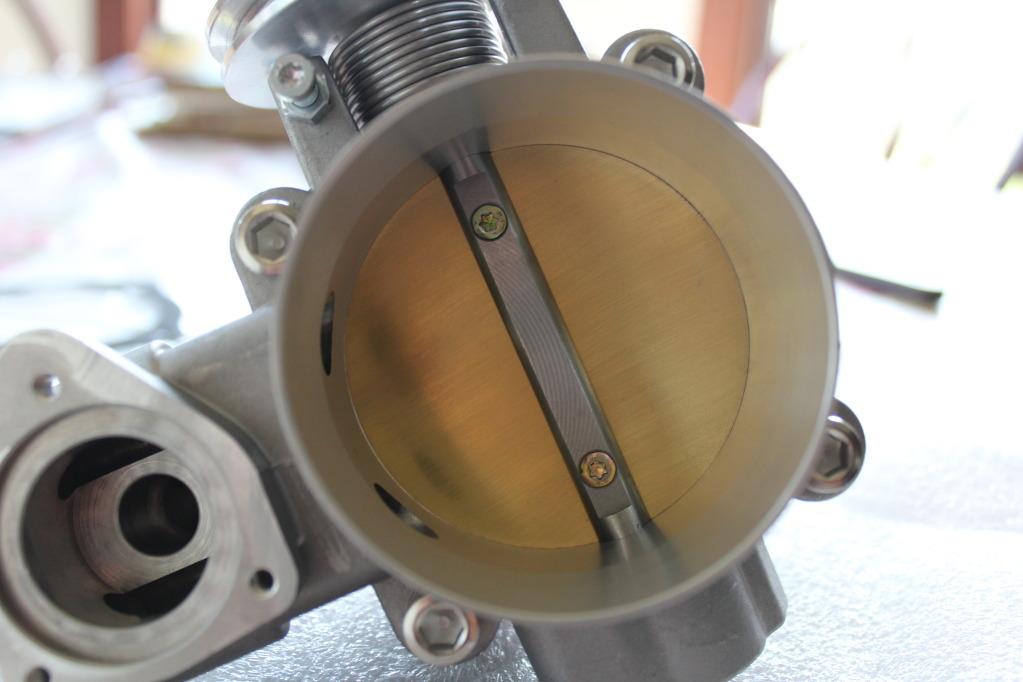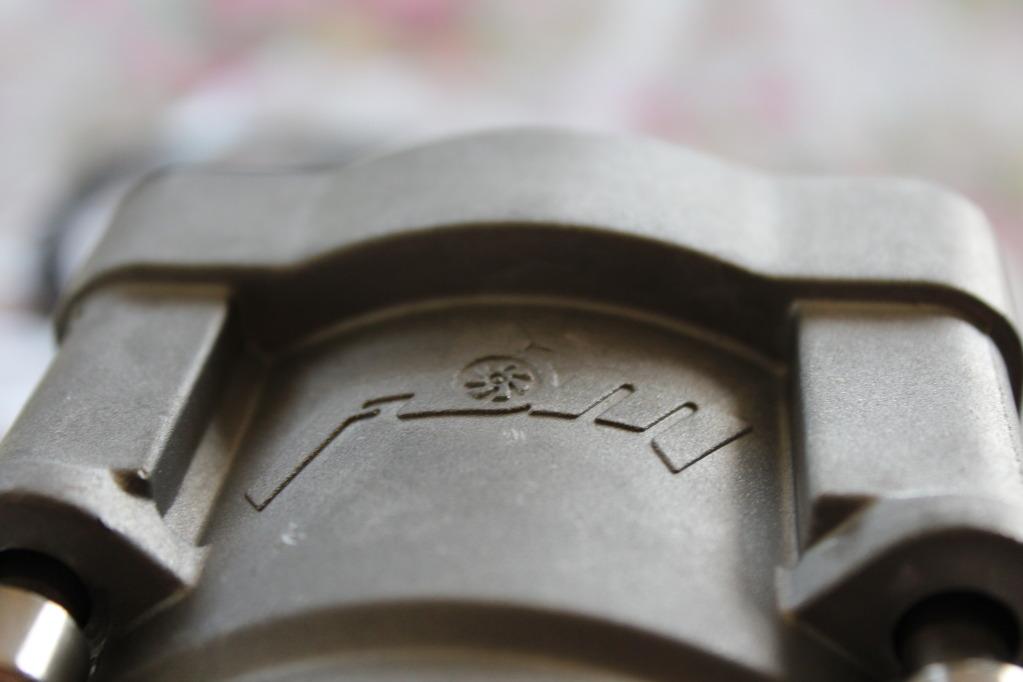 8-20-2012
Welp, I'm off to esquela this weekend, so this will be the last batch of pictures. The car is just awaiting the aforementioned bolts before she gets tuned, but I'll probably wait until next summer to tune it as I'll be 12 hours away from the car until then.
Put the baffles in the newly powdercoated, tapped, and -10an fitted VC: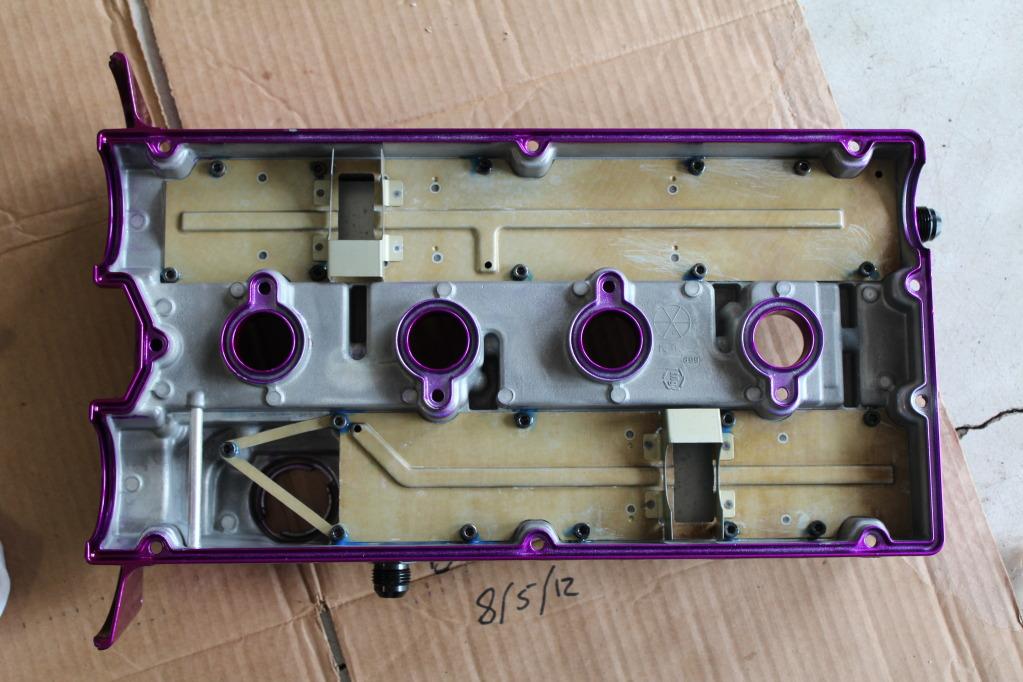 Heard the torque ratings from Anti-Seize aren't consistent at higher ft/lbs, and saw how consistent this stuff is: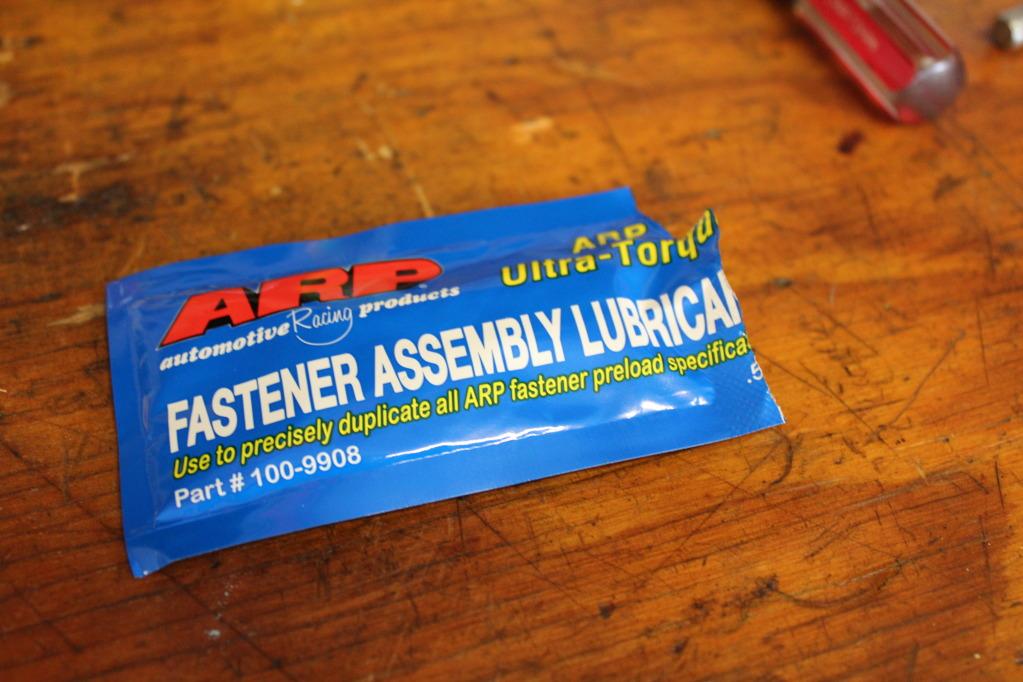 Putting the head on and S3s in: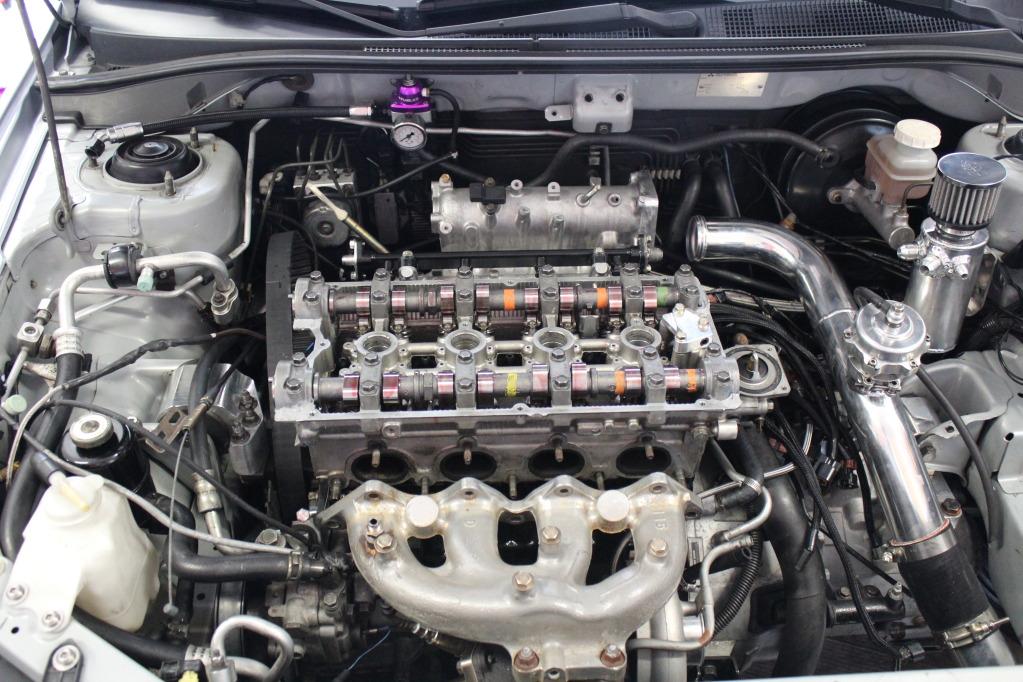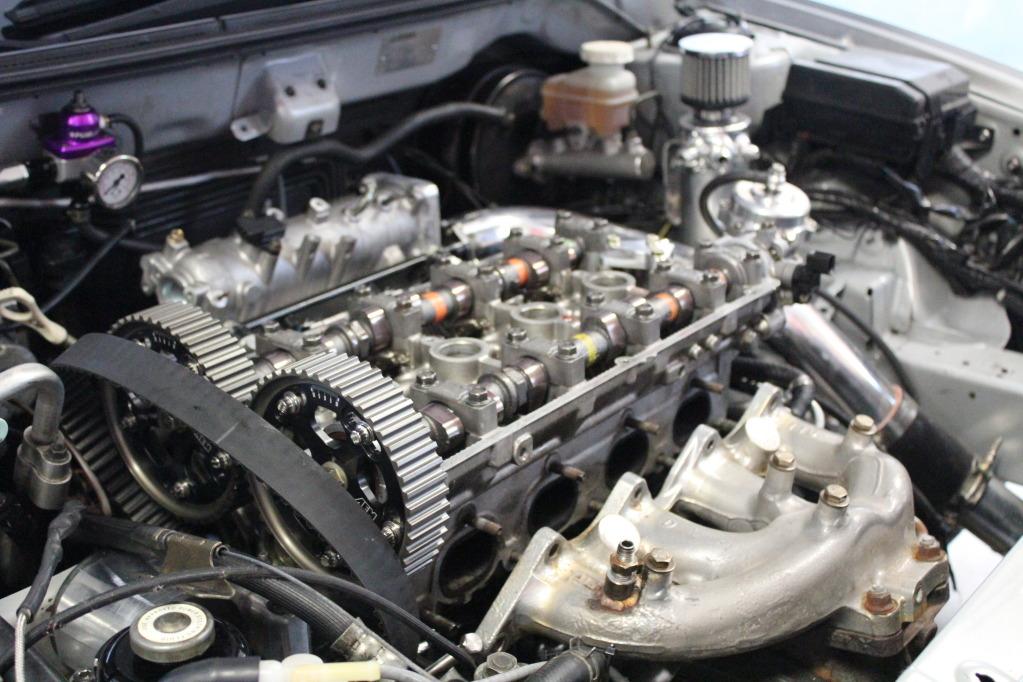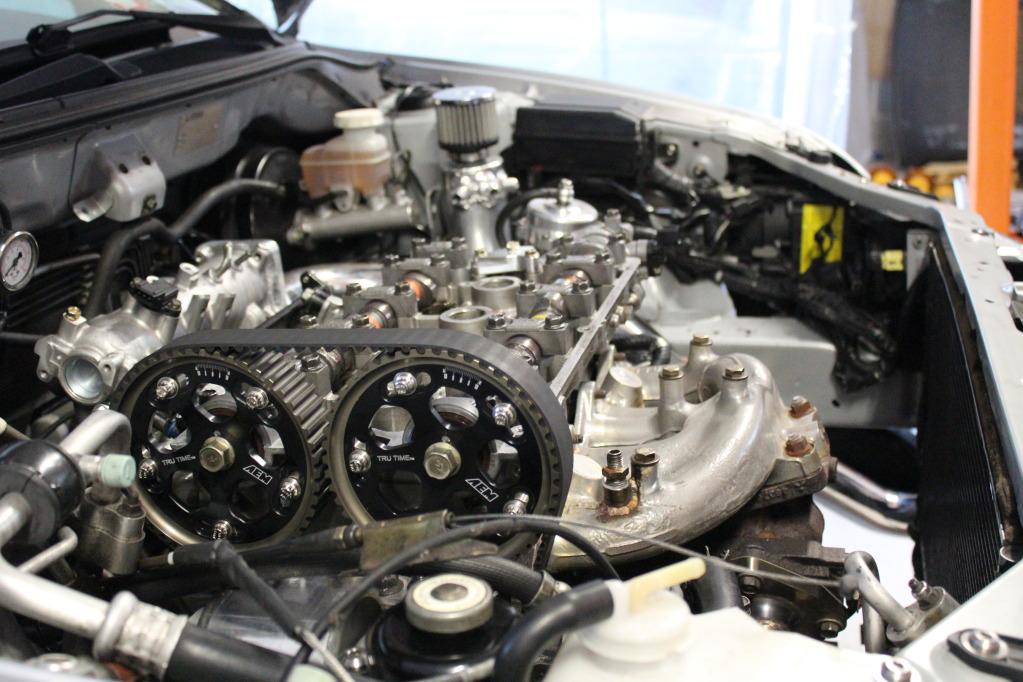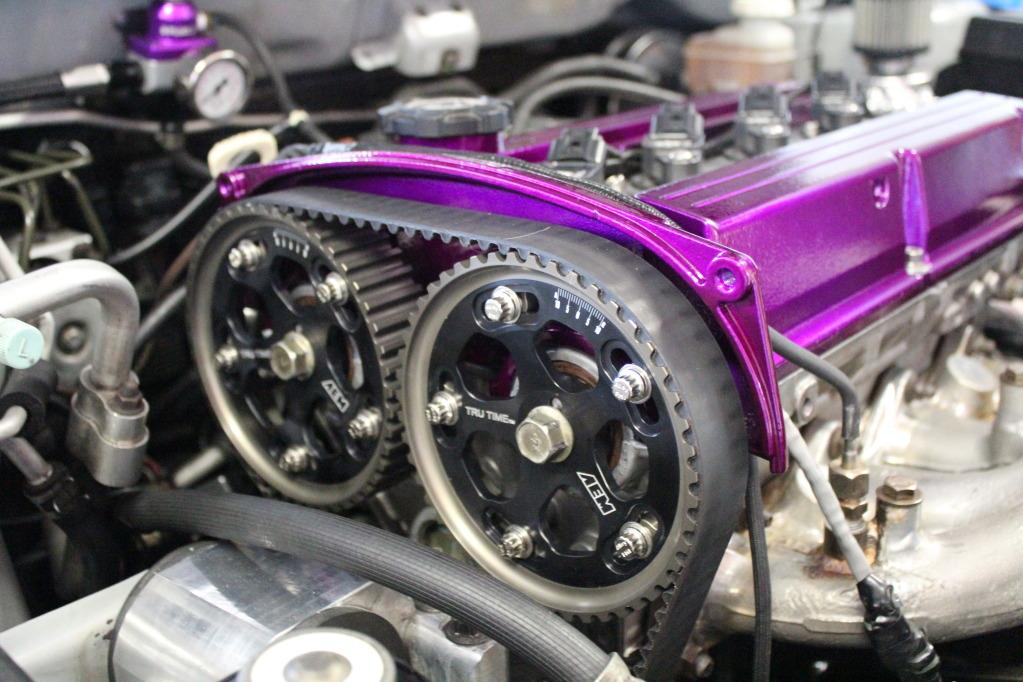 Got a 120* fitting to work for the front balance shaft inspection hole fitting: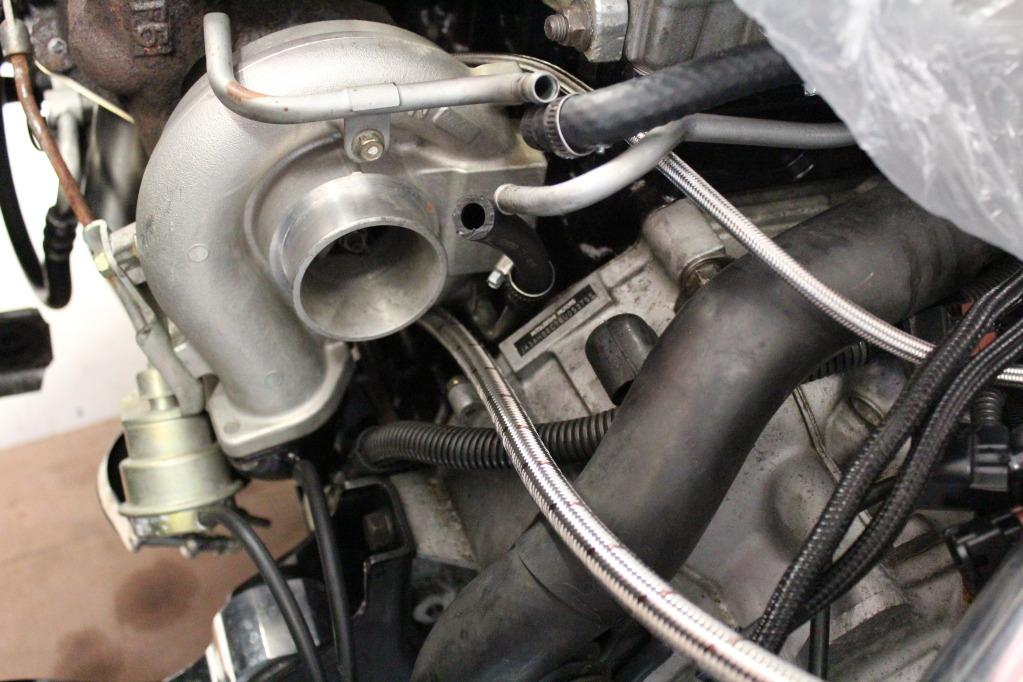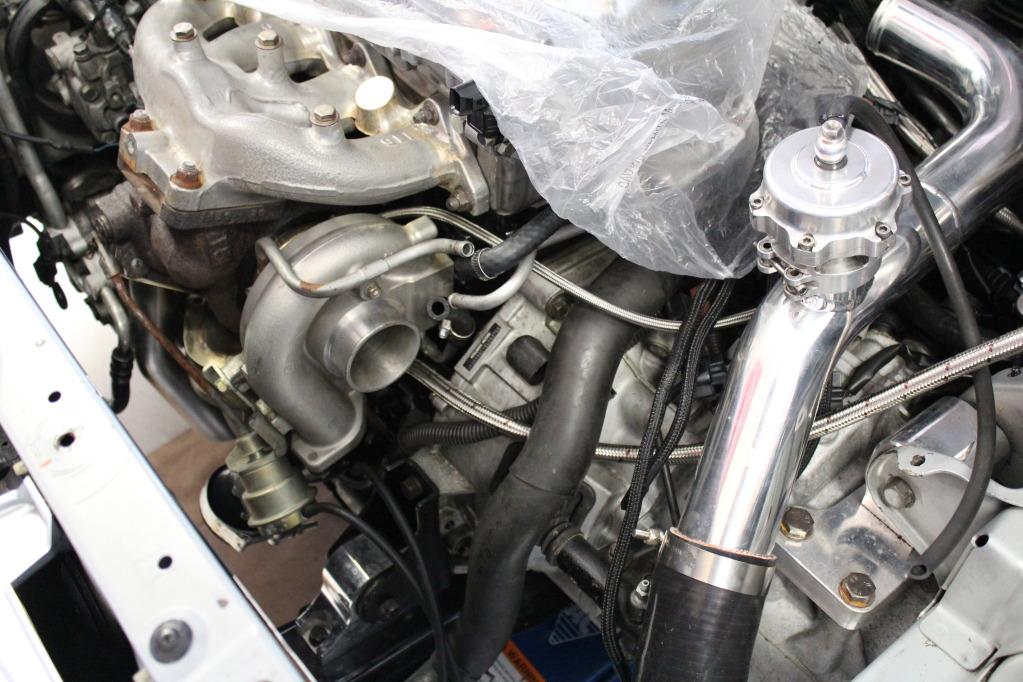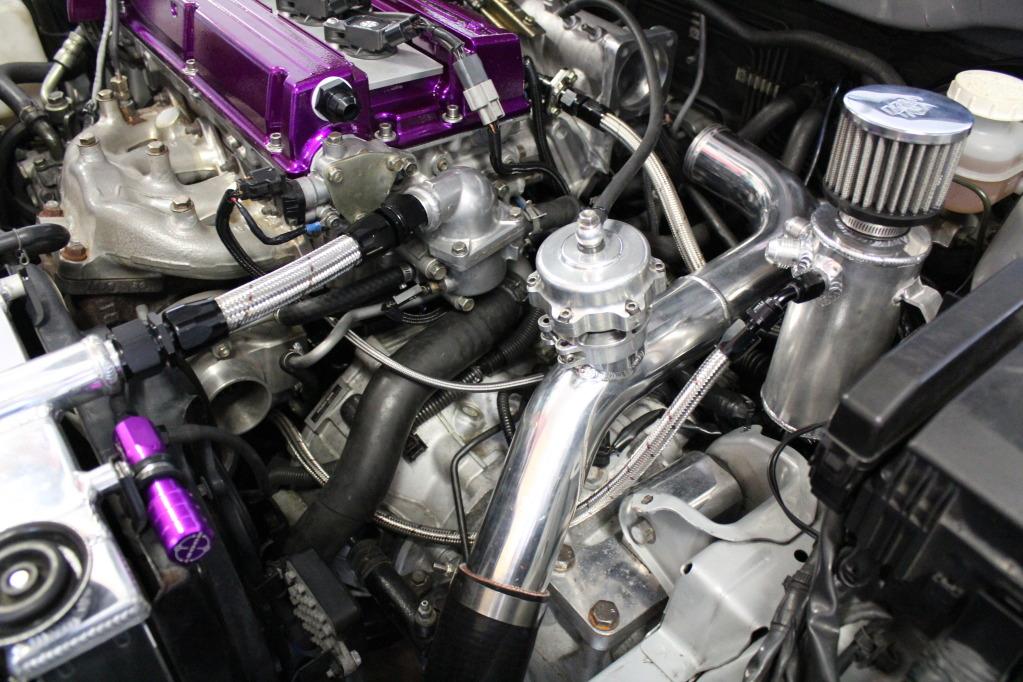 Re-did some more wiring: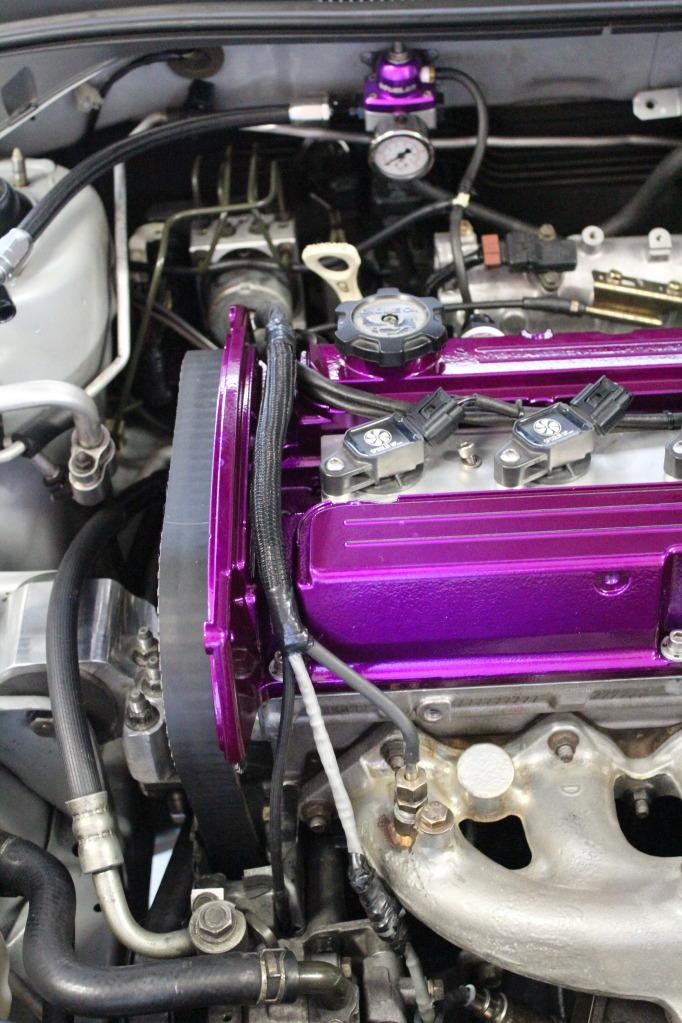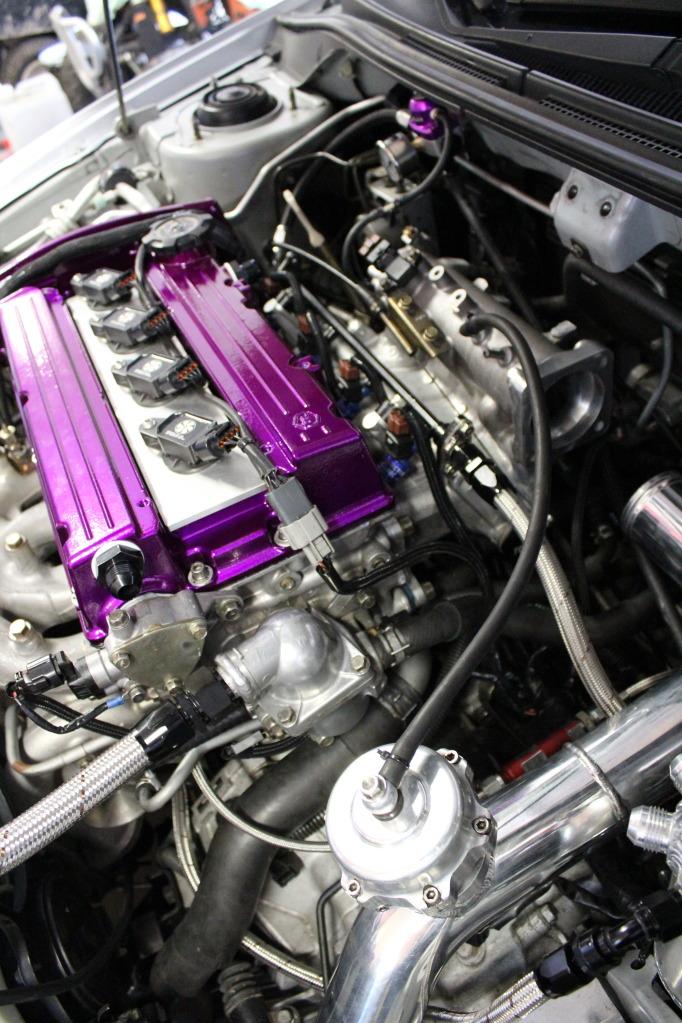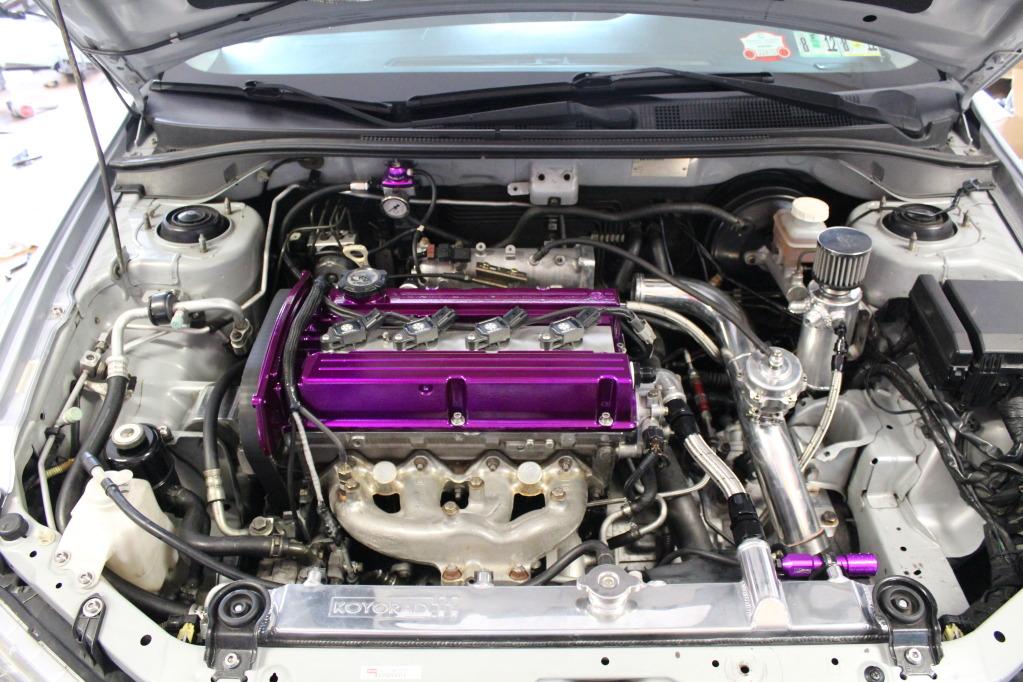 This is for your Mr. Brunson: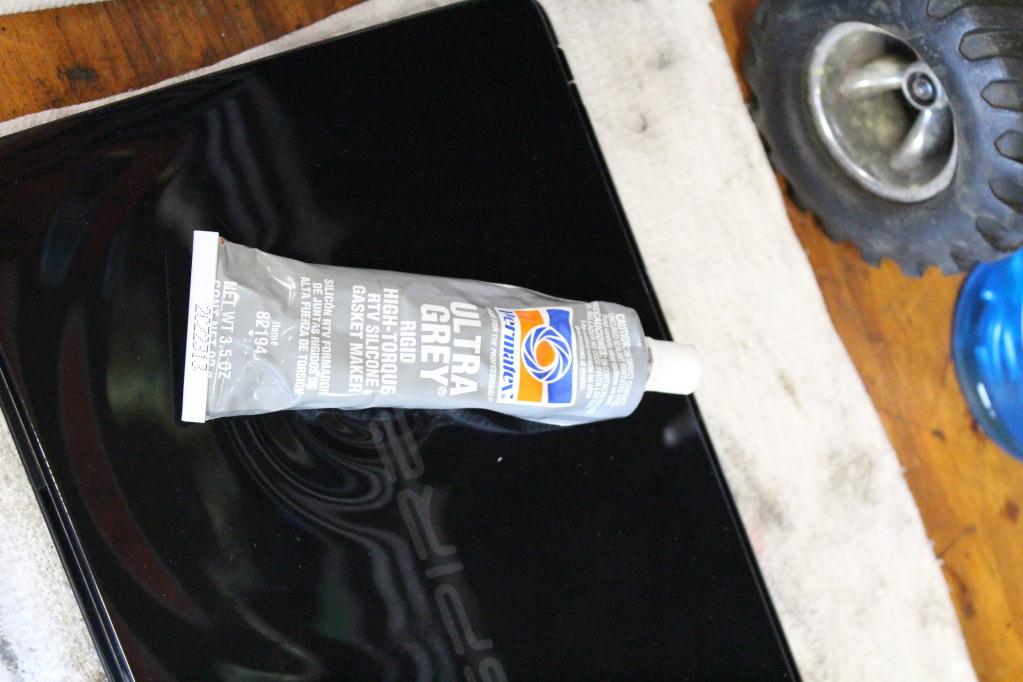 Yay for fresh plugs and BradPenn: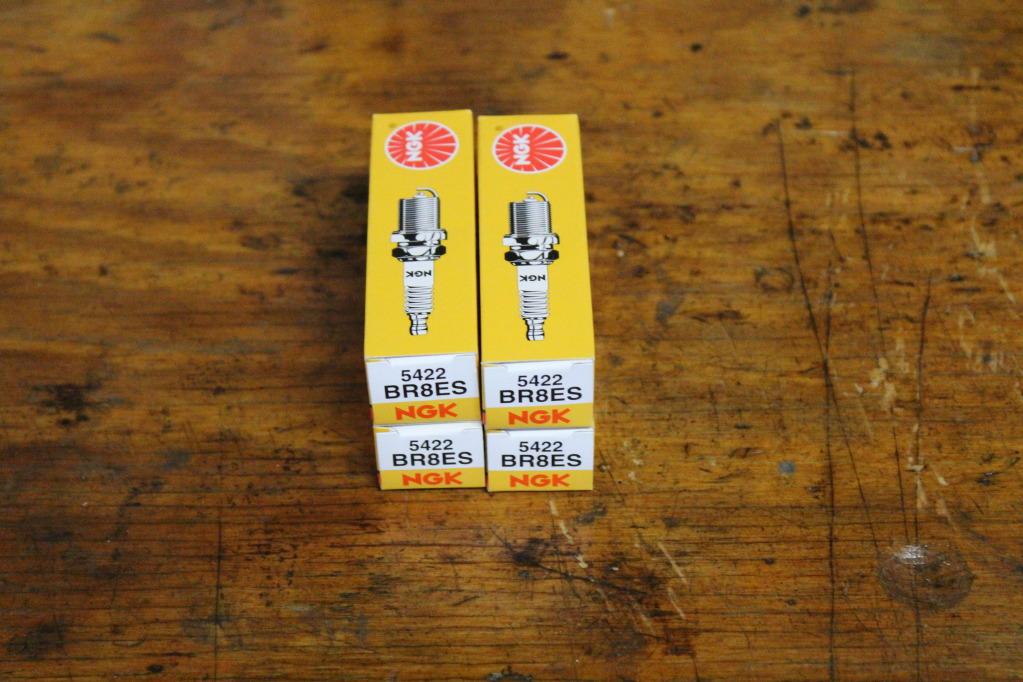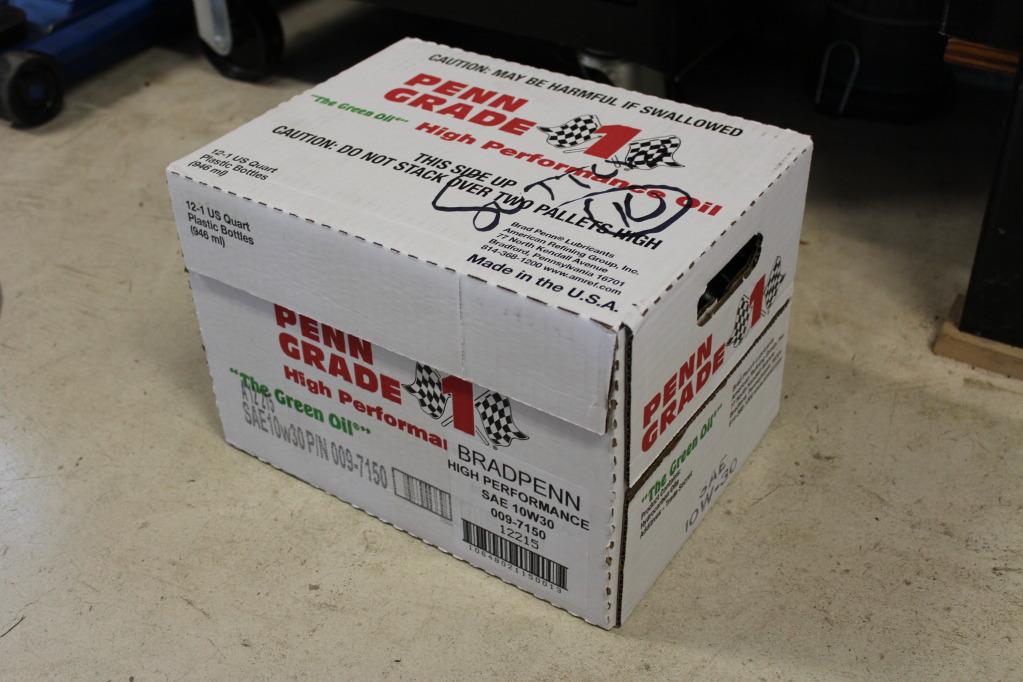 8-22-2012
I don't think Curt has sold too many that use the FullBlown TB, so I wasn't angry that he didn't include them. I spoke with him and he's going to include them for future folk who use FullBlown TBs!
However, nothing fits..at all. I have no motivation left for this piece of ****.
TB is too wide. Hits fuel rail fitting. I think I'm going to have to get a new elbow welded on the UICP because it sits too far inside the TB, but that was to be expected with the flange on the IM.
This car is going to ****ing sit in my garage for a long, long time.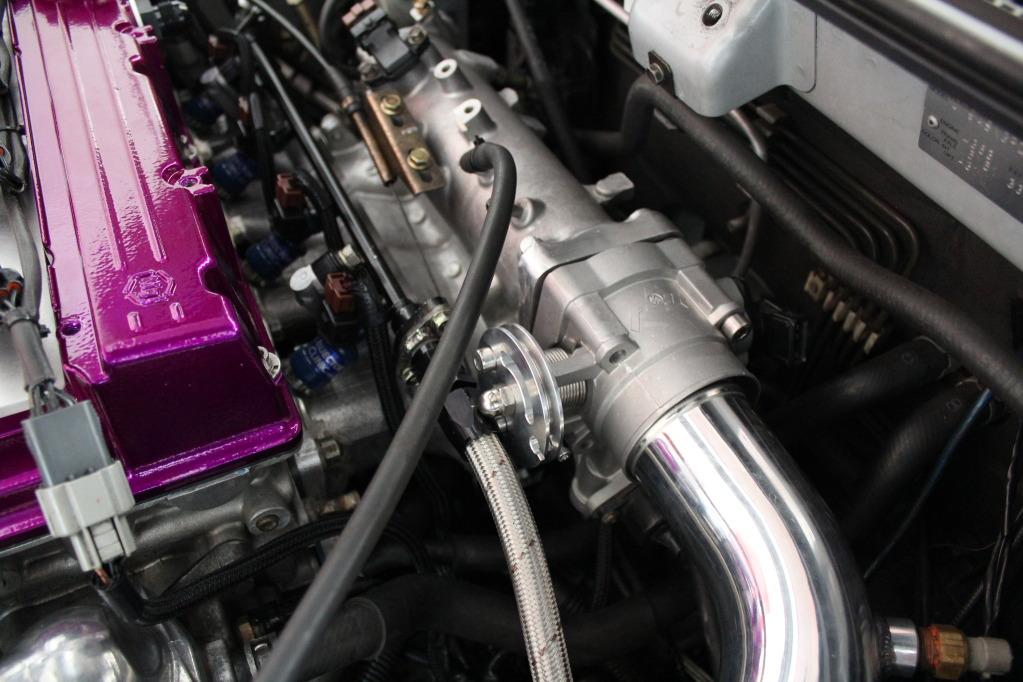 8-31-2012
Oh, and two more useless things to address.
A) You wish your saturn had an 03' Cobra shift knob.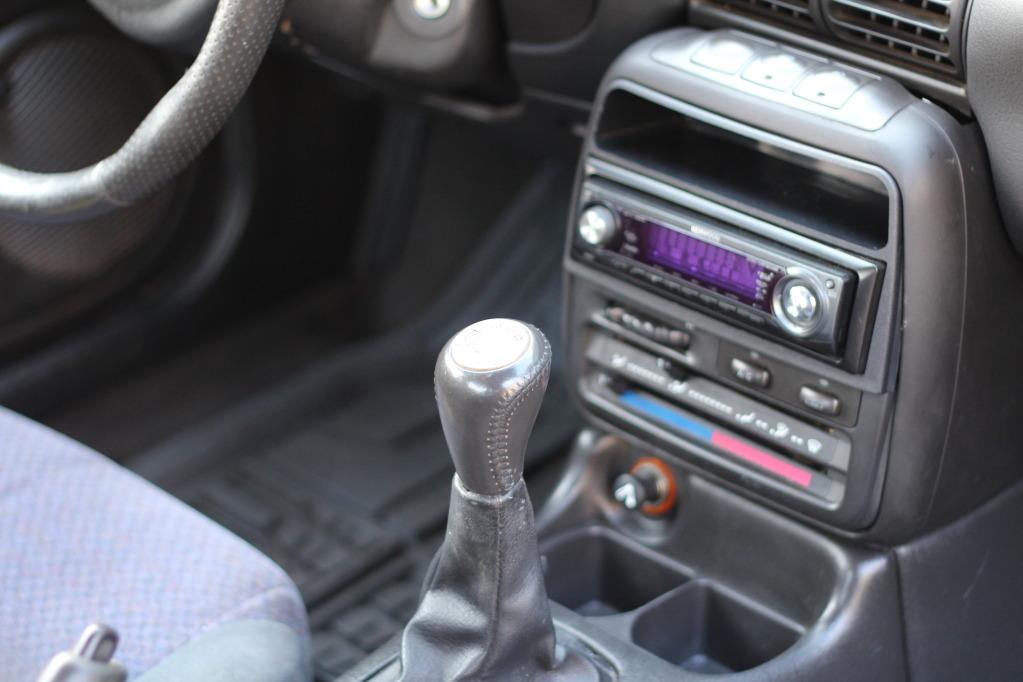 B) They finally got Magic Hat in Indiana.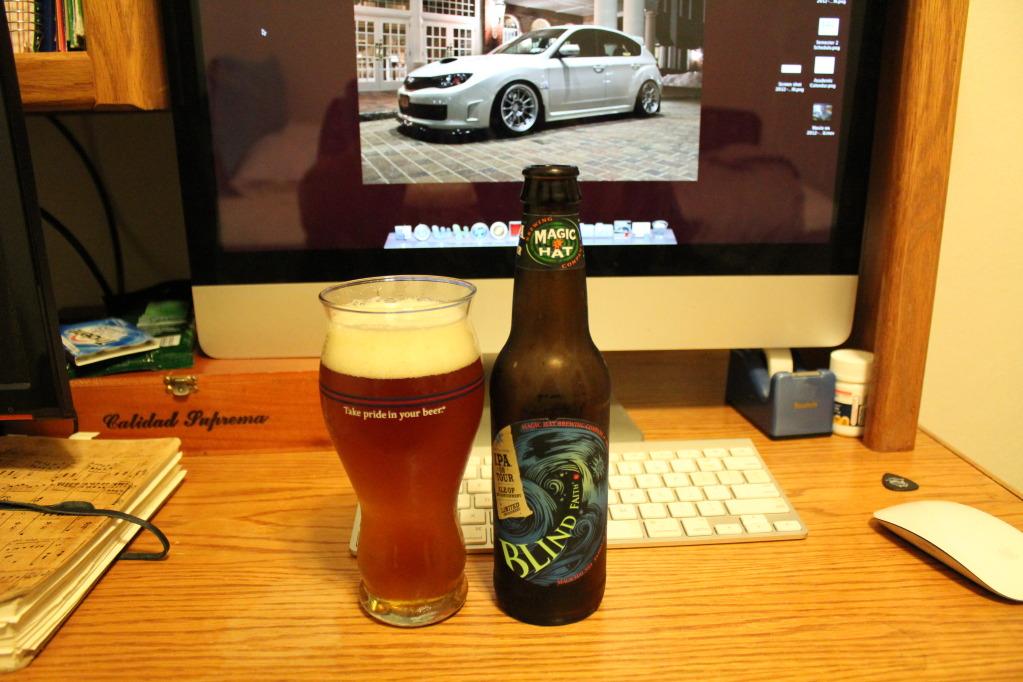 I find this statement extremely true, however, I refuse to even sit in a sedan. I <3 all hatches. If the Evo came in a wagon, I would own it.
I love these, too (with Brunson photoshopped in it):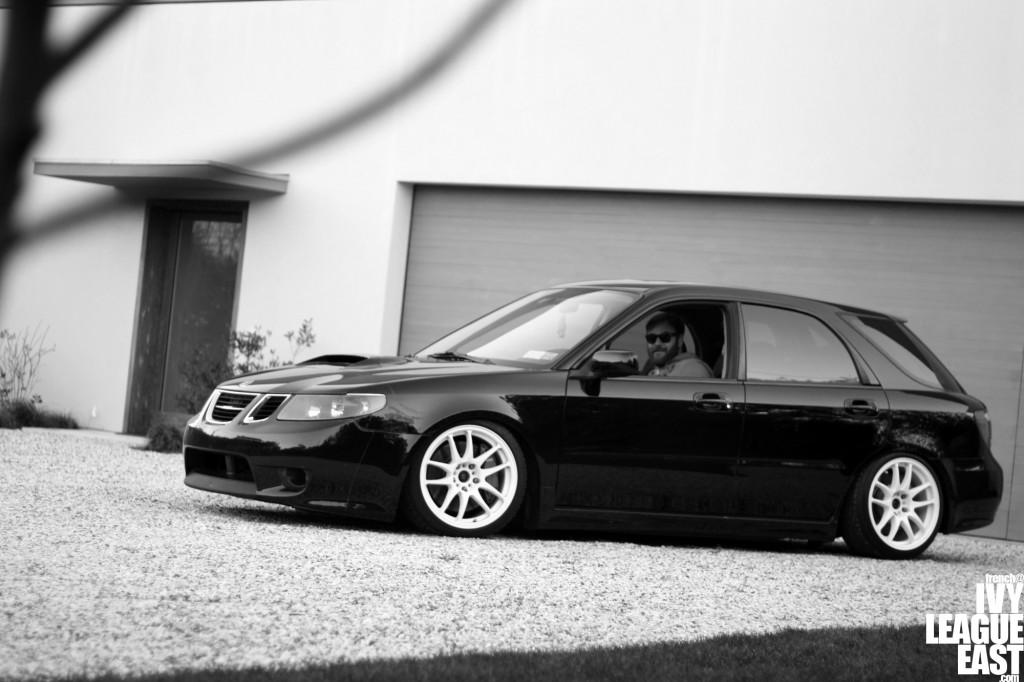 9-2-2012
On Mitsubishi cylinder walls, is very normal to see those ''fine scratches'' on it, (but doesn't means anything bad on any way, is normal and doesn't affect the performance), whatever I want to ask if you used a HD let's say 16.0MP of more camera with Macro Mode etc, right??? Cause if you did, then those camera along with the flash and the Macro mode, it will take an amazing zoomed picture almost like a microscope, so that's why you will got this picture with the impression of very deep scratches on the cylinder walls, but it's more than everything because the reflect of the flash brighness etc. make it looks so impressive, but I bet at the naked eye, doesn't seen too bad.
Although, when I opened my engine, my cylinder walls with more than 88,000 miles on it, looks with less ''fines scratches'' than yours; so I still will recommend to you, that you find better pistons rings, and better motor oil for sure; here is a picture of mine: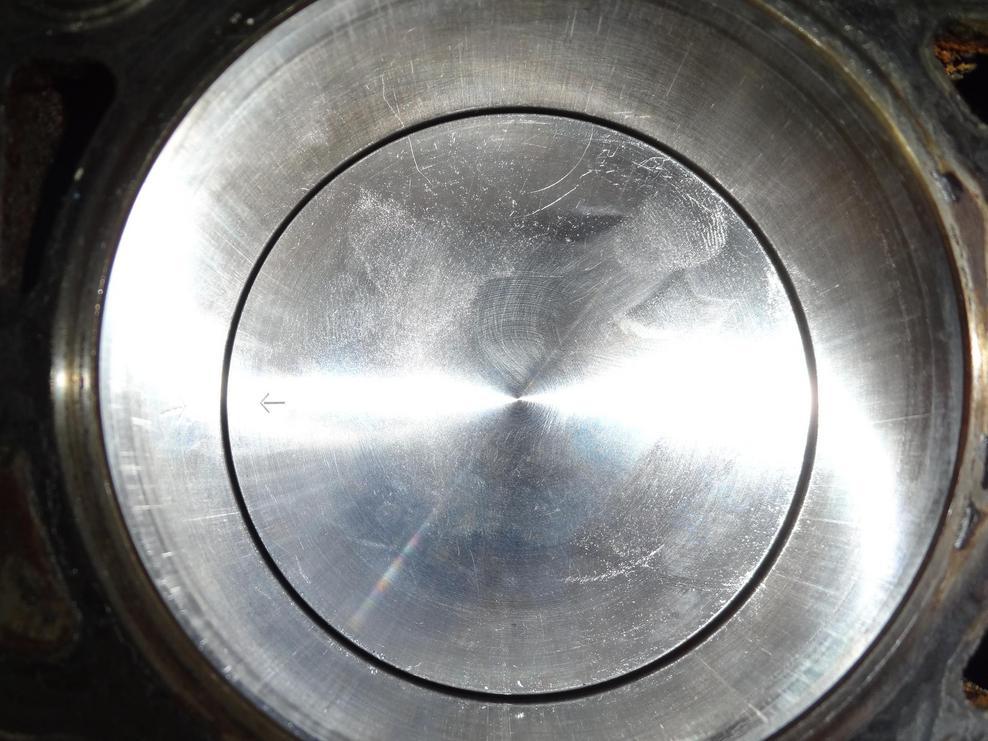 11-21-2012
Hey guys, I'm home from school for the week and was able to button things up on the car.
Picked up an AMS shift knob. It changed the entire dynamic of shifting the car. It may be one of my favorite mods yet.
Finished up the Curt Brown Extreme Port IM and Full Blown 70mm TB Install. The 45* fuel rail fitting ended up doing the trick. Thanks Collin for the info on that! I also finished making my catch can lines and am very pleased with how it all came out.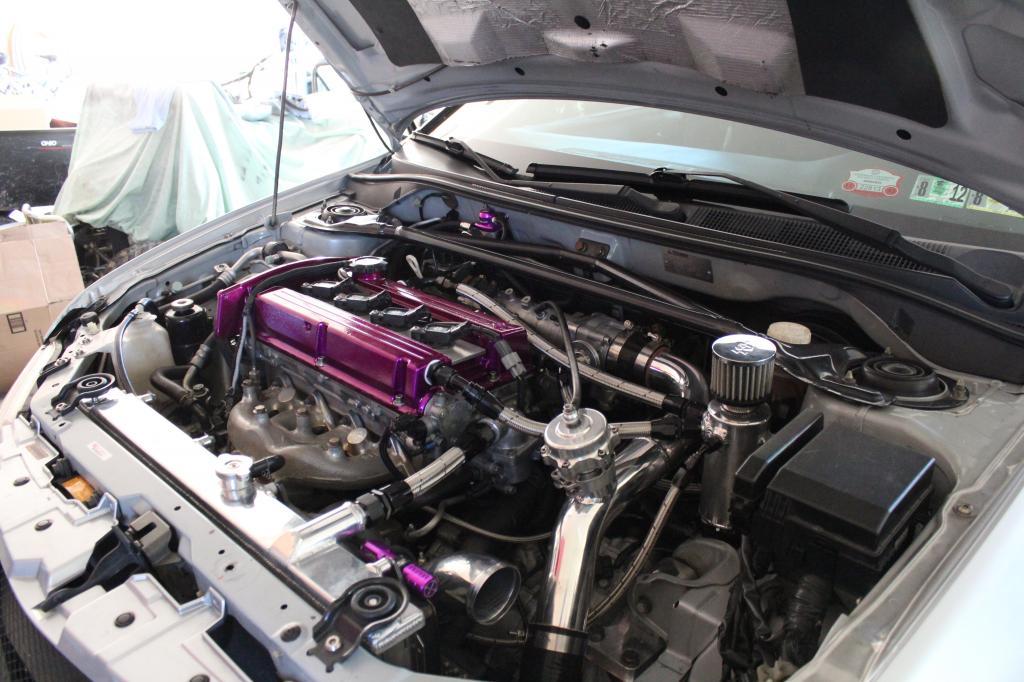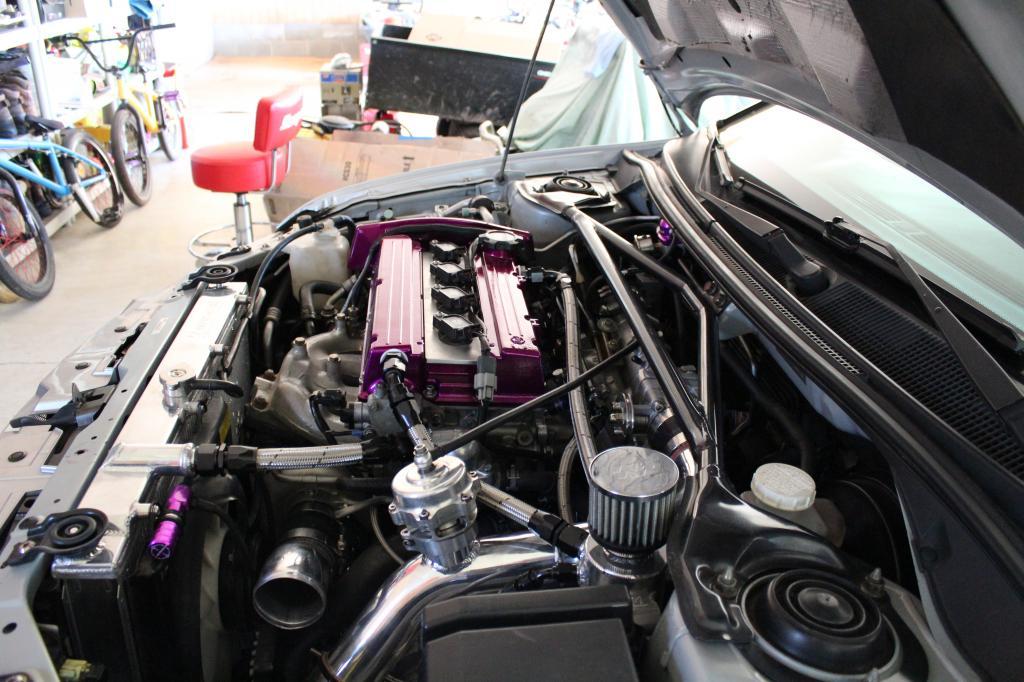 She just wants to be driven.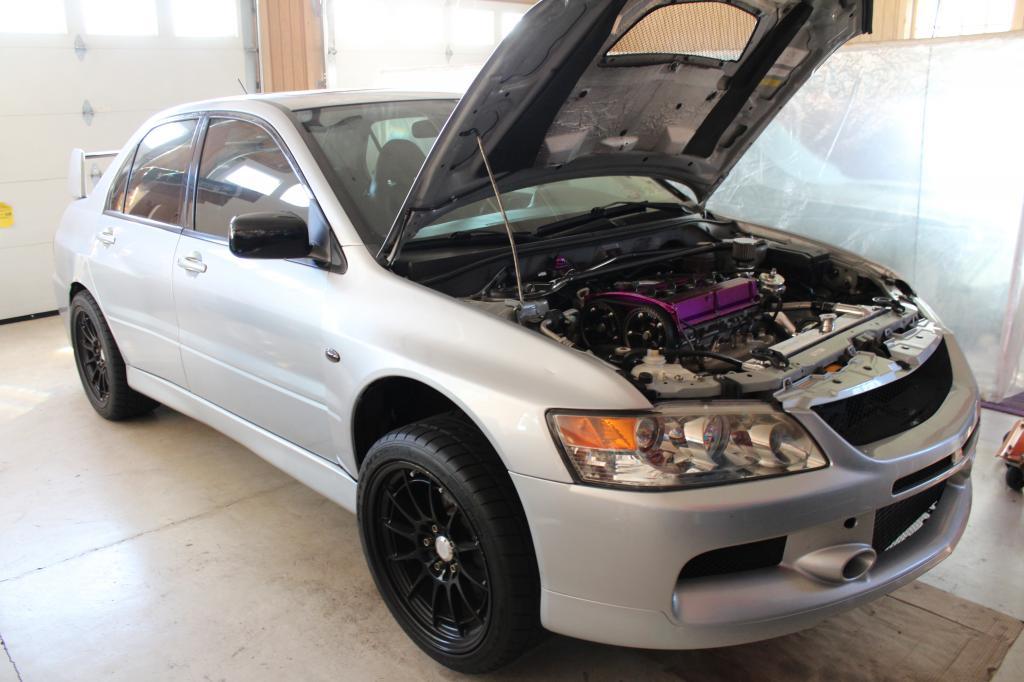 Edit: I also think my brother's new daily is worthy of noting.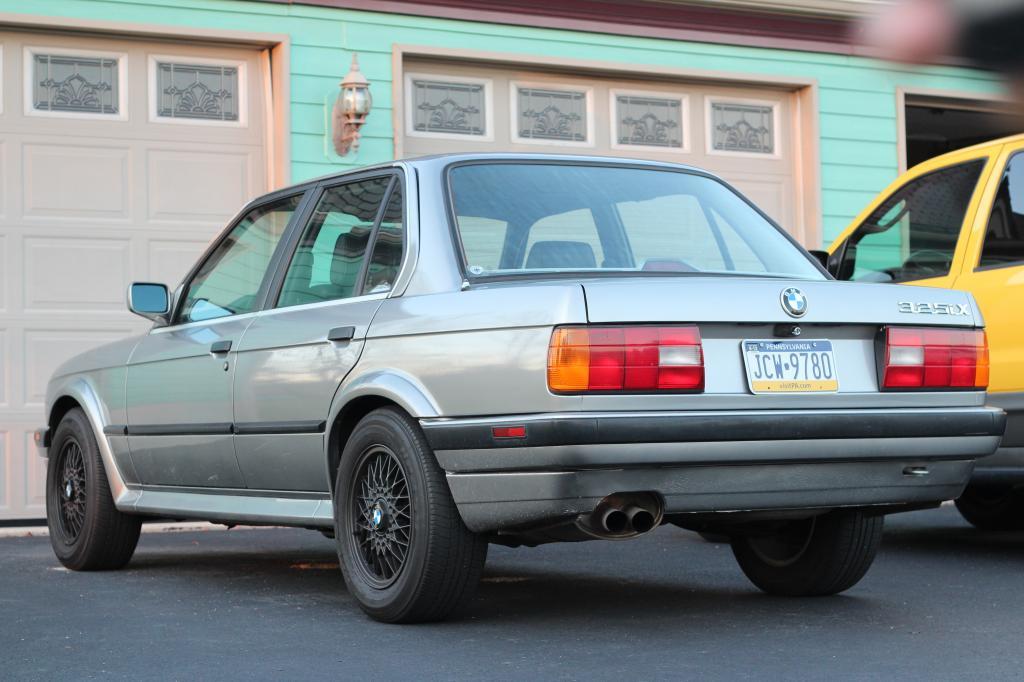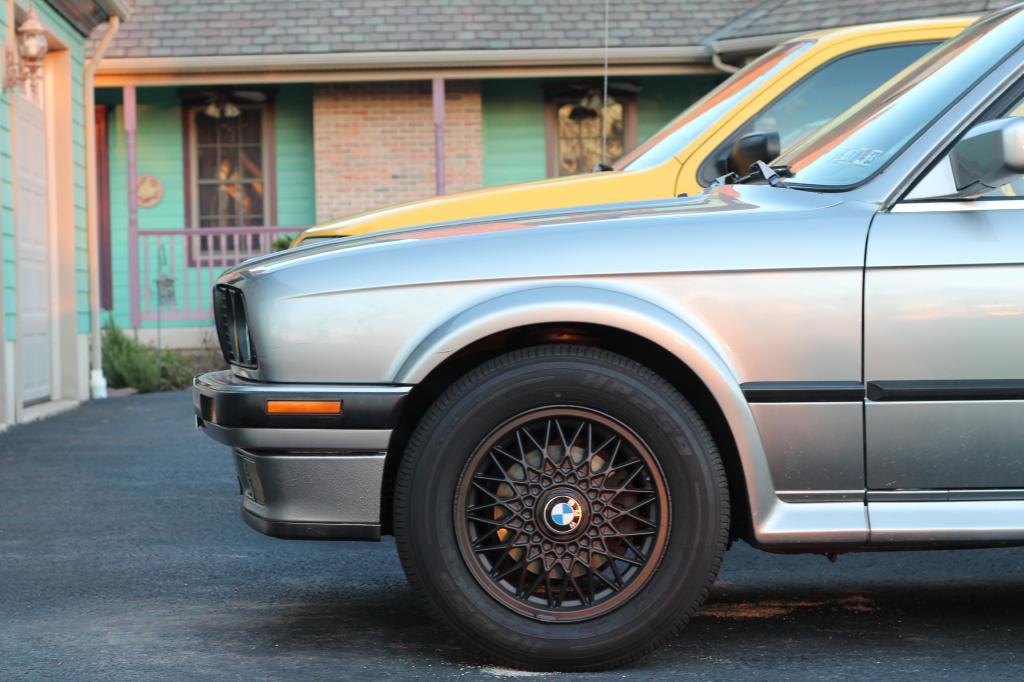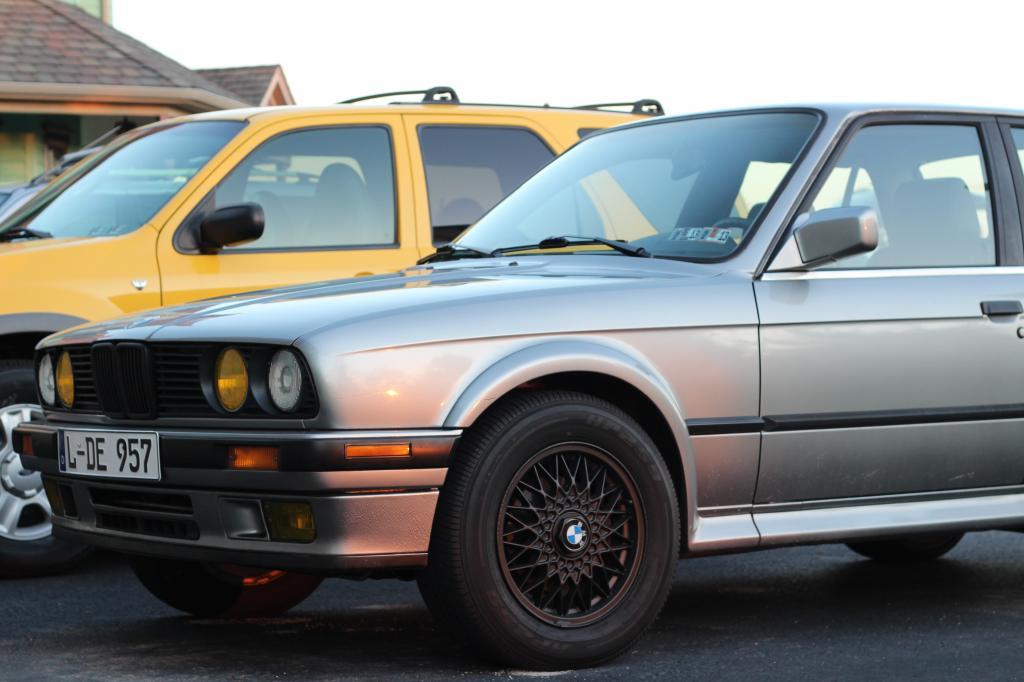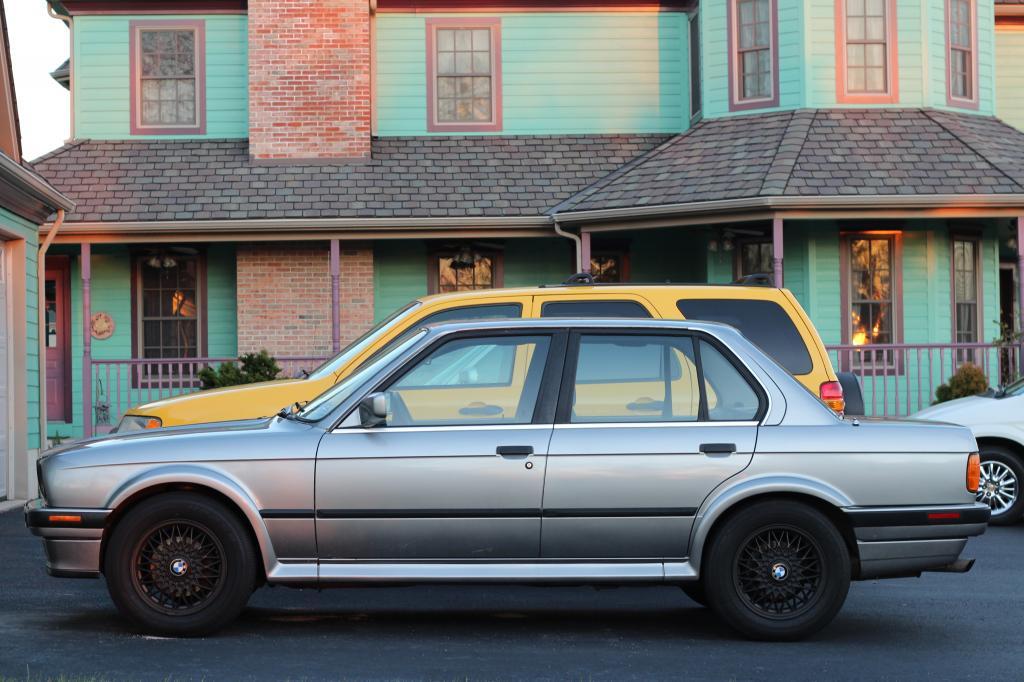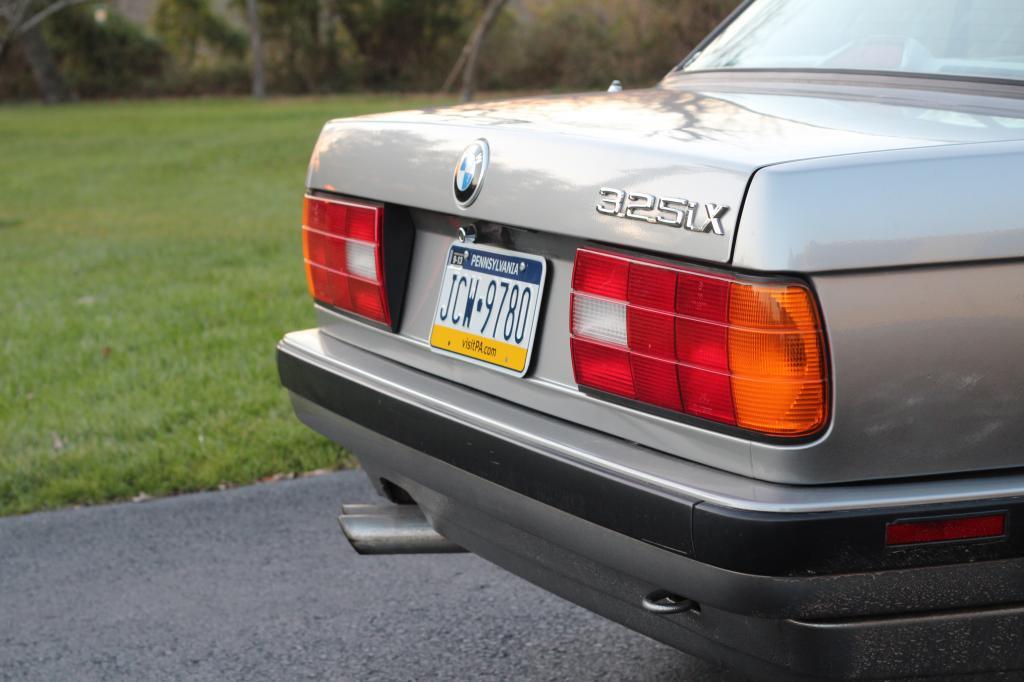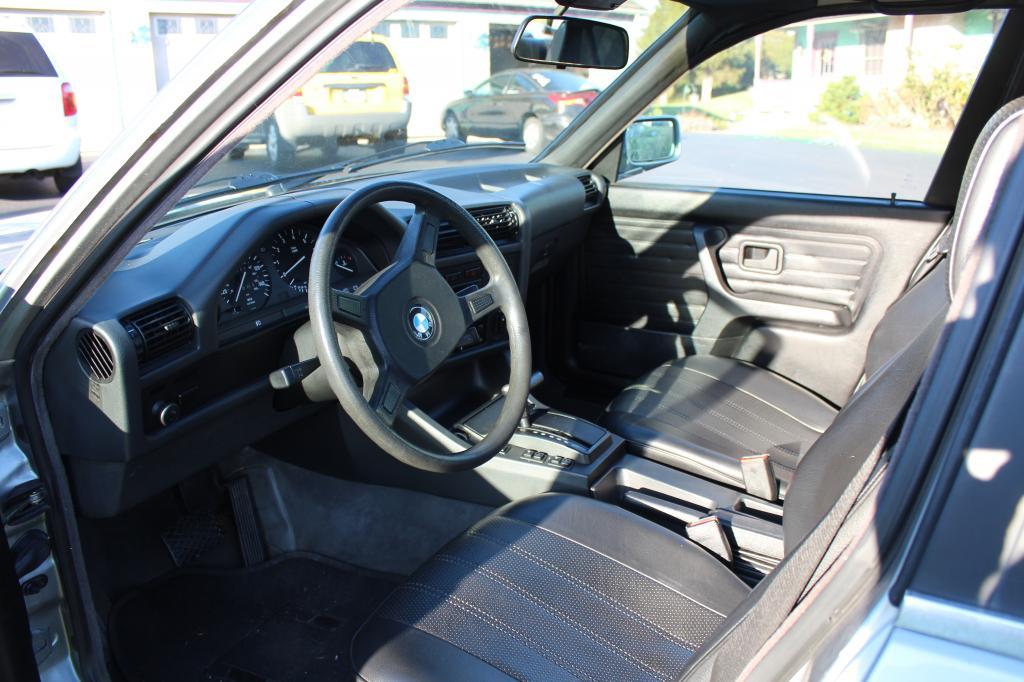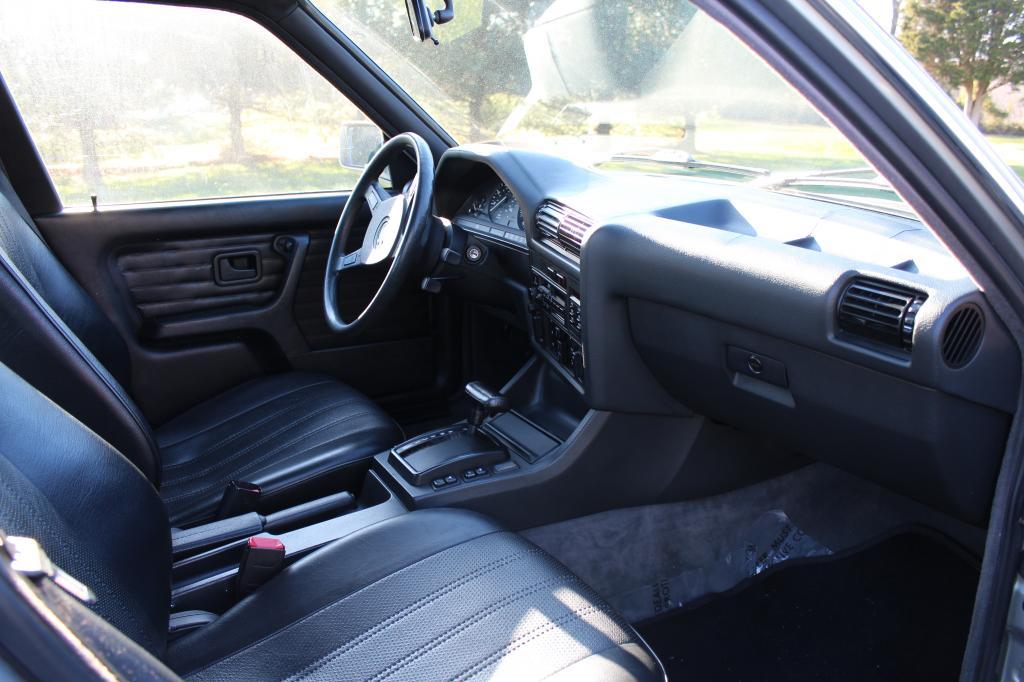 11-26-2012
Oh yeah, and one last picture before I don't update for a long time.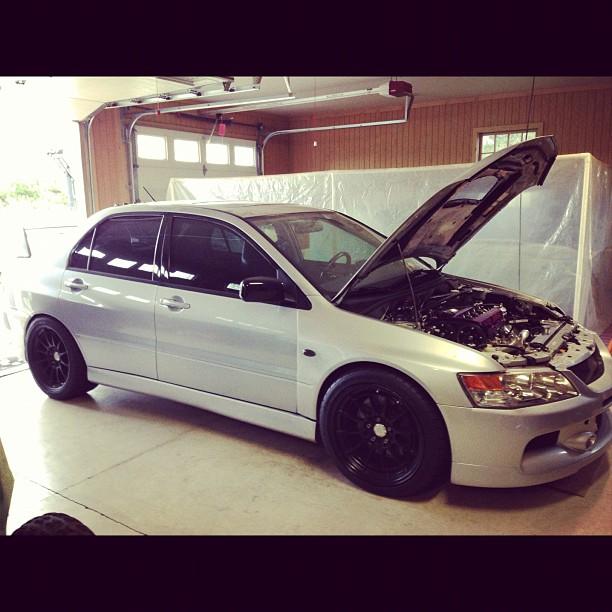 12-24-2012

We'll just have to see what happens

.

For now, I buttoned up the gauges finally.



1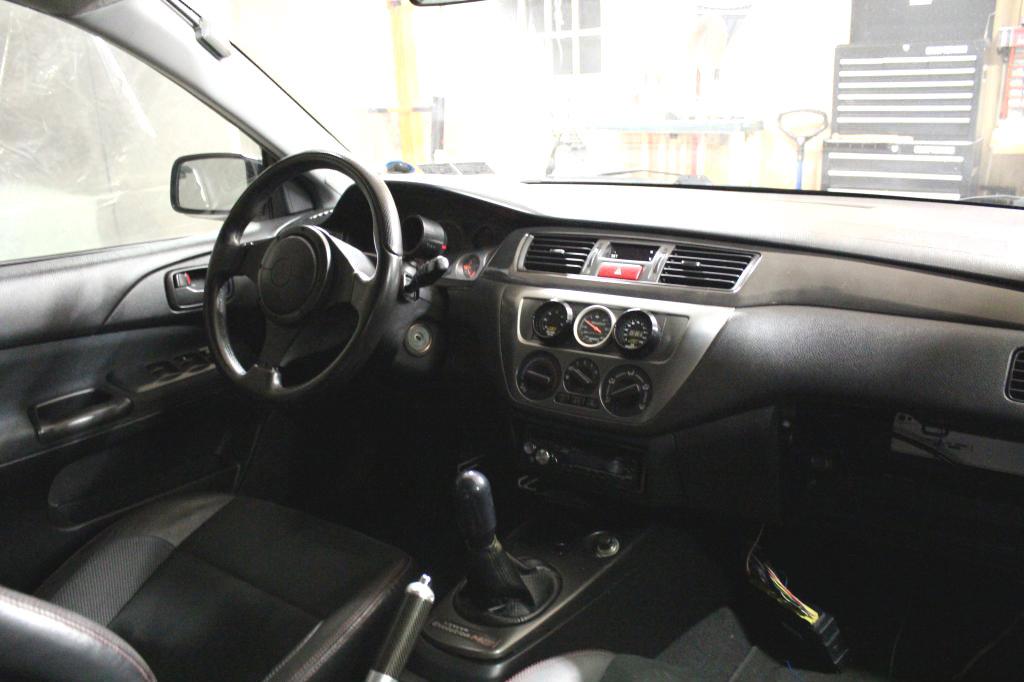 1-14-2013
No Vette. More work lol.
Finally got around to modifying my rear fenders so they'd stop eating my tires.
Before (you can see the wear marks):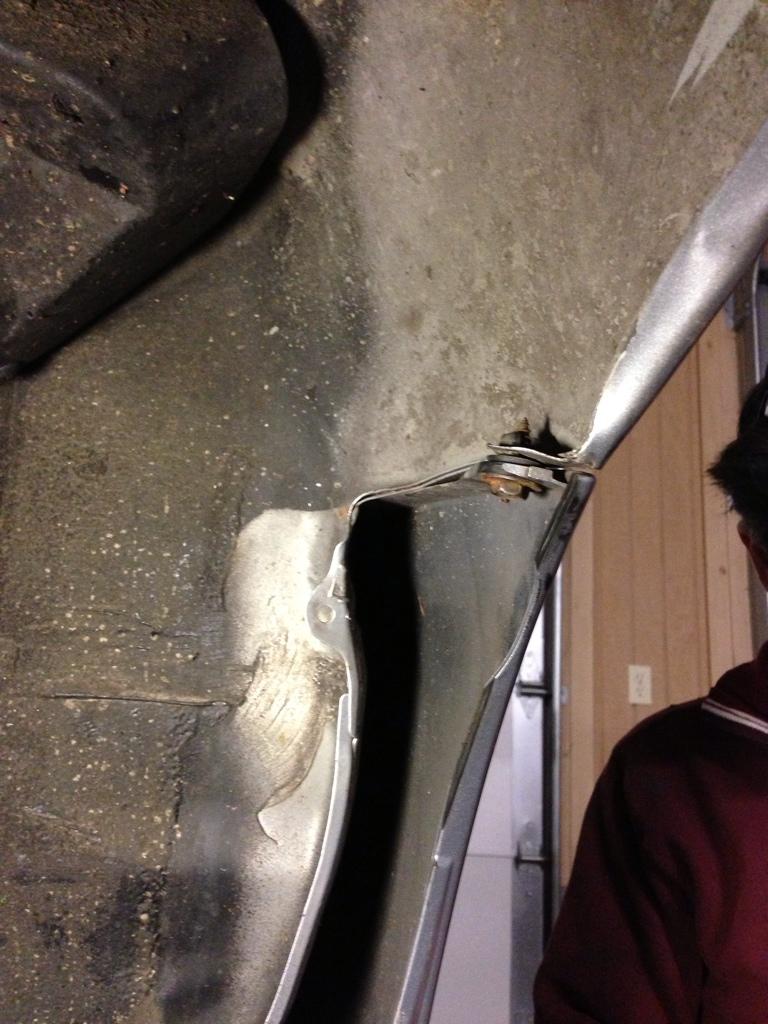 After: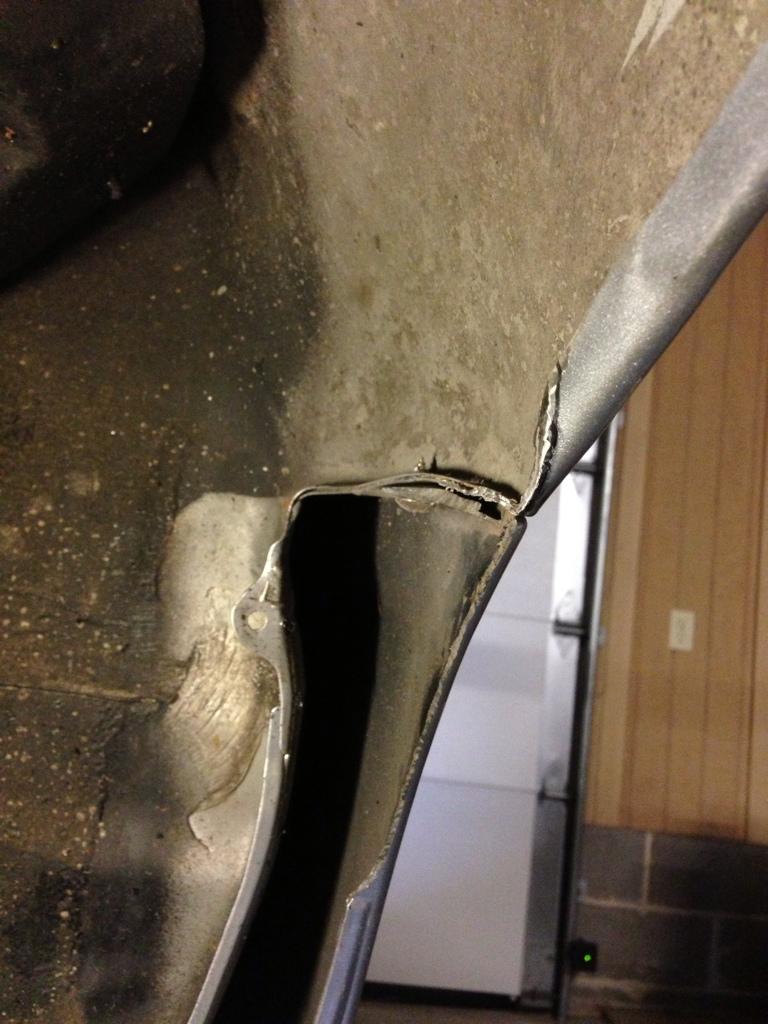 Got these lil' guys to throw on (with some new OEM boots):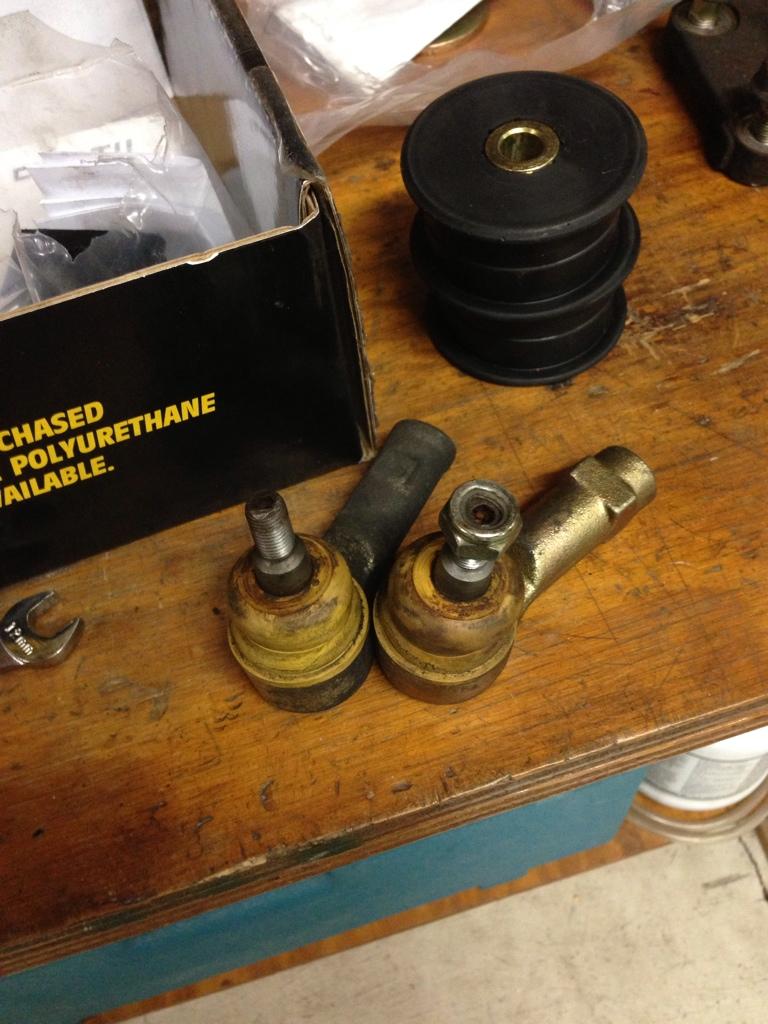 And, I finally ripped apart the rear suspension to do my poly bushings: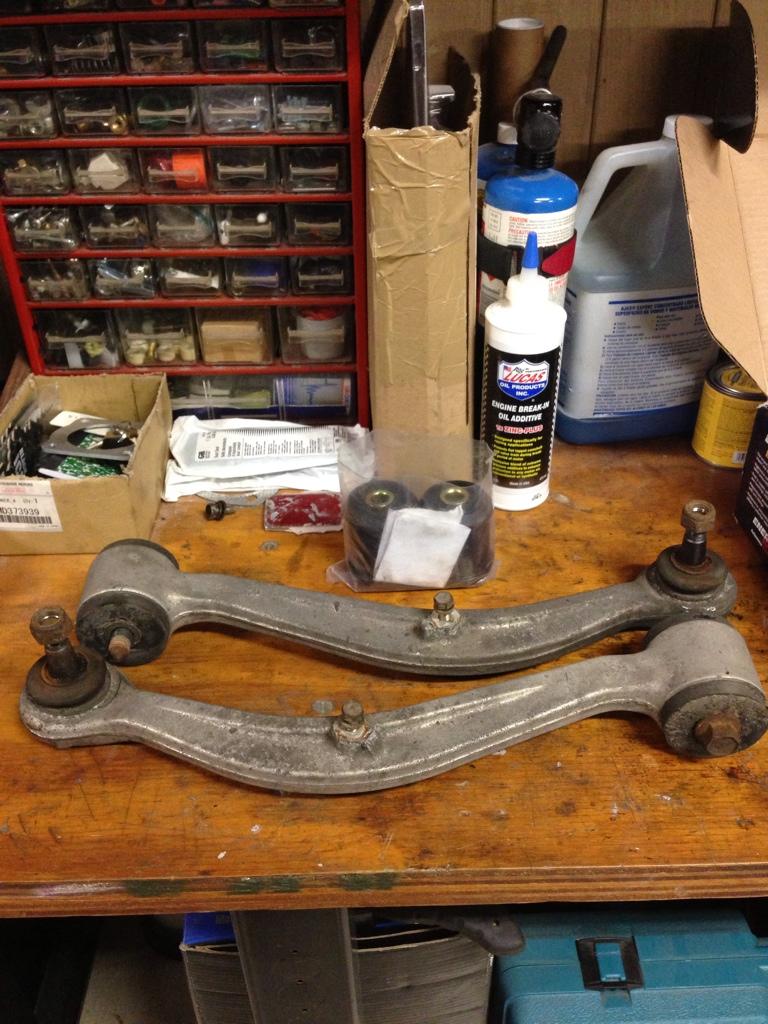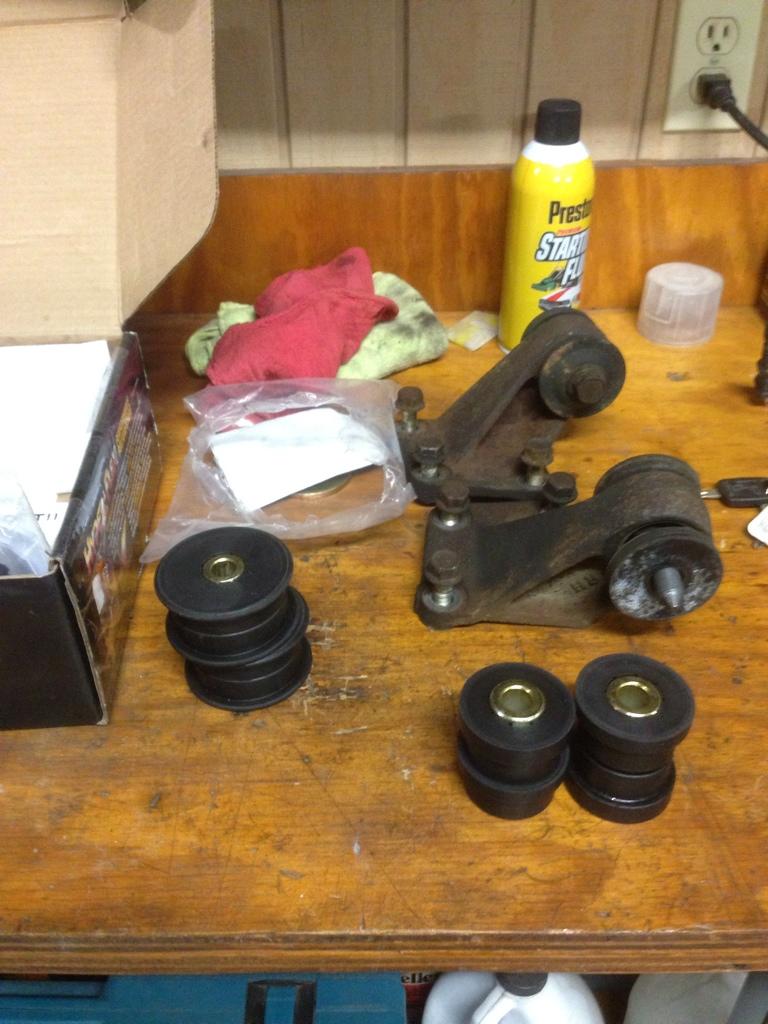 Back to school again in two days for my last semester. After that I may actually be able to tune the car and drive it!
1-16-2013
Oh, sweet!
On another note, I have to get the Evo in tip top shape because my daily consumed a full oil change in 600 miles with no leaks......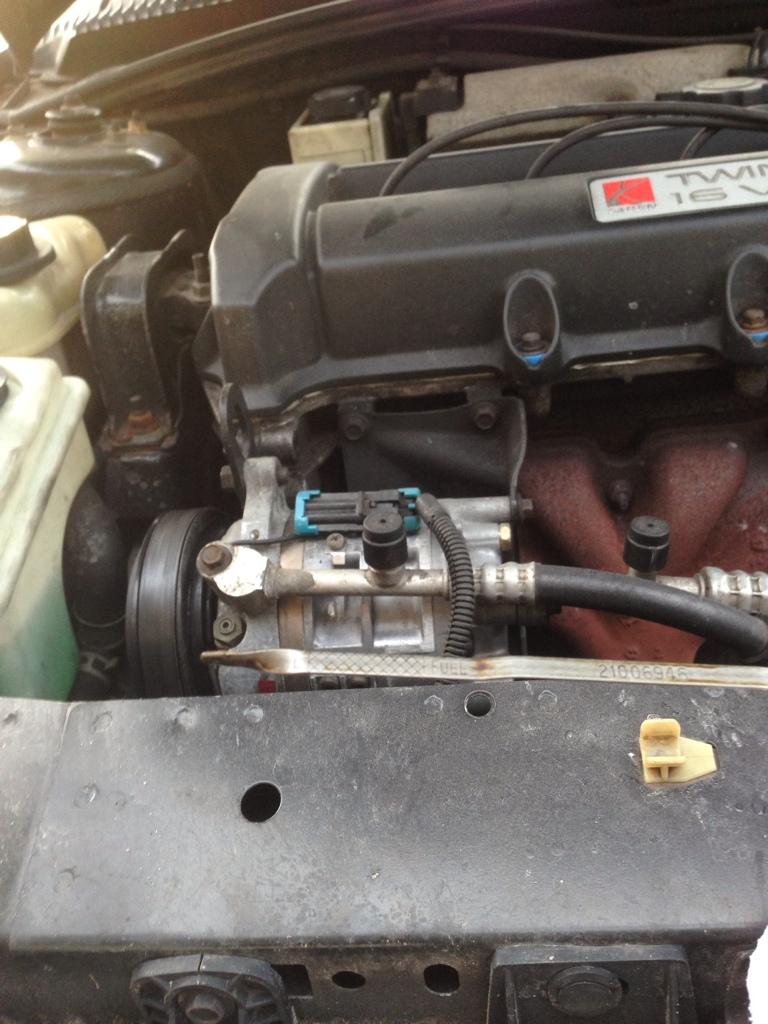 2-11-2013
On 93 the response of the Green over the 30r wouldn't be worth losing for maybe a few HP up top, if any. Just my opinion though.
Green on 93: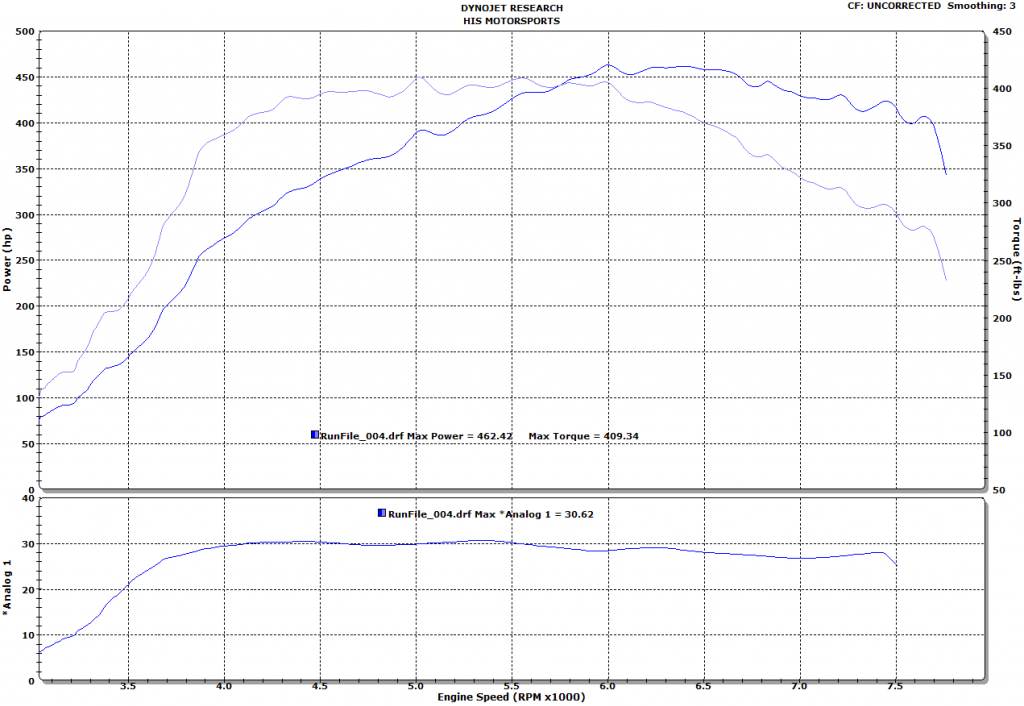 30r on 93 with the same supporting mods/cams: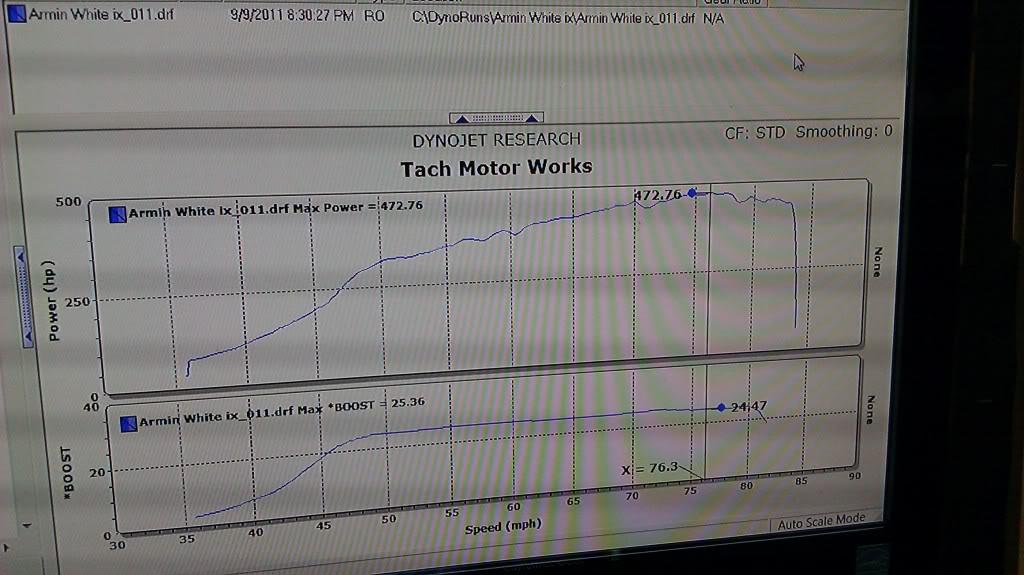 Yes, the Green ran 5# more, but it just seems that the 30r's don't perform well enough on these cars to justify the purchase, seeing as you have similar response and make a ton more power with a 35r on a .63 housing.
I had to weigh the exact same choices you're making, and honestly, you can get the response of a Black out of a 3586 if you have the right turbo kit and supporting mods, while making a ton more power up top too.
Also taking into consideration, I paid $1500 for an ENTIRE T3 setup with an HTA3586, ready to go....A used JB FP Black sells for that, and isn't half as reliable as the 3586, not to mention you can sell your stock frame stuff and knock half the price off the T3 kit.
For the reliability, the potential for future upgrades, and price, I don't think I'd ever put a stock frame turbo on my car.
I didn't bother tuning my car on the IX turbo. I just kept it on there for putting around while I saved up to go T3. 400/400 would be a nasty potent street setup though that's for sure!
If you do go T3 I would highly recommend getting a HAFE cast kit like I got or having someone build you a small tube header, because both will spool ~400rpms faster than a normal tubular manifold, make a boat load more torque, and won't become a restriction under 700whp or so.
For intake manifold I would highly recommend looking into Curt Brown's Extreme Ported stocker. It made 40whp more at 4500rpms than the legendary ported Skunk 2 and still made 3whp more up top on an FP Red. Just food for thought.
Good luck with your build!
2-12-2013
That's moving out for sure! I ain't a draggin' fellow though. I like twisties and street rippin.
She's purty.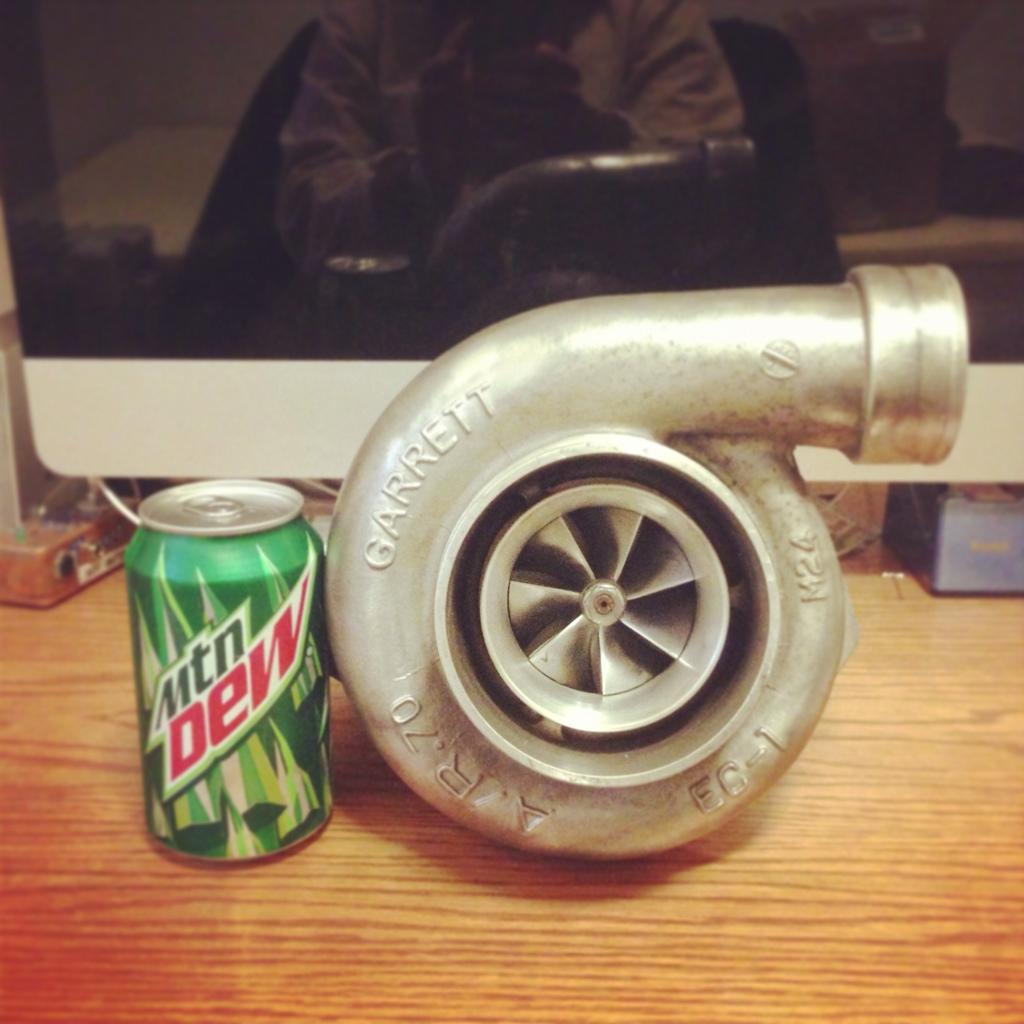 3-3-2013
Randomly found this video of a 3rd-4th gear pull I took when down in Mexico the only week I had it running good since I had the car.
Start at 45 seconds.
7-6-2013
Headed back to PA from the Midwest for good on Monday.
The official plan is this:
-Throw the Ohlins on.
-Get the Whiteline Roll Center kit on.
-Press Energy Moustache bushings in.
-Align (-2.5F, -1.8R).
-Tune the Stock IX turbo on 93, get used to the car [it's been so long], then upgrade turbo when I'm sick of it.
7-11-2013
Those are still great E85 numbers. My mind was blown if that was done on pump. A local car on a 20g made 400/400 on pump, so I'd say you're in good shape.
Oh yeah, also decided to mod the WG to hold boost a little better up top!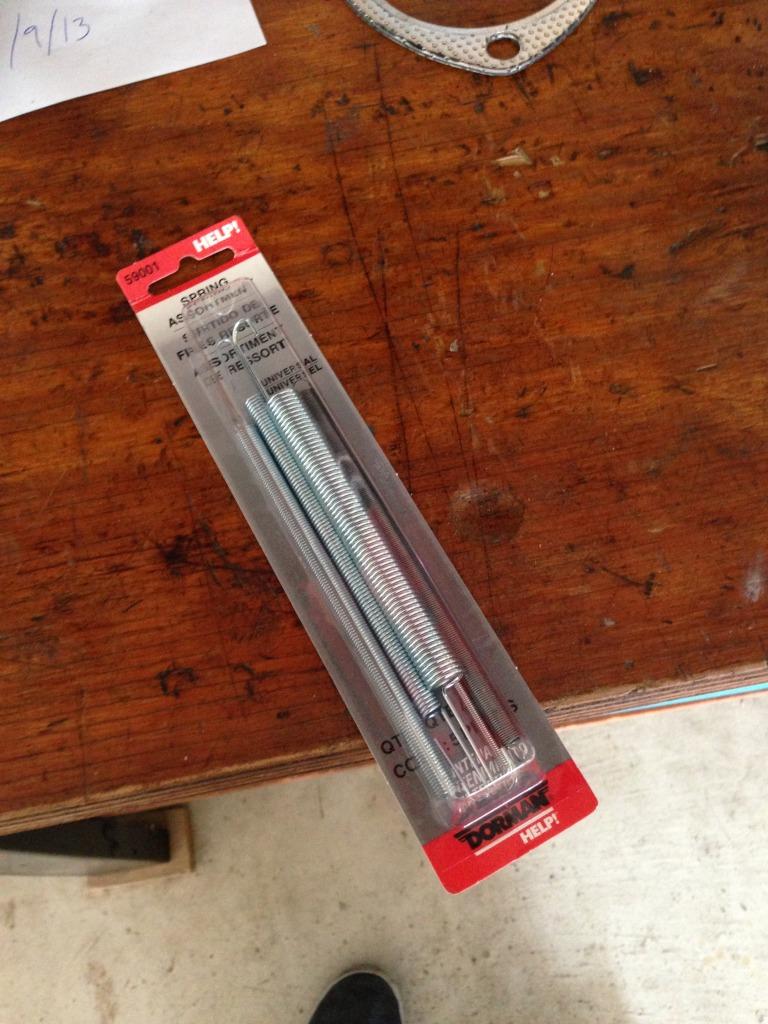 7-14-2013
Just look up 'stock wastegate mod' or something of the sort. This is done to help hold boost better up top.
I disassembled and cleaned these guys so they're ready to go on when I get a chance. Gosh I'm stoked.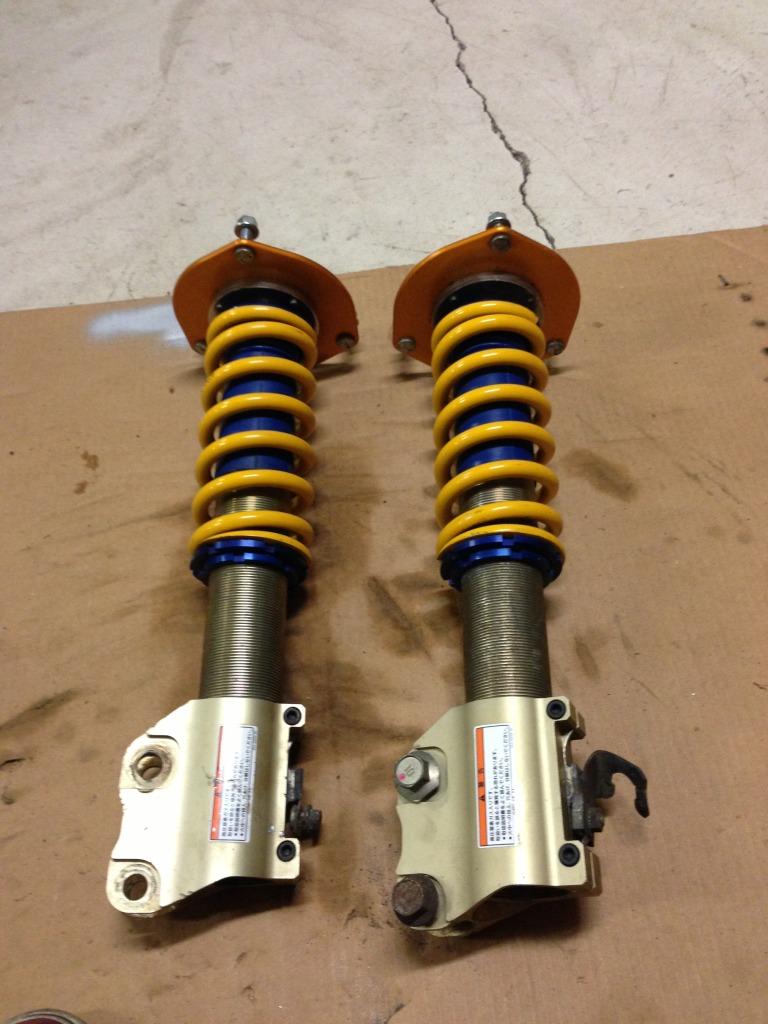 7-15-2013
Ohlins are on! Don't mind my hideous calipers left over from the previous owner, I just picked up supplies to refinish them. I also just ordered stainless lines and some Motul fluid and am planning on bleeding out ALL of the gross fluid that's left in there. I also spent some serious time and sealed my system all up, and for once in my life I have 0 boost leaks whatsoever. Car feels great and I think it's officially ready for the tune tomorrow! VD numbers coming tomorrow night.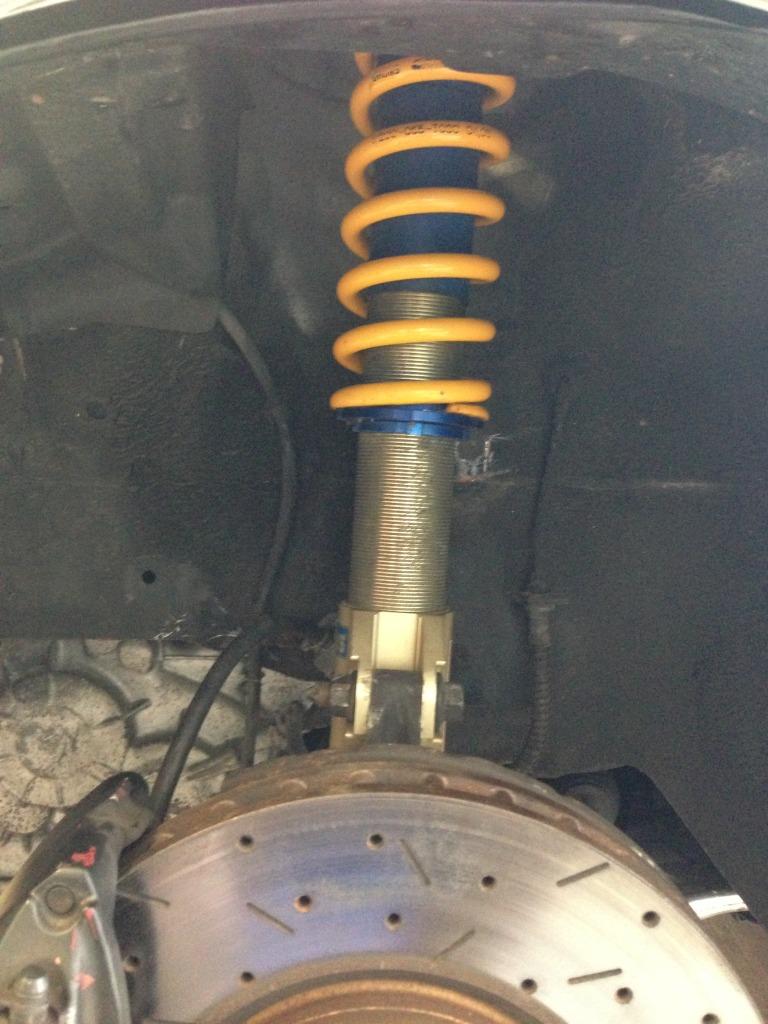 Monster truck status! Getting a good alignment with corner balancing and stuffs soon.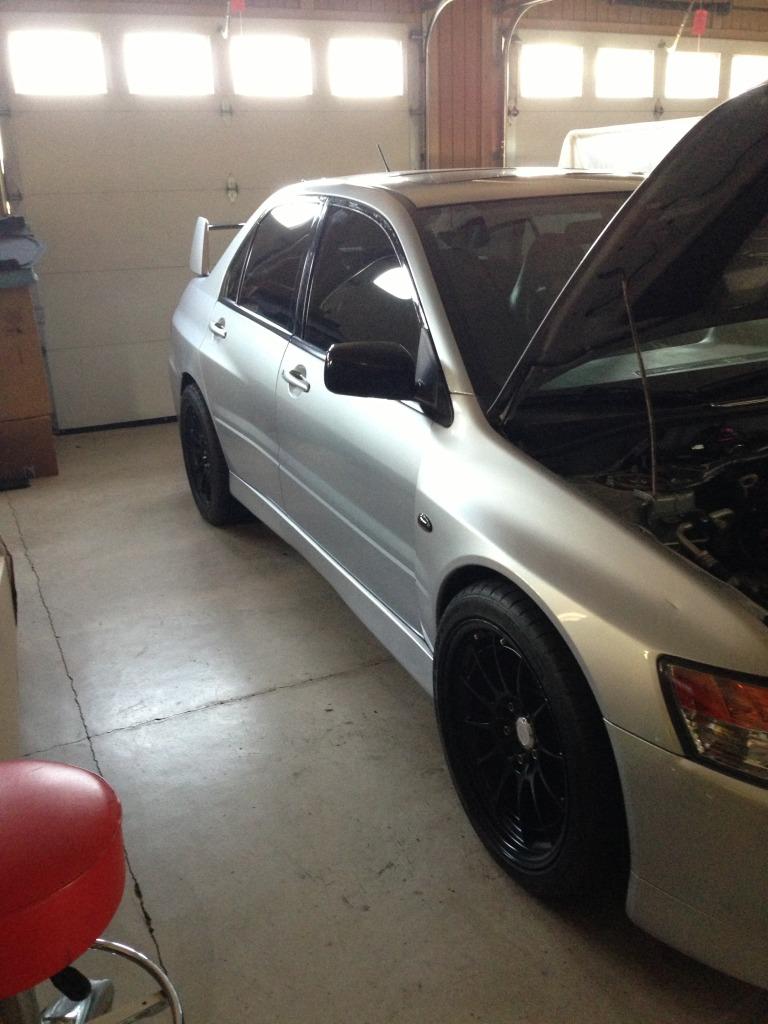 7-17-2013
She's finally tuned....well......almost.
(Story time)
Ever since I finished the build and had a base tune on the car, it would always go ridiculously lean whenever I would mash the gas, but not in a "my car isn't tuned way". So, last night, I got the car ready and went over everything. After I fixed all of my boost leaks (some were huge), the car wouldn't idle worth a damn.
When I got there for some t00nage tonight, Mr. Karl saw that my front 02 wasn't working. He had an extra one, so he grabbed it, threw it on, and still no luck. We came to the conclusion that something was probably muffed up when the car was running on AEM. We (he) decided that running it in open loop would work out, and it did. So, we started getting into making some boost and noticed that any time I hit the gas quickly the car would go ridiculously lean, despite what the map called for. We swapped out injectors for stock with no luck. We then tested my Fuel Lab AFPR (shooting some compressed air in the line to check for response), as that was one of our last guesses as to why it would go lean despite how much fuel he was throwing into the map. While it worked, a few times it would randomly not respond. So, after being almost stumped and ready to call it quits, he had an extra stock FPR (keep in mind I'm running a rewired 400), so we threw it on just for kicks.
Boom, problem solved. The most expensive piece of my fuel system (sadly) is inconsistently not building pressure when it should be. So, he did what he could before we had to part ways, but we ended up with somewhere around 400/400 (VD) on 93 octane, with a bunch of fine tuning to go, which was my main goal. So far, the car feels freaking great, and the torque hit is ridiculous.
I can't thank Karl (KP Tuning, mxguy186) enough for lending his time and expertise far past what the tune called for without blinking an eye.
Feels so good to have this thing back in action. Oh, and the Ohlins are the best thing that have ever happened to my car.
7-20-2013
Also, picked these up!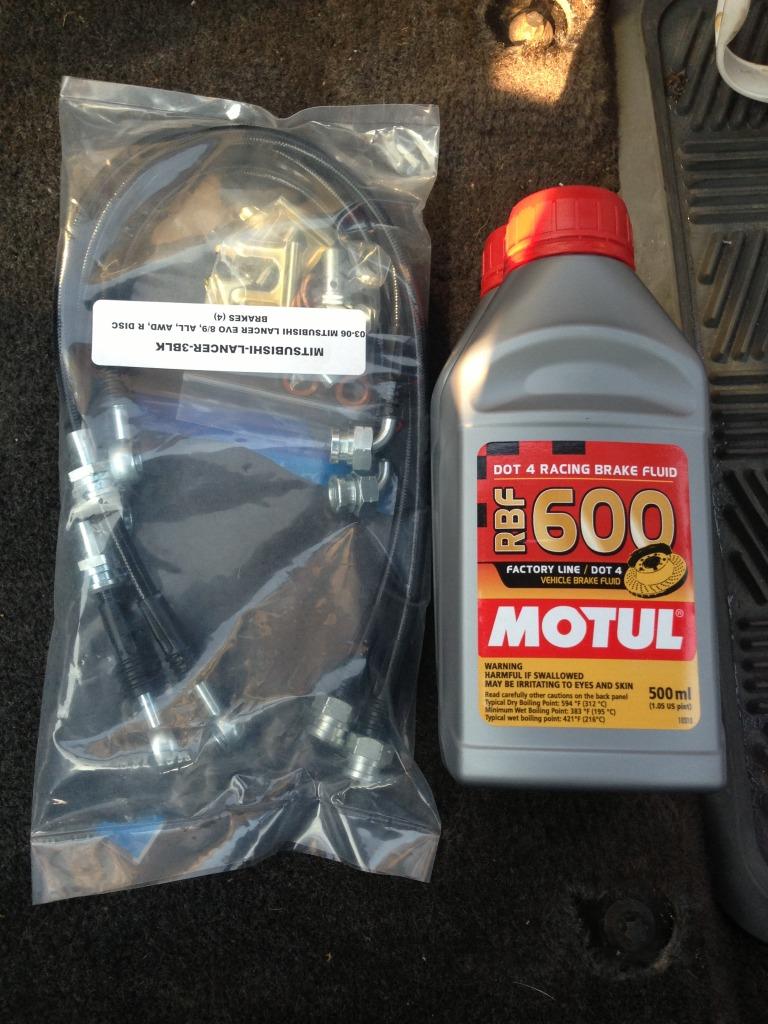 7-27-2013
For sure. Do you run off of the fuel temp sensor or an IAT?
CRAIGSLIST TRADE OF THE YEAR:
Traded my $500 Saturn for this 89' BMW 325ix tonight. Stoked to have an AWD vehicle as my daily now, let alone something that has some class.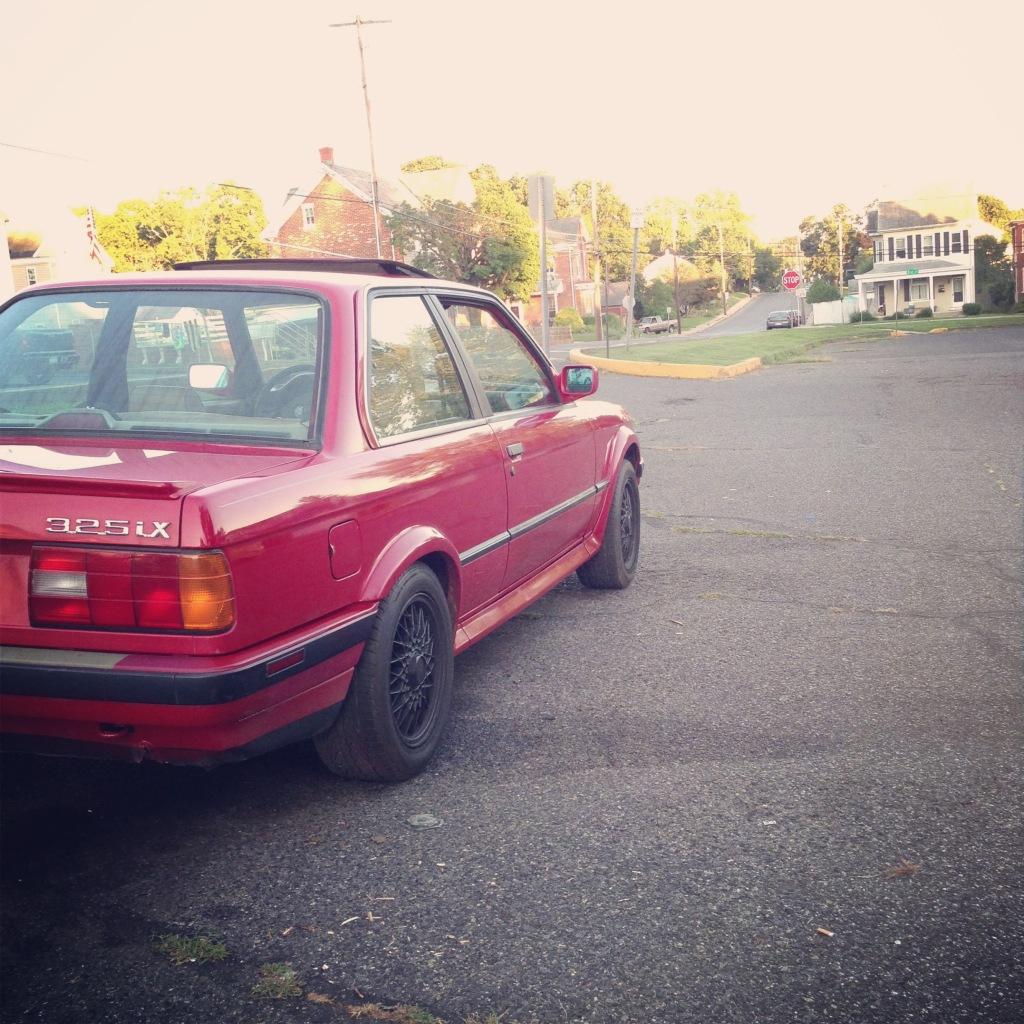 7-28-2013
Thanks!! And yep, I'm in the same boat. I tune off of fuel temp but have an IAT in there as well.
----
Took some random shots of the 'Vo today when I was outside (and some with the E30). She (Evo) needs a wash.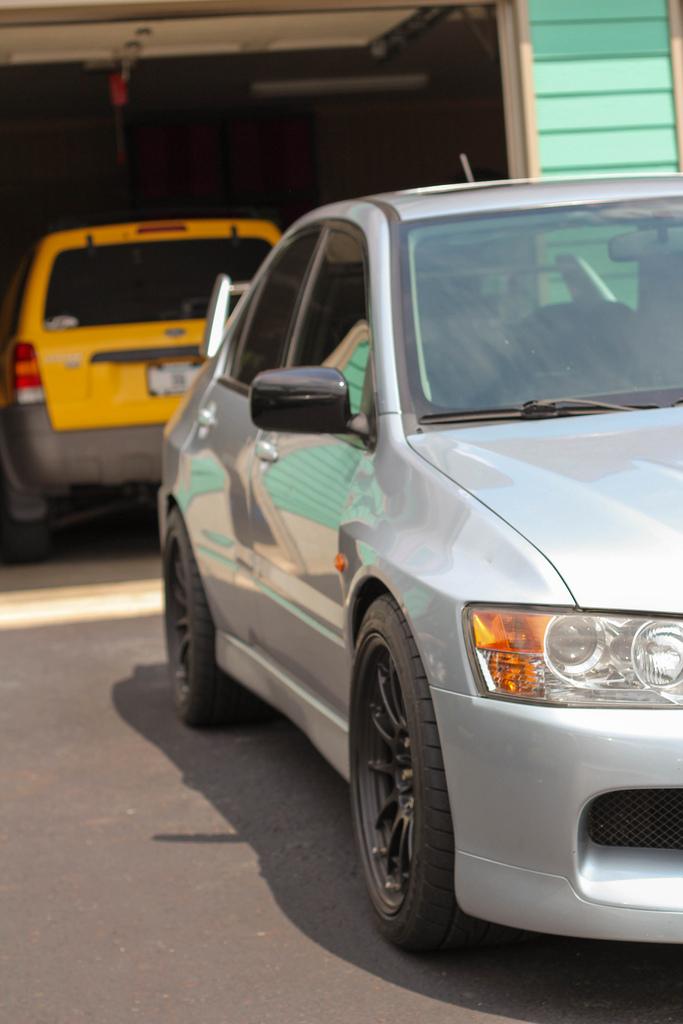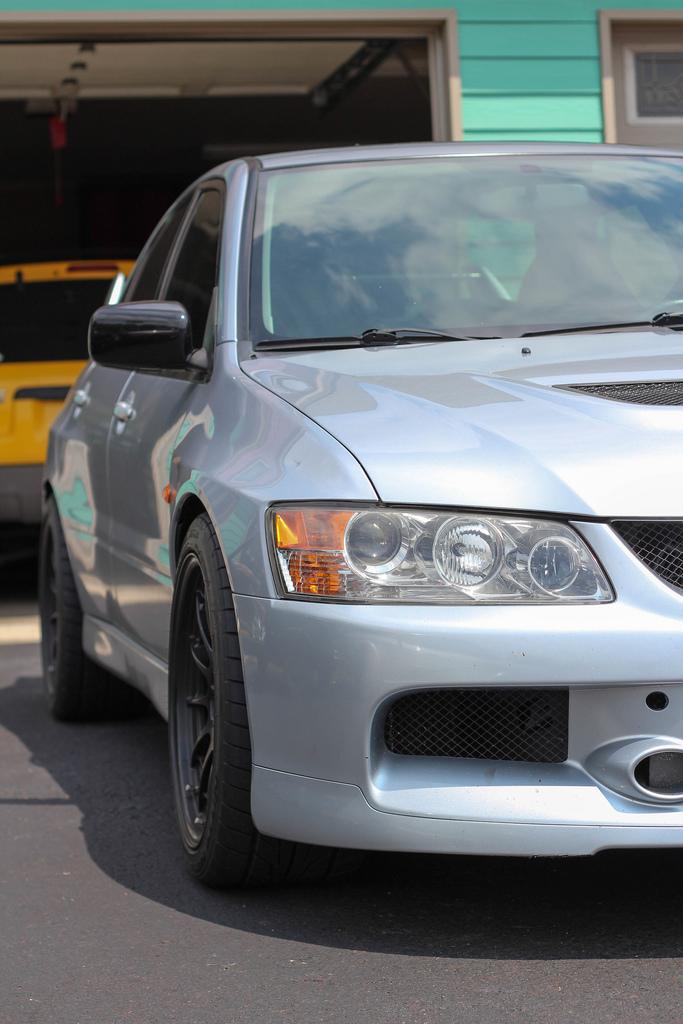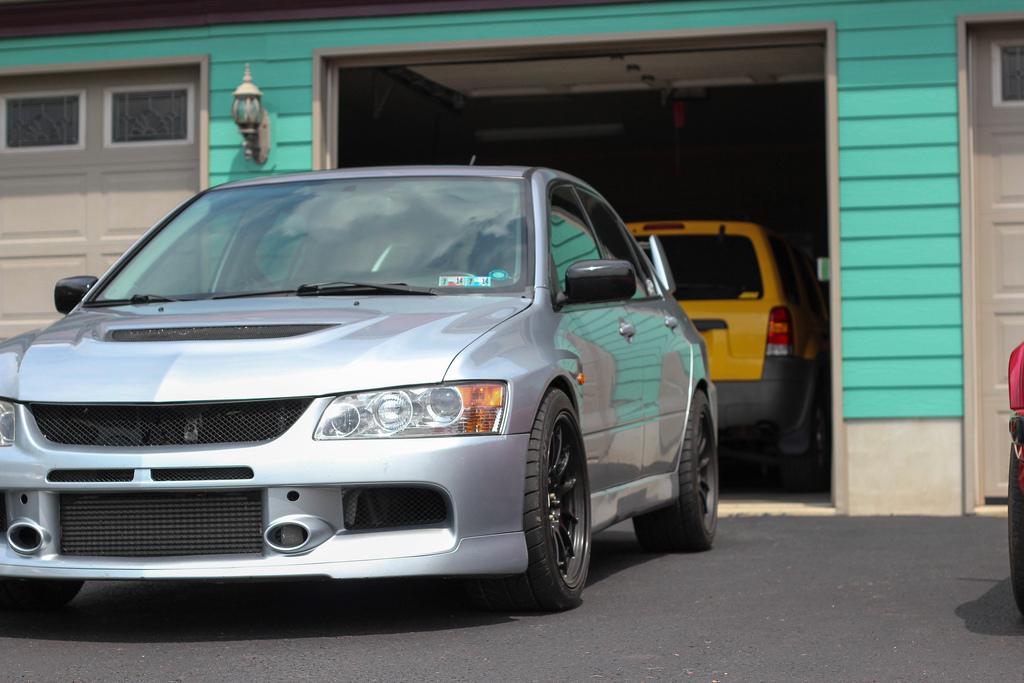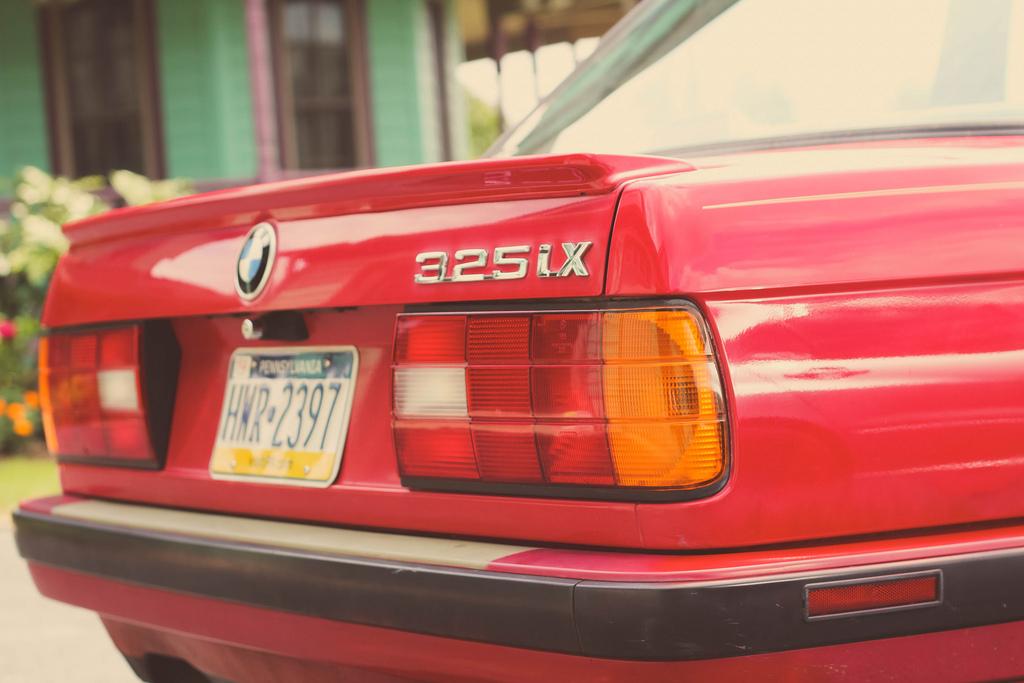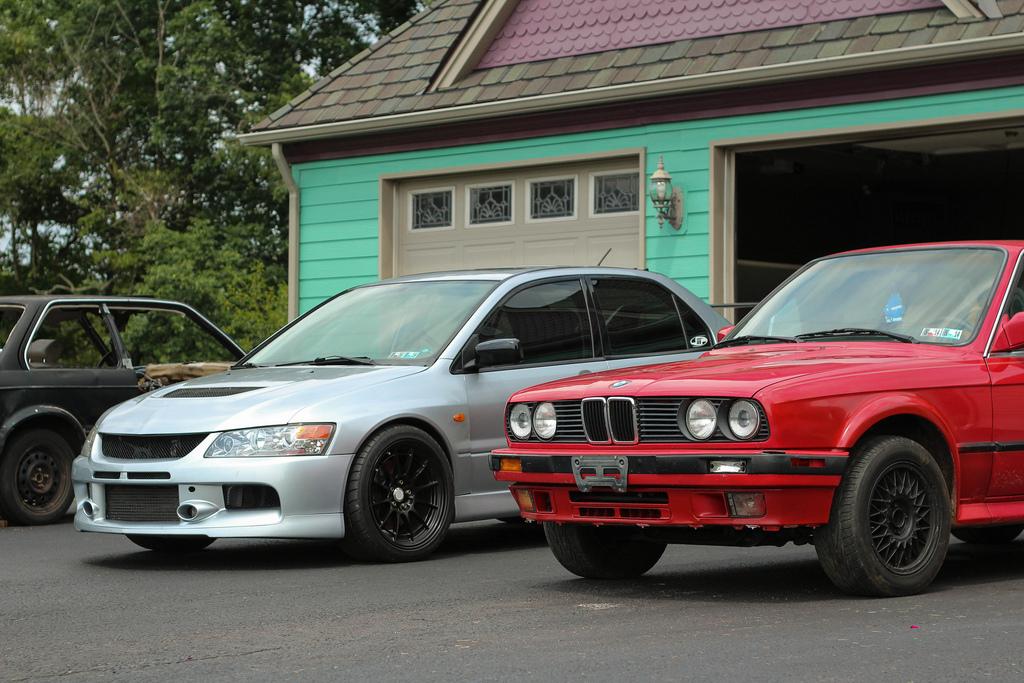 7-31-2013
Keeps telling me it's my fuel pump because there's 'physically no way for the regulator to not rise at a 1:1 ratio', despite the fact that the car runs perfect after the regulator change.
At least my new $200 paperweight is anodized purple so it looks cool.
-----
In other news I daily'd the car this week, and found something many folks would like to know:
-The -12an upper coolant line is definitely a restriction.
The car is building pressure in the thermostat housing (behind the line) and keeps blowing out the line on the back of the thermostat housing because the coolant can't get through the upper hose fast enough. I have NO symptoms or ANY cooling issues that would point to a HG, so I'm only led to assuming the the culprit is the -12an upper line that many have been wondering about.
8-26-2013
I think it's about time for a new batch of driveway pictures.
Slamming the car this week for a StanceNation photoshoot.
Just kidding.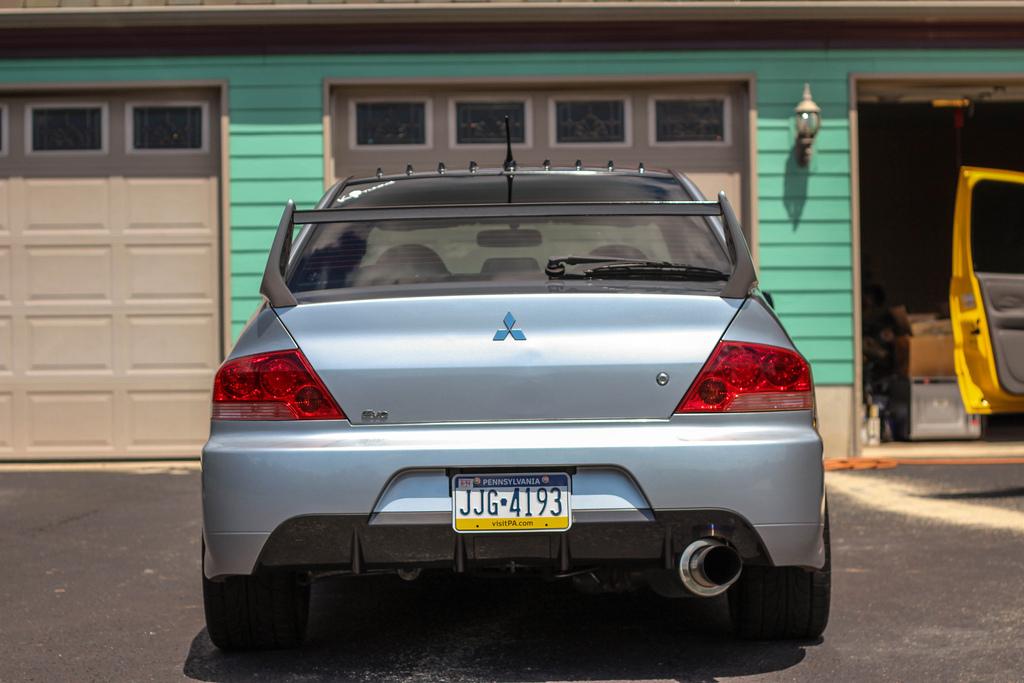 10-15-2013
Feels pretty good to not update this thing like I used to. It's a lot cheaper.
However, worthy of noting is this little feller: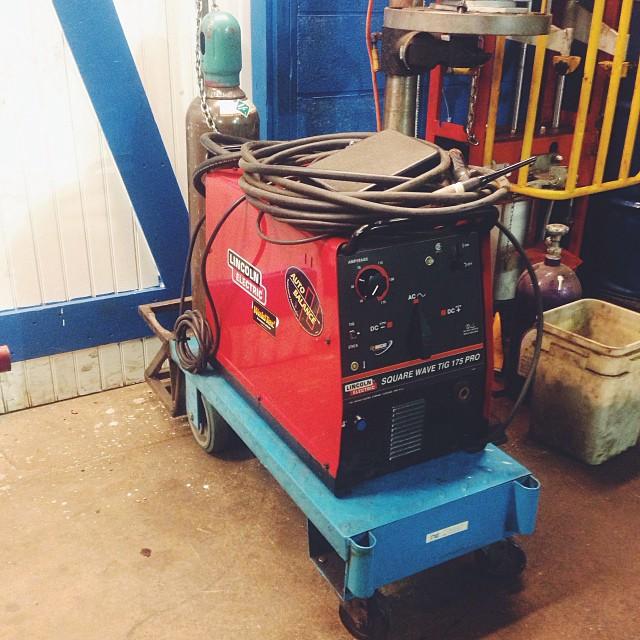 10-20-2013
Soon, man. The E30 is taking all of my time as of late, but is nearing completion, so I'm going to polish off all of the little things on the 'Vo here soon and make a trip down. I didn't put the top o-ring in between the trans and tcase, as I was promised I didn't need it, and sure enough I have a leak there.
To do list:
-Weld on -16an upper coolant line setup
-FAL Slim Fan
-Tcase oring
-Cam gear cover
-Trans fluid change
-E85 tune
12-18-2013
Time to make jam! 600whp or bust.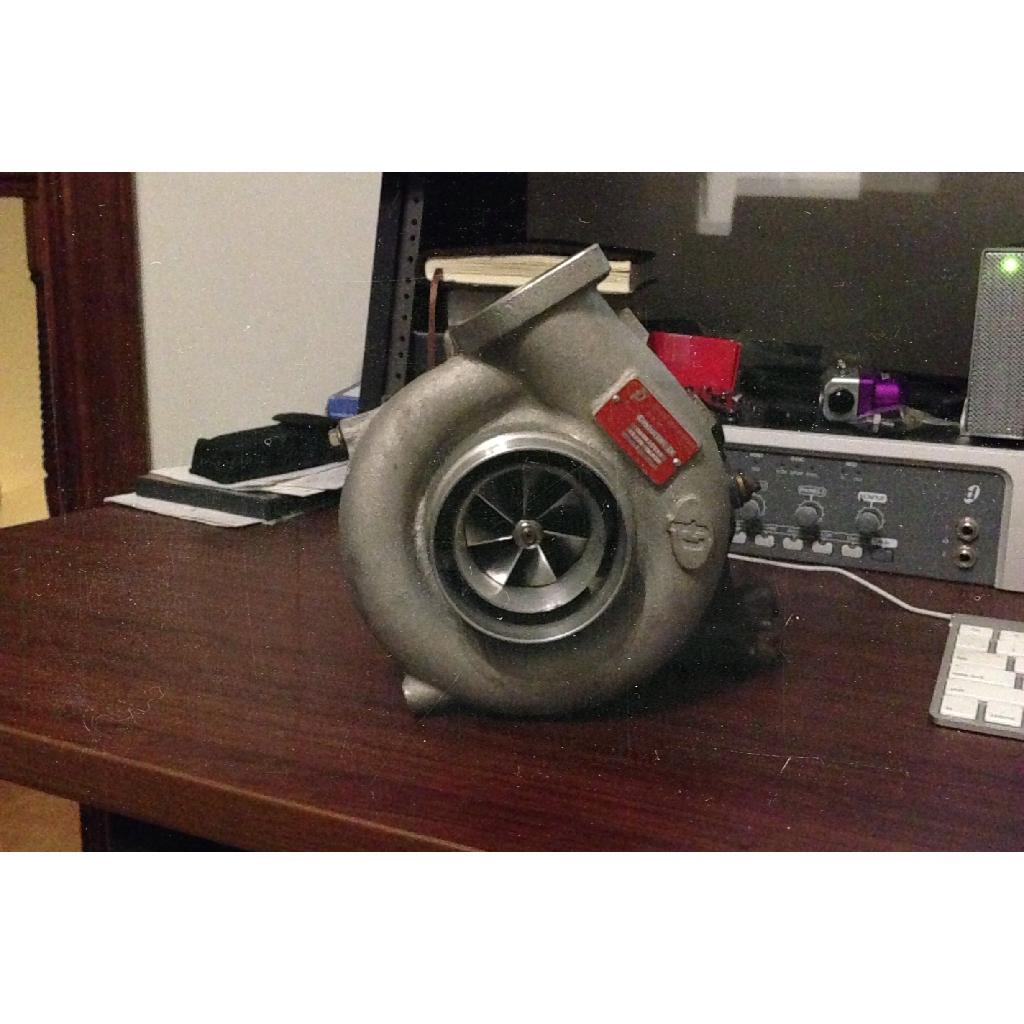 12-26-2013
Yeah, man! The stock IX turbo was fun, but it was definitely time to go bigger. The setup is:
LR2.4L
Blended Bowls
GSC S3
CB Extreme Port IM
FB 70mm TB
CB Ported EM
JMF 02 Dump
Nisei FMIC
JMF IC Piping
AMS TBE
FP Red
25psi WG
All on SD. I hope I make 600, but I won't be terribly upset if I fall short. And yeah.....I don't know about the FP Whack. FP Red is the biggest I'd go on this car. It seems like far too much torque and response is given up going from Red to Black only to gain 50hp up top. (If you can't tell I'm really not a fan of the Black haha). Not to mention they don't seem to like Pump Gas either.
Response and snap is what I'm going for though, as the car will (finally) start to see AutoX and Track Day duty come Spring!!
1-3-2014
Man, that's gonna be a nasty setup! What variation of a 2.2L is it?! I would've loved to build a destroked 4g64.
--
Lend your ears to some beautiful straight 6!
1-20-2014
All back together! Now I just need a slim fan, some Brad Penn, and a tune!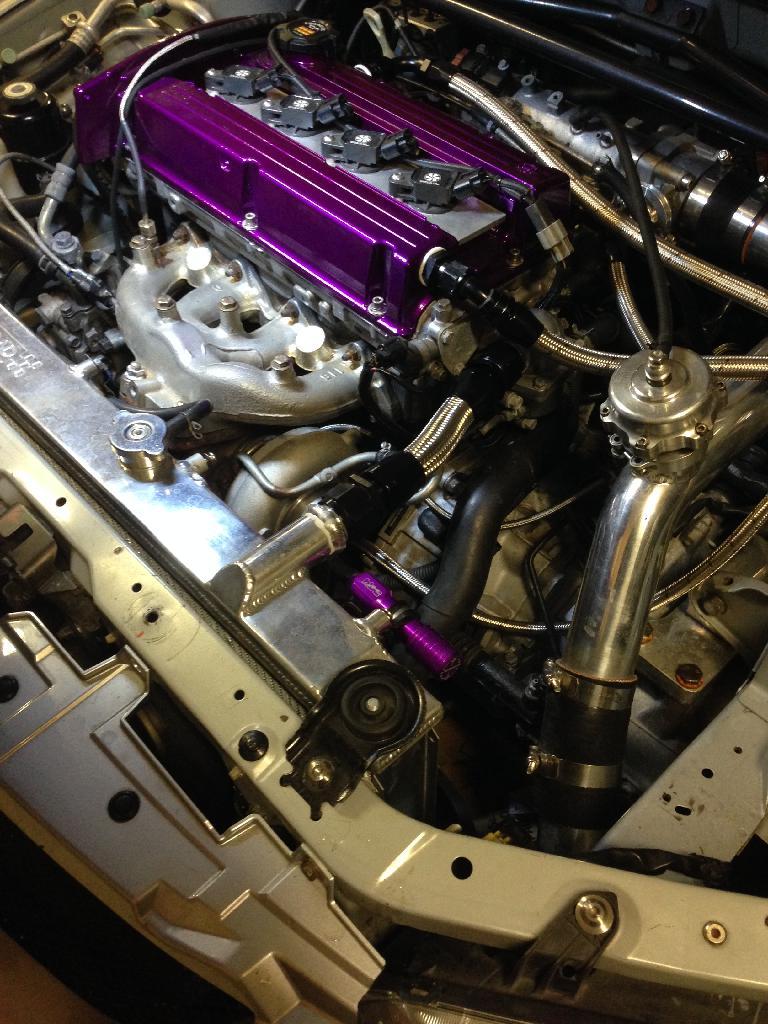 1-31-2014
Evos suck! I can't stop buying E30s!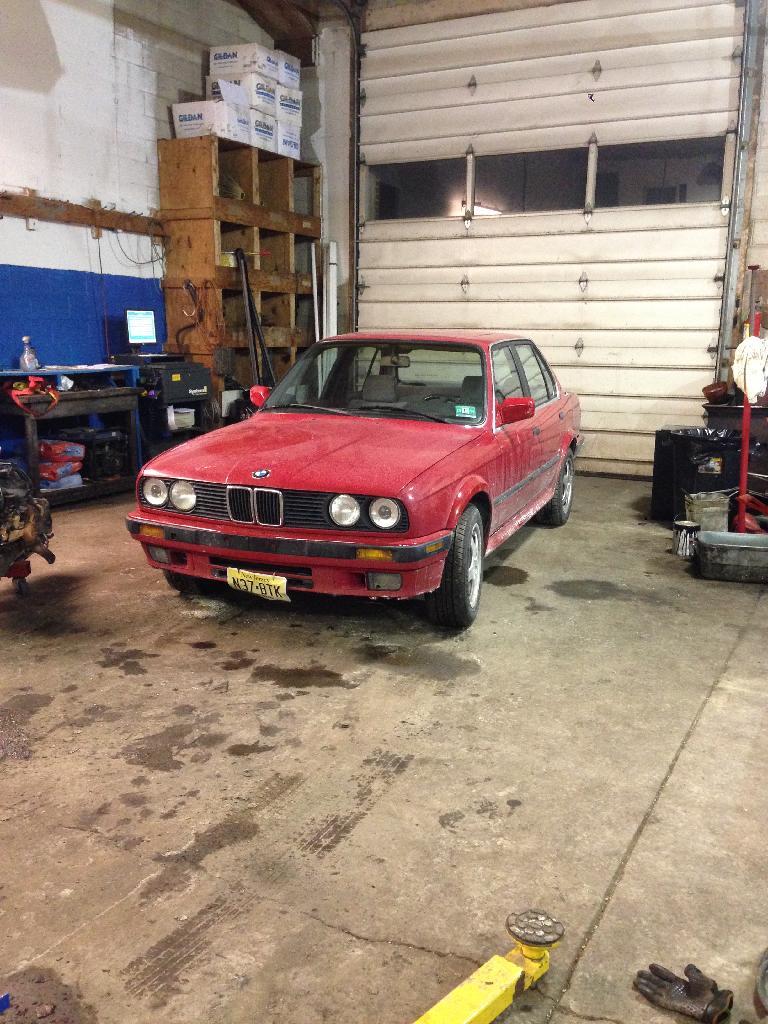 3-1-2014
Got my fan and cam gear cover, case of Brad Penn, and some Wix filters. Tuning once the snow/salt disappears and the Evo is ready for the 2014 season!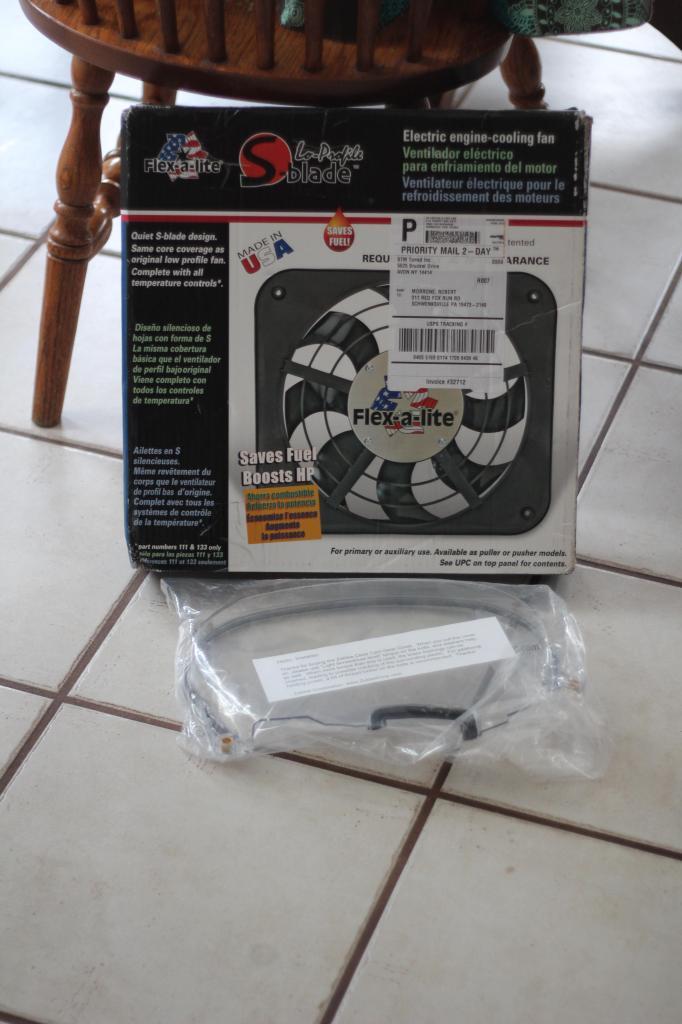 6-23-2014
Mostly likely the last time she'll be apart under my ownership. Bittersweet.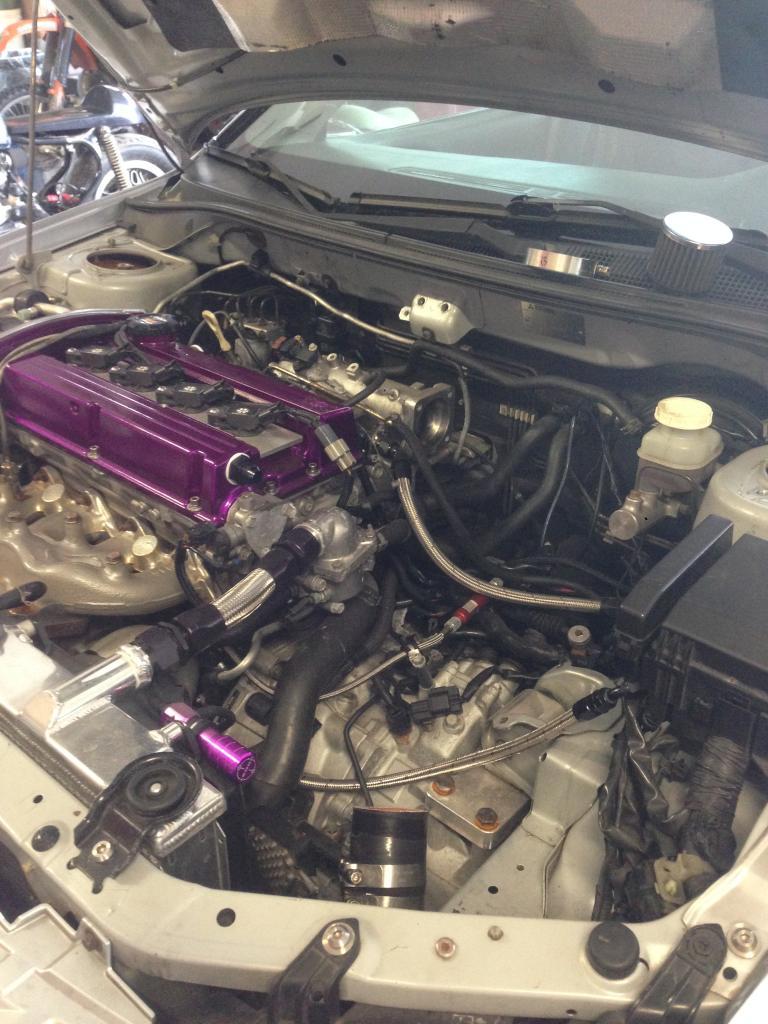 6-25-2014
Brake calipers refinished, finally.
I'm sick of going fast. It's too expensive. The E30 handles just as well, you just have to make up for the power in your driving. Plus reliability, plus affordability, plus classic styling, blah blah blah. I'm just over the Evo game, man.
And then when I get sick of the E30, I just float above the clouds in this beast:
7-3-2014
She's all done!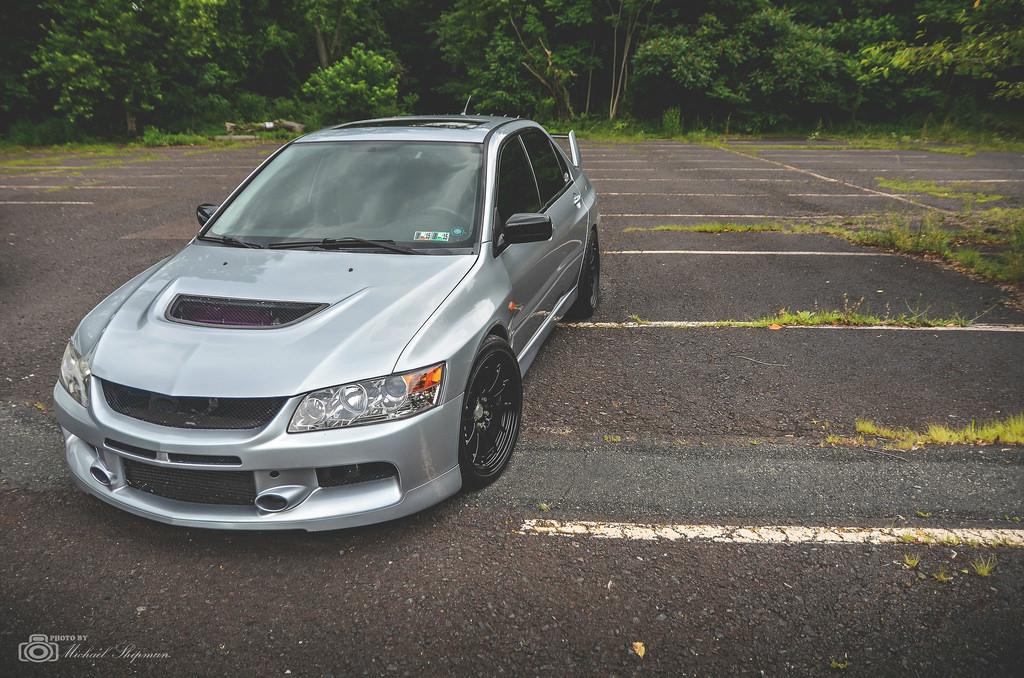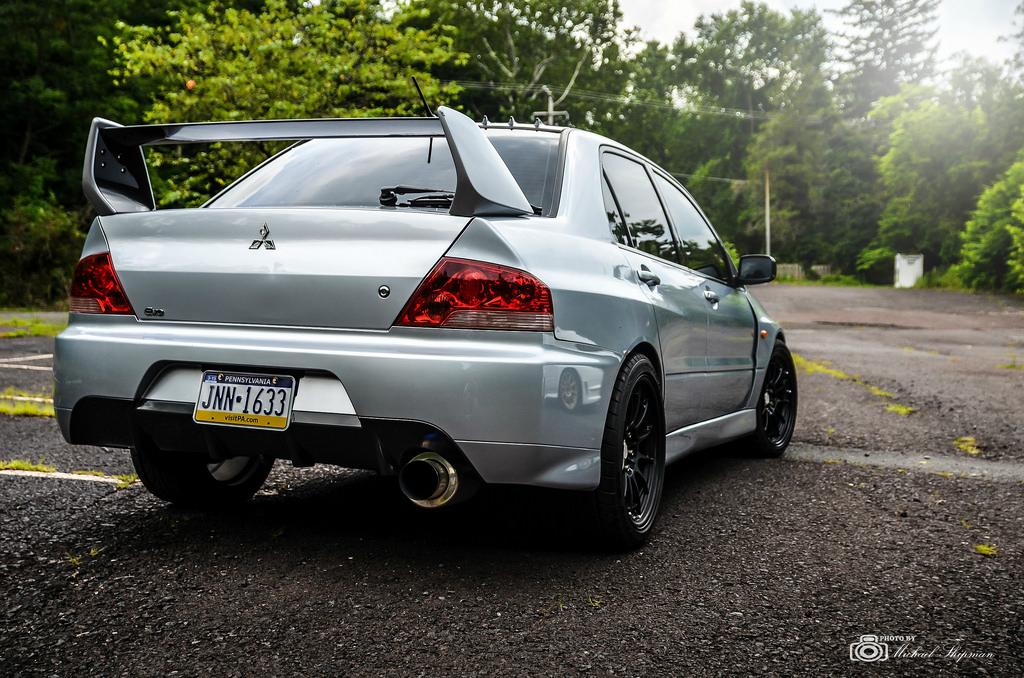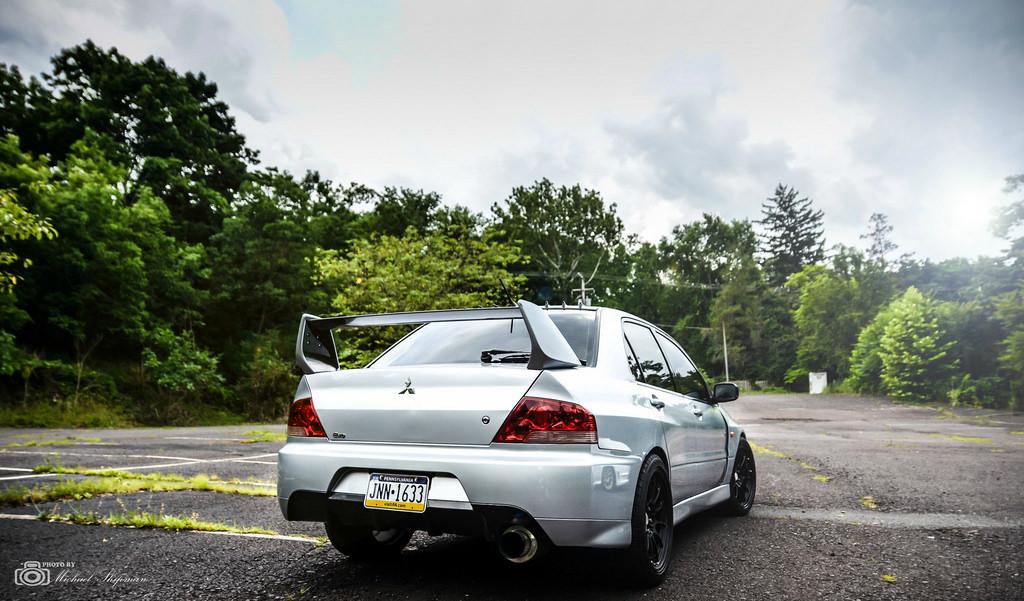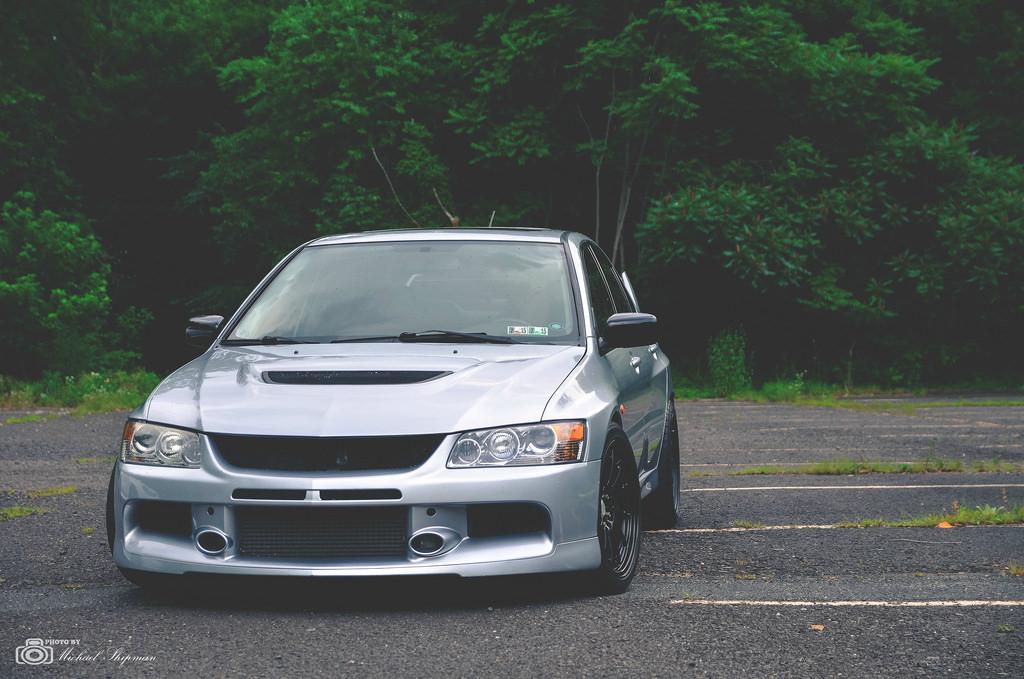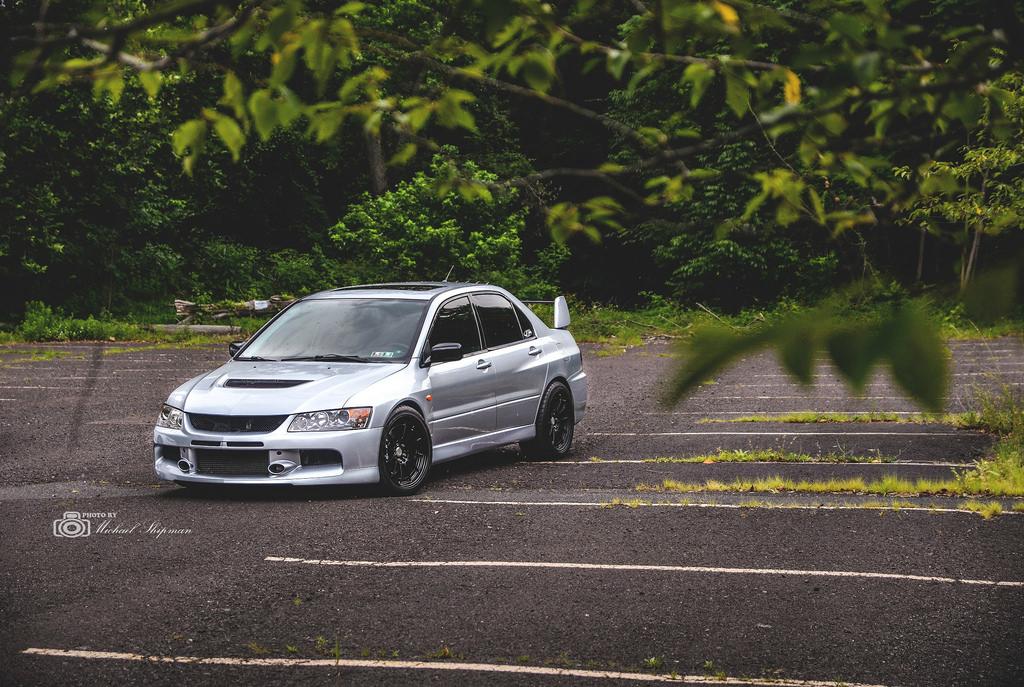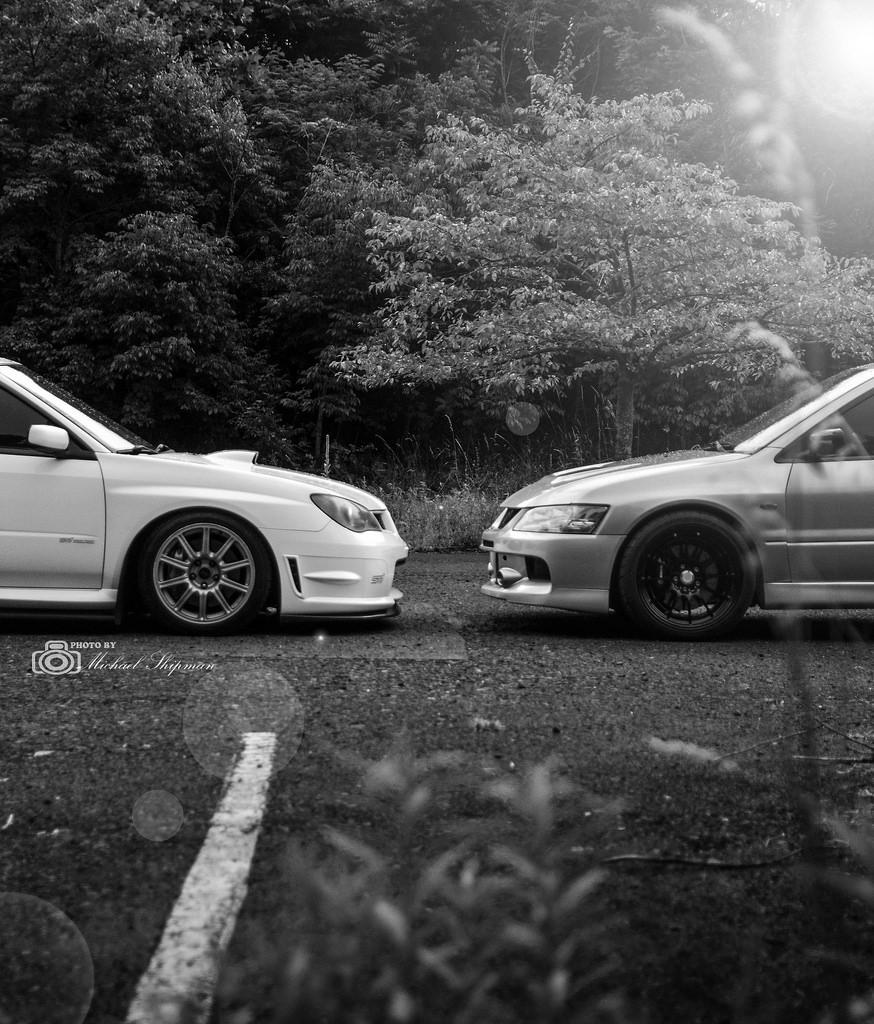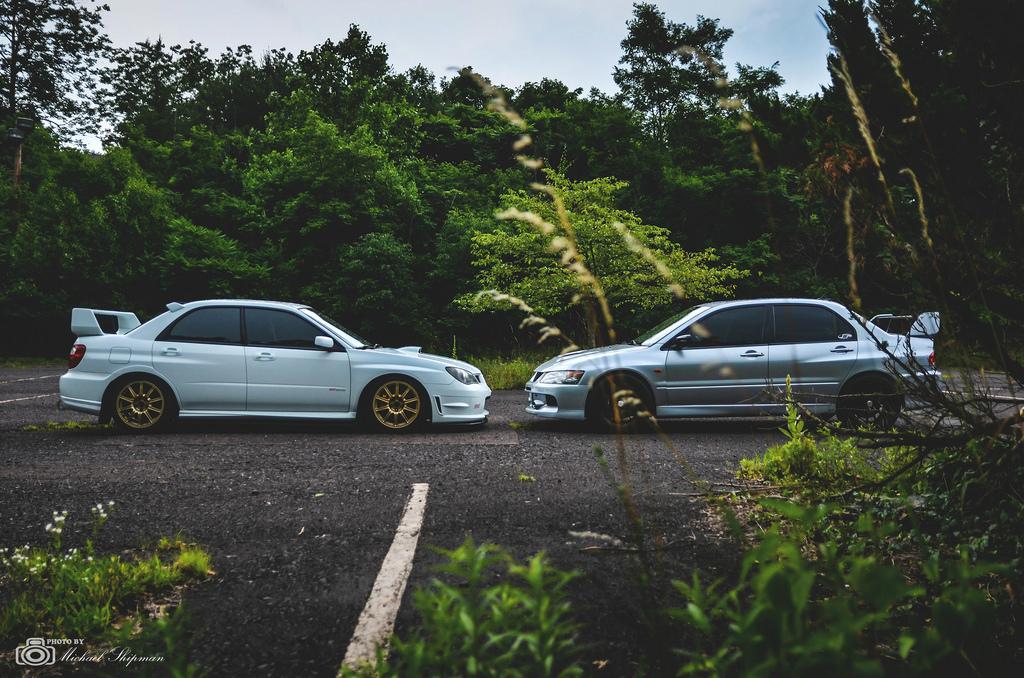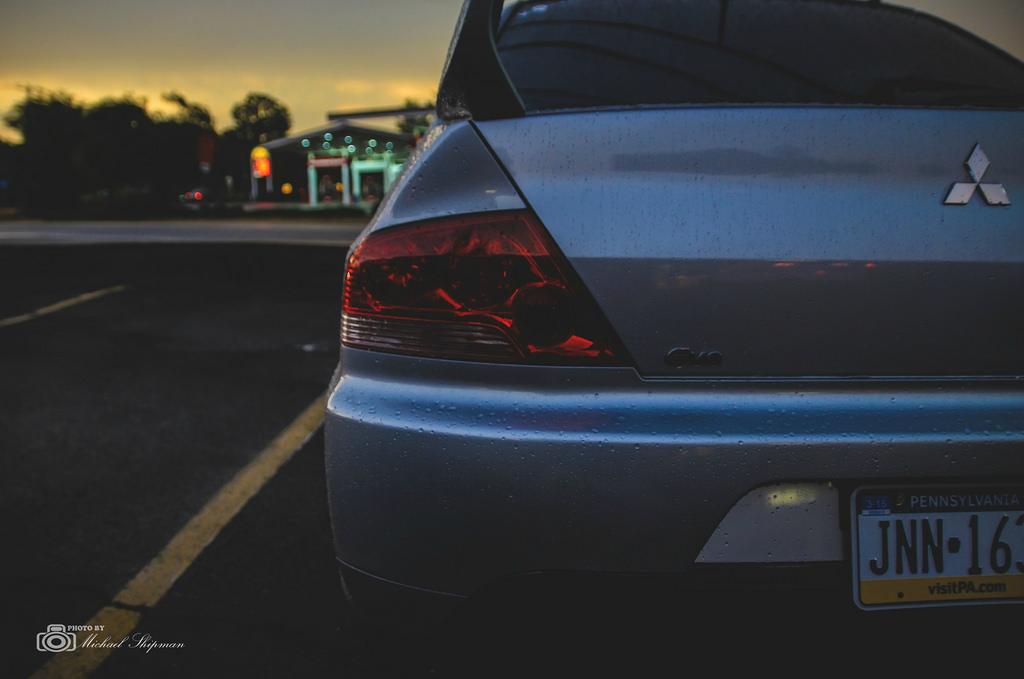 7-26-2014
Finally got the car tuned!
First off, this thing rips. Blitzes my 265s in 1st.
The car made 476/414 on 26psi, tapering to 24. This is with the tuner and I in the vehicle (350lbs).
We kept the boost down and didn't get crazy with it at all. Extremely conservative all the way around. It'll make over 500 on pump if we turned it up. Going to hit a DJ soon, but for now, this thing is extremely responsive, and feels every bit of what the logs were telling us, and spools fast as hell on the street.
KP Tuning did the tune, and he is the man for helping me out over the course of this build.
Alas: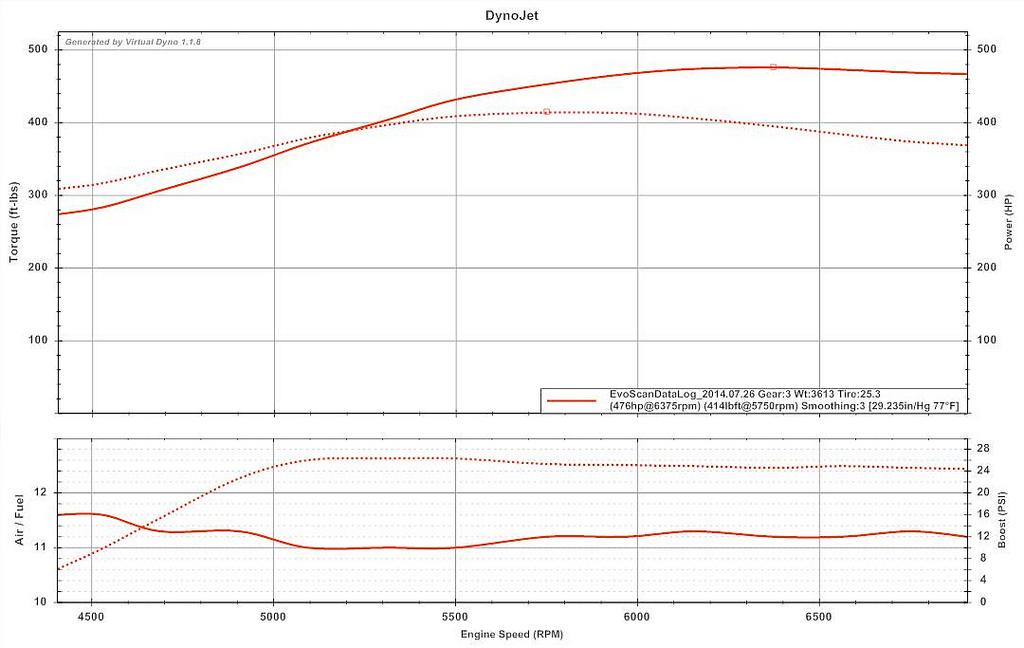 8-2-2014
DYNOJET NUMBERS
Had a day at the dyno today, and it was a blast!
The car actually exceeded the VD numbers. I was shocked at how well the car did on 93. This runs awesome on the street.
26psi - 482/442
27psi - 494/445
29psi - 499/448
Graph: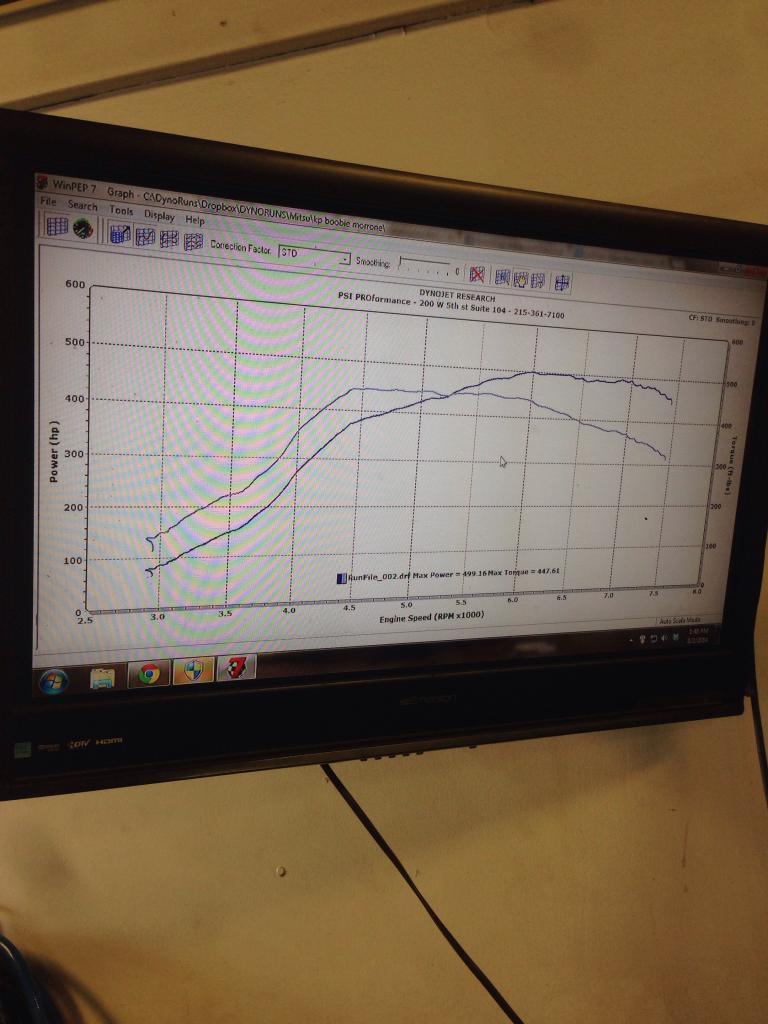 8-4-2014
Almost unnoticeable. Extremely responsive for how much power it's making.