Builds
Kracka's GheyrodX - bigger, fatter, gheyer! by Kracka
By diyauto
You must be logged in to rate content!
11 minute(s) of a 66 minute read
Kracka's GheyrodX - bigger, fatter, gheyer!
Compliments of Kracka @ www.evolutionm.net
2-7-2012

On June 5, 2010 I picked up a brand new 2010 Wicked White Evo X GSR SSS! My local dealership, Don Herring Mitsubishi - Irving, had to do a dealer trade to get this exact car for me so it originally is from Oklahoma City. It has 35% window tint, the dealer interior and exterior "protection" stuff, and the optional wheel locks. All those things were dealer-installed prior to the dealer trade so I got it all for no cost. I also negotiated the Sport Interior Package into my deal (aluminum shift knob and e-brake handle that say "EVOLUTION" on them). The SSS package includes the 700-watt Rockford Fosgate system with a 10" sub in the trunk and Bluetooth integration, HID headlights, the larger rear wing, and the FASTKEY sytem (just keep the fob in your pocket).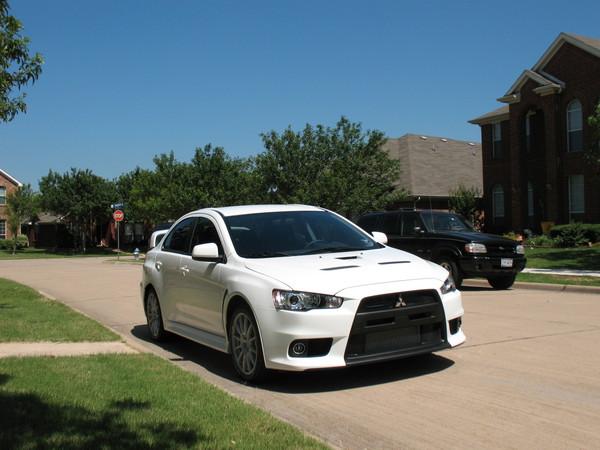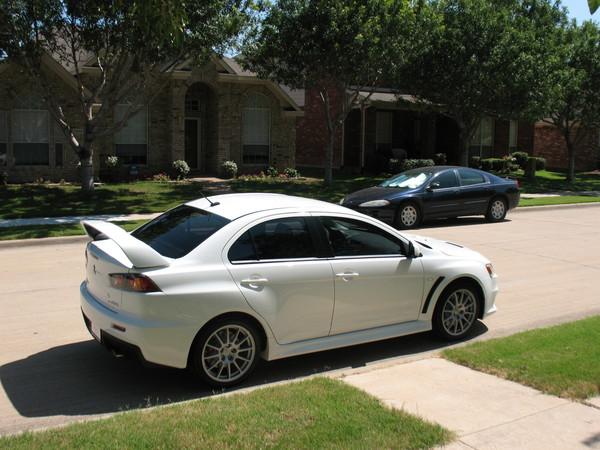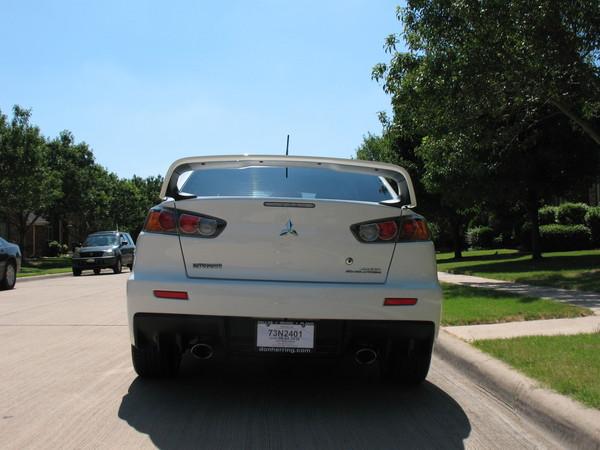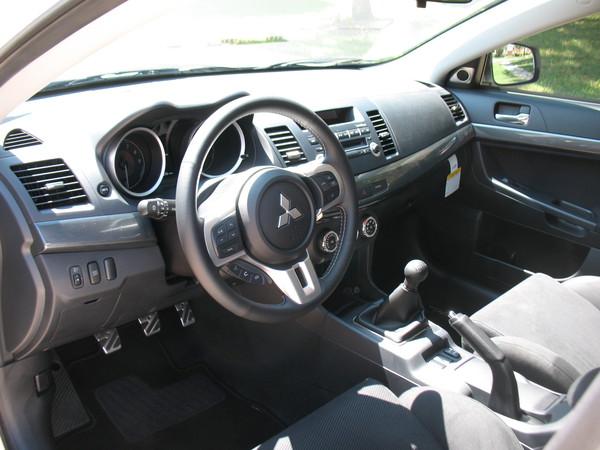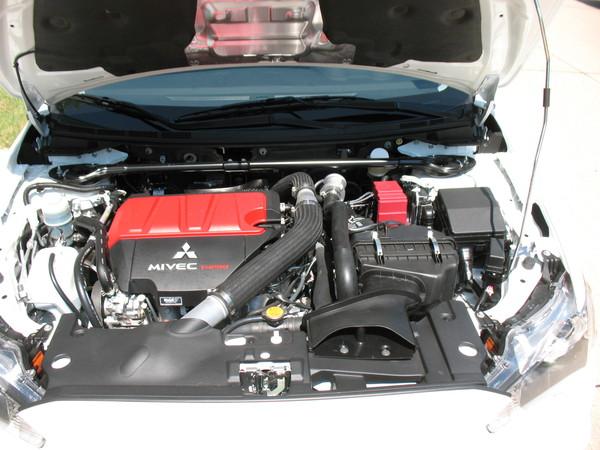 First round of mods:
-Ultimate Racing dual-exit catback (with midpipe mini-muffler option)
-Perrin turbo inlet hose
-AFE Stage 2 intake system
-Tactrix 2.0 cable
-a whole pile of bushings and other misc. stuff
-DB MBC
-put zipties on the FPR line
-disabled the daytime running lights
-installed the "blue" fuel pump relay
Update from 6/12/10:
I backed the car up onto ramps yesterday after work so I could install the Beatrush rear diff bushings and Torque Solutions driveshaft bushings...one problem, the rear diff is leaking fluid

Rather than touch anything I decided it would be smart to just bring it in for inspection before anything else which I did today. Luckily they have the seal in stock and said it should only take a few hours. Remaining optimistic, at least the break-in fluid will be drained and I'll get fresh stuff! I'm bringing the car back Tuesday morning for them to replace the seal and redo the alignment (both under warranty).
I think I'll go outside now though and install my WORKS shifter bushings and Perrin turbo inlet tube

Today I got the Perrin turbo inlet tube, AMS shifter gate pivot bushing, and half the WORKS shifter cable bushings installed. I pulled a newb and dropped the other shifter bushing into the engine bay abyss and haven't been able to find it yet

It definitely shifts nicer already so I'm excited to get the other shifter bushing installed; I emailed WORKS to see if they have a spare they could send me. Can't say I felt a big different from the inlet pipe, but it does seem a bit louder. I was going to install the Perrin drop-in air filter too but the foam is ultra thick unlike their open element filters; it was almost 2" thick which seems crazy to me! I will just retain my stock paper filter until I install the AFE intake (going to do that right before I get tuned since it can throw AFR's off a little bit).
6/13/10:
I was out riding my bike today and I found the bushing laying in the middle of the road on the other side of my neighborhood!
6/16/10:
I got the car back this morning and it turned out one of the S-AYC lines going into the rear diff was leaking rather than an actual differential axle seal so they just had to snug it down a bit and clean things up under there. They also realigned the car; the toe was a bit off which is pretty typical of the factory alignment.
6/18/10:
Got a care package from Scheides today!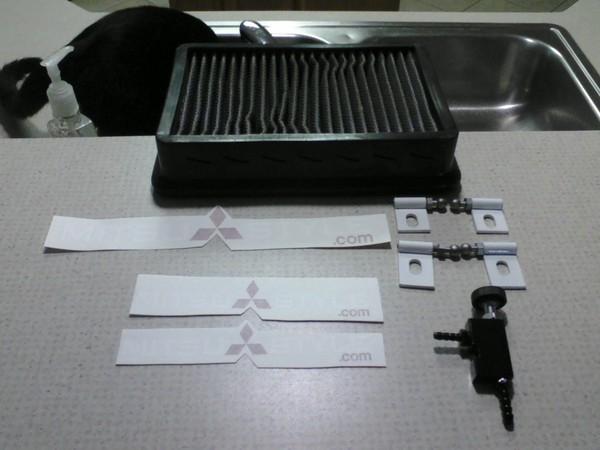 -DB MBC powdercoated by Primo
-hood damper brackets powdercoated by Primo
-set of MitsuStyle stickers
-AFE dryflow drop-in air filter
6/19/10:
It's been a very productive morning for me! I got quite a few things installed, including:
-Mynes hood dampers
-remaining WORKS shifter bushing
-AFE drop-in air filter
-Beatrush rear differential bushings
-Whiteline rear swaybar
Stock 23mm vs. Whiteline 27mm: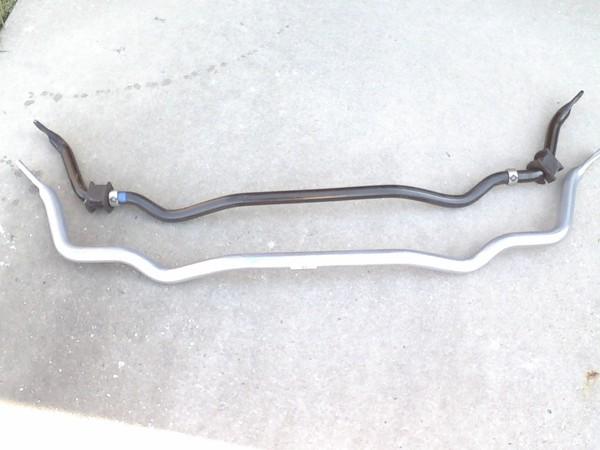 6/20/10:
This morning I got my shifter and base bushings installed to go along with the WORKS under-hood shifter bushings that I installed last week. All I can say is: "Wow, what an improvement!" One of my biggest gripes against the stock X was the very rubbery and sloppy feeling shifter. The complete WORKS shifter package along with the AMS shifter gate pivot bushing did a great job taking up all that slack and making for a nice feeling shifter. I opted for the urethane shifter bushings over the solid metal ones like I've used in all previous cars mainly just to try something new but also to keep interior noises to a minimum. The shifter feels very precise and in the end I am glad I went for the urethane bushings over the metal ones. I made sure to lubricate everything very well with a heavy-duty lithium grease so hopefully I'll never have to touch them again (aluminum shifter bushings seem to need annual relubrication in my experience).
Install notes:
The console assembly on the X came apart even easier than the 8/9 consoles I had previous experience with. The instructions WORKS provided were decent, but I ended up following the step-by-step install guide from TWM's website since it was nearly perfect and included detailed color photos. The shifter base bushings were a bit of a bear to install since they were obviously manufactured for a snug fit...almost too snug and took quite a bit of effort to get them in. I ended up installing the front two upside down which made things easier; I see no side-effects from doing this, fitment was still perfect and everything is night and tight (I would recommend this method to anyone else installing these). I will also note that the metal sleeves from the stock rubber bushings are reused so be sure to not lose them.
Driving impressions:
The shifter feels great, nice and tight but without the chunky noise of solid metal bushings! The WORKS shifter angles the know slight rearward (similar to stock, but more aggressively) and towards the driver to center the knob in the shift boot area (similar to TWM's shifter). If I had one complaint it would be that is possible angles the knob a tiny bit too far rearward, but I have fairly long arms so it would probably be perfect for a person of more stubby stature

WORKS claims a 25% reduction in throw and about .5" shift knob lowering which I think feels about perfect. Throw effort is slightly increased due to the reduced leverage but nothing to concern myself with and not enough to ever cause an issue.
Now I just need to drain out the factory-fill fluid and replace it with the Redline cocktail for the X 5-speed tranny (2-MTL 1-MT90) for what I hope will complete my "ultimate Evo X GSR shifter" setup.
WORKS shifter in neutral: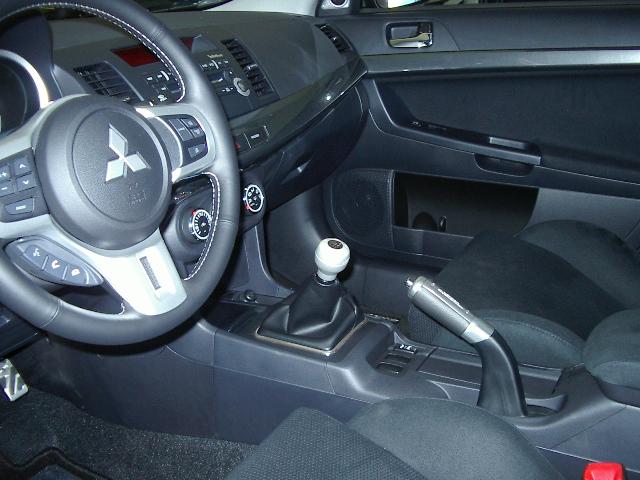 so stock looking: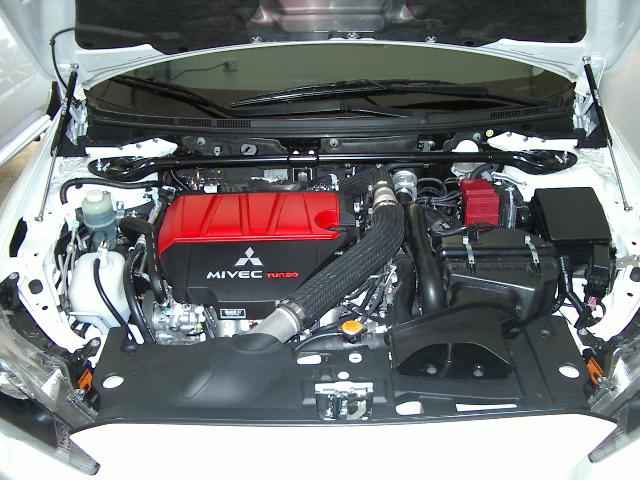 AFE drop-in with Perrin inlet pipe (BOV tube trimmed 3/4"):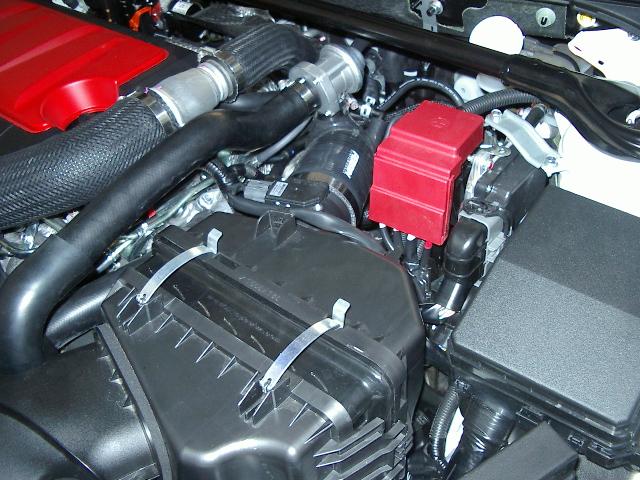 6/23/10:
As long as I'm installing the UR catback this weekend...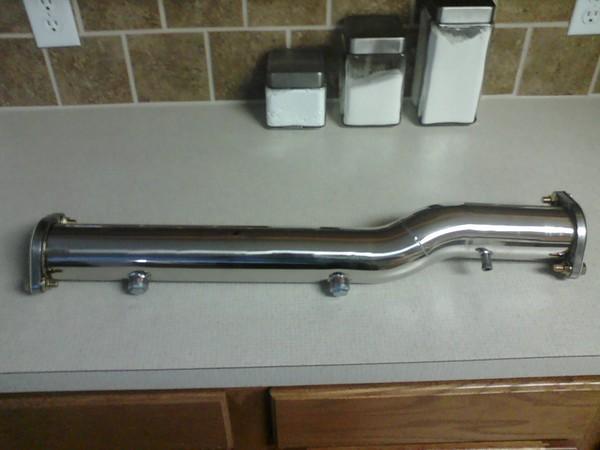 Ichiba testpipe with dual o2 bungs and included gaskets and new hardware, not bad for $80 shipped!
6/28/10 (RE: UR catback):
It sounds great at WOT and if very quiet at idle/cruise, but under light throttle acceleration it has a resonance that bugs me. Janelle really likes it, but I think I'm going to order the Magnaflow and sell this one.
6/28/10:
I want to make sure I'm 100% happy with every single mod I do and not regret anything even the tiniest bit.
I changed out the stock tranny fluid yesterday and replaced it with Redline (2 MTL, 1 MT90) and if feels so much better it's insane! Mitsu really dropped the ball with their ****ty GL-3 factory-fill tranny fluid in the X.
7/3/10:
Got a new shift knob courtesy of WORKS today, it's their Grab knob: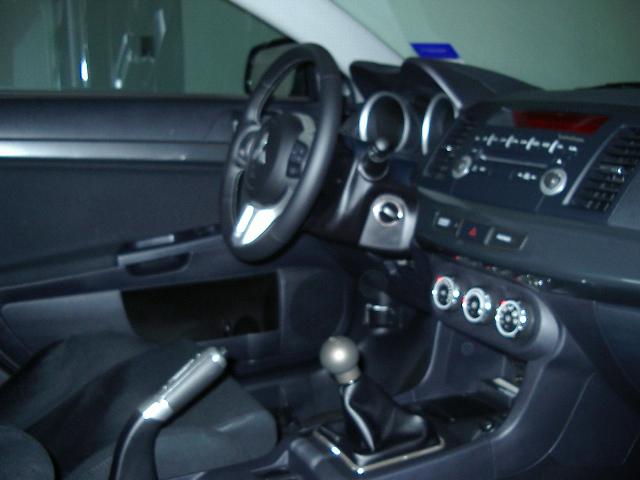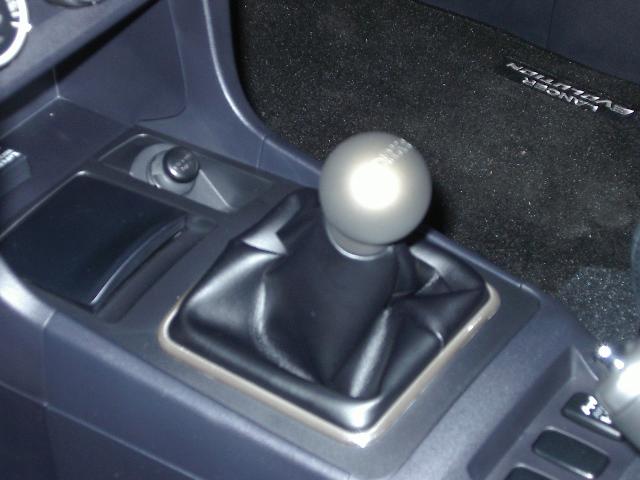 It's a bit lower and heavier than the optional aluminum Mitsu knob I had, plus it uses a stiffer threaded plastic core so it feels great. This knob is definitely a keeper.
7/10/10:
I had a pretty busy night last night! I got home from work and immediately backed the car up onto ramps. First thing I did was drop the ****ty Ultimate Racing catback. Then, I removed the soft rubber stock driveshaft bushings and replaced them with the solid aluminum Torque Solutions driveshaft bushings. They're nearly identical to the Beatrush versions, but half the price and anodized black instead of gold. Fitment was perfect too. After that I installed my new Magnaflow catback that I got on Thursday and took to AWD Tuning to have the 2.5" neck-down at the cut removed and replaced with a full 3". Fitment is good with the exhaust tips perfectly centered, but the piping is lightly rubbing in two locations when taking a hard corner. Hopefully I'll be able to adjust that out with the slip-fit flanges. Then after all that was done it was time to get serious and really start ripping the car apart and install the new Eibach Prokit lowering springs that just arrived yesterday!
Overall, a very productive night and another great round of mods that I'm happy with; now it's time to head to Cobb Tuning for a custom alignment. The new exhaust is definitely way quieter than the UR, plus is doesn't have any nasty resonance! WOT sound is definitely not as throaty and mean though, but that's fine since it'll be so much nicer for daily driving. Weight between the two systems is actually about equal; the Magnaflow muffler was much smaller/lighter than I expected.
I'll get some pictures up later this weekend.
7/10/10:
Now that I have ~150 miles on the springs I can definitely say they ride nicer than stock, then really firm up in the corners to make for a great street setup! I still have my Whiteline rear swaybar set to the softest setting.
Lowered GheyrodX behind the Cobb Time Attack WRX:
7/11/10:
Just got out from under the car. It was actually rubbing on the passenger side rear differential brace. I think I've adjusted it enough to not rub anymore, but if not I can simple grind the brace down a bit and that should work. I'm thinking my 3" section that replaced my 2.5" neck-down isn't perfectly straight which is what's causing the slight imperfection. I still am really loving this exhaust though! It's such a smooth and quieter tone. I think the SpecialtyX catback is still my favorite, but I'm not baller enough for that (and some of those have rubbing issues too unfortunately) and it hangs a bit low for a daily driver IMO.
*edit*
The exhaust rattle is 99% fixed. I think another small adjustment and it'll be perfect.