Builds
Greddy's build thread!! Better late than never!
By diyauto
You must be logged in to rate content!
7 minute(s) of a 111 minute read
Greddy's build thread!! Better late than never!
Compliments of greddy @ thegalantcenter.org
8-31-2008
Just looked at Ivory's build thread, decided I wanted to make one too. Oh, to warn you, this is kinda long winded.

Late 1998

1999 Mitsubishi Galant ES 4 Cylinder.
Been in our family since new. First purchased by my mother in late 1998. Our first new car since we'd moved to the United States. My uncle had a 7G then, and this thing was the new model. I was so excited when we brought it home from the dealership, I got to sit in the front seat! We don't have any pictures of the car from way back when, but this is exactly what it looked like.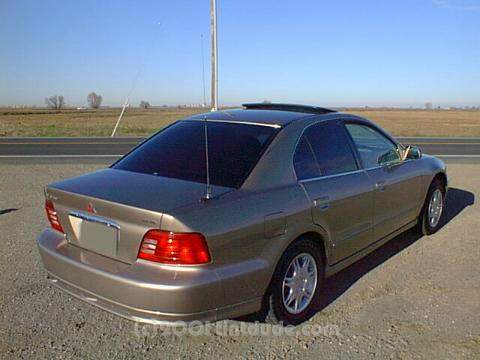 2003

5 Years went by, my mom drove the car every day, I changed the oil and maintained it, other than the major services which we went to the dealer for. One day, my mom finishes nursing school, buys a BMW 325i coupe. The galant gets parked in the garage, still stock, other than the 4th set of OEM mitsu hubcaps that my mom has bought.


2004

I spot a supra turbo sitting in one of our neighbors driveway, slowly falling apart. I painted the ladys house, built her a shed, and cleaned up her front and back yards in exchange for the car. We pushed it over to our garage, and the work began. Eventually got it to run. I was only 14 at the time. So damn excited when it finally moved under it's own power.

2006

Got my license, started driving the supra to high school. Gas prices start to climb. I went drifting every friday night, until one day one of my friends crashed his 240SX and died in the flaming wreck. I parked the supra (which only had minor bolt ons, suspension, wheels and tires, and a tune @ the time) partly because of what had happened, and because I couldn't afford to fill it with premium at the rate that it drank it.

2007

The Galant coughs to life after 4 years of hibernation in the garage. Fresh fluids, t-belt, some new gas, and she was ready for the road, still stock, but ready. Mom's bimmer is sold, she gets a new RAV4

First modification was my old supra wheels and tires 16x8 wheels with 235 toyos. Car was still at stock height. I thought it looked bad ass, but unfortunately they rubbed when I turned. Back to the steelies.
I don't have pictures of the galant on the wheels.

2008
Meanwhile, my uncle has moved up here from Cali, and brings his auto garage business with him. He had an old Celica supra back in the day, so when he saw my supra, we started building it up. I will make a separate build thread for it later. With the money from selling the stock parts from the supra, I began to slowly modify the Galant. After a good deal of searching, one of my buddies found a set of 3G Eibach pro kit springs with only 3k miles on them for 30 bucks. I had Tokico stock replacement shocks/struts waiting in the garage, so the car was dropped. Almost at the exact same time, I came across a set of 3G wheels with decent tires for only 200. Picked those up, painted them gunmetal, and put them on. Also around this time, finished my first fiberglass project, and made a VR4 style grill. Only problem was, I made it JDM size, so there is a gap between it and my lights now. That too was painted gunmetal. Last mod at the time was vinyl tint for my stock headlights, I wanted to darken them without taking them apart. It was not worth it, the lighting was terrible.

Here it is, after the drop, wheels, grill, and headlight covers.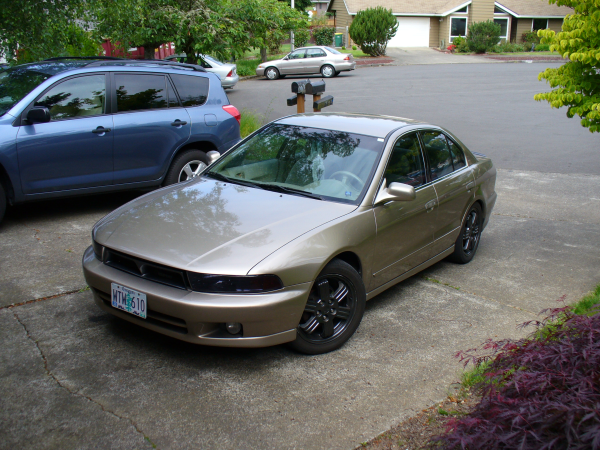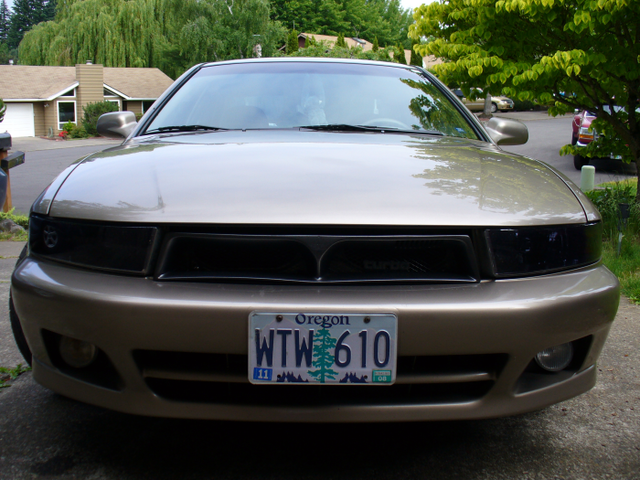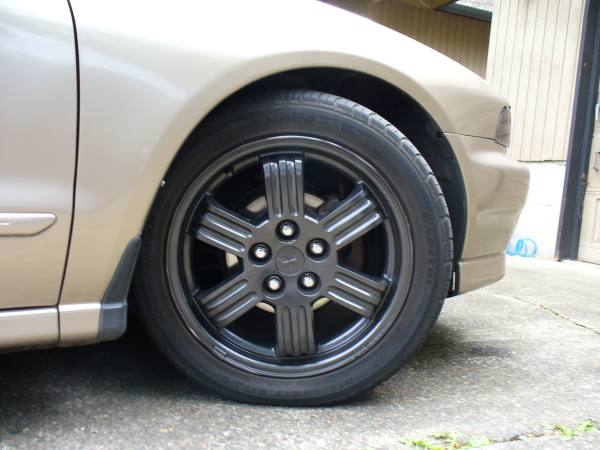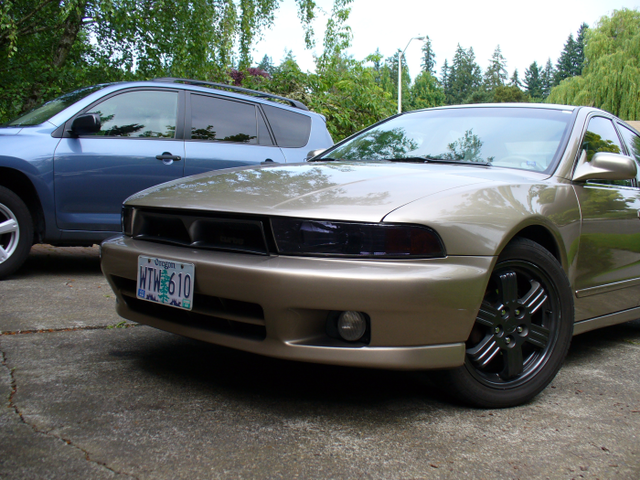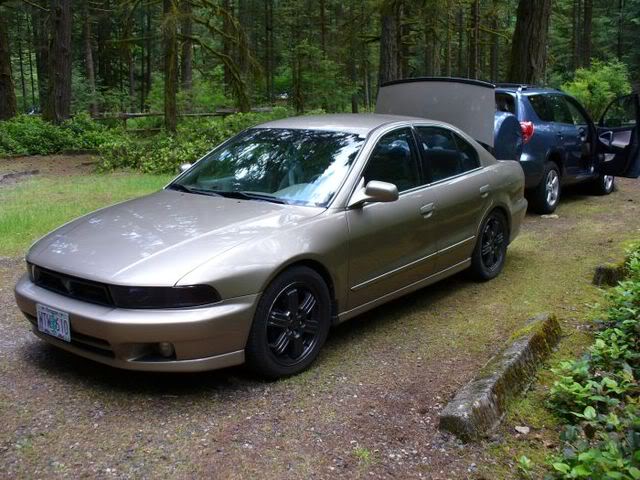 I decided to get a CF lip spoiler and emblem (real CF, not the fake crap). I also took the headlight covers off, and cleared my headlights and painted the fogs yellow. Painted Calipers and drums red.

Here they are.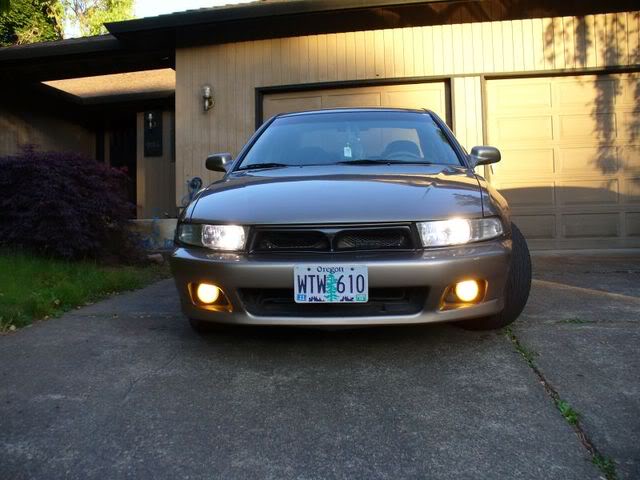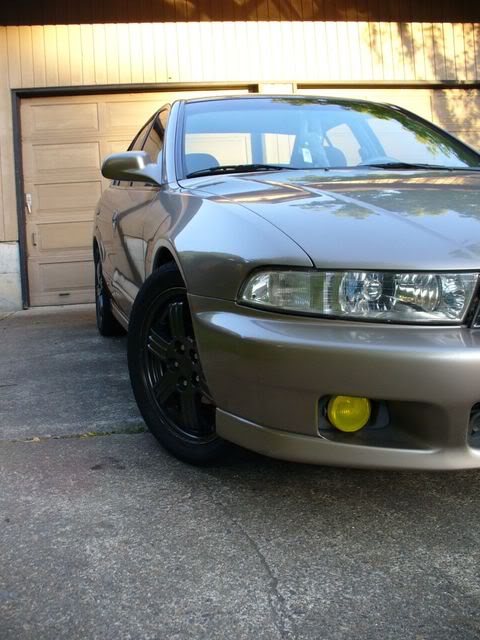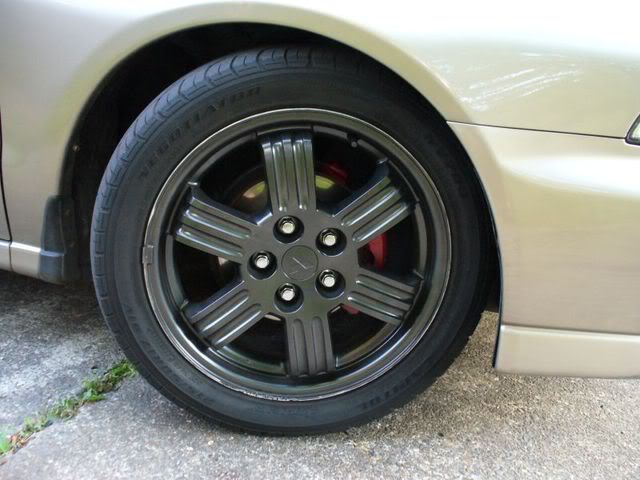 My uncles shop welded up a 2 and 1/2 inch cat back for me, decided to stick with the stock muffler until I figured out what exactly I wanted to do with the back of the car. Got a stainless tip for it to make it look a little nicer. I also took some piping and fabbed up an intake for my car, painted it red.

Here it is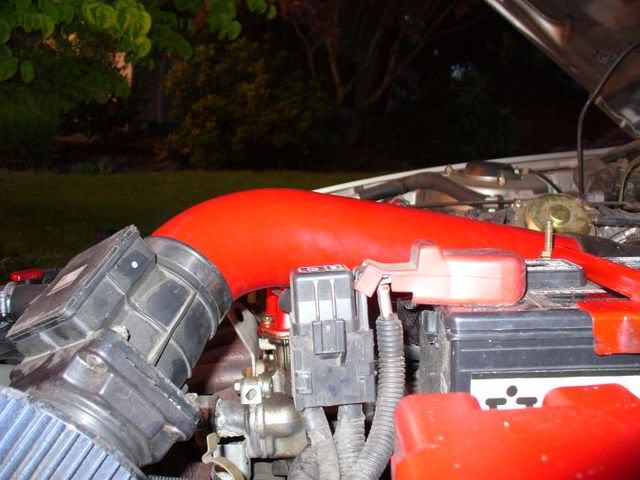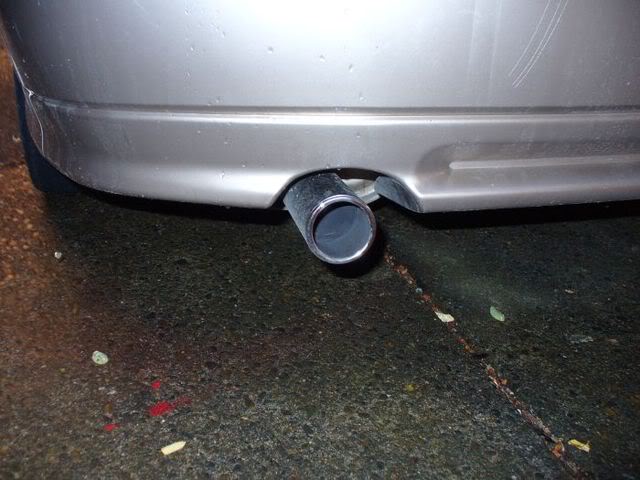 Also got some blacked out heads, switchback leds in the corners, and leds in my taillights. Cut out the middle part of the opening in the front bumper.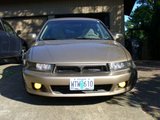 Got the DC Strut tower bar, painted some stuff around the engine bay.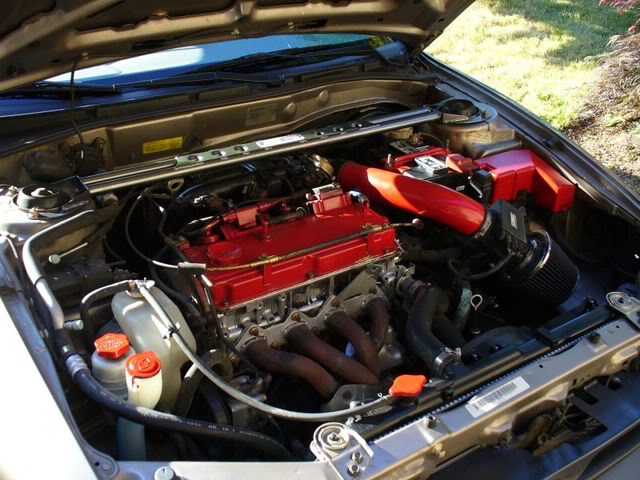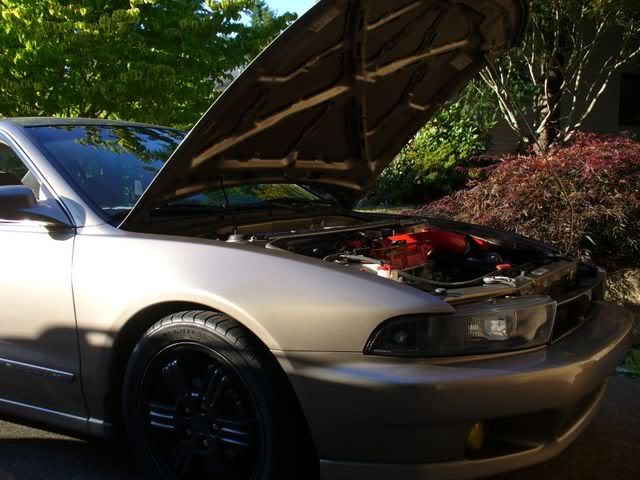 Cleared gauge cluster needles, added blue LEDs, moved the license plate into the lower opening and got some black mesh for it. Painted drums flat black, and matched the calipers to the body color.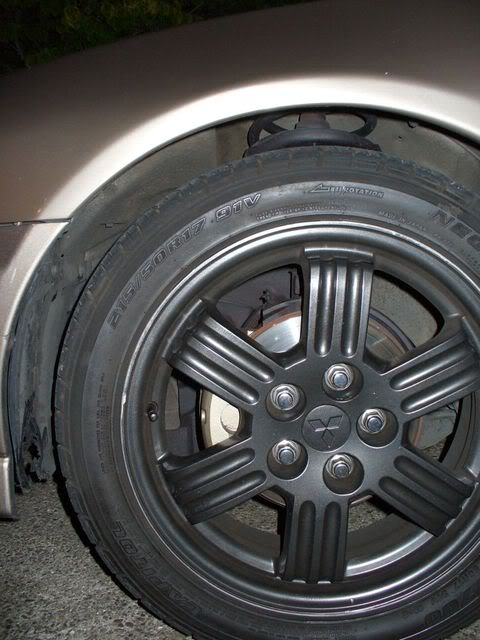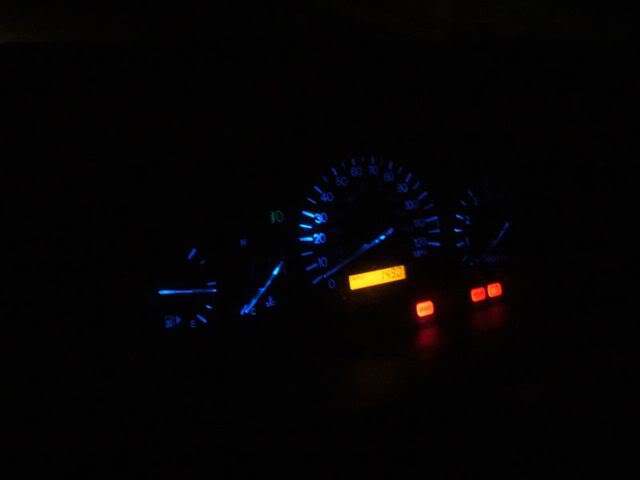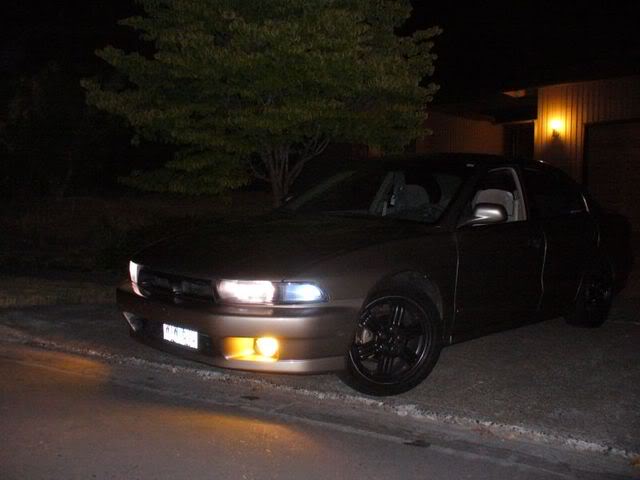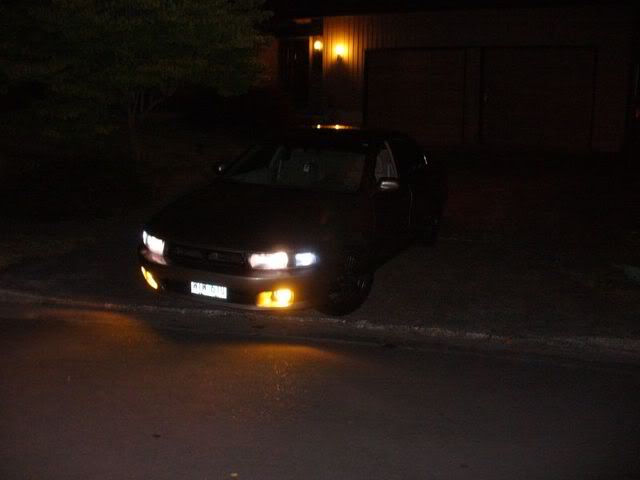 Installed JDM tails and shift knob.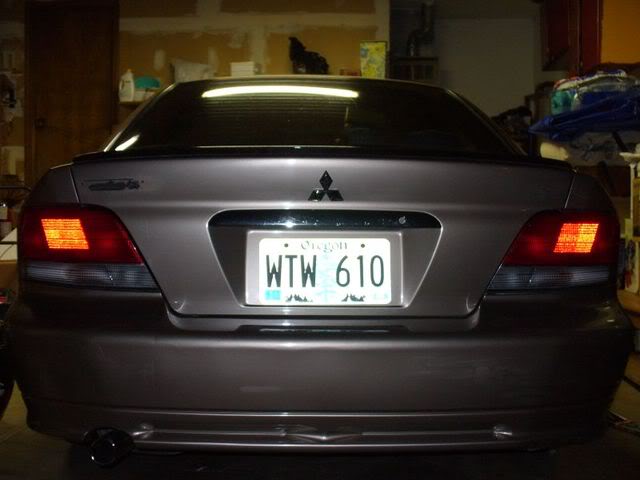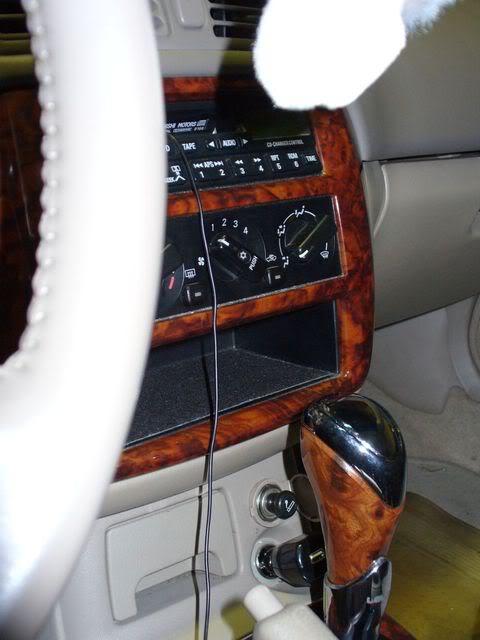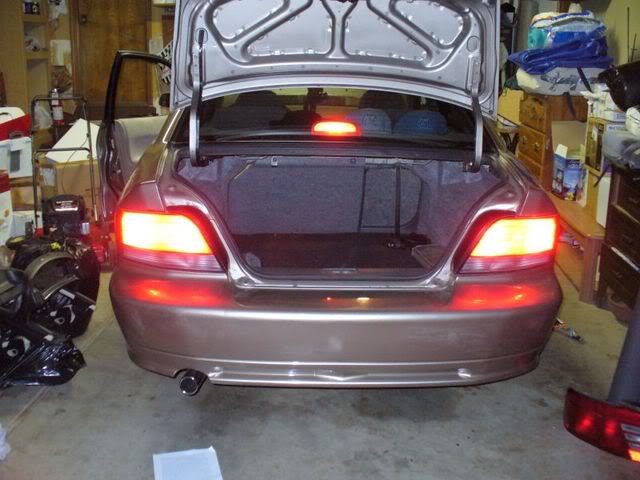 Thats it so far, I have a ton of parts either on the way, or waiting in the garage, I will update once stuff starts to get installed, I don't have much time now that going to school is my life.