Builds
1951 Oldsmobile 88 (Deluxe) by 1951Olds88
By diyauto
You must be logged in to rate content!
5 minute(s) of a 31 minute read
1951 Oldsmobile 88 (Deluxe)
Compliments of 1951Olds88 @ aaca.org
9-10-2014
As an immigrant, with no history of American cars in my youth I never thought I would get bitten by the bug.... We had just moved back to north of Atlanta, after 14 years in Central Florida. On a road near our house, someone was selling a red late 40's car. turned out to be a resto-mod Dodge 48 or 49.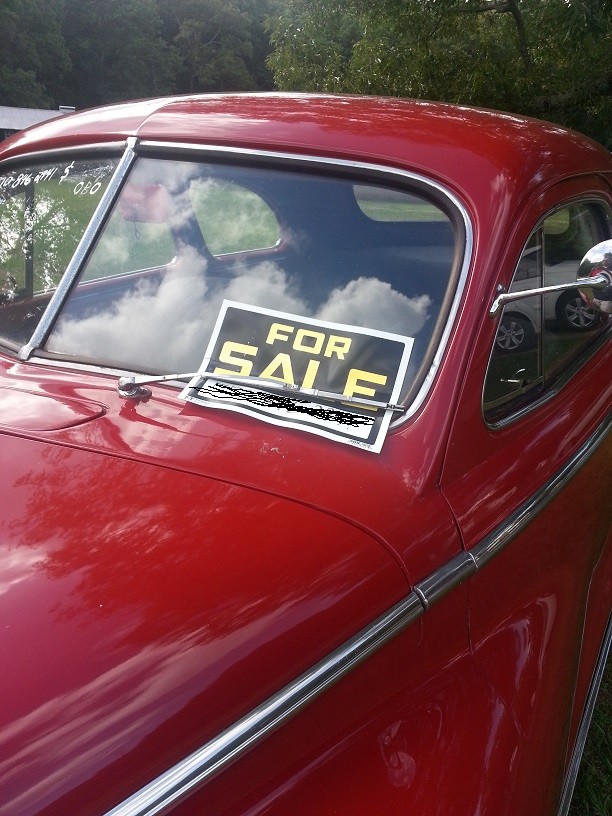 Looked at it but it was noisy (hot rod) and pricey. But then something was itching. Started looking on-line at ATClassics & ClassicCars.com. Found a '50 Plymouth(?) south of Atlanta, but it was more a street rod too (no chrome trim, black bumper and modern engine).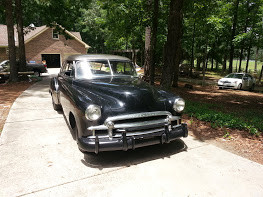 Sales guy said easier to maintain modern engines, and have power steering and power brakes. But it did not bite me. The sales guy suggested, if I was looking for something more stock to look for Oldsmobiles as they were still slightly cheaper than the premium marques, (Chevy, Ford, Cadillac). By now I was beginning to get a sense of my "ideal" car, in running condition but not perfect 1) to keep the price down 2) would like to accomplish something myself on the car; would prefer a stock car but not original, restored to stock is OK and finally the icing on the cake would be a car dated the same year that I am (1951). Just after receiving the 'Olds advice', I found one about 4 hours away so I could take a look myself and not buy blind. Two days later drove up and yes, this one bit me ... and hard!
In running condition (and what a sound that Rocket 8 makes), little rust showing, restored interior, just some issues with the (original) paint job. So I put down a deposit, went home and started arranging final payment, transportation and insurance.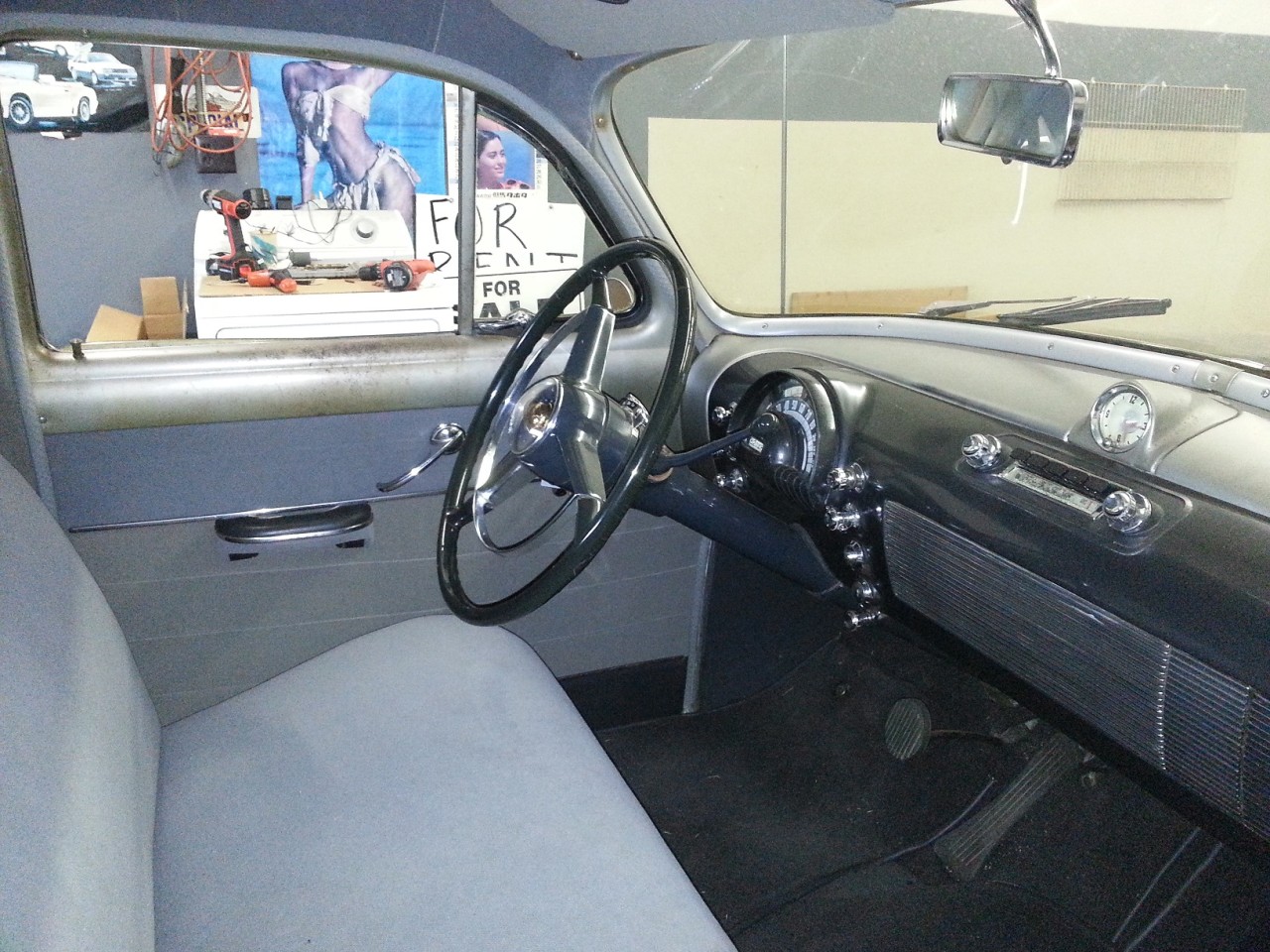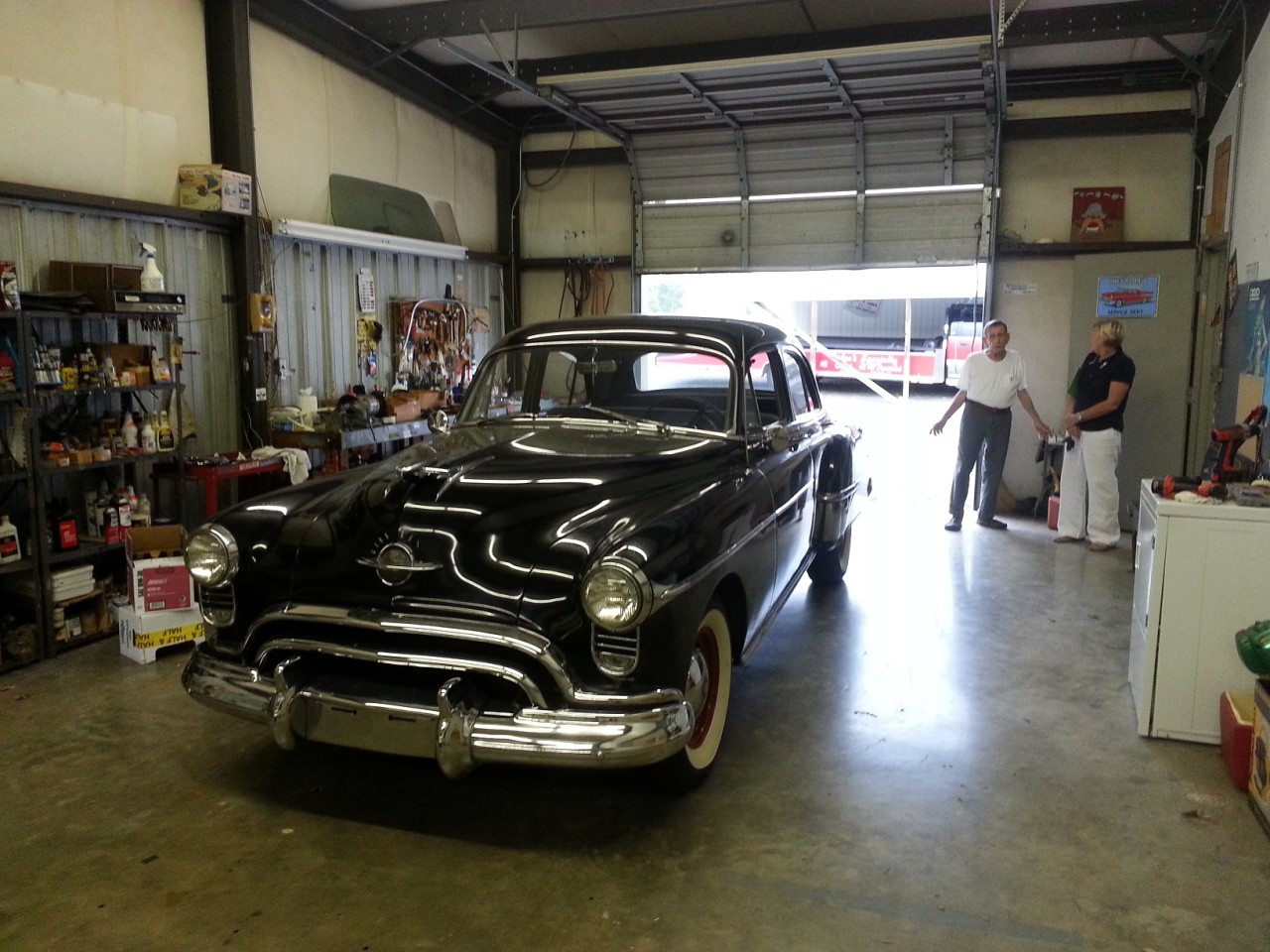 Finally the big day came and the 88 was delivered.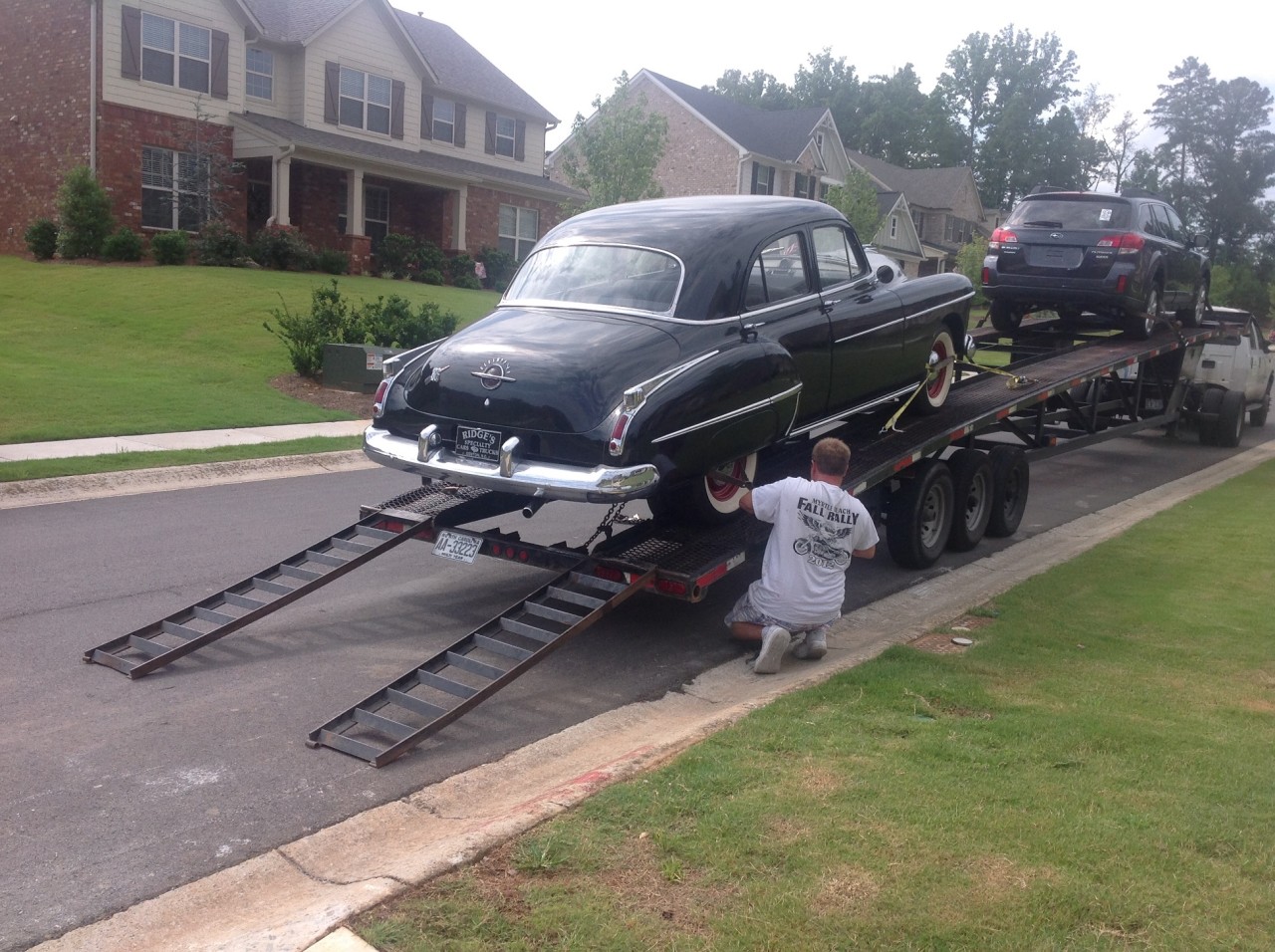 Off the truck and a quick spin around the sub-division, what fun. Didn't want to go further as no license plate yet (awaiting title which was sent separately for safety). Although the transport driver said most cops would not worry about a plate, might just pull me over to look at the car!
Found some hidden treasure in the glove compartment, documents from the first owner.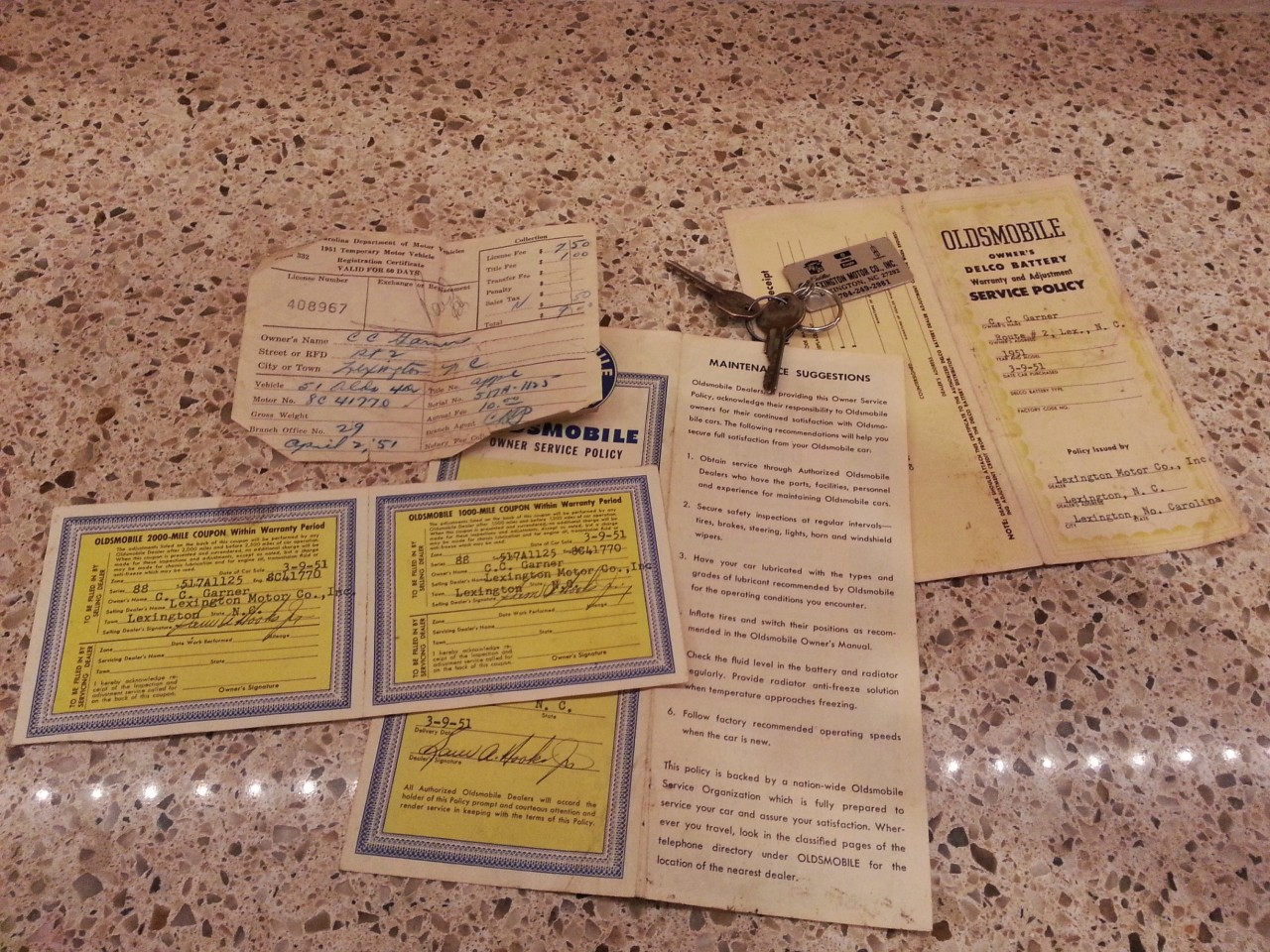 Transfer was easy, GA does not title cars over 25 years anymore so all I needed was a GA plate and an affidavit that allows me to display a YOM plate that I had purchased as soon as I had taken the decision to go ahead. Started driving around and yes the classic car fun starts. After one 15 minute drive noticed wisps of smoke coming out of the oil breather. Asked the year advisor of OCA and he recommended a compression test in case it was due to blow by. Found a small local garage with old guys working there that said they could look at it. Good news was that there were no compression issues, everything within specs. At the same time they noticed that the choke was sticking, which explained some reluctance to start now and then, and fixed it for me.
A neighbor told me about the monthly Caffeine and Octane Car Show nearby, so took the car there, what a blast!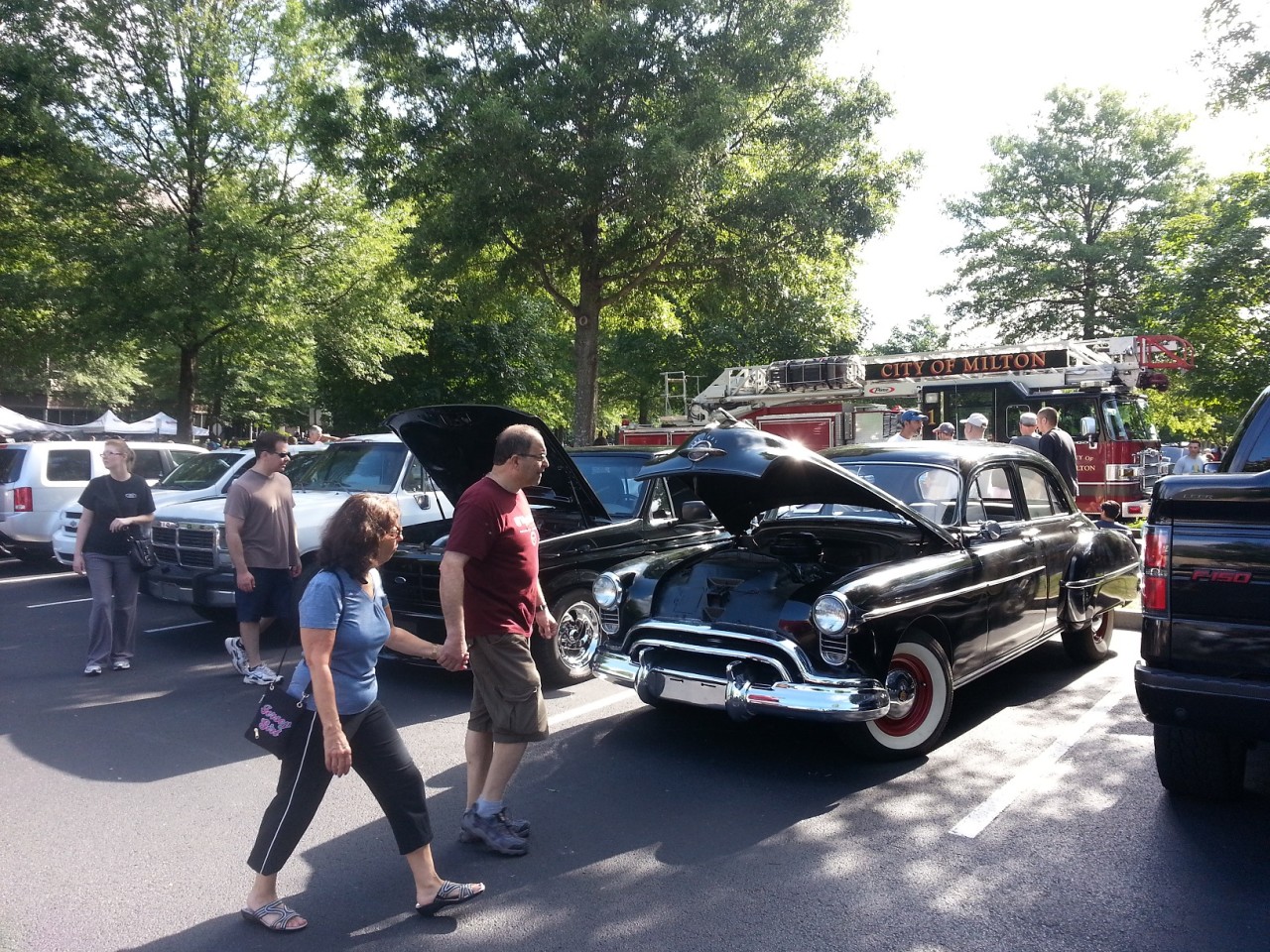 Next was a trip to the North Georgia mountains. Great fun driving around, but it was a hot day and I noticed some issues with the starter acting up. Did manage to get home without a problem and next day everything seemed OK.