The Stickman's BattleCruiser Build Thread by The Stickman
By diyauto
You must be logged in to rate content!
The Stickman's BattleCruiser Build Thread
Compliments of The Stickman @ pro-touring.com
12-7-2008
Ok let me start off by saying this isn't some high buck high tech build. It is about as oldschool as you get. Doing what you can with what you have. Now some may also look at this car and think it doesn't belong. But here's some things to consider. One I have always been a roadracer. I have always been into racing like the IMSA GTP(L)/O/U. In fact I own an IMSA GTU bodied Fiero with the racing Super Duty 4 cylinder engine. I plan on making this wagon so much better in all respects than when it was new. Although I must admit it has impressed me with it's handling as I bought it for the type and size it is. But let's start from the beginning. It's a 1984 Oldsmobile Custom Cruiser. It came with a 307 Olds engine, 200R4 OD trans, and 2.73 8.5 rear. And Yes the 2.73 gears are staying. I love them for highway cruising. I can always increase hp to compensate. It has 15X8 steel Wheel vintiques on it with 255/60-15's all around and they do handle well. It has the 2 bench seats in the front and I added the rear 3rd row (Rear facing)seat. it gives me a nice place to sit at cars shows and cruise nights. Here is how it looked before anything has been done to it.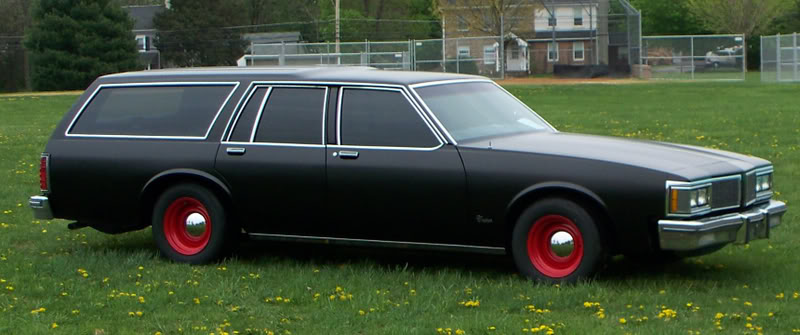 The first thing I added was a repro Olds Batwing style aircleaner. I always thought they looked cool.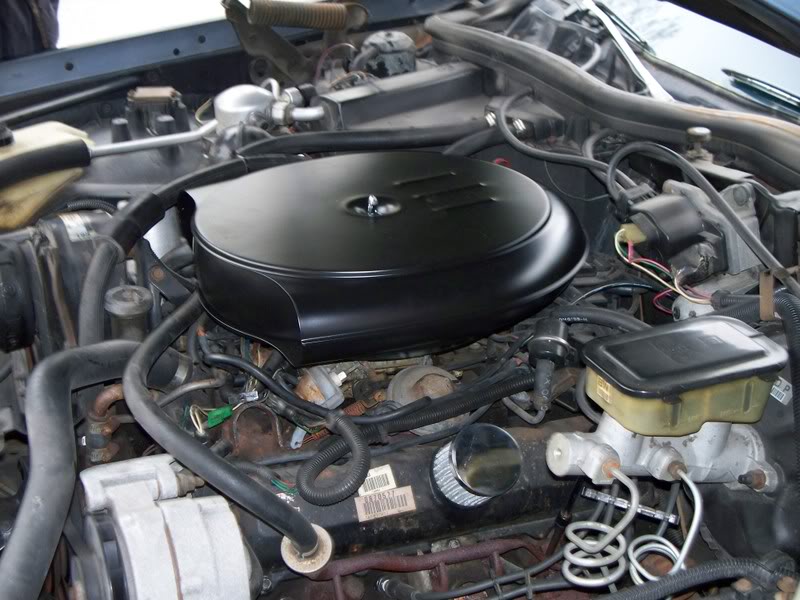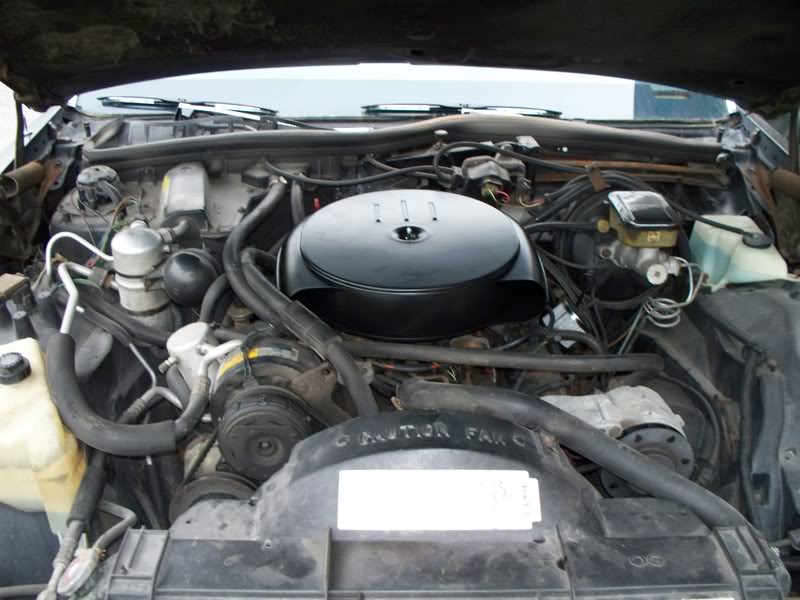 After that I added a touch screen reciever/cd/dvd player.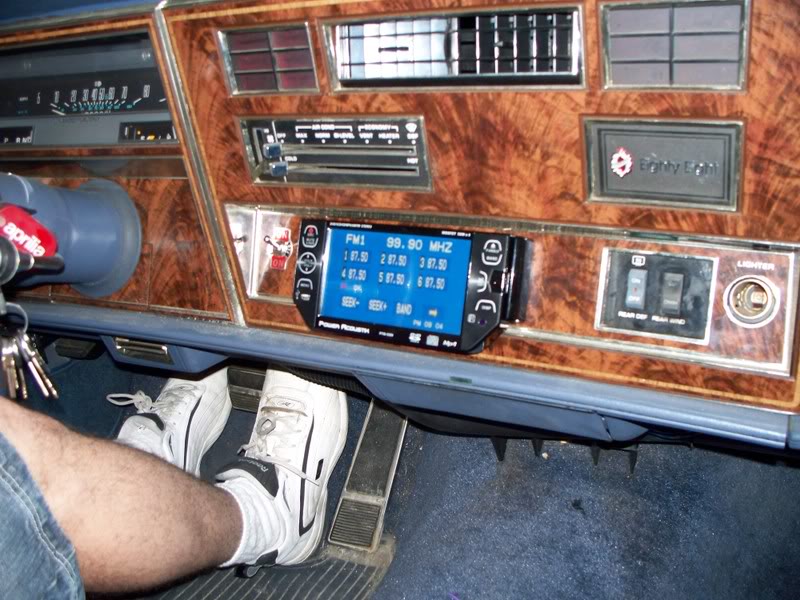 I also wanted a unit like this for another reason. Since this wagon is so huge I wanted a back up cam and this allowed my to do it without adding a separate screen. All in all it was pretty simple. Just alot of extra wiring due to the lengh of the car.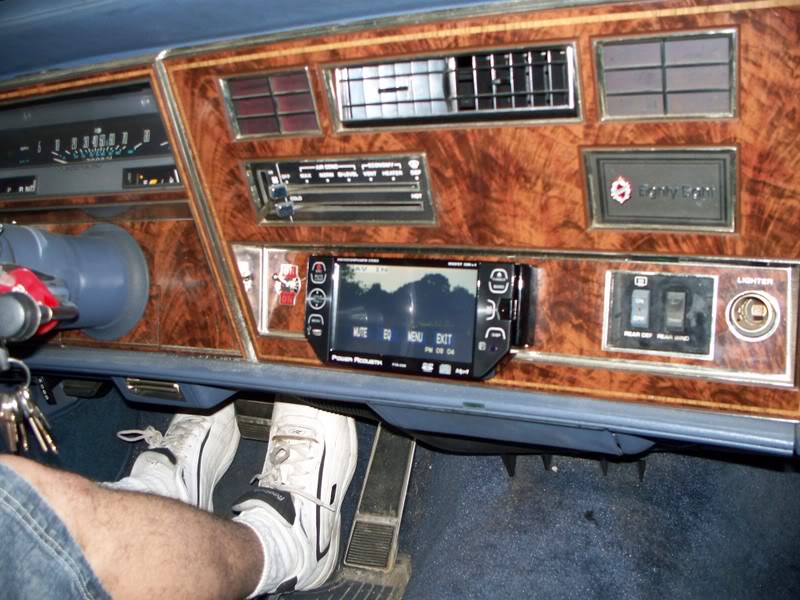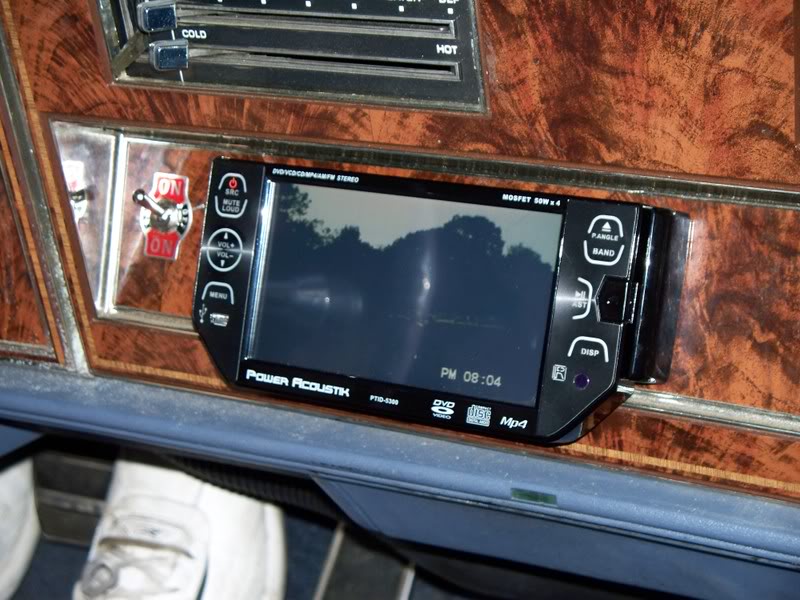 the screen doesn't look great here but it was dark out when i took the pics so the back up cam didn't pick up much. Here is the cam I used. It is totally hidden and no one knows where it is.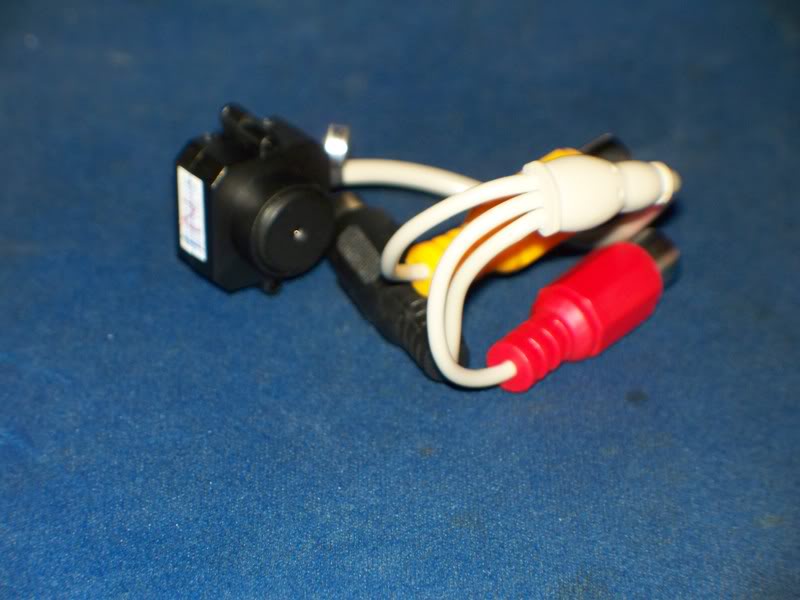 While I was at it I added a remote hidden antenna because for one the fender mounted one was broken off. And I didn't want to put one back in that spot because it would be a pain in the butt and because this simply looks cleaner. Here is the remote hidden antenna I used. It works pretty well I think.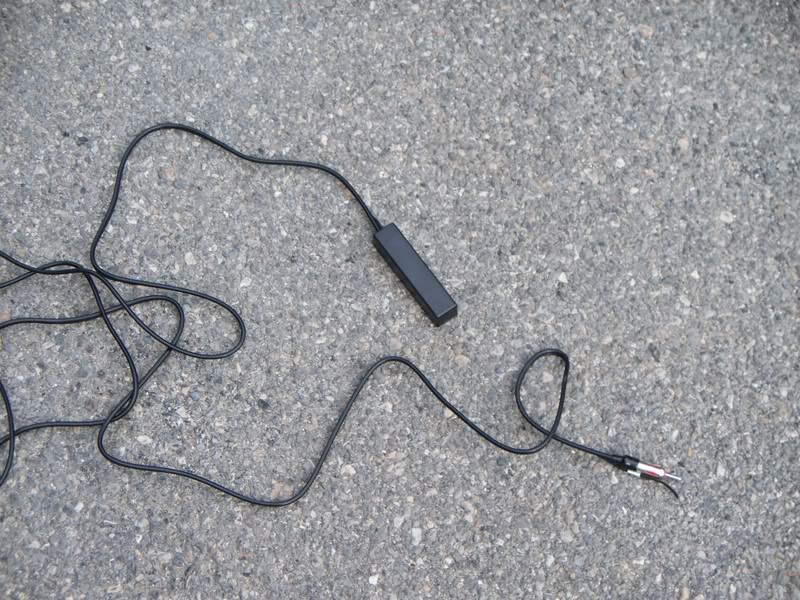 Now onto the upgrades since I have gotten it.
Ok the next thing I did was to buy this off of Ebay for $400.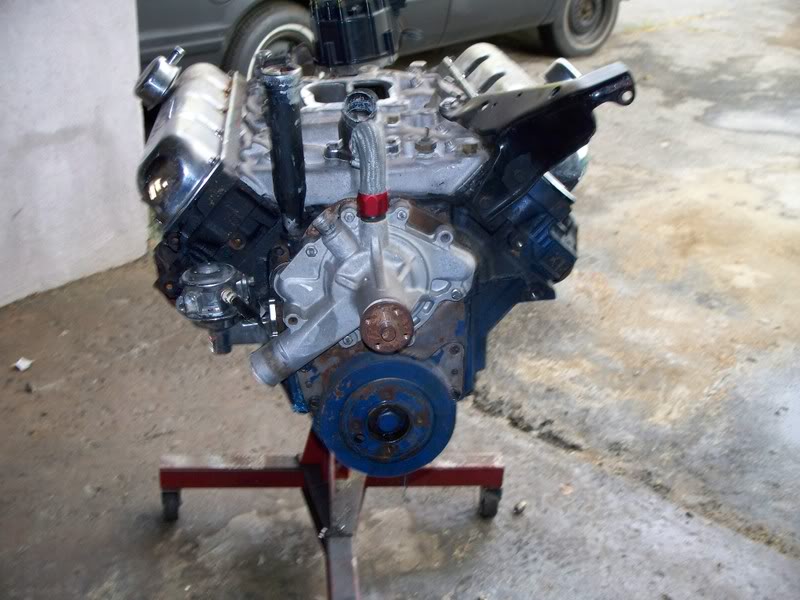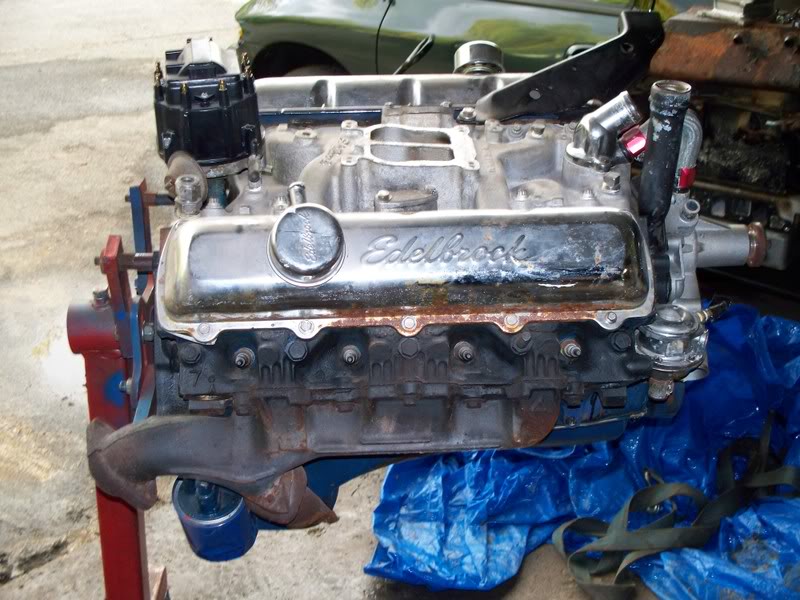 It's a 1972 350 Olds with 7a heads.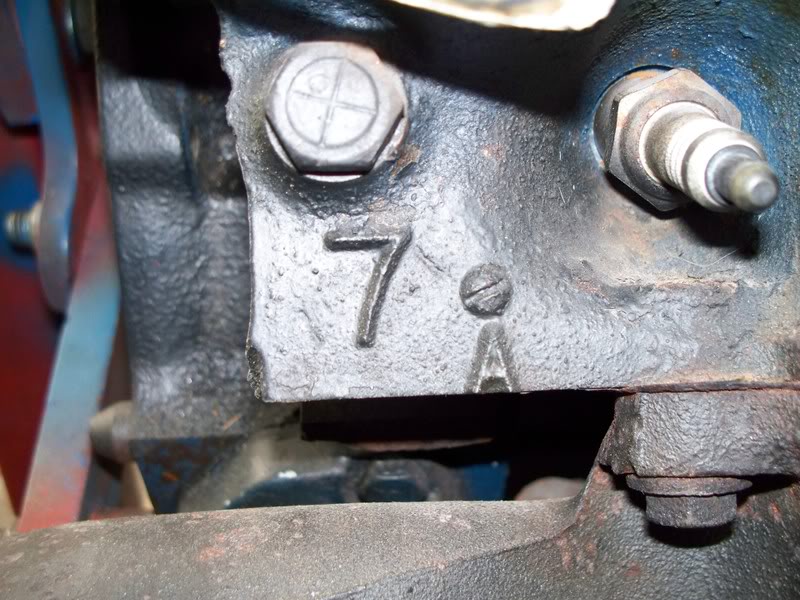 An Edlebrock Performer 350 intake.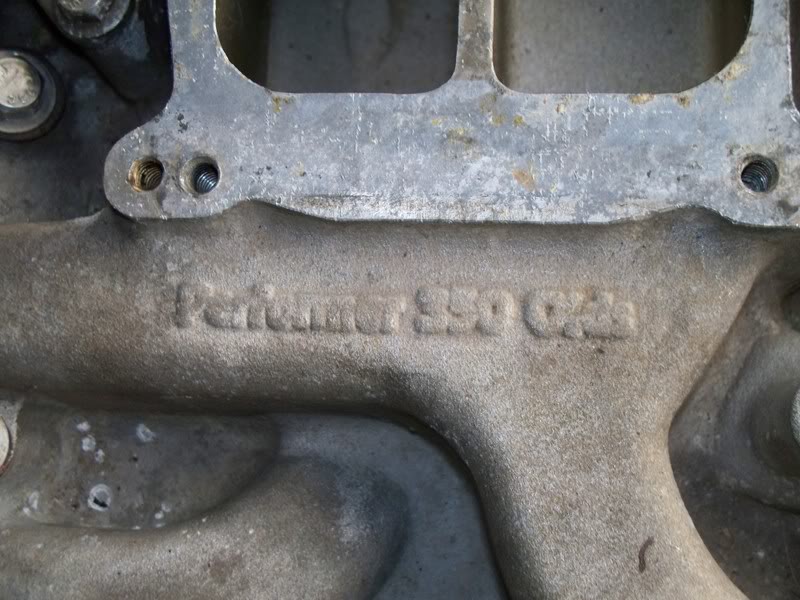 And Competition Cams roller tipped rockers.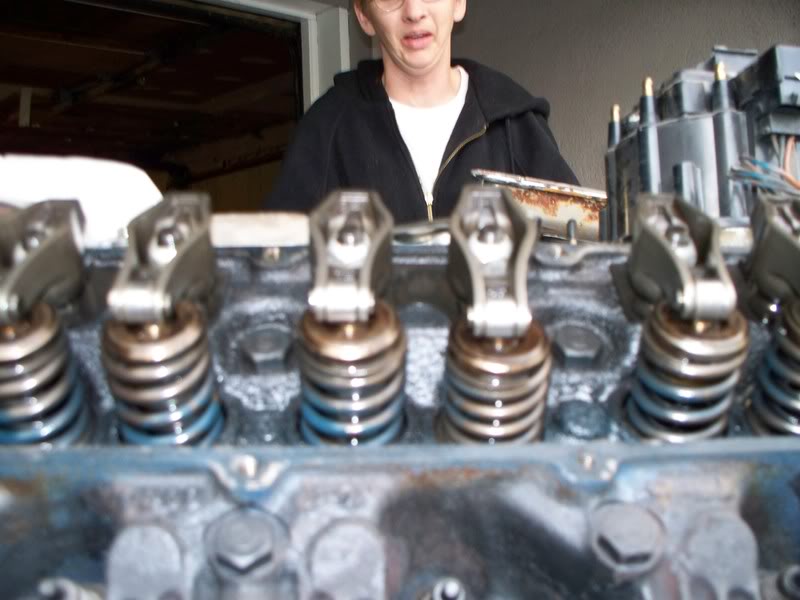 Now the person I bought it from said they thought it had a cam in it and I believe them. But it would be awhile before This engine would be installed let alone running. But my next purchase would go in right away. I went to a junk yard looking for a rear sway bar for this car and found this.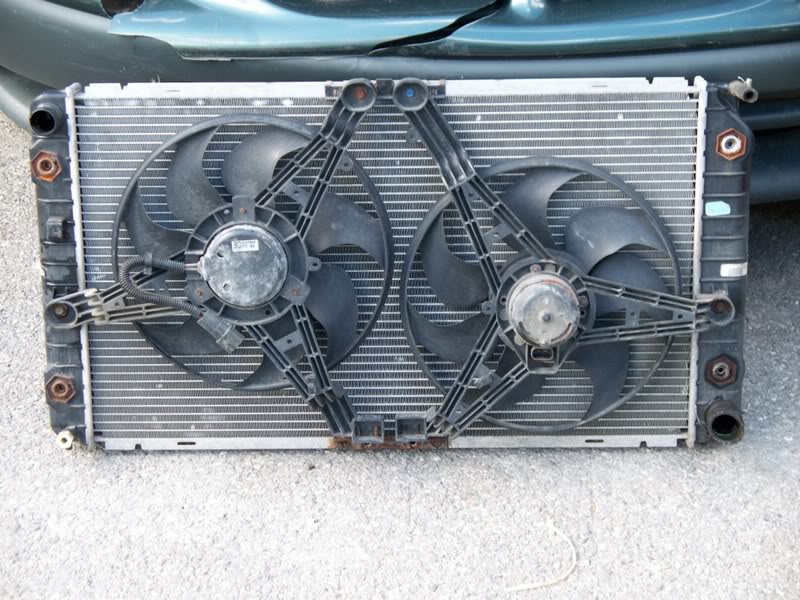 An aluminum radiator out of an LT-1 Caprice. It is wider and taller than my stock one. I also allows me to get rid of that damn clutch fan. Here are some pics of it installed.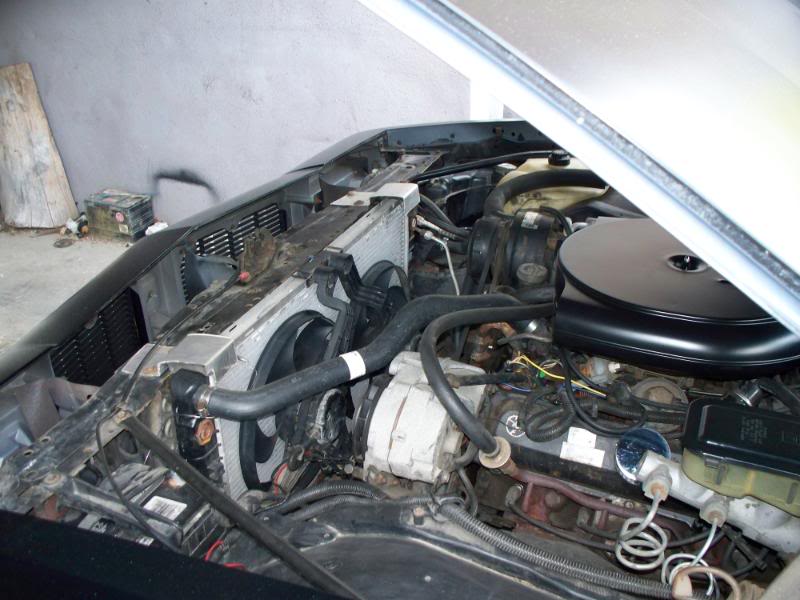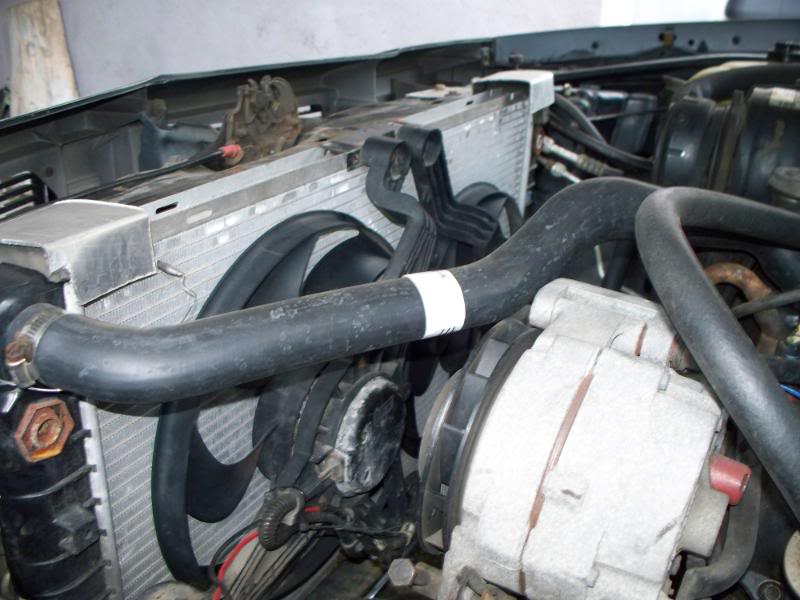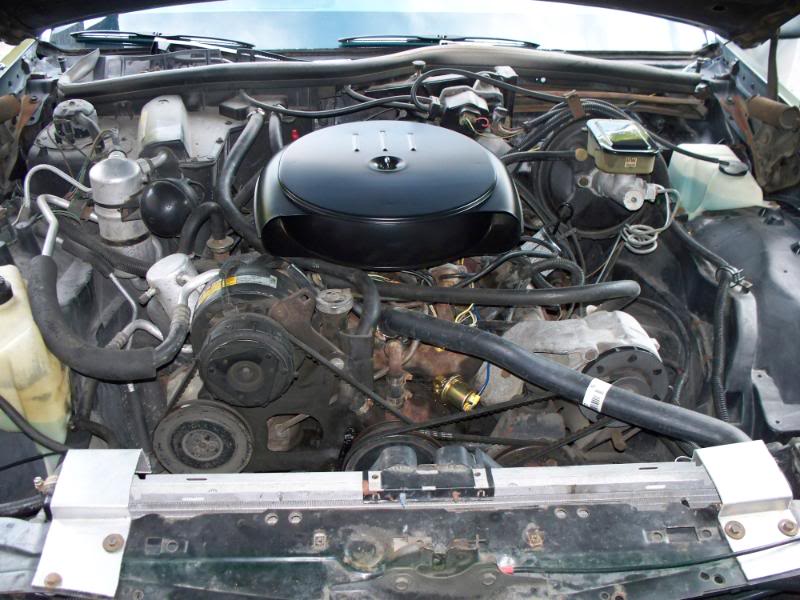 Now while I was at it I decided to add an external trans cooler. And this is the unit I choose. It's a 24 inch aluminum finned unit. The construction is very nice.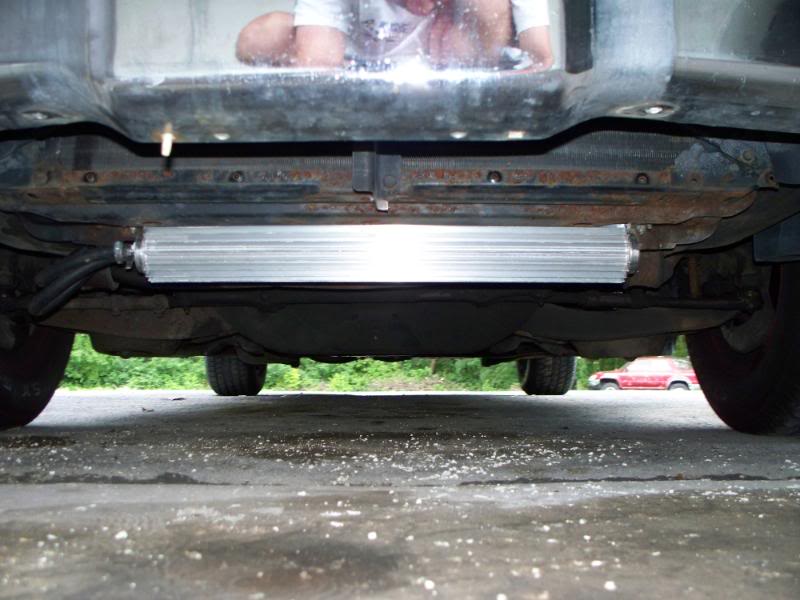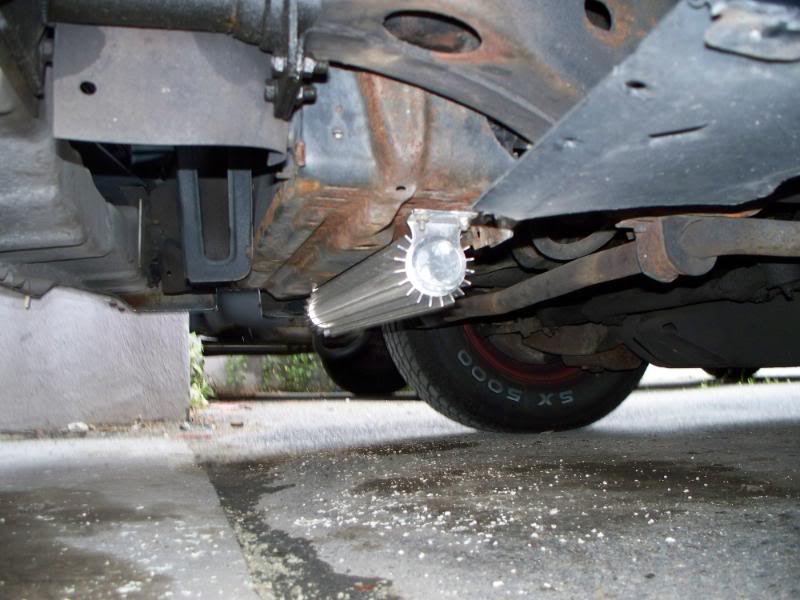 Now before I added this the trans was acting up a bit. And from the research I've done the symtoms seemed like those generally atributed to the 200R4. But after installing this cooler most went away so maybe those problems were heat induced and this fixed it. Now with a new rad and electric fans i decided to add a thermal switch to turn them on. I didn't want them running continuously or rely on my flipping a switch to operate them. So I added this to handle the situation.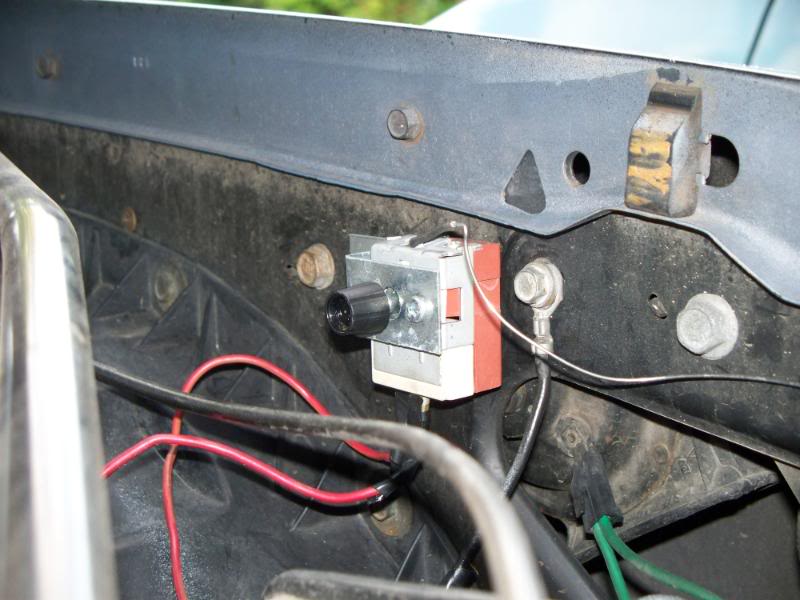 I would say it works pretty well. Now from what I understand this 2 fan set-up was one that would normally use one fan for cooling and the second was for when the A/C was on. I wired them to both go on at the same time. They sure do move alot of air.
Now the next thing I needed to do was to get the 350 engine ready to install. I picked up a Holley cheap off Craigslist and rebuilt it. Now with the Edelbrock Olds intake in order to use a Holley you need atleast a 1 inch spacer becuase the throttle arm huts the intake. I also wanted to add wire braided hose. It looks a whole lot better than the stock steel line and as things progressed it's a good thing I went this way. Here is the engine mocked up with the Holley.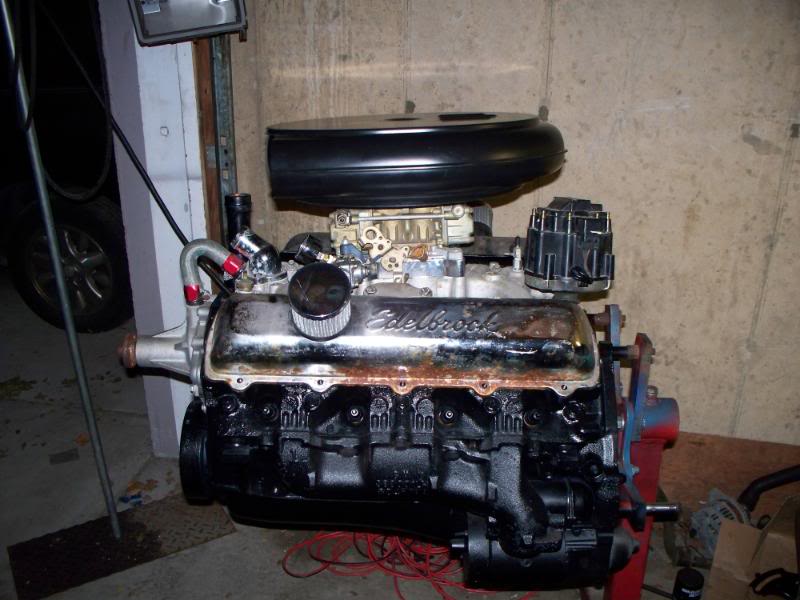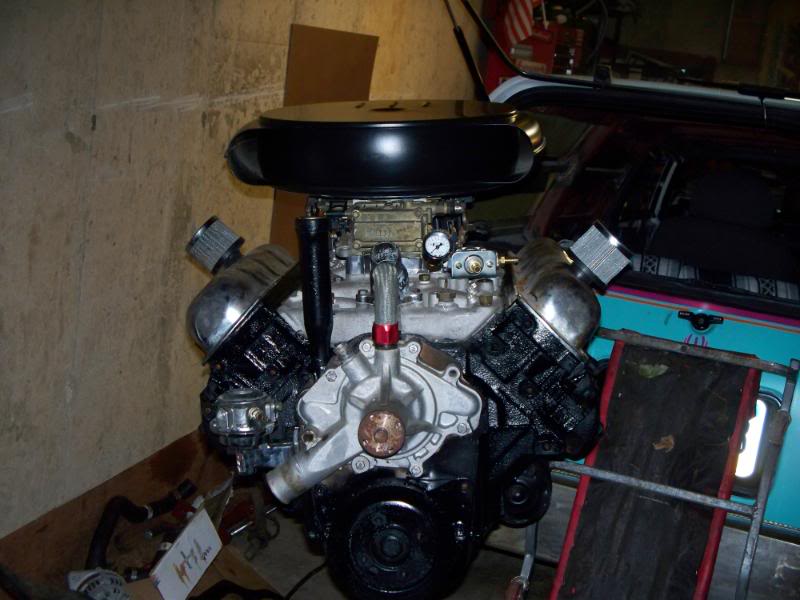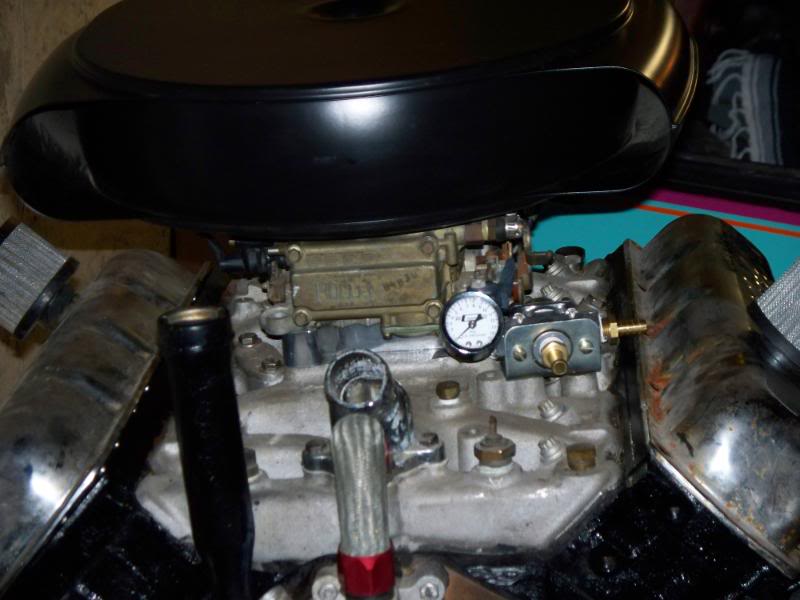 I actually installed the engine this way.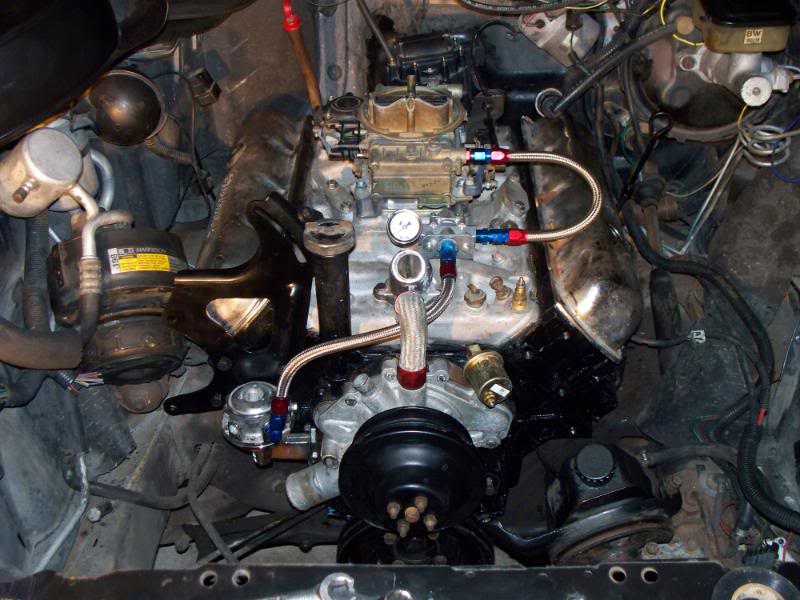 Only to find I wasn't getting any fuel into the bowls. I couldn't figure out the problem so I Bought a new Quadrajet. I fured it was a better bet as I could keep my fuel economy with the small primaries. Now I also had an Edelbrock carb laying around and to use that carb I would have had to use atleast a 2 inch spacer and I wasn't cutting a hole in my hood or using different aircleaner. I had a Holley mechanical fuel pump but to run the lines with the stock A/C brackets would be hard the way I wanted. SO I took the mechanical pump off and had my wife make me up a blockoff plate.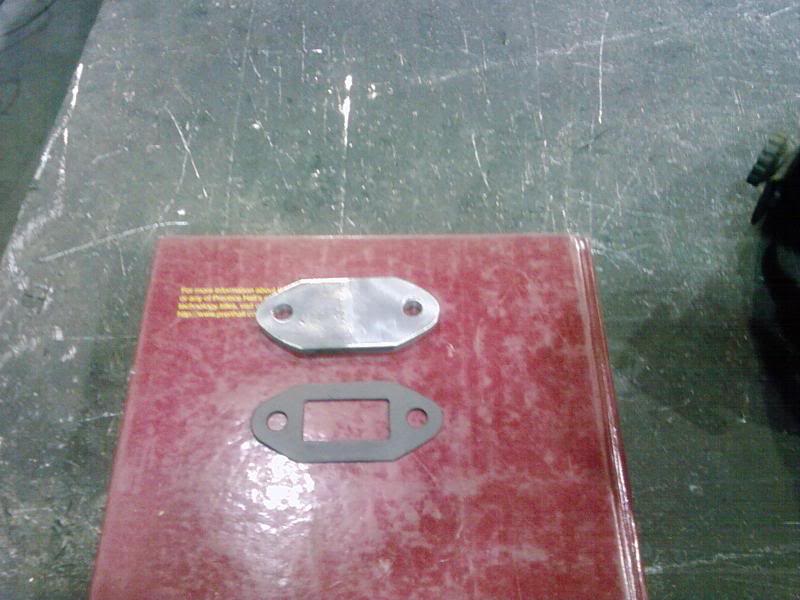 And then I added a Holley electrical one back on the frame rail. This is where my choices actually come to help me. Because If I had not wanted braided hose and the electric fuel pump I would have never distrubed my steel fuel lines. Just from the slight movement they started to leak. They were very rusted and I wouldn't have known how bad had It not been for my choices. So now I have all new wire braided hoses and steel lines front to back. I finally got it all together and working. Here is a vid of my start up with no exhaust.

Not bad if I do say so myself. Now I planned on running dual exhuast with this new engine and there are two problems with that. One is that Oldsmobile in there infinate wisdom thought it was a good Idea to take the exhaust out of the drivers side manifold route it down and under the oil pan and up into the passenger side exhaust manifold. Where the exhaust would then exit out of a separate hole. So the passenger side exhaust has two openings. SO one needs to be plugged. I had my wife weld(yes my wife is a welder)up a plug for the hole where the exhaust from the drivers side would come in. Here are those pics.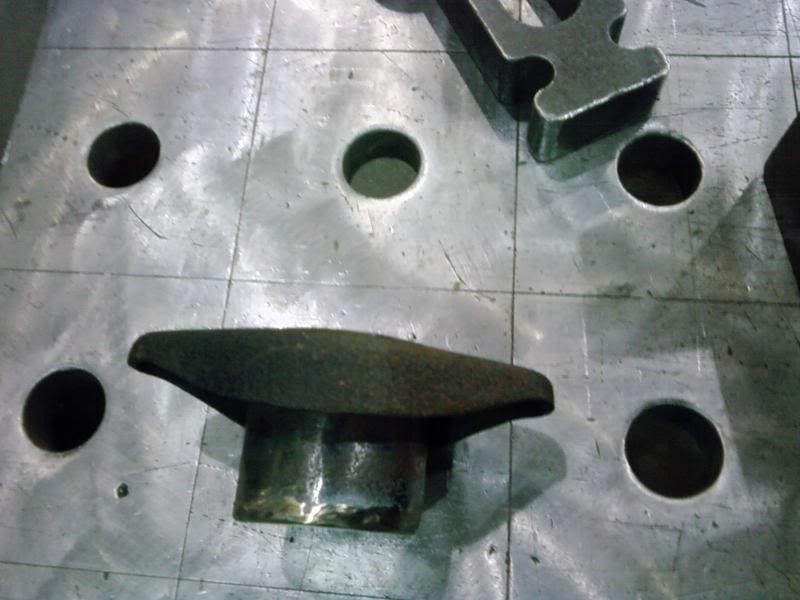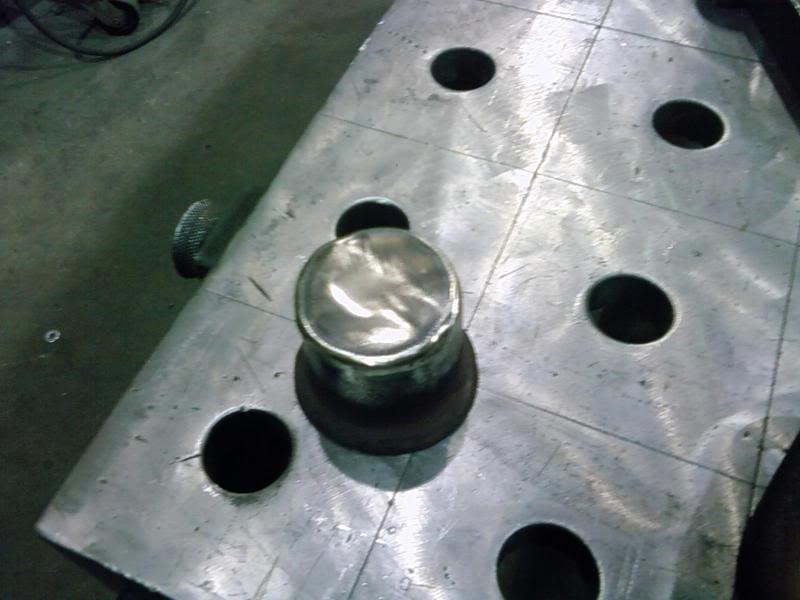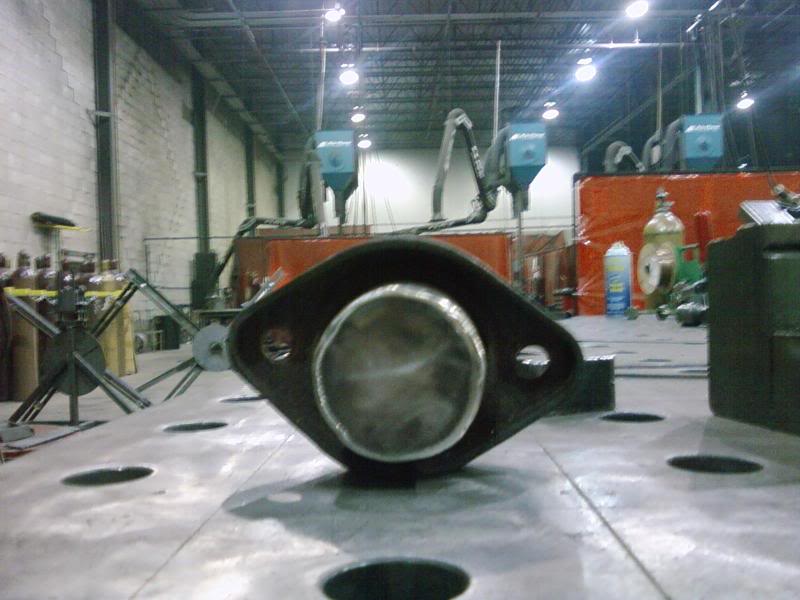 The guys at the exhaust shop were impressed with her welding. Now for the second problem. I needed a dual hump crossmember. So again I had my wife fab me up one. We had a piece of channel playing around so I simply had her cut a section out of my crossmember and weld it in.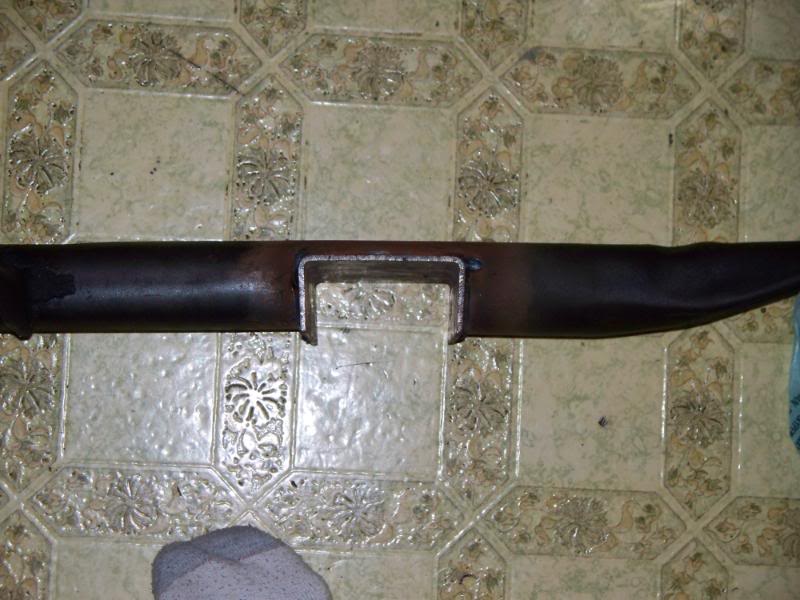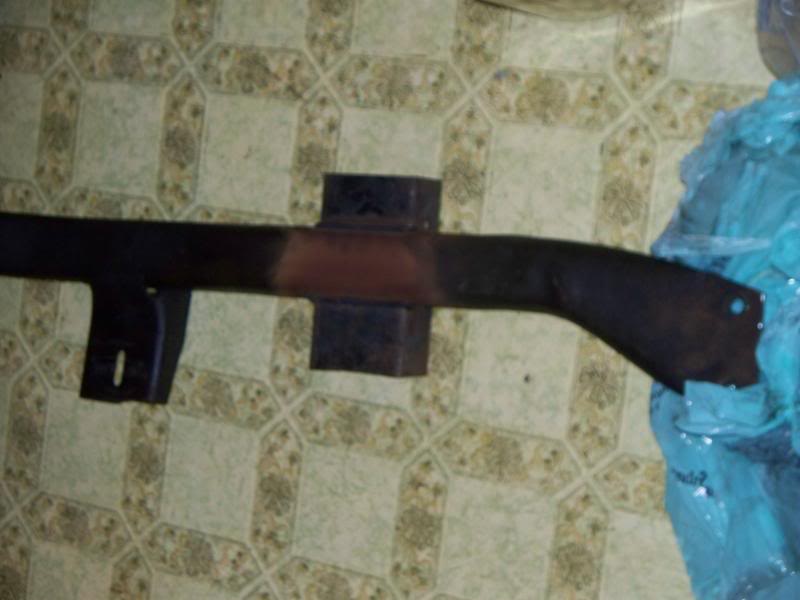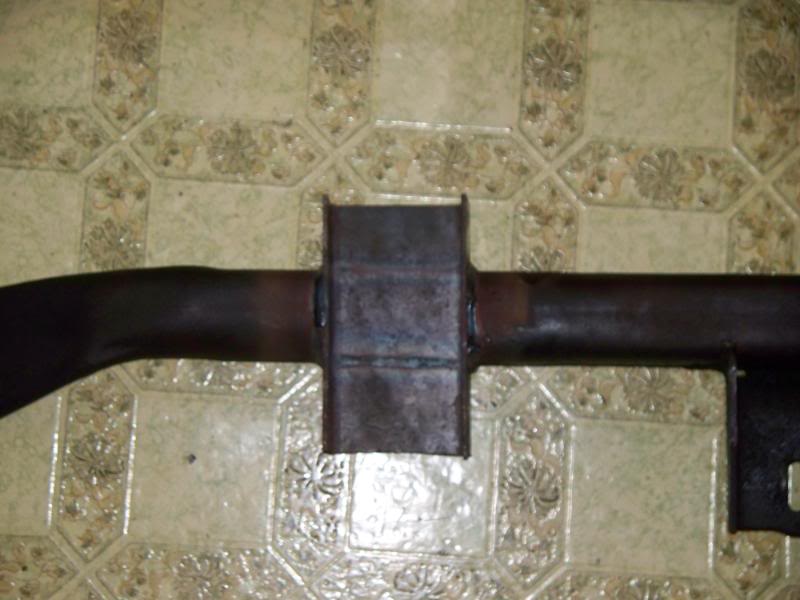 So after getting the car running it needed a new and complete exhaust system. We had the car towed to the shop, and the tow truck operator wasn't the happiest having this as his first tow on a early damp Saturday morning. But the exhaust came out nice.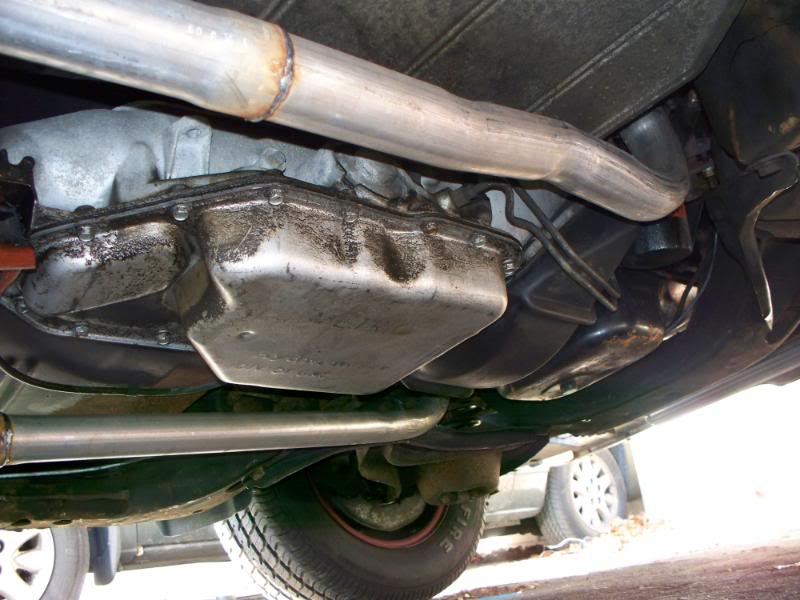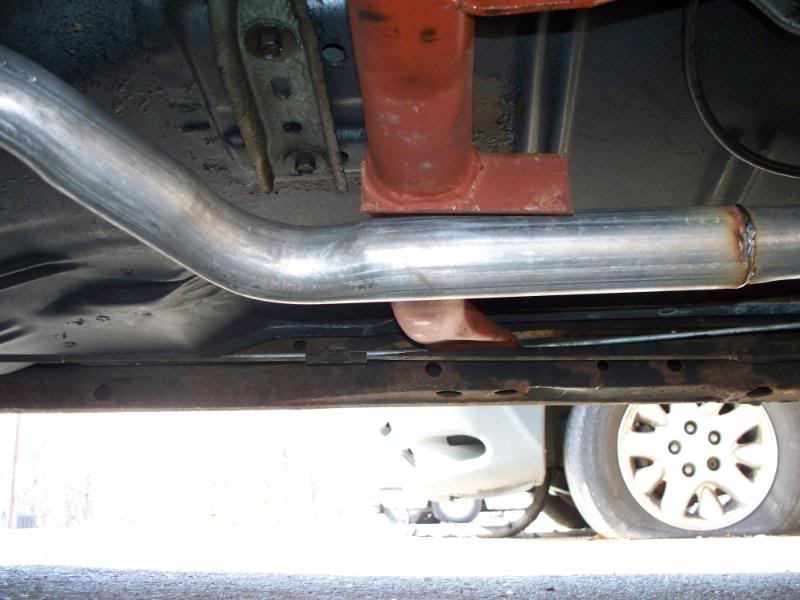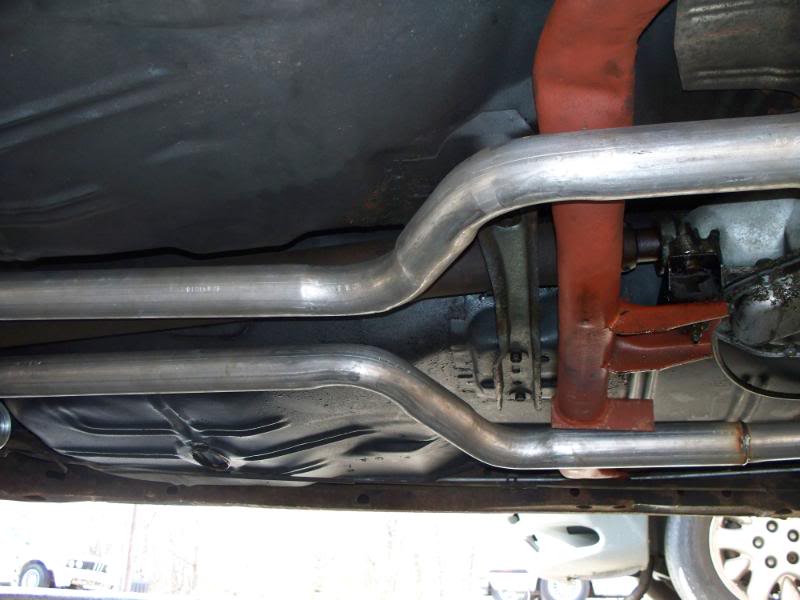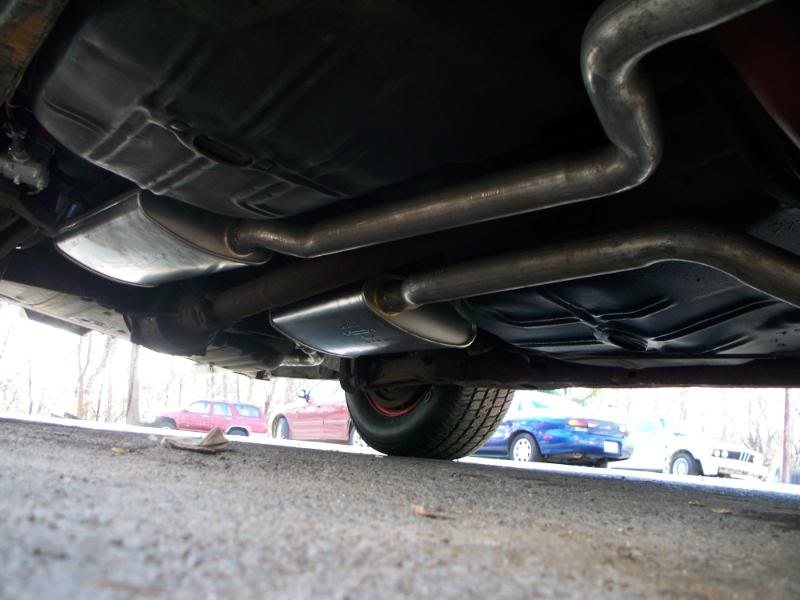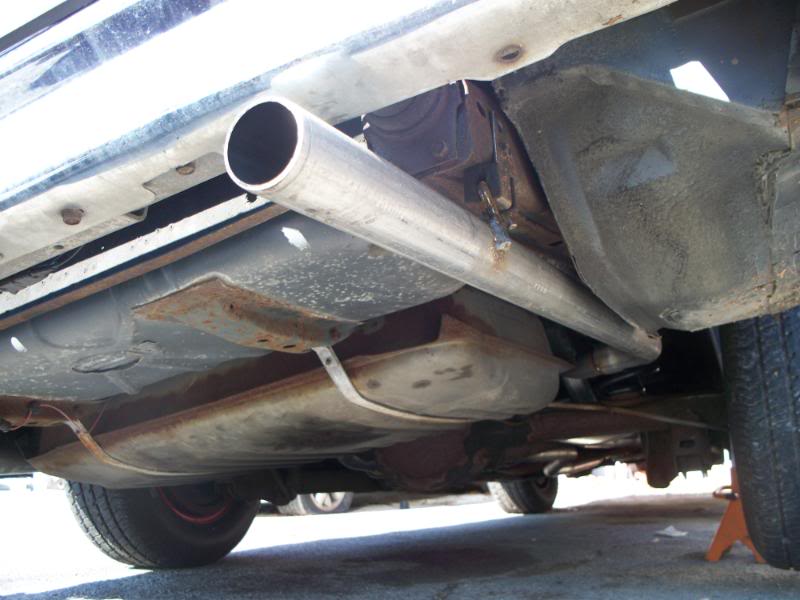 I Didn't get the Flowmasters like I wanted as funds were tight that week and I just wanted my baby back. But she sounds good. Give it a look and listen.
Now for the future mods of this thread. I bought these valve covers.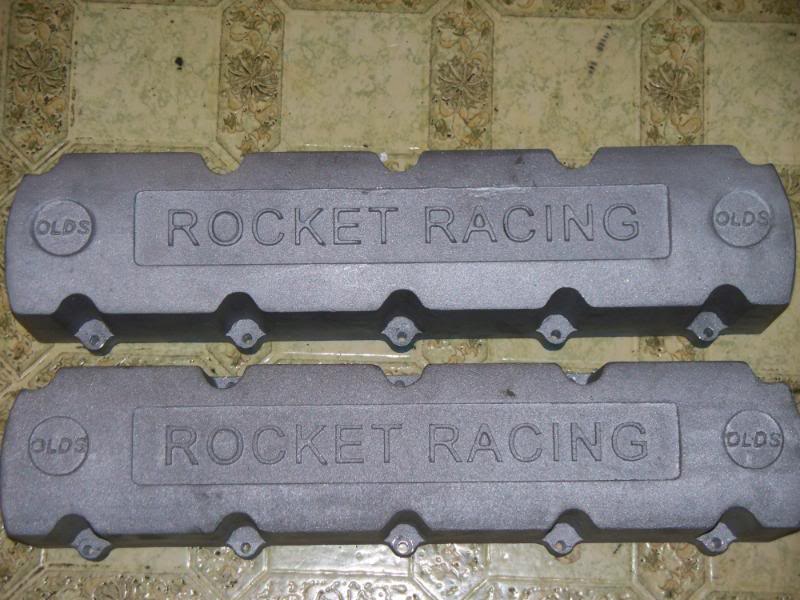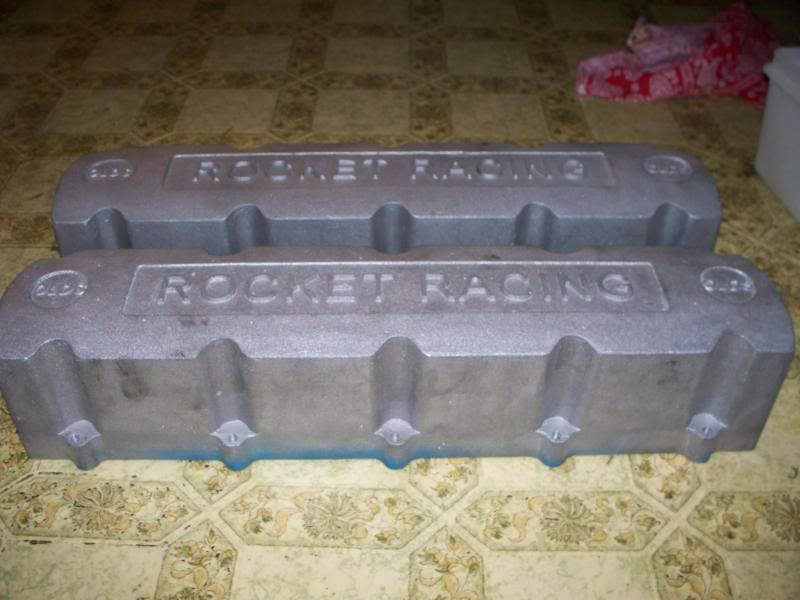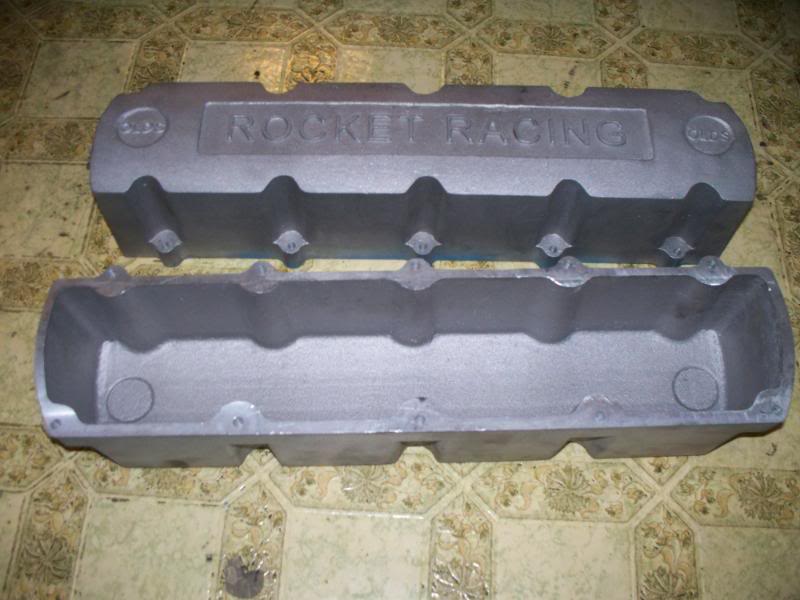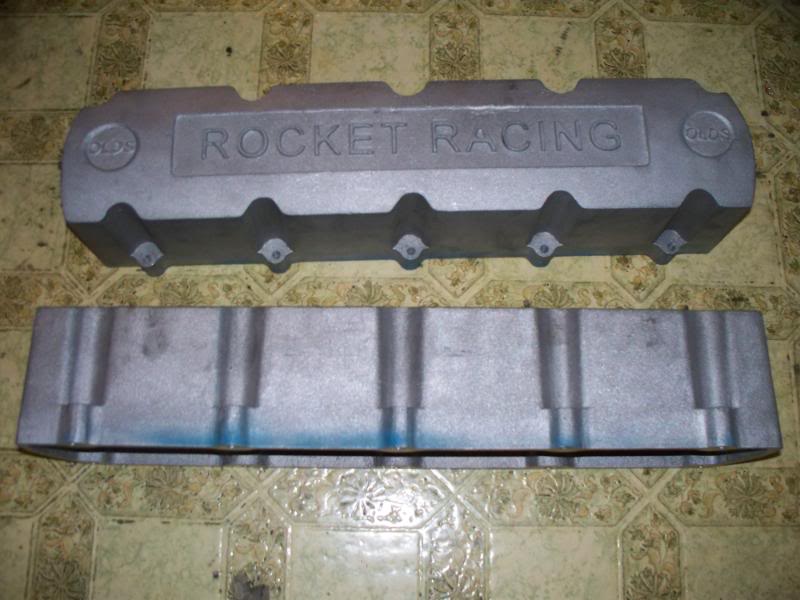 They are really cool, But they are very tall, very heavy, and very rough. I am sanding and grinding them down so they can be polished. But the cast was very pitted. So I will need to fill all the holes I can. I like that they are tall. But hate how heavy they are. They should be on sometime soon. My other project is to add fuel injection. I have this.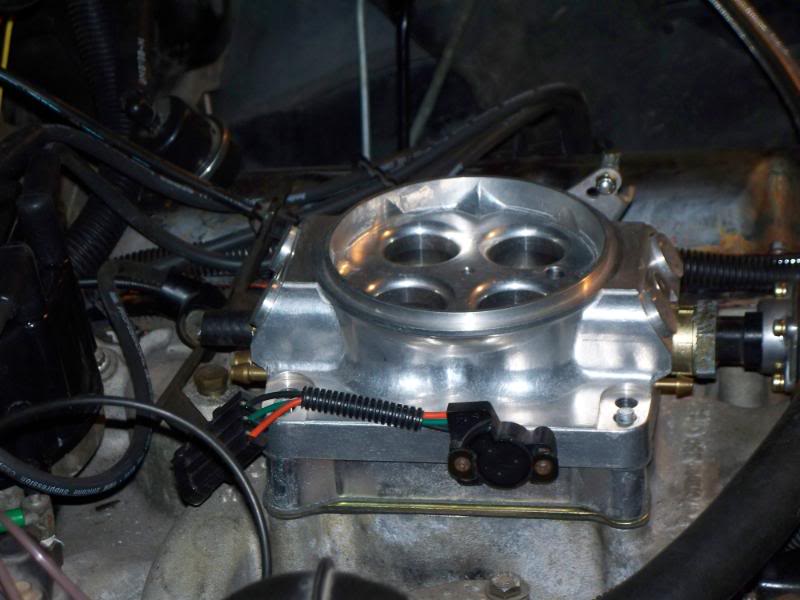 Its a great billet throttlebody. i figure I can get an Intake and have injector bungs welded on, use this throttlebody and just use a 350 Chevy computer, sensors, and wiring harness to give me a nice FI set-up. Not sure if I will use the BatWing aircleaner with it.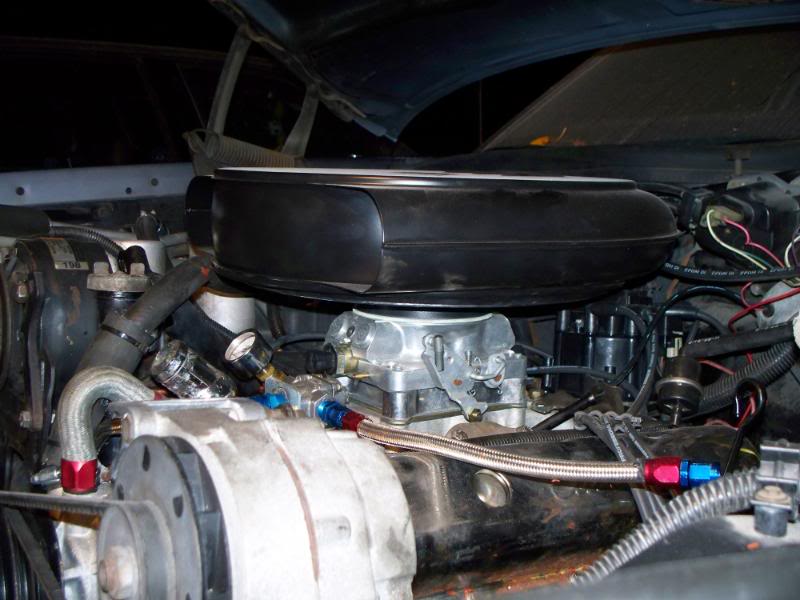 Or this and have it run to a filter under the bumper.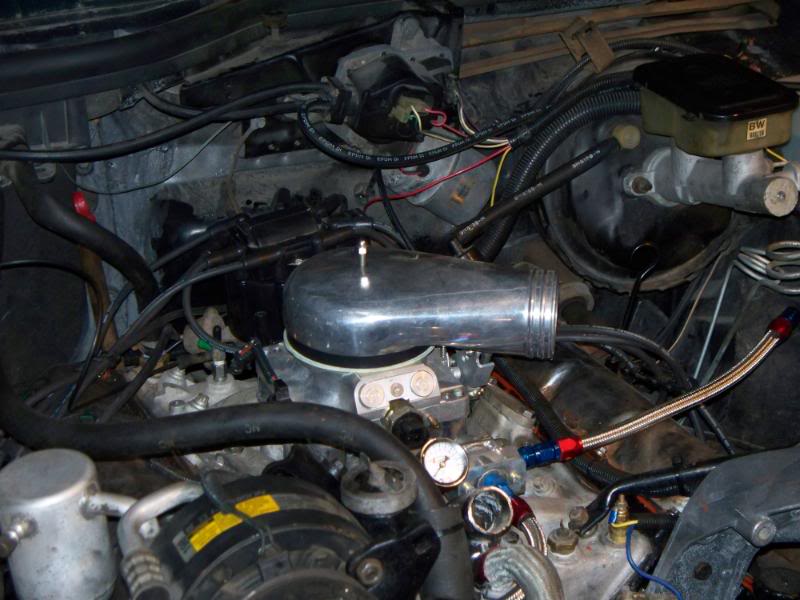 And lastly for the future mods I want the car to look like this.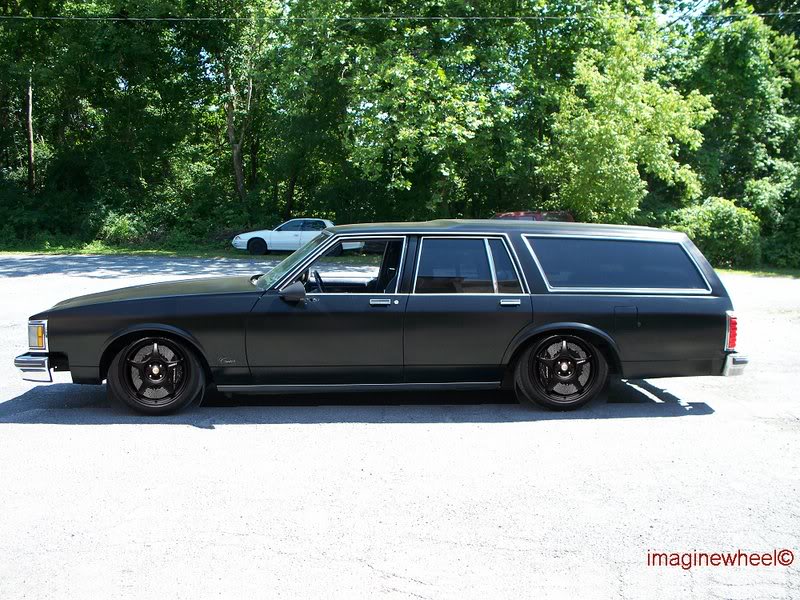 I have been looking for wheels but t is difficult as the car uses 5X5 bolt patterns. So finding nice wheels in the sizes I want is hard. Alot of the wheels with 5X5 bolt patterns are for trucks and therefore look like they are for trucks. So my seach is on. I may go with the Cragar Soft8's as they look pretty nice. But I am not sure the back spacing is ok and I really would rather have 10 inch wide wheels for the rear. With a 9 inch wide wheel the bigest I can go is a 275/40-17 and I ma not sure that would fill the rear wheel well enough. So my search is on.
Oh a couple things I forgot to mention. I lowered the car using Eibach springs. They didn't lower the car in the front near as much as I wanted. And believe it or not the car felt firmer and more stable with the stock F41 sport suspension than it does with the Eibachs. I may take the Eibachs off and put the stock ones back on and cut a few coils out of them. Here is the before and after.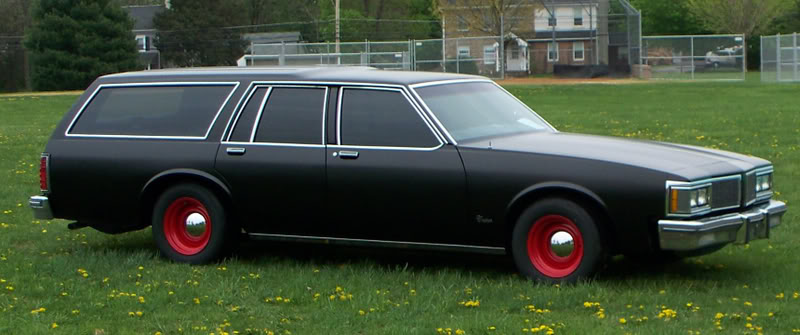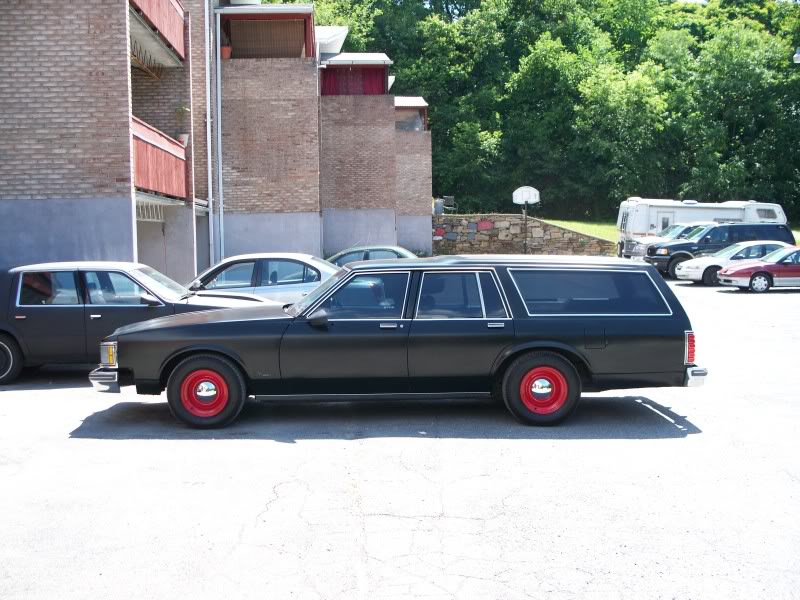 Now over the winter I plan on putting a rear bar on the car, but I will need my wife to fab me up some brackets to make the one I have fit. It seems the wagons were wider at the back and therefore anything made for the sedan versions of this car does not just bolt up. But I'll make it work.
1-2-2009
Well here is mild update. I recieved my wheels today. They are 18X9 Boss series 304's. I should be getting tires for them soon. But in the next 2 or 3 weeks there will be much progress with the arrival of parts. So stay tuned.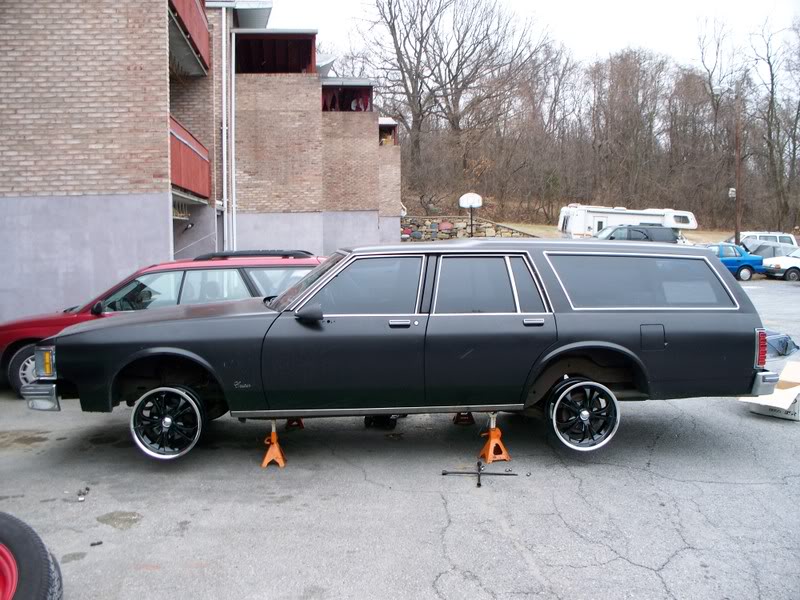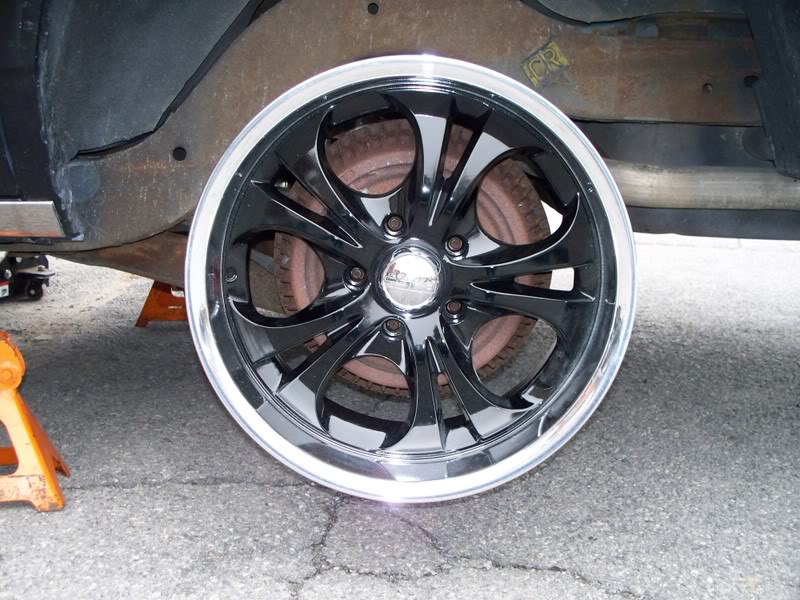 1-11-2009
Well I finally got some steering wheels for us and installed them today. I took off the old goofy looking plastic one and put on a leather one from a Fiero. It has the nice contoured grips and is so comfy. Yes I know It hasd the Fiero horn cap. I will be trying to fix that in the future. It's also a little dirty. I will need to take some cleaner to it.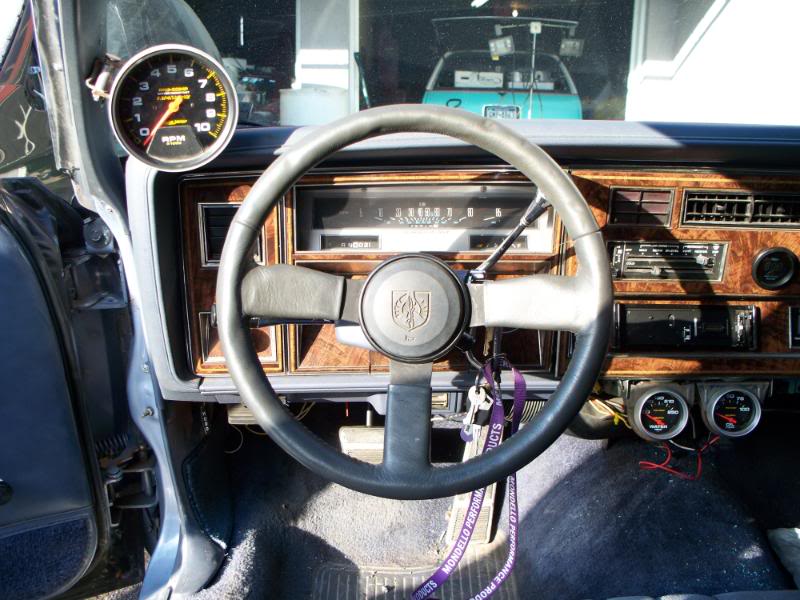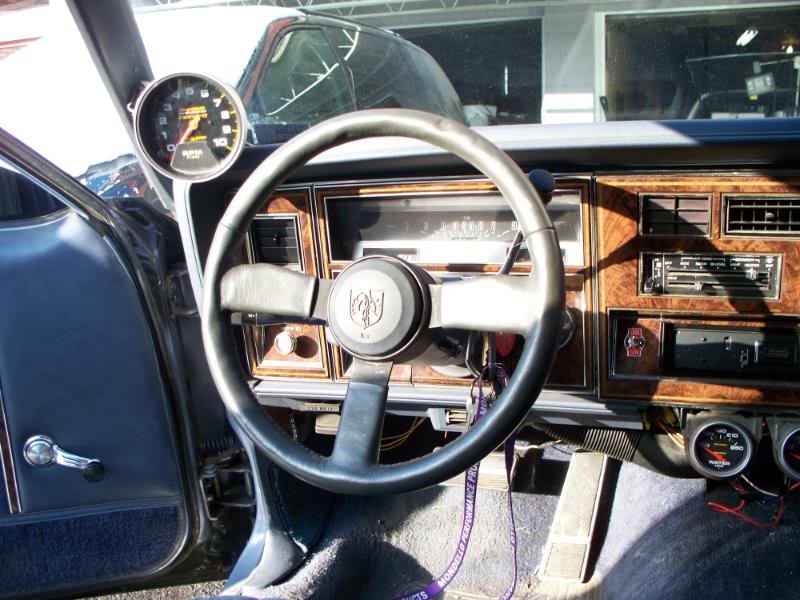 1-21-2009
Well parts have been arriving pretty often lately. I now have a TransGo 200-4R HD2 shift kit for my 200-4R transmission. It will give me either full manual control up or down thru the gears for 1st,2nd, and 3rd gears. Or I can stick in in OD and let it do all the work.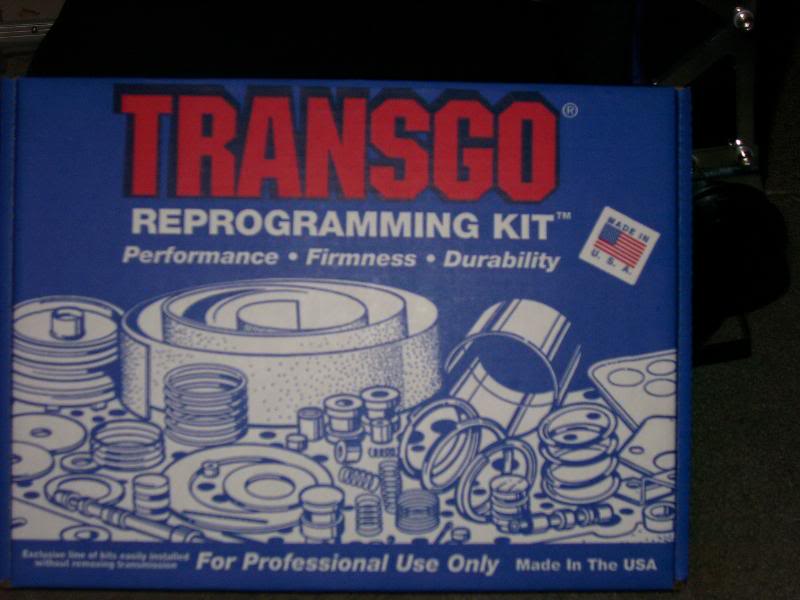 Today I recieved my new shifter. It is made by Brian Kilduff and is one sweet piece. His shifters are made to order so you can't go wrong here.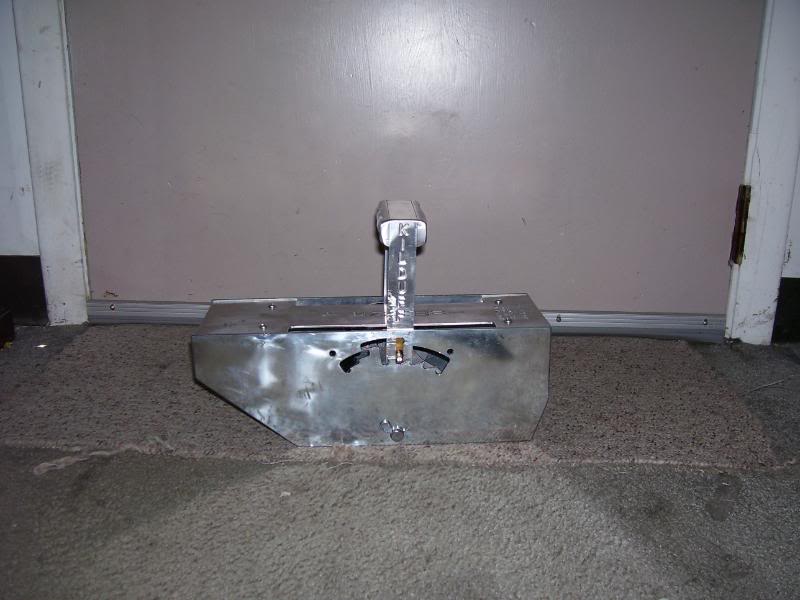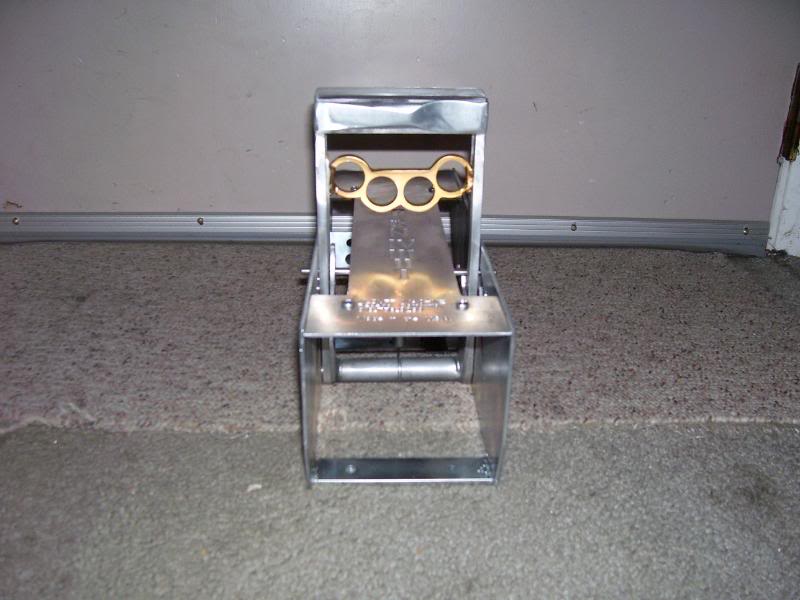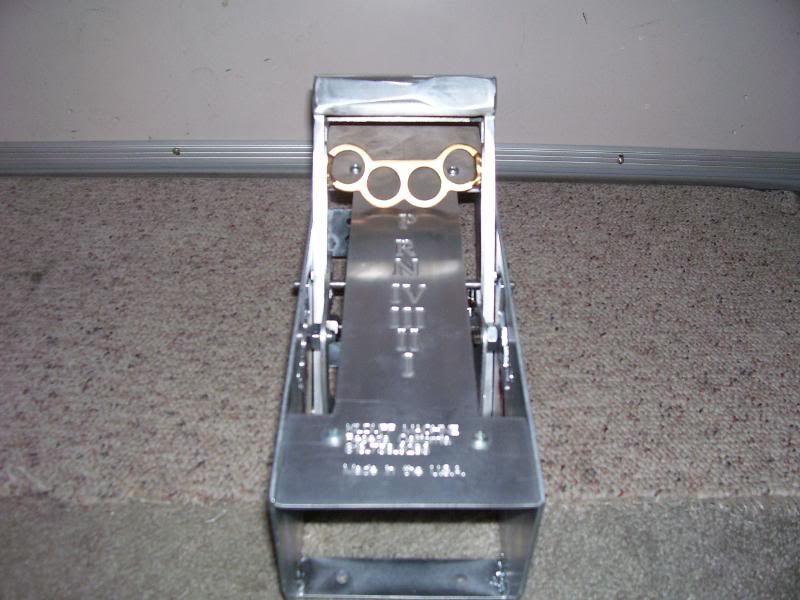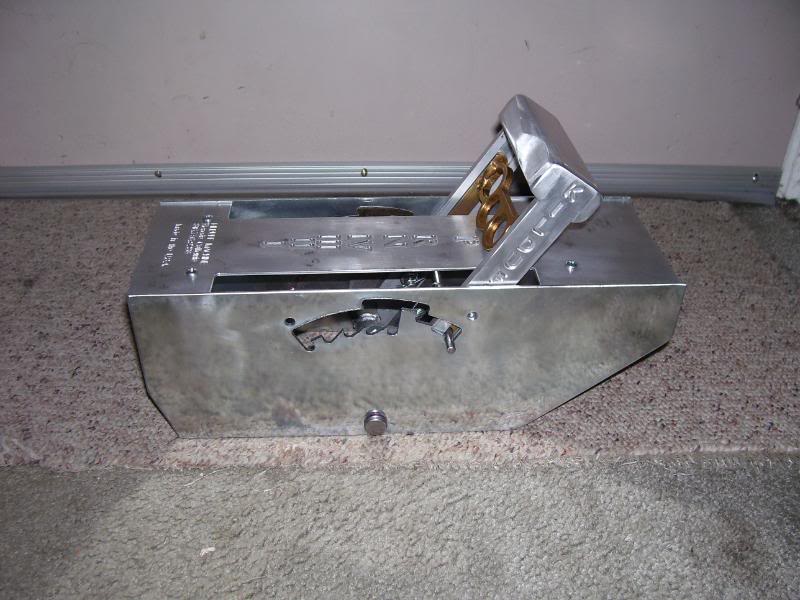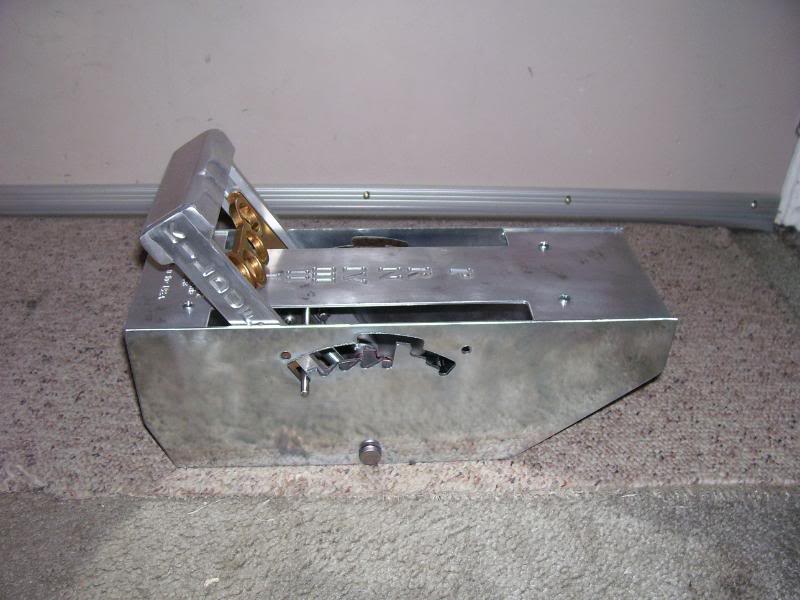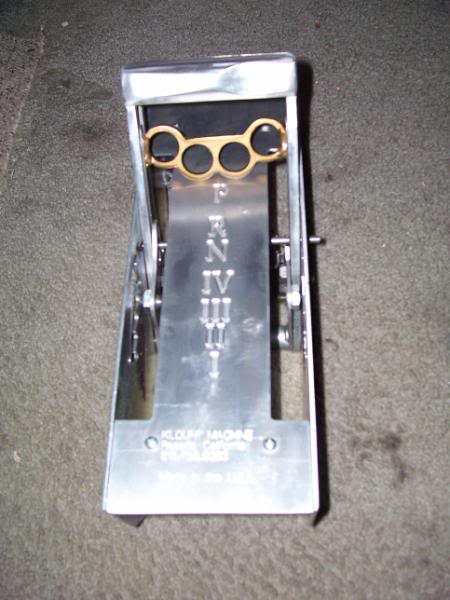 Now if I am going to run a floor shifter I have to replace the bench seat with a set of bucket seats. And I had a few options. I could have found some comfy buckets so it would be similar to what the bench feels like. Or I have a bunch of Fiero seats I could have had recovered. But since this car handles great as is and will only get better to the point I may want to do some track days with it I felt that something closer to a competition seat should be in order. So I found these off of Ebay and it so happens they were fairly local so it saved me some cash. I really like the look. Wait till you see what I do with them.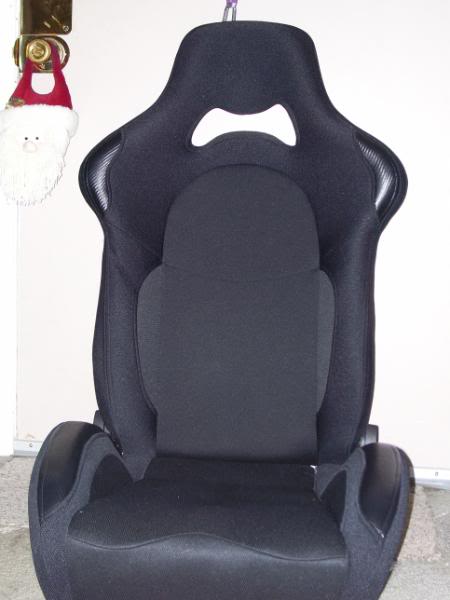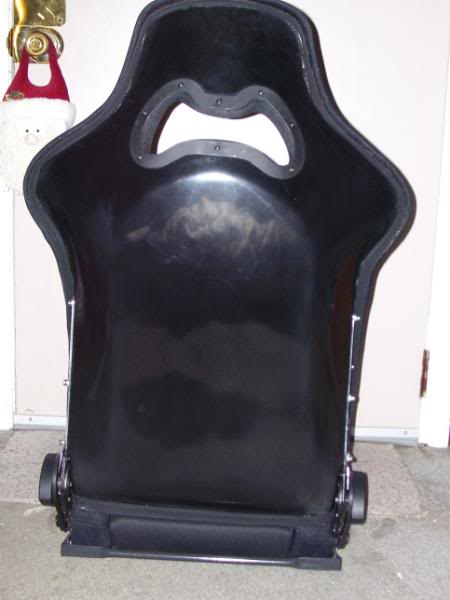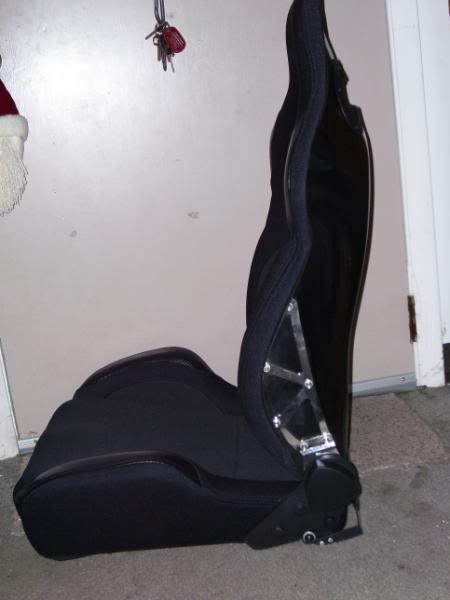 2-4-2009
Well more parts have been recieved for my build(s). I found two distributors off of Craigslist. The first one was a Mallory Uni-Lite vacuum advance distributor. It is used but looks ok. I paid $100 and the guy threw in the MSD wires and Blaster 2 coil.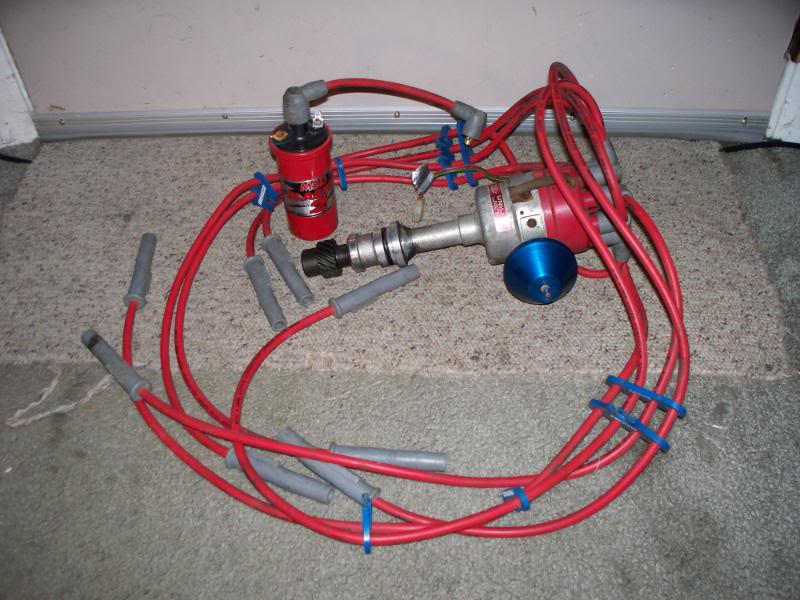 The second distributor was a brand new in the box MSD Pro Billet unit. This I got for $175 which I thought was a steal. So much so I didn't even try to haggle.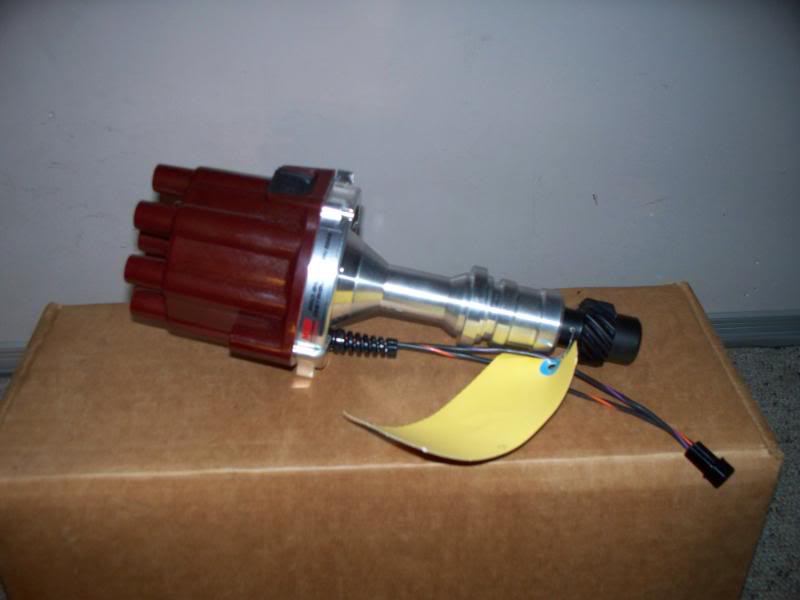 Now why 2 distributors? Well the MSD distributor must be used with an MSD box. Now I have a used 7AL-2 unit. BUT it happens to be a 4 cylinder only part. So I am trying to find out what I need to do to send it back along with this coil to have rebuild at a fraction of the cost of new.

Note the coil has an aluminum heat sink around it. This will not only look cool but I have yet to see one on another car. So I can't use the MSD distributor until I have a box and coil to use with it. So I can use the Mallory until all that get's figured out. I hope to have the Mallory in this weekend depending on the weather. It should improve my spark and timing. The Mallory has to be a vast improvement over the tired old HEI unit. And once I have all the parts I need to use the MSD distributor the Mallory can go in the wife's car providing we find an Olds engine for her's soon.
3-14-2009
Ok the wife and I worked all day on getting the old bench seats out and the new buckets in. We had to(ok ok she had to)custom make the brackets as there was nothing to use. I did get sliders with the seats but needed a way to mount the seats and sliders to the floor. We ended up making some nice brackets using nothing more than scraps we had laying around. We did use the outer studs that the bench seat was orginally mounted to. We only got one front seat done but the other one should be a piece of cake now that the first one is done. And the wife did take a good bit of time getting the welder back to where she wanted it as it has been sitting for a long time. Anyway here are the pics. Let me know what you think.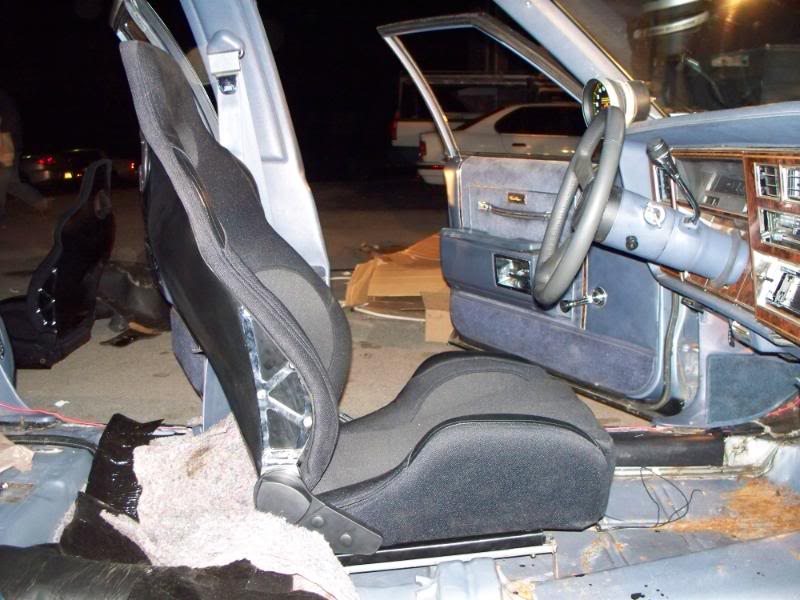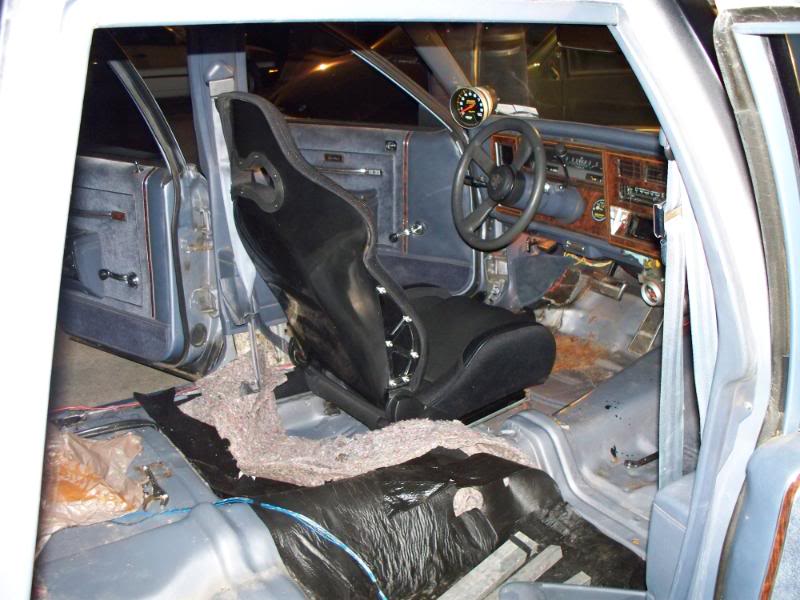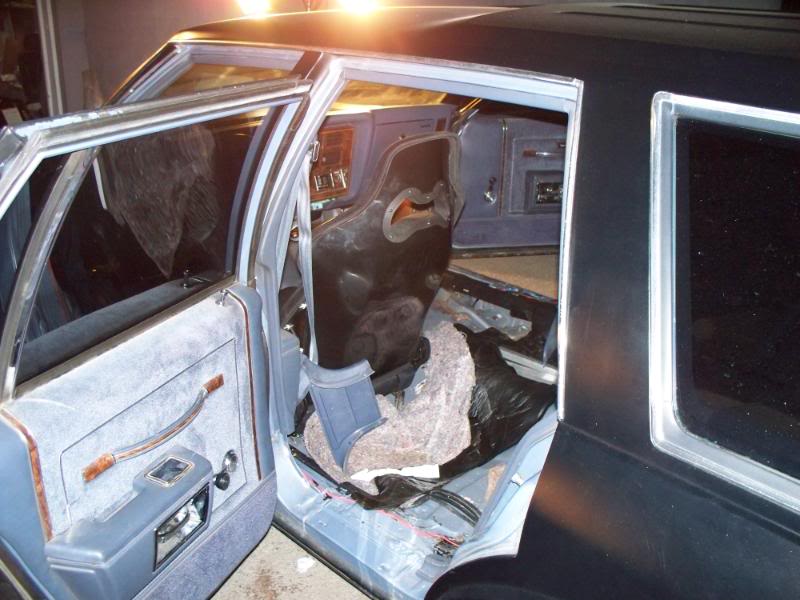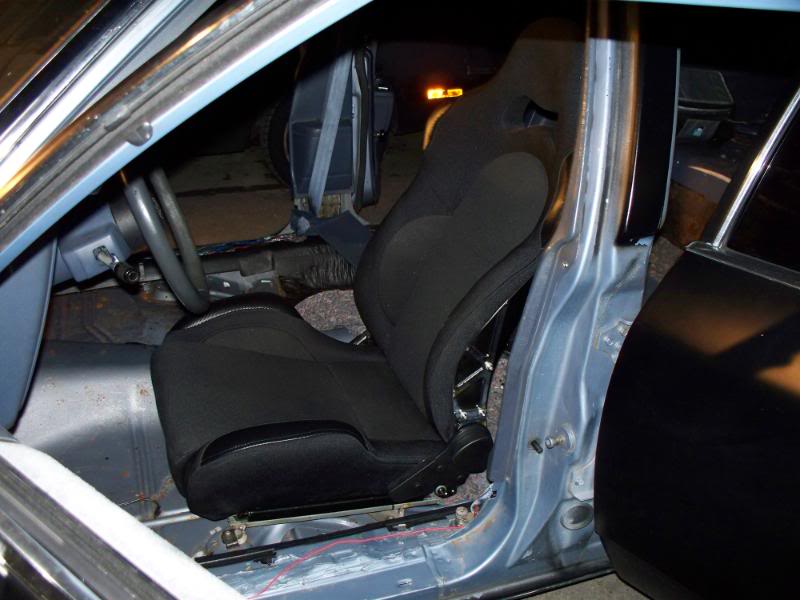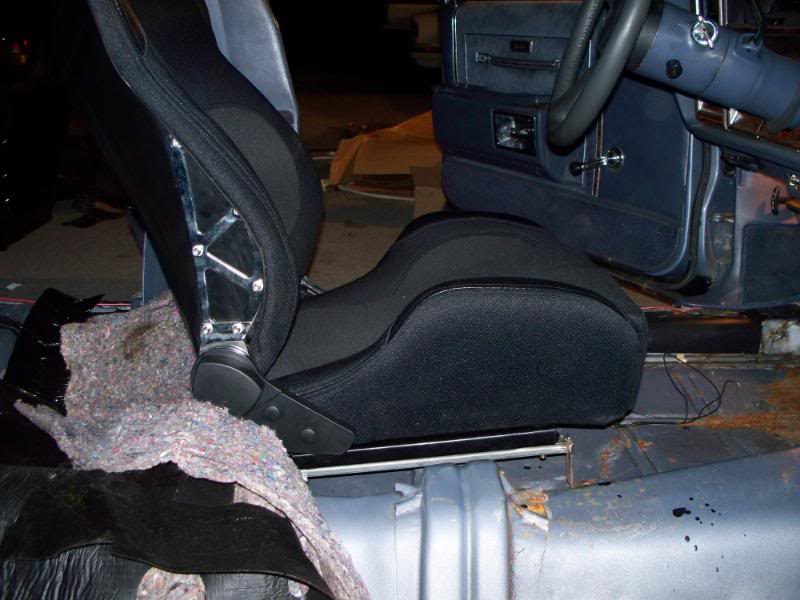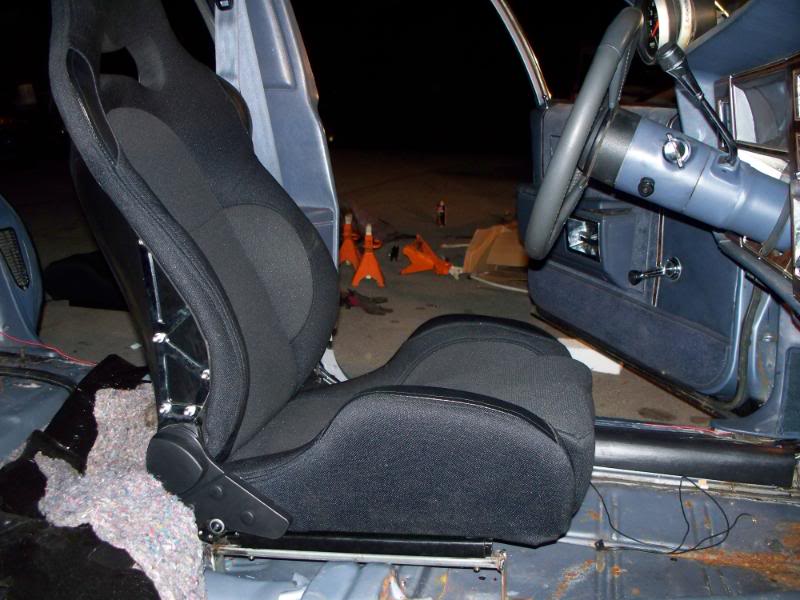 3-15-2009
Ok bucket seats day 2. My car is becoming more and more like my vision of a high performance touring car like i want. We worked on getting the drivers seat perfect and making brackets for the passenger seat. It took most of the day(well started at 1pm) but now I have both front seats mounted, and I can work on the backs. Here are the newest piccs of both installed. BTW there should be alot of updates this week as I plan on lowering the front end and will be getting my wheel spacers and poly bushings for the front end.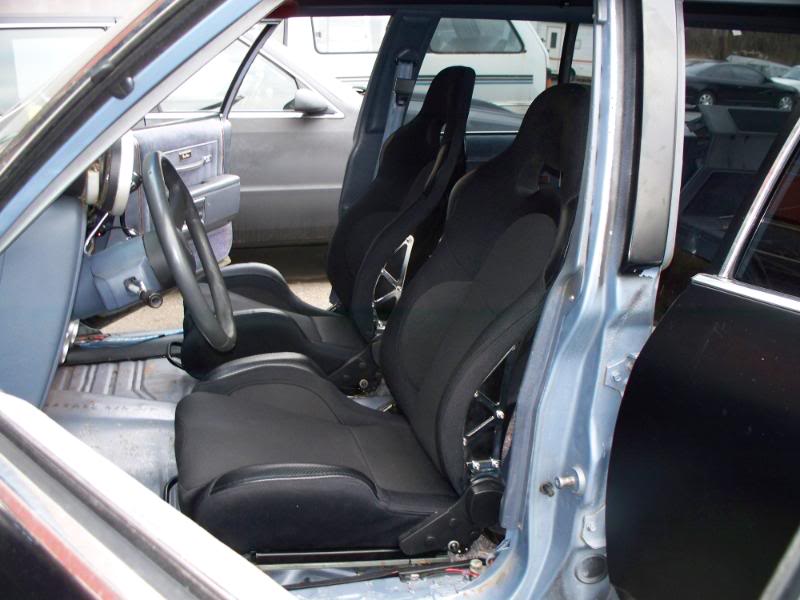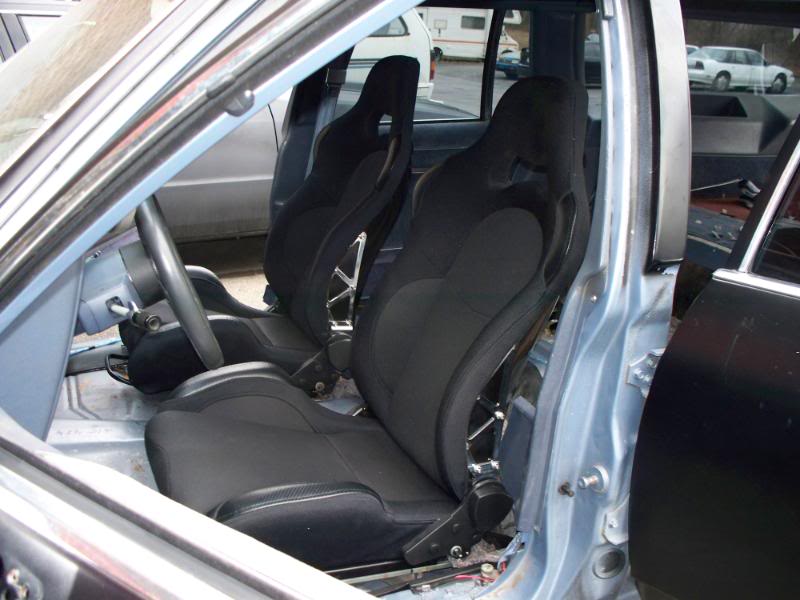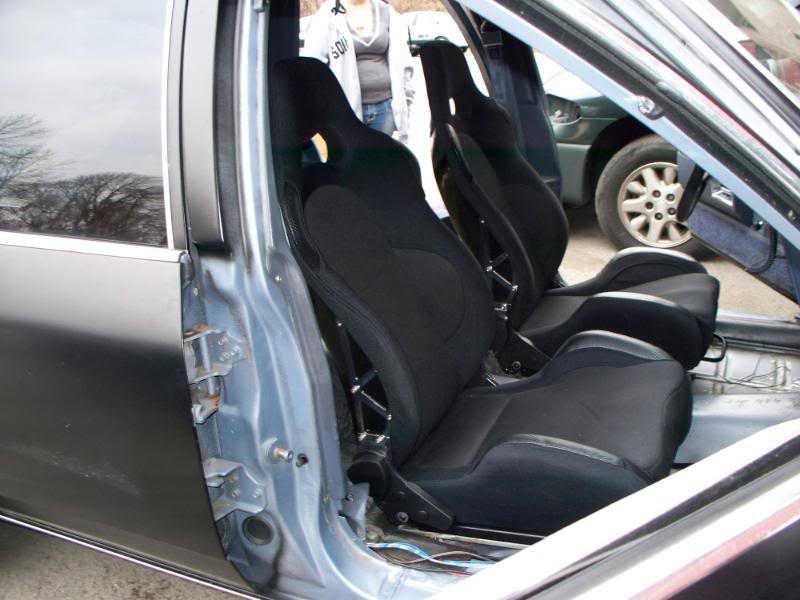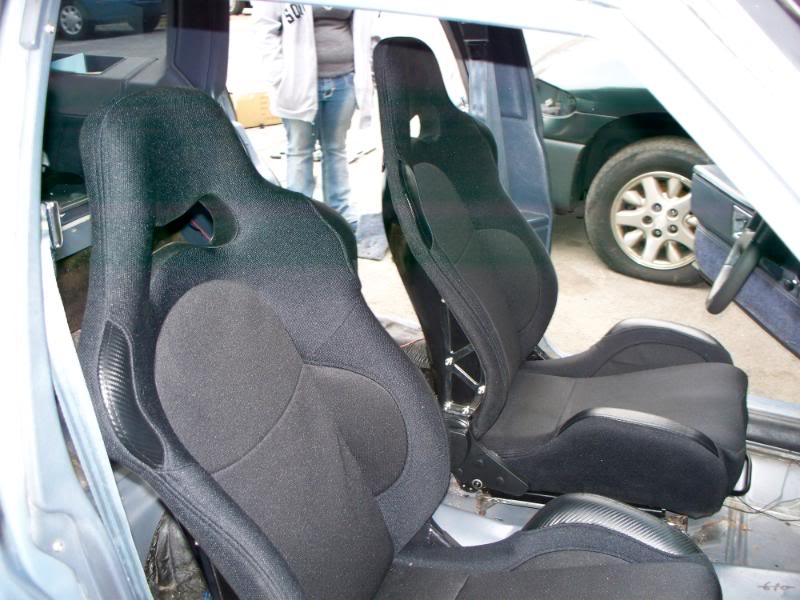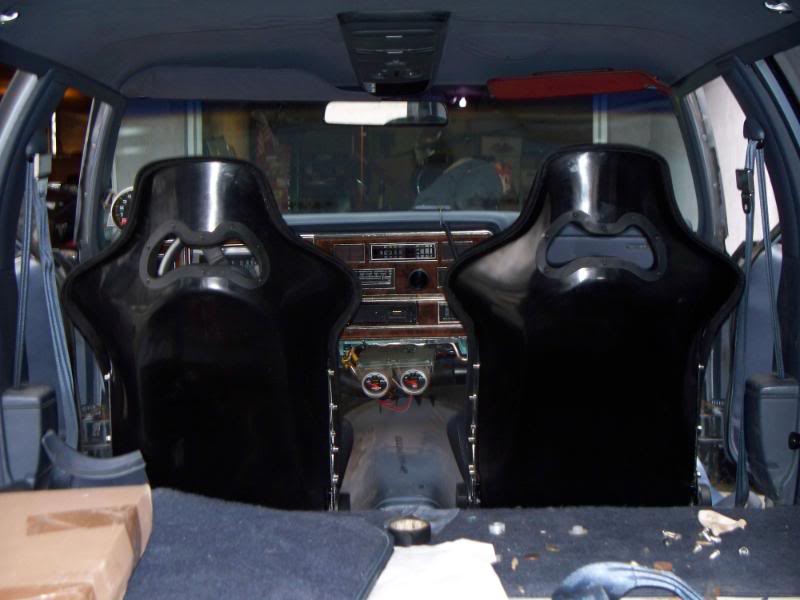 6-1-2009
Well I have been slacking off with the updates so I will try to get up to date in the next few days as I will have more after that with a new radiator and intake, as well as a rebuilt trans with shift kit after it's rebuilt.

So here's what you have missed. I rebuilt the front suspension with Energy Suspension bushings and I took the Eibach springs out of the front and put the F41 RPO code springs back in. First I took a half coil off and it brought it down to the level of the Eibachs and I wanted more of a drop. SO I hacked off a whole nother coil. That might have been more extreme then I had originally wanted. But the looks and ride are perfect. So I got way lucky. Here's some picks.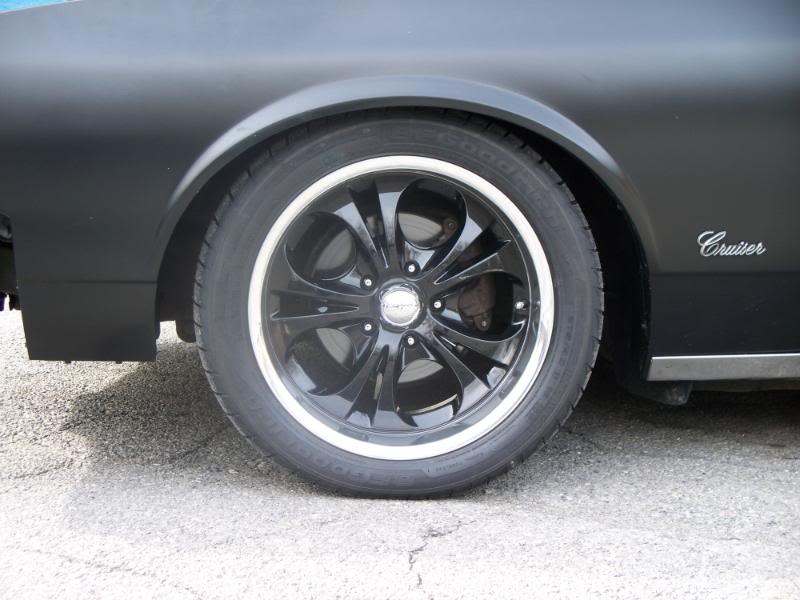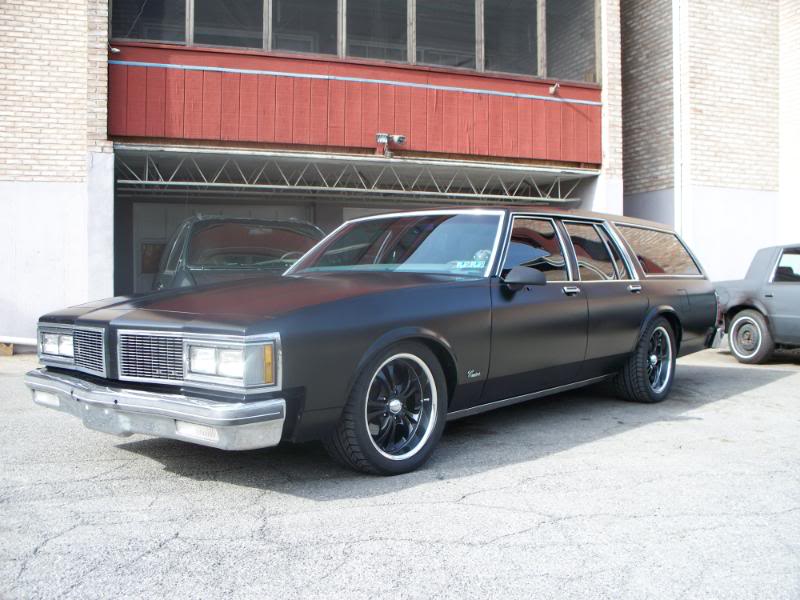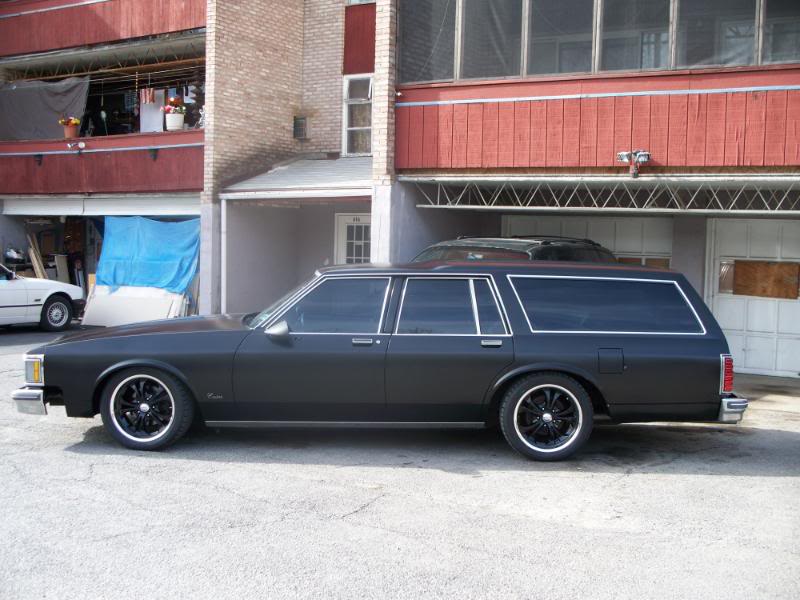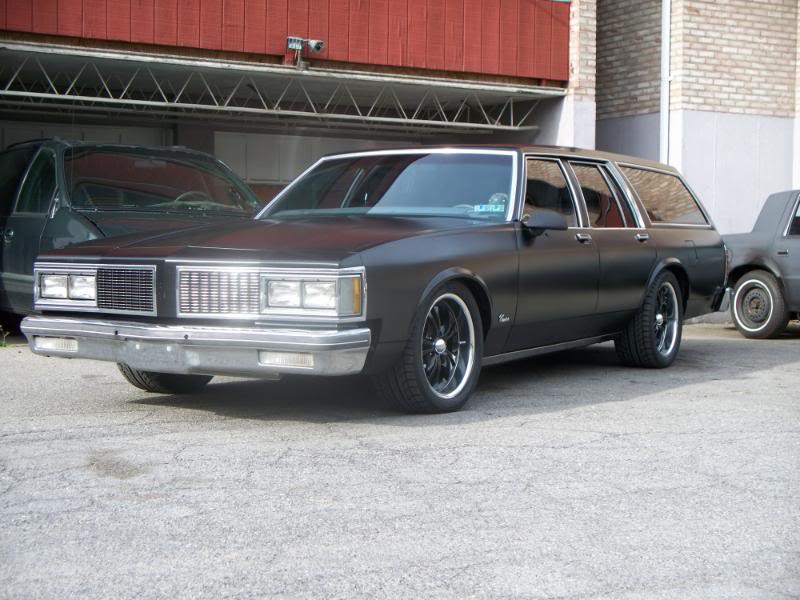 Here's how I want the rear to be with some help from a friend.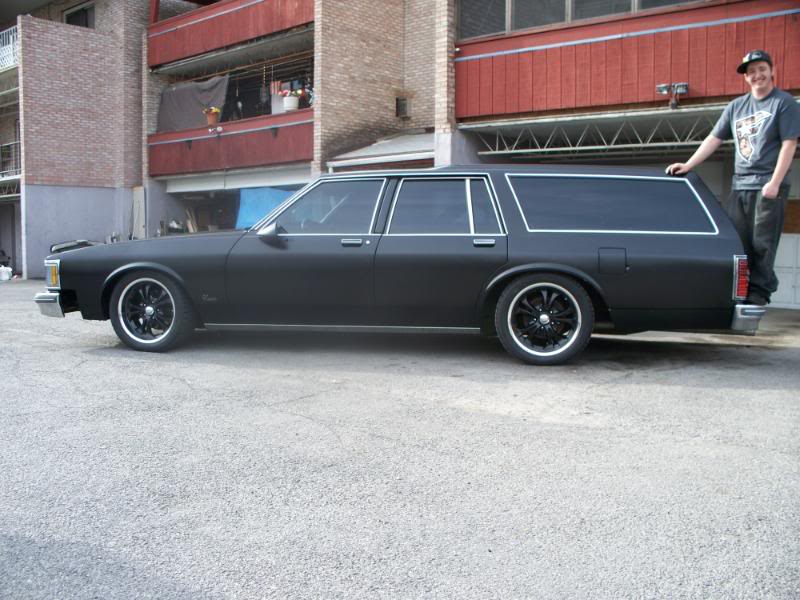 Here are some coilover brackets that my wife made. Problem is I have 2 pair of Coilovers that are too long so we have to figure a way to find the extra space for them.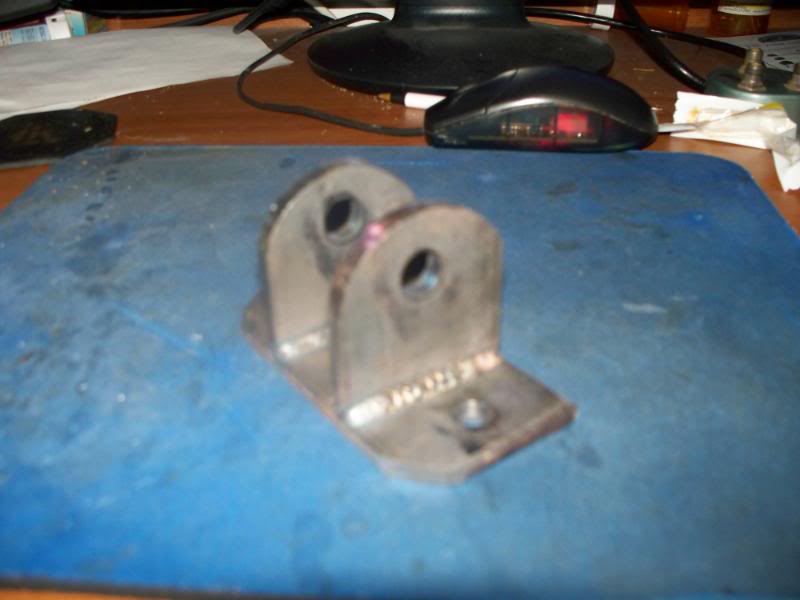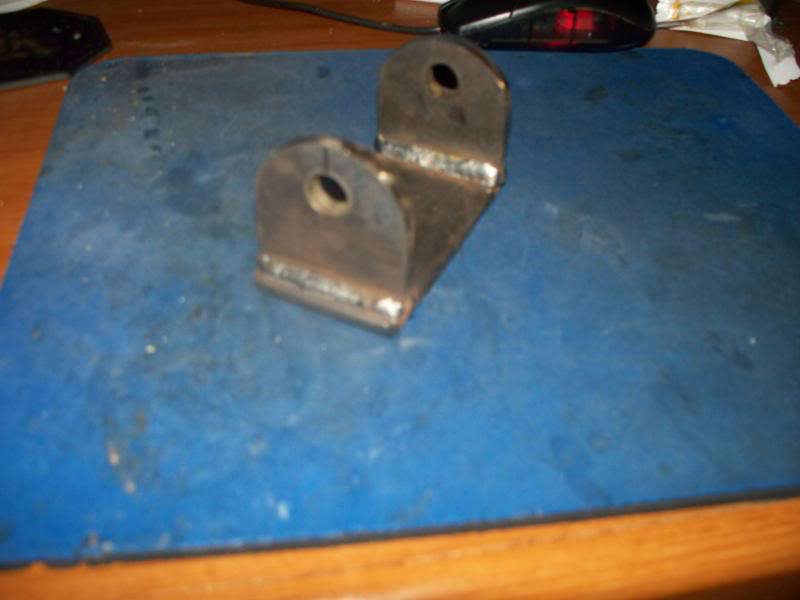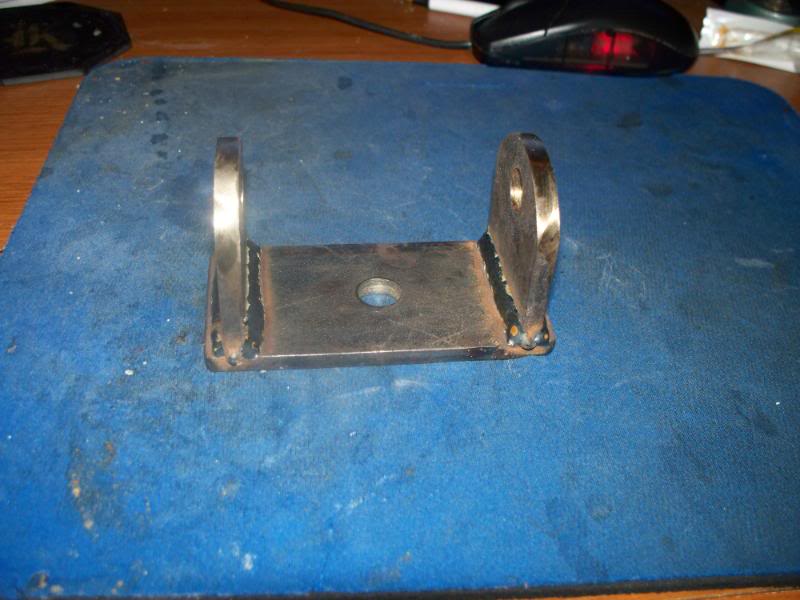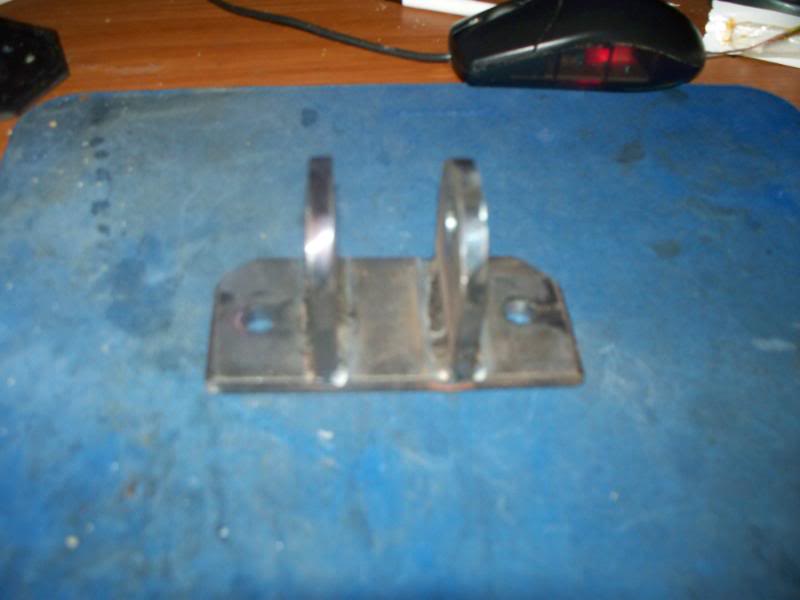 6-2-2009
Well I promised more updates and here they are. Here are some body mods I did with the bumpers. First the front bumpers are tucked in. The one bumper shock was partially collapsed so I collapsed it all the way. Now to collapse the other one I had to drill a hole in it. Then I stripped the bumper down and painted it black.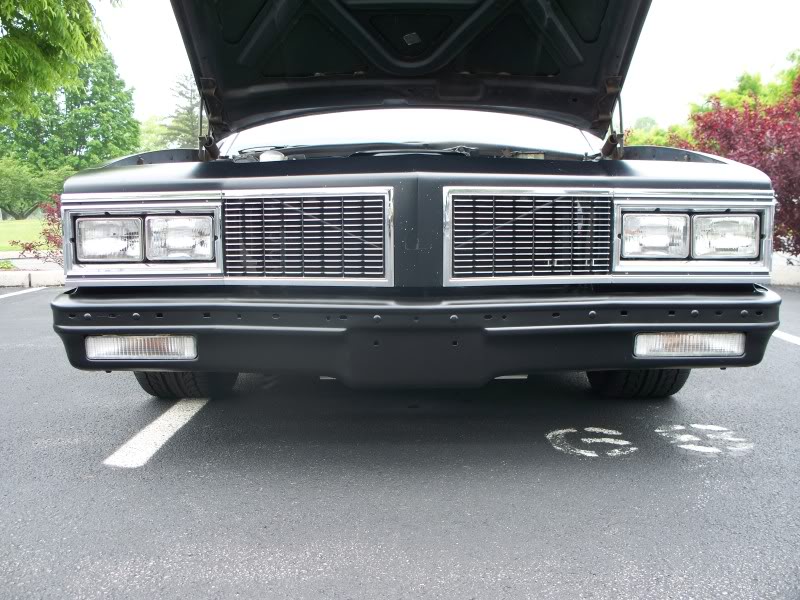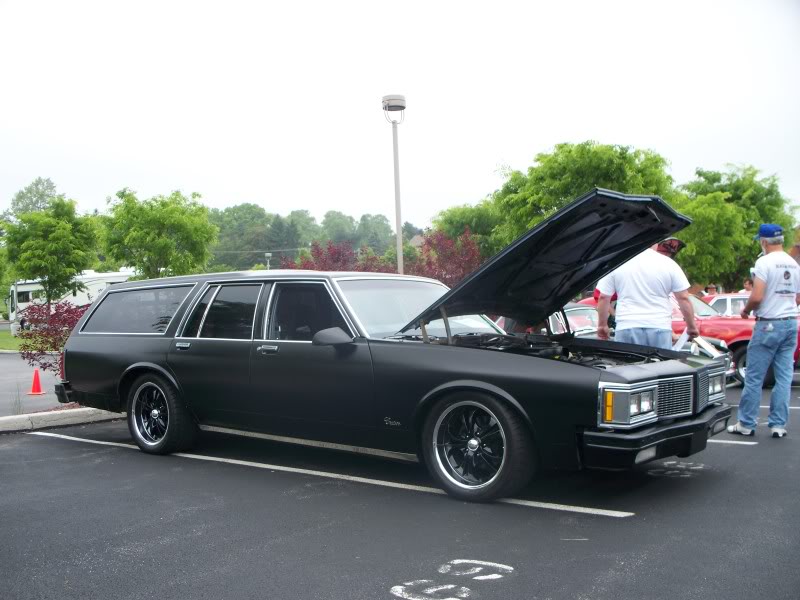 Then onto the rear bumper. I stripped it down and painted it black like the front. I took it off the mounts and put it against the body and it looks great. But I have to figure out the mounts to get it right but here is how I want it to like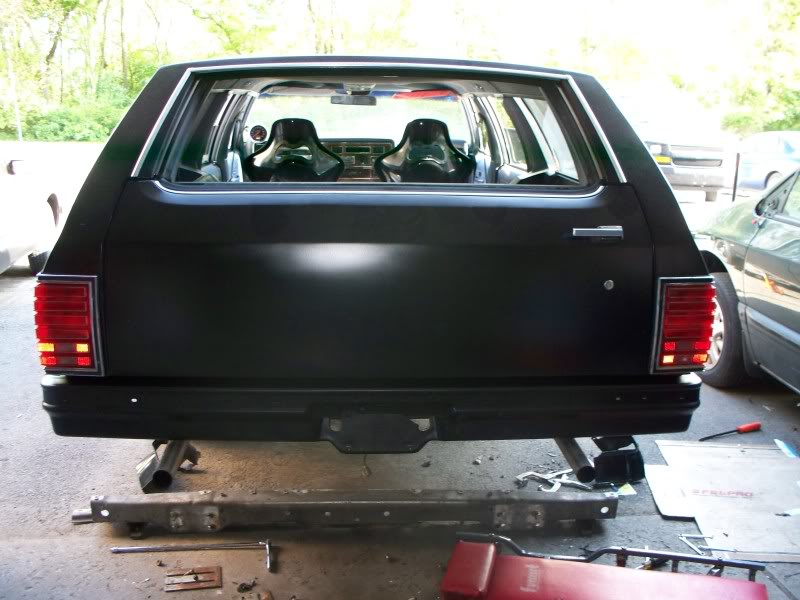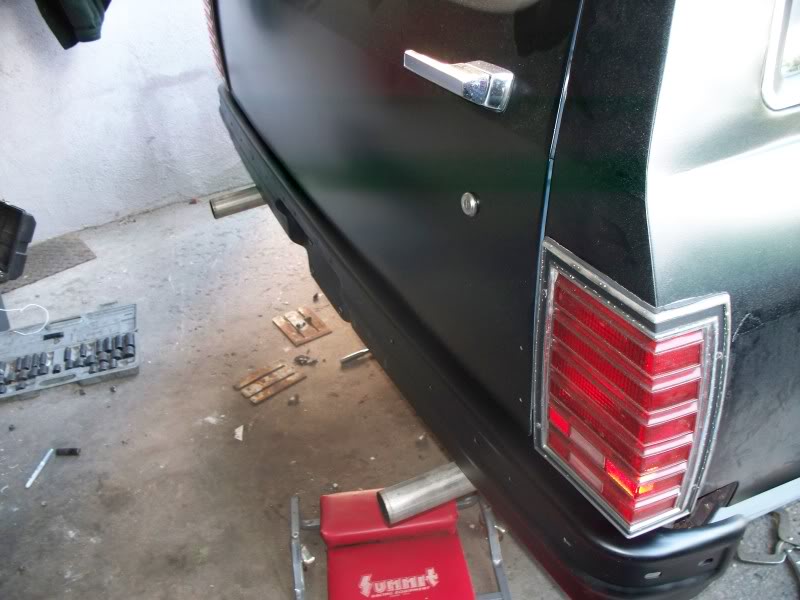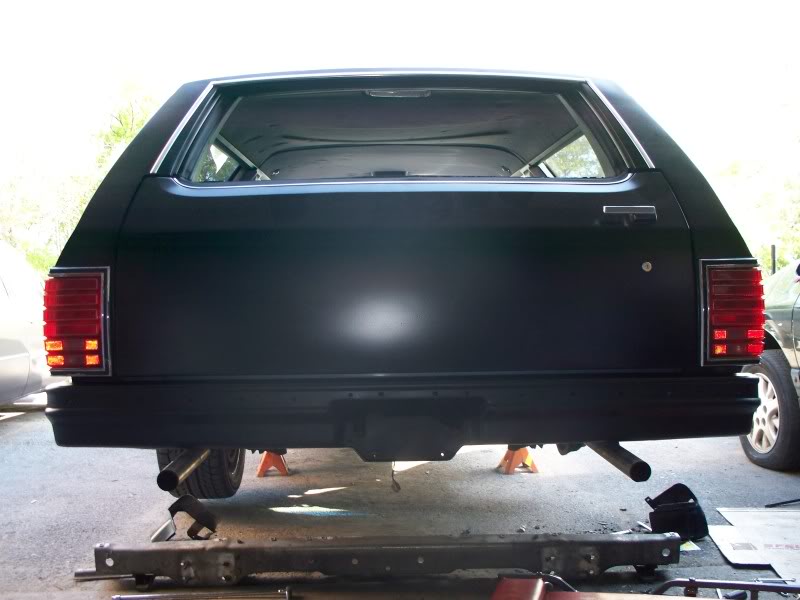 6-4-2009
Here is the rear suspension mods I have done. These are my Metco Billet Aluminum LCA's. I really like these arms. They are very nice quality pieces.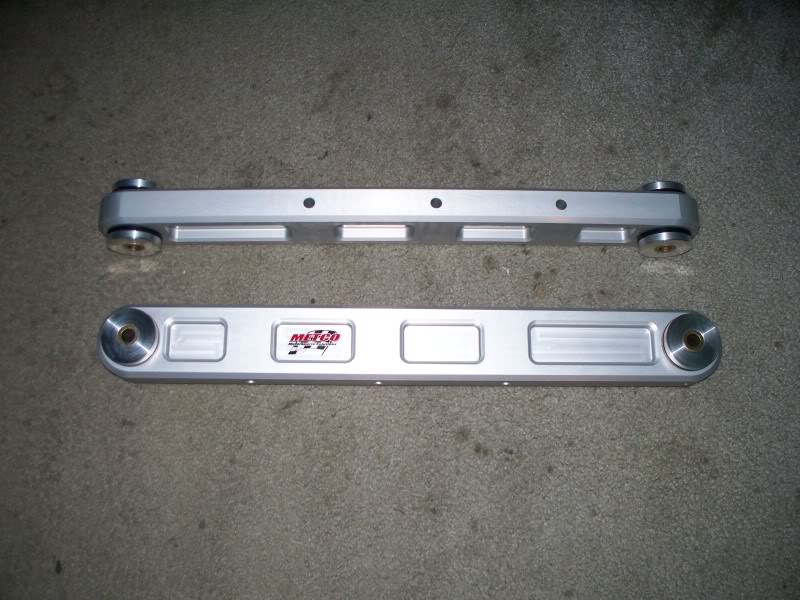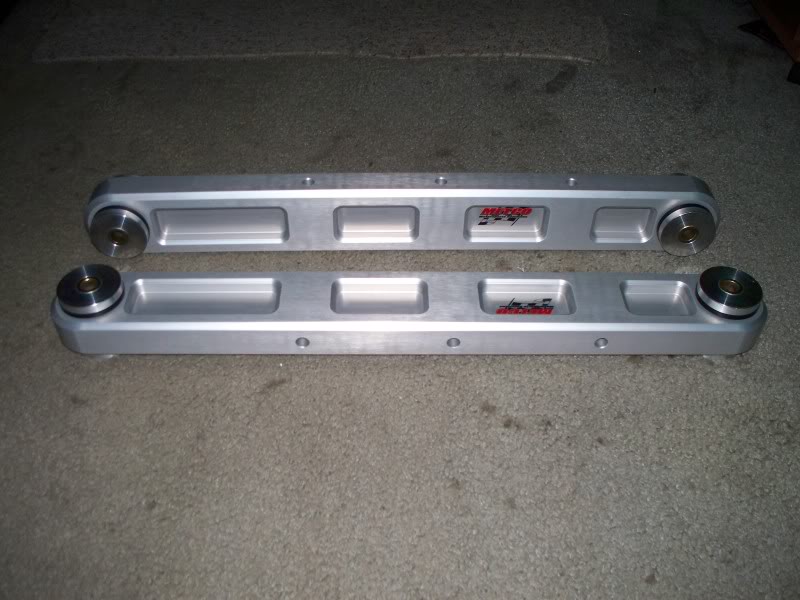 They allowed me to mount a sedan swaybar on may wagon until I can get a set of much bigger wagon bars.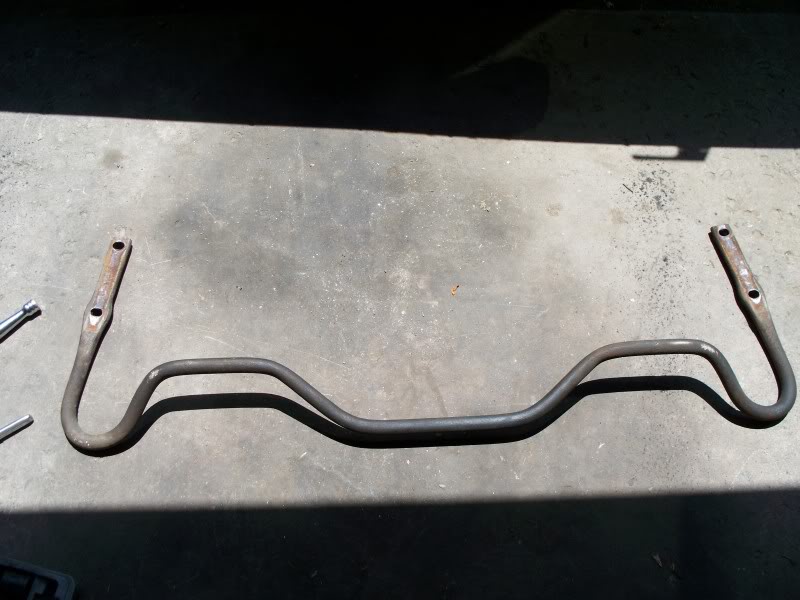 Here are the arms mounted without the swaybar mounted.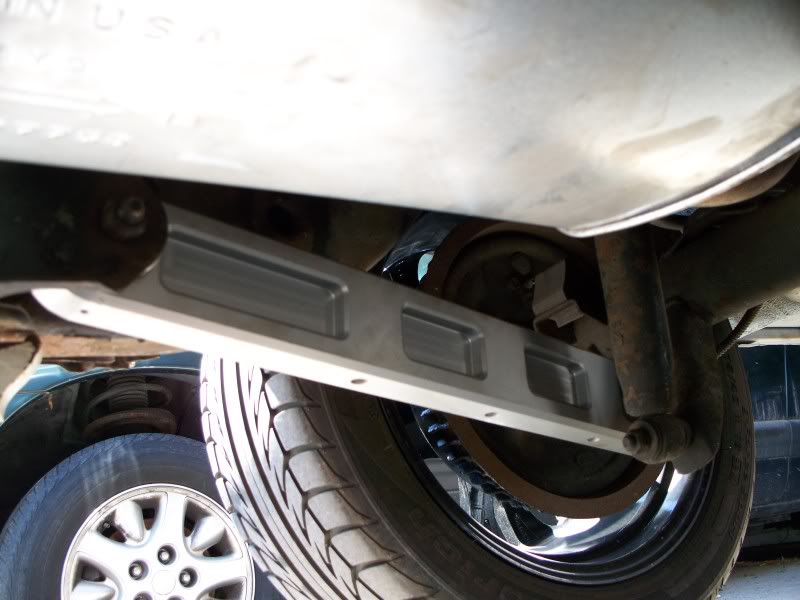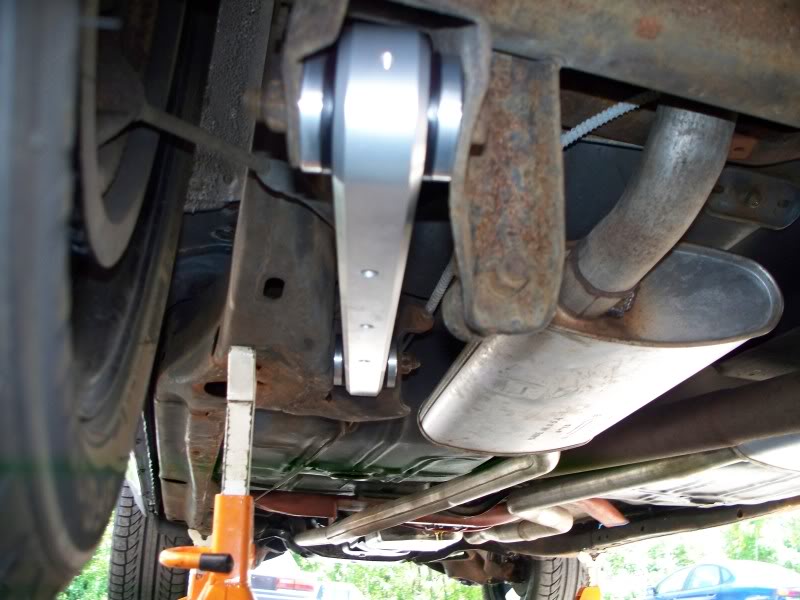 Here it is with the swaybar mounted.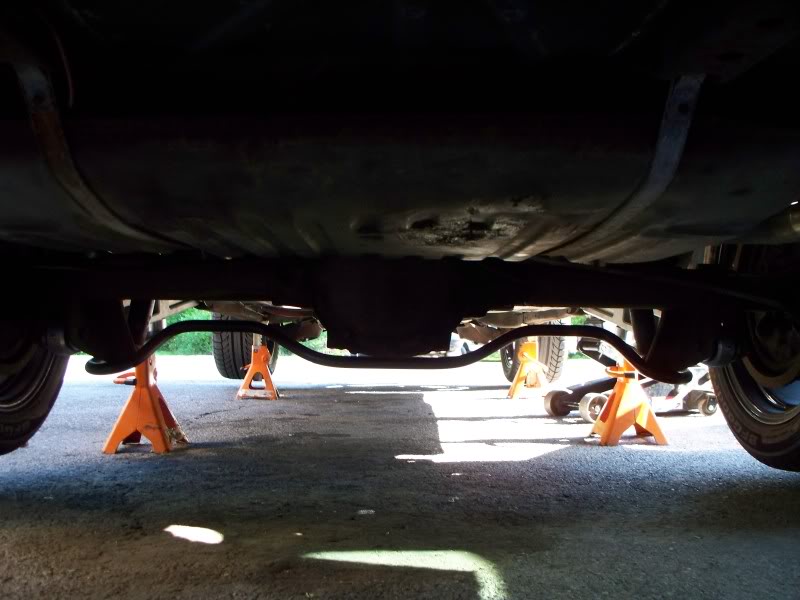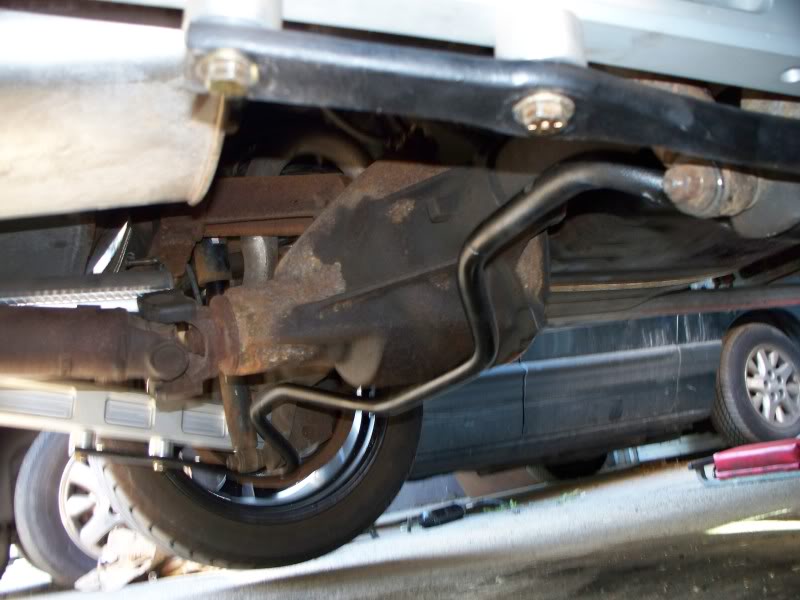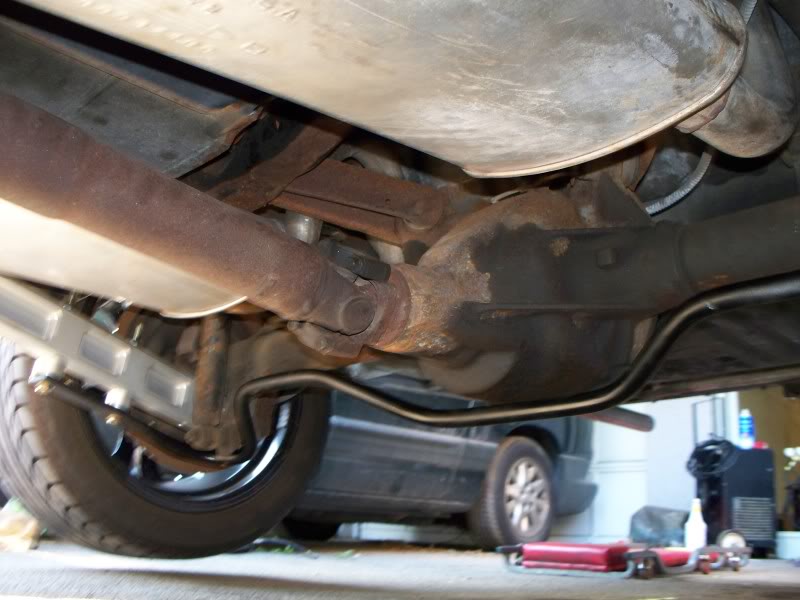 ANd here is a pic showing the twist in it.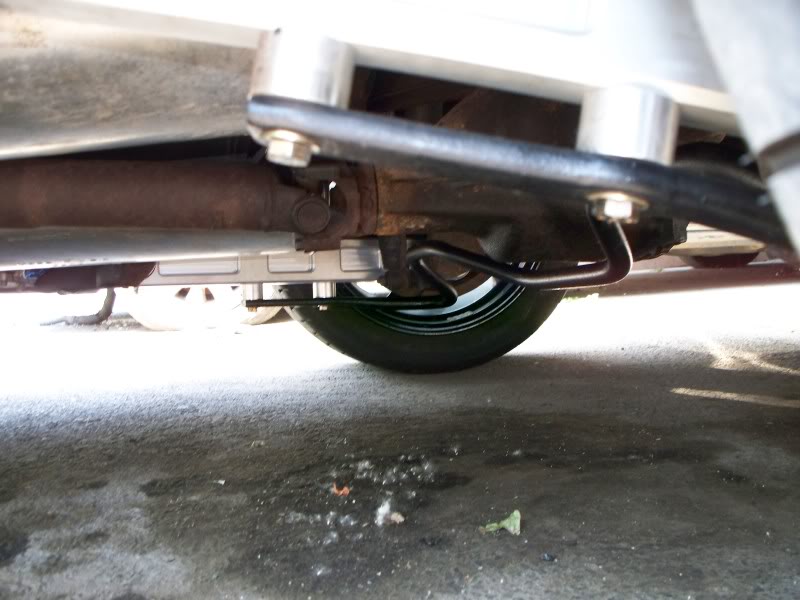 6-5-2009
Ok I bought a new Edebrock High rise Performer intake part #7111. I bought it cause the old Performer is warped to hell and I need to fix the leak problem. ALthough I think it might be a problem with the head because the cast iron intake leaked at the EGR crossover too. But then again I didn't read the turkey try gasket directions either time i did it until after the last one that said to use gasket sealer around the ports. Never had to do this on any other car. So hopefully this will seal right and I can get all the performance outa my engine that I should. Here are so some pics comapring the 2 Performer intakes.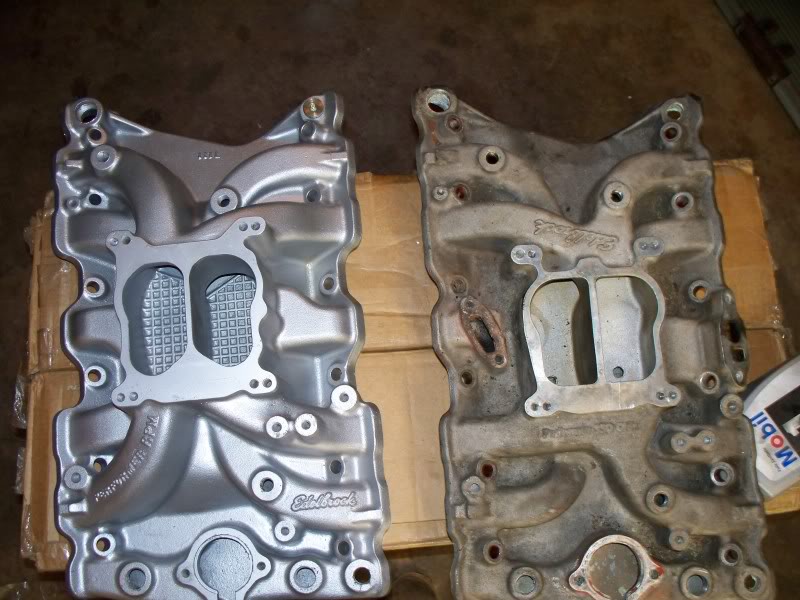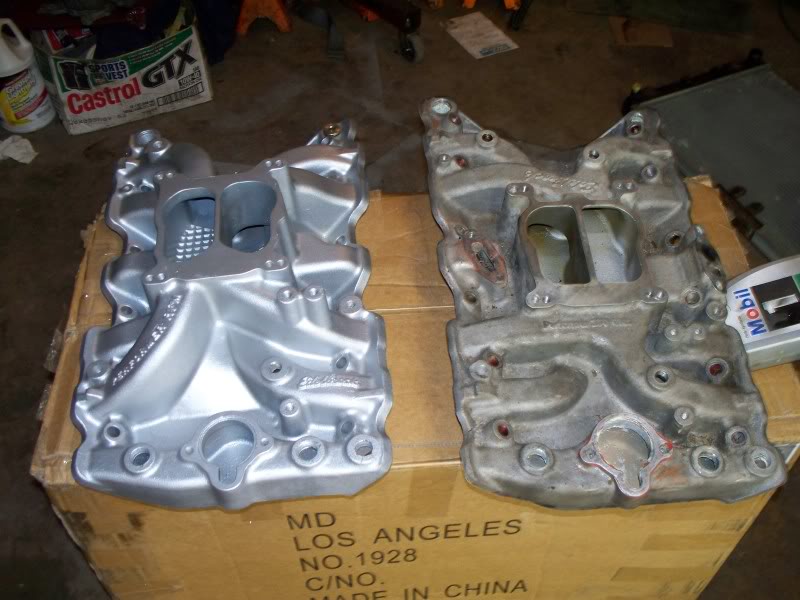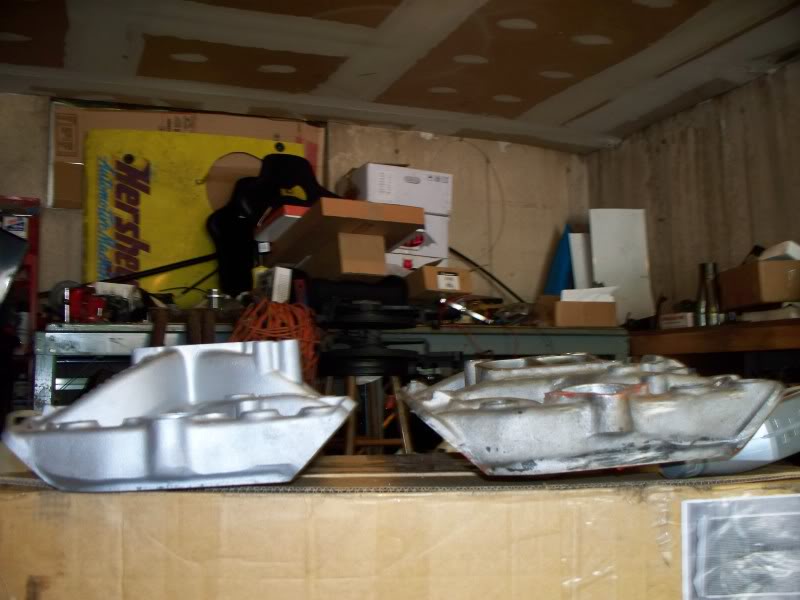 You can clearly see the new intake is about 2 inches taller than the old one.
Here is it mounted and with the carb on it.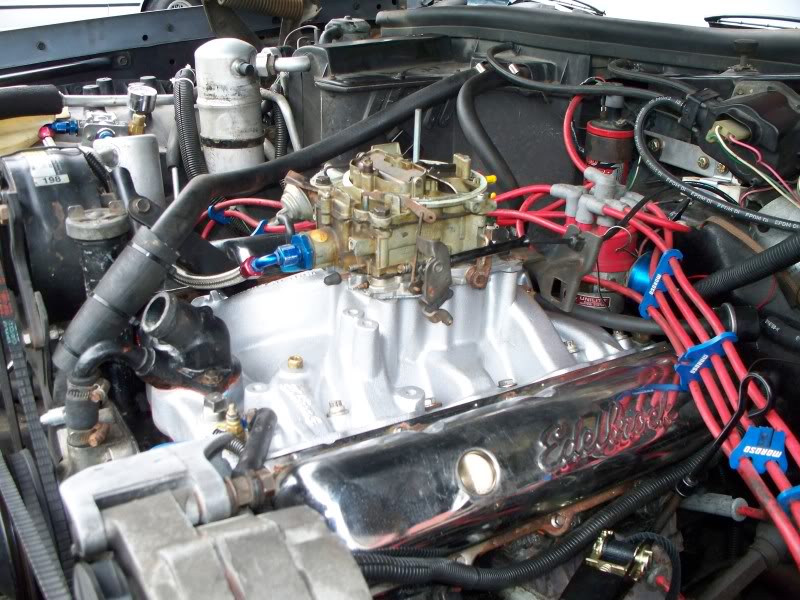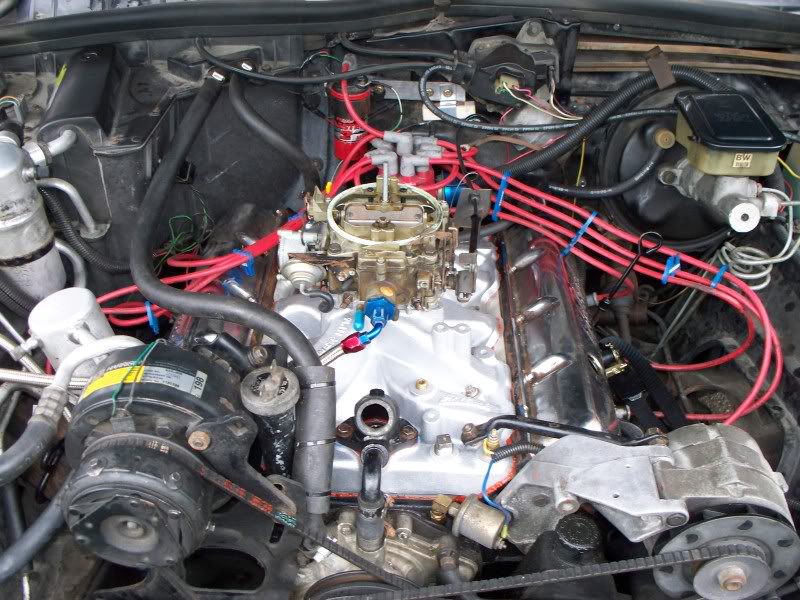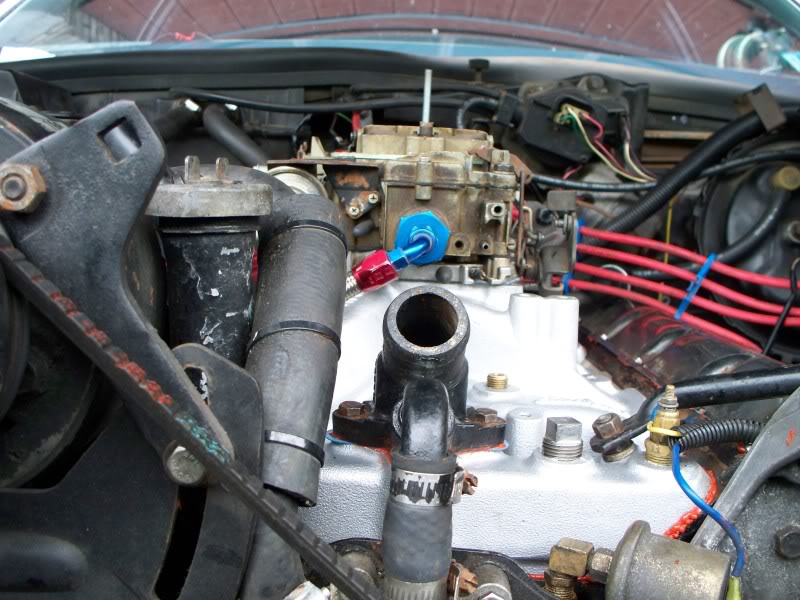 Now it did represent a big problem. The base plate for the batwing aircleaner is flat so it sits up off the carb. Thankfully I had an old HUGE aircleaner that had a drop down base that is the same size. So I swapped one for the other(will need some trimming) and low and behold I can close my hood.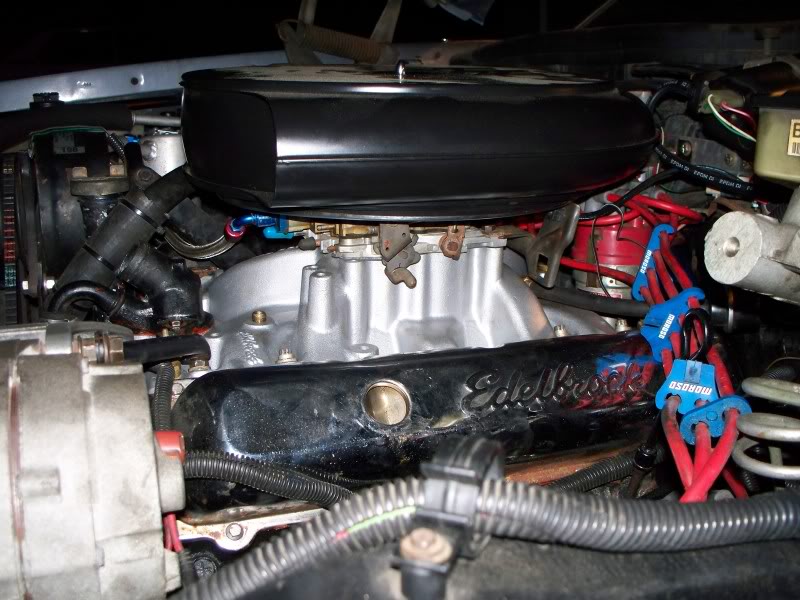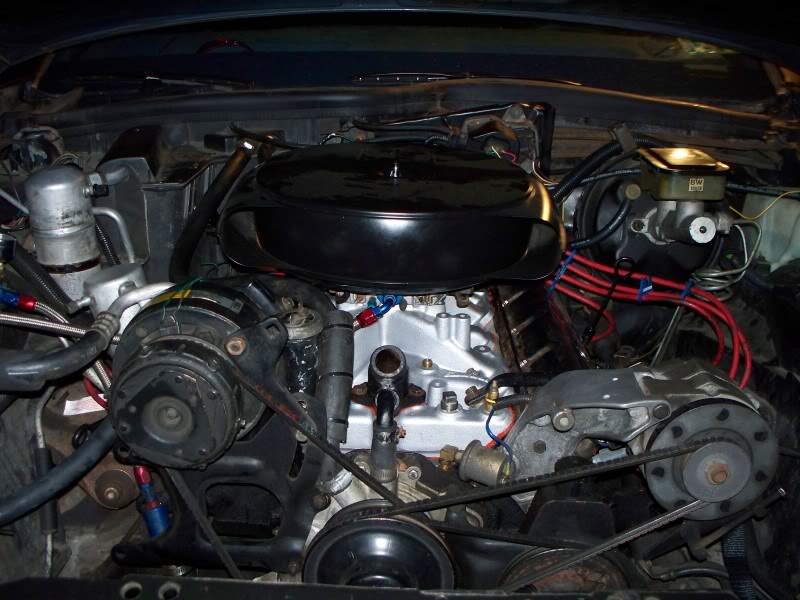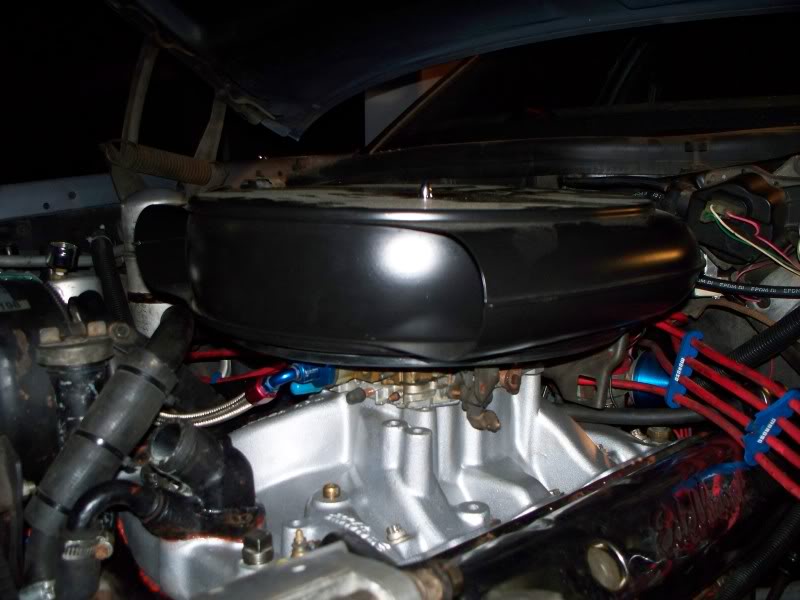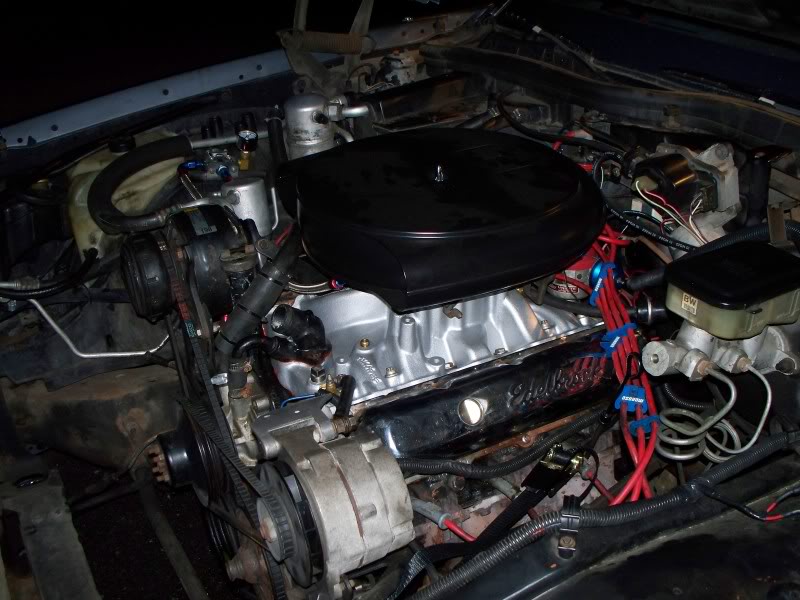 6-12-2009
Well I got my transmission back from the rebuilder after the front seal went. I figured I might as well get the shiftkit put in and have the whole trans rebuilt. I also figured while the trans was out to replace the LT-1 radiator with an all aluminum one and to replace the Edelbrock Intake that was warped with another better one. The Intake was easy and I covered that in a previous post. The radiator was a bit more involved. I could not use the LT-1 radiators fans and since I had to shell out big dough for the trans rebuild I couldn't get new fans which can cost a good penny. So I bought 2 junkyard fans and made my own mounts. I think it came out very well.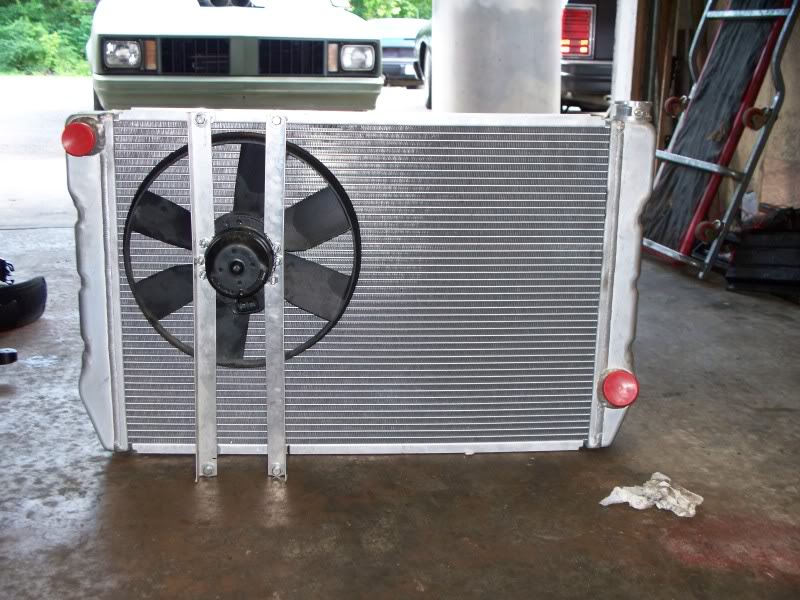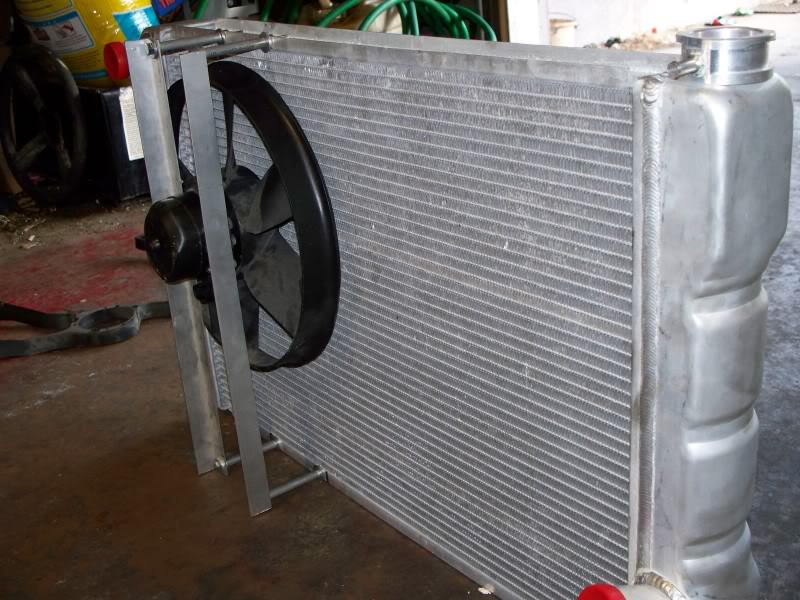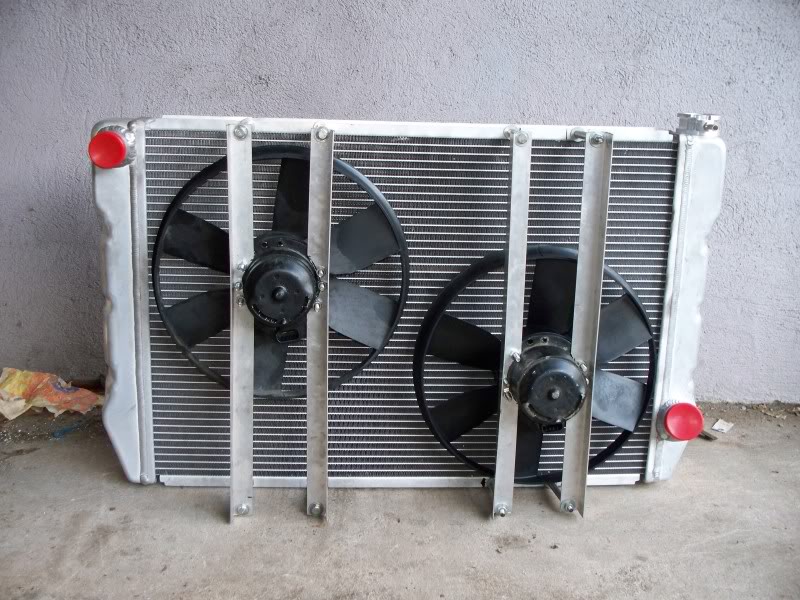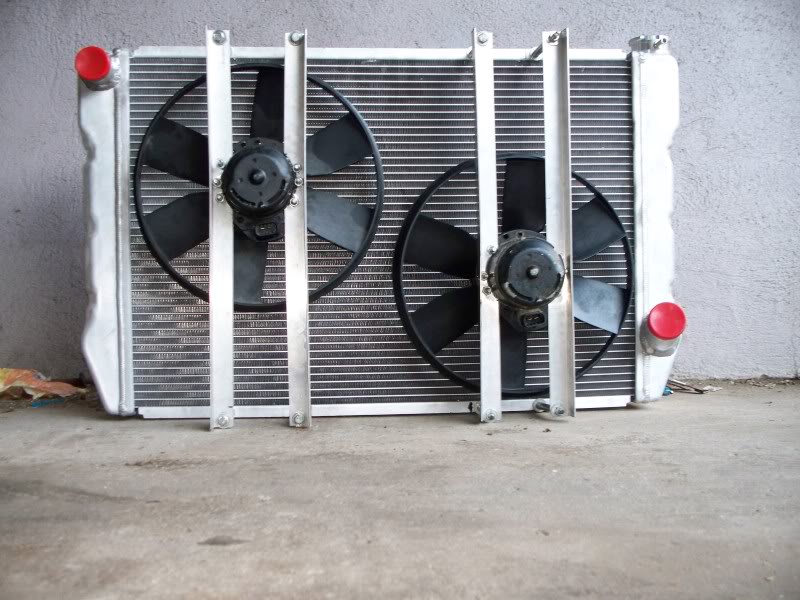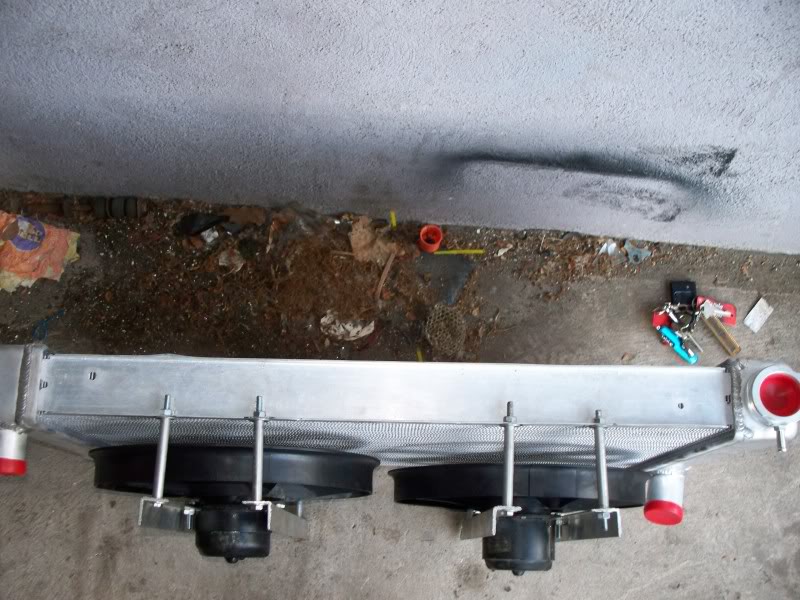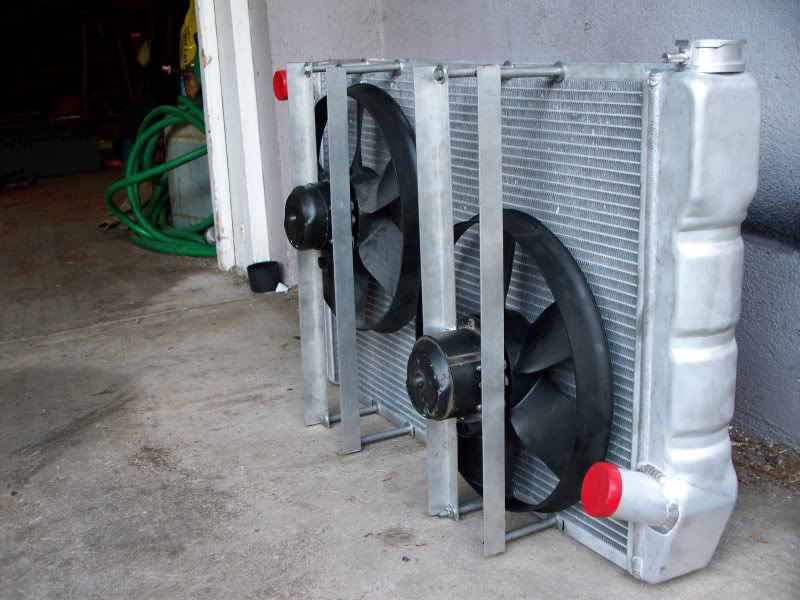 6-14-2009
Very short update. I got the trans cooler on. I will actually be running two The cylinder heatsink one plus this Perma Cool one with the fan on it. I think this one wll not only help keep the trans temp down. Not sure it was high to begin with but now that the trans is built up I don't want to take any chances. But it should also help with keeping the engine temps down due to the extra fan. I also got some work done to the fan shroud for on top of the radiator. But it's not quite finished.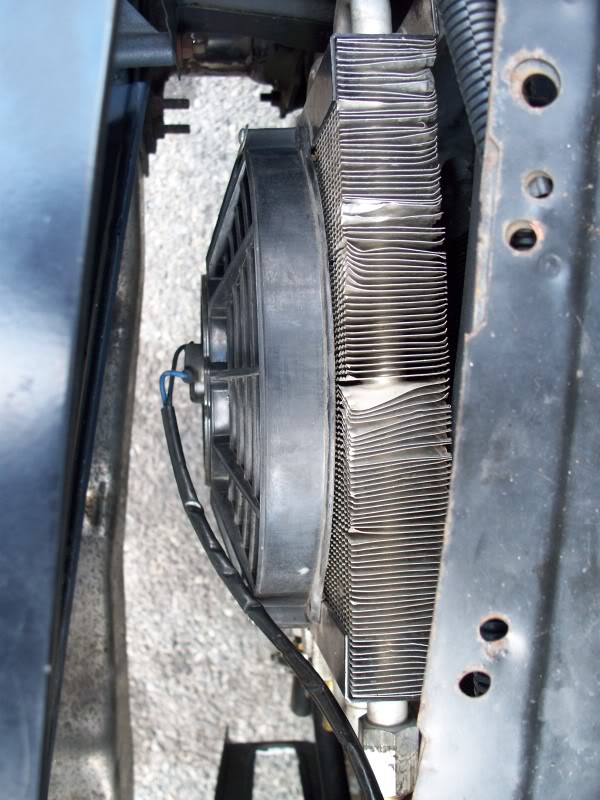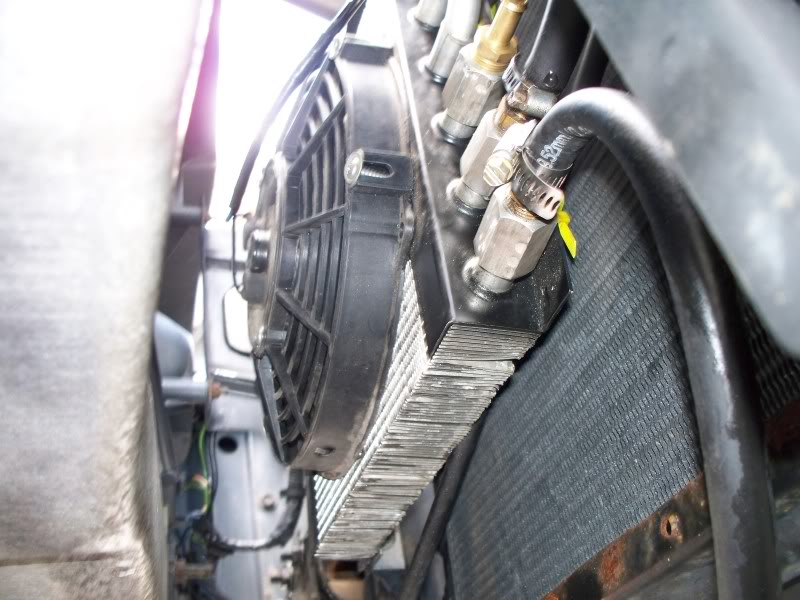 6-19-2009
Ok here is the top shroud I made for the new radiator. It needs to be polished but it looks pretty good I think. I may need to move the fans a bit closer to the rad but I'm not sure at this point.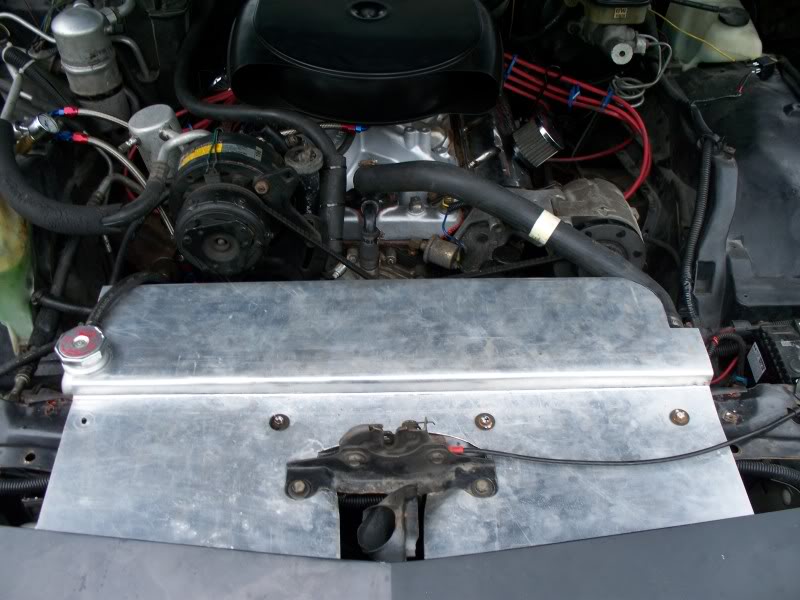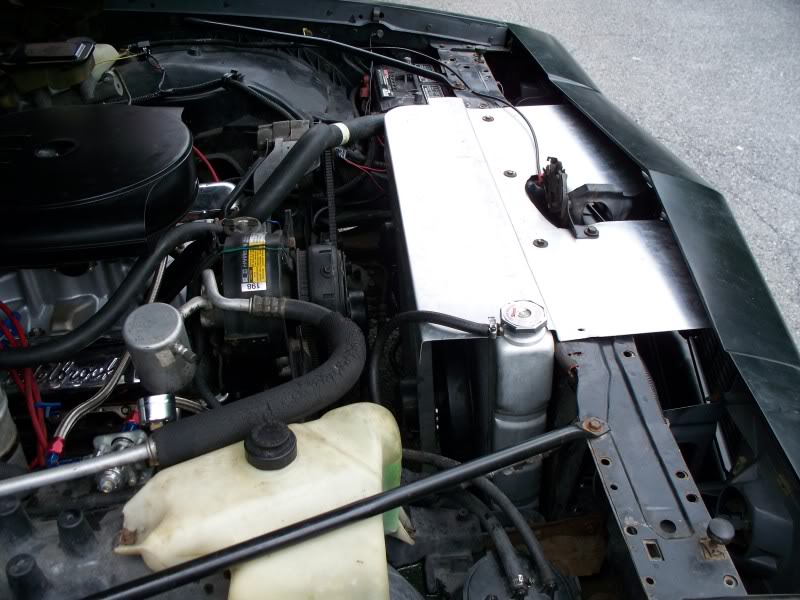 6-24-2009
FINALLY!!!!! I have all 4 seats in and mounted. Finally. And I have to say it makes the interior look great. I still need to put new carpet in and fix the headliner as well as other things but the seats and the way they are in the car really look cool. It has a theater style arrangement.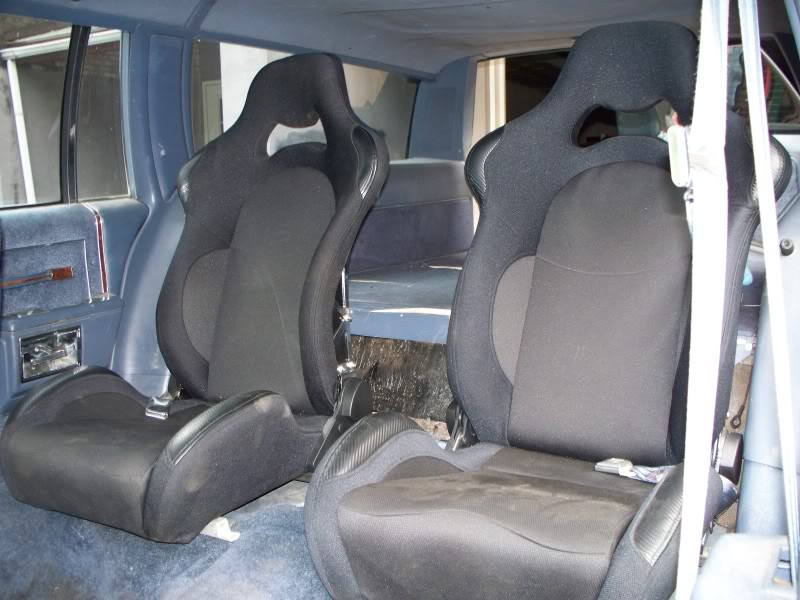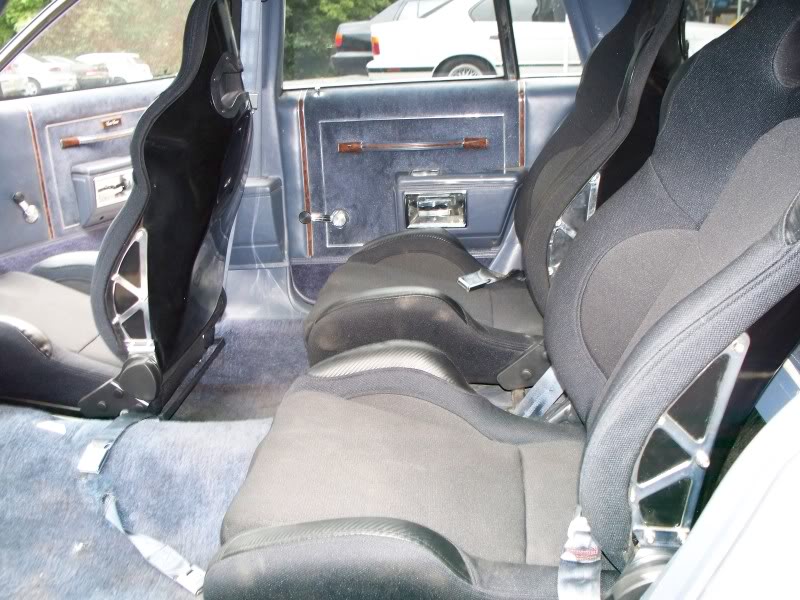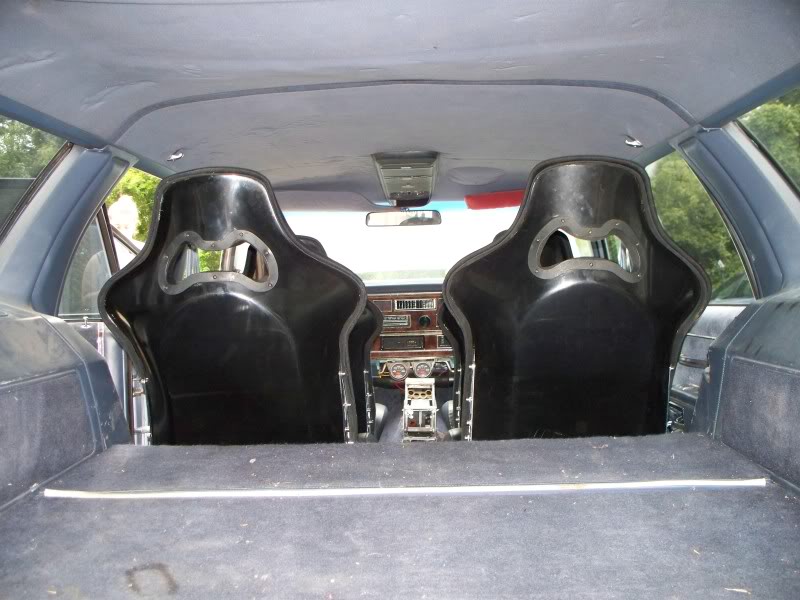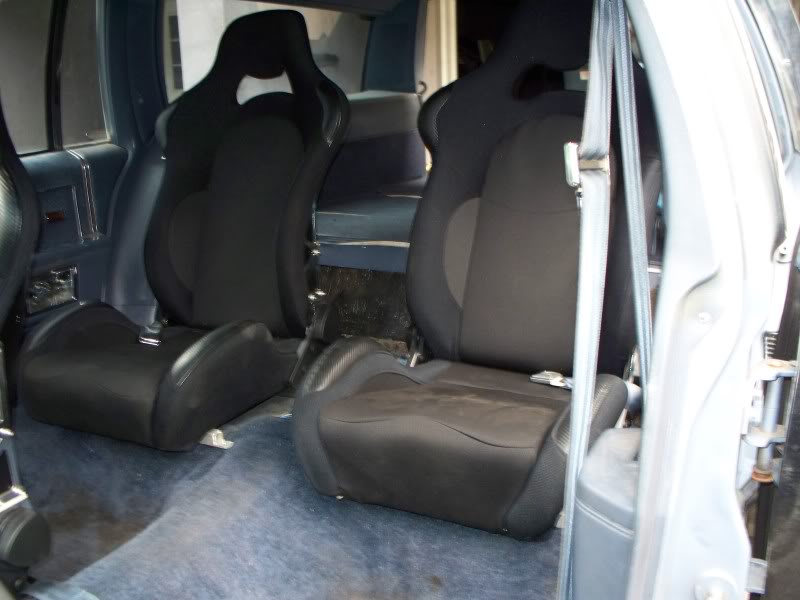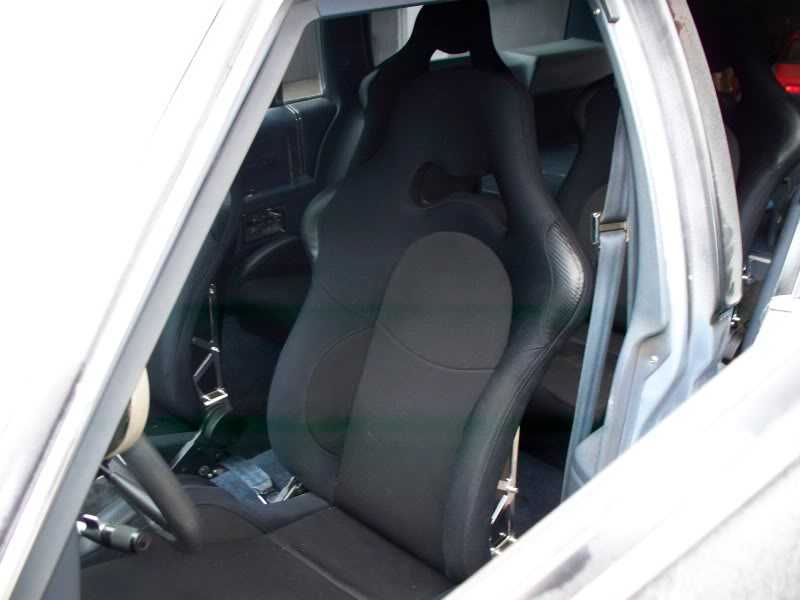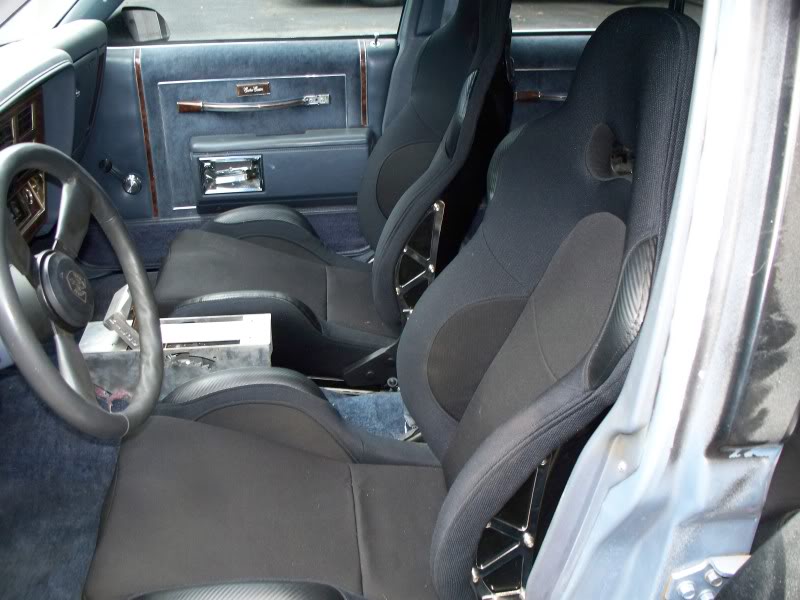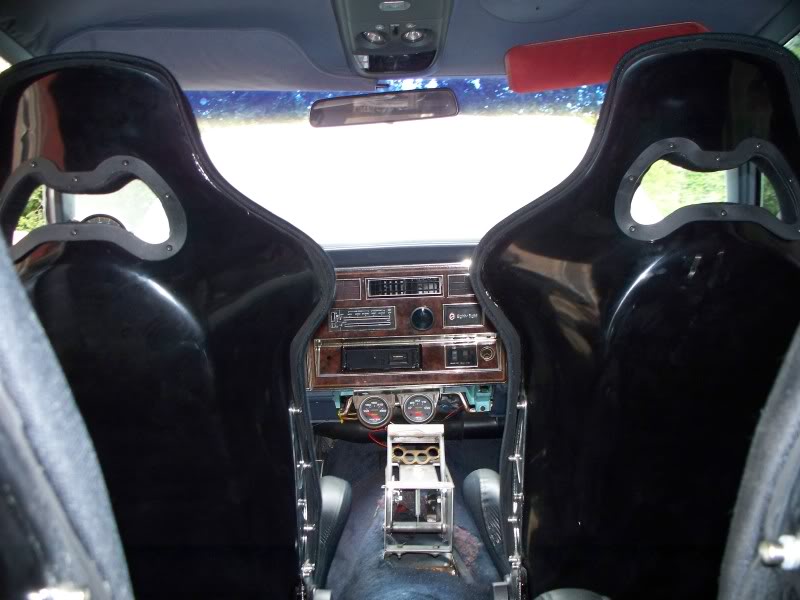 8-18-2009
Ok time for a tiny update as I haven't done much. But I did a very simple cheap mod that I thought I should pass on. I thought the rear sat a touch higher than I liked and someone from another forum let me in on a secret. Seems G-Body rear springs work in a B-Body and lower it quite nicely. It gave me anoth inch drop over my Eibachs. Not only that but it slightly softened up the ride on the front suspension. I thought they would be too weak to hold the rear up and not bounce. But it worked quite nicely. Still have to see how it corners but the ride seems great.
9-6-2009
Well I finally put my Rocket Racing valve covers on. They are way heavy though which I hate but they do look good. They will probably go on the wife's car when we get an Olds engine for her car. Do mind the fact that they are all spotted, and the plug wires are all over the place. I took the pics after my carb fire.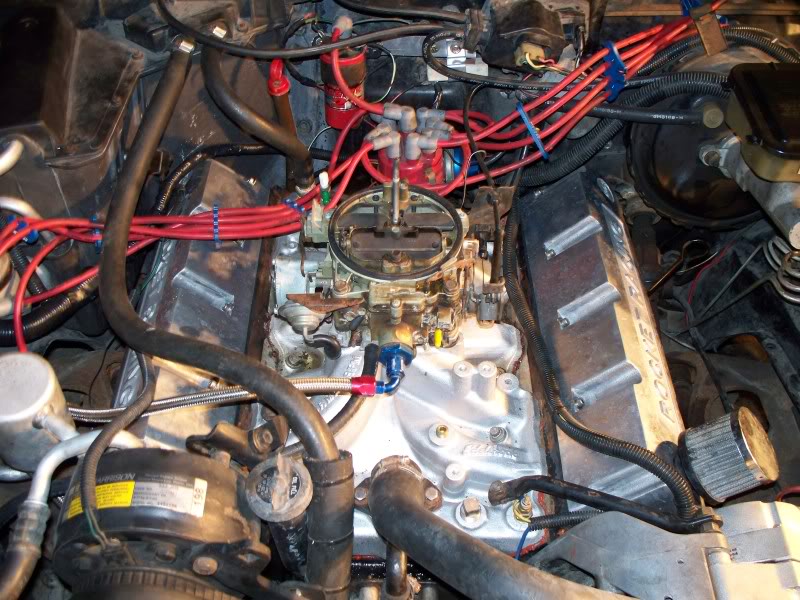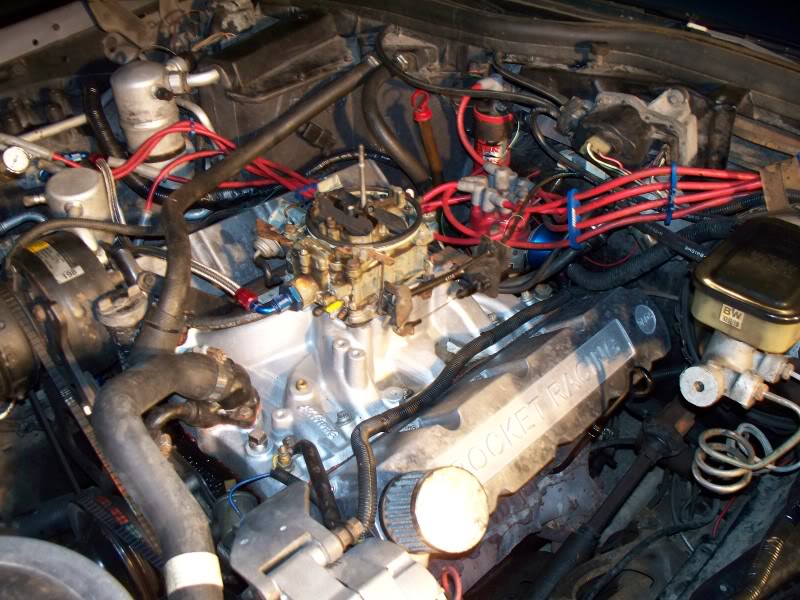 9-7-2009
The carb needs to be rebuilt. But the intake that was on it had to come off to be sent out to have it set-up for EFI, so that part is ok. it's the making sure the water is out of everywhere that is the real pain. That and the temp intake that was going to go on has super small ports for vacuum so they need to be drilled and tapped so that sucks. But hopefully I will be on my way to EFI so things should get better.
9-18-2009
Well I am bored and my carb won't be done till monday so I figured why not get something done. SO I worked on getting some of the paint off of my aluminum hood. Take a look and judge for yourselves.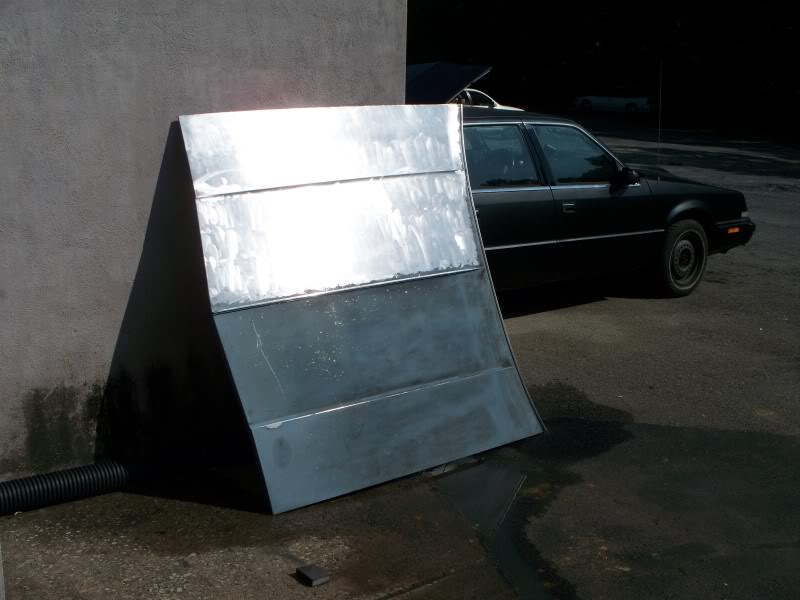 To bad I am light sensitive so I couldn't drive with it stripped. It would probably blind anyone. Now this hood is 5 foot by 5 1/2 foot but is seriously lightweight. As are the hinges. These I will leave polished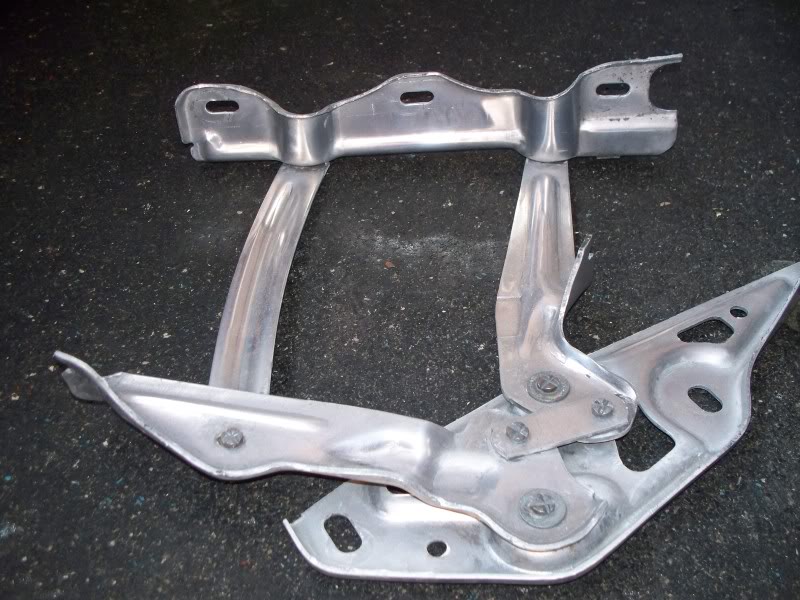 When My car is running again I think I'll throw the hood on and see what she weighs.
12-18-2009
Well Christmas came early this year for me. My new swaybars arrived today. They are made by Hellwig and the front bar is from the catalog but the rear bar is a custom bend based of the old Herb Adams design but is special for the B-Body wagons. The front bar is 1 5/16th and the rear bar is 1 1/2 inches. Here are some comparison pics of the bars that were on it and the new ones. These are the rears.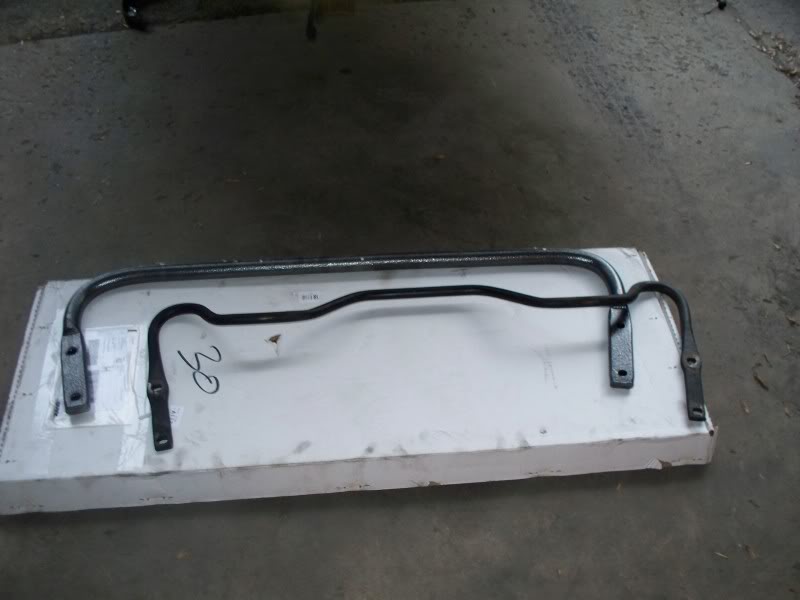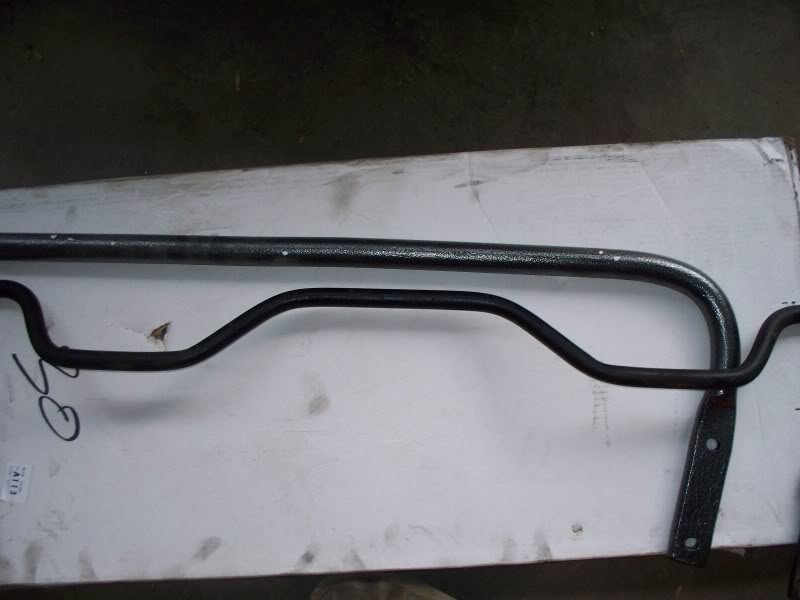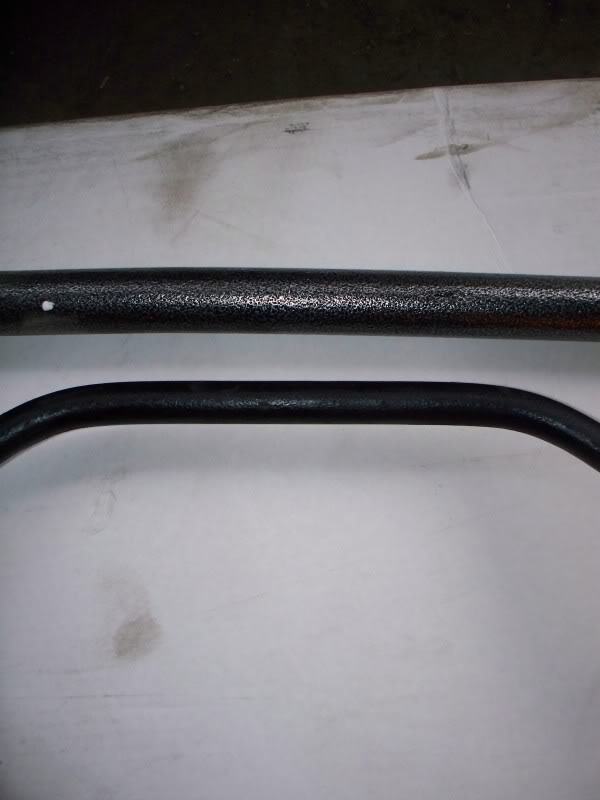 And the fronts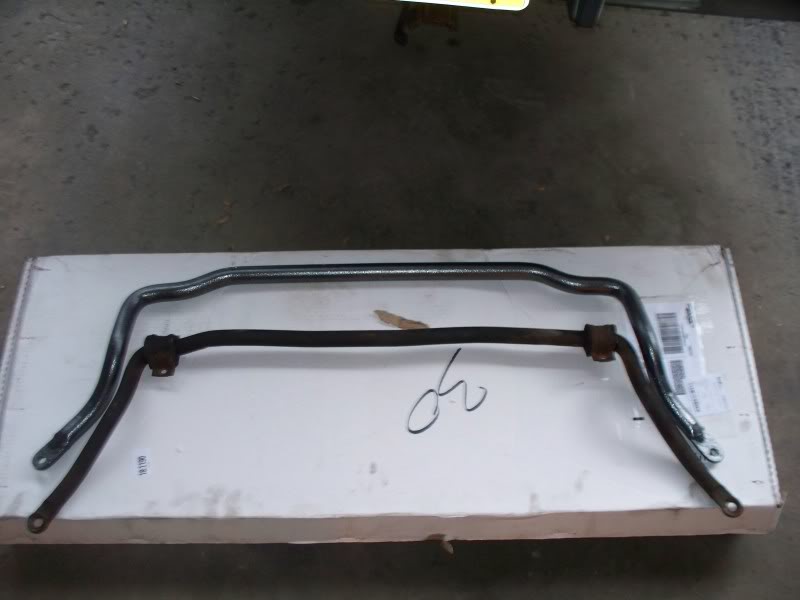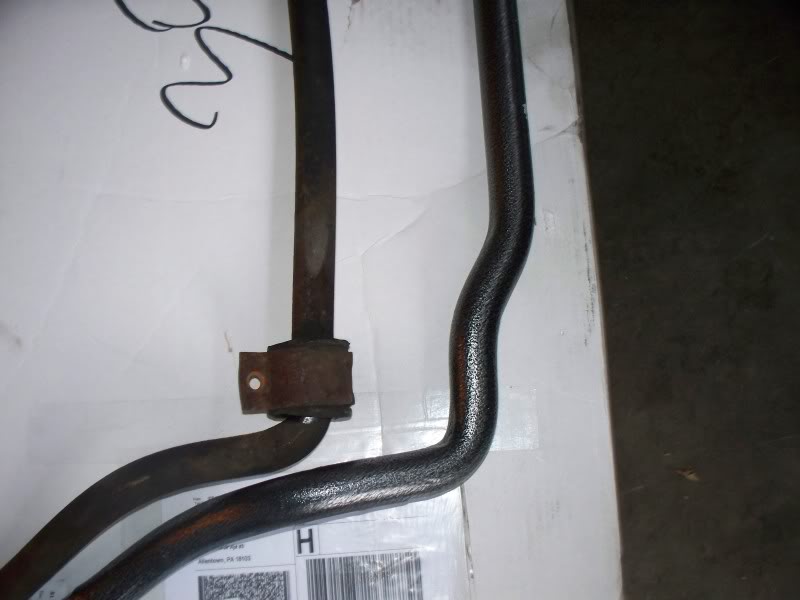 And I had to install them right away. Here are some shots of the rear while it was still up in the air.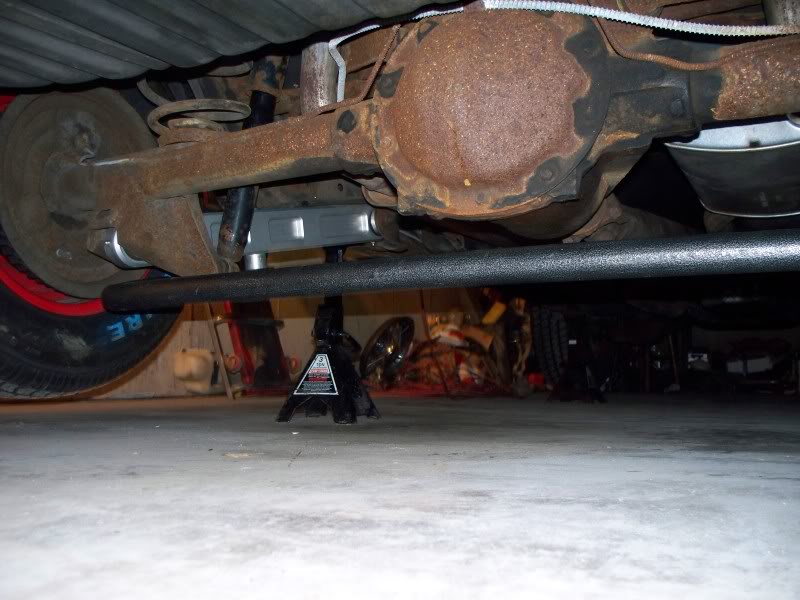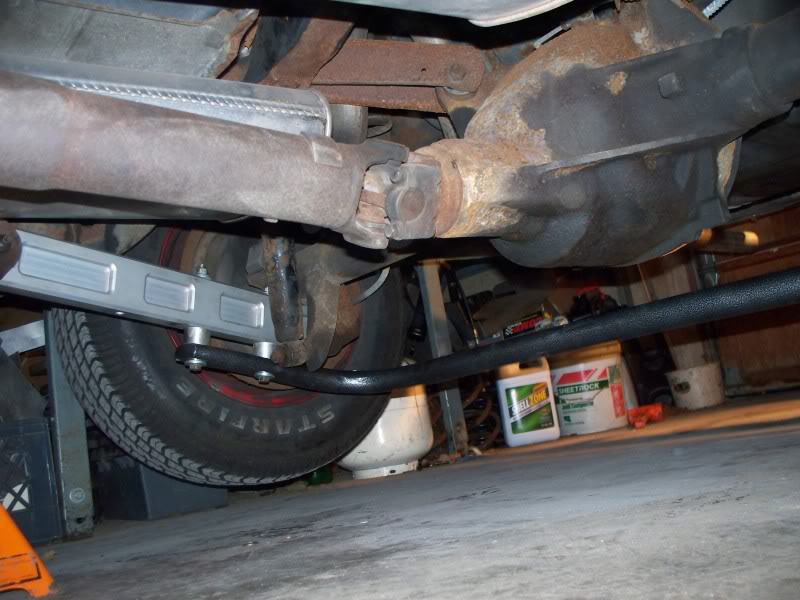 And the front.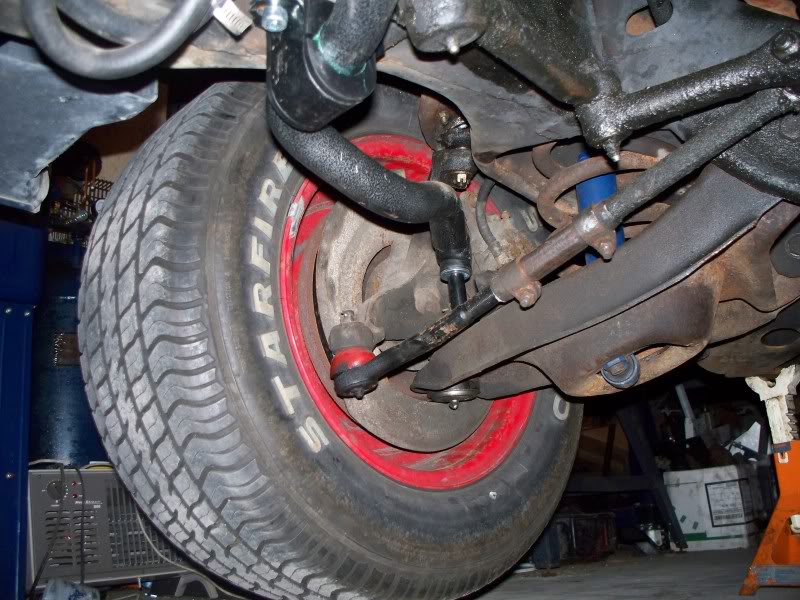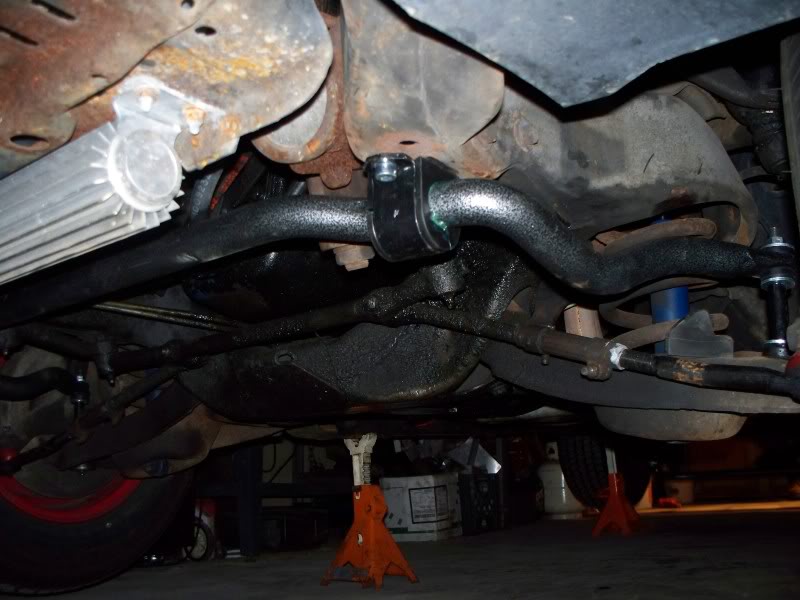 The rear on the ground.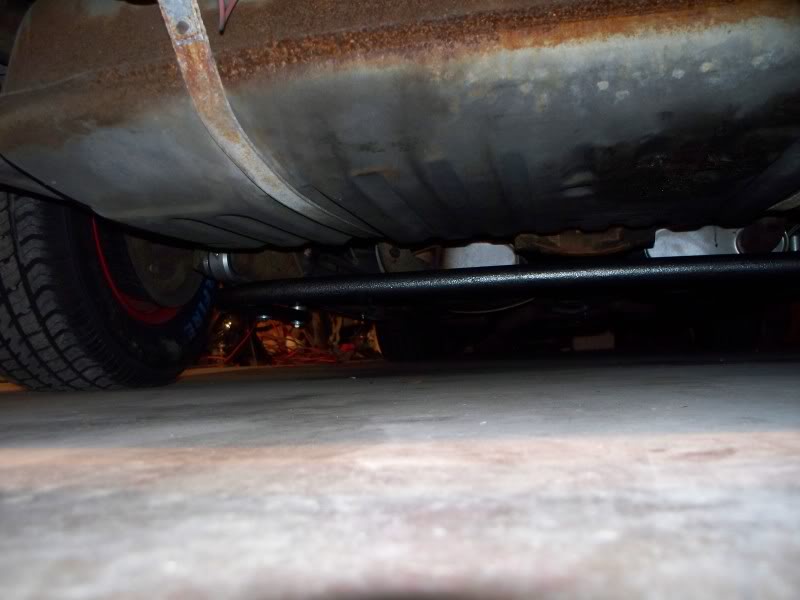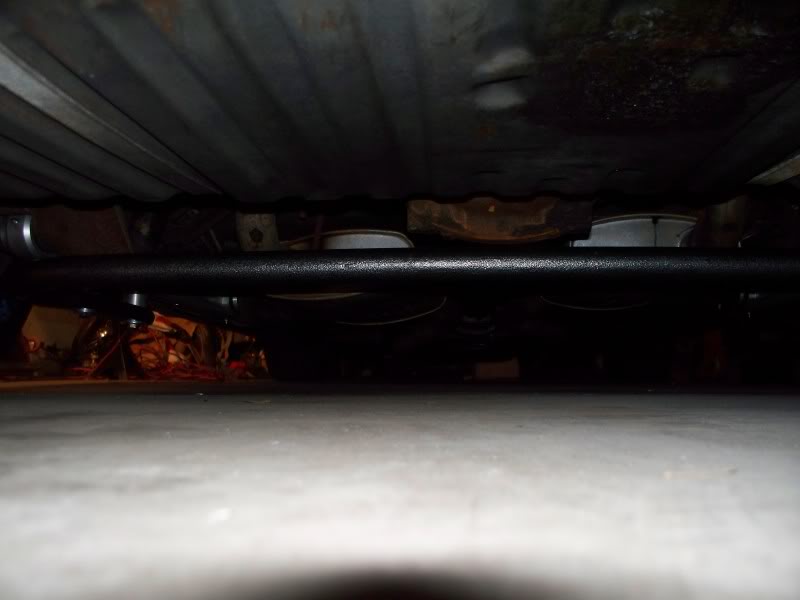 12-22-2009
Looky what I just got in the mail. It's a new MegaSquirt II v3.57 with wiring pigtail. I am so excited. I have been looking at their site and some of the info and videos and it seems like this will be a fairly easy conversion. Now I just need to clean up my intake to get it sent off to have the bungs welded on and drilled out for injectors and the fuel rails put on.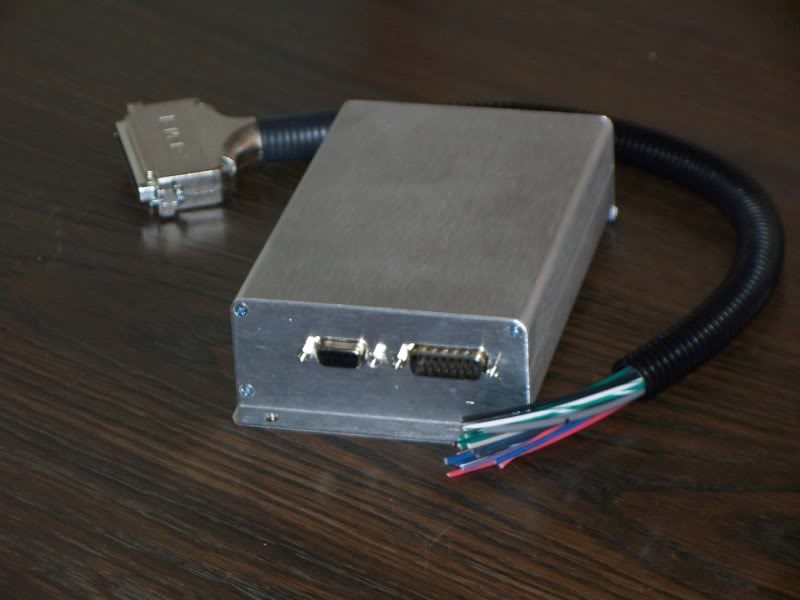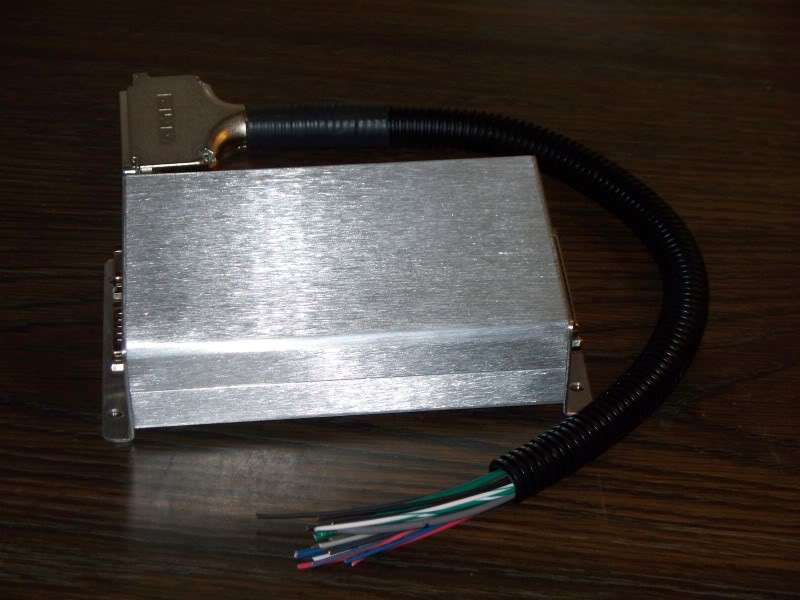 2-23-2010
Well I bought the wife a new shifter like mine and one of the new features that are availible for these shifters is a lighted top plate. Well I decided I needed on to so I had him make me one up too. I have yet to install it but here it is.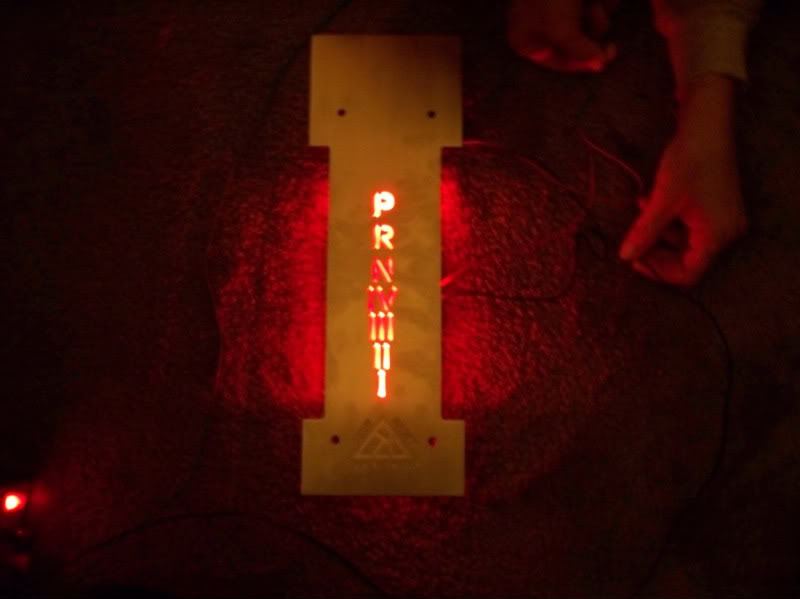 Pretty cool huh?
3-15-2010
Sorry about not responding to your PM I just forgot which is a huge problem of mine. I don't have any install pics of it. I simply drilled 2 holes one front and one rear to hold it on and used screws to hold it on. But like the dolt I am I used to long a screw in the back one and dimpled my roof. I did hook the 2 lights up to the dome light but there are more than a few wires to make them light up. Just have to go through thme and figure it out. I did try getting all the other stuff working but never hooked it up. The compass seems to just need power. The thermostat needs a sensor which I don't have. I didn't feel like running a power wire up to the compass just to have it work. I will be taking it down as I have to add some plastic to the side as it doesn't quite contour to the headliner. Maybe then I will make everything work better.
6-10-2010
Well time for an update. I had a water pump go and used this as an excuse to do some upgrades. I added some aftermarket fans, an stainless resivior and a better fan controller. Now I hoped to save some weight with these upgrades but with the water pump going it forced my hand. See I was running an Aluminum water pump that came with the engine I bought off Ebay. But when it came time to change it I had a hard time spending a $100 more just to go aluminum. Now the cast iron pump is 5 lbs heavier than the aluminum one. But the fans I was using were stock GM ones without the shrounds with my own custom mounts. Well the new fatermarket fans would have saved me 5lbs but since that got added back on with the cast pump It's a wash so to speak. But it does look cleaner and I think it will cool better.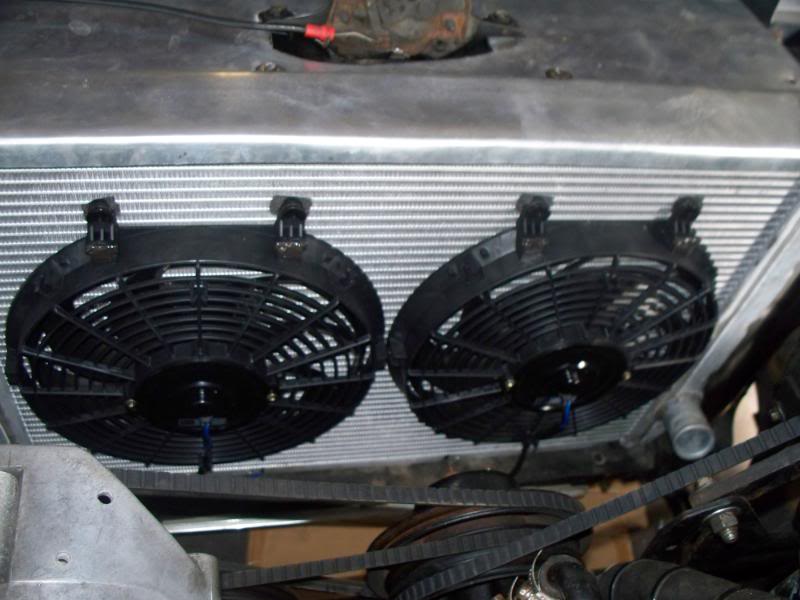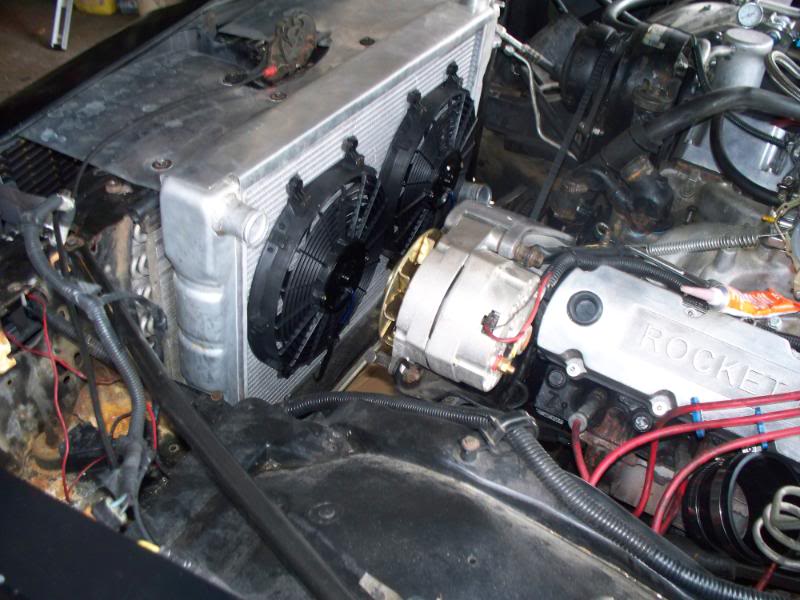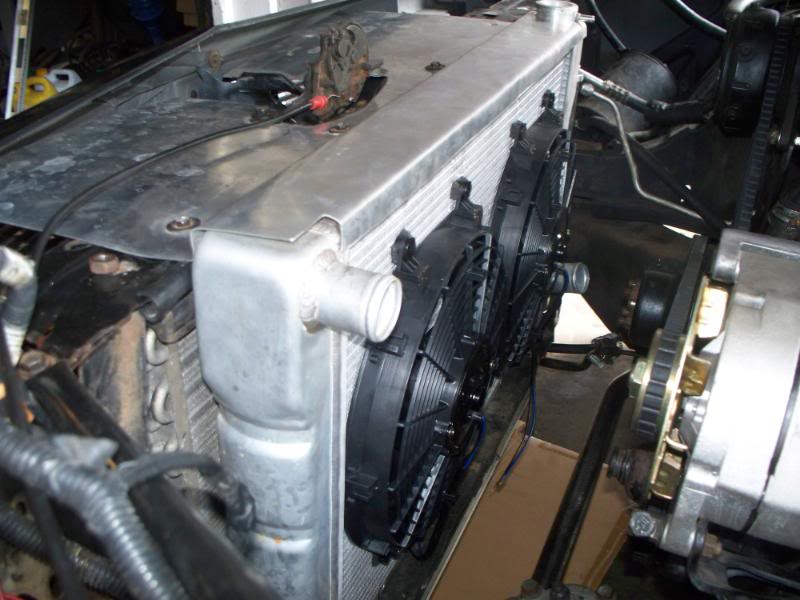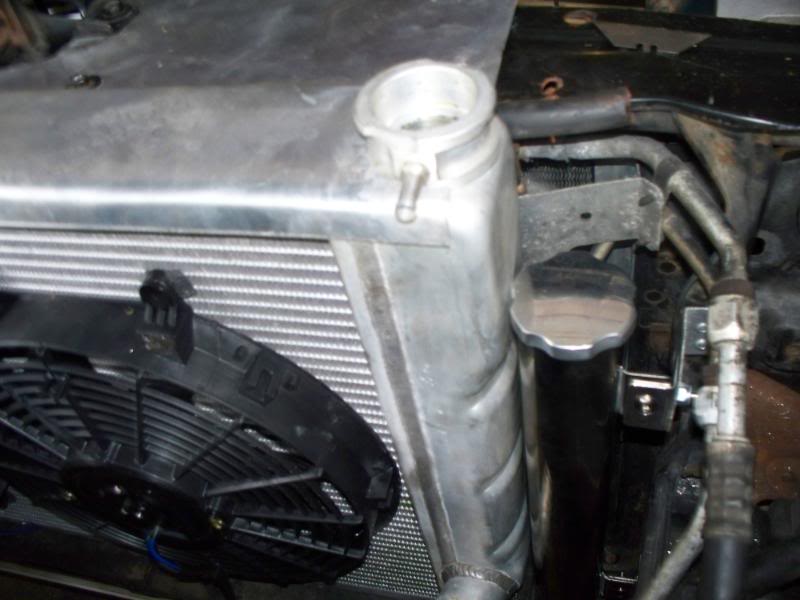 6-23-2010
Well I think I got my cooling issue fixed. And while I was at it I finally got the new magnesium valvecovers on. I was super worried drilling into these things. I have heard horror stories when working with magnesium. Then to top it off I thing some got in my eye and I am still freaked from getting metal in my eye the last time. That and the tops of the valvecover are kinda thick so getting grommets to fit is a pain. I hope the PCV one stays in. But I finally found my oil leak. There is a puddle under the distributor behind the intake. The rear of the intake must be leaking. Anyway here are the pics.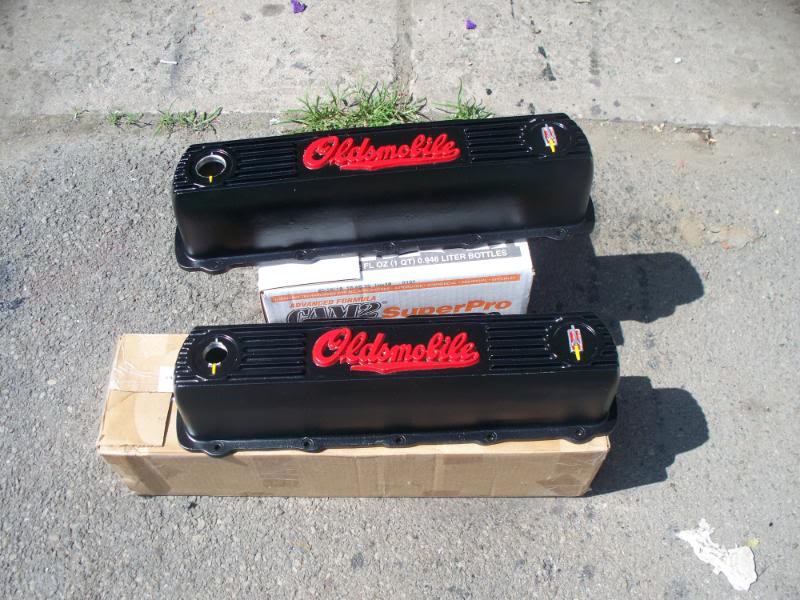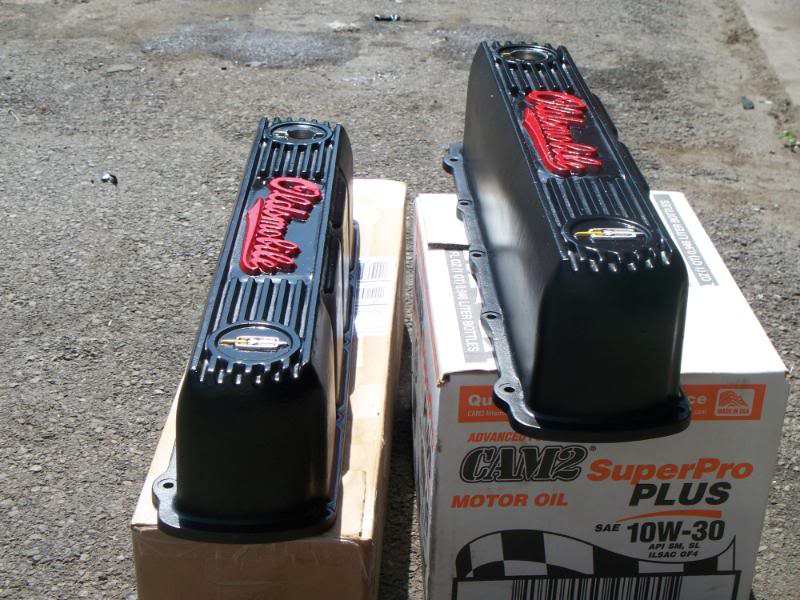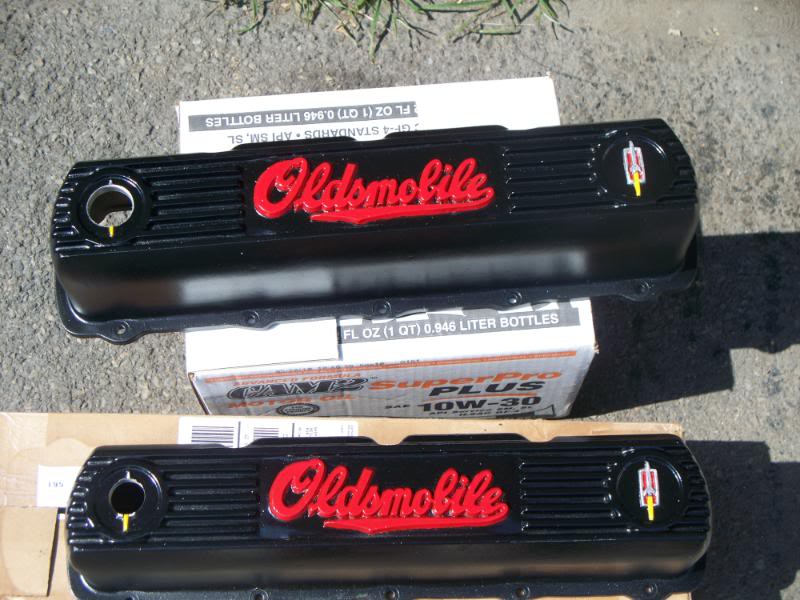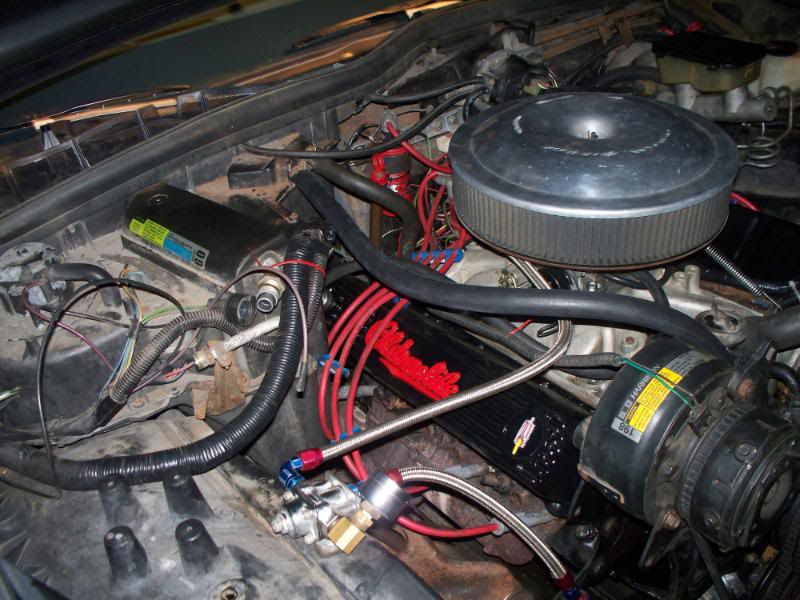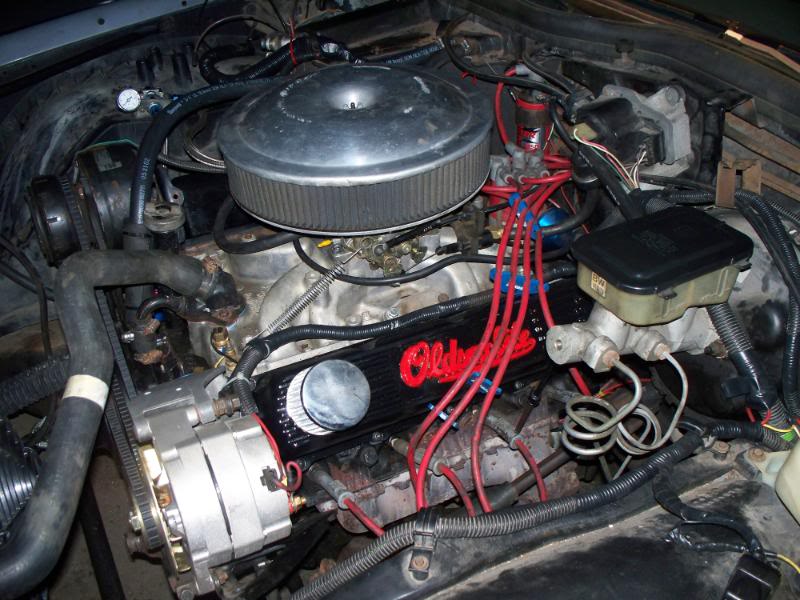 2-8-2011
Minor update. Today I have started taking things apart as I want to swap intakes and have to replace the water pump. So while I have the front of the engine apart I am toying with mounting the altenator on the passenger side. It might really come out well. I also looked at the underside of the rear of the car to see about making a diffuser and came up with some really nice ideas. I also weighed the aluminum hood, hinges and springs. The hood weighs 26lbs and the hinges and springs another 4lbs for a total of 30 lbs.
3-8-2011
Ok minor update. Took some more pics today. We will start off with some that posted in the diffuser thread. Here is the untouched bumper.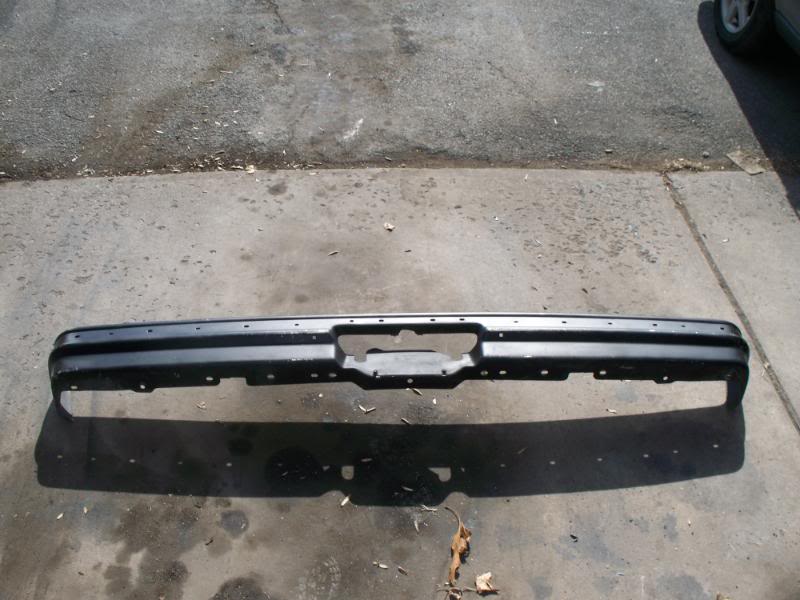 And one side done to show the difference between the 2 sides.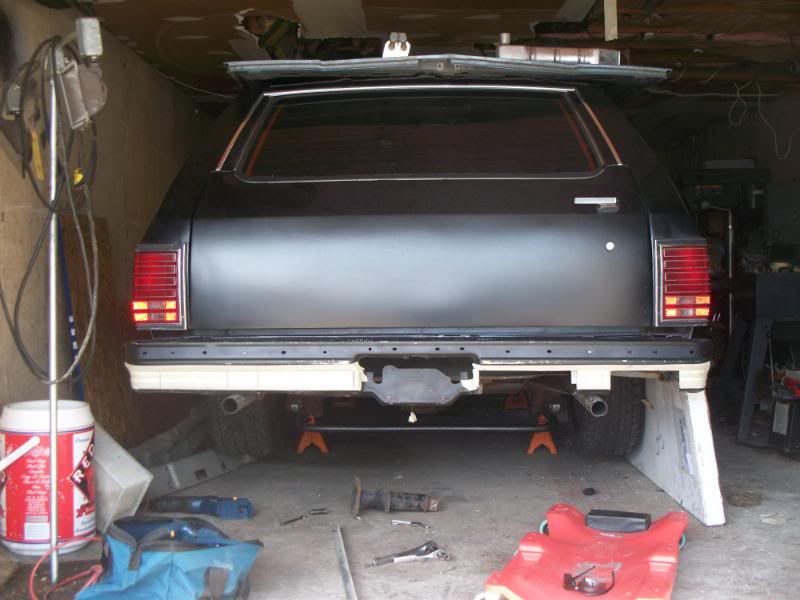 And both sides done.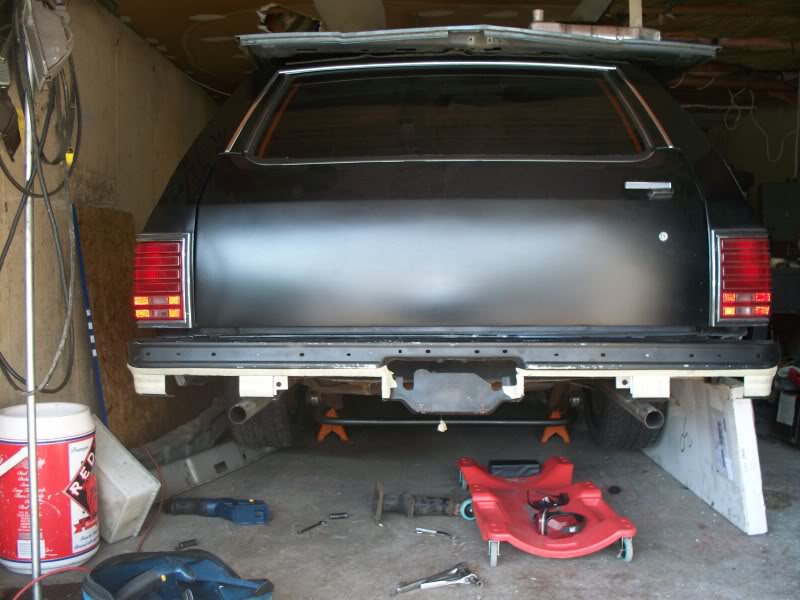 Over the weekend with the help of my wife and LV2DAY who stopped over(Thanx for the help btw) we got it mounted. It's not quite as close to the body as I would like but I think it looks good. Yea I know it needs paint. It's all scracted up from taking it on and off and laying on the floor.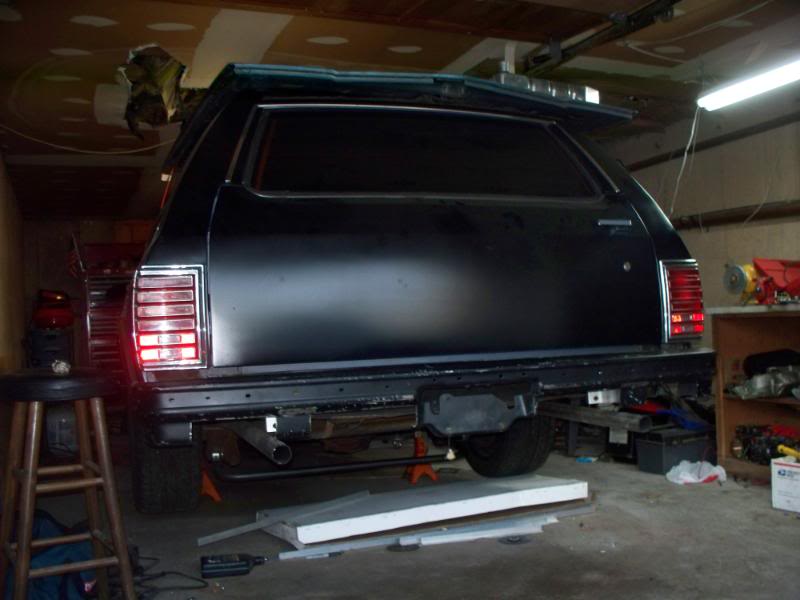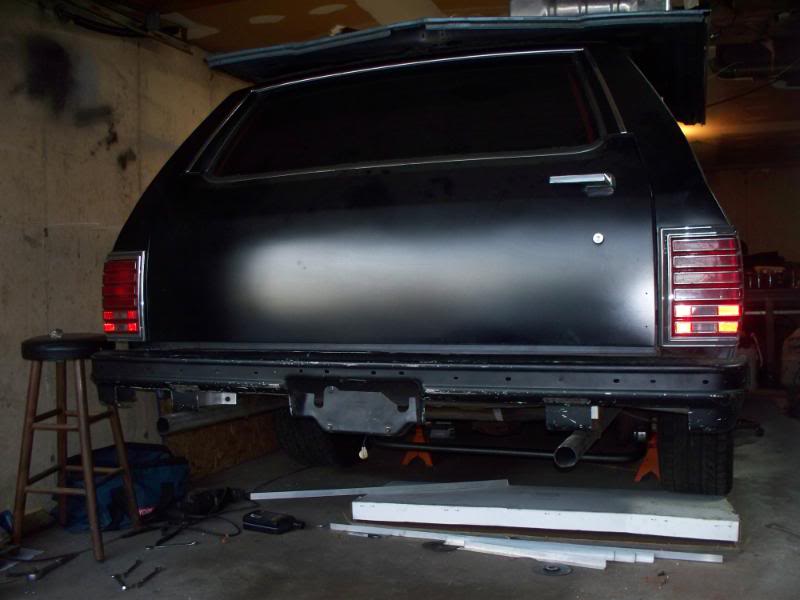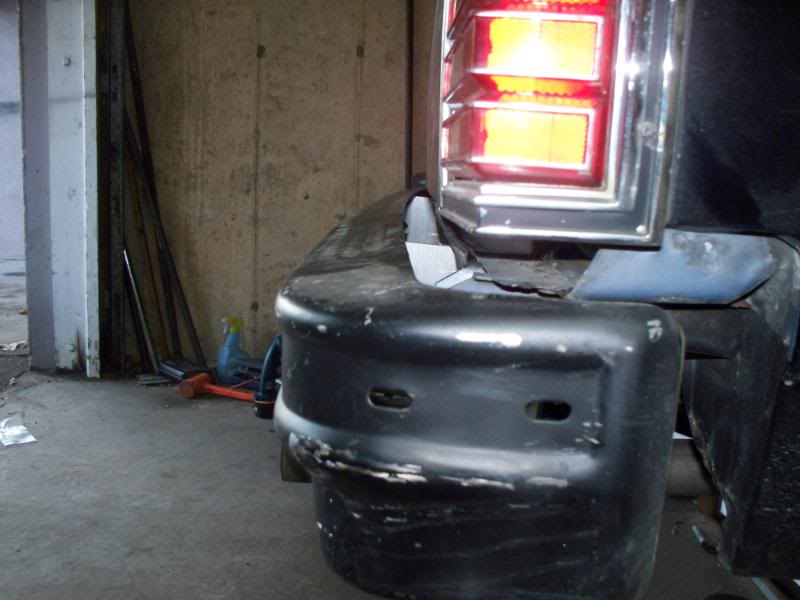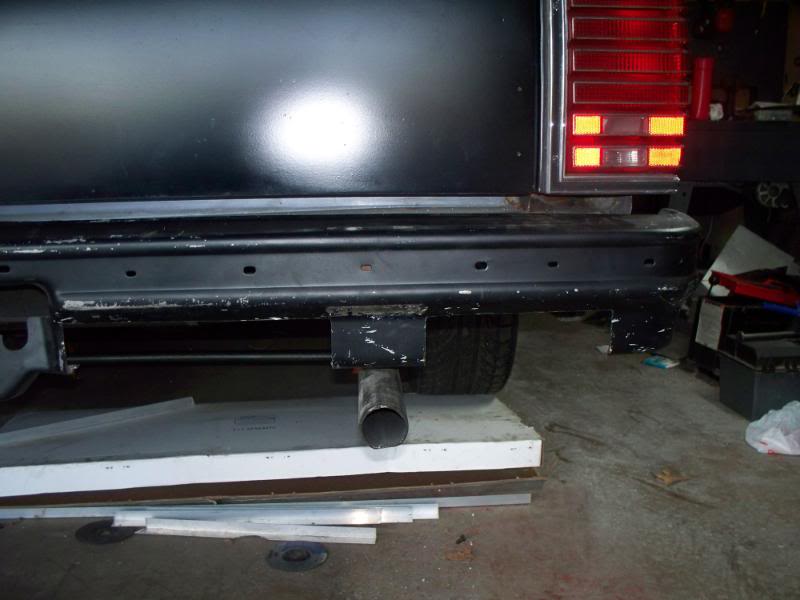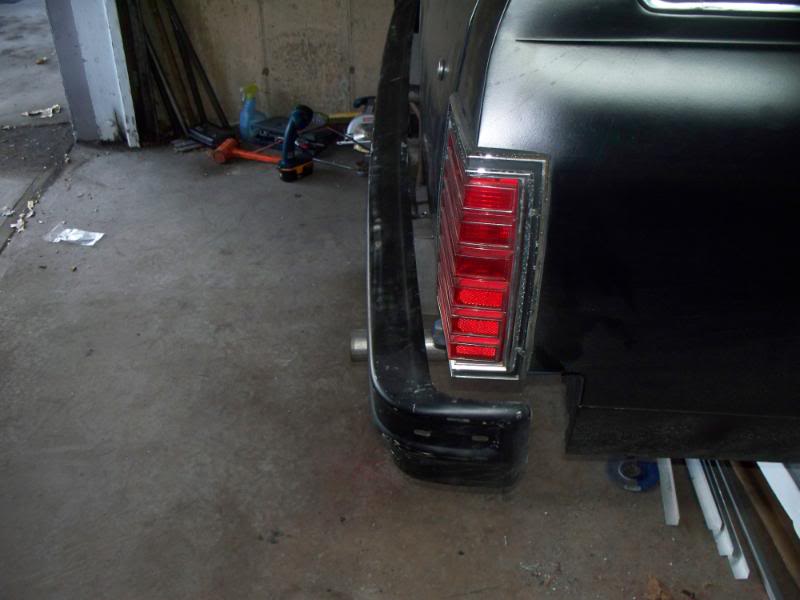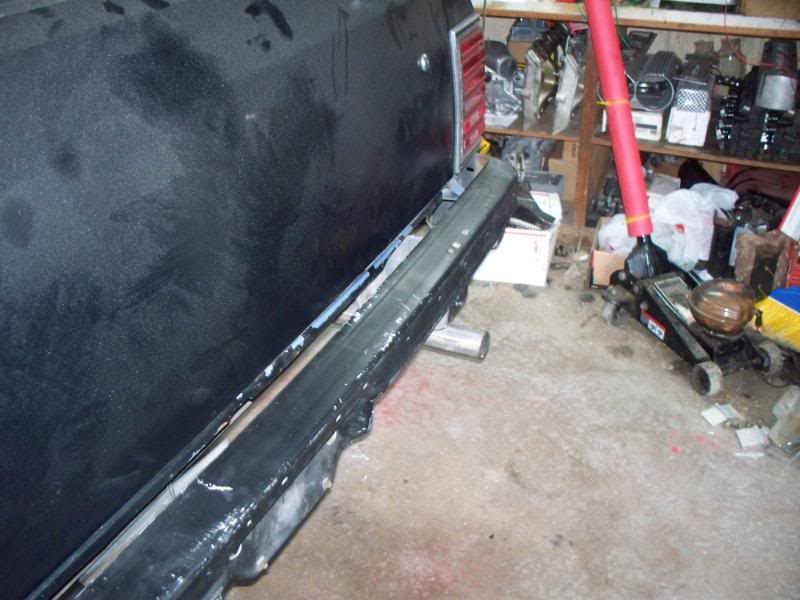 Here are some engine pics. The Holley Street Dominator is out and the Edelbrack Perfromer RPM is in. And Here is the air hat I am going to use. Believe it's a Spectre.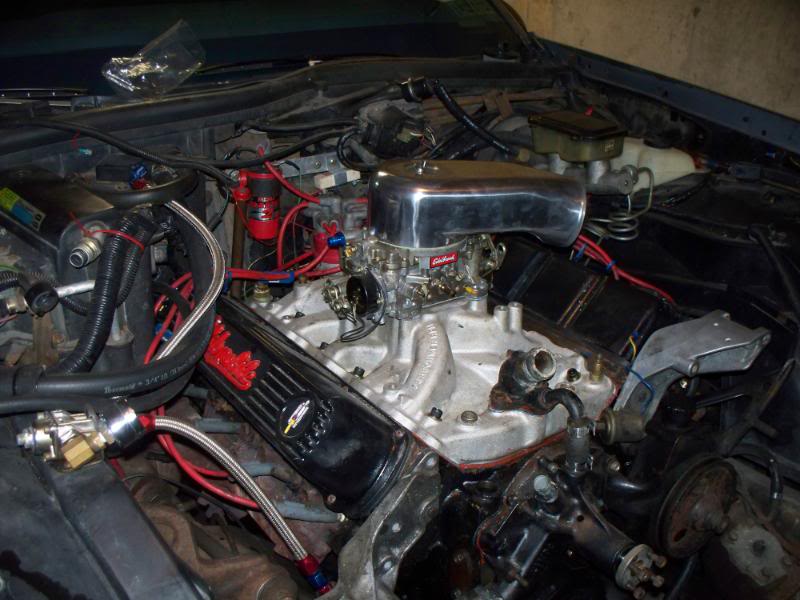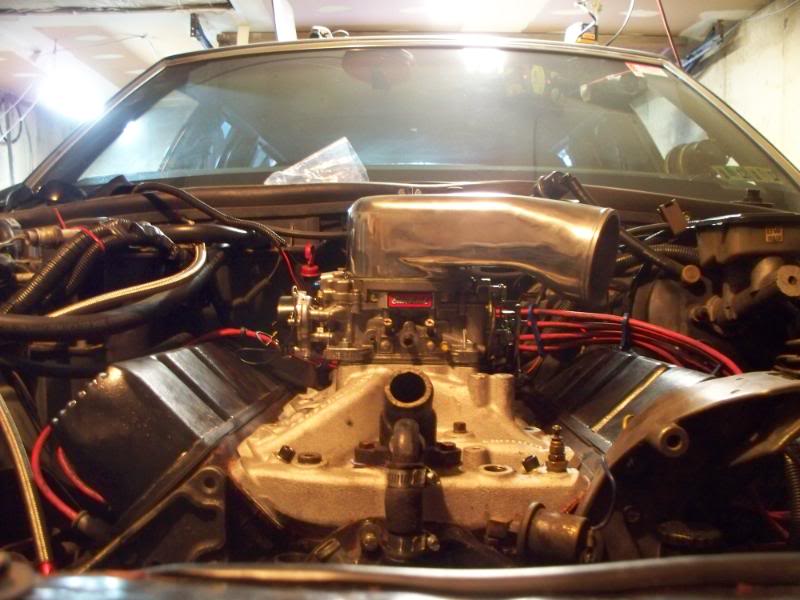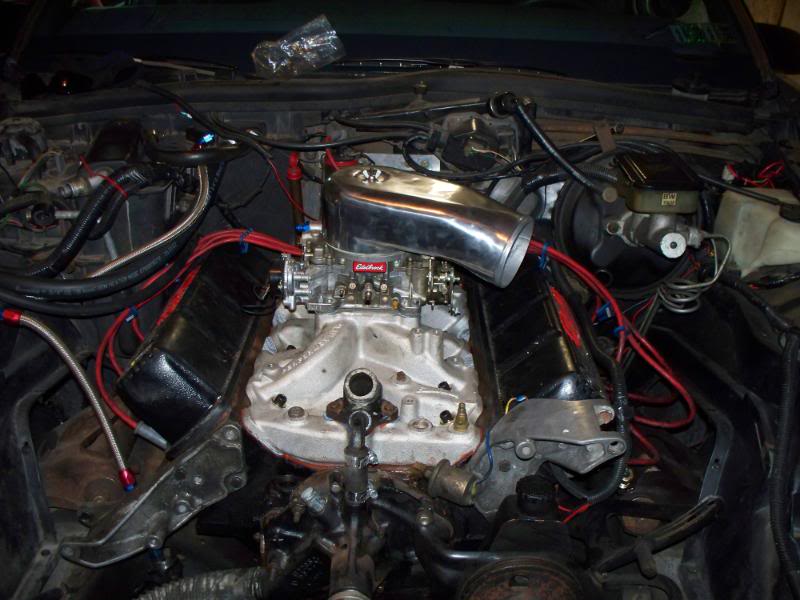 3-9-2011
OK got some new parts today. It was a sugggested mod by Yelcamino so thanx to him for the idea and info. Should be a much better system than just a PCV and breather. I had a could instnces of oil in the breather so this should fix that. It's a Moroso catch can/breather, AN fittings, hose, and an AN bulkhead fitting to mount to the valve cover. It all looks very cool and hopefully it helps.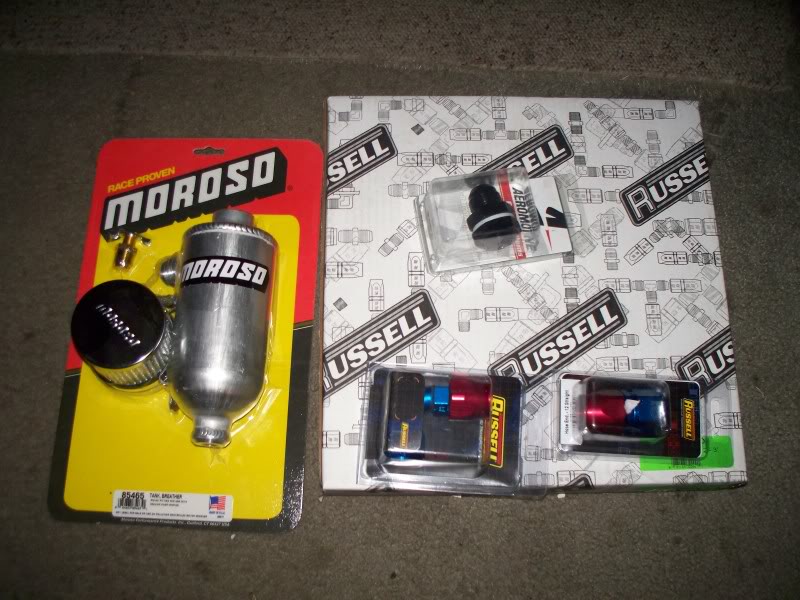 3-14-2011
Ok got a few thigs done today. Got my second diffuser tunnel done but made the dumb mistake of not trimming it down like the first one. So tomorrow I have to cut it apart. I also got the Moroso catch can mounted. Might add some small braces under the mount as it flexs some. Also got the bulkhead fitting mounted to the valve cover. This should look pretty nice.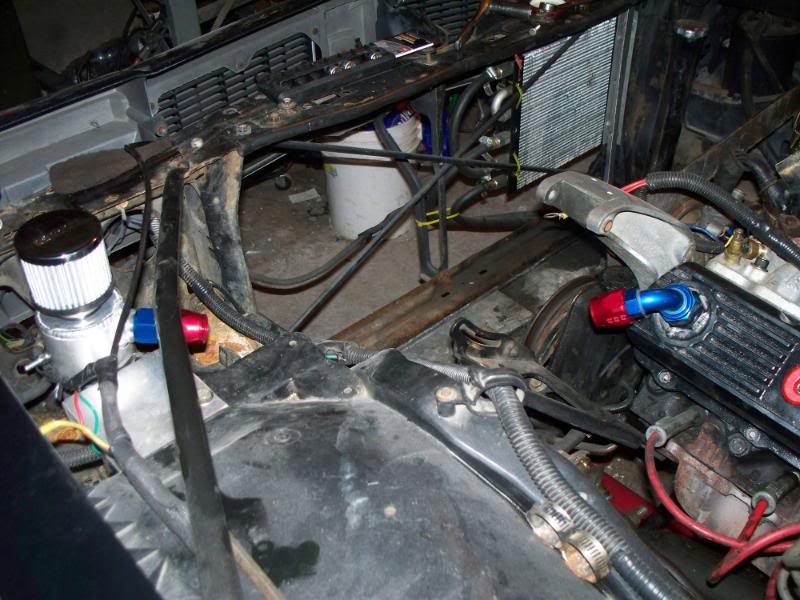 I also worked on my passenger side altenator mount. It is very sturdy. I can get it lined up with the center groove of the 3 groove pulleys. I need to get the power steering pump with the 2 groove pullies out tomorrow. But things are looking good.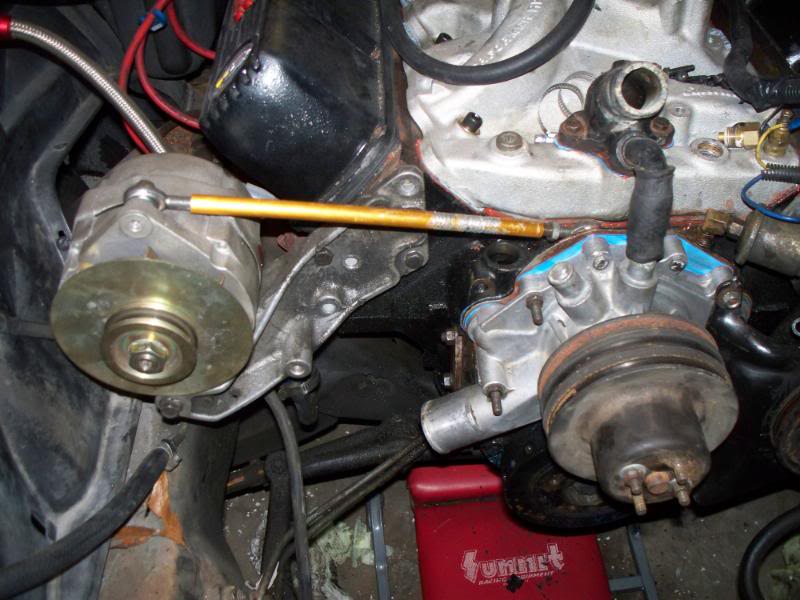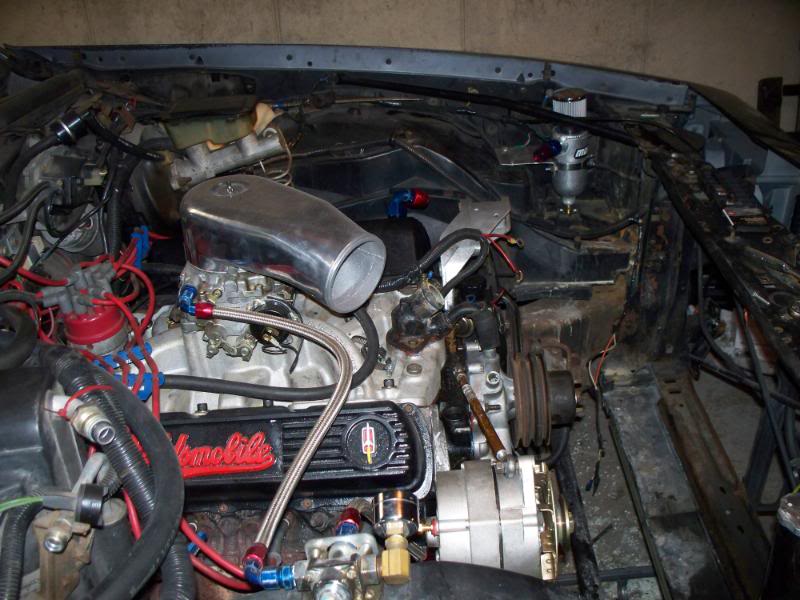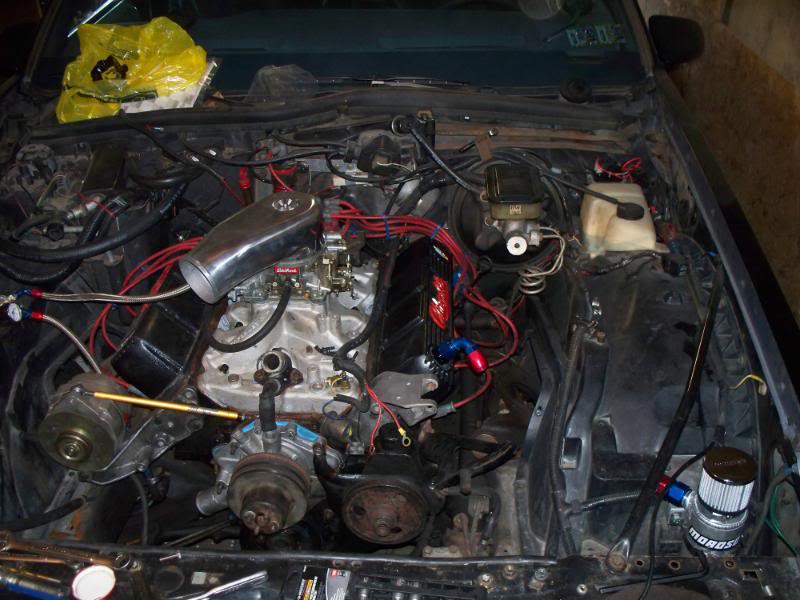 3-15-2011
Ok time for an update. My relocated altenator is almost done. I had to switch crank and water pump pullies as well as switching to a power steering box with 2 droove pulley. Only thing taht is really a problem is my oil fill tube. the aluminum rod I am using as a brace is in the way.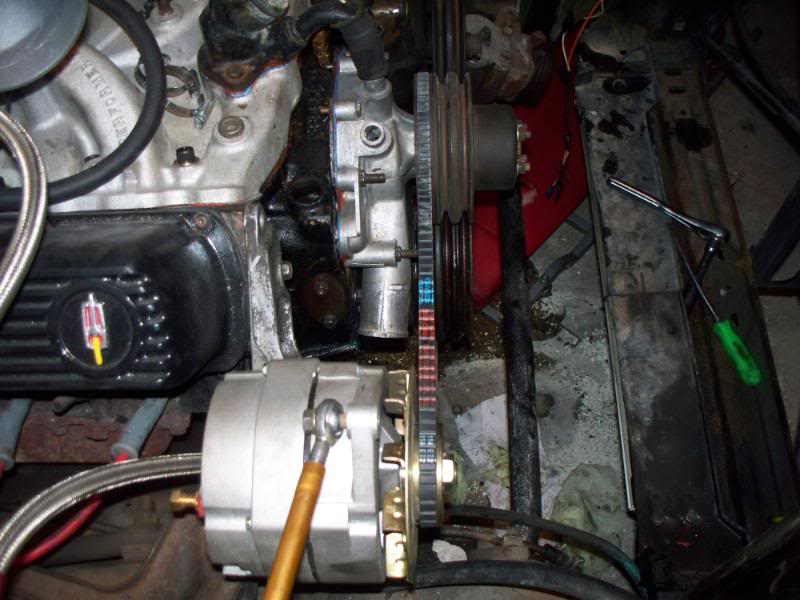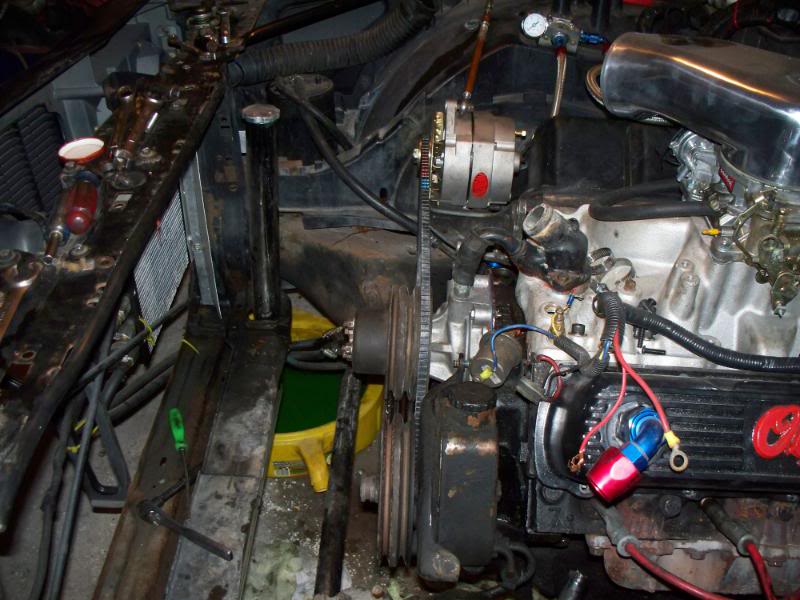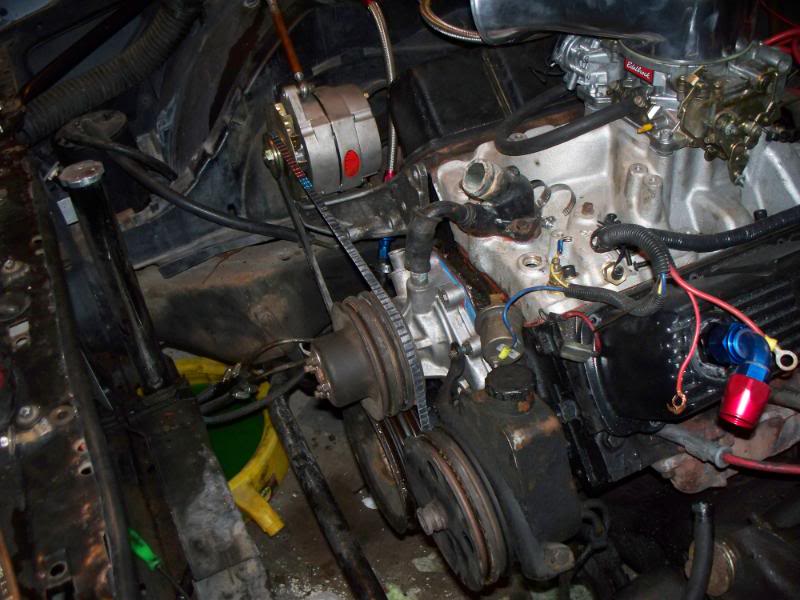 I am also getting alot done on the diffuser. Both tunnels are pretty much done. they will simply need a final trimming and clean up. But for now they can stay like they are until I can mount them so I can make a center section to join them. At that point it will be one large piece that can come in and out as needed. I am really liking this look.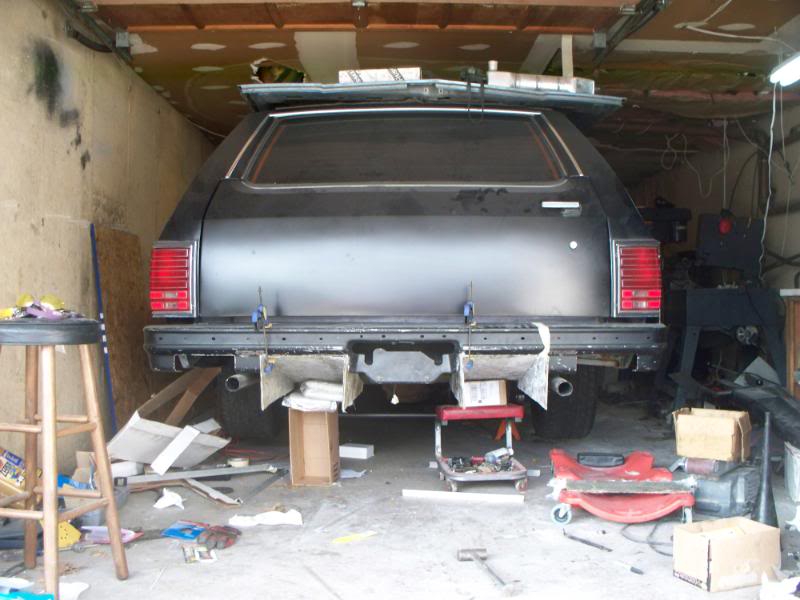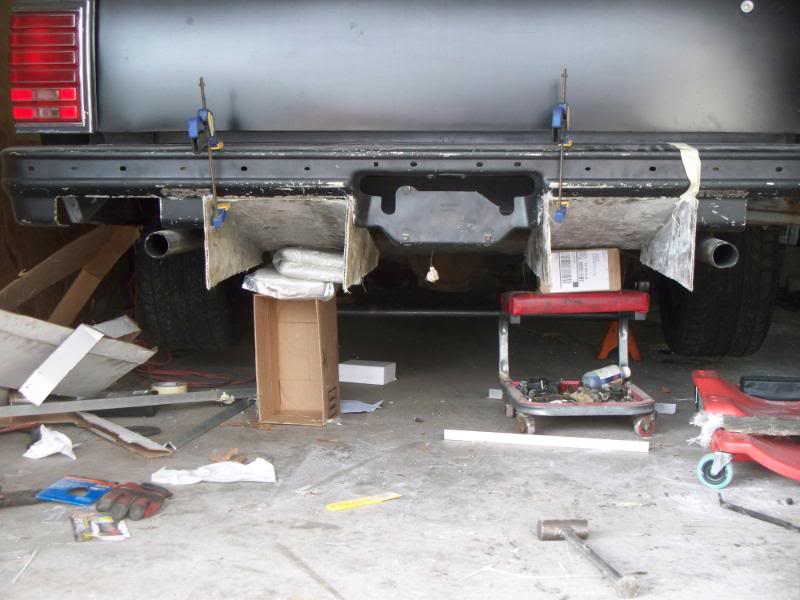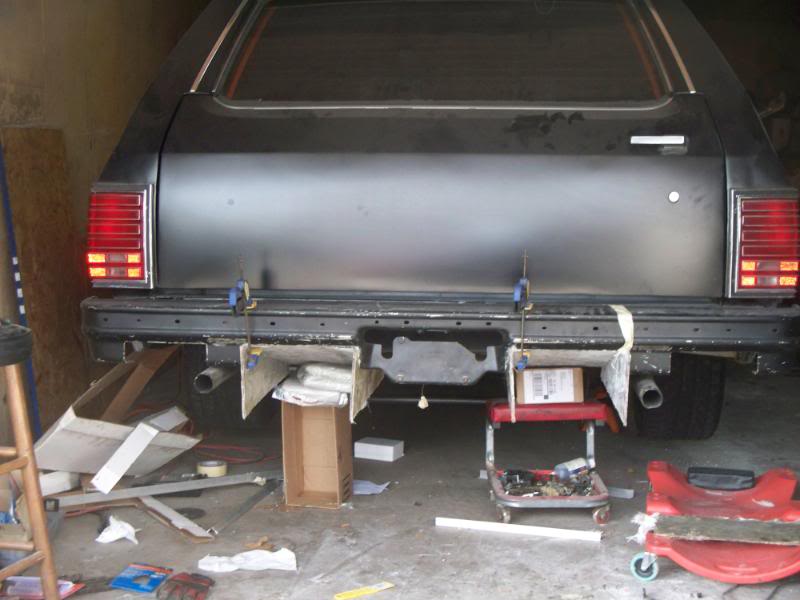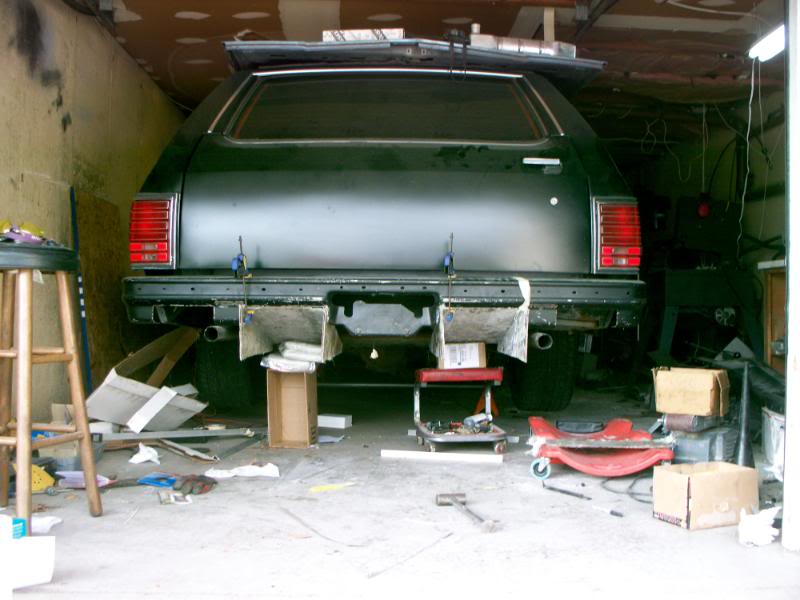 3-18-2011
Small update. I got the braided performance hoses from Inline Tube on. The rear one was a pain to get in. Plus I had to put a new hard line in as the one that went to the rear hose twisted and crimped on me. Also worked on my diffuser some. I have the center [panel done. Hope to have the 2 tunnels and center sections joined by the end of the weekend. By tomorrow if all goes well. So should be all mounted. Also took some paint off the aluminum hood. Hope to have it painted by the end of the weekend. The 2 groove power steering pump is mounted and has a new hose on the high pressure side. I recieved my race pads from Porterfield. I have R4's for the front and R4D shoes for the rear. They were very helpful and quick as was inline tube. The Spal temp switch is mounted but not wired yet. Also working on a new dash panel. Might be able to unveil it by the end of the weekend. Still need to make a hose for the catch can now that I think about it too.
3-19-2011
Ok here is what got done today. Worked on the diffuser. Had to weld up the license plate holder. It doesn't come straight across so we fixed that.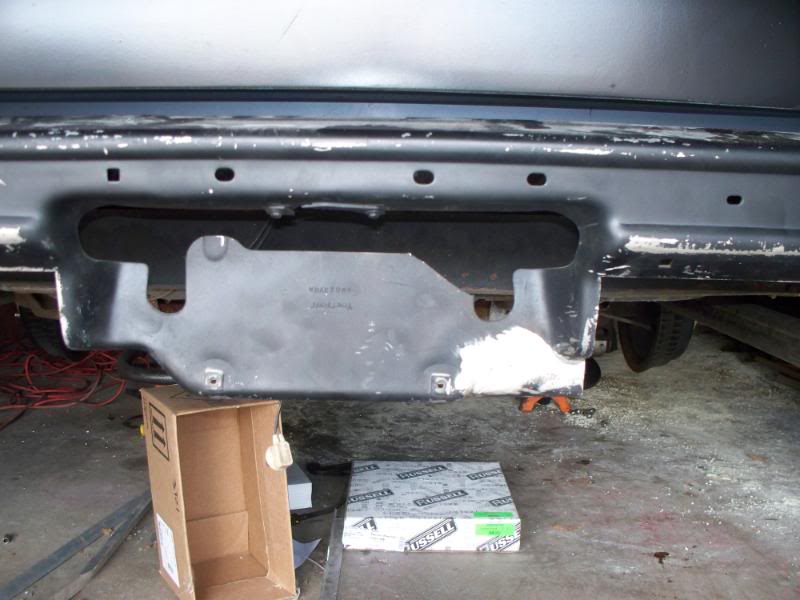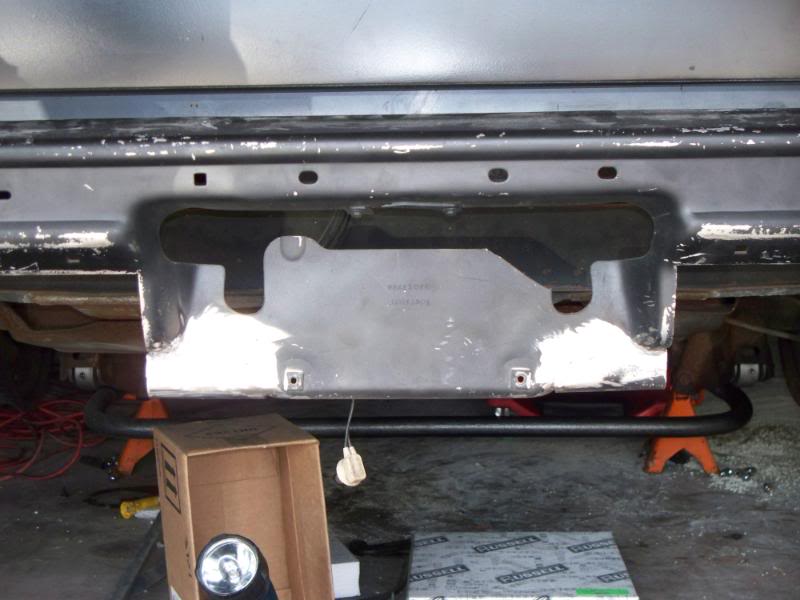 Oh and my welder cleaning up her welds lol.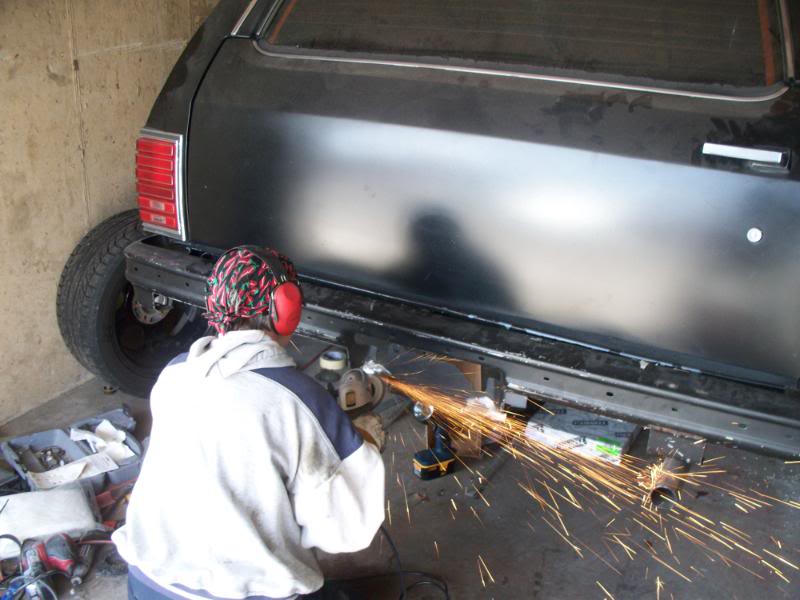 Finally real progress. One tunnel mounted with Dzus fasteners for easy removal.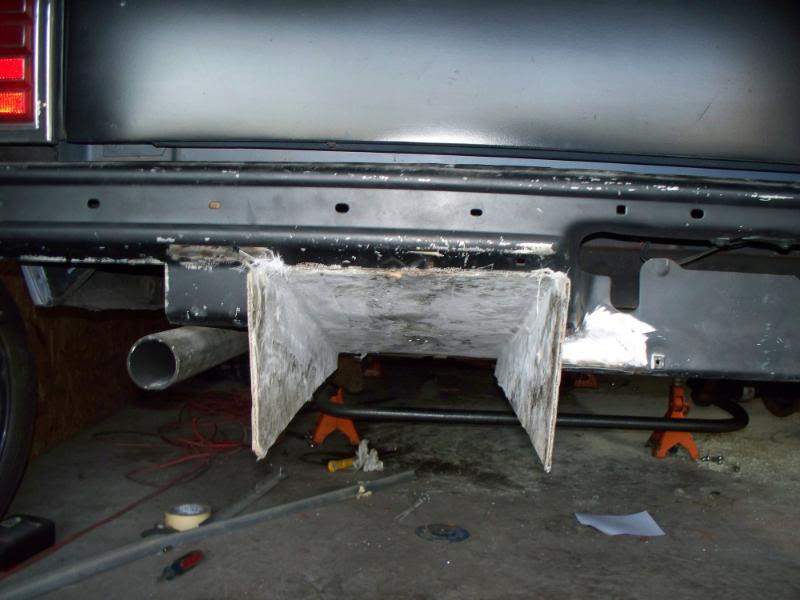 And both tunnels and center section mounted.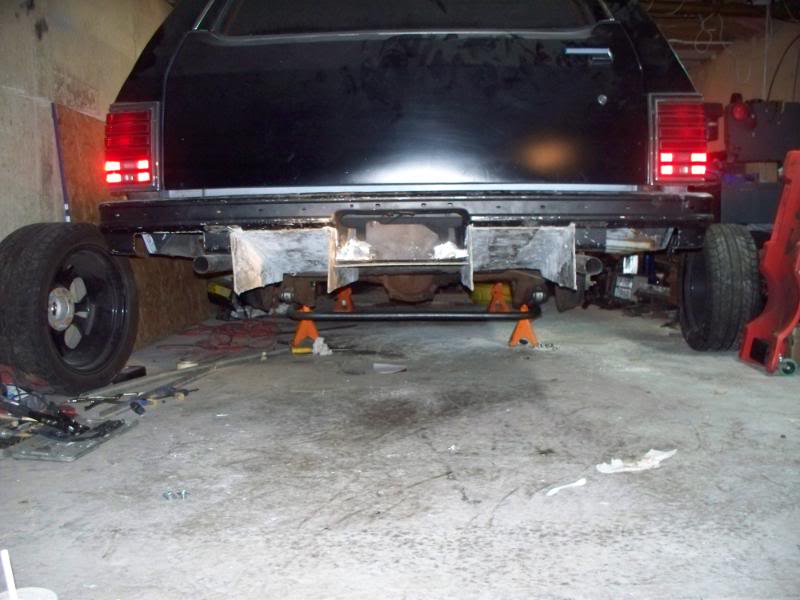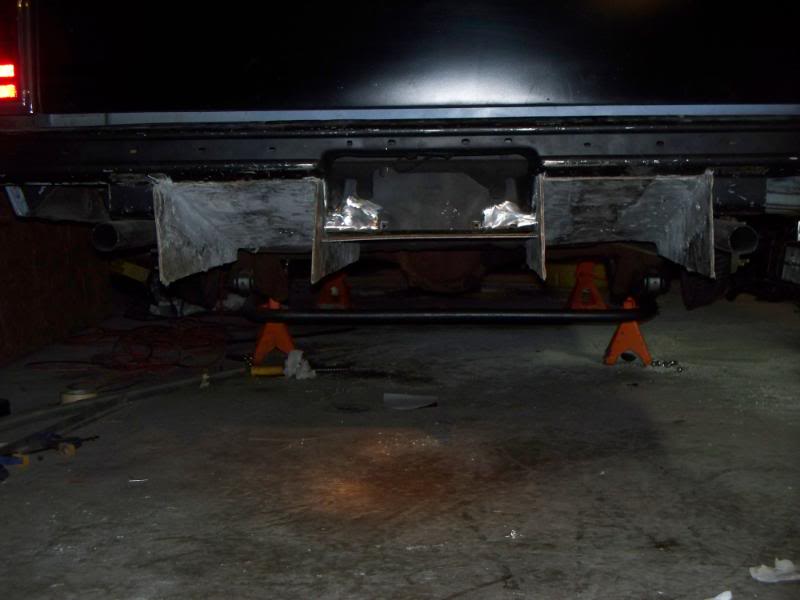 Now all three sections need to be glassed together. And there is still alot of trimming and prettying up to be done. But I think it looks great. Not sure if I can get away with leaving the tunnels that deep. Also not sure about leaving them that far off the bumper. I kinda like it that way as it has a European Touring car look. Will have to see.
3-20-2011
Ok another long day. Spent the day fiddling with the diffuser. I also made a hose for the catch can. Looked at how I am gonna mount my camera. And then at the end of the day I went to do a leak check on all the brake hoses I installed plus the spot where I had to replace a brake line. Well they all looked ok. There was some moisture but could have been from when I first did the swap. So I dried those spots off and had the wife pump the brakes and all looked well. So I decided time to bleed the brakes. I went around to the right rear and before I could do anything I notice the brake line going to that side has a wet spot right in the middle of it. Dry at the wheel and dry on top of the pumkin. So I rub the line to see how wet it is. AS I do that all of a sudden drops start dripping out. It was rusty inside if that spring thing that is wrapped around the line. I must have disturbed it enough to get it to leak. So in that sense it's good it happened. But sucks that now I need to replace that line and might as well do the opposite side. So more work.
3-21-2011
Gee another day another brake problem. I had to tackle bending lines for the rear axle where it was leaking and well the stock line must have been 35 inches and the ones the parts store have are either 30 or 40 inches. So mine are now a little longer than before and not near as pretty. but they are new and work. But that was the easy part. I went to bleed the brakes after and couldn't get the front bleeders open. I snapped one and gave up on the other and headed out to the parts store AGAIN!!! SO the car now has 2 new calipers to go with everything else new. I will clean out the other bleeders from the old calipers so I can have them as back ups.
3-24-2011
OK I got some stuff done already today. The new passenger side altenator mount is done. Other than the aluminum tube that needs to be redone It came out nice. The belts are all lined up and the mount is sturdy. For those of you that don't know what I am taking about Olds motors can be tempurmental about having the accessories all on one side. I took off the A/C and relocated the altenator over to the passenger side one to make sure I had no problems and two so it has a more balcanced look and feel. I used the stock drivers side aluminum mount and simply flipped it drilled a hole and sanded the back down some as well as adding the aluminum tube as an upper brace.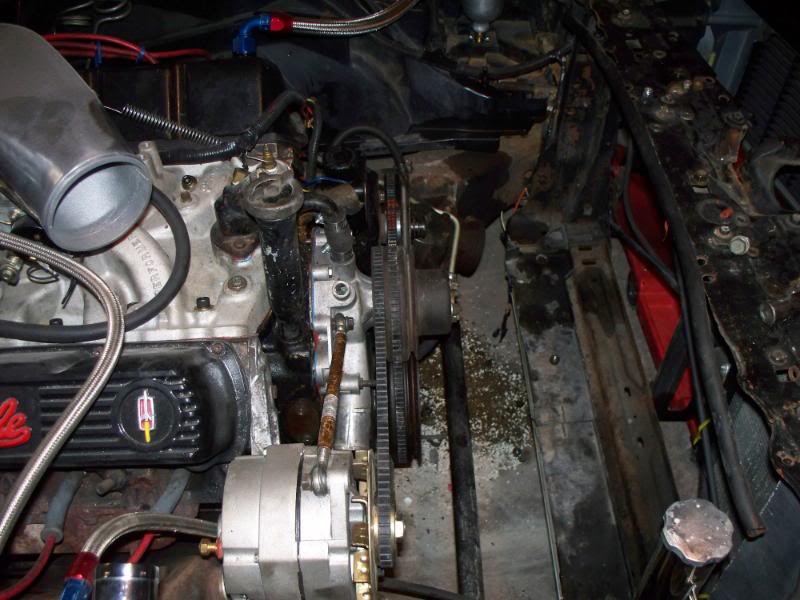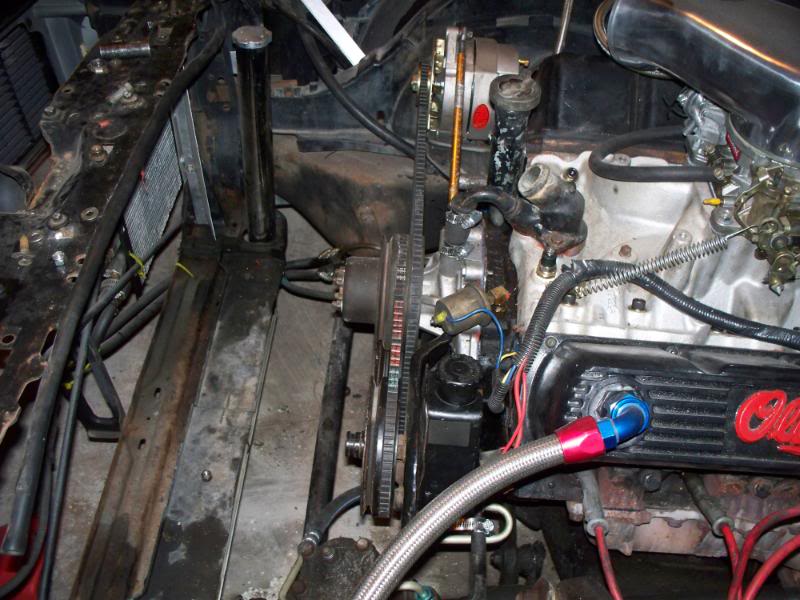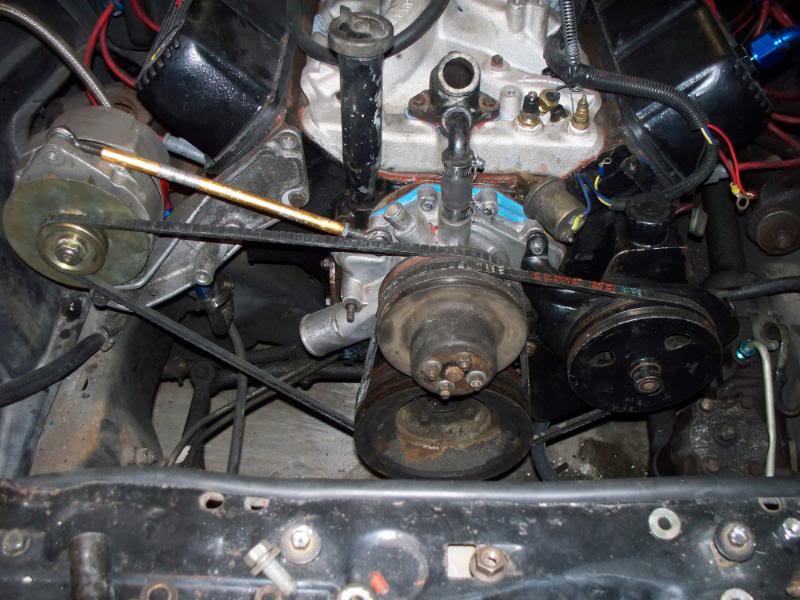 Here are some pics of the diffuser after some trimming. It's starting to come together. It is by no means finished but it's getting there. I have 6 inches of clearance with it. I thought I might have to trim the bottom side but it looks like I can keep it that low.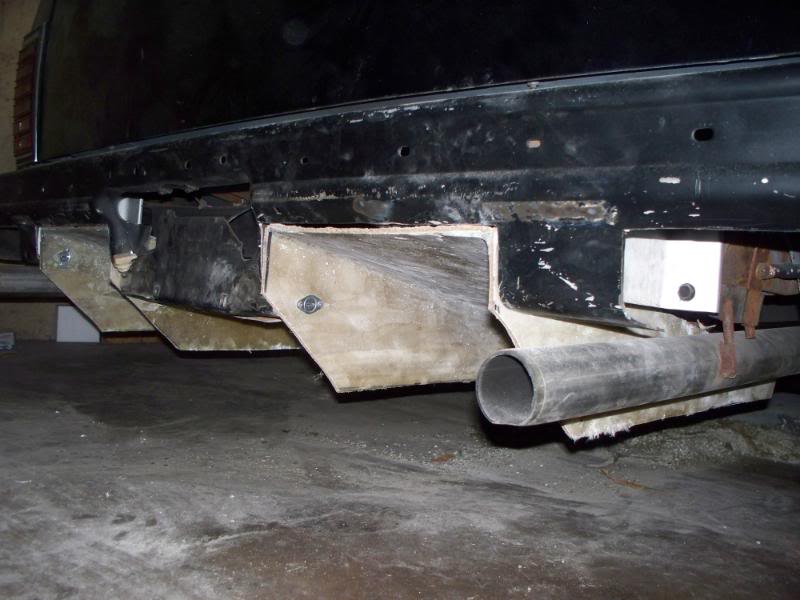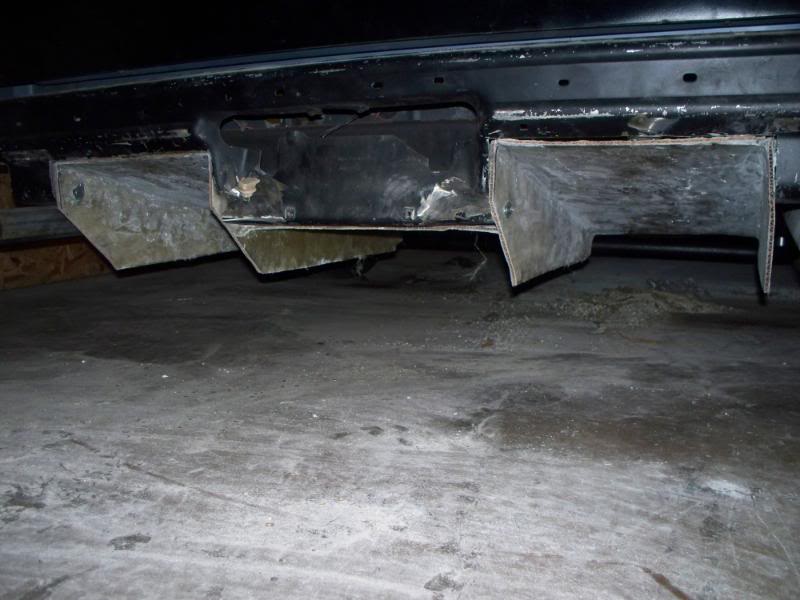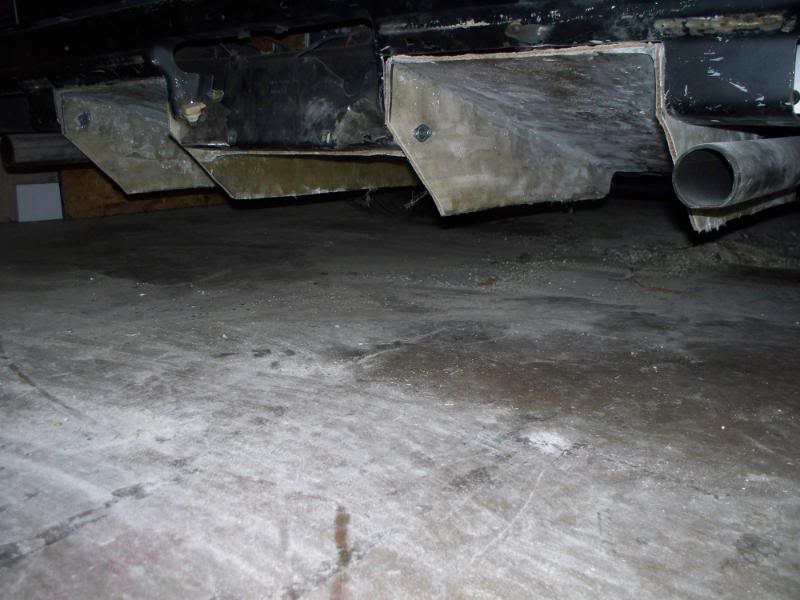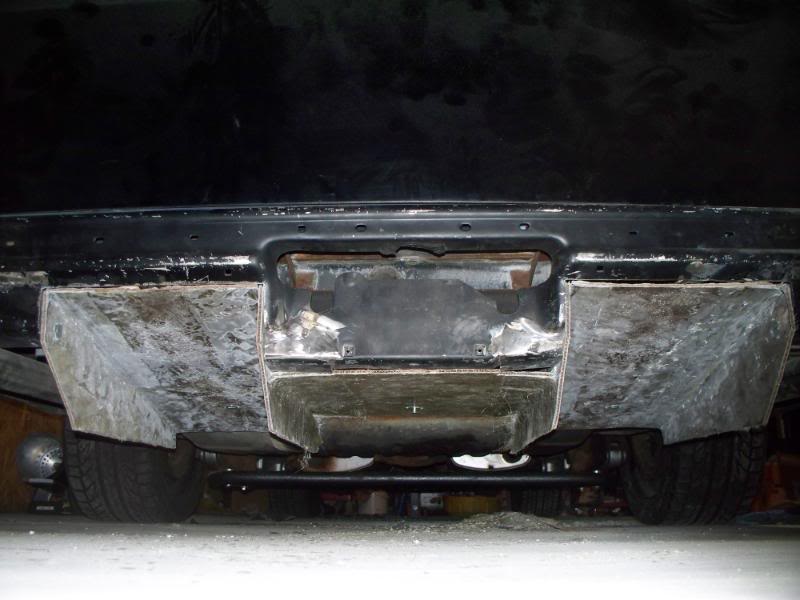 Things yet to do include a new dash panel for my guages and switches. I am also trying to figure out how to seal up the top of teh radiator support so all the air goes through the radiator. Still trying to decide how I want to do it. I will probably incorporate the top radiator mount with it. I also will be making new bumper mounts and if time an airdam.
3-25-2011
Ok I have beed told I should have some kinda radiator shroud. So I made one. Just a quickie but looks ok.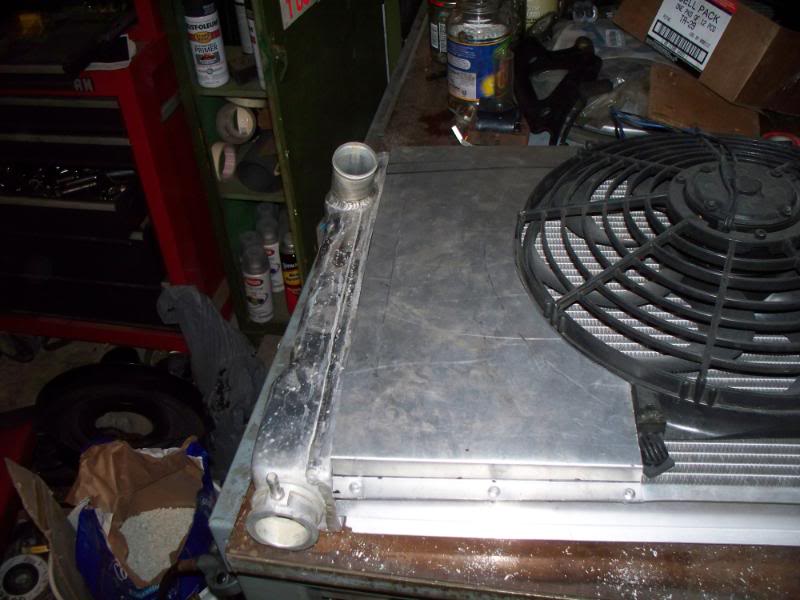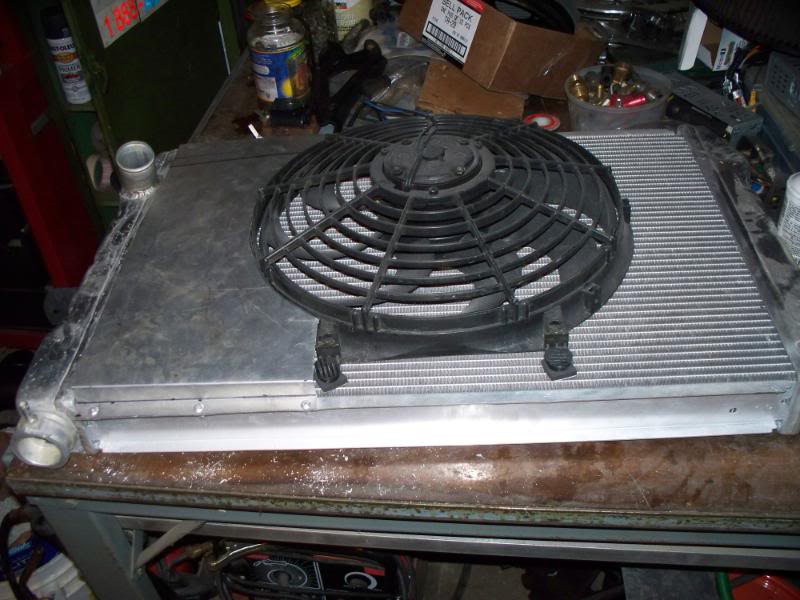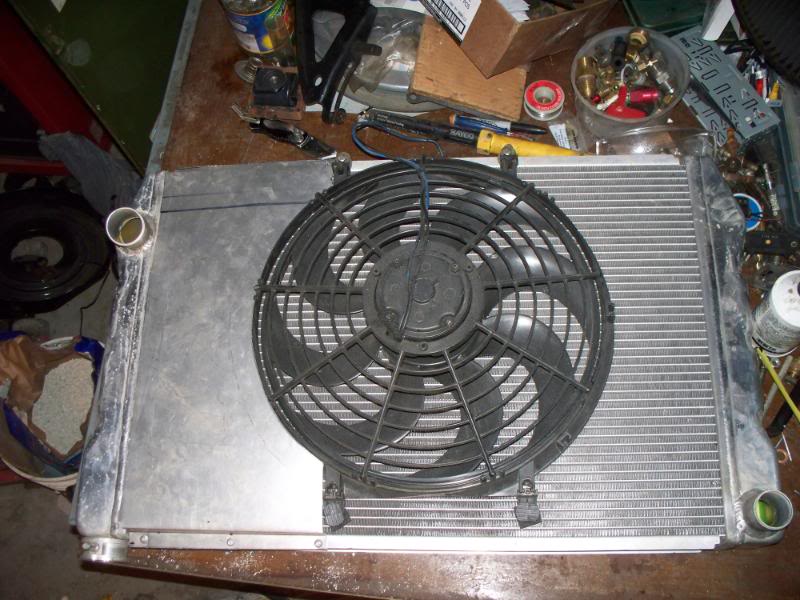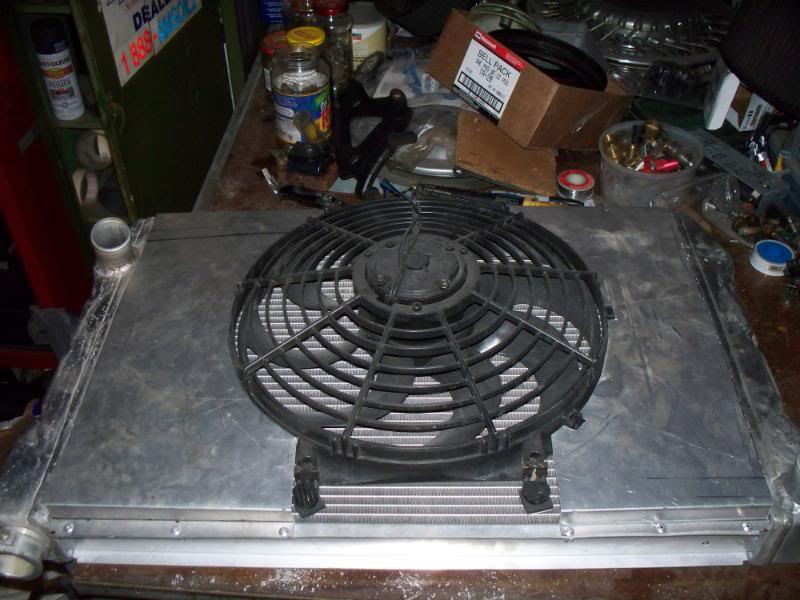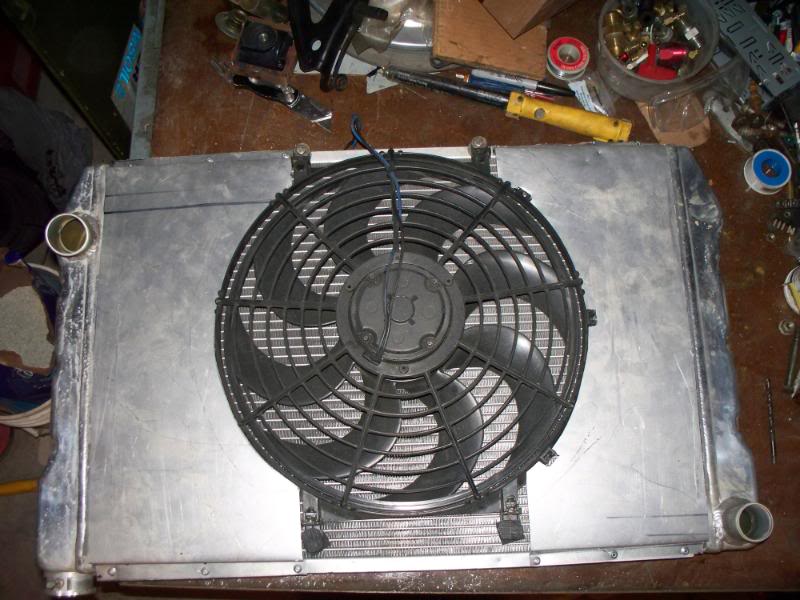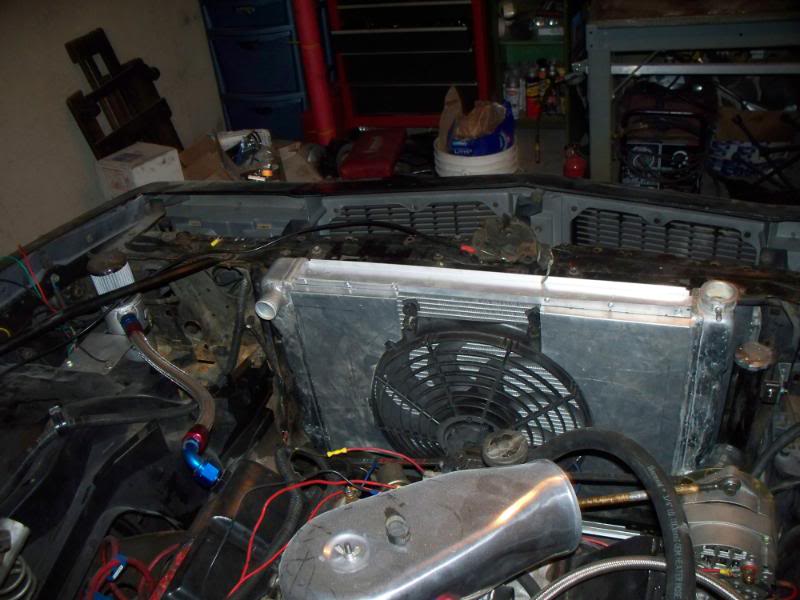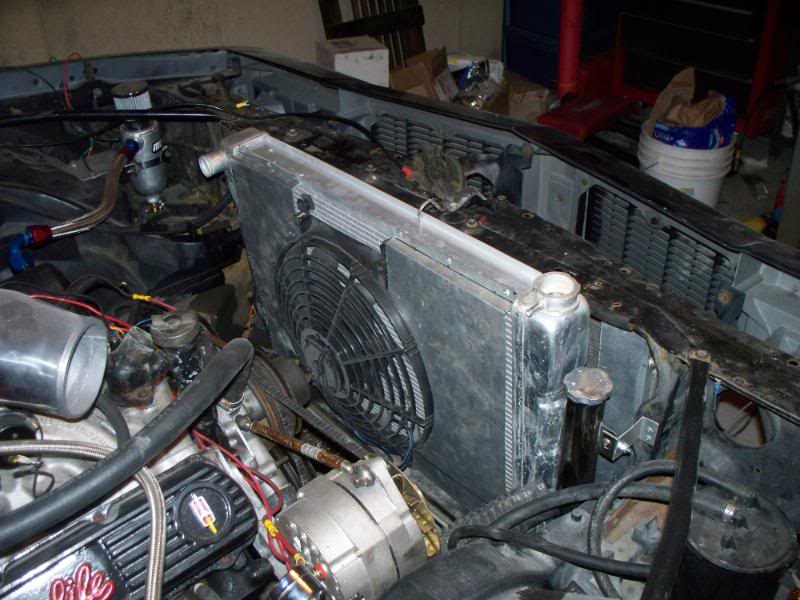 I also wired up my fan temp switch, lengthened the wires for my altenator to reach the other side. I hope to have her running maybe tomorrow. Also did a shakedown run of my hauler and everything seems fine.
4-2-2011
Blew the engine at RTTS. No regrets. Besides I got my money's worth out of that $400 engine and then some. More later when I am rested.
4-3-2011
Final pics before heading out to RTTS. Here are the aluminum hood hinges and final bumper mountings. Must be VERY careful closing the hood.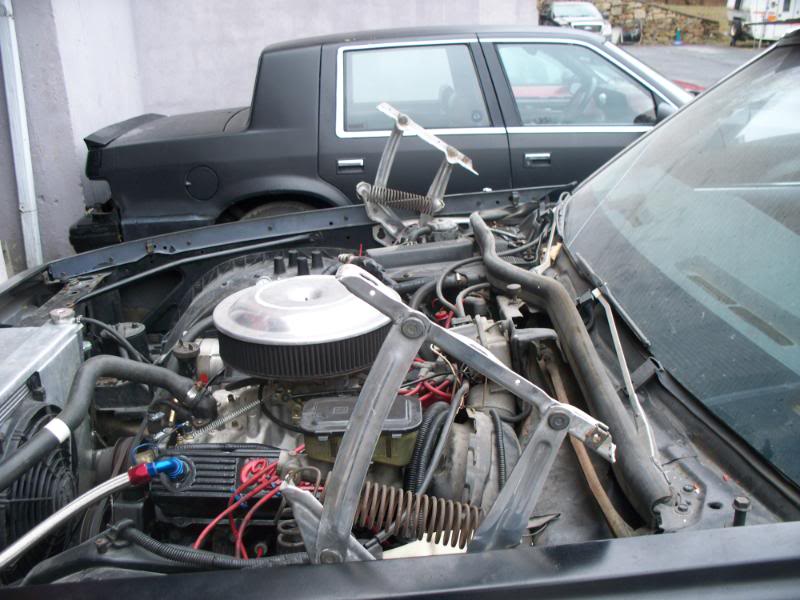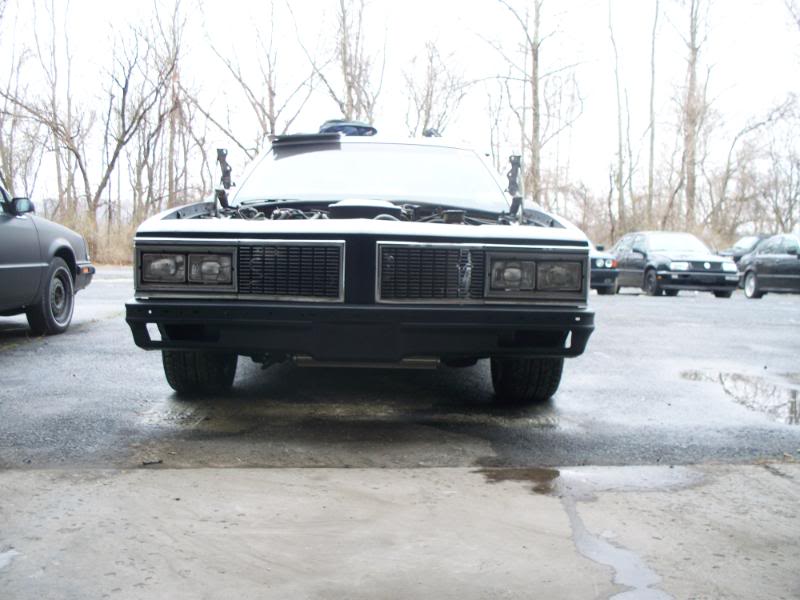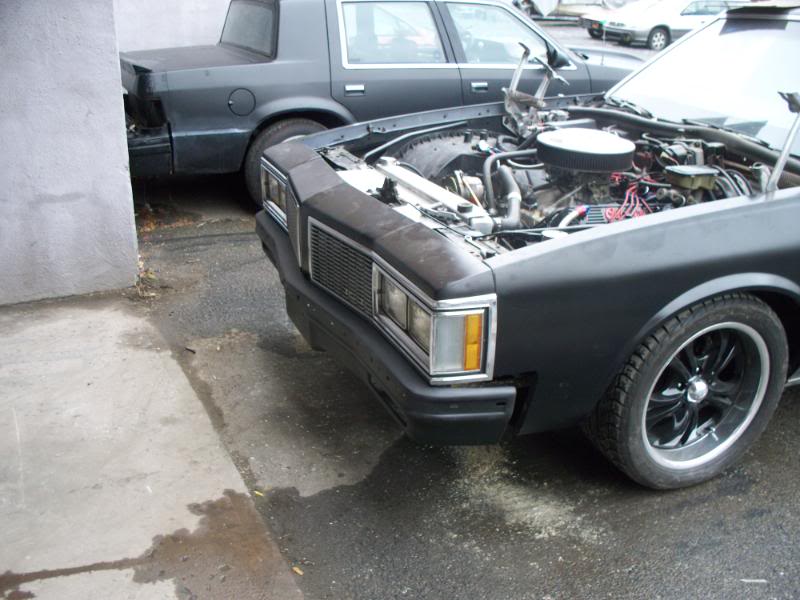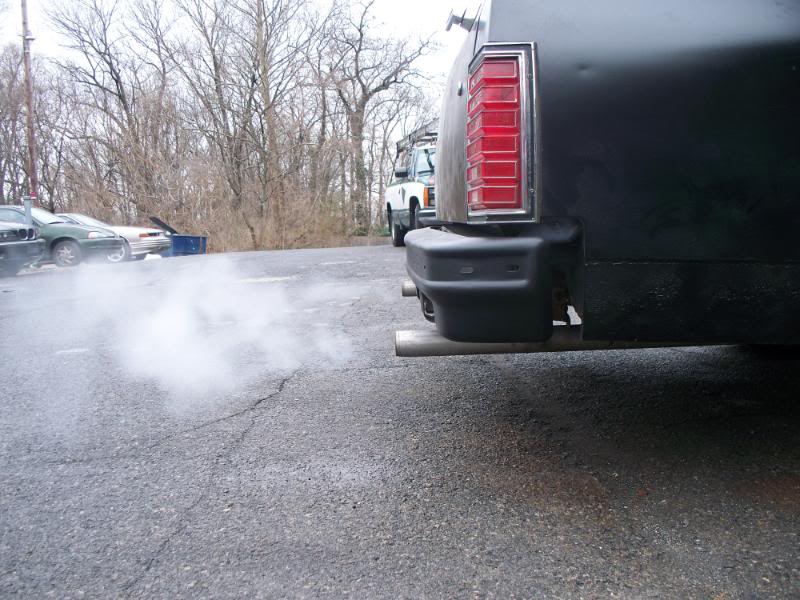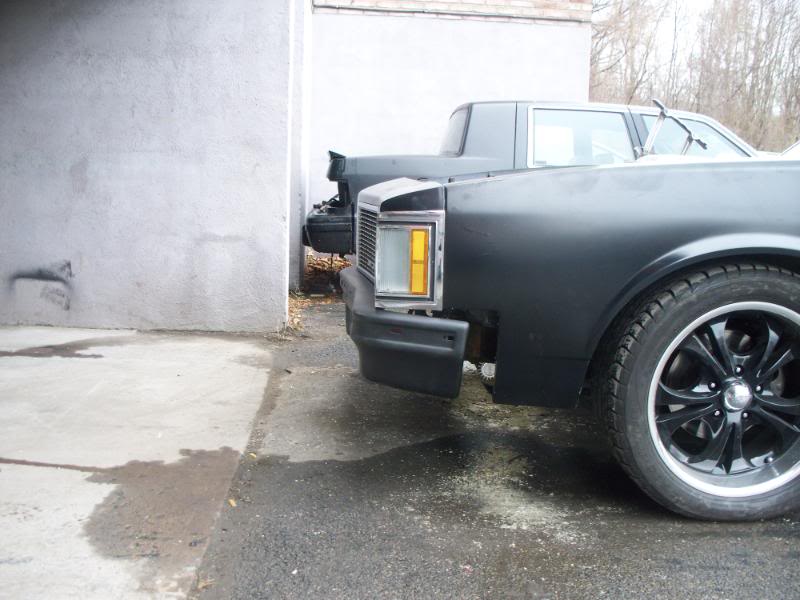 4-20-2011
Well here is the next piece of the puzzle. Since my engine went at RTTS I had to figure out what to do next. And this helps me get to the next point. It's a 330 forged crank that is cut for a 3.5 stroke. So I am on my way to a 375 stroker engine.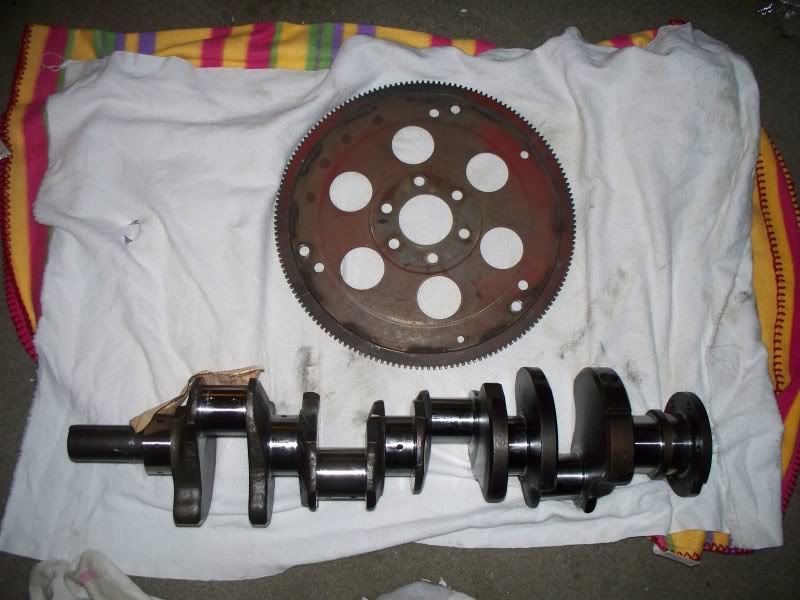 5-19-2011
Well I got my flanges in for the manifolds. Have to say they are pretty darn nice. I will be getting the weld els probably next week. So one step closer to my turbo manifolds.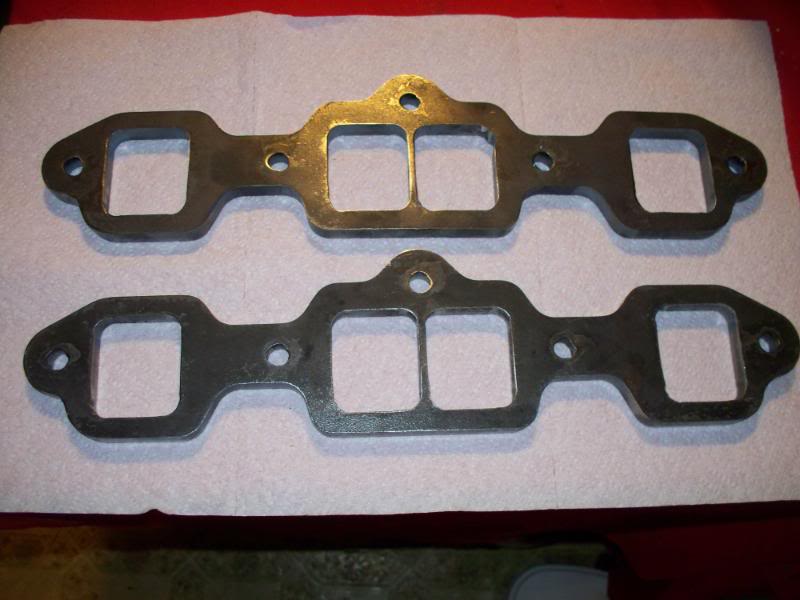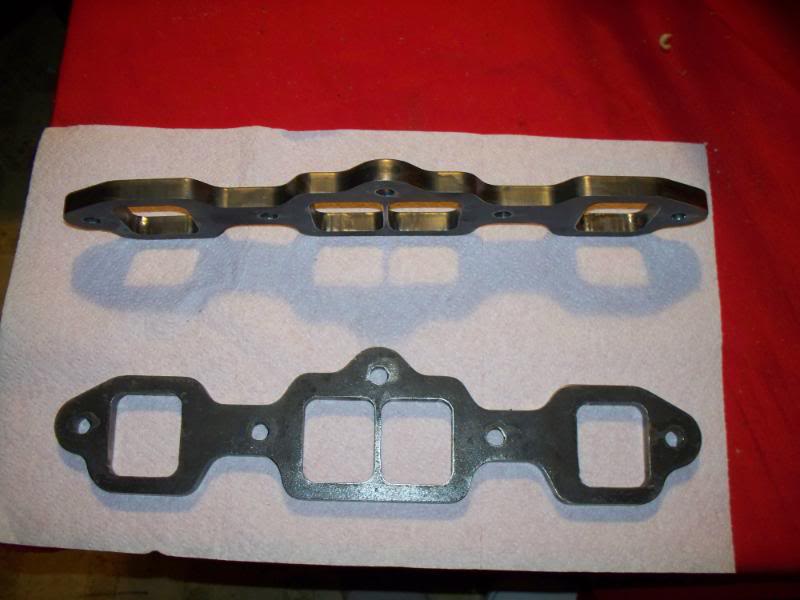 6-9-2011
Hey I actually got something done today. Since I have owned the car the passenger side rear door has never worked. Well now it does. Kinda. It will open from the inside. But I need the plastic clip that goes over the rod and into the handle for the outside to work as well. I never saw a need to fix it realy because it never got used. The reason I fixed it? Well it's time to start on the door panels. I have seen other peoples work and want to give it a try. So I took off the front passenger side panel. Stripped it down to the door card. I was going to coat it with fiberglass resin while on the car figuring that would help it hold its shape. But even then it looked wavey. So I took it off laid it on the bench and used a cylinder head to hold it down and put a layer of fiberglass cloth and resin where it was flat. when it is fully cured I will do another section. Then once I get them all done like this I will decide on how I was it to look. I would like to redesign the arm rest and make it look better. I also took a look at doing my airdam splitter. Think I have it figured out for the most part. Just have to start making all the pieces to put it together. I am going to make two noses. One for street use where the splitter will be 5 inches off the ground. And one where it will be 2 inches off the gorund for track days. I amd going to make it all a quick change arrangement where the bumper, airdam, and splitter are all one piece and can be unbolted easily from the outside.
6-10-2011
Look what I did today. This is just the start of the piece to fill the gap between the nose and radiator support, cover the top of the rad support, and cover and support the top of the radiator.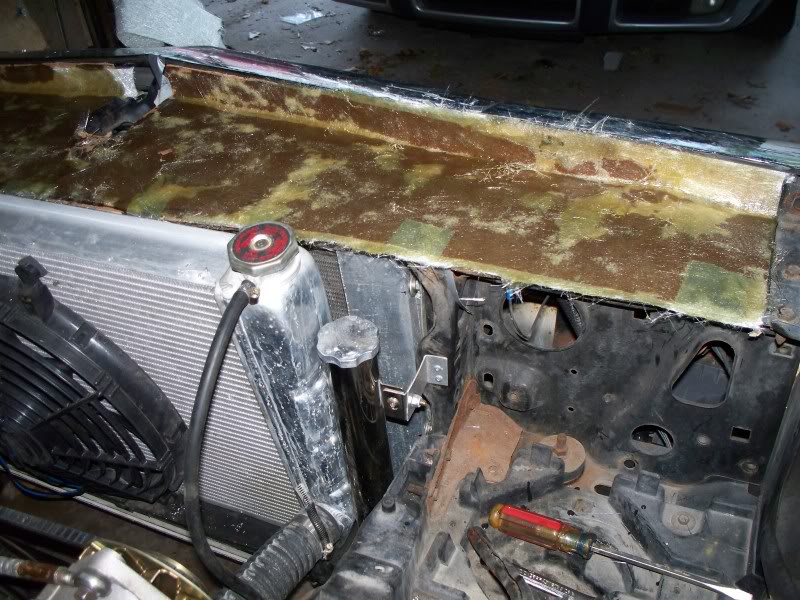 I also did some more work to my door cards. I am going to have to decide how I want my door panels to look soon.
6-13-2011
Ok I got a little more done to the radiator support cover. It is really coming along, Today I got the top part of the radiator done. There are a few spots I intentionally didn't do. I will get to them in finer detail when it's off the car. Once this sets I will remove it do some trimming and put a layer under it and then it should be plenty strong.