Builds
The Stickman's BattleCruiser Build Thread by The Stickman
By diyauto
You must be logged in to rate content!
14 minute(s) of a 70 minute read
The Stickman's BattleCruiser Build Thread
Compliments of The Stickman @ pro-touring.com
12-7-2008
Ok let me start off by saying this isn't some high buck high tech build. It is about as oldschool as you get. Doing what you can with what you have. Now some may also look at this car and think it doesn't belong. But here's some things to consider. One I have always been a roadracer. I have always been into racing like the IMSA GTP(L)/O/U. In fact I own an IMSA GTU bodied Fiero with the racing Super Duty 4 cylinder engine. I plan on making this wagon so much better in all respects than when it was new. Although I must admit it has impressed me with it's handling as I bought it for the type and size it is. But let's start from the beginning. It's a 1984 Oldsmobile Custom Cruiser. It came with a 307 Olds engine, 200R4 OD trans, and 2.73 8.5 rear. And Yes the 2.73 gears are staying. I love them for highway cruising. I can always increase hp to compensate. It has 15X8 steel Wheel vintiques on it with 255/60-15's all around and they do handle well. It has the 2 bench seats in the front and I added the rear 3rd row (Rear facing)seat. it gives me a nice place to sit at cars shows and cruise nights. Here is how it looked before anything has been done to it.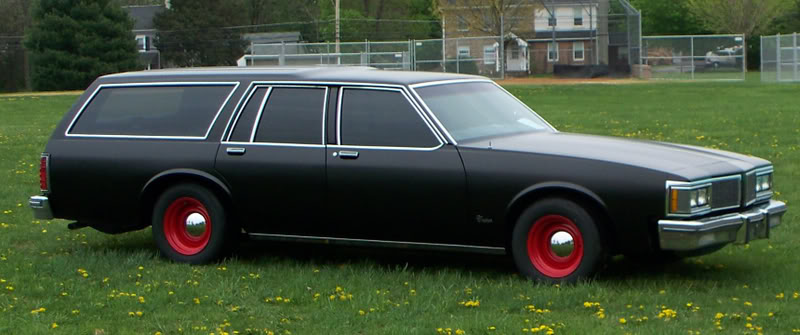 The first thing I added was a repro Olds Batwing style aircleaner. I always thought they looked cool.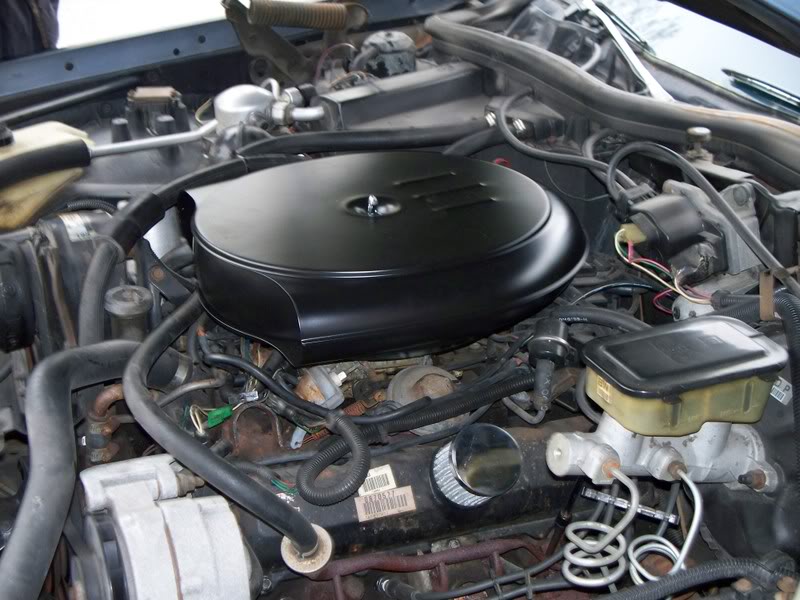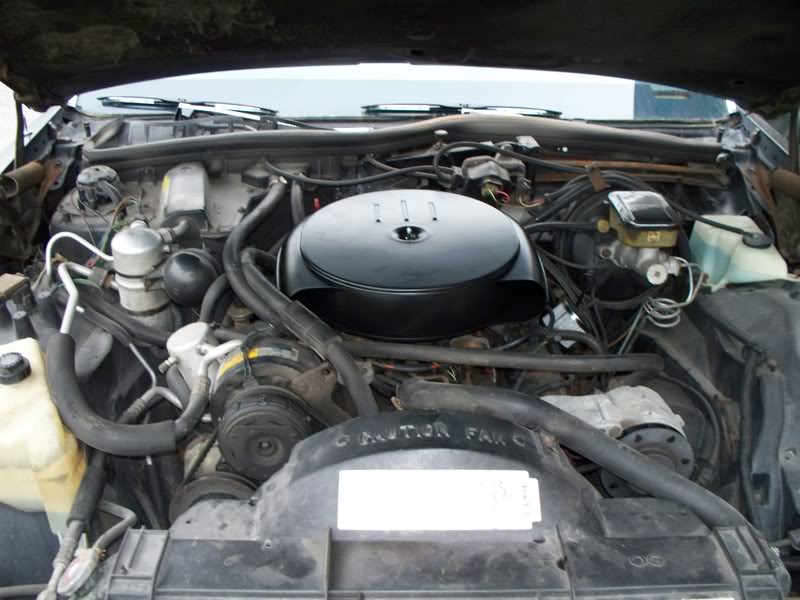 After that I added a touch screen reciever/cd/dvd player.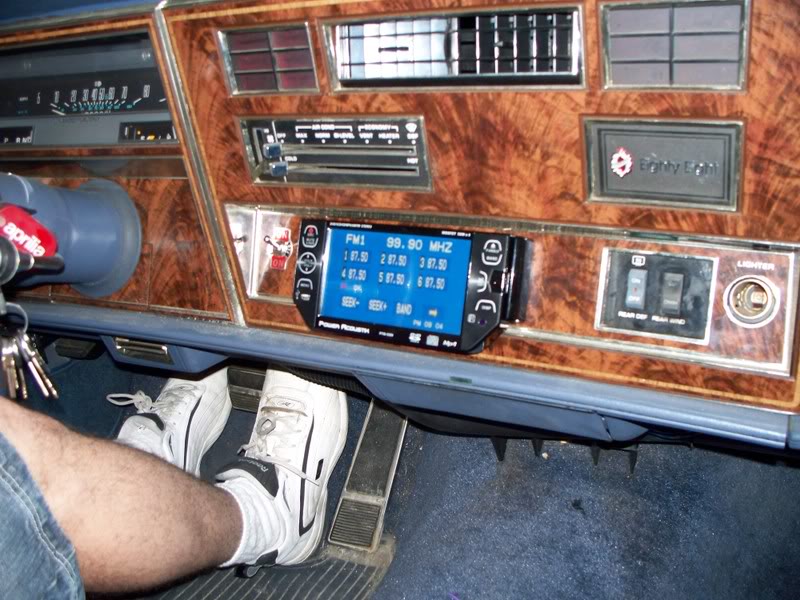 I also wanted a unit like this for another reason. Since this wagon is so huge I wanted a back up cam and this allowed my to do it without adding a separate screen. All in all it was pretty simple. Just alot of extra wiring due to the lengh of the car.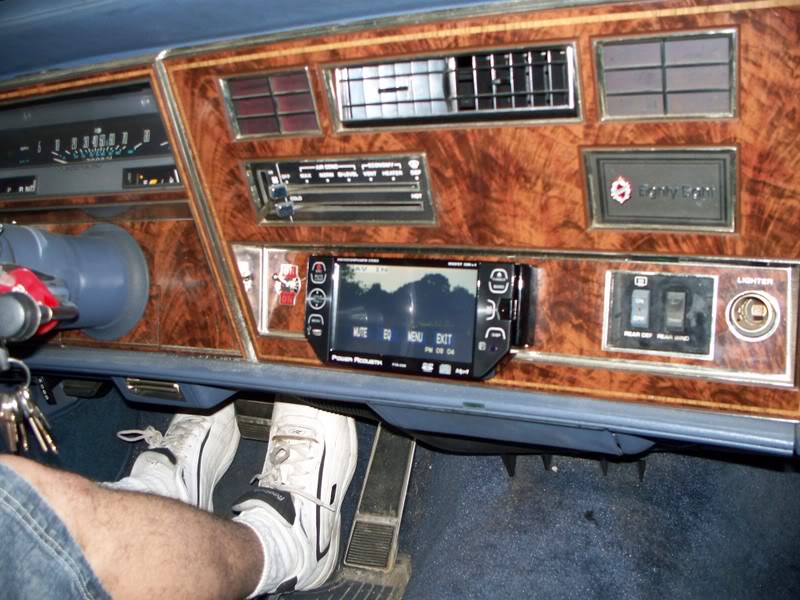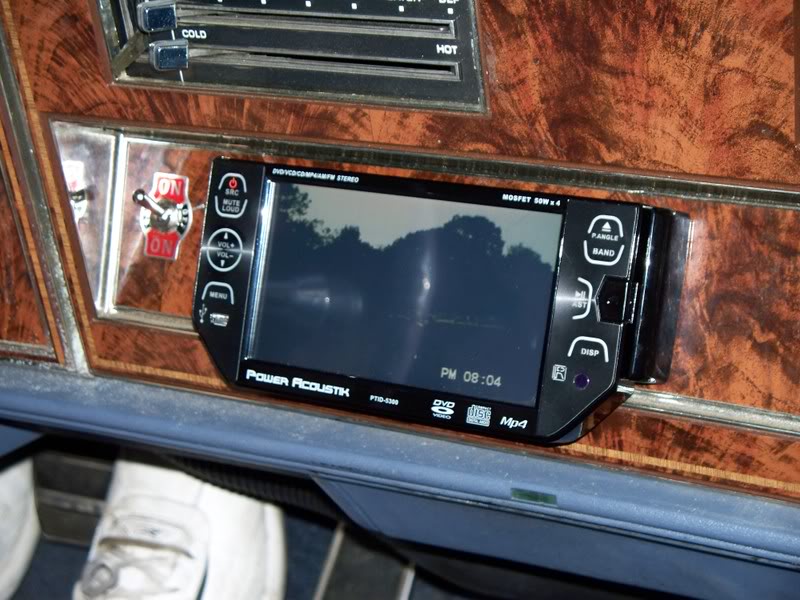 the screen doesn't look great here but it was dark out when i took the pics so the back up cam didn't pick up much. Here is the cam I used. It is totally hidden and no one knows where it is.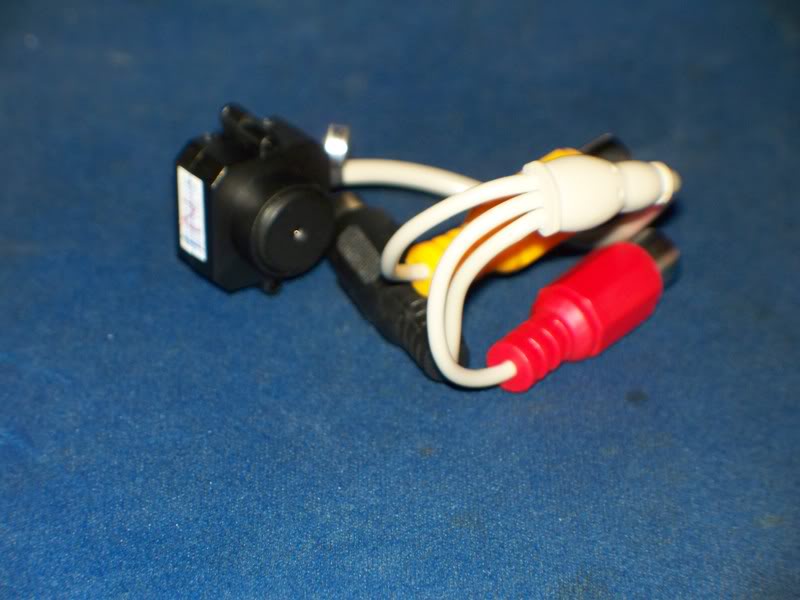 While I was at it I added a remote hidden antenna because for one the fender mounted one was broken off. And I didn't want to put one back in that spot because it would be a pain in the butt and because this simply looks cleaner. Here is the remote hidden antenna I used. It works pretty well I think.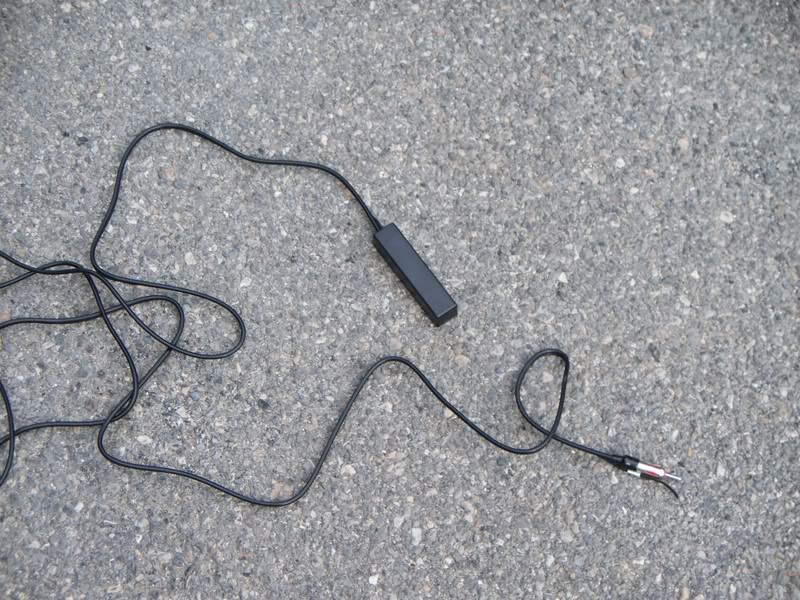 Now onto the upgrades since I have gotten it.
Ok the next thing I did was to buy this off of Ebay for $400.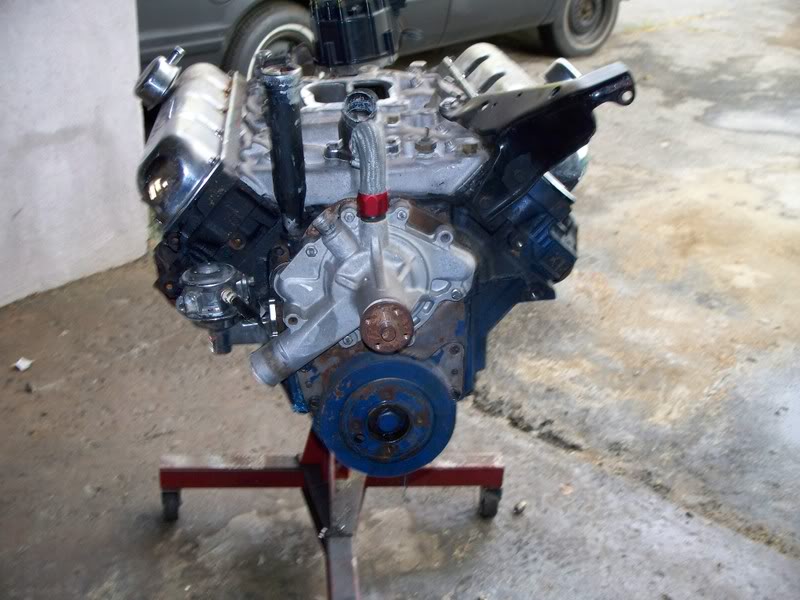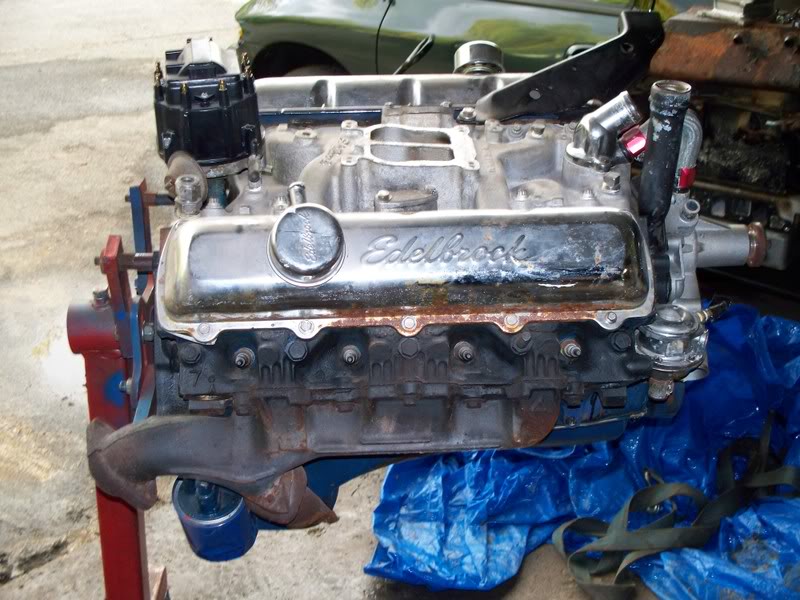 It's a 1972 350 Olds with 7a heads.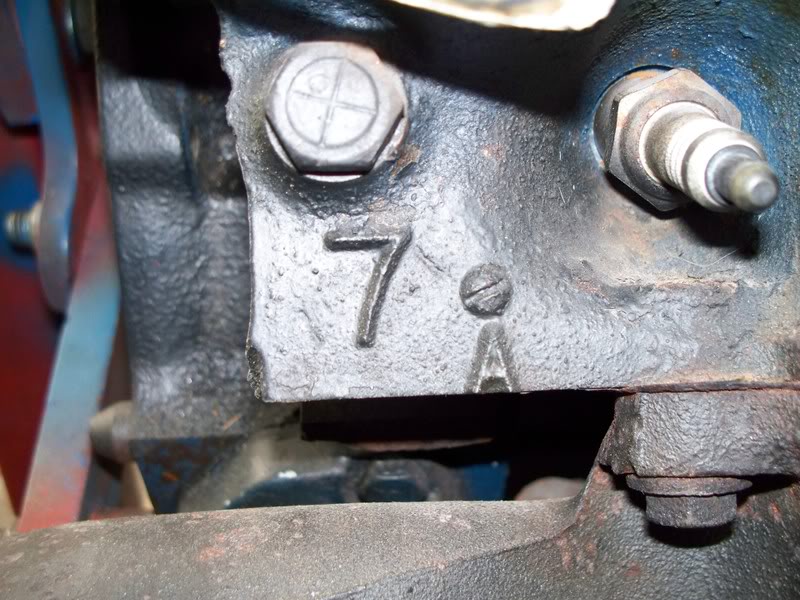 An Edlebrock Performer 350 intake.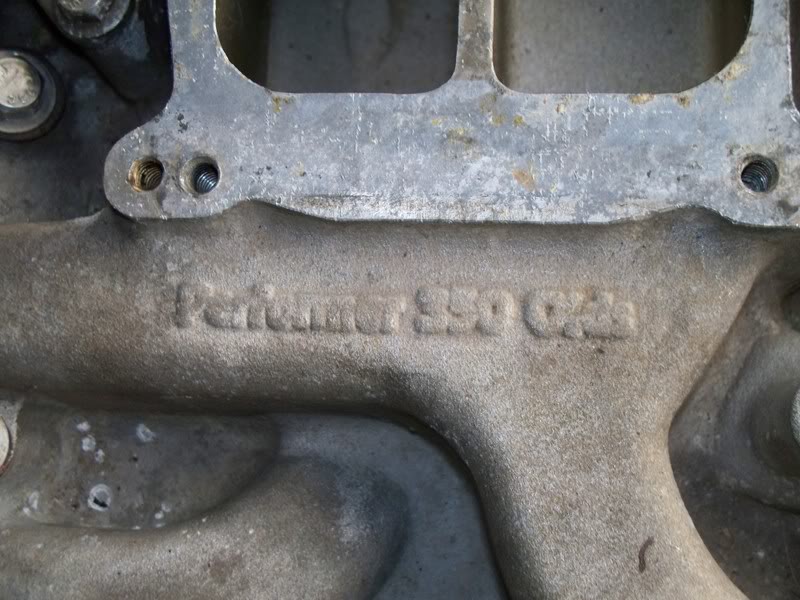 And Competition Cams roller tipped rockers.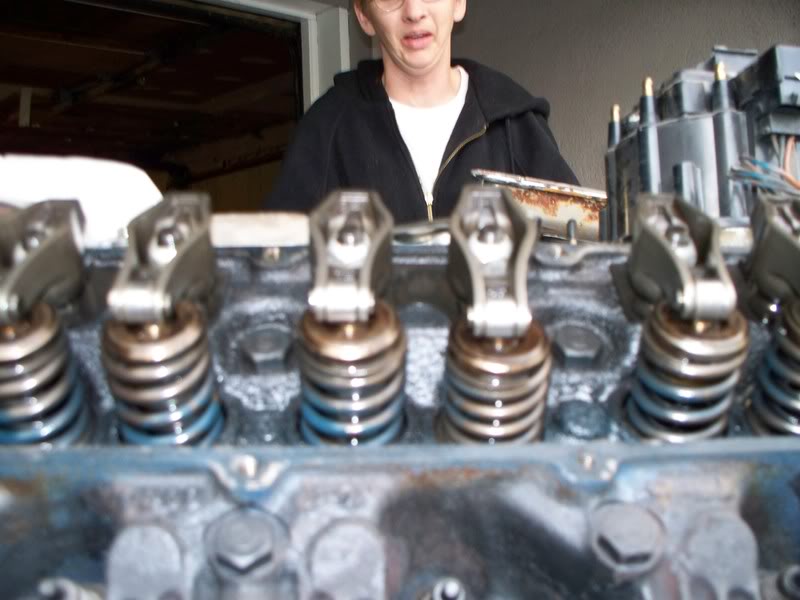 Now the person I bought it from said they thought it had a cam in it and I believe them. But it would be awhile before This engine would be installed let alone running. But my next purchase would go in right away. I went to a junk yard looking for a rear sway bar for this car and found this.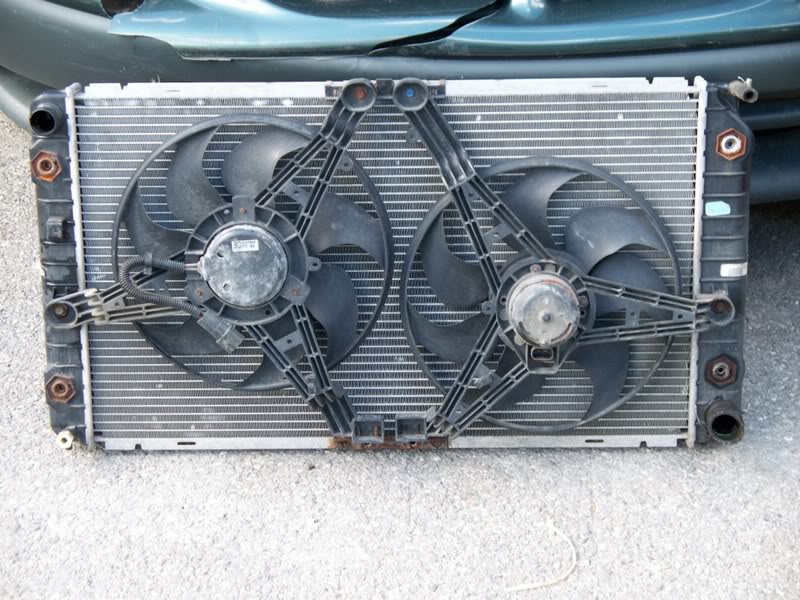 An aluminum radiator out of an LT-1 Caprice. It is wider and taller than my stock one. I also allows me to get rid of that damn clutch fan. Here are some pics of it installed.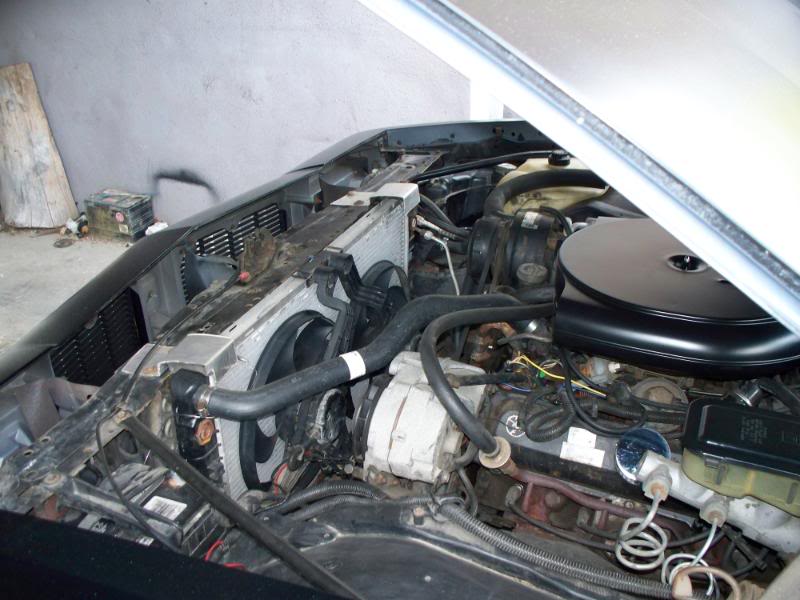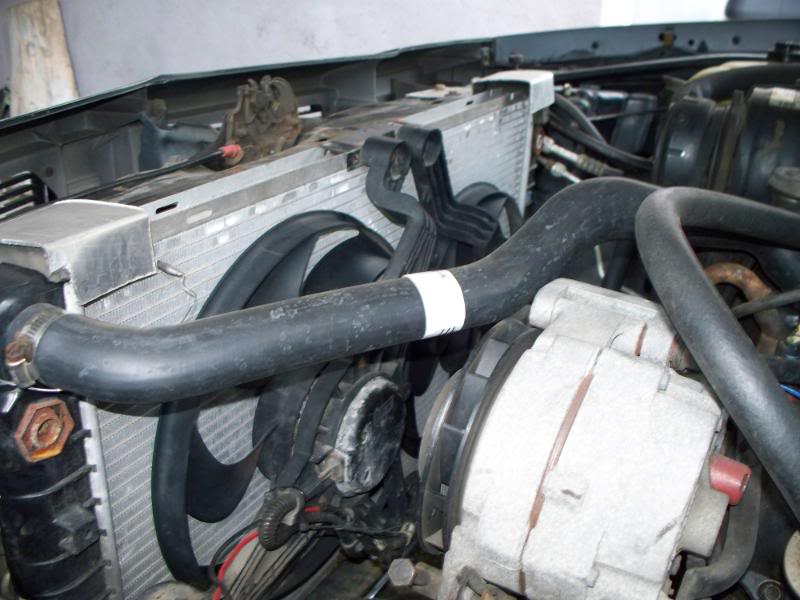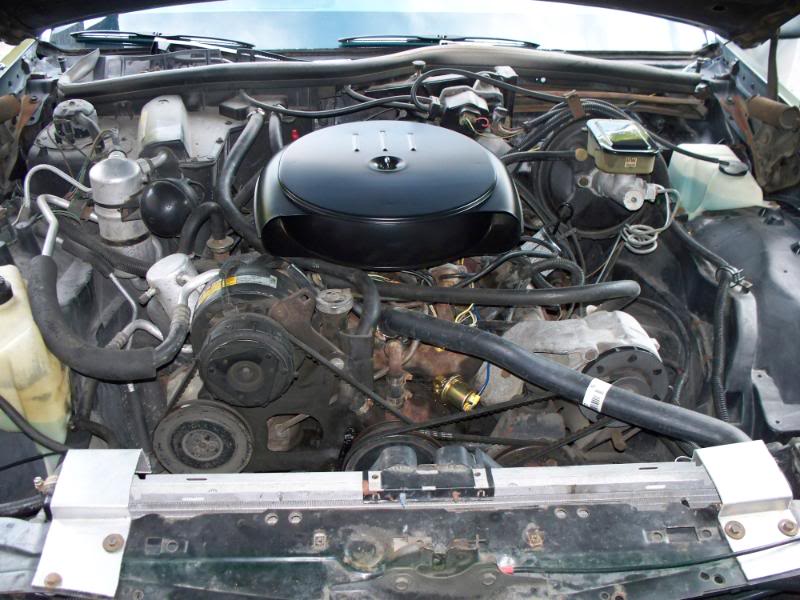 Now while I was at it I decided to add an external trans cooler. And this is the unit I choose. It's a 24 inch aluminum finned unit. The construction is very nice.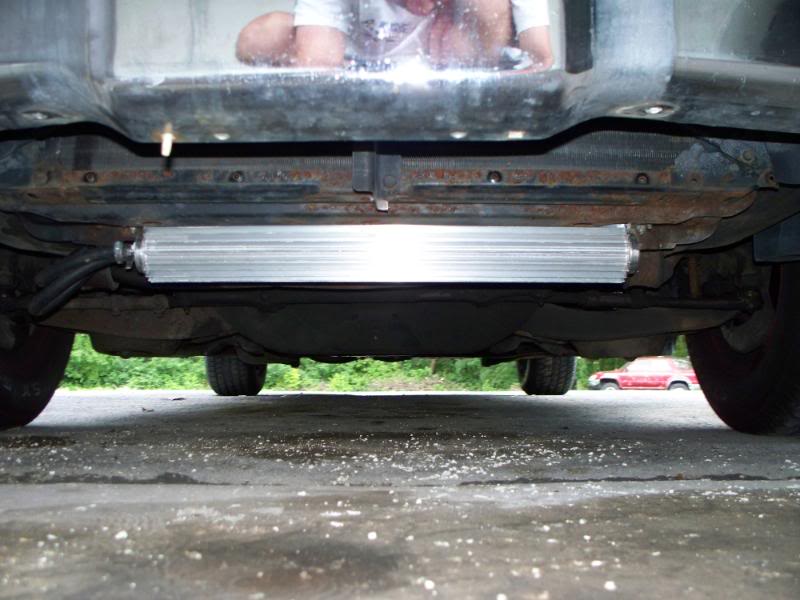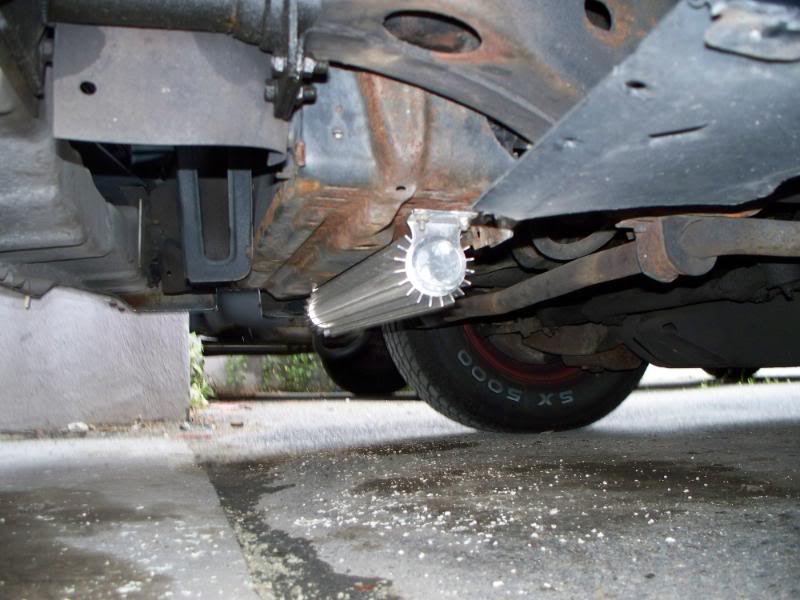 Now before I added this the trans was acting up a bit. And from the research I've done the symtoms seemed like those generally atributed to the 200R4. But after installing this cooler most went away so maybe those problems were heat induced and this fixed it. Now with a new rad and electric fans i decided to add a thermal switch to turn them on. I didn't want them running continuously or rely on my flipping a switch to operate them. So I added this to handle the situation.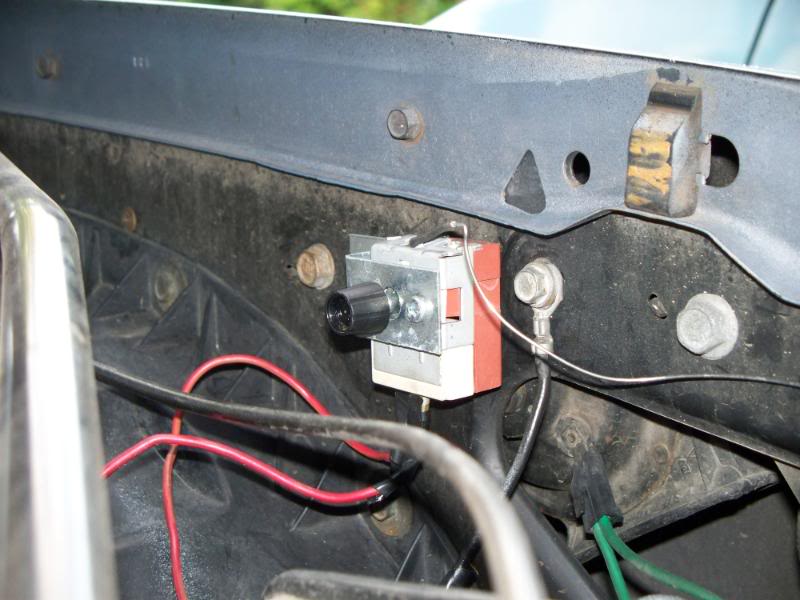 I would say it works pretty well. Now from what I understand this 2 fan set-up was one that would normally use one fan for cooling and the second was for when the A/C was on. I wired them to both go on at the same time. They sure do move alot of air.
Now the next thing I needed to do was to get the 350 engine ready to install. I picked up a Holley cheap off Craigslist and rebuilt it. Now with the Edelbrock Olds intake in order to use a Holley you need atleast a 1 inch spacer becuase the throttle arm huts the intake. I also wanted to add wire braided hose. It looks a whole lot better than the stock steel line and as things progressed it's a good thing I went this way. Here is the engine mocked up with the Holley.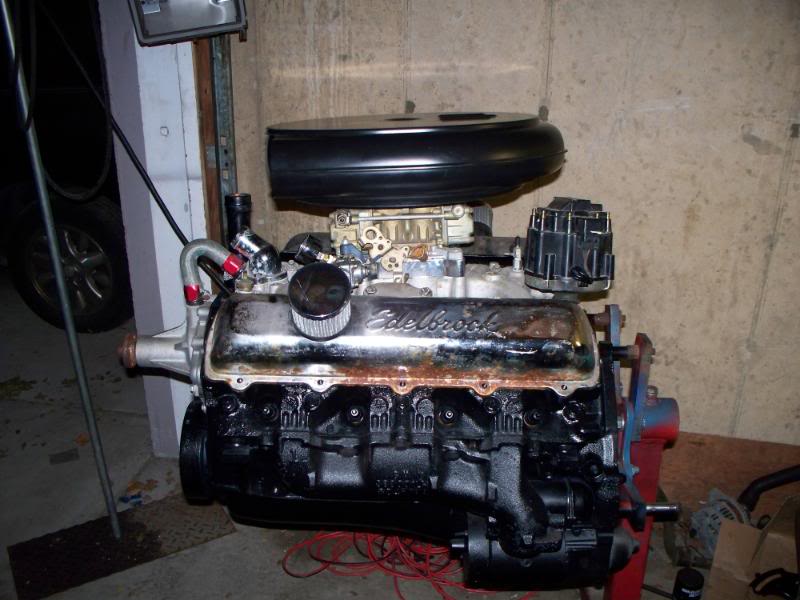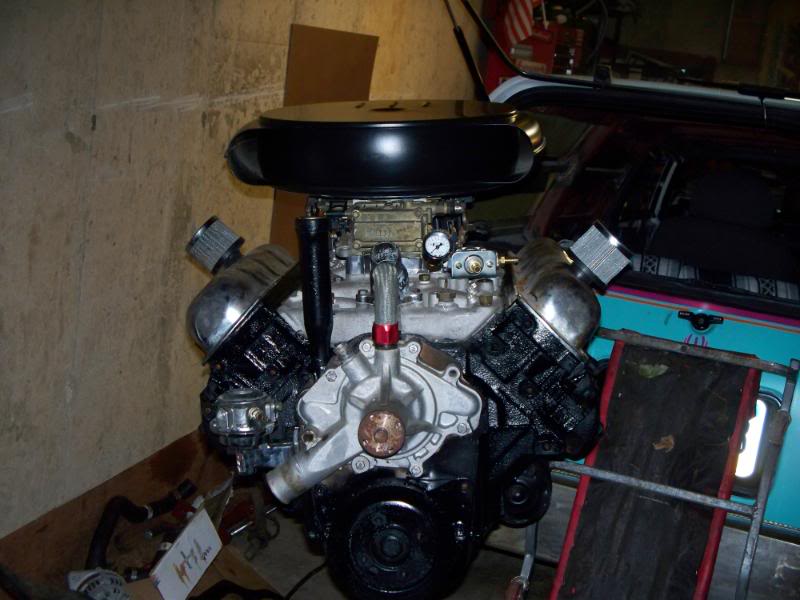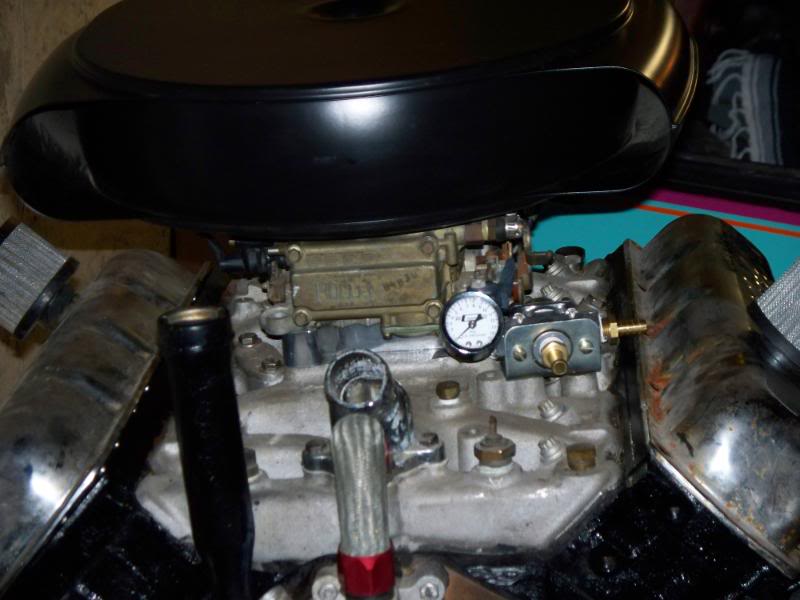 I actually installed the engine this way.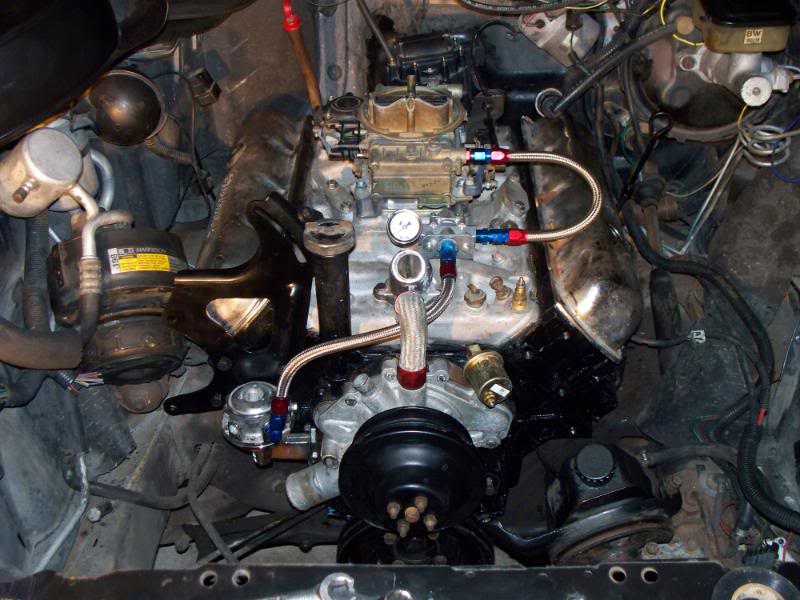 Only to find I wasn't getting any fuel into the bowls. I couldn't figure out the problem so I Bought a new Quadrajet. I fured it was a better bet as I could keep my fuel economy with the small primaries. Now I also had an Edelbrock carb laying around and to use that carb I would have had to use atleast a 2 inch spacer and I wasn't cutting a hole in my hood or using different aircleaner. I had a Holley mechanical fuel pump but to run the lines with the stock A/C brackets would be hard the way I wanted. SO I took the mechanical pump off and had my wife make me up a blockoff plate.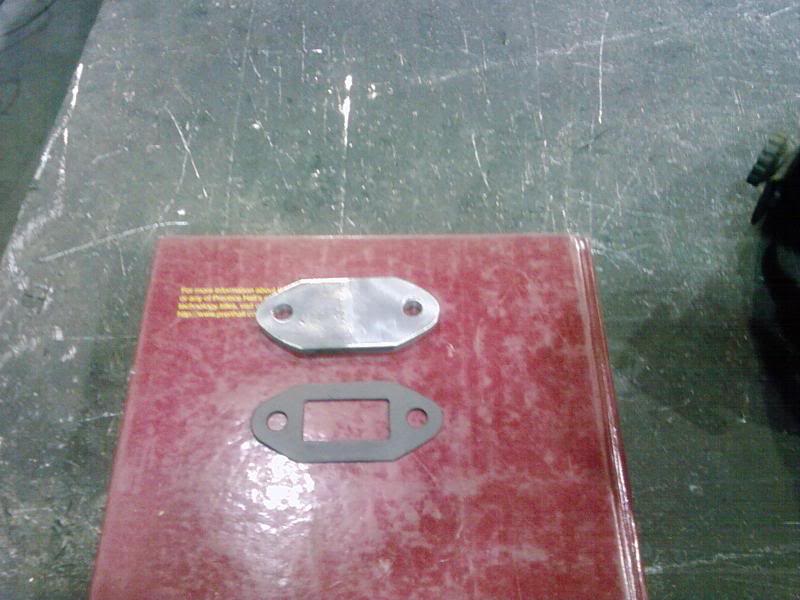 And then I added a Holley electrical one back on the frame rail. This is where my choices actually come to help me. Because If I had not wanted braided hose and the electric fuel pump I would have never distrubed my steel fuel lines. Just from the slight movement they started to leak. They were very rusted and I wouldn't have known how bad had It not been for my choices. So now I have all new wire braided hoses and steel lines front to back. I finally got it all together and working. Here is a vid of my start up with no exhaust.

Not bad if I do say so myself. Now I planned on running dual exhuast with this new engine and there are two problems with that. One is that Oldsmobile in there infinate wisdom thought it was a good Idea to take the exhaust out of the drivers side manifold route it down and under the oil pan and up into the passenger side exhaust manifold. Where the exhaust would then exit out of a separate hole. So the passenger side exhaust has two openings. SO one needs to be plugged. I had my wife weld(yes my wife is a welder)up a plug for the hole where the exhaust from the drivers side would come in. Here are those pics.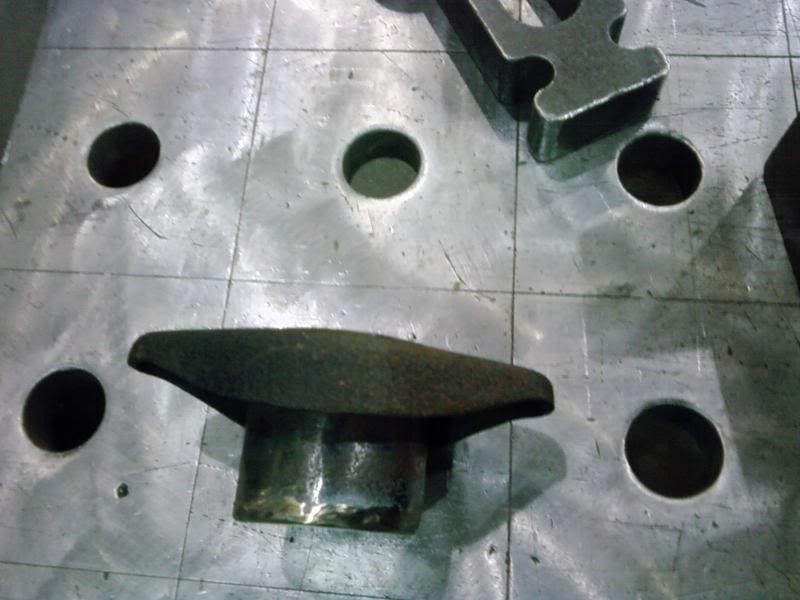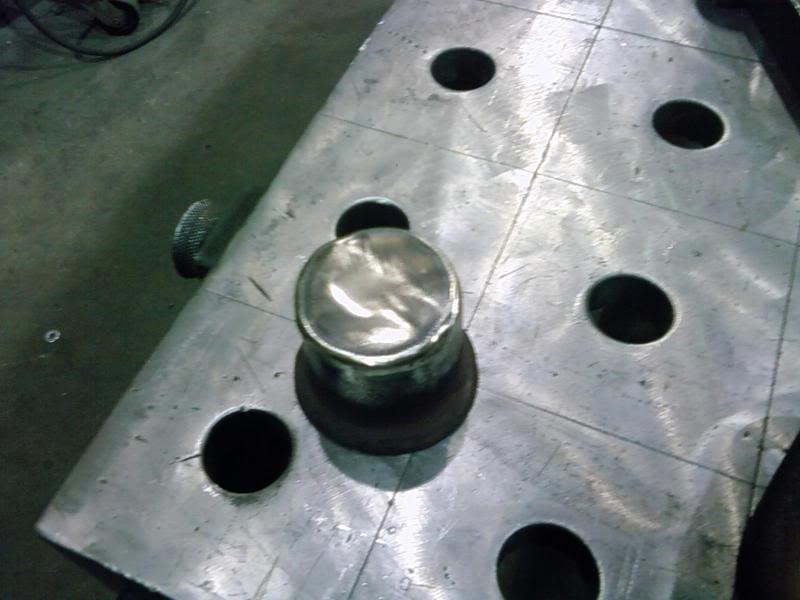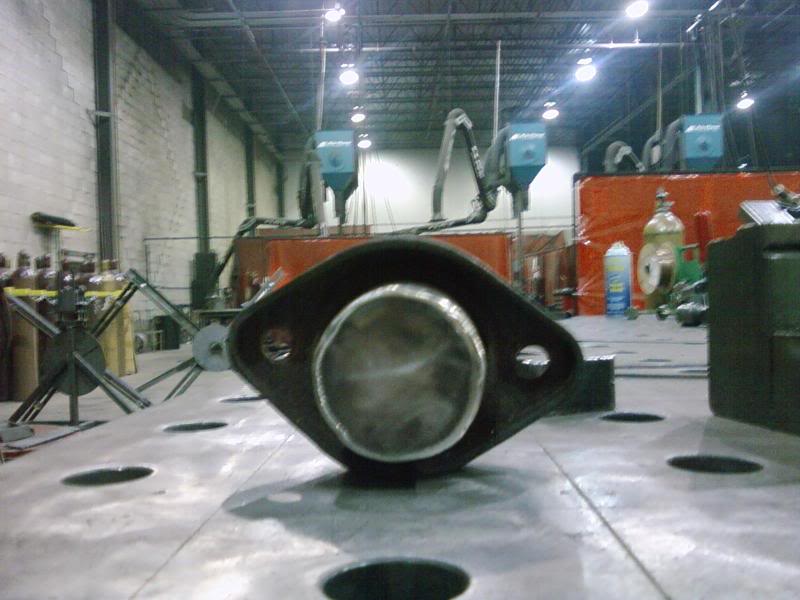 The guys at the exhaust shop were impressed with her welding. Now for the second problem. I needed a dual hump crossmember. So again I had my wife fab me up one. We had a piece of channel playing around so I simply had her cut a section out of my crossmember and weld it in.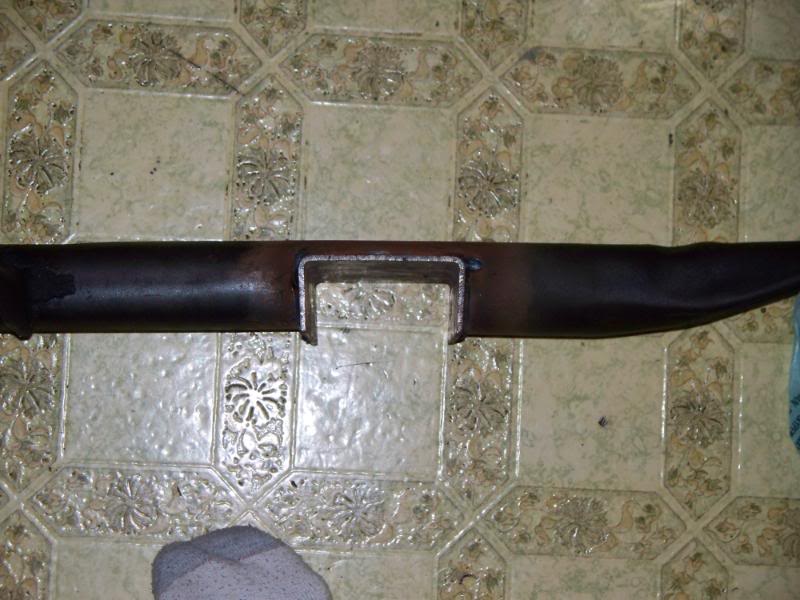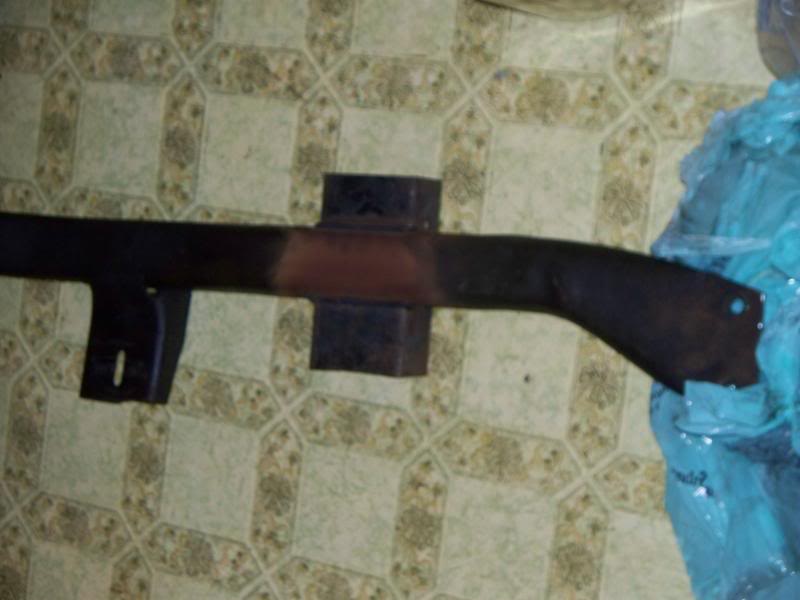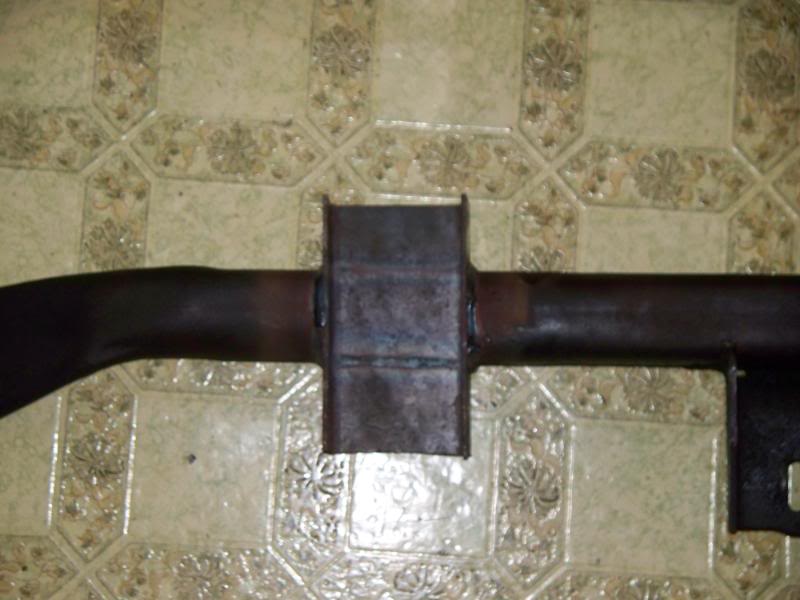 So after getting the car running it needed a new and complete exhaust system. We had the car towed to the shop, and the tow truck operator wasn't the happiest having this as his first tow on a early damp Saturday morning. But the exhaust came out nice.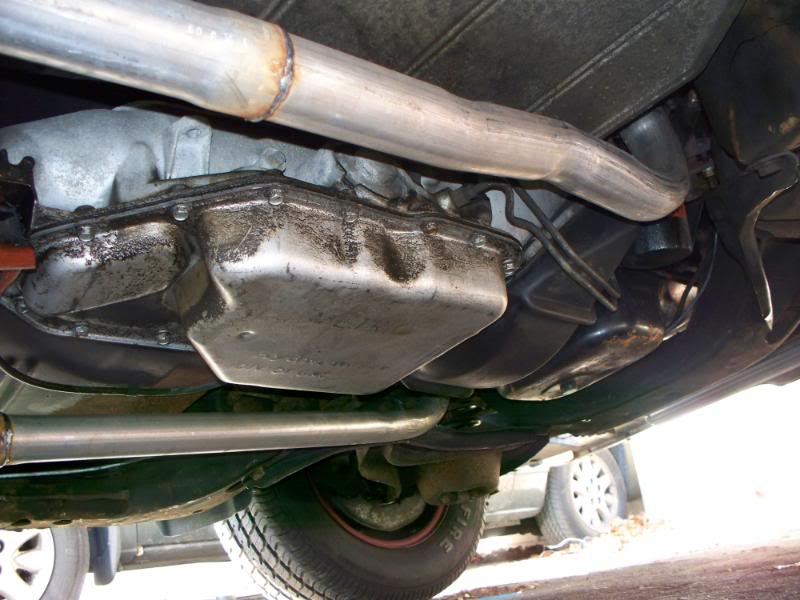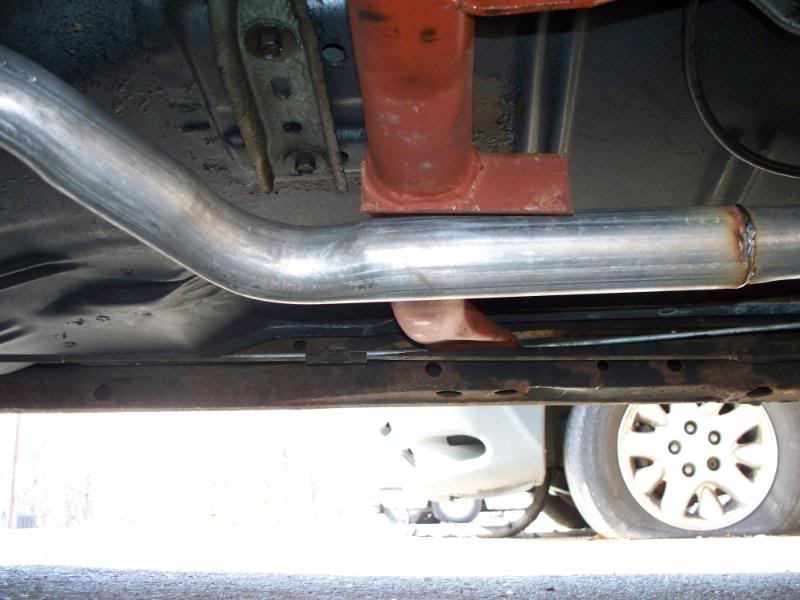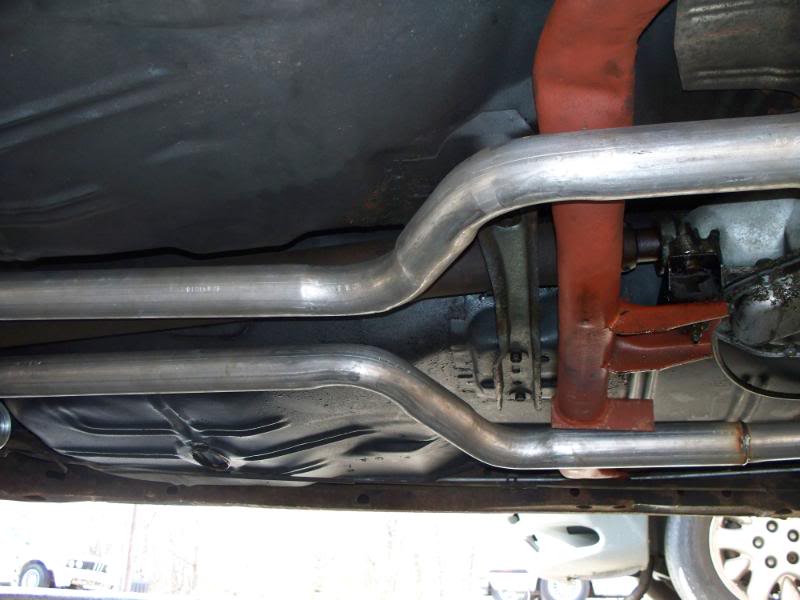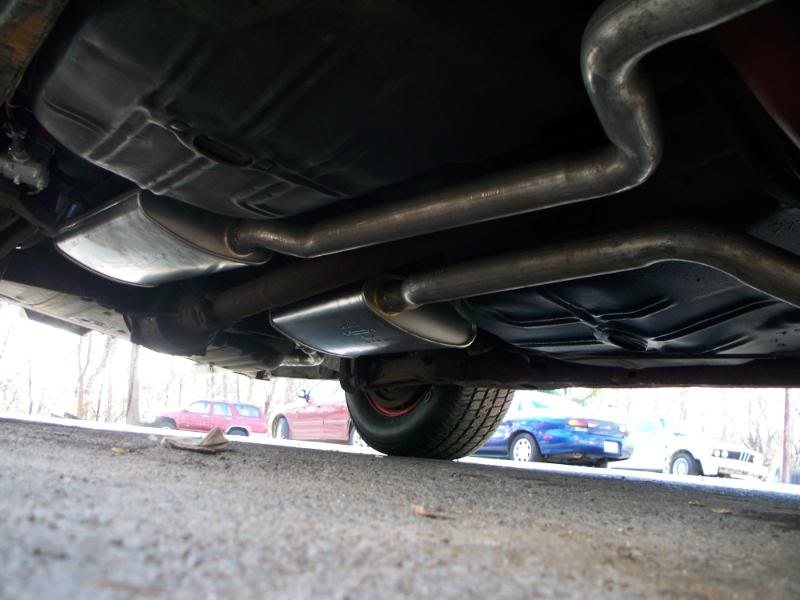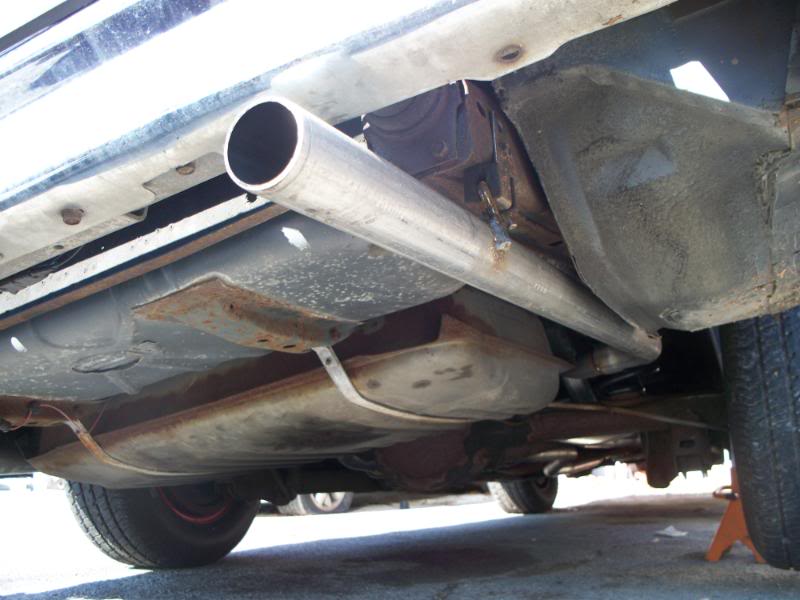 I Didn't get the Flowmasters like I wanted as funds were tight that week and I just wanted my baby back. But she sounds good. Give it a look and listen.
Now for the future mods of this thread. I bought these valve covers.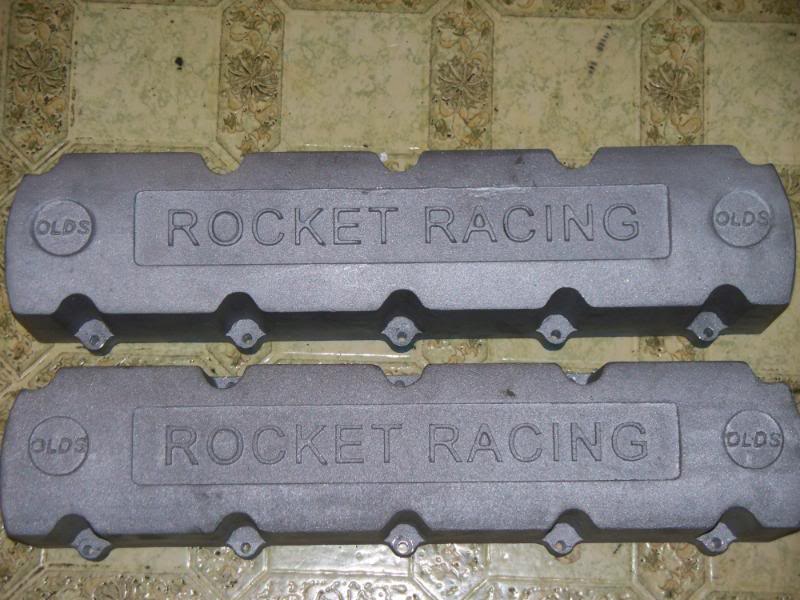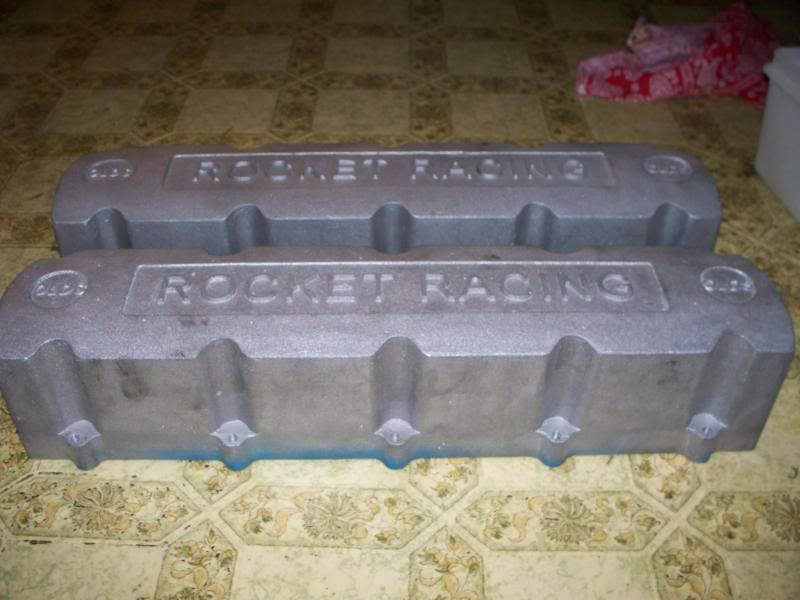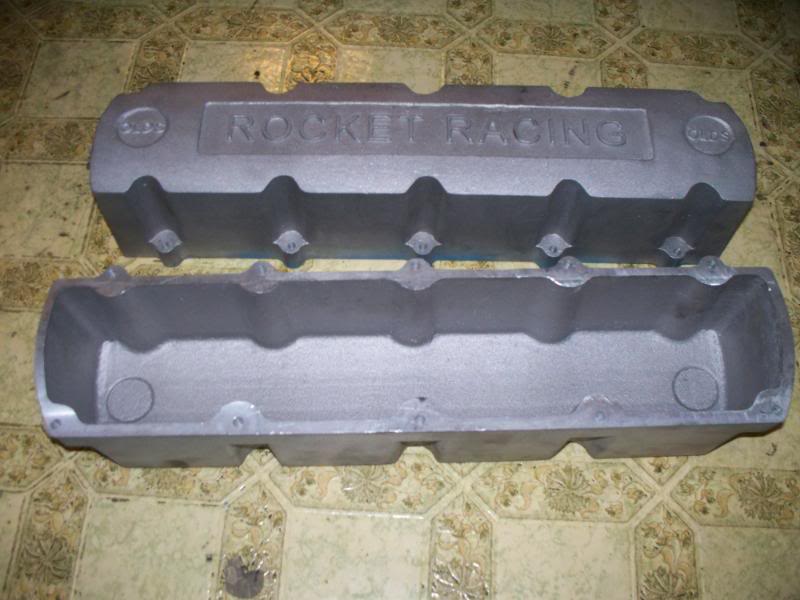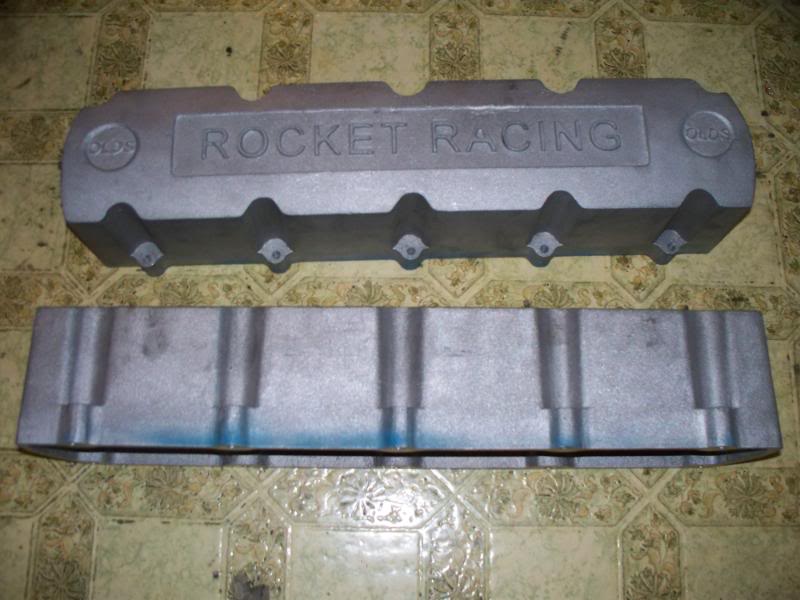 They are really cool, But they are very tall, very heavy, and very rough. I am sanding and grinding them down so they can be polished. But the cast was very pitted. So I will need to fill all the holes I can. I like that they are tall. But hate how heavy they are. They should be on sometime soon. My other project is to add fuel injection. I have this.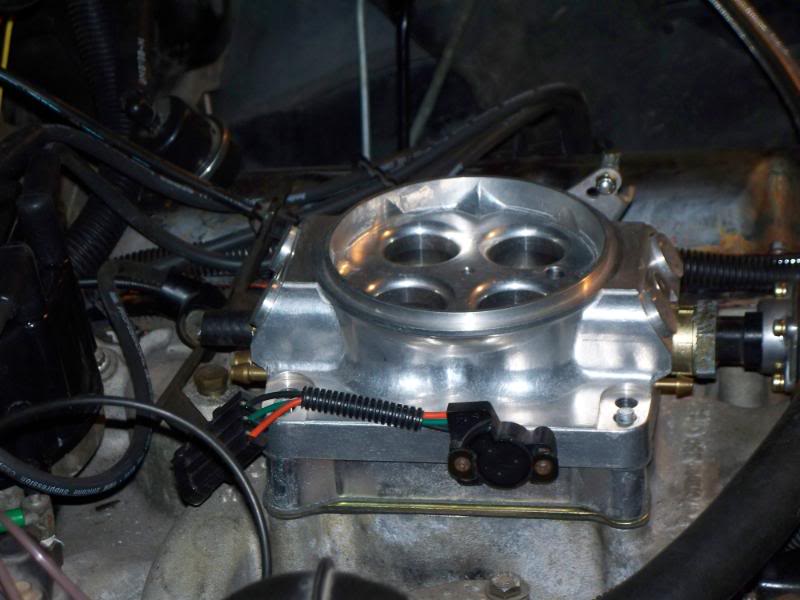 Its a great billet throttlebody. i figure I can get an Intake and have injector bungs welded on, use this throttlebody and just use a 350 Chevy computer, sensors, and wiring harness to give me a nice FI set-up. Not sure if I will use the BatWing aircleaner with it.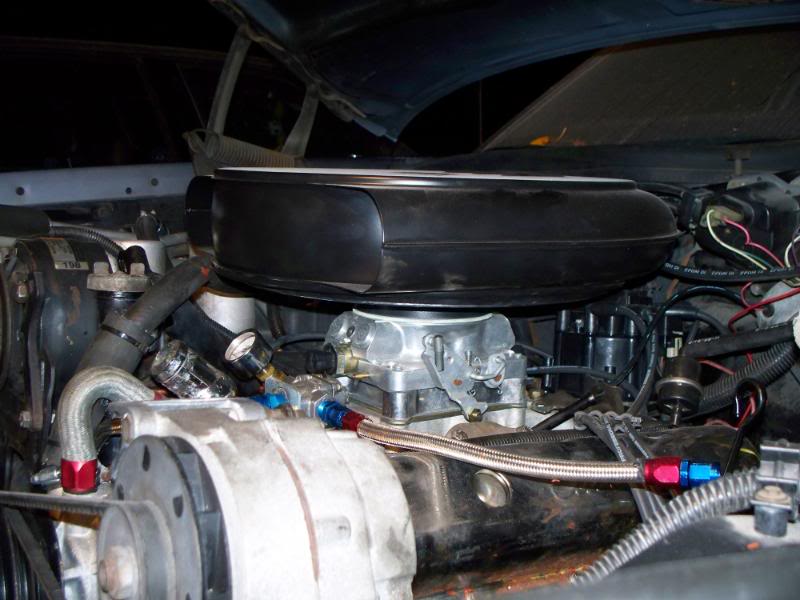 Or this and have it run to a filter under the bumper.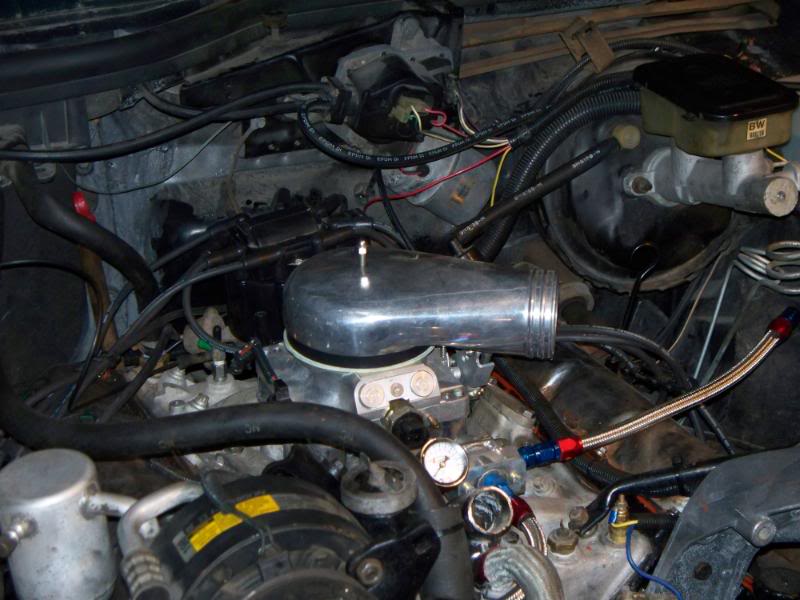 And lastly for the future mods I want the car to look like this.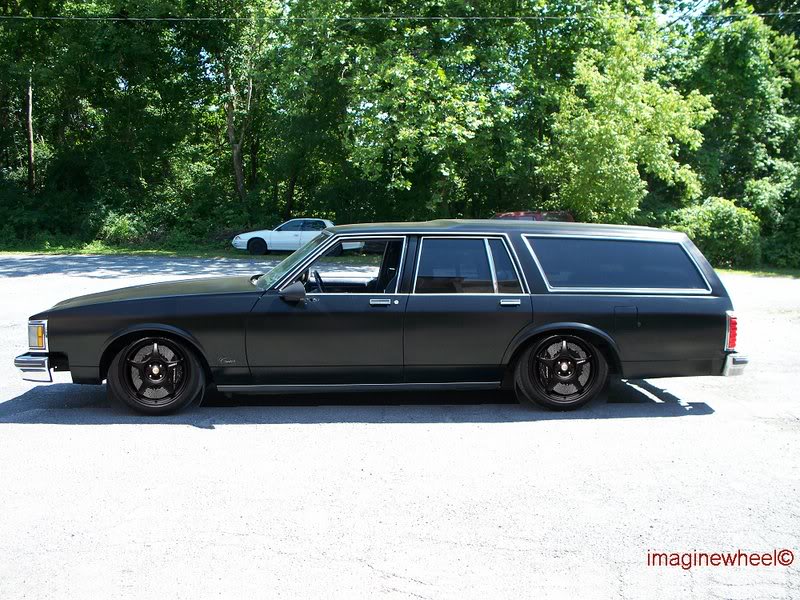 I have been looking for wheels but t is difficult as the car uses 5X5 bolt patterns. So finding nice wheels in the sizes I want is hard. Alot of the wheels with 5X5 bolt patterns are for trucks and therefore look like they are for trucks. So my seach is on. I may go with the Cragar Soft8's as they look pretty nice. But I am not sure the back spacing is ok and I really would rather have 10 inch wide wheels for the rear. With a 9 inch wide wheel the bigest I can go is a 275/40-17 and I ma not sure that would fill the rear wheel well enough. So my search is on.
Oh a couple things I forgot to mention. I lowered the car using Eibach springs. They didn't lower the car in the front near as much as I wanted. And believe it or not the car felt firmer and more stable with the stock F41 sport suspension than it does with the Eibachs. I may take the Eibachs off and put the stock ones back on and cut a few coils out of them. Here is the before and after.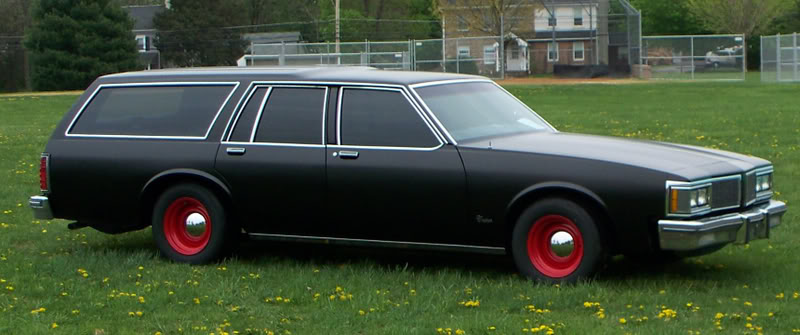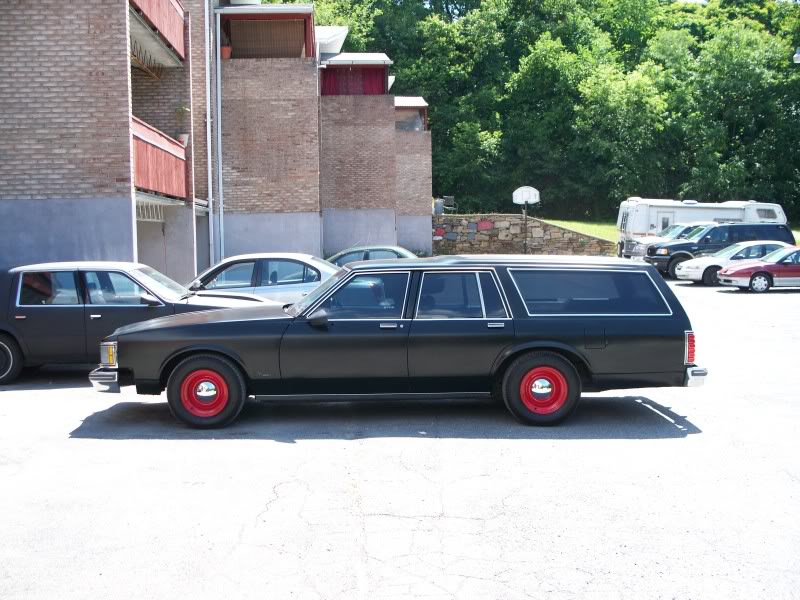 Now over the winter I plan on putting a rear bar on the car, but I will need my wife to fab me up some brackets to make the one I have fit. It seems the wagons were wider at the back and therefore anything made for the sedan versions of this car does not just bolt up. But I'll make it work.