1966 404 Coupé Injection Restoration
By diyauto
1966 404 Coupé Injection Restoration
Compliments of Mike T @ http://www.505turbo.com
11-29-2016
In the better late than never category....for nearly 28 years I have owned my 1966 404 Coupé Injection. Finally the restoration is about to begin.
The first step is to strip the shell bare. As of the 28th of November 2016, all that is left to do is the dashboard, heater and a bit of stainless steel trim on the driver's side door. The engine and gearbox are out, the brake lines, fuel lines, wiring and everything else but the basic suspension. Because the 404 has a torque tube, I had to bolt it up to the transmission mount (normally it's bolted into the gearbox) to keep the car on its wheels.
It is going to be flat bedded down to Victoria by Top Notch Towing, to Coachwerks on Ellice Street. Coachwerks does rare car restorations - they are choosy about the projects they will take. I guess my pitch worked because it's a go! Mike Grams is my contact there. This shop has done some amazing work on various show cars, dozens of 300 SLs, Pebble Beach show cars for Rudi and Company (Rudi Koniczek - they do all his bodywork). The work is going to be very expensive, but worth it to me!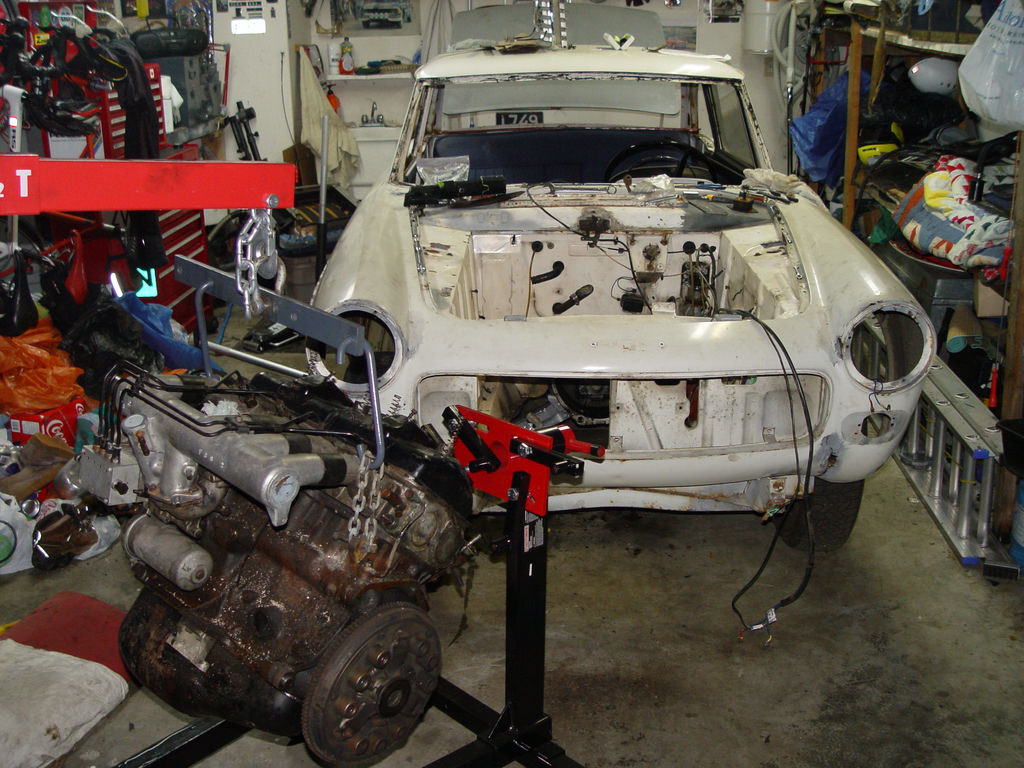 This photo shows the 404C just after the engine had been pulled. It's a KF2 unit with 96 HP. When it is rebuilt, I am hoping for 100. This should be accomplished by using a Reinz head gasket instead of the metal/asbestos one that they usually had. I have a new head for the engine, which will have hardened valve seats installed before I use it. I will tear down the engine when the car is in the shop, to assess its condition. A new piston/liner kit will go in, for sure, as well as the new head.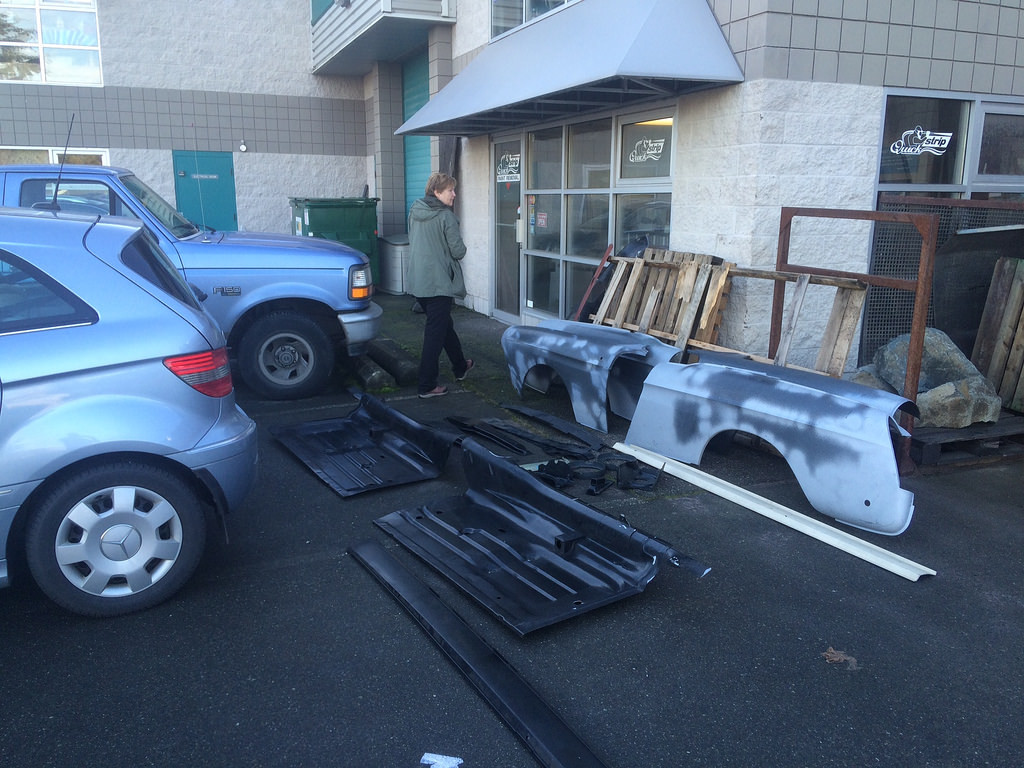 Today we dropped off the NOS body panels I have collected for the car over the years at Island Quick Strip in Sidney BC. We managed to get them all into and on the Mercedes B 200! In a couple of weeks, the whole bodyshell will be there, and thereafter at Coachwerks.
12-3-2016
The nice thing about the 404C is it has massive frame channels, shared with the sedan. Add the welded fenders and it's massively stronger! Yeah it makes restoration expensive. But she is so pretty.....
The car is completely stripped now: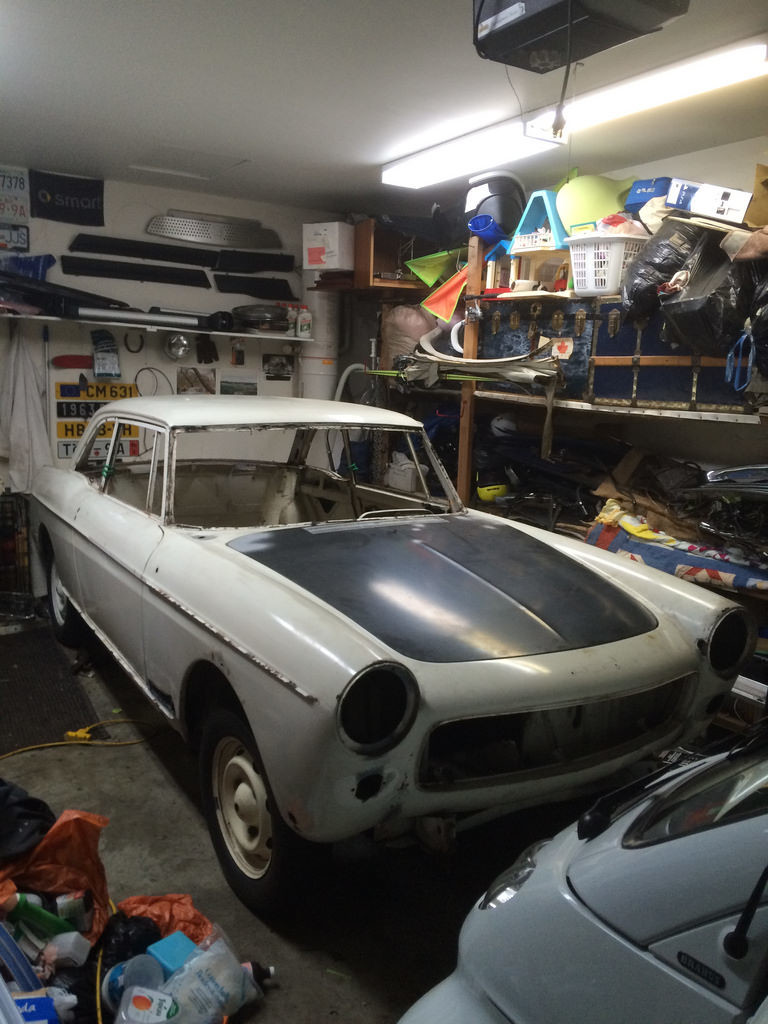 12-5-2016
Thanks! Up to now it's been more of a "de-build" and will soon be a "re-build" at Coachwerks (which is the shop that does Rudi & Co.'s cars) and thereafter a "build"!
I have to do a lot of work to get the car ready for the build-up. A lot of the parts are tired and need works themselves.
12-8-2016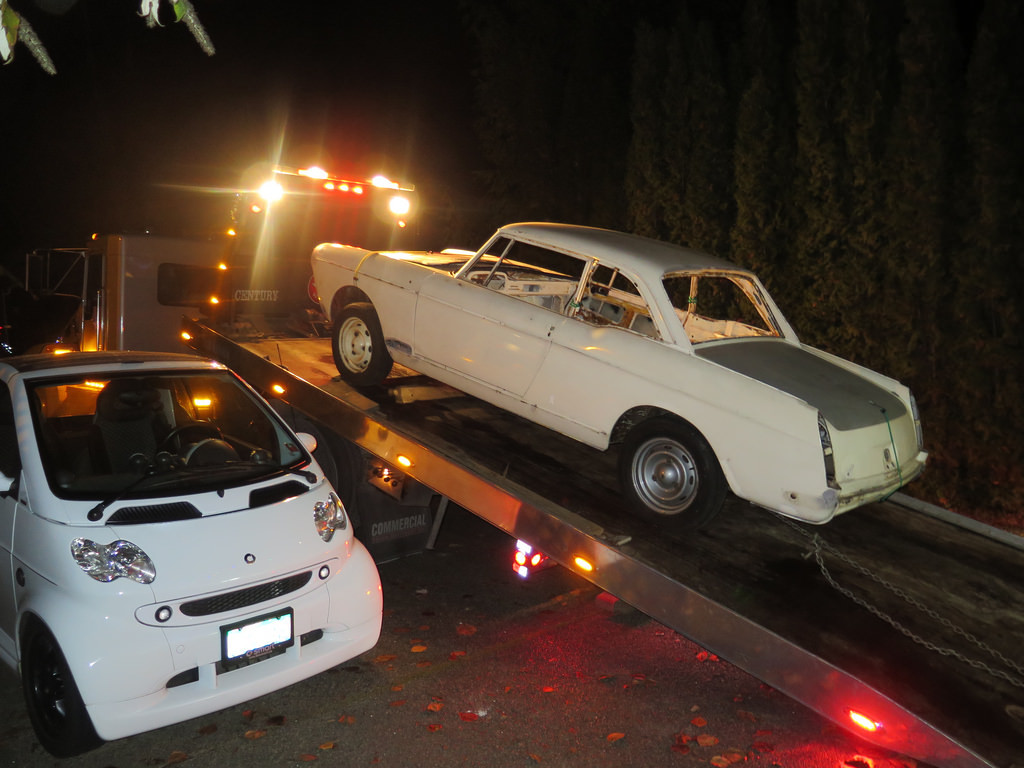 Last night the car was trucked to Victoria; today it is at Coachwerks' shop.
Coachwerks will be mounting the shell on a cart/casters and removing the suspension, then forwarding the shell to Island Quick Strip for media blasting, then back to their shop for epoxy coating and eventually the commencement of restoration work early next year.
They (and I) recommend strongly against dipping any shell. It basically destroys the whole thing. The acid is never properly neutralized inside the tightest seams and eats the car from the inside out. They had a customer with a Ferrari from the 60s who had the car dipped before the restoration and within a couple of years the car was basically scrap due to seam rust exploding everywhere. Also, I know someone with a Renault 8 Gordini who had Redi-Strip in Richmond BC dip his shell and after the car was painted, the panels previously thought to be sound were all weeping orange stains forever after.
12-10-2016
Friday I got an email from Coachwerks stating that the suspension was ready to take home (the car just got there Thursday morning!). So I borrowed a friend's pickup and drove down to Victoria to get that stuff and to my surprise, the 404C was already welded to its cart (high up in the air so the media blaster can get to the nether bits). While we were there, the flatbed came by to pull her aboard, to bring her up to the media blaster this afternoon. Mike Grams says that the restoration will begin as soon as the car comes back, probably late next week!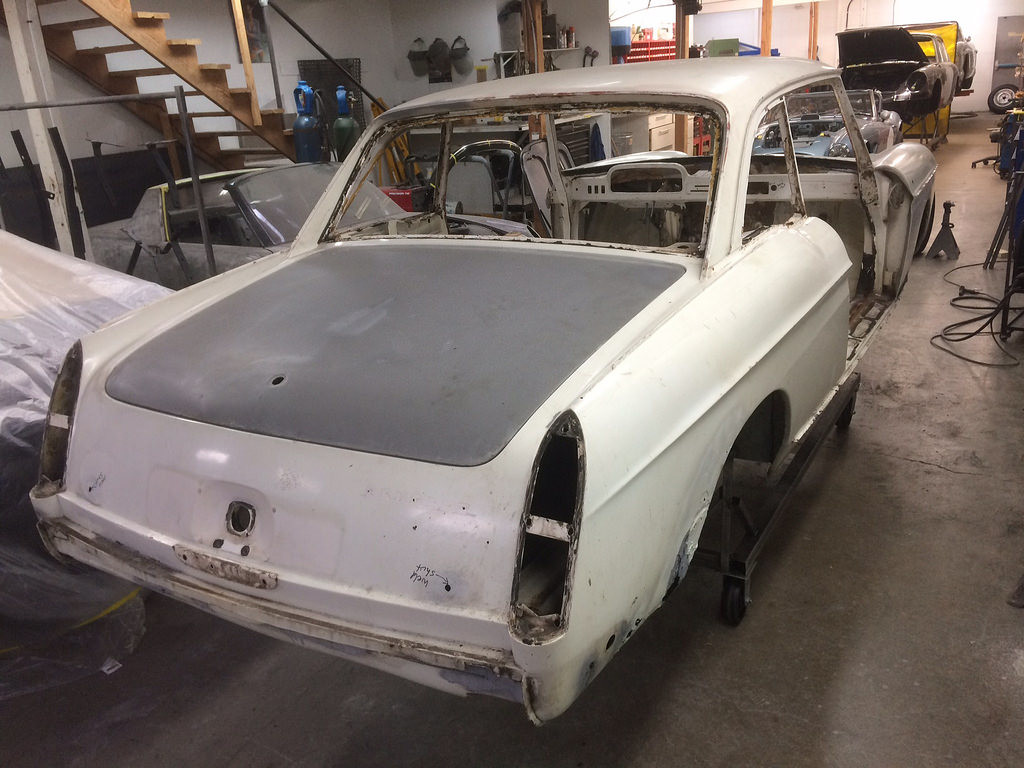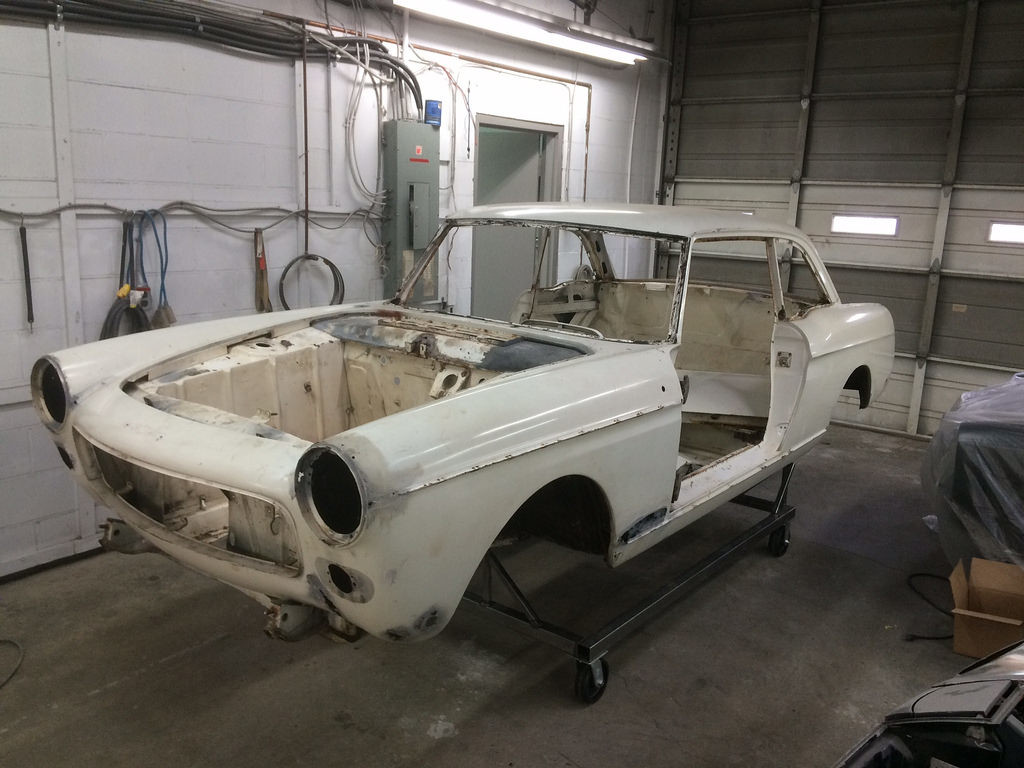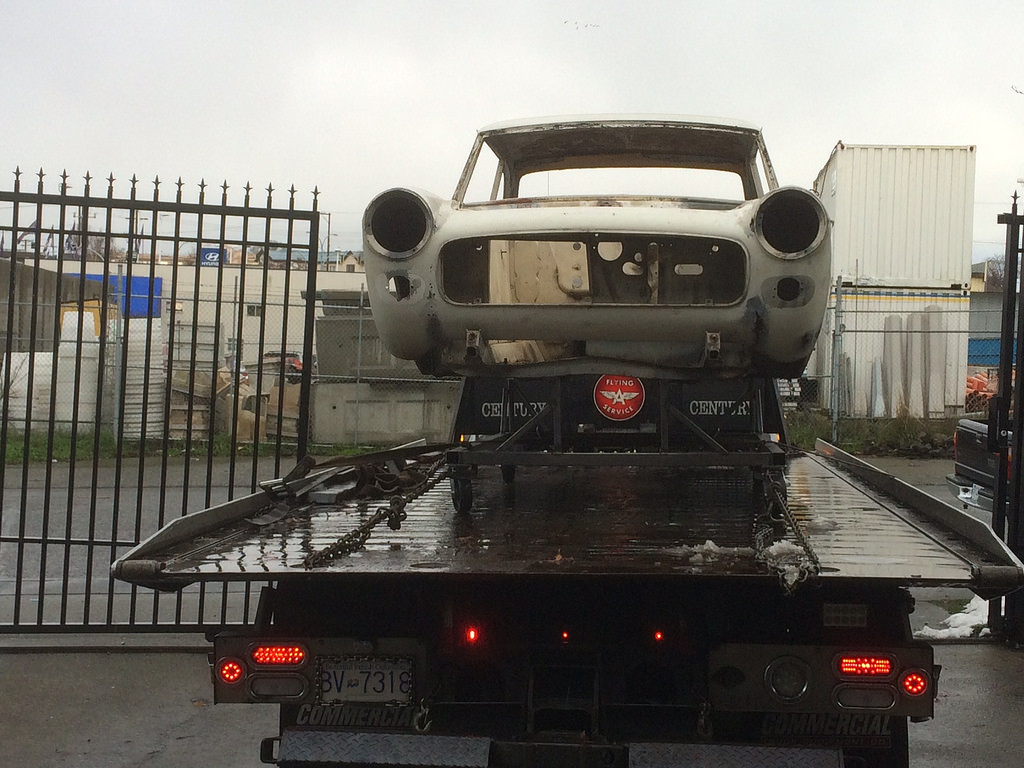 12-21-2016
The paint has all been stripped from the shell now and the car is back at Coachwerks in Victoria. Still waiting for the spare panels and opening panels to come back. Today it was sunny here so it was a perfect day to move a bare metal shell the 22 km from blasting shop to the restoration shop!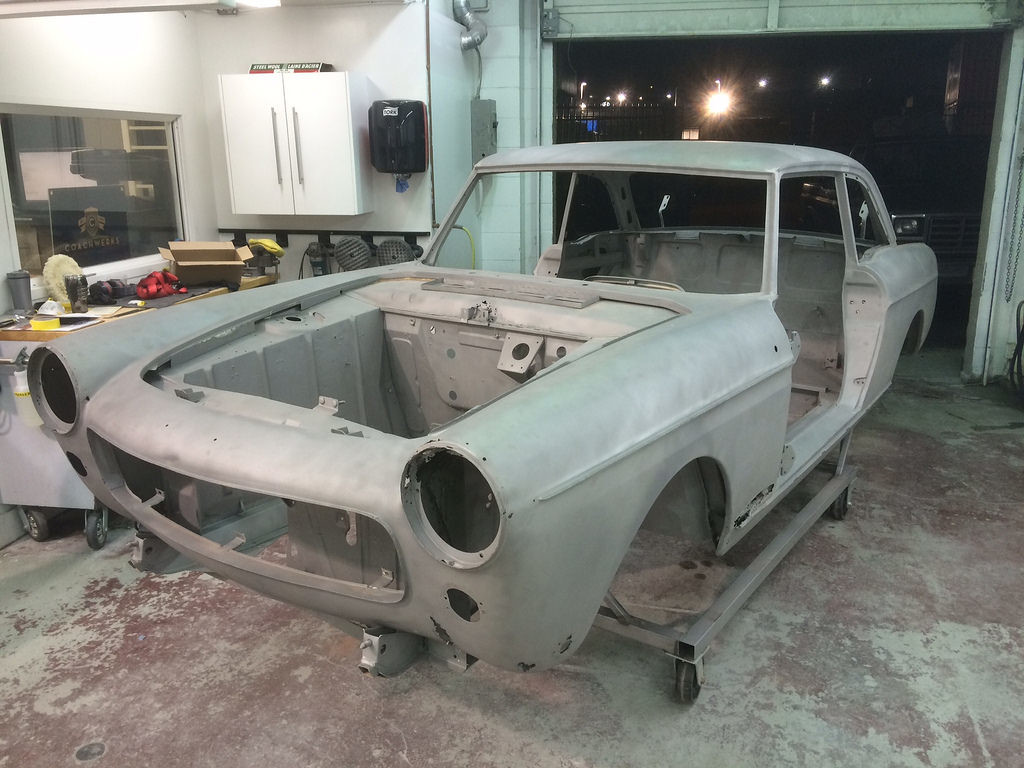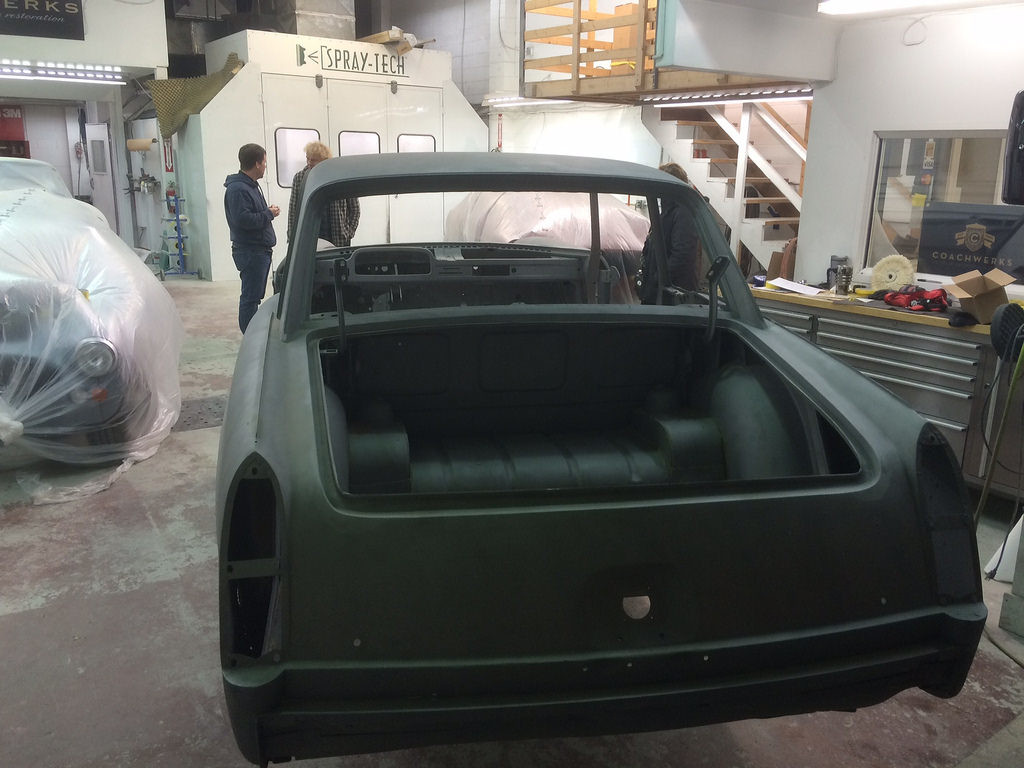 Well the blue thing I can get over, it's not like we will be driving our cars together much if at all. The light grey seats would be offset with dark blue carpets. Rather than cloth I would go for leather (not OE for a Coupe but what the hey). Black vinyl seats were also available with any Coupe but a dark interior with a dark exterior doesn't do it for me, even black leather. No matter what the seating colour, the dash pads, door cappings etc were all black.
They used colours that were specific to the 404C models, all (other than Noir 1000) of which were different from those available on other 404s.
1962-1966: White Saratoga, then White Arosa 1132; Black 1000; Dark Grey 1055; Dark Blue 1057 on Coupés.
1967-1969: White Arosa 1132, Light Grey Metallic 1162, Light Blue Metallic 1158, Black 1000
I get to choose a colour from the 1962-1966 list.
12-22-2016
Coachwerks recommended a dark colour and the one he mentioned was dark grey, but that's because a '66 911 with immaculately applied grey paint was in the other room...but that car has red leather interior but that's not a 404 interior colour.
I prefer the blue and so does Sandy. But there is time yet, still to vacillate.
12-27-2016
I have been continuing to clean up the suspension as a priority, so the completed shell can be mounted on it just before the car is returned to me early in 2017 (spring?). Bear in mind that the car only has 82,000 miles on it from new.
Summary:
The struts will have new shocks installed (OE Peugeot) and I will have this work done by a motorcycle guy who does this in a big way.
Both struts will be cleaned to the bare metal and the cast iron parts at the base and at the spring mount coated with Zinga under the satin black topcoat. The right one is primed already. I checked the track arm position with my factory tool and it's fine.
Both front springs are in good condition but need some touch-ups with black paint. I will do that by hand to keep the mostly intact factory paint.
The upper shock mounts are crap and I have two nearly new ones to use that I have had for decades, with another few decades of life left in them.
The steering swivel needle bearings and races will be replaced, as will the grease seals.
New shock bellows, new front wheel bearings will be used.
Suspension arms are iron - the transverse ones were in good condition but needed a serious de-rusting and new bushings. They're both cleaned and primed, and once painted, will have the new bushings pressed into place.
The front diagonal suspension arms are also iron and the first one I took off stripped its threading so I had to order two new ones from Germany. They're en route right now and will be used in reassembly. The other original diagonal arm came off intact and I will keep it as a spare.
The cast iron front crossmember and related cast suspension mounts will be sandblasted and powder coated.
The steering rack will have new dampers and springs fitted, if needed.
The rear springs are heavily surface rusted so they will be sandblasted and powder coated black.
The Panhard rod is also heavily corroded and needs new bushings so it will be blasted and coated, new bushings pressed in.
The rear shock absorbers are original but seem OK. They have been primed and are ready for a top coat. If they're not working properly, they are easy to change.
The torque tube will be refinished in dark grey after derusting.
The aluminum rear axle will not be dismantled at this time but will be opened up for a cleaning. I have new worm and wheel, bearings, oil seals and more, but it seems to be in good condition so I will save those parts for later use.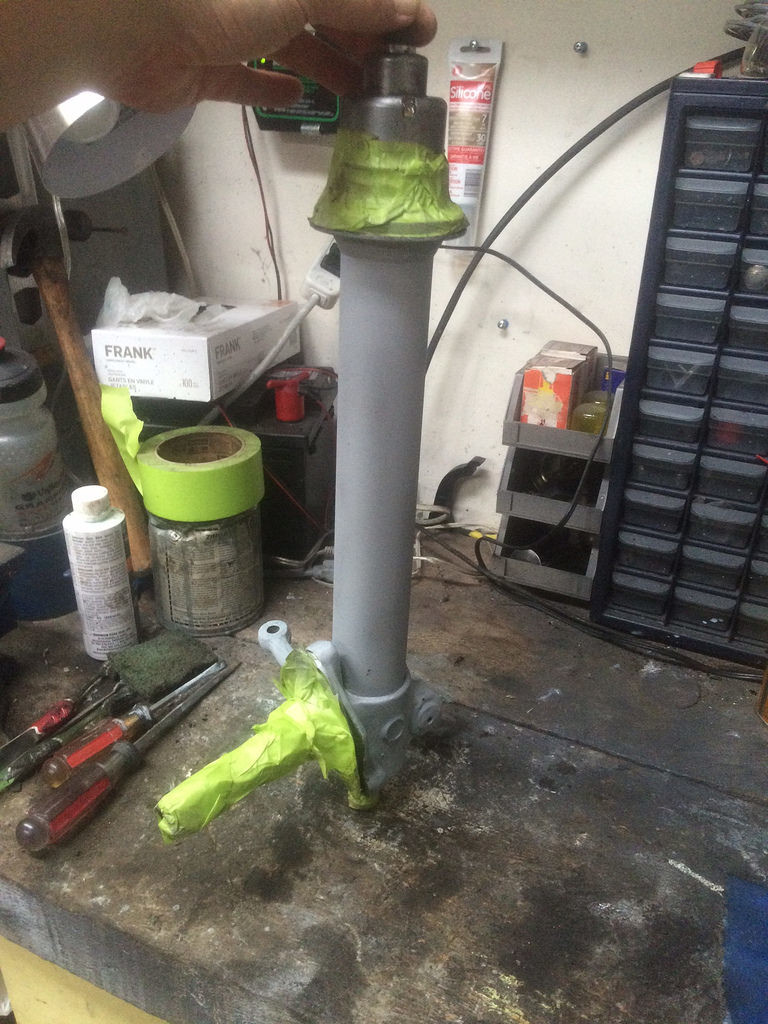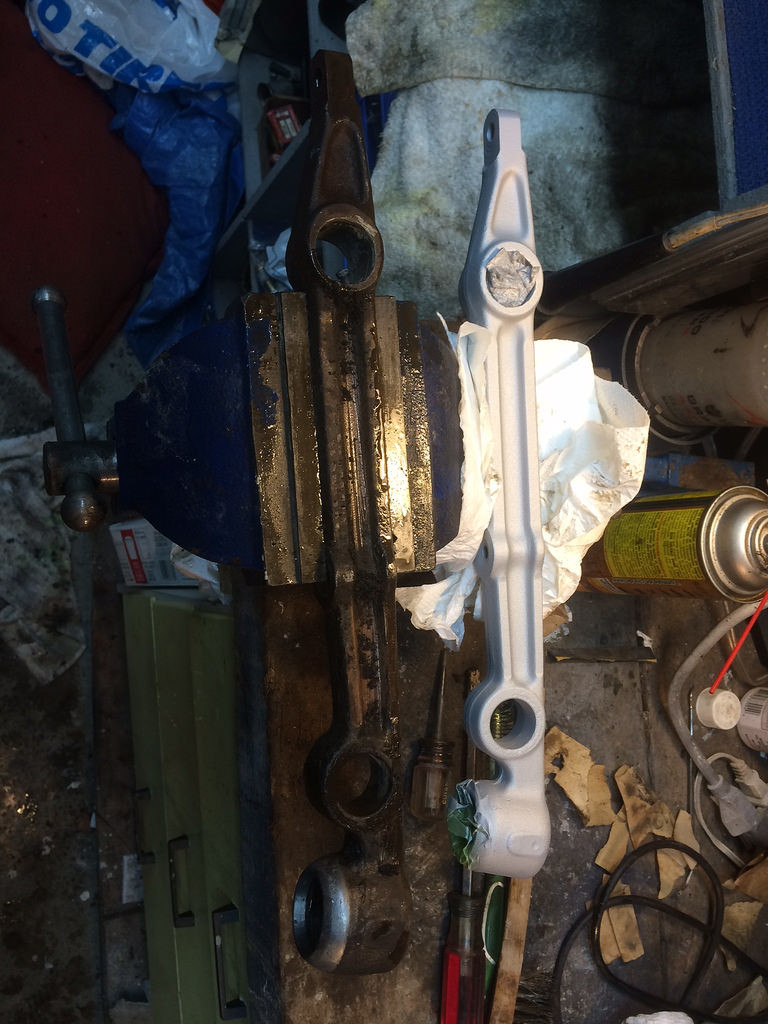 12-28-2016
It's already insured for 7 grand w. Hagerty and will shortly be insured at an agreed value of $55K with them, once it's restored. Driving this car is the plan. Every time I drive a 404, it feels GREAT! I look forward to that feeling again.
The diff is OK. It's worm drive and did until 1989 have the wrong oil in it, but it's OK for now, not unduly worn. Oil seals will be examined but I am not going to take the differential apart for now. I have new bolts and worm and wheel, plus the factory tool kit.
Even the brake linings, with 82,000 miles on the originals, have lots of life left in them (they usually lasted 150K miles when the cars were new).
Rear shocks are not rebuildable but they seem serviceable and I will see how it goes. Having run both Boge and Koni shocks in a 404 previously, I can say that they're both rubbish so I am not too keen to bin the rears for some aftermarket brand if I can avoid it. The bodies were rusty so I repainted them. Peugeot doesn't make new replicas of rear (or front) 404 shocks, yet.
12-29-2016
The struts are both cleaned and one is painted, one is primed as of Wednesday evening. Main suspension arms are painted.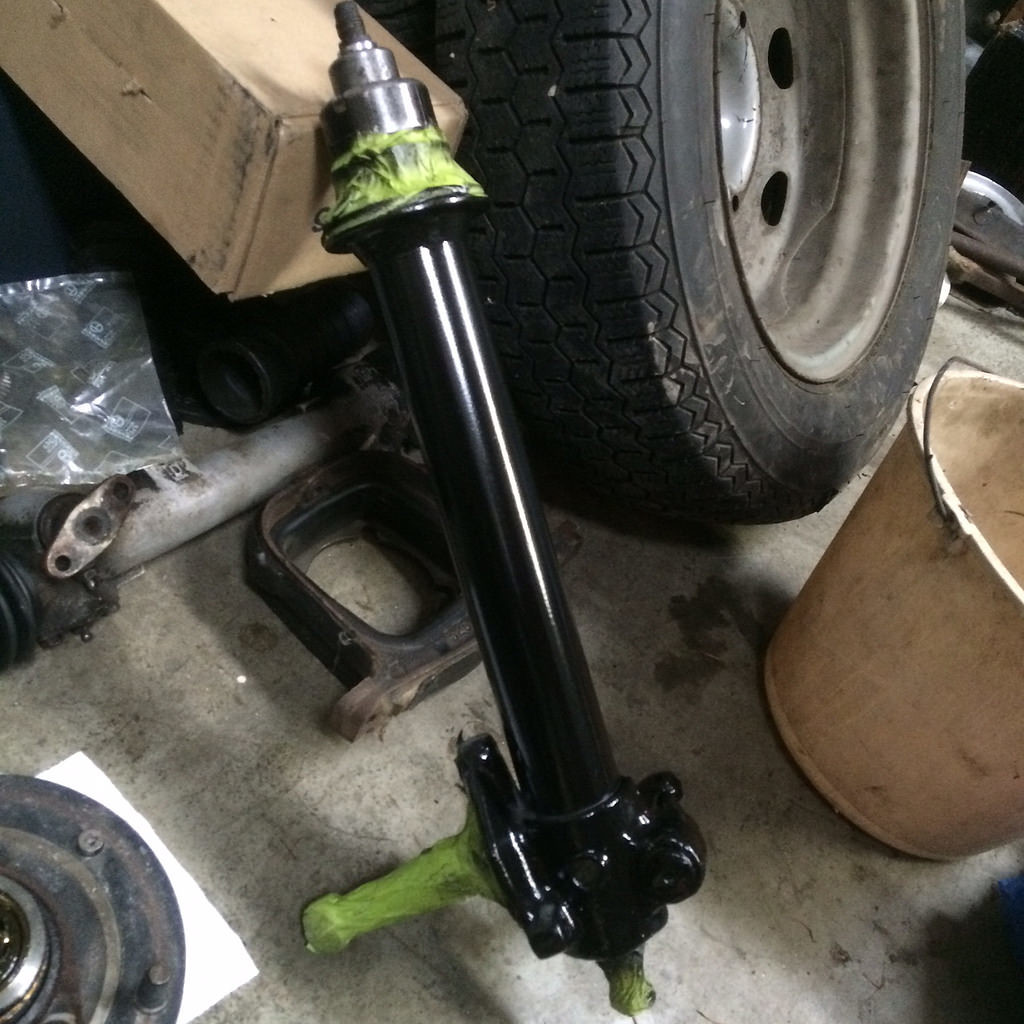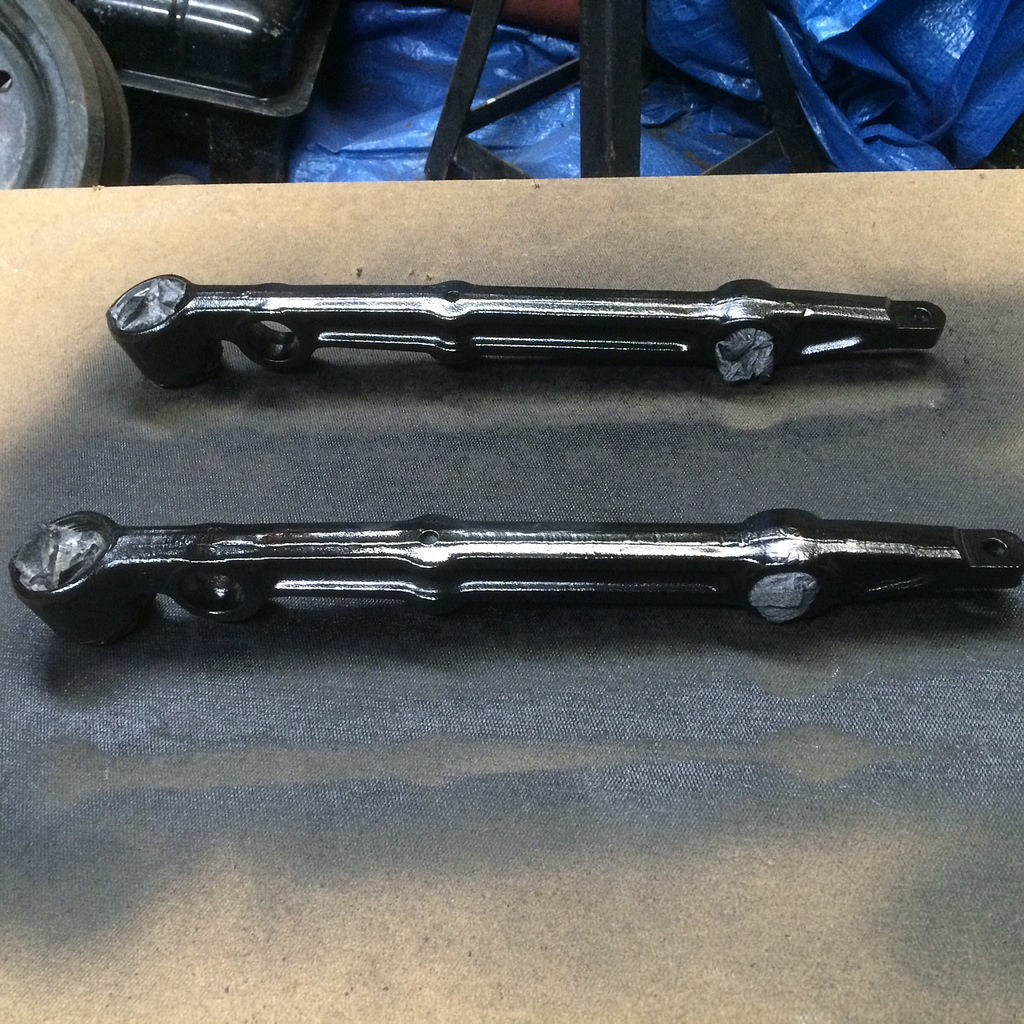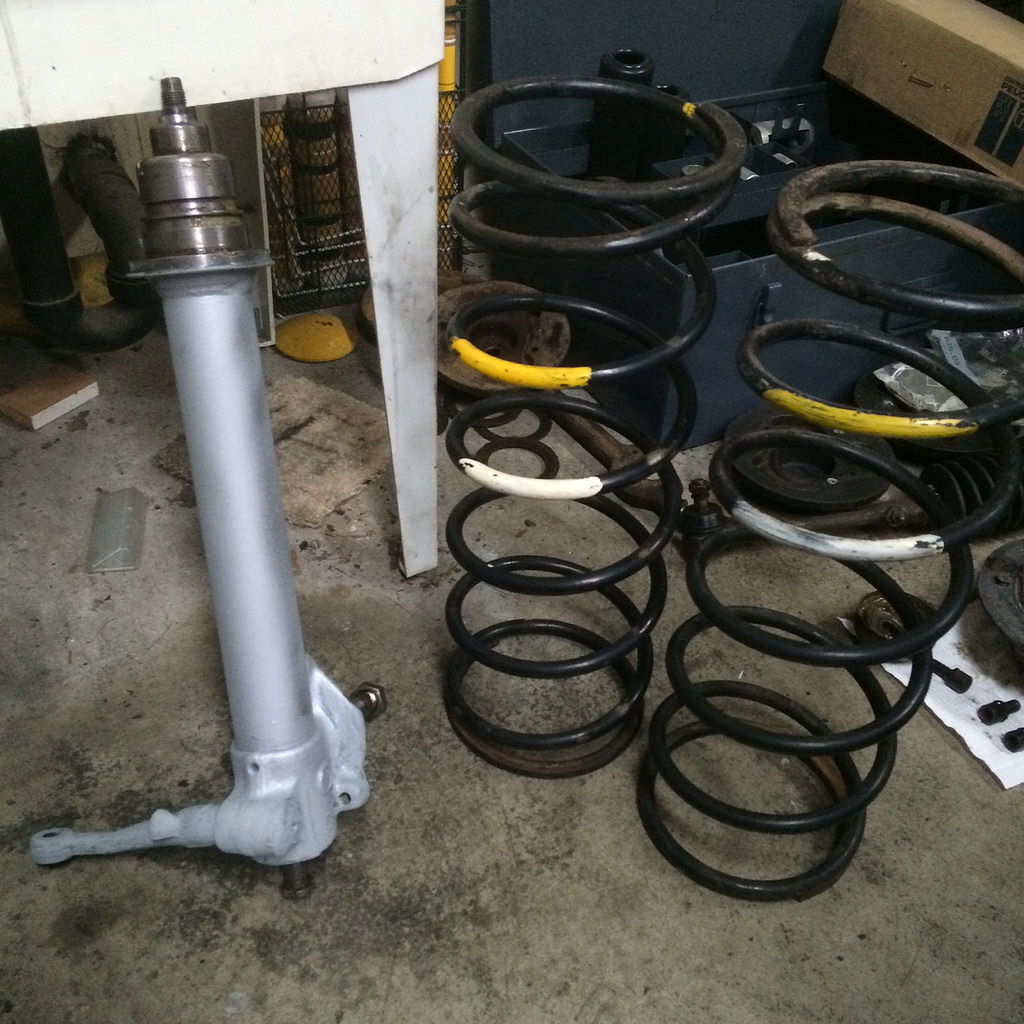 1-3-2017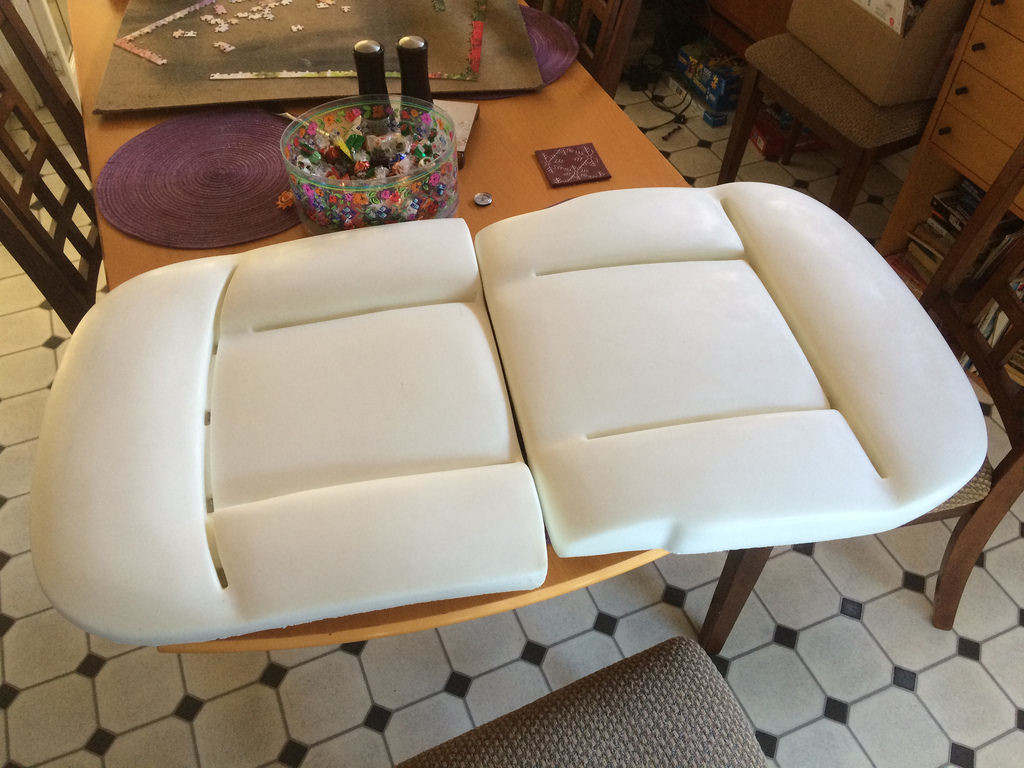 Seat foams arrived today. Left is backrest, right is cushion. And yes, I got a second pair for the other seat! Source: Comptoir du Cabriolet in France.
Double yes, those grinders are both Peugeots!
1-6-2017
Today I made another visit....to drop off a cheque and to see the car.
The work on the bodyshell has just begun, because only a day ago did the panels I dropped off at Island Quick Strip get back to Coachwerks!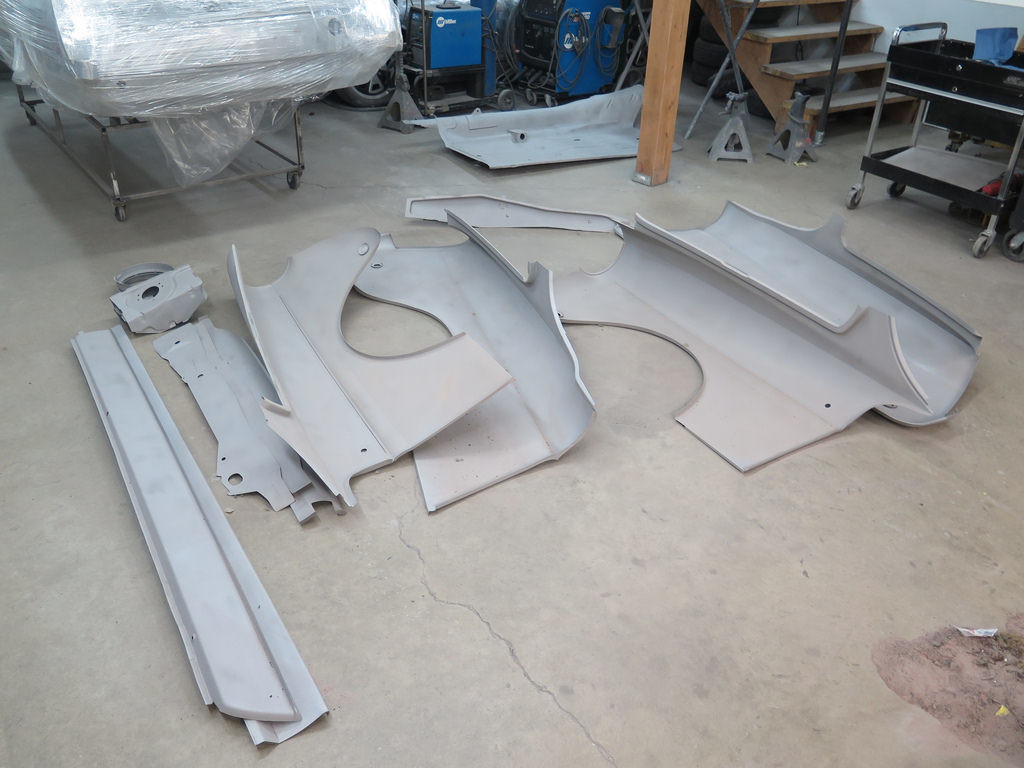 NOS panels after blasting (the other half floor is on the other side of the shop).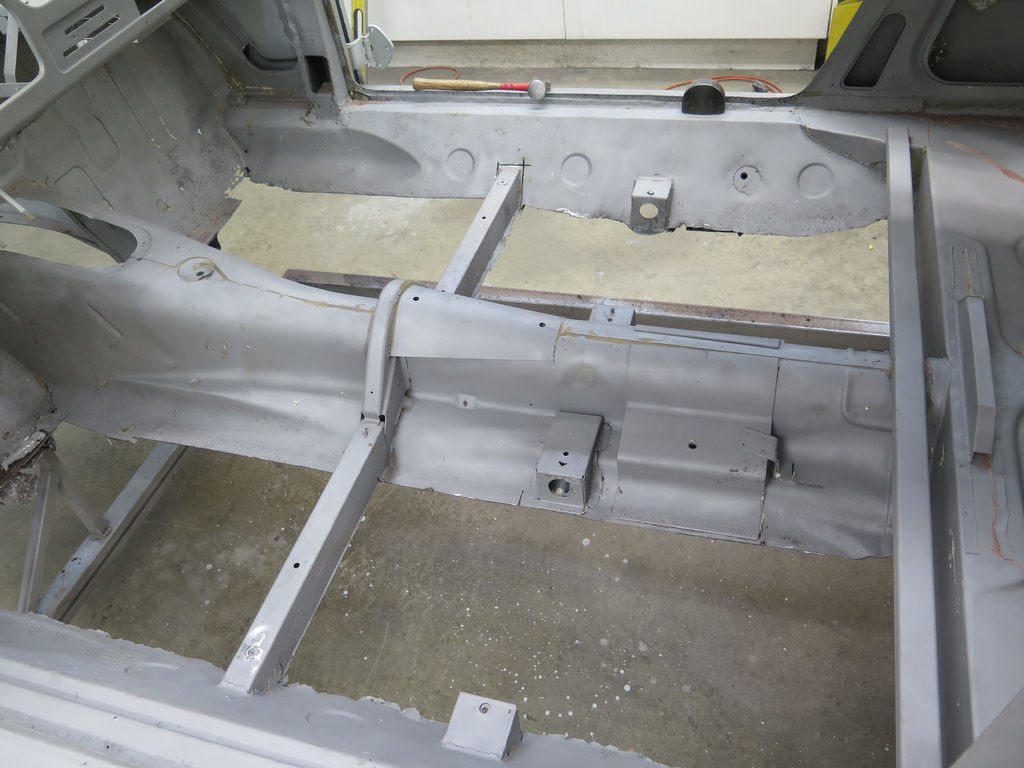 Floors cut away completely, tunnel intact.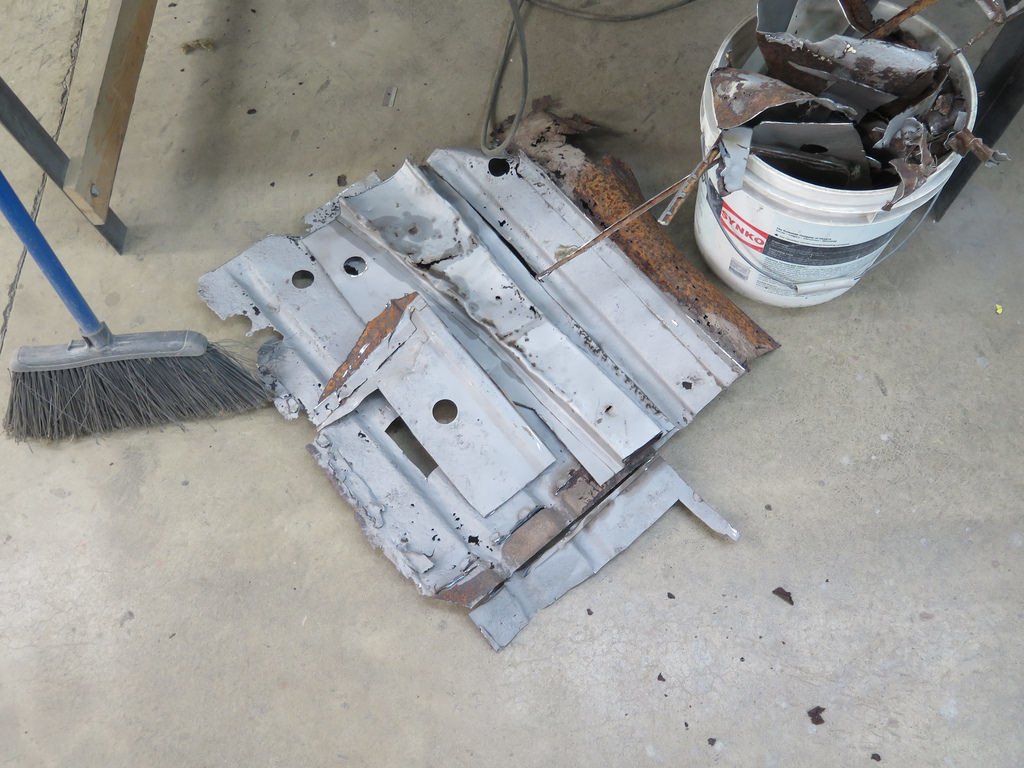 Floor pieces! Next stop: recycling!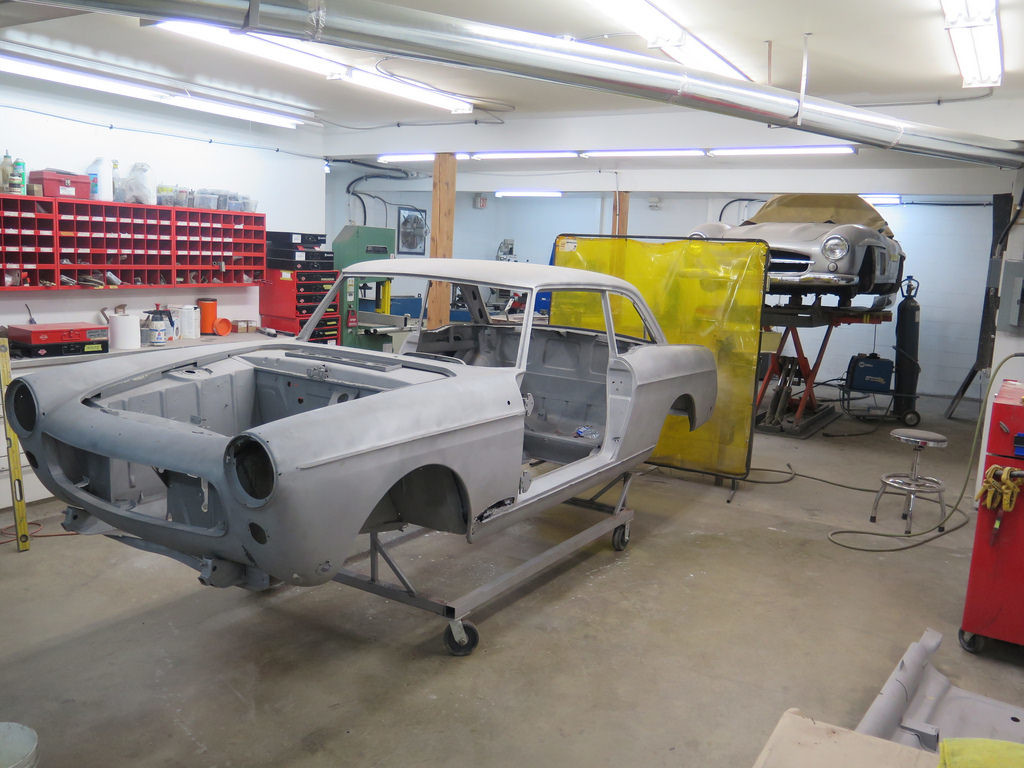 404C on the cart....300 SL in the background.
1-7-2017
Colour will be Bleu Foncé 1057. I am not sure what paint system they use. For box sections, they use Waxoyl to provide rust inhibition.
1-8-2017
Shell is on the rotisserie Saturday.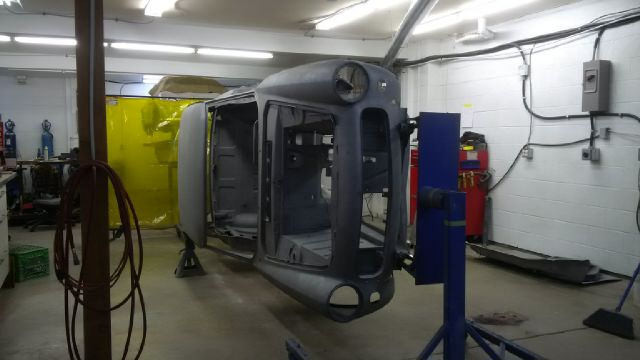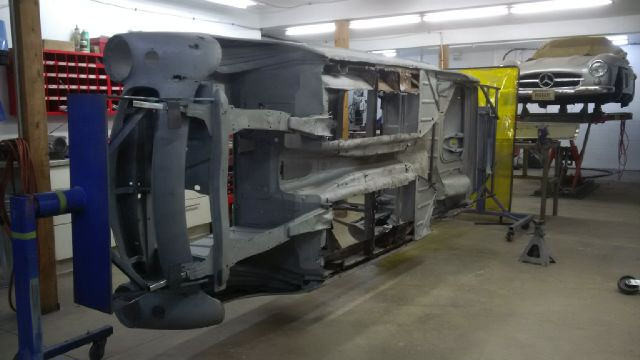 1-12-2017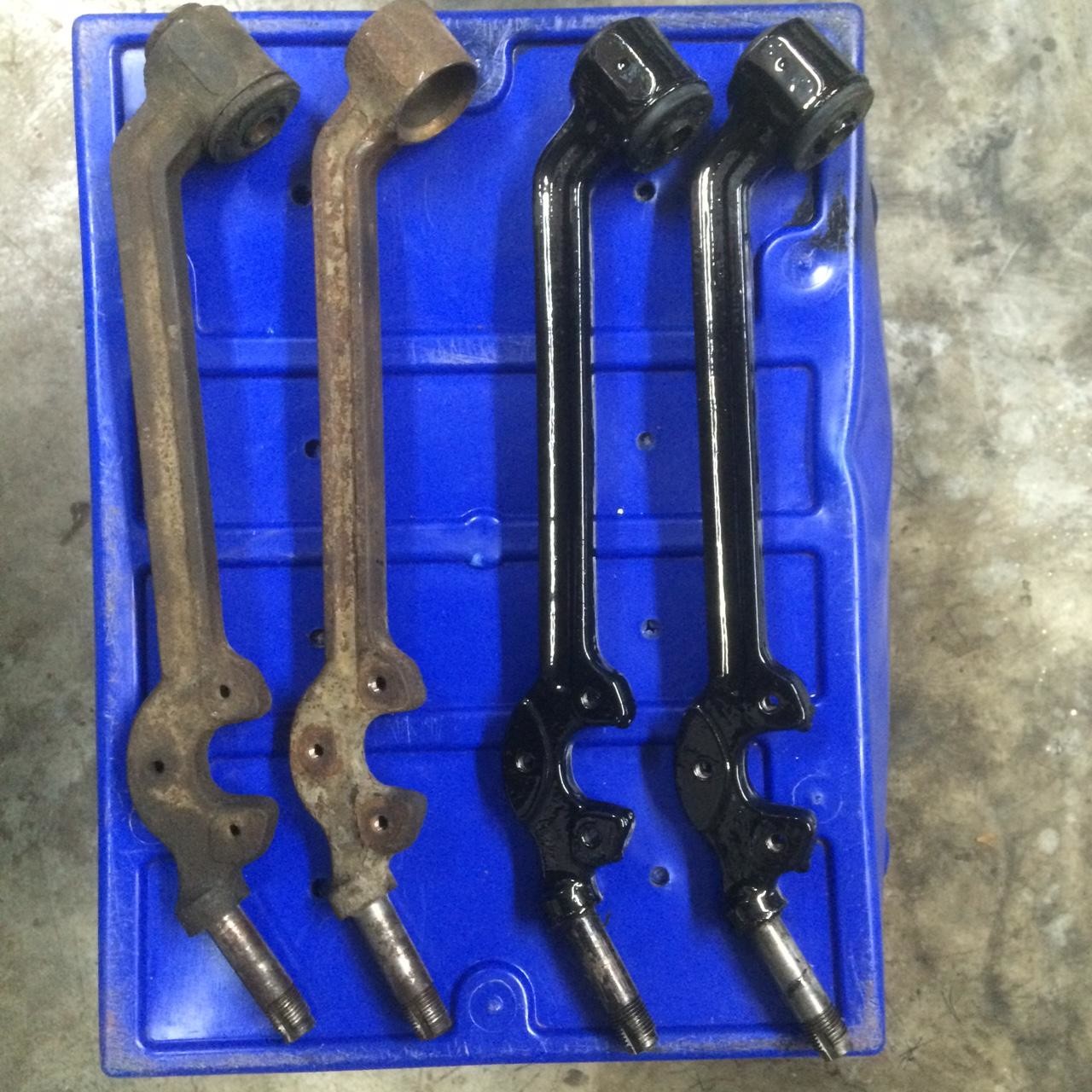 On the right, new old stock front suspension arms with new bushings, painted in POR-15.
On the left, the two arms that came out of the 404C. One had a totally loose bushing that fell out when the arm was removed (I drove the metal sleeve out with a chisel). That one is in good condition and I will repaint it for future spare parts. The one with the bushing still in it has damaged threading and will be recycled.
Yes, the big threads stripped on the left arm. I had to apply about 1400 Nm of force to get that one off. Even after unstaking the nut, it was super tight. This is a weak point in the 404, if the threads start to strip, the suspension geometry changes and eventually the threads can let go entirely. I had bad threads on a 404C before and it took a while for me to realize what was loose when the steering got weird in a corner. That is why I decided to use brand new front arms in this case, which should be good for the next 50 years if not more.
It is the thread visible at the end of the arm. I applied the estimated torque with a ~90 cm long breaker bar, holding the far end and using all my body weight 100+kg) and more to break the nut free. I had to use the breaker bar for about 10 turns of the nut, that is how bad it was!
1-13-2017
Tonight I was sanding rust off the anti-roll bar components and a few other small bits. Fiddly work and most unpleasant....Friday night or Sunday I will paint them with POR-15 as well. I hope to finish cleaning the rear axle casing as well. Then I need to sandblast the cast iron crossmember, brake drums (outer surfaces), brake backing plates, Panhard rod, rear springs and some other bits and paint them as well. At that point the suspension cleaning and painting will be complete and bushings will need to be pressed in and it'll be ready.
Meanwhile I hope on Saturday to have the new front (Peugeot OE) shocks installed.
And then I have to start work on all the other parts: wipers, heater motor, door innards including window mechanisms, other bits and pieces.
The gearbox needs new bearings so I will have someone in Victoria do that job, and the engine needs a rebuild. I will do that myself but lots of contracting out is needed. The new head needs unleaded valve seats, crank may need a grind, engine block needs to be boiled out and painted, and so on.
Fuel tank needs to be cleaned out and sealed, radiator and heater core need work.
It has been good. The suspension part preparation has consisted of sanding with 80 grit paper and then wire brushing by hand with rust remover, washing, drying the cleaning with solvent. So the surface is very rough. It's brushed on and the surface is perfectly smooth after drying. Adherence so far is amazing.
Agreed about powder coat, one nick and it comes off in huge flakes a year later.
1-14-2017
I stopped by the shop today to drop off a new front crossmember and rear jack mount I just got this week from Joern Haarmann....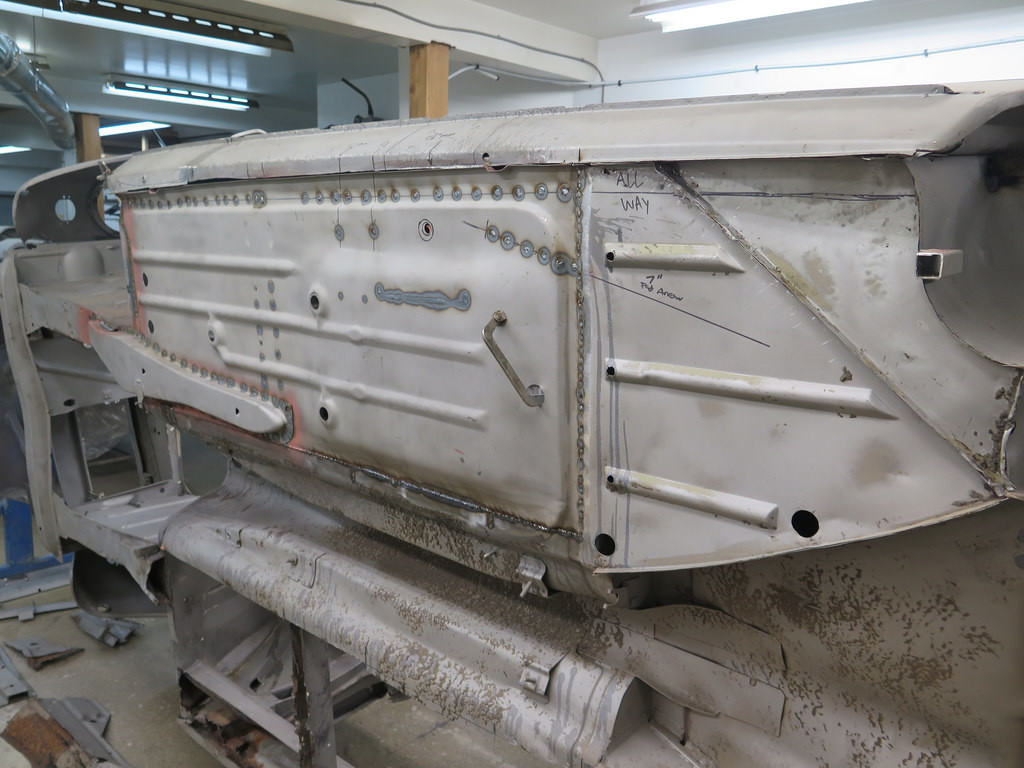 Left front floor partially reconstructed, rocker panel/sill on this side is being made in the shop because I only have one in NOS for the other side of the car.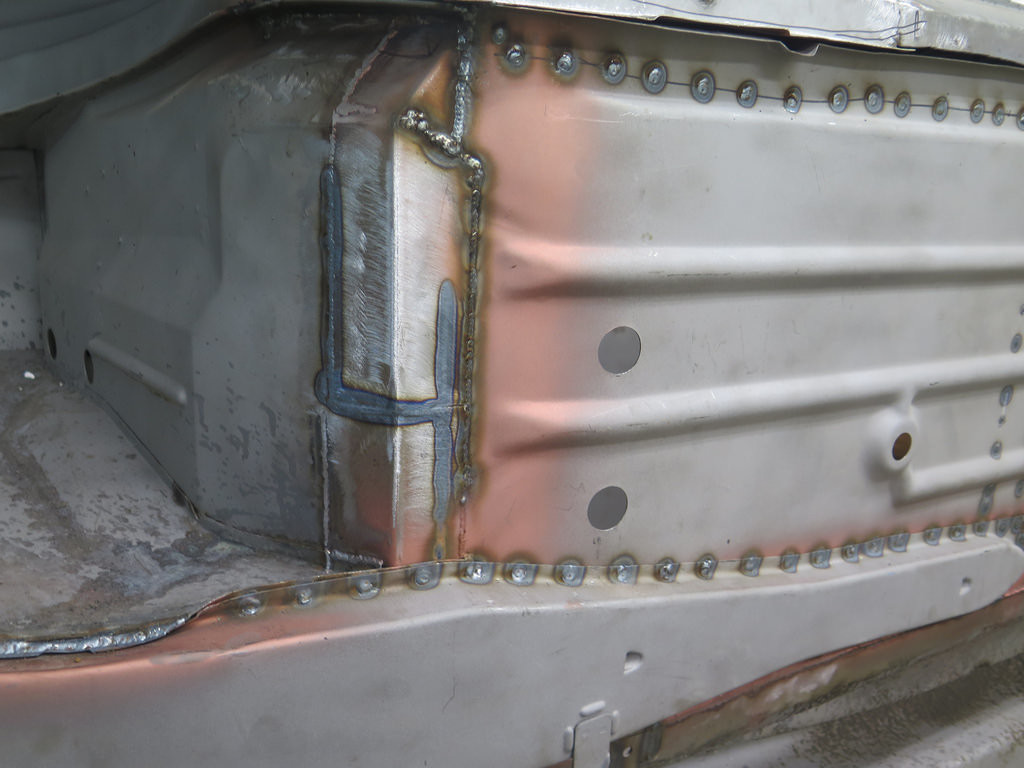 Front left detail of floor under reconstruction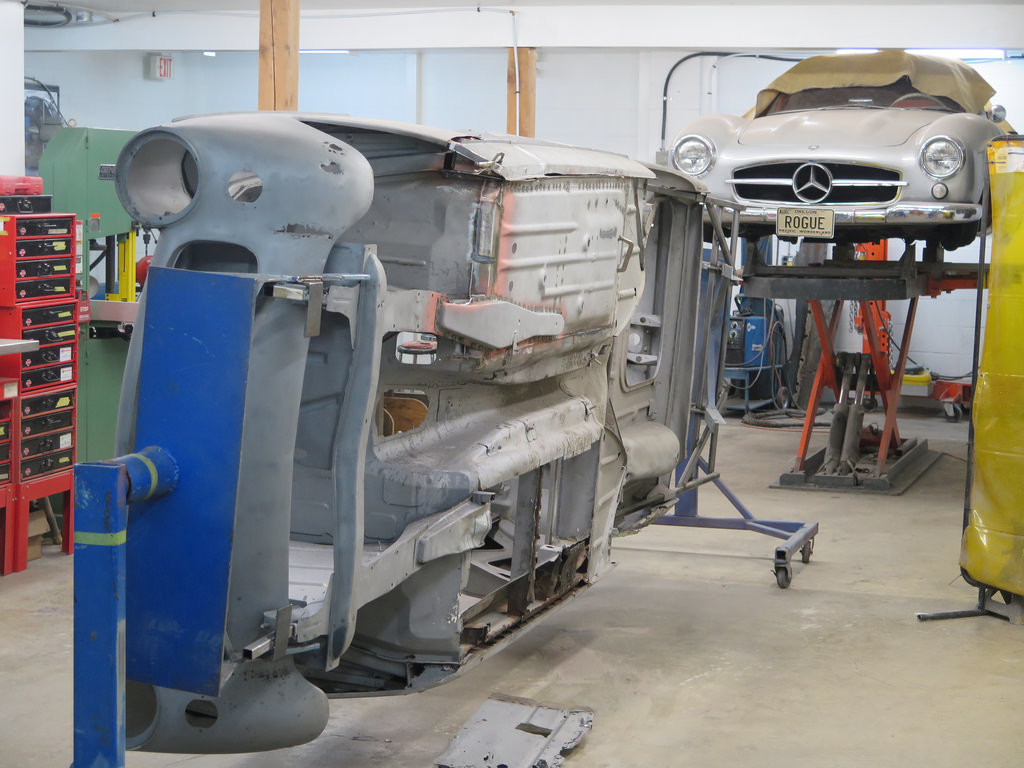 The car seen from the front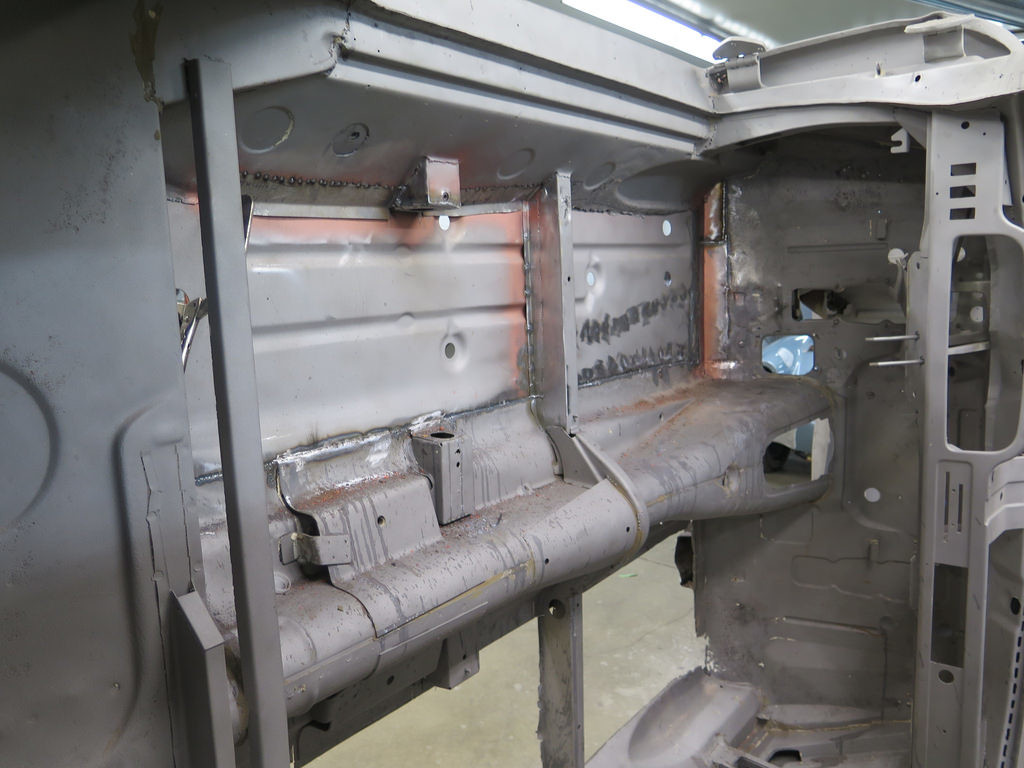 Reconstruction of the left floor (work in progress) seen from inside the car.
1-16-2017
Thanks Goce, I am impressed for sure too!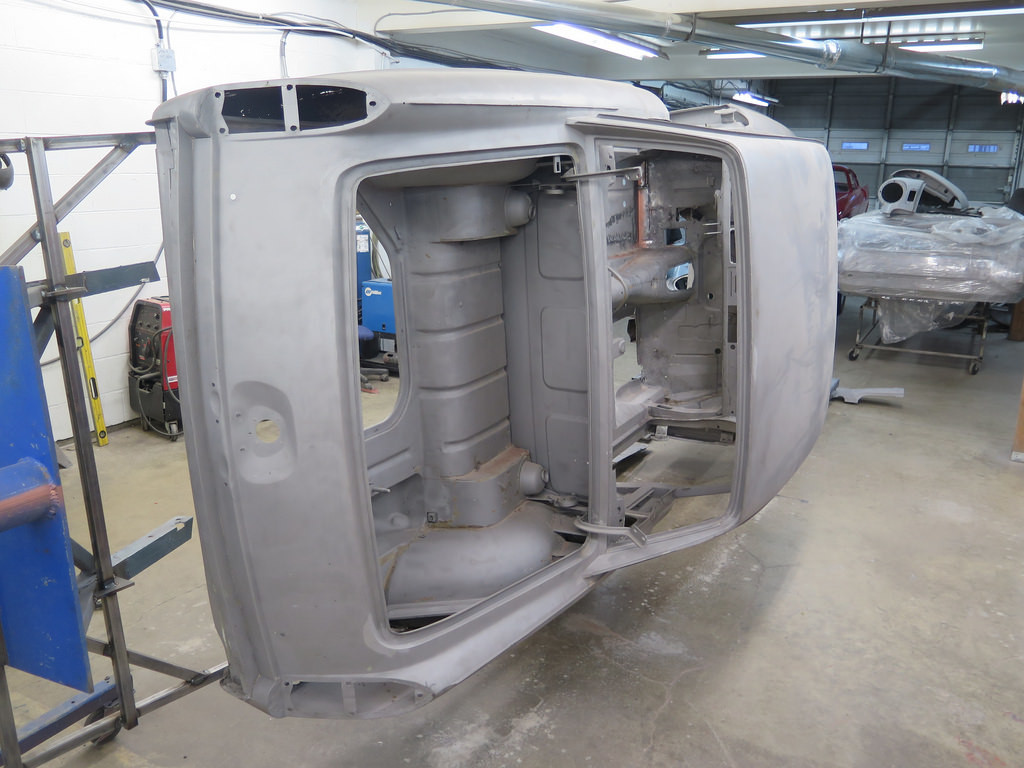 Rear view
1-20-2017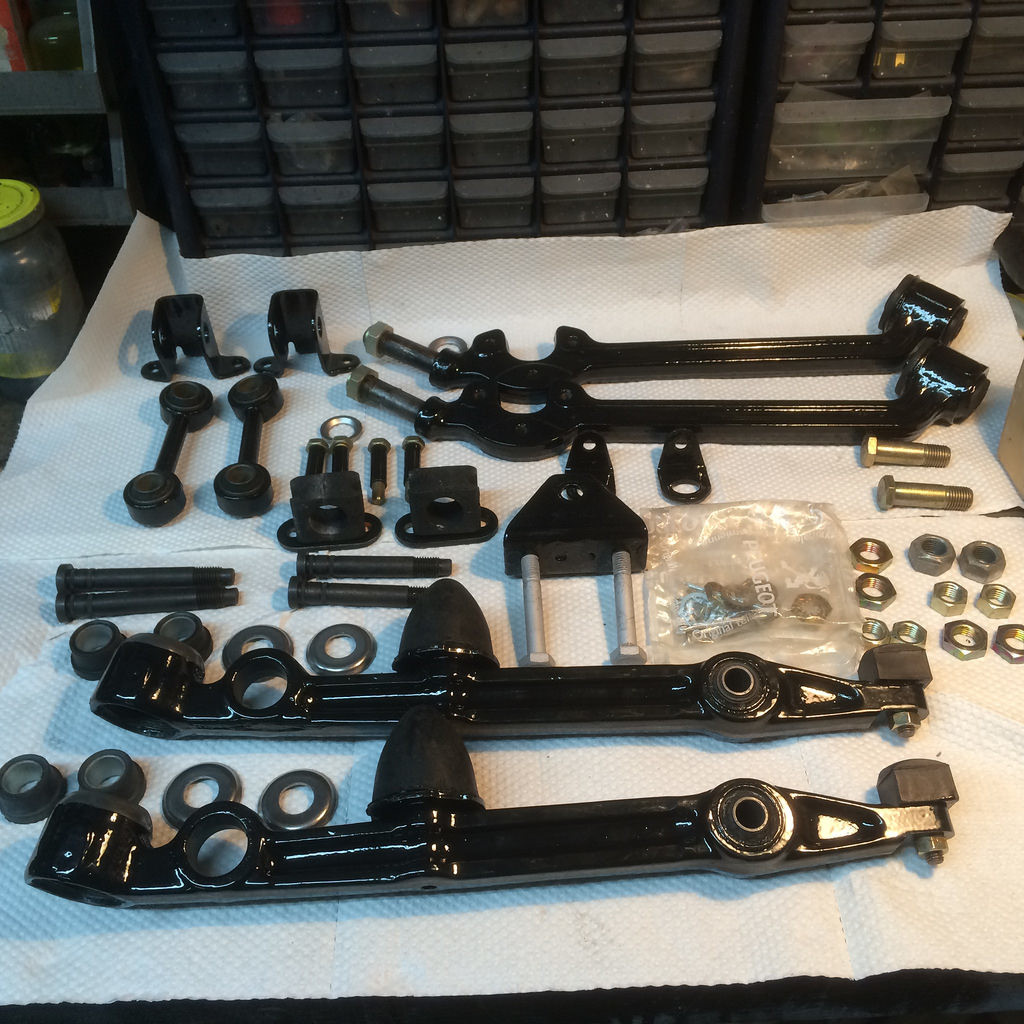 Front suspension arms and Panhard rod mount are ready to go. All new hardware is available and new bushings are in as well.
1-28-2017
The work continued over the past two weeks. Excellent progress has been made: the floors and rocker panel/sills are complete, the rear fender skins have been drilled off and the new ones readied, with work underneath in progress. It is fantastic to see!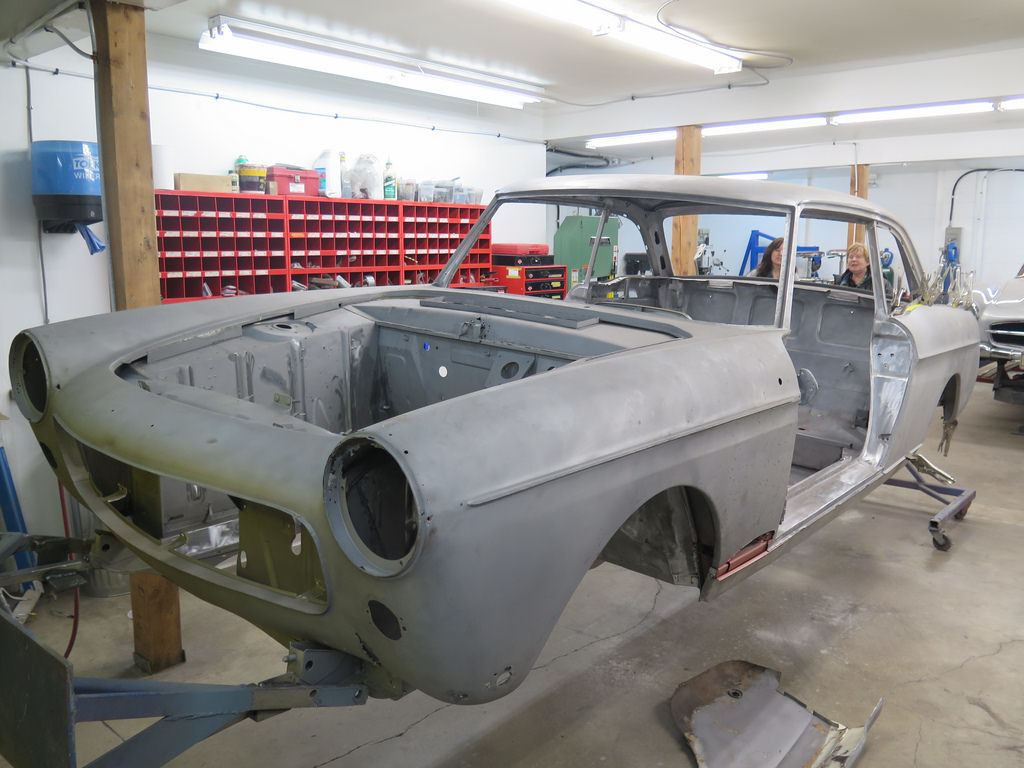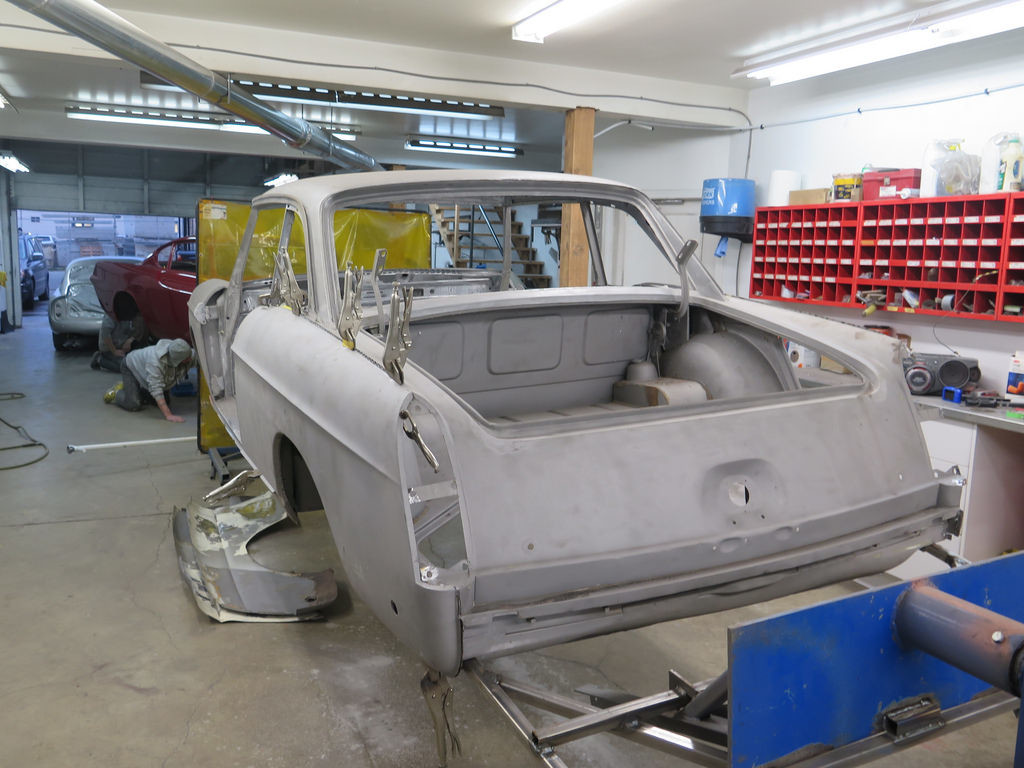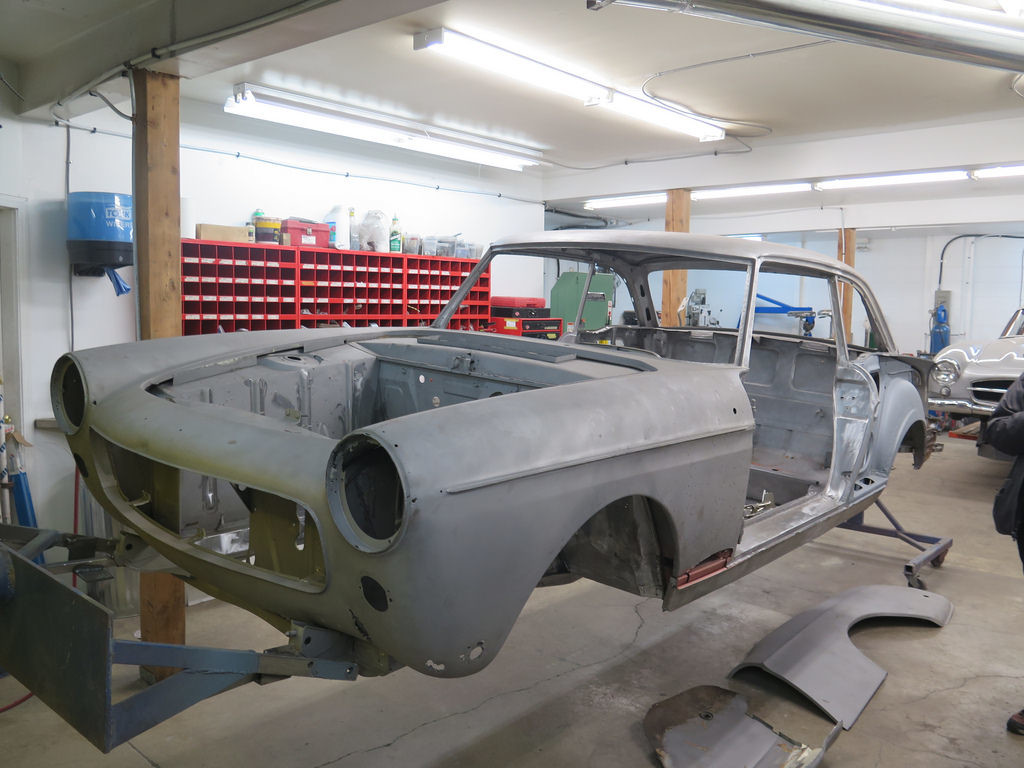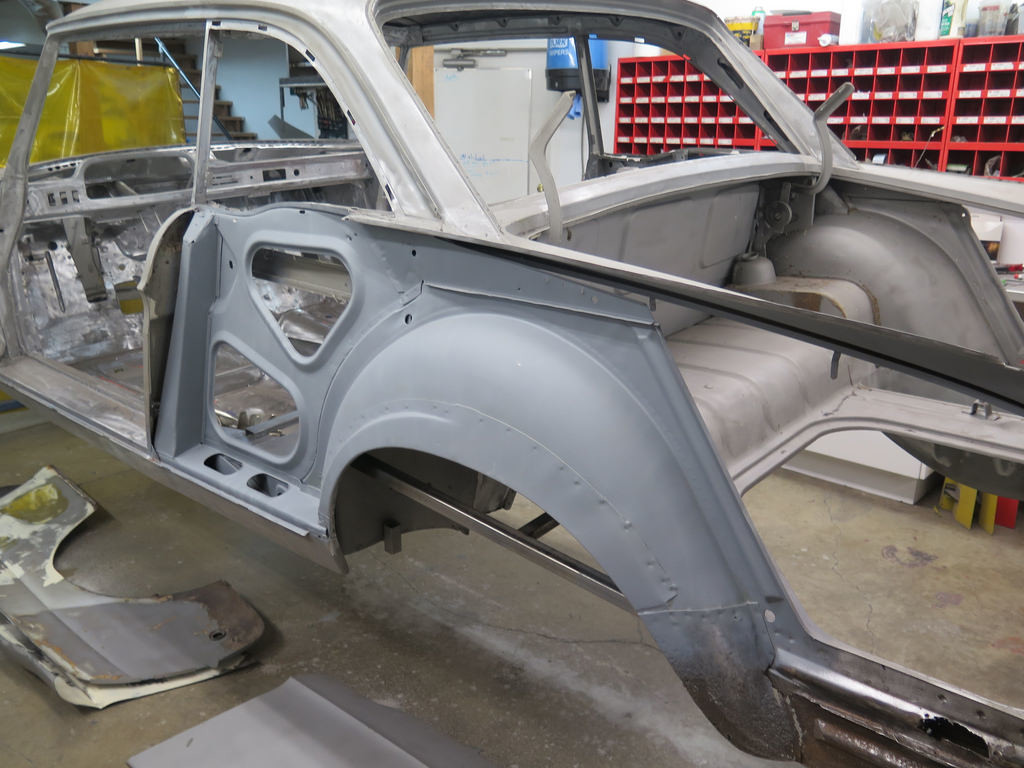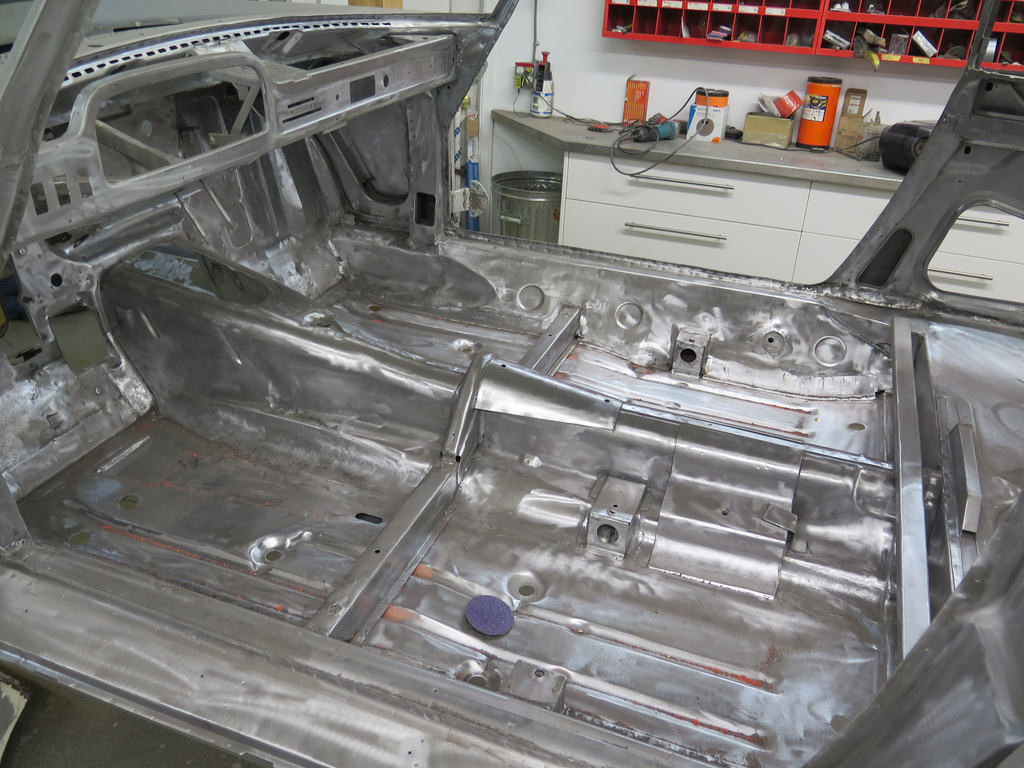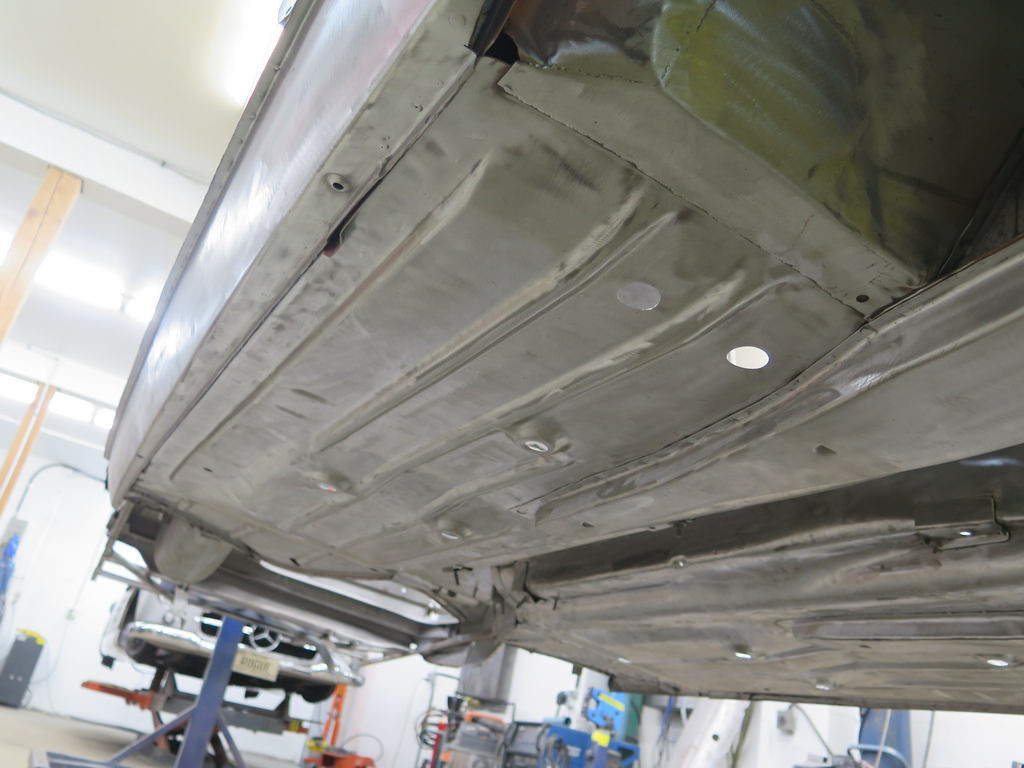 2-1-2017
http://www.coachwerks.com/MT1966Peugeot404C/
This is a link to the project as it progresses. Feel free to watch every once in while for updates. The page starts on the "arrival", but for the good stuff, click on "update 1" which will bring you to Tuesday January 31st.
2-3-2017
The new right rear fender is welded onto the car. The rear jack mount and part of the inner fender were just rebuilt. Looking good! This fender was severely rusted before the transplant. I found the rear fenders from a Peugeot service point in Williamsburg, Ontario in 2004. Under $500 each, cheap!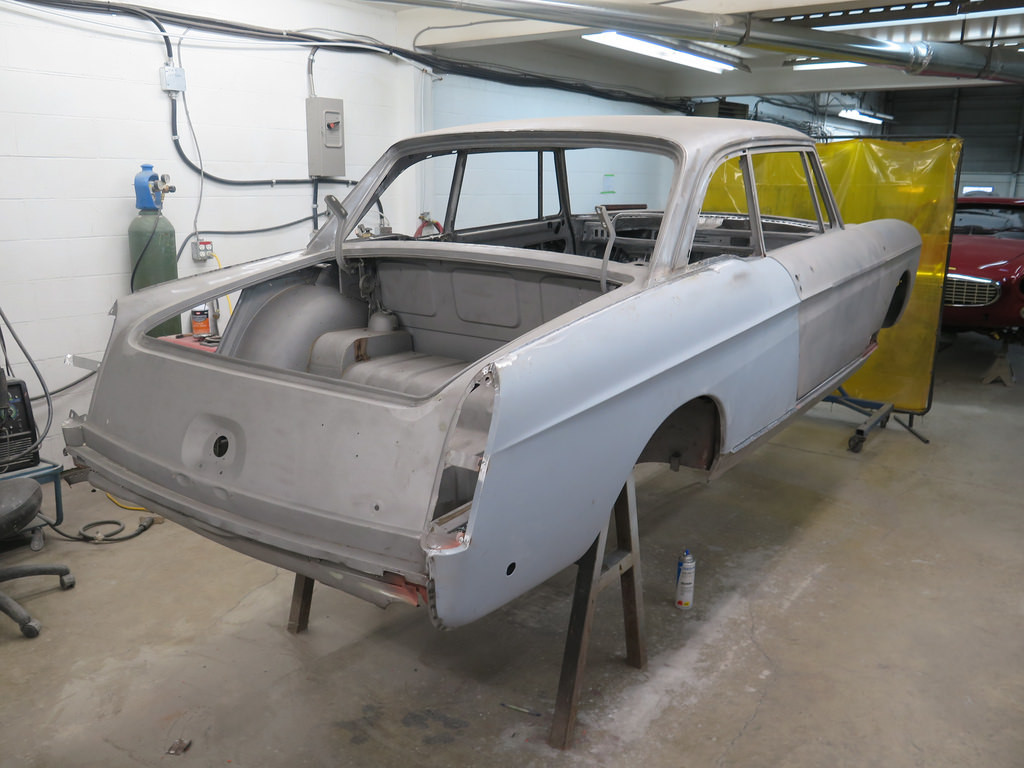 2-10-2017
The paint I am using on the suspension is really strong and controls rust, plus it looks just as good to my eye as powder coating.
Left rear fender is now welded on, as of February 8th, after the inner fender work was completed.
The three rectangular holes cut into the dashboard to the left of the instrument binnacle are now gone, replaced by a round hole as per the original.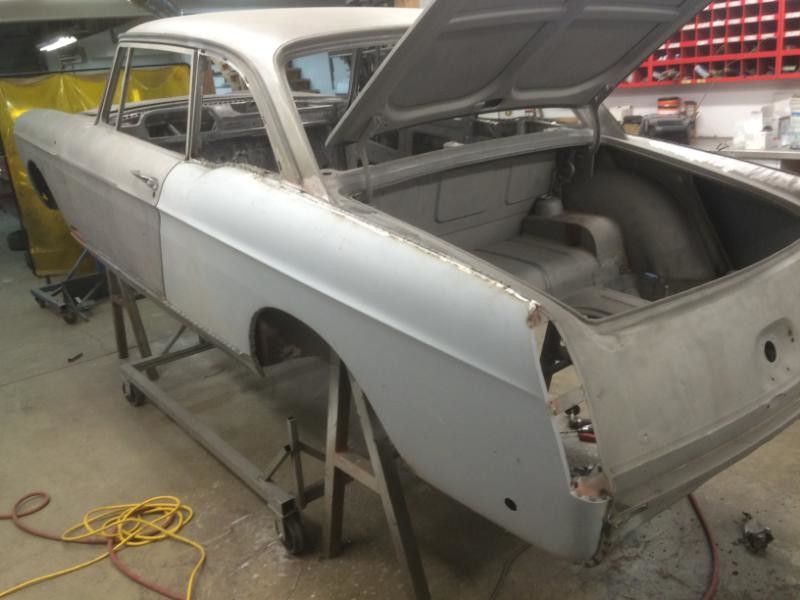 2-12-2017
Wiper frame is de-rusted and repainted in Rust-oleum and the two new wiper spindles (unique design for the 404C so I was lucky to get a pair) are remounted. The wiper motor drive axle is the original but after flushing it with Würth HHS it was as smooth as butter. Greased it up and mounted it back together.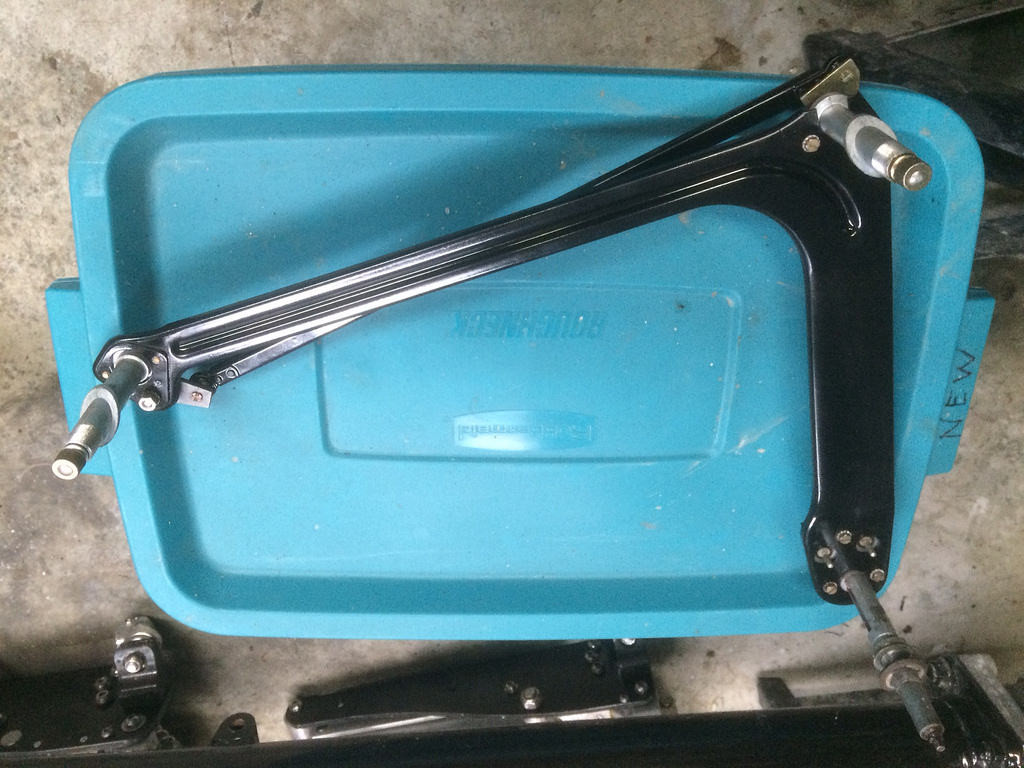 The cover of the AEG fuel pump was rusty and needed a good quality of hard paint because it's clamped on by a wire that uses friction and sits in the dimple of the cover. So I bought some silver POR-15 and applied it by brush. with only 83,000 miles on the car, the electrical part of the pump is in good condition. I will take the hydraulic part apart and regrease it.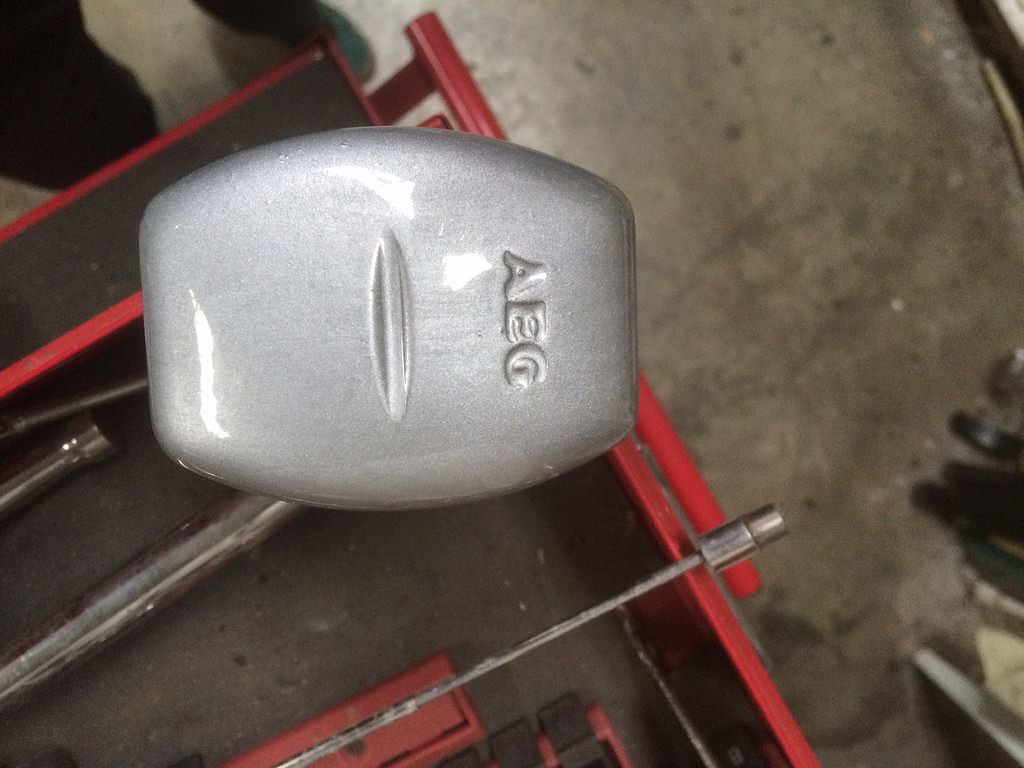 The framework of the AEG/Kugelfischer pump was also very rusty but now looks better and is painted in silver POR-15 applied by brush.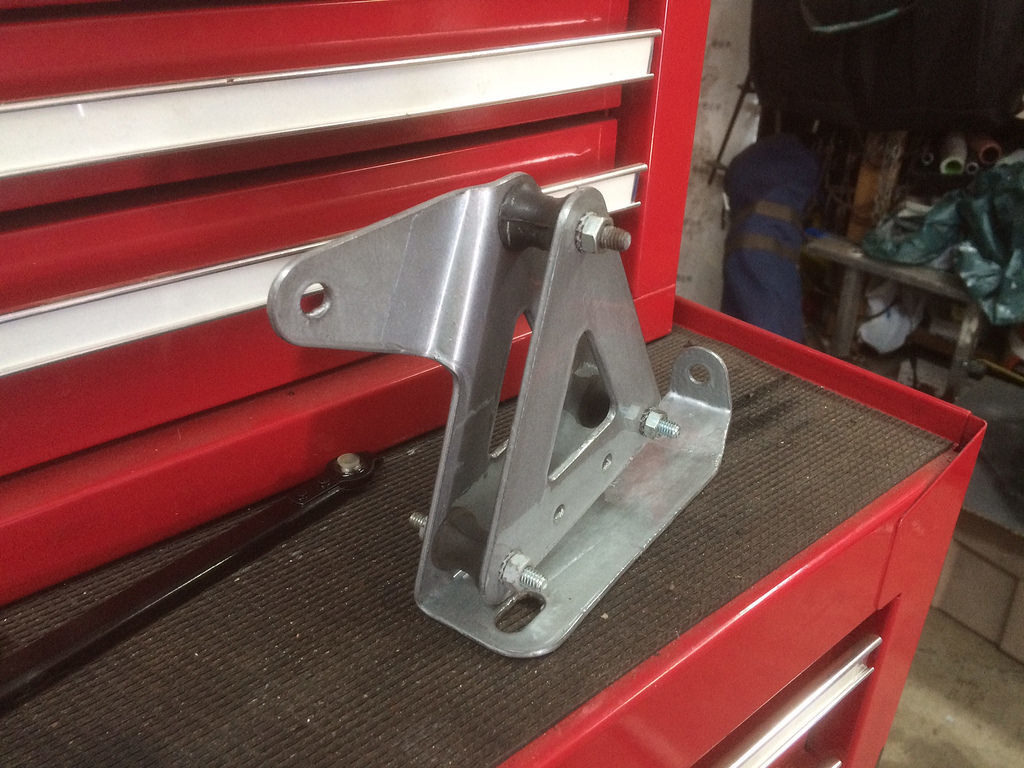 2-13-2017
Sunday I replaced the seals in the differential unit, to be specific, the input shaft of the worm drive. These leak over time and the torque tube fills up with rear axle oil! The mating surfaces between torque tube and rear axle unit were sealed with Hylomar Blue. The crown wheel in bronze is in decent shape with a few pits but not worth changing at this time. So my new worm and wheel will remain on the parts shelf. Refilled it with Castrol R40.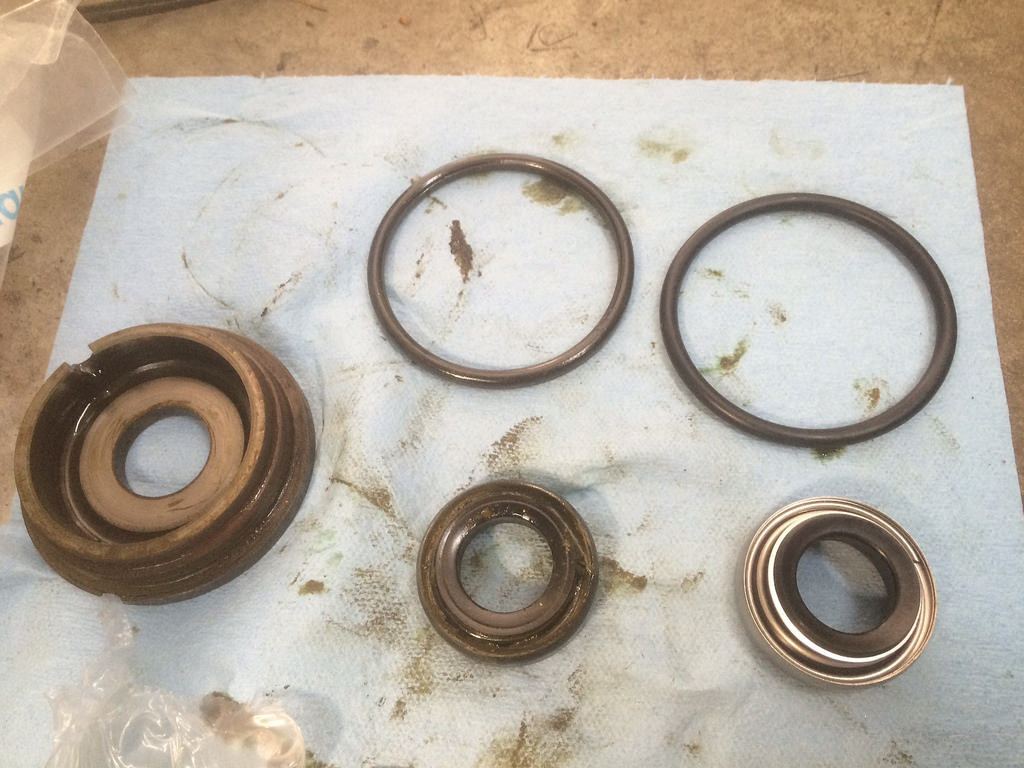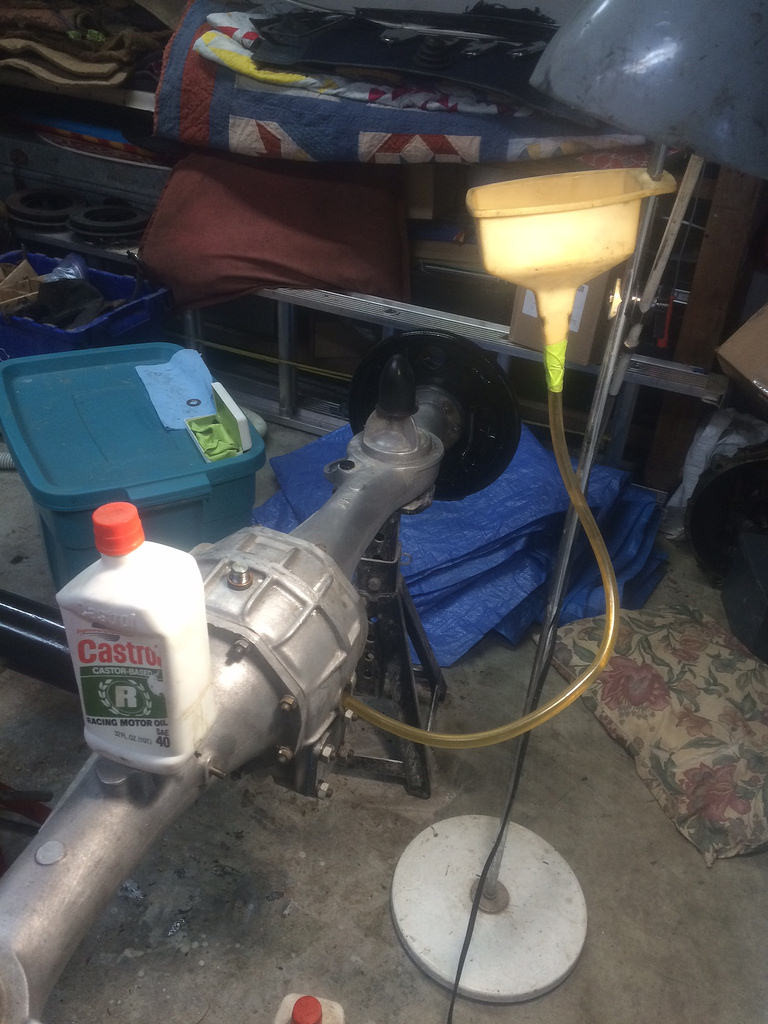 2-18-2017
These photos were taken Friday around 5 PM. Major front end surgery is underway!
Front fenders are cut off!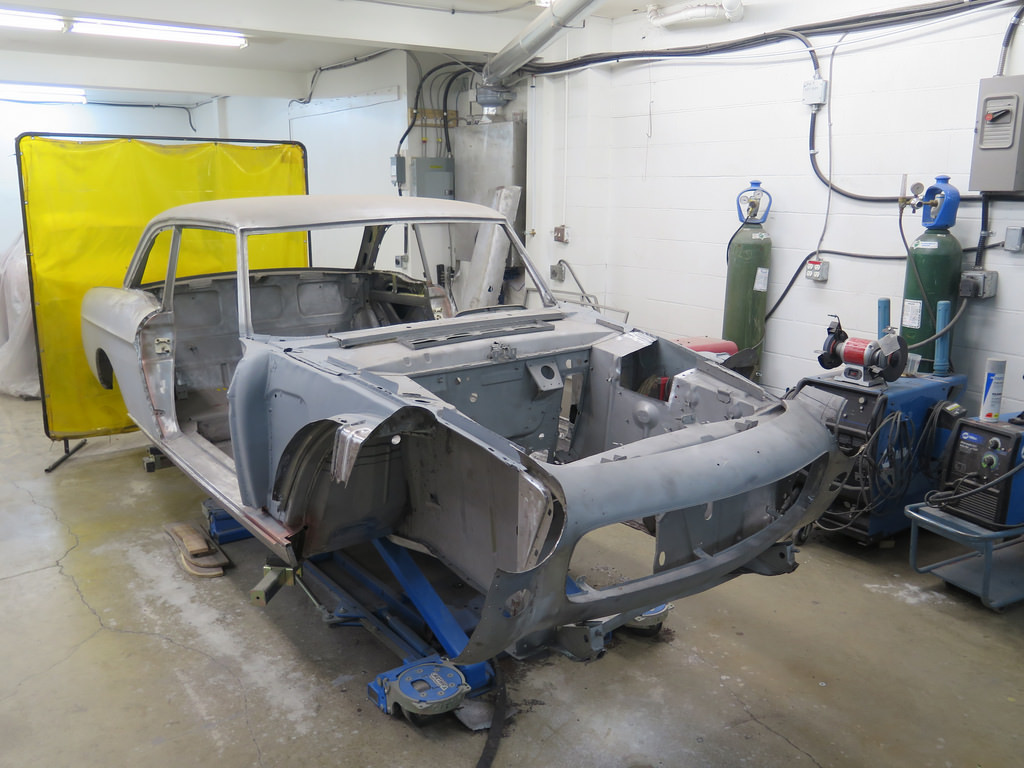 Detail of cowl panel, not rusty at all inside.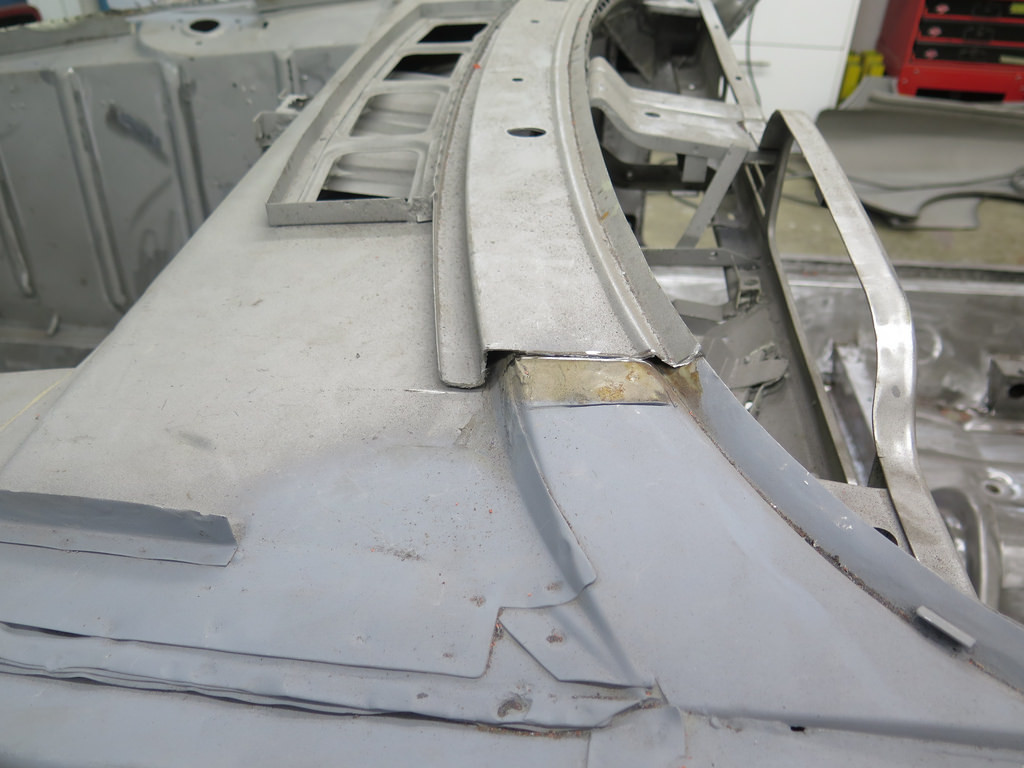 Inner fender panel was not in that bad of a condition, some repair was required near the bottom.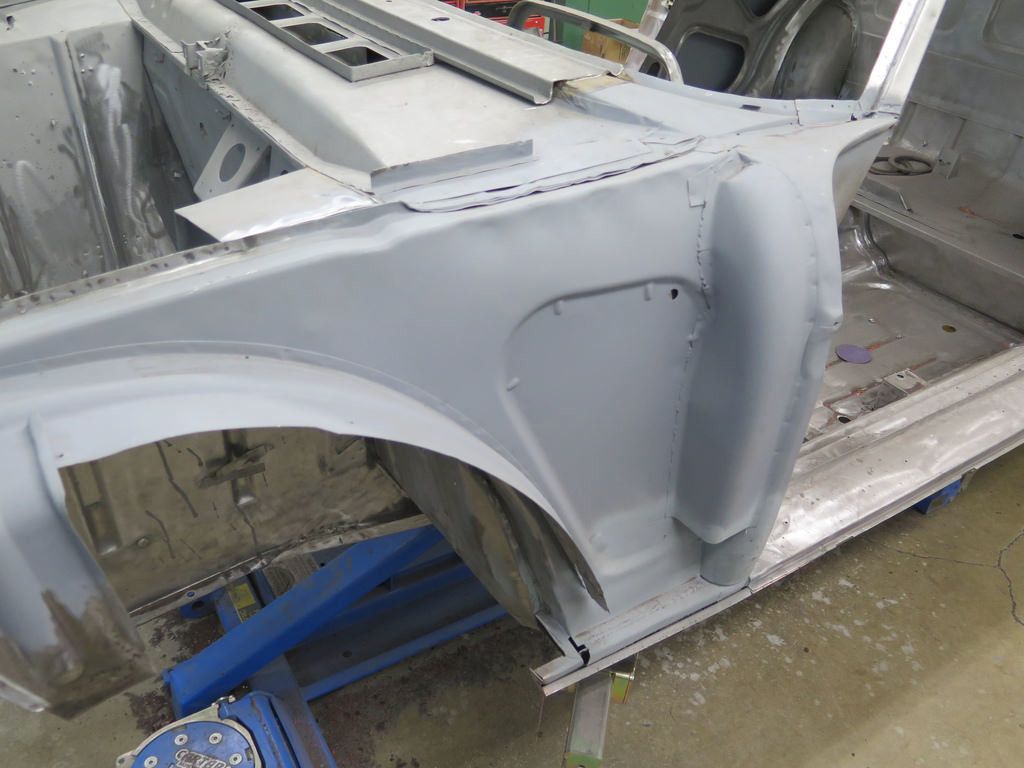 Dashboard with three rectangular holes gone and one round hole for the new - original type - wiper/washer switch!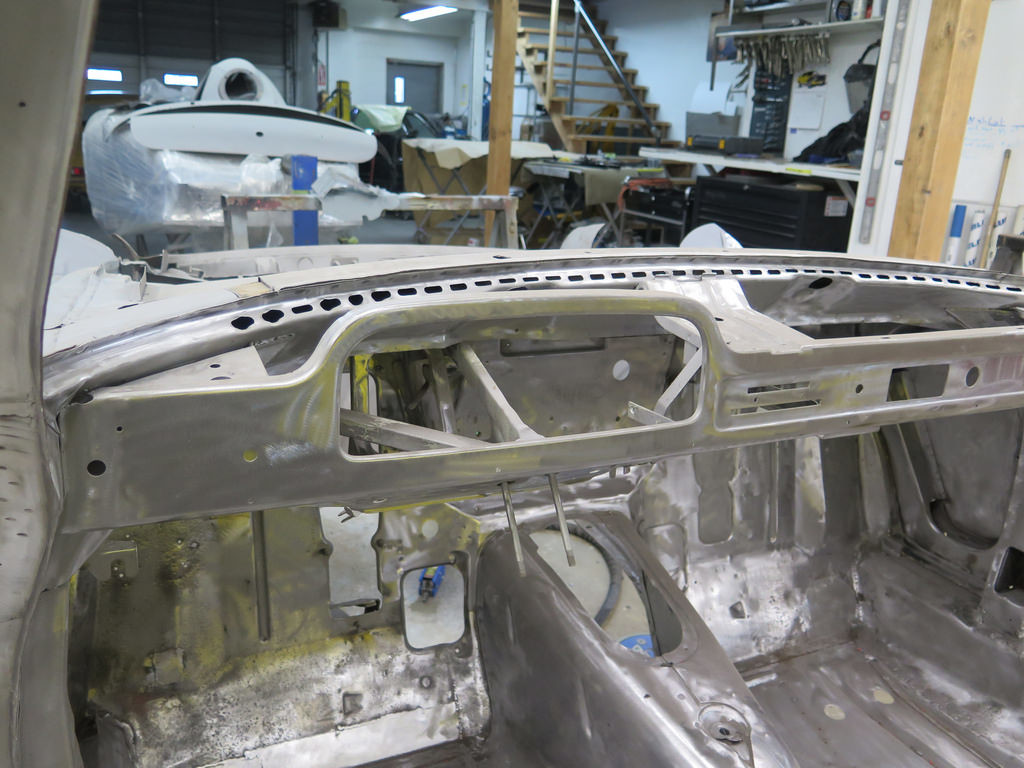 Taillights fit, good!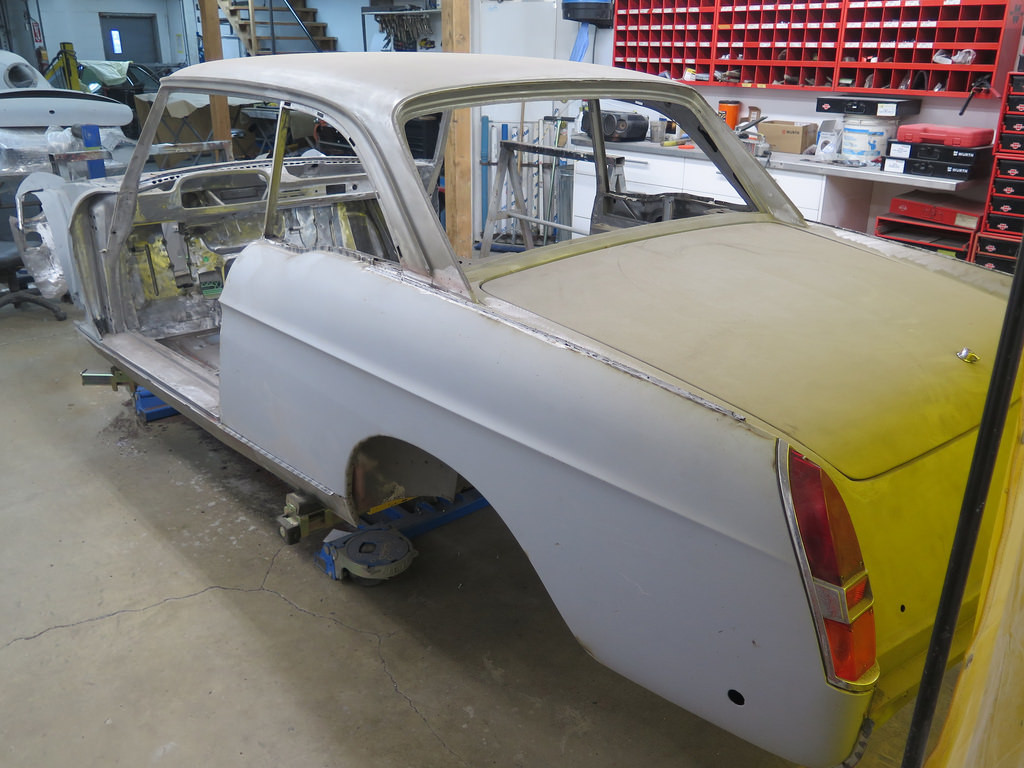 Drilled out spot welds and removed outer McPherson strut tower skin.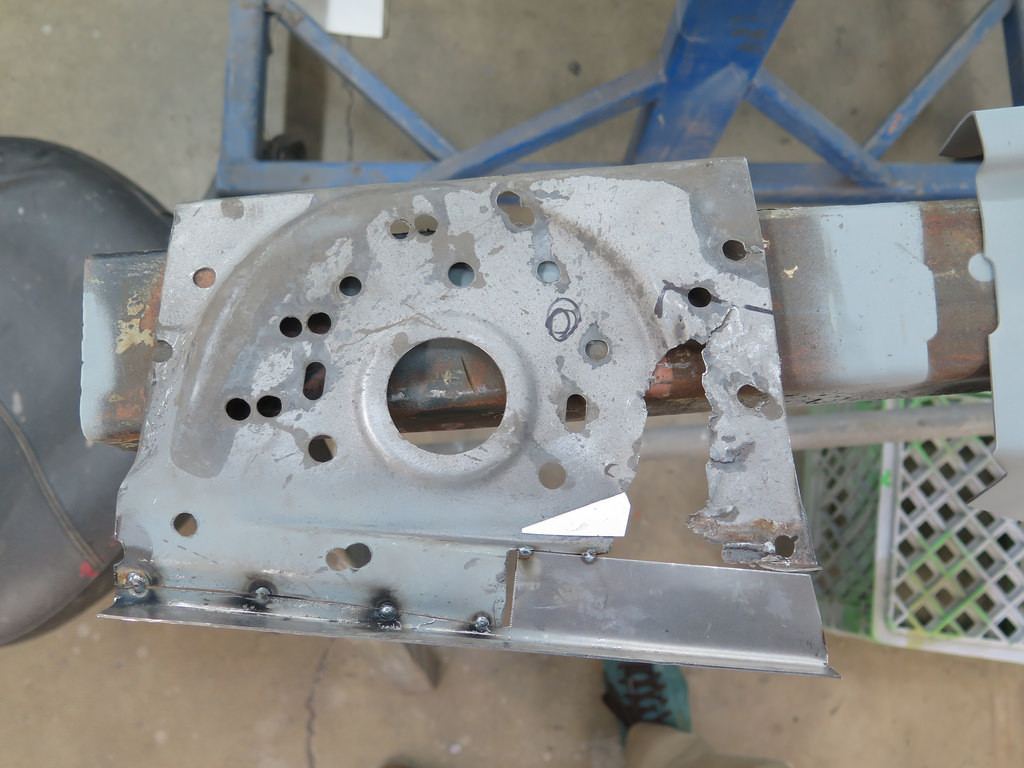 Repair panels welded into the nose panel on both sides.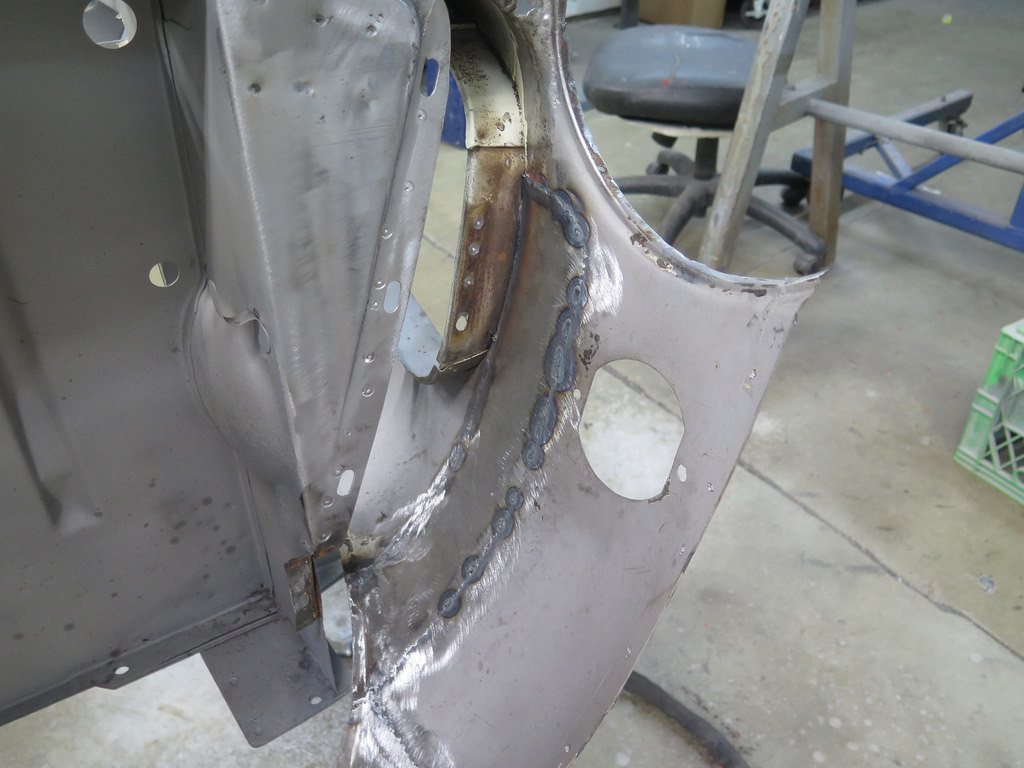 Interesting perspective!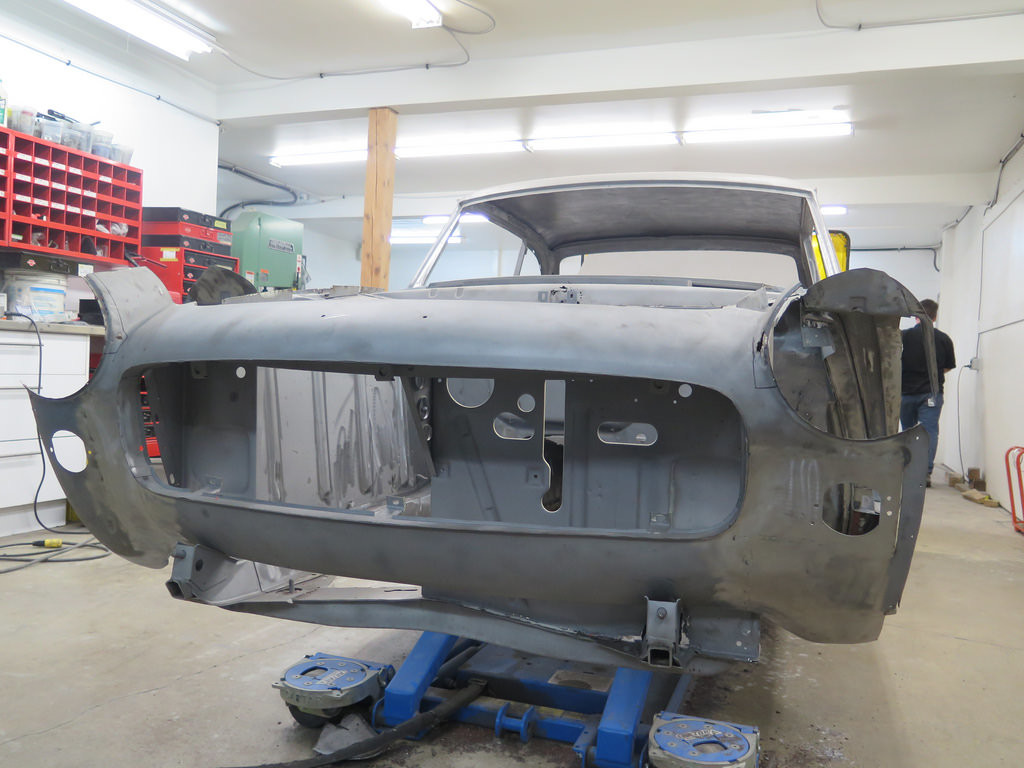 2-25-2017
I made a visit to Coachwerks on Friday: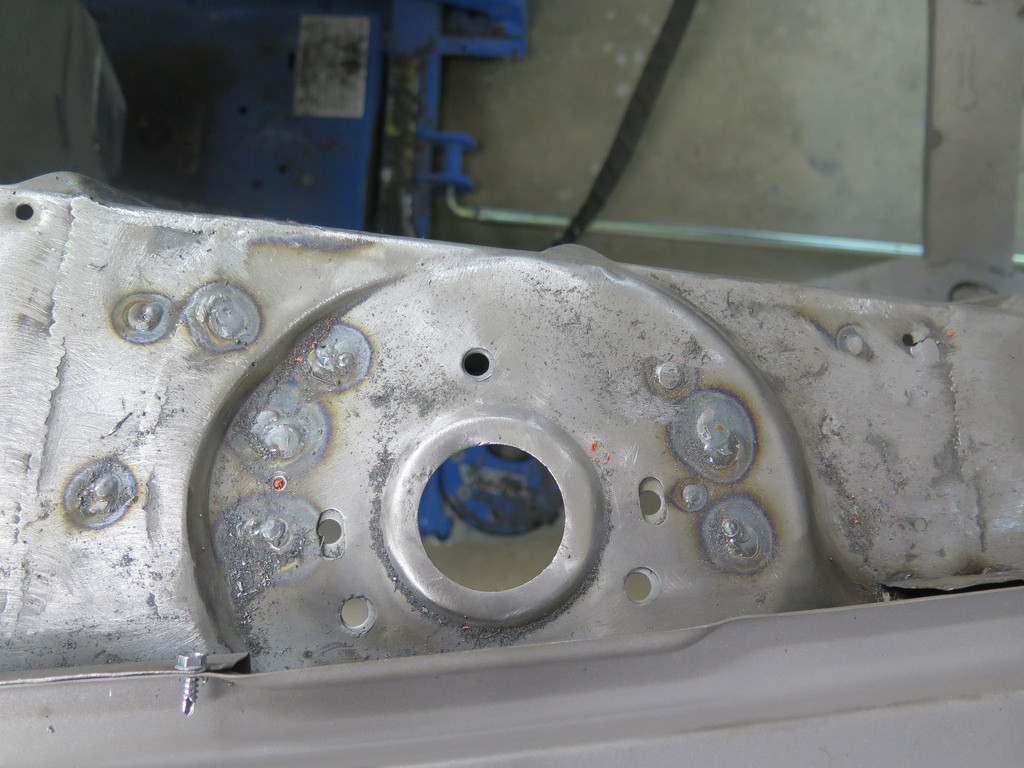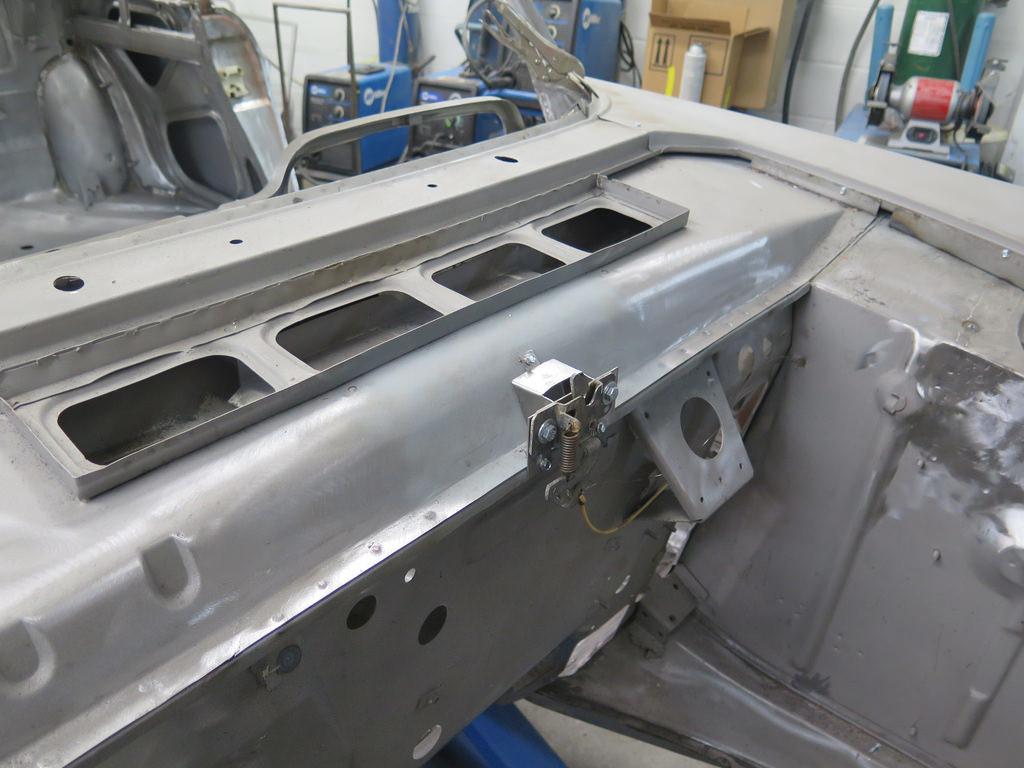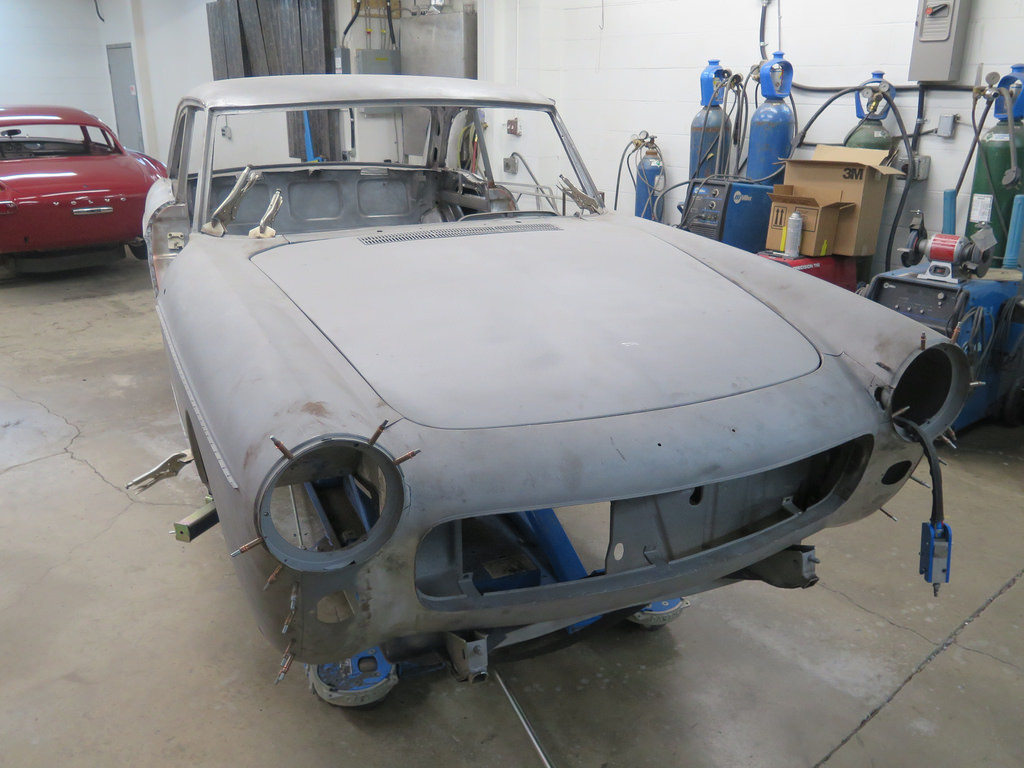 For detailed photos of the work done in the past two weeks, go here: http://www.coachwerks.com/MT1966Peugeot404C/update-2.html
3-3-2017
Friday afternoon I visited Coachwerks.
The new front crossmember is on, some significant repairs were needed on the driver's side inner fender and that fender is now tacked in place, with fine-tuning and possible future adjustments to follow. Next week I have to take the rubber seals down for panel alignment purposes, as well as the grille.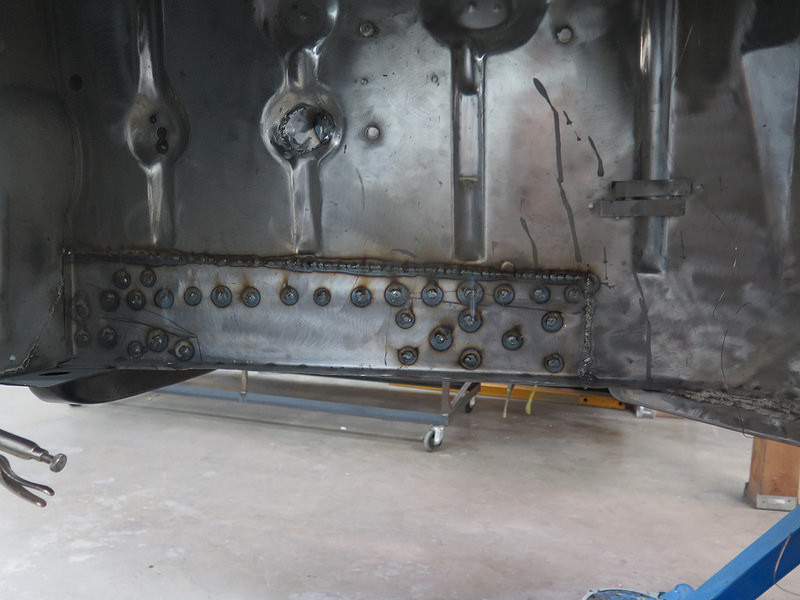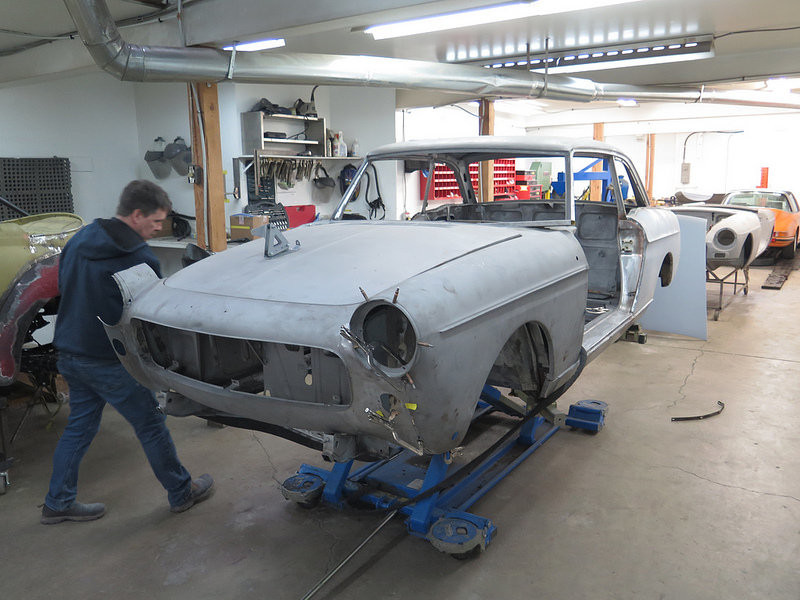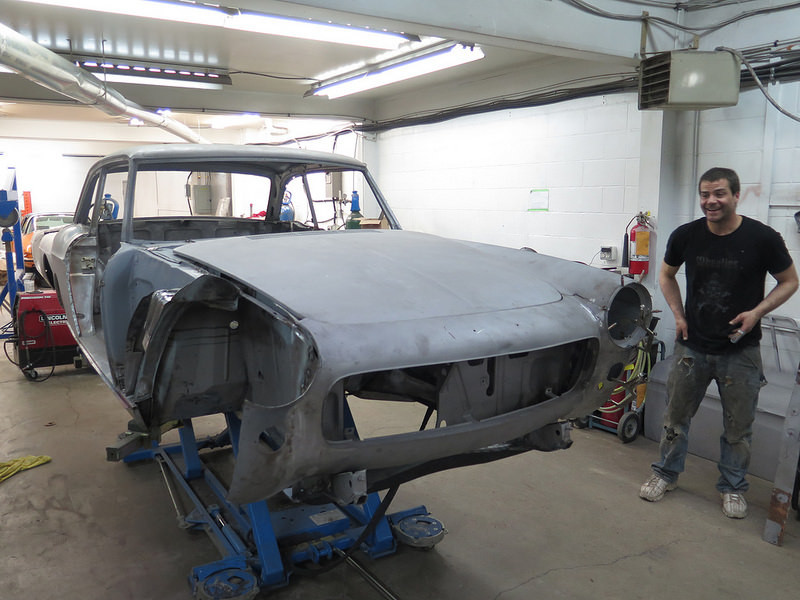 The old front crossmember didn't look all that bad but when it was off, the bodyman in the photo above showed it to me and shook it, and it sounded just like a Maraca
They will be painting the front brake drum backing plates, the Hydrovac vacuum tank and the air inlet grille. I will repaint the brake drums myself in manifold paint. I had them blasted at Blast-it in Victoria today and I even did the vacuum tank blasting myself!
3-4-2017
Don't ever buy a 404C unless you are planning to do a full restoration like this one, or it has a photo-documented restoration from the past 15 years. All the Pininfarina cars are the same - lots of rust traps. By rebuilding it completely, the metal all ends up being protected as it never was before, and more than 50 more years of use in good weather should be possible.
3-11-2017
Today's visit to the shop was very interesting, even though no work to speak of had been done to the car due to some time off for the main bodyman. The Hydrovac tank, brake backing plates and fresh air intake grille were all painted in satin black and ready to go. The tank in particular is on display in the engine compartment, so the finish has to be good.
Mike said that the target budget estimate is still valid, despite having done a very thorough amount of metal work to this point, perhaps a bit more than originally anticipated.
After the metalwork is finished, there are about 200 hours of labour involved in doing the preparation for painting and the paint itself and of course none of that has started yet.
There was a Porsche Turbo 930 version from the eighties in the shop after a hard front end hit. Mike said that its repair would probably come in at $60,000 for its rebuild. He encouraged me to buy as much agreed value insurance as possible, to ensure that any eventual collision is likely to lead to a repair.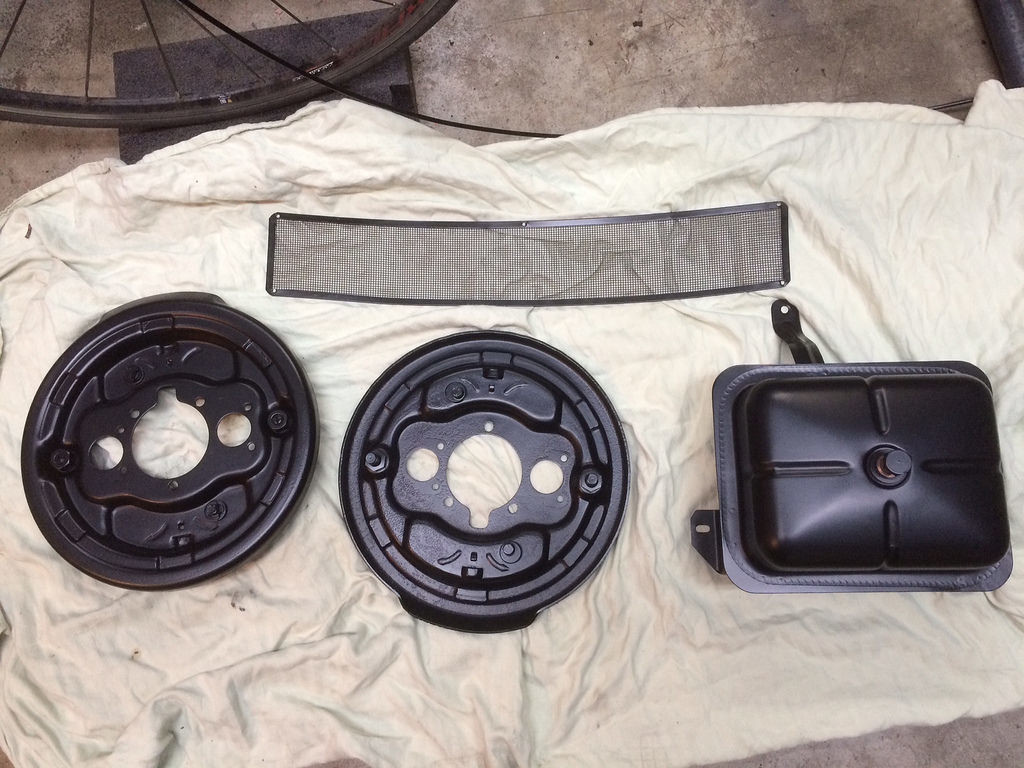 3-25-2017
March 24th, left front fender is welded on; other side will be done next week, and then some final welding and metal trimming will be done before paint preparation begins.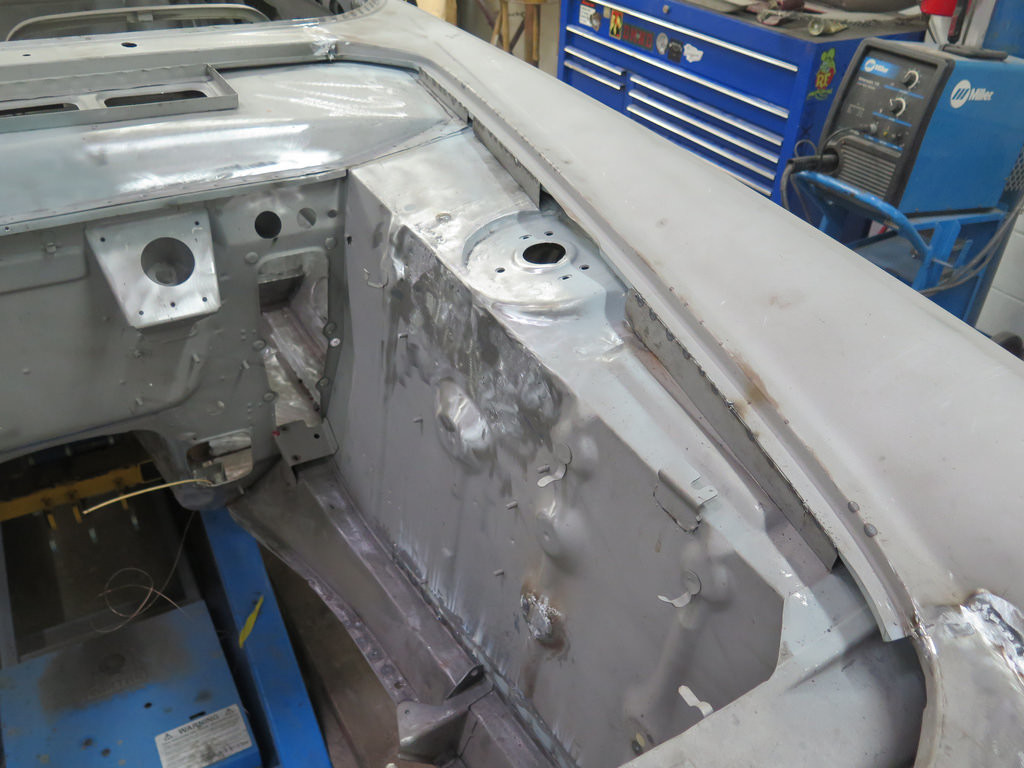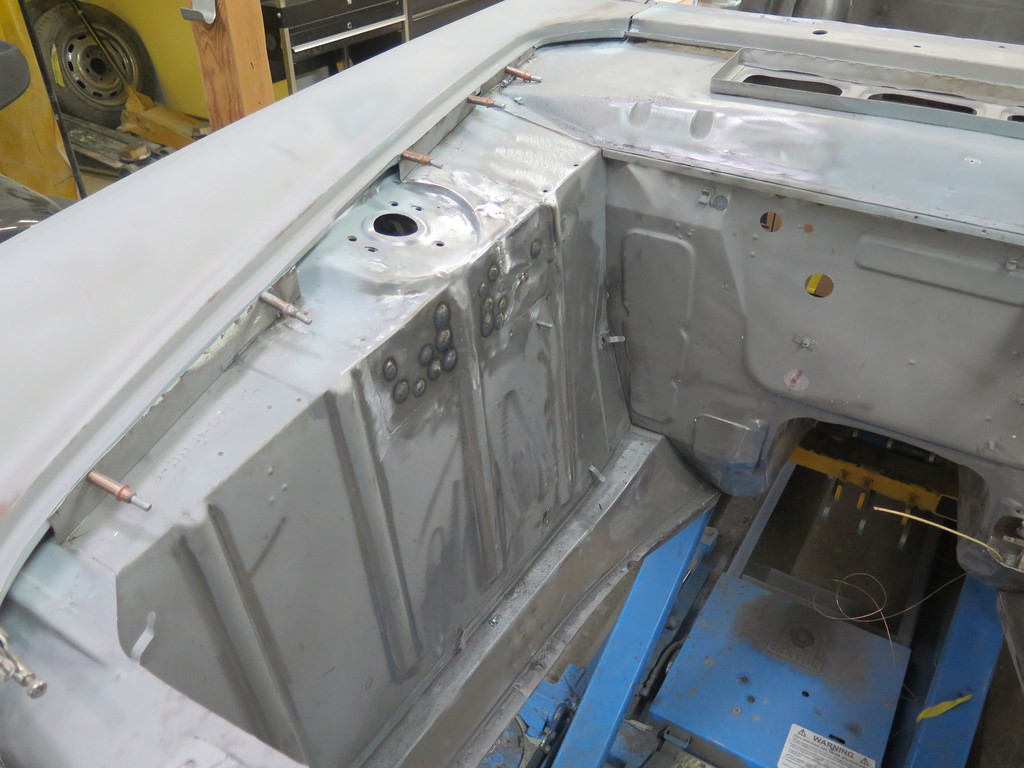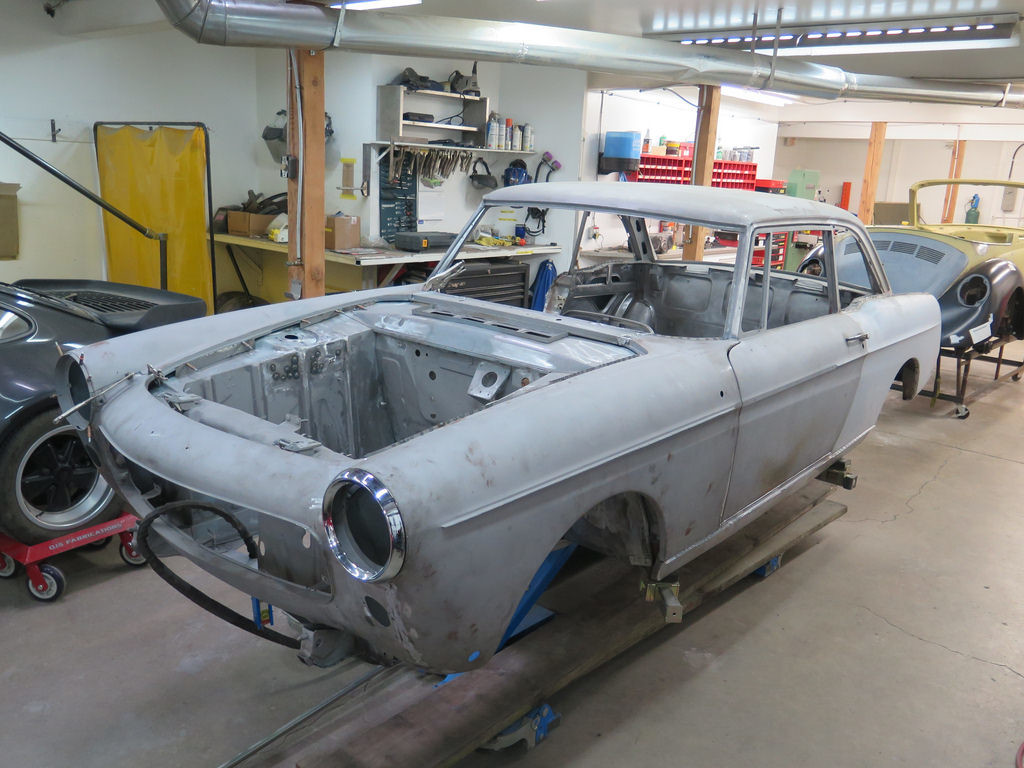 4-1-2017
March 31st: major welding is all done. Next week it will be a full coating in epoxy primer, then a few weeks of blocking and priming, followed by a topcoat in Dark Blue 1057. Exciting times! Oh yeah that's me in photo 1, a bit older than the car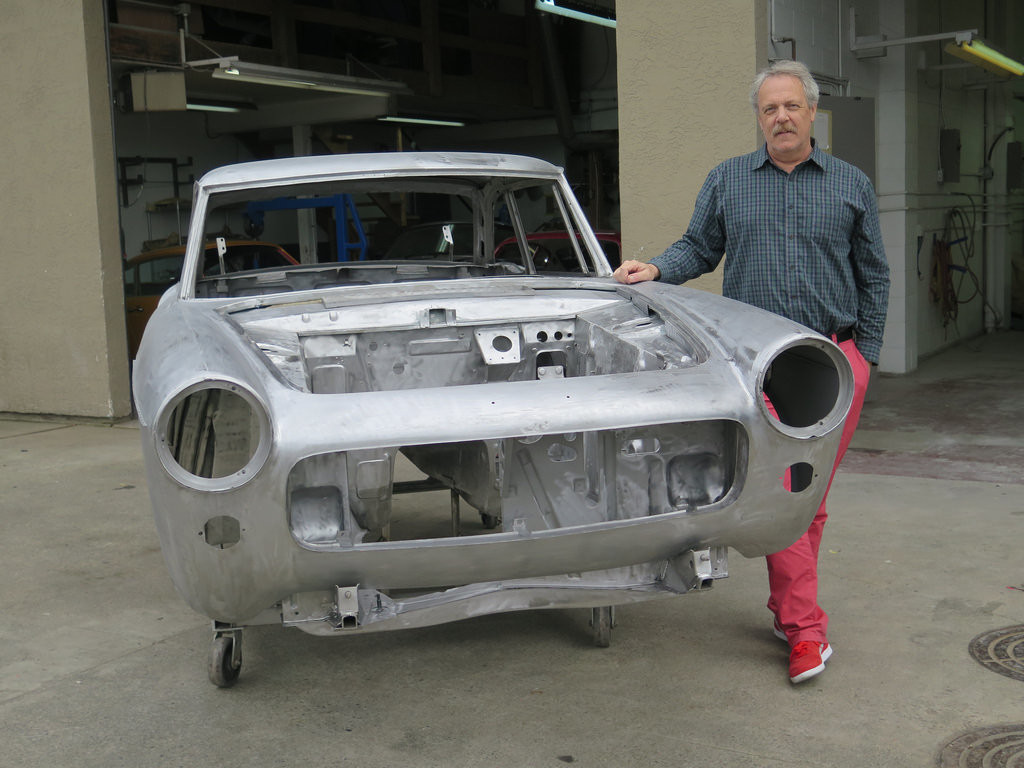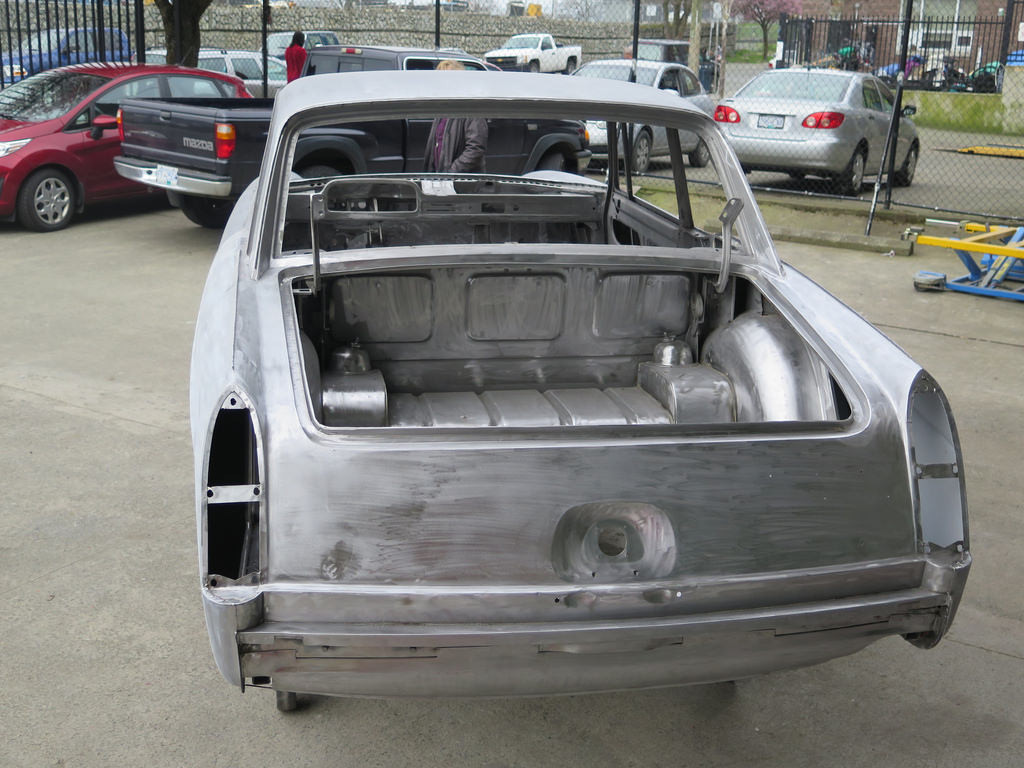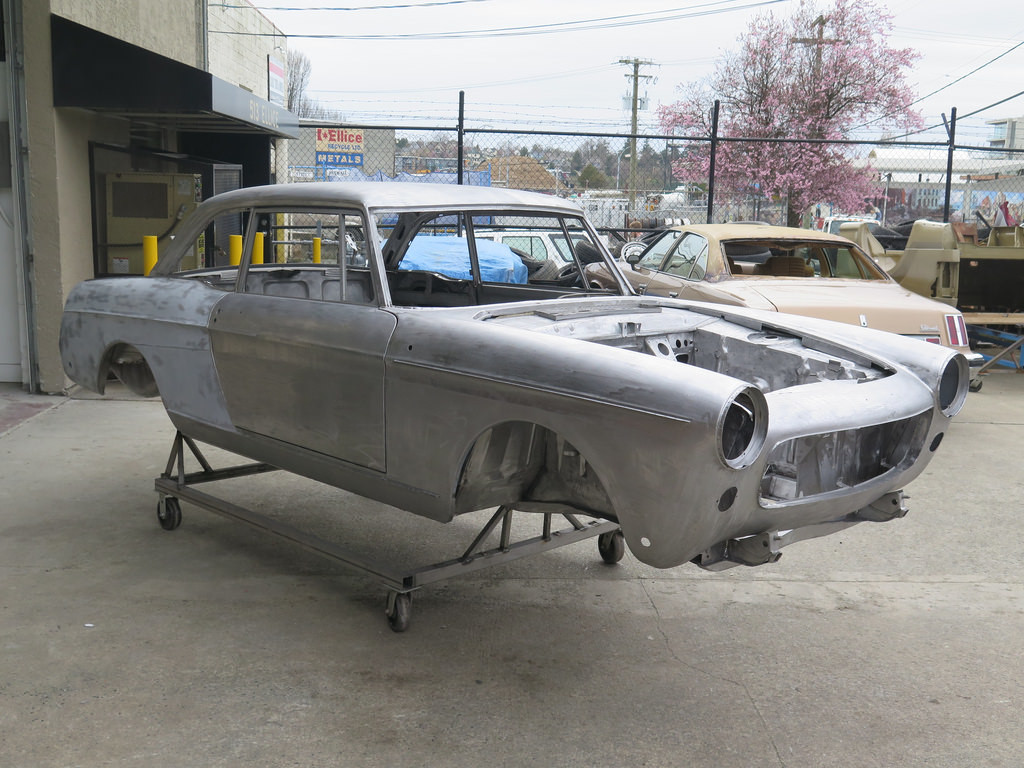 4-7-2017
The first bit of paint is on, the engine compartment, trunk and underbody. The entire car is primed with epoxy but the blocking still remains to be done. The Dark Blue mix was based upon the paint colour chip (actual paint) from 1966 and an interpretation using modern materials of the appropriate mix. I love it!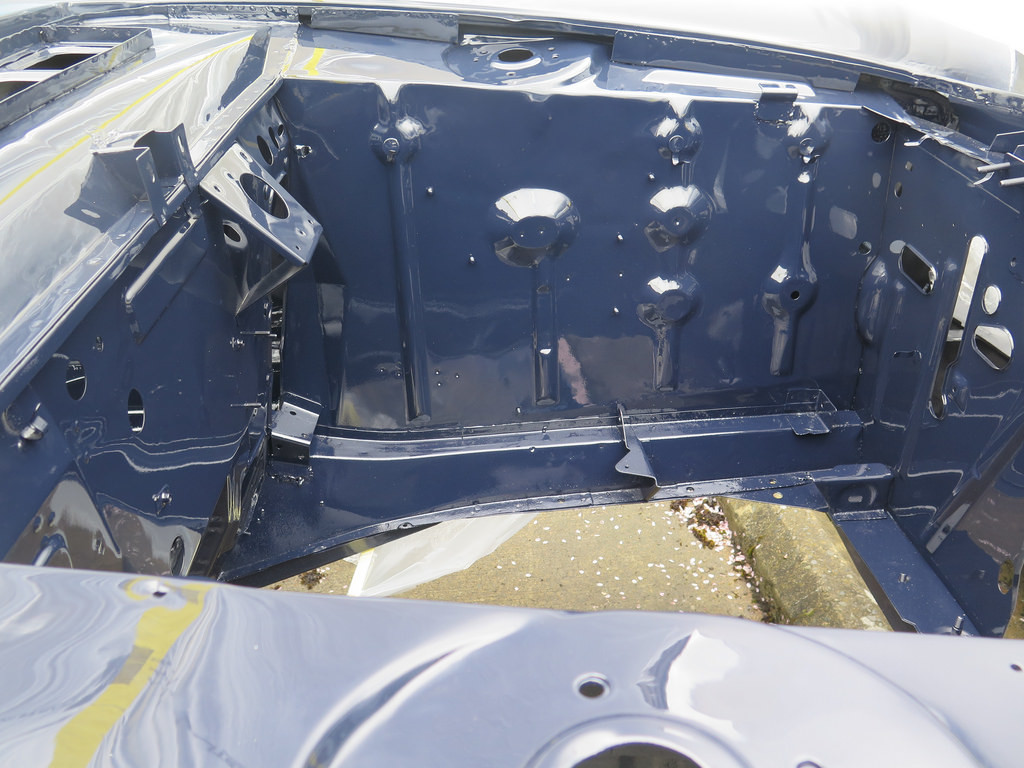 In comparison, here is my friend Tim's car, which he says is about one shade too light: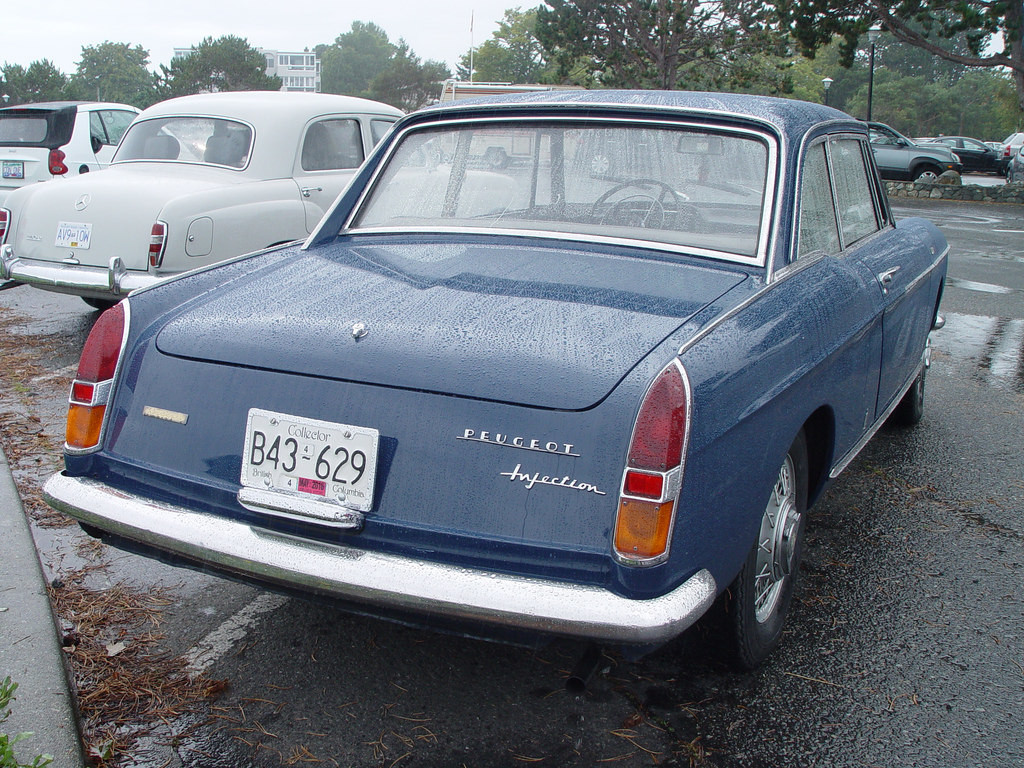 4-13-2017
Not much new to report today. The pebbled surface "stone-guard" barrier is applied underneath and in the wheel wells. The blocking work has not really started yet. Nothing looked photo-worthy today so you will have to imagine it!
This weekend I will reassemble the struts.
4-14-2017
Friday afternoon I reassembled the struts, with new grease seals, new roller bearings for the steering swivels, new rubber boot and new upper cups. That factory spring compressor is fantastic!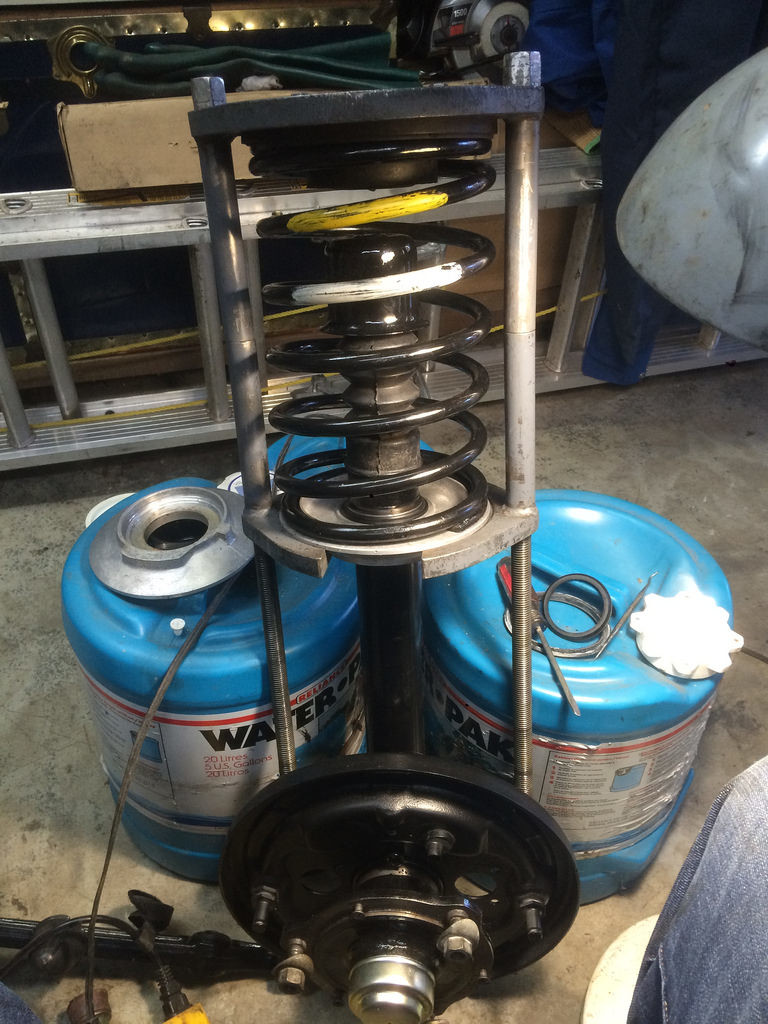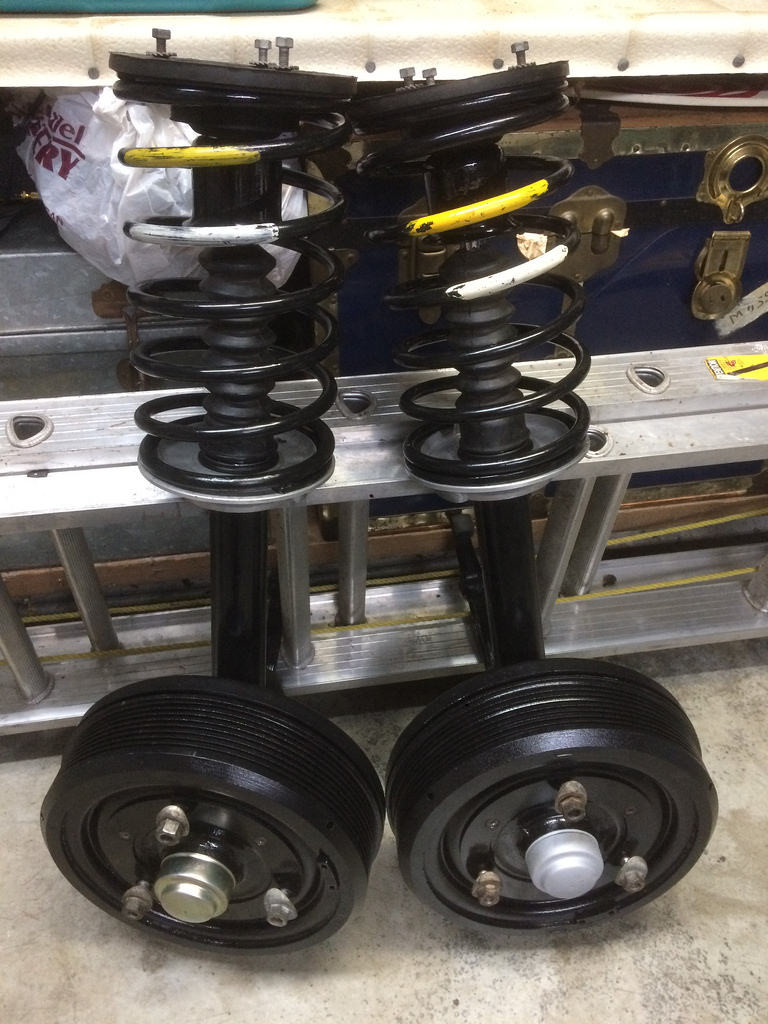 4-20-2017
I won't be seeing the car this Friday because there is no progress to report this week. Next week the paint preparation begins again on Monday and I will drop into the shop on Wednesday afternoon on our way to Vancouver. I hope to get some decent photos by then.
The suspension preparation is complete. The only gap is that I could not find new anti-sway bar bushings of the correct size so I have provisionally reinstalled the old worn out ones. I will have some new ones soon and they are easy to change even when the bar is mounted on the car.
I will take 2 more 404 wheels to Vancouver for trueness checking at Automotion in North Vancouver. If they're both good then I will have the 4 good ones refinished in gloss black. I need to get the radiators (heater core and big one) plus the fuel tank cleaned out and refinished so maybe that will come soon after.
4-25-2017
Slow news week. So, here is some more info on previously done work: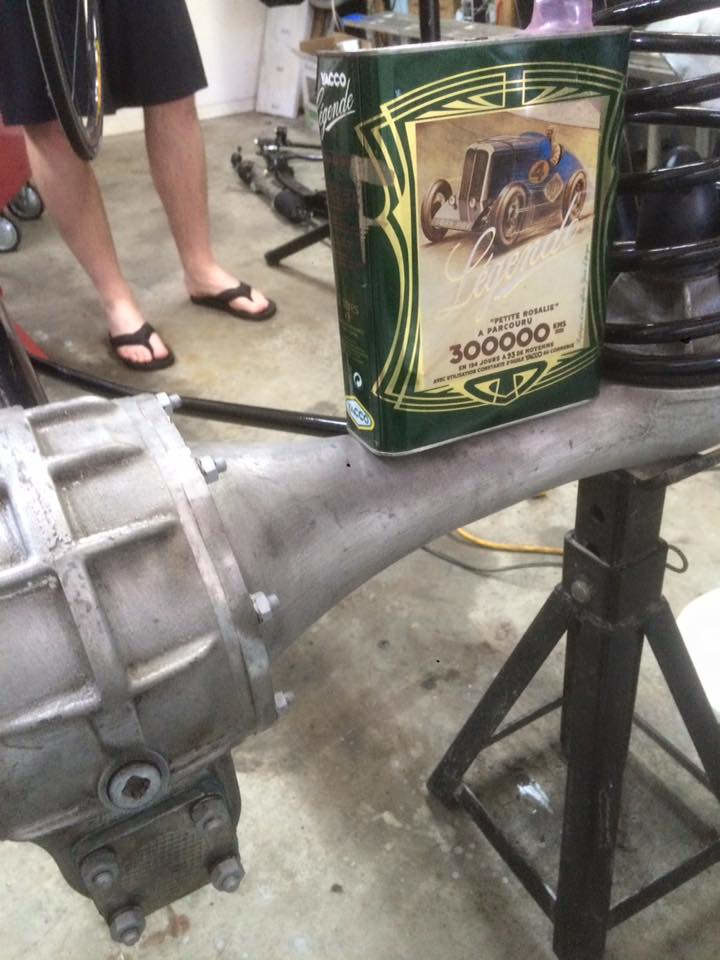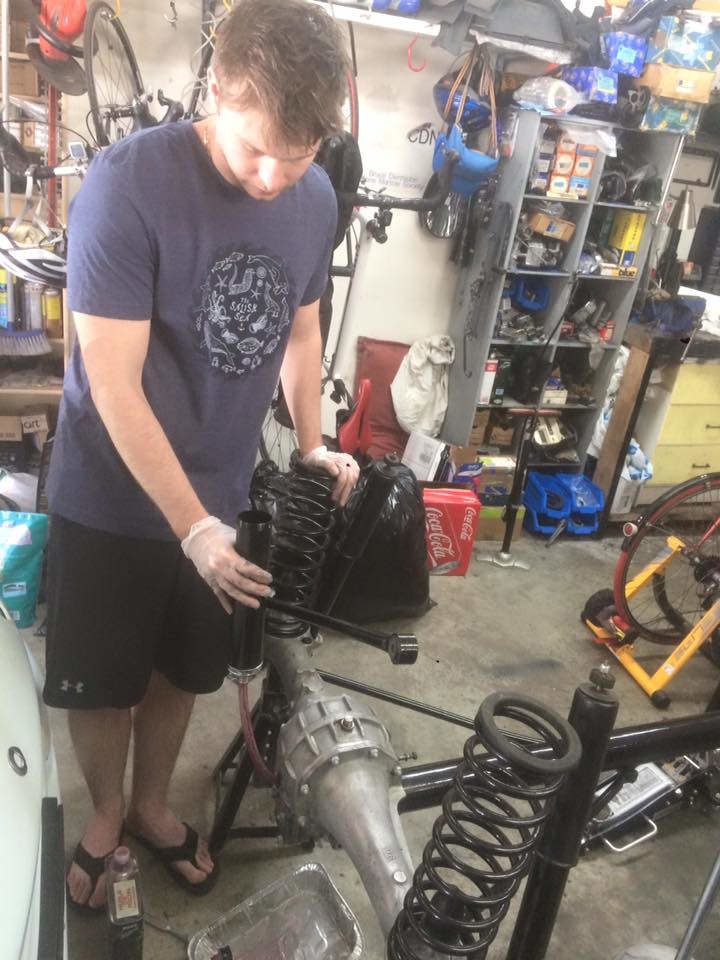 Oil change from Castrol R40 to Yacco Huile de Ricin (Castor oil). The Yacco is 90W and the Castrol is 40W. Castrol is better for the bronze crown wheel than mineral oil but the Yacco Ricin is correct! My son Sean lends a hand.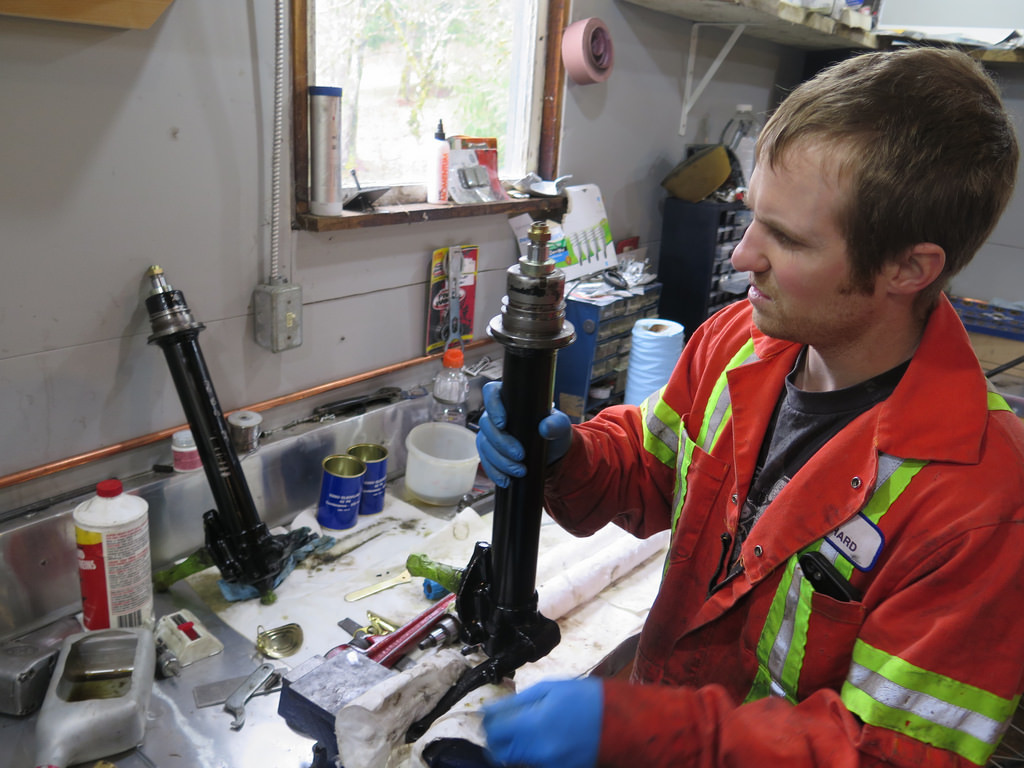 Kurt Allan from Lake Cowichan, a local motorcycle shock expert, rebuilt the 404 shocks with NOS Peugeot parts that I bought in 1989. He did a great job, and bleeding them was quite an effort. These Peugeot shock absorbers are amazing, I would never use nasty inserts. I once had a set of new Konis in a 404 sedan and they were garbage. The Peugeot shock absorbers came with Esso Uniflow 42PX oil (you can see the blue cans in the back), which has a 5W viscosity.
4-26-2017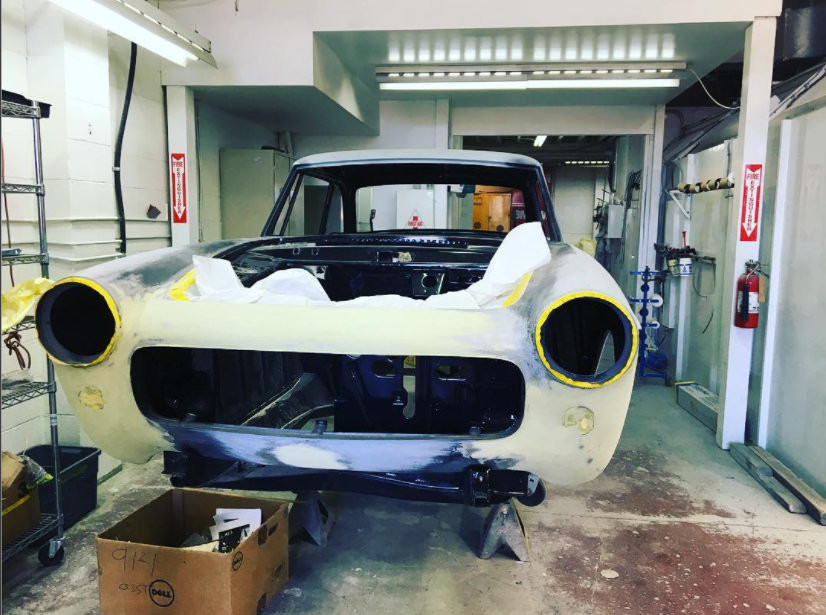 The blue is very dark indoors. Blocking work on the panels is underway.
5-6-2017
After this shot, not much progress has been made due to a crush of other finishing work on more advanced projects. So: no new photos were taken this week. Next week I'll drop off the rear seat so they can install seatbelt mounts and bring a bunch of old panels - that were removed from the car - home. I hope to have an update photo then.
5-14-2017
No update photo because progress (visually) was minimal. Also I couldn't get the panels because by the time I got there most staff had gone home. I did drop off the rear seat though.
5-19-2017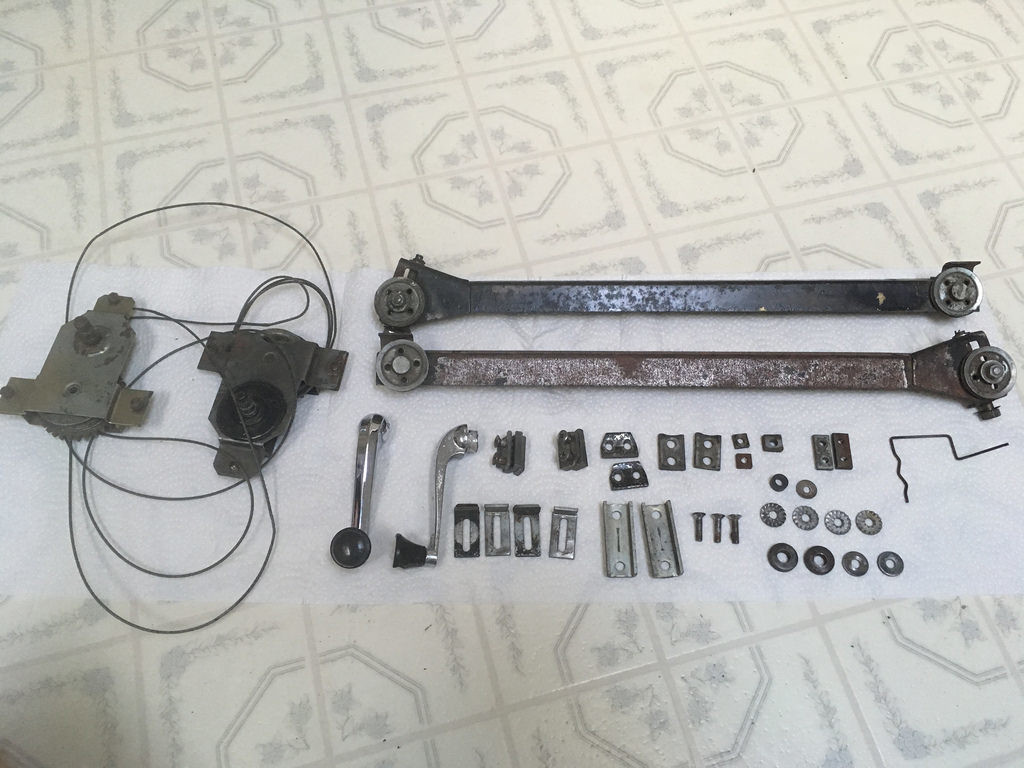 Nick Angiuli in Florida sent me a bunch of his surplus 404C side window parts for free! One of the two regulators with its cable was in perfect condition, so I will be using it in my car. The other stuff is surplus but I can now choose the best parts to use when re-assembling.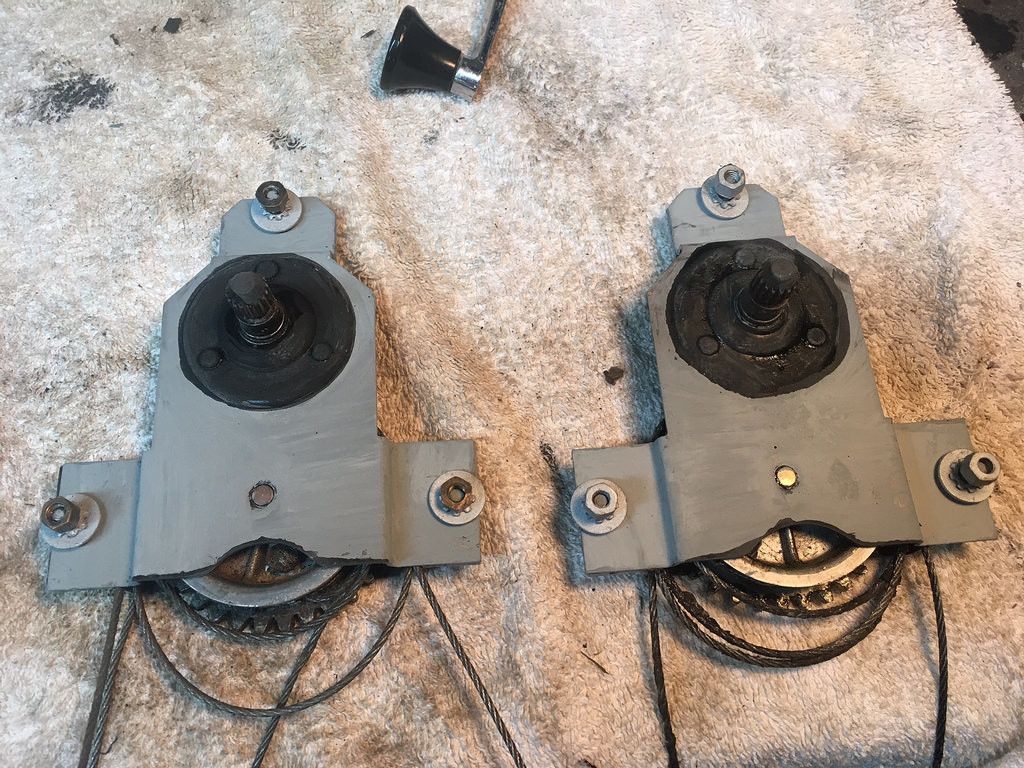 First order of business was to clean off the surface rust from the two regulators - the right one was from the passenger side of my car and the left one is from Nick. Then the metal was painted with Zinga, a cold galvanizing coating.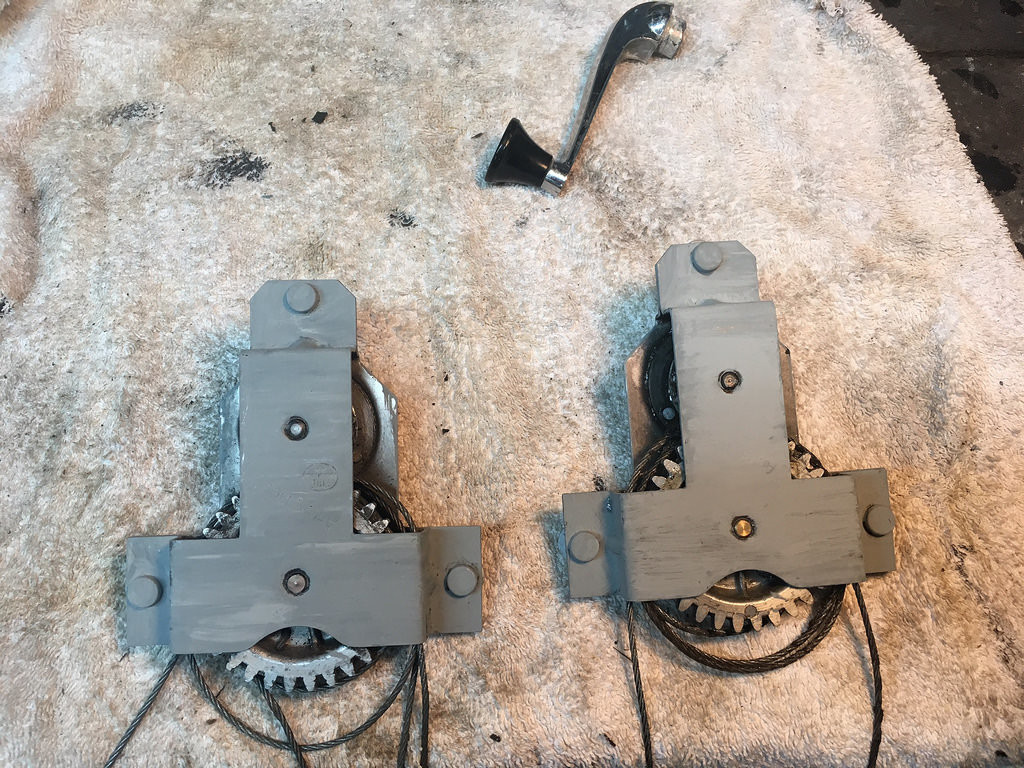 The next task is to clean the cables and lubricate the mechanisms with grease and cables with Würth HHS.
5-20-2017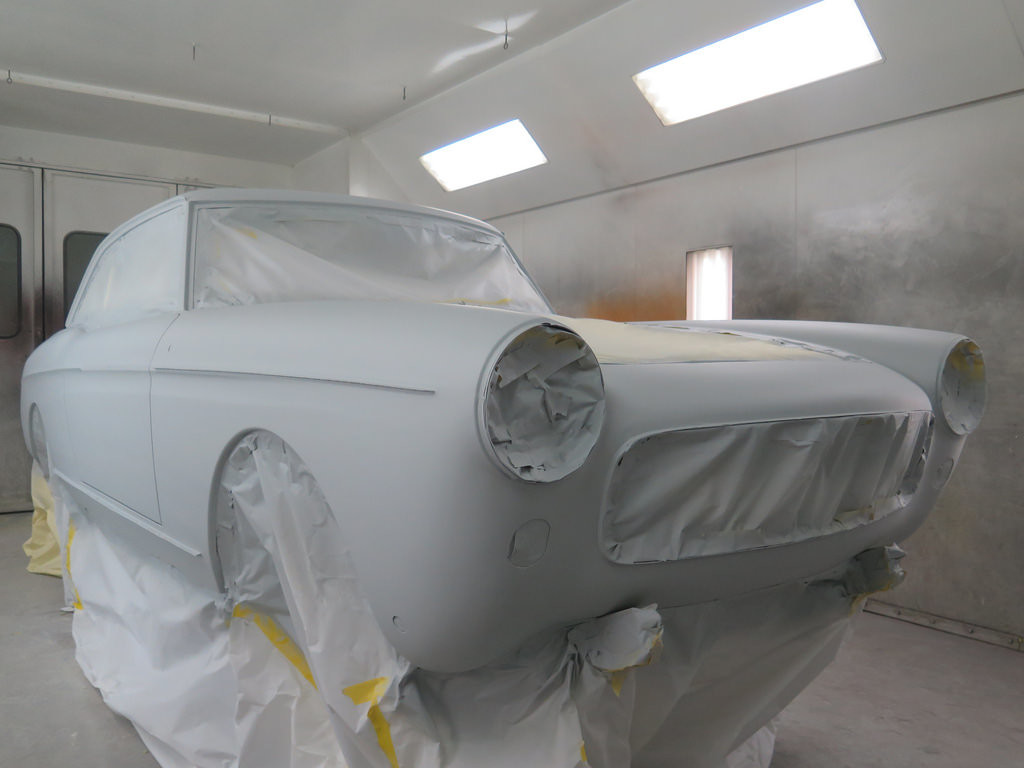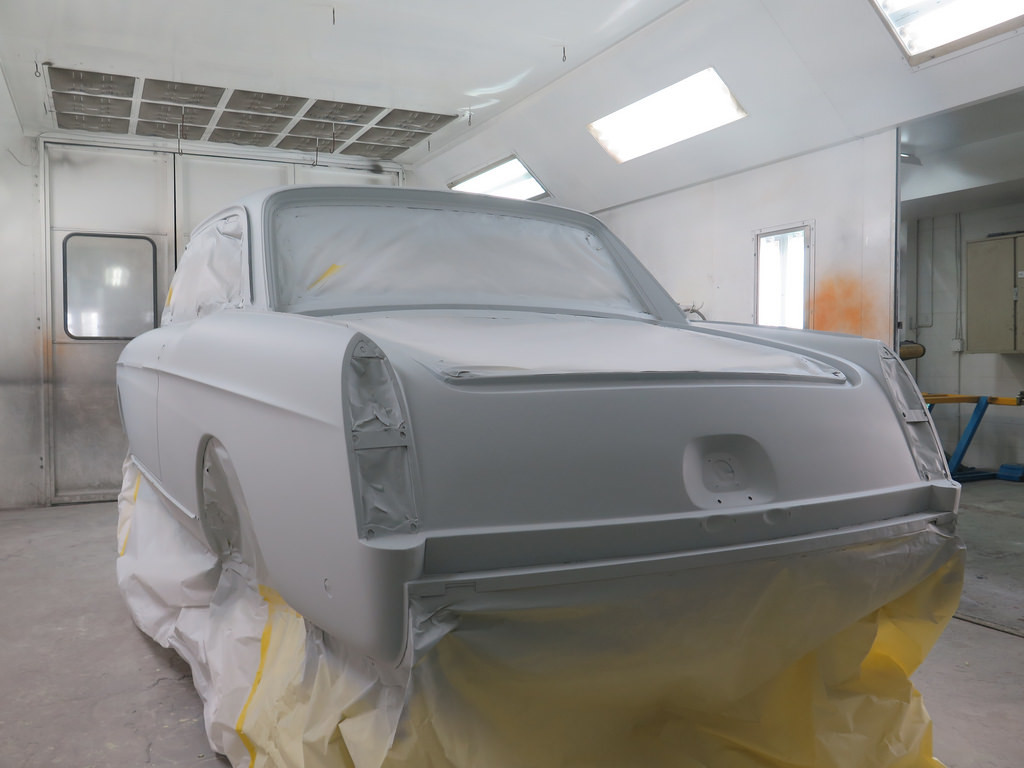 6-2-2017
June 1: This photo was sent to me, as the stainless steel trim is all being test-fitted before final painting. As you can see, some of it is missing, well not "missing" but was not in the shop, but rather in my garage. So I will bring it to Victoria with me tomorrow. More photos Friday.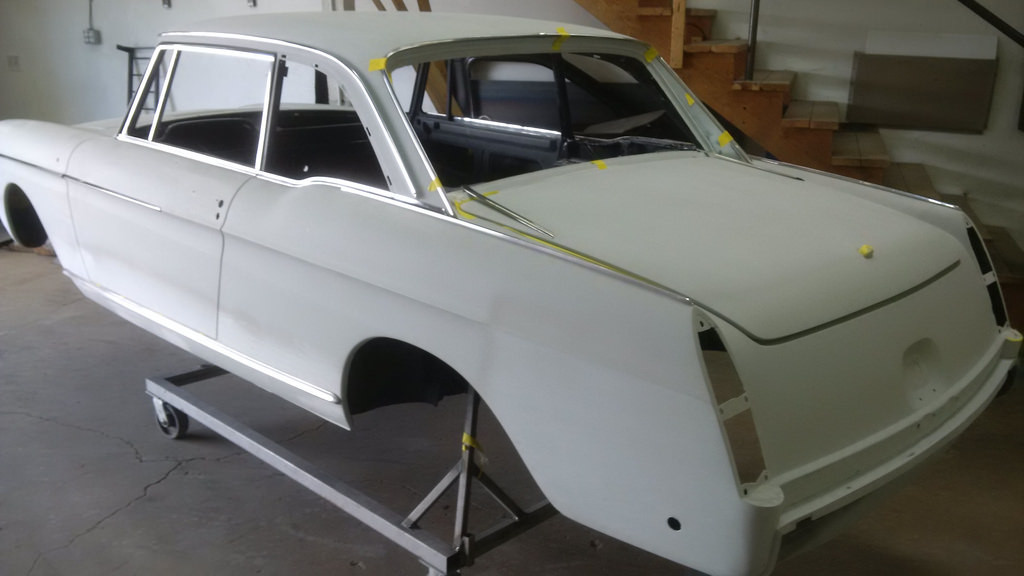 6-3-2017
02 June: test fitting the badges and trim.
The car will be painted dark blue by next Friday!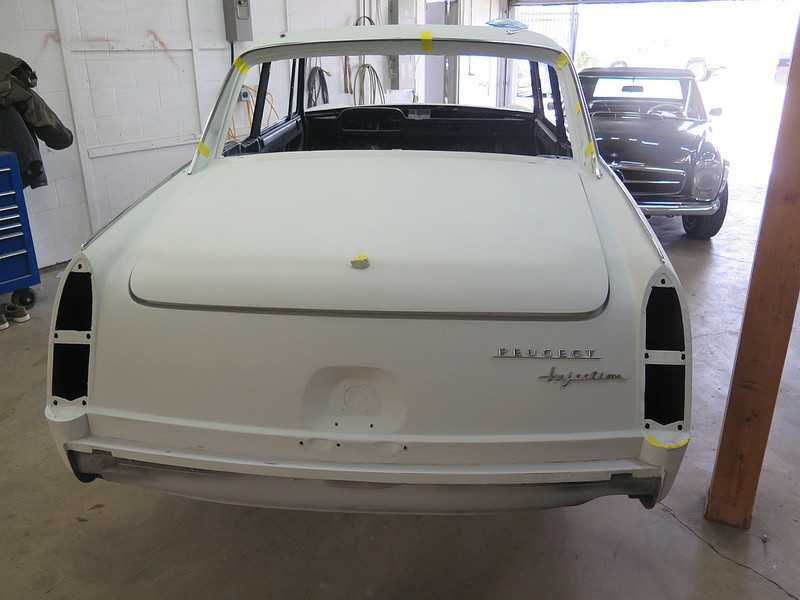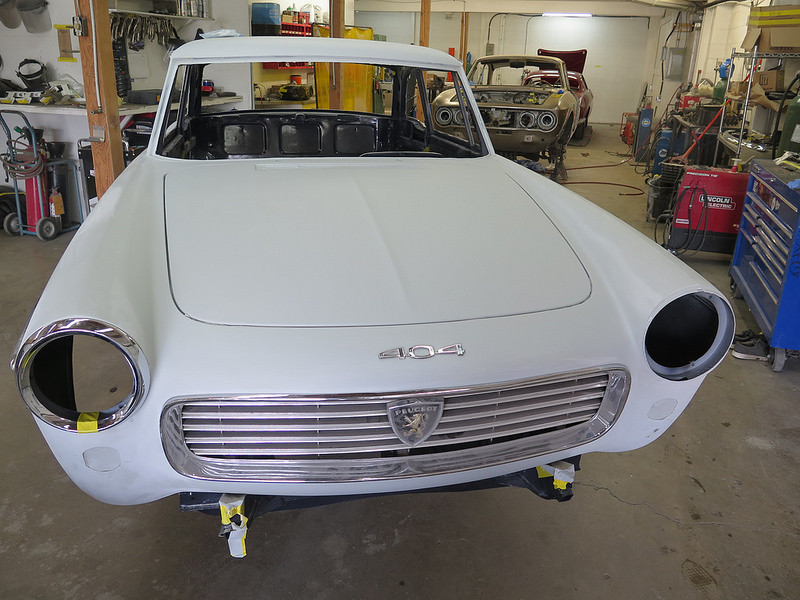 This week, Harry Kalsbeek sent me a most appreciated gift - exact replicas of the Kalsbeek Motors dealer sticker that were on all cars they sold from their Ontario dealership in the sixties. This will again be worn with pride on the back of my 404 Coupé - delivered to its first owner in BC by Harry's parents themselves, all the way from the Greater Toronto Area - once the car is delivered back to me. He also sent some Castrol oil change door jamb stickers printed with the dealership name.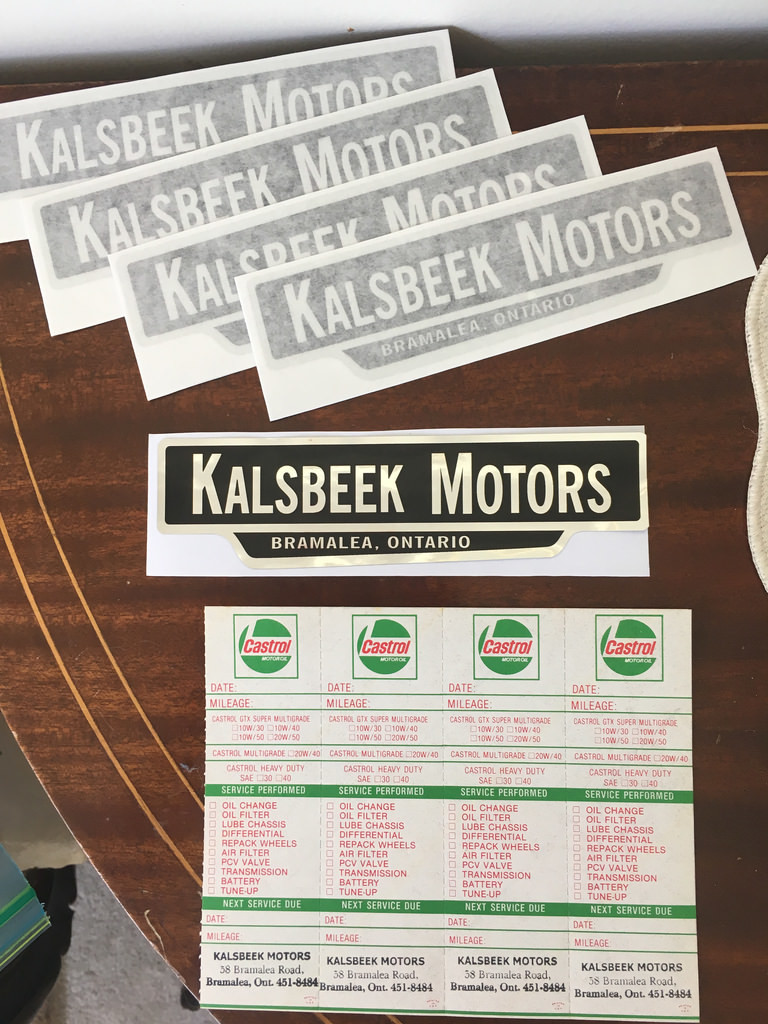 6-4-2017
This afternoon I decided to have a look inside the lever end of the Italian-made Nardi floor shifter that my 404C had from new. The last two I opened up had plastic bushings that had disintegrated over time and I thought that this one had a plastic bushing too, but intact, because the lever action was perfect.
After removing the 4 screws below the shifter, there was some very old, dirty oil in there. This end of the shifter cannot get any lubrication from the gearbox proper even though it's attached to it. The other two 404 Nardi shifters I had in the past were dry in there, with just some grease on the moving parts....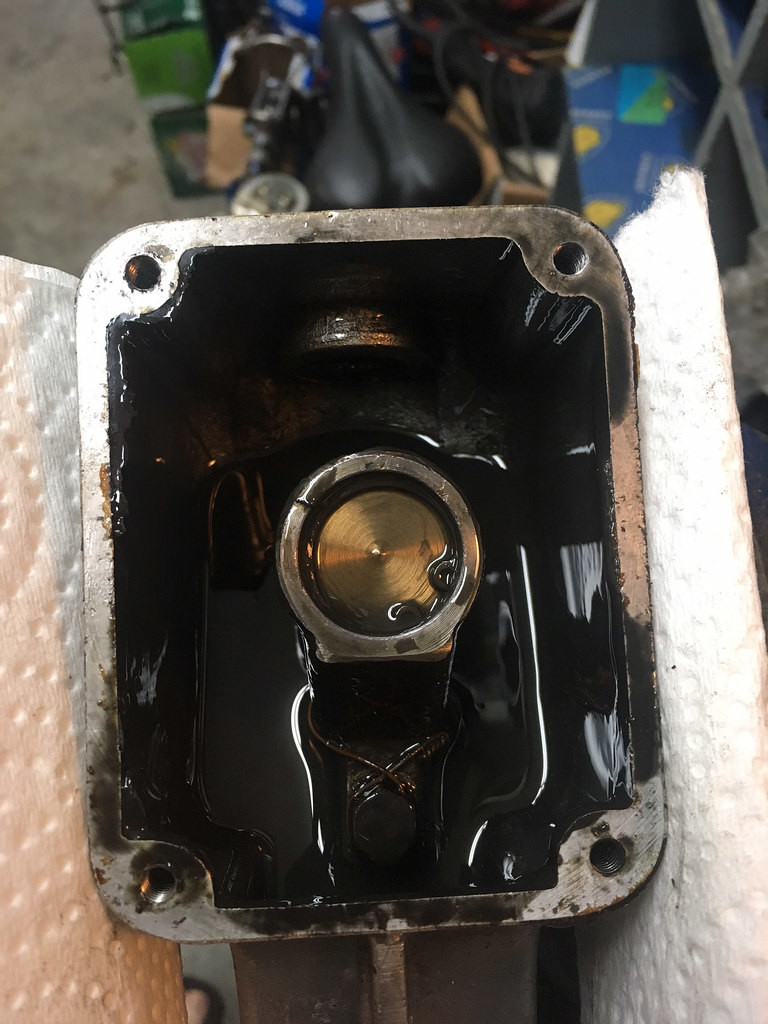 After removing two circlips, the mechanism comes apart. I could have removed the lever but decided against it because the bolt inside the mechanism is tied shut with a wire and it seemed very serene - I could clean around the lever, with it still somewhat attached.....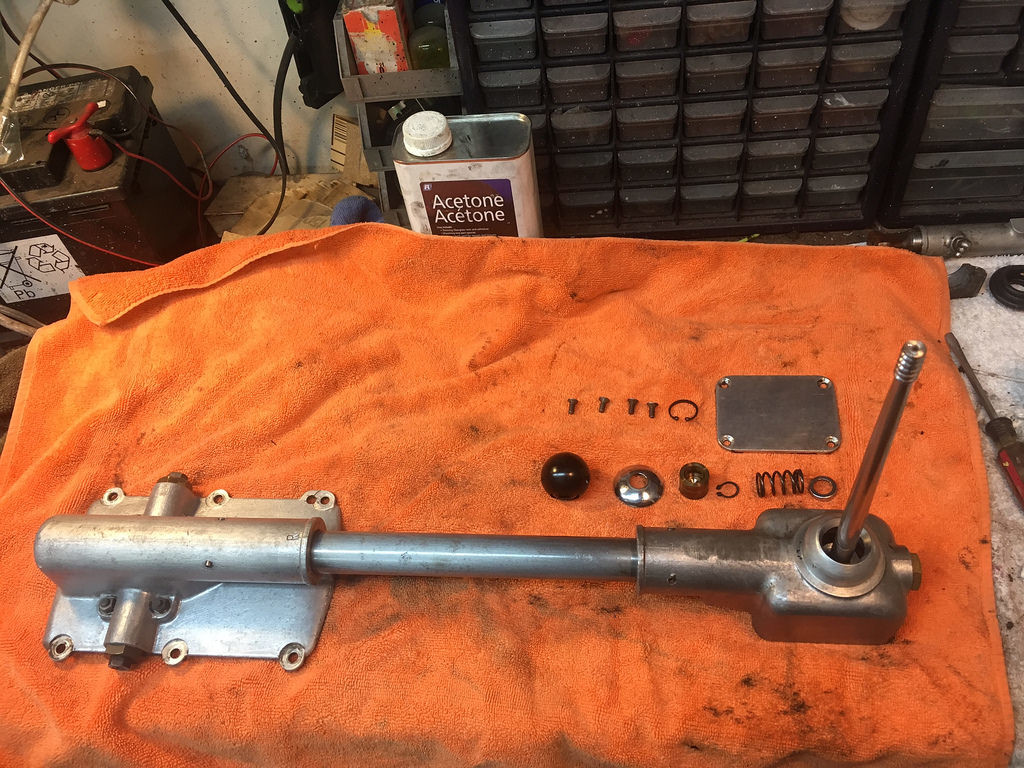 The bushing in this version of the Nardi is definitely not plastic, it's bronze or brass! It's in great condition!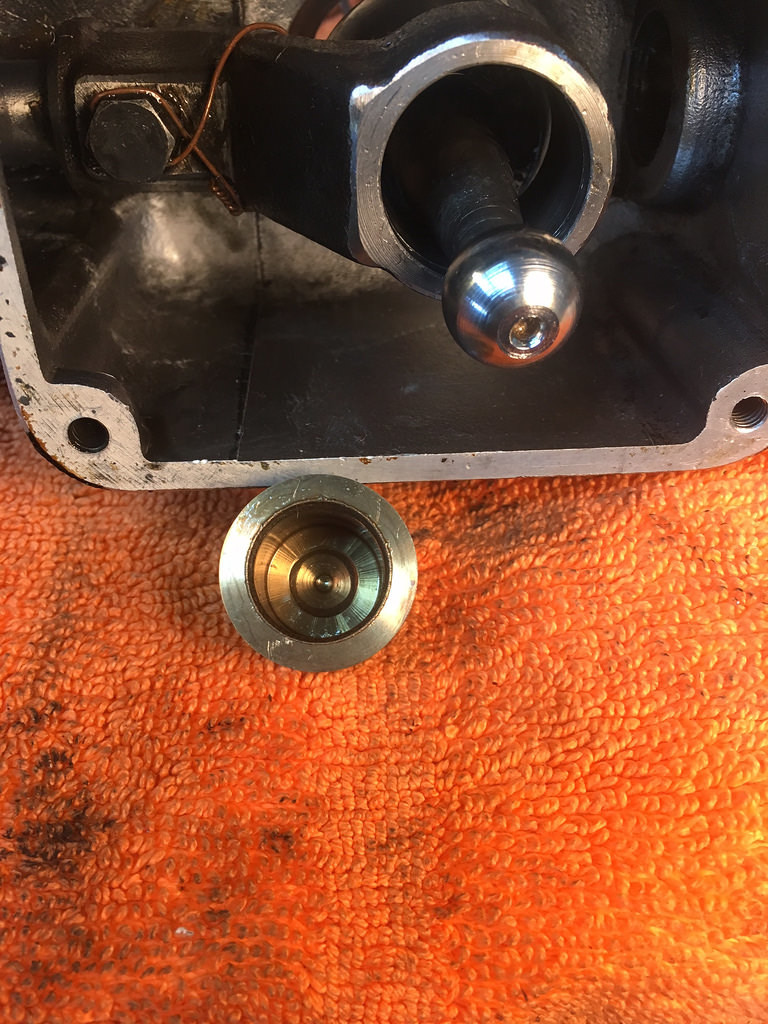 View of the bronze bushing, which when the lever is actuated, moves up and down inside the sleeve attached to the shifter rod that transmits the action to the gearbox shifting forks.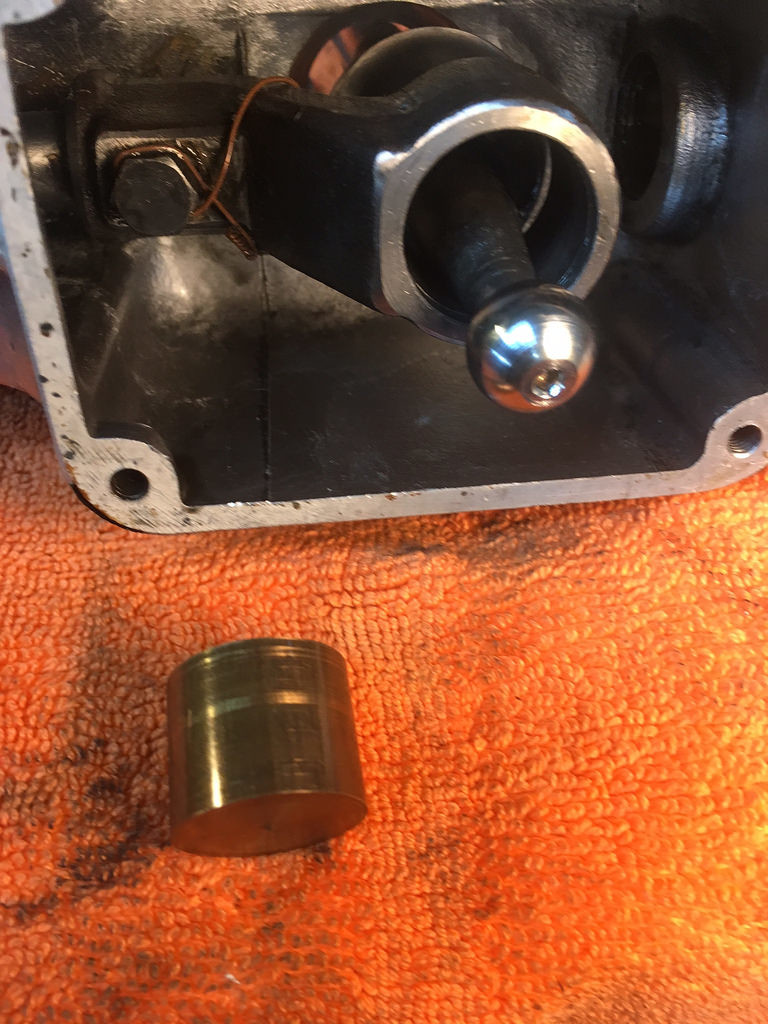 The sump has been drained and cleaned out, and the bronze bushing is again circlipsed into place.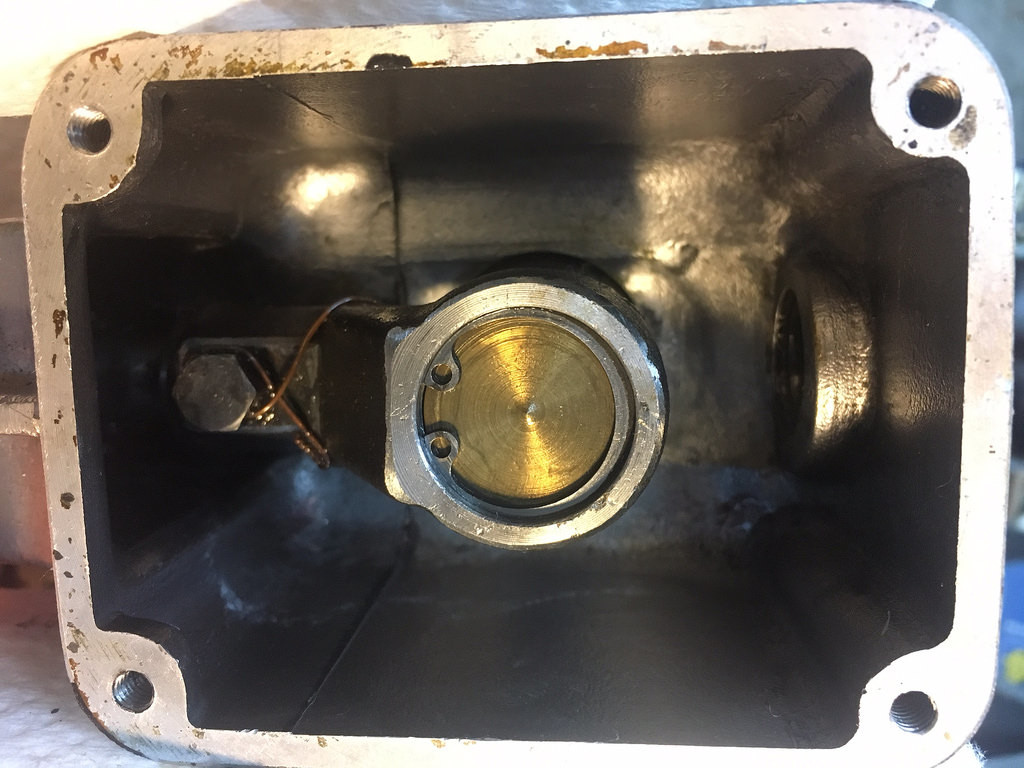 The sealing faces and threading of the little sump were carefully cleaned and then sealed with Hylomar Blue, to prevent any oil leaks.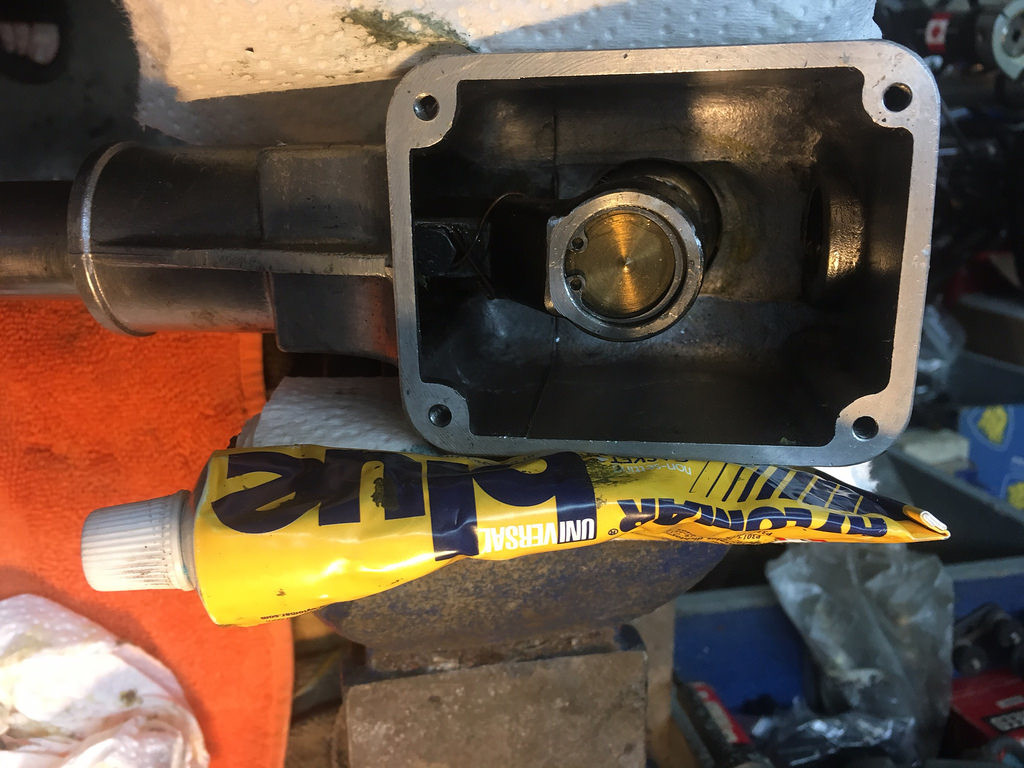 Sump screw on the Nardi, accessible from inside the car, 24 mm.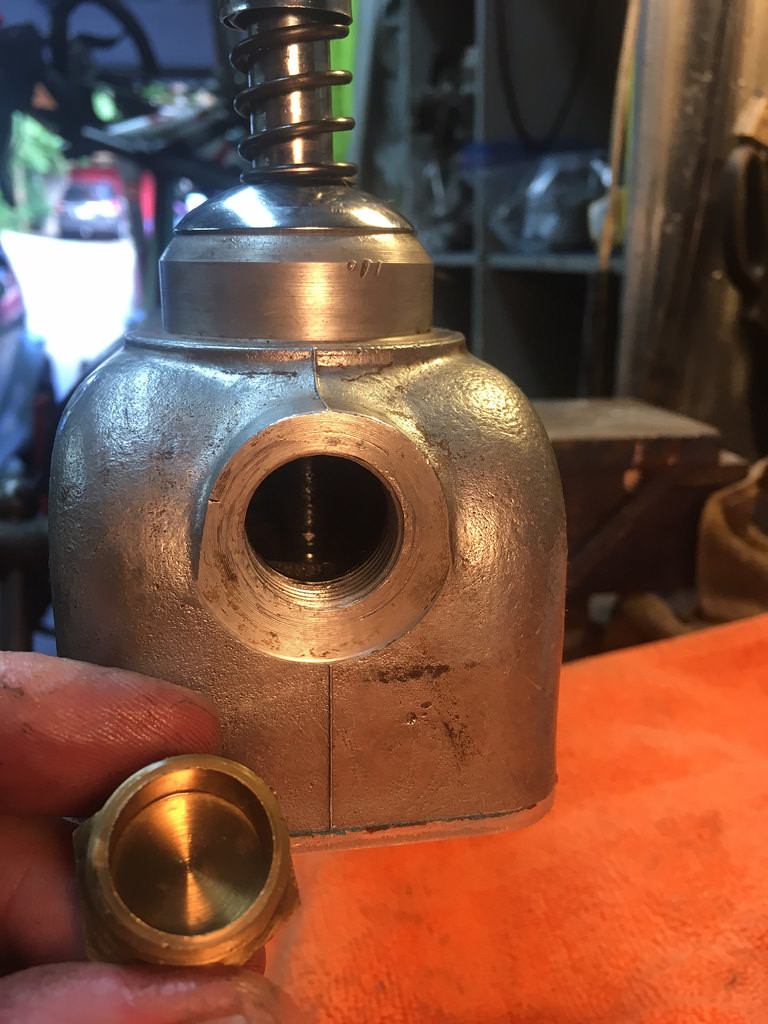 ...and refilled with Yacco vegetable based differential oil!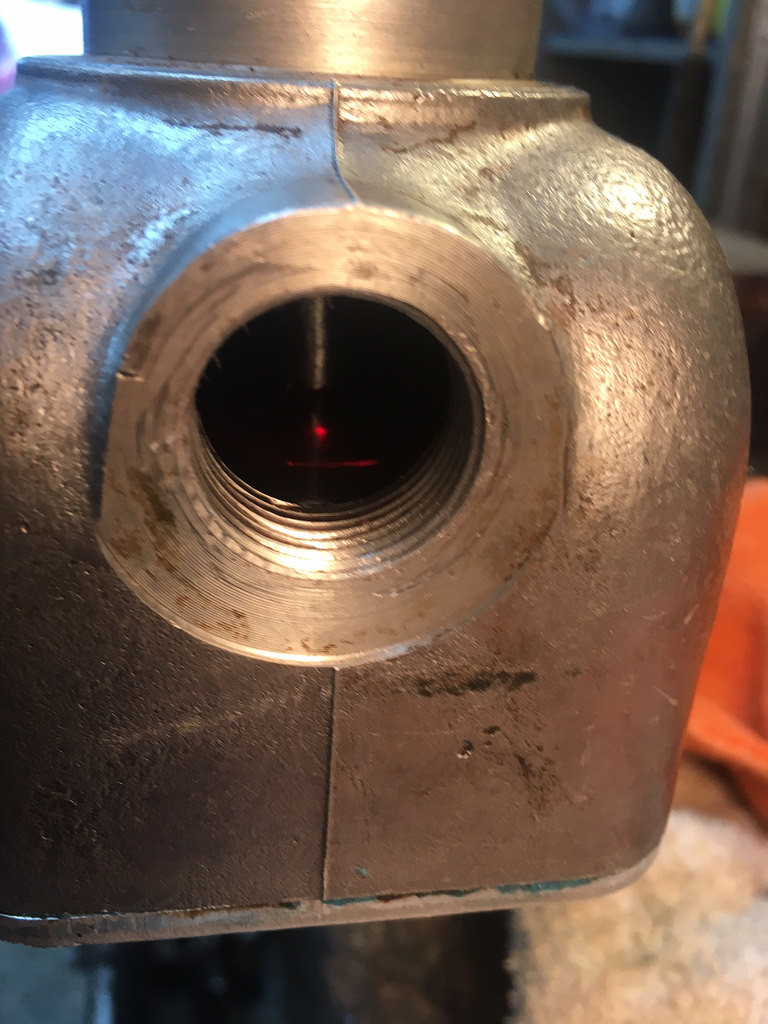 6-16-2017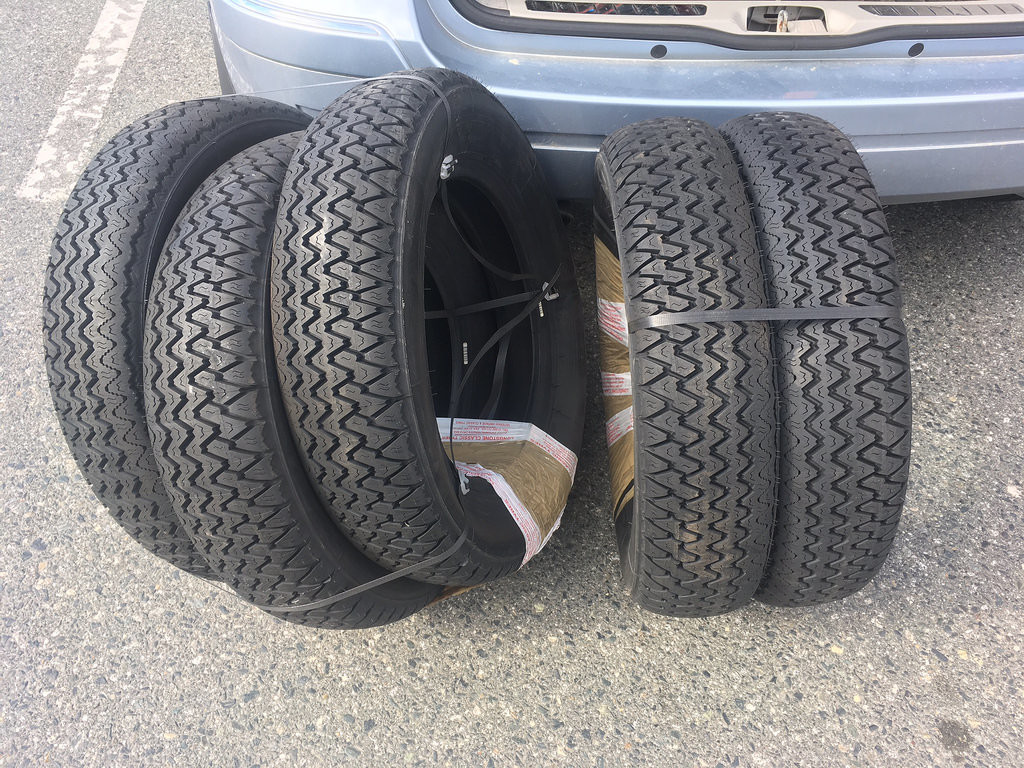 5 new 165HR15 Michelin XAS for the 404C arrived today, 4 days after ordering them. Tax/duty free, and no shipping charges. I ordered them this past Monday. Longstone Tyres in GB.
6-27-2017
Newly powder coated wheels, new door jamb sill plates, some minor parts: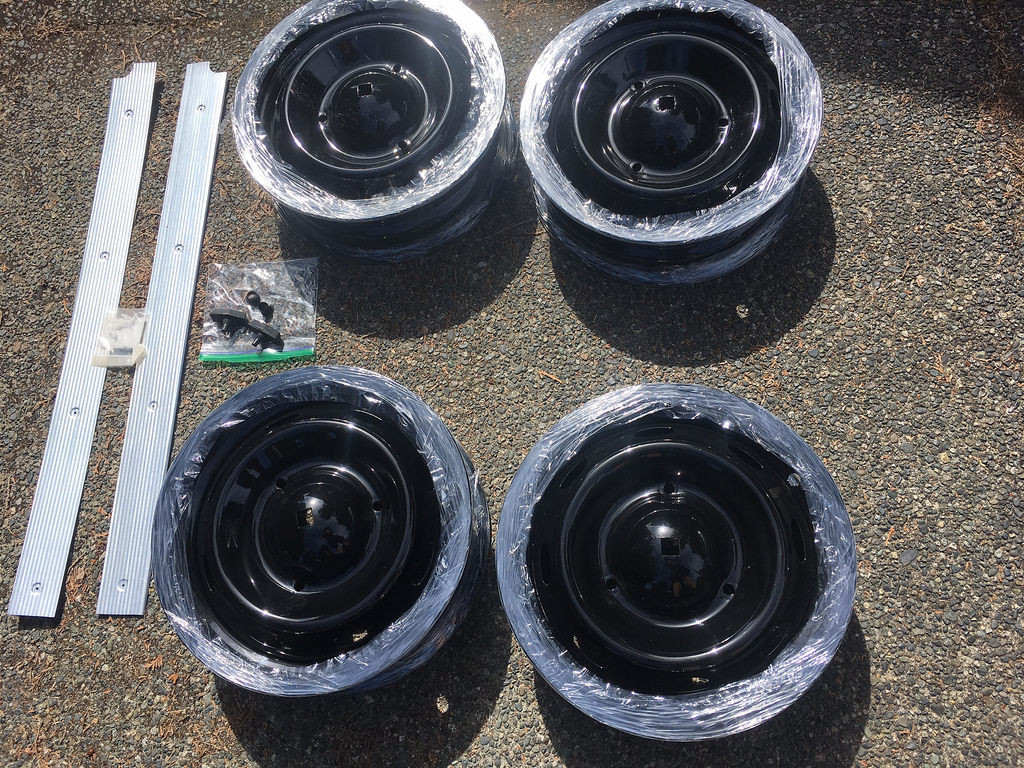 Rebuilt pedal assembly: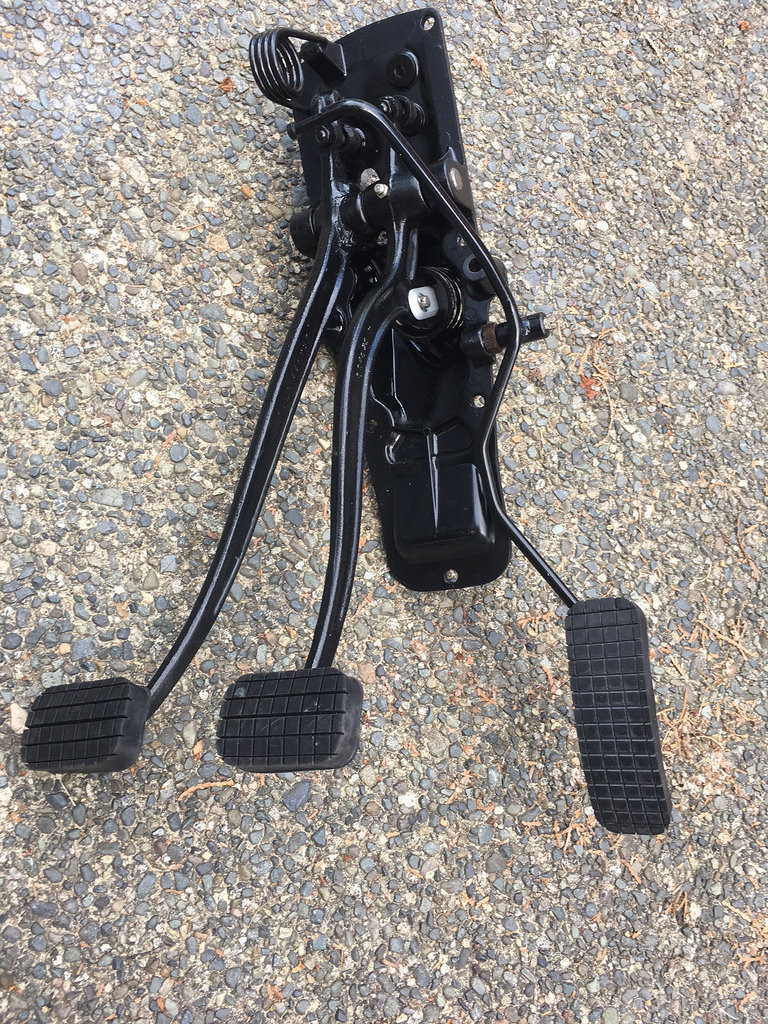 Disassembled grille: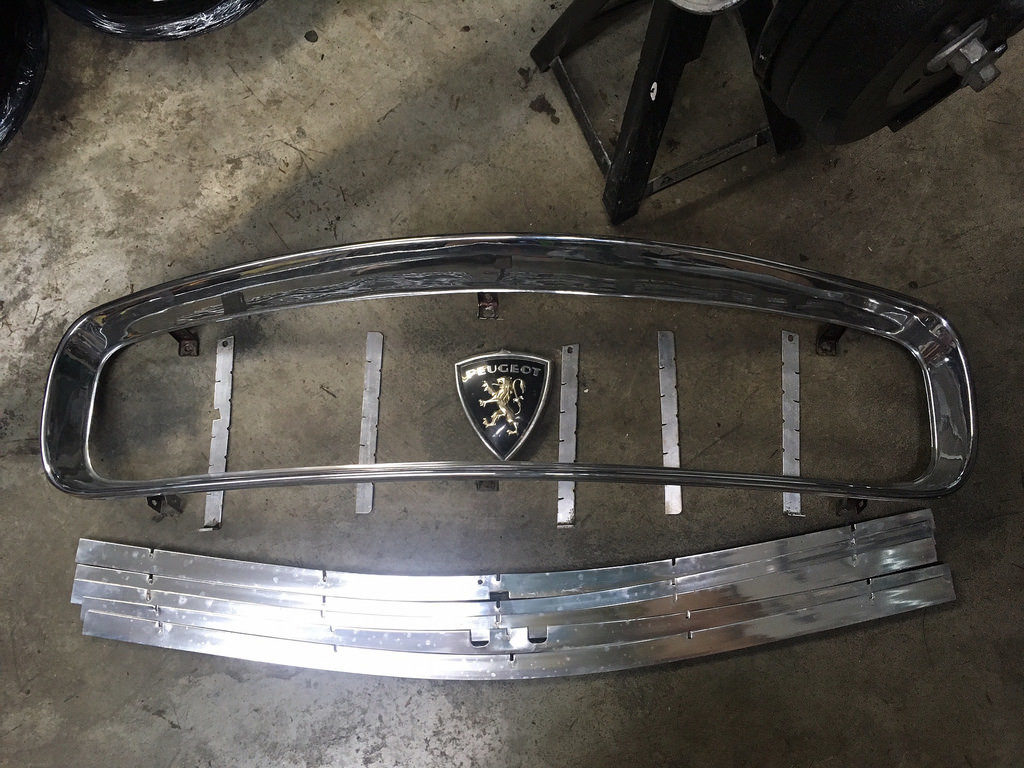 7-5-2017
Latest news: there is no REAL news to speak of, in fact we won't be visiting the car for at least eight more days.
But, we're heading to Penticton BC for Granfondo Axel Merckx bike race, and on the way I will drop off 4 of the 5 new XAS tires, 4 new Airstop inner tubes and the 4 newly powdercoated wheels at Automotion for mounting and balancing. Hope to pick them up on Monday as we come back home again, if Peter has them done by Friday afternoon.
The fifth tire will be mounted on another wheel for the spare once I have a chance to put another wheel into the powdercoater. The delay on the 5th one is that I want to have 4 mounted tires at all times, in case I get a call saying the car is done (before the new XAS are mounted and back home again).
7-16-2017
You're probably thinking: "Mike, when - for criminy sake - will your 404 be painted?". Well, I was asked to bring the grille surround back to the shop on Bastille Day to Coachwerks, as the bodyshell is virtually ready to paint. A final fitting of the grill surround to the shell will confirm that it's ready. Meanwhile, two of the three taillight bezels I have as well as the door handles are still at the chrome shop, as well as both bumpers, the latter for dent repair and polishing only.
You've read this before, but it's possible that the car will be painted in a week's time, and almost certainly by the end of July.
So, Peter Gallagher of Automotion, 1390 Pemberton Avenue North Vancouver, did the mounting and balancing when I was at his shop on Tuesday (11 July) morning. When I arrived he was nearly done, but I managed to catch the last bit of work. The wheels were "too pretty", Peter said, to hammer rim weights onto, so he used stick-on weights that will be invisible behind the large hubcaps.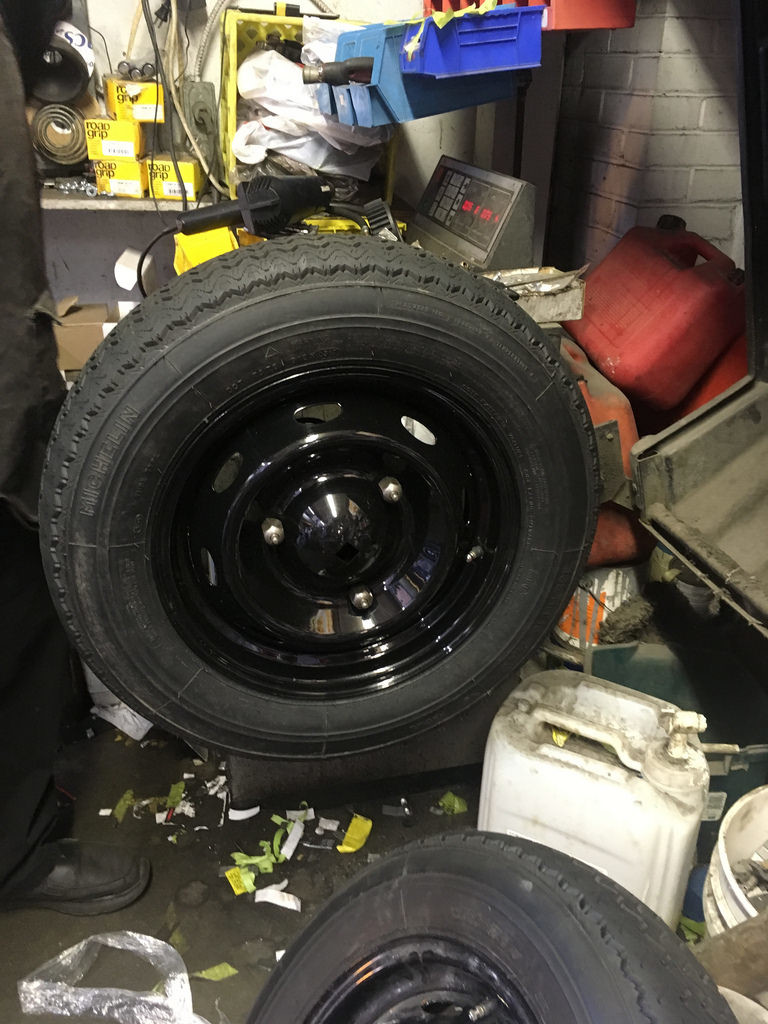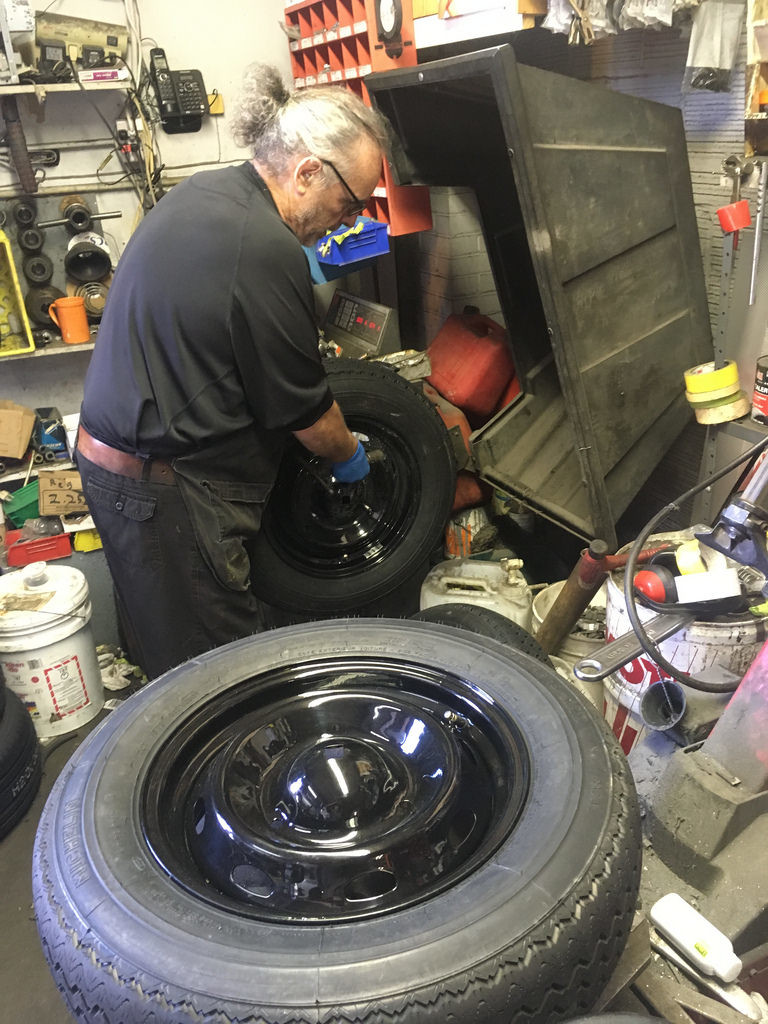 I think I will keep the two 30 year old Michelin MXL and two 28 year old XM+S 100 tires on rims, so when the car sits in the garage it can be on those tires, saving the XAS from flat-spotting during storage.
7-22-2017
Today I picked up the derusted and coated (inside) fuel tank. We didn't stop by the shop because I wasn't given a call to say the bodyshell has been painted.
7-23-2017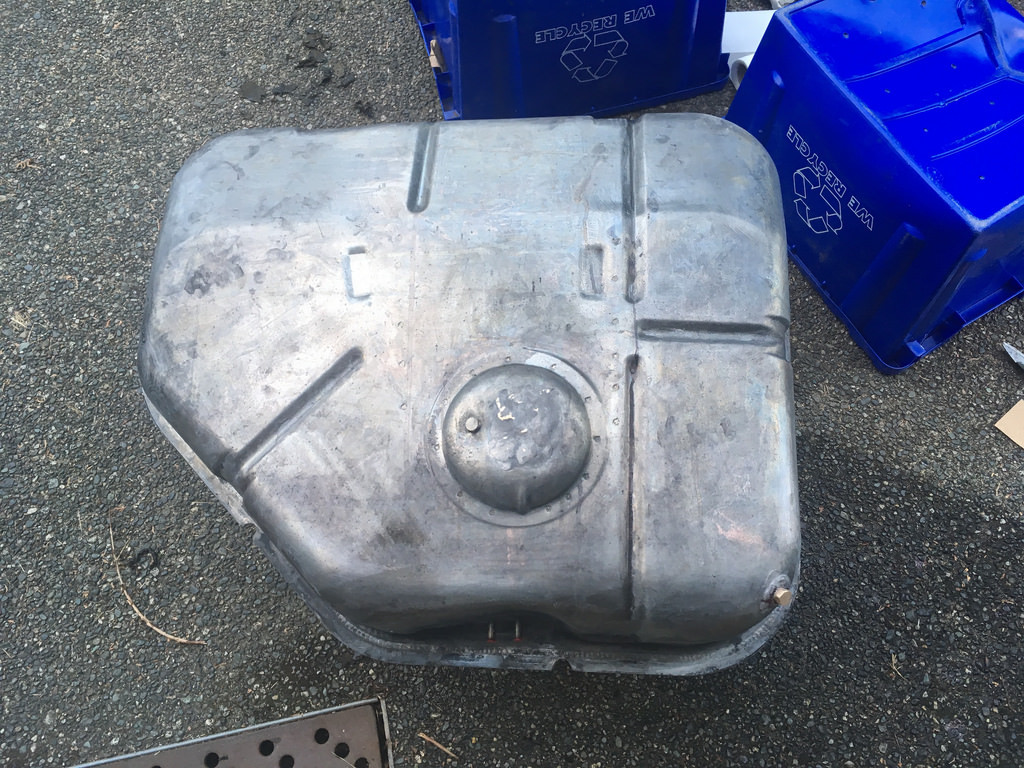 The fuel tank after external derusting. Sunday it will be painted. The areas with surface rust were all treated with Zinga yesterday.
Note the two fuel line fittings. One is the feed and the other is the return. Only Injection models had this tank.
The restorer who did the inside had to cut the bottom of the bowl off to remove the coarse screen, which would have been gummed up with the anti-rust coating.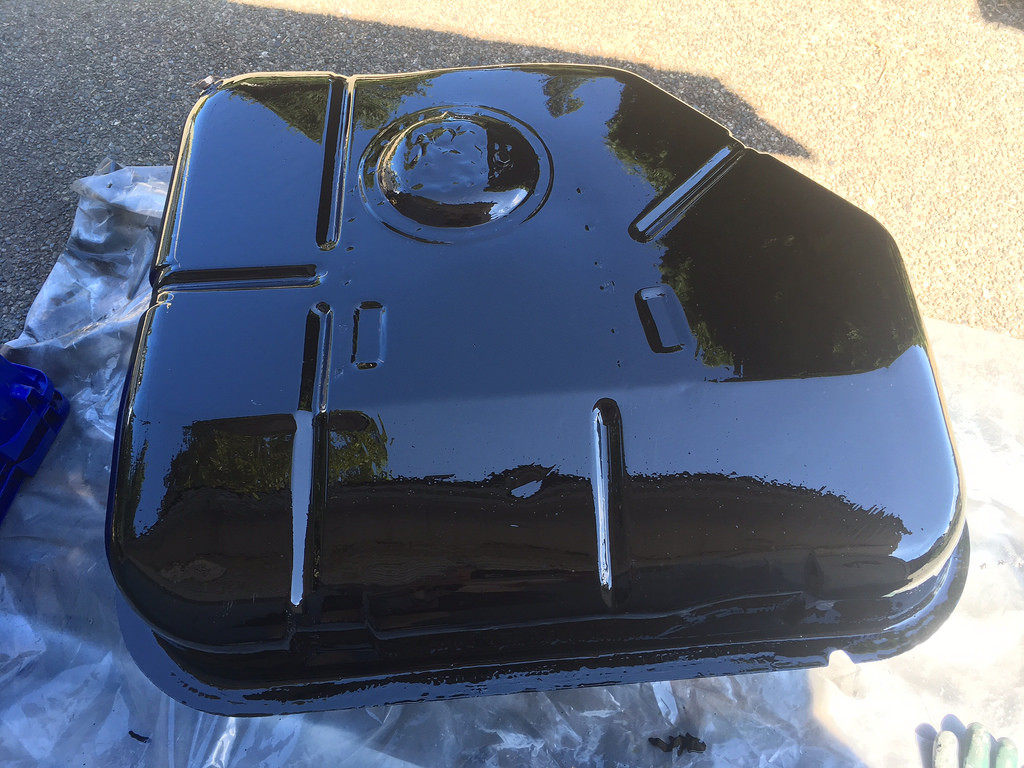 Painted with POR15
8-4-2017
Too good to be true - today's update is that a 300 SL bumped the 404C out of the booth and so next week may be the magic day.
8-10-2017
The good news: the 404 C will be in the spray booth Friday, 11 August! The final preparation and priming will be done tomorrow. The bad news: paint will only be applied on Monday, 14 August. So I won't be visiting the car until Friday the 18th.
8-15-2017
Last weekend I washed the floor of the garage on Saturday!
The car has been in the paint booth since Friday and today was to be paint day but Andy, the painter, required a final fettling, being a perfectionist. So....paint goes on Wednesday 16 August.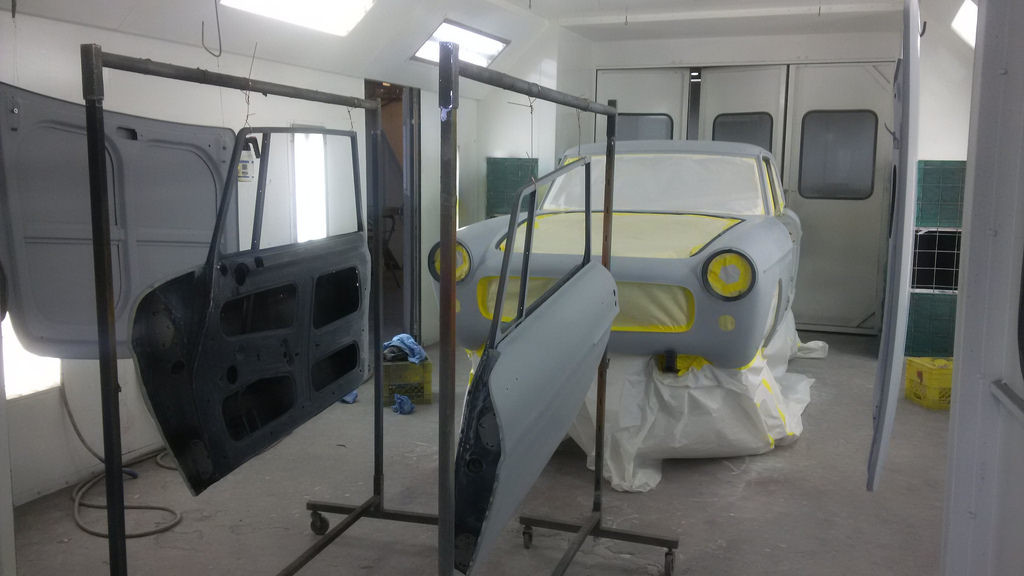 8-16-2017
Dark blue paint, I love it!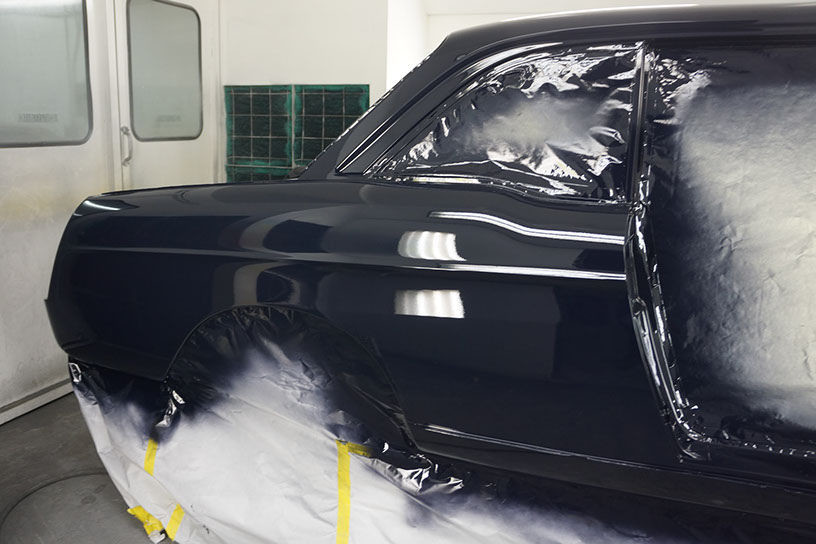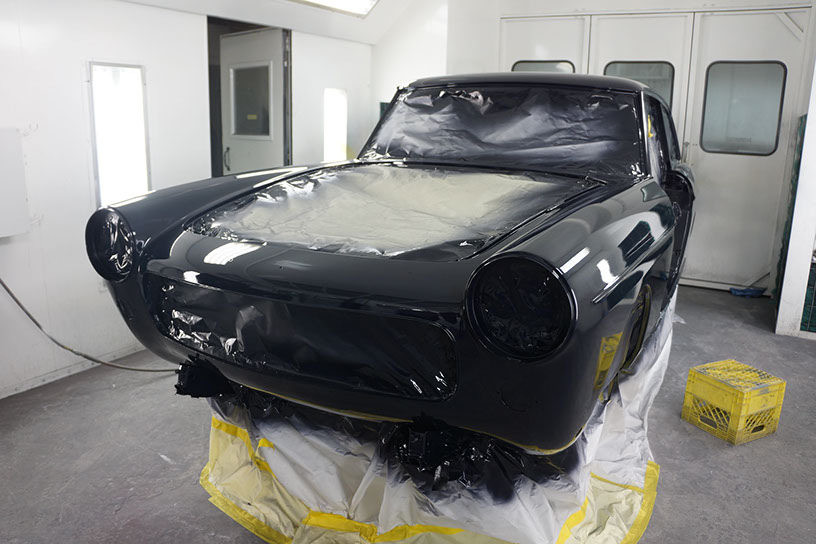 There are a few more on the restoration page, under "paint": http://www.coachwerks.com/MT1966Peugeot404C/paint.html
8-19-2017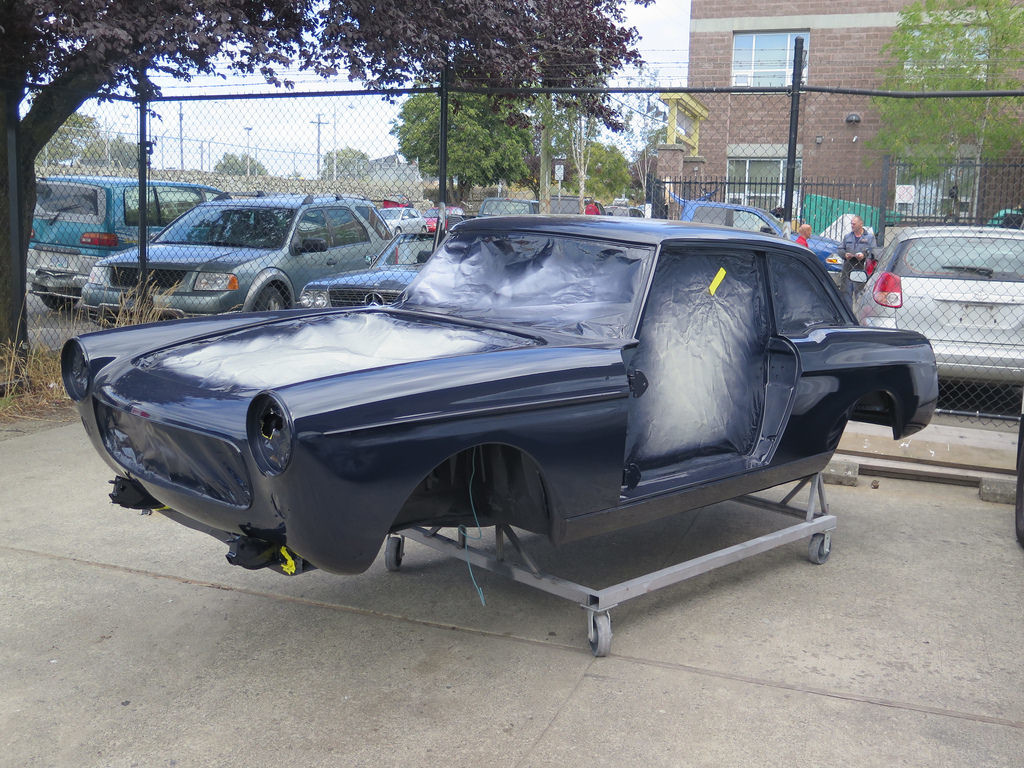 It was a bit overcast when we saw the car yesterday. There are three colour base coats. Once the paint finishes off-gassing over the weekend, wet blocking will begin. Once the base coats are mirror smooth, three clear top coats will be applied, with wet blocking again.
8-28-2017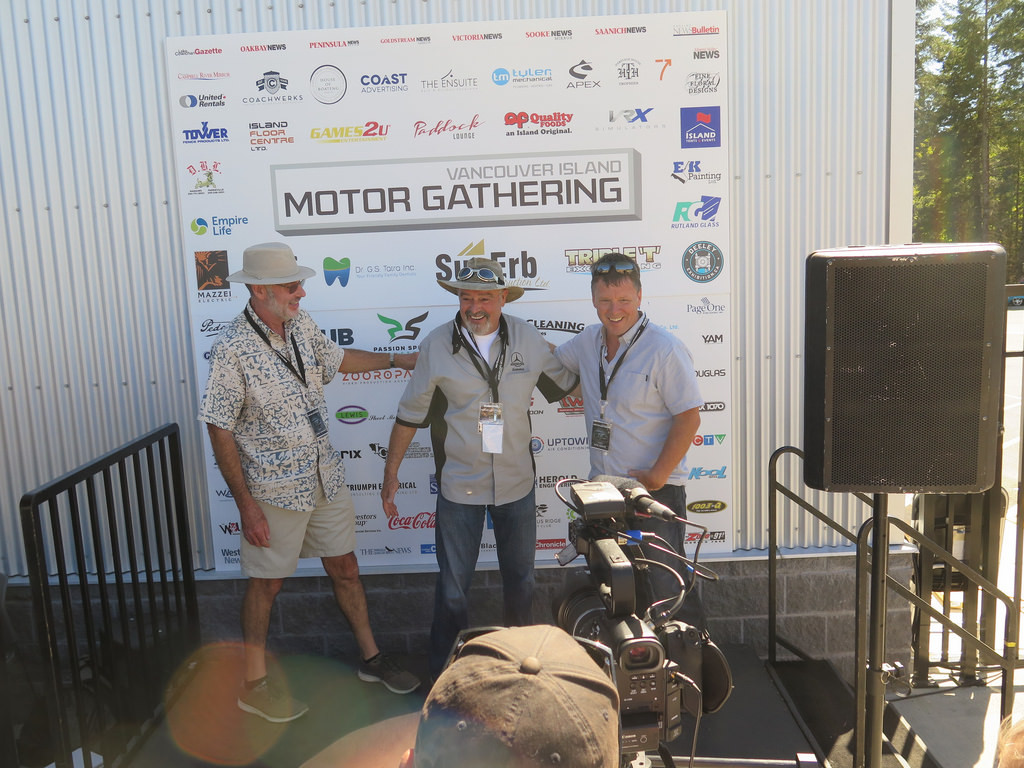 Chris Yarrow, Rudi Koniczek and Mike Grams of Coachwerks were the judges for the Vancouver Island Motor Gathering on August 27, 2017. After the awards were handed out (many show winners donating the $500 prize back to the two charities benefitting from the show's gate), I had a few minutes with Mike.
He told me that the 404C looks a lot better than she did in the last photo I posted. The doors are back on and the colour coats are mirror smooth, a concours finish, he said. Mike also said that as far as value goes, this will probably be one of the best in the world, especially if the rest of the work is done to the same standard (no pressure!).
Coachwerks is shut next week so the Tuesday after Labour Day, work will resume. Mike said he'd try to prioritize the car's clearcoating and final preparation so she can be ready ASAP. We're working around his holidays and ours. My wife and I are leaving for Japan on September 11th and won't be back for 15 days. So, just maybe, she'll be home on September 8th or 9th. If not, about two weeks after that.
9-6-2017
In March 2014 - on my birthday! - I toured Rudi & Co. with my good friend Bruce (now since passed, very sadly) and we got to see a lot of stuff, but no bodywork repair operation. So I asked Rudi Koniczek: where does the bodywork get done? He said it's Coachwerks. So in late 2014 or early 2015 (I forget which!) I made preliminary contact with Mike Grams, who owns and runs the operation. I told him about my car and he seemed interested. I said it would be a year or two before I could commit to the work. We didn't talk about price. Then early in 2016 I asked to be put on the waiting list. Mike proposed that they only do the shell restoration. He estimated $50K. I thought it'd be a year before I would be called in but in November 2016 I was asked to bring the 404 in within two weeks. I had 12 evenings plus 4 weekend days to strip the car to a bare rolling shell! And the rest is history, more or less.
So today I was asked to bring the rebuilt 404 suspension back down to Coachwerks, and I may have her home this weekend for the first time in 9 months. I borrowed a colleague's Mazda pickup and the suspension is in there ready to go. We leave for Japan on Monday so I hope it all goes according to plan!
9-7-2017
I got onto Peugeot-L on Joe Wagner's recommendation in 1999. Before that I was in the Peugeot Owners' Club that Marvin Needler ran out of Indianapolis. And I had the 404C starting in February 1989....
Rudi has sold his operation to the German Auto Import Network as of a few months ago, and the location has moved to a place called the "Classic Centre" near downtown. Rudi will be there as a sort of inspirational figurehead but I believe his operation at his home has ended. Which probably means some of his cars can come out of the chicken barn "vault" and go home with him!
Thursday I borrowed my friend Rob Conway's truck and brought the suspension down to Victoria. The car was outside on its cart, looking mirror smooth everywhere. The work is really impeccable. Amazing, worth every dollar.
So I helped Pat Higgins, the metal worker who did the body reconstruction, mount the suspension under the 404C. It was a bit of an operation and we used the car's original jack mounts to help us lift the body high enough to get the suspension underneath. She looks good sitting on her wheels and XAS tires now.
Friday she gets a final polish and final touches and either Friday PM or Saturday she should be coming home on the flatbed.
I loaded the photos at a different site this time, so click on the image to see it in full size.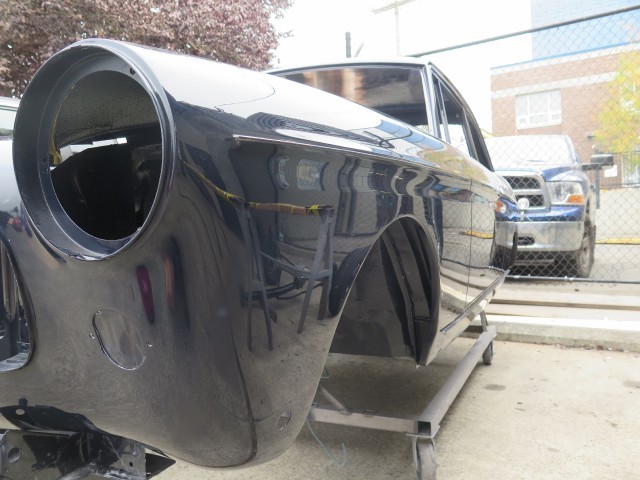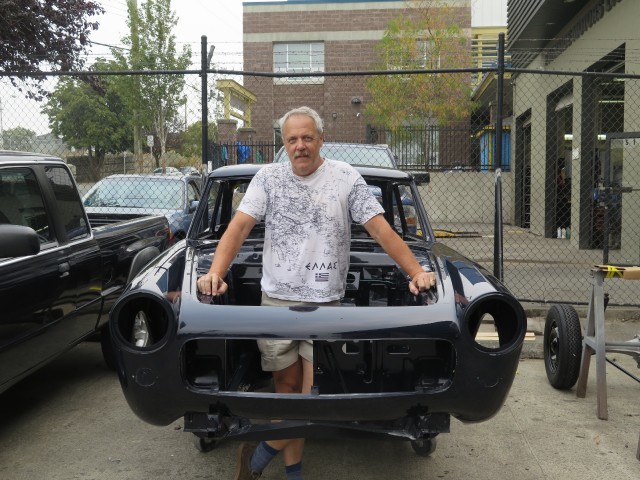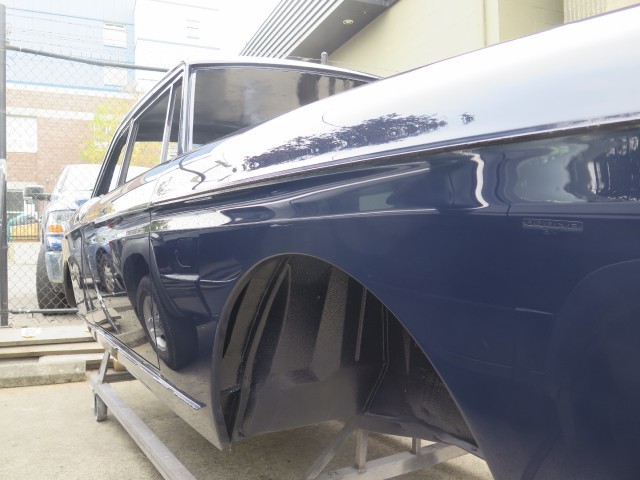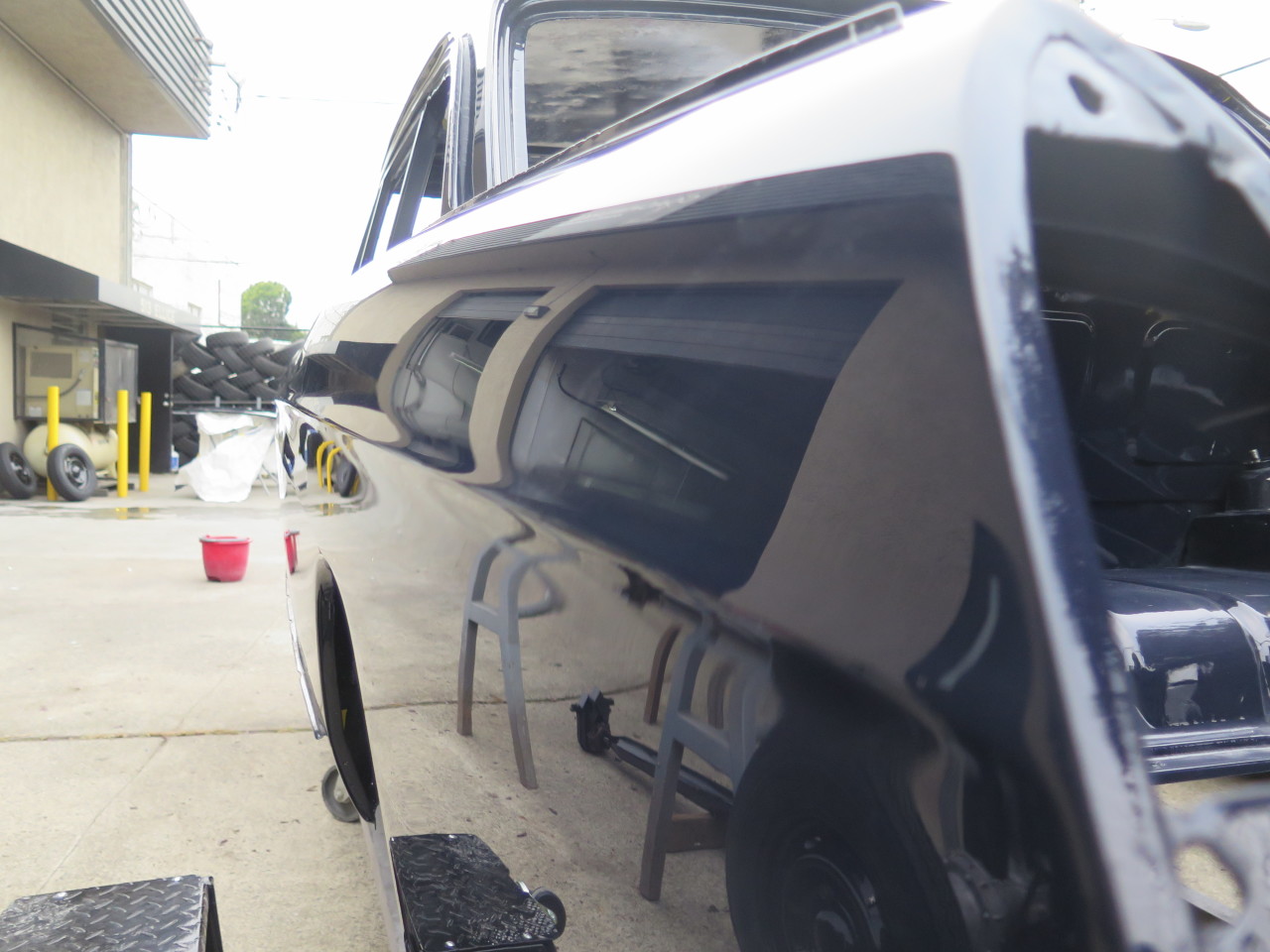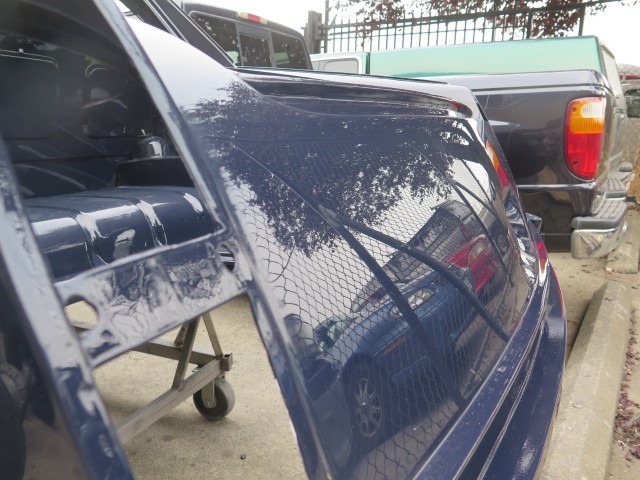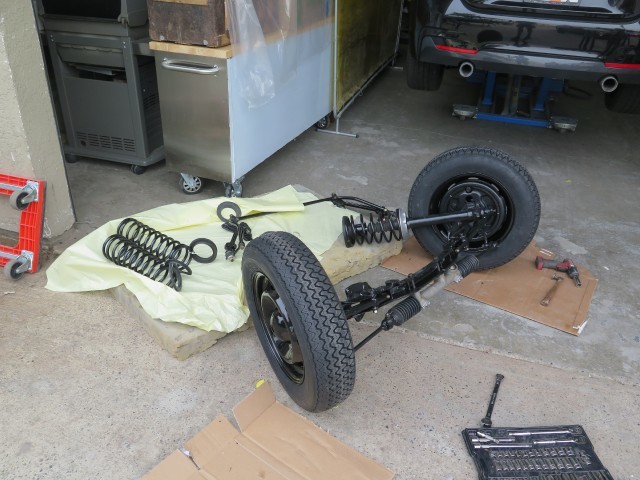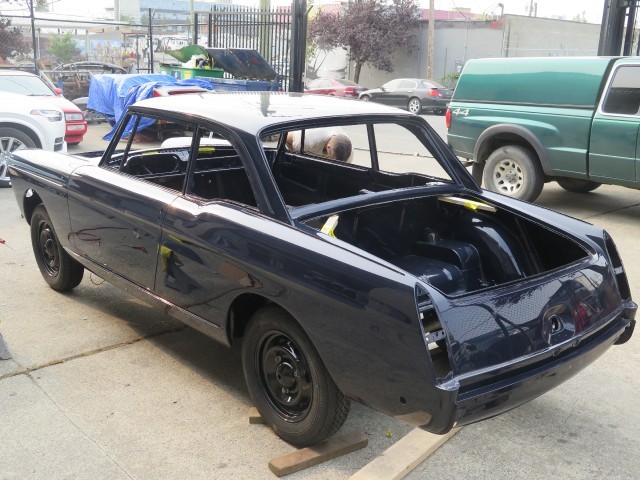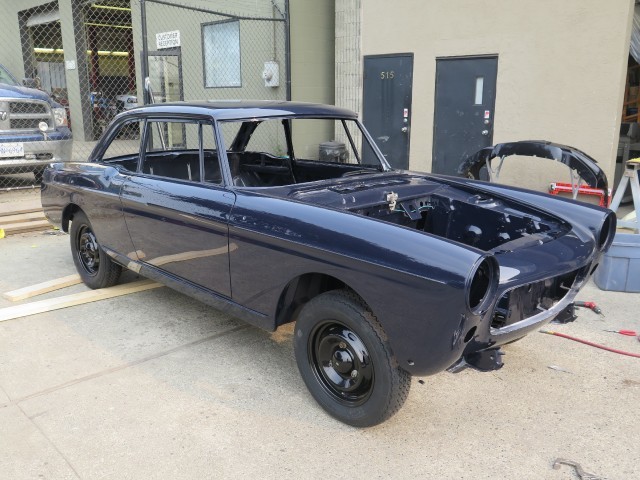 9-8-2017
Yes, the colour chip I have (real paint) is very dark, which is interesting because most of the Dark Blue 1057 cars I see photos of are really quite bright blue.
The 404C stays at Coachwerks or Rudi's storage building while we will be away in Japan. Mike wanted to do some last minute touch ups and ran out of time today. The touch ups are some minor overspray in a door jamb, a chip on an engine compartment panel that will be covered by vinyl and a couple other small things like that. Anyway, the weather forecast was for rain tonight and Saturday so bringing her home in that would have not been the best.
9-28-2017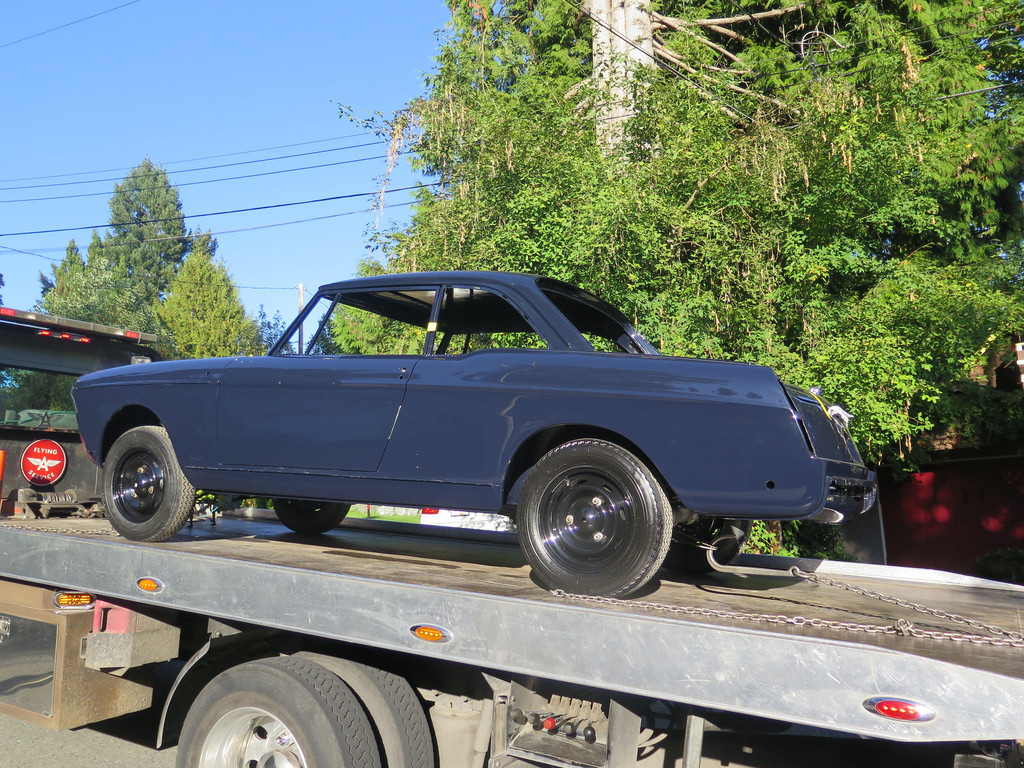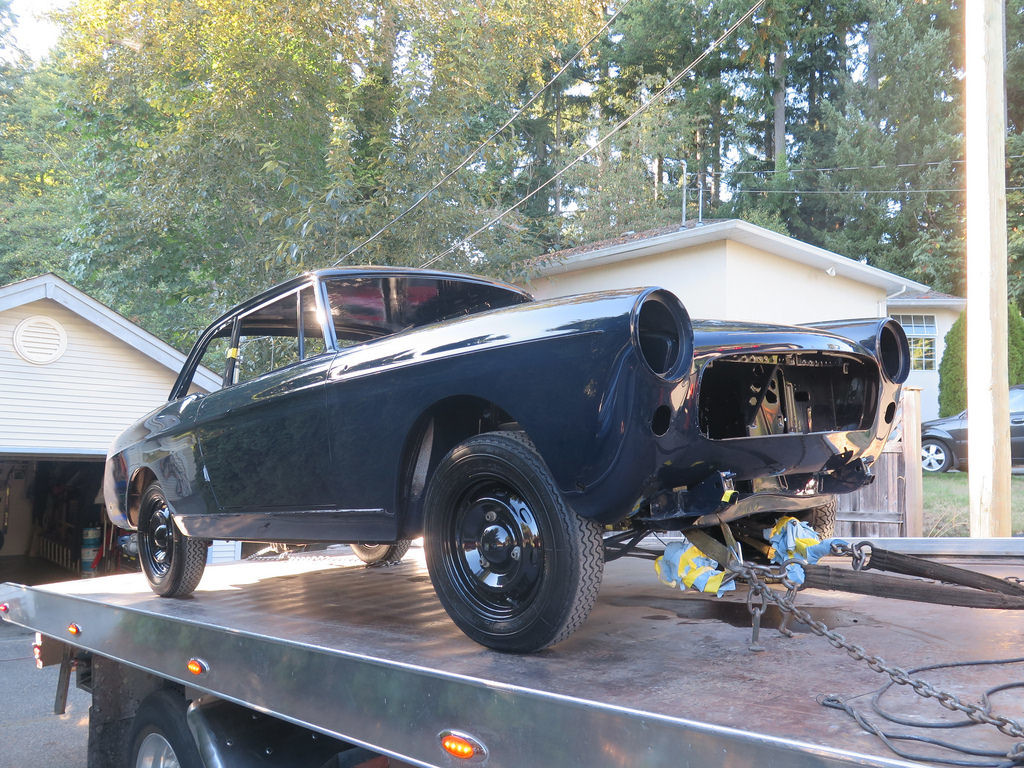 9-30-2017
Thanks!
Couple more shots of things installed Friday: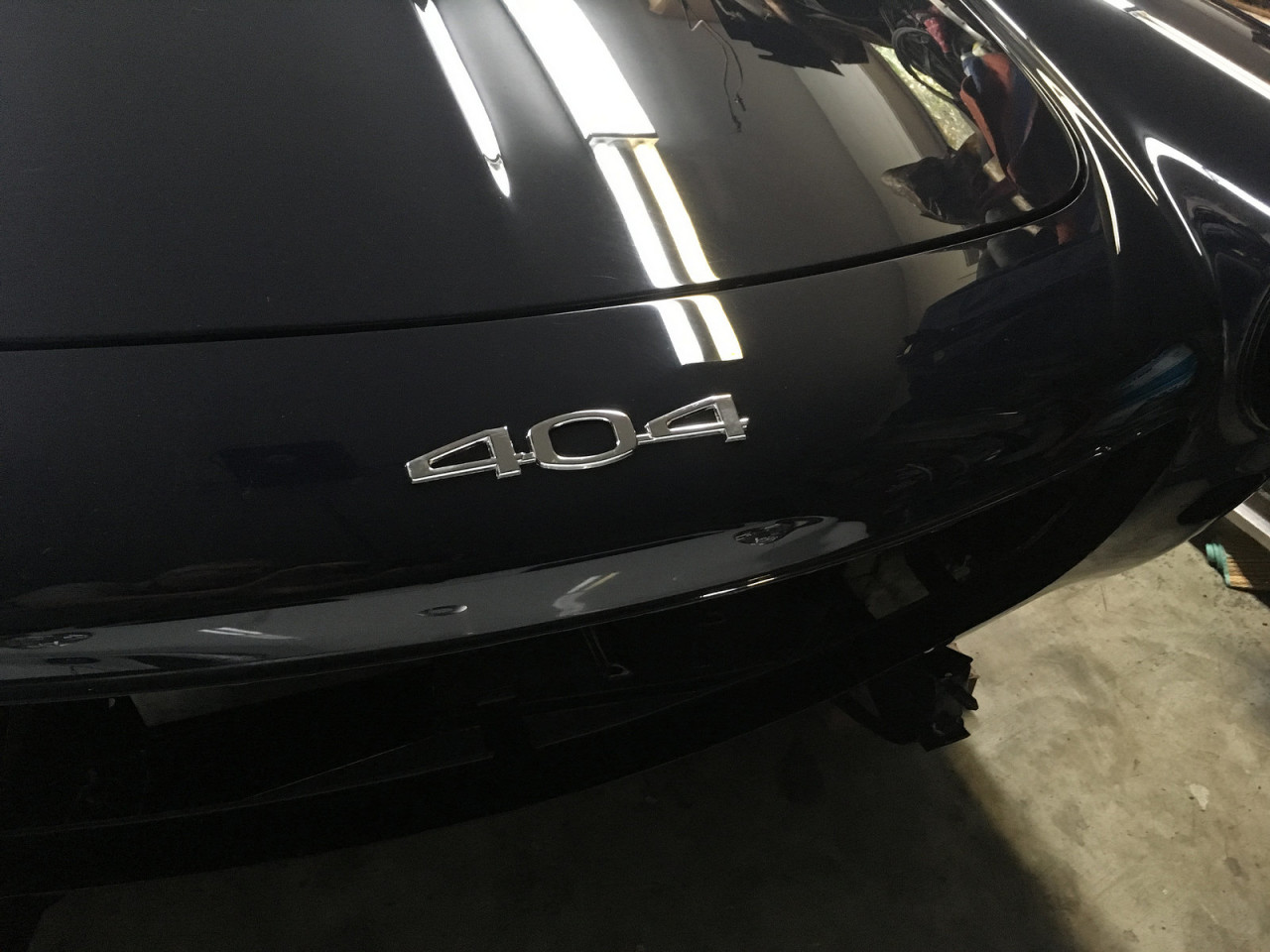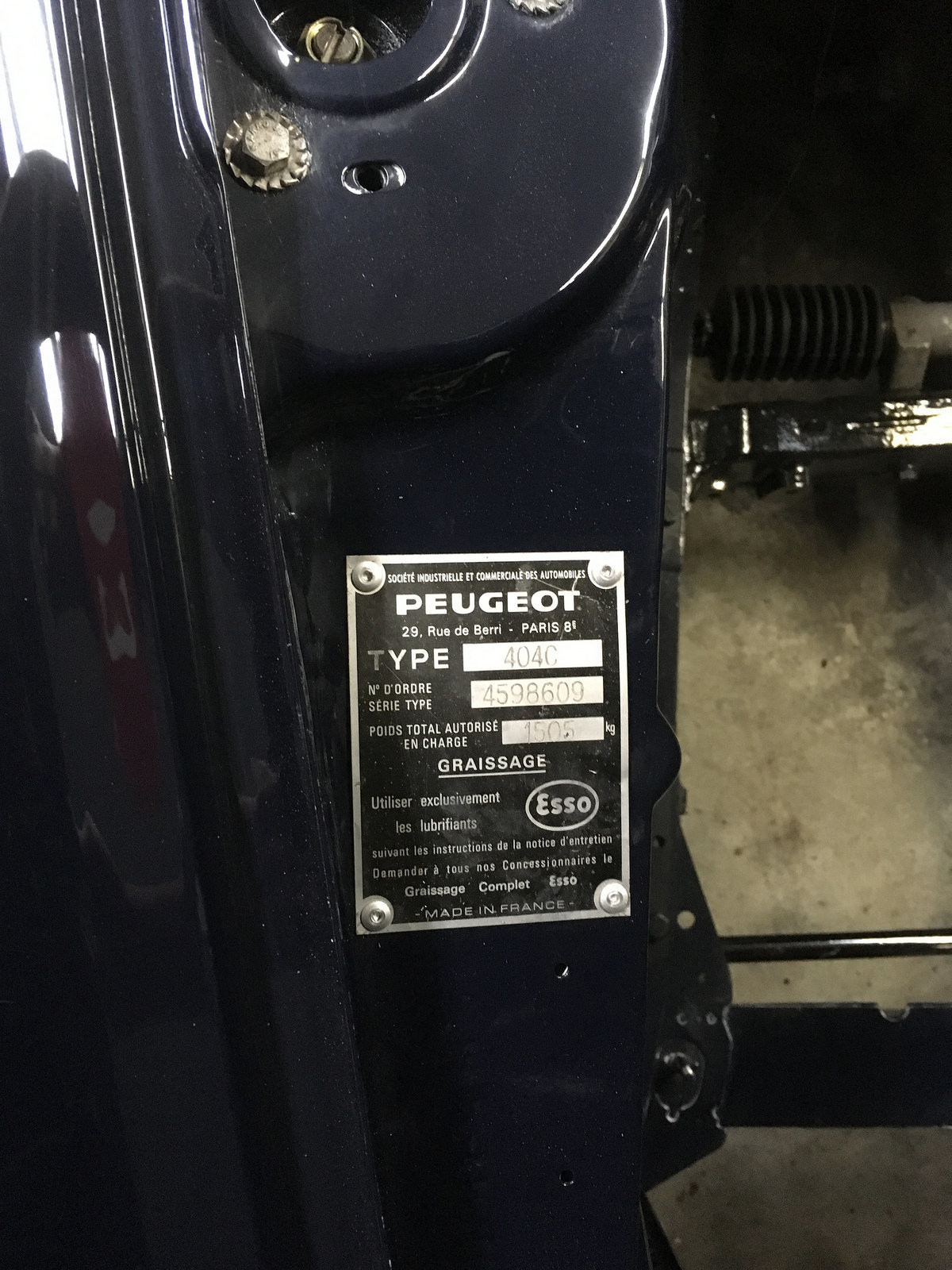 10-5-2017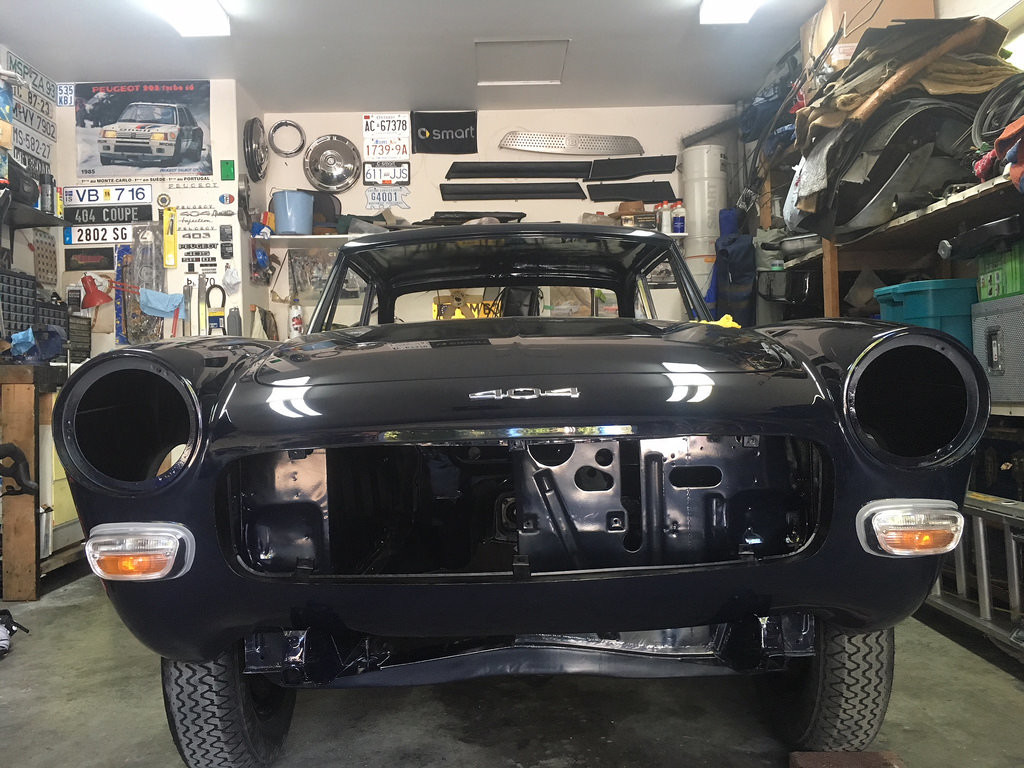 Minor work completed a couple of days back: NOS turn indicators mounted.
Now I have a whole lot of bolt and nut/hardware cadmium plating to get done and I have to organize the parts for remounting. I will tackle the window winder cable assemblies soon.
I've gone over the harness inch by inch and it is in remarkably good condition. I replaced a bit of the tape wrapping the trunk harnesses but in no case was the insulation hard, cracked or damaged otherwise. I removed a non functional spliced in 4 way flasher kit and will patch the insulation where the Scotch locks were applied. I cleaned the terminals with MolySlip Combat. It's ready to go, so I need to reinstall it soon.
10-11-2017
Carrosserie Peugeot tag, painted to dark blue: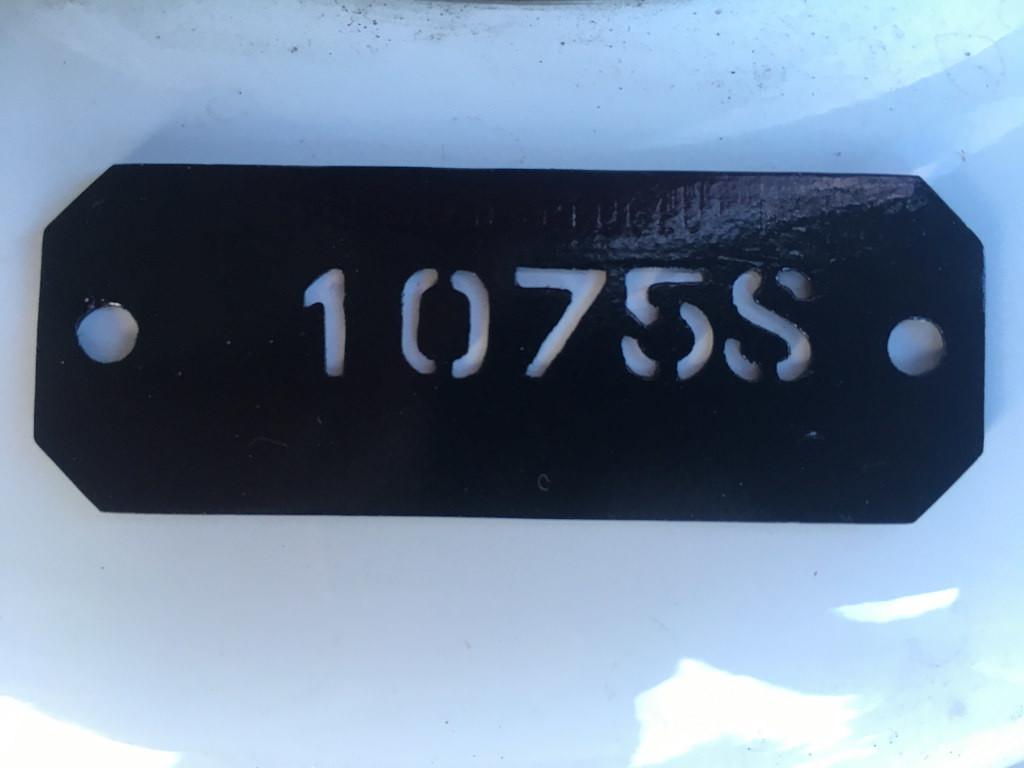 Under bumper spoiler: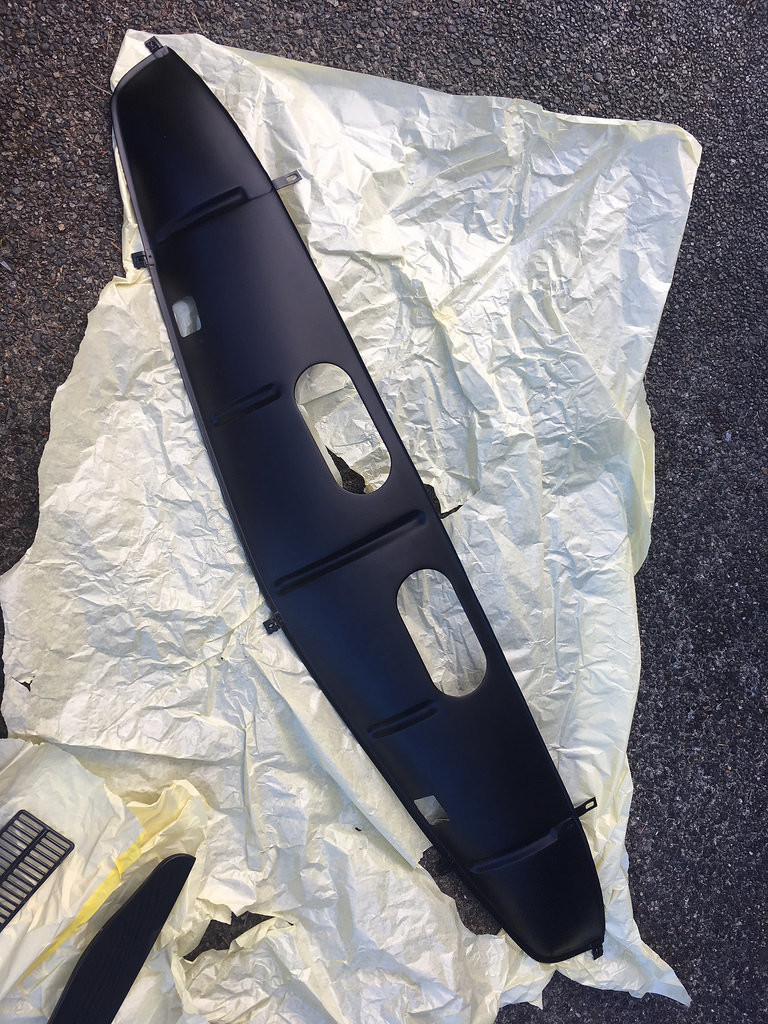 Hood grille and front bumper filler panel: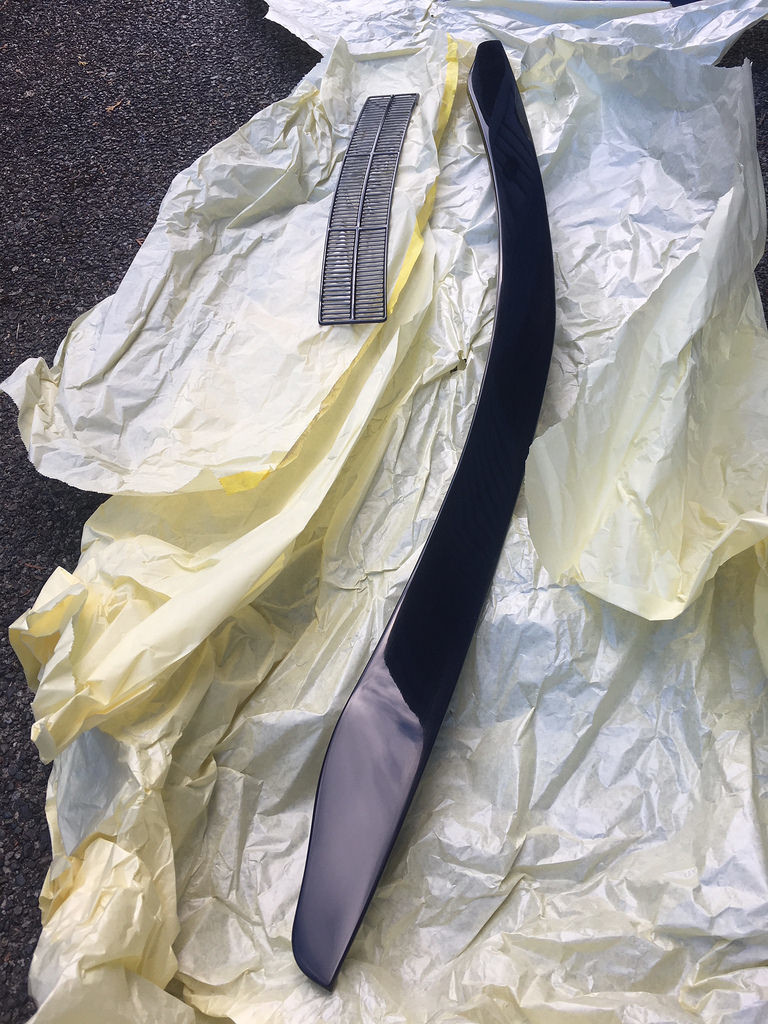 10-21-2017
Plated parts (main batch) are back. Bumpers are not plated but rather are stainless steel. They are now straightened and polished beautifully. Door handles are rechromed pot metal, and perfect. Taillight bezels are also rechromed pot metal and although the plater was apologizing for their finish, it's very, very good - 9/10 - and excellent considering the bad starting condition. The grille surround was rechromed too because the chrome on the upper lip was getting grainy. All the silver-looking stuff is plated in cadmium as it was when it was new (silver, not the greenish version).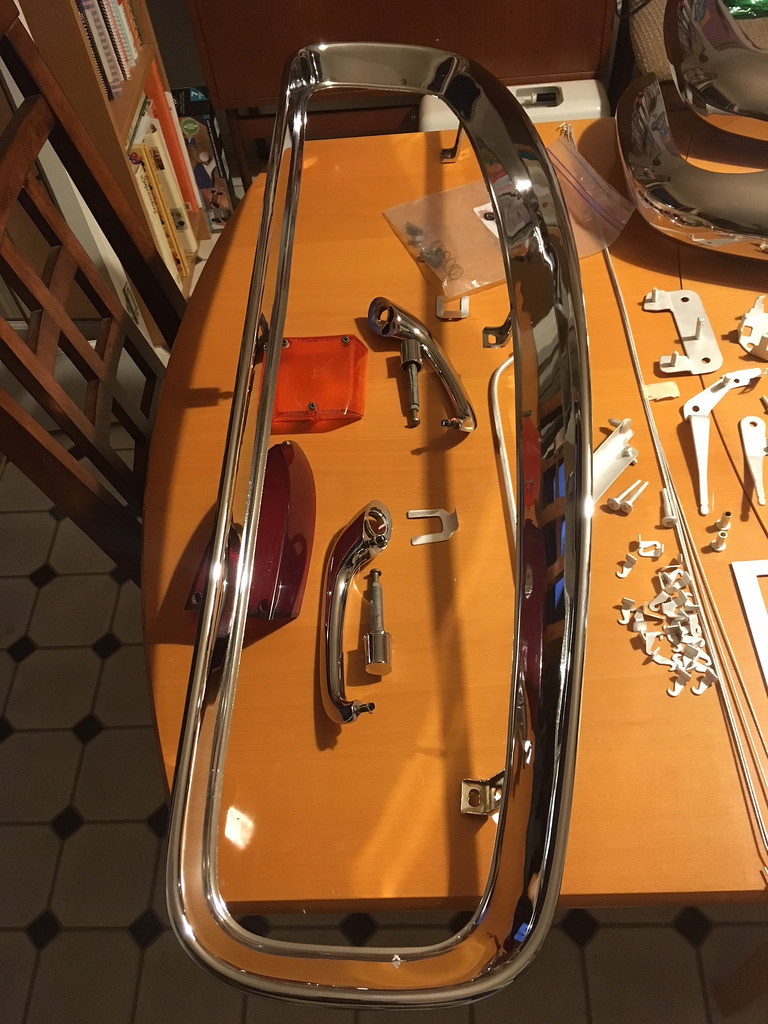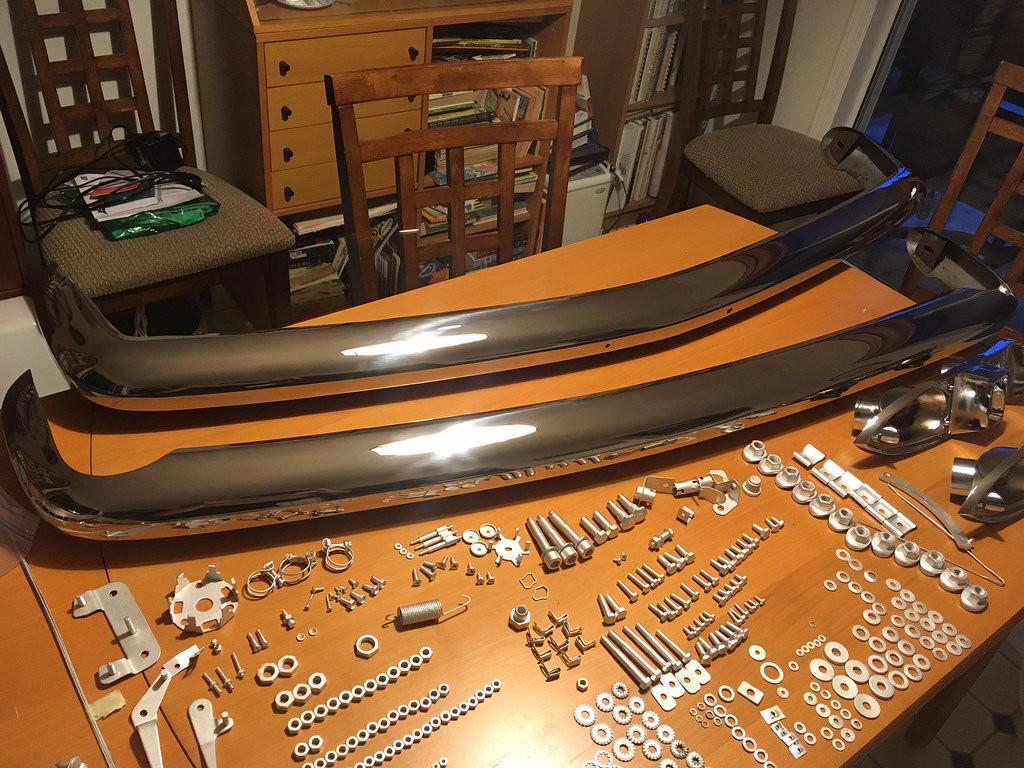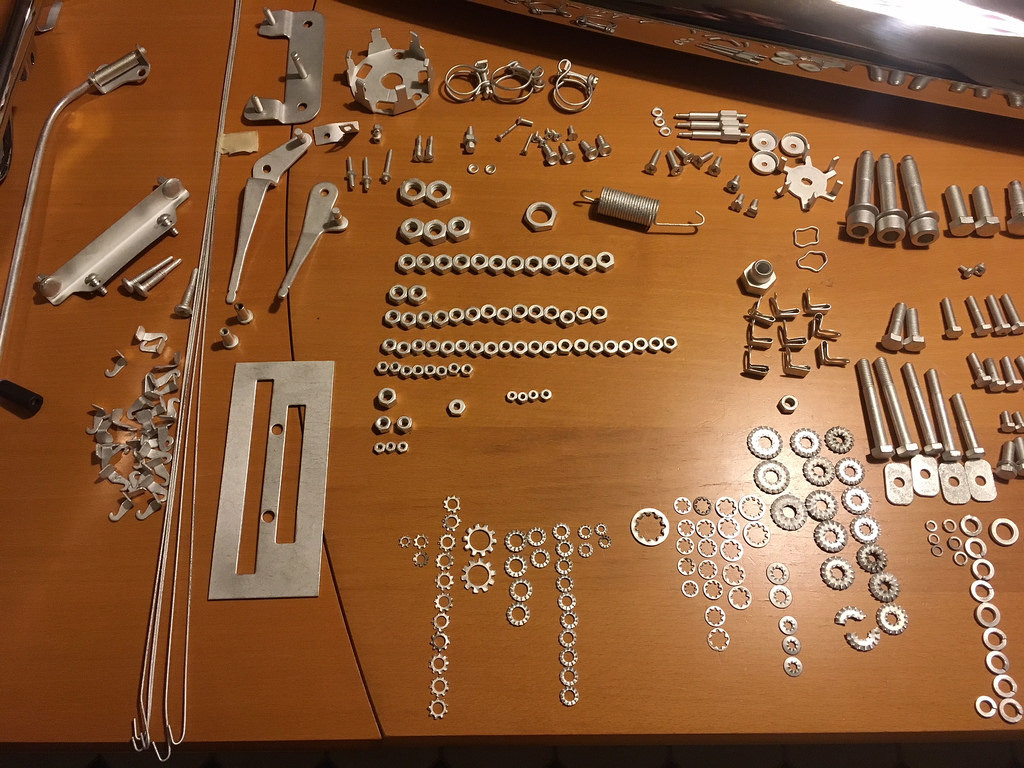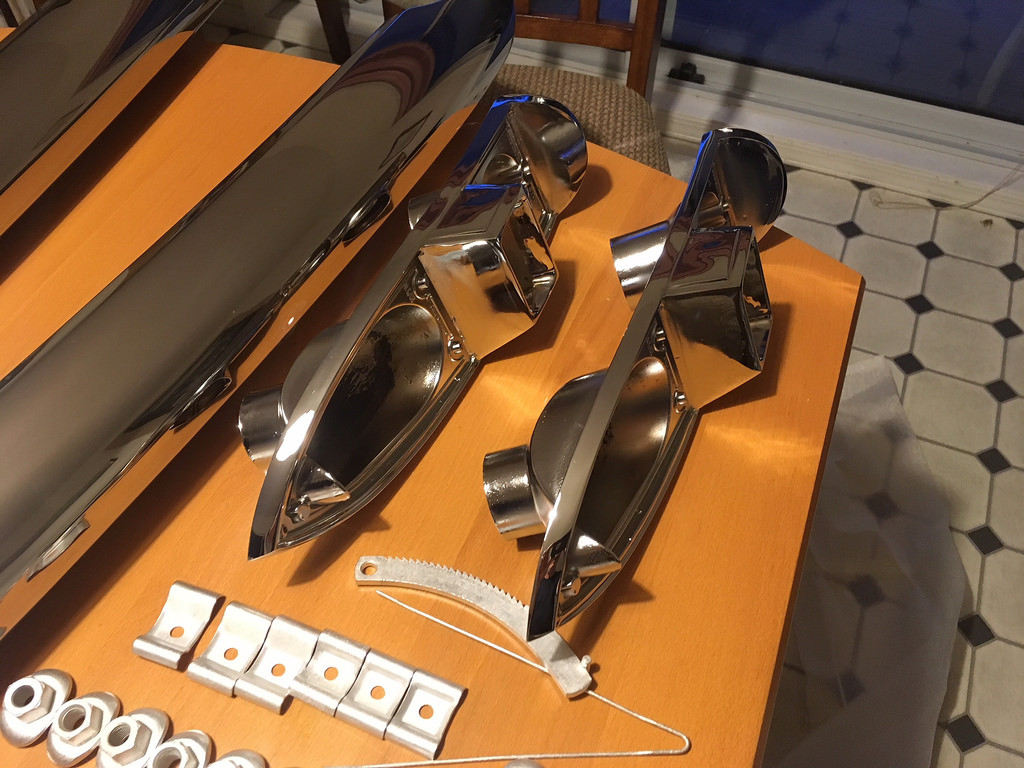 10-22-2017
Today cadmium is mostly banned for environmental concerns and worker safety, in fact that's also why they offer the greenish chromate conversion coating and not the good old yellow one. Anyway that's true in Europe, I know that even asbestos isn't totally banned today in the U.S. so maybe it really is cadmium.
10-23-2017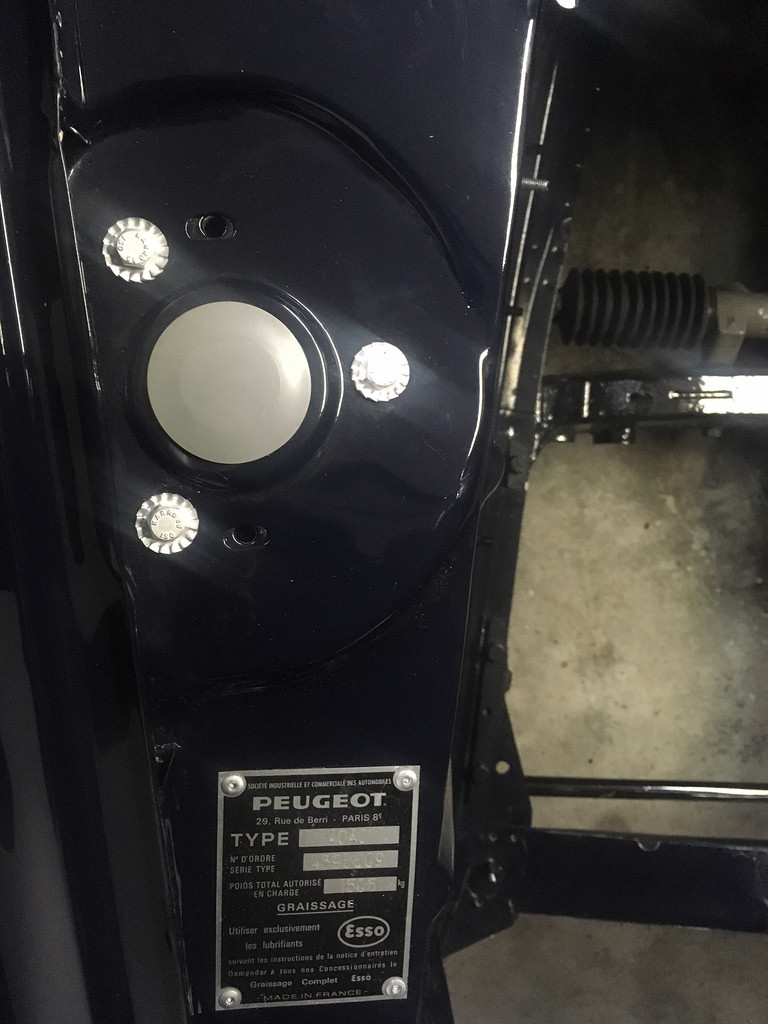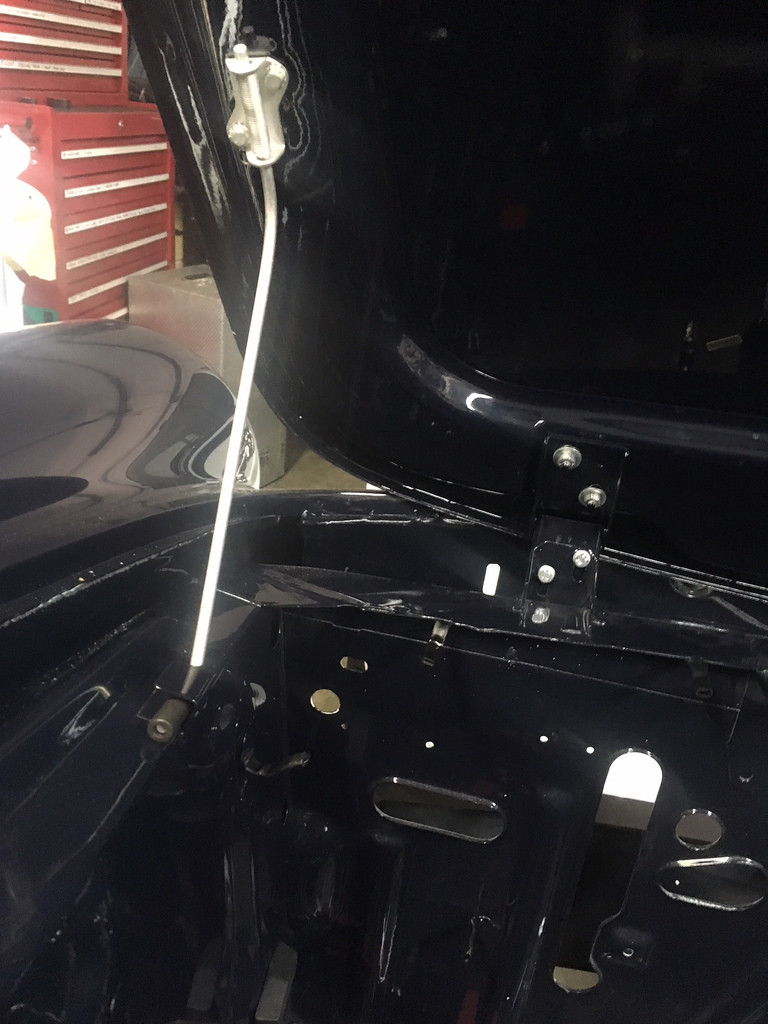 Installed a few of the plated items. Very bright!
10-29-2017
Today all I did is de-rust the front bumper mounts that are welded to the stainless steel bumpers - now well polished as you can see from last weekend's photos. They had surface rust, which was cleaned off and painted with Zinga cold galvanizing. None of this is visible once mounted on the car, but I object in principle to having any rist on anything attached to the car! Tomorrow I should do the rear one, and then maybe finish polishing the aluminium grille bars and then reassemble the grille. We will see.....
10-30-2017
I decided to do the grille today. The bars are anodized aluminium and have some patina from road debris over the years. All other marks were polished off by hand, not damaging the anodizing. I then reassembled the five bars and put the brand new Peugeot crest that I bought in Sochaux in 2014 on (it came attached to a mid-sixties 403 grille). Then I reassembled it with the newly rechromed grille frame.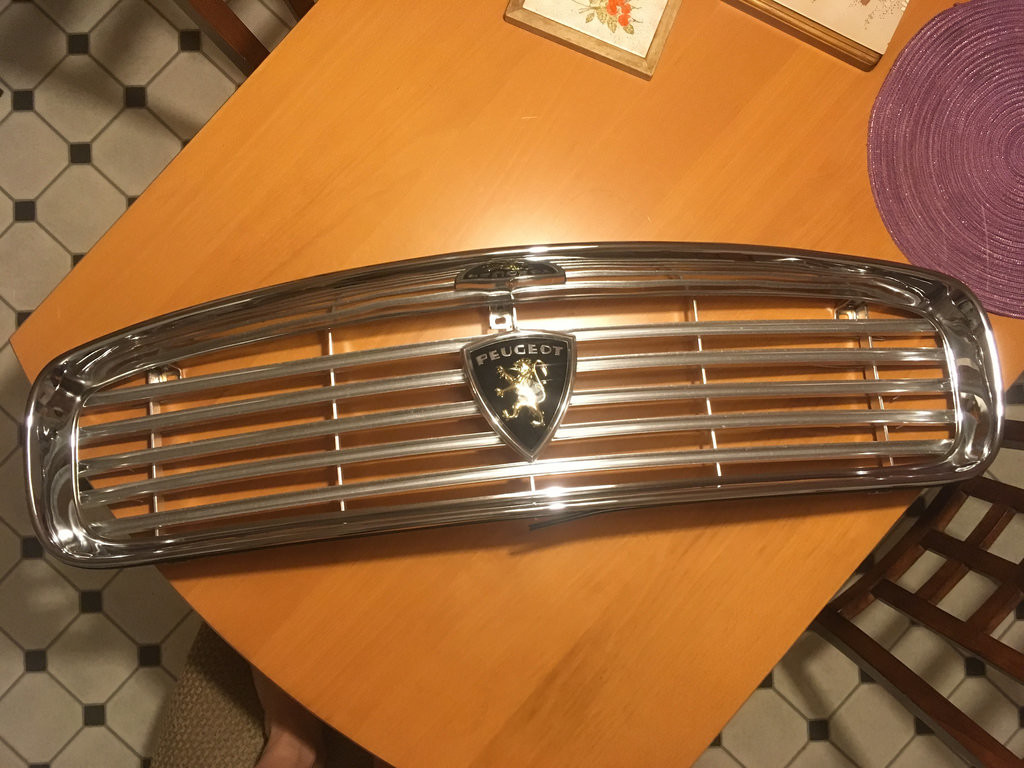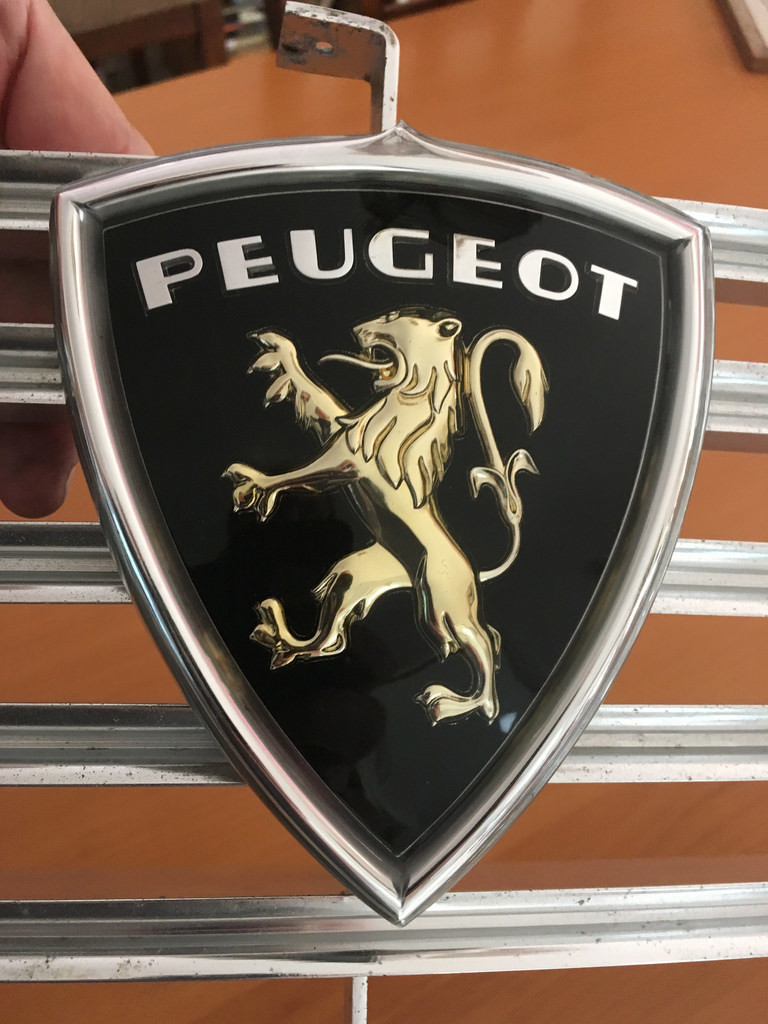 I will put some 3M stoneguard on the crest. I have several new spare turn signal lenses so I will leave them. I think I will also leave the rest alone, other than maybe a tiny strip on the forward facing edge of the front of the rocker panels, just behind the front wheels. I can't put anything on the Z-Beams as they are too convex, I think.
11-5-2017
Round two of plated hardware: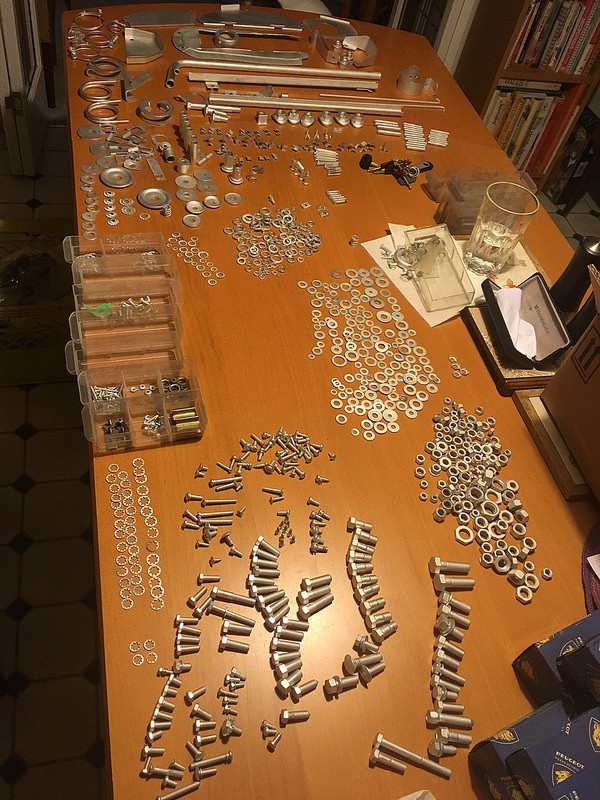 Replated taillights that I got a couple of weeks ago, this time reassembled. One of the turn indicator bases had to be replated and all the screws were done at the same time.
6 months ago I was desperate to find one of these. Instead I found an earlier version with the same threading that had to be turned down on a lathe to make it fit. Then a couple weeks ago, I found this.....in the same box where I found the others. So I had it replated for future considerations.....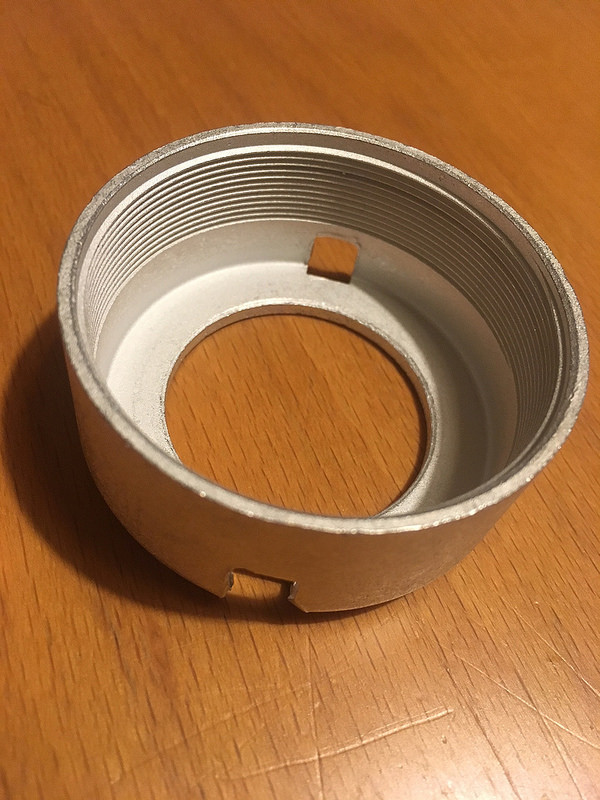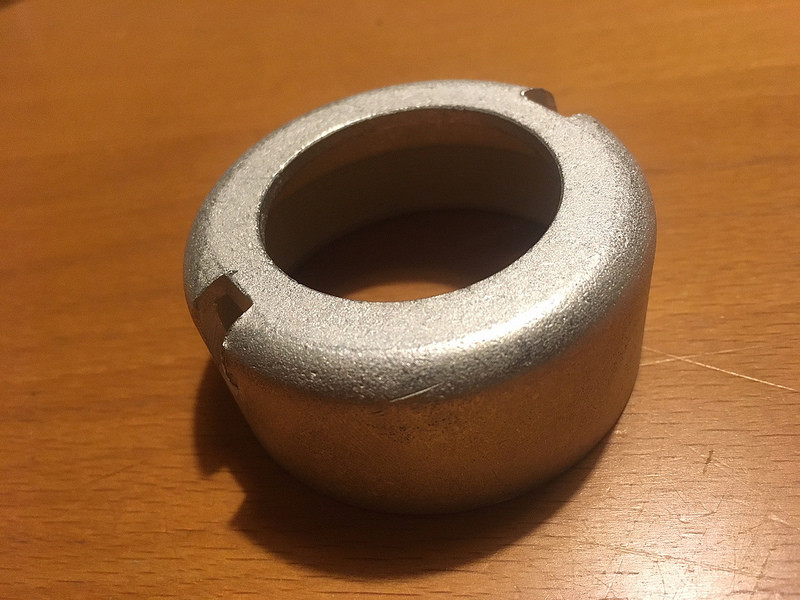 11-16-2017
I was away in Prince George last weekend with Sandy but on the way we managed to squeeze some 404 action in: I stopped by John Coltman's house in Barriere BC and he gave me a bunch of NOS 404 parts, plus some old KF2 injection parts and lots of spare fasteners and hardware.
On the way back home I bought a huge sheet of rubber for making the pedal box gasket and inner fender rubber seals. Tonight I took 15 minutes to make a new gasket. It's on the car already, on the studs in the footwell waiting for the pedal box to be mounted (months from now, I don't want the pedals in the way early on in the reassembly process).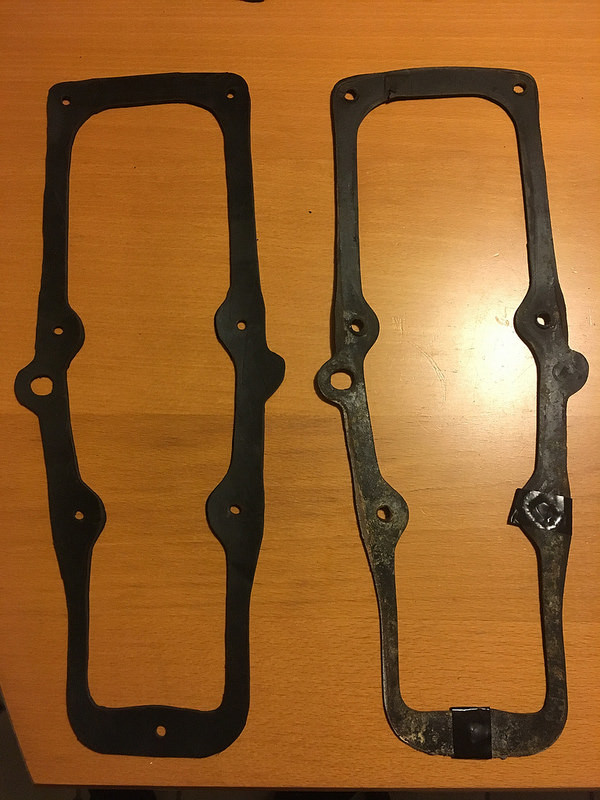 I was away in Prince George last weekend with Sandy but on the way we managed to squeeze some 404 action in: I stopped by John Coltman's house in Barriere BC and he gave me a bunch of NOS 404 parts, plus some old KF2 injection parts and lots of spare fasteners and hardware.
On the way back home I bought a huge sheet of rubber for making the pedal box gasket and inner fender rubber seals. Tonight I took 15 minutes to make a new gasket. It's on the car already, on the studs in the footwell waiting for the pedal box to be mounted (months from now, I don't want the pedals in the way early on in the reassembly process).
11-18-2017
Slow progress to report....
Dashboard's Pininfarina sign has been replated :
....and mounted on the dashboard's stainless steel trim panel. Note the stainless trim to the left of the instrument cluster, it's not original but I like it.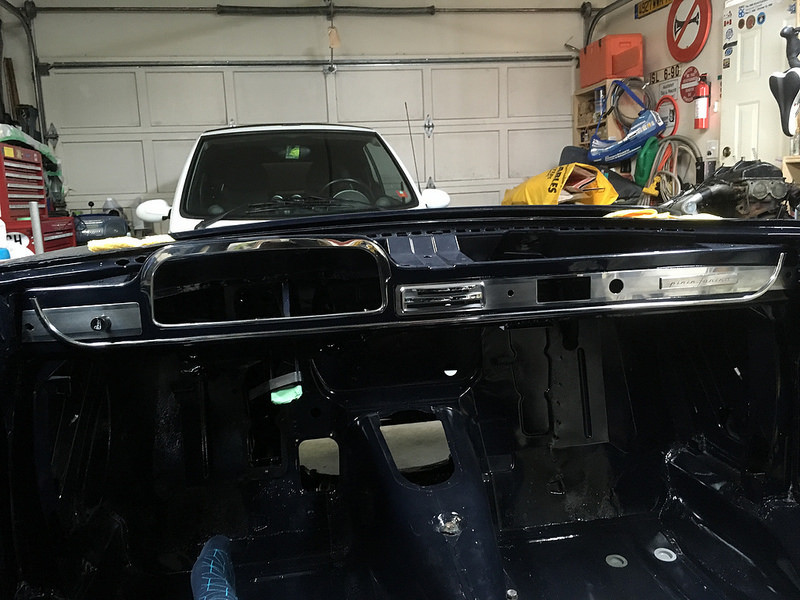 Water pump pulleys. The one with red insulation is the one I propose to use, because it's in better condition than the original with the cracked insulation. I painted both anyway. The old one still works fine.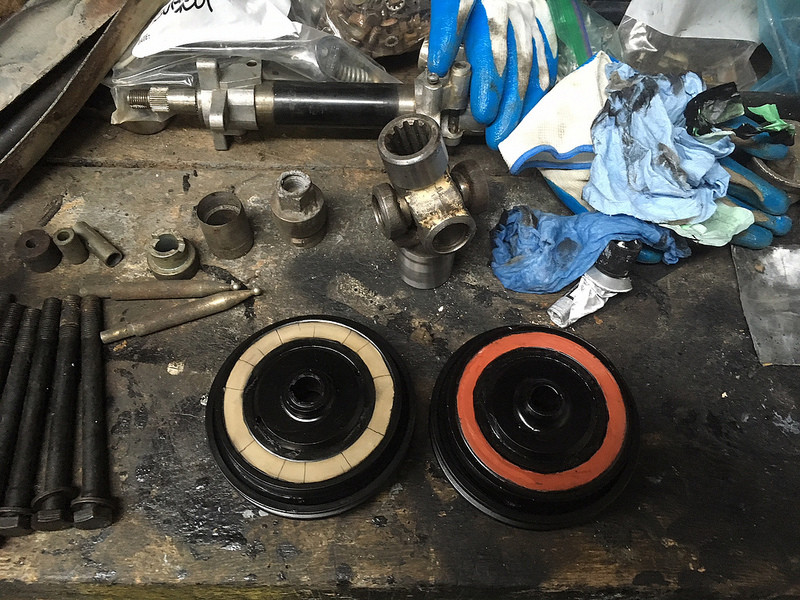 11-20-2017
Wiring harness reinstallation. The bit that pops through the rear bulkhead into the trunk was worrying me because it was a bear to remove but it slid back into place beautifully. You can barely see here the flat black concealing plate that the wiring harness goes through to get to the front. The fuse box has been clipped back into place below the A-pillar. Next step is to get the front of the harness installed. That should be somewhat more complicated!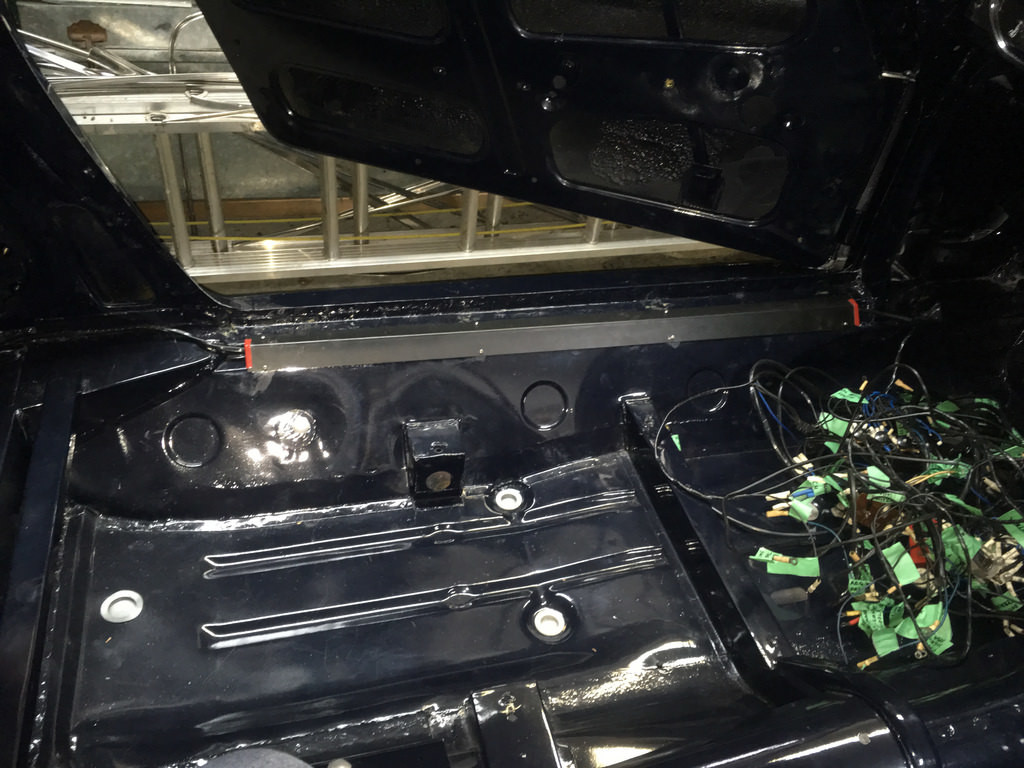 11-21-2017
Today I got my new remanufactured bumper irons (for the side front bumper mounts) for my Coupé, made by Richard Gretau in Bordeaux: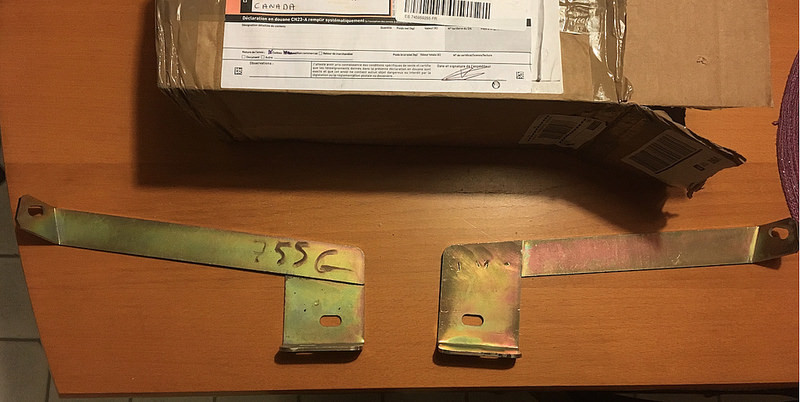 12-15-2017
I've been rather unambitious these last few weeks but a few parts have still trickled in. Waiting for a care package from France with the washer nozzle seals before I can get too far with the reassembly under the dash.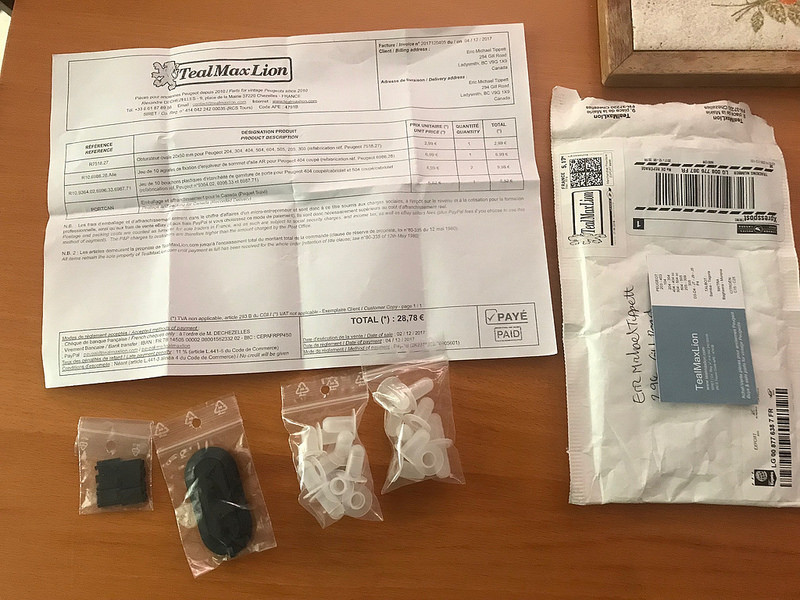 New plugs for the 404C doors that accept the upholstered panel clips, an ovoid plug for the hole in the new front crossmember (which the original one didn't have) and ten trim clips for the stainless steel rear fender trims.
New NOS fuel sending unit, not the cheapo version sold on eBay etc.
1-6-2018
I got much of the wiring up under the dash and into the engine compartment just after Christmas.
On December 31st I visited an old friend (he's 82, plus I've known him for decades!) in North Vancouver who has this car: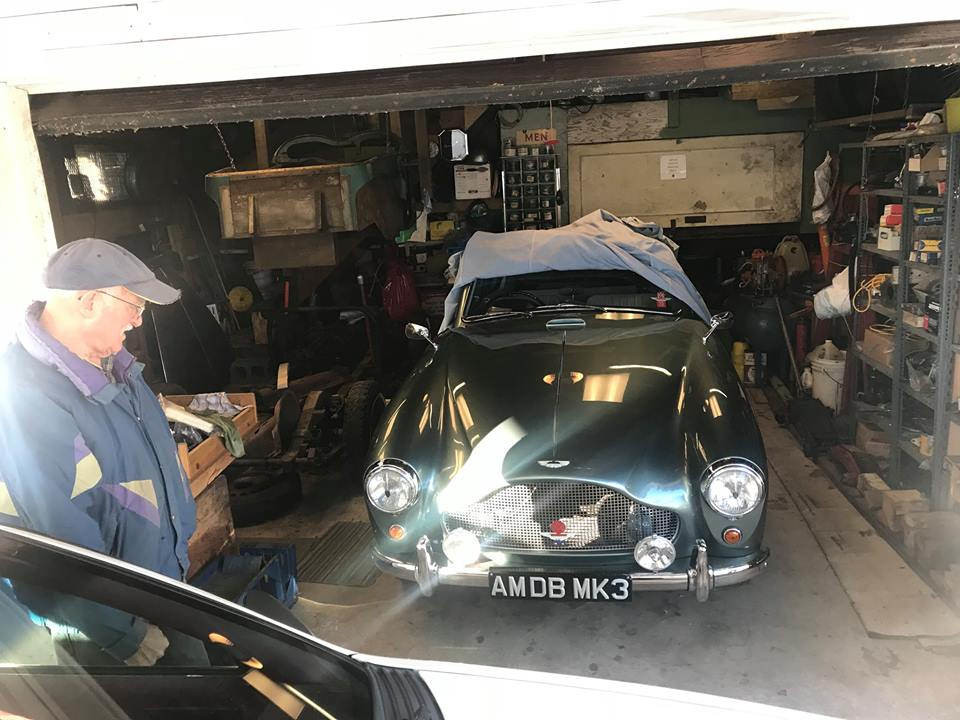 ....and he told me that he still has his old brake lining riveting machine and he offered to rivet the Ferodo 762 lining material (asbestos!) to my brake shoes when I am ready. What I will do first is take the old linings off (need a respirator!) and then blast and paint the steel shoes. It should be done in the summer. What a nice guy Dave is. If you look really hard in his garage, you can see a MG TC body in the air above a chassis that he will be modifying to accept an Jaguar inline six! British hot rod!
1-20-2018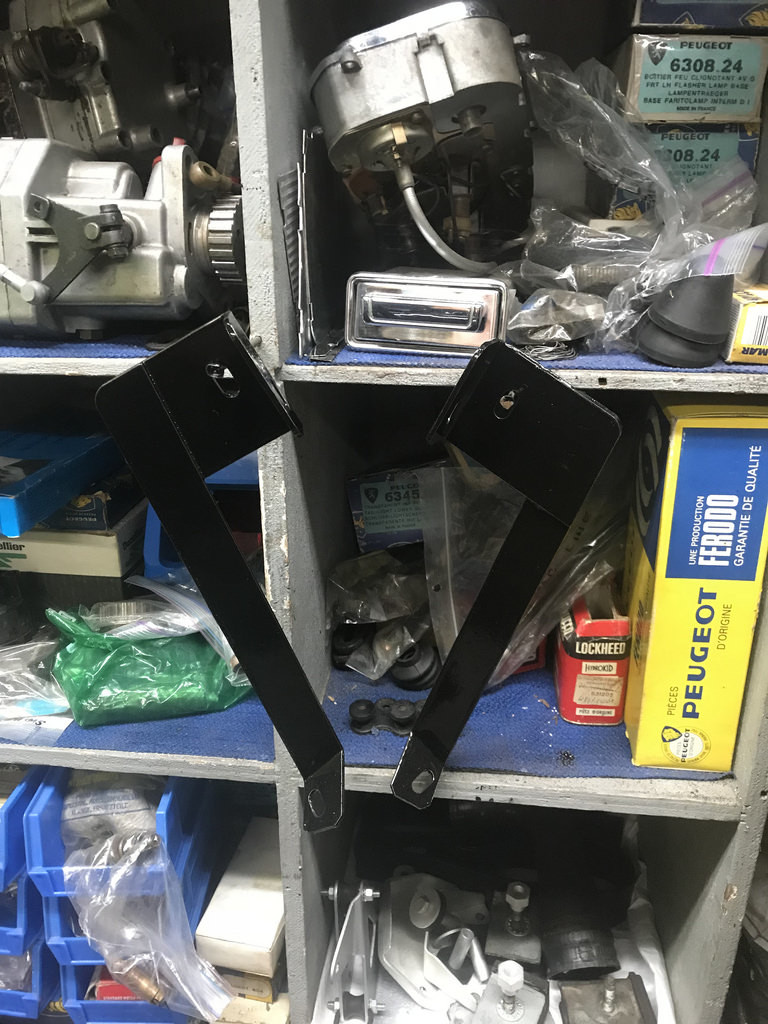 Today I painted the cad-plated side bumper mounts in POR-15.
1-28-2018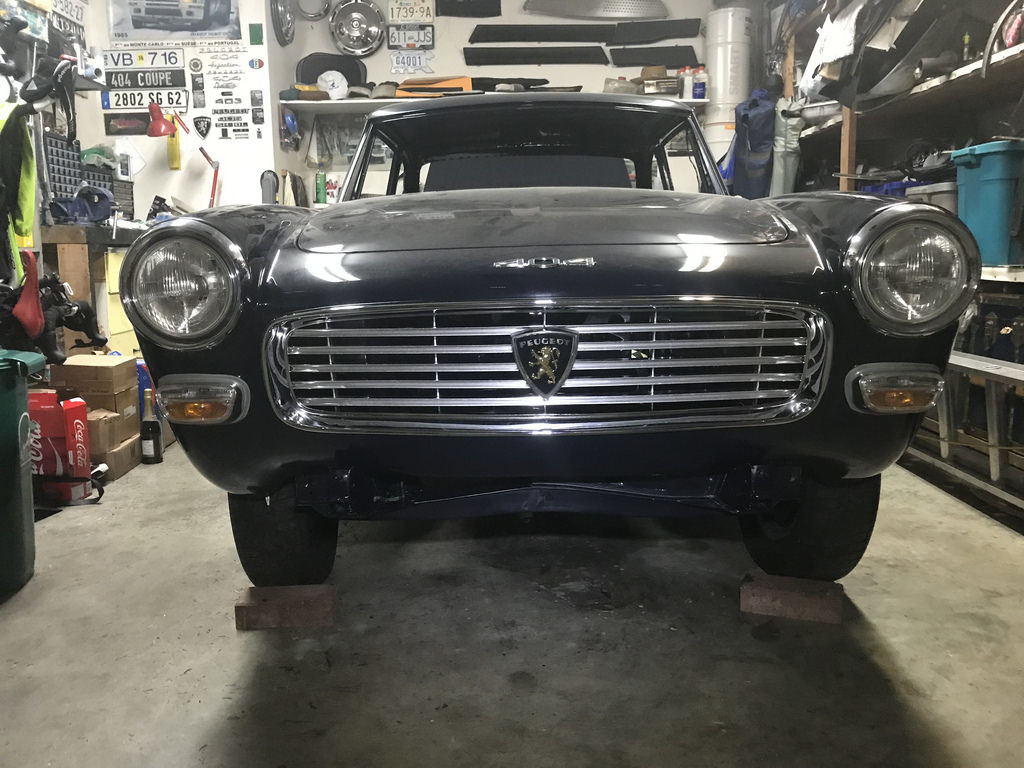 She has her smile back!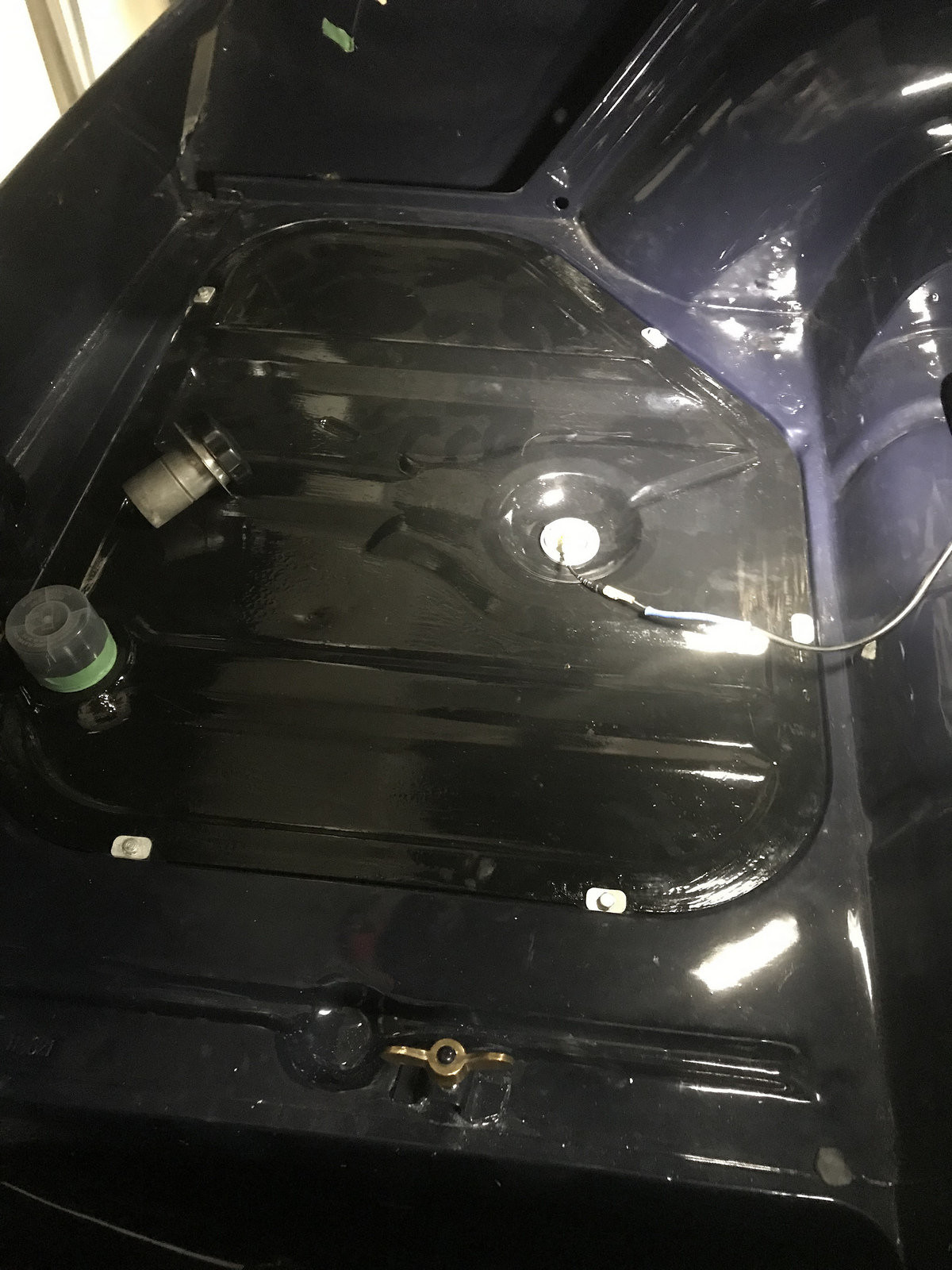 Fuel tank is mounted again, with 3M mastic/non-drying caulking between the body and tank.
2-11-2018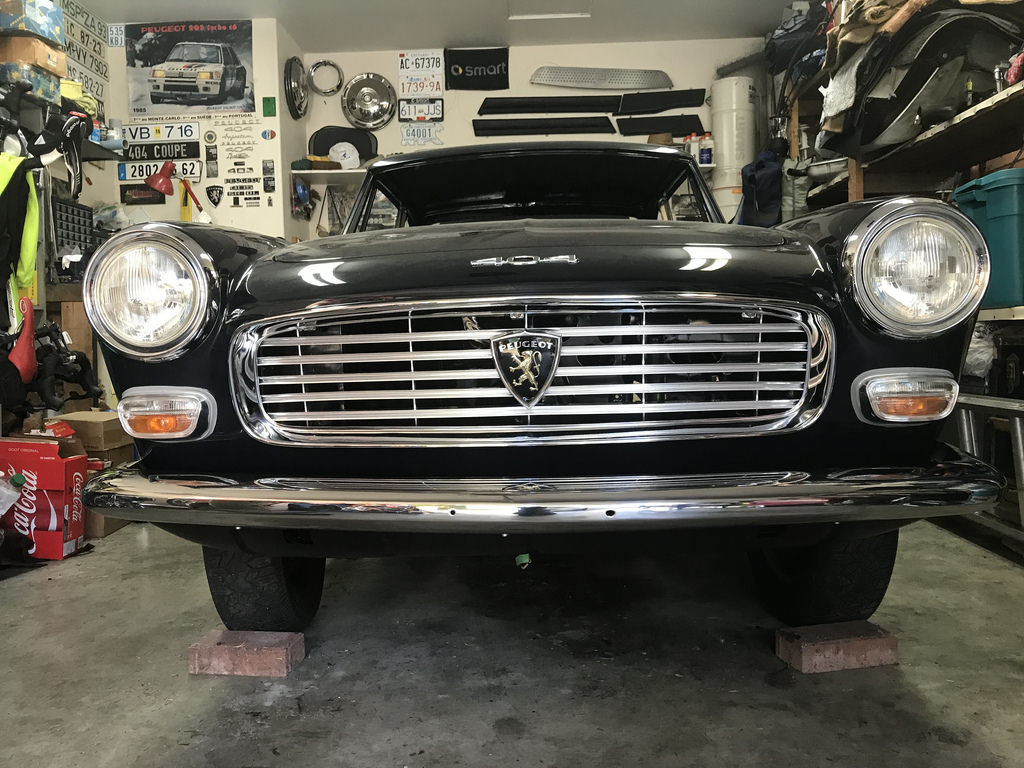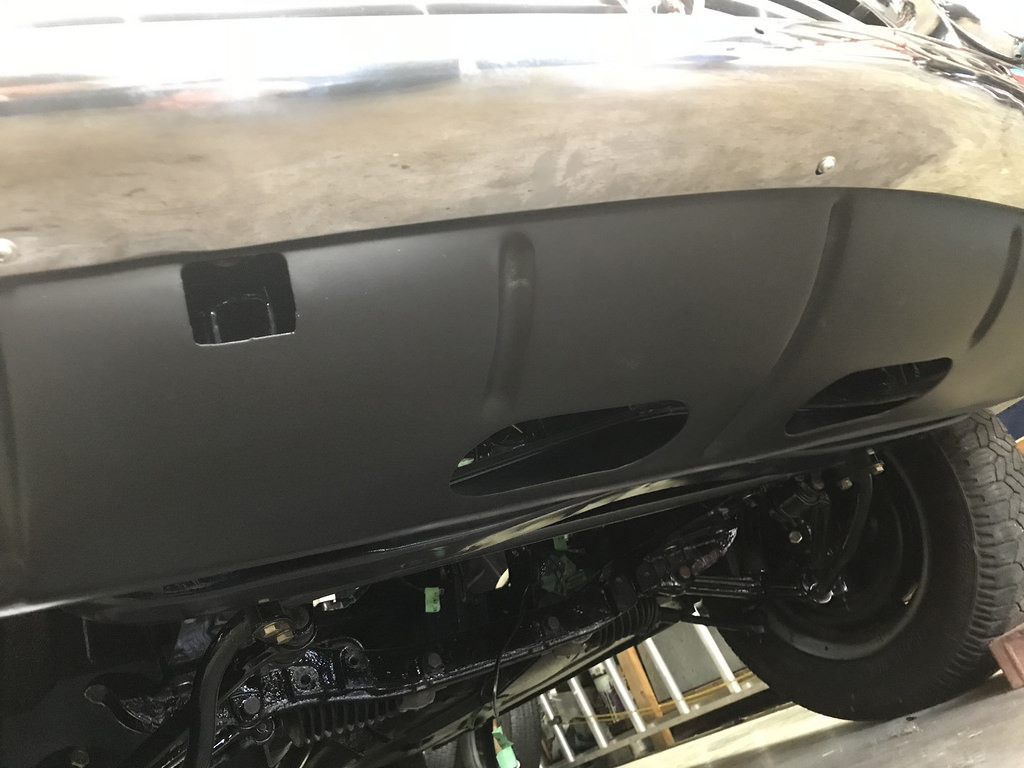 Front bumper and under bumper mounted spoiler are on. Fine adjustments still to come but she's looking more like a car now.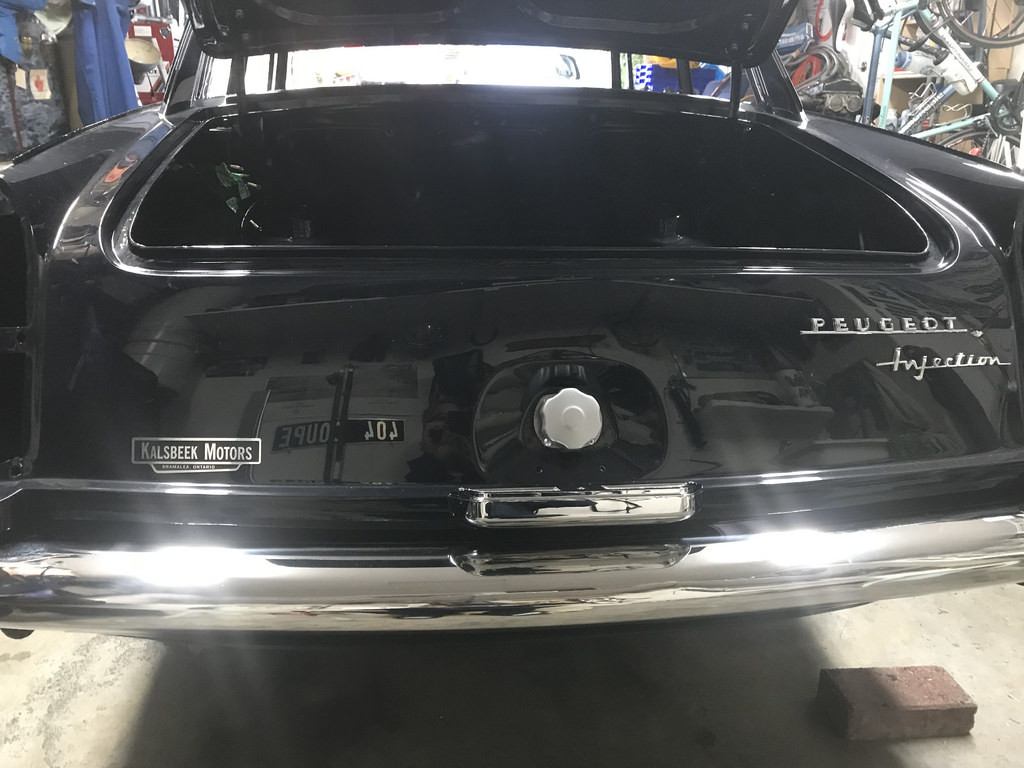 The weekend isn't over for me: mounted the rear bumper, the fuel filler and license plate light housing. I also freed up and otherwise improved the hood release cable assembly, mounted the battery buffers, and found the missing window washer sprayer hardware. The cage nuts in the side bumper mounts are missing so I will see if I can get some Tuesday. It's really difficult to get a regular nut started inside the cage! Haha
2-17-2018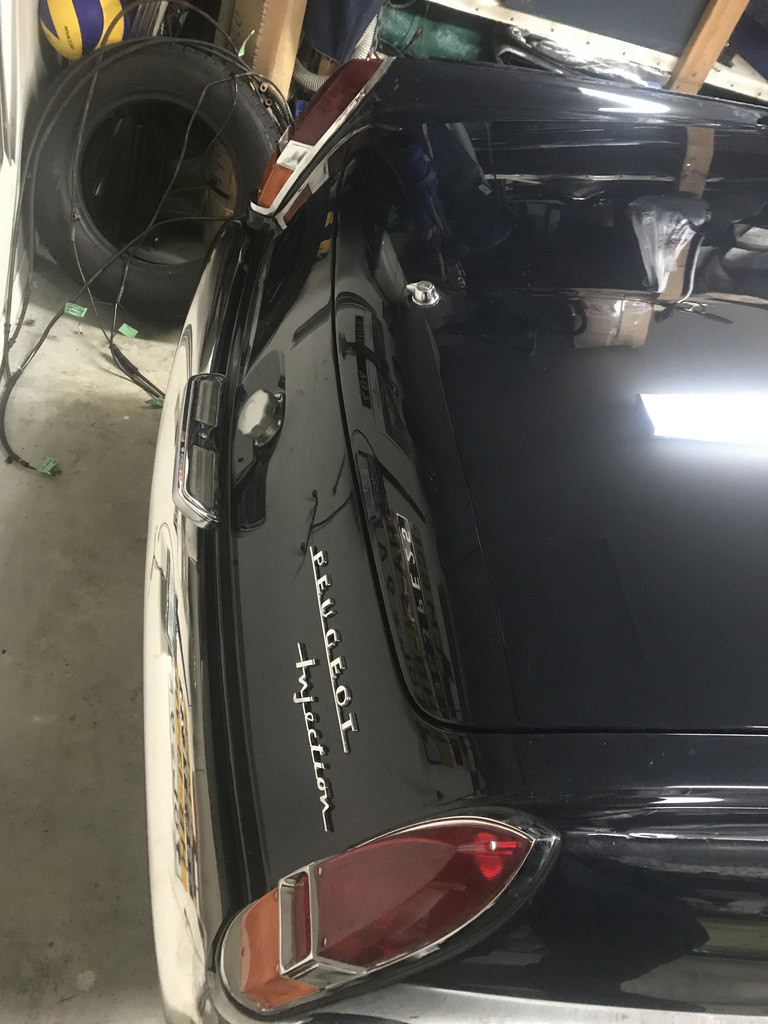 Tail lights are mounted with 3M non-drying putty in behind the vinyl gasket to keep water out of the trunk/rear fenders. I also put new cage nuts in the rear side bumper mounts, sealed them also with 3M putty so they won't leak and temporarily installed the trunk lid seal, which is perfect!
2-25-2018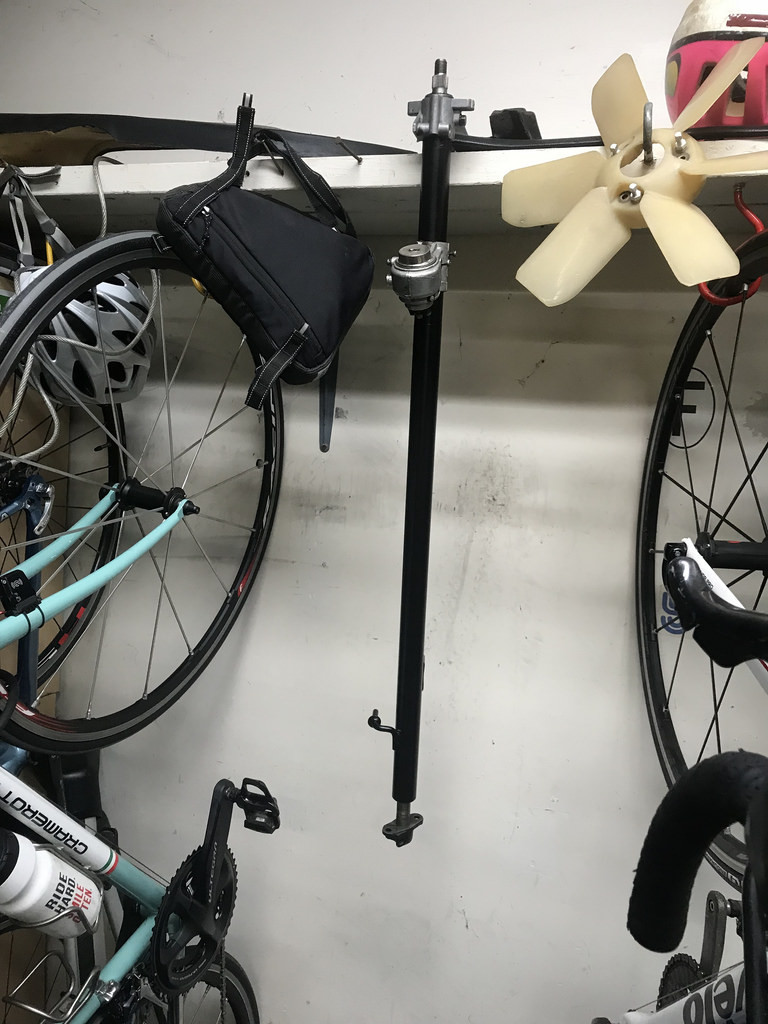 Painted the steering column today. Looks pretty decent now. It was rusty in the lower engine compartment area.
3-4-2018
Today I didn't do much for the car, but I did manage to take the steering shaft out of the column for a thorough cleaning and lubrication. Between the shaft and the column in the photo, you can see the upper rubber coated bronze bushing that provides location for the shaft. All parts are in great condition so after a coating of thick grease, it's all back together.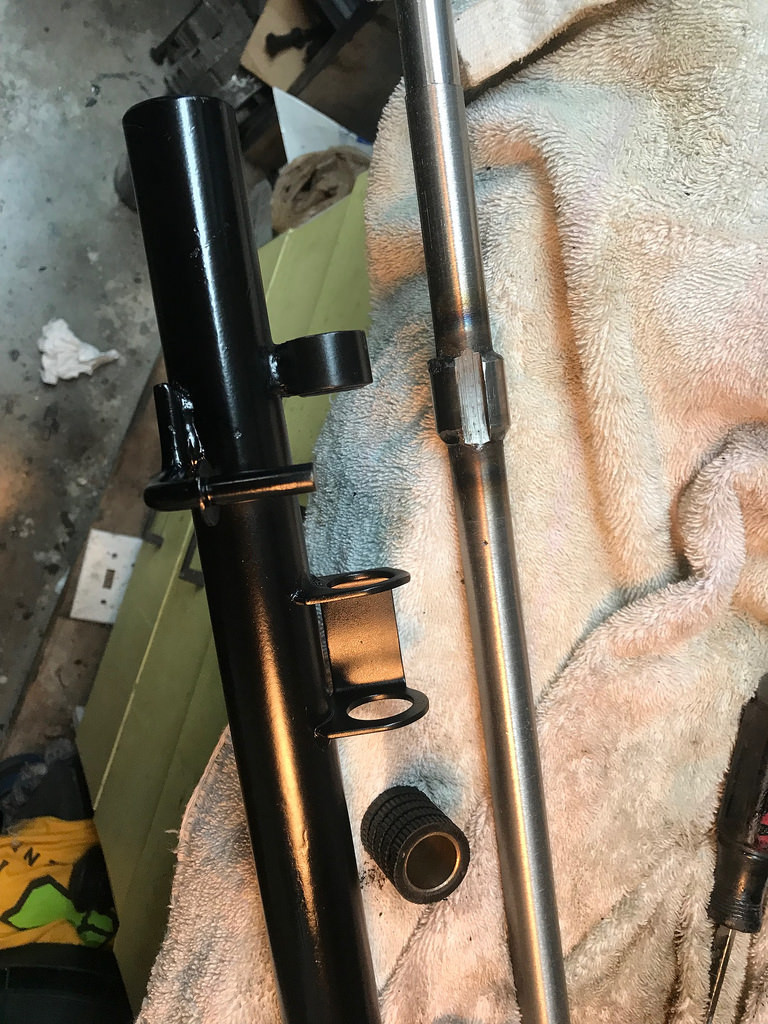 3-8-2018
Refitted the Carrosserie Peugeot plate with new copper rivets from Hong Kong. Amazing how hard it was to find rivets that approximate the look of the originals! I will clearcoat the plate now that it's mounted, to give it a smoother finish.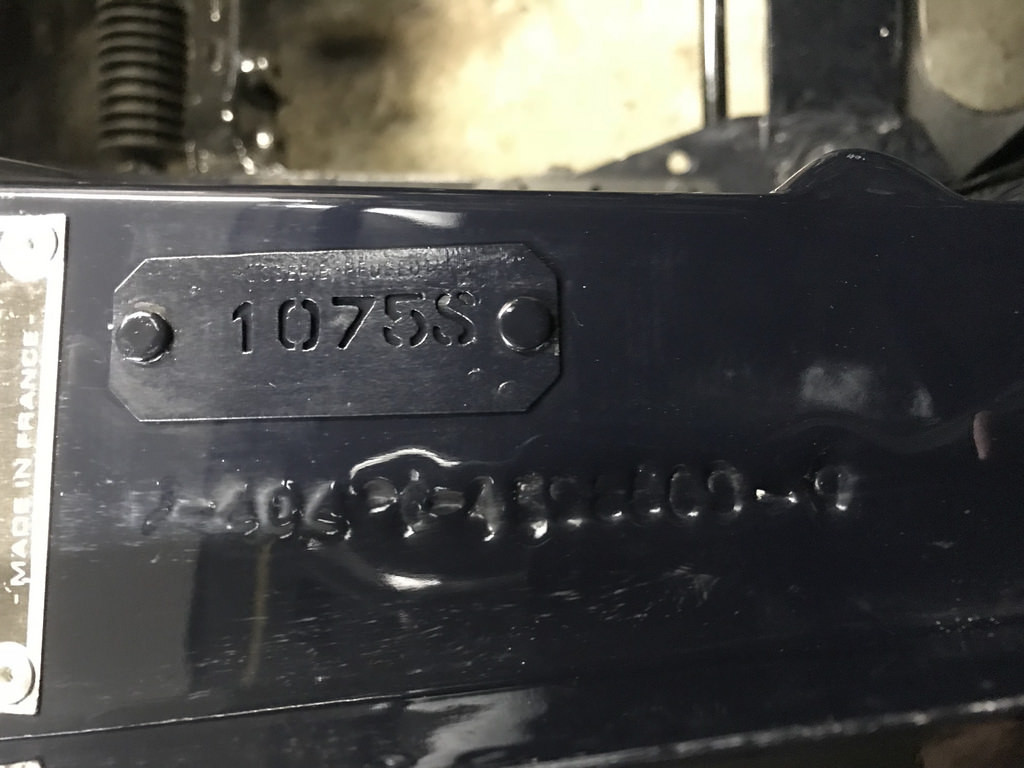 3-10-2018
The third batch of cadmium plating has been done, and about half of the stainless steel trim polished:
I snapped the window frame SS trim back on both doors, and provisionally put the beltline trim on as well. The rear quarter window trims will be next.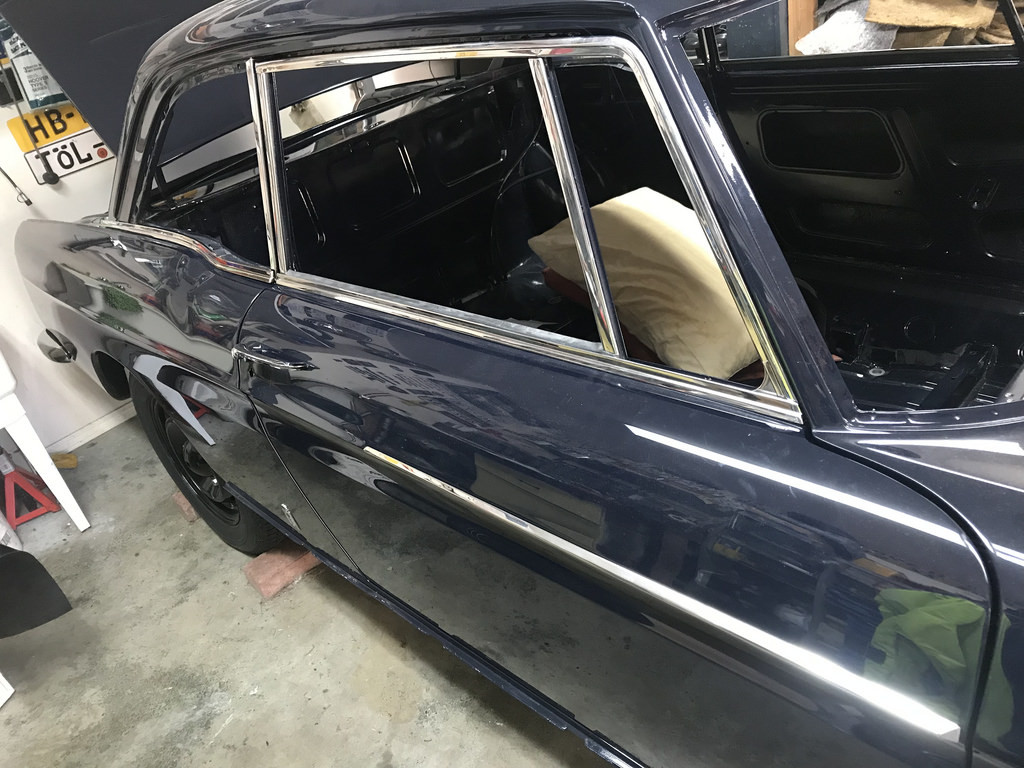 3-23-2018
Well I have slowed down a bit but a short while ago I mounted the Pininfarina door jamb wedges with the new clear plastic gaskets I got from Peugeot in France: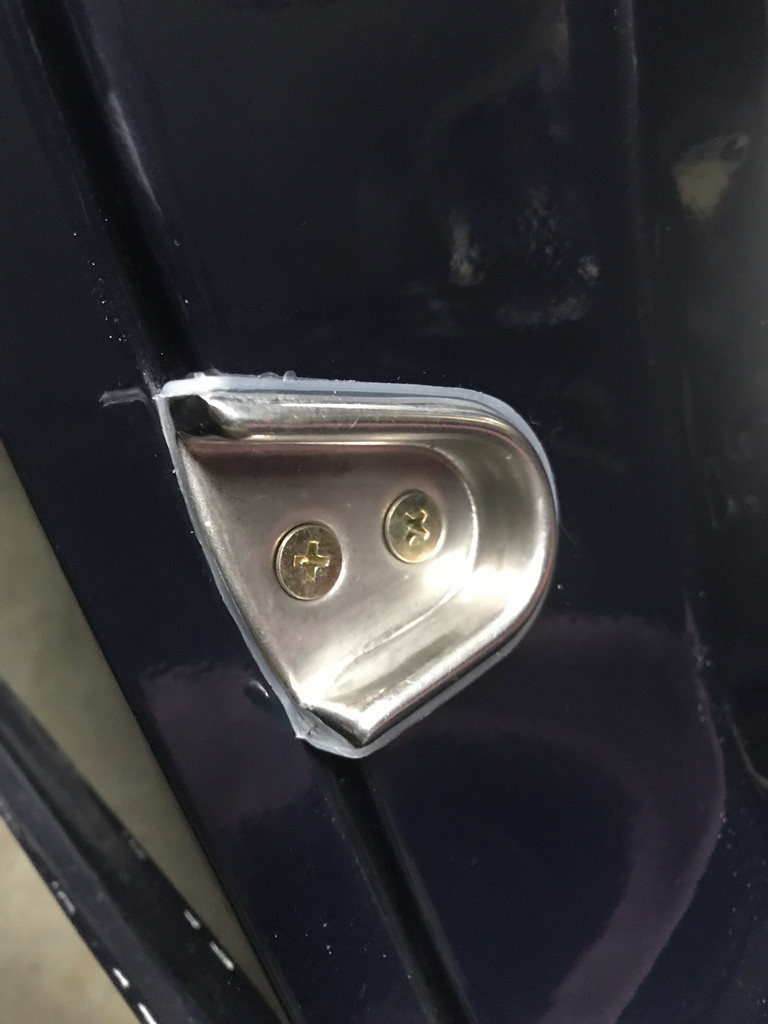 Tomorrow a few more parts go in for cadmium plating: hood latch, a few bolts etc and the clips that hold the rear quarter windows in. The front fender stainless steel strips will also be polished by the same shop.
3-31-2018
Yesterday I put the headlight wiring harnesses in: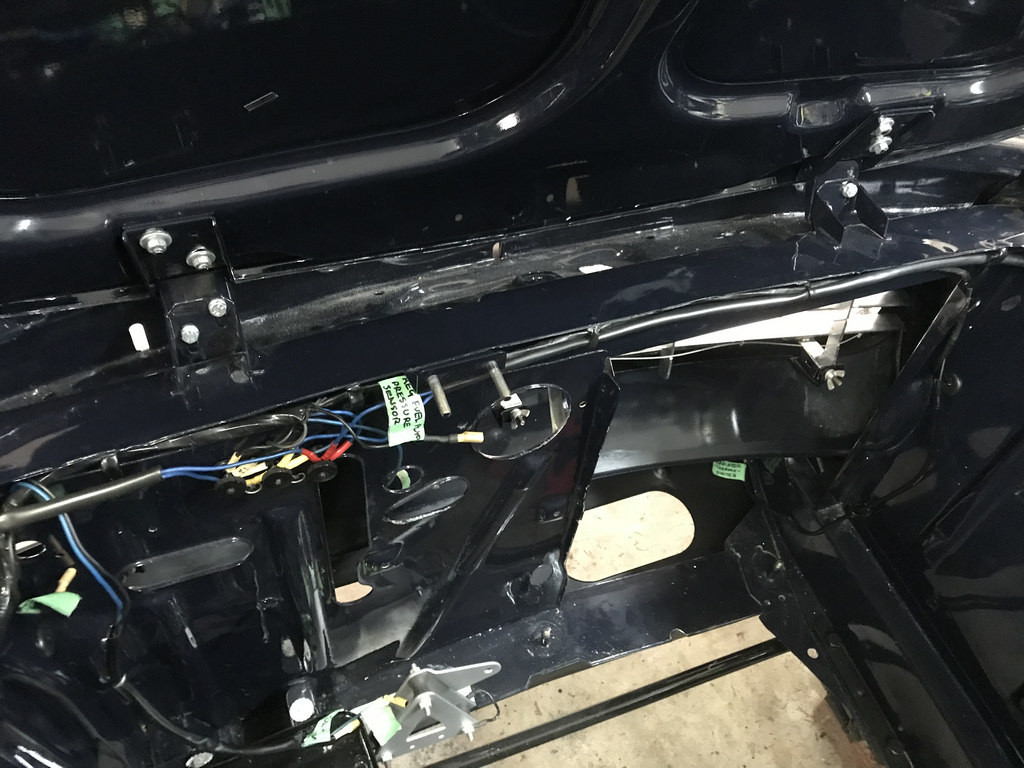 Today I drilled three new holes in each new front fender: two for the stainless steel trim and one for the rubber hood support blocks.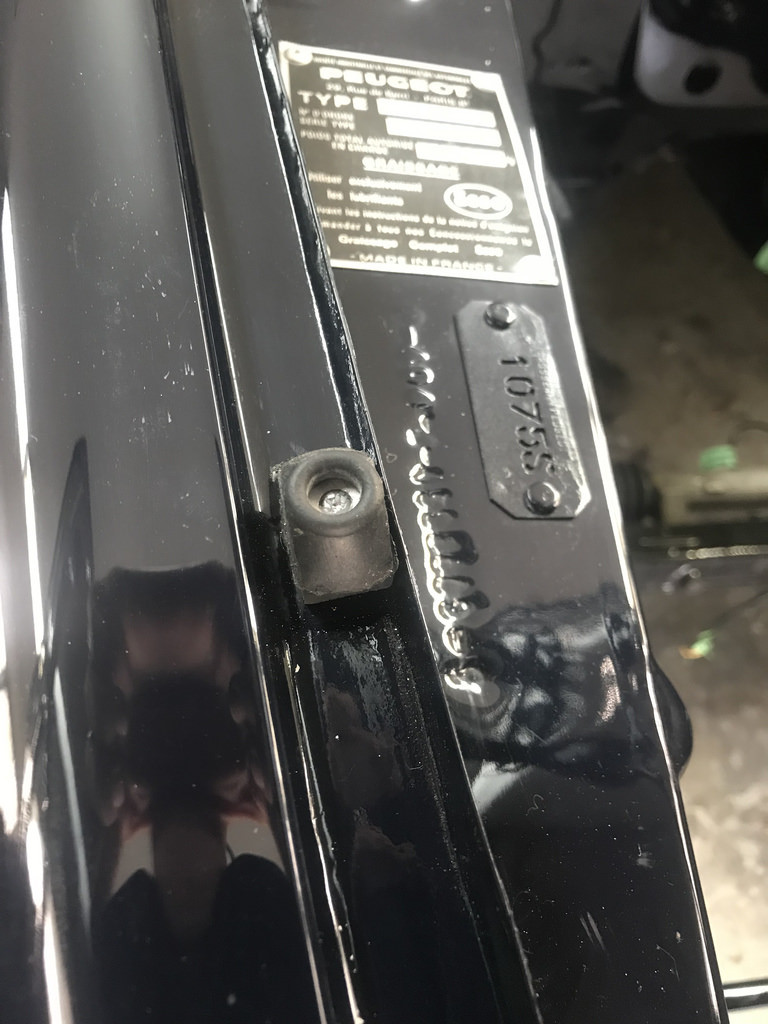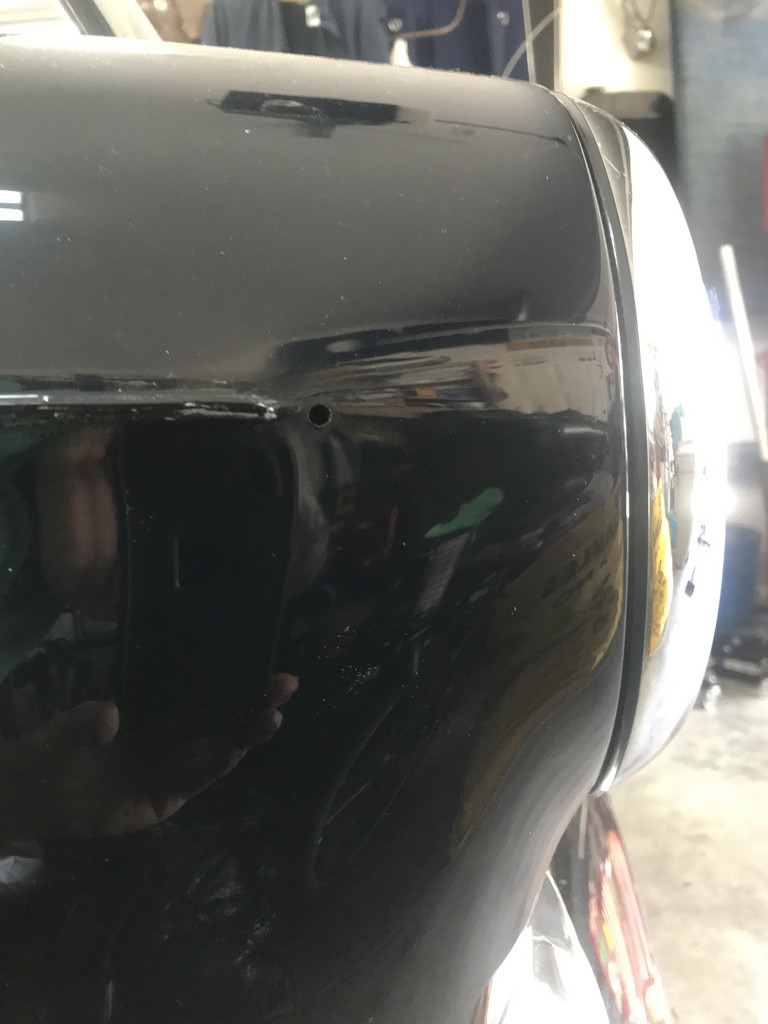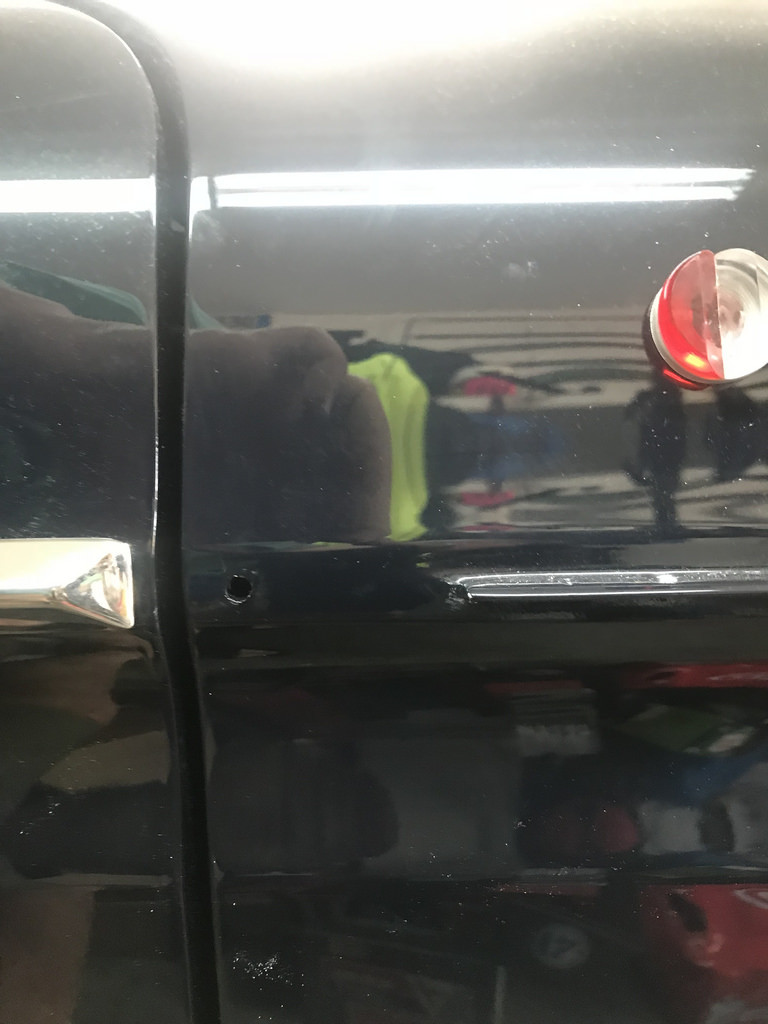 4-8-2018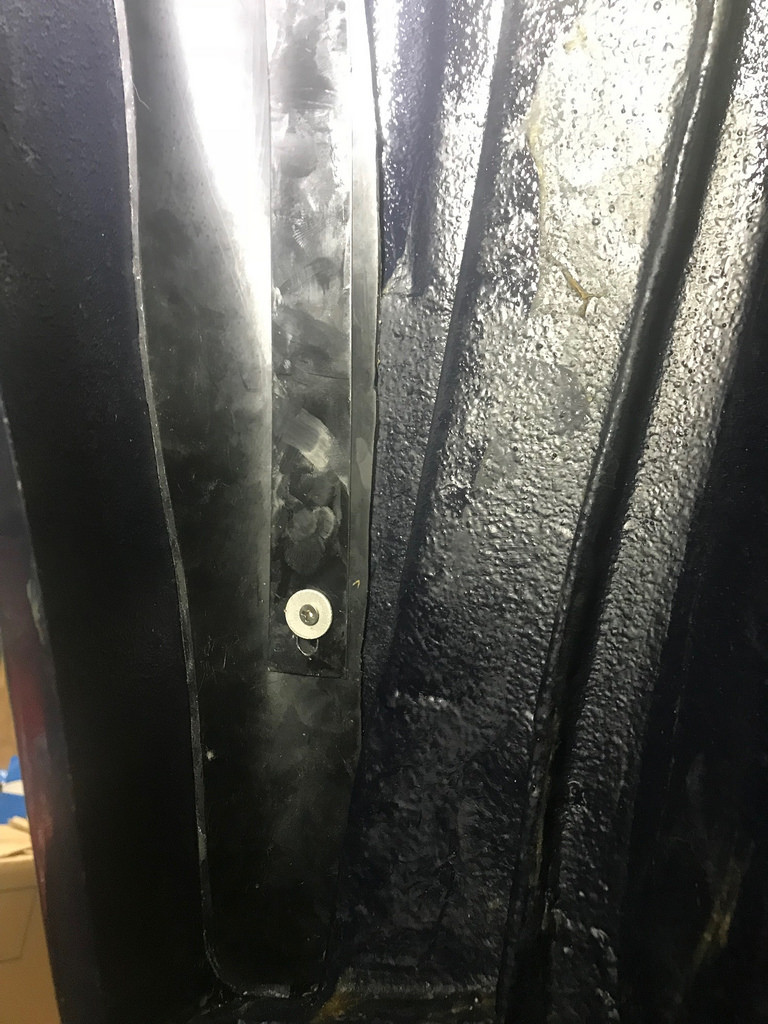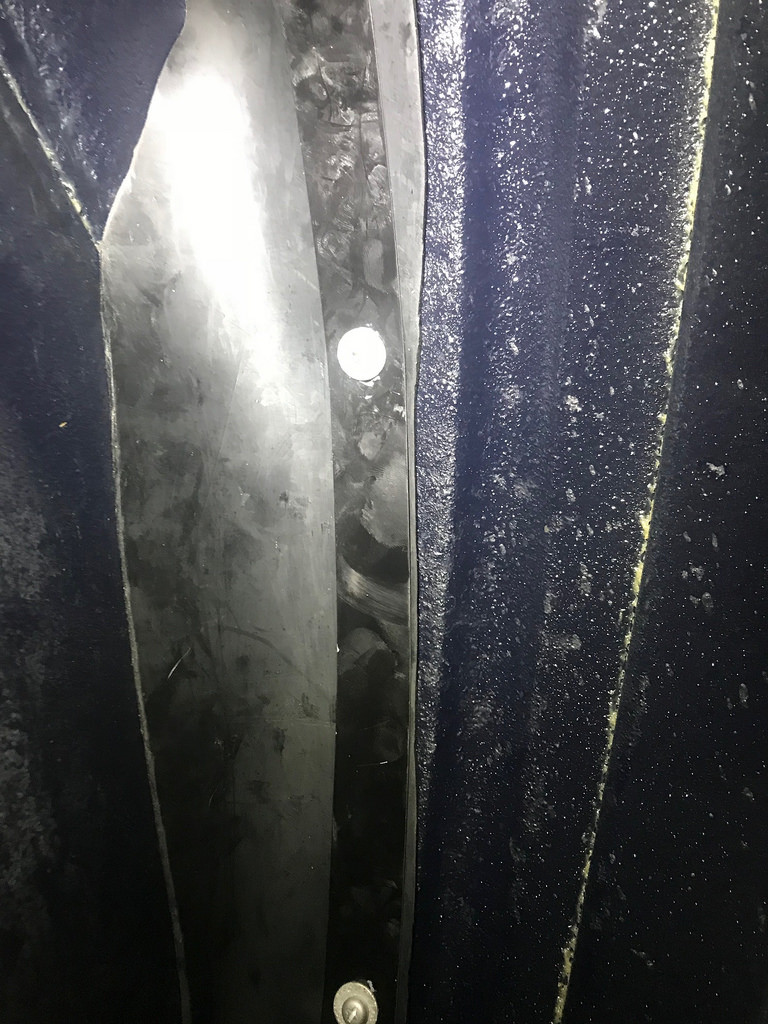 Today I installed the rubber flaps (which I had to remake) for the front inner fenders, which are intended to keep the mud out of the back of the front fenders.
I also derusted three of the rear brake lines and painted them. May remake one or all of them, but I wanted to inspect them carefully first.
In just over two weeks, we will be in Japan for our son's wedding so work will stop until mid-May.
4-12-2018
Latest batch of plating, including engine hood latch, support mount for SEV wiper motor, three of the four decent used front suspension bolts (spare, but with better plating than the new Peugeot-supplied ones I have installed), and of course the 10 rear side window trim clips.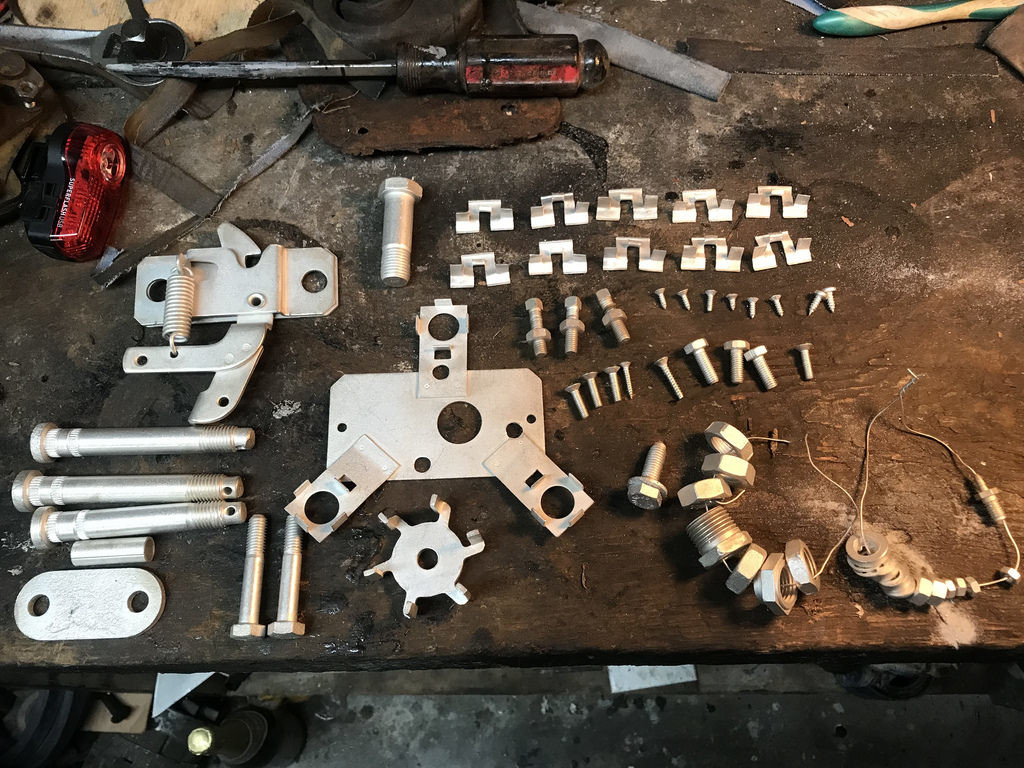 6-10-2018
Today I finally resumed work on the 404C after about two months!
The passenger door side window winder cable went in beautifully, and after winding the handle back and forth several times, the cable settled and the winder did about 8.5 complete revolutions. OK, good!
So then the driver's door, with the winder given to me by Nick Angiuli from Florida went in. It seems that it was sort of wound improperly on the drum because I could only get 5 turns in. So I removed it again and wound it back and forth with the cable tensioned over a round metal part of my vise.
Eventually I got 8.5 turns and then carefully held the cables near the drum while reinstalling. Mounted in the car, it had 8.5 turns to the handle! Woo-hoo!
The next stage is to get new tracking for the window glass and then to attach the window carriers to the cables. That should be a bit of work, but I am not dreading it like I was today's job.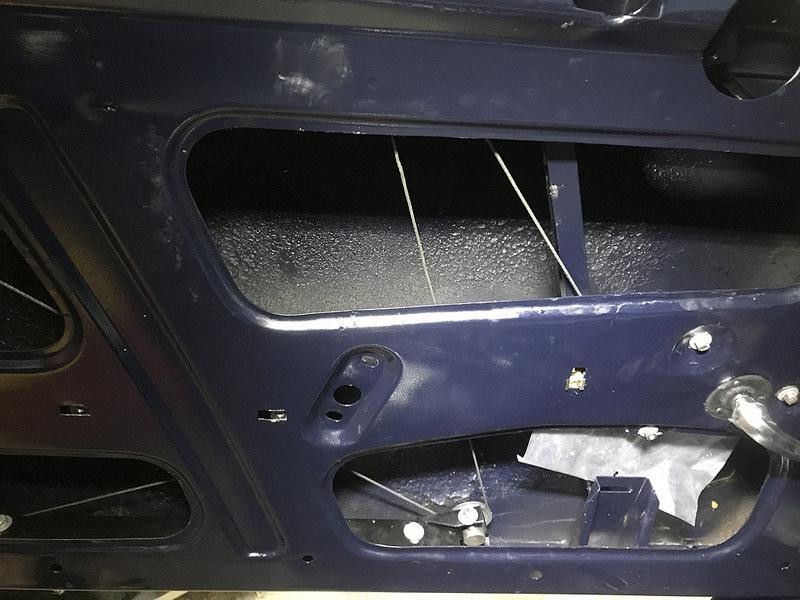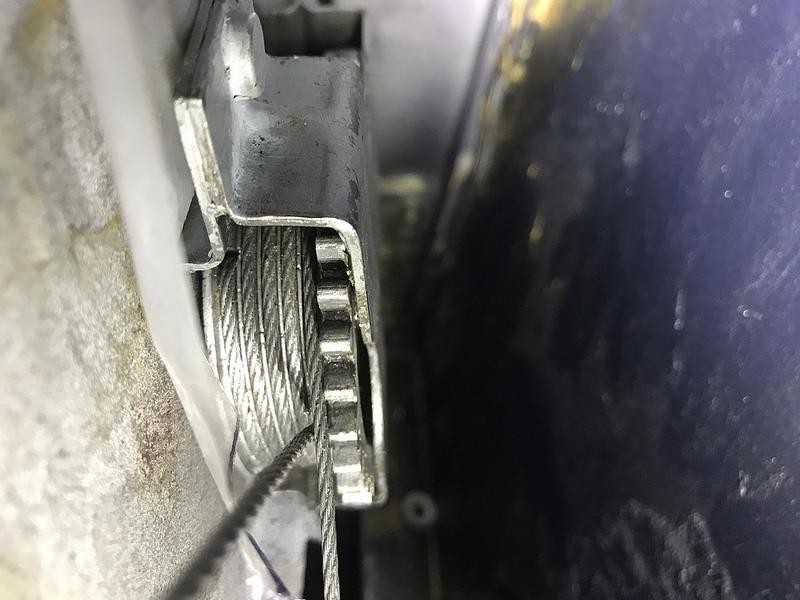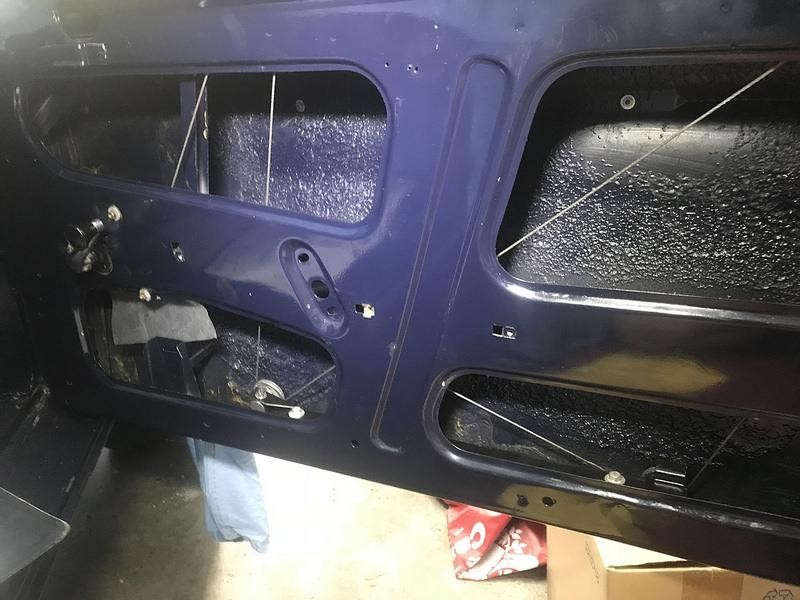 6-12-2018
Here is the back side of the mechanisms that are now in my door.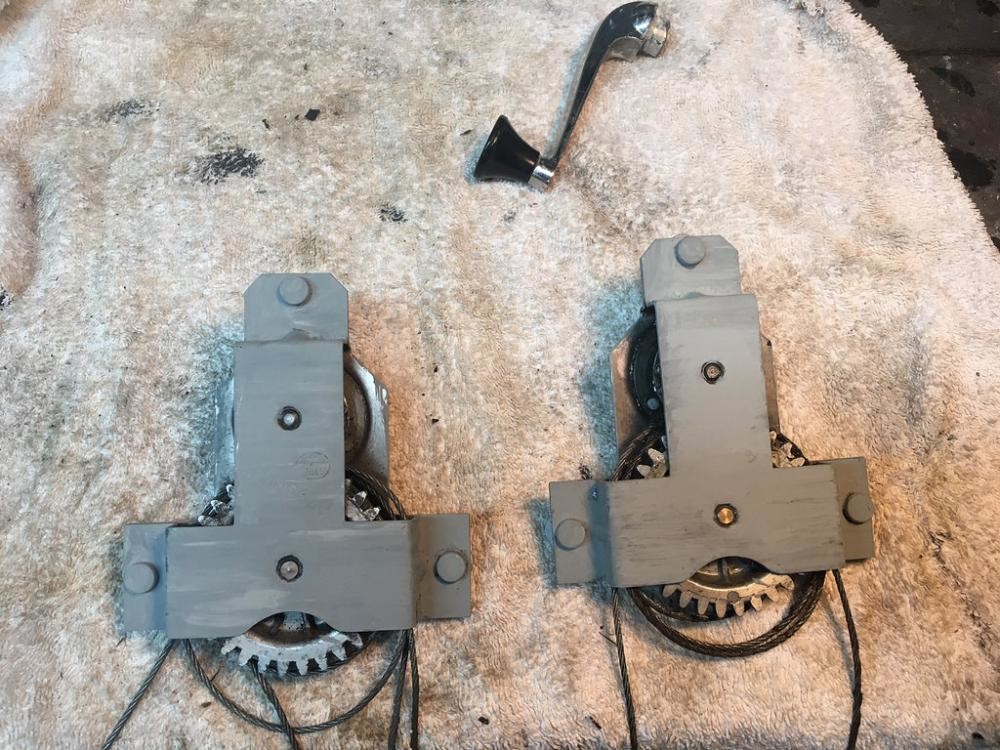 6-26-2018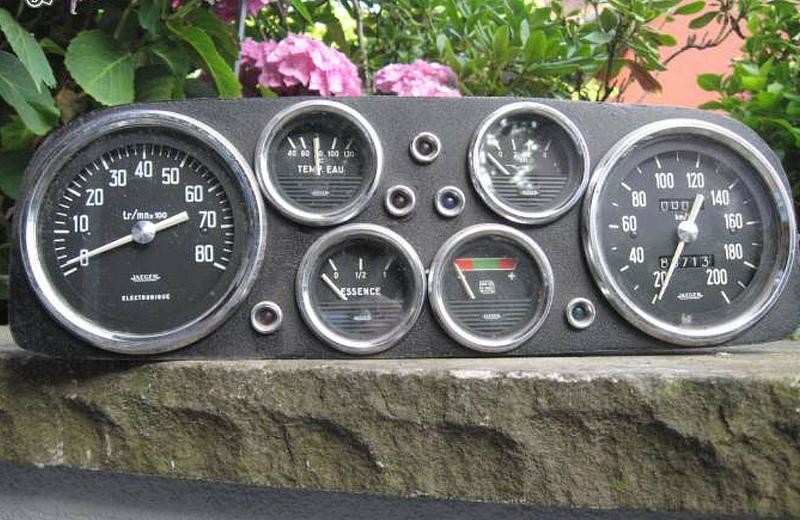 The photo above is of a Jaeger sports instrument panel for the 404C that was sold as an accessory in the 1960s. I have wanted one for a long time, but they are rarely for sale and when they are, the cost is very high, 1000+ Euros.
So I have been looking to make one myself, using Canadian versions of these same gauges from the same era (or just afterwards, late 1960s). In this case I have put together five of the six necessary gauges, as shown below: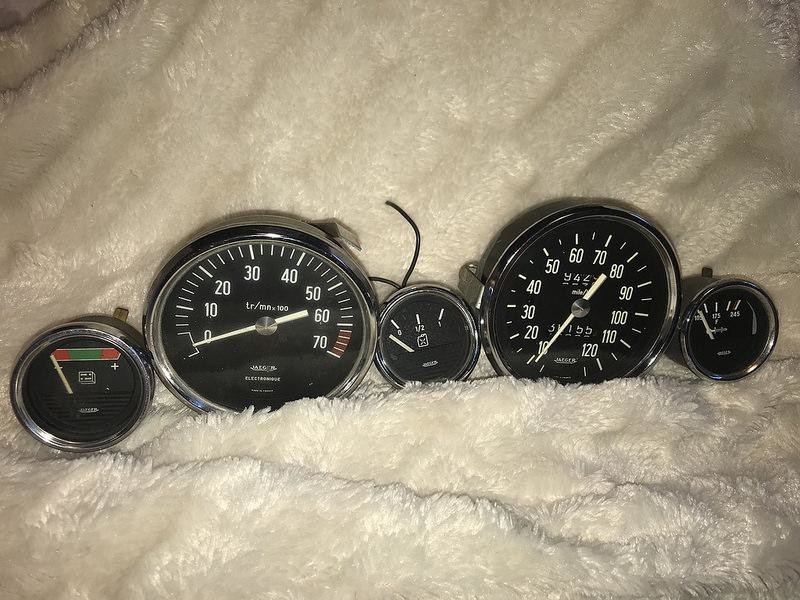 The speedometer with trip odometer is from a Renault 8 Gordini, Canadian version, as are the battery and temperature *F gauges. The rev counter is from a Renault 8S from Canada, which has a redline at 6200
RPM which is about correct for a 404 Injection. The fuel gauge is also from the 8S, but identical to that fitted to the Gordini.
Now all I need is an oil pressure gauge to match, and them to make a plate to receive all the gauges.
However, when the 404C is first assembled I will be using the original instruments. This one will be added a few years later.
7-28-2018
I do have an oil pressure gauge to match now....and....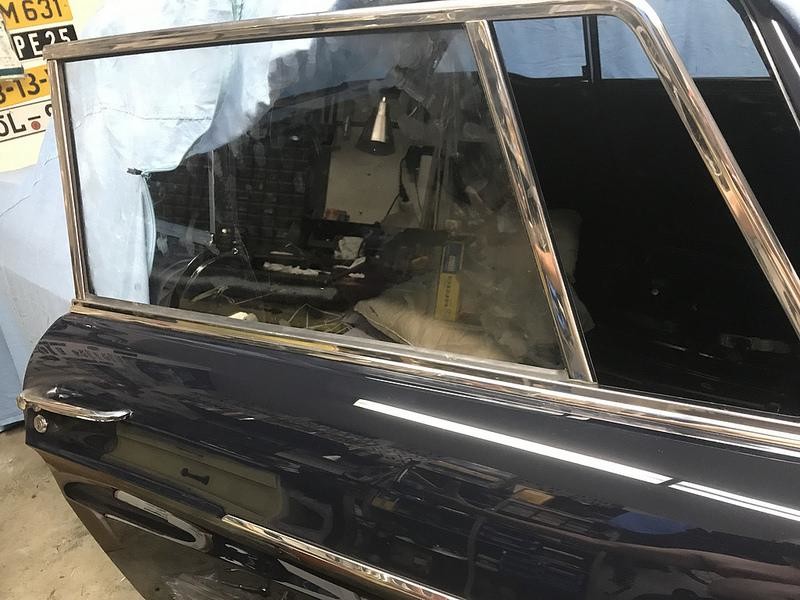 What a fun day! OK not really. I managed to get the passenger door lock installed and working, something that eluded me last time. Then I put the side glass in and tried rolling it up, and the cables were binding on the winding drum so it would not go up more than halfway.
Recognizing that the previous installation was not done properly :( , I had to take it out. The drum that has the cable windings on it was a total mess, a rat's nest of tangles. I spent about 90 minutes doing random stuff to it like un-looping cable, not fully knowing what I was doing. But in the end I got the drum wound properly - one end of the cable on one side of the drum and the other end on the other, with five windings of cable over the drum in between. Holding it carefully I reinstalled it in the door and then installed the glass again (1 hour's work there) and it works!
8-12-2018
Thanks!
Last week I got the matching 12V oil pressure gauge! Now they all need a cleaning and I have to make up a plate to mount them (and 5 warning lights too).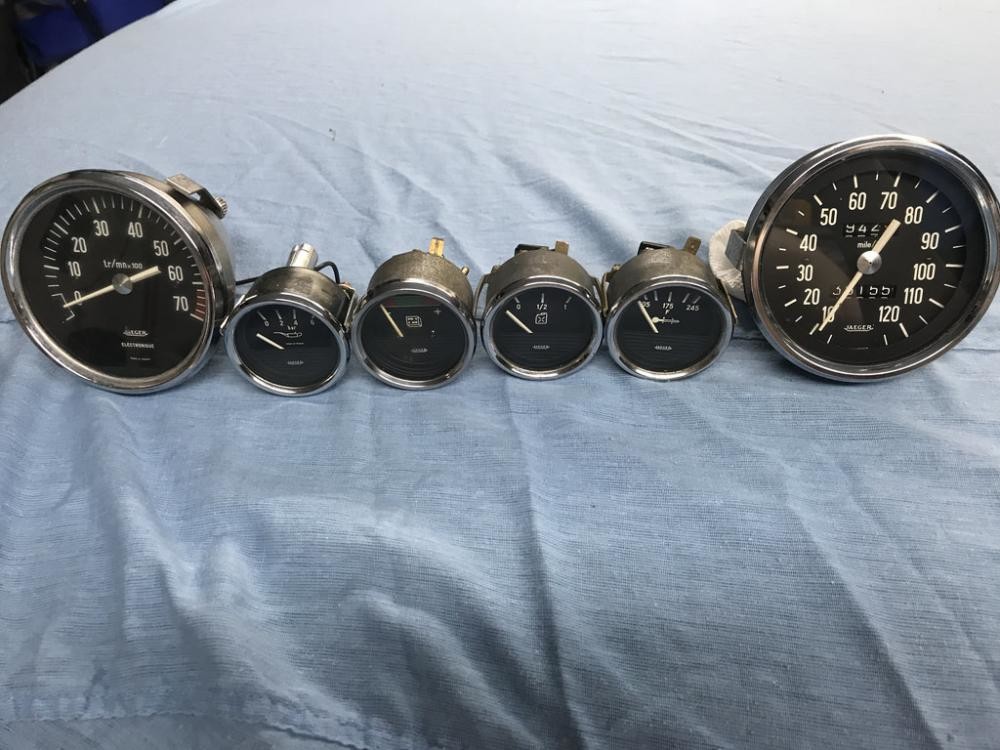 9-4-2018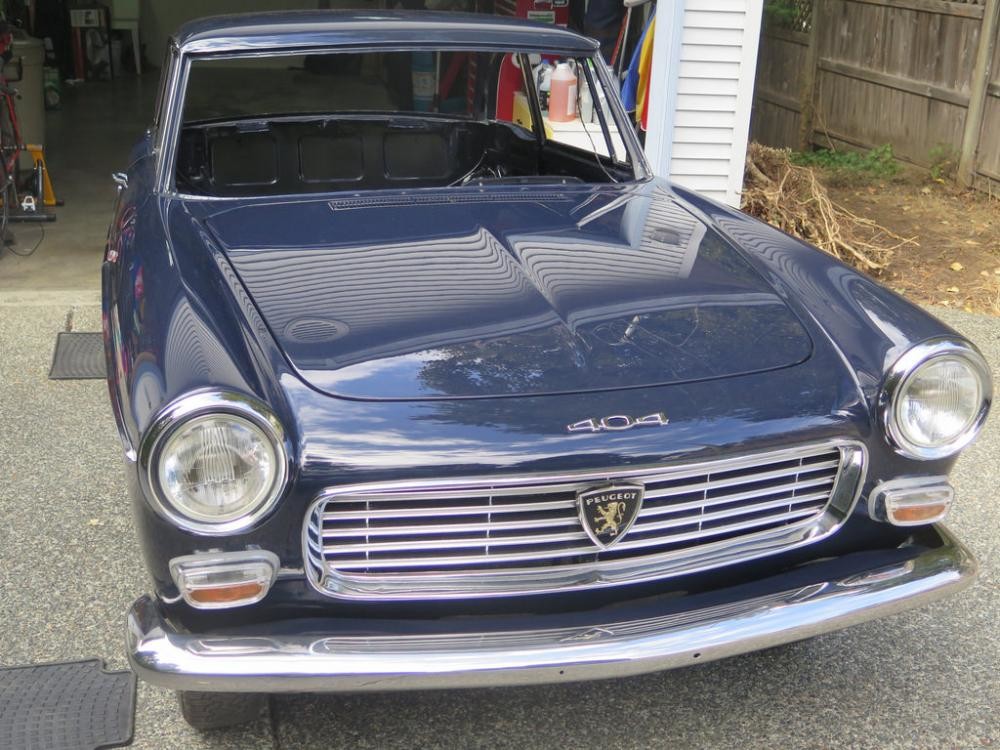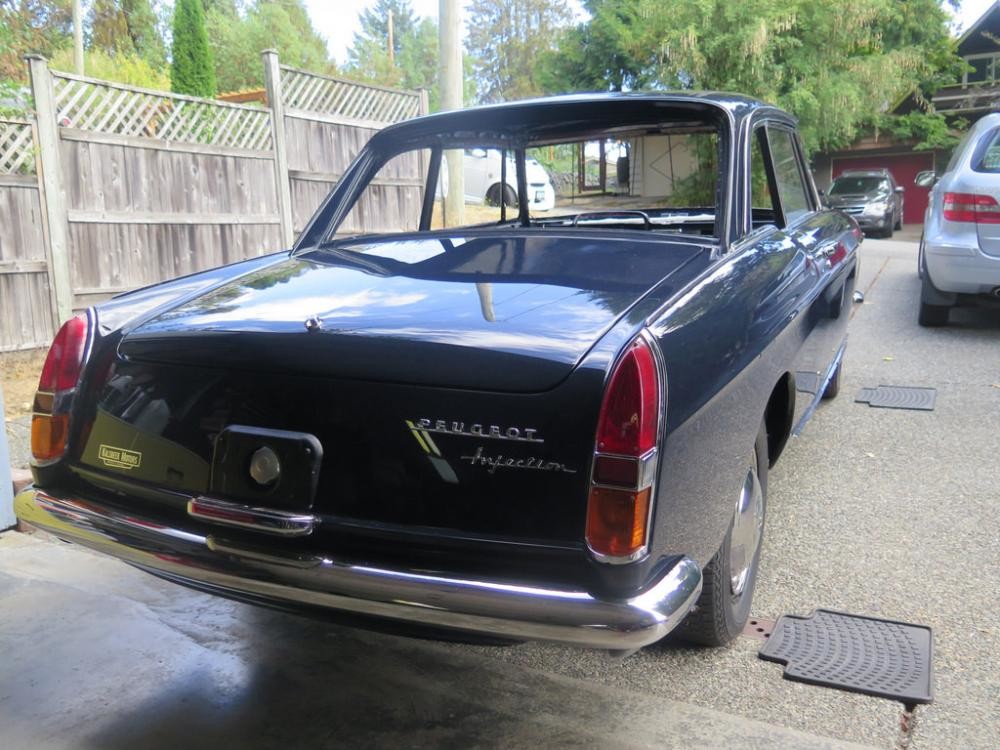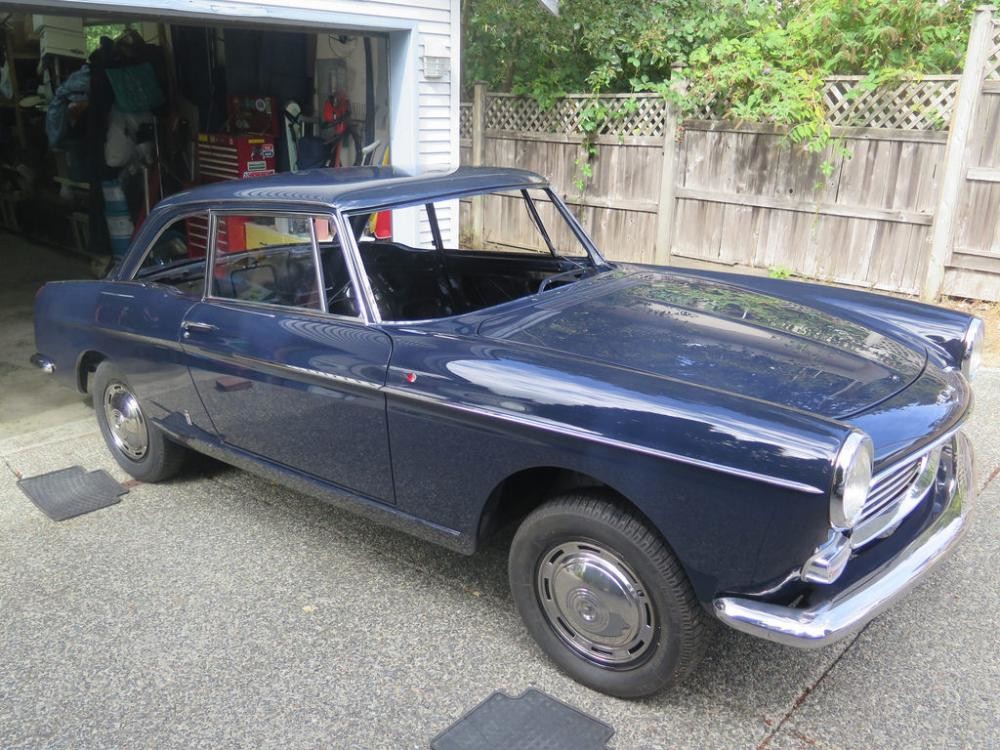 9-15-2018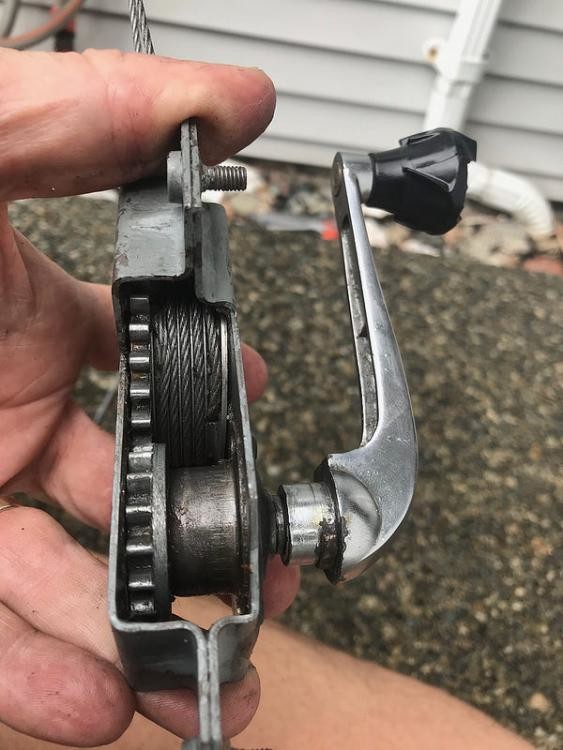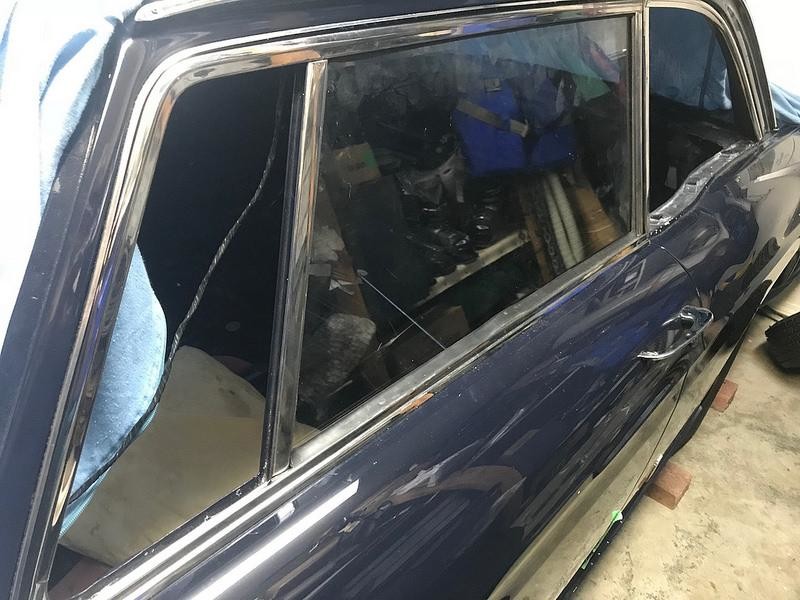 I was dreading removing for the second time the driver's side window winder cables to reseat them properly. It went reasonably well. As did the installation of the window tracking. The nightmare was installing the interior door opener - getting the clip on to the door latch, blind and inside the door was "fun". I also installed the door lock. Installing the glass is a pain too. Ugh, glad it's over.
9-29-2018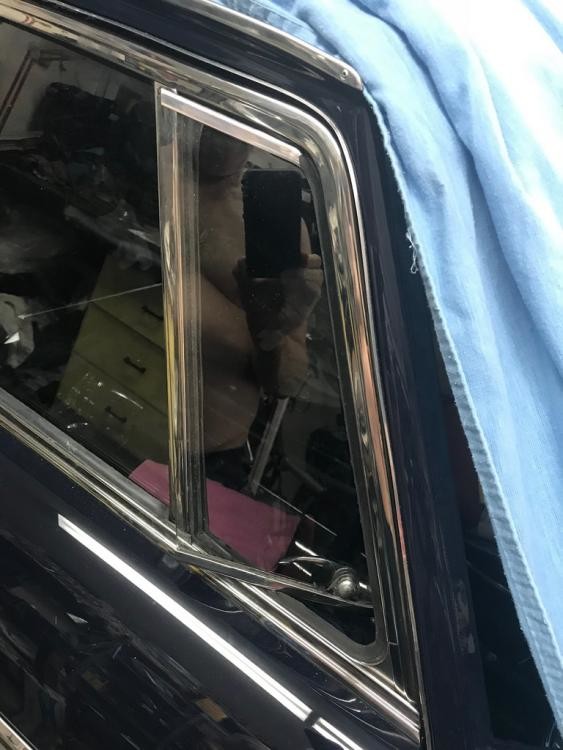 Installed passenger side vent window with the new gasket....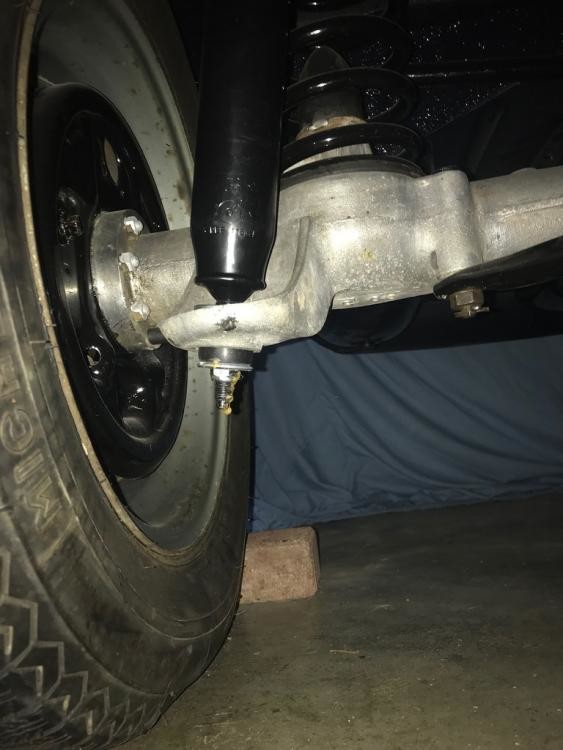 Record rear dampers installed. Wish I could get Peugeot rears but I can't...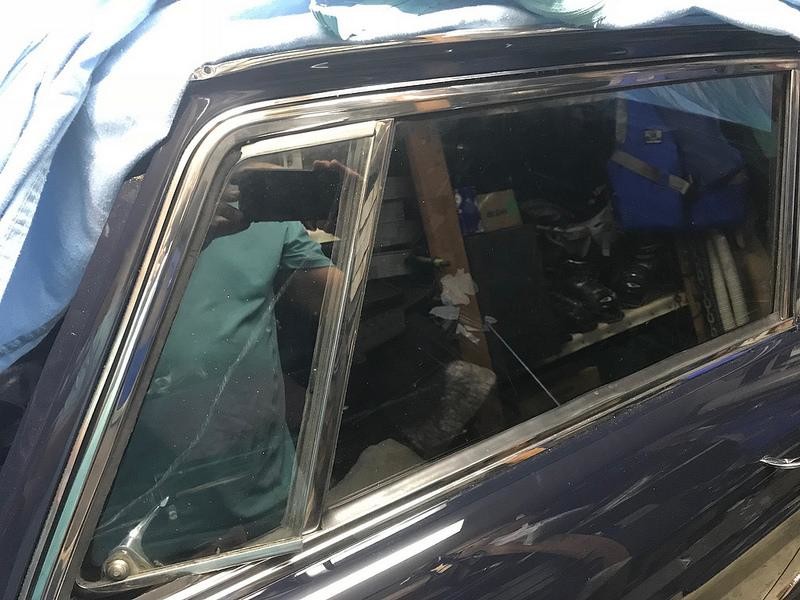 Driver's side vent window installed with new gasket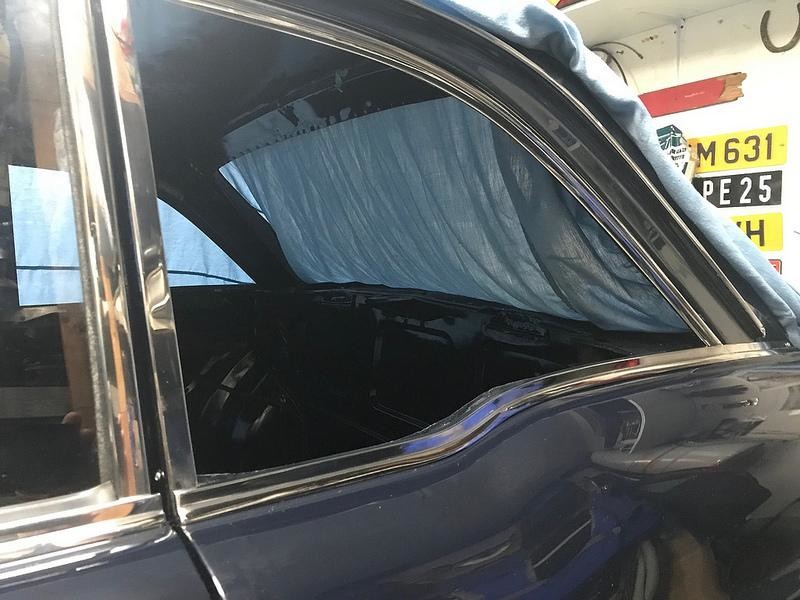 Lower rear 1/4 window trim installed - had to drill my new panels to make that happen
10-2-2018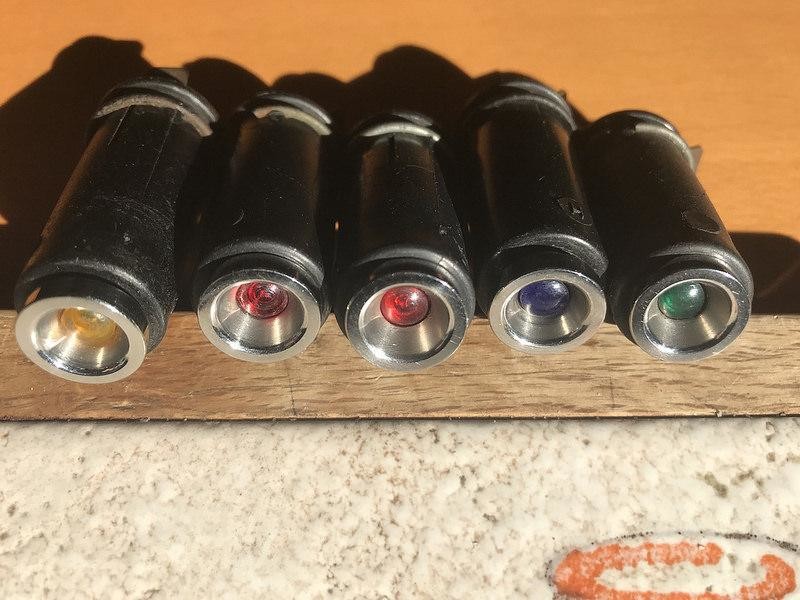 Thanks to Harm (that's his nickname!) in the Netherlands for finding these original Jaeger sports instrument panel warning lights! I just got them today. L to R:

- low fuel pressure (KF/KF2 engine)
- low brake vacuum / low brake fluid level
- low oil pressure
- main/high beam warning light
- turn indicator warning light

Now all I have to do is make a panel to hold the 6 gauges and these lights, paint it....oh and rebuild all the instruments, which likely need a refresh.
10-7-2018
Today I got the beltline trim installed on the driver's side.

With some help: my youngest daughter put the nut that holds the rearward part of the front fender trim on - that is only accessible with the front door opened about 45 degrees, because even like that, there is about 3 mm of space to play with to get the sucker spinning on the captive bolt that's attached to the stainless steel trim. All other connections are easy. My other daughter did the passenger side a couple of months ago. My fingers are too big to get in there properly!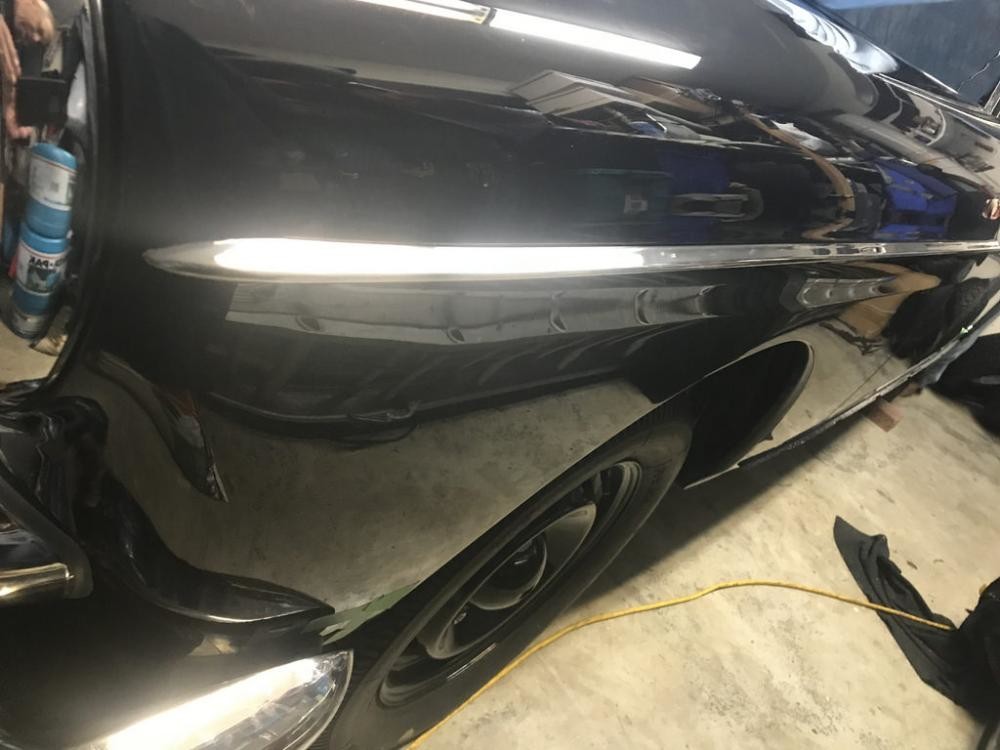 12-2-2018
Some recent work on the 404C, last weekend and just today: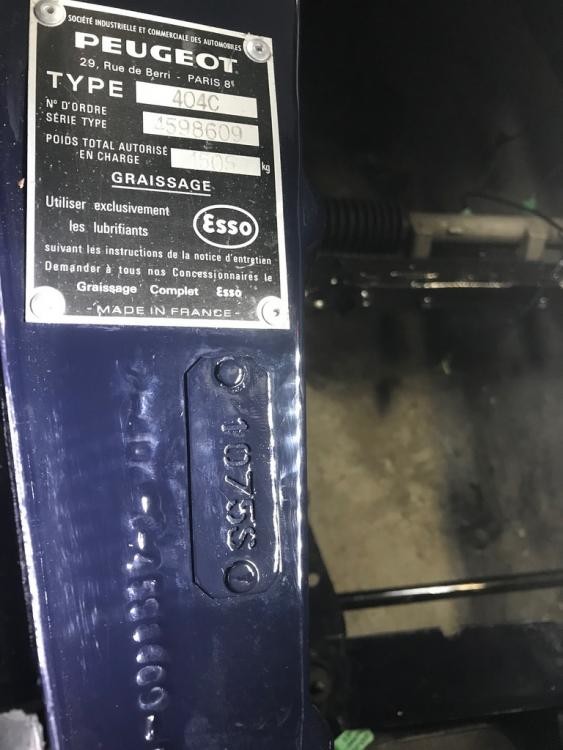 Clearcoat on the Carrosserie Peugeot plate.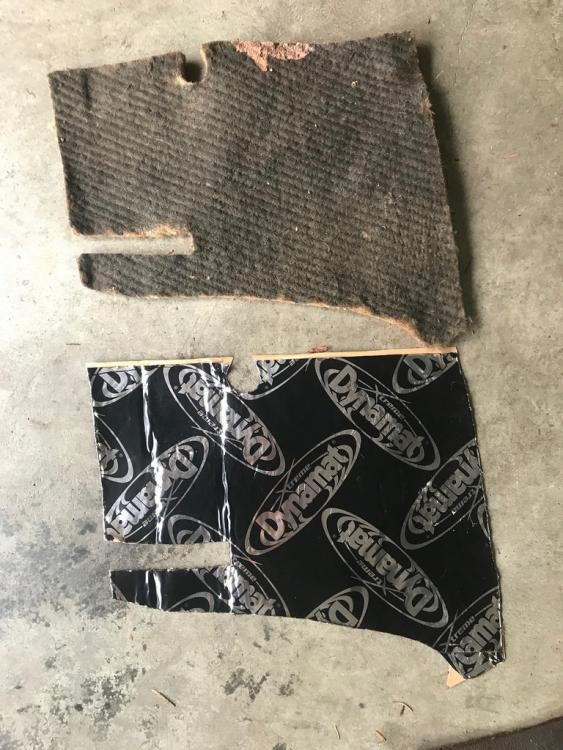 For reassembly, I used the original insulation as a template to cut Dynamat Xtreme panels, mounted the Dynamat and then glued the original insulation to it.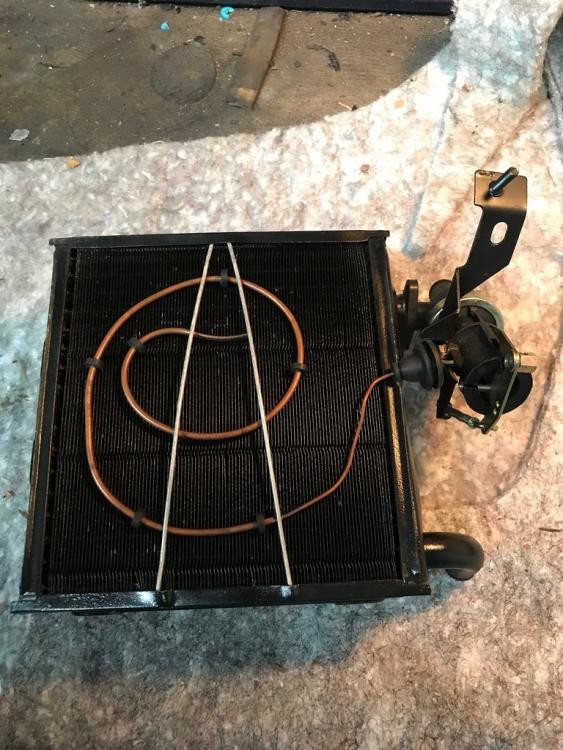 Heater core with the ancestor of modern "set and forget" heat level - thermostatically controlled water valve.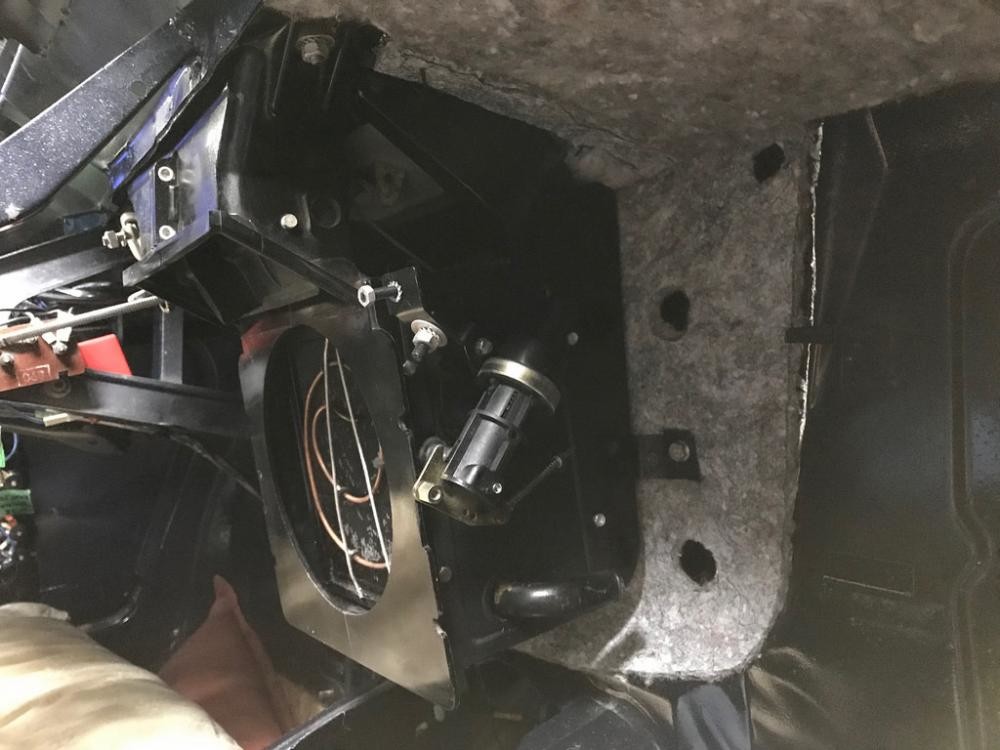 Heater core box is mounted in the car with new foam to seal between the air intake in the bodyshell and the bakelite box.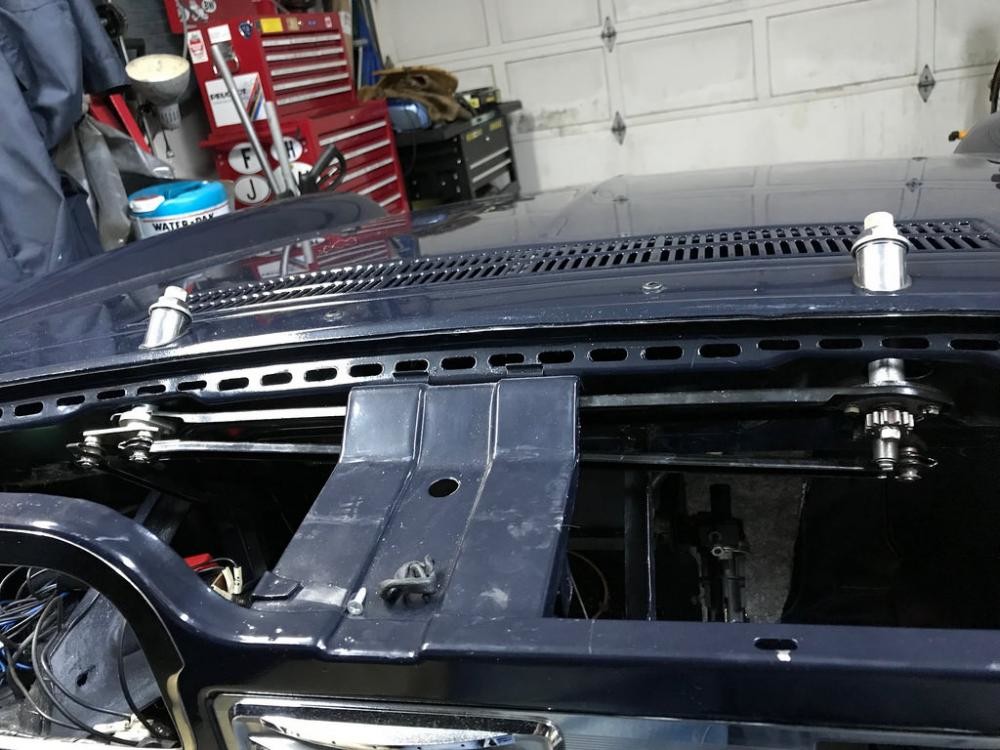 Wiper mechanism mounted - both spindle assemblies are brand new.
The entire wiper mechanism and heater is exactly like that of the 404 sedan, so they're not locally sourced. The wiper shafts are longer though, but still made by SEV Marchal. The heater is by SOFICA.
12-2-2018
Together at last: 6 Jaeger France gauges in MPH and degrees F ( but the oil pressure is in bar - luckily I am bilingual ;) ) plus the 5 original warning lights that make up part of the sports instrument panel for the 404 Coupé and Cabriolet.

Now I have to get two or three of these gauges refurbished and have a metal plate to hold them made up.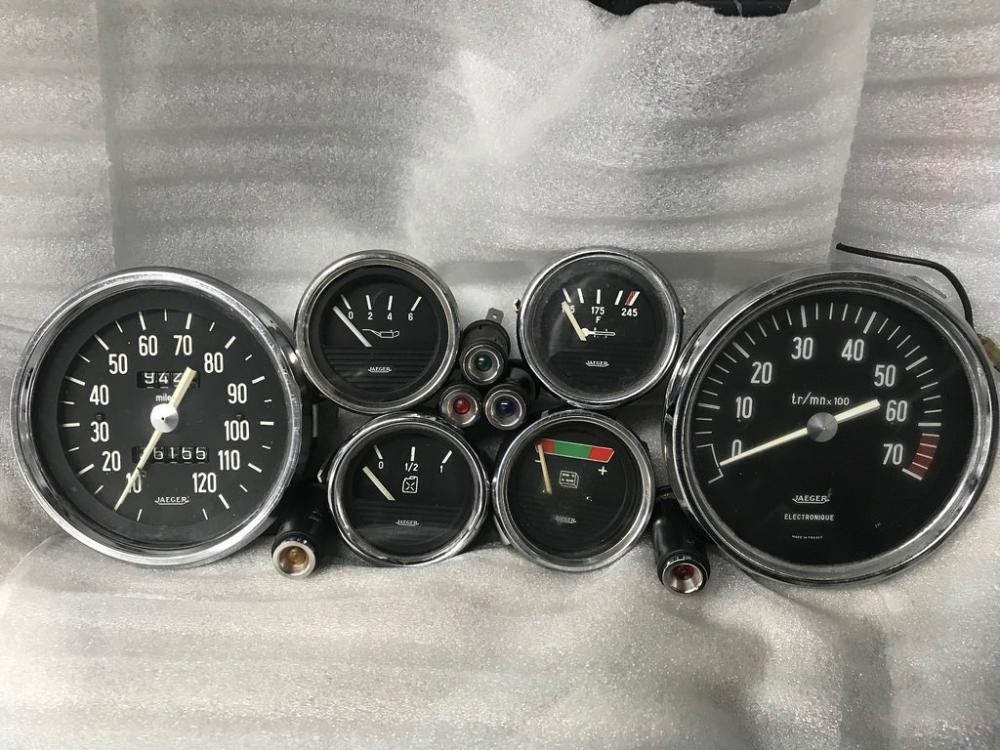 Voilà! Wiper nozzles mounted. Tough to get those on a C after the heater unit is in. On a sedan it's no problem ;)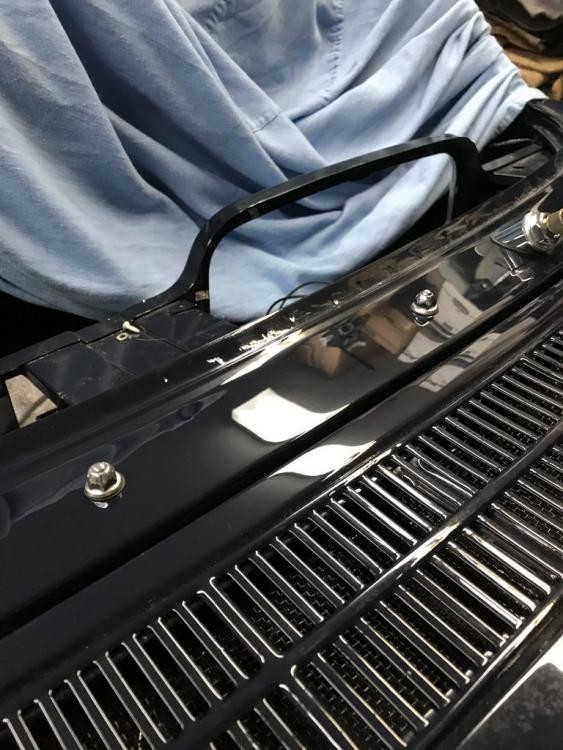 12-3-2018
Someone must have copy someone else, i don't have good picture to show you but you can see this is a Niva heater core, little more crudely made but they may be interchangeable, also the box looks almost identical.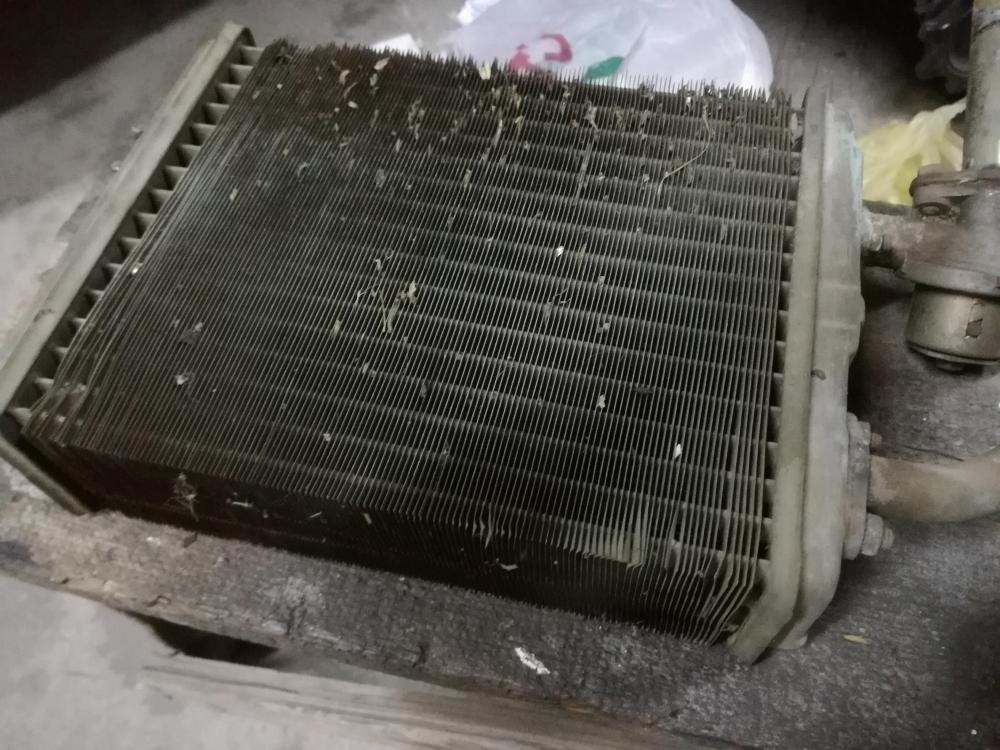 Not the same at all: the Peugeot rad has hard sides and it twice as thick. 404 was introduced 15 years before the Niva. Which in turn got its core from a Fiat 124.