My 89 MI16
By diyauto
You must be logged in to rate content!
My 89 MI16
Compliments of my3AWDgst @ http://www.505turbo.com
4-29-2013
She was barn fined and in no running condition. Here are few pictures.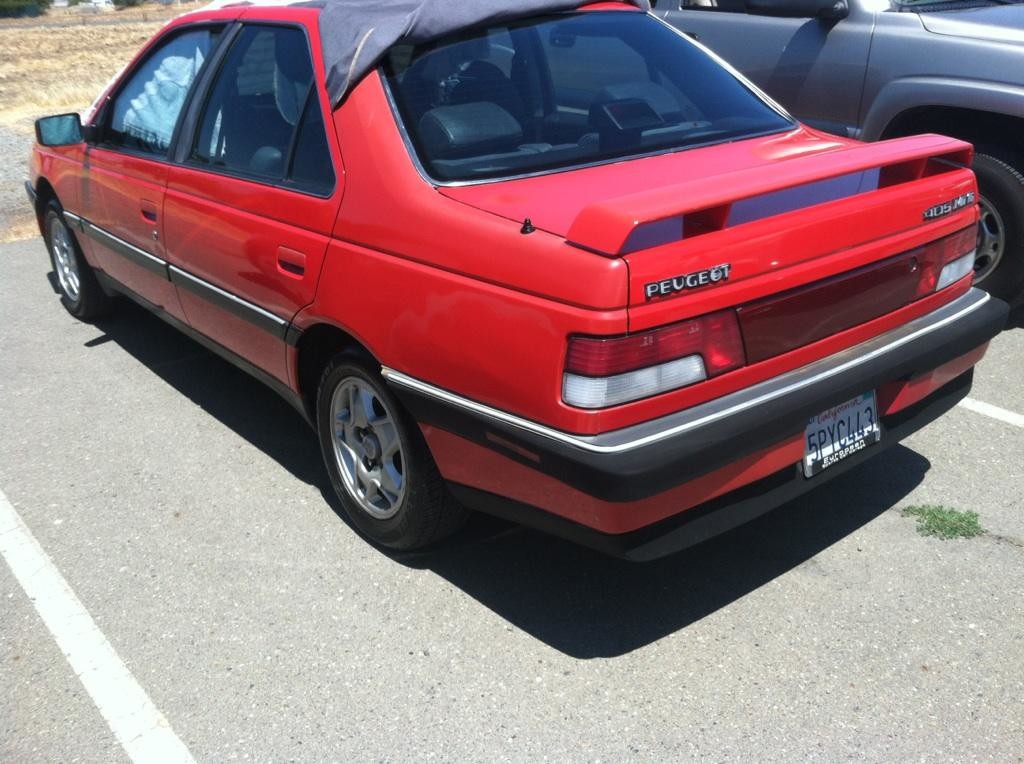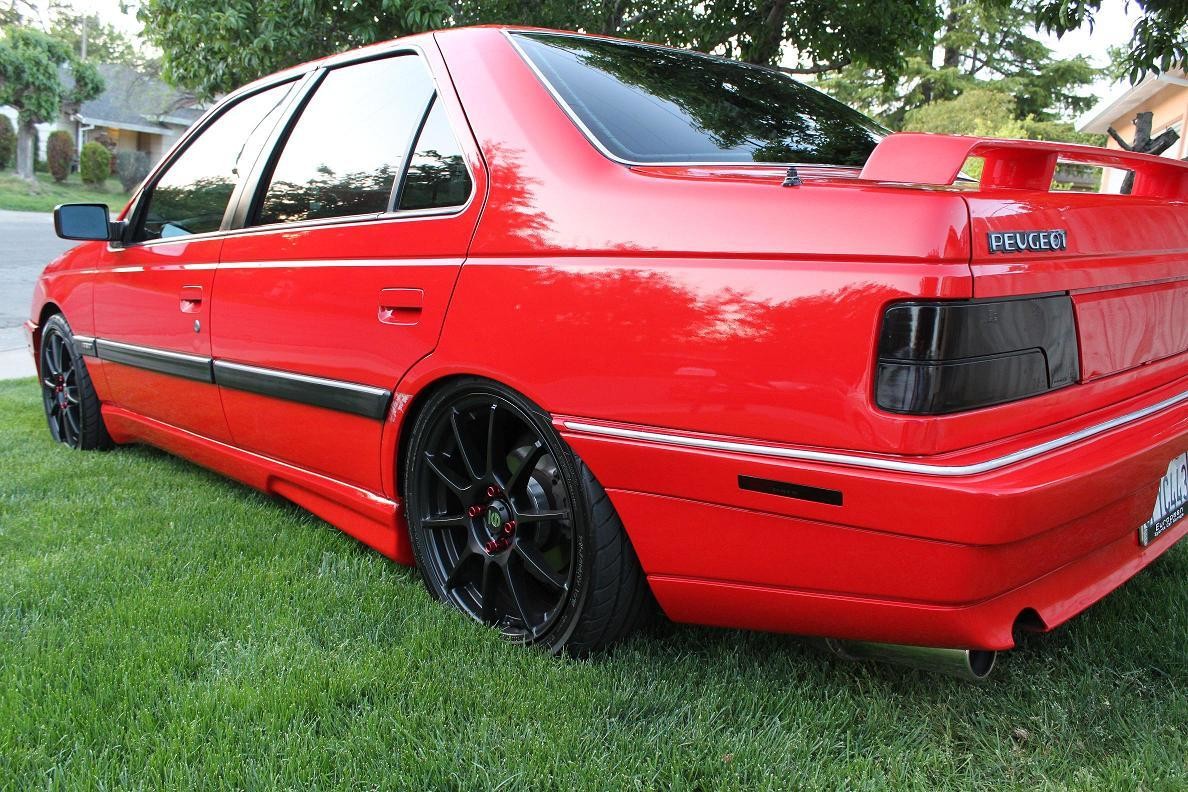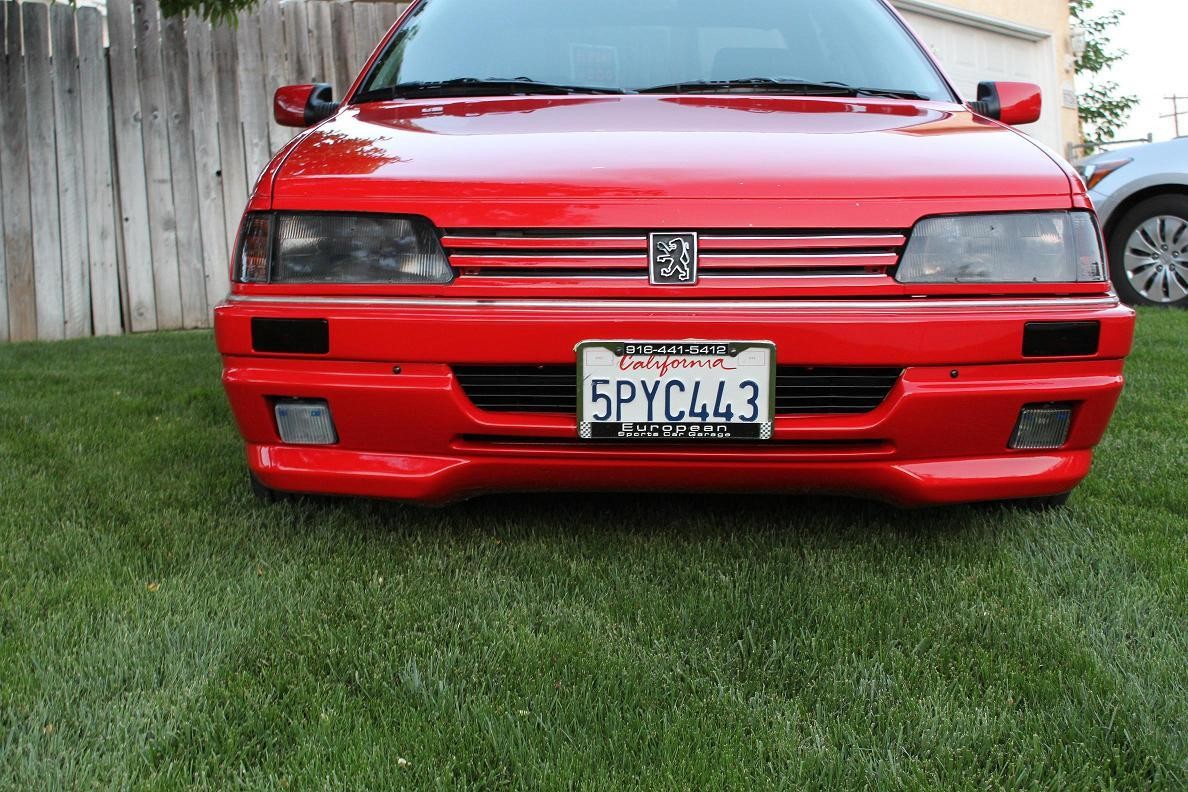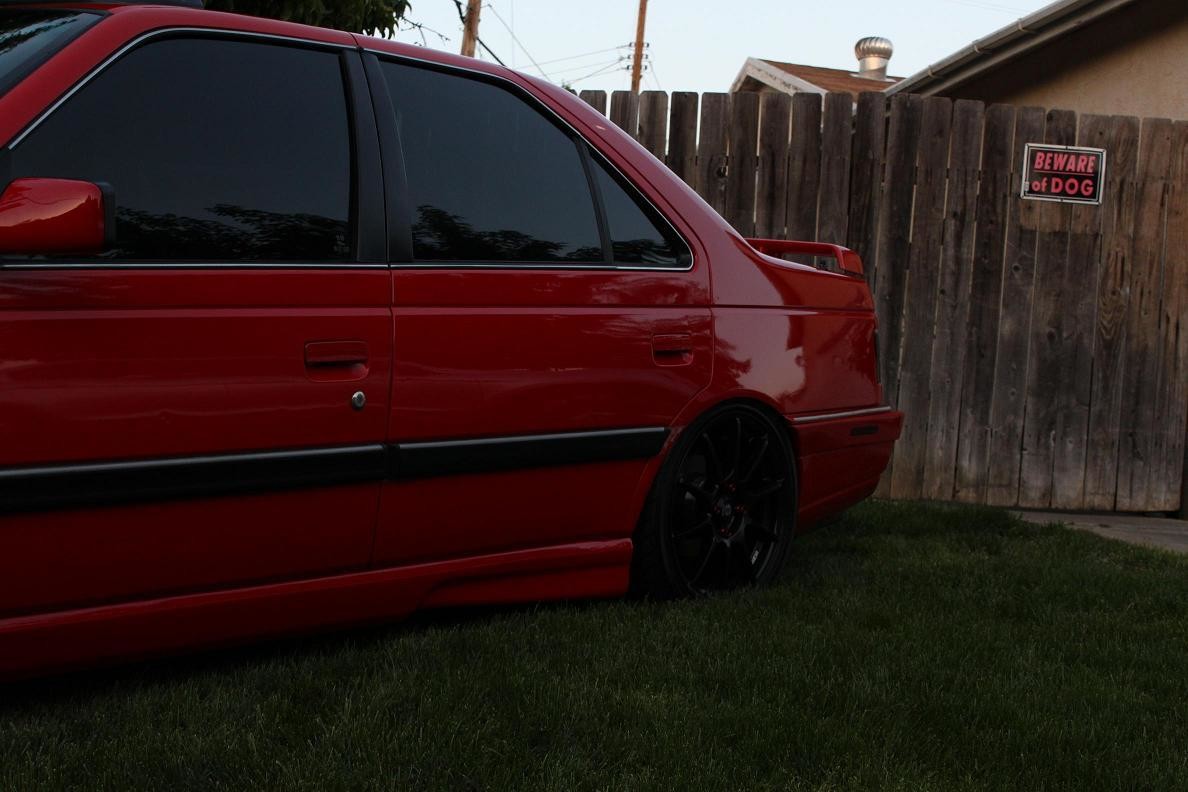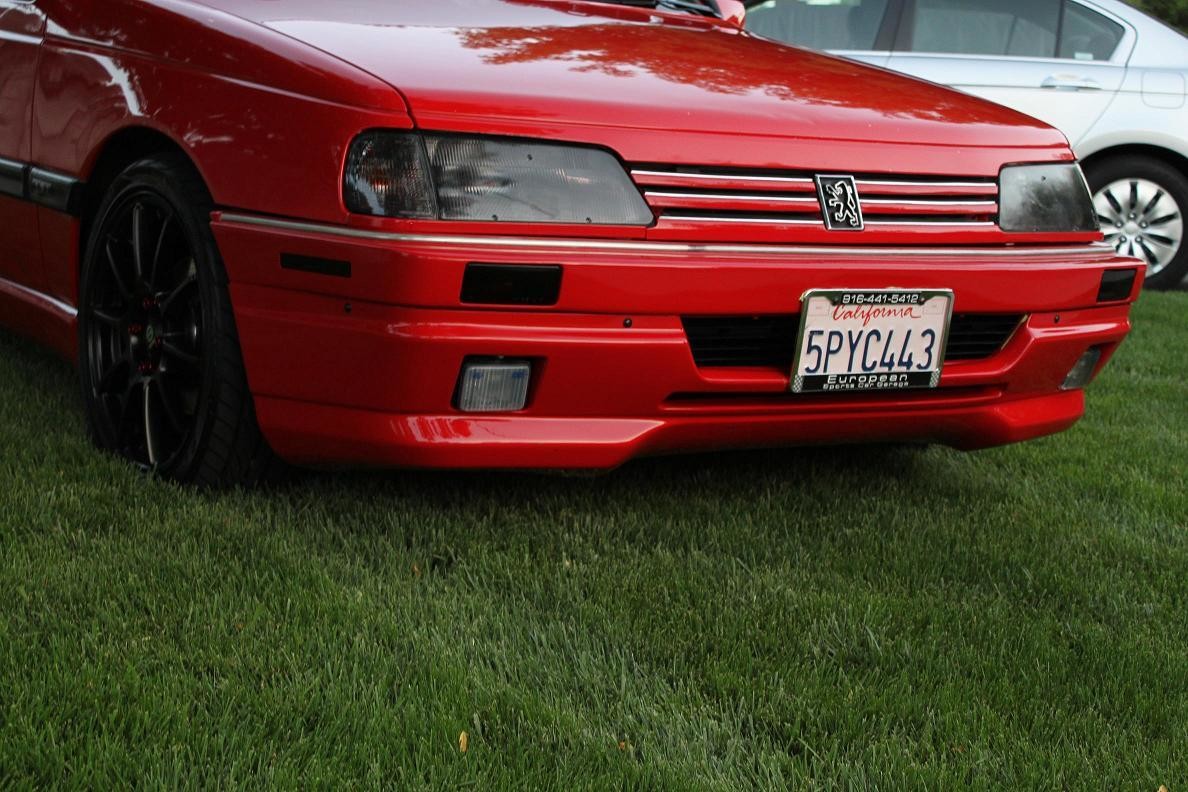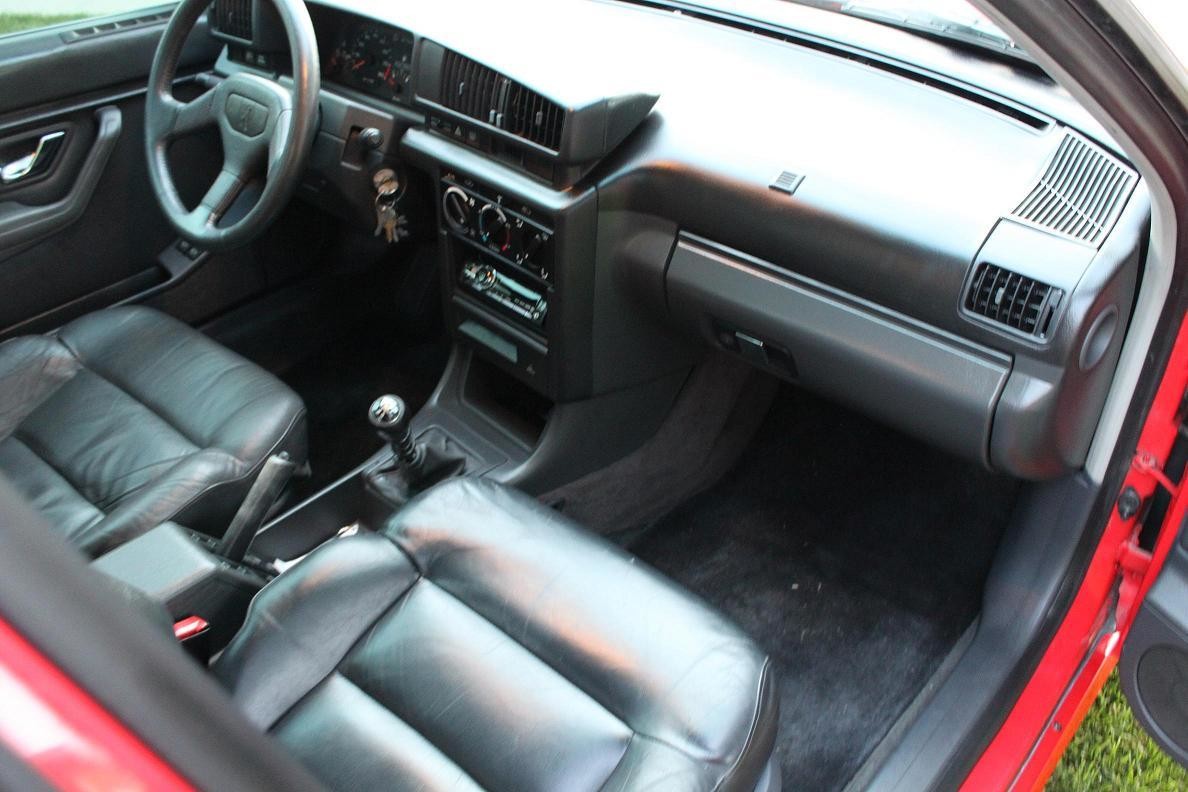 5-1-2013
Thanks guys Im very proud of my MI16 and I did not expect it to turn out this nice. I had 88 Jetta back in the day and did the same thing with matching paint on two tone bumpers and came out realy nice so that gave me Idea how it should look on MI16. Rabin front bumper spoiler and side skirts were new that I picked up from Dave at Euro sport and it was made by Brueck Design for US market. I also have new SS full Exhaust on it.
I got the wheel spacers because 405 is using weird offset (18mm) and weird bolt pattern 4x108 so it was hard to fined wheels that I liked here in US for it. Wheels usually have 35-42mm offset and my Sparco wheels have 42mm offset so I knew they would not clear or fit 405.So I used math on this one 18-42 = 24 so I got 25mm wheel spacers to get correct 18mm offset.
Second reason is I upgrated from lug bolt to lug nuts.
I could not fined place here in US that makes those wheel spacer in 4x108 bolt pattern so I emailed seller on Ebay if he could make me set in offset and bolt pattern I needed and he did. It was $180 shipped and only took one week.
Thanks guys.
5-3-2013
No problem.
Here is the picture of wheel adapters.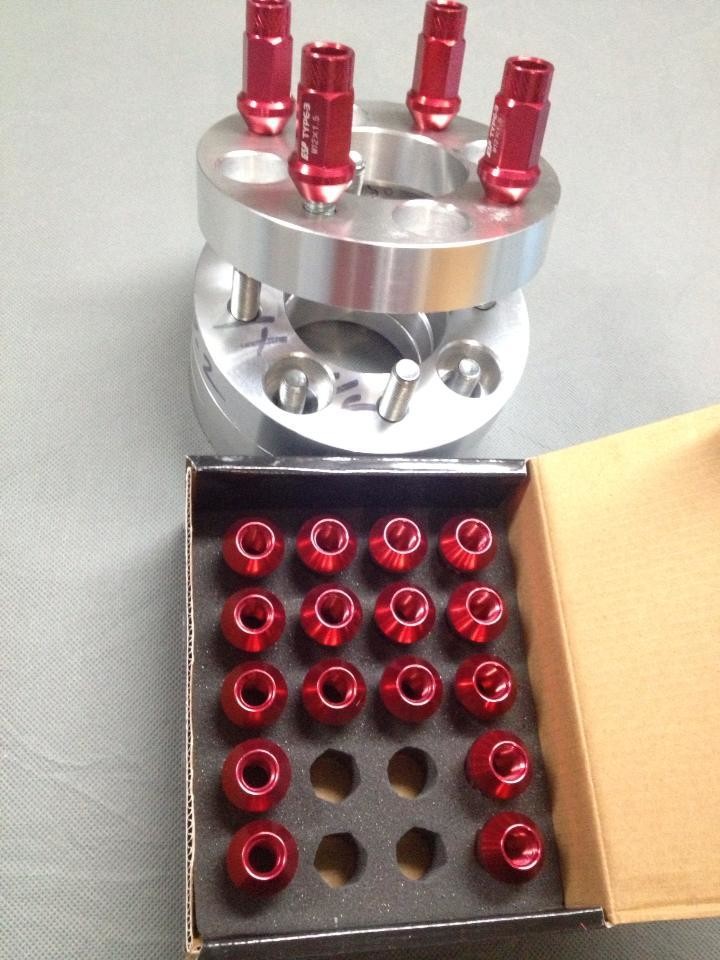 7-23-2013
So powder coating begins :-)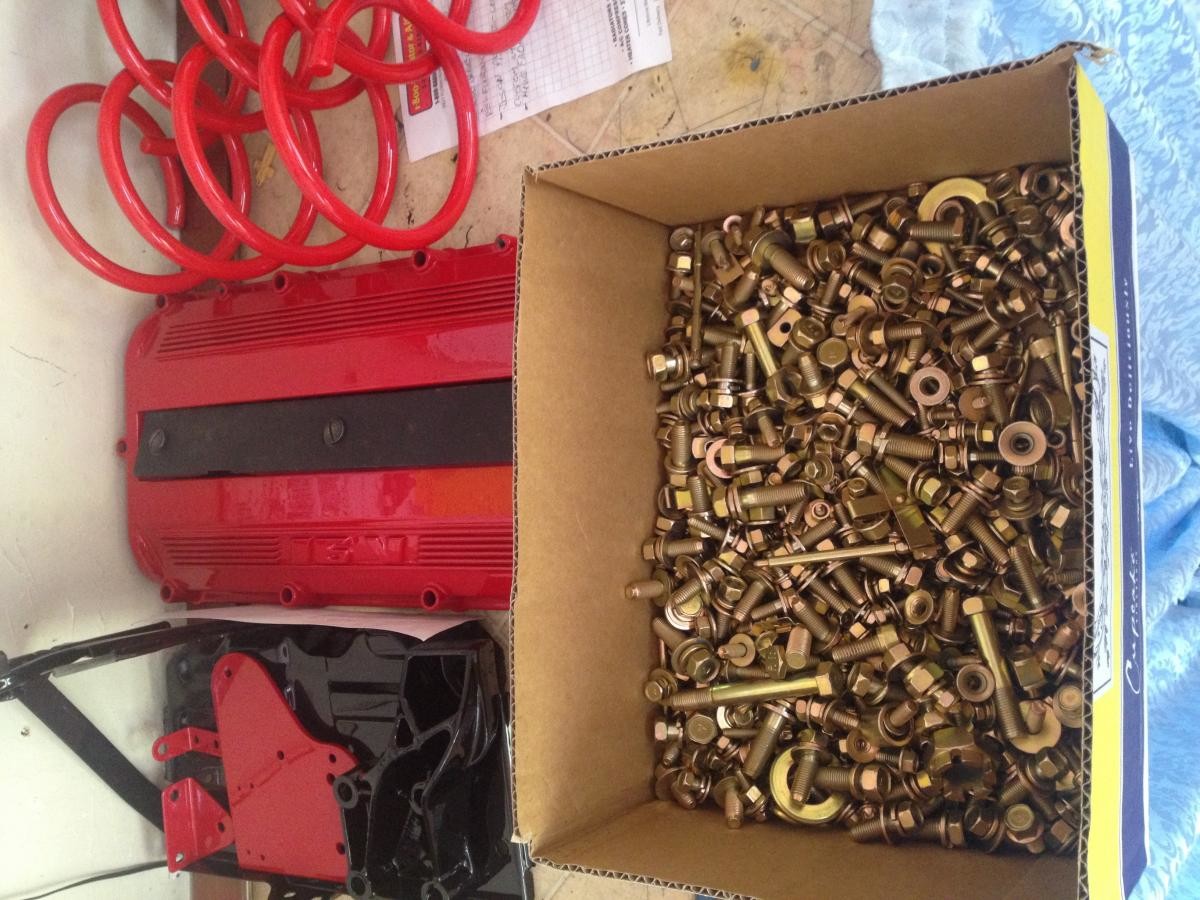 After I came back from Europe I will power coat Intake manifold,T/stat housing motor mount bracket and whatever else I found easy to remove :-)
11-19-2013
Got all of my engine powder coated brackets,new starter and 160Amp alternator.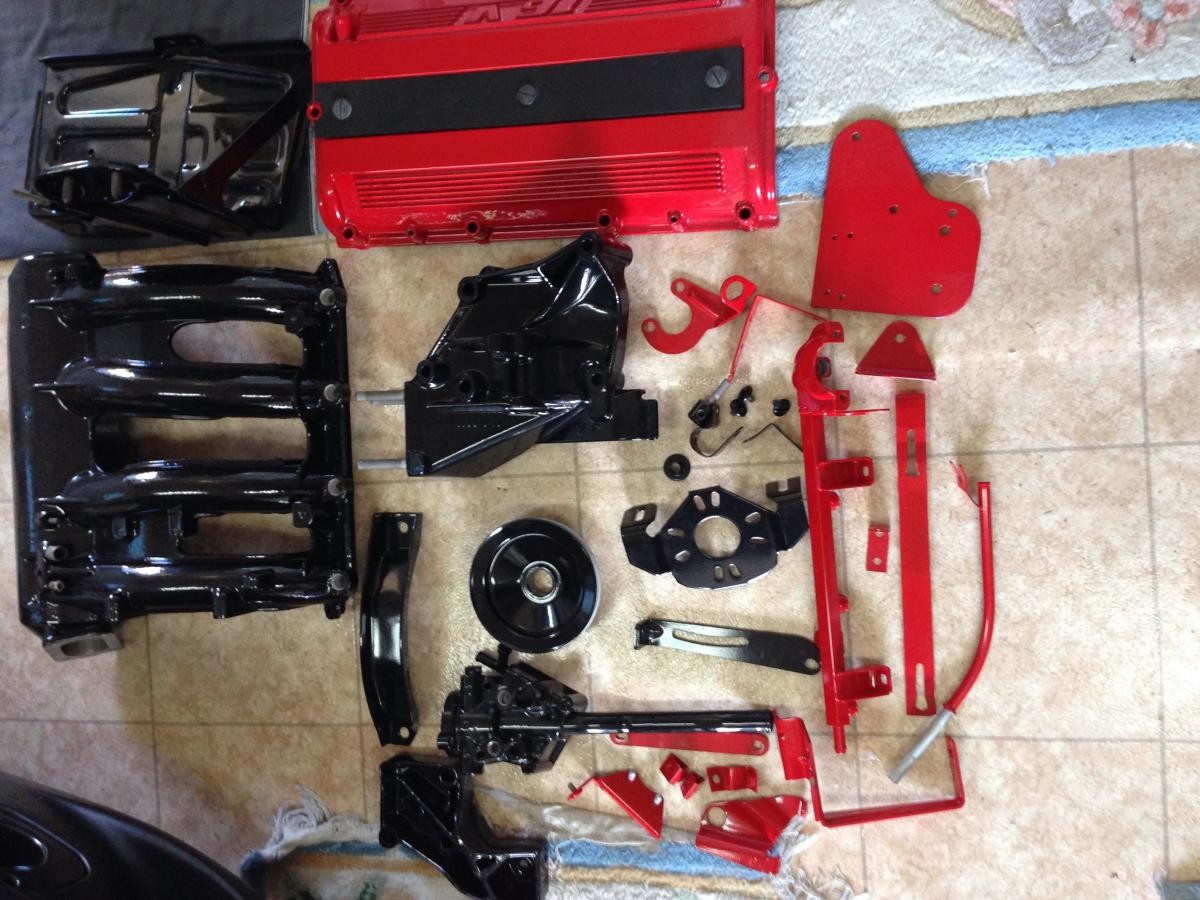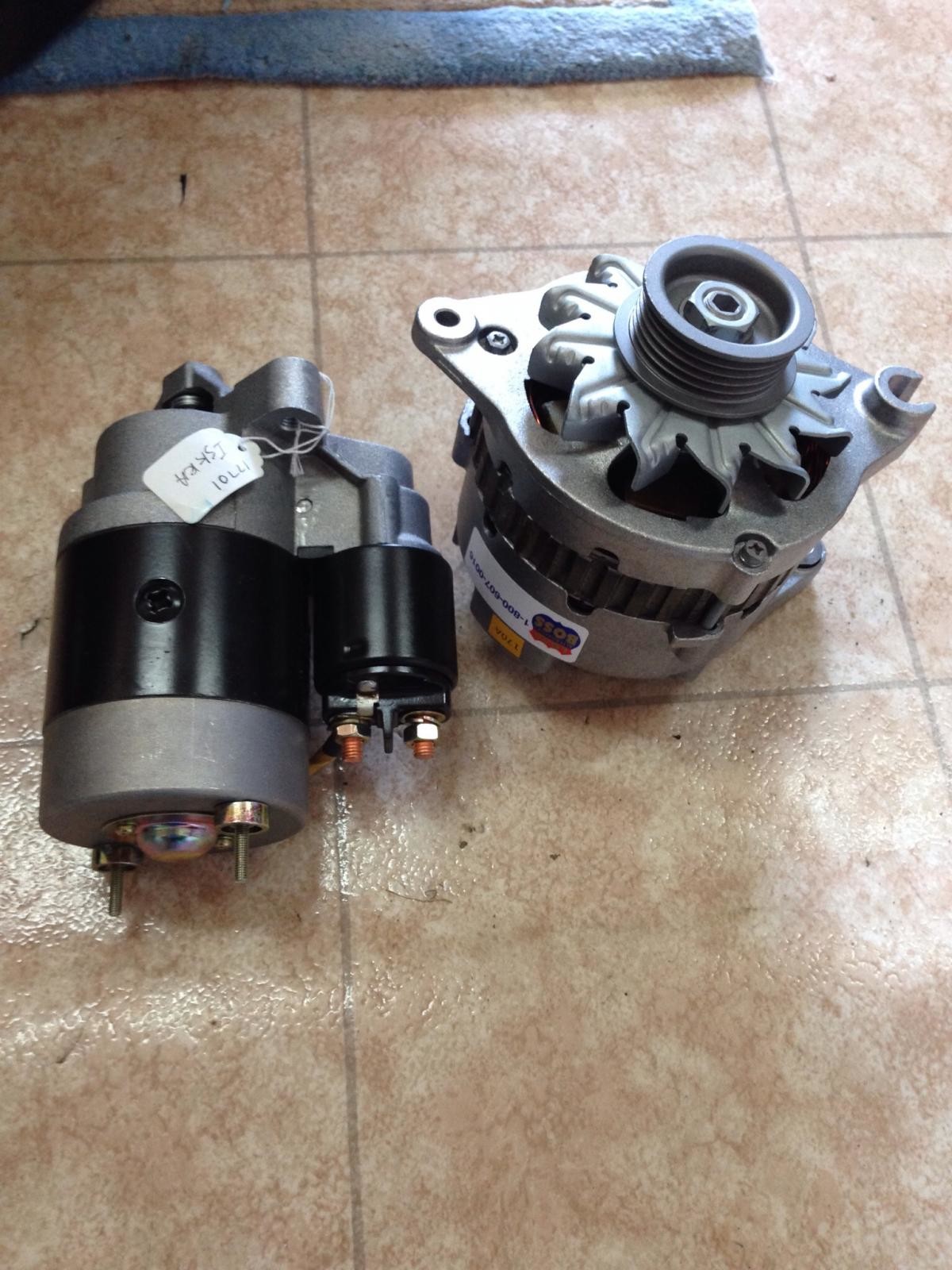 11-20-2013
Thanks guys.
Next thing on the list is AVO coilovers and EVO Brembo front brake conversion
1-20-2014
I got all I need for ECMlink swap for my XU9J4. I'm waiting on welder to weld 1g DSM Throttle body flange and 2g DSM fuel rail bolt mounts,once he's done it will go to powder coater. I'm hopping to have it all sone in two weeks. It should take me only few day to have it running on all 2g DSM sensors,speed density,E85 and ECM link.
Here is the picture off some off the parts. I'll take few more tomorrow.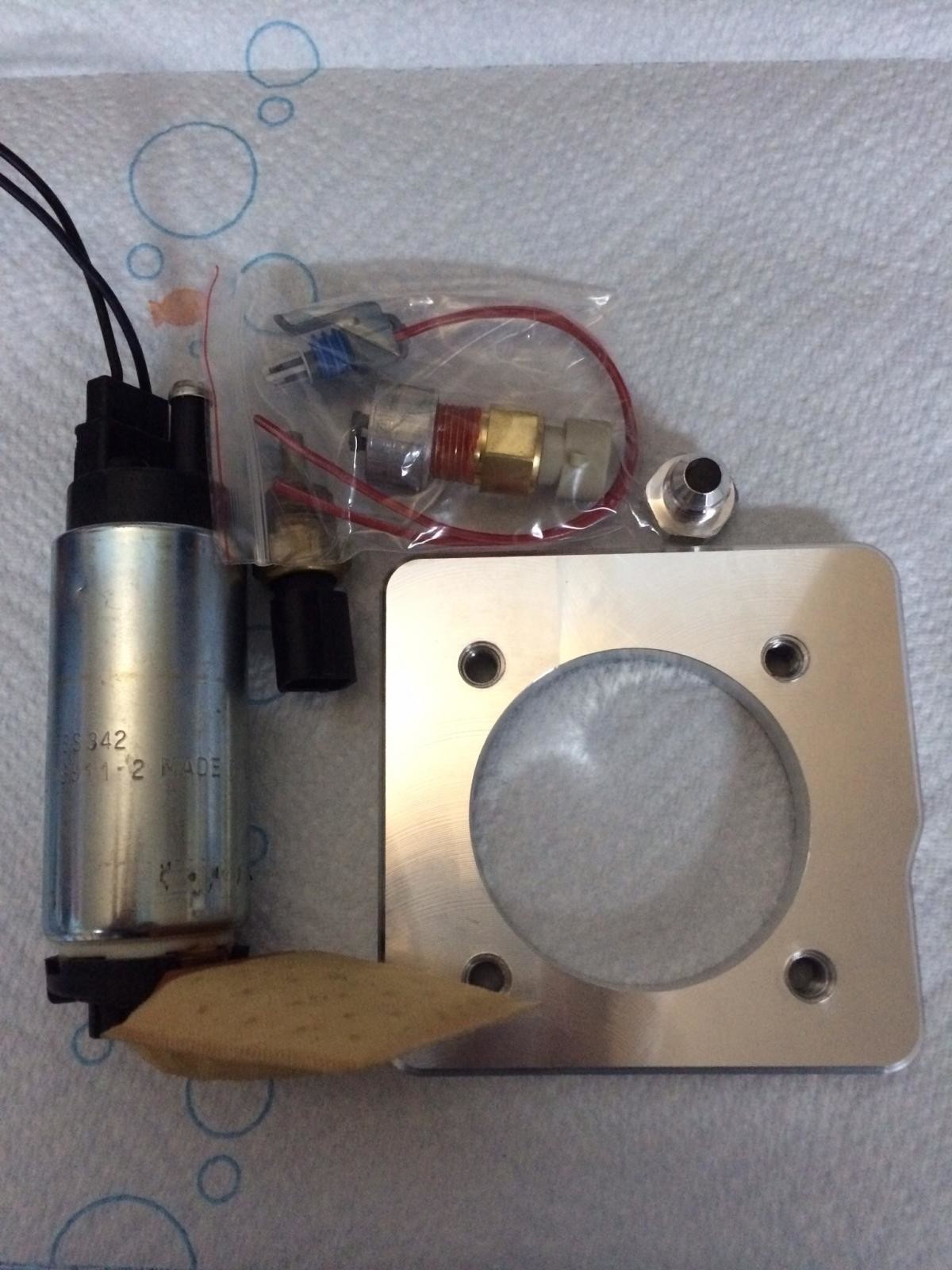 My friend took this photo at local car meet.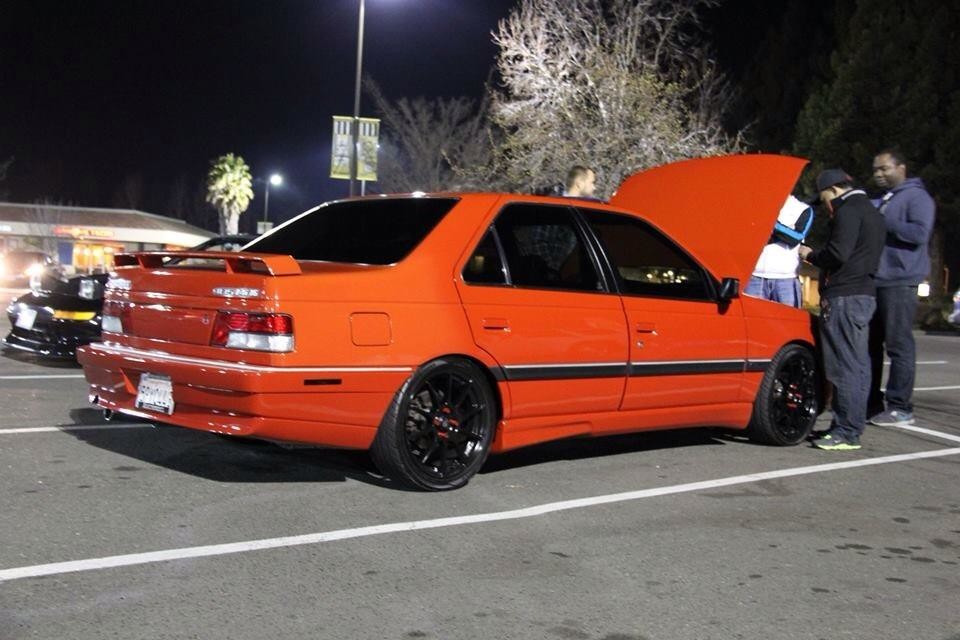 New tail lights and tires that I got few weeks ago.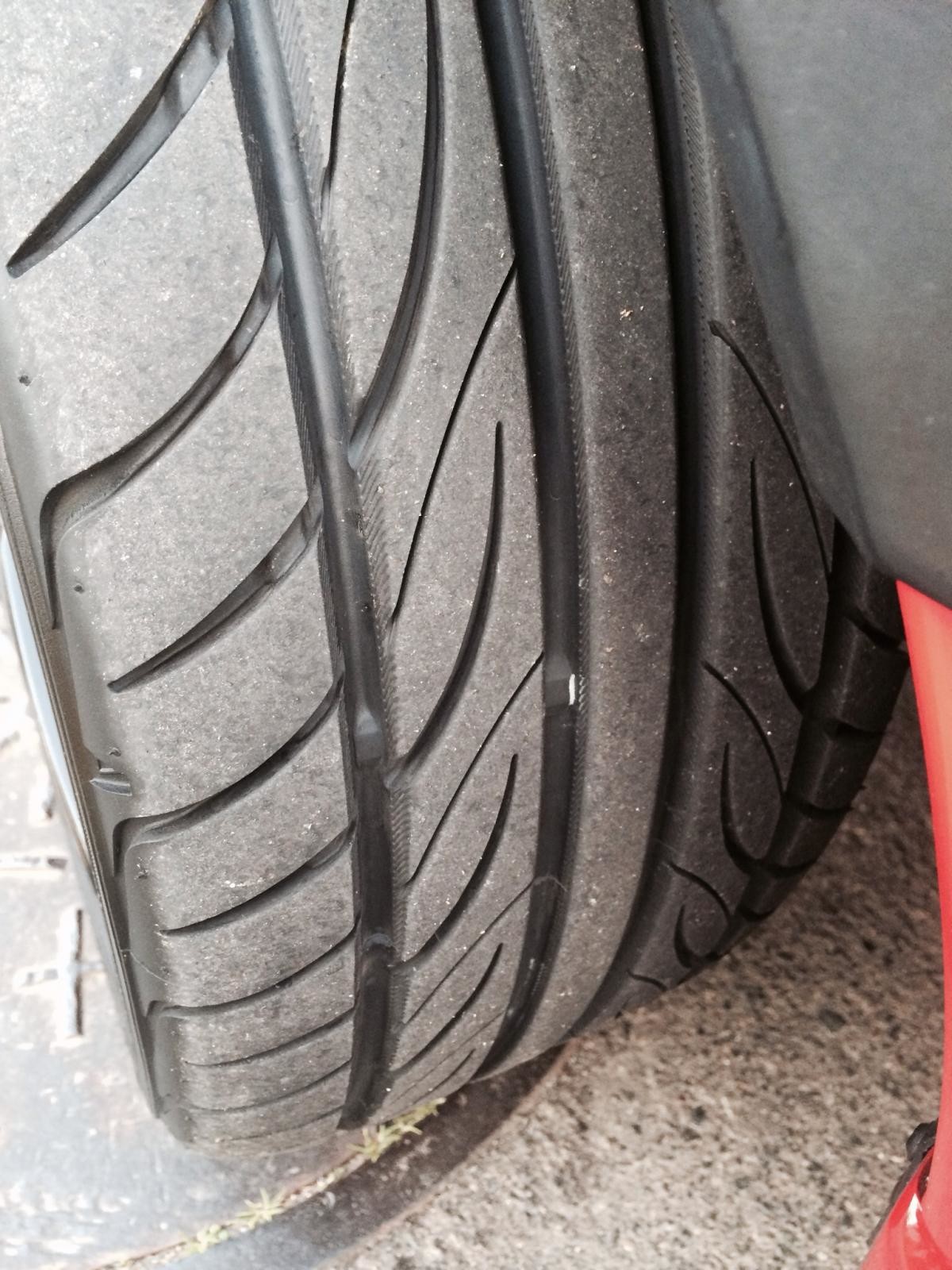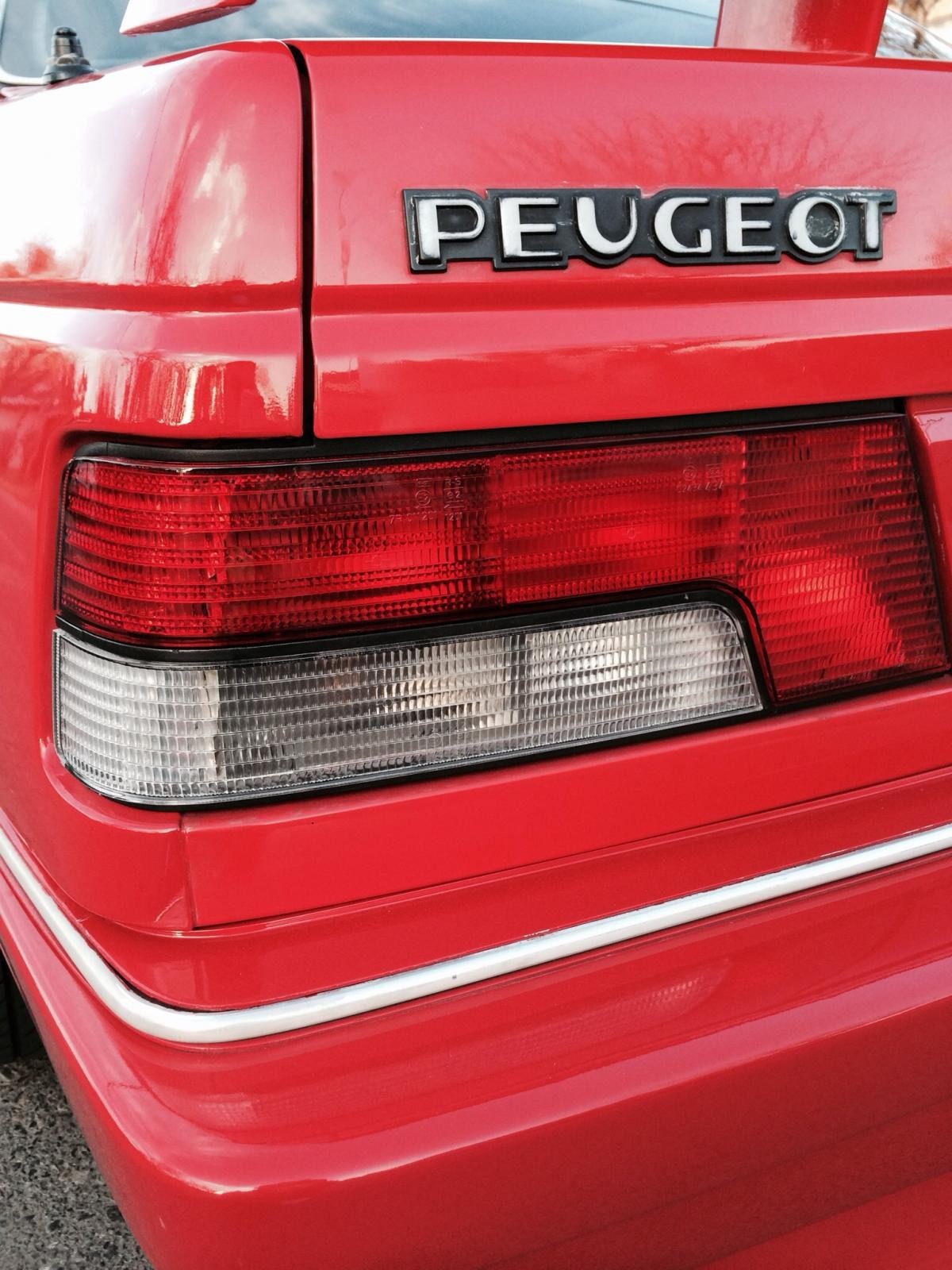 And this.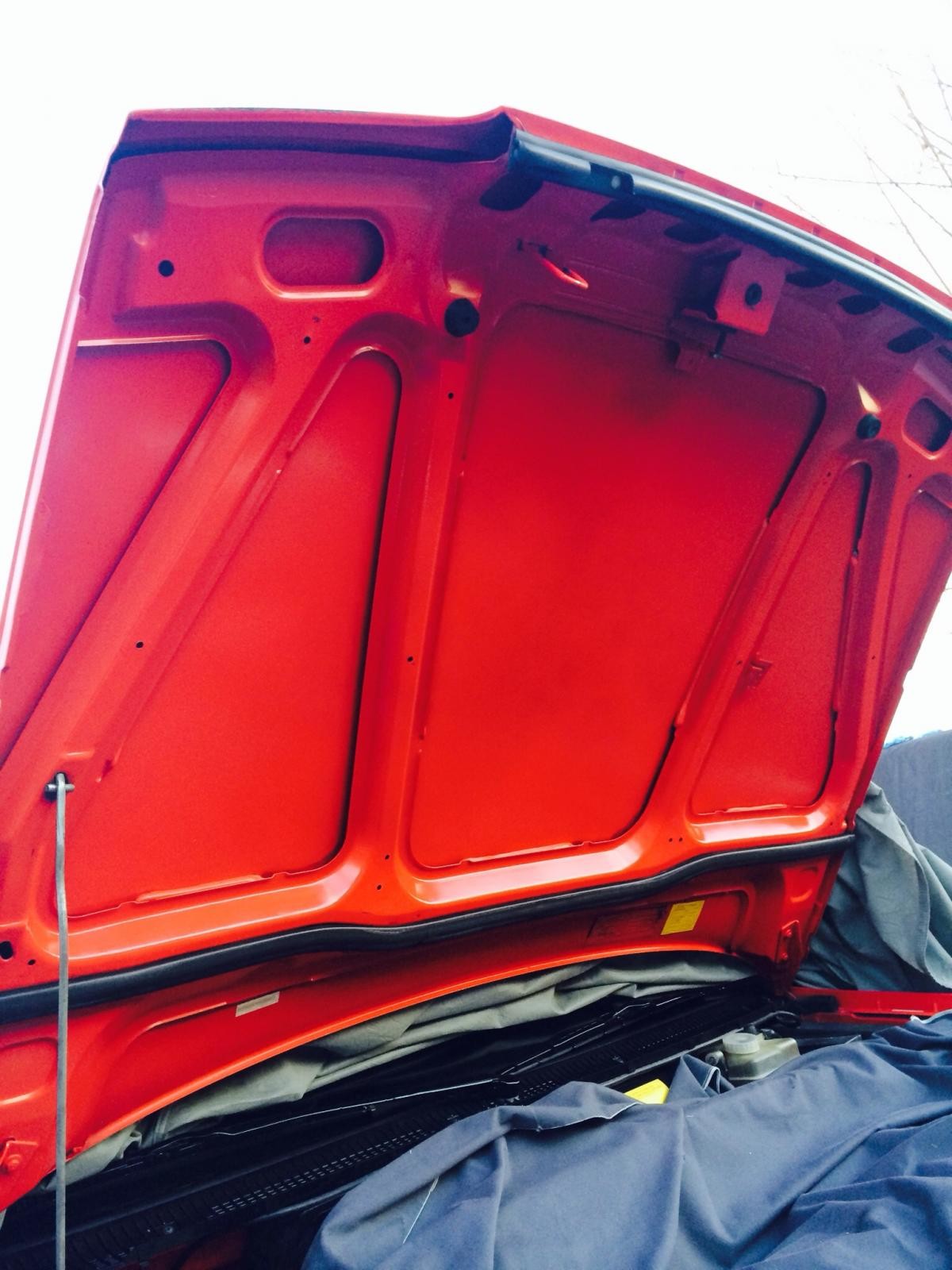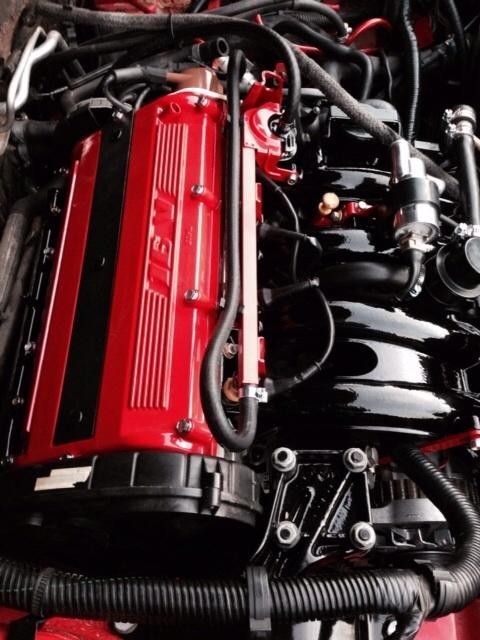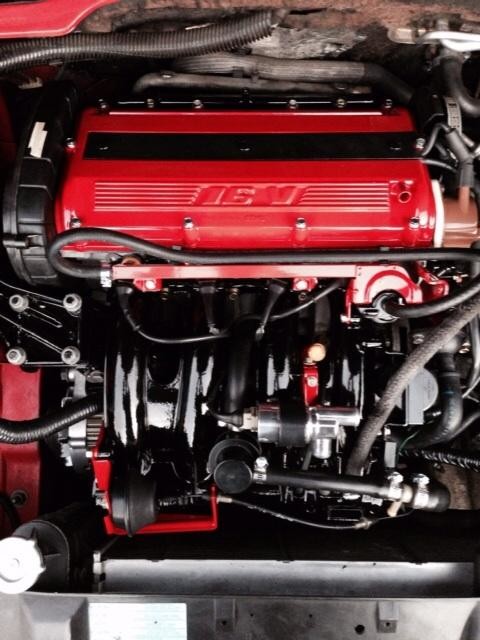 1-24-2014
One more picture off 2g DSM parts that I will be using for ECMlink swap.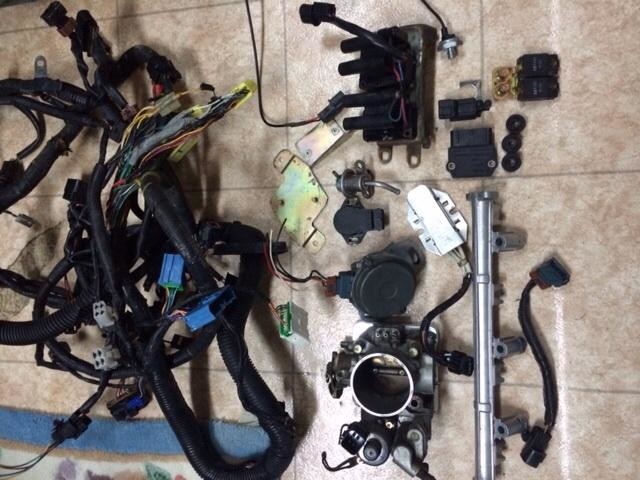 1-30-2014
I got few pictures with my good camera.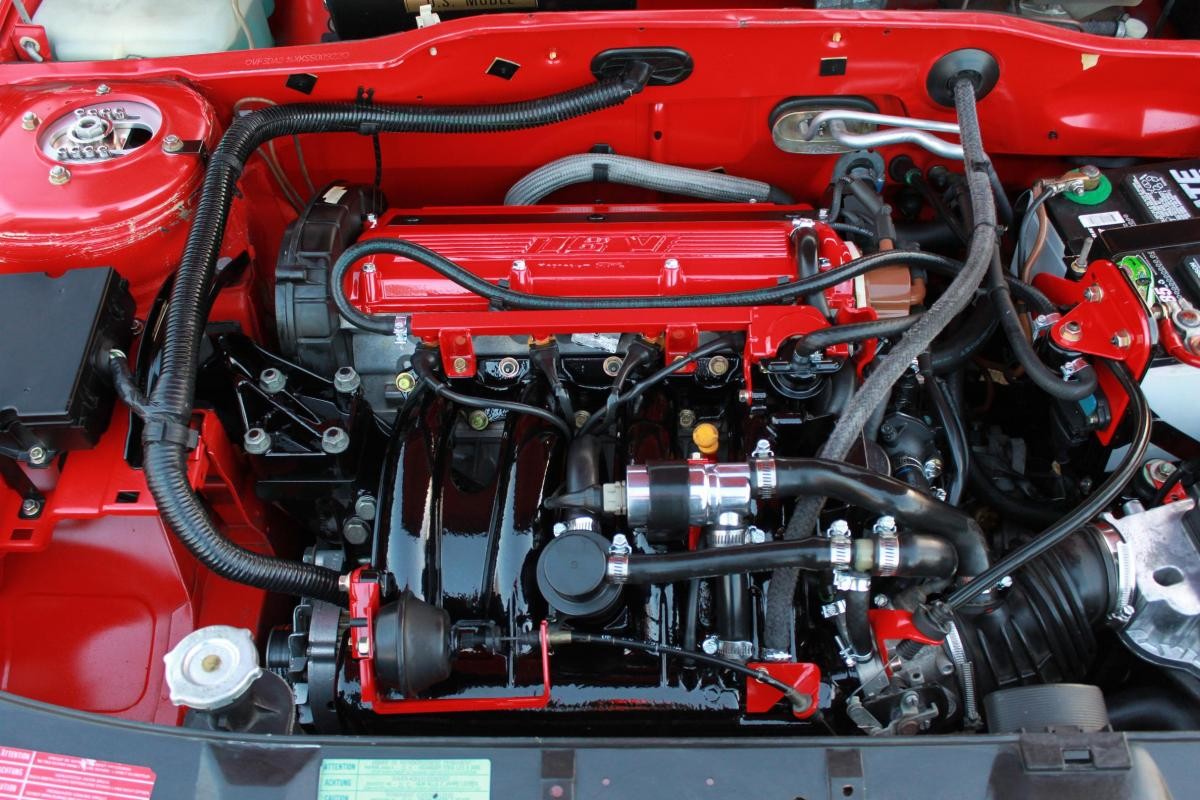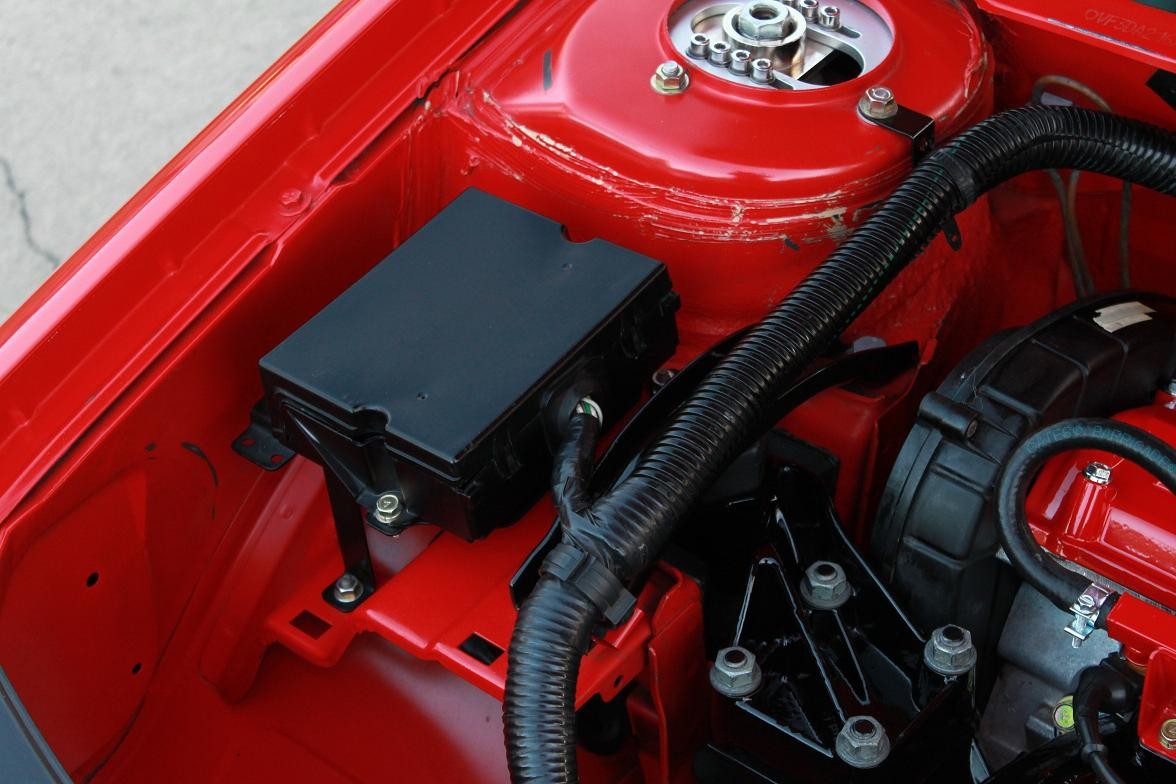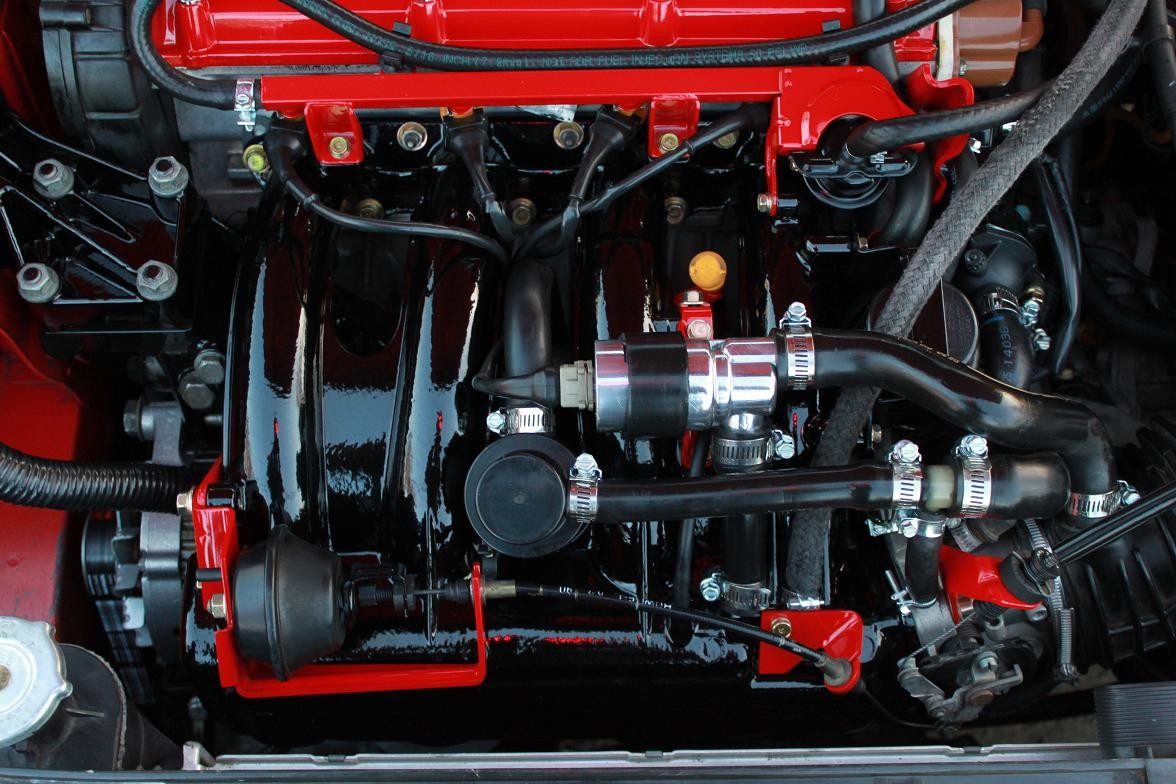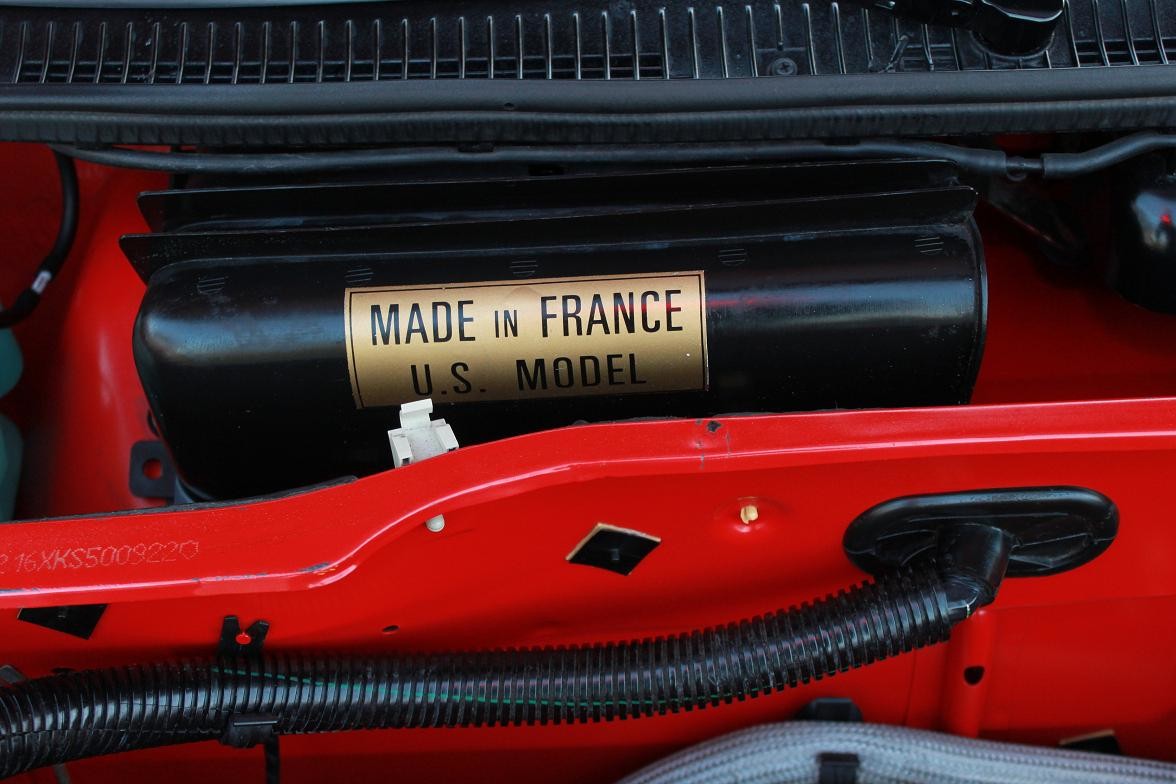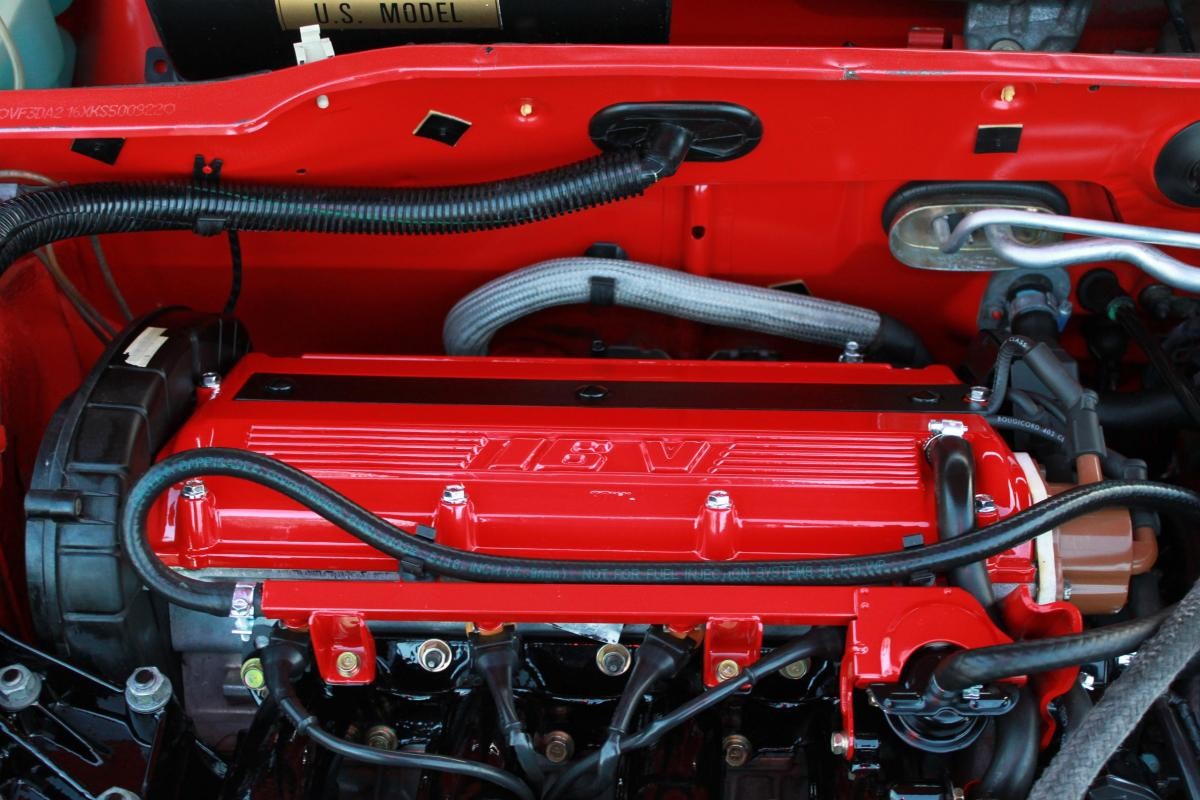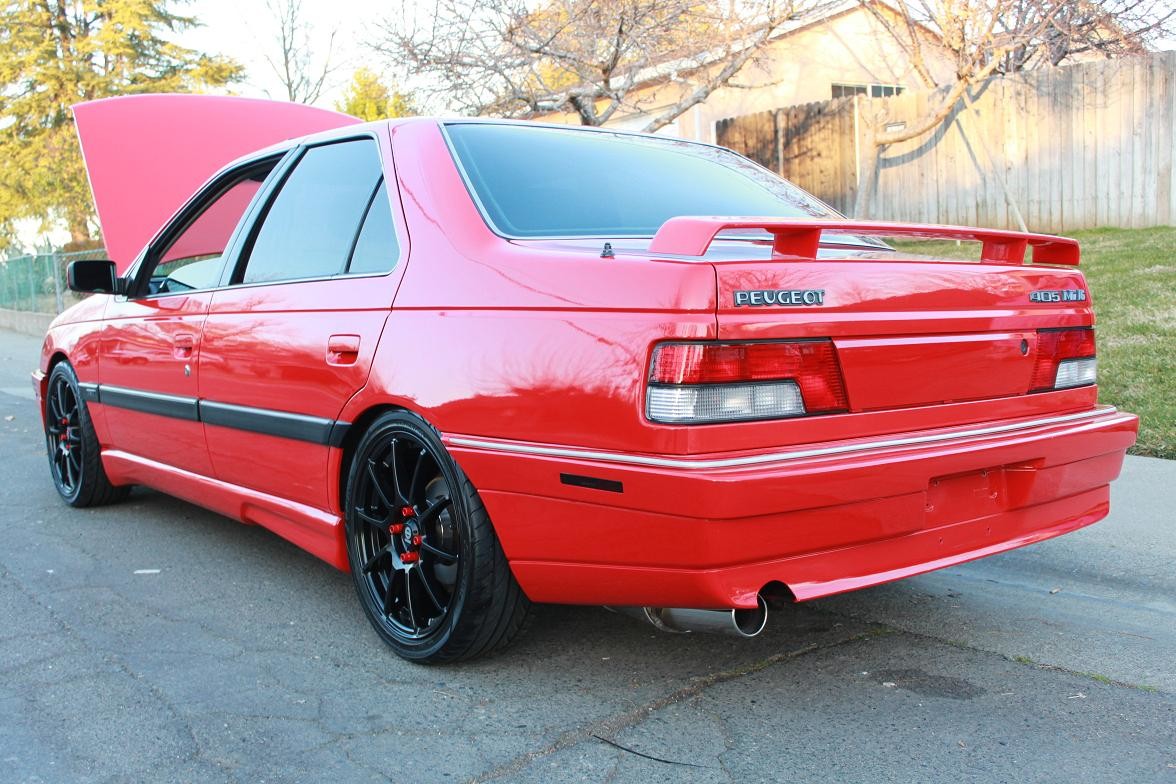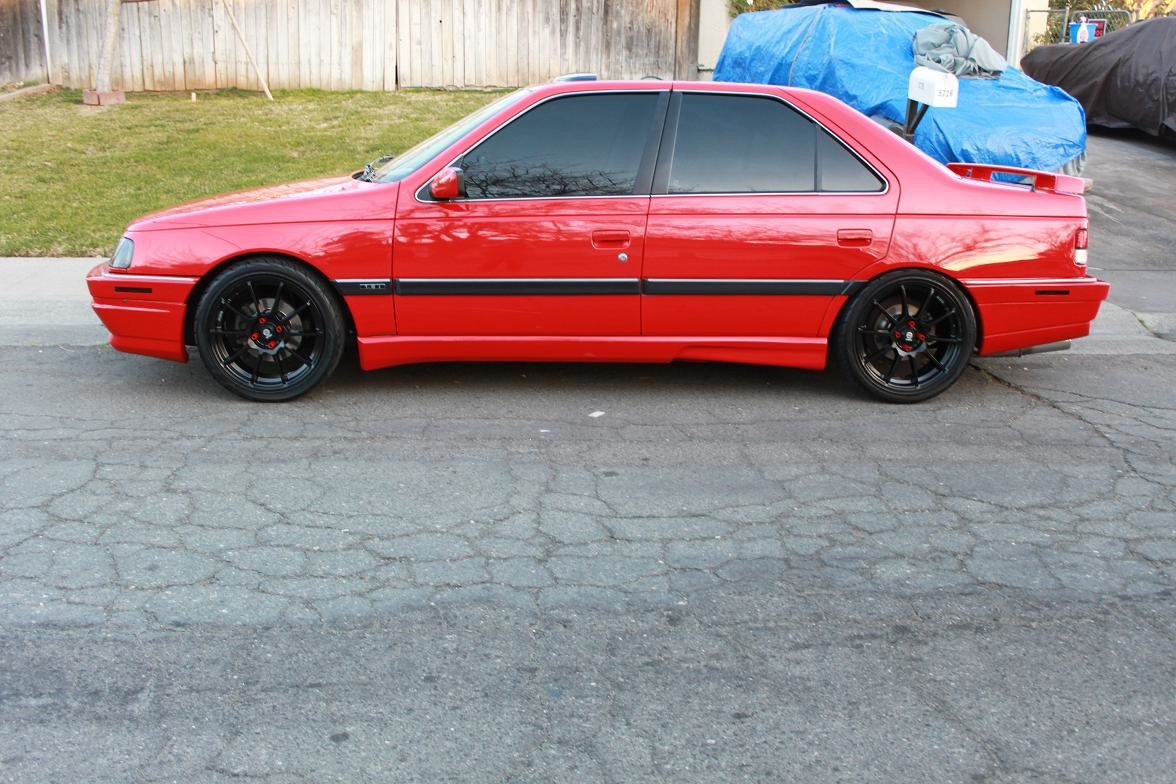 She cleaned up nice :-)
3-2-2014
I finally got some free time to work on ECM link XU9J4 project. I mounted EVO 560 injectors,2gDSM fuel rail,1g DSM TB flange and -6 fuel feed adopter. Tomorrow I'll take it to my welder then shipp it out to powder coater.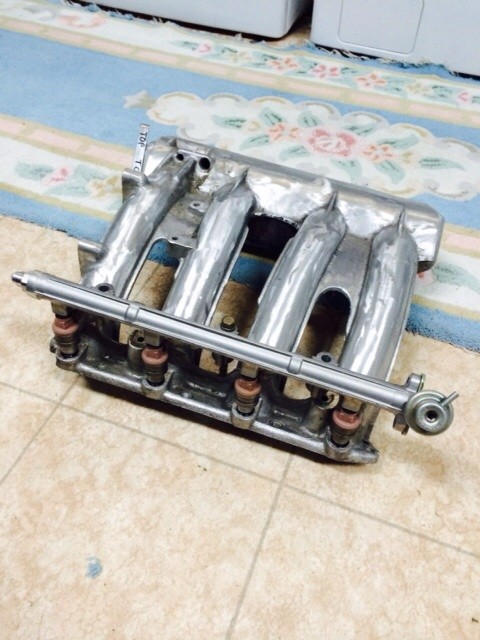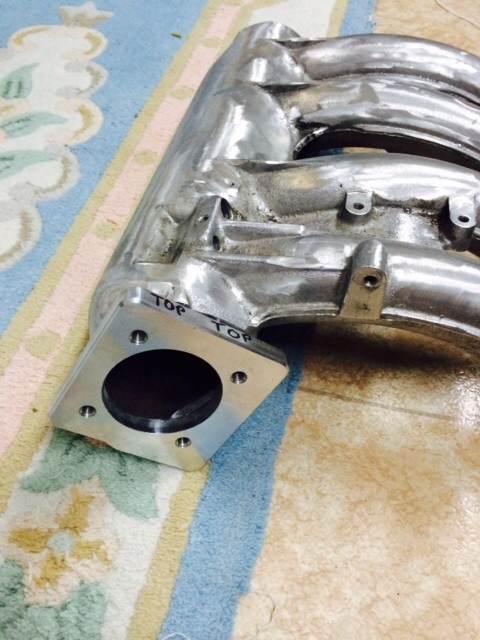 3-20-2014
I started on black leather interior swap today.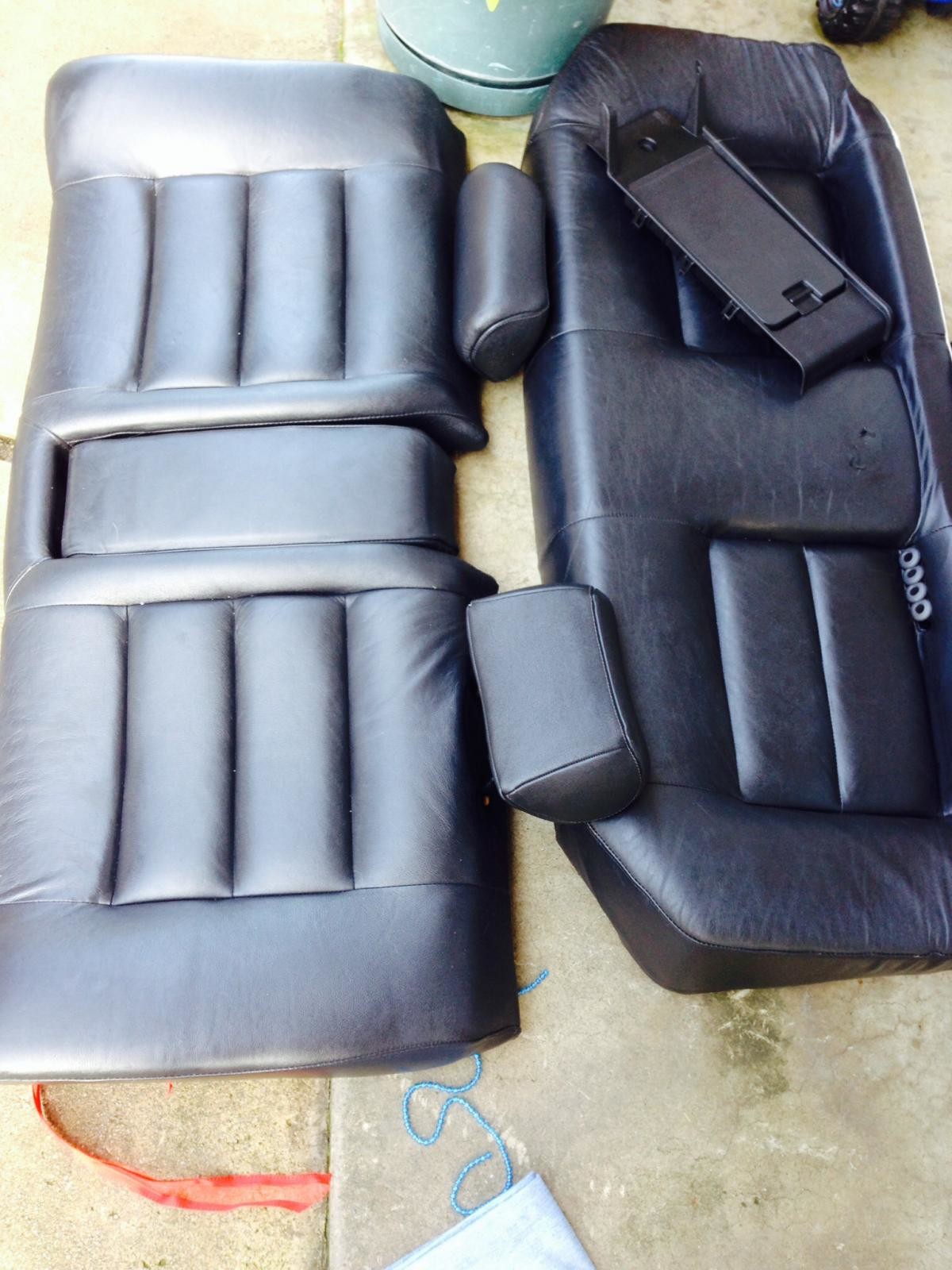 3-31-2014
I swaped sunroof and black leather interior today. I also got new headliner fabric done at upholstery shop it was only $165.
4-1-2014
It has been raining here for two weeks now,as soon as it clears up I'll take few pictures. Sunday was clear for few hours so that was just enough to finish interior swap. I still need to swap over dash board :-(
4-21-2014
I took few pictures this weekend of my 91 black leather interior swap.
Rear seat have one small cut and driver side seat stiching is coming a part. Otherwise is good for being 23 years old.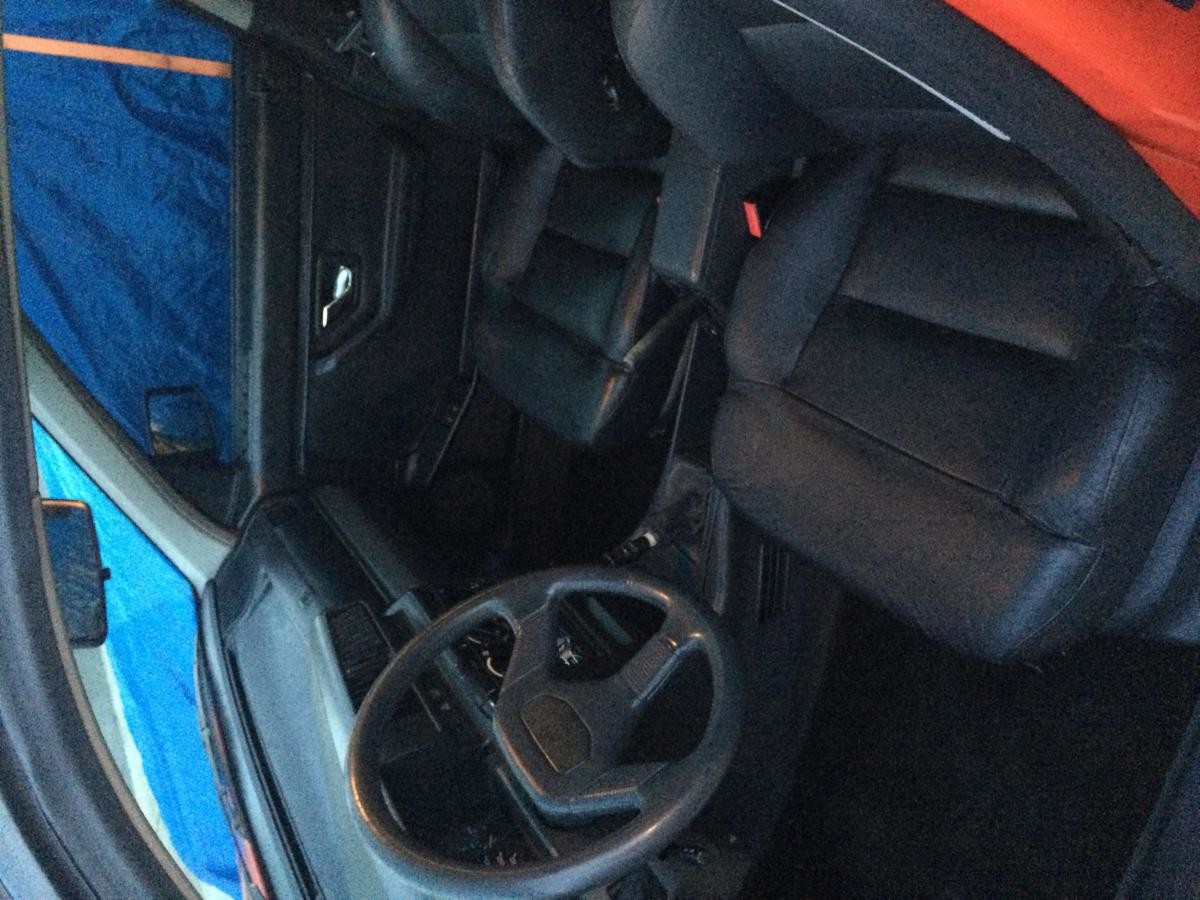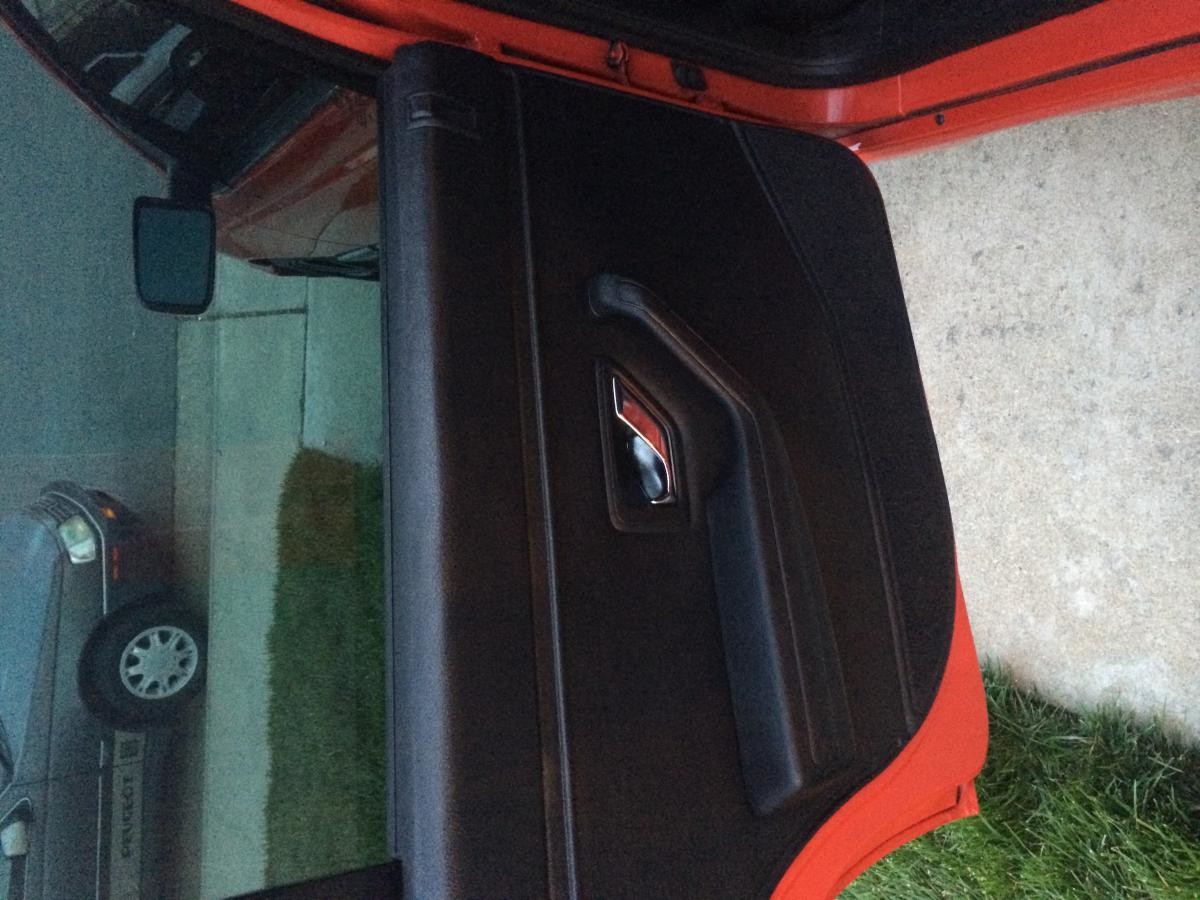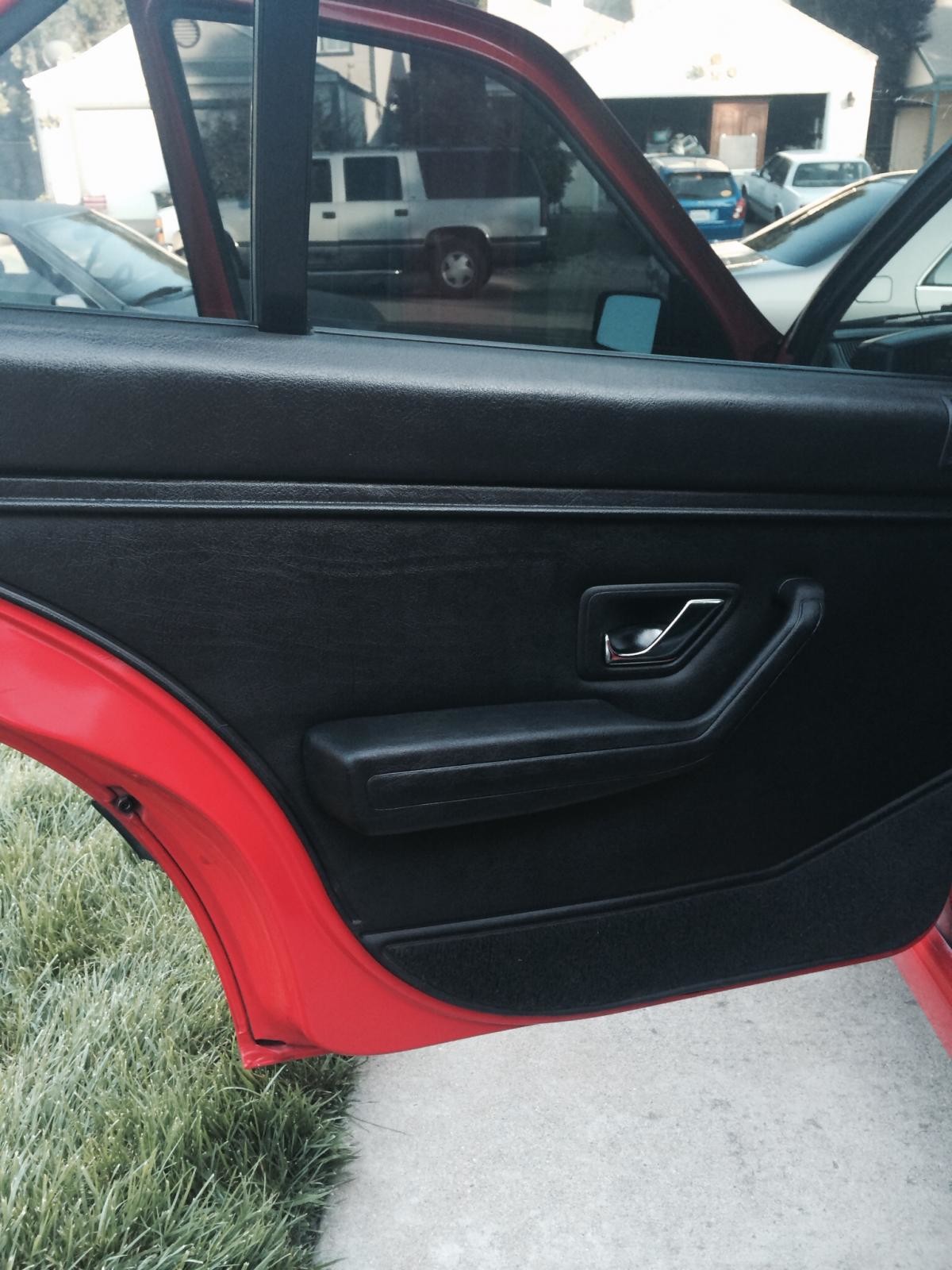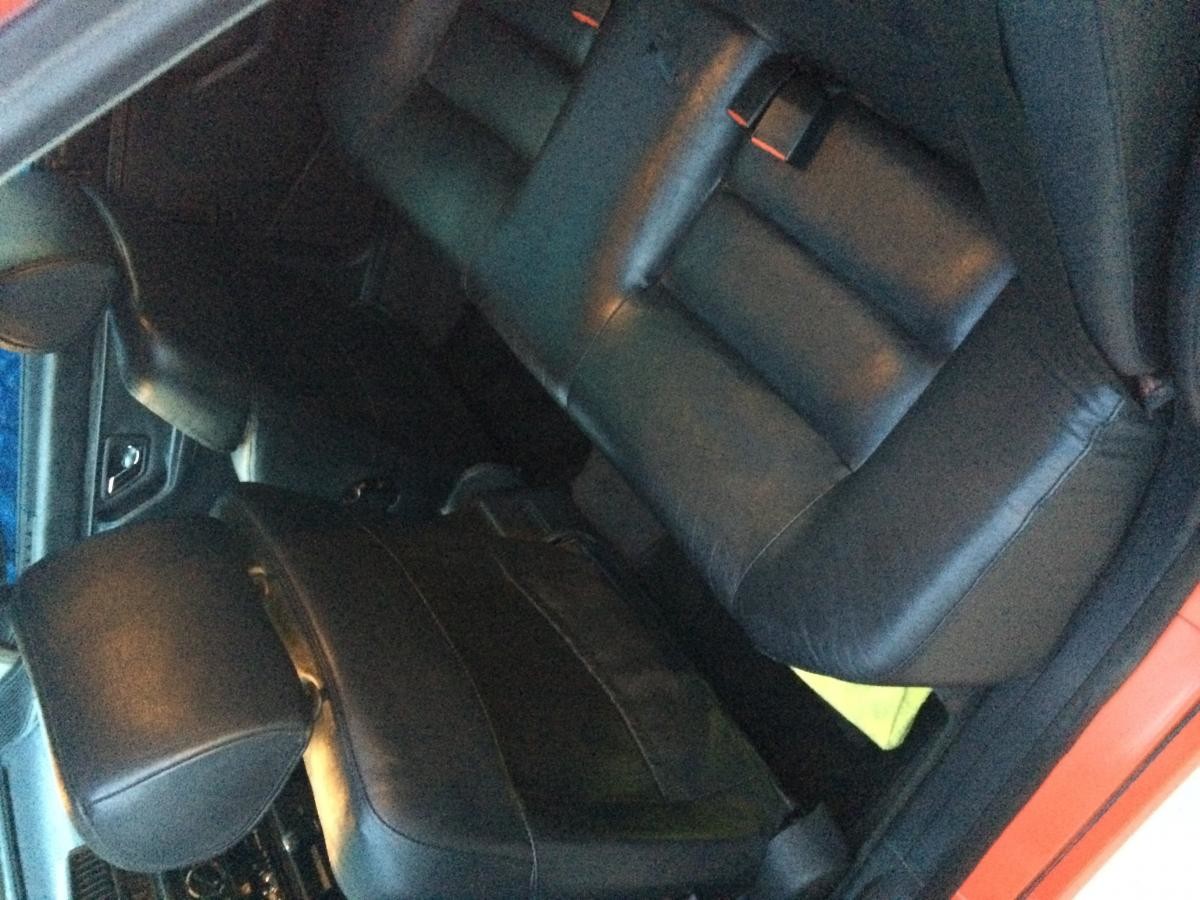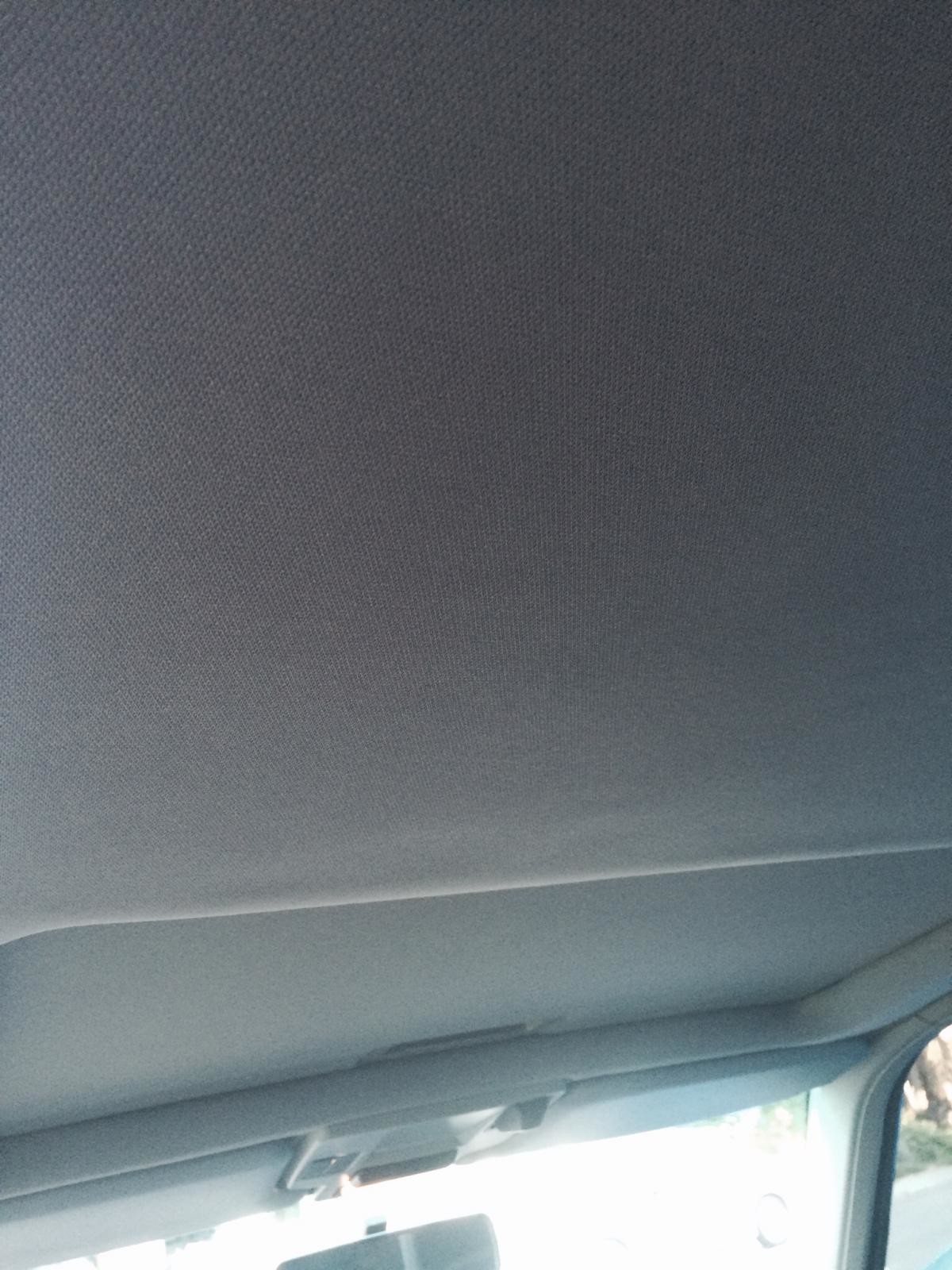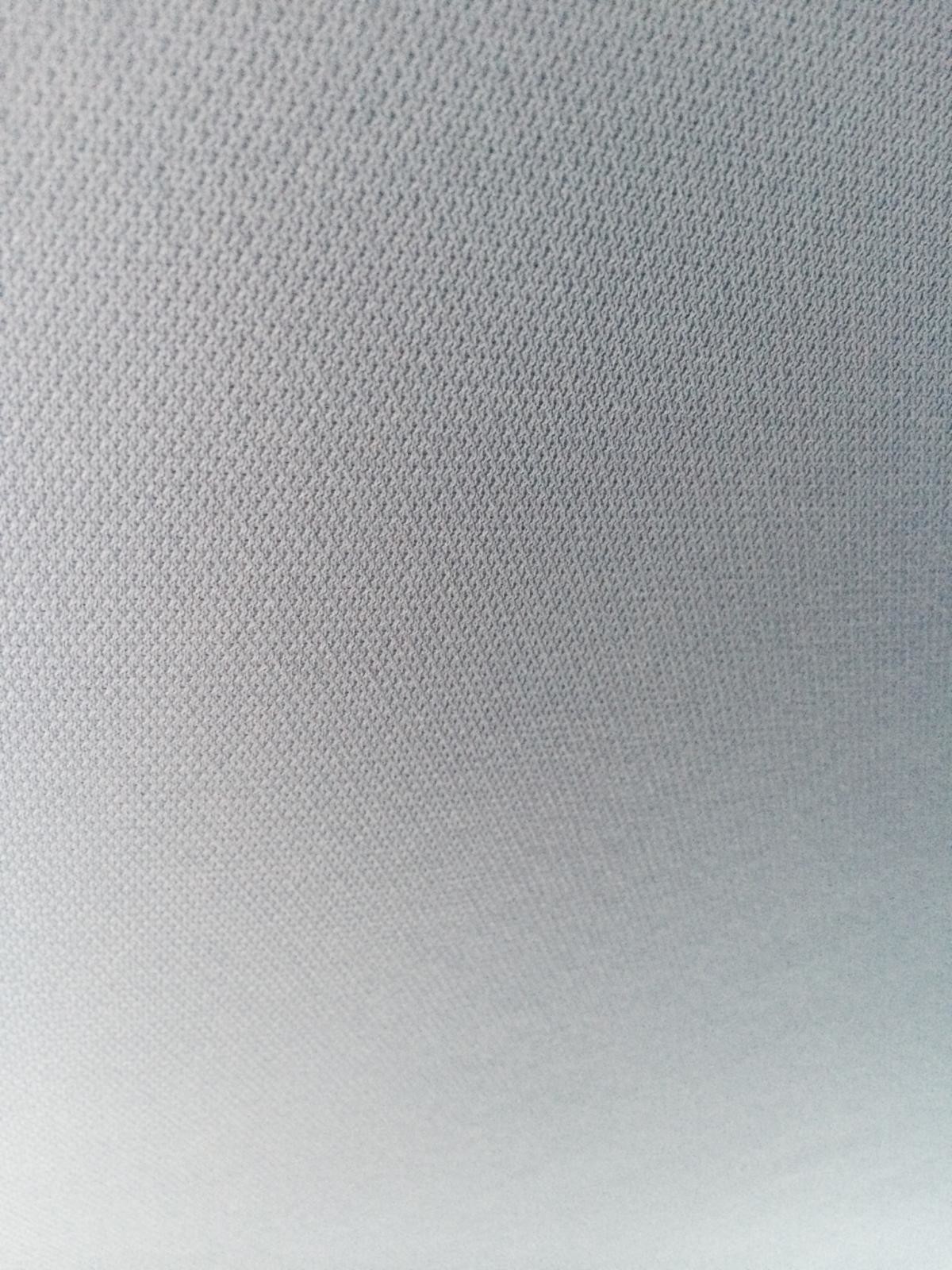 I still need to swap the dash and center console.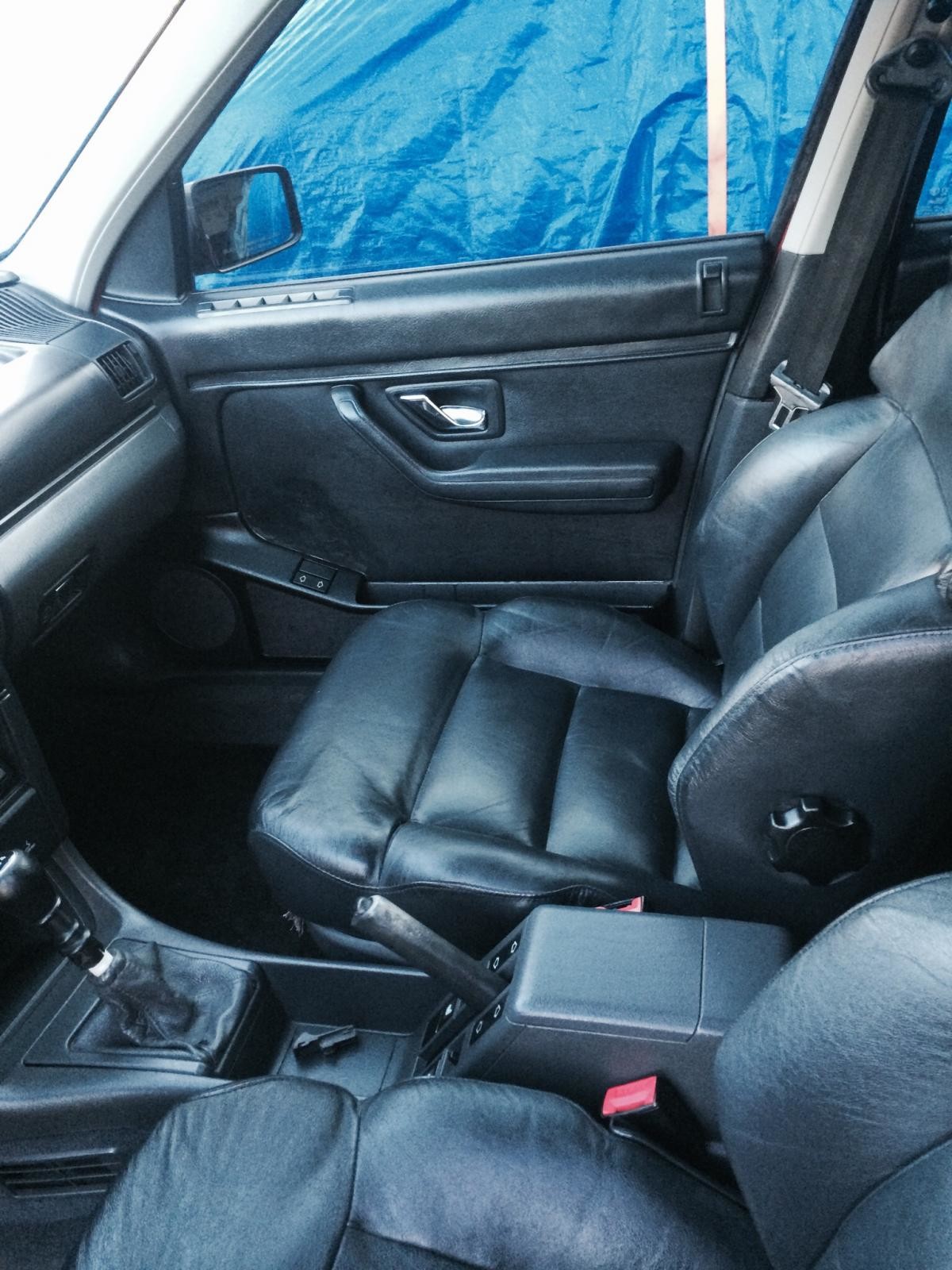 5-8-2014
About time this got in :-) #DSMPeugeotECMlinkProject#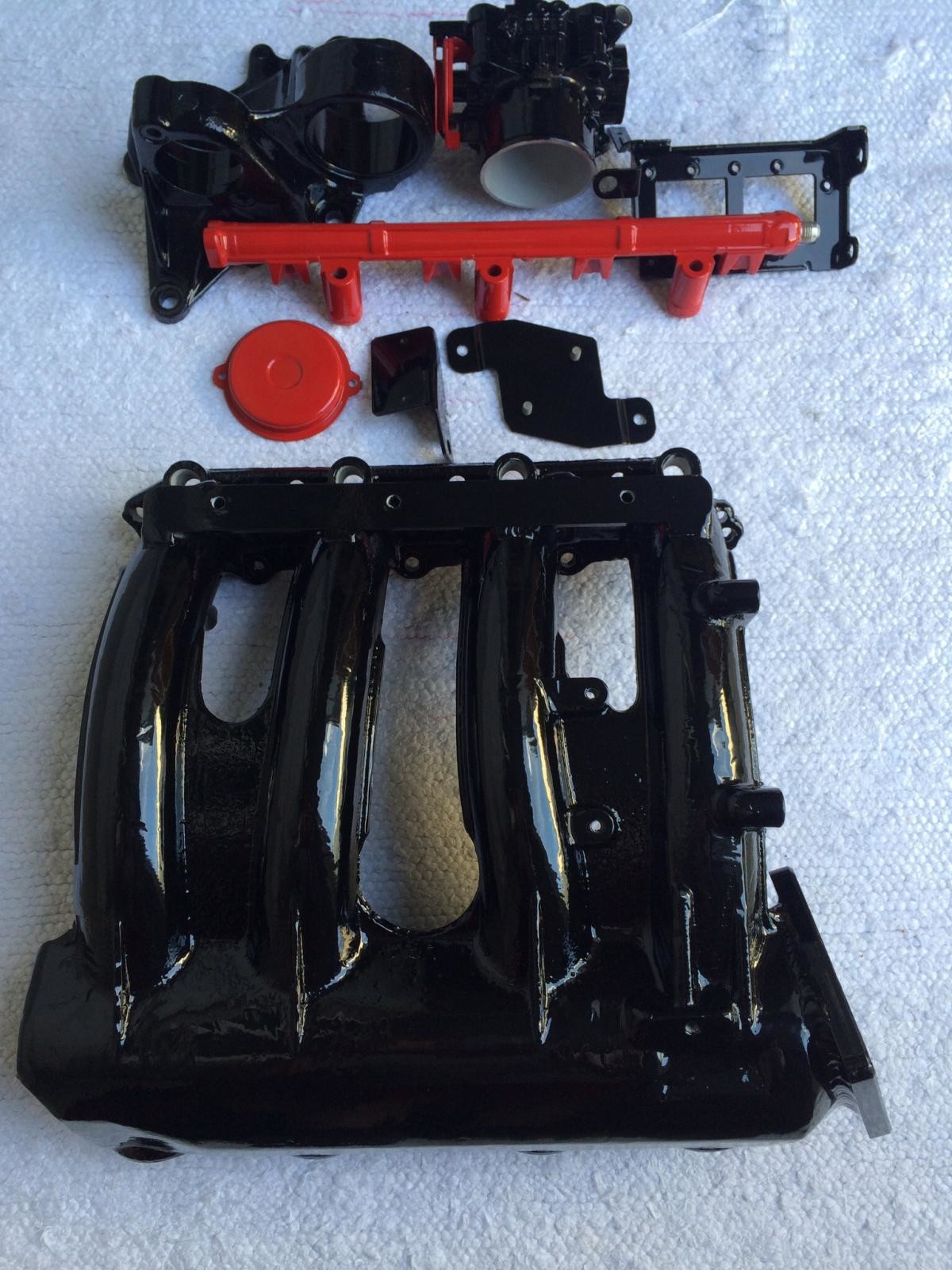 6-16-2014
Euro glass headlights and 2g DSM AWD leather shift knob.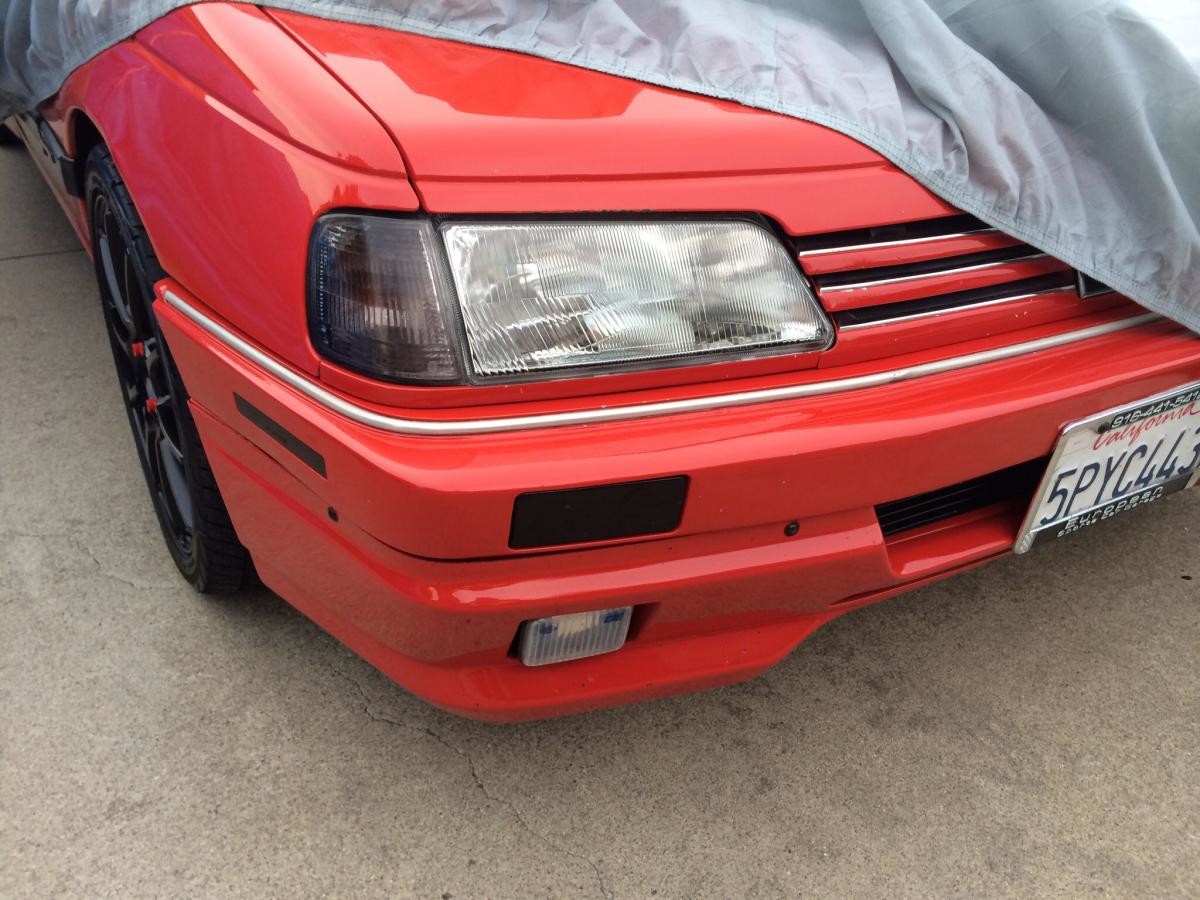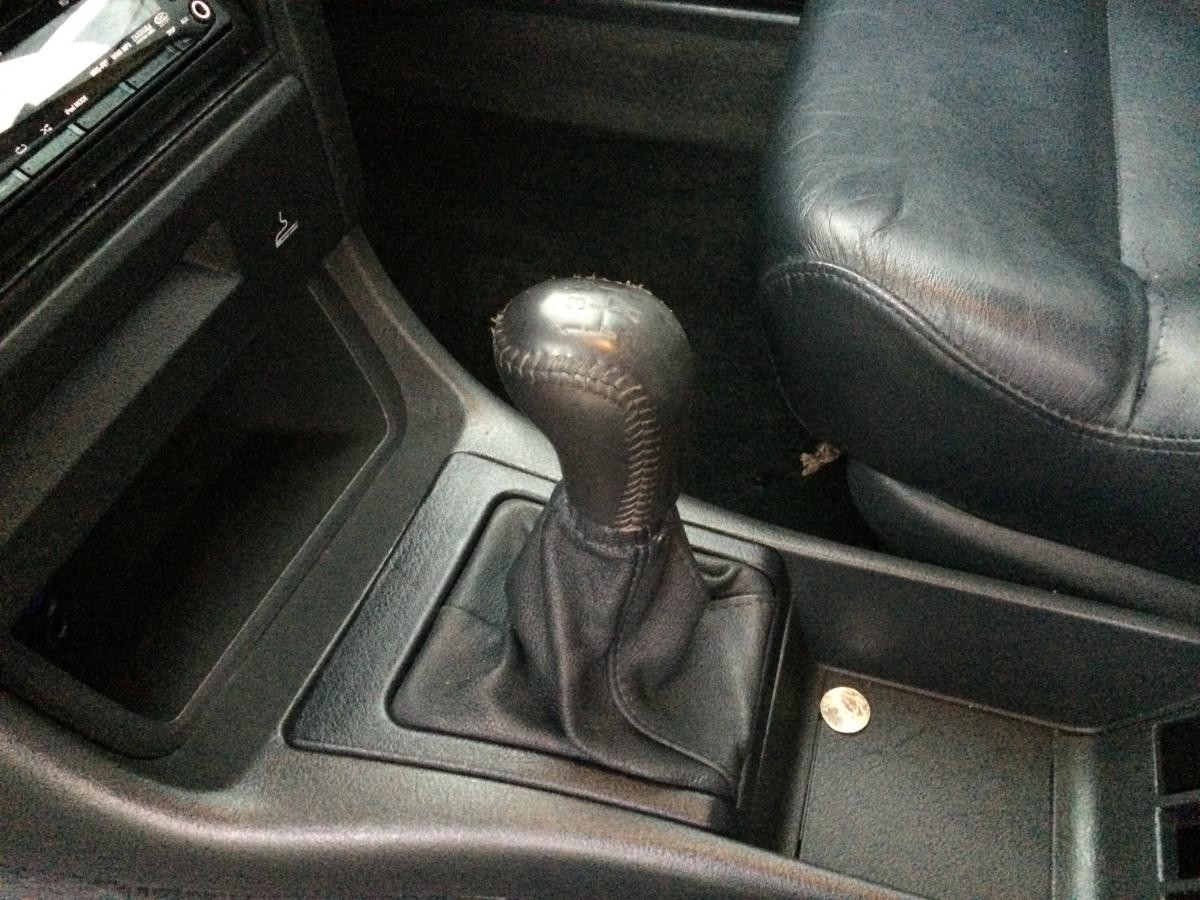 7-14-2014
I decided to use Beilstein CO's for this car,I sent out springs and top hats to powder coater and I'll clean up and paint shocks to have them look new again. I also bolted IM for ECMlink project. This weekend I'll remove dash to install black one out of 91 and that would complete 91 black leather interior swap. Last few and next few weeks will make me a busy boy.
8-6-2014
Update:
I was very busy last few months with MI16 engine swap in my 405 Wagon and just got red Spyder done so I finally made progress on this project.
Last saturday I removed factroy intake,injectors,FP regulator,fuel hoses,cap-rotor,spark plug wires,fuel dampner,ECM and wire harness. On Sunday I bolted modified intake manifold with with EVO 560's,2g DSM fuel rail,1g NT TB and all 2g sensors.
Today I was working on OBD II connector, Peugeot body side plugs and 2g harness.
Picture bellow is two body side plugs that will give me 12V,Grounds,charge light, oil pressure light, oil level light, charge light, check engine light, starter signal and so on.These wires will connect to 2g harness so at any needed time they can be disconnected for any needed repairs or engine swap.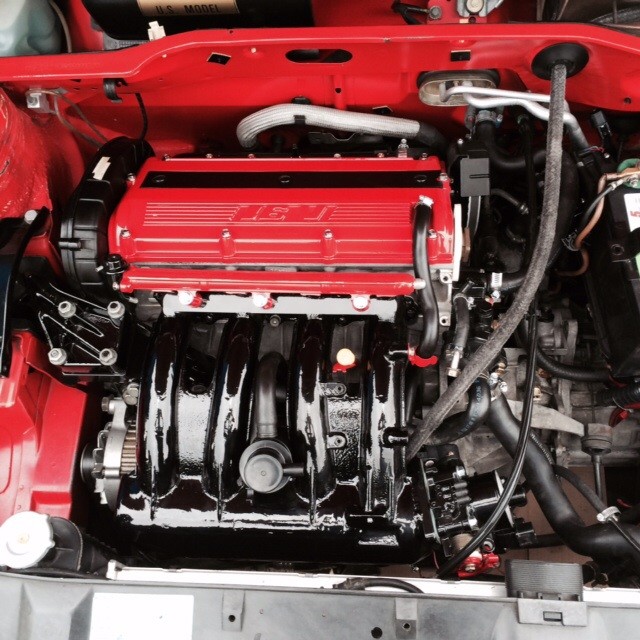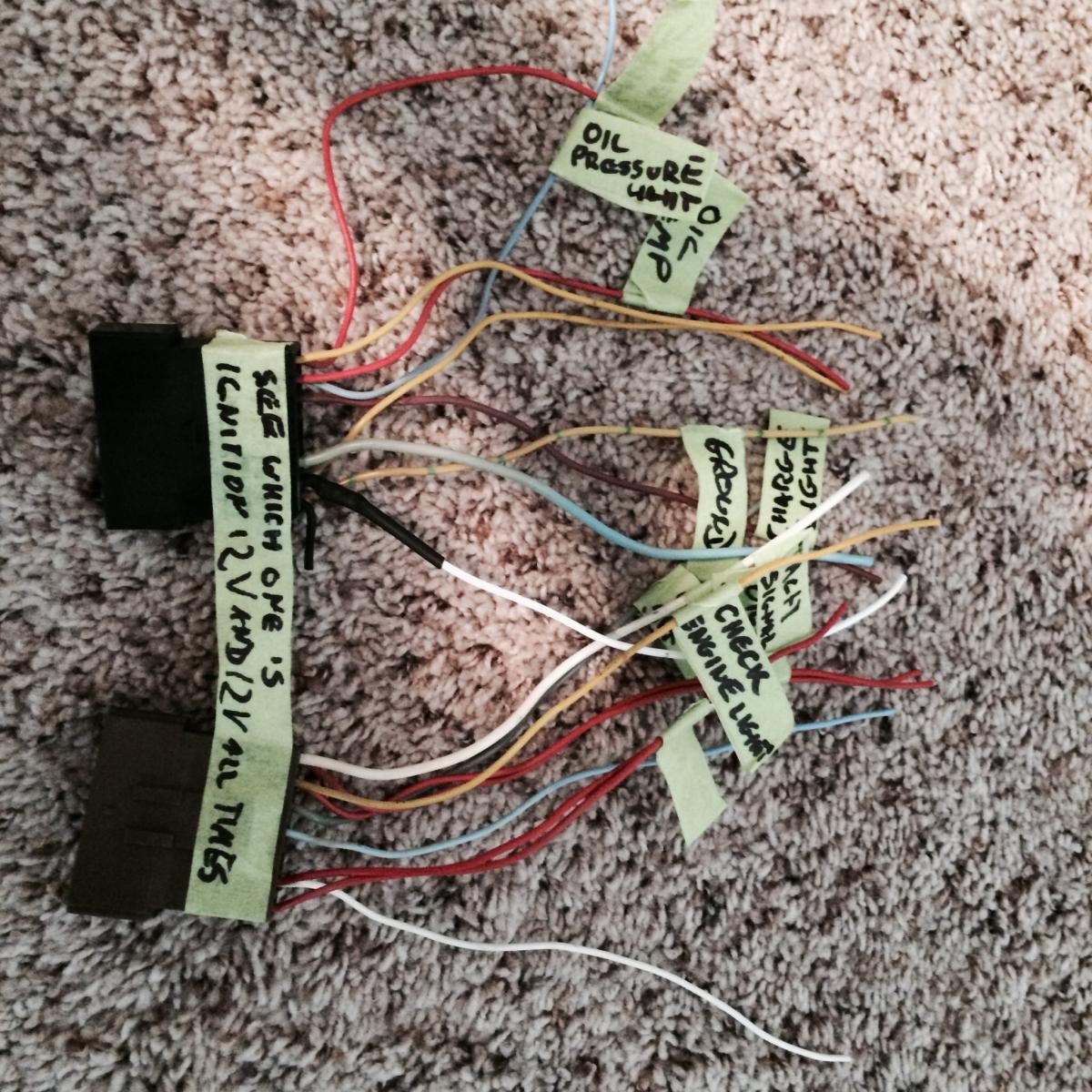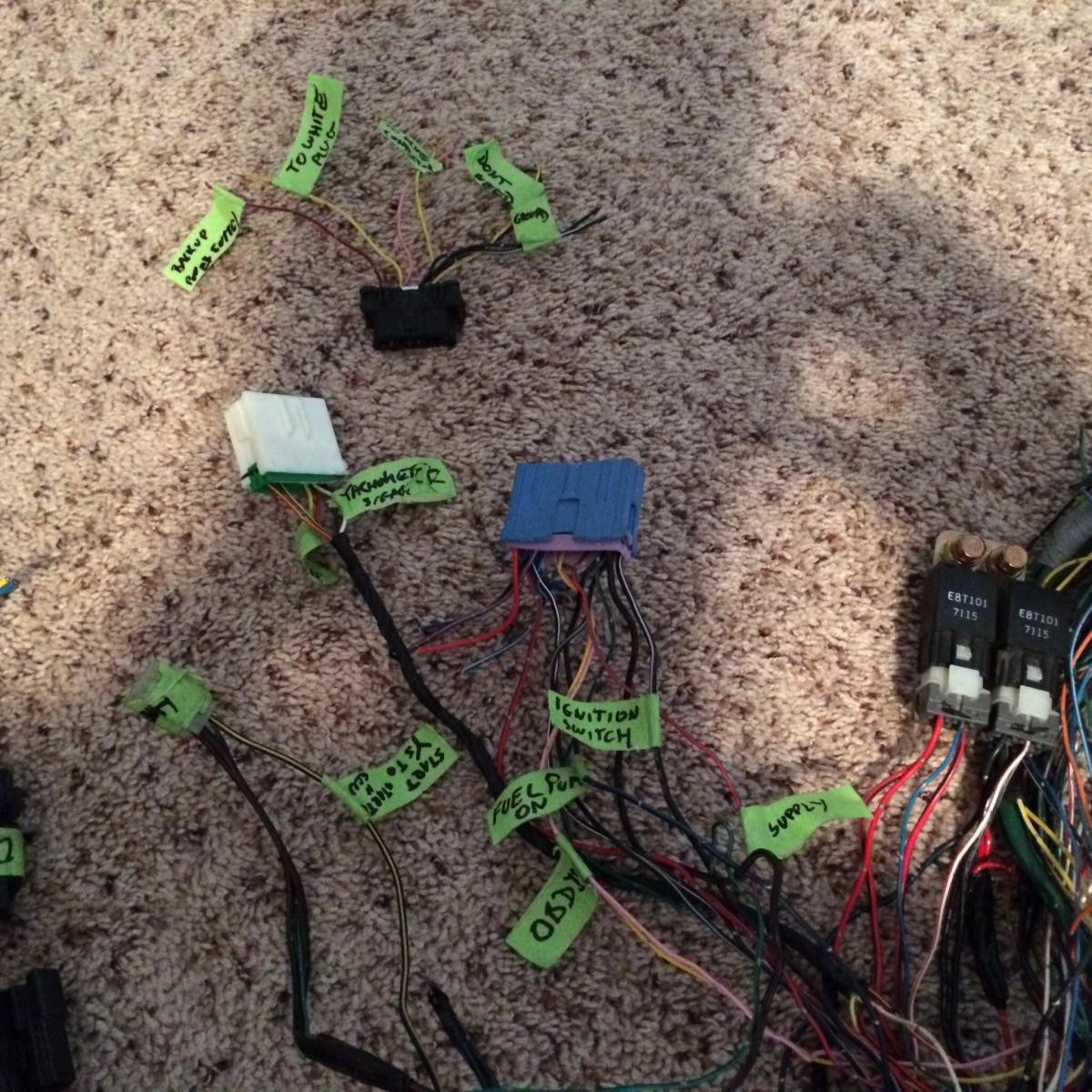 9-15-2014
I had to remove IM for wire harness test fit and I added new vacuum fittings on the bottom of IM. Also I made coil pack bracket and found new home for ignitior,resistor pack and purge valve.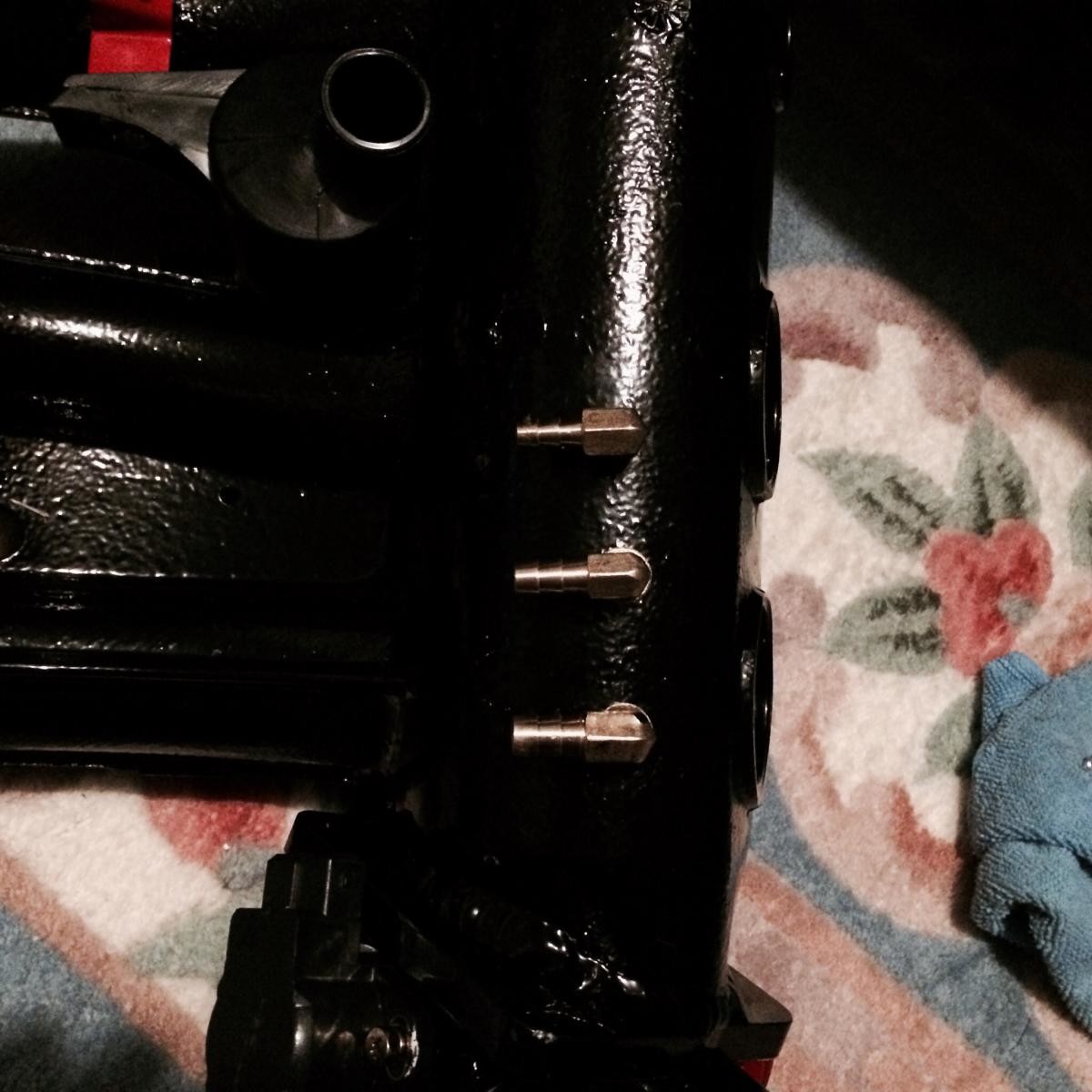 11-19-2014
Black dash and interior is finally finished. I ordered lower roller bearing and shim kit for coilover springs and new camber plates.
Here is picture of 2g DSM roller mount installed in XU9J4 roll engine bracket. Also ECMlink swap is 70% done.
I'm happy with results. I also ordered one for my Wagon.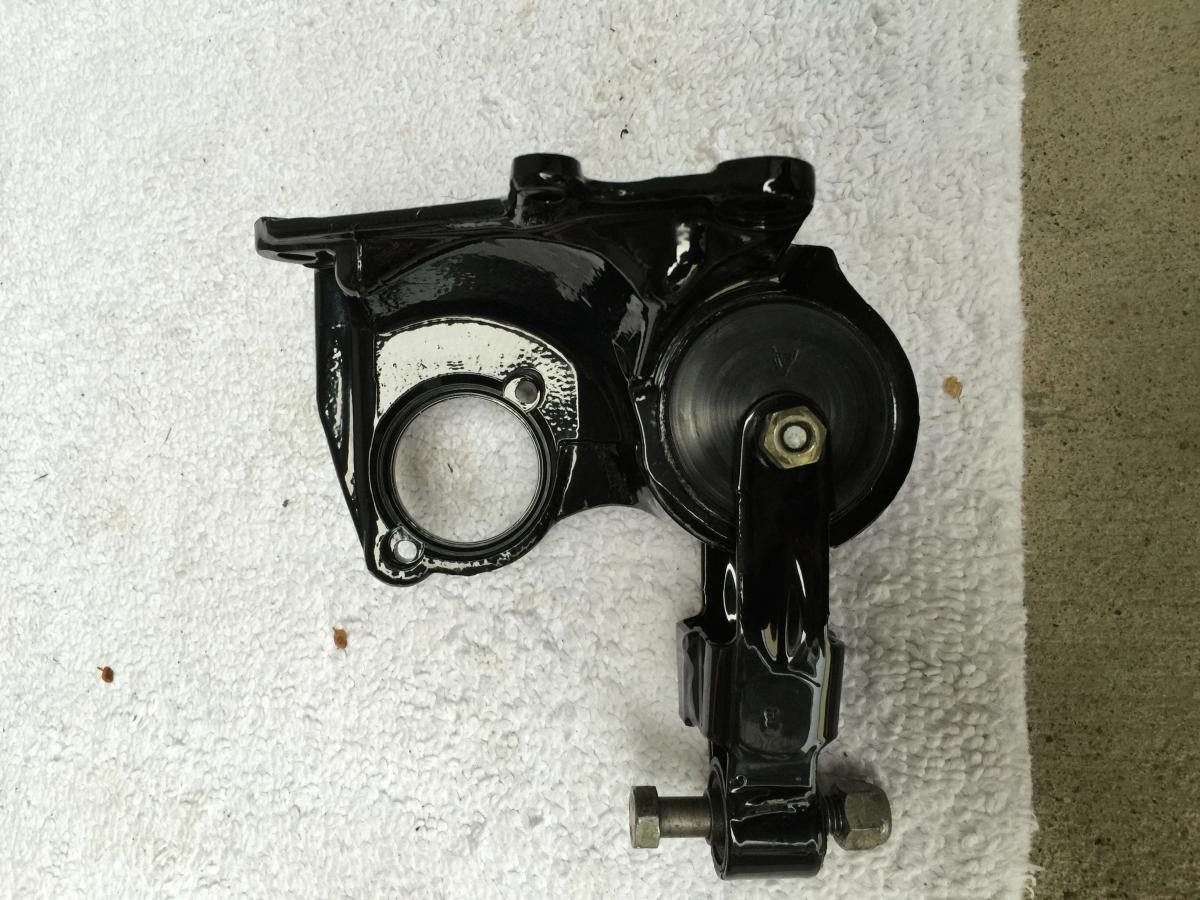 11-23-2014
IM,EVO 560's injectors,2g DSM rail and 1g NT TB is permanently mounted.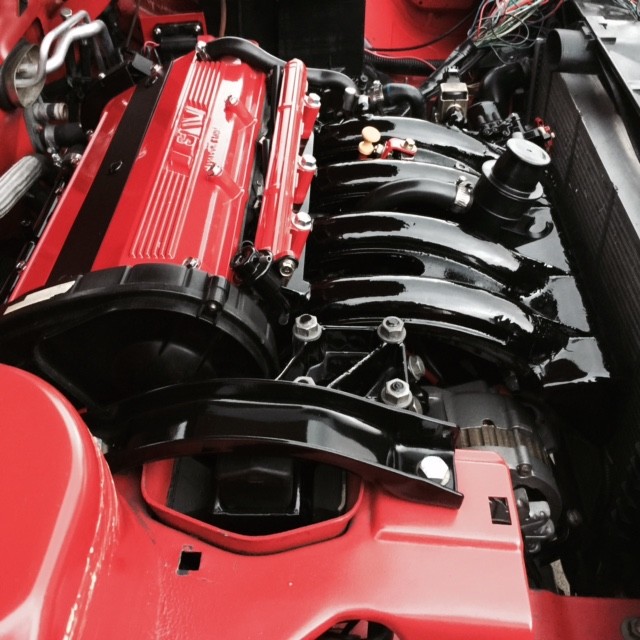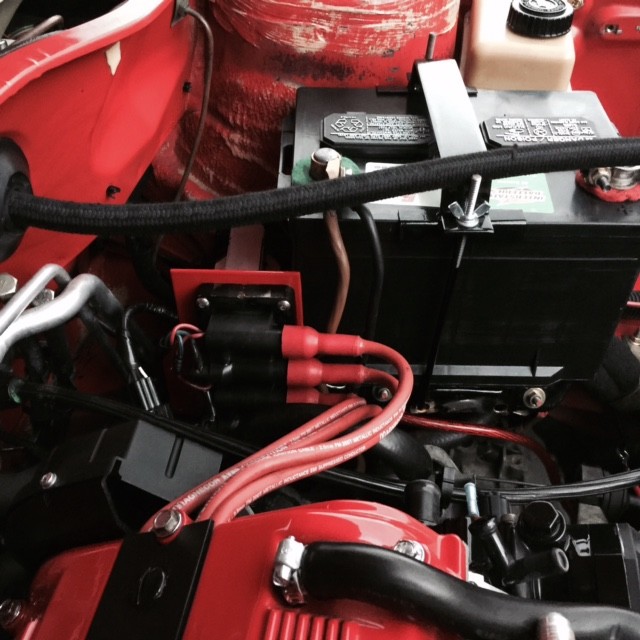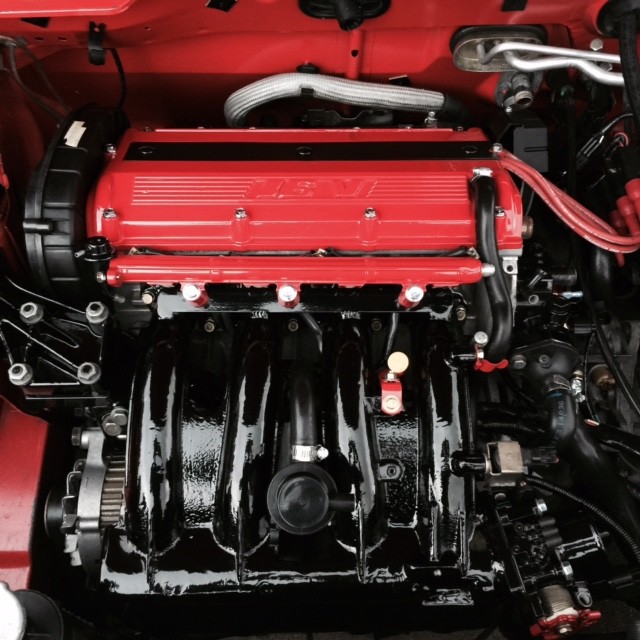 OBD II diagnostic port is actually mounted pointing down just like on any OBD II vehicles.
Injector pack and coils are mounted on battery tray.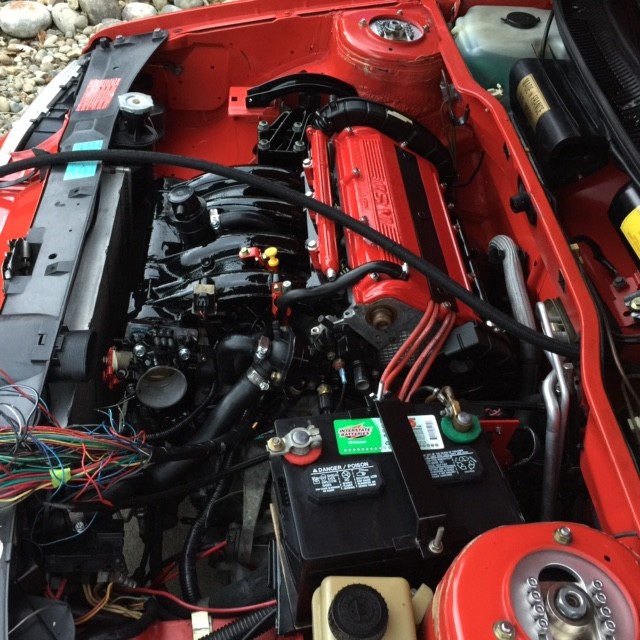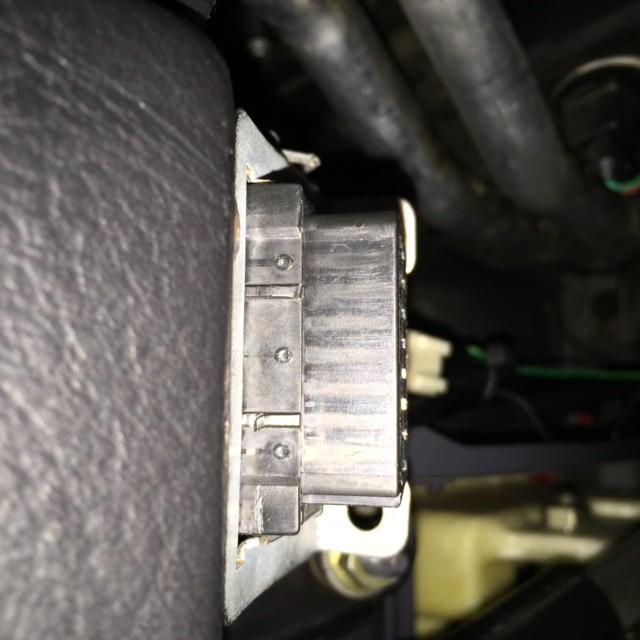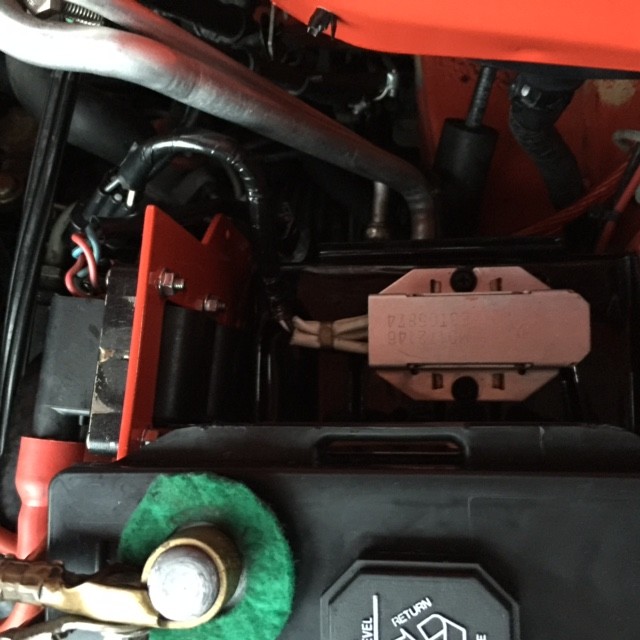 I drilled and tapped 2g DSMcoolant temp sensor is same location where Bosch one was before.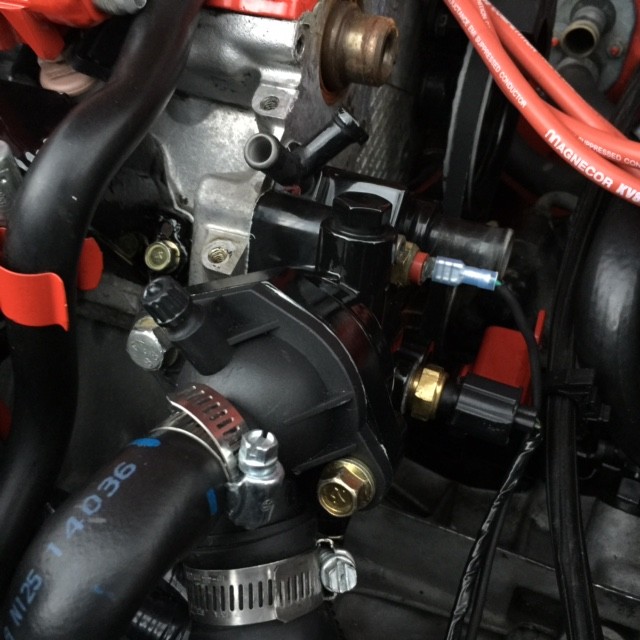 12-9-2014
I got new lower bearings,camber plates,new hardware,adjusment wrench,helper spring spacer and helper spring.I'm still waiting on my Machinest to make me new top hat for upper spring.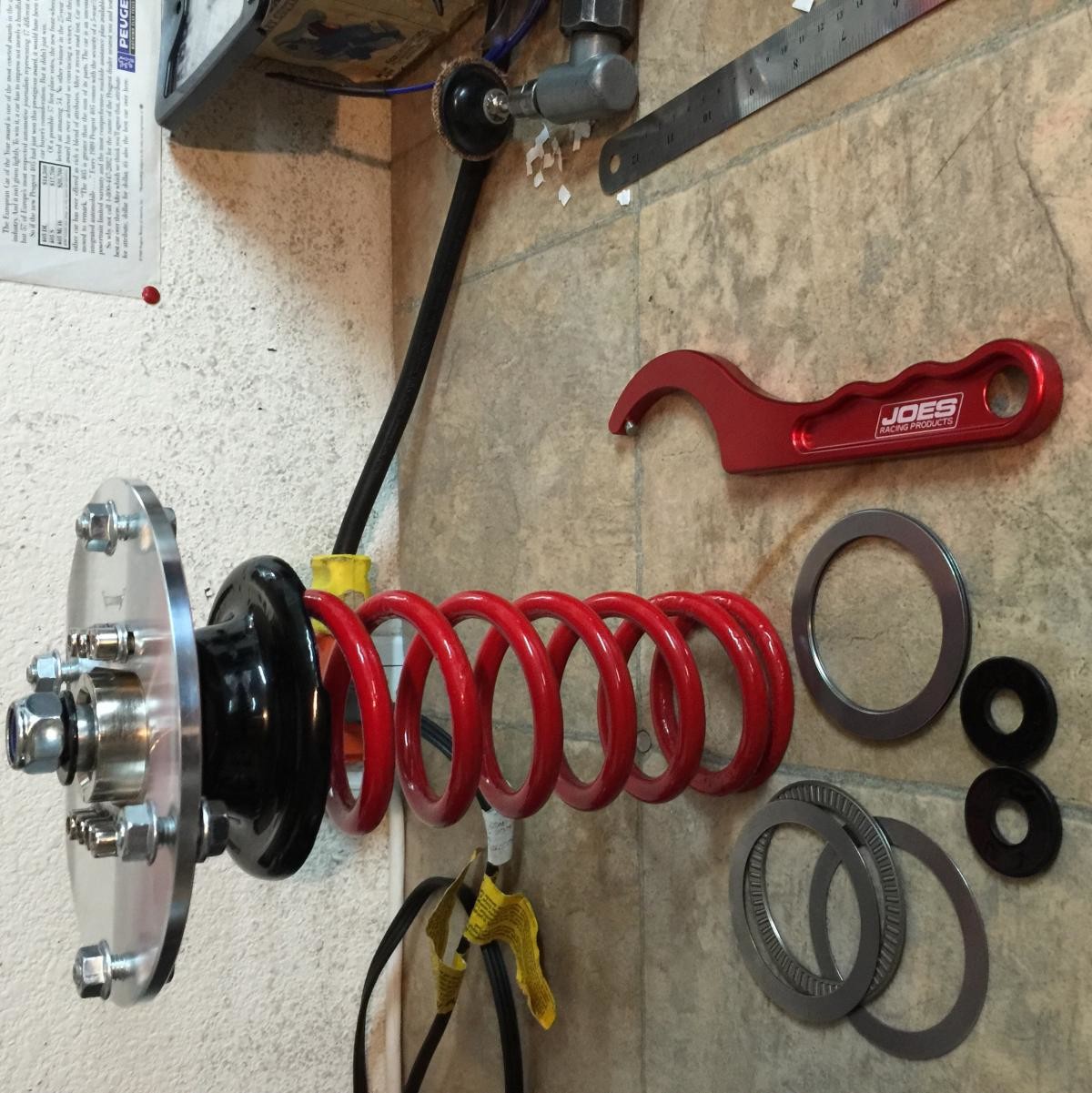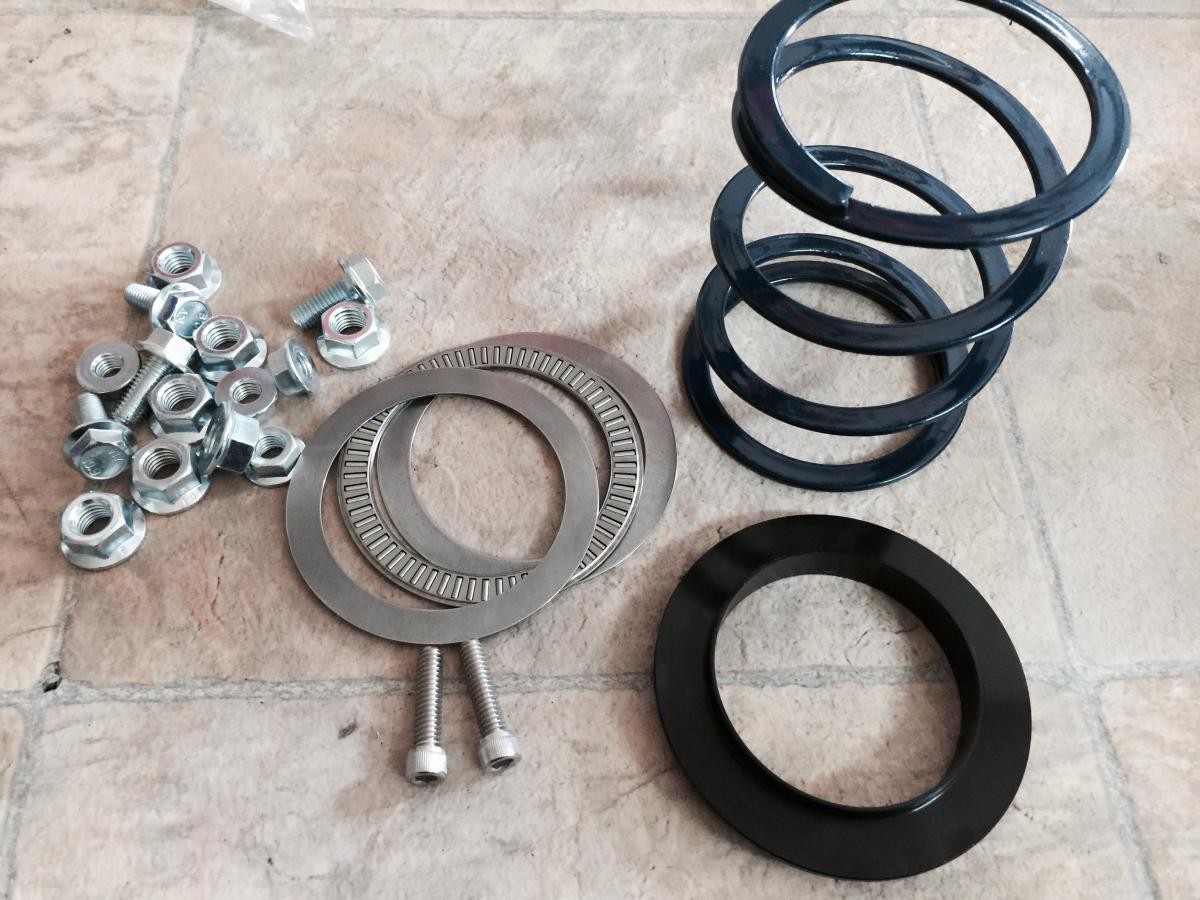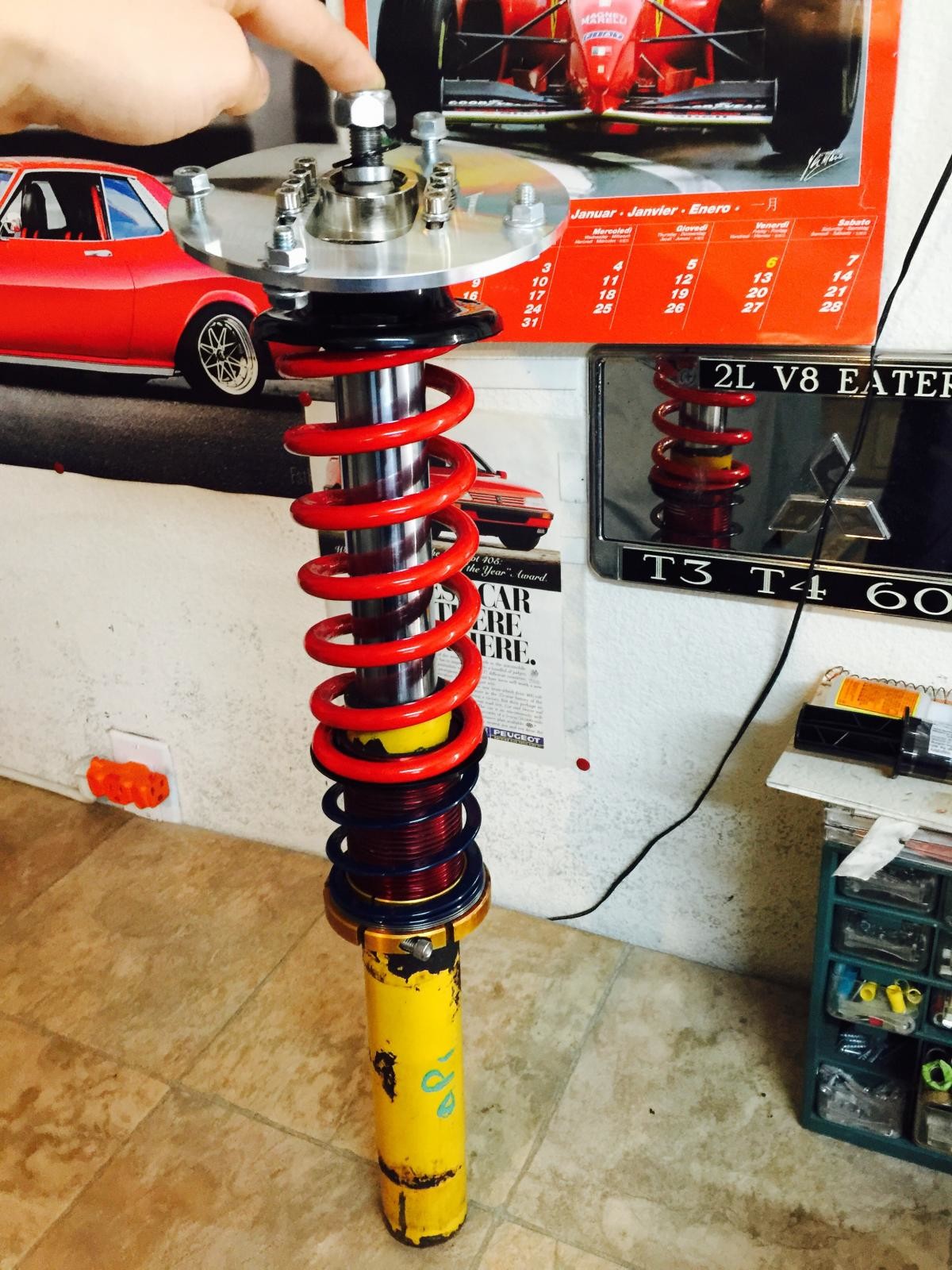 12-22-2014
Powder coated parts should be here by Friday. In a few days I'll order lower control arm bushings,sway bar bushings and I already have ball joints and sway bar links.
Also I'm chasing European style bumpers and side skirts in Serbia and Croatia. Those will be my Christmas present :-)
1-4-2015
Yestrday I replaced lower control arm,sway bar bushings,new 160mm camber plates and sway bar link.
I replaced ball joints few month back and I noticed that steering ram is leaking :-( those suckers are pricey.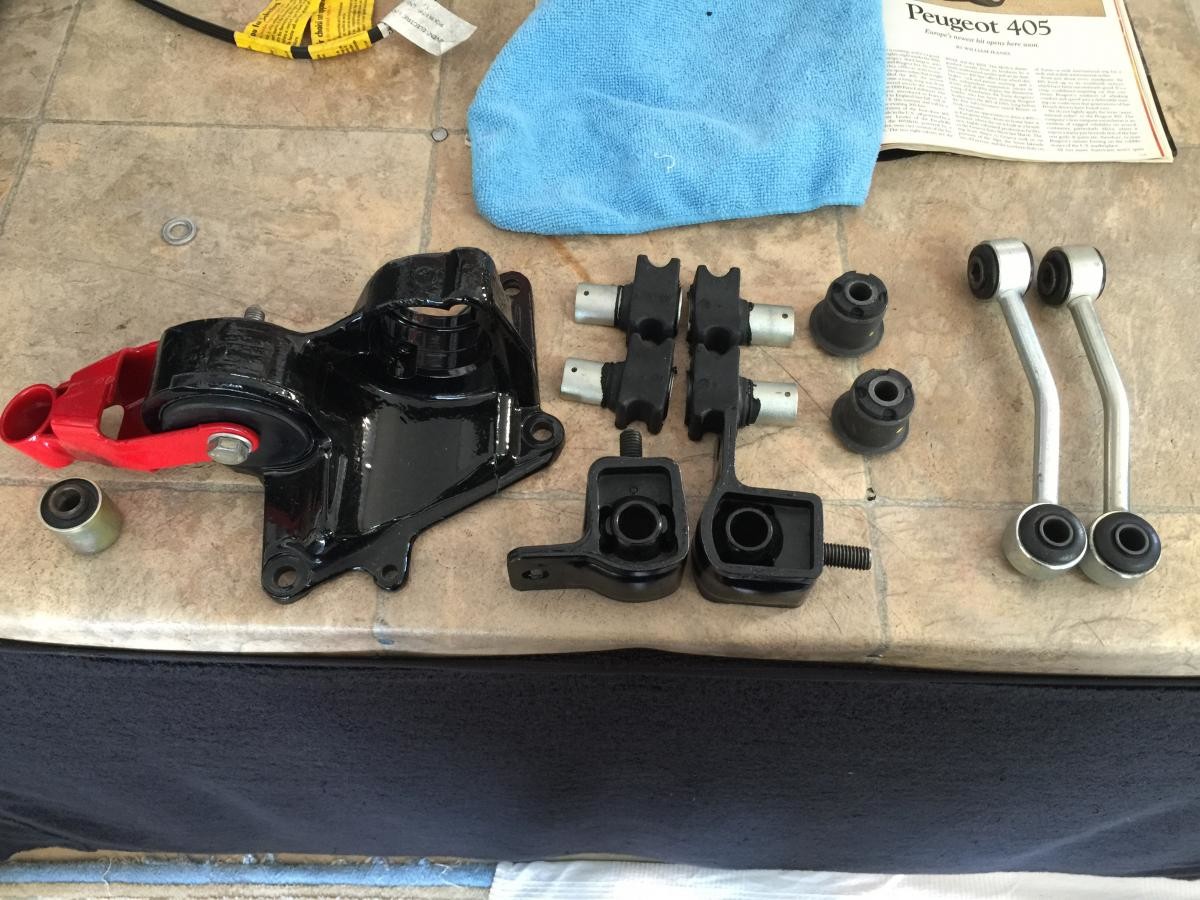 1-16-2015
Finally my Coilovers are done. My custom top hats showed up today so this baby's will be bolted up tomorrow.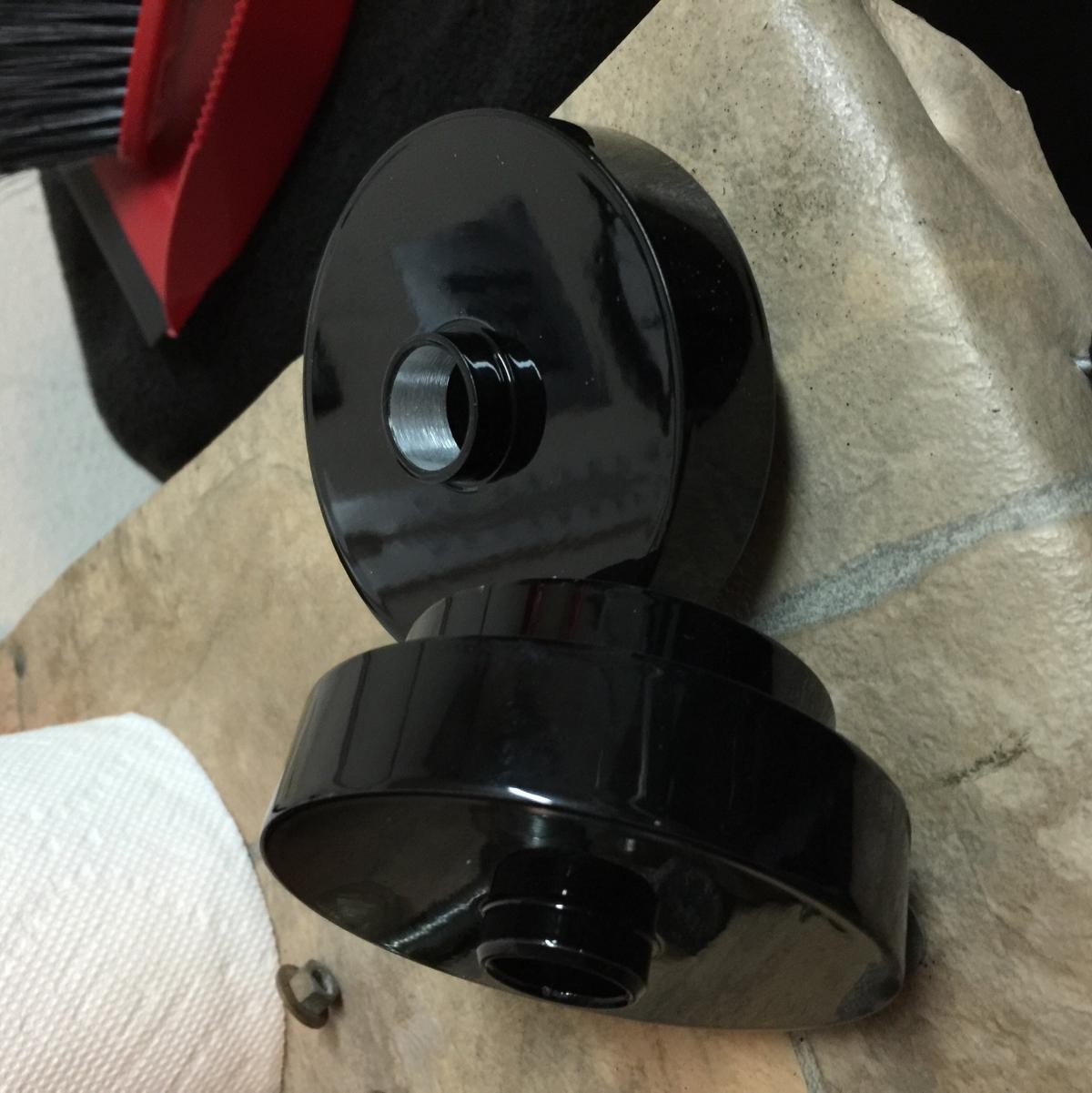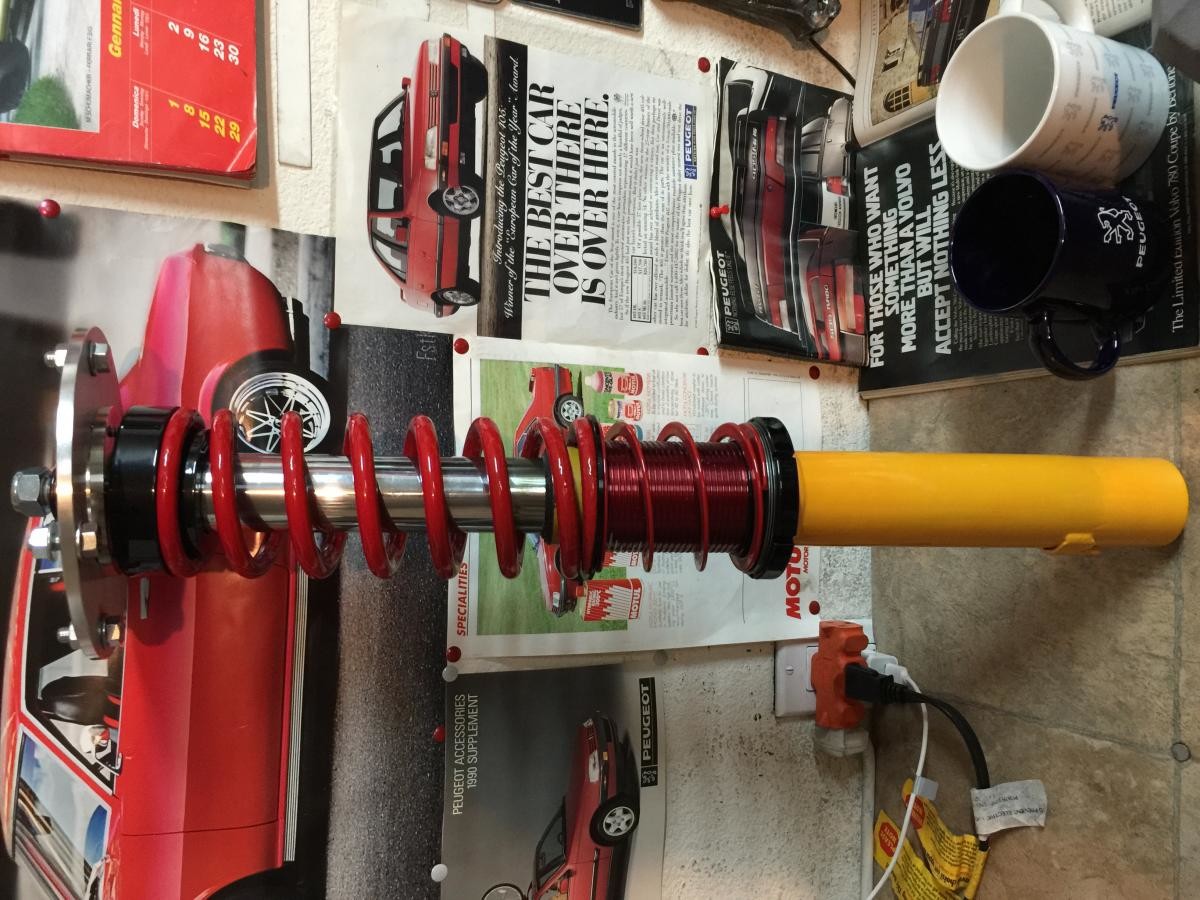 2-18-2015
Few days ago I finished 91 black interior swap so I took few pictures. I also got better 99 GSX leather shift knob.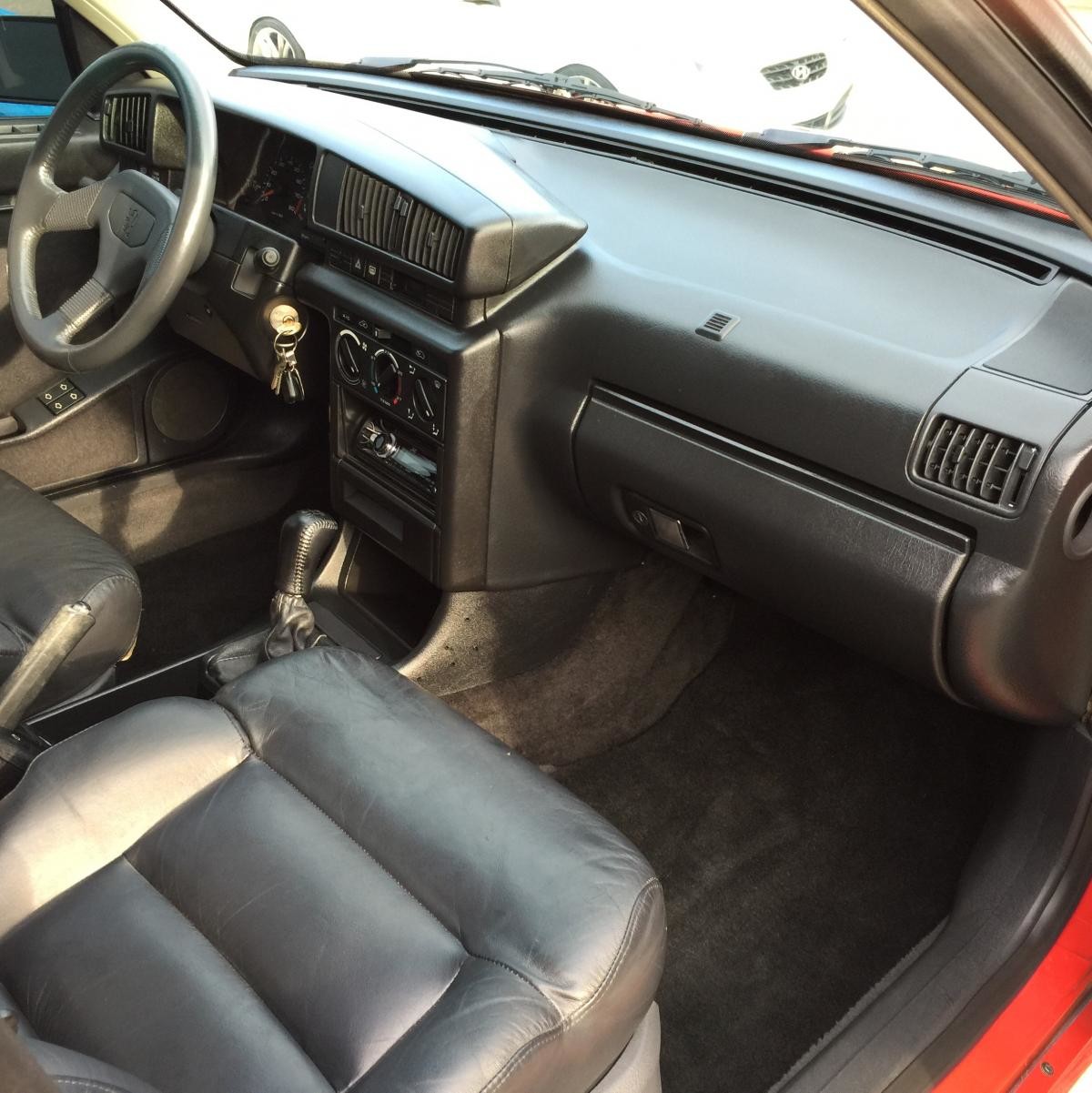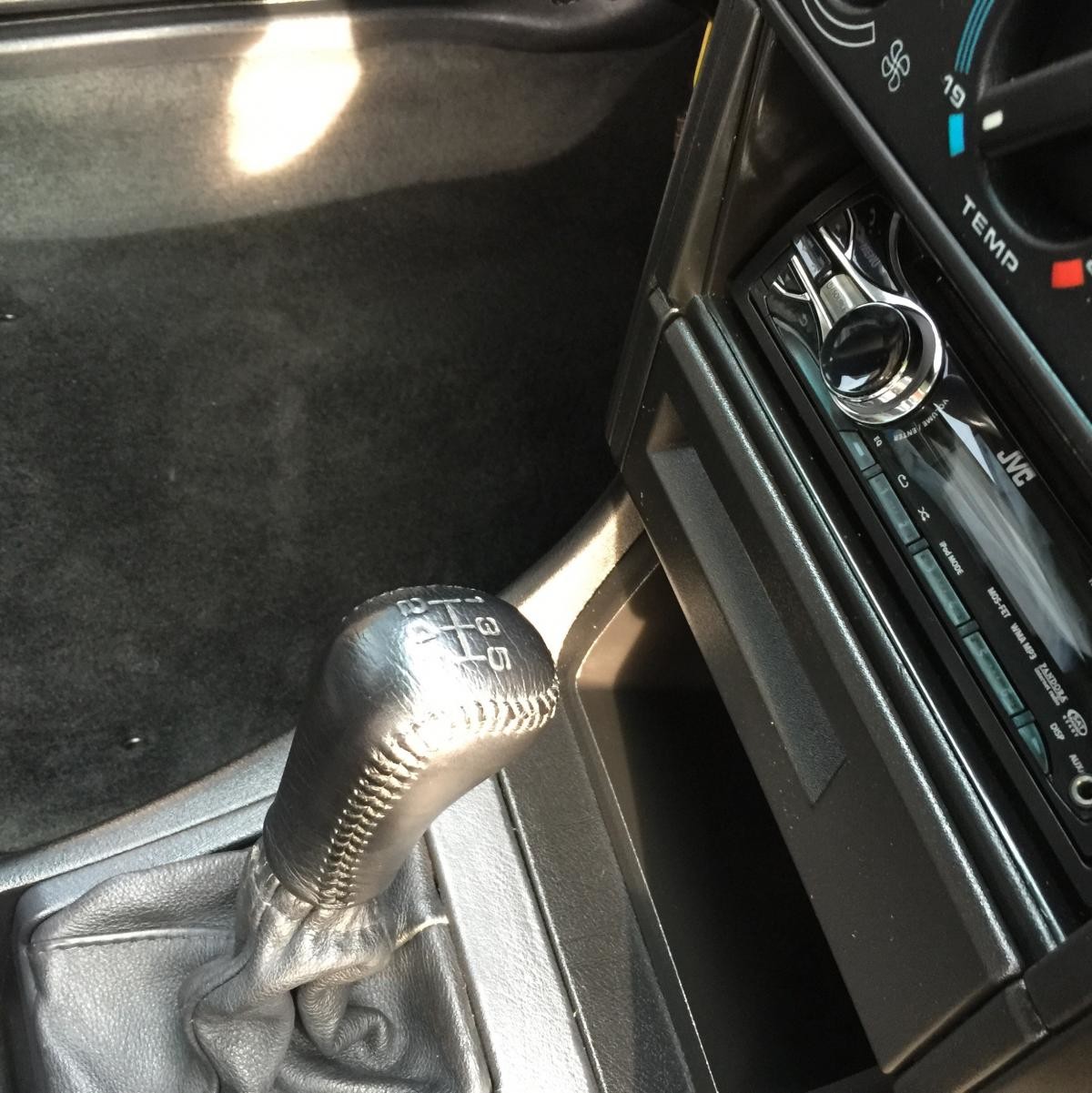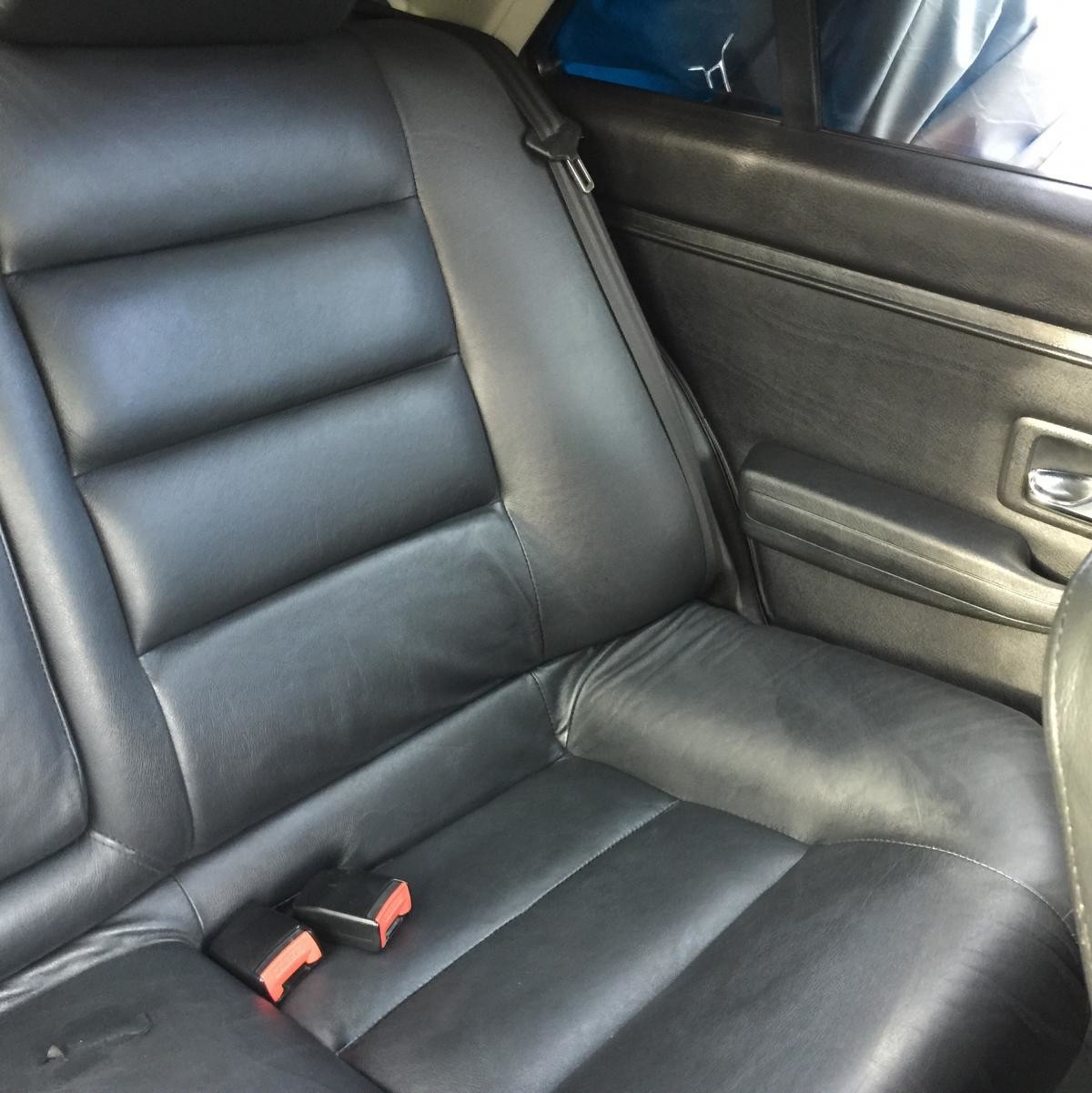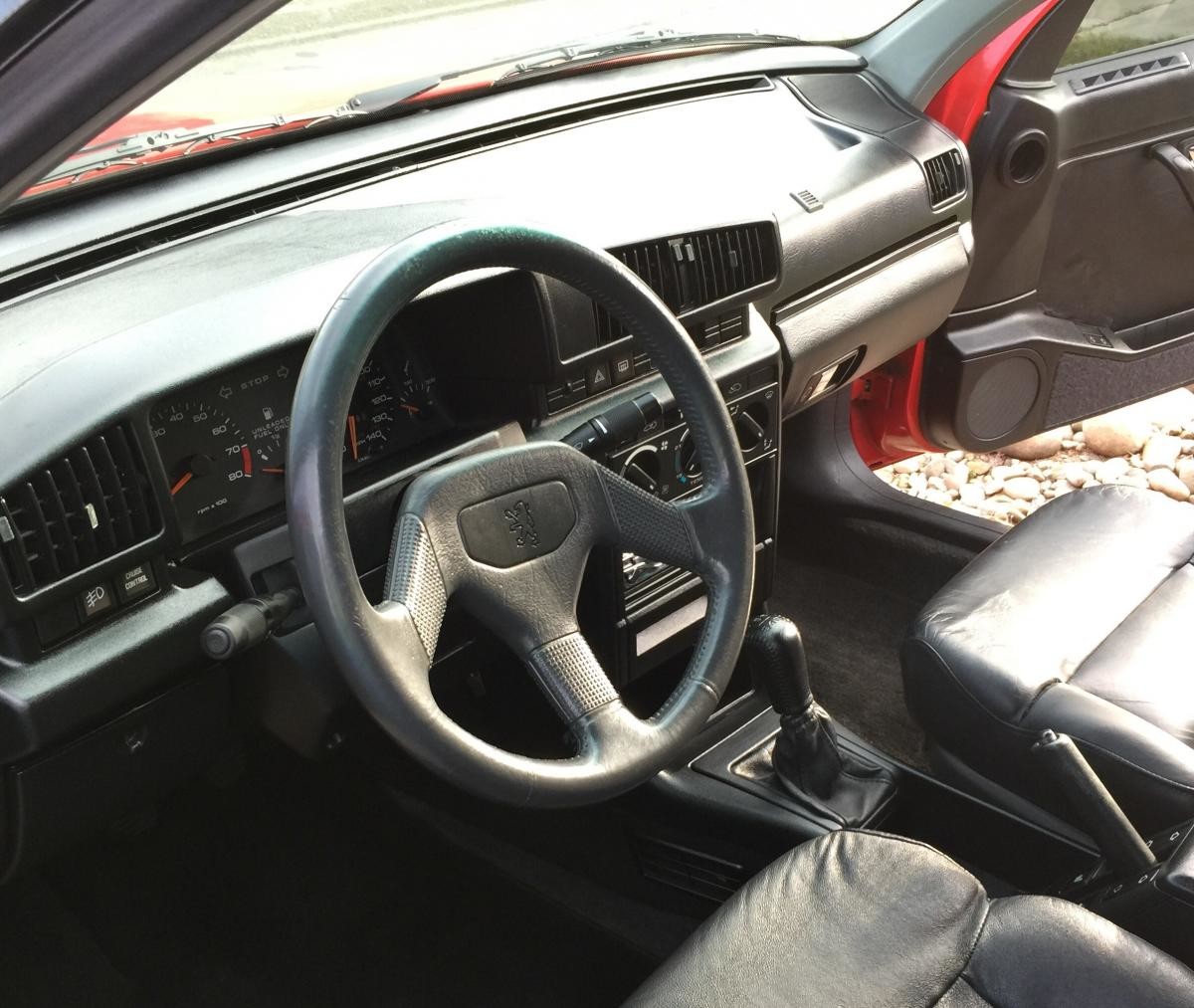 3-14-2015
My 1g DSM CAS adapter is in making and I was told it will be done sometimes next week.
Wiring is all done and I'm hooping to have it running tomorrow aftrnoon. I did use lap top to test communication with 2g ECU trough 2g OBD II connecter that I made and it worked great very first time. I set my launch control,REV limit,injector dead timing and so on and I did test few outputs such as fuel pump and it did come on and made fuel pressure.
Before I hooked up lap top to it I checked for back up power,ignition switch,constant 12V and grounds and it was all good. I was very surprised that there was no electrical problems but then yet again I did dead and study this for few days. All gauges work just fine including check engine light but I may need tachometer driver.
Today I got engine to TDC just to make sure spark plug wires goes to coil pack in correct order and I've noticed that all 4 pistons were in same position which makes me think that XU9J4 TDC is there for timing belt installation but for thrue TDC I'll need to use my dial indicator. Once I fined TDC I'll install 1g CAS to cyilnder number one and it should start up right away.
Wish me luck guys.
First look with Savo spec Coilovers :-)
And quick cell phone picture of Savo spec MI16 ECMlink.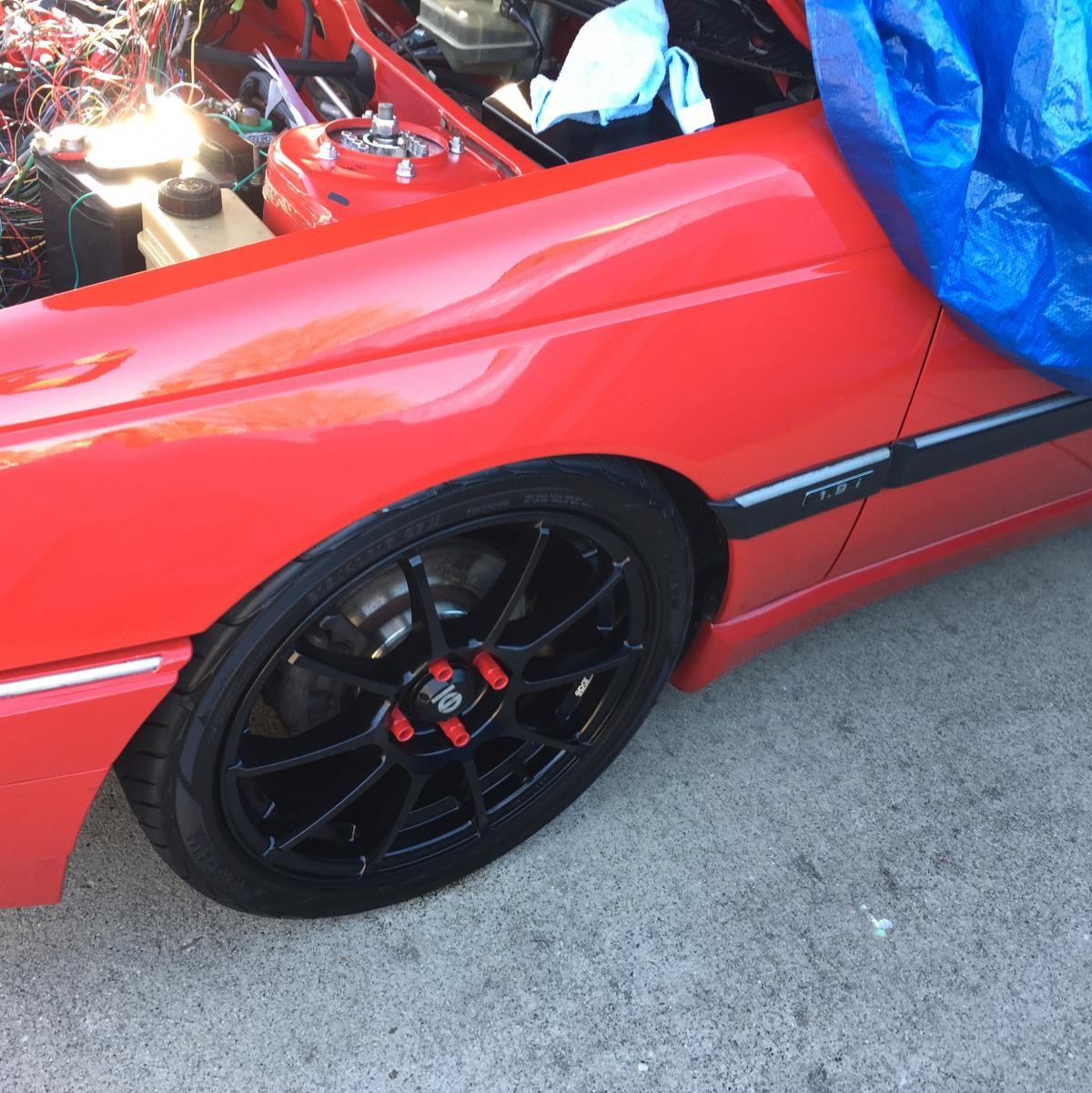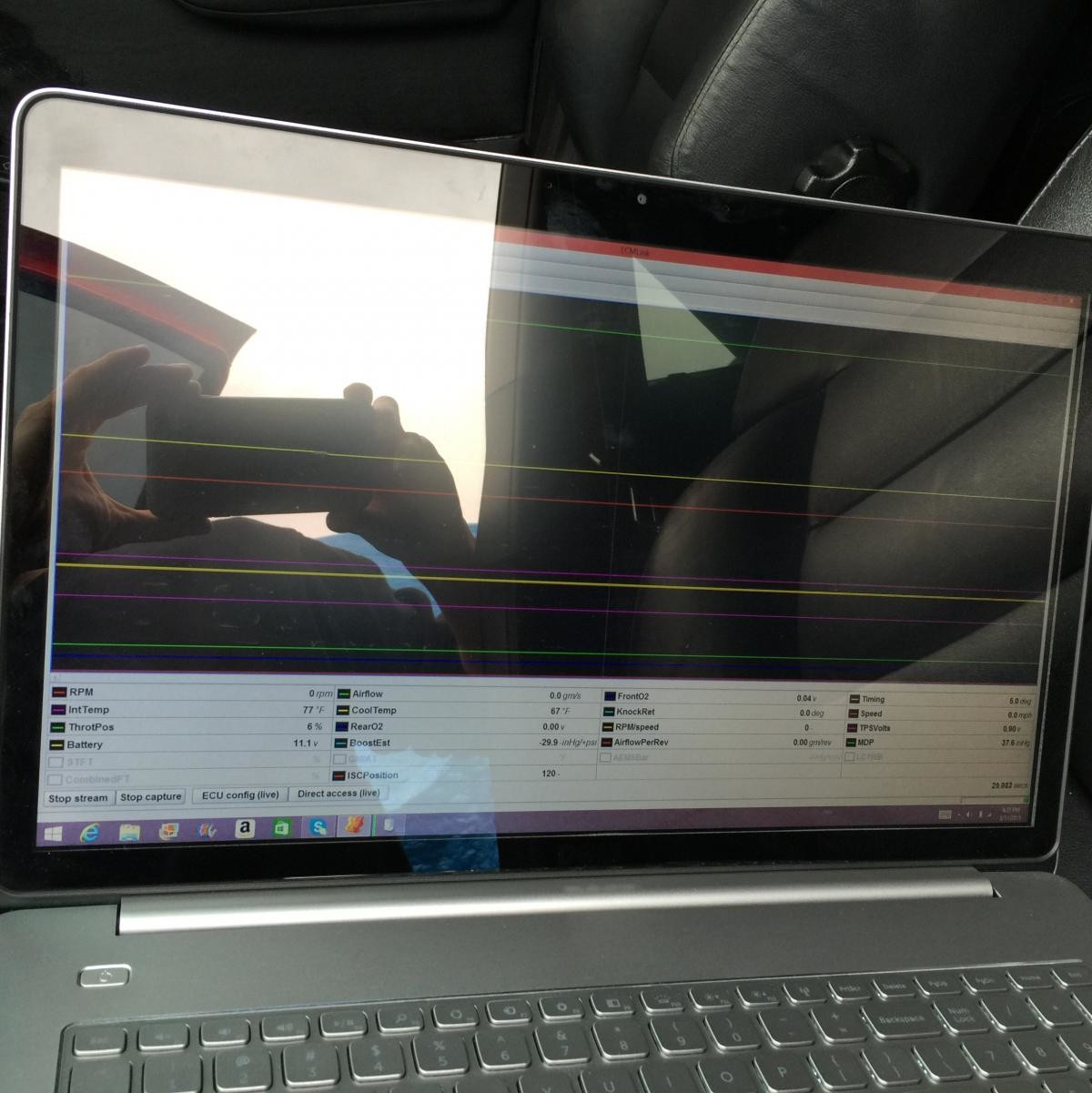 3-15-2015
She runs guys :-) started right up the first time but it wasn't as good as I was hopping. I did make changes in Global and injector timing and made it run lot better but it's still not as it should. This is to be expected when you do drastic changes to your vehicle such as this.
I'll order SS fuel line,AN fittings and wire looms tonight. Next Saturday I'll be driving it on the street :-)
3-18-2015
Yeah a lot off people on that forum do. I just haven't use it in a while and I'm not folowing updates that close.
I did replace MAP sensor with basic GM one,log it under liniar MAP,scale it at 5V max at 1bar and lowered global from -80 to recommend-18. Started up right a away and idles now like a champ. I did noticed that idle control valve is not responding well so I'll use one out of my DSM. I just need to make few adjustments before I take it for light cruise-tune such as TPS Volts and % adjusment.
I'm Hopping to have fuel lines,AN fittings,fuel filter,CAS adapter and body kit by Saturday.
God I'm so excited about driving it I just can't wait for Saturday:-)))
3-22-2015
This weekend I installed fuel feed hose and Fuel pump. All of it is E85 compatible,I know it's over kill but there is nothing smaller out there that is E85 compatible. I also rewired fuel pump so it's getting always battery voltage.
Yesterday was also the first time I took it for test drive :-)
If I remember correctly it was down for about 10 months now :-(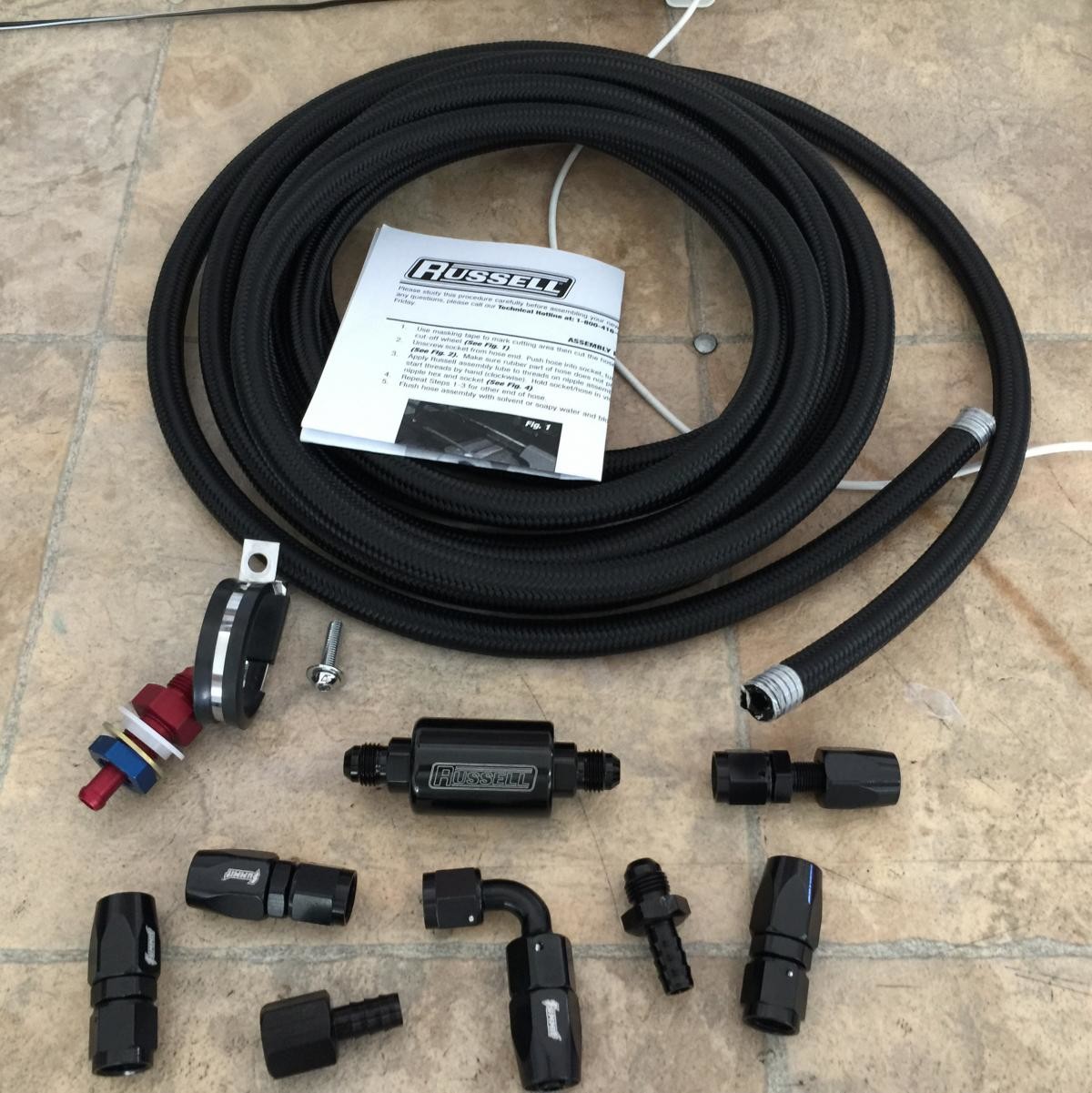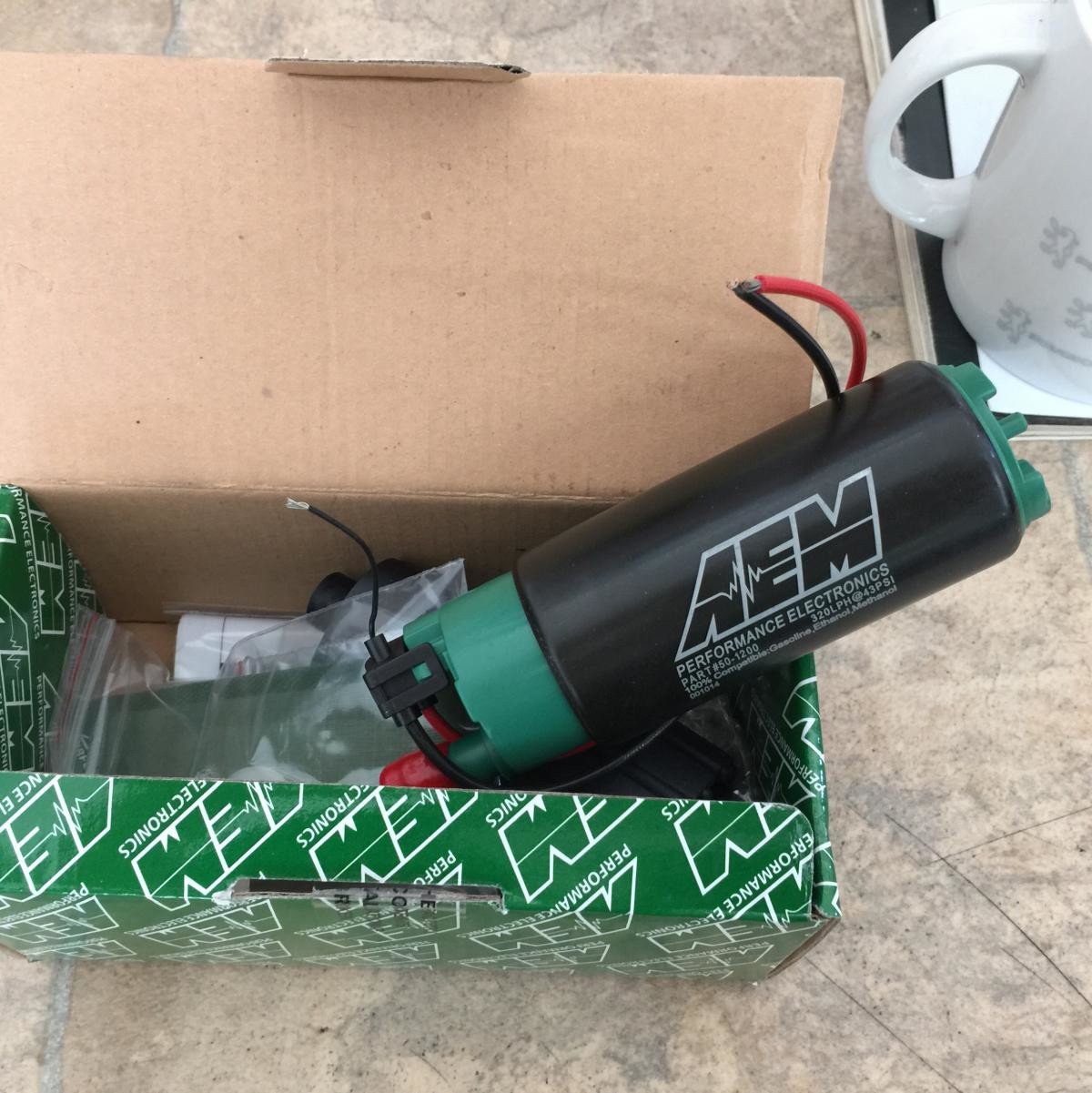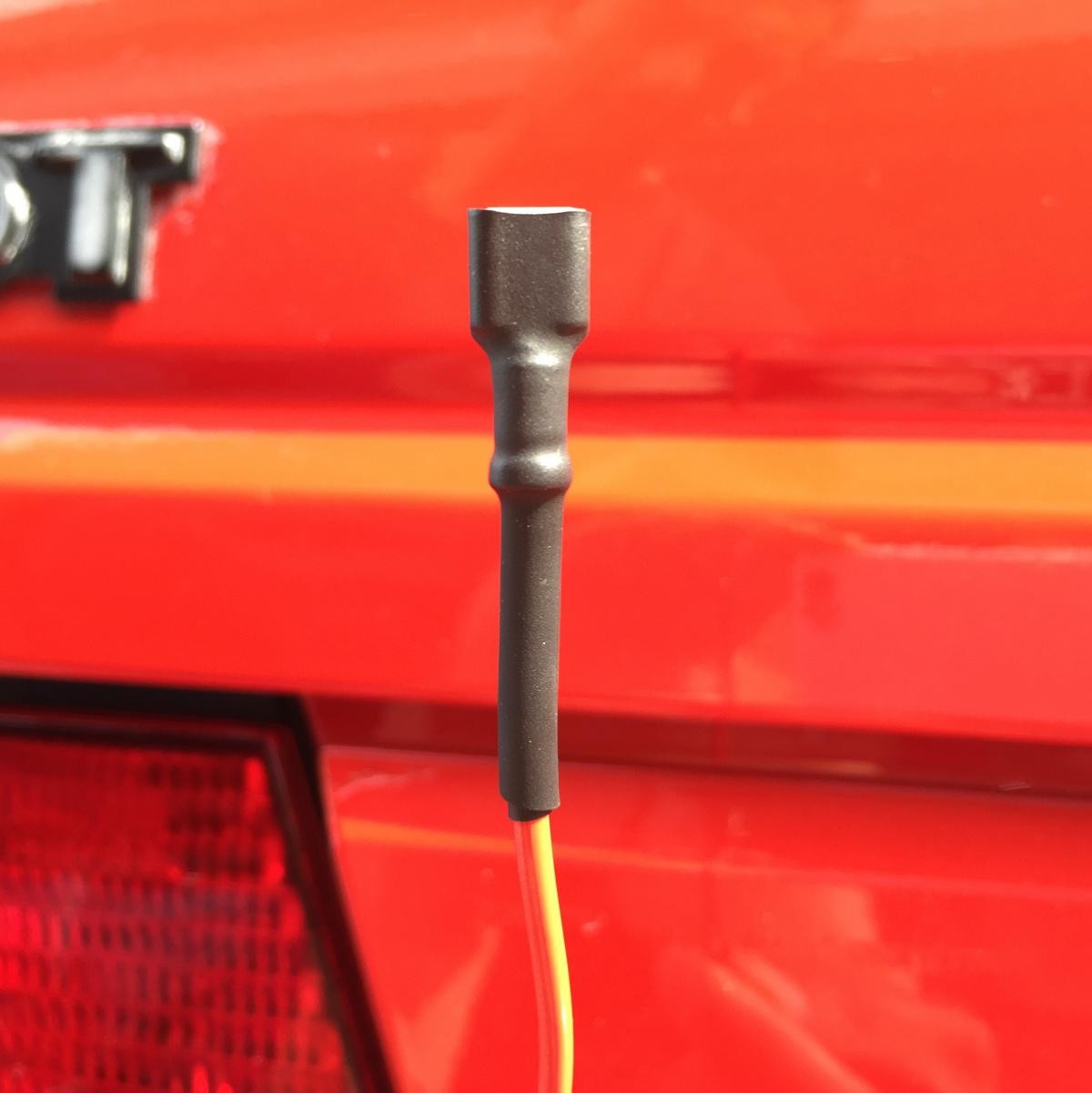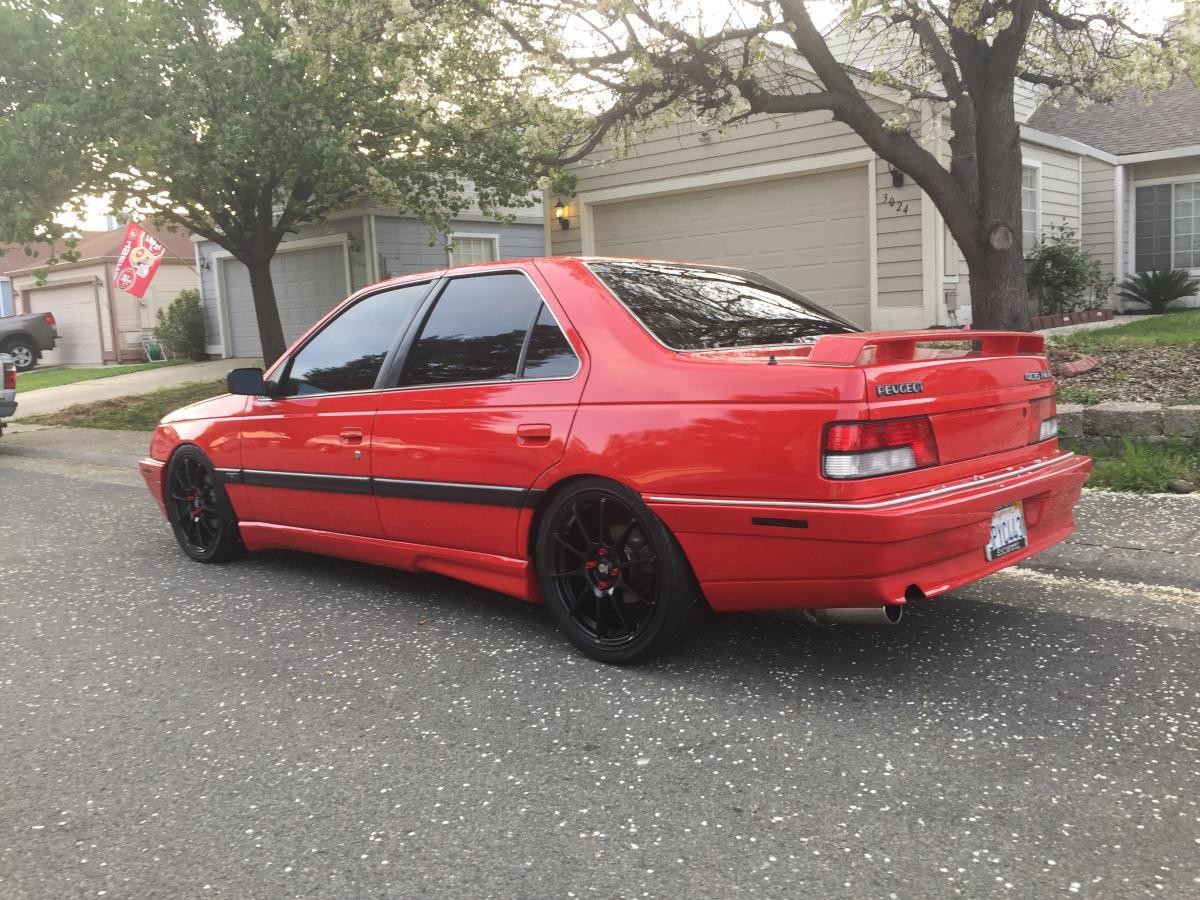 This picture is good example André
Drove great. That's the thing about ECMlink a monkey could make it run great. ECMlink support is so great all it takes it to add what you have and all values are there so it makes it run a champ.
Yes E85 + more timing and that 62mm 1g TB will make a huge difference. I also got good fuel injectors and all fuel volume it needs.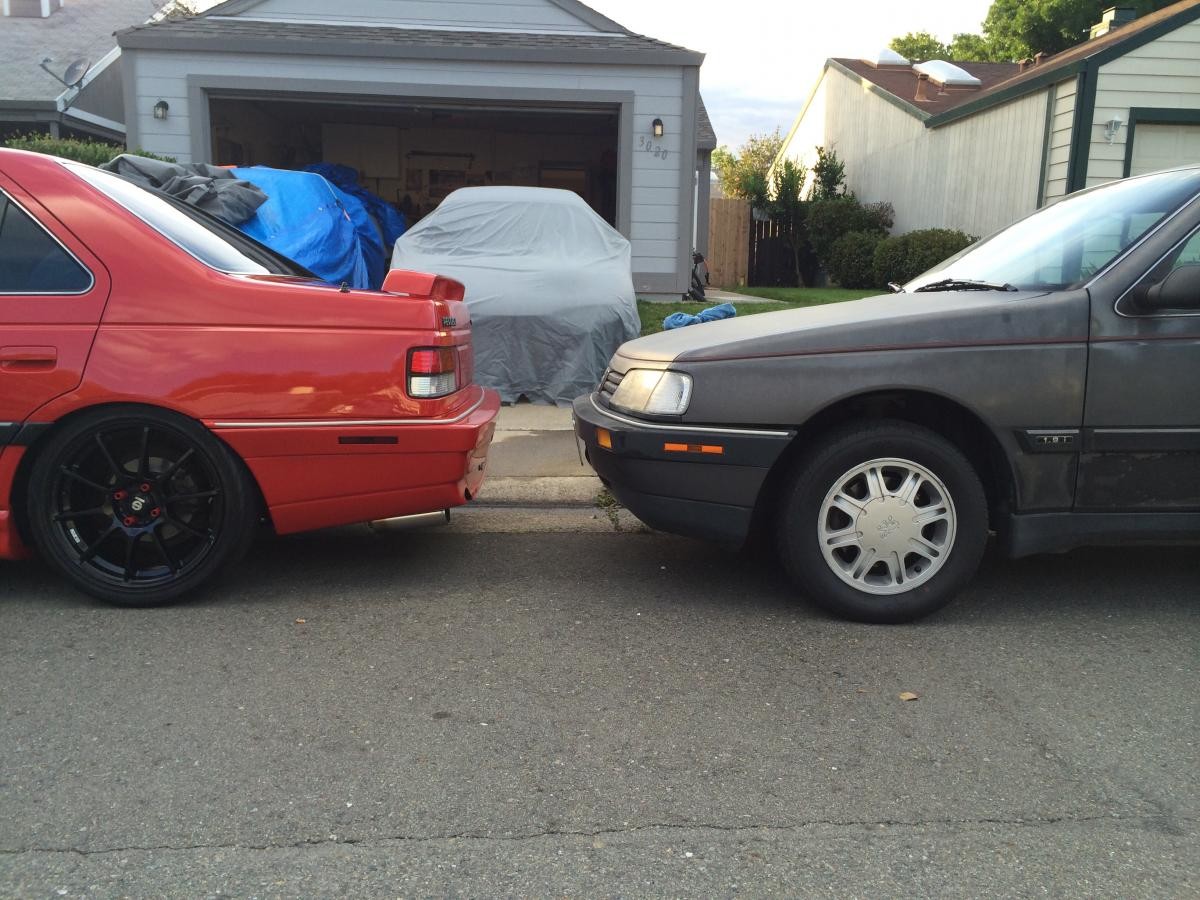 3-29-2015
I was really looking forward to have it tuned yesterday but my friend could not make it :-(
Instead I installed repainted grill with new emblem,chrome bars and front body kit. I also cleaned up interior,waxed it and finished up wiring.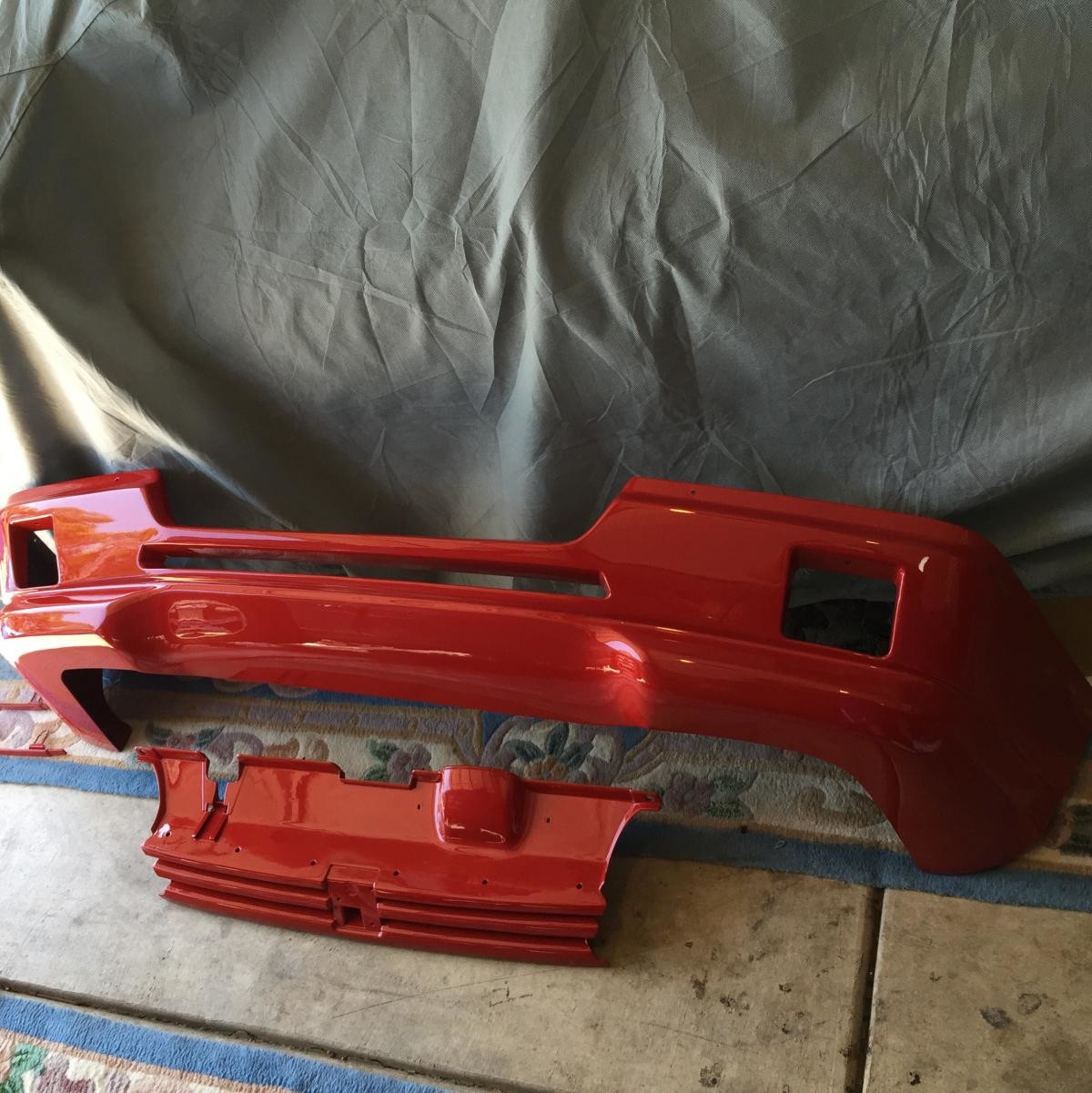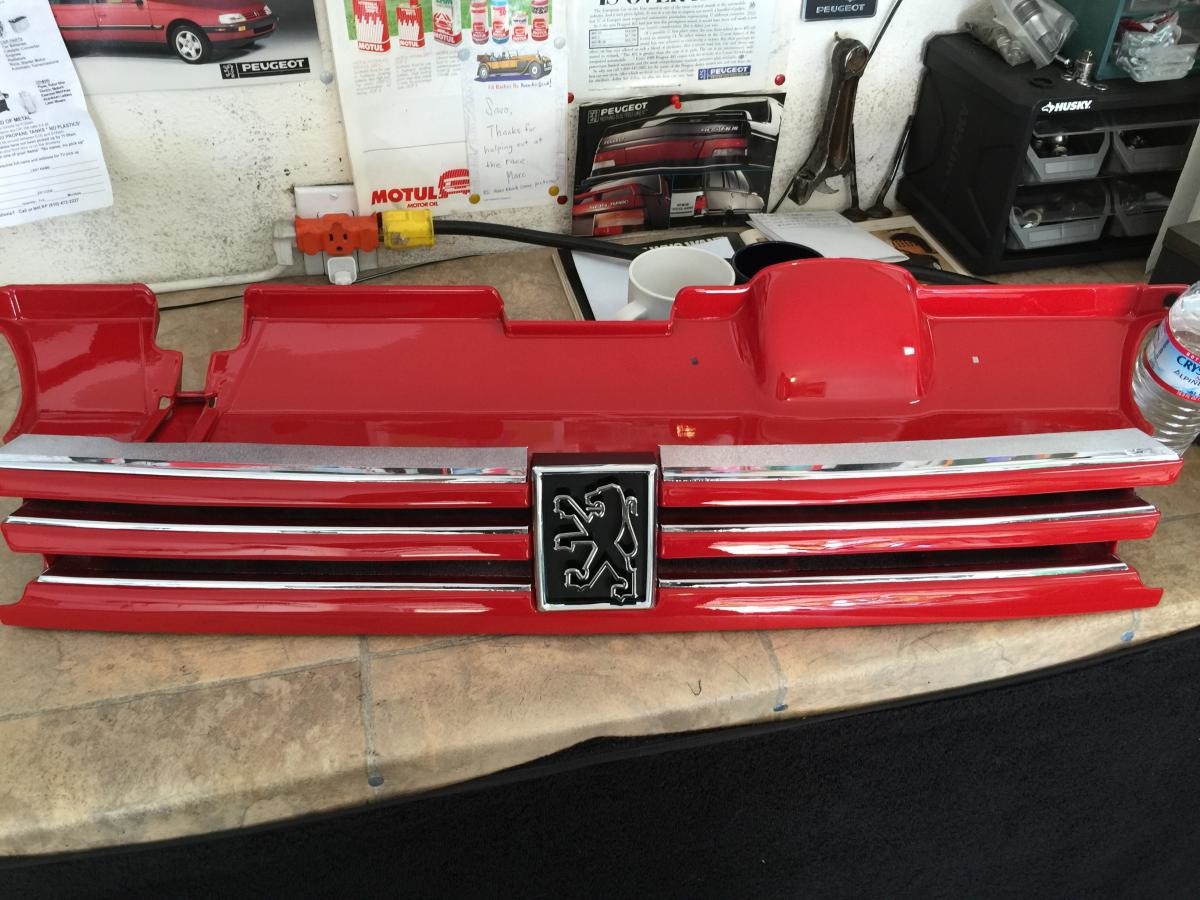 Sorry :-)
I took my mom to Starbucks today and I took fresh pictures.
God this car looks good :-)))
#savospecMI16#ECMlinkE85SD#DSMpowa#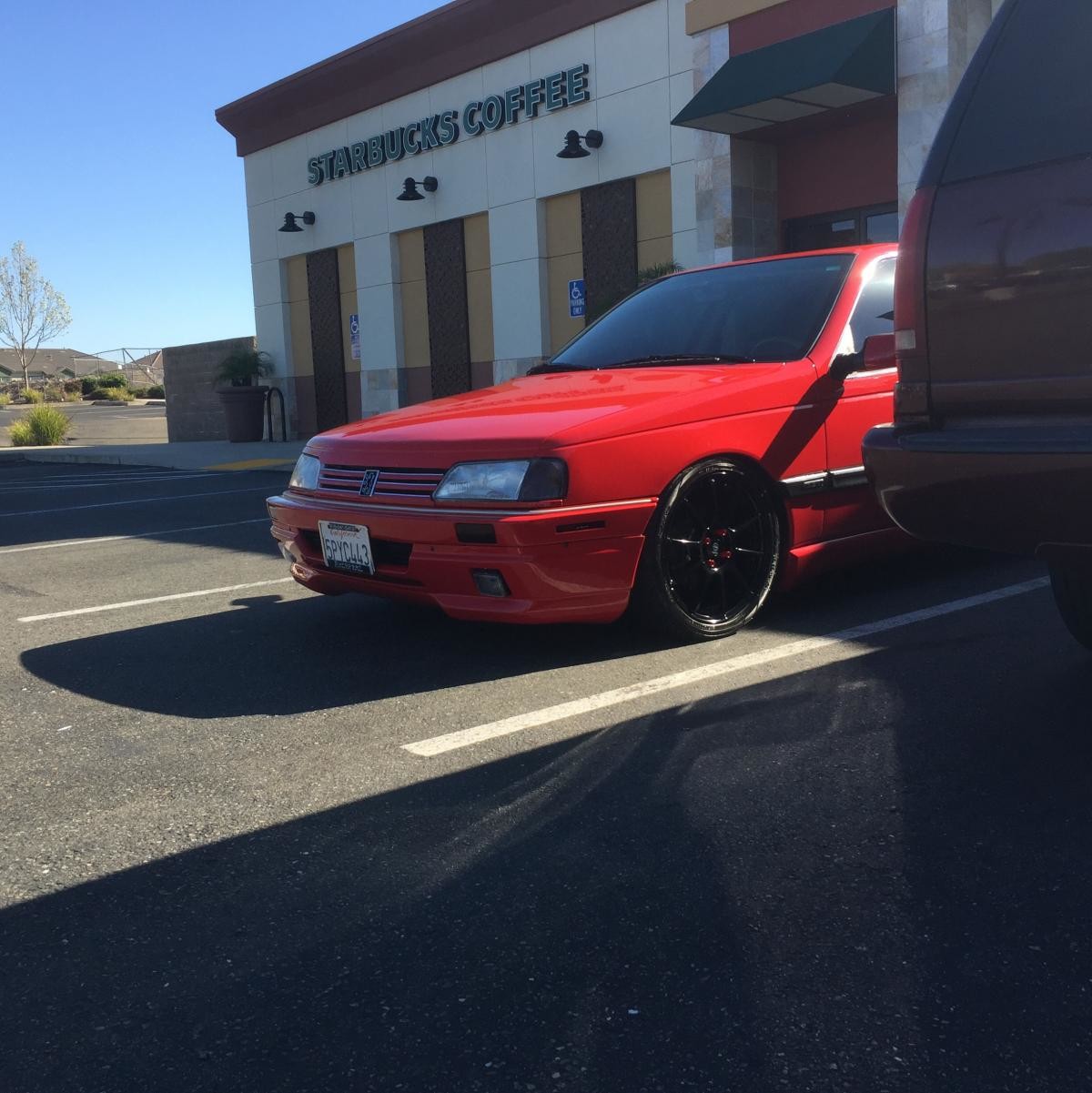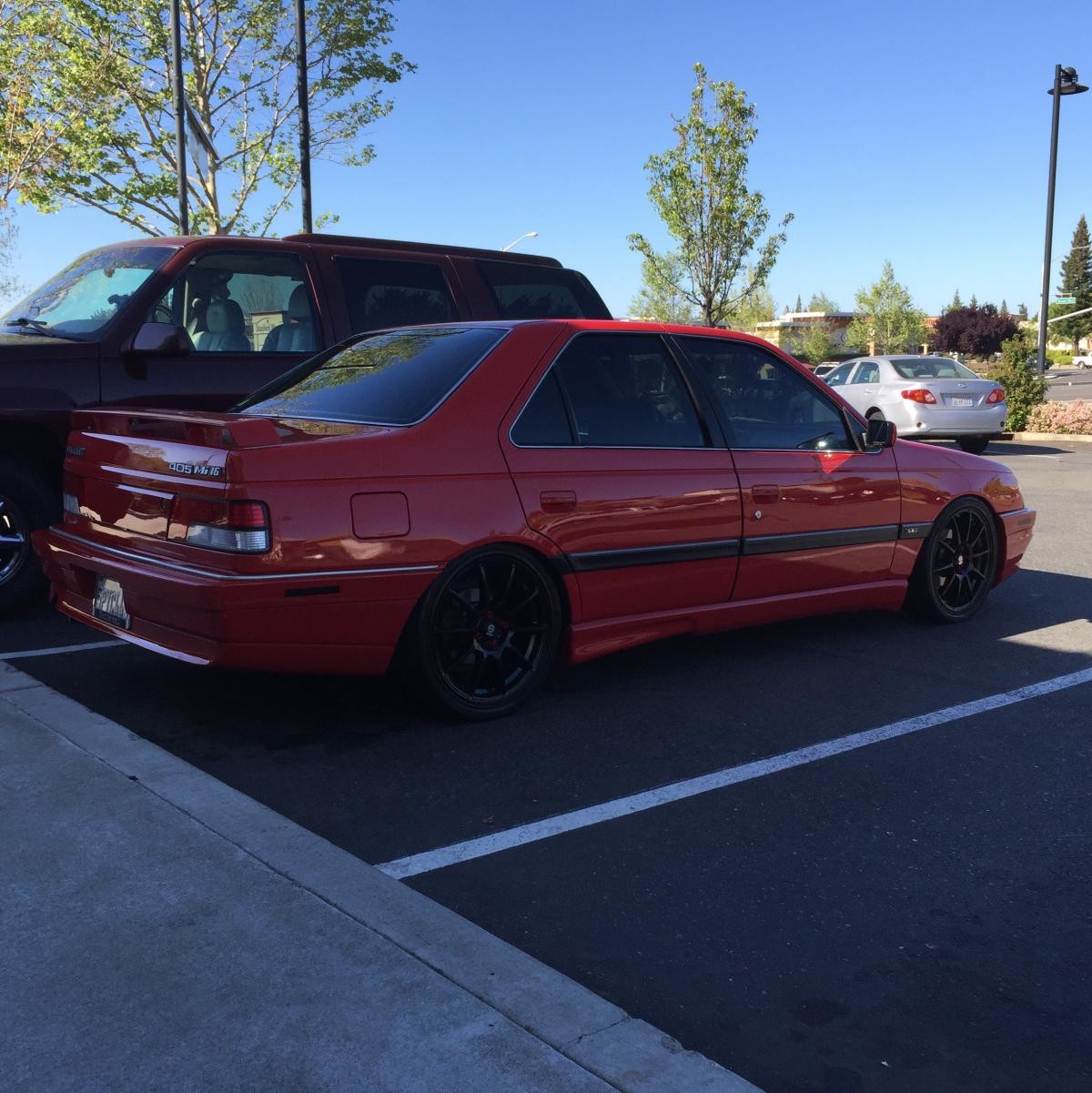 3-31-2015
Sunday evening I gave my friend ride and noticed weird smell followed by bearing type noise on the way back,prior to that I adjusted TPS to .63V and idle set screw to 900 RPM. Looking at lap top doing those adjustments I noticed battery voltage reading was just not right it was too low but I ignored it do to smaller pulley installed. Right before I tured it off I noticed battery voltage in my log was at 11.2V so I opened the hood and noticed smell is coming around alternator. Great this is fourt time that this built 170A alternator has failed it lasted another 10 miles,any how I'll go back to OEM unit as this car never had problem with it before.
Right before I cover it for good night sleep I noticed battery change light was on,disconnected battery as it looks like there is a short inside off the alternator.
I just simply can not believe how well this engine is idling I do have exhaust on it and on stop light I did tap throttle pedal just to make sure engine is still running. It is amazingly quiet :-)
Same friend that I gave ride to told he's STI buddies what I did to my MI16 and they told him "only Savo would do something like that" :-)
Sundays log.
In the left corner you can see battery voltage.
#loveECMlink#DSM4life#
"Edit" just replaced Alernator and all is good. I used Mitsubishi replacment that was originally in my Wagon.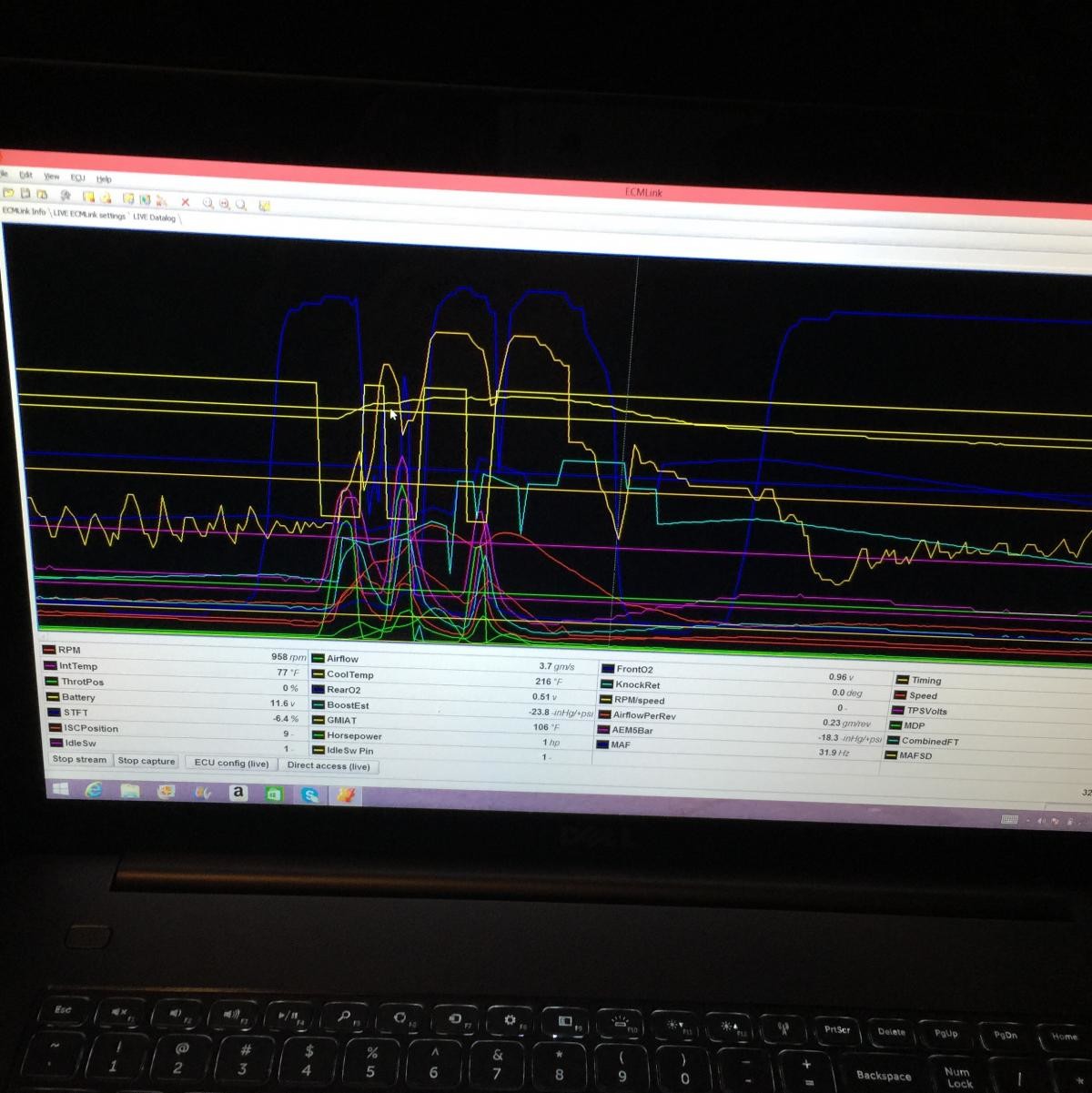 4-4-2015
I drove it to work yesterday and around town so total of 120 miles. We are all Peugeot enthusiasts here so I won't be ashamed for saying that I was happy as a kid driving it yesterday,huge smile on my face followed by singing and dancing while driving. It truly does bring smile to my face and I love this car very much.
My friend Derek (ECMlink guru) is on the way so hopefully we get decent tune today and all goes well.
Ohhh I also got my DIY intake parts which makes it very last thing to do.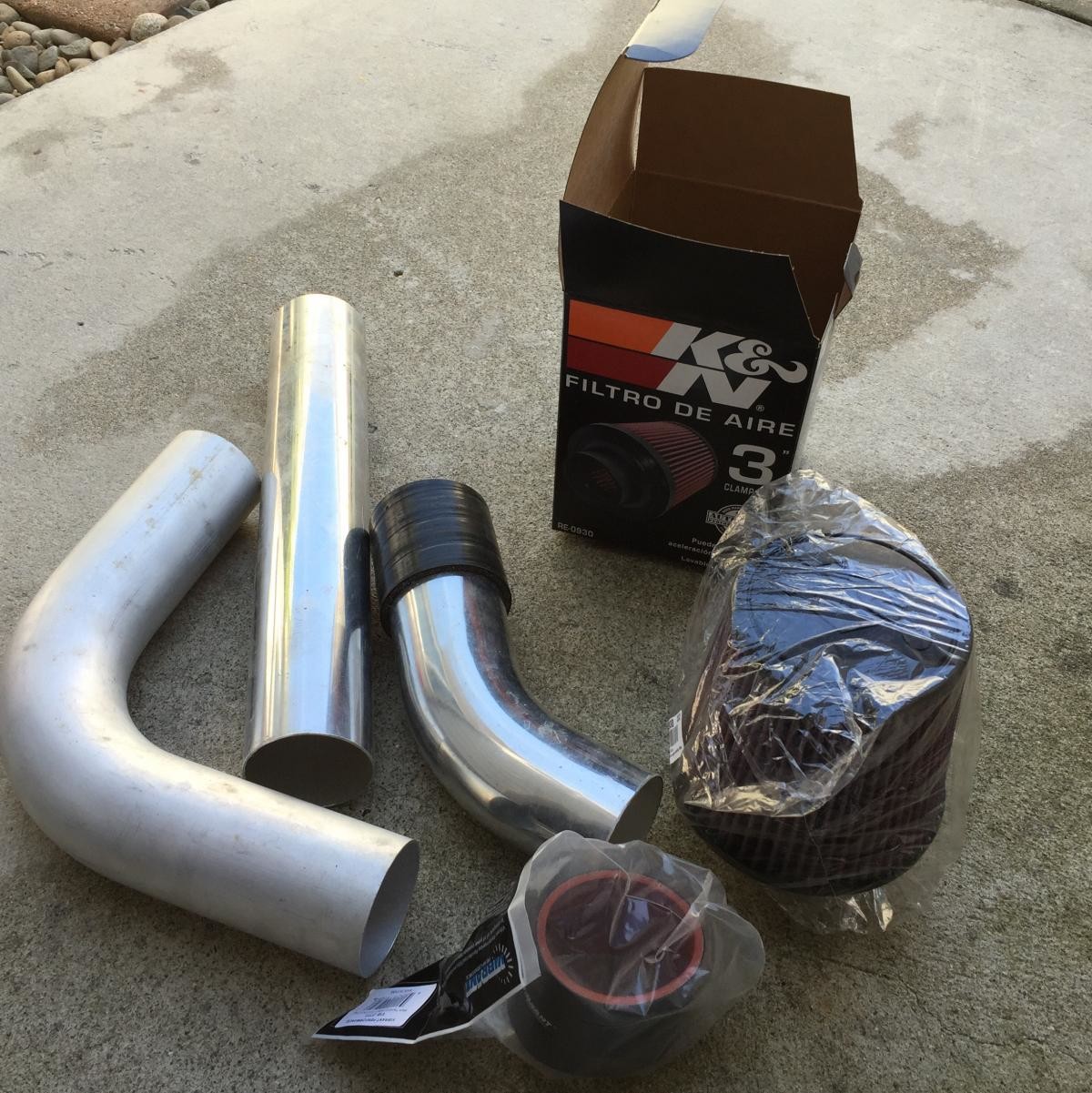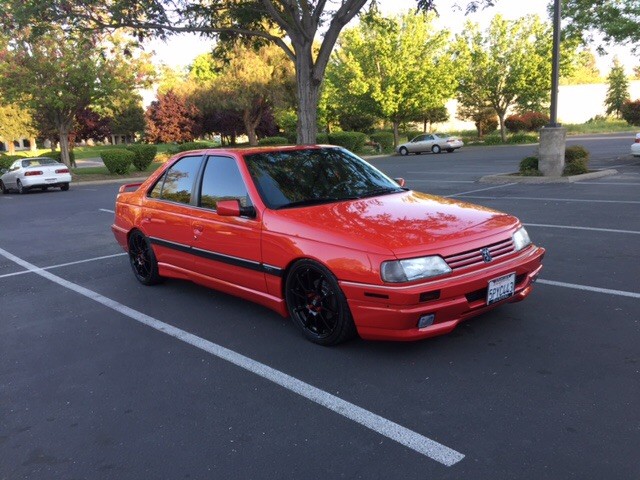 4-7-2015
Saturday went very well. We got idle spot on,adjusted VE tables,fuel and timing. We had to use MAF to record and adjust data for SD which we drove for about 60 miles at different speeds. Once that was done we applied it to SD tables and made adjustments and chages to SD cells. Right before we went for a drive I noticed my check engine light would flash at 4000 RPM plus which I knew it was knock because I set it as fail safe. Sure enough it was showing on data so I adjusted base timing which it was really off. About 9:30pm Derek finally let me go WOT and to me it did felt lot quicker and we did not have knock at all. I did REV it to 7500 RPM and no knock was detected at all.
E85 tuning did not happen as I did not purchase WB 02,once I get that we can go for real WOT tuning and we can start adding timing.
Sunday night after movies it was lot cooler outside about high 40's and I really santed to see how she will sound at cold start up and she sure did started up and idled like a champ just like it came out of factory with ECMlink so I can say for sure JOB WELL DONE.
4-13-2015
I got that intake made and it fits great. I need to send it out to powder coating,once is done I'll take photos of new engine bay.
So far 534 miles on this ECMlink swap and so far no problems at all.
I just my new side marker lamps to match my new Euro headlamps. Also I got from Germany that long dash vent part that always brakes on 405's. Gaskets in the picture are for roof rack for my wagon.
O yeah I ordered new AVO coilovers from UK today.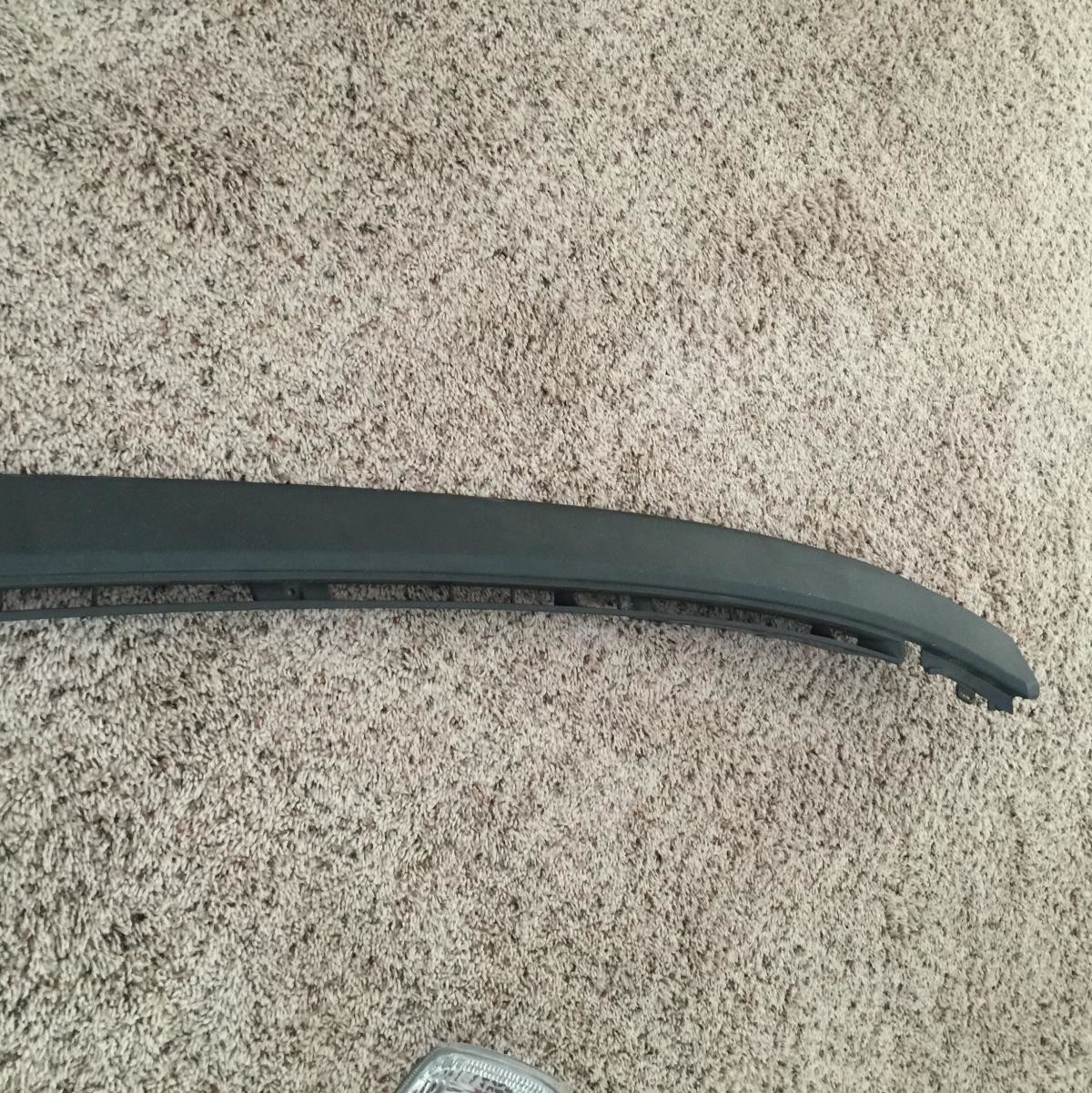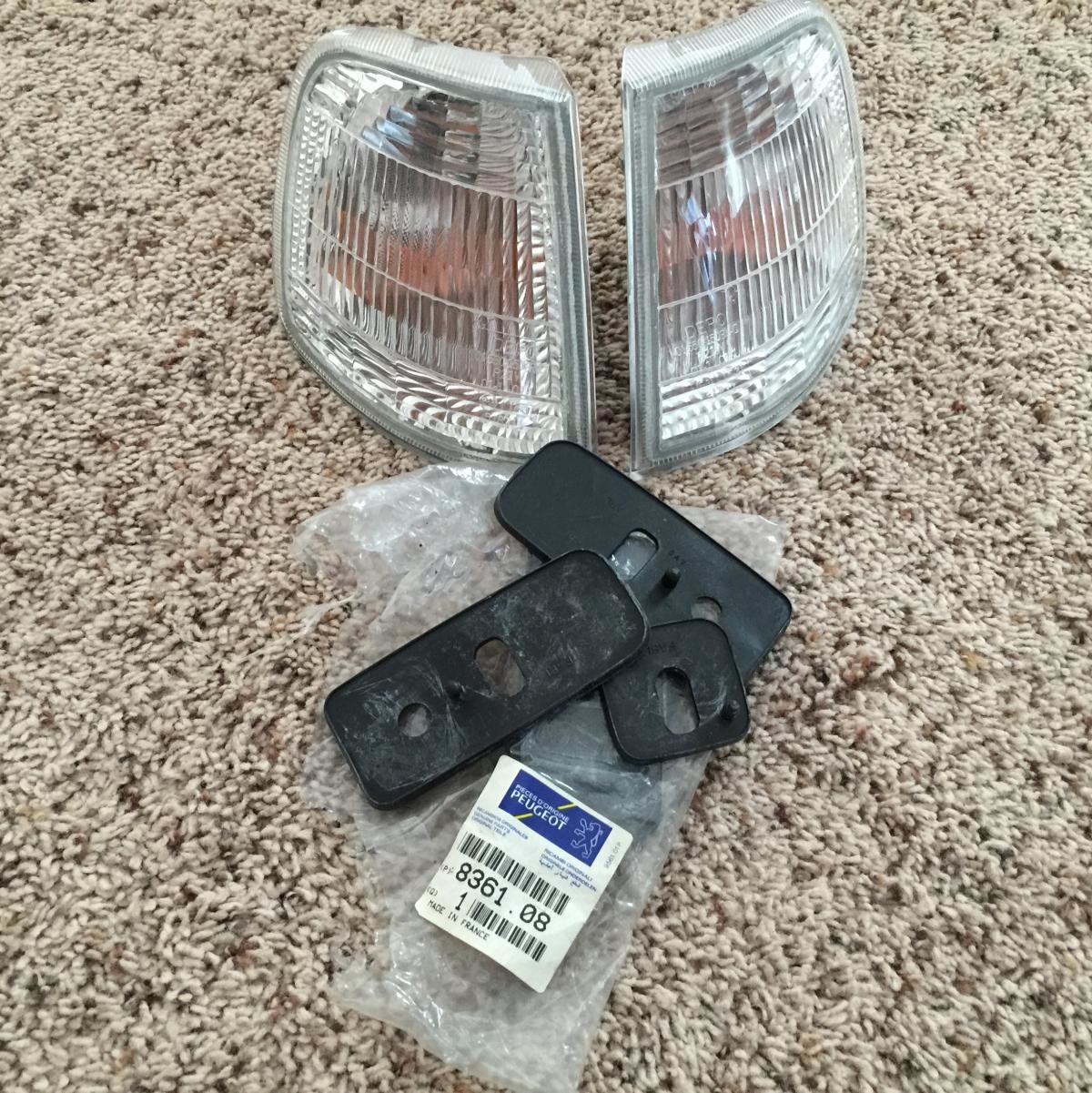 4-16-2015
Wide band O2 came in and I mounted gauge already. I mount it down below out of cops site and so it's not blinding me in the eyes at night time and I kept it all black.
Intake will get powder coated next week or so.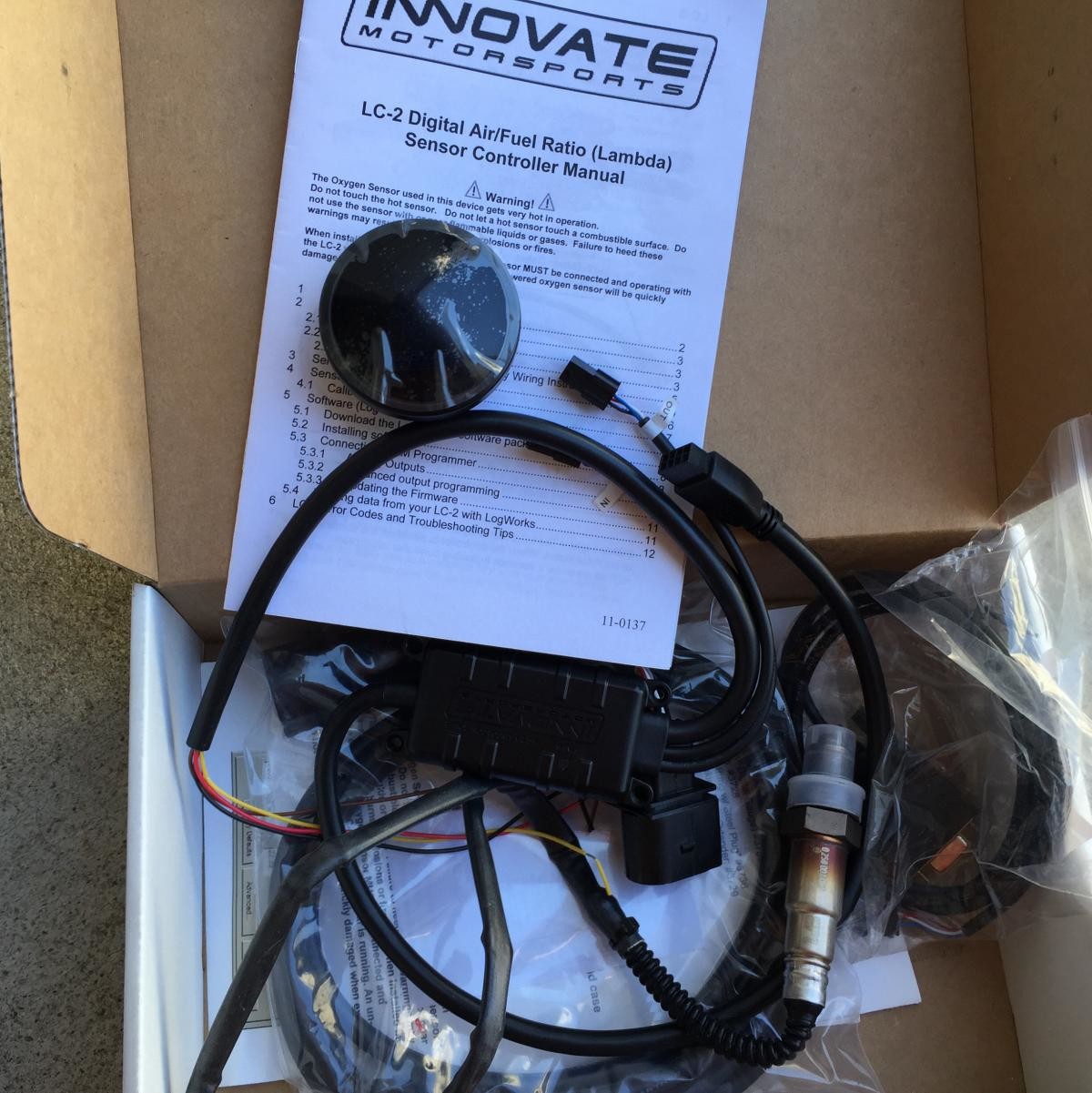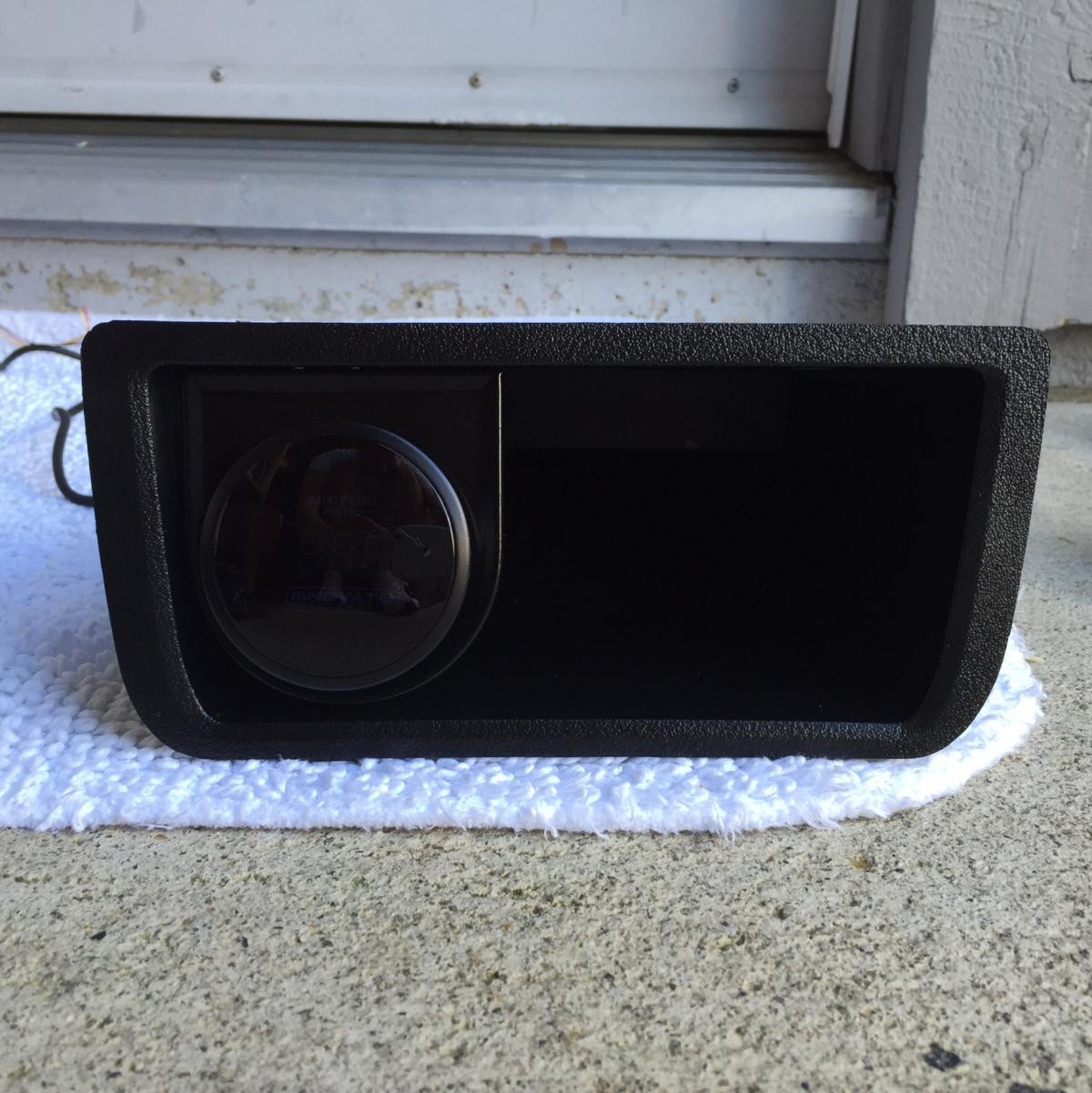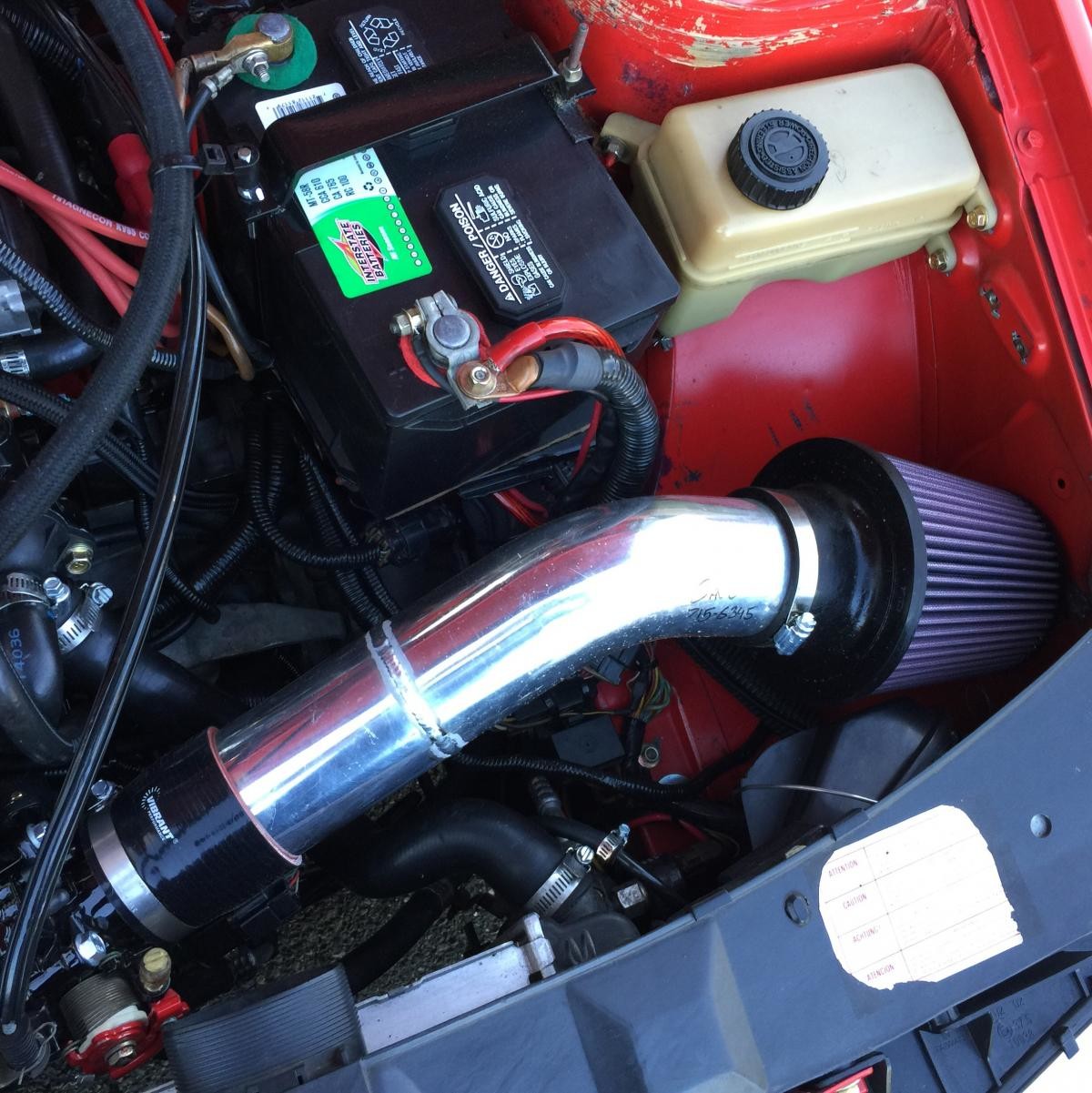 4-25-2015
WB O2 works great and 1300 miles so far.
I end up getting AVO coilovers as those Billy's did not work out as I hoped. I also end up getting helper springs,thrust bearings and cups for helper springs. I'll reuse top hats and camber plate from Billy's that I made.
I found on Ebay auto cards (сличице) that I collected as a kit and very first one that was on top of the stack was MI16. I never knew what the car was I just like the way it looked. It did take me same time to get the second part of it and to this day I still remeber how happy I was when I got the secon part of it :-) I really do think that's how it started :-)))
I did make my MI16 too look how I wanted when I was teenager,lowered,nice wheels,clean look and fully loaded. Last picture is just about the same shot as the one in the stickers.Now how cool is that :-)))
I also ordered ethanol sensor and pig tail wich is last part needed to fully run E85.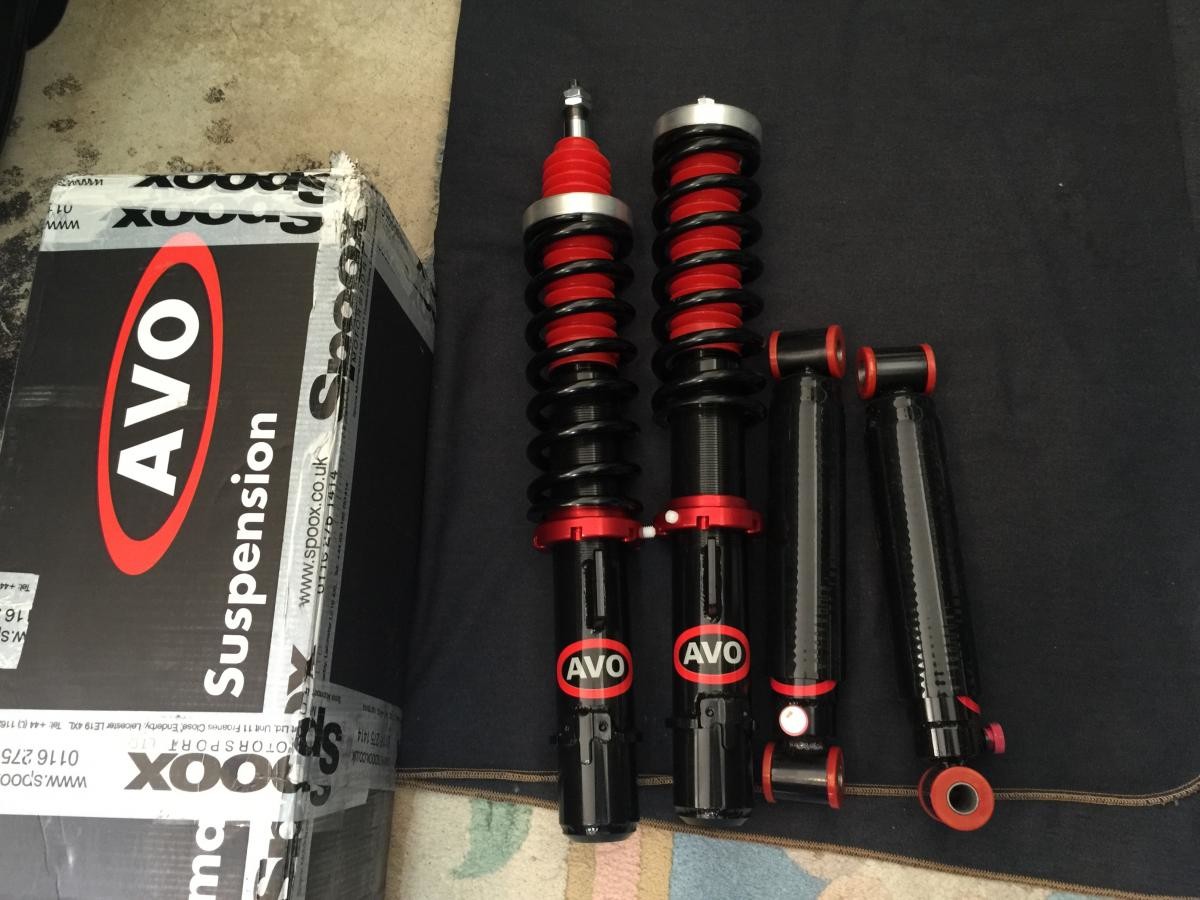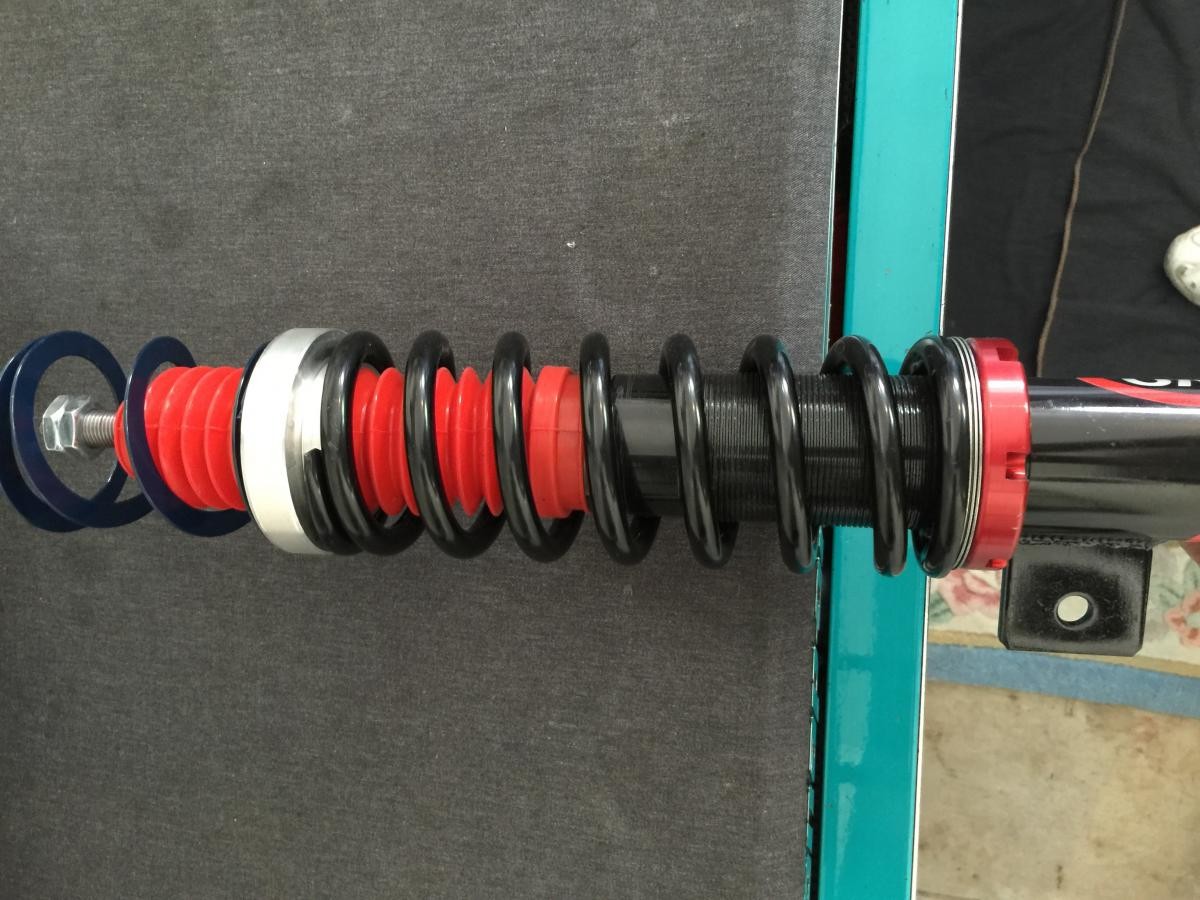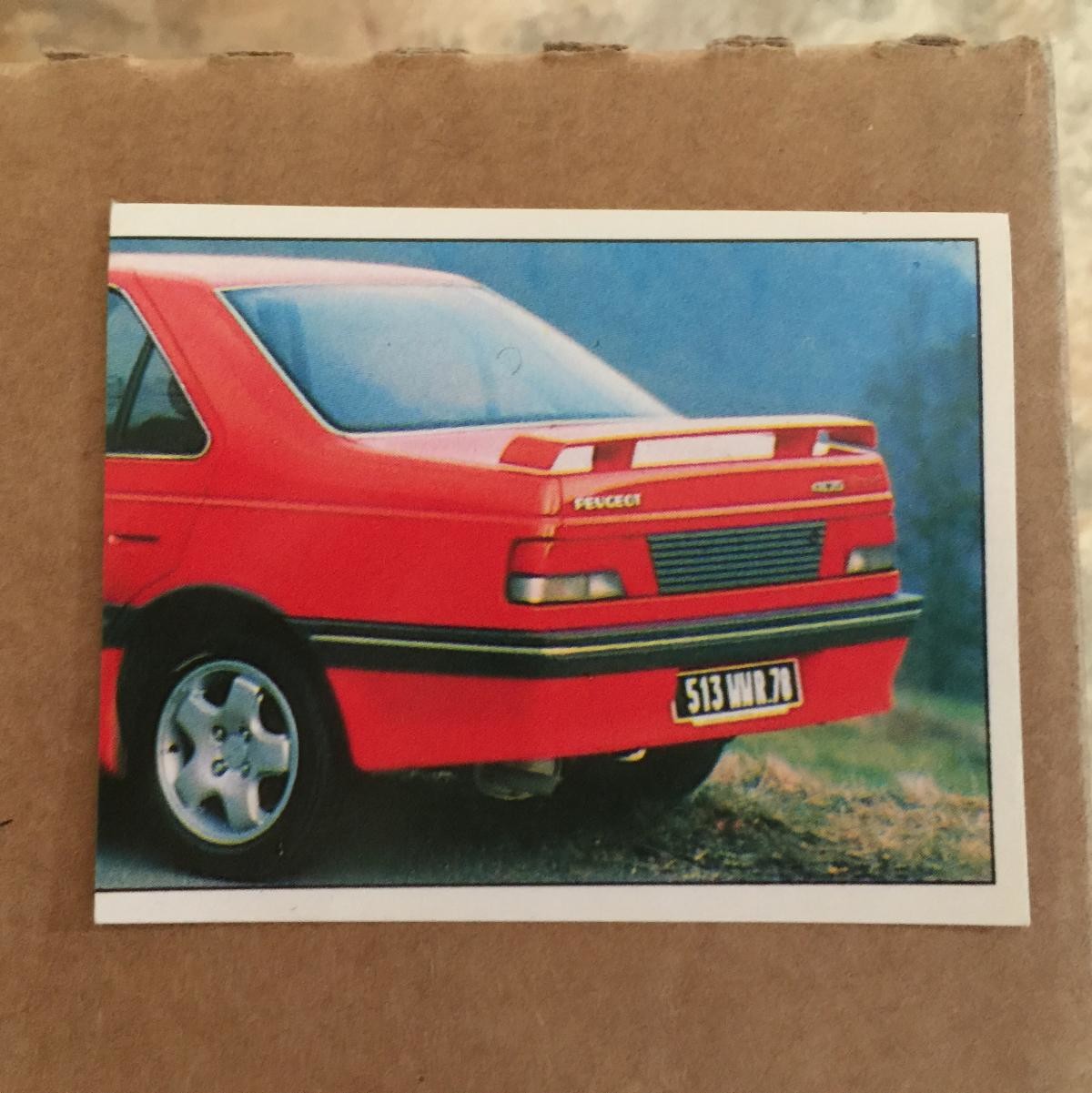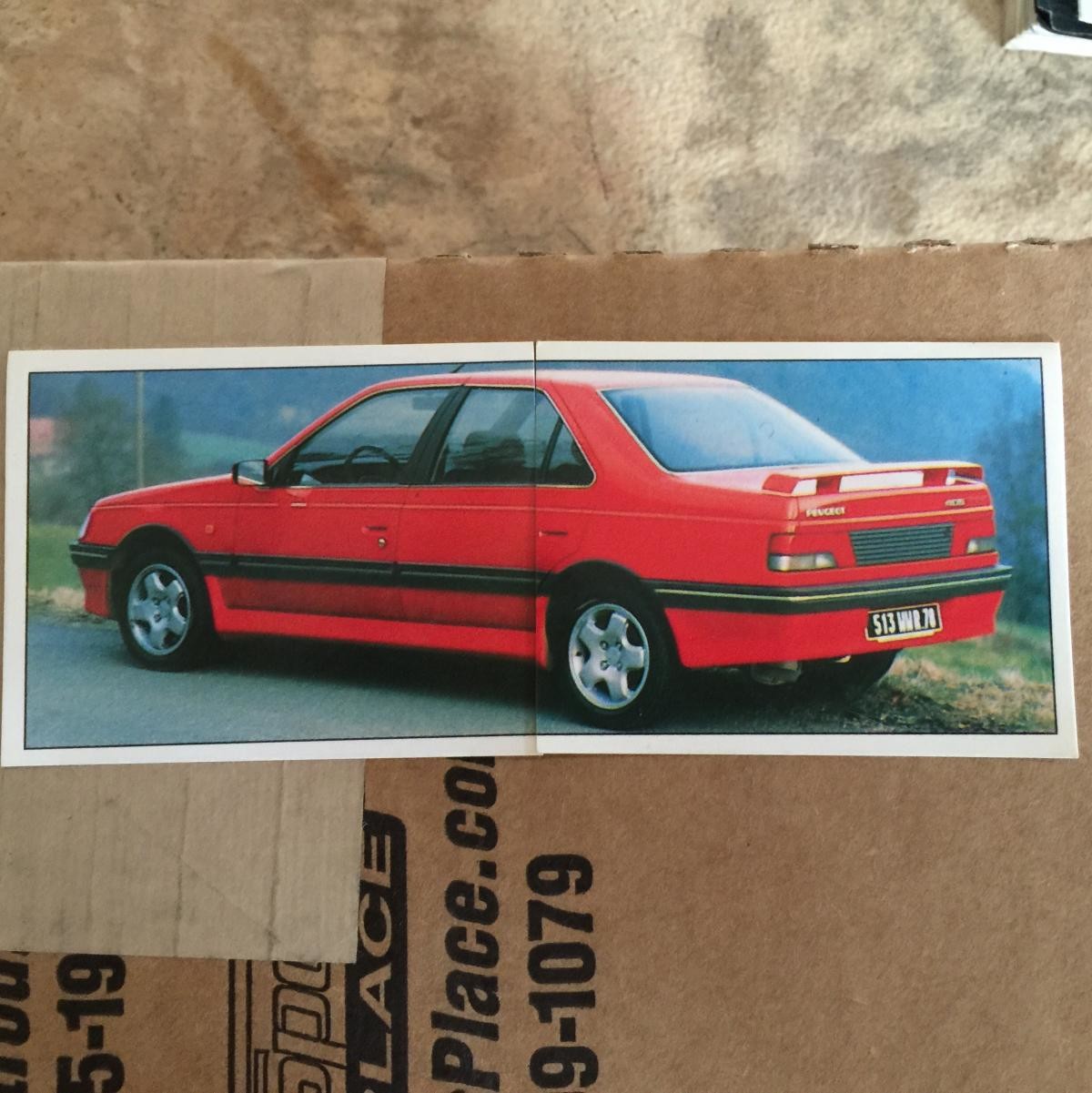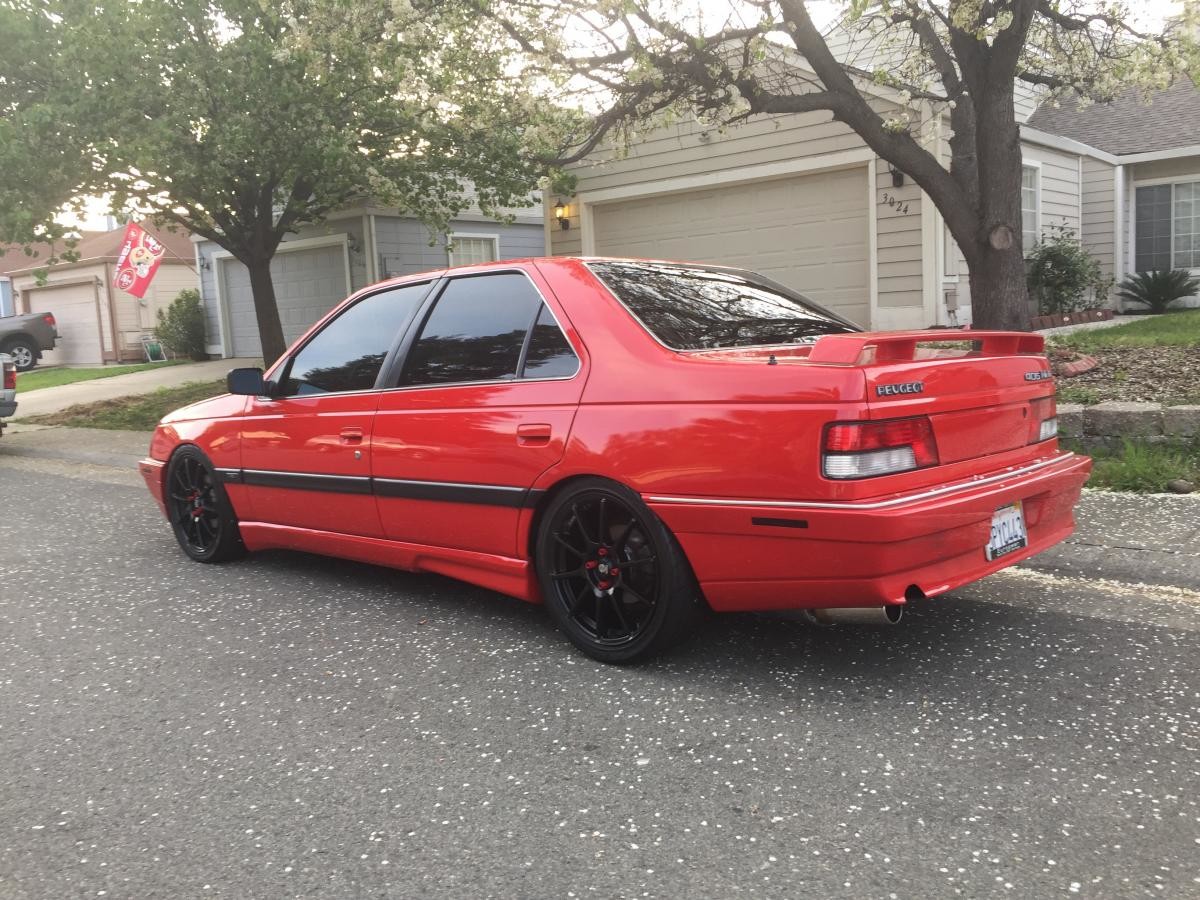 4-27-2015
AVO's installed:-)
I forgot too add picture of modified AVO's. I added thrust bearings,helper springs and cups,top heat and camber plates. I could not reuse previous hepler springs,cups and bearings as they were 2,5" and AVO's are using 2 1/4 springs.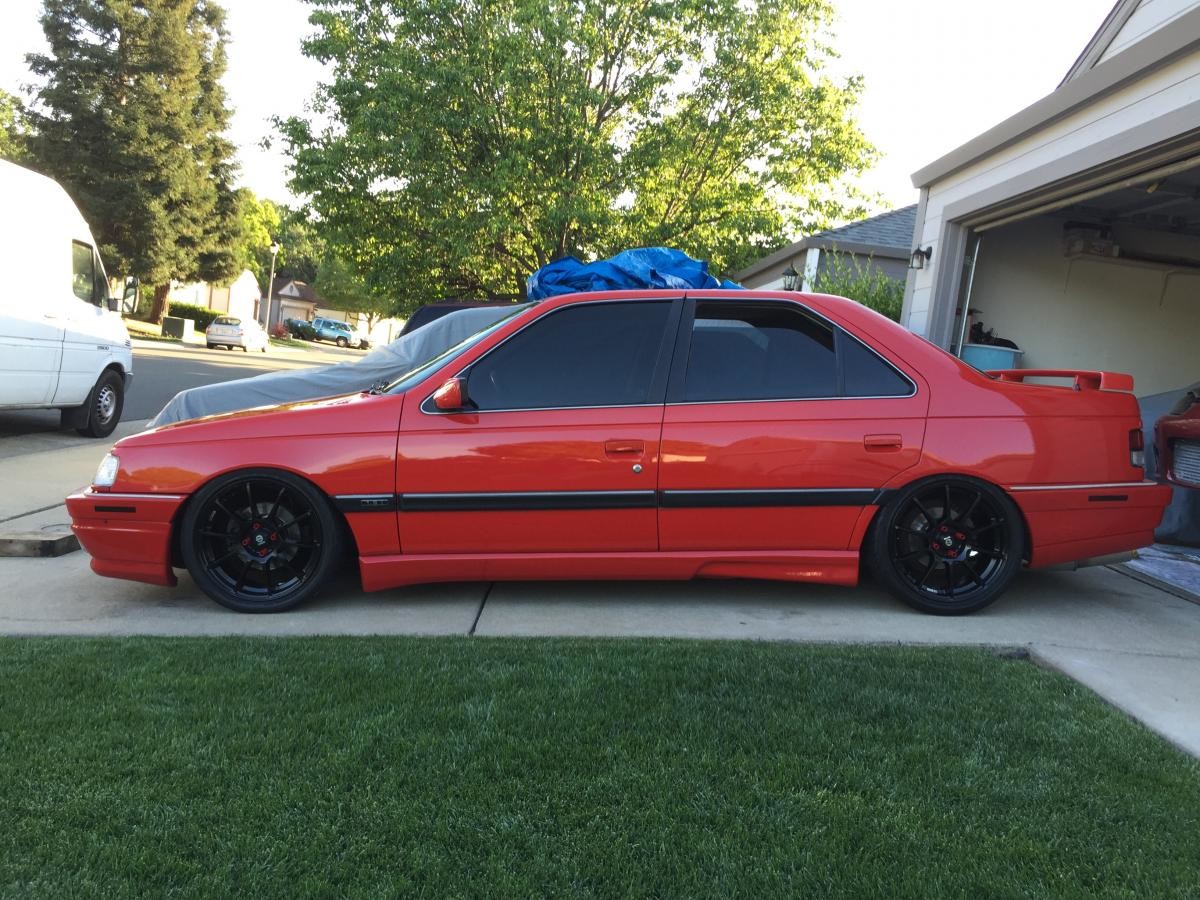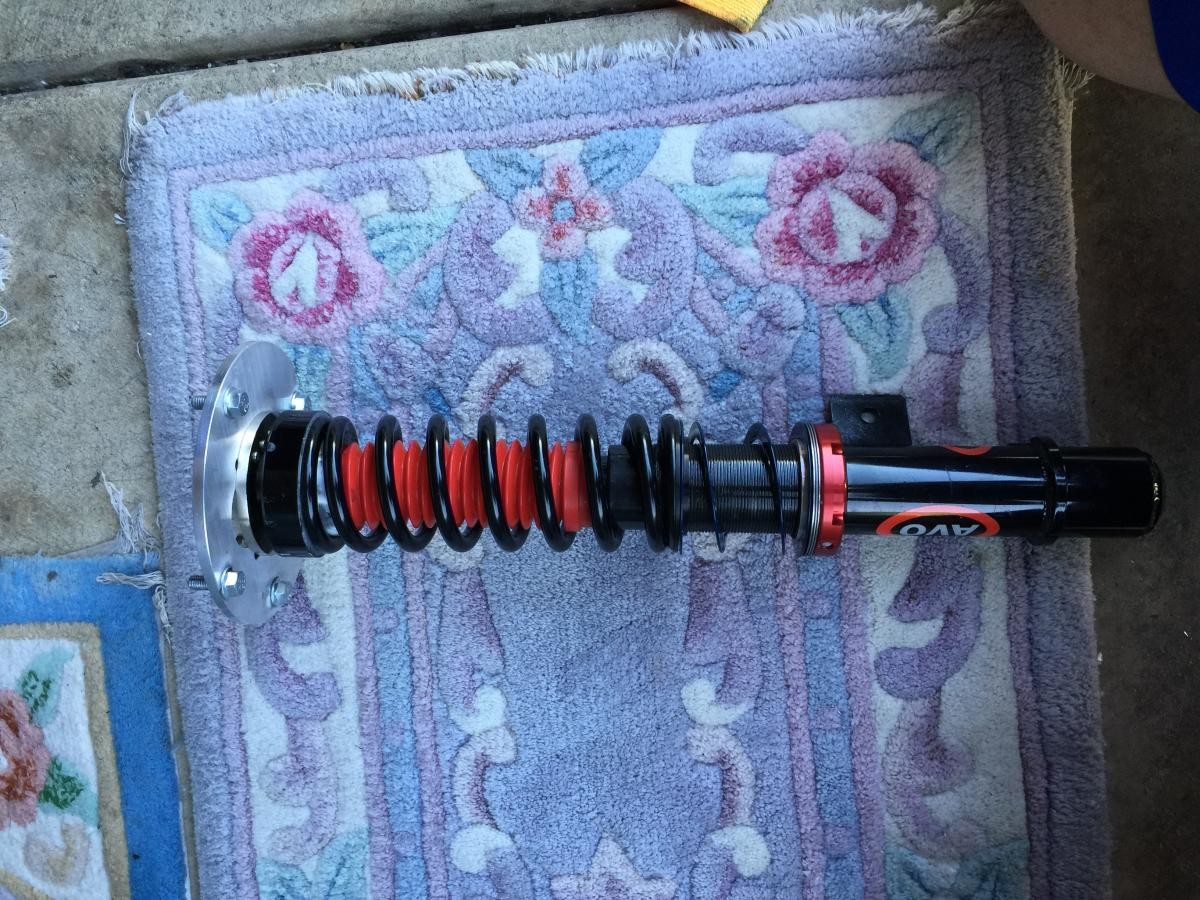 I'll lift the front for about 10mm and leave it as is. I'll roll fron fenders just so it gives me more clearance in case I'm running negative camber,that way alignment shop can set it at factory spec. At the moment it's not rubbing and drives good,suspension travel seems good but typically coilovers have very little suspension travel. About 10-30mm on DD is all they travel.
4-29-2015
At Starbucks with my friend and his C36 AMG manual swapped.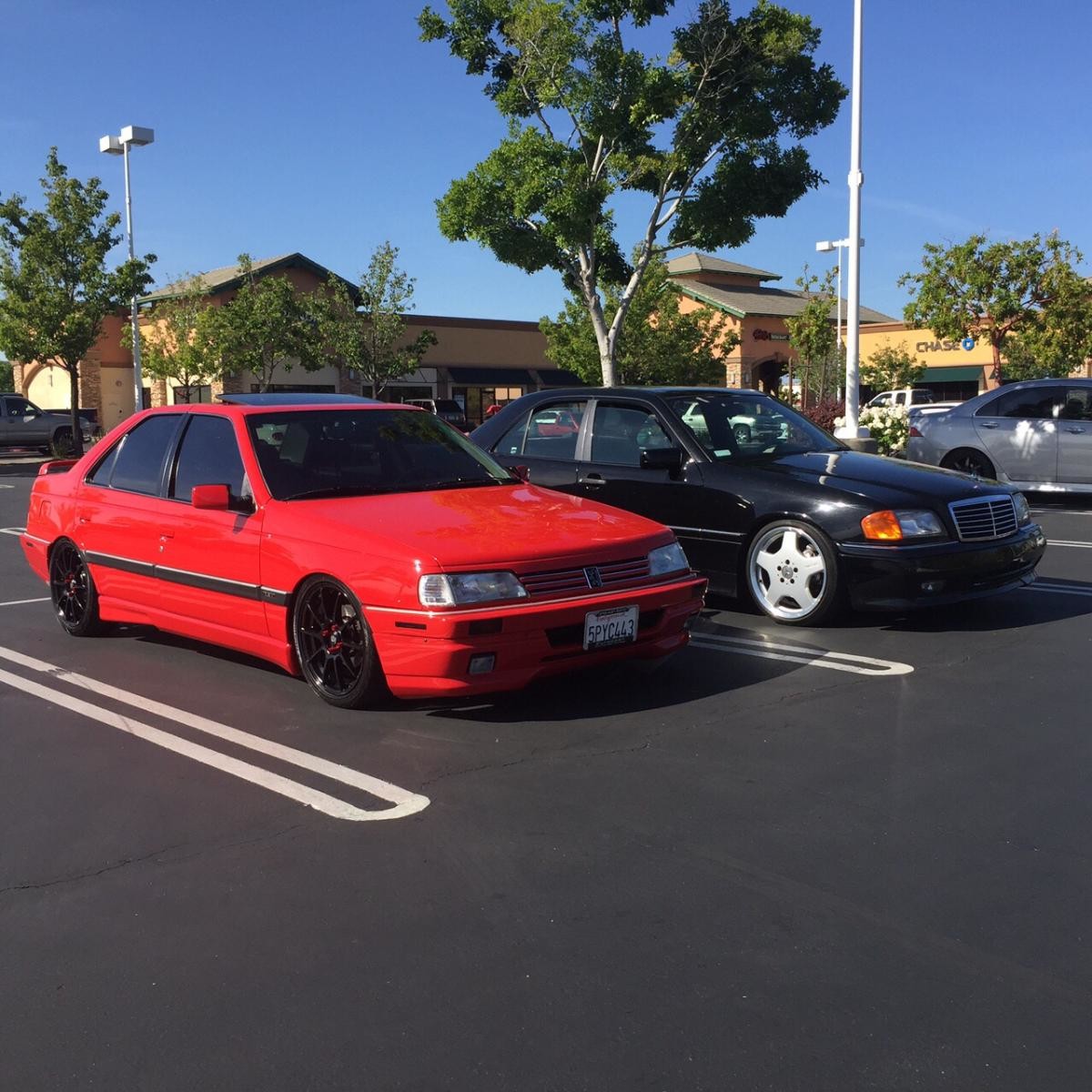 5-11-2015
I installed Flex sensor on Thursday,loged it on Saturday and filled it up with E85 on Sunday. Runs just about the same as it did with 91. I may need to adjust SD table a bit before WOT tuning.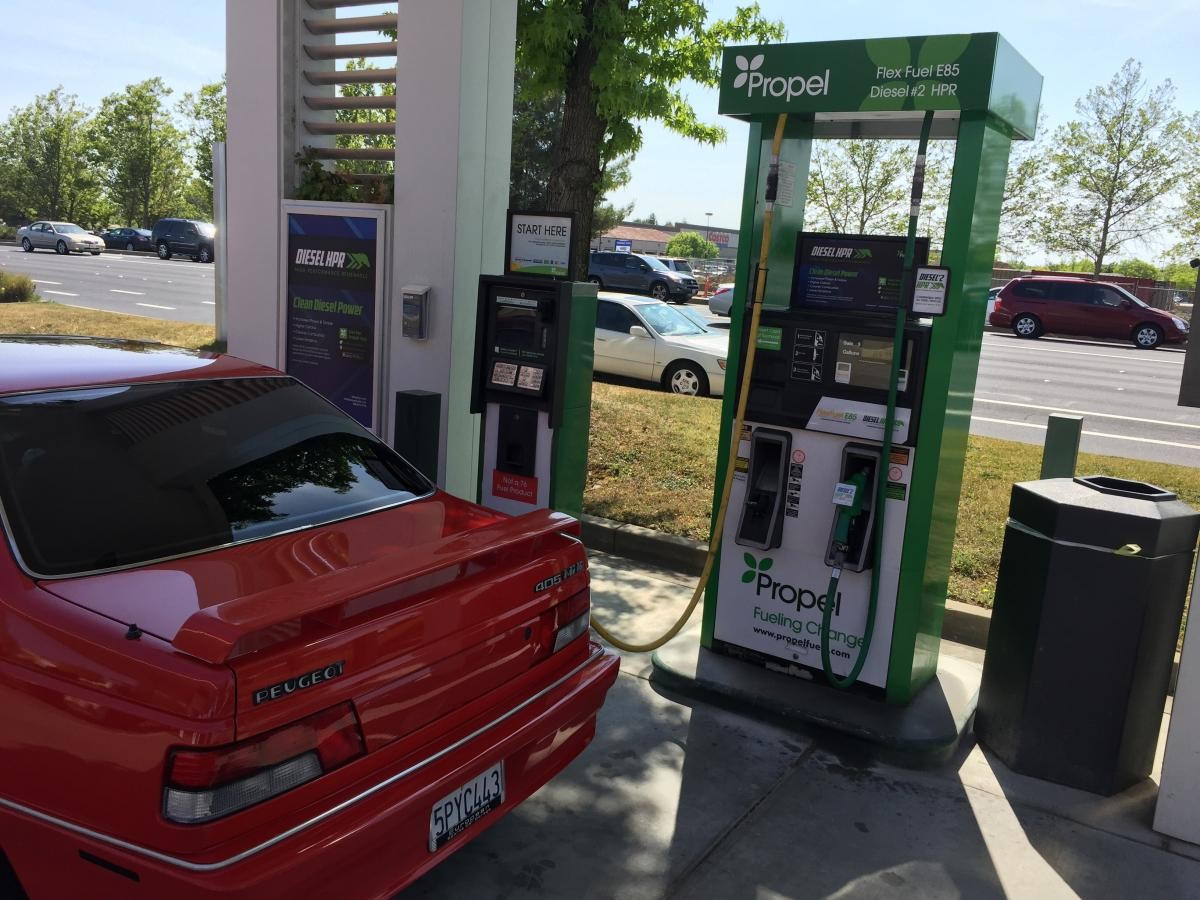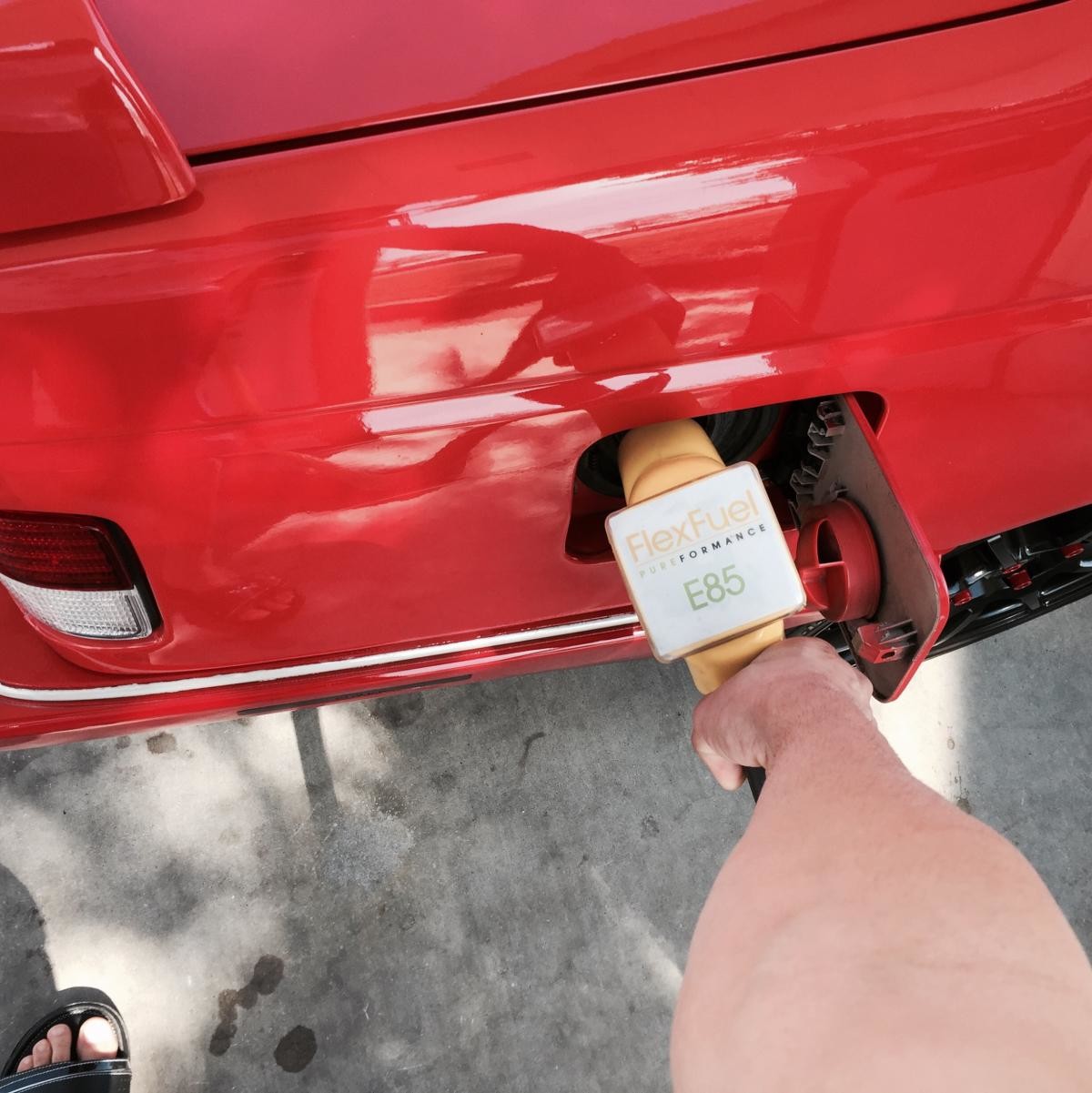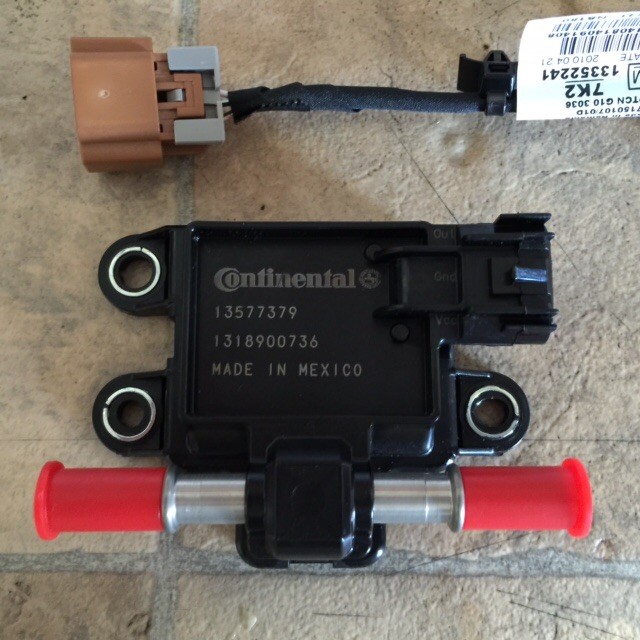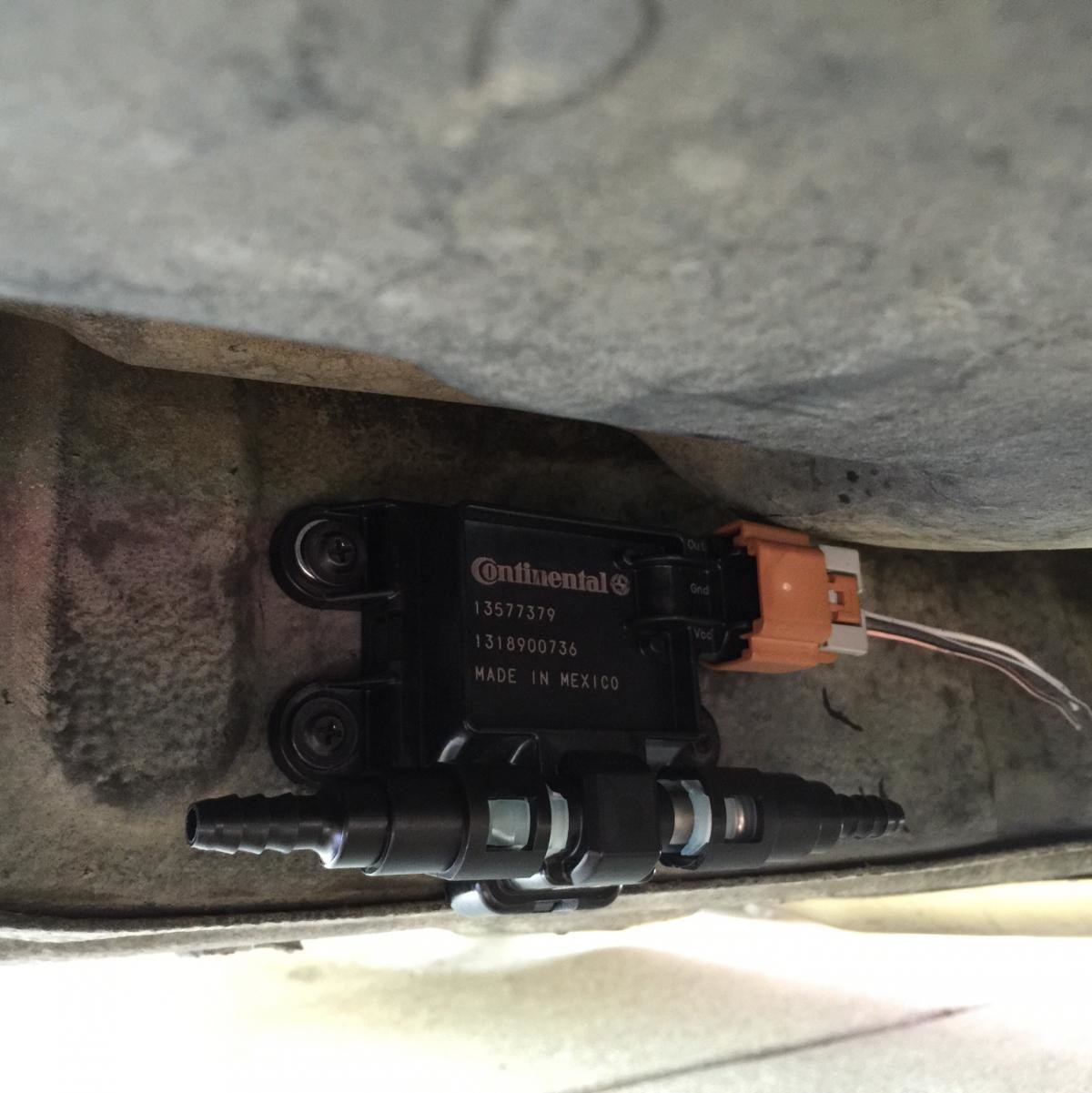 Finished Savo spec XU9J4 1g DSM CAS adapter. Intake is still at powder coater so I couldn't take any pictures of entire engine bay.
Front spring rate on coilovers are 250 pounds and they feel too soft,could be because most European models are not fully loaded and probably much lighter so I'll order 300's tomorrow.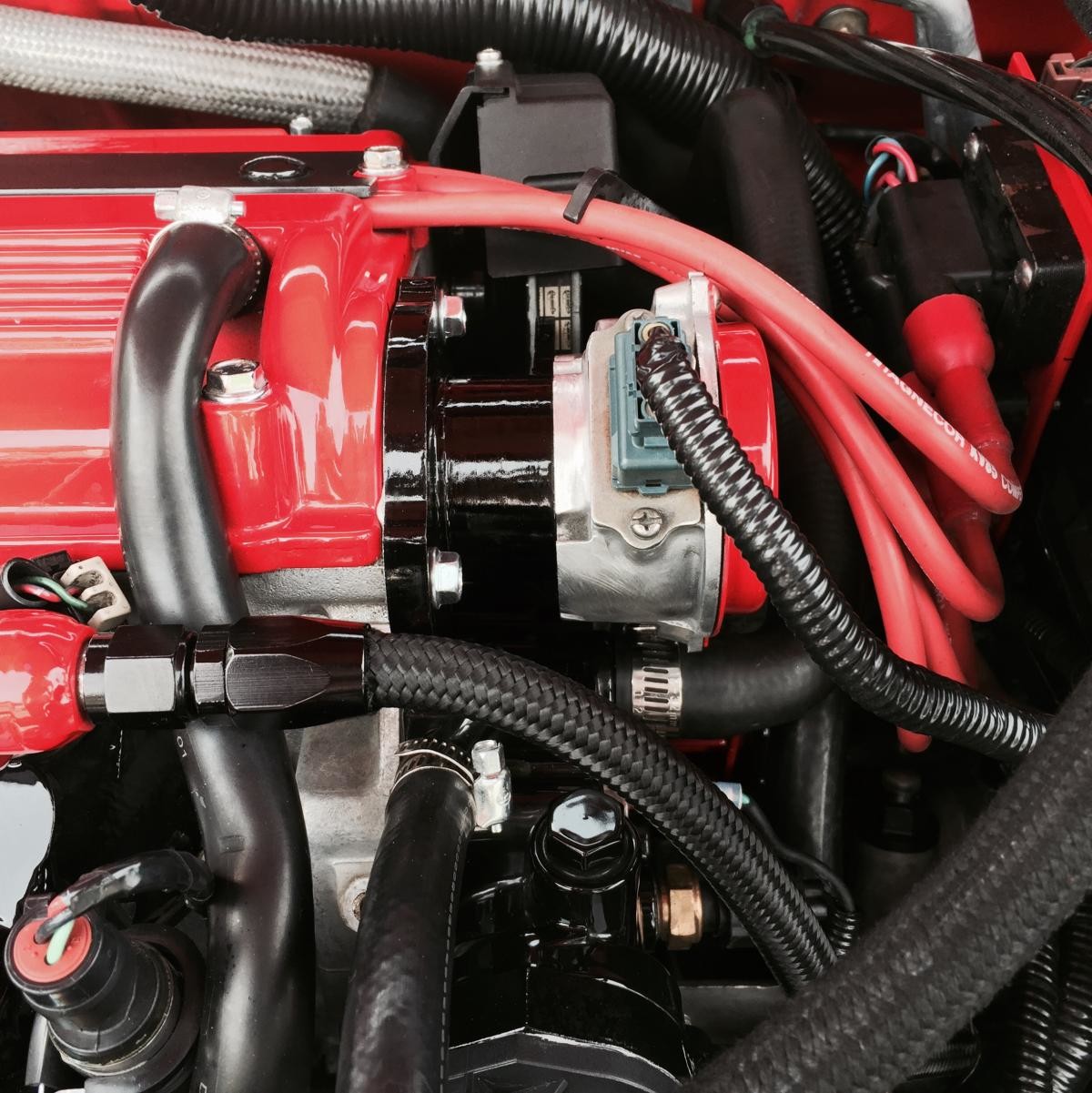 5-14-2015
To me it feels like 300 LBS springs are way to go,MI16 rides much better now. It may have something to do with extra weight that cars have here in US.Also not sure why AVO never included bump stops,I got mine from Koni.
5-25-2015
Here are few pictures of engine bay with finished ECMlink,E85,SD swap. So far just about 3000 miles trouble free,she only used .5 liters of oil and that's with 7800 RPM red line and back to back to back WOT pulls and hitting REV limiter multiple times.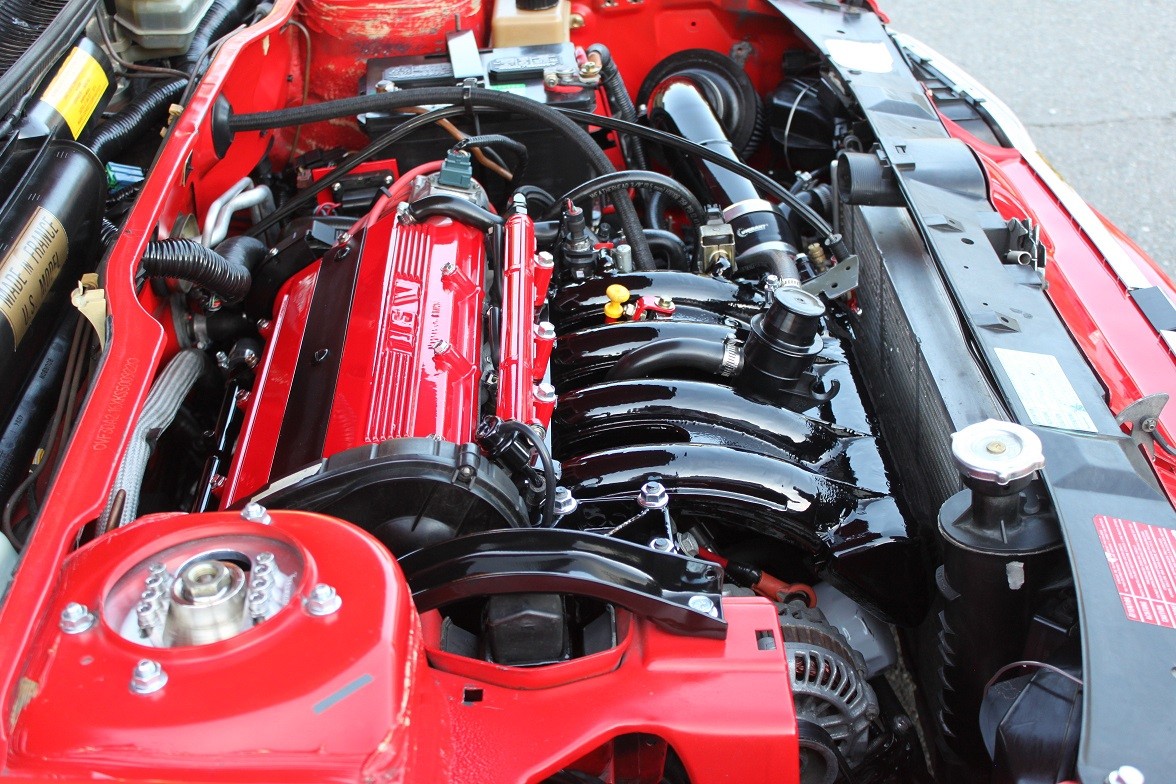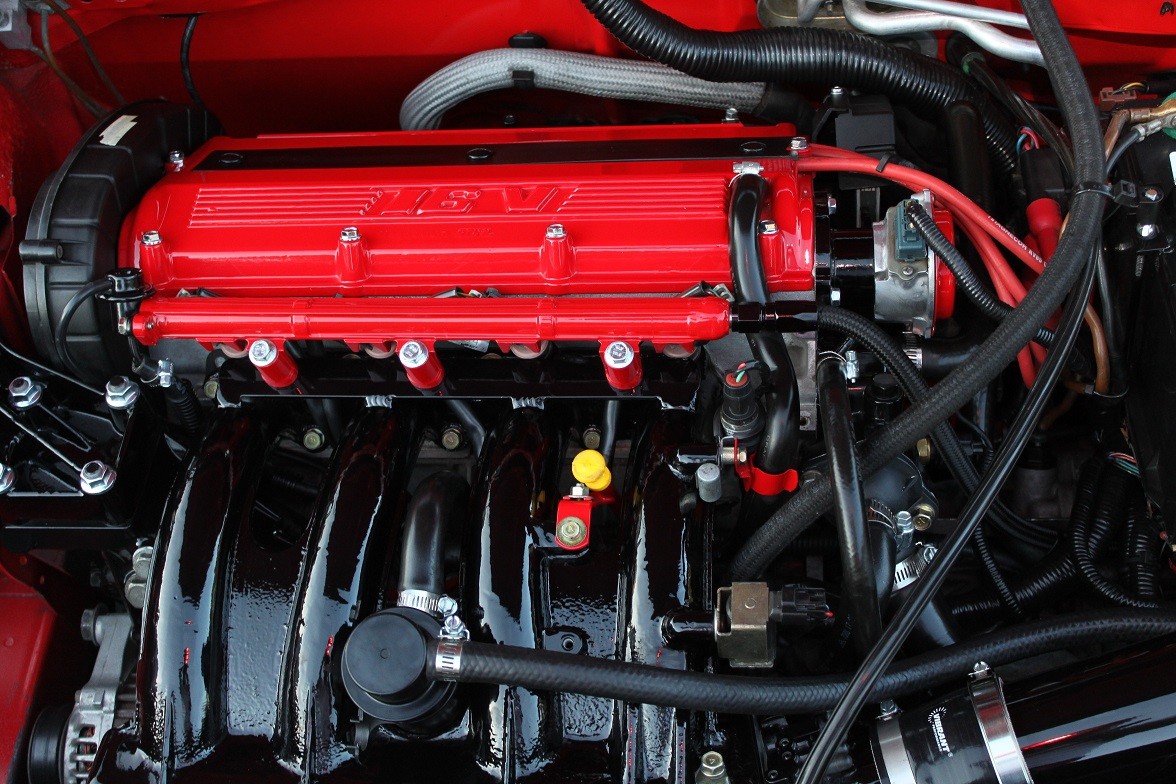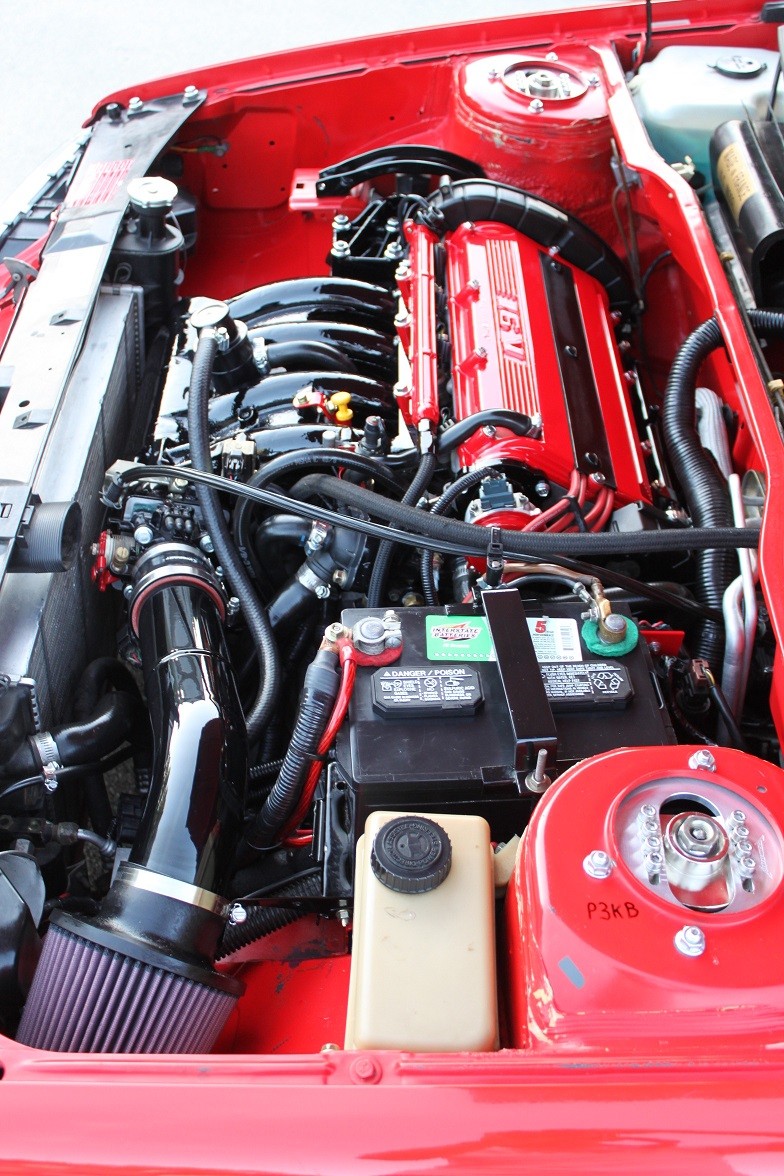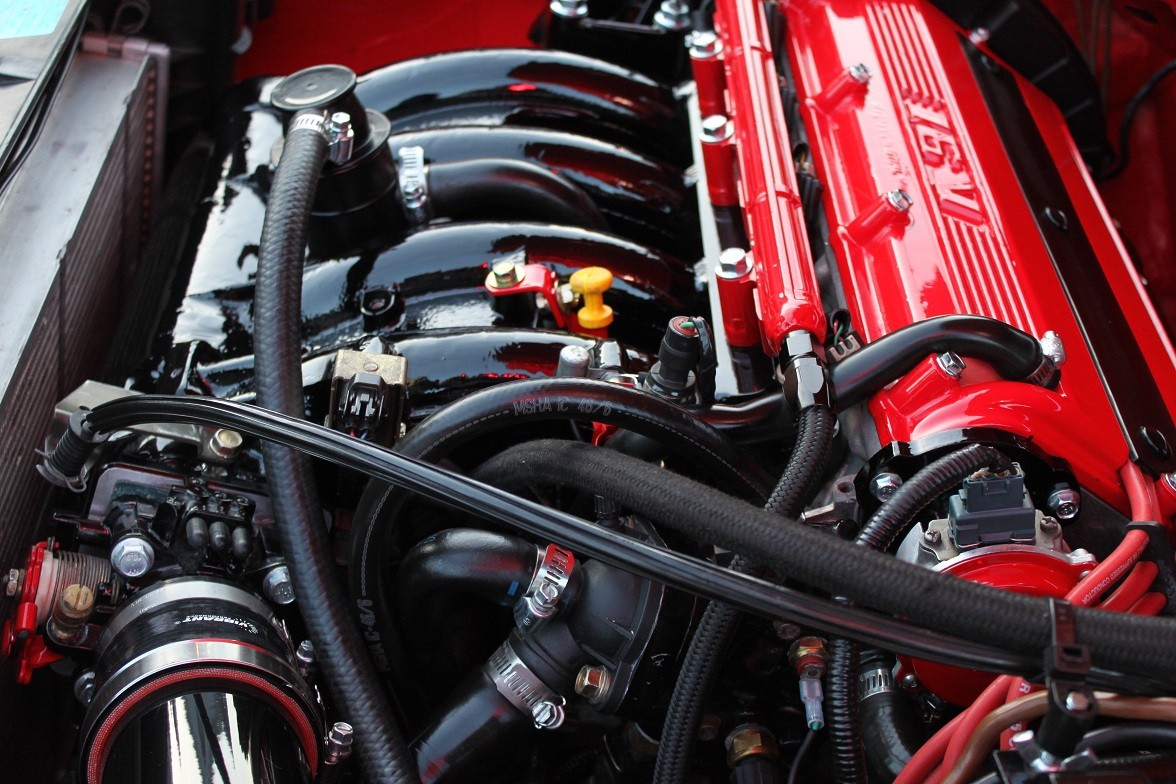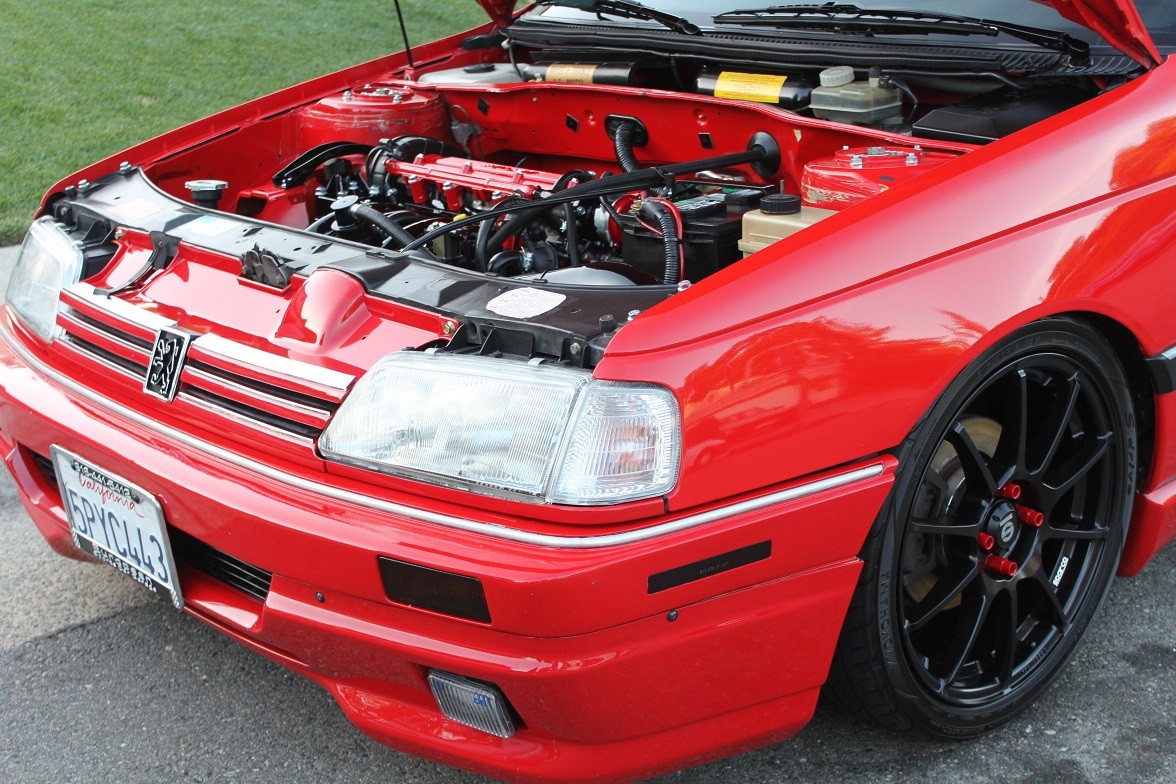 6-10-2015
This 106-206-306 VSS end up working just fine. I had to switch pin#1 with pin#3 as Mitsu 12V and signal was on opposite sides. ECMlink is reading it just fine all I had to do was to adjust speed under speed tab so ECMlink's speed is matching vehicles speedo.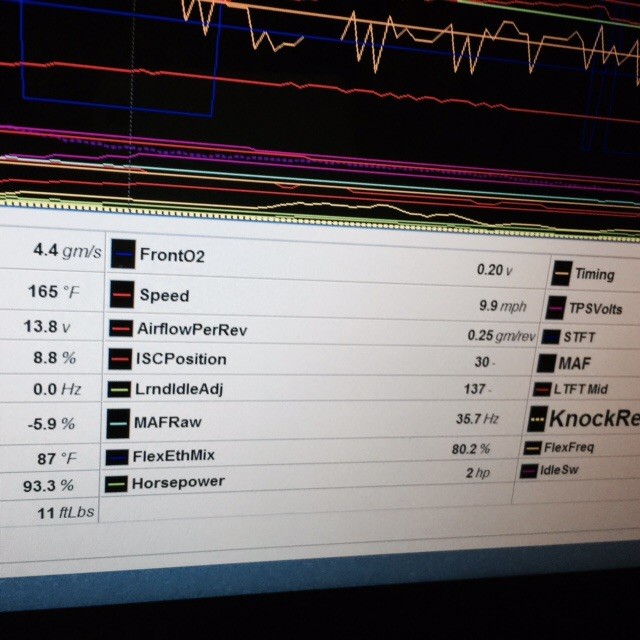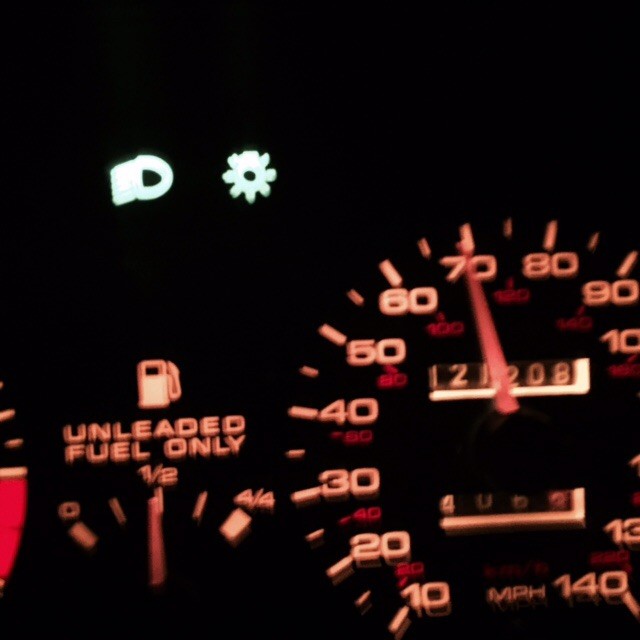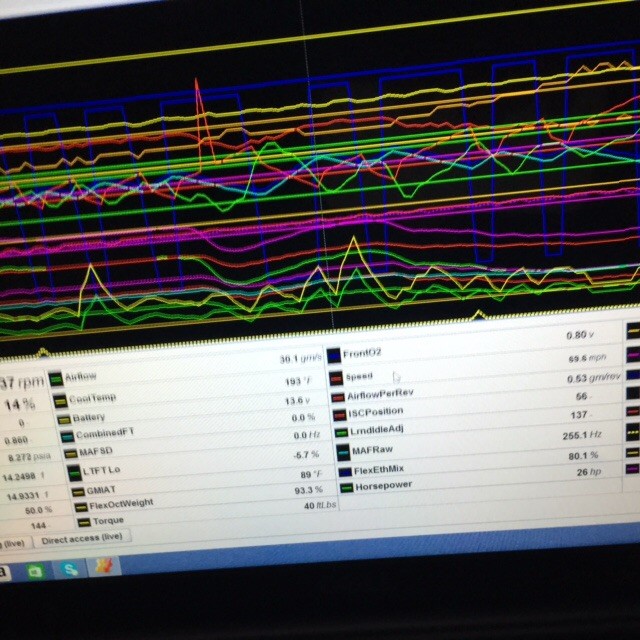 6-28-2015
I got new set of tires,alignment,axles seals,speedo housing seal,hood prop clip and repainted outside trim gloss black again. This car drives amazing now.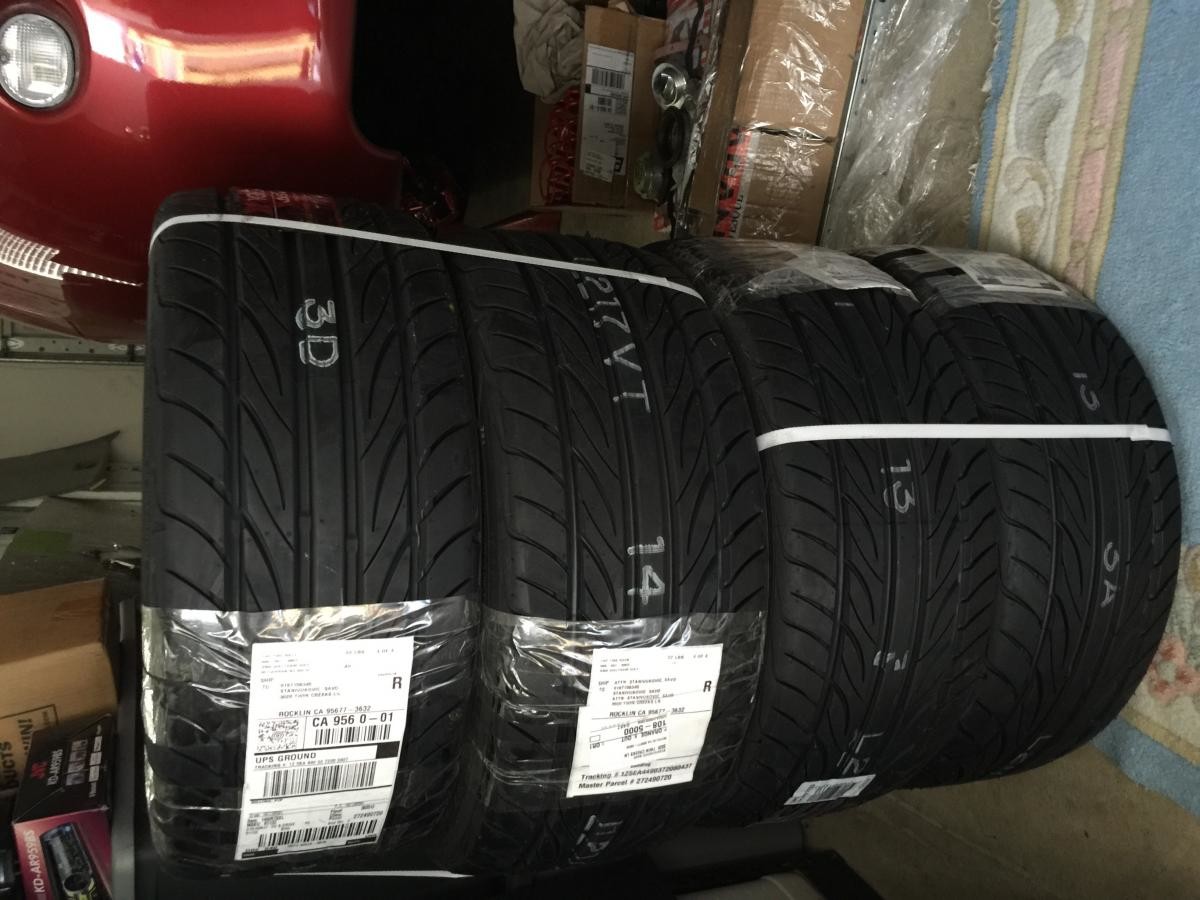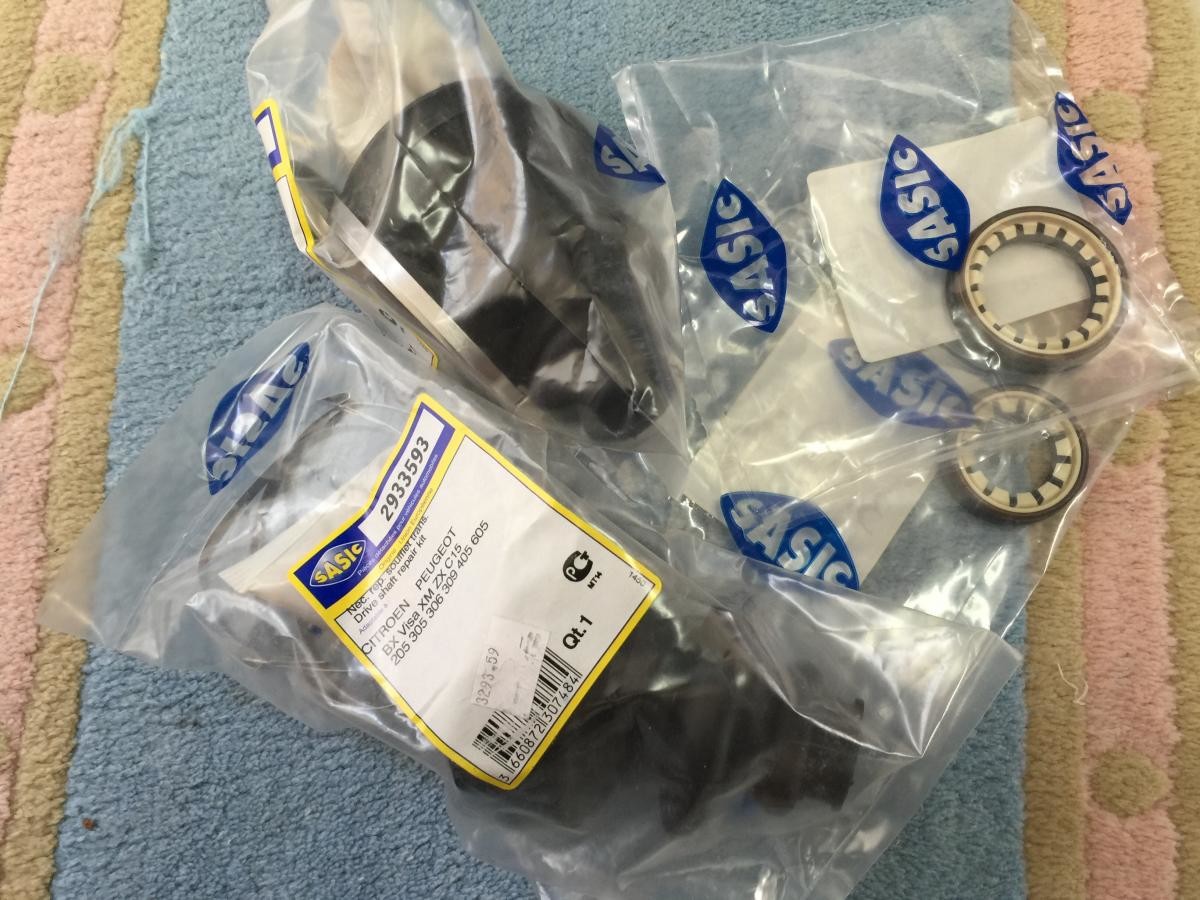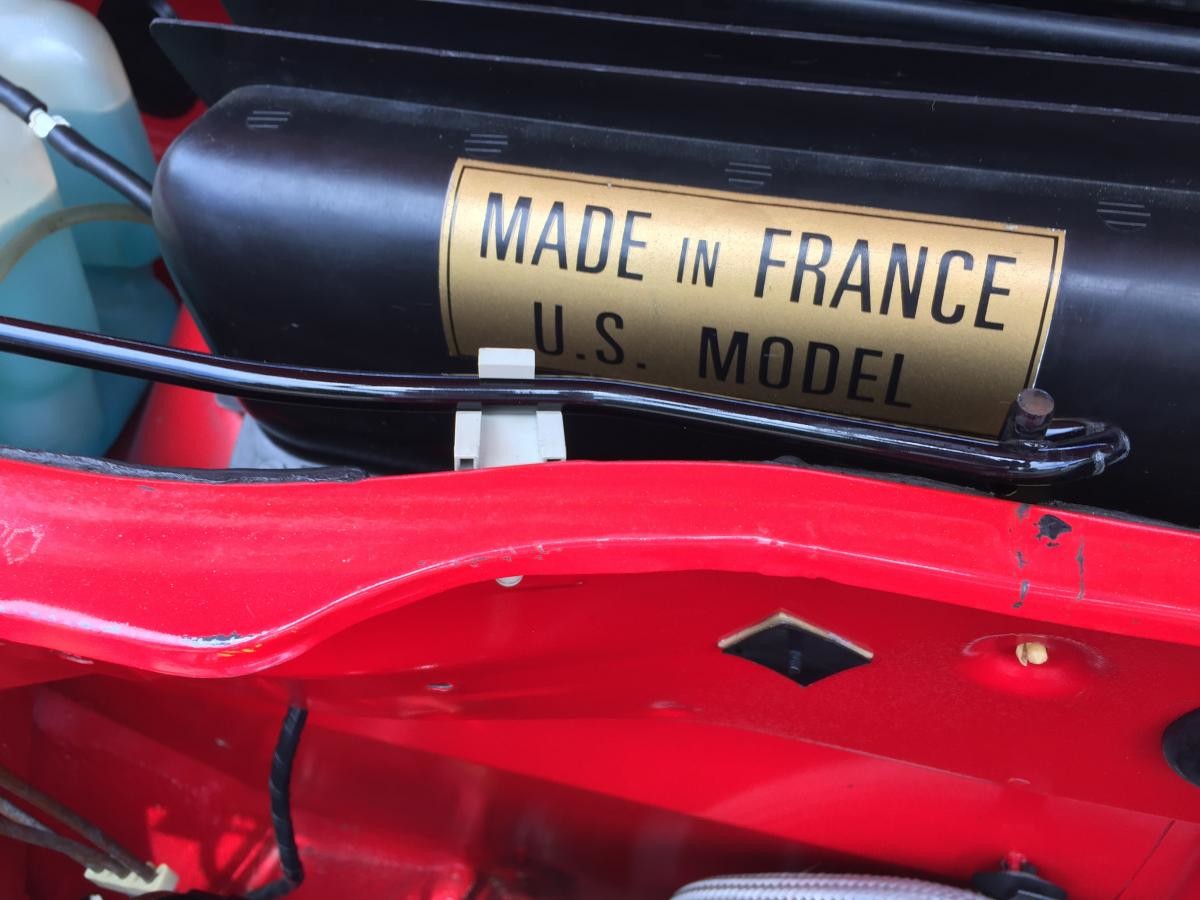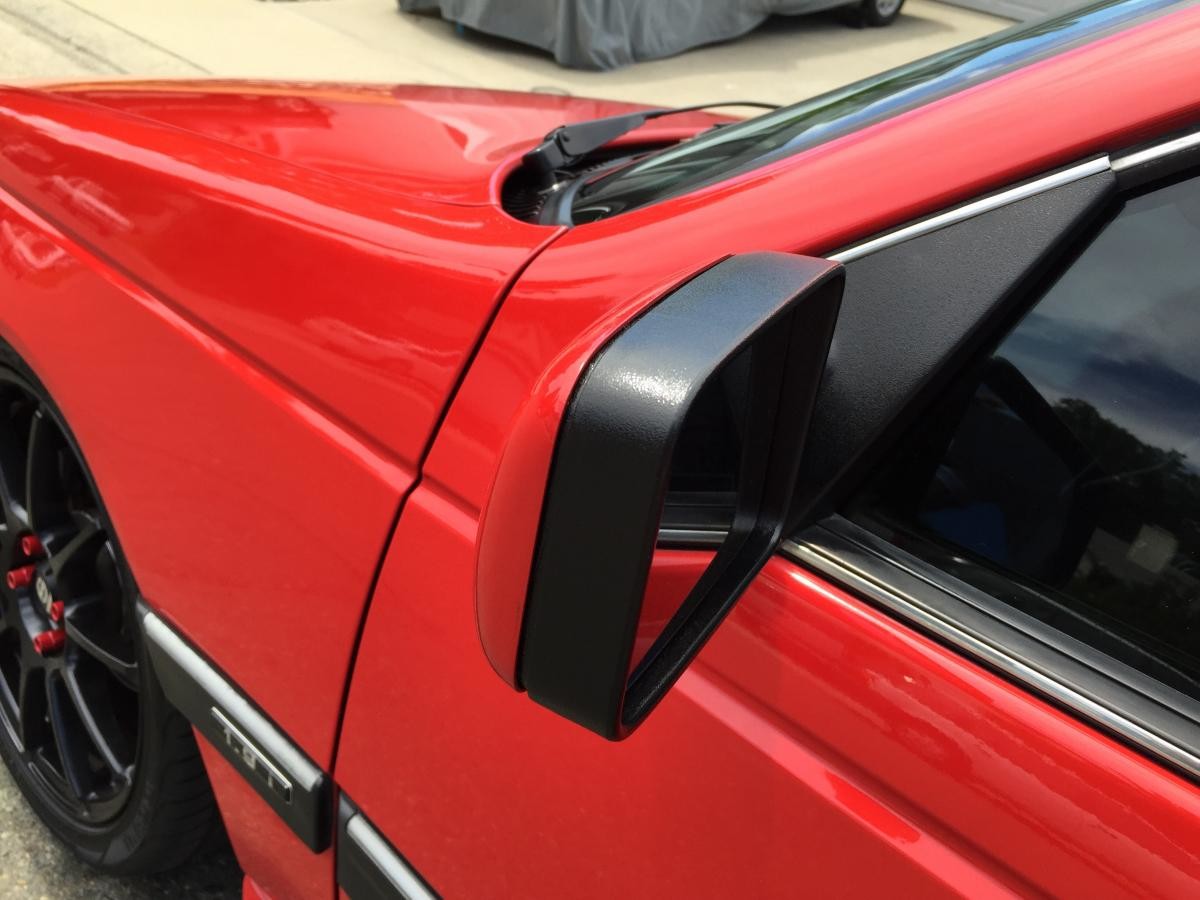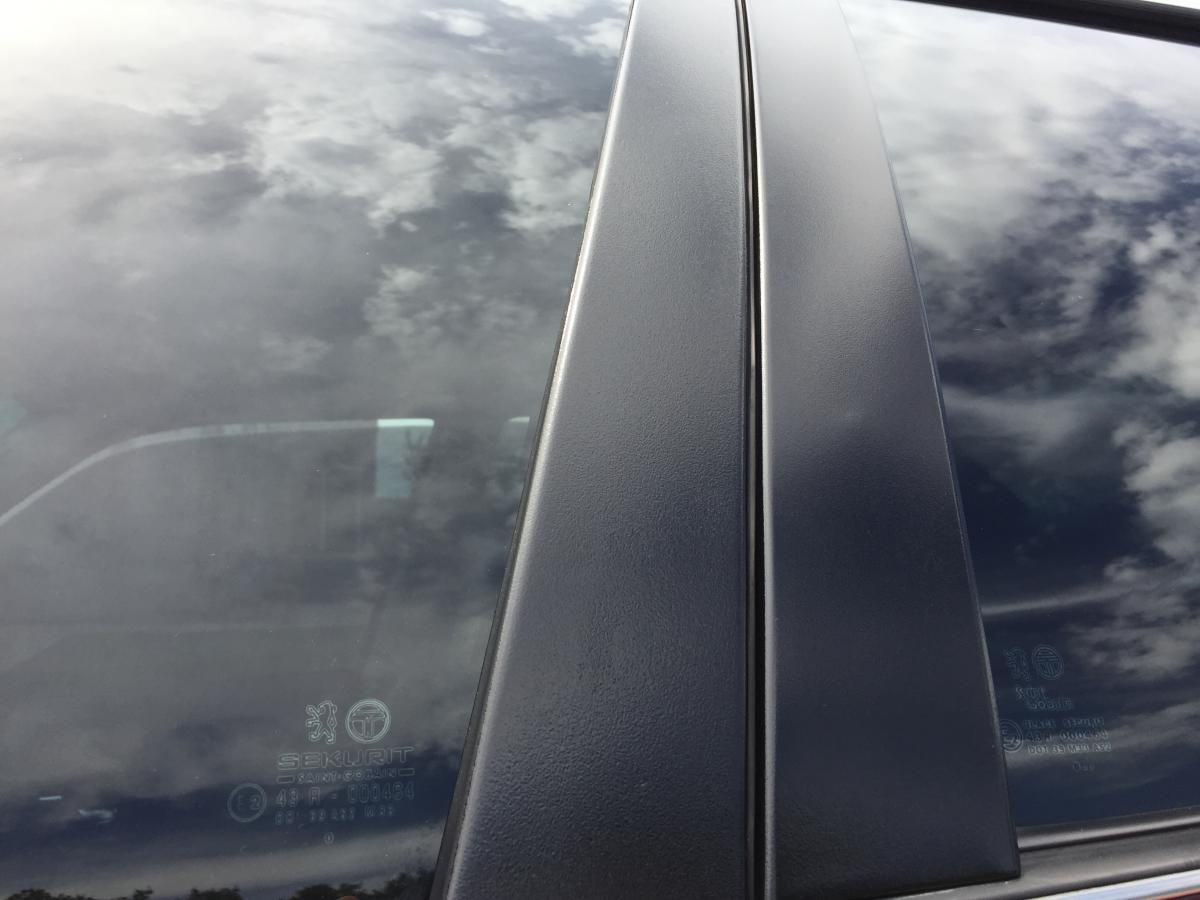 7-14-2015
Replaced and re-sealed oil pan as oil draing plug pull the threads out on last oil change. It looks like oil is leaking out of rear main seal. Once wagon is back on the road I'll remove transmission and replace clutch,rear main and input shaft seal.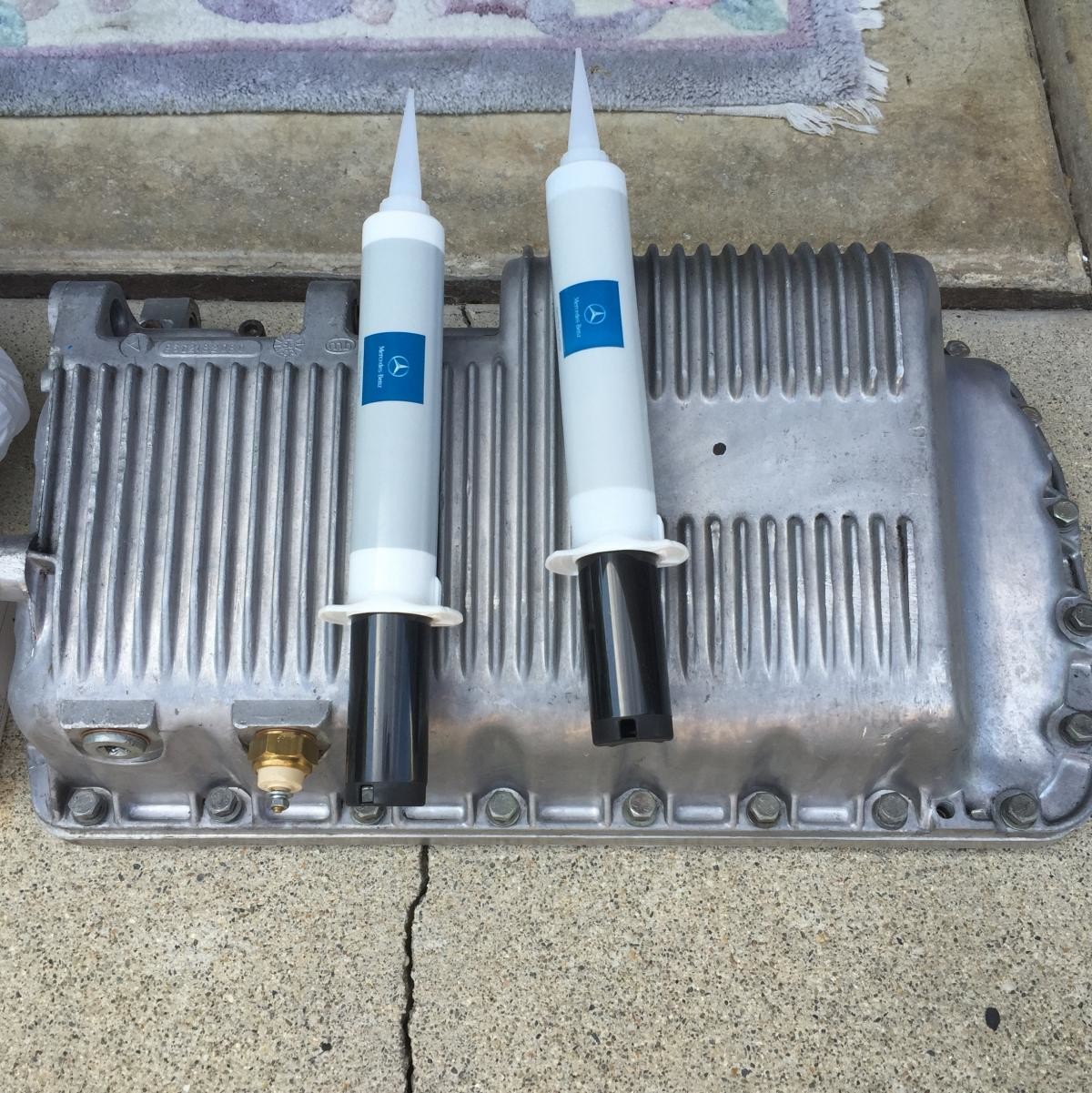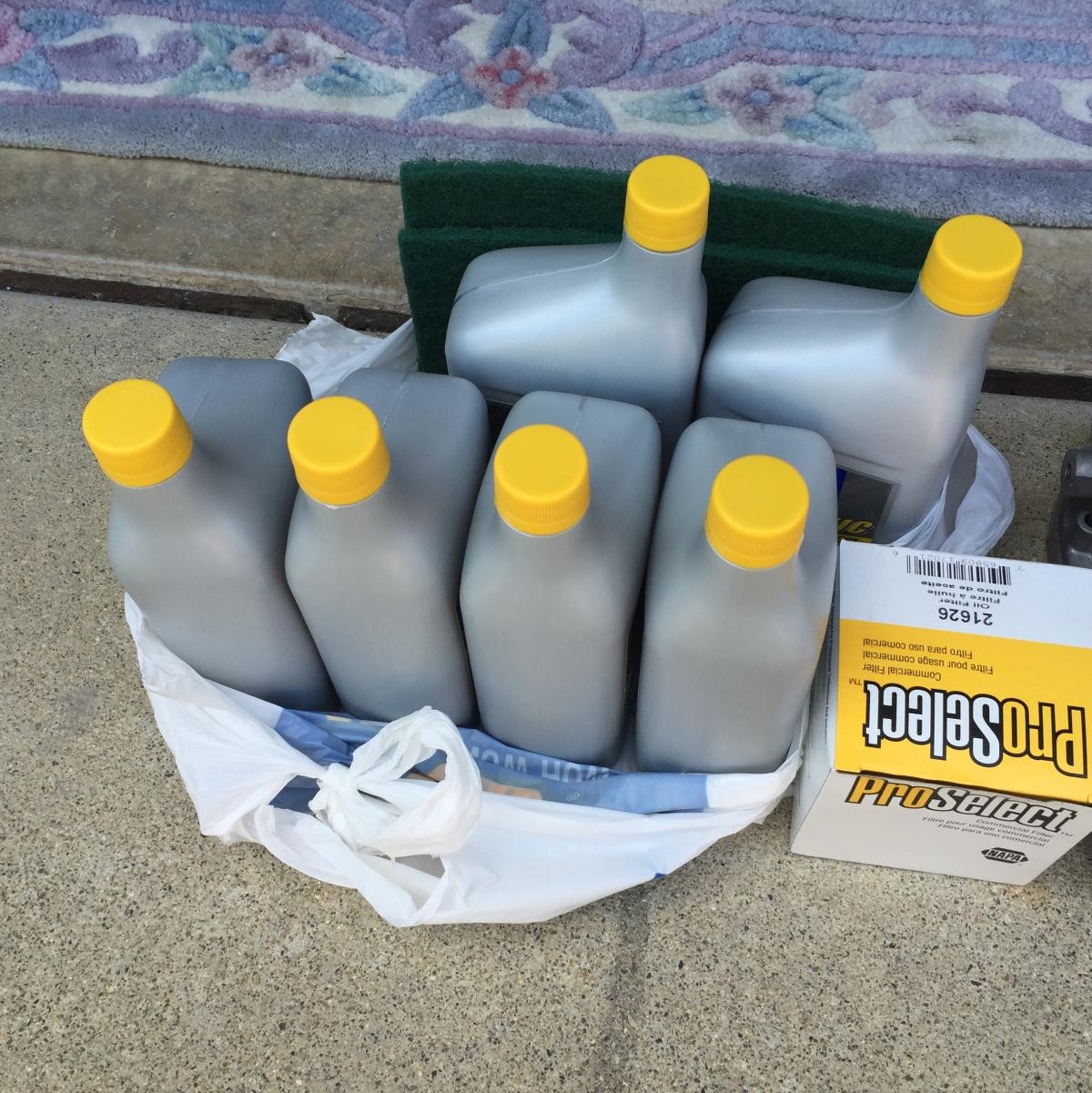 I'm just hopping it's not leaking out of rear bering cap seals... I would not look froward to it :-(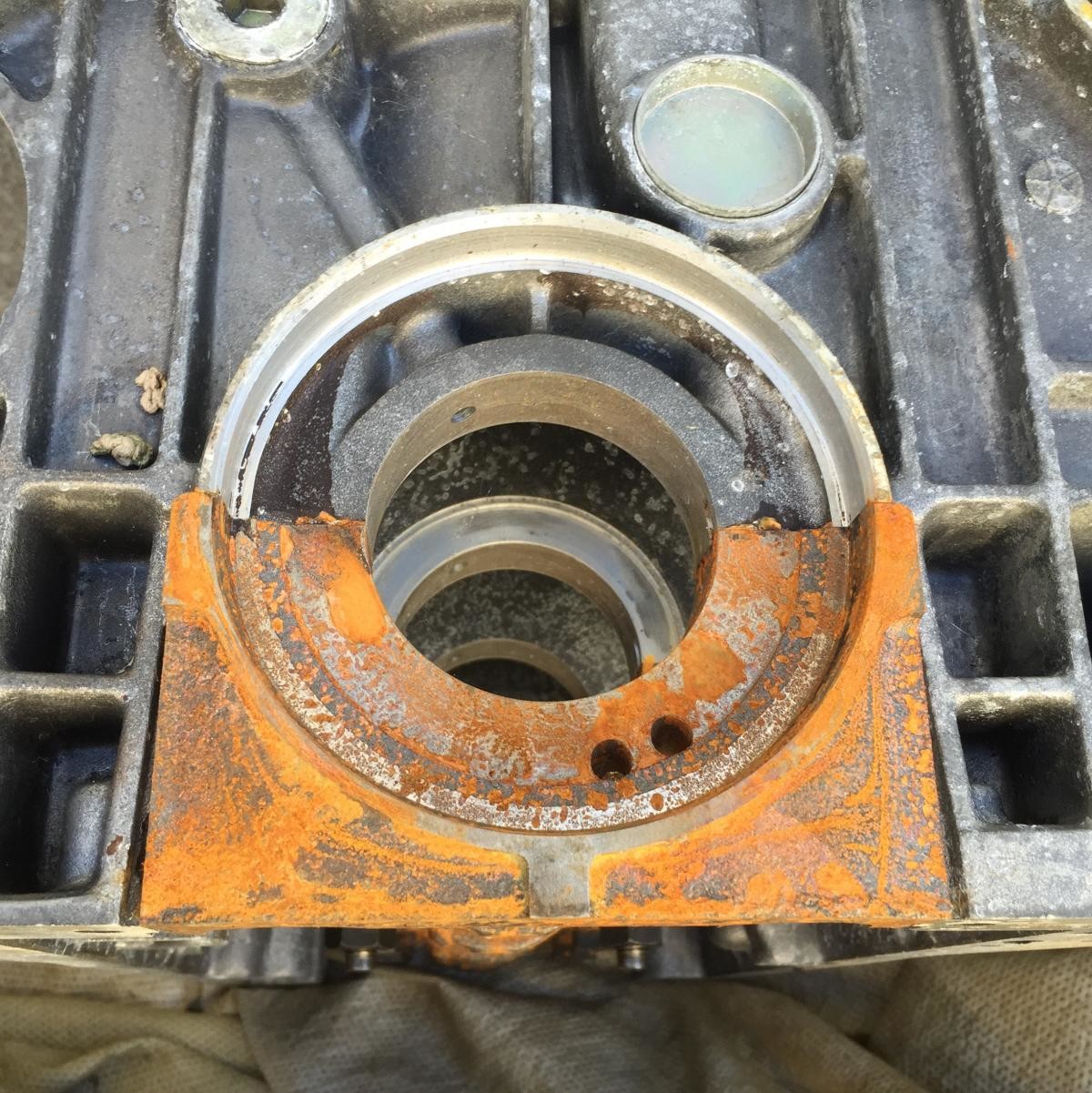 8-6-2015
Last weekend I removed transmission,oil pan agian and rear main bearing cap to replace side seals. I got everything cleaned up,replaced rear main seal,rear cap bearing seals and clutch. I'm waiting on clutch fork bushings and C.V boots which won't be here till end of next week :-(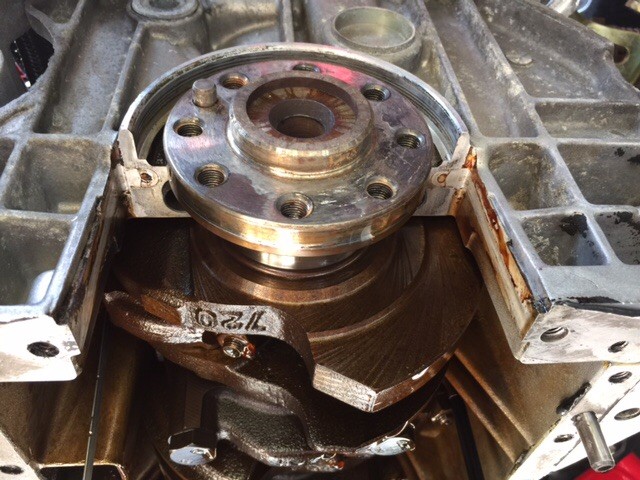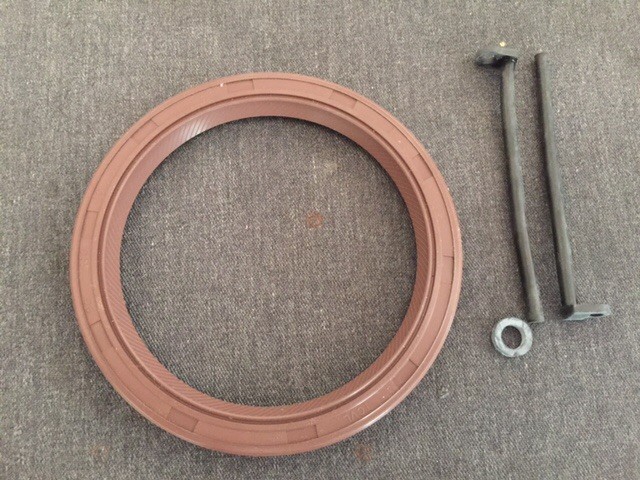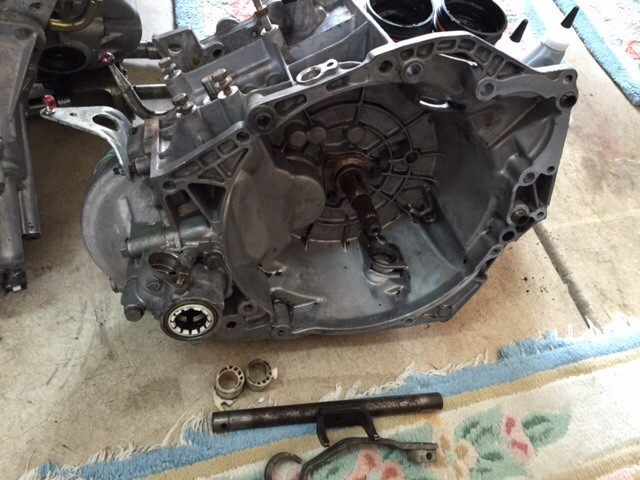 I just picked up transmission fluid,LSD additive,CV boot clamps,intermediate shaft bearing,input shaft seal and some LED bulbs.
I also got new lug bolts for wheel spacers.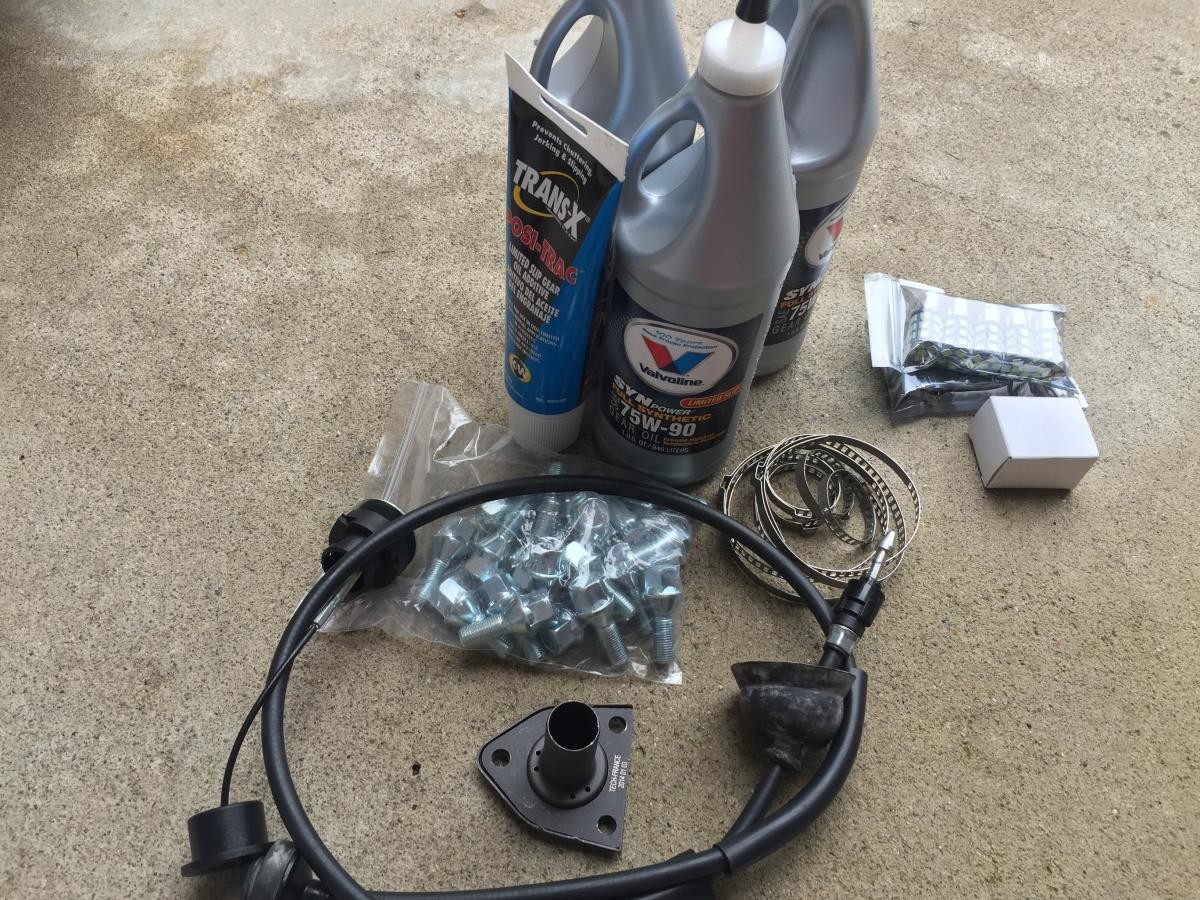 8-25-2015
She's back on the road and I can not tell you guys how much have I miss driving this little beast :-)
I'll drive it till the weekend and inspect for oil leaks,as of right now drives well and all looks good.
I start playing with launch control as I'm not sure how well it will work on FWD car but I can't think of better way to test out new clutch ;-)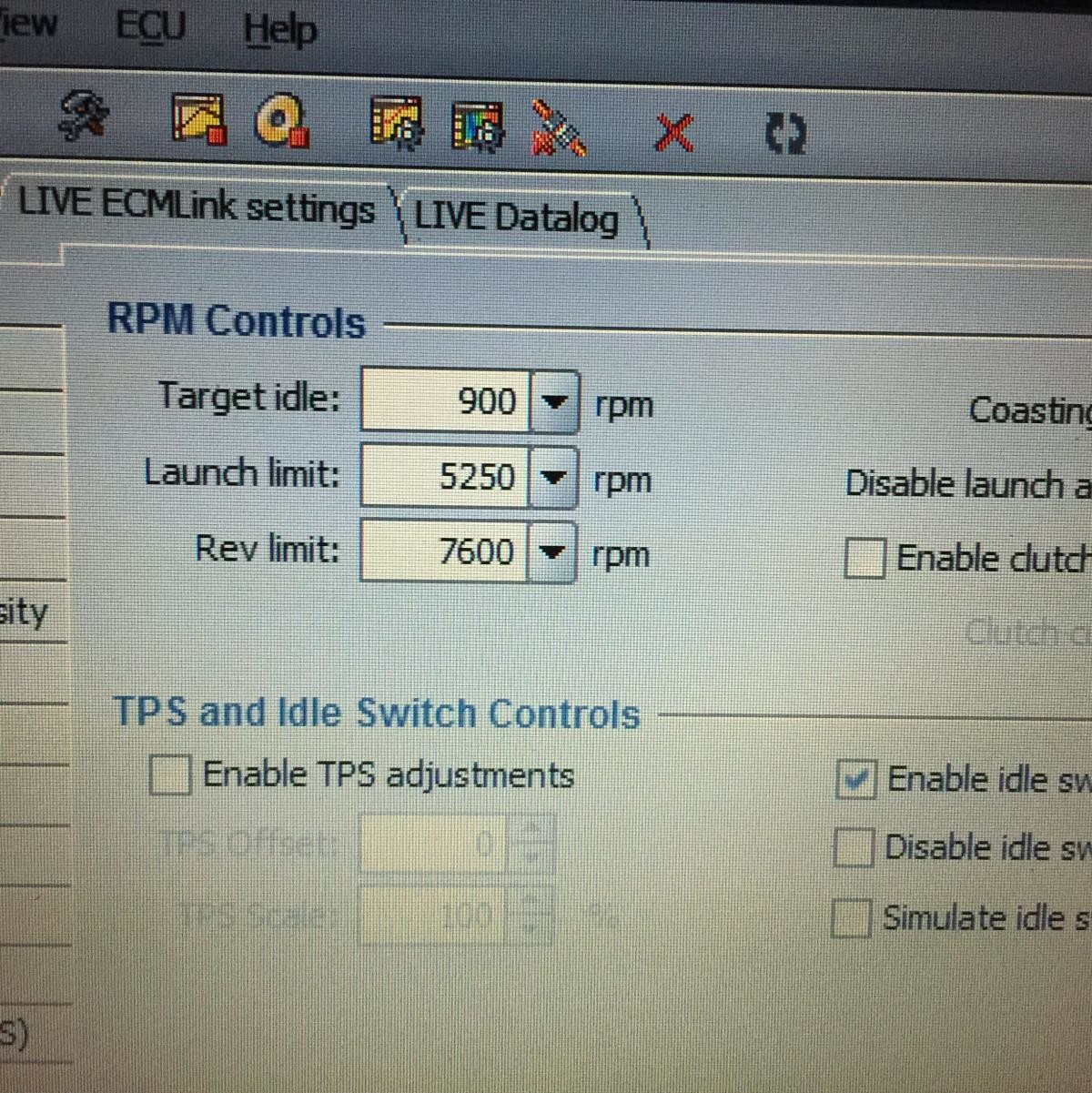 8-31-2015
400 miles after oil leaks repair inspectoion results...
I raise it back up this weekend and I'm happy to report that this MI16 is absolutely oil leak free now. That rear main bearing cap seal was definitely cause of my engine oil leak and no leaks at transmission as well. It is extremely clean on top and bottom. However it would not be Peugeot with out further problems.
My new outer CV boots are spitting grease out but I can't fined any holes or damages and all clamps are tight so back on jack stands next Saturday. Also noise is present at left front wheel,one click type noise per wheel rotation.
It was ideling weird when cold so I got my lap top hooked up to it found fuel trims all over the place,now that was easy fix with link. Idle motor position had to be set with link as well and with some reason ECU was seeing 90% WOT so I had to enter TPS off set scale in link to get .63V and 100%TPS at WOT. Not sure what happened but it's running great once again.
9-10-2015
I'm testing launch control for past few days but it's hard to get it right as these engine have low torque. I can get nice launch with very little wheel speen but it bogs down to about 3500 RPM which is terrible power band on these engines. Now if launch control is set on higher RPM I get too much wheel spin and it doesn't move very far that way,timing and fuel tables don't make any difference either.
So I've decided to cam it and gain extra HP where I think it would help getting launch control where I like it. If I could gain extra 20-30 HP with cams and re-tune I'm sure it would work like a champ.
9-29-2015
Better steering wheel :-) got it from Marc.
And one photo of my MI16 next to the ocean.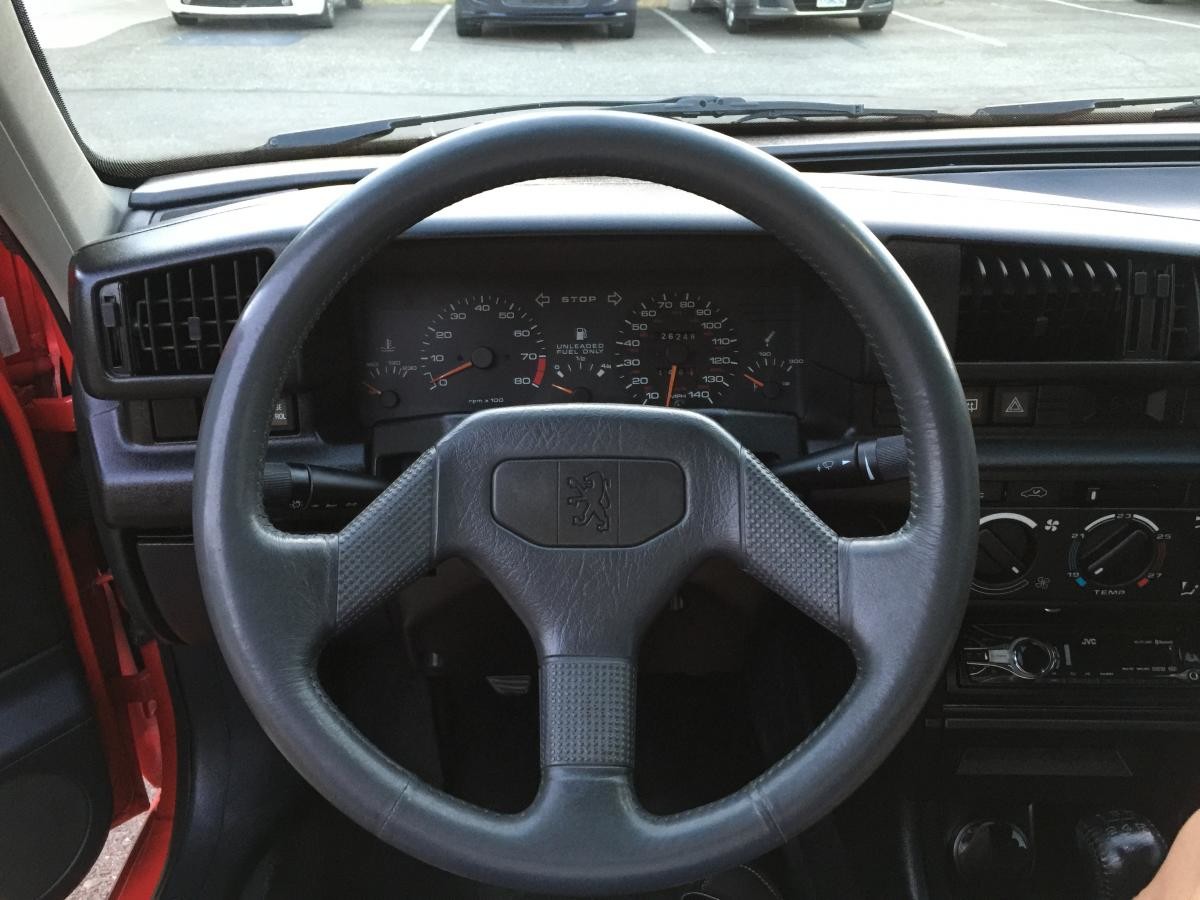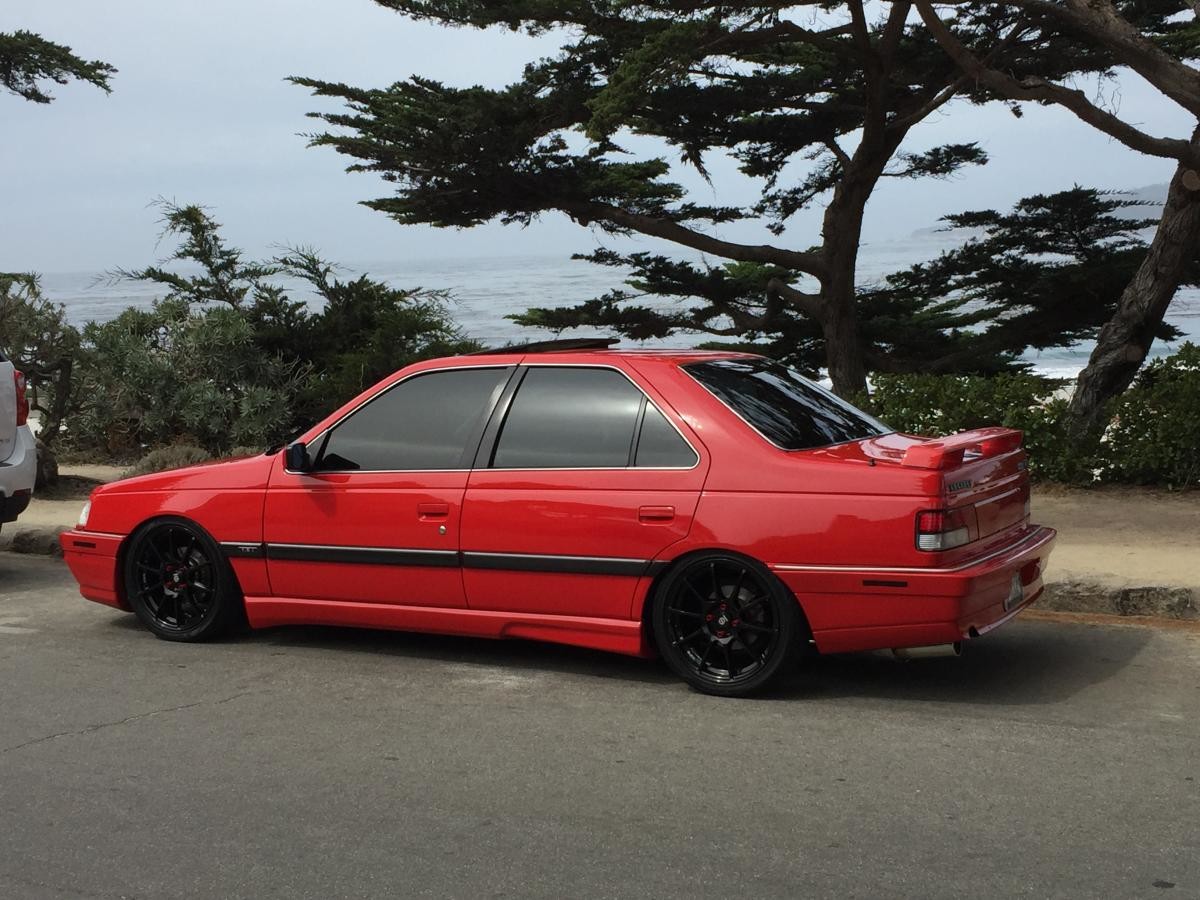 I was wondering how long before it was spotted this weekend at Monterey and end up on V.I.S.I.T
Funny thing is before I made that left turn older gentleman was like OMG a Peugeot! Now I can't remember when was the last time I've seen one of those and this one is beautiful. He took the picture then I turned left and that's when a V.I.S.I.T member snapped that photo of me turning left.
People looking at it,asking questions or taking pictures of it happens everyday and I don't get tired of it :-)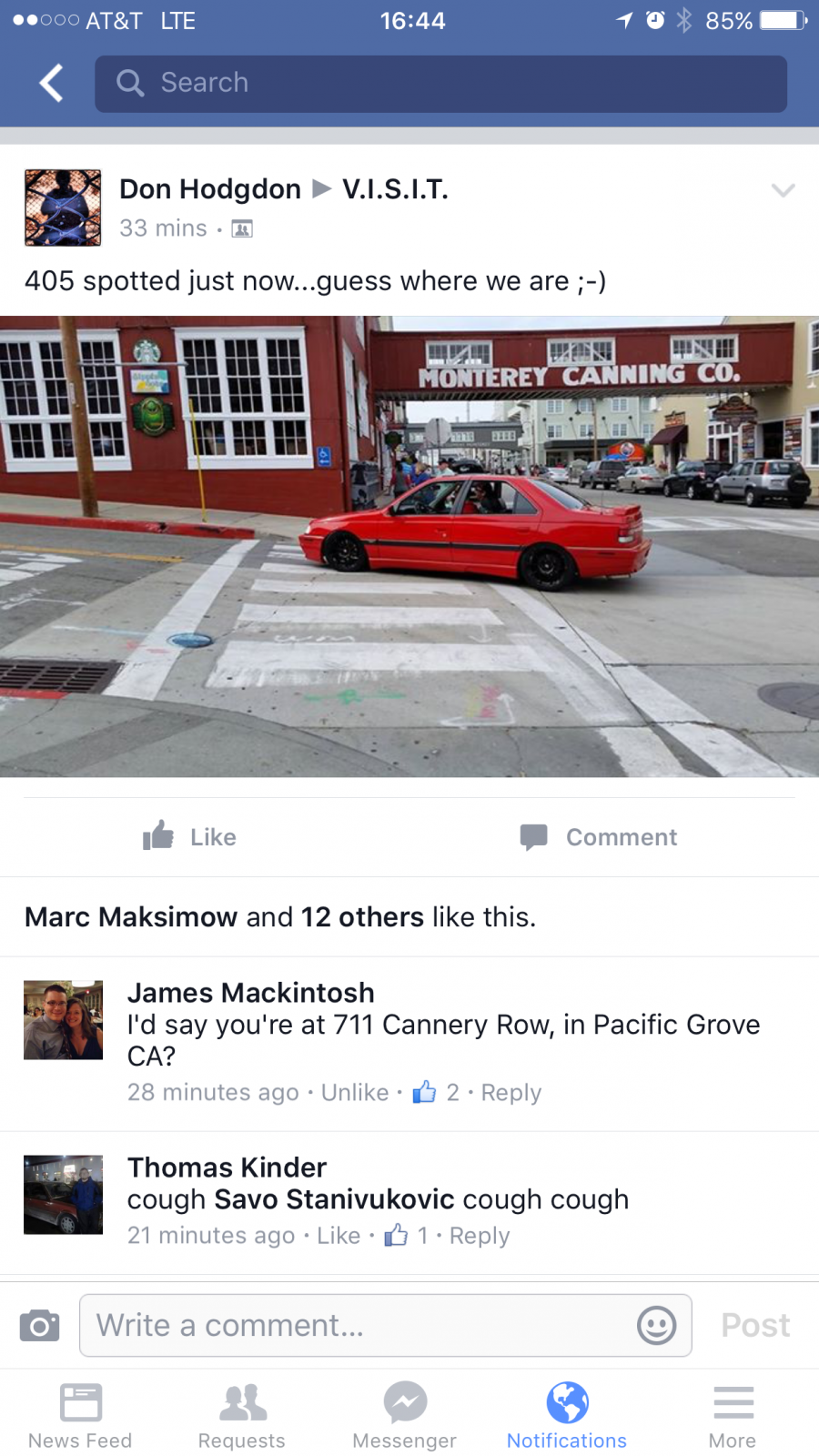 10-3-2015
As I live in US now I'm one of those folks that don't care about fuel mileage as it really cheap compared to anywhere in the world,however I've had few people ask me about fuel mileage and price difference between 91 and E85.
This last weekend I took my mom to Monterey for her birthday and I actually tracked fuel mileage and cost. So here is the brake down.
544 miles,25.7 gallons used,$60.76 with price about $2.10 for one gallon.
Price of 91 octane for 25.7 gallons would cost me $82.24 so that's just about $22 more and for $22 of E85 I can get 10 gallons which it would take me to work and back entire week.
Now if you would divide 544 with 25.7 you would get 21.1 average MPG. Yes it's not impressive at all but remember that E85 vehicles are using 20-30% more fuel and this was with A/C running all the time,city and freeway driving all combined.
It depends on person on liking the results above,my point of view is worse gas mileage is ok with me as I pay less for E85 and I gain 100-105 octane out of it and I can run timing to the roof with out any knock. My last toon session I've seen 0 knock with only at midrange for quick split of second 0.5 degrees of knock.
So take this 91 fuel CA and shove it up your ..s
I got yesterday replacment stickers from France and I got made in France sticker from André.
I also picked up dial indicator,TDC locator and two different bases for dial insicator. I have Summit degree wheel as well.
Now Savo why do you need that? I've decided to upgrade camshafts,valve springs and use adjustable cam gears and these tools are necessary to degree camshafts. Why not just bolt them in? Yes I could but to get most out of them and more important to get perfect IDLE this is the step that is absolutely necessary.
Upgraded camshafts create lot less vacuum at idle and cam profile and overlap is very rough on idle and I don't want valve floats of any kined. I also plan to REV it up to 8000 RPM.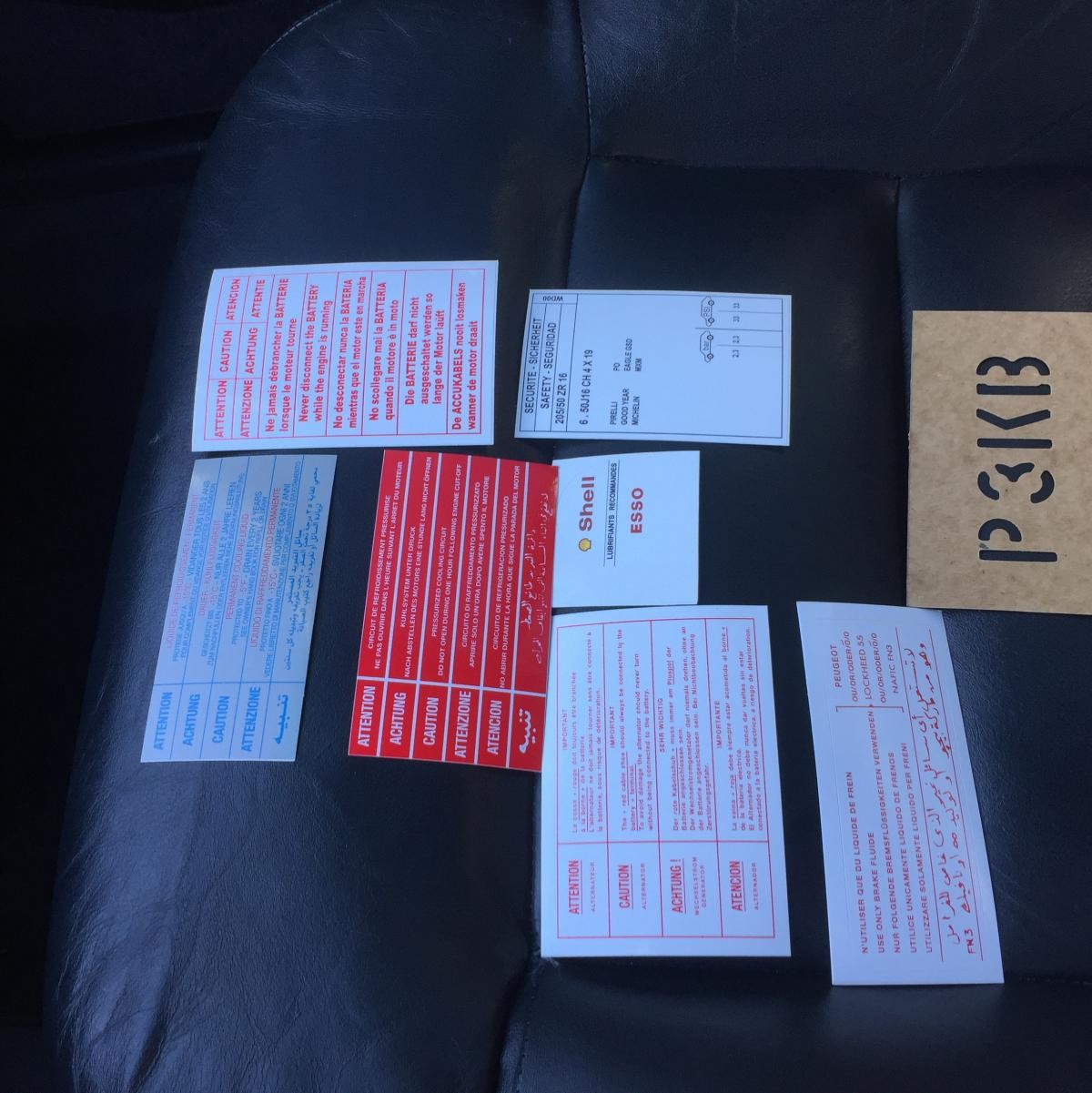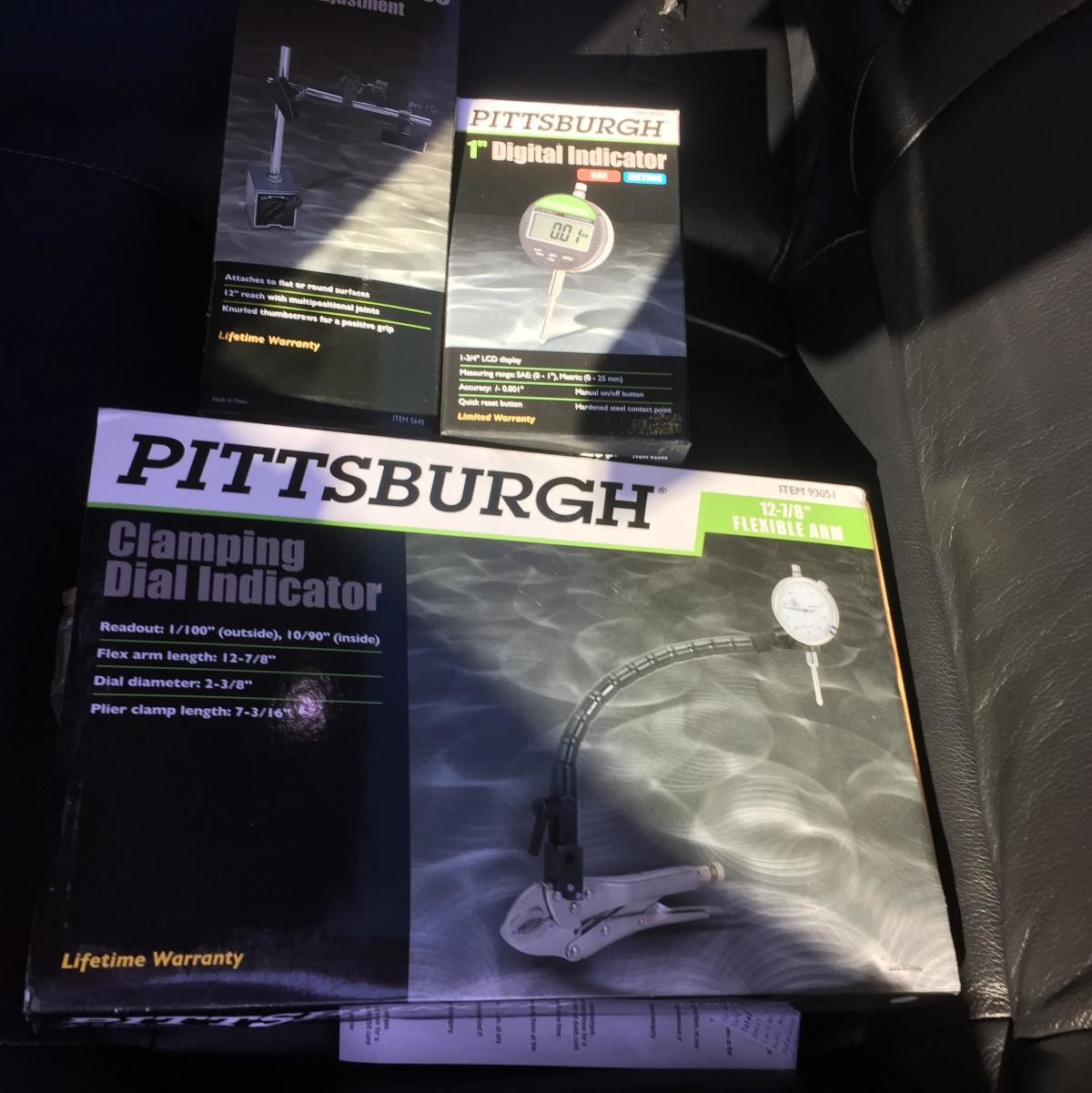 11-8-2015
I order GTI6 intake manifold,GTI6 oil pan,GTI6 oil pump and GTI6 belt auto tensioner belt drive. With this I'll relocate my P/S pump up front like on GTI6.
I also got few days ago timing belt,W/P,tensioners and GTI6 battety-ECU box. I'll make engine harness shorter and ECU will be placed in same location as GTI6 engines,it ends up looking way cleaner and lot less wires lol.
I'm also thinking about 6speed swap as well.
11-12-2015
I end up getting 6 speed gear box as well.Jürgen is getting phase II pull style cluch cable,seals and cluch.I told gear box seller not too ship it out before January, I got other stuff that will keep me busy for some time.
12-3-2015
MI16 is stored for the winter so I started to clean it up very nicely and I got everything for timing belt-water pump replacment. I really do need to work on brakes as well,hopefully I get 406 coupe Brembos. I replaced engine oil and filter this Saturday and Spoox roll mount insert.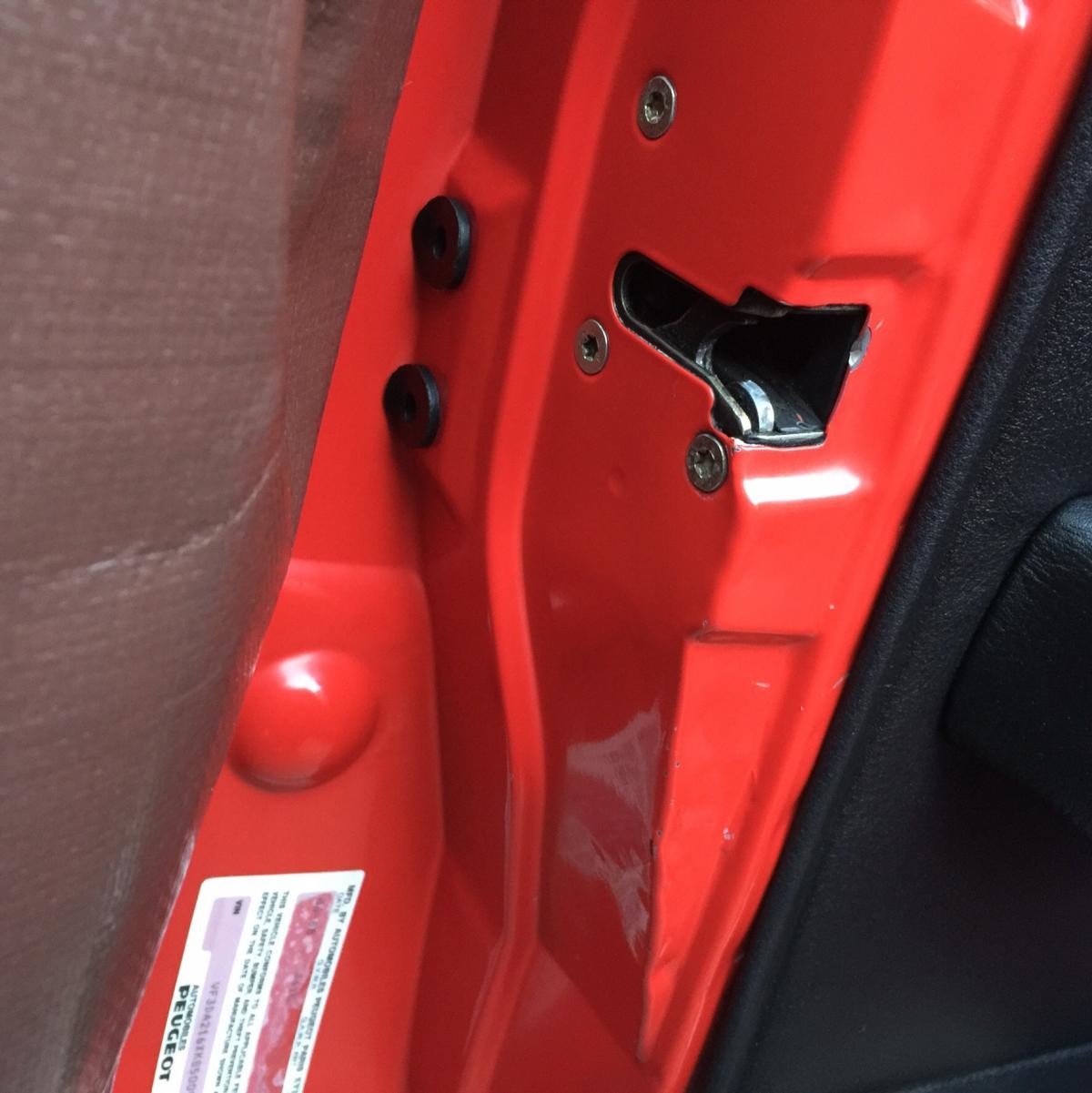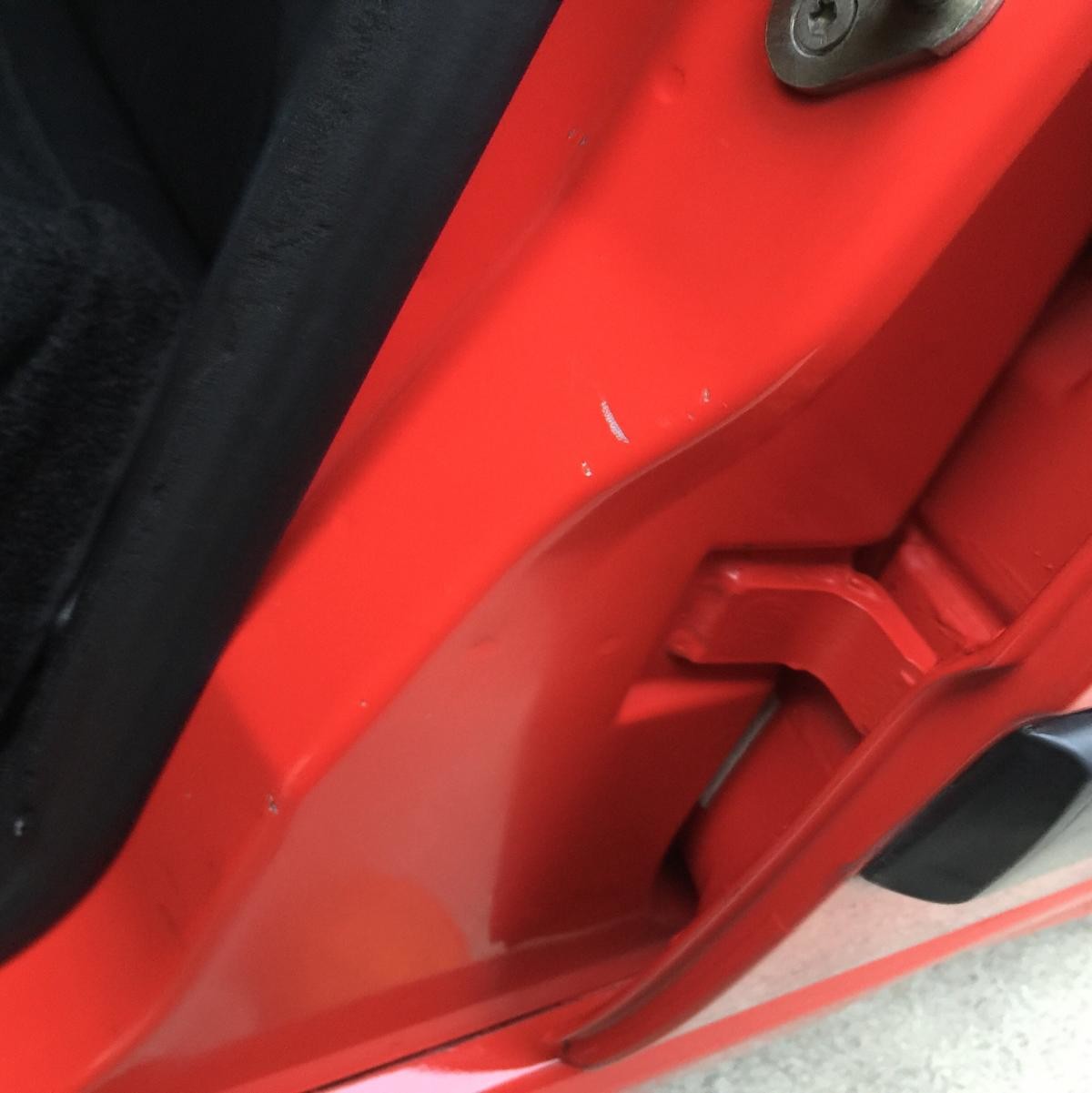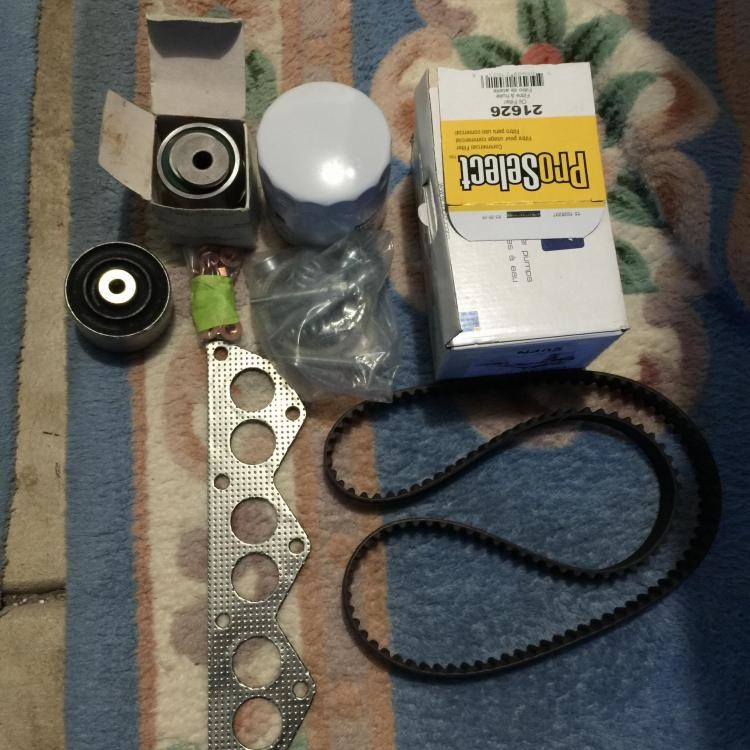 12-17-2015
I end up getting NOS 306 GTI battery box thanks to mr Jürgen.
I really do like how it cleaned up engine bay on my wagon so I decided to do same on my MI16.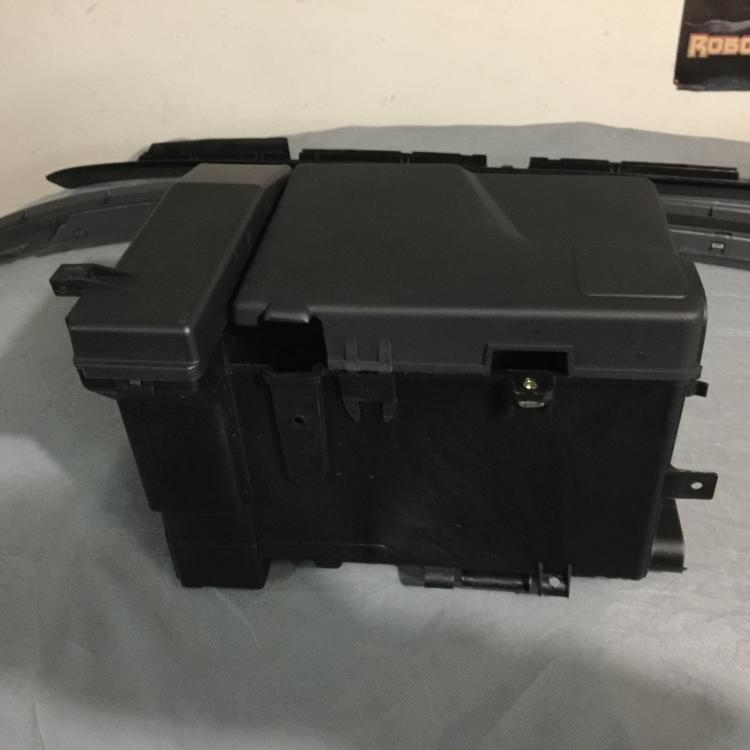 2-2-2016
6 speed conversion parts arrived today. All I need is transmission and axles.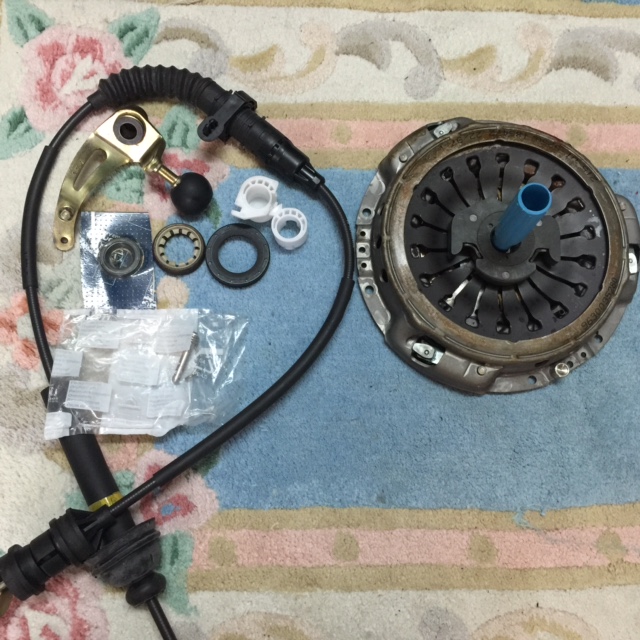 2-11-2016
Finally got around and replaced timing belt,idelers and water pump.
2-21-2016
End up replacing exhaust manifold. It's ceramic coated. This was no fun :-(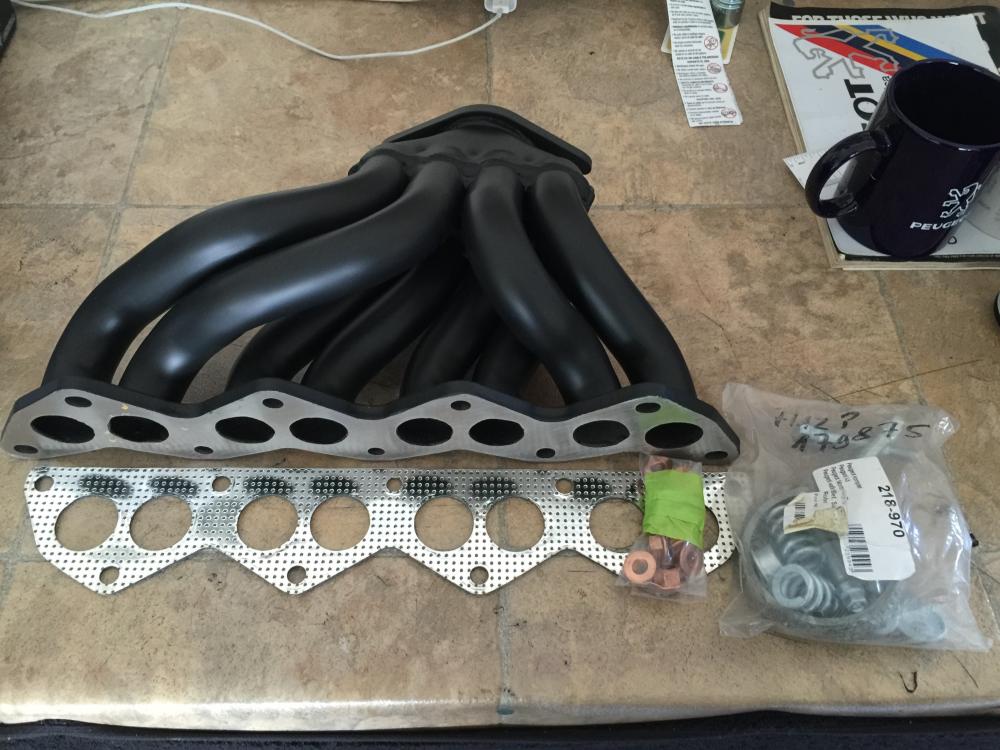 2-23-2016
Thank you,yes my coater is amazing.
Took me about 5 hours Goce to replace it,believe it or not nothing else was removed to get it out,just the water pipe that's mounted on valve cover. I took it out upwards,there was just enough of space between bulk head and valve cover to sneak it out of there.
2-24-2016
I've got matching spare tire today and it's fits just fine in original location.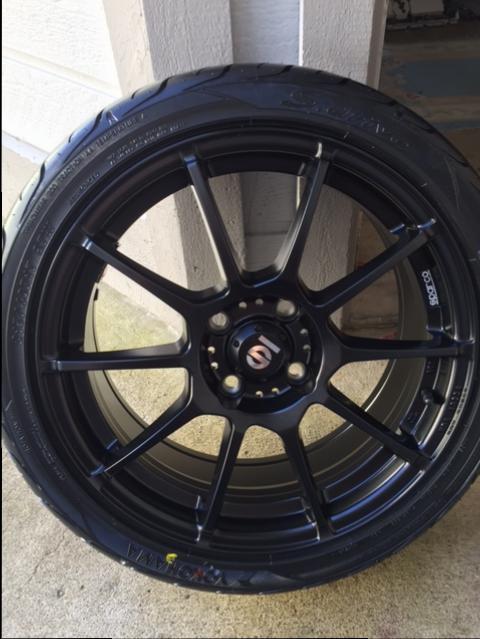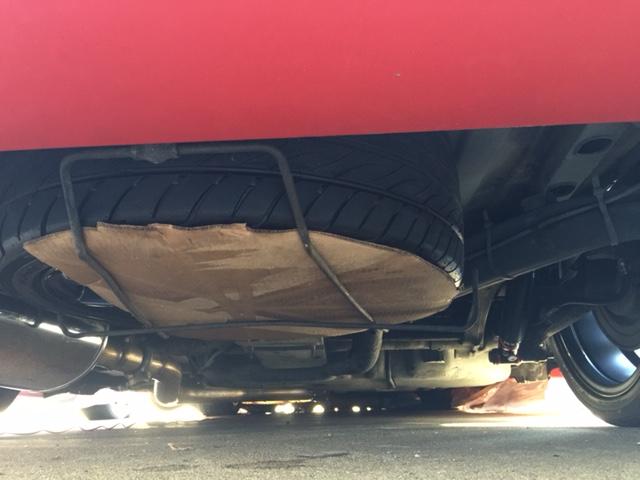 3-16-2016
I end up getting ECU connectors and pins to relocate ECU at GTI6 battery box. As I mentioned before I really like GTI6 set up,I can't wait to start on this.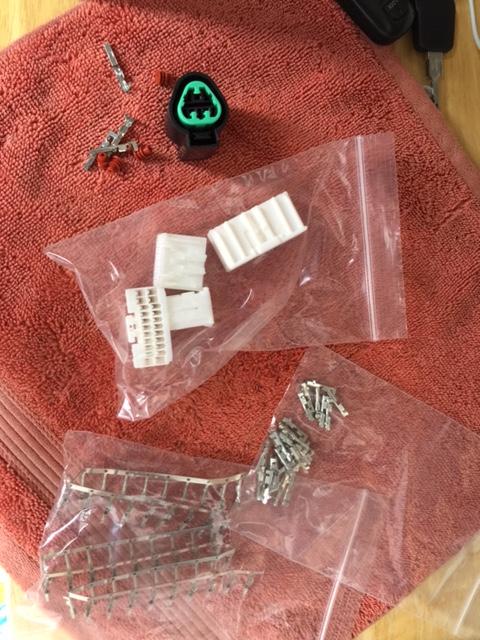 4-6-2016
I finally started to work on this today and it's going better then expected.
ECU fits great and I'll have it secured later on as this is all just pre fit test. I mounted injector resistor pack on side of battery box and it's out of view (when battery box is installed)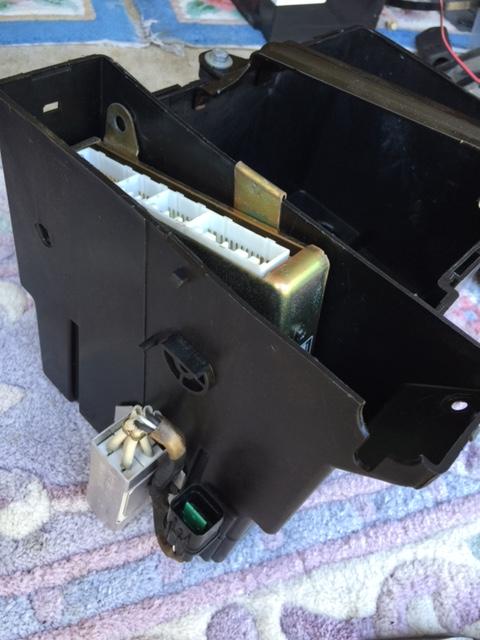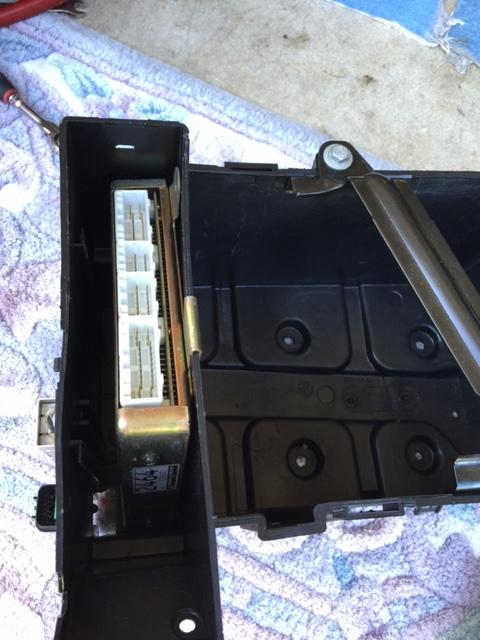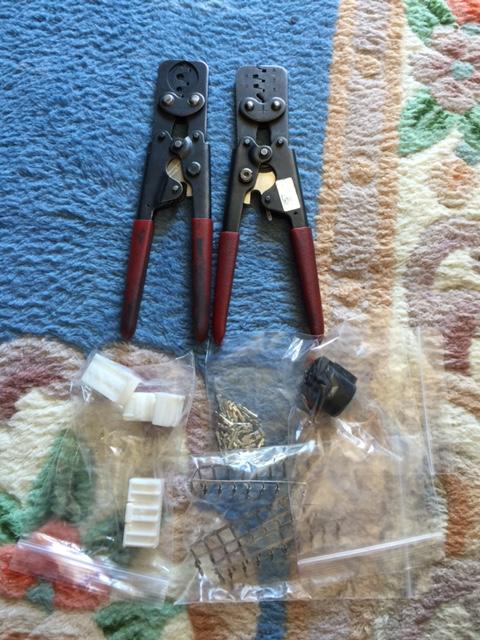 I already removed old ECU box and wire harness,picture is just a reference of clutter in that area.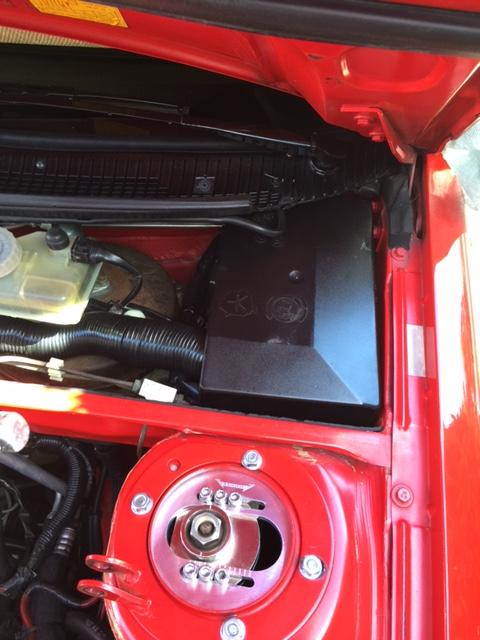 4-7-2016
Wiring diet started today. I'll shorten this harness for at least one meter.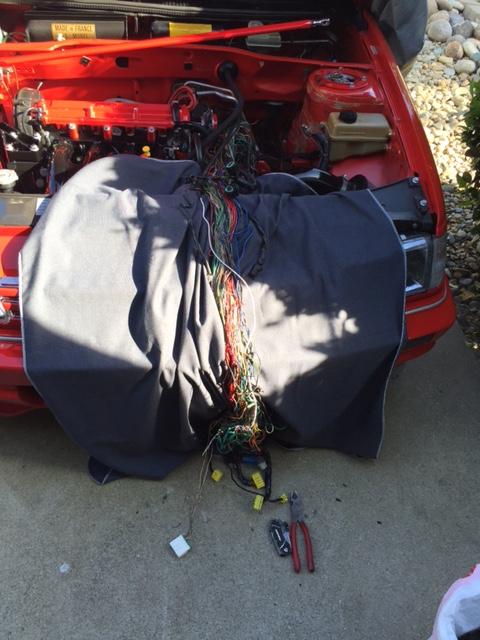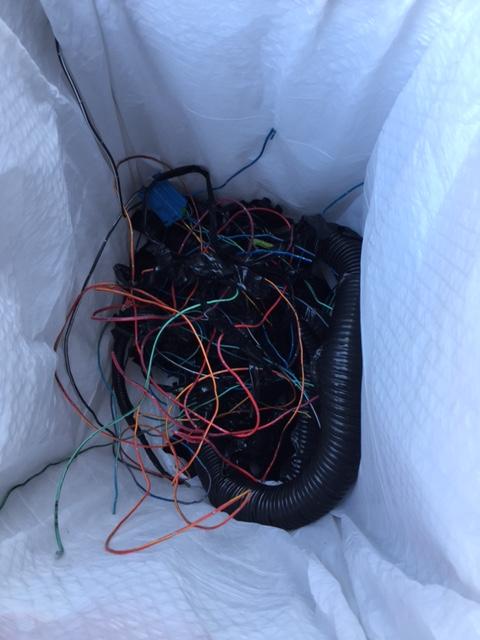 4-13-2016
I received new emblems today,top two are chrome and bottom two are silver painted.
I'm not big fan of chrome but chrome ones look way better.
Second picture is just to show you guys how great those crimpers work. Definitely makes it look like OEM finish,also just for extra security I added little solder between joints.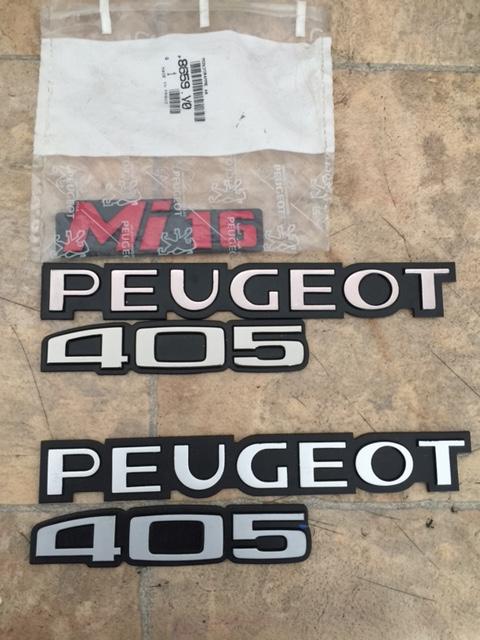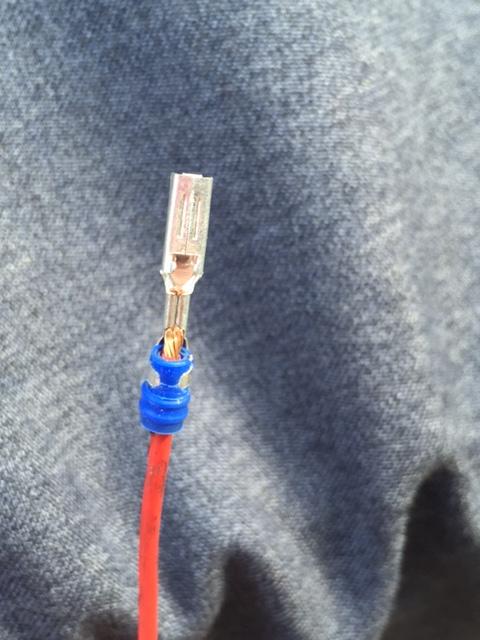 4-29-2016
Today I got my new brake fluid reservoir and 1.9l 205 GTI wheel center caps. My old brake dluid reservoir was about to turn to dust,lucky I cought it in time. I also painted brake booster black as old paint was non existing and turned in to rusty color.
I'm just about finished with ECM wiring relocation,below is picture of 3 out of 4 ECM connectors and new ignition coils location.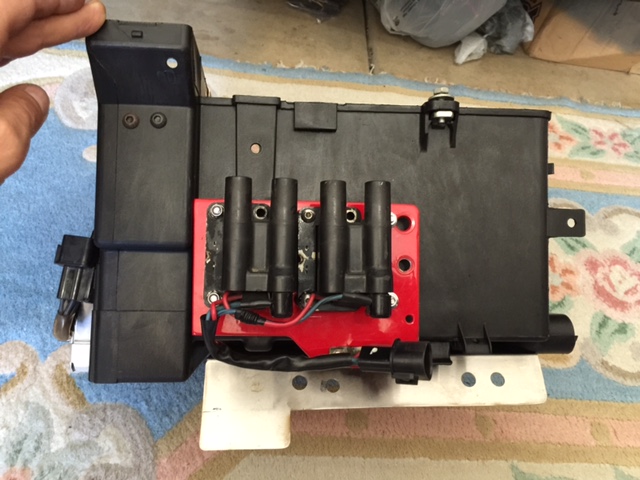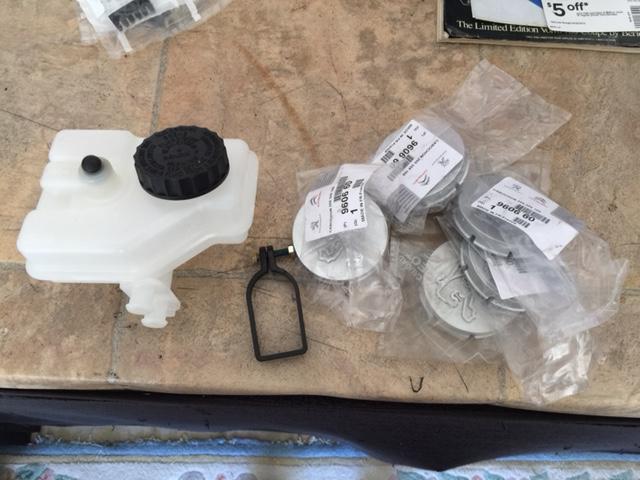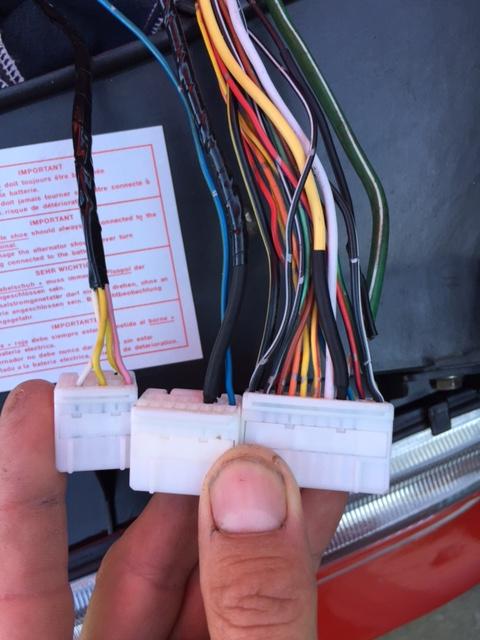 If everthing goes well it should be alive this Saturday :-)
I miss driving this car :-)
5-1-2016
Looks way better :-) can't wait to get lockheed decal.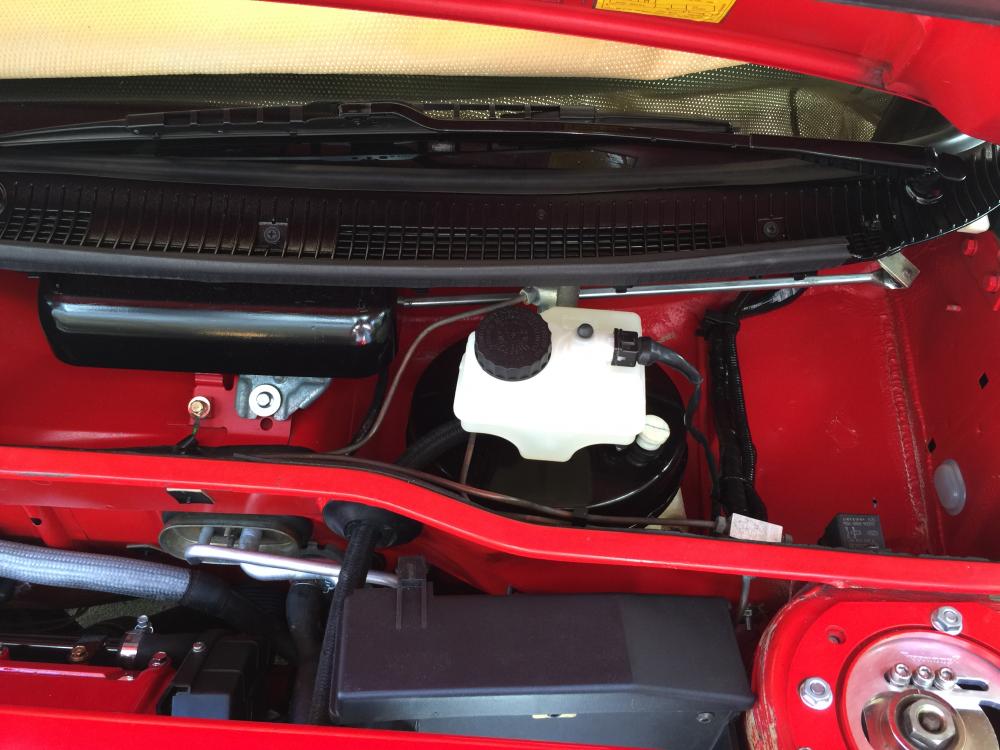 5-23-2016
Thanks to Andrè my engine bay looks even cleaner now.
#lockheeddecals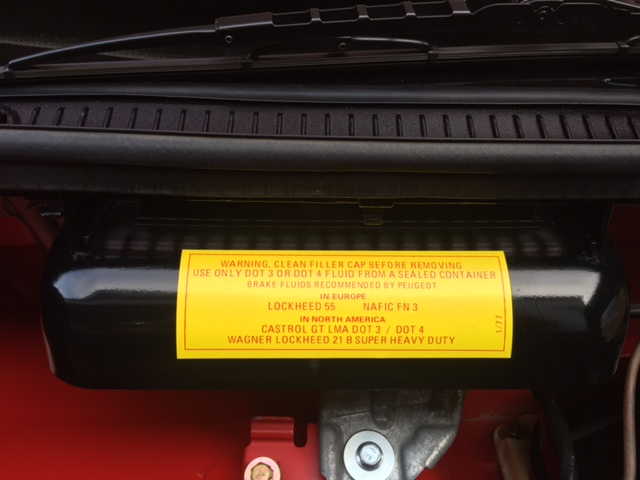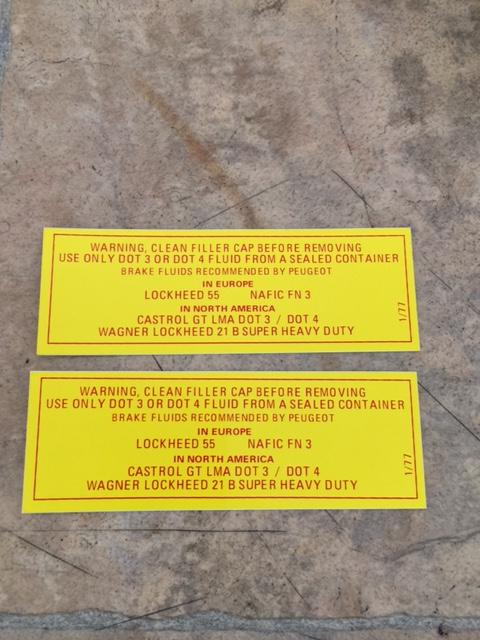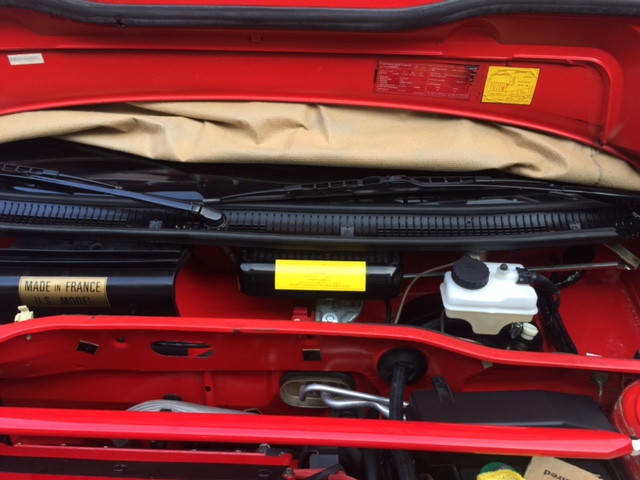 5-27-2016
I've got it running today "again"
Hopefully I'll have it back on the road in a few days.
5-31-2016
Finally this nightmare is over!!! I still have few brackets at powder coater so once those are back all what's left then is to install them and wax the engine bay.
Tomorrow I just need to tighten few hose clamps and miscellaneous bits and pieces and take her for a test drive. She definitely needs retune :-(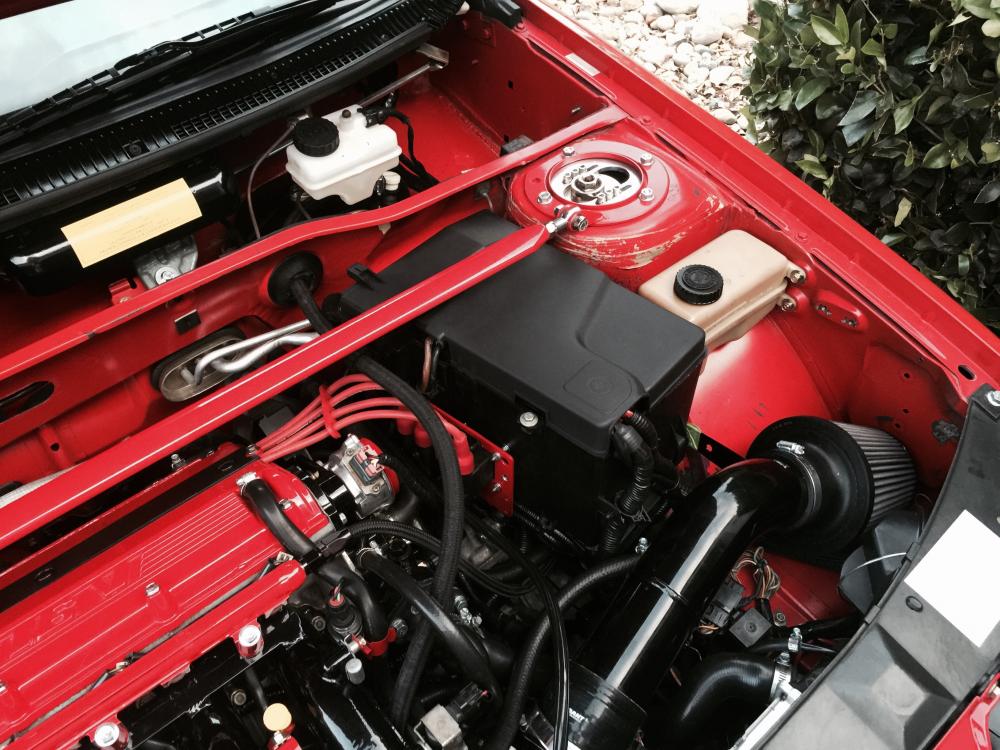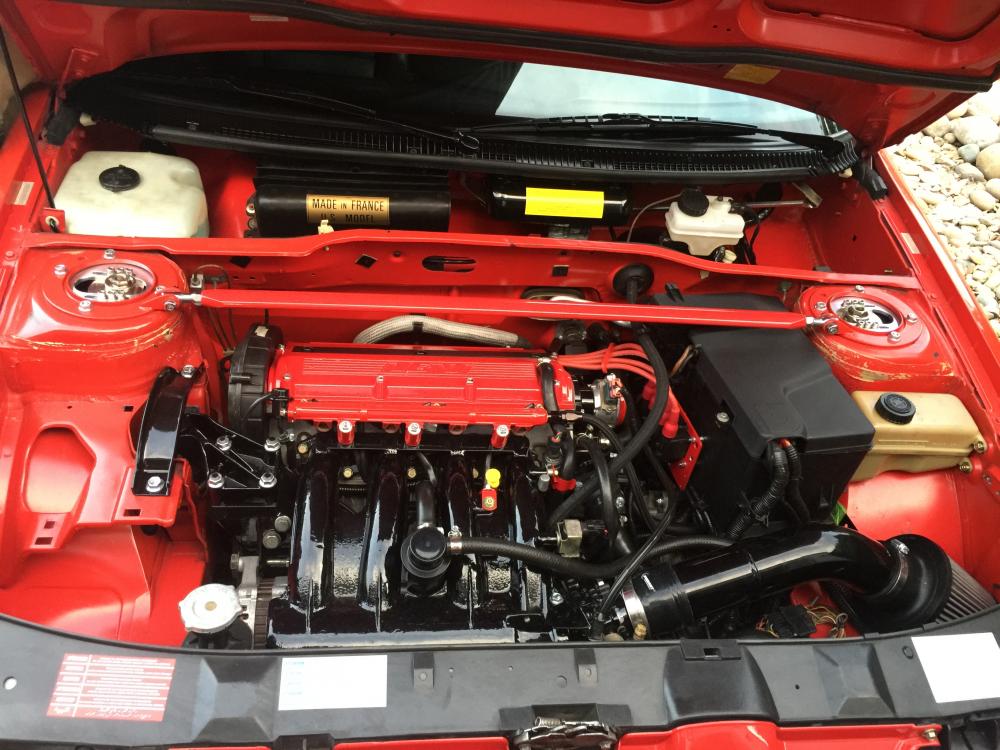 6-2-2016
Dodge Shadow is cleaned up and ready for Canepa trip. I still need to retune it before I take it to that long trip.
Unfortunately paint on the roof is completely damaged,cancer have spread :-(
I'll definitely repaint roof and wing when I get Euro bumpers and side skirts.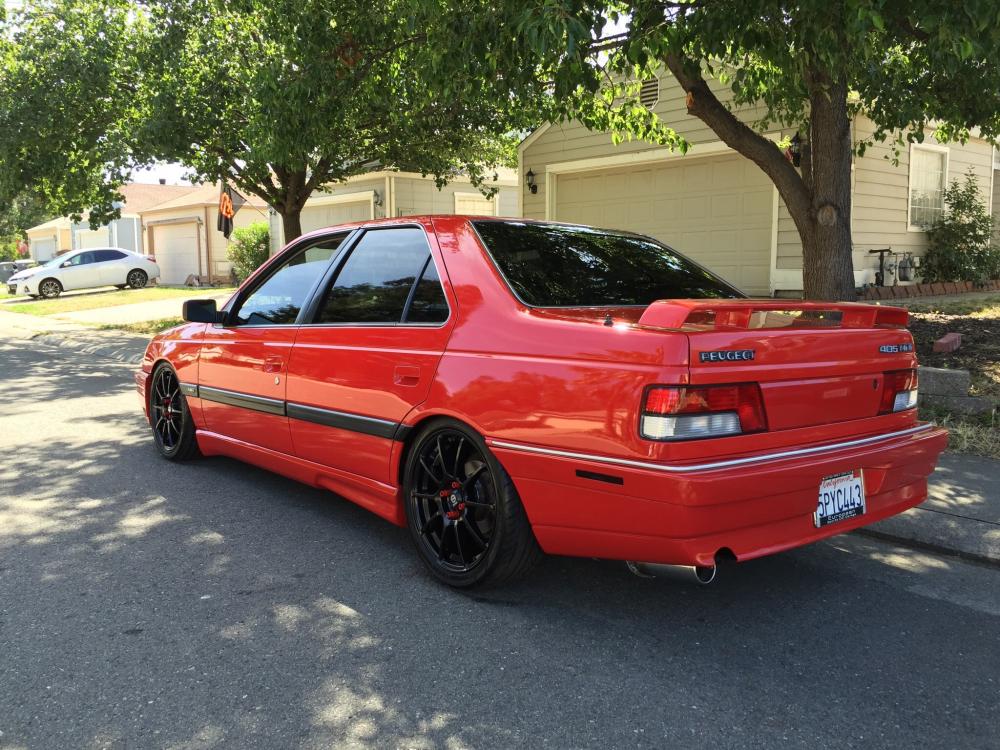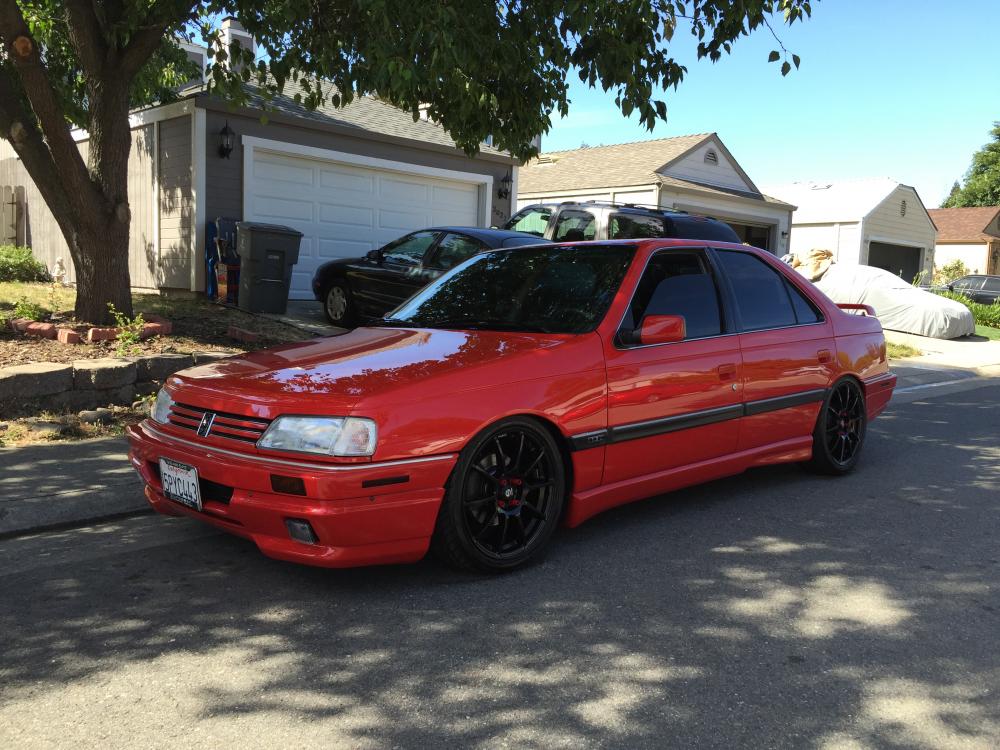 6-3-2016
Installed new emblems today. I like 91 and up better.
#datMImakesmedrool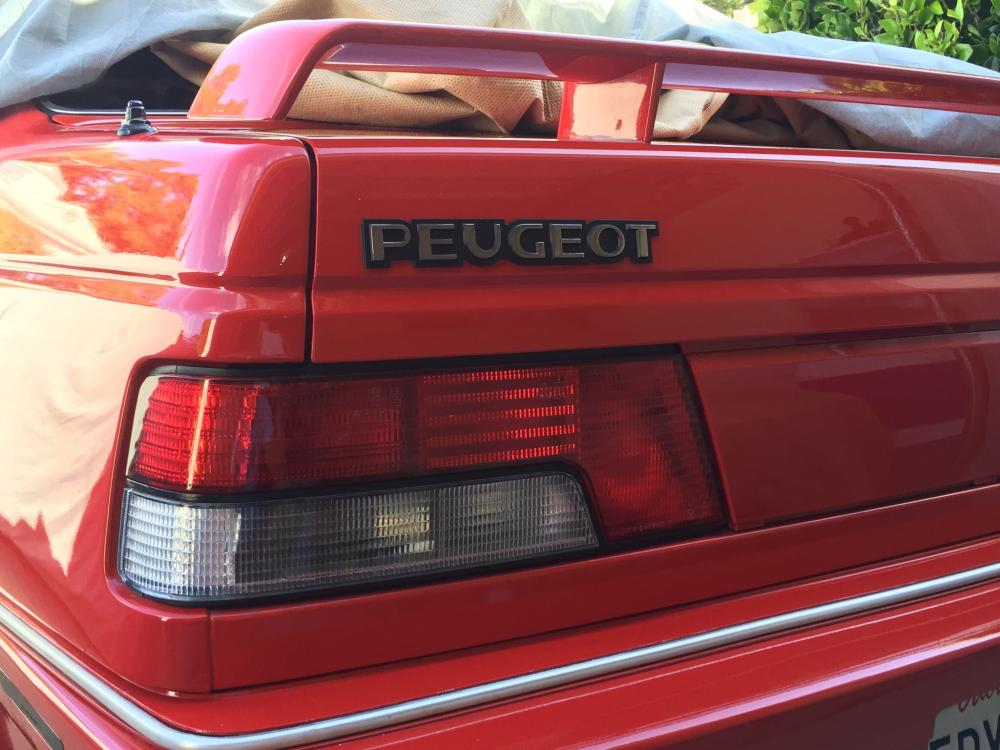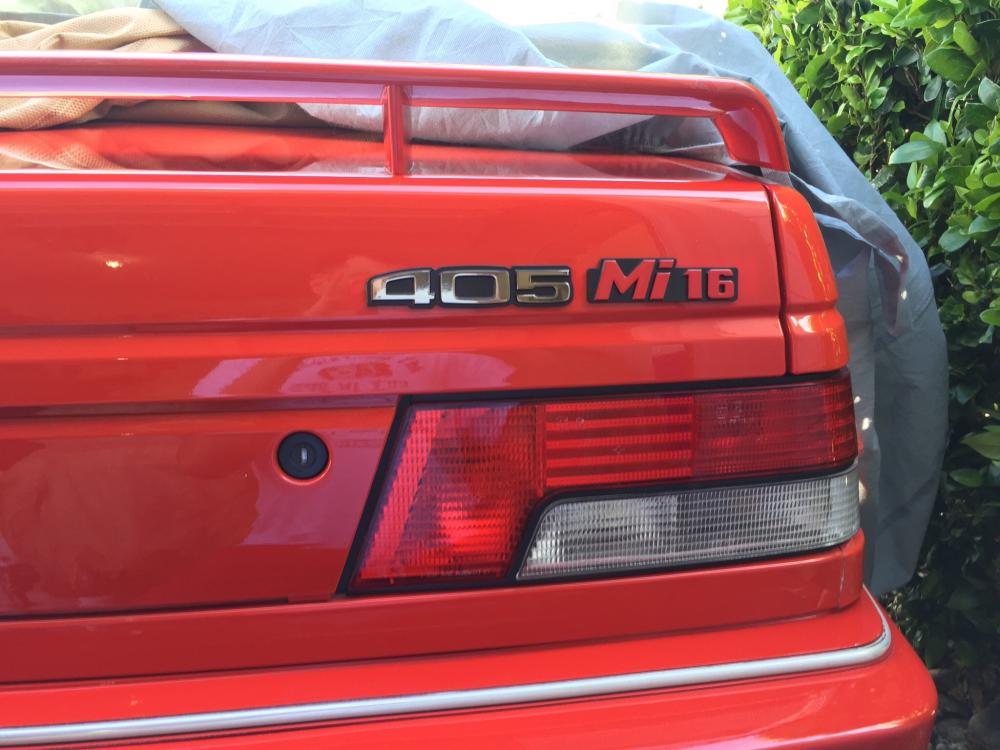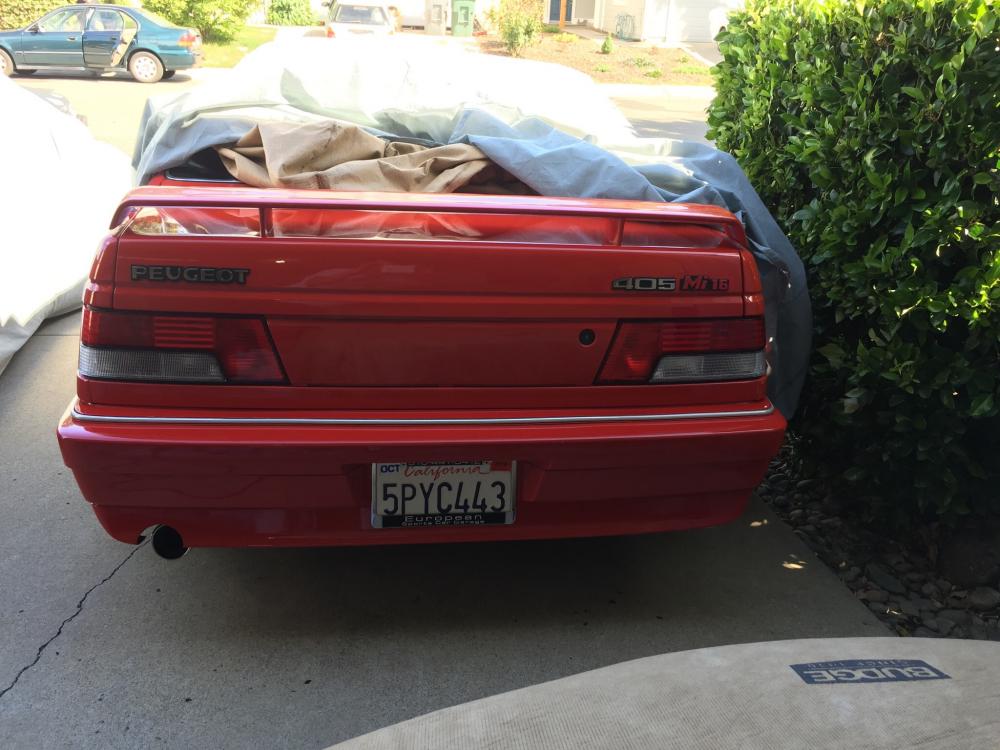 6-4-2016
Leftovers and somehow it runs :-)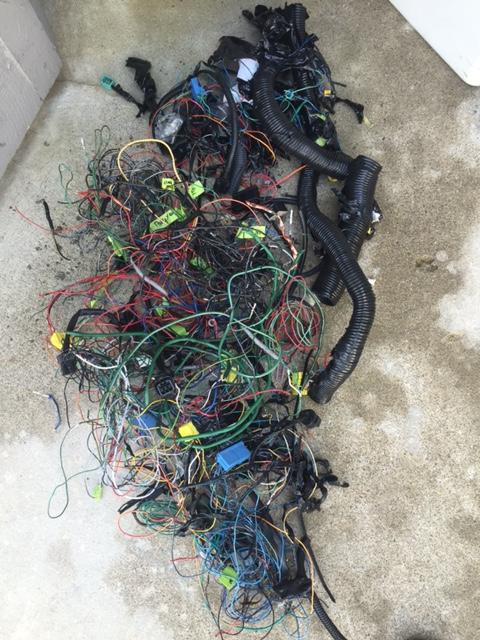 The bore spacig of the XU is 93mm as seems to be the intake ports spacing: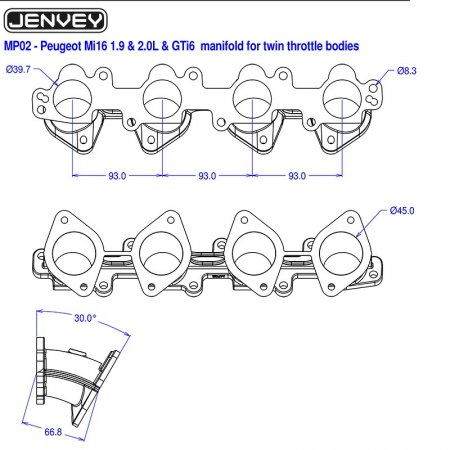 With 103,5mm bore spacing on the N9T using only the GTI6 plenum can still be done but could be difficult compared with a straight design.
Well done sir!!!
9-25-2016
Not much has to be modify as it's direct bolt on. Two holes for dowel pins need to be drilled on intake manifold,hole for throttle is just little bigger then my DSM N/T throttle body and holes are just about same spacing as DSM. I'll just need to drill 6mm holes to 8mm and tap it to 8x1.25. Also I'll grinned off casting marks like I did on my wagon so it can look smoother.
Almost forgot that I need to weld resonator hole and MAP sensor as I won't be needing those any longer. Ohhh and I need to weld fuel rail brackets as well...another hard working day at SavoSpecs is ahead.
Then off to powder coater.
9-26-2016
It's here...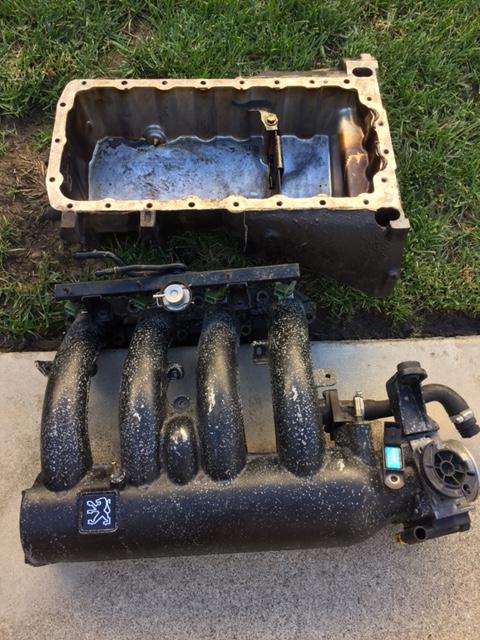 9-28-2016
Built my self spare set of axles for quick replacment.
#loweredcarproblems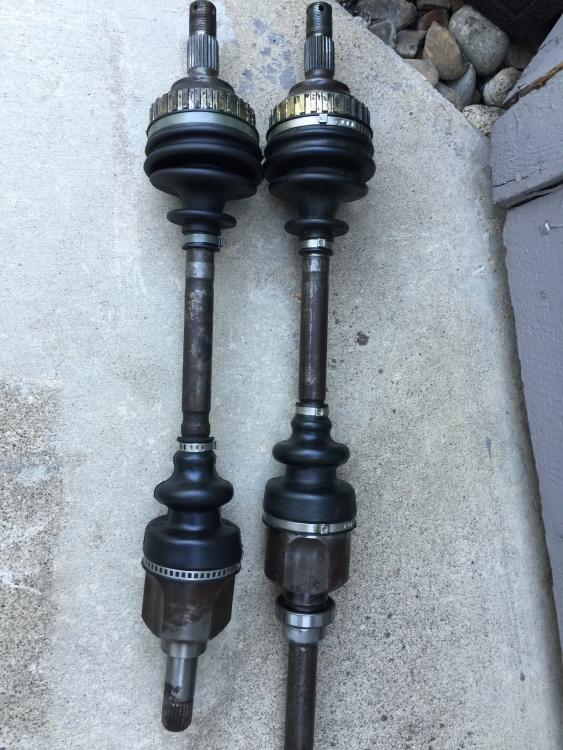 9-30-2016
Spacer plate and oil pick up is on the way to Australia.
10-6-2016
Yes,number 12 in the picture. I'm surprised it's not done on 405 as it's just about same rear suspension as 205,309 and 306.
Both of my 405's need some adjustments now,definitely has something to do with it being lowered. Those were not needed before I had them lowered.
1-20-2017
I did a lot of work on this GTi6 I.M and I got several days in cutting,shaving and welding. Currently it's at powder coater. I've also purchased DSM 70mm TB for it.
And I almost forgot that I received Peter Taylor oil sump parts.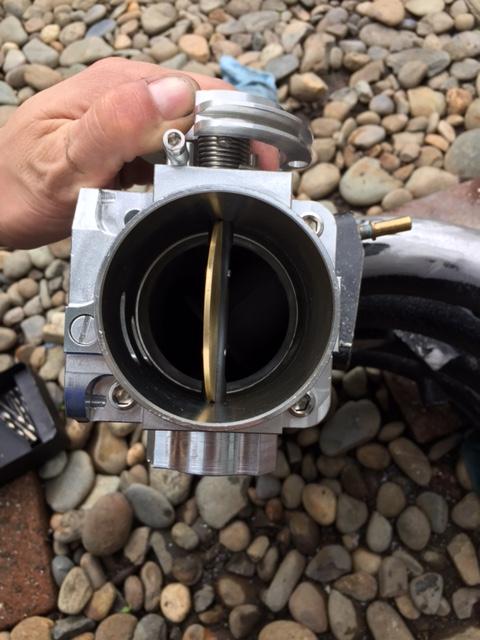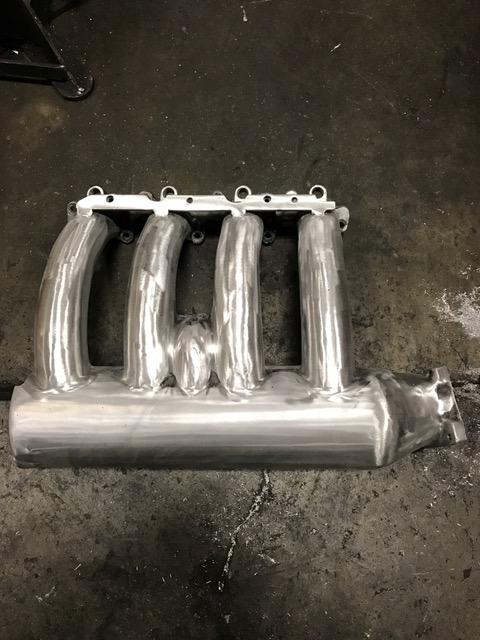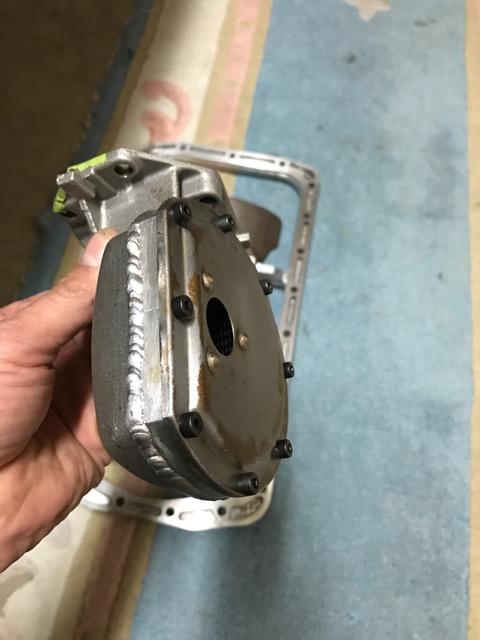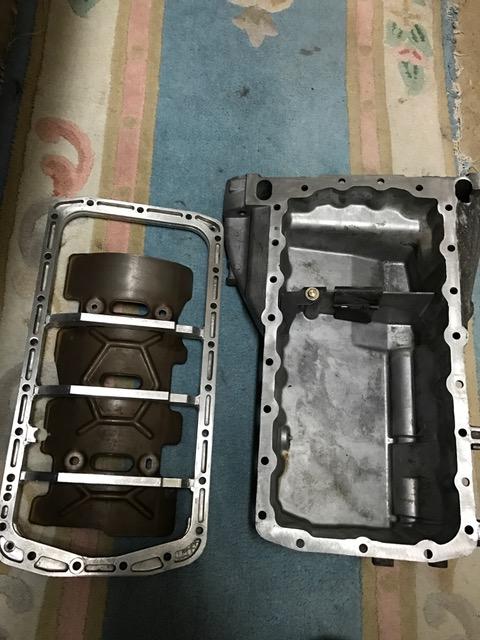 I haven't driven this car in months now but occasionally I remove cover off it and admire it!!!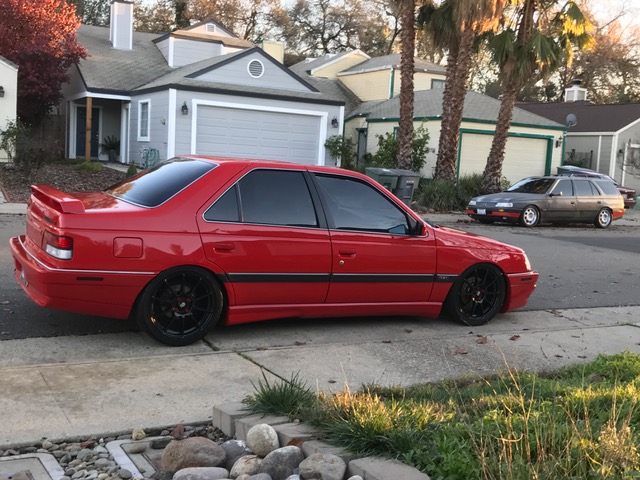 1-31-2017
SavoSpec vs one foot wheel gap.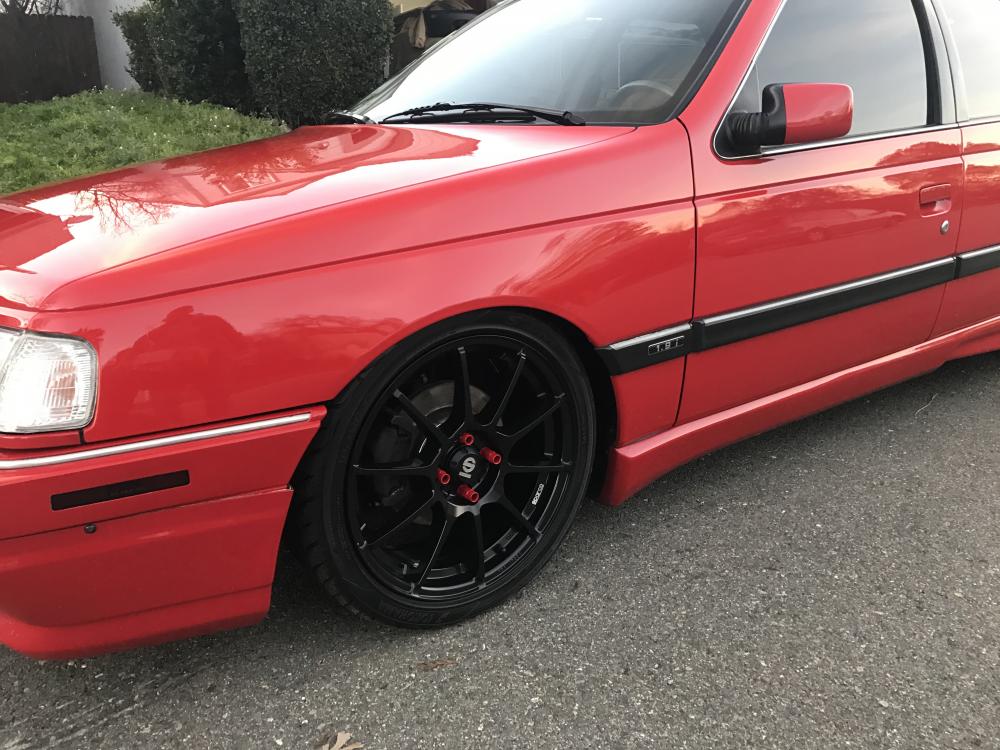 It looks much worse and higher in real life then in this picture. My friend Nikola hates this wheel gap,he told me it reminds him of 4x4's :-)
He did order 306 shock and lowering springs from UK.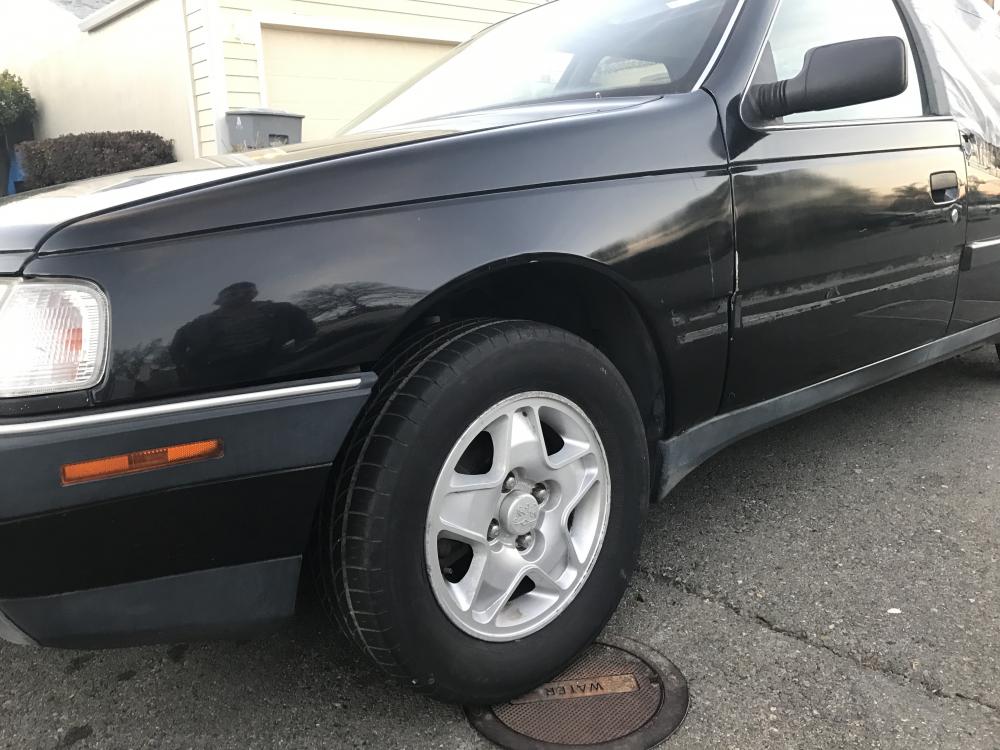 3-4-2017
GTI6 Intake manifold swap has begun!
I aslo got DSM style 70mm throttle body and Fuelab FPR kit.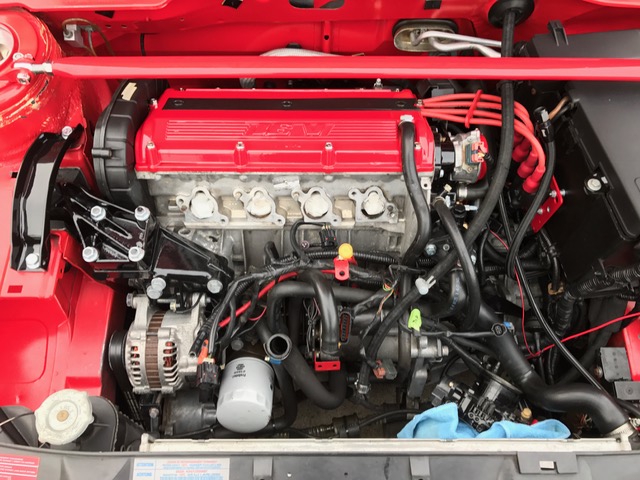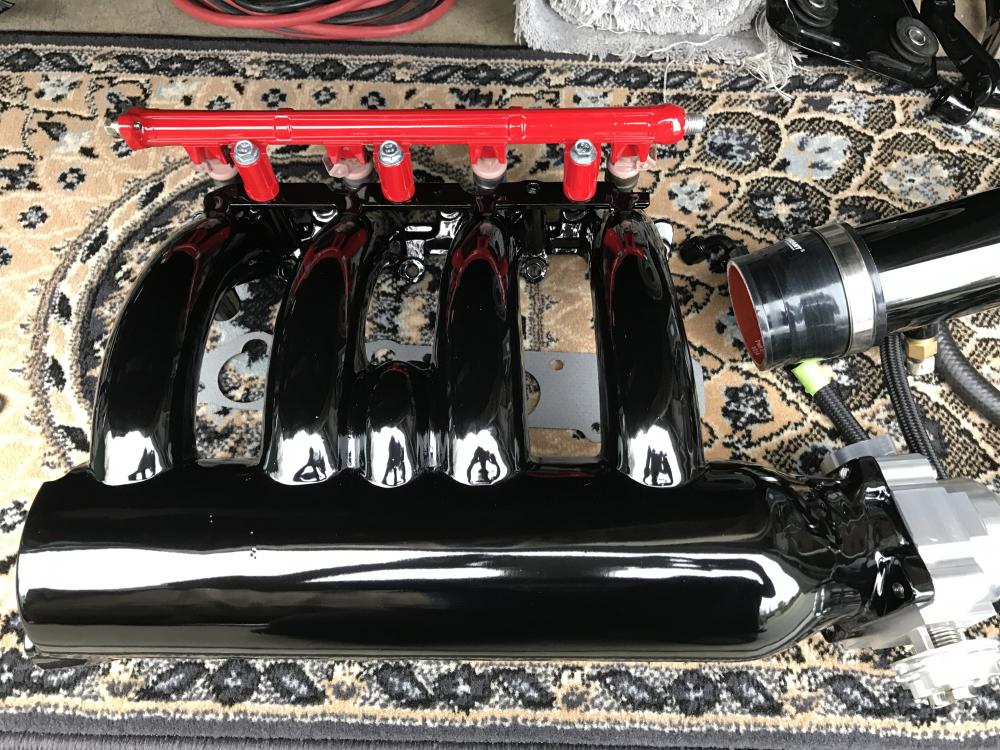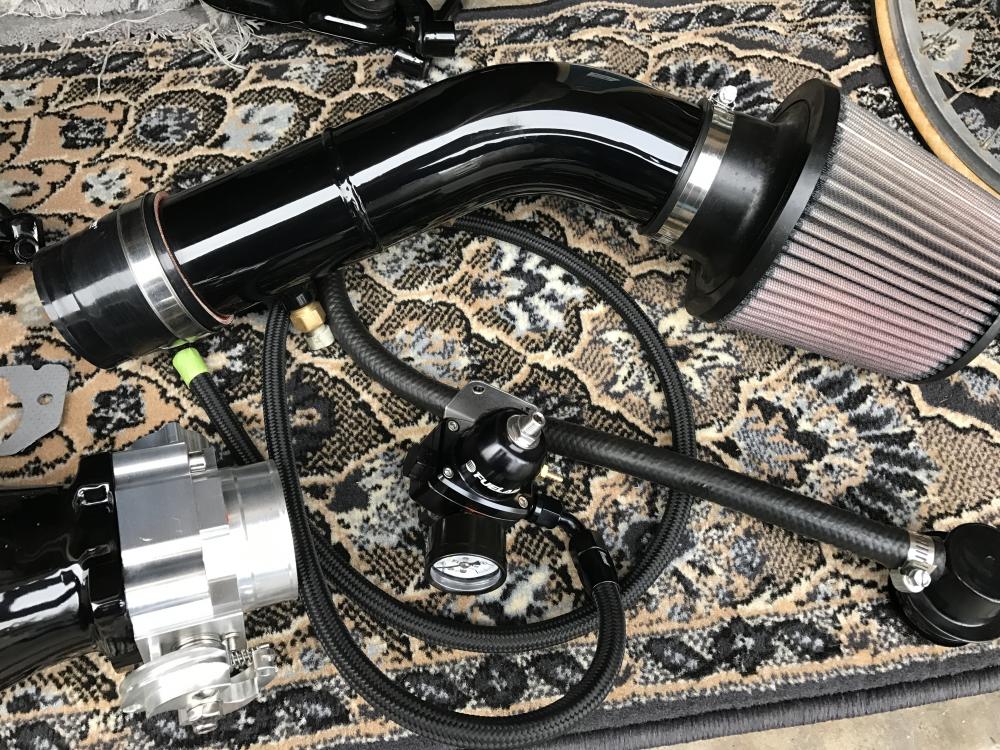 When I removed intake manifold I had to swap over injectors to new manifold and I've noticed significant amount of E85 gunk on top of my injectors. I have another set of EVO 560's that I'll use and this set is going to be cleaned and flow tested and if they are still good I'll keep them as a spare set. Intake ports and manifold were clean,no E85 gunk found there.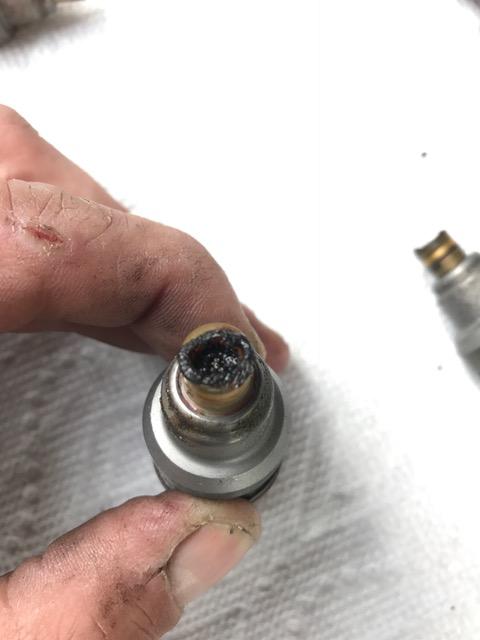 3-11-2017
This week I was fighting with fuel rail adapter clearance and throttle body clearences but on the end I have it all figured out. I shipped out everything to my powder coater and I should have it back by end of next week.
I also ordered same TB but for EVO as TPS and ISC's are smaller and those gave me clearance I needed to make it all work. I found good used TPS and ISC and new connectors and pins.
Almost forgot!!! I also replaced valve cover gasket and spark plug O rings as I noticed it started to seep oil.
3-13-2017
I got her running again today,it runs amazing once again! That E85 gunk on injectors is what made it to run so poor,I'm glad it's back to normal.
I also ordered baffled catch can today.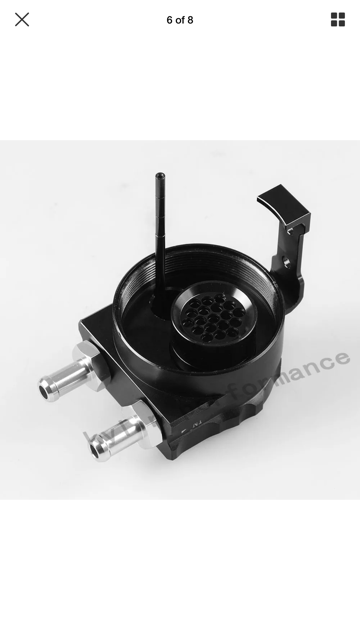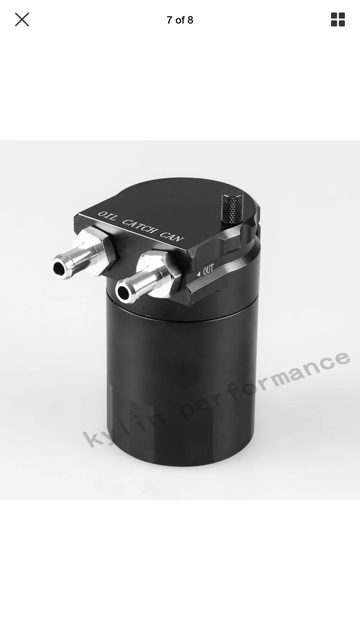 3-19-2017
#datass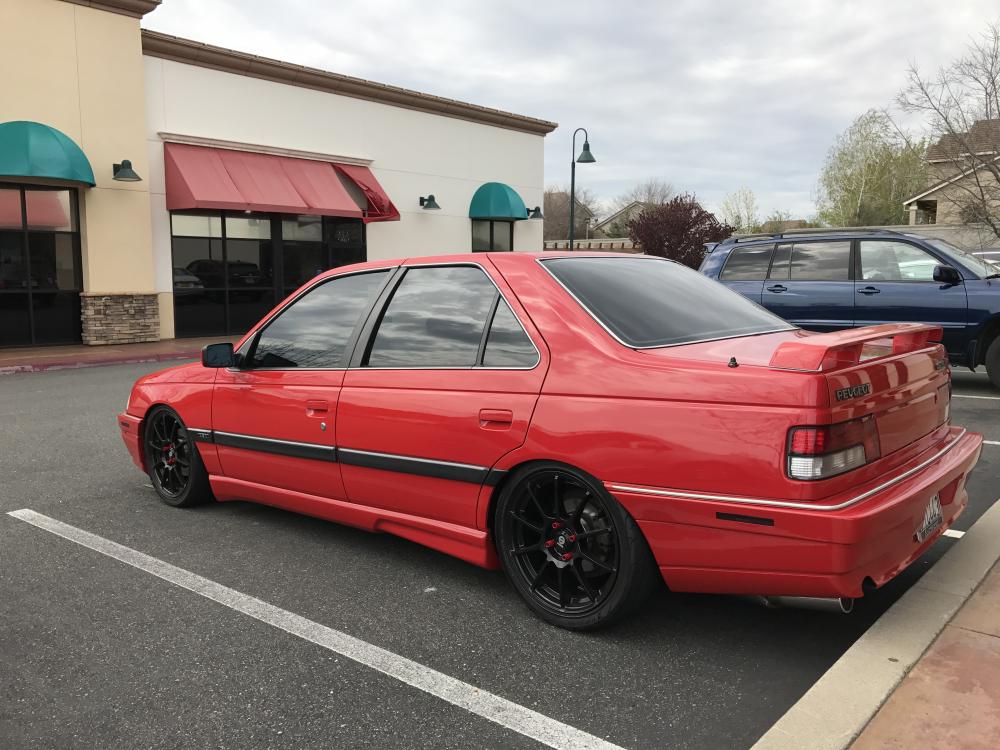 Friend of a friend stopped by to borrow bad set of 2150's from me and turnes out that he has a injector flow and cleaning machine and I got my bad EVO 560cc's cleaned and dialed in for FREE :-)
Second picture is to show you how plugged up filter looked like after each injector was serviced.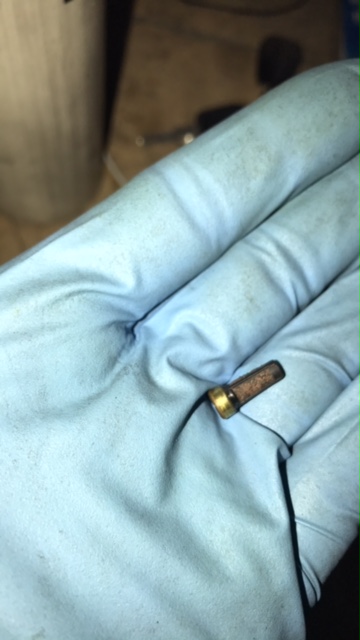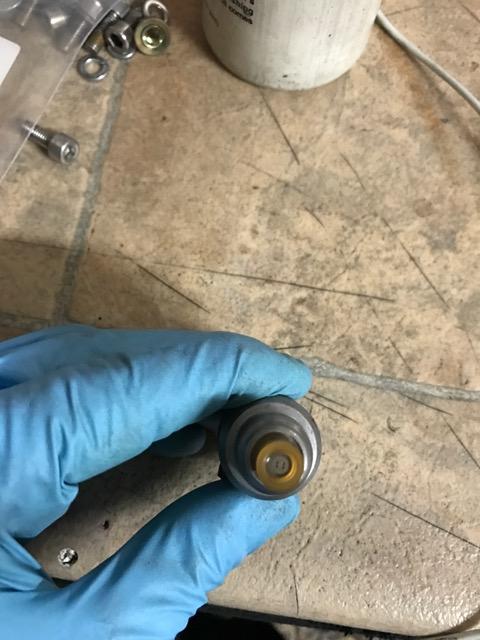 3-24-2017
More parts came in today. EVO style 70mm black TB,intake pipes and black catch can.
I finally found reliable source in Europe to get a deal done on these Euro bumpers. I found this person on FB and turns out that he's looking for set of US bumpers so it will end up as even trade. He will include new fog light,mounting brackets and side skirts that need work.
I will also include all mounting brackets and lights,unfortunately I don't have good rear bumper but on Sunday I'll drive up to Bryan's house and pick one up from him. I'll trade set of my lowering springs for that bumper.
I'll definitely have busy Sunday at my house :-)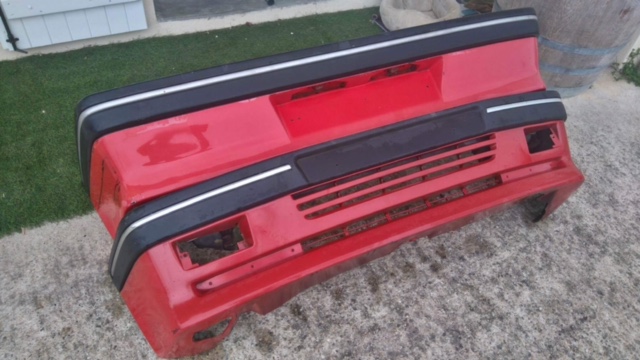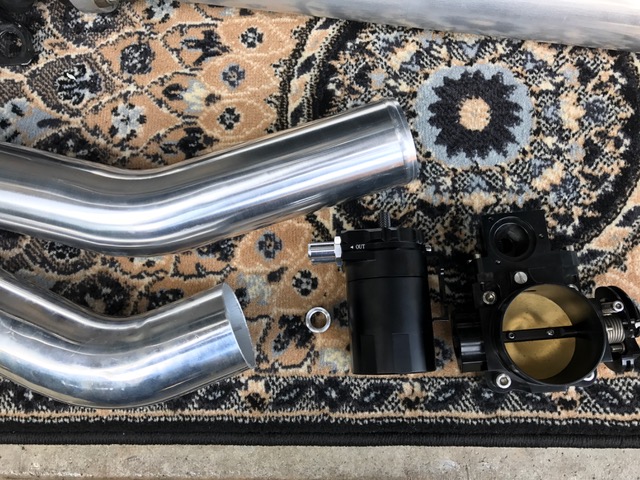 I found this picture long time ago on internet and I like it all one color.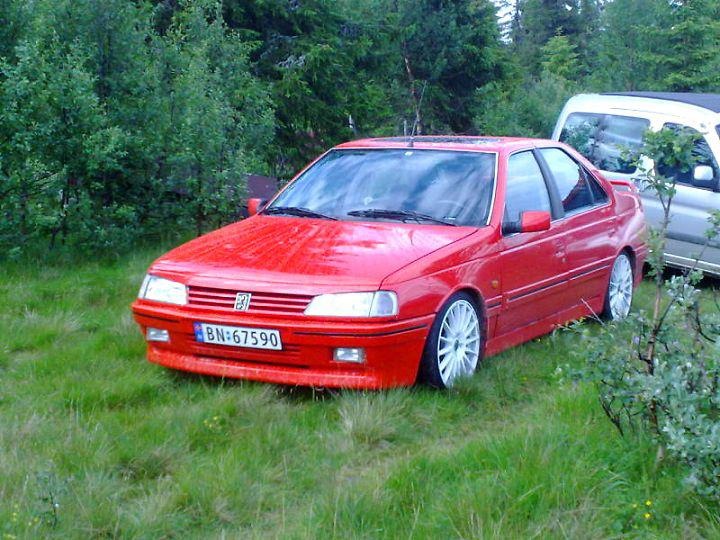 3-27-2017
Hopefully it all works out on the end.
Busy weekend as usual at SavoSpec's but a lot got accomplished. I installed that black EVO 70mm TB with all EVO sensors,installed oil catch can and made new intake. Once all is welded and coated I'll post pictures:-)
5-14-2017
And finally it's done,here are some fresh pictures.
EVO 70mm and sensors worked out great. I relocated oil fill-PCV under intake manifold.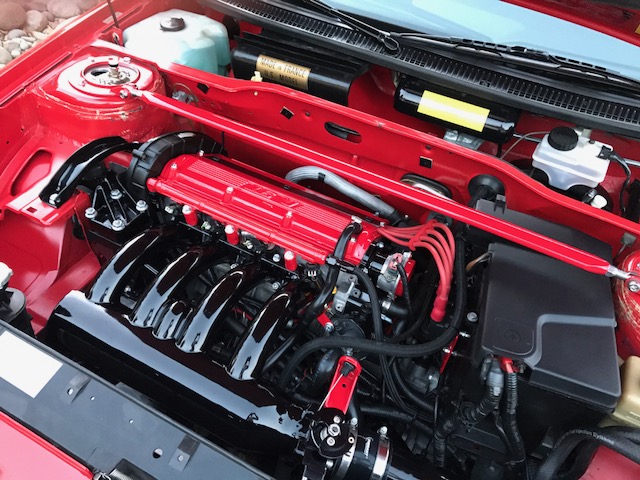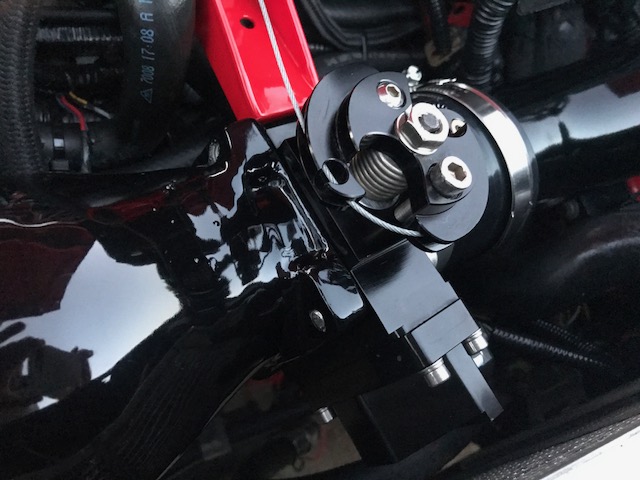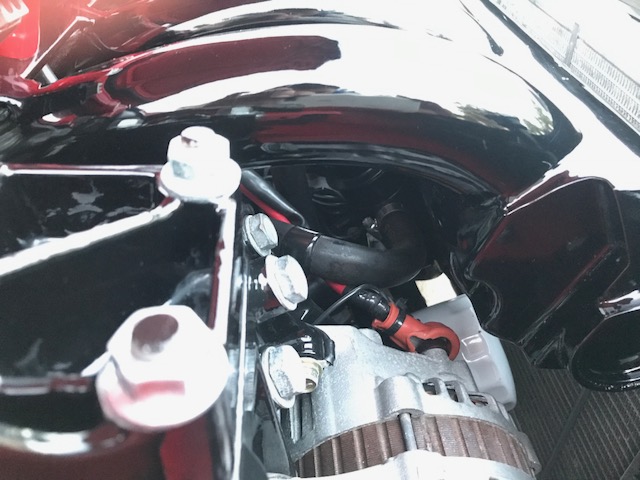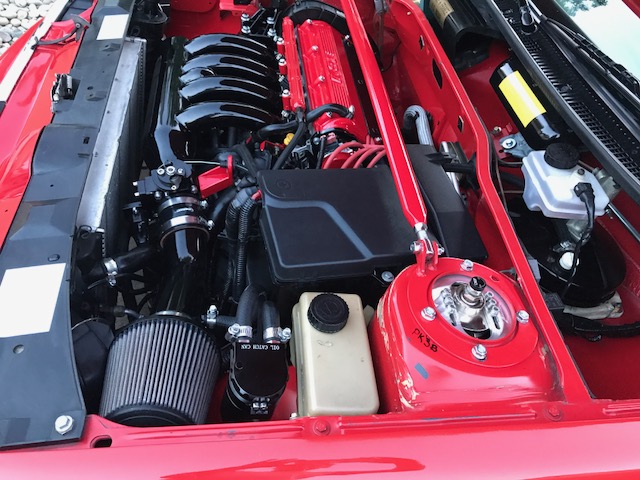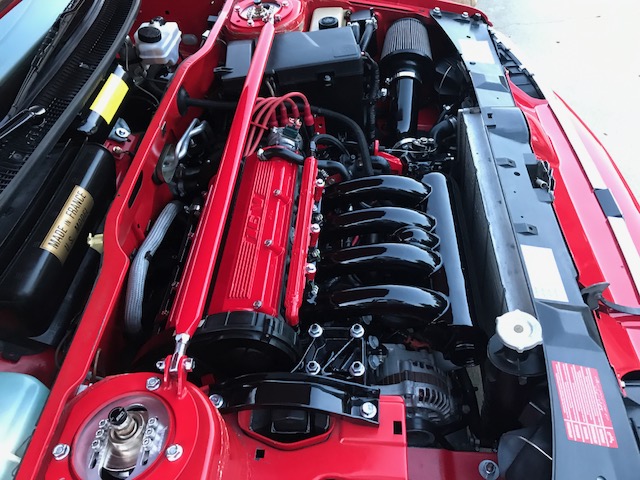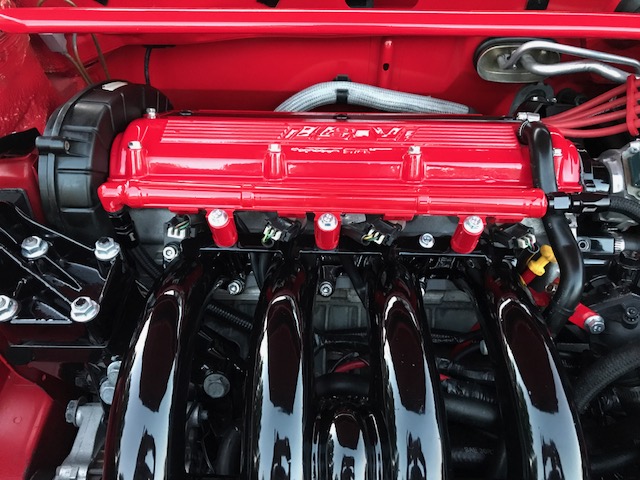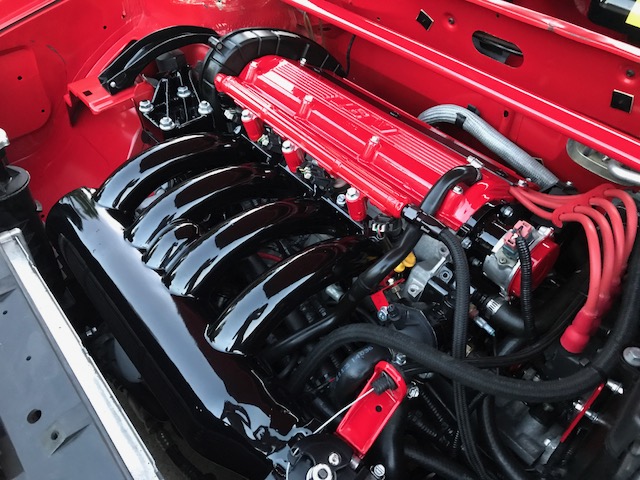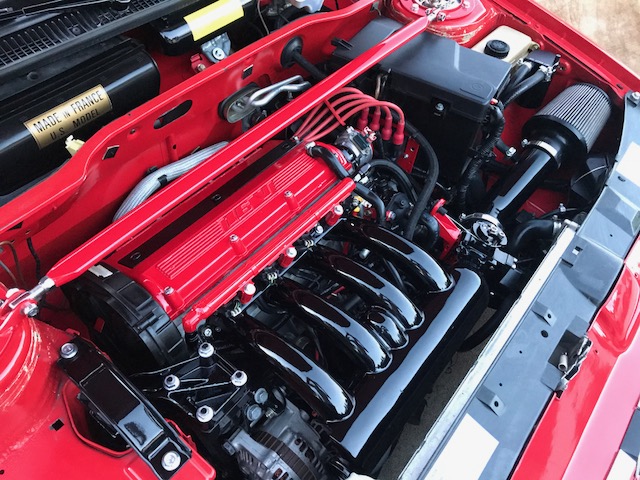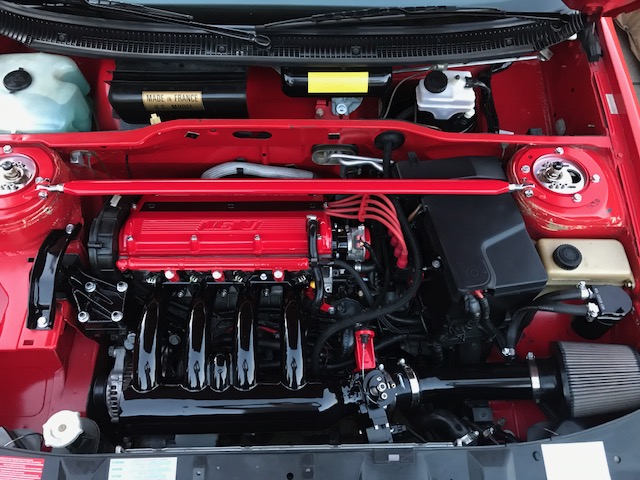 5-19-2017
This weekend I finally got tired of driving this car with out tachometer! I've called MSD to asked them if they produce tachometer interference that would work for my application and they suggested to visit Dakota Digital. After a brief conversation with D.D employee I was suggested to purchase SGI-8E. It took only one day for it to arrive and it's extremely easy to install and set up. I'm extremely happy and glad to say that my tachometer is functional now! This weekend I'll have it permanently mounted and calibrated.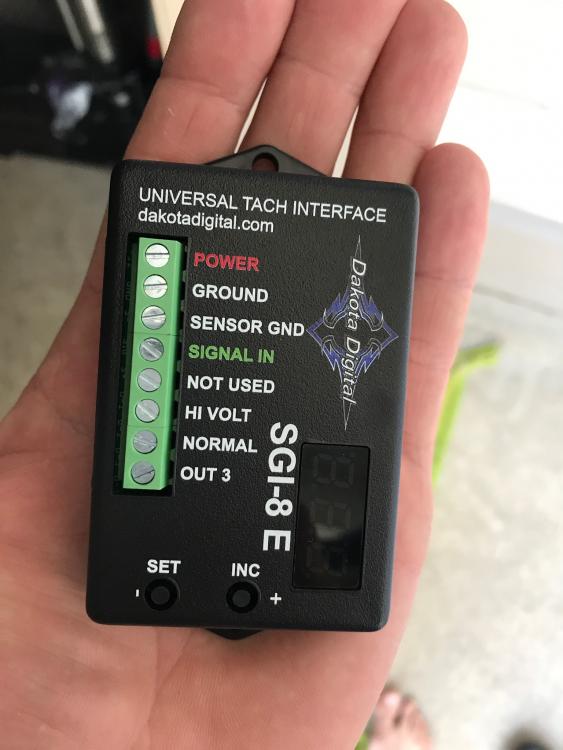 5-21-2017
Instructions recommend having it mounted inside the car. I mounted mine next to A/C clutch relay on the left of steering column.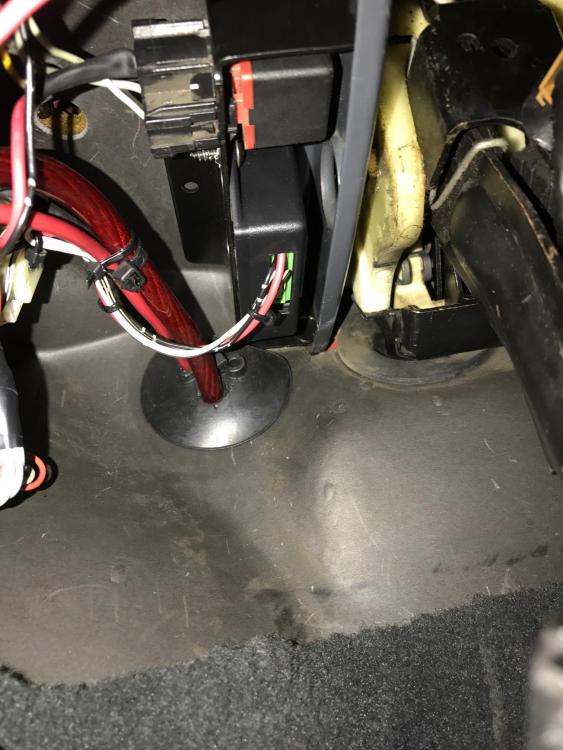 6-16-2017
From 80's and 90's car show from few weeks ago.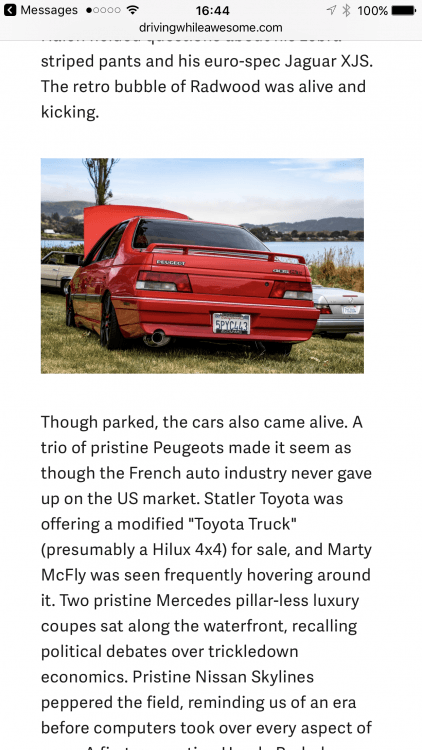 9-19-2017
This car pretty much just sits now covered in the garage. I took it only once out since I've moved to my new place. I found new hand brake rubber gator on Ebay and that's pretty much only thing that I did work wise on it.
Ohhhh I forgot that I had front spoiler repainted.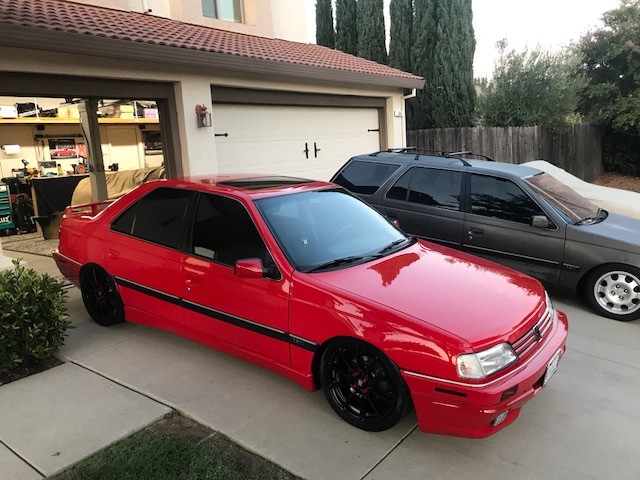 11-12-2017
Haven't driven this car in a while now and this made one of the injectors to lock up (E85 gunk) so I replaced them with good tested and clean set. My buddy Derek with 9 second DSM stop by to set my SD table and lean spots. Everything went well and it's dialed in really good now. He took bad injectors with him to test them snd clean them.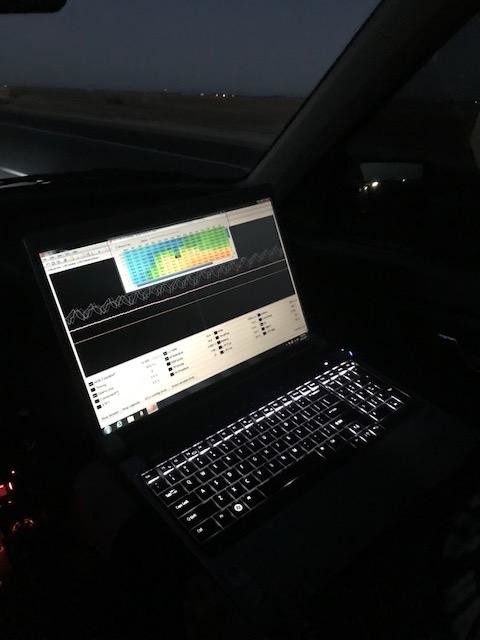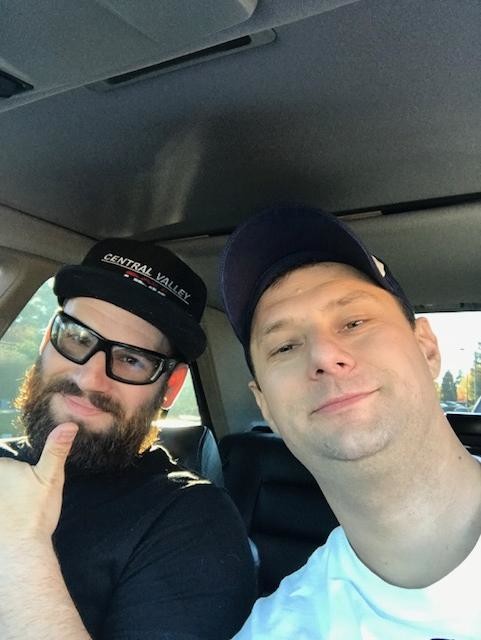 11-23-2017
New air filter,old one end up on my Wagon and if I remember correctly it covered about 3,000 miles.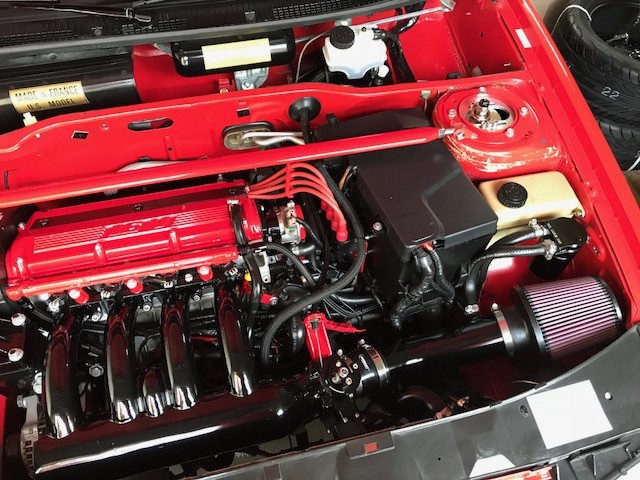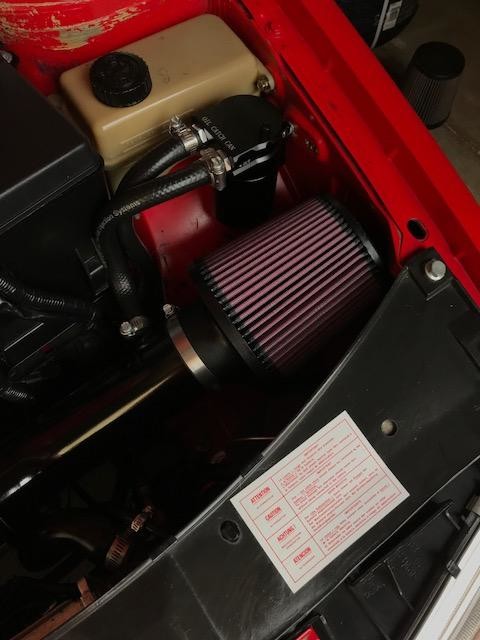 12-22-2017
Beginning of this month I took it to Radwood show in L.A and noticed A/C wasn't functioning,later on that week at home I found broken wires at A/C cluch coil. I was able to cross reference parts to Jeep models that used same A/C compressor and I found everything on Ebay for reasonable amount of money.
I end up getting everything x2 just to have it in stock for next 405 I build,that way no need to wait for parts to show up.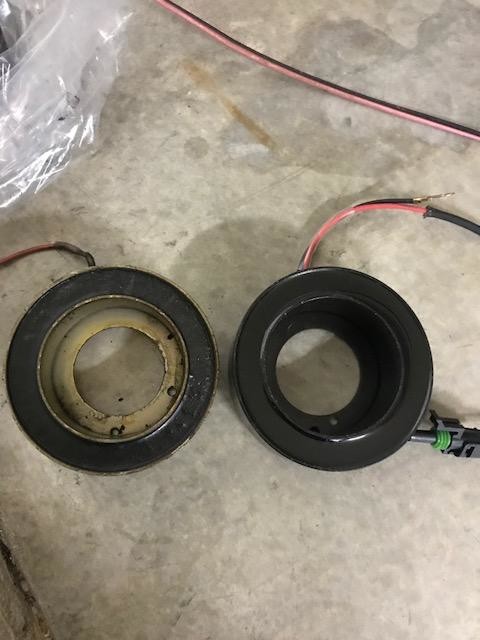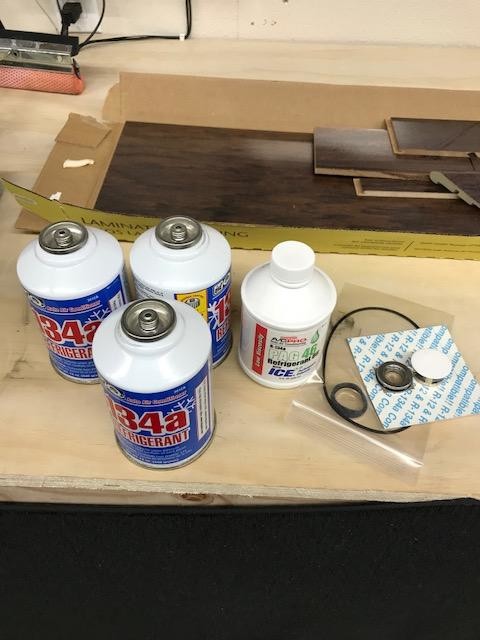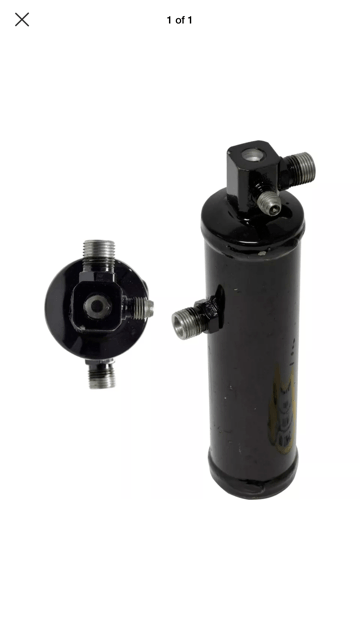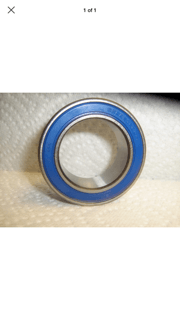 3-8-2018
I'm trying to duplicate this bump steer kit that I stumbled across on 306 GTI forum. I did send out measurements to machinest and I'm hoping to have this back soon,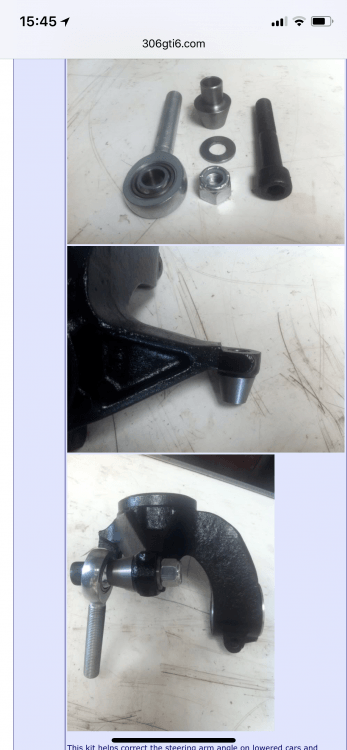 3-9-2018
Powder coated rear brake calipers and heat ceramic coated rotors. I forgot to send out dust shields:-(
I do have caliper repair kit and brake pads.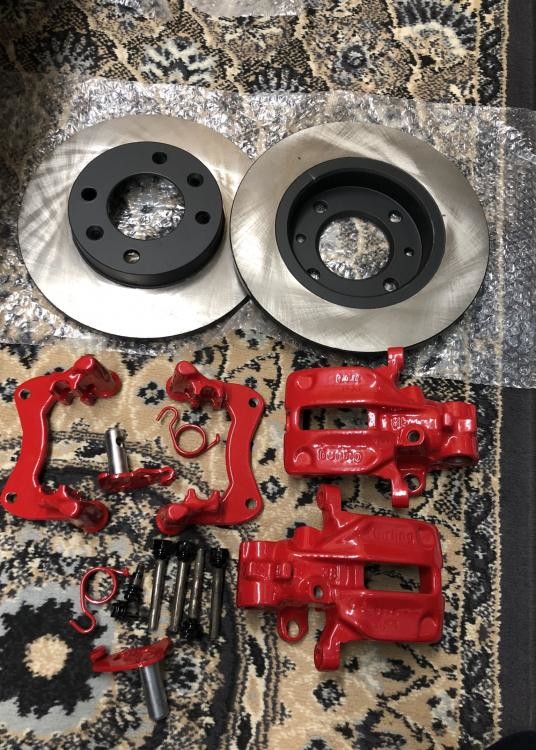 6-4-2018
This month she's 30 years old.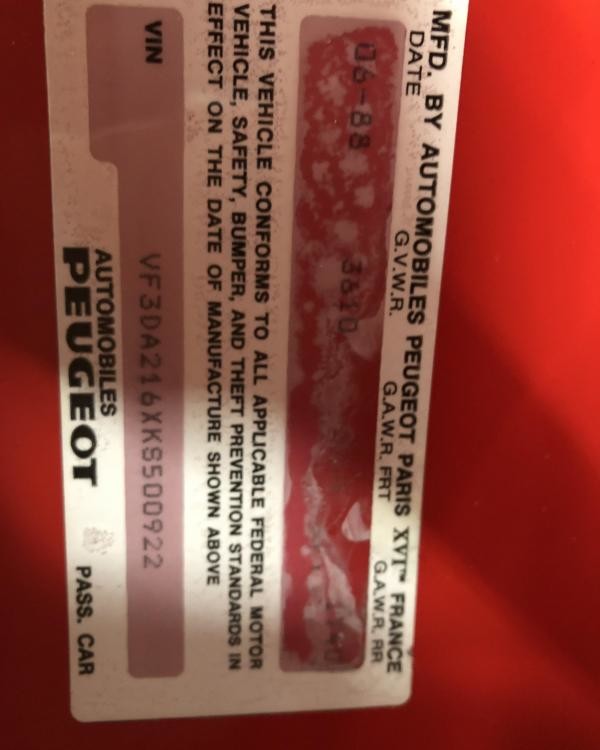 8-23-2018
Finally I found some time to get rear brakes rebuild and installed.

New wheel bearings, new grease cap, new bolts and bleeders. Brake rotors and wheel spacers are ceramic coated.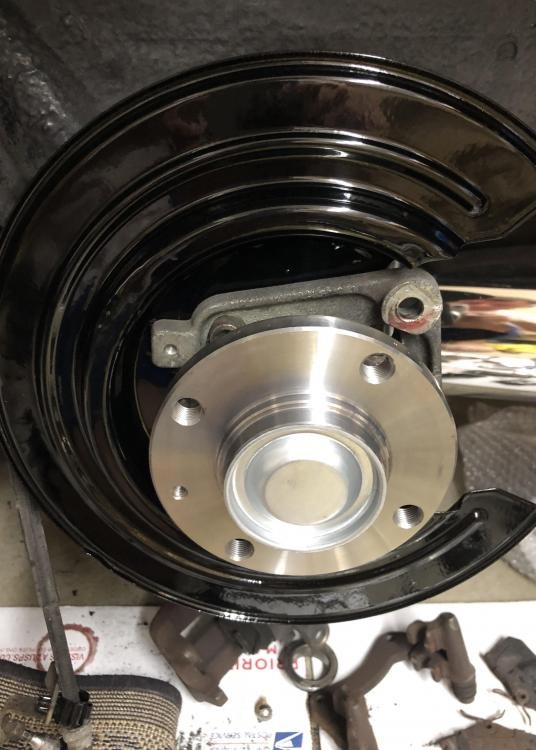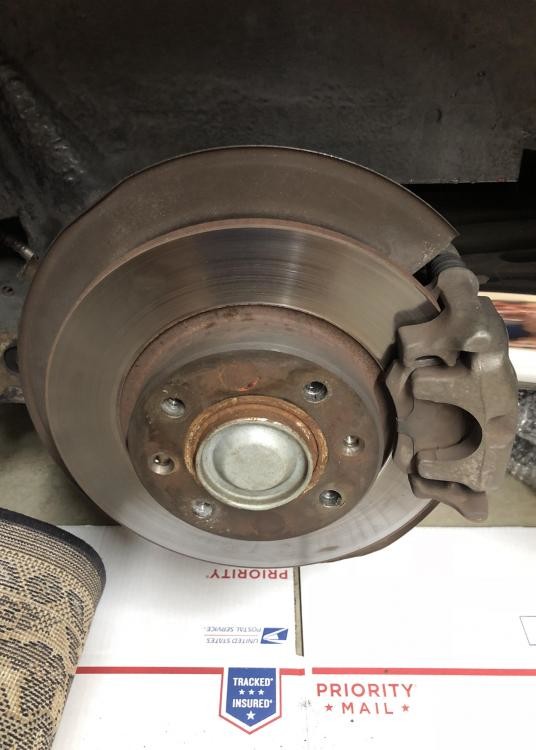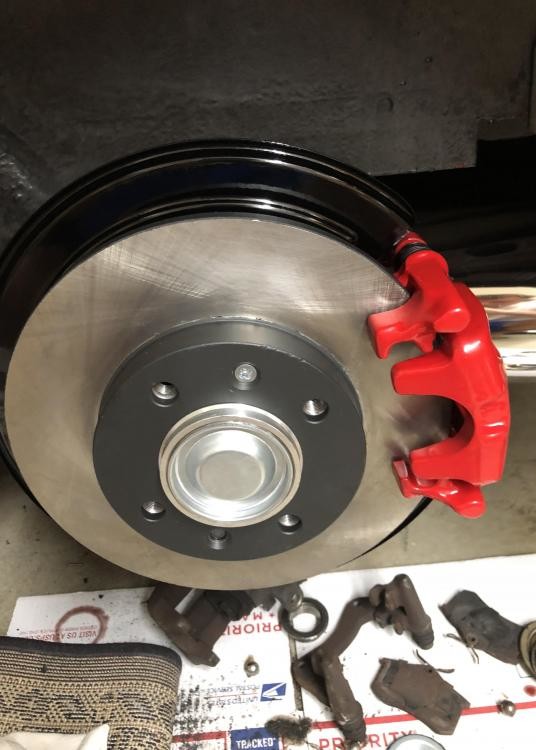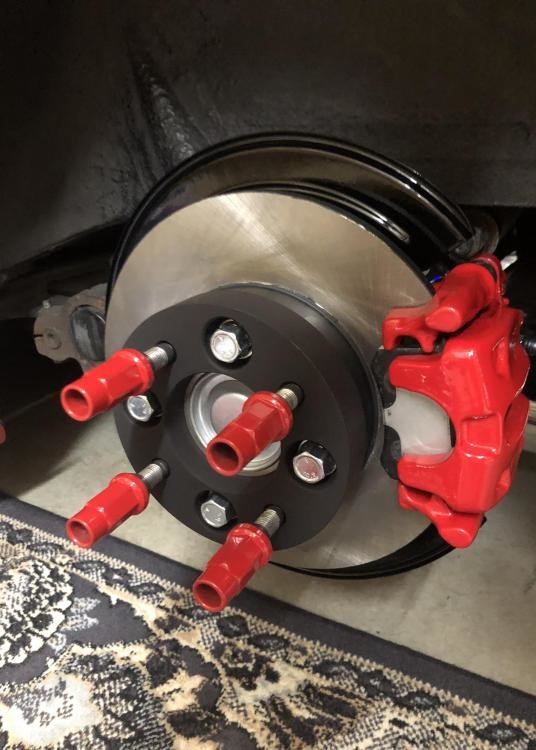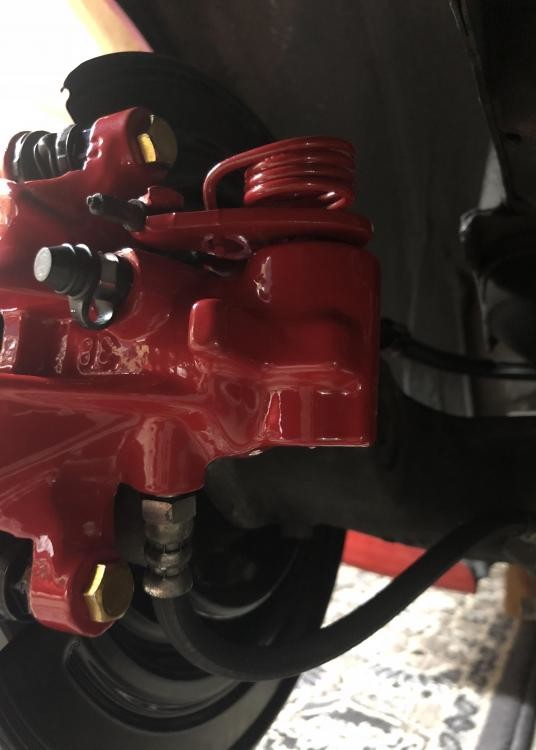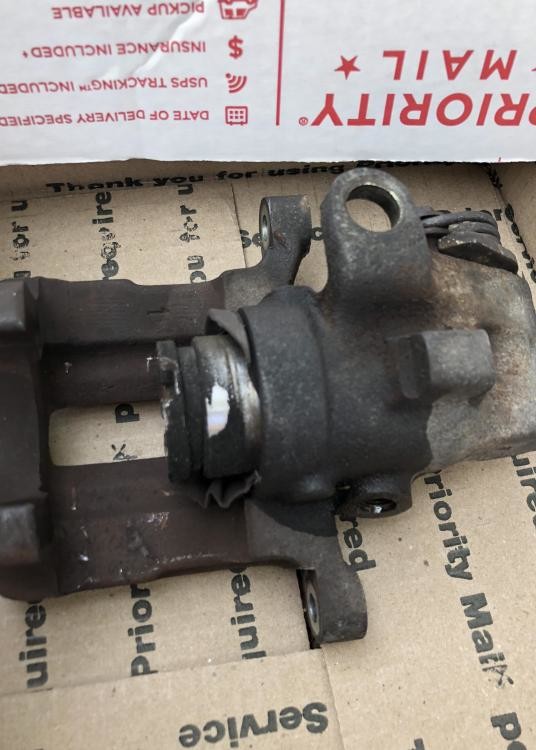 11-6-2018
Lately it's been really difficult to find spare time to work on my cars but finally I started to work on this oil sump set up from Peter Taylor from Australia. I should have it all removed and cleaned by Wednesday night.

I do have all gaskets,sealant,brake clean,engine oil and filter.

http://www.taylor-eng.com/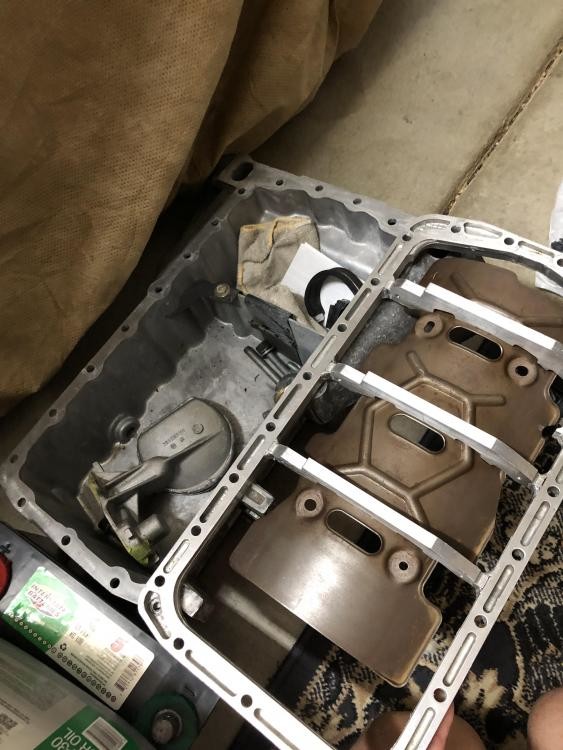 11-19-2018
Finally it's finished! I end up cutting end of windage tray so oil pump chain can be installed on the sprocket with out removing front cover. A/C accumulator end up relocating to oil pan (same as on my GTI6 swapped wagon) and oil capacity with new filter is 7.5 quart's. On GTI6 oil pan oil temp sensor is on opposite side so I had to extend the wire. I also end up using shorter bolts which is 35mm long vs original 40mm long, new oil pan sealing surface is not as thick as original so shorter bolts are needed.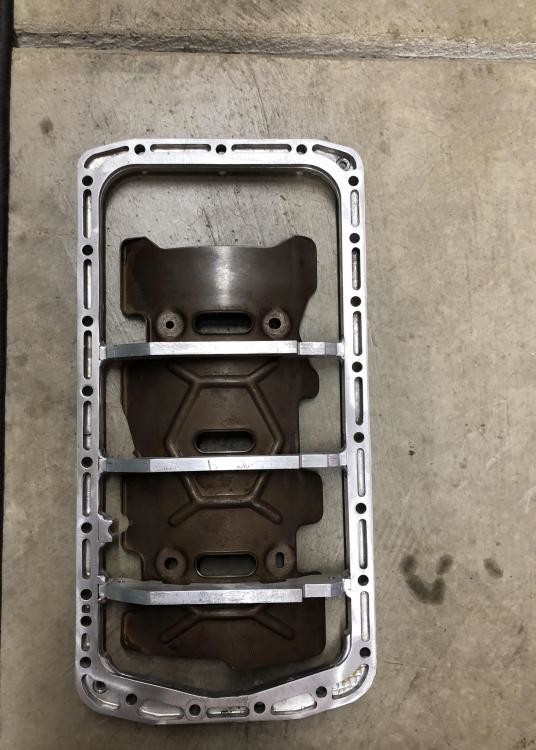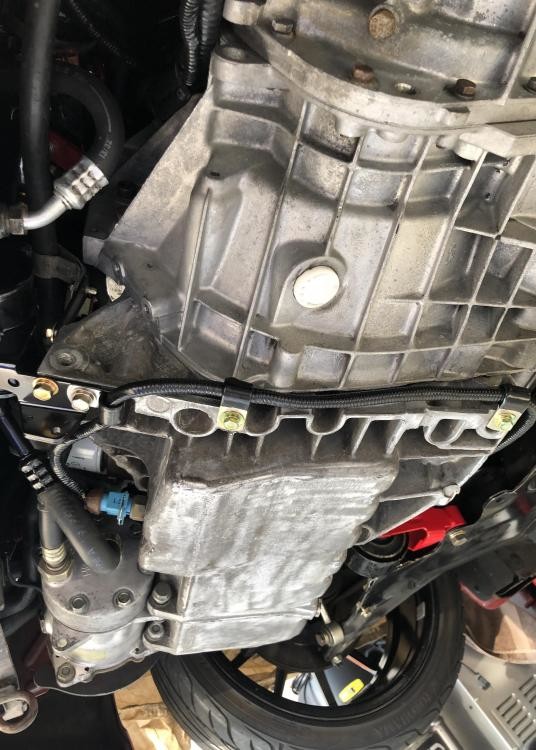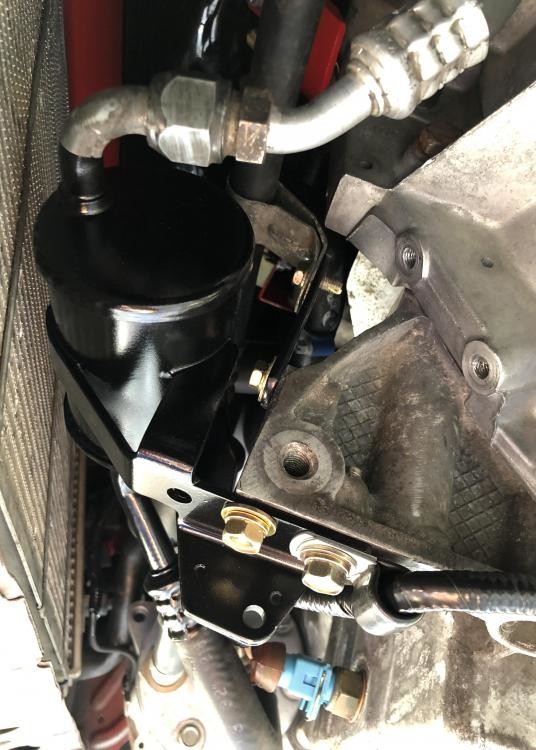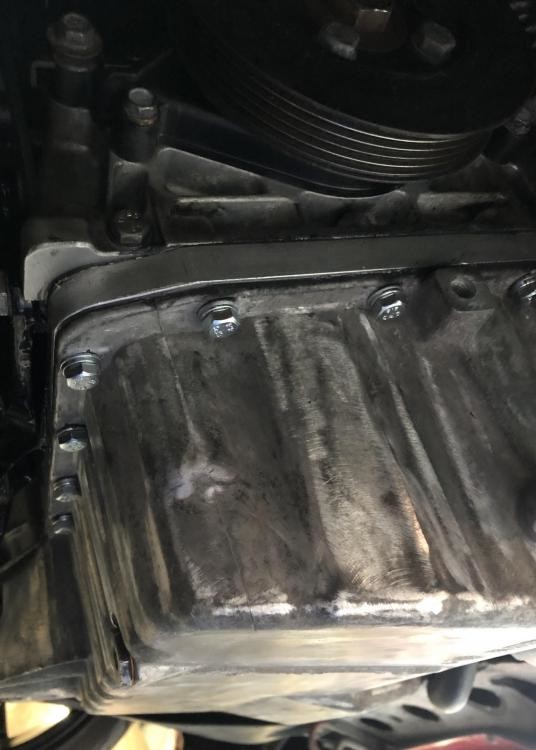 This is what happens to E85 when engine is not running for some time, it jells up.

I got it all cleaned up and for now I'll keep running 91, later on I may try to run 100 ovtane or E85 on better injectors such as FIC injectors .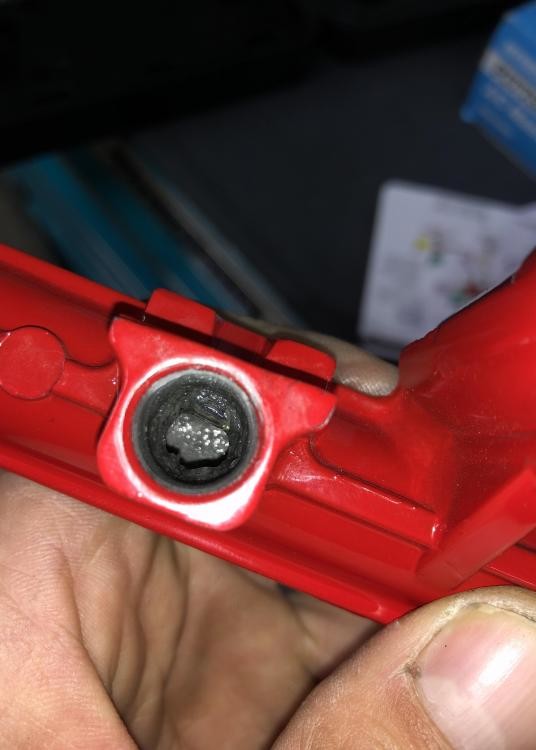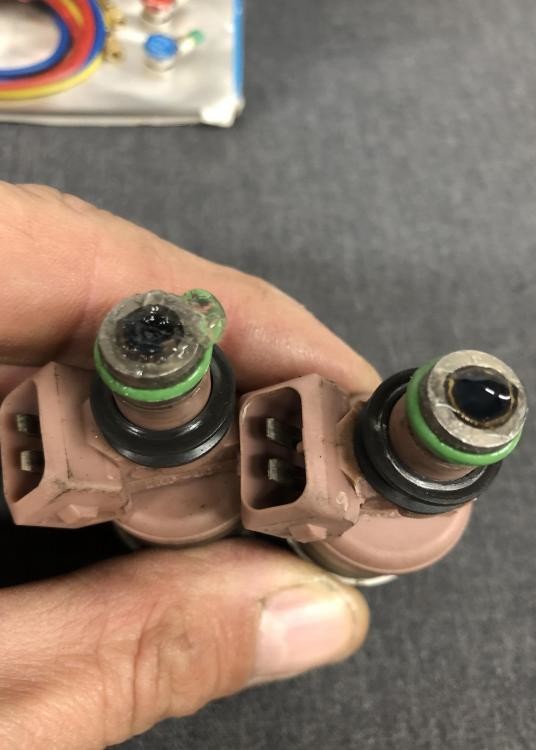 11-20-2018
I just realized today that with this set up alternator/A/C pump belt is too long, I end up measuring with old belt and came up with 5PK1210 and original is 5PK1235.

I found Bando 5PK1210 on Ebay and I end up purchasing two of them just in case to have one extra spare, hopefully it's here by Wednesday.

Probably should add that it was running today for 30 minutes and all looked good, no leaks of any kined 🙂
12-8-2018
This GTI6 oil pan is little lower but nothing I can't deal with 🙂