Builds
82 505 TD Unfunded Project by Peugeottogo
By diyauto
You must be logged in to rate content!
3 minute(s) of a 21 minute read
82 505 TD Unfunded Project
Compliments of Peugeottogo @ http://www.505turbo.com
1-28-2013
This 1982 505S turbo diesel is my youngest son's project. At the age of 13, he has been an avid Peugeot enthusiast who has several years to work on this project with a limited budget. I can't think of a better way for him to get hands on experience with his future ride. Hopefully he'll gain an appreciation for his work and the satisfaction that he will know what makes it tick.
Some stats on this one,
167,000 miles
5 speed
Thomas in Roseville has been putting some parts together for us since August,2012. Mainly used parts that are hard to find that can be recycled.
This past weekend the car was loaded and hauled from Northern to Central California.
Recent work included new hydraulic parts for the clutch; otherwise this well rested Lyon was capable of driving.
History looks to be a California car although there is rust in the common area around the windshield.
There is plenty to do with the mechanics, interior and ultimately the exterior, but with limited funding and plenty of time, should be a fun driver along the way.
Original paint is tired right down through the primer. Did I mention rust?
Interior is rough and scruffy in places, think Lyon's den in Africa but nothing a little TLC can't bring back to life.
Will need a complete rebuild of the front end and host of other things to tinker with.
Runs surprising well and drives fair for the condition it is in considering its been off the road for quite some time.
This makes owning a 505 in the family number 16 plus the forth in this color combination.
So why this one? The durability of the turbo diesel, no electronic injection to deal with and no smog requirements. The manual trans is the best way to learn to drive too!
I'll post updates along the way but remember these updates maybe few and far between.
We got time and plan to have some quality time together in the garage. Merci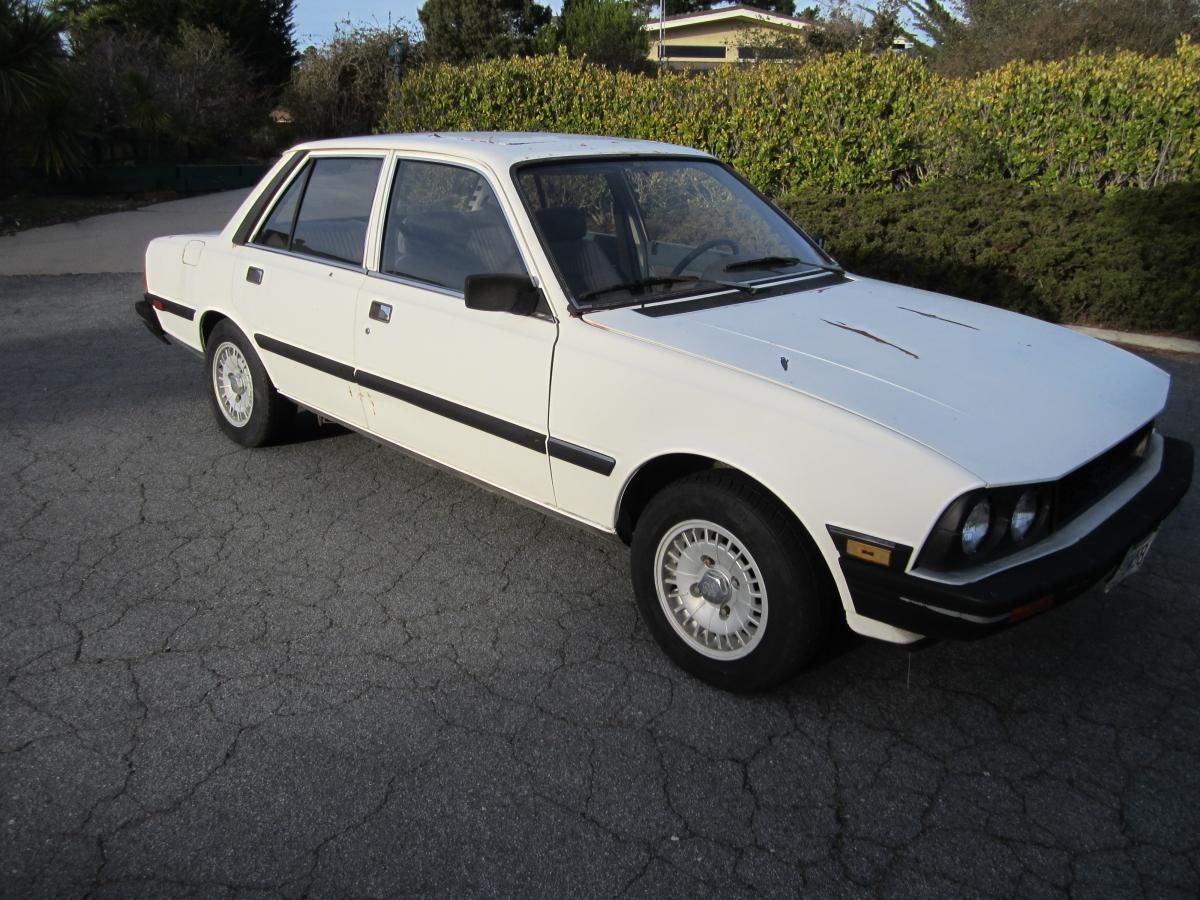 1-29-2013
Thanks Andre, A few things will be sorted relitively soon,
Remember those STI wheels and tires you delivered?
Change out rear tail light assemblies as the pair on the car or very poor condition
Grill replacement
Can't get lost with disasembly since we have a full scale template in the garage
As for future exterior, a possble resemblance of a 1985-86 STI without chrome. Most of the chrome on this car has already been removed by mother nature.
As for budget? Yes it's not funded currently and will consume my spare parts inventory first.