Peugeotech's 505 V8 build (Rover 4.6L)
By diyauto
You must be logged in to rate content!
Peugeotech's 505 V8 build (Rover 4.6L)
Compliments of Stewart @ http://www.505turbo.com
3-22-2013
I'm building one! I'm using the 4.6l Range Rover engine as a basis with the Thor type inlet manifold and full custom engine management. I'm about 1/2 way through with a mock up car and think I might have just found a decent 505 Gti from '85 to swap the bits into. We have cut the firewall a little to move the whole engine transmission back 300mm. Just need to organise ventilated front brakes.
3-25-2013
Thank you for the welcome. It'll be nice to compare ideas and notes with 505 like minded!
I'm thinking the 604 ventilated discs and 604 front calipers. Our 505's did not get ventilated but, they did get identical calipers to 604 V6 with a small amount removed from the middle of the 505 caliper it becomes a 604 one. That way the master and booster will all be sweet and those superb 505 brakes will be just so.
We have GM Holdens and some Frauds over here that have calipers that will fit as well. . That's just a small problem! The car is about 18 months in and most of the ideas are actually looking pretty cool. I'm running 3.07:1 limited slip, ( overhauled already), We've shortened the torque tube, done engine mounts and cut and rebuilt the firewall so the engine is 300mm back into the car. I'm working on tying the torque tube to the rear crossmember using a bracket each side or north south on the crossmember and a bolt going through rubbers like a sway bar pin. What we've done looks like it will work.
I think the hardest part so far is setting up the power steer as the rack is just that little bit too close to the engine starter motor. I bought myself a lathe at last, so I'm toying with fitting the power valve further up the column . Bit of work in that so I'm also looking at the racks from 307's which are smaller in the valve area. The last thing I want is to have a 505 that won't steer like a 505! Love them.
The 404 on my site is now 2.2l, turboed with a T3/T4 and water/air intercooled. Not dynoed yet but the fuel injection data, is telling me we have 230/ 250 hp on 18 psi, so far. I built the engine using the 2.2l we have here. It's a loooong story involving superchargers, bored out sleeves, blown engines, poor engine crankcase ventilation control, etc. But, I'm happy with it now! I'm also running a compression ratio of 9.2 :1 which is OK but I will lift it to 10 or so. I ended up biting the bullet and remaking the camshaft. That made the engine. The Renault 21 turbo used a close cousin to the 2.2 and those guys are running 30 odd psi. I certainly learned a lot (and wrote most of it down), maybe the notes might be of help to someone here.
3-26-2013
Here we go! This is a car we've been working over for a sweet V8. I'm still not sure whether to reassemble this body or take all the new gear out and fit up a better car. (I think I just solved my conumdrum) A good 1985 Gti has come up with the two tone silver duco. I have known for nearly 10 years.
Images to start are rear crossmember with outriggers to bolt to torque tube and the closeness of the steering valve to the engine.
18 months into the build using the last Range Rover/Buick 4.6l V8. 4 bolt mains and full engine management.
I really thought hard about gearbox choice this time. I'm going auto but using the Borg Warner 65 from the Rover Sd1. It has great ratios for the 3.07 diff . I figure 3 speeds is enough. Target numbers are an 50 mph low gear, 90 to 100mph 2nd and a top out 140 mph as a street car with A/C . That's the plan so far. Then I saw a site over there that is doing a SBC to BA10/5. Same bell housing bolt pattern in the Rover, too. I don't know about you but I've found 1st gear just too low in the BA 10's. I've already matched the Borg Warner to the Pug torque tube so I'll go with that 'cause it's easier from here!
I find this stuff really good for stimulating the tortured grey cells. I guess I'm just another Peugeot nut?
I've found some more pics for any interested folk. BW65 mated to 505 torque tube. As luck would have it I cut the flange off a BA7 4 and with a small touch in the lathe it could press onto the BW end housing. I made a clamp to squeeze it together and had it welded by an Air Frame Welder I know. Looks just right I reckon.
3-30-2013
Teehee! Remember Alice Cooper's "We're all crazy"?
If I keep the same rolling radius tyre and wheel as the 15" pug ones we all like then 2700 rpm at 100 kph is the cruise. Probably a bit high for 4.6l isn't it?
It would be just itching to send the 505 into orbit if I want to overtake!
I have a friend over here who has fitted 16" x 8" rims to the 15" flat face alloys which we got on the very last GTD 505. He put them on the back of his 504 coupe with a 3l V6 and BA10/5.Looks OK.
The 4.0l Thor made 250 ftlb and 4.6 was 300 at around the 2500 to 3000 rpm mark. I know we can get that easily with the better engine management and some good old compression and camshaft magic. I think I'd better start thinking of larger diameter tyres and bring the cruise down a bit! I think maybe 205/50 17" from a 307, that gets it to 2570. Ahh, see what happens first, I guess.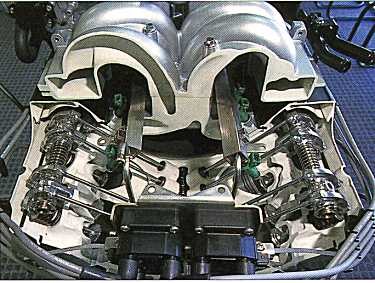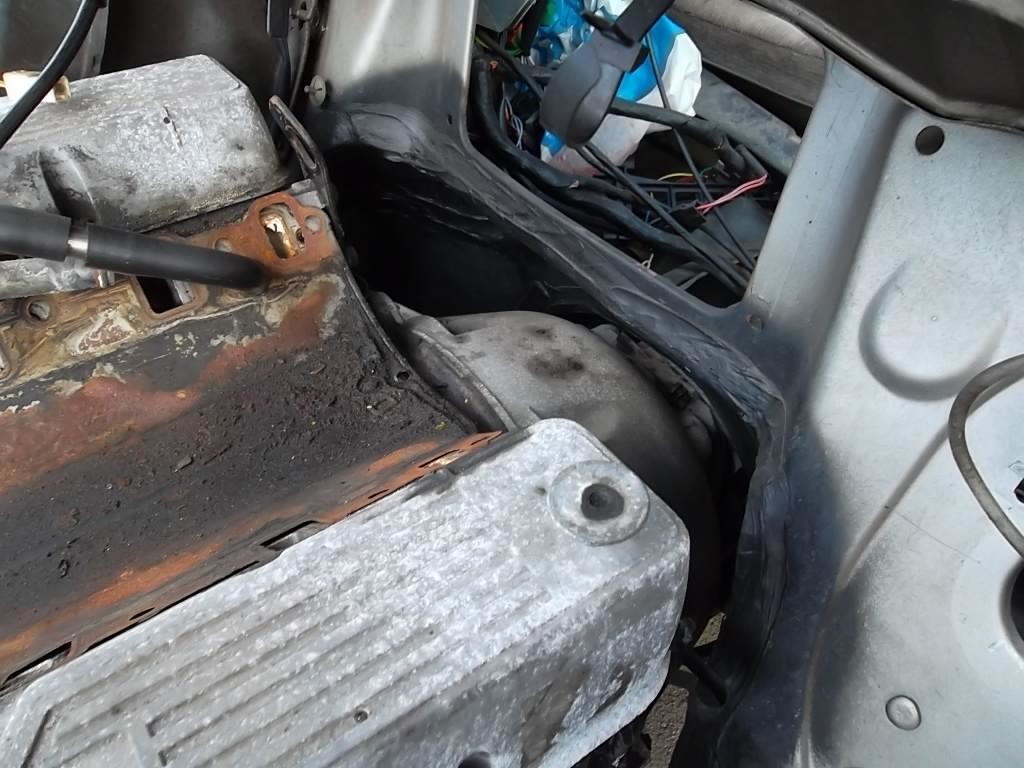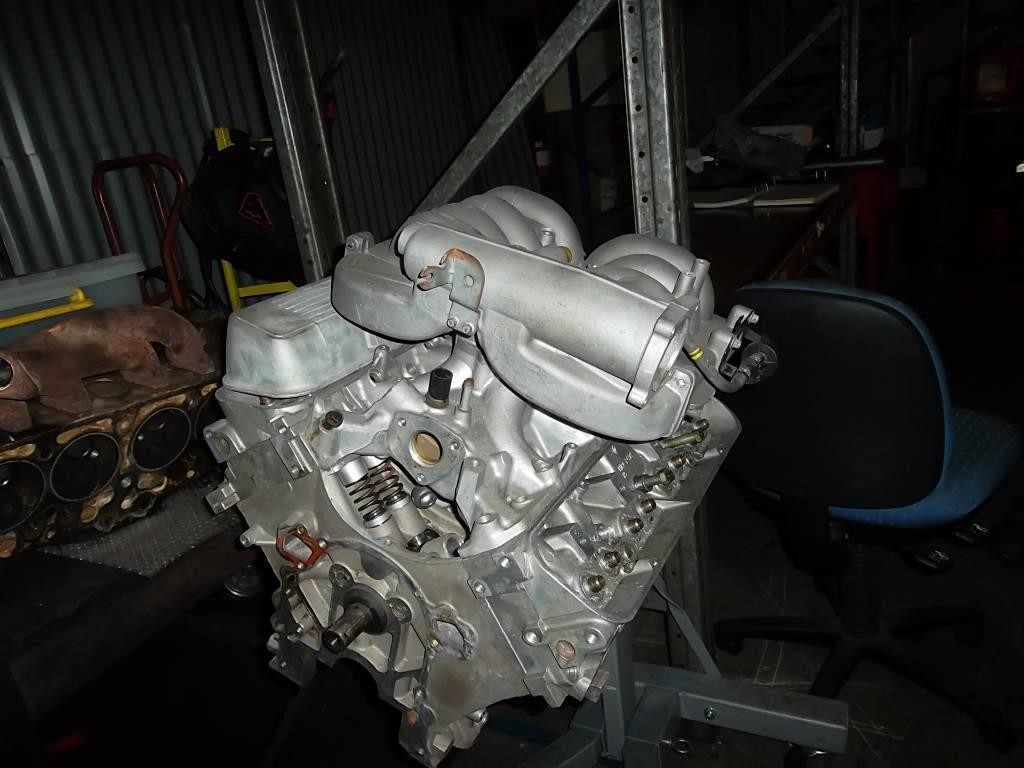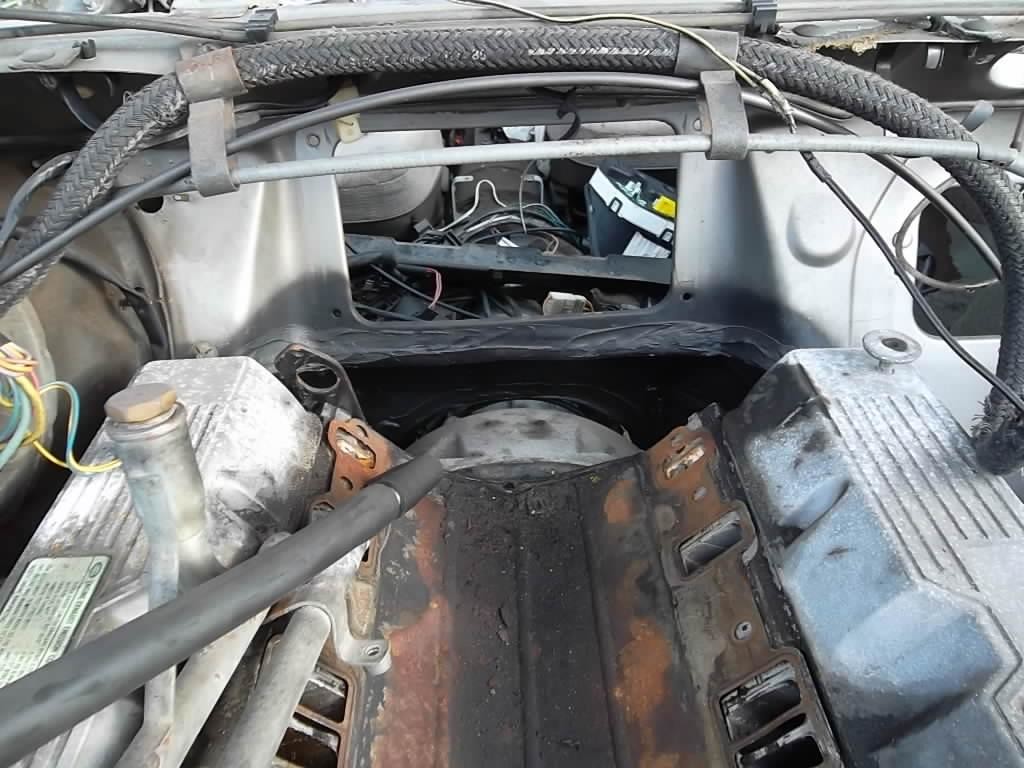 3-31-2013
I think my mate used a wheel man who found a rim suitable. The wheel looks std until you look behind the car and there is a big fat 265 tyre where Peugeot ran a 185. It would have been expensive, I think.
I believe the Rover engine uses the same bell housing pattern as a SBC but in the back of my mind I can recall the 264 Volvo might have had the ZF 4hp. The Range Rovers used these boxes too but the chance of adapting a Pug zf to the Rover bell housing looked too hard. I'm pretty sure the revs will be OK as the bigger Ford 6 cyl and Chrysler, Ford and Holden V8 cars of my youth in the 80's and 90's all used a 3.08 diff and only 3 gears in either BW 35 or GM 180. I'm not worried about economy at cruise as the engine management will set up for closed loop economy mixtures on light throttle any way. Should be OK.
Have you guys noticed the wheel changes done on the Indonesion 505 site? I think some of them are from 307 and 308.
4-5-2013
It looks like you're very serious on this project. A fellow nut, indeed! My two kids are 21 and 14 . The big one spoke to me for the first time in 12 months a week or so ago. He still needs to realise he has grown up!
I agree a man needs to enjoy and be with the little ones! Good on you. Doesn't hurt if we have something different to mull over while the little ones are asleep though!
I'm looking forward to reading the past posts and learning. One of my favourite subjects is camshaft and ignition timing curves. Quite absorbing.
4-11-2013
Many years ago, I had a 604 running TRX. It had the standard 604 ruptured duck stance with about 3 deg. negative camber on the front. A faint light of ancient mechanical memory has been lit by Bean mentioning to me " too much negative camber".
The solution I used was a camber pin kit from our Ford Falcon. A 14mm bolt with an off centre drilled washers and the crossmember needed elongating about 14mm in wards or so.
I'll be making up two sets, one for the 404 (which runs 504 late wagon arms and 505 Gti struts in the 404 crossmember) and the 505 Gti stormer. The bolts are Ford design and are Tensile number 10 and are also Aust. Transport approved, so it is all proven safe. A fair bit of work though!
Does any one here use a better way?
4-12-2013
I found my 604 superb, once the camber and castor were reduced. 504's like less castor as well if using wide tyres. I can make poly castor bushes again which helps lower the castor and stops toe out on braking and conering. The castor control really changes the turn in and tyre wear problems.
Another issue with all this is the rear crossmember mounts. If you make the front mount solid using aluminium T6 the steering is a lot more rewarding. No noise or harshness either! I'm playing with a bolt idea for the front of the rear cross member to twist the angle of the crossmember but since then I reckon a better way is to solid mount the front bush and forgeddabowdit. In one of my images you can see a fore/aft bracket on the crossmember attaching it to the torque tube . That will control the engine twist and fore aft float but will also reduce movement of the member on hard corners and accel/brake. I think the theory's right! Finding 504 wagon arms is proving elusive. I'll get my man servant, ( workshop manager) to find the Pug part number. Maybe some nos some where? Uk, France or Africa? The screw in ball joint and wagon arm really make a 504 sedan. So does power steer!
4-14-2013
As Cookie Monster say's, OK, Ok , Ok, Me get thinking, Rabin!
A change in scrub radius, circumference of tyre and the tyre profile needs to be nutted out. The whole aim of steering geometry mathematics is to get as close to full, tyre contact patch engagement, with the road. That patch is quite small so, if using a low profile tyre, it's sidewall flexes less than a larger side wall. Tyre load rating and traction rating, will give us an idea about it's flexibility.
Remember " Slip Angle"? Stiffer tread band and side wall band means less "slip angle". That gives us less flexibility. Less Toe , less Camber for turn in and Castor can be reduced. Castor is the Vertically Angular difference , with our 505's, through the centre of the top of the strut, through the centre of the ball joint to the ground and a line 90 deg through the top of strut to ground.
Engineers in Peugeot,Citroen and Renault have mastered this. A bit of thinkin' and measurin' should get us close.
Mate, I'm so glad I didn't offend! I get a bit serious about it all sometimes! What happens if you use the 2 piece strut and knuckle?
This thinking has made me remember my the 505 V6 beast my brother Andy, built. He ran 7" on the front in 15". with a very low profile Mich. The inner rim was a good 1' off the strut, too. He ran manual steer with a 604 pinion turned down to suit. It pushed a little sometimes but only if you forgot how fast you were going and how wet it was. I reckon your idea will end up a little better because of the larger diameter brings the scrub in more than what Andy had and you have power steer. Andy liked to keep fit and wasn't scared of heavier steering any way. He looks like a retired Rambo now!
I have the engine from the V6, as luck has it. The heads were worked over and cams designed by guy called Ian Woodwood. He did an engeering trade apprenticeship with a bloke called Ron Richards. A lot of water gone under the bridge but I can say the torque was fantastic. We used the Renault 30 exhaust manifolds swapped left to right, I still have them too.
Back to the front end, we ran close to 0 camber with those rims. My thinking is 1/4 neg to 0 and as low Castor we might get from a urethane front bush pushing the arm back. I think we could get close to 8 or 10mm thickness behind the castor mount and start with 1 mm toe total?
I've nearly got myself organised to unpack and set up the lathe I bought for my 50th so if you like I could knock up a couple of test bits to try for castor.
I have this old 505 to set bits up on and a wheel alignment machine so if you have any ideas regarding the steering I can probably test them here. It helps me too!
Nice to compare notes. Thanks.
4-15-2013
Love to.
I did some quick sypherin' ( Jethro Bodine style) and some remembering back to the 80's and as I said, I reckon it'll be pretty sweet with 0 to -0.15 deg. Camber and about 8 to 10mm backwards from the front castor mount. (old 505). And, with a larger diameter the scrub radius starts to head back in.
I recall Andy used the std front bushes which really flattened out quickly. They stayed pretty flat about 8mm thick on the front side of the bush.
Quite absorbing this chat, Rabin! Good fun. It'll be interesting for everyone to establish just what is going to work! Especially with the late gear you have.
I looked over a 208 today, which has 17" Pug optional rims. They were 225 or something. I must admit I'm looking at this sort of sizing myself. Pick up some 2nd hand late rims. We have trouble here getting 16" Michelin tyres. Every thing wide seems to be 17". I can get 15" street legal Yoko. motorsport rubber though.
I think it was Ellie May did it for me. Her and Catwoman. Hot dawg! I still think of Jethro eatin' Grannies vittles licking the pencil to do some sums and a sypherin' Uncle Jed. Funny boy. That lunatic who plays Oswald on Drew Carey channels Jethro, I reckon. Not enough clever people in humor, these days.
By the way, what bore, boost and compression are you anticipating using in the engine? I've developed a tidy set of Algebra that has been undergoing testing in my 2.2 as a method of writing a safe drivable curve that gets close first go. It's for 13 to 1 loaded and 14 to 1 cruise mixture and has proven itself once I got the ratios right. It would be interesting to see how my thinkin' and tinkerin' shows against your VEMS.
I've been working on it in my spare time, for the past 2 long years. Worked out of the box on a 347 SBF and a 351 Cleveland I built for street use.
In NA Carb engines it is actually very accurate against the higher output factory engine's curves. I did the 2l. Ti engine in my fathers 404 ute and even he had to admit it was smoother and added torque. Added another 10% economy saving without touching the mixture. Might be worth a go to reduce the tune time?
4-16-2013
I'm running 9.2 at 18, no worries with proper accurate ignition. I see how you thinking 300 atw with the engine. 94mm bore, yes Sir! Funny with the 94 VW stuff. We are running a set in a 4.6 Rover. Plenty of meat to work with and trim. Very heavy gudgeons so that needs addressing. Easy.
I have a program here at home, of one of my suppliers, Precision International that might be of use. Piston pin heights, crown dimensions etc. I can tell you though that, an extra point in compression makes a big difference in off idle torque, ( actually 1 point in CR is considered close to 10% increase) but one must be carefull as the starter motor's are not really up for it. I made a reduction gear one up , that stopped it farting in Church! More capacity and a DCR between 7.0 and 8.5 to 1 at crank speed, is in the back of my thoughts. That would be about 8.5 to 10 static, depending on cam from, my rough calcs.
Bare with me everyone!
I noticed something today on that great build Tama has done. A fine and fast machine.
There is an image of broken rings and damaged piston between top and second rings.
( Apart from dusty air wearing ring lands and causing ring flutter which breaks ring lands), there are two usual causes for that damage between the two top rings. Predominately it gets down to ring material ( not bedding in, giving blowby and crappy oil control) and wide ring gaps.
Plenty more in that but, the oil explodes during the fuel burn process and the poor pistons rings and lands get smashed with an uncontrolled blast many times over . Have a look at the piston. Why did the piston break, between the two top compression rings?
4-17-2013
Yep! 9.2 static. After blowing a few and also running 12 :1 with an SC12 supercharger at 5 psi. ( Which was very torquey but nowhere near the sting I wanted) I decided that easy drivability in heavy traffic was smarter. The set up I had with 12:1 and the cam was getting hard to live with as I could'nt keep the speed limit of 60 kph if the blower was on. Crazy hey? 3rd or 4th at 60 kph, the little 404 was " nup! I'm goin' man, git me outer here!". The turbo is much faster but civilised. Typing this I recall I wanted to go more static with the new set up with my new design cam but I't is easier for me to dial in 2 deg advance on cam timing. The old engines actually failed from poor ignition control, detonation and preignition but not from high compression. It was engine oil exploding before or during combustion. I speak the bitter truth as I learnt ( read that, relearned and remembered early trade teachings) and studied a few engineering sites and publications. Poor oil control from engine breather and rings will confuse the engine tuner and at times the engine will be tuned to run allowing for detonation caused by hot oil. The anomaly is, when cold there is less oil entering and it is not at a temp high enough to be very volatile. Different matter once it gets over 90 C. though. A big issue with rings and broken pistons is material and hone pattern depth before bed in.
Chrome faced rings will not bed in unless the compression is very high. No good for us they will let oil past them almost straight away. Cast iron rings or Moly faced iron rings, gapped correctly is a great start.
Ring gaps make or break the fun of it all. From SAE Int. the standards for ring gaps is very interesting. The 2nd ring gap needs to be a lot less than the top. If the piston breaks as in Tamo's machine , it begins to indicate high pressure build up between the two rings. That makes them vibrate and flutter, then crack goes the land, before or after a ring breaks as well. Indipendant of boost or compression numbers.
So what I've learned, and am trying to share without sounding arrogant, is engine oil and breather control is the number 1 issue before building any engine. . Stop any oil vapour before it gets to the inlet, make sure that vapour returns as liquid oil back to the sump and control that oil with accurate and correct ring selection, gaps and hone. ( Rotary engines inject oil in for lubrication. Engine blows them up, specifically designed oils like Silkolene, Motul don't explode in that enviroment.)
The engine rings bed in quickly using run in oil in about 20 hours, this way. Bitter experience!
I do have Dani. cams data somewhere but Lordy Lordy, Uncle Jed. Ifferrin' y'all kin git me the figures of bore stroke and cam timings we can work something out here, without me checkin' under Ellie May's.........................................................................................................................
..chair!
That is the business, Rabin.
I'm going to "vent" me old crank case now, so here she goes!
The idea is to vent the OHC at the top of the engine and with a T piece from the crank case as well. It will make the gas work out some of it's energy on the way to the vent/filter which is mounted above the engine. ( Gravity is useful here.) Consider the P 200 as a condenser for oil vapour. Any gas, which should only be air , oil vapour and a tiny amount of blow by, must push it's way through the filter medium to get out. Energy is released, oil falls into the base and gets plumbed back to ideally the sump, below oil level. Then the outlet can go to the air filter. One can use a PCV, say from a Rover which screws into the manifold. Plumb it to a T piece in the hose going to the air filter. A small vacuum source is also important as it helps evacuate the crank case when the engine is cold. Moisture in the air can become ice cream in the oil from no other reason than it not being vented well enough. A vac source does this and keeps the oil clean, too. Many racers use a belt driven or electric vac pump to pull a vac. under the rings so they seal better. I've found using a PCV valve also helps the idle quality, too. The French use a metered orifice in most engines but a quality PCV, ( Positive Crankcase Ventilation) valve is much better.
Strange things float around in a mechanic's head.
4-18-2013
Here is some info from Total seal rings regarding their gapless style. It is one example of their requirements on ring gap.
Something to think about.
Top ring Bore x 0.0045"
Second Bore x 0.0035"
http://www.totalseal.com/TechPage.aspx#trRingInstall.
Over the years ring gaps have increased in spec for rebuild engine parts and I suspect the reason for that is ring maker reputation. Here's why. A lot of engines get overheated after the install. Thermostat stuck, radiator not cleand, broken old heater hose, loose hose clamp. Then if the rings expand enough they can butt together and break. Immediately it's someones fault. Usually the guy who rebuilt or the "crap" ring syndrome. Seen it many times, unfortunately! In standard applications Mahle use at least 0.005" sometimes 0.006.
Just stuff rattling around in the head I wanted to share with like minded fellows.
4-19-2013
Can you believe I've typed an extensive reply twice and have just bloody moved pages and lost me words! And now the missuss wants to talk!!!!!!!!!
Jim Miller reminds we practical men about our high school Geometry. Some Cam Grinders, most Cam Makers agree with him.
http://www.mid-lift.com/MID-LIFT-TECH.htm
Where"s that vino?
That head looks damn fine! Independent of all we've potificated about, we need to check the famous "Squish" shapes and clearances first. Then you'll have a very clear vision of the future. It might be as easy as getting the engine mocked up and measuring deck height to crown. Measure the head gasket fire ring diameter on a used gasket and measure it's crushed thickness.
1/ Piston crown height at TDC relative to deck .
2/Used gasket thickness and bore dimension.
a/ or the biggest diameter quality gasket data available to us.
3/ Head your going to use cc's.
4/ Both valve head diameters from that head
a/ If the valves are different to standard, can I have those diameters too, please? I suspect that Dani increased exhaust valve size, from the images. ( Very rudimentary theory is to have an exhaust opening area 7/8 of inlet area.Valve diameter or lift can change to suit 7/8 area In.)
5/ This might lead us to a sweet compromise with a move like bore/pistons in oversize to suit gasket dimension. Deck the block , for a squish depth of the head gasket, which are usually 0.037" to 0.040" . ( Splendid number for this) Or offset grind, which is simple. The hard part is to match bearings and rods again. Maybe Tamo's data can help here? Over size bore is sooo much easier if it fits in with gasket dimension.. Stroking is the ideal way, in todays technology but not easy. An identical rod with smaller big end is the starting place.
6/ Then we can calculate a static CR figure. Then valve timing for our DCR. Sure we may need to increase the piston bowl, but from the few numbers we have so far, probably not.
7/ Cylinder Mean Effective Pressure is more dependent on CR rather than boost. This is where we get the wind from to spin the turbo early. VNT and you boooggie!
8/ I love this s###!
The Dani spec cam on a std engine would have to have been a high rev very laggy cam, even if it had the correct springs and geometry.. 6.42 DCR .at 9 :1! 6:1 at 8.5. Hopeless....It needed 12 :1 to get close to what we want..
Once we sort the static CR we sort cam timing and especially lift. Springs are no problem as my colleague here down under makes them and retainers for me for what I want. If you want to read up with Jim Miller he'll explain why we can dial in quite low seat pressures relative to popular practice.
Burton Engineering establish 25% of Inlet valve head is the max lift needed. Not much more usefull wind will blow past, no matter how far it opens further. That said, opening aforememntioned inlet valve further than 25% does get it further open, earlier!!!!!!!!!!!!!!!!!!
I'm off to run naked now. It seems to be a common folly for lunatics and I don't want to miss out!
4-20-2013
I'm flattered mate!
I reckon get a used VNT turbo or a T25 equivalent modern design. I think using the std exhaust manifold to start with and encasing it in a heat shield will be an easy start. We will have to inspect the layout of it and consider it after we get the engine numbers sorted.
I can say that the more capacity we can use with best DCR to suit, will shove hot gas into a hot manifold to exit at speed through the right exducer and engine pipe. I'm glad I can share. Helps me too.
I just had a thought flash across the blurred grey cells. If you cc the head and we go for a gasket 0.035" thick. Then you tell me if each valve can be opened 0.040" to 0.050" or so and if they are below or level with with the head face, we might just find a flat top piston, like the VW will fall into our lap, compression target wise. A cam of 224 deg at 0.050" is the maximum being used for high torque turbo, these days. It means the inlet is open at TDC but only 0.040" or so. We will consider that as a max duration to start and perhaps trim it once we gather cam sheet data and I find all of mine! I'll start looking for what I gathered before I made up my cam for the turbo 2.2.
Over and out Obi Wan.
If that's the case with the piston, we have moved forward quickly! Once the bore is increased and we sort the cam, a small amount of machining on the crown will give us a perfect situation in DCR without worrying about offset grinding the crank. Pin offset and pin size for available pistons next. Some pistons don't run much pin offset so we need to check them with the Pug engine so she stays nice and smooth.
I'll go and check on my piston lists. I think that VW idea will do nicely but they do need lighter pins and may need skirt reduction which is not ideal.
I've just read Tama's build and we are closer still. He remarked on using SAAB 900 rods from the 80's. Also that he needed to decrease the crank journal to suit, so offset grind may just be possible with them. Also I know for sure that our Ford 6 cyl pistons are around 92 to 93 and are available in many configurations street race and turbo.In fact I'm using Ford 250 cu. in the V8 build. I think the pins are 23mm. Very nice and well made by ACL. http://www.aclperformance.com.au/6MKRY9410.htm
How is this for memory? 0.020" over gives you 94 millipedes bore!!!!!!!! Check the others for bowl type. I reckon there is a race series too, I'll check on that. If we can check the pin height against the Pug and then compare parts from Saab rods/pistons etc we will know more.
I'm using a flat top + 0.030" 93.47 mm, it has a smaller pin so I'm making the small end on the con rod, a full floater and will cut clip grooves into the pistons. I have a gut feeling that 504 XN gudgeon bushes may be close.
I found the piston on the program I was telling you about where it was ideal for it at 0.030" over. A nice fit with 0.005" on the radius hone for the cylinders off std. and the bore matches the diameter of the gasket without having to get specials made. Got really lucky with compression height too as I wanted another 2mm . Handy thing to have.
The ECU for the V8 I have, is made to order for my needs from http://www.ecotecmarine.co.nz/.
I sent the crank and cam sensors over and they set the system up. So what I got is idle control using 306 1.8 IAC, 4 wire.
Knock inputs. Wasted spark. (2 x 306 coil packs), Map, TPS and batch fire 2 lots of 4 injectors once every 720 deg. 80 mins of on board data logging at any time. Fan control, a/c, drive compensation , all that.
Ignition is driven with amplifiers in the ECU also. Lambda as well with a data input from Innovate LM-2. I found this LM-2 a revelation once I set it up into my 404 which runs a Link G3. It will feed the Link and I can log to my notebook but also the LM has it's own logging flash card which is great for reading mixture on the go, etc. The one issue I had though was the power to run it. If I use the cig lighter or car's battery often I couldn't pick up after start and early warm up because the unit dropped out during crank. A motor cycle battery in the case for the LM fixed that drama. Might be worth noting for future reference?
4-21-2013
The early idea was to get something dummied and take out a small amount once the math's are done. Just something to check over. The pistons also come in dished or machine the 8 shape in to the flat top if there is just a small amount to come out, or????
Try one of the beggars and get something made once all sussed out.
I'm sorry I don't know what the rod dimensions are, but I'll find out. There could just be something in the program which might match.
So 94 is about the magic bore! I'll also check for you regarding the Saab bits. Plenty in Aus.
This might be worth a look through.
http://www.performanceenginecomponents.com/Products/products.asp?type=dept&DepartmentID=719&MID=
While I'm here, does anyone have ideas for this multi spoke wheel? I think this style painted or polished, looks the business for a 505. We don't have many options, I know but, if any one can recommend something close to this , or where to look, would be great.
I noticed a nice genuine 308 wheel is close and a 17" rim.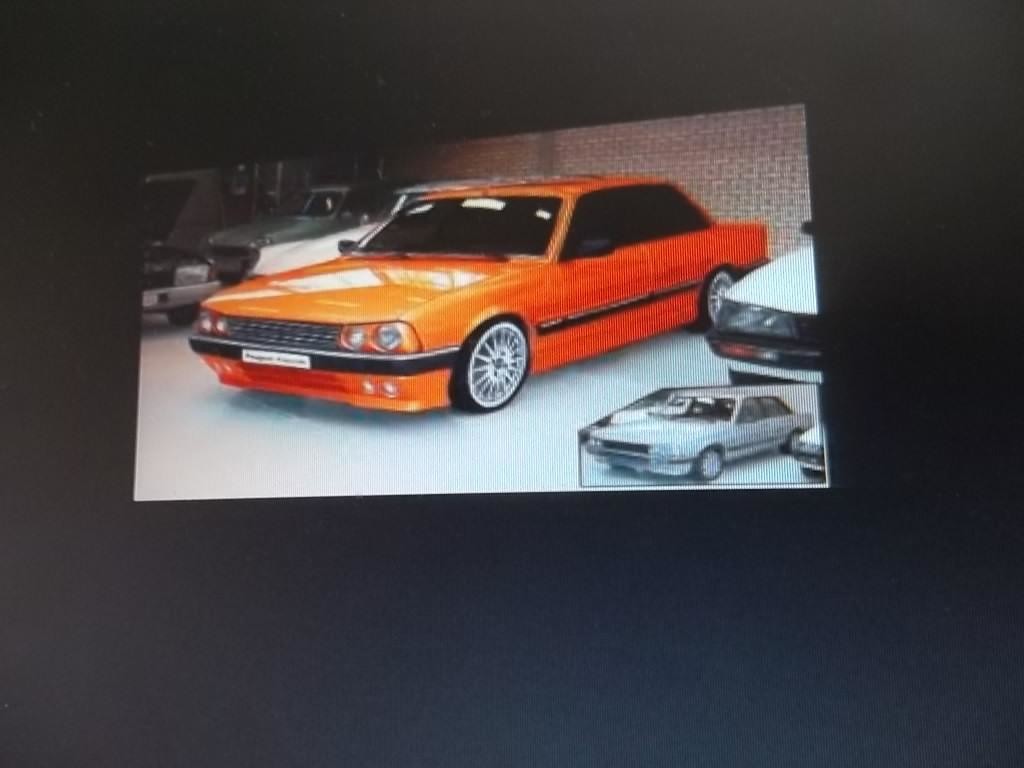 5-22-2013
Not a lot of progress these last 2 weeks, although proudly I have proven my initial, safe, ignition timing graph, theory for air fuel tuning, works very well indeed.
The V8's ACL pistons really look the part in the over sized bore. We need to find a solution for the press fit gudgeon into the conrod though. The old pin was 23mm and the new is 22mm. There isn't a lot of meat in the rod to bore it for a full floater pin so we're thinking of using a reducer bush. That's 0.5mm wall thickness so we'll need to get the material compatibility right. I'm thinking of using a seal face repair sleeve but I guess we could just buy the material and machine it up on the lathe. The only problem with that is the lathe is still in the box!
So little time for things that really matter!
Number one son has turned 21 today too.
5-23-2013
This is the gently bored and honed, std. block with 0.030" Ford 250 piston. From memory a 0.010" cut to std.
Bean should be impressed with the squishy quenchy bowl!
Piston should sit 0.001 to 0.0015" above deck. This is prelim fitting. This gives us at least the minimum quench requirement clearance of 0.040", in the head gasket thickness. So, for best safe practice in this street/track engine from here I measure piston rock at TDC and then calculate rod stretch and bearing clearance etc for a very close indicator of just how close the piston could get to the head.
The big issue is with this very tight clearance is how far open the Inlet and Exhaust valves are at TDC.
and how close (0.040" min.) they can get to the piston at TDC.
I'm thinking metal shim style head gaskets to trim the squish to a minimum but have yet to research composite stuff. Some I know are near 0.050" so no good there.
Moving forward, slowly.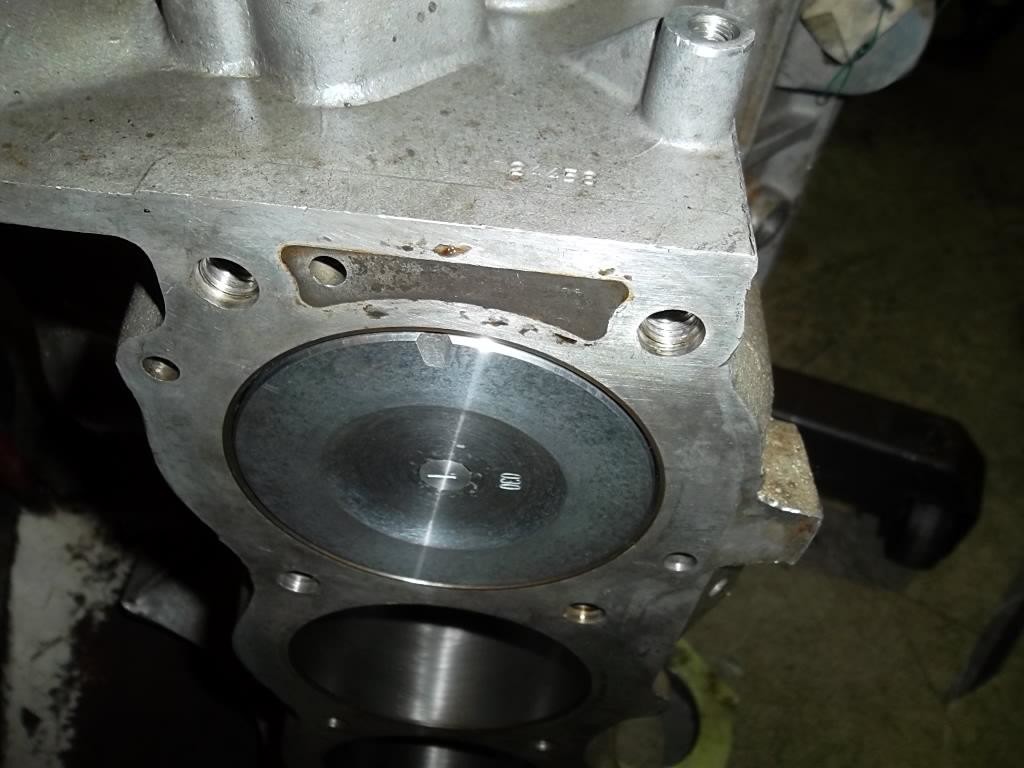 I've used ACl pistons in a lot of successful builds one of them 25 years ago when I was just out of my time and the boss and I built a sweet Holden engine with an incredible amount of torque for such a simple engine with not a lot of modifying. It is still running beautifully today, 6 cyl Triple carbs 13:1 Bathurst spec head. on 100 race fuel. It is a sleeper street car. The head has been changed twice as better ones pass through my friends ancient garage and into his hands. The pistons and bore are worn a little but sweet FA.
The Ford pistons are made here by ACL and just came up as being very close, once I got th' syferin' dun. It started with a challenge. Why hasn't any found a better piston combo for the s##t with no real quench, being fitted to rebuilt Rover engines? It turns out there is a Holden piston that fits the 3.5 as well. That has been done before.
ACL do a lot of race pistons and rings. And their listings are available easily! We have 6 cyl Ford stuff that has used the same piston for decades and has been turboed, all that so many types of pin height and bowls. The last decade has given a 4 l turbo multi valve var. cam timing, engine that just blows the V8 for torque and power. I reckon Ford pistons from ACL will do! I'm using Hastings rings though as the Old Ring Gap theory made me buy fileable rings.
2-10-2014
We started to strip out the initial 505 for the V8 this week. We made plenty of mistakes from the initial and now are proceeding into a decent attempt at a well balanced 505 with big grunt. Initially we moved the early Rover V8 back 300mm into the 505 but there were two big issues with that after we thought we had it looking good. My car is right hand drive and the v8's starter motor became perfectly situated 30mm into the power steering valve on the rack. ( Curses) The second issue is I managed to grab a fantastic example of an 85 505 GTi 2.2 auto which needs some minor dents fixed and a perfect interior and no sunroof. Rare over here. The car is one from a long standing client, recently retired to a unit so the poor old 505 got tha' boot. I drove it for a few days and she is in superb nick. So much so I thought about a tidy up recon job with a turbo 2.2 auto, combination. But I think with a little rethinking on engine position and using the very late 1997 Rover 4.6 Thor engine, which is shorter to the older units by a good 200mm, we can make a 505 with the same handling we know and expect from the 505.
2-11-2014
Bean! How will you get the balance right? Mid mounted 5.7 Hemi??????? Now, let me see????????????????
I've been having to take a big rest this week and been mulling over a few things. The red 505 is a real nice starter and really should just get a strong 2.2 turbo with auto, but that won't give me big punch from low down. I have a hot 2.7 oddfire in the top storage with the late Volvo cross ram inlets. That with a turbo and manual, might come close but, when you look how small and neat and light the 4.6 is, not to mention how dead cool it looks, the other choices seem sort of inadequate. I want to keep balance and auto but also want off idle punch with an auto. It seems in my mind the best of both worlds without all the abs and traction control stuff.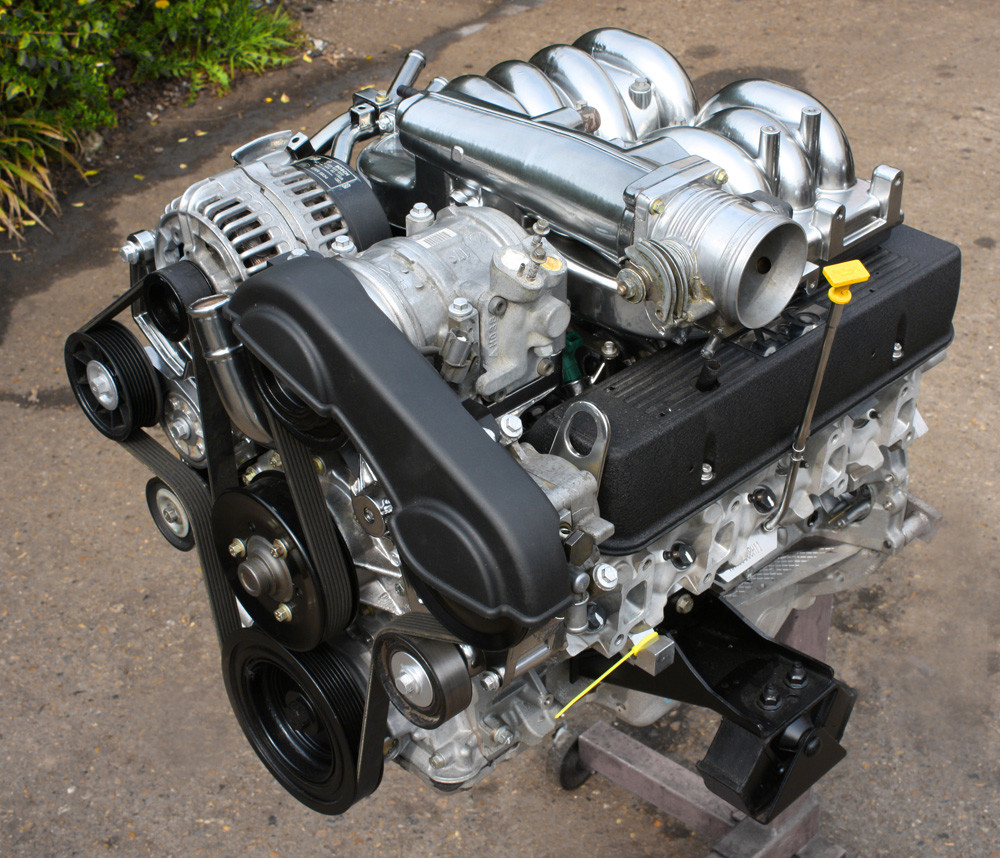 See how compact this is!
3-22-2014
Well the build is progressing, here are some images of the biggest problem. Steering clearance to the engine and starter.
We have worked out that the engine will go back into the car 100mm more than the Peugeot unit and then I'll make up a starter assembly to fit onto the left side of the block. That doesn't seem to have been done before so it looks like I'll use a Denso hi power Chev starter with a 9 teeth pinion and make a mounting block to fit the engine
Oh so close to moving on with the build. This clearance issue is proving difficult.
Once we decided to admit it is best to push the engine back 100mm and rework the firewall, the starter was still in the way but we found that fitting a left hand starter like a Chev, under the block, will just fit. I think the Denso unit which does not run a snout for the pinion will almost fit in behind the bell housing without having to cut for clearance.
Next week will bring new ideas.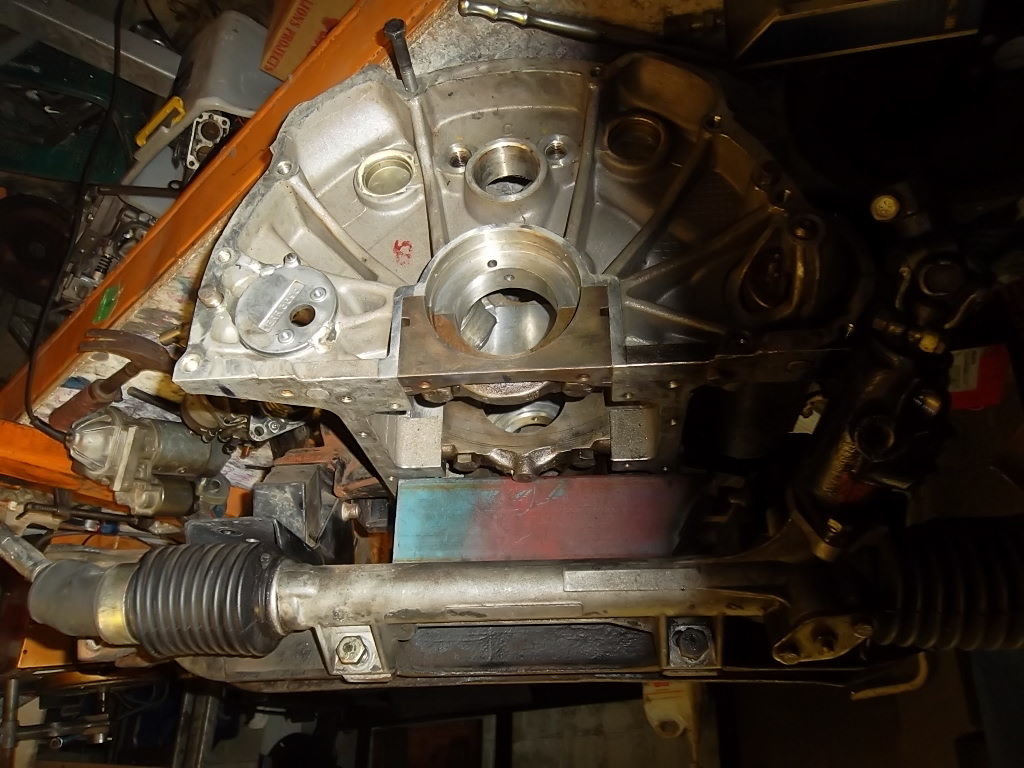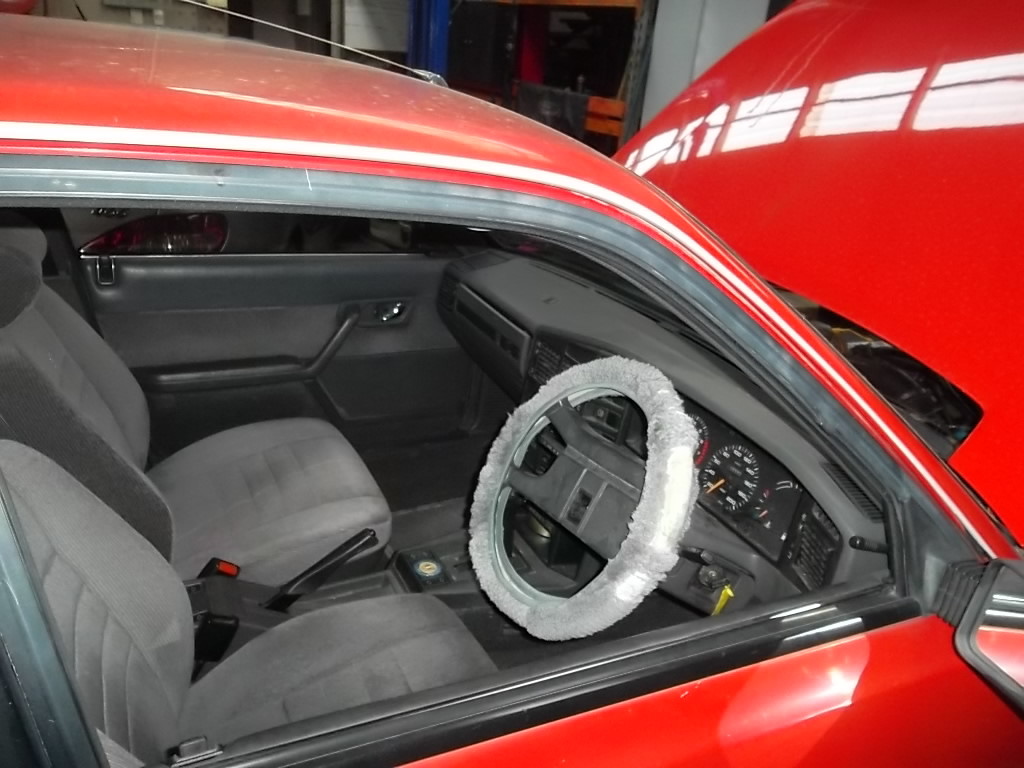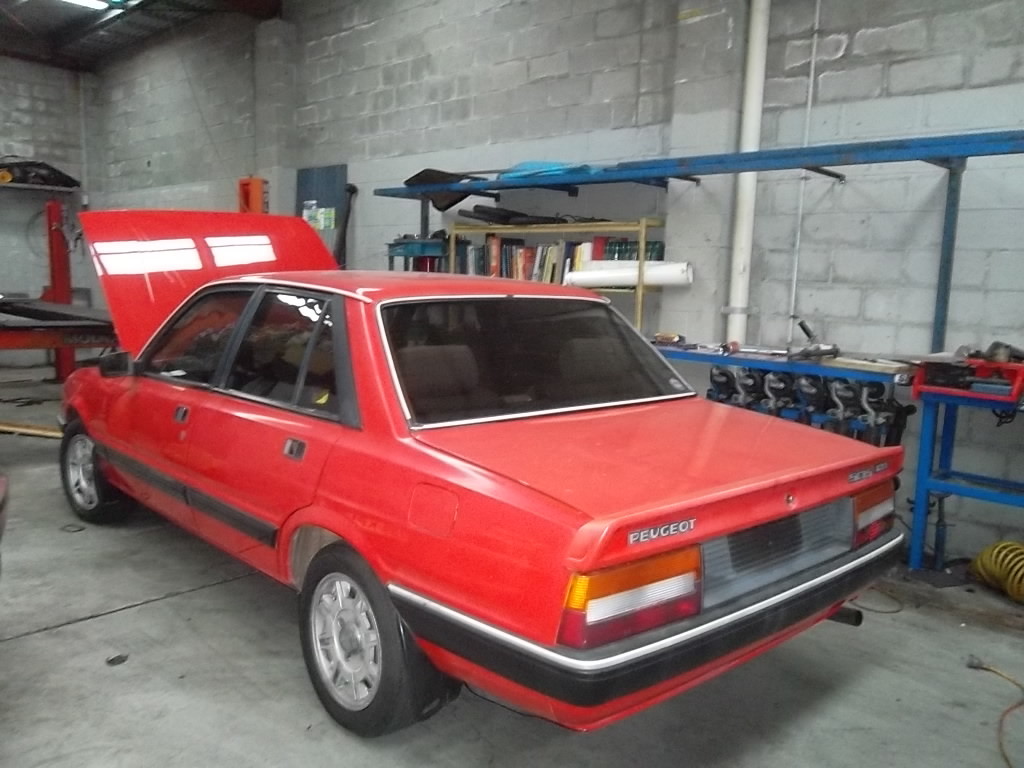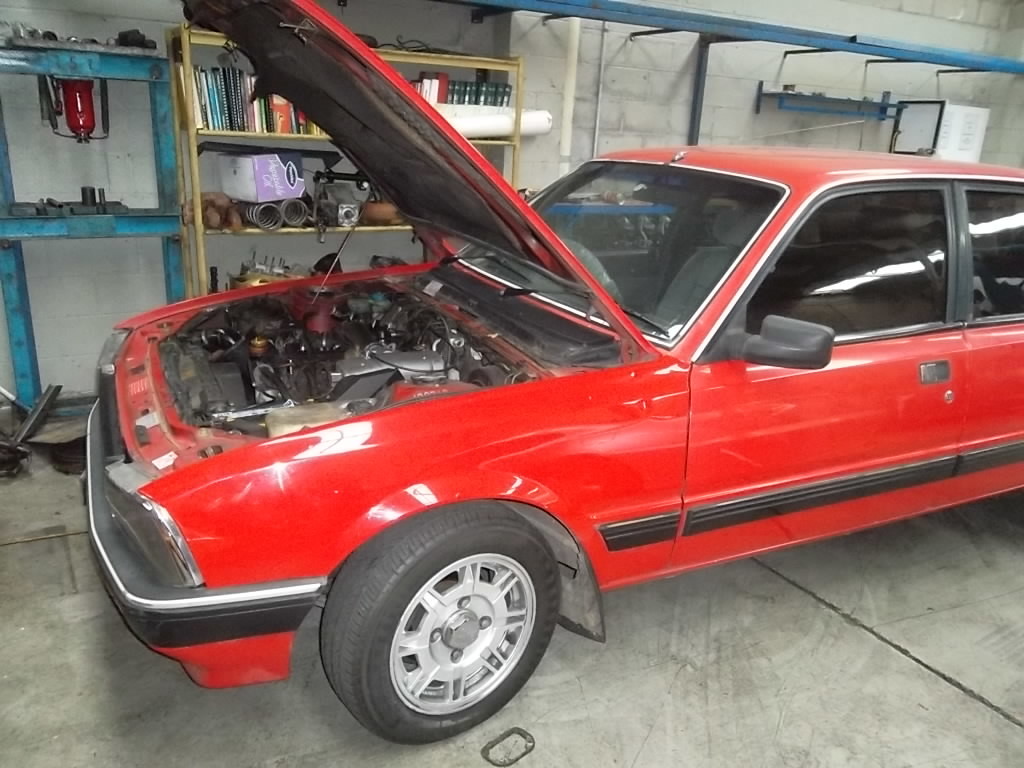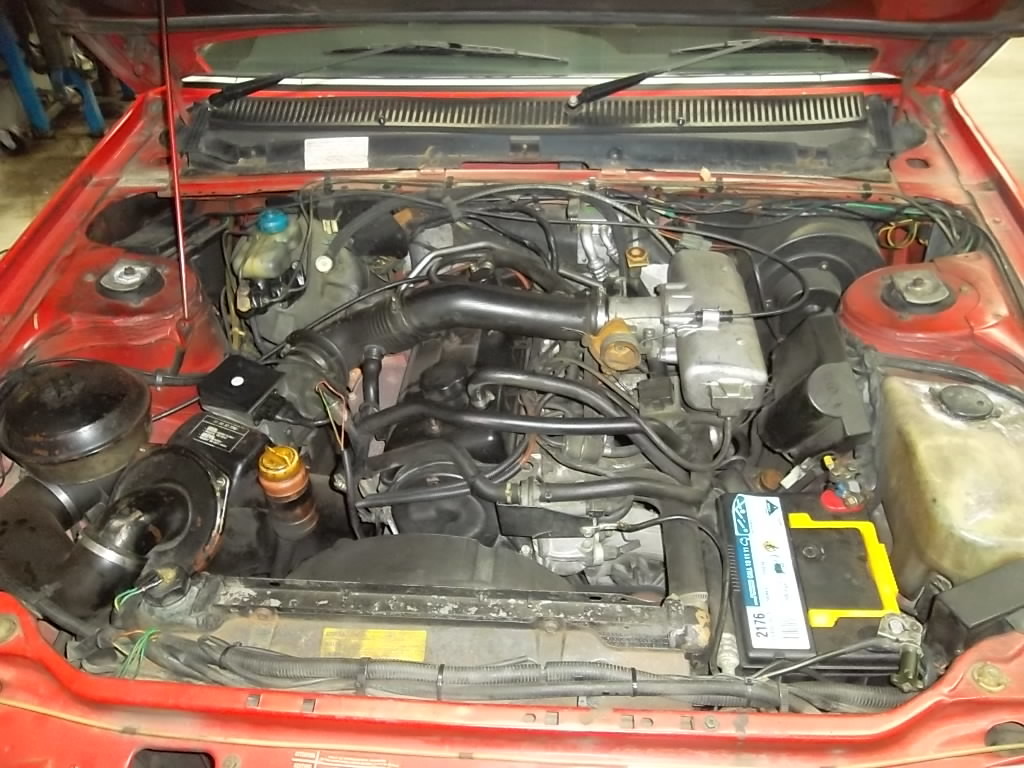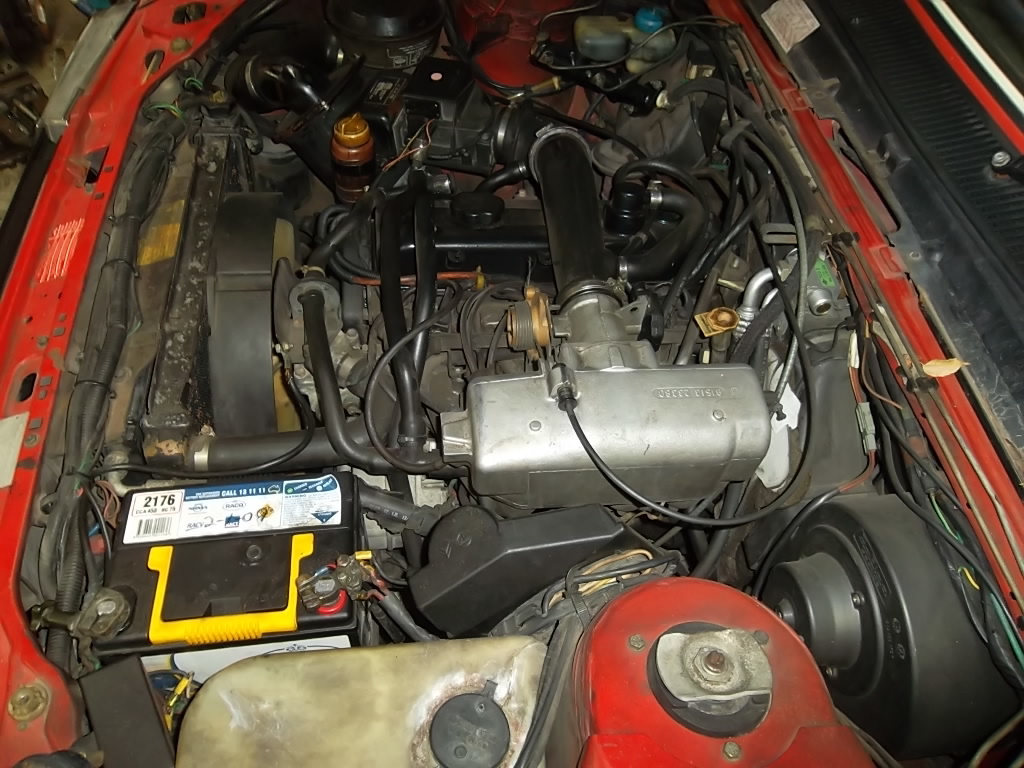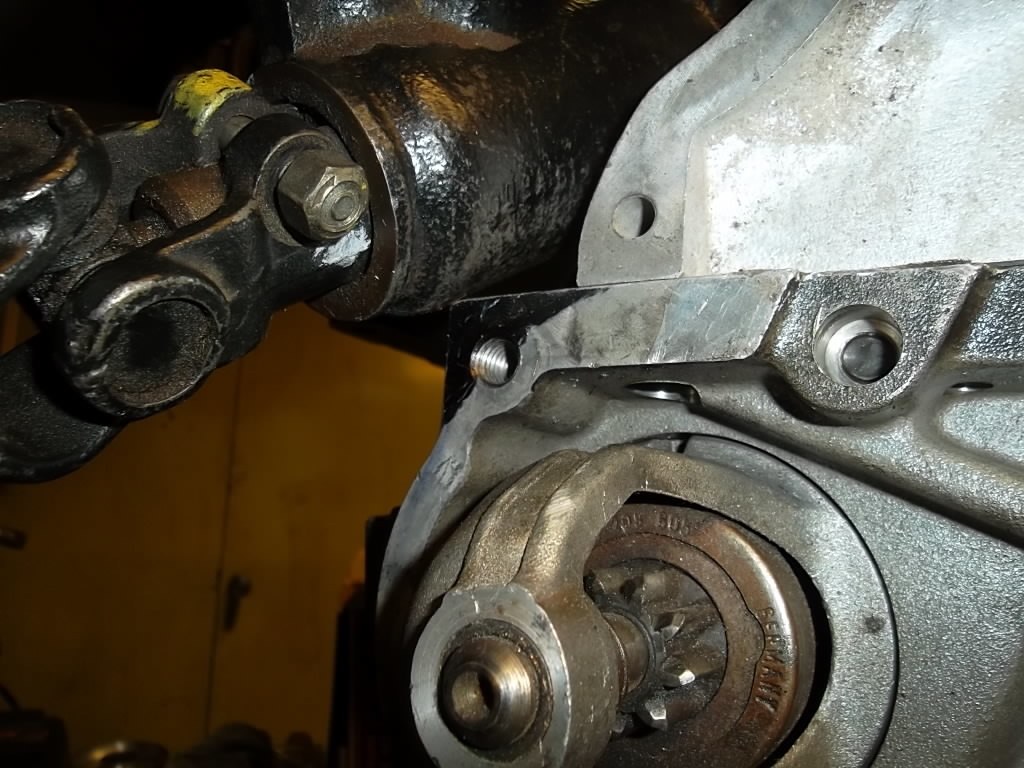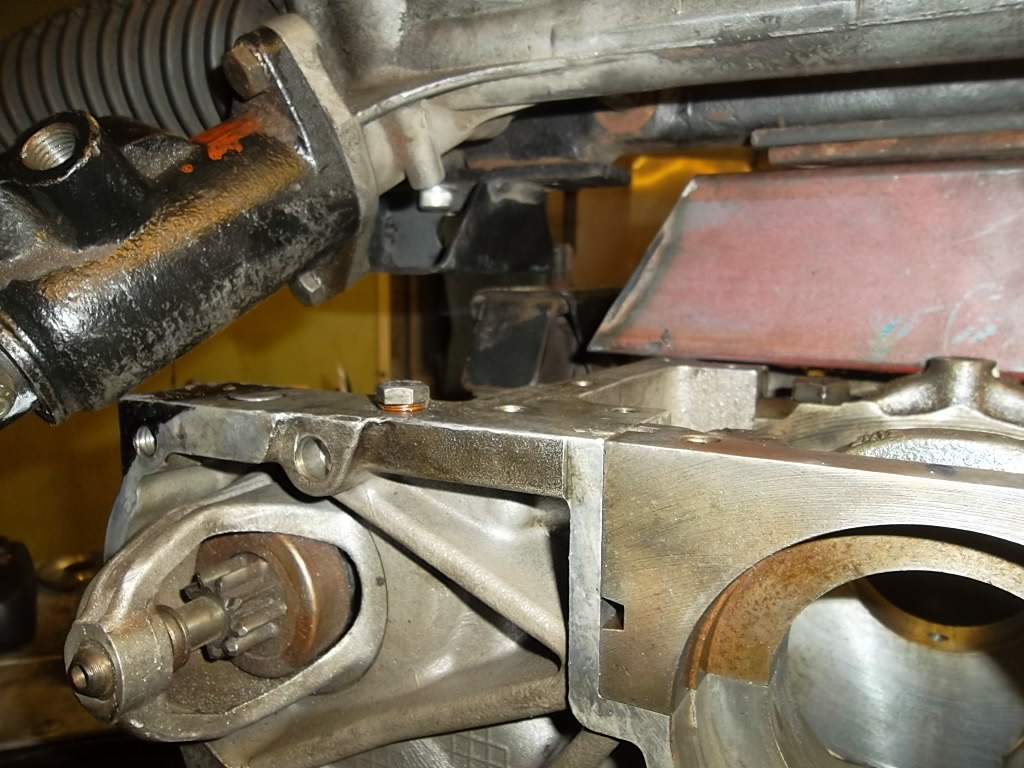 4-20-2014
Yes Bean it is moving forward slowly. I have finally found the starter solution in one from one of our Holden products. It is 1.7kw unit that bolts up like a small block Chev. I have to turn up a spigot to sit the flex plate on the engine so I might position the new starter. Australia is right hand drive which means the steering valve was sitting half way through the Rover starter. I just couldn't find a suitable fix for that so started to look at left side starter options. 2 months down the track and I'm pretty convinced the new unit will be able to be fitted up soon. That done the build problems are almost all solved so some decent progress should happen.
5-16-2014
I found some images of the prelim layout in a donor car we did a while ago. Most of the clearance issues are sorted with a new mount in progress to fit the starter motor to the left side of the block. I have a 1.7kw new starter which will bolt up to an angled adapter block to fit up like a SBC starter mount. Got hold of some 604 ventilated front discs last week and I just need some calipers to suit. I reckon I'll just use 604 units for simplicity. I fooled around some time ago and knocked up a rear x member anti twist bracket which attaches to the torque tube. 504 rally cars used similar things. This was also a first attempt which has led to some better ideas which will go into the new car. The new 505 I have is a 2 owner until I got my filthy paws on it. The fluffy steering wheel may stay for that old car driven by pensioner effect.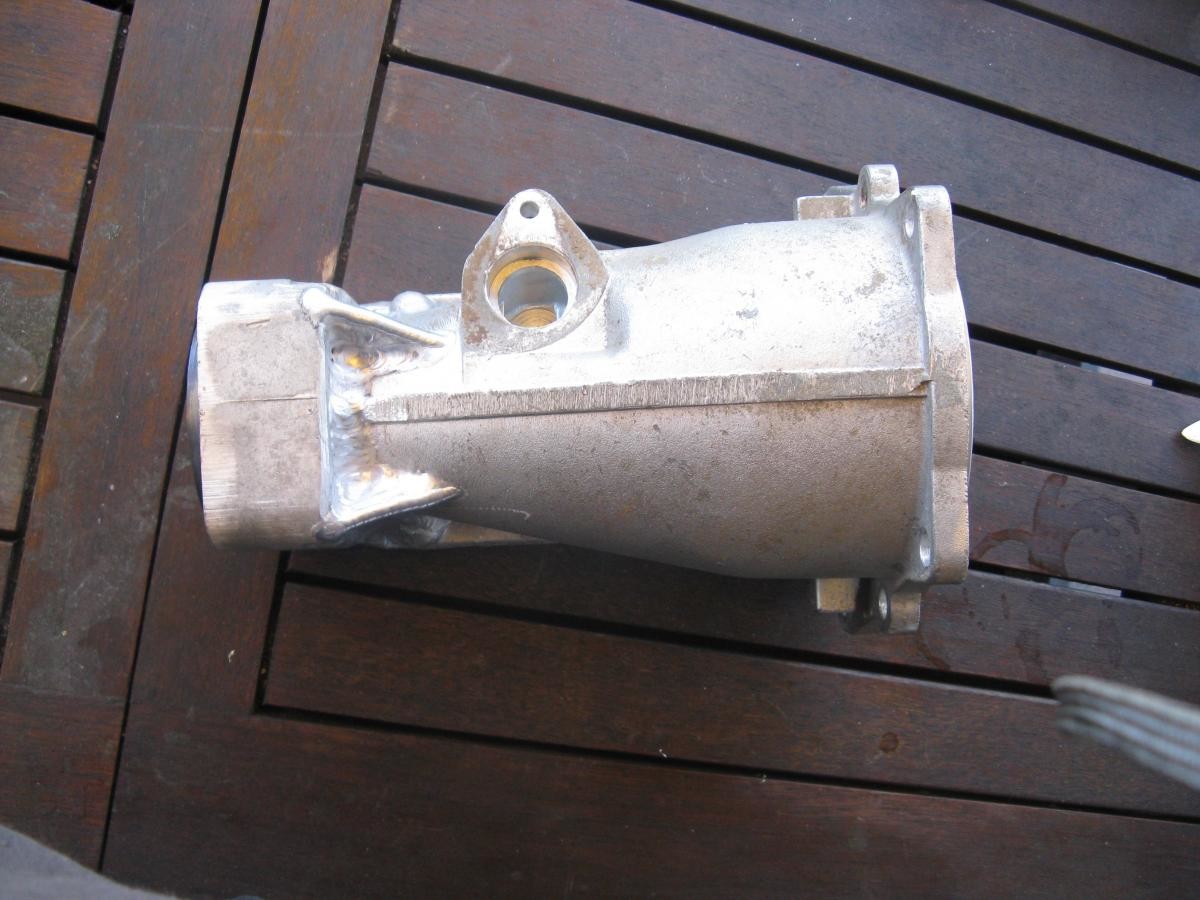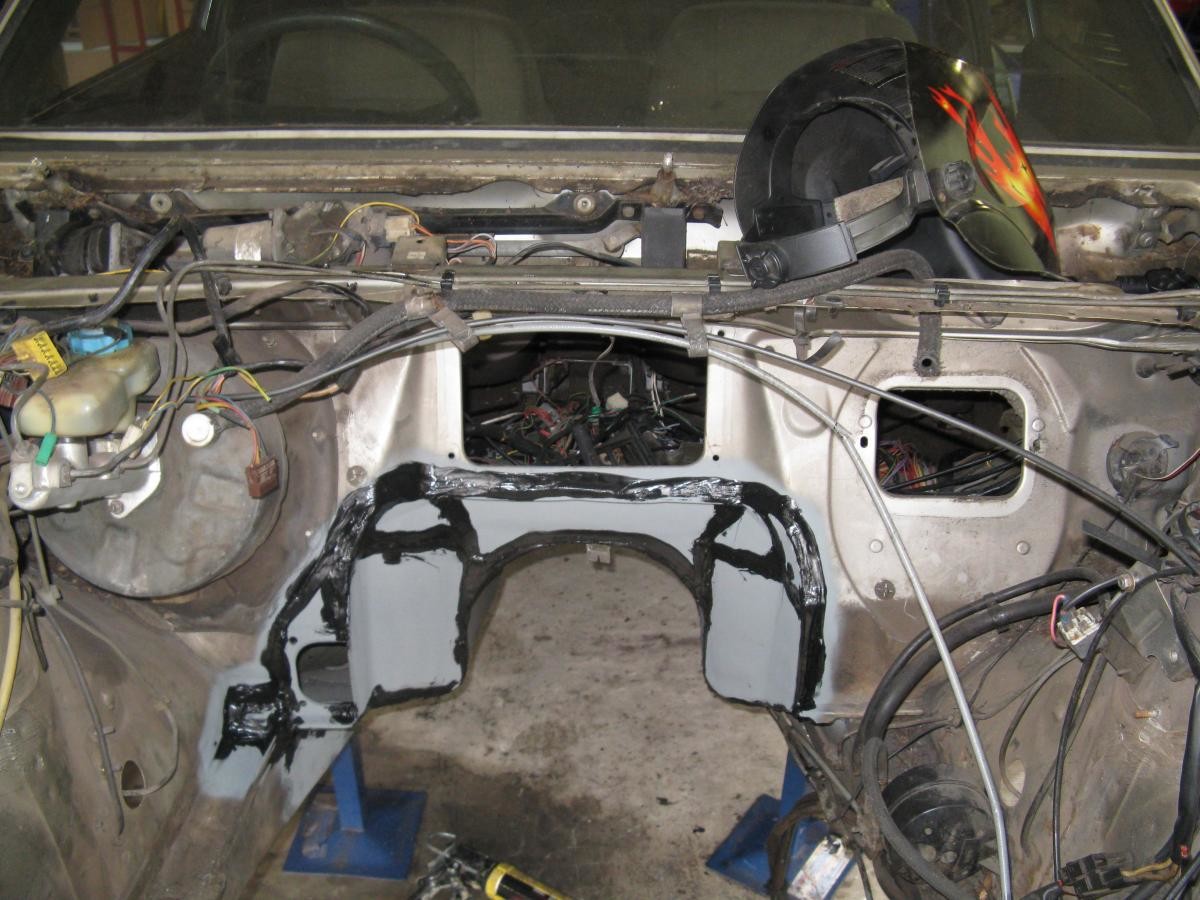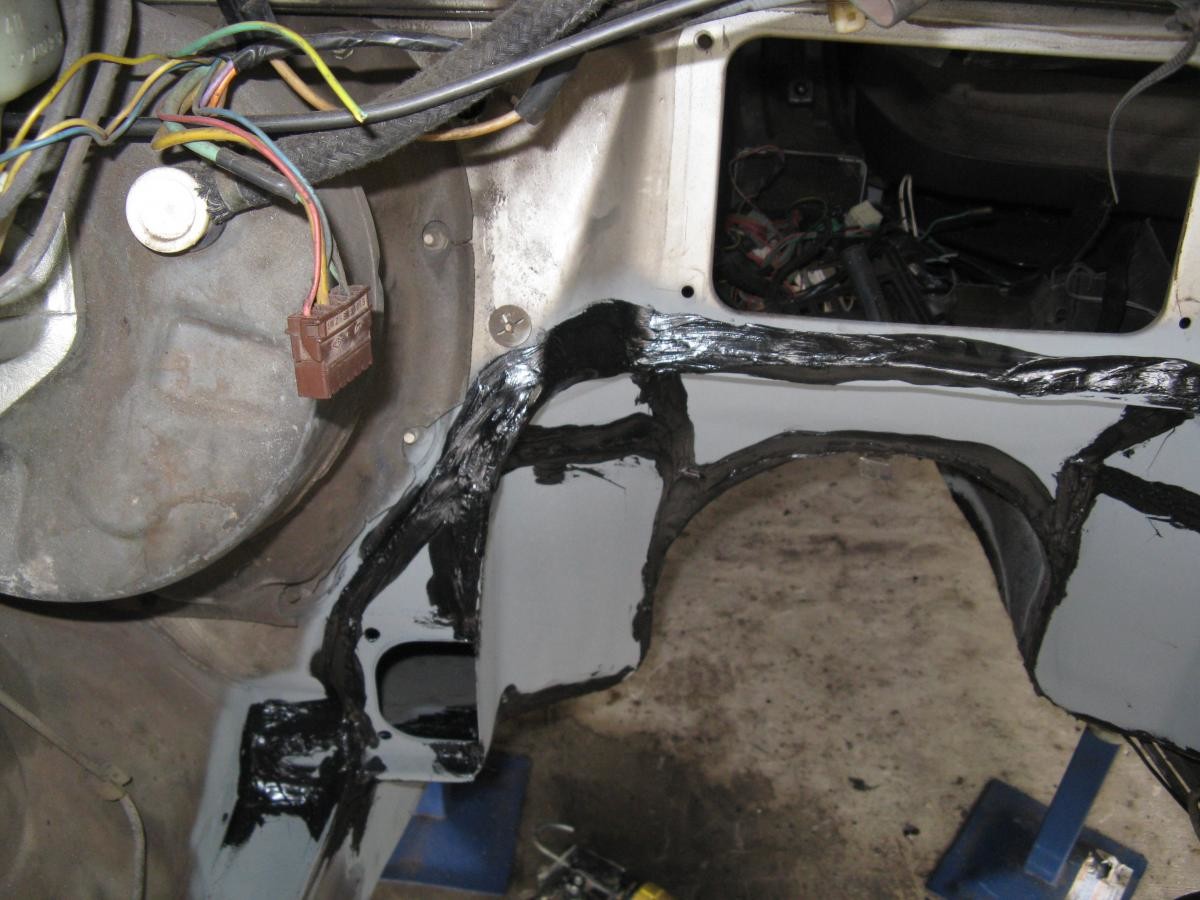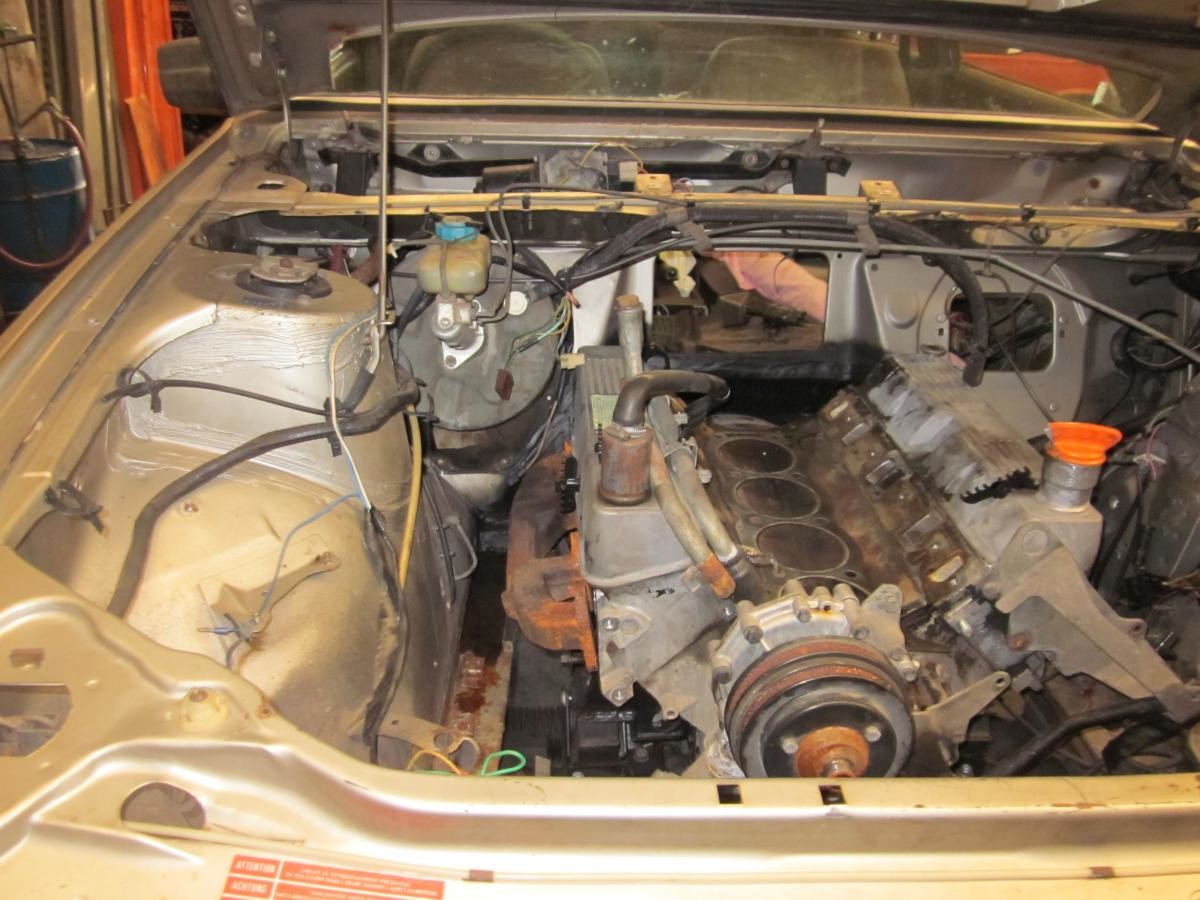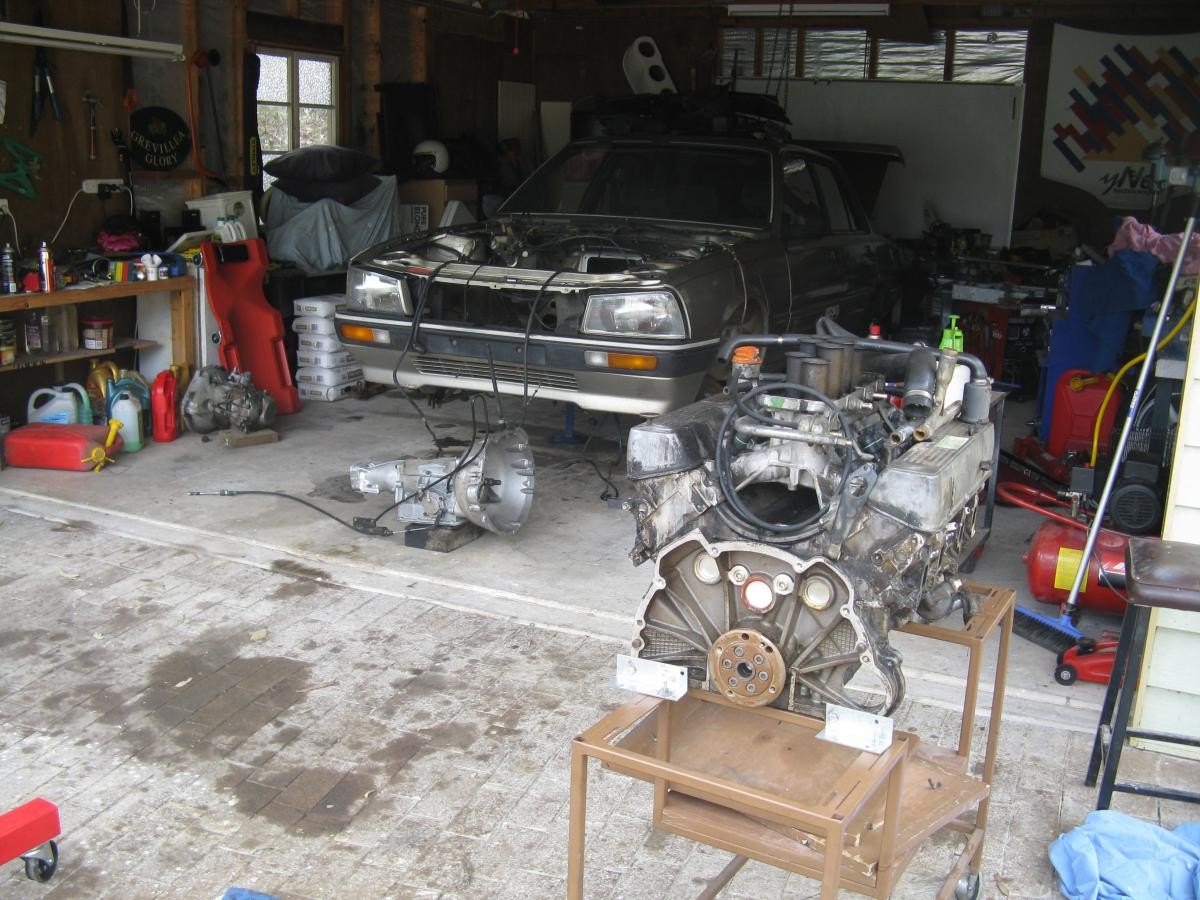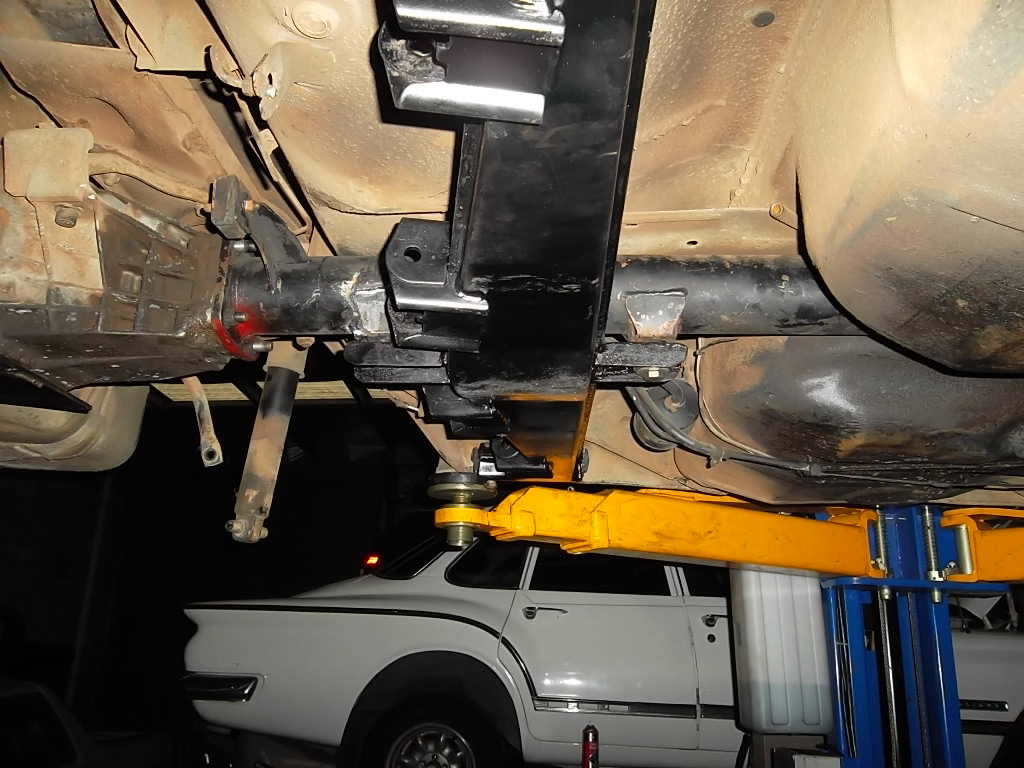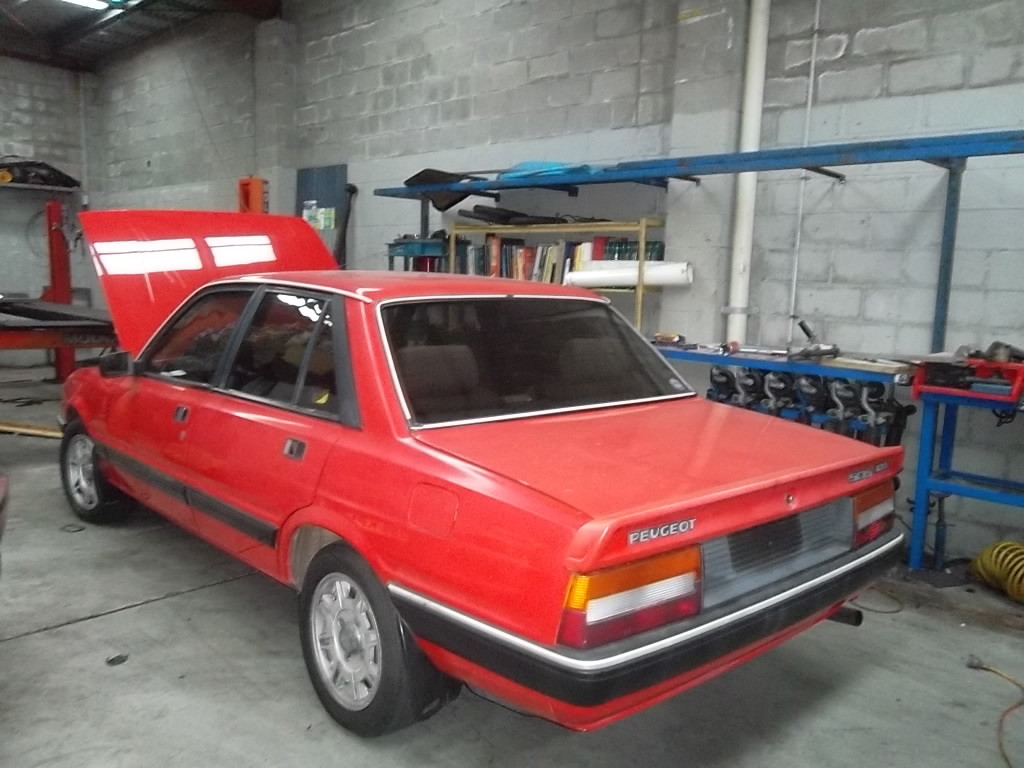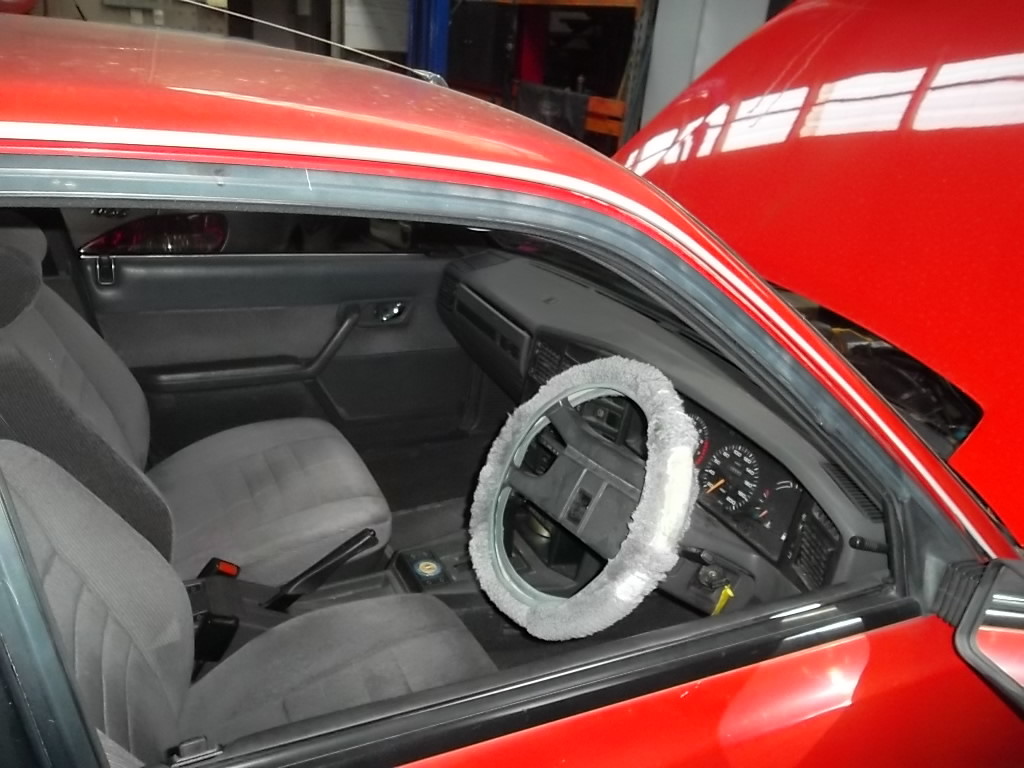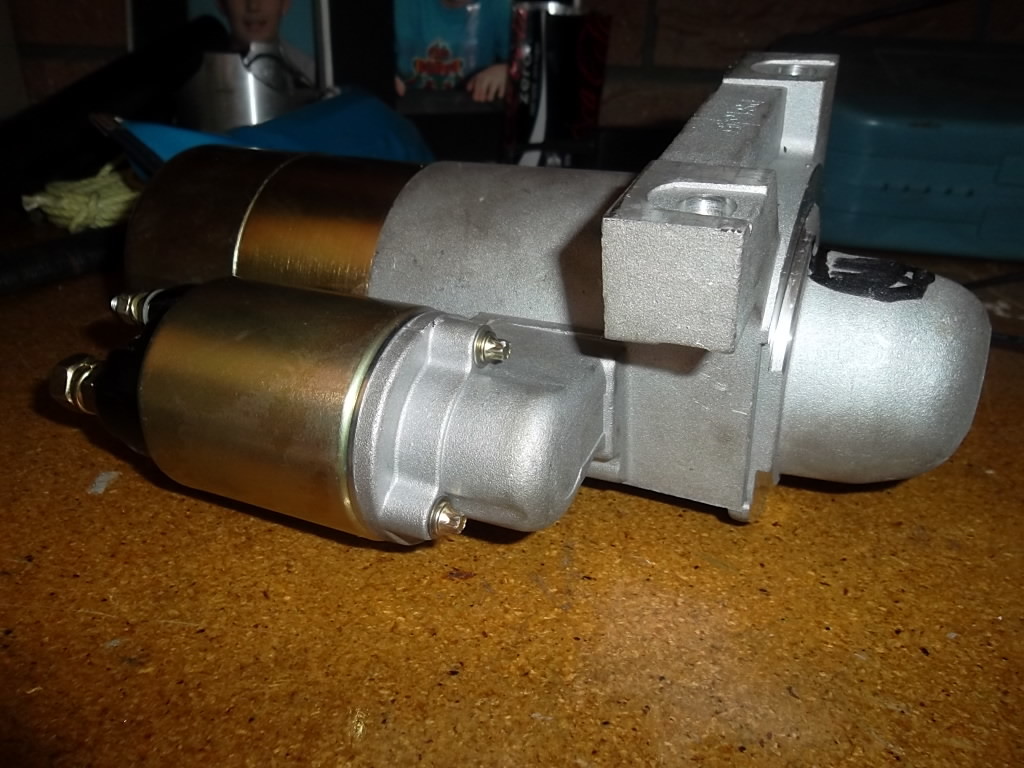 5-17-2014
You can make up an alloy block to replace the front x member mount which works well. The member stops twisting and wriggling with power. I have found this to also be as quiet as rubber mounts, too. If the torque tube is held fast to the x member the engine fore aft and twist is also better controlled.
I actually enjoy this craziness, now I can see light at the end of the tunnel!
6-23-2014
The small end bushes arrived today. 23mm or 0.905" from a Holden V6 Supercharged. Gudgeon pin circlips from the former as well . Only 15 more circlip grooves to cut!
6-26-2014
Purchased a matching pair of Factory Range Rover stainless headers or the 4.6. Beautifully made and with factory heat shields. Cool.
Starter to steering still a big issue , a solution will happen soon, I hope! I picked up an SD1 starter which has the solenoid facing the tarmac but with a huge Lucas shell. It should help determine a high power starter option for me though.
The rods will get the small end bushes fitted in a week or two.
1-7-2015
Splendid news! I think I've found a way through the starter issue. ( Apart from giving up). Some time spent with a flap wheel and some turning of the starter housing in the lathe has given me hope. I shall move the engine toward left hand side of the vehicle, 13mm off centre line and this 1.7kw starter by Frankenstein should be swweeet. The engine will be sitting 25mm lower than in the mock up car as well so, it's almost full steam ahead from here. I also wrecked out an SRDT 505 Monday which had a 10 bolt 3.3:1 diff centre and a BA10/5. I think that diff ratio would be a good one to keep for slightly bigger wheels and tyres.
The gearbox has 80 000kms on since rebuild by a reputable engineer. I don't need it though so it may be sold on or put under the bench for later.
The images are of the V8 engine sitting almost perfectly for a 505 on the 505 cross member and right hand drive power steer rack valve.
Images are Upside down of course, due to the effect of Equatorial Balance on the Australian Librarian's Tutorial Globe being finely balanced with a Northern Hemisphere Bias.....................................................??????????????????.!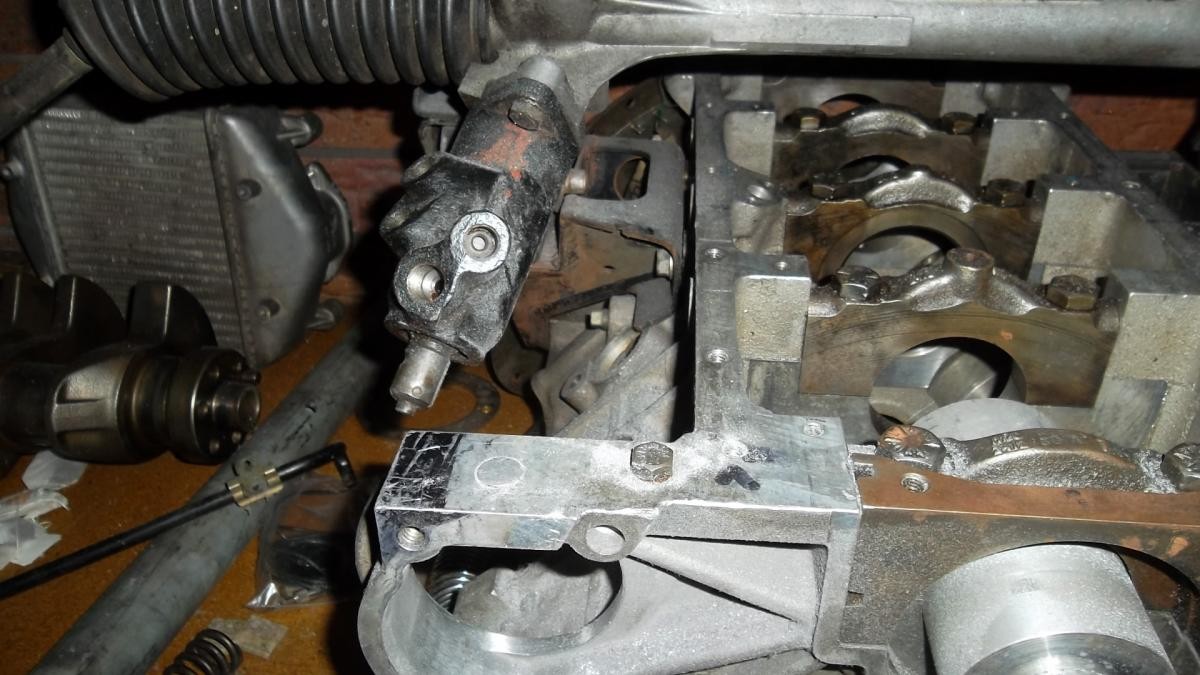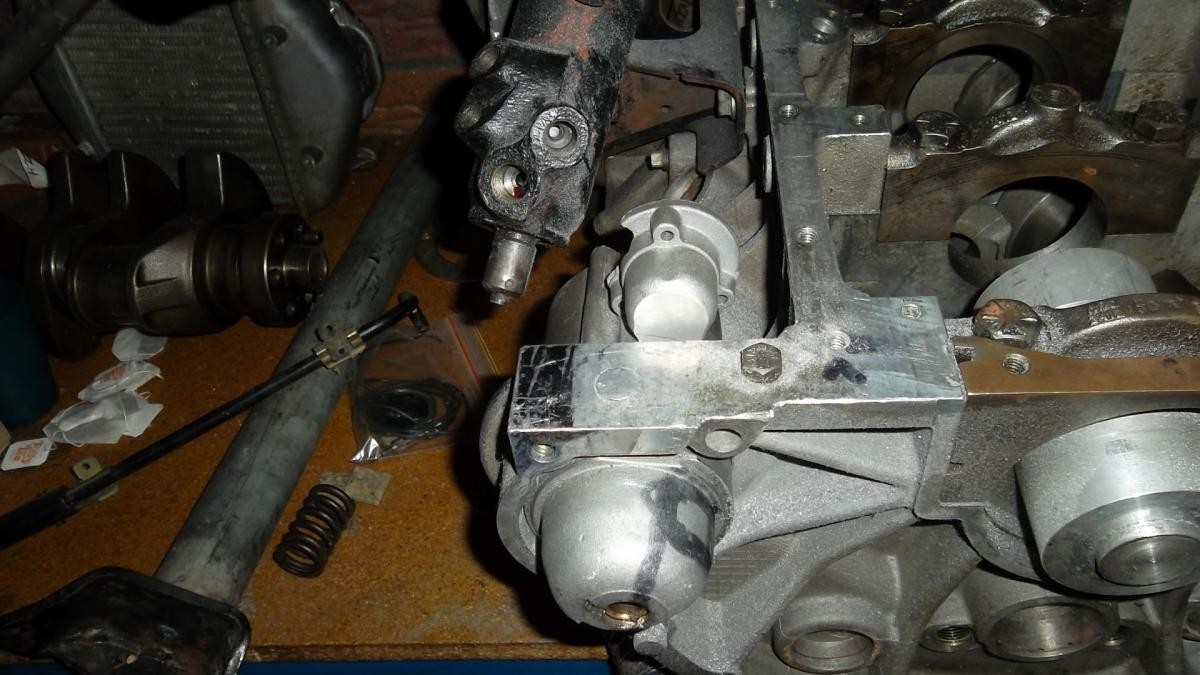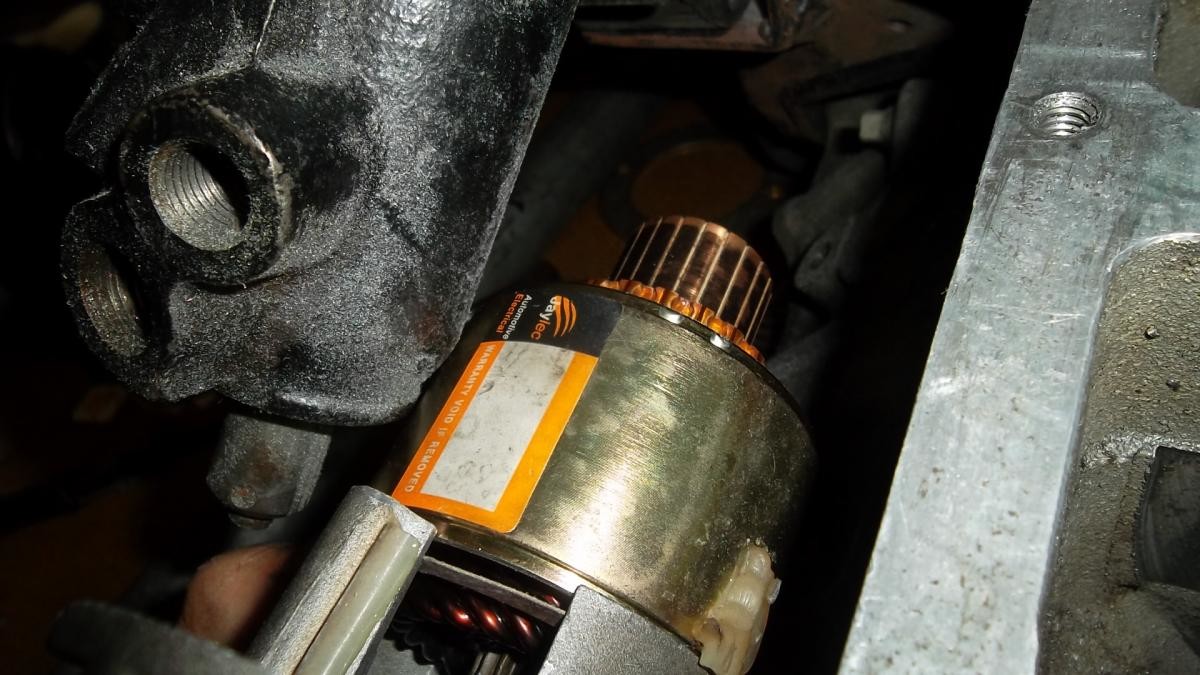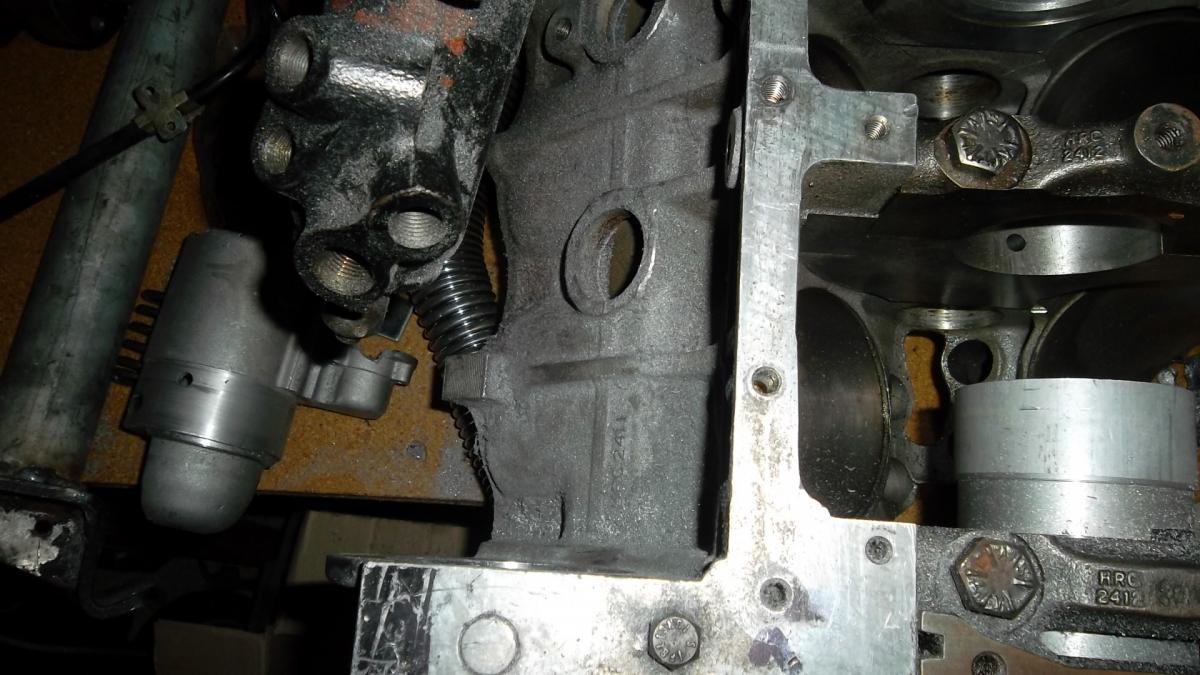 1-10-2015
Yep. My mate and I have been developing theories and engines on the Rover 3.5 to 4.6 and we have got a very grunty 4.6 unit running at the moment in his race car. 6000rpm in 4th (1:1) gives us 140 mph in a stripped down (1000kg) P6 Rover. We're using a solid flat tappet , points and a 650 Holley. . Standard valve sizes and some really simple exhaust work. Ports are hand done on the carb engine but on mine, which is one of the very last Rover V8's will get exhaust ports massaged but the inlets will stay as they are.
I'm running a close grind to a Chevy 327 factory 3863151 which was a 300hp in a 327 sbc. The engine will have 11:1 and engine management which I intend to set up myself. I had it custom made by an ECU supplier for the Rover sensors. I'm using a Thor engine manifolds, 4 bolt 4.6 liter and a BW 65 auto which I've reworked to bolt up to the torque tube. Call it far fetched but it is really looking good. I'm aiming for a tyre frying, discrete and light, 505 sedan.
So far I have front slotted rotors from a 604 and will run 4 spot RX7 front calipers, 3.08 a 3.3 and a 3.46 diff to get maximum flexibility once it's all set up. No matter what, as most 505 owners realise the last series 505 sedans are such a beautiful drive so I'm really happy to be getting into this idea. The engine weighs the same as the old XN1 engine ( before a/c, p/s etc) and certainly lighter than the Diesel so, it sort of makes sense to try this. A chap over here has a 504 fitted with the Australian Leyland version of this engine at 4.4l and BA10/5 . Negligible change in balance, in fact he reckons it's made the car.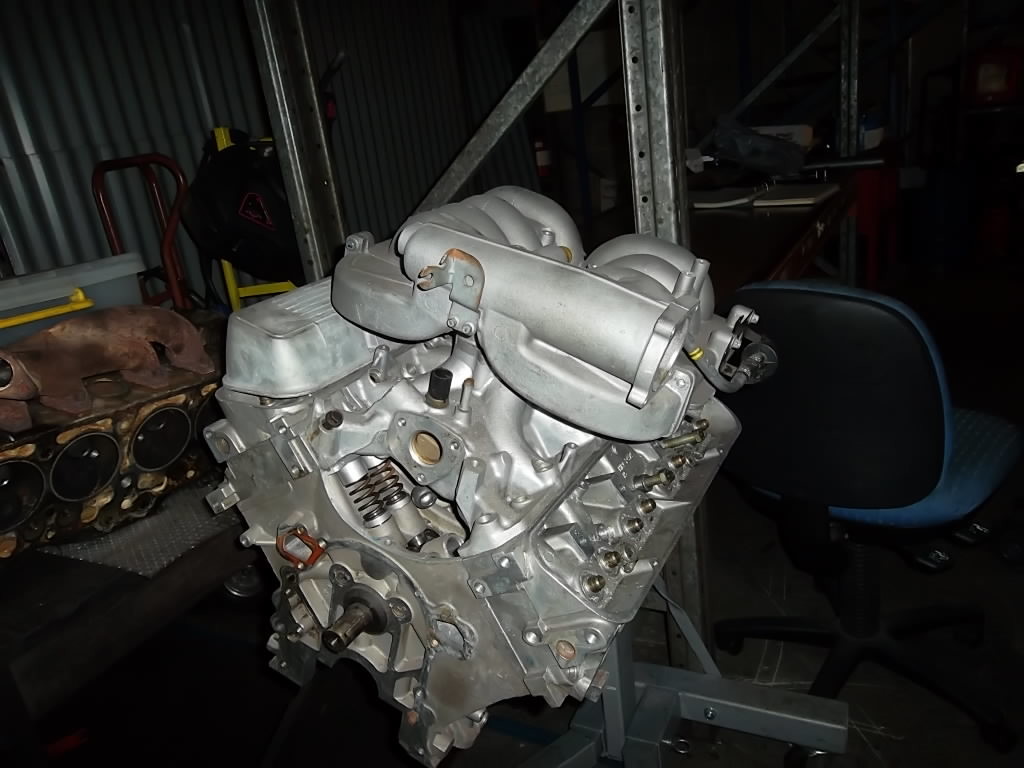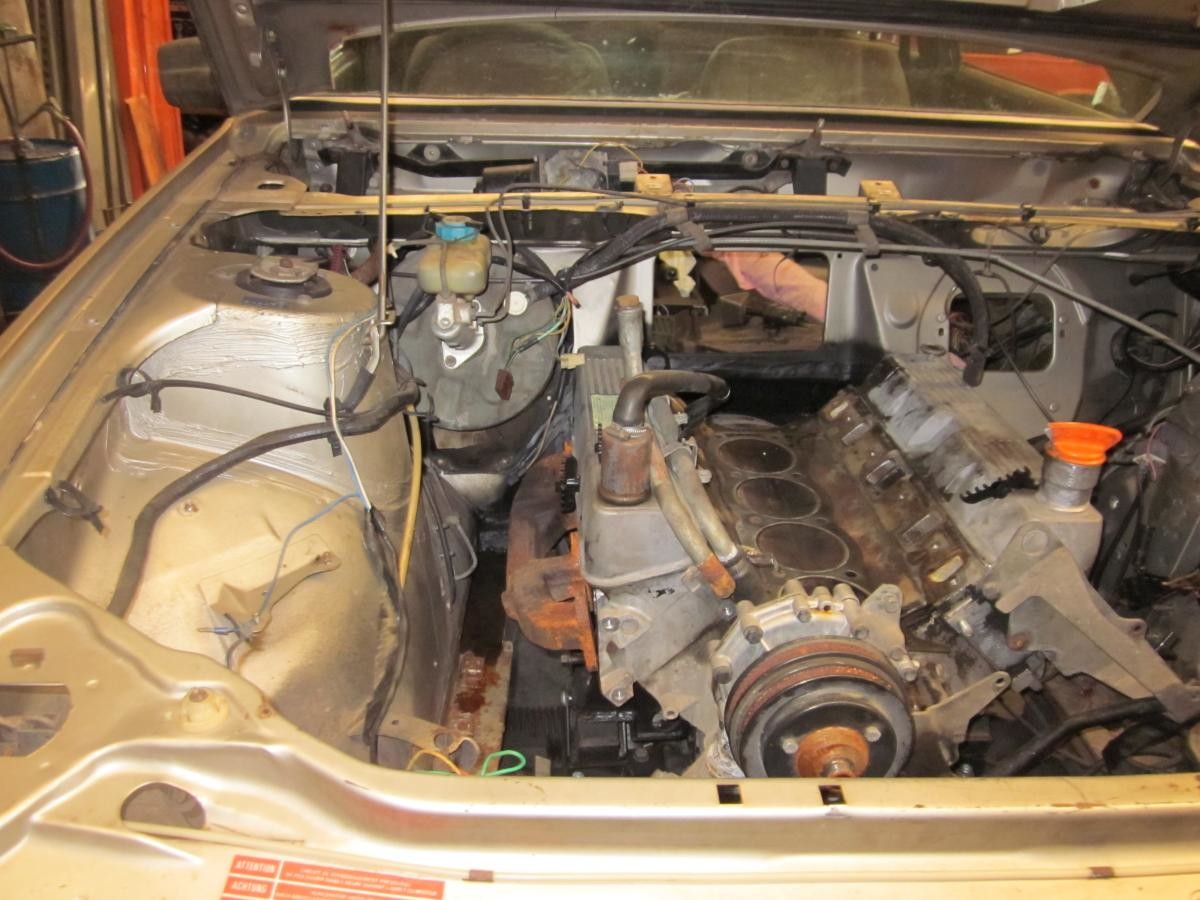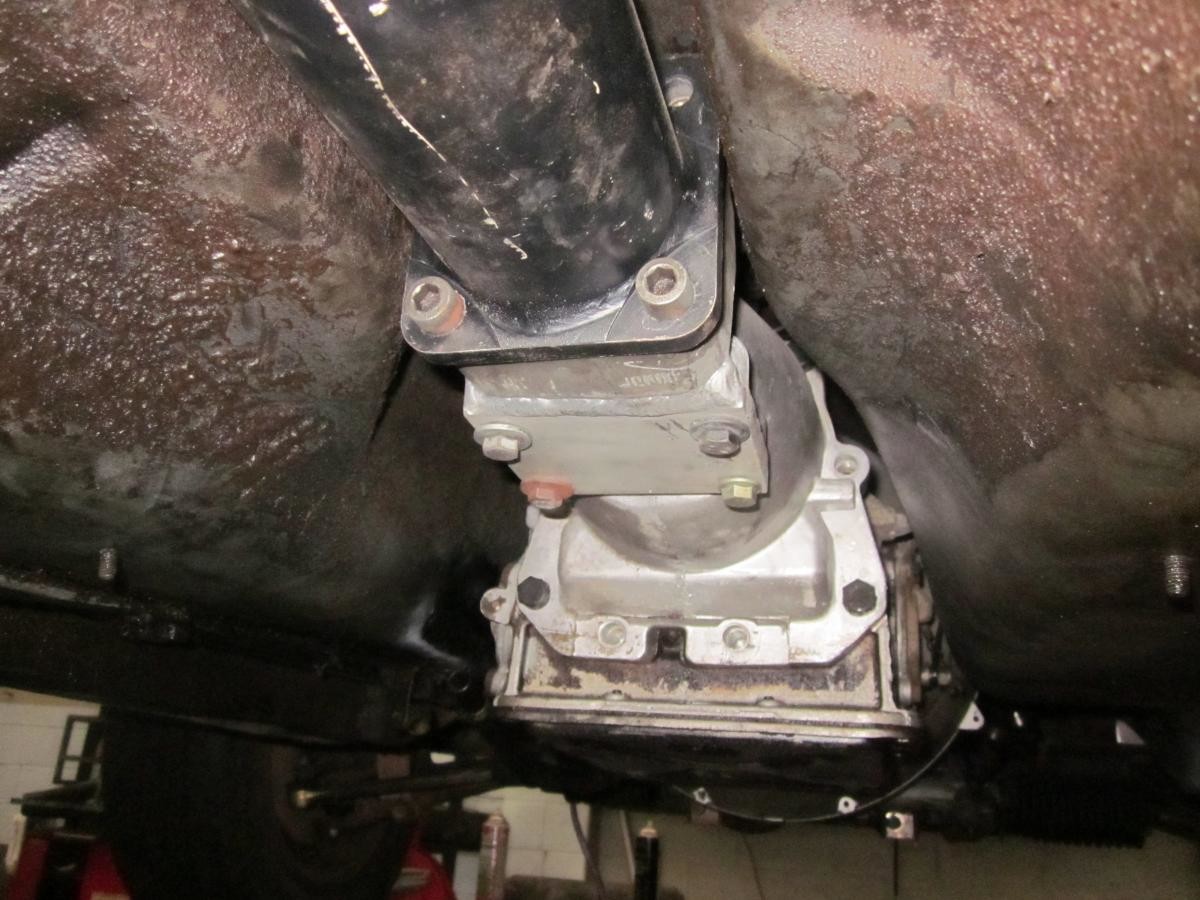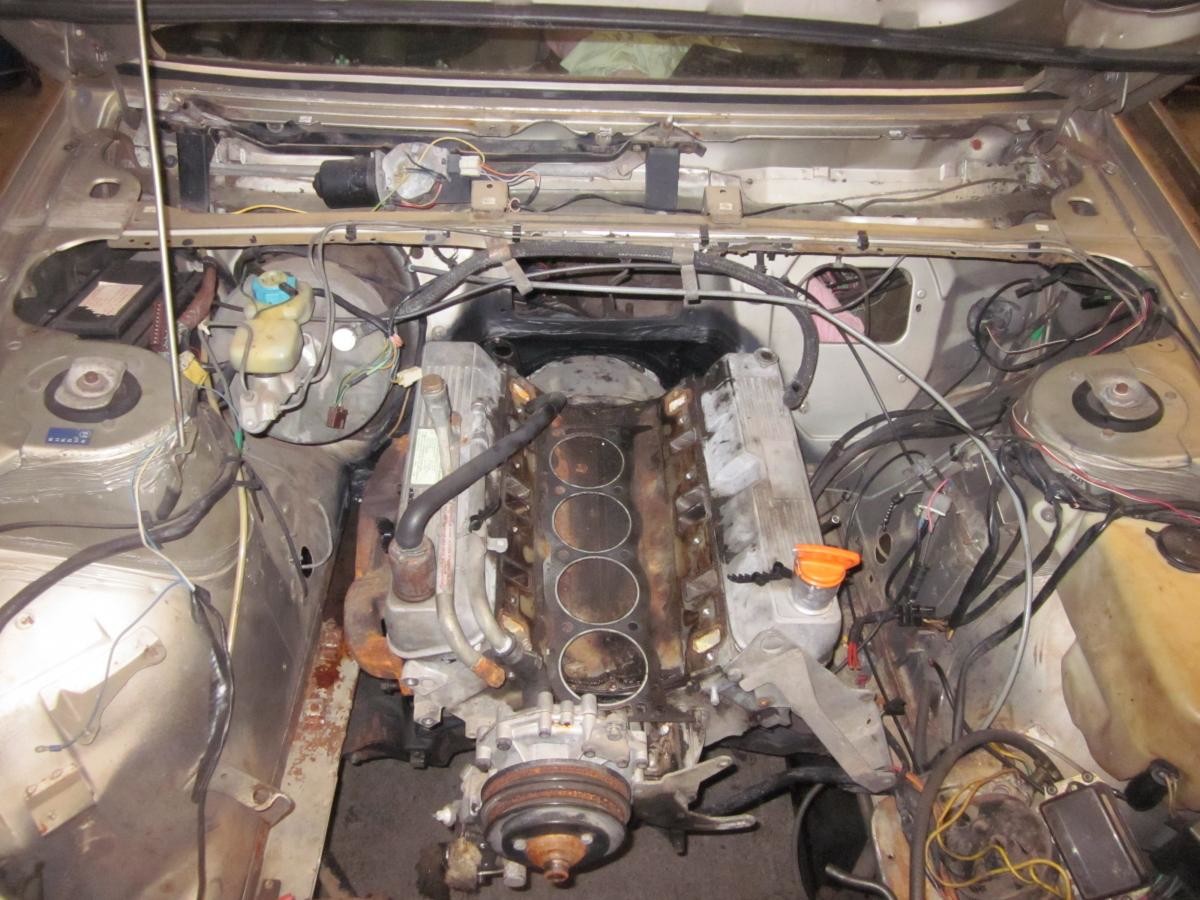 1-11-2015
If time permits this week I'll be reworking the starter and will make two new engine mount brackets offset 1/2" to the left to give a factory like clearance to the power steer valve. This is getting close to being enjoyable again. Over the last year I've managed to grab a fair bit more tooling and knowledge so I can see the pieces of the puzzle falling down in place without a lot of fuss. All I need next is a hoist in this shed at home!
1-31-2015
Well this last few weeks have been hectic so not much progress on the starter bar welding a flange on the nose. However progress has been rolling along on an engine dyne/test bed I've been wanting to make to tune and run in engines for Voiture Anciennes. It is taking up a lot of brain cells. It will use a GM disc and dual GM 2 piston calipers as a brakes which will react against a Crane Scale to give a torque reading. Early days but it will be cooled by a radiator fan and it will be covered by a cut up 60 l drum to reduce risk and heat. Hope you like it so far. It uses a cut down 404 sedan torque tube so it is a very French de Prony Brake, indeed.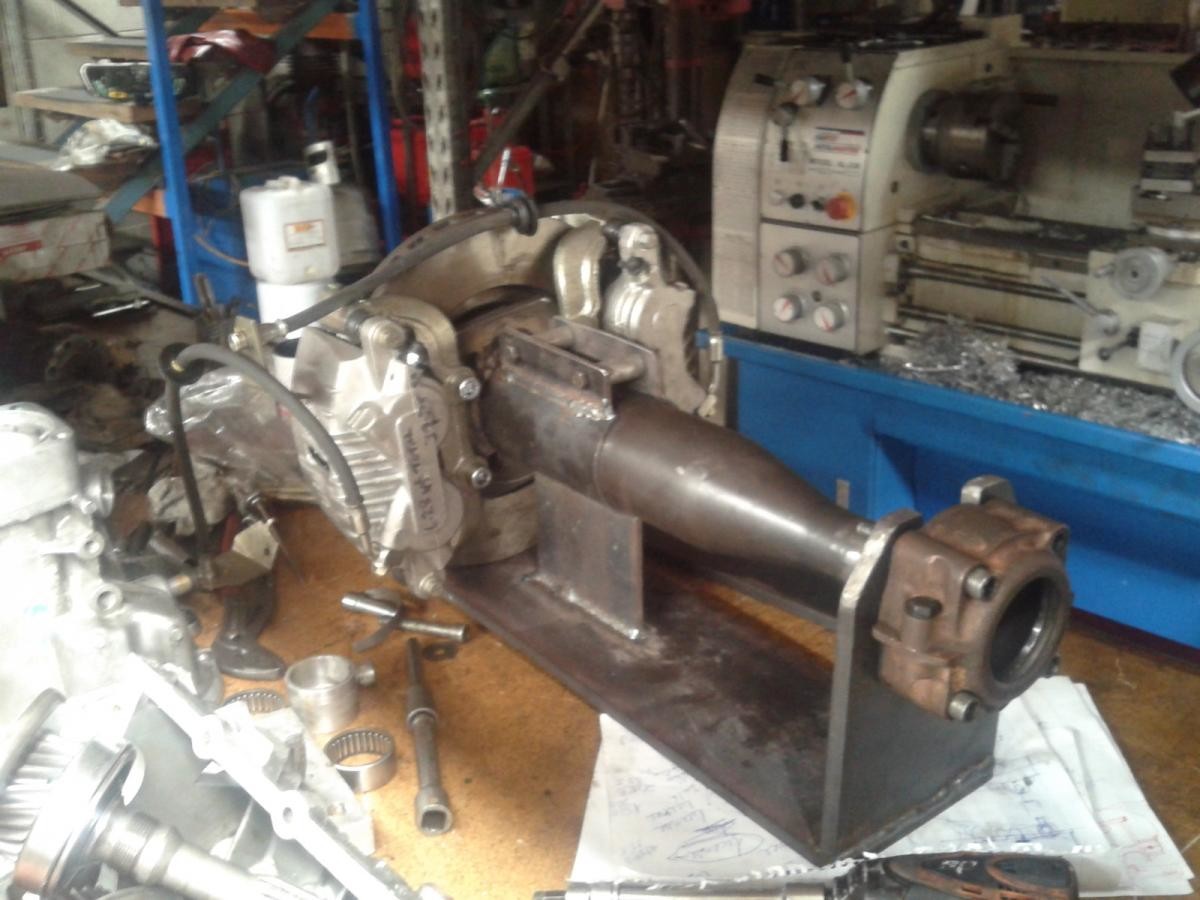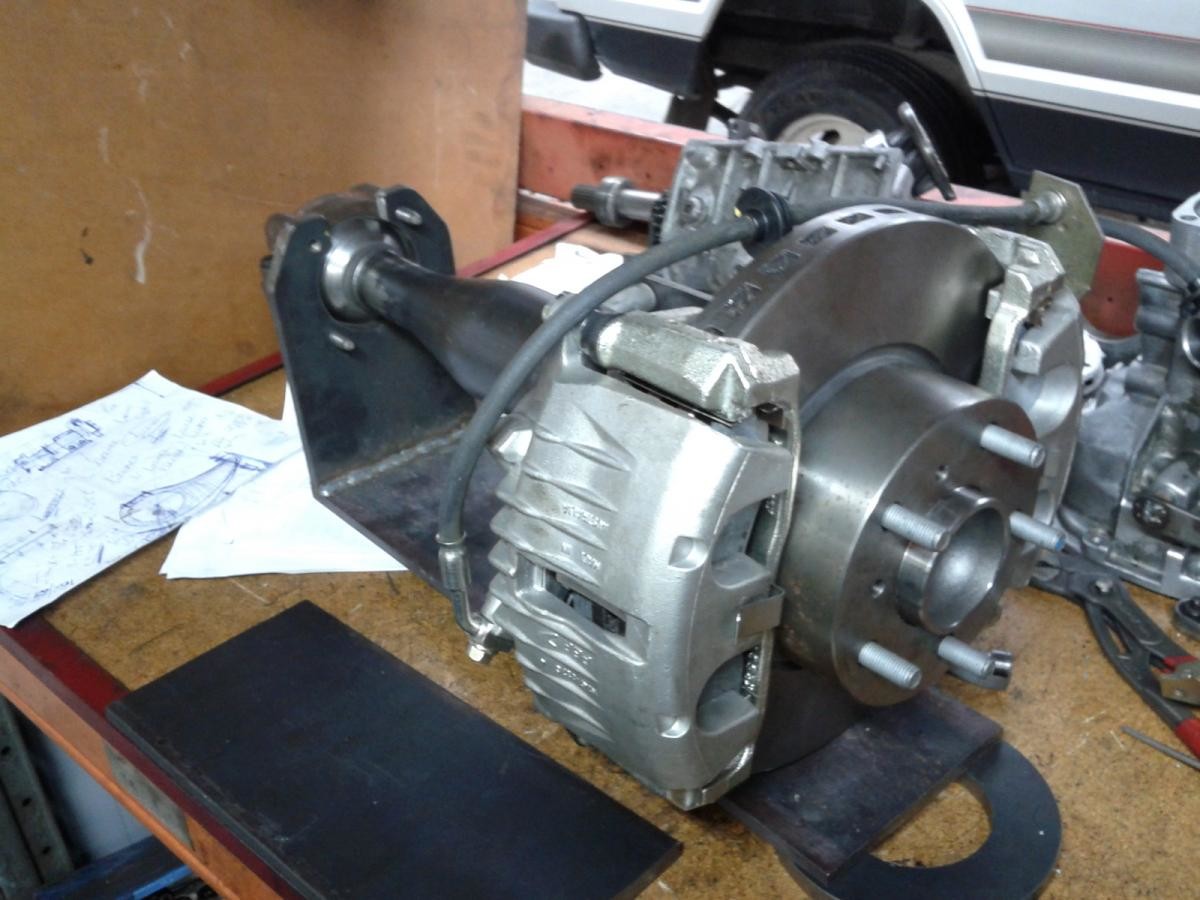 2-9-2015
Engine mounts are almost completed. Starter motor is also almost done too. The next challenge is to push my errant engineering shop to fit the piston pin bushes to the conrods. Once that is done the engine bottom end and mounting system is complete.
4-17-2015
After some delays with work getting in the way of being serious, the engine has finally been positioned sweetly on the 505 cross member. I moved it off centre towards the passenger side to give clearance to the power steering valve body and starter. The angle is less than 5 deg off dead centre . The con rods are getting pin bushes fitted at last to give a fully floating wrist pin so engine re assembly is imminent.
The little engine test bed is also coming along where I made a couple of adapters out of a rear hub from a 504 so the drive shaft , which will be a 505 rear axle , can slide into the 504 hub splines.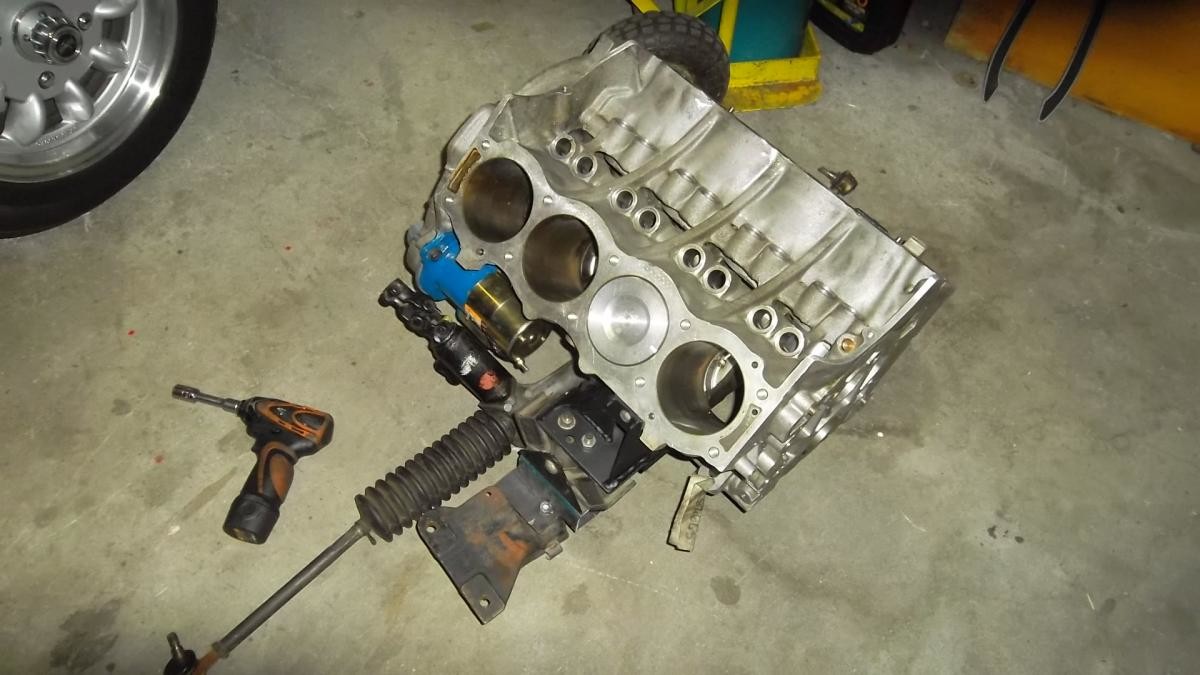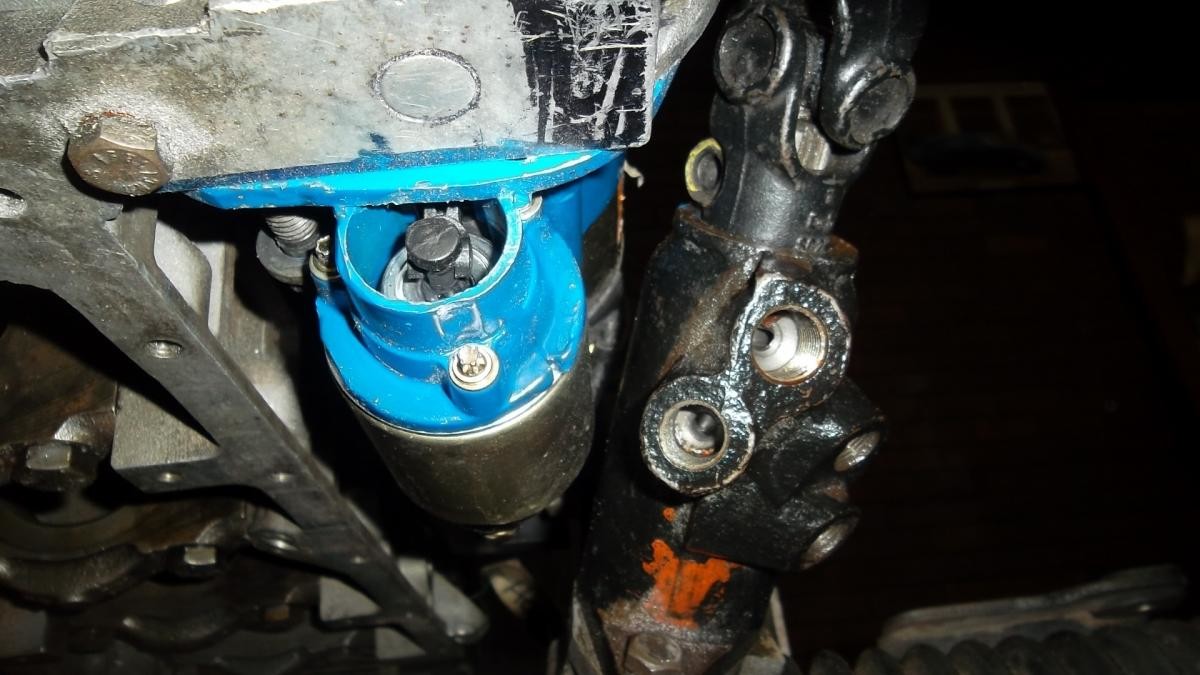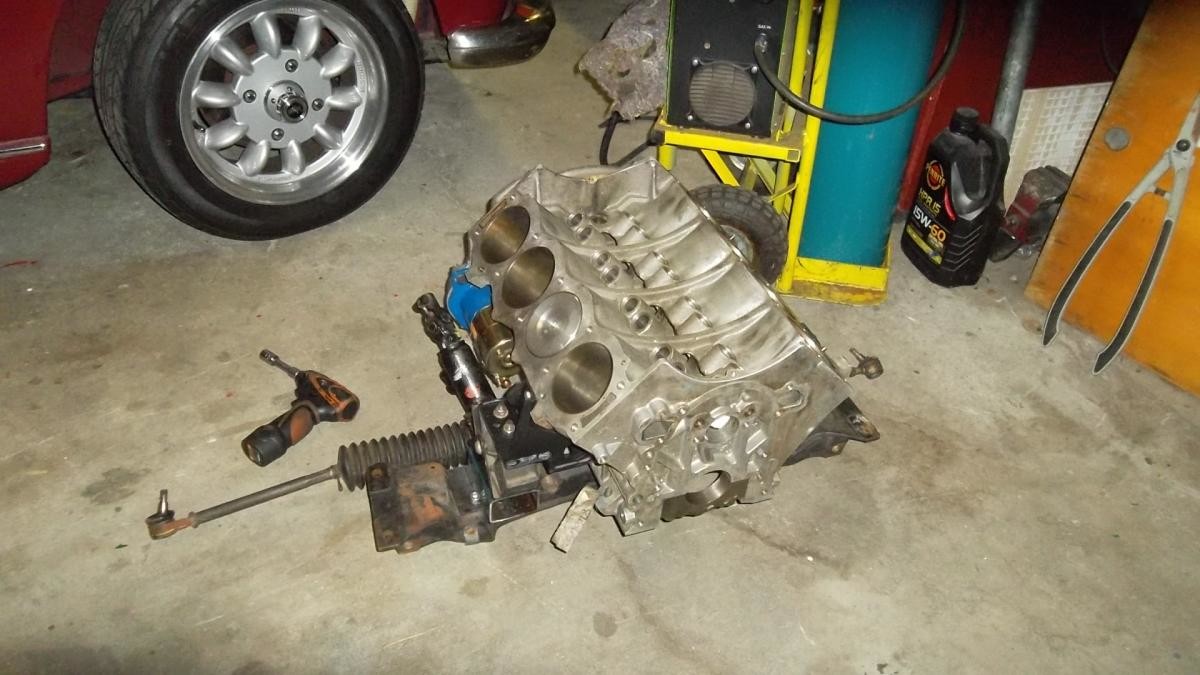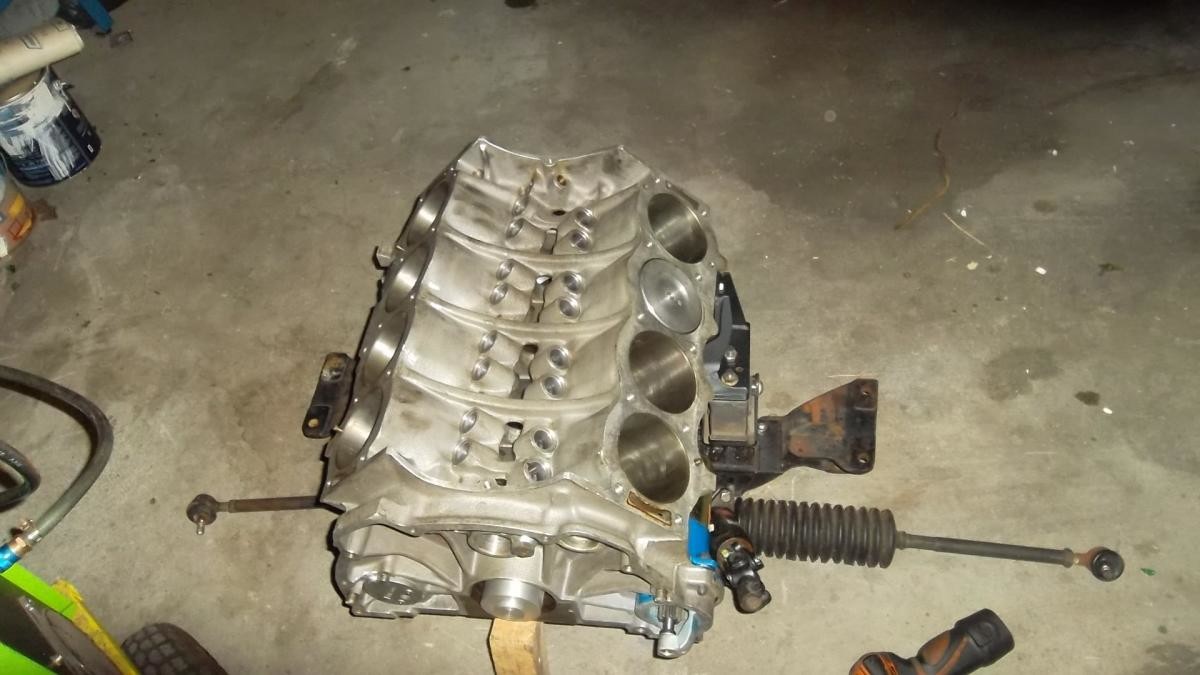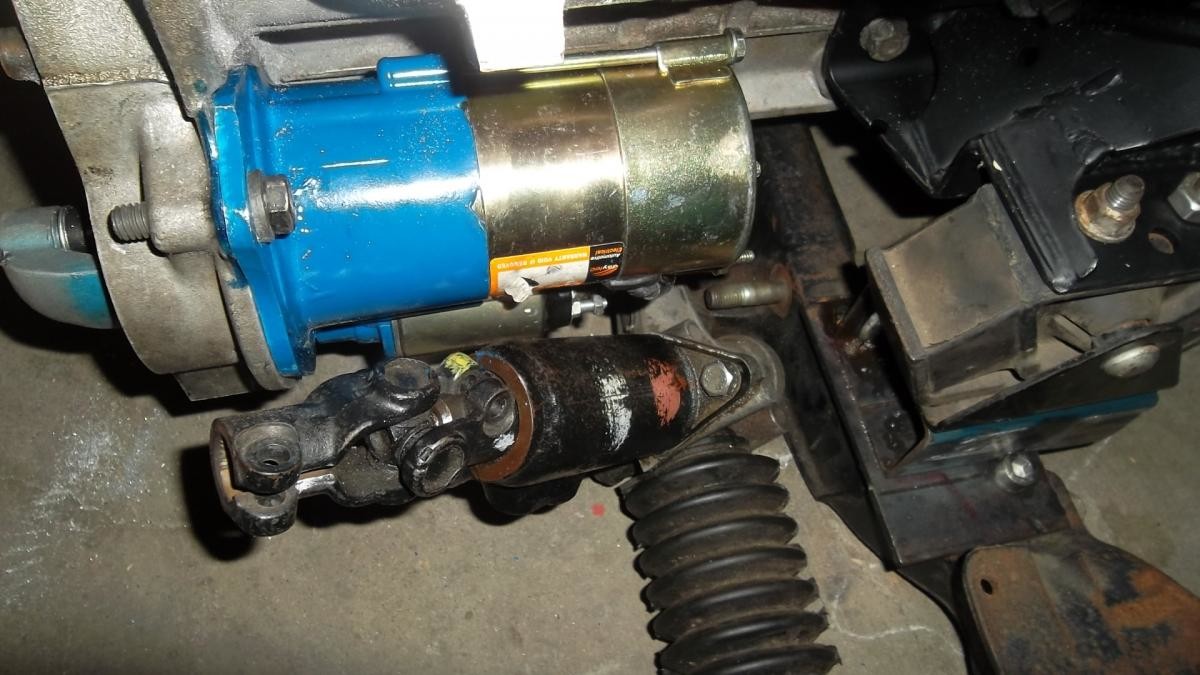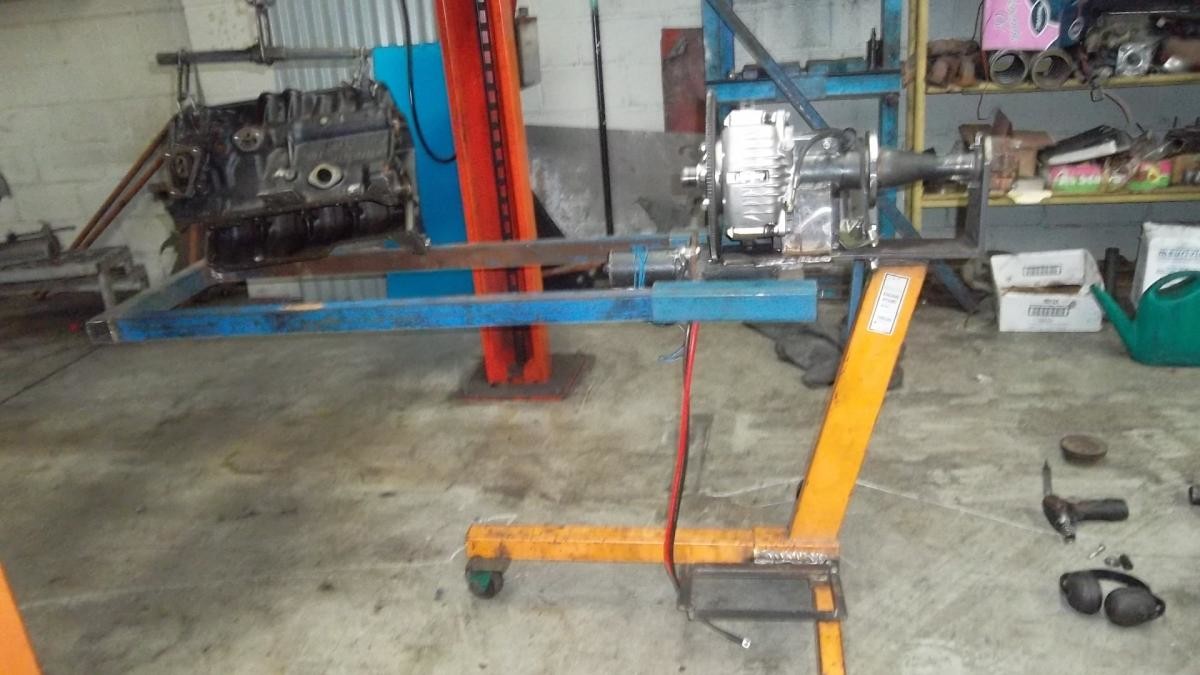 4-18-2015
Yeah. I just sort looked around and hey, there's a 505 axle, it's spring loaded so if we fit between and close the gap so the spring is compressed a little, it's got to be good. The idea is to set an engine on it to get the starting, cold start hot start cruise tuning done and also test run the engine for 2nd head tension, bedding in rings and cams. It will give me a torque reading too, while the brakes load the engine which will help me get mixtures and the ignition timing safe. I believe the term is Least Timing for Best Torque? I do a lot of odd ball things over here, one is the V8, another is a full rebuild on a Toyota S800 engine. 2 cylinder , 2 carbs and 800 cc of air cooled awesomeness.
All this old stuff is worn out so we usually have to remake/reface a cam , get new pistons made and, the fuel is different today.So tuning a rebuild is an integral part of the process. In the course of all this we've found a great new ignition idea which is tuneable via laptop. Set your own ignition curve without springs , weights or contact breakers. We are going to try one on the S800. Very compact stuff and the spark becomes a big fat blue crack about 1/2" long during cranking.
http://www.accuspark.co.uk/Blackbox.htm
3-4-2016
Some new yesterday. I am using Ford spec 3.68" pistons in the RV8. Cutting a long story short, the wrist pin diameters are 24mm Rover to 23mm Ford. A nice fully floating option for this project. It turns out Peugeot XN1 wrist bushes will press into the Rover rods and will be honed out to 23mm nicely. Once done I can now proceed with setting squish and building up the engine. Like Wade I am leaning toward a MS2 kit as I have sold on the ecu I had built. It is now going to run the XN2 engine.
11-19-2016
Hi again. Since my last post I have sold my business. Very busy and difficult time. However the 505 V8 project is reignited . I have almost completed the engine testbed to tune the engine. I had a slant 6 rebuild and had to hot run it before it went out so a Chrysler was the first engine on the semi completed bed. Im having to remake and invent some tools as I go partly for cost saving and partly for fun but the project is still rolling. Fully floating piston pins with bushes from an XN 1/2 Peugeot engine fitted into trhe stock Rover rods. Nice.
No offence taken Goce, I'm a big boy! Selling my shop was selling the last 20 years of my life. It had to happen though, I couldn't cope with the stress and it certainly had a terrible effect on my health it seems.
All I have to do now is find enough time to do the Peugeot stuff I want to do! I'll find some images to share today.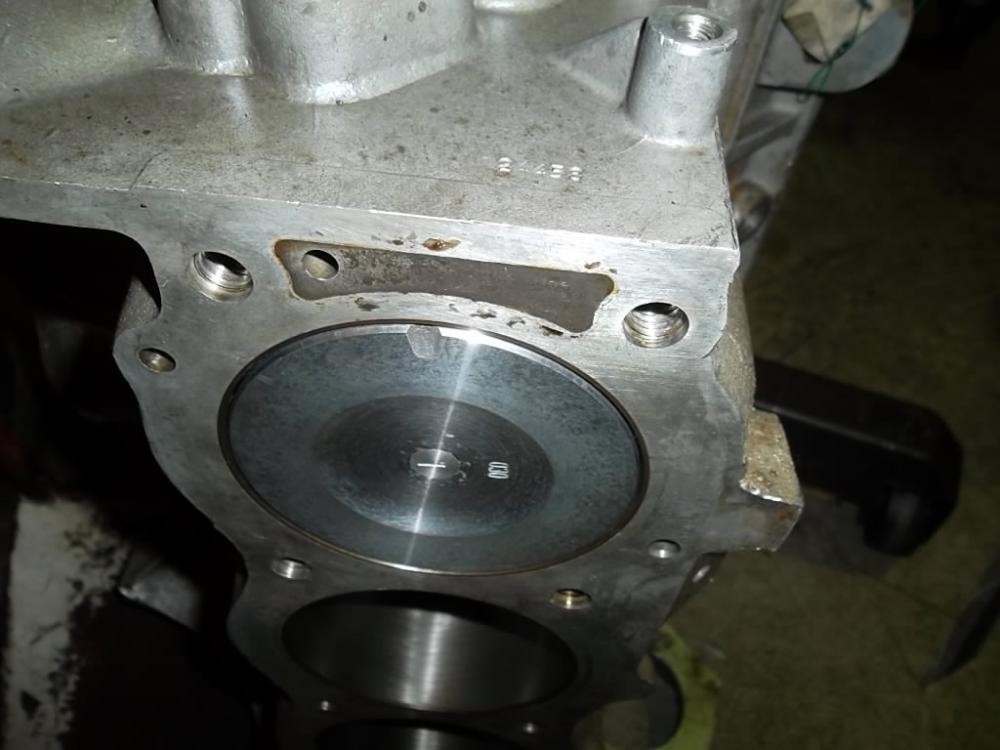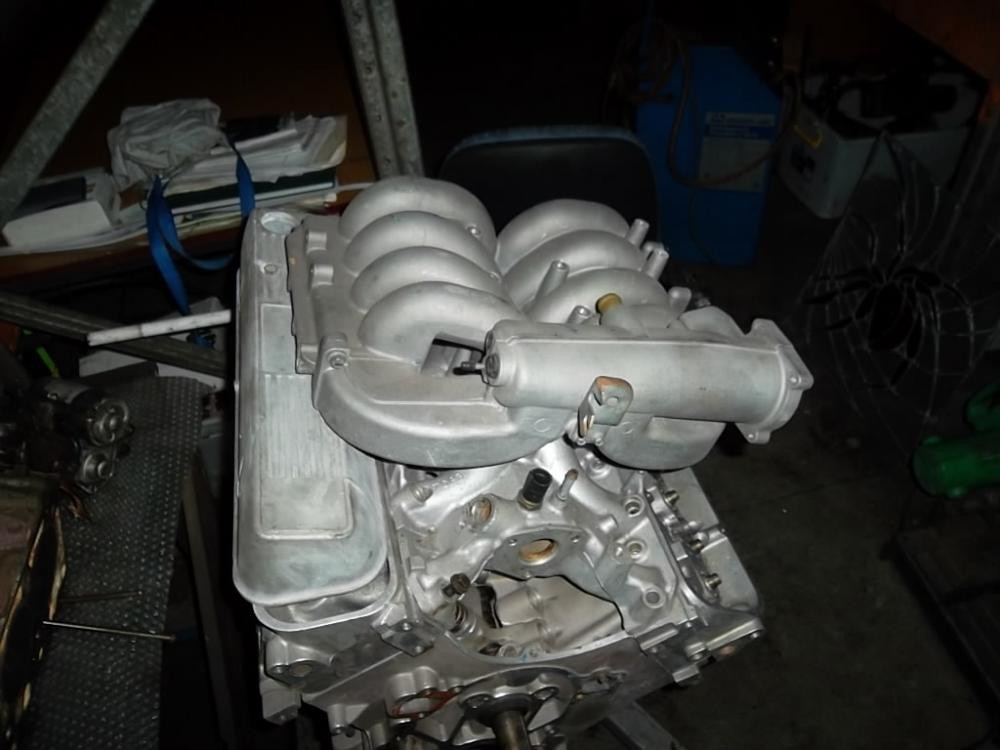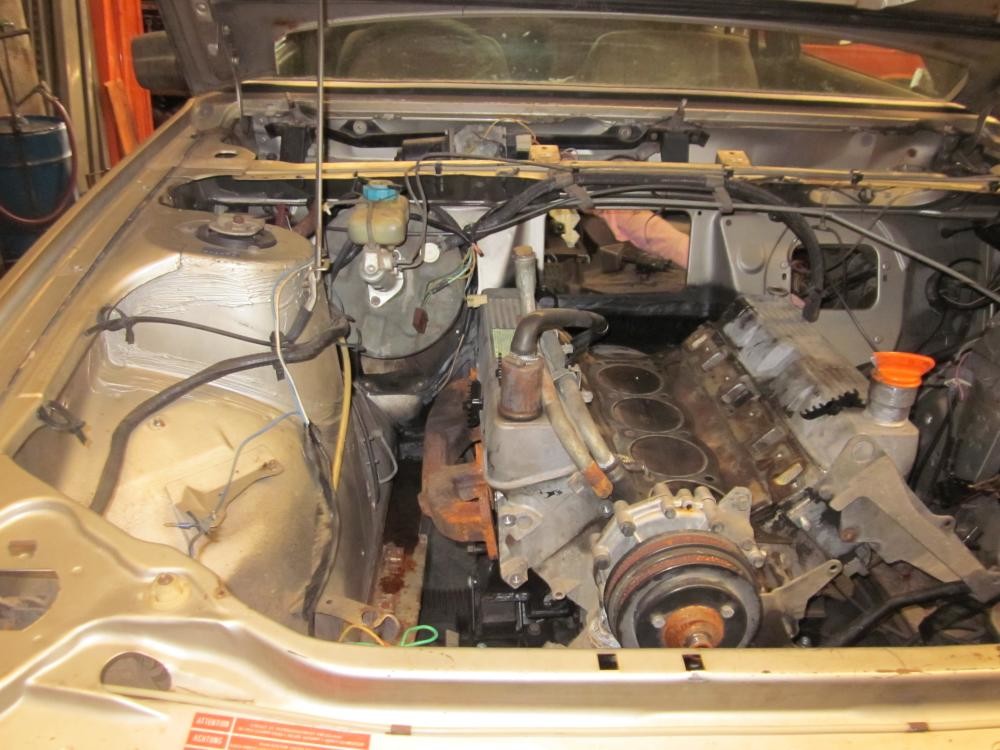 9-25-2017
After having semi retired, I am making faster progress. I'm going to rework my engine brackets to use 407 V6 diesel top engine mounts. Fluid filled. I just happen to have nos and it looks a good fit.
To get clearance for the rhd power steer valve to the starter we decided to cut the alloy rack housing to twist the valve away from the starter. May need to add a little spacer into the rack body too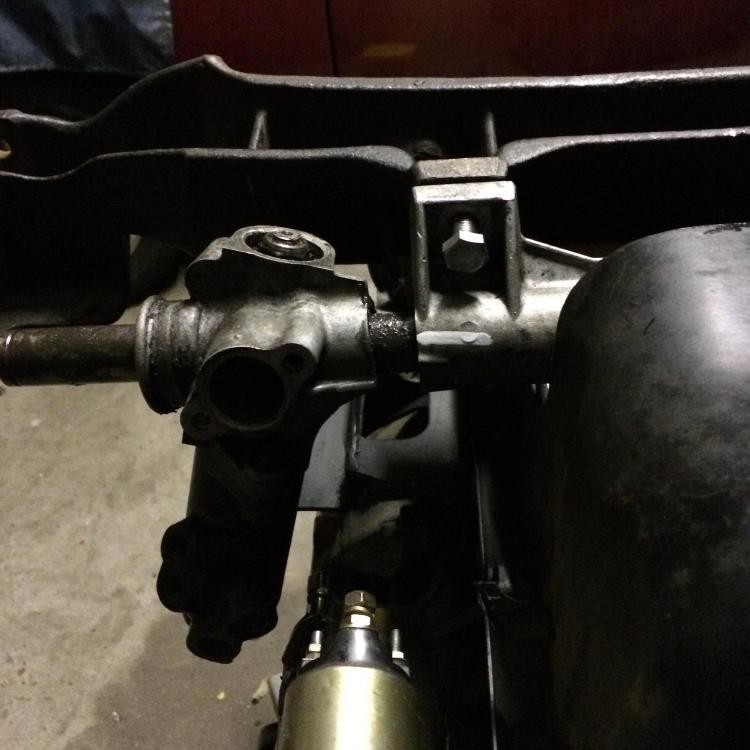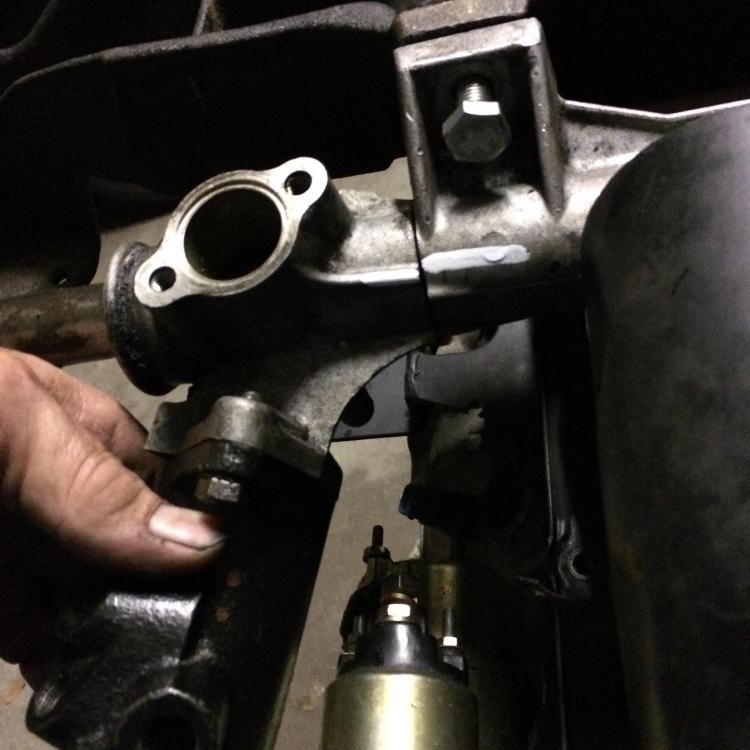 10-5-2017
Hi chaps,
Today I found some "me" time and started reworking the rack pinion position. At the same time I'm setting up engine mounts, trying to utilise 2x Pug 407 V6 HDi engine mounts. ( I had new old stock and it looks so good there and dimensions are looking good too!)
I added a machined extender of what started as 15mm ( but turned into 25mm) to the RHD drivers side rack housing to start positioning. It twists as well so I can get a fine position on the rotary valve. I hope you like this progress as much as I do.
I think I'm good to go hard from here.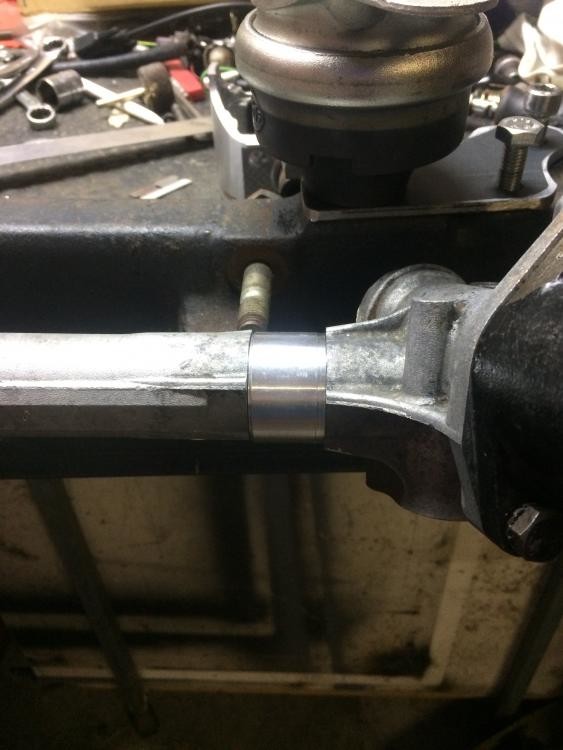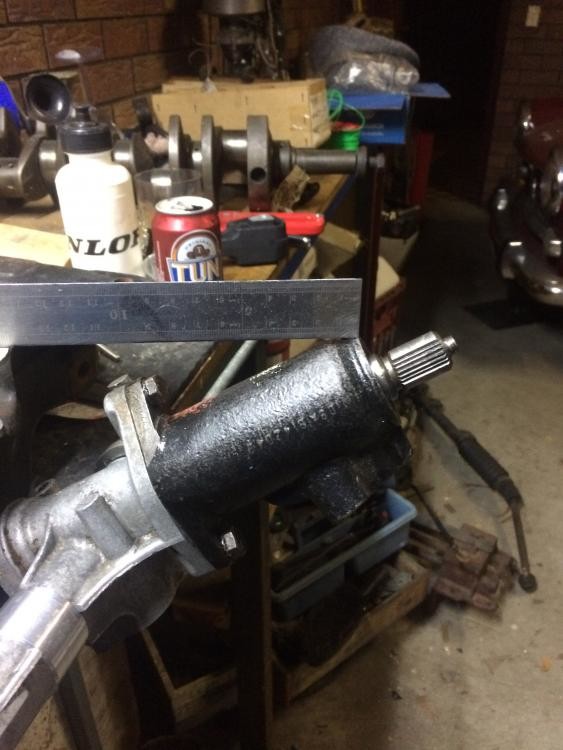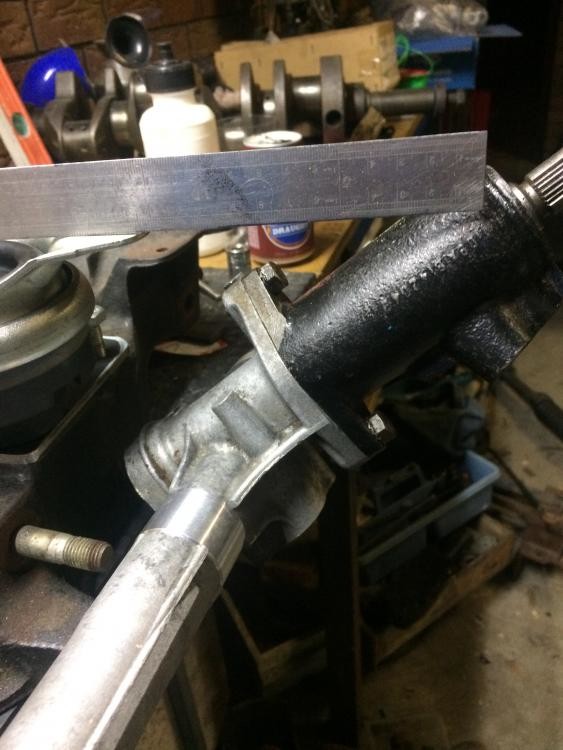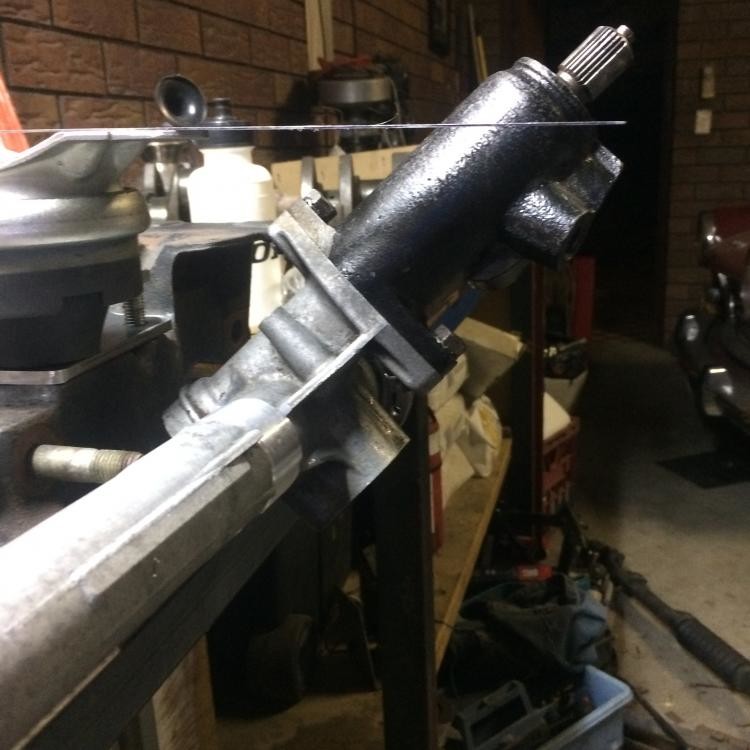 I have a few racks and didn't even think if using 2 to make one! Good idea Bean! I mounted the long part of the rack housing in a 4 jaw chuck to bore a rebate into it and the pinion so that the adapter I made slides into each piece, then clamped it with threaded rod to pull it up tight. I really wanted to keep it all dead true. I'll get the engine sitting in the cross member so I can adjust the pinion position. I'm hoping I can machine down the length of the spacer to a few mm more than factory and just lightly twist the pinion down a few degrees for clearance. I definitely don't want to change the feel of the 505 steering so, I'm being very careful about geometry.
10-8-2017
I did another mock up today and reckon I can minimise my spacer to 12mm. Then twist the pinion only a few degrees to clear the starter. I will have to remove the pressed on boss on the rack for the other end of the ram and rotate it to suit the ram alignment. Should be very cool. I'll order the second 407 top engine mount and make engine mount brackets this week , I hope.
I think 12mm less lock on right turns is liveable with a 505, Full Steam Ahead now!!
10-9-2017
We could do that! I do plan to heat the end and press it off but I could do that too. It would probably be easier in the long run and will get the ram nice and straight. Good idea. I'm looking at engine control options again. Was it VEMS the favoured option for you chaps?
I took 10mm off to give a 15mm lengthening on right side. Should be sweet.
I checked the VEMS this morning . It looks to be exactly what I need. I was wanting to build a megasquirt 3 but with the exchange rate it's not worth the bother. Over $500 aud for a box of electronic parts to assemble and I think I need to have external coil drivers with that which I don't want. I may get another custom one made yet but I think for the money the VEMS looks just right so far. It's hot here todayin sunny Queensland, 8 am and 29 C. Arrrggghhh!
10-12-2017
Just been weighing up engine control and stumbled into Speeduino. It's supported here in Australia and looks like a very good option for me. I have a tame Electrical Engineer also , who is also keen to get Speeduino into his machines.
10-13-2017
I find that getting proper understanding of the terminology used in a manufacturer's software the hardest part in all of it Bean. I have a lot of trouble understanding the megasquirt system descriptions. I'm setting up an MSII in a mini moke. Turbo, injected and wasted spark. Might go and wire it up today.
10-21-2017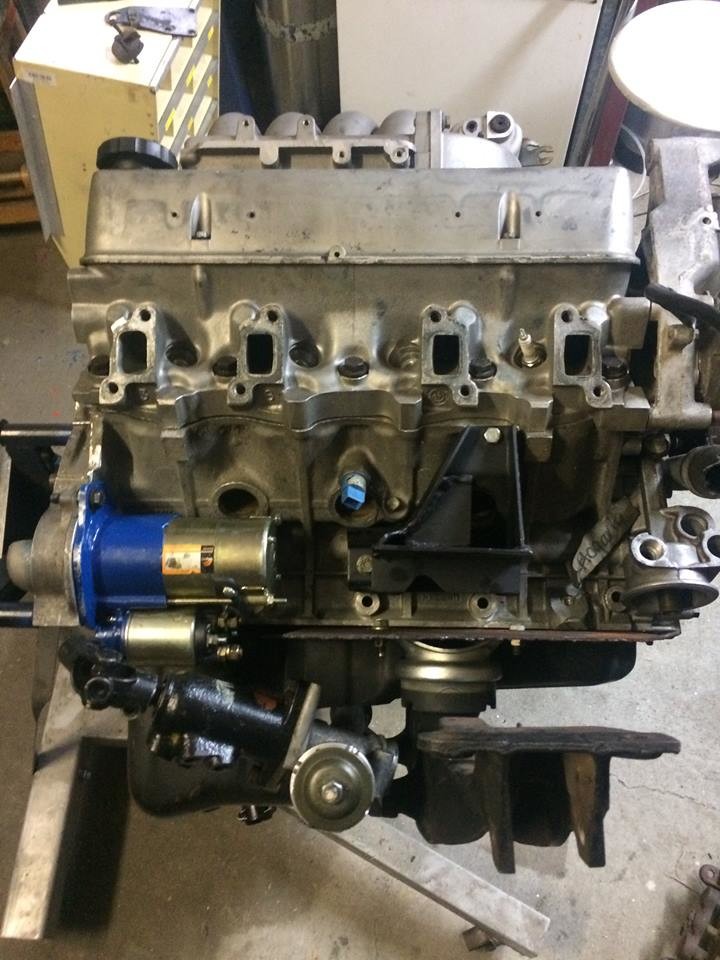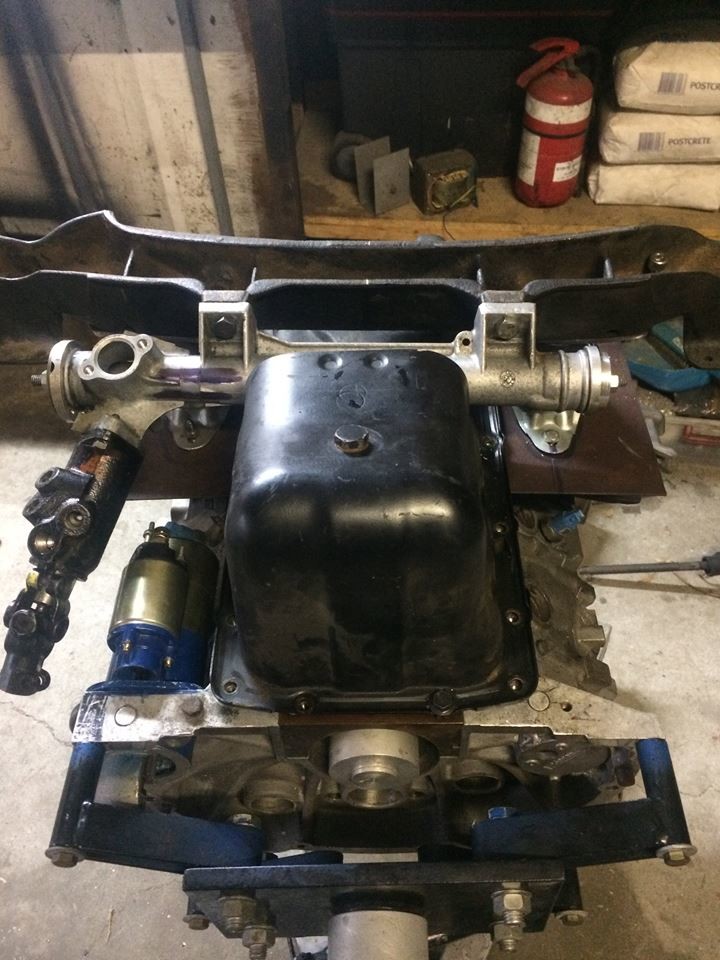 In these images the rack is now clear of the starter. Of course the mounts will compress so today I'll set up a rig to simulate crushed/broken mounts to get clearance if the mounts fail.
10-27-2017
Made engine brackets for engine mounts this week. 3mm steel. It took hours but they are almost complete. Just working on torque reaction control now.
I don't seem able to upload images atm.
10-28-2017
I've just calculated that a valve spring in the right place could be used as a torque reaction fitting on the engine mount. I think I'll go this way as I can design in adjustment for the mount sag and also tighten them for hard working.
As for engine control , I'm really impressed with the Russian SECU-3 system. So easy for me to understand their focus and layout although I'm a little tricked by the file types in the firmware. php it is. (Me old silver back gorilla mechanic and no understand the file electron magic smokes.)
The system has some great tools like a separate engine fan speed control box, as in modern cars a pwm fan and they have a map sensitive ign box for my carb cars.
12-10-2017
I may have seen the heavy duty options on a microfische or a parts book. All good now as I've made up reasonable looking engine mounts and movement restrictor assemblies. I recall seeing a piece welded to the rear x member with a rubber mount like a shocker rubber assembly bolted to the torque tube. Stopped the drive line for aft movement I think. I guess it would reduce twist too. I trialled the TIG I have last week. Pretty fun thing. Electric style gas welding. I'll have to get practicing so I can weld the rack housing. I have a contact who heats the alloy piece with a propane torch prior to welding. Makes sense I guess.
12-31-2017