1968 Firebird 400 by 68400BIRD
By diyauto
1968 Firebird 400
Compliments of 68400BIRD @ pro-touring.com
6-1-2009
I bought this as a second project to build with my kids when they got a little older. I had a 1977RS camaro that was 99% complete but I lost it in a accident at the body shop (FIRE) make sure your insurance is up to par and that the bodyshop has insurance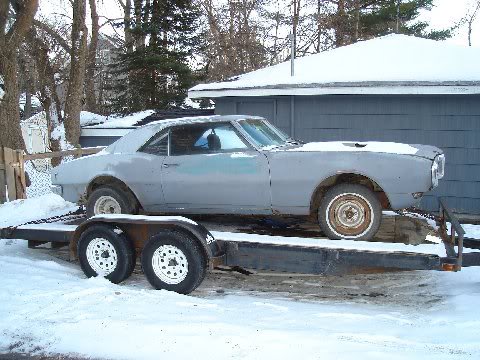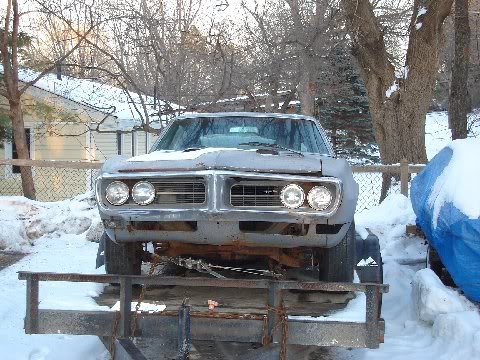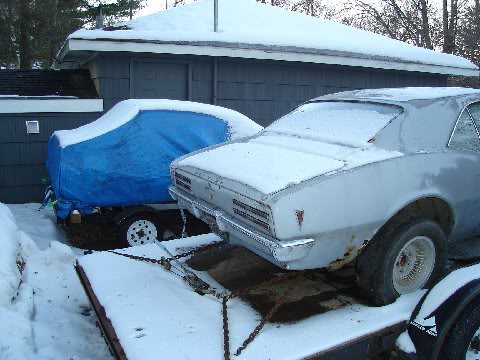 It's pretty rough, but I'll tackle the projects one at a time. LOL I started out collecting parts and assembling this car as stock and as original as I could. After losing the Camaro which had a lot of aftermarket goodies I changed directions and want to modify this car also. Here are a few pics of the stock things that I had done.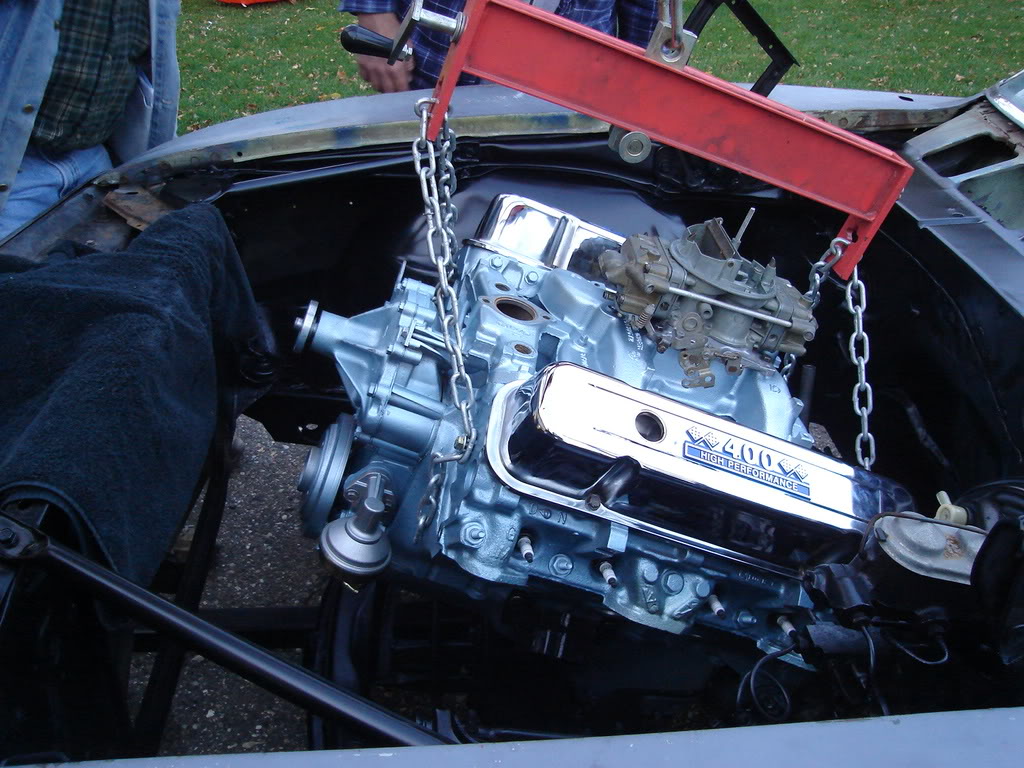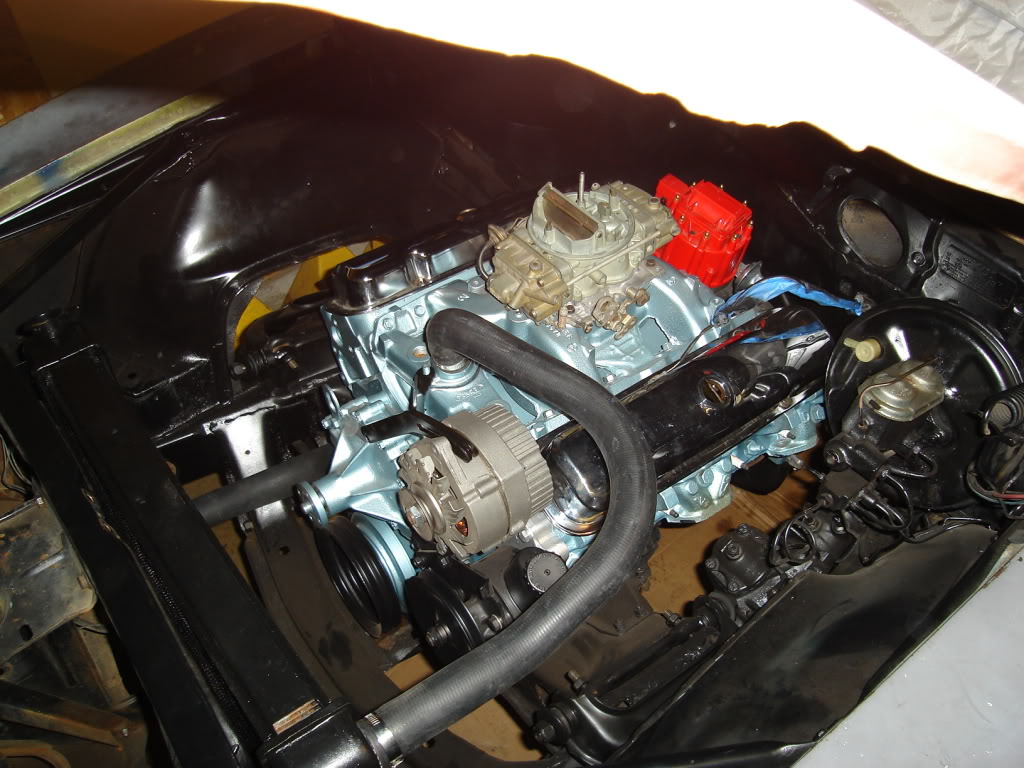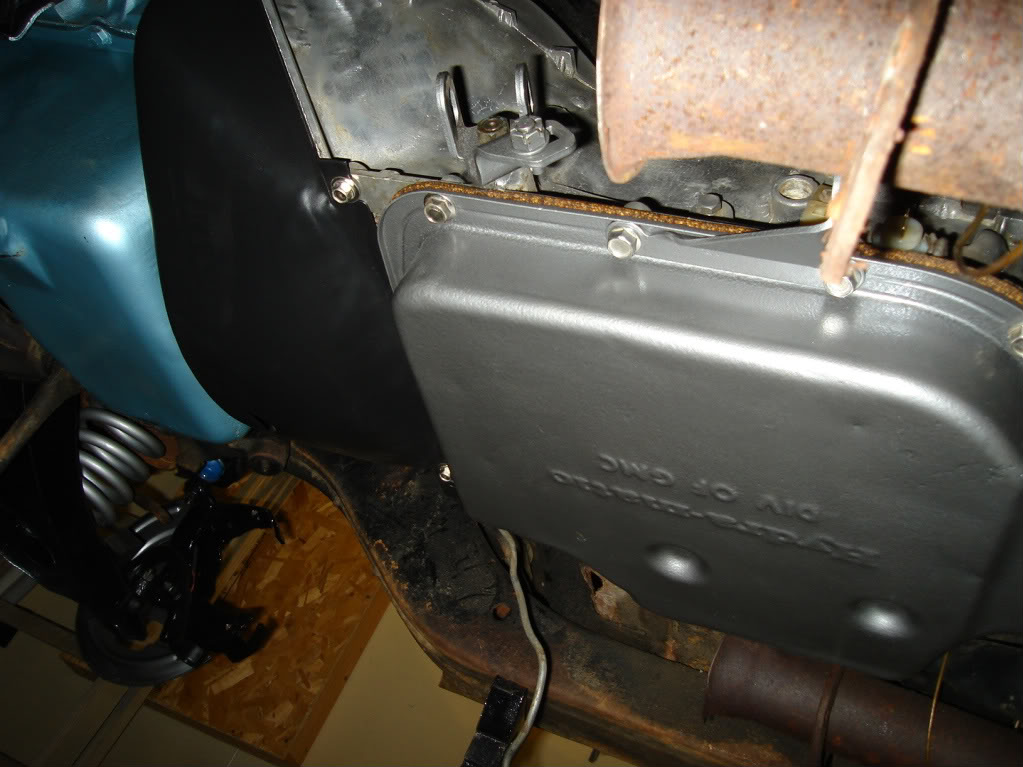 The 400 motor has a complete rebuild with a decent size cam. I plan on swapping out the heads at a later date. The red dist. cap is long gone also.LOL The 400 tranny has a shift kit added along with every seal replaced. I bolted up a 350 converter for a little higher stall. I hope the tranny will hold up for at least a year.
The car came with drum brakes up front. Those had to go and I had a friend who was parting out a 1969 GTO (rust) so I unbolted the front disc brakes and bolted everything onto my car.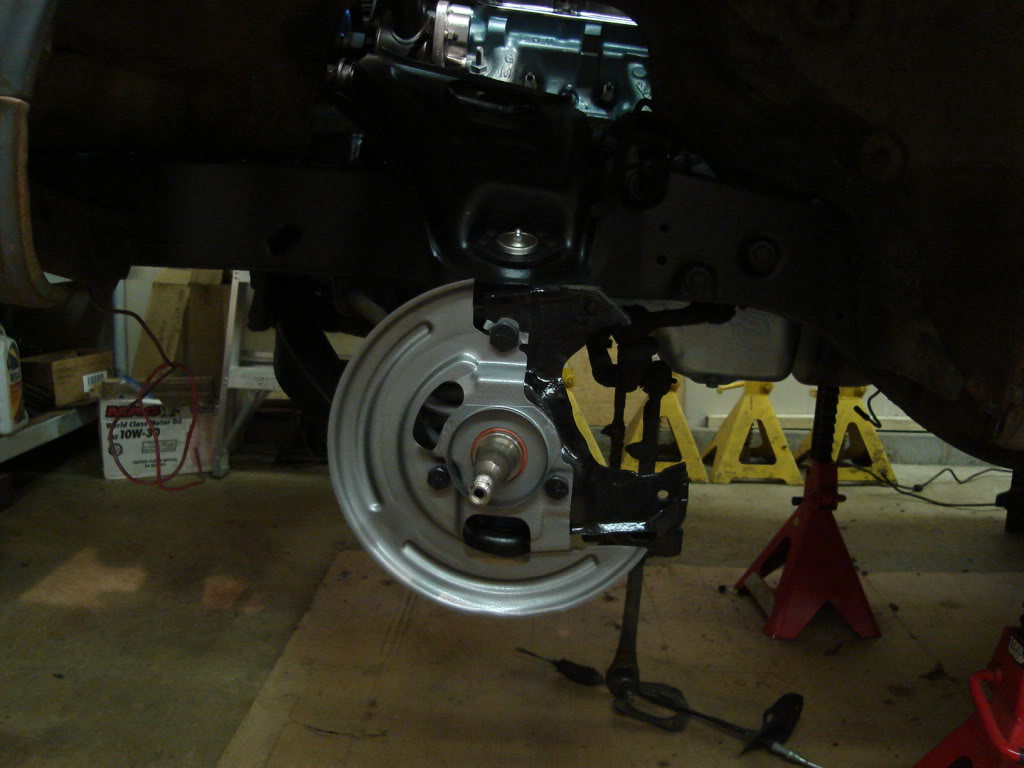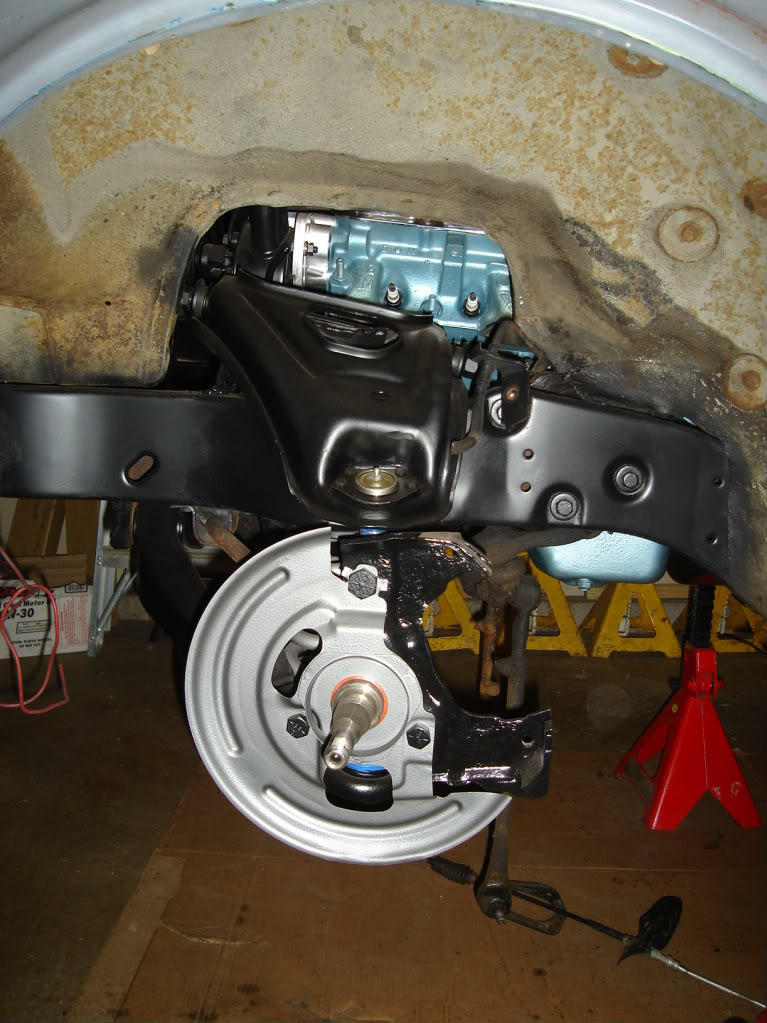 Heres a few quick pics of what will happen to a car in a very hot fire.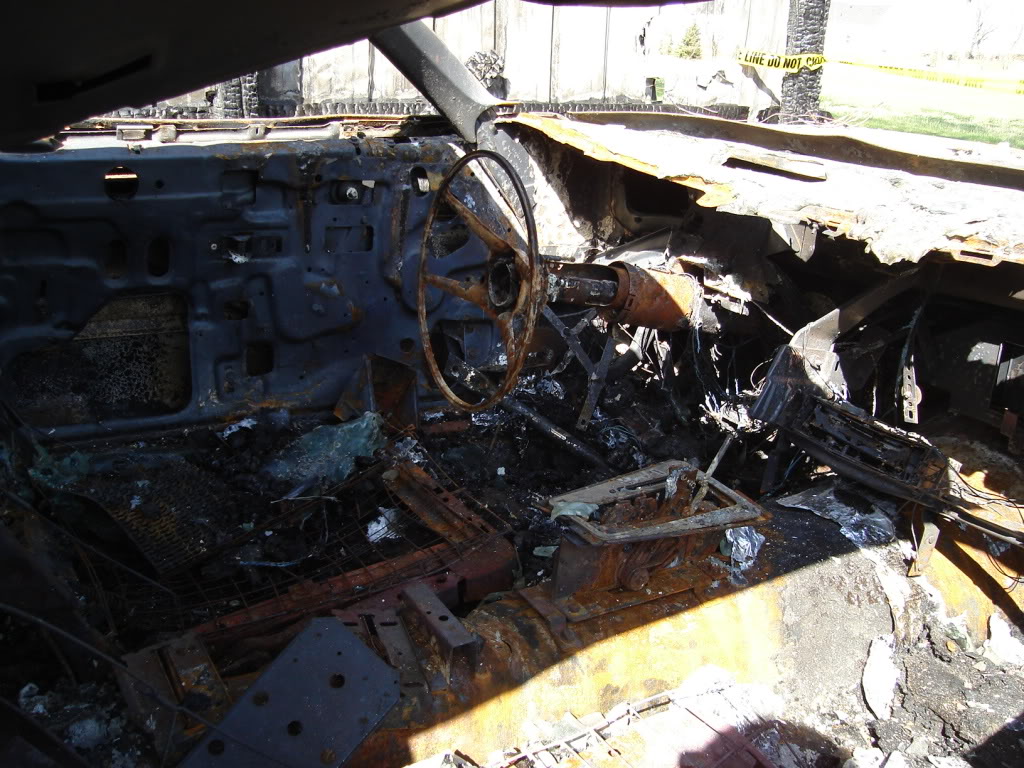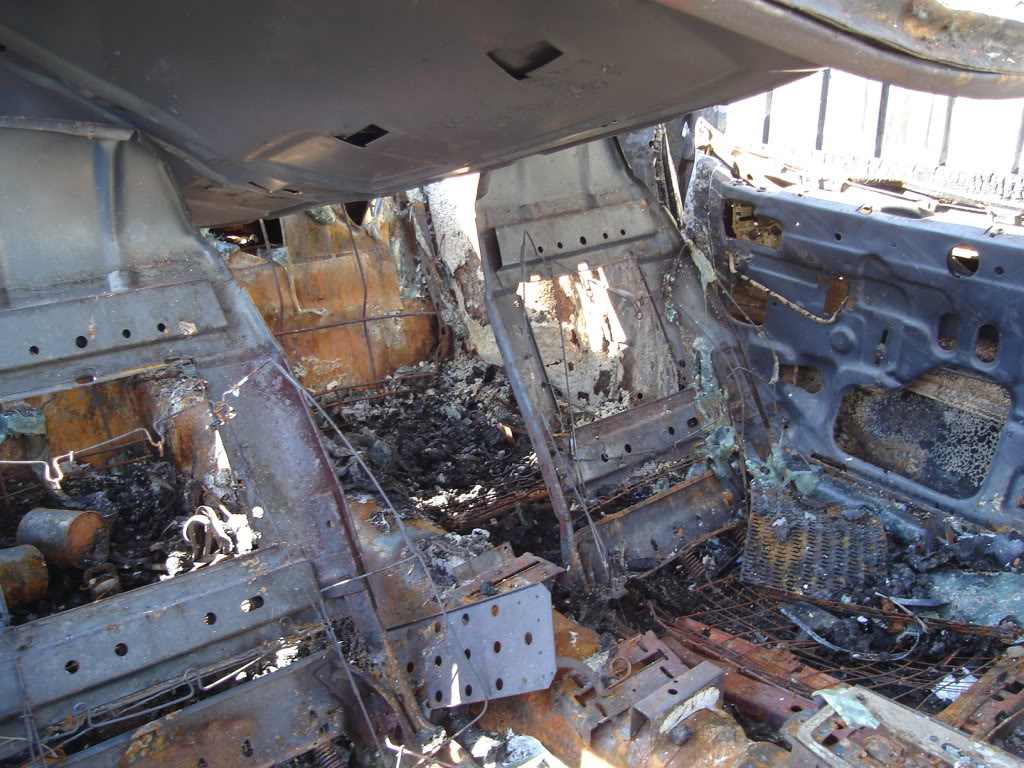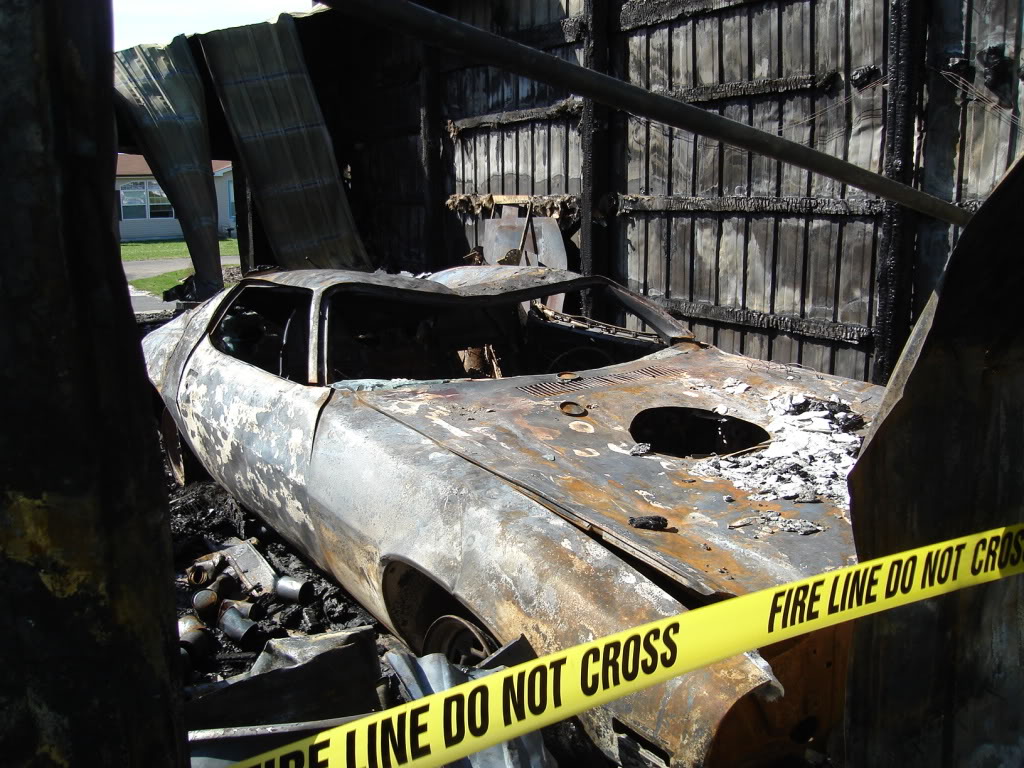 Moving on I started to tear the firebird apart. I did all of this in two evenings after the kids went to bed.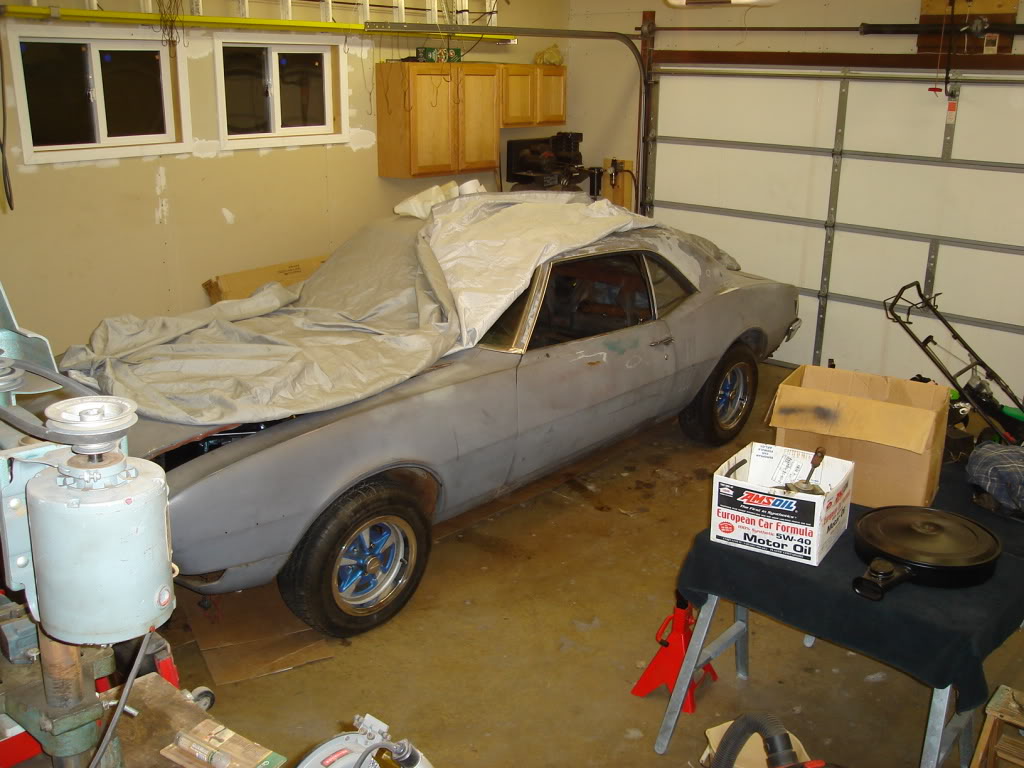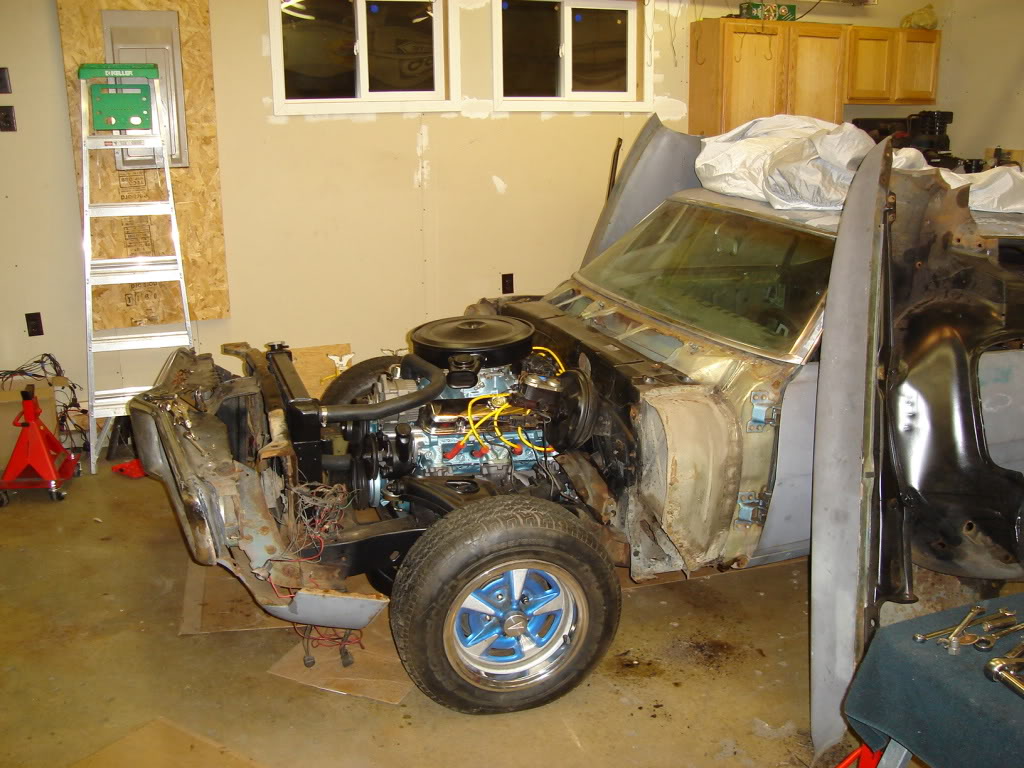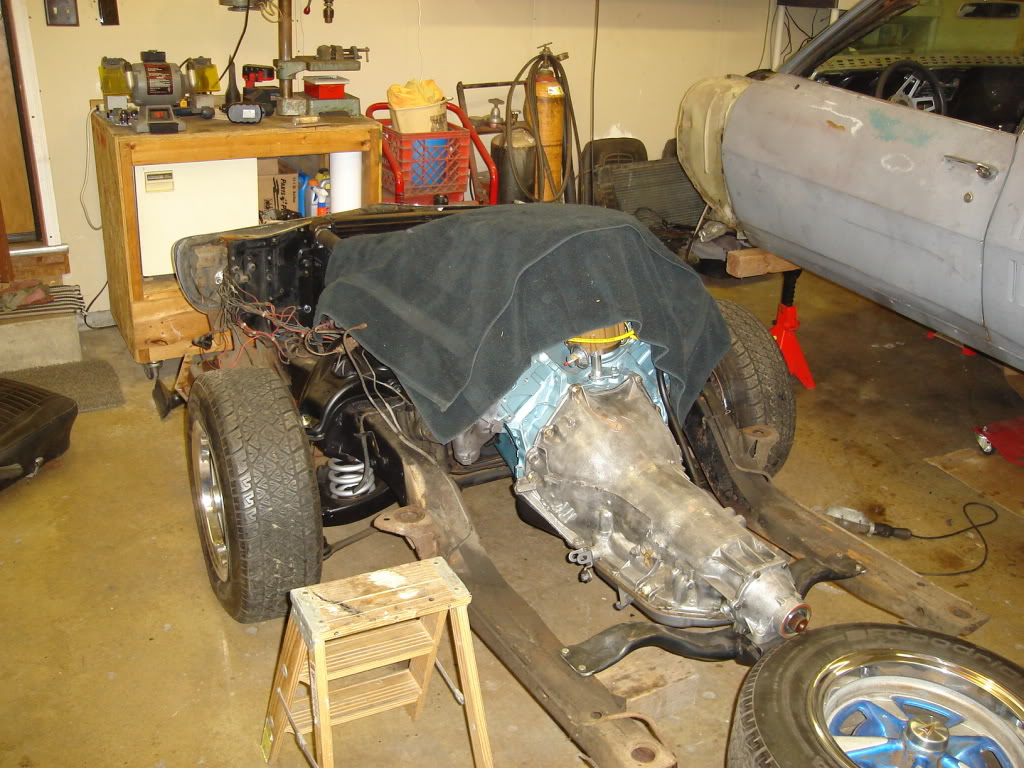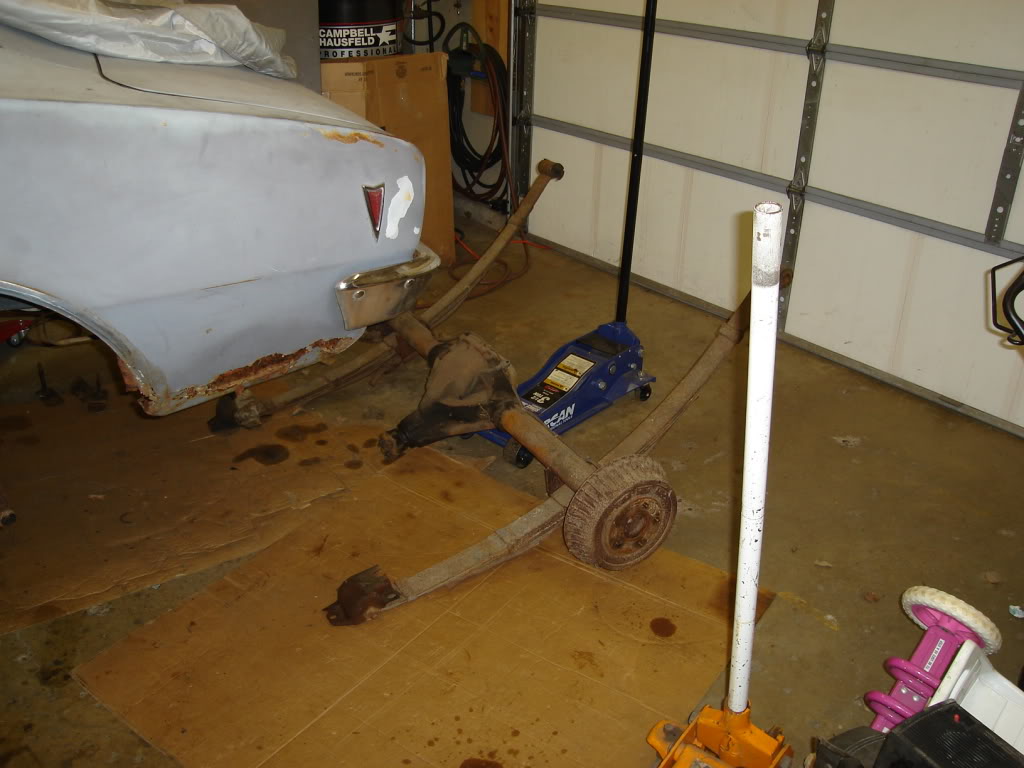 The floor was real bad and I wanted to do full floor patches on both sides. A good friend talked me into doing a complete floor. I'm glad that I did. About 70 hours later I had this.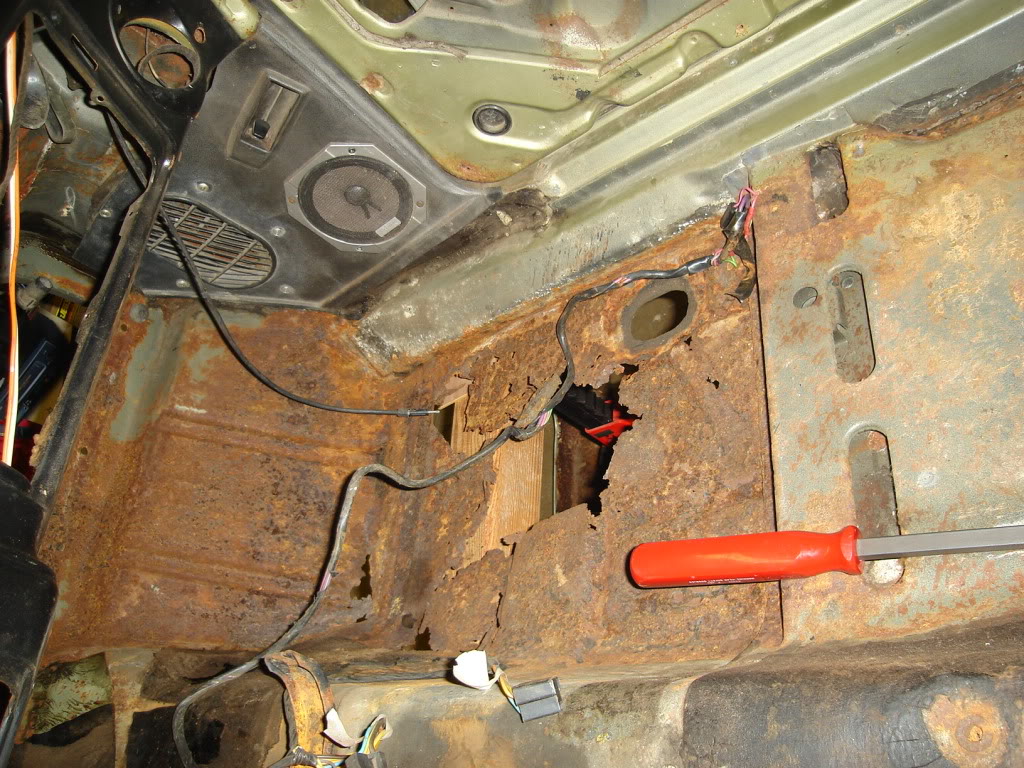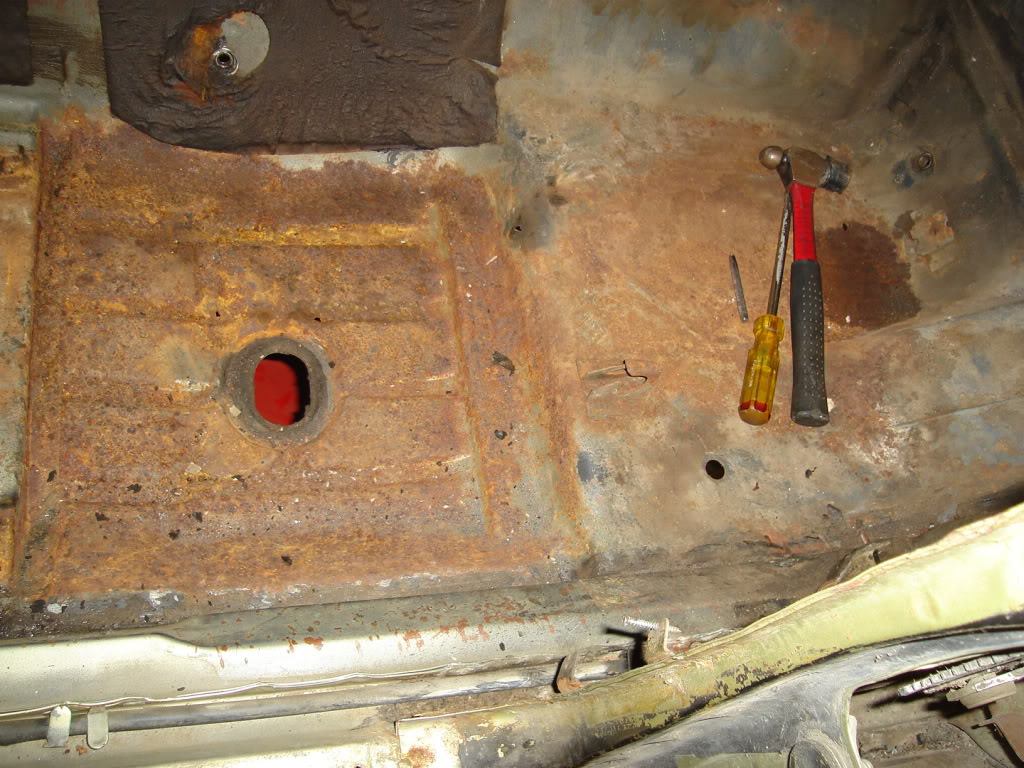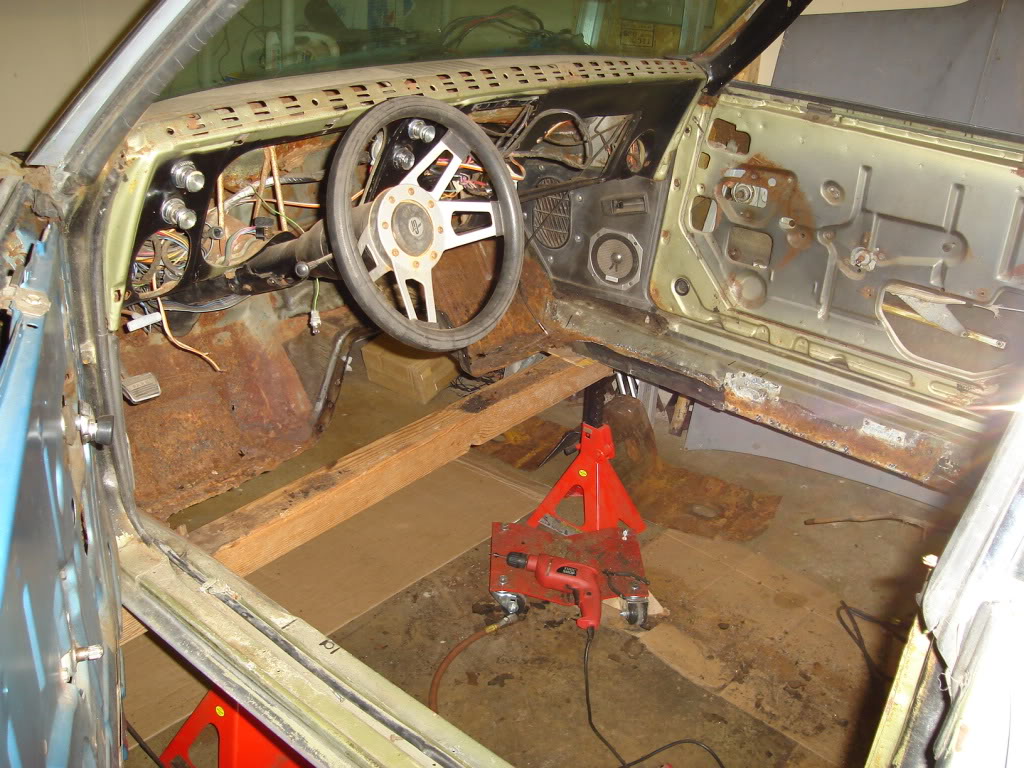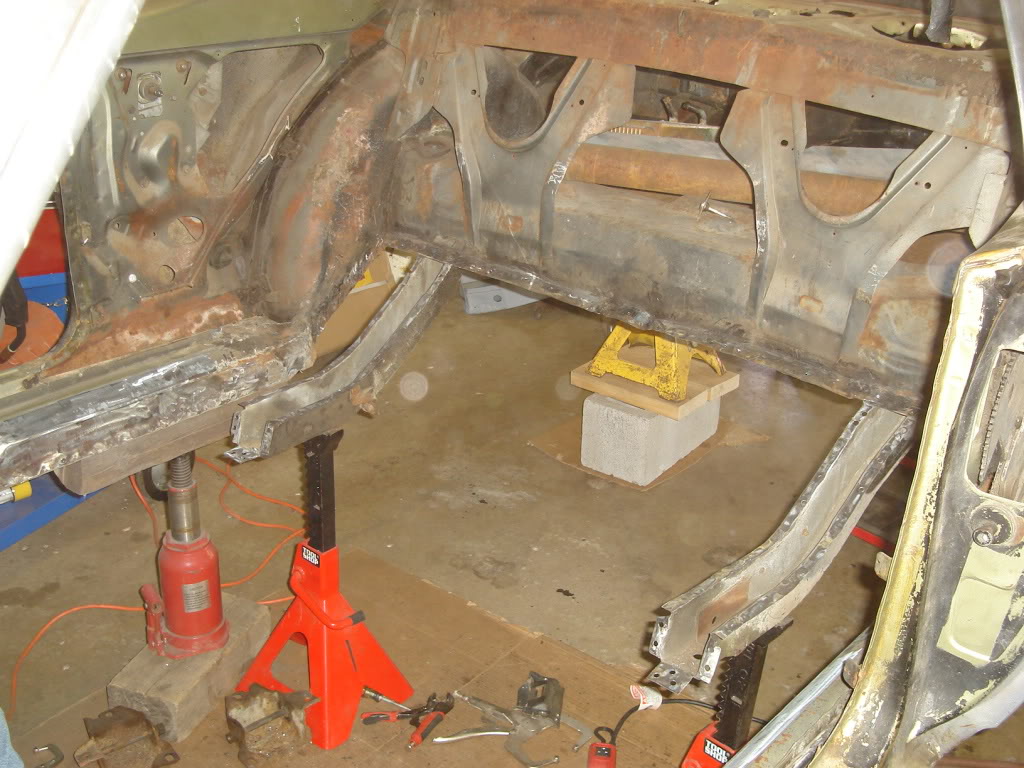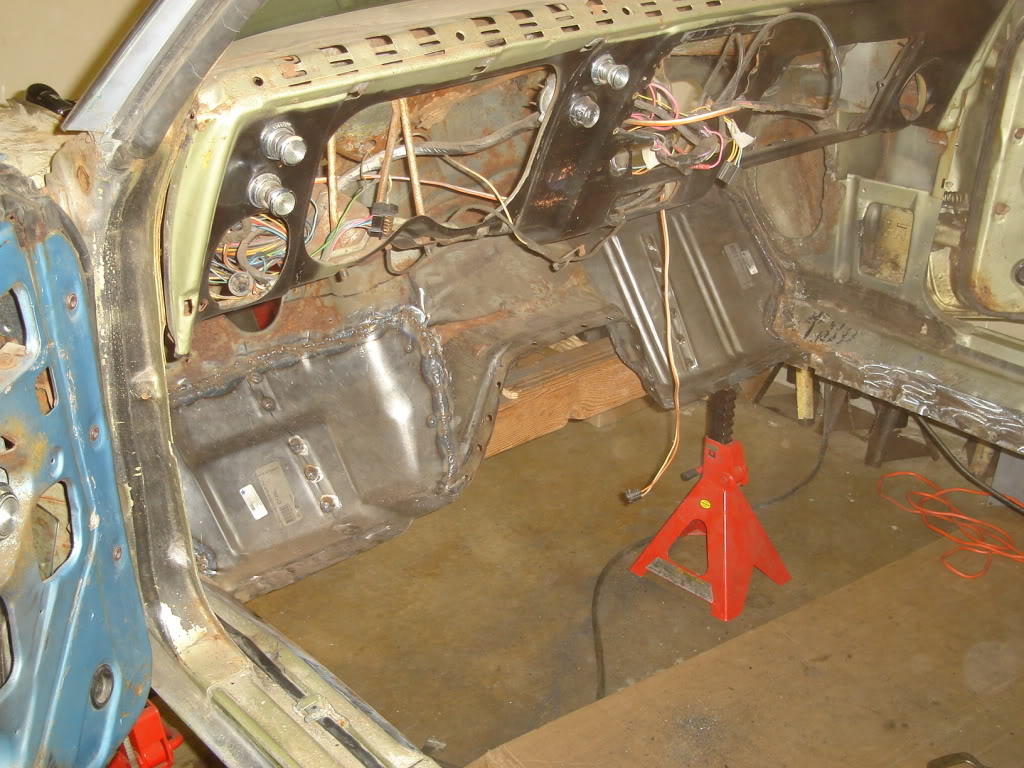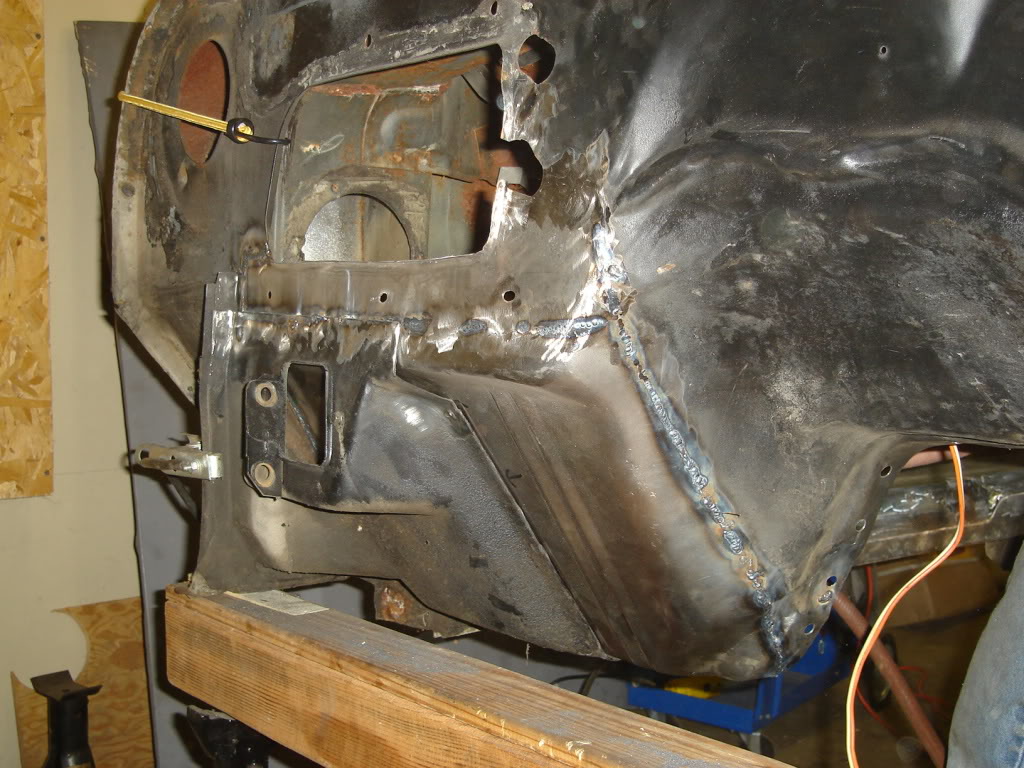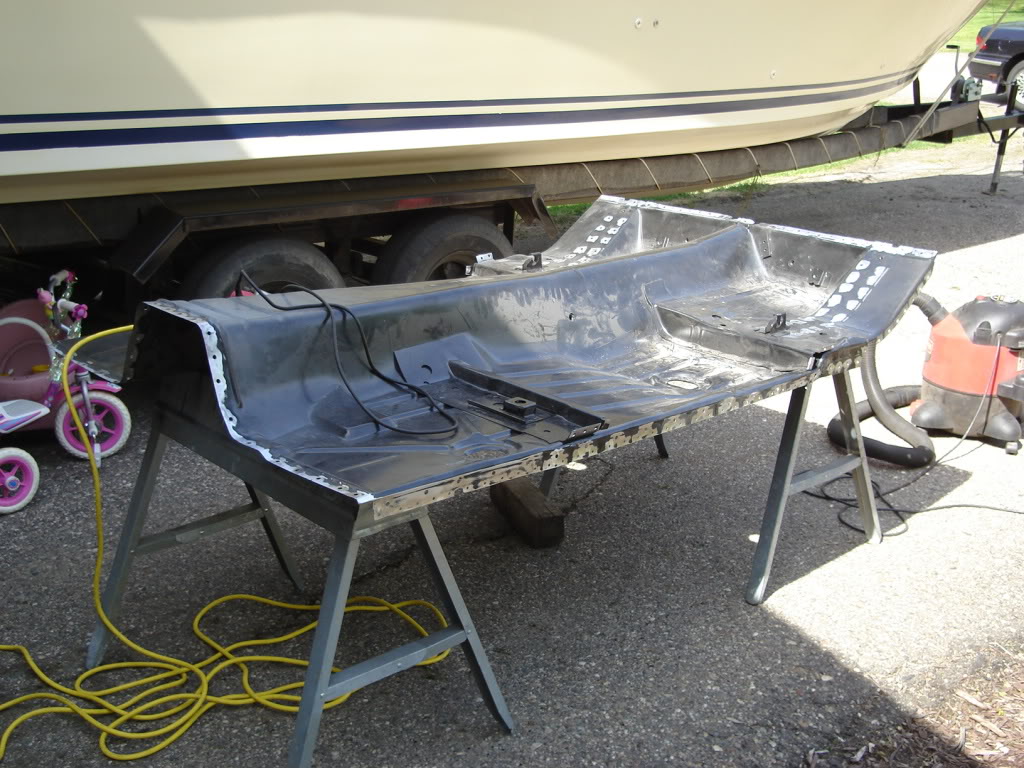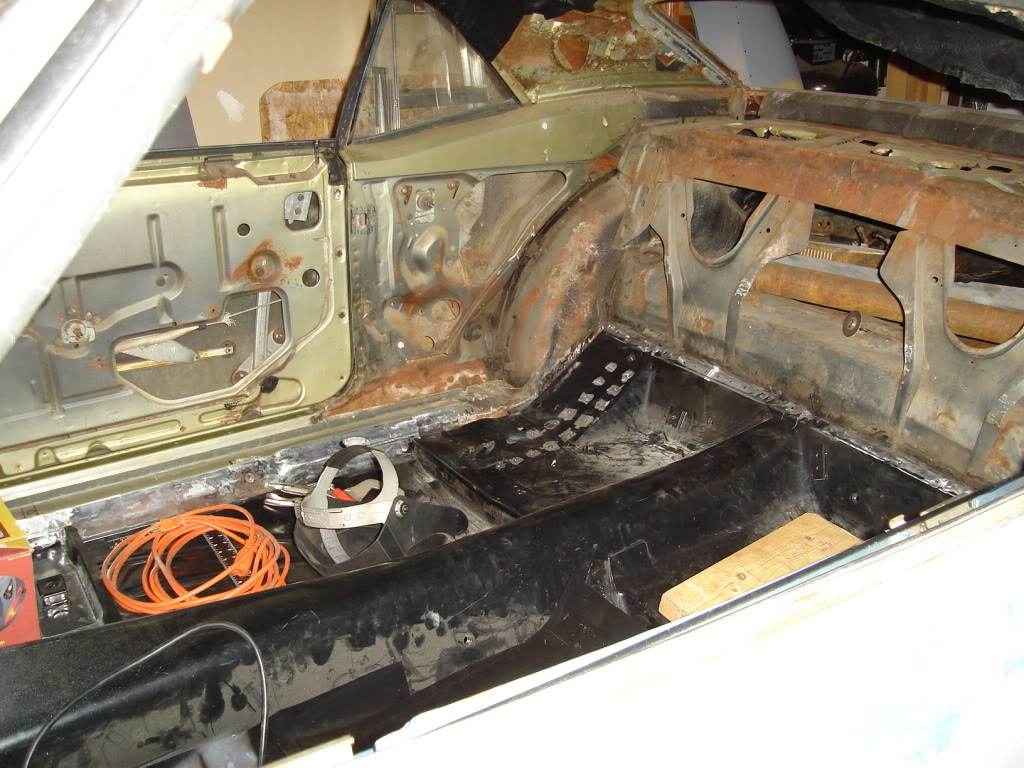 Someone thought that a pair of tin snips and a hammer would be a great way to install bigger speakers in the rear package tray. So I welded in a new used one.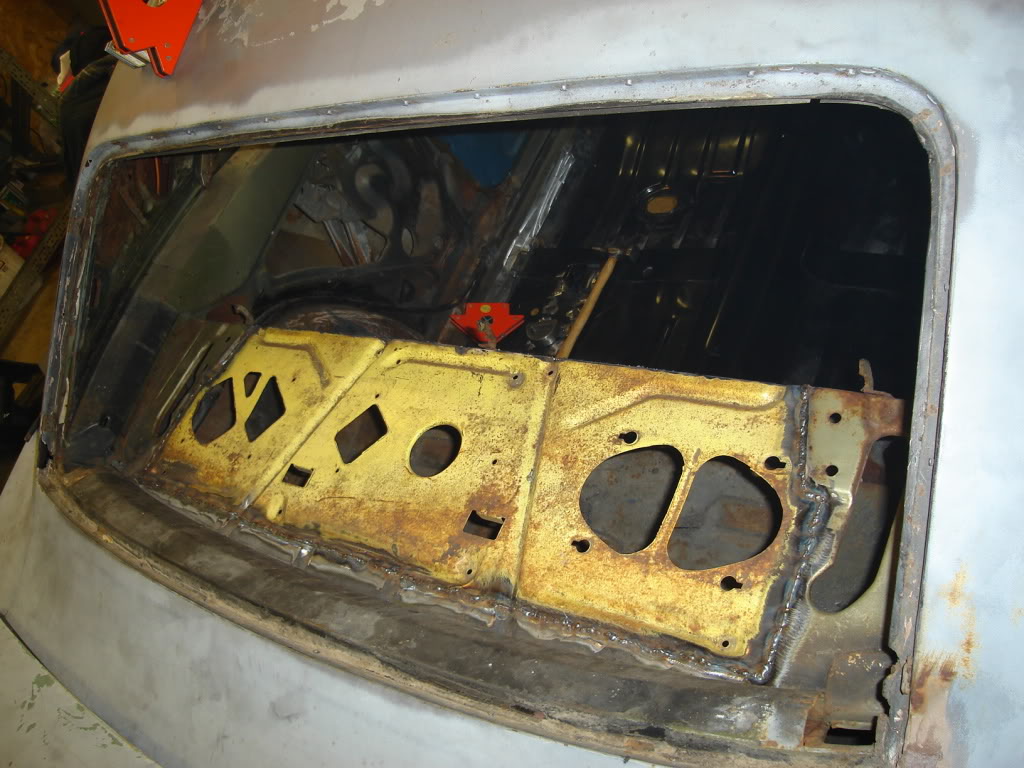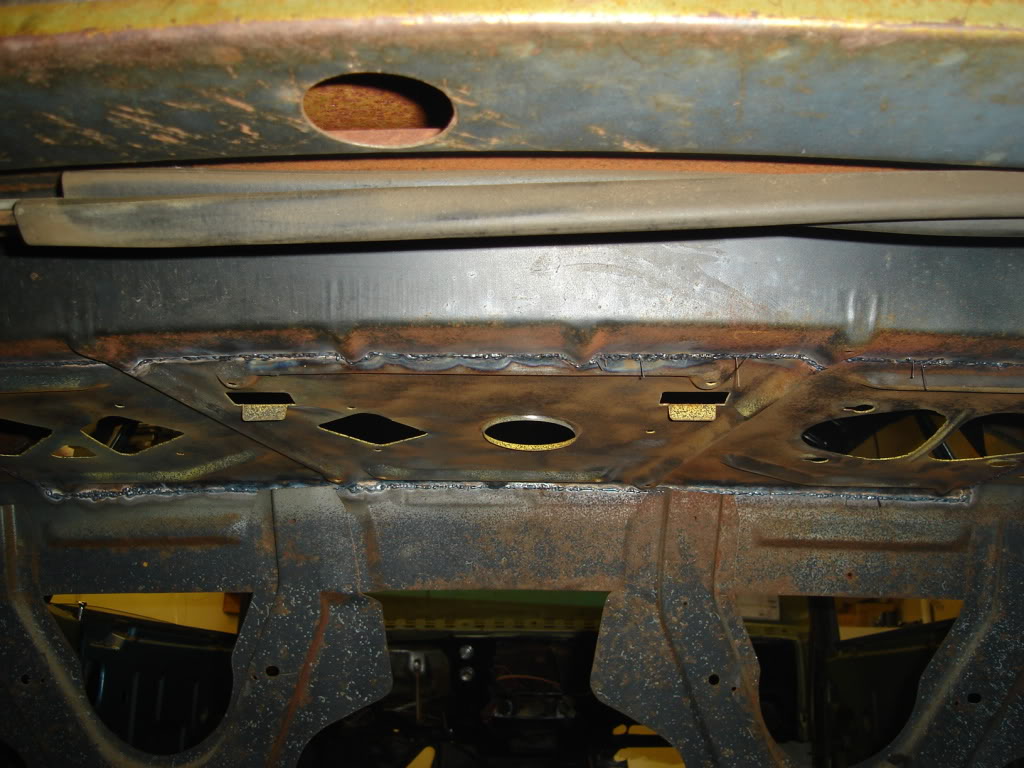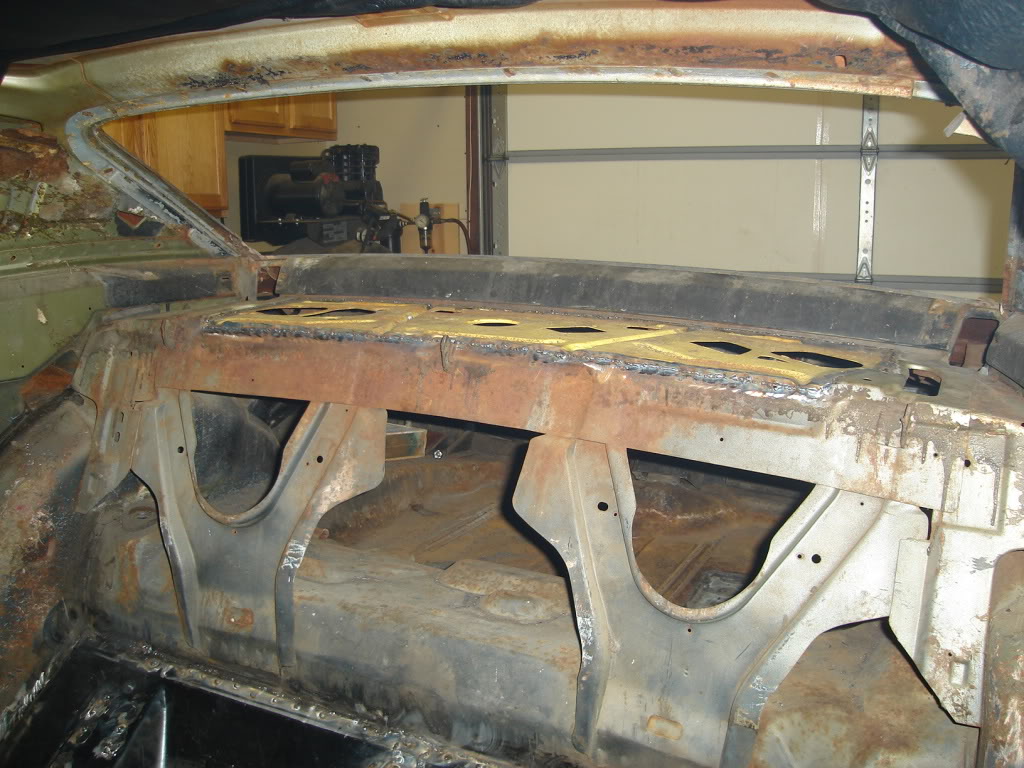 I started on the rear window channel. The vinyle tops on these and all cars cause a lot of rust problems. More pics and updates to come.
The brown truck dropped off some parts.
Upper and lower speed tech control arms.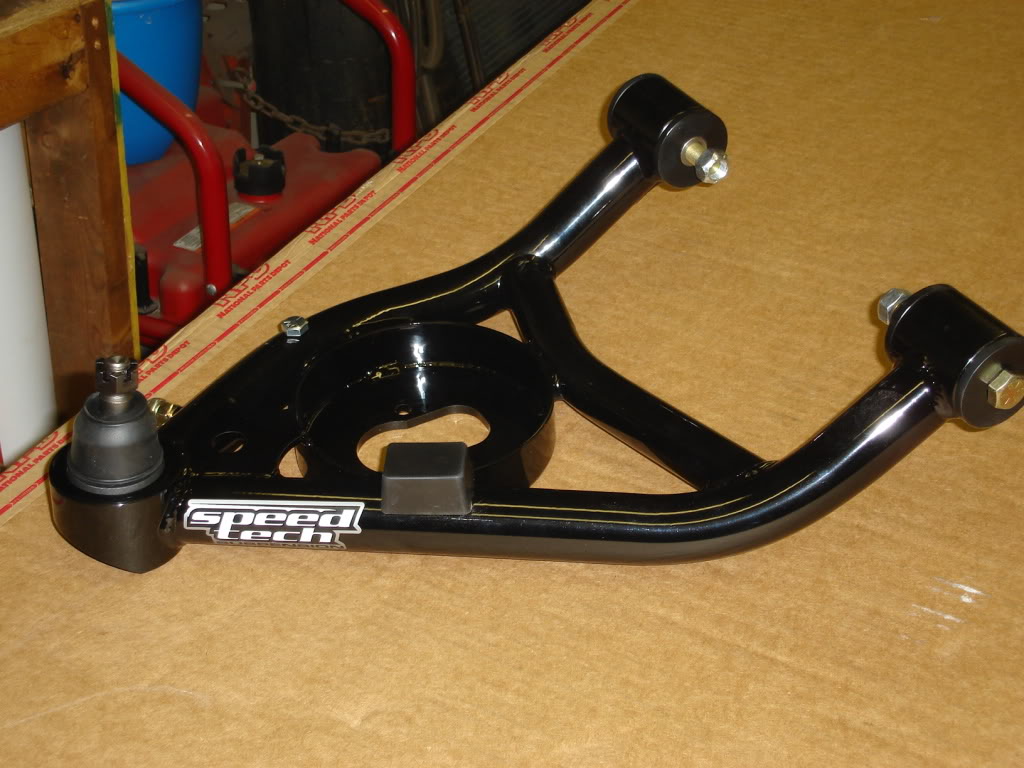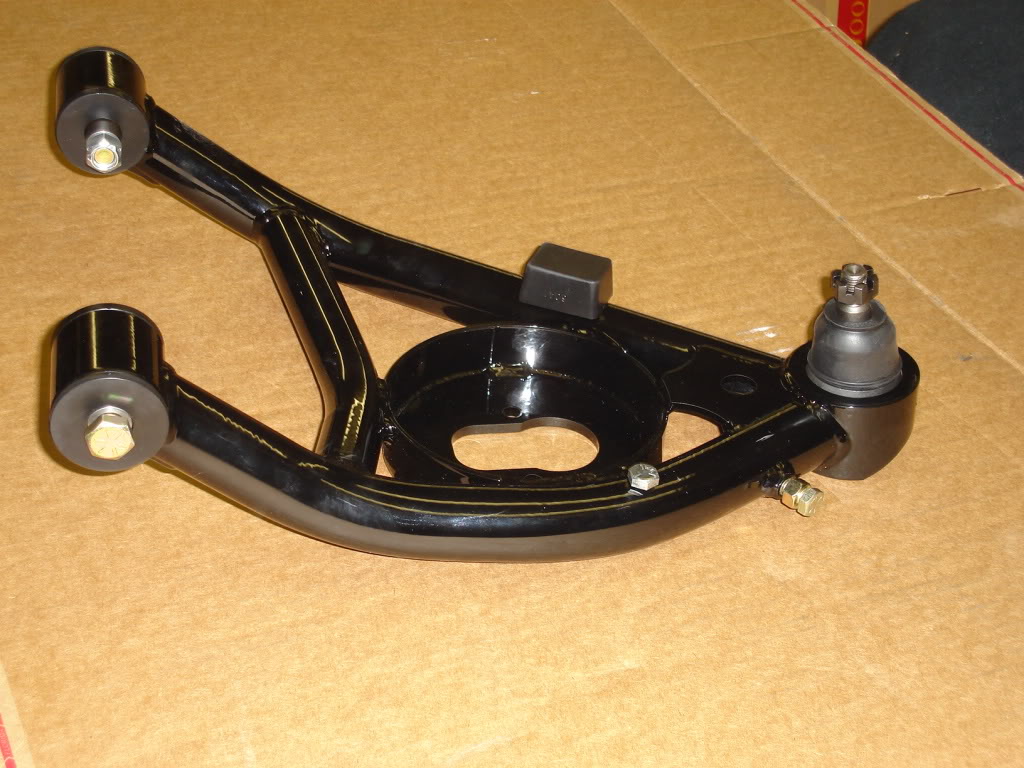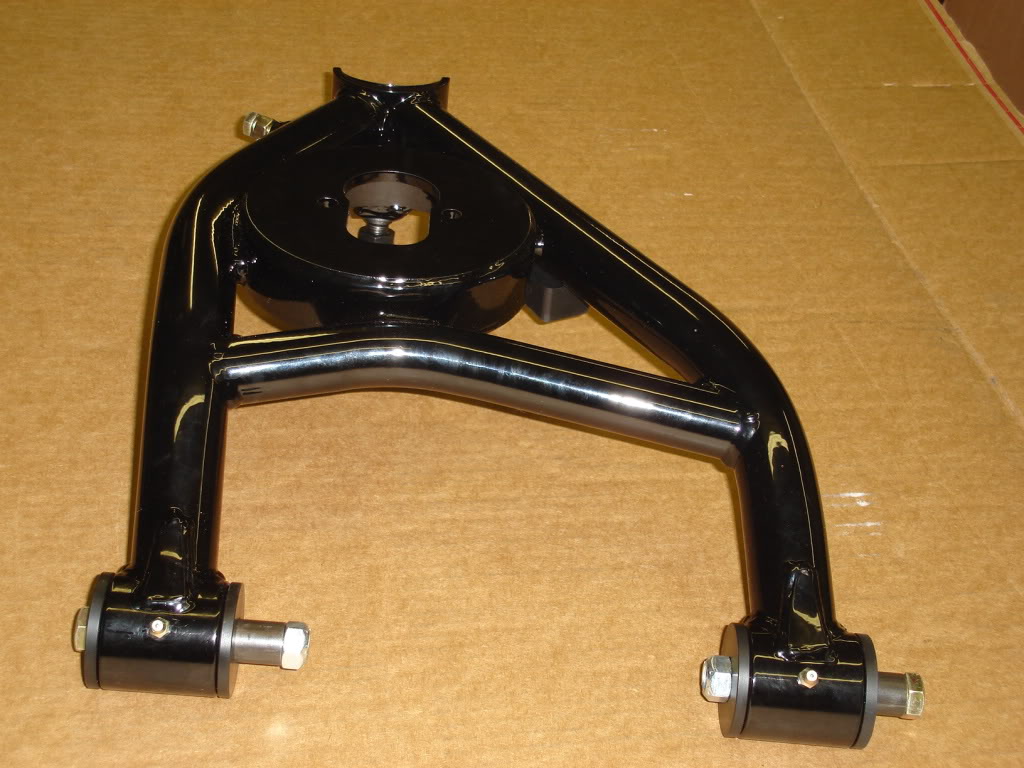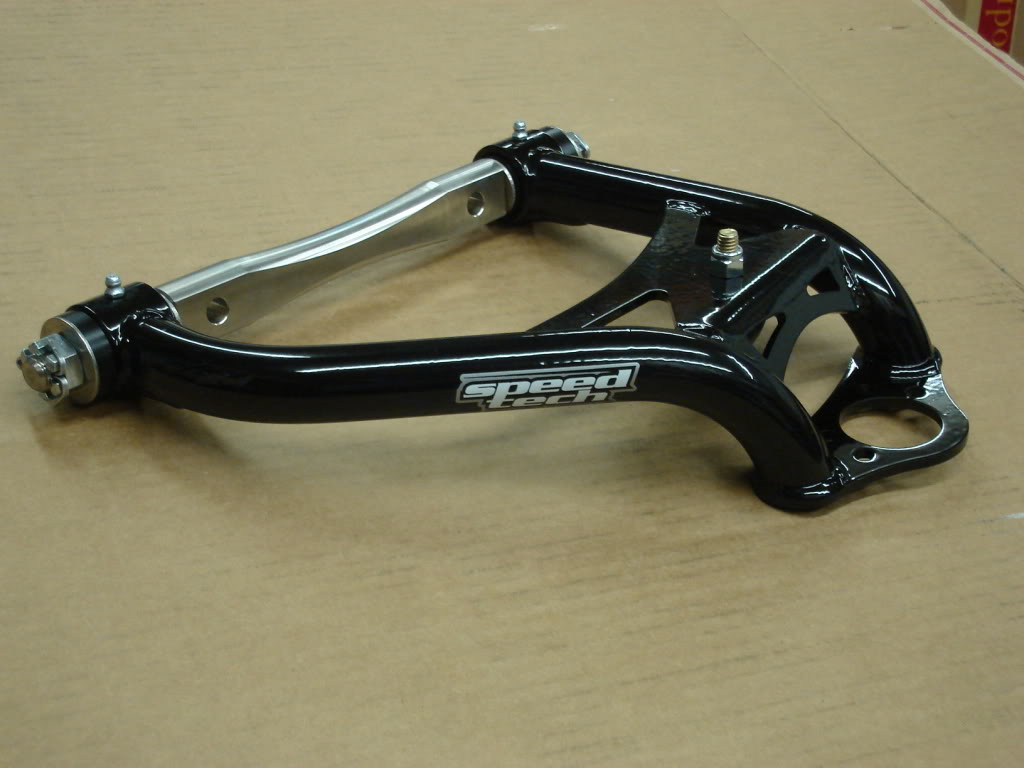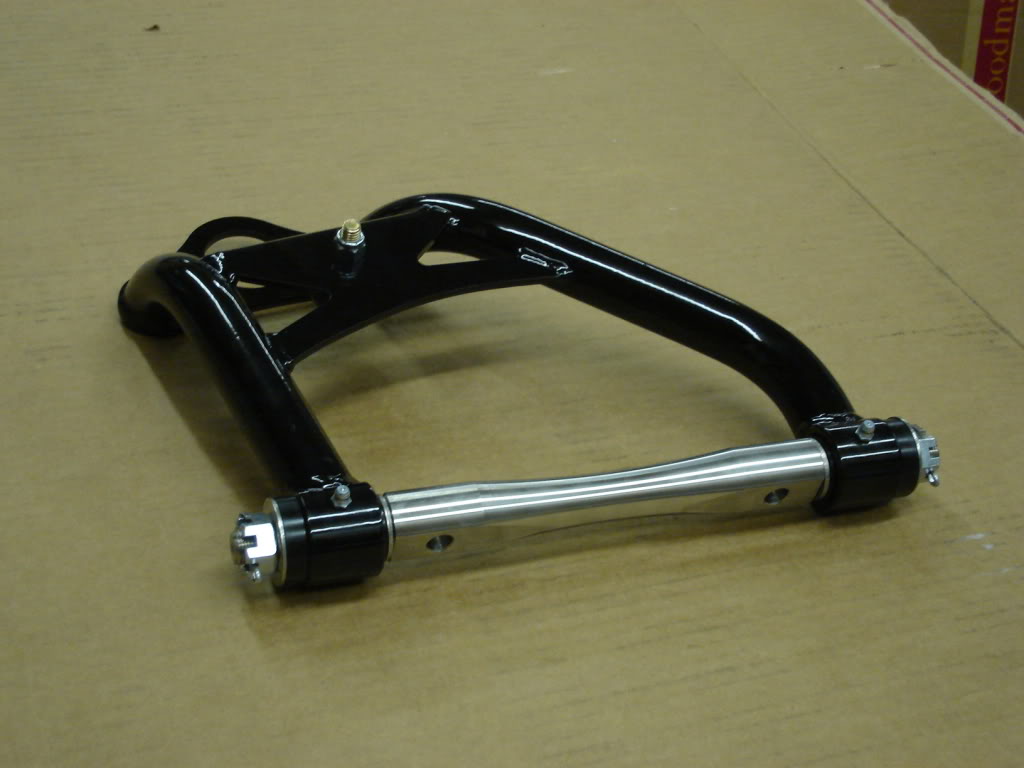 Tie rod sleeves and global west body bushings.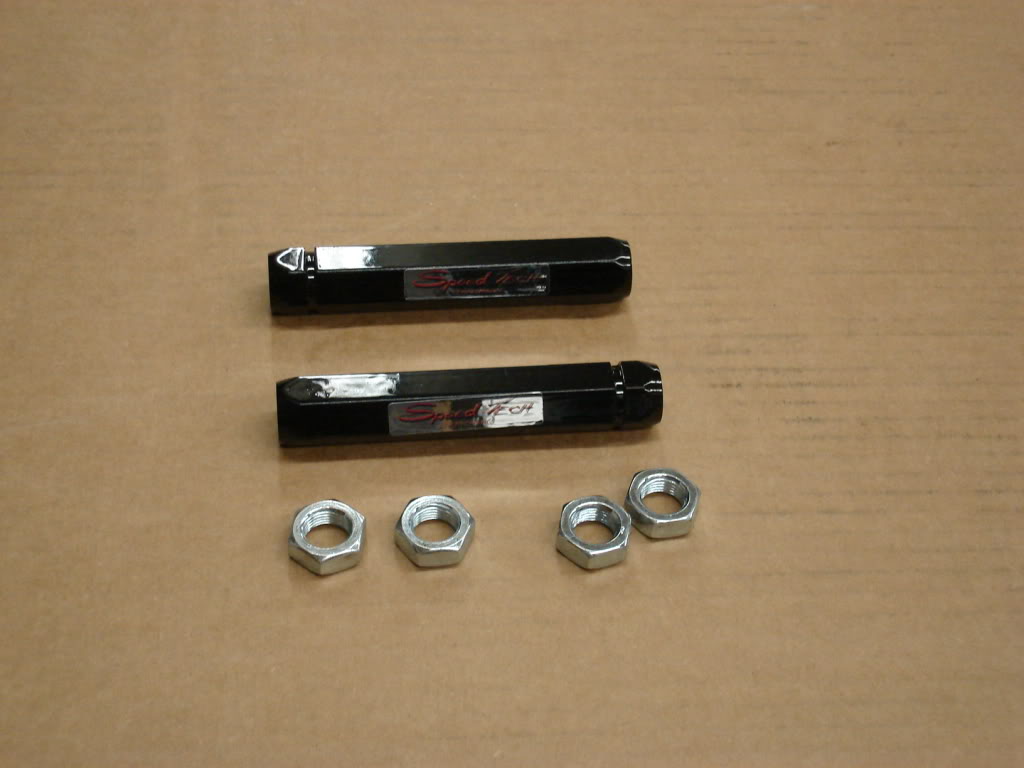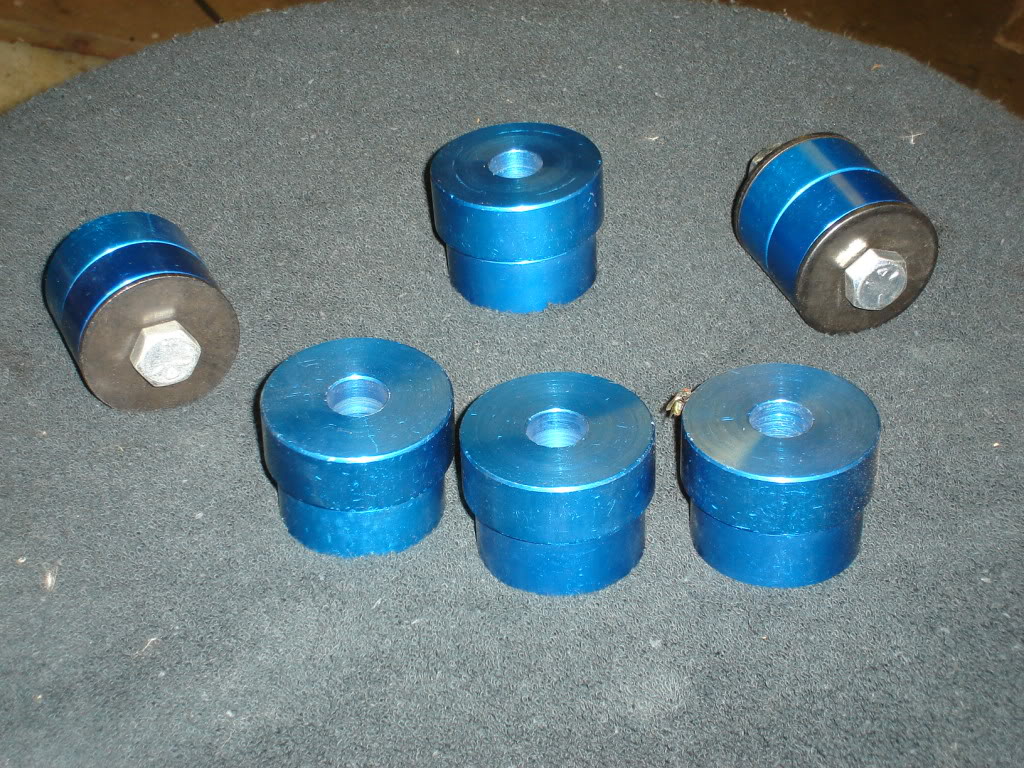 QA1 adjustable front coil over front shocks.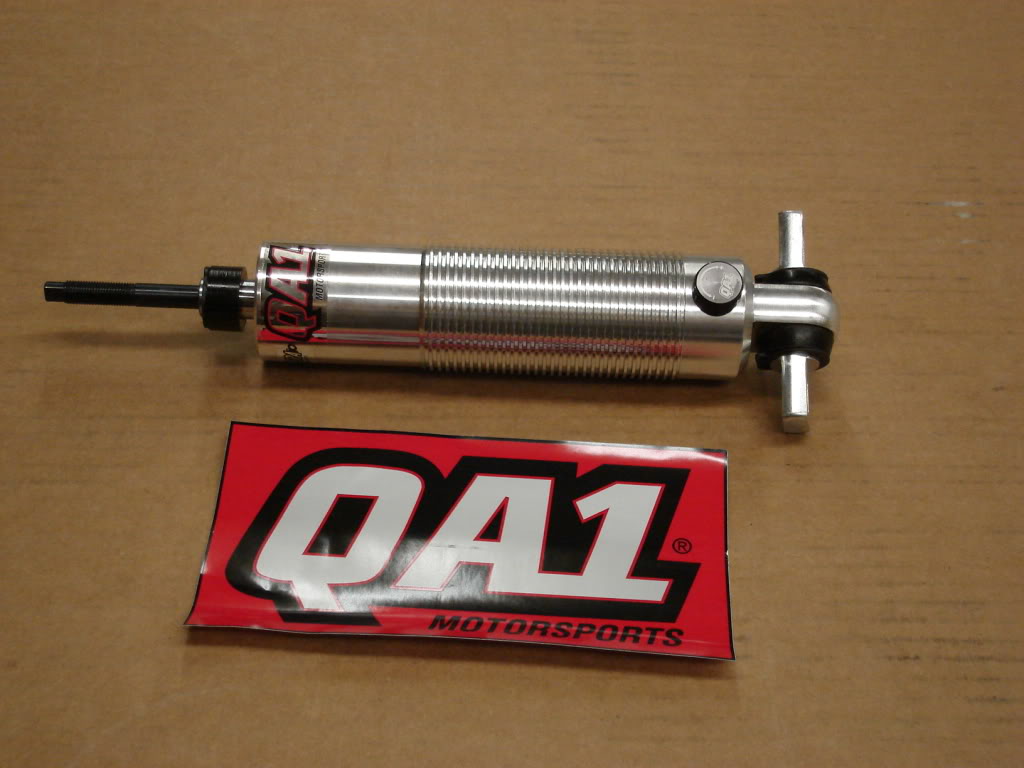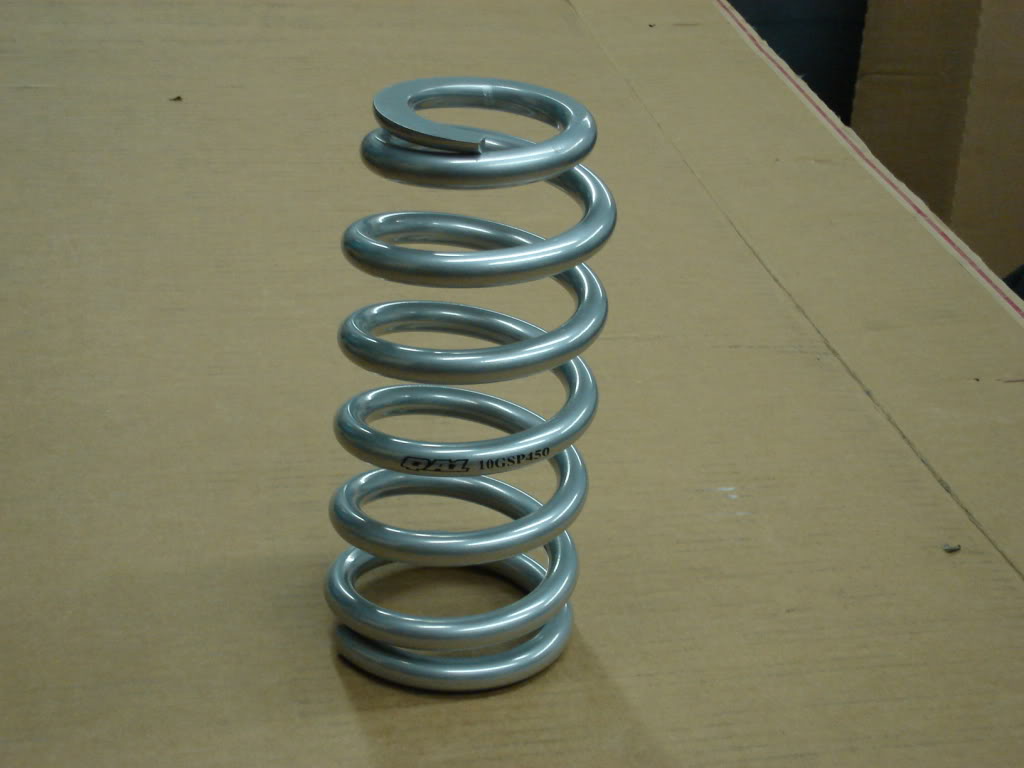 Pontiac long branch manifolds.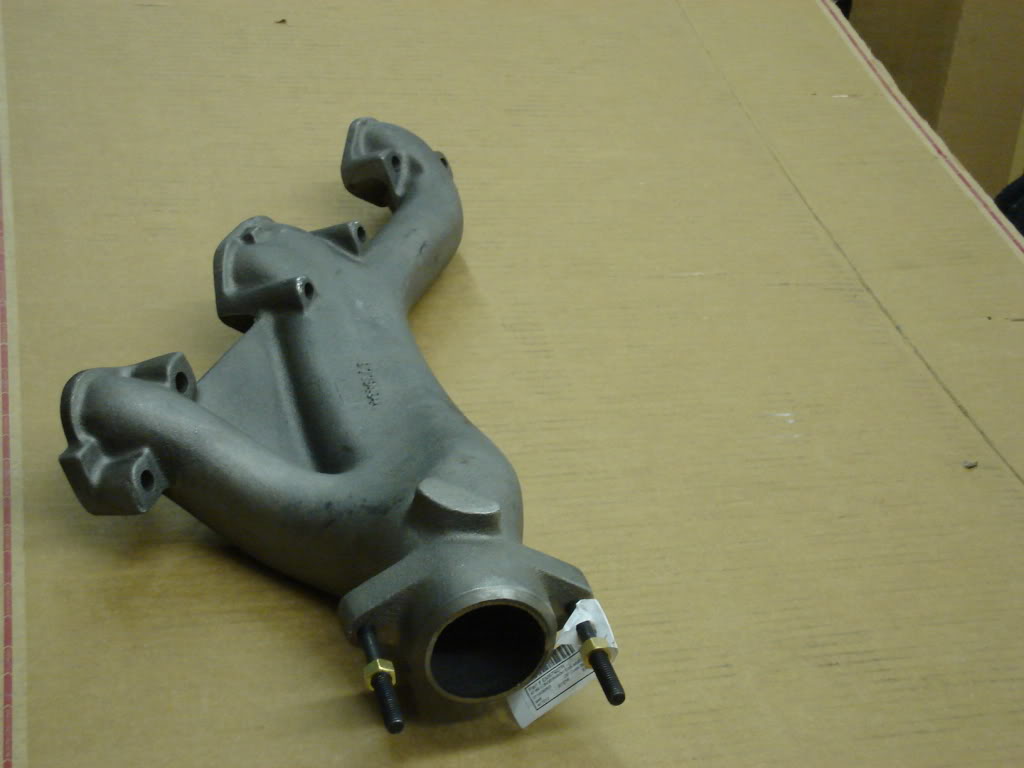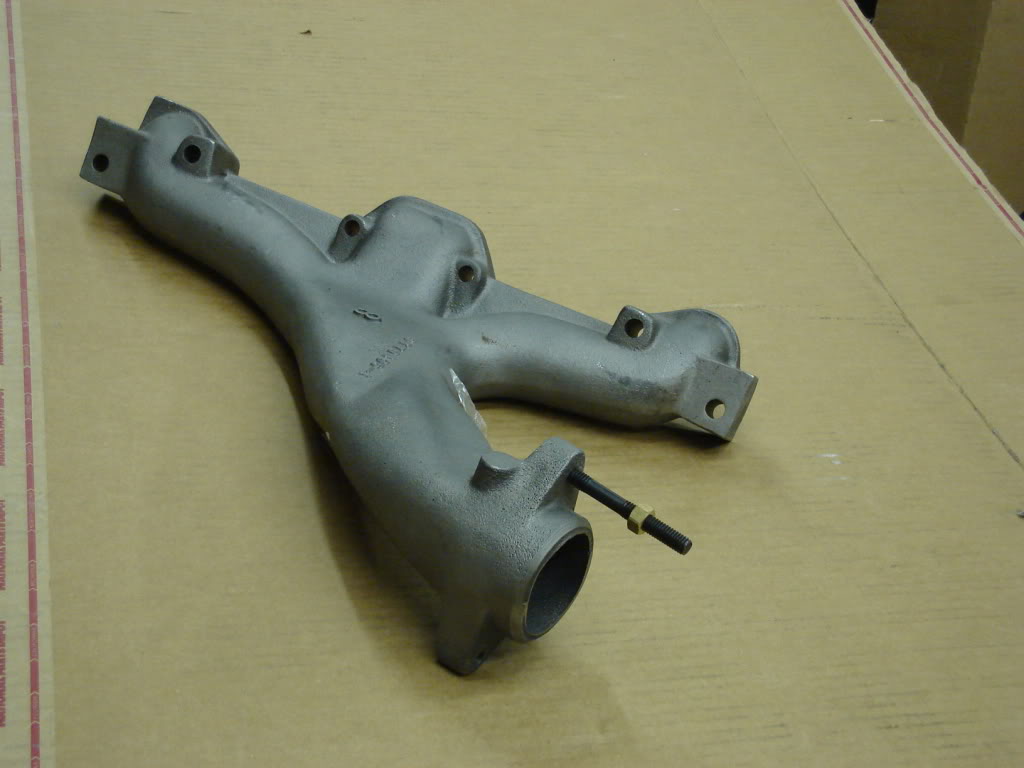 6-7-2009
Well, I started poking around on the rear quarters and sanded down the rear upper body filler panel. All of them need to be replaced. I'm also going to replace the outer inner rear wheel wells and the trunk drop offs. This will be my first attempt at something this big.
6-10-2009
Subframe getting stripped down for welding,sandblasting, and powder coating.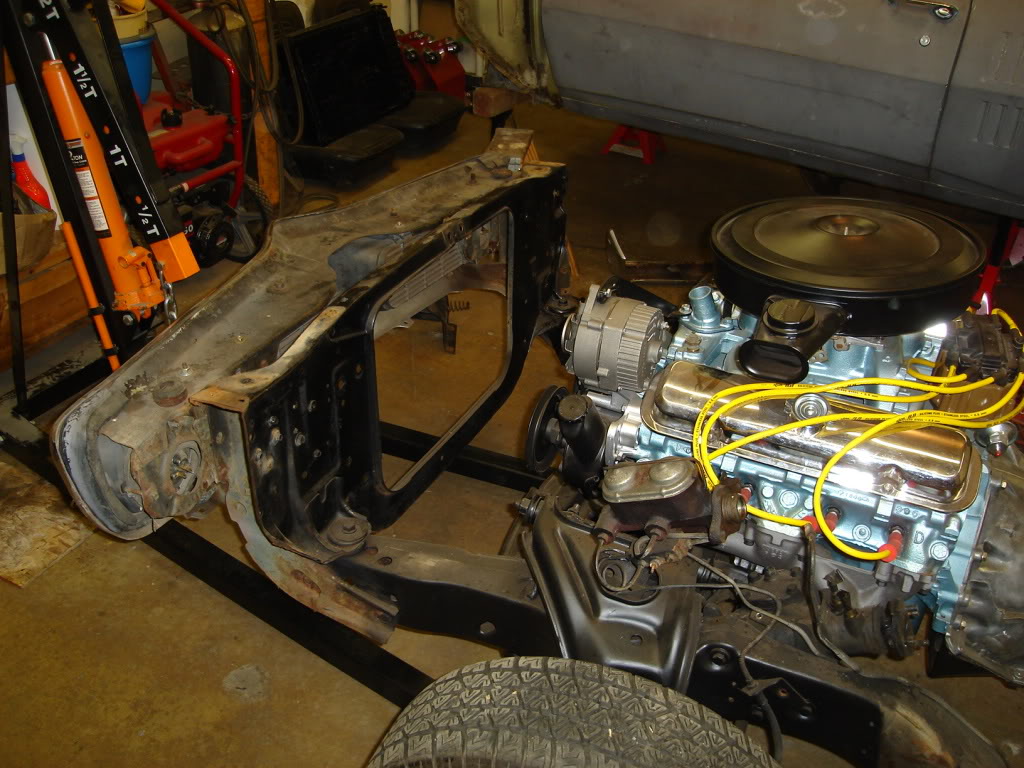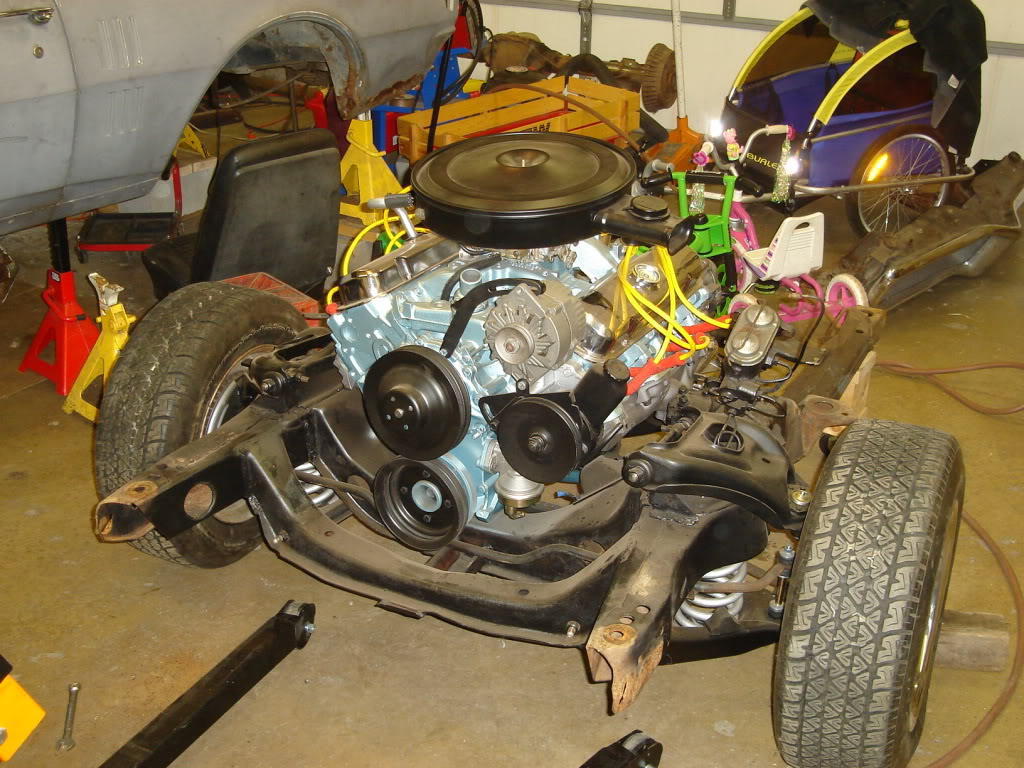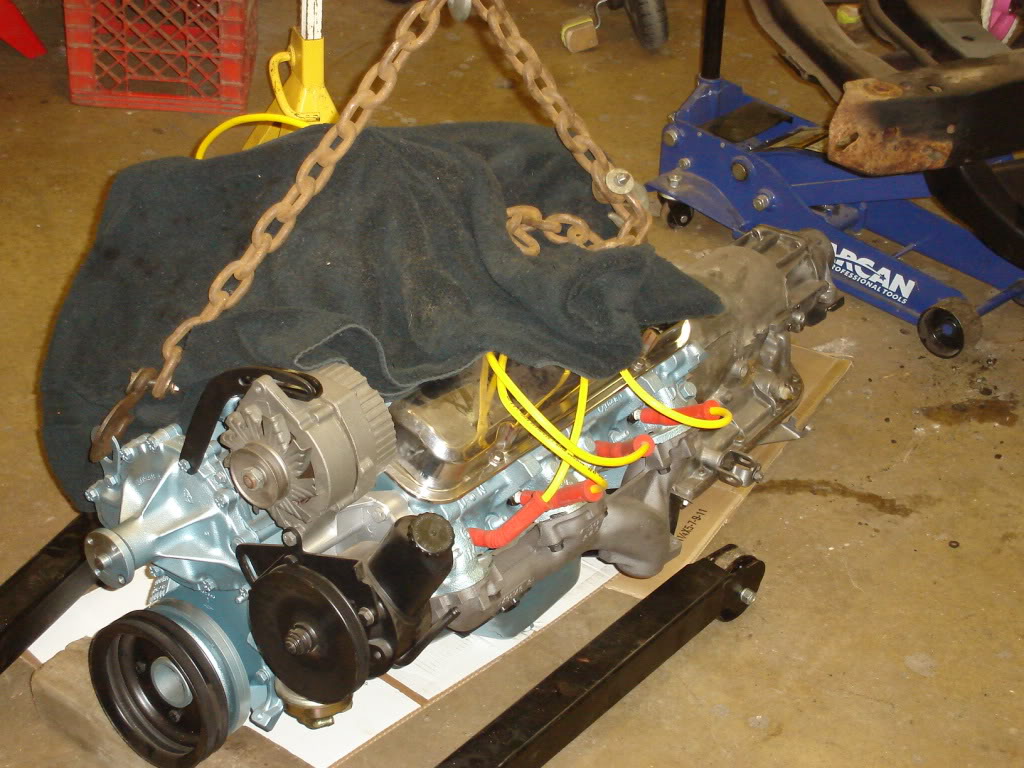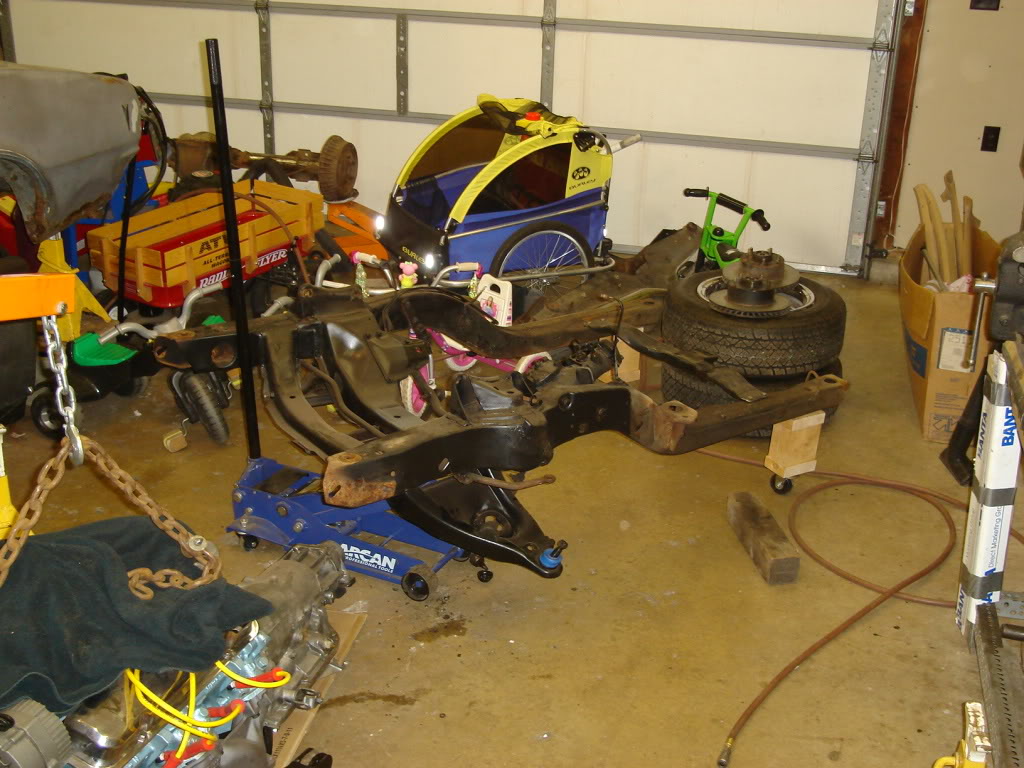 I had all of the new sheet metal for the drivers side..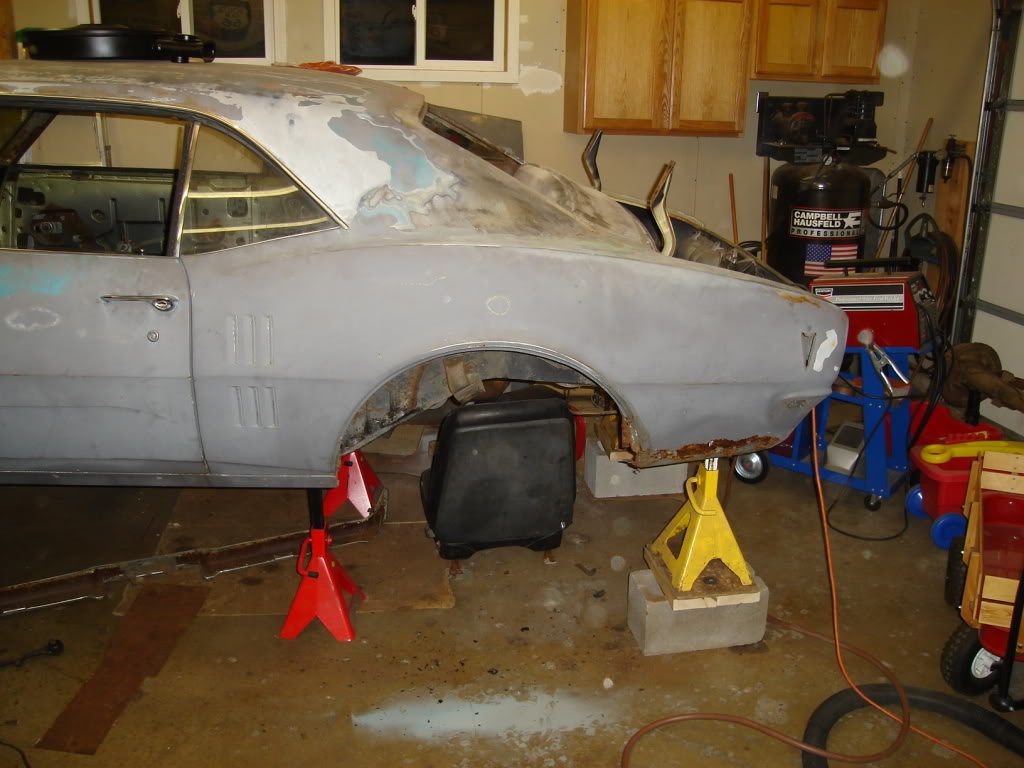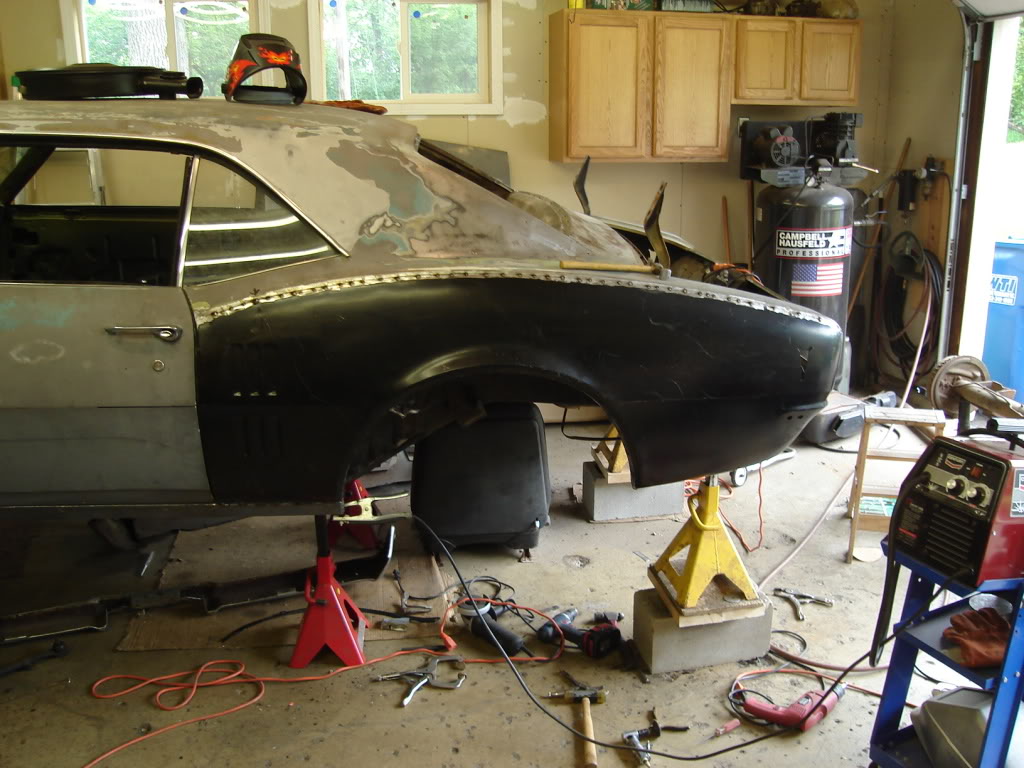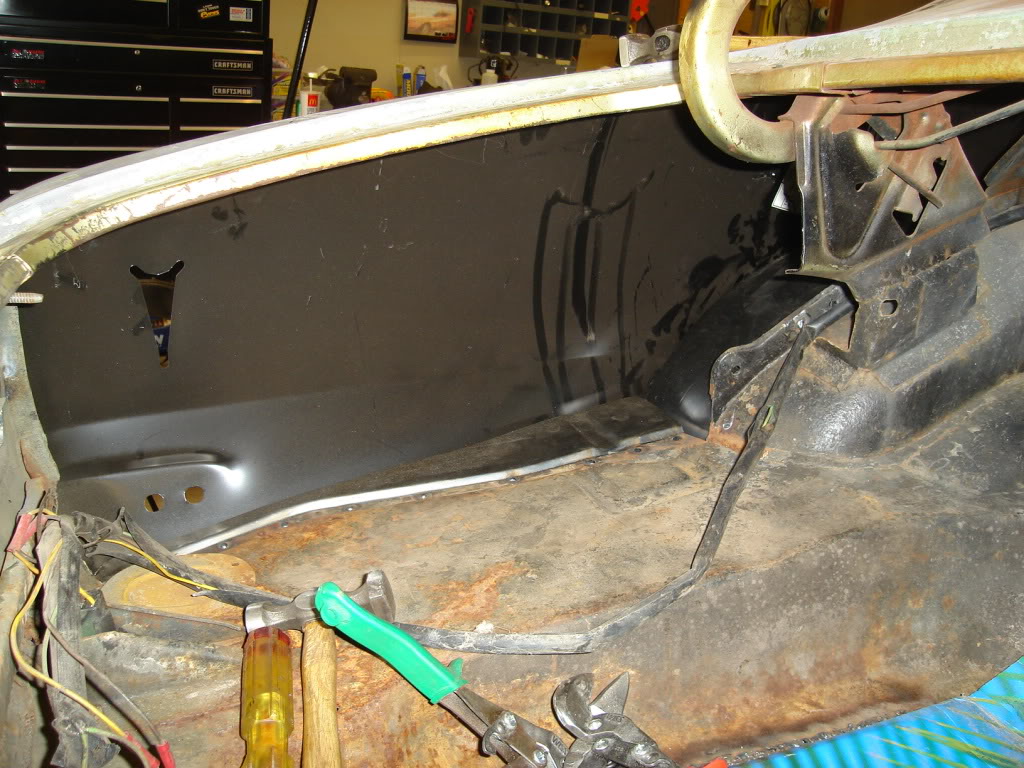 And one more box came today. Alston sub frame connectors.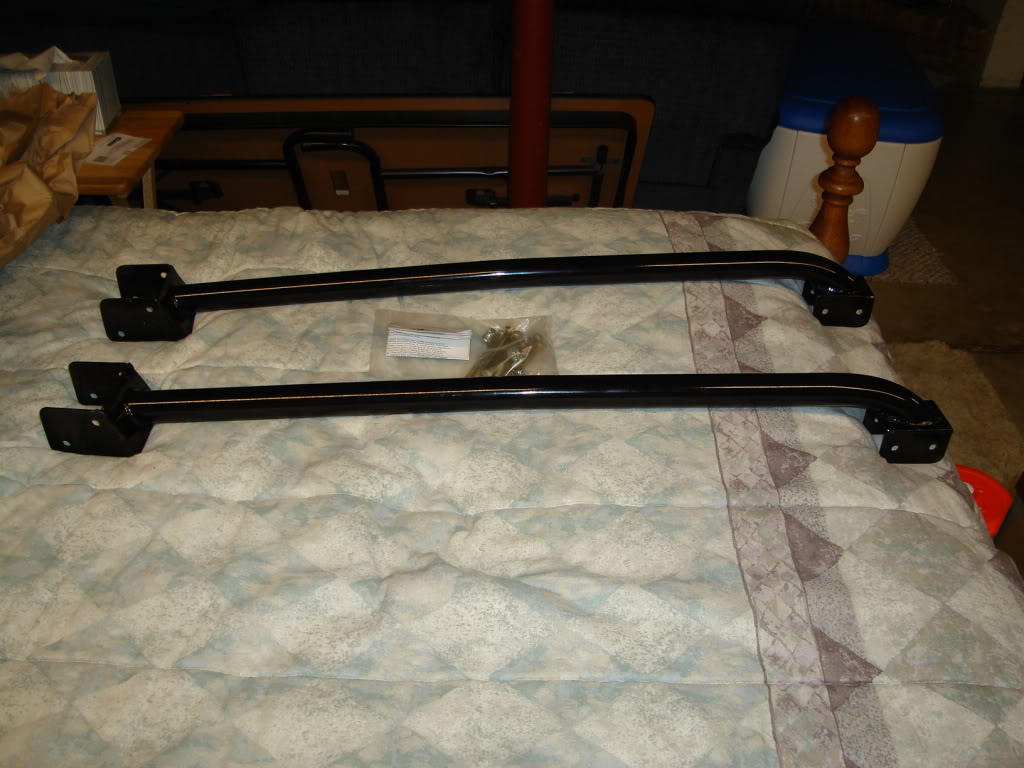 7-8-2009
It's been a long time since I posted any progress. Heres a few pics of the passenger side.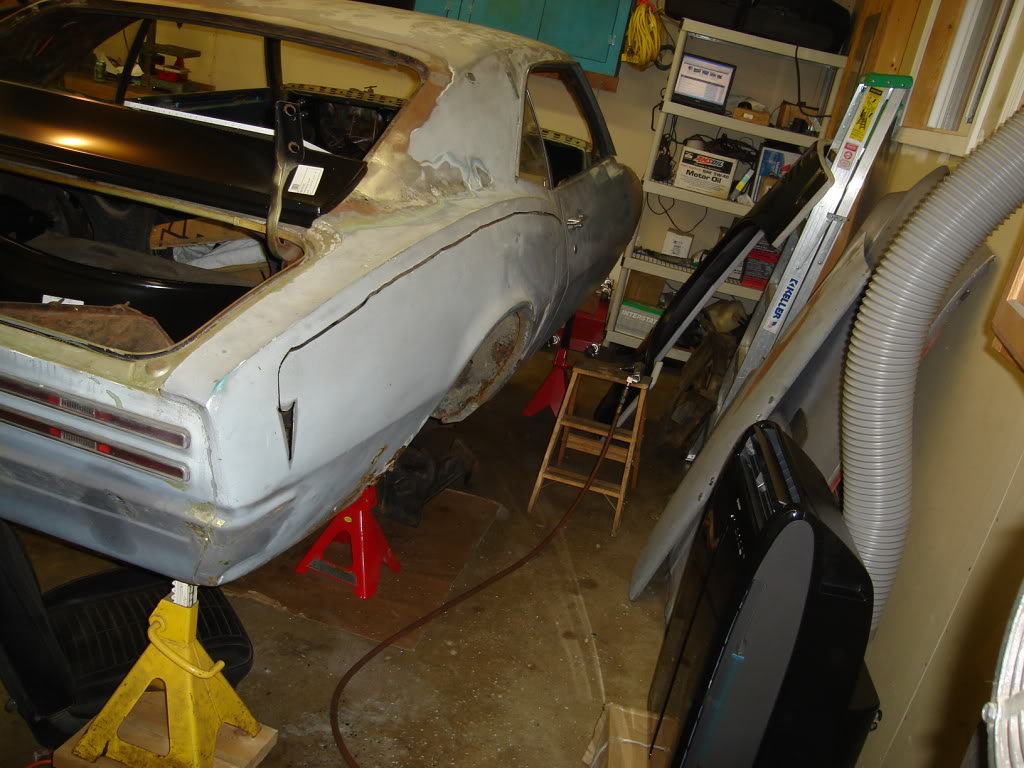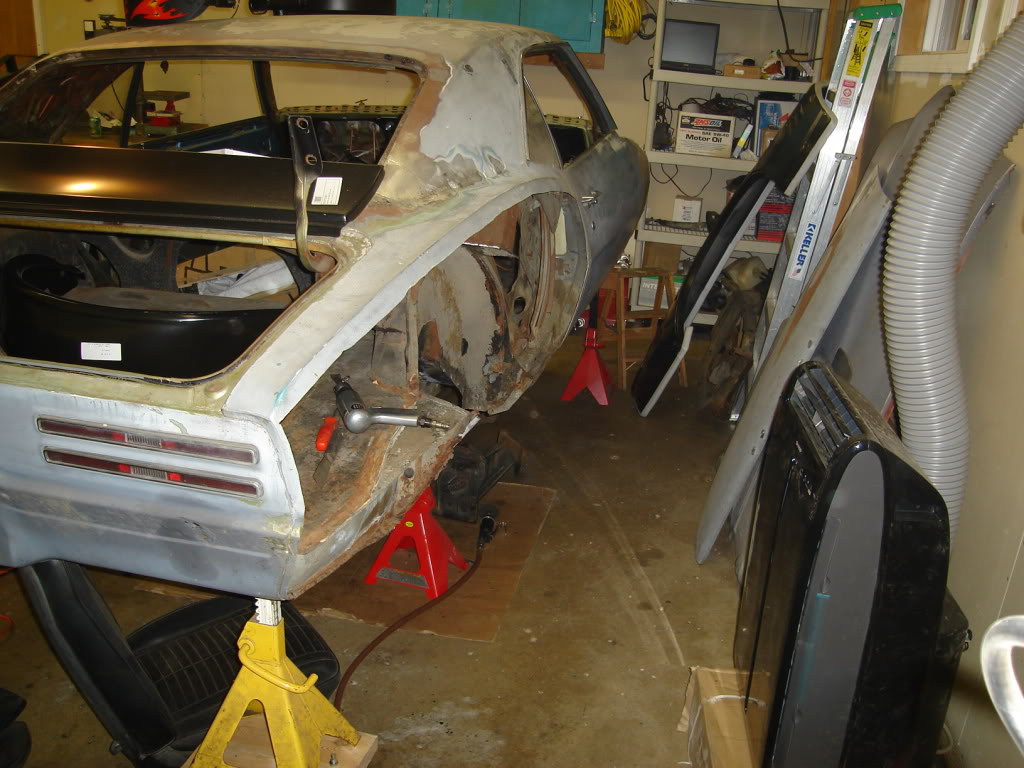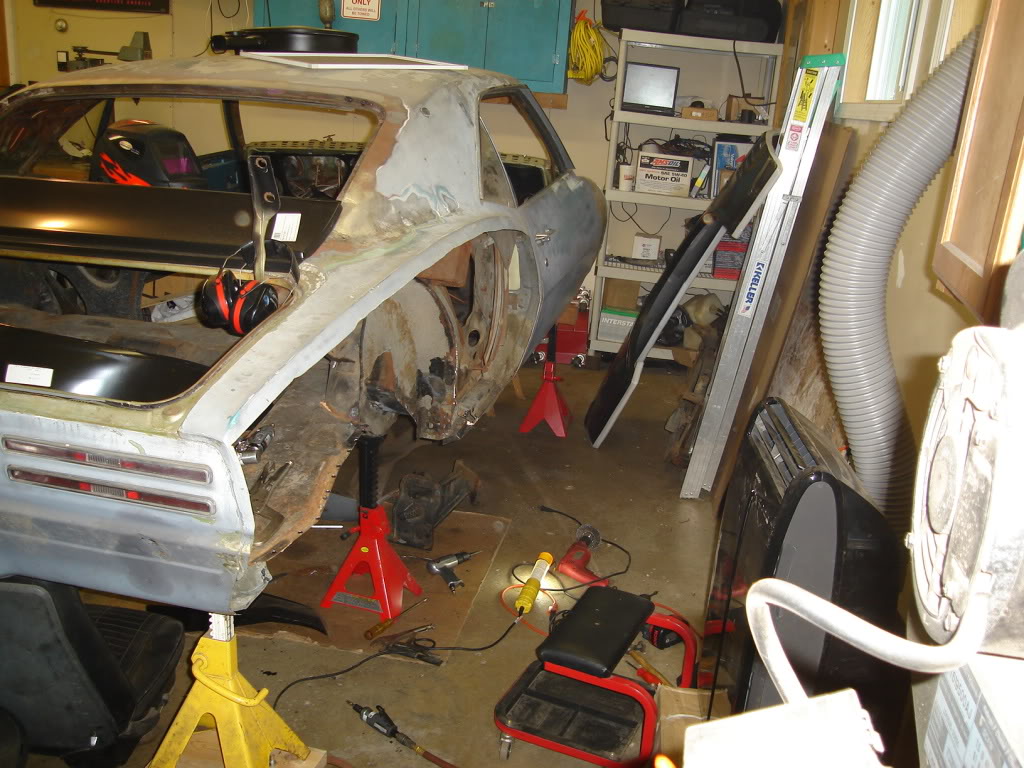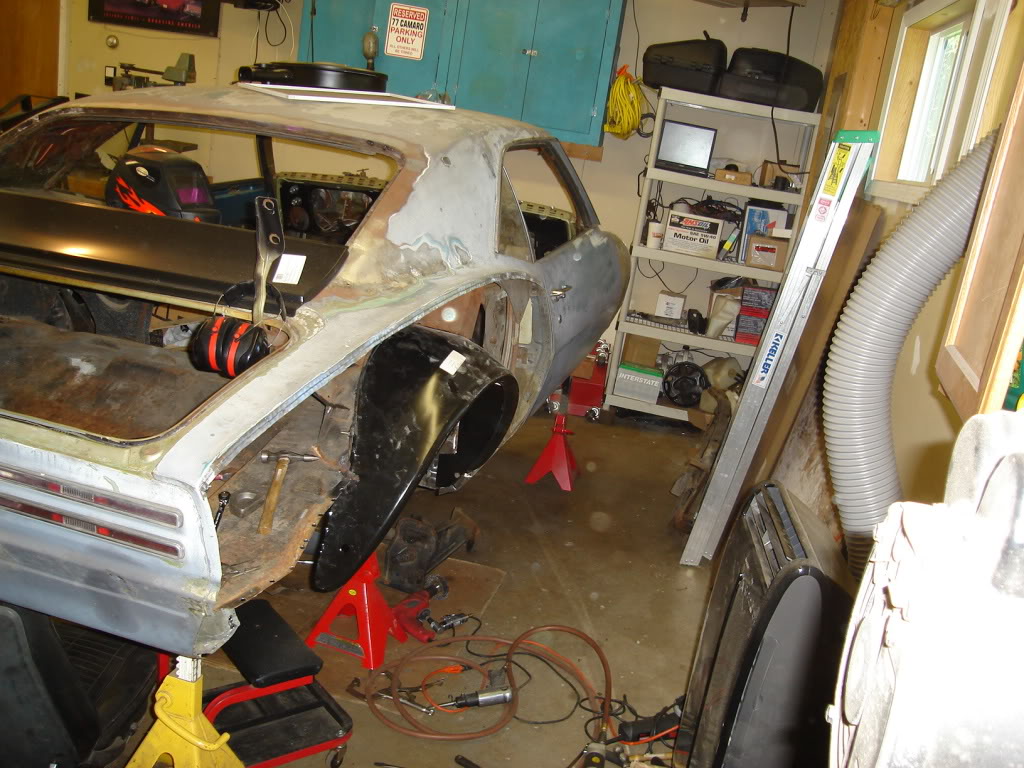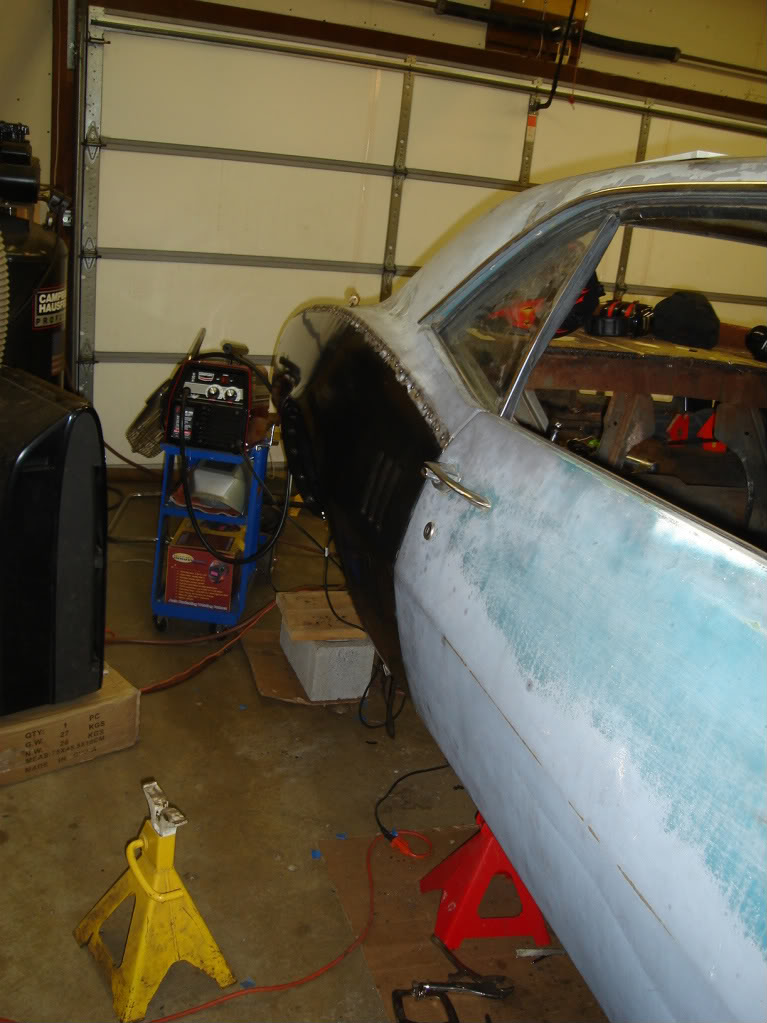 I'm going to smooth out the body lines or seams on the rear valance, lower rear rockers, and the filler panel. I want to have a better flowing look. I also have the sub frame all welded up solid and I plan on doing the guldstrand mod sometime this week. I have at least a weeks worth of welding and grinding on the rear of the car.
7-19-2009
I spent about six hours out in the garage yesterday I got it all cleaned up and put the car dollys on (sp) to help move it around. I bolted the sub frame back on to make sure that the new floor pan that I put in still fit correctly. I was worried about the inside cage nuts that attach to the rear most subframe bushing. The floor did not have any wiggle room when I put it in and the rear cage nuts were not exactly where I wanted them. But I figured I could still move them if I had to as long as I did not weld in the seat platforms.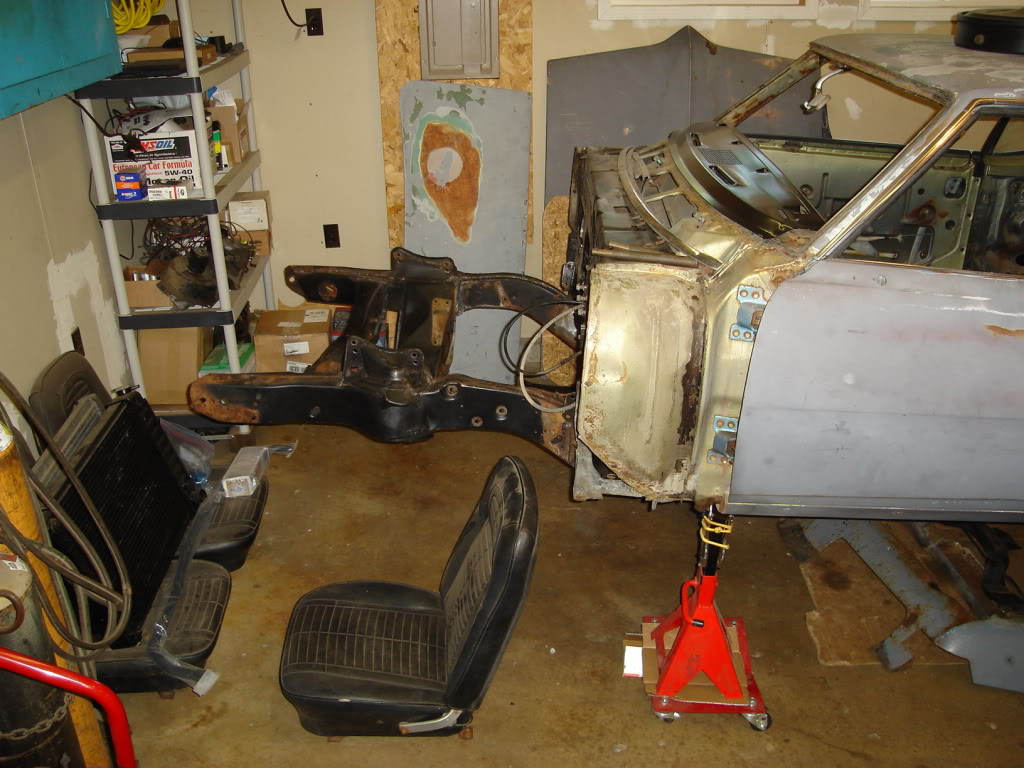 I lined up the alignement holes and everything fit just fine.
I also drilled the new holes for the Guldstrand mod. I drilled the frame and control arms for 1/2" bolts. I think the stock ones were 7/16.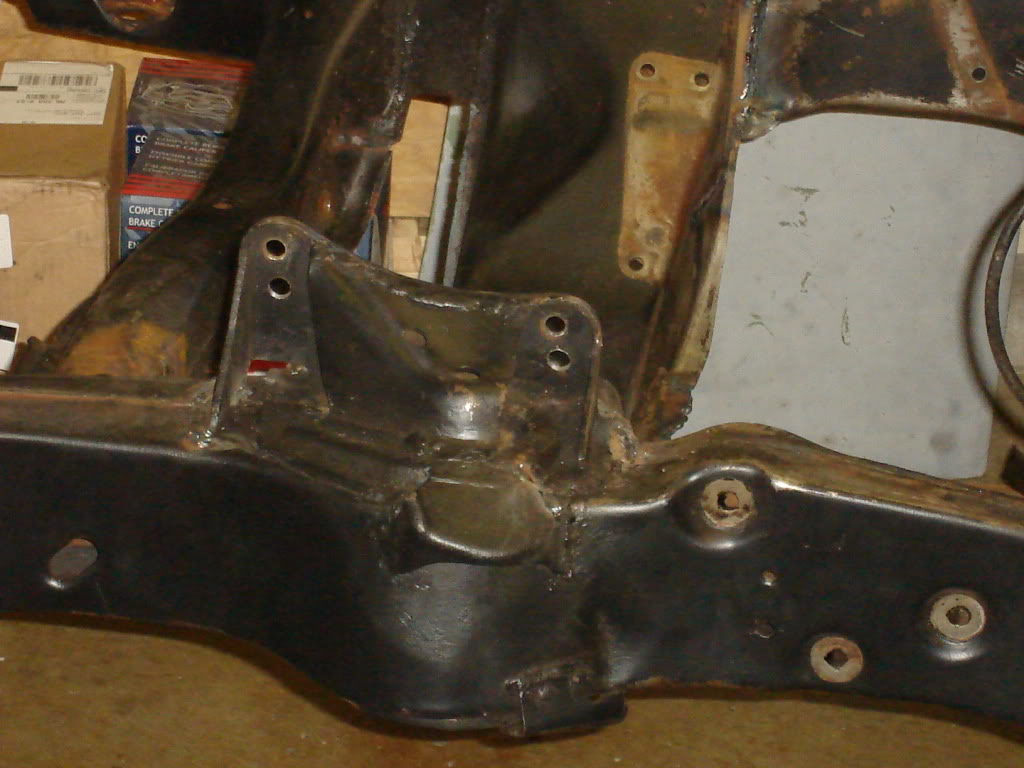 7-24-2009
I spent most of the nights out in the garage this week and got a lot done. I did a lot of welding and grinding.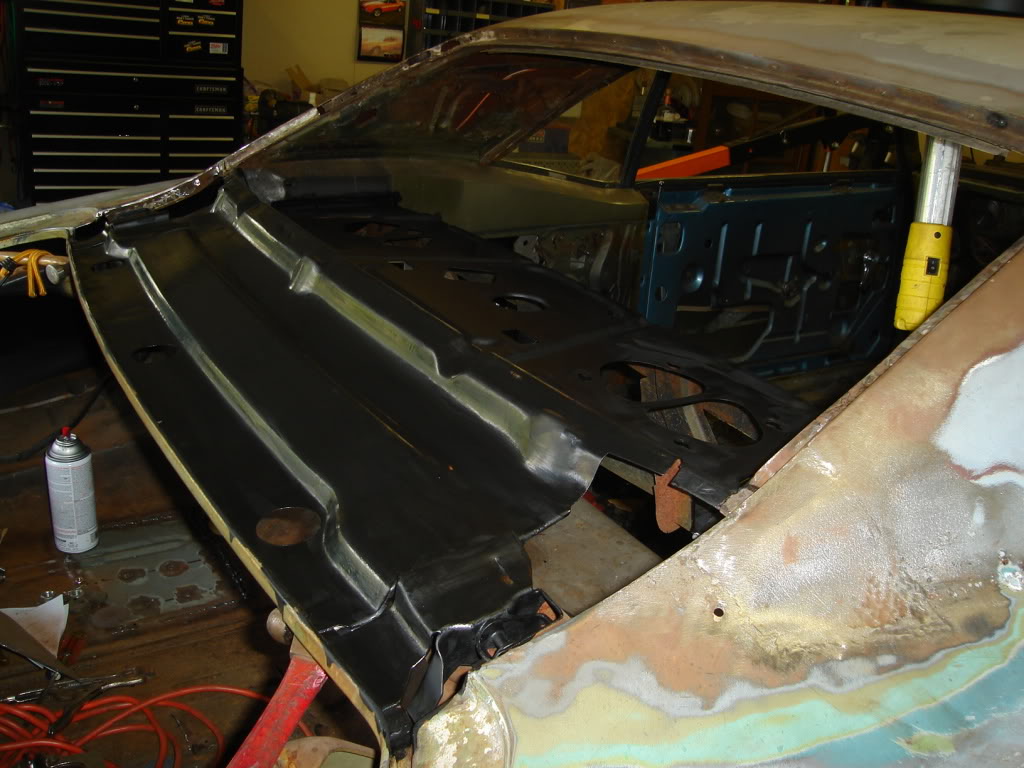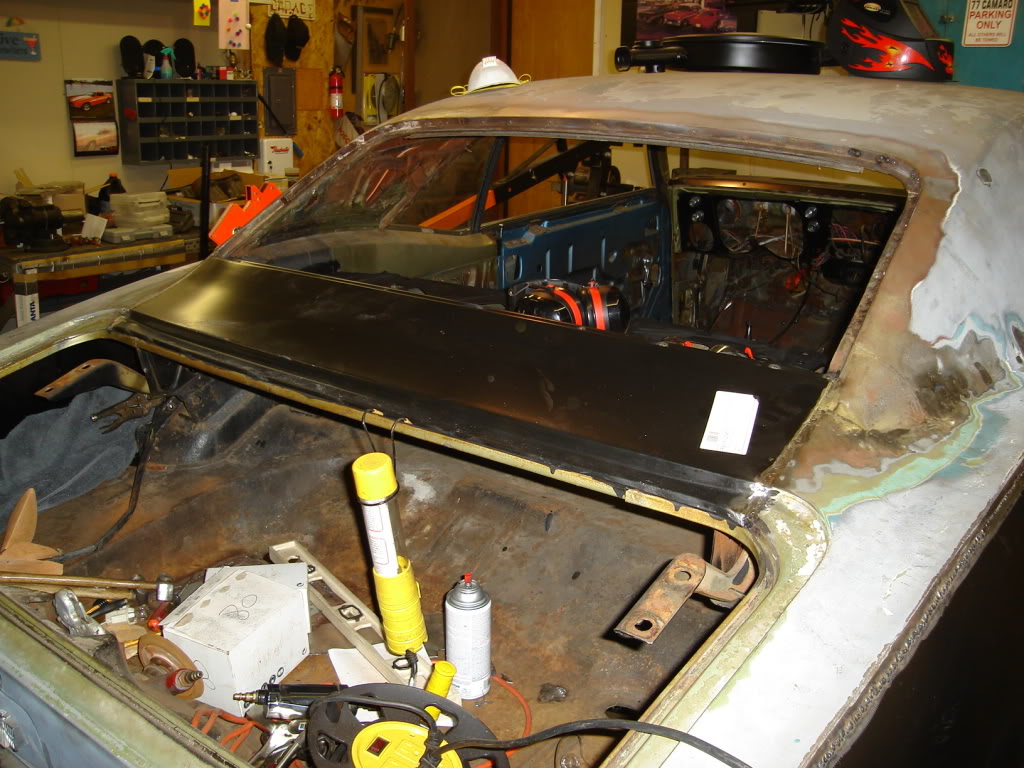 The first time that the car has seen sunlight since last year.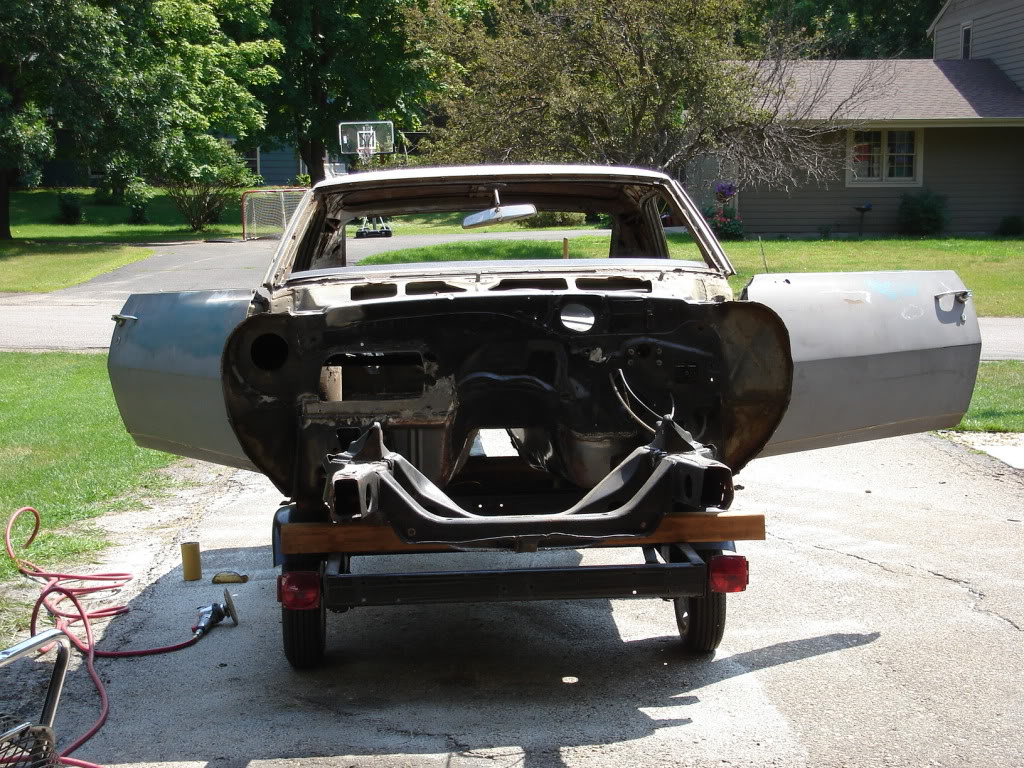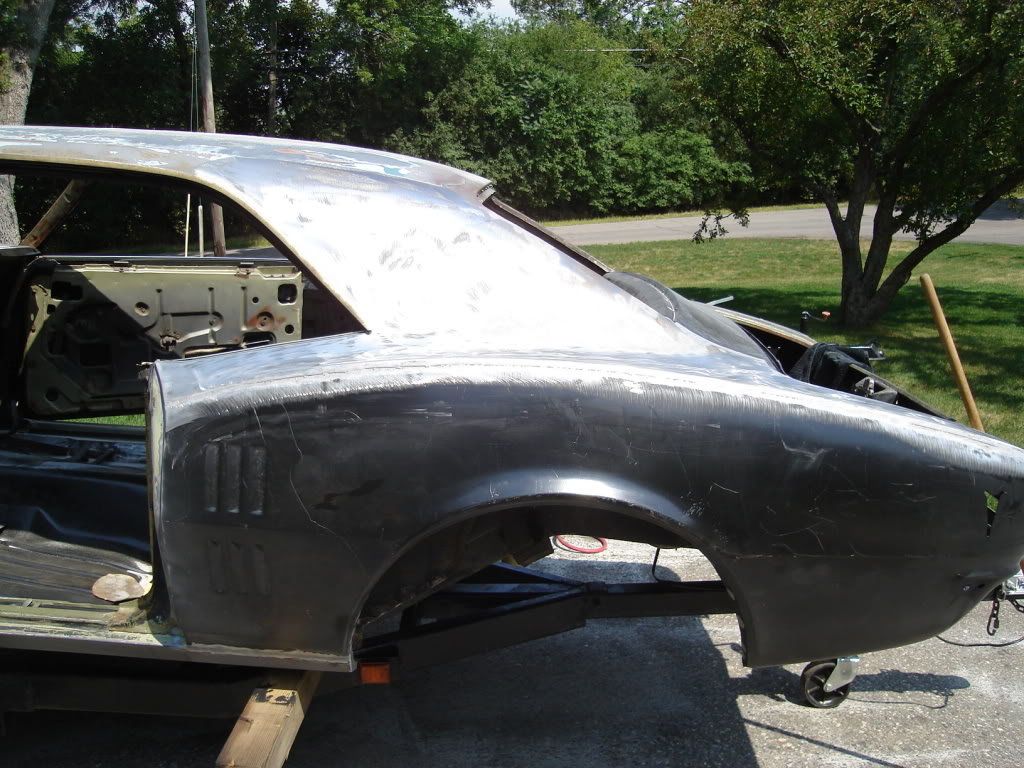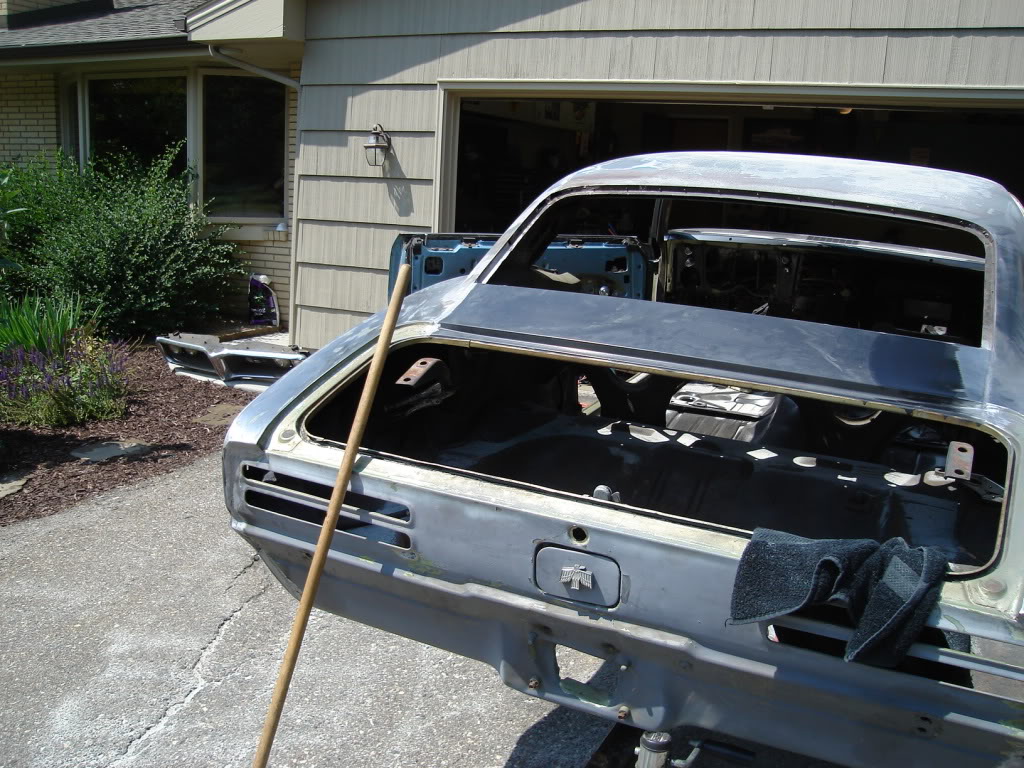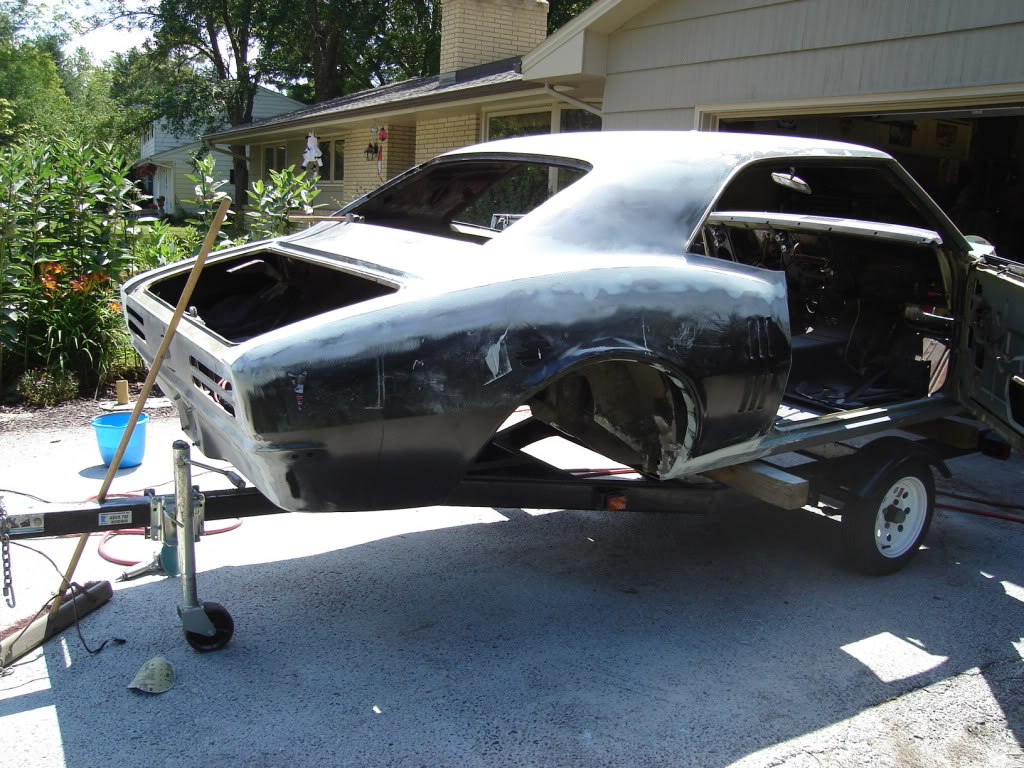 I finally have primer on all of my body work. I smoothed all of the body lines on the tail panel,filler panel, and lower rockers.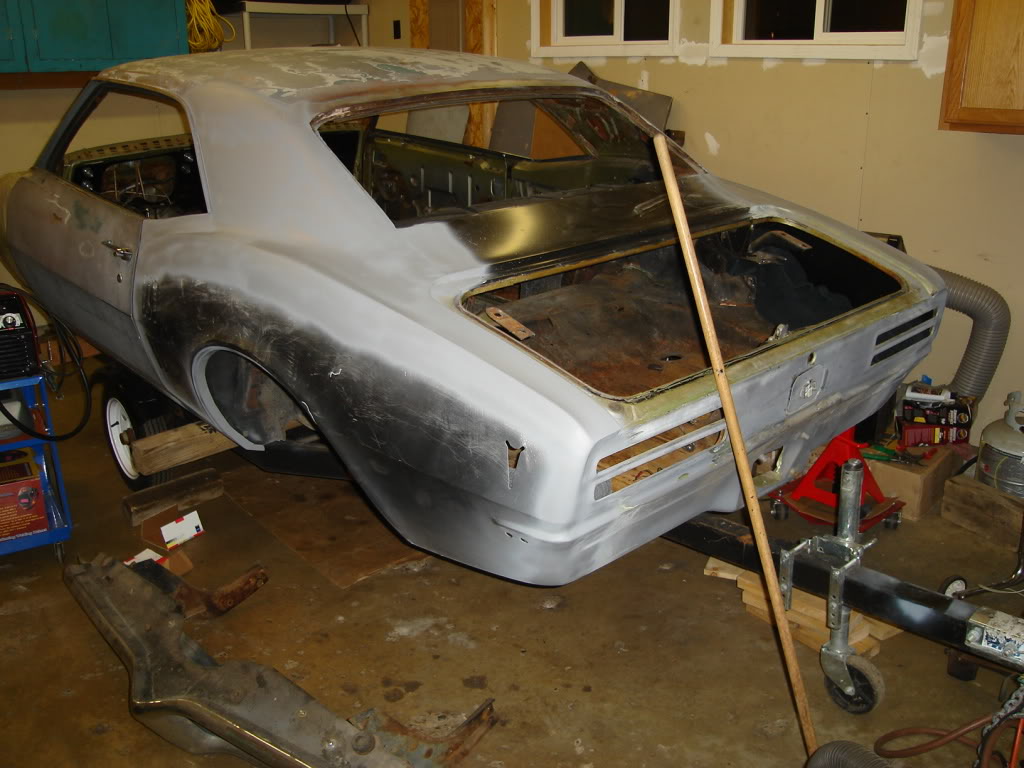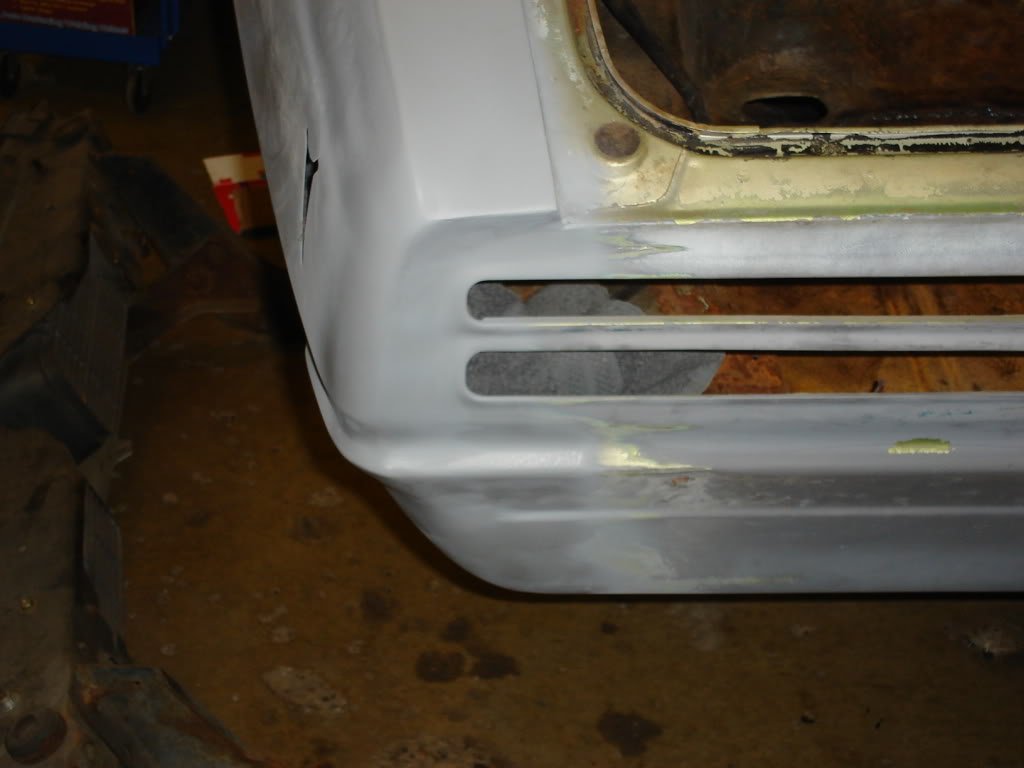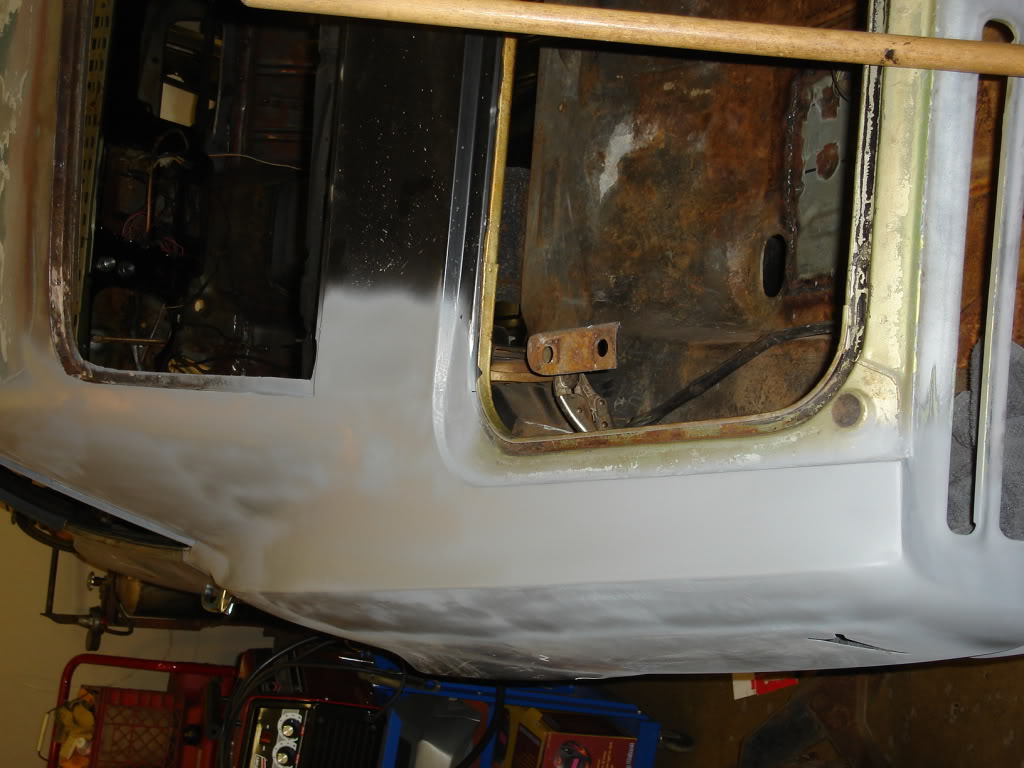 8-5-2009
I will try and post some more pics tonight. There not real picture worthy but I cut all the holes needed for the floor shifter and console. I didn't enjoy cutting holes in my newly installed floor. I also got the inside rockers painted and seam sealed. And one seat platform welded into place on the drivers side.
8-30-2009
Couple of pics with the car up in the air. Now it's time to get to work.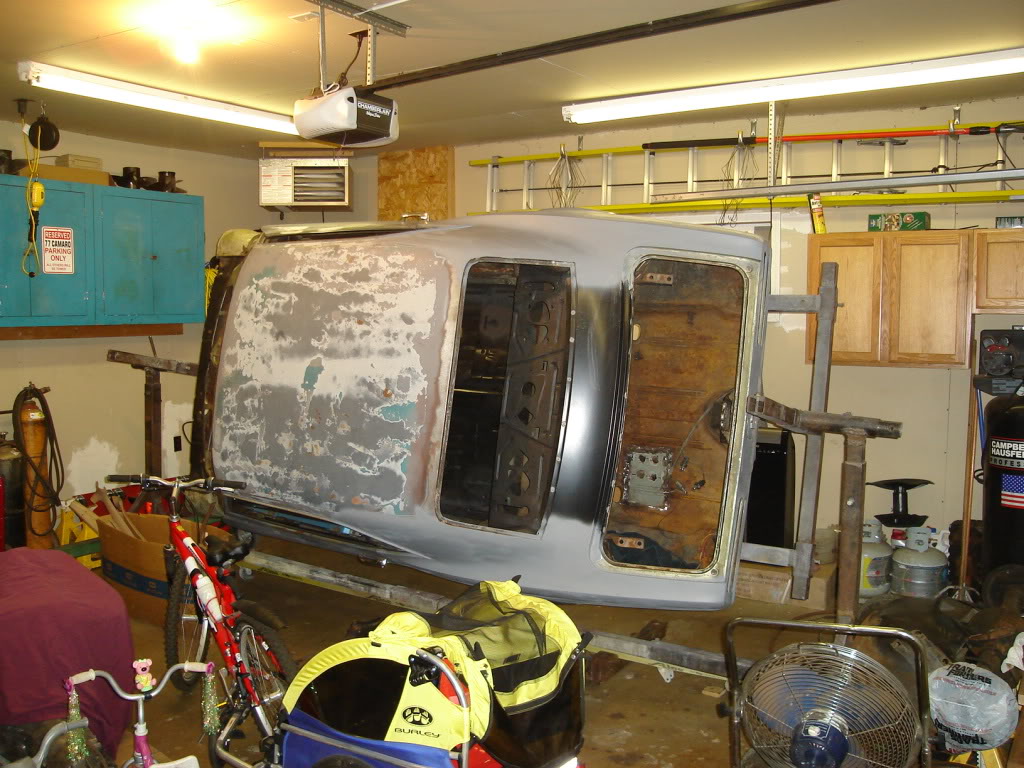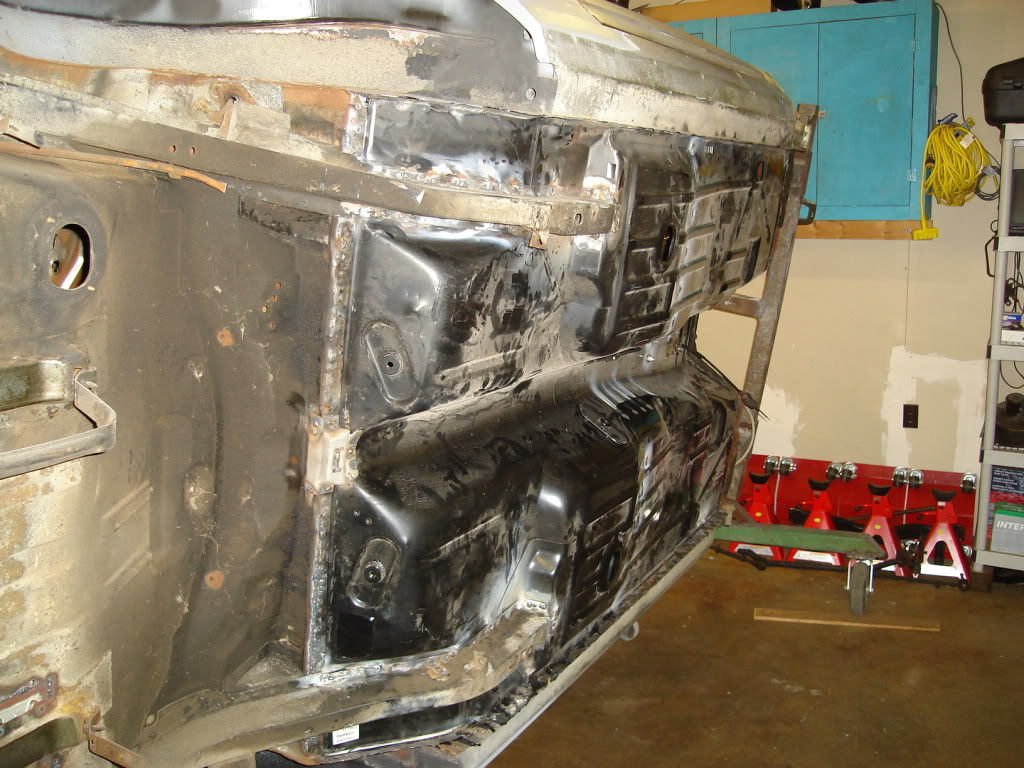 Couple of pics with the dash removed and the seat platforms welded in.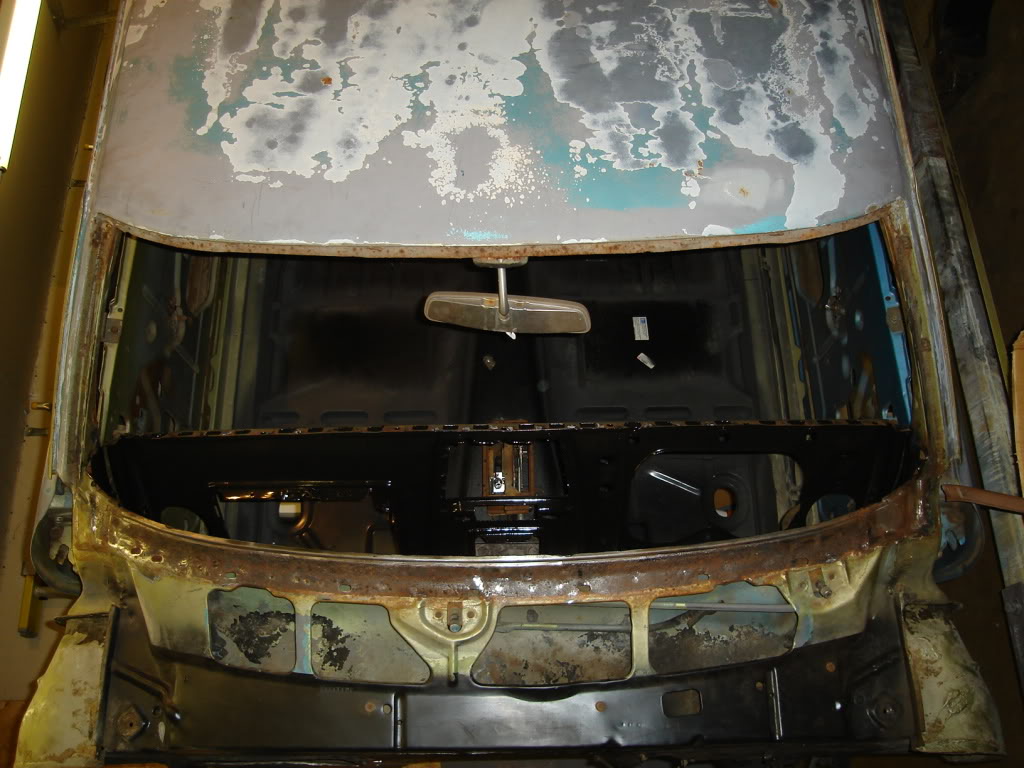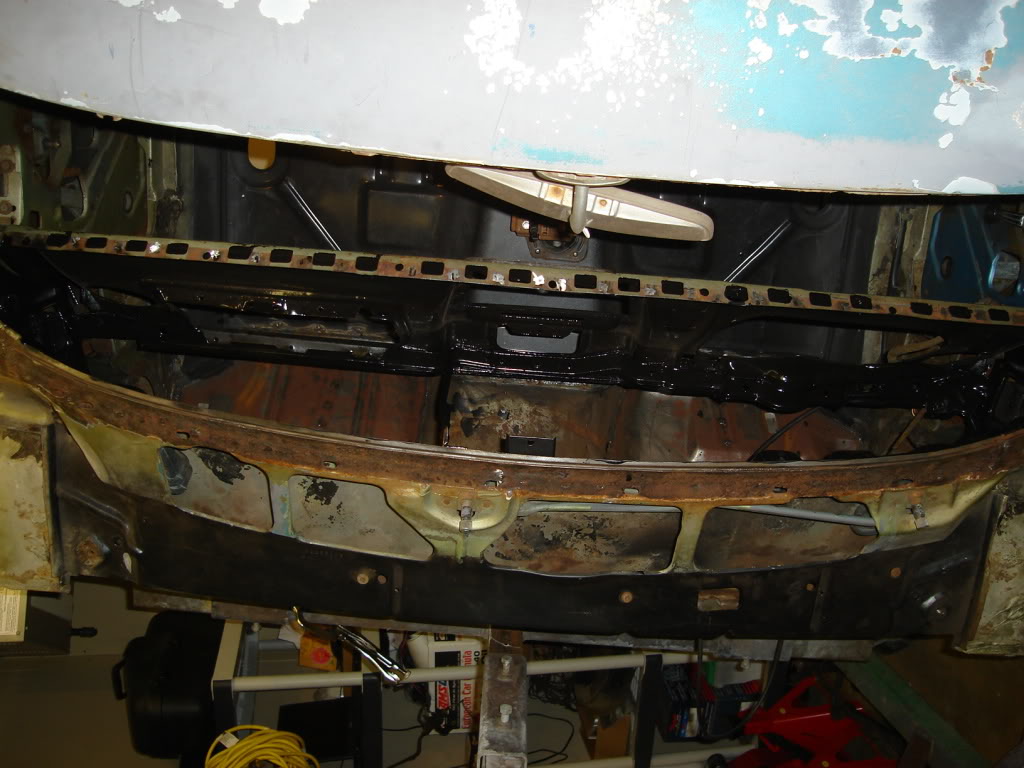 9-14-2009
Started working on the floor. The floor pan was scuffed and aprayed with DP90 about two weeks ago. I sandblasted for about six hours total on the back half. The inside of the trunk needed a good blasting. I found a few pin holes but they were not to hard to weld back up solid. The pictures of the trunk make it look a lot worse that it actually is. I got both of the wheel wells done up to the frame rails. Most of the dirty work is done on the bottom side.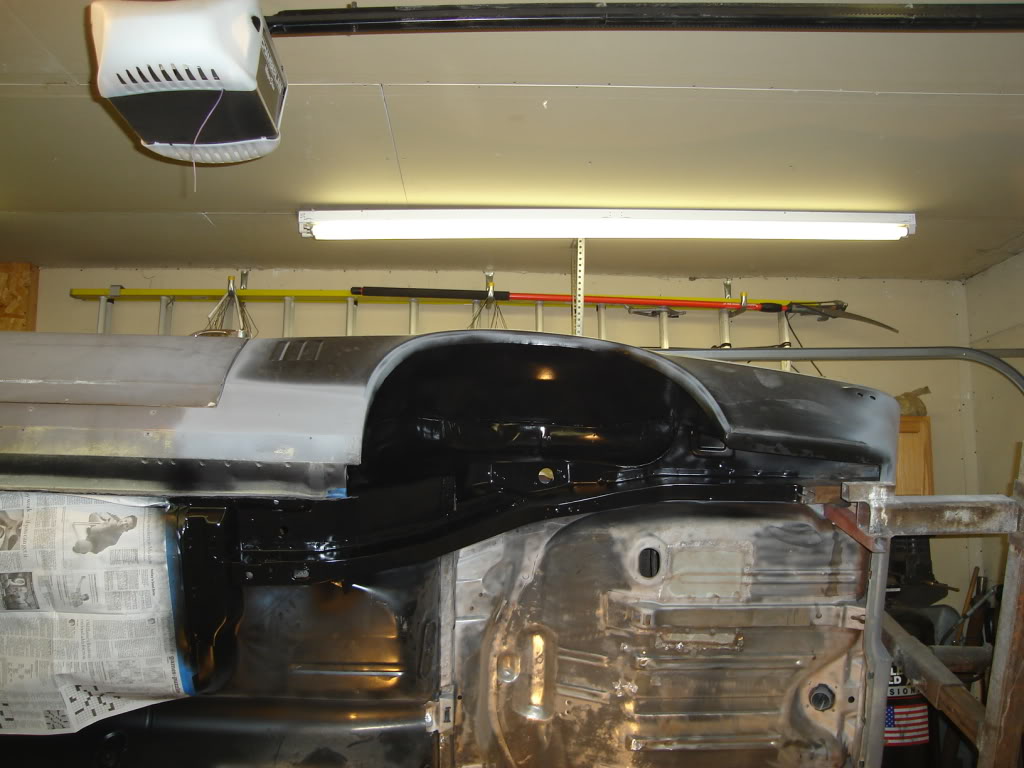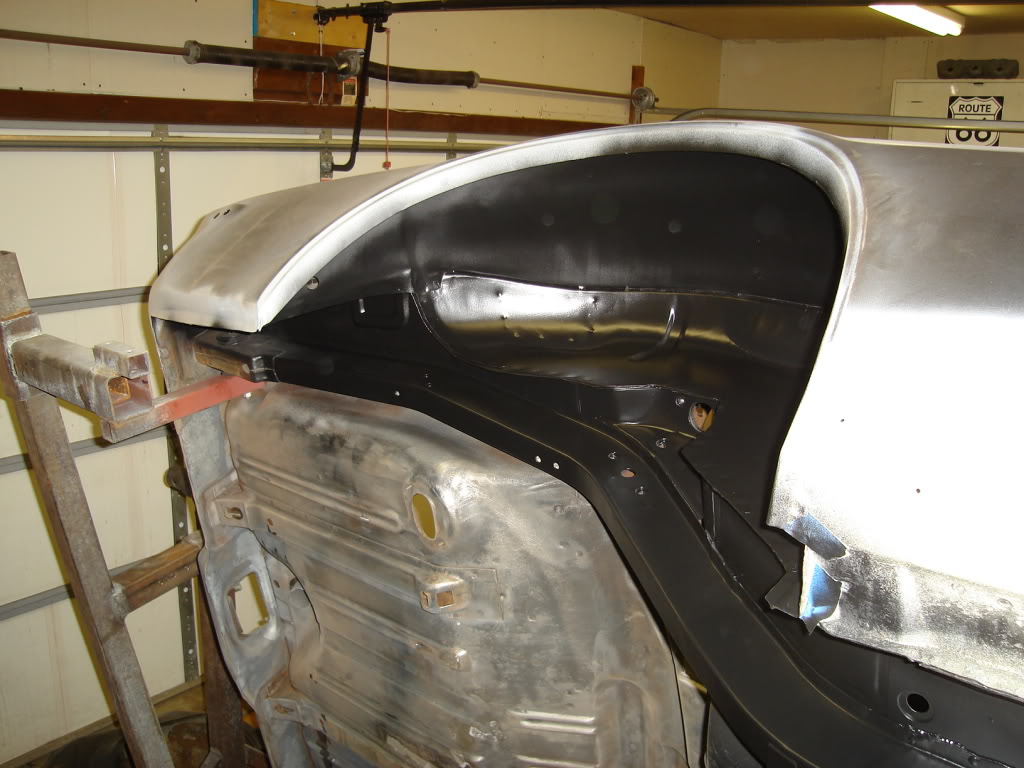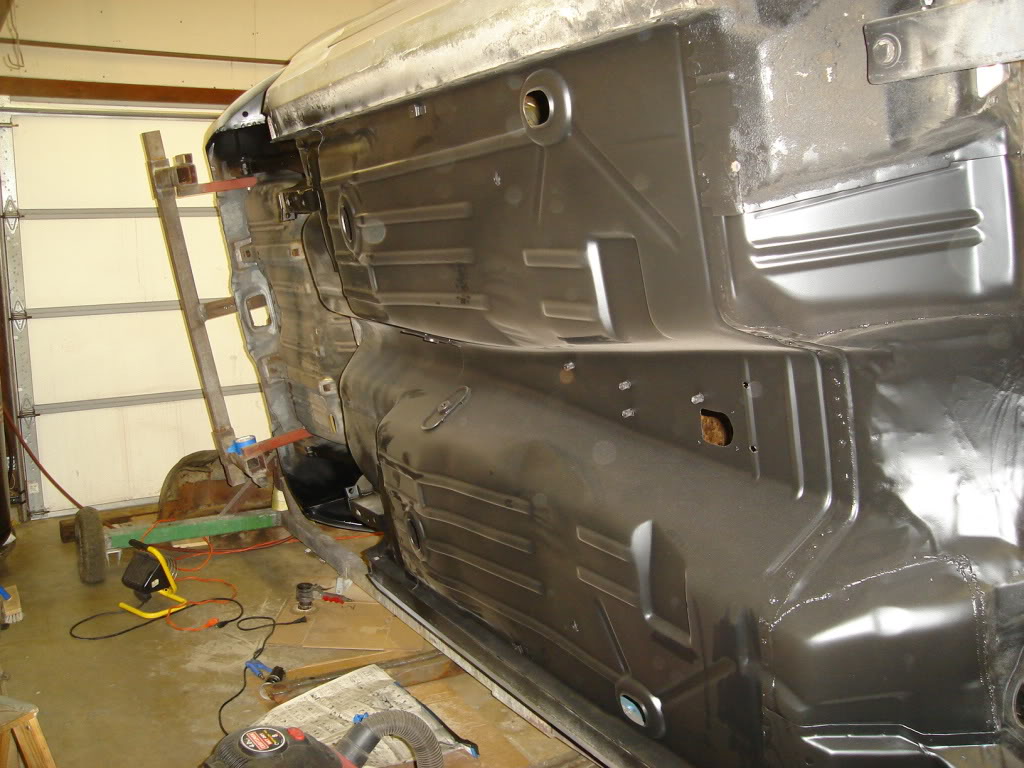 Once the trunk is done I plan on tackling the front firewall. I spayed primer over some of the new front sheetmetal but the welds still need to be ground down. I bought the plate for smoothing the firewall since I am going with vintage air. Still not sure how I plan installing that yet.
10-3-2009
Started working on the inside of the trunk again. I have around 15 hours into grinding down welds,sandblasting,acid etching, and general clean up of panels and old seam sealer. I have one patch welded in and a couple of pin holes that I welded close. I acid etched the inside of the trunk and put down two coats of POR15. I'm going to sand it all down with 400 and put two coats of Lizard skin down.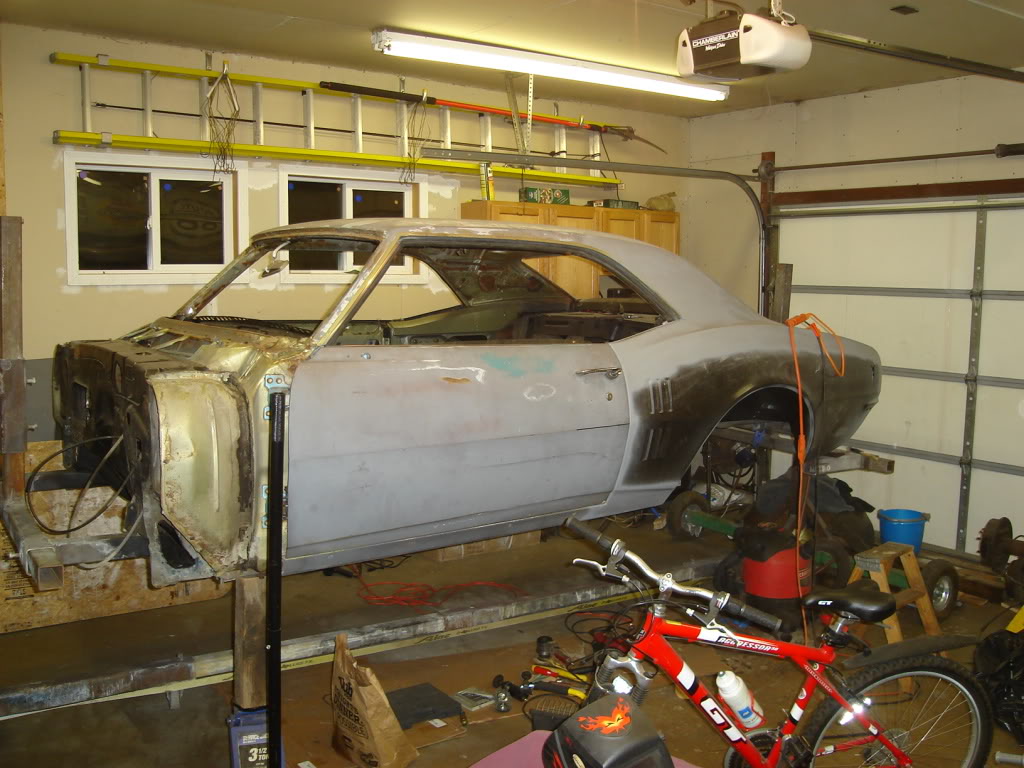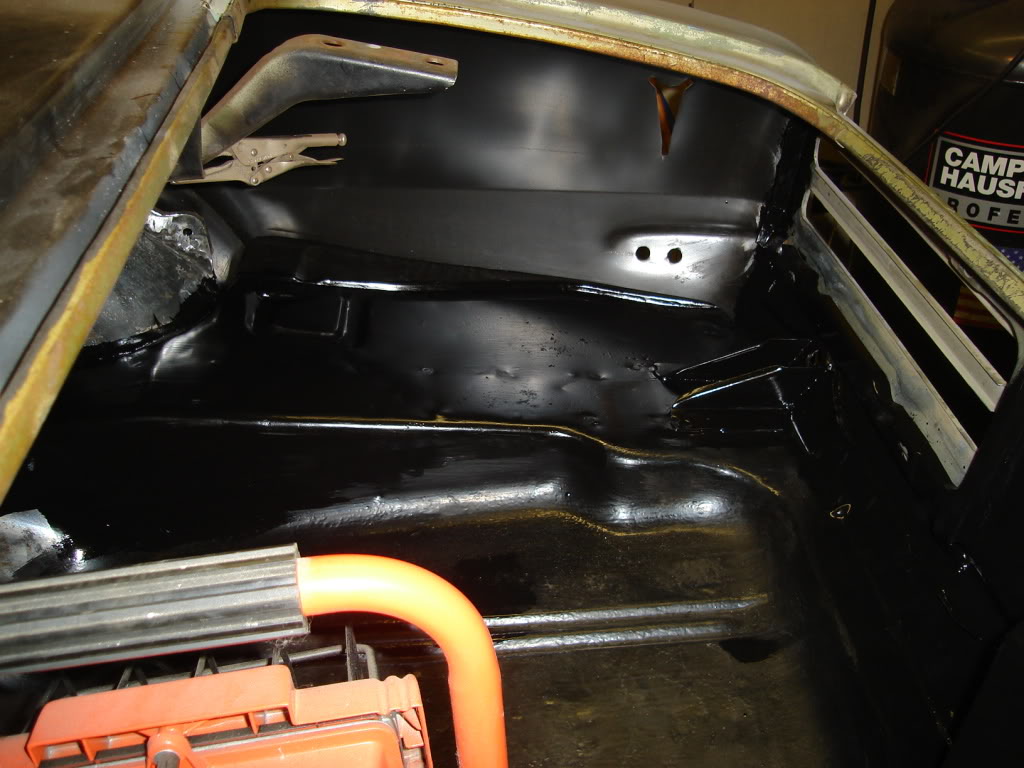 10-13-2009
I did some work in the trunk. The paint looks funny because I used two different POR15 products. One was satin and one was gloss. I sandblasted the whole trunk,acid etched, and either sprayed DP90 or used POR15 depanding on the location. This will all get scuffed down and then will get 2-3 coats of Lizardskin and then spatter paint.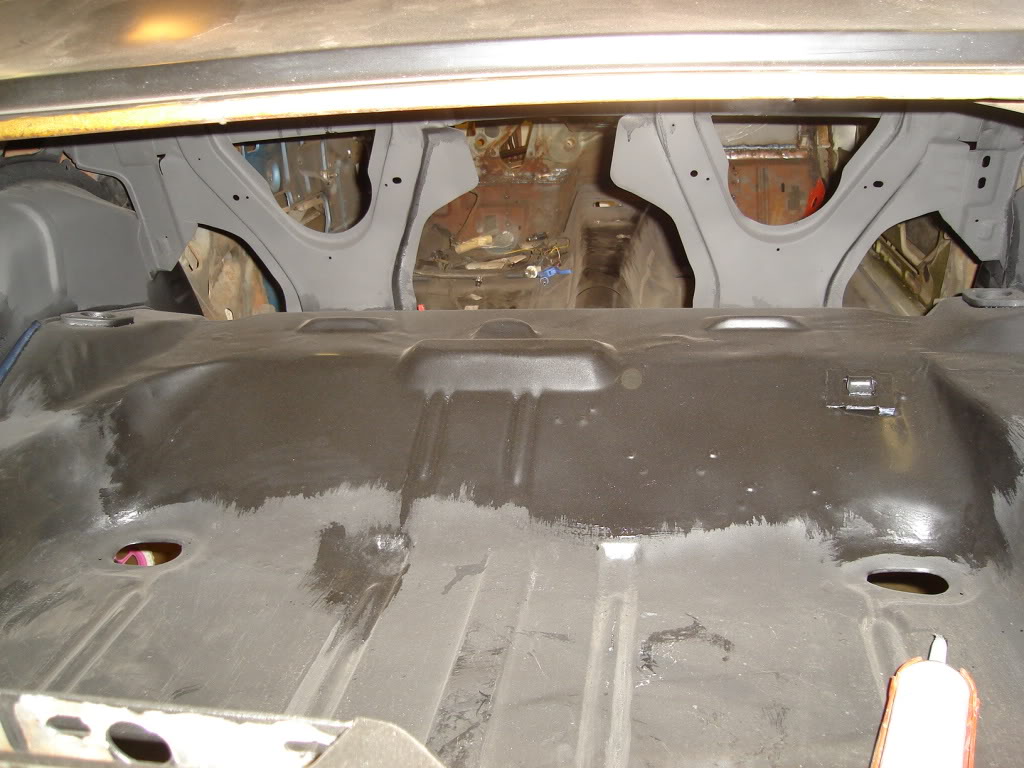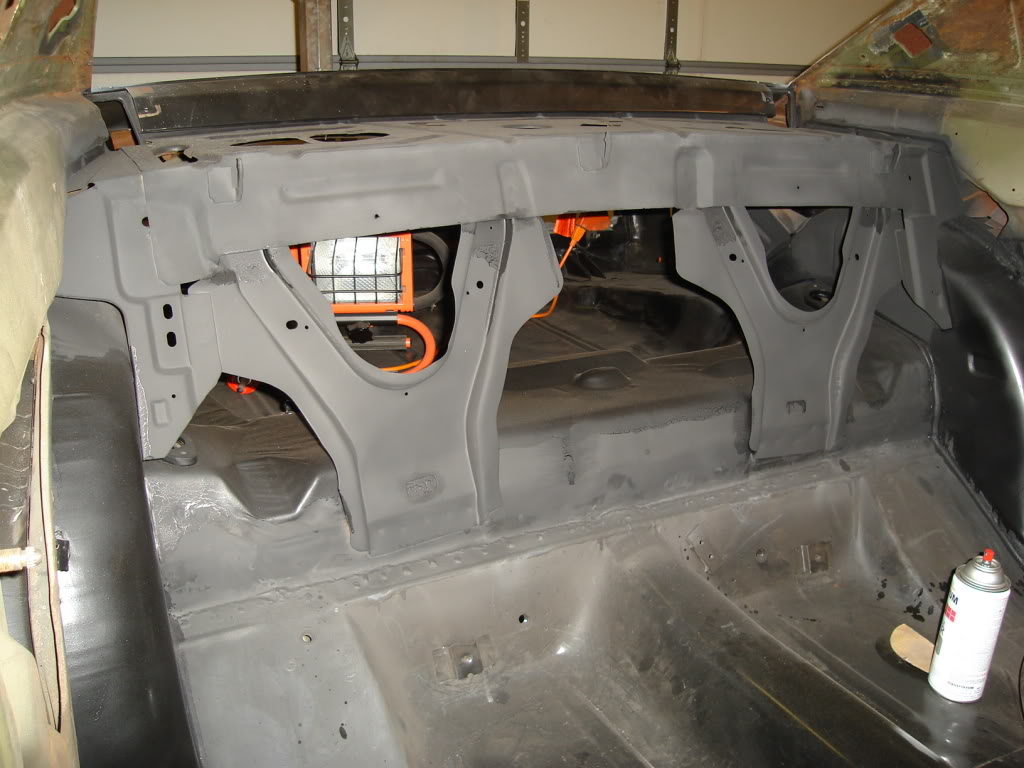 I had a friend stop by and help this last Sunday and we decided to tackle the firewall.
Here is what it looked like when we started.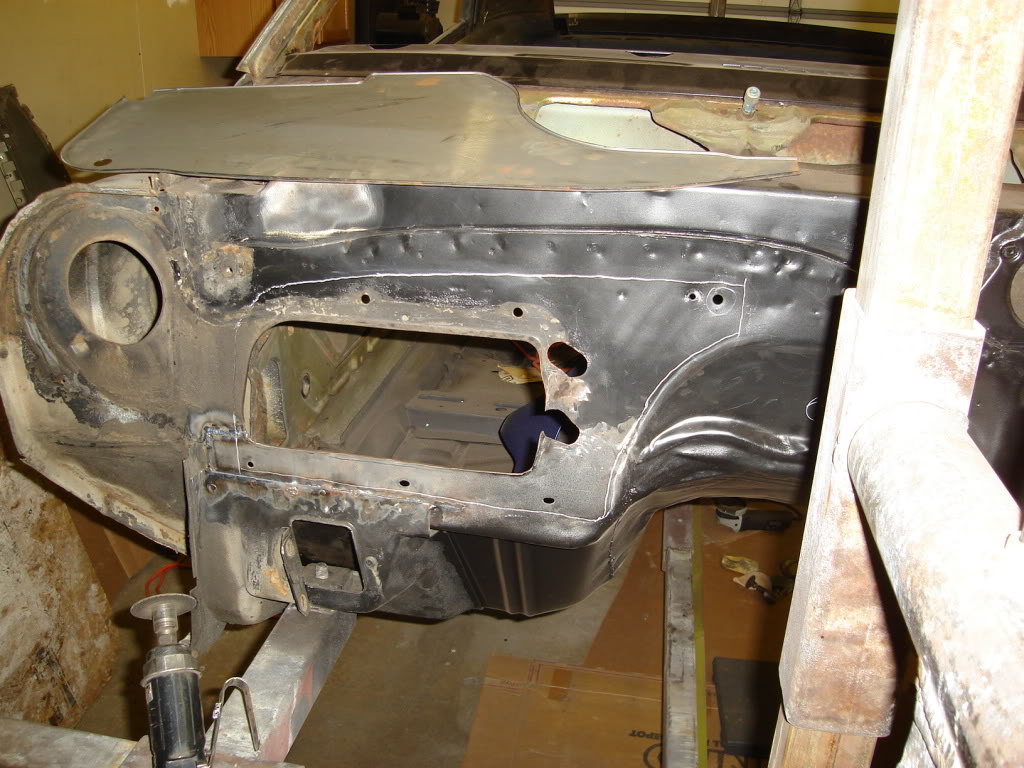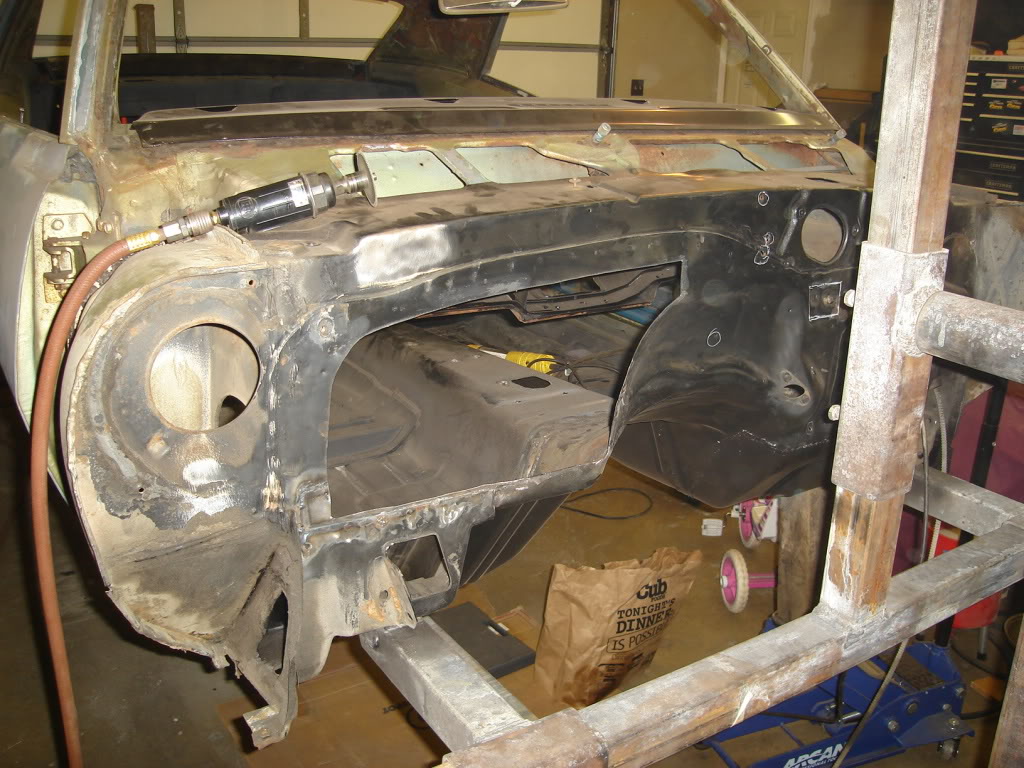 A couple of patches welded in.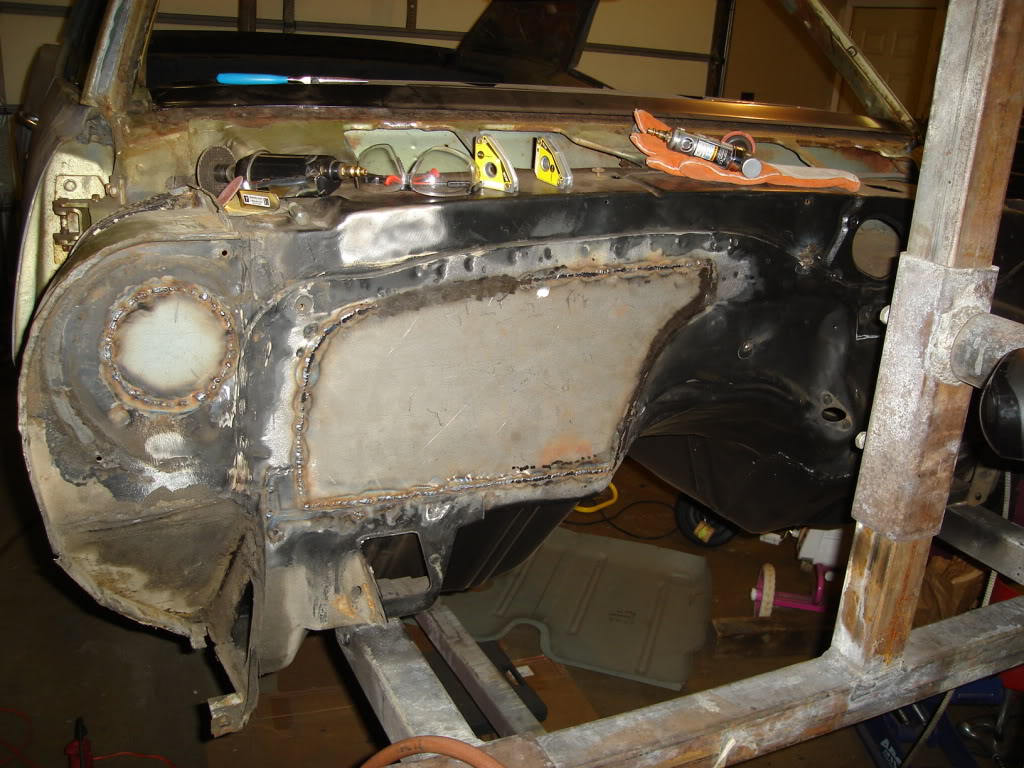 I had one spot on the cowl that was in bad shape. I cut out both sides and welded in new metal. All welds need to be ground down before painting.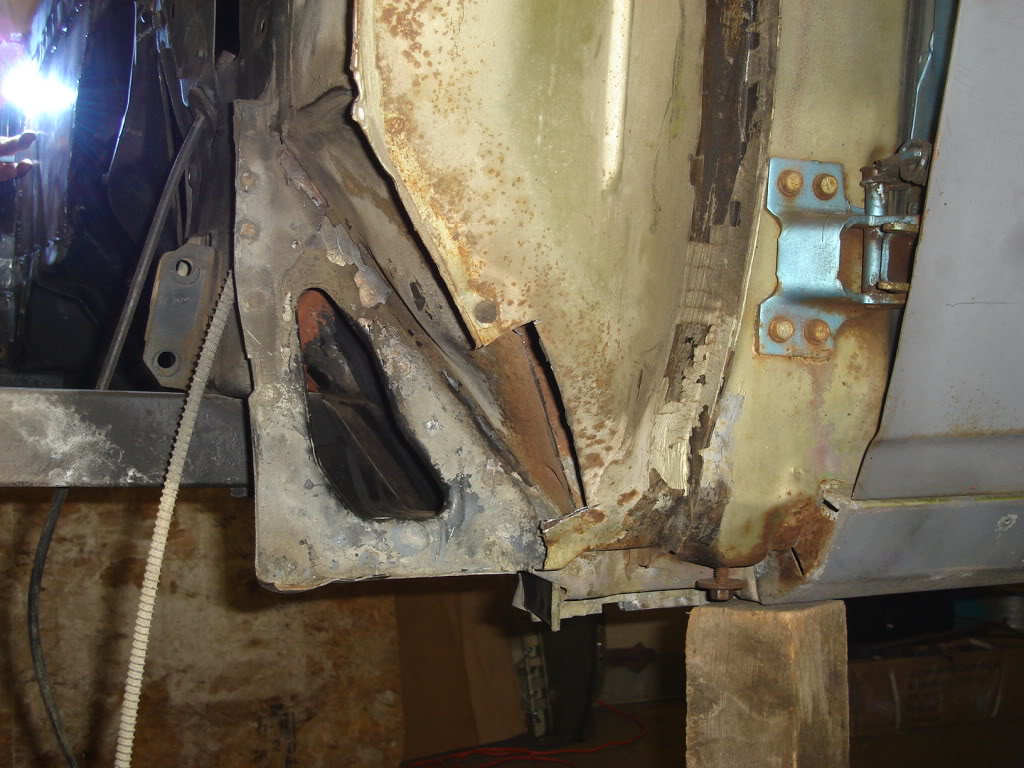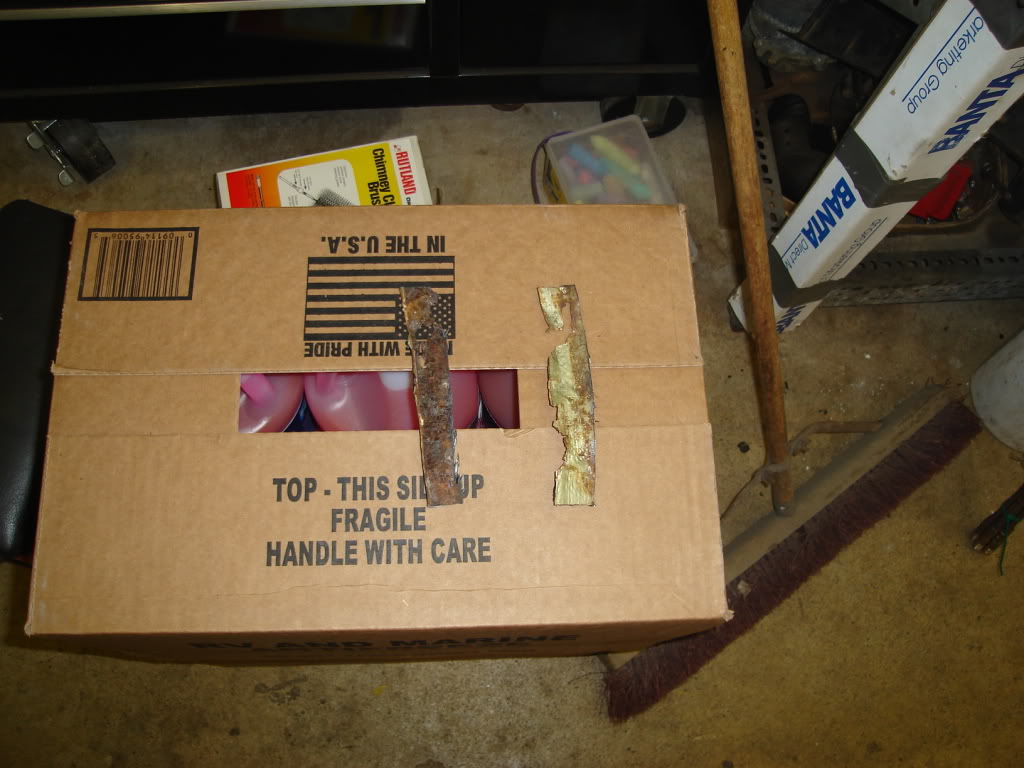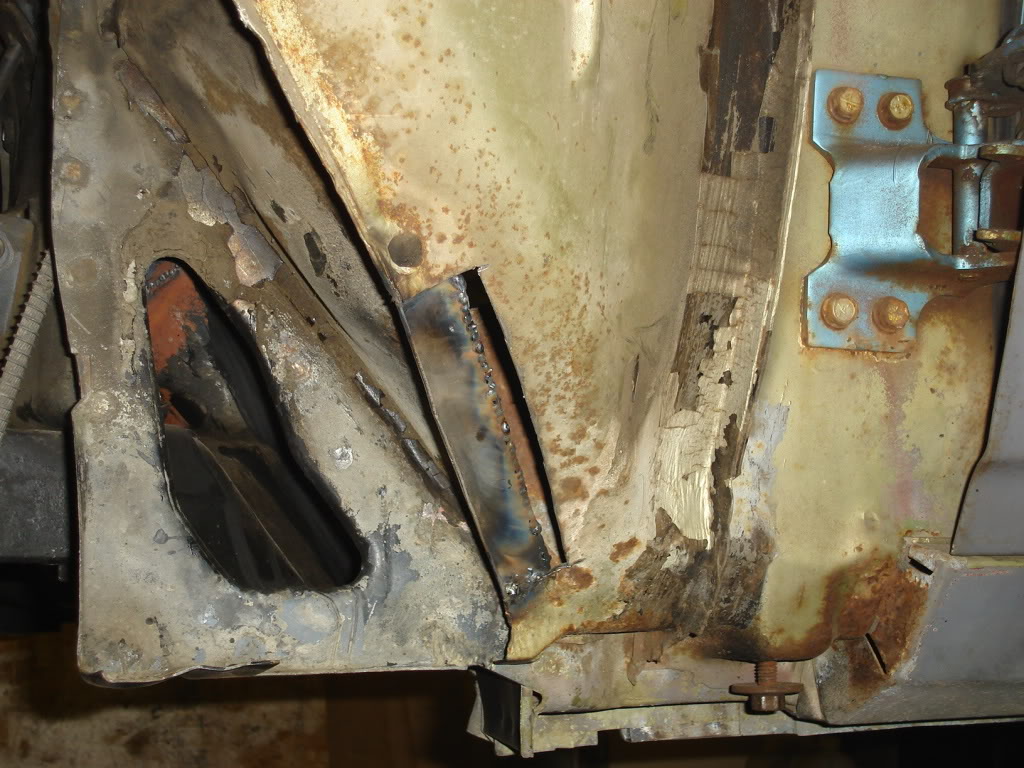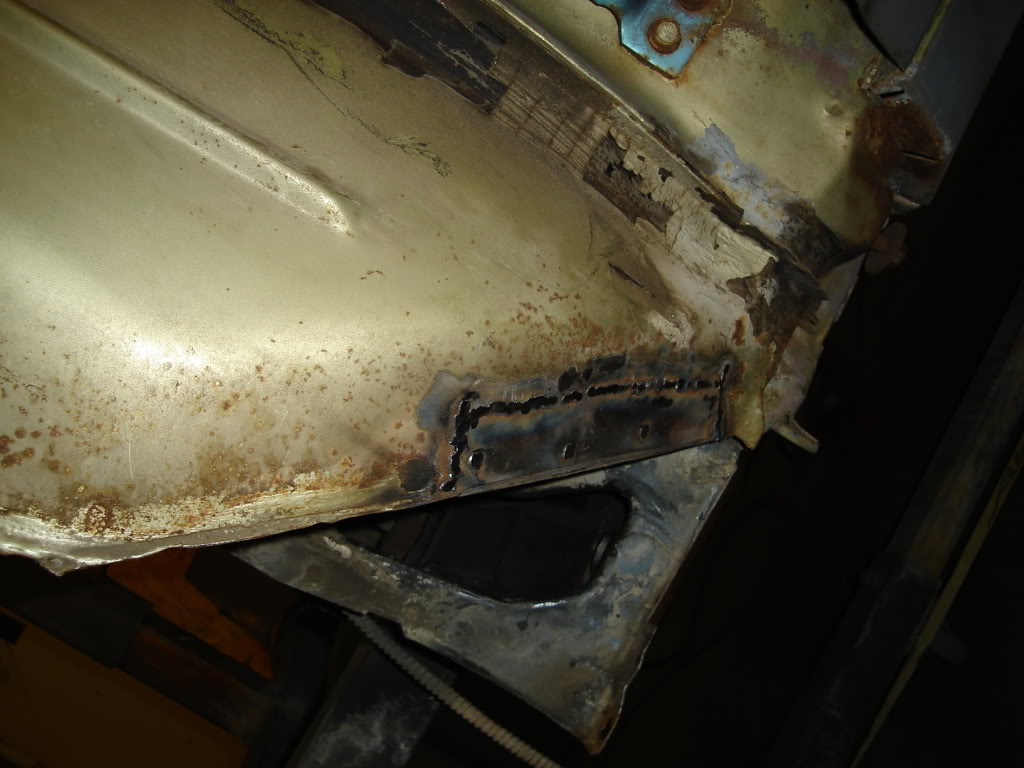 10-19-2009
Started on the firewall this weekend. Heres a before pic.

After a little grinding.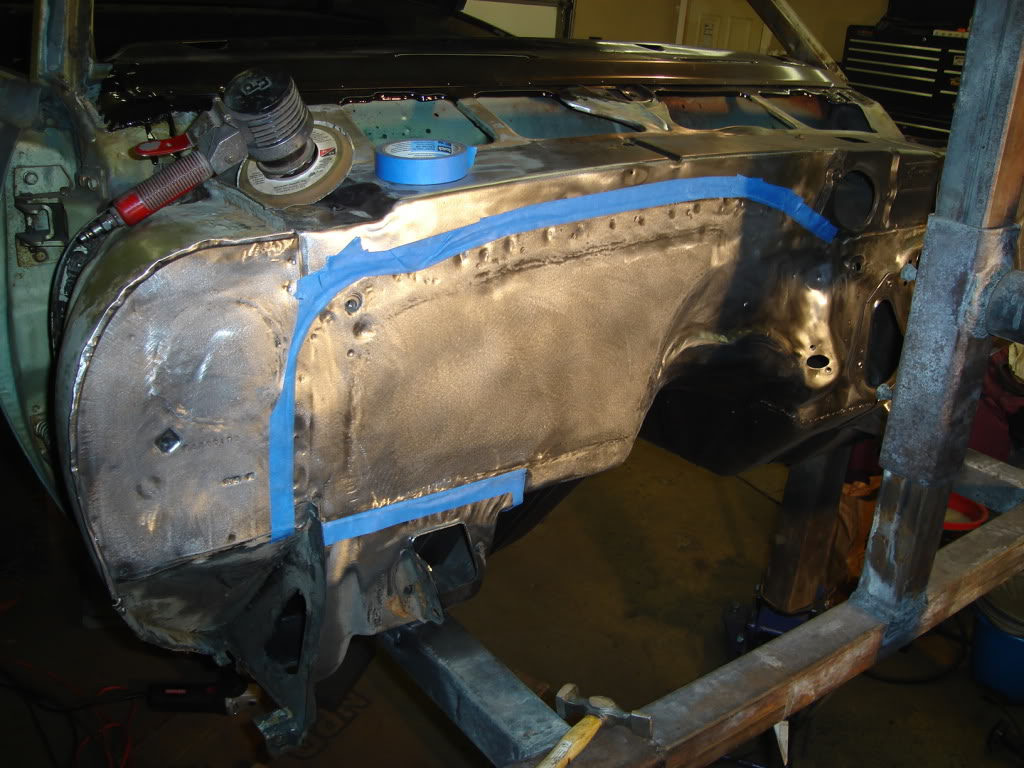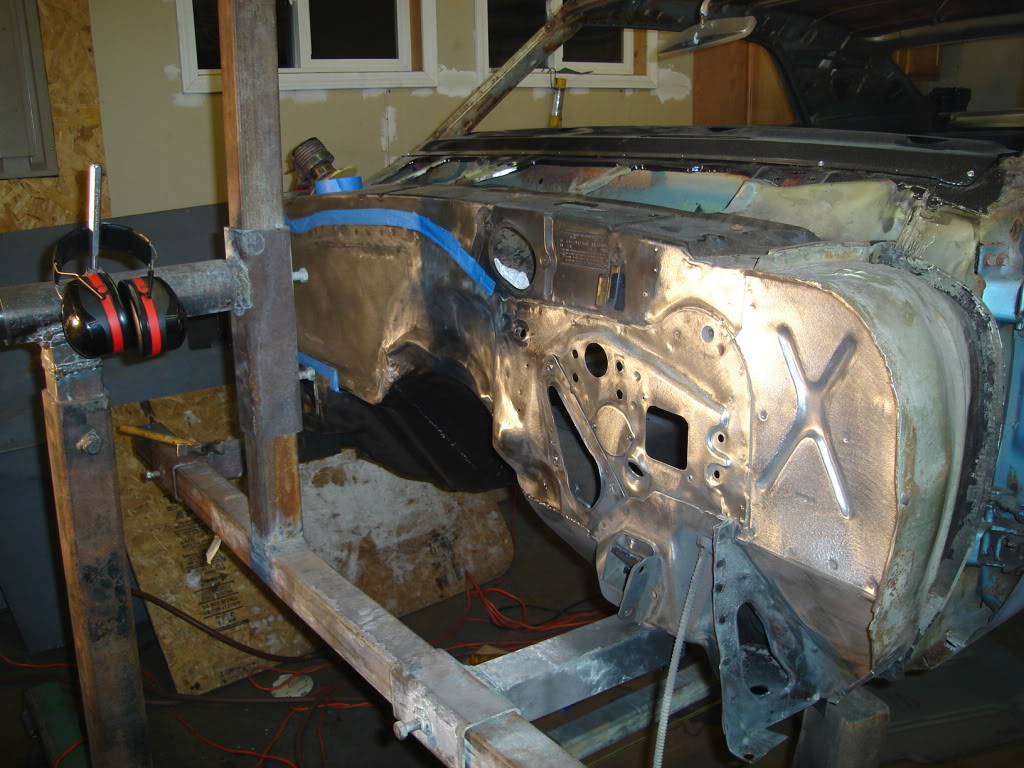 And a little body work. I'm not going for perfect but I will smooth out as much as possible. The firewall did not have a flat surface on it from the factory.LOL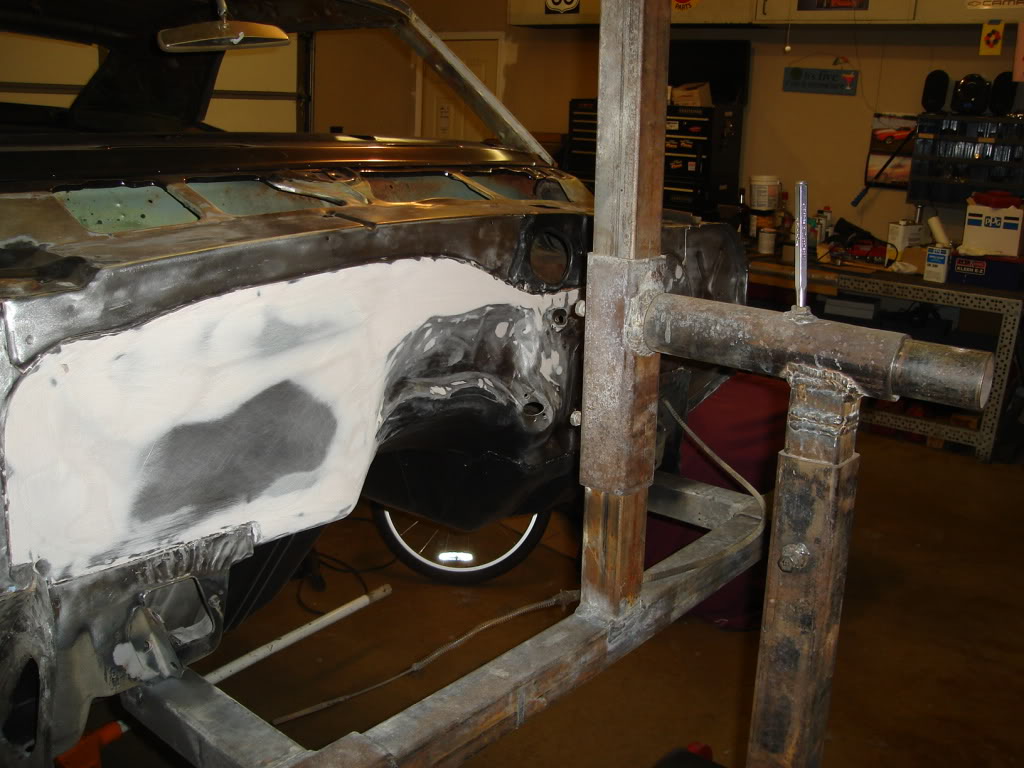 11-30-2009
I have made a lot of progress over the last month. I wanted to get the floor finished first. I sanded down the rear portion and did some body work over a patch that I had put in. The gas tank would have covered it up but I wanted to make it look nicer.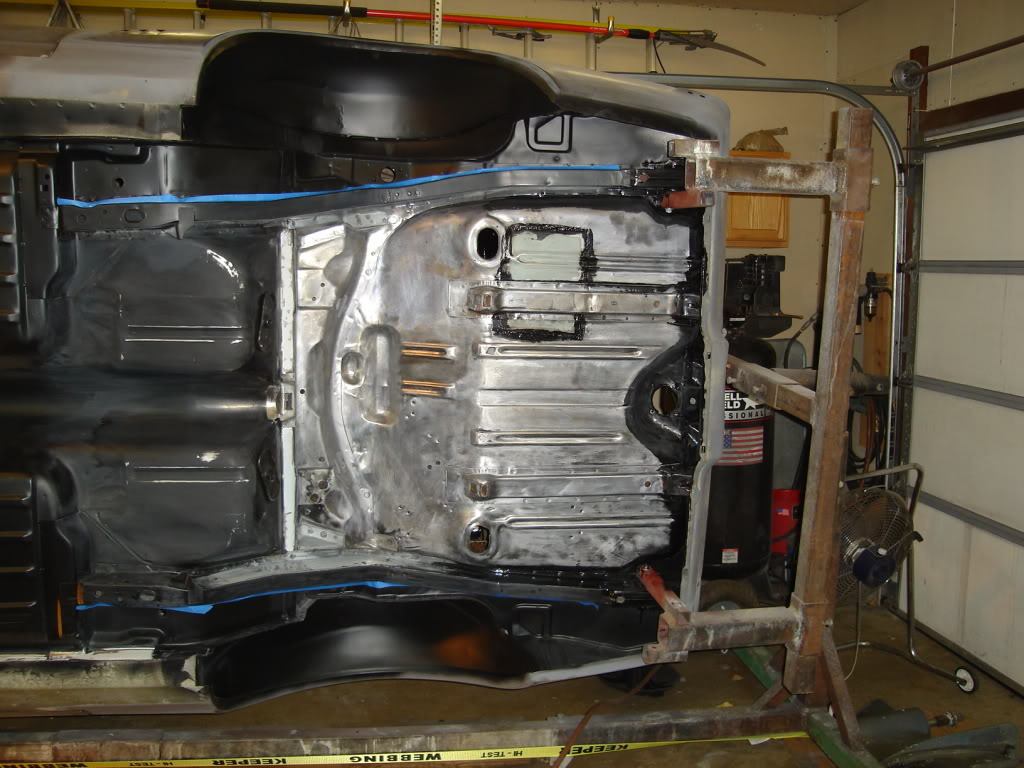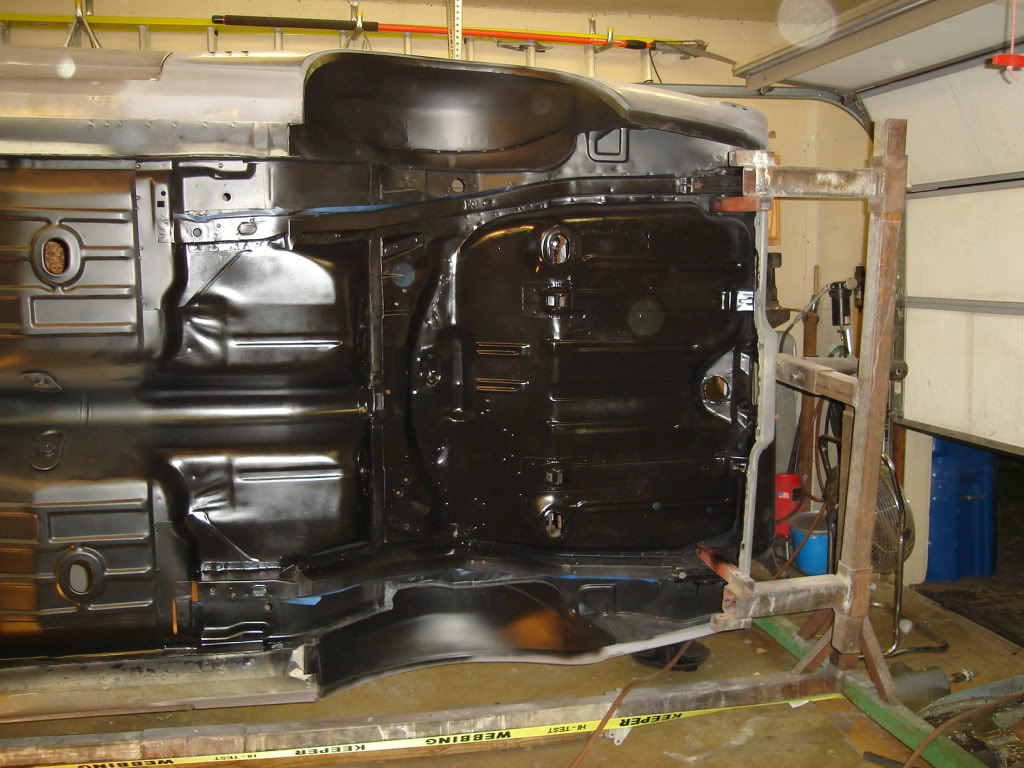 I did some more work on the firewall,cowl and dash.
Heres the upper cowl all stripped down and ready for some primer.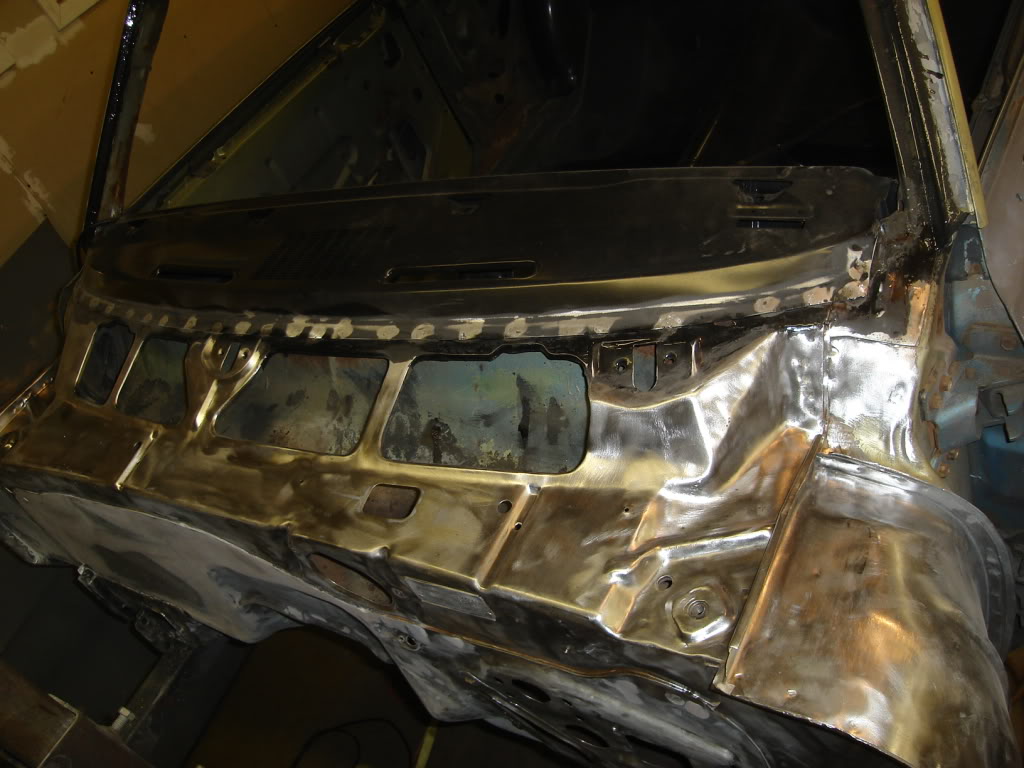 The upper cowl is in primer and I started to work on the inside of the cowl.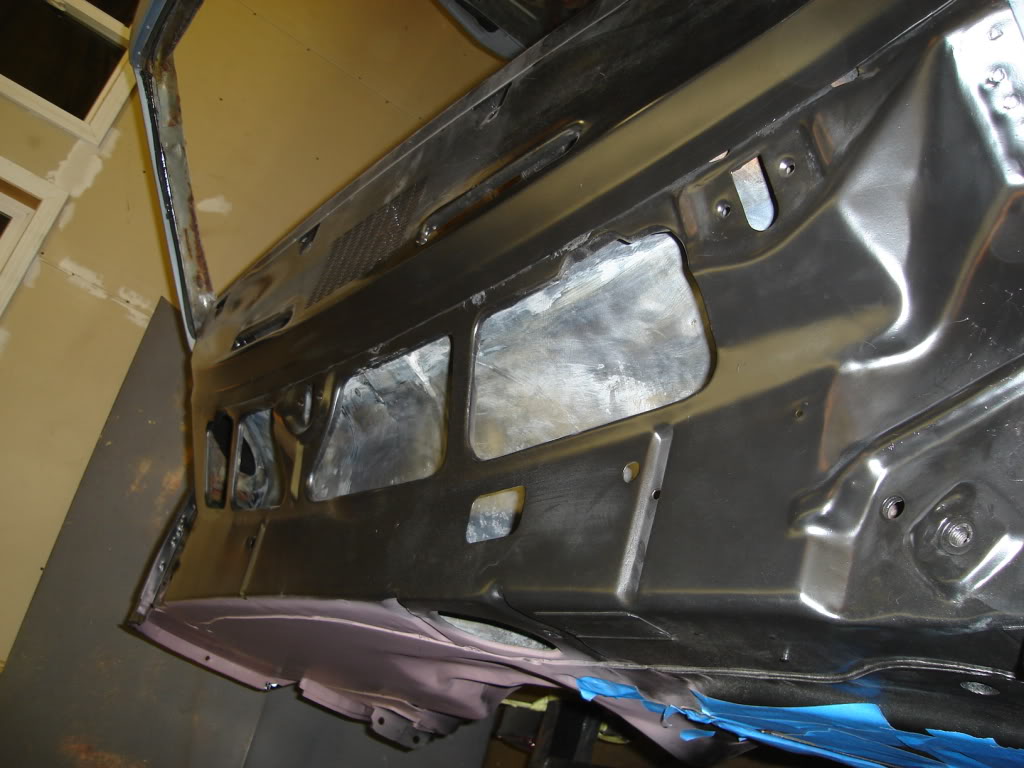 The inside of the cowl now has paint.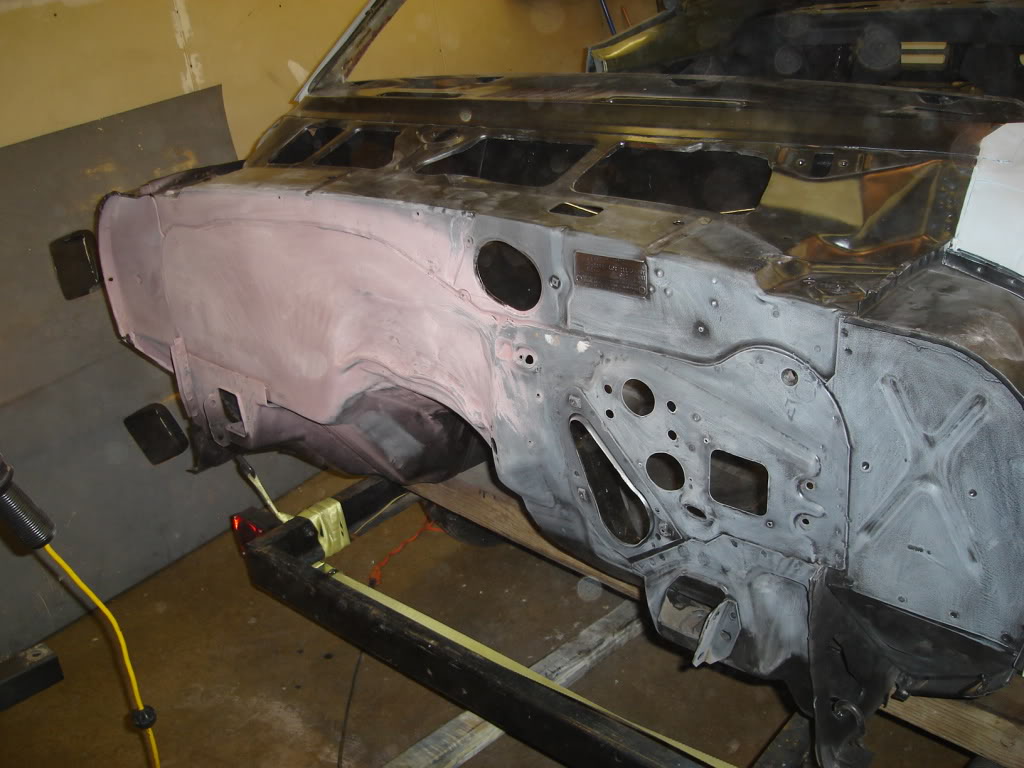 I finished sanding down the high build primer and put another coat of primer sealer on.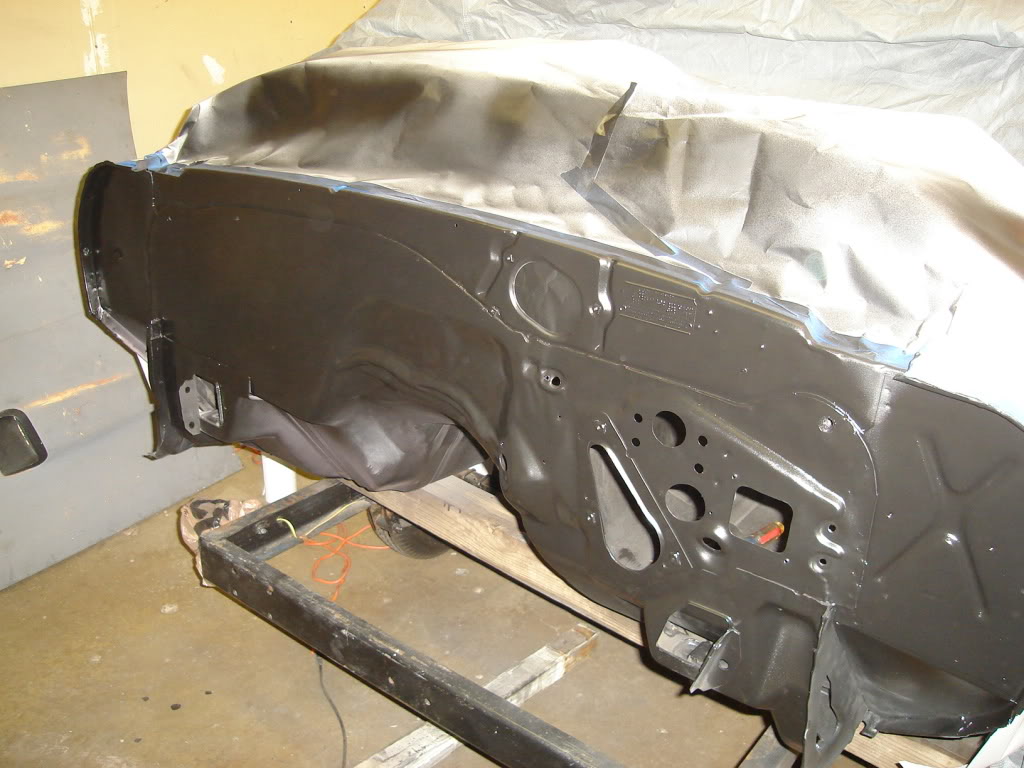 12-3-2009
Thanks for the compliments.
The shell is back on the rotisserie.
Here is what it looked like just a few weeks ago.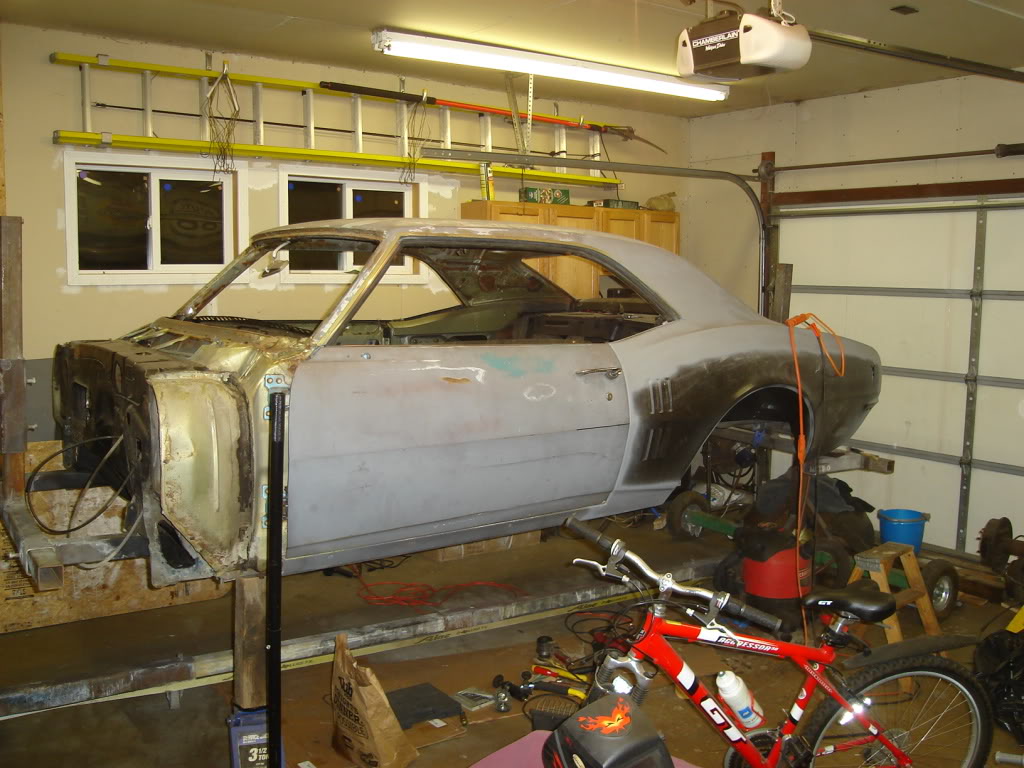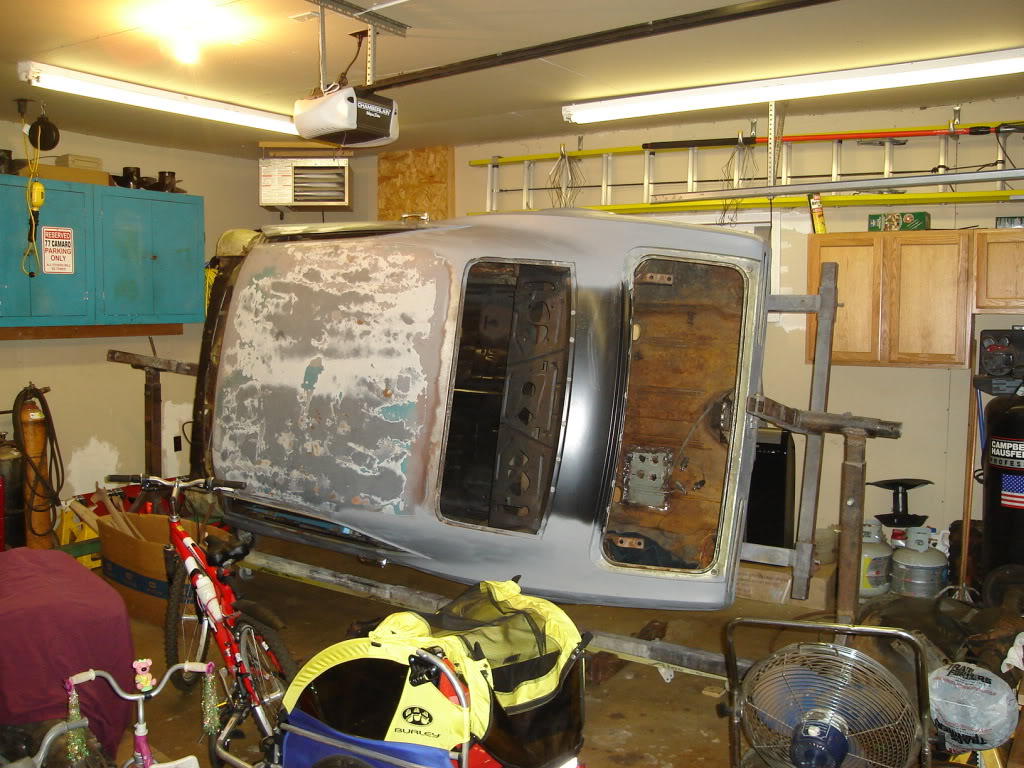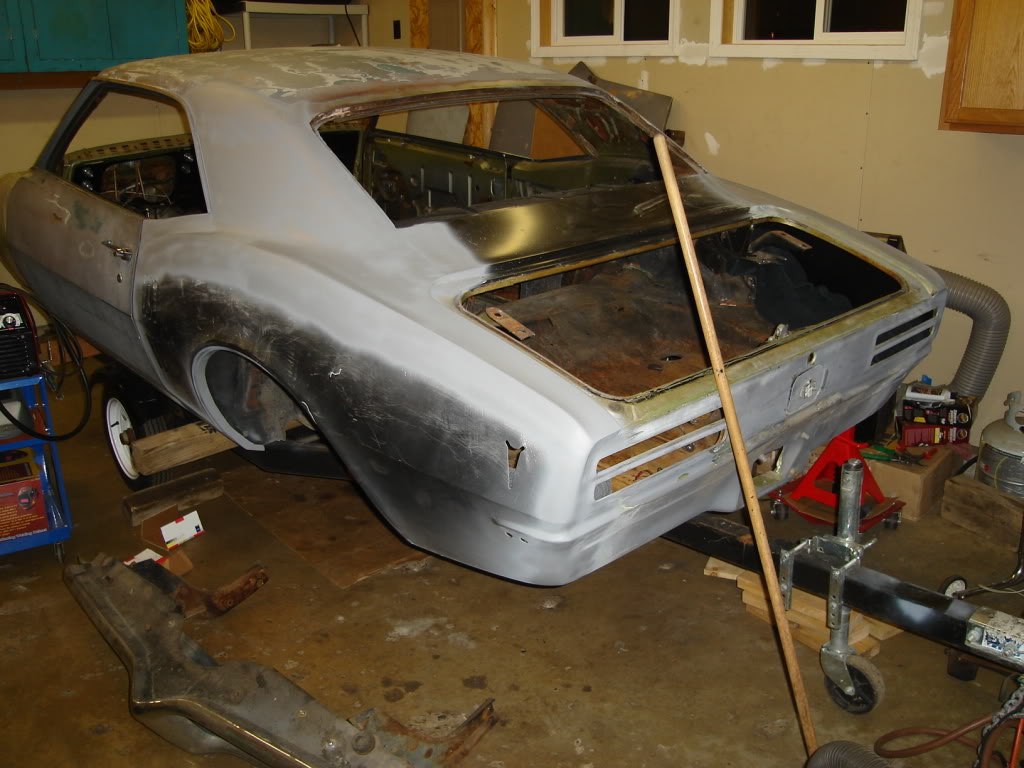 After two days of hard work I now have this.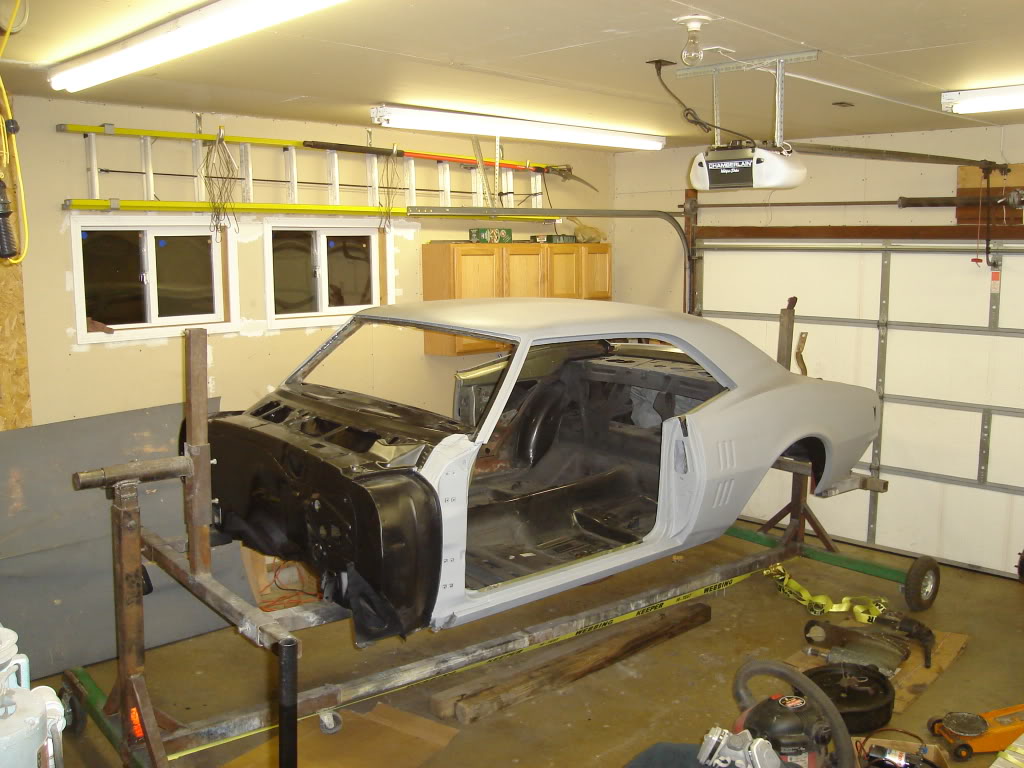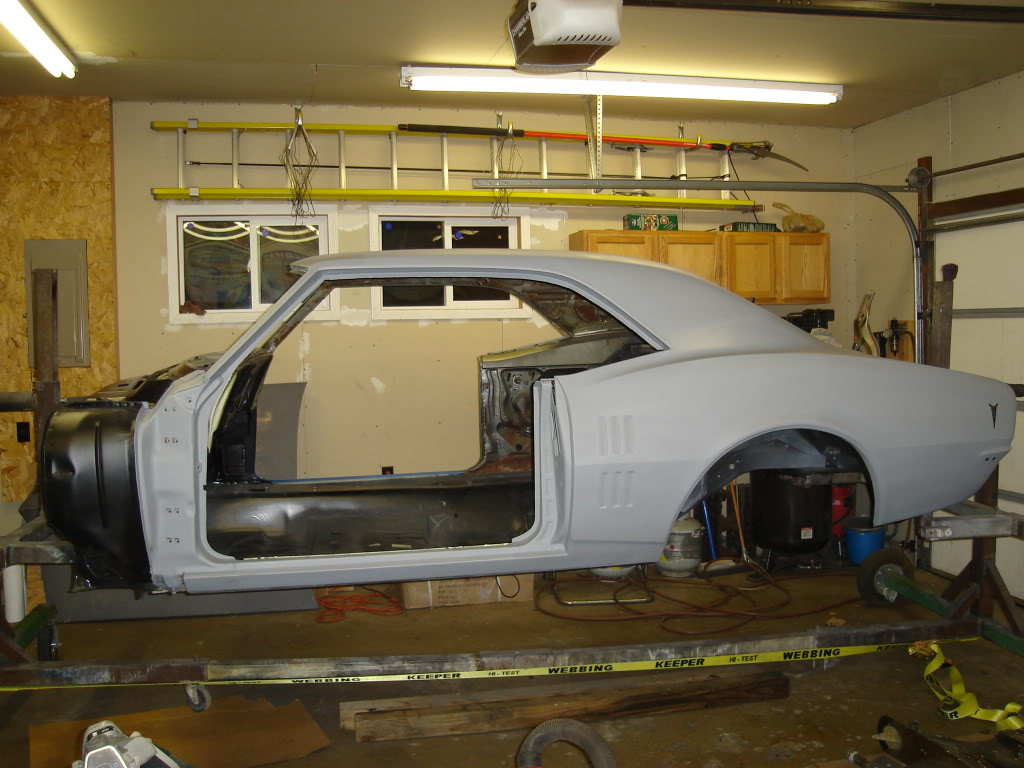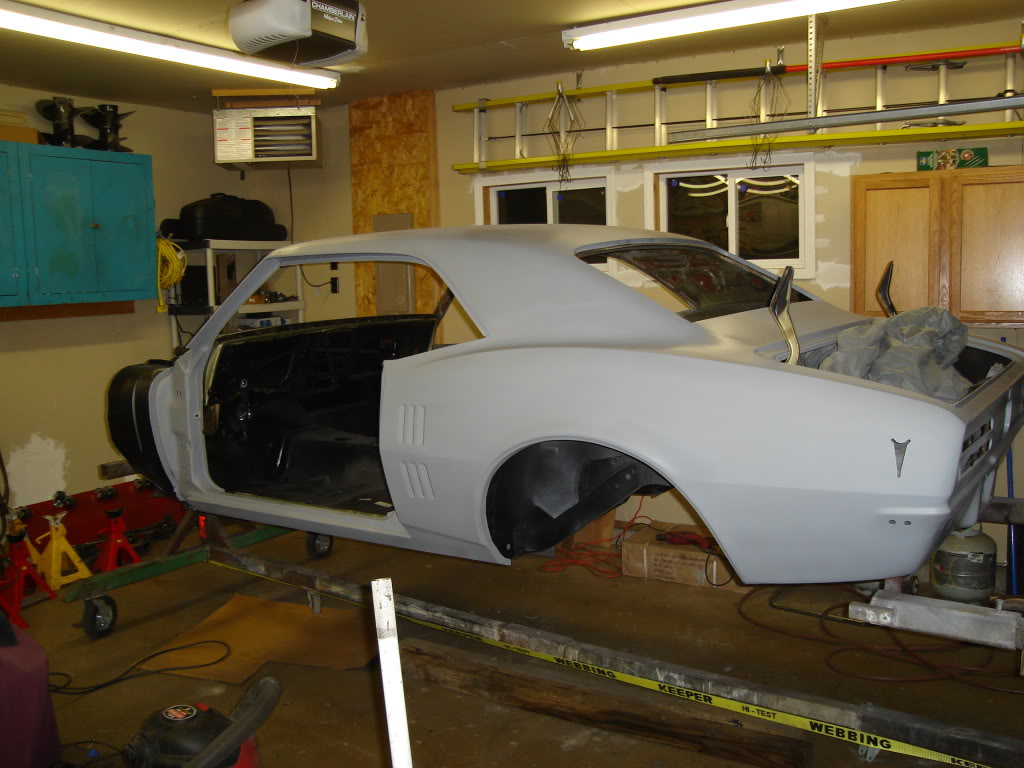 I started the seam sealing last night. I'm not enjoying the job so far.LOL
12-4-2009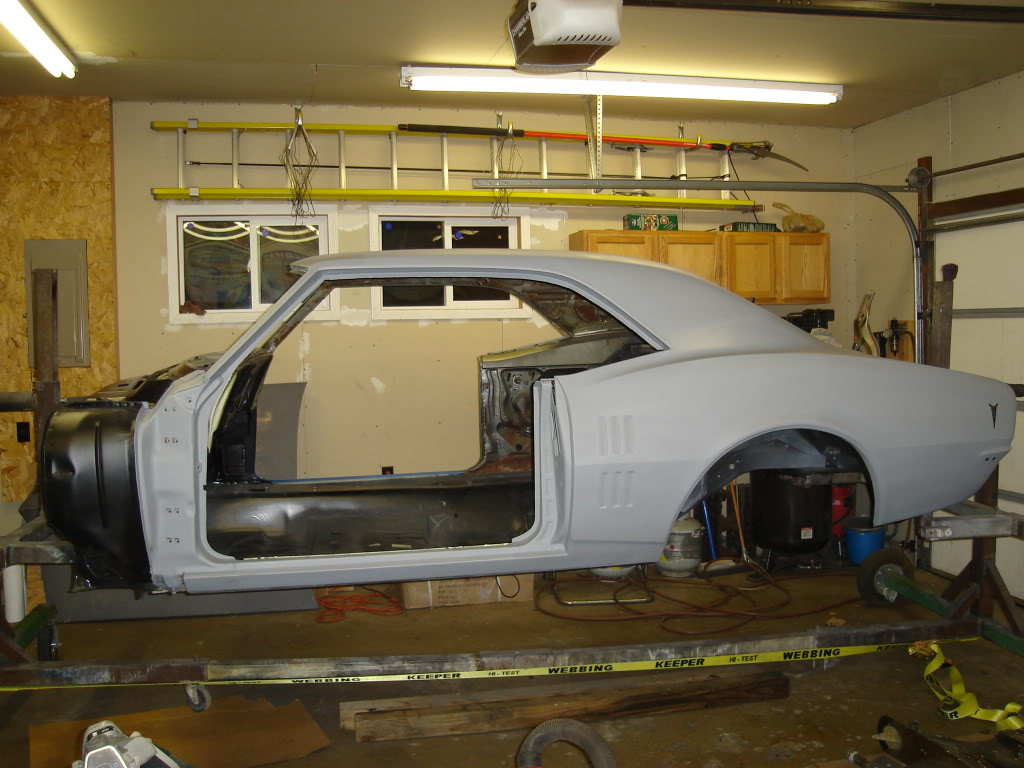 A bare Firebird shell sitting in primer is one of the sexiest things in the world
1-2-2010
Thanks, I know just having it in one color makes a huge difference. I havn't posted updates for a long time but I have been busy on it. Both rockers needed to be stripped and both had some dents. I finished stripping the entire inside roof,sail panels, and inner rockers. There all in primer now including the rockers.
The car sat way to long so I had to scuff down all of the primer on the floor. I put seam sealer on the floor and firewall. That alone was two complete evenings and was a little stressful getting nice clean seams on my smoothed firewall.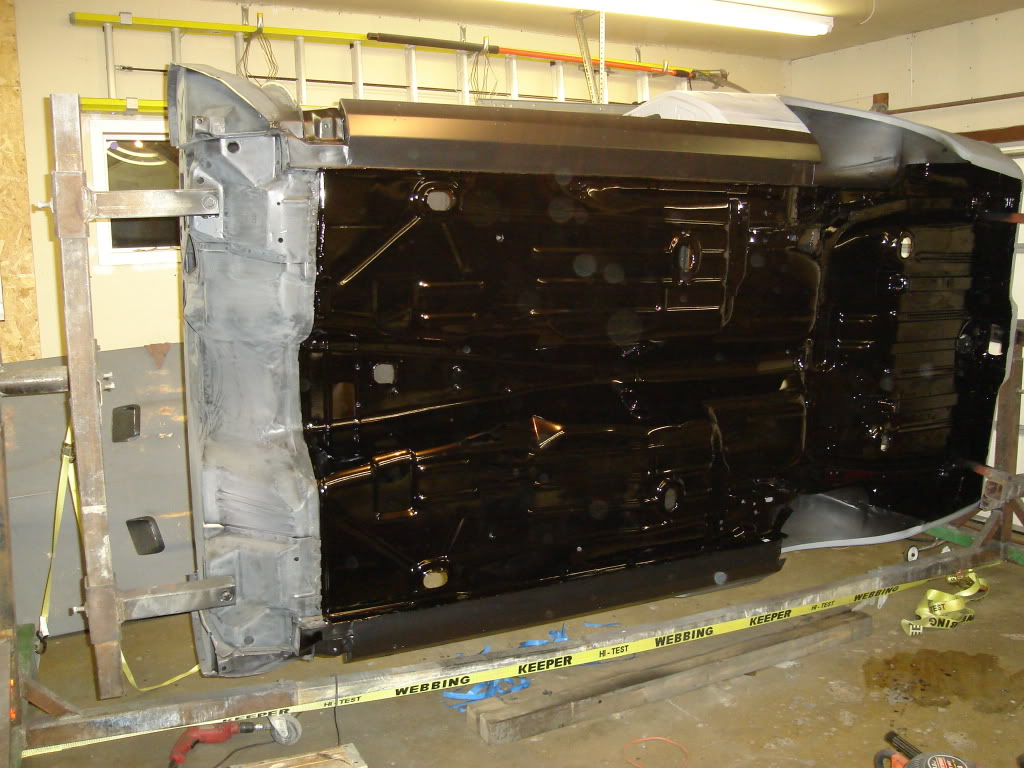 The car is upside down in the next two pictures. I brushed and rolled on six coats of Spectrum (Lizardskin) on the inside floor,roof, and I still have to do the trunk floor.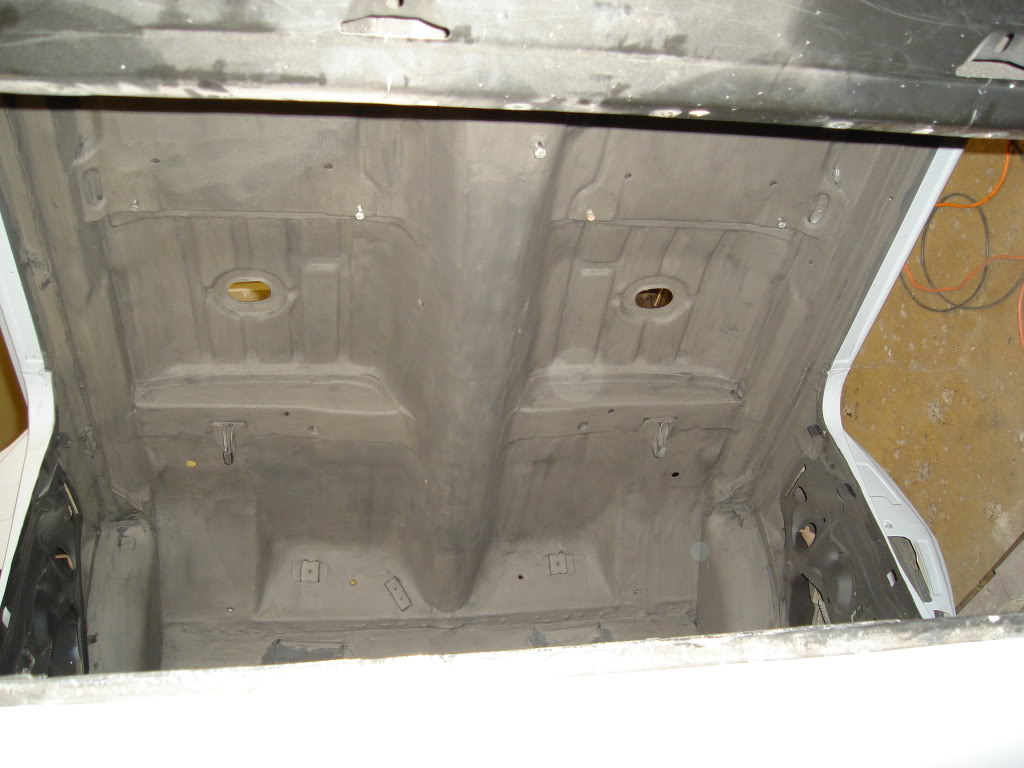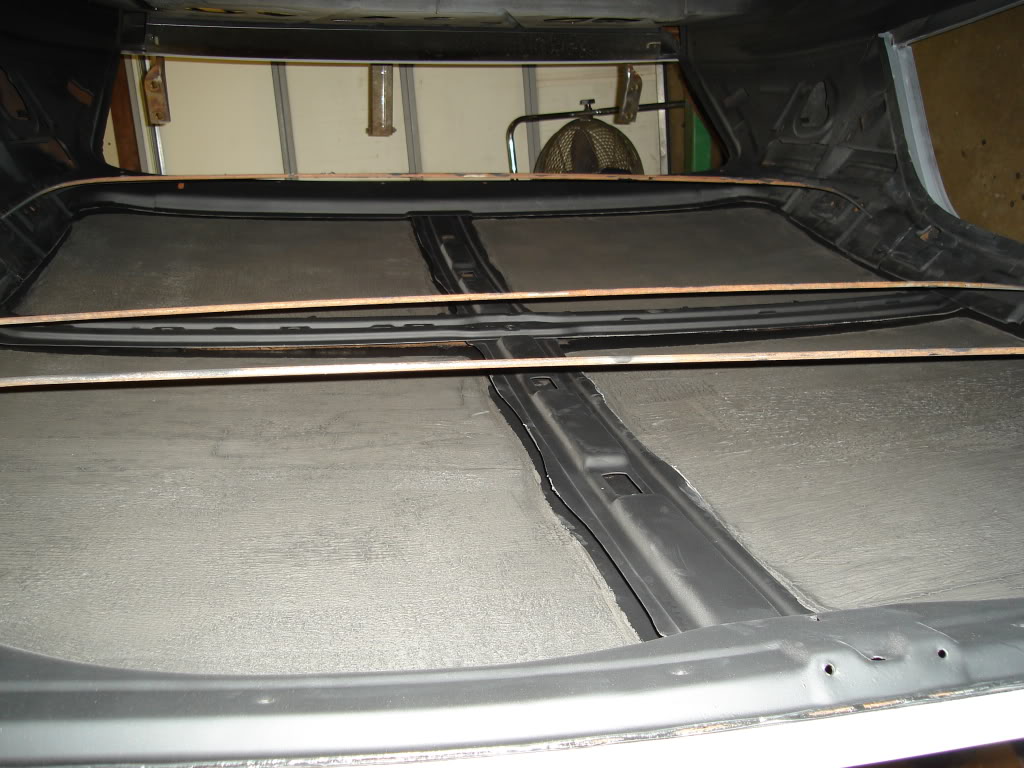 I taped off the bottom of the car and ground down the inside welds on the dash. I need to finish scuffing down the dash and then I can spray the firewall,dash,and cowl tomorrow morning.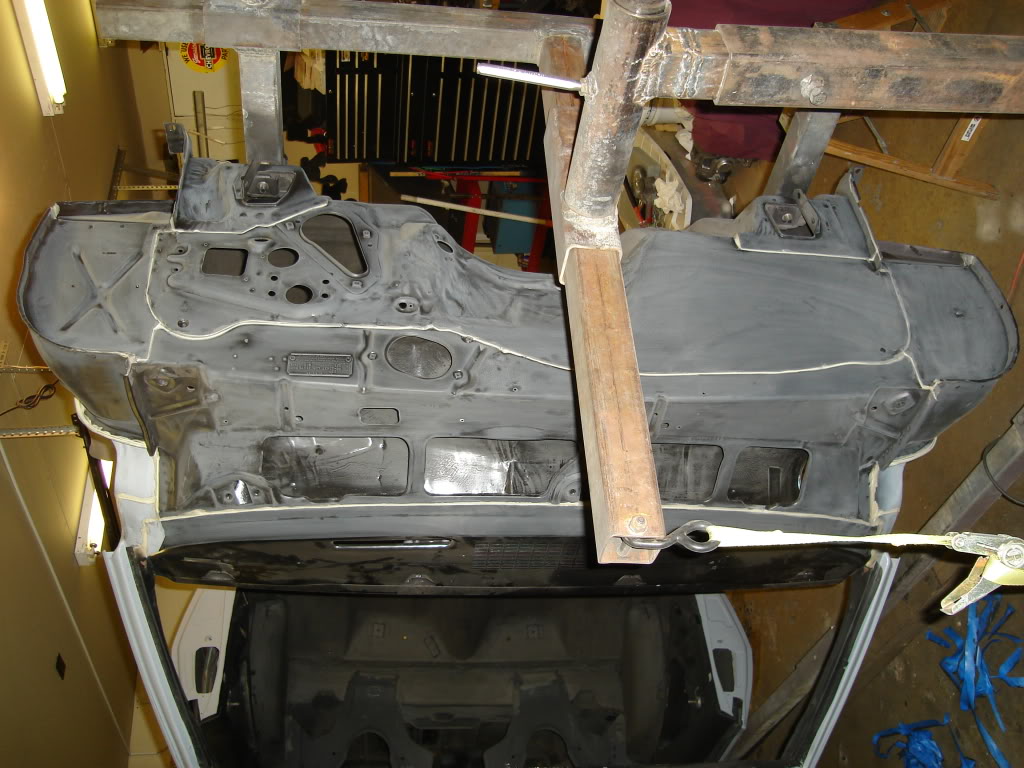 Still stinks in the garage but I snapped a few pics.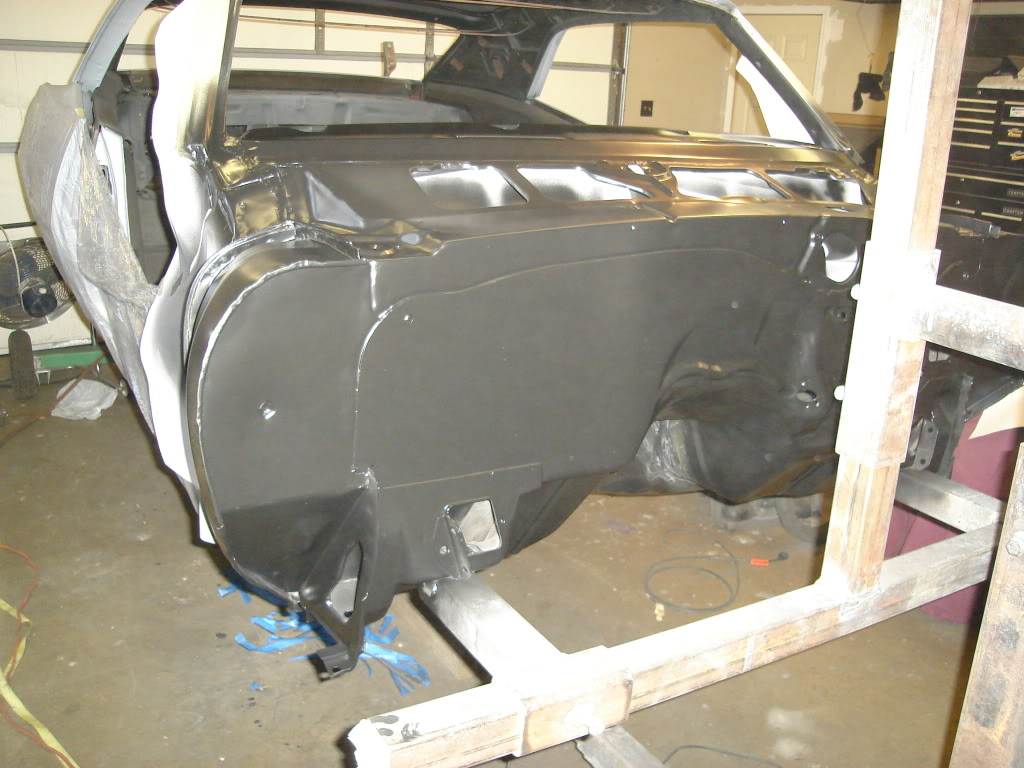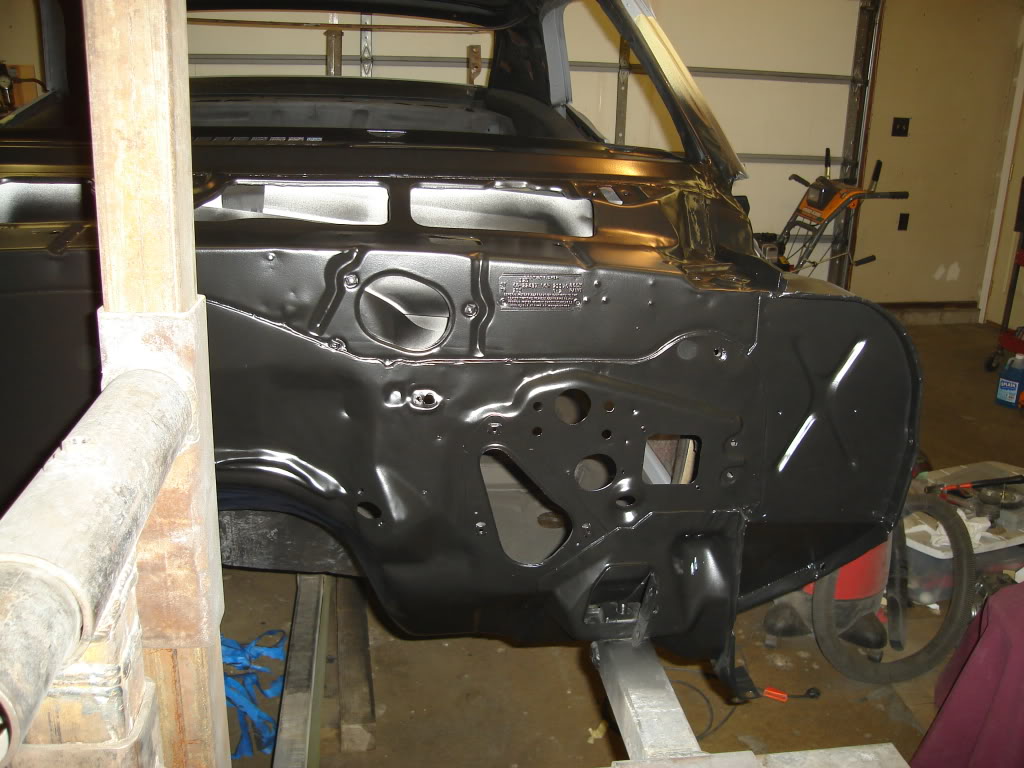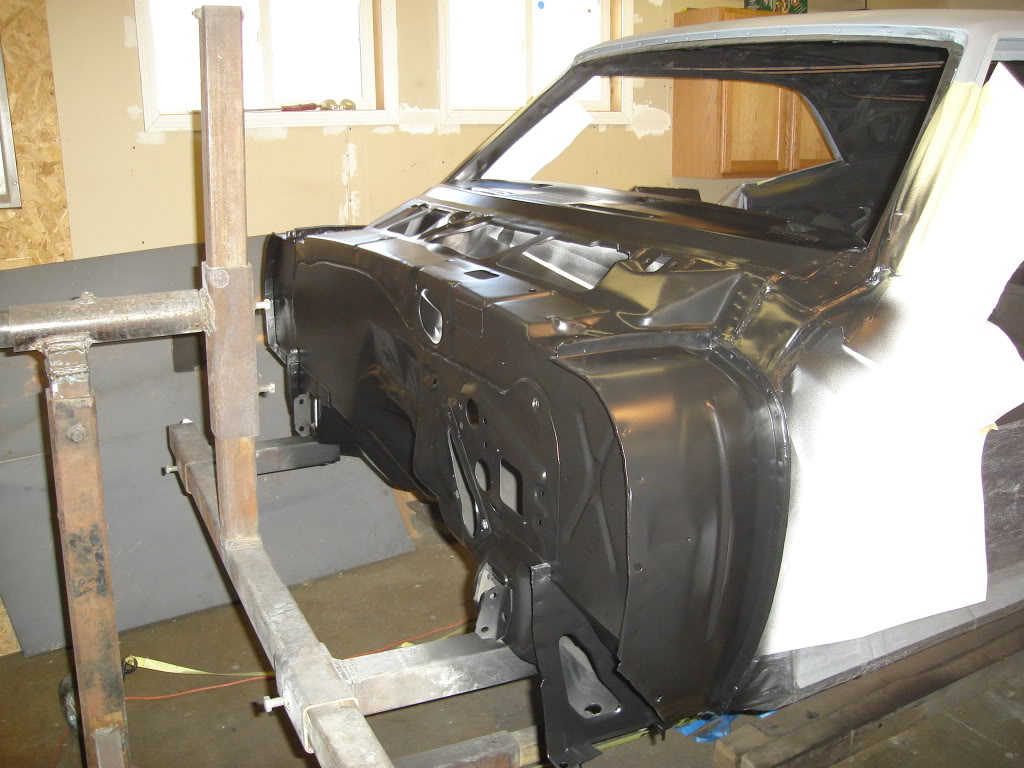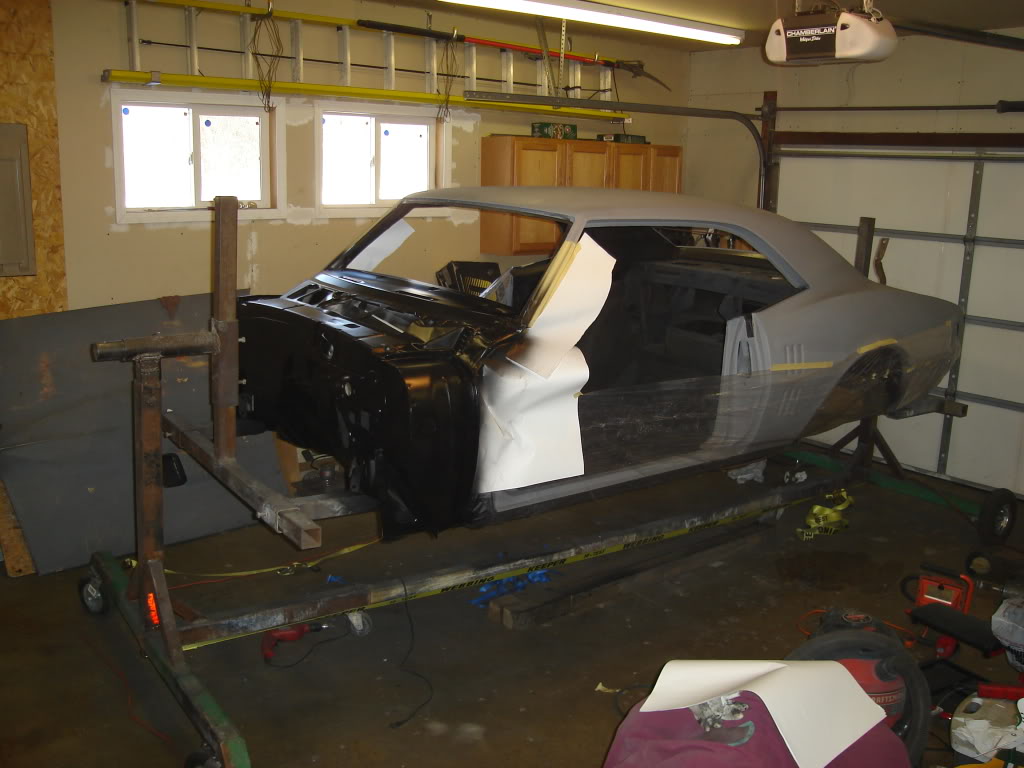 1-7-2010
I spayed some PPG DCC gloss black paint on the firewall last night.
Here is one before pic first.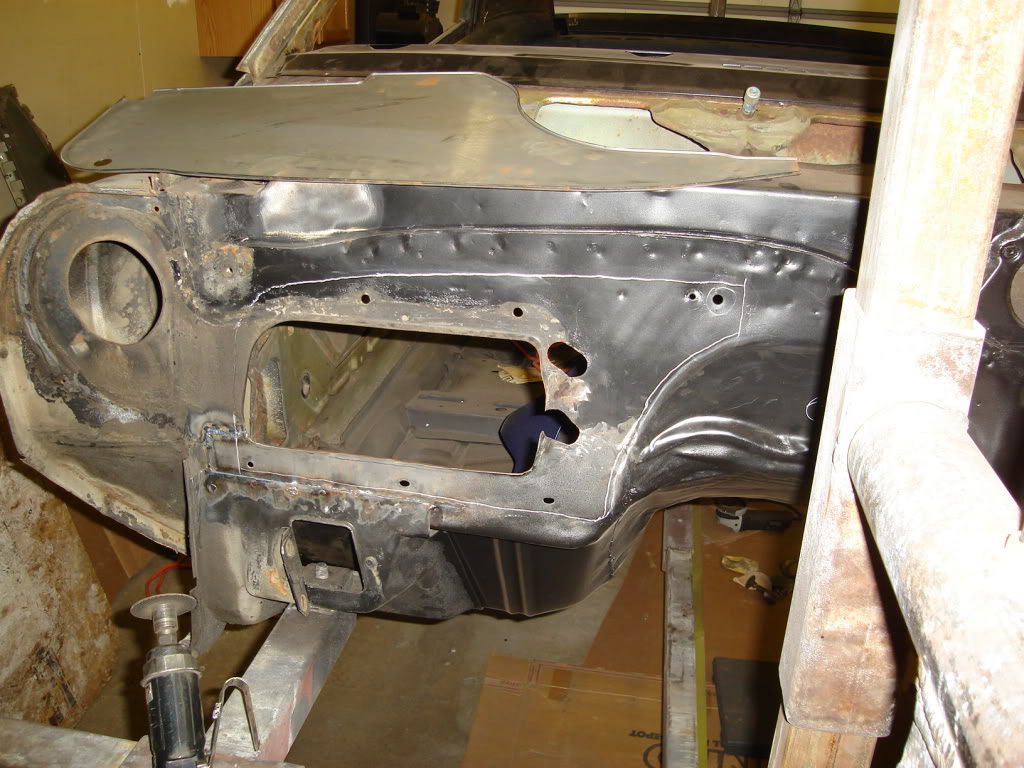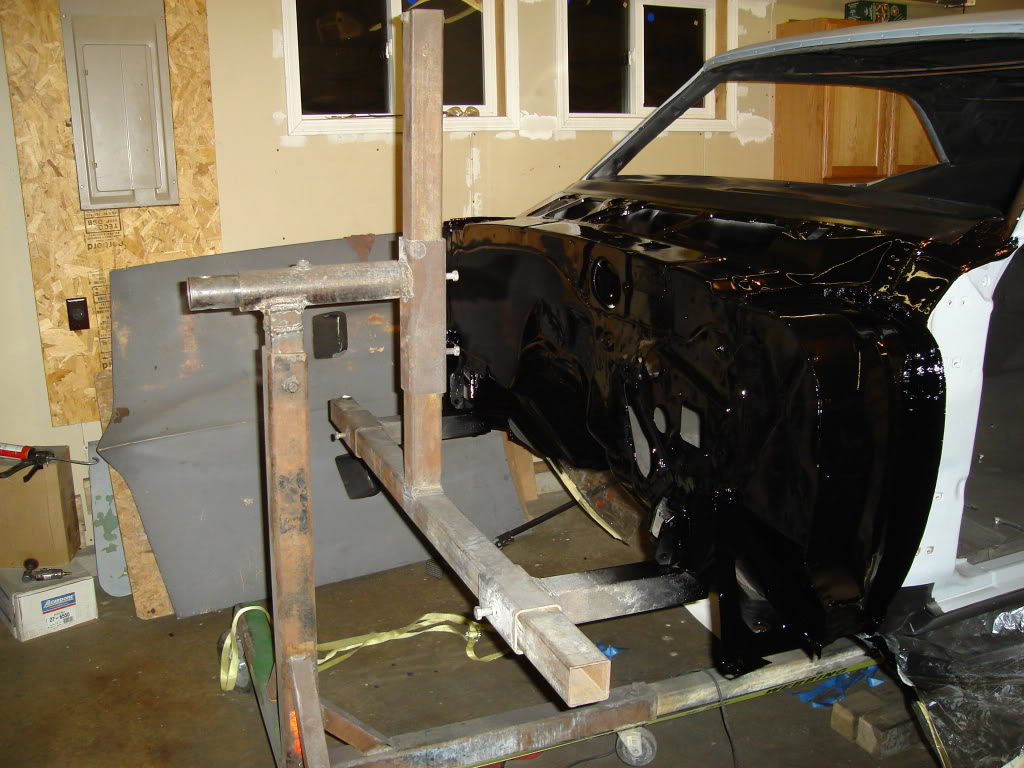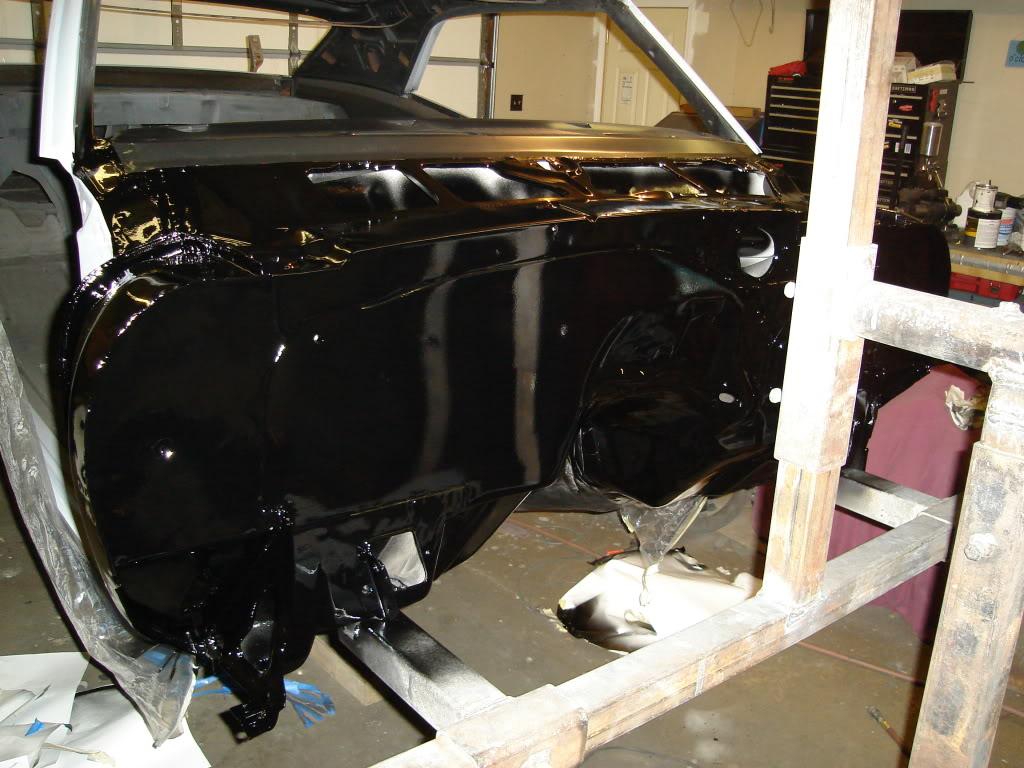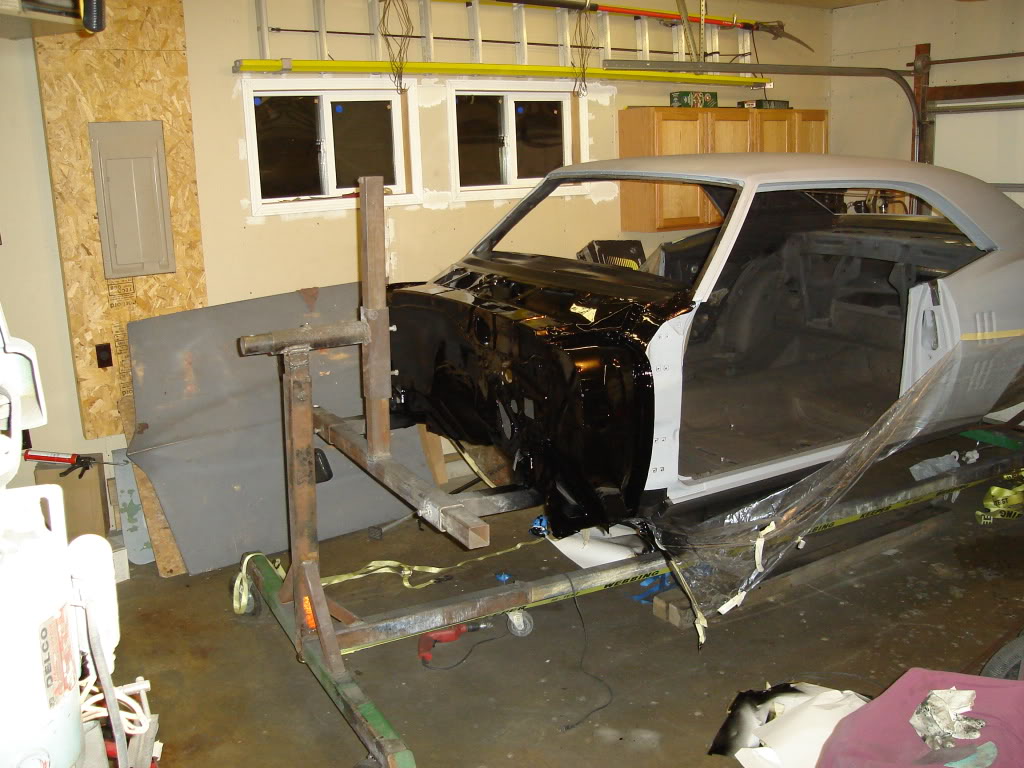 1-8-2010
I started with sanding the whole thing down to bare metal.
Cleaned with wax and grease remover
Acid etched all bare metal
Wiped down with tack cloth
Applied body filler numerous times
Sealed with primer sealer PPG DP90 (two coats)
You can top coat up to seven days but I'm not that fast
Applied seam sealer, let dry for at least one week
Scuffed down all primer
Applied heavy fill primer
Block sanded out filler primer
Wiped down with wax and grease remover,tack cloth
Sprayed primer sealer again
Waited to long and had to scuff down primer again LOL
Wax and grease remover,tack cloth
Sprayed primer sealer again DP90
Top coated with three coats of PPG DCC gloss black paint
I'll wait a few weeks and cut and buff the upper cowl and the area that I smoothed.
2-9-2010
The big day finally came LOL the car is finally off of the rottisserie. Placed it on jack stands for now intill I get the subframe all put back together.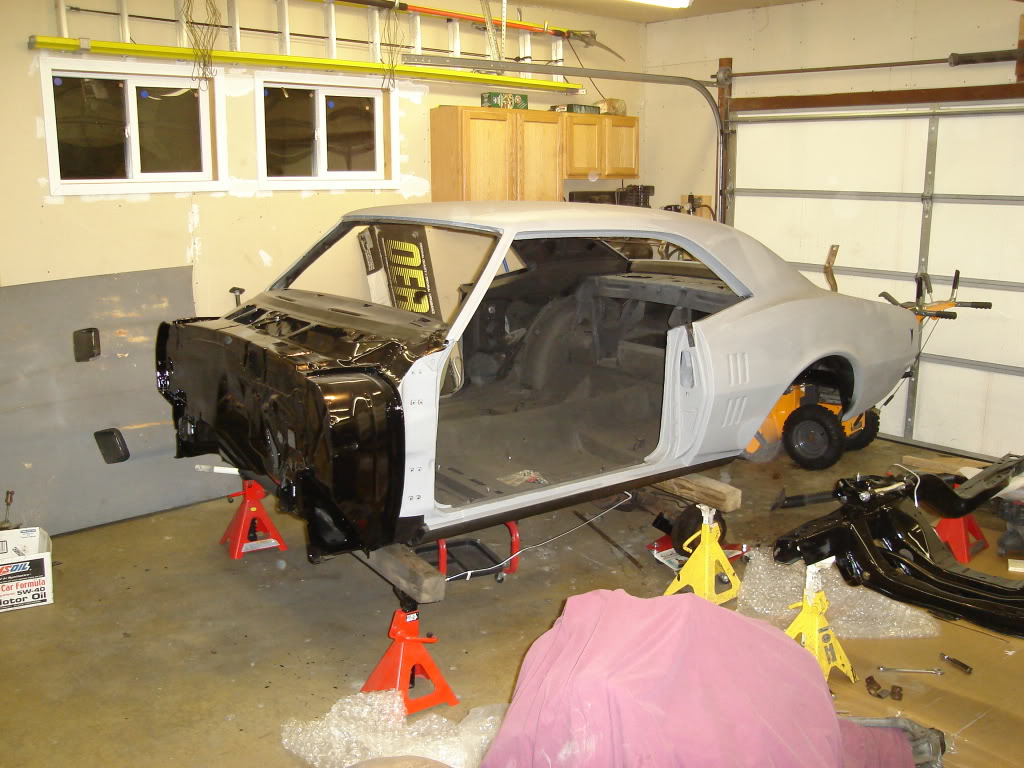 I tack welded the perches onto my 12 bolt. I will install it with the rest of the suspension and if the pinion angle is correct I will weld it solid and clean it up for paint.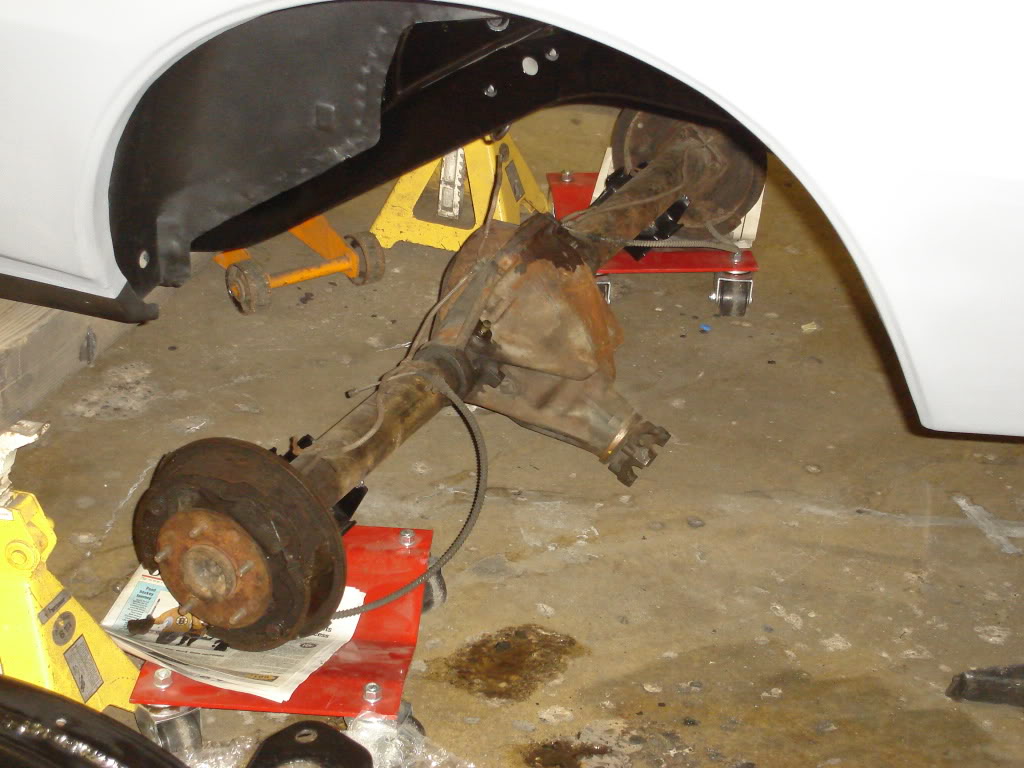 I started putting on new parts. Lower and upper control arms, and sway bar. I will have to do a few mods to the sway bar to make it fit correctly. The bar is more than twice the size of the old one. So I will need to drill new holes in the frame and make some threaded plates for inside of the frame to bolt it to.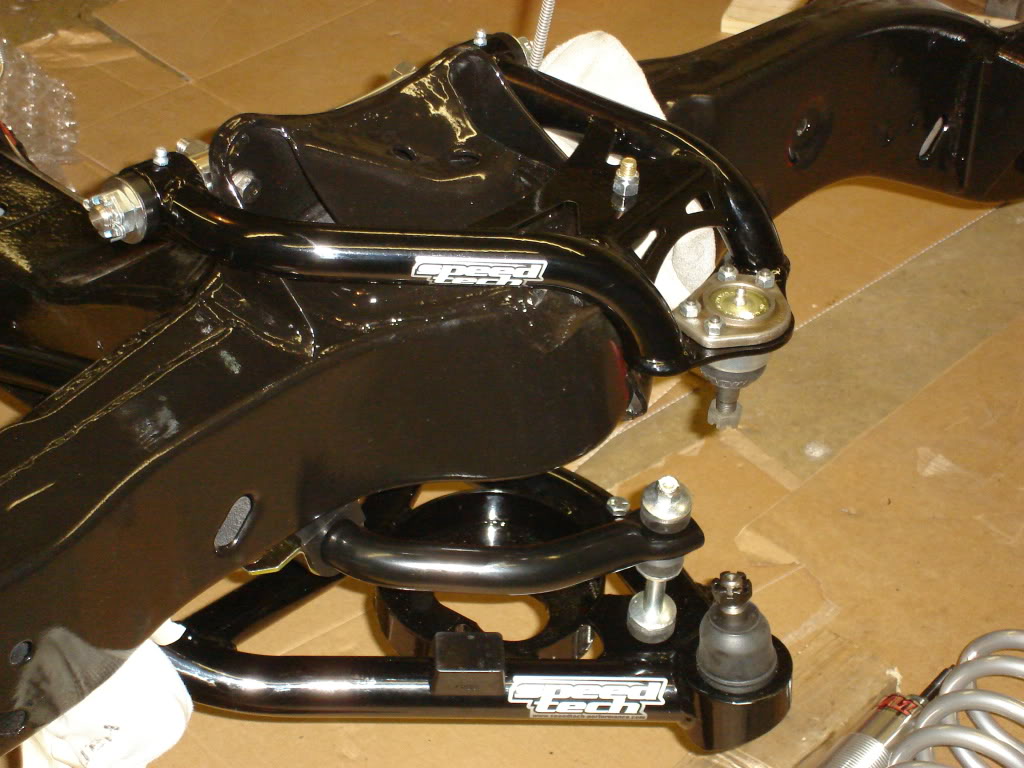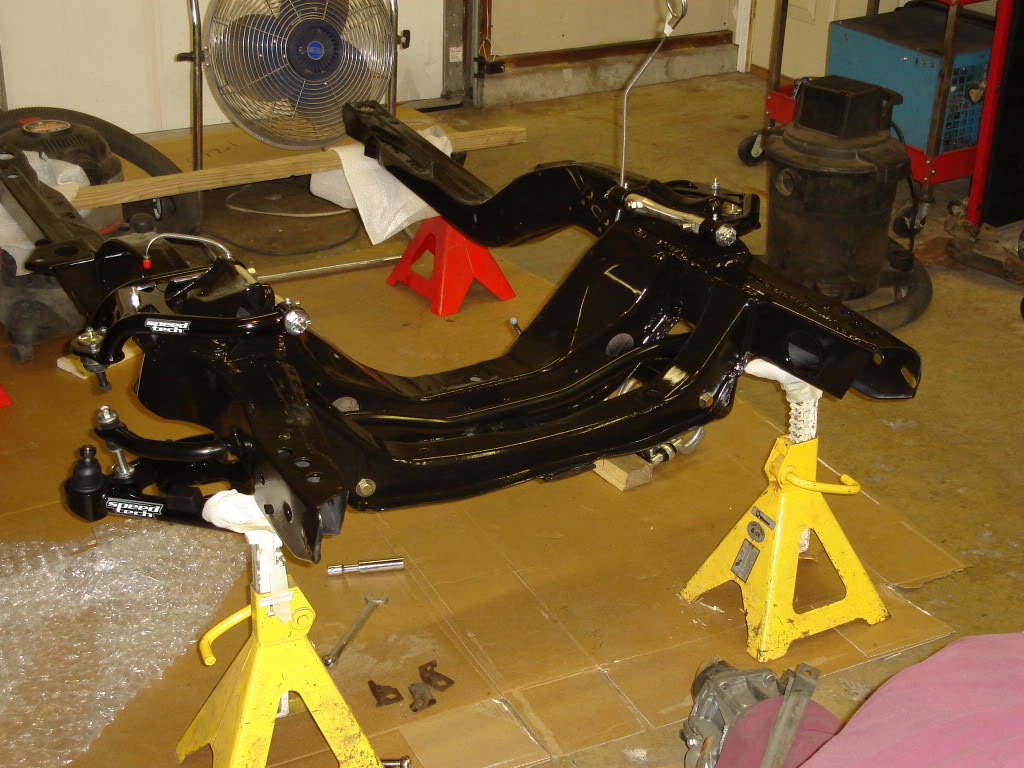 Worked on installing the rear brake lines and fuel lines. They have to go in before the engine is installed.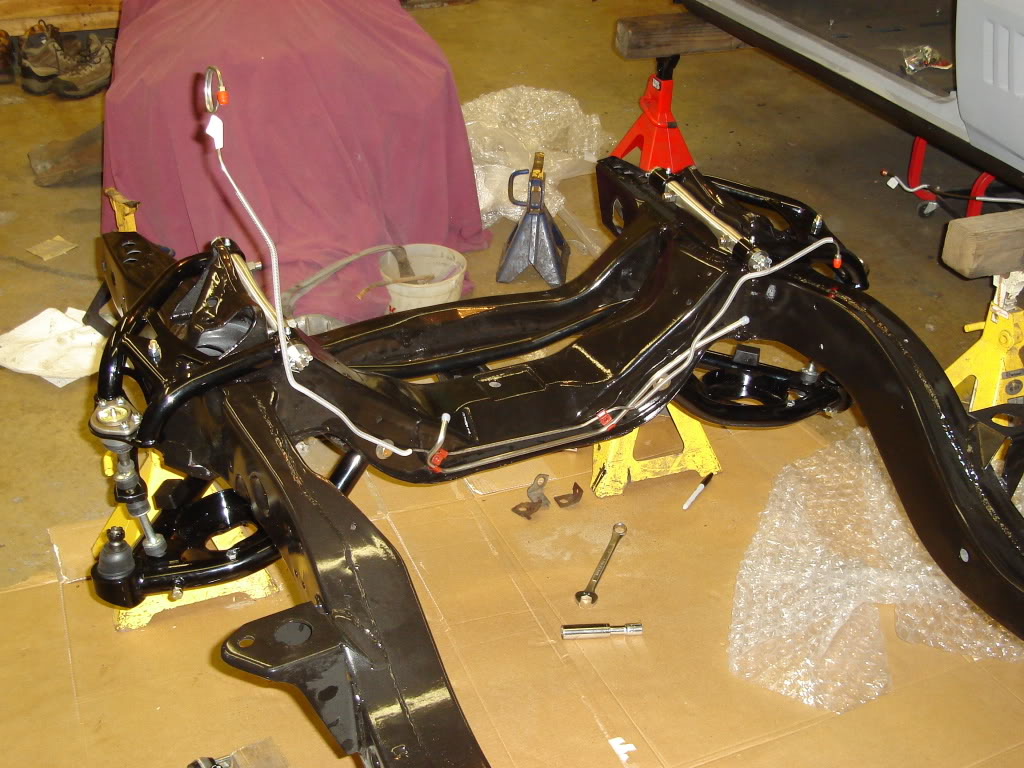 2-15-2010
Worked on the car some more. Installed the QA1's and spindles.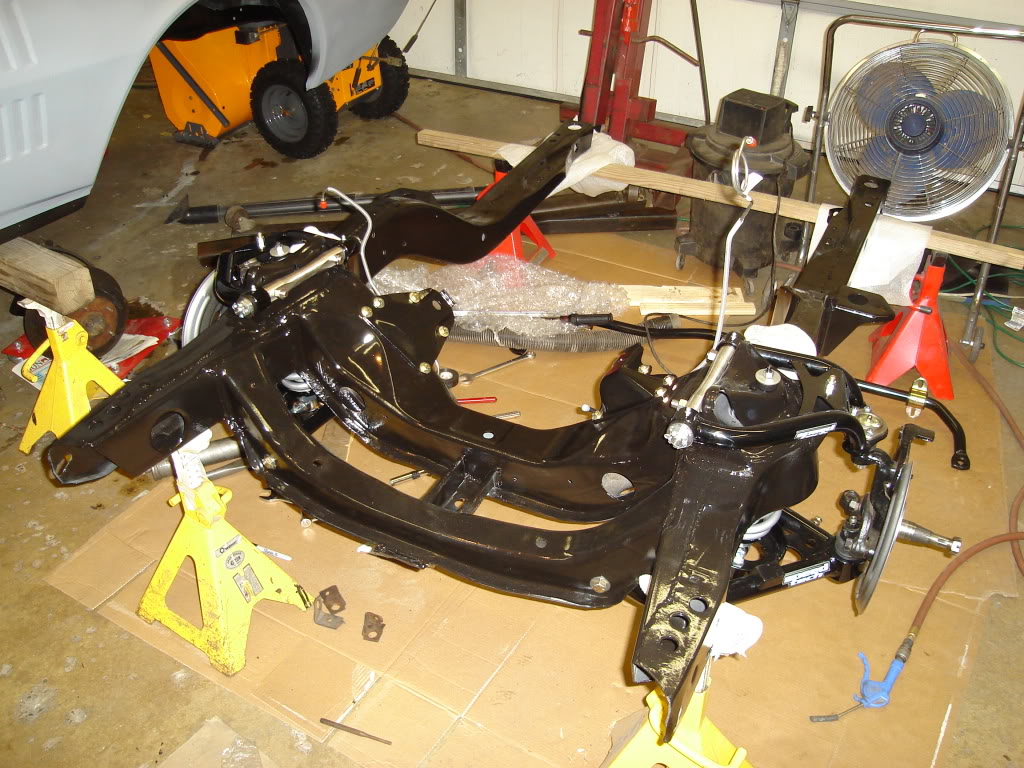 Close up shot. Need to clean everything up, it's been sitting for a long time. It's amazing how long these projects string out.LOL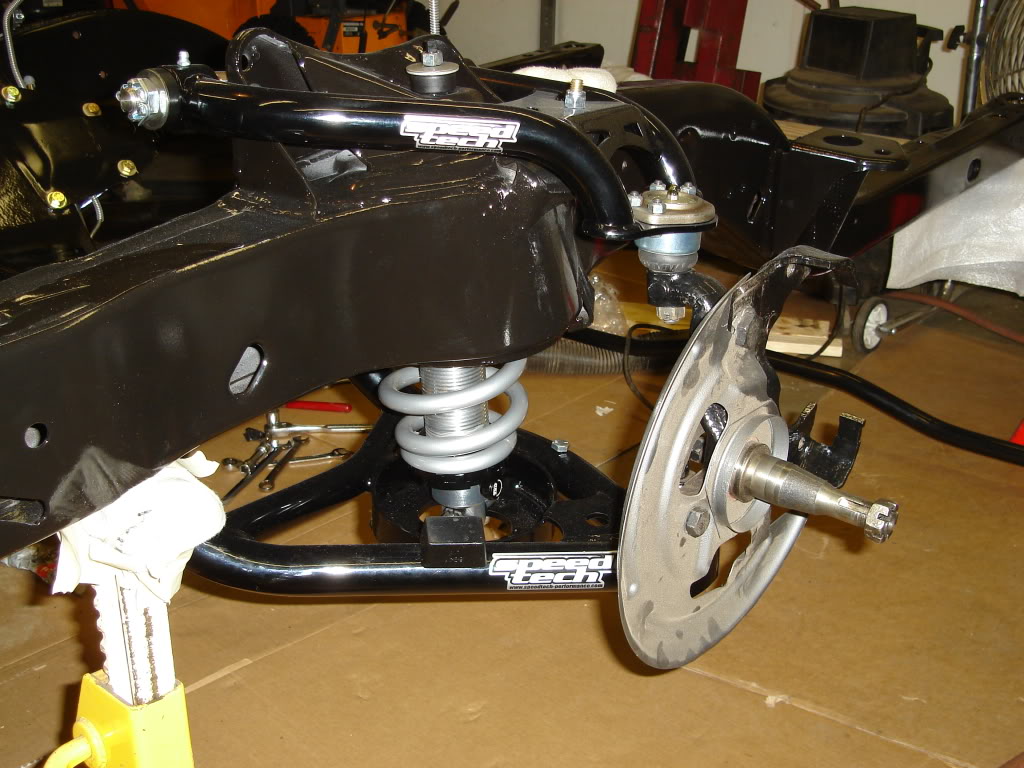 Made the plunge and installed this myself. Lots of towels and small movements.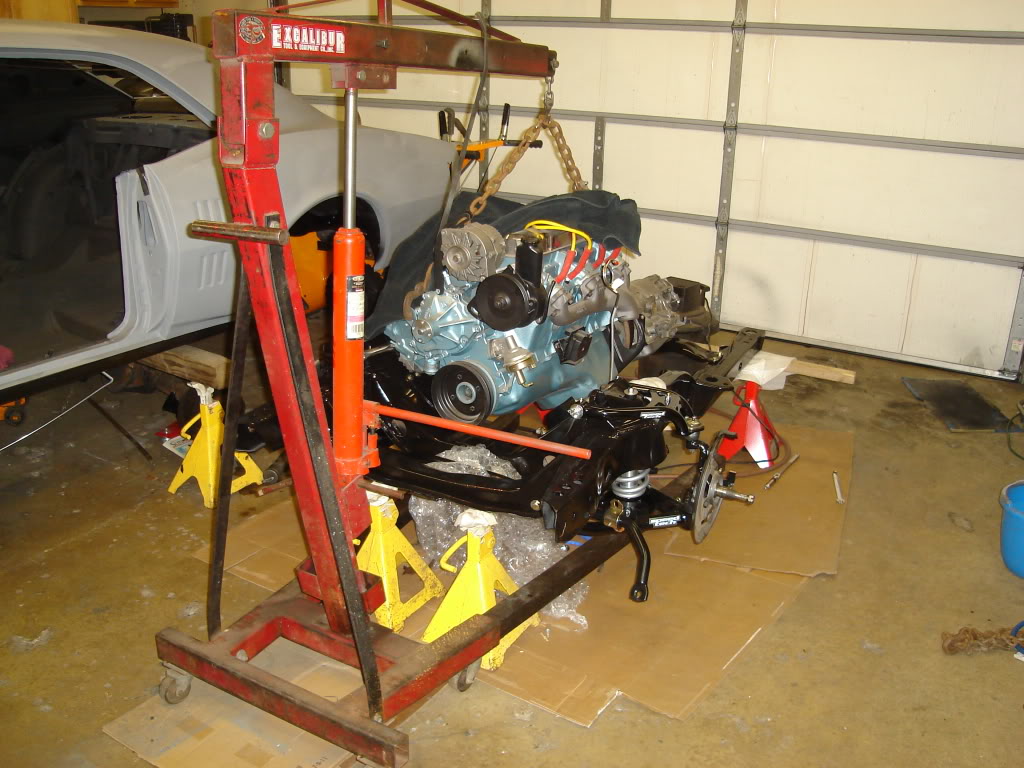 Engine and tranny all bolted in.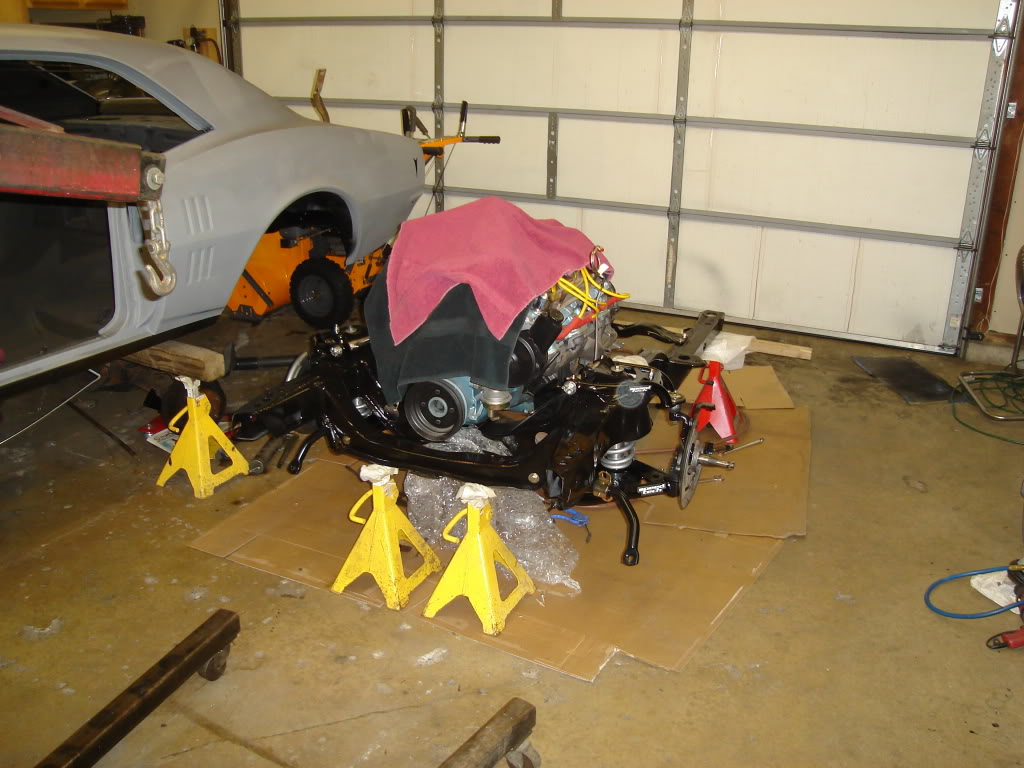 2-18-2010
I hope to have the car on all four wheels by the end of this month. The subframe is bolted up and I started running more of the ss gas and brake lines.


A little trial fit of some rims and tires from my last car.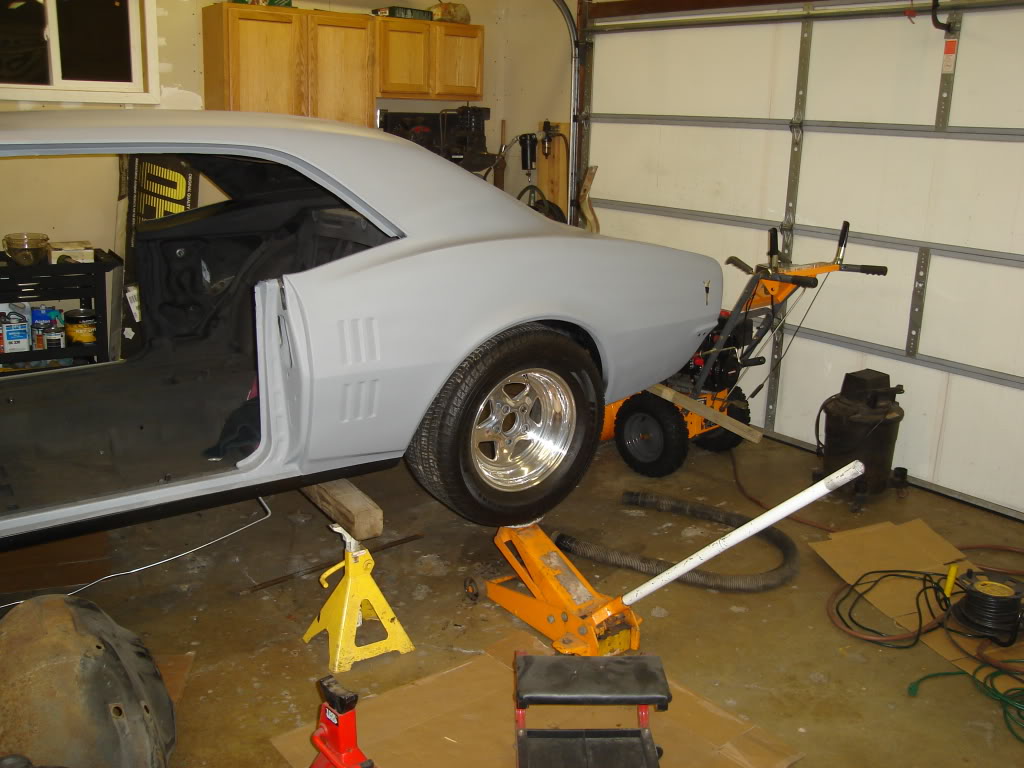 I think the back tires are going to be to wide. I can either buy different tires or go back to the Rally II's
2-26-2010
It's been almost a year since the car has been sitting on the ground. I bolted the wheels up that were on my 77 Camaro. I'm not sure if I'm going to go this route or not. The rear tires look a little wide. I think???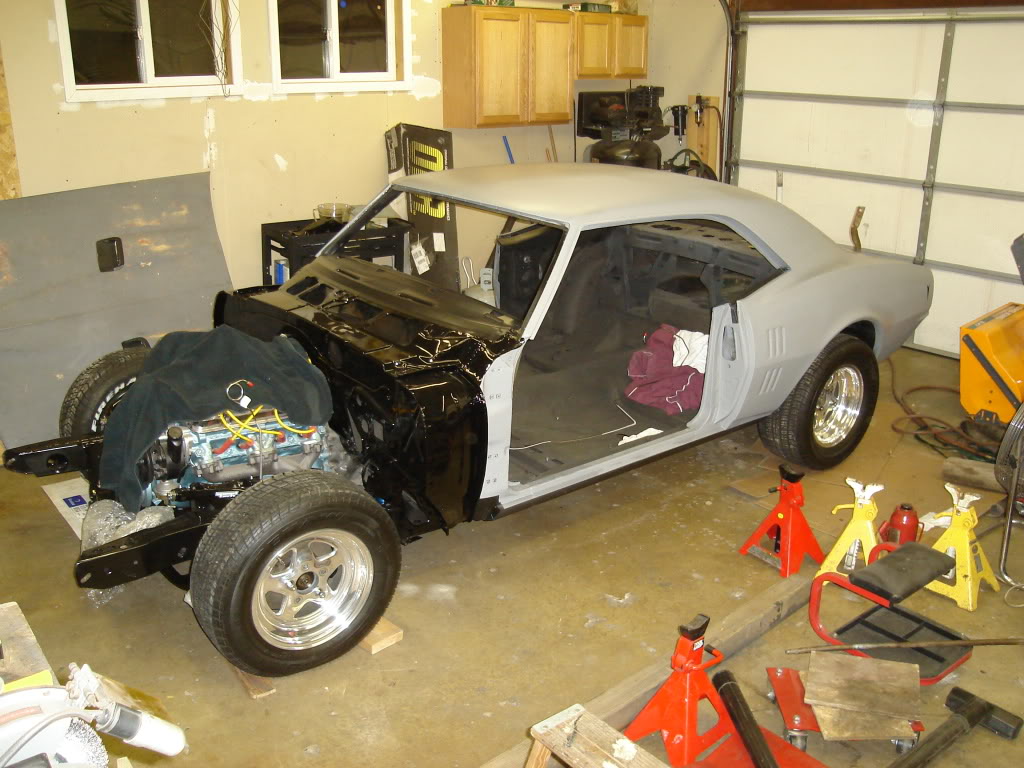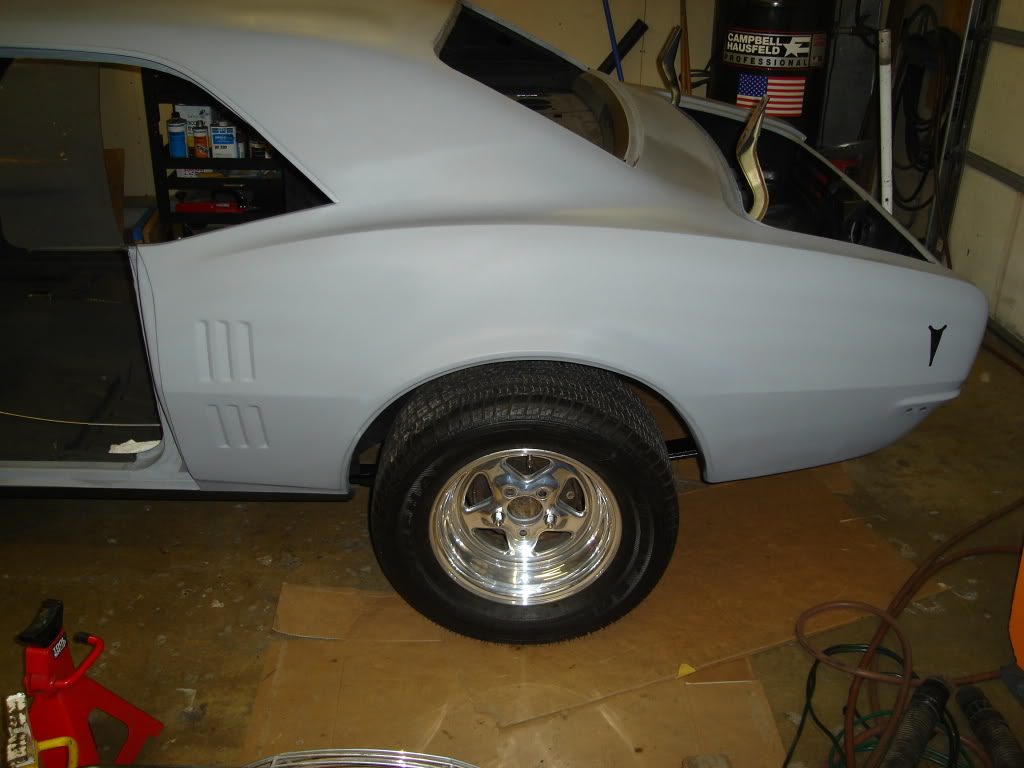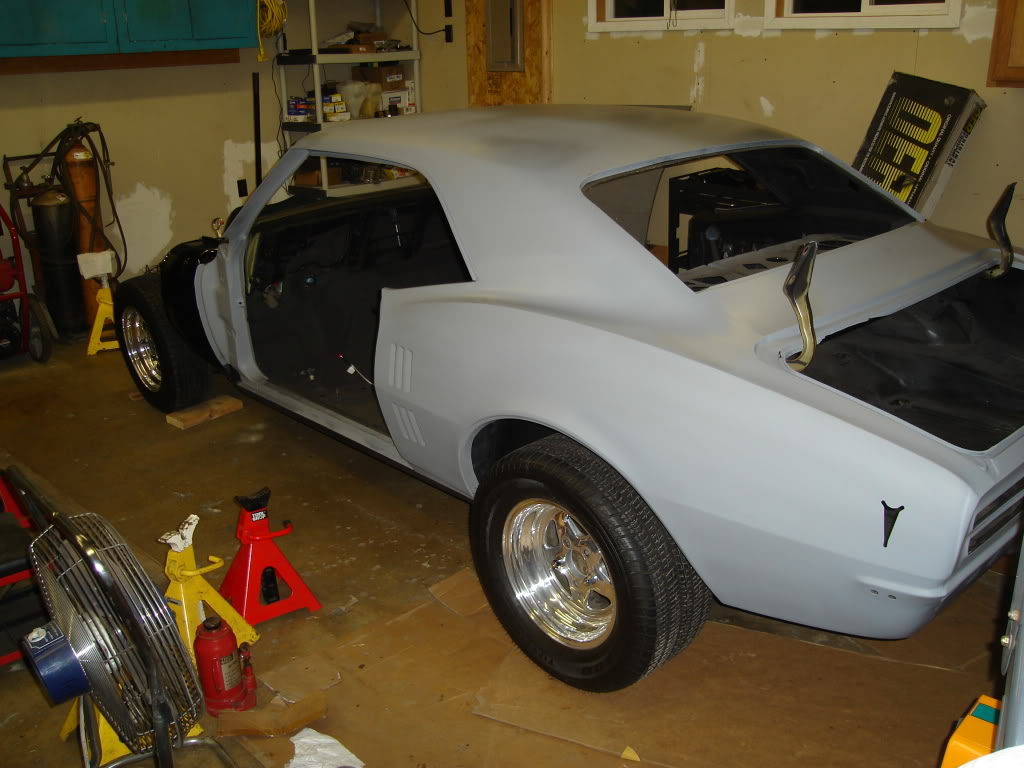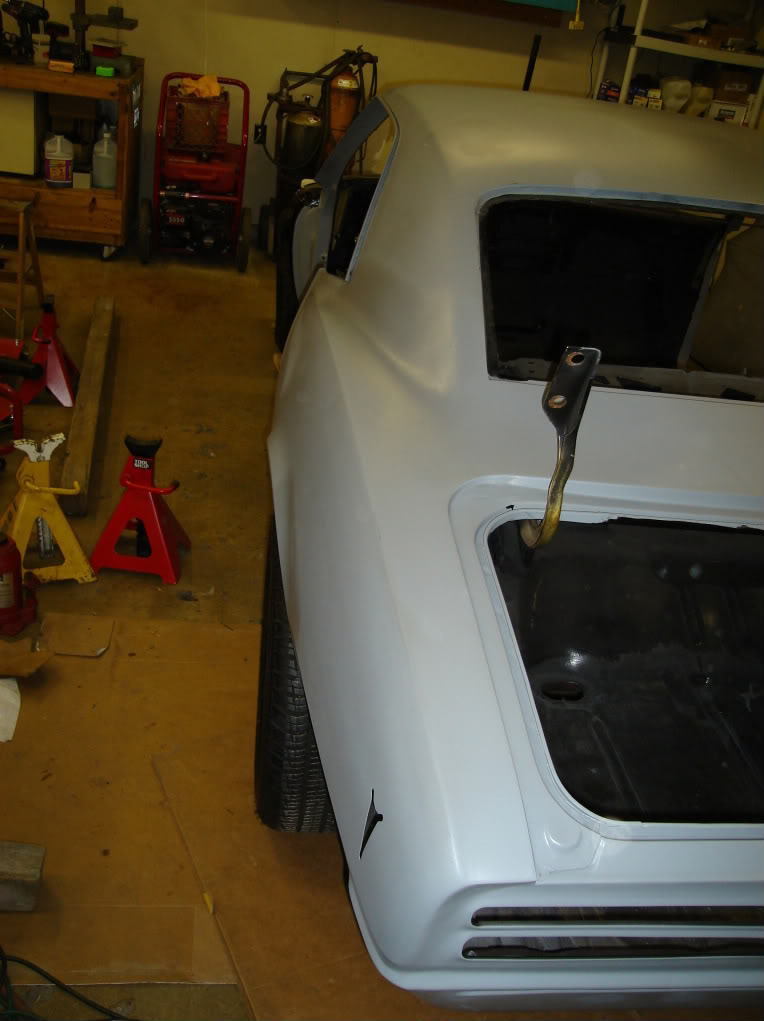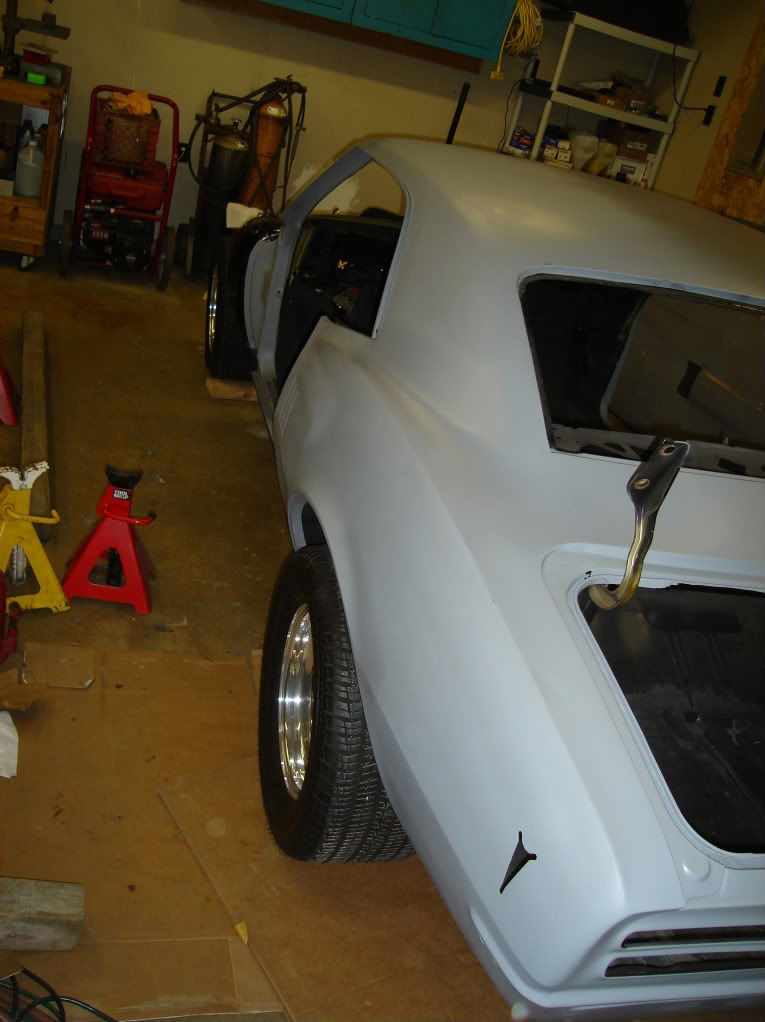 The rear tires at least do not stick out of the wheel wells. I know the car will come down an inch or two when all the weight is back on it. I also have the option of running a set of 15" Pontiac rally rims. I don't see having the money any time soon for a new set of fancy rims. Just not in the budget.
Heres a couple of shots with the wheels on my last Camaro and one of the rally rims before the start of the resto.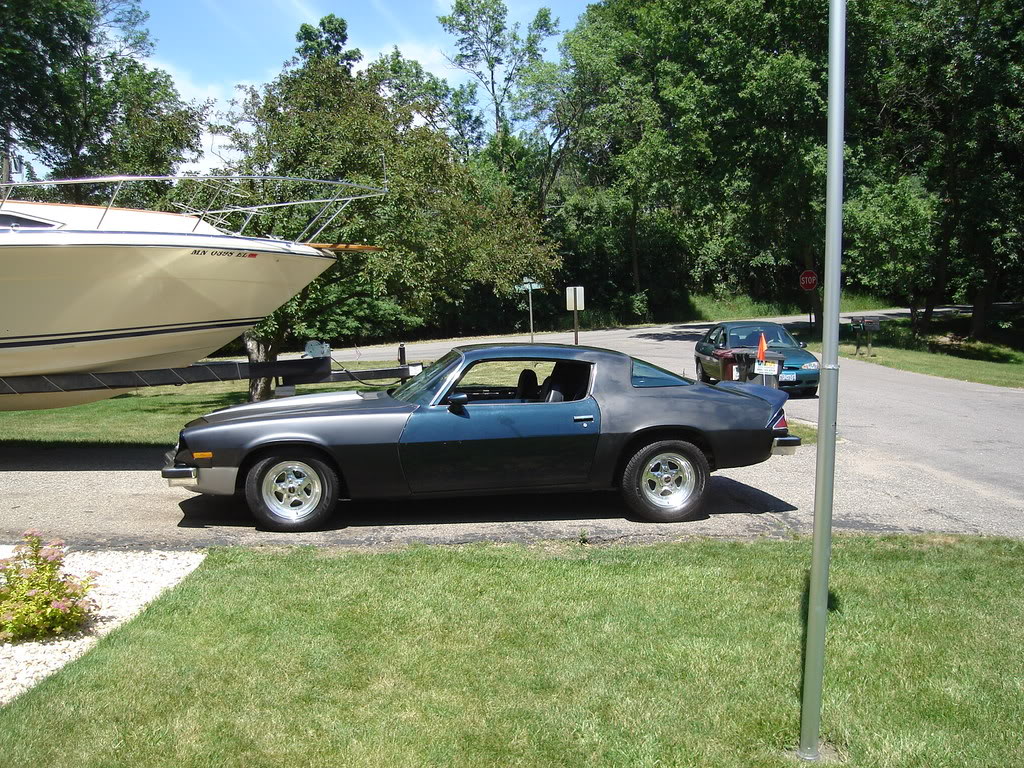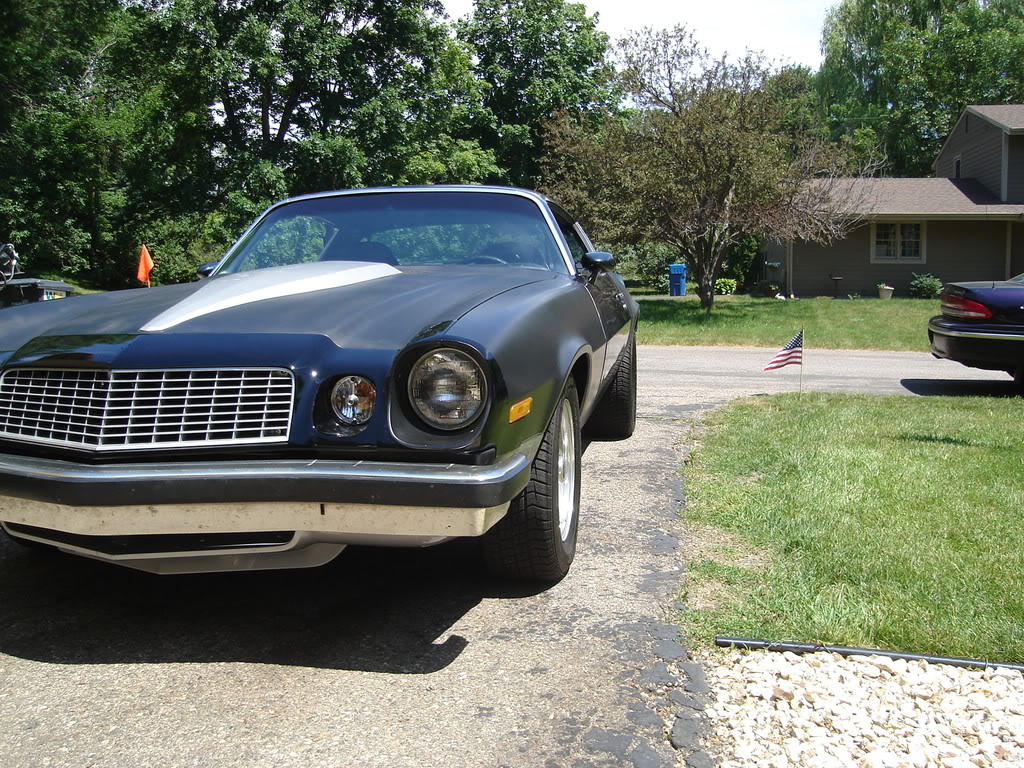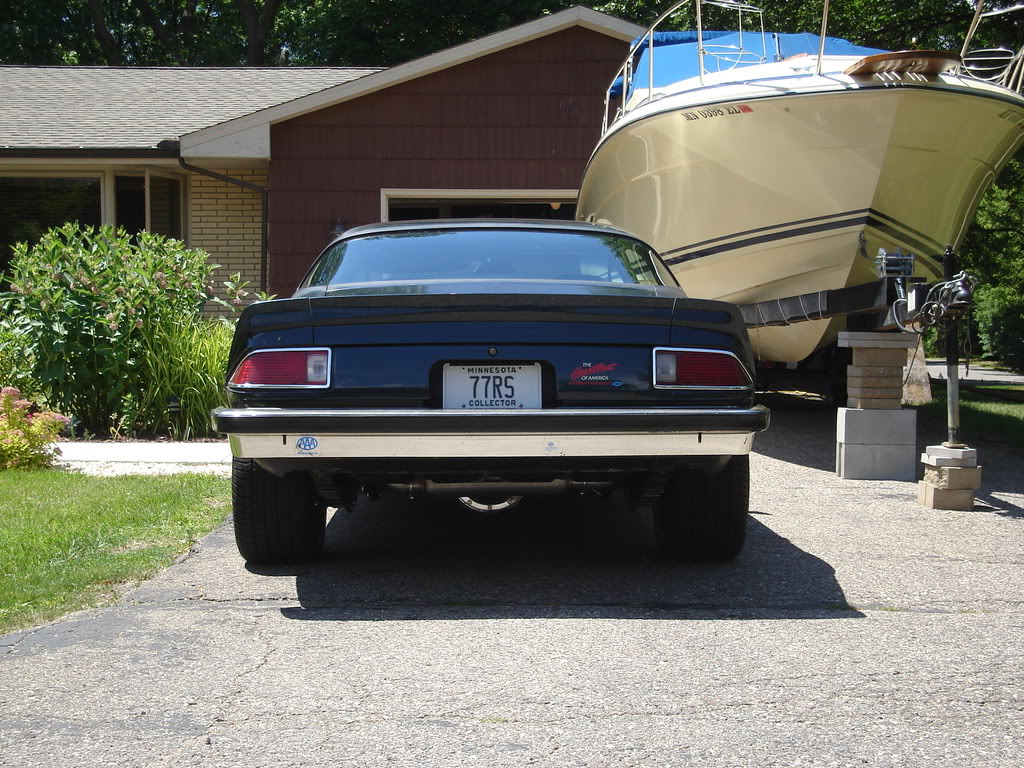 Heres a shot of my old car just out of paint.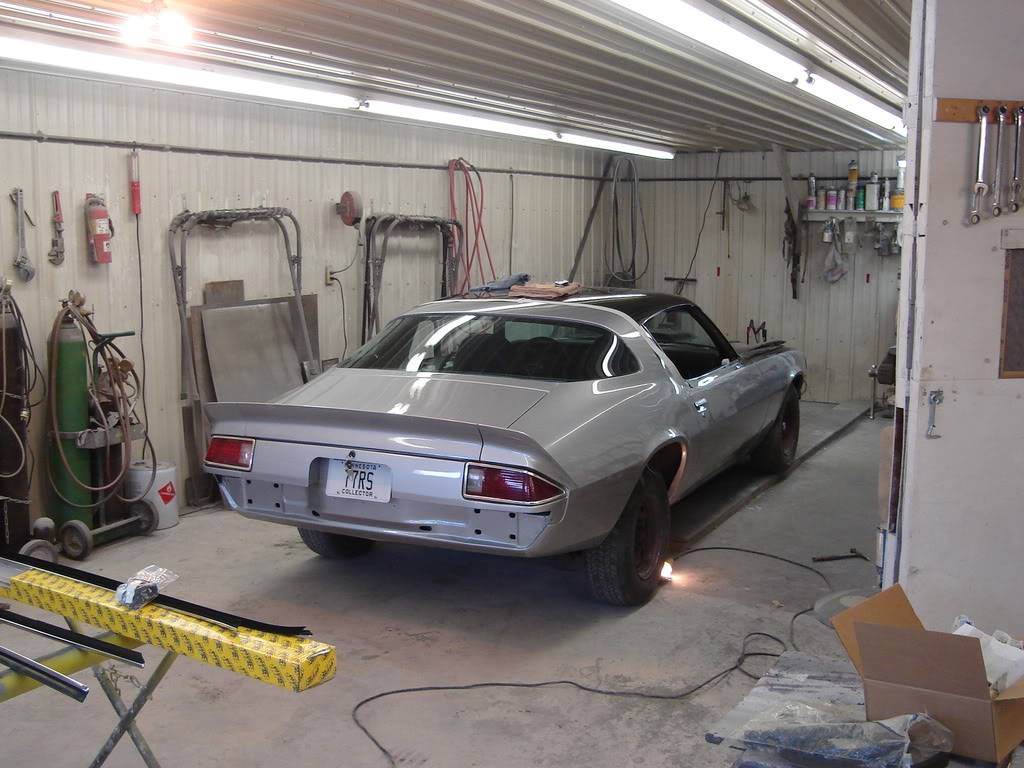 And heres the only pic I have of the rally rims. If I use these I would put a wider tire on them.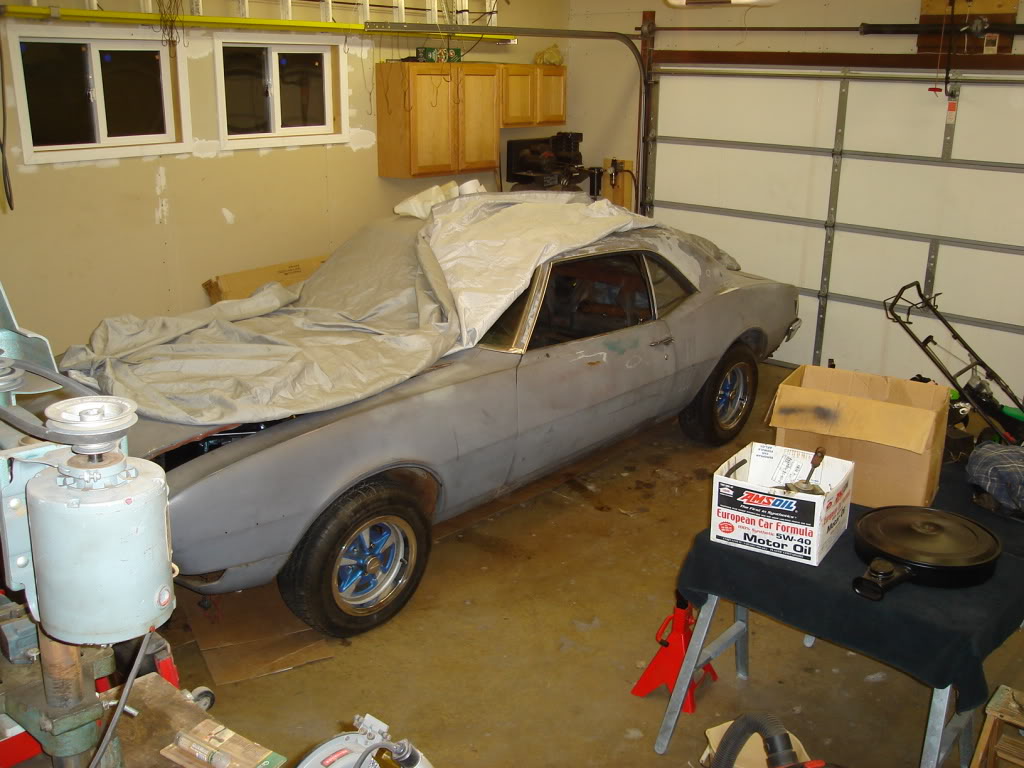 Like I commented before, new rims are out of the budget for a long time. I can run the Weld pro stars with a smaller tire on the back. Or, sell the pro stars and buy all new tires,trim rings,center caps and lugs for the rallys. What do you think??
3-20-2010
I had a chance to get some more work done on the car over the last two evenings. I wanted to install the front sway bar but with having a larger size bar comes a larger mounting bracket. There was no way I could use my old holes that are threaded into the frame. I bolted up the end links and got them set close to 90 degrees. I then marked the new holes and drilled out 3/8 size holes in the frame. I then welded a tab onto the tops of the grade eight bolts so it would have a stop on it which would lock up against the inside of the subframe. I also drilled,tapped, and inserted a grease zerk into the bushing.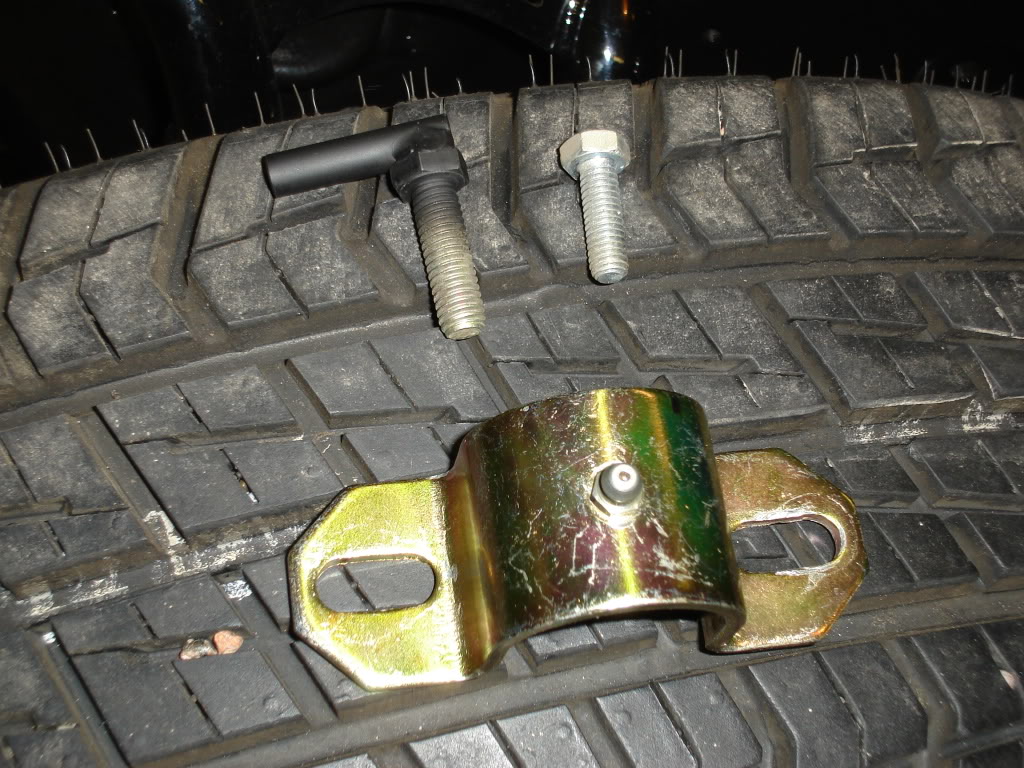 Heres a picture with it all bolted into place. I don't think this will pull out of the frame. It only took one picture of the damage than can happen when a sway bar rips the threads out of the frame to make me do this upgrade.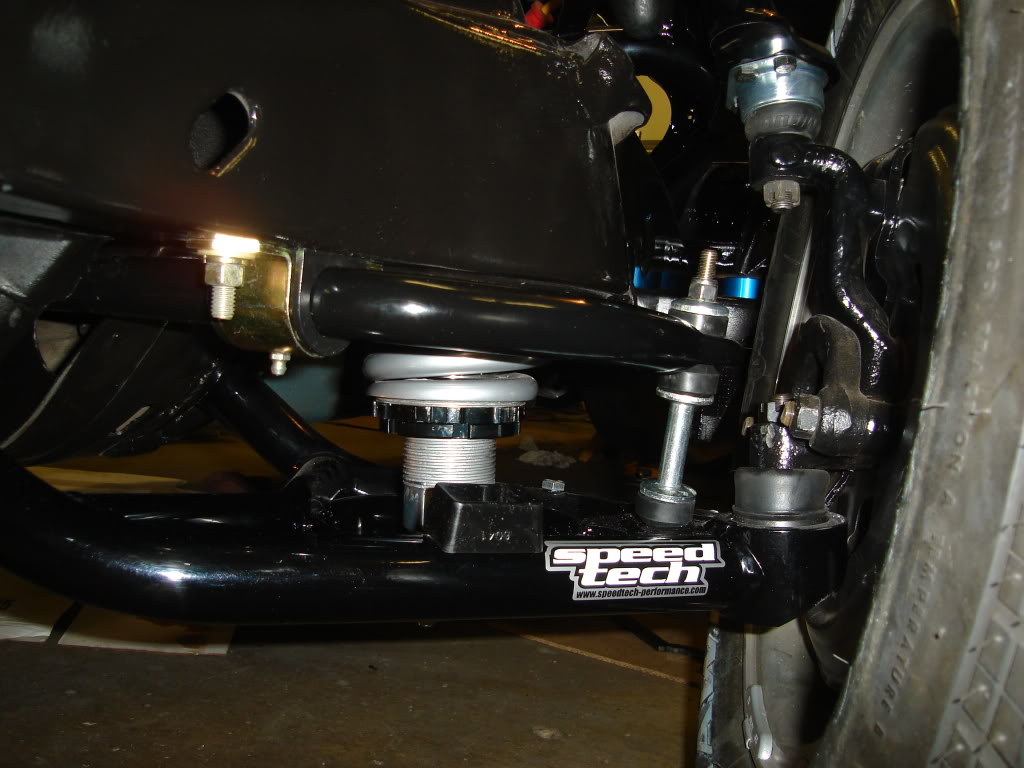 I also had a chance to start getting my axles ready to be bolted back in.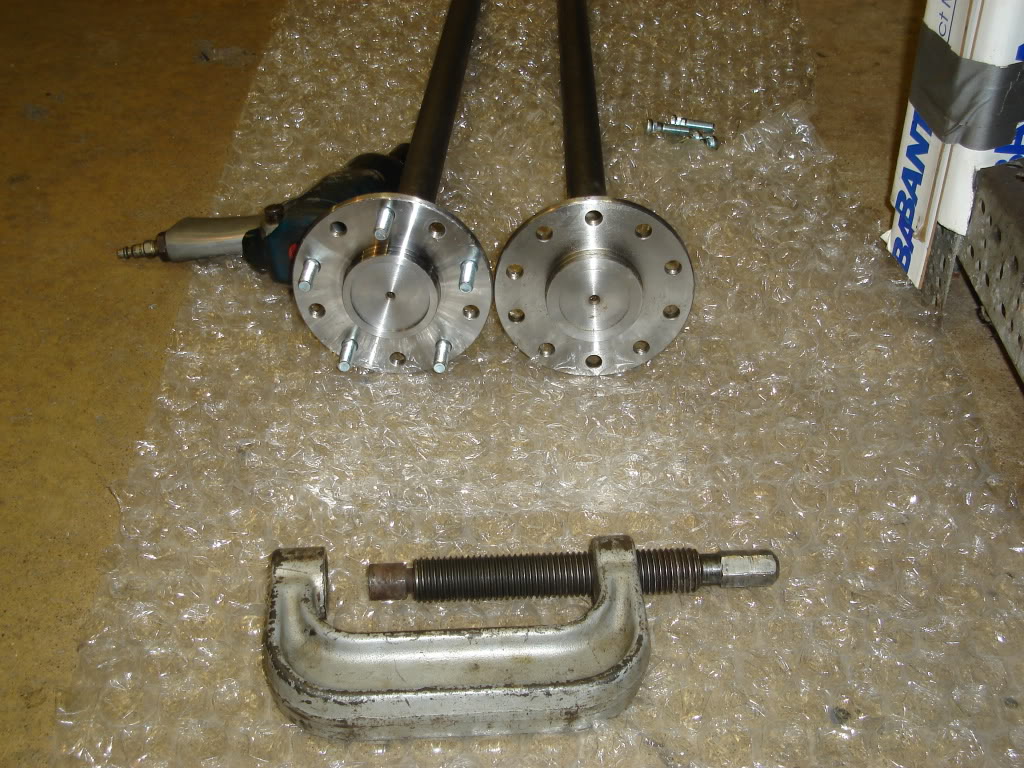 The ball joint tool makes installing the wheel studs pretty easy.
6-9-2010
Not much to update. I had to order new rear calipers for my car. The new calipers are a little bigger in size. With that being said my 15" rims no longer fit. Good news-bad news. LOL Bad news I have to buy new rims and tires. Goon news I get to buy some 17-18" rims and tires with correct offsets. Still looking for options. I'm on a tight budget so I would like to stay under or close to $1,500.00 for tires and rims. I would like a rim with more of a 60-70"s vintage look. Most of the rims out there just would not look right on my car. If anybody has any ideas let me know. So far I'm looking at the Billet Spec. Rally rims, American racing V500's and maybe Hopsters.
7-13-2010
Hope to start working on the car again. I ordered a set of American racing T71R rims with Nitto 555's. I also had my ram air manifolds coated in a high heat ceramic coating. Hope to get the rims yet this week. Family is out of town at the end of the month so I hope to have a lot of car time to myself.
9-23-2010
The rims did not fit the car correctly so I had to sell them. I mounted one of the front tires on the back to see if that would work. The sizes were 275-45-17 and 235-45-17. I took some pictures on how they fit on the car but all of the shots are from behind or showing how the tire was going to go into the wheel lip.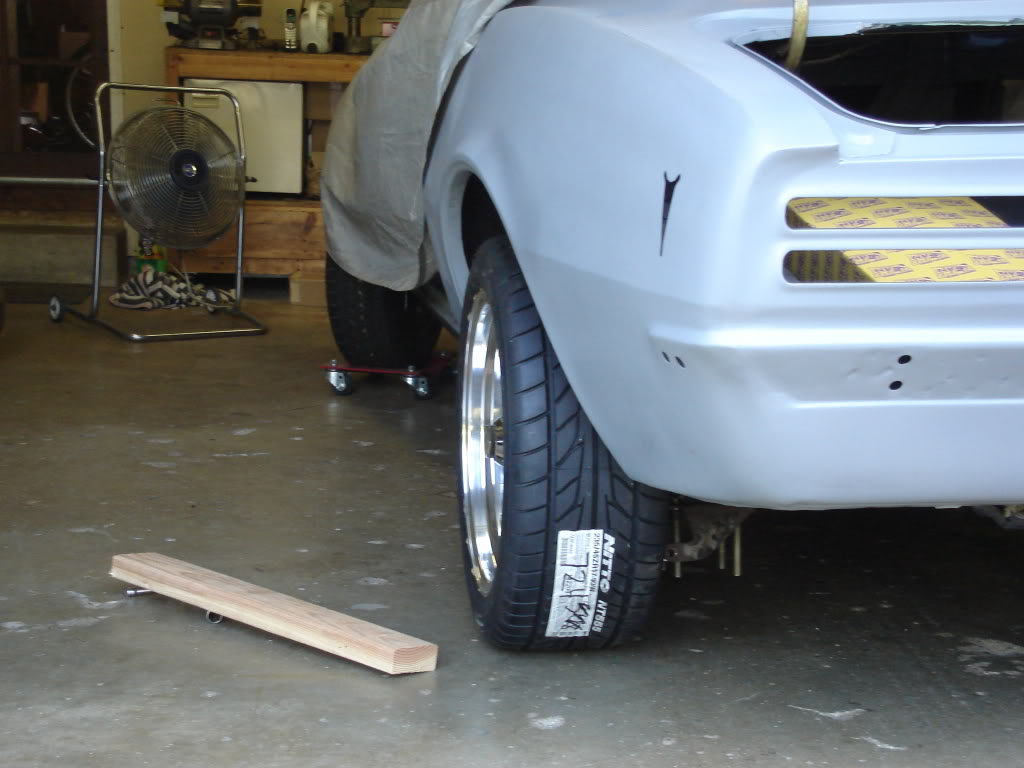 I did get a chance to get the Pypes exhaust bolted in. It's not finished yet but is close. I also put in my PTFBODY sub frame connectors. The connectors tuck to the floor pretty tight along with the exhaust.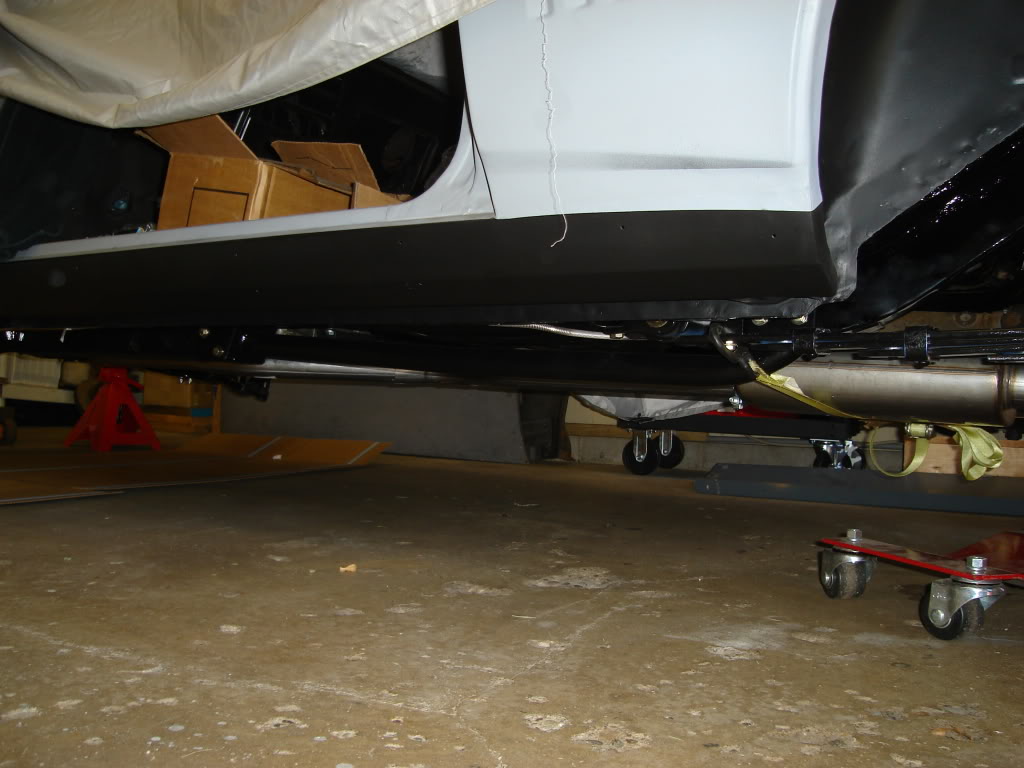 I had a chance to get the steering linkage in. I also updated the steering gear box.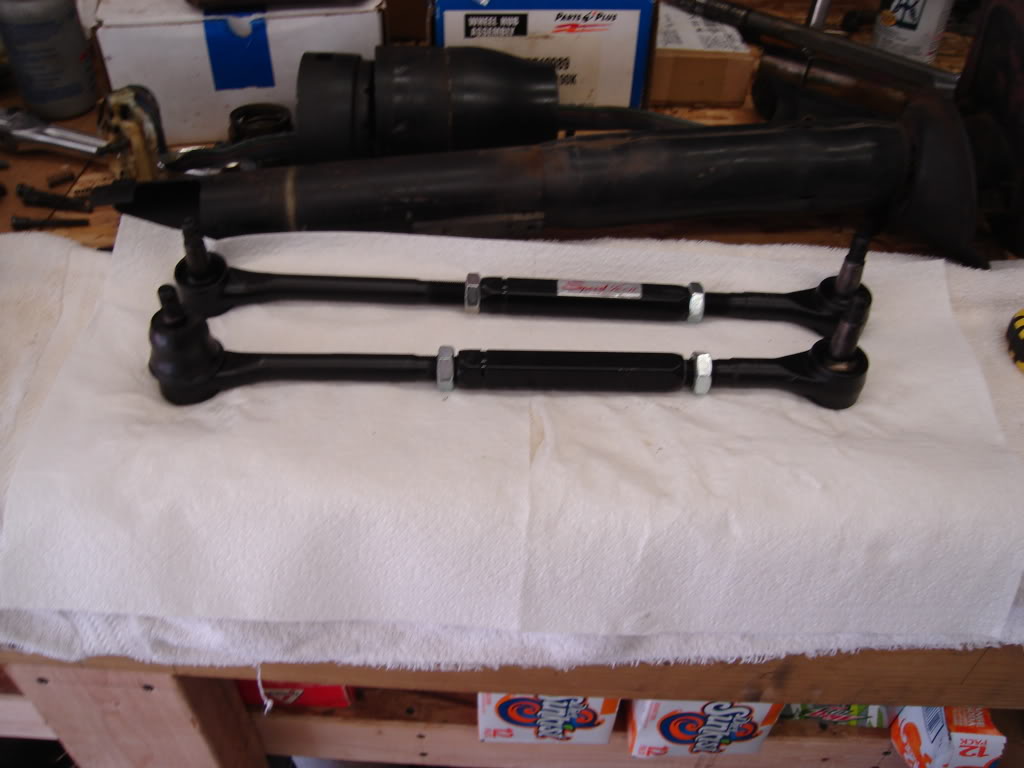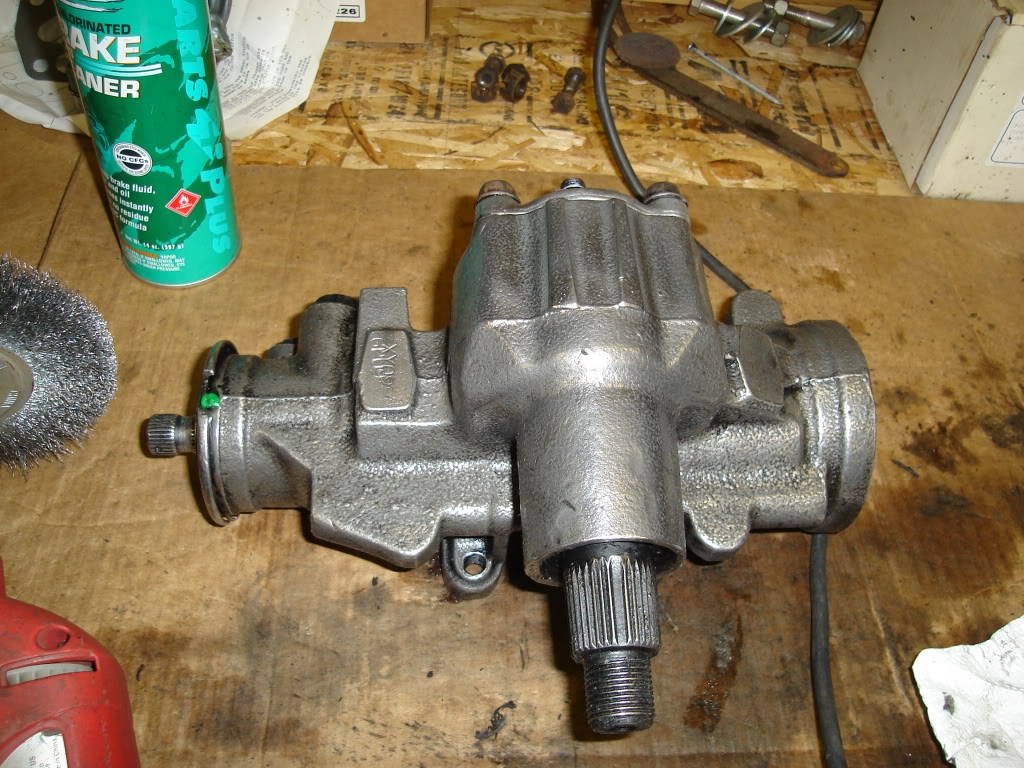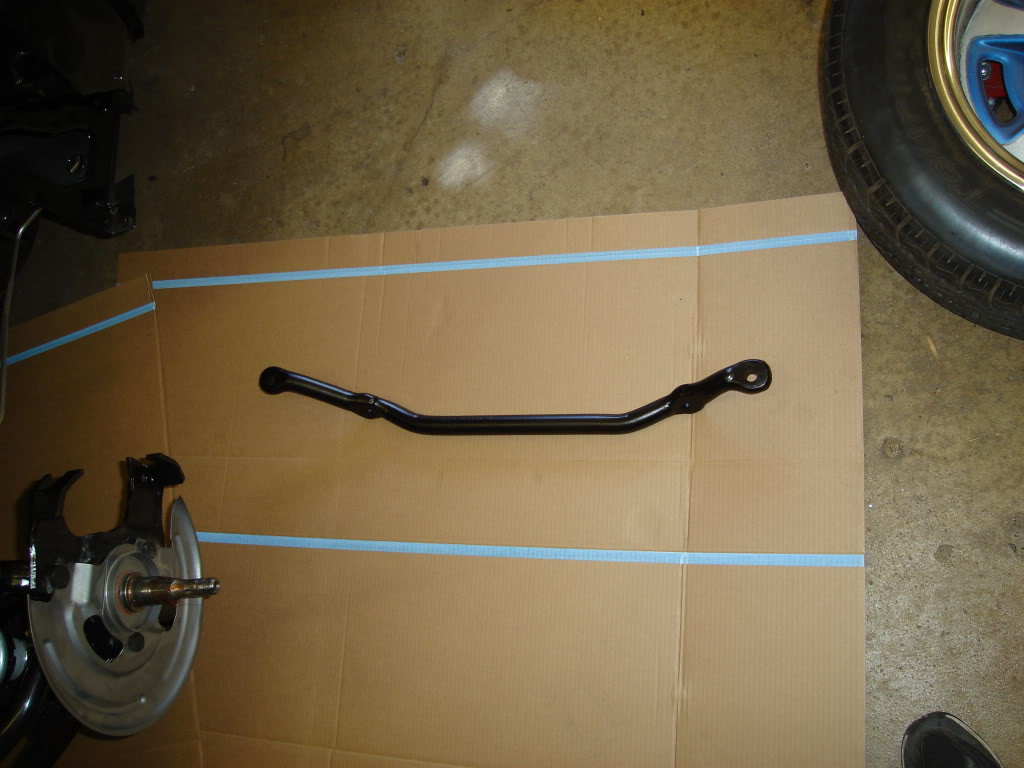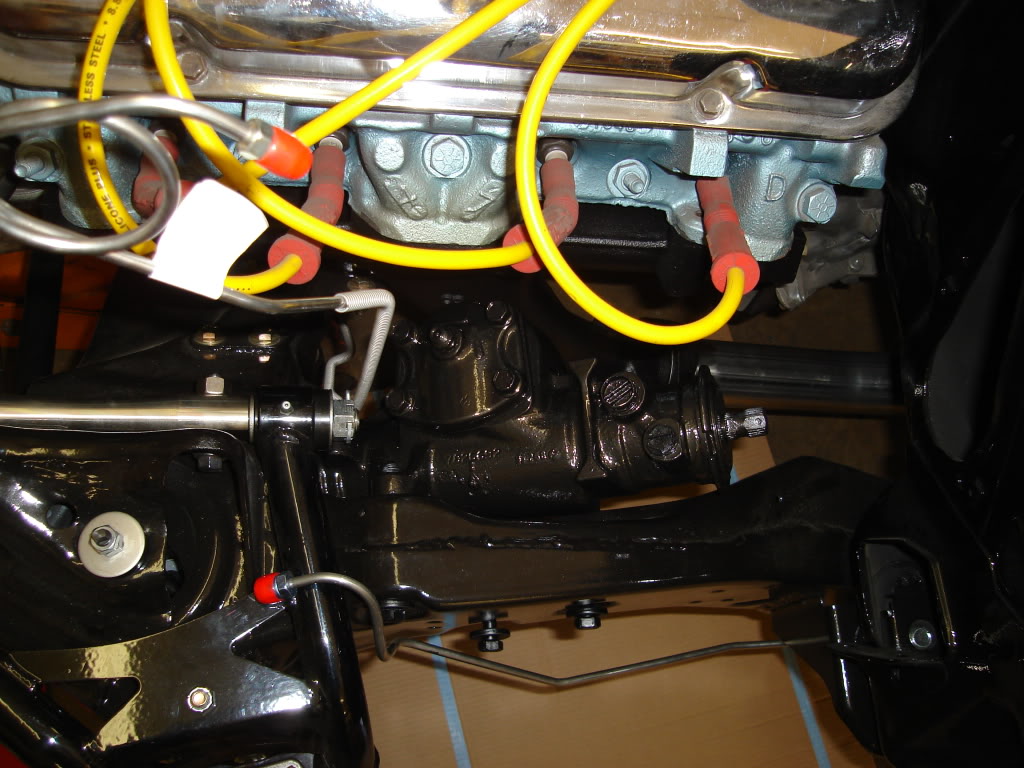 I had my long branch manifolds ceramic coated. The pictures don't show them very well but they were the best shots I could get.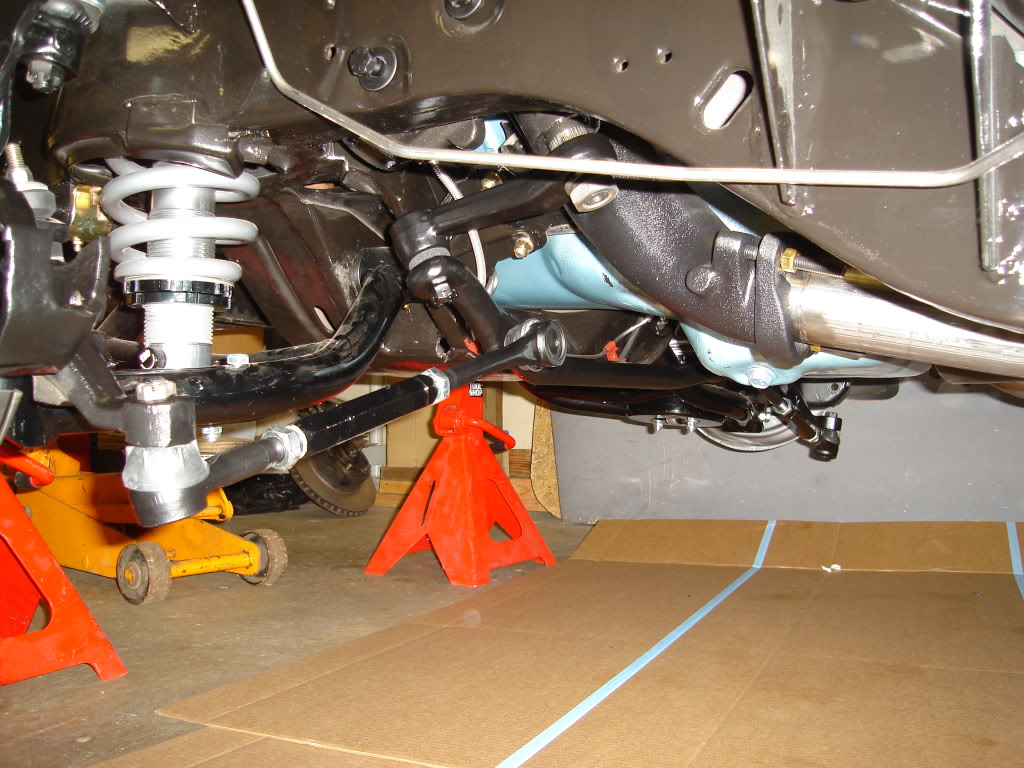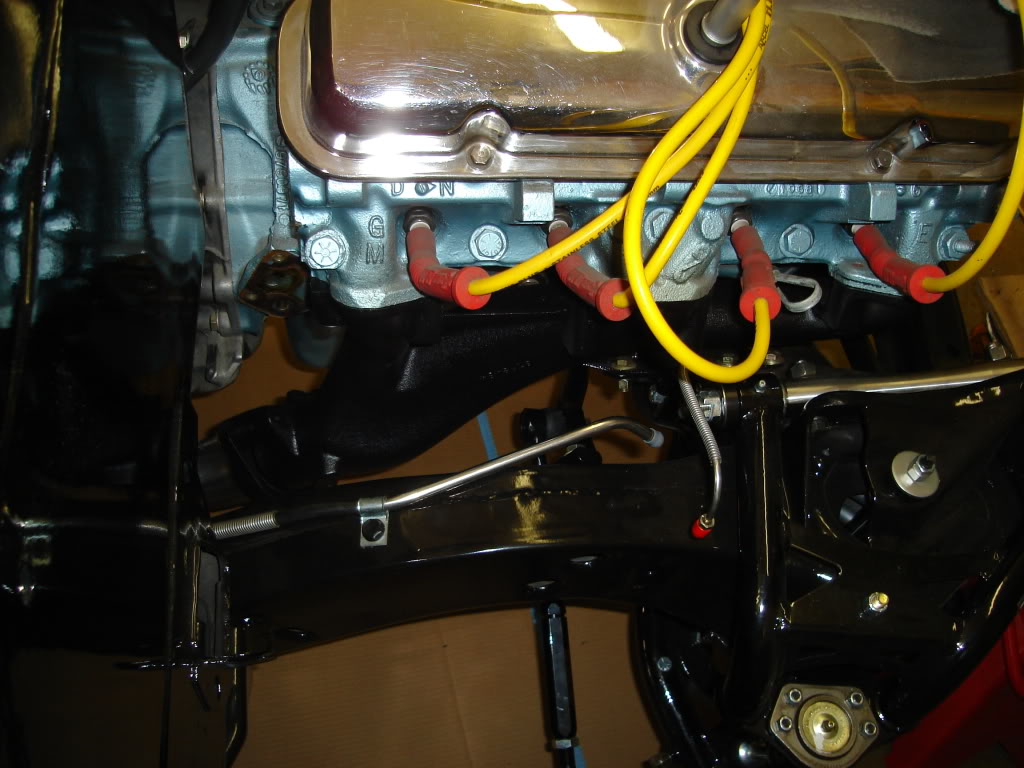 11-9-2010
Have some new pictures with the car back down on the ground.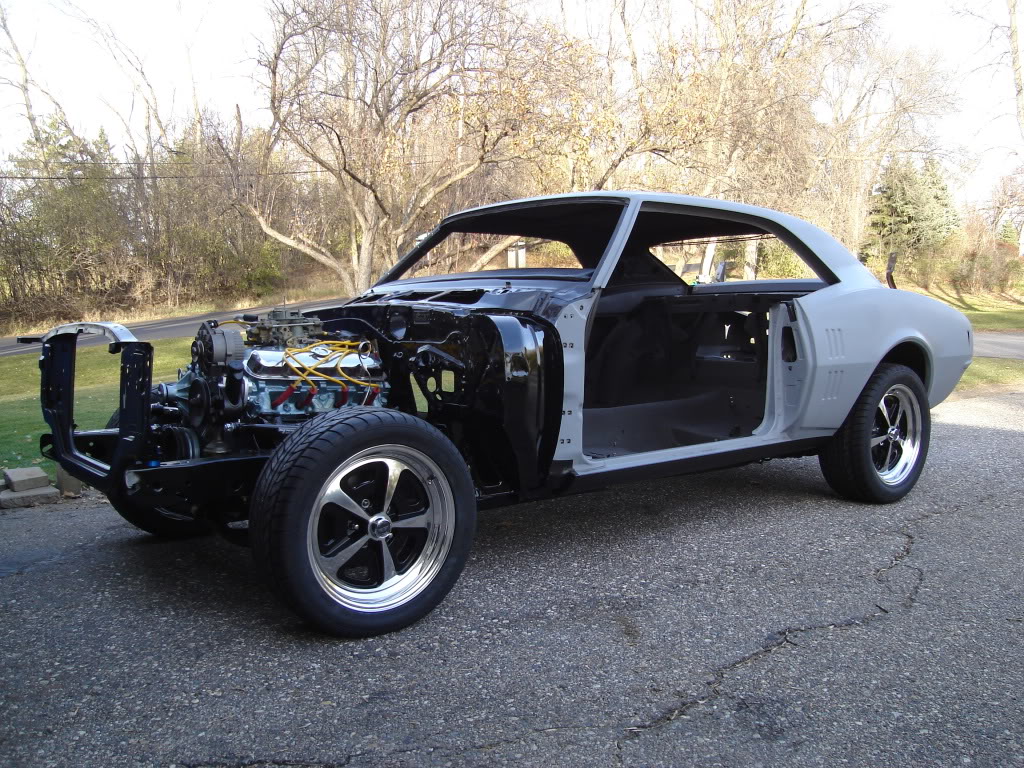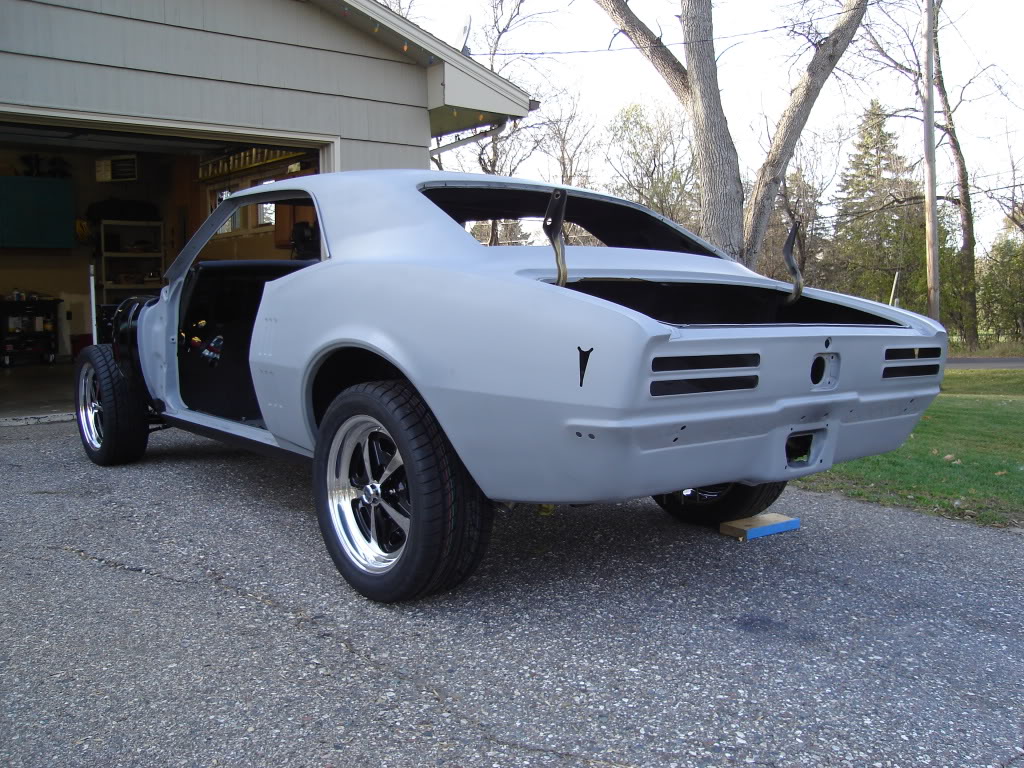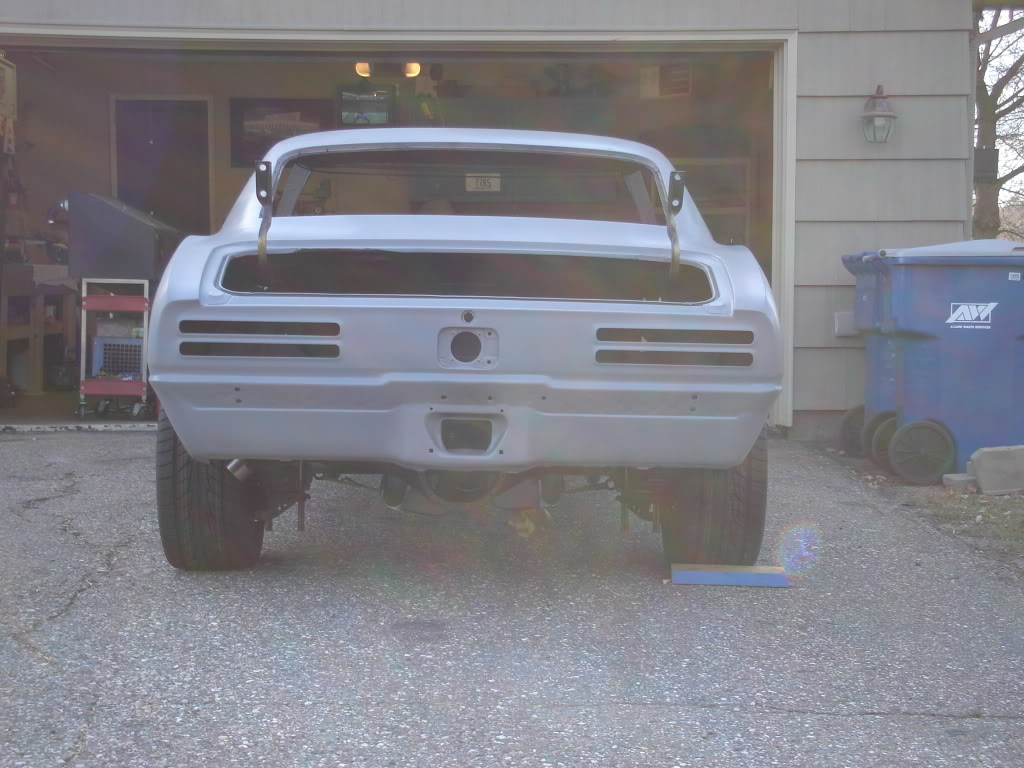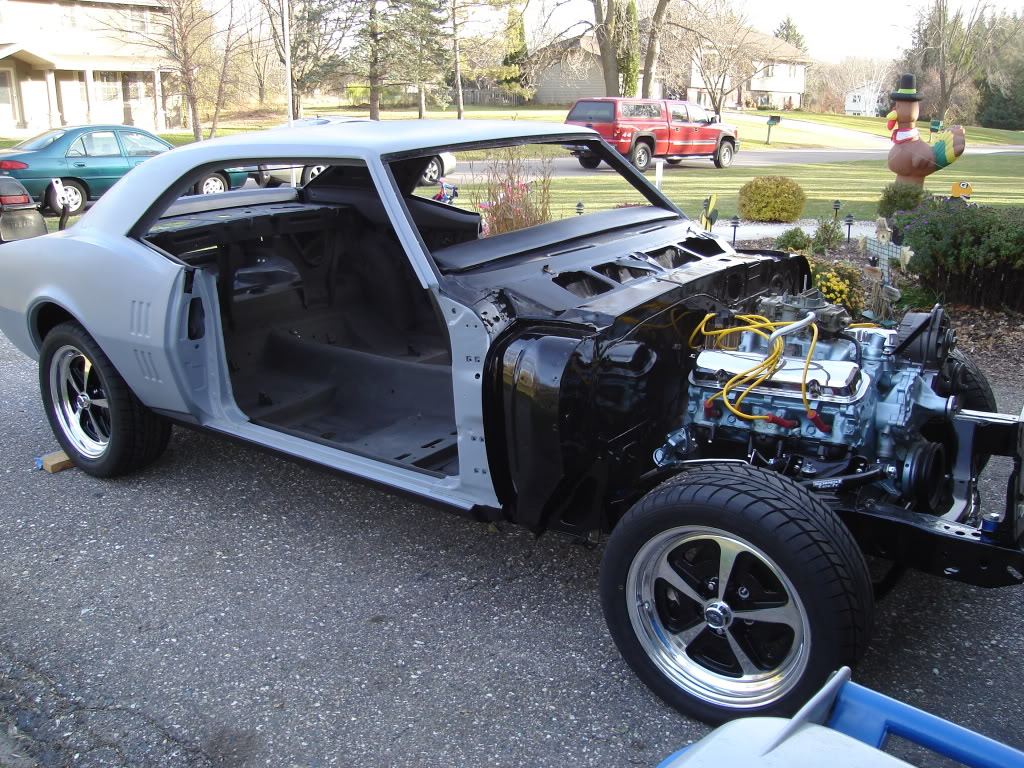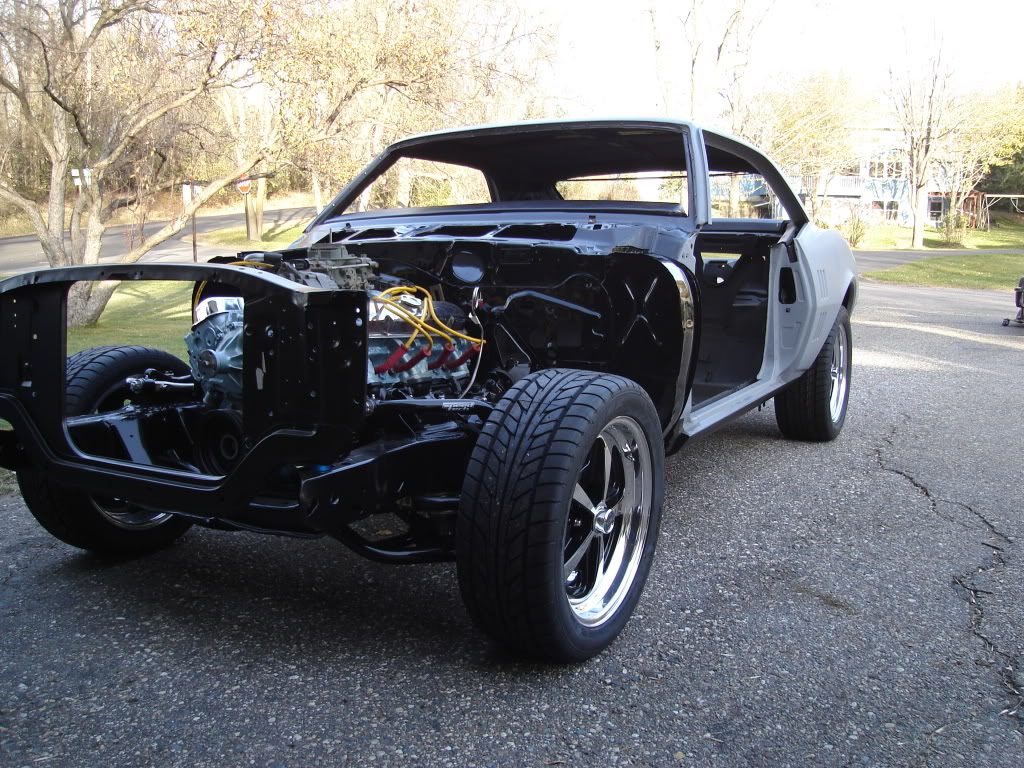 I still need to order the PMD center caps and black center lugnuts.
11-26-2010
Next on my list was to get the upper and lower dash painted in a low gloss black. I also painted the rear shelf and some other interior parts.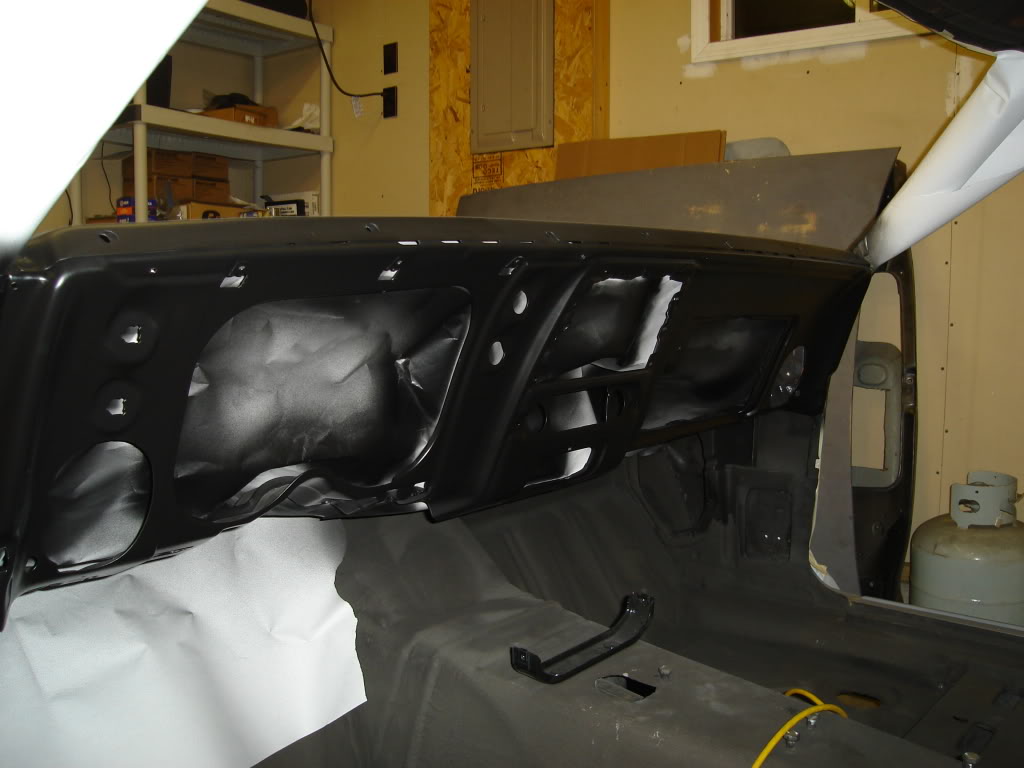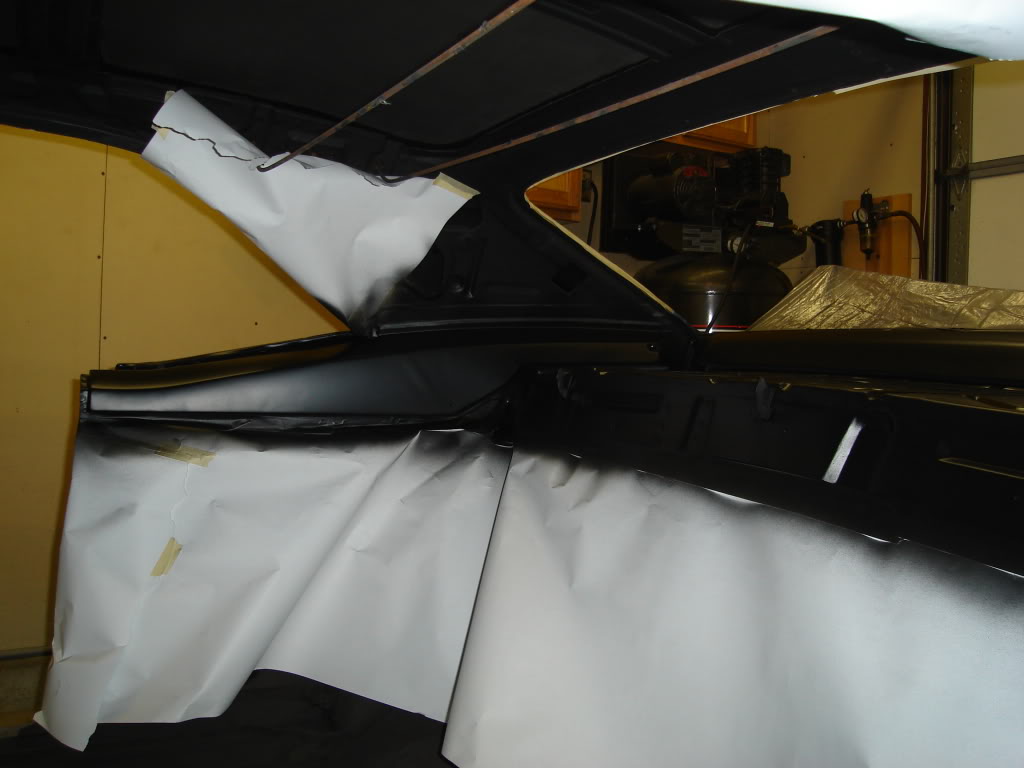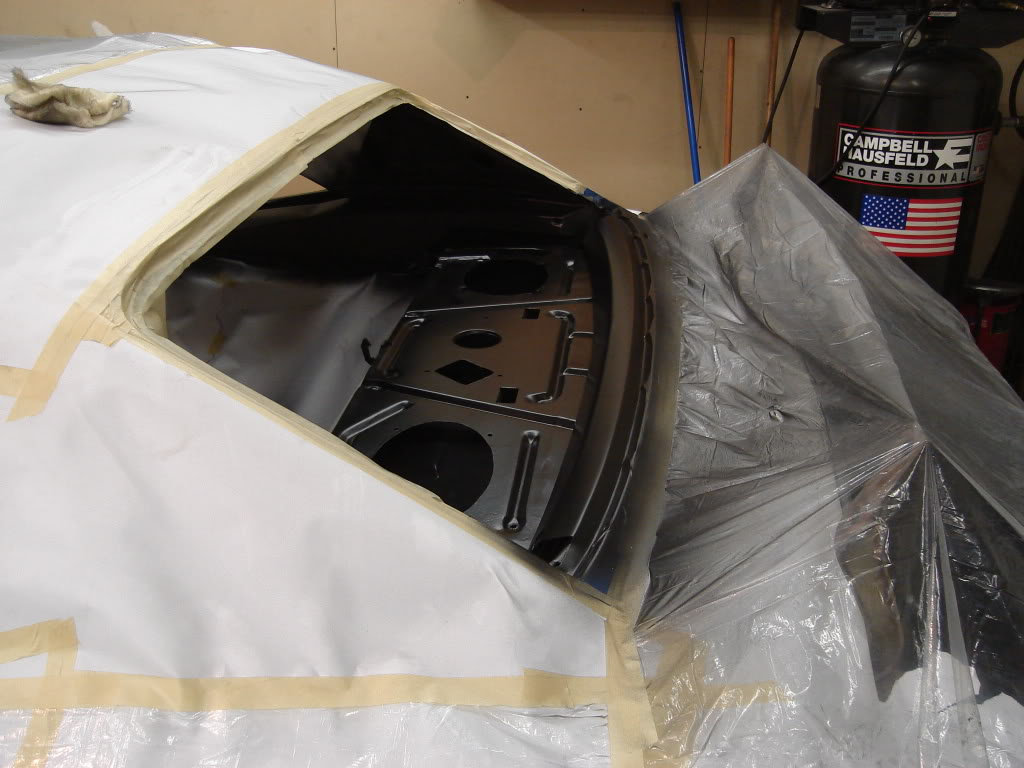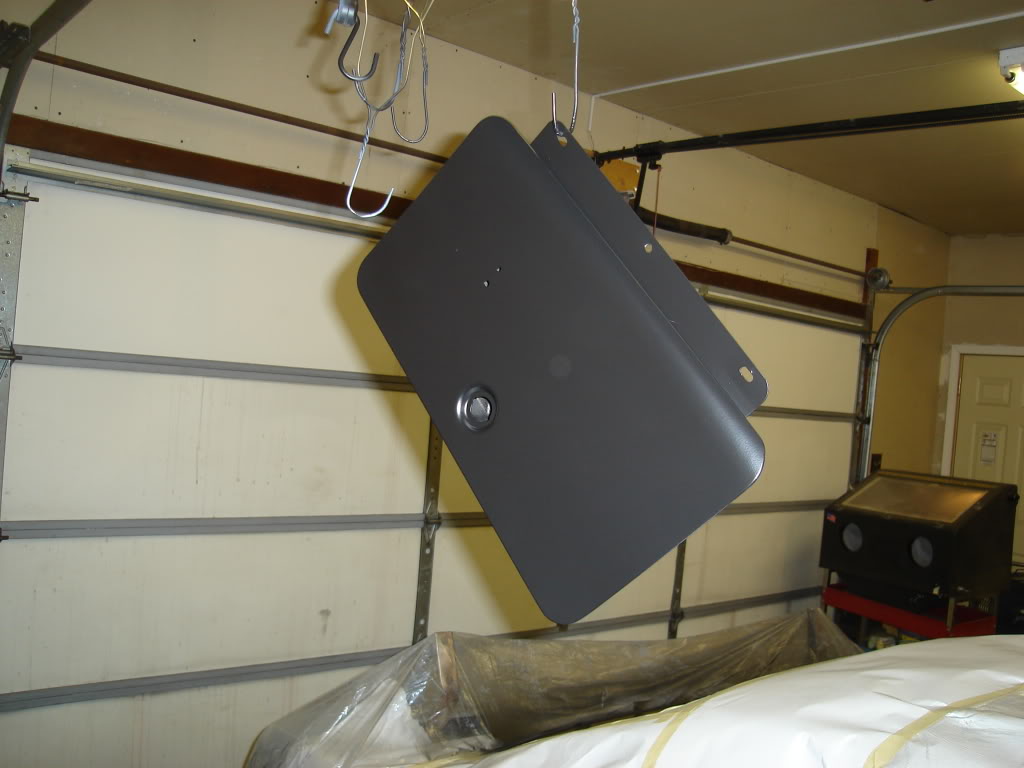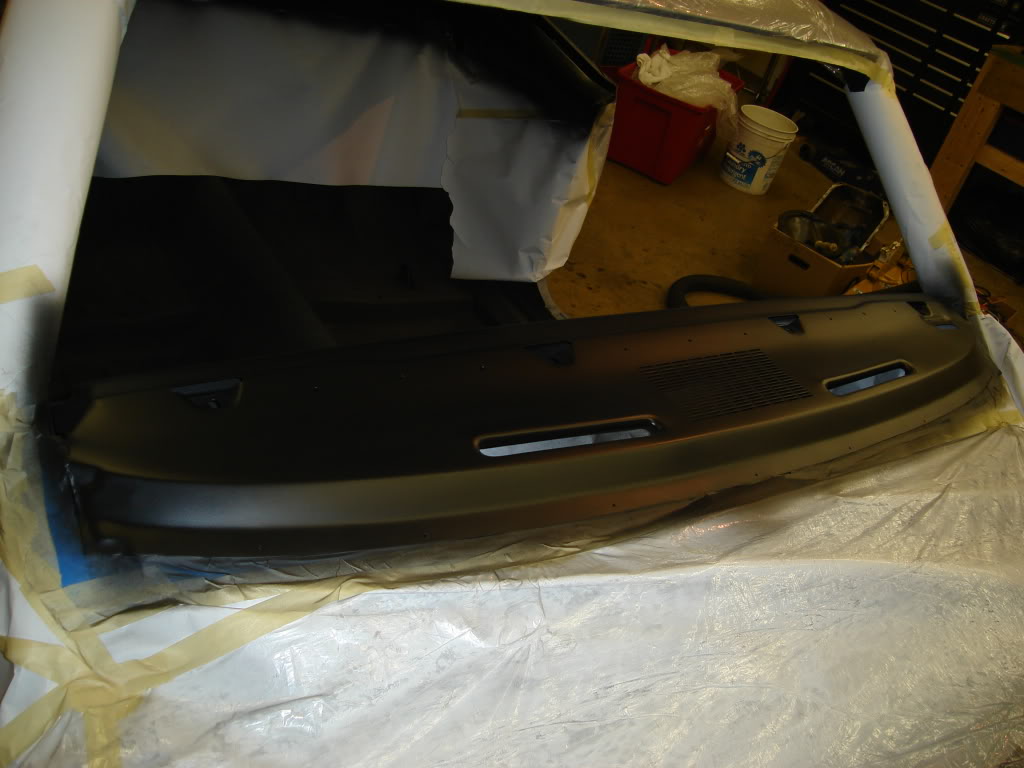 2-16-2011
WOW it's been a long time since I had any updates. So here goes.
It was time to get the doors in primer. I knew that the passenger door needed a little work. I could tell that there was some past bodywork along with a little rust. The drivers door was in near perfect condition. I of course picked one of the coldest days to do the sand blasting. I welded in a new patch panel and welded up all of the dent puller holes from the PO.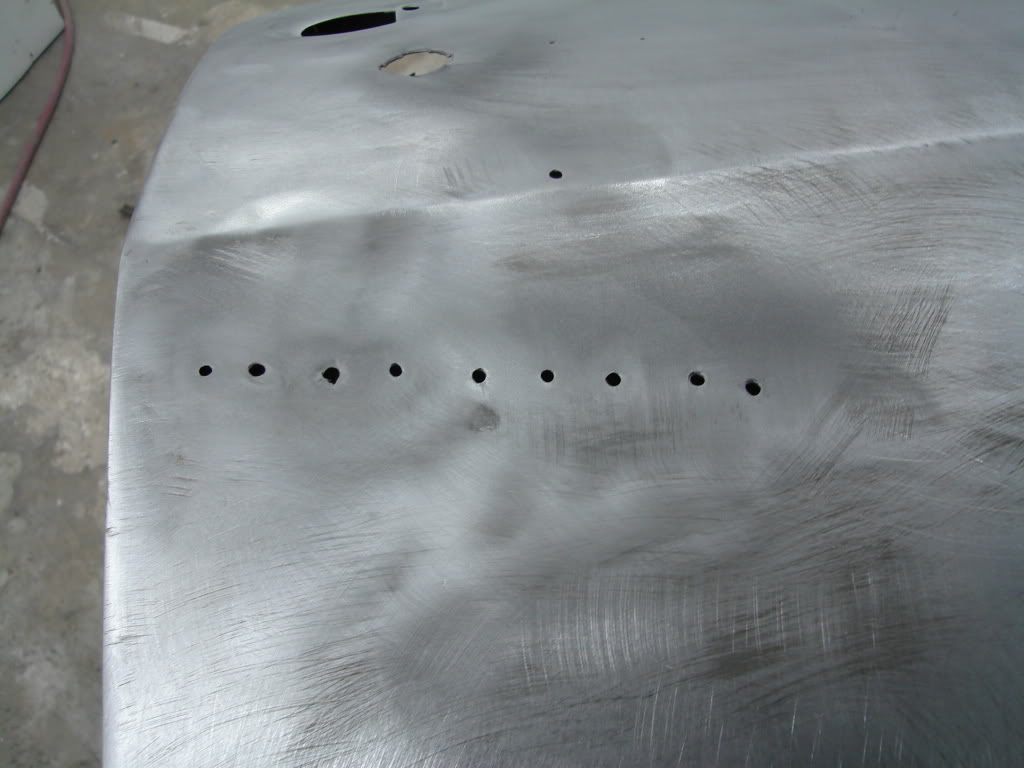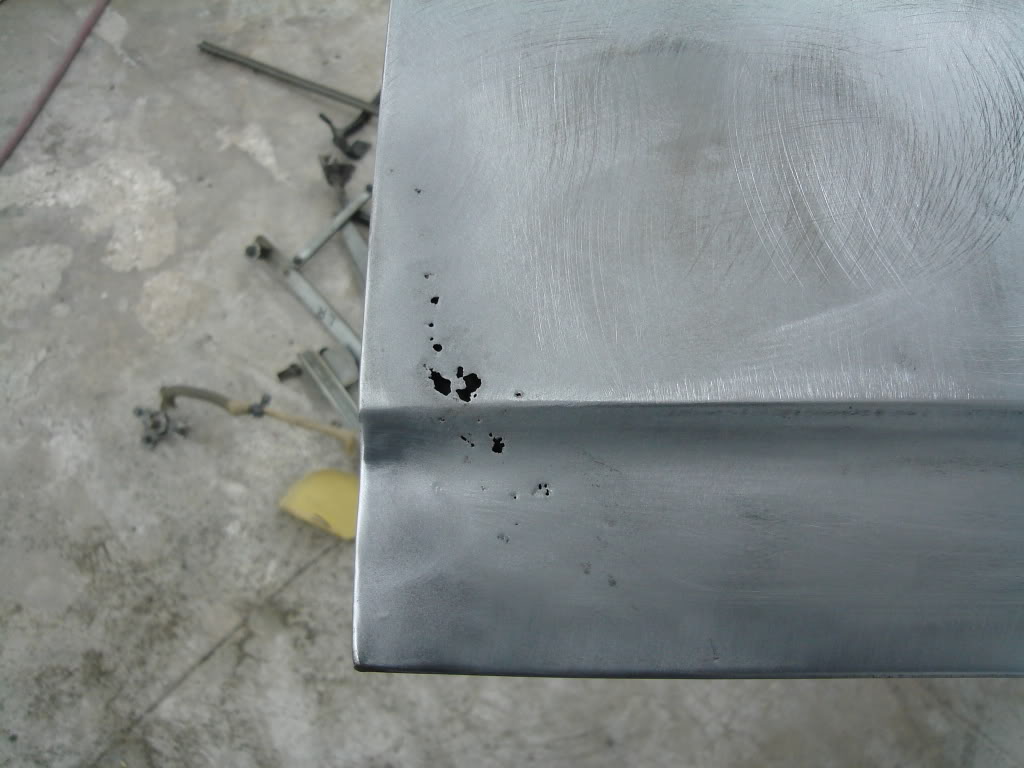 Doors all welded up and ready for primer.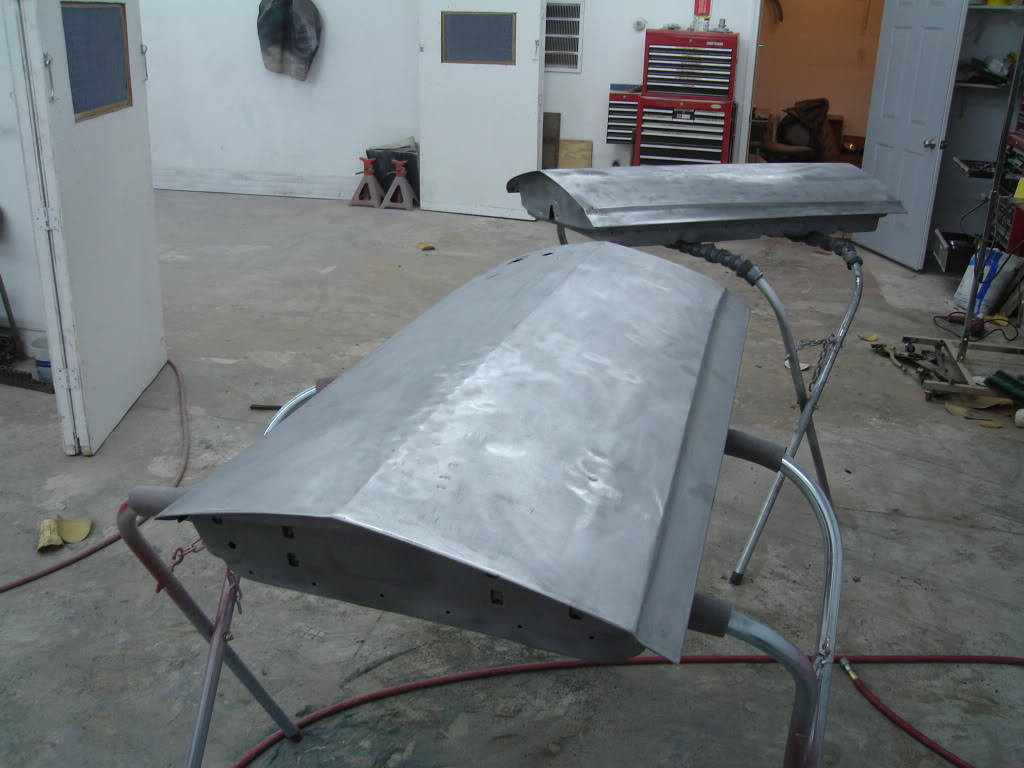 Next in line were the door internals. I started with the door latches. They were quite dirty. The passenger side door did not always open correctly either. After cleaning them I noticed a missing spring.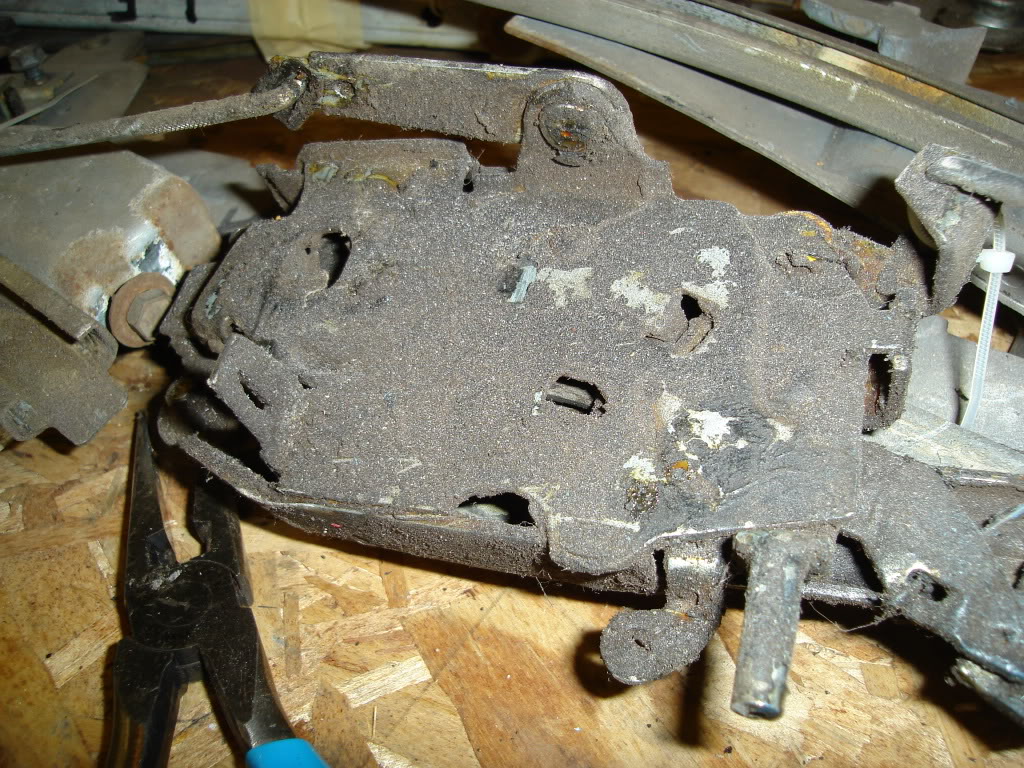 All cleaned up.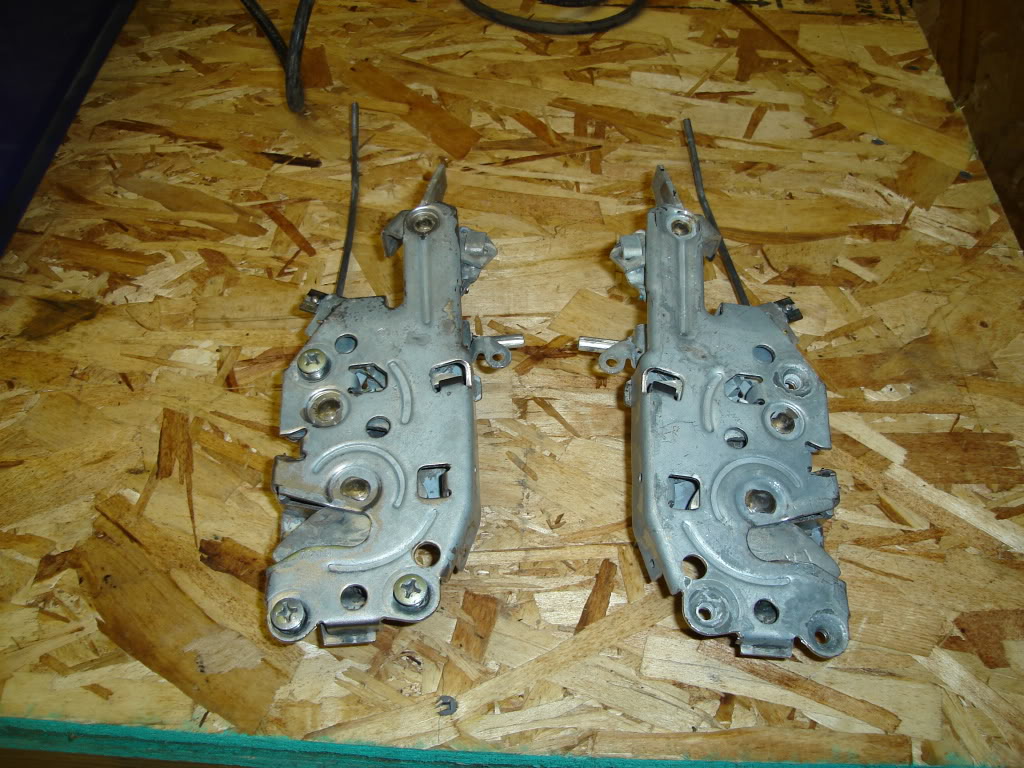 I made the spring on the left out of a throttle return spring. Works great.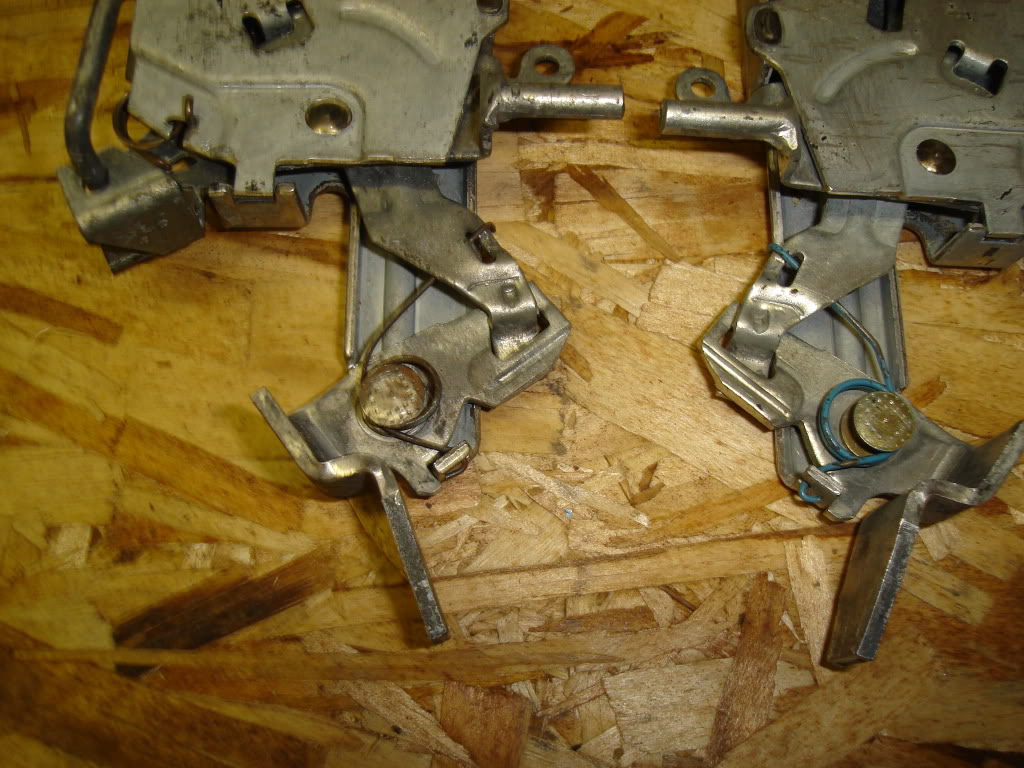 The door hinges needed new pins,bushings, and detents.
I found it very odd that some of the original bushings were made of plastic.
This is whats left of the hardware.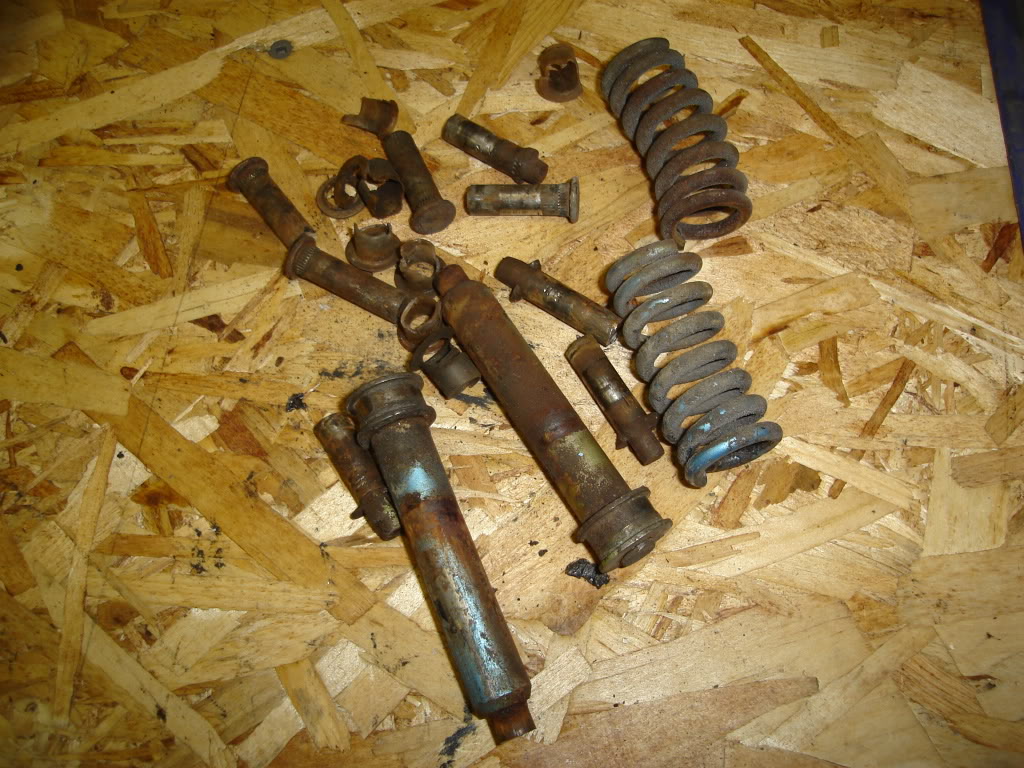 I have three of the hings put back together, I need to buy two more bushings. The kit came with two oversize bushings which I did not need. Off to the HELP section, $5.49 later and I have eight more bushings which of only two are the correct size. I will need to pull them all back apart and sandblast and paint.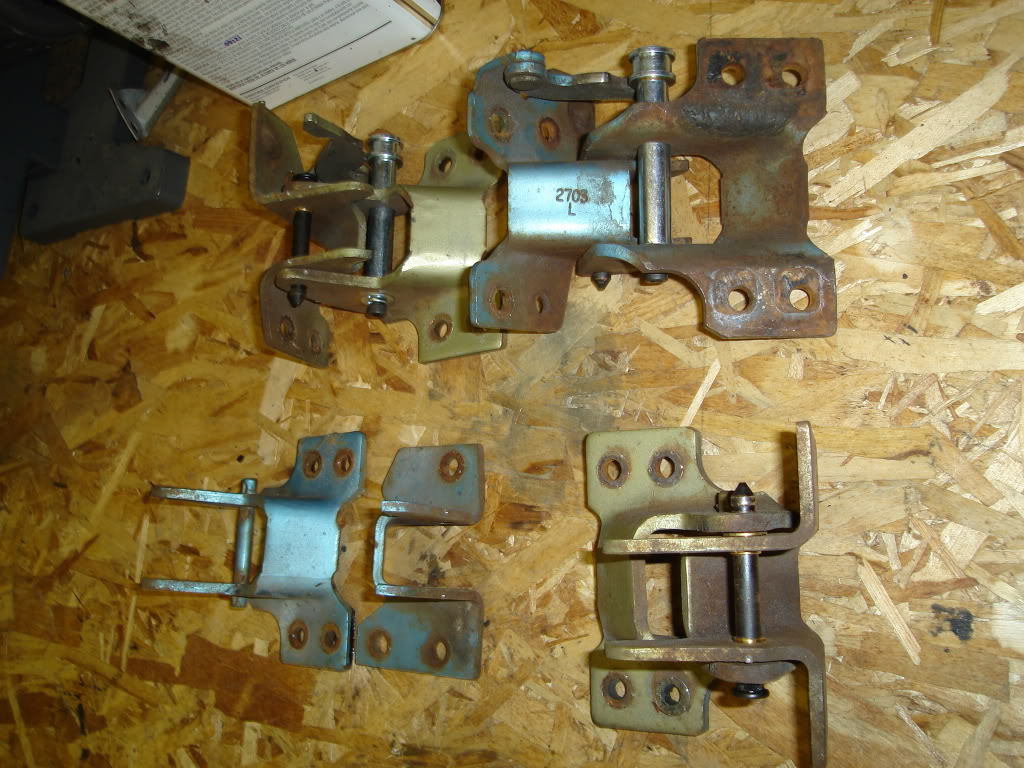 The steering column needed a new turn signal switch along with a lower bearing. The lower 68 non tilt bearing is not avaiable. I used a 69 non tilt bearing and just reamed out the original plastic housing with a sanding drum on my dremel. Was a very easy fix. I also have a good friend who started doing powder coating so I dropped off a load of parts starting with the steering column.
This is what I started with.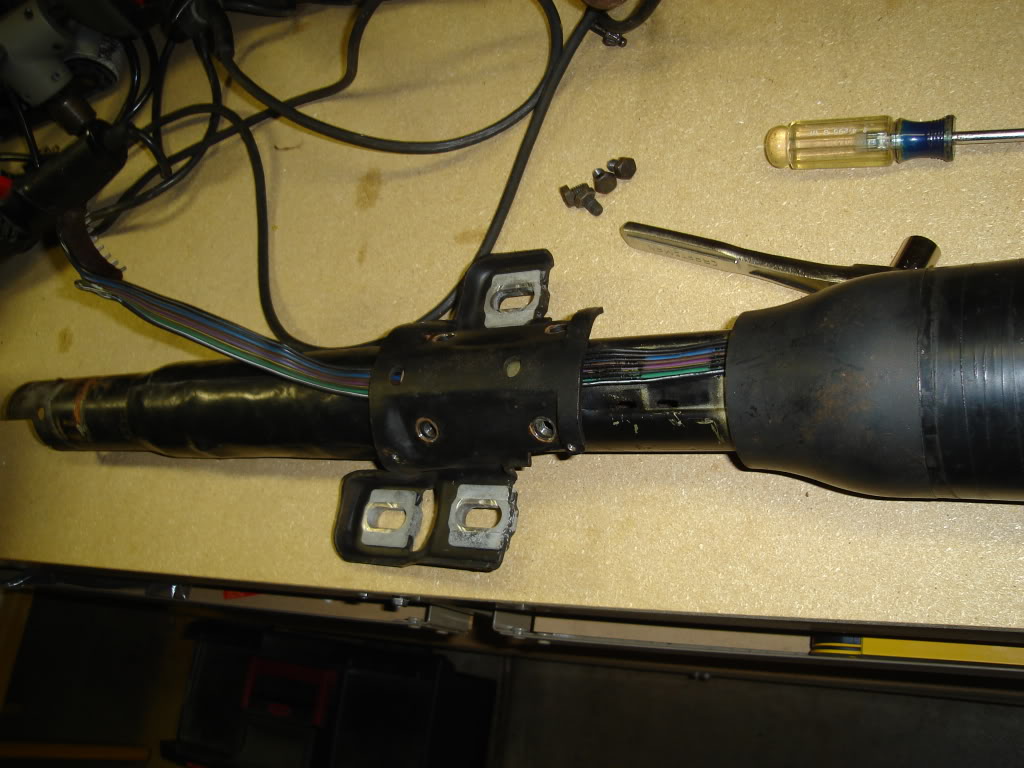 New turn signal switch.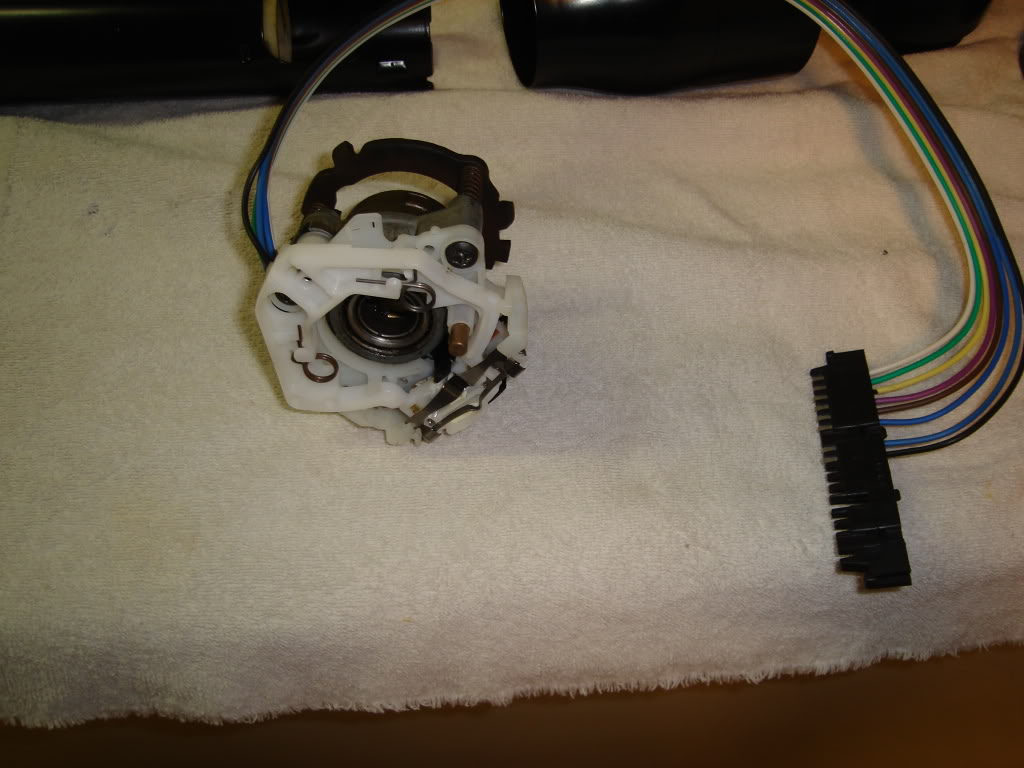 New 69 lower bearing.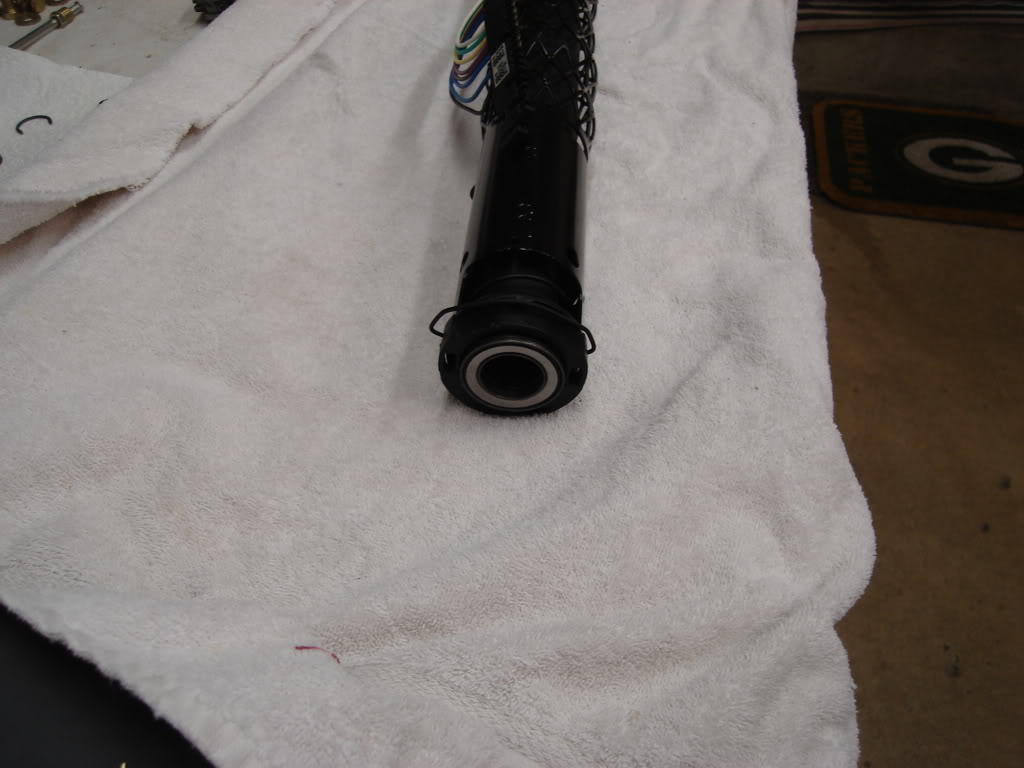 Nice clean powder coated parts.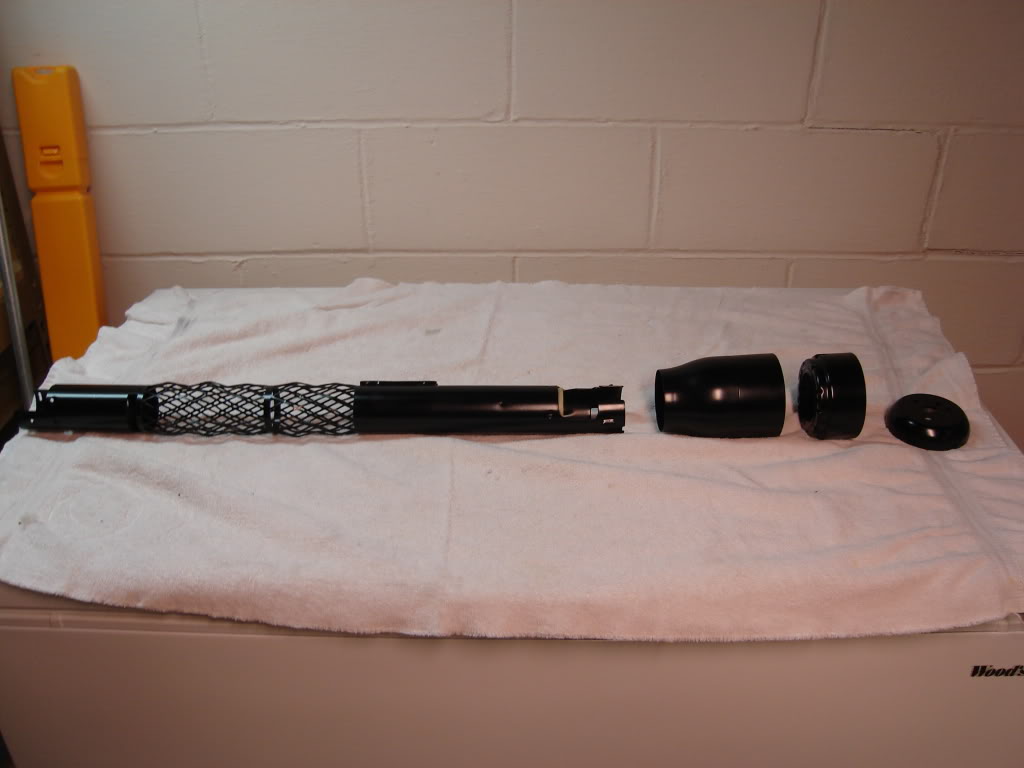 All put back together.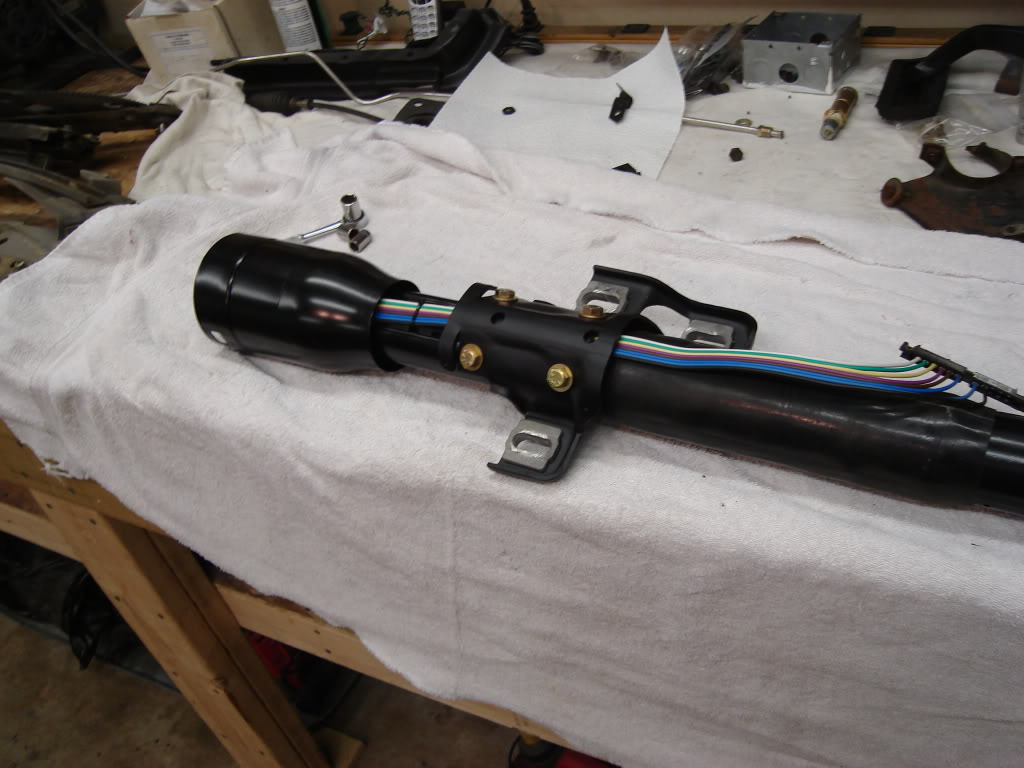 4-15-2011
I wasn't sure what to do with the gas tank. I didn't really like the look of the galvanized metal. I had some 2006 Pontiac silver paint laying around from another project so I decided to paint it silver. I had the straps powder coated black.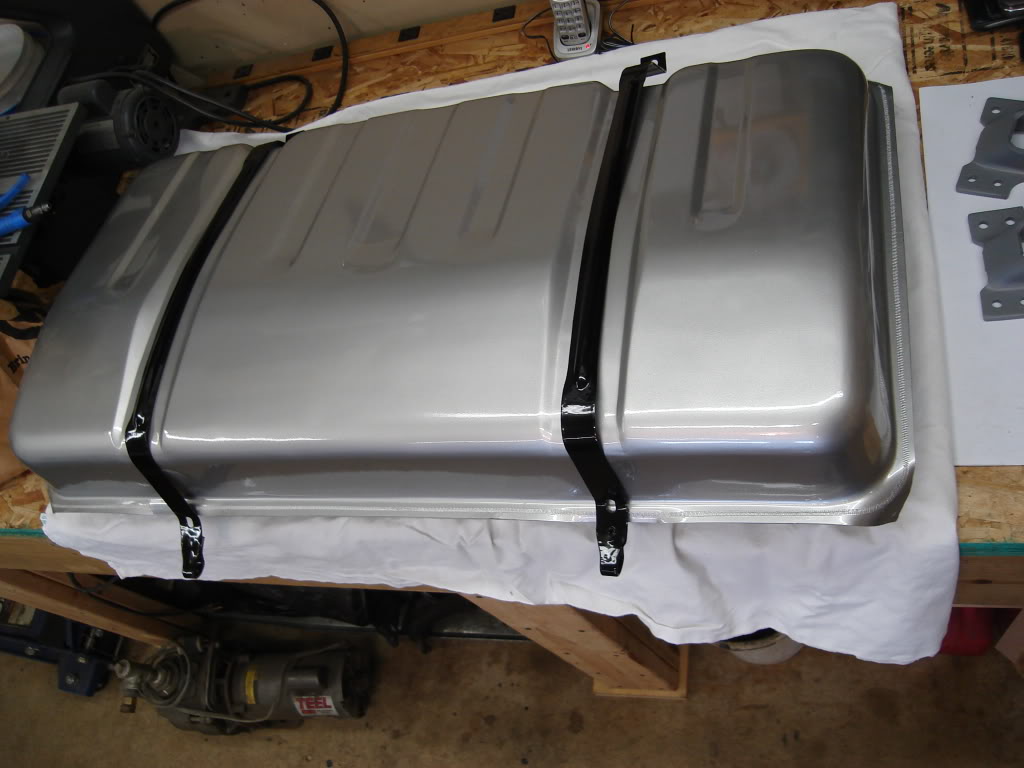 Rear shot. Installed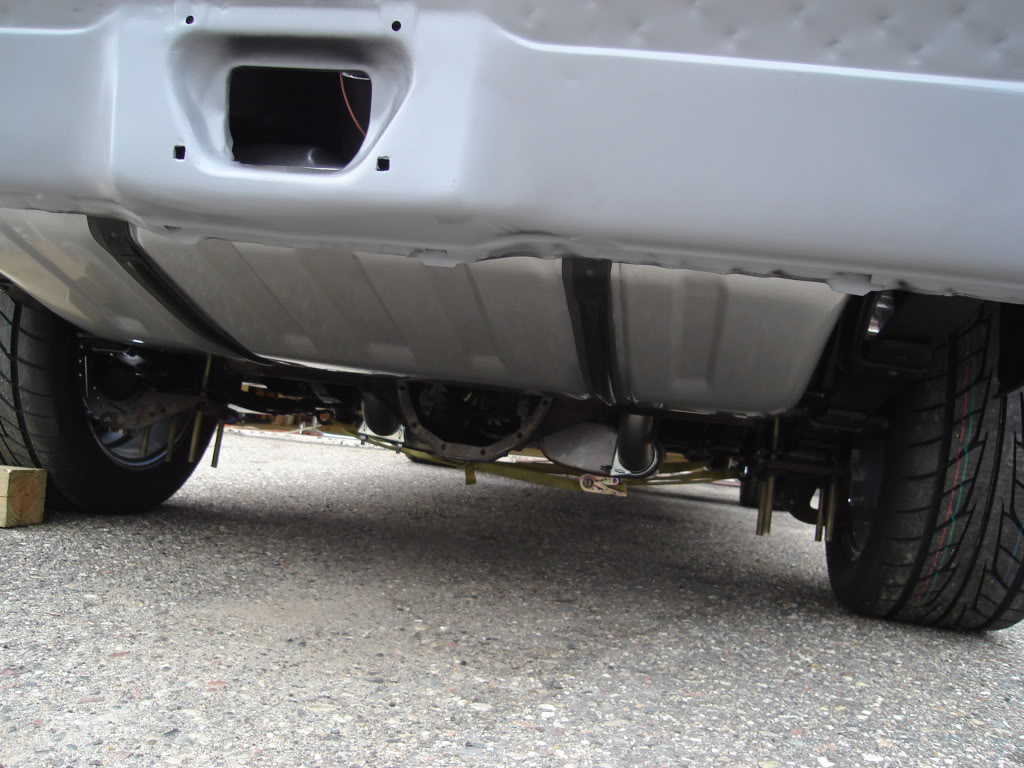 I had a slight problem getting a oil filter on the car. Along with the Pontiac long branch manifolds comes a spacer that angles your oil filter back and away from the manifold. What I did not know is that there is two different styles of housings. Of course I had the wrong one. The incorrect one is painted blue.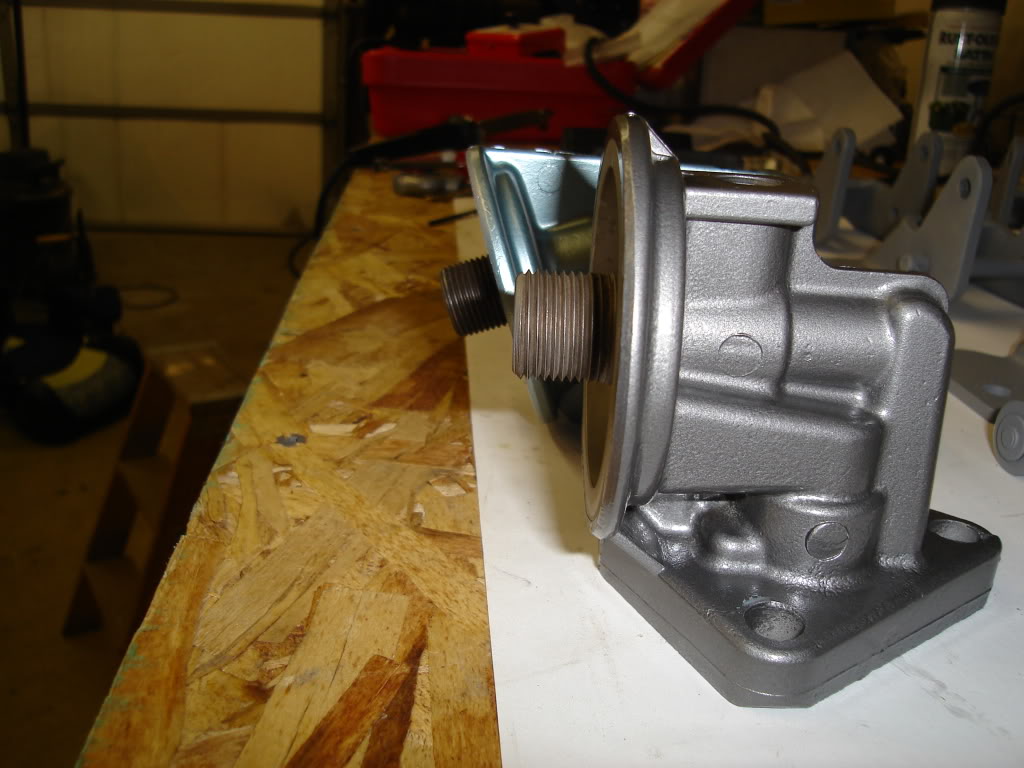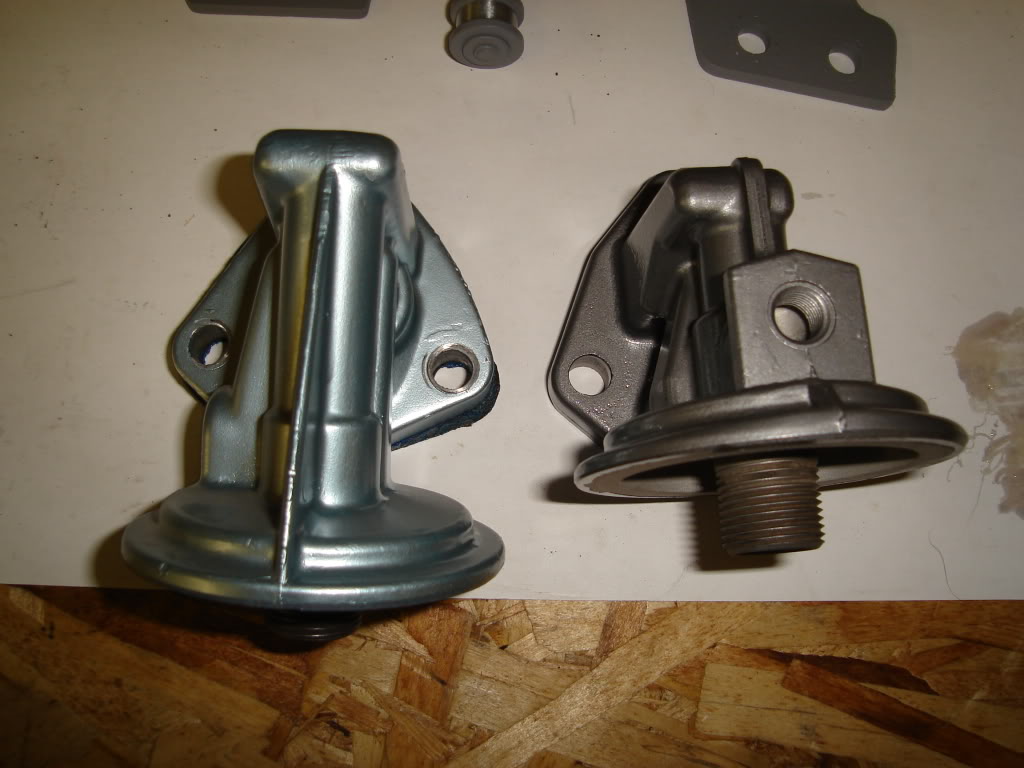 Here is the correct one showing the part number.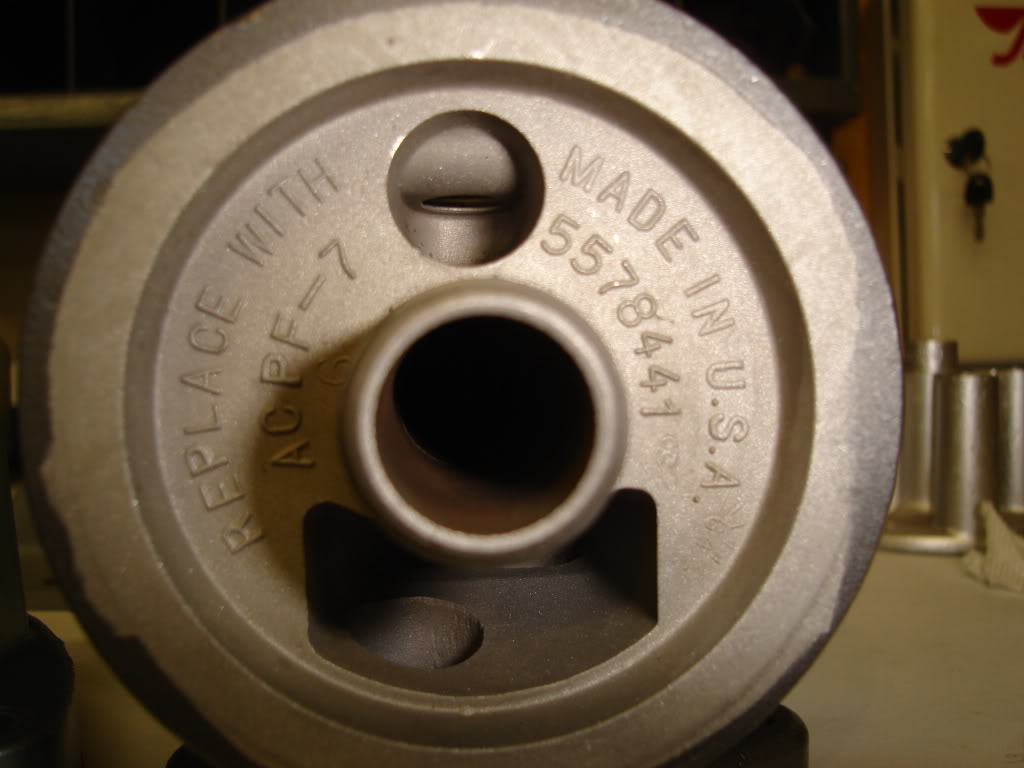 My parking brake assembly needed some attention. After a quick sandblast I gave it a few light coats of paint. Attached a few new parts, looks a lot nicer now.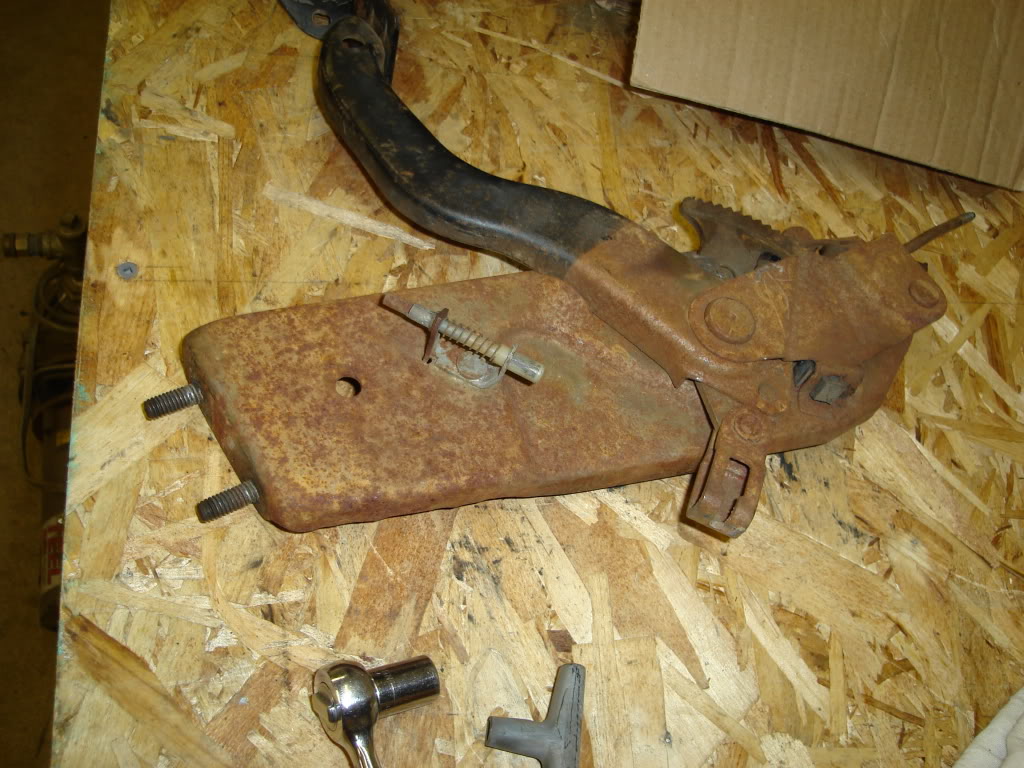 After.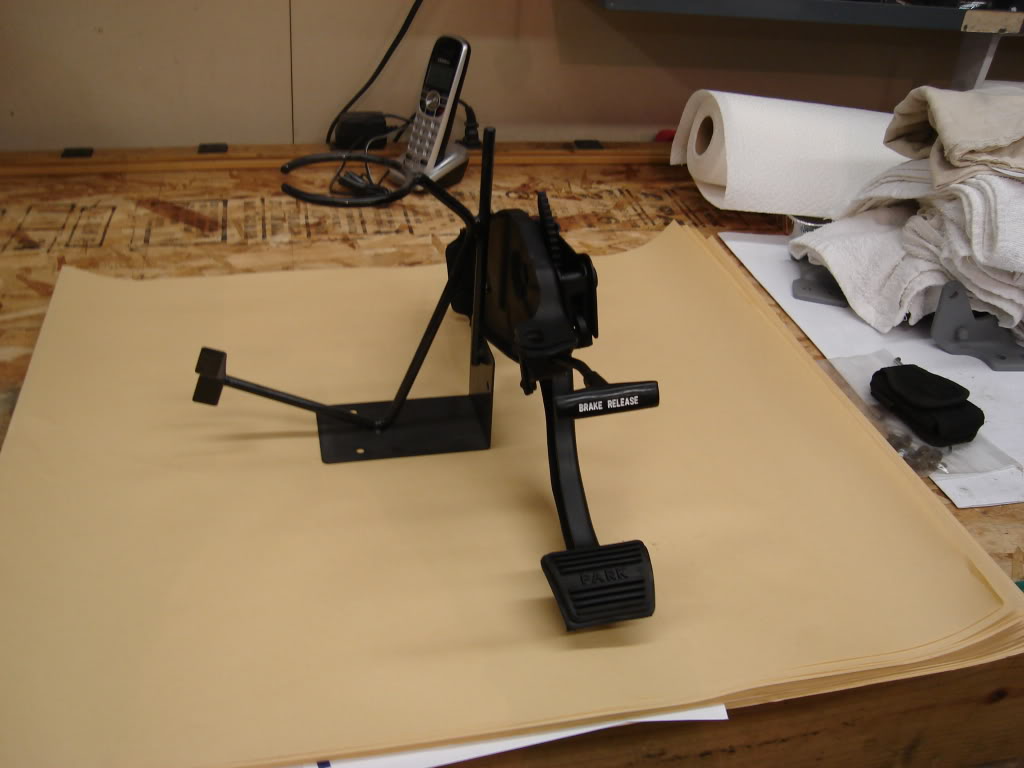 Installed the steering column,brake pedal,gas pedal, and started on the wiring.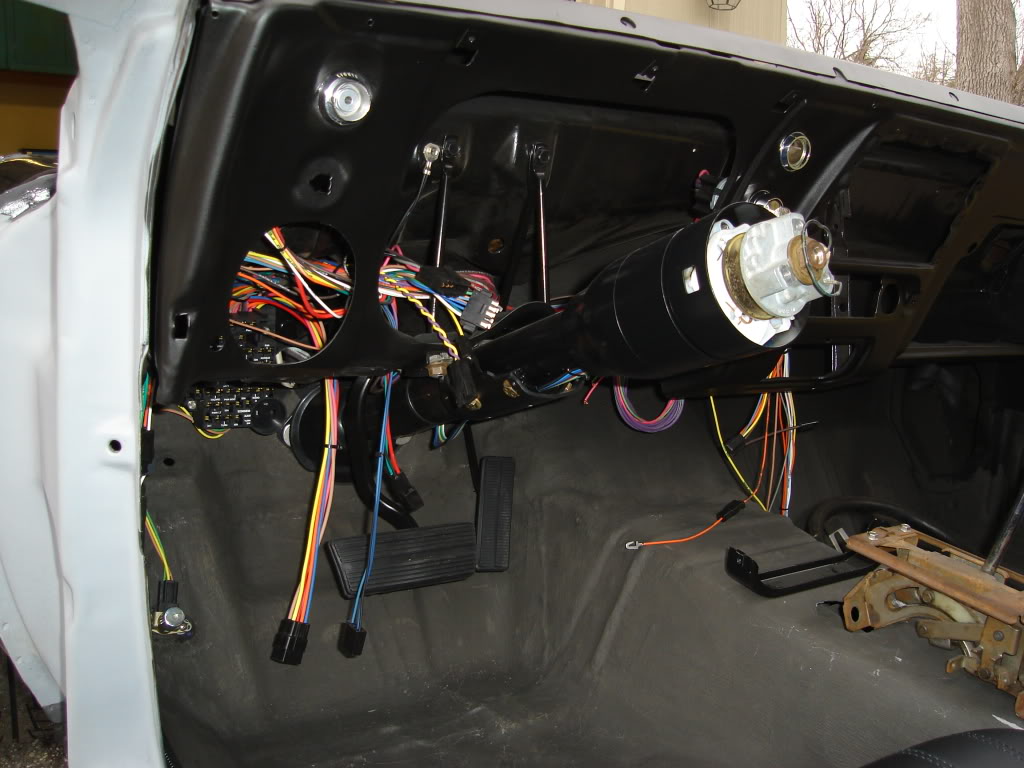 New fan and belts. Nothing exciting but getting closer to starting it up.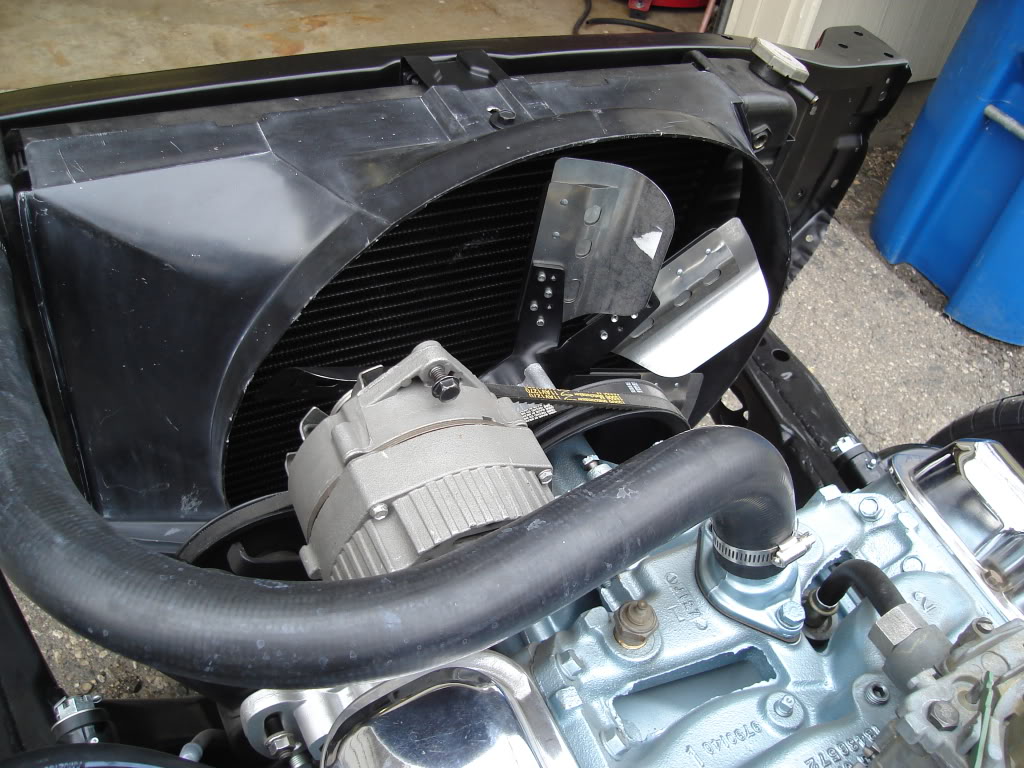 New Lokar throttle cable and bracket. Along with the correct fuel inlet for my carb.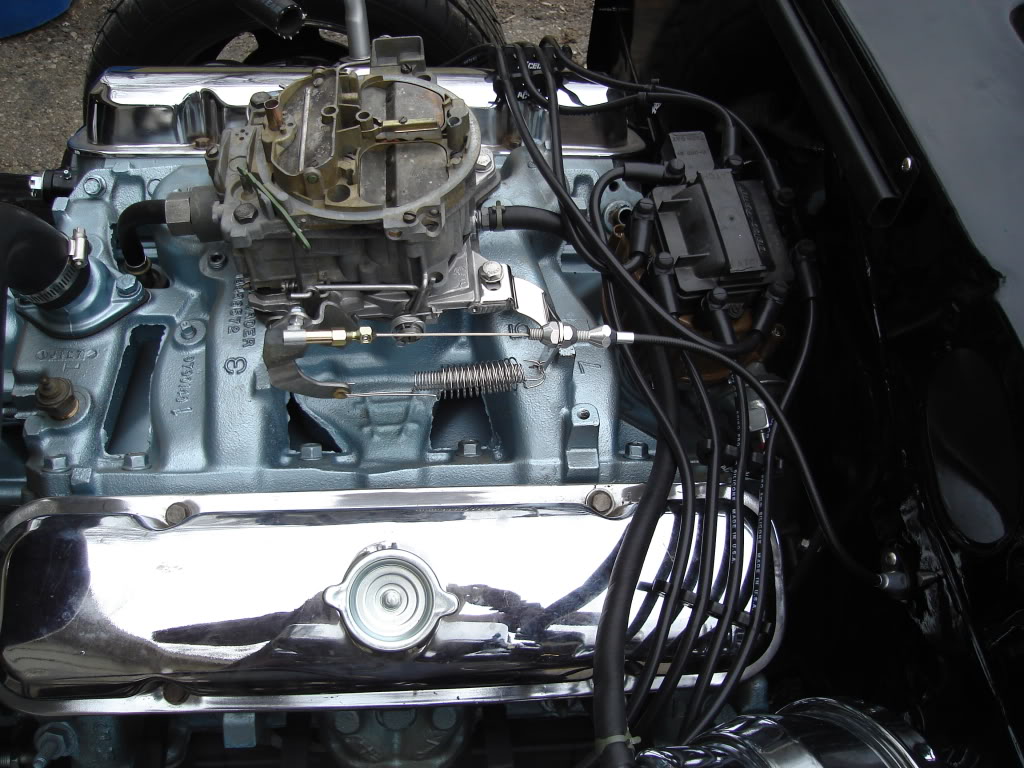 New Taylor wires.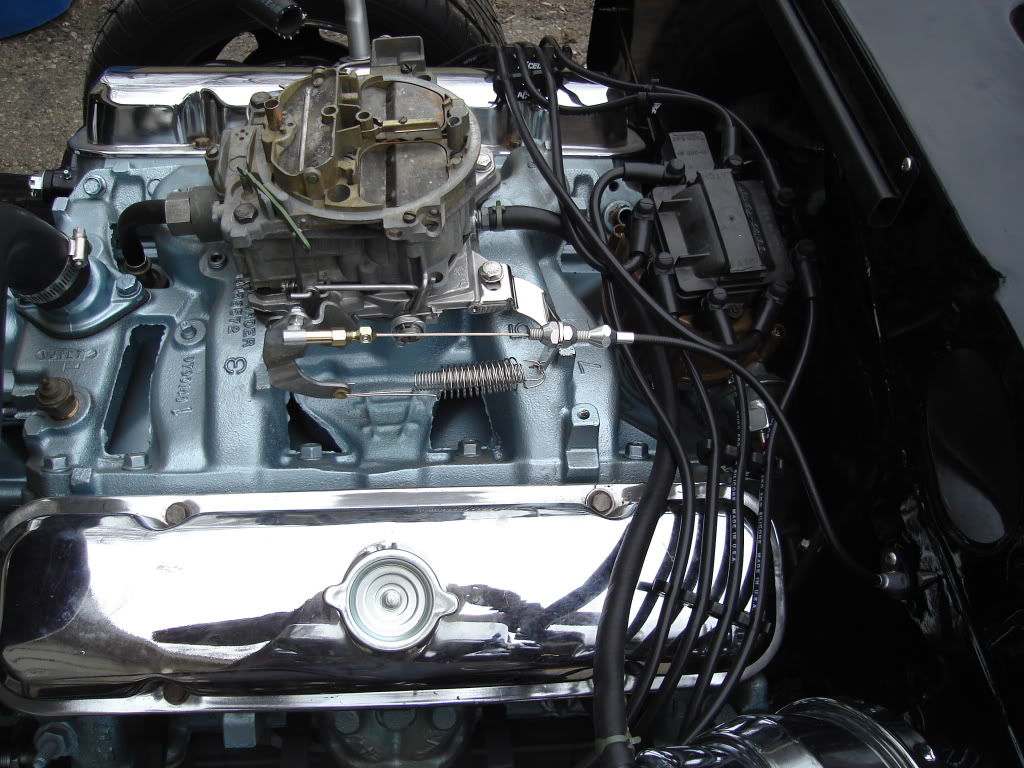 Some random shots out in the driveway.
I also made brackets for mounting my Scat proCar rally seats. First time since owning the car that it has had two front seats in it.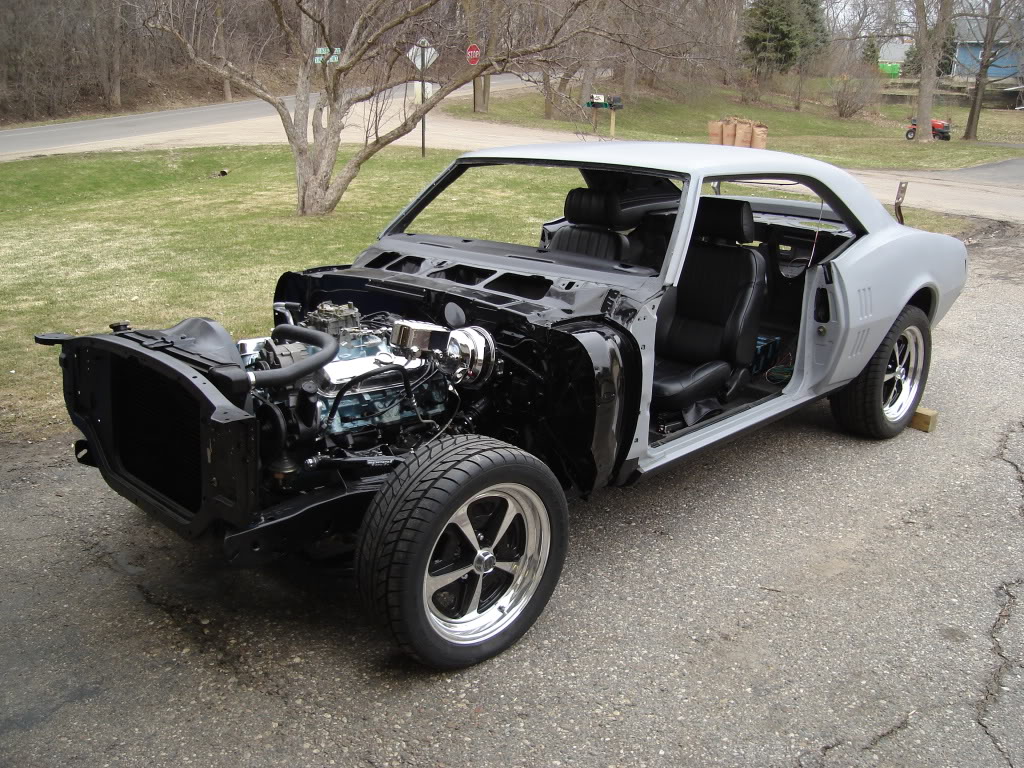 My kids trying to take it for a spin with out asking.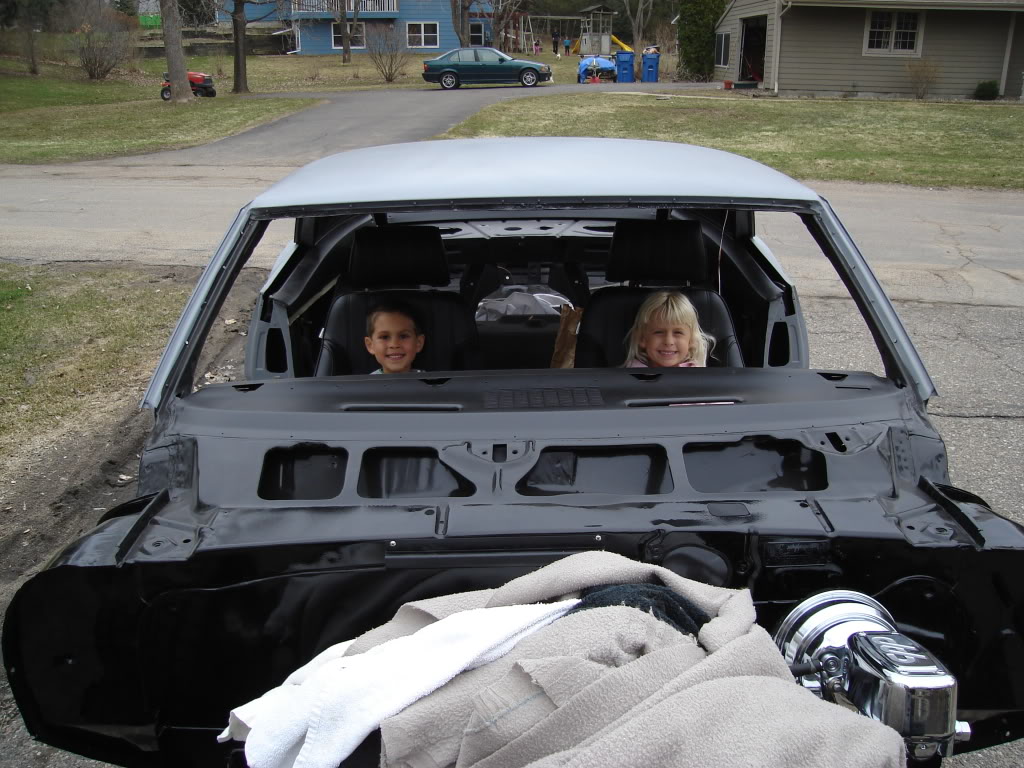 6-7-2011
Not a lot of updates lately to post. But, I did find a set of the New Vintage gauges that I wanted. They are the 3-1 69 model gauges. I'm pretty excited to get them wired in.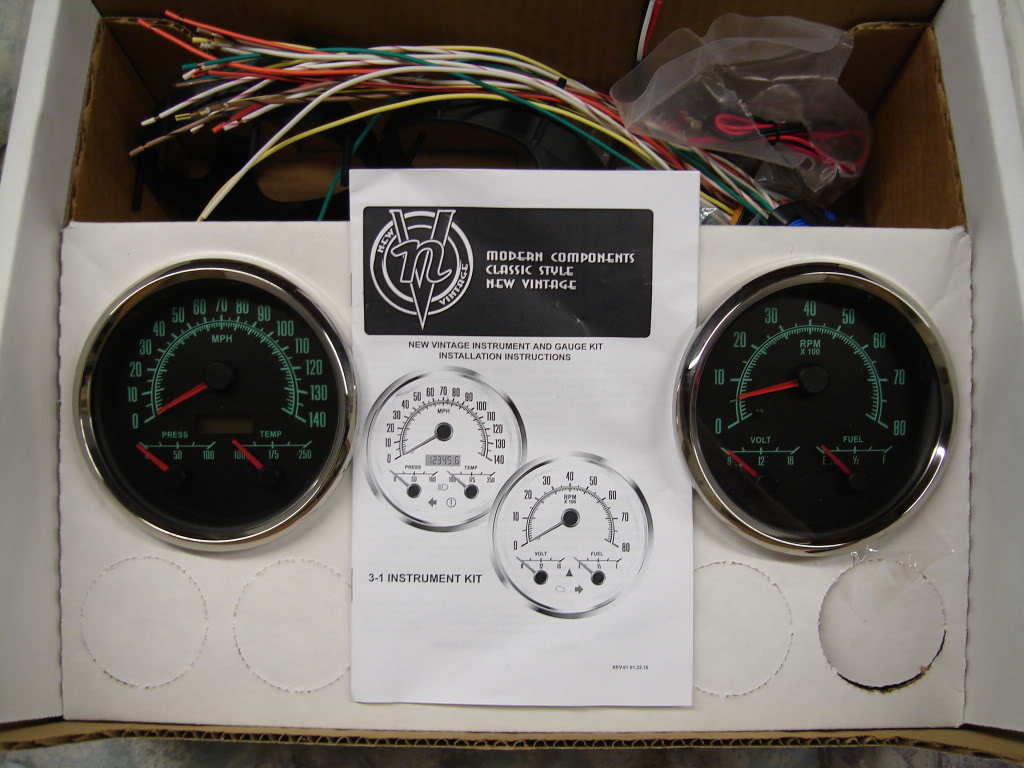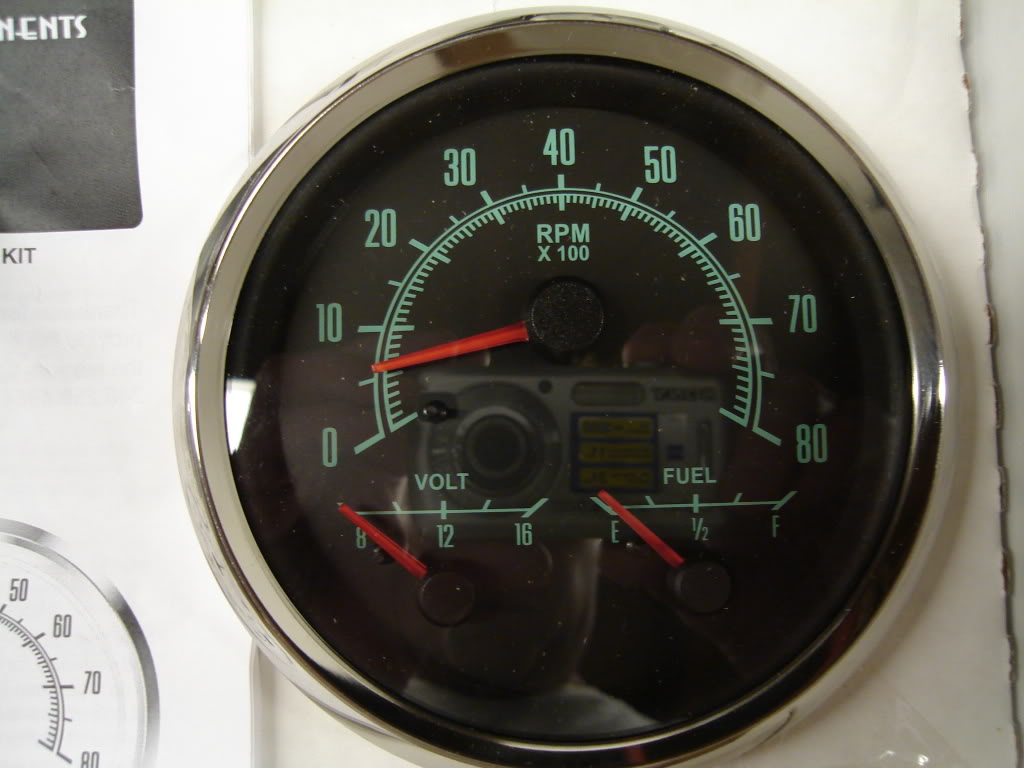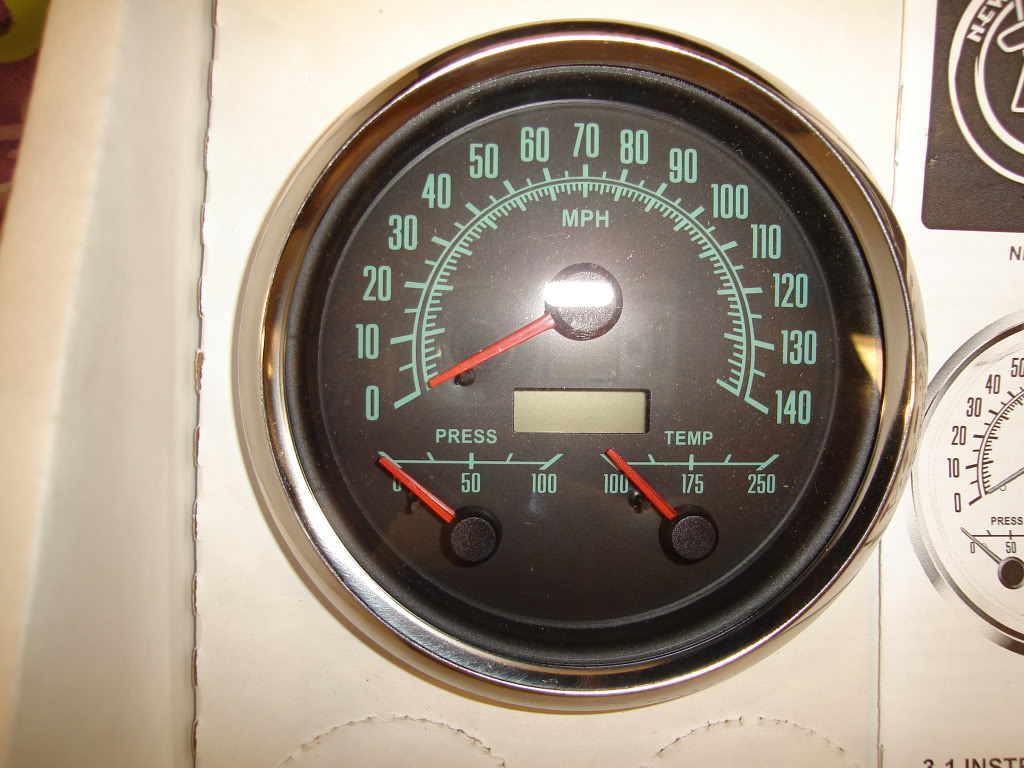 I'm glad that I didn't spend the time and energy to buy and install a speedo cable.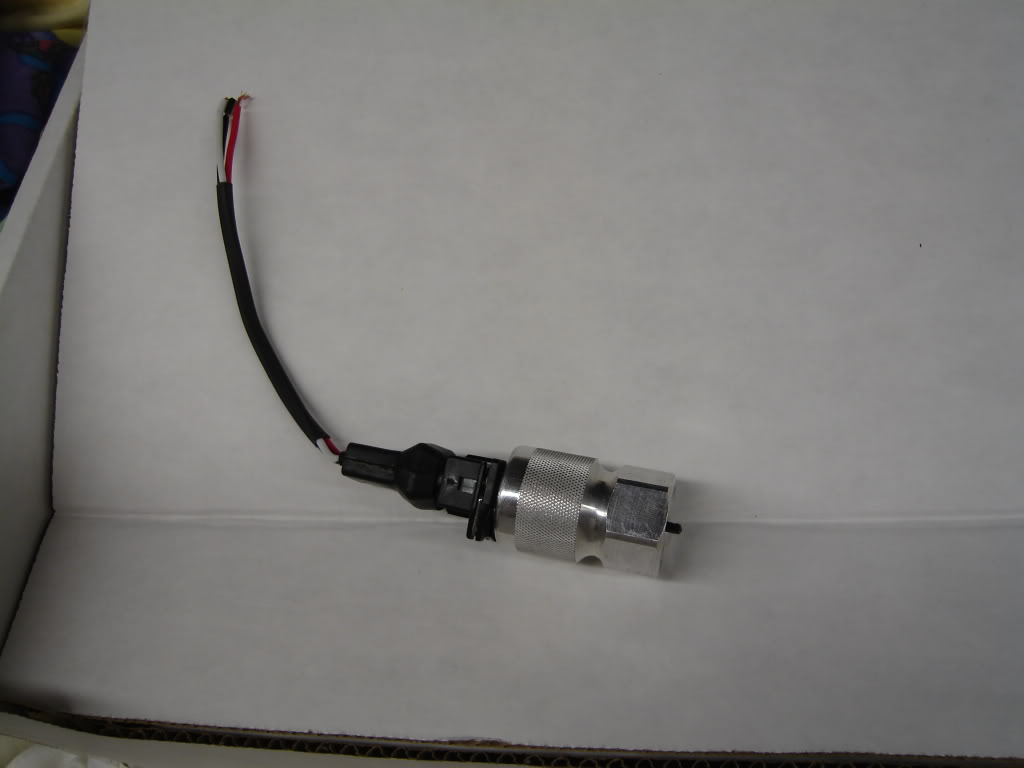 6-27-2011
Small updates. I did a quick mock-up uf the gauges in the stock bezel. The bezel needs to be cleaned and painted yet.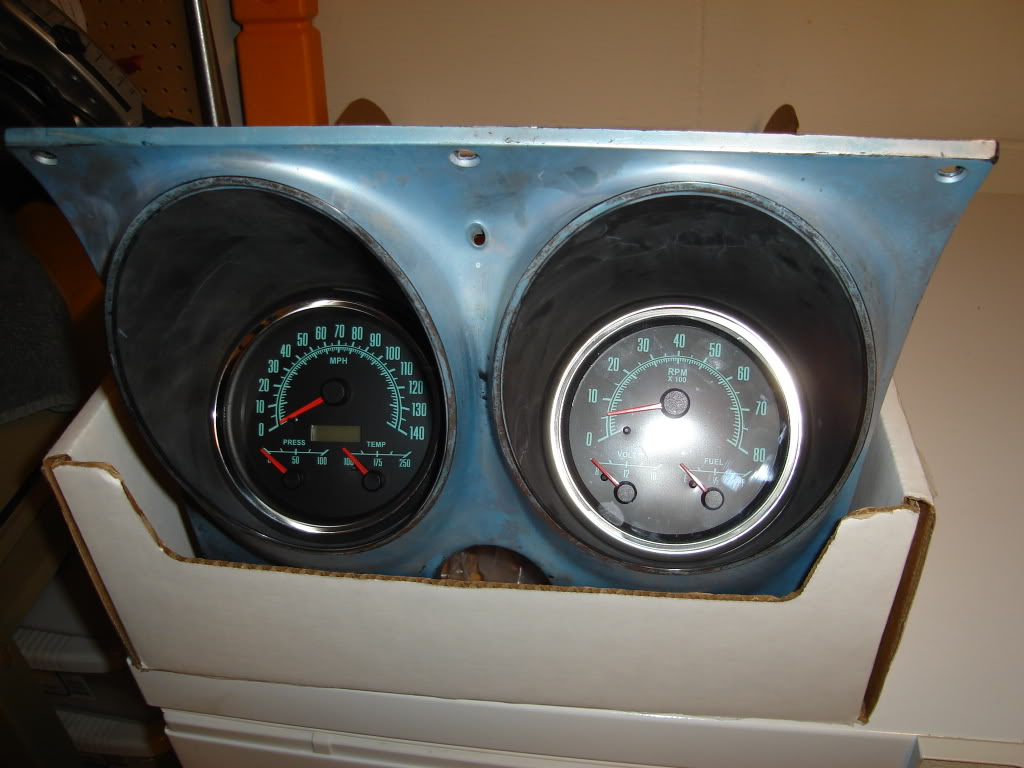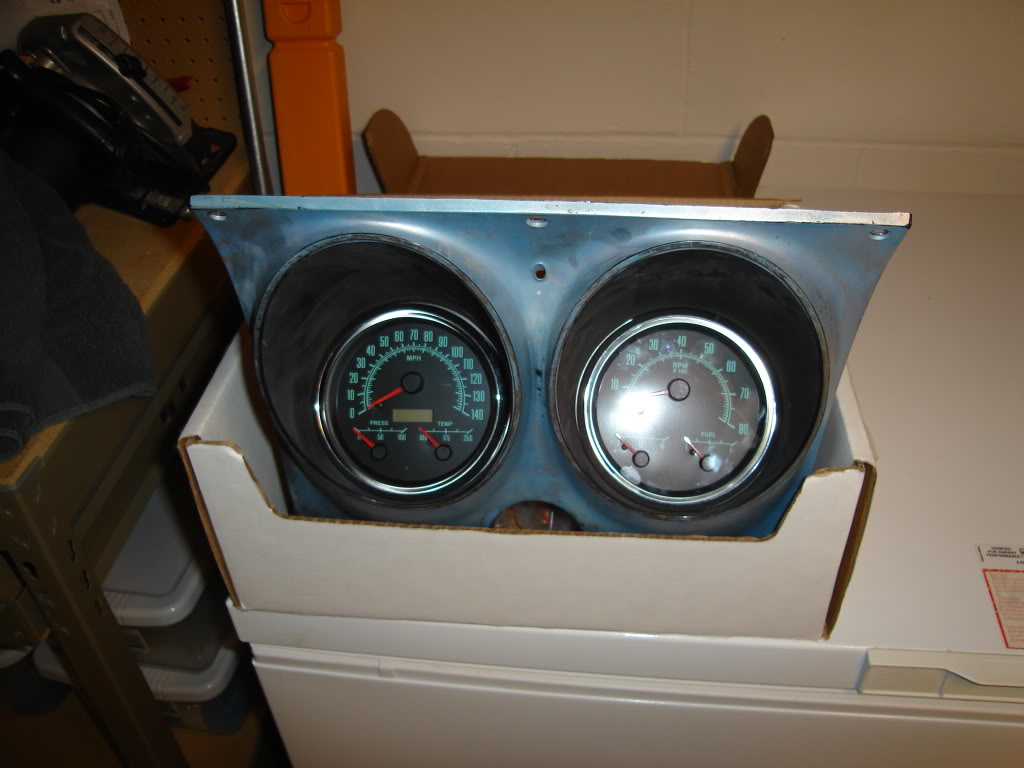 My new goal for the car is to try and get something done each day. No matter how small it might be. Feel free to pester me if you do not see it happening.

Thursday 6-23-2011 I ordered trunk spatter paint and the clear top coat. Friday 6-24-2011 I installed the trunk drain plugs and seam sealed them along with the trunk drop offs. Saturday morning I made more brackets to help hold the gauges better in the stock bezel. Sunday I did not do anything. But, after being out on the lake for the whole weekend I picked up the mail and my new soderless connections for wiring up my gauges were in the mail. I'll count that as my project for Sunday. LOL
6-28-2011
6-27 Started the clean up of the trunk area. Taped everything off,light scuff and on to spatter paint. Here are a couple of before pictures.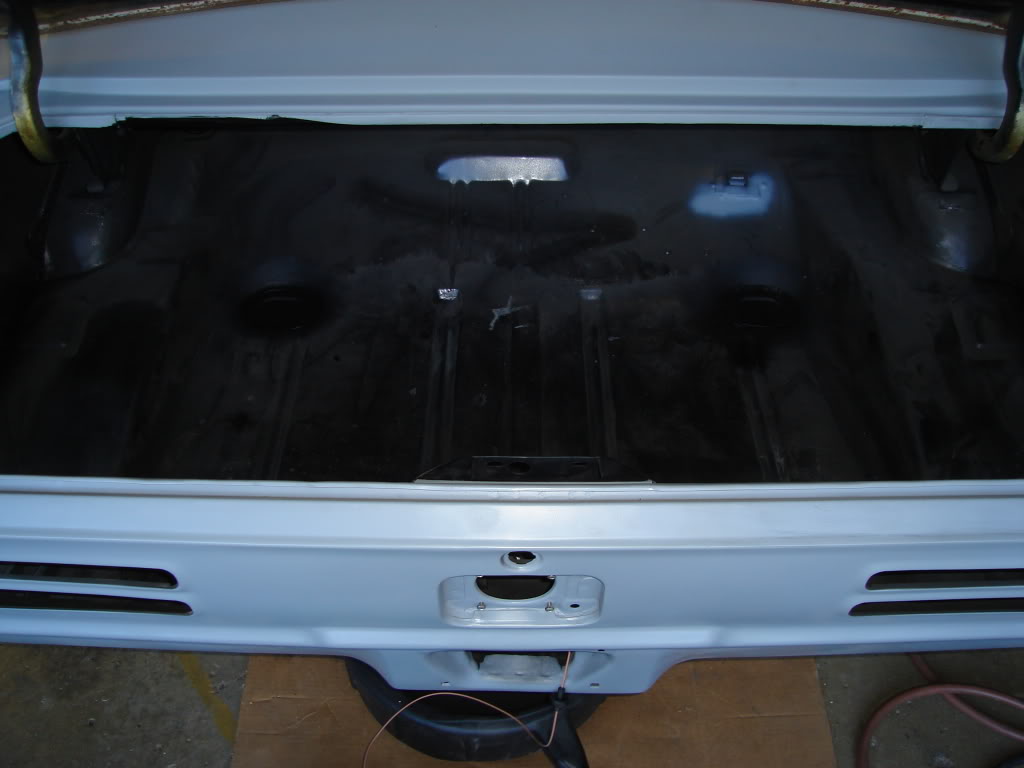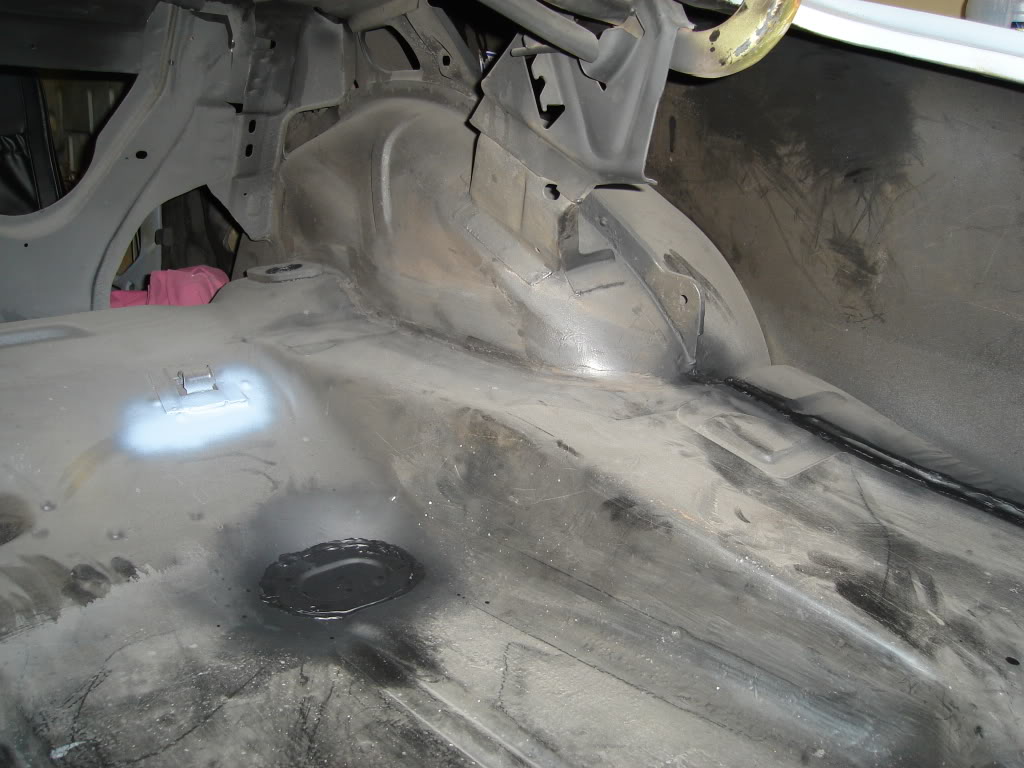 After pictures. I still need to lay down the satin clear topcoat.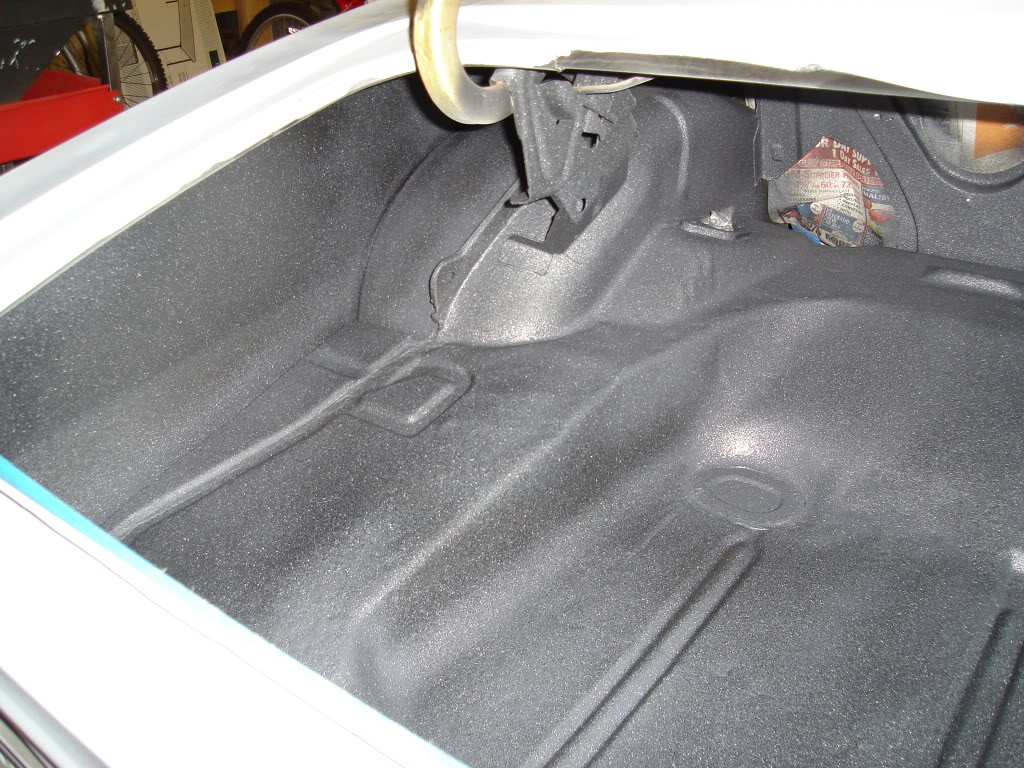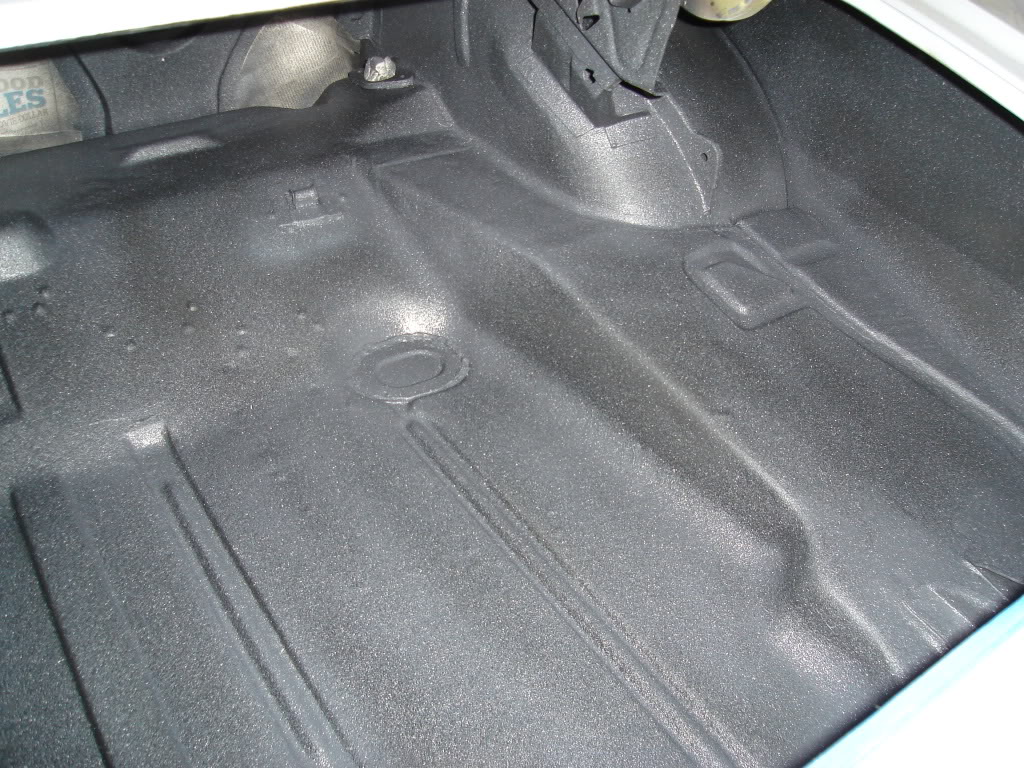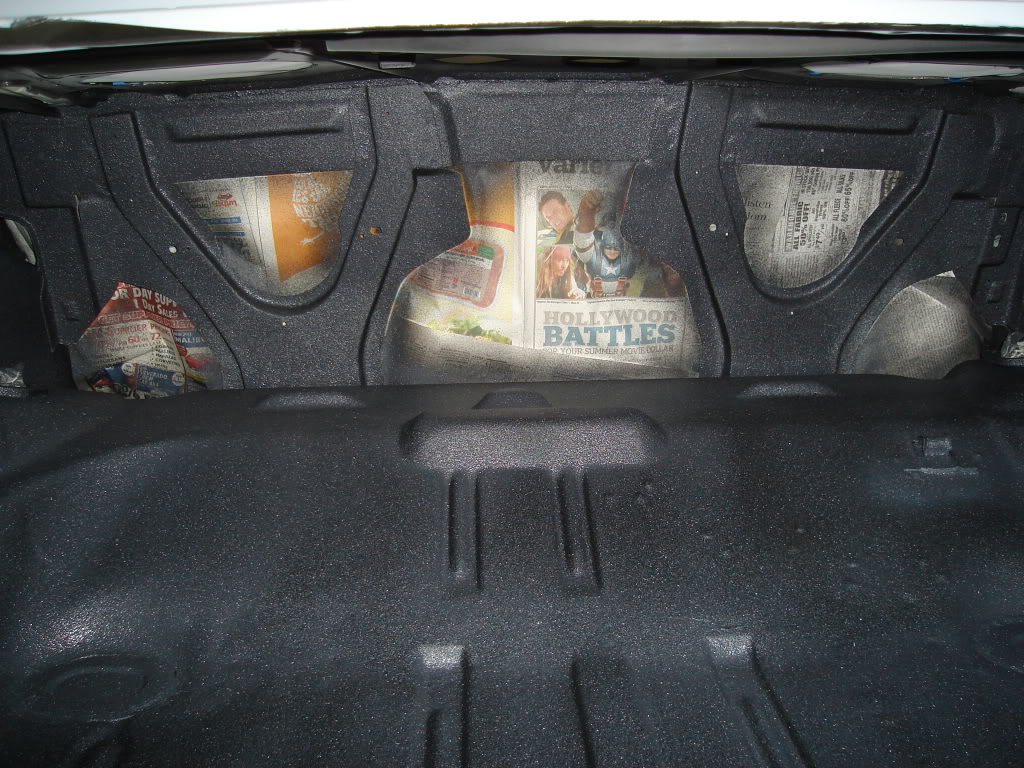 8-31-2011
I used Dupli-Color black/gray with their top coat clear coat.
http://www.summitracing.com/parts/SHW-DM102/
I had a hard time getting the clear to not look foggy or dry looking. The over spray would just hang in the trunk area and leave a dry look. I ended up giving a the whole trunk one caot of satin clear that I had in a can. I used a brush to apply it and it turned out fine with no brush marks. It is a little more semi gloss than satin but I'm ok with how it looks.
The guages are all wired. I gave AAW a call and they sent me a handful of connectors so I could wire my guage harness right into their bulk head.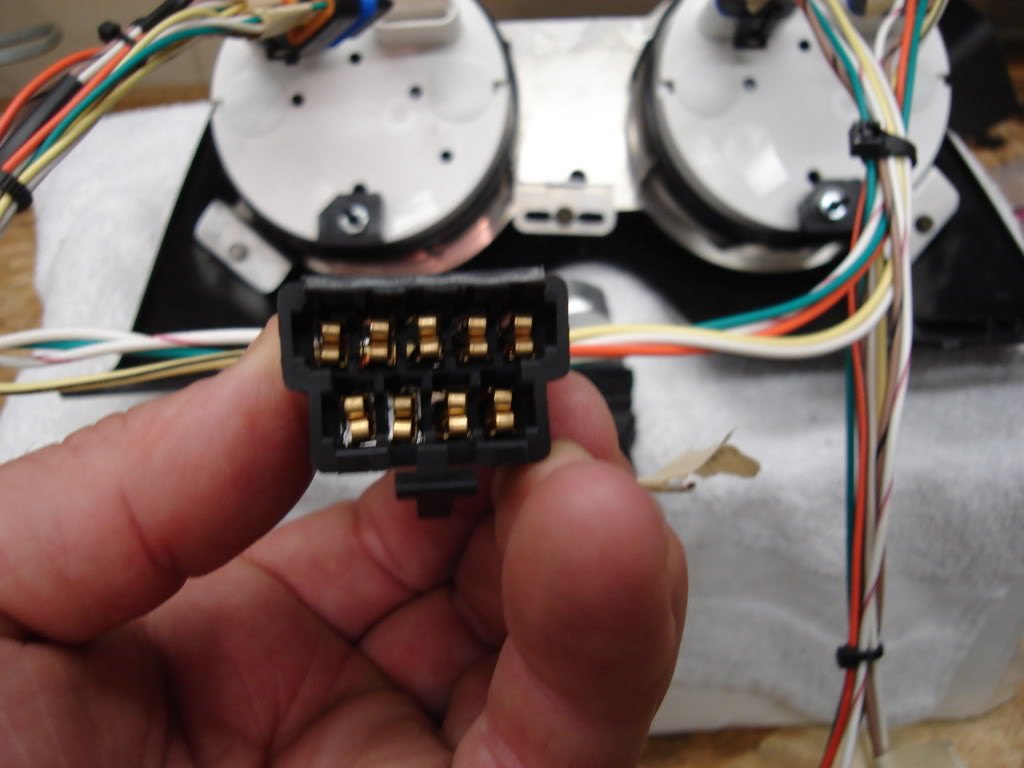 Wiring is almost complete.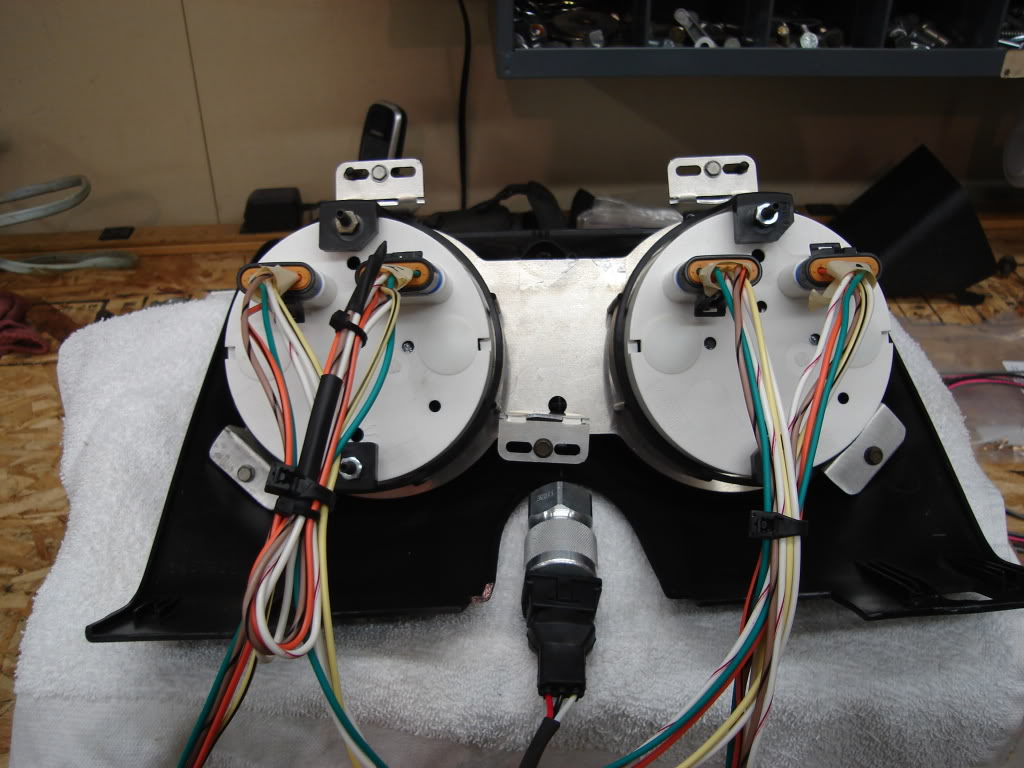 I sanded down the bezel and sprayed it with some satin black plastic paint.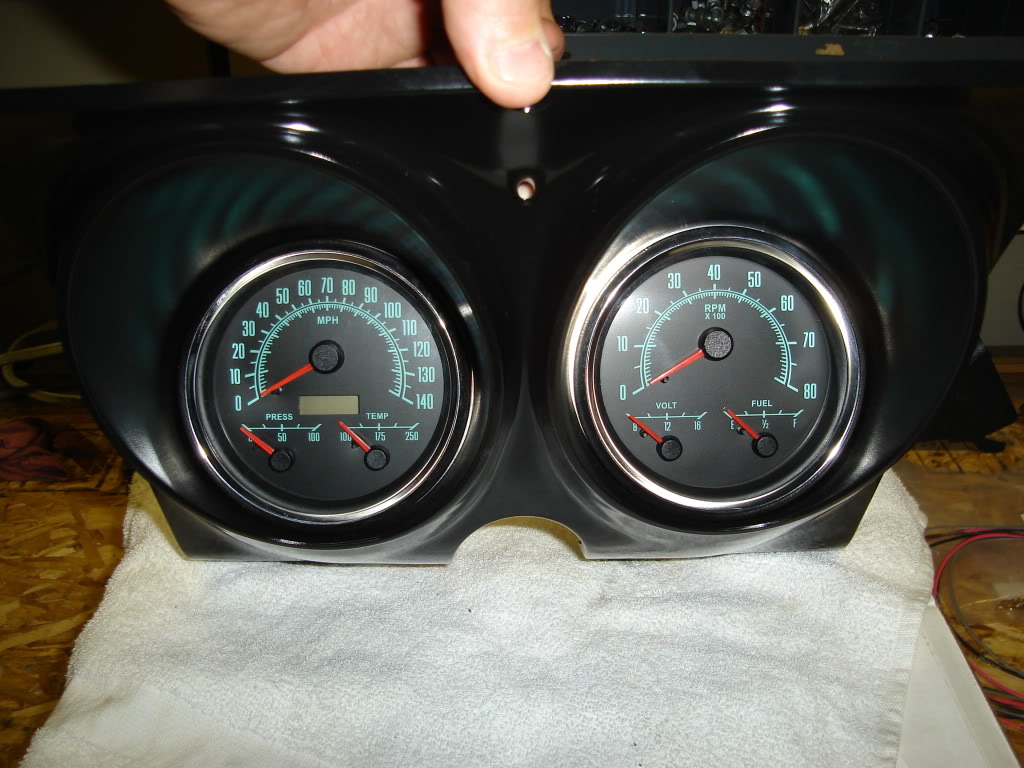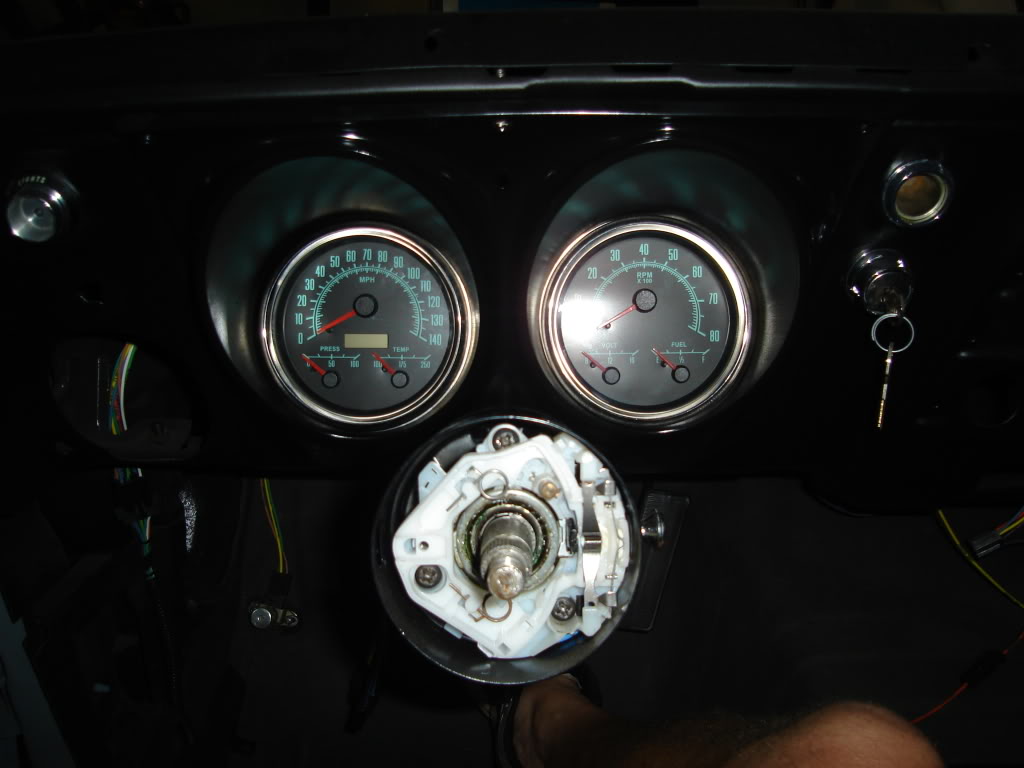 Next up were the tail lights. This is what I started with.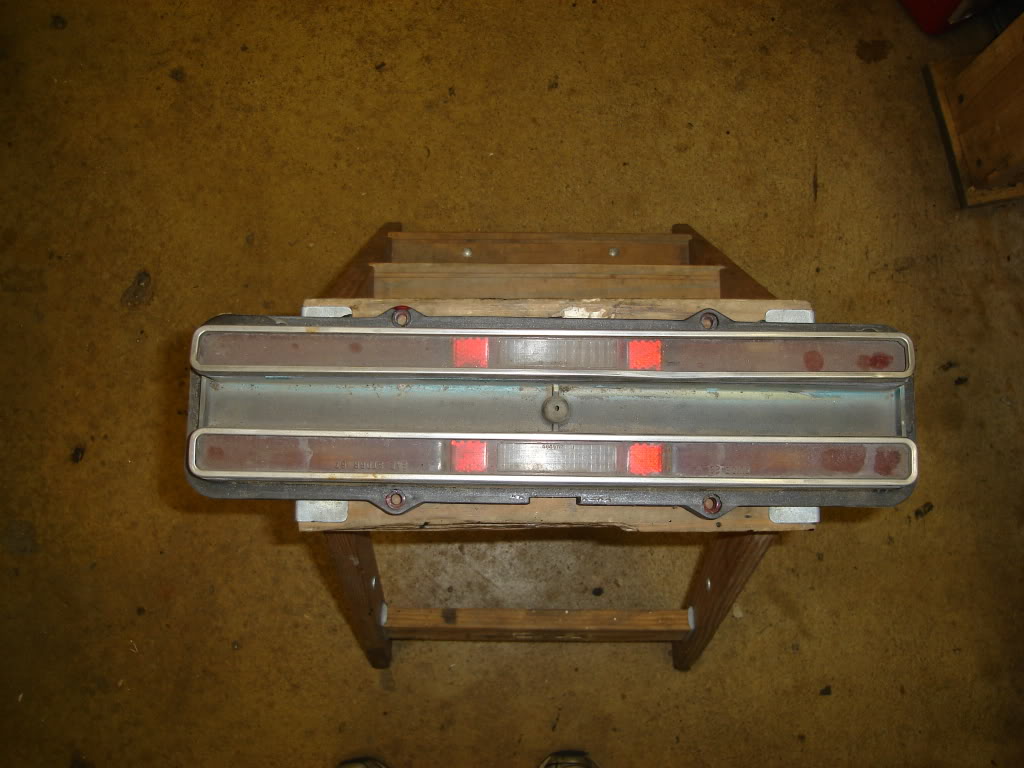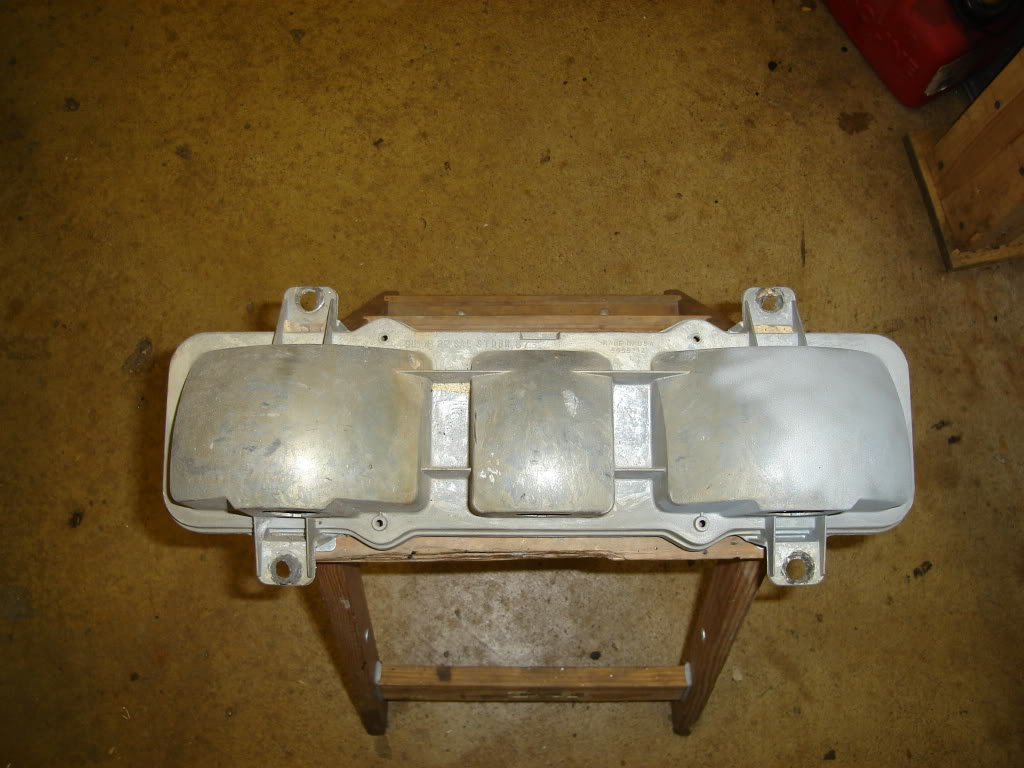 Started with getting the tail light housings powdercoated in gloss silver.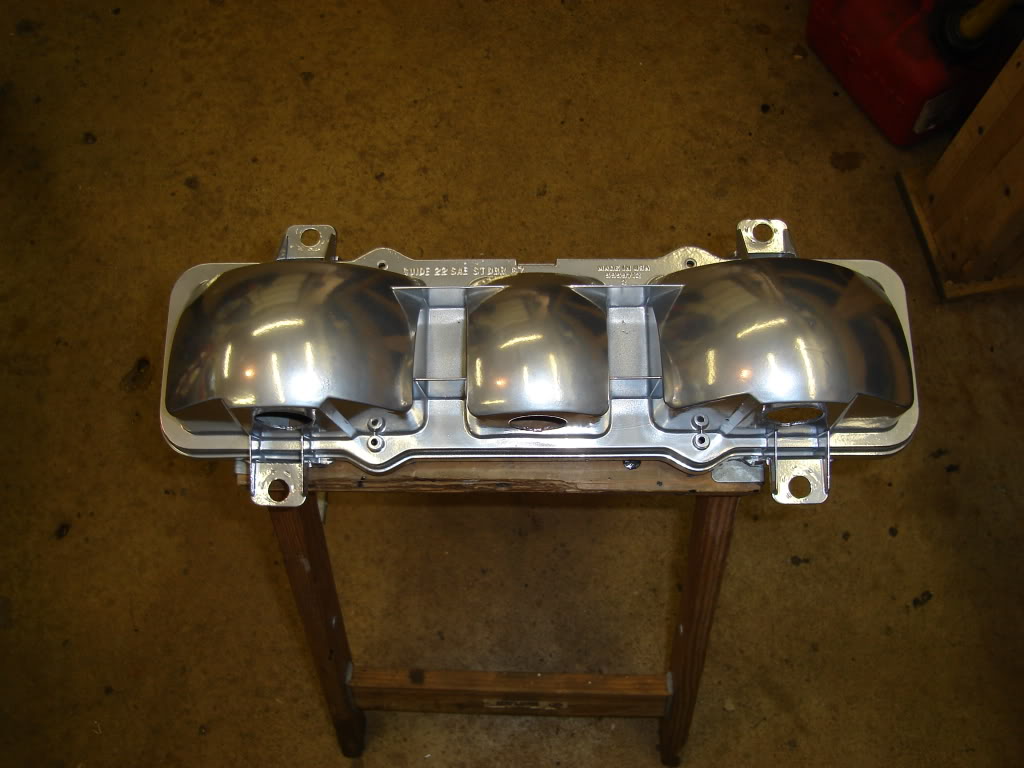 Polished the lenses with a buffing wheel and 3M compound.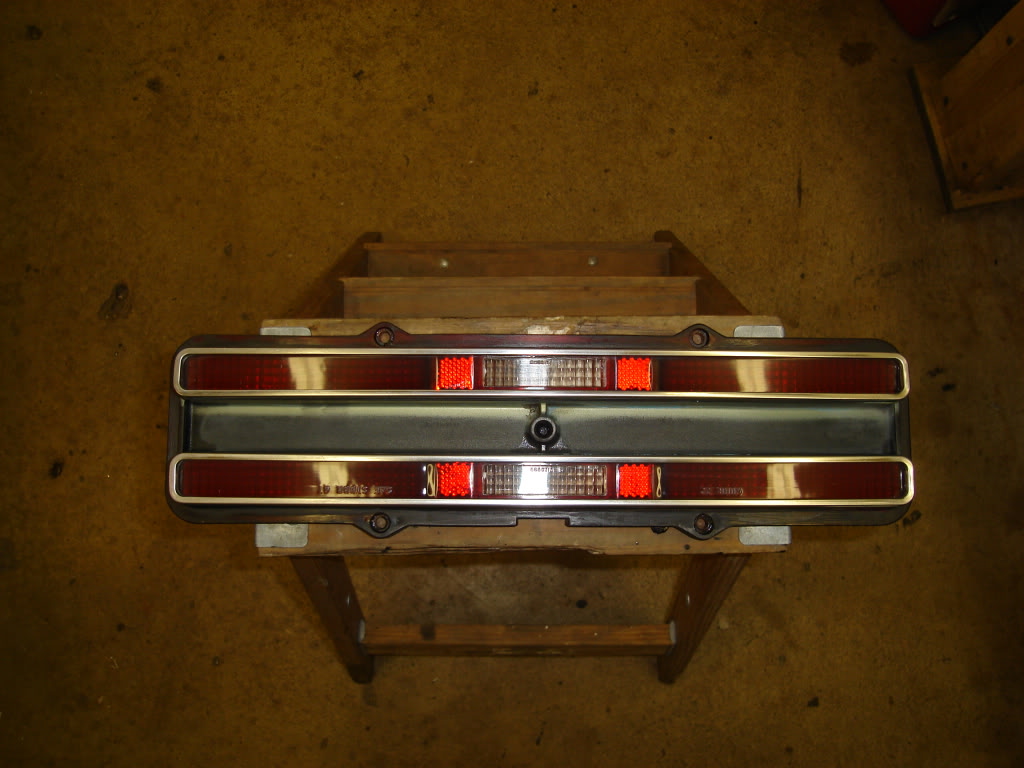 Sanded down and reapinted the areas around the tail lights.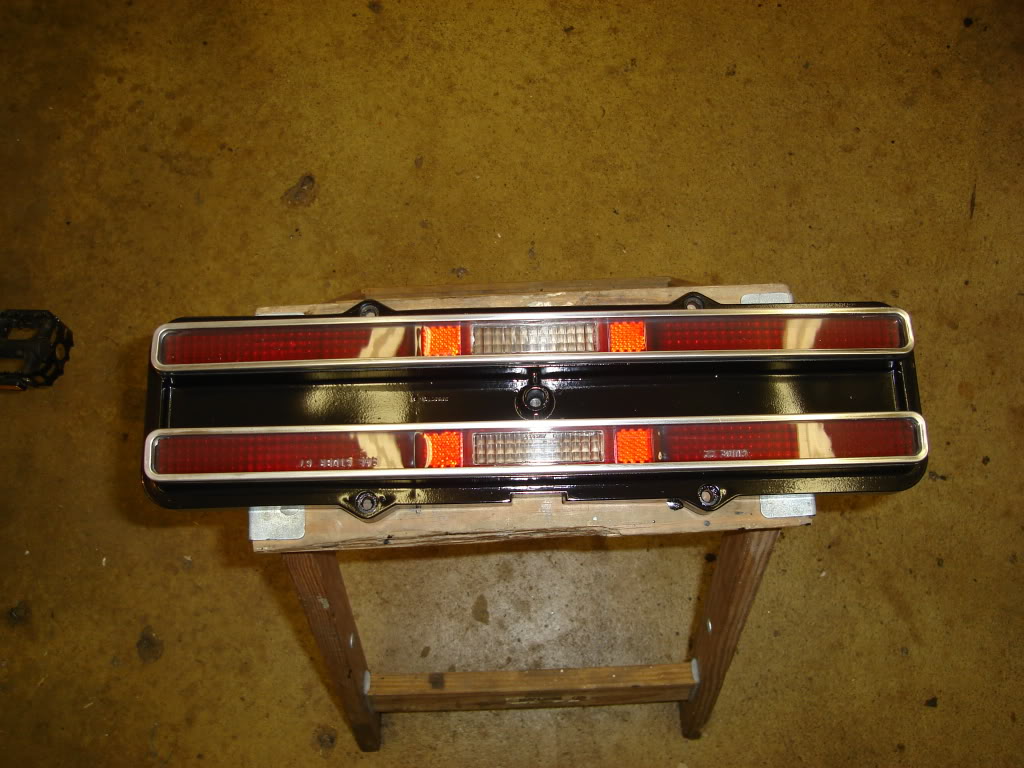 Installed in the housings.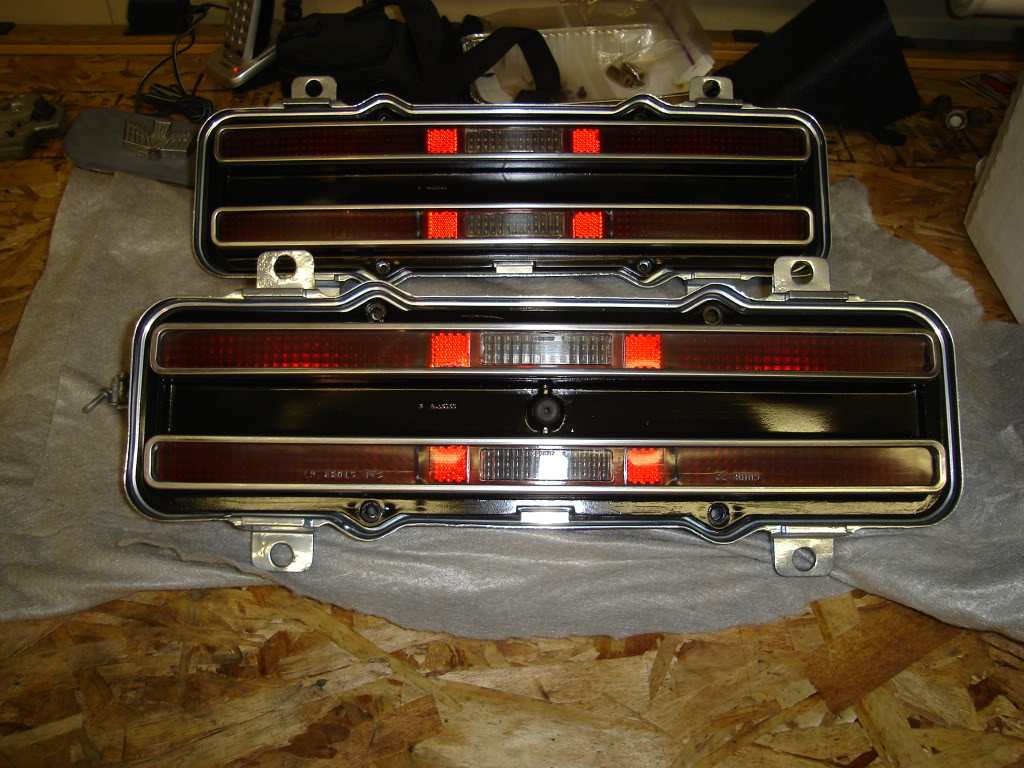 I started on trying to finish up on all the lines that were still missing on the engine and transmission. Mocked up a few lines so I knew what to order and how long the lines needed to be. I also added a new Holley fuel pump for a little more fuel pressure than the stock unit.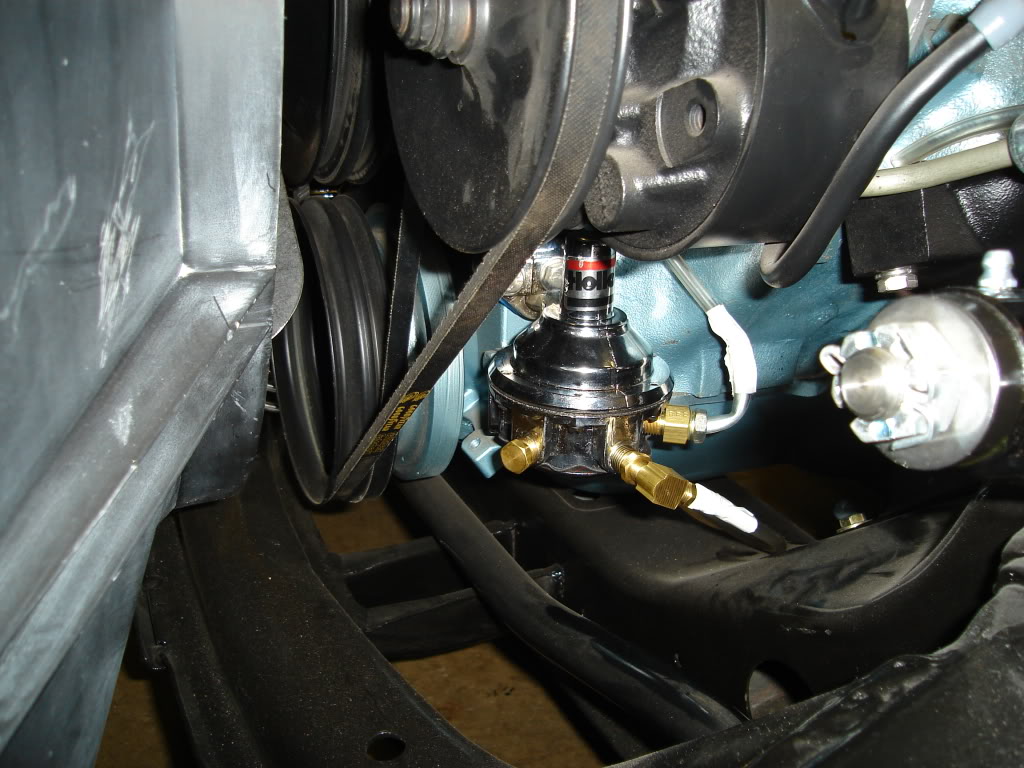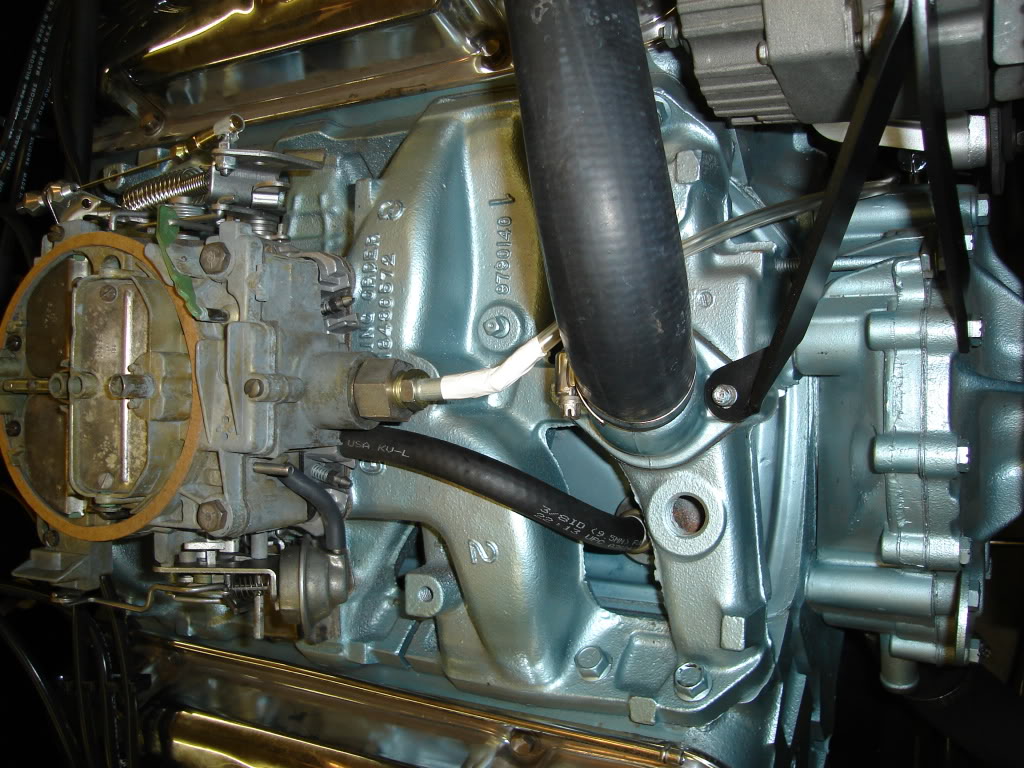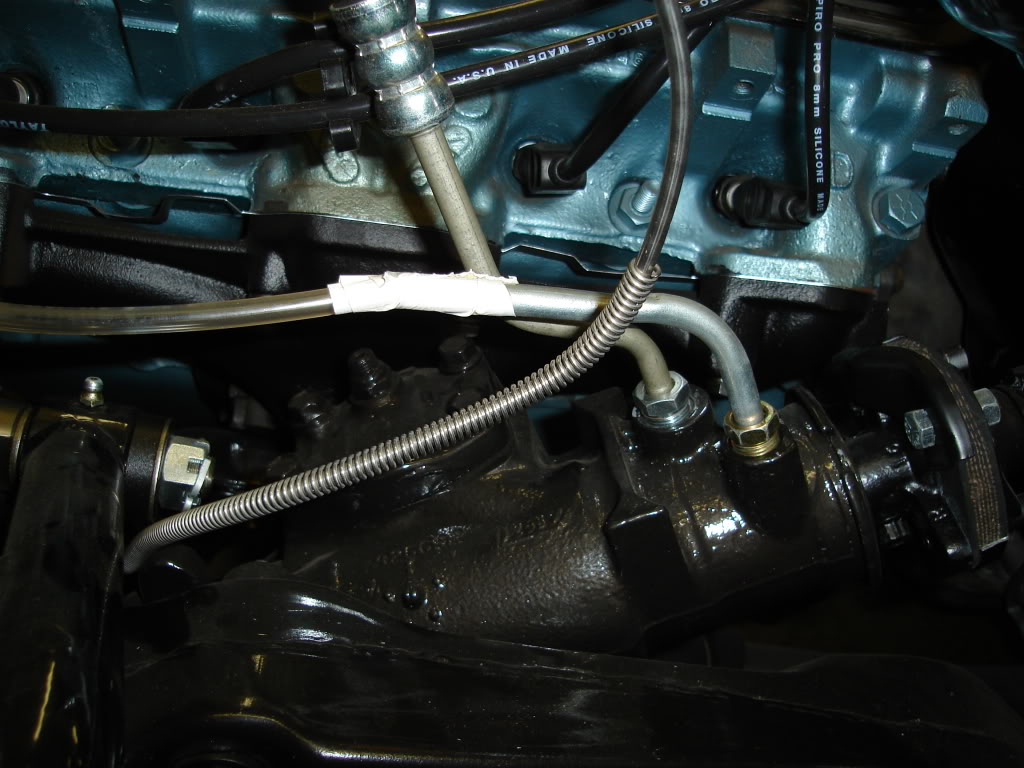 New fuel lines.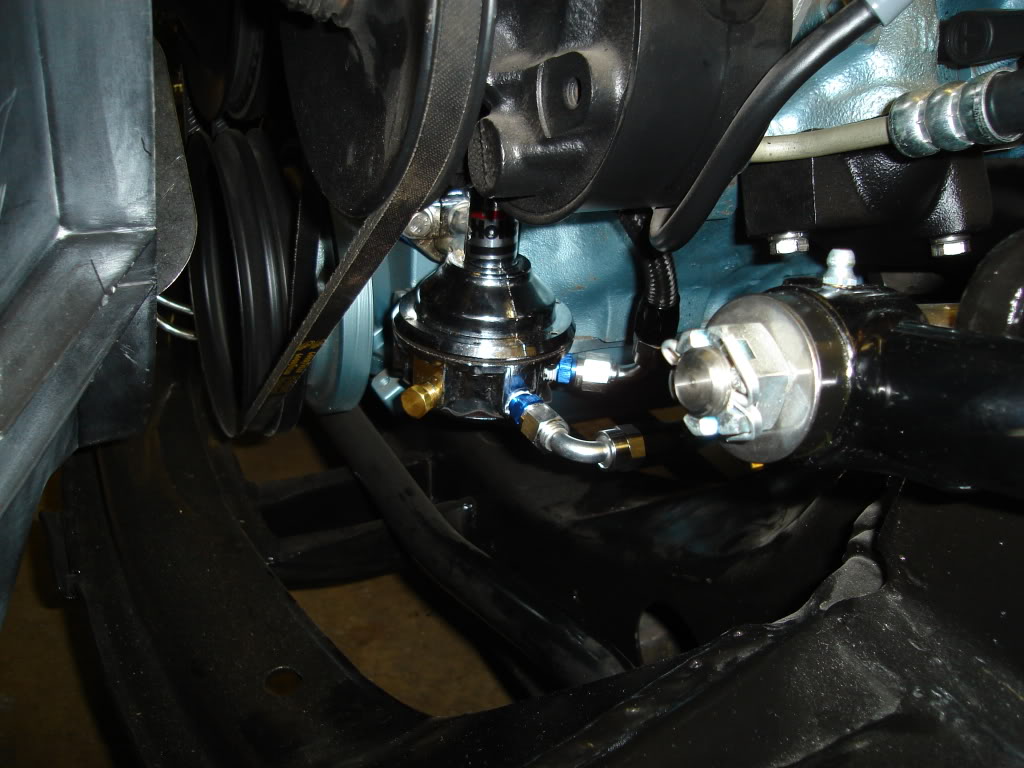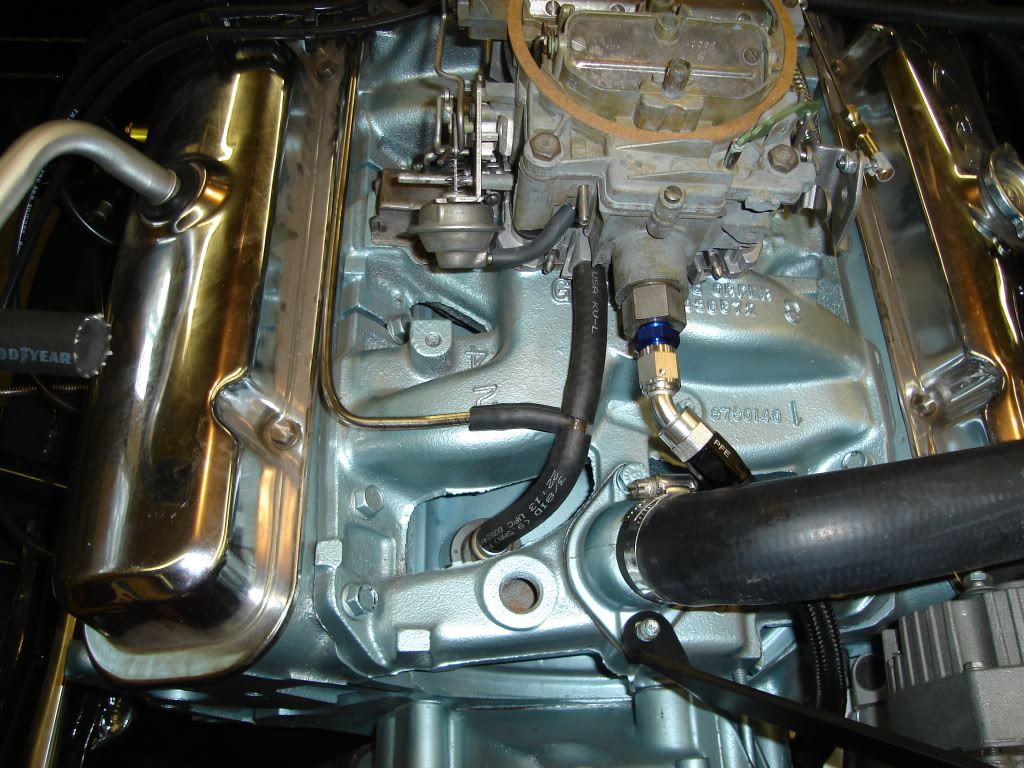 New transmission lines and vacuum line.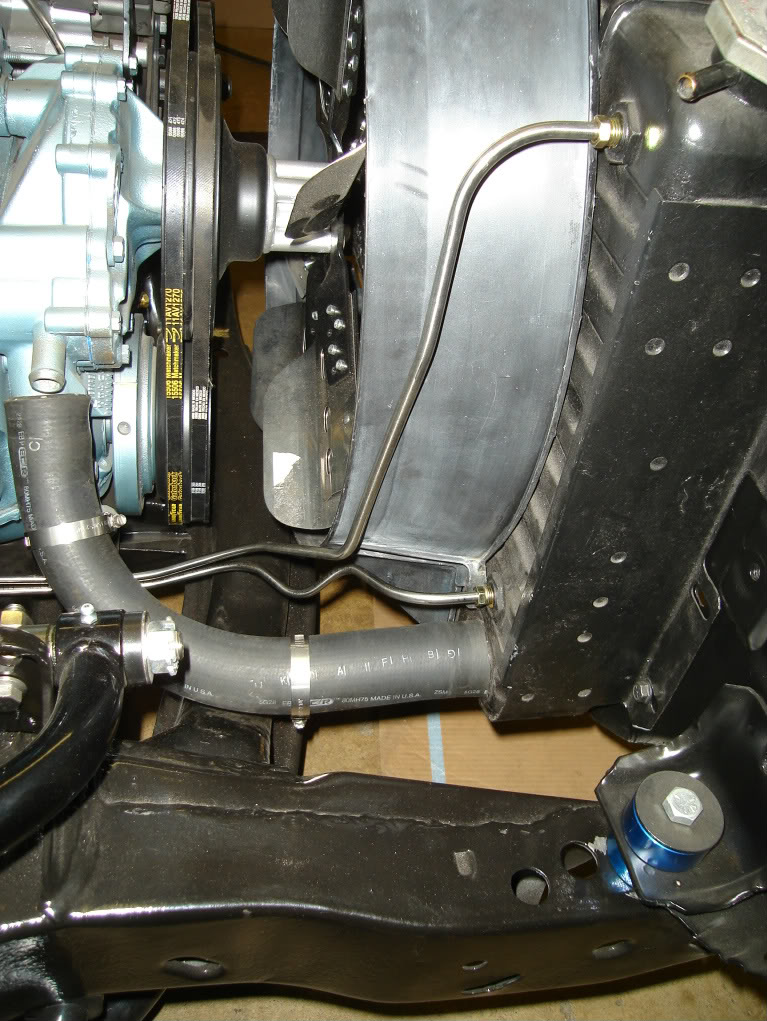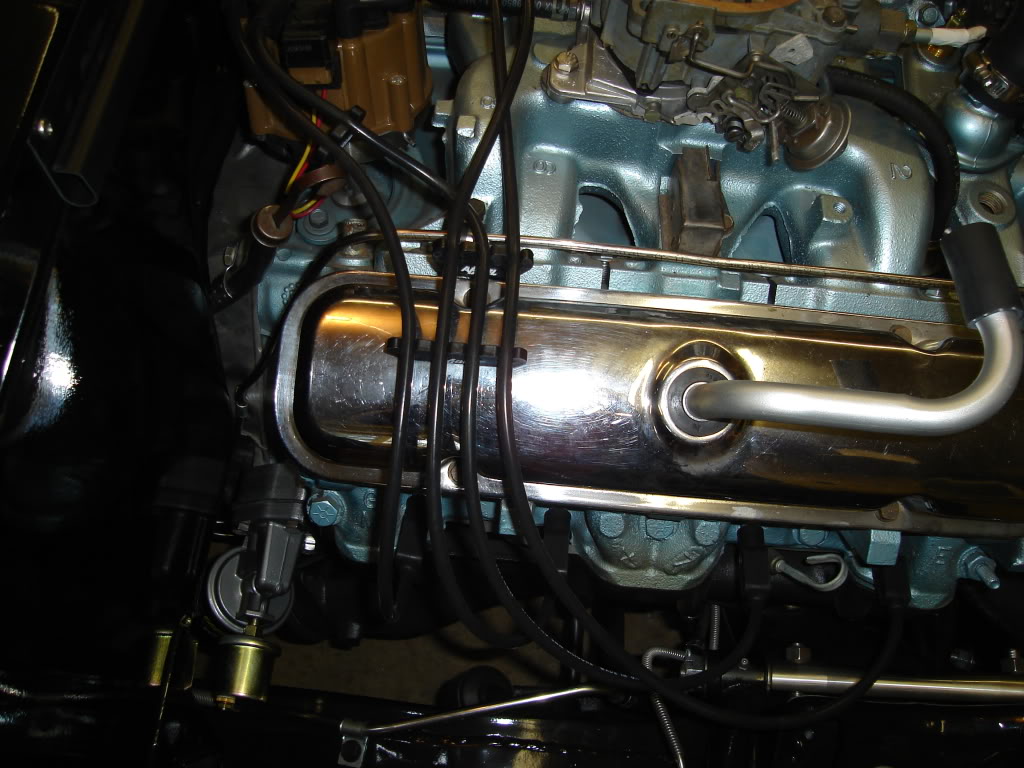 Power steering line return line has been made and installed but no pictures.
Installed the parking brake assembly and front parking brake line. The parking brake switch was hitting the AAW fuse box. I had to grind a small block off of the fuse panel to make clearance for the switch to work properly.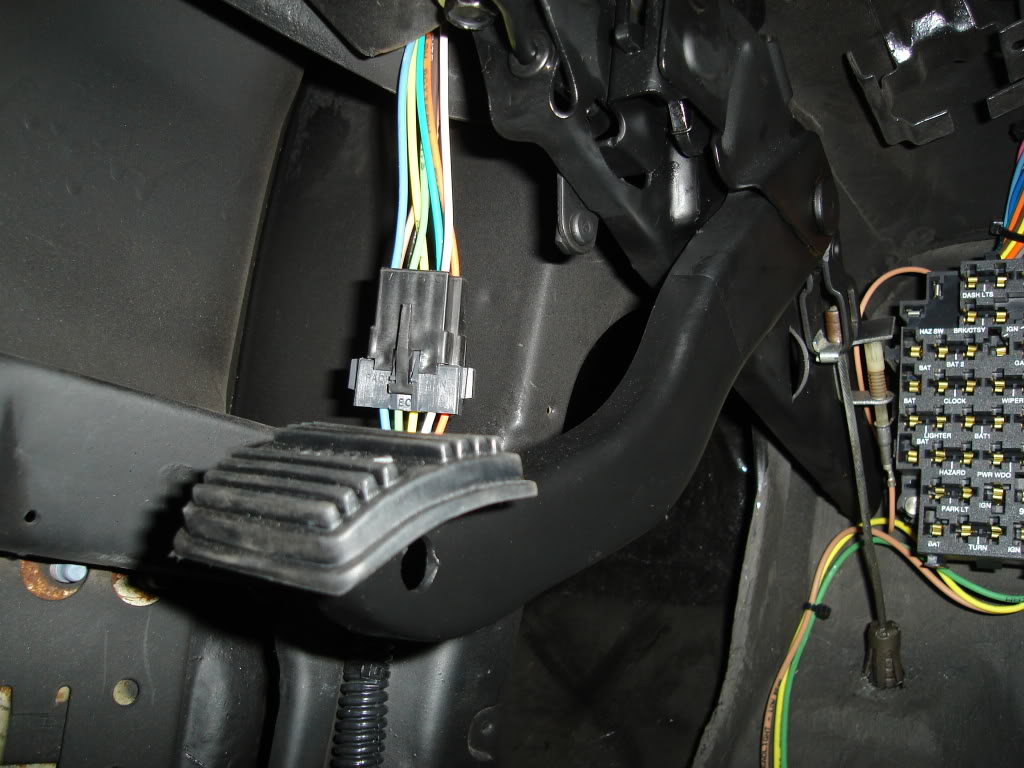 I replaced the rear axles a few months ago. I knew the seals and bearings also needed to be changed. I had bought a bearing removal kit a few years ago so removing the bearings was real simple.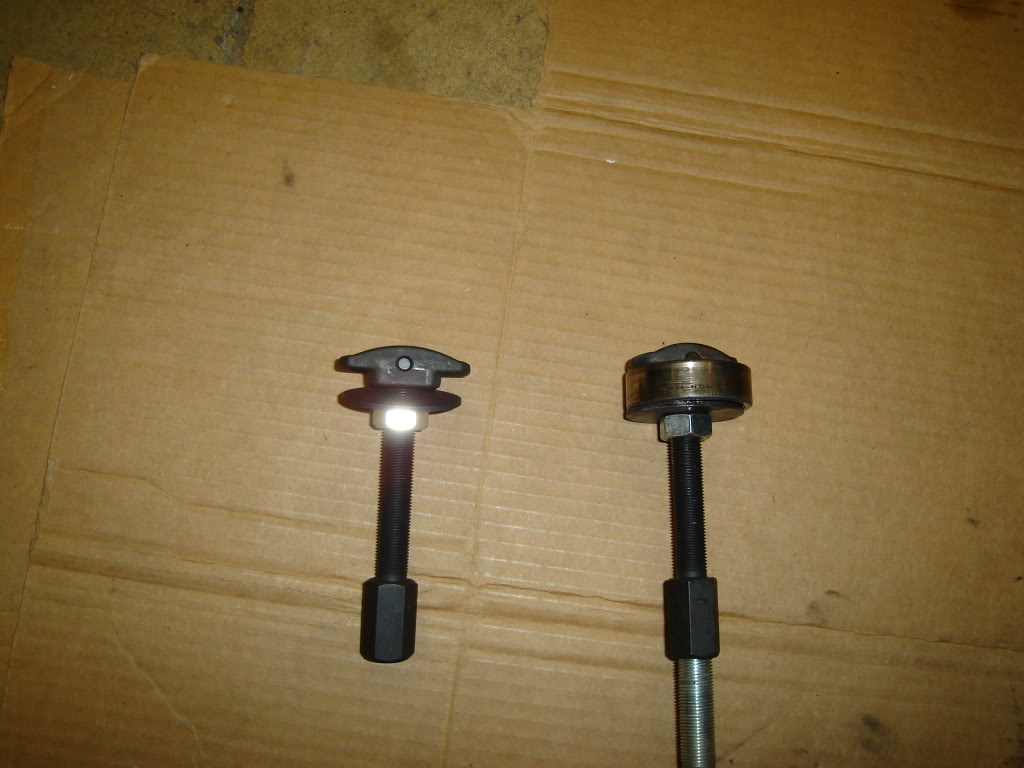 New seals and bearings.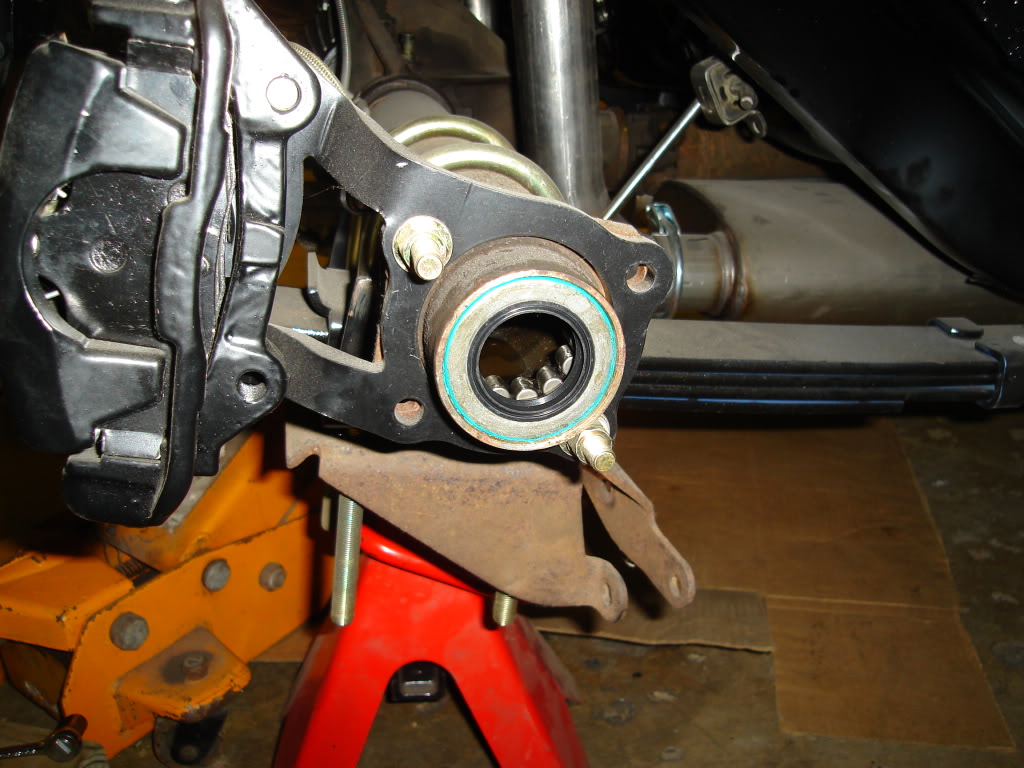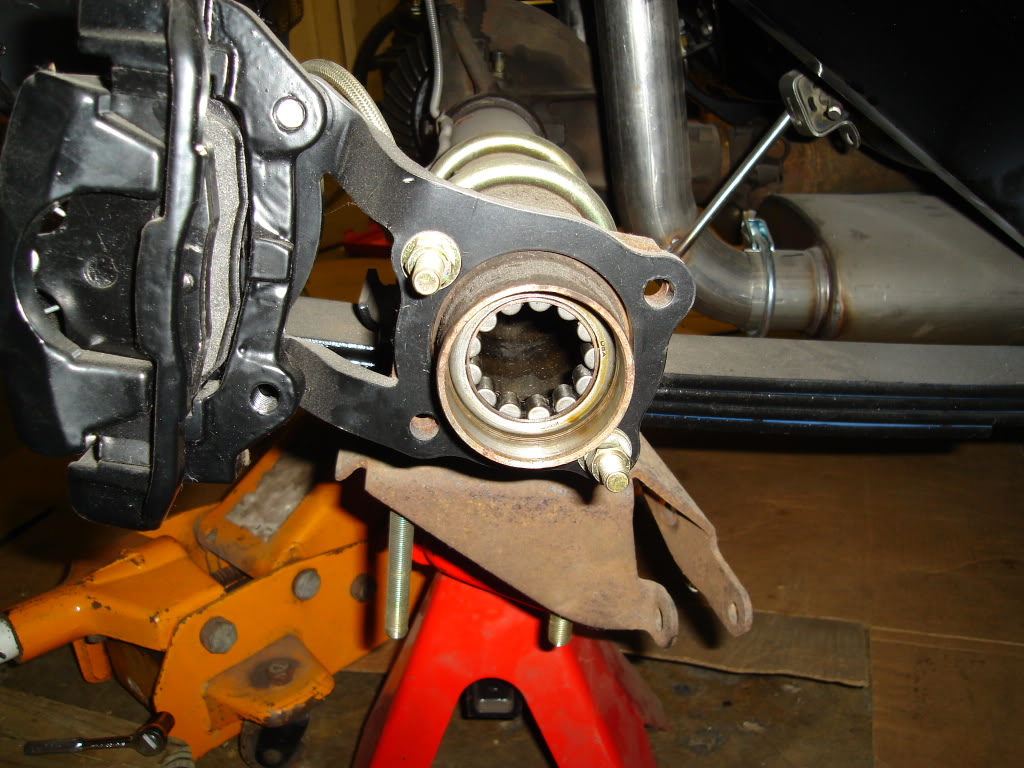 2-2-2012
Just like any other project on this car the rear seats needed to be replaced. I started out with removing all of the hog rings holding the old mouse poop infested interior on. I spent the better portion of two weeks with my limited spare time removing all of the old hog rings. I had to wear a mask because of the old mouse hotel that was now vacant. After removing all of the old interior I was down to the frames.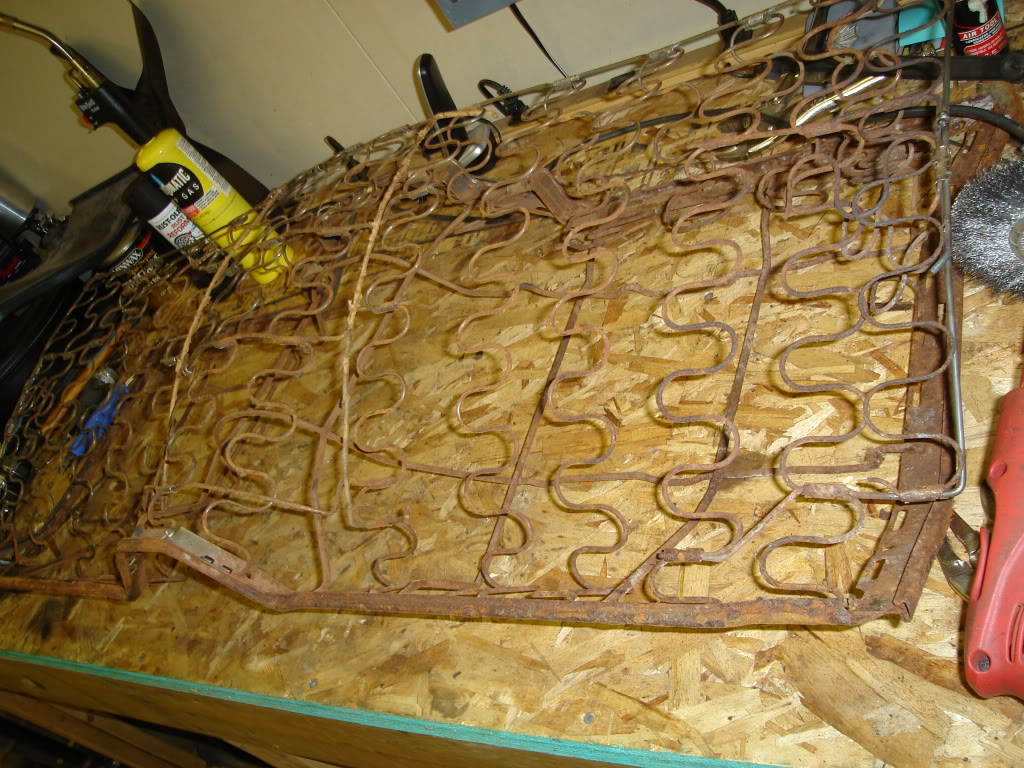 Again, there is never a easy project on this car. I had to replace parts of the frame where it was rusted from I assume mouse pee.
Here's just a little of the metal that I cut out and had to weld back in.


One corner that I fixed.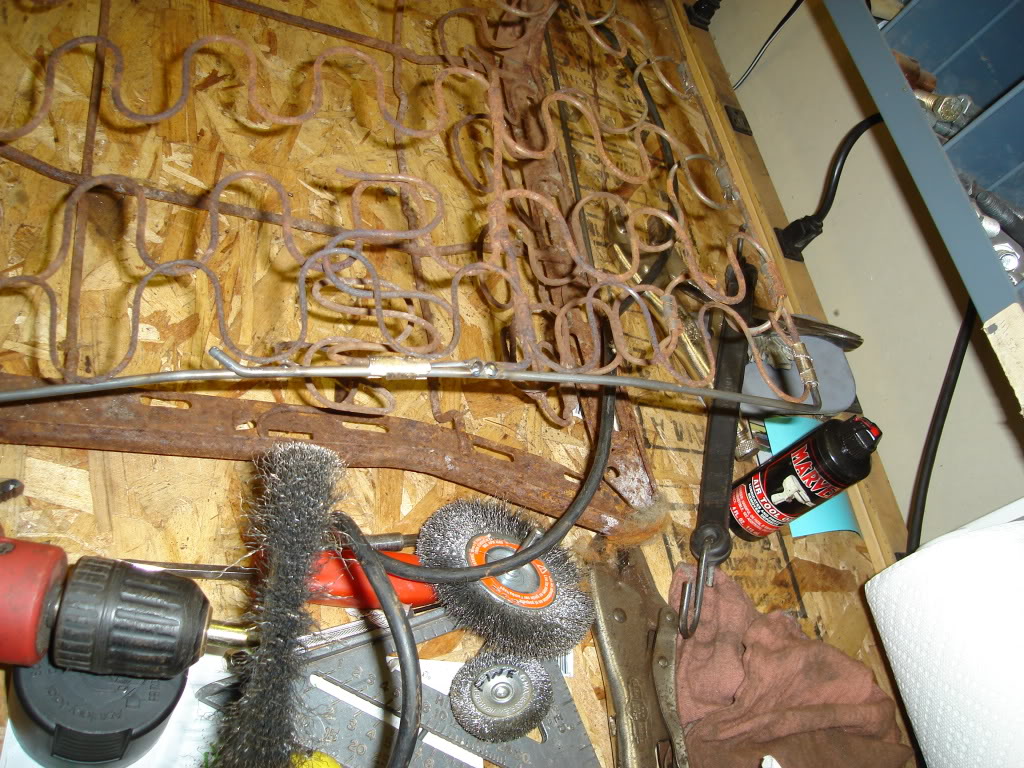 I spent about five hours wire wheeling everything down.
The botttom frame had to have a coat of por15 applied to the frame. The rest of the frames received two coats of a rust preventive paint and then two coats of black hammered paint.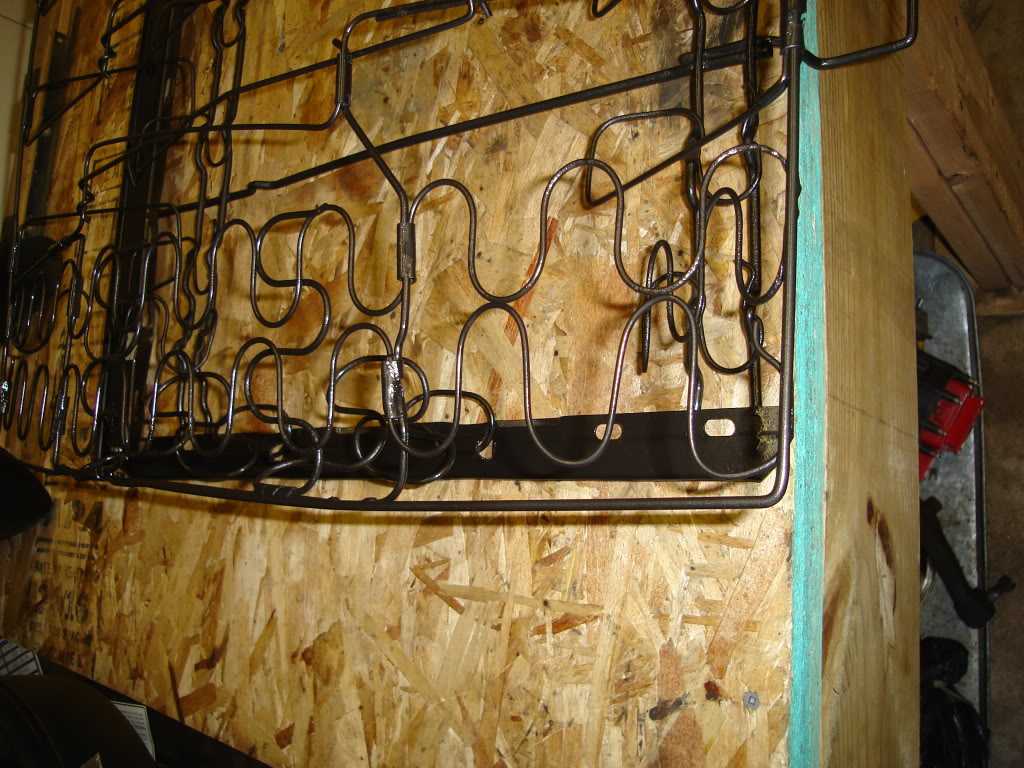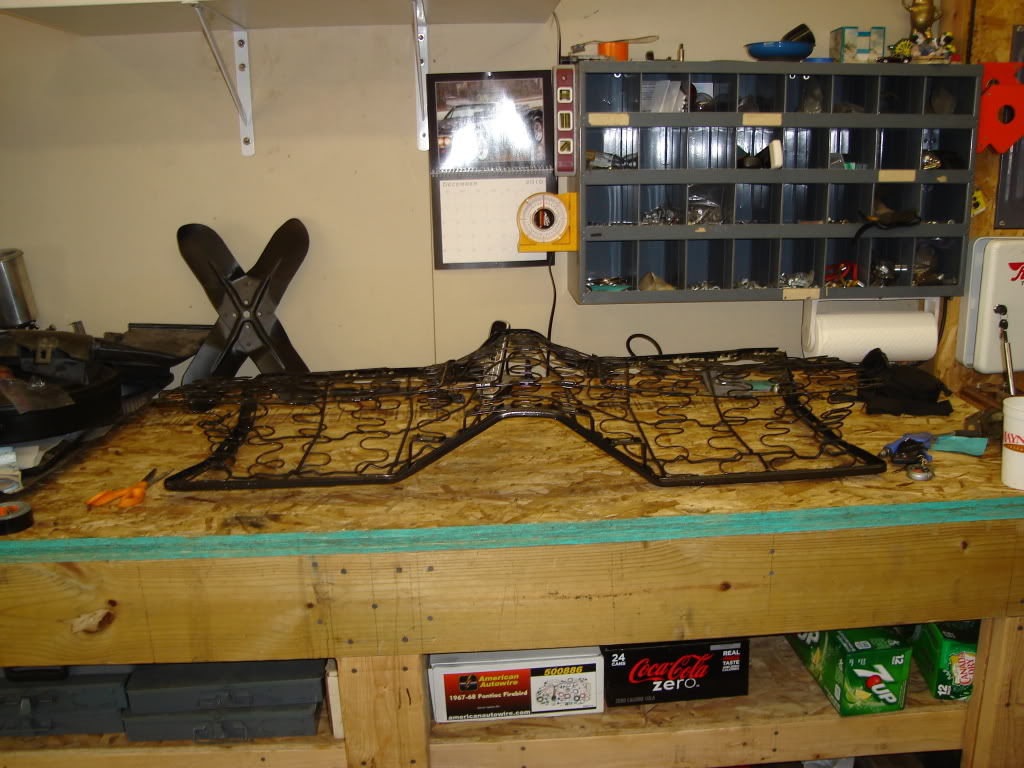 They are now dropped off for the new covers which will match my front Scat seats.
I bought the rear cover to match the front Scat seats.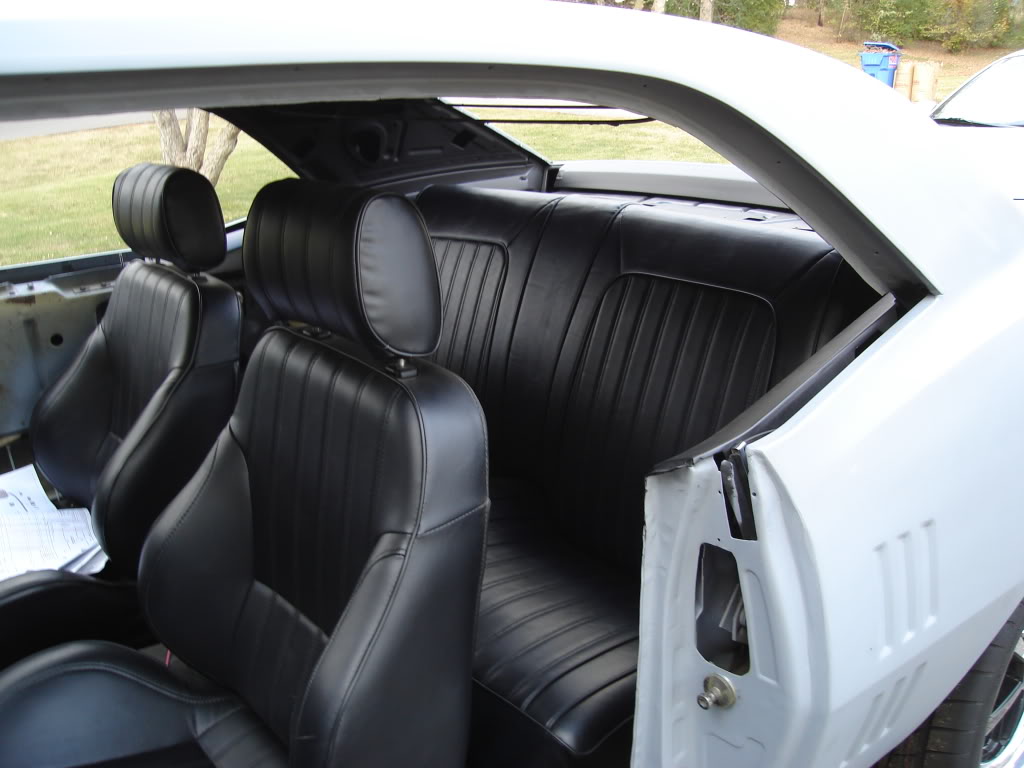 Next, I started on all of the front and rear bumper brackets along with all of the front end brackets. I spent about a month of my spare time fixing and sandblasting all of the brackets. Almost every bracket had something wrong with it. They were either bent, missing welded on nuts, stress cracks, or just missing all together.
I spent several hours alone just getting thses straight.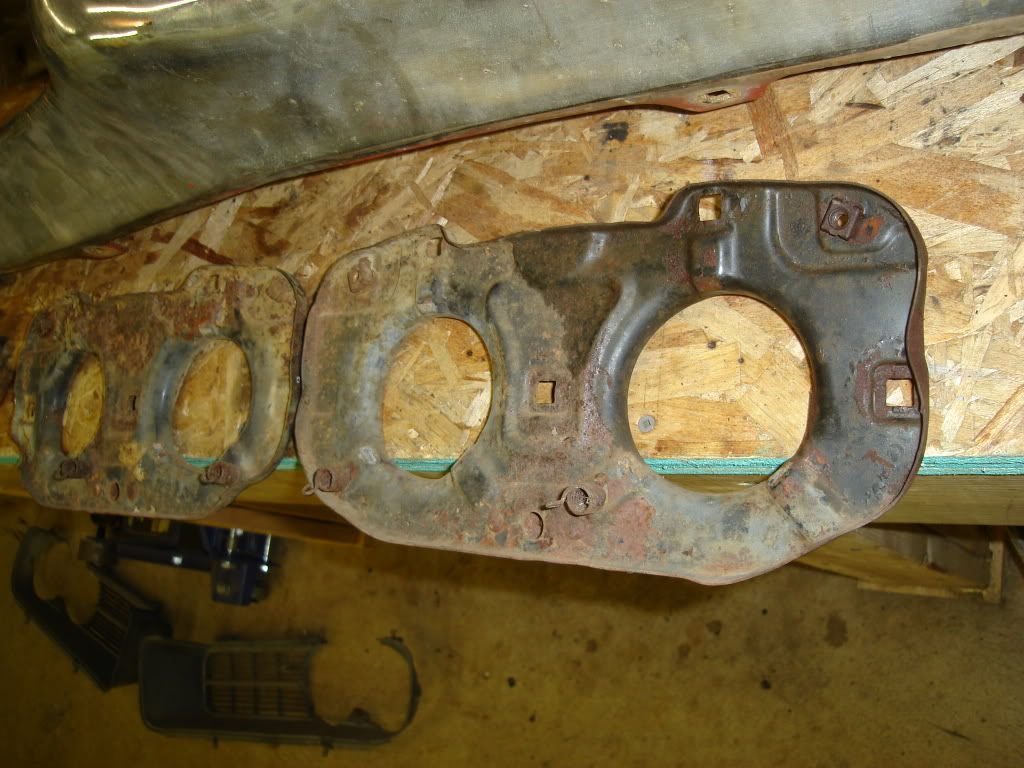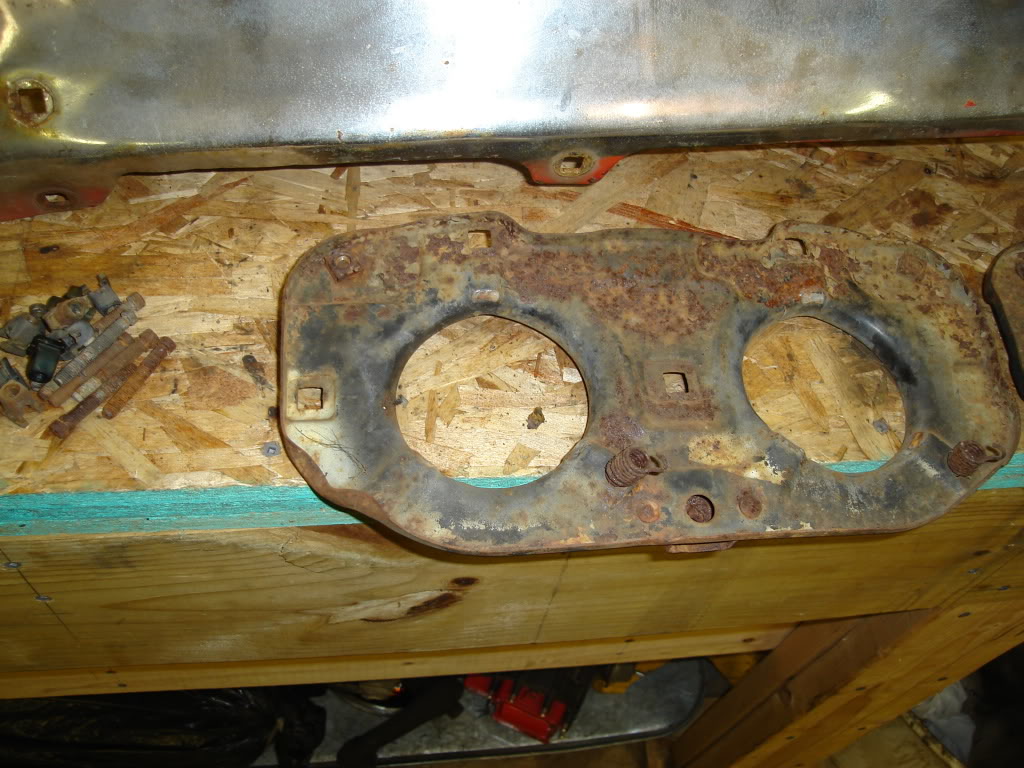 All fixed now they just need to be blasted.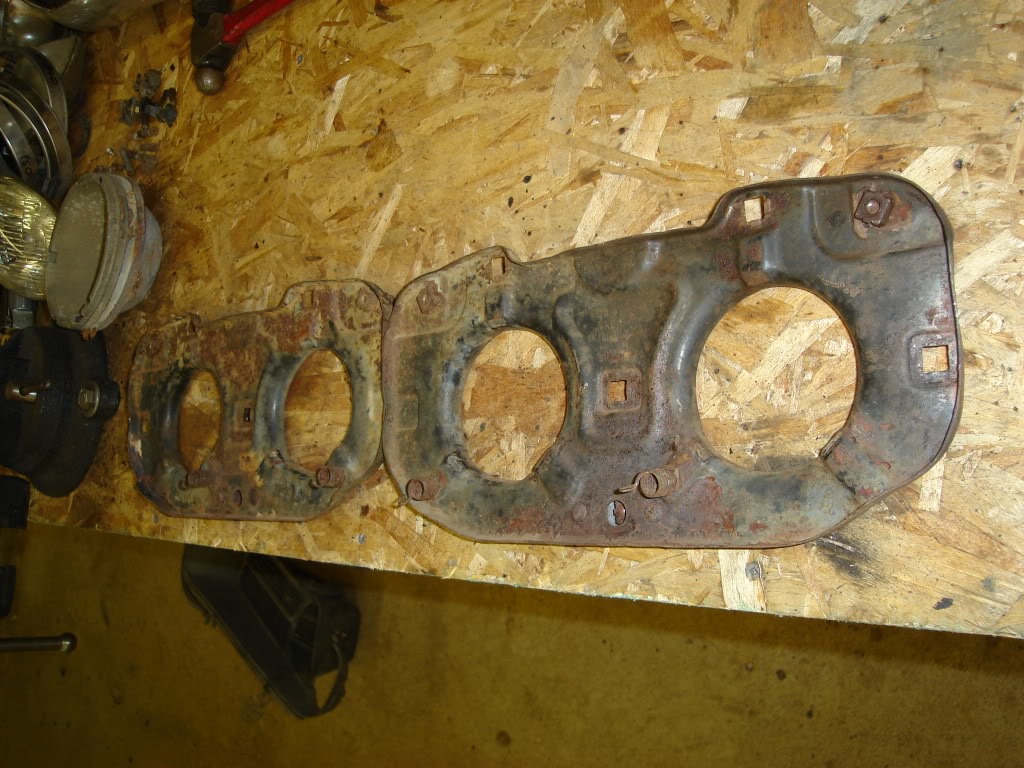 Someone thought it would be a great idea to torch out bigger holes to make things fit instead of fixing it the correct way.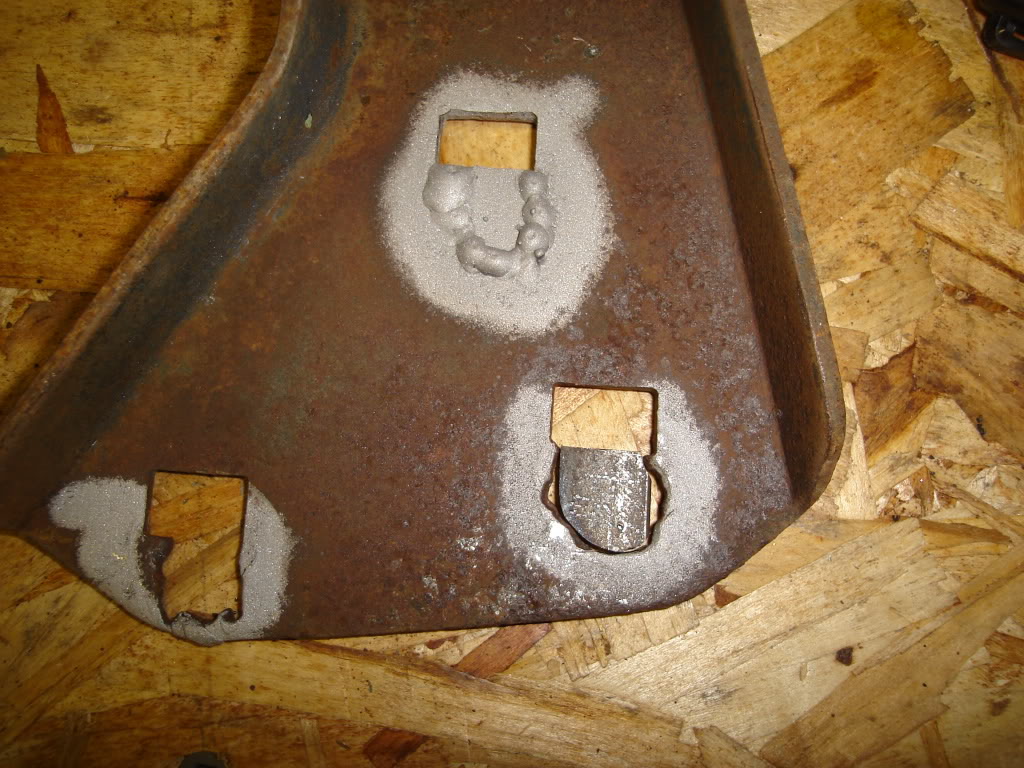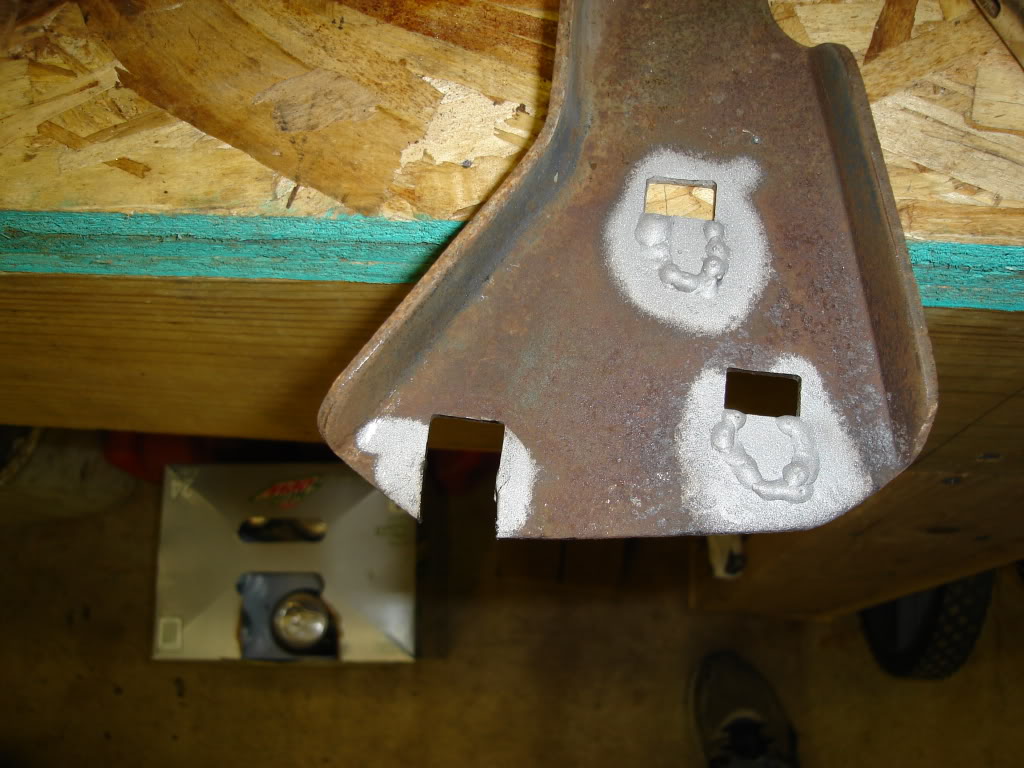 All fixed.

Stacked on top of each other, checking to make sure everything lines up correctly.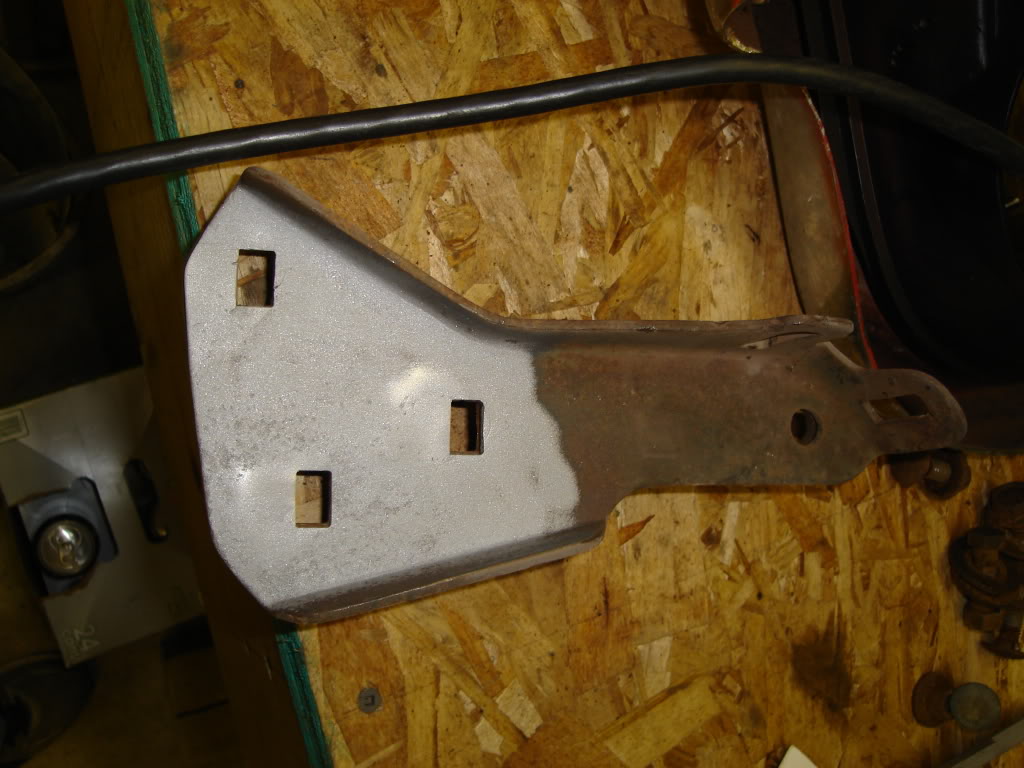 Dropped all of the parts off at a friends house for powder coating.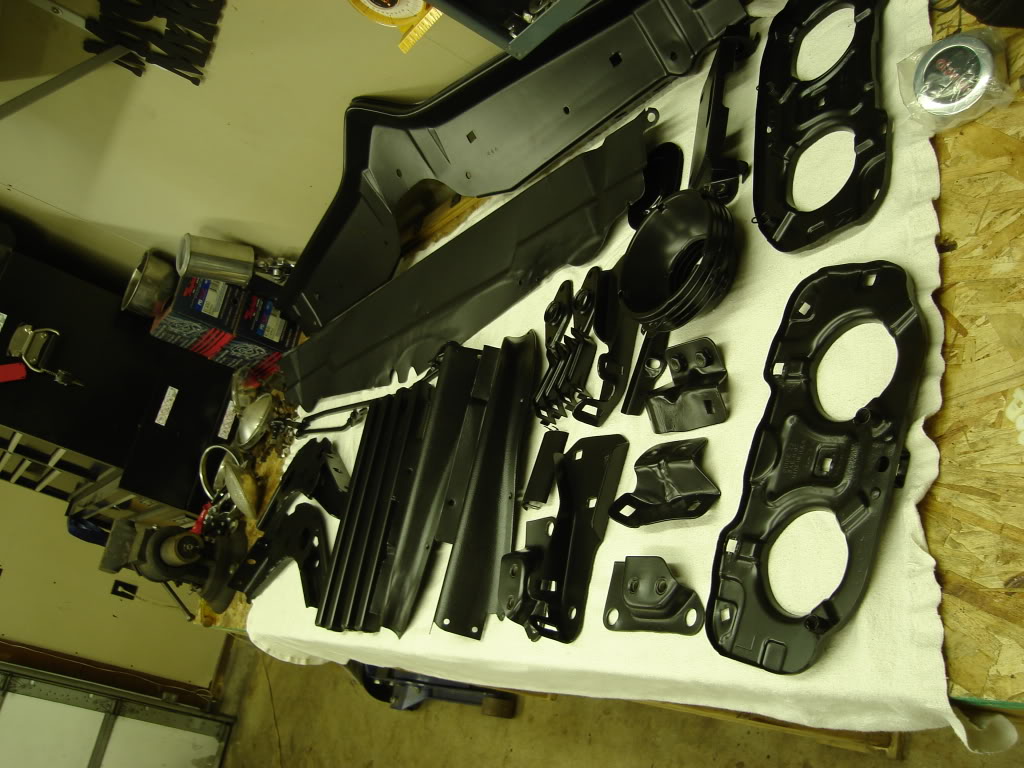 Front bumper brackets.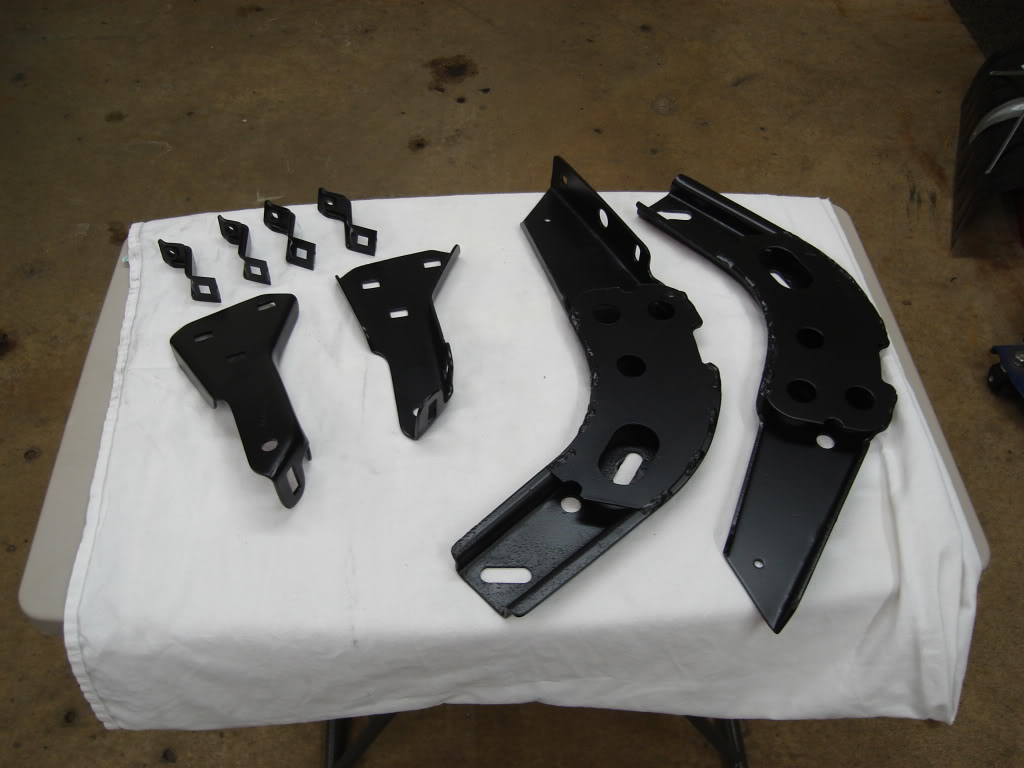 Rear bumper brackets.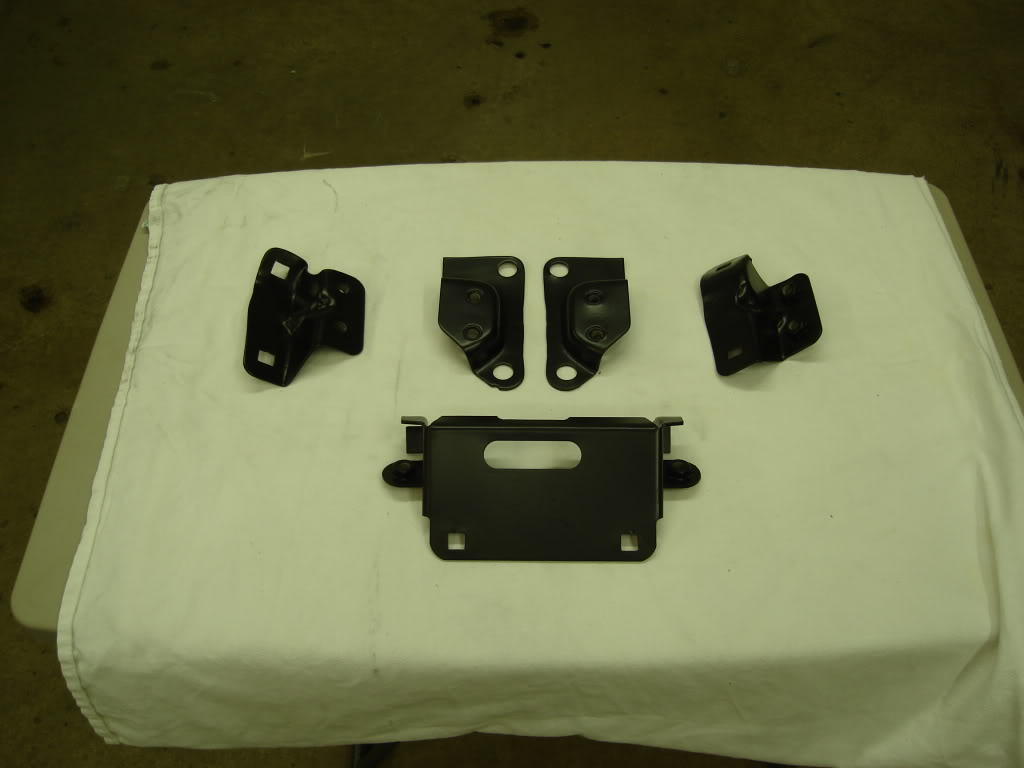 Headlight buckets.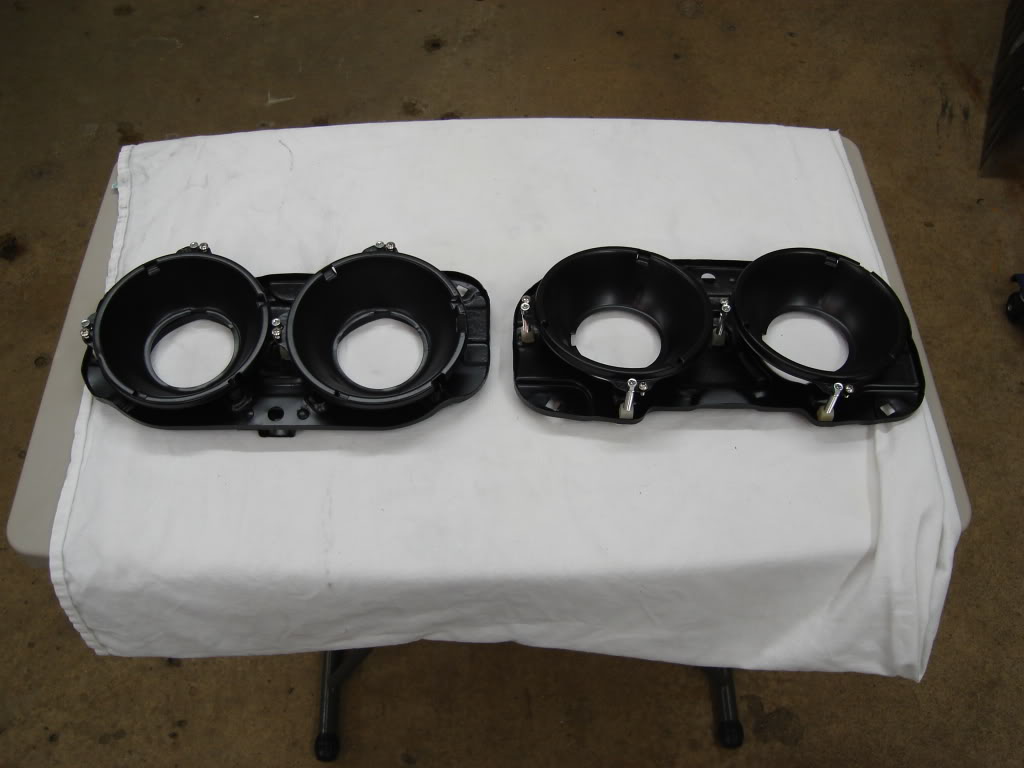 Interior.

Windshield wiper linkage.

Seat tracks.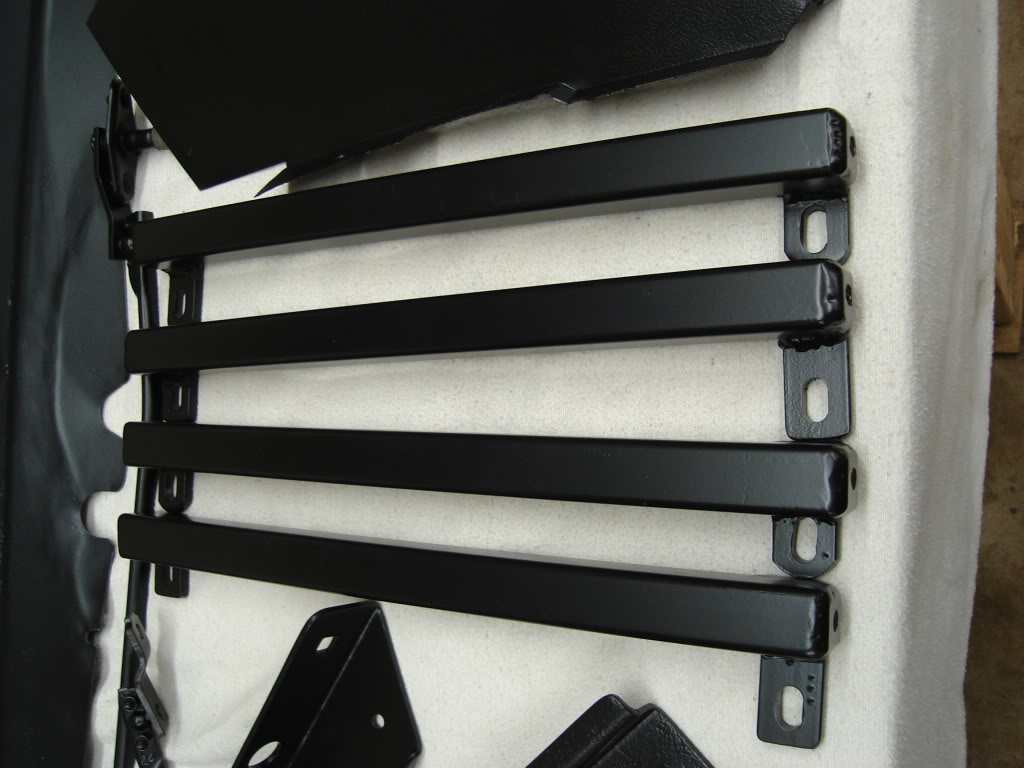 Next on the list was to fix my shifter problem. I had a two speed floor shifter but wanted a three speed floor shifter with the ratcheting option. To my surprise it seems all late 60's to early 80's shifters are built off of the same base with just different mounting points to the floor. Along with that I think mine was the only year with the neutral safety switch on the floor shifter. I had twelve spot welds to drill out, six per shifter. There is already an alignment pin to help line up the brackets when you go to change them over.
Here's a picture with both the front and rear brackets removed.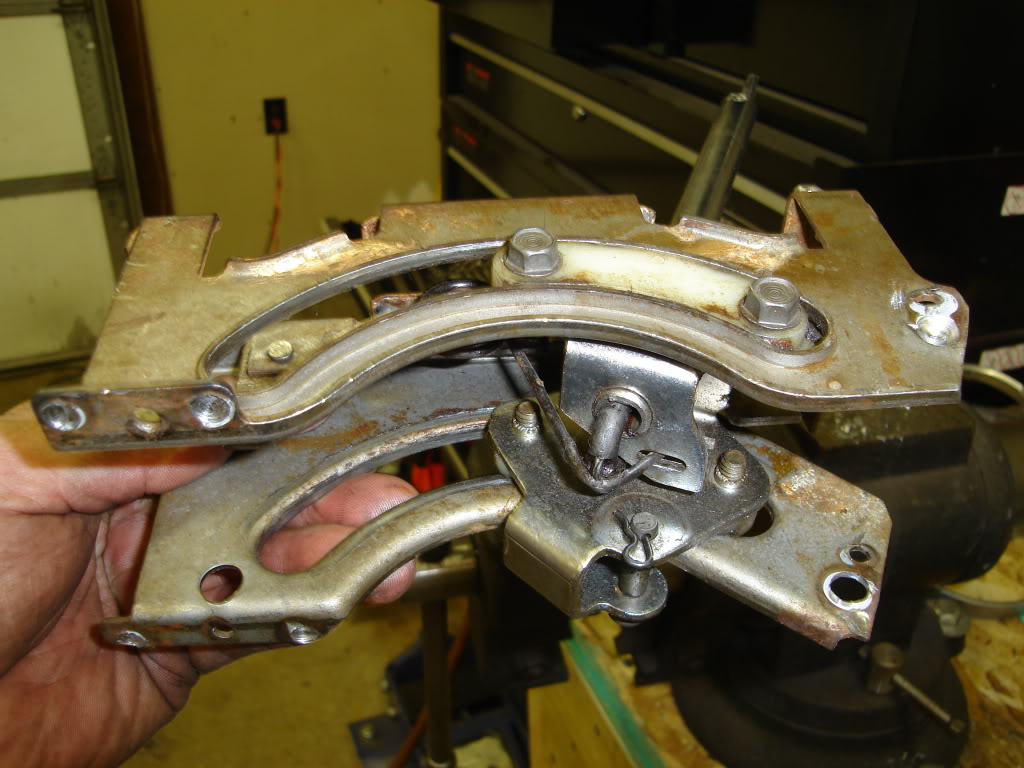 These are the brackets removed from my old shifter that I will weld back onto my new shifter.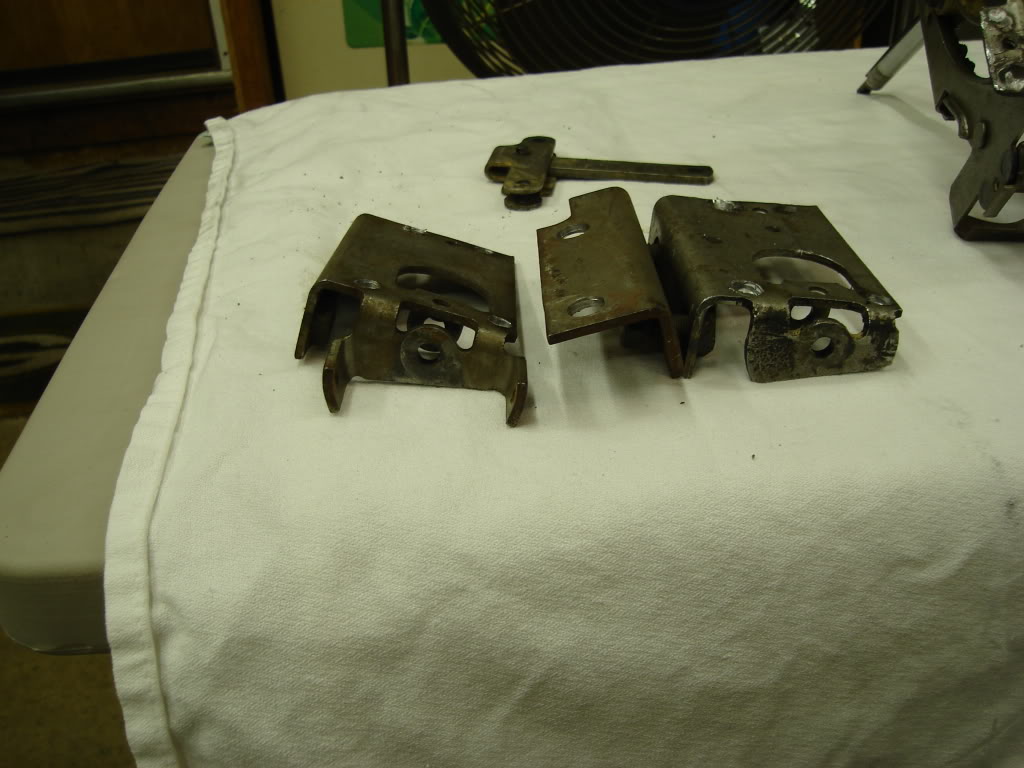 Getting ready to weld the rear bracket back on, if you look closely you can also see the monting holes for the neutral safety switch.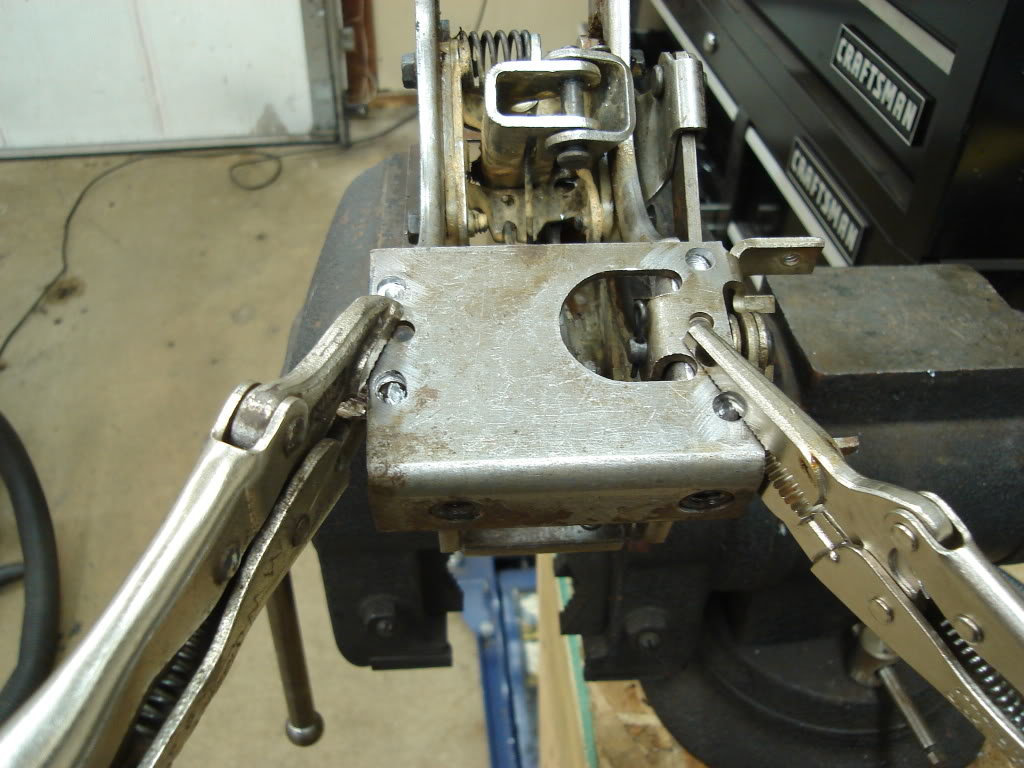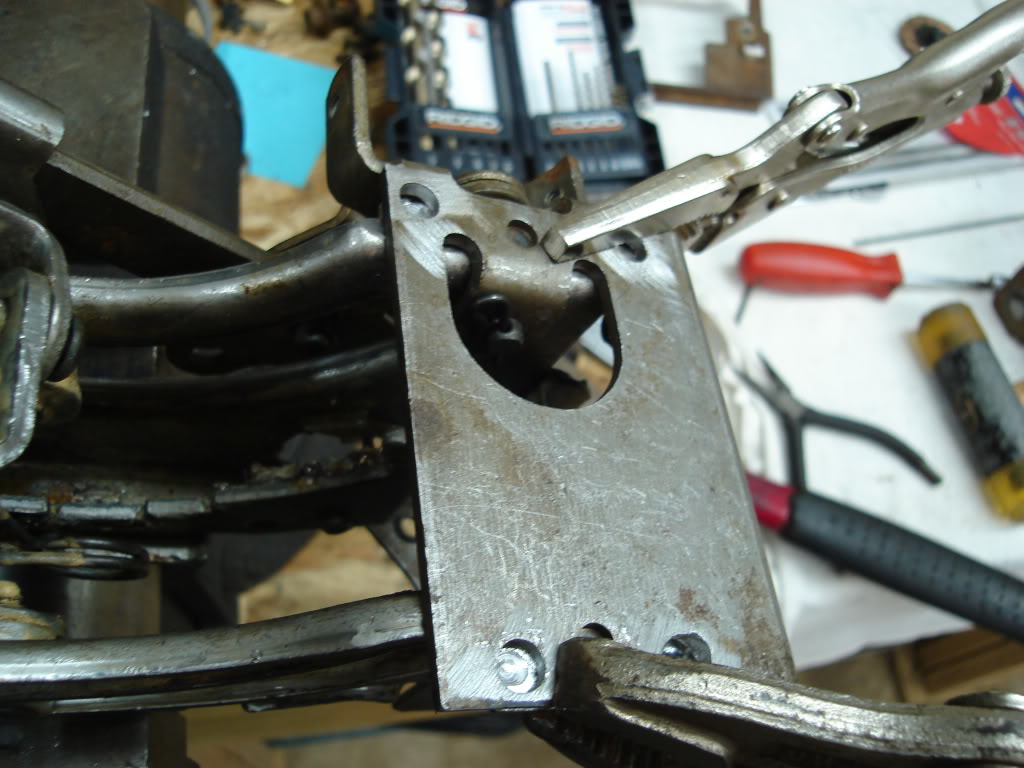 Brackets all welded on and finished.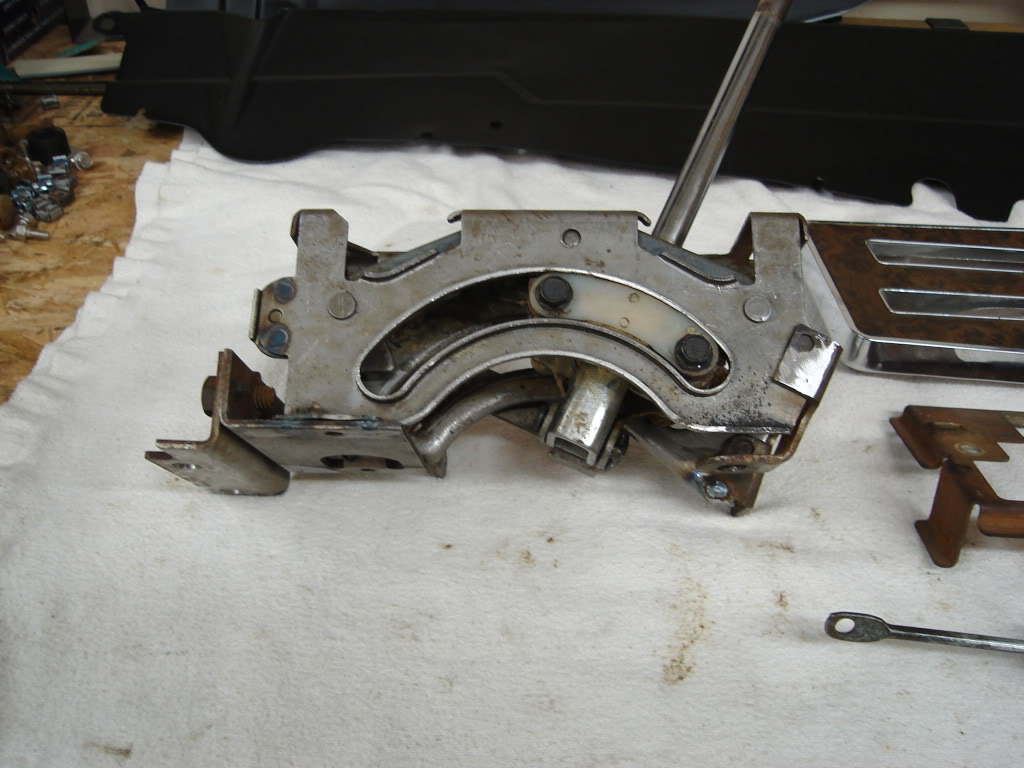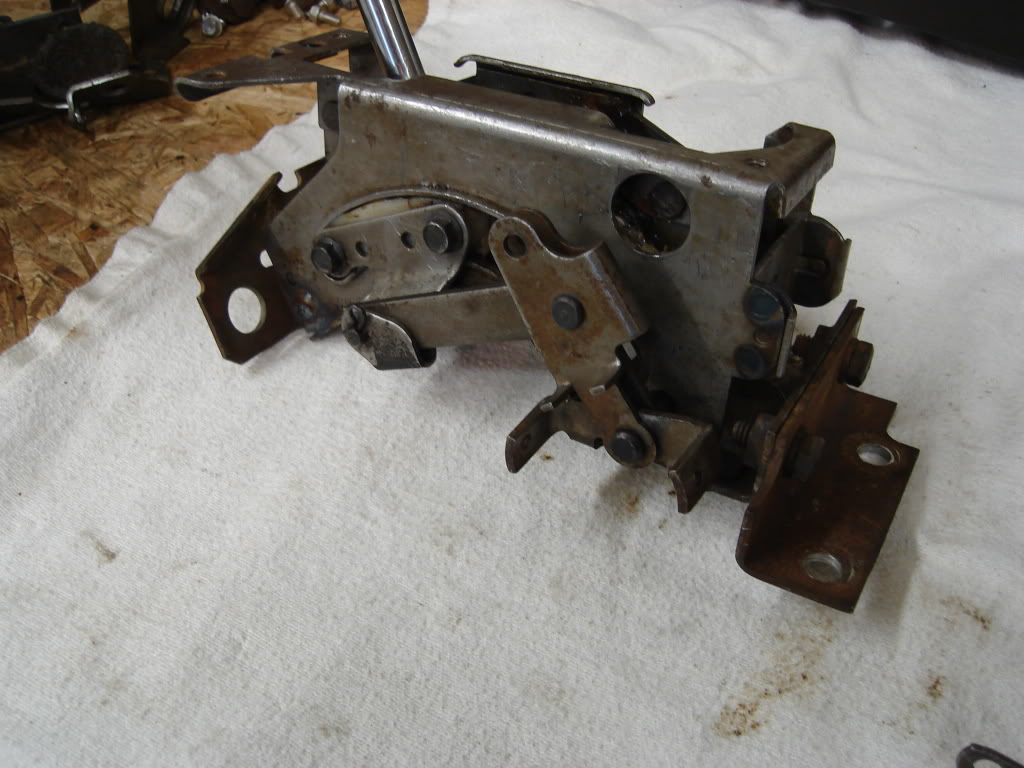 I wanted a stock looking shifter but also wanted a shifter that would not go from 1st to neutral with one push.
Next I spent a few hours and hand buffed out the inside of the cowl and mounted my windshield wiper arms. I had to drill out all four broken mounting screws before I had it powder coated. I replaced them with four short stainless steel screws. I'm not sure why but both wiper arm mounting points had a small plastic sleeve under them. They were in bad shape and they had to be removed to coat them. I had some shrink tubing with the glue inside of it laying around that I was not using so I cut two of them out and used a heat gun to put them on.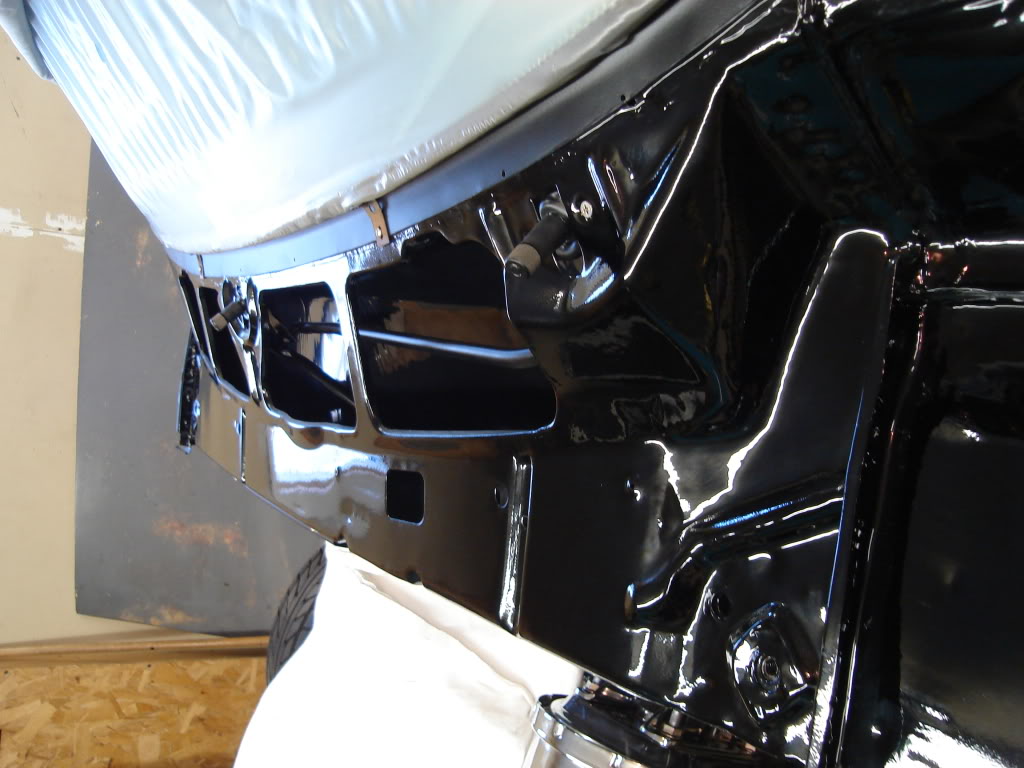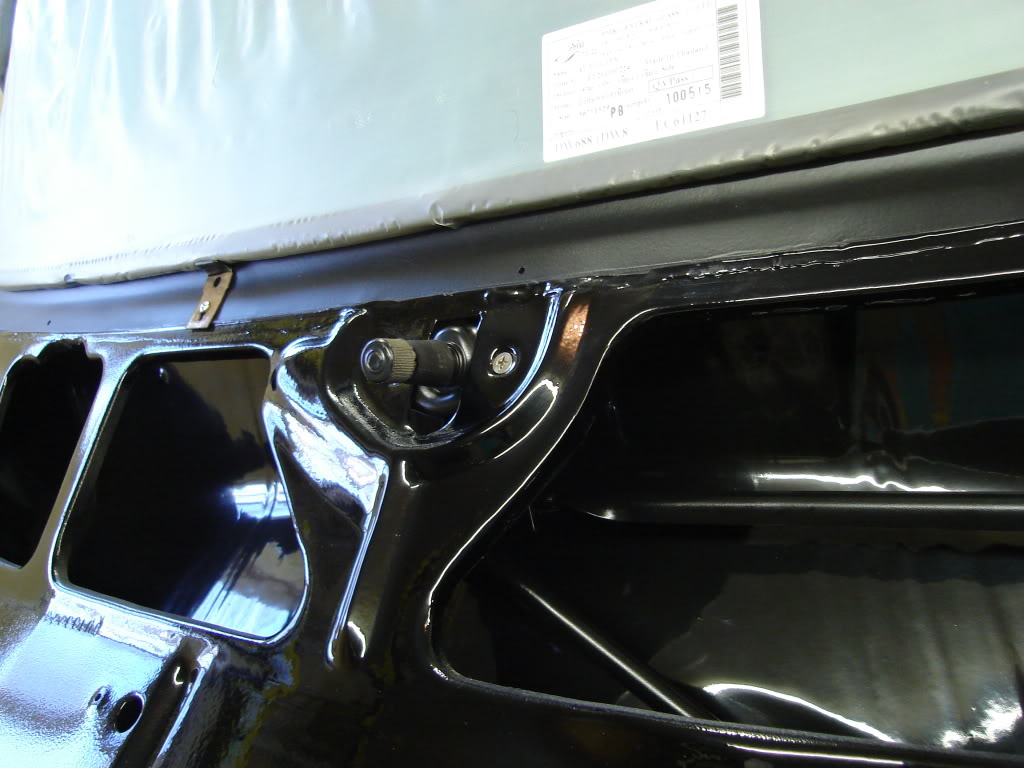 2-23-2012
I plan on making adapters to mount the PMD center caps to keep them centered and add blackcenter lugnuts.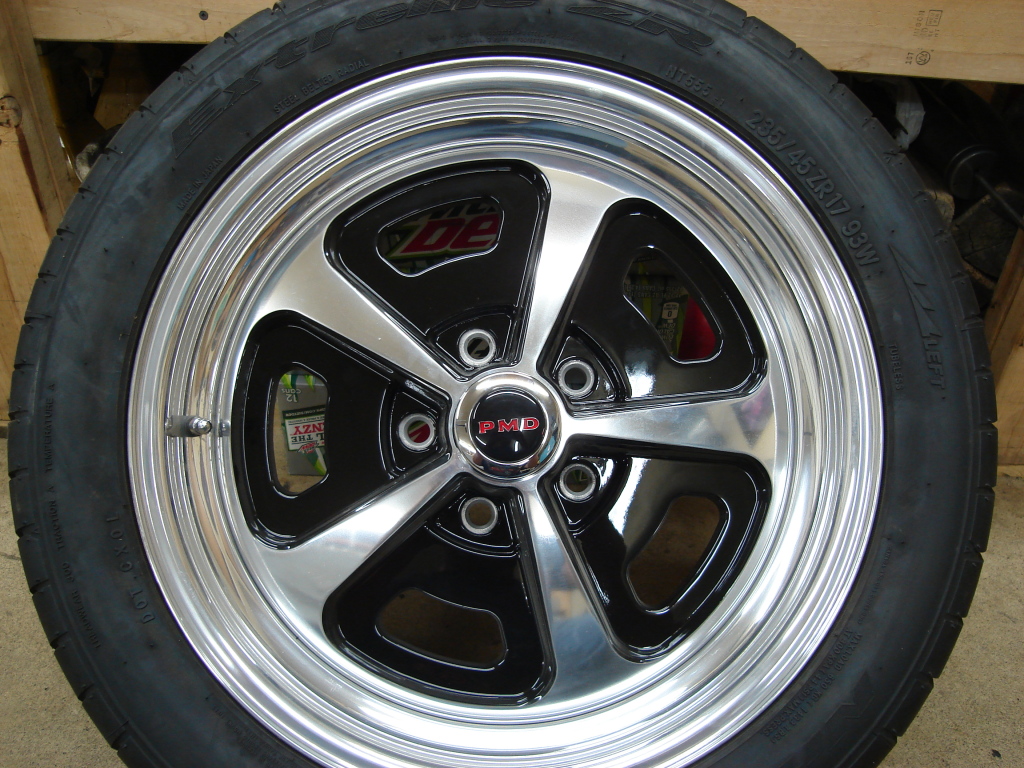 Looks close to original with a 17" rim.
2-27-2012
Yes they are the VN500 rims.
The rim sizes are 17x7 4.25BS and 17x8 5.25BS 5x4.75
Tires are Nitto 555's 235x45 and 255x45

The PMD center caps are made to attach to a original pmd rim. They are the non theft type which have a threaded stud,fender washer, and nylonlock noy. The stud is a little to short and there is nothing to keep them centered on the face of the VN500 rim. I plan on running a longer stud and making some plastic washers with a shoulder that will fit into the face of the rim to keep everything centered.
3-8-2012
The next project on my list was to upgrade to bigger front brakes. I had already changed it over from drum to disc but now I wanted to go bigger. A couple of calls to Tobin at kore3.com solved the problem of what brake kit I was going to use. I started with locating some drum hubs.
I had a friend machine down the face of the hub so the rotor will fit on correctly.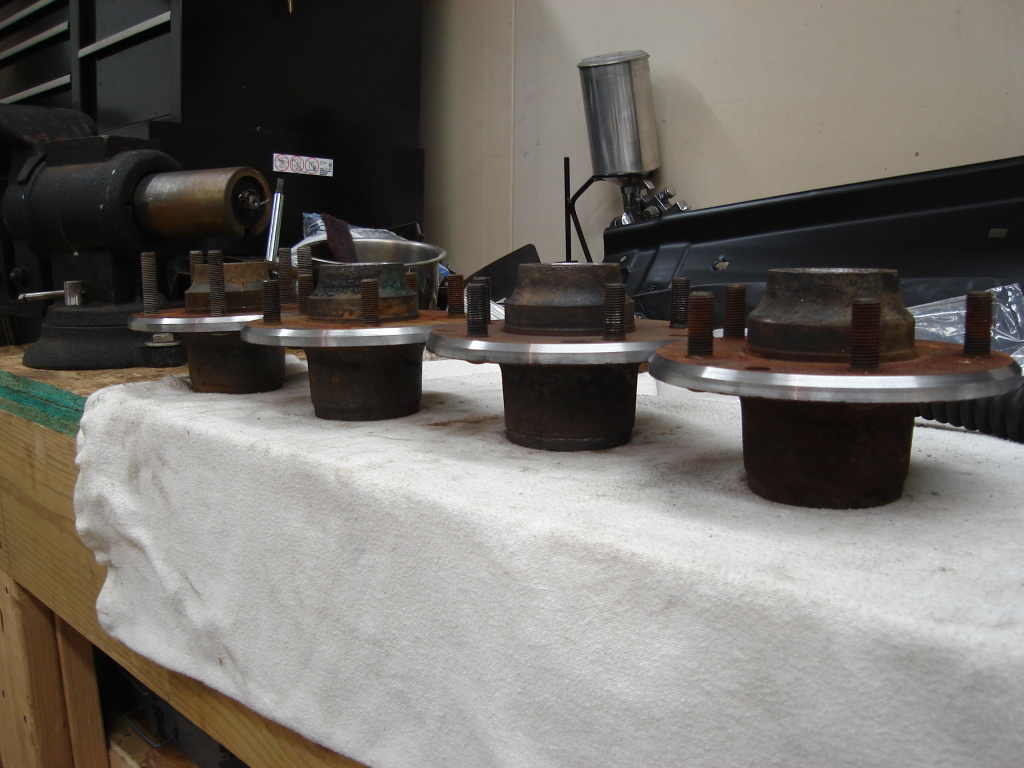 All cleaned up and I removed the seals,races,,bearings, and ran a chase down all of the threads. I know you see four of them. You only need two but it worked out better this way. And now I have an extra set.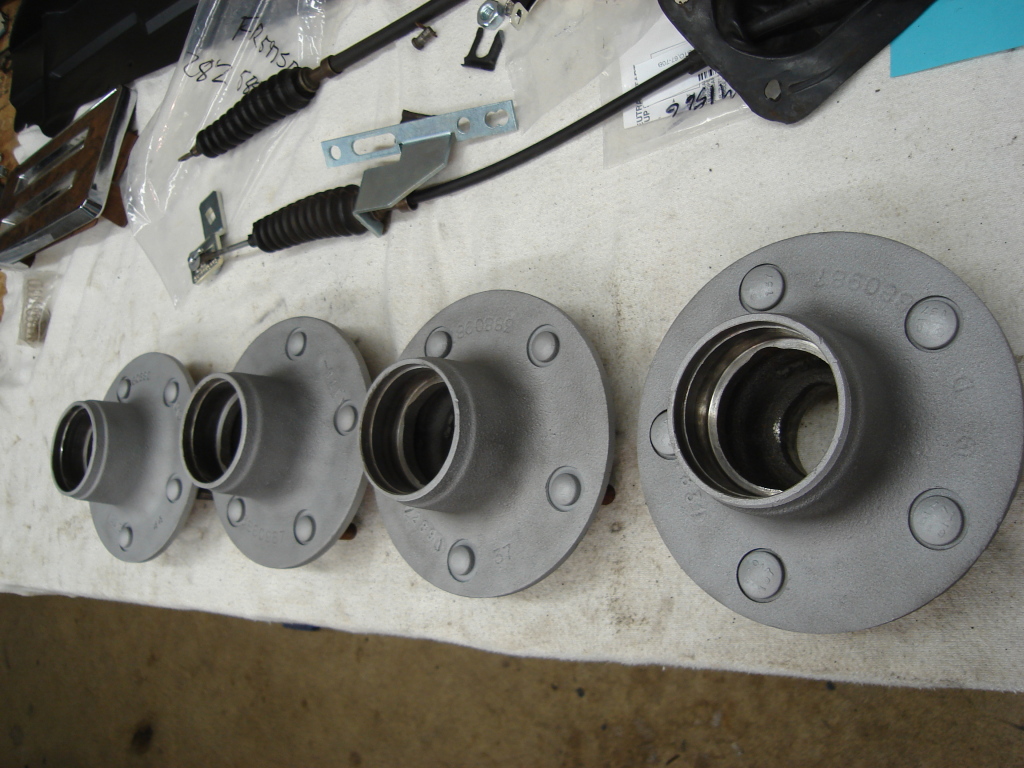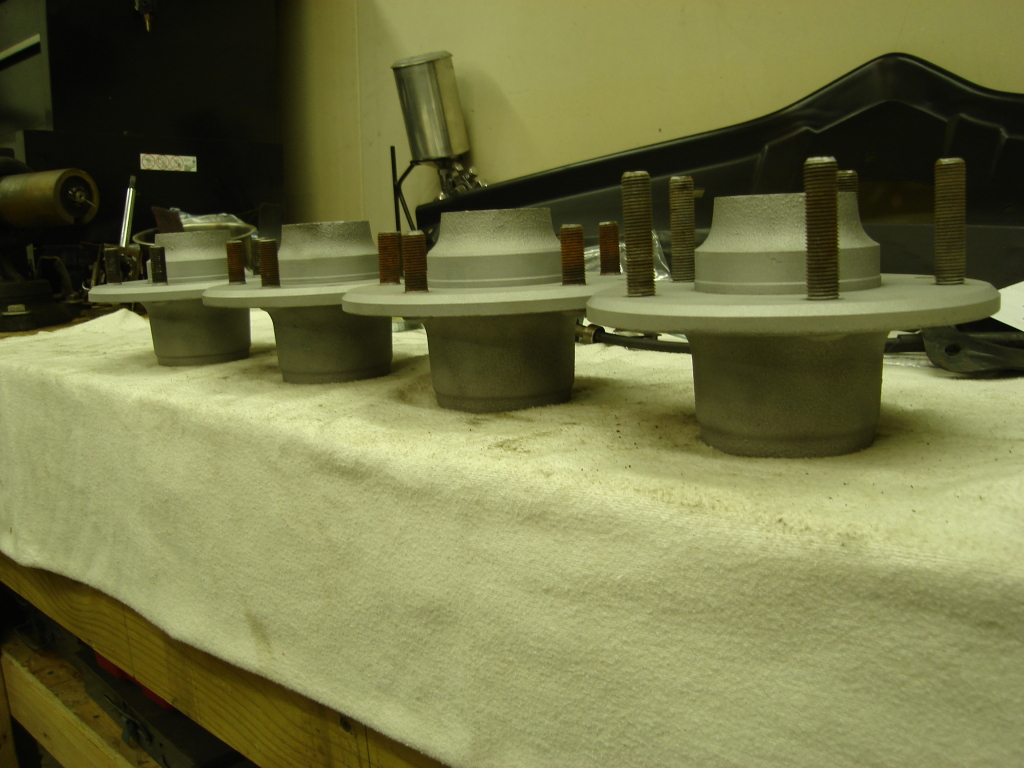 A little paint and new seals and bearings.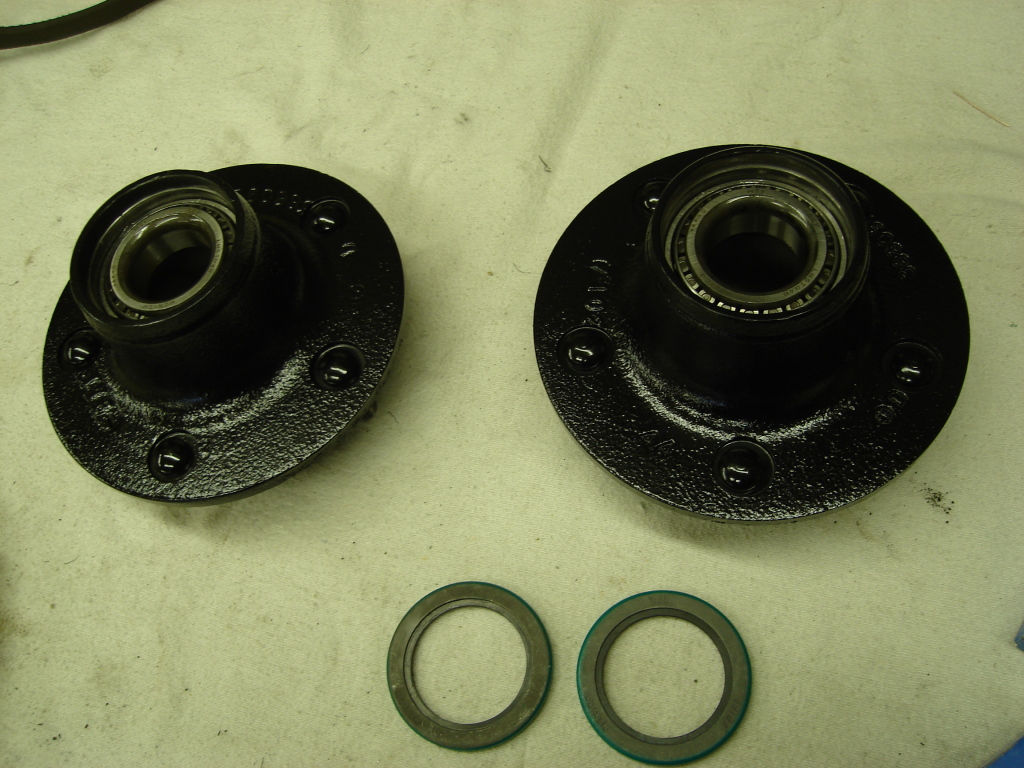 Then I took off the the old caliper mounting brackets and dust shields.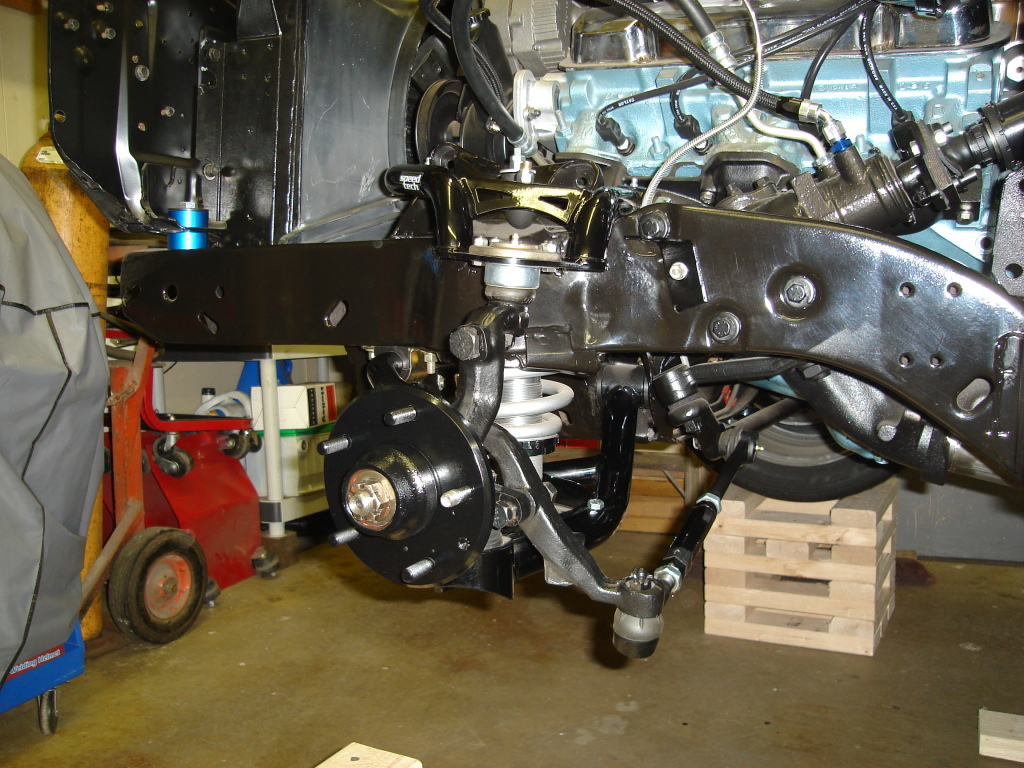 Another few weeks and I will have enough money saved up to buy the kit.
6-3-2012
The front brakes are slowly coming together. Nice heavy duty brackets.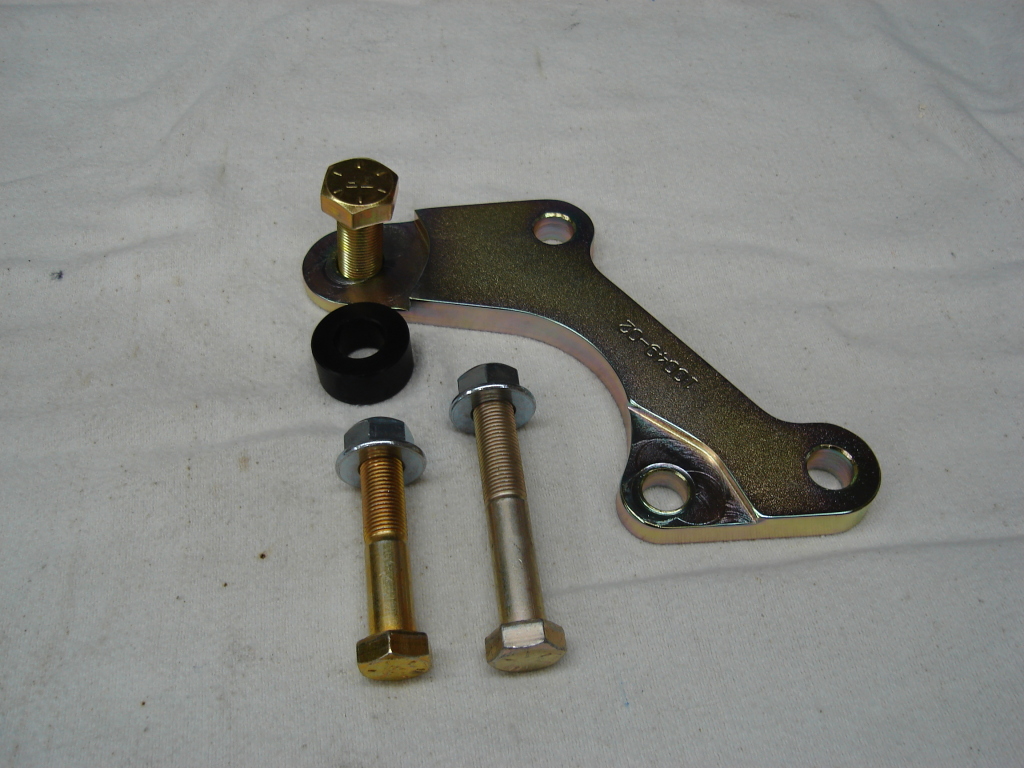 Kore 3 calipers. Nice and light.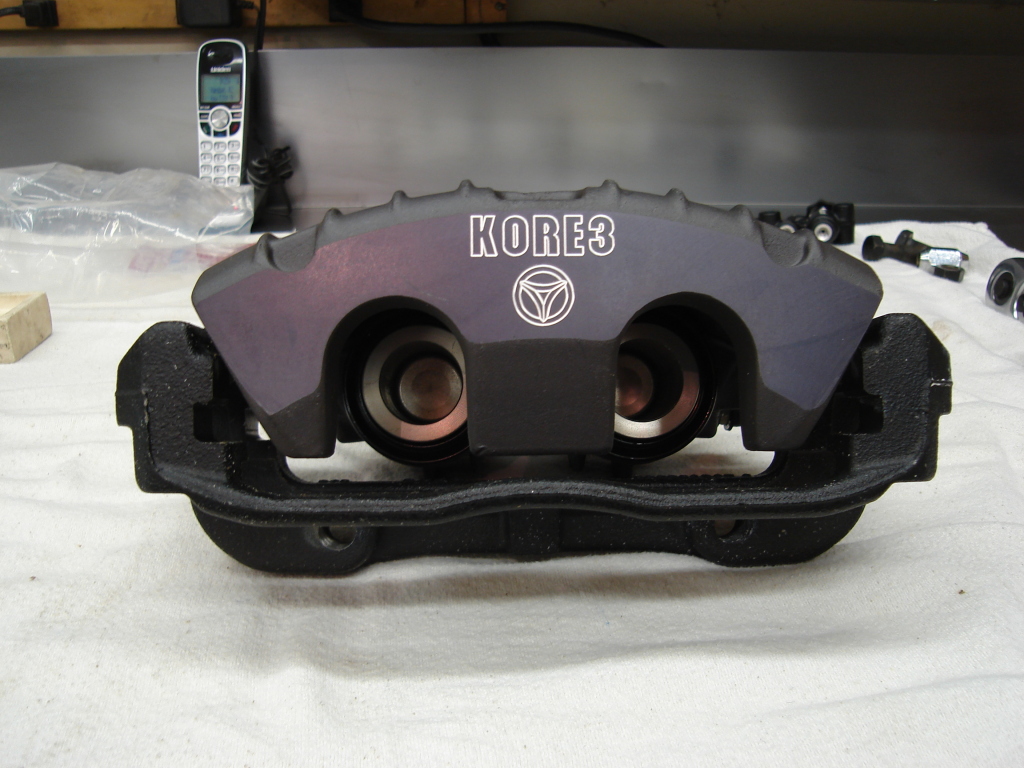 Old versus new rotor. I think I know which one will help stop the car quicker. LOL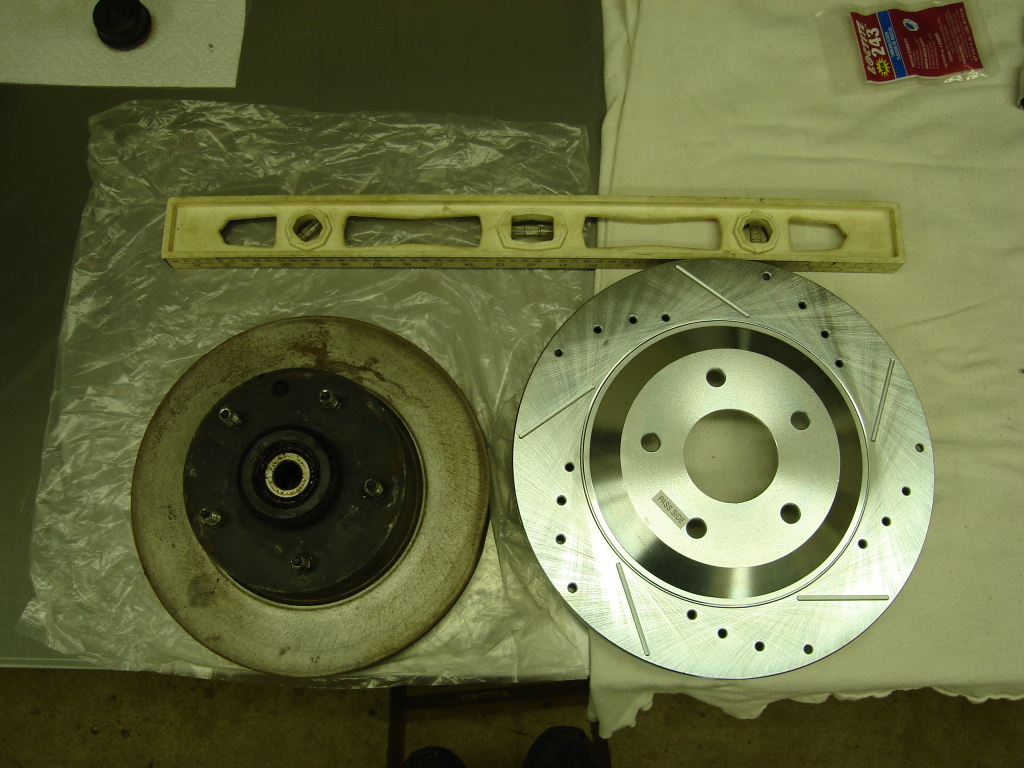 All mounted up minus the pads. I like how they fill out the back of the rim.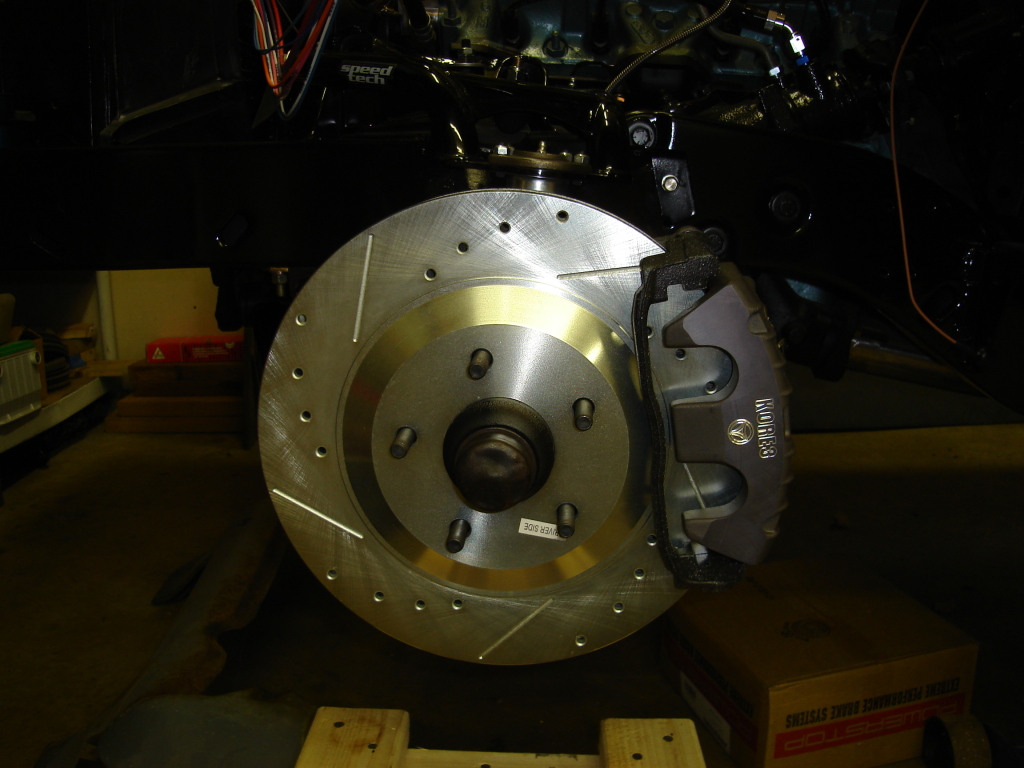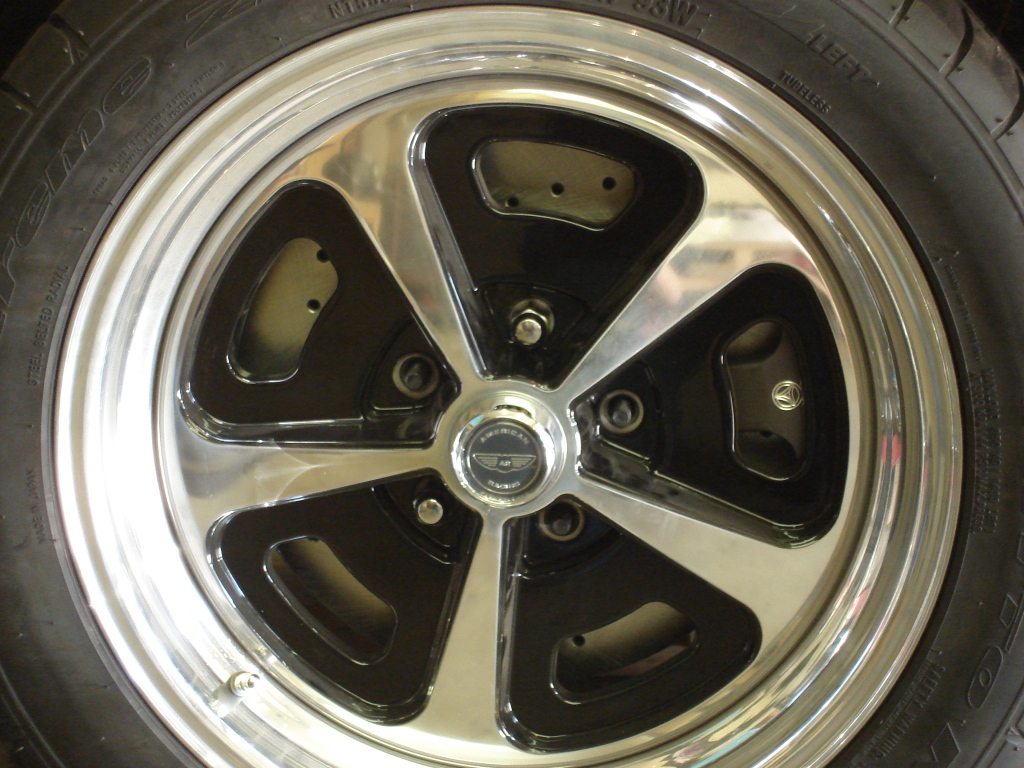 New PMD caps with custom made centering hub spacers.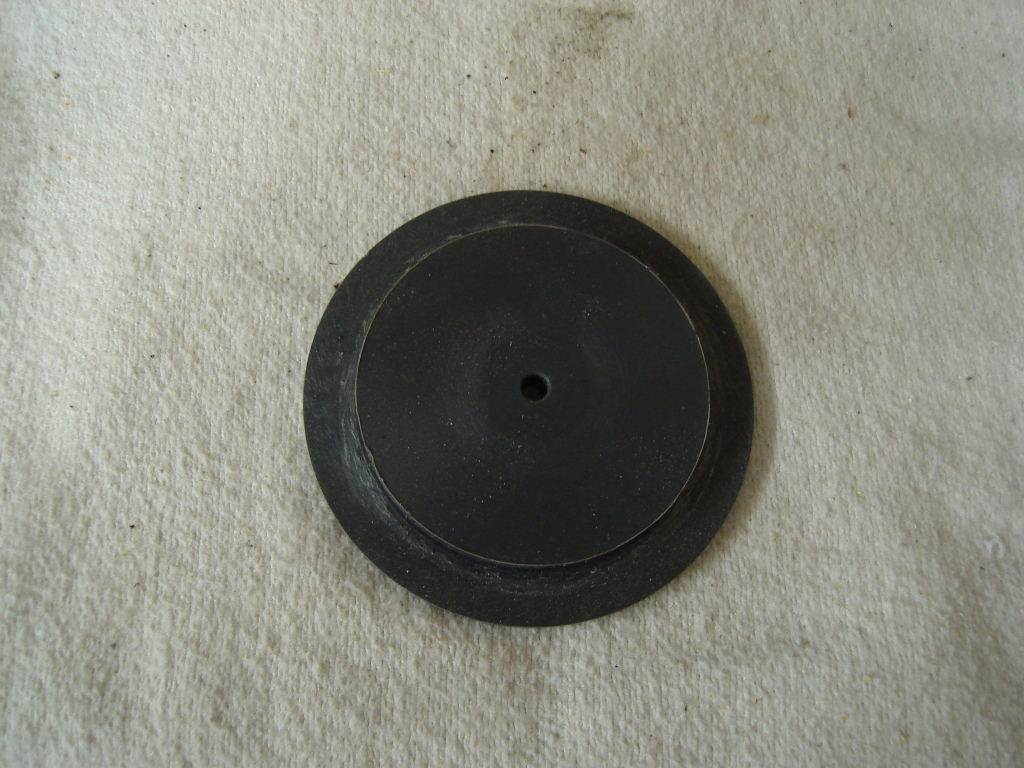 Back side of PMD cap. I just need to add longer studs.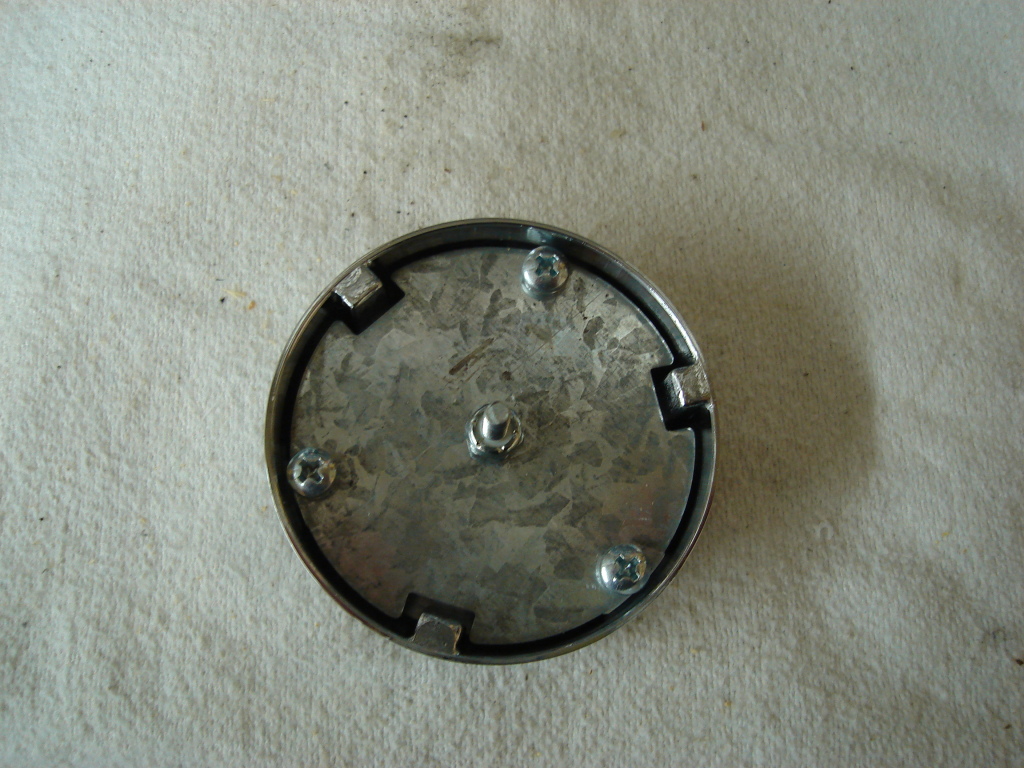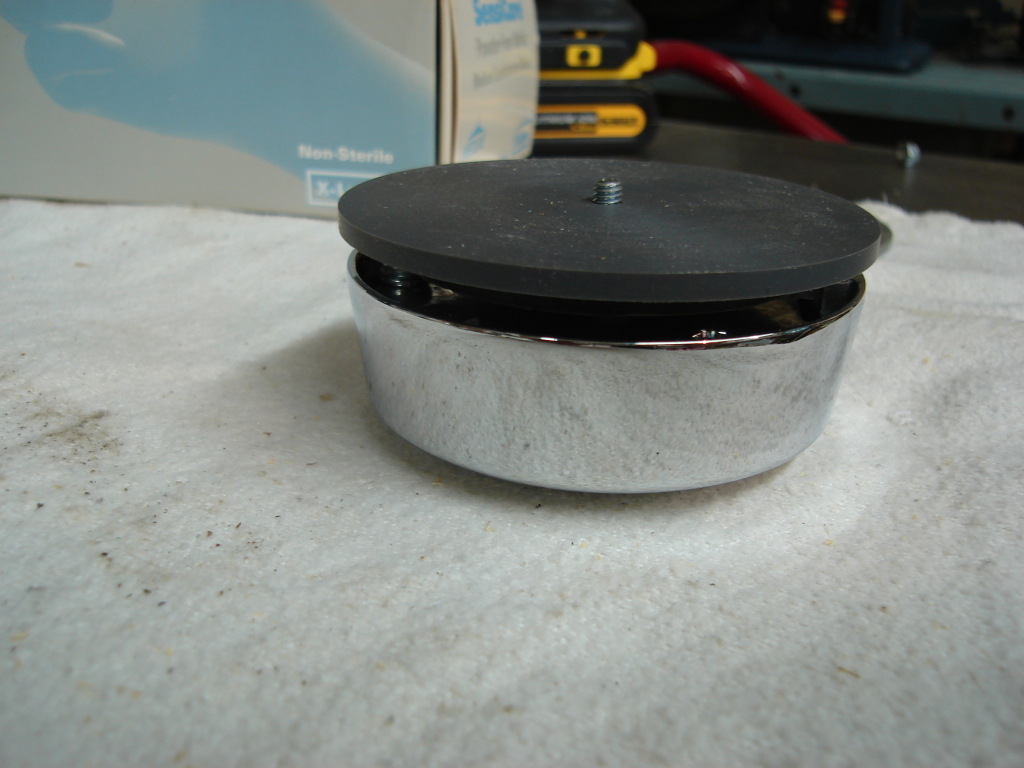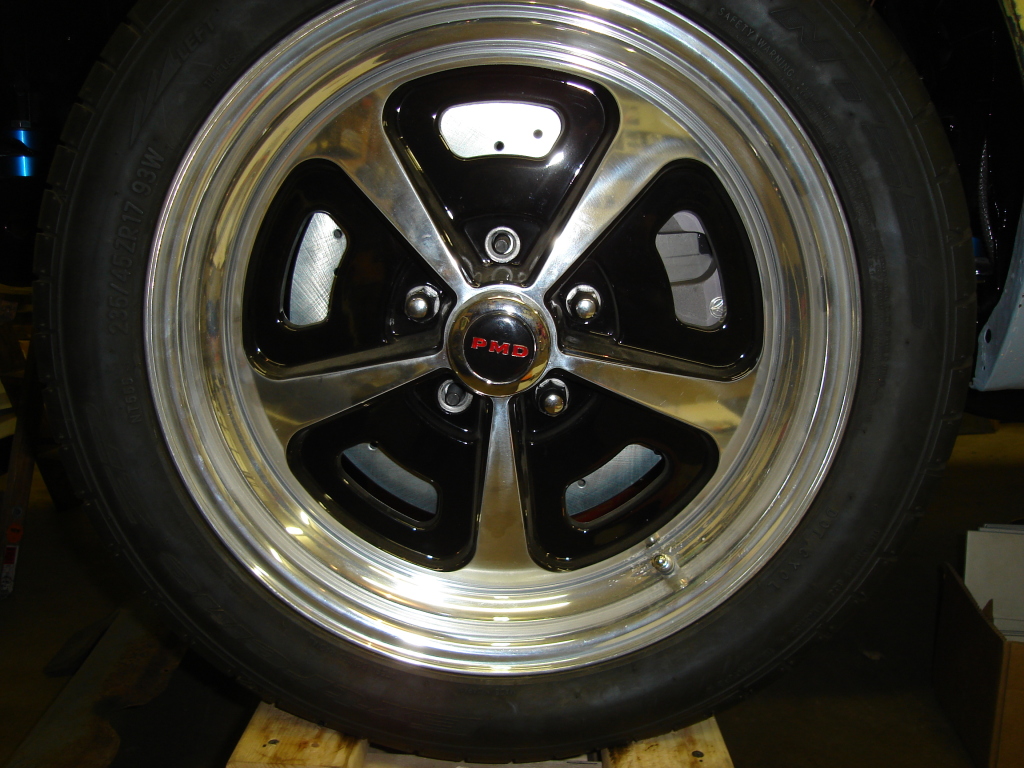 New master cylinder and adjustable prop valve. All matched up for my brake system.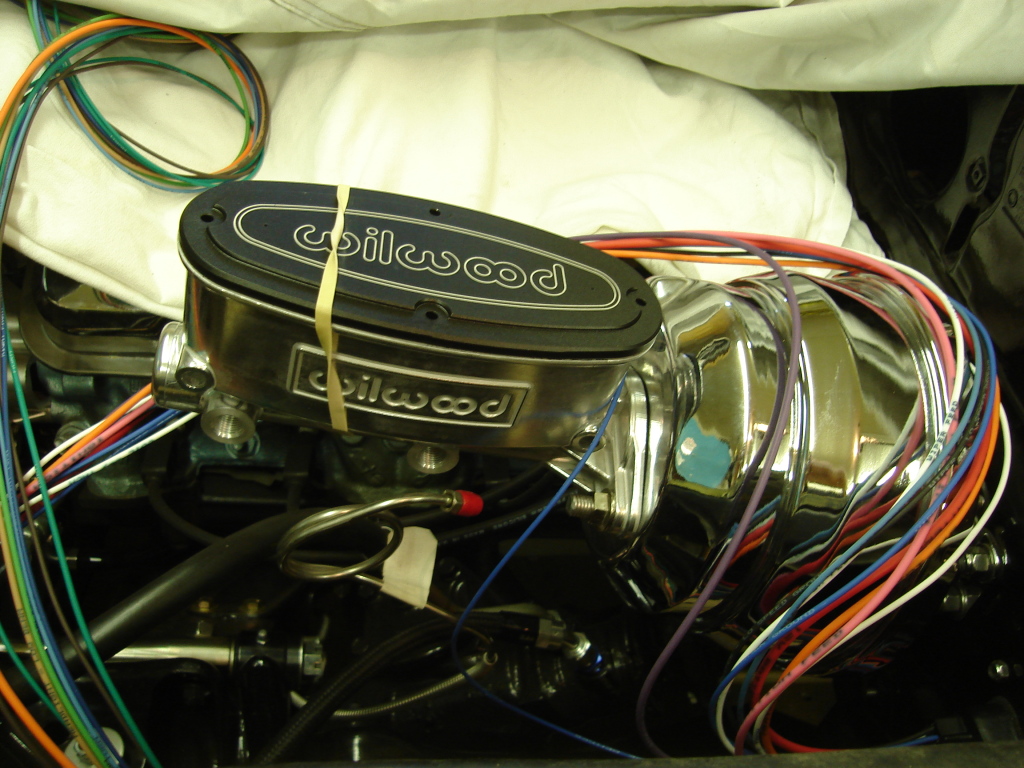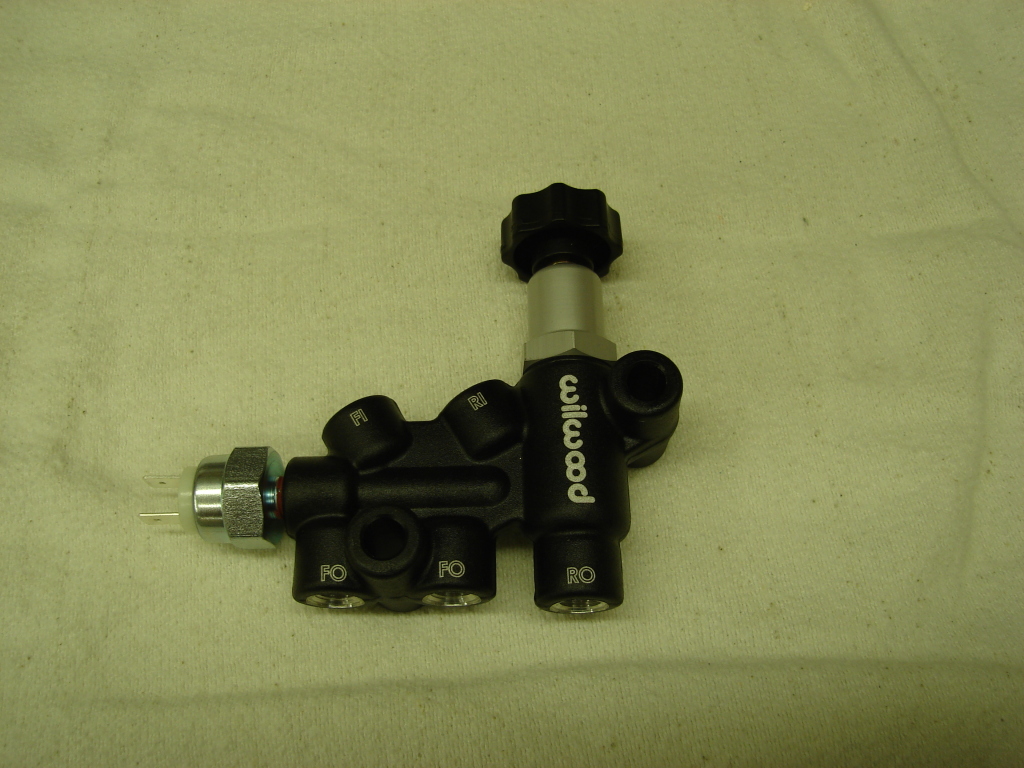 New front lines good for 3000 psi.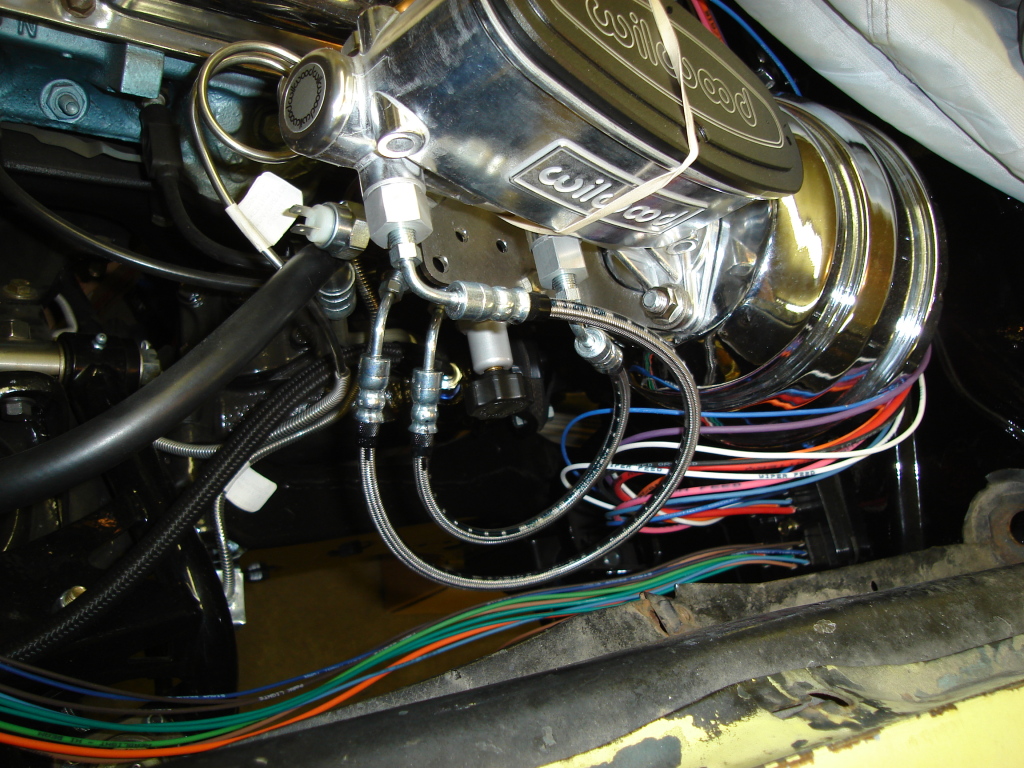 The next project on the car will be a new posi unit and new gears.
THe car has a open carrier and 3:08 gears right now.
I hope the posi unit and 3:55 gears make a big difference.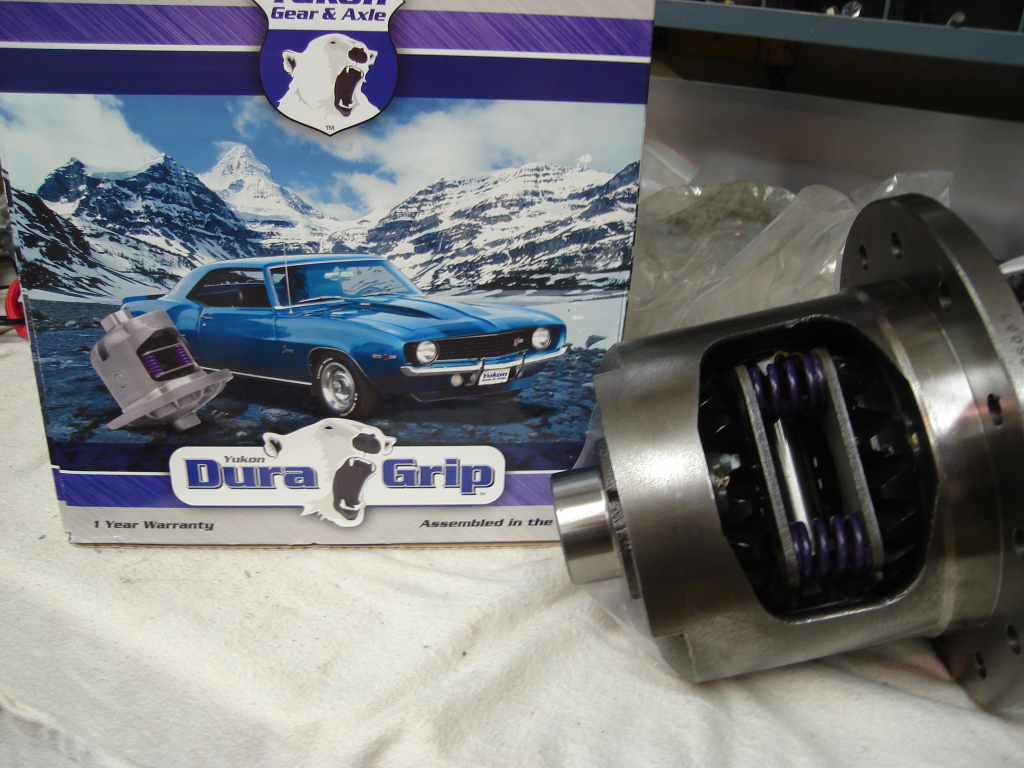 New KOYO bearings. Made in the USA by Timken. It seems that Timken sold their needle bearing business to KOYO.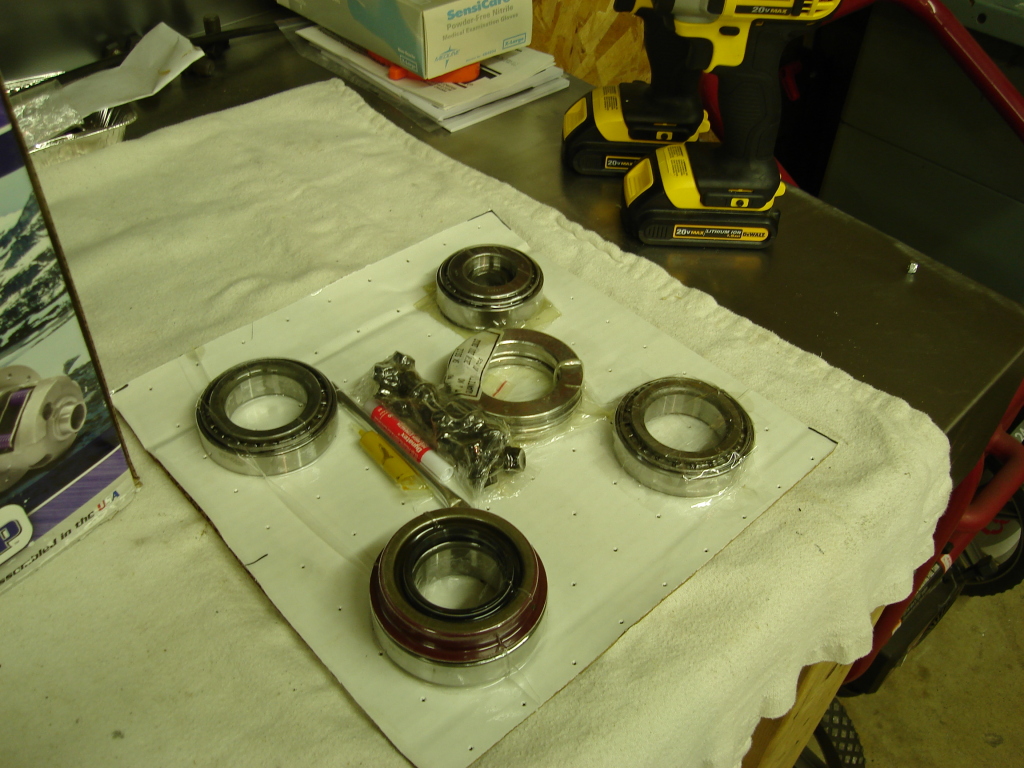 New gears.
7-24-2012
I installed new front hard and flex lines.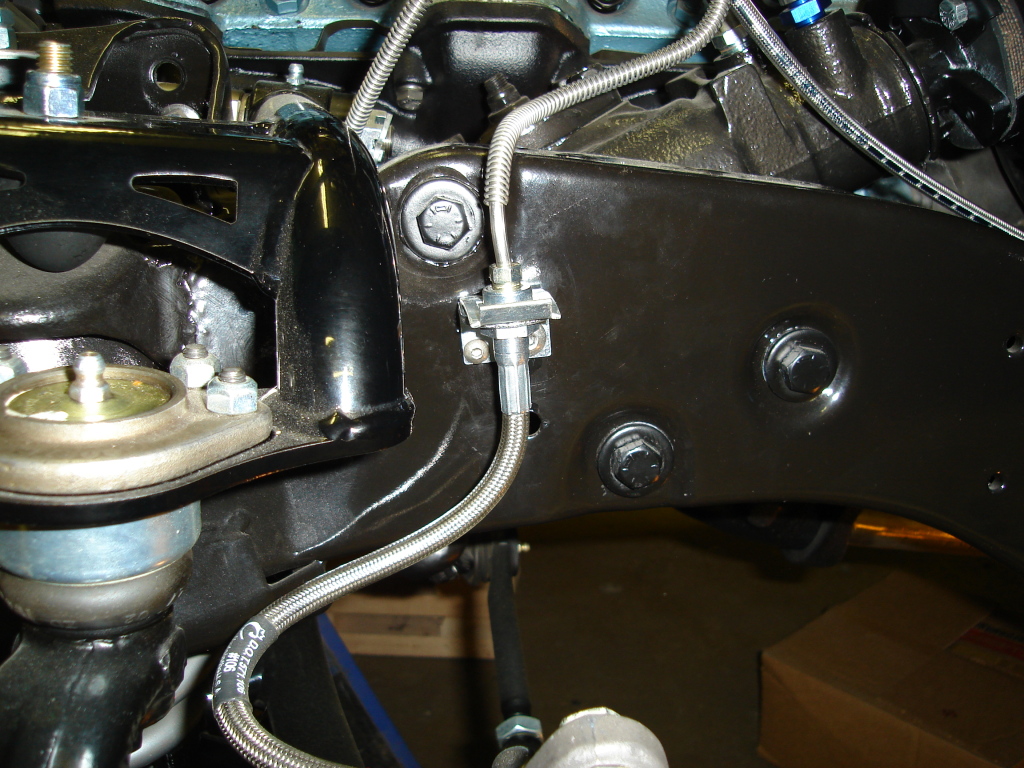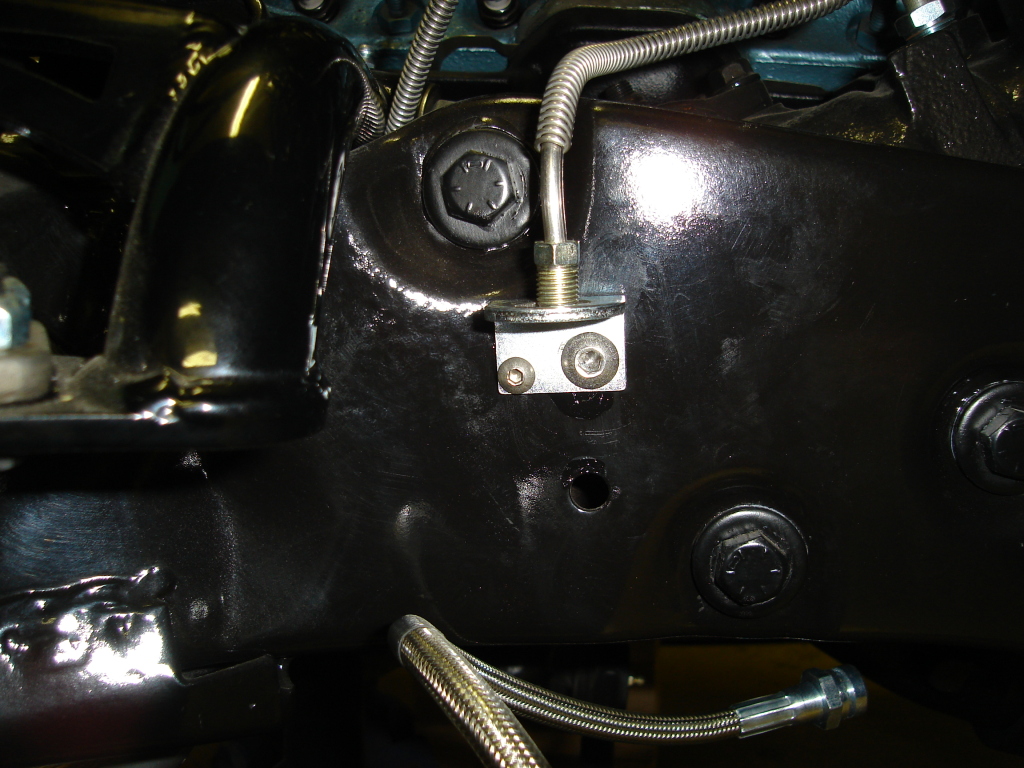 I checked and double checked my pinion angle and then tacked it in place. I hope it's correct. LOL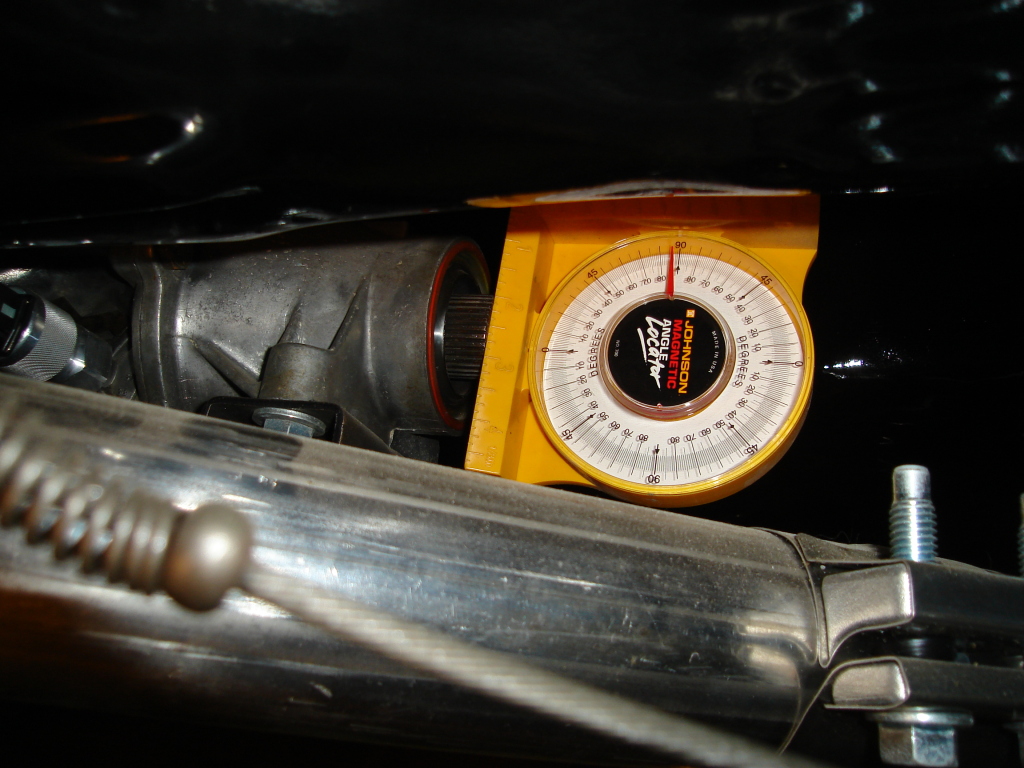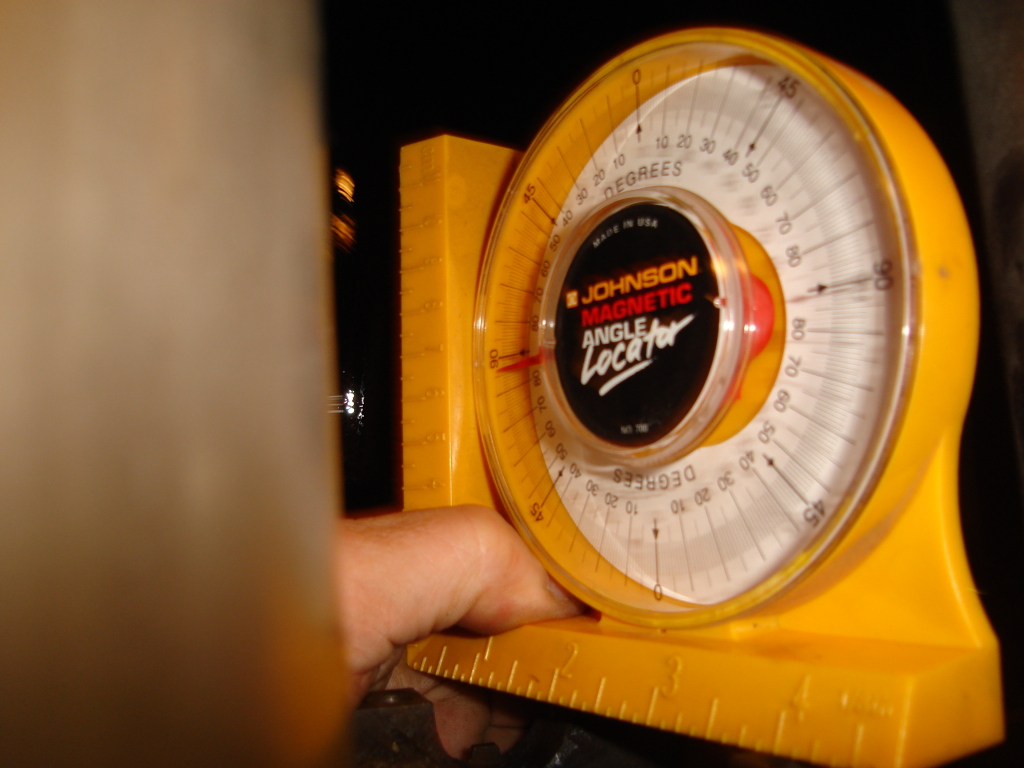 With the pinion angle set the rear could come back out and get it's new guts.
Bolted back in with my painted axels.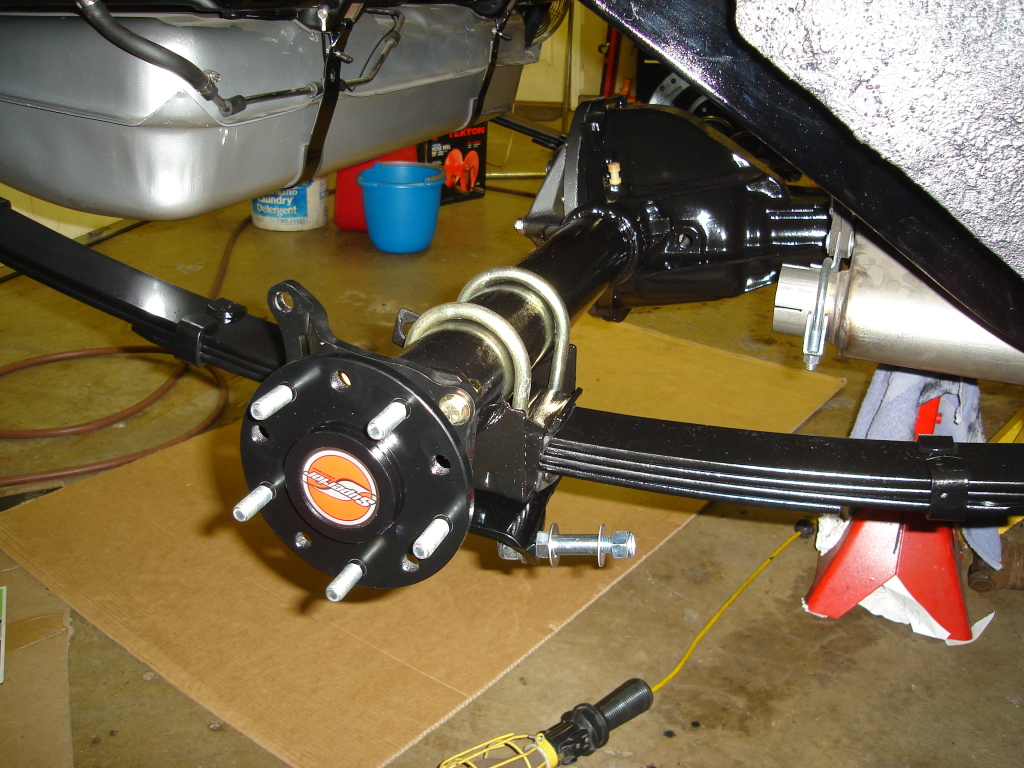 Black chrome powder coated rear cover.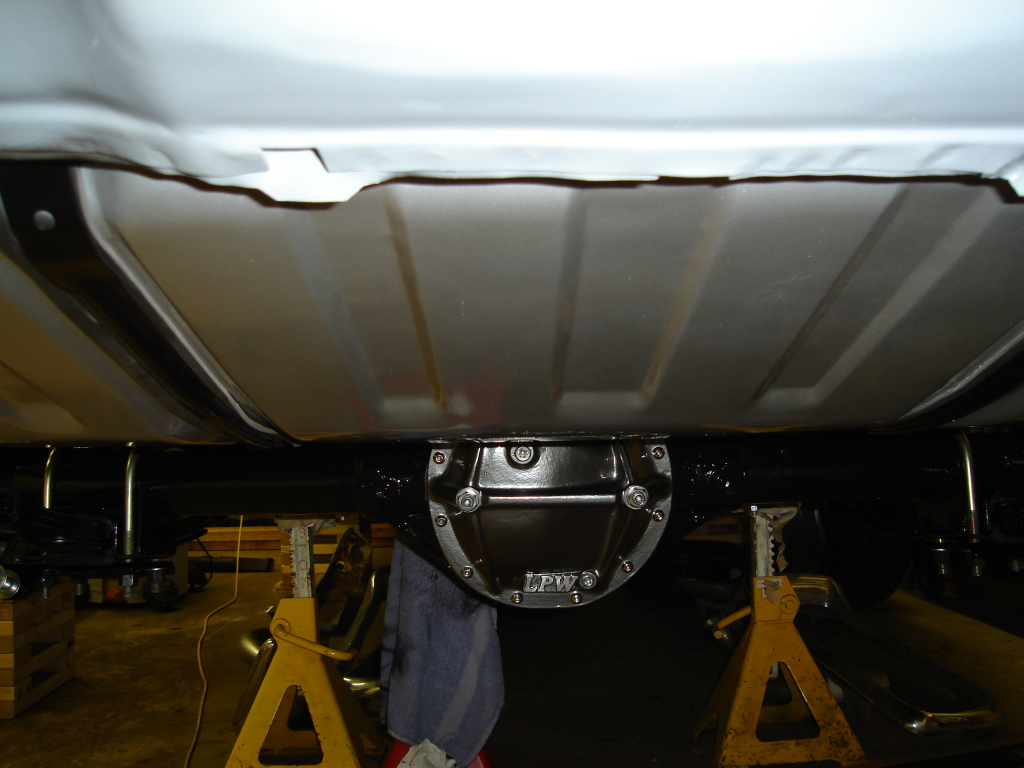 New rear brake lines installed.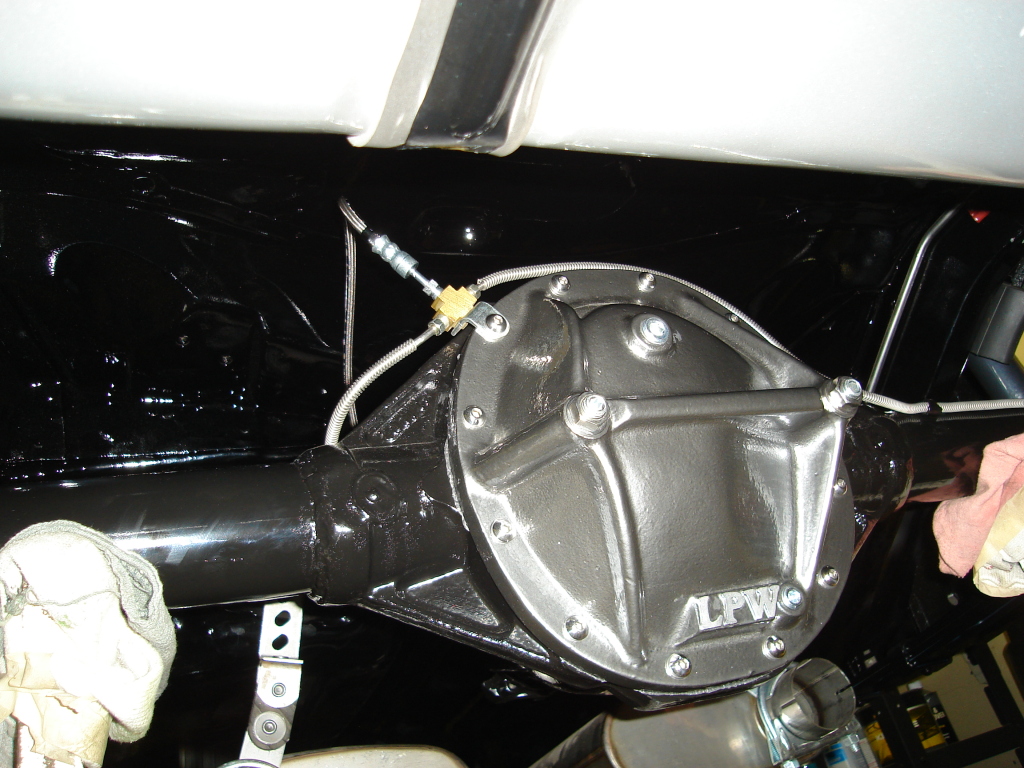 Rotors,calipers and QA1's installed.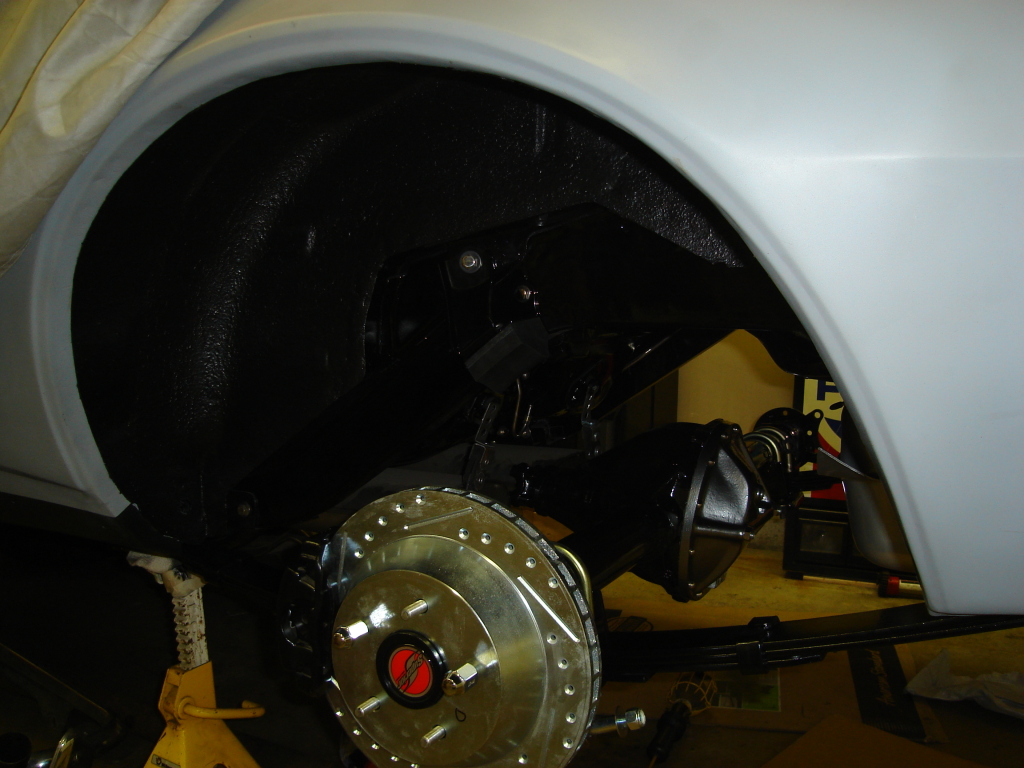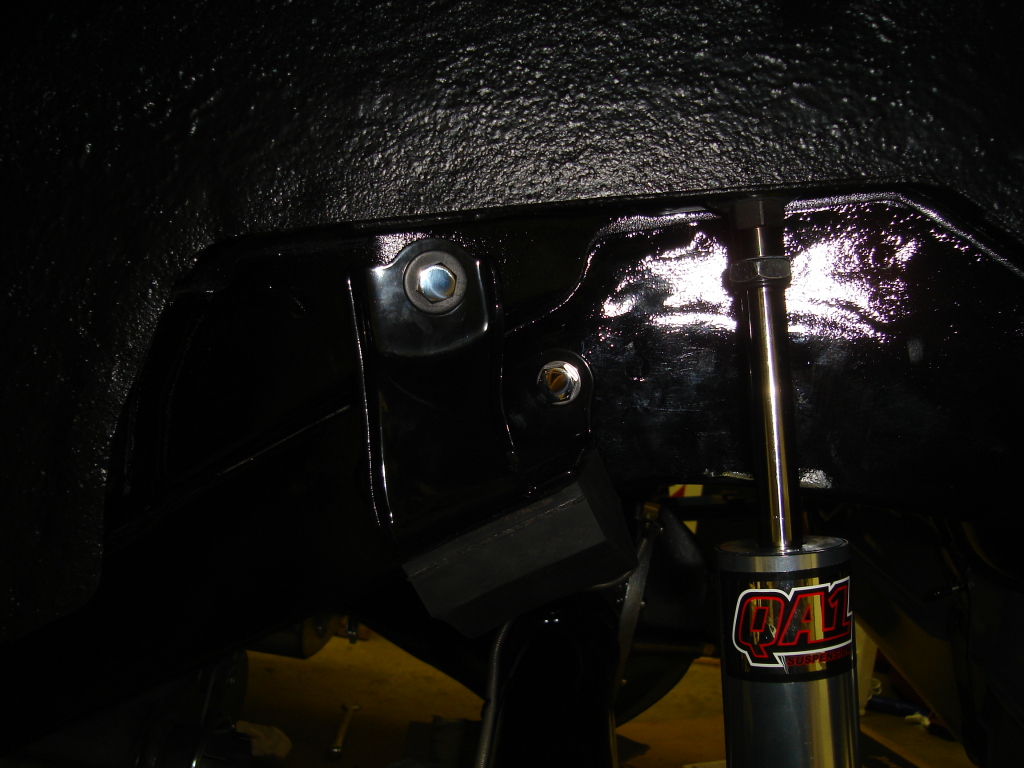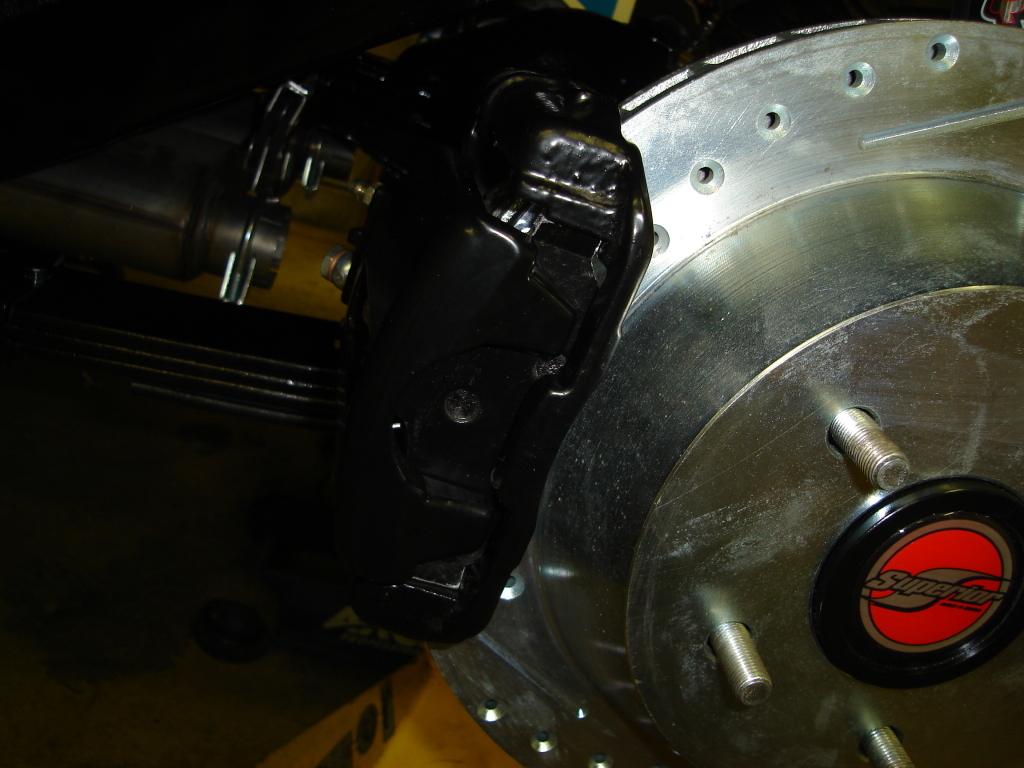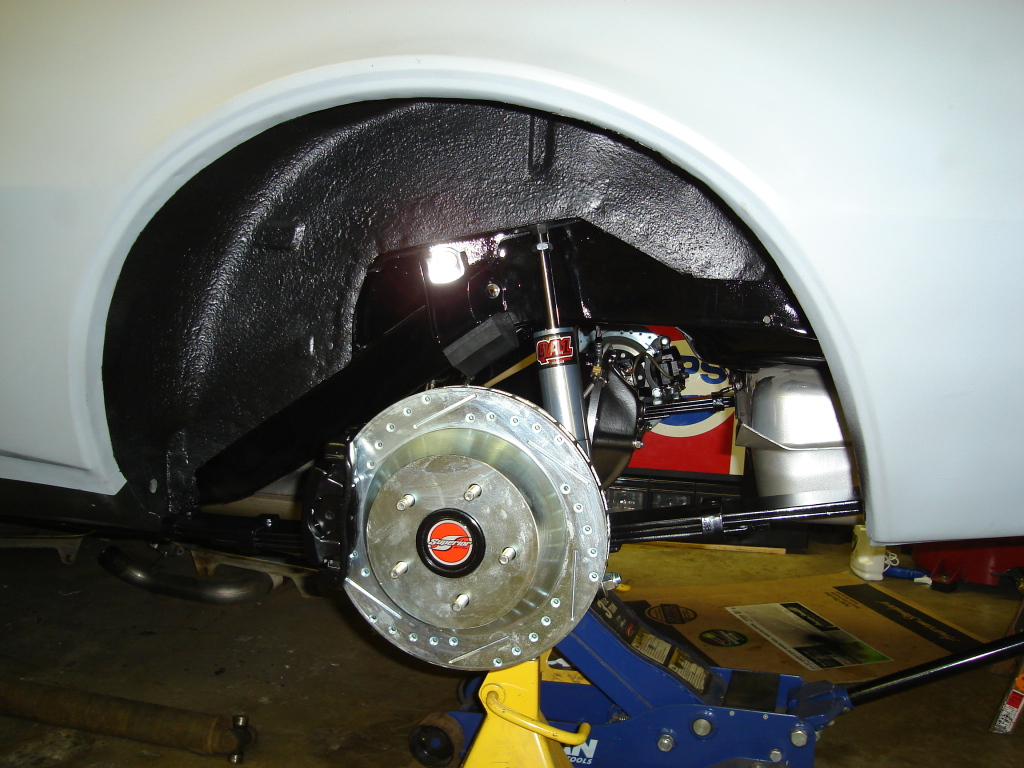 9-11-2012
A little update. The car is running, but it has some exhaust leaks and I cannot get a firm brake pedal.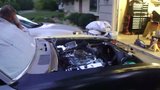 9-21-2012
The brakes are a c5/c6 set up from KORE3. Rotors are around 13" in diameter. You use your stock drum hubs but they need to be machined down so the hat of the rotor can slide over them. I also added longer wheel studs. Talk to Tobin at Kore3 and he can help you.
11-2-2012
Thanks, I started on the brakes again. Did a new bench bleed on the Wilwood master cylinder. Spent a few hours bleeding it off and on and tapping on the bottom to get all of the air out. Just when you think you are done a few more small bubbles come out. The rear CPP parking brake cables do not fit so I will have to buy custom made ones. I how ever did ratchet the parking brake assembly on the caliper by hand and that really firmed up the brake pedal. Doing a fresh bleed on the complete brake system. Intalled the rest of my PMD center caps. I might get a chance to drive it this week if the brakes work.
12-17-2012
Not the greatest videos but I did drive it around the block. I made sure to stay close to the house and not go on any main roads. The brakes work good but are pretty loud with the drilled and vented rotors. I'm sure they will be more quiet once they get bedded in.
12-18-2012
It was a great feeling to drive it down the road for the first time ever. This car has come along ways and still has aways to go.
2-6-2013
Made a little headway on my exhaust. My Pypes exhaust kit did not fit very well after the rear end. I tried twice to mount it starting from the back with no luck.

As you can see in this picture the hanger bracket is about as low as it can go on the rear of the seat hump.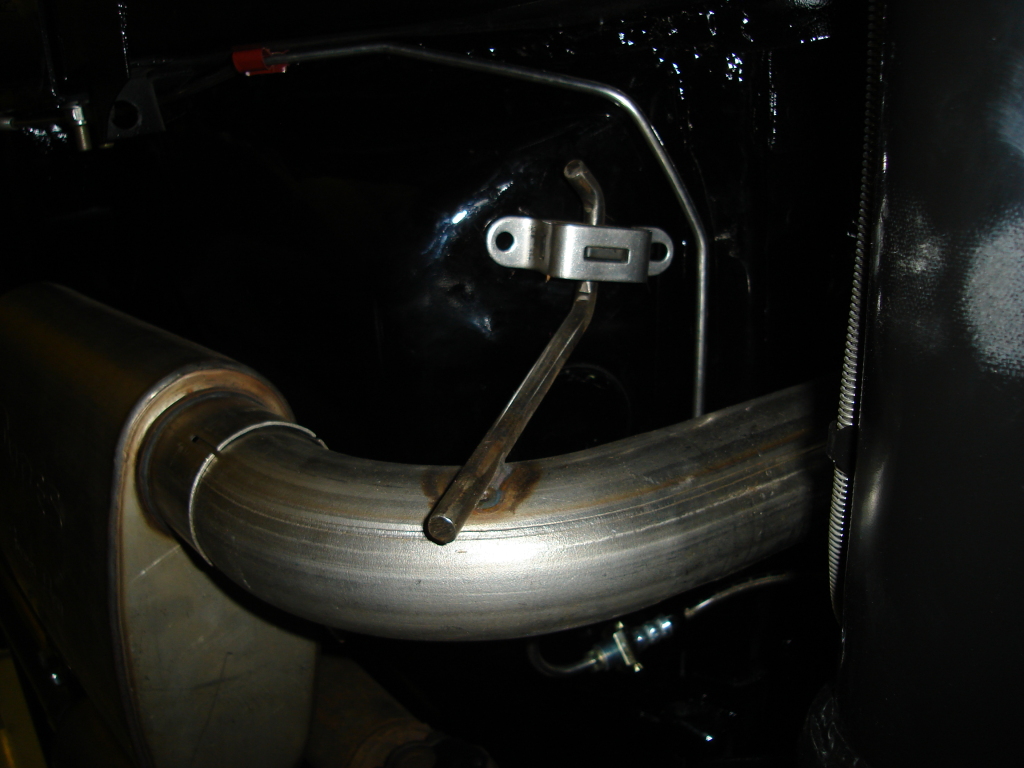 But the top of the pipe runs right into the frame rail. To lower this pipe to not hit the frame rail I would have my exhaust hanging about 5" below the floor pans. And the hanger bracket would no longer work.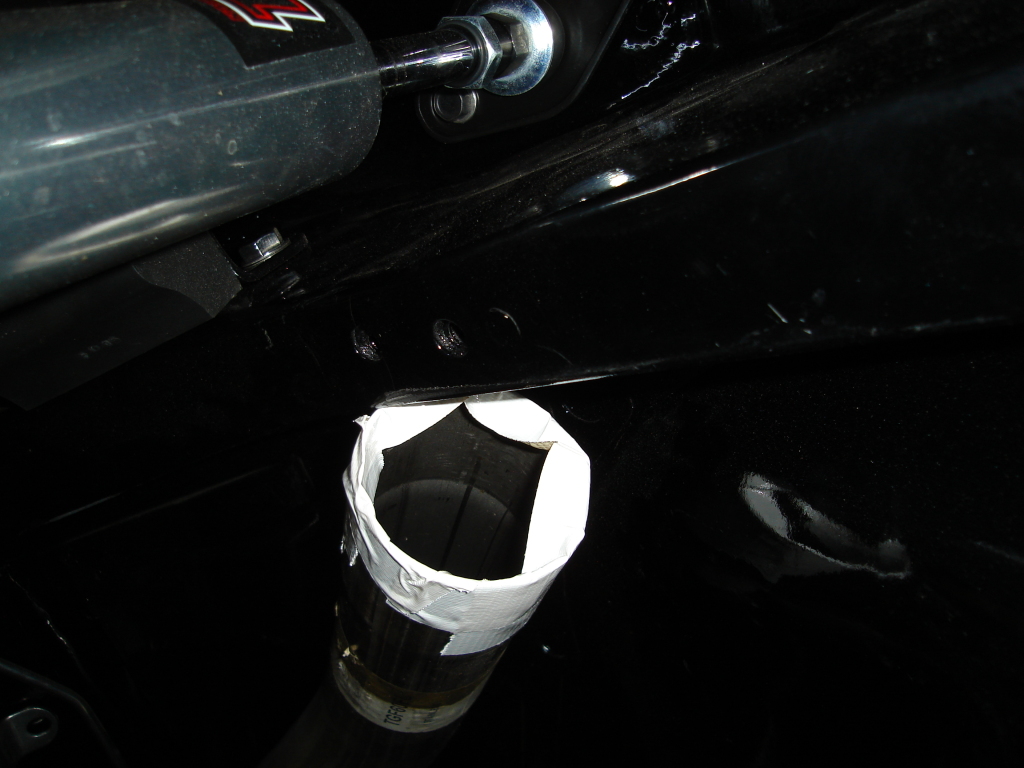 I figured since I needed to cut the pipes to make them shorter I would also angle them a little better. I was told that my bigger than stock tires were the main reason for the pipes not fitting correctly. Hmm high performance exhaust needs stock tires or it will not fit. LOL Seems a little ironic.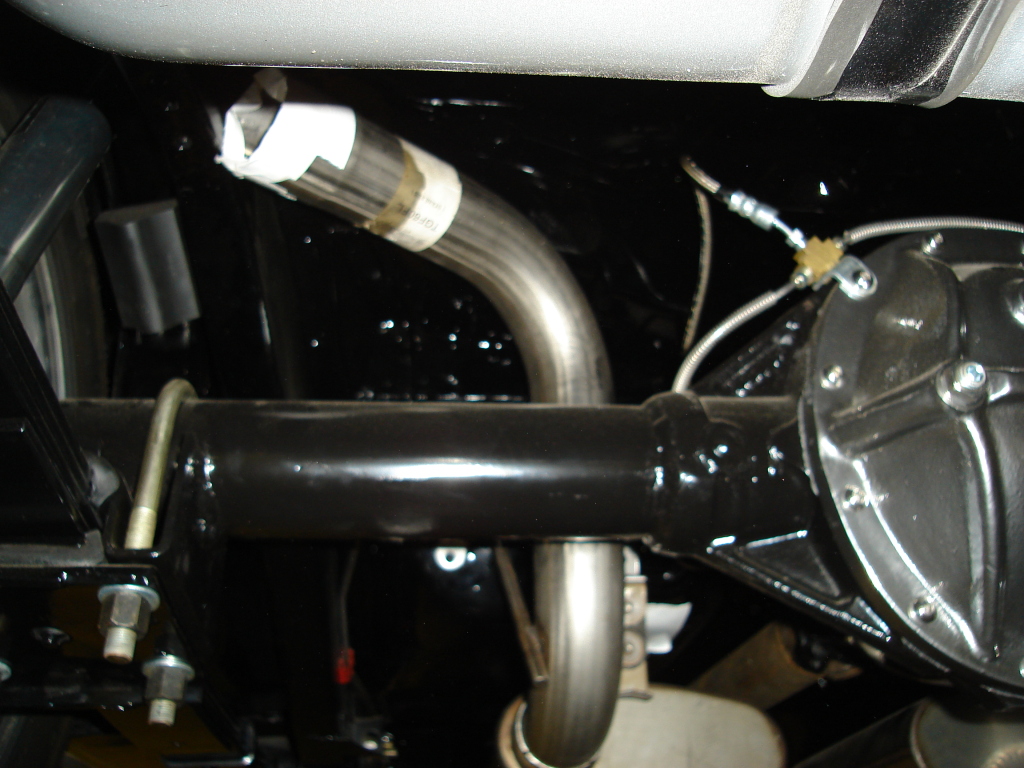 Pipes both cut,welded, and reangled.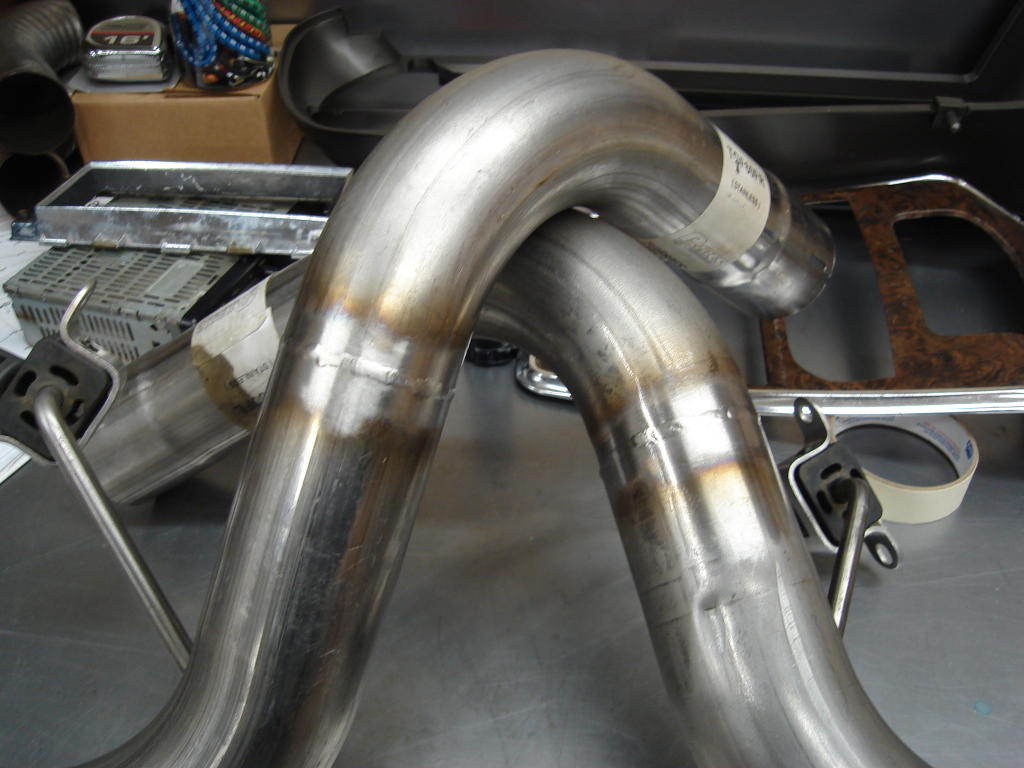 Also got a chance to mount my back bumper. I want to put the whole car back together to make sure everything fits before it goes in for painting.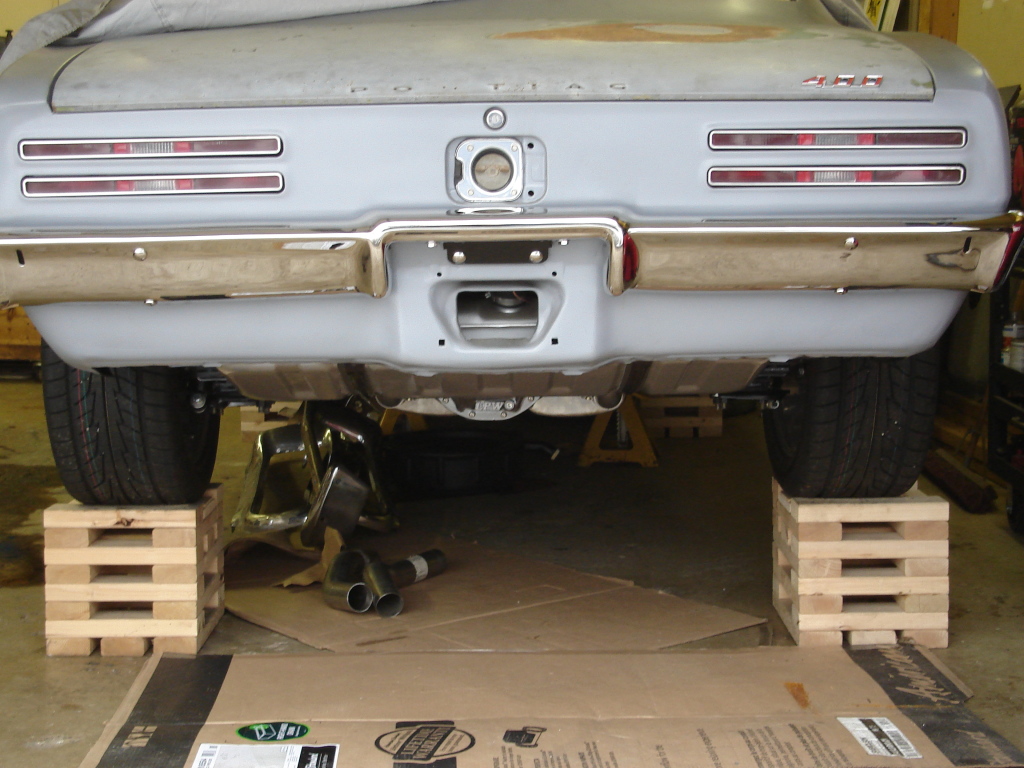 8-16-2013
I started with a blank DSE panel and mounted the stereo higher up in the dash.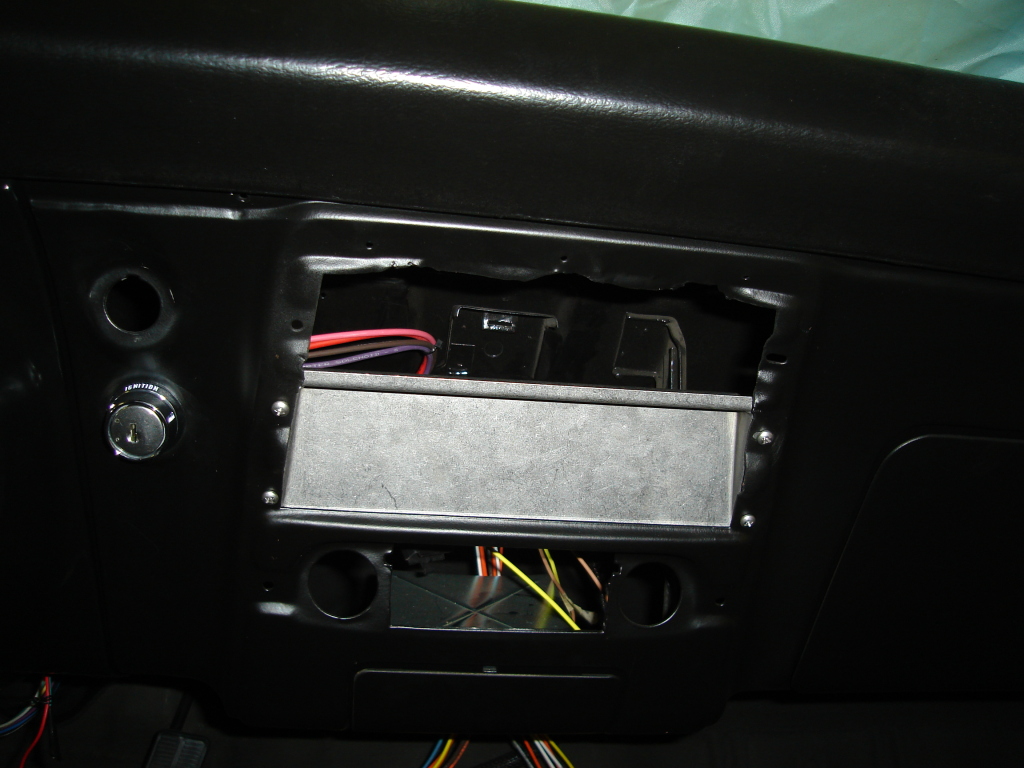 I cut the panel to fit my new radio. Sand blasted and painted it low gloss black. I did not have an antennae so I had my I-Phone hooked up.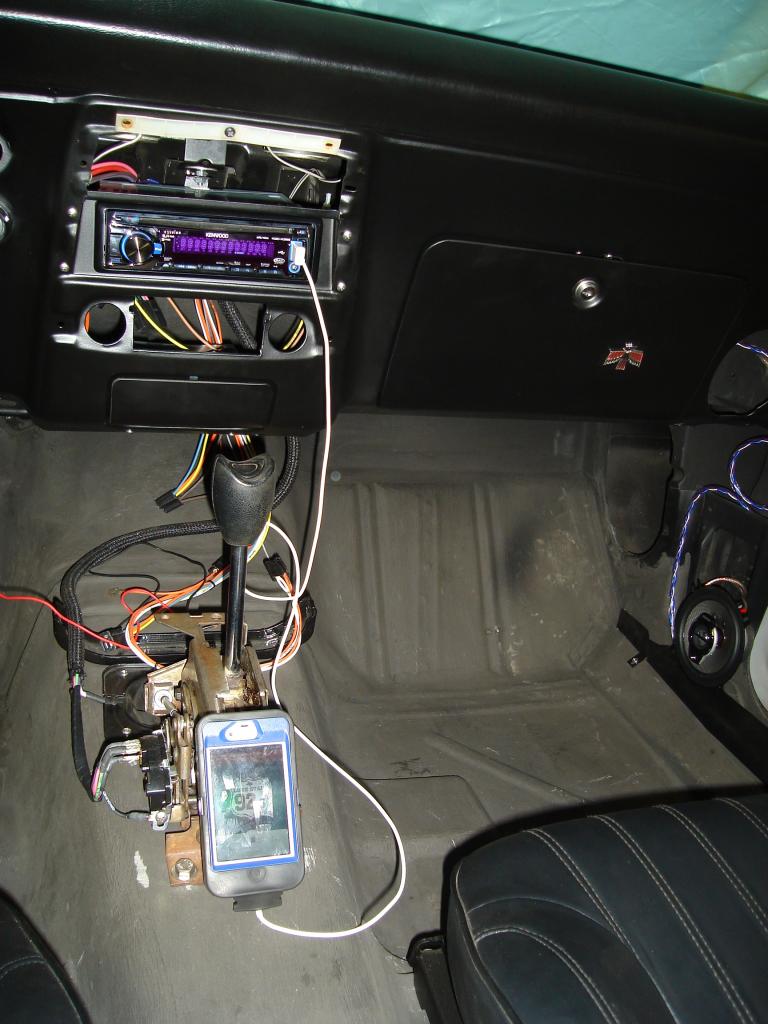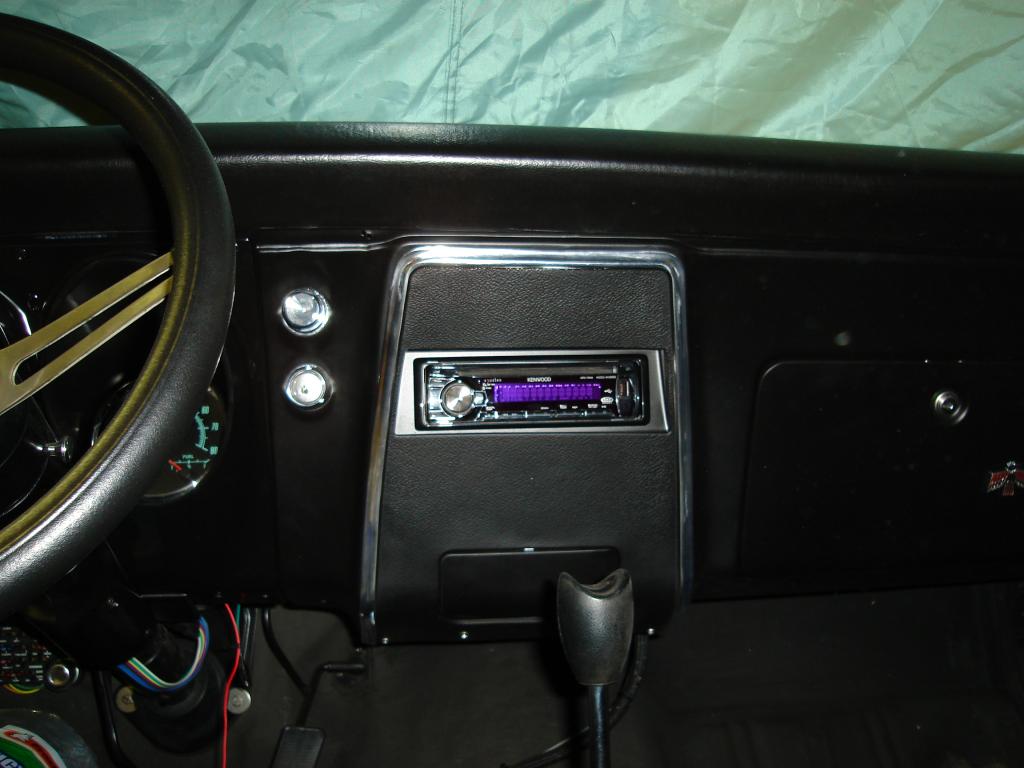 Installed an amp in the trunk using all existing holes.
Next I started on some of the projects that I was just dreading. The fit of the trim to body was horrible. Some was my fault (welding) and some was from the factory. My car started with a vinyl top so that might have been part of the problem.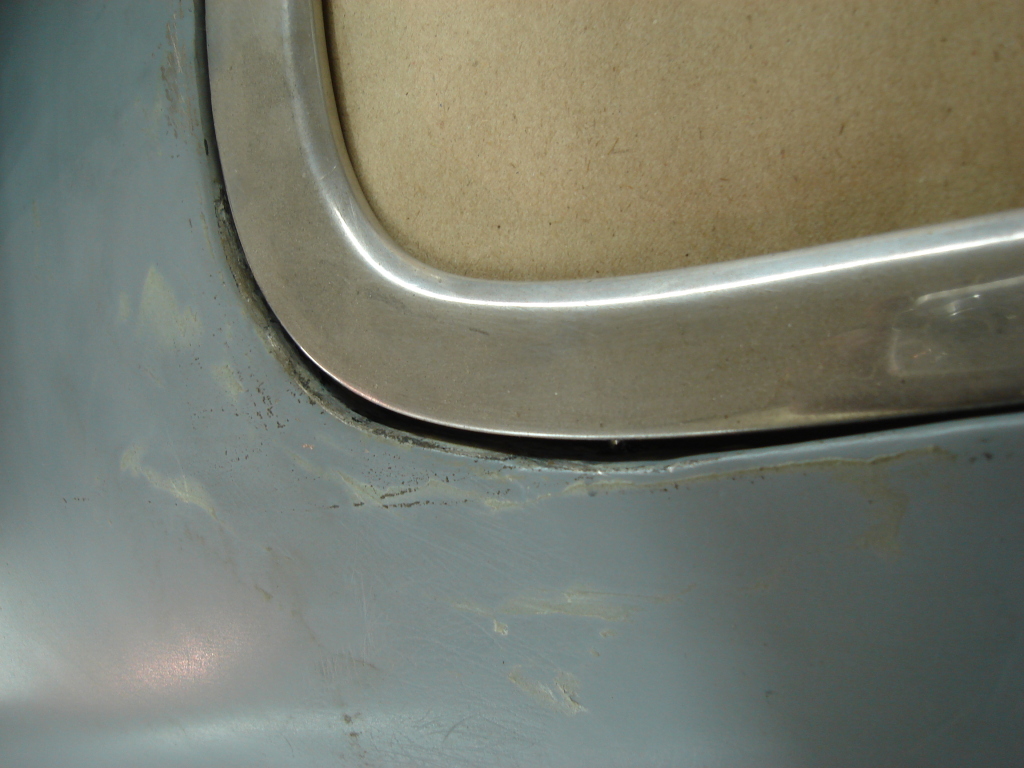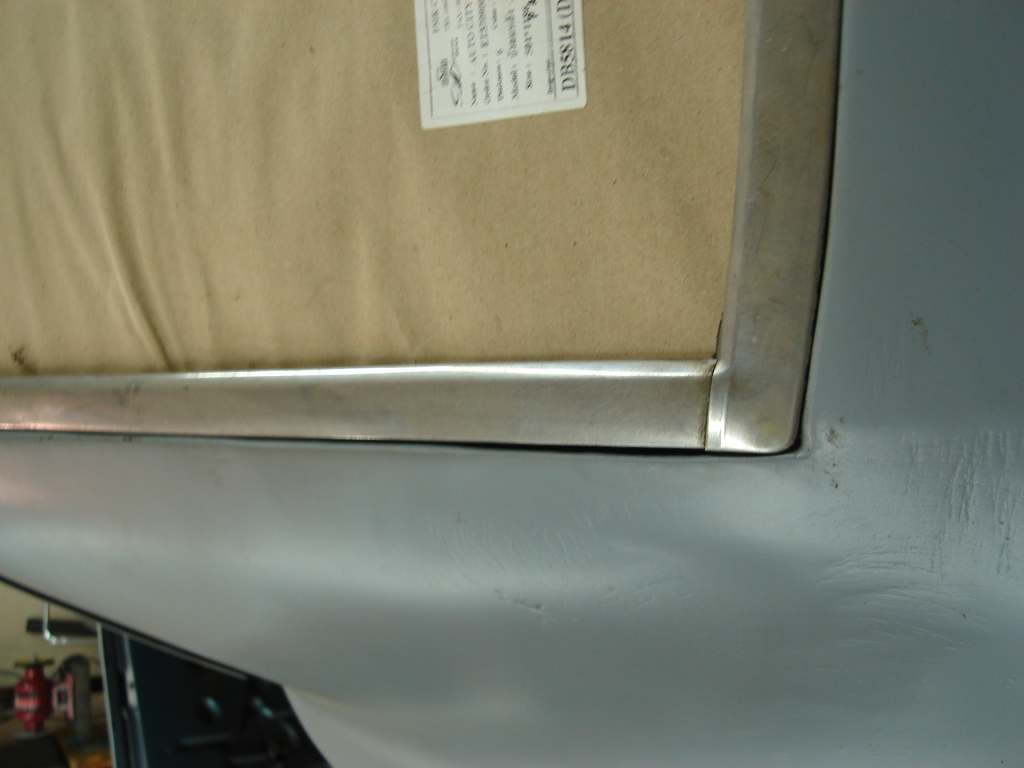 Did a lot of cutting and grinding.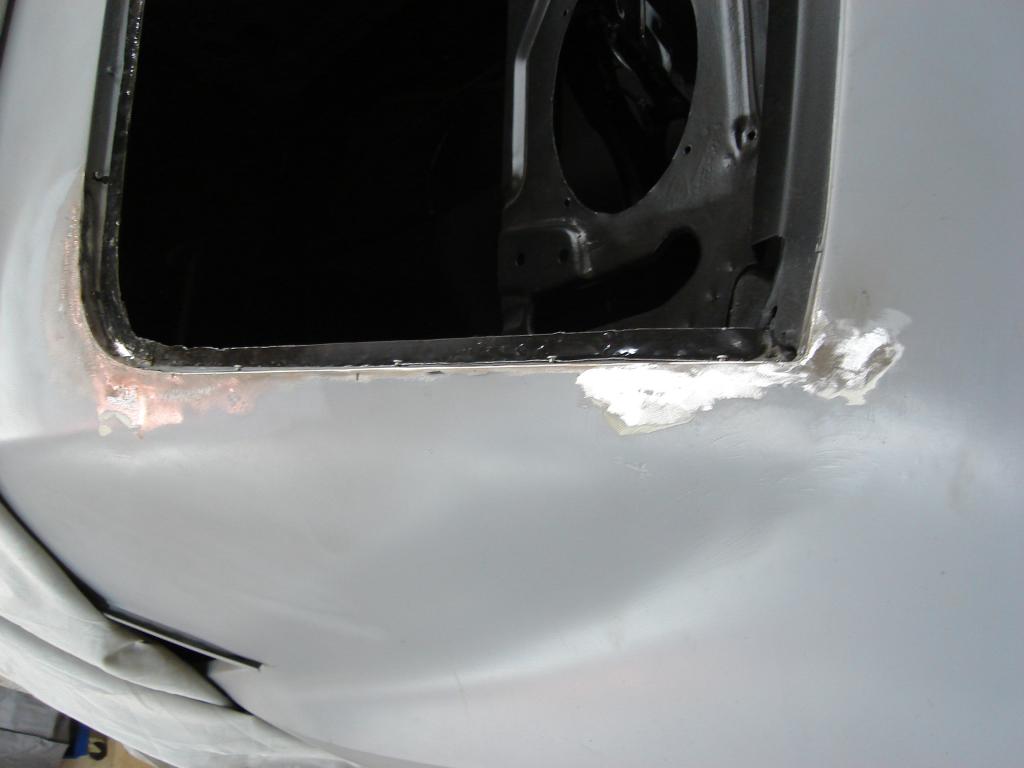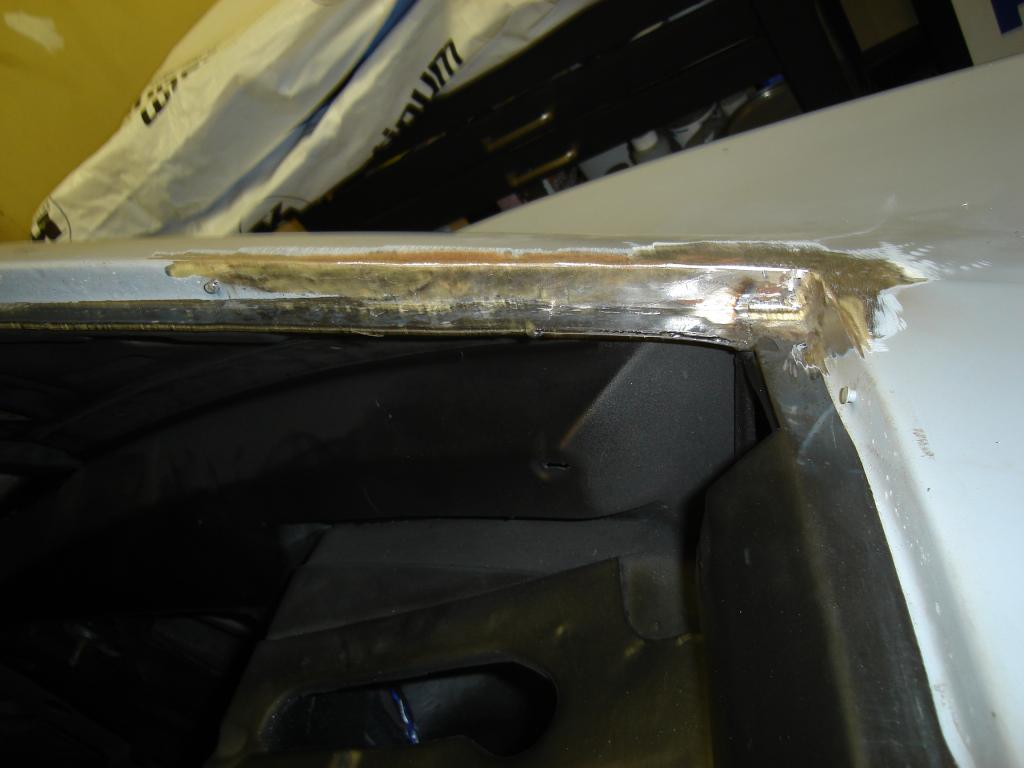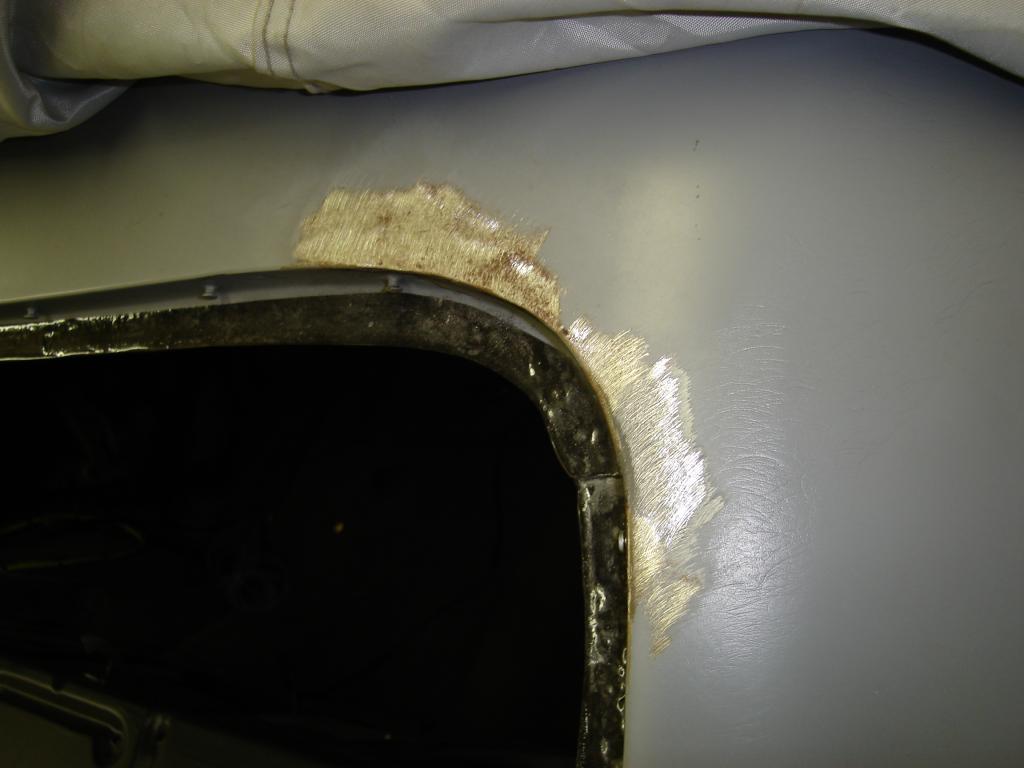 The trim fits much better now. I little filler or high build primer and it should be good.
The front drivers fender needed a lower patch. I was going to make one but the inner brace was also in poor condition. The replacement panel came with both.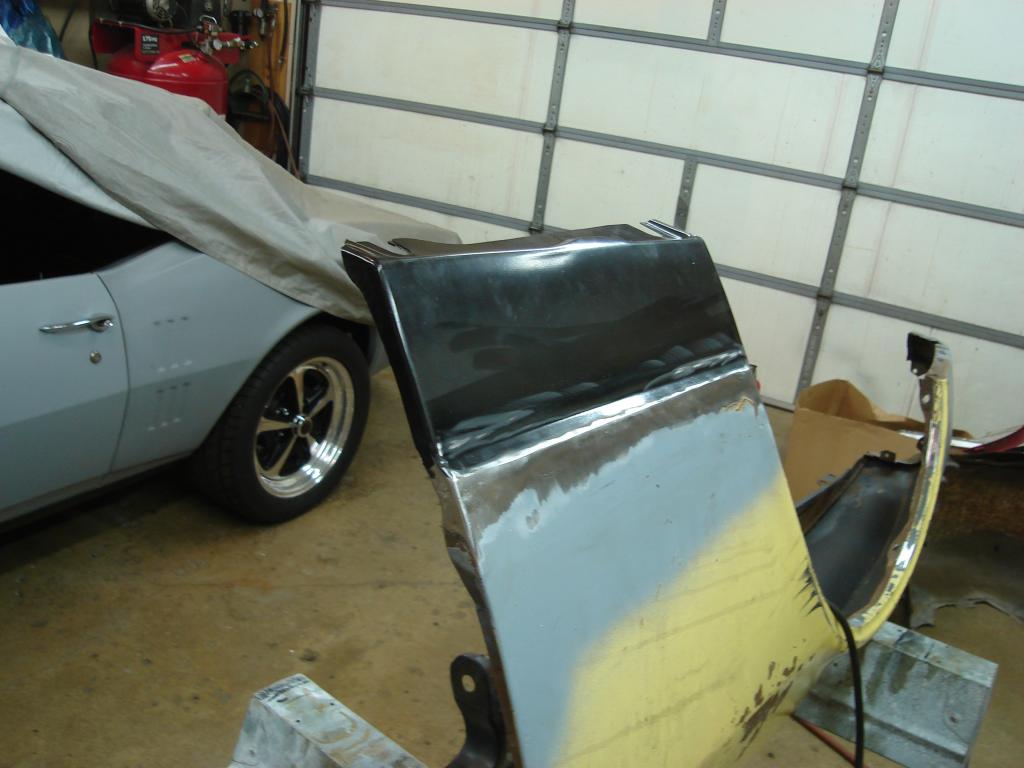 Had my front bumper re-chromed.
11-14-2013
Thanks for asking. I did more welding and massaging of gaps on the quarters to doors. But my camera quit working before I out it into paint jail/storage for the winter. I dropped it off at a friends house so I can do some jambing on it. And he said I could keep it there over the winter. I could not pass up the deal to get into a warm car and not scrape windows every morning. Just means I will have more to do come spring.
1-23-2014
Update time.
Trunk in paint.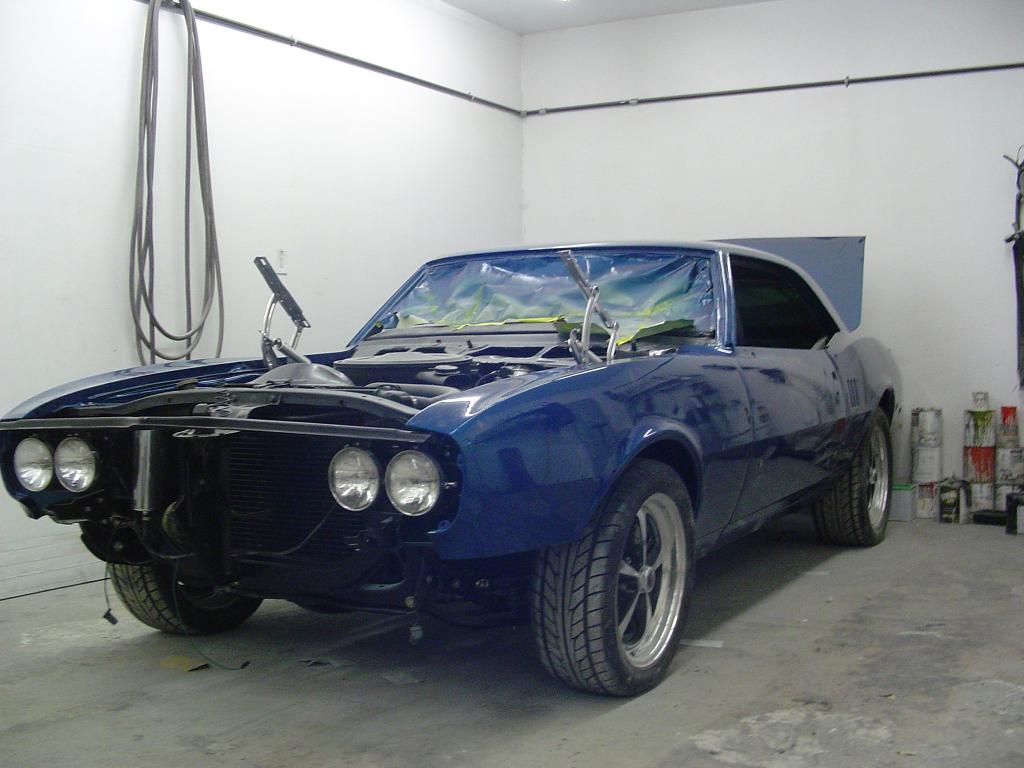 1-30-2014
More progress.
Inner fenders all mounted, battery tray, lower fender extensions, and lower valance.

Drilled holes for 400 emblems and opened up the scoops.
2-8-2014
Another couple of hours worth of work.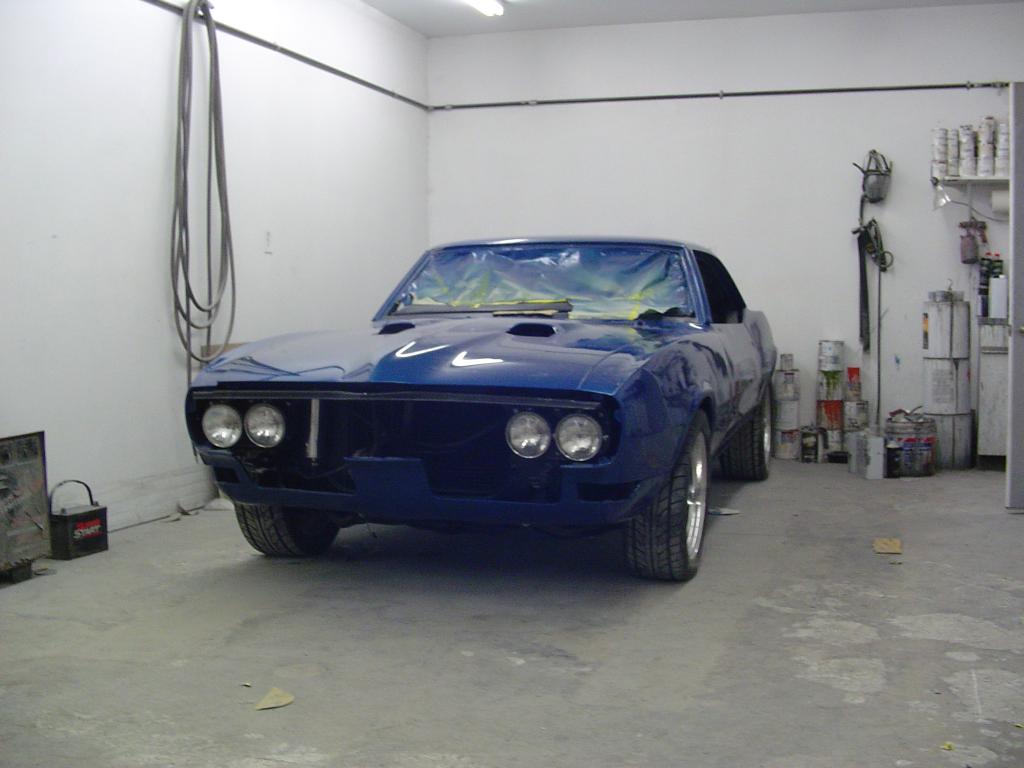 4-9-2014
Bolted on the back bumper, gas door, tail lights, 400 emblem, and side marker lights.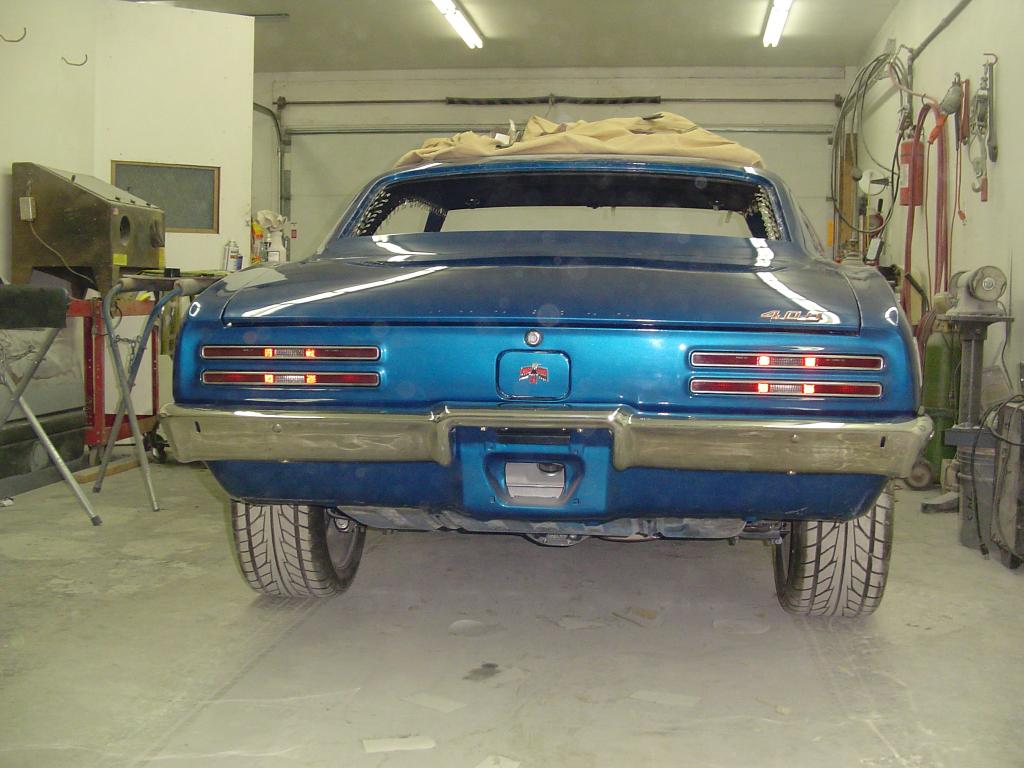 Front turn signals, and headliner. The headliner did not turn out as well as I was hoping. I might have to pull it off on the sides and try re-stretching it.
6-1-2014
Cleaned it up and took some pics for insurance reasons.

Still working on getting the new trunk weather stripping to come down a little.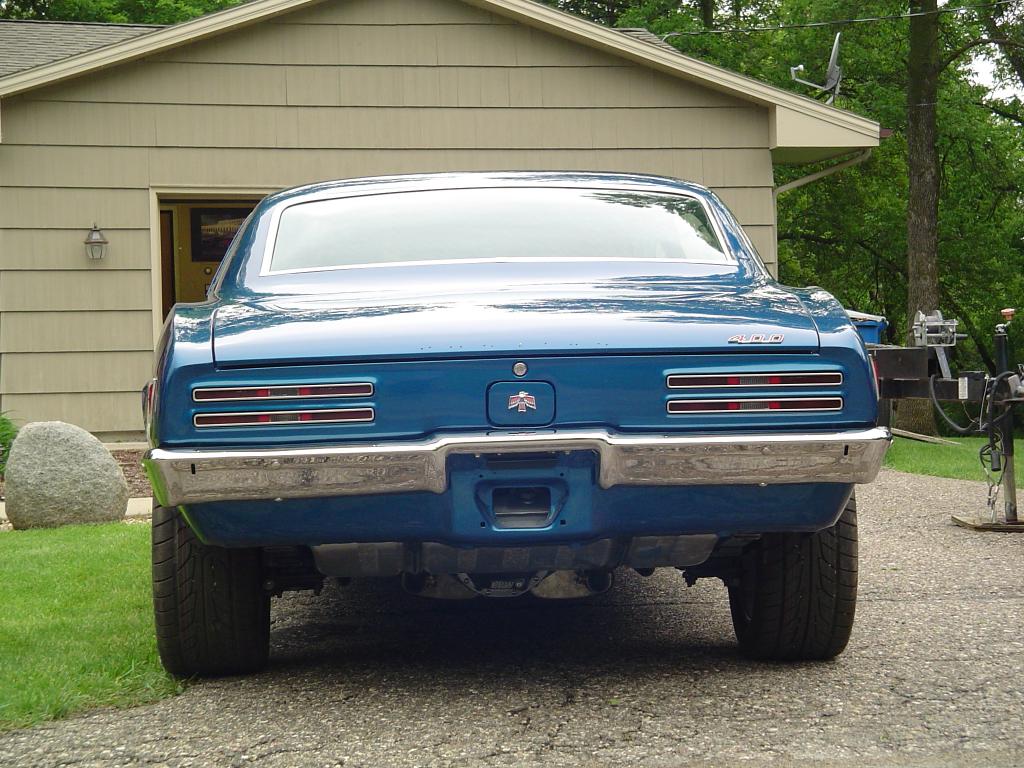 Re-plated front 400 bumper. New grills and powder coated front brackets.
6-17-2014
Not perfect but good enough for a combo of aftermarket and original parts.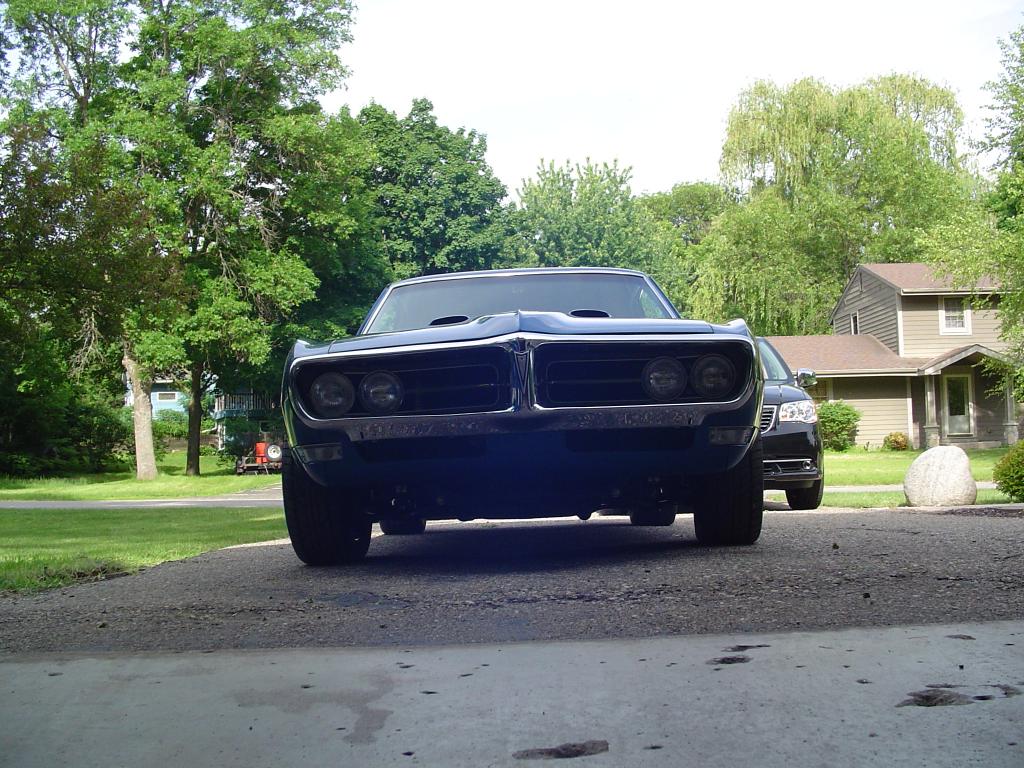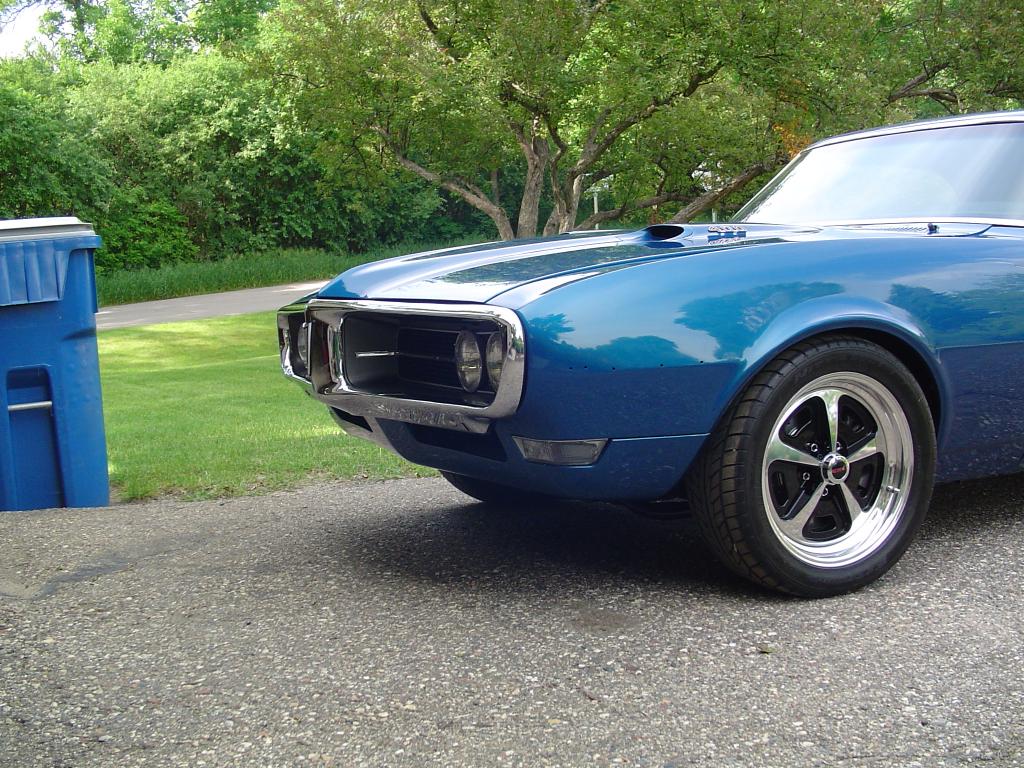 I did get the hood to sit a little lower on the drivers side.
4-29-2016
Wow, it has been a long time since I have posted anything at all. Winter came real late in 2015 at least in Minnesota. I had a chance to keep driving it into November.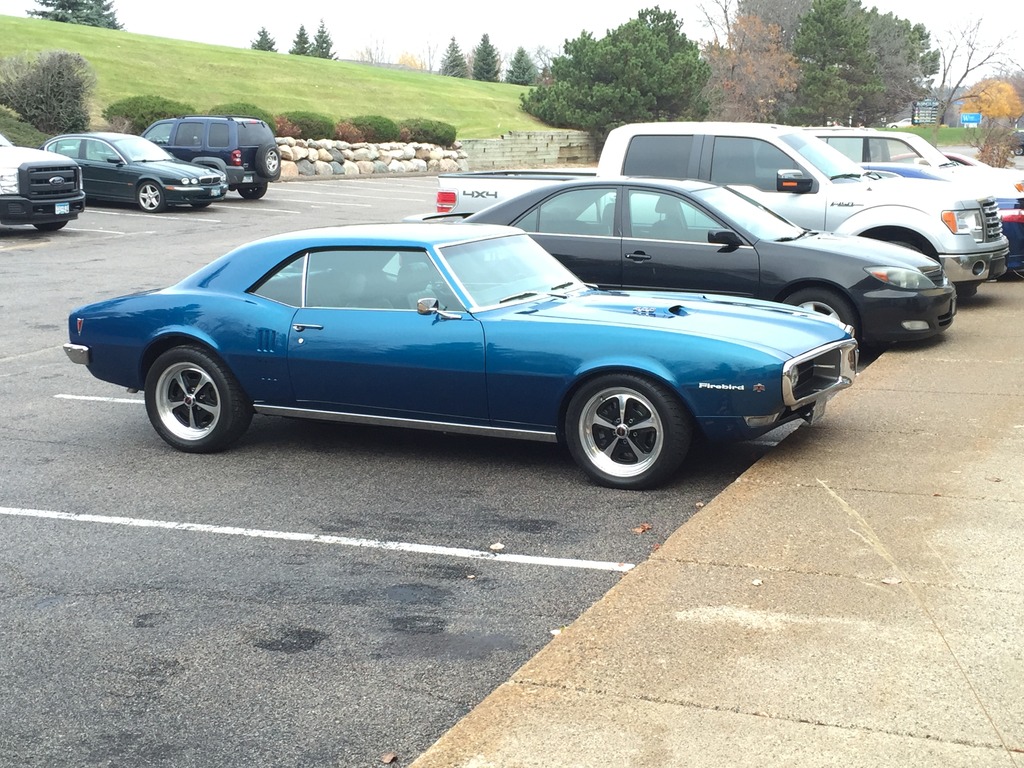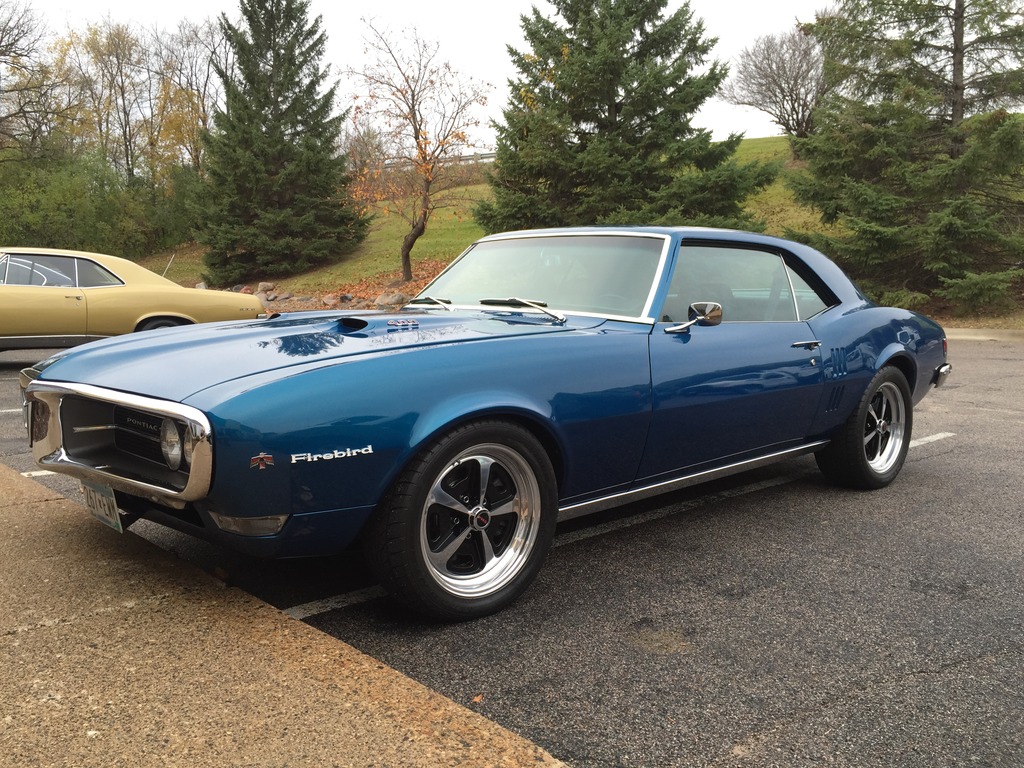 I drove the car all last summer. Only had one problem. I bought a new high flow thermostat and installed it right before a car show. I noticed the car running a little hot on the way back on Friday. I checked everything as soon as I got home. Nothing was leaking or boiling over. I had a laser temp reader and nothing was to hot. The following day it stuck closed a few miles from the car show. A hose blew and covered my whole car in anti-freeze. Some one stopped in a brand new Camaro and gave me a ride to Napa. I bought everything to get it moving again but did not have enough tools to change the t-stat. I limped it for three hours to get it into the car show. Changed out the t-stat and everything was great again.

With that being said I tore the upper end off for some upgrades.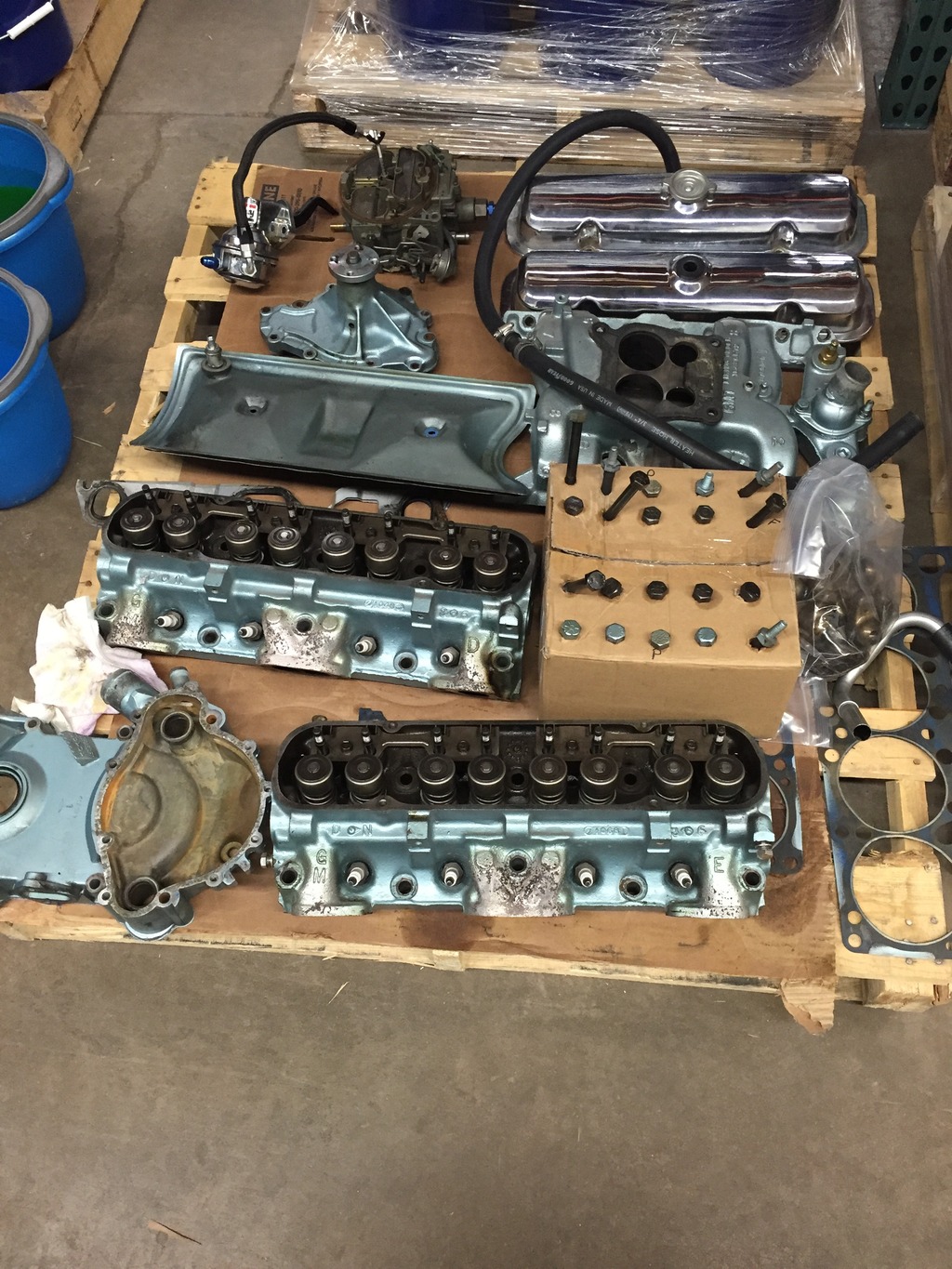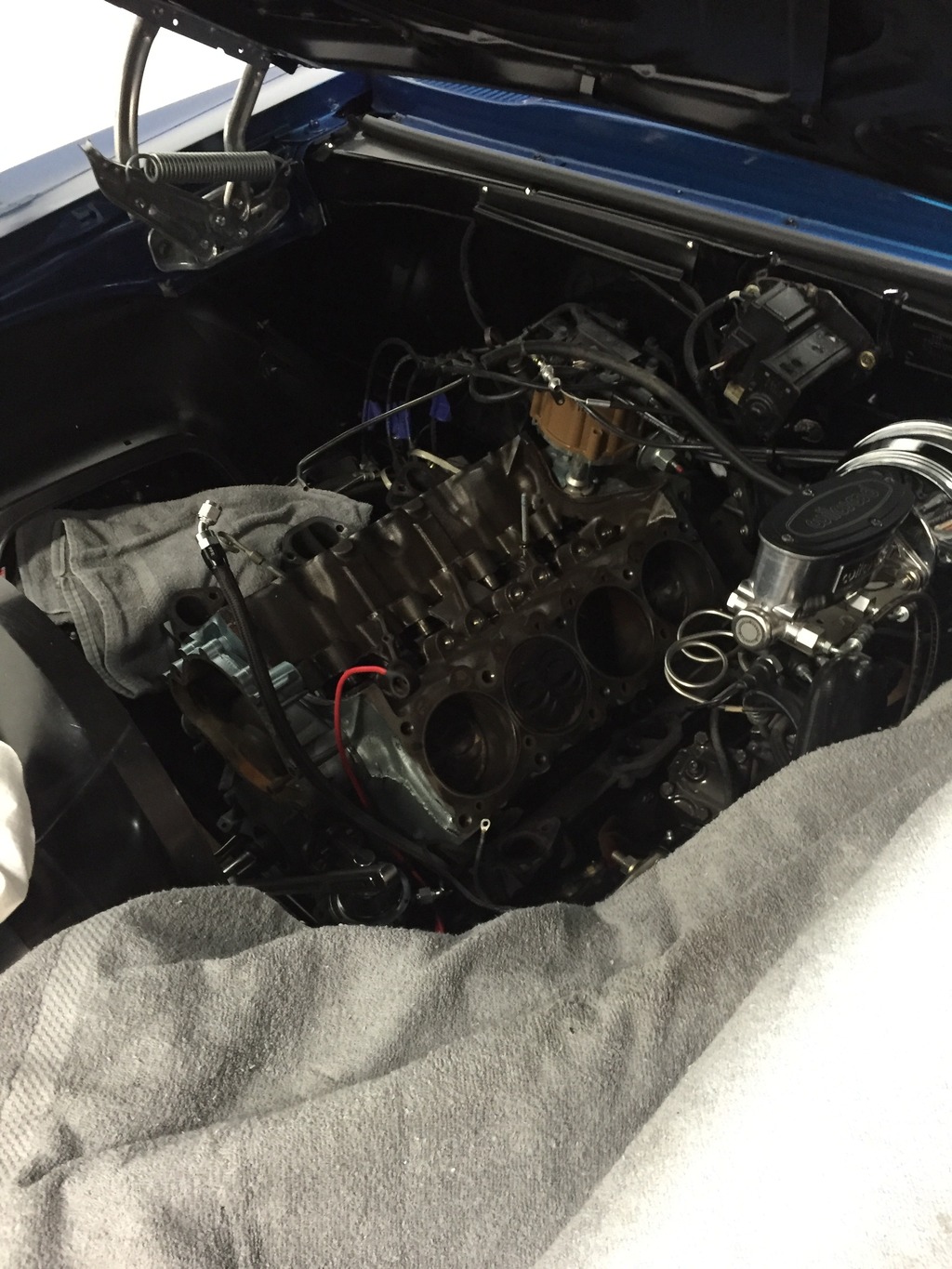 I will be adding new to me big valve #62 heads with a bit of work done to them including some nice full roller rockers, ported and matched intake along with a Holley carb and a few other small new items.
8/10/16
It's been a long time but rumor has it that my heads are done. Spring came about a month early this year so my stuff got pushed to the end of the line behind real paying jobs. LOL Decked, polished,ported,gaslet matched, valve job, hardened seats, new springs, vitron seals, and full roller rockers. I also had the intake runners polished and ported to the heads. The heads were already decked a lot so we also had to mill the intake for the correct angles so the gaskets would seal.
8/23/16
A few pictures of the motor put back together.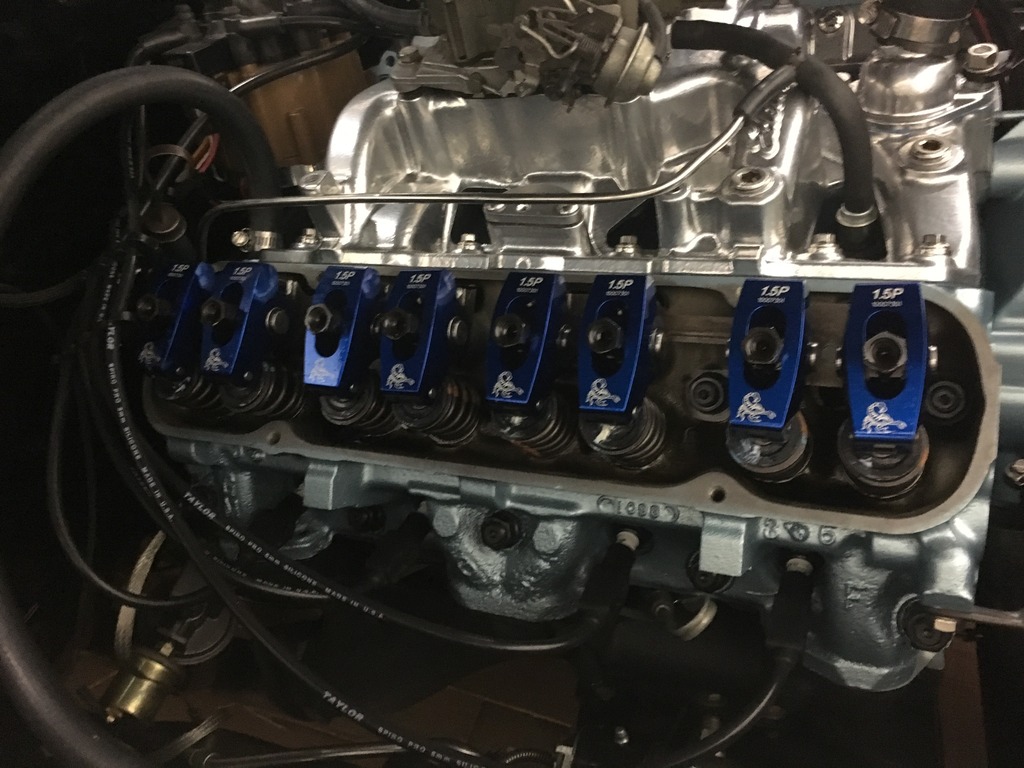 Comments