Time for Some Body Upgrades by Purplxd
By diyauto
You must be logged in to rate content!
Time for Some Body Upgrades
Compliments of Purplxd @ 6speedonline.com
10-16-2011
Well I decided my 996 is looking a little dated and I think I'm going to upgrade the look.

I picked up some litronic/xenon 02+ headlights and fenders this weekend and here is what I'm going to do with the body:

Front Bumper (TechArt style): http://precisionporsche.com/imager.p...&max_width=800
Rear Bumper (2011 GT3 style for 996 narrow body): http://precisionporsche.com/imager.p...&max_width=800
Rear Wing (GT2 style for narrow body): http://precisionporsche.com/imager.p...&max_width=800
Turbo style ducts (will be functional intakes for my supercharger): http://precisionporsche.com/imager.p...&max_width=800


PS The ducts will be functional as I'll be creating a route for the air to enter the engine bay where my supercharger air intake is.

Cheers
Aaron
Oh and yes, my Aero kit parts are for sale: FS: Porsche 2001 996 C2 Parts - Aero Kit Parts
10-28-2011
Sold almost all of the parts of my car, sourced 2002 headlights and fenders already (sitting in my basement) that are mint, and just ordered all of my body panels from Precision Porsche today!

Totally excited to get everything and put it together. And of course paint!
11-3-2011
Ya in looking at the fact I also did 997 mirrors, it is changing the car to a more modern, sharper line look with the air intakes, bumpers, and wing I also went with.

So I took your advice, and Precision is making TA 997 style for my 996 narrow body car. Will take a few weeks to make, but I think they are going to be wicked with the overall look of the car.

I've attached a pic of what I got and listed my factory Aero skirts: FS: Porsche 996 GT3 - Aero - MK1 - Side Skirts - OEM Factory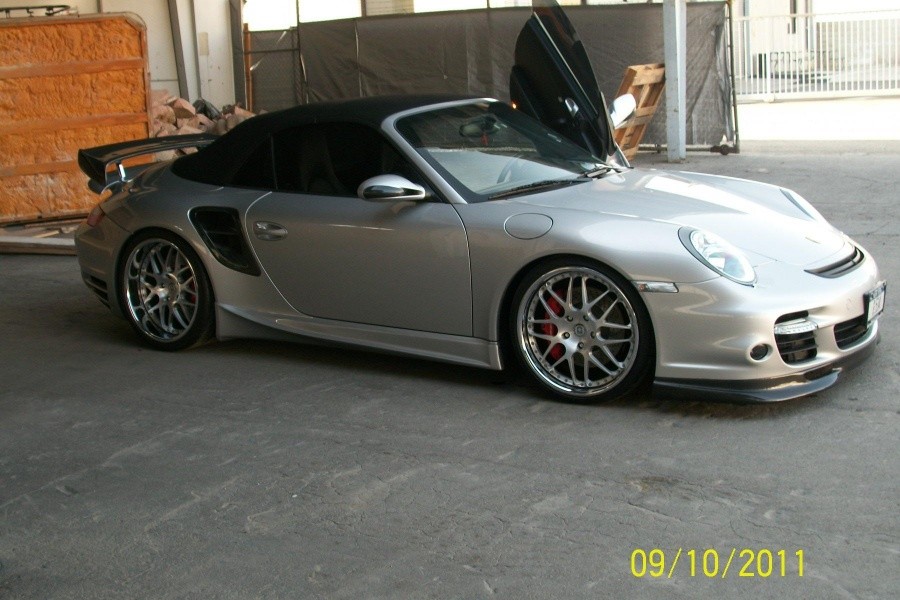 11-9-2011
Just doing some initial test fitting, etc, but thought I'd share some pictures of the parts so far.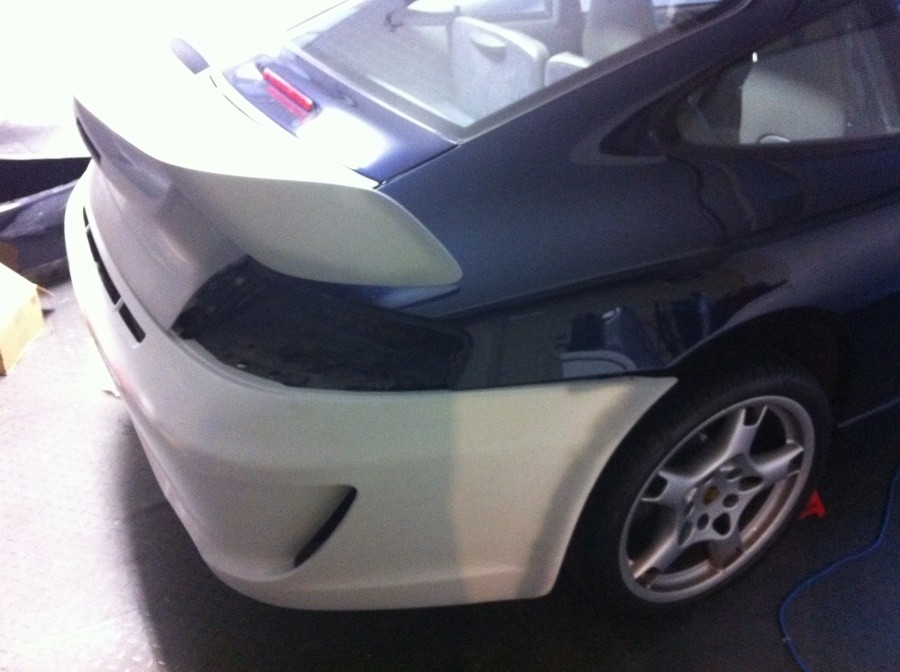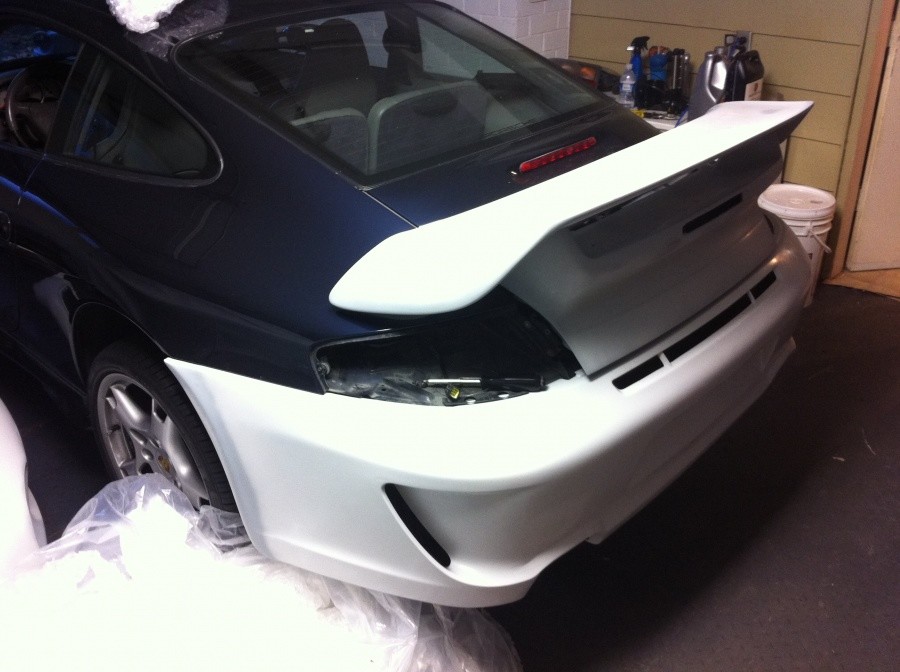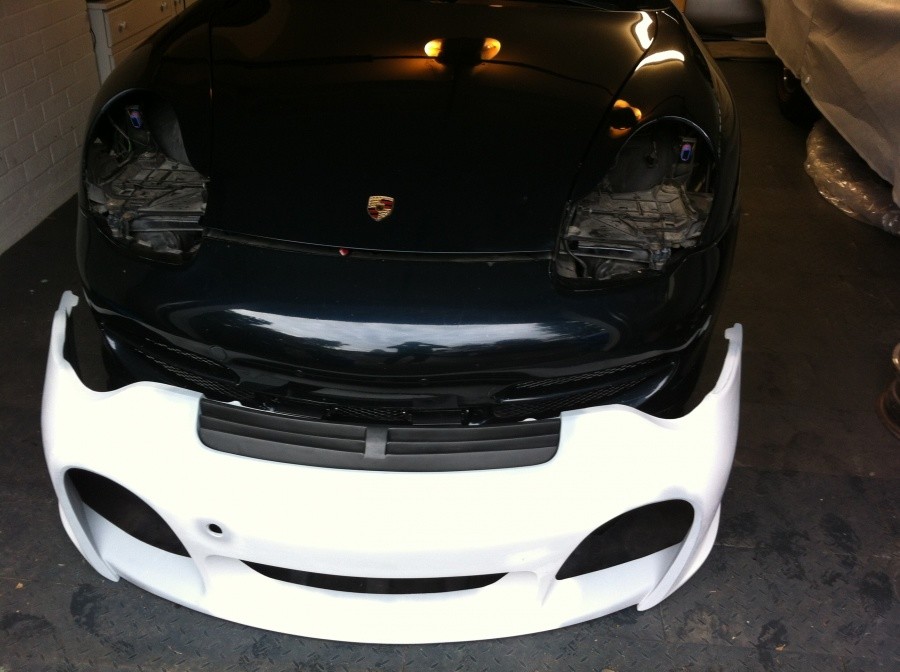 11-11-2011
Working on replacing the front fenders, so removed the front bumper, inner fender liners, etc, etc and finished the driver's side fender. Wow, do they suck to change... Now that I know where are the mounts are and how to get to them I'm assuming the other side will go much smoother.

I'll post some pics once I get the fenders changed and do some initial mounting of the front bumper.
11-23-2011
Got the front fenders changed and the front bumper mounted for the initial mounting.

Expecting the side skirts by the end of the month and I'll be installing those, cutting the holes in the quarter panels for the intake ducts, and doing final fit and finish tasks before my painter comes to see the car.

I need to modify the rear decklid to clear my supercharger, etc so I don't see this getting painted until early 2012 and of course hopefully before Spring!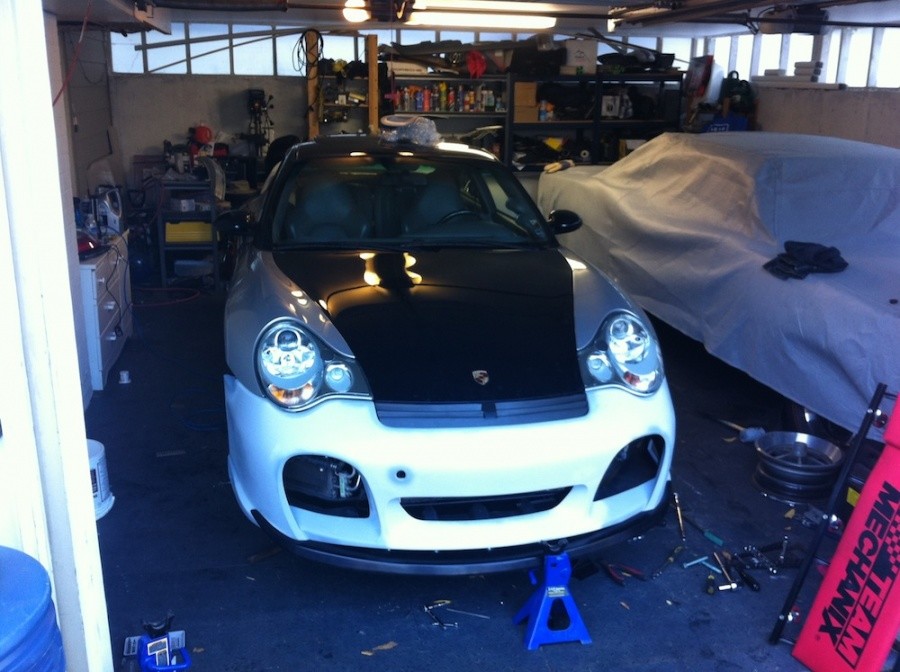 12-20-2011
It's going good. Couple more things sent out yesterday from Precision and I'm hoping for my side skirts shortly after the holidays.

I'm looking into wrapping the car as well since I'm getting close to $4k quotes for paint. I may wrap it myself.

Yes, myself. Before everyone goes crazy, I'm not new to cars and such silly things so a roll of wrap and a few weekends for about $600-800 sounds ok to me.

Thinking matte white. We'll see...
9-2-2012
Been on pause with this project as I've been pretty swamped with my MBA studies, work, etc, etc...

Anyways, it was home renos this weekend or get some work on the car done. I chose the latter and went after the Turbo scoops.

I know someone that wrecks exotics and he had a 997 Turbo that was wrecked beyond belief. Anyways, he took out the internal polyurethane ducts in the rear quarters and I cut them to fit inside my quarters so that when you look inside the duct/rear quarter, it looks more factory when you look inside the duct versus just viewing the interior of the rear panels.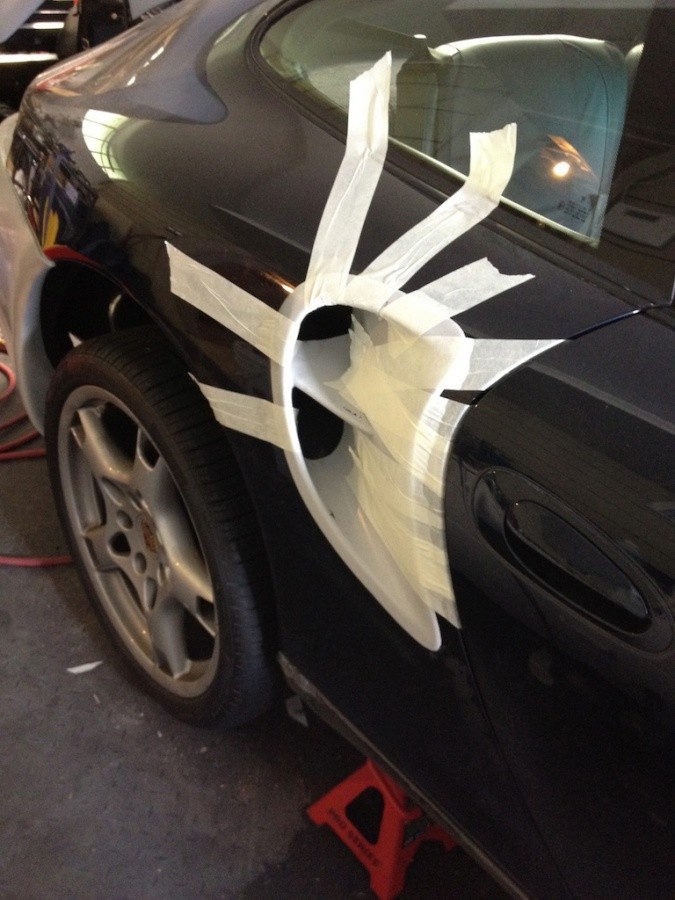 Next I'm going to go after the new rocker panel installation then get it outside to do a much needed wash and clean out the garage.

I have matte navy blue metallic vinyl showing up at the end of the month. It was on backorder as it it a new color from Oracal. Should look good as it will match the door jams, etc
9-3-2012
Some pictures without tape after the epoxy cured.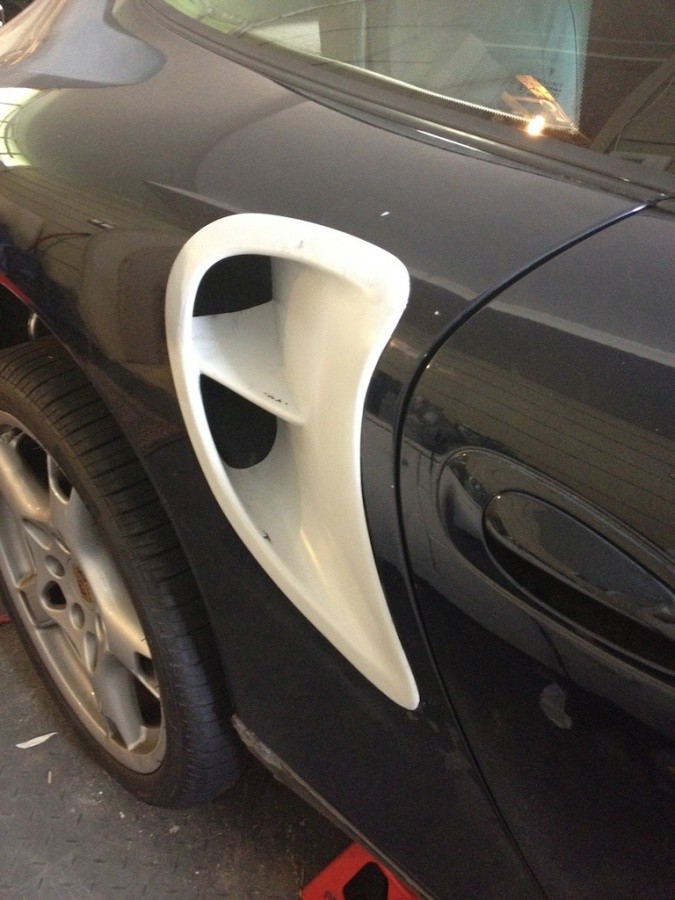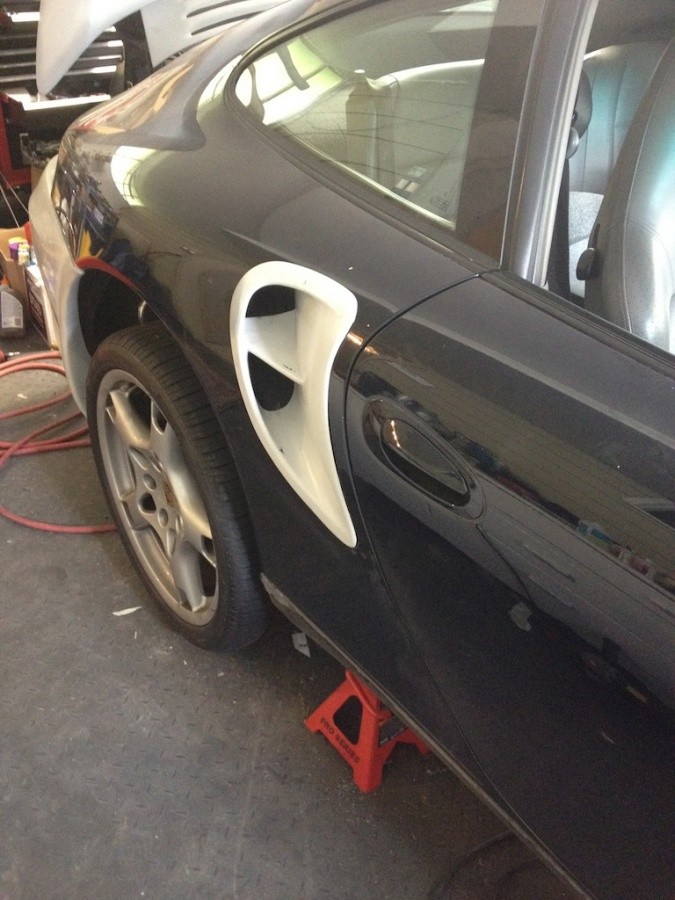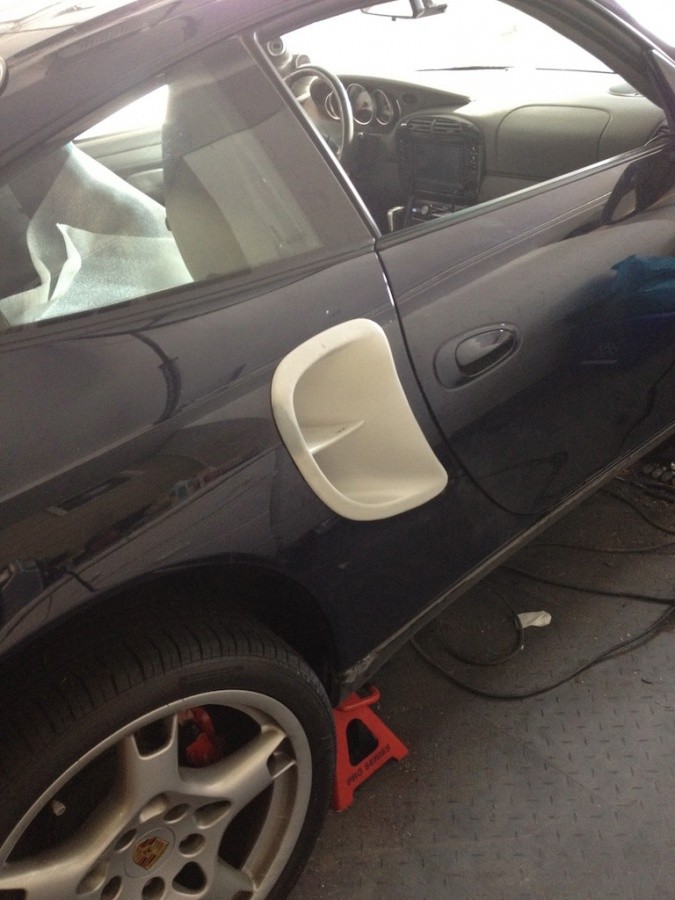 9-7-2012
Soooo, the mods just keep continuing. I sold my lobsters and ordered some 19" Ruger Mesh in Hyper Silver.

Also received my Decante 997 style LED rear tail lights last week.

So my car is pretty custom at this point. Obviously won't be for everyone, but I'm loving how it is all coming together.
9-14-2012
I used an air powered cutoff wheel like this: http://www.alltradetools.com/catalog...utoff-tool.jpg

As the template was a little smaller than needed, I had to use a grinder to expand the hole as necessary to make it fit nice.

If you use a grinder, you have to hold it very firm in your hands. If you aren't holding it firmly, it will bounce and can catch the metal making a bit of a bend in the metal. No big deal, you just pull it back in with pliers, but... just better not to deal with it.

Also, watch the heat with a grinder. It can heat up the metal quickly and it can also take off a lot of material quickly. If it gets too hot you can cause warpage in the quarter, that is bad news bears. Just use it for small adjustments and take your time.

Test fit, test fit, test fit, prior to epoxy. What I did was test fit it, then made some marks with a felt pen so I knew where the right alignment was. I used a metal sanding wheel to get the paint off for bonding, but of course below the alignment marks. Then you'll also want to use tape to hold it tightly in place. I also ended up using magnets for vinyl wrap on the tap so it stayed holding the duct tight to the body.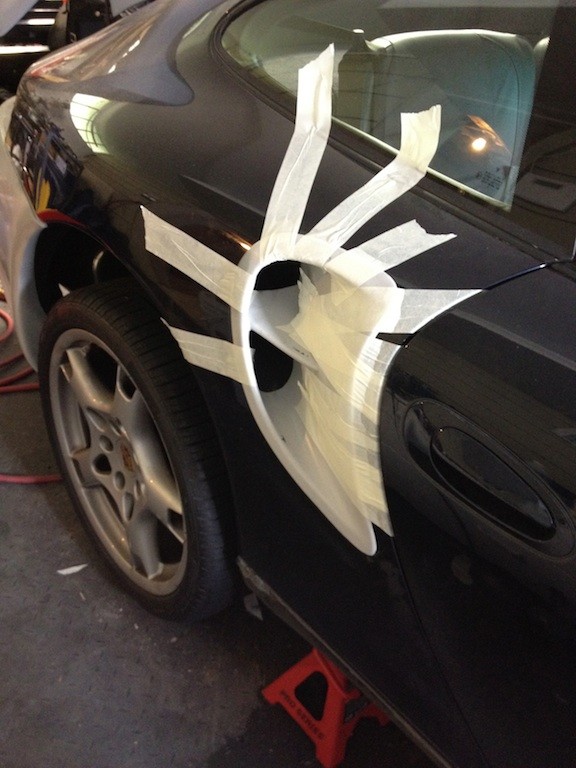 So to the comment about functional, there is a gap above the inner wheel well of the rear quarter. This is larger in the Turbos as it has more space being a wide body, but effectively it still functions.

To make it a cold air intake that is highly effective, you'd need to create an opening in the rear engine bay on the passenger side where the air intake is. I haven't done this yet as it would involve removing a lot of bits and bobs to get enough space to do the cut. Also, I need to plan this out at it is likely a structural area for the engine bay. Therefore, I have to plan on the shape, size, and reinforcement if necessary.

There are gaps and holes in the area, so more fresh air will make it into the engine bay with the mod. However, it will be much better when you open it up a little in the future.
1-29-2013
Well this project is taking a long time... welcome to the world of taking an MBA and having twin two year olds...

Anyways, Had to take it out today for a delivery and thought I'd show the progress while it was out of the garage. I am determined to have it back on the road this summer...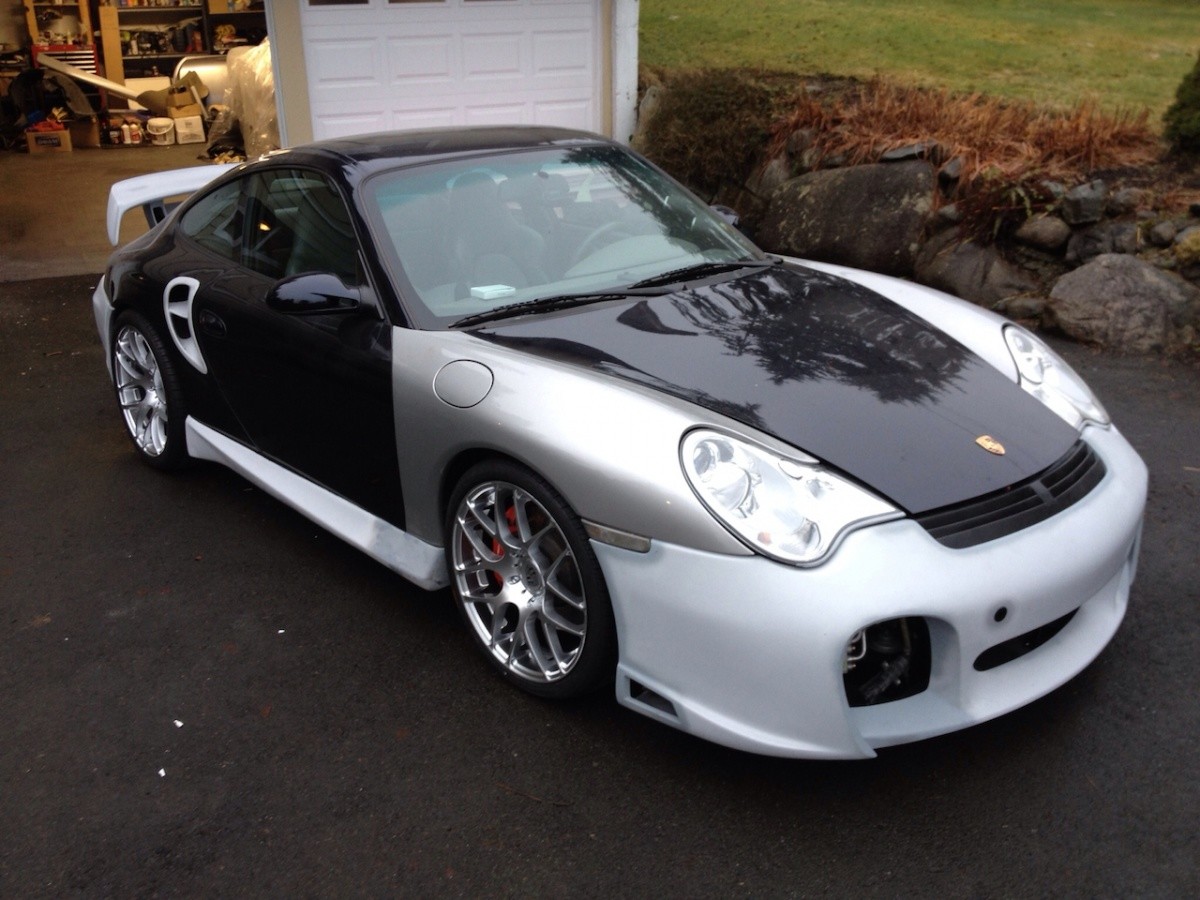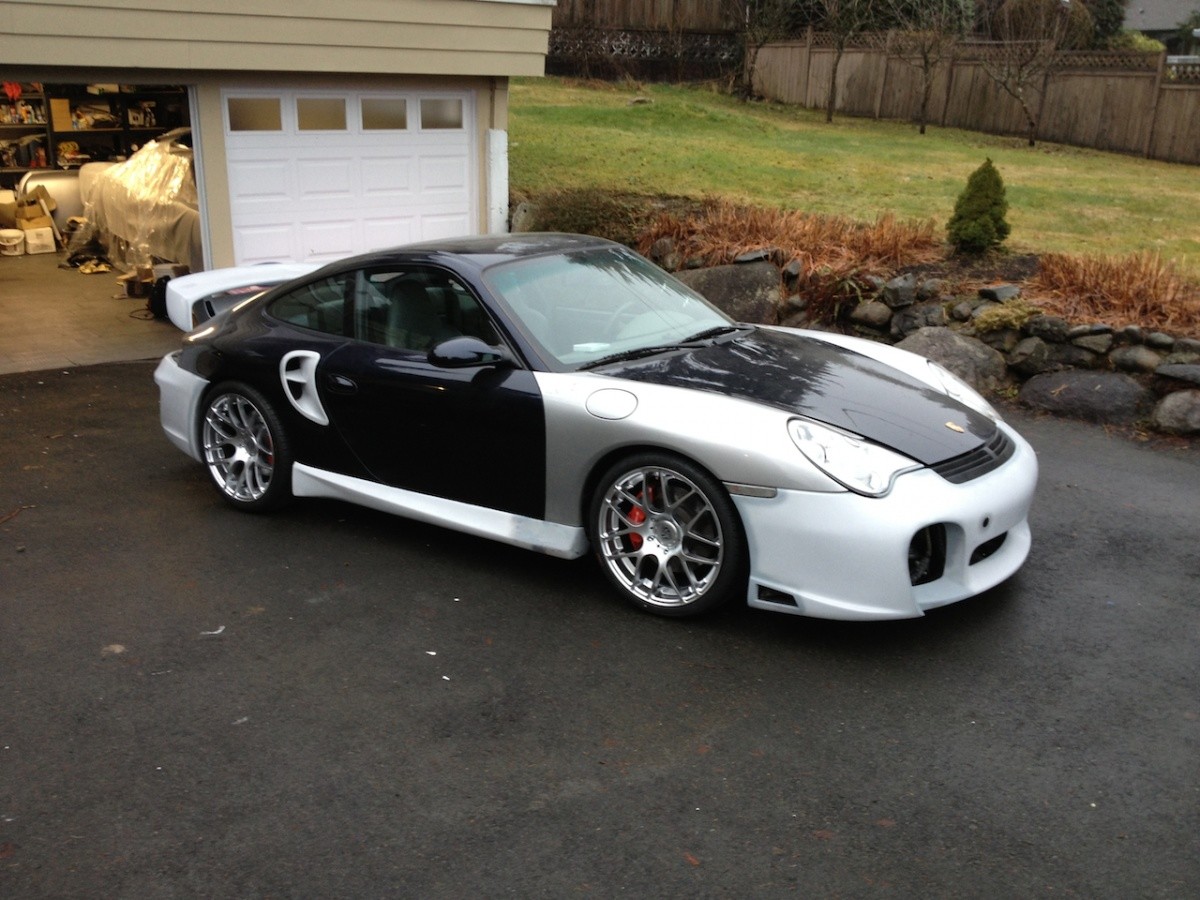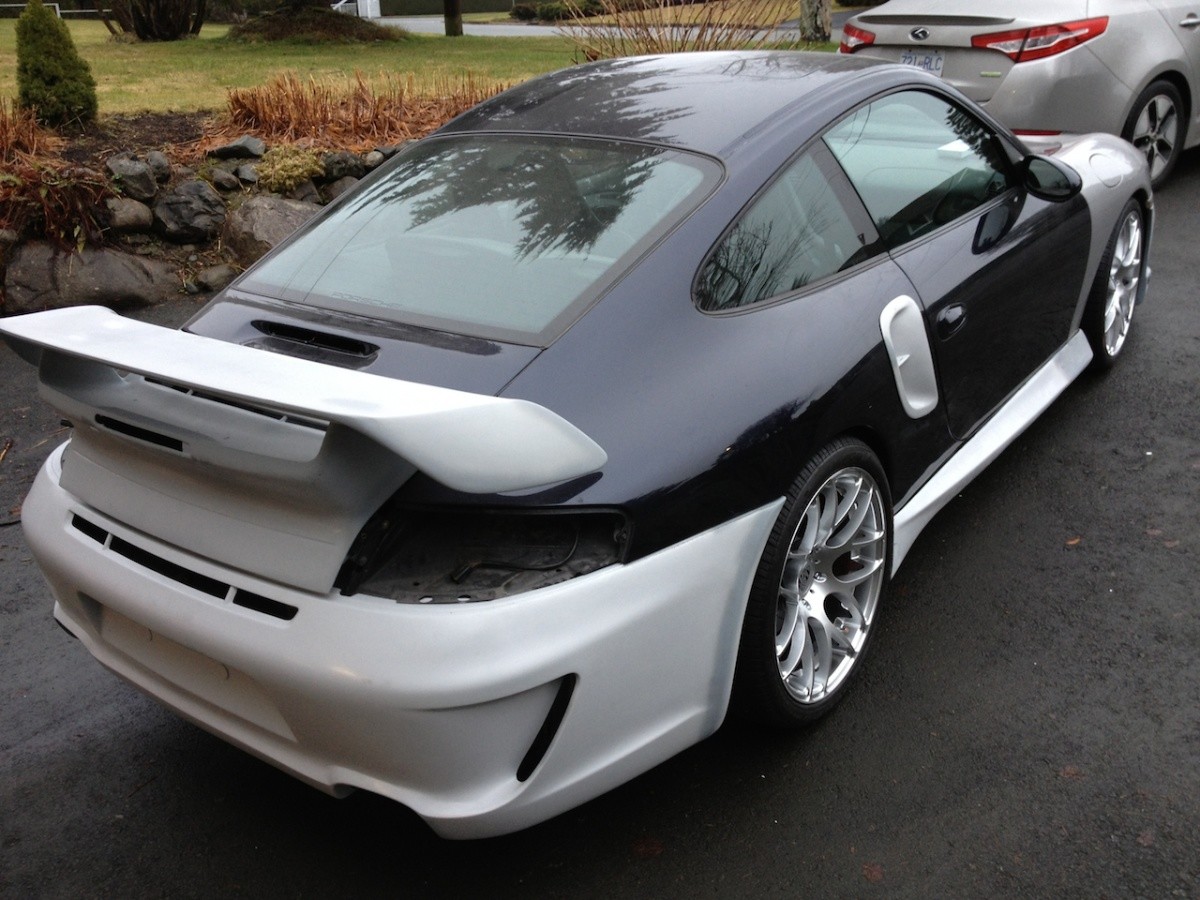 1-19-2014
I am reviving my thread... It has been a very long time since I posted on here as the car didn't get much love last year with finishing off my MBA, kids, work, yadda yadda...

Anyways, I made a project plan and am on pace with having it on the road this Spring. Here are some updated pics... Not so sure about the LED parking lights in blue, may shift to white. That's a minor change later though...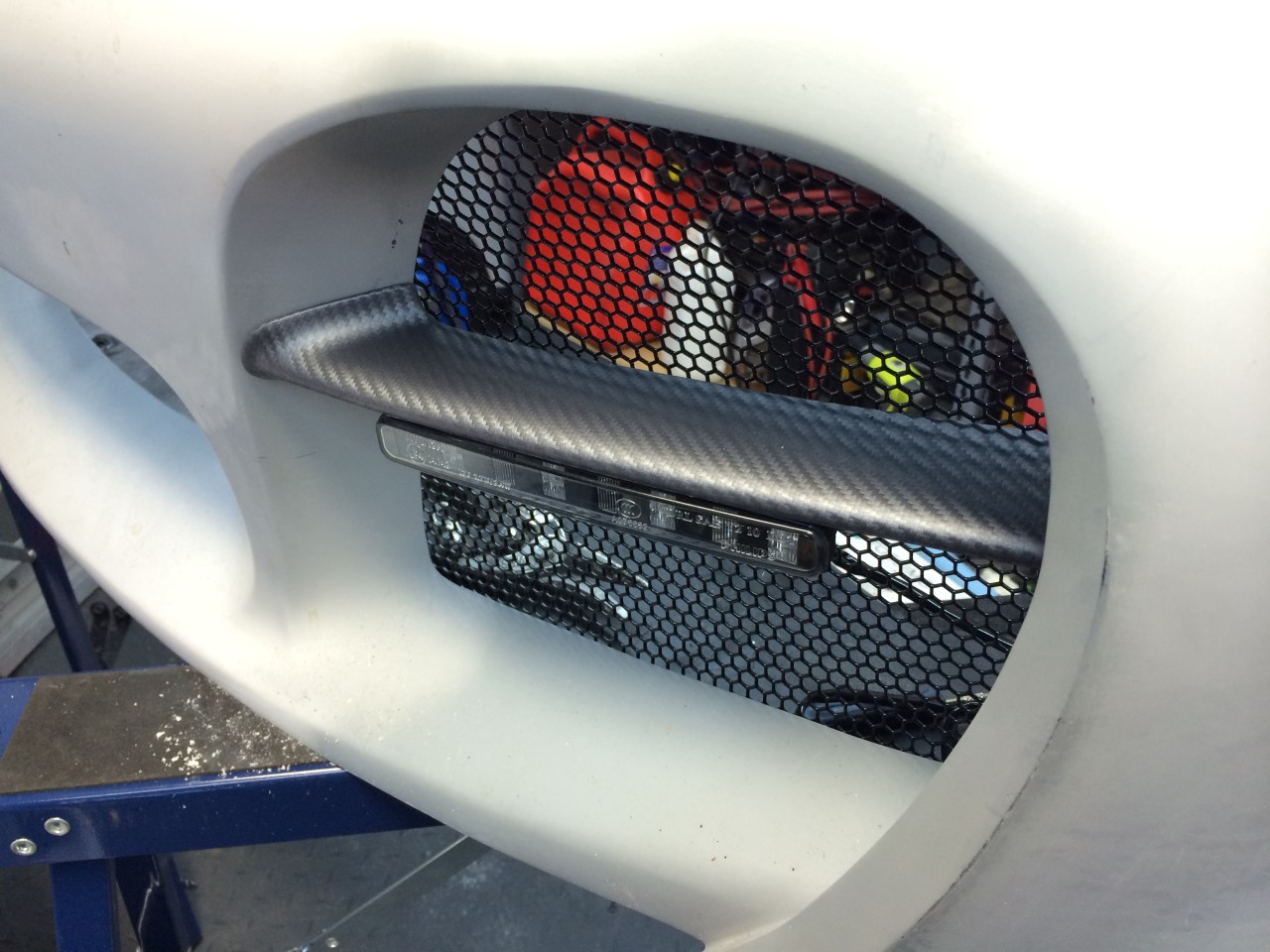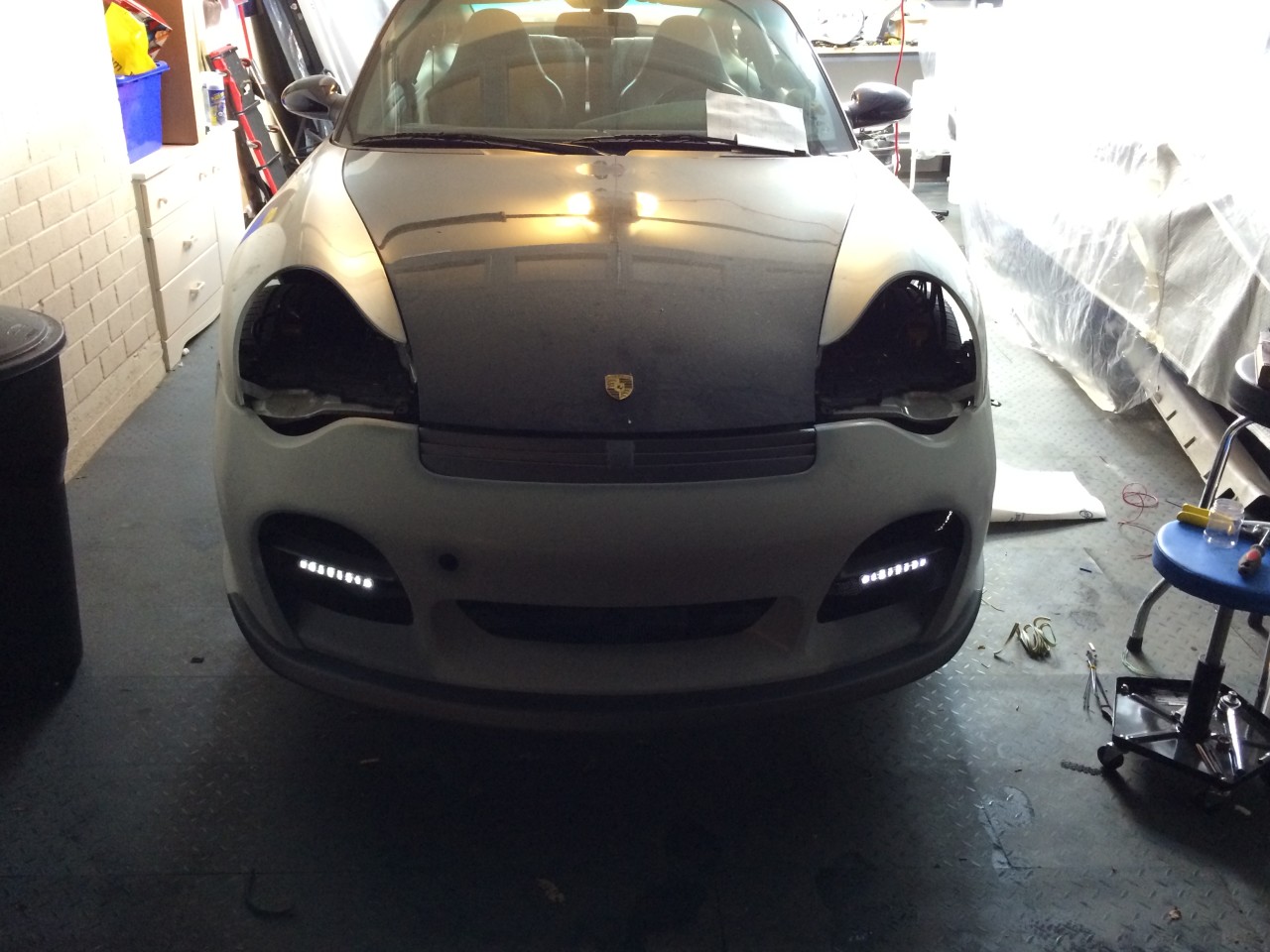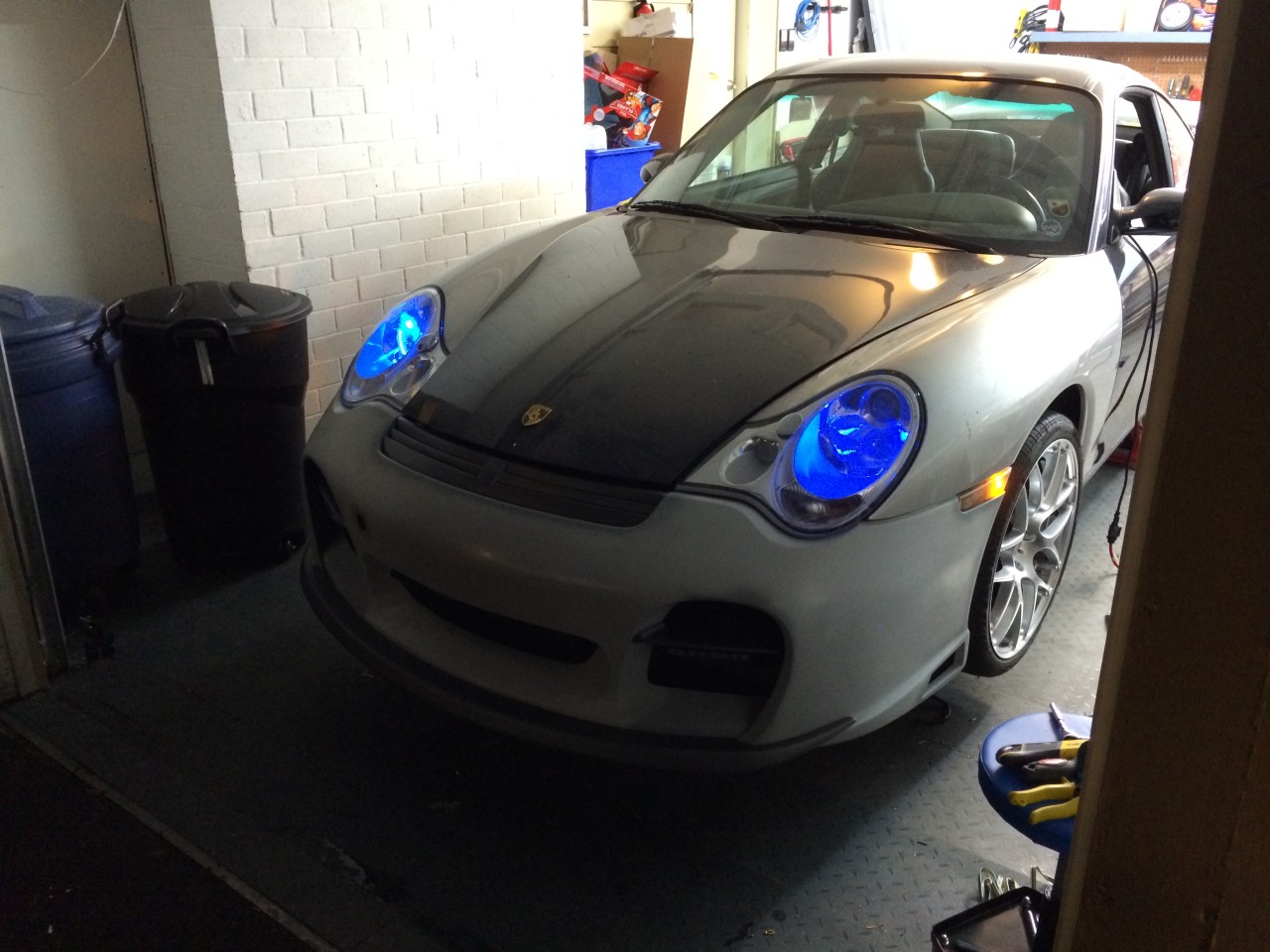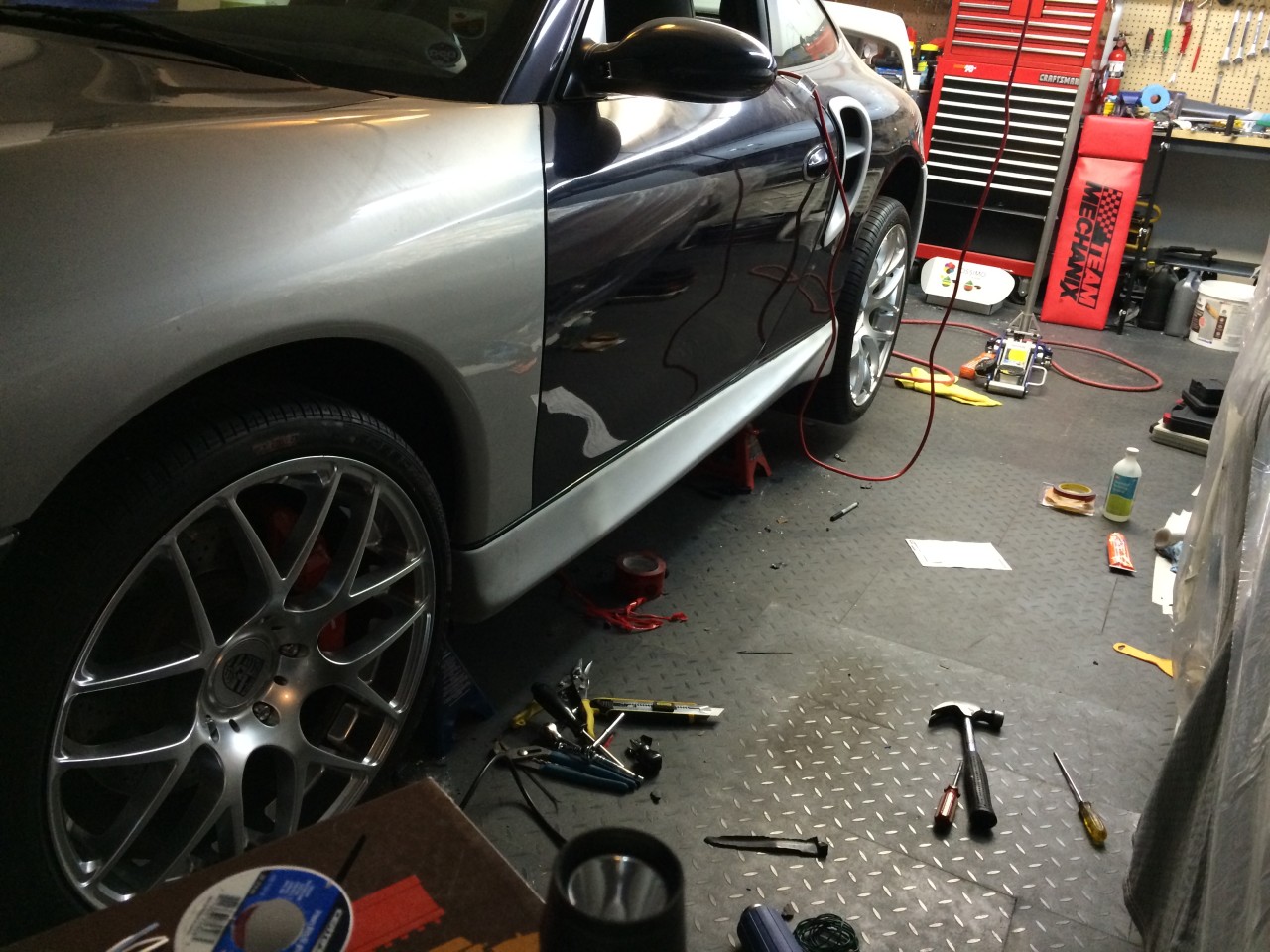 1-20-2014
Everything is from Precision and is fibreglass. There weren't many poly options when I was in the market and the ones I did find didn't have many reviews -- while Precision was well reviewed.

The fit and finish are great. I mean, there is some sanding in the vent holes to be done, and that is expected with fibreglass parts. However, overall the body lines and gaps are great.

There is some cutting of the plastic supports behind near the mufflers that are required, but as my Dad always says... that's hot rodding.
4-14-2014
So I'm almost ready to spray this thing. I plan on doing that May 3 and it will be back on the road shortly after.

I wanted to show what I ended up doing with the ducts. First I used a tool I had to get from the UK for doing panel flanges on compound curves so I could produce a more "flush" look.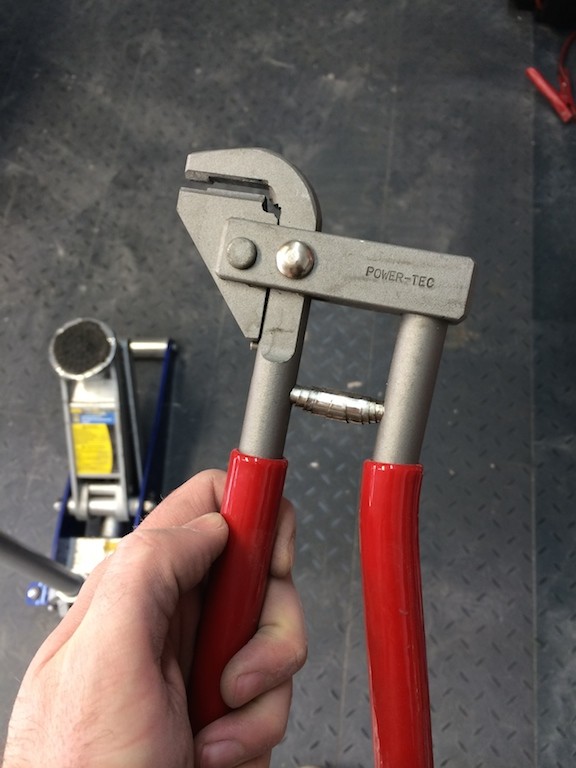 Then I took some time to mould the piece down and the body panel up a bit with some filler. After all that, I cut a body line in by hand to make it look like a factory Turbo -- which has this distinctive body line. The end result is a nice flush finish versus looking like something glued onto the car, which it would have ended up looking had I just cut a hole and stuck it on.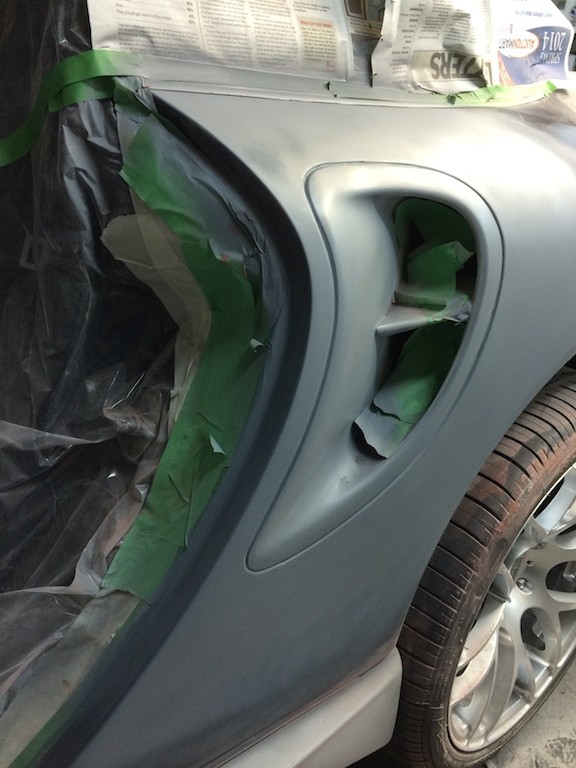 So this weekend I took it out to wash off all the crazy amount of dust that has built up and clean up the garage. I want to clean up a few minor things on the car to prep it for paint in a couple weeks.

You have to imagine it in a semi-gloss pearl white...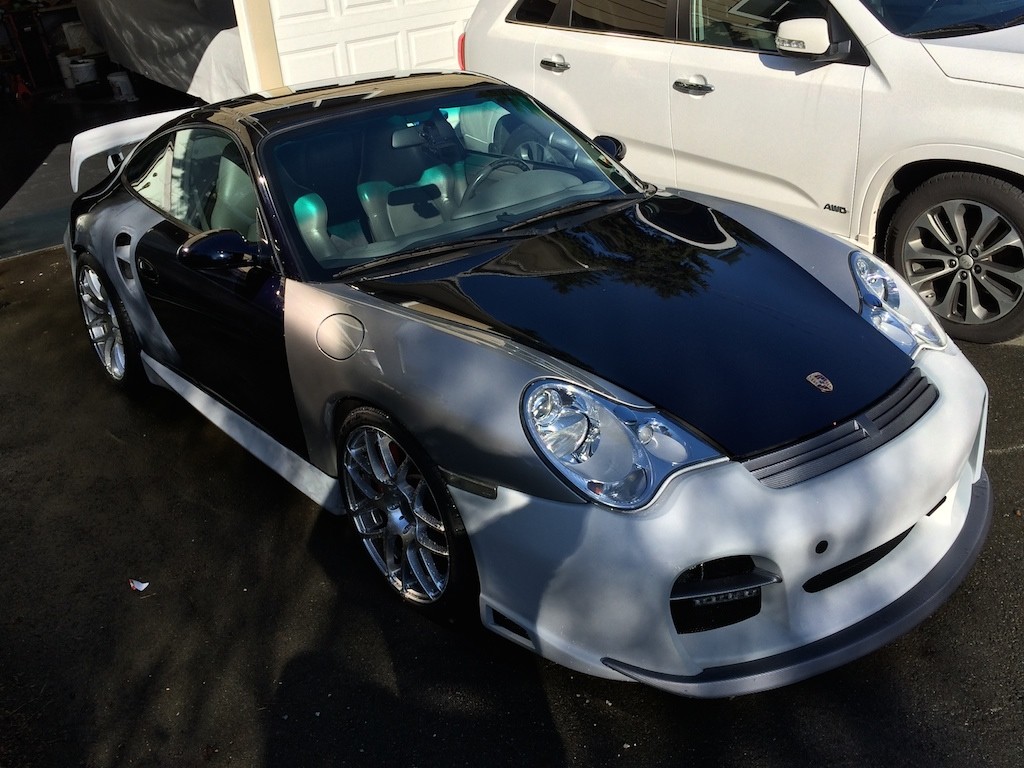 Some back pictures...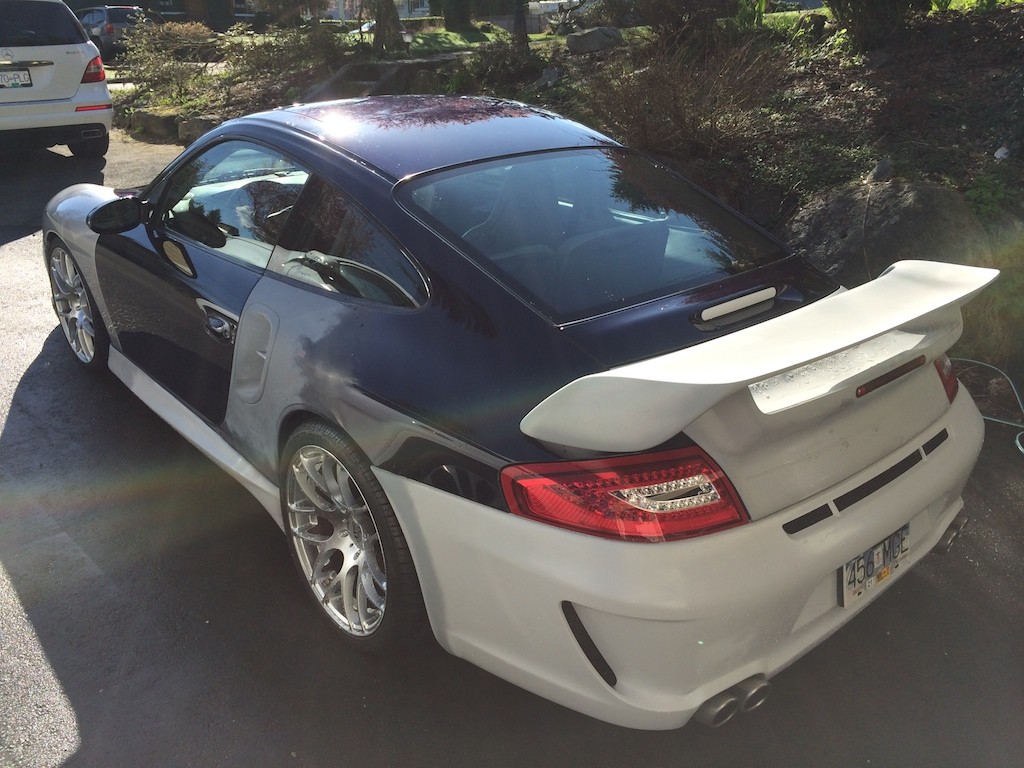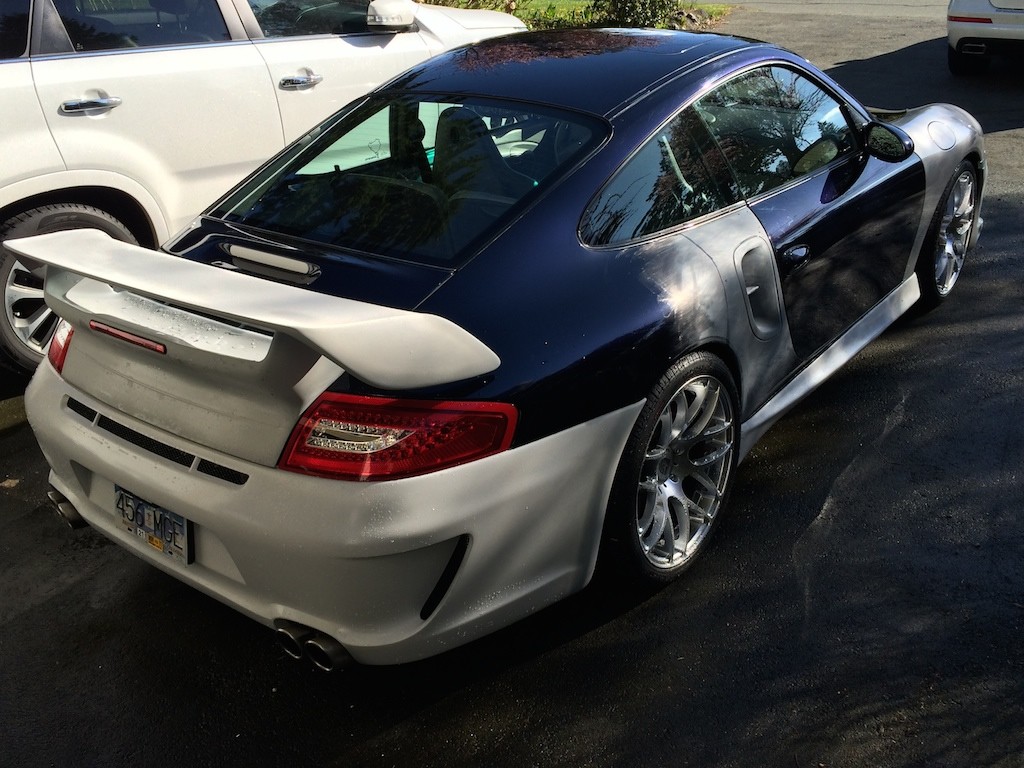 5-4-2014
So...

People will have opinions here, but I wanted to get it back on the road and went with the PlastiDiproute to make that happen. I didn't want to drop another $5-8k on it at the moment.

They recently released pearls, so I went with a semi-gloss pearl white. It came out "ok". By that I mean, it is a driver and not a show car. But... that is what it is and how I use it. I have a show car, this is my toy that I drive hard... scratches, dents, and paint blemishes are all part of that story.

If the above said imperfections **** me off enough, I'll likely re-dip the car in the winter or get it properly painted.

Anyways, here are some garage pics... I look forward to being on the road by the end of the month!

PS The side pic was done before I put the wing on obviously and I'm still polishing my quad tips, so that is why it looks like there are none in the pics.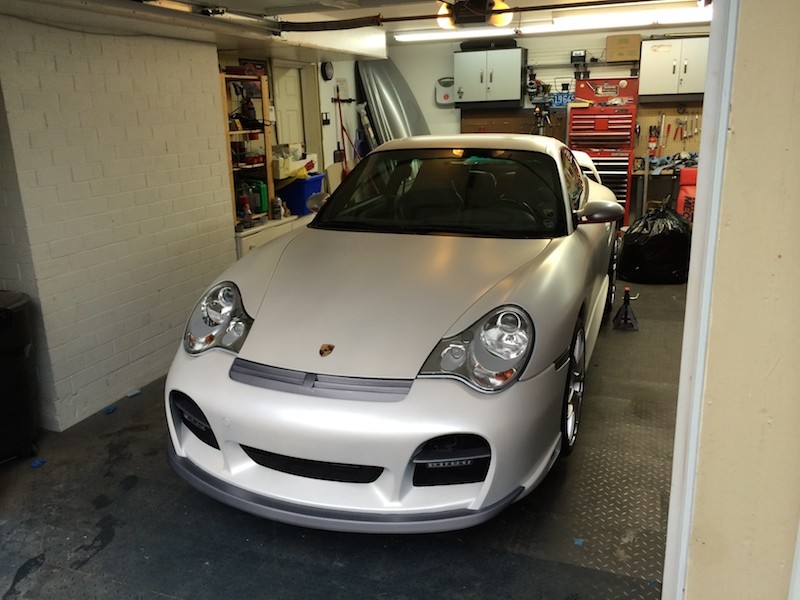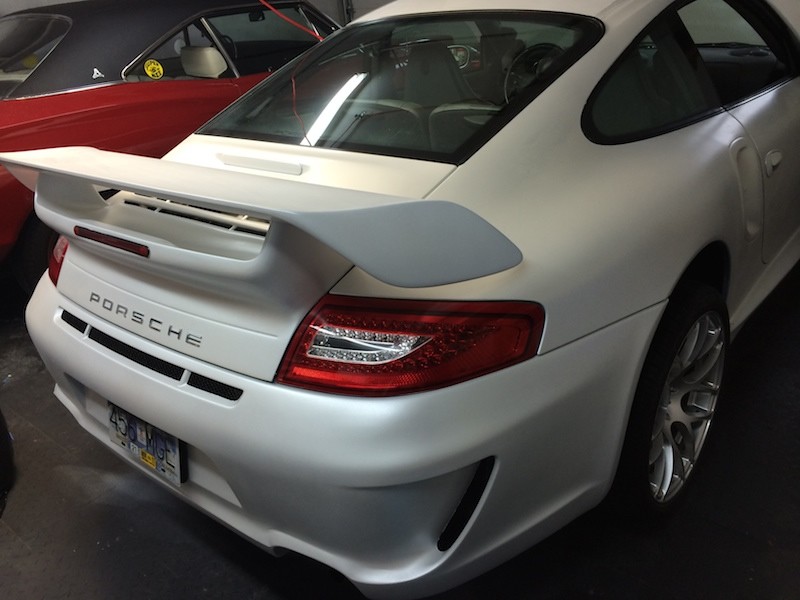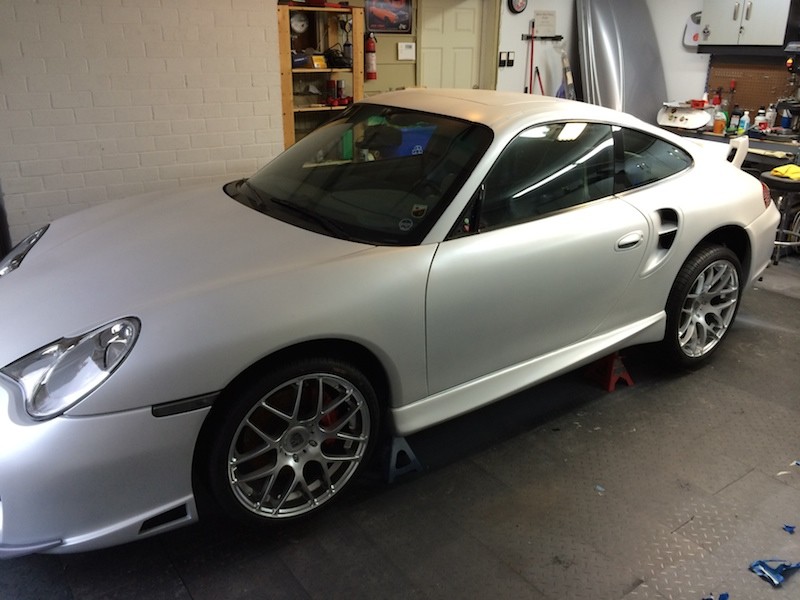 5-18-2014
I had a season with the SC before I put it down for body upgrades.

Took an epic 100km drive yesterday. Was great to be back in the P-car... Here are some pics after: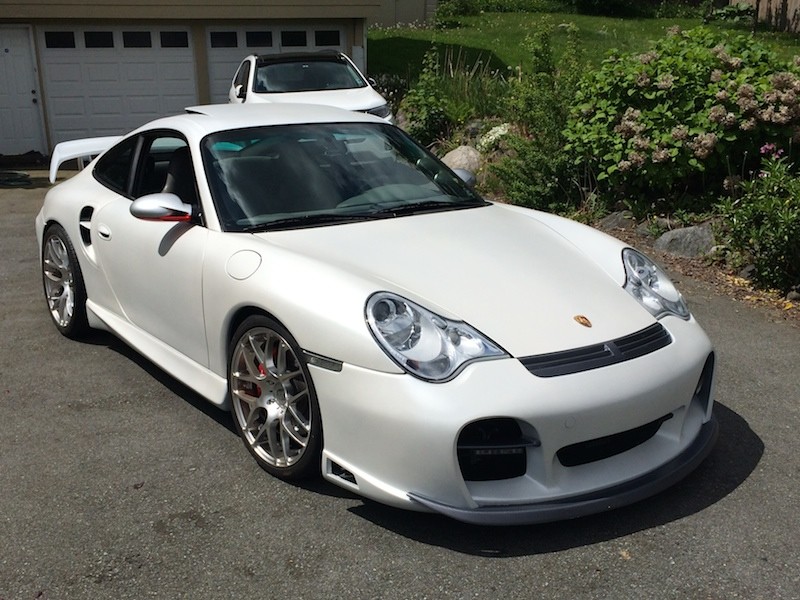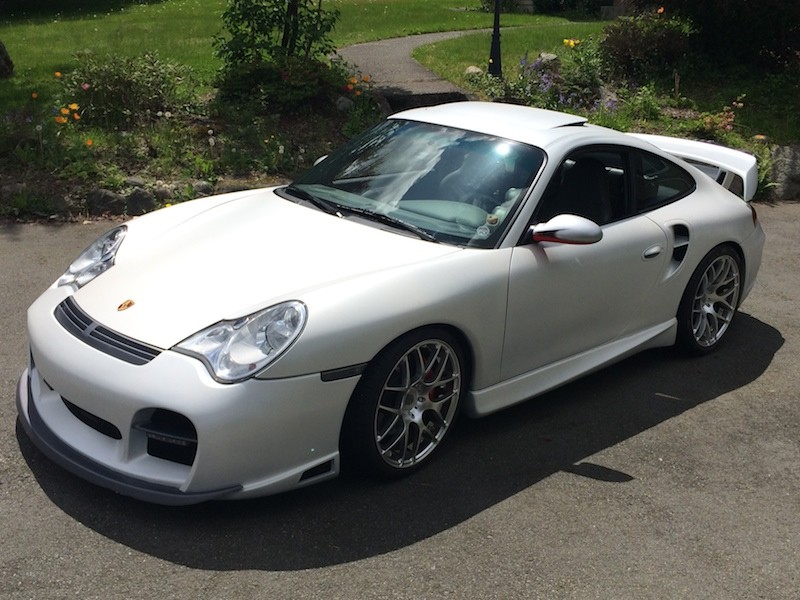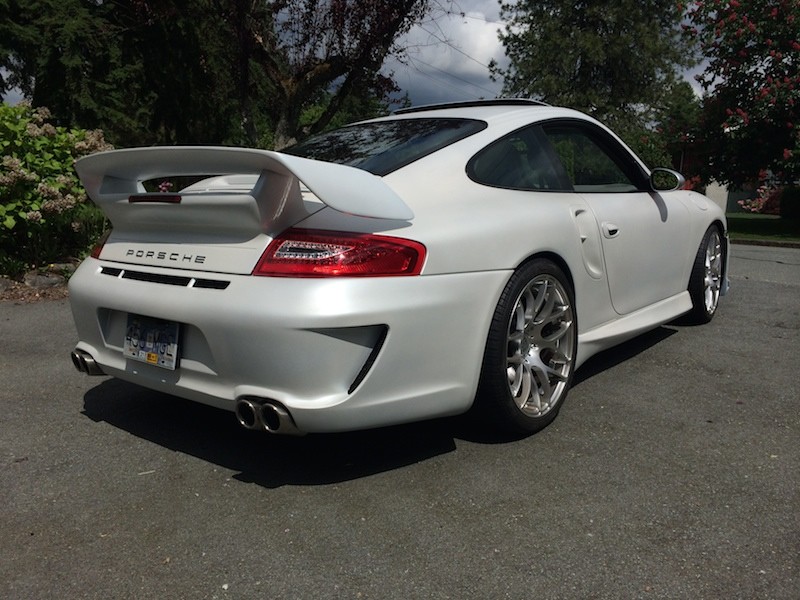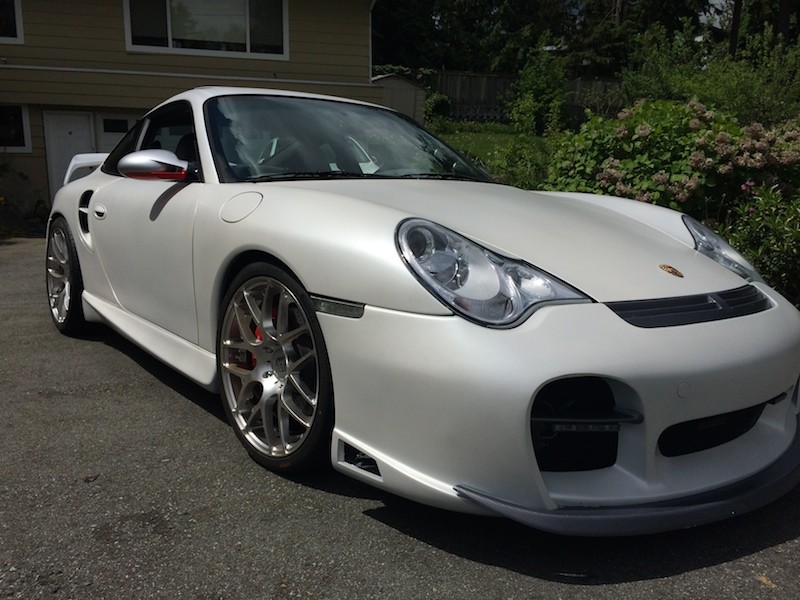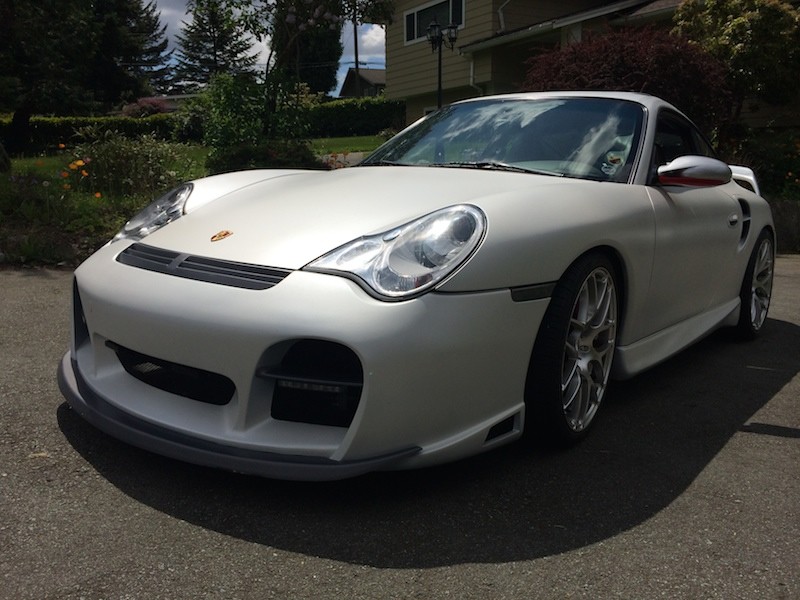 One last one...