And in rolls the SaaBeeru ... by Bradcr
By diyauto
You must be logged in to rate content!
And in rolls the SaaBeeru ...
Compliments of Bradcr @ nasioc.com
8-30-2012
I've been thinking for a couple of years that an STI hatch would be the ultimate slick keg delivery car (no, really), but brewers have changed and with a Scandinavian theme to our brews- Odin Brewing, I realized a 9-2x was the way to go. An unfortunate turn of events meant I suddenly had to find a car of my own, and luckily came across a bone stock 9-2X Aero in Northern Utah within a couple of hours of a trip I was taking.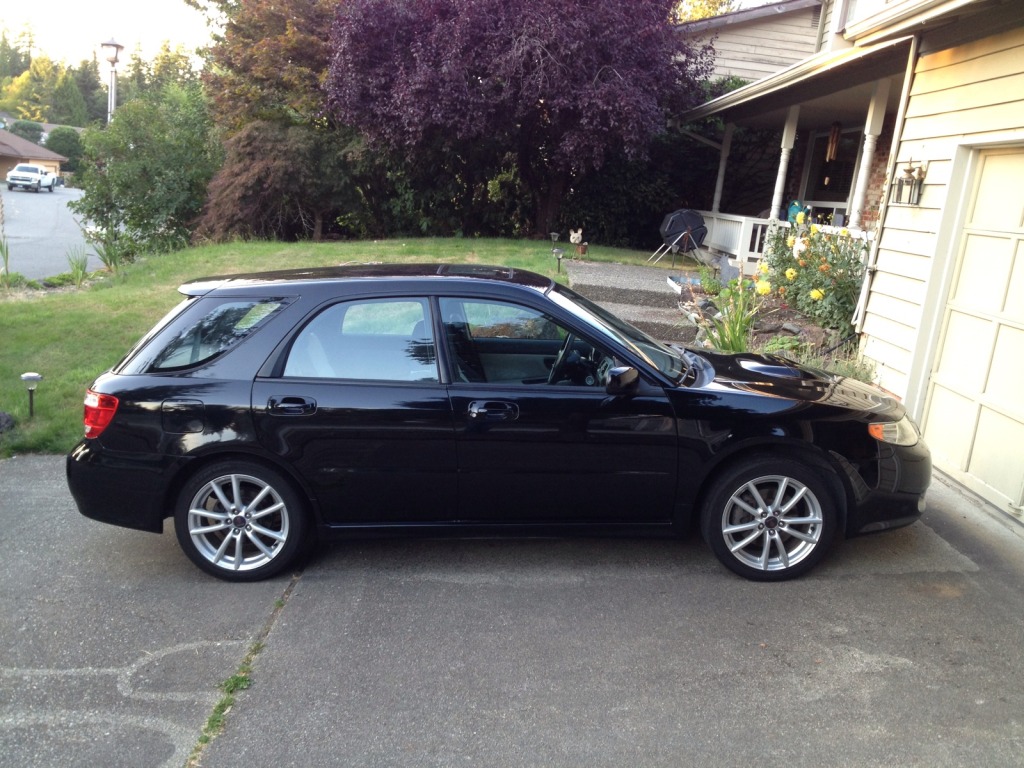 Key issues for this project:
1. Power gains- estimating 330whp with my tuner (Maxwell Power) after moving to an 18G-XT. There's a little sacrifice here, as the car may have to survive 40k miles per year at some point.
2. Comfort/Luxury- Did I mention I drive 40,000 miles a year?
3. Hauling Ability- Looking to carry 5 1/2Barrel kegs at peak which is about 80 liquid gallons, so hellaflush may happen whether I want it or not.
4. Clean look- This might be hauling a couple kegs one day and a sales manager or client the next, so no killing seats for storage or exposed FMIC.
5. Budget- Added this a bit late, but I'm not working on unlimited funds and the wife and I are decidedly middle class. This will be close to 100% my own handiwork and a bit of a challenge since all the cars I've worked heavily on are carbureted.

As the SaaBeeru sits now: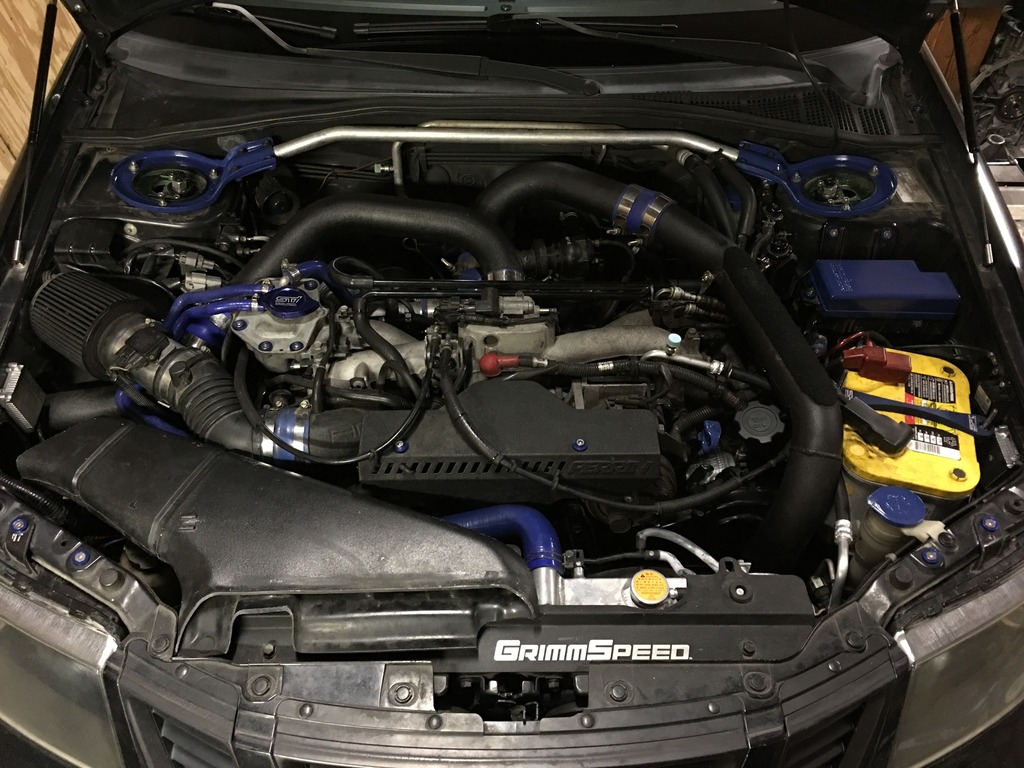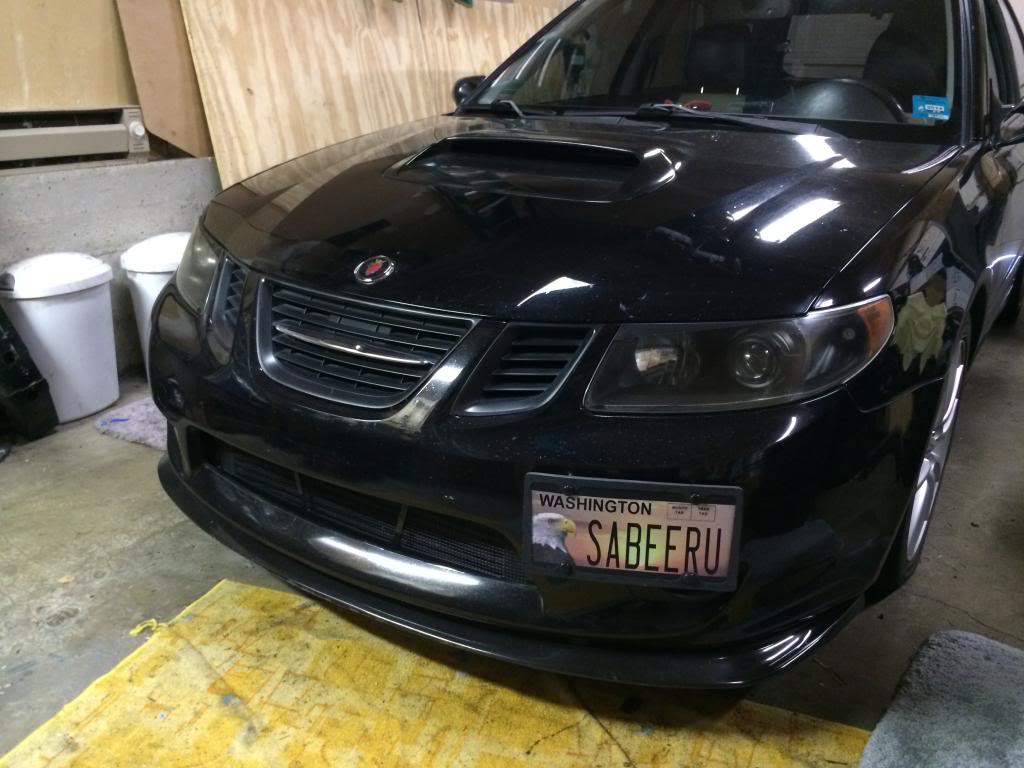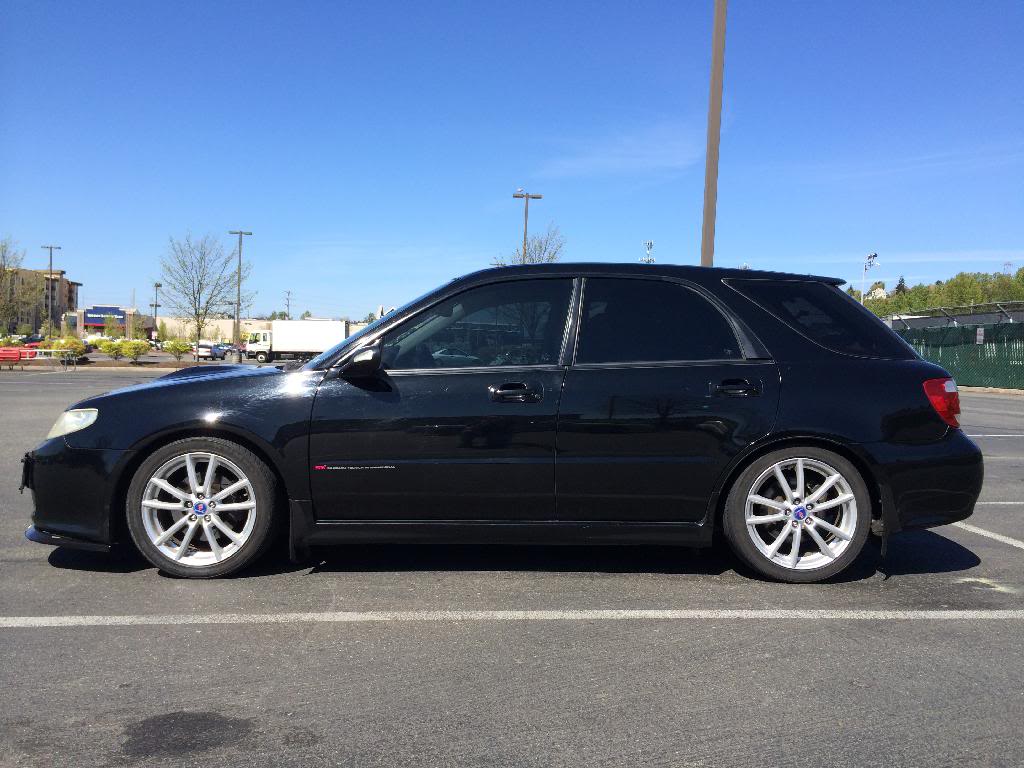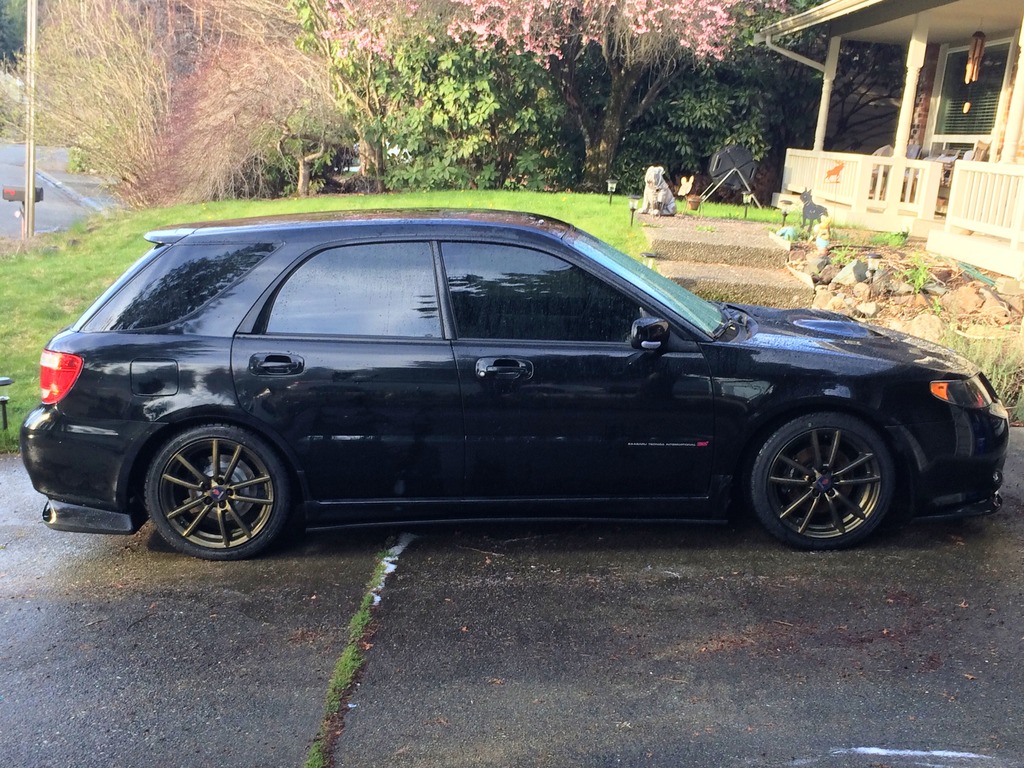 And some pro shots before FMIC install: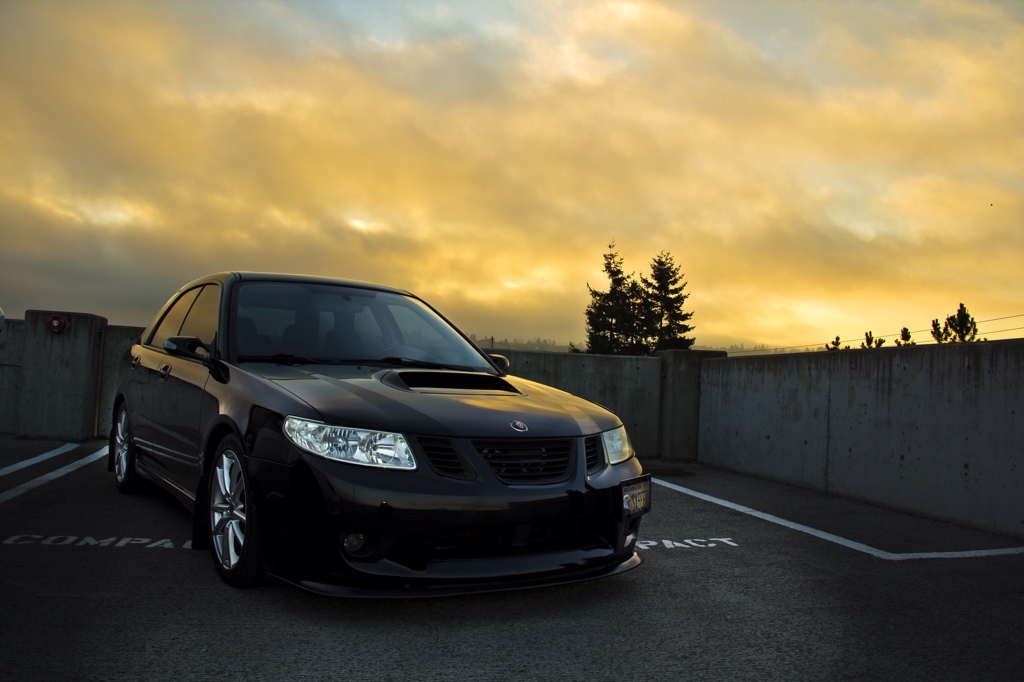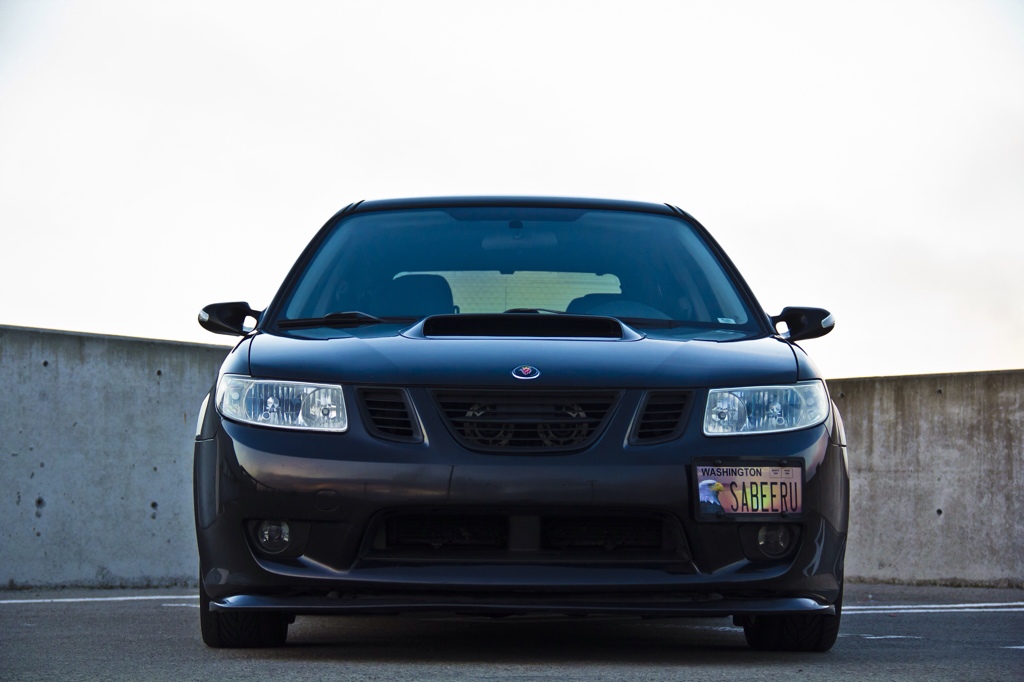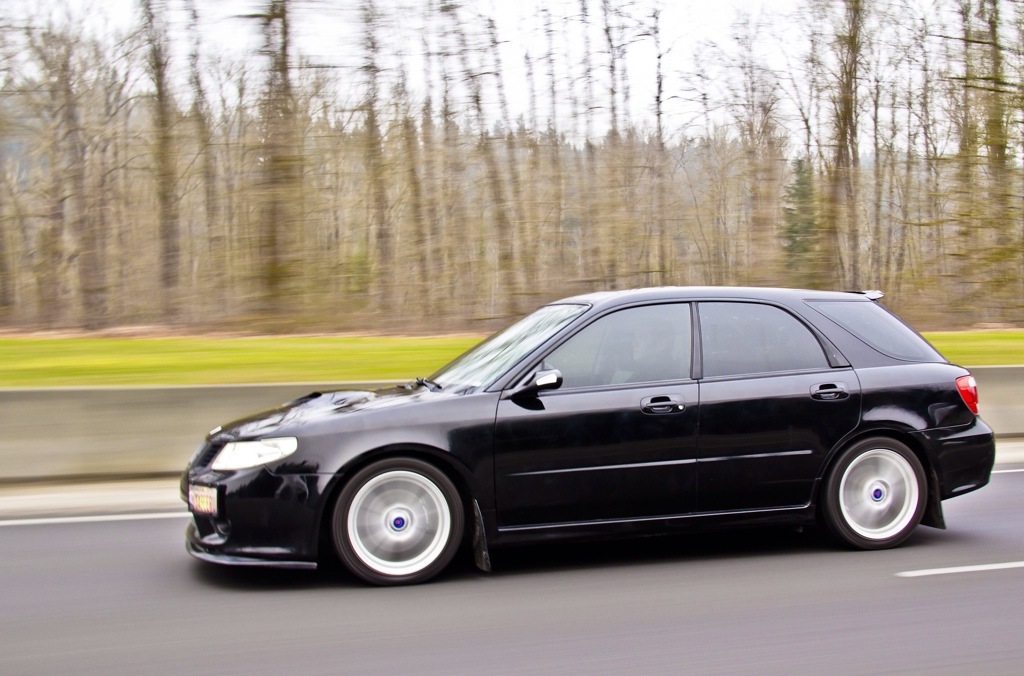 Current Mods and DIYs/Instructions I've made:Drivetrain:
Engine:
EJ257 Block
JE Forged Pistons
ARP 625 Head Studs
Manley I-Beams
Killer B Oil Pickup and 6qt pan
Hardened/Blanced Crank
ACL Race Bearings
Equilibrium Tuning Machined Hybrid Heads
Transmission:
Balanced ACT Lightweight Flywheel
Exedy HD Organic Clutch
Helical Front Differential
Cryo-treated STI-Type RA Gearset
Moore Performance Blast Plates
STI Short Shifter
Nameless Catted DP Prototype Nameless Catback Exhaust STI Uppipe Gimmick Motorsports FMIC 9-2X Install:http://forums.nasioc.com/forums/show....php?t=2511464
Synapse DV With Recirc ID1000 Injectors Optima Yellow Top Battery Walbro 255 Fuel Pump Grimmspeed EBCS Pacific TurboXS Intake TGV Deletes AMR Turbo Inlet Grimspeed 8mm Phenolic Spacers NGK one step colder Spark Plugs
Mishimoto X-Line Radiator
Mishimoto Radiator Fan Install:http://forums.nasioc.com/forums/show....php?t=2405557 Wilwood Dynapro Front Brakes with SP Slotted Rotors, Wilwood D10 Pads, SS Lines Outback Rear H6 Brakes with SP Slotted Rotors and Hawk HPS Pads
Fortune Auto 500 Coilovers
Front Strut Brace
Whiteline Rear Strut Tower Brace with quick release
Whiteline 24mm front sway
Godspeed 22mm rear sway
Kartboy Wagon-Specific Endlinks Interior: Upgraded to Leather Heated Interior Autometer Dual Gauge Dash Bezel Maddad Ultra Basic Boost Gauge Maddad Ultra Basic Oil Pressure Gauge Homelink Mirror Pioneer Avic F900BT + Backup Camera HDMI Input Conversion SSL 10" Underseat Sub (Driver's side) Subaru Under Seat Subwoofer (Passenger side) Compustar CS-700AS Security System and Remote Start Black out AVIC Controls Black out HVAC Controls
Custom Wood Center Console (Hydrodip)
Mishimoto Weighted Shift Knob Weathertech DigitalFit Mats Custom Rubber Cargo Tub DIY:http://forums.nasioc.com/forums/show....php?t=2433547 Cargo Area Draft rig for 2 1/6bbl Kegs Rear Seat Quick Release Pins DIY:http://forums.nasioc.com/forums/show....php?t=2431817 Extensive Sound Deadening (-7 Db) Exterior/Engine Appearance: 17x7.5" Factory 9-2X Enkei's with Saabaru Center Caps 2nd Set 16" 9-2X Wheels & Blizzak Tires
STI Side Diffusers
GT 500 Rear Diffuser
Vanity SABEERU Plate With Relocation Sickspeed Supertones Door Keyhole Deletes Blacked out Grill and Lettering Custom Black Background Griffin Badges Replica V-Limited Lip 9-2X Install:http://forums.nasioc.com/forums/show...2#post38578142 18/25 Tinted Windows Cleared Headlights Raised Spoiler (now back to stock) DIY:http://saab92x.com/viewtopic.php?id=41197 DIY Rear Bumper Guard Grimmspeed Radiator Shroud Perrin Alternator Cover IxizHood Struts
I'm thinking rather than just equipment represented behind the C Pillar I'll get my drink-related representing mixed in. The car came with the AP and Cobb Stage1 map already so the previous owner had that tag on- added Brewdad.com that we sponsor and The Bucket Society is our amateur Subaru drinking team, so that kind of covers it from both sides...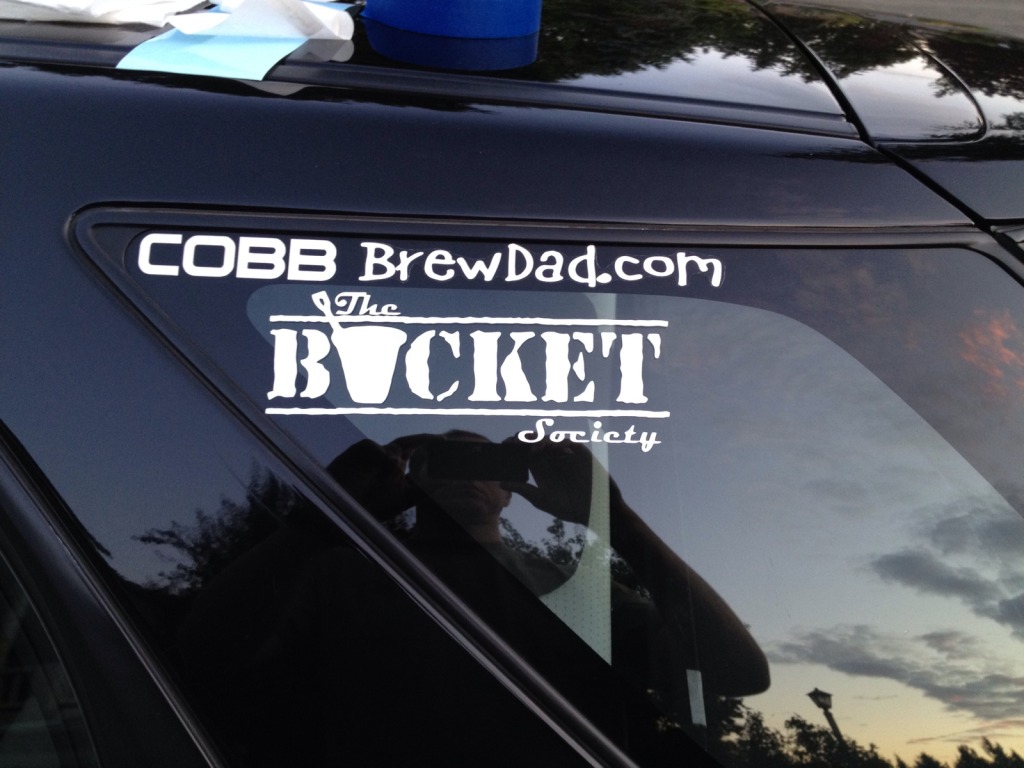 9-6-2012
The prodrive mudflaps I picked up were short a U bracket, so I figured out that an old license plate comes in handy...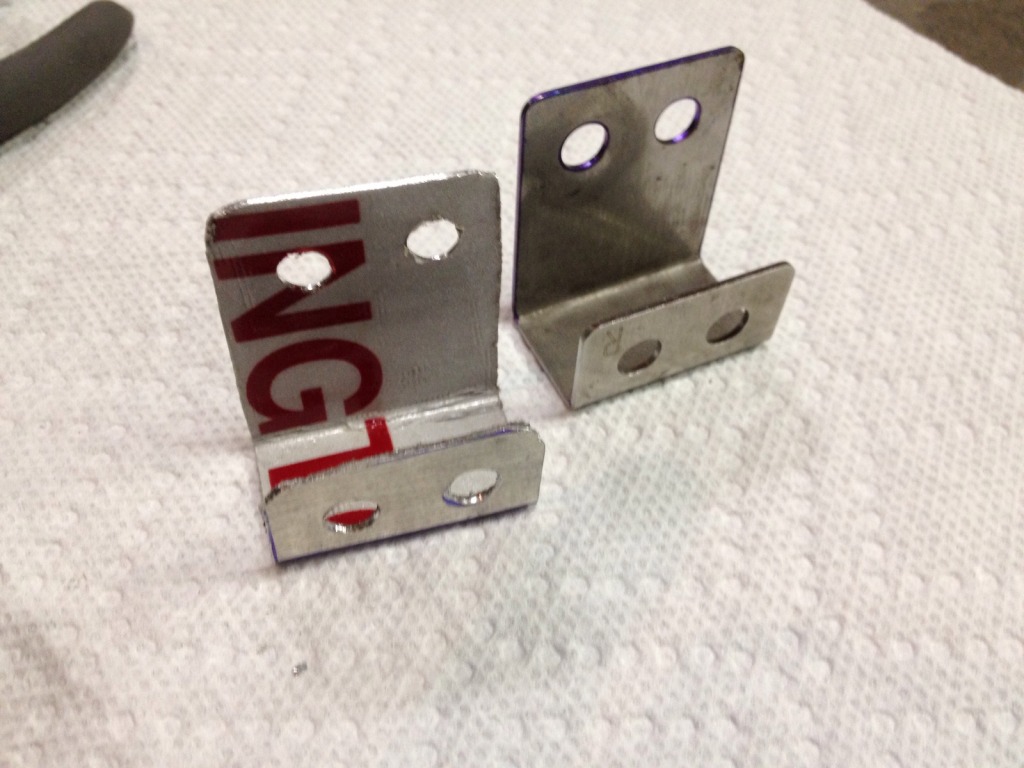 Oh, and btw, prodrives don't fit a goddamn 9-2X!
Getting started on the white theme under the hood now.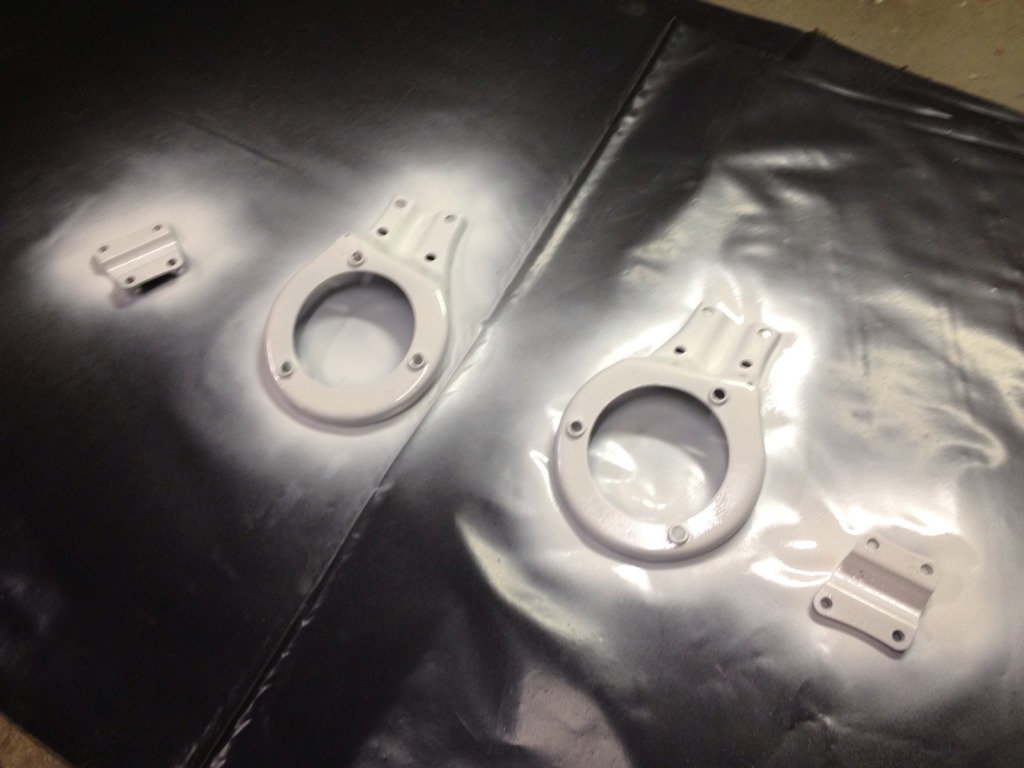 I figure going this route will keep the pressure on me to keep it clean.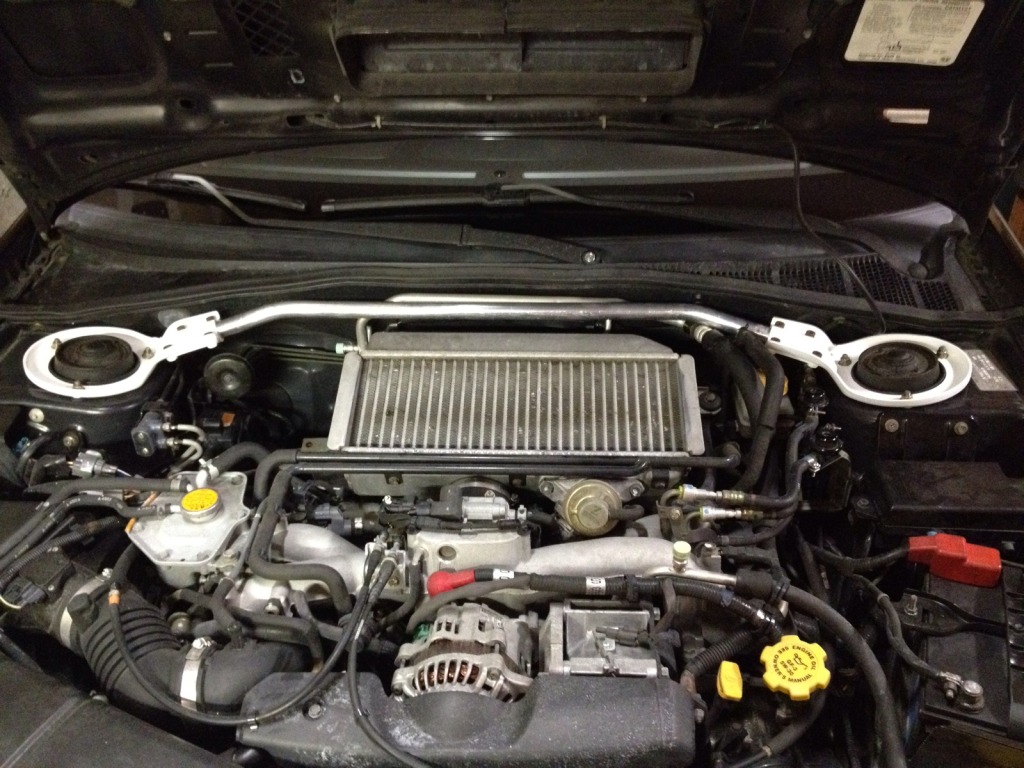 9-11-2012
Nice Unicorn find; I was just glad to find an Aero I could pick up in person. As for custom fab, you'll find it's kind of my thing:
http://forums.nasioc.com/forums/show....php?t=2405557
Can't believe I couldn't find any instructions on a Mishimoto shroud, but at least I can save someone else the headache. I may do a custom install thread on Prodrive flaps in a wagon now that I know the Rally Armors are a bad fit too.
Got in the overflow tank, new belts, new shroud and fans, did a little more white painting and did my first oil change: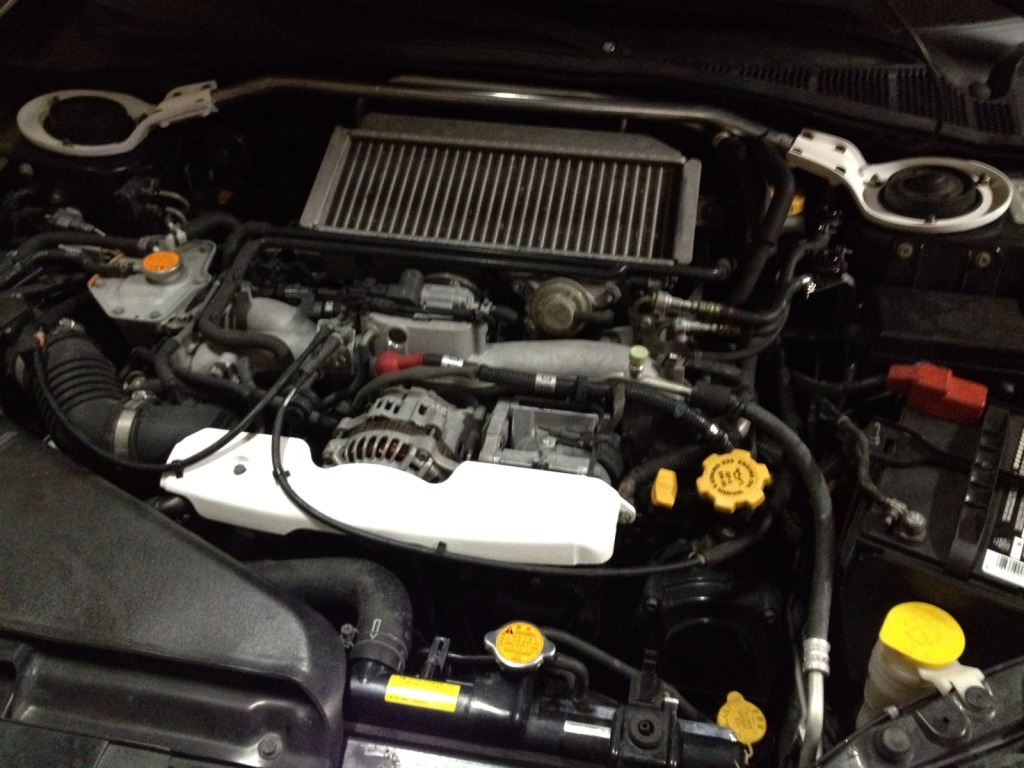 Unfortunately, now it looks like the sub fan wasn't my issue, and I probably have bad wiring going to the sub fan since the Mishimoto won't turn on either and the relay is working fine. I'll probably try direct wiring my old sub fan directly to the battery and see if it turns on, then off to finding wiring schematics

The plan is to go to an 18G-XT with a 7cm housing, so all those mods are in the cards already. The transmission will be the big ticket item; I actually have most of the supporting mods for the turbo already, so I'll probably redo the uppipe/exhaust and then work through cosmetic and non-tuning required mods and keep an eye on the budget, then do every single mod beyond that at once (FMIC, fuel system, Turbo, BOV), and retune at that point since those items are all kind of a waste to do by themselves as it is.
Still looking at the 6 speed swap on my own, but have a mechanic who may be able to source one cheap enough to make up for his labor. Only issue is neither of us have done one before, but at least his work comes with a warranty.
At least today I got some good news about the Stage 2 level of my build- sounds like I may have the power to keep me just below the 5MT breaking point, but strong enough I won't feel rushed to deplete my account and overwhelm the garage. I'll only have cosmetic mods for the next Month or so but have a sweet deal coming my way after that.
9-12-2012
Yaaay, because Ricecar: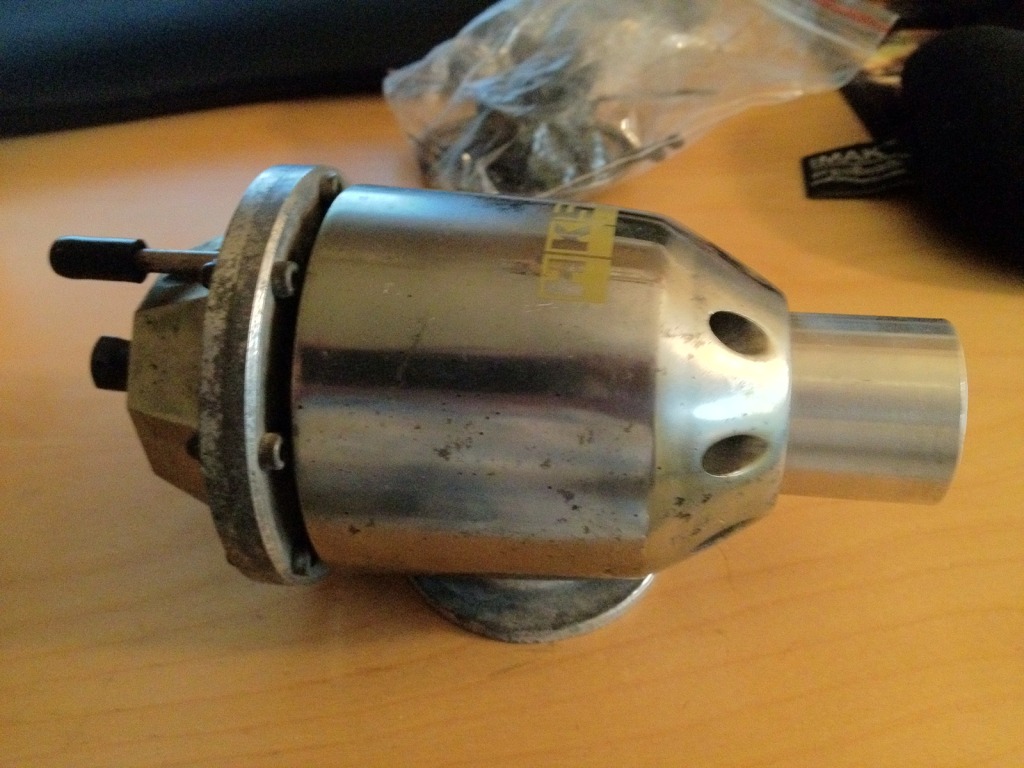 9-13-2012
Of course after all the Mishimoto work, I figure out that the sub fan harness is dead

I'm unable to locate the short, so in the meantime I built this custom harness to run both fans off the main fan harness. At least with the Mishimoto I won't be chewing up the wires...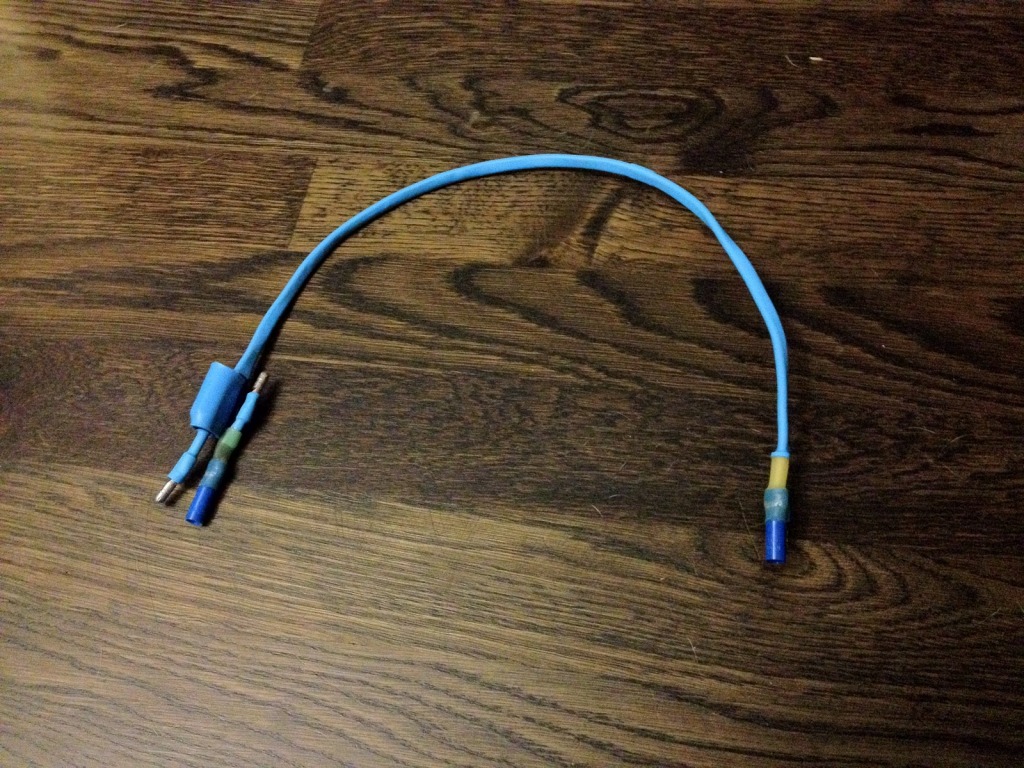 9-15-2012
Most people see this and see the perfect opportunity to clean the carpet: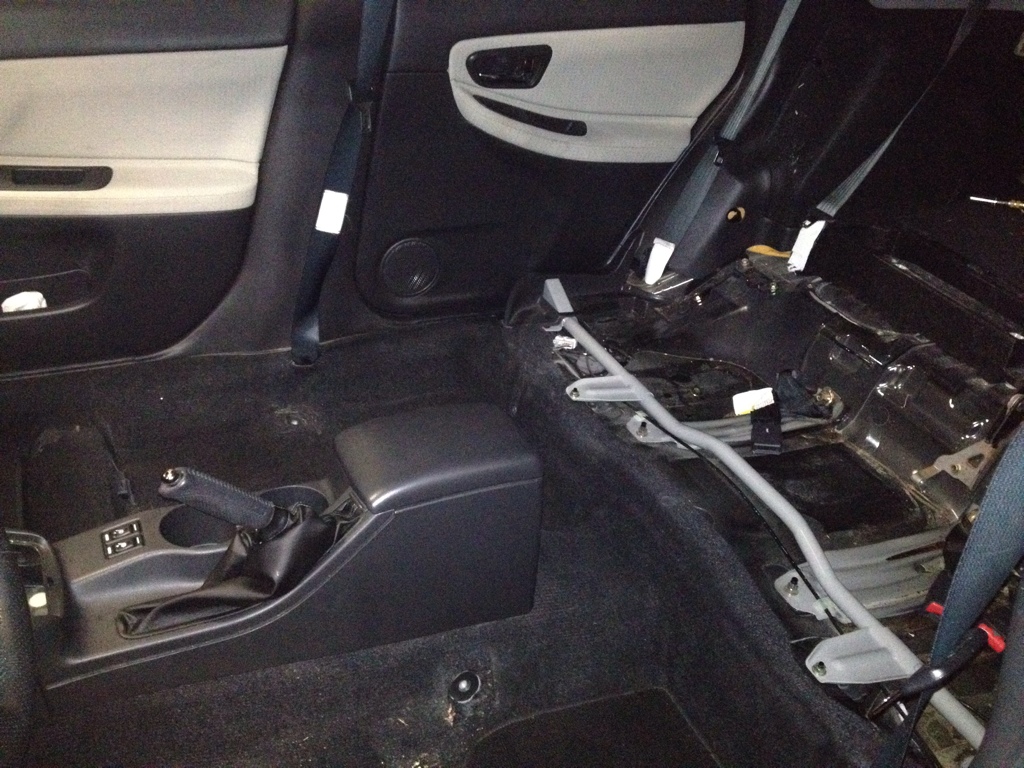 Nope, time to bust out the spotbot and go to work on the ceiling!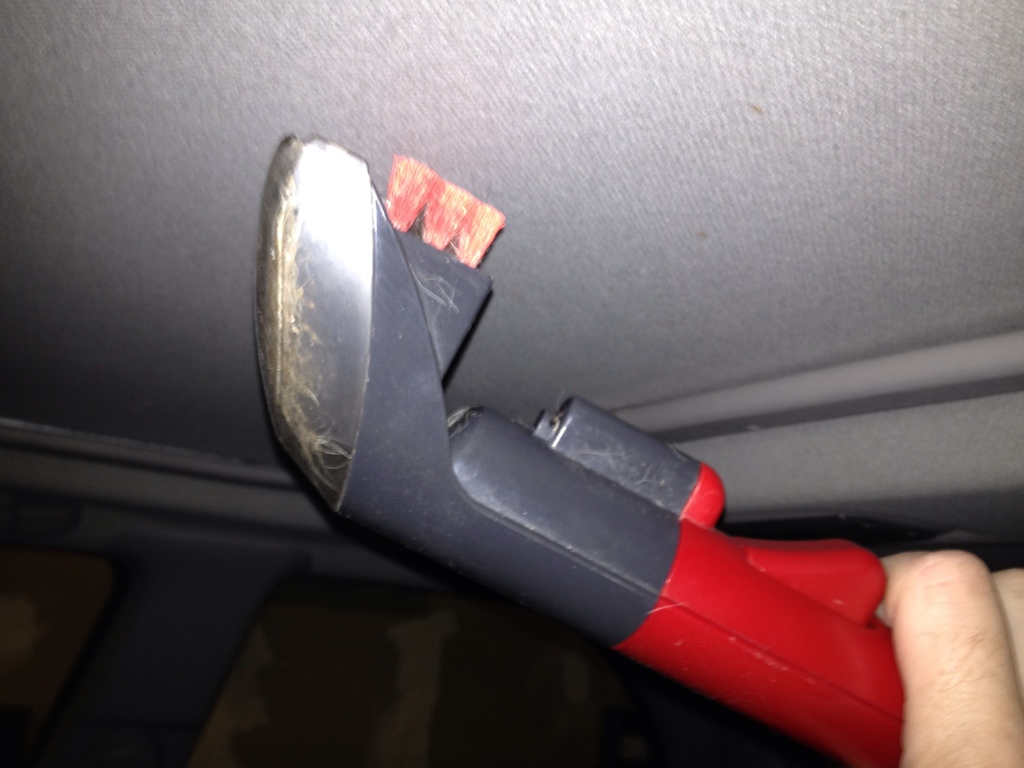 9-19-2012
Full leather conversion with heated seats is done. Took the opportunity to hit some stained (cigarette burn?) dash pieces with rubbing compound to fix this issues once and for all. Also swapped to a Browning pistol shifter. It sits too high meaning the short shift kit may come early, but there's a few positives:
1. Perfect interior match.
2. Closest shifter BY FAR to the feel of the old Porsche shifters I loved.
3. Only $20, and as bad as Autozone is, they let me tear apart the box to get a feel of if first with no issue.
4. I'm not a big gun owner, and this is way classier than the 'Protected by Smith & Wesson .45 logo'd model.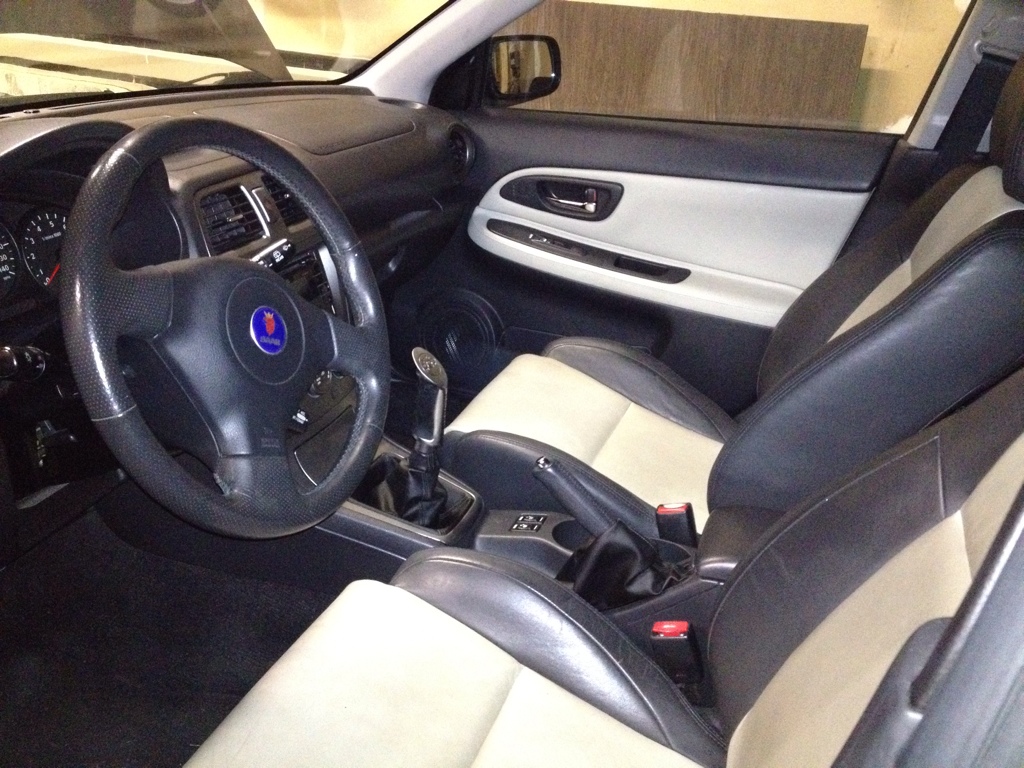 Feel free to message if you're looking for a 9-2X cloth interior, I'll be posting it soon.
9-20-2012
Just more cosmetic touches today, decided to use some old WRX badges just in case a tow ever comes calling: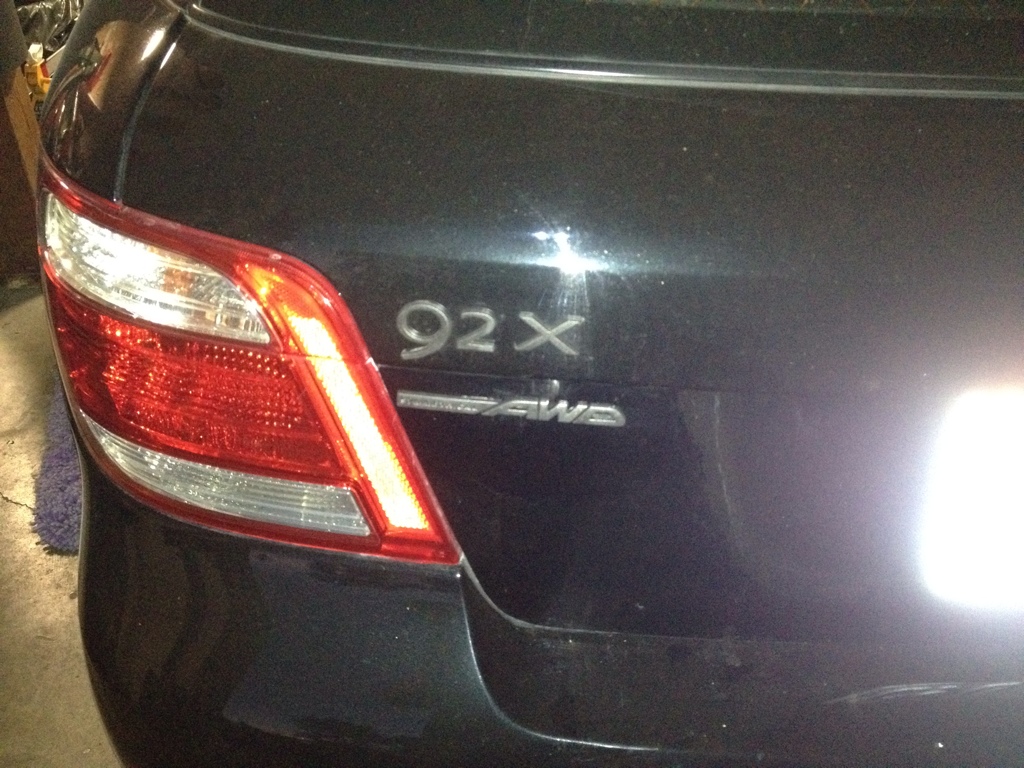 Sanded down some rust and got some more white in: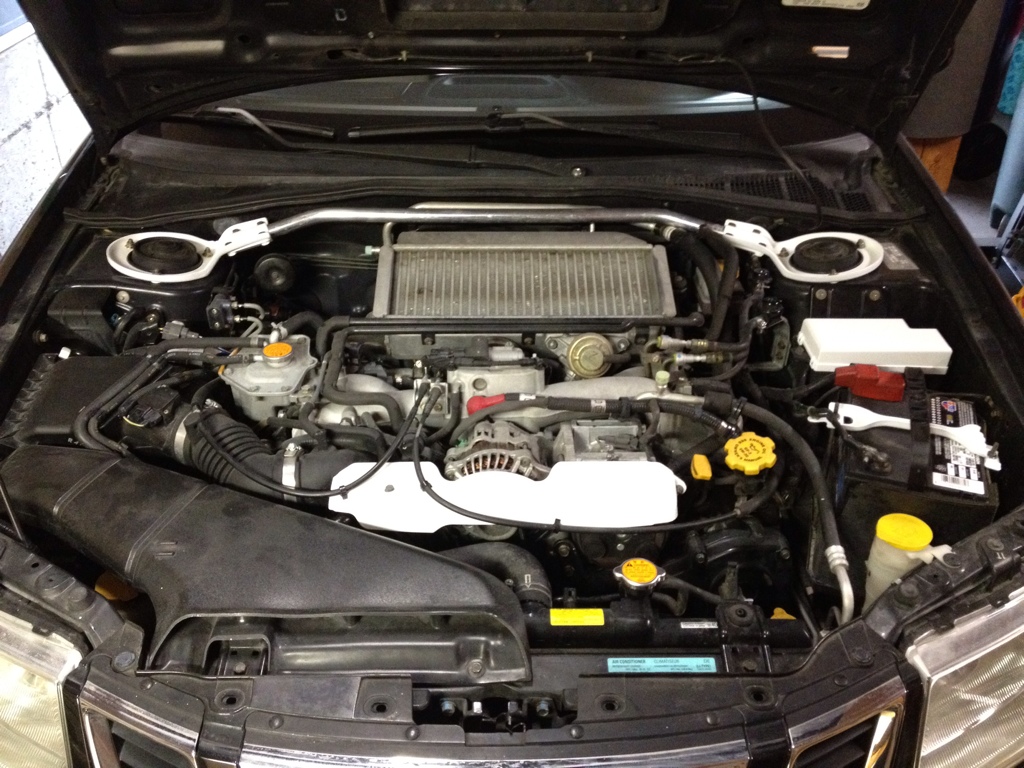 9-22-2012
Keeping it brand solid- got 16" Saab rims wrapped in Icebears well before the snow hits.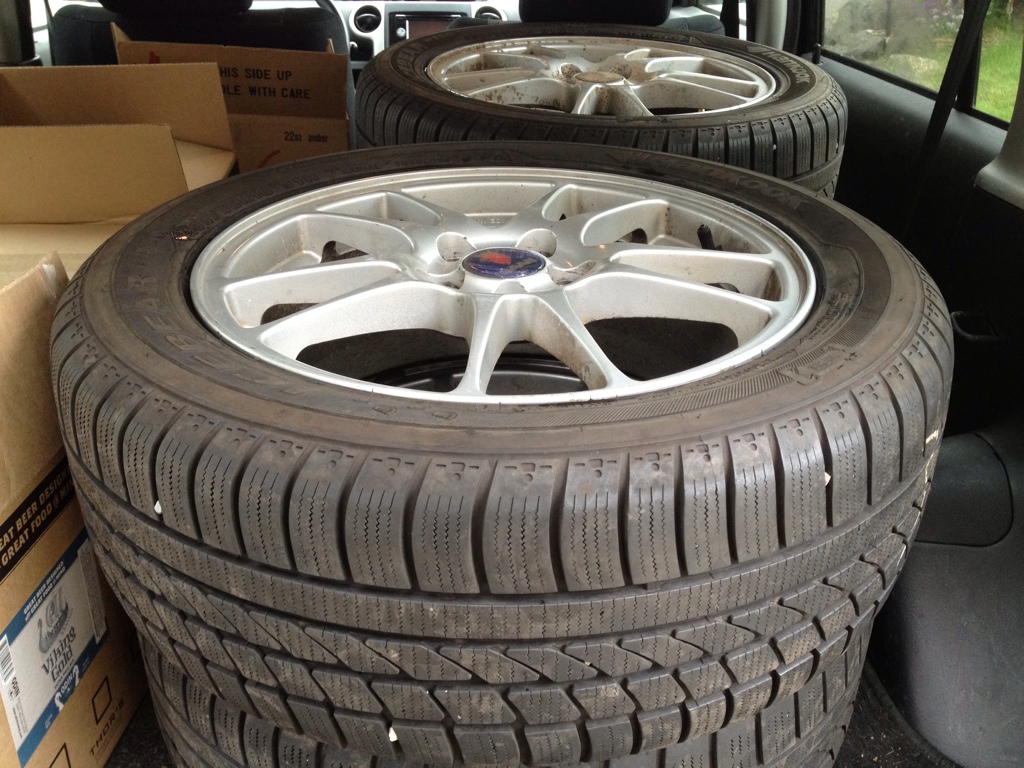 9-30-2012
Still going through cosmetics, got stuck on a couple of major PITA projects.
Easy project: put on a fairly stock looking offset plate. 4 huge positives here:
1. The 9-2X bumper is thick enough there's zero light or body-line occlusion.
2. Obviously all set for the Gimmick FMIC upgrade.
3. This is the first front plate the car ever had, so the front bumper is perfect with no plate-delete badging.
4. I registered first for a truck plate, then went back a week later for personalized, so when the 'SABEERU' plate arrives, I can still get commercial tags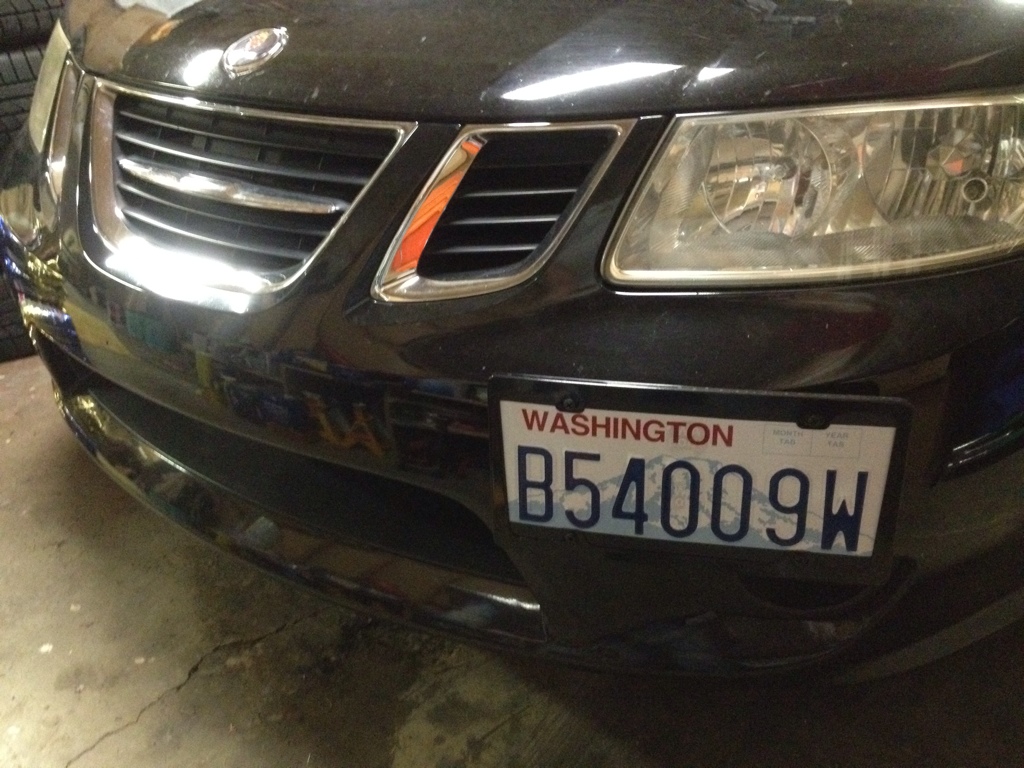 PITA project number 1: Prodrive Mudflap wagon install is done. I'll post a How-To on these as well, I seriously want to save anyone the headaches I had. So sick on a black wagon: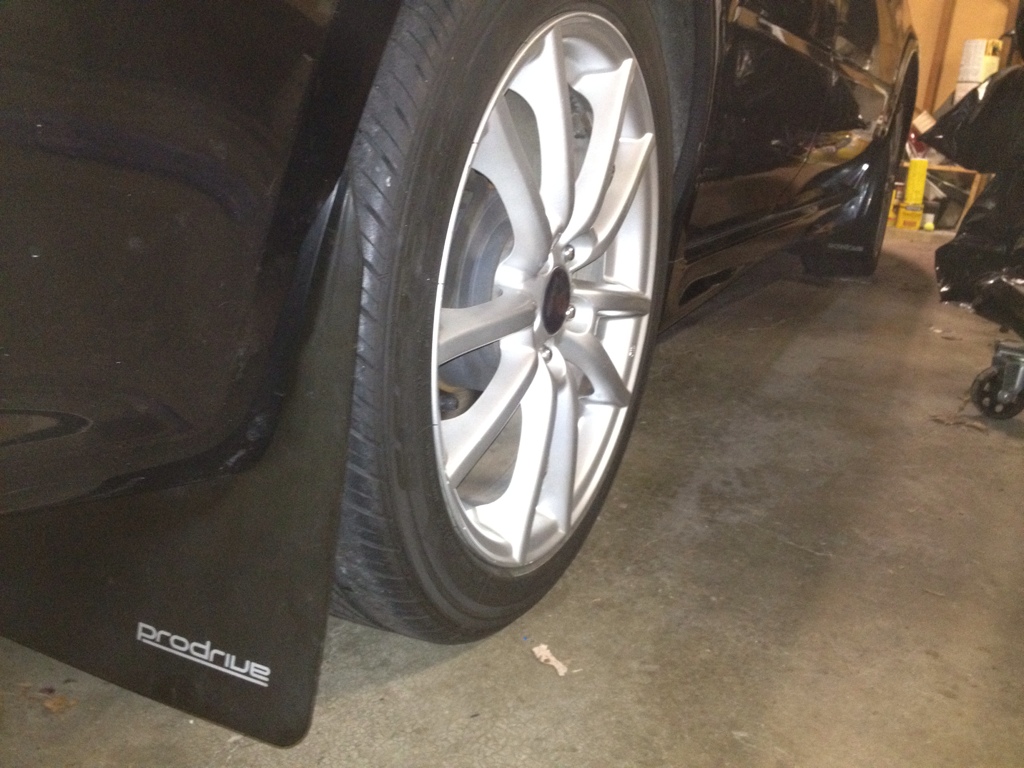 PITA project number 2: Turn signal rear-view mirrors. I was stoked to see these were a $40 mod, but what a cheap frustrating piece of s**t. I've got 5 hours in the mod so far and it will be finished, but it took me 3 hours of convincing myself I was an electrical retard before I realized some idiot at the factory had miswired the driver's side mirror so it would never work right. Tore the mofo down, and despite being a soldering moron, I changed the polarity on the motor. I seriously did a happy dance in my garage after this one: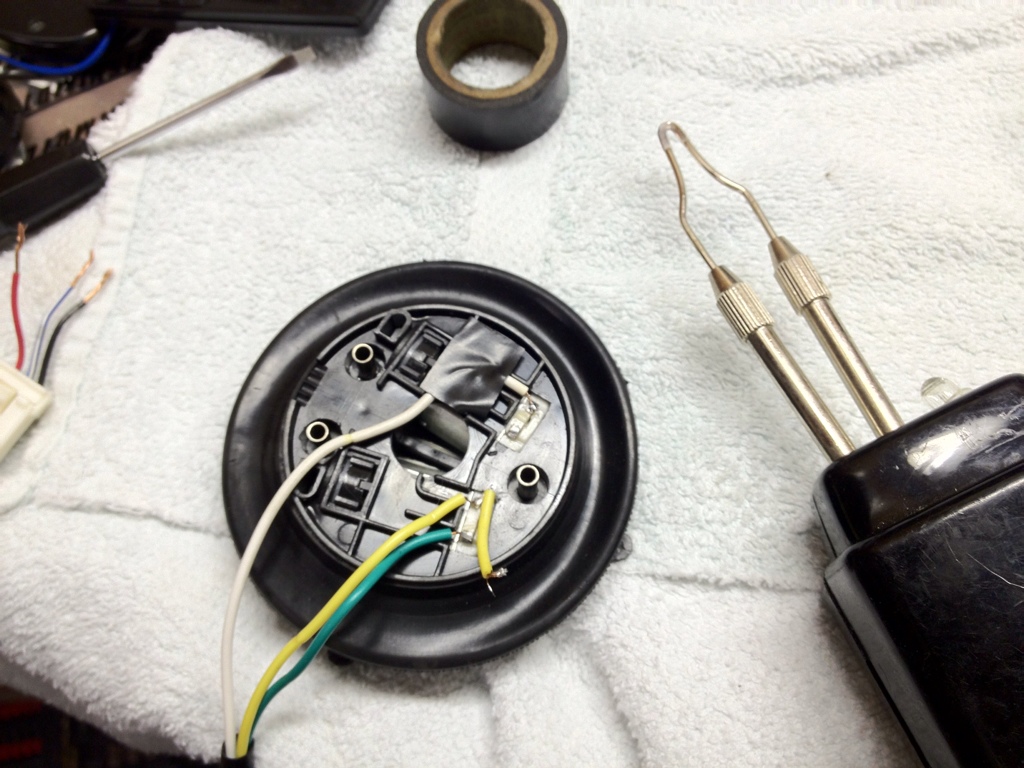 Sorted through all the notes, so here are the instructions on mounting set of Prodrive flaps on a wagon if anyone wants them:

http://forums.nasioc.com/forums/show...2#post38166102
10-4-2012
Before: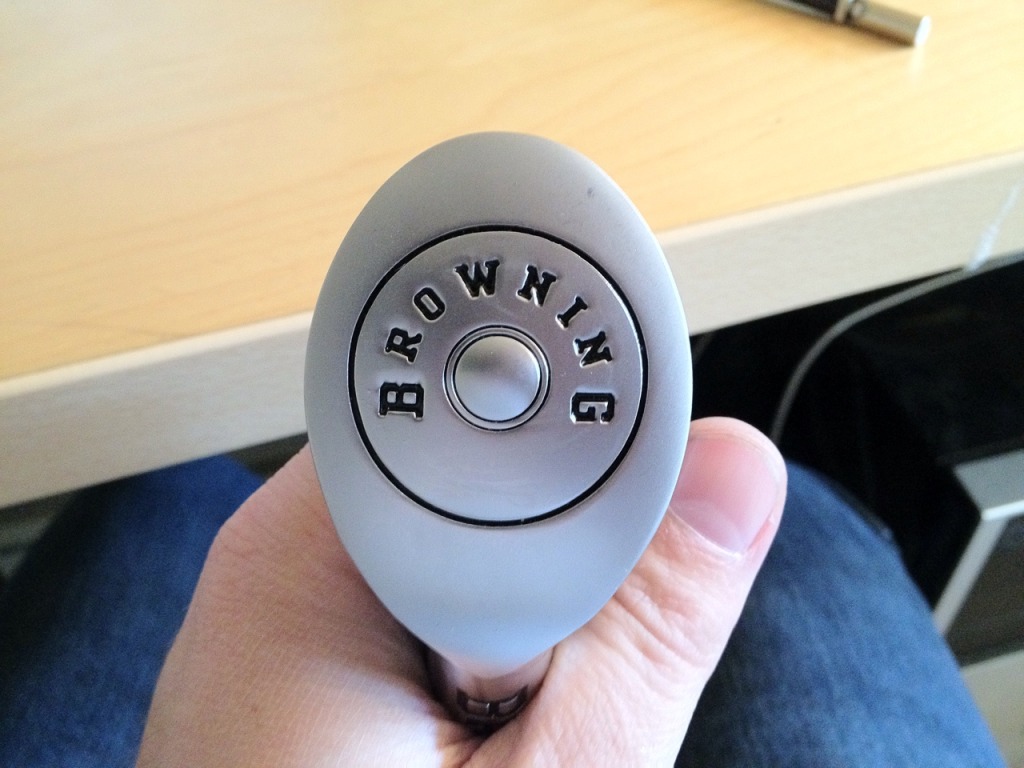 After: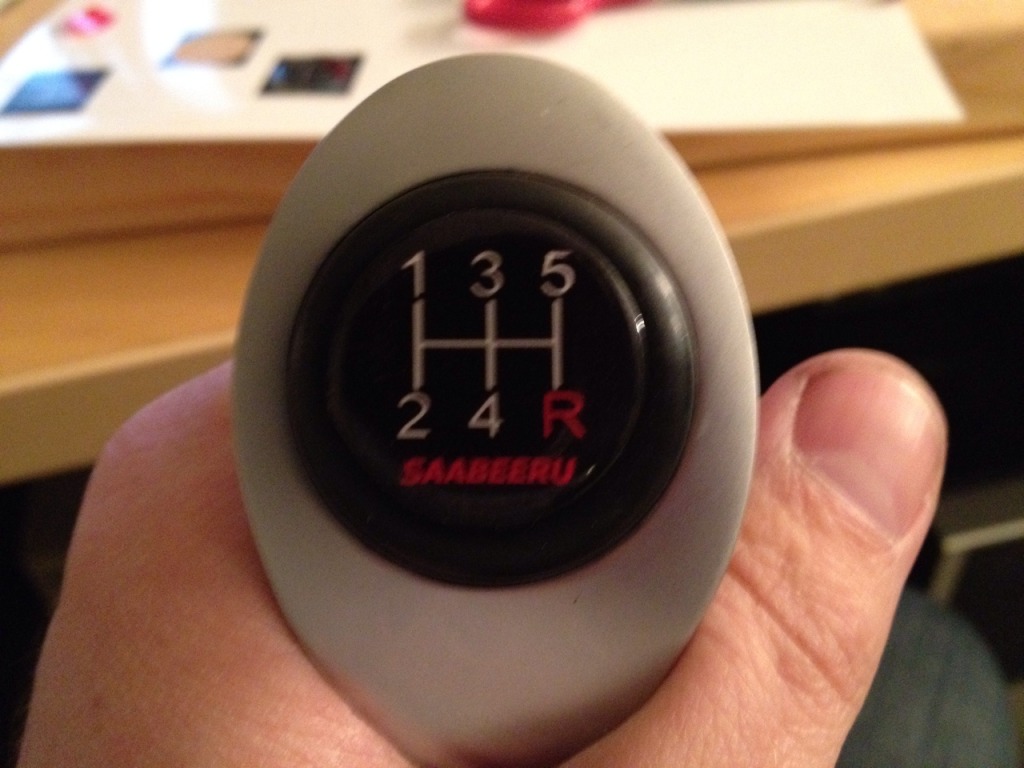 10-8-2012
Finally finished the turn signal rear view mirrors: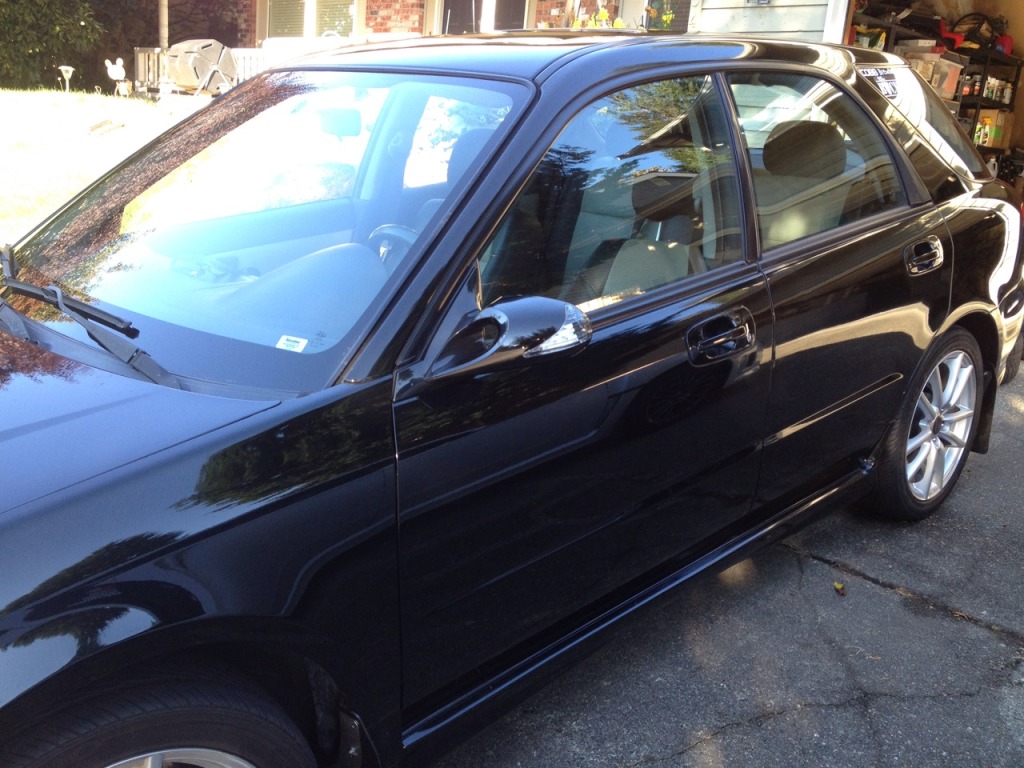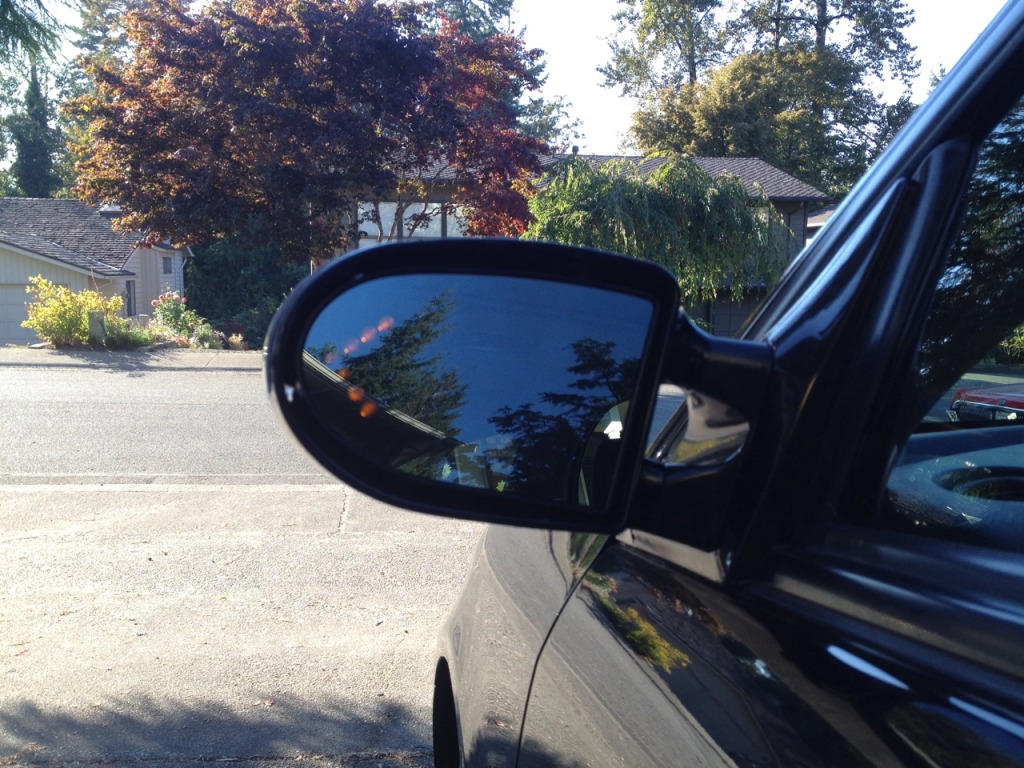 I've got to say, while I'm definitely happy with the final product, I can't recommend this mod for anyone. While it's cheap ($40), the labor to install is ridiculous. True, I know someone with better familiarity with running door wiring will be much faster, I wound up having to tear down both mirrors and rewire their motors to work properly with our controls. On top of that, the mirrors are quite small, but worst of all, the passenger side mirror is slightly concave an produces a 'zoom' effect. This makes the field of view too small, amplifies vibration and makes lights behind you brighter at night. Very cheap despite the improved overall appearance of the car with these.
10-12-2012
And here's where the flaming begins...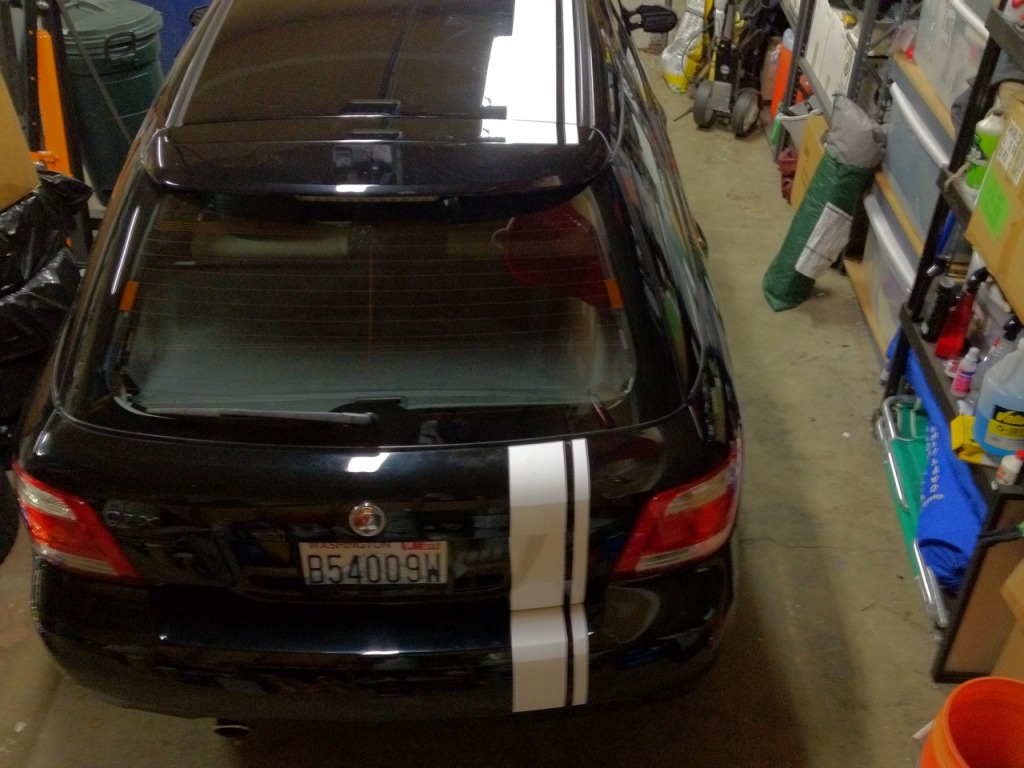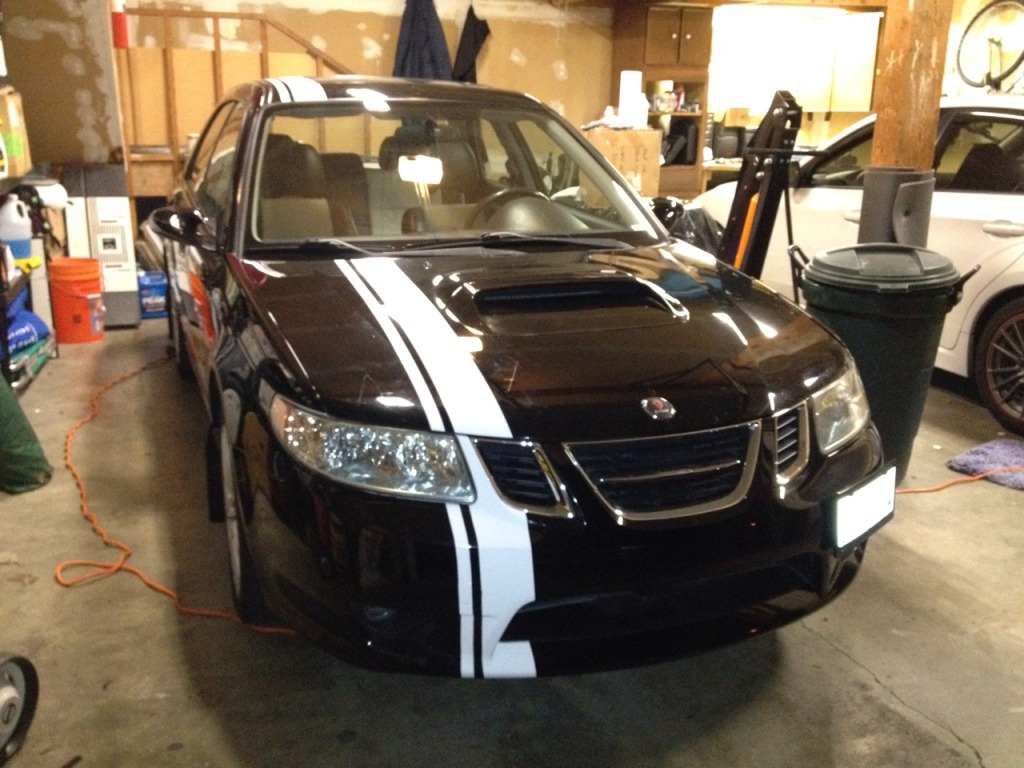 On a side note, if you don't think your shifter is thick enough, try baseball grip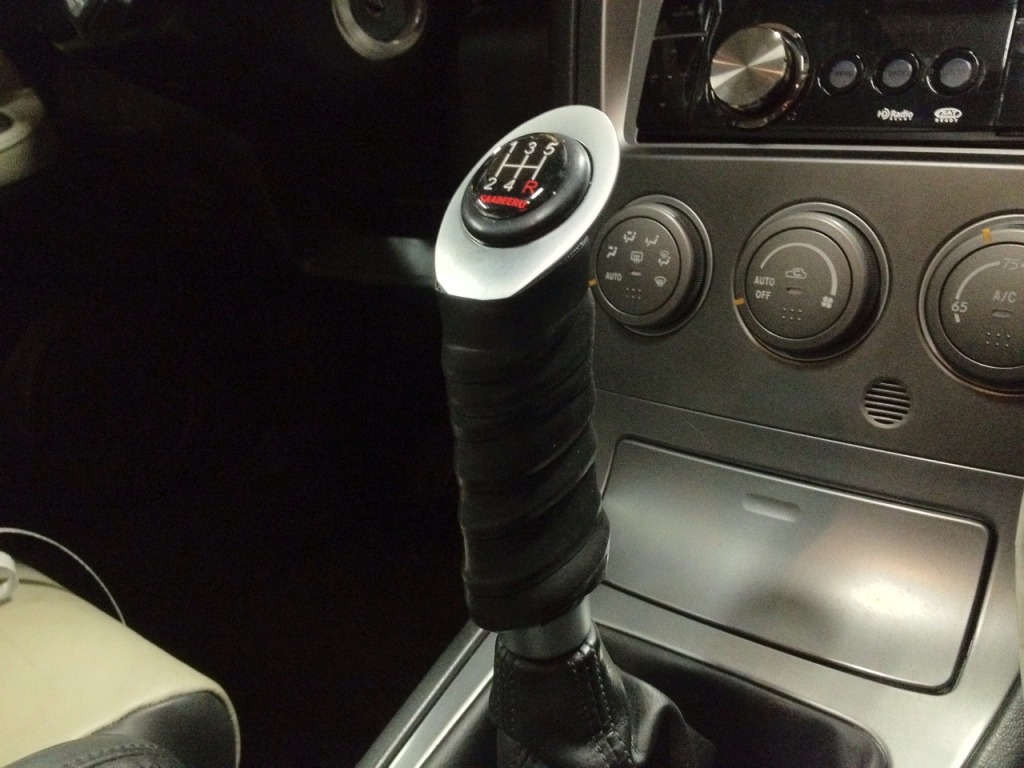 10-26-2012
Got the thumbs up from my shop to go ahead and throw on an intake. Still no Stage 2 power until maybe January but at least I can hear my turbo, and throttle response when not in boost is much better. Took a mix of a TurboXS intake, new AEM filter and SPT heat shield

also used it as an excuse to get a lot more white under the hood and the Sabeeru plate makes it far more official.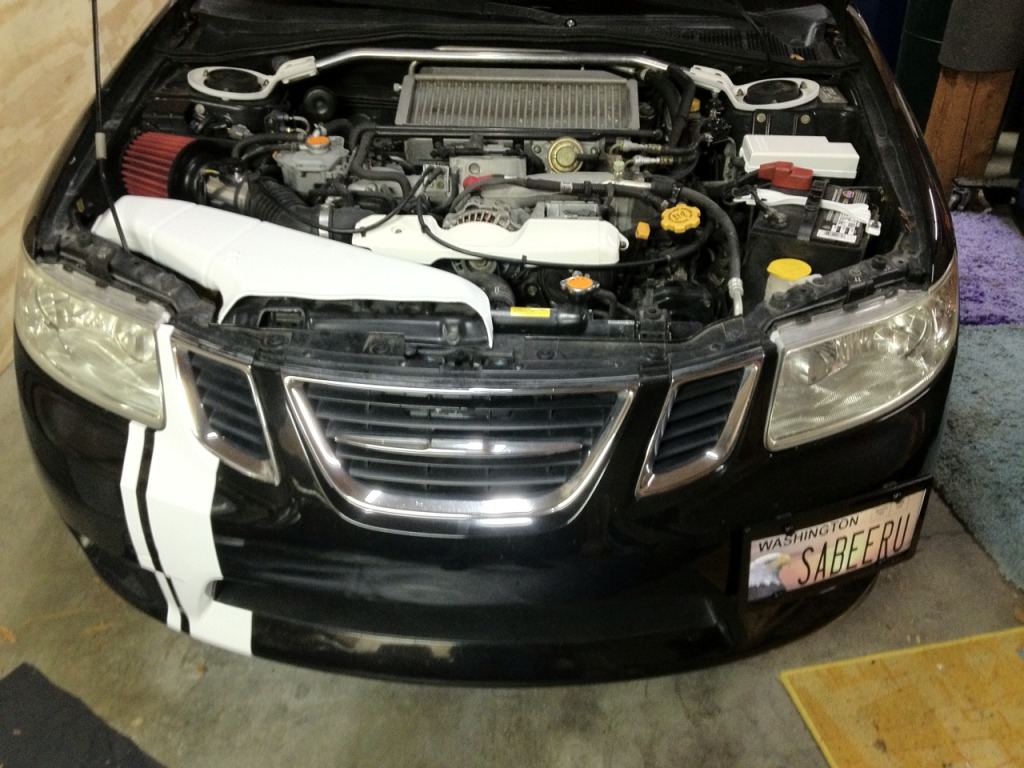 Oh well, guess I called that one...

had the stripes for a couple weeks now and still getting good responses, so looks like I'm leaving them on. I'm still kind of meh on the rear view mirrors, but that's entirely based off the passenger zoom effect. The appearance is still fine to me, albeit not as stock as I'd like; I may look into STI mirrors as an alternative at some point. I think I just need to get the wife's Canon once the brakes and coilovers are done and try to get some shots that don't look like it's wrapped in reflective tape... I'm also trying to get a balance for when graphics like this go on the side: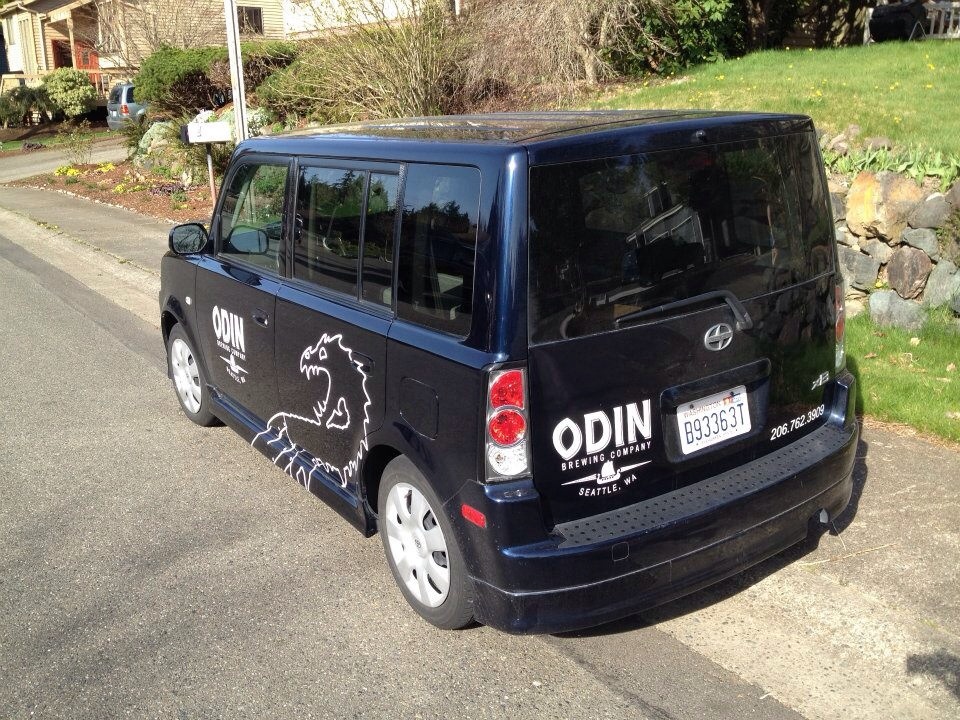 Did say screw it though- I'm putting on the Cobb Downpipe next weekend and when we're ready to set up the Prototype exhaust I'll switch back to the stock DP for the baseline dyno test. Would do it this weekend, but we're putting the divorced Nameless DP on the WRX

Most annoying thing is there will be 4 DP installs on the SaaBeeru: Cobb, Stock, Prototype, and then Prototype again when I do the uppipe.

11-3-2012
Here's the DP with the cut stock shield in place, nothing special, but I figure it will stop accusations of only gaining HP via stickers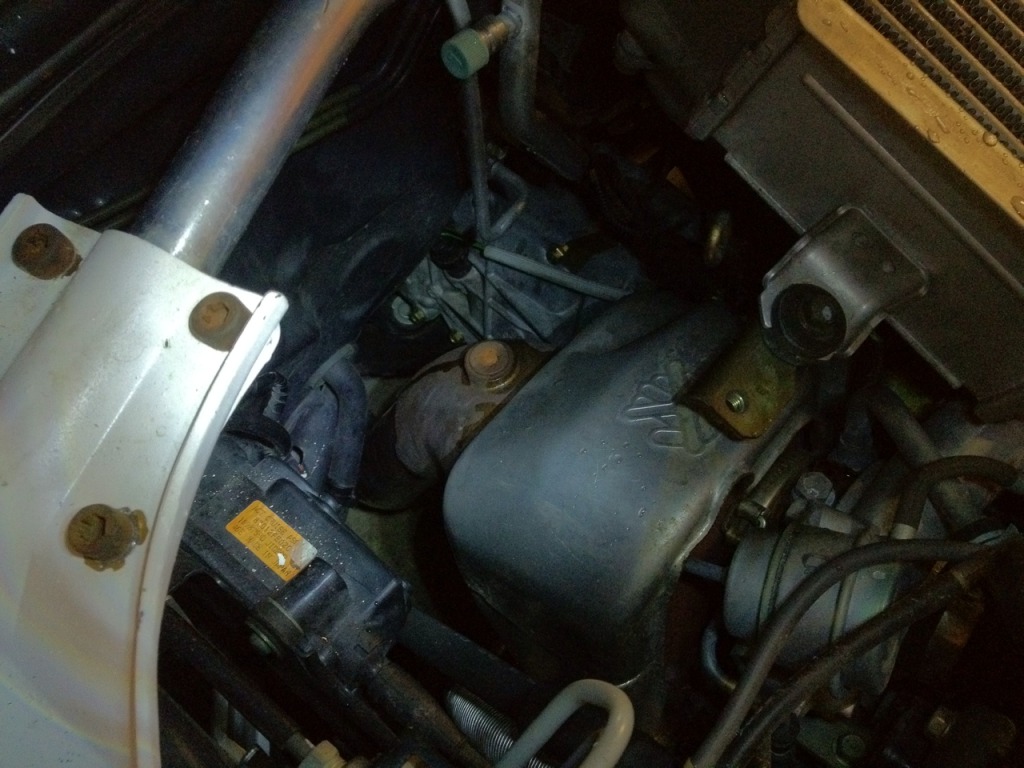 Figured out a fix for the 'zoom' passenger blinker mirror- I have a ton of rubber caps around, so I pulled the mirror and mounted one to the middle. The four mounting points on the mirror flexed it just right to match the zoom of the other 2 mirrors; no more parallel parking heart attacks now: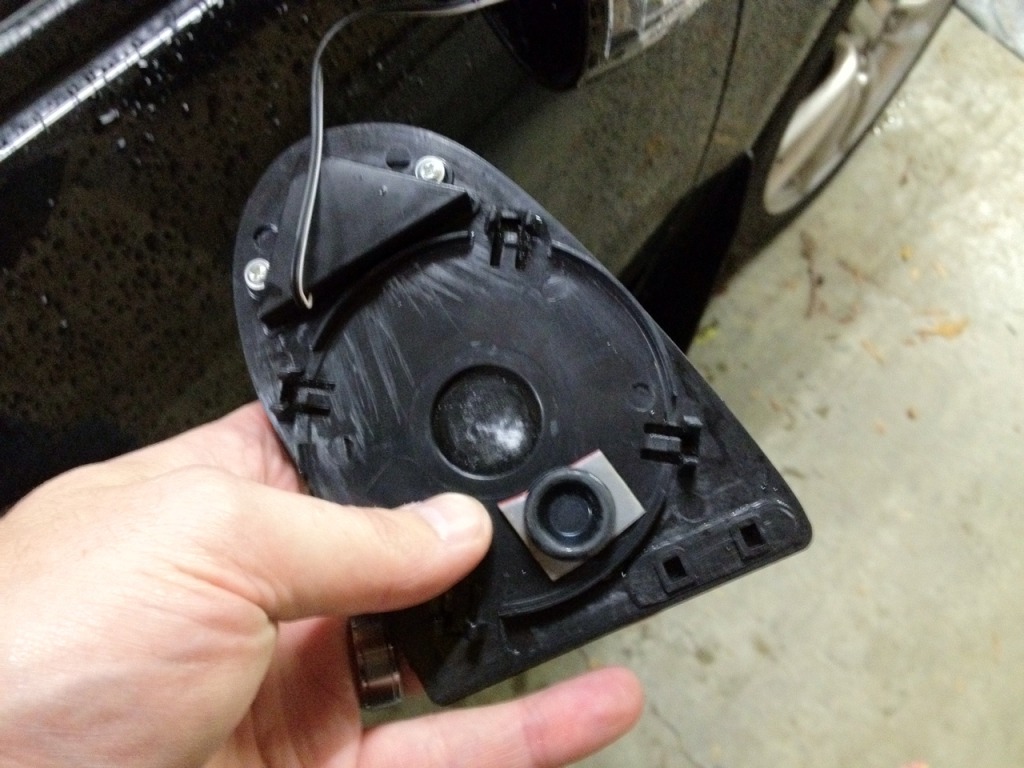 Did some more white paintwork on the caps under the hood: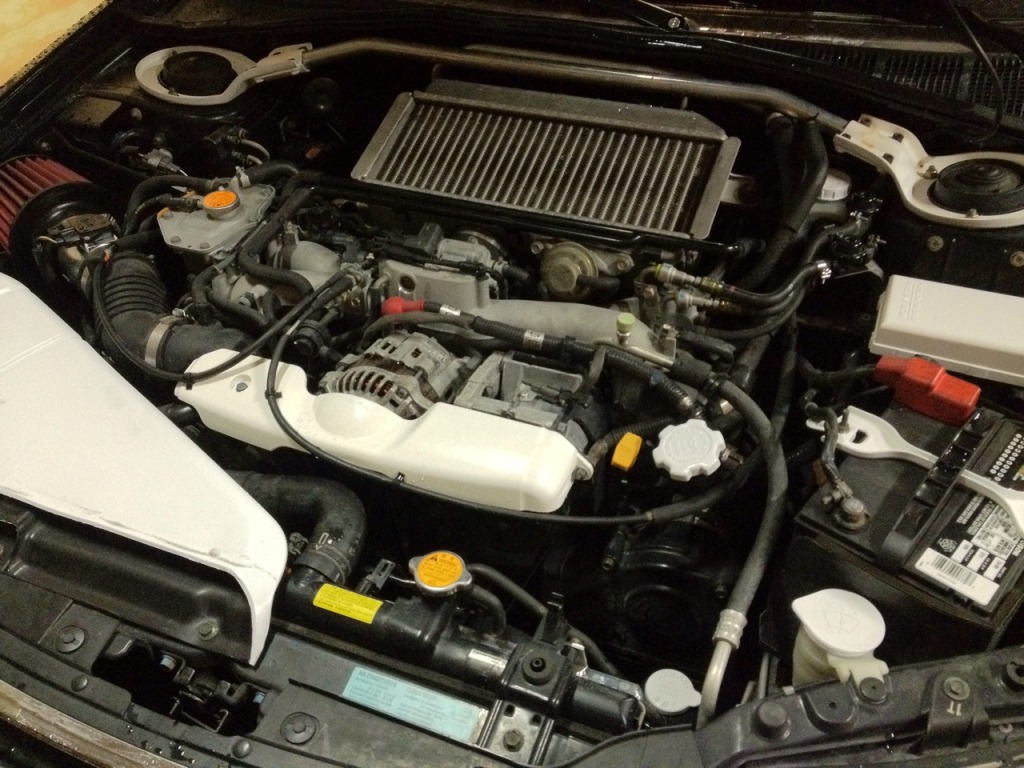 But best of all found a sweet DIY bumper guard solution at home depot. Only $6.50, you've got to get the cuts just right, but this has better grip than the factory one on our WRX and if it goes to crap, who cares at that price. Perfect on an Outback: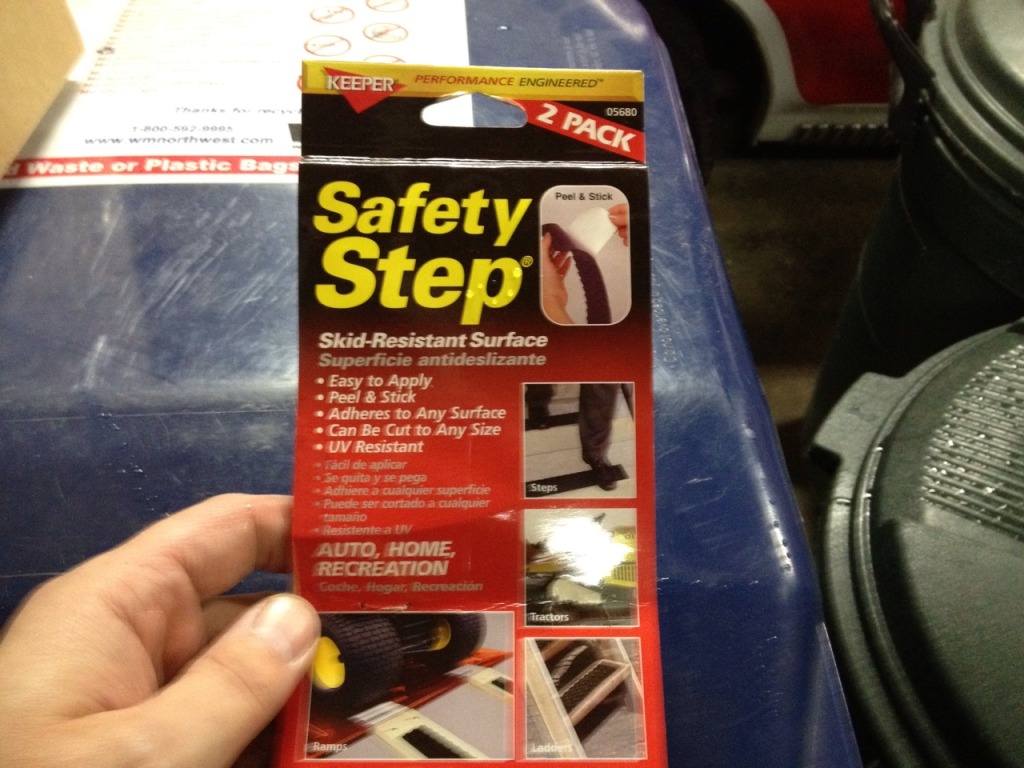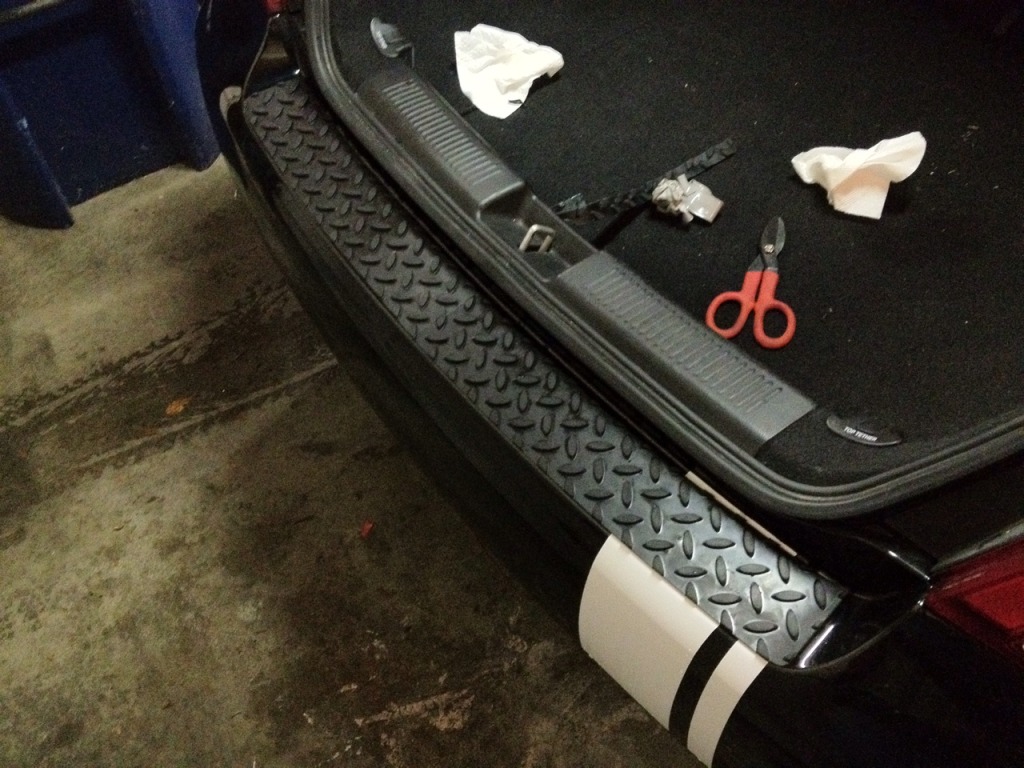 11-5-2012
Here's the first daytime pics I could take in a month: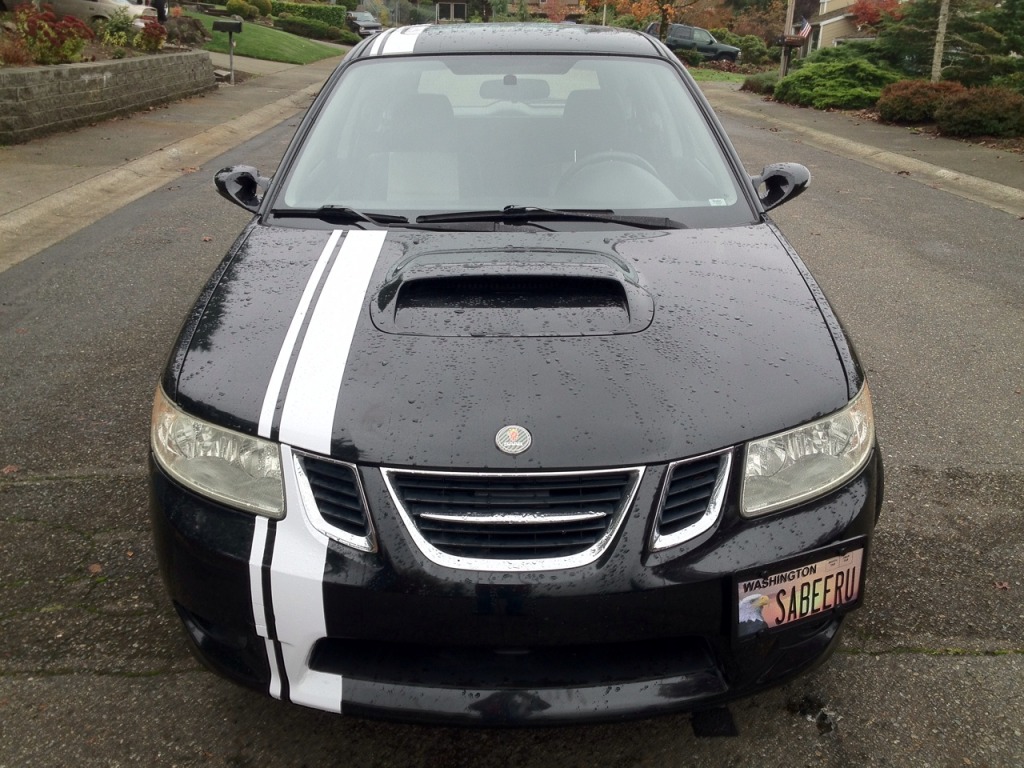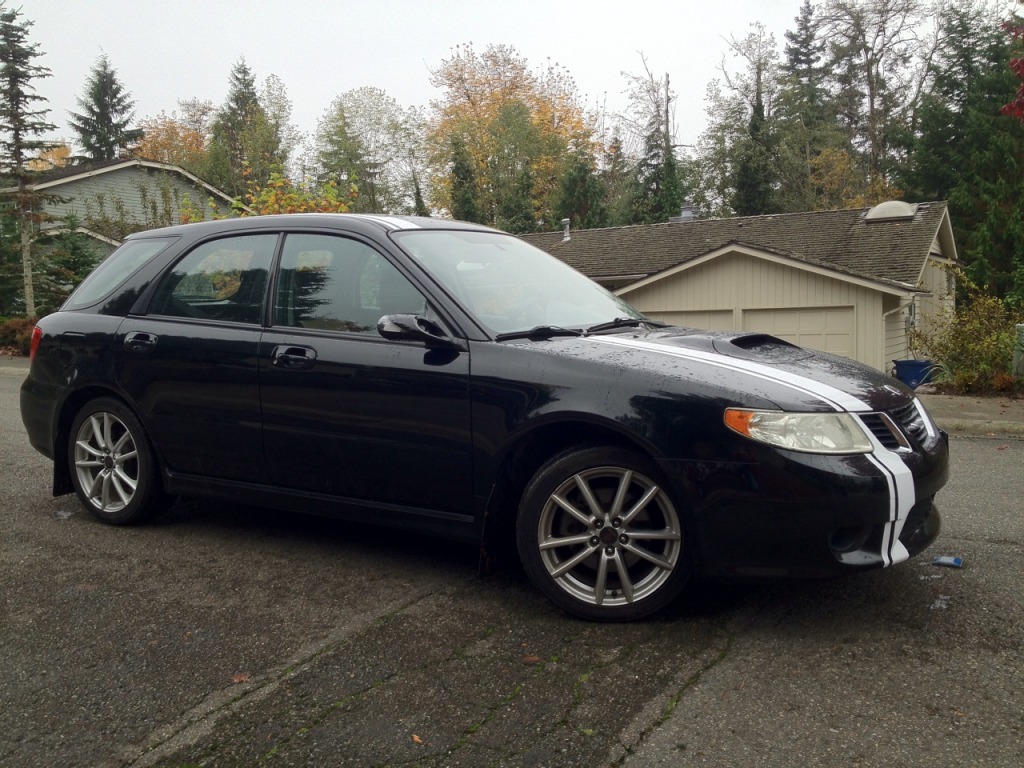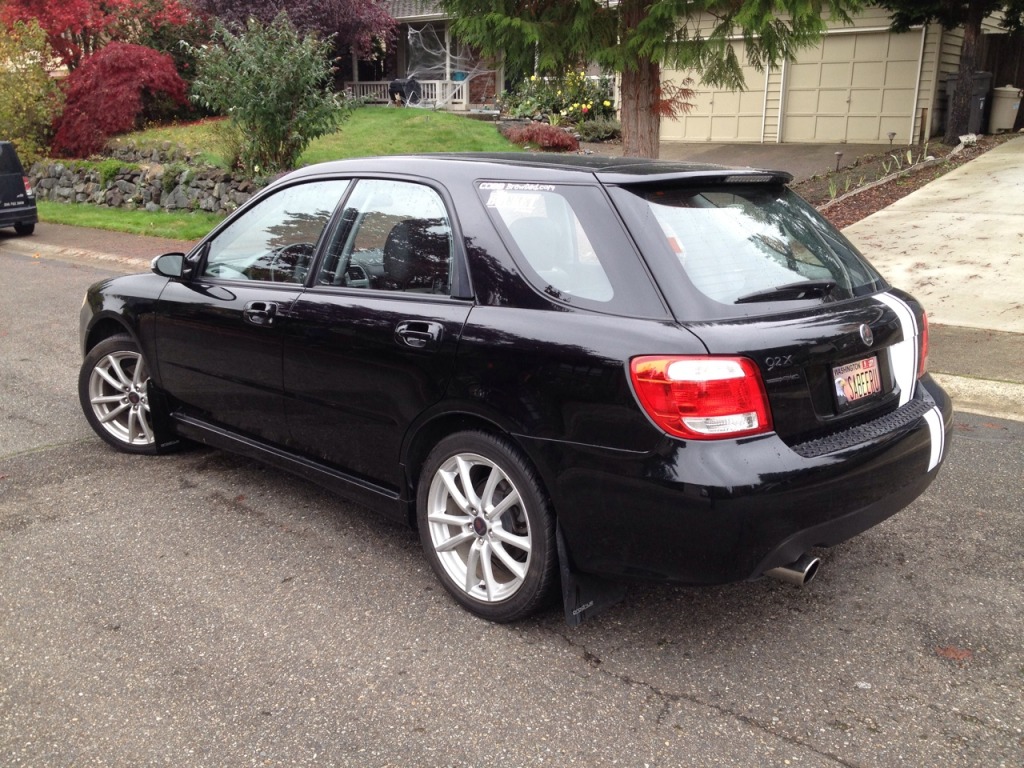 11-13-2012
A few new items over the weekend-
New shifter; the 'lip' at the top of the pistol grip started to bug me. This had the width I like, was tall enough for my meathooks, superior appearance and even worked with my custom 5 speed logo: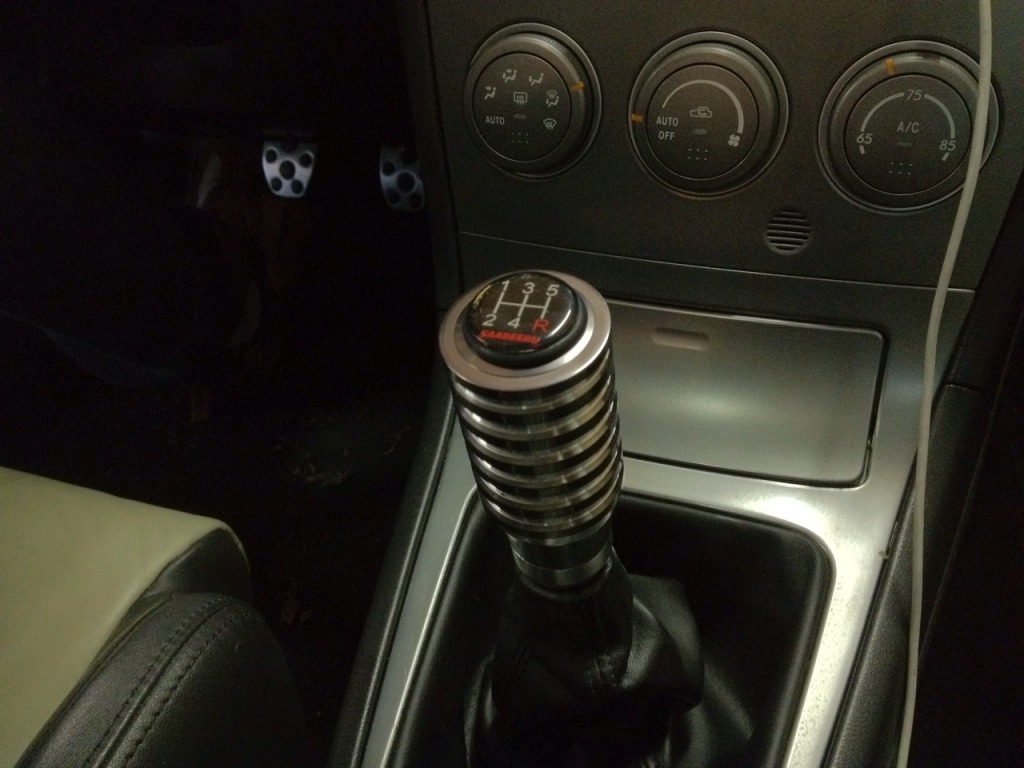 Saw the Silverstar bulbs were on special at all stores this month so I said what the hell and tried the ZXE's. The new bulb is on the passenger side and man, is it whiter. The pic doesn't show great contrast, but i wanted to gibe some idea. Just save the receipt so you can swap when they burn out after 6 months: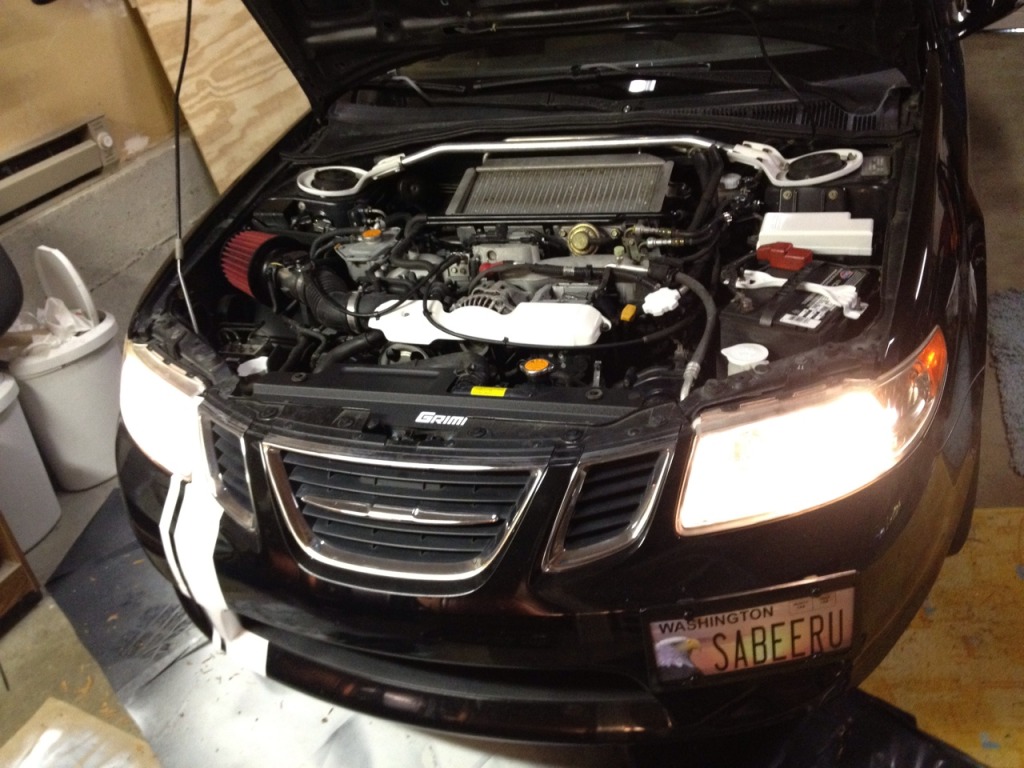 Got in on the Grimspeed radiator shield group buy, amazed at how much I used that tool tray already: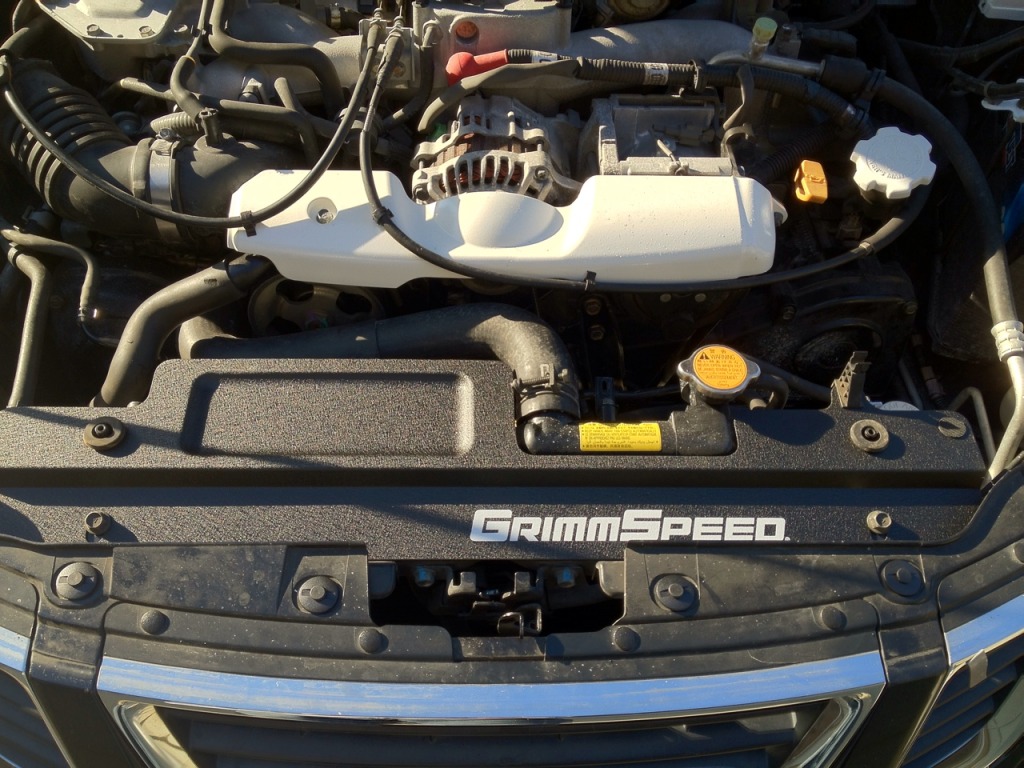 Last but not least, I'm almost done with my wagon 'tub' and will post that soon. In the meantime I fashioned up a lower rear seat pair of quick release pins so I can easily lay the cargo area flat: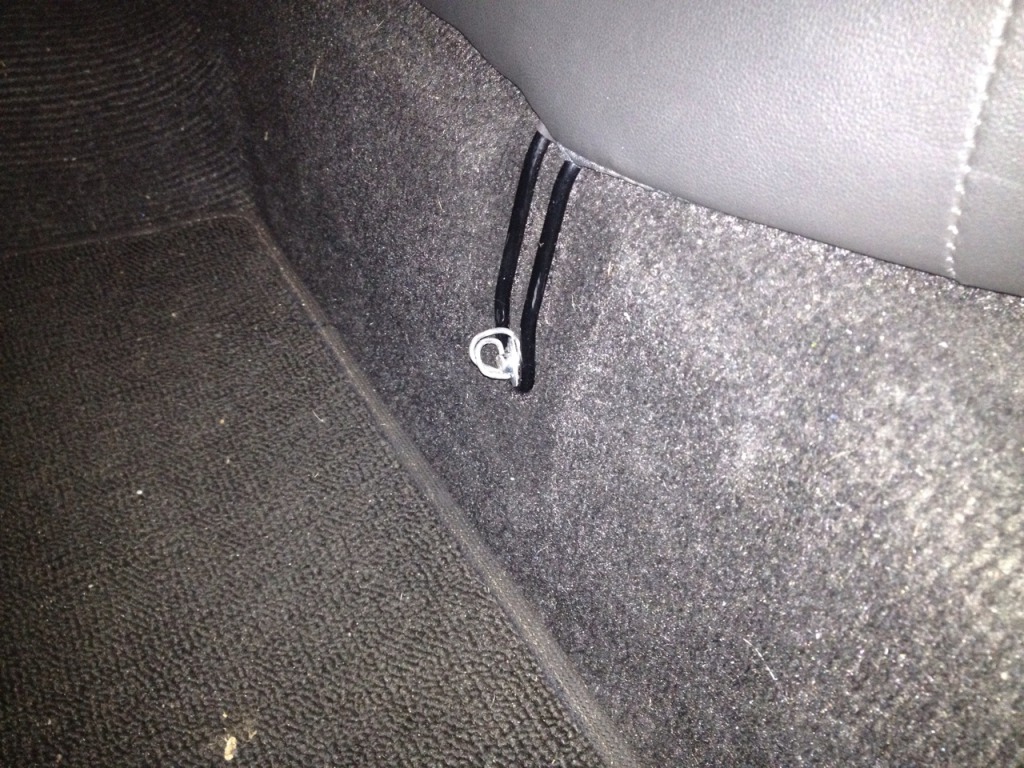 11-17-2012
Tub is done, here's some quick shots and I've thrown up another DIY:
http://forums.nasioc.com/forums/show....php?t=2433547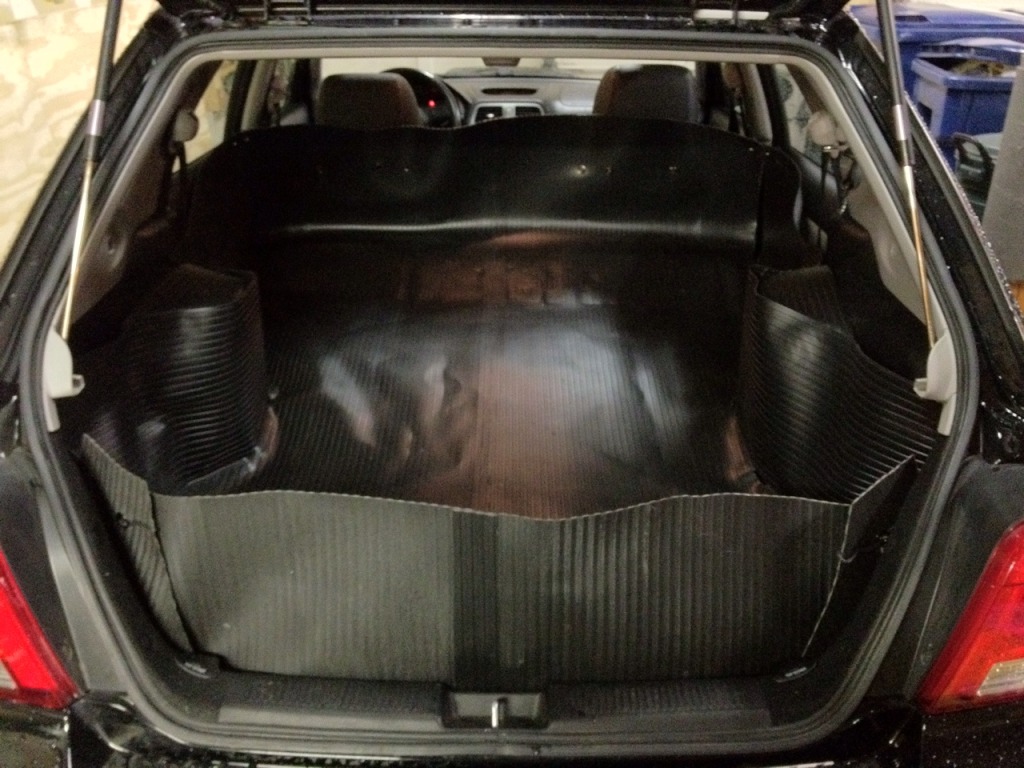 Parts are finally in for the next project, gonna need some SERIOUS cleanup: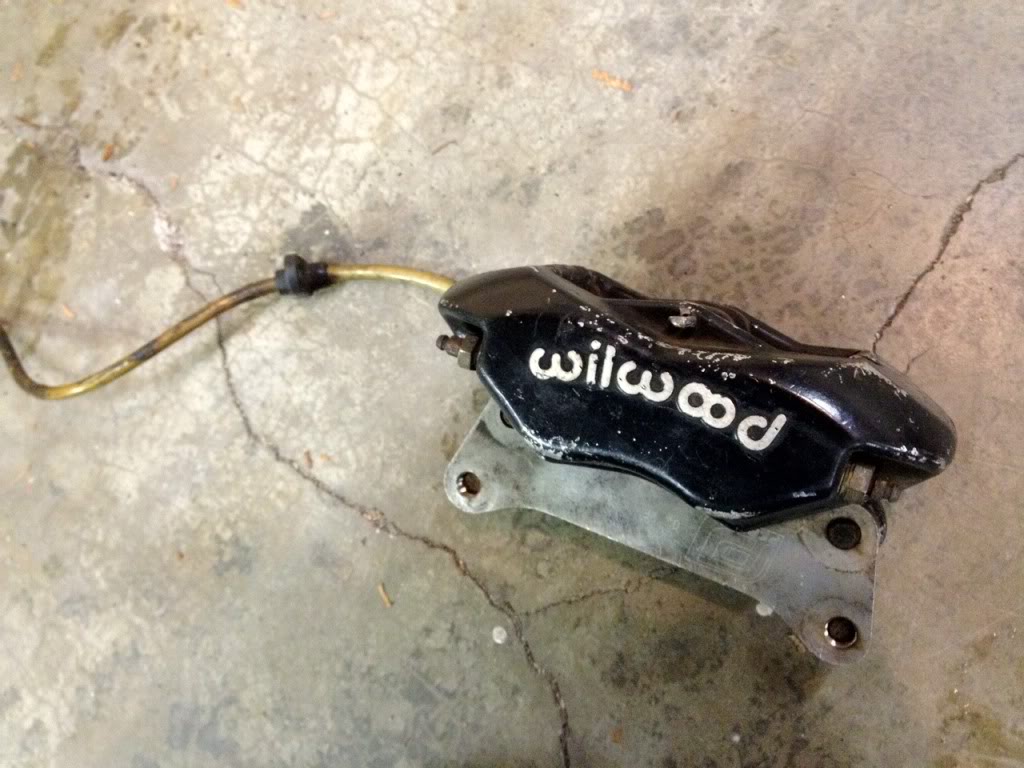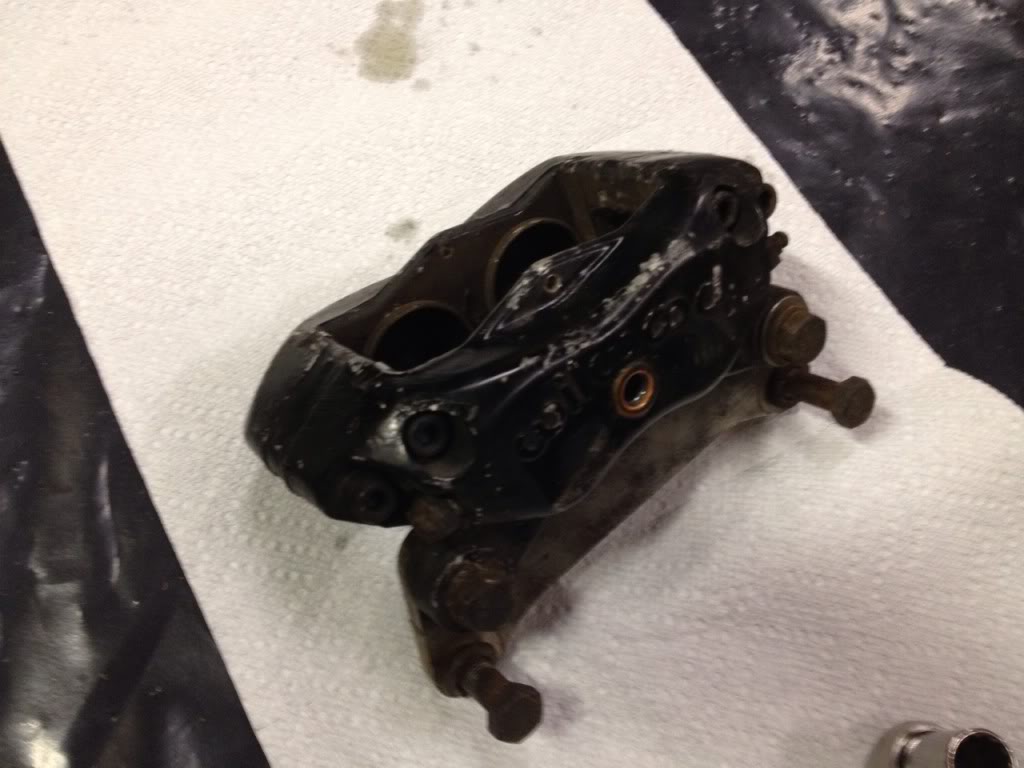 I get a lot of questions about the brewery, so if anyone is looking, try the following:

Maltandvine.com
Letspour.com
Beerjobber.com (full cases only)

We don't do shipping ourselves so there isn't an official sampler pack, but you can build one on the top 2 sites.

Thanks for the heads up- the calipers are supposed to be in good working order, but even though some hate my stripes I try to make as much as possible look new on my cars, so it's a cosmetic project. Already have new bolts, bleeder screws and paint, just need to take an impact wrench to one bolt and I should be well on my way to some purtyness under the rims.

11-18-2012
I also redid the quick release pins for a cleaner look and updated the DIY- no more hand-curled wire anymore: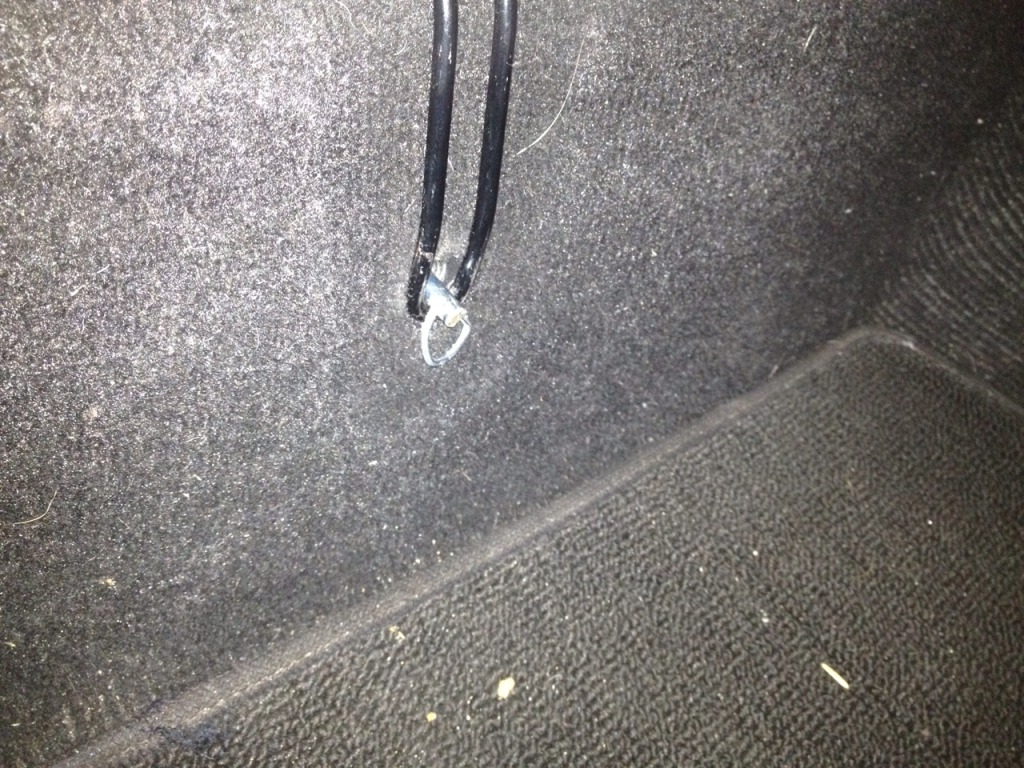 11-19-2012
Thanks for the heads up, I was wondering about that (first set without them) although, I think I might be safe since the fluid would surely have eaten off some of the PAINT ON THE PISTONS. Jesus, does nobody know how to tape off before rattlecanning anymore? I went with a brush and took my time on texturing to get a cast look to match the rears. Hit it with a couple coats of high-heat clearcoat and baked for an hour: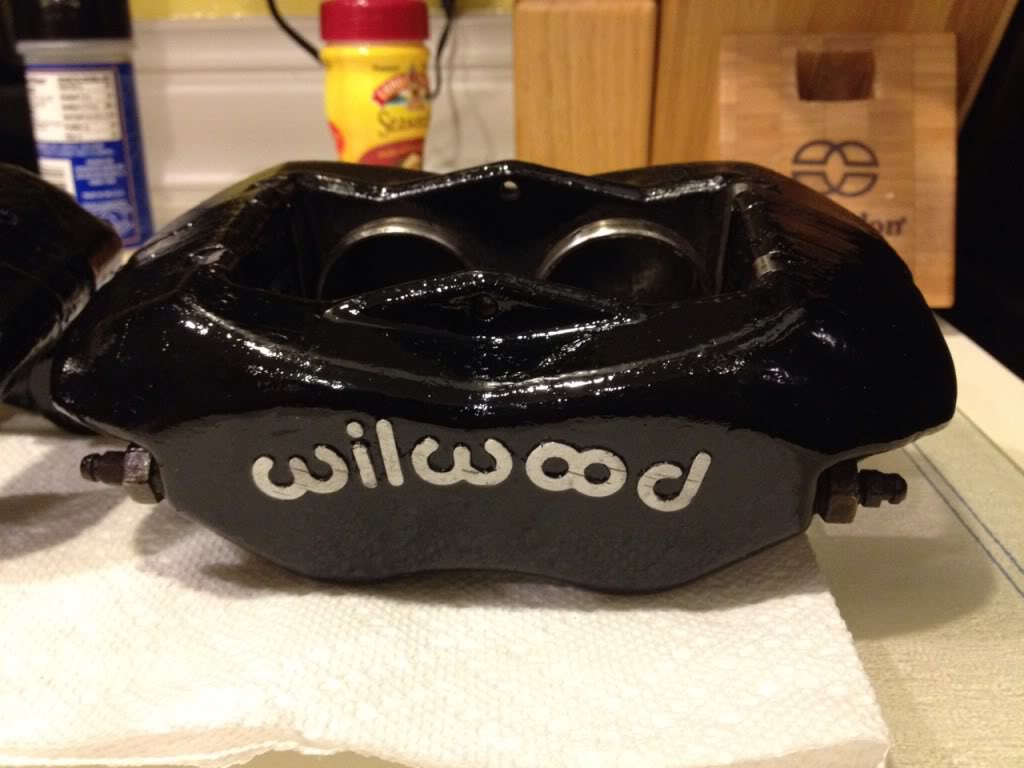 You need to stop tempting me to blow money on powdercoating! Still wondering if powdercoated 9-2x 17's would look cheap, I just can't give up on these stock rims

. Personally, I want to divert what I can to performance mods at this point anyways; I don't want this front mount to collect dust forever in my garage.
Edit: damnit, you made me photoshop: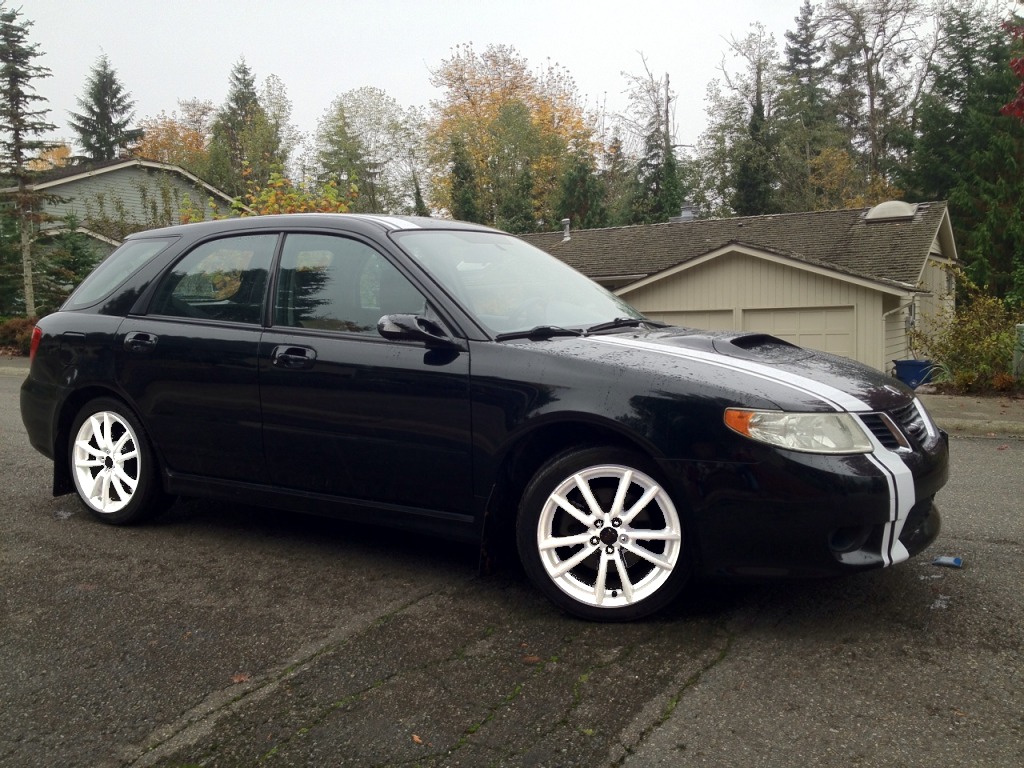 11-22-2012
Still waiting on Wilwood cotter pins, so brakes are only halfway done, but new stereo and V-Limited lip are here! In the meantime, I'm refining the hatch tub a bit with some scrap; I updated the DIY thread and here's a shot of the much cleaner 5th door: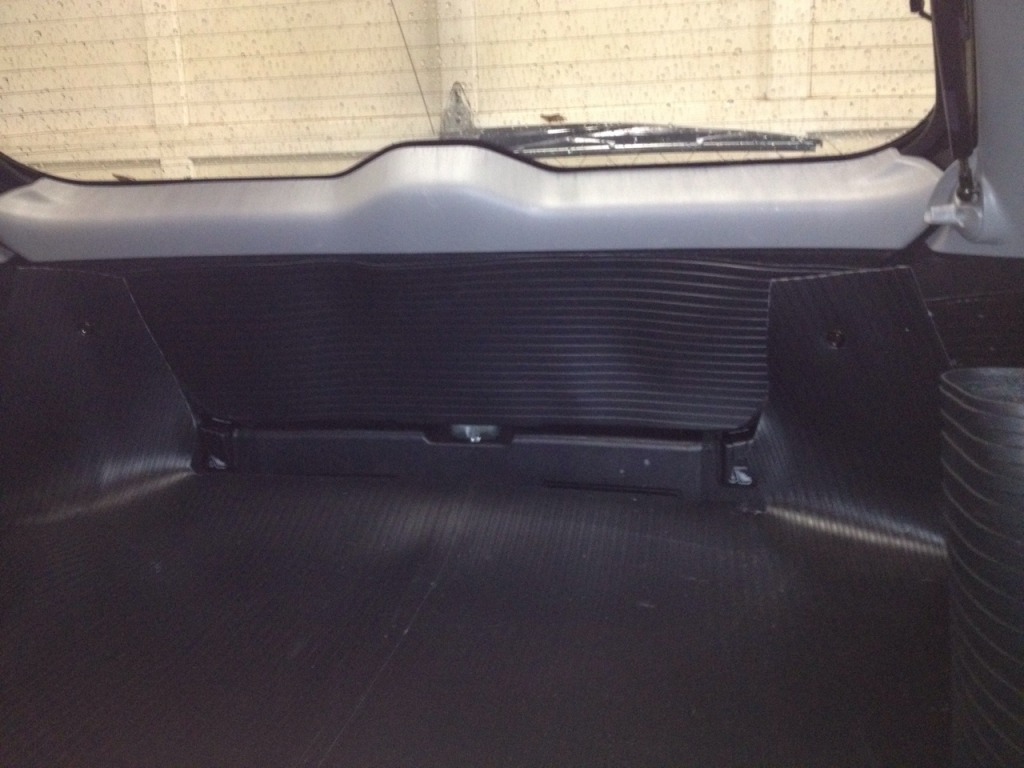 11-27-2012
Im running out of plastic parts to paint white

, so I finished up a couple of big projects this weekend. First off was installing a replica V-Limited front lip- this makes a huge difference in the look of the Aero front end, one of my favorite mods to date: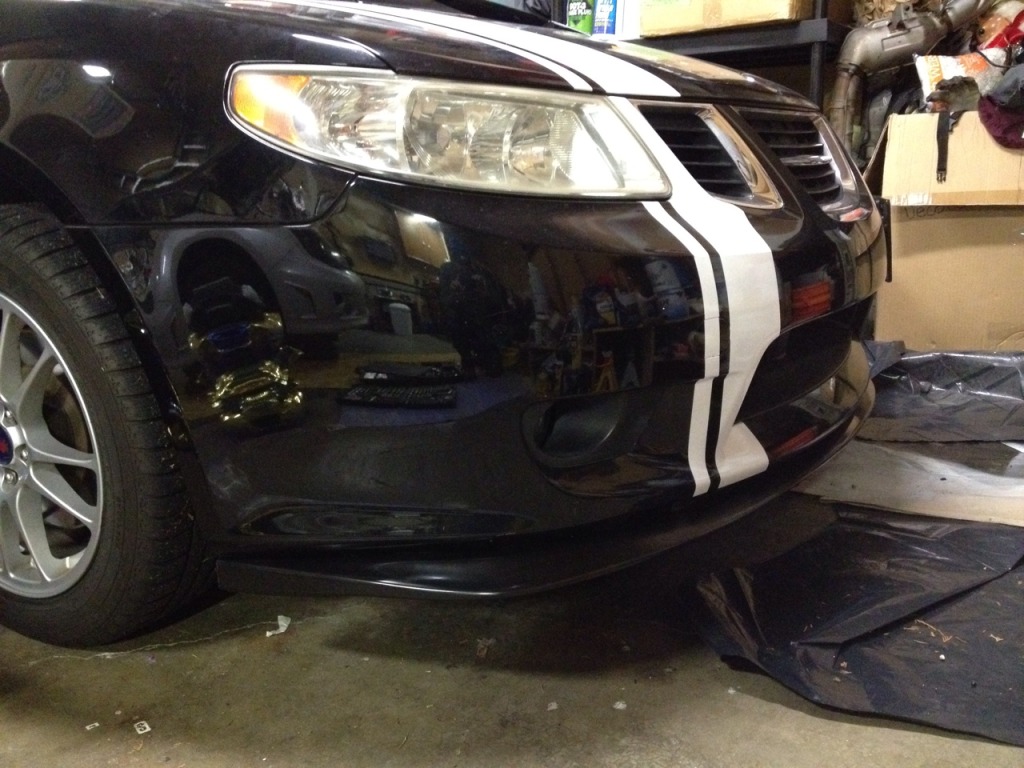 I know I'm not the first person to do this, but I couldn't find a How-To, so I posted one here: http://forums.nasioc.com/forums/show...2#post38578142
Brakes are finally finished. I now have Wilwood Dynalites with SS lines up front so I can keep my 16" stockers as winter wheels, and I did the H6 upgrade in back and painted black. I swapped all rotors for DBA 4000s and I'm not expecting any track use for some time, so I put on BP-10 pads up front and Stoptech street performance in back: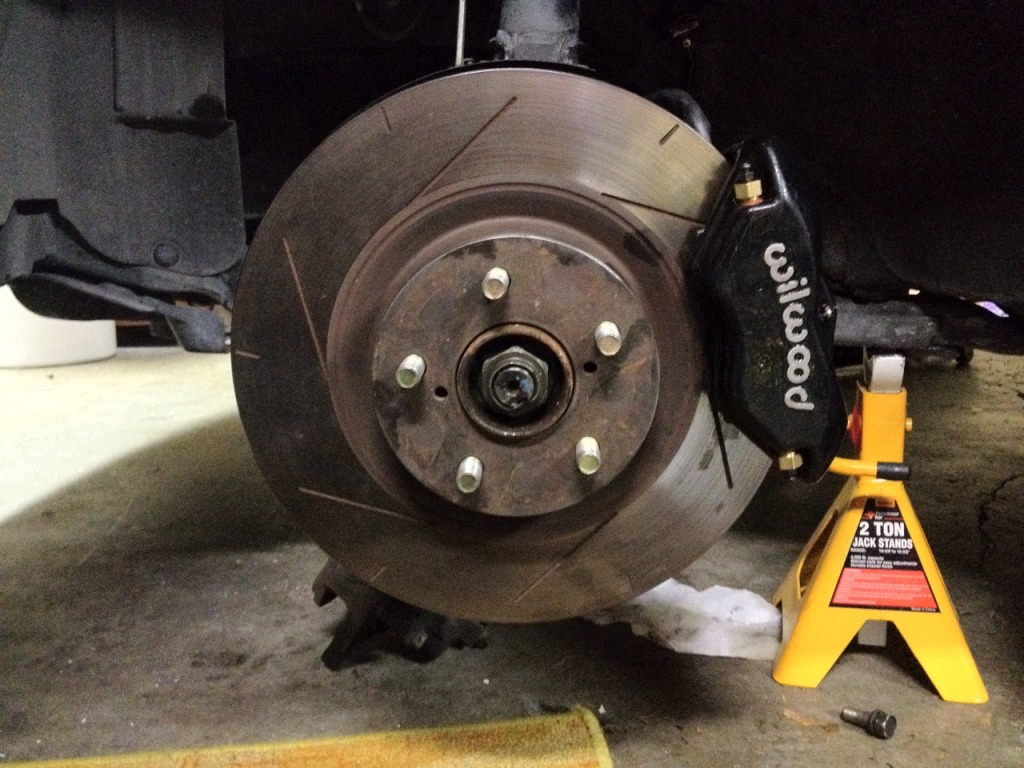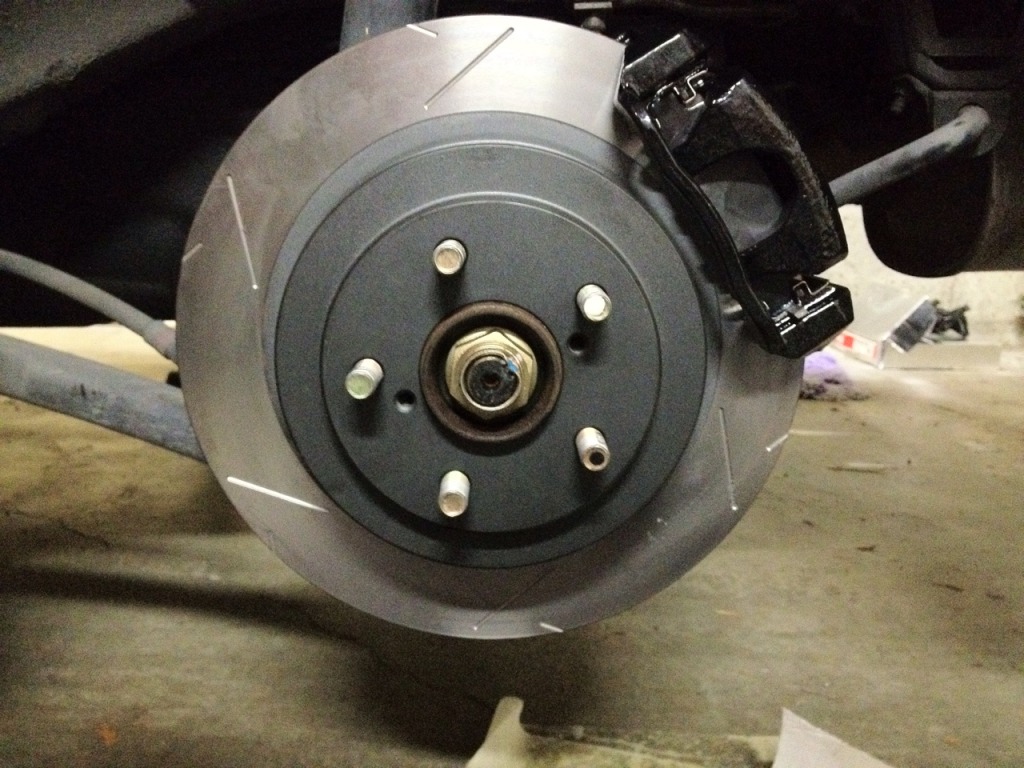 Surprising part about the brake upgrade was that I noticed almost no change in pedal feel or front/rear bias as expected. Guess I may do the master cylinder brace after all at some point.
11-28-2012
Priuses are the best selling cars in Washington so I'm gonna need these: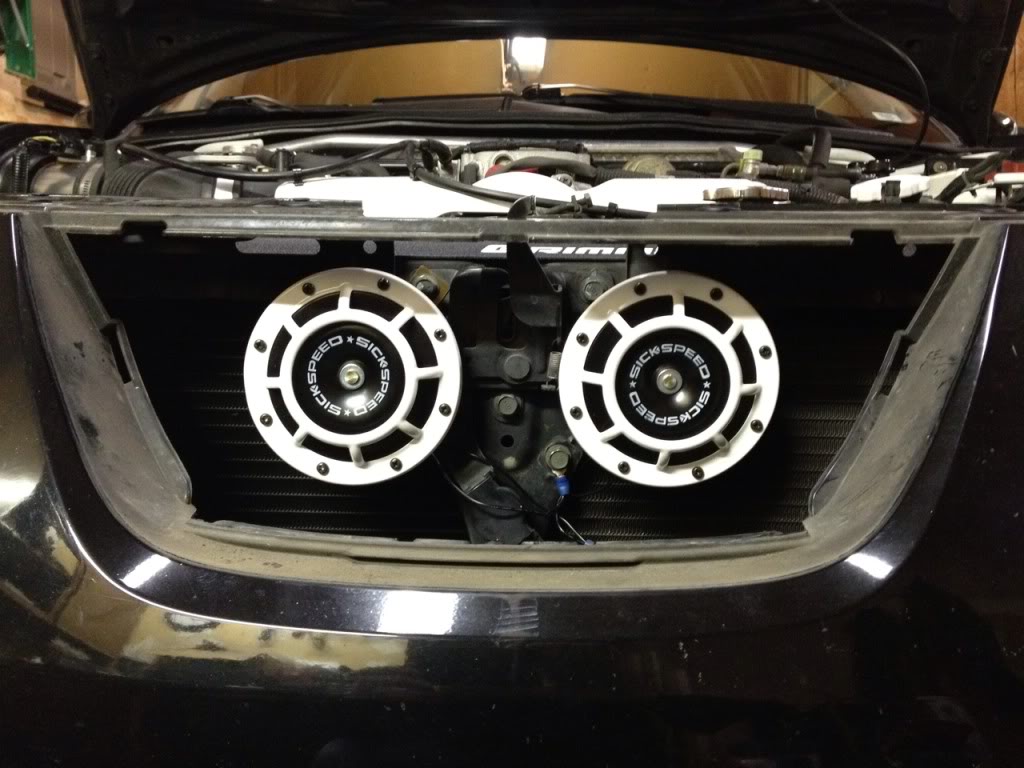 Went with Sickspeeds because I like the slightly lower frequency than Hellas. Even in white they are pretty stealth with the Saab grill: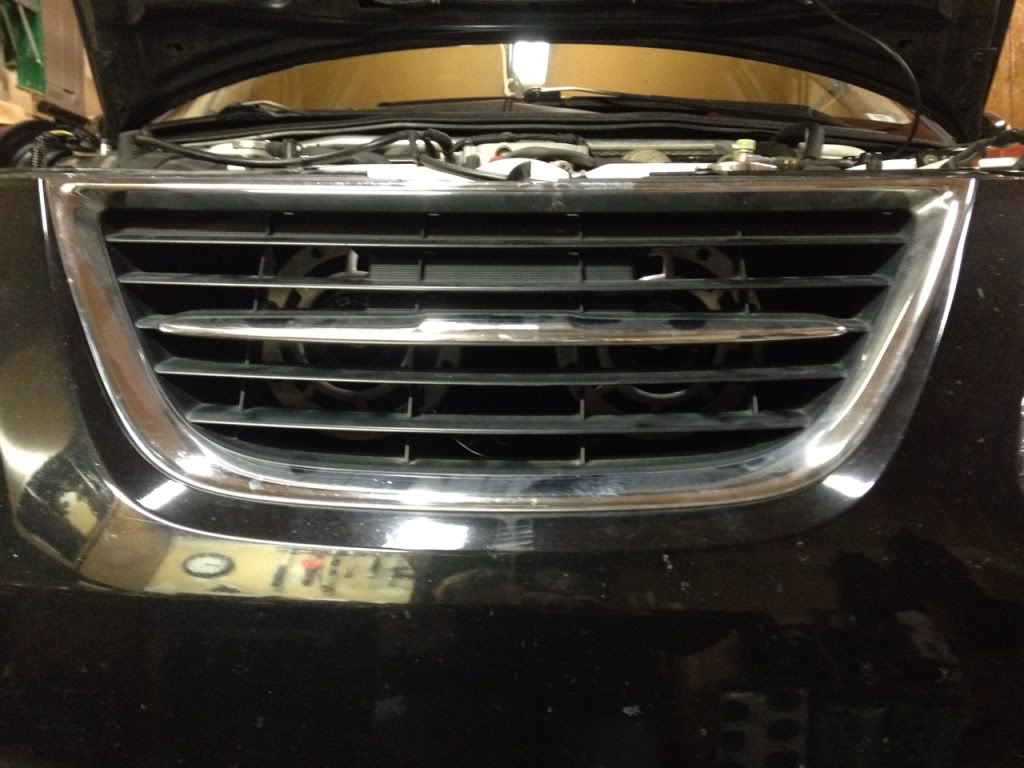 11-29-2012
I just figured out how to work on my new stereo's software in the living room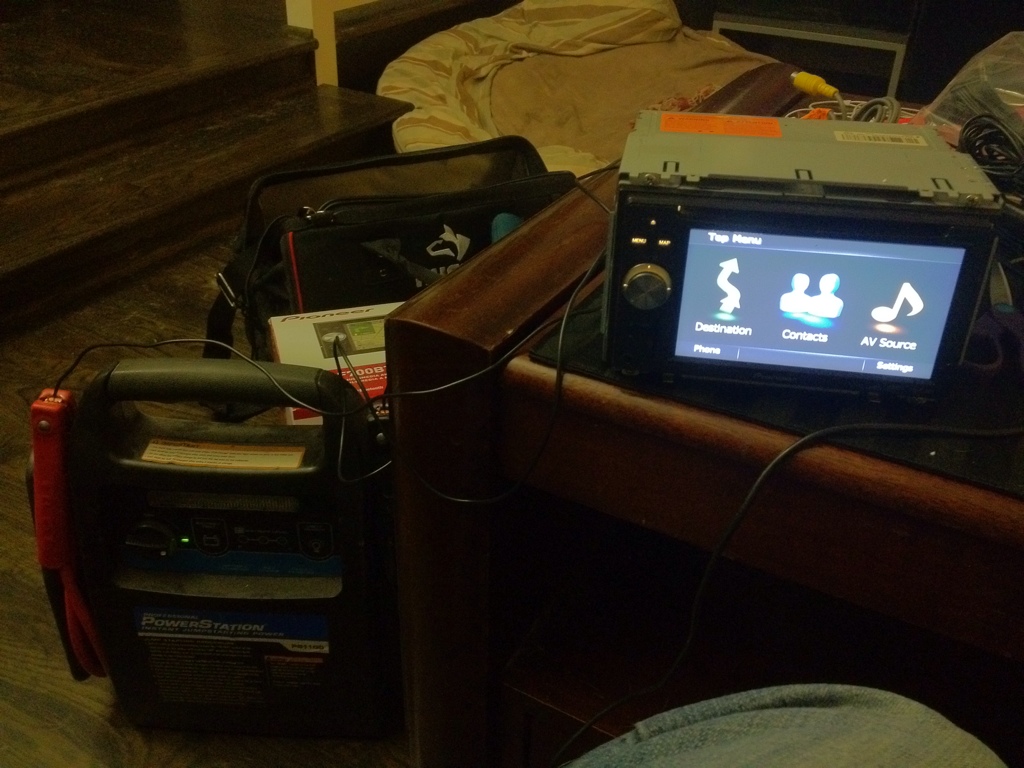 12-3-2012
Ok, got the SaaBeeru ready for its first brewery road trip. Here's what it looks like with a full case load and sampling kegs installed: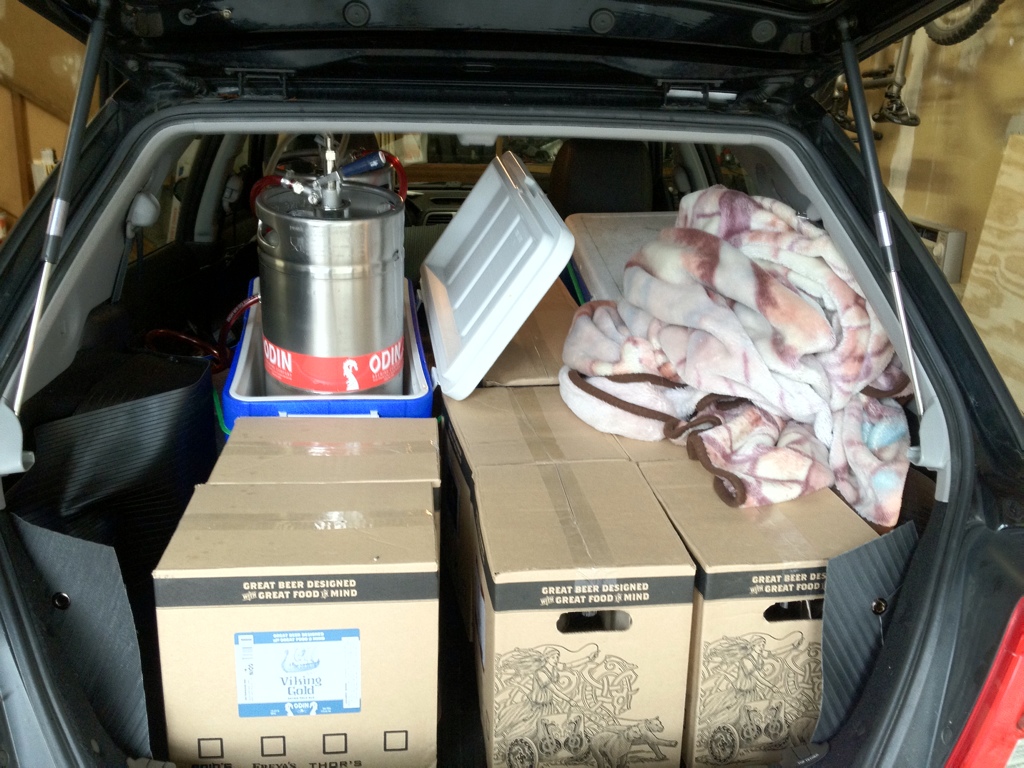 The pink blanket or kegs with untinted windows stand out like a sore thumb, so this is the driving around look: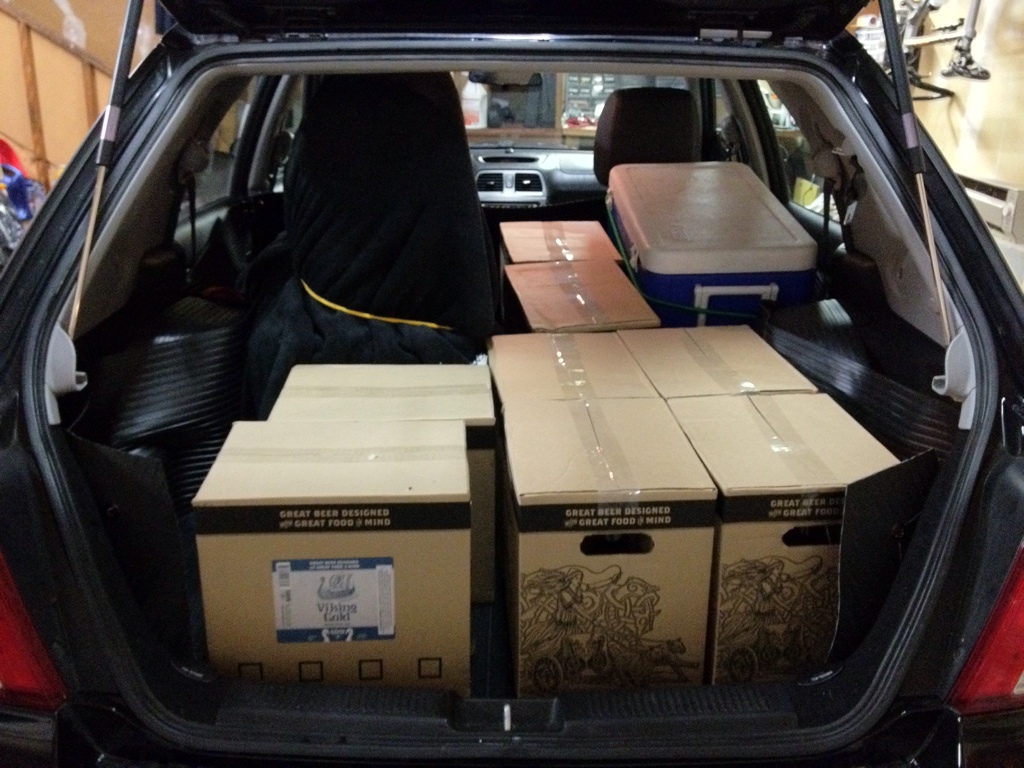 I'm not driving 1200 miles with phone GPS so I upgraded to an Avic-F900BT. Also game me a Huge jump in bass quality over my JVC: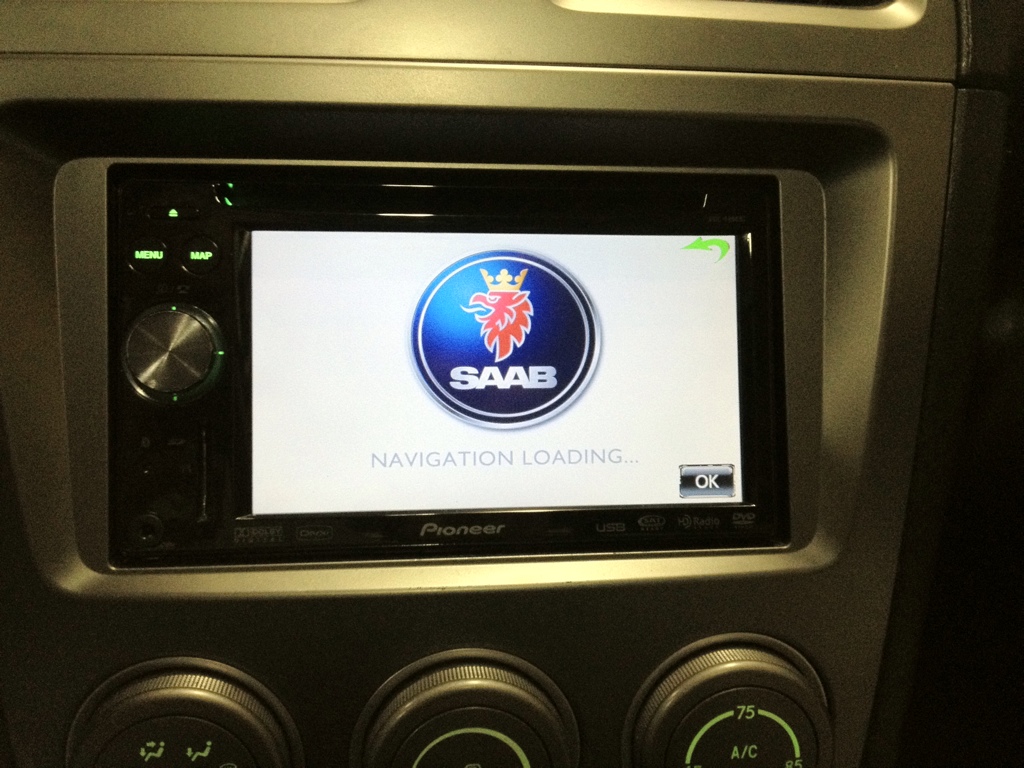 Nobody's crazy enough to make a Saabaru model, but the newest Avic hacks have SIX different Wrx models- found a black bugeye wagon; not like the look of the front end matters anyway: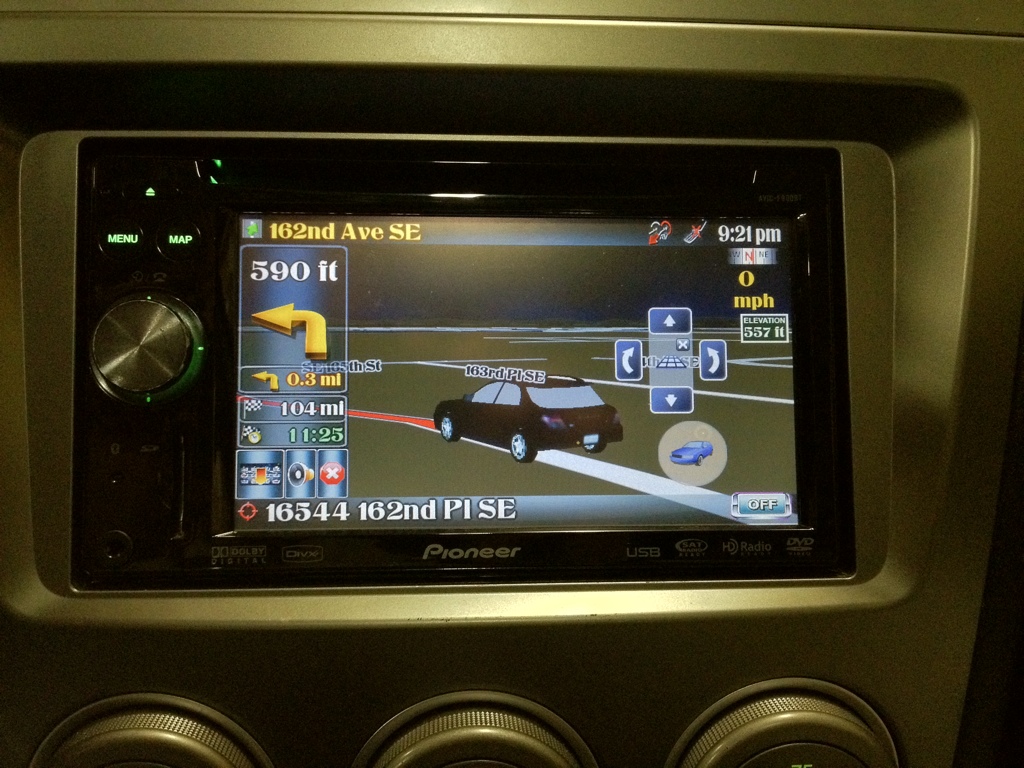 12-9-2012
Well, I ran a while with the new lip, and I love it. Unfortunately, it clashes with the stripe, and with new brakes, turn signal mirrors, an upgraded exhaust and FMIC at some point... I'm worried about the look just getting too 'busy'. So, pulled the stripe a couple of days ago. Thought I'd hear some 'thank gods' at the Thursday meet, but more folks were disappointed since it doesn't work on a WRX, guess I wasn't the only one digging the different look.
Going to try some 'stock look' mods and plasti-dip my chrome, get new black Griffin badges, tilt my spoiler, and probably pull my window stickers since I no longer have any other white; and if I'm going for subtle, I don't want to half-ass it. Cleaned the car after the stripe pull and got one of the best pics ever of my car: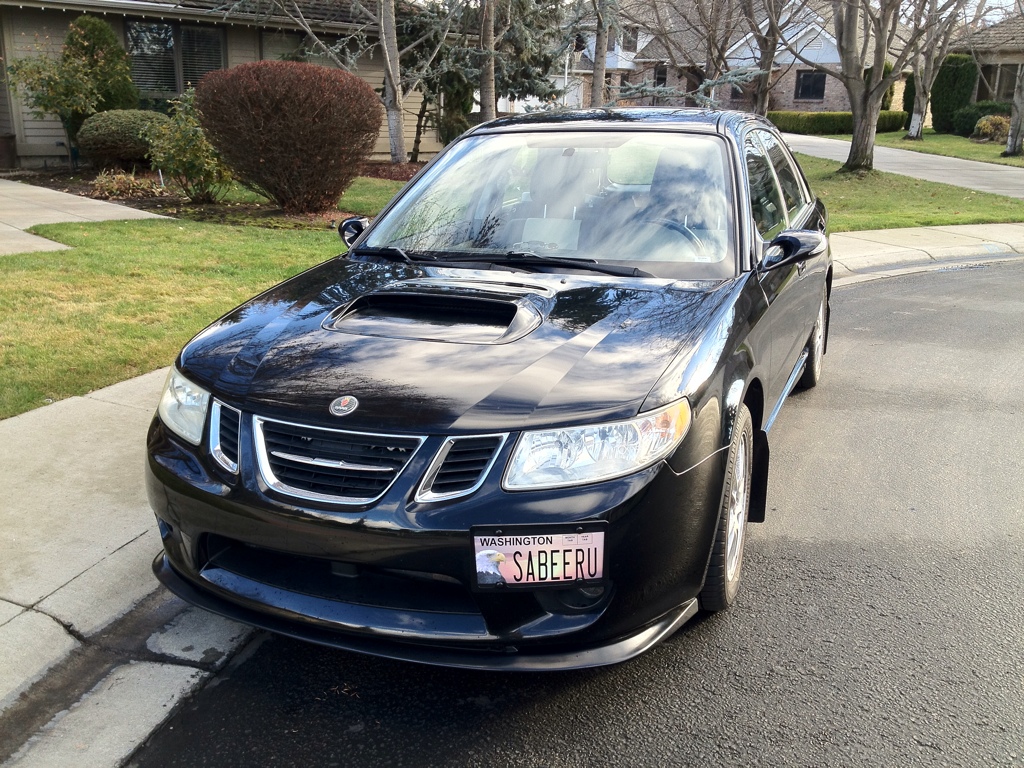 And while it may not be a 'mod', finally pulled the trigger on some digital-fit mats. This will be the FIFTH set I've owned, and definitely the single best protection for a car that sees rain and snow I've seen: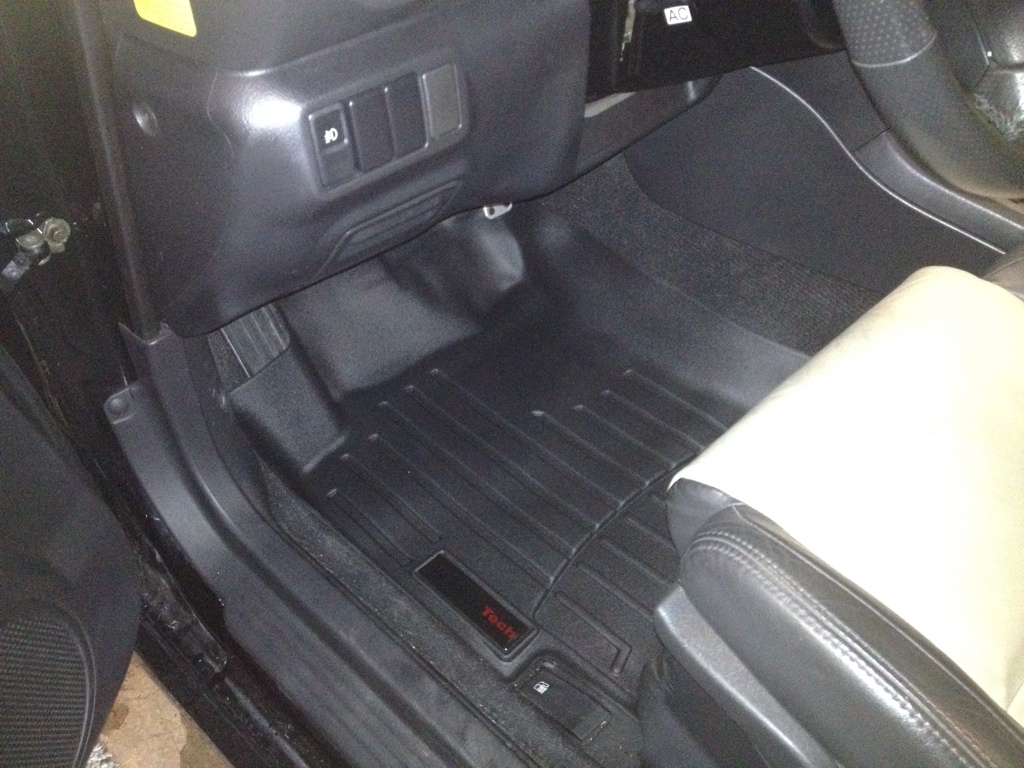 12-11-2012
Got a lot done on the SaaBeeru in the last day, really digging the new look.
Fist off, picked up a factory underset sub. Same size as my iPad should have been a warning: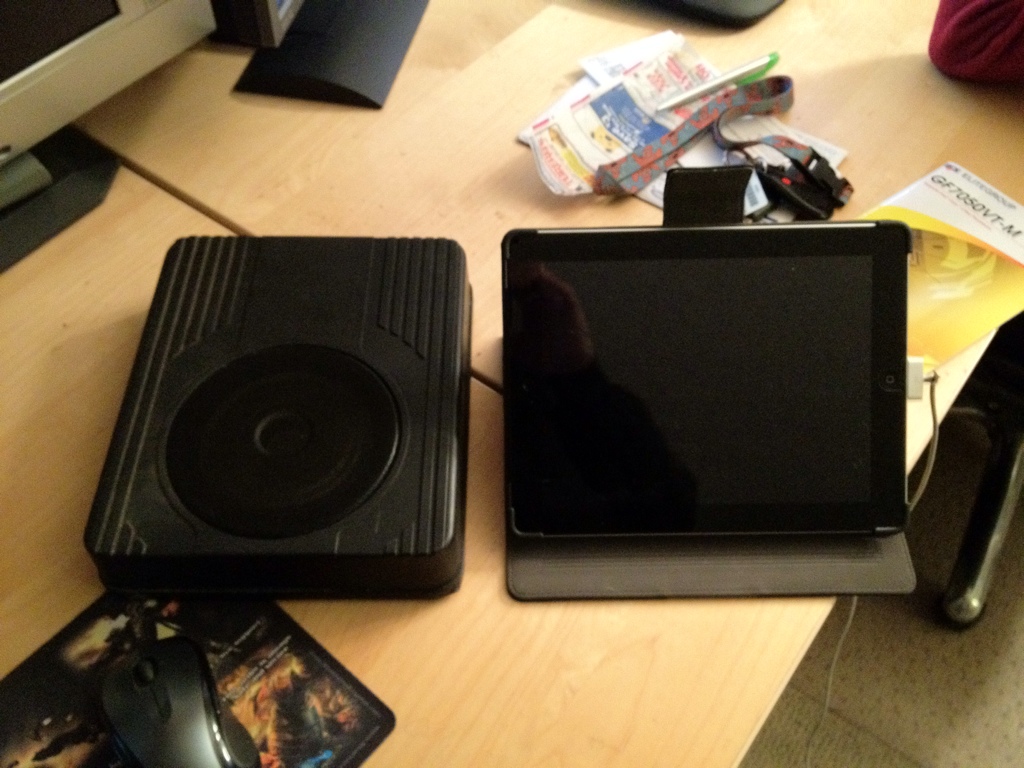 Jumped on the Plasti-Dip wagon and blacked out the grill, liked this way more than I expected: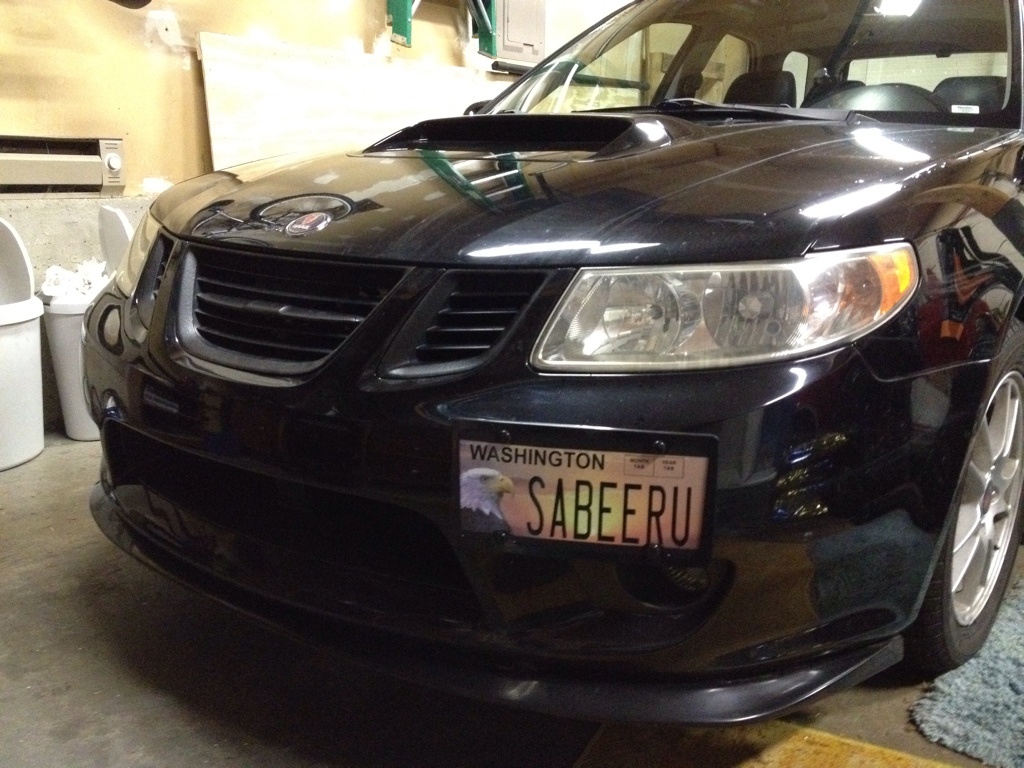 And finally modified my spoiler: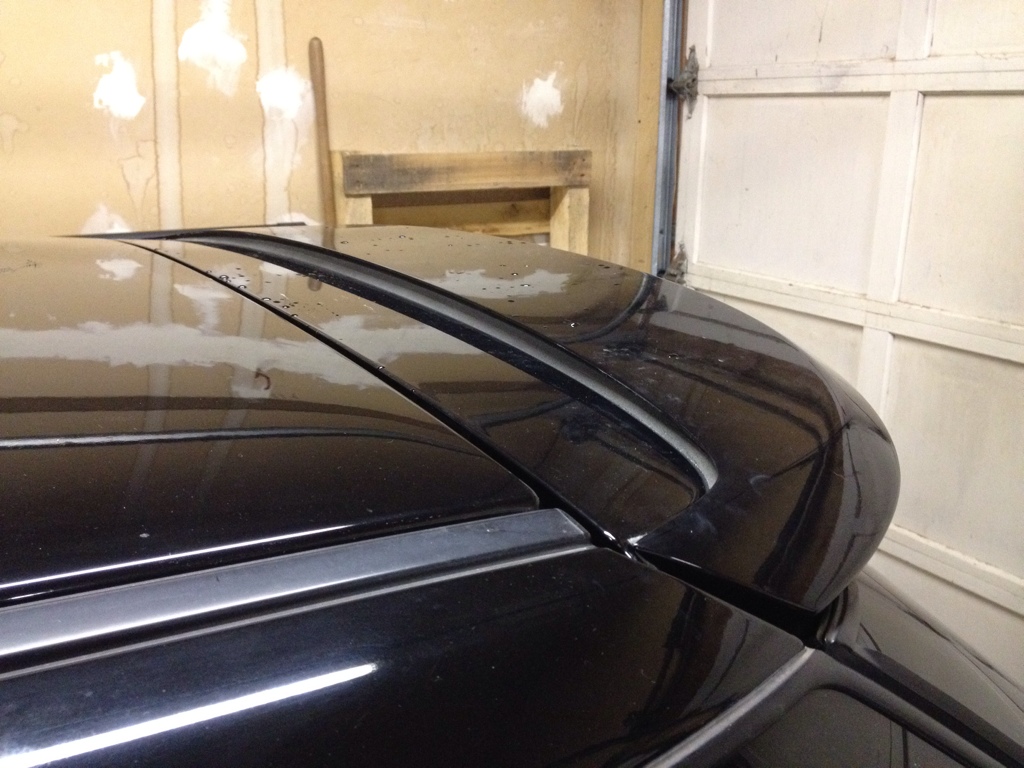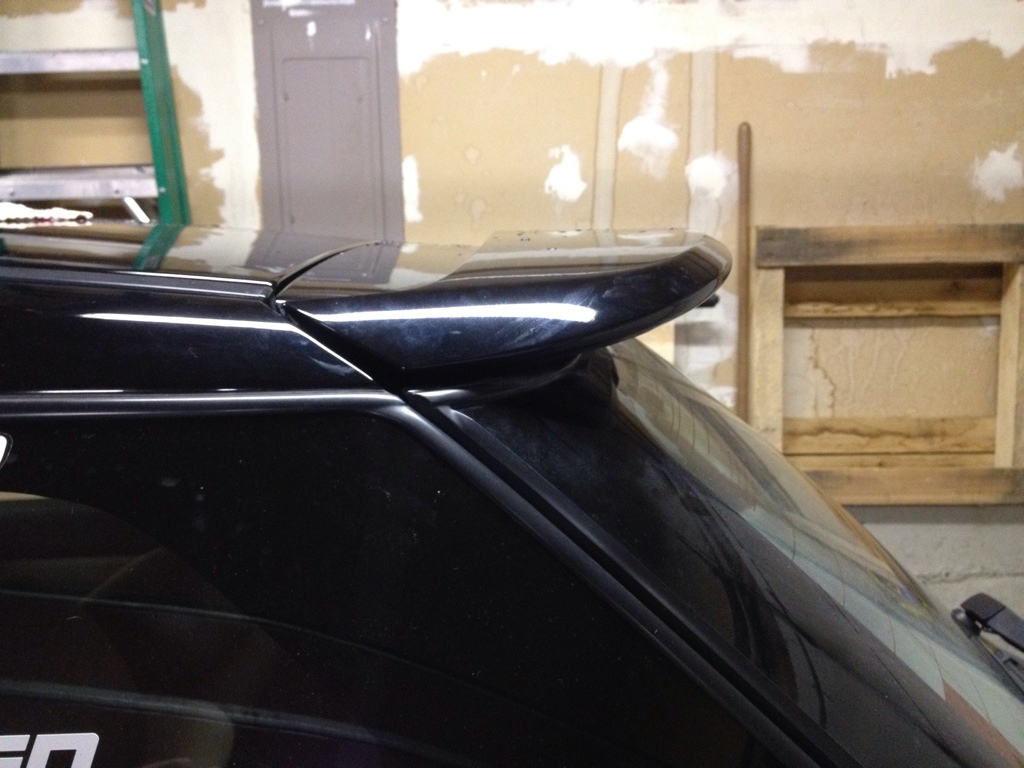 Couldn't find a how-to on this, so as usual, I made one up:http://forums.nasioc.com/forums/show....php?t=2442474
12-12-2012
Got some subtle exterior clean-up in today, first off swapped the hood badge from this: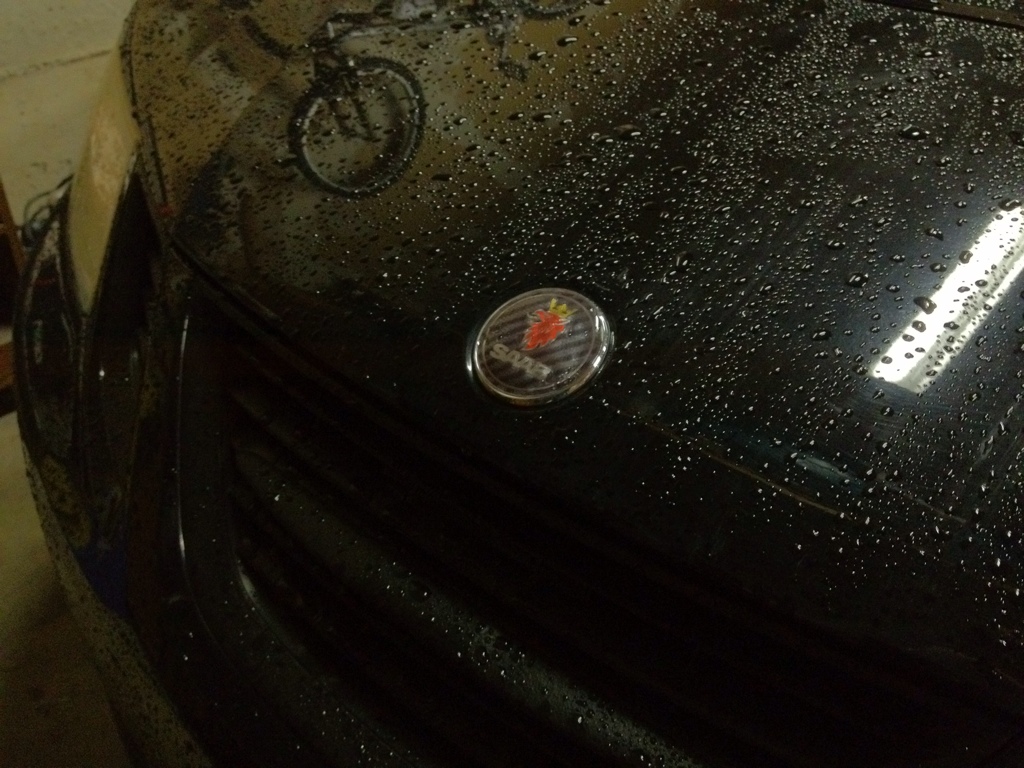 To this: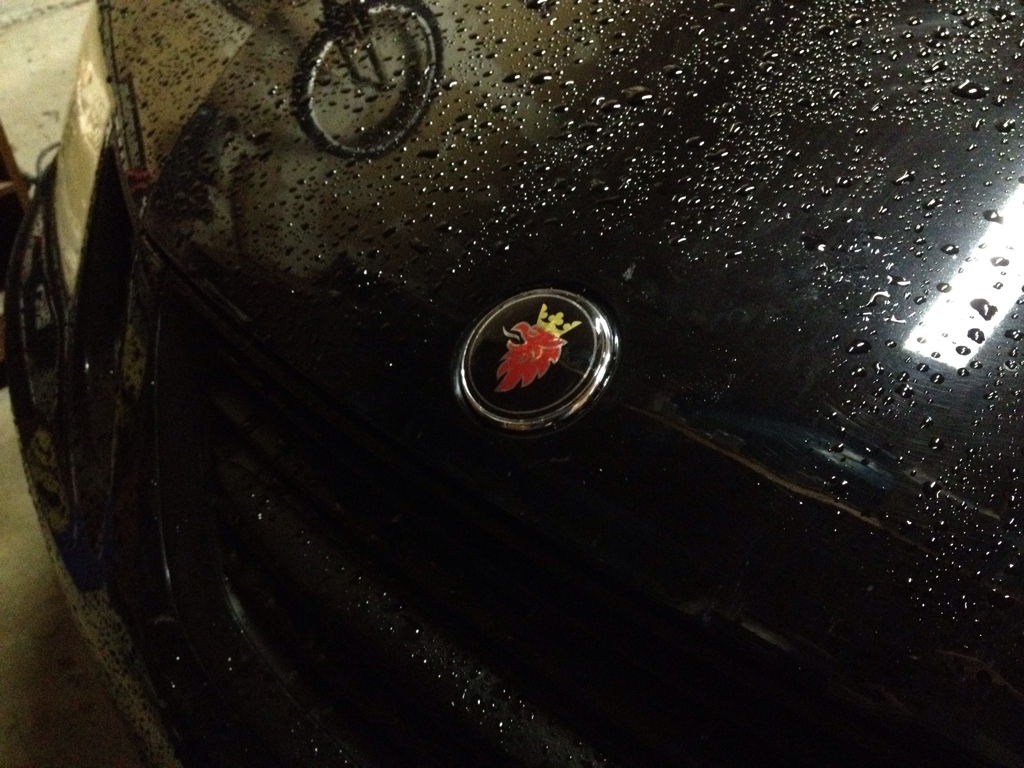 Obviously threw the matching badge in back, and then pulled off all the white vinyls, put back on the Areo badge, and swapped the other badging off the huge 4mm thick mounting tabs the last owner had used.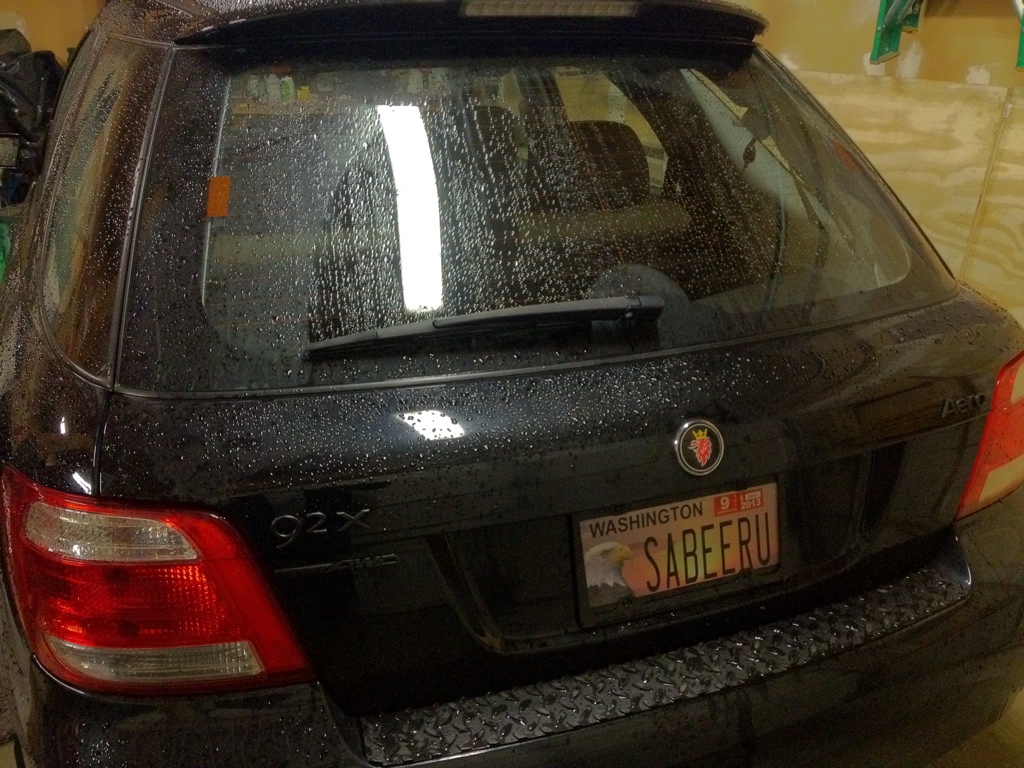 12-20-2012
Honestly, nothing special here, just wanted to show a Saabaru being driven like a Subaru, was tired of too many pretty pictures: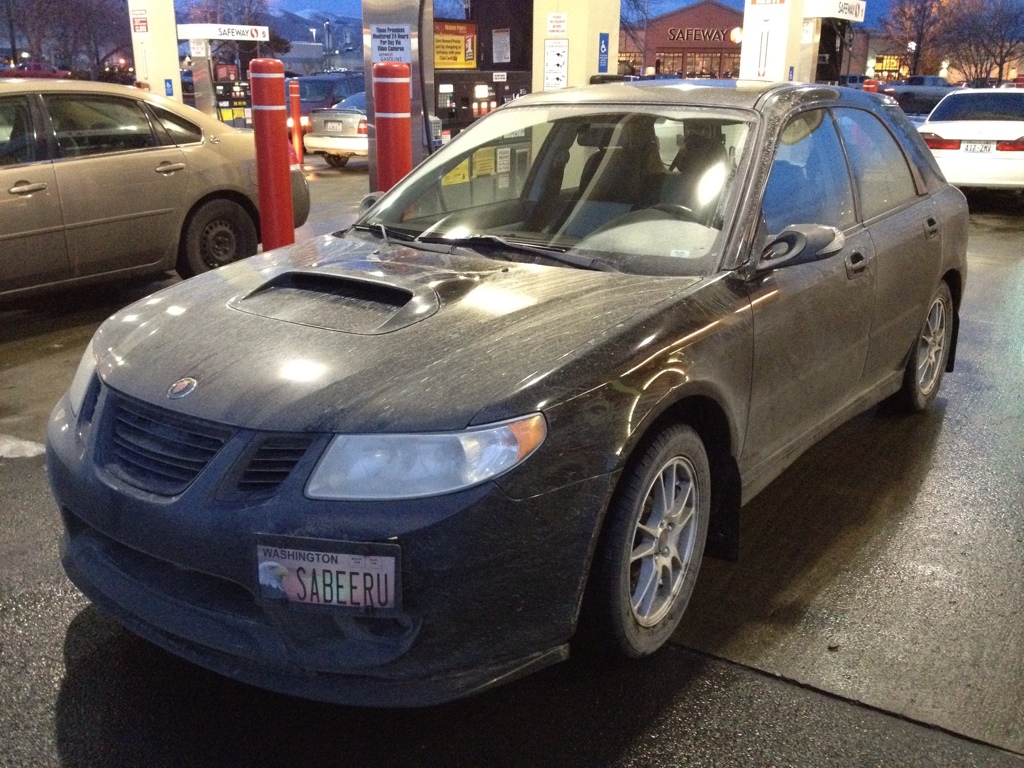 Coilovers go on this weekend once my wife helps me make covers

I'm broke so I could only swing MDUs (Godspeeds/eBays) since I needed them quick for snowtime keg hauling

1-2-2013
Christmas/New Years Break update- got in a lot for the holidays and a couple gifts for the Saabaru to boot. First off were the MDU coilovers; since the BC coilovers group buy is dead I never did reach the factory on my own. However, the MDU Factory (CN Racing) was quite accomdating. I was able to confirm they don't use the same dampers as the Godspeeds they make, and they only charged $14 for an extra set of 5kg springs. I'll probably swap those in for a softer ride once we have some extra 4wd/awd delivery vehicles at the brewery. Here's crossing my fingers that they hold up...
First off I begged the wife and we made a set of coilover covers from the DirtyImpreza.com how-to: http://www.dirtyimpreza.com/forums/s...ad.php?t=17181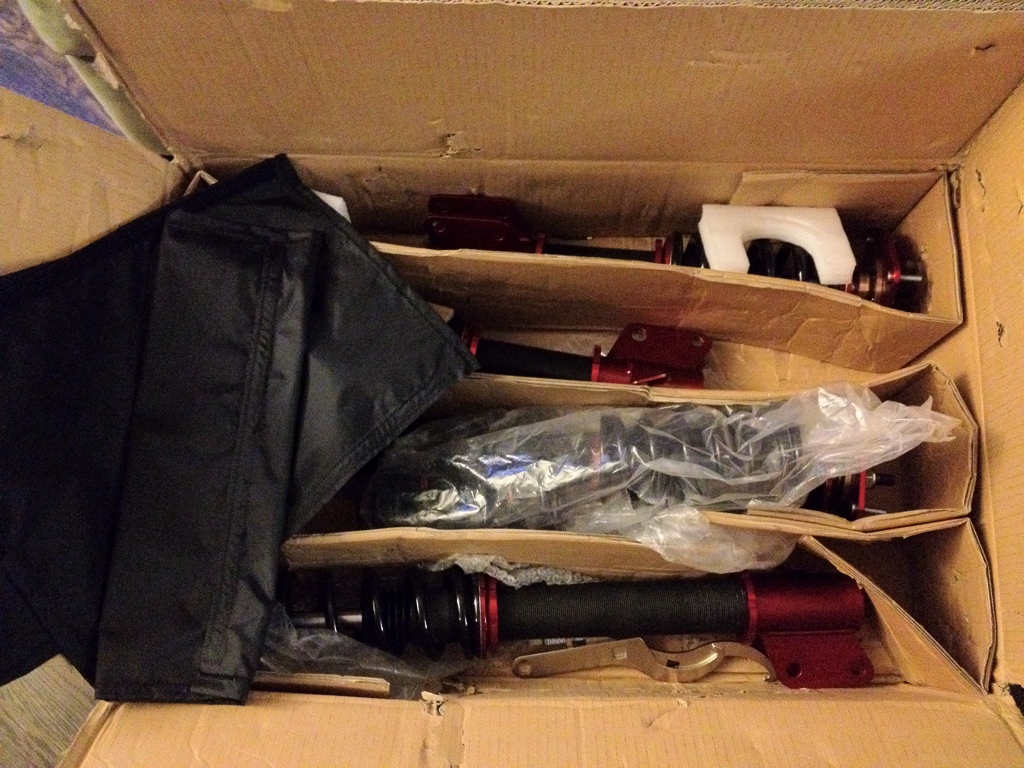 Halfway through the install here; I wound up securing the covers with some single-strand wire an also added a couple of holes in the wire loop for the wire to fish through so the securing wouldn't pull apart the ends of the Velcro: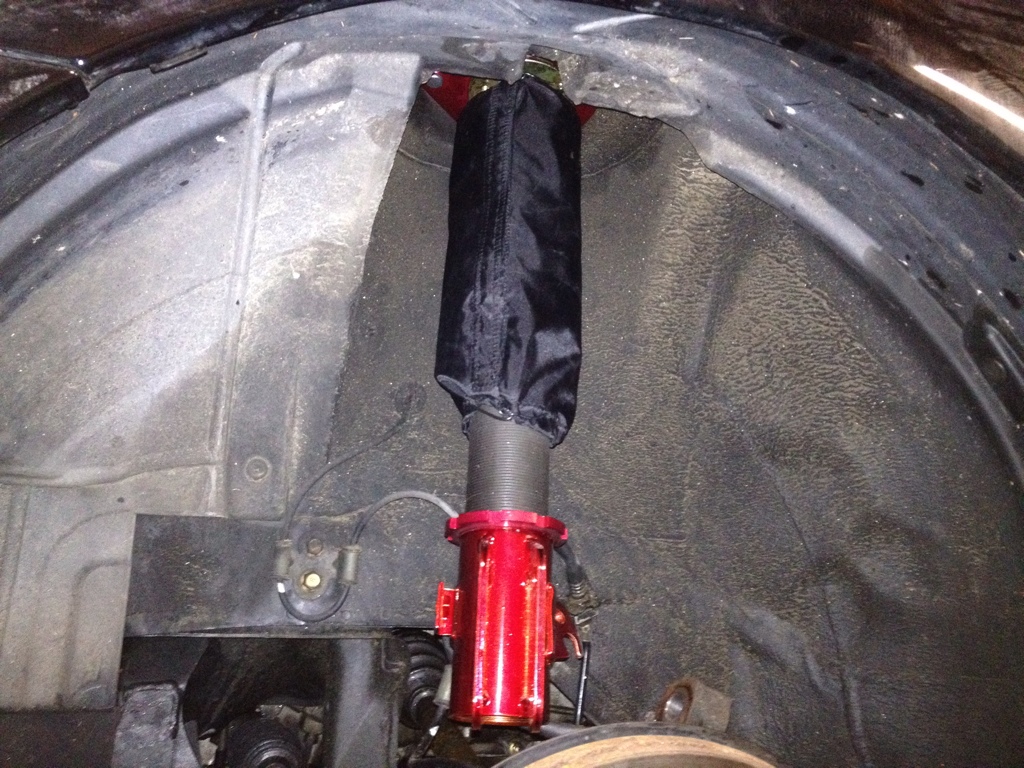 I left the rear wheel gap at 1 3/4" for the sake of keg hauling. The front I dropped from a whopping 2 5/8"! to 1" and then very quickly back up to 1 1/2" after I figured out that front lip + bad driveway curb=more DIYs than I want to ever deal with. At least the lip balances out the appearance: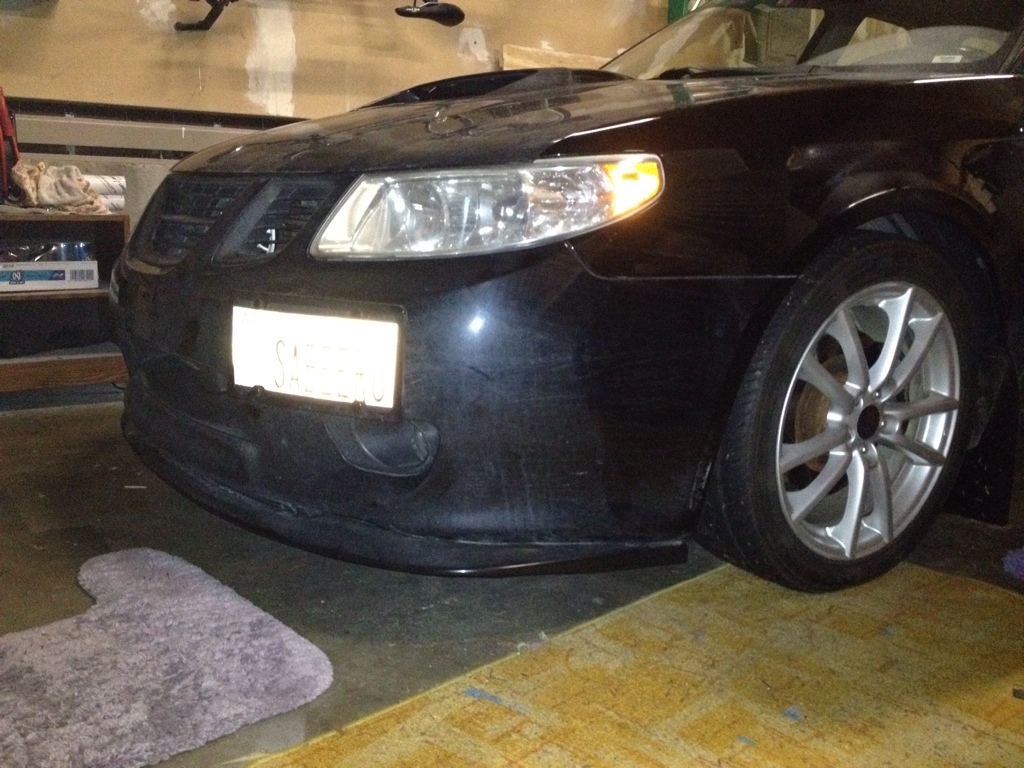 Next I dug into the cargo area. I was starting to get convinced that the rear was starting to get mold because of all the white crap. Looks like some crazy white sand or powder, stupid Florida cars, I pulled apart the back cargo area and this is what I had to clean up

: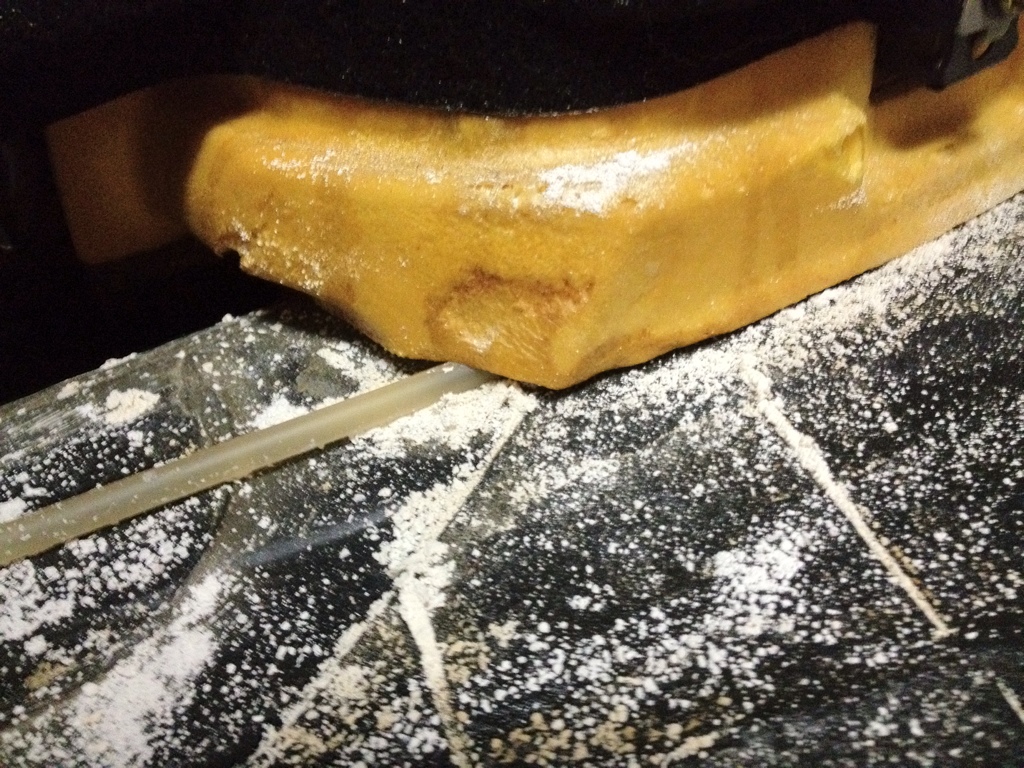 As for that lip, I took the 'droopy' back side of it and trimmed it down from this: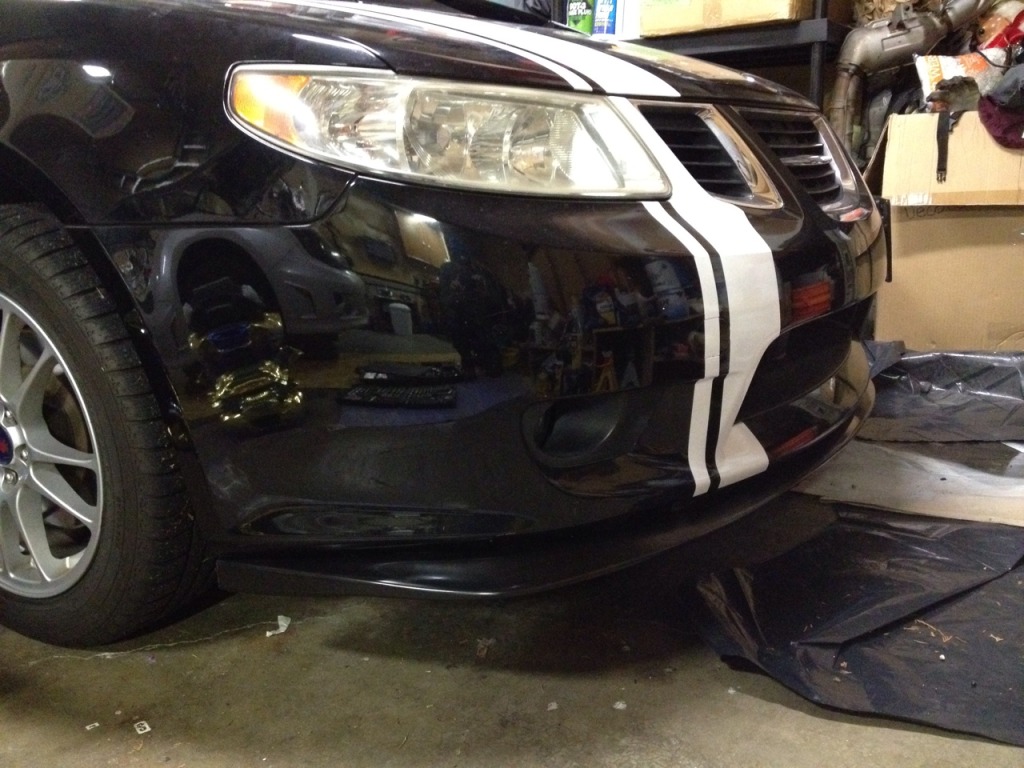 To this (and updated my how-to):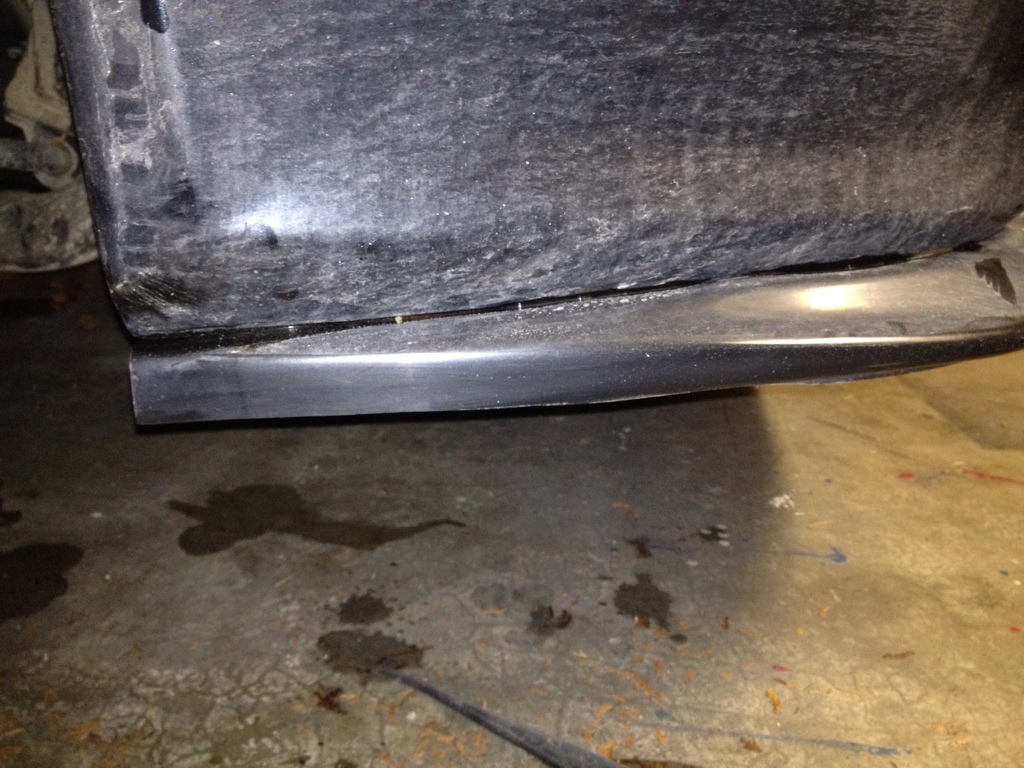 Swapped the mirrors from this: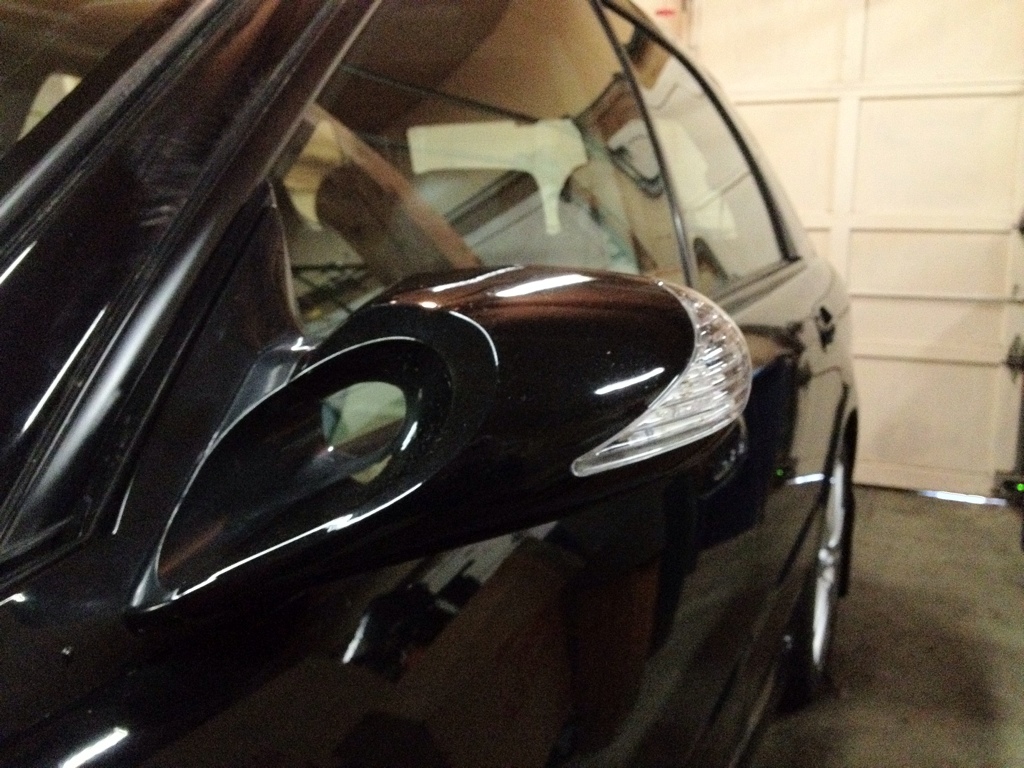 To this: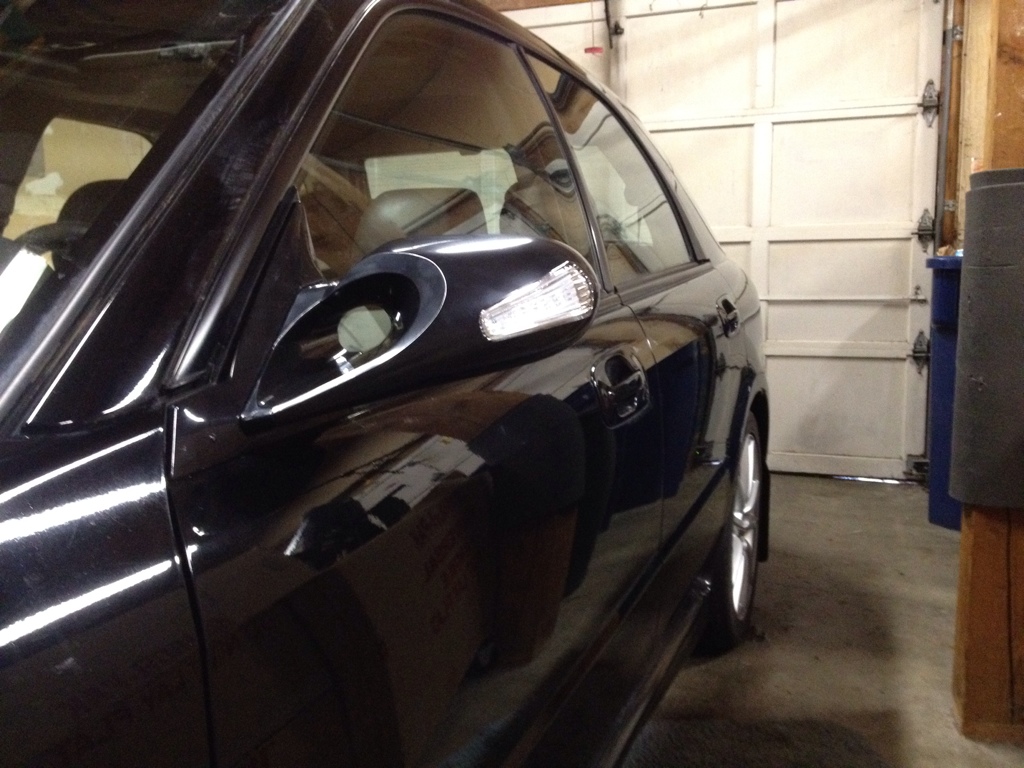 Put together some nice new center caps

: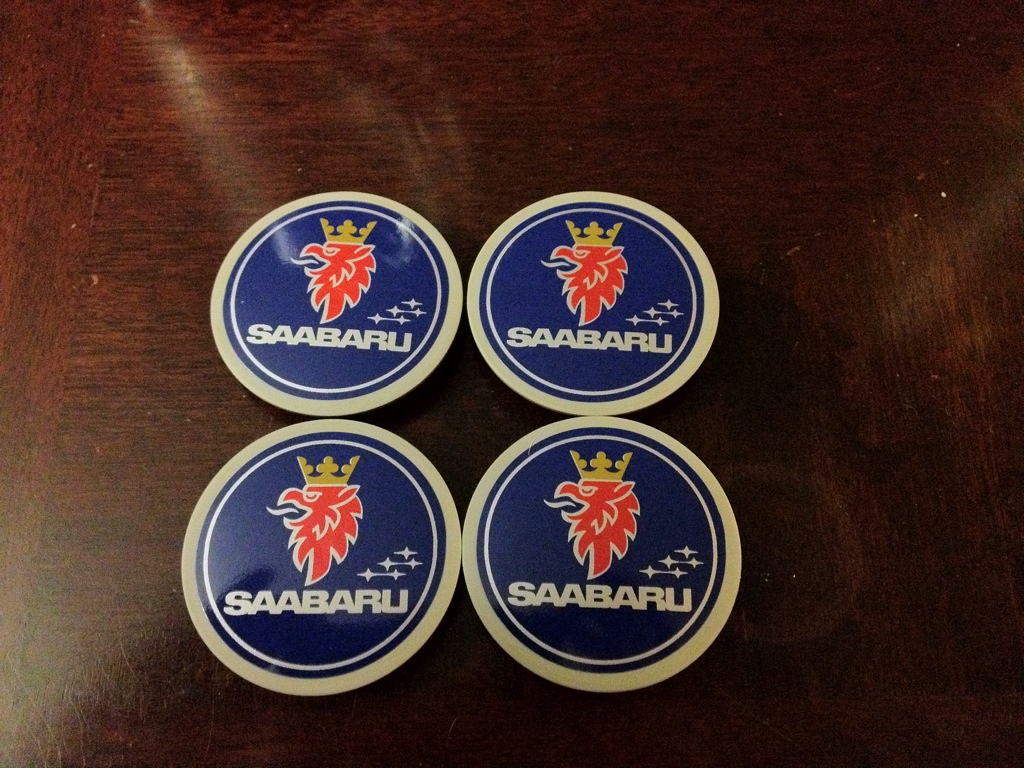 And Redline hood struts are ready to go on tomorrow: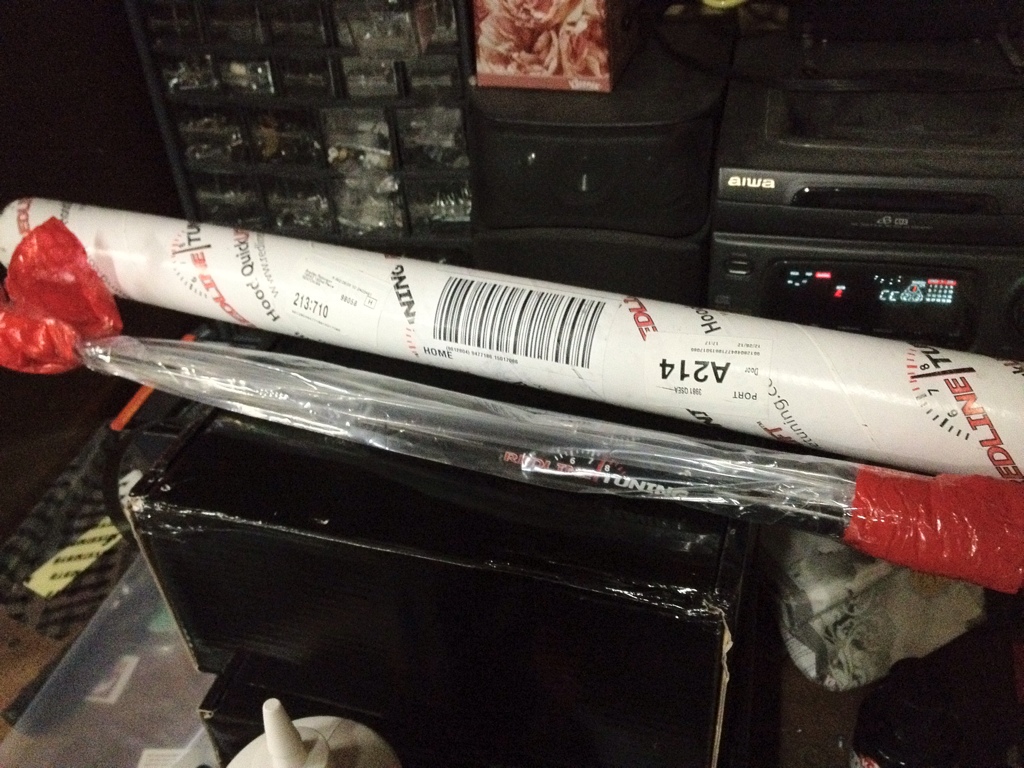 Updated exterior pics:*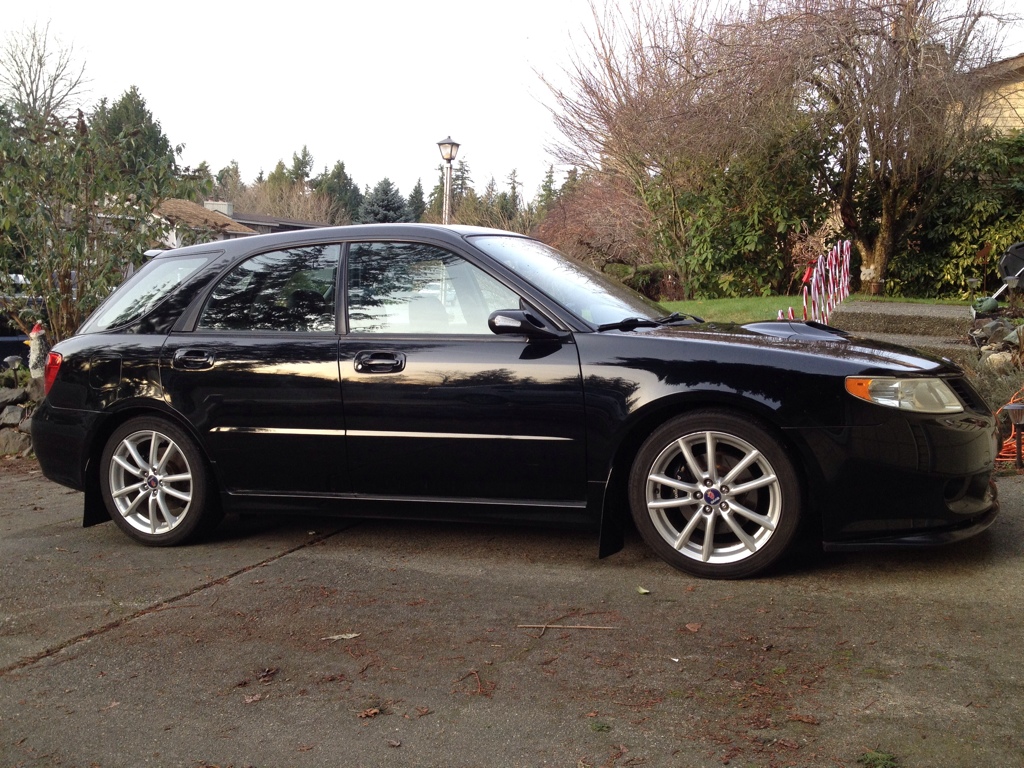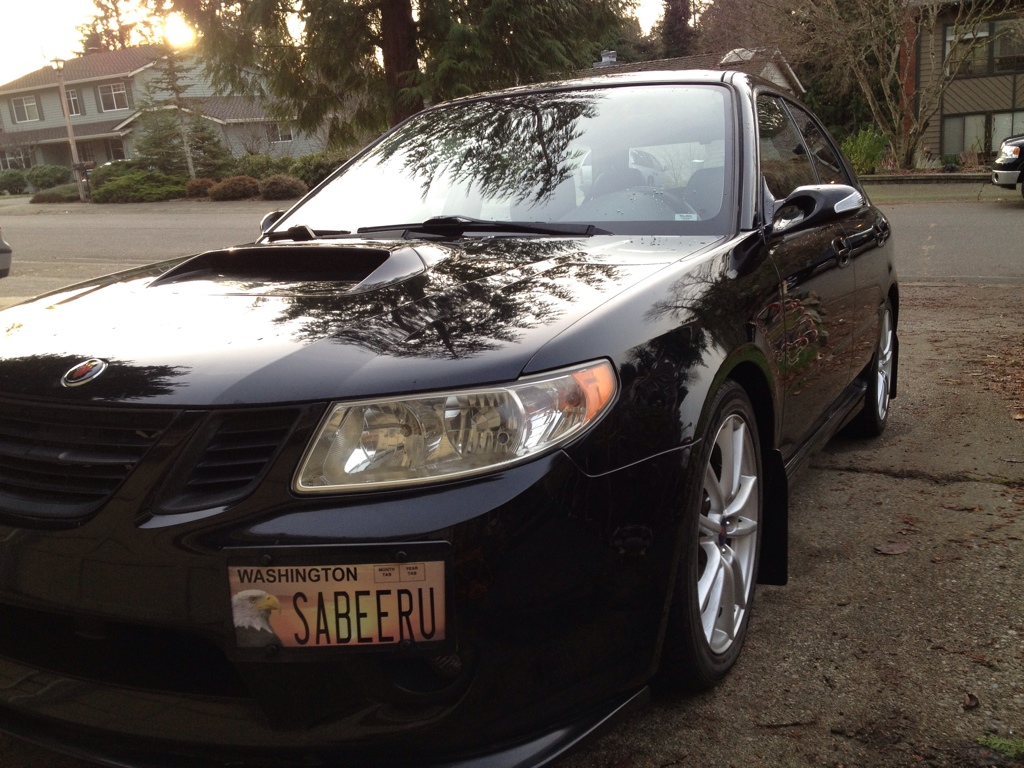 1-18-2013
Got a quick close up. It may just be center caps, but happy with representing: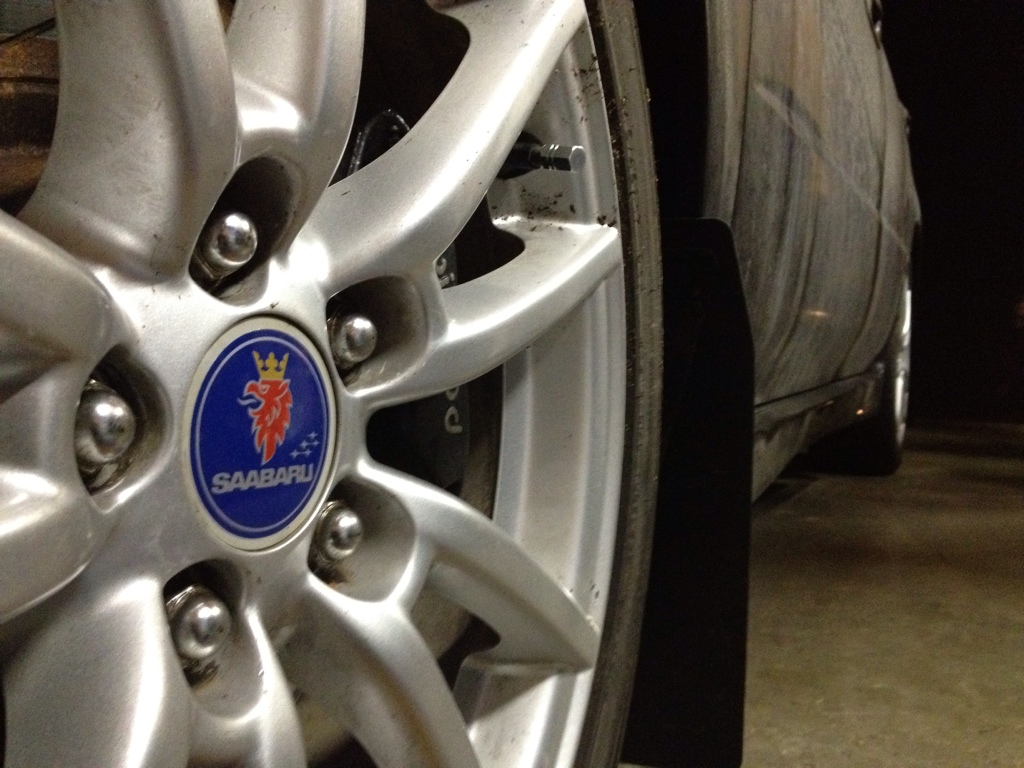 Finally got into some baking. Lights are now amber free. For the side marker bulbs I first flattened some female clips and put them in the bulb housings; this was a TOTAL mistake. without the bulb resistance, all I did was blow the fuses and I lost my tails. I pulled the clips and problem solved- you don't get a warning light or fast blinker from having the sidemarker bulbs completely removed.
To fill in the sidemarker hole left by removing the amber, I cut a triangle out of a 'cut and stick' mirror, then just stuck each corner on with silicone gasket: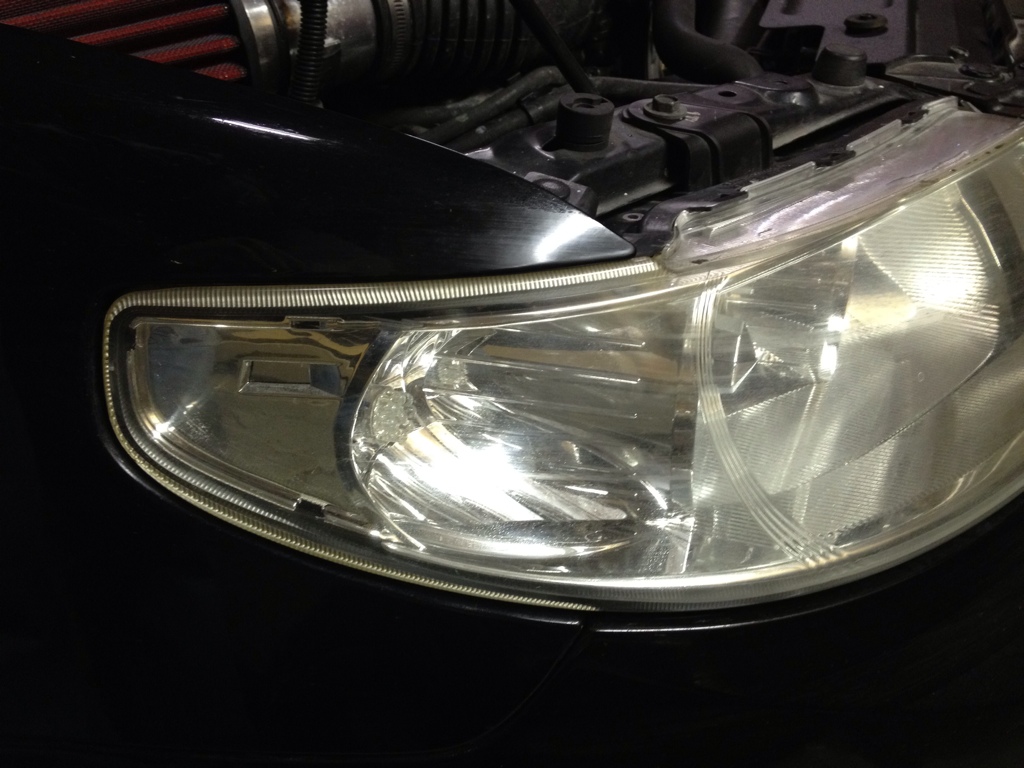 I replaced the stock bulbs with LEDs to finish it off, just need to put in the new relay once it arrives to get my flashers back to normal speed: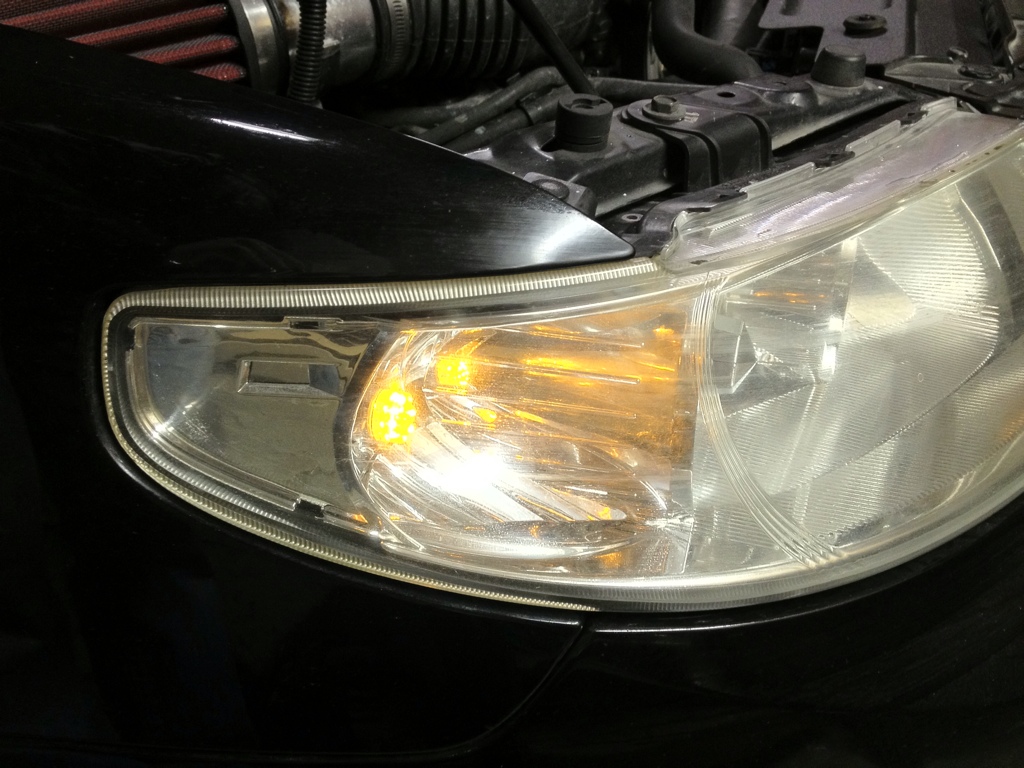 1-22-2013
Well, my wife has been itching to get some 'real' pics of the cars, so I got my 18/25 charcoal tint on Saturday and Sunday we went to town. So impressed, we wound up with almost 100 good shots, here's a few of my favorites: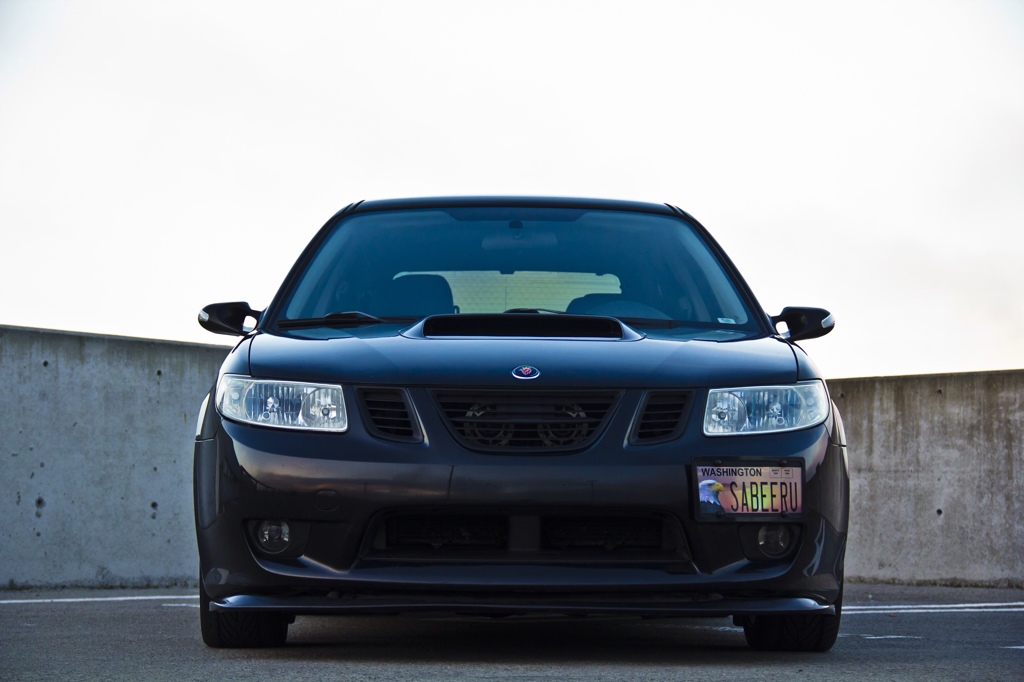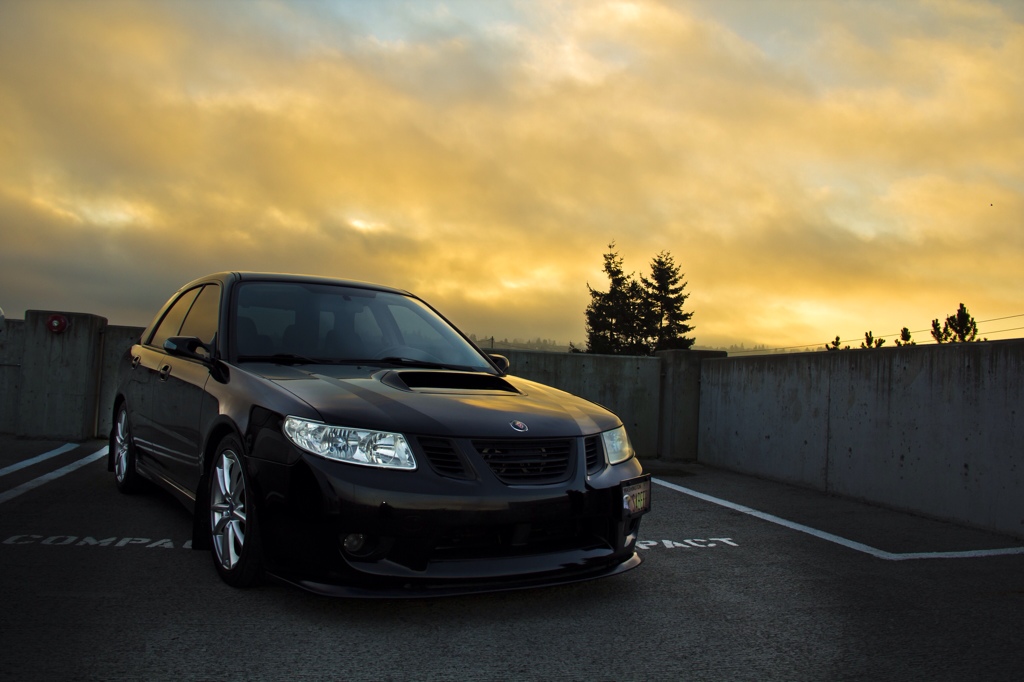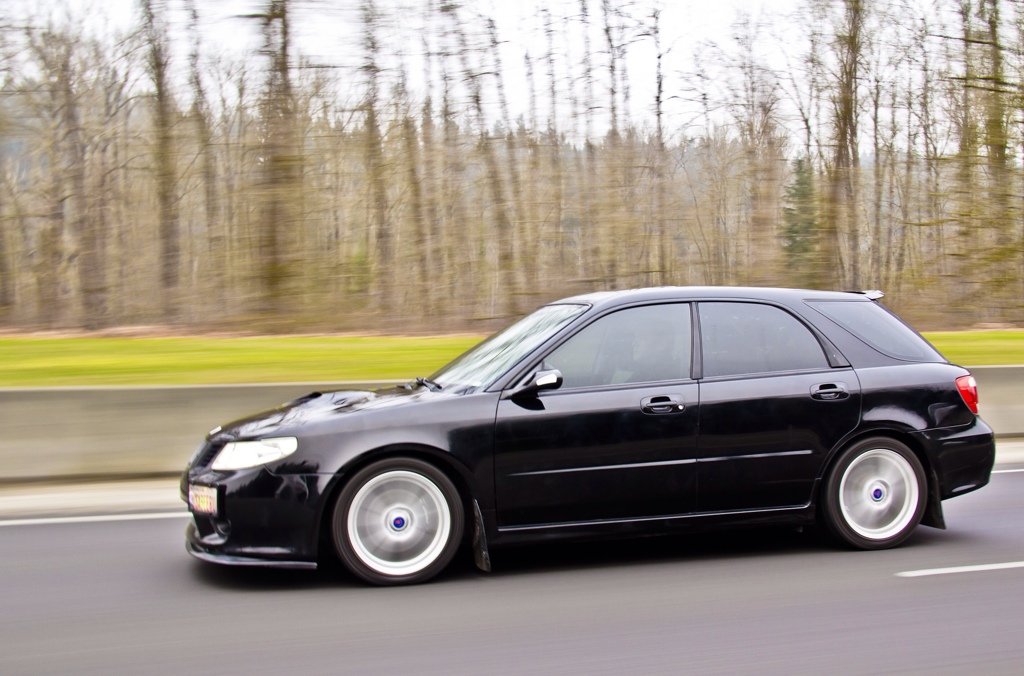 This one just looked brochure to me: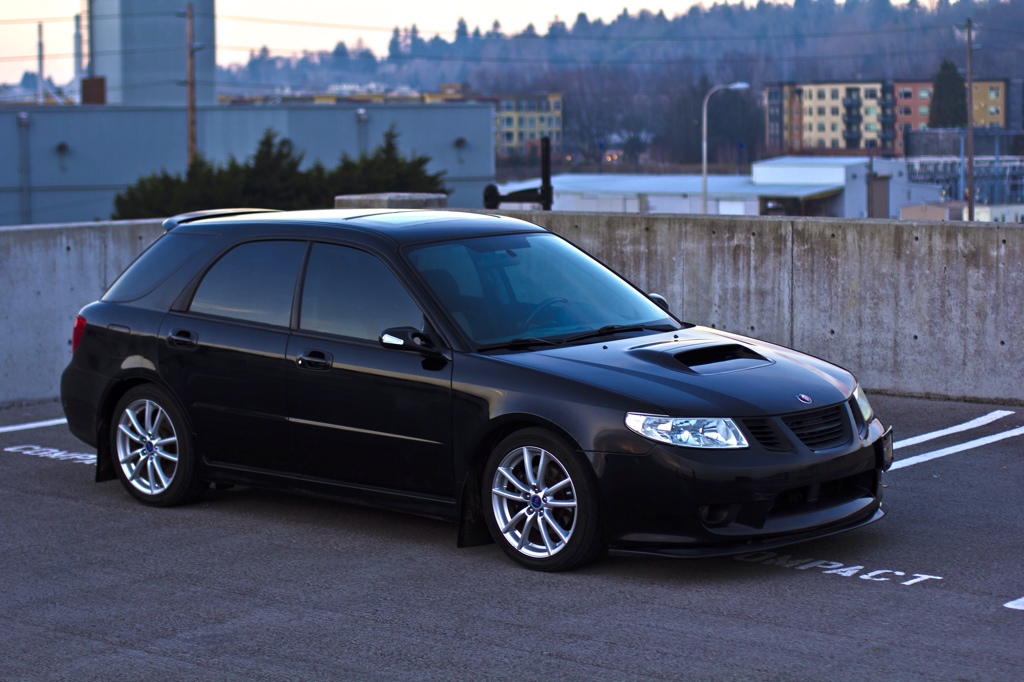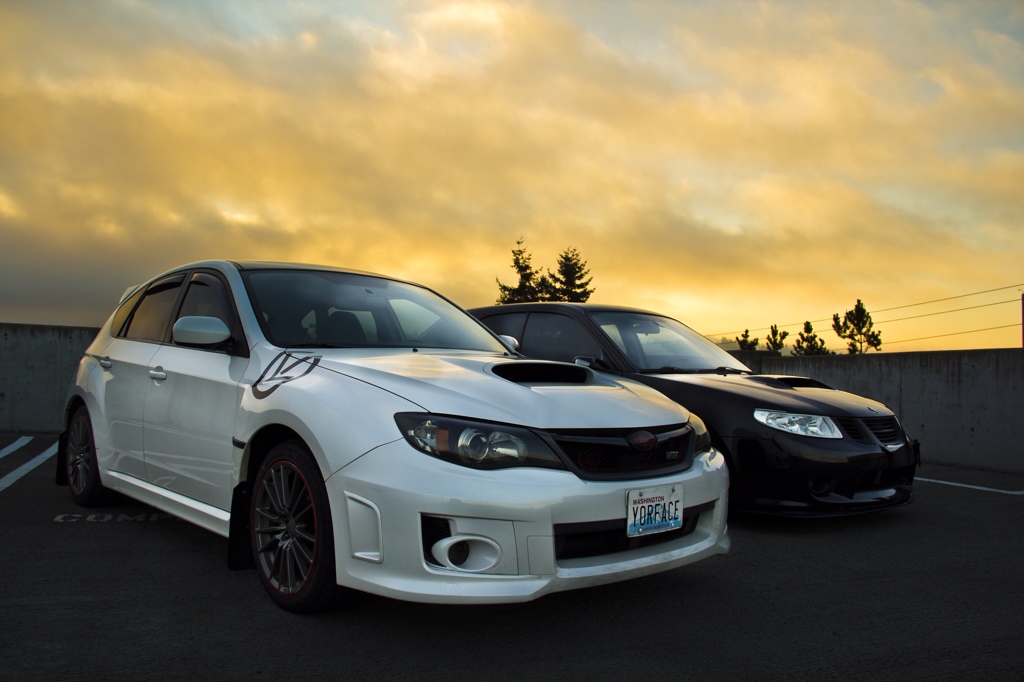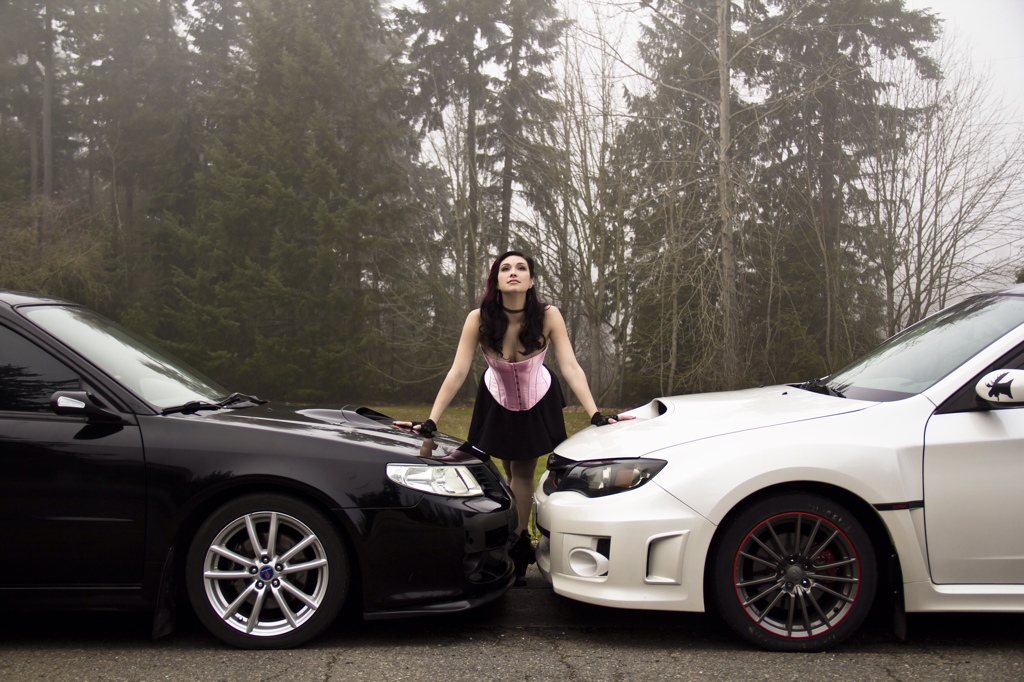 1-23-2013
Hey, it could always be worse...



http://saab92x.com/viewtopic.php?id=41160

Thanks for the compliments, especially to those that didn't dig the car before. Talked to my exhaust builders today, sound like I'll be lucky if we start fabbing by March

That may mean no work on the car for a bit unless I get one hell of a refund and decide to get some gauges.
I decided to go with an SMY Clustermaker housing Maddad basic Oil Pressure and Boost gauges for starters. Still trying to decide if I want to add more brushed metal inside the dash: http://www.ebay.com/itm/Subaru-Impre...-/160941755205
Or, alternately, I'm thinking about painting the center console Black, getting a new black knob for the Avic, and these overlays for the HVAC controls: http://www.subtle-solutions.com/prod...eecccdf63ed771
2-10-2013
Moore Blast plates just arrived. Great construction and finish for a part nobody will ever see. Unfortunately, someone missed packing the bolts for this baby, but I'm guessing that was a small goof. Planning on these as a little extra insurance while I save and search for the right 6 speed deal; can't hurt for whoever winds up taking my 5MT second hand either. Feet and meat included free of charge: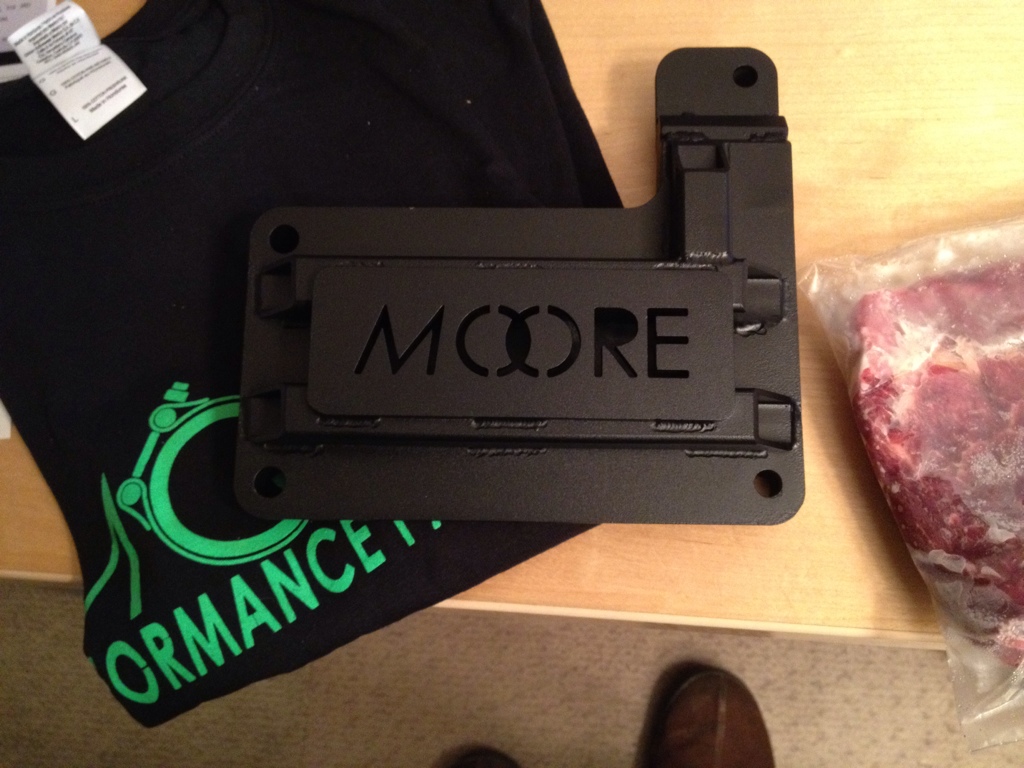 3-5-2013
Got a few issues with some new electronics I ordered

, so filled time by continuing the blackout process.
For the interior I picked up a some 3M Gloss Black 1080 film and wrapped the center dash: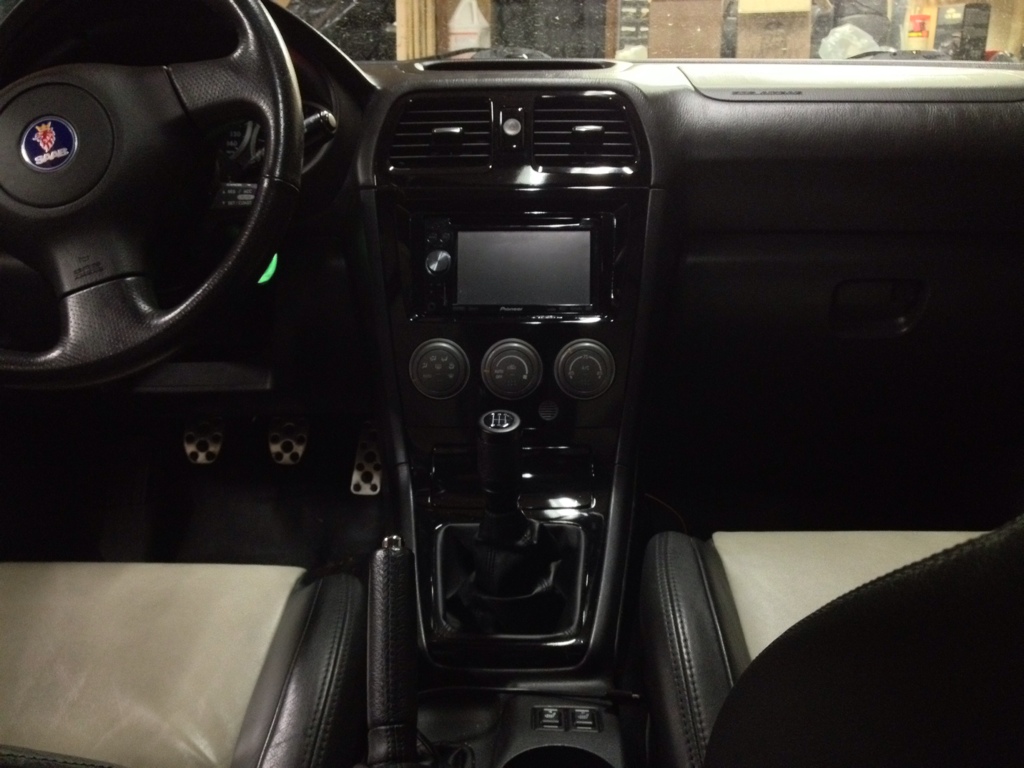 Big thanks to Suby WRX for helping me with the wrap today. Finish kooks like a flatscreen bezel, and a far better match for the Pioneer Avic deck. Overall very stock in appearance, next steps are to black out the Avic Knob, HVAC controls and Climate control sensor port. Still debating if I want to do anything with the hazard button, I don't like the JDMs, but it would look better on Black than silver. Also took time to swap out the white iPod cable for black and ran initial backup cam wiring.
Also got a new Perrin Alternator cover on: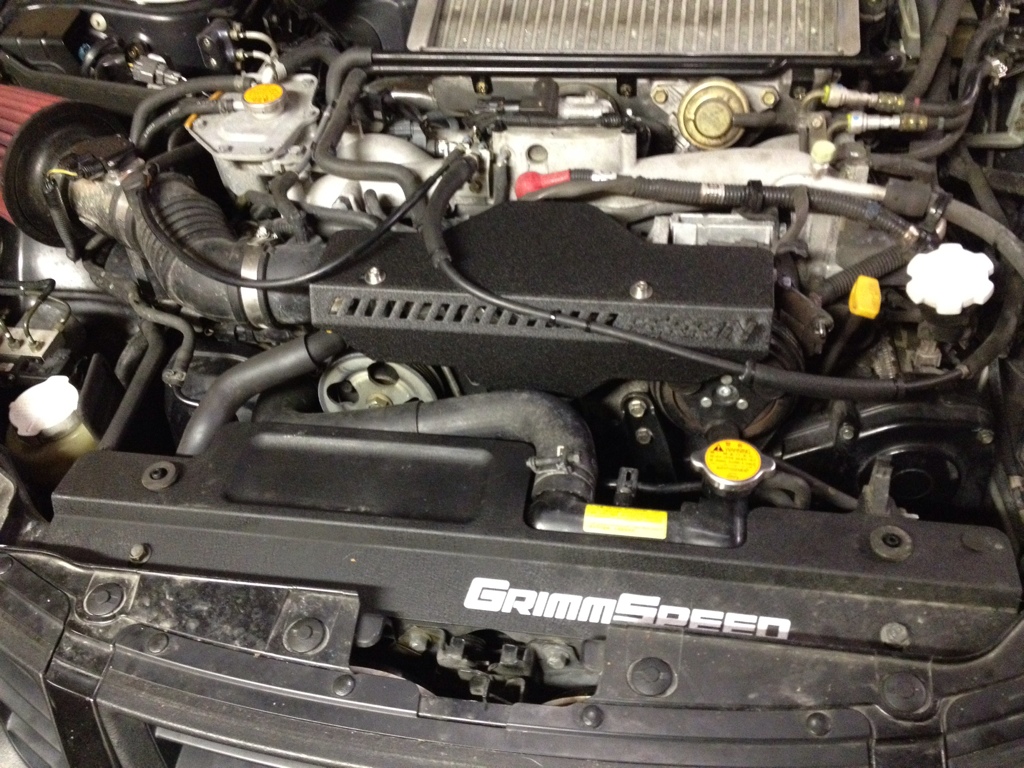 3-12-2013
Figured that the vent rings need to match the center console rather than the A/C controls: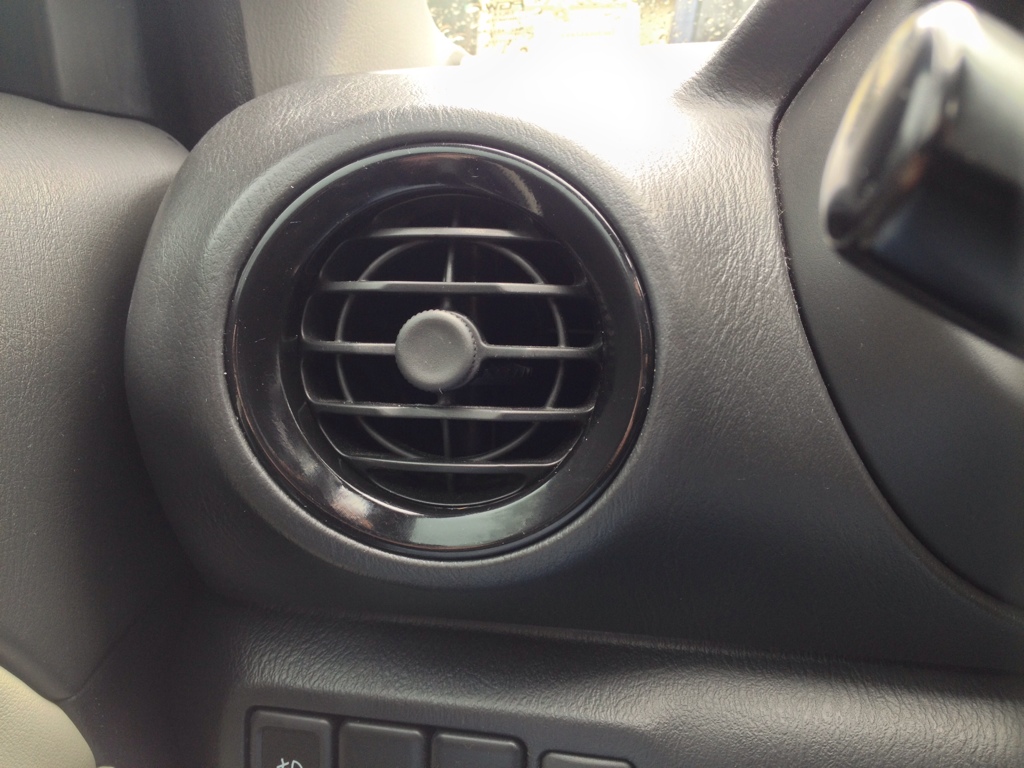 Got in my red Vinyl, new Avic knob and HVAC overlays, this came out better than I expected (sorry about the dark pic):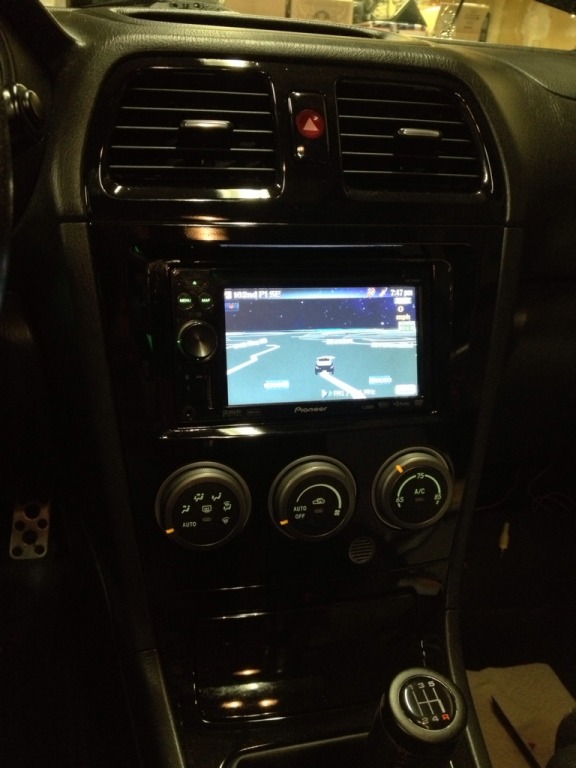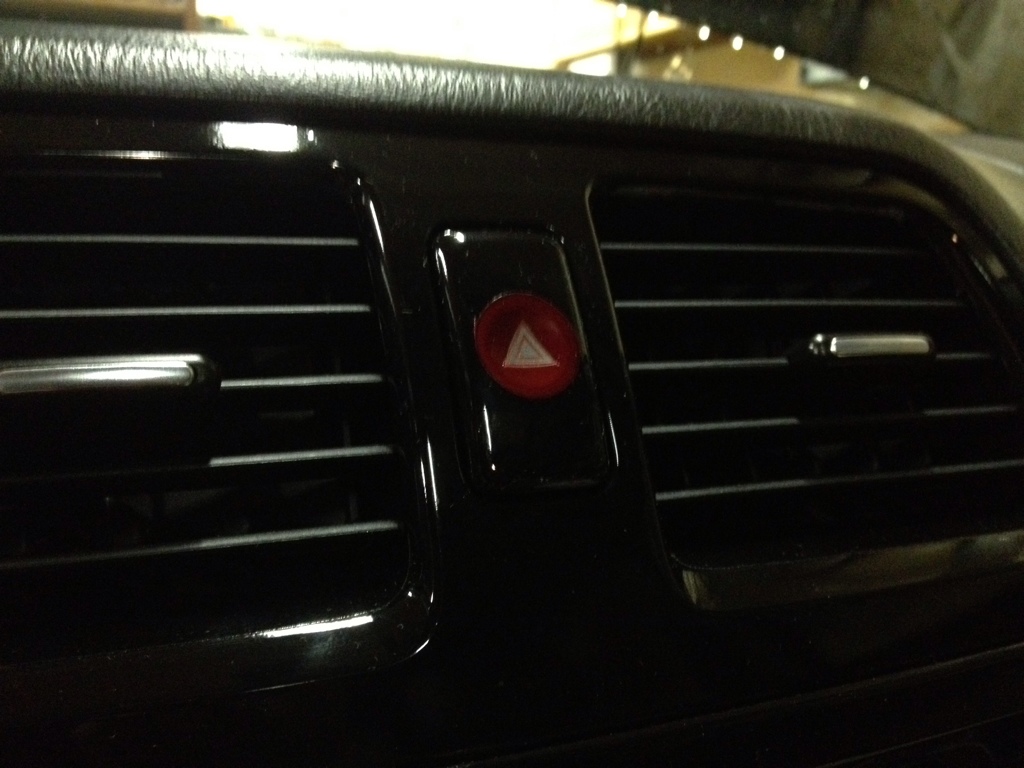 Last but not least, swapped out the leaky PS pump and cleaned up this gem of a puddle: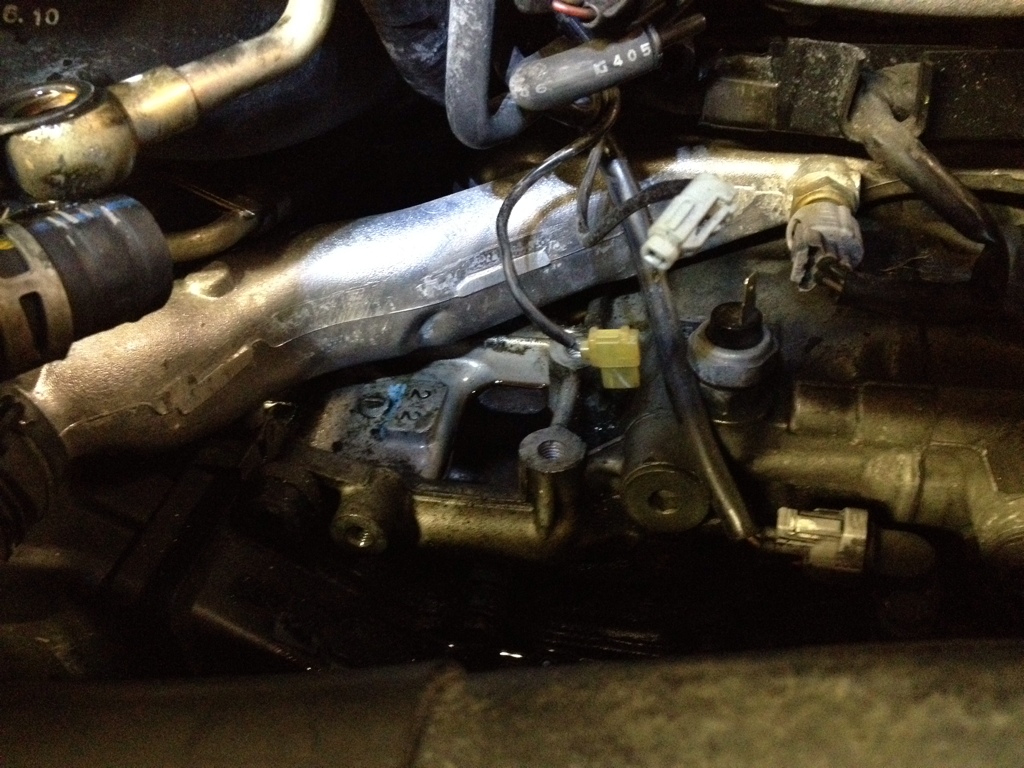 4-1-2013
Finally back in town for a good stretch, got around to a few 'comfort' items this weekend that every car should really have:
Installed IxizHood Struts: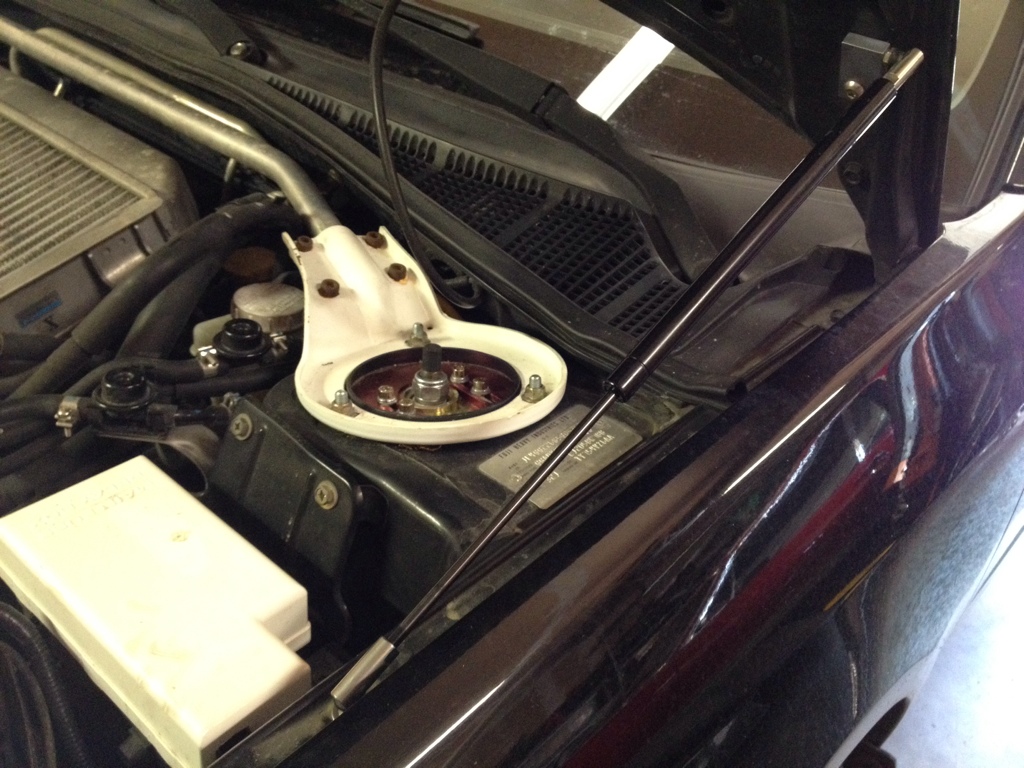 Put in some Hyundai cupholder inserts; thanks to whoever posted these, great fit: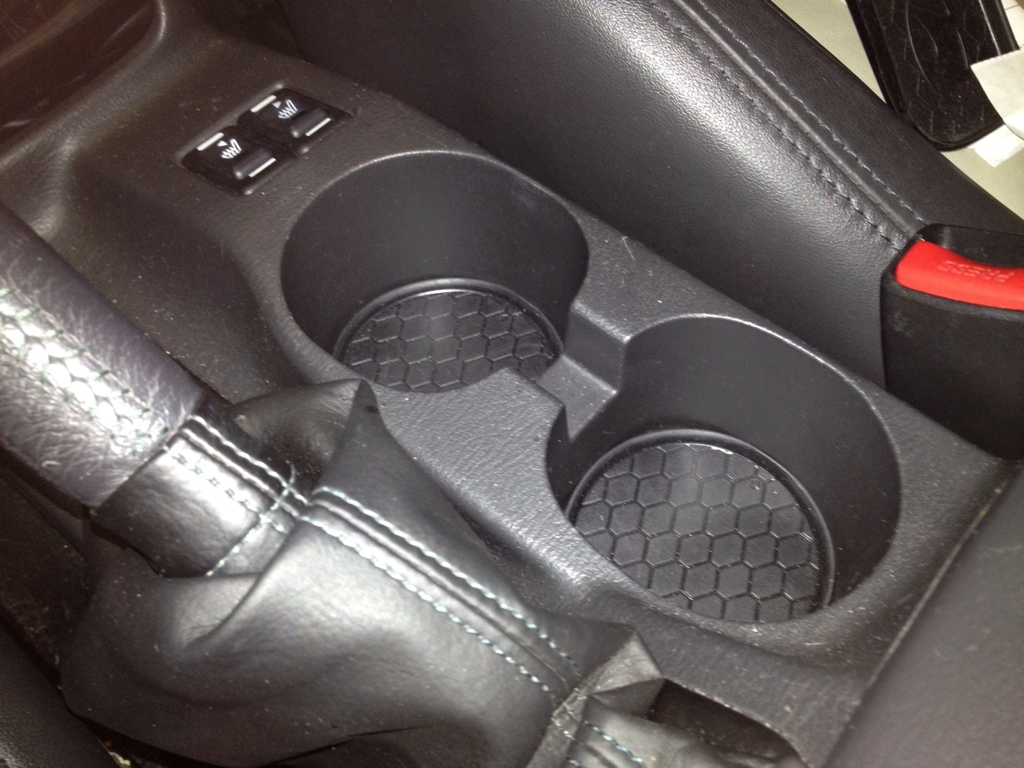 Added a homelink mirror, long overdue: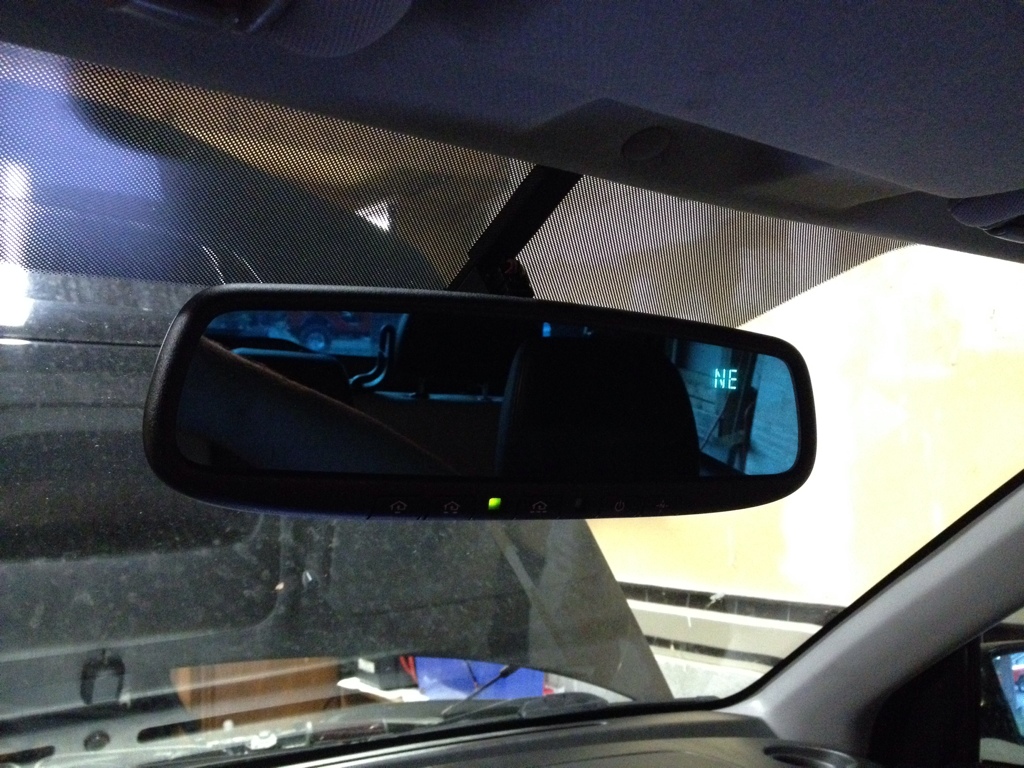 And lastly put in a backup camera (5 stars and $18 on Amazon

)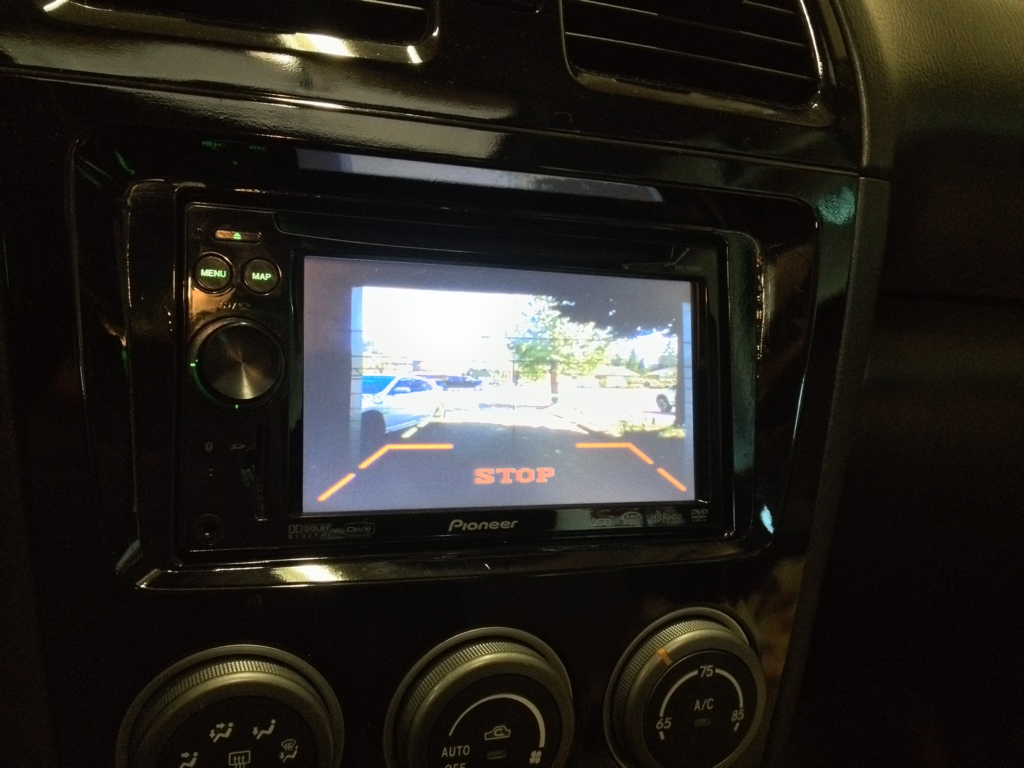 I wound up installing inside the glass; I had planned on attaching it to the spoiler, but even with my rear window at its dirtiest, the camera shot was still sharp, and no drilling is always a plus: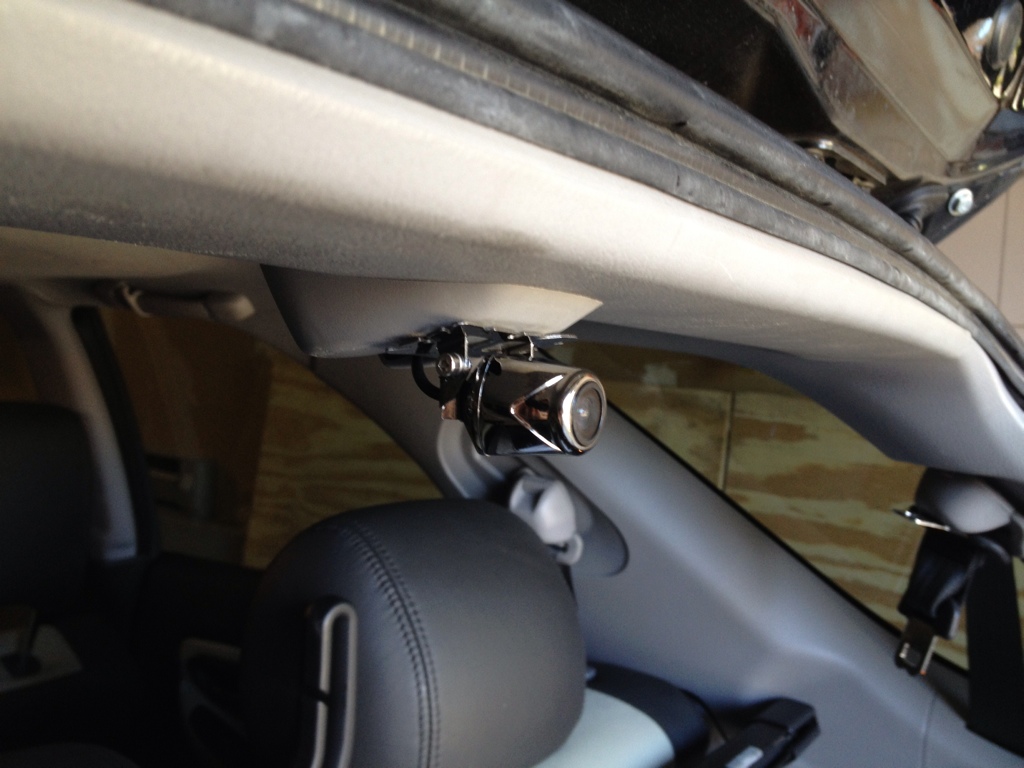 4-6-2013
Weekend project time- first off is a spring (not the season) and summer tire swap. Decided to go to a 5/7kg setup from a 7/9kg. It was perfectly fine on the road trips I've been taking, but a few of the local Seattle freeways are a little jarring; 5/7 is still double the stock springs and should put it right where I want it. Fortunately, I've had no bouncing and the MDUs are holding up quite well, the only touch of surface rust I could find was in the very bottom of the coilovers. Considering these have been driven about 70% on snow with salt, not too shabby.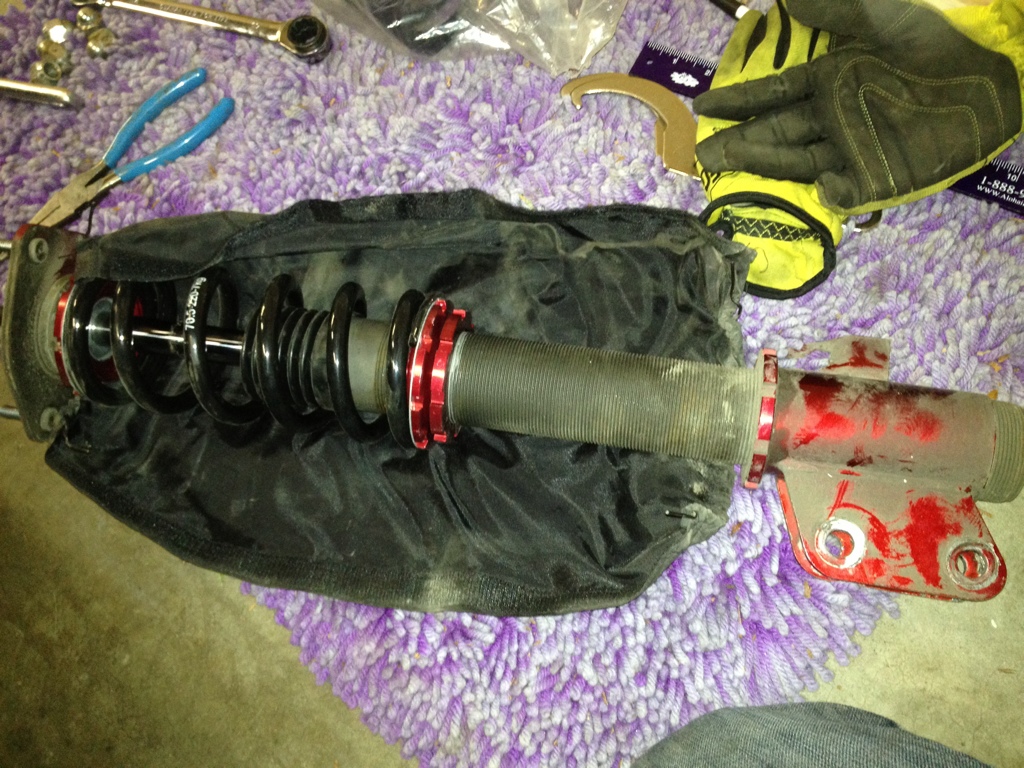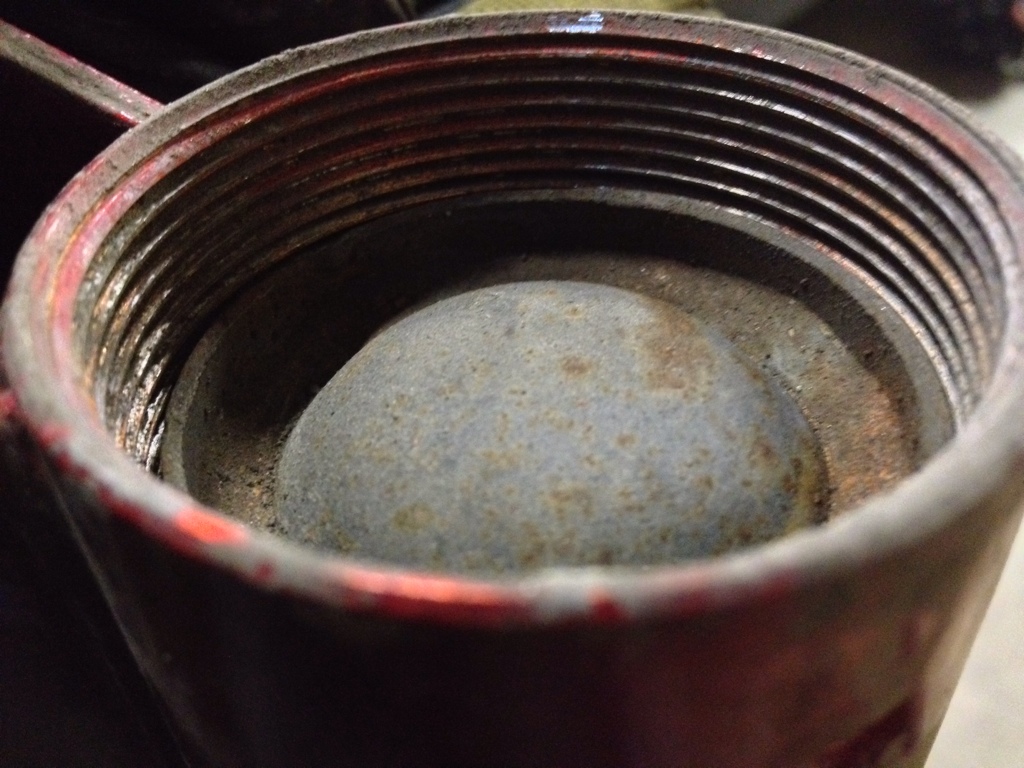 And compare to my DBA 4000s that went on new at the same time
: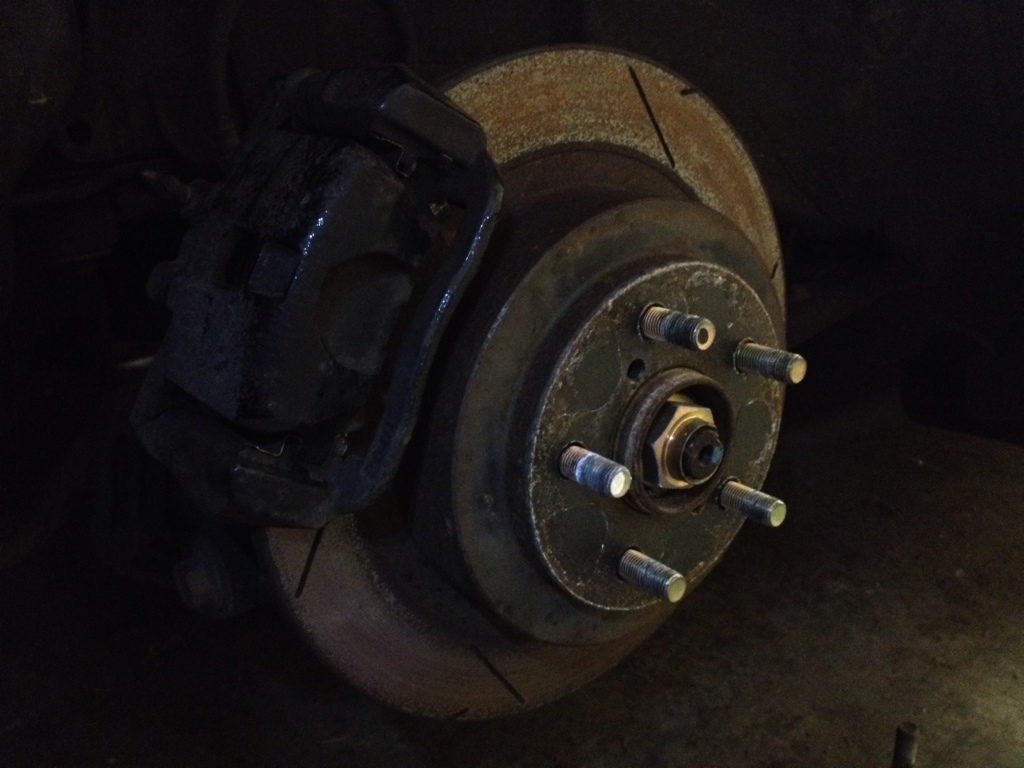 Step 2 is just as big- back to stock downpipe, back to stock intake, and I'll be heading in for baseline dyno pulls on the 22nd. The new exhaust will be built over those next two weeks, now along with a fresh intake and the SaaBeeru's first protune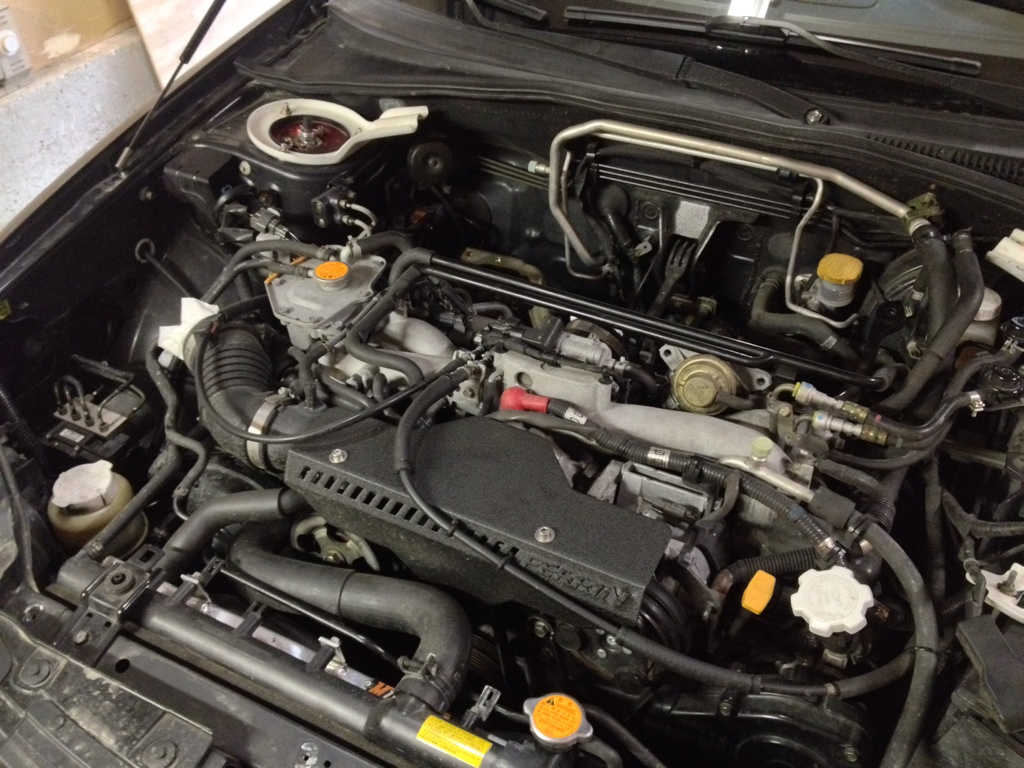 A Saab 9-2X is essentially an 05-06 Impreza wagon built by Subaru with different body panels, suspension, and a slightly different interior. Engine and drivetrain-wise, the cars are identical, and the Linear models are same as base Imprezas and Aero models like I have are the same as a WRX.
It was part of a deal GM had with Subaru when GM owned Saab, and was dissolved prematurely, so the cars were built for just over a year. To my knowledge, they were just US and Canadian market cars; the couple Russian and Swedish examples I've seen are imports, so there's a chance there's not a single one in Germany.
4-11-2013
Well, of course I figured out that something was lost in translation and my spare softer Chinese springs are fronts

oh well, I'm not that disappointed with the 7/9kg setup, but if you're staying stiff, do it right, yay Kartboy: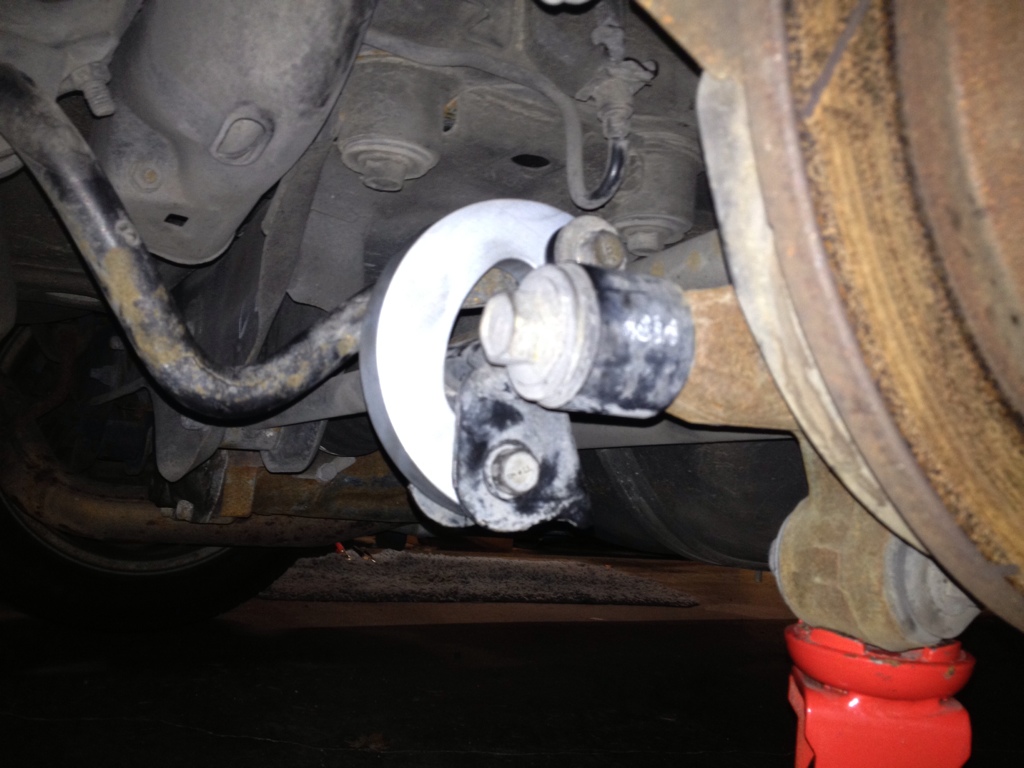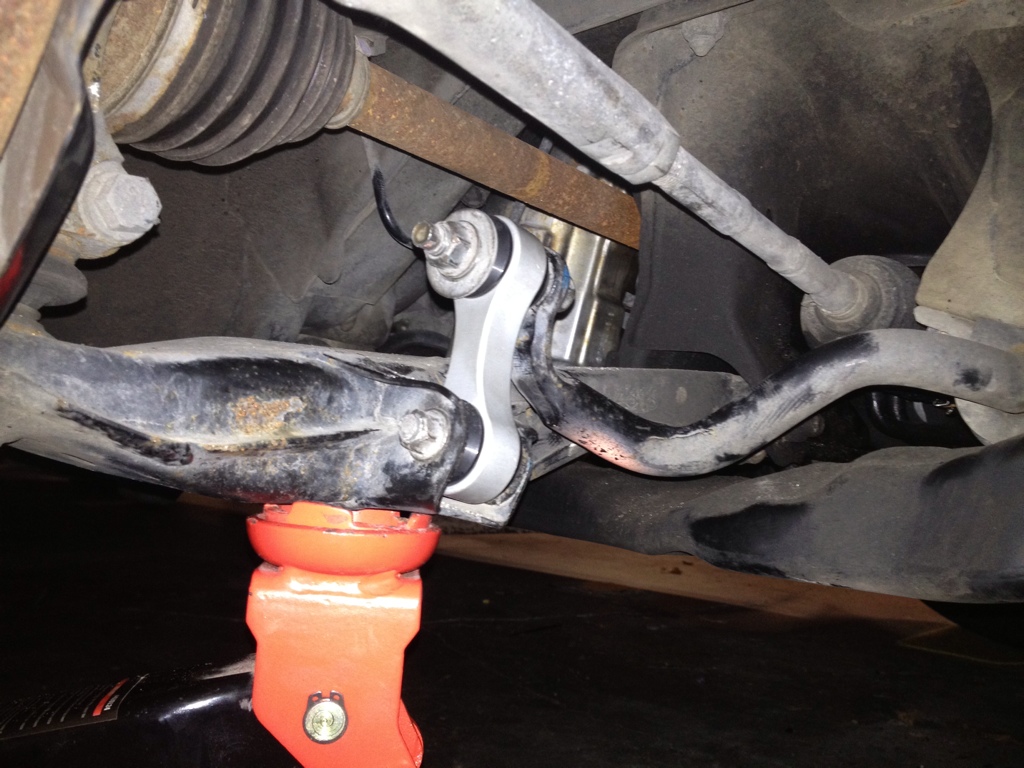 Also went to town on taking care of the black on the car,and picked up,some Turtle Wax 'Black Box', here's a review I posted with a bunch of pics: http://forums.nasioc.com/forums/show....php?t=2492166
A before and after close up: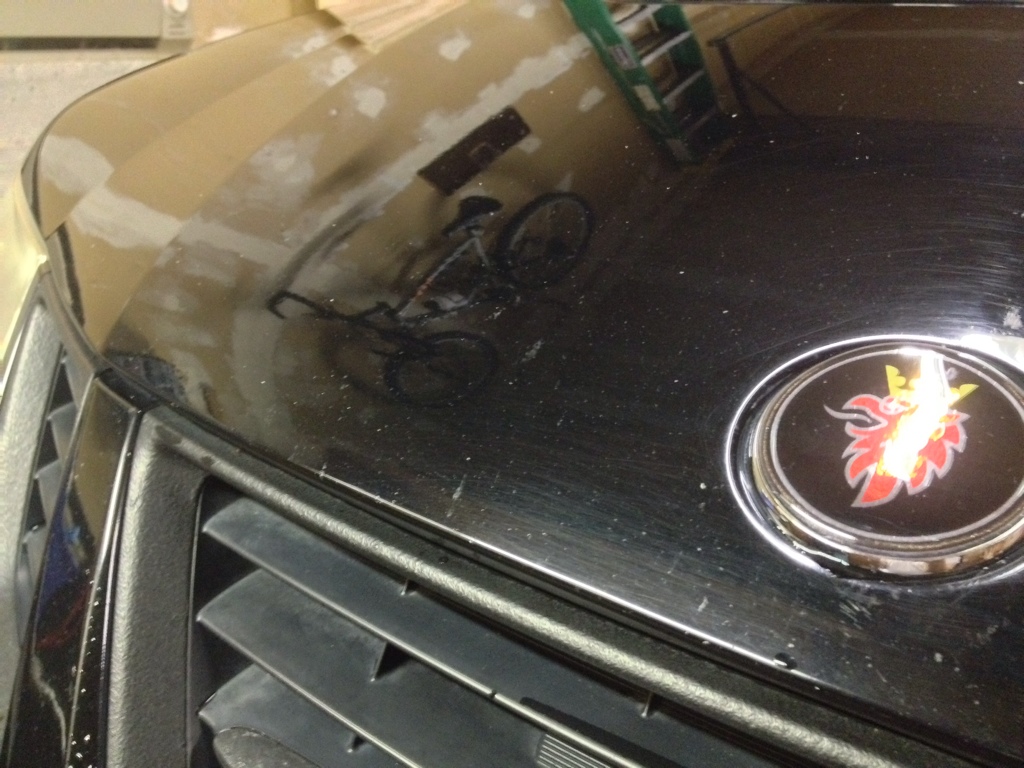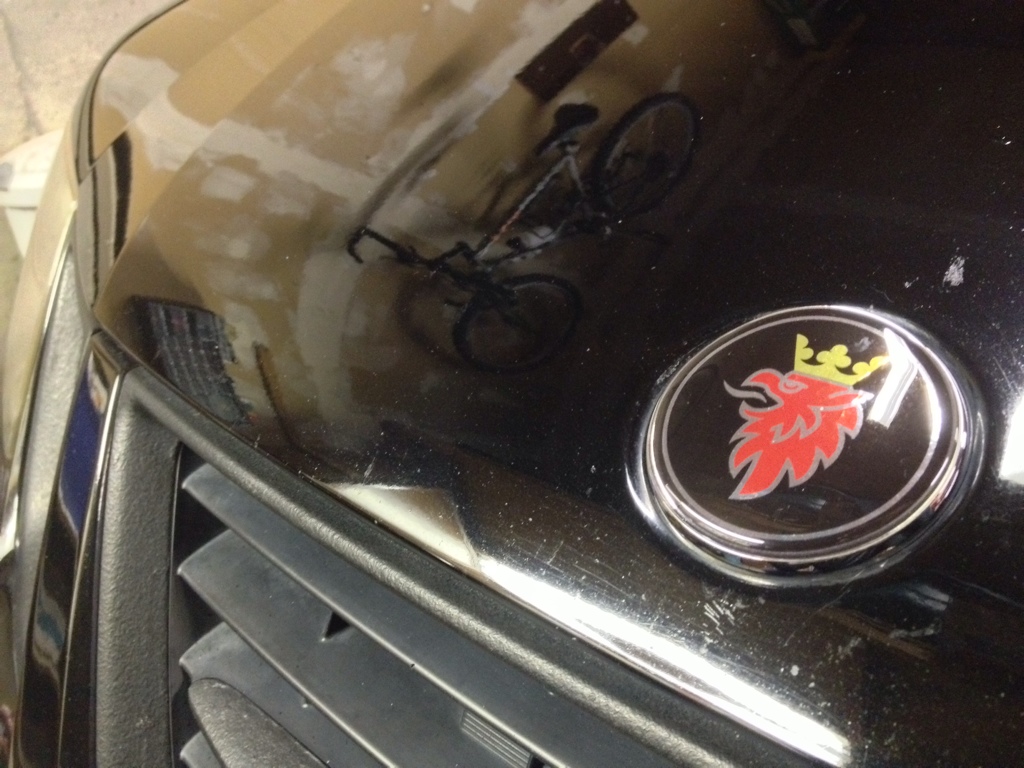 I went to town with some trim restorer, here on the left: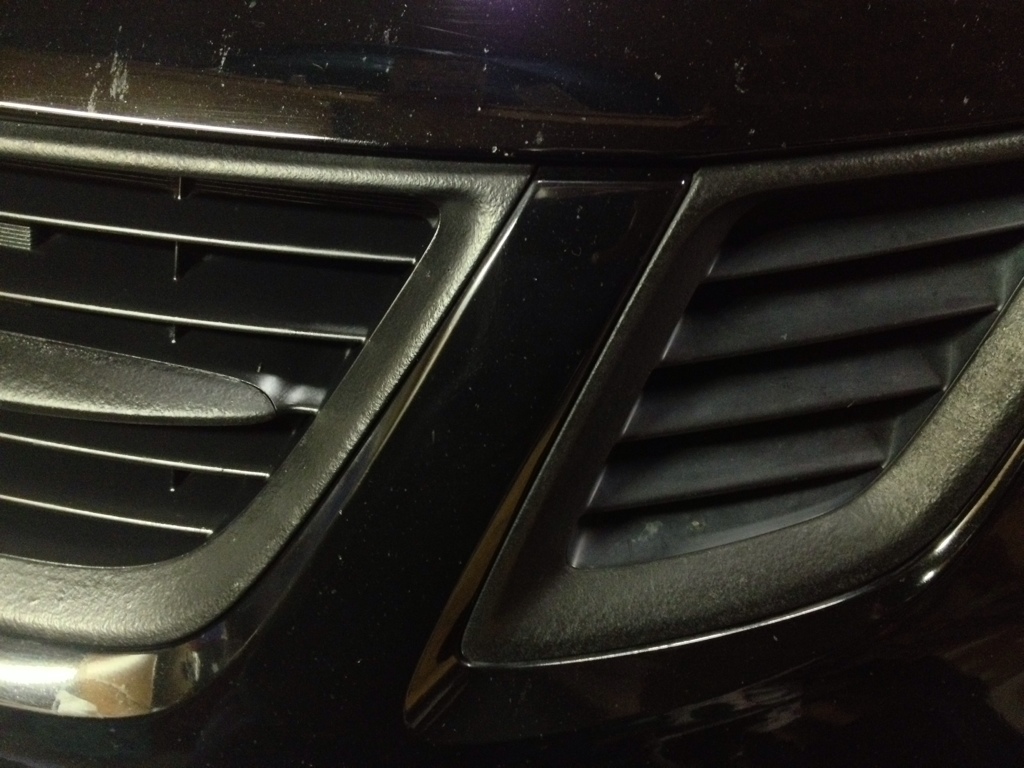 And all ready for the prom

: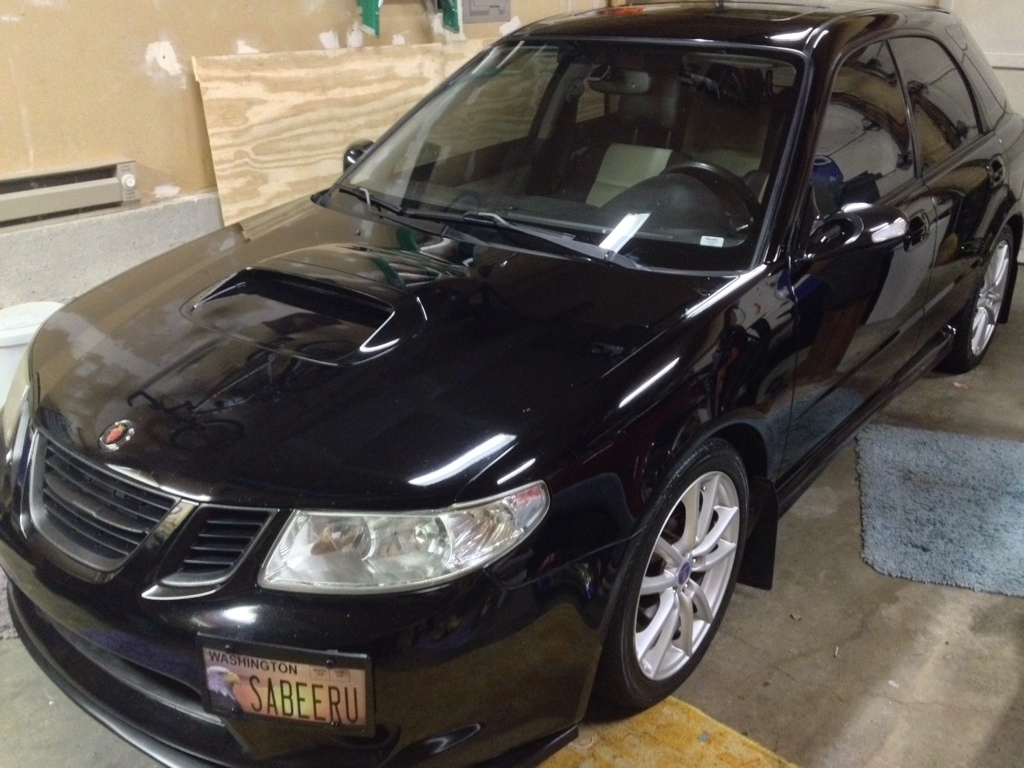 4-21-2013
Finally got my gauges in today, found an Autometer dual gauge pod that was still in stock (fitment was excellent), and put in Maddad Ultra Basic Oil Pressure and Boost gauges. Perfect interior daytime match, finally getting this to look the way I think it should have stock: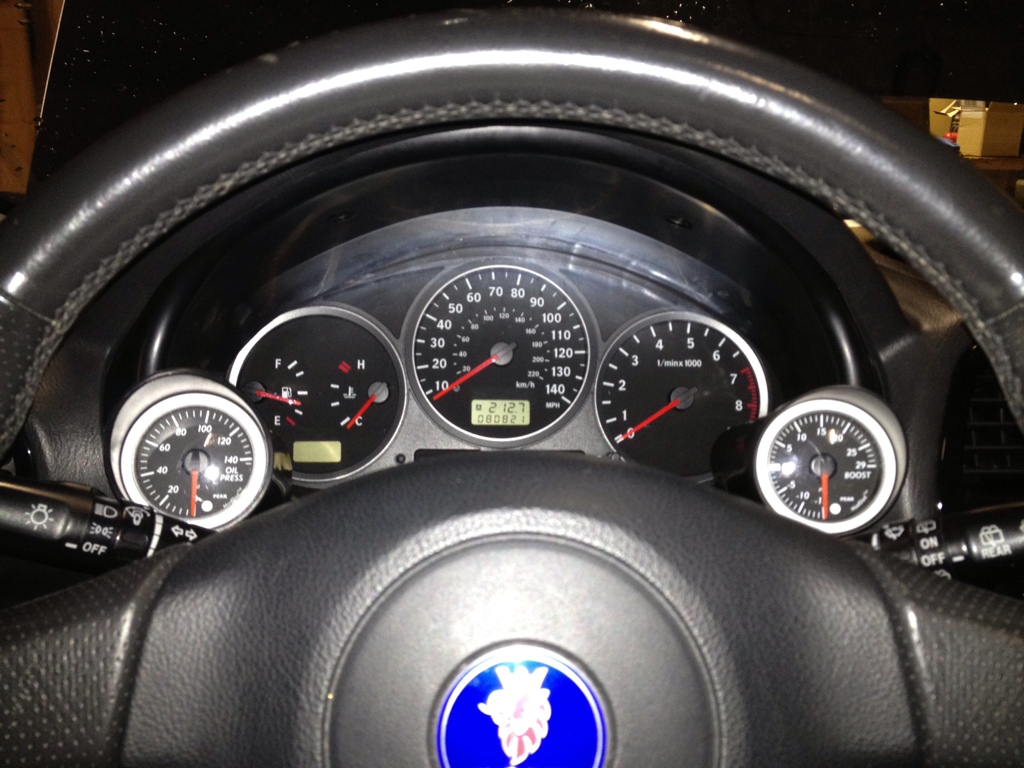 Backlighting is a little bright, need to look into if a potentiometer works on these: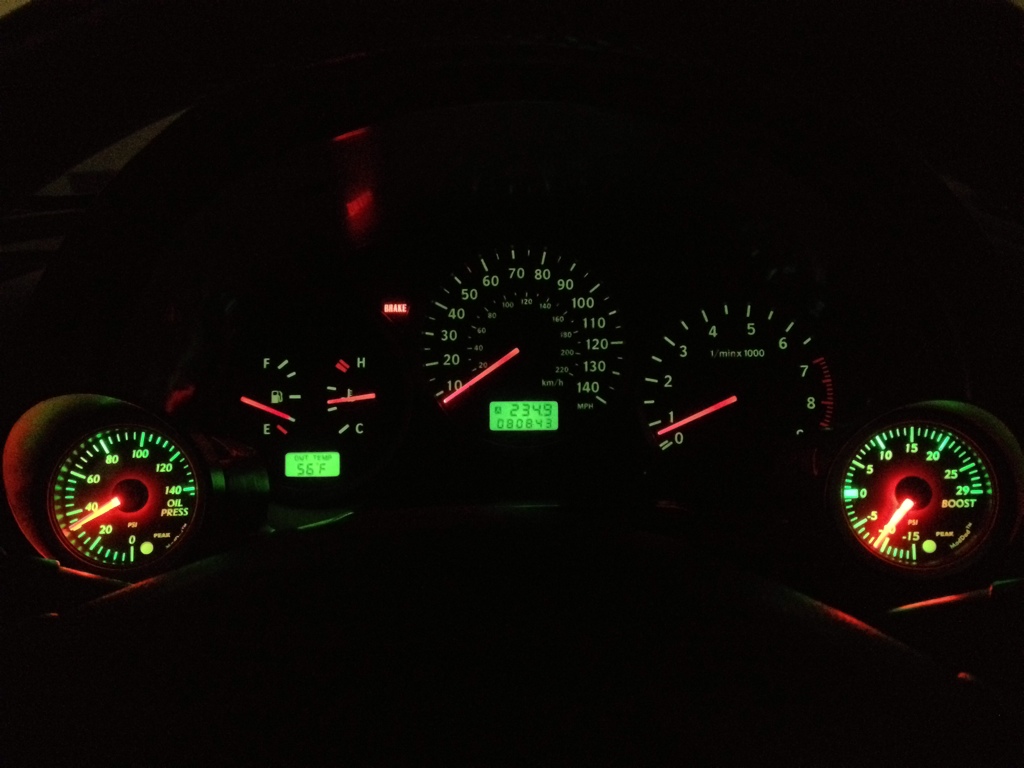 And here's the wiring for anyone wondering how to set them up: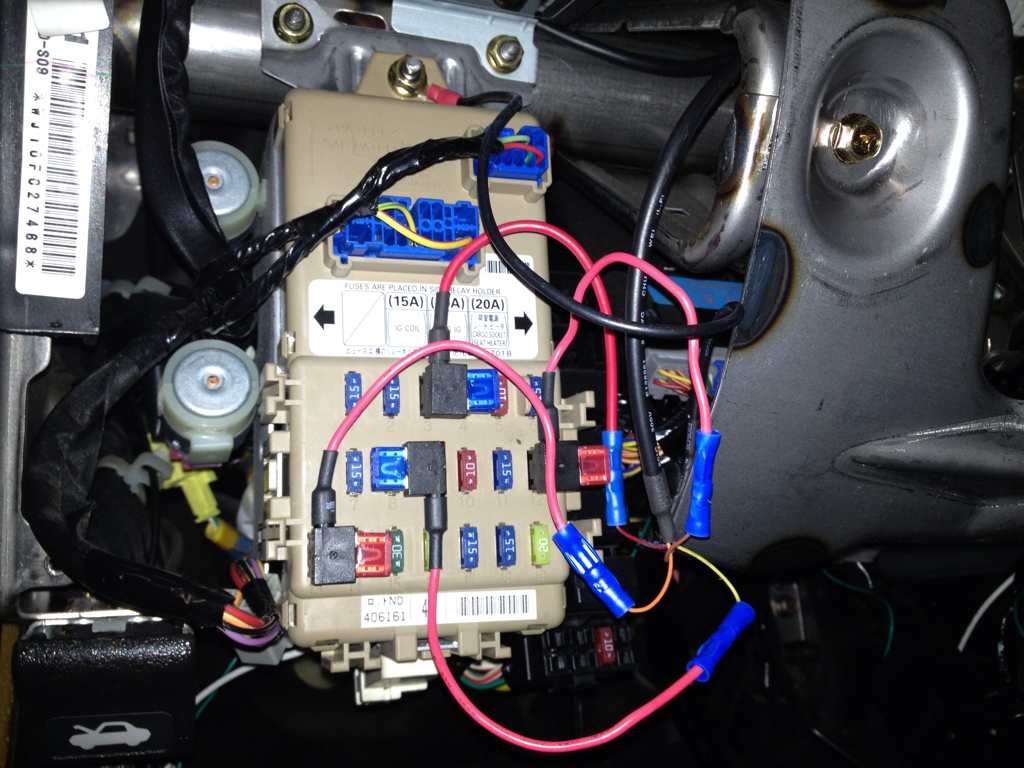 4-22-2013
Thank you English Racing: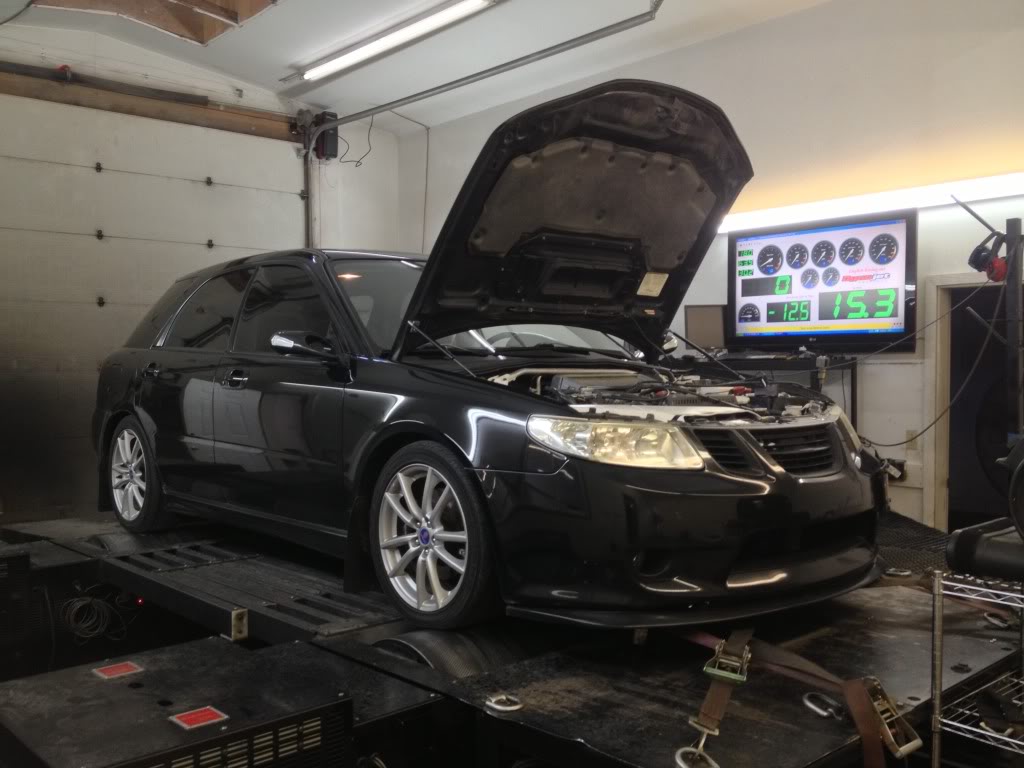 And my baseline Dynojet numbers: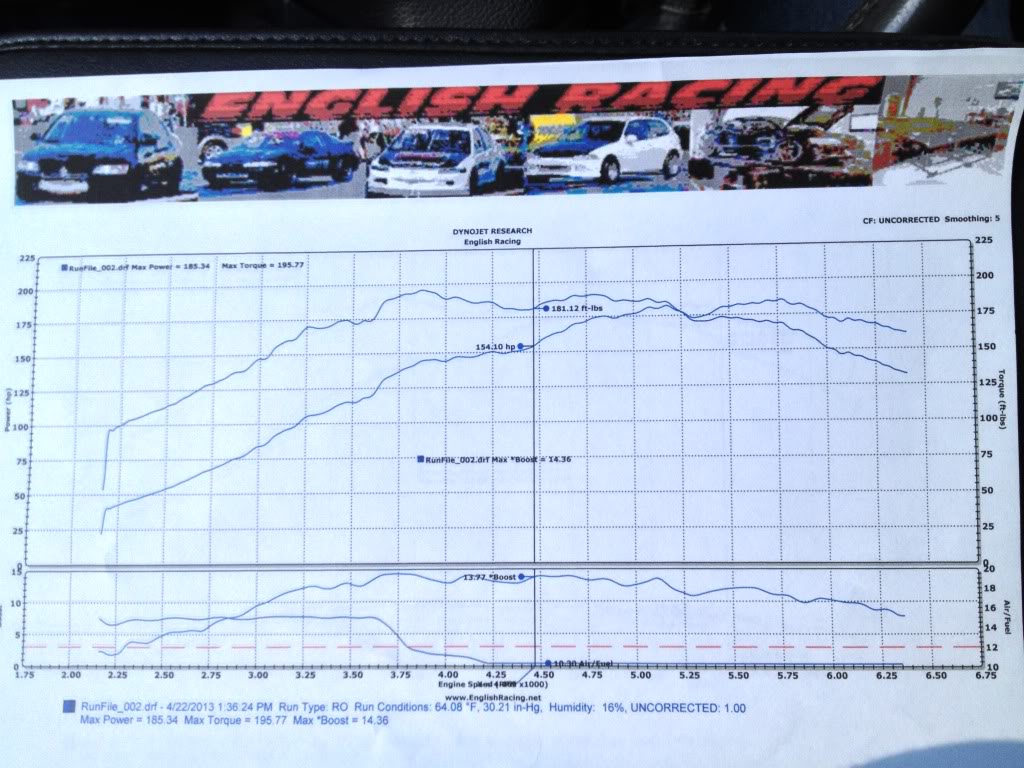 So the Saabaru will be a patient at Nameless Performance the next couple of weeks, then English Racing for the protune. After that, back in hand for the FMIC

, then the next project will be a 'lightweight' soundproofing based off Mass Loaded Vinyl. If anyone knows where I can get some for reasonable cost along I5 in Washington, let me know. As I add each section of MLV, I'll log and post it here. Same stretch of road, 60mph in 5th. Here was my baseline today on the stock exhaust using the 'Decibel 10th' app on my iPhone (yes, I know iPhone mics aren't great):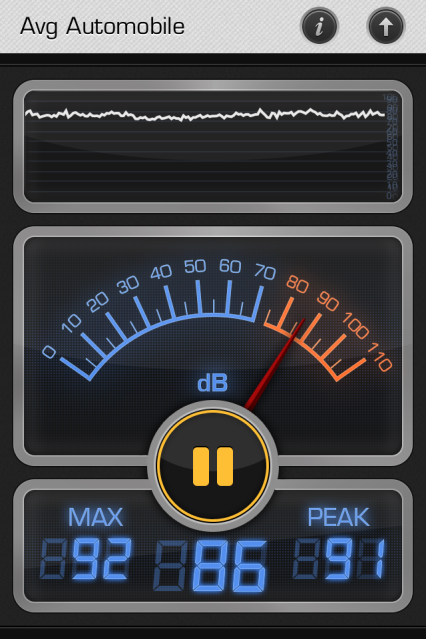 5-9-2013
If this is what the new exhaust is doing WITHOUT a tune, I've got a lot to look forward to the next couple weeks...



https://www.facebook.com/photo.php?f...count=1&ref=nf
5-19-2013
The SaaBeeru is back in hand. I haven't seen the final numbers, but I was told the English Racing tune put on an additional 60whp/70wtq which should mean about 240whp/260wtq, I'll post once I have the pics.
As for what anyone really cares about- The Nameless exhaust... Fully divorced DP has been out for a bit, and soon it can be mated to a full 3 inch Catback with a resonatorand muffler delete. Tip is a dual-walled 4". The hangars are a bit over-engineered and will be simplified on the production units.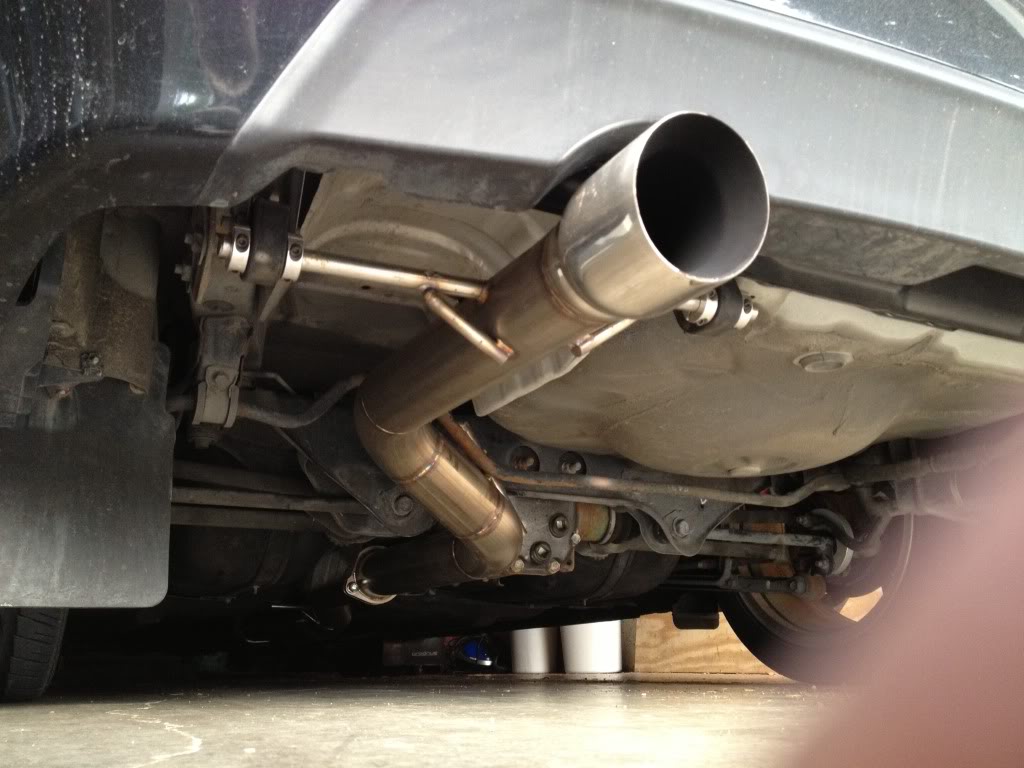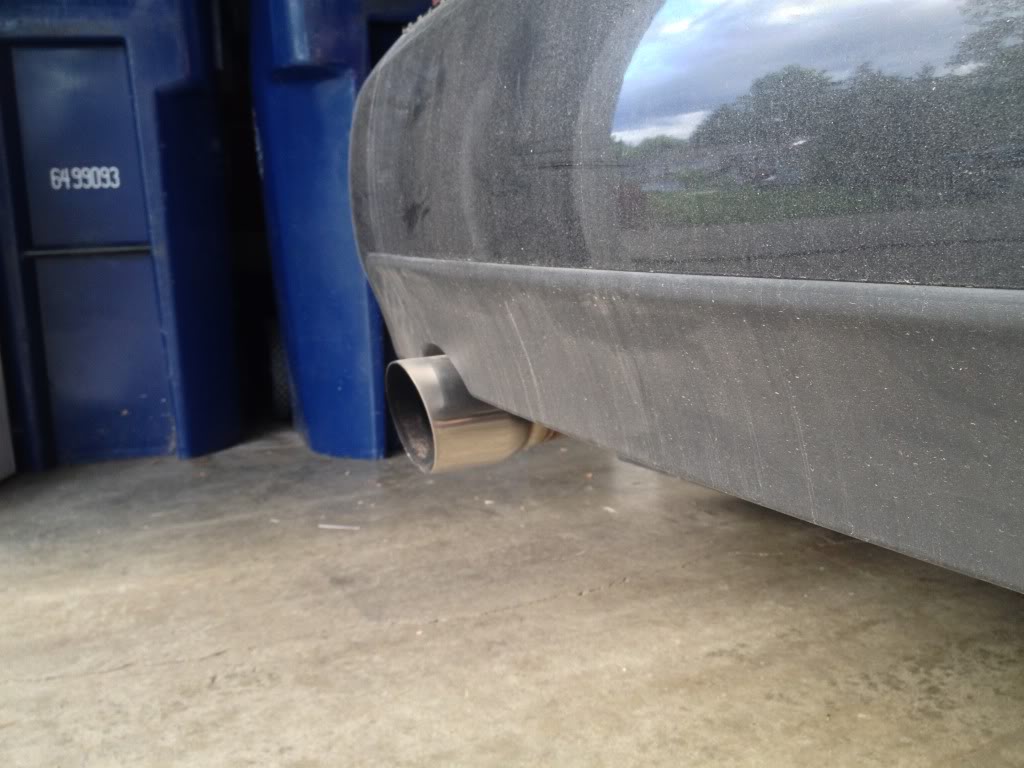 The sound is pretty well perfect and yet a bit unique. The 'gurgle' from our '11 is nonexistent. There's classic boxster rumble, very deep, and yet it sounds truly free-flowing, similar to what I get from my V8. With that kind of breathing you'd expect raspiness, but there's never even a hint. It's loud, but there's no drone at all, just a bit more bass in the road noise. Saw a 3db jump at 60. I'll get around to making some videos soon, for now: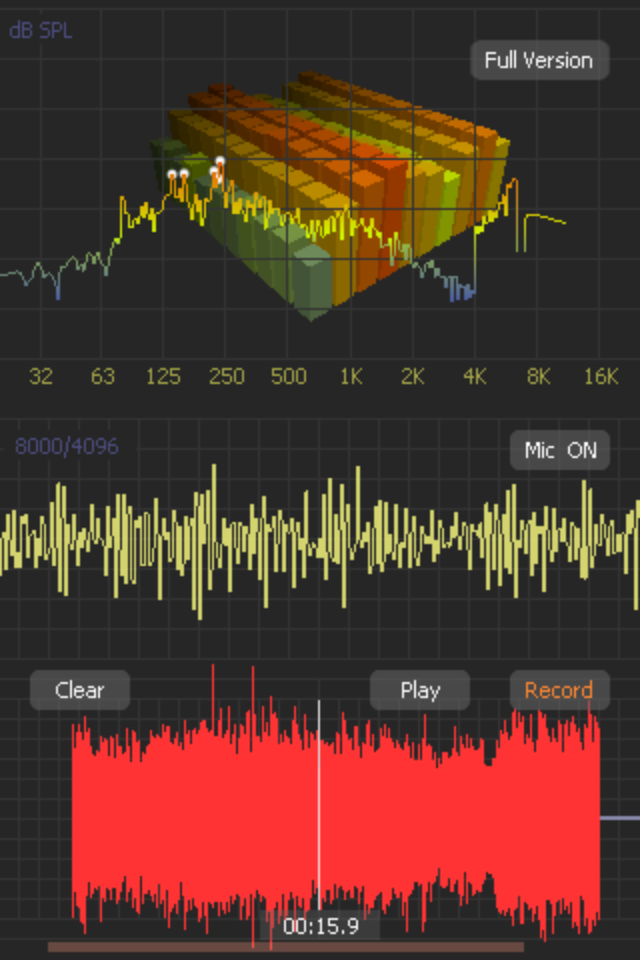 I'm working under the hood this weekend and next, but I did get one very useful item in- a Mishimoto Black weighted shift knob. So pissed I didn't see this 6 months and 3 knobs ago. It's 1lb and a post style, perfect for my needs. Unfortunately, their logo looks like some kind of superhero icon: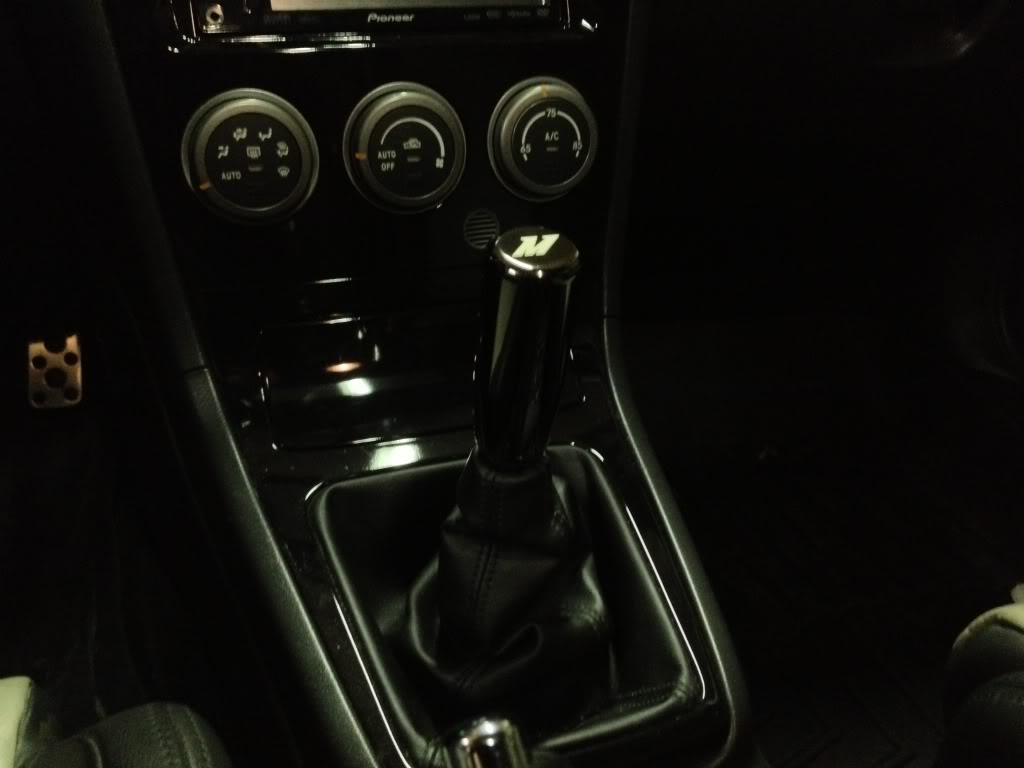 Good thing the shift pattern from my old knob was just the right size, now my interior is pretty much perfectly the way I want it: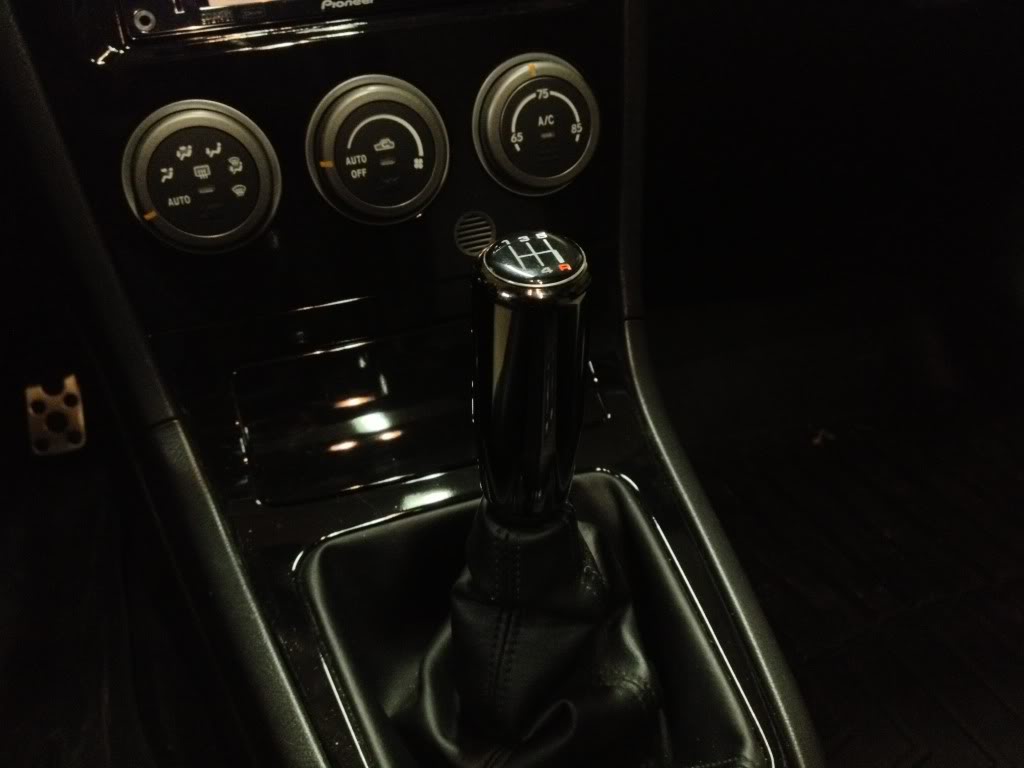 5-19-2013
Jeez, I thought for a second you were one of those unlicensed vendors until I realized that's way too crafty for a Coug :P . I kid, I kid, that site was actually pretty sick and I love HIDs, didn't realize you could retrofit them so nicely. Time to hunt around the Saab92X.com boards to see if anyone has used a legit kit like that.
I did finish up the last thing I started yesterday- I'd already cut my snorkel figuring it could just fit over my Grimmspeed radiator shroud. Then I painted it white which was WAY too much under the hood. In the end, the shroud just raises it too much and the hood won't close. I even cut the water drain bump off the bottom and had no luck. The shroud was messed up anyway, so here's what I did:
I got out a small saw and cut off the tips of the reinforcing pieces inside, tough, but not impossible, then I plugged them underneath along with the bump I cut out earlier: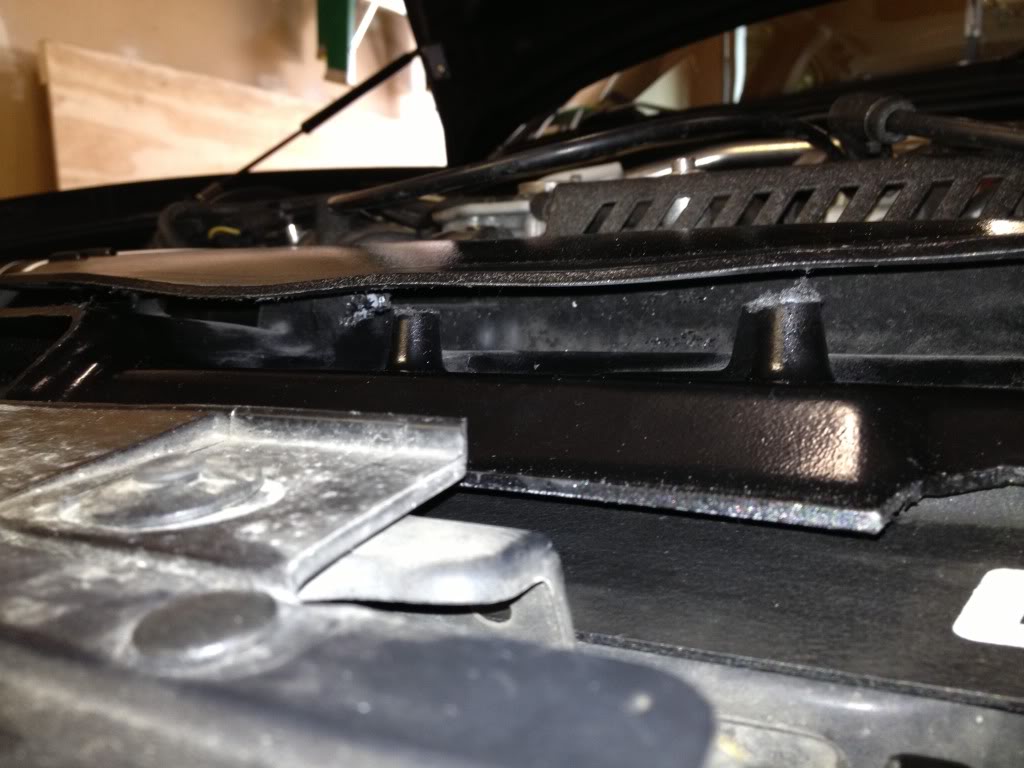 Next I cut off the snorkel to silencer connector, painted most of it back to black, and used 3 pieces of industrial Velcro on the shroud. I'll see if that holds over time, the hood has such a tight grip, and with the lip of the shroud, at least I'm sure it won't come loose while I'm driving, pretty happy with the result: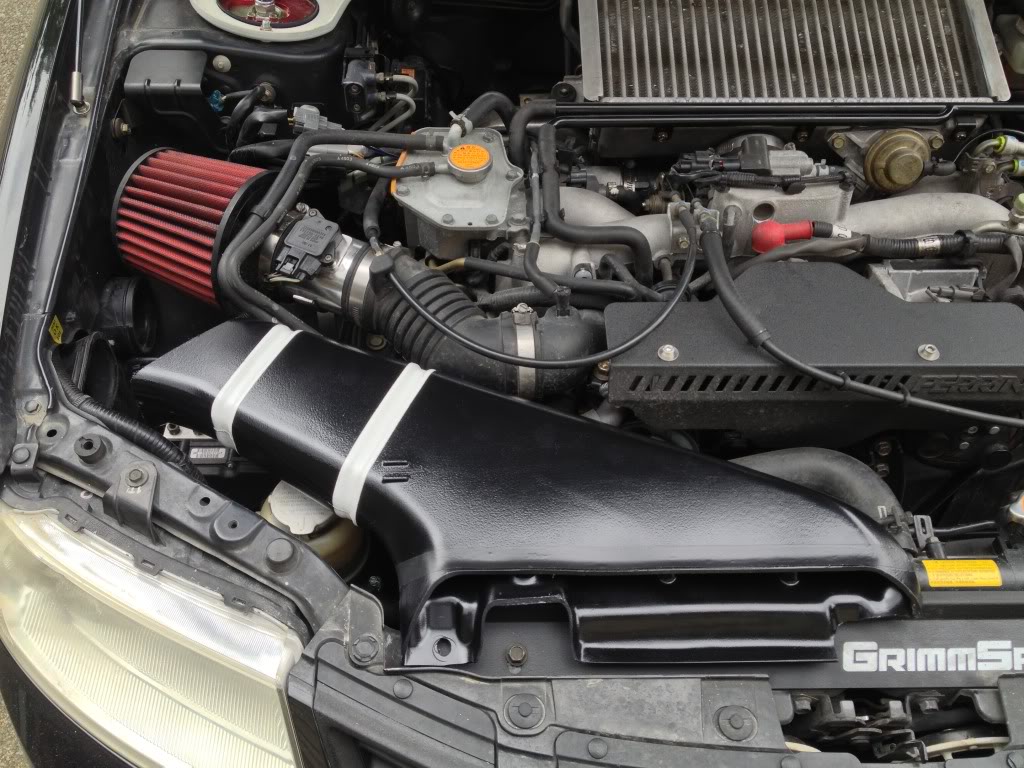 Since I still have the SPT intake shield, I'll probably recut it during the FMIC install and completely wall off the intake again.
5-27-2013
Finally made an exhaust video, big SaaBeeru work weekend, I'll post more on the other upgrades soon:
5-28-2013
Lots done this weekend, first off swapped my catted UP: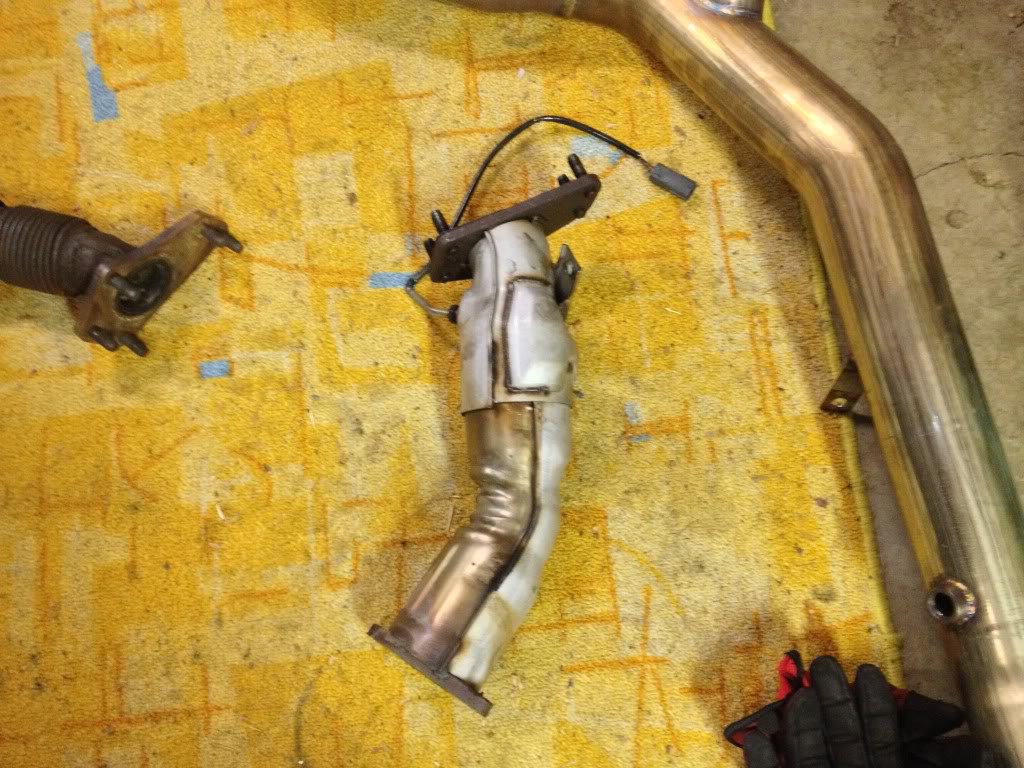 For an STI UP: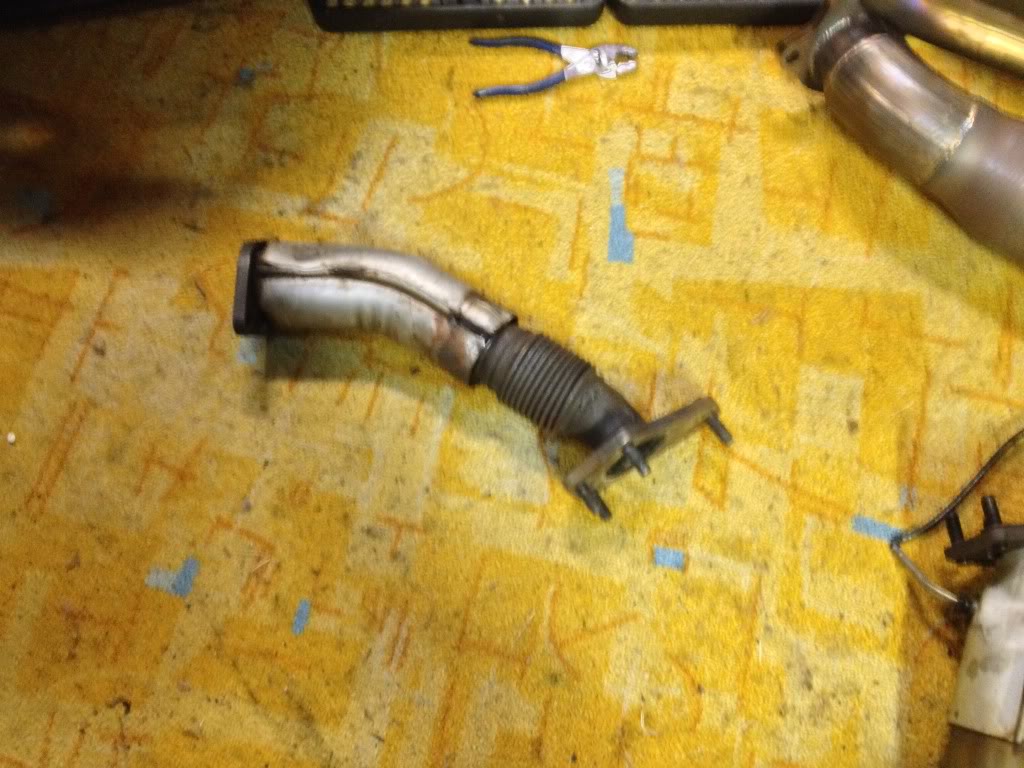 Thanks to English racing for pre-clearing my codes

Next I broke out a box I've been hanging on to since September, and here's my Gimmick FMIC with Black Coating: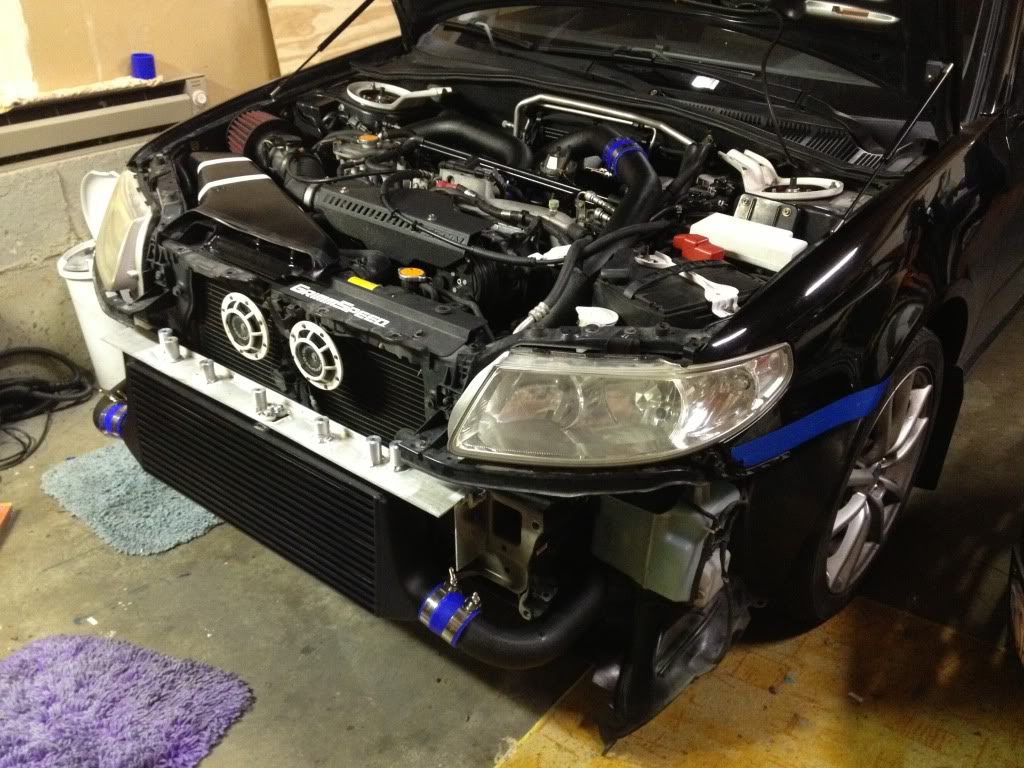 I went with a stealth setup using a Nascar racing grill, came out very clean: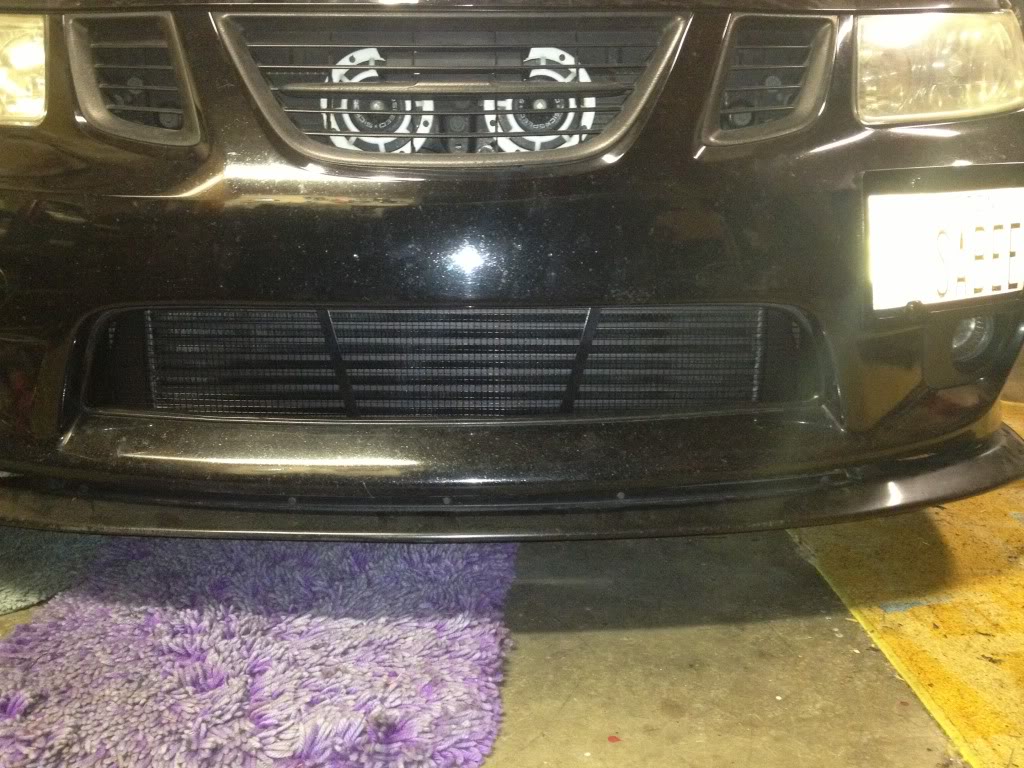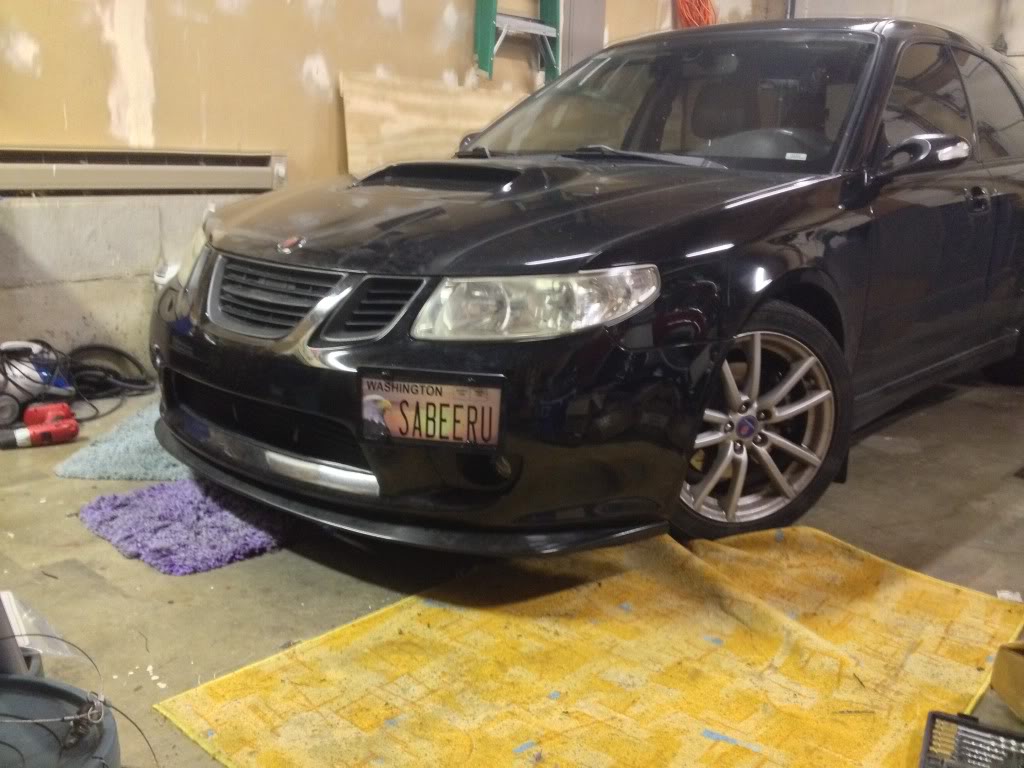 5-30-2013
Stayed up waaay too late, but hopefully another Saabaru benefits from it. Finally a how-to for those of us looking for an FMIC solution

:

http://forums.nasioc.com/forums/show....php?t=2511464
6-4-2013
After last week being so heavy with performance work, I decided to get back on some appearance work. First I did the cabin filter swap, which wasn't near as dirty as I expected. Finally read through the explanations on using a magic eraser on the leather and was able to take my seats from this: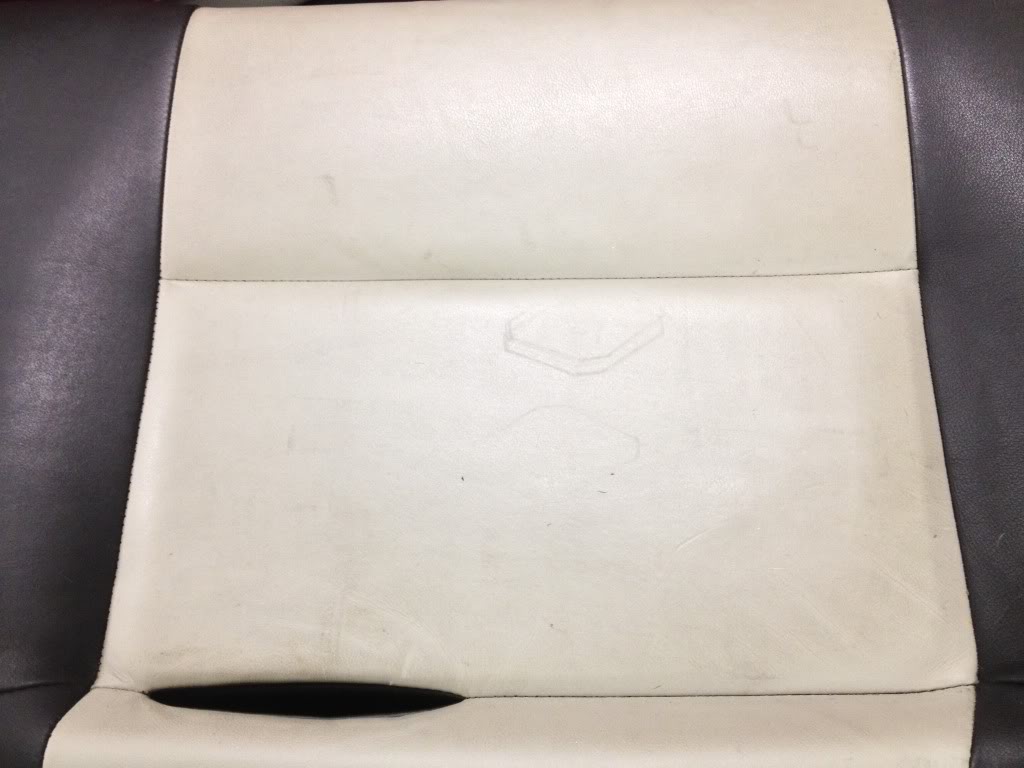 To this: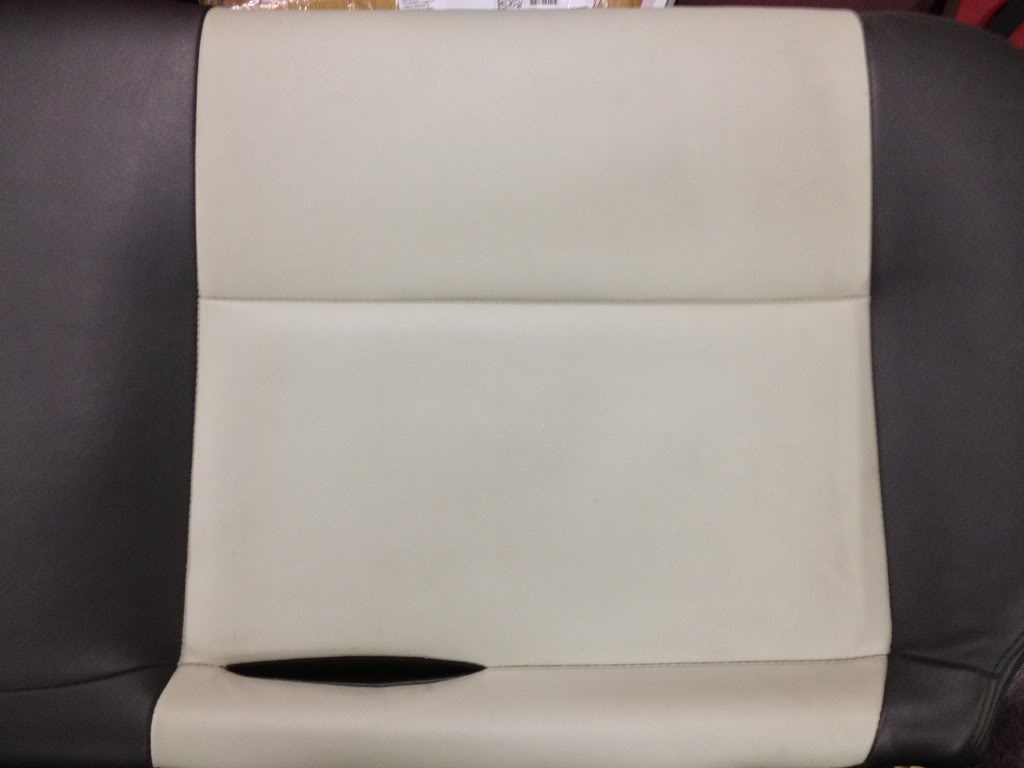 It's stunning how many blemishes it takes out, got nearly as good a result on the fronts too.
Next I decided to take it down to show at Import Faceoff, but when the show starts at 10 and you leave your place at 1, you're not exactly gonna be eligible. Was content to just mess around and get some shots with the Sadsaab: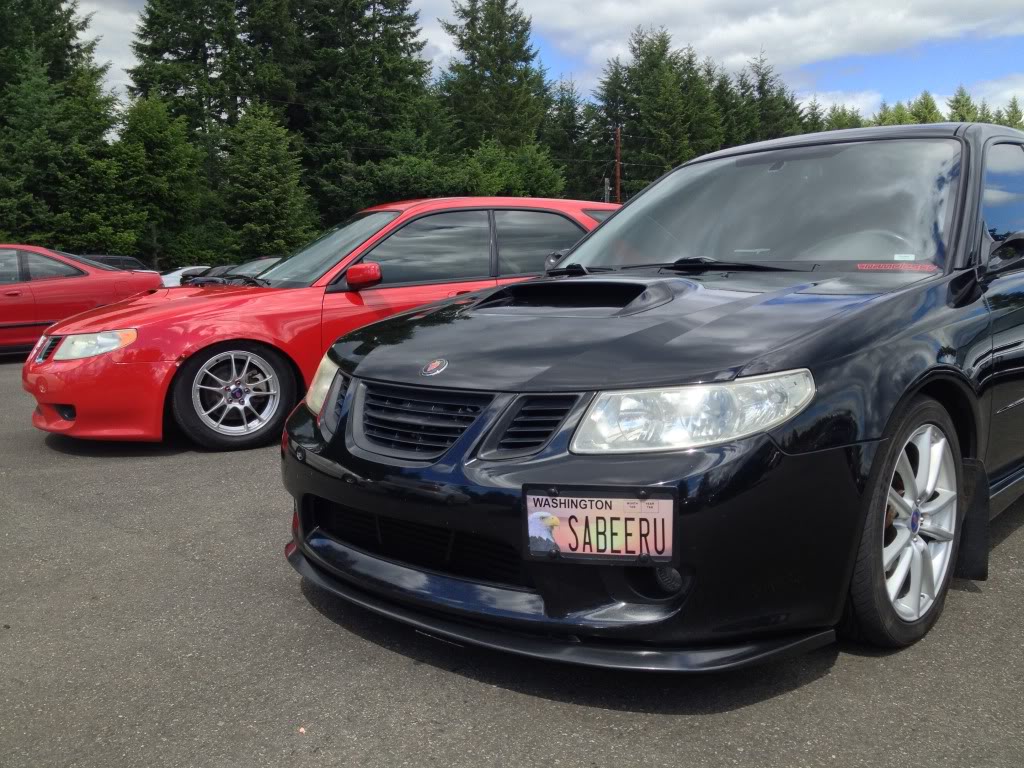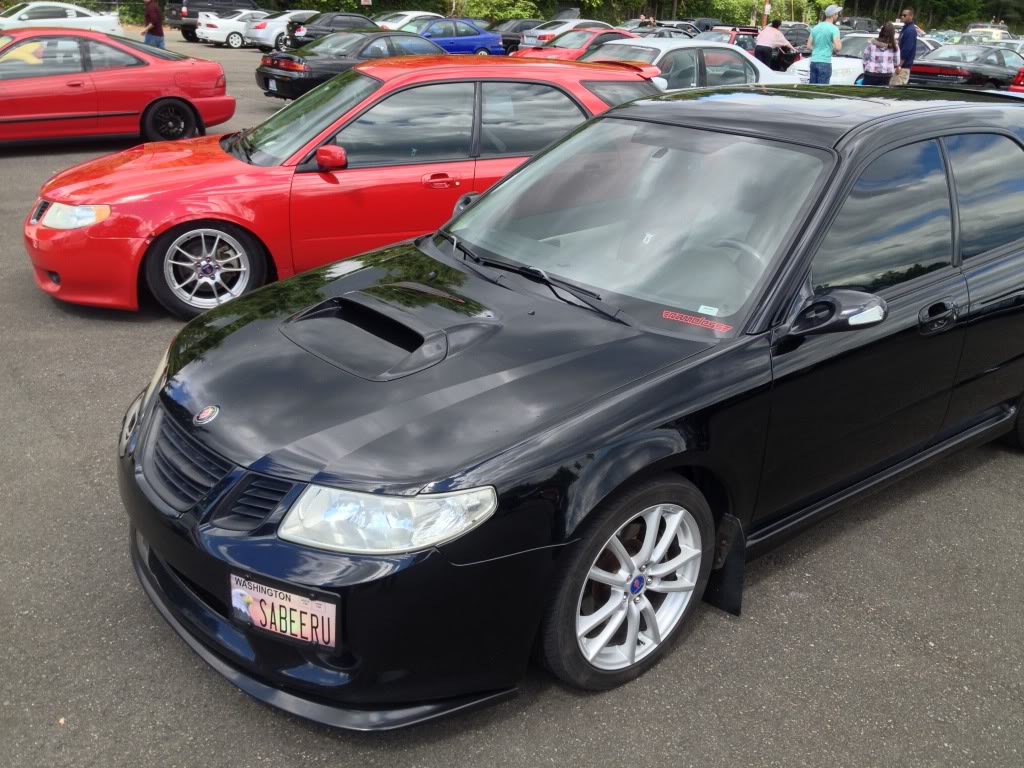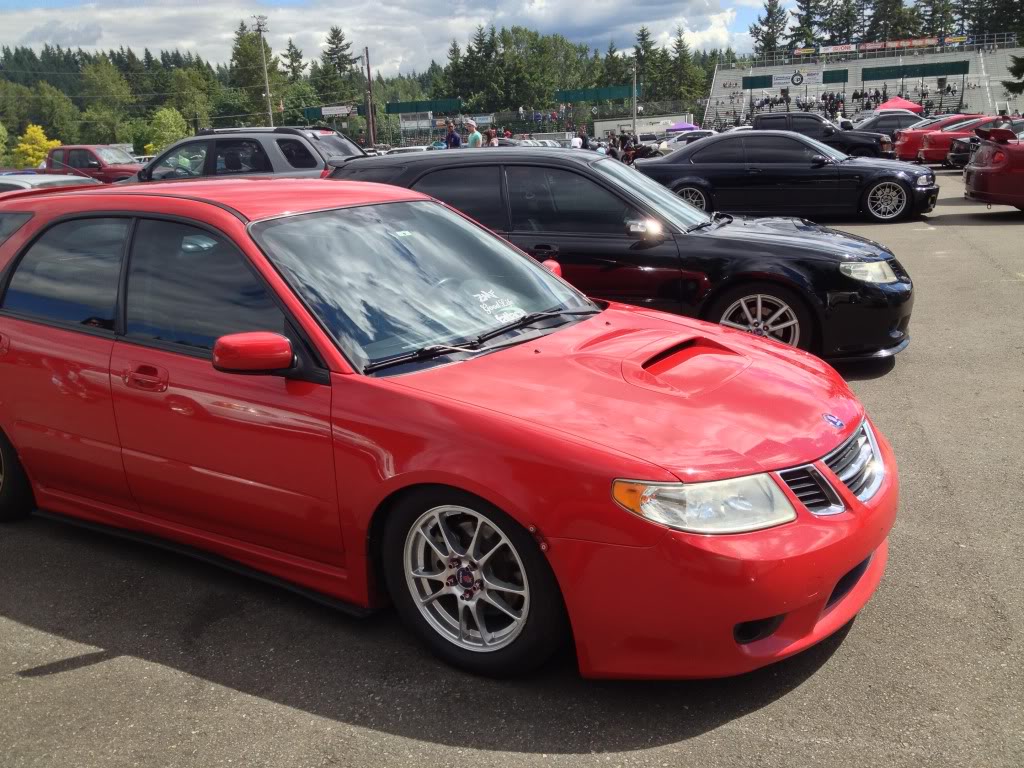 6-6-2013
Finally got a shot of my English Racing protune: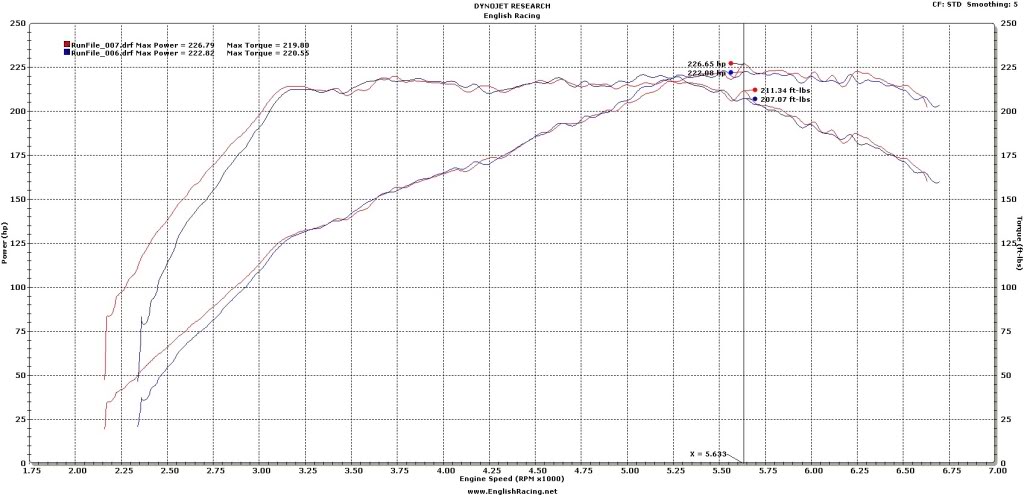 Nothing too crazy, but it definitely has felt better than my Cobb Stage 2. I'm finally getting into the soundproofing stage of the car. I did switch apps to an iOS app titled simply 'Decibel', in conjunction with iAnalyzer. I'll admit I finally tried it because it was used on Top Gear. I miss the graph from Decibel 10th, but in the end it isn't useful. The best thing about Decibel is its average, which has immediate refresh but seems like a real average, so setting sensitivity to 'low' produces a very smooth volume leveling which seems more accurate for my purposes (not to mention screenshots). I've combed different threads and forums to see where I could find the most agreement. First area of attack definitely is the vents in the rear bumper wells, typically done by stuffing in an old floormat. For my project, I took most of my instruction from sounddeadenershowdown.com. To that end, I picked up a 54 sq ft roll of 1lb/ft 1/8" MLV/mass loaded vinyl ($100 shipped from eBay), 3 40"x 80" sheets of y20 neoprene closed cell foam ($16 a sheet from Friendly Foam around Seattle), 3M 80 spray adhesive, industrial strength Velcro, locktite rubber/vinyl glue and tin snips: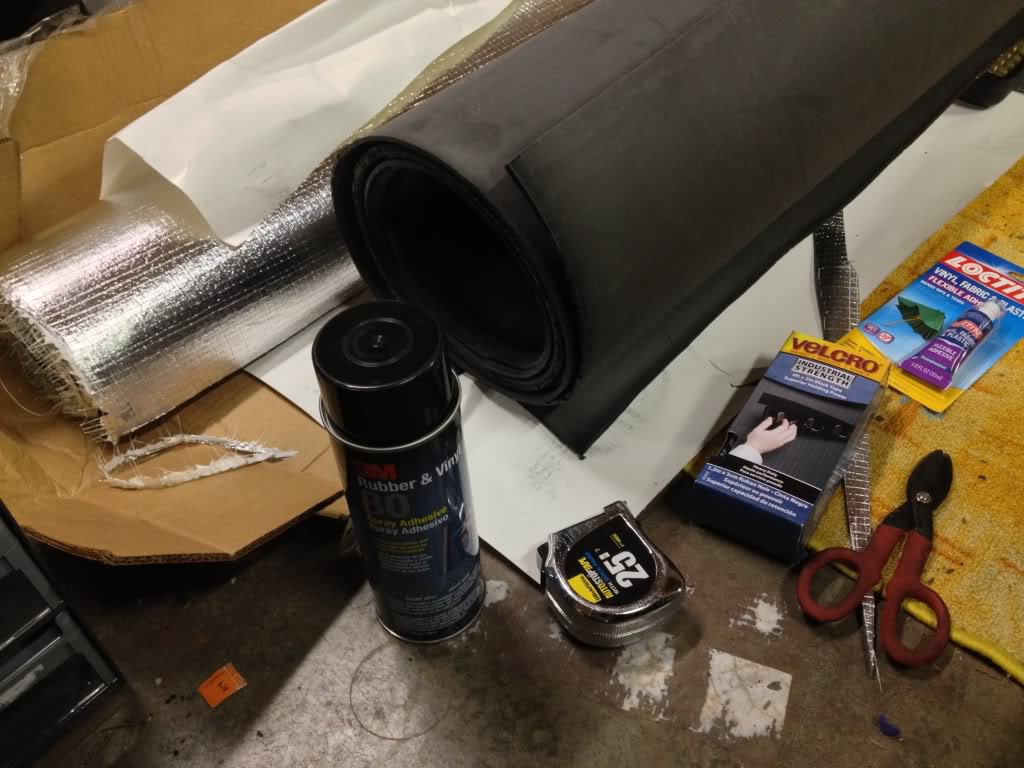 I pulled the jack and took some rudimentary measurements of the driver's side vent cavity since it is more accessible. It looked like 12"x18" was the ideal size- I first cut a piece of the foam and pressed it into the cavity to test fit: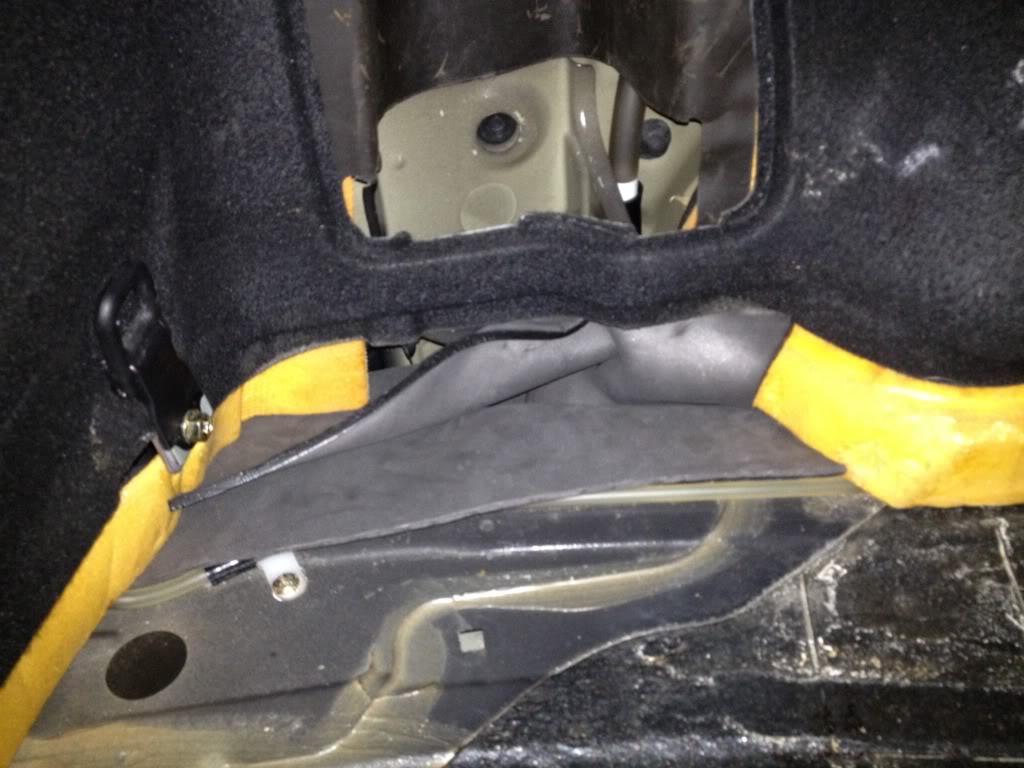 Seeing that it's a close fit, I cut a second foam rectangle and two from the MLV, and glued them together. Ignore the squares I left for Velcro, they weren't needed: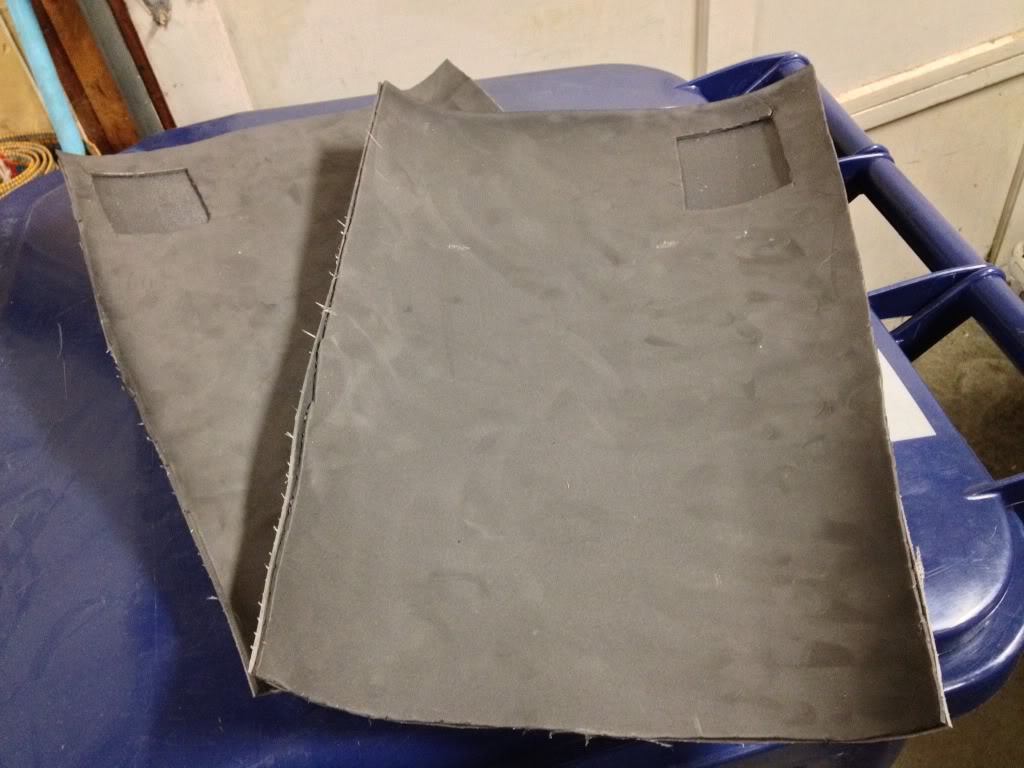 I pressed the panel I planned to use for the driver's side into place and marked where it hit the frame for the jack. From that I made these slits: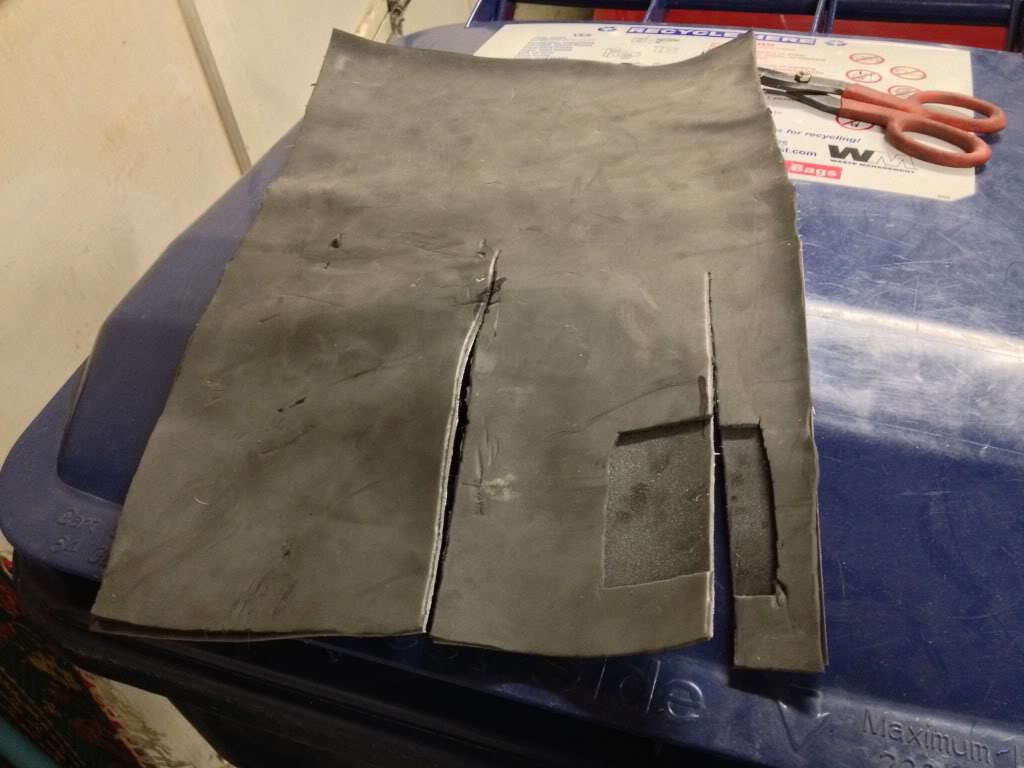 For the passenger side, there's just the restriction of the very tight taper at the rear of the car, so I made this slit to fold the piece properly: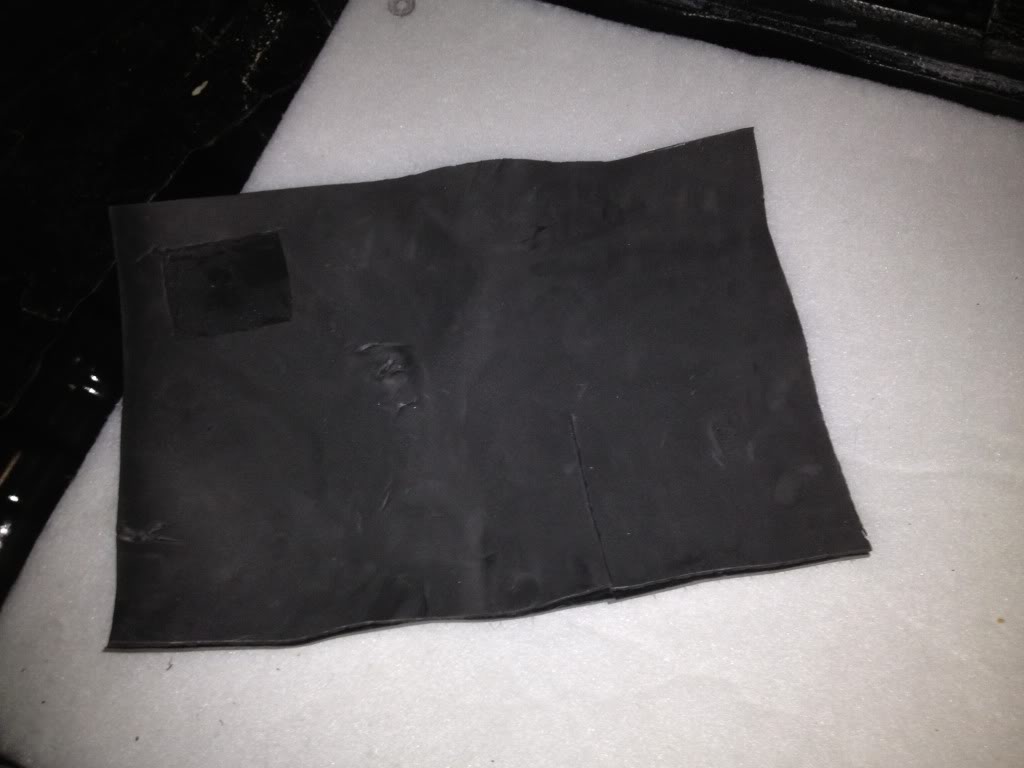 All set, now I removed the anchor points on each side of the passenger side cavity and worked the panels into place: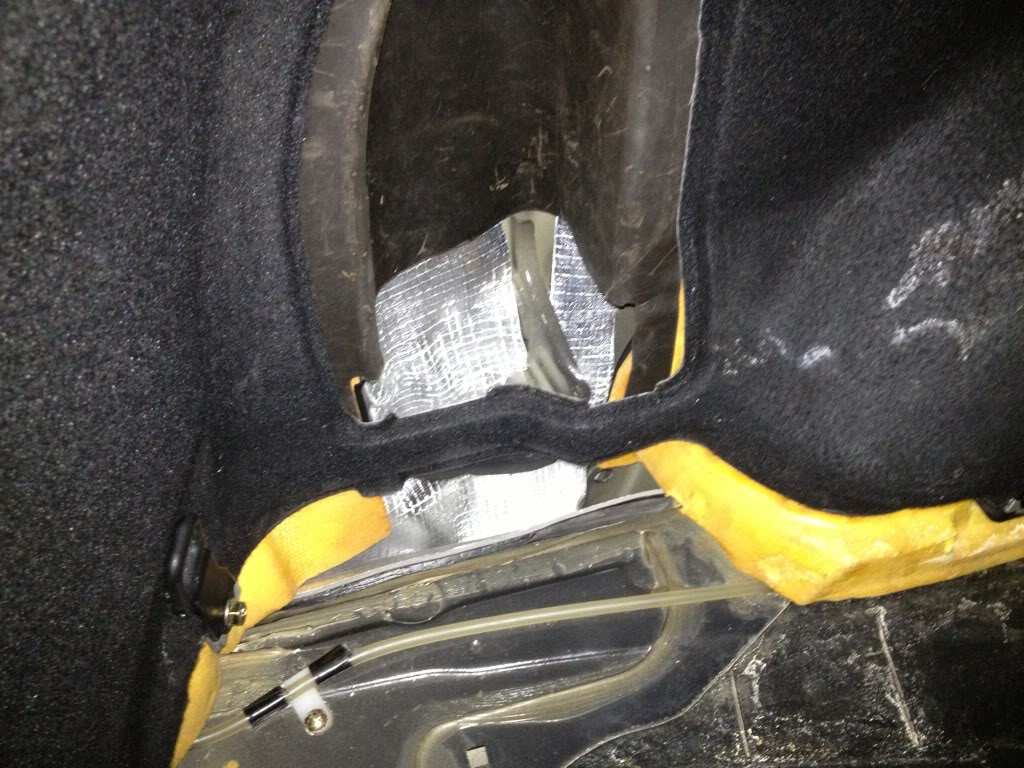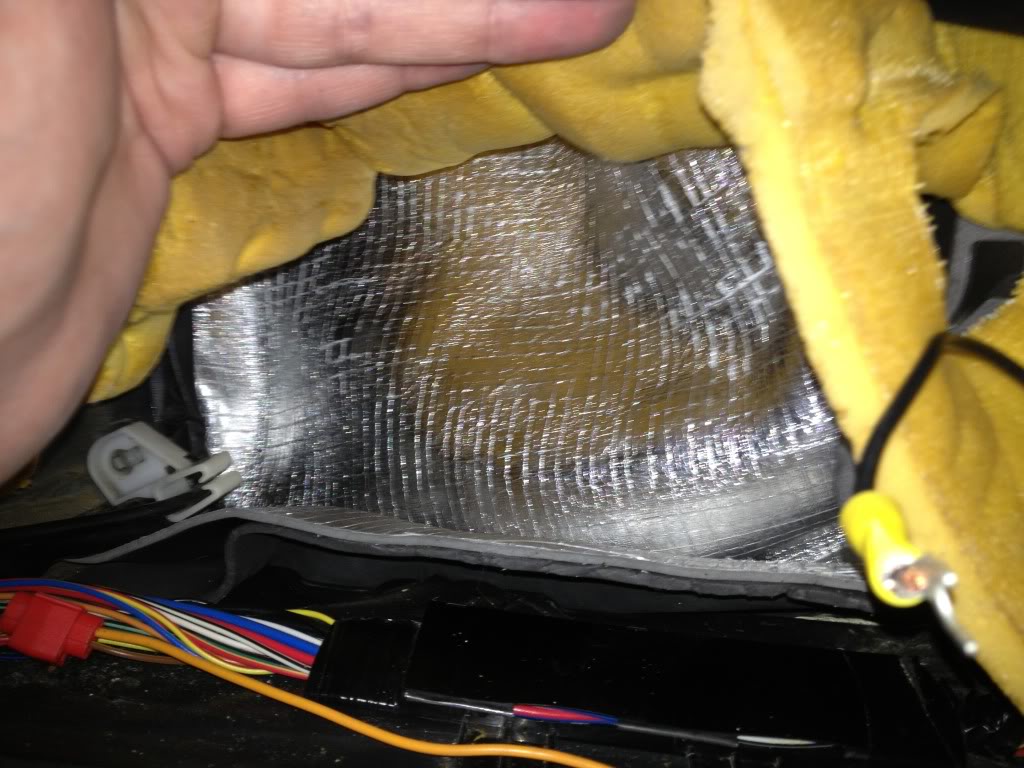 I bolted everything back together, started up and IMMEDITATE difference. While I'm measuring this project at 60mph in 5th, the idle and low speed difference of this little mod is where it's at. As for at speed I'm down to stock volume levels: Stock: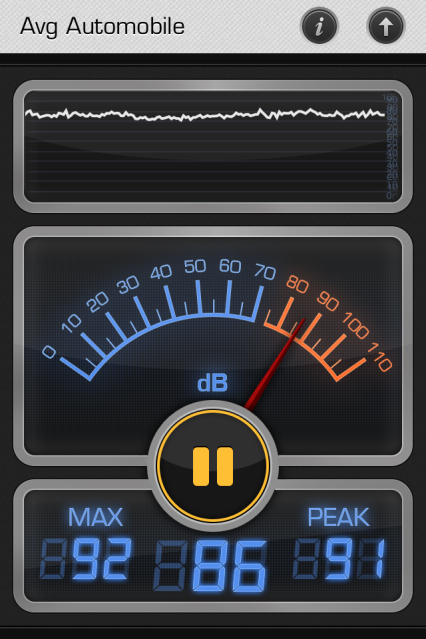 Nameless Exhaust: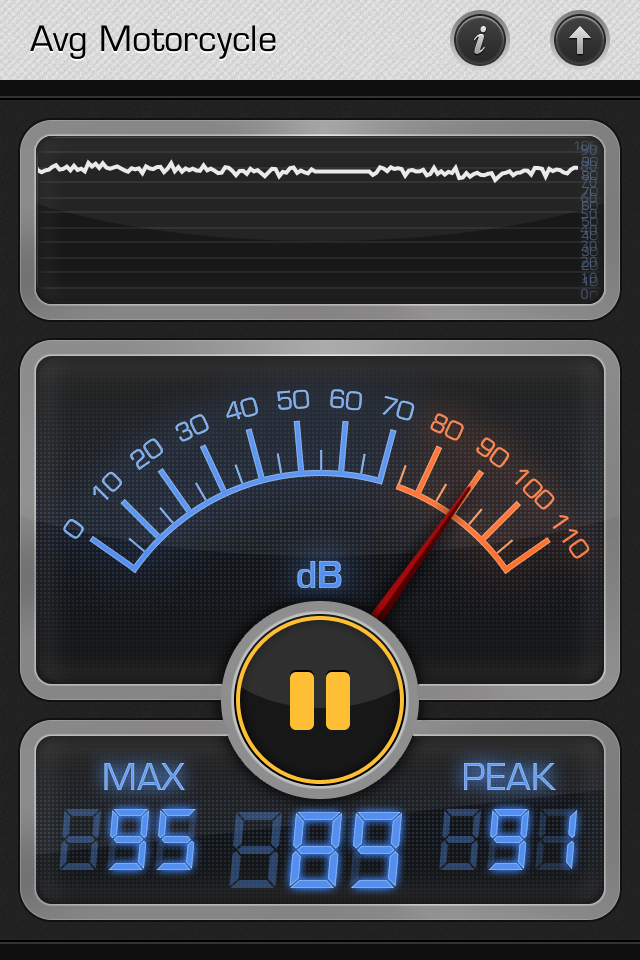 And after Soundproofing: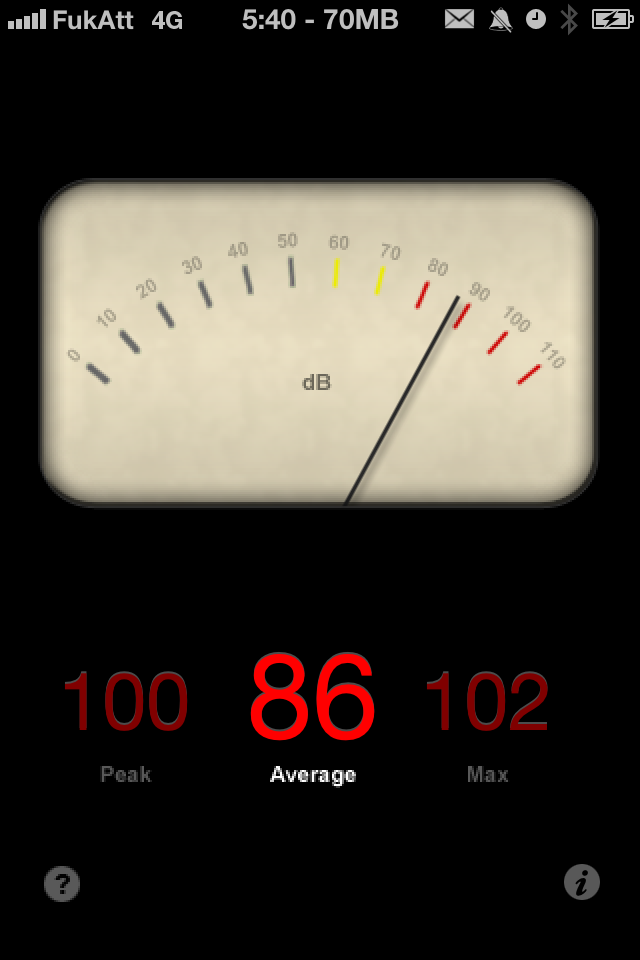 And here's why- a massive drop in higher pitched background noise from this: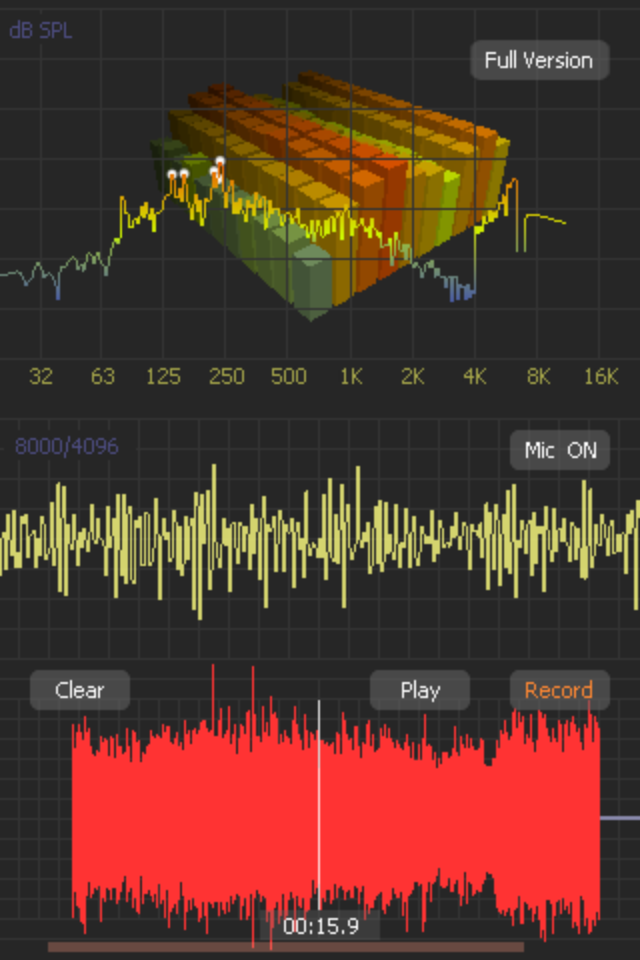 To this: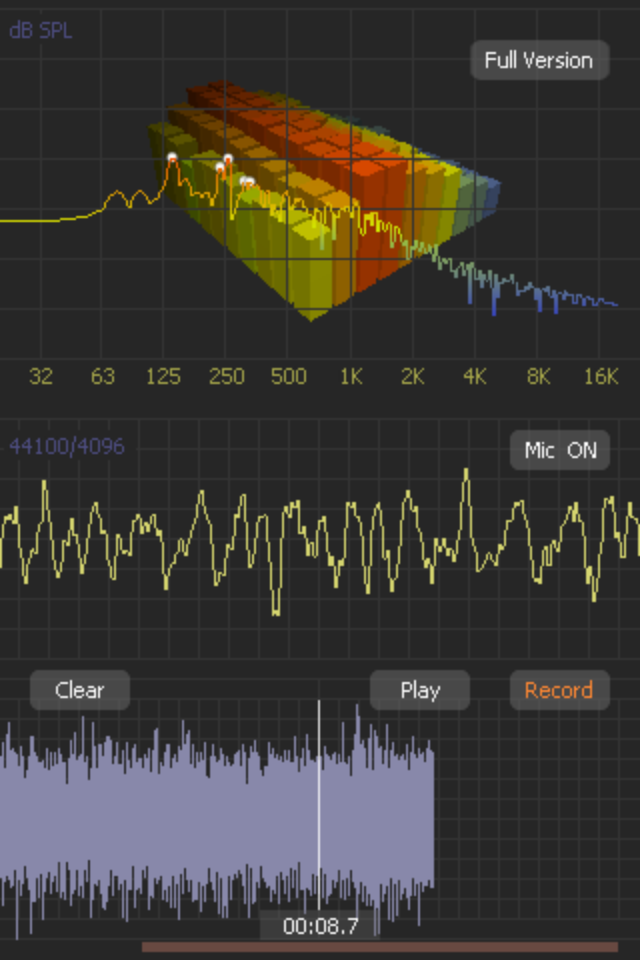 Glad I got a heads up about trying the iAnalyzer app in conjunction, looks like I put the Dolby filter on a cassette tape with that graph. I'll pour over some other people's result notes and decide what to hit next.
6-13-2013
Moved on the rear shock towers, was able to get pretty good fitment from single pieces. Rather than go for the outside sheet metal, I went to the covers themselves for a more contiguous surface: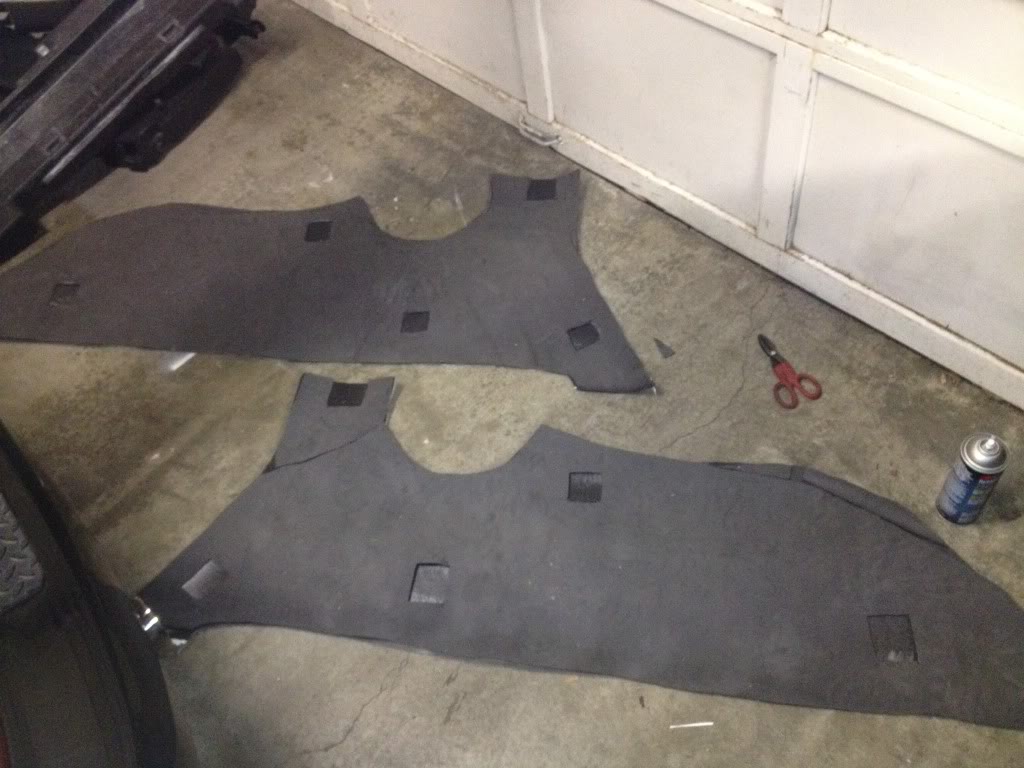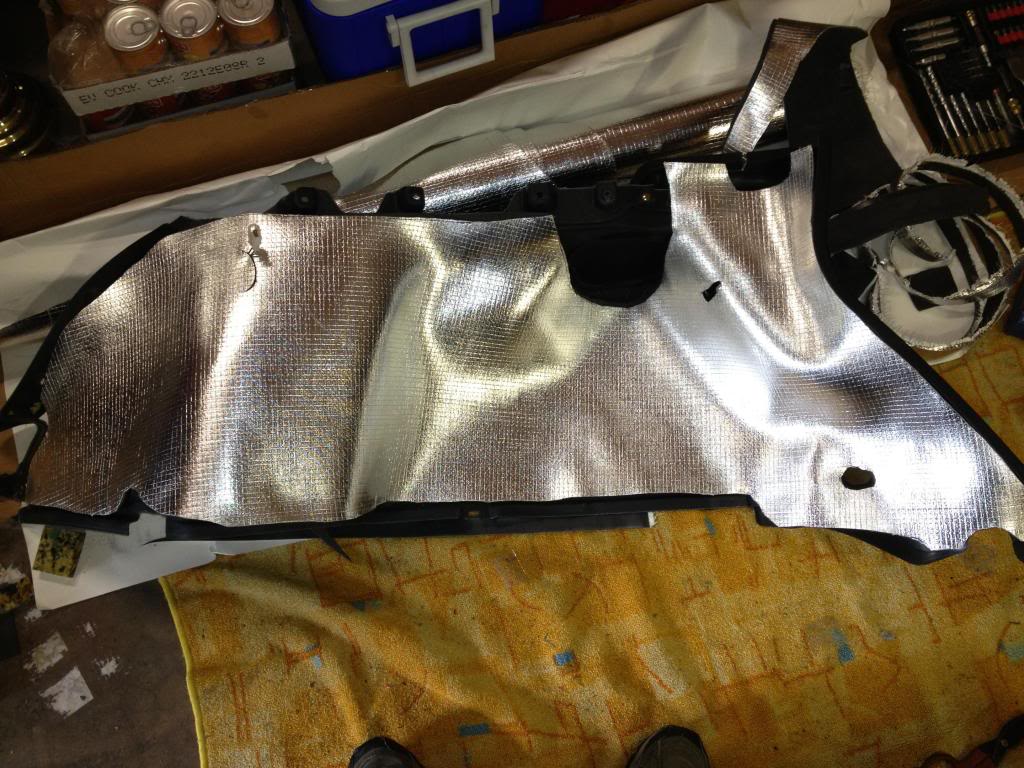 Unfortunately, little reduction in cruising noise: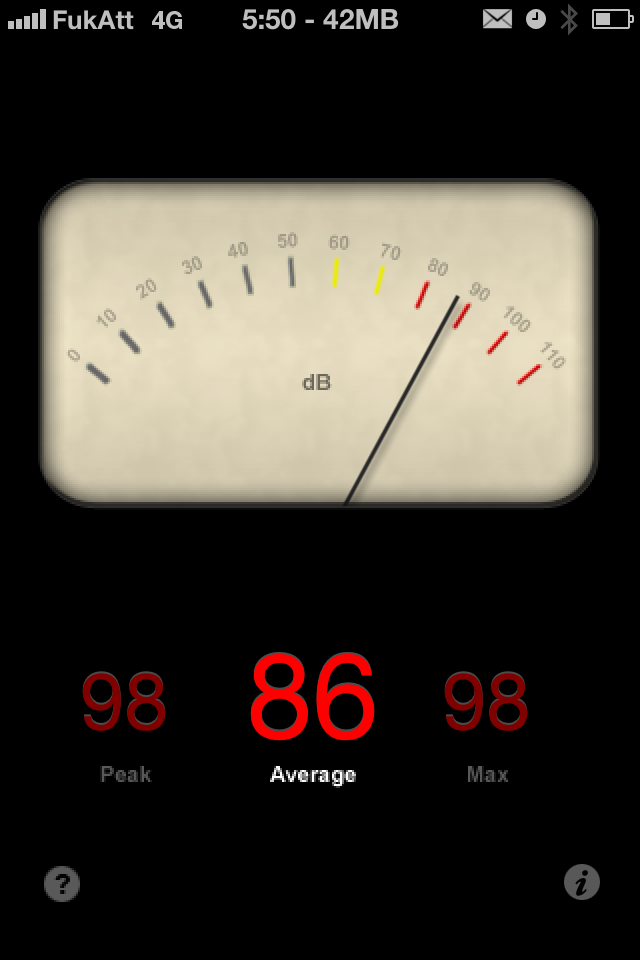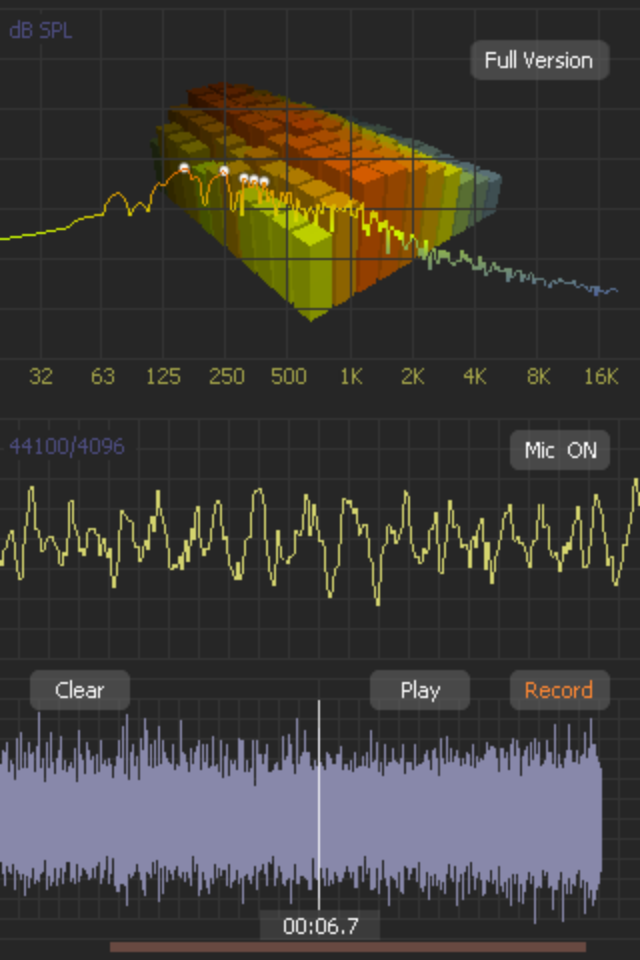 Since it did seem like the idle noise was reduced more, here's a late reading of that, I'll track it moving forward: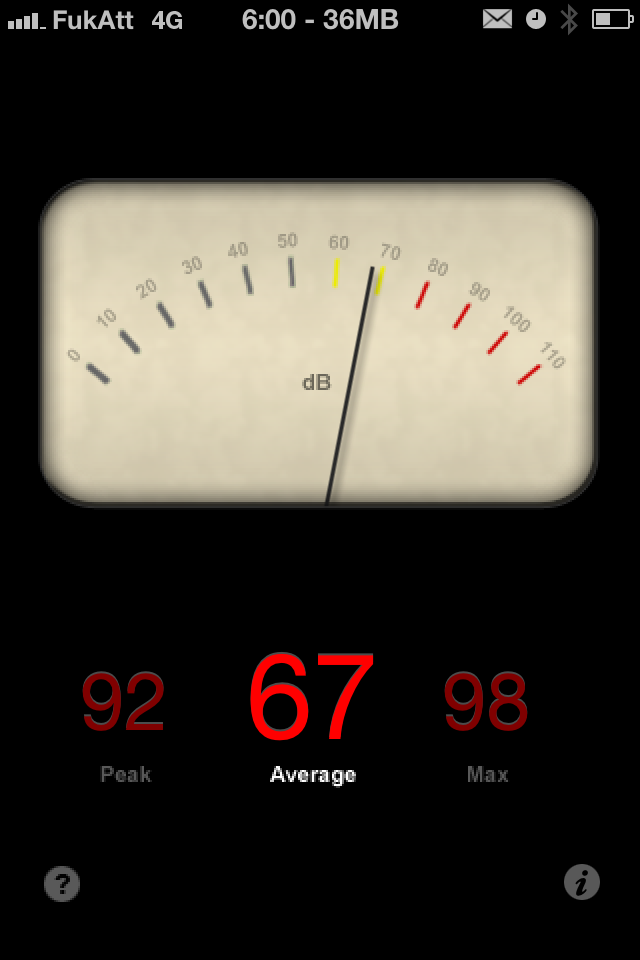 Since I had a question earlier, when I was last under the car I looked at the catback fitment. It is a good inch from the rear swaybar, so doesn't look like that's a concern.
6-22-2013
Swapped out the HKS SSQV for a Synapse DV. I posted the HKS in the classifieds if anyone is interested.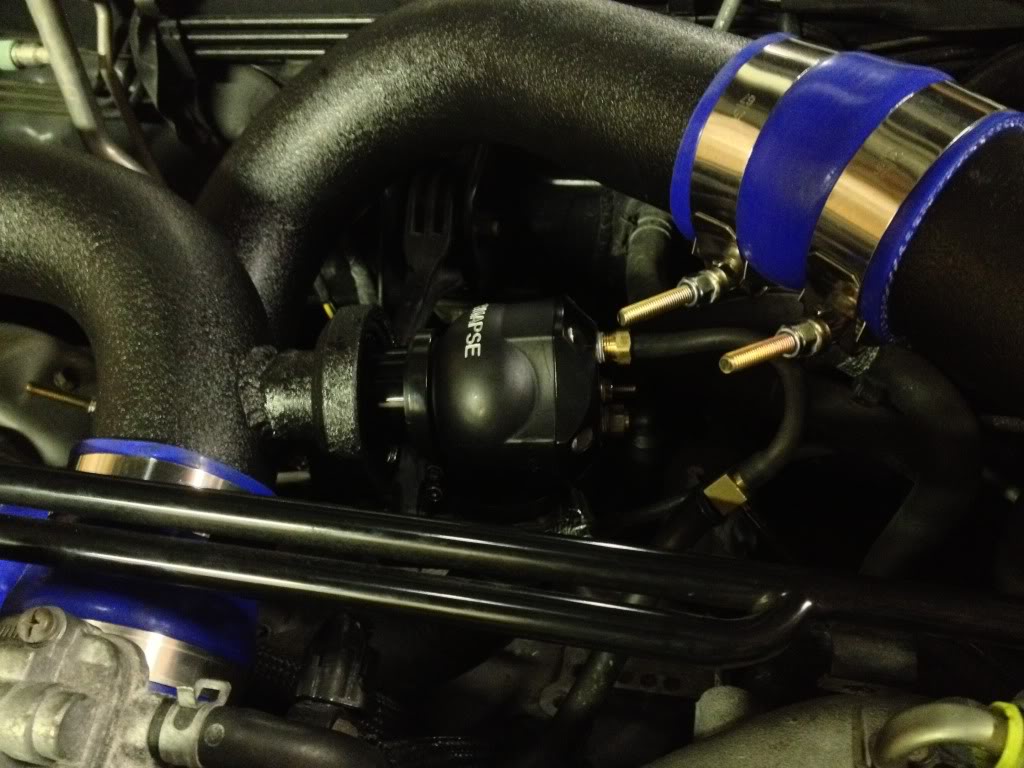 Well, I won this at Forum Fest, guess my turbo timer install just got a lot more complicated but at least I can unlock my car from more than 10 feet away now.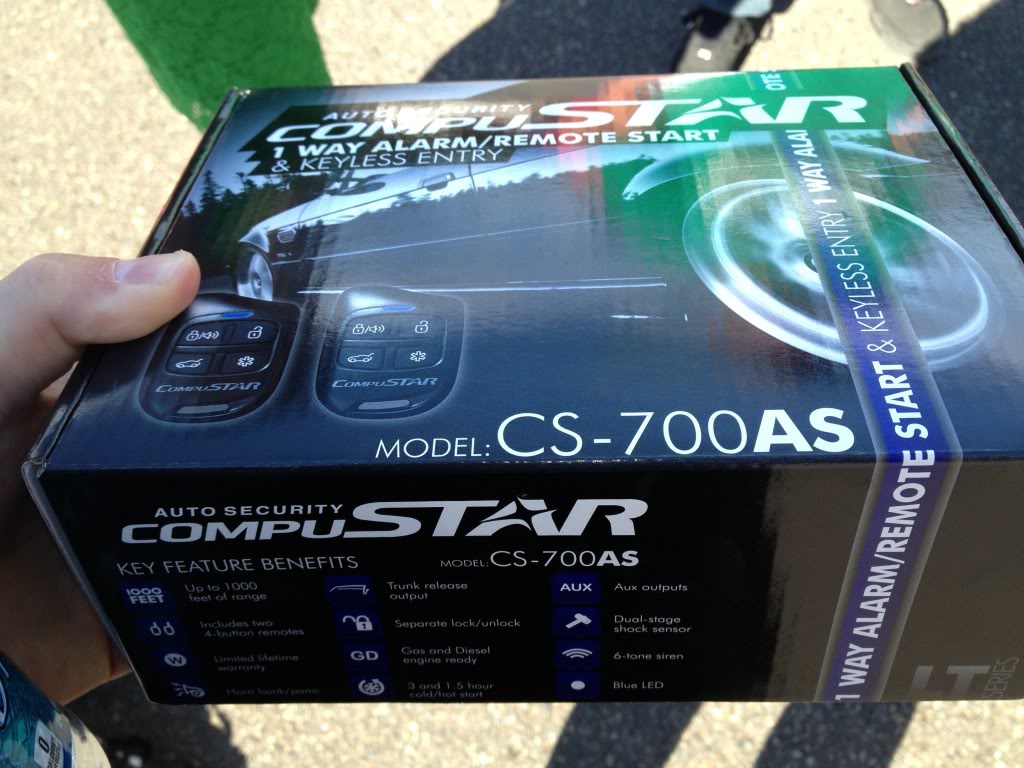 6-30-2013
Did a crapload of work this week after Forum Fest and seeing how clean a car can be, and on the other end how sloppy a so called 'show car' can truly become. Tip for next time- need to remember not to explain to the judge all the comfort features to the point that I forget to mention that the car has BEER ON TAP IN IT 50% of the time. I wouldn't have won jack anyway, but seriously, dunno where my brain was at.
First off, my FMIC trim does not like hot weather and decided to tun into goddamn black Licorice. Then the corners of my bumper were refusing to stay pushed in, and to finish it off I realized I may have the worst plasti-dipped grill on earth. Seriously, it has more bumps than rhino-liner.
Pulled the front bumper cover and start looking for improvement. I realized that there's a 'channel' between the flat black plastic I mostly cut off and the painted part. I ran a utility knife through the channel until it split, came out cleaner than my original jigsaw work, also updated the how-to with this tip: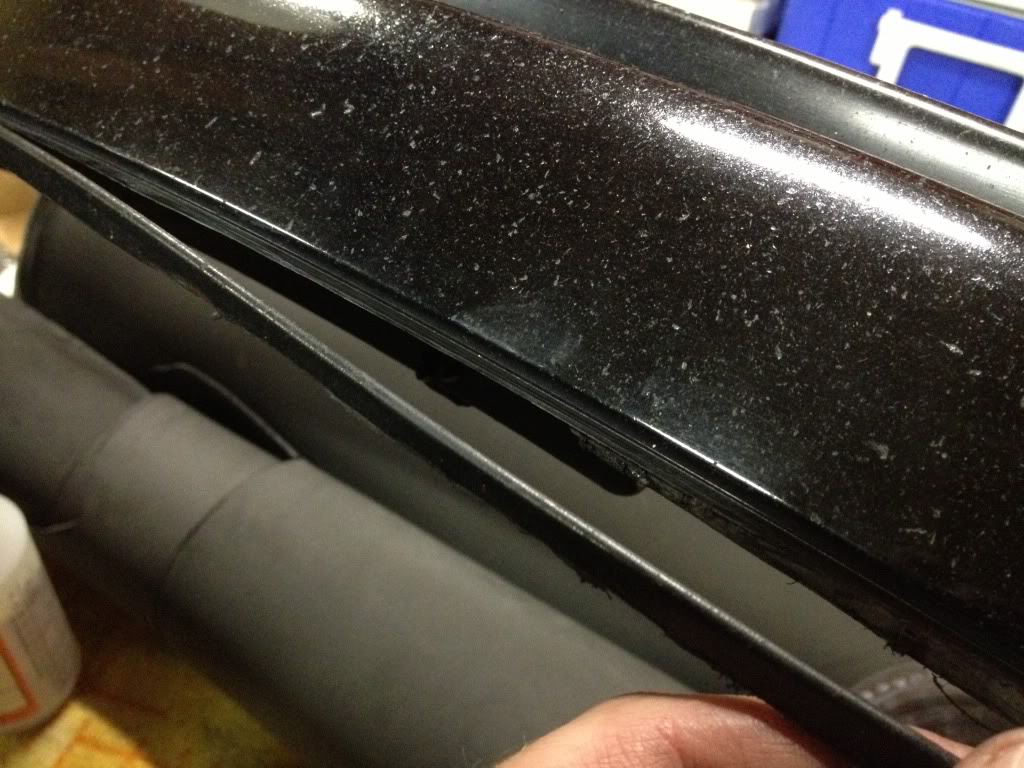 While the bumper was off I built myself a boost leak tester and found a couple of vacuum hoses that needed replacing: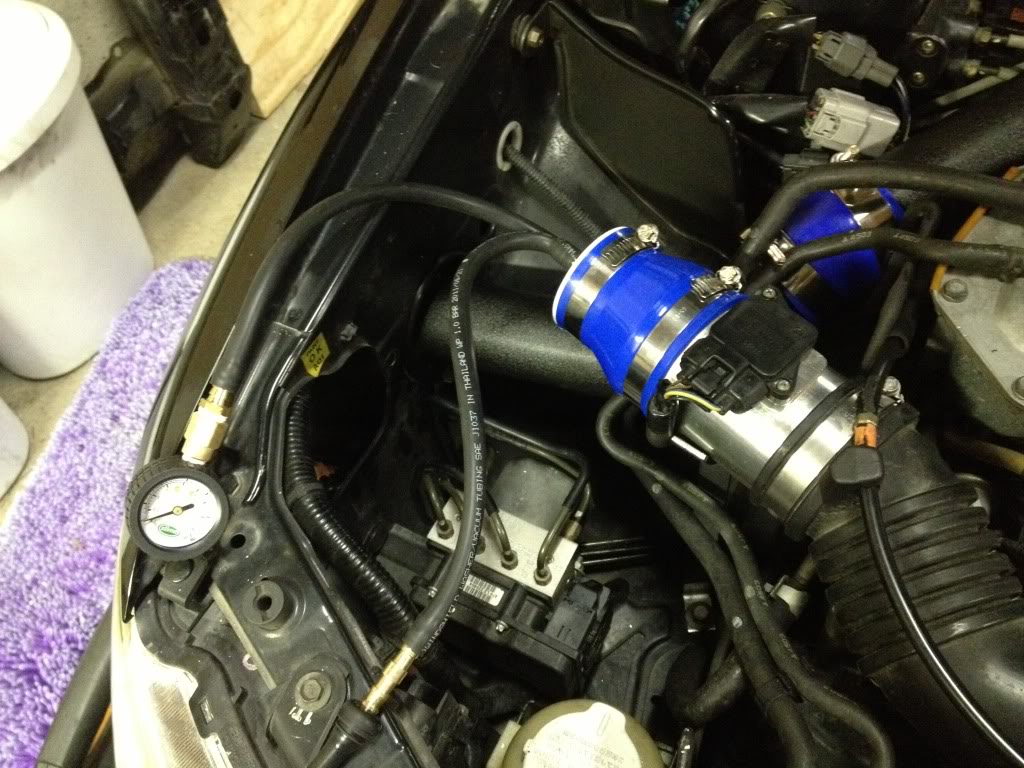 Then I peeled off the old plasti-dip, heated up my can a bit this time, and gave my grill one of the smoothest textures I've seen. Left the center wing unpainted this time just for something different. Put on new edge trim, and now my corners clip in with no issues to boot: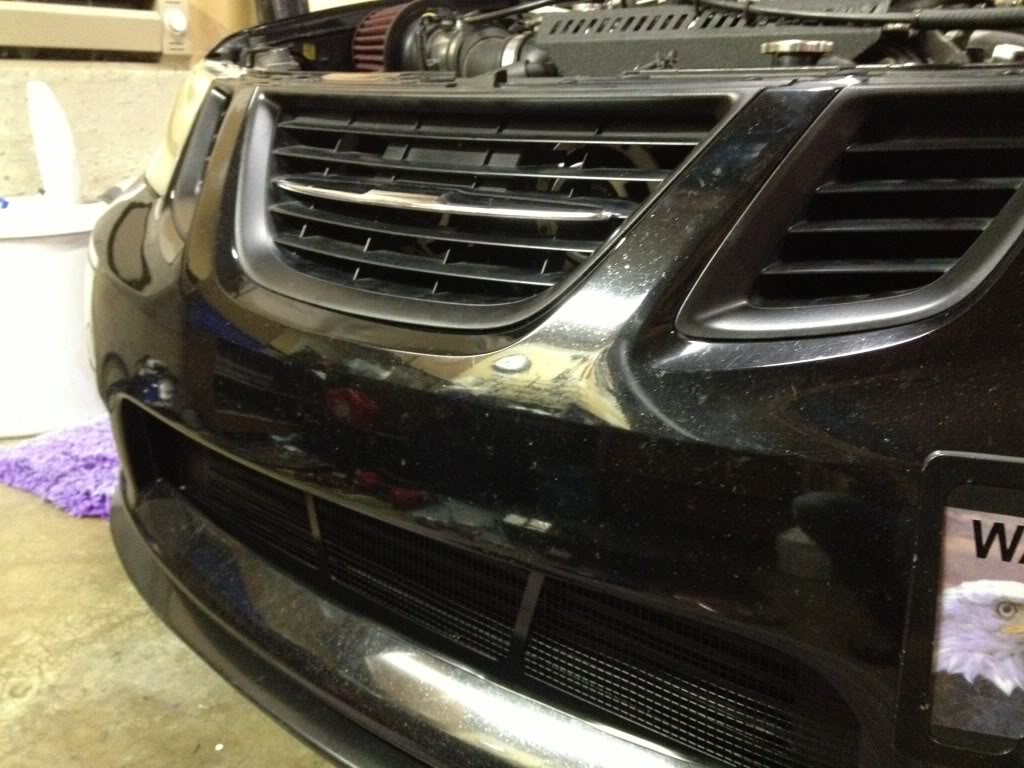 Next I got back into the soundproofing. Pulled the front door panels and made easy templates to stick to the inner skin: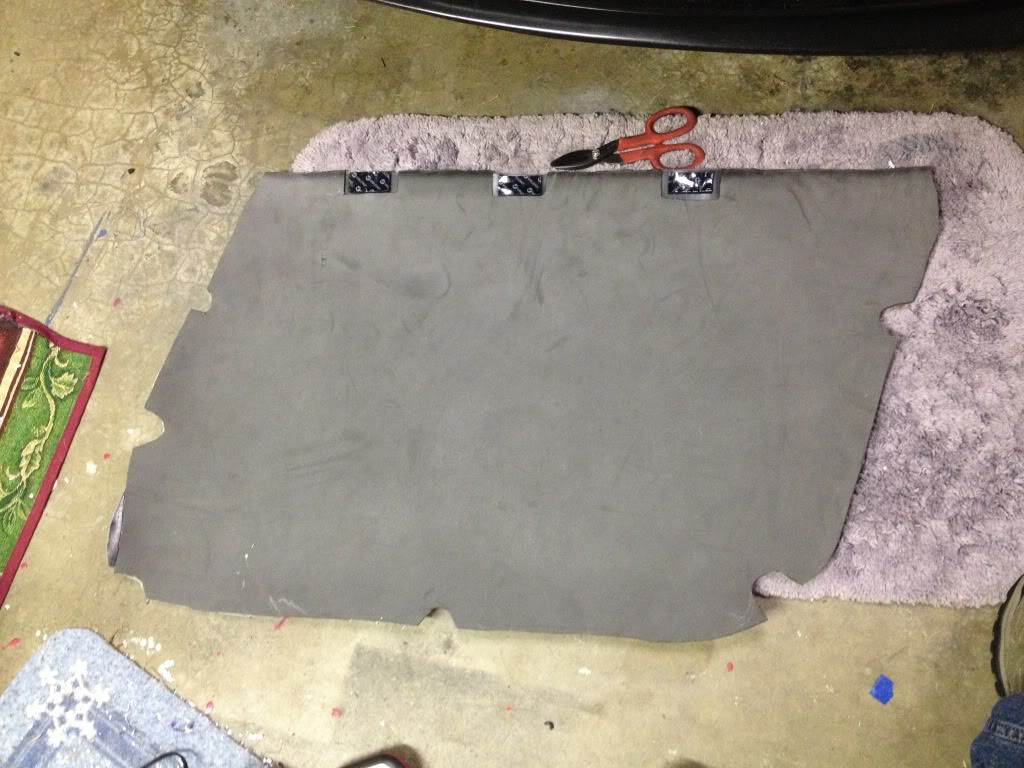 Installation was easy too, but getting the door clips back in was a huge PITA, had to trim down the outer edge of the MLV quite a bit. On top of that, it produced a bit of a sub box effect on my front speakers. Fortunately, I can adjust the highpass on them from stereo, but I couldn't eliminate it entirely. If I can't dial in the sound, I may pull the moisture barrier and dynamat the outer skin, but I'm not convinced it will solve the issue, probably just have to box or MLV behind the speaker: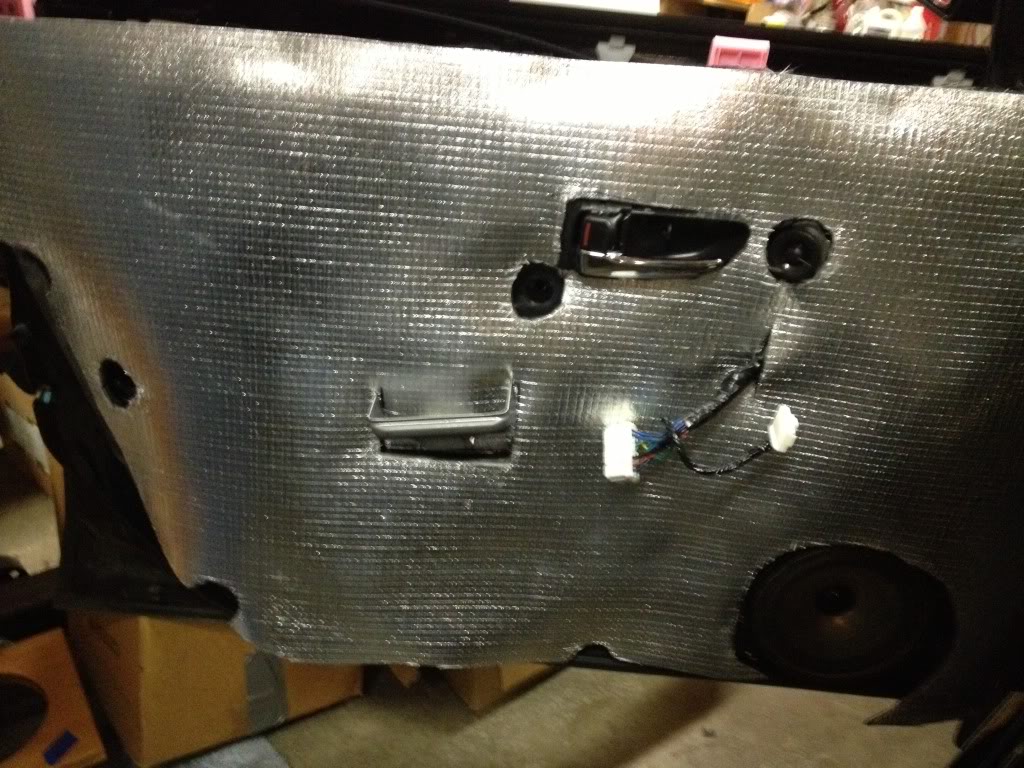 The volume drop wasn't significant, but I definitely notice the blocking of reflected sound to my sides wile driving:
Cruising: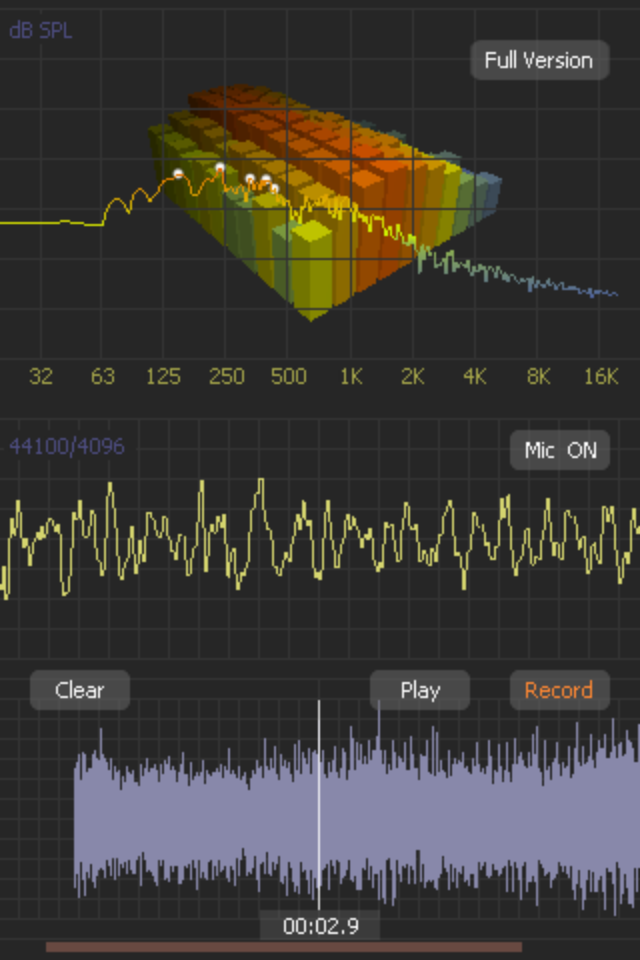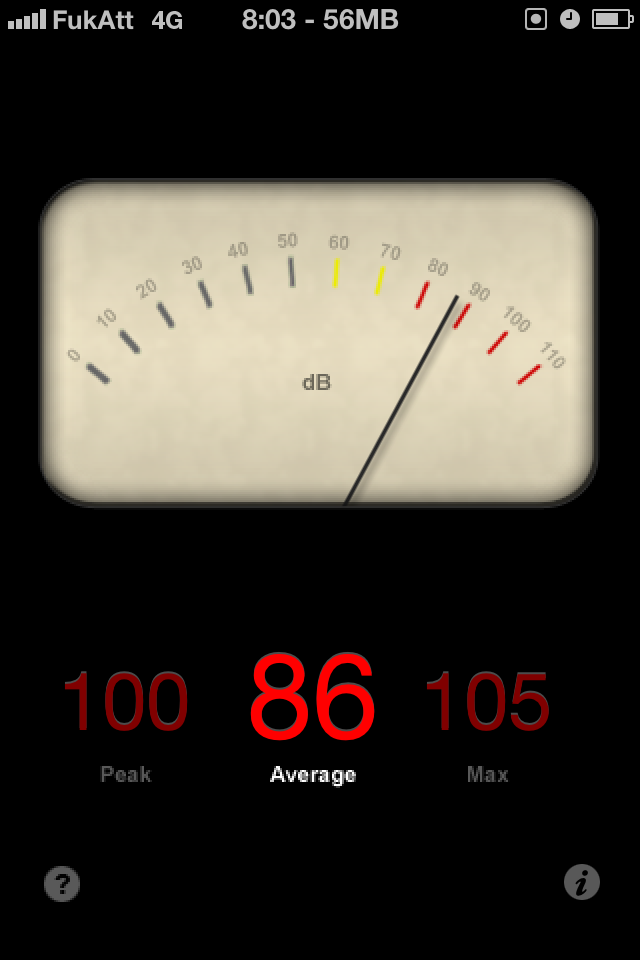 At idle: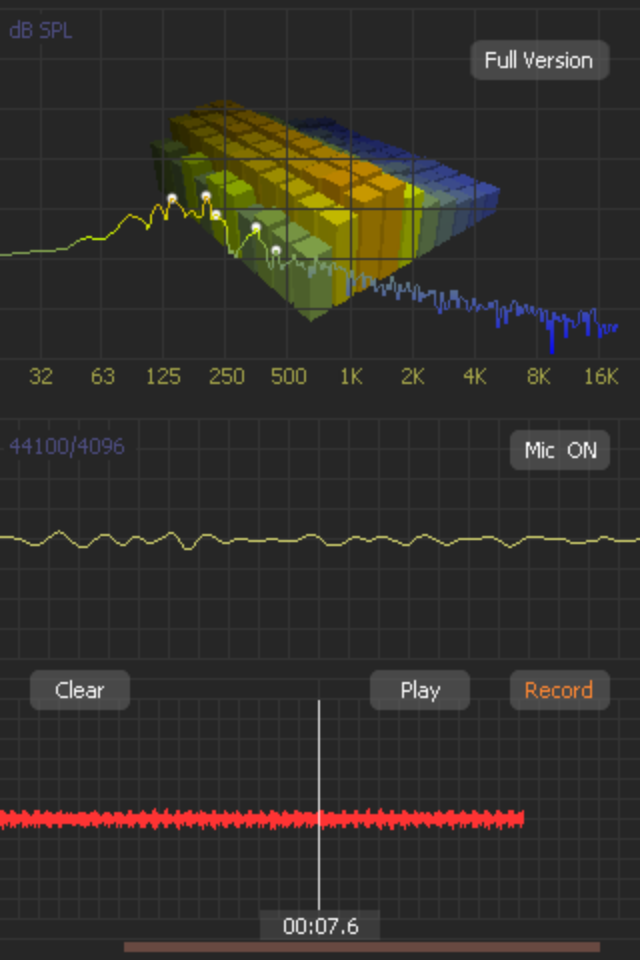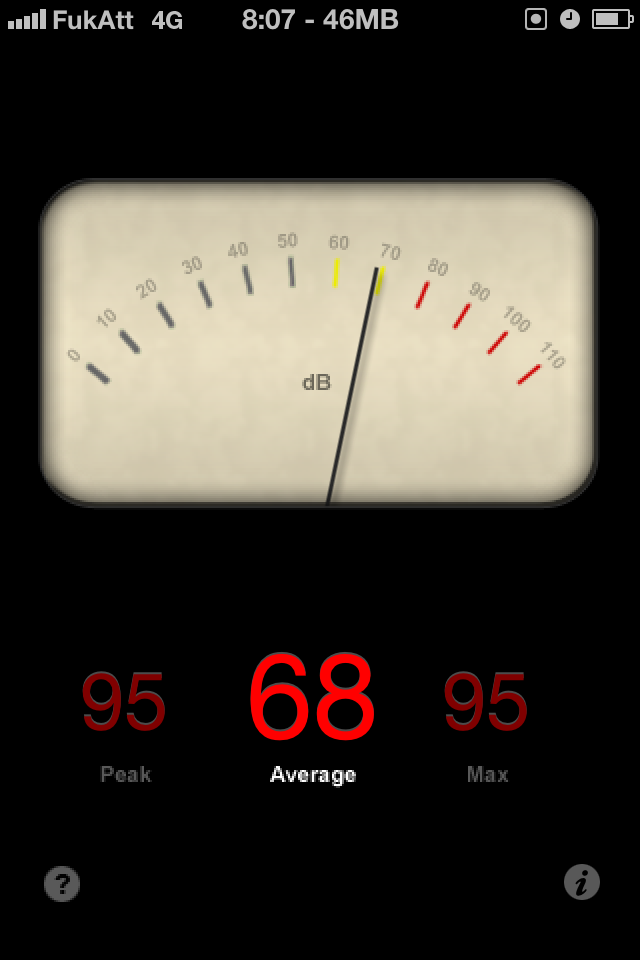 Next I figured I need to finish out the cargo area and complete my isolation 'bubble' back there. Problem is, after the shock towers, it took me a few days to get all the flooring to fit straight again. Adding sound blocking underneath it would only make it much worse. Then I thought of the success a lot of guys have had with the sound blocking attached to floor mats and realized I just need to cut out one of these: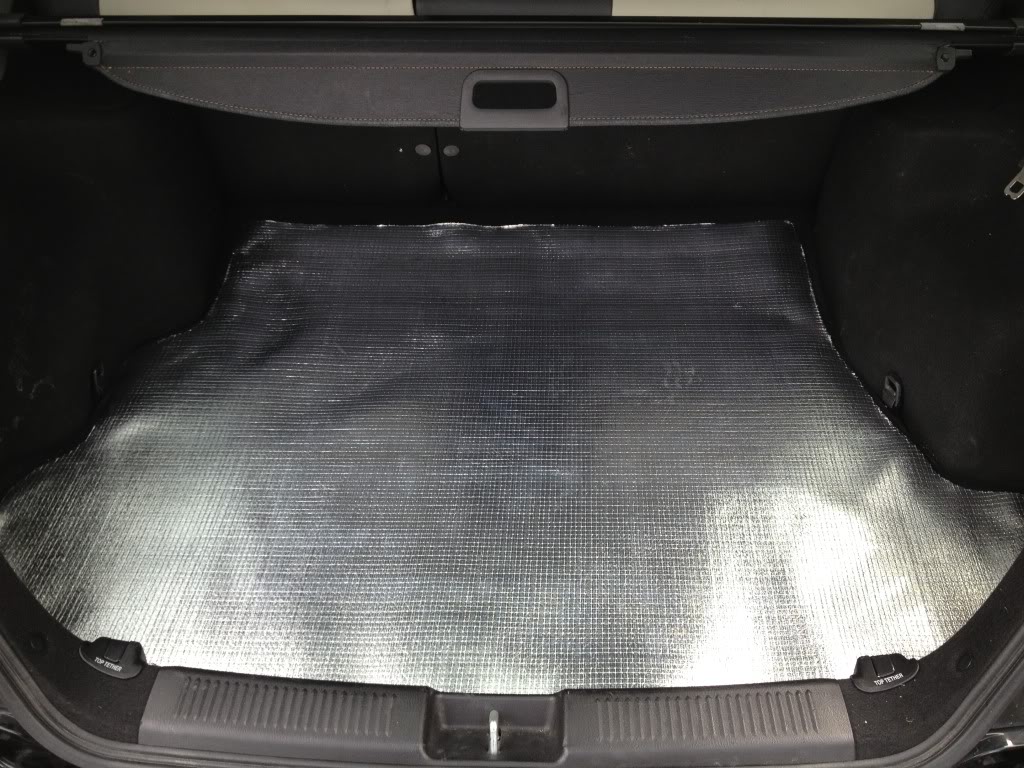 And then cover it with one of these: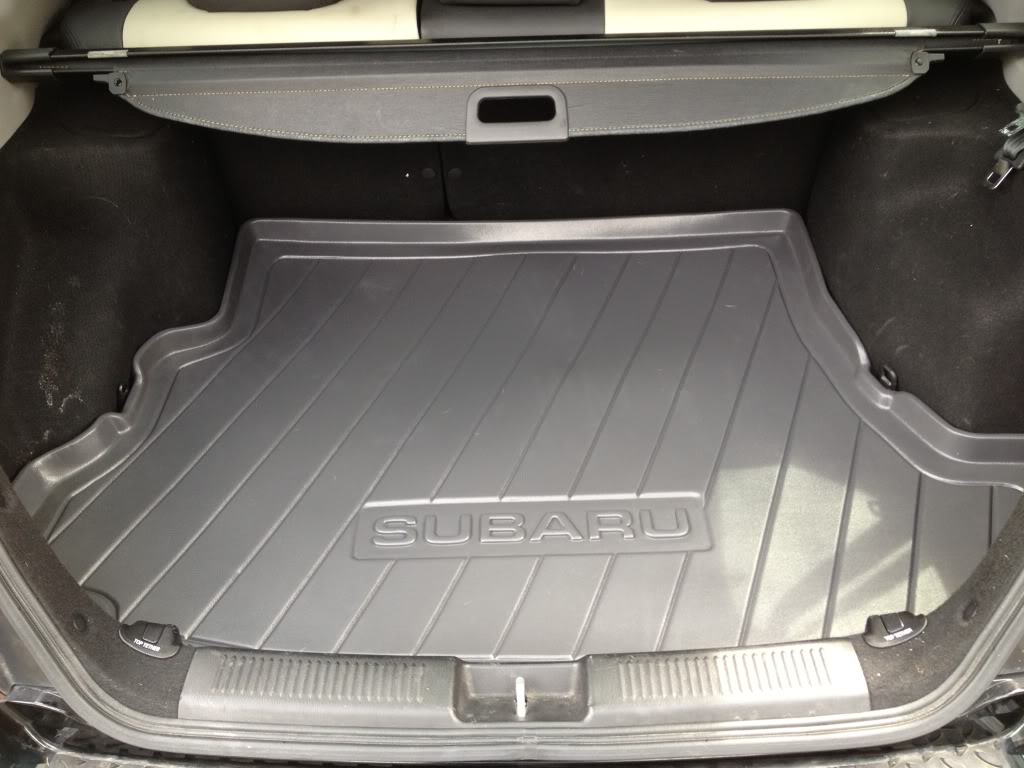 This worked perfectly, and the edges of this MLV sheet line right up with the lower edges of what I installed in the shock towers.
Testing didn't show a huge improvement, unfortunately, but the 'Dead Zone' behind me is really significant now, like someone stuck a huge block to the back of my headrest. Higher pitched road noise is essentially gone, I'm getting almost solely exhaust tones.lExhaust sound is very obviously coming in through my rear doors now, here's the measurements, no real change from before though:
Cruising: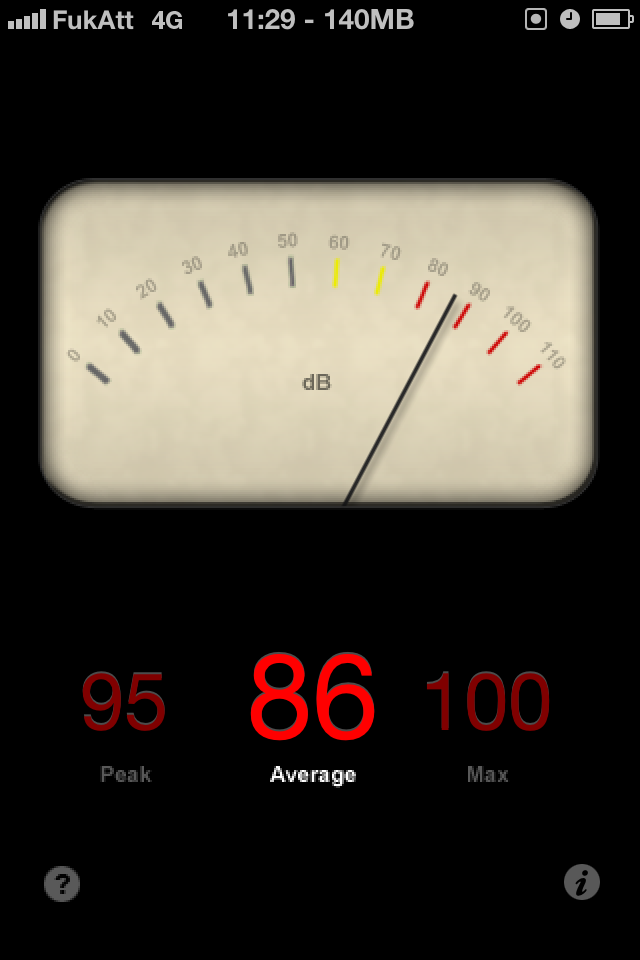 At idle: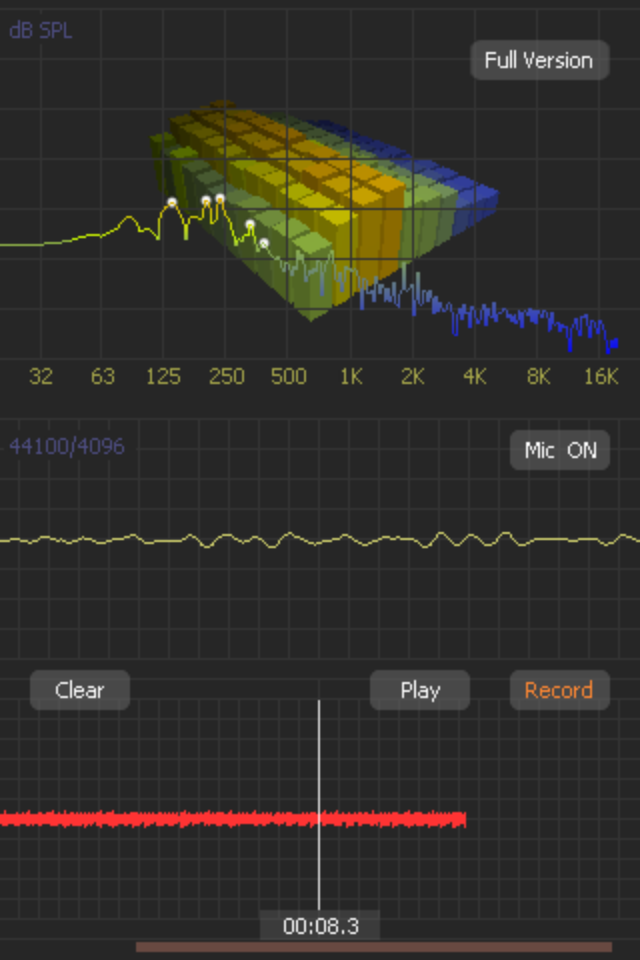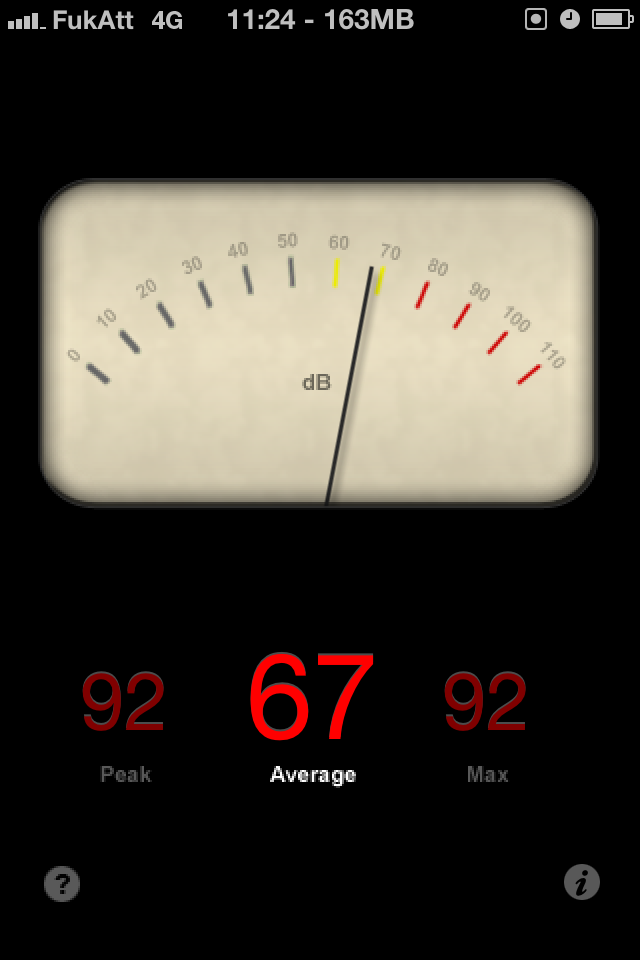 7-3-2013
Thanks, Darth, had some guys with far more talent than me from Summit and English racing give me some solid compliments yesterday, so feel like the build is really on the right track.
As for English Racing, Aaron helped me out with the retune yesterday, got it to 238WHP and 251WTQ on their dynojet.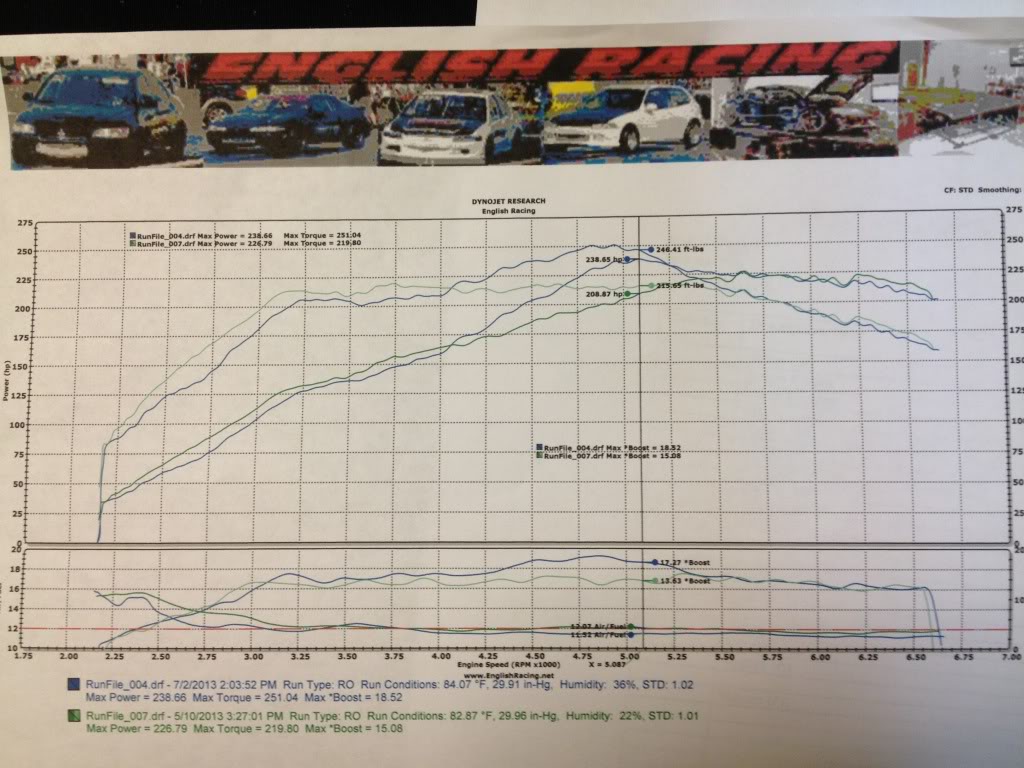 Car feels like it has way more than that even, except for when I run into my other issue, which Aaron suspected is a wastegate sticking open

. It's been worse in the heat, so I essentially drove all the way back from Vancouver on an NA car.
I'll pop off the DP tonight to investigate. Also, I was finally around my exhaust in an enclosed space. Jesus, had no idea what it was doing at WOT; this is what I should have done Db tests on:
Also finally put together my Keyport slide. Did a flashlight, USB drive, bottle opener, SaaBeeru key, brewery Scion key and housekey: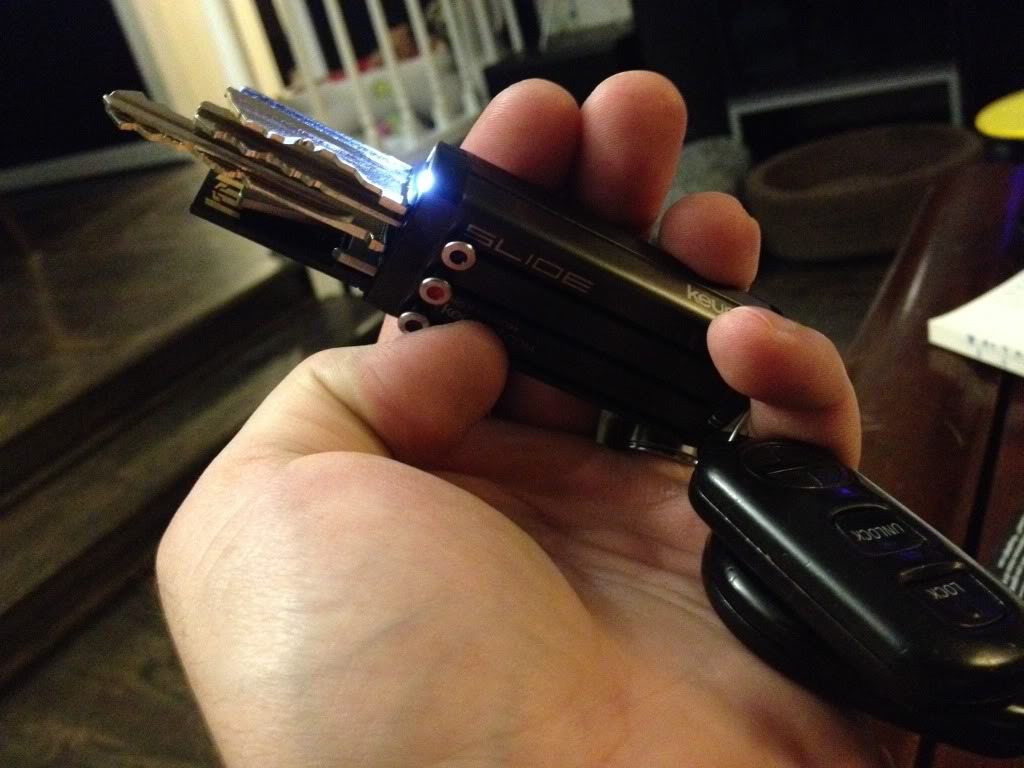 It's a very well made setup, really feels luxury, and is far more comfortable in the pocket than a keychain. I'd like to not have to carry 2 key fobs is the only issue left, so I'll probably look for a universal replacement after I add the remote start/alarm kit.
7-5-2013
Now I'm pushing through the last of the soundproofing (actually completed this next step before my retune). First off, I wanted to finish up the sound 'bubble' in the hatch area. I did the tap test and found too much under the spare, and some dynamat was needed. Checking further, I put a panel on the rear plate and several inside the hatch itself: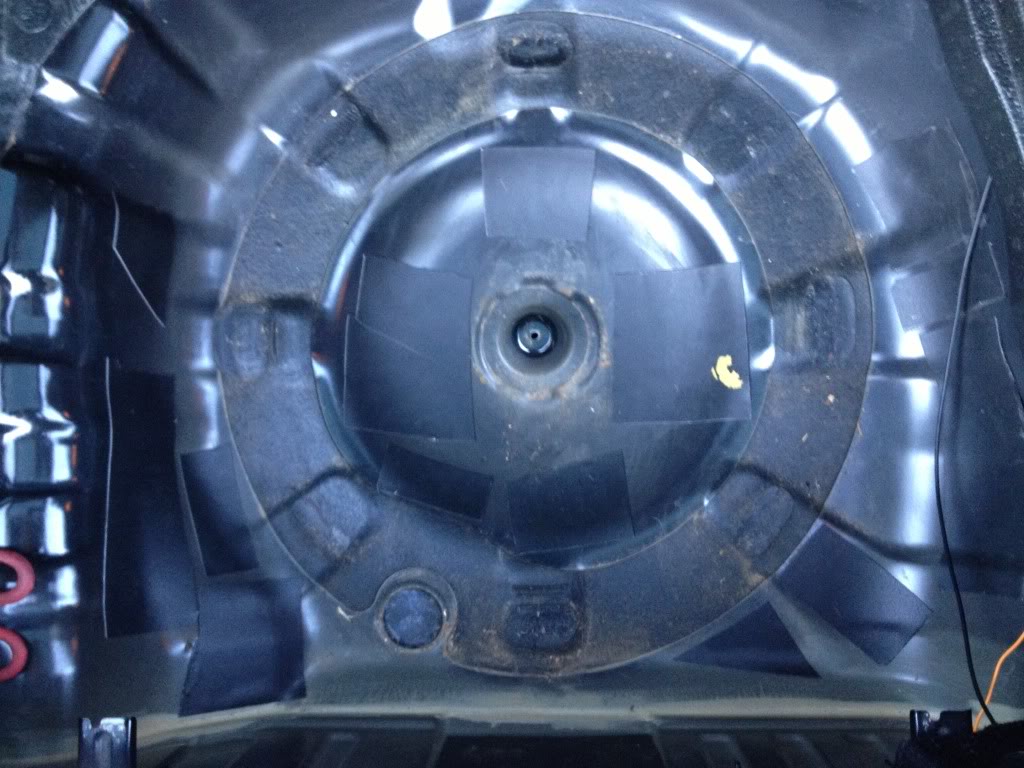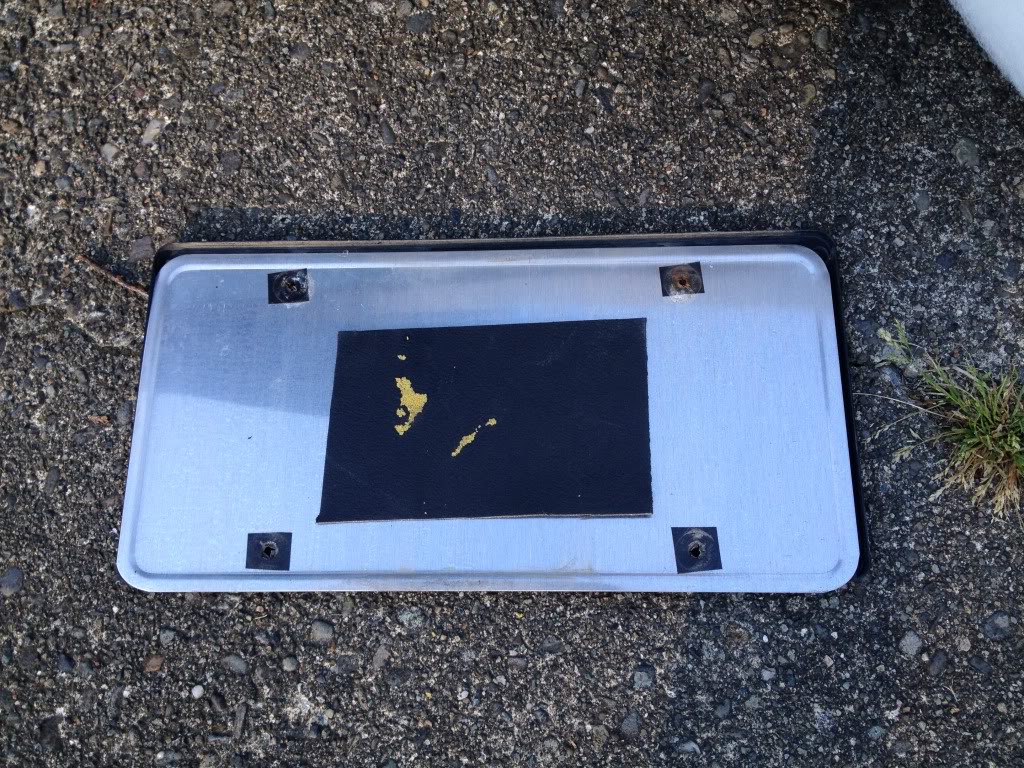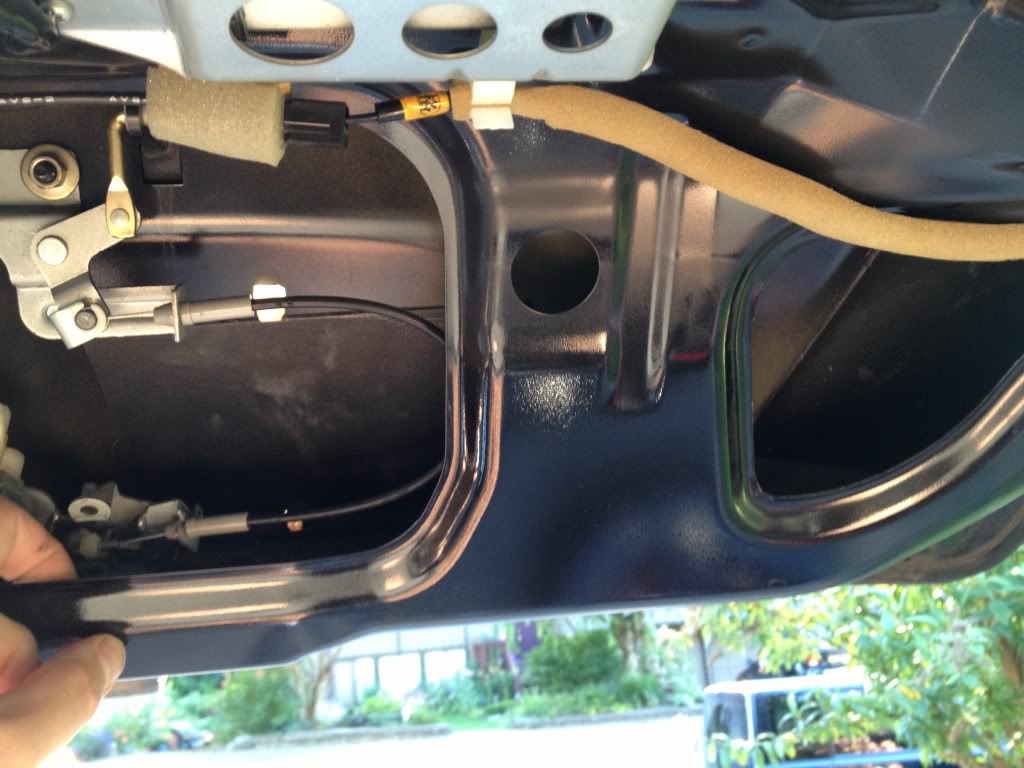 MLV into the rear hatch and the panel below it: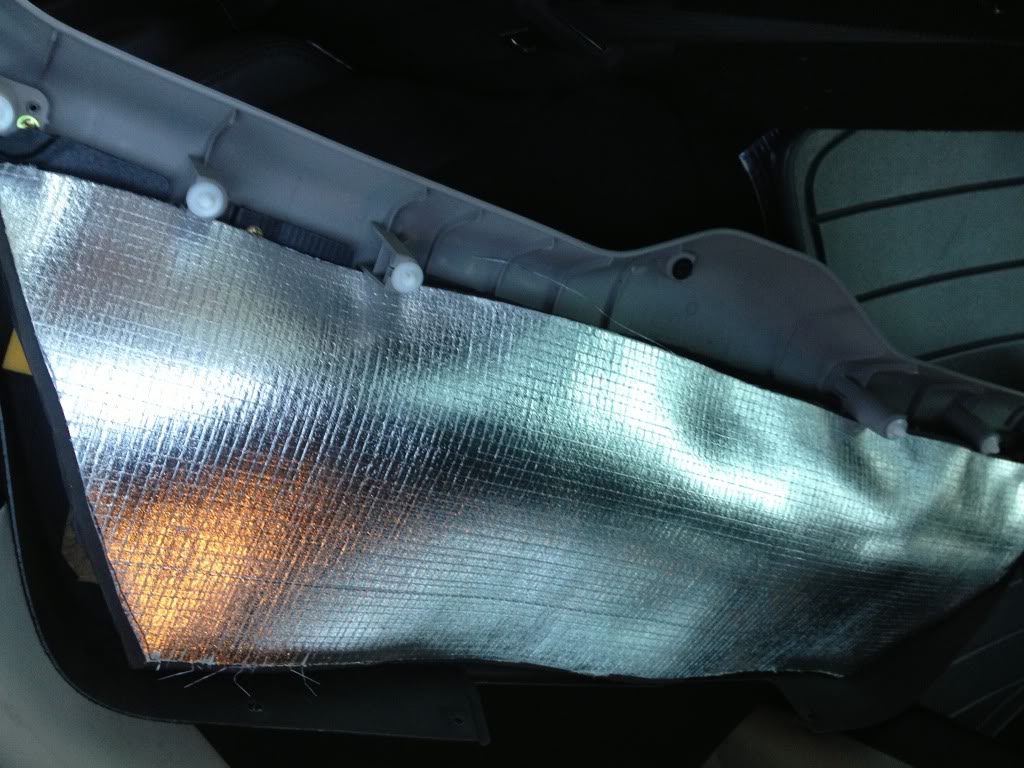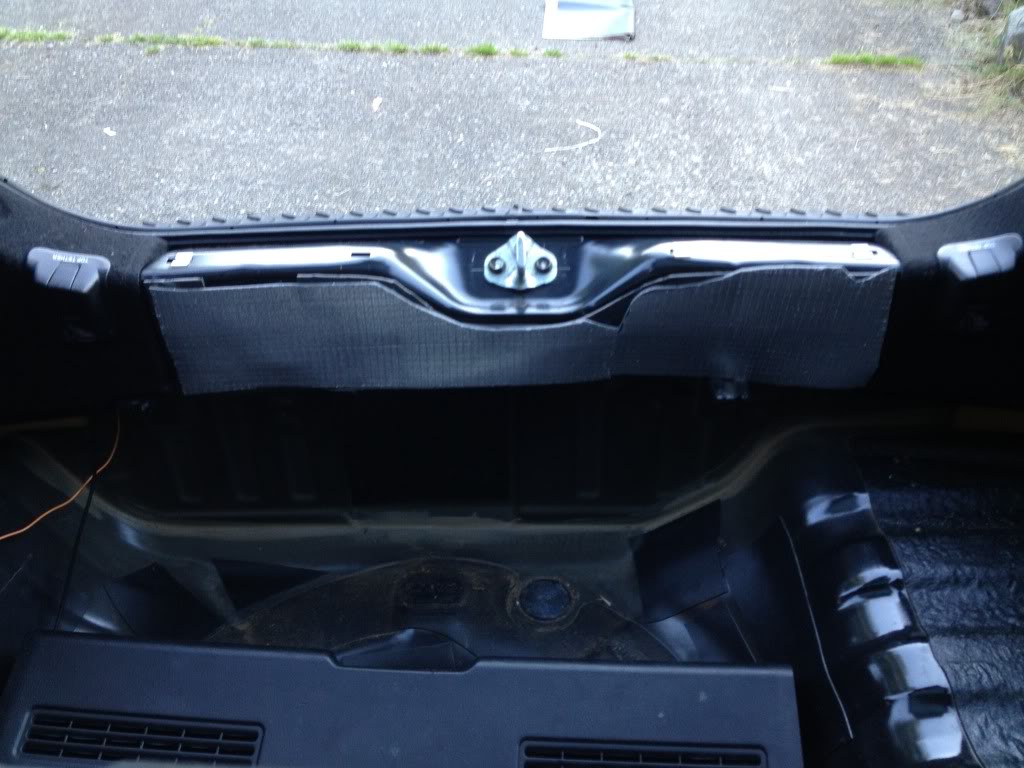 I took it out for a drive, now exhaust sound is really concentrated in the rear doors, seems like there's nothing directly behind:
Cruising: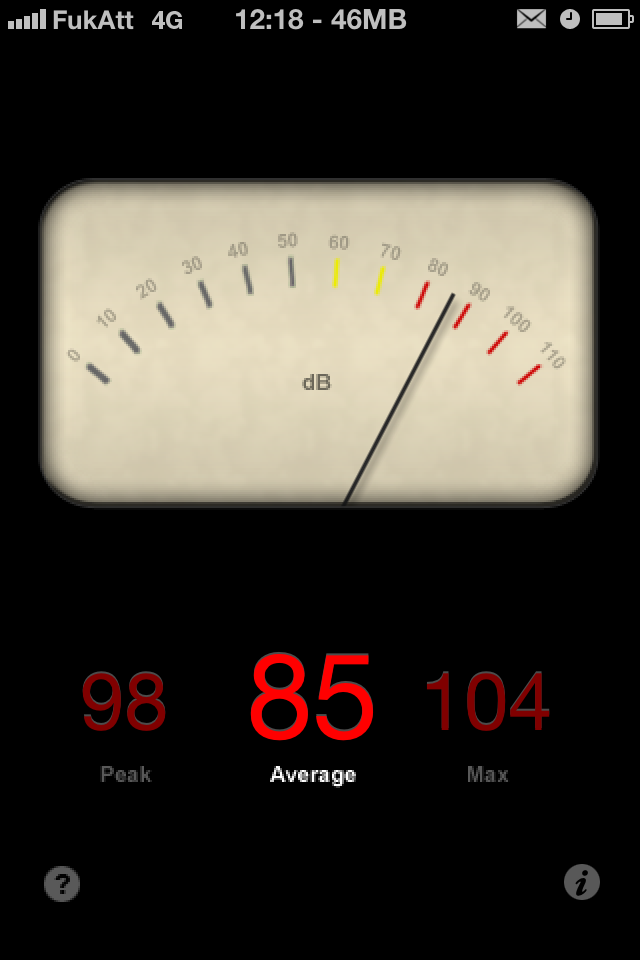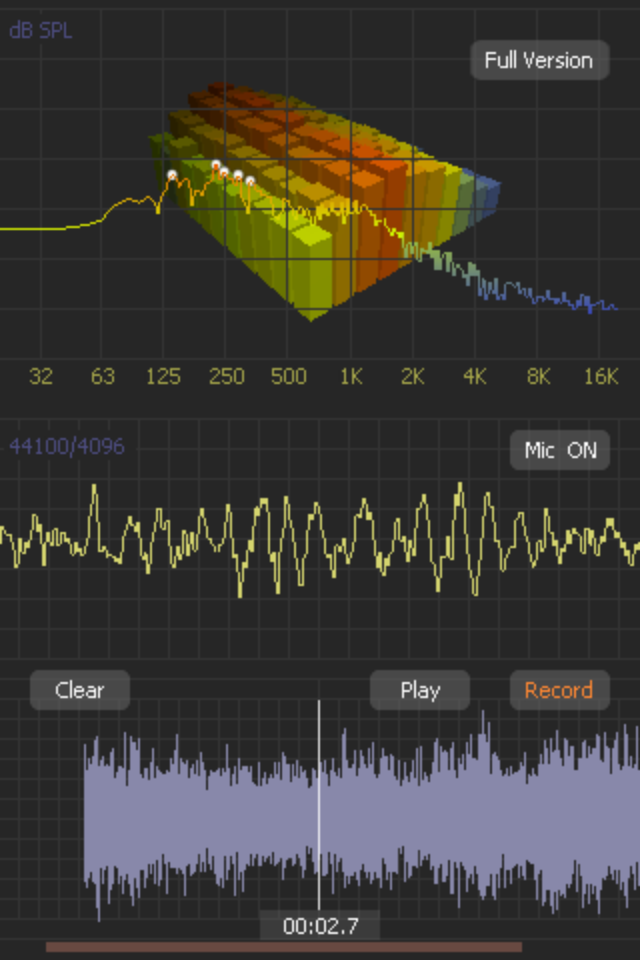 Idle: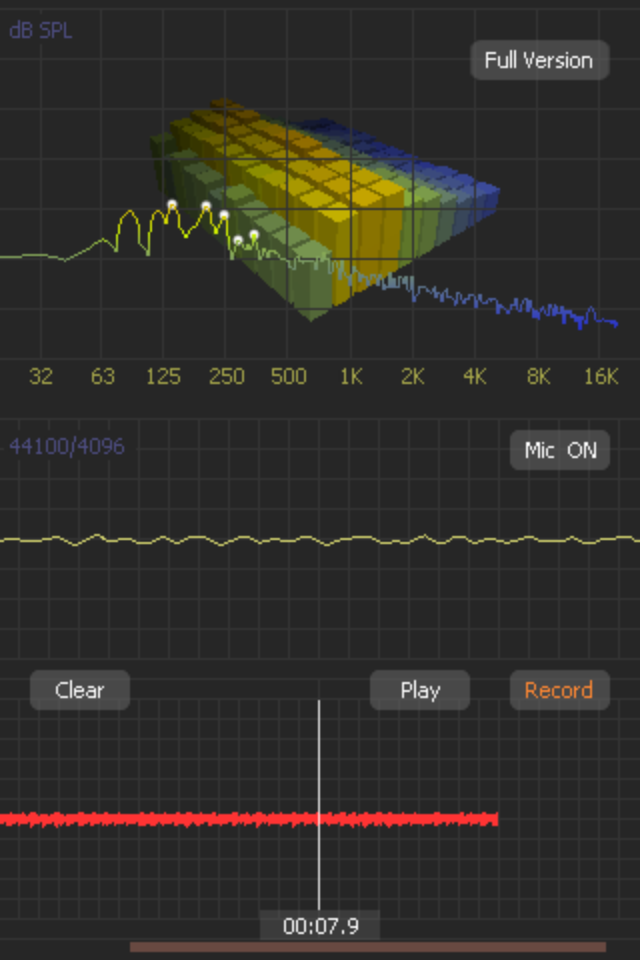 7-7-2013
Since the rear doors are where the sound is most pronounced now, that's my next area to attack. To avoid the 'sub box' effect on the rear doors that I saw on the front, I added 4 12x4" Dynamat panels to the back doors, and then figured what the Hell and added 5 of these to each of the front doors as well.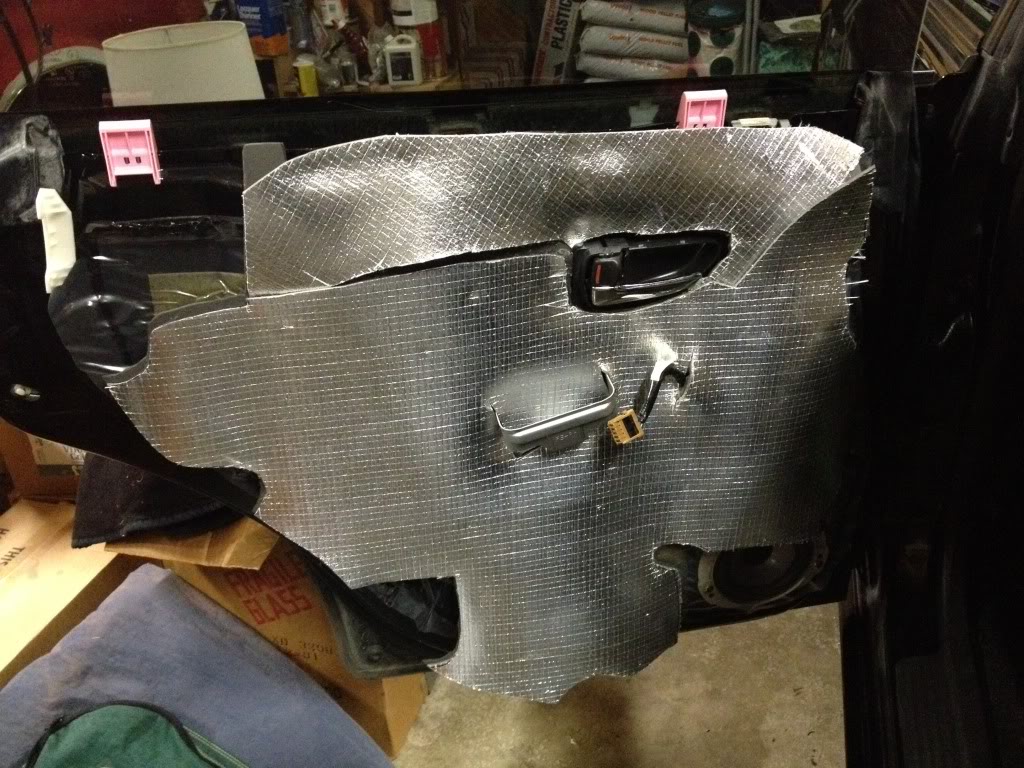 I noticed the back seat release pins had a little rattle to them and made a couple of Velcro carpet 'washers' with a slit on one side, then just put them on the seat of each pin to stop vibration: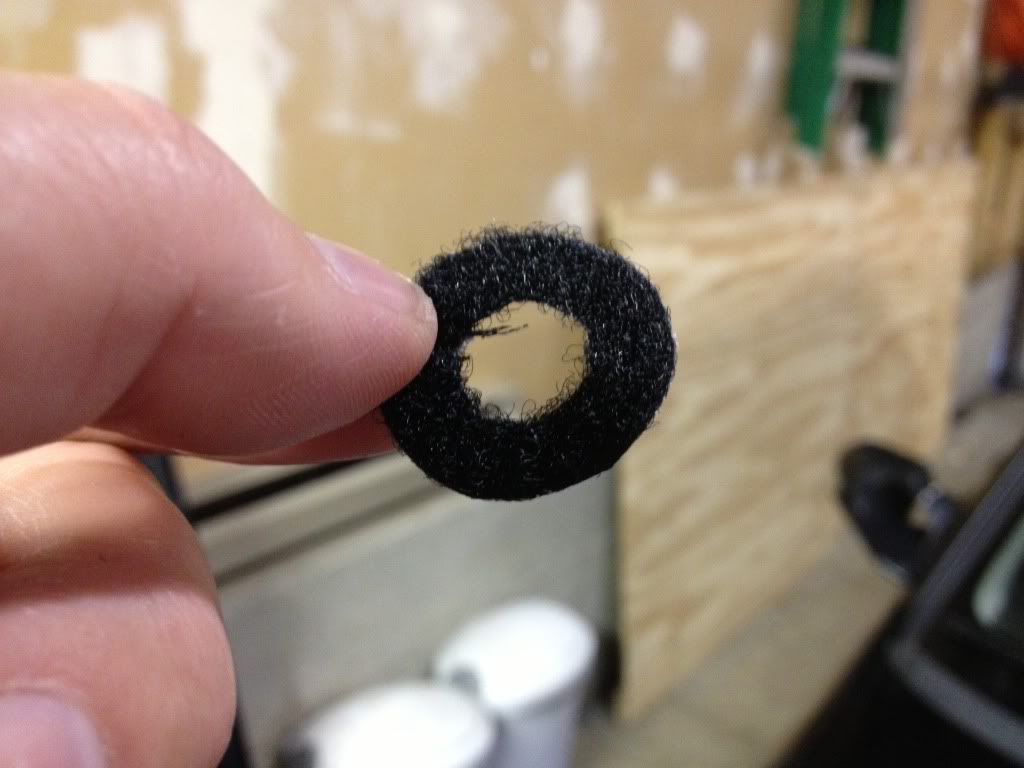 With the Dynamat and door panels in, there's an immediate change in sound dynamics. Sound is now 'displaced' and exhaust tone seems to come a bit from everywhere, but at still-reduced volumes. Idle and cruise levels are both lowered, sound is getting very close to a luxury car level with an aggressive exhaust at this point:
At idle: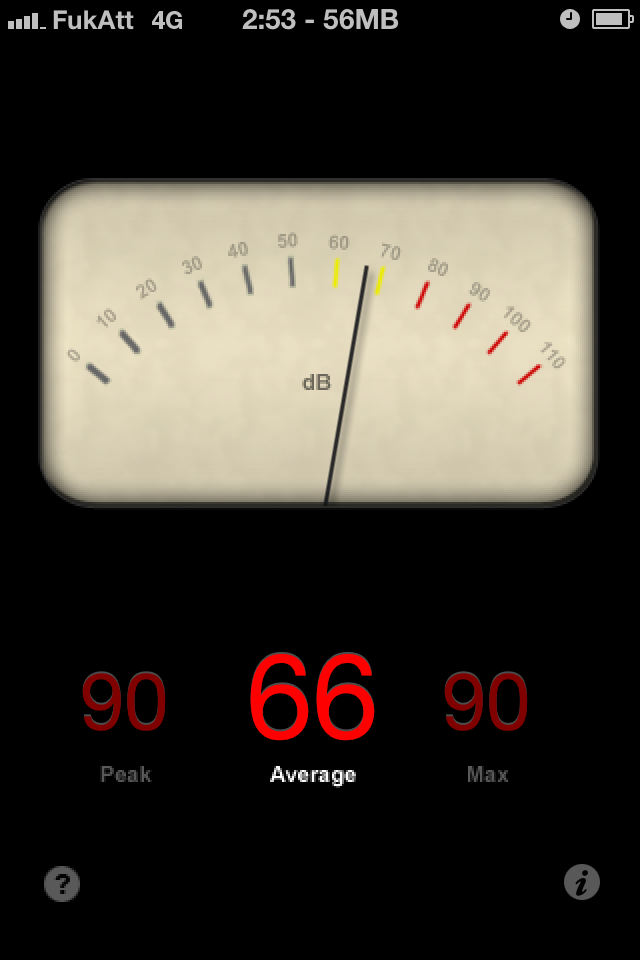 At cruising: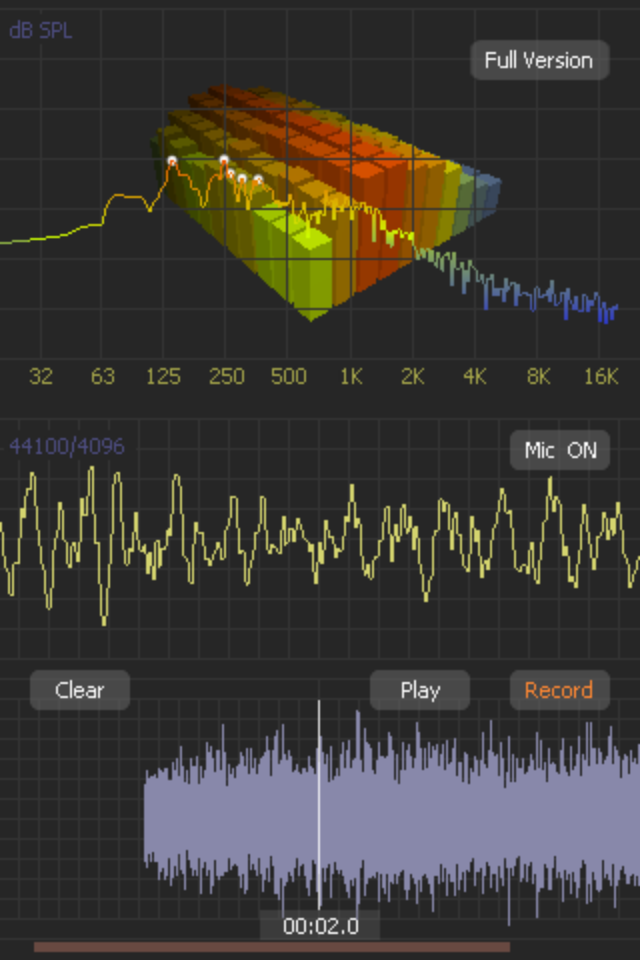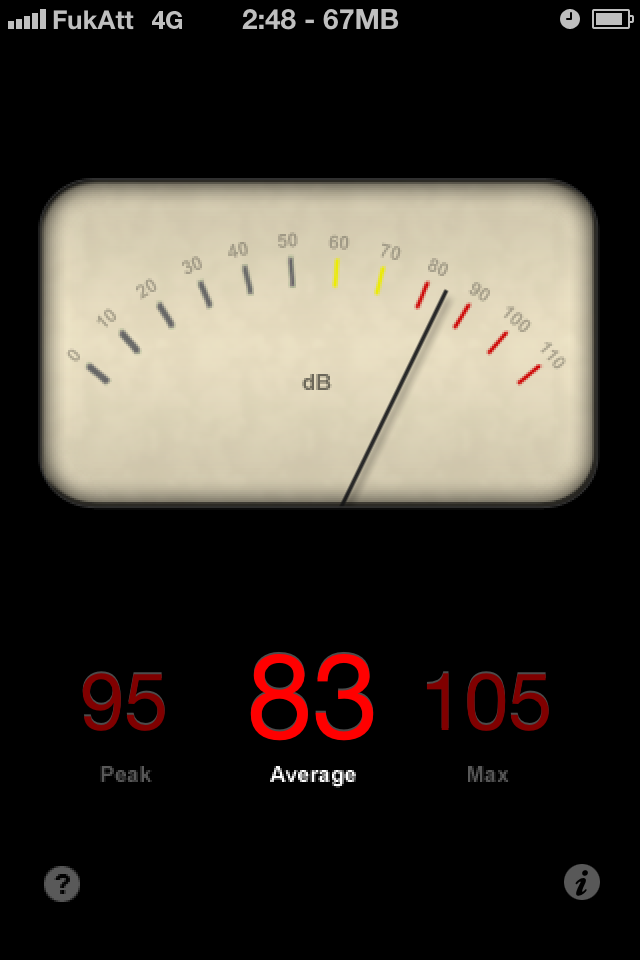 With the doors done and running low on MLV, I figured I'd try an interesting tip- lining the floormats. Since I already have Weathertech Digitalfit Floorliners, I figured this would work well since I'm at less risk of slipping. I had just barely the pieces to make liners for the mats, but as expected they were the easiest things to make: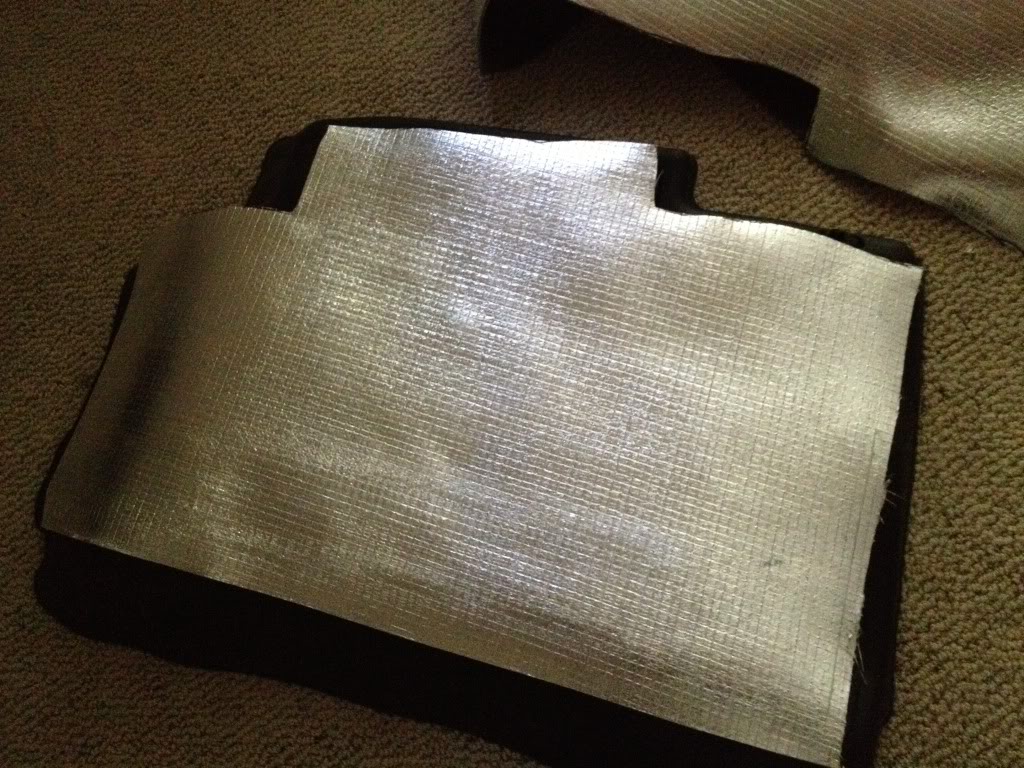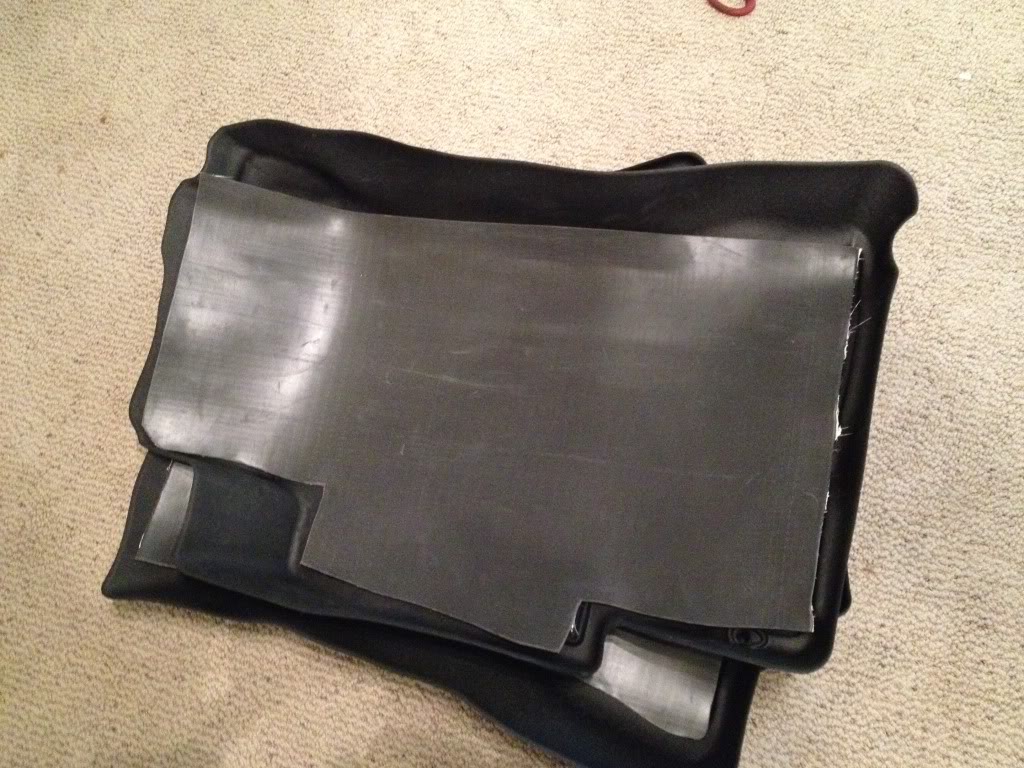 I simply laid the MLV vinyl-side-up on the car floor and put my mats on top. Results were immediate, the exhaust note moved right to the back of the car and cruising tirenoise was dramatically lowered. I took a ride with a friend who has an '06 WRX sedan with a moderate exhaust and he immediately noted how much quieter my more aggressive exhaust wagon was than his car:
At idle: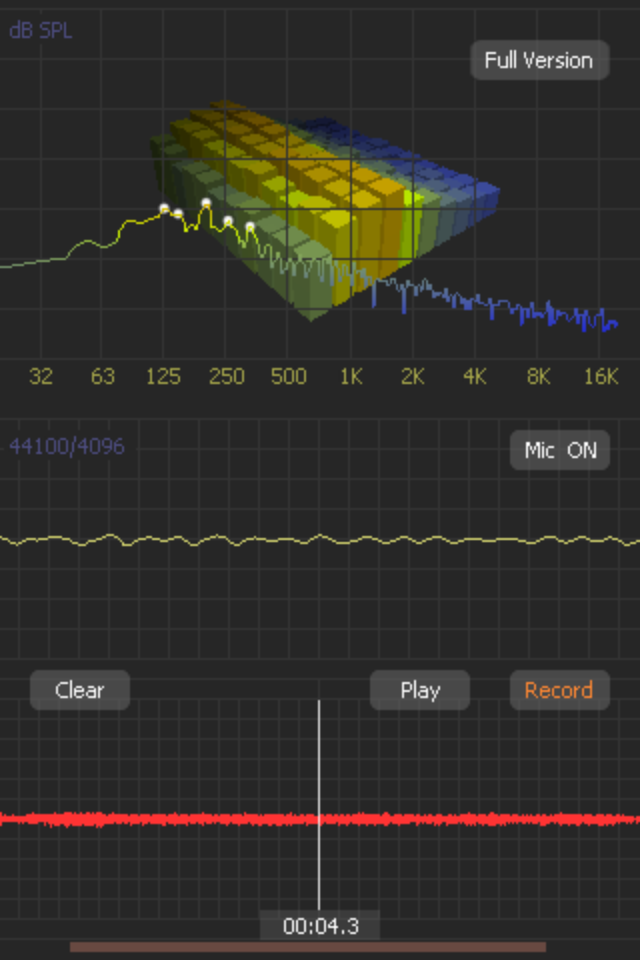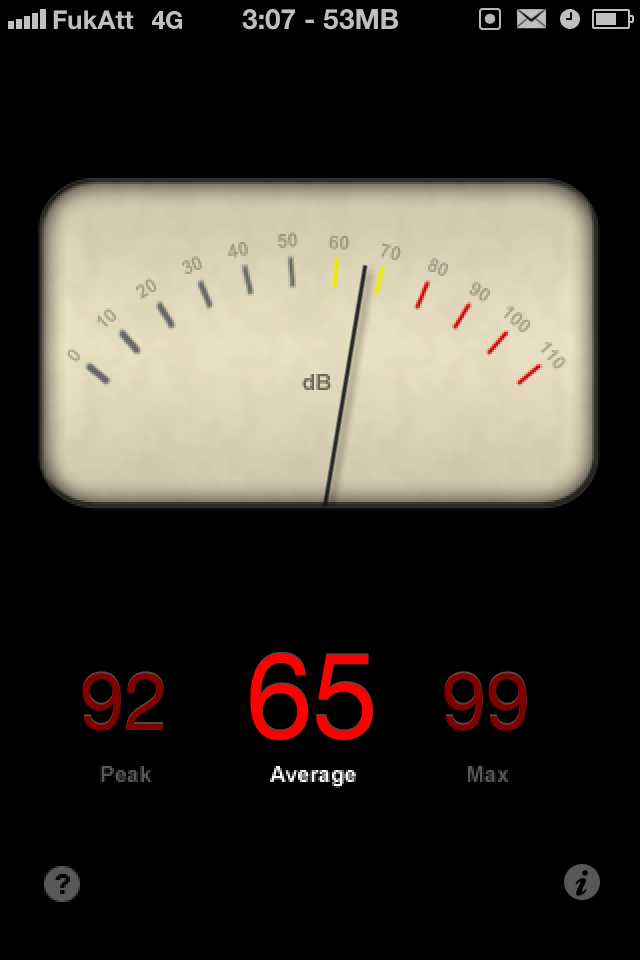 At cruising: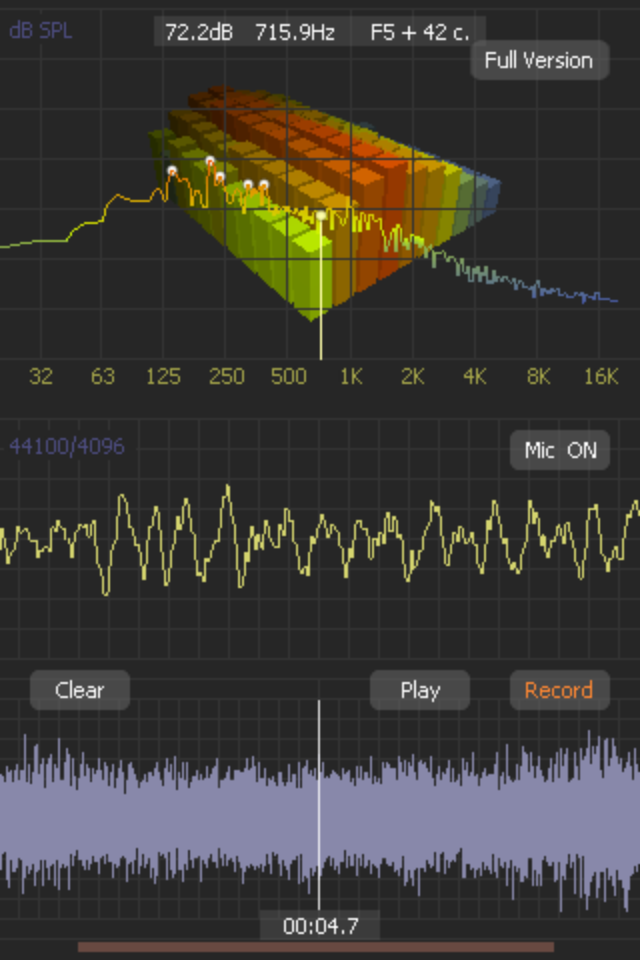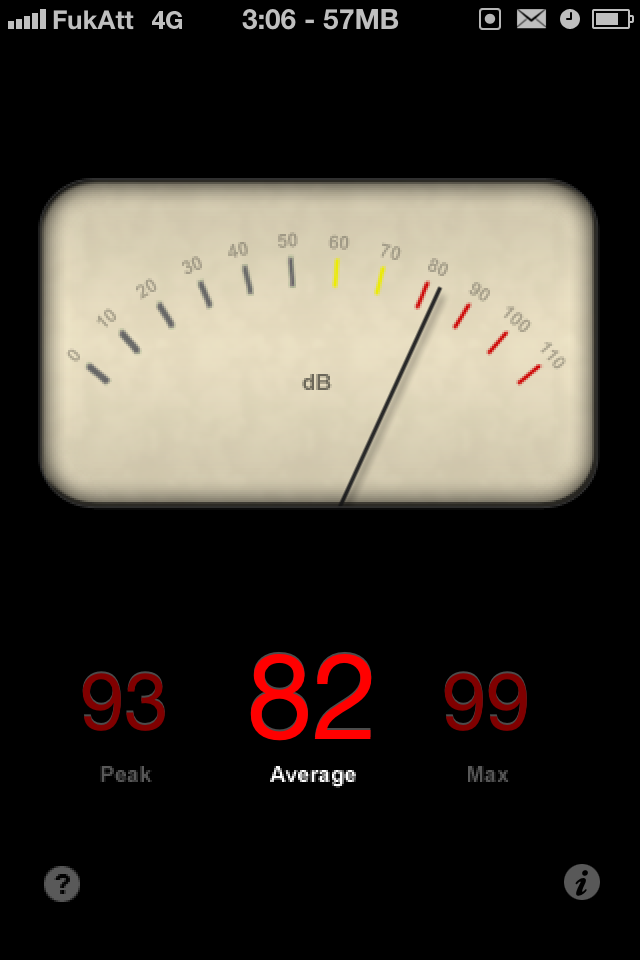 Totally ripped off Saab92x.com user Markpress

and tried plasti-dip as protectant for my hood scoop: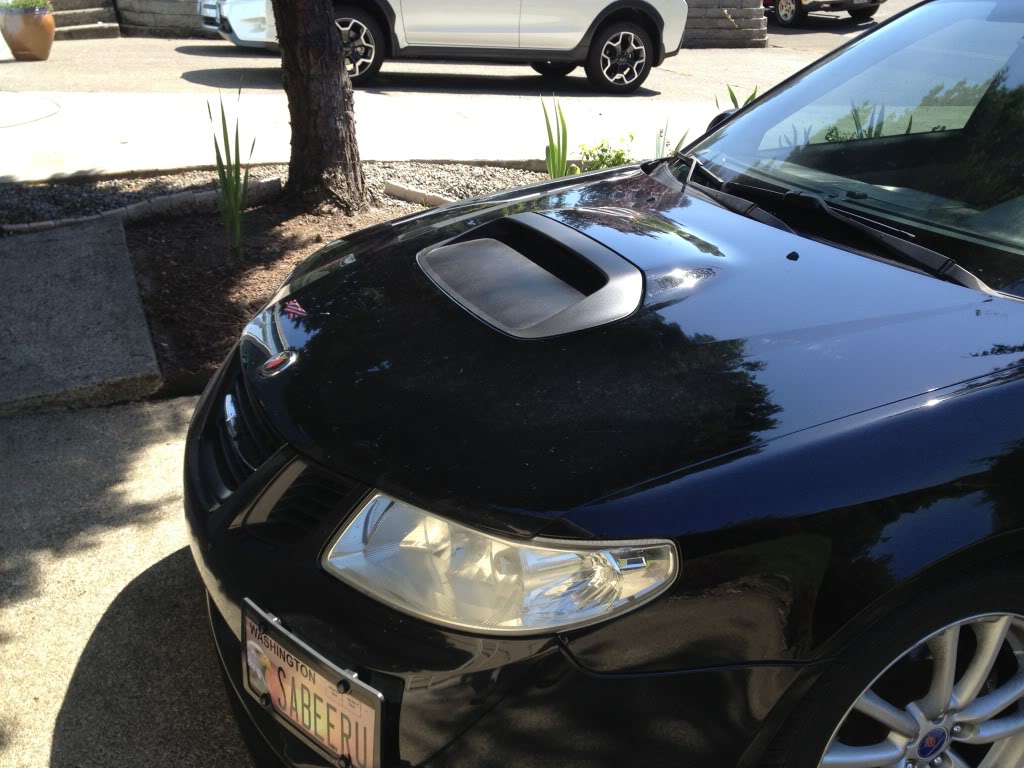 It didn't look too odd with all the plastic lined scoops out these days, but it definitely doesn't work with what I'm doing on my car. Fortunately, I found out my local O'Reilly can custom order any Dupli-Color can, and I should have 2 OBPs in hand tomorrow.
My sound deadening is finally done. I got down to nothing but scraps and thought I just might be able to make something work and get every last dollars' worth. Since I still had plenty of closed cell foam, I simply traced and cut out a piece matching the area under the backseat, then simply cut, glued and rearranged until I came up with this: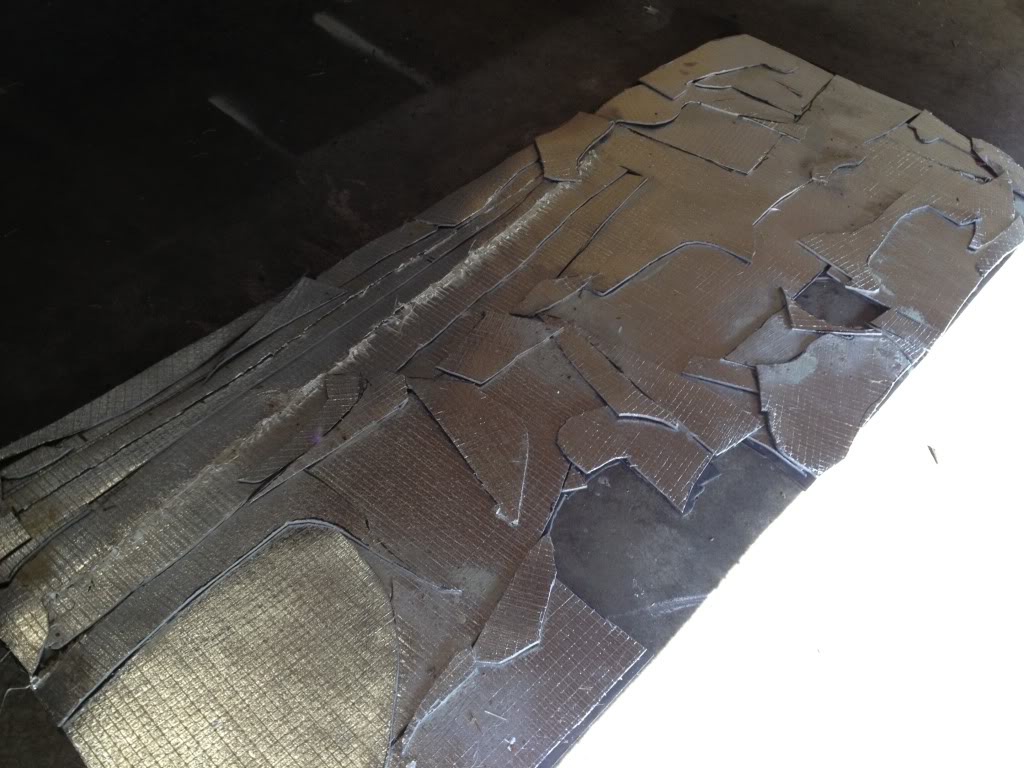 Yes, it looks the mess and was not the most 'stable' piece, but since it's sandwiched between the lower backseat and its sheet metal, it's unlikely that anything will come loose.
Plus, it worked. Sound didn't move any more than with my floormats, but just more of a good thing, as road noise continues to lessen and the exhaust notes deaden more. Here's my final results and a wrap up:
At idle: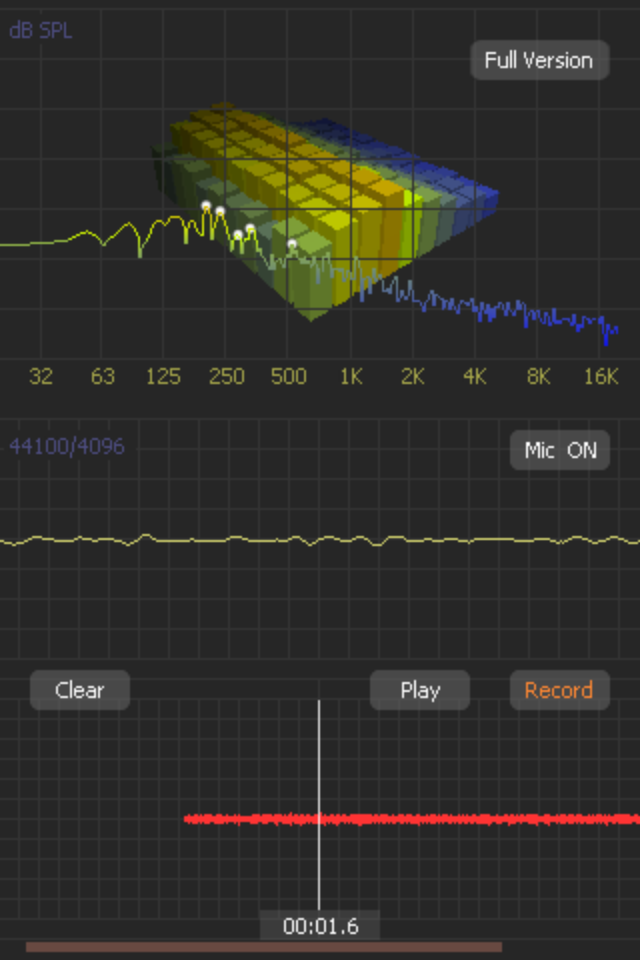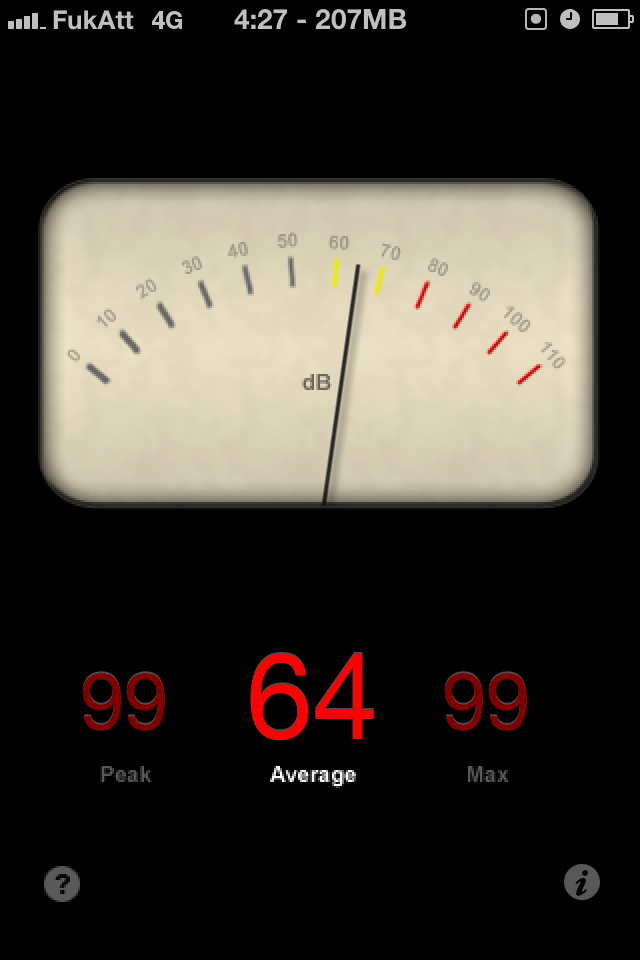 At cruising: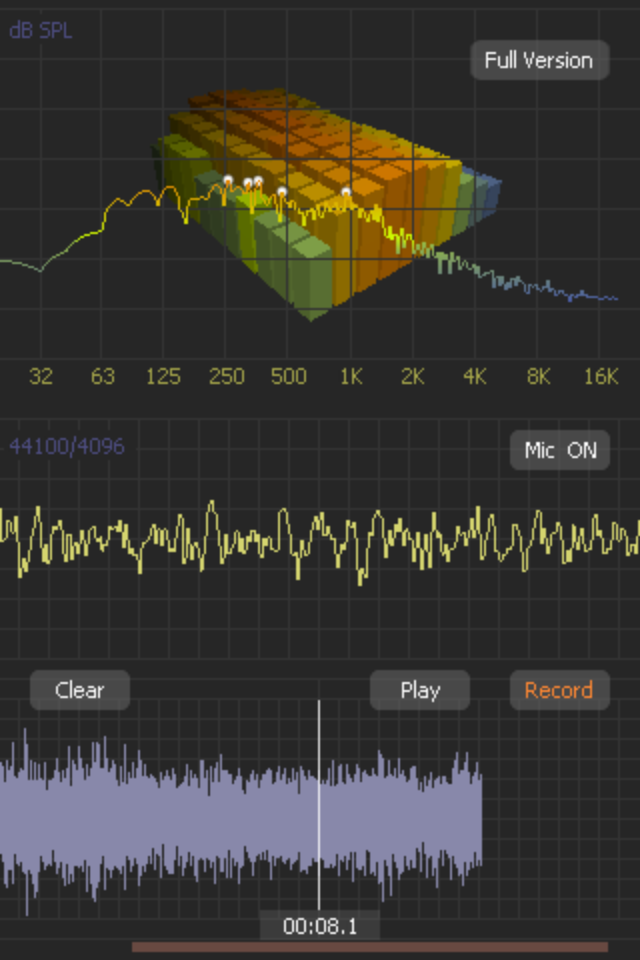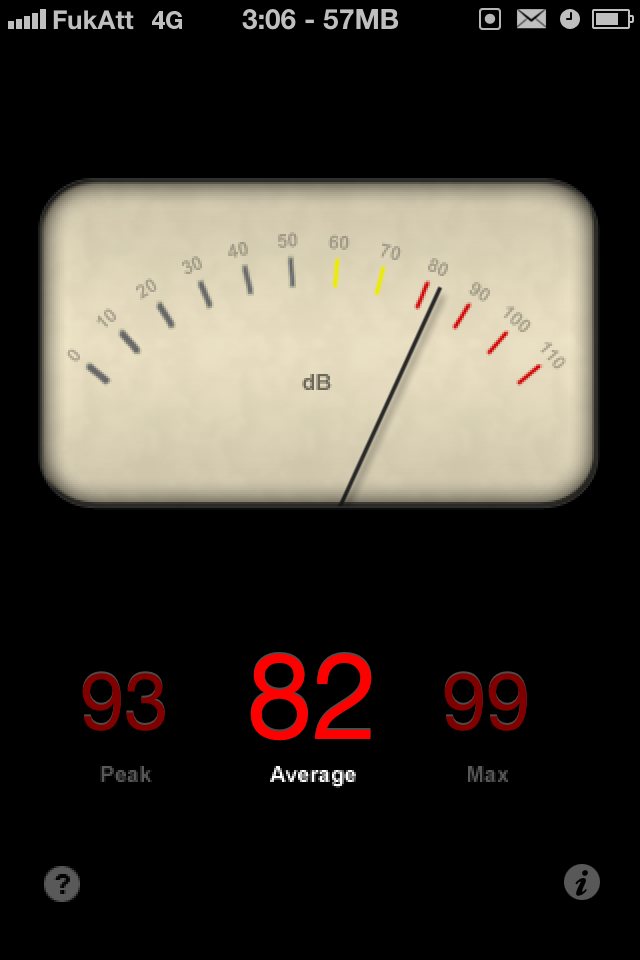 Compared to no sound deadening: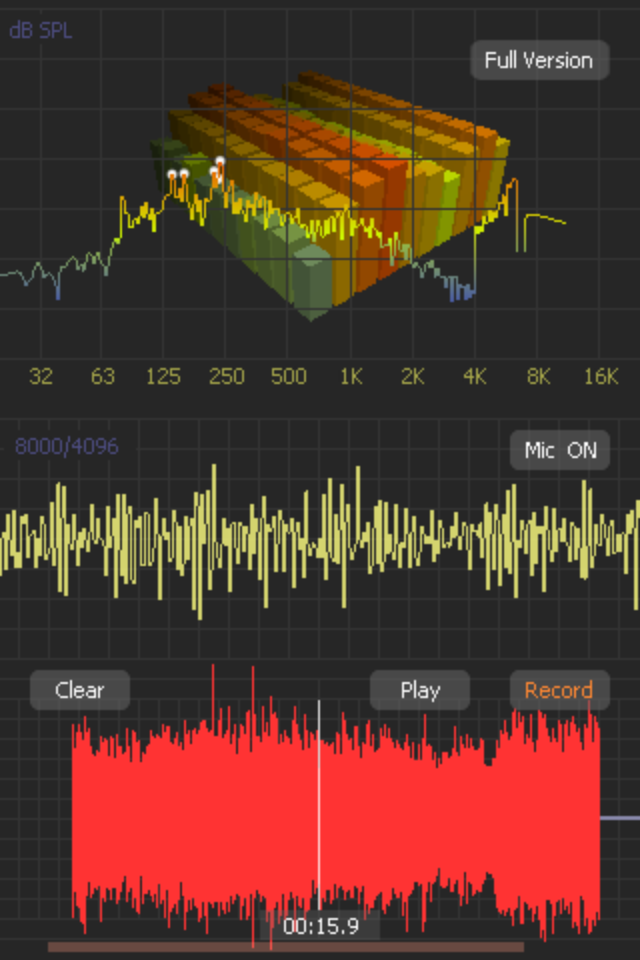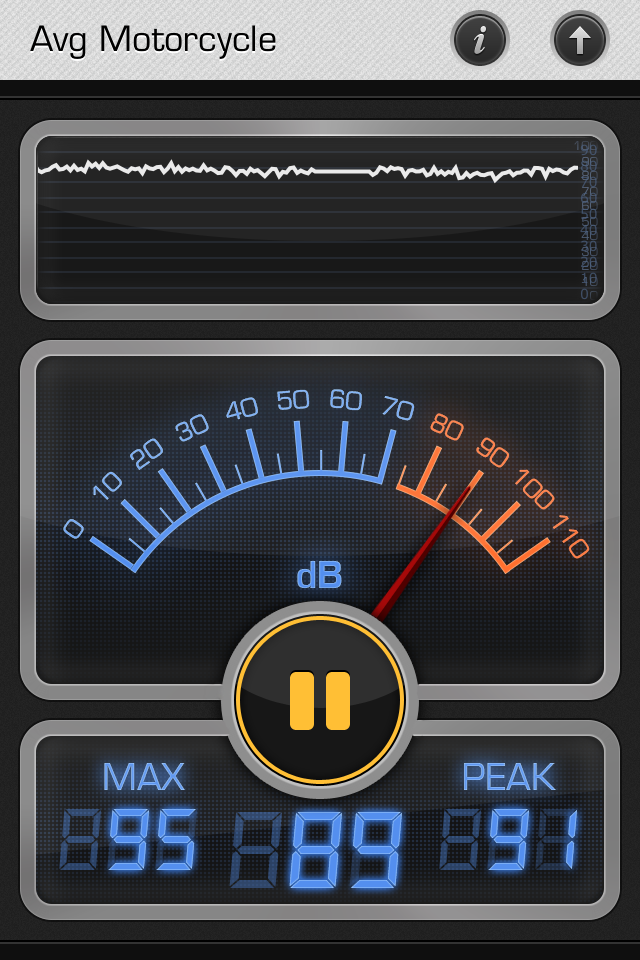 Overall, a very successful endeavor. $150 and 60lbs added for a 7db drop and an interior environment easily on par with a performance luxury car, yet still with the aggressive Subaru boxer rumble.
Keep in mind that these cruising and idle db levels are not directly comparable to manufacturer or magazine ratings. I did find a C&D test of a stock Aero putting it at 72db versus my 86 (By comparison, a WRX wagon registered at 70db). While linear comparisons don't quite work, it's realistic to estimate that my 70mph cruising volume is now 67 in a professional test. This puts the SaaBeeru right on par with a CTS-V Wagon, Panamera Turbo and 535i; exactly the company I'd like to be in.
7-15-2013
Ok, pulled the scoop, pulled the plasti-dip, bought some dupli-color OBP cans and went to town. Here it is after 800 and 1000 grit wet sanding, got it even smoother after this pic: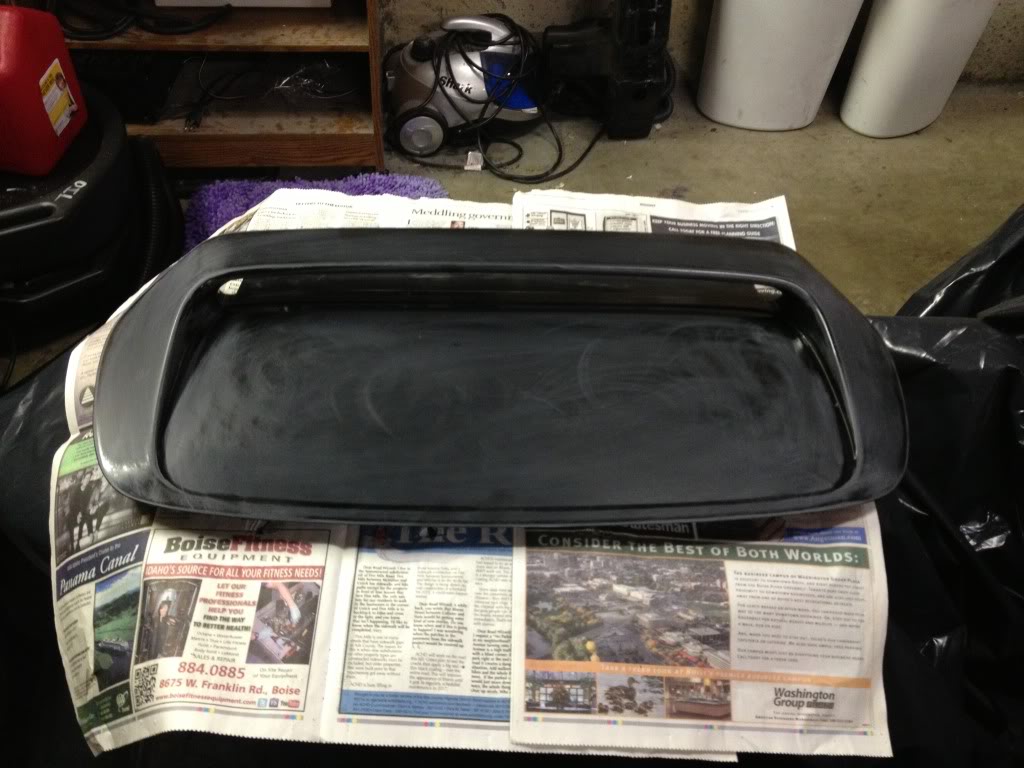 Next, I hit it with clearcoat, 1500, 2000, 3000 and then rubbing compound. I could have pushed it with each wet sanding to be perfect, but I held back a little in how aggressive I was. Very pleased with the results, a million times better than before with my 2 spots worn down to the plastic, and I left just enough texture to give a really good match with the surrounding paint. Should be a perfect match after the next polish, then 3M spraybra, and then black waxing.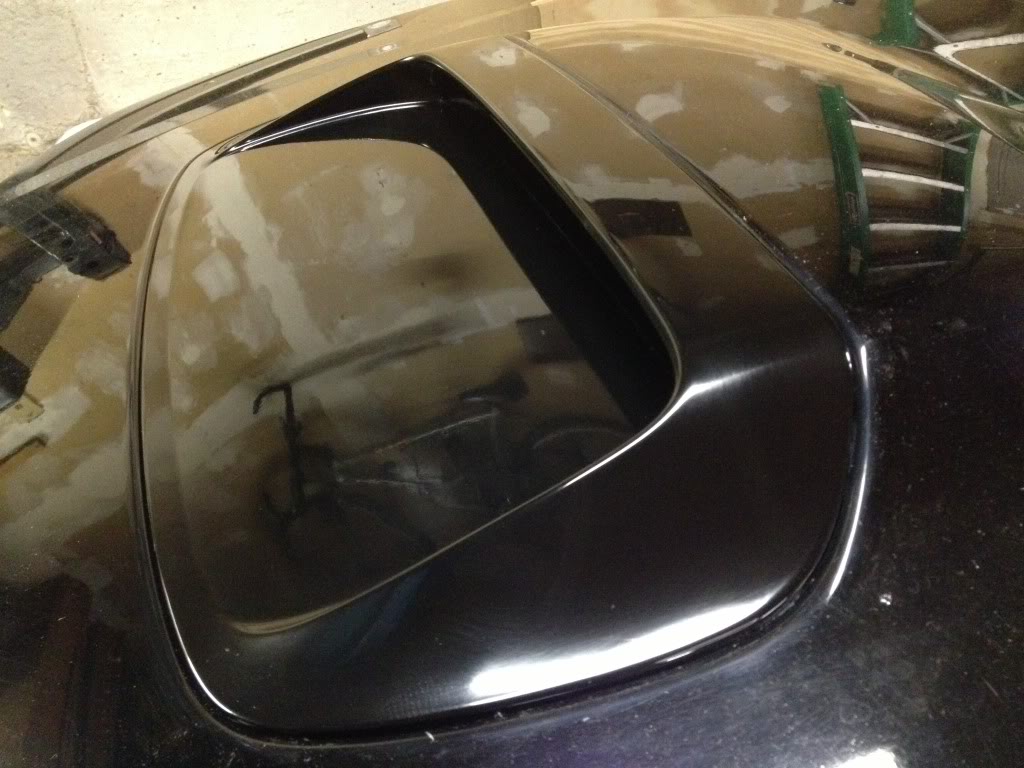 10-12-2013
Holy crap, didn't realize it had been 3 months with no update. Unfortunately, funds have been tight, so I've just been getting small parts as they've been available on deal the last couple of months and taking care of small maintenance issues. The car has been driven a bit, here's me at BigNW: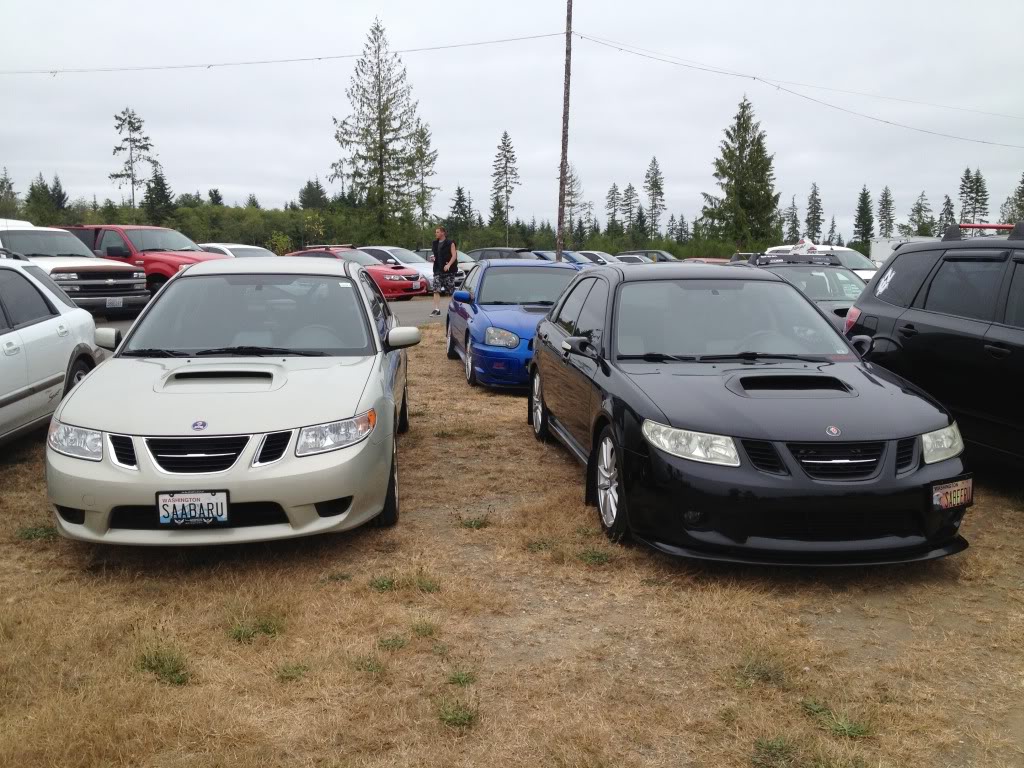 And actually showing next to a black Unicorn at WCSS: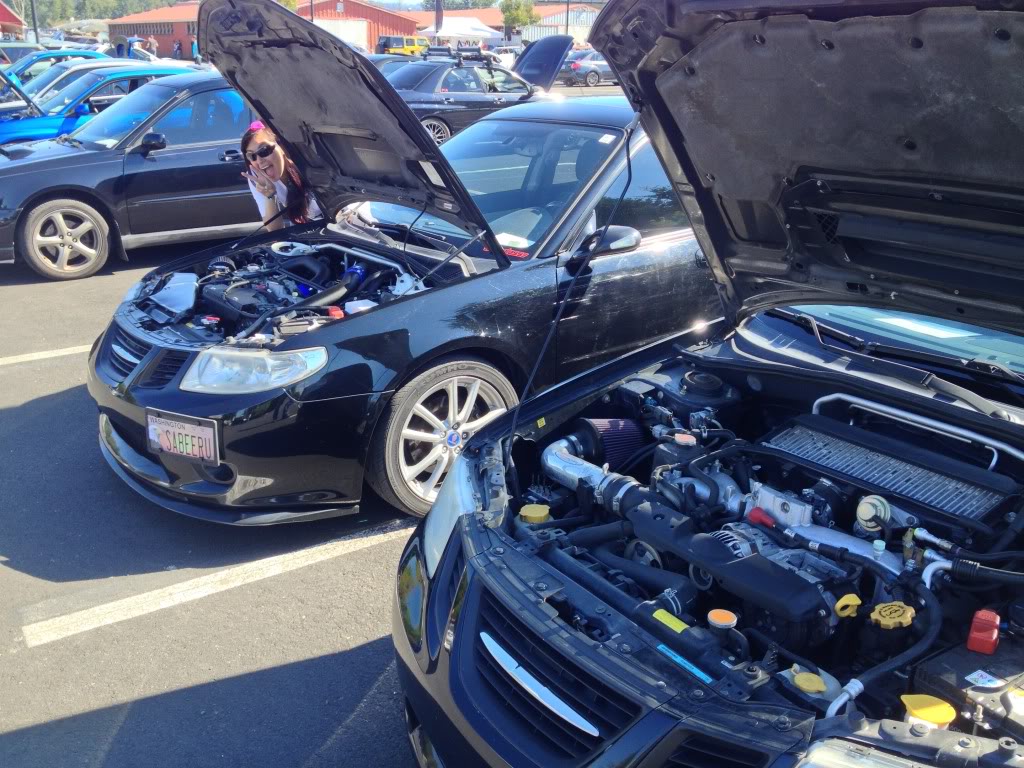 After seeing the shows and the super-niche categories they're making for subies, it's time to start hitting them up for a Saabaru category. I'll post up a petition thread on Saab92X sometime soon.
Killed a bit of time on a brake fluid leak: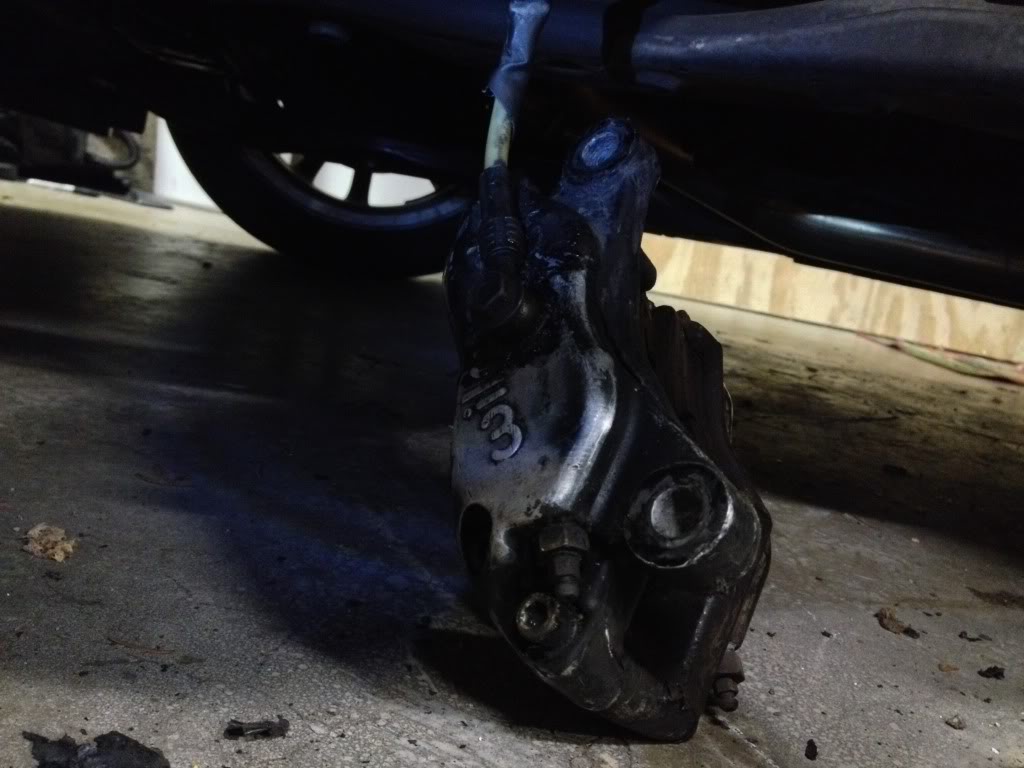 And this was the consequence to my rim: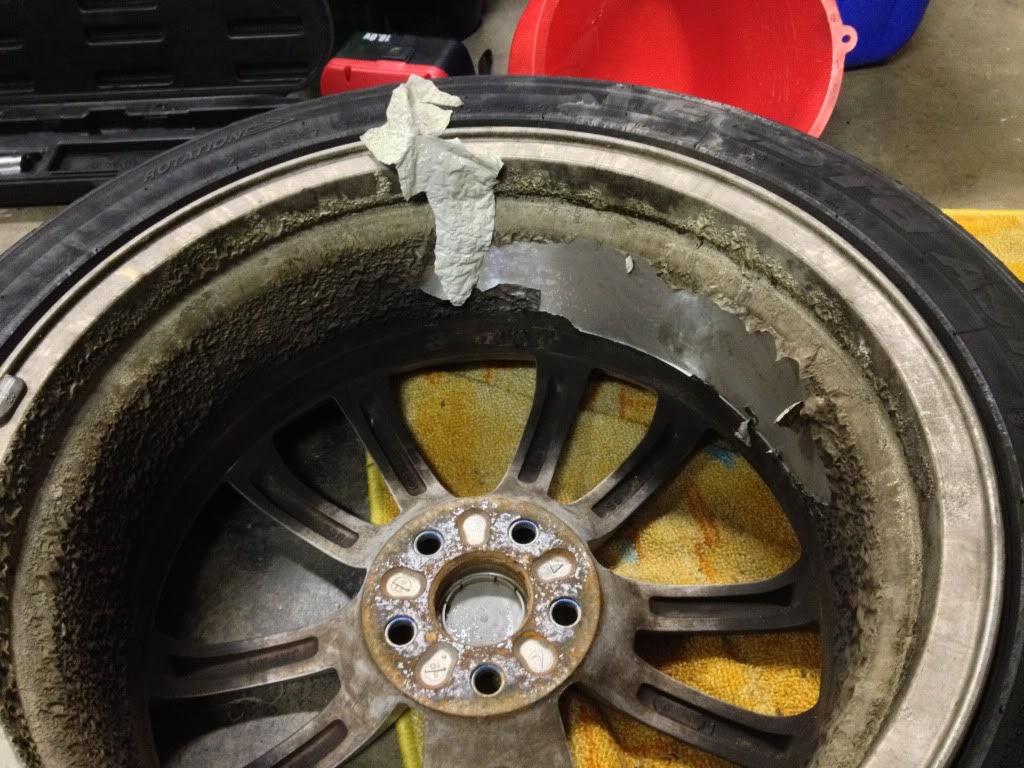 And obviously led to this: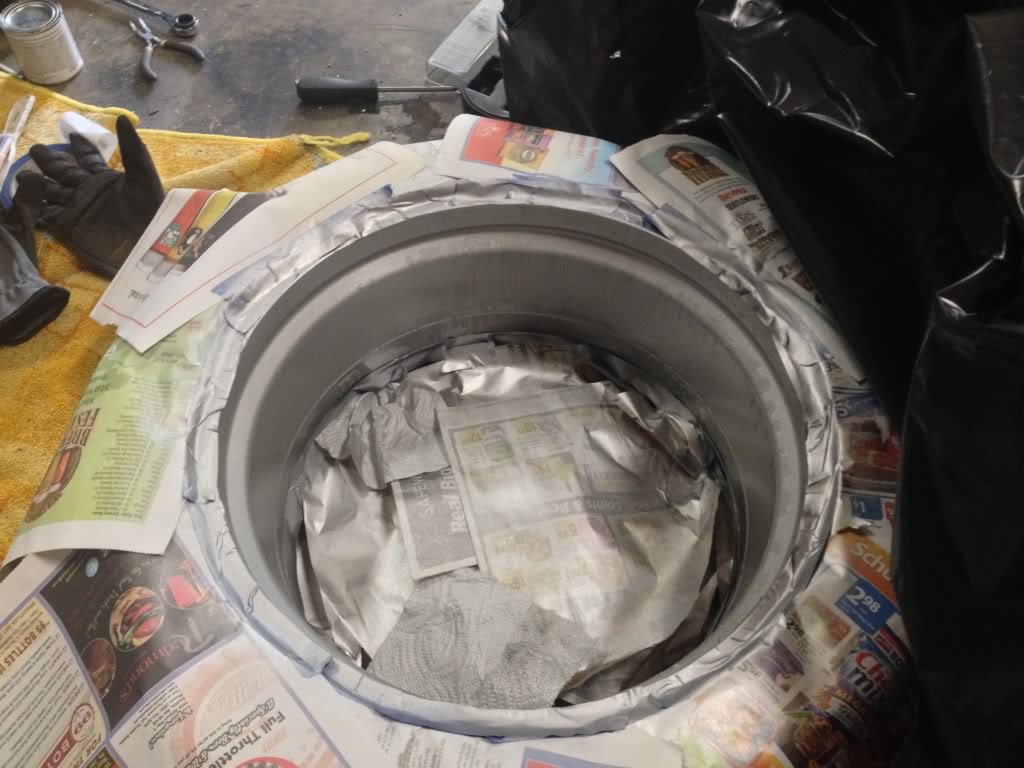 I took the time to do one small change, and switched to shorter spacers on the rear spoiler: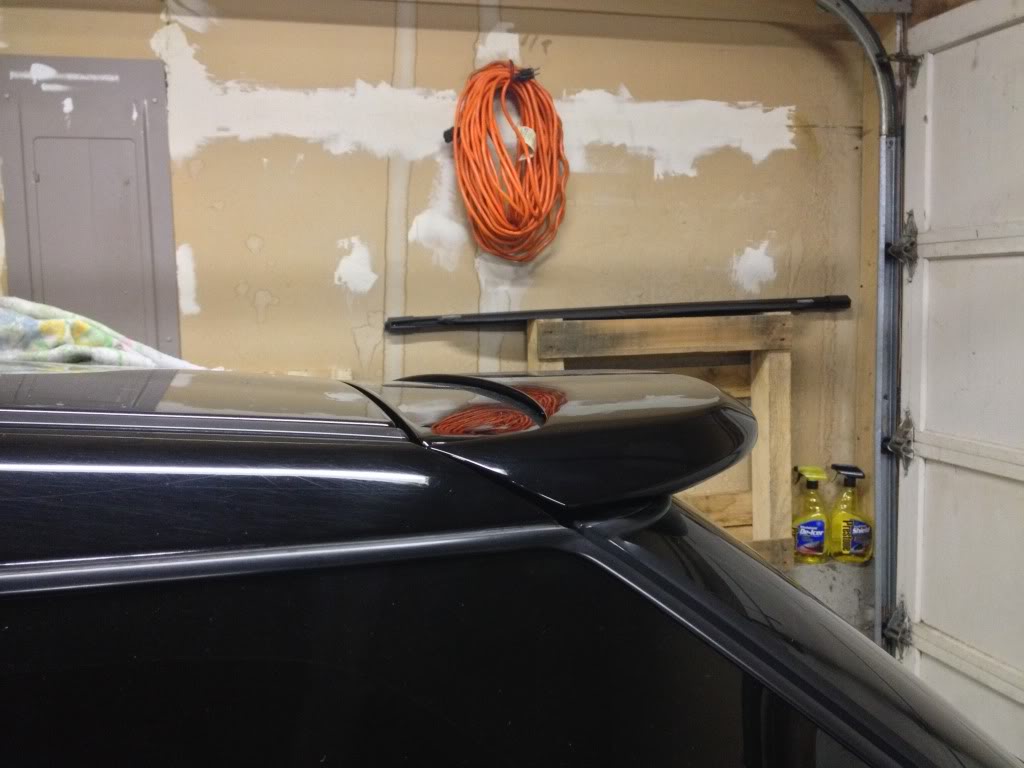 vs. this previously: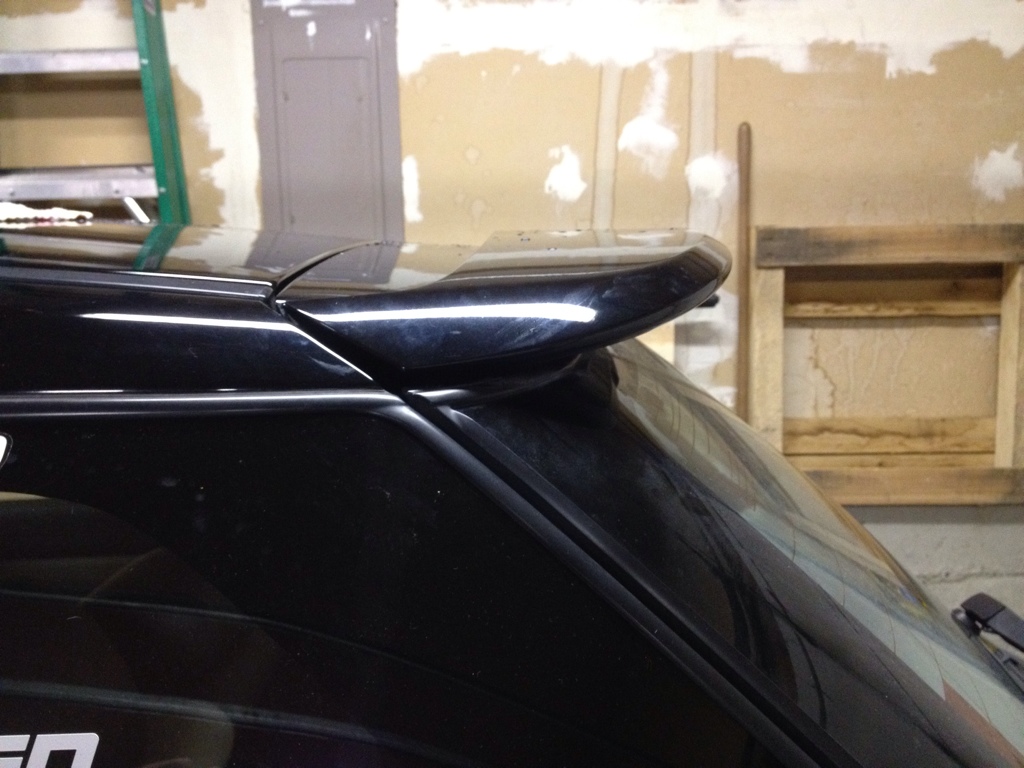 It's minor, and basically makes the top of the spoiler parallel to the ground like the angle on a WRX. This gives it a far more factory appearance despite only changing 3-4 degrees.
As I've dug more into this project, I've become far more into the clean, luxury or factory-looking option appearance of the mods I've done. Considering the cost of the 18G-XT and how close I am to finishing all I can do on that end, I'll probably take care of all those small mods prior to the turbo upgrade.
And that leads me to the one very obvious item on the car- the Prodrive Flaps. It's been nice having a hard to find piece, and I'm quite proud I found a way to make them work on a wagon, but it's time for them to go, they aren't working with the the true eurowagon look I'm trying to perfect.
Unfortunately, that means working with off the shelf flaps, and with this car seeing snow a ton, it's the option. In the end I went with Roadsport Type 1 guards up front, utilizing my existing Prodrive hardware without the metal brace: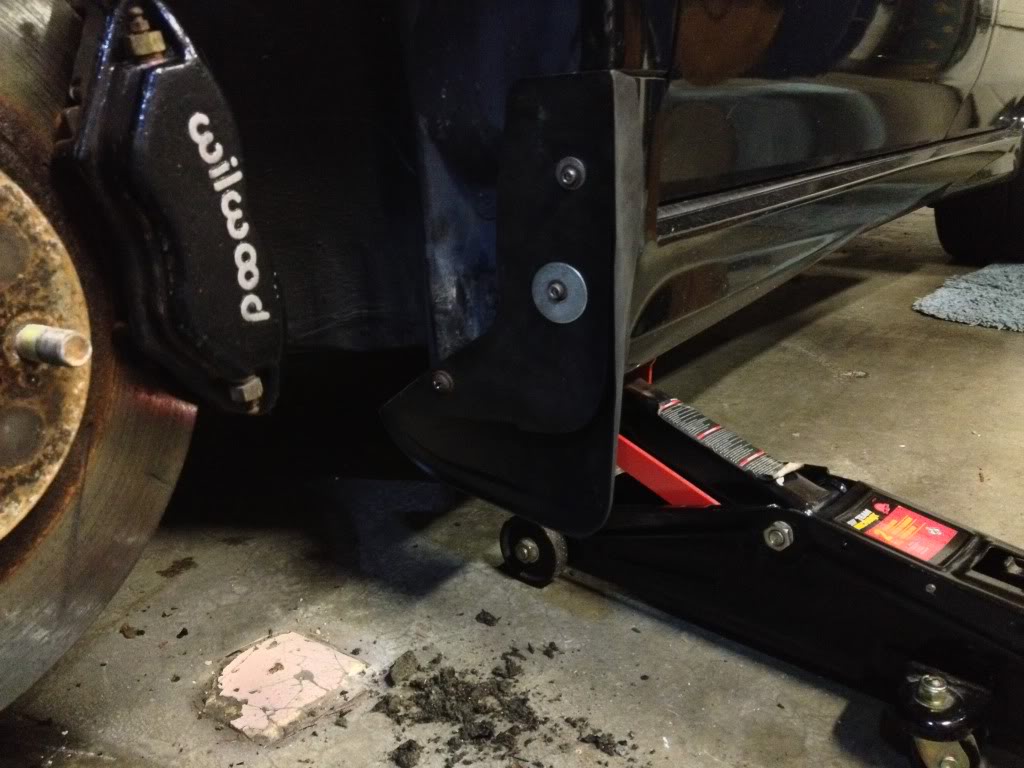 I'll see how the big washer dulls up over the next few weeks, might have to hit it with underbody spray. For the rear, I used Roadsport Type 4s utilizing every bit of Prodrive hardware, I just had to bend the existing center bracket downward: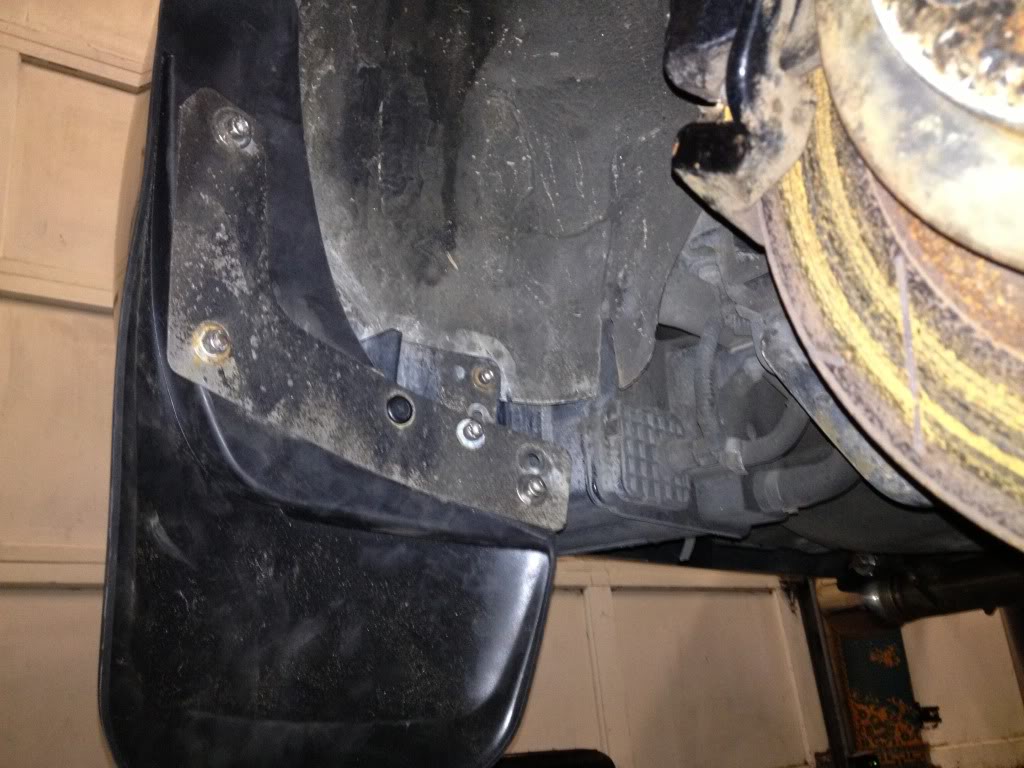 I had to do a little bending to get the look just right, but they worked perfectly, made me feel better about having $40 flaps held on by $200 hardware: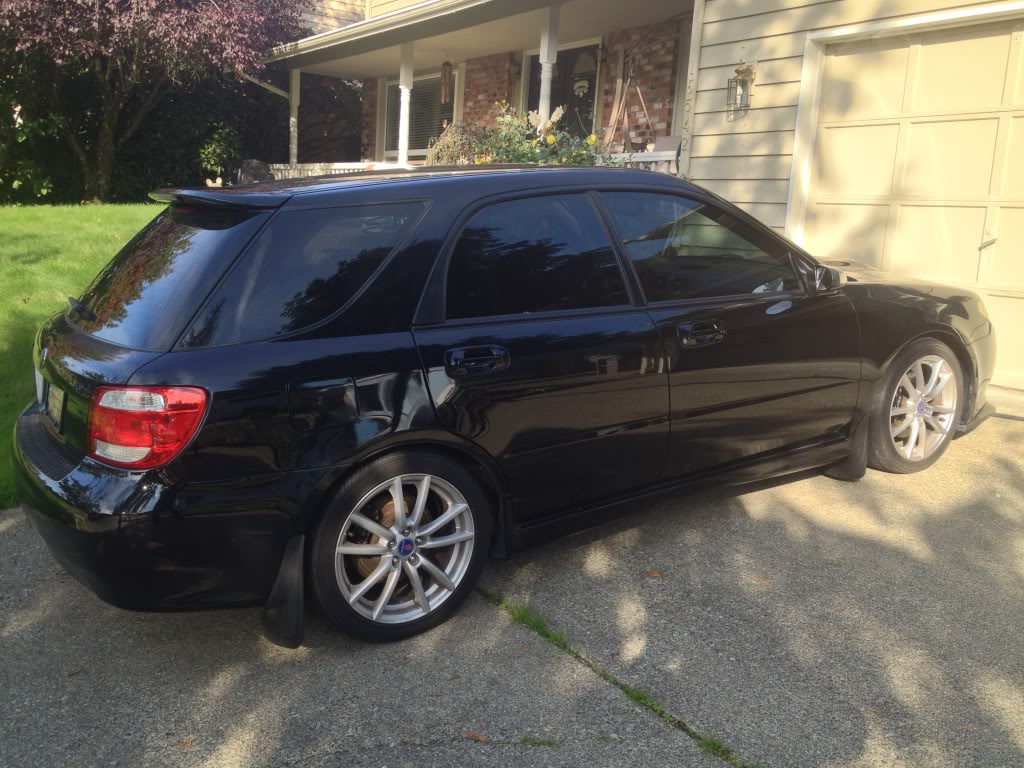 Hopefully fill out this back end with an STI Diffuser: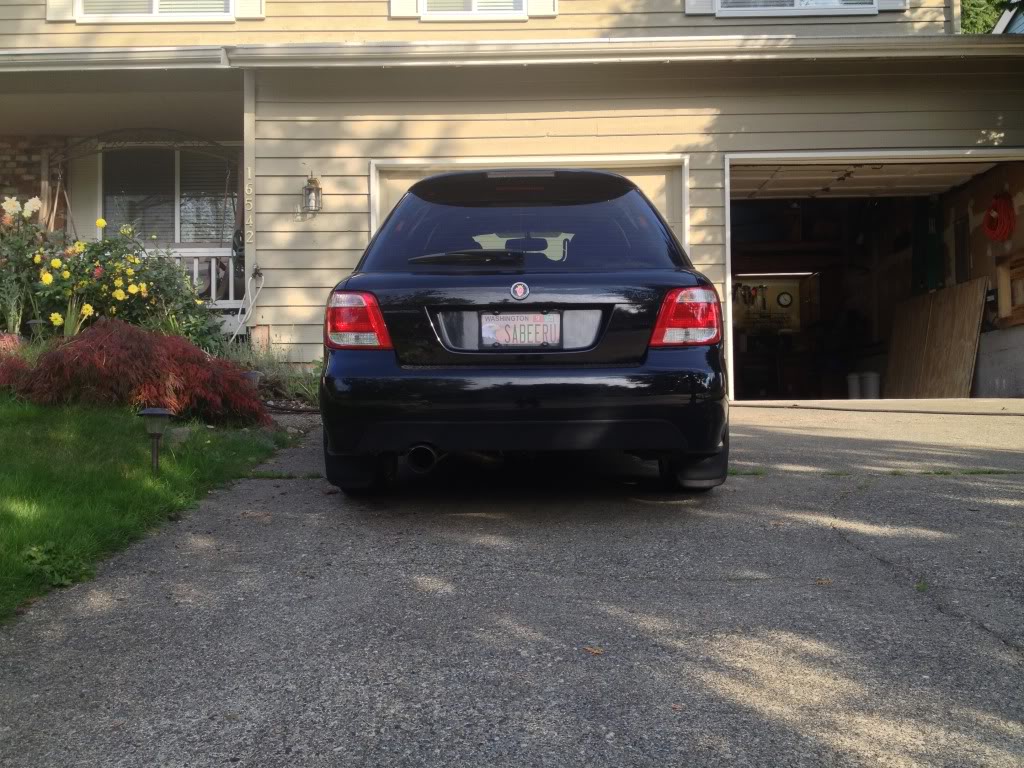 Since I'm tight on cash, next step is to get into my new alarm and Winter is coming according to Ned Stark, so here's my progress so far on the remote start: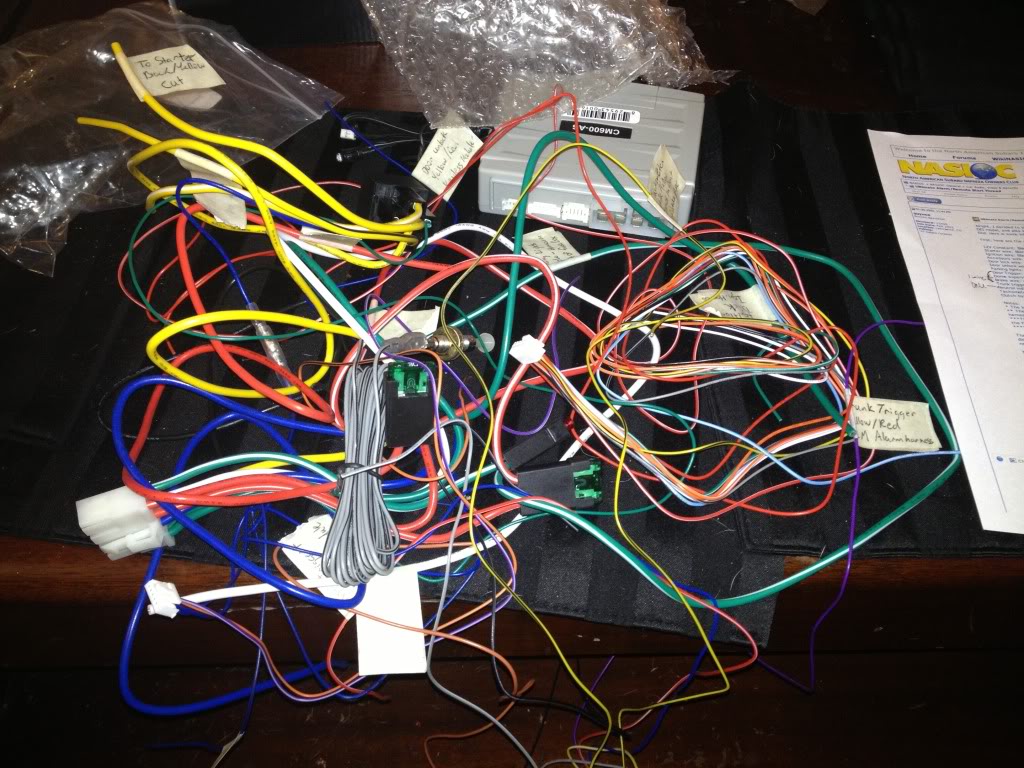 After hearing about my friends' 40 hour ordeal doing theirs, I'm labeling every single wire in advance with what wire they connect to and that wire's location. Also picked up a relay for neutral/clutch detection I'll wire in custom.
Next step will be getting on the 3M clear bra. After that, I'll be working on my backup hood scoop to make a legit scoop blockoff.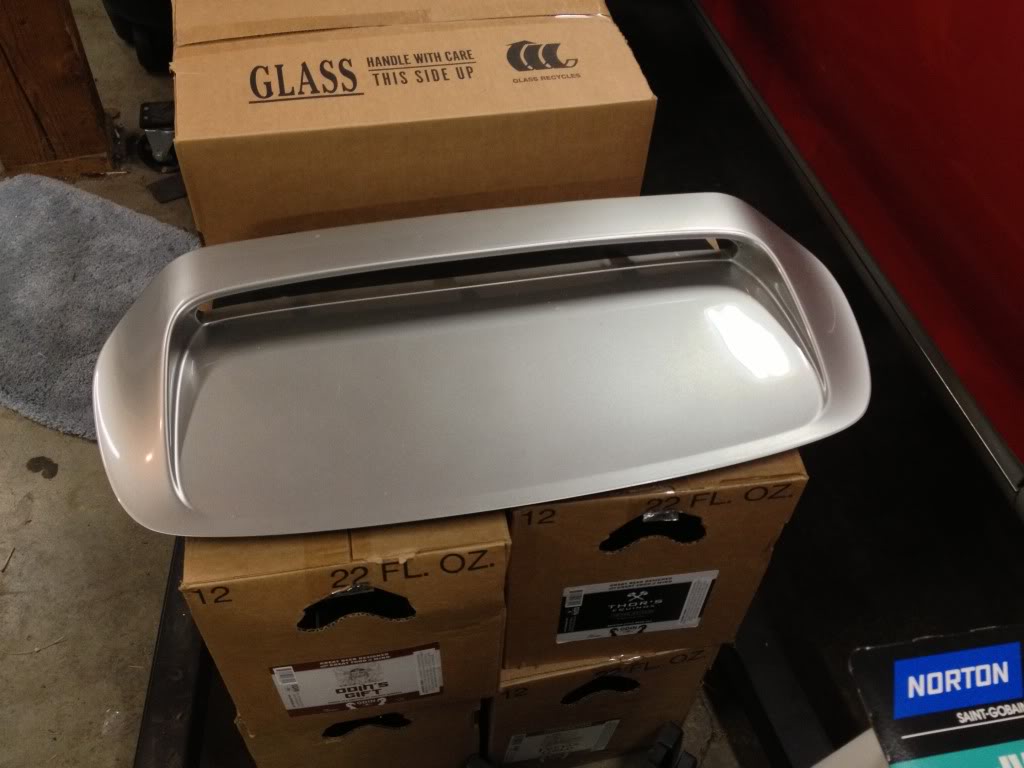 I was originally planning on a venting solution, but I have not figured out a way to make it look clean and I'm quite worried about the amount of water that would hit the alternator area here in rainy Seattle.
Last but not least I'm accumulating parts for an all-in-one project one weekend, here's what I have and what I'll start picking up after I finish the scoop:
TGV Deletes (need gaskets)
8mm phenolic spacers
AMR Turbo Inlet (need coupler to turbo)
Dark Blue WRX Injectors
Valve Cover Gaskets (need)
Spark Plugs (need)
I'm already anticipating that sucking so I can mentally prep for it.
11-3-2013
Finally dove into installing the new alarm and remote start this week: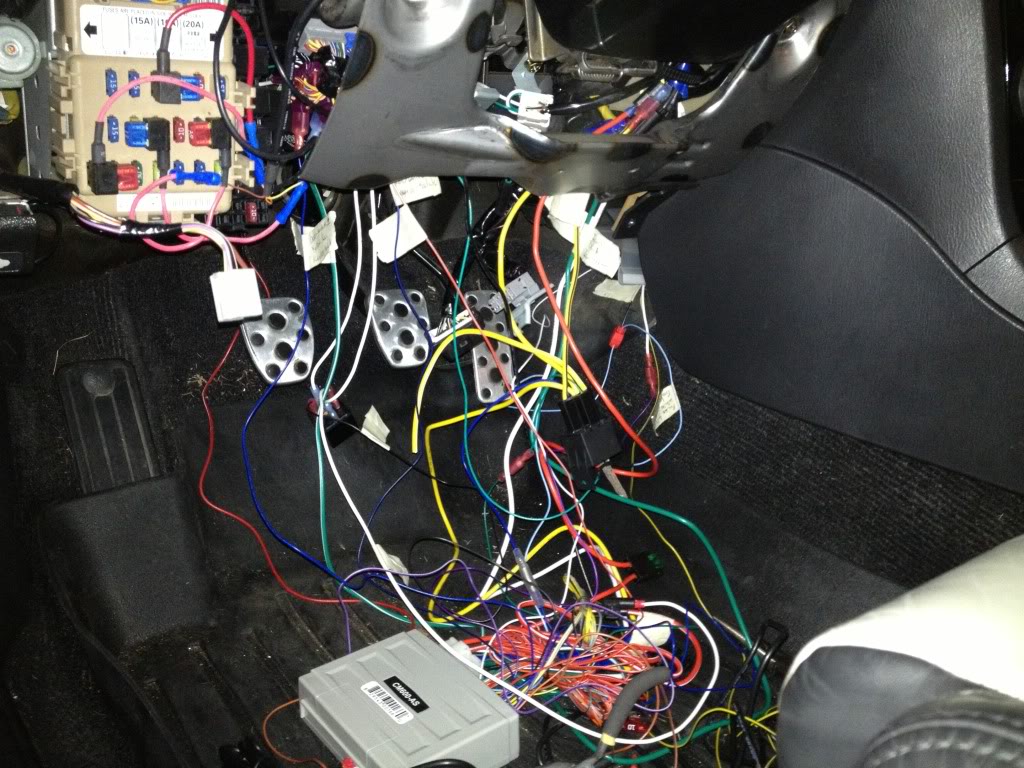 I did the entire install with quick-connects, and besides a couple of spots where I didn't properly insert the spade and a second wire the same color as the unlock wire in the harness, it was pretty painless. I should have all the safetys in place for remote start with the stick, but I honestly haven't had the guts to start it in gear for fear of screwing up my starter if there's a bad connection. Here's my new remote (it's a Compustar CS-700AS system):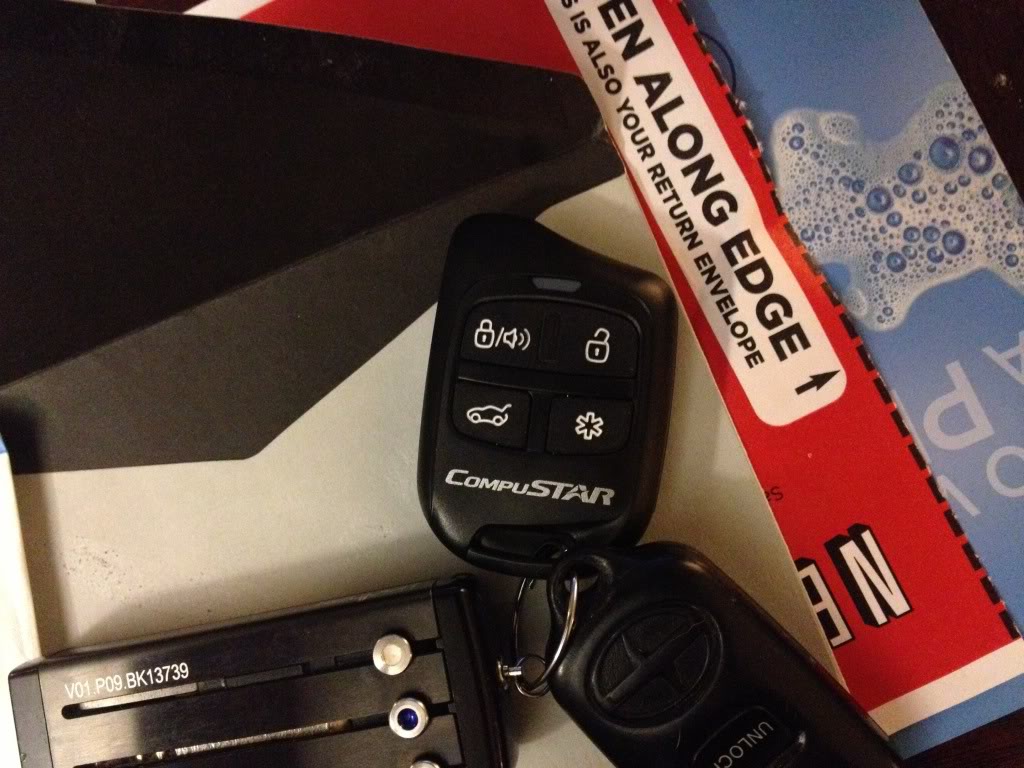 And clean alarm indicator light for the creepers: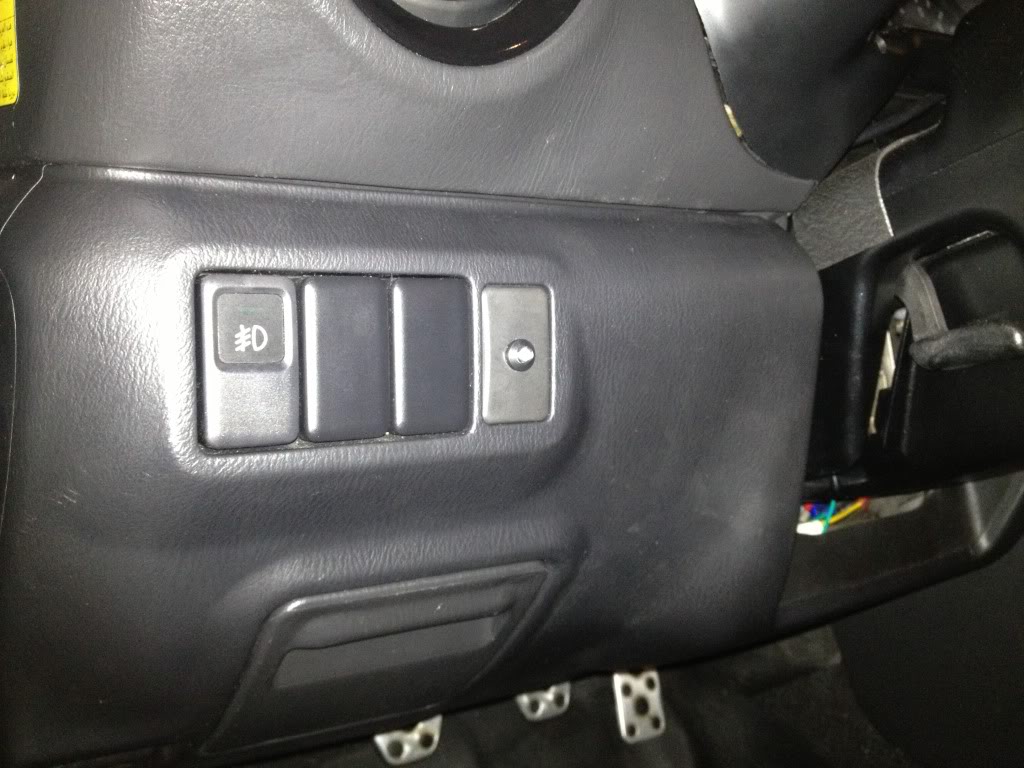 Next I ordered up all the items I needed to do my TGV Delete/Phenolic Spacer/Turbo Inlet/Valve Cover Gasket project. Still needed to clean up my shoddily repainted and chipped up AMR inlet, so I worked some sandpaper: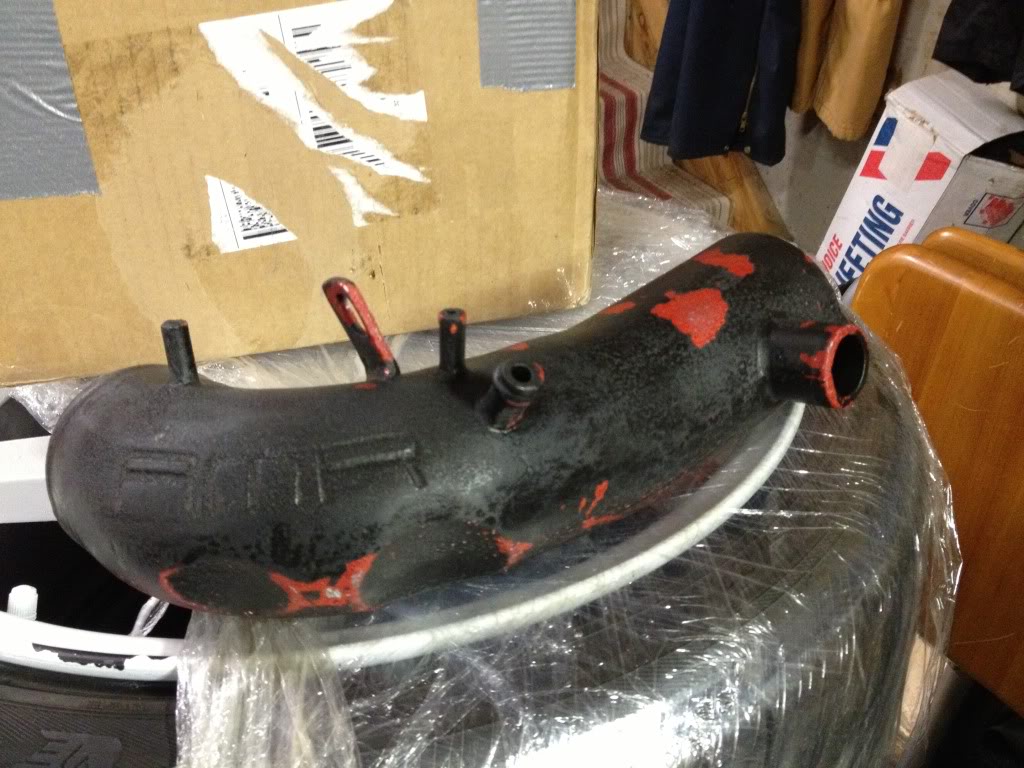 VHT wrinkle black next: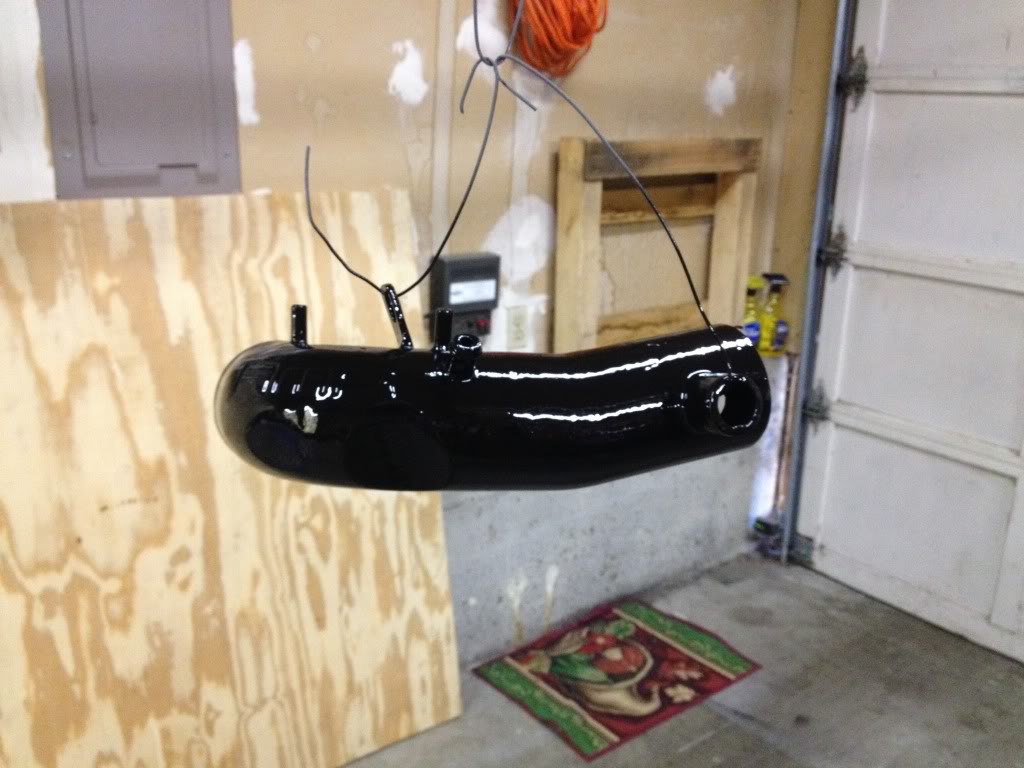 In the oven twice (2nd time with some high heat clearcoat):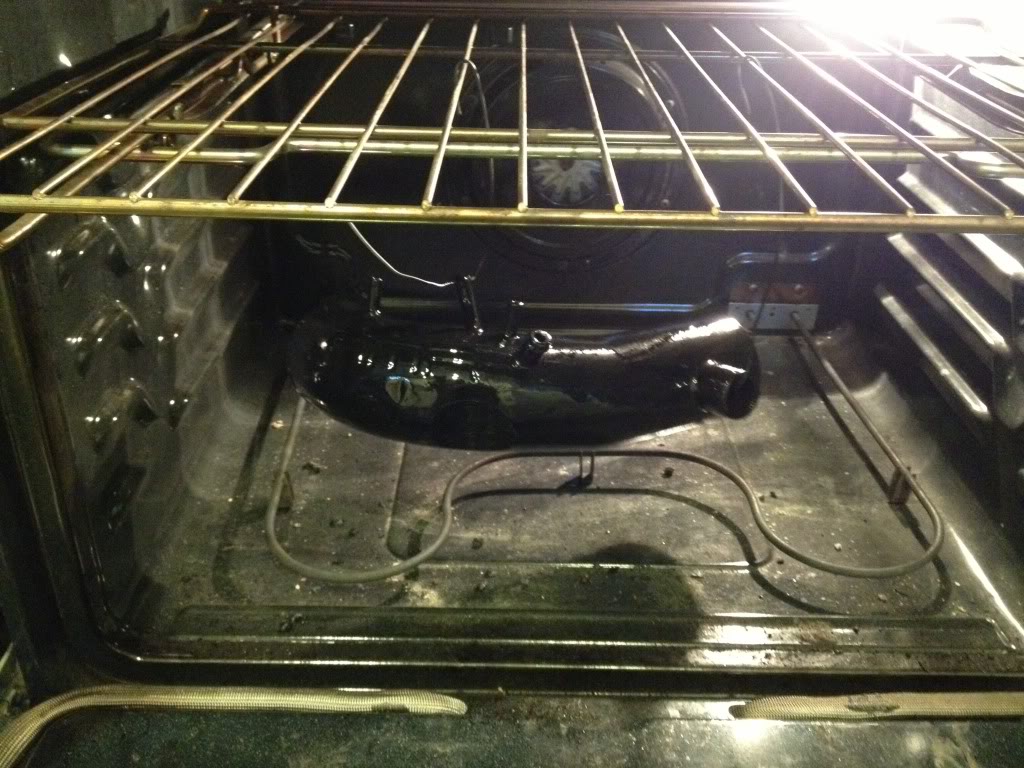 And MUCH better: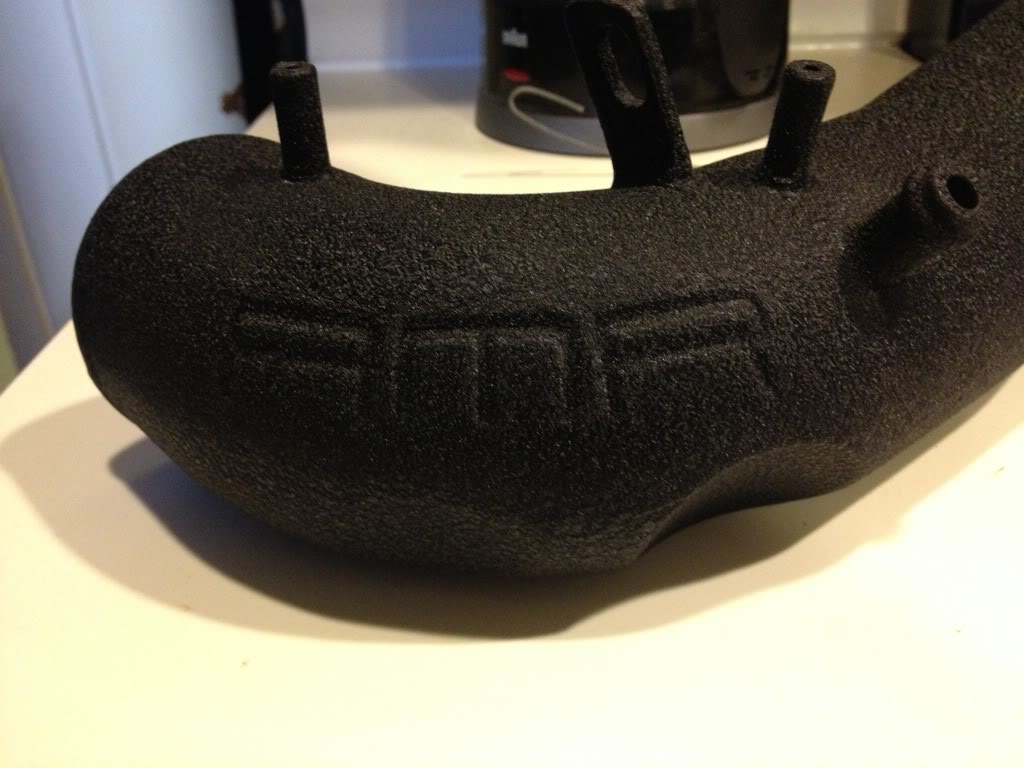 I'll probably resand the tips on the vacuum posts and hose points to make for a better seal just in case; baking that paint makes it EXTRA wrinkly.
11-16-2013
Finally tearing into my intake manifold and valve cover removal. First I realized I needed to fix a crack once I took my bumper cover off: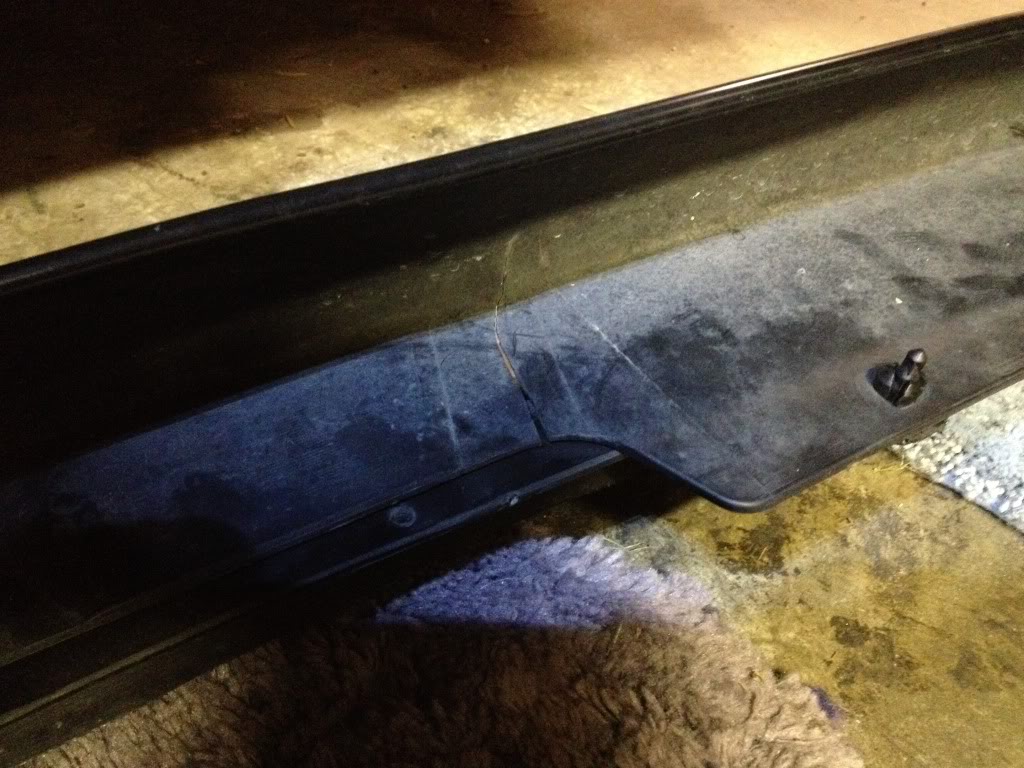 I ground out the sharp edges of the crack itself with a dremel, cut out some gutter mesh for reinforcement, slid a piece of flashing underneath to prevent epoxy from sticking to my front lip and sanded the surrounding area with 120 grit: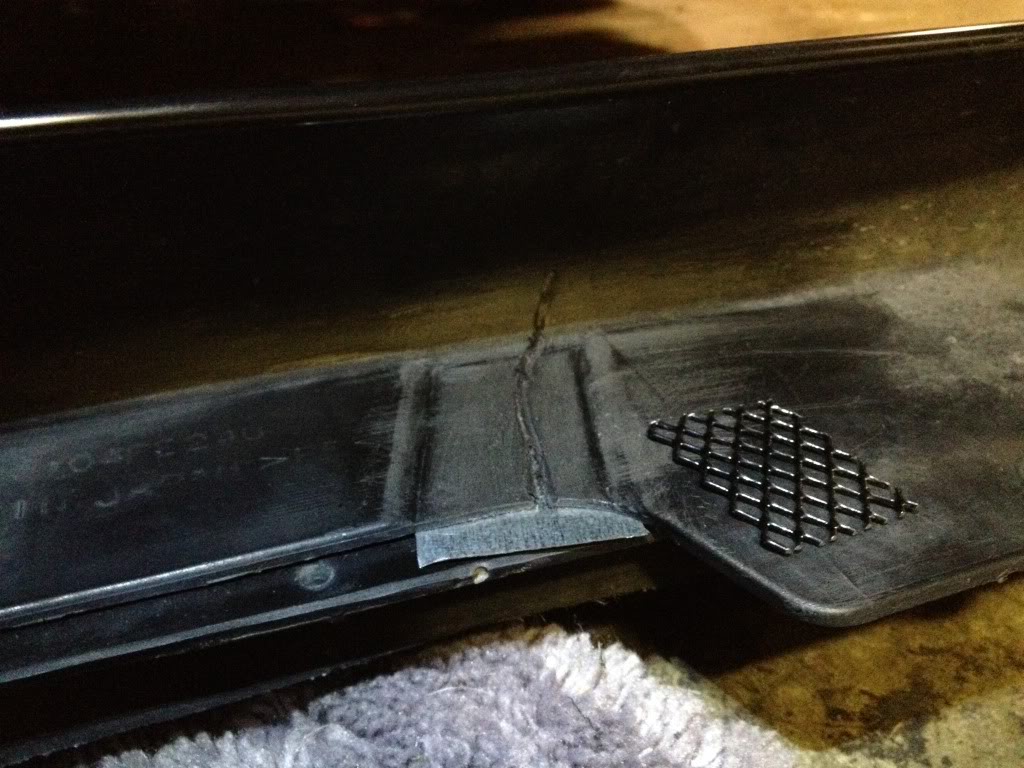 Next was the bondo bumper repair and pressed the mesh in, seems to be a pretty solid reinforcement now that it's dried.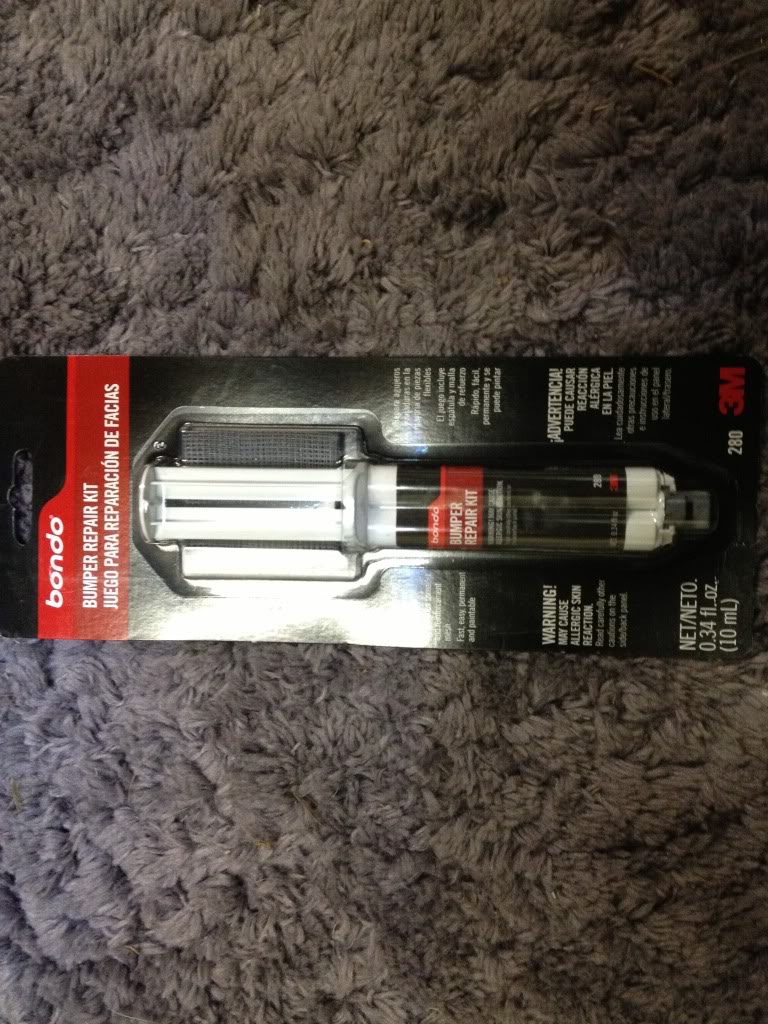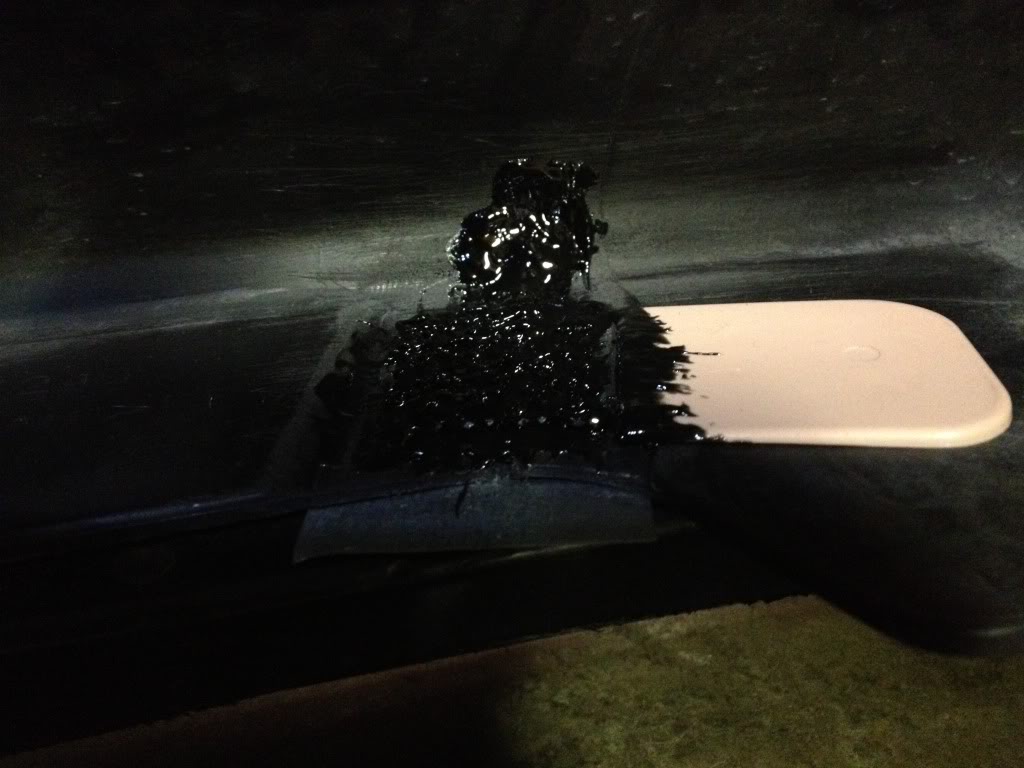 So far so good on the manifold removal. I used the factory service manual instructions, and even those have a couple of missing steps. Fortunately, I plan to replace any old hoses I haven't already so cutting here and there to make removal simpler wasn't an issue. The valve covers were as easy as they'll ever be and I'm so damn glad I combined all this work. Here's how the engine bay looks now: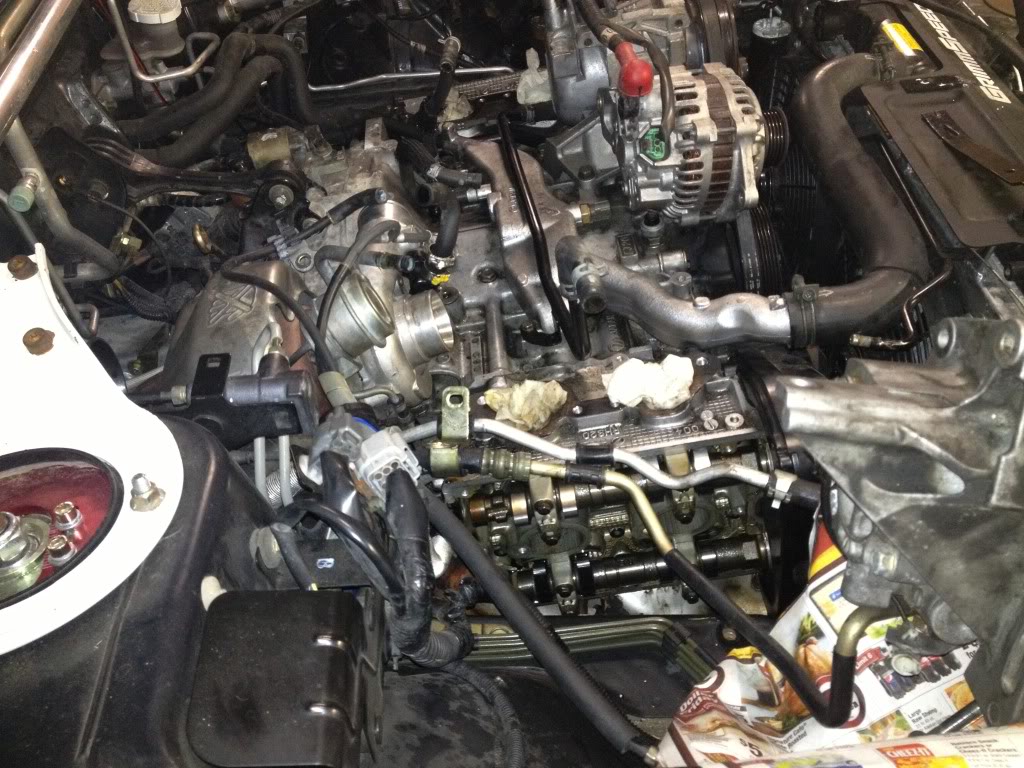 To give you an idea, here's a pic of my bolt pile so far:
11-19-2013
Had to do some cleanup while I'm torn apart. These supertones are getting some rust spots and the white shining through my grill doesn't really shine: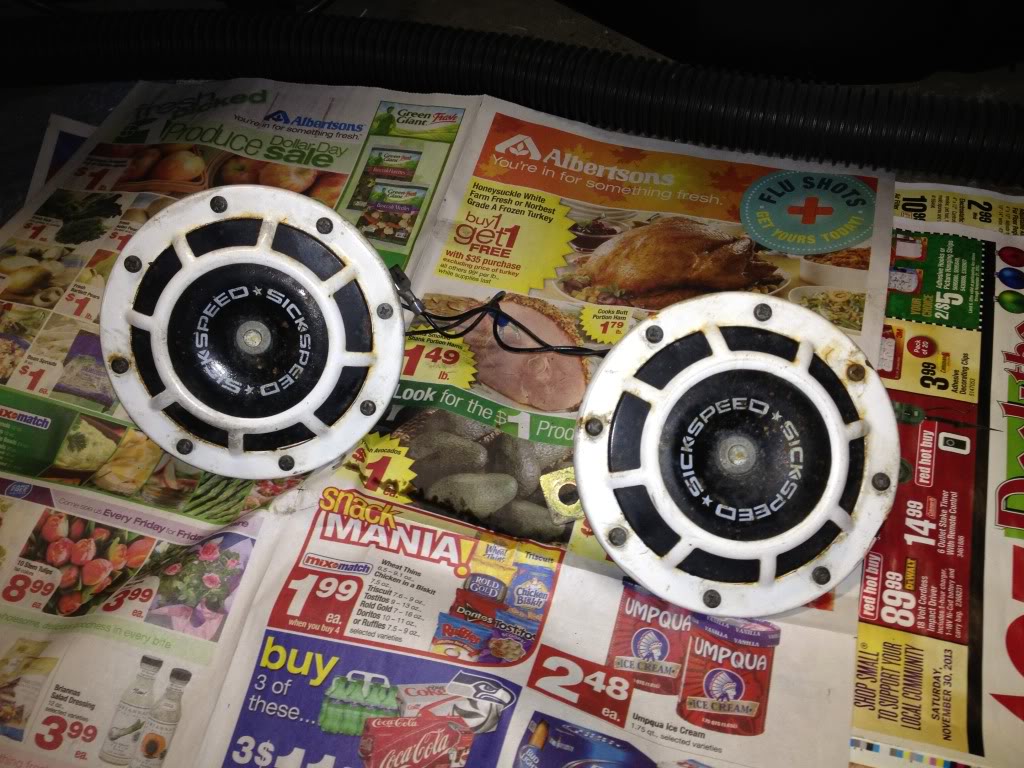 Gloss black and into the oven: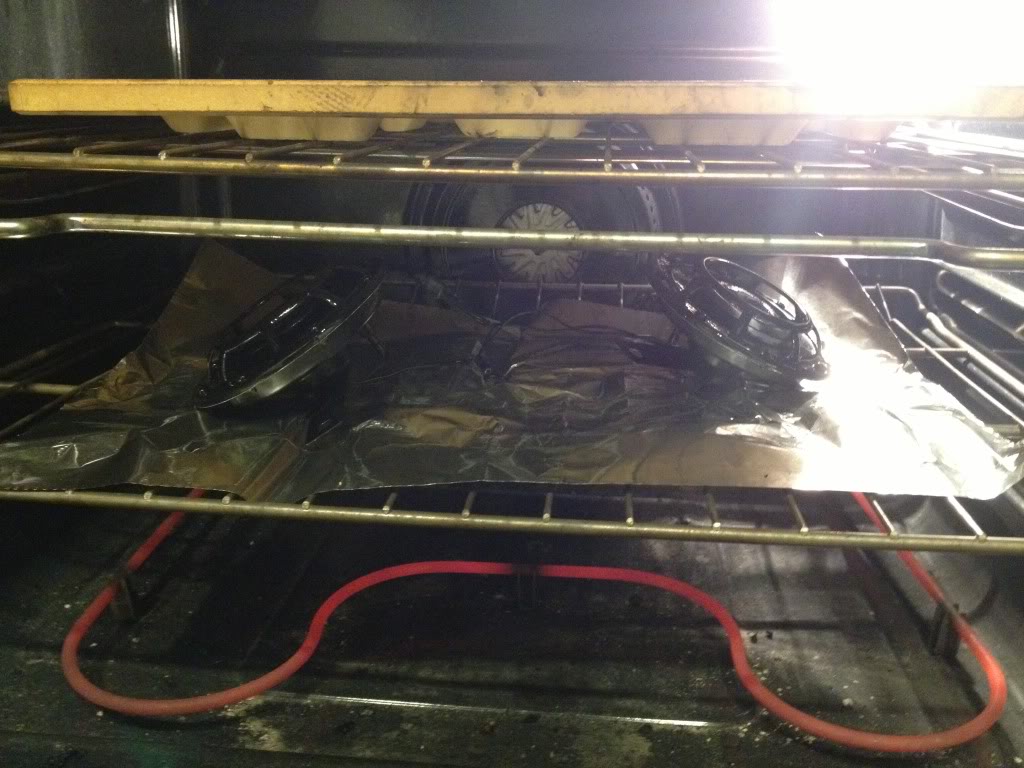 And back on, much improved: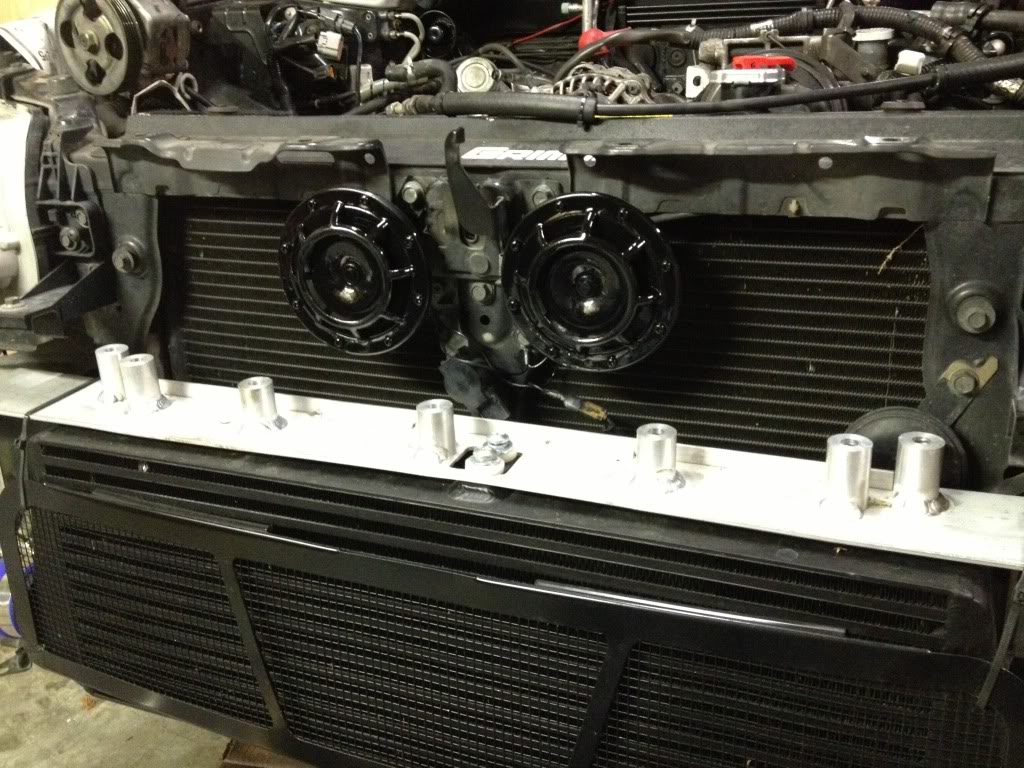 Finally moved to one step colder plugs, I'm gonna miss the 20 minute change with the engine tear down next time I need to swap these: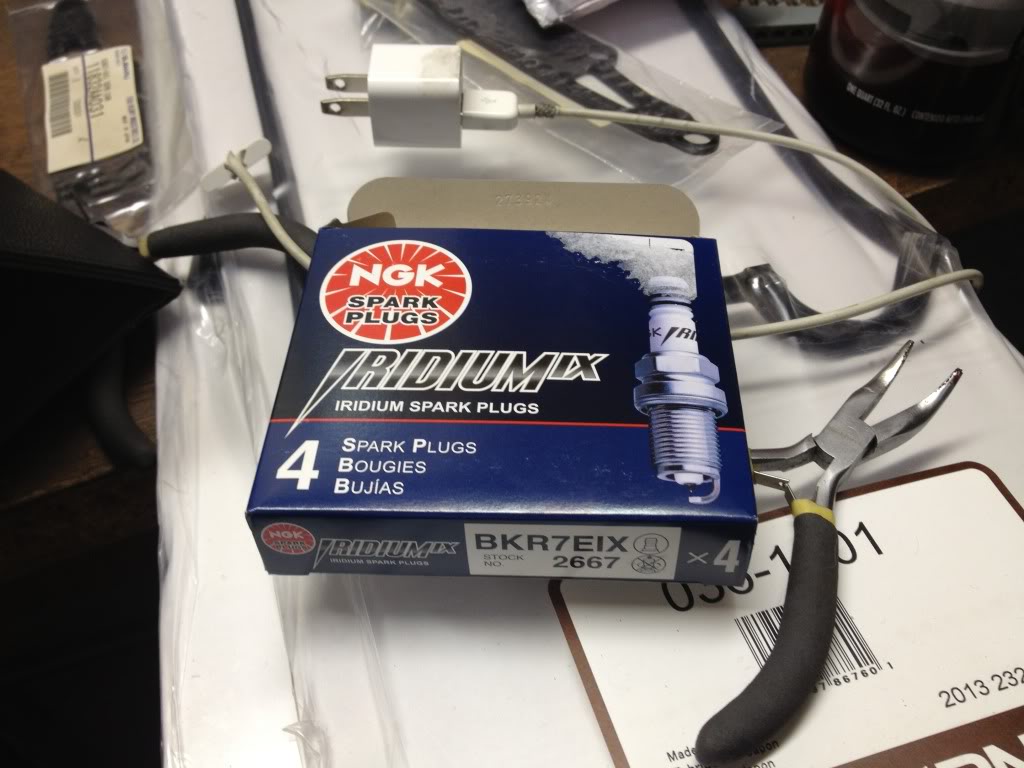 Finished up the TGV deletes and positioned the AMR turbo inlet. I'm waiting to bolt it up, hence the dishtowel wrapping for protection until I get it reattached to the turbo (I've heard the horror stories):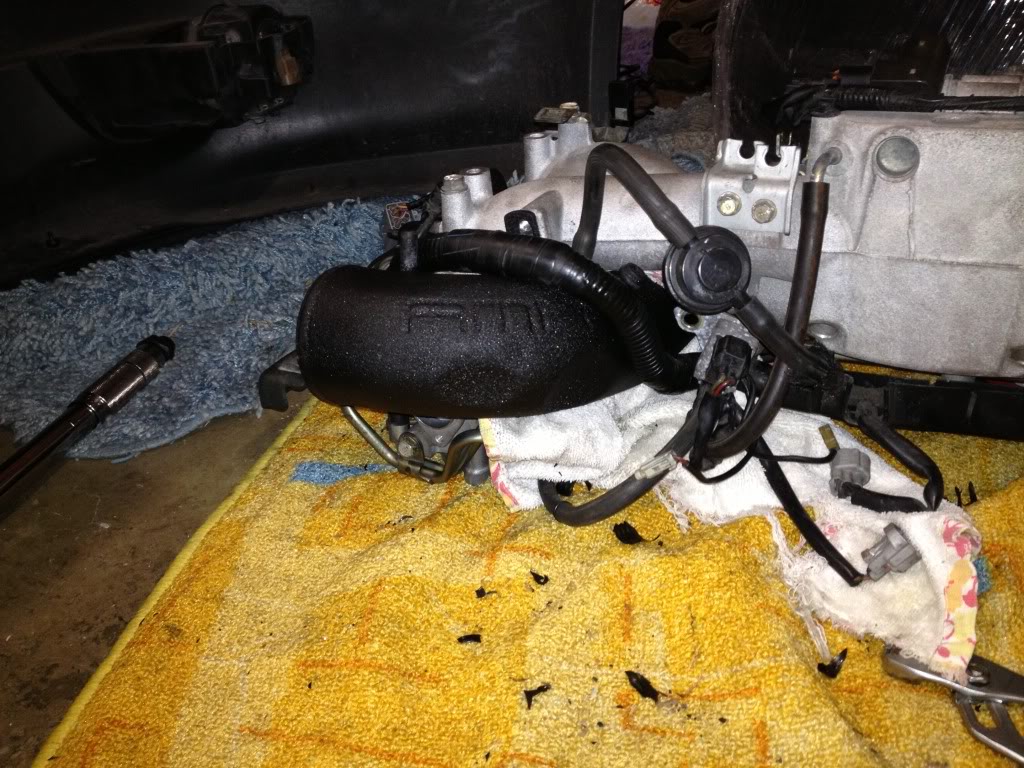 11-20-2013
Put back on both valve cover gaskets. I used Permatex Right Stuff all the way around. Controlled and pressed my bead down a bit better on the drivers side, had about 1/8" of pressed out gasket on passenger side that I at least cleaned off the top. If you look closely, you can see it about that thickness around the breather- that stuff comes out FAST! If you dig into your car the same way, make sure you have a backup for that stubby oil return hose to the right of the turbo. That thing split shockingly easy, and I had to get the $15 Subaru replacement after being unable to find a generic the right size that was made to hold oil.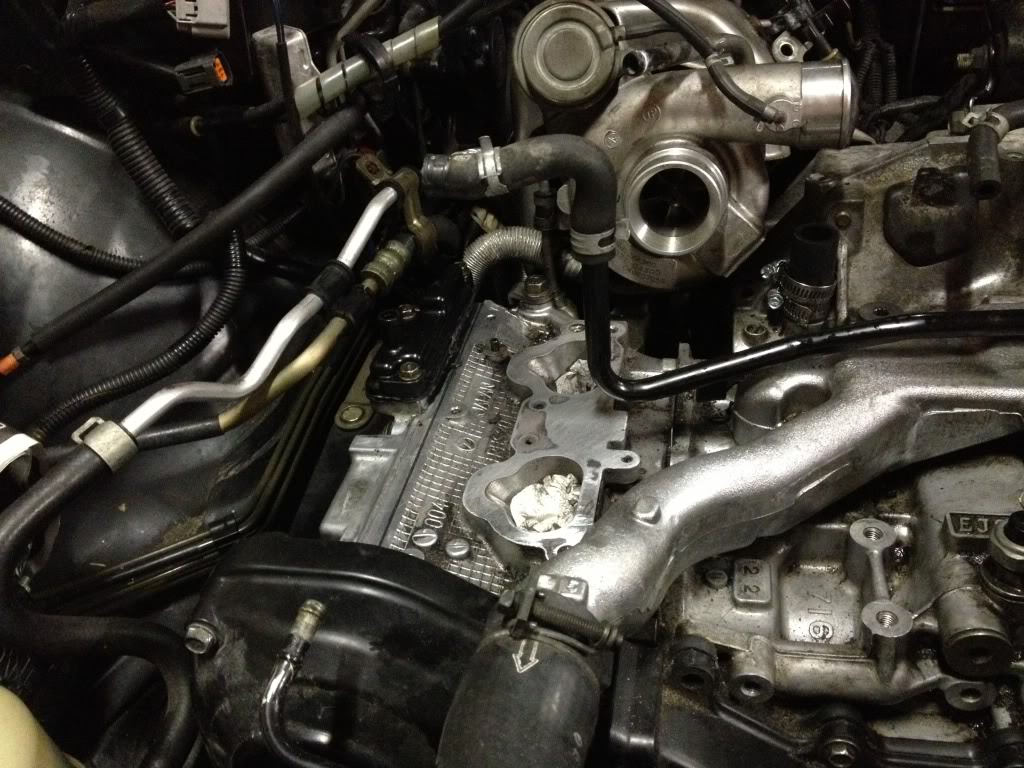 11-21-2013
Finally on to my bolt back together day. First, laid in the GrimmSpeed phenolic spacers and gaskets: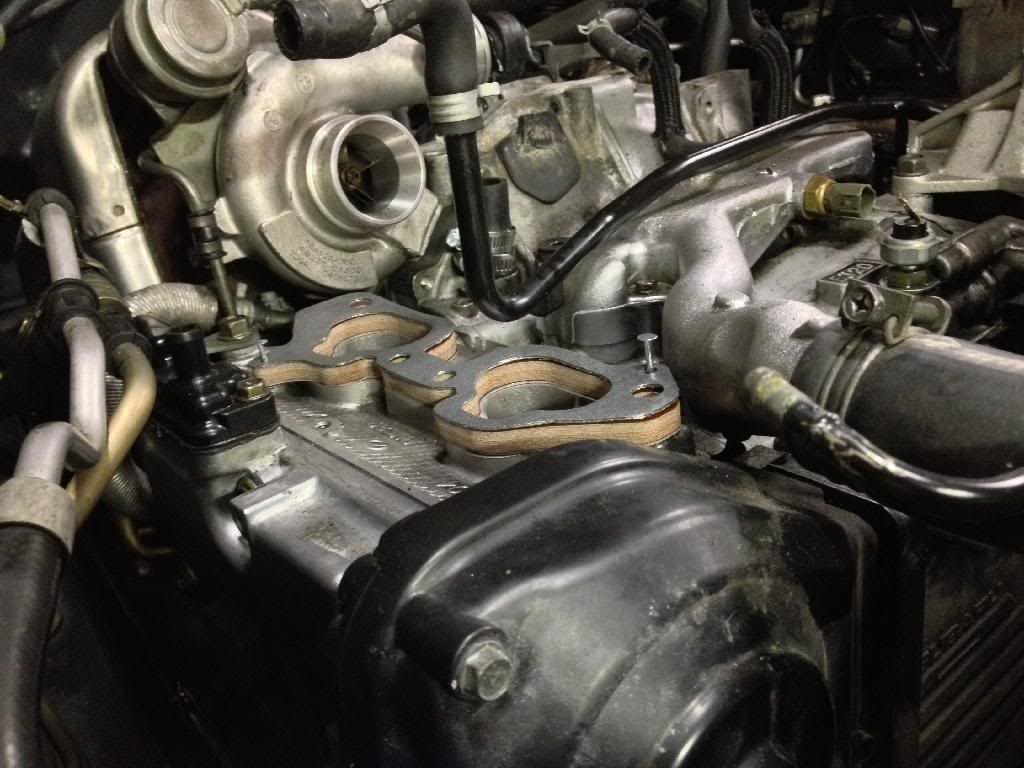 Next I hit my first snag. After reading about multiple issues with the AMR turbo couplers being too short I ordered an AR turbo inlet which wound up being a bit too tight a fit for my setup: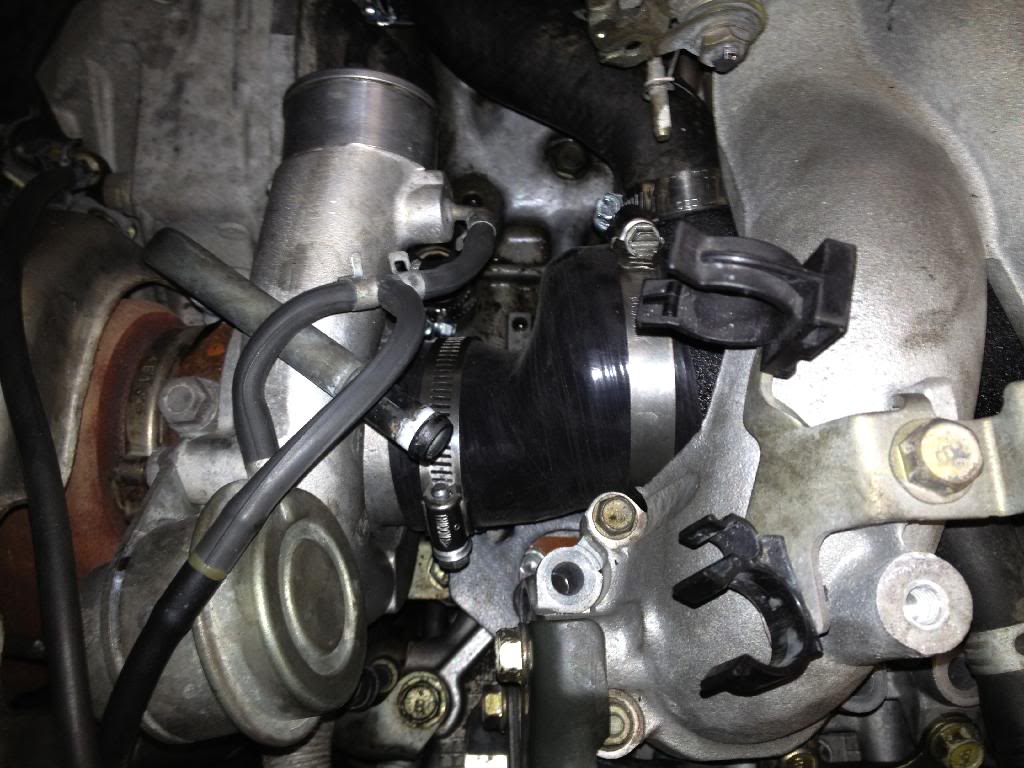 In the end I had to trim about 1/3 of an inch off each end of the coupler: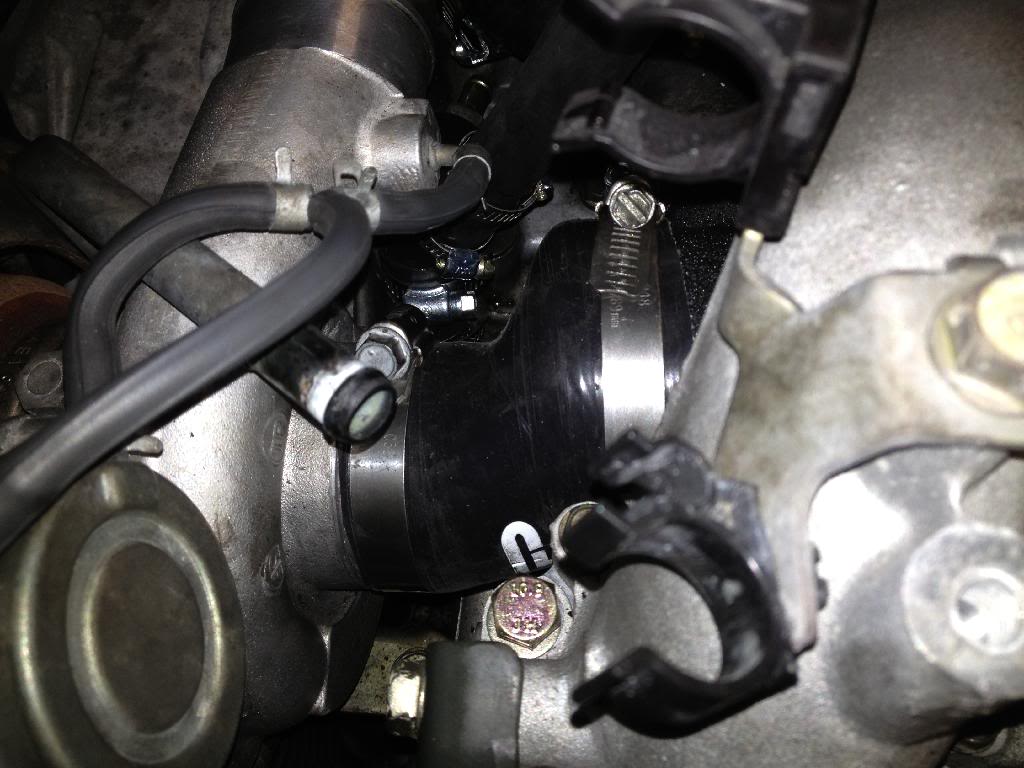 After that it was just going through the checklist, putting back in coolant and then figuring out where the hell it dribbled out since I missed connecting one hidden hose on the first try. I replaced every vacuum and vent hose and rerouted a few lines and hoses that were weird fits after I installed my front mount: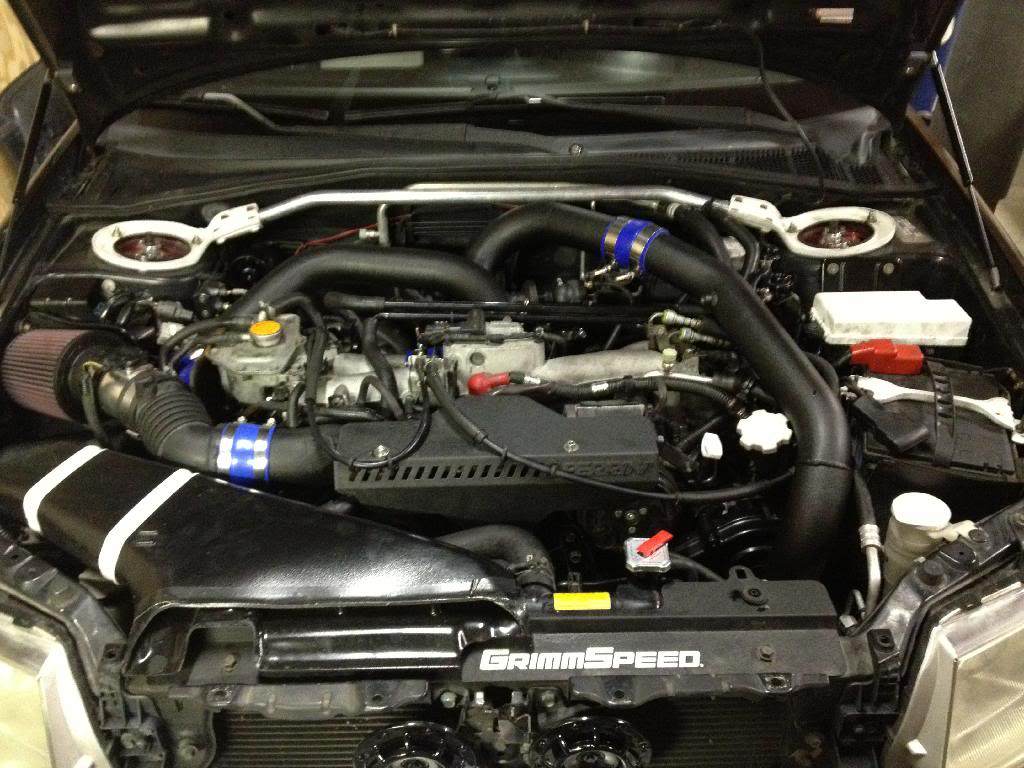 Here's a close up of the new inlet. With the added length I had to press the filter as far as it would go onto the housing. It's hard to tell, but I had to put a pad on the side of the engine bay where my filter now touches it.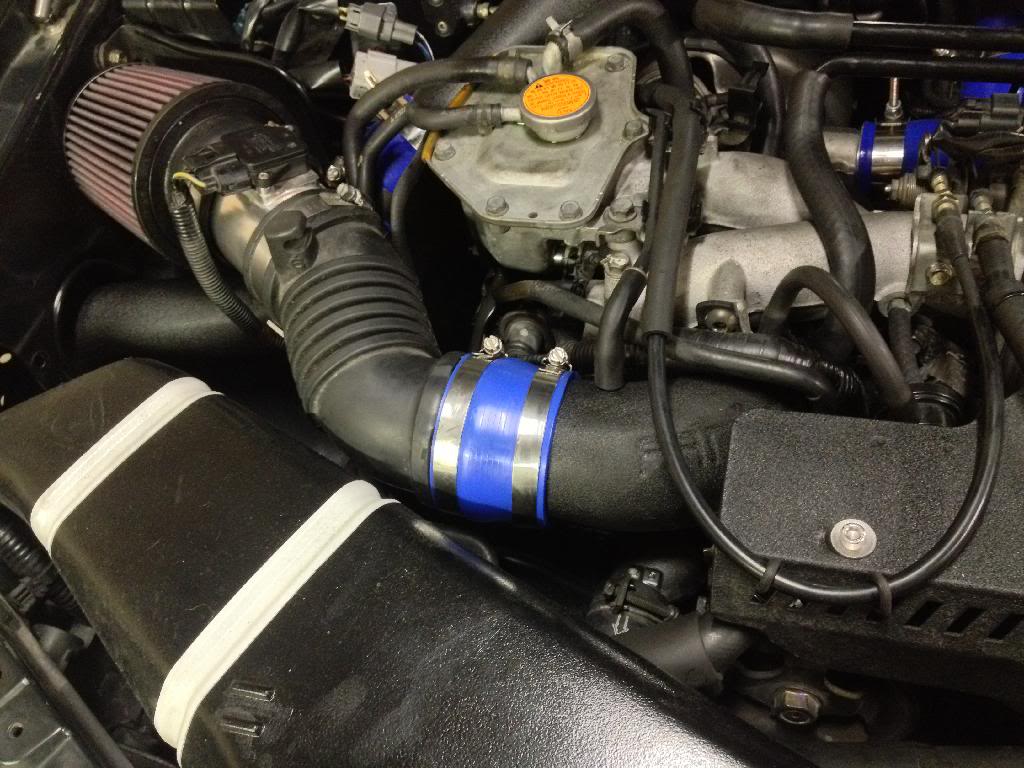 Started up again, still no leaks, and tried to burn off some of the crap sitting on my heat shields: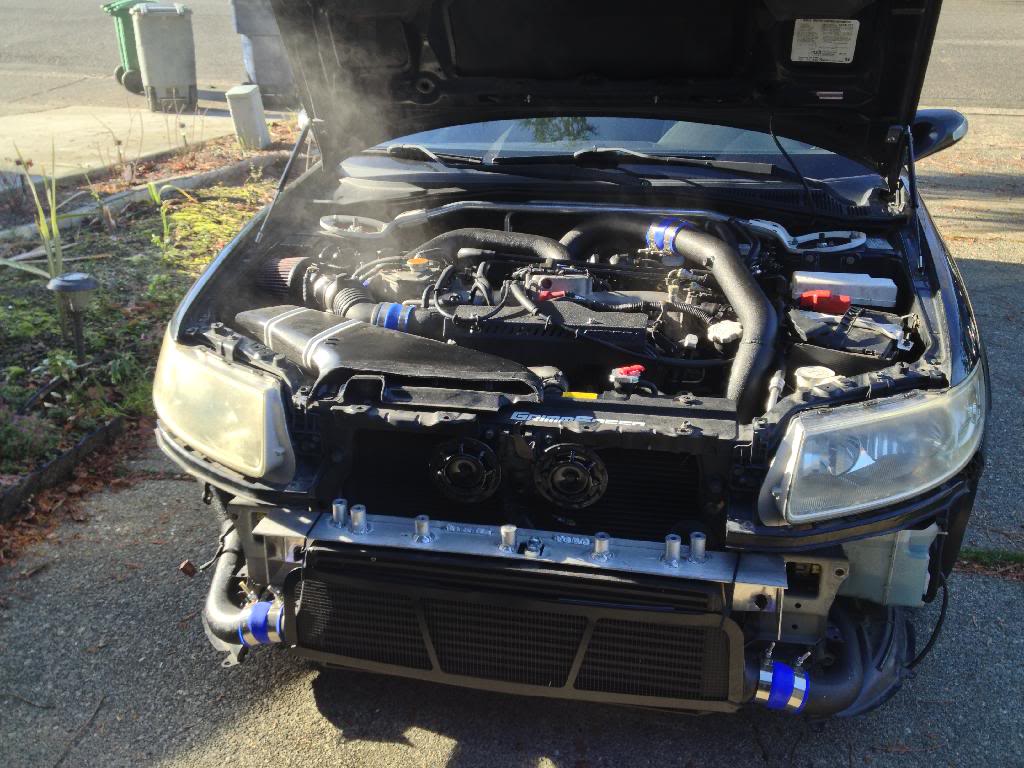 Figured I'd take advantage of the bumper being off, and I recommend everyone with a front mount clean their car like this once in a while: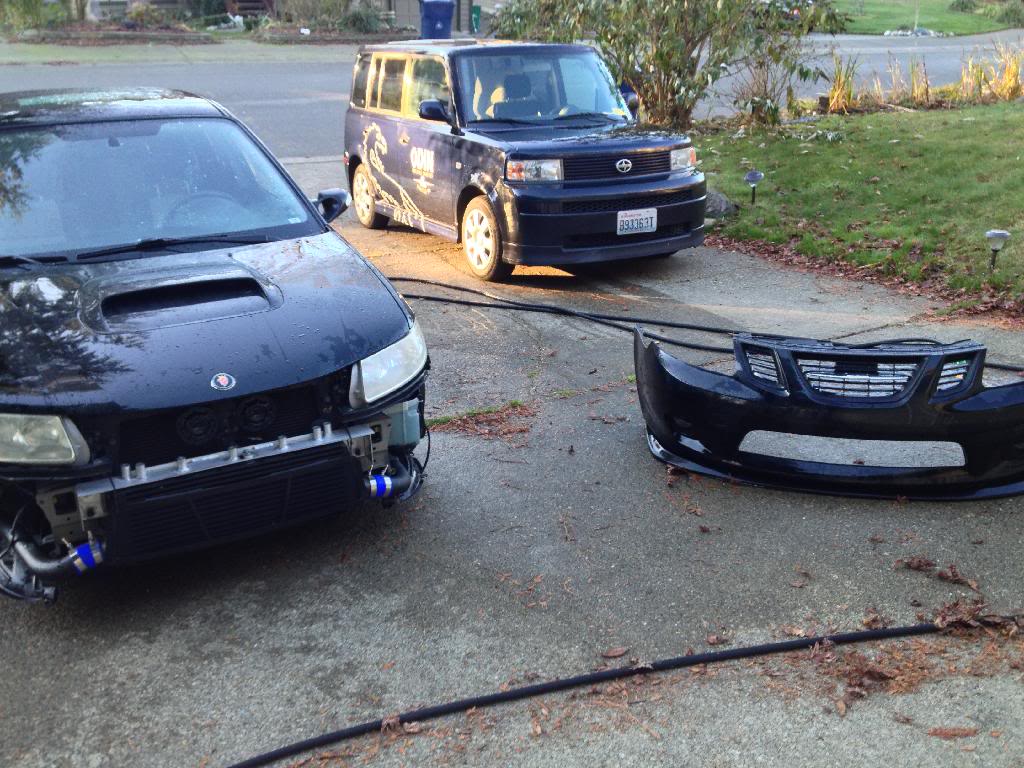 Decided to go ahead and debadge and noticed this spot under my Aero lettering has become that much worse: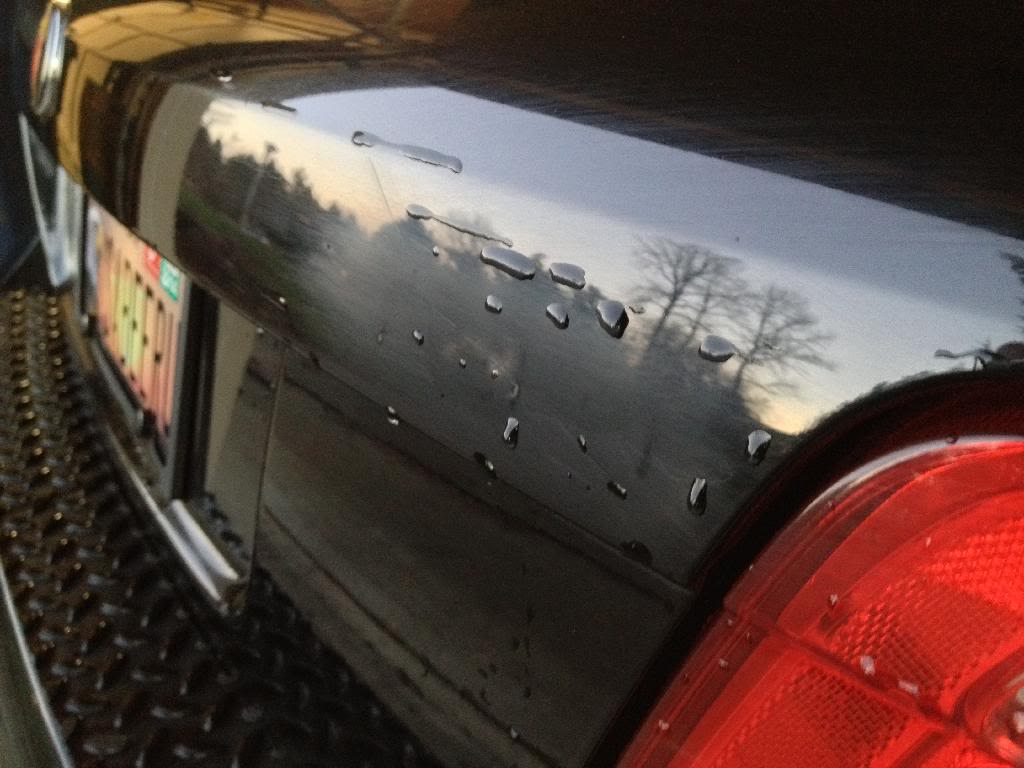 Worked it with some rubbing compound, then covered the area with a thin layer of brushed OBP. Came out extremely smooth, and blended it in that much better with my black box polish then wax; too bad it can't fix the paint by my rear window.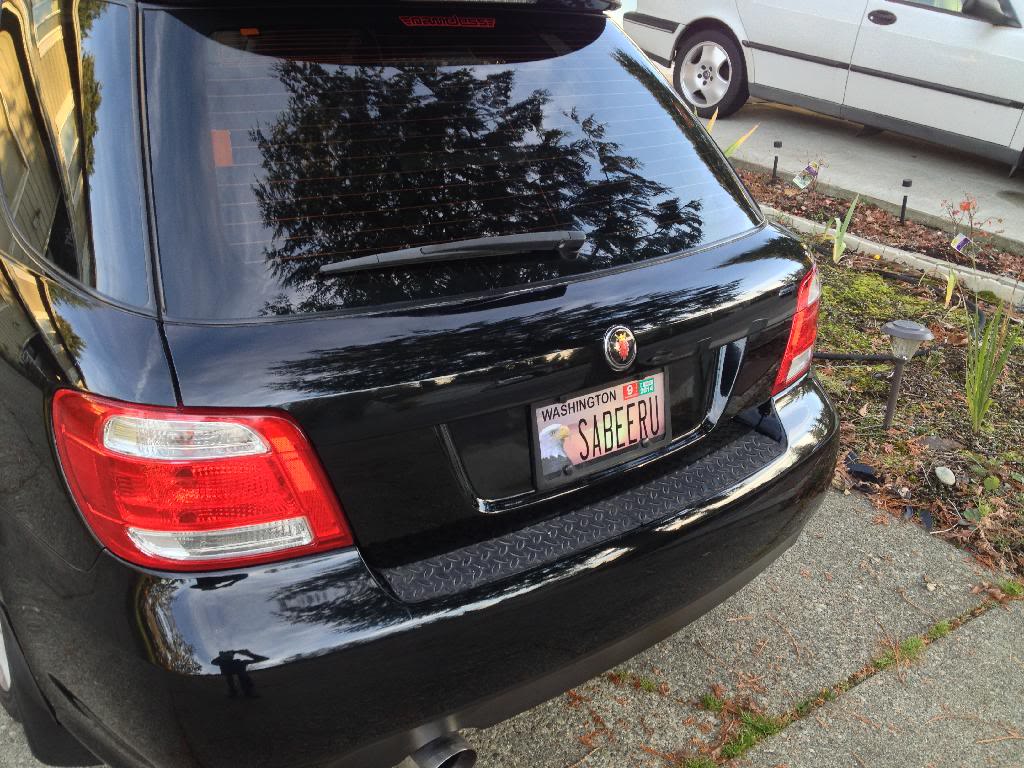 I know I've been asked in other threads, so here's what my plate mount is. It's hard to see, but I have rubber bumpers behind the lower screws for protection: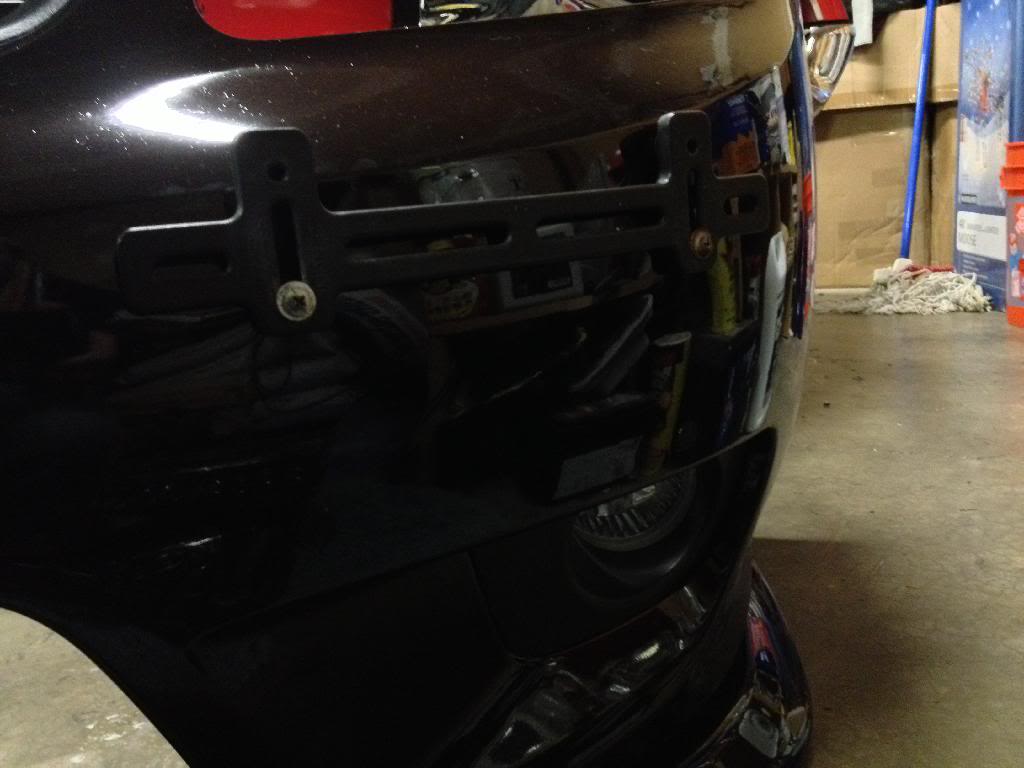 With the bumper off and waxing and polishing, I figured I'd give a shot at the 3M spray bra. Unfortunately, it started out such a huge damn mess that I was already rehearsing it in my head the complaint letter I'd be writing first of all, here's my can: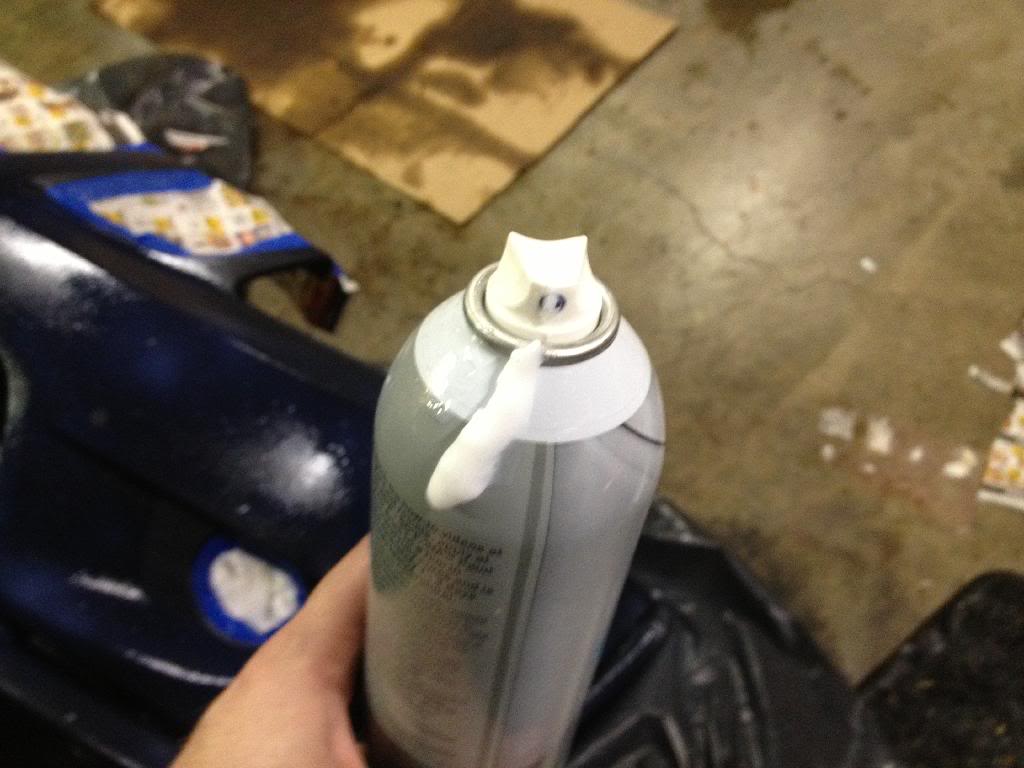 And no matter how careful I was, it flung huge hunks of crap on my bumper every few seconds: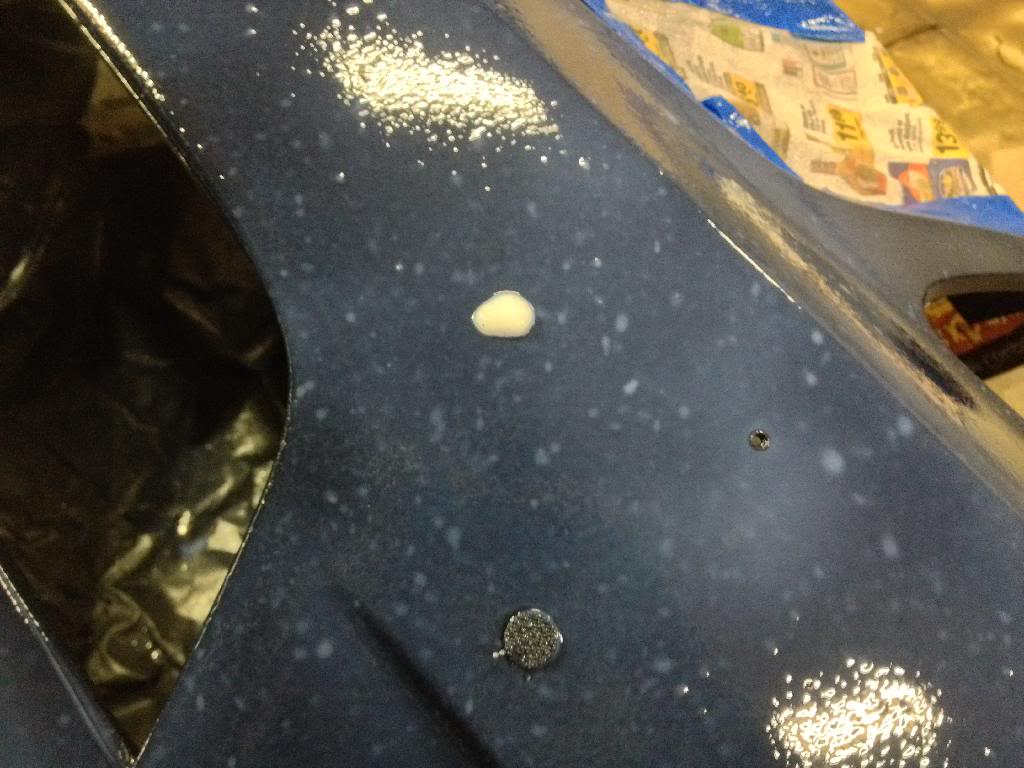 Now, here's the weird part. I checked on it 5 hours later, still a funky blue, I even accidentally tapped what I thought was a dry part and left a huge fingerprint. 8 hours after that and it smoothed out completely... Very weird. Few runs, but those were largely isolated to seams and cracks. Overall, not just protection; it's a HUGE improvement.
Here's my cleaned front bumper: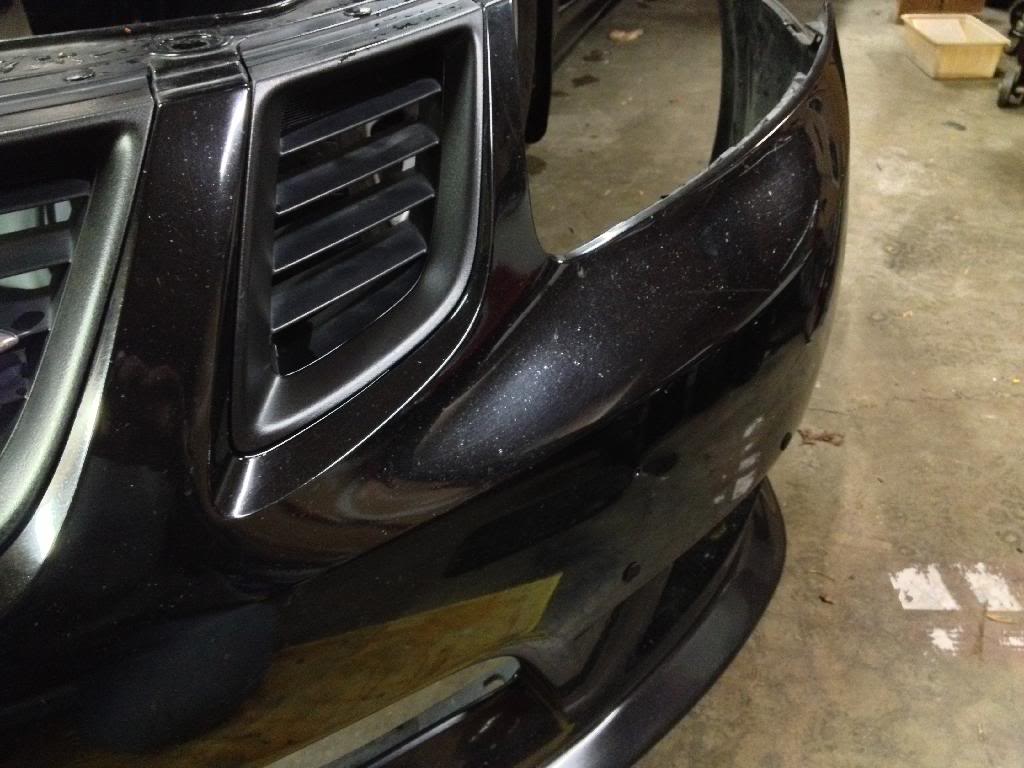 After Black Box Polishing: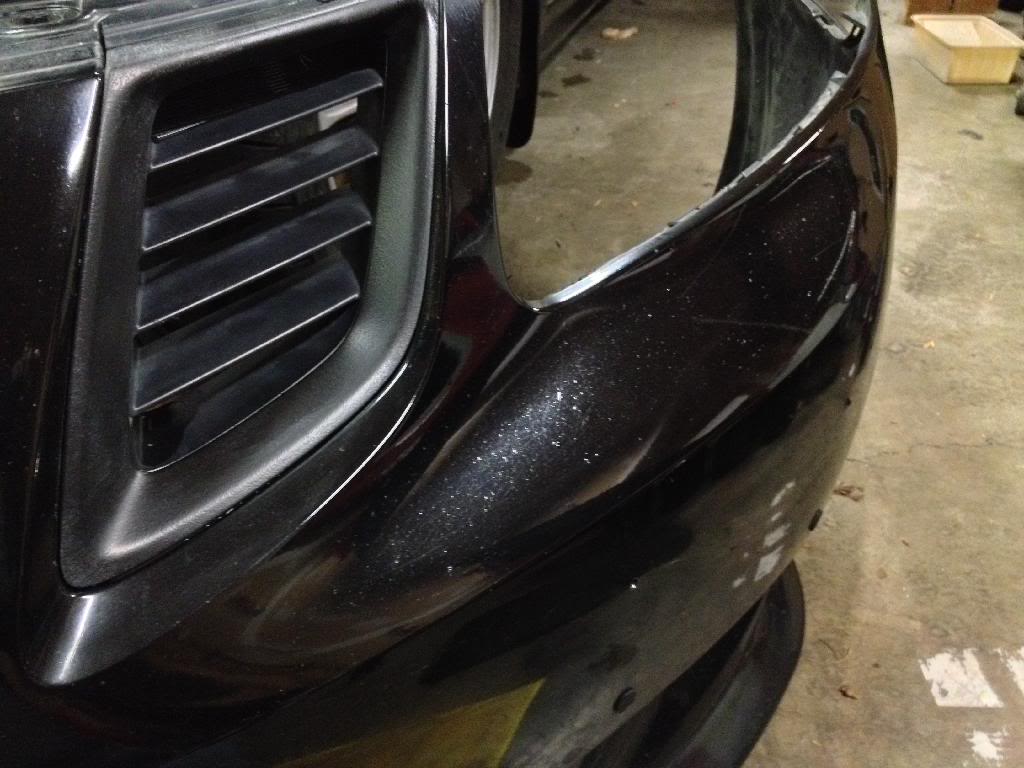 After Black Box Waxing (3M even includes wax, makes the bra easier to remove):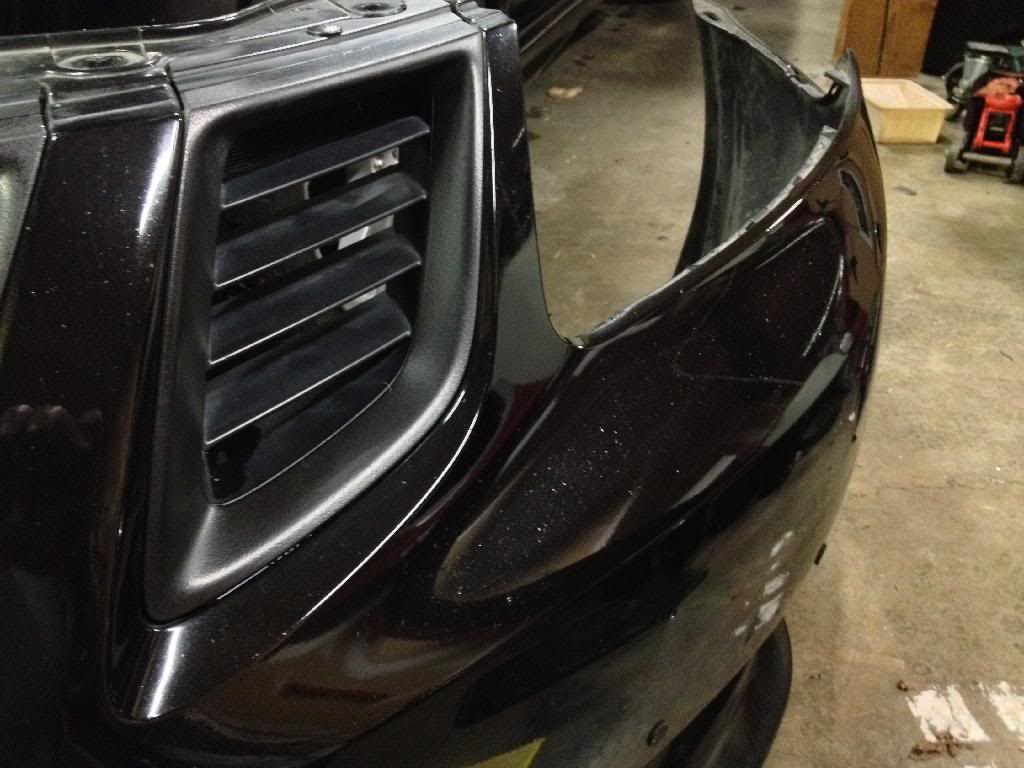 And finally after the clearbra: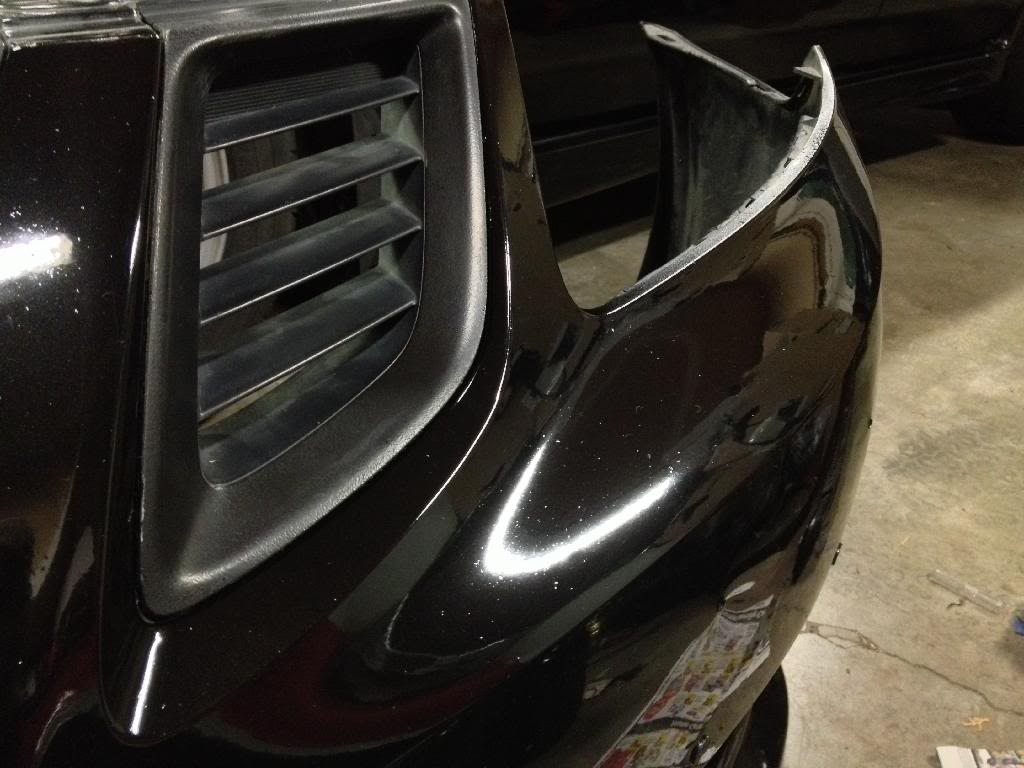 I moved onto a new can and hit the hood, perfect spray, no chunks, looks like my original can had a clog, even after trying to clean the nozzle a half dozen times: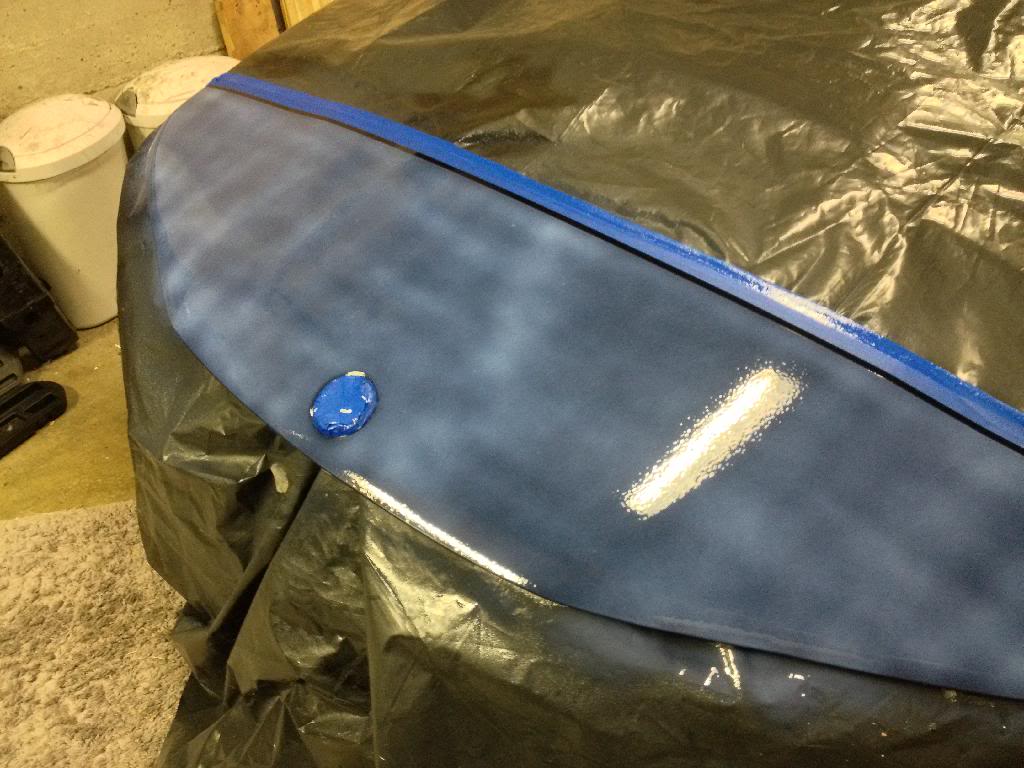 I'm loving the crap out of it at this point, so I decided to use it as a rear bumper guard: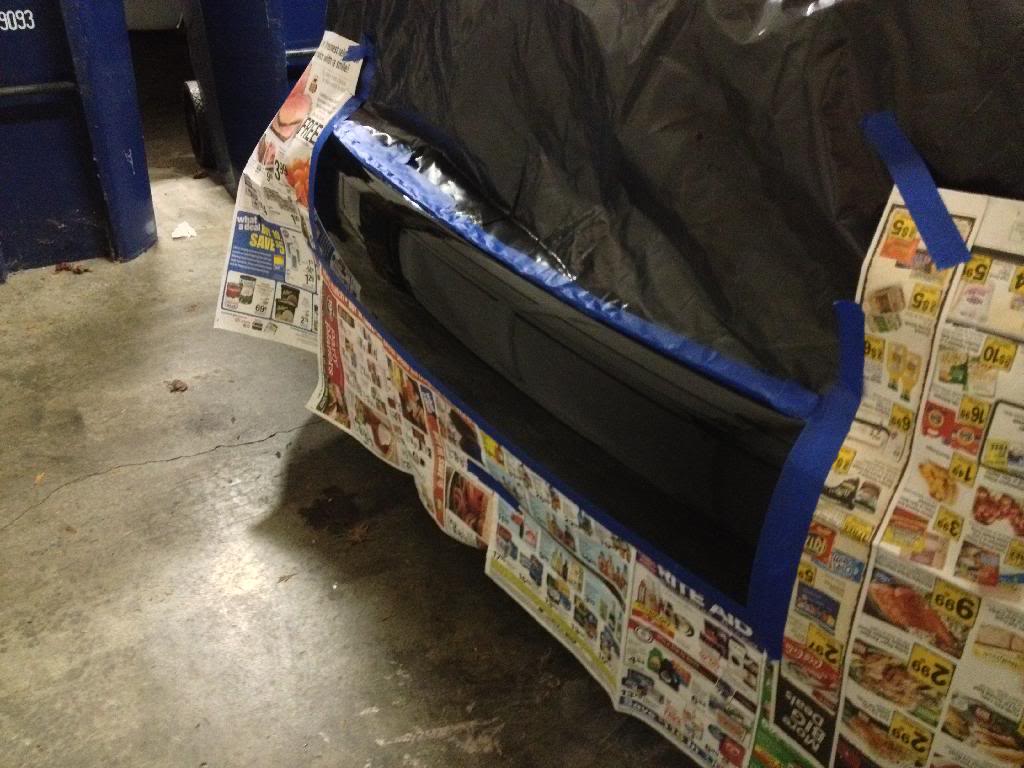 Here's the finished close up so you can see the seam, but the area looks like it was literally freshly painted. Unlike the front bumper where you can still see some pockmarks, the rear bumper scratches are completely gone: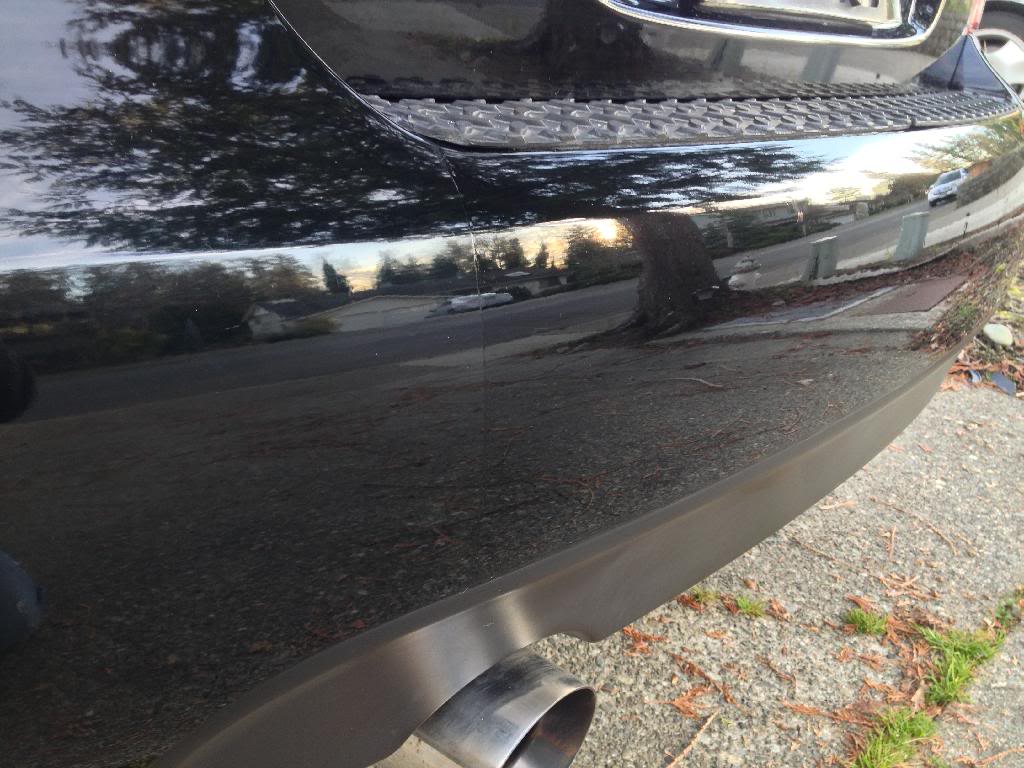 And one of the nicest features I only noticed tonight: I went ahead and sprayed the front lip with my bumper. The gloss of the guard now makes the lip a near perfect match to the paint. You can see it in my earlier pic: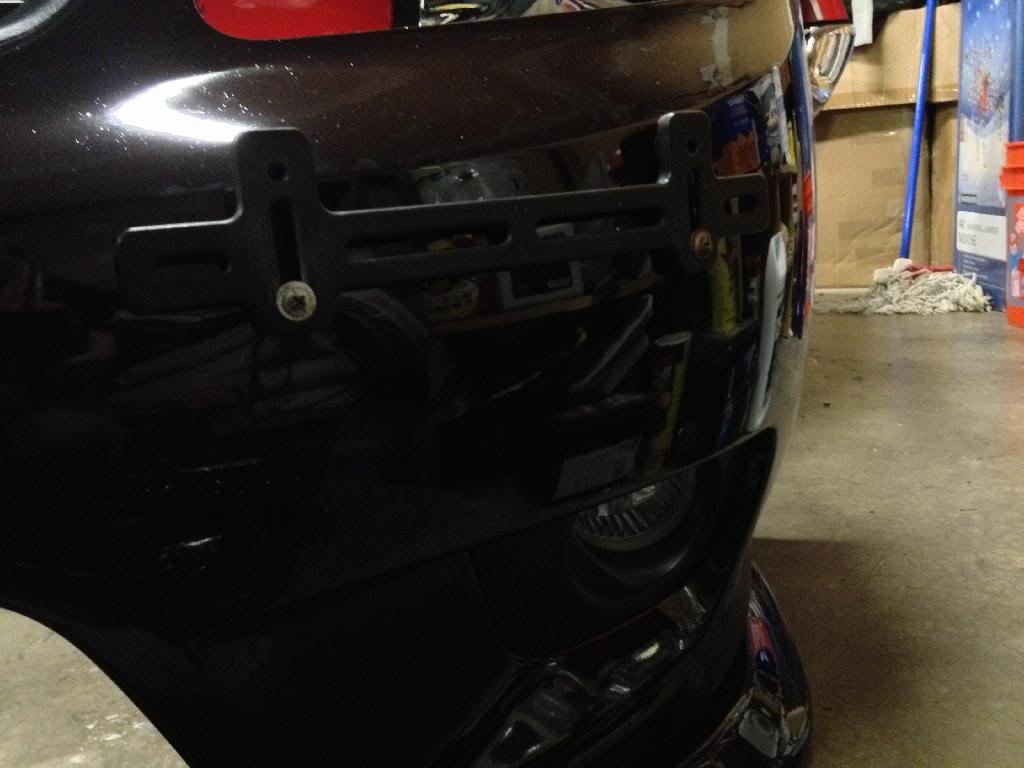 With that good of a look, I'll probably try it out on my splashguards to see if I can get them to blend better with the paint.
1-10-2014
No updates for a bit, just been trying to dial in my suspension and interior for dealing with my new job. Here's today's shot, there are also two 5 gallon kegs behind the cases: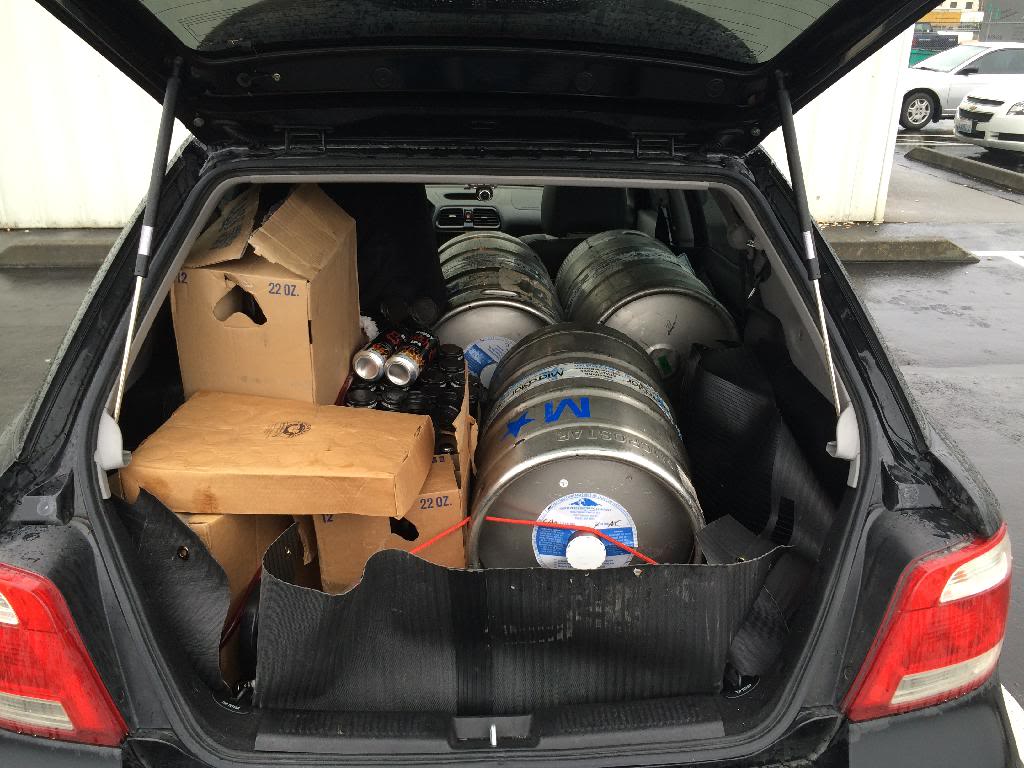 Random suggestion from someone on Saab92x.com- told me to check out the 9-3 keyhole plugs since I have a black car: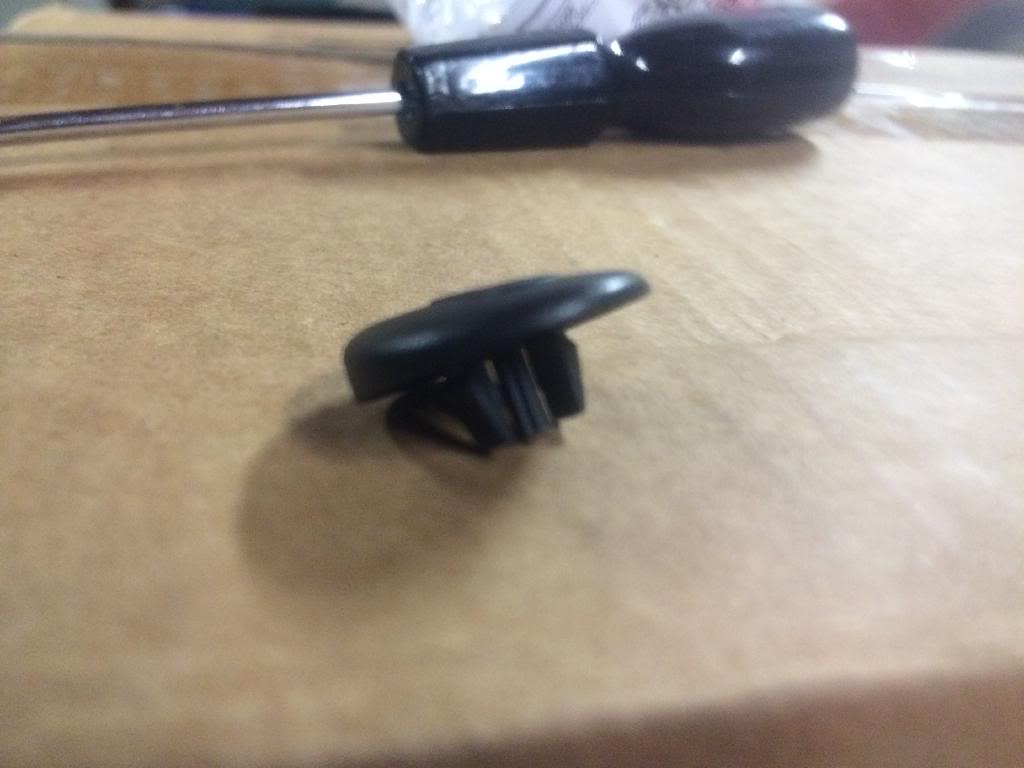 They fit and pop out easy with a screwdriver if needed, so here you go, lock deletes: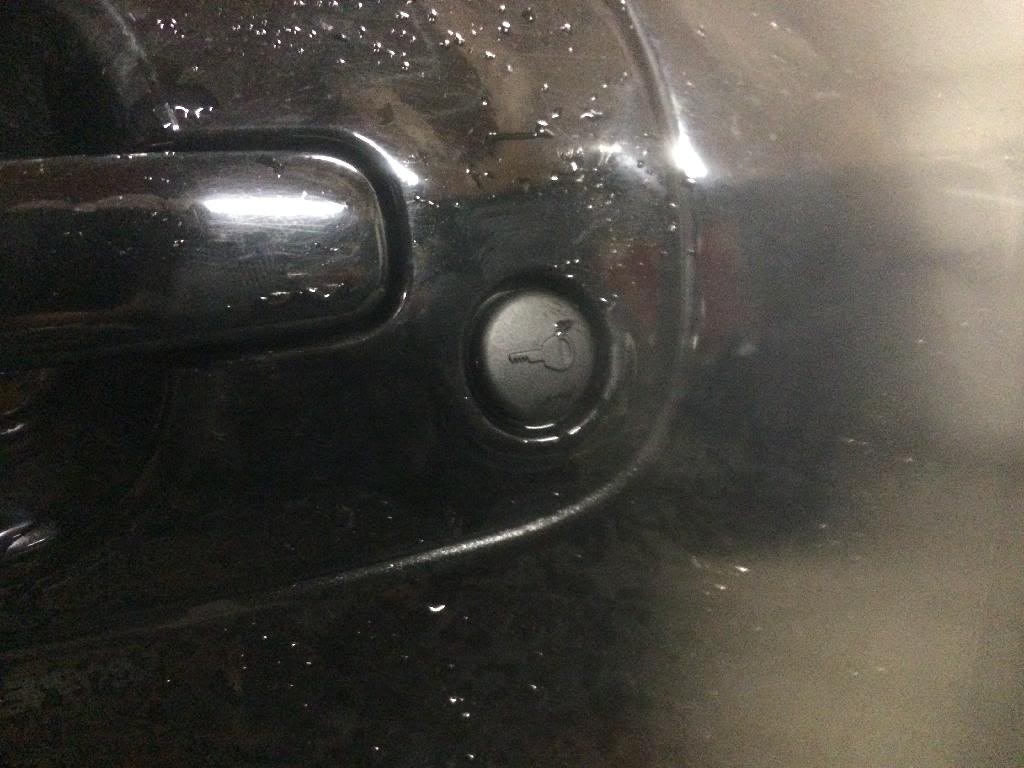 1-24-2014
Feeling a little Punny today: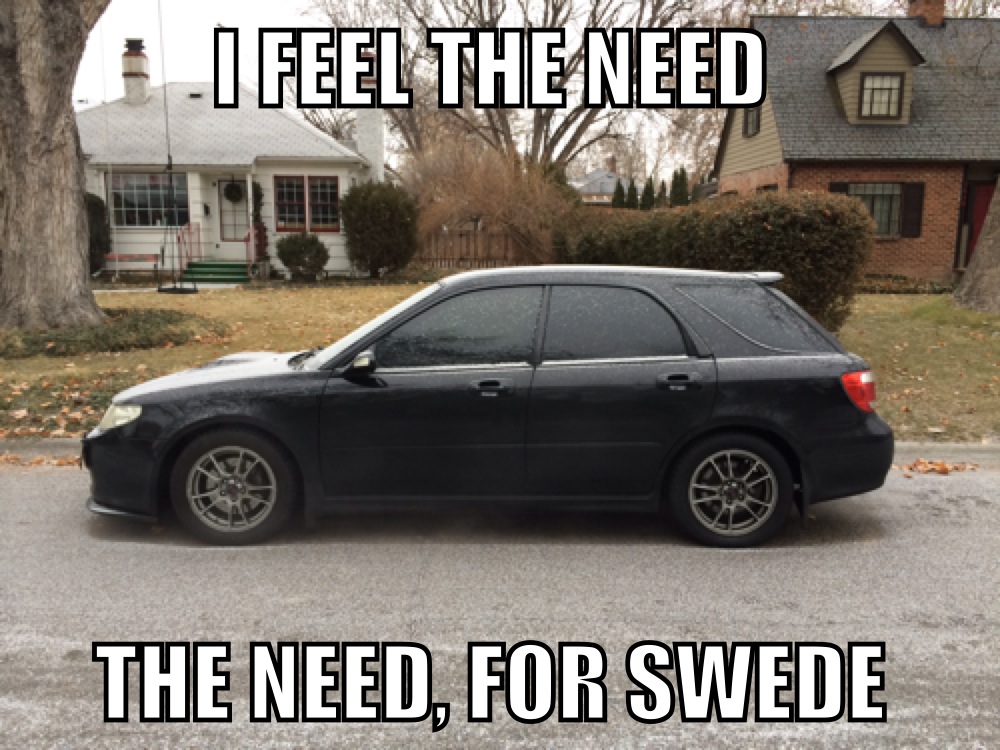 2-16-2014
Little updates, but I have some: took a screw to the sidewall of one of my Icebears. Fortunately, the Firestone I had check it out was overloaded on Blizzaks and I scored a new set for only $300! Best, and most surprising thing about these is that they are shockingly quiet, nice change and I'll be looking for some quiet summers as well: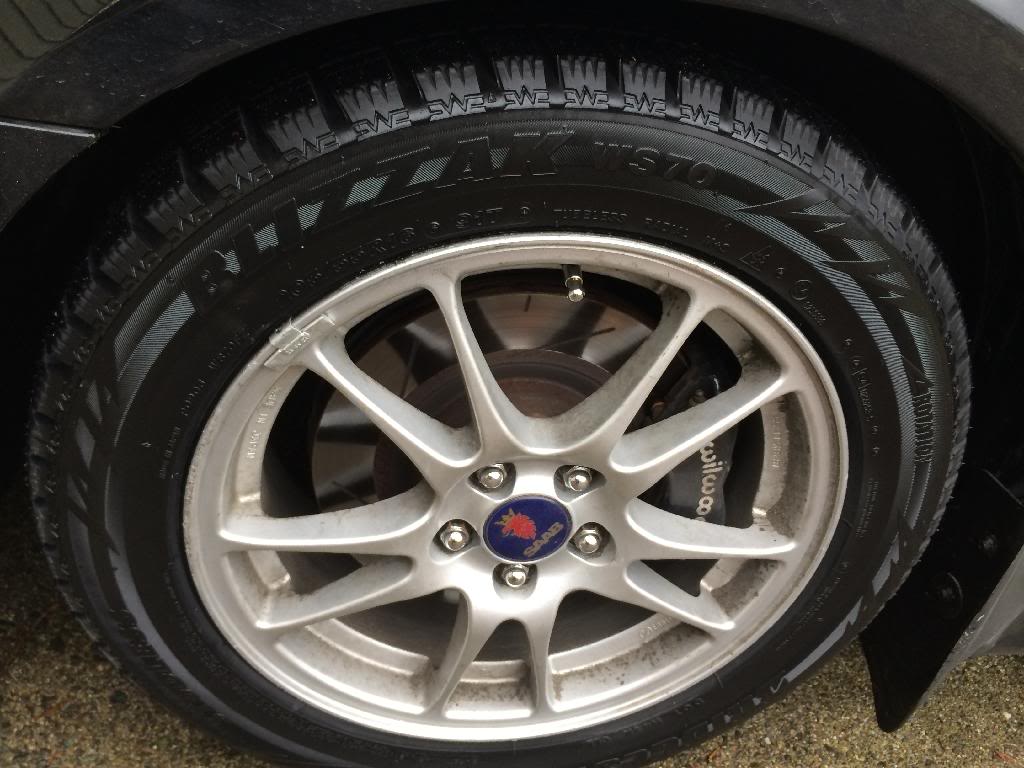 Next up I finally made the jump from an iPhone 4S to 5S, which meant the joy of losing all connectivity with my Avic with the move away from the 30 Pin connector. Only nice thing is an HDMI cable means I'm compatible if I jump to a different phone, and I now have full time video out regardless of jailbreak tweaks. Still it's not the cleanest setup; here's what my console was like before: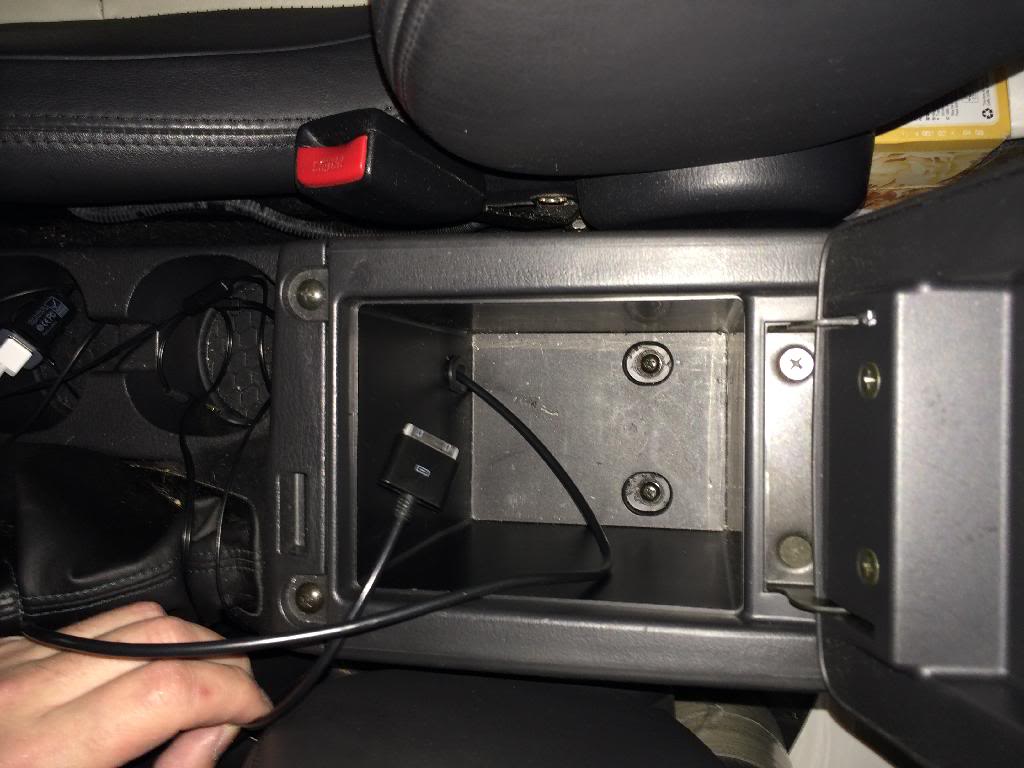 It ran over $100 to grab all these cables and an Red/White/Yellow RCA, but this was the only way to make it work (or with any composite input system):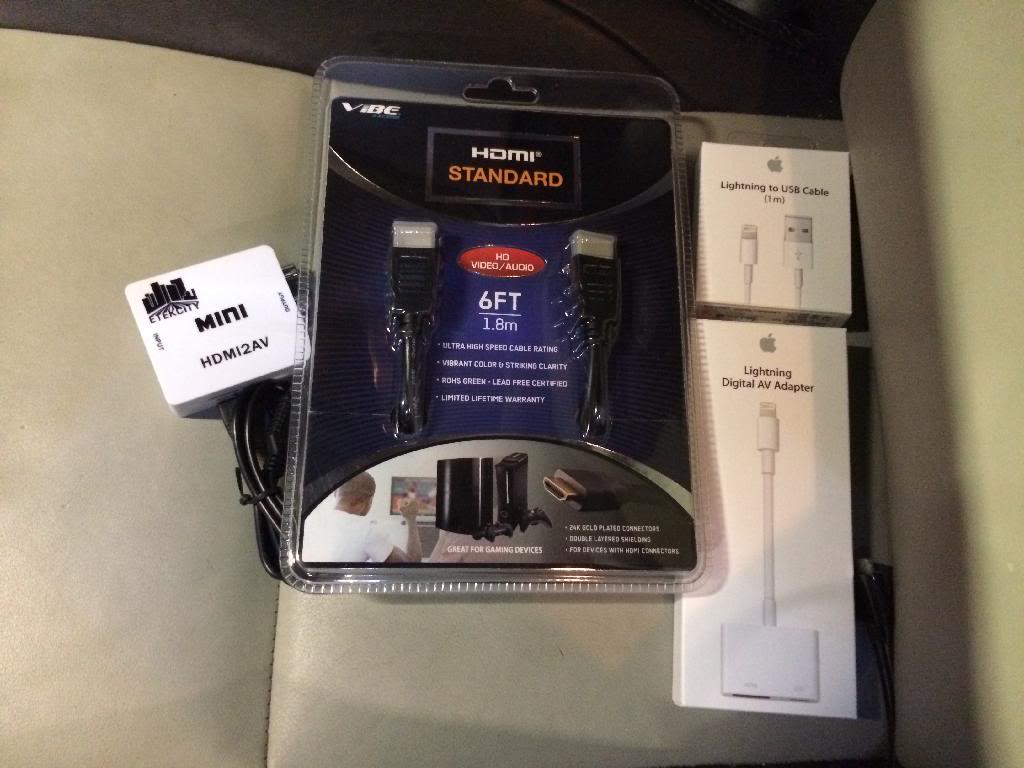 I wound up doing the hidden lighter socket mod to get full power to everything, and this is what I wound up with in the end, plus the addition of finally installing what should have come from the factory, back seat cupholders: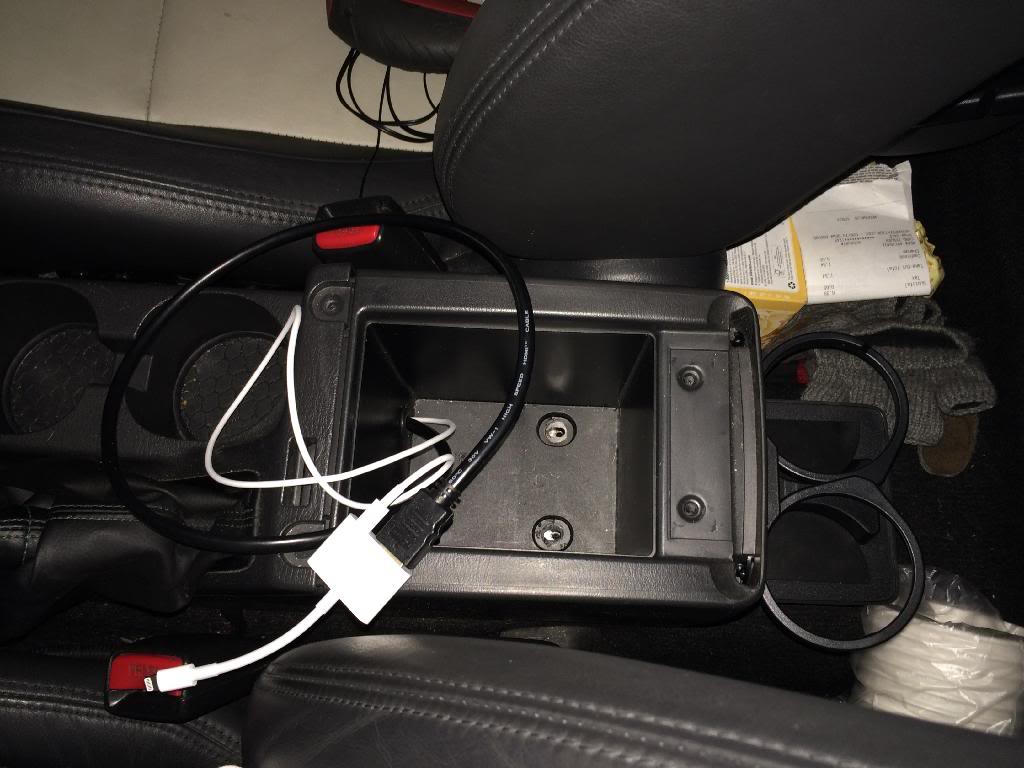 3-26-2014
So yeah, I have been working on my car, just dealing with lots of little annoying maintenance and repair stuff. Accidentally hit a foot deep puddle in the dark that ripped off my front lip

and took out my bumper repair. Oil pressure gauge died. Put in Uncle Scotty's cocktail, tracked down a crapload of rattles, changed the diff fluid, and as I type I'm getting corner balancing done since I just put on these: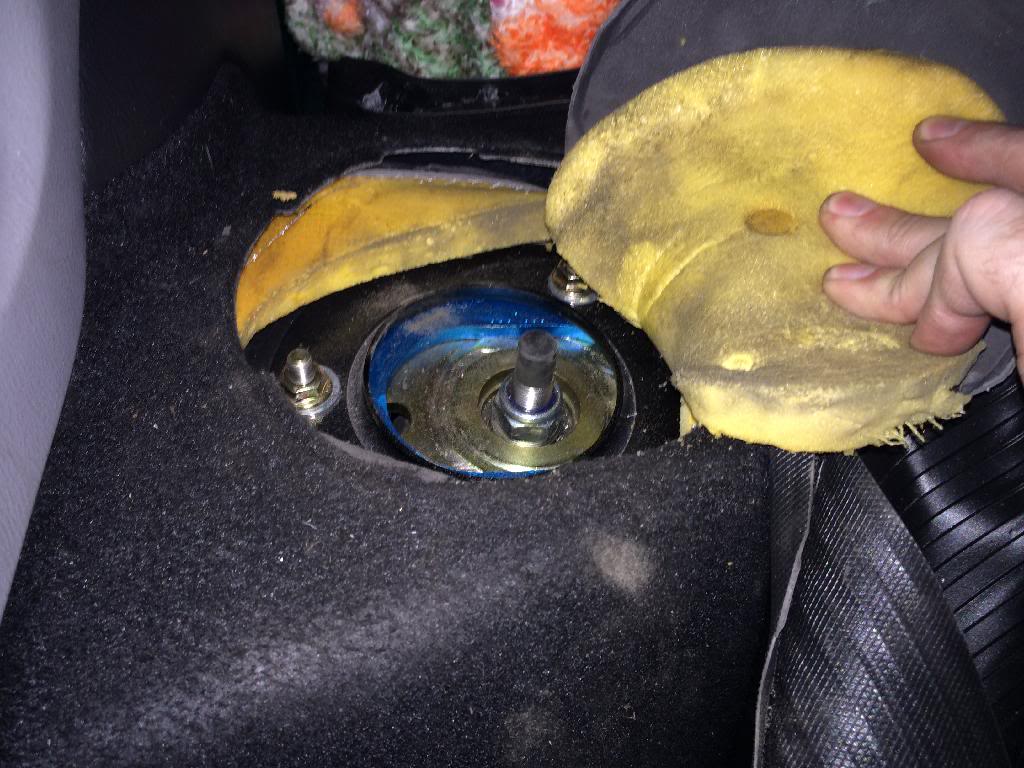 I did deal with a couple of cosmetic issues as well, in particular dealing with some wheel damage from my earlier brake fluid leak. I simply sanded down the rims in the corners: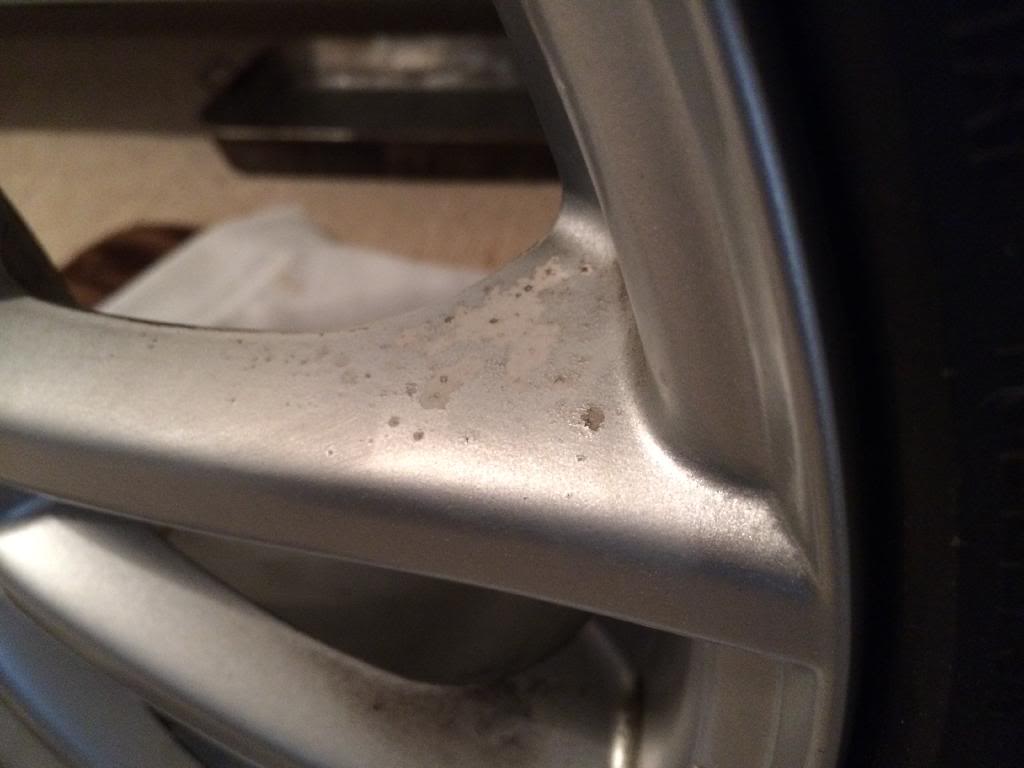 Then hit with a touch up I used, allowed to dry, then buffed with some 3000 grit pads. Not perfect, but far better than black marks: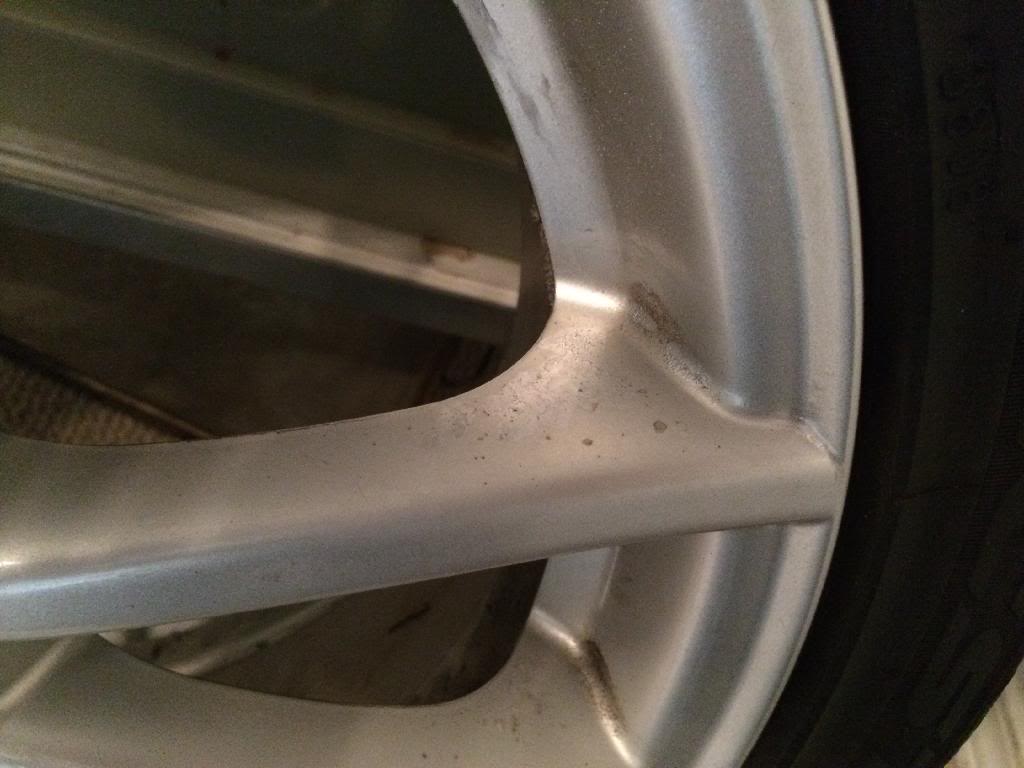 Annoying part is doing it 5 times to get the paint to lay flat. I may try dipping the wheels in different colors anyway, I'm liking the dark painted ones I've seen. Next area to tackle are the flaps I did that more and more are looking to me more like 'mud flaps' and less like 'splash guards'. Plus the weather has them very, very grey. First I cut them down from this: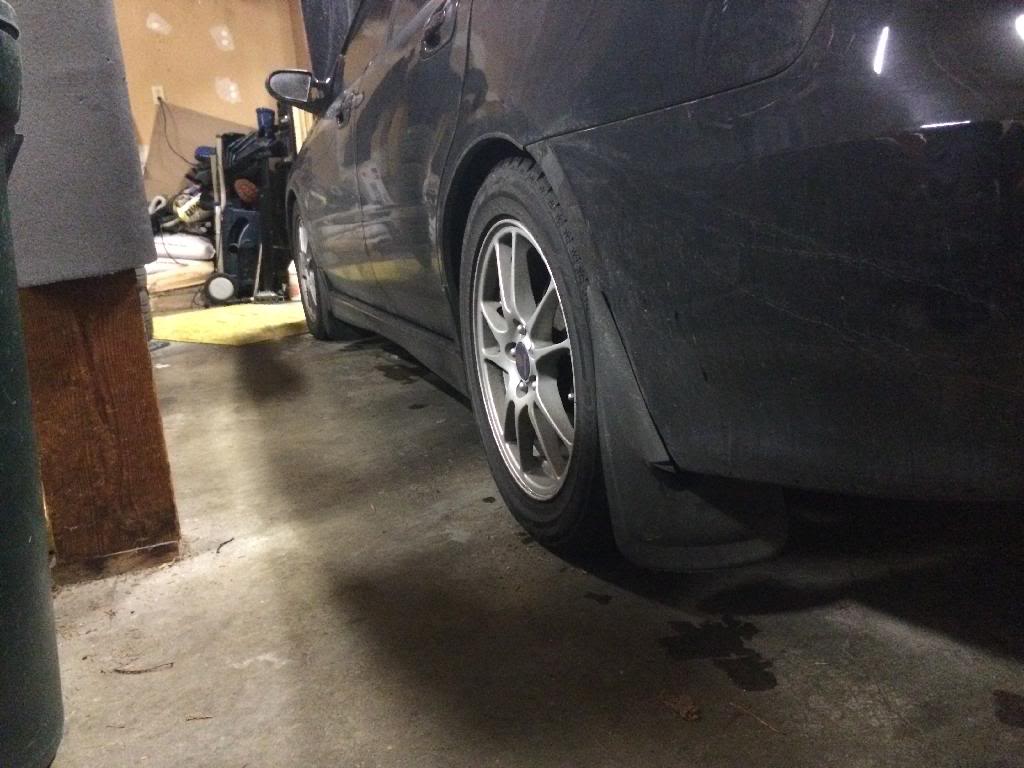 To this: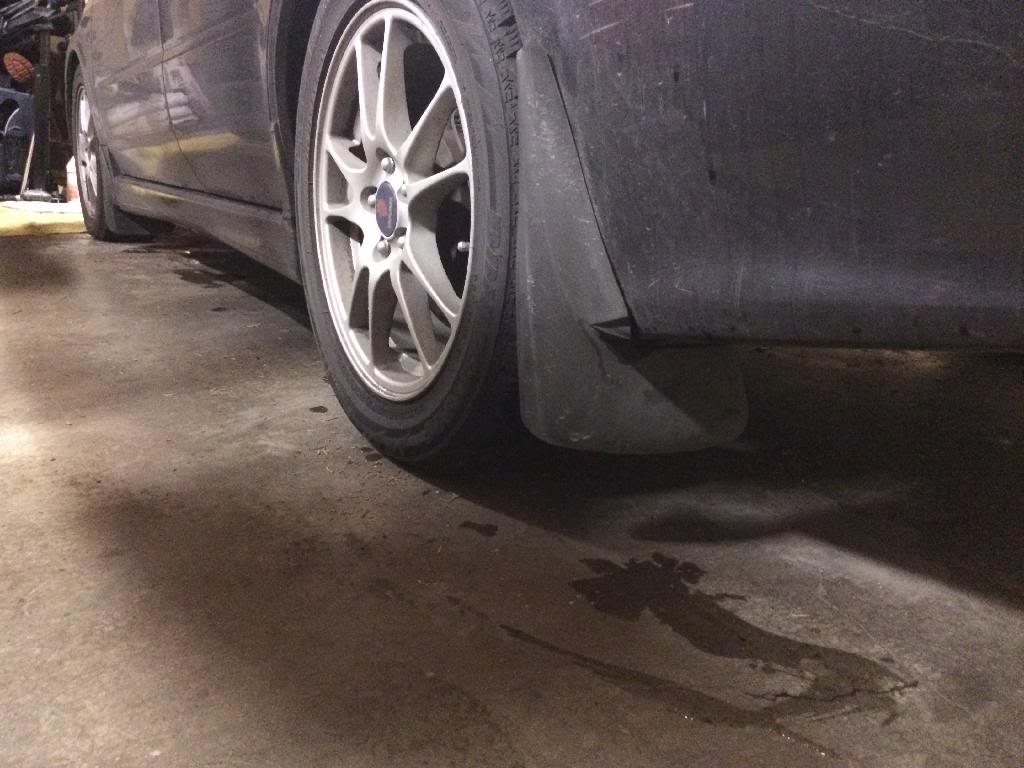 Here is the cleaned up front flap: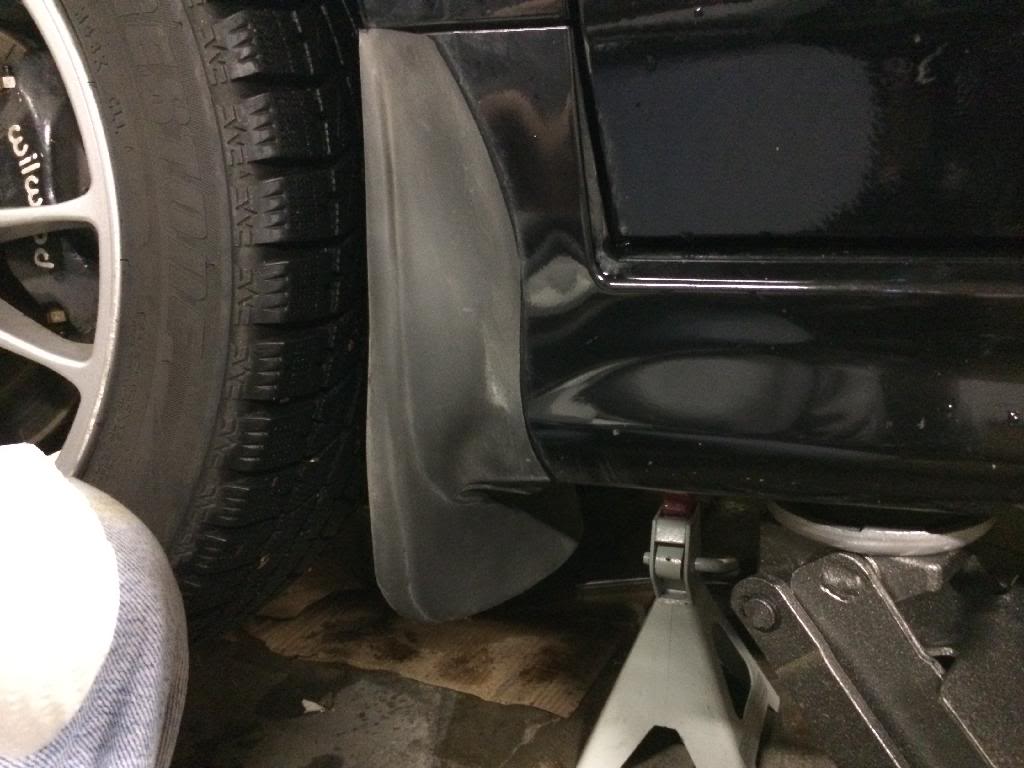 Worked with plastic polish and black tint wax: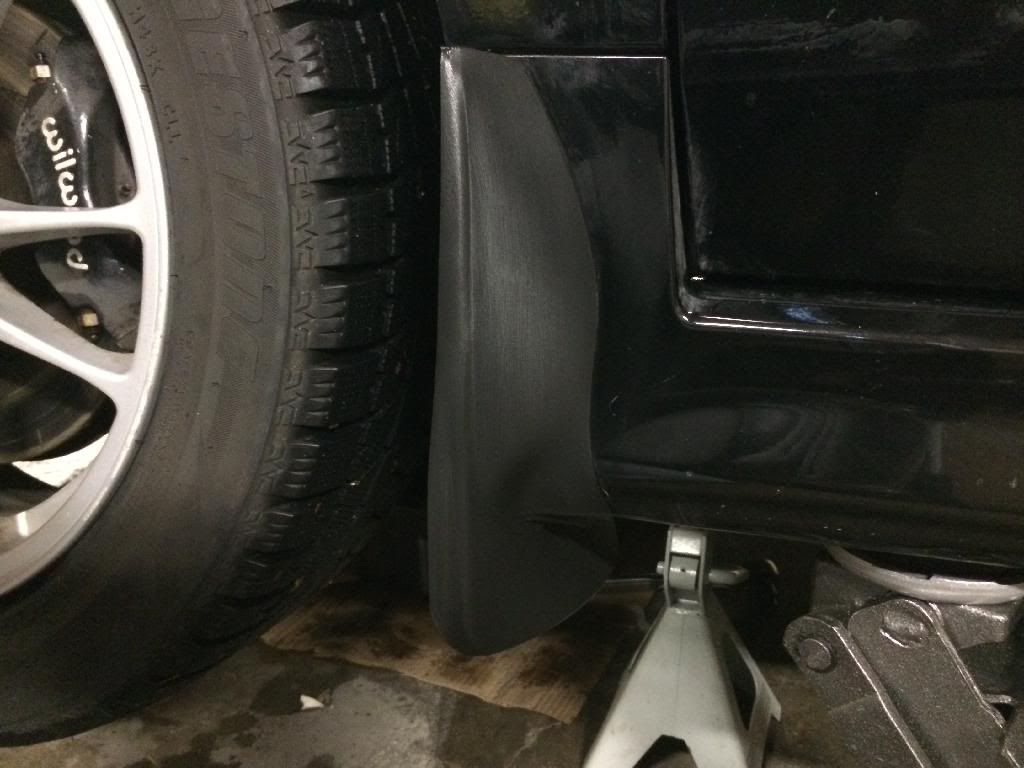 Sprayed with 3M Paint Defender: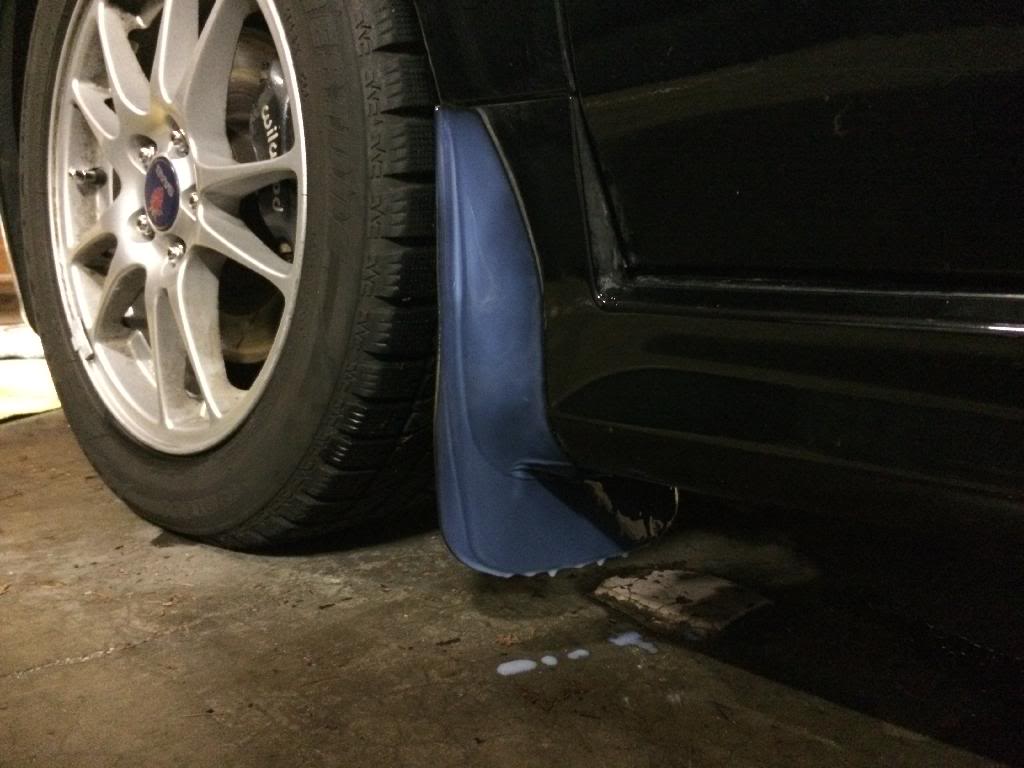 Allowed to dry, put black wax on top of that, and I'm pretty close to paint matching now; worth celebrating with a little STI touch: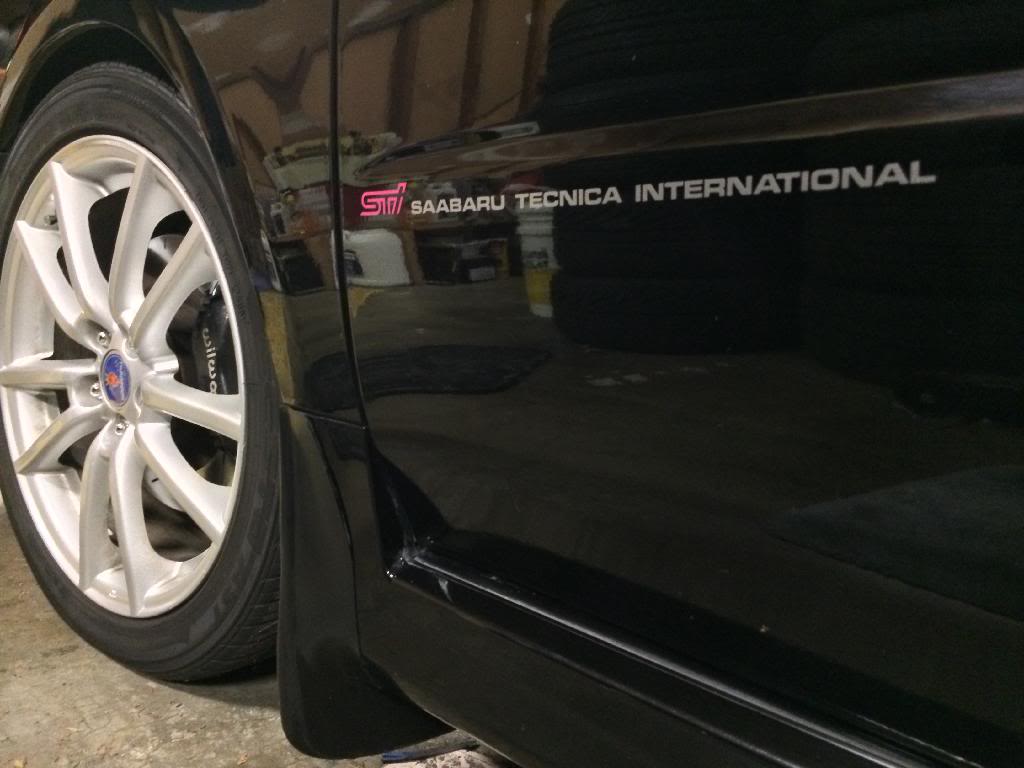 4-20-2014
Little crap, over and over, need to get back to work on this car... Amazon suggested the $7 LED pack, surprisingly came with labeled packaging and a few spares to boot: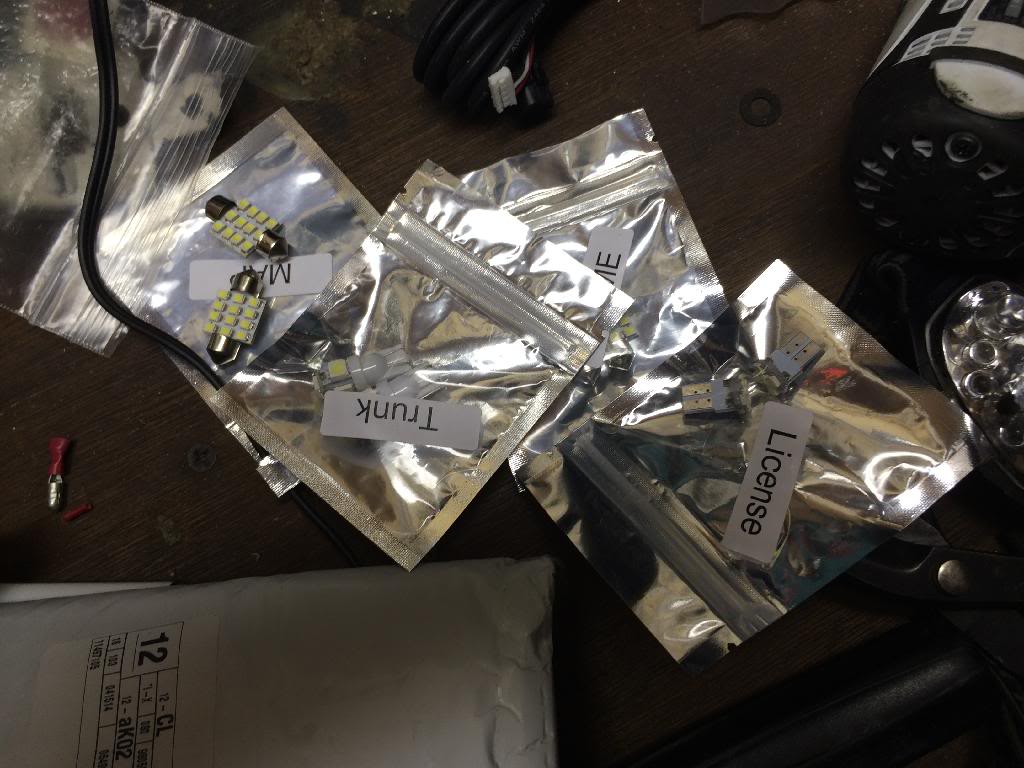 Old look: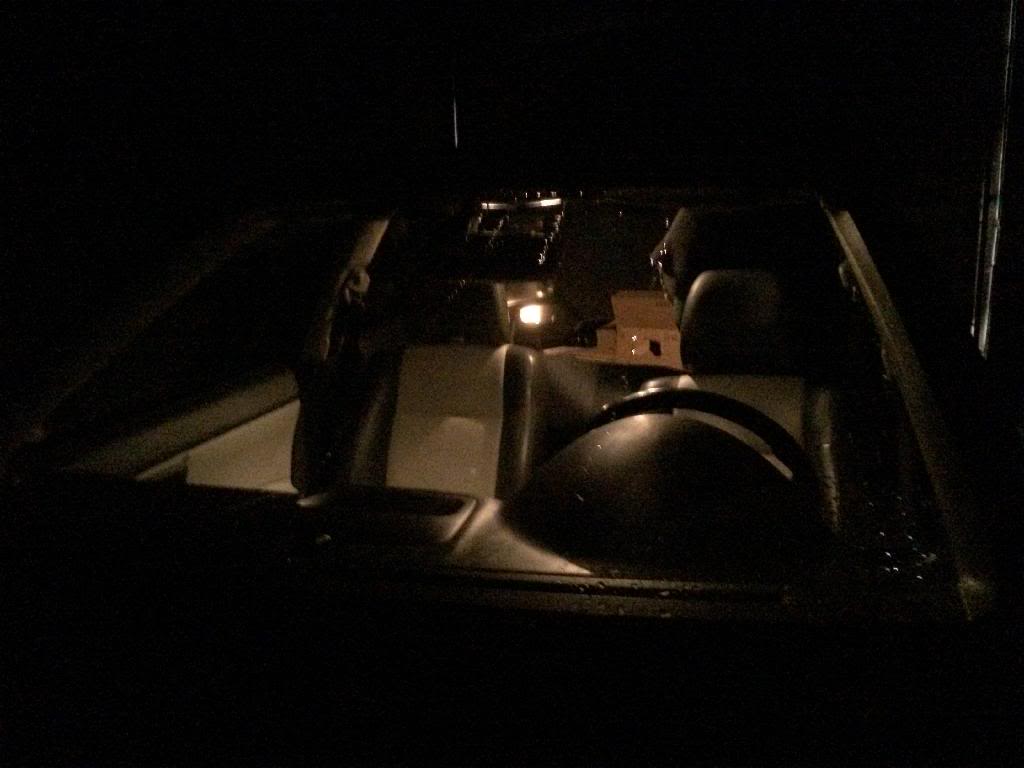 New, nothing unique but surprised it can be had for so cheap: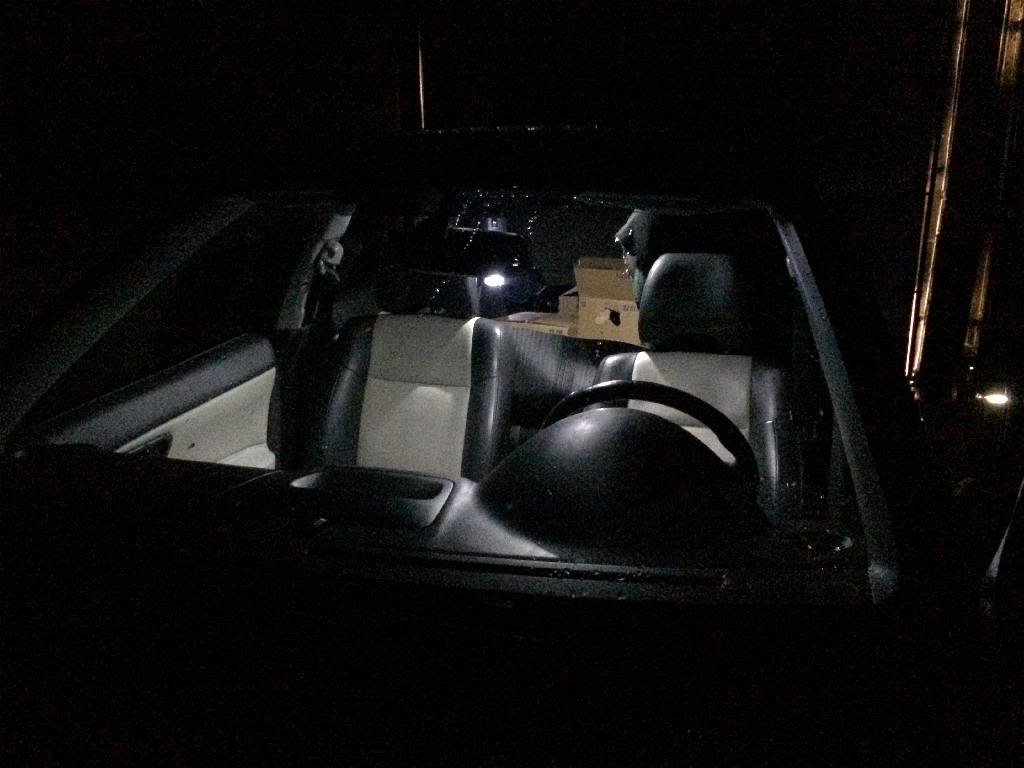 Starting to nab some parts to better match the blue sleeves on the intercooler piping: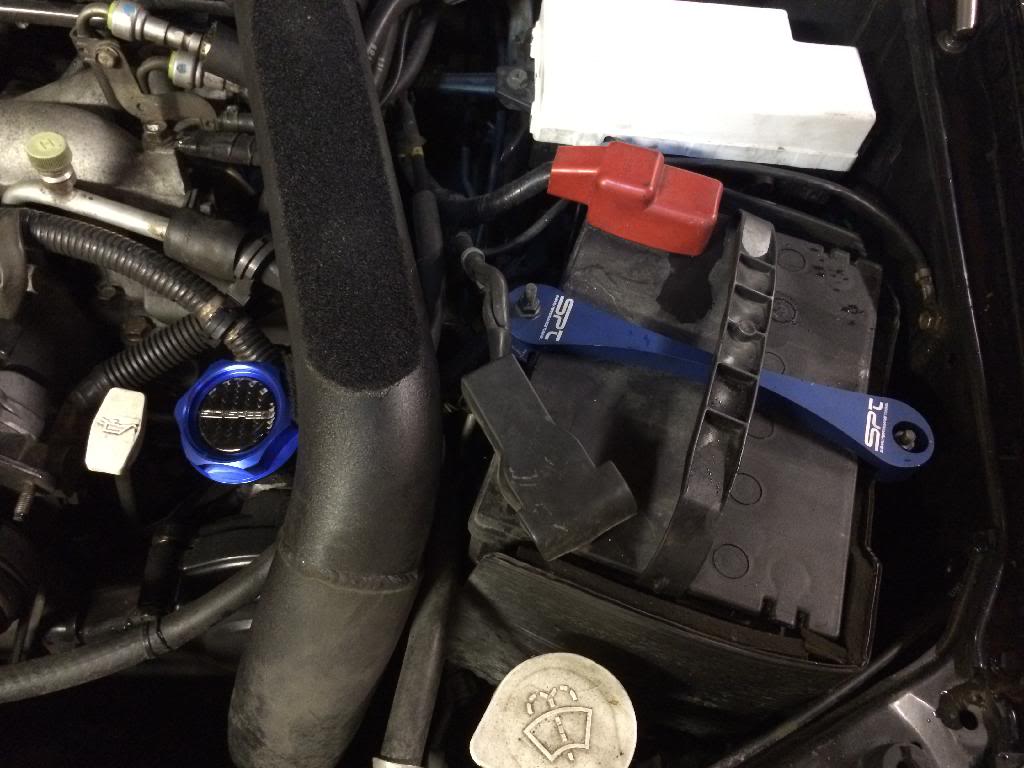 Last but not least, a longer term project engine, 114k miles EJ205, needs a rebuild, but no metal flakes in the system. It will take time, but I've got it, and I've got the opportunity to offset some shop labor on a built motor now: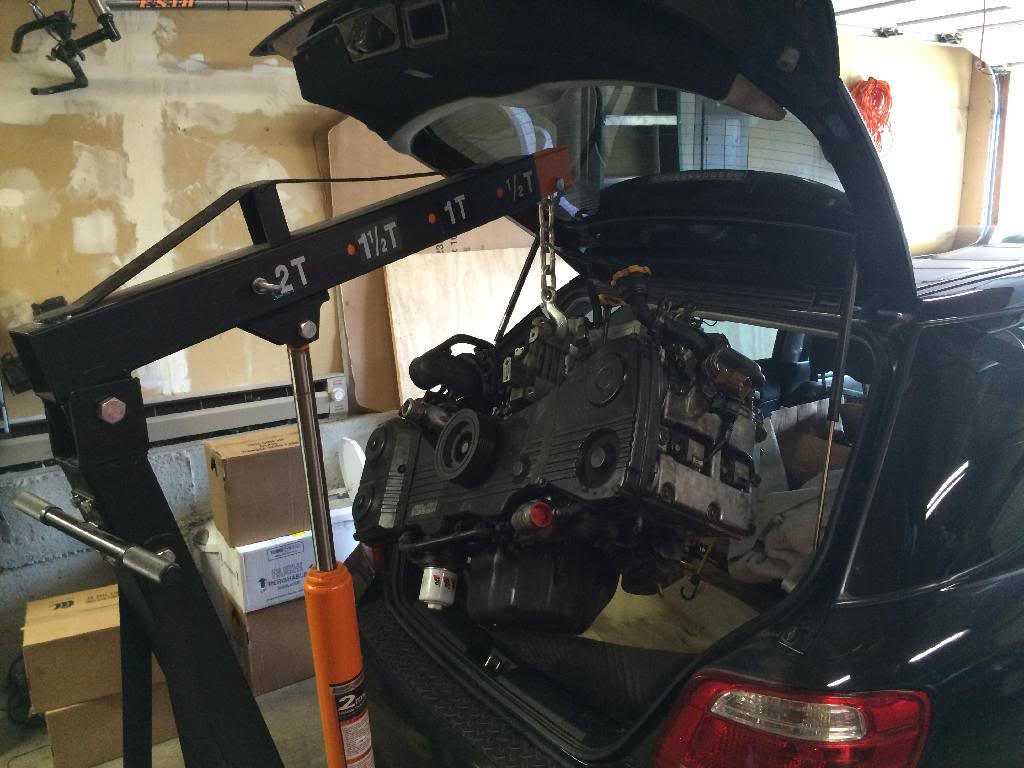 Finally nabbed a few pics in better weather too: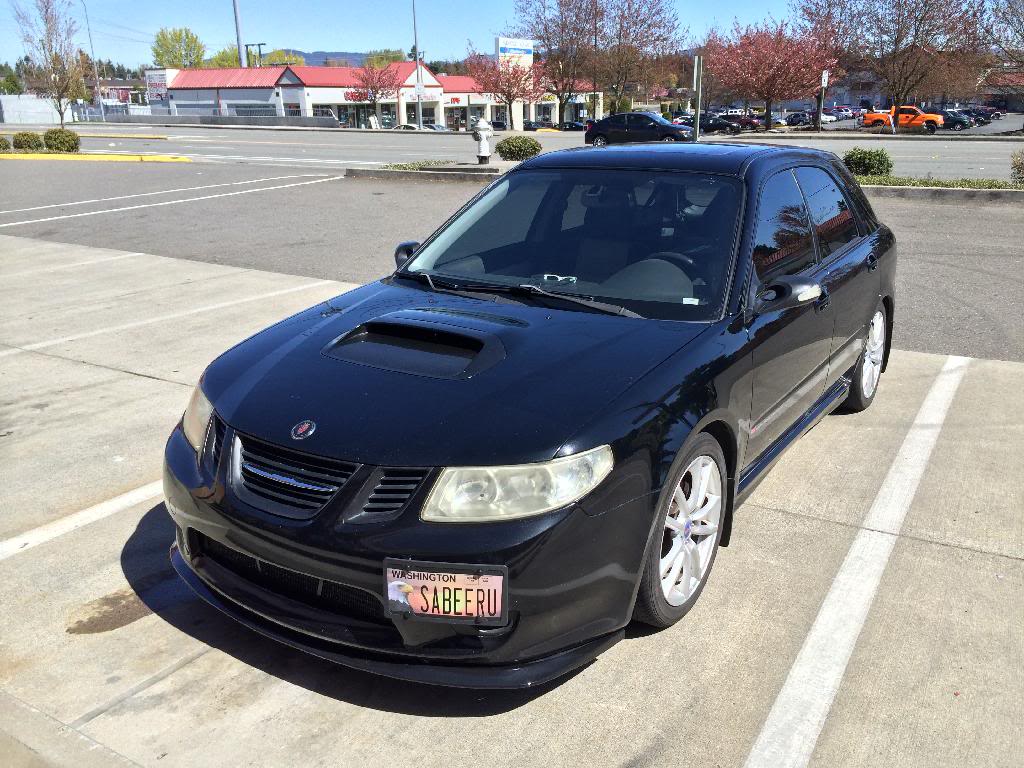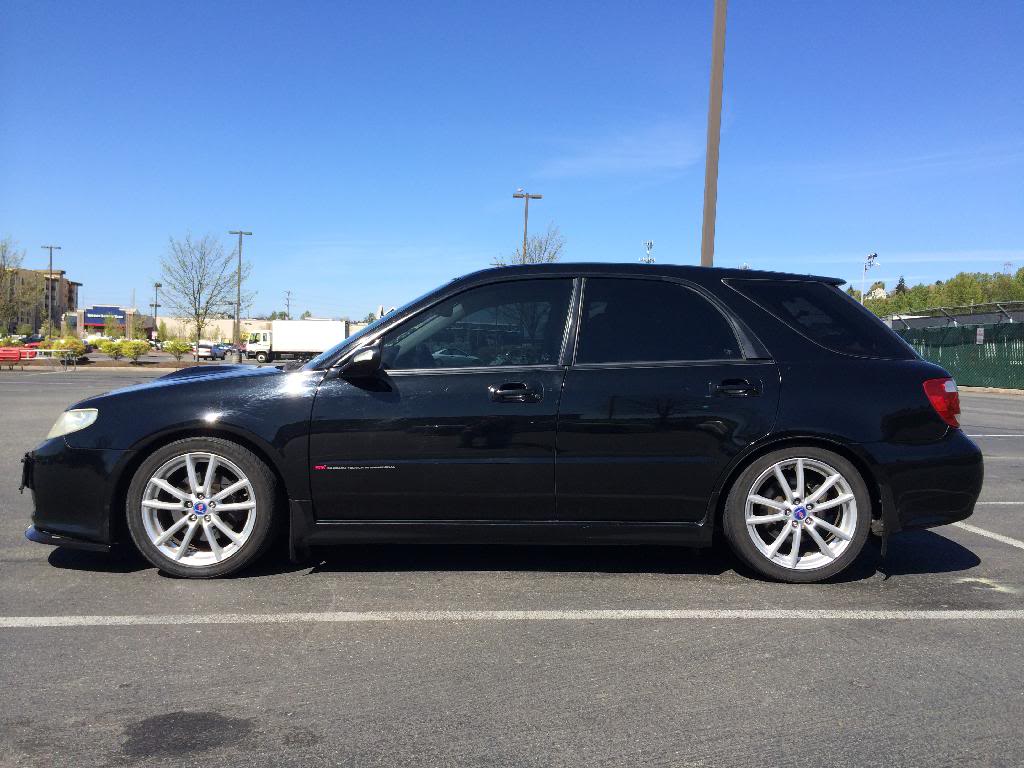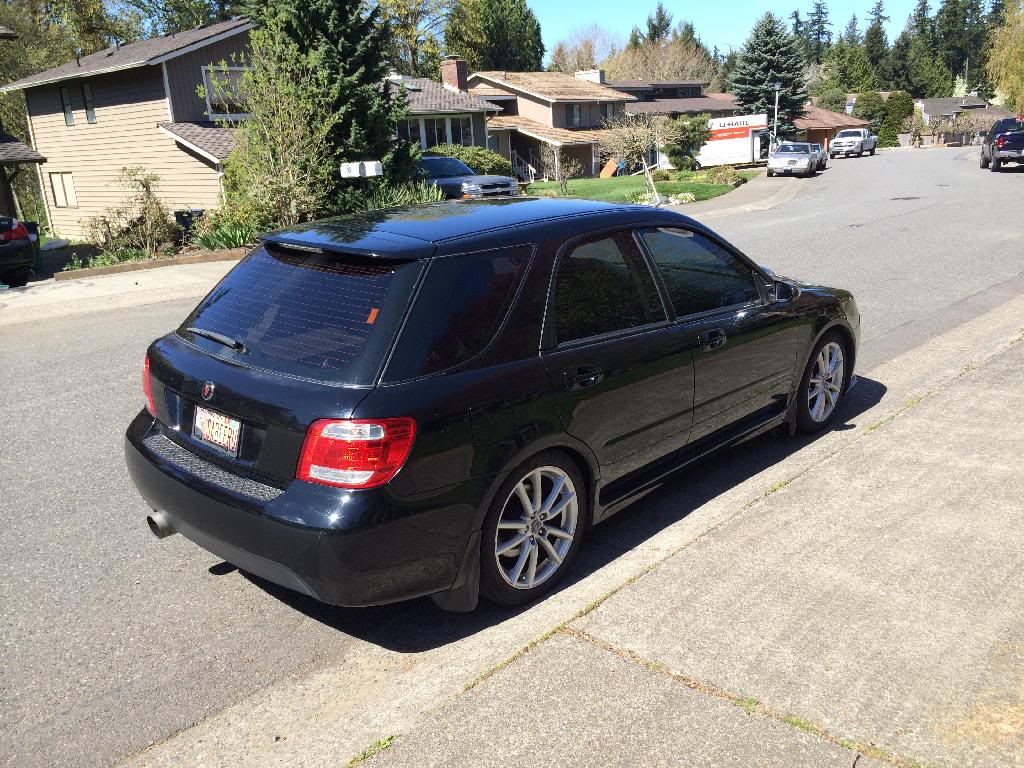 5-6-2014
Little crap has turned into big crap

First little crap is my front coilovers are binding and then getting unsprung like an SOB, which is really nice after a $200 corner balance. I ordered thrust bearings for the bottom and top perches, but I'm still going to disassemble the pillow ball to clean out and regrease. Now I need to figure out some type of cover for the pillowball to stop sand from getting in there. If you've bought or made one- please post a pic, I don't see where anyone sells such a cover.
Next little crap is AWD Auto's diagnosis of my rear brake glazing just being an issue with Stoptech pads... Not pleased, but I picked up a pair of Hawk HPS and got to sanding.
Before: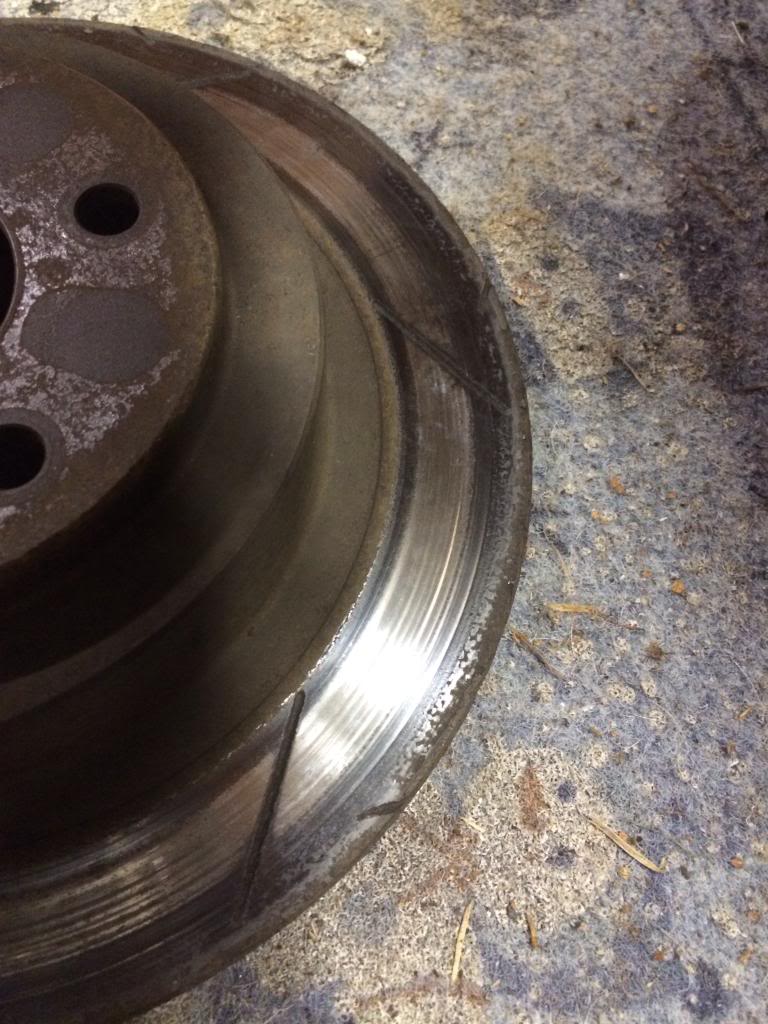 After: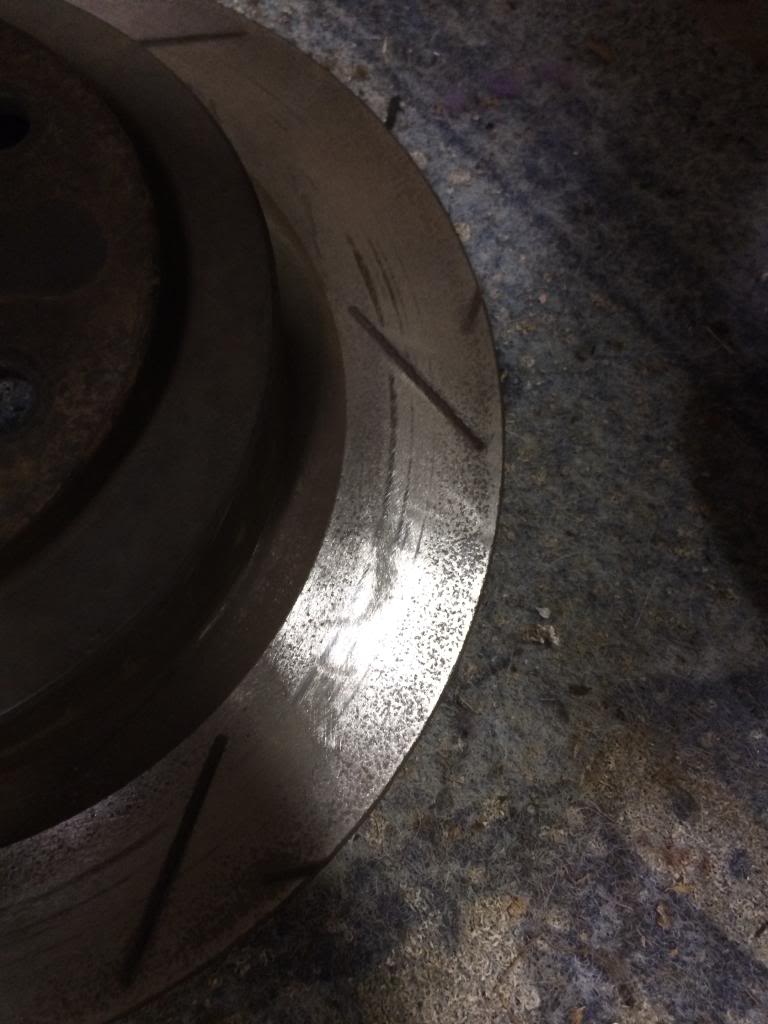 They do look a bit dirty, but after proper break in, feel is much improved and there are no signs of glazing yet.
Now for the big crap! I pulled off my 3M Spray Defender spray on clear bra and there is a ton of damaged spots on my hood! I have no idea what happened, and neither does 3M yet, but after seeing my pics versus the many that I had from this build taken before I sprayed, they're willing to acknowledge fault and are sending out an inspector tomorrow. The damage (paint rippling) is right along my tape line in some spots.
Here is my worst damage around the emblem: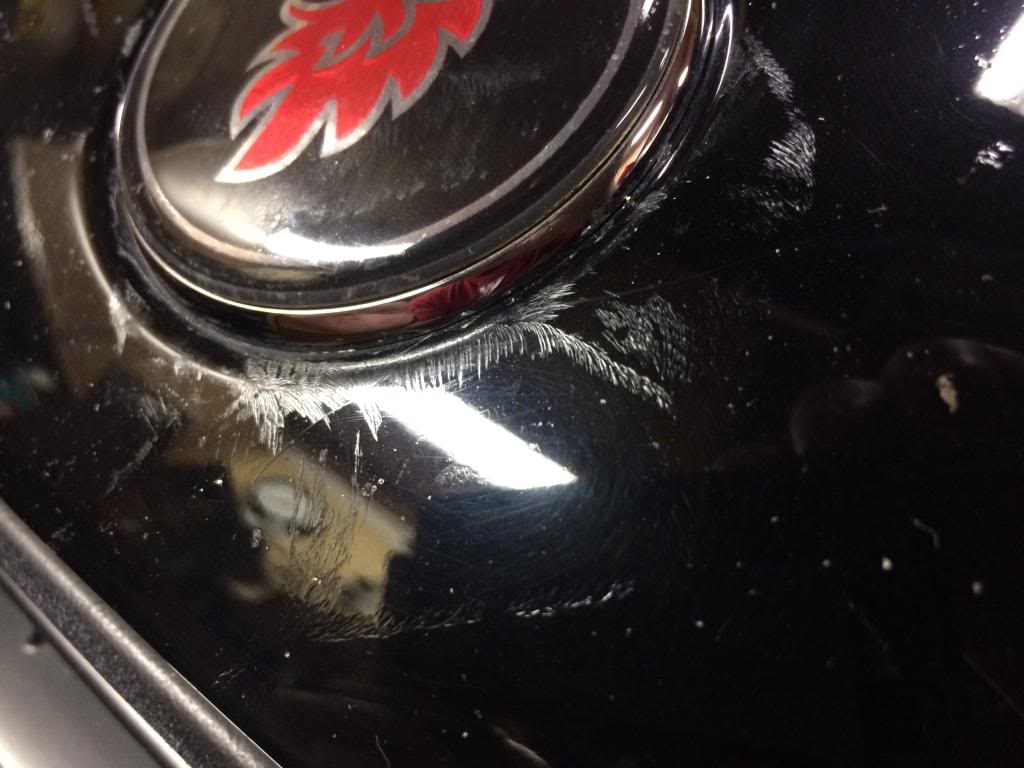 And a line right where it was taped off: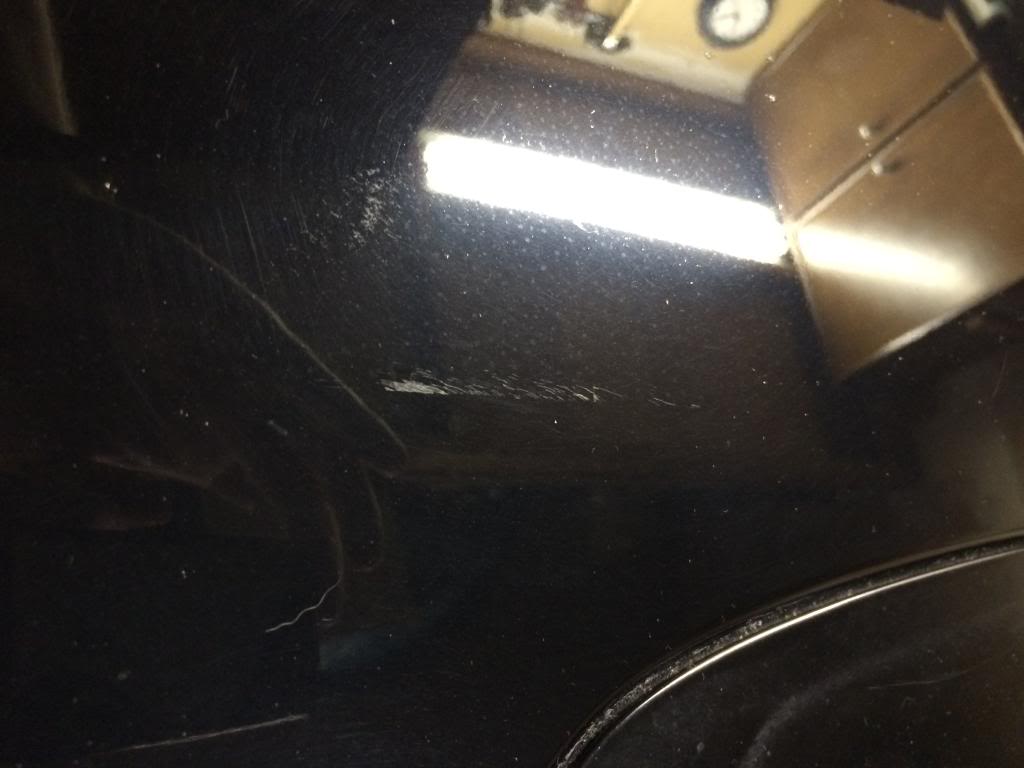 So pissed, especially after doing everything by the book. At least they've been cordial and hopefully they'll take care of a fix soon.
Finally, some VERY positive news. After keeping an eye out on the forums, I scored some ID1000 injectors and this baby: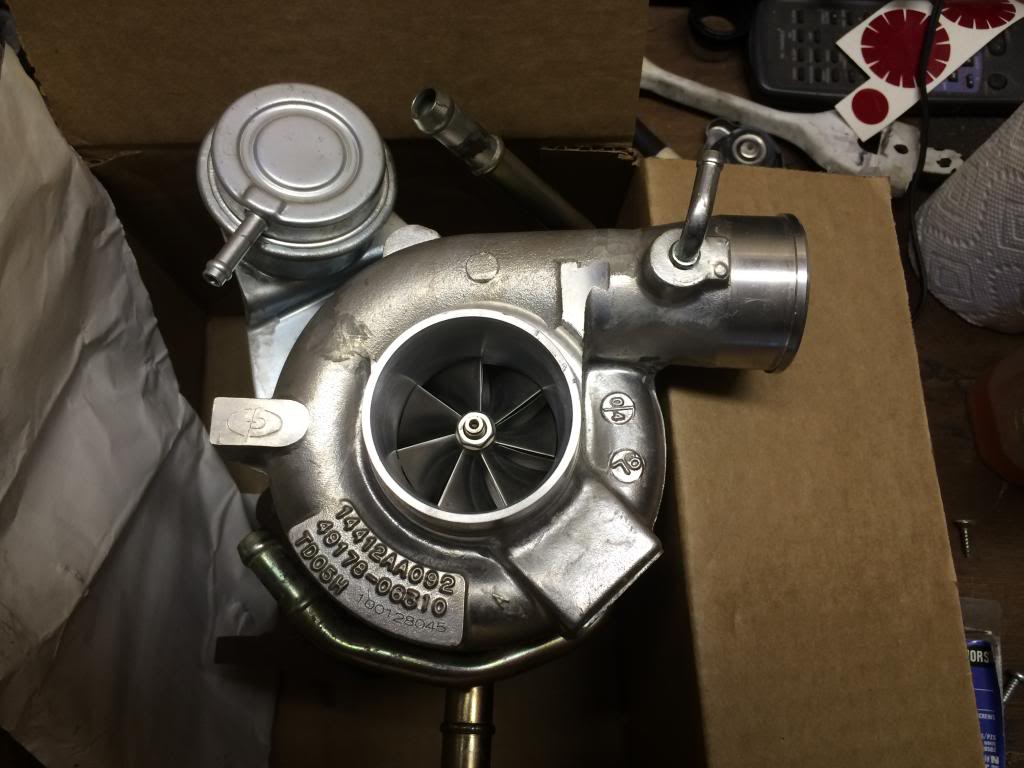 That, my friends, is an FP 68HTA with 6,000 miles and zero shaft play. I've got a few supporting mods OTW as well, and barring any issues I should be installed and then headed to PIA in Parkland on the 28th for some protune luvin.

Hopefully to be followed by some fresh paint...
5-9-2014
Removed my stock adjustment screw rubber grip: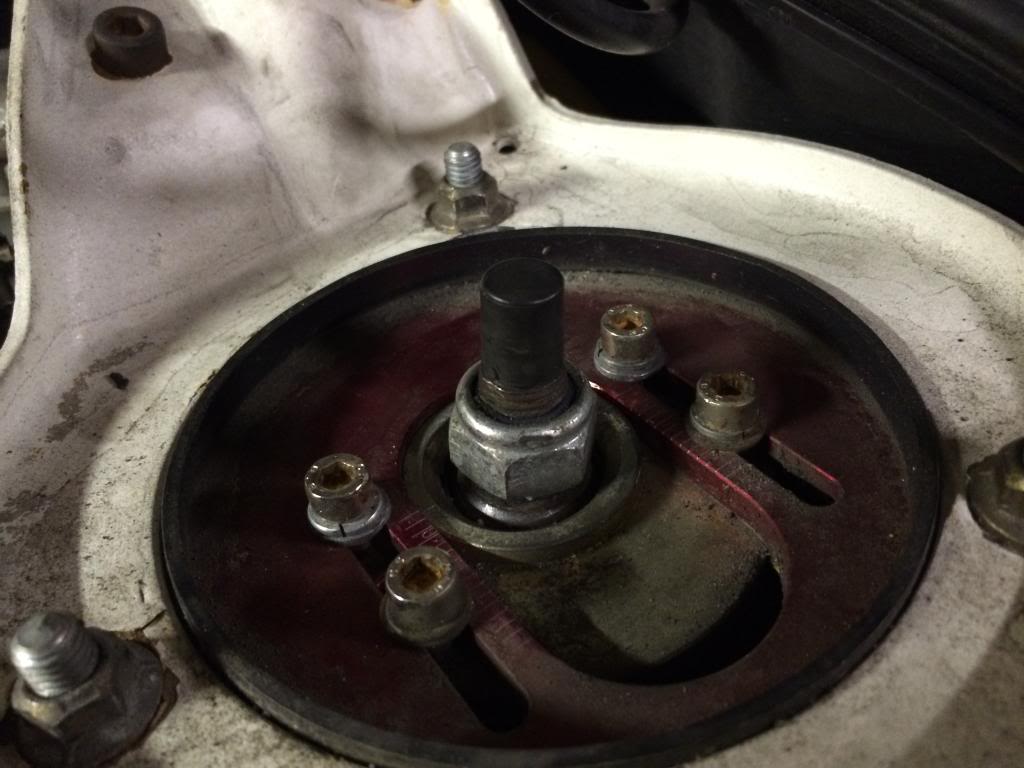 Then picked up a pair of dust caps and grommet that was tight enough: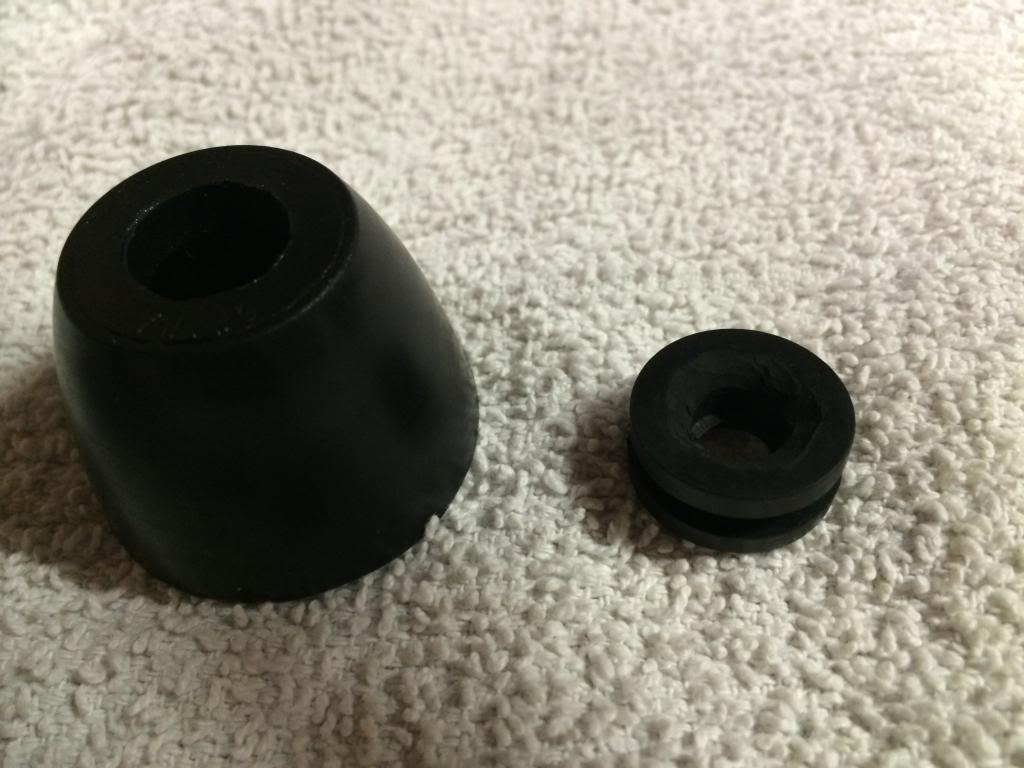 And it sits like this: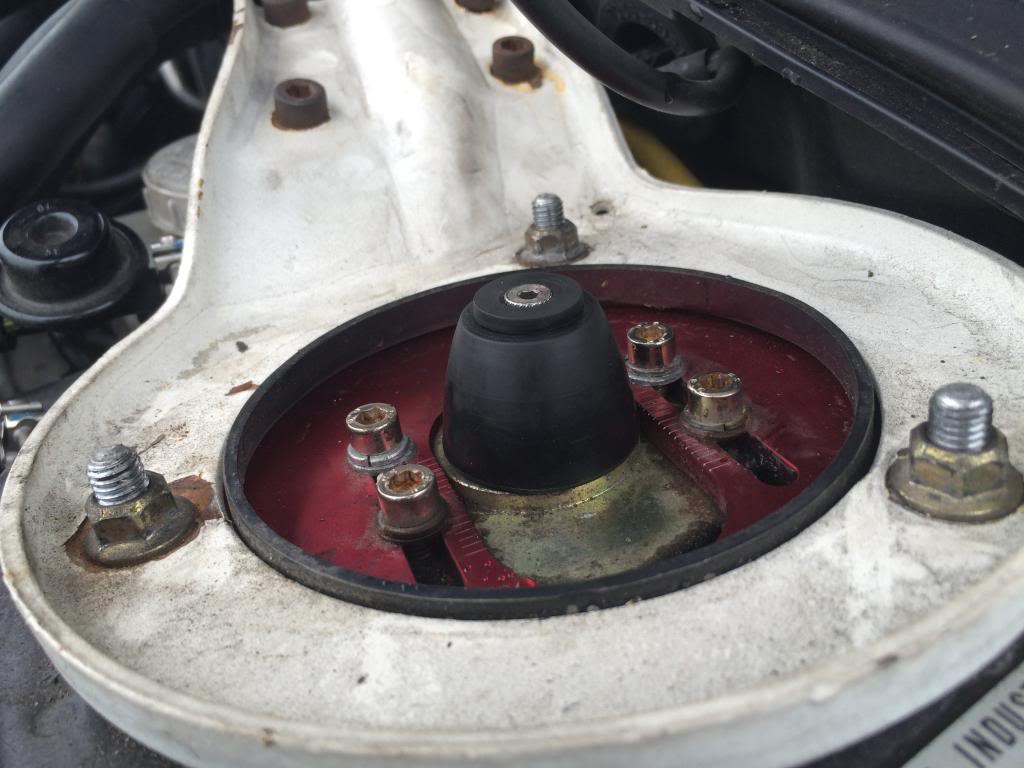 You can't obviously make it 100% flush, but this should block almost all the sand getting in there, after I've let it move around with the pillow ball's natural travel, it has a 1-2mm gap at most at any point.
5-12-2014
It took all weekend, but HIDs are done, the how to will be on its way soon: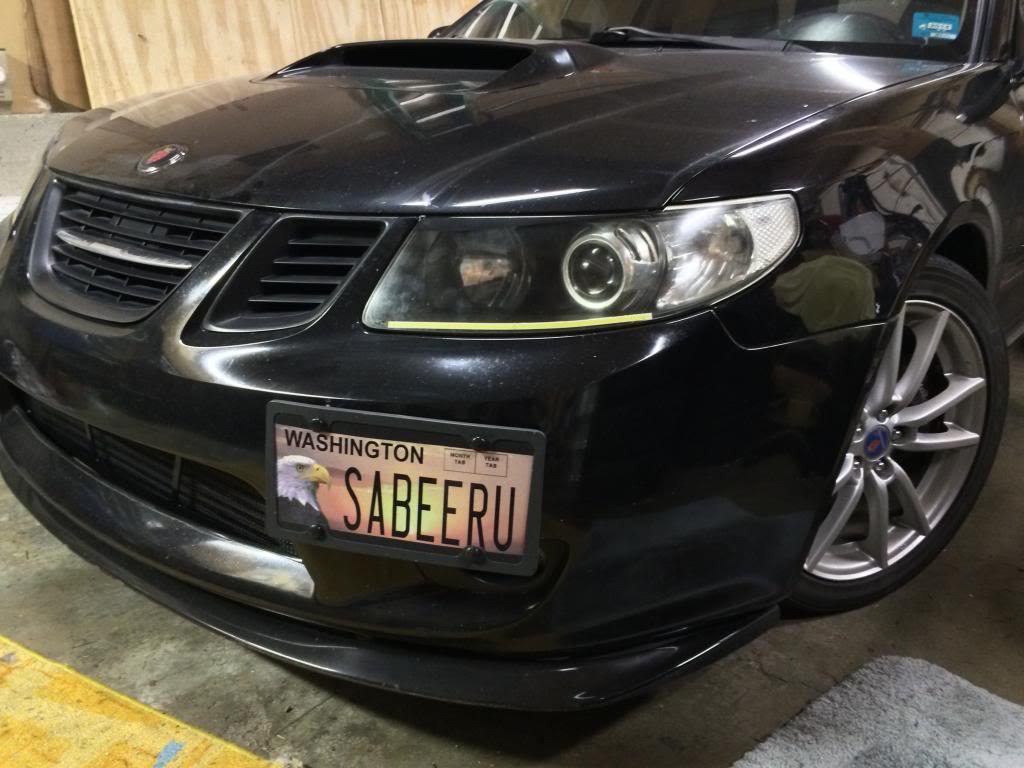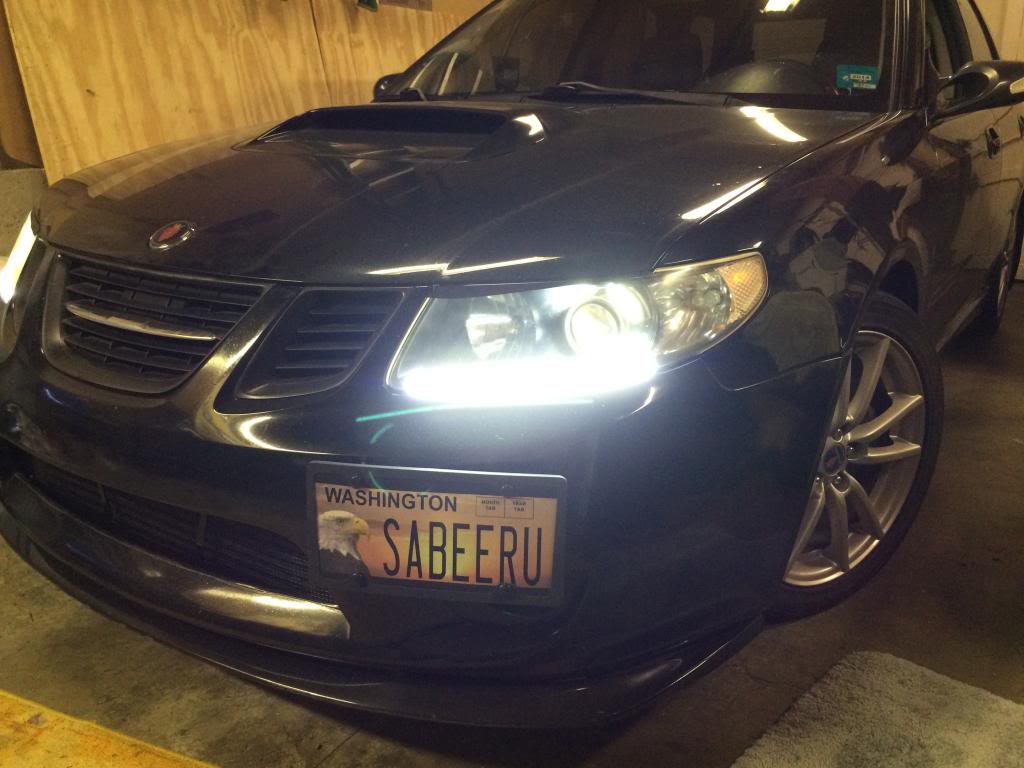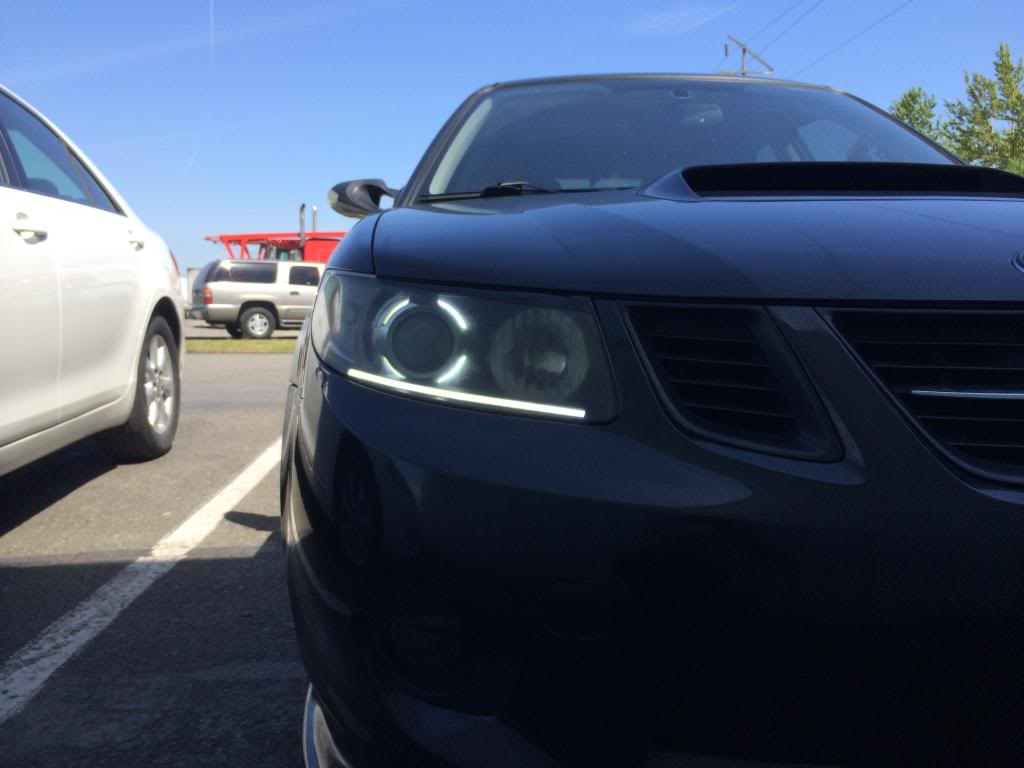 5-22-2014
I tend to ride with my left knee against the door armrest, right against the edge of the center console. Needless to say, my right knee gets really uncomfortable, so today I picked up some wood, foam, leather scraps and adhesive and came up with this, you have no idea how much more comfortable this makes my ride, long overdue.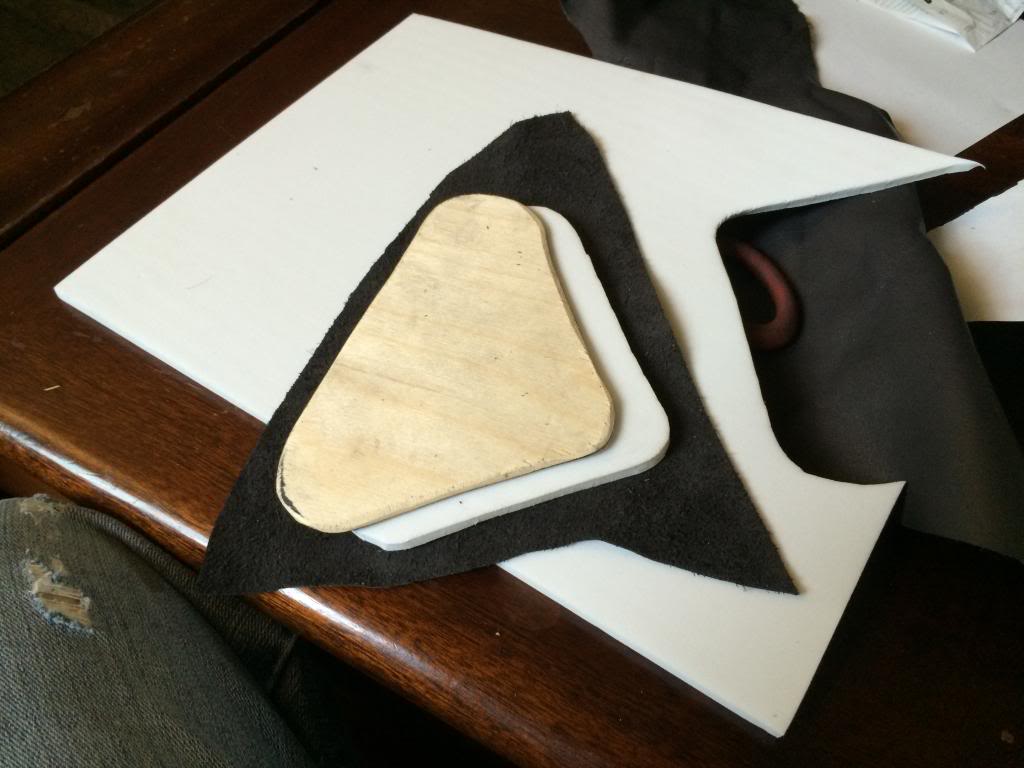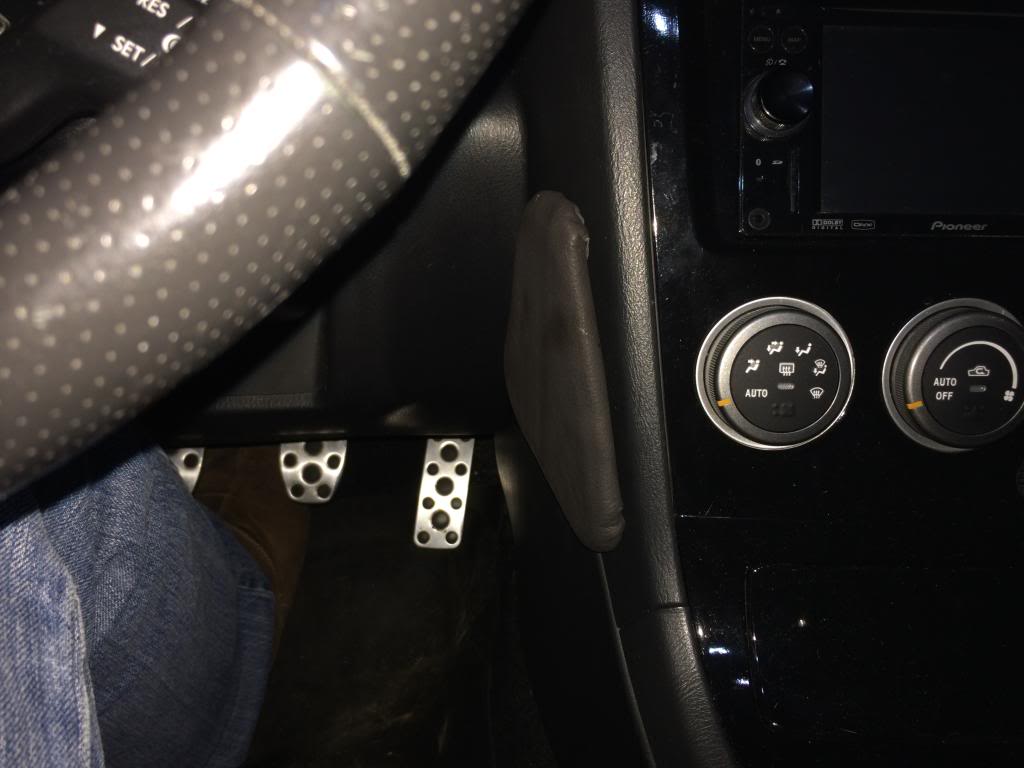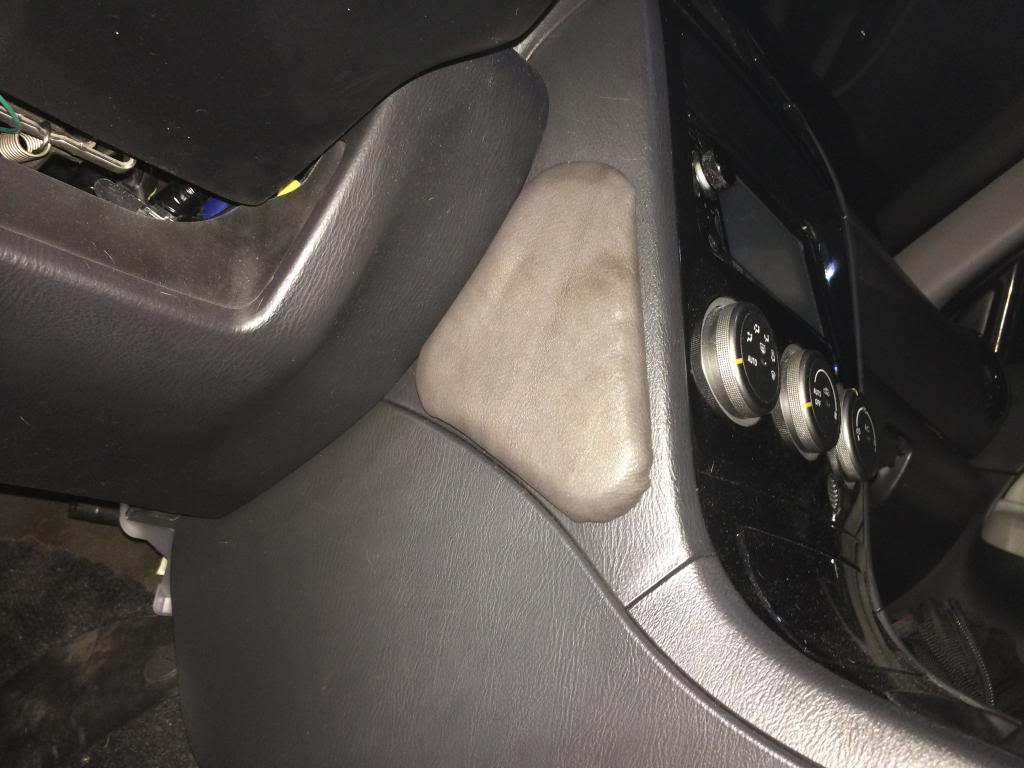 Here is my full 9-2x HID how-to: http://saab92x.com/viewtopic.php?id=55914
I did a couple of light mods after the fact, first I ground down the area around the horizontal adjustment screw so it can be accessed in the car: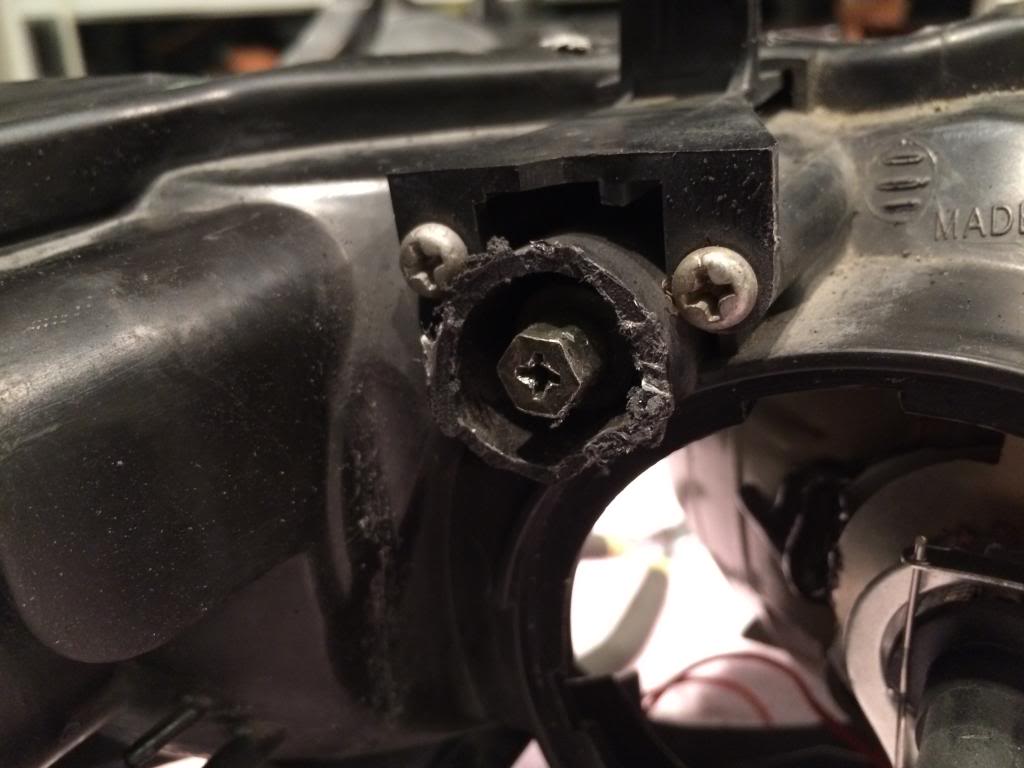 Next I had to fix a couple of mistakes with my install, so when I had them apart I fully committed and went for a full blackout, with a light spray on the LED strips. Super pleased with the results: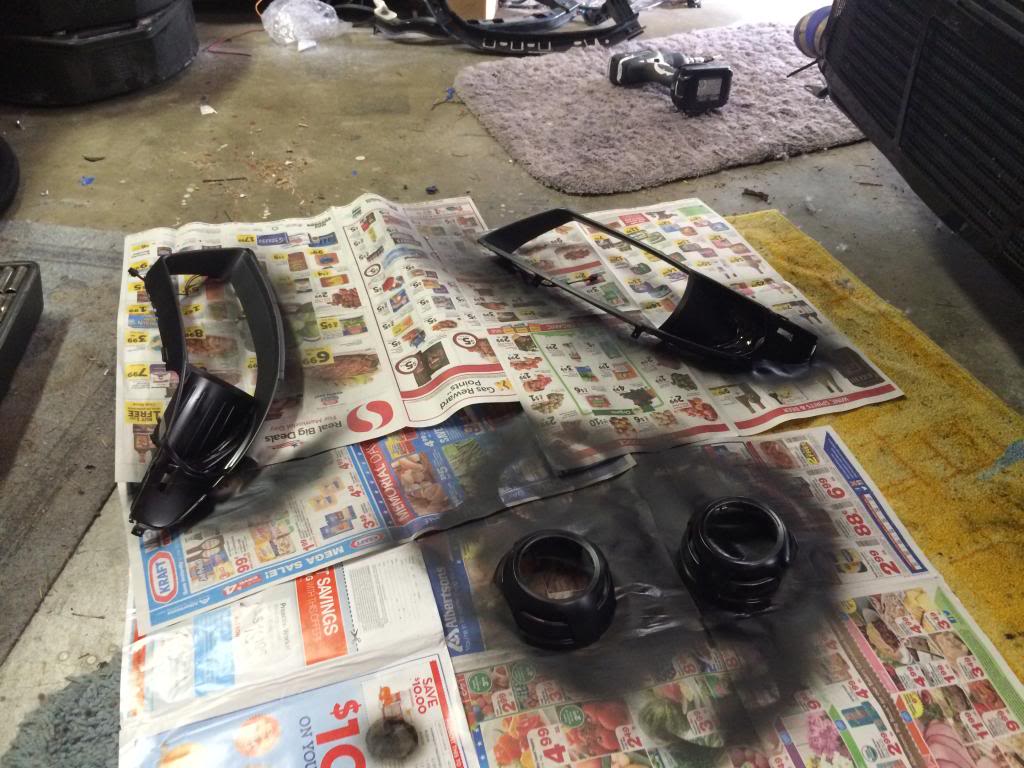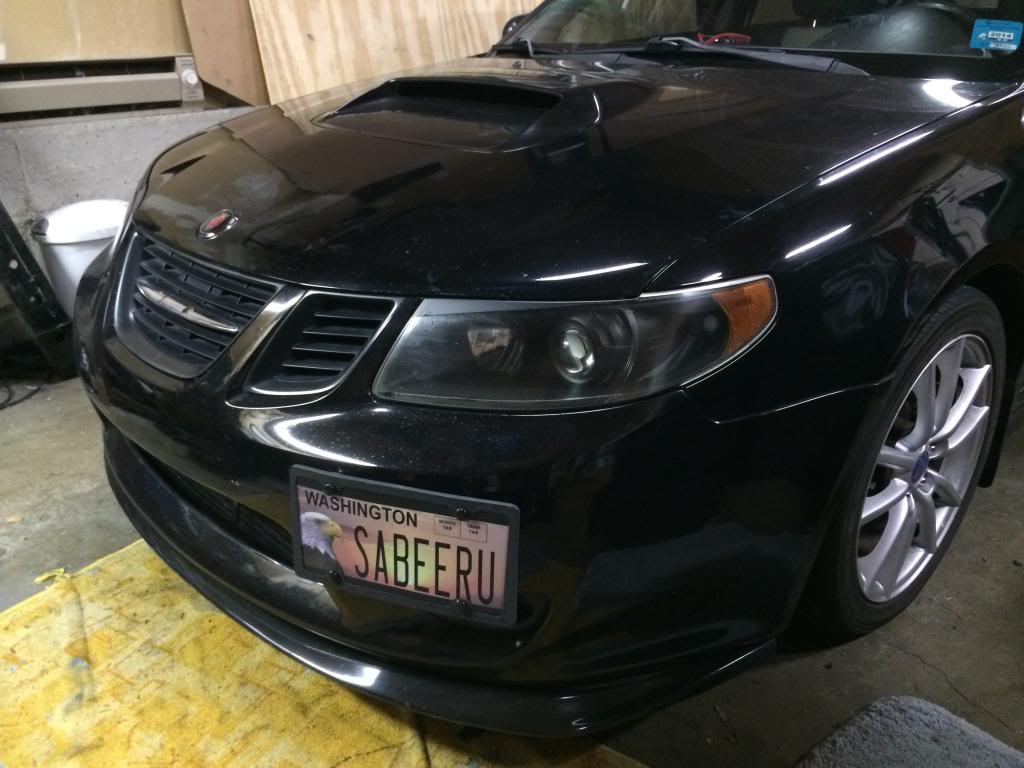 Next, I picked up an Optima yellowtop to power all this goodness: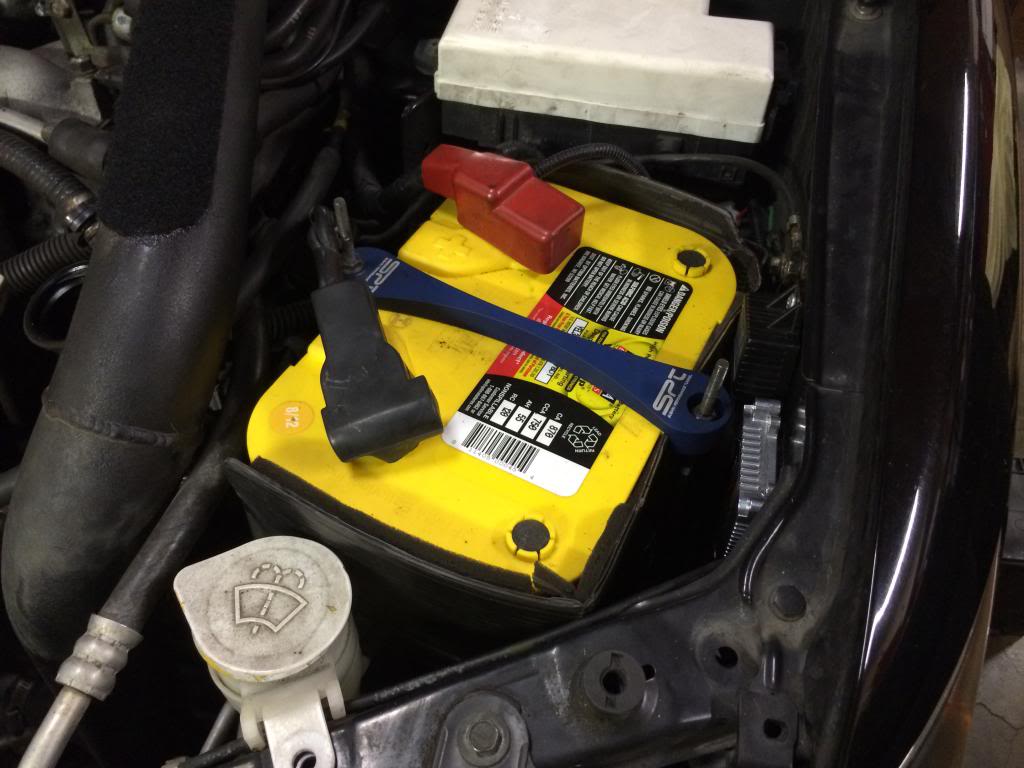 And upgraded my front coilovers with thrust sheets (work like bearings) on both the top and bottom Spring perches. No binding for me now.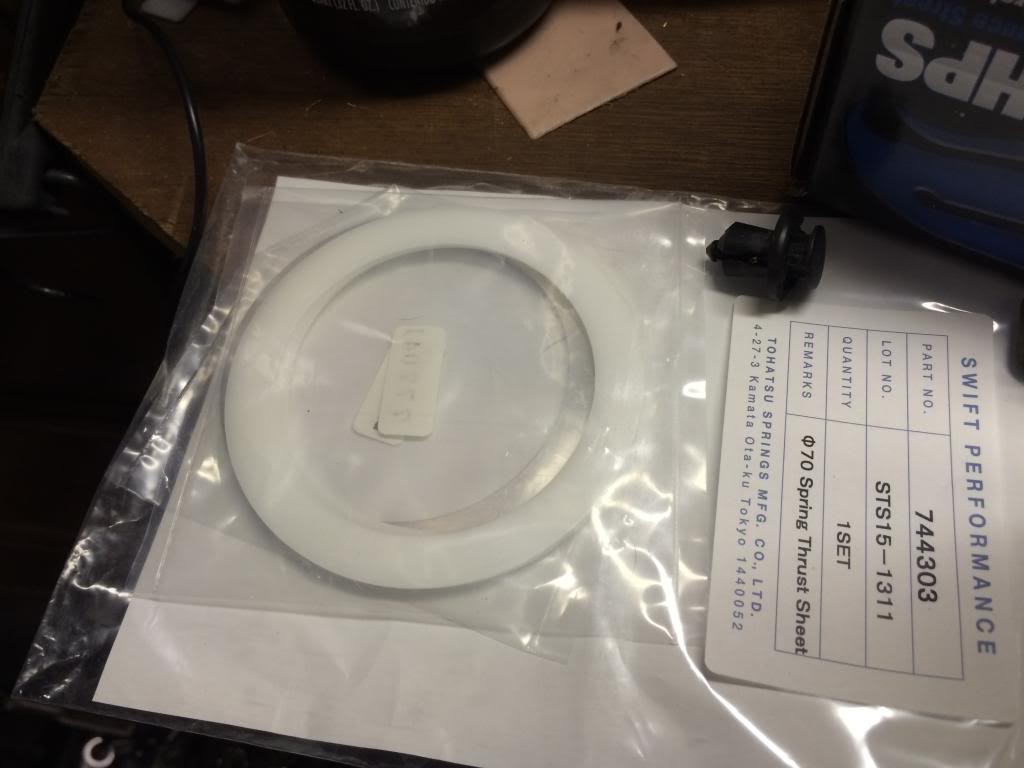 5-27-2014
This weekend I got back on the power mods, first off pulled the fuel pump, replaced with a Walbro 342: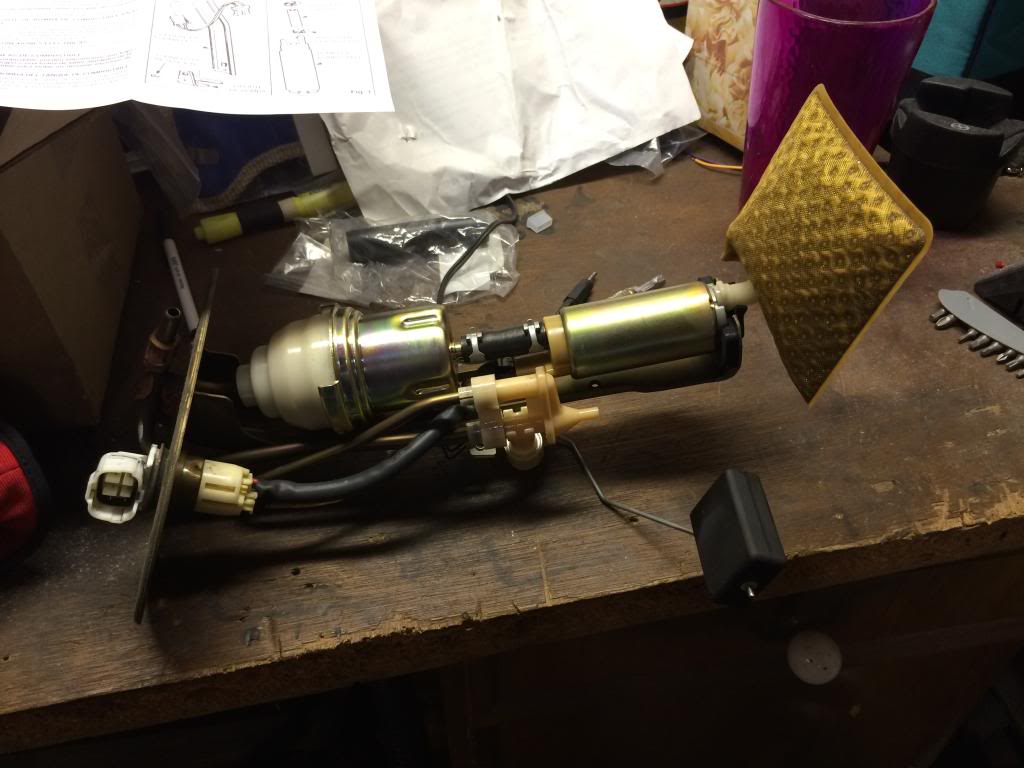 Next I pulled the injectors and upgraded to ID 1000s, no pics because a good injector pic just doesn't exist. Moved on to pulling the stock boost solenoid and replacing it with a Grimmspeed 3 port: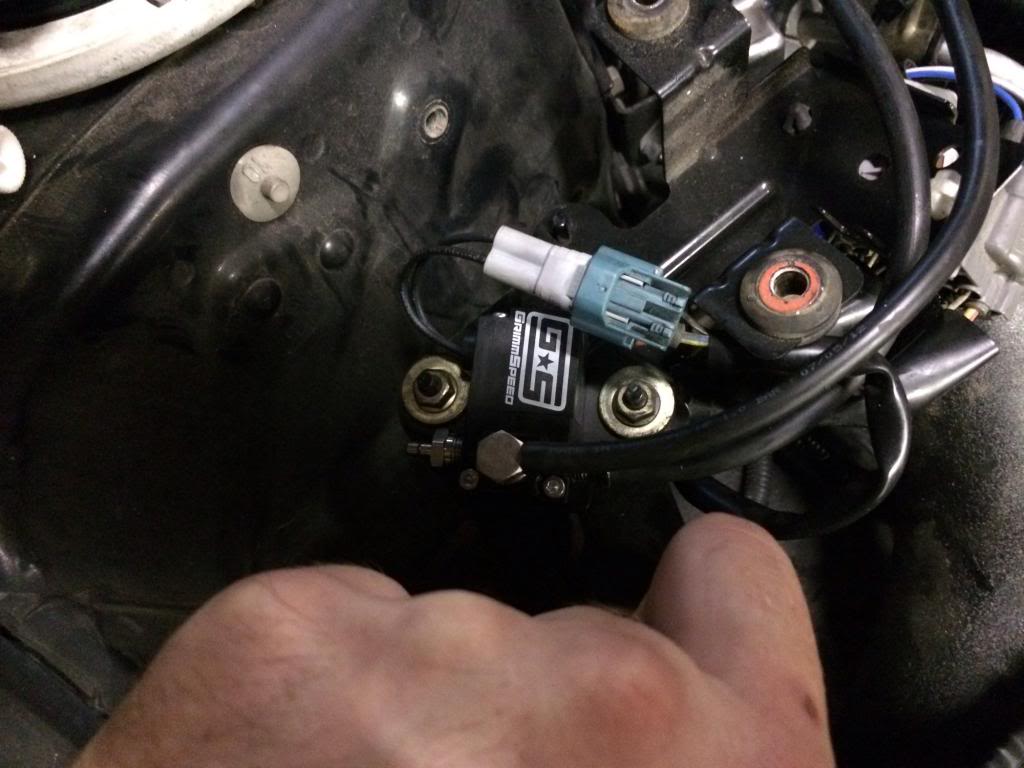 Then installed the 68HTA, wrapped in blue. Had a hell of a time with the oil return hose (picked up a new one) and the lower coolant hose, it's like they just aren't made to be clamped by humans: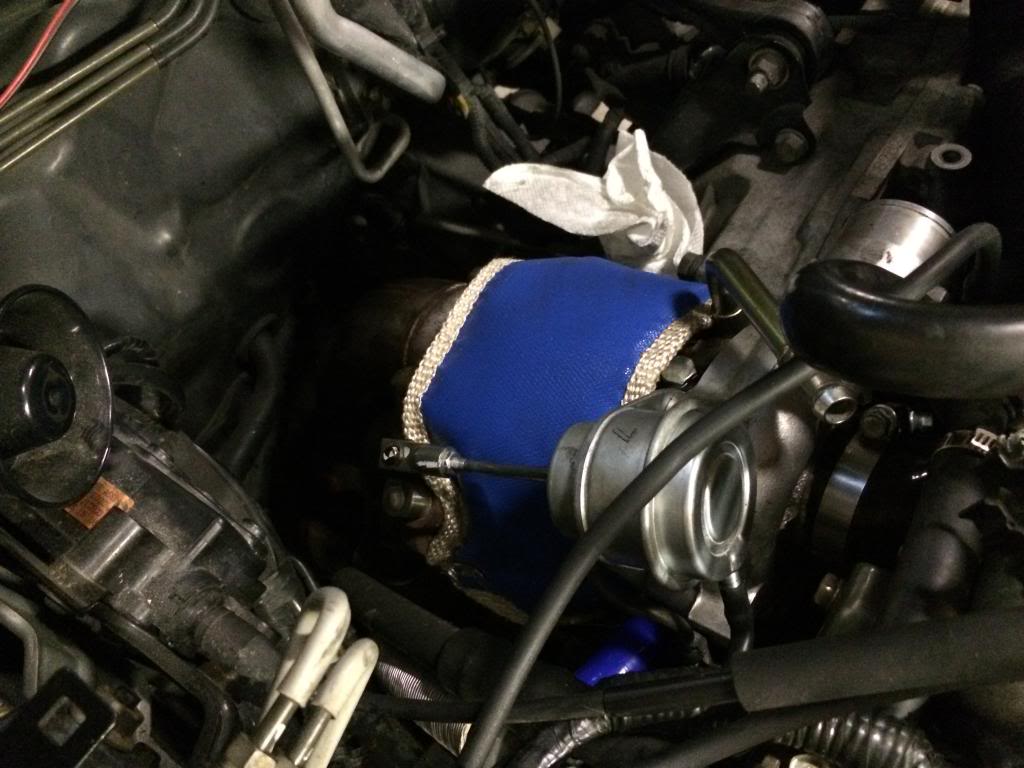 Replaced a bunch of hoses since I lost so much coolant already, gonna be real annoyed when I have to replace my water pump in 5,000 miles anyway: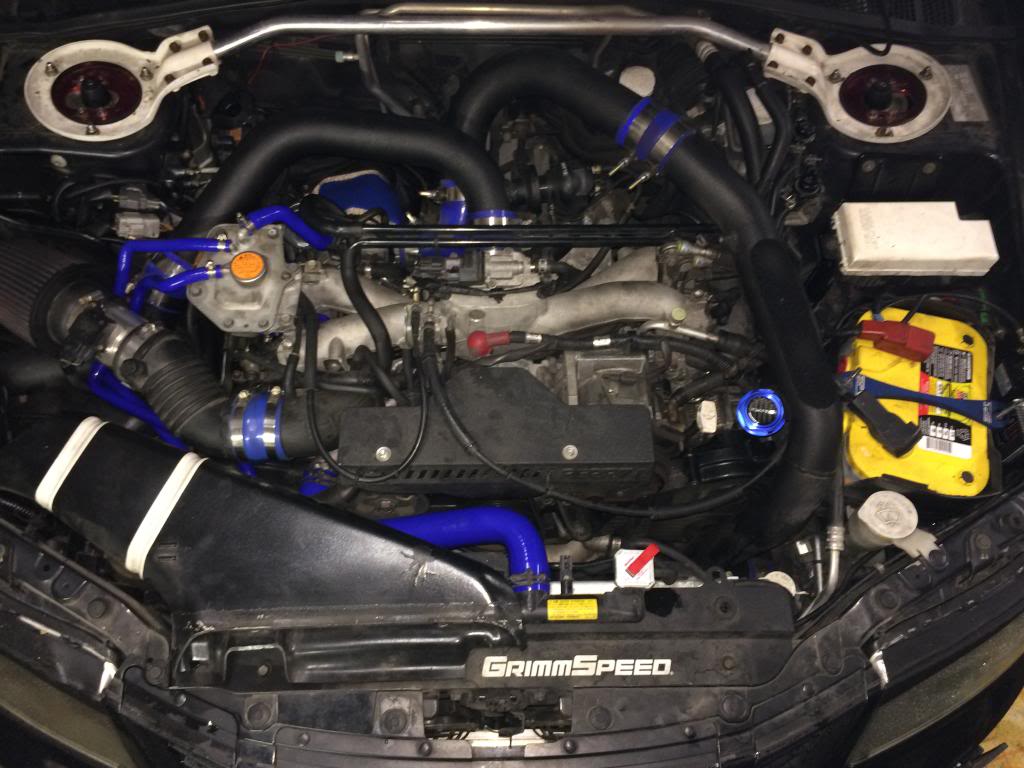 And lastly, since I had the back seat out for the fuel pump anyway, I moved the fronts back, switched the crappy Subaru underseat sub to the passenger side and slipped a Sound Storm Lopro10 under the driver's. I bought my wife this sub 2 years ago and it is by far the best underseat I've heard. With my concerns about kegs and bottles rolling around, there just aren't that many options about where to go anyway. It maxes out the space between the seat rails too if I position it sideways, so I don't totally screw the backseat passenger out of room.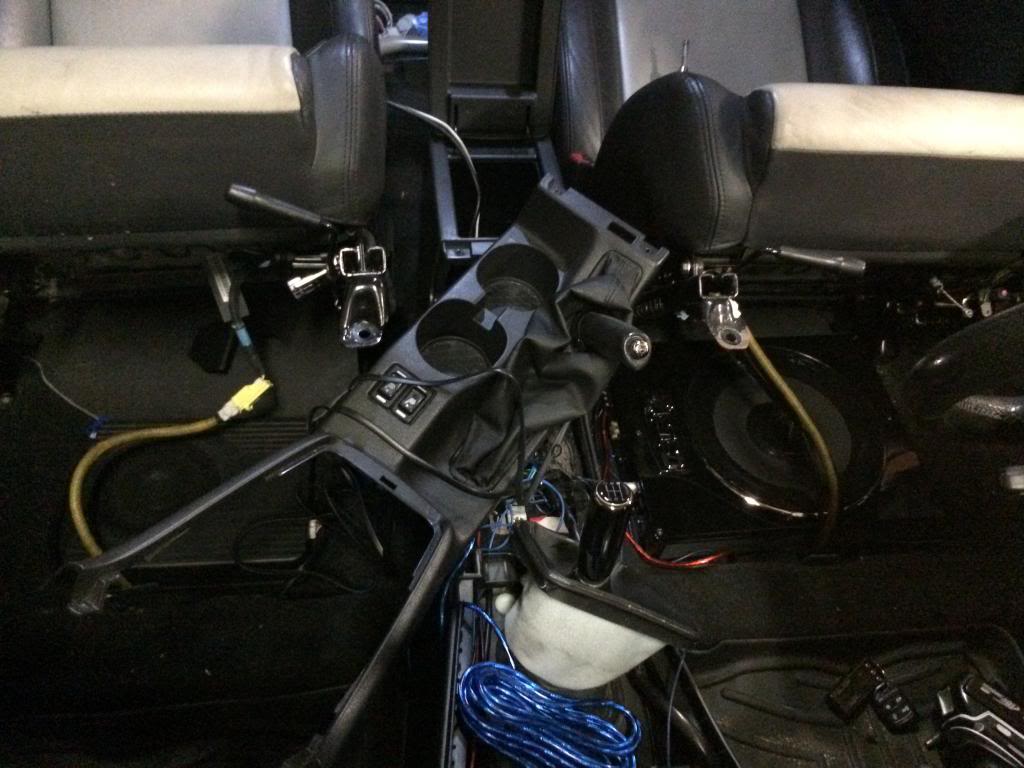 6-17-2014
Little behind on an update, but I got the car in to Pacific Import Auto in Parkland a couple of weeks ago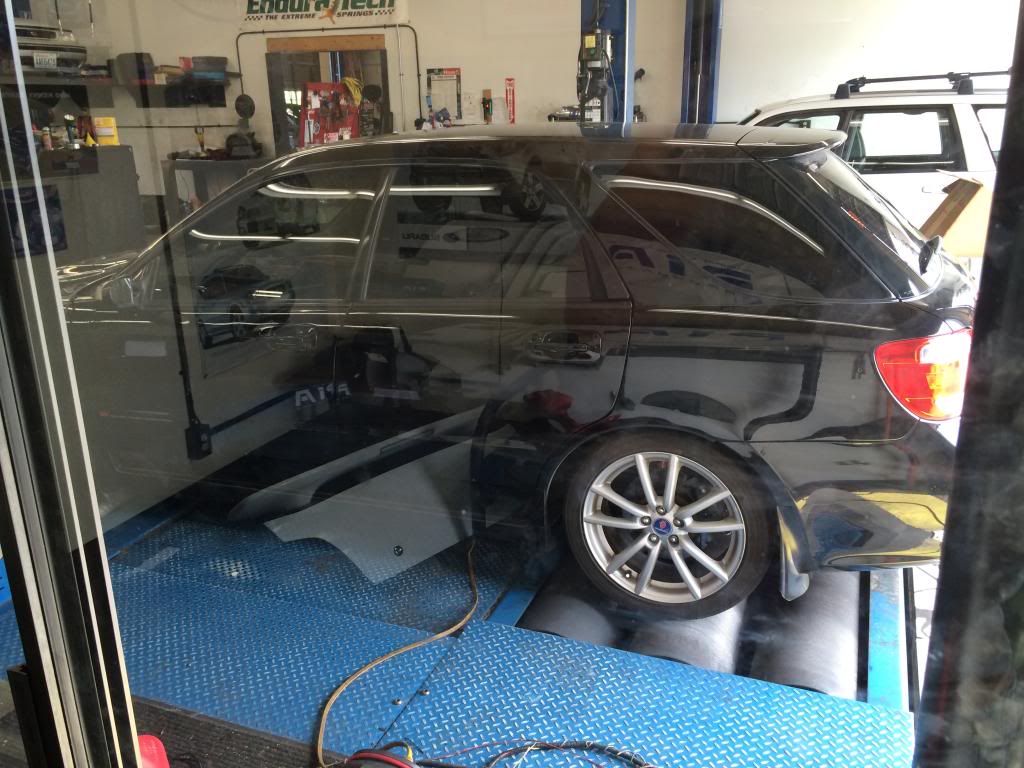 Not too shabby, considering stock is 160whp on their Mustang Dyno, I can legitimately claim a 400hp beerwagon now: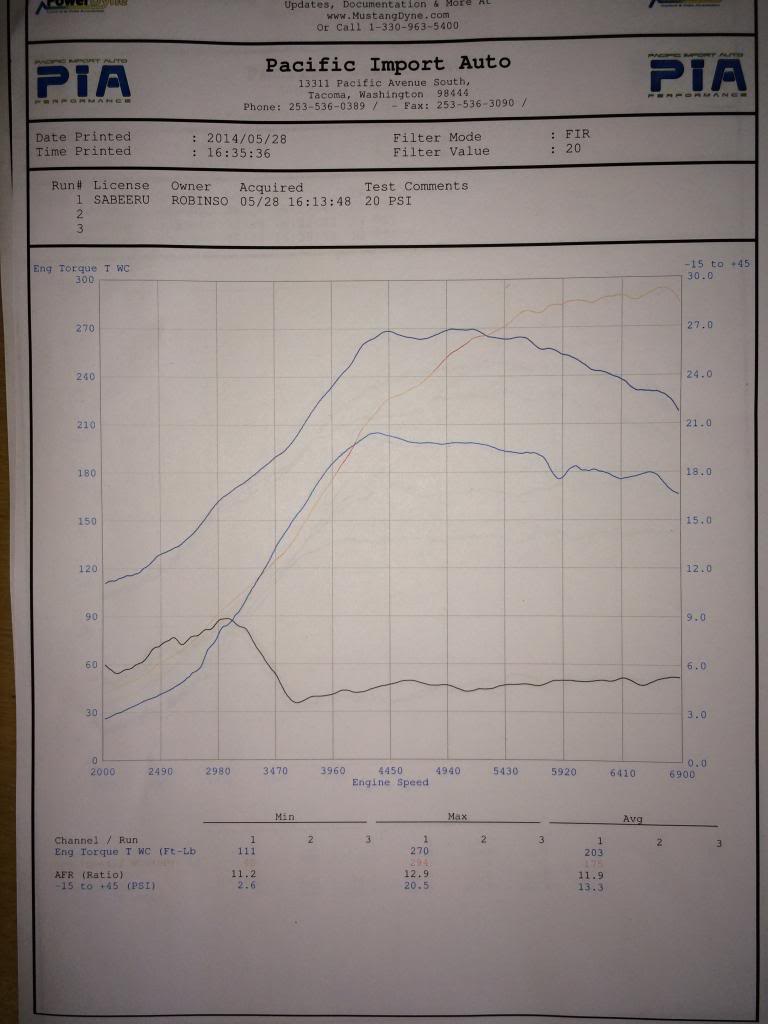 Unfortunately, I took it out the next day to listen to the wastegate flutter and promptly got a ticket

It wasn't bad enough to work on an EWG and the cop did see me rev and drop down to the speed limit quickly so at least he cut it down to $100 when I explained. Stupid new unmarked cars in Washington don't have the government markers on their plates, BTW.
I'll say there is a little less fun now, no surprising punch in the butt. Tradeoff is a very smooth, factory-like power delivery. Quite similar to a BMW 335 with a much higher top end. Only thing is now I want it to sound like that sophisticated power (and the cop and my wife both warned me), so I'll probably be talking to Nameless about a muffler option soon.
On the other end of sophistication I have been debating about what to do with my loosening dash vinyl. I've honestly been considering a dark gloss wood wrap (despite the expected hate), but I didn't see anything of guaranteed quality that fit the bill. So, I looked at some samples and had Sean from 253 Wrapz swing by my work this morning and I went with the 3M Brushed Stainless Steel: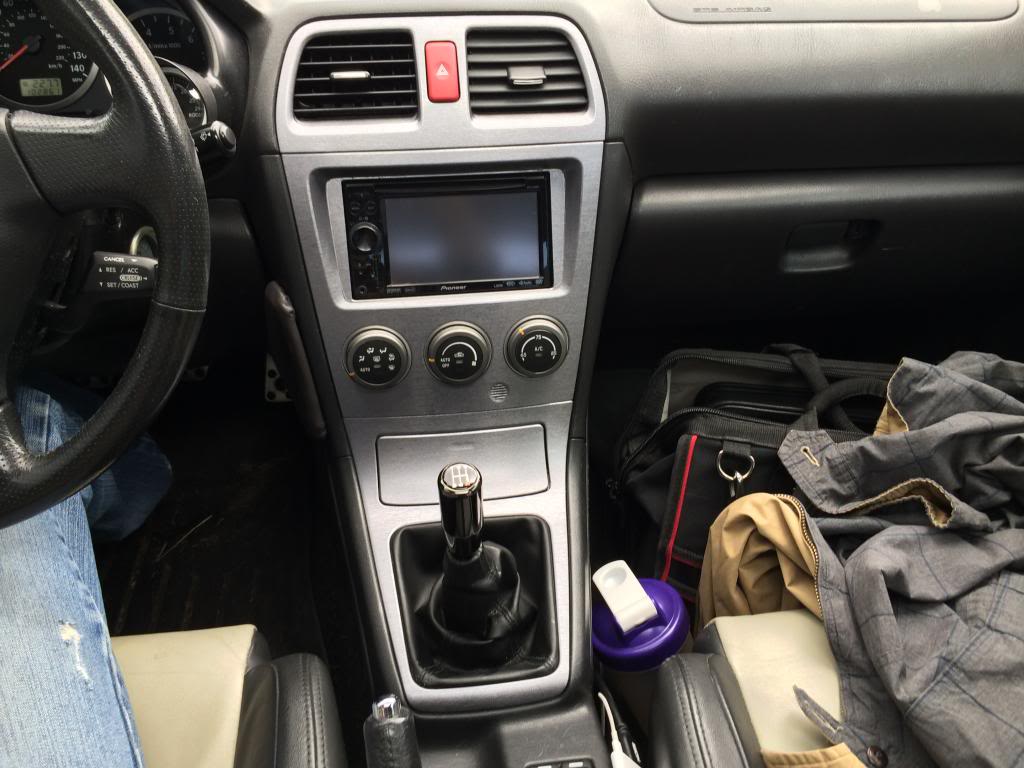 Up close it actually has real texture too, which surprised me; to the touch it's just like a real brushed dash. I also put in a JDM switch rather than the custom style I did on my black dash.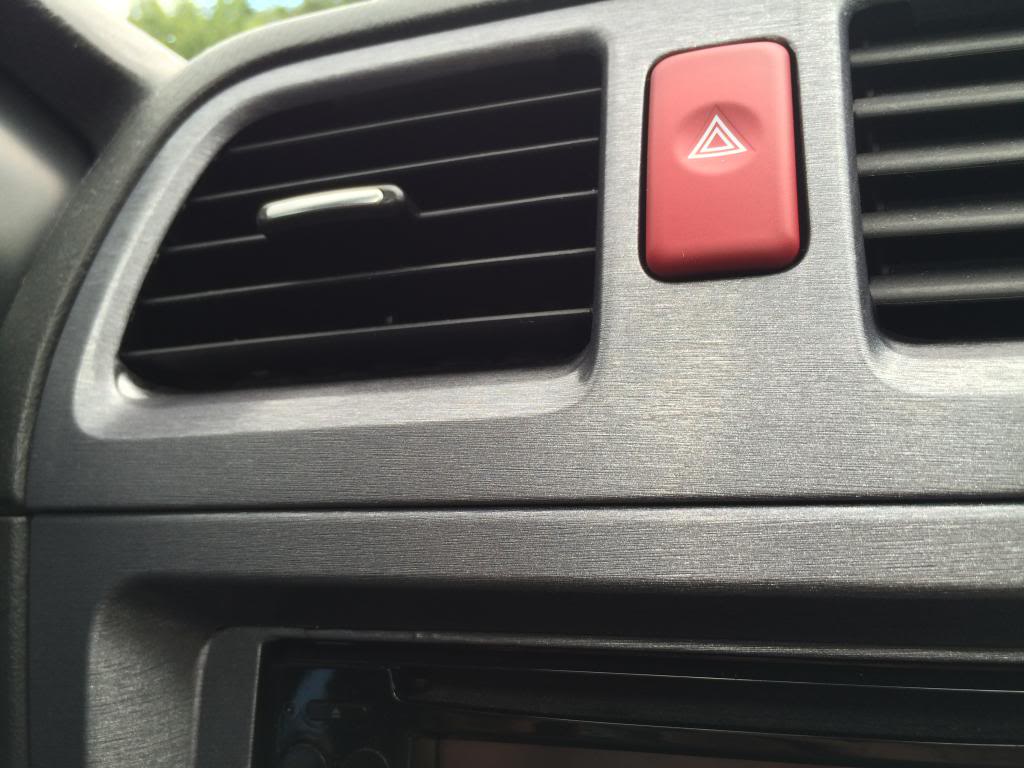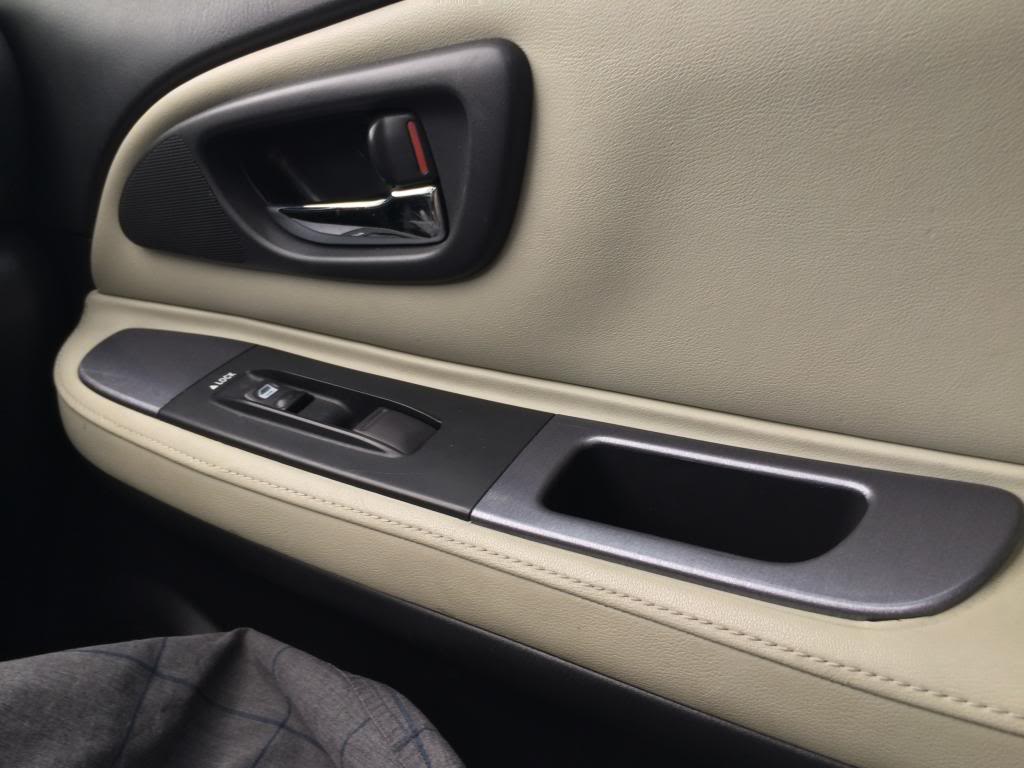 7-28-2014
Ugh, comedy or errors the last few weeks, hence no updates. I ran over a log at night on I-5; lost my front lip, pulled my LH front fender liner under the car, and broke some clips in my RH front axle for this nice effect: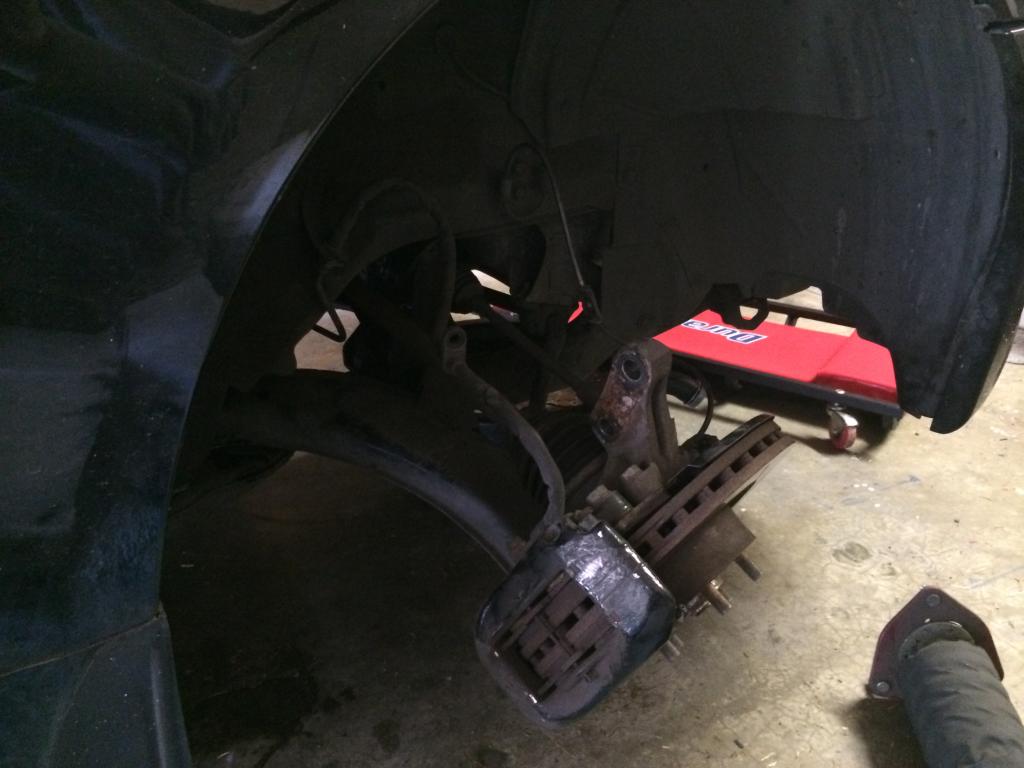 So time for some work: first off I went down to Nameless Performance and got a magnaflow axleback. Still no release ETA on these, but the wife can stand the 5+ hour drives we do and I can make a speakerphone call again: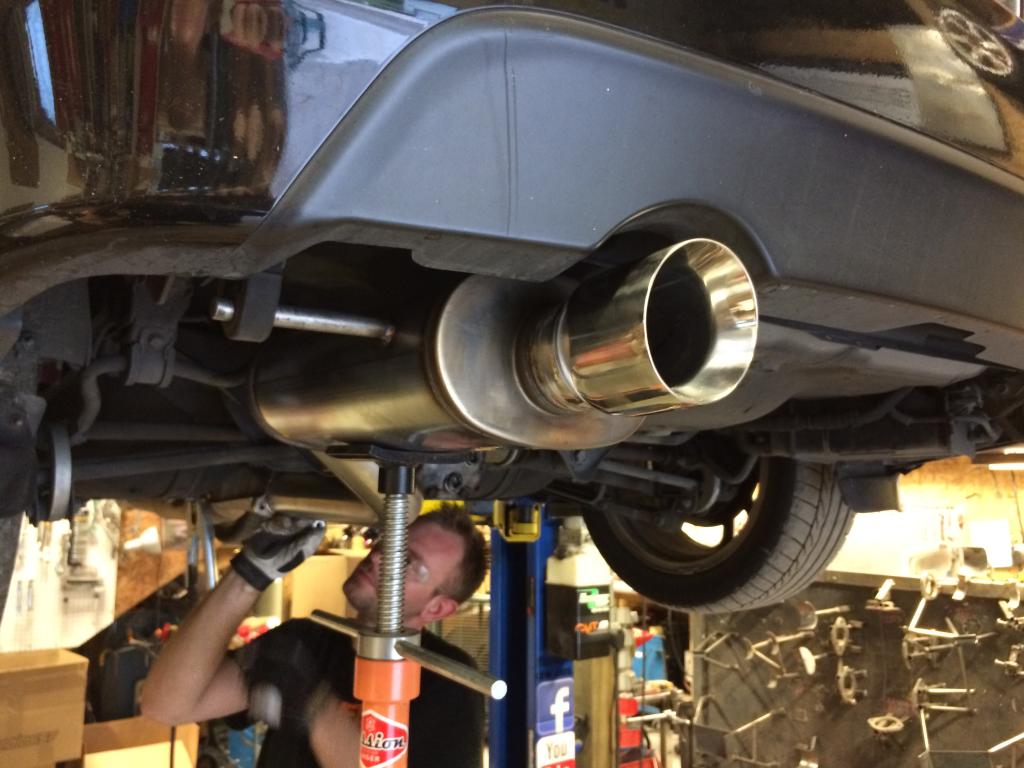 Best of all, I got to keep the muffler delete for shows and track days, it still sounds so sick...
So I ordered up a new axle, fender liner, grabbed a lightweight pulley from Nameless and broke out my gates timing belt kit I've been sitting on for 18 months (at 106k miles, I just think ahead).
Did the timing belt in 85 degree heat this weekend and pretty much killed myself (lost 8 lbs, Jesus!). Also figured with the heat coming on I'd grab a Mishimoto X-Line: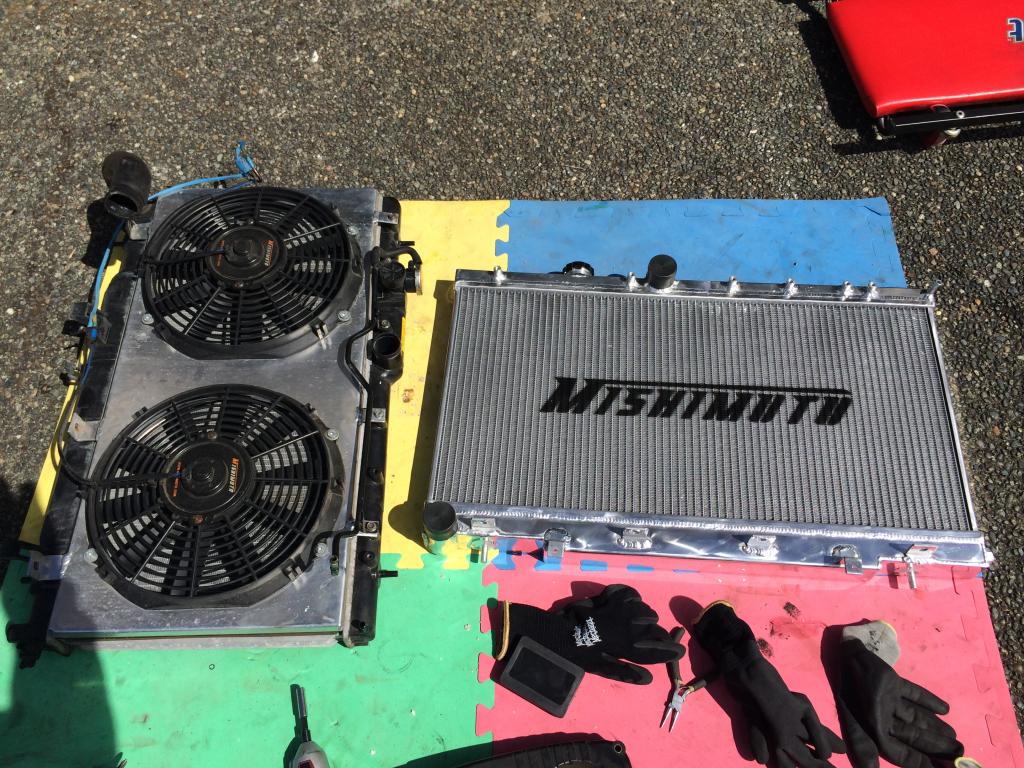 After the way my luck has been, I of course snapped a Timing belt pulley bolt torqueing to spec, and managed to break the A/C tensioner pulley. 30 hours later and I'm back up and running: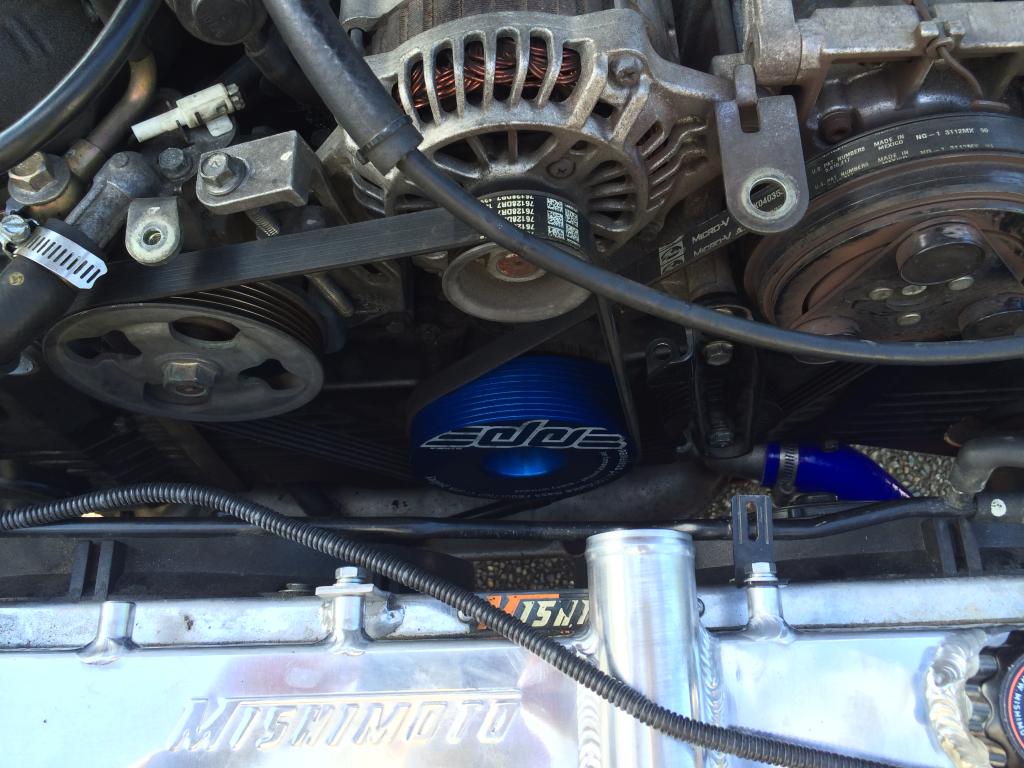 On a side note, for cleaning wheels and decks, I snagged this baby at Wal-Mart: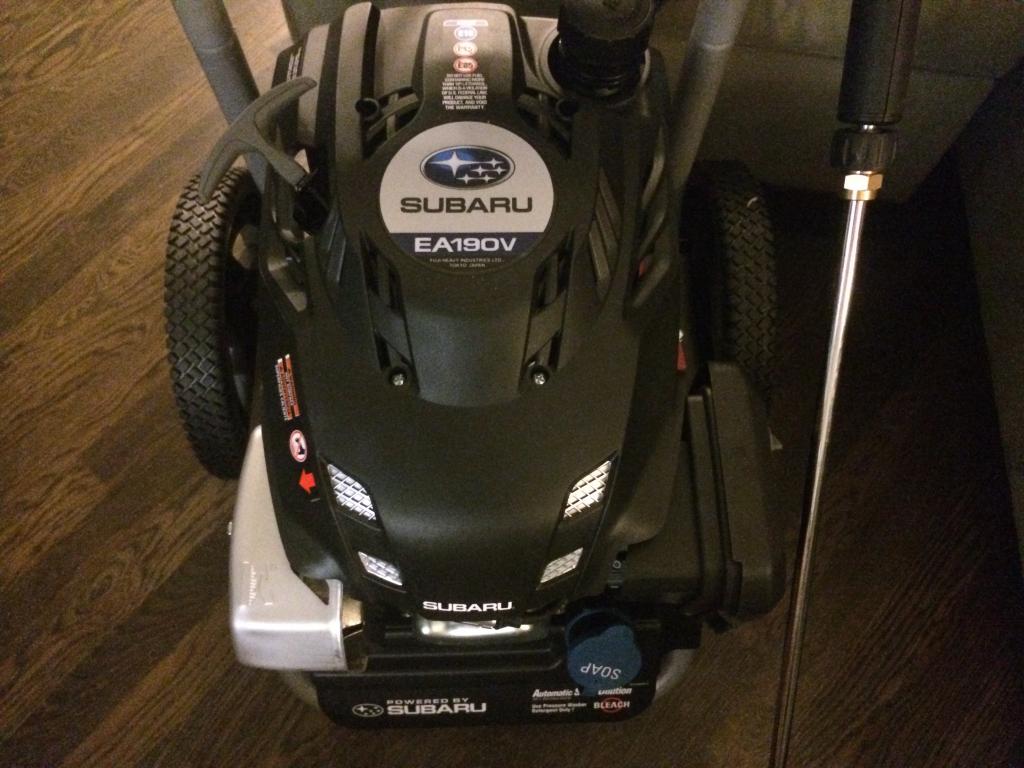 Makes quick work of paint too; after my scoop started cracking, I used the narrow nozzle to take it from this: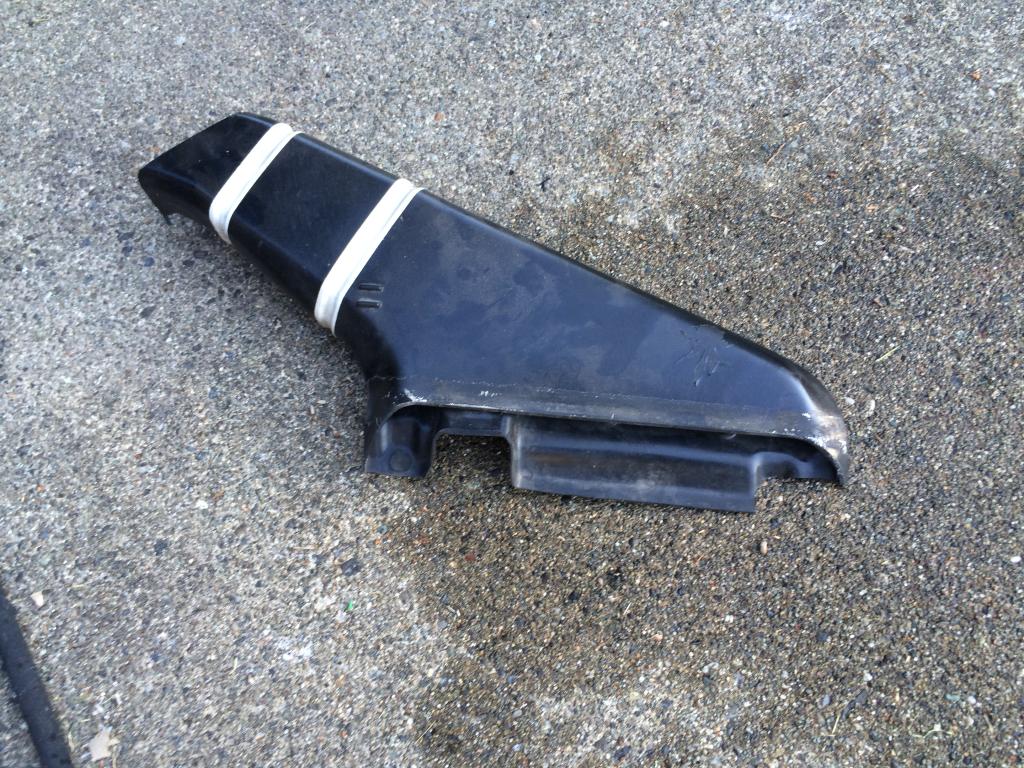 To this: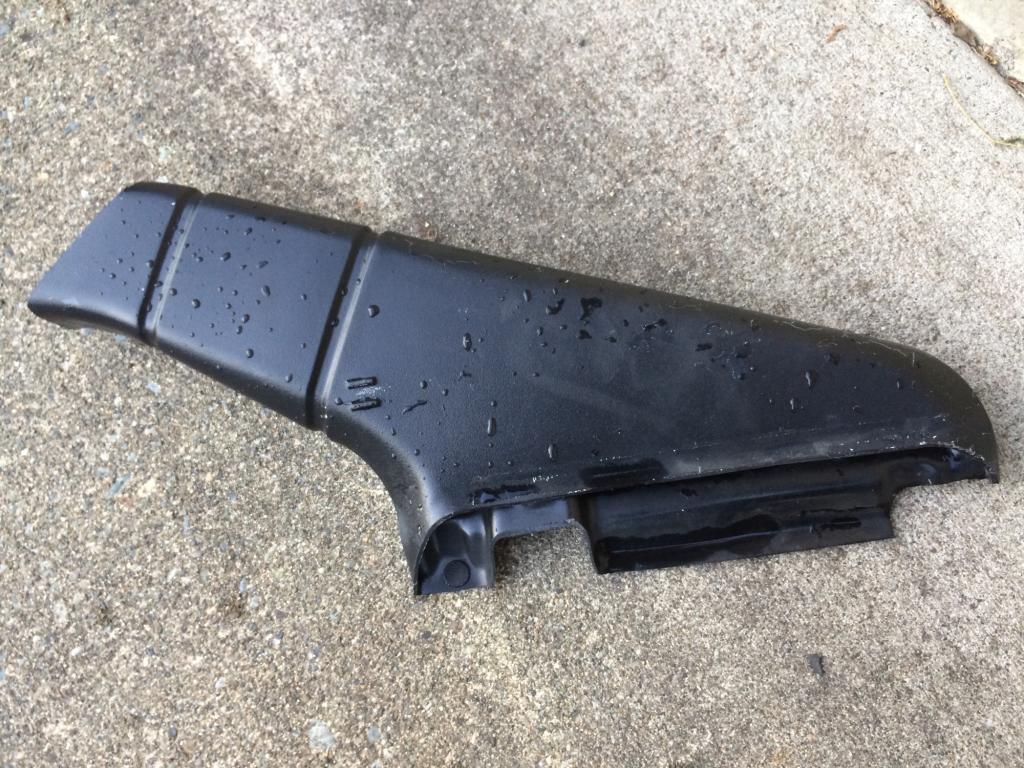 10-25-2014
Long overdue for an update, been stuck in repairville. I hit yet another item on I-5, in this case, a piece of rebar decided to impale my Intercooler. The front RH coilover is also leaking, I assume from the same impact that took out the axle. Also have been misfiring on cylinders 1 and 3 at high boost. Good news is, I've been on the repair and appearance warpath.
New Intercooler core painted and in, you can see where I was speared on the old core, also replaced my custom grille: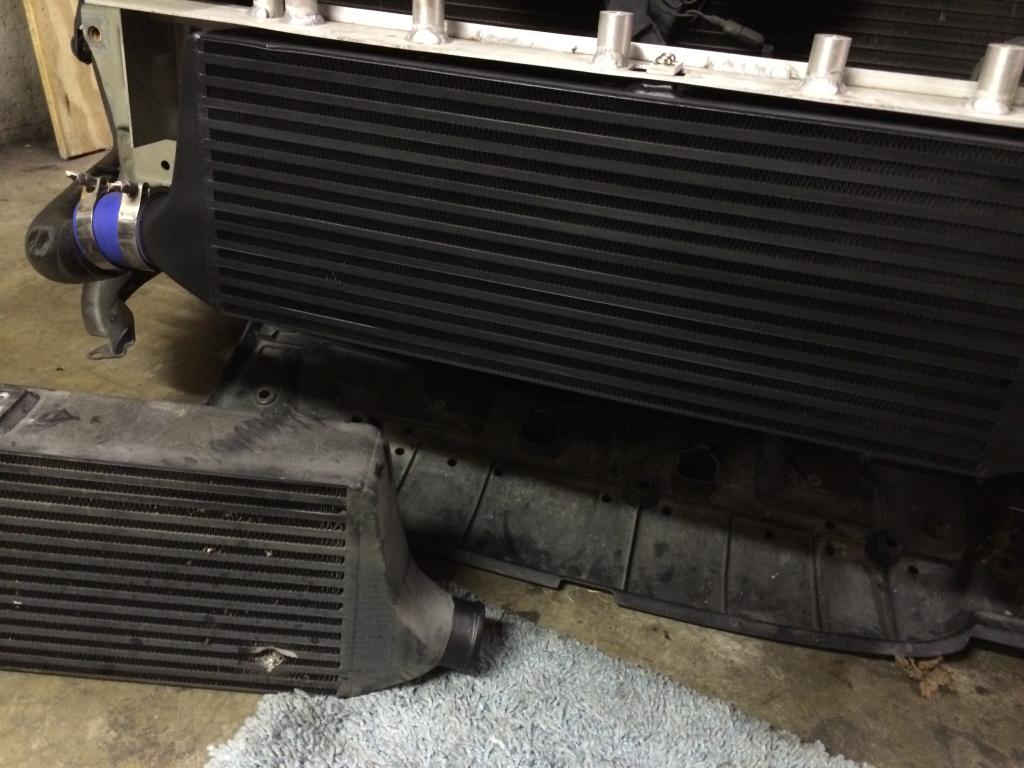 Here's that leaky strut: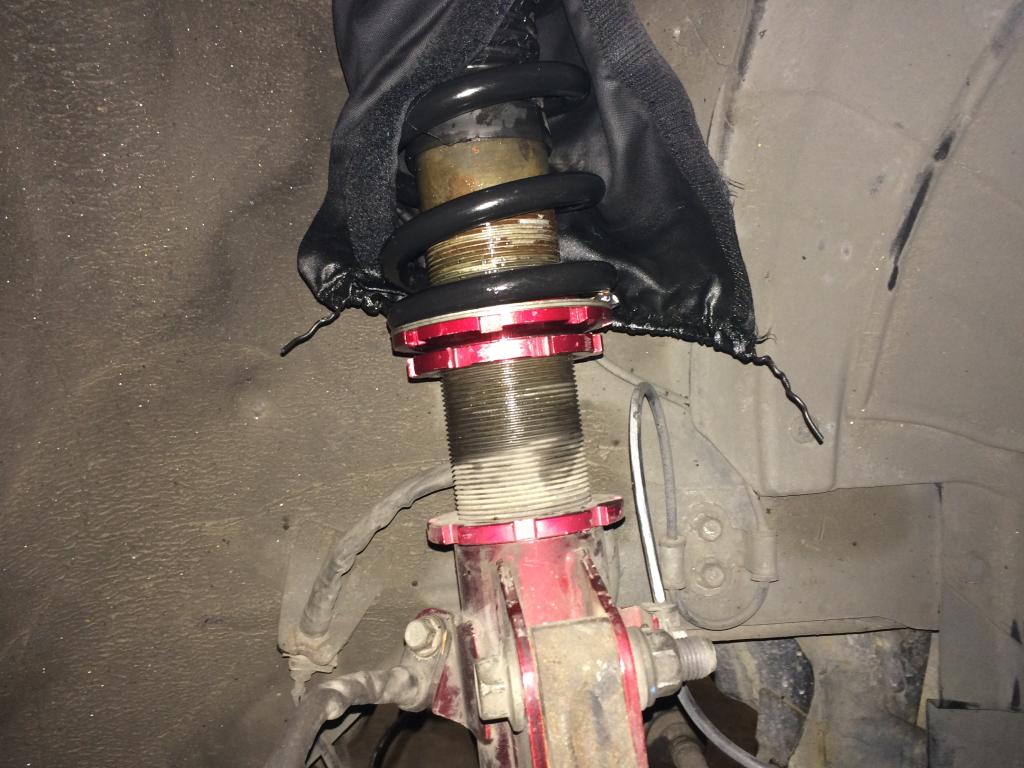 Figured it's time to move on to a set I can actually service and upgrade, managed to score a set of Fortune Auto 500s with only 5,000 miles. Very impressed, despite being pleased with the cheap MDUs I had, these are so smooth I actually hear less road noise and cruising rattles: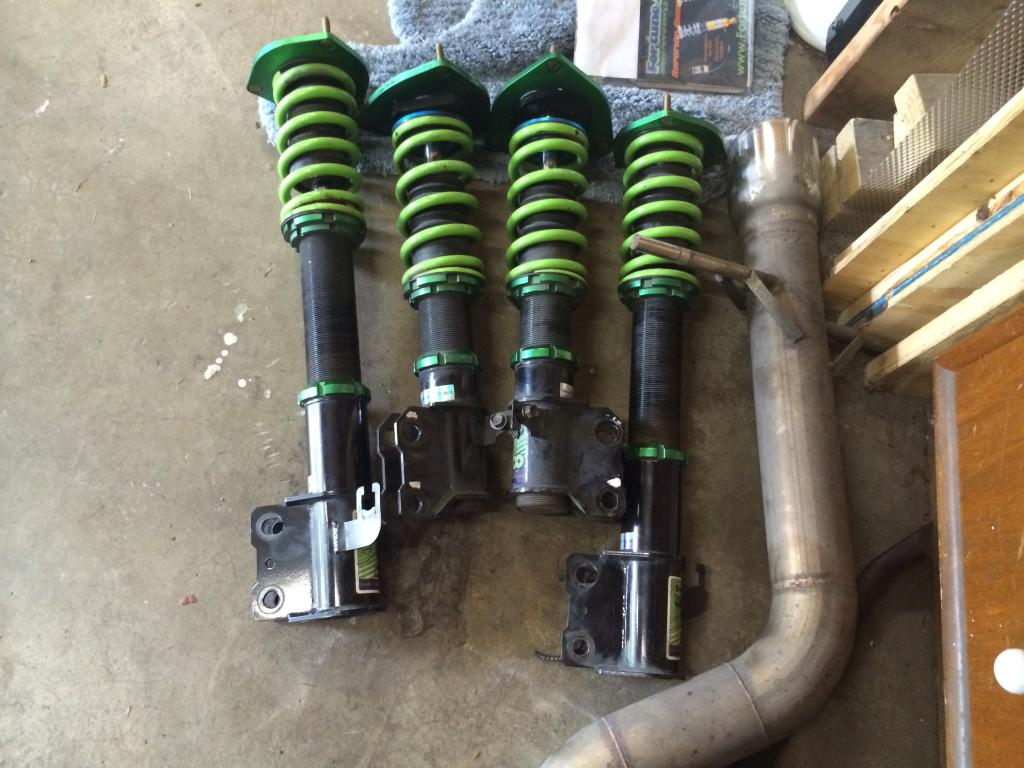 I also took the opportunity to throw in an upgraded rear sway and grabbed a 22mm Godspeed: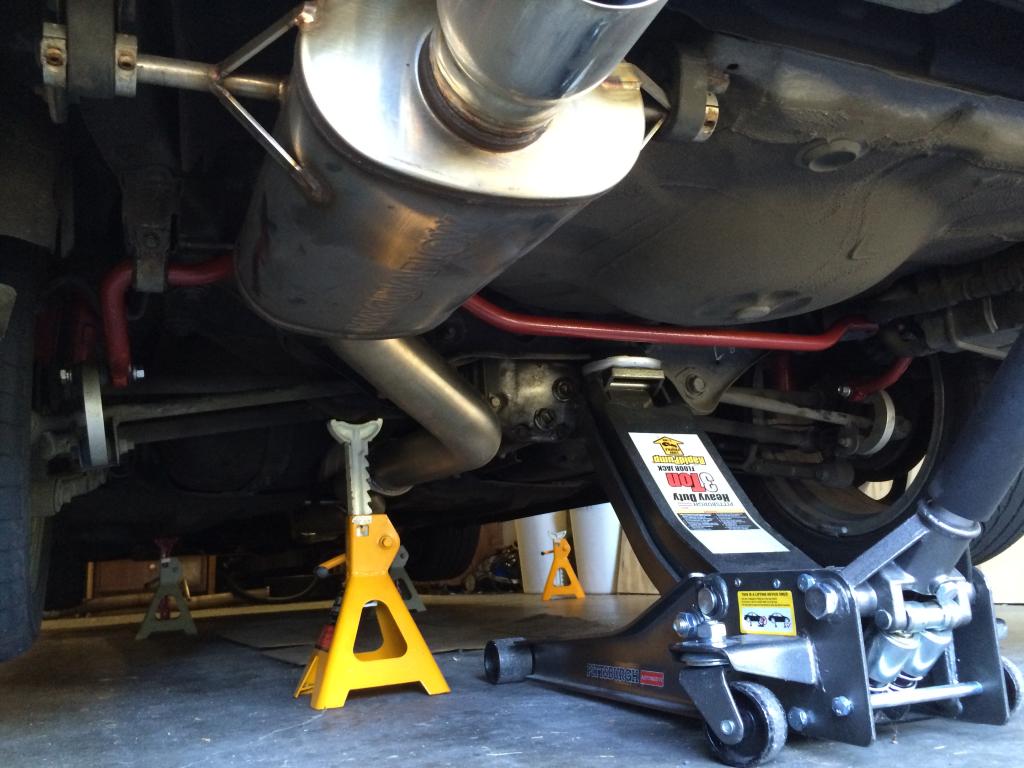 Although there isn't a massive difference between sways of the same diameter, you can quickly see where the cheap guys skimp: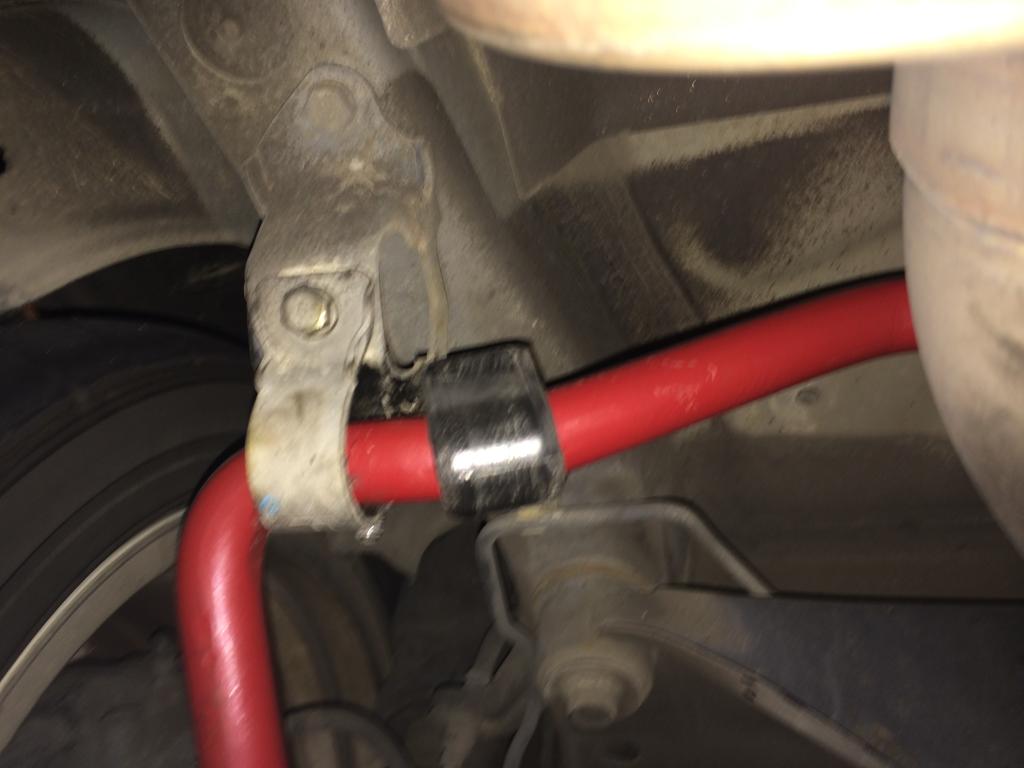 No worries, it was pretty easy to find a 22mm polyurethane replacement that doesn't pop out every 100 miles. As for the misfiring, I tried everything under the sun. Thanks to the guys at PIA who figured out that not only were my coils bad, so we're the ones on my 'spare' motor that I tried swapping in to diagnose. As for spare motors, I now have 2, figured it couldn't hurt to have 2

- nabbed a 2.5 short block so I can go the hybrid route on my new engine: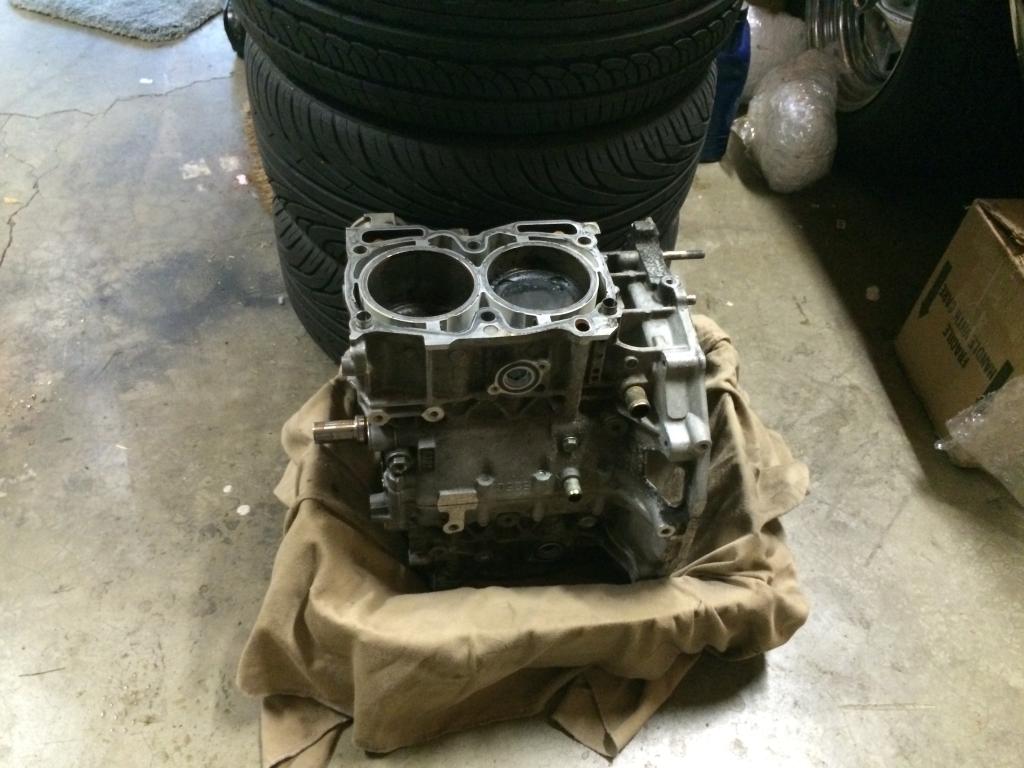 I found out that in Washington state you can file claims about road debris. I sent a claim in for $1,400 for the wood and will file a second one for $4-500 for the rebar, this is what the side of the road looks like on I-5, there's literally a car part every 5 feet: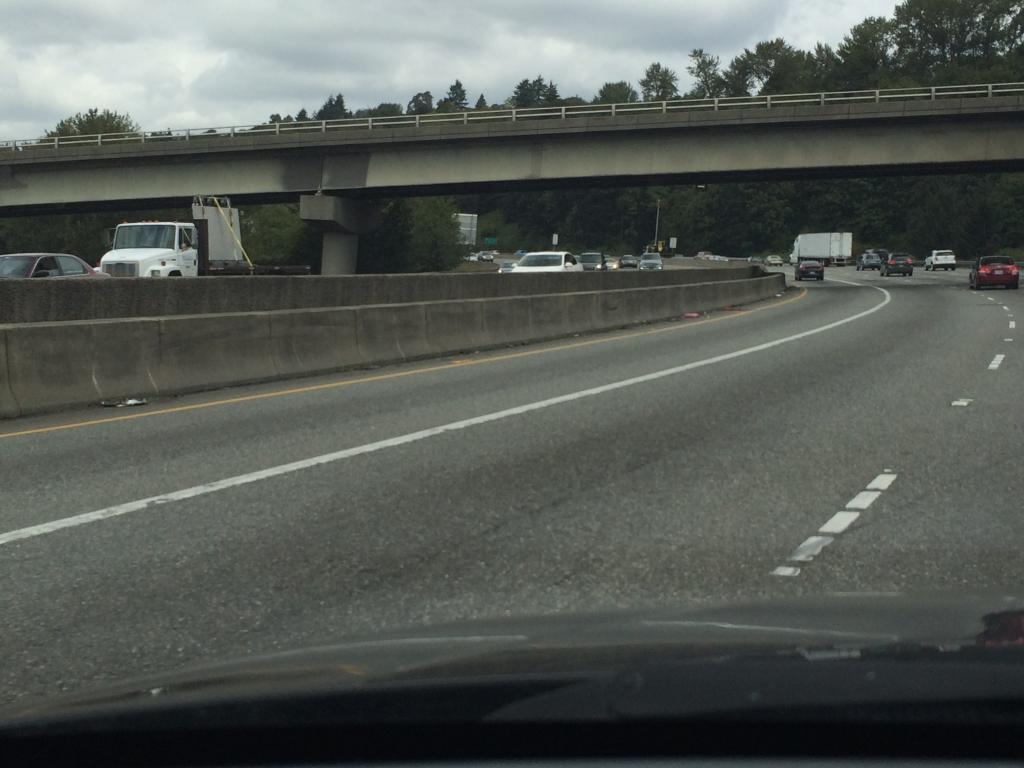 As for appearance stuff, the state isn't the only party I'm making claims with. I finally got through the process with 3M, and they repainted my entire hood! Here's my emblem after removing the paint defender: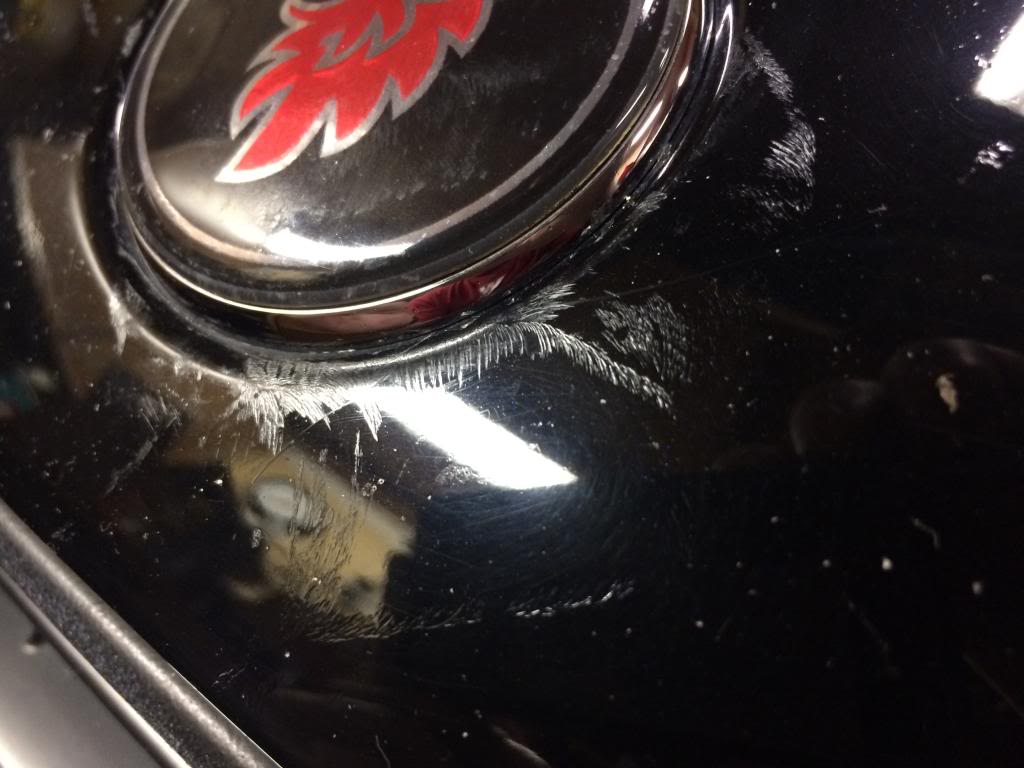 And fresh back from the body shop: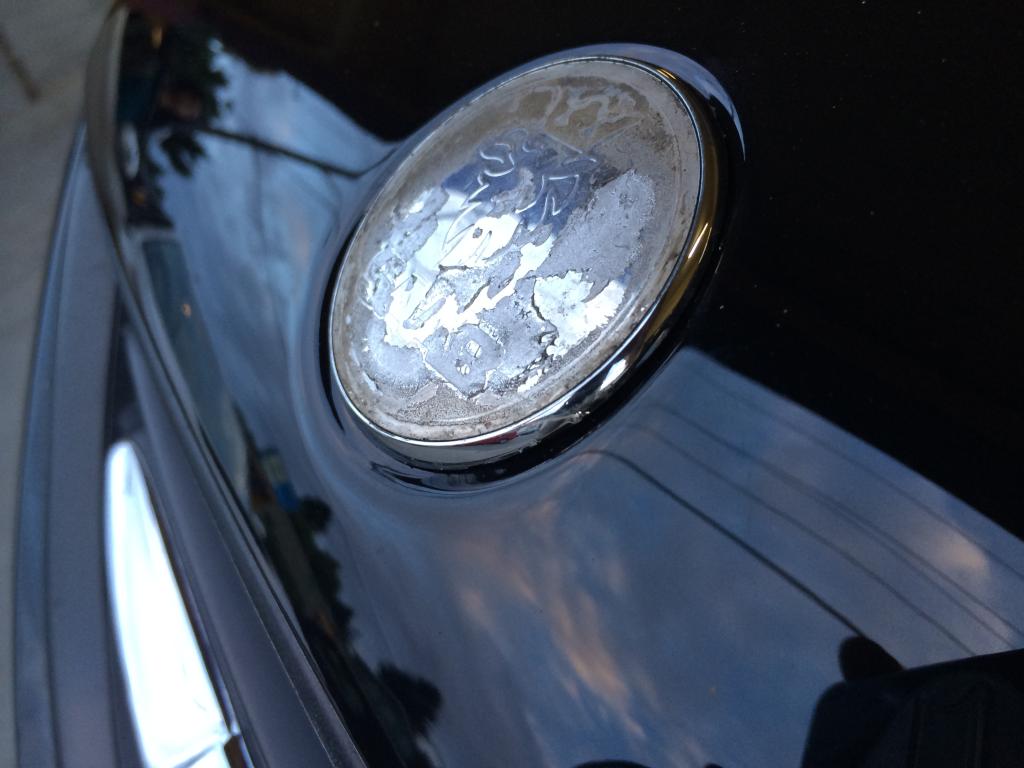 Next I picked up generic side skirt extensions as recommended by Sadsaab over on Saab92x.com. Definitely like the improvement in appearance, it matches so well with the front lip and it gives a lower look without dropping the car another inch: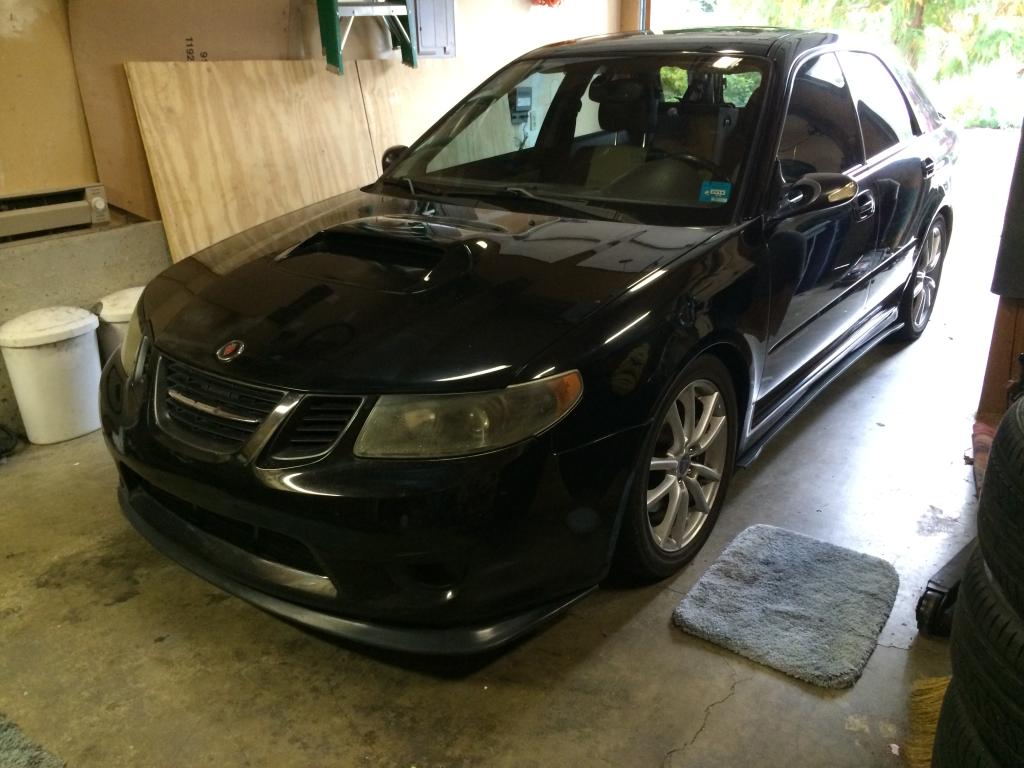 Then I took a big step. The paint on the plastic panel below my rear window has been an eyesore; even wet sanding won't fix it. I decided a while back to go with a hip spoiler that would cover the area anyway, as I actually don't like the back end shape of our wagons and like the way it breaks up the lines on the WRX wagons I've seen with them.
Unfortunately, I immediately realized why the paint was so bad, as removing the hatch plastic immediately broke 6 of the clips holding it on. They just snapped free from the panel itself, the plastic was shockingly brittle, and drilling into it immediately created several cracks I had to reinforce with JB weld. Then, I have to admit that I installed the spoiler and don't like it :facepalm: fortunately, I've had a couple of weeks to stare at my car and it's really grown on me. It makes the car look longer and lower, I think initially I just didn't like how it made it look even less European than it already does. Also, removing the rear mudflaps really helped: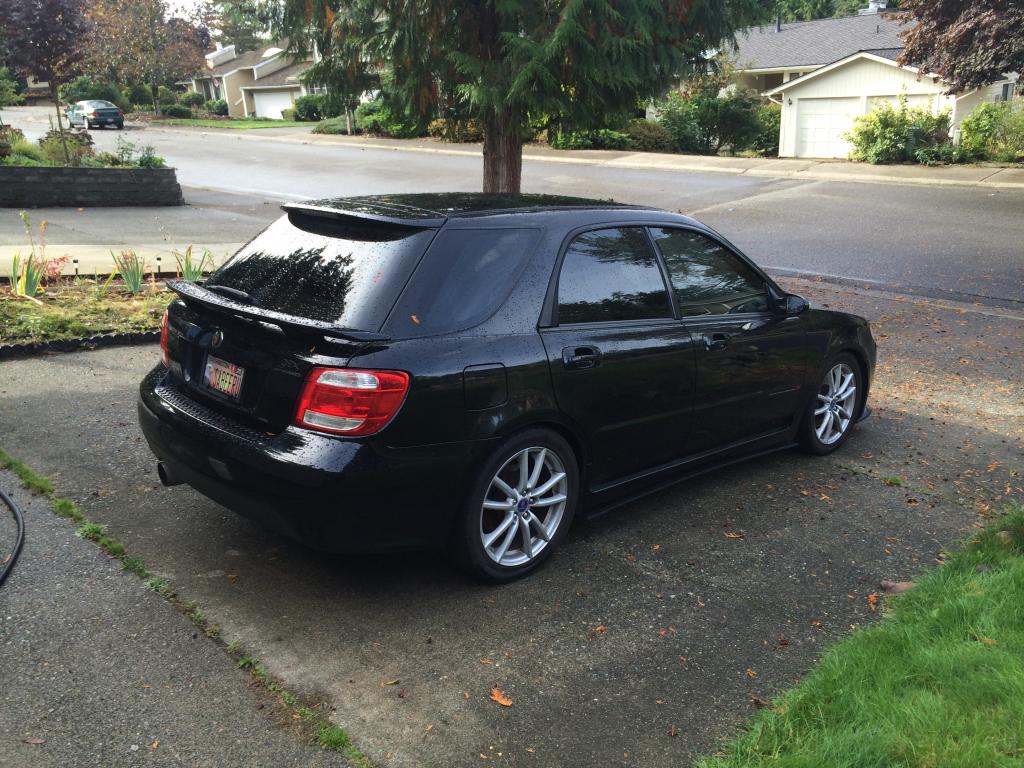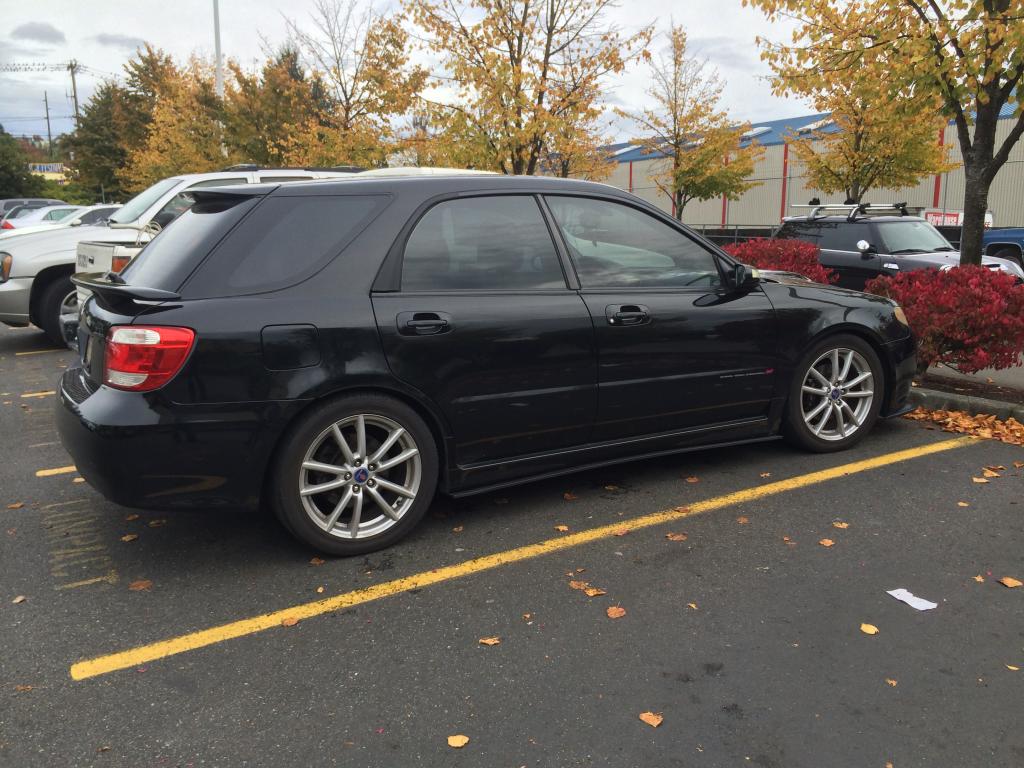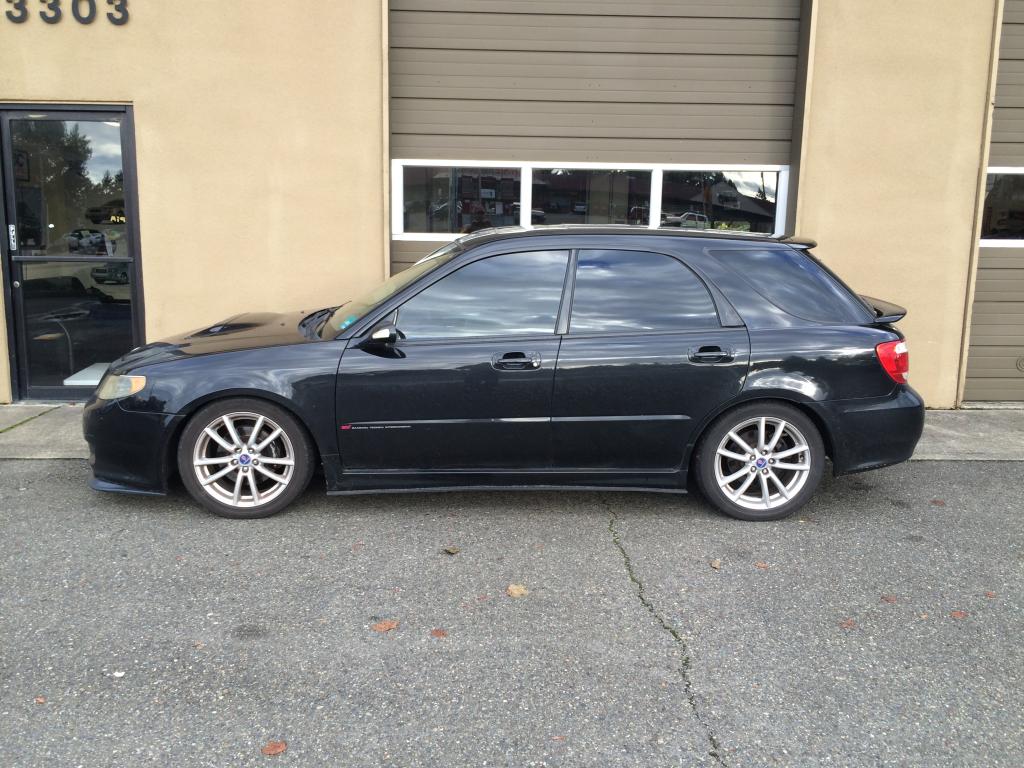 A small thing, but I updated to a new keyport, figured I'd get something a little more flashy for once, and take advantage of their new personalization options: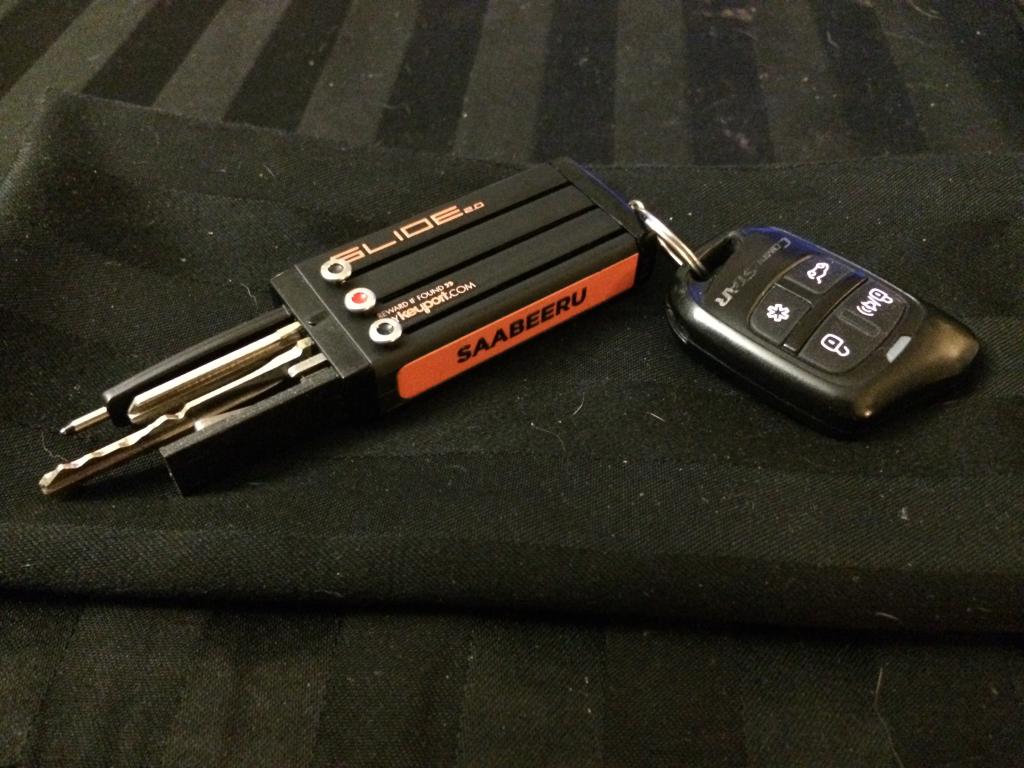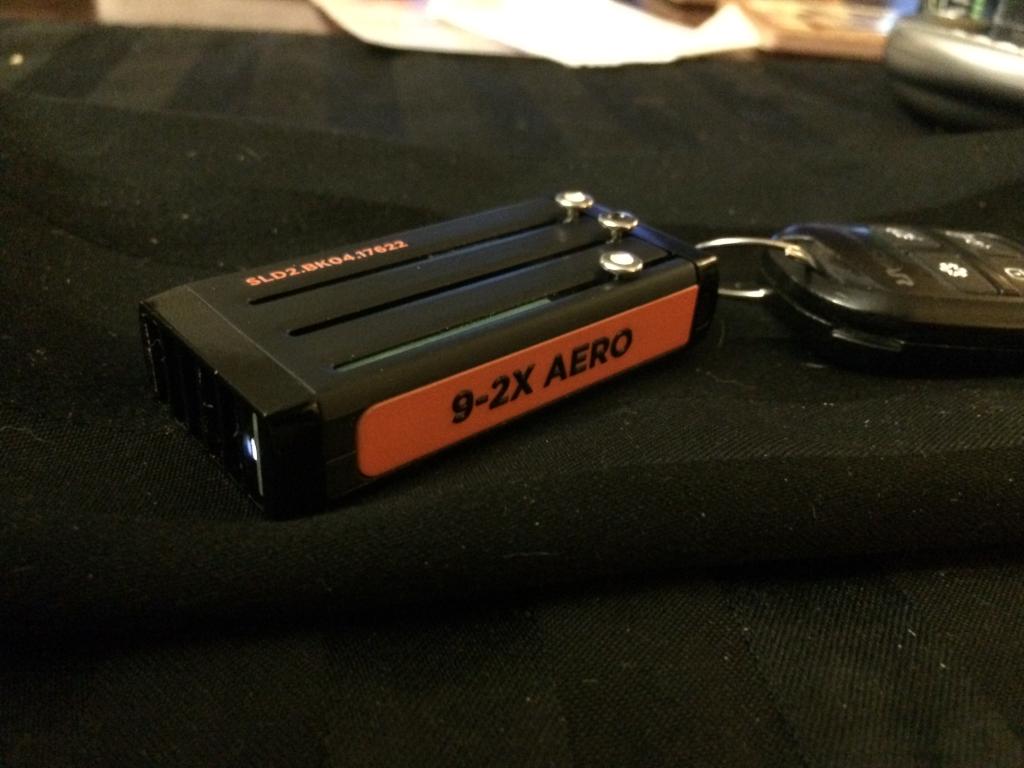 Next week I'm picking up an '02 transmission with an STI RA gearset installed as well

3-4-2015
Finally getting back to this build thread, winter has been slow and mostly loaded with repairs instead of upgrades.
I picked up the Type-RA tranny. Cryo treated gears, helical front diff, Blast Plates ready to install, Kartboy short shifter plus Exedy Stage 1 Clutch and lightweight flywheel. Nice combo, but it will have to wait until the clutch goes or I move forward on the hybrid build (heads are shipping out for machining soon).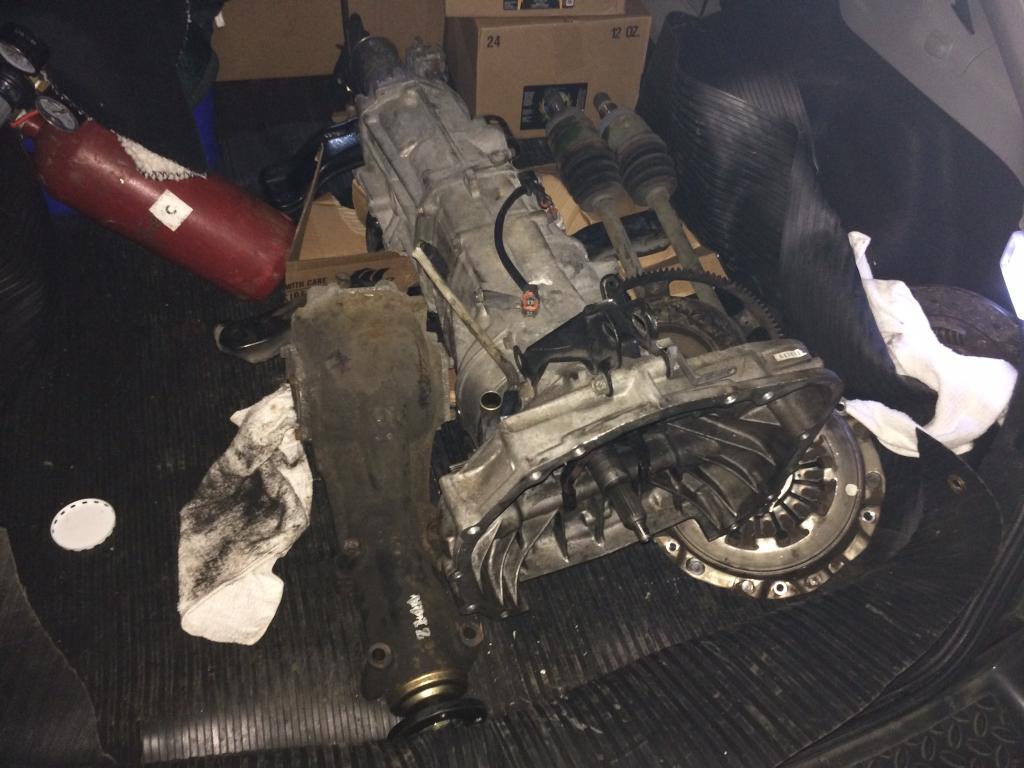 Next I had to put on my Winter set and as proud as I am for having both the 16" and 17" Saabaru wheels, I'm really not a fan of the 16" rims' look. Heated the garage to 80 degrees and the cans to 90-100 degrees. Say what you will about dipped stockers, these are 3 cans of black and a can of Silver metallizer and I immediately got compliments on these rims. So much happier, will next dip the Summer 17s with Black layered with Gold Metallizer. I love those rims but the 'pop' a bit much on a black car.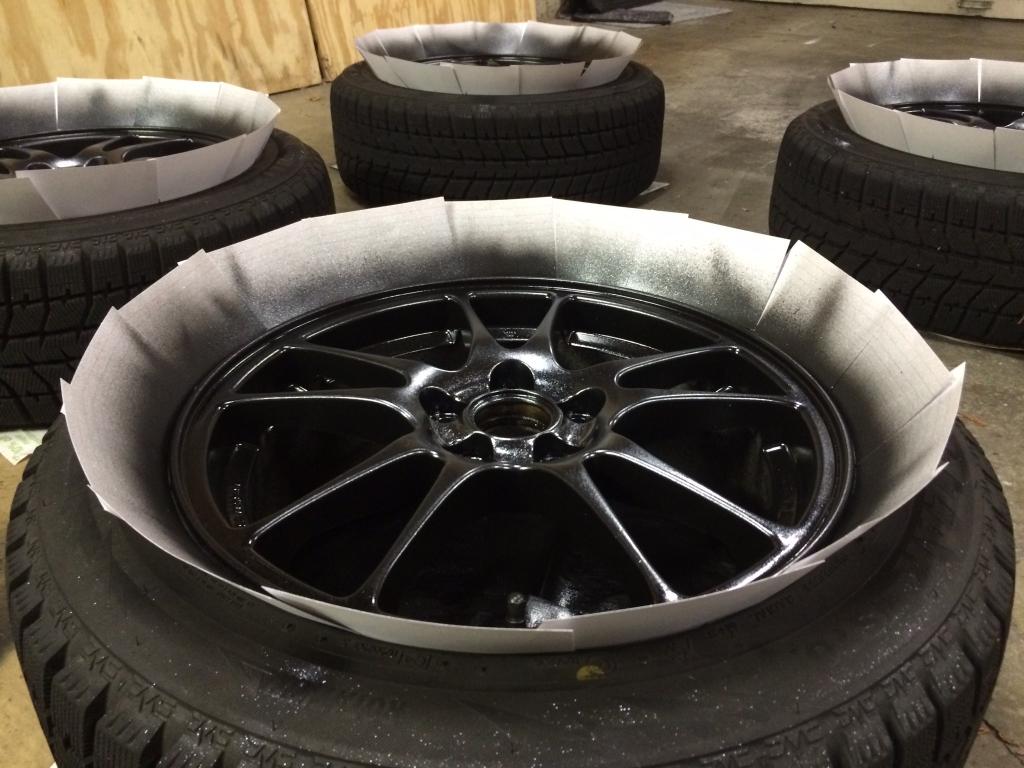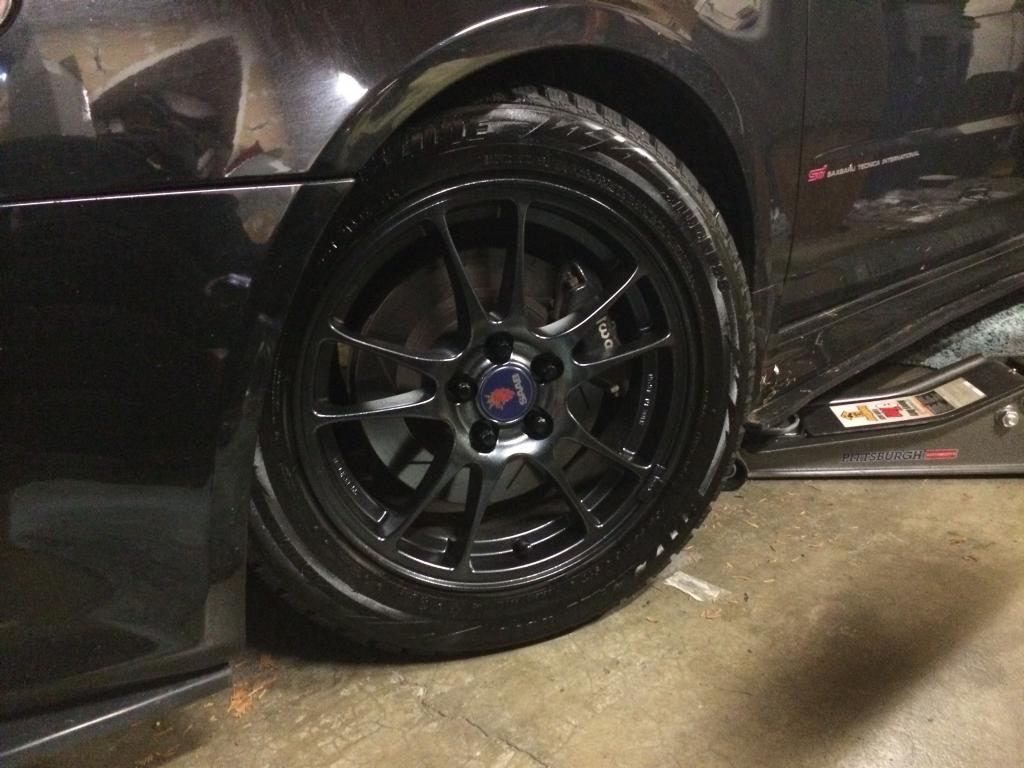 Picked up some STI Side Diffusers. To get these to fit with all attachment points will require 5 drill points. That was a bit much for me so I did just the 2 outer 3/8" holes (the inner points line up). So far, zero looseness so I think I'm good to go.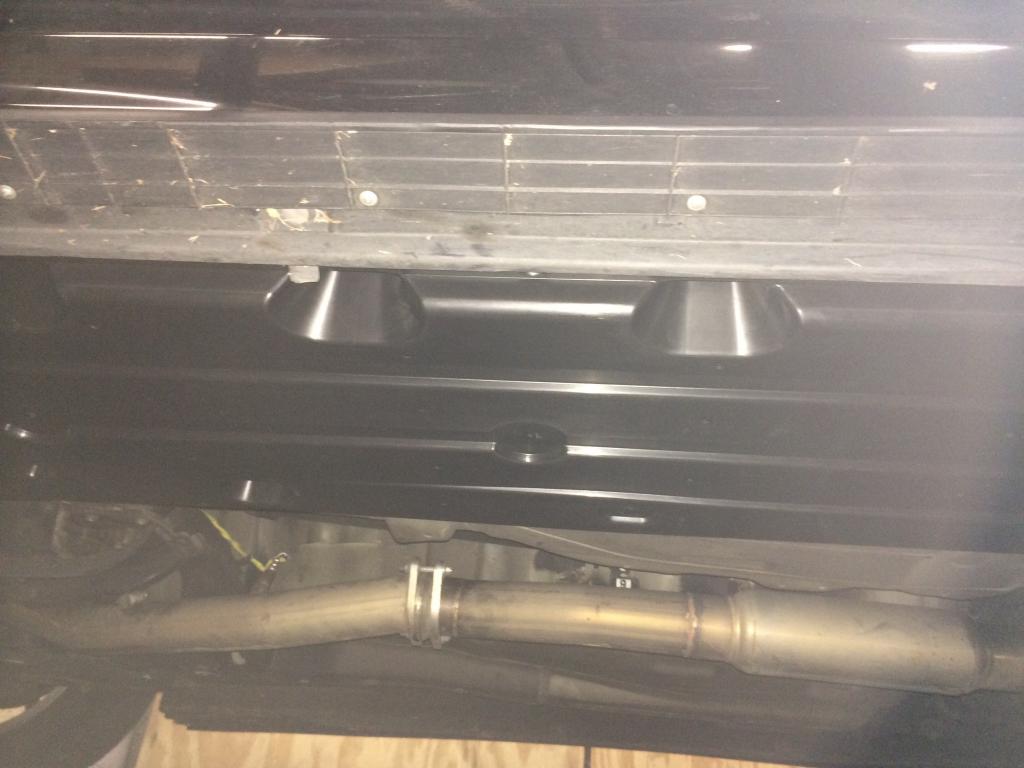 I hate to continually post repairs to this thread, but here's what happens when you install a spoiler on brittle plastic, let this be a warning: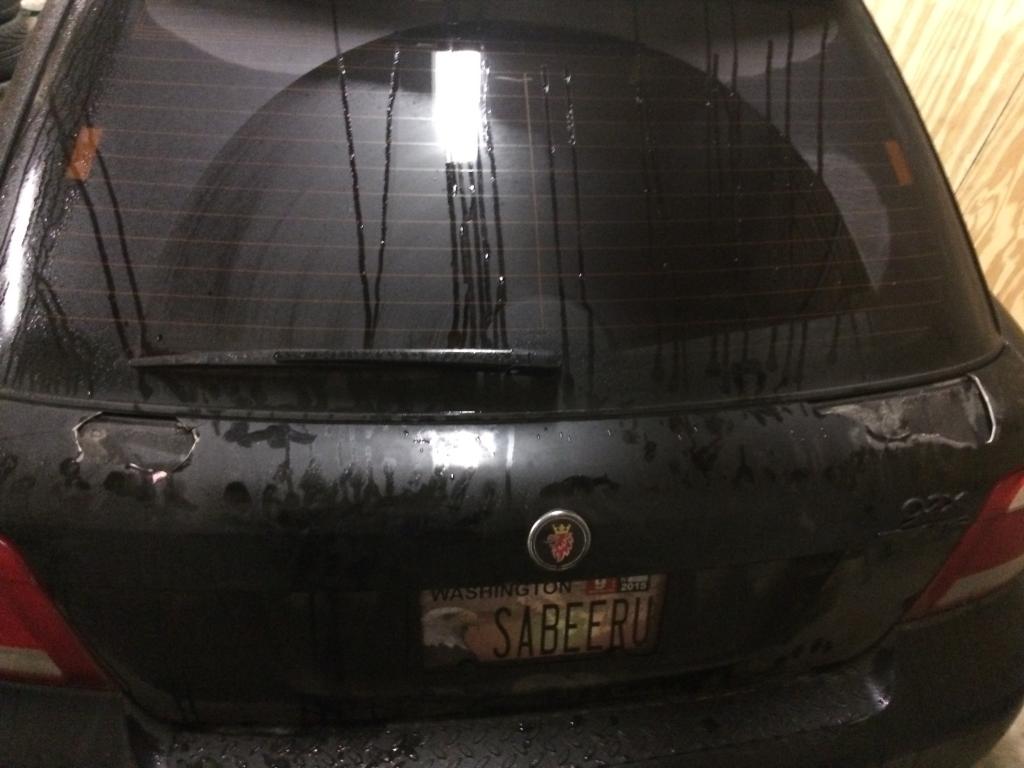 Fortunately, OBP is one of the few colors of hatch plastic available. Sure, I have NA lettering, but that is easily resolved. I sold the spoiler, I liked it, but I think my new diffuser will be enough flash for now: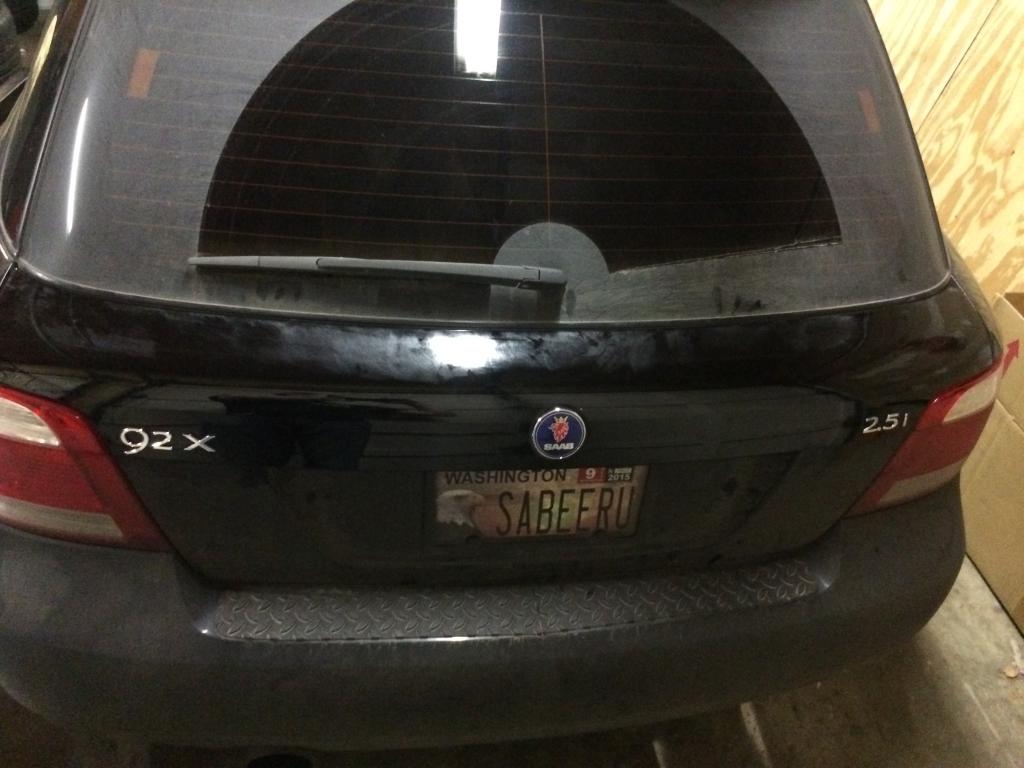 Parts on their way or already in the garage:
Whiteline 24mm front sway
Whiteline rear strut tower brace
SS Brake lines (new for rears, replacing fronts)
Forewerkz FRP Voltex Style rear diffuser
Clear bra
Lots of dip and paint
3-15-2015
Guess I can't read numbers, put on my 22mm Whiteline front adjustable sway: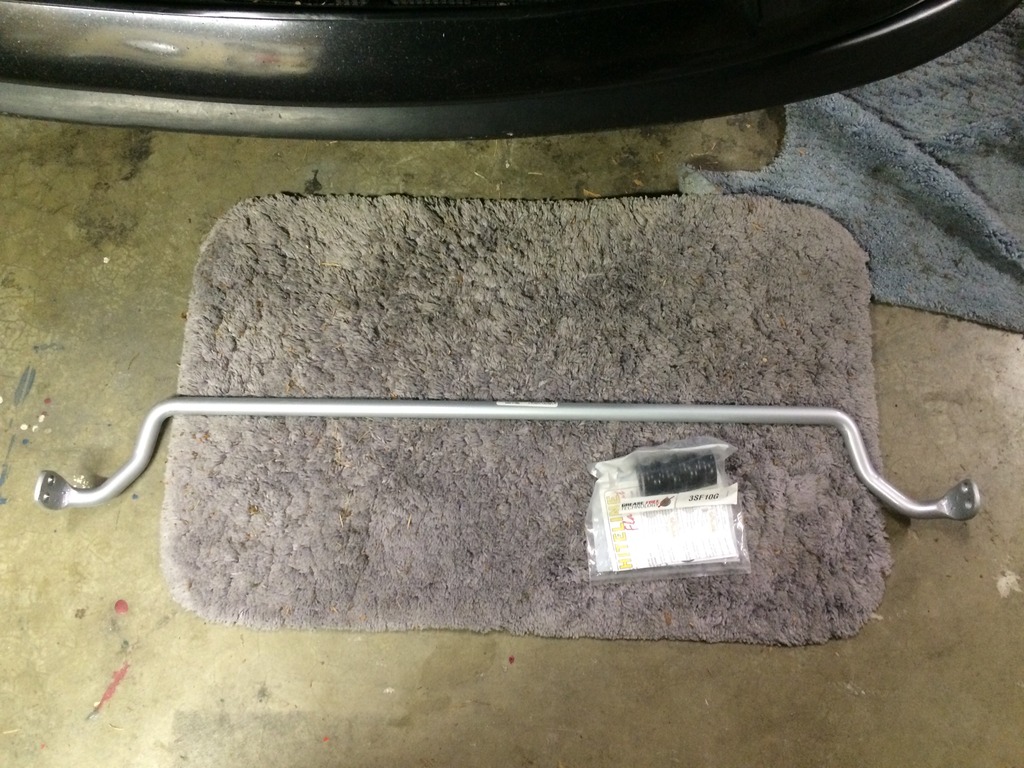 Next put on some SP Performance rear rotors (didn't stop the pulsing

, so fronts are next) and new SS lines: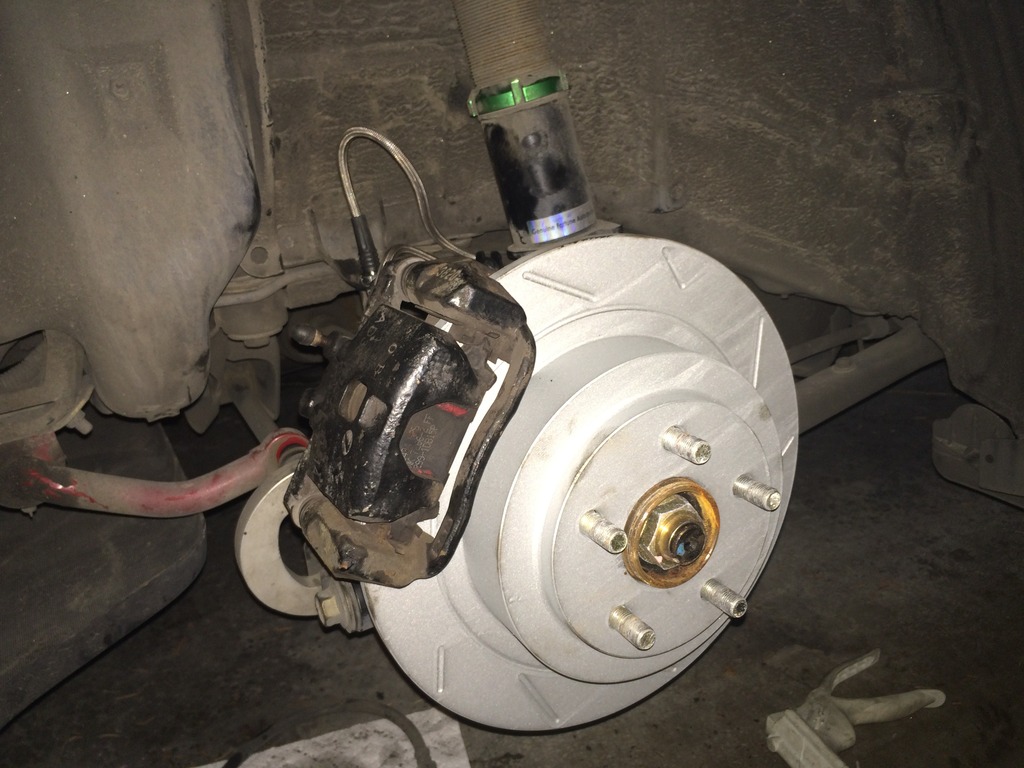 Dipping away, 3 coats black and 2 light coats of gold metallizer. Say what you will about dipped stockers, but I love how these look: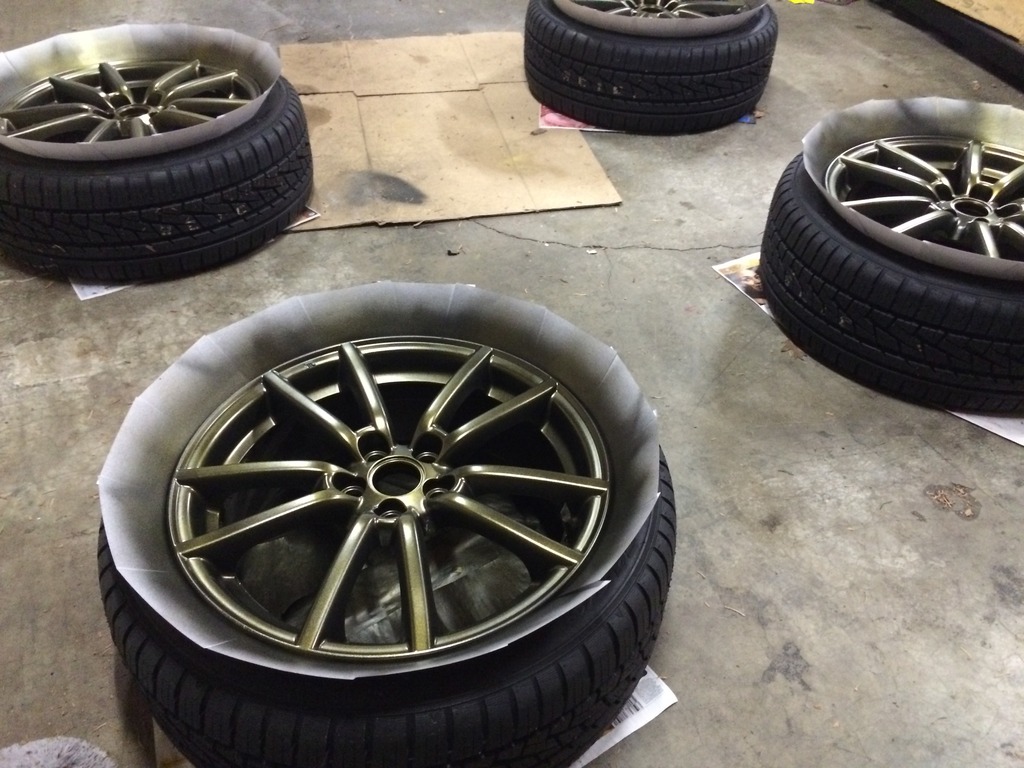 Installed the Forcewerkz Voltex diffuser. I moved it slightly forward to avoid the 'whale tail' look and prevent damage: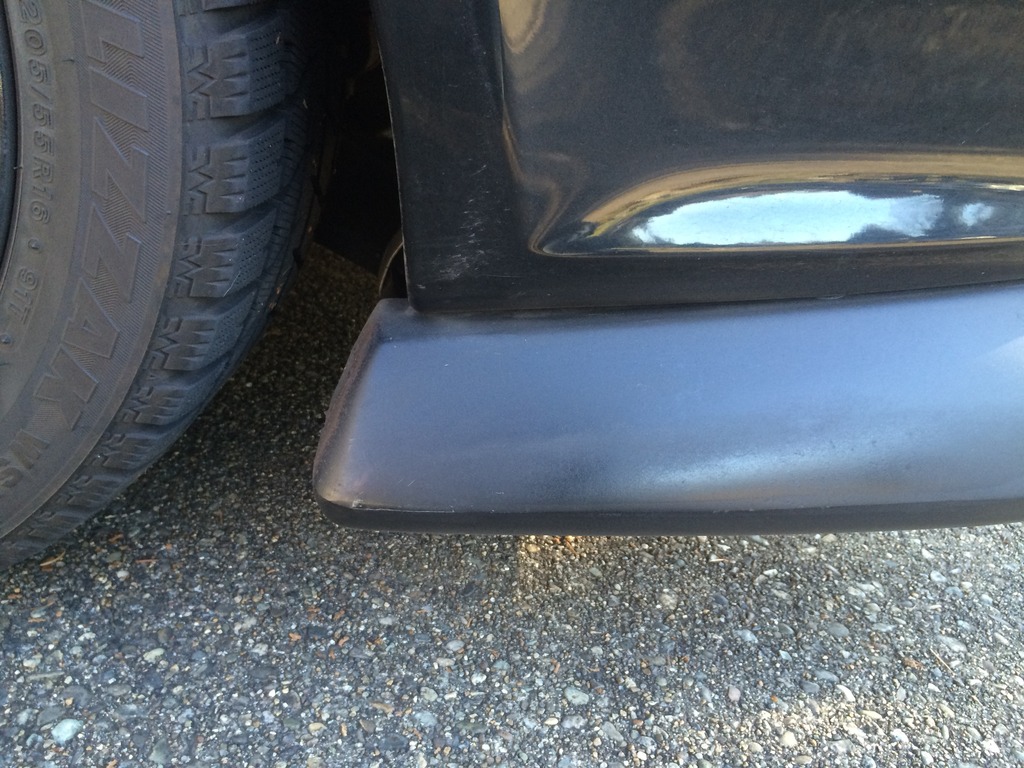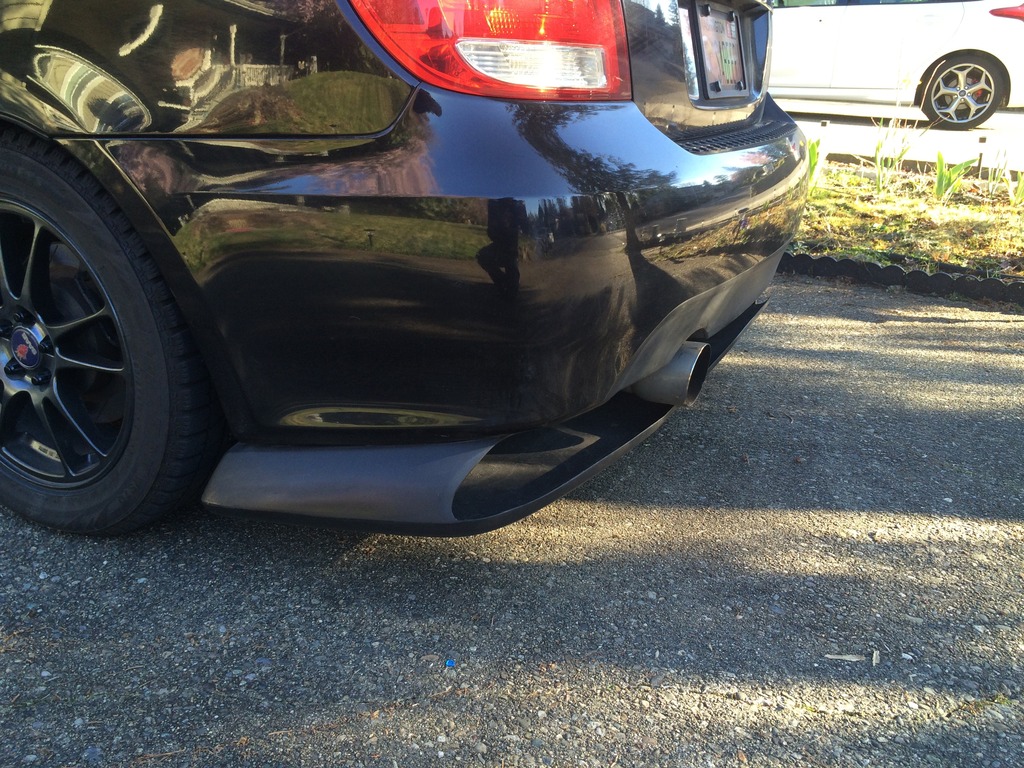 Little dirty full exterior: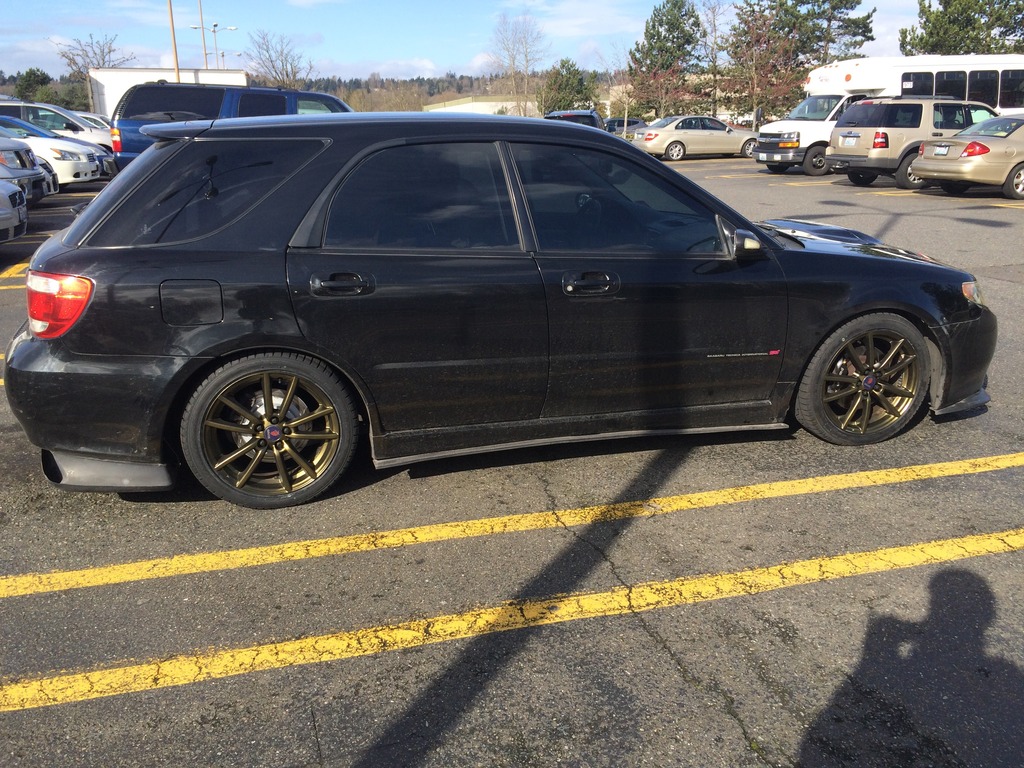 The grey of the plastic stands out a bit much so I picked up some OBP cans. Even with sanding, the adhesion doesn't seem great, but we'll see how it is with some wet sanding in the morning: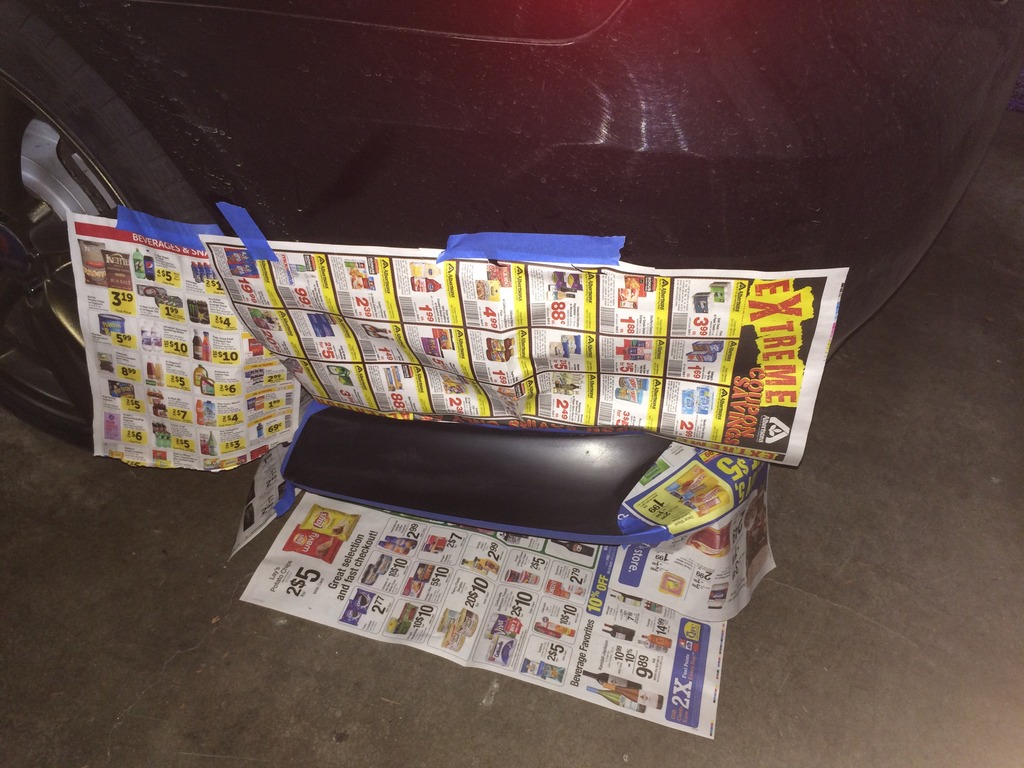 3-17-2015
Finally figured out how to do a clean install on the Whiteline rear strut tower brace. Obviously looks aftermarket, but not unprofessional: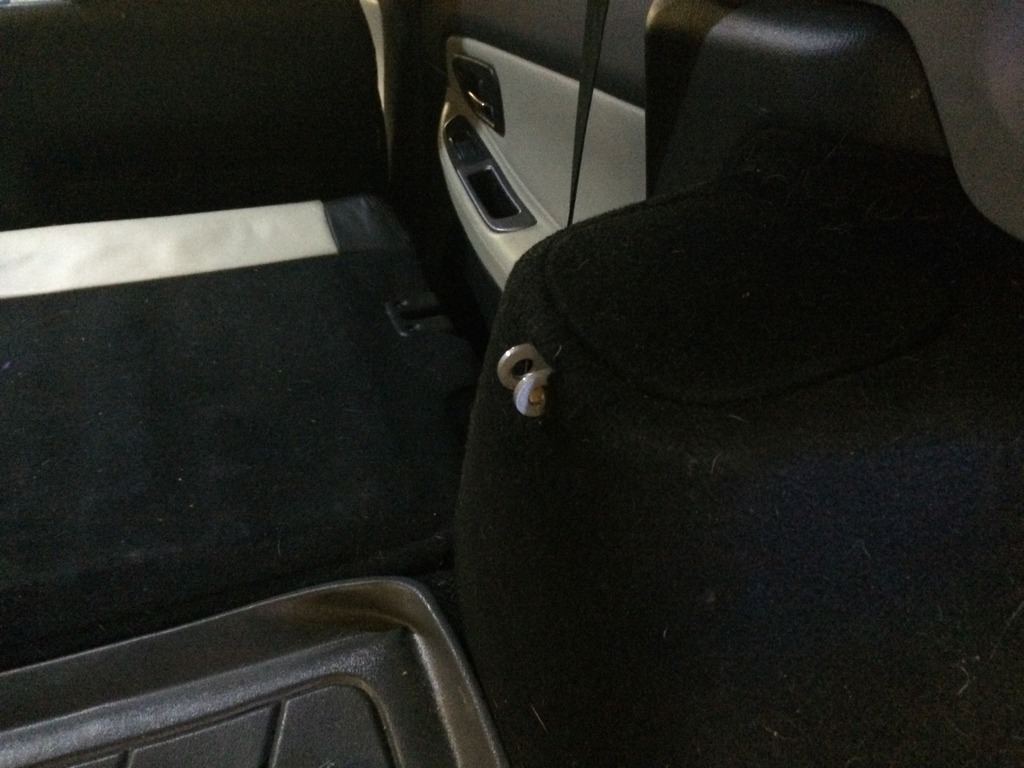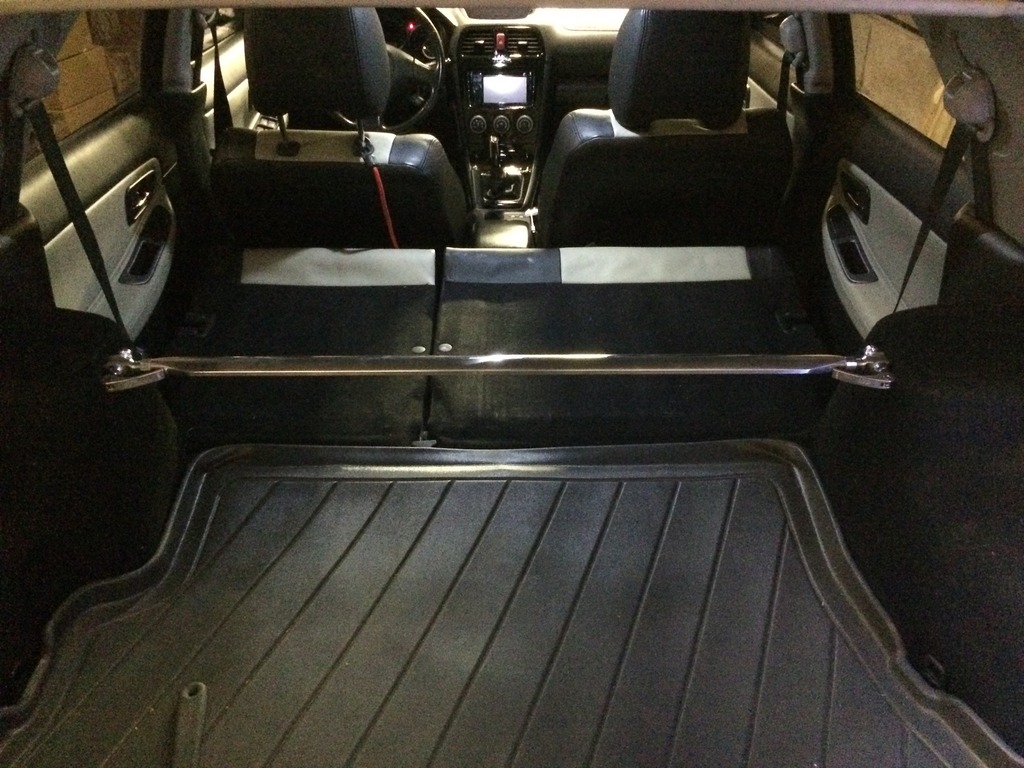 Next, on to pretty stuff, redid some underhood bolts with some blue accents: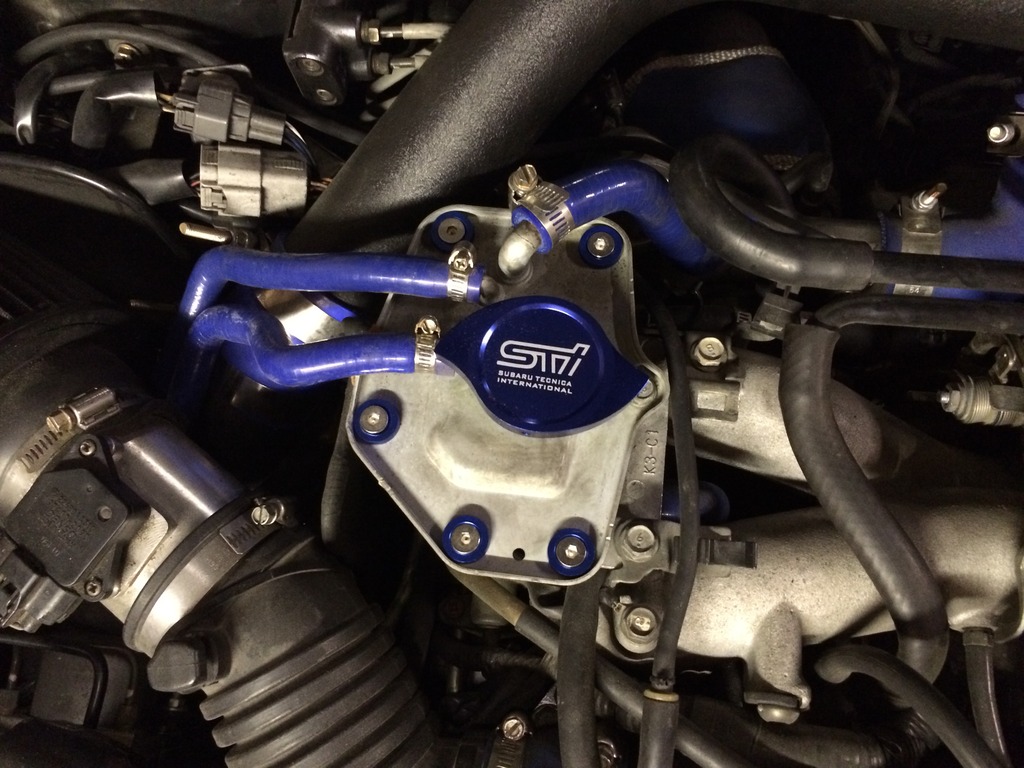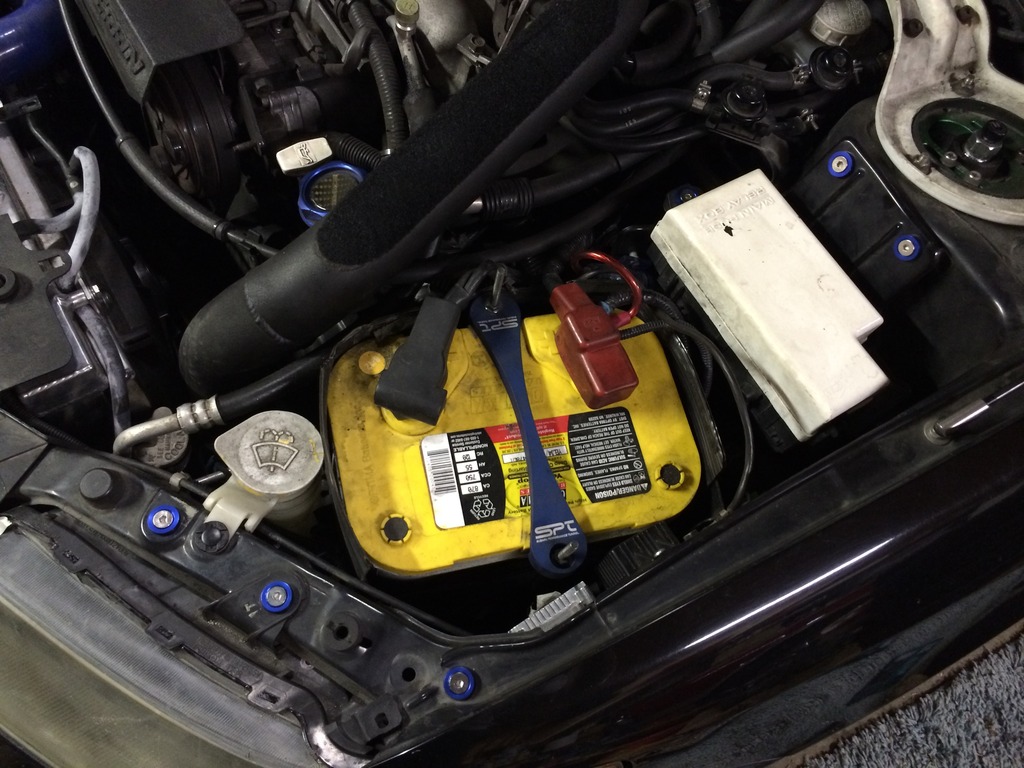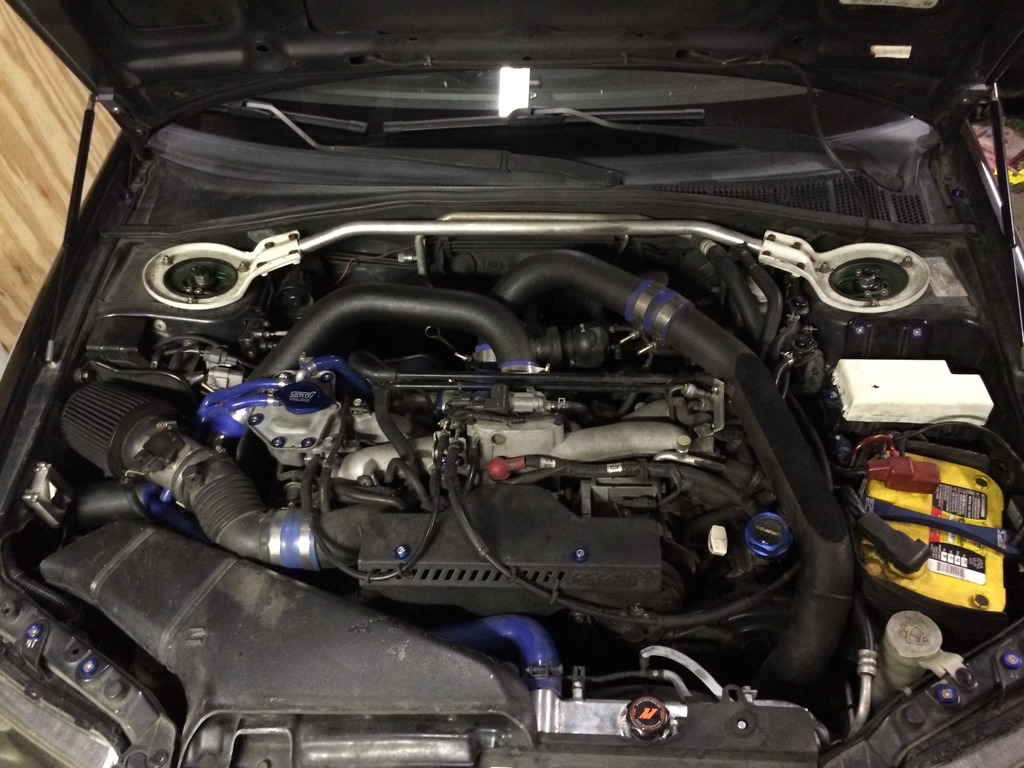 I've been itching to get some JDM turn signal mirrors, I like the look much more than the aftermarket set I'm currently running. Unfortunately, I never see a complete set for sale so I'm trying to make the next closest I can.
I found a similar sized aftermarket LED on eBay. It has a bit of give to work with the curve of our mirrors and the flat wiring fits right in the lower seam of our mirror shrouds: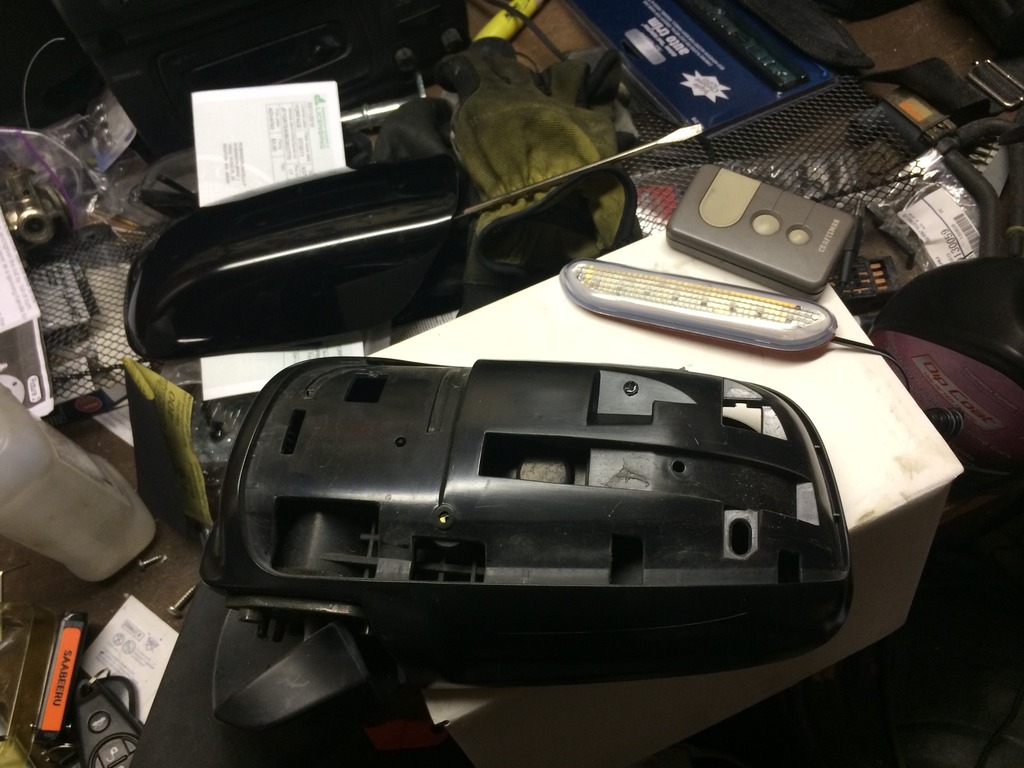 Had to add a little adhesive and tape it temporarily to keep the corners down: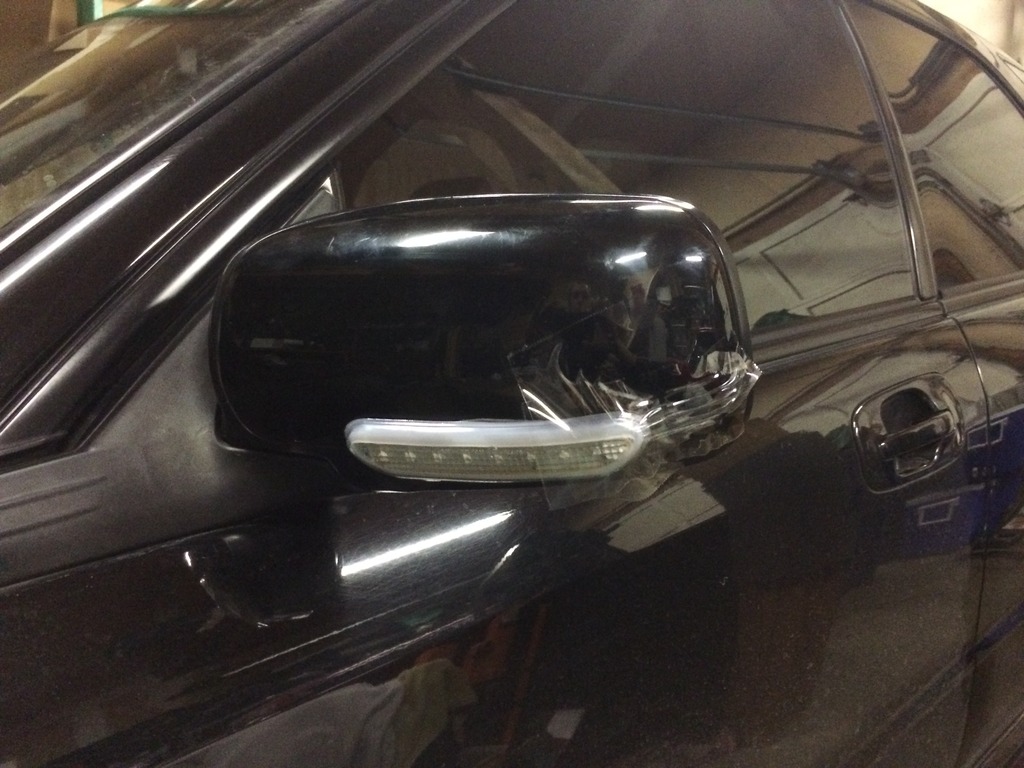 In the end, it's near factory and only obvious within a couple of feet that it's aftermarket; probably not noticed at all by someone who doesn't own a subaru: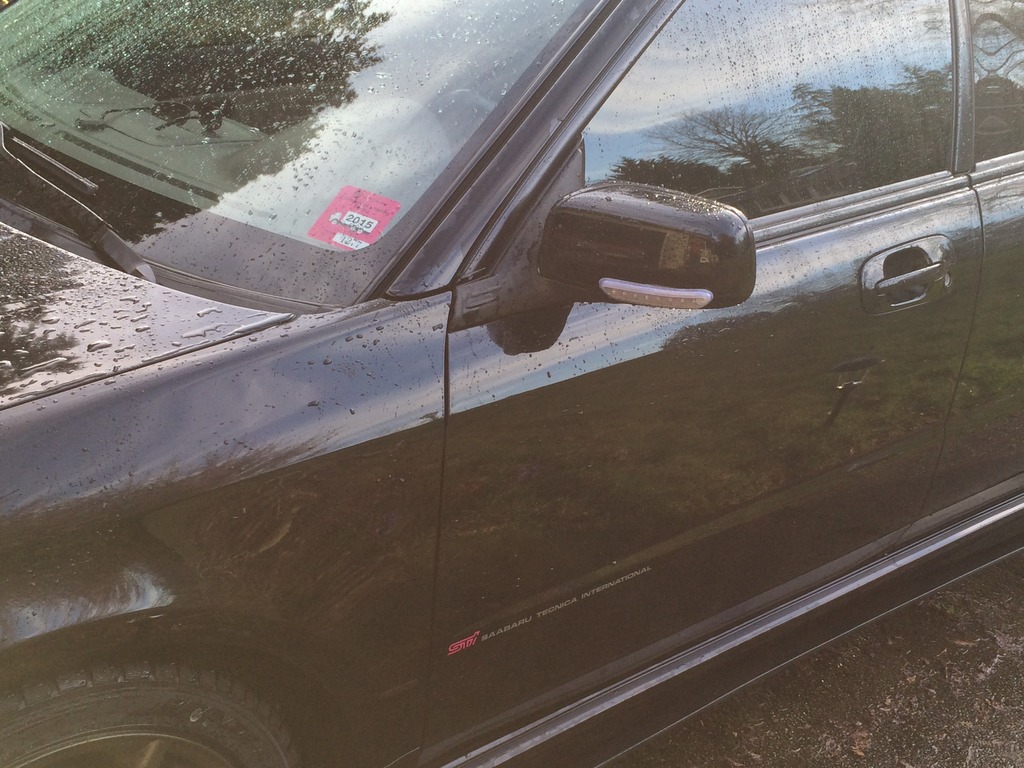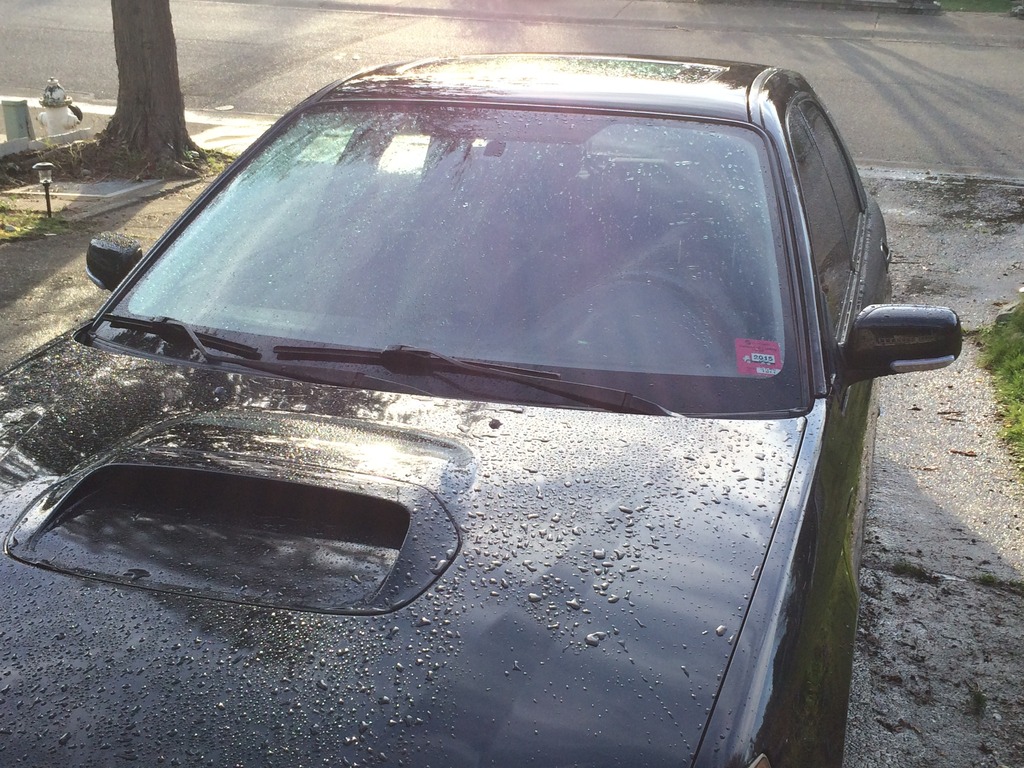 Wet sanded I and polished up my paint on the Diffuser. Had a bit of texture but I'll leave it be for now, here are a few angles after a much needed bath: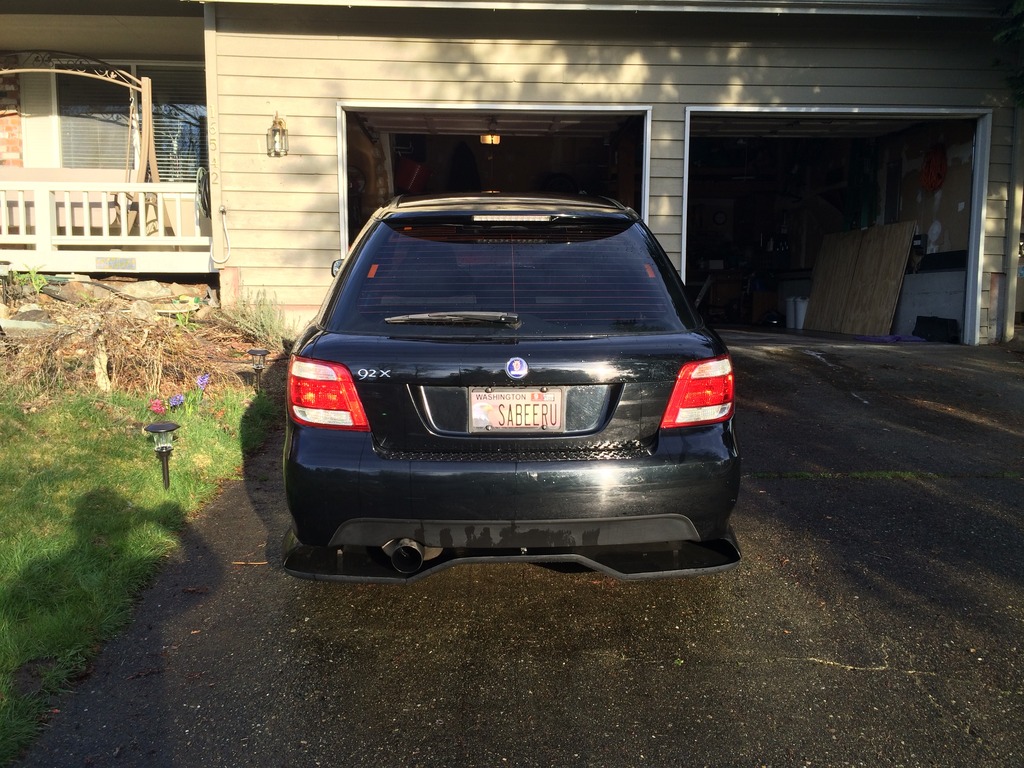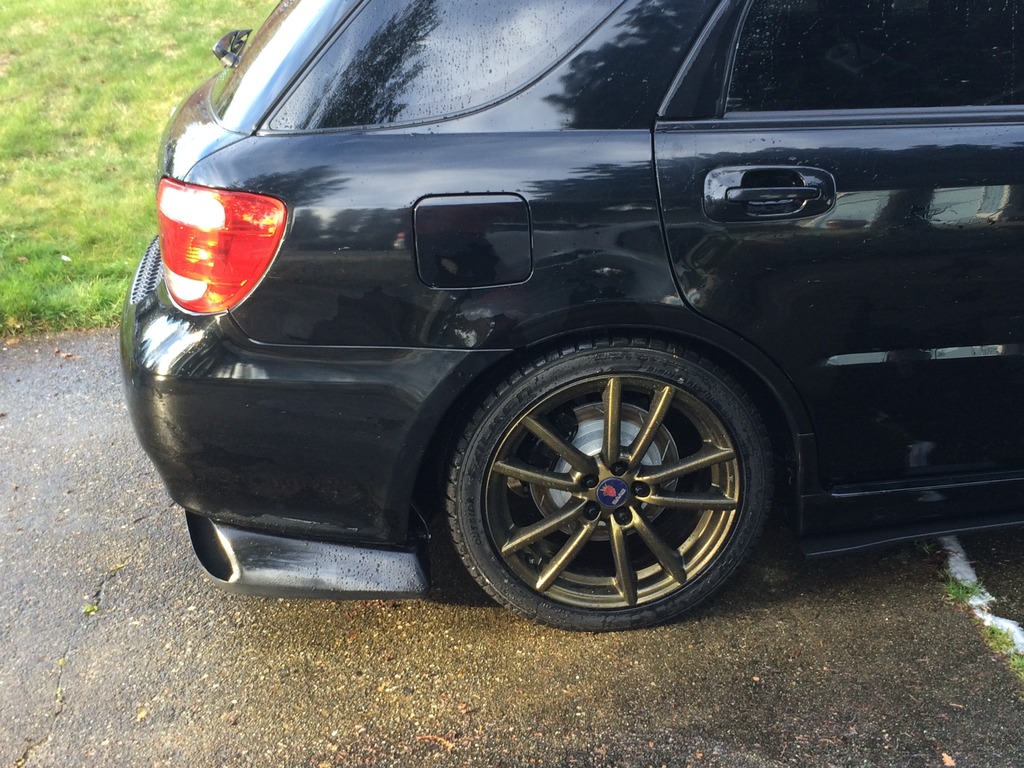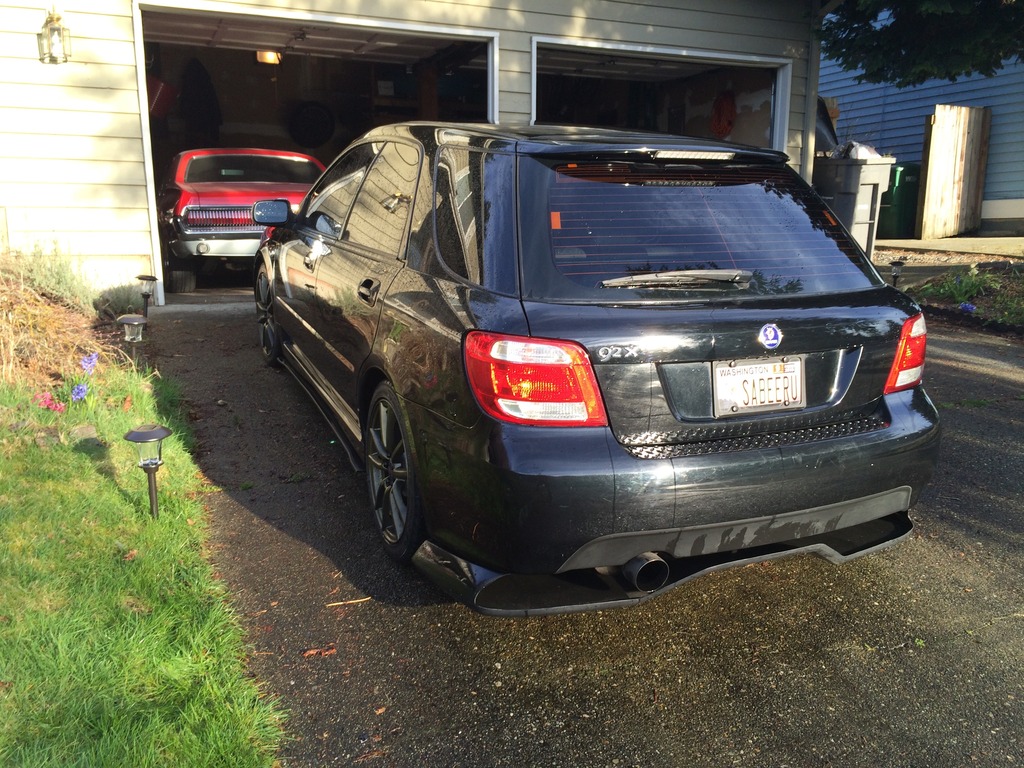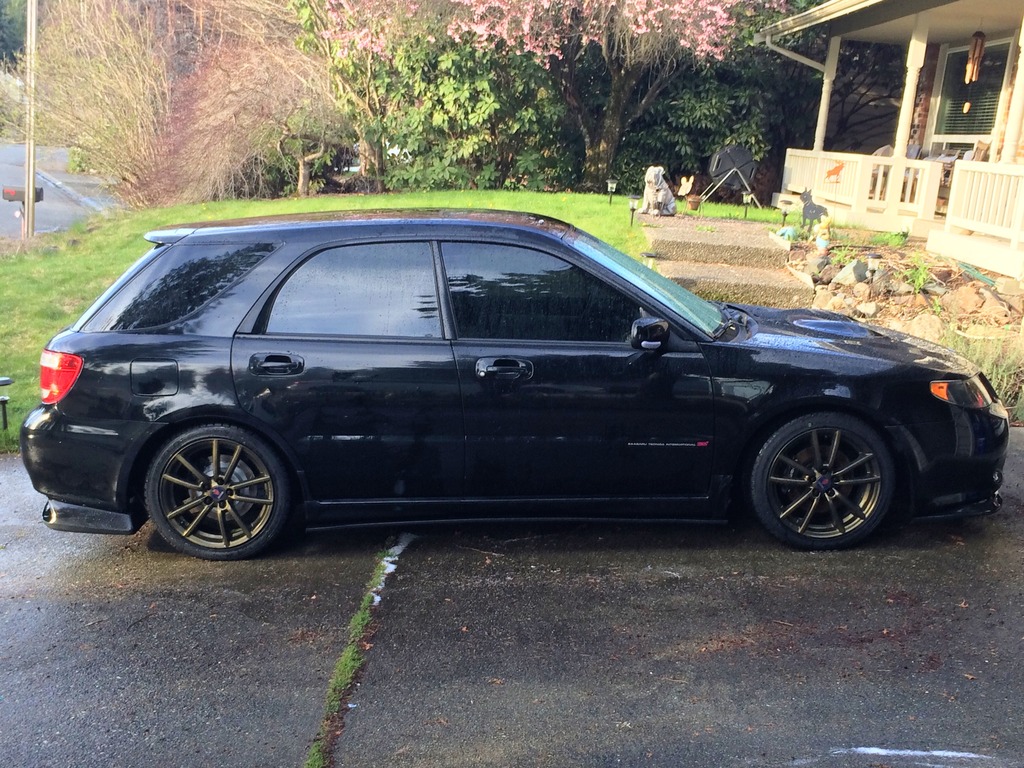 7-27-2015
4 Months- Jeez, I'm just not lurking the site like I used to...
Work is continuing on the car, and in fact ramping up now that I have a work car to drive (2WD Escape, soon moving to a Focus

). First off, I swapped all the lug nuts to 15mm extended and put in H&R spacers. I took advantage of the work to upgrade the fronts from Wilwood Dynalites to Dynapros. The Dynalites were long in the tooth and looked like hell. Also put in new brake lines. Wheels are fitting much better to the arches, I'll post pics later, here is the new 'sans wheel' setup: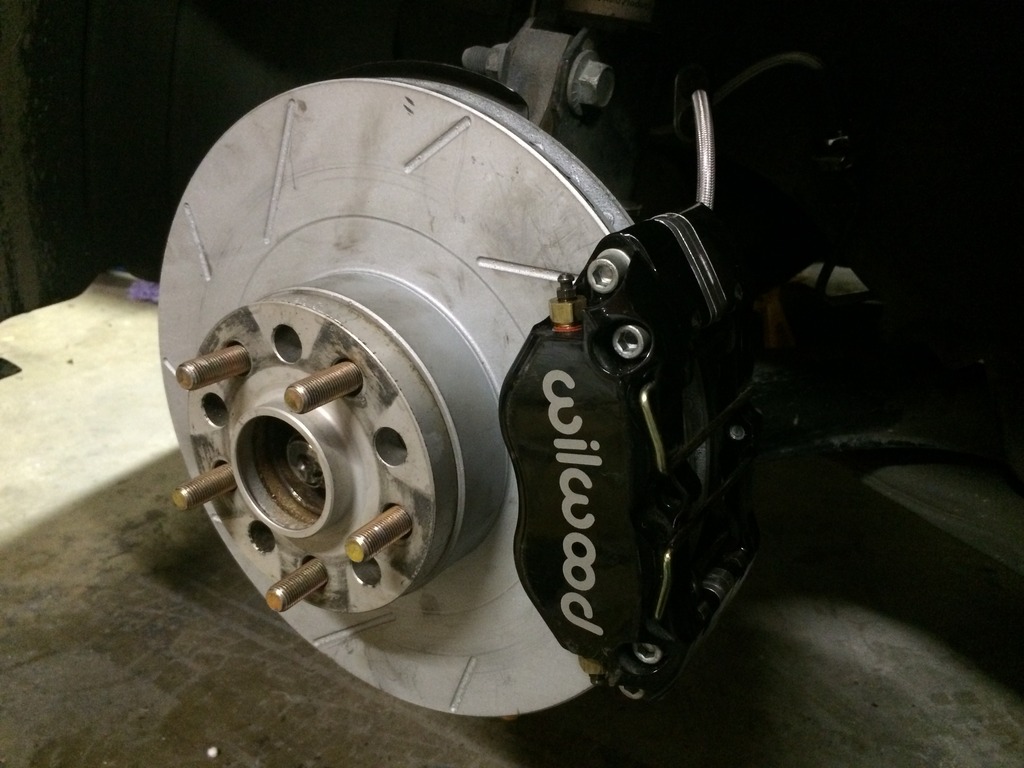 For the rear lugs, you need to grind down the bolt flares, and I suggest my technique of putting the bolt into a drill and grinding it against a file. You may need a couple of files to go through all 10 Lugs.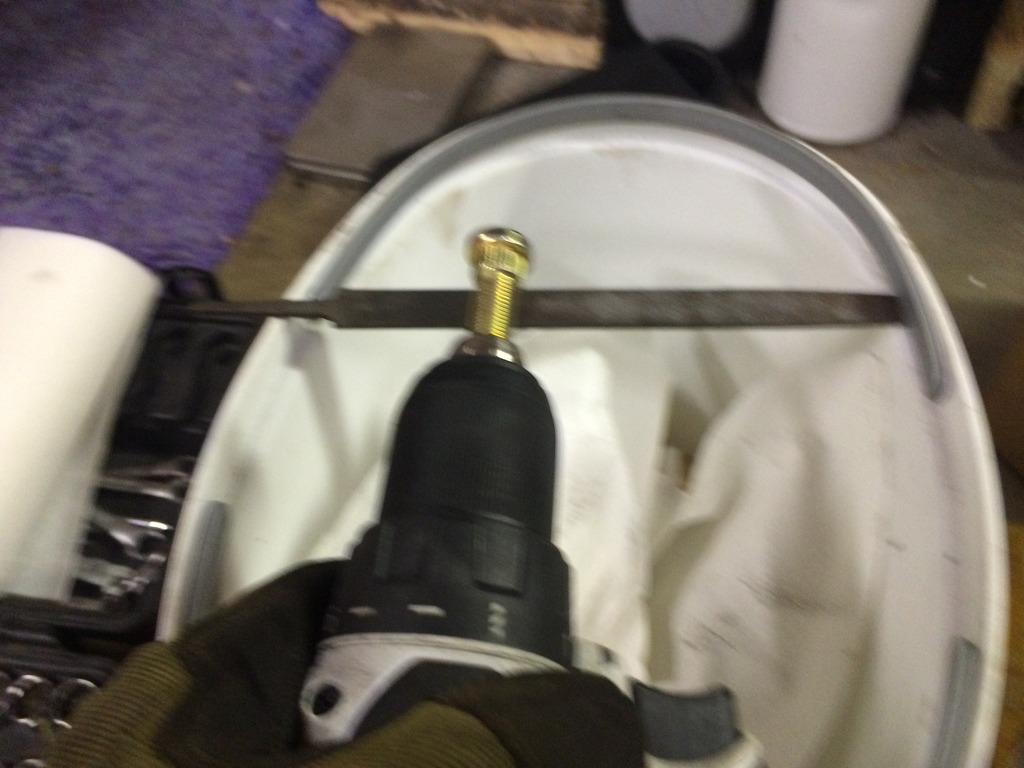 Securing the lugs with an impact gun was probably just like anyone else: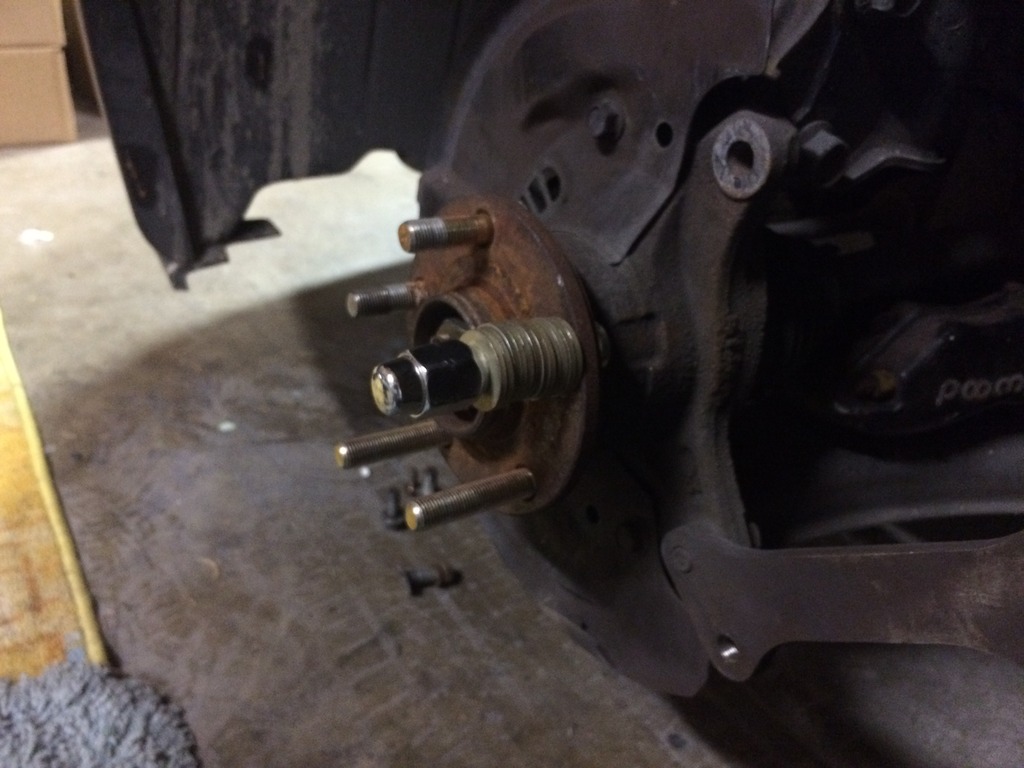 I did sell off my Vortex diffuser. It just didn't work. Even with the wider stance, it clearly looks like it's made for a widebody car. I ordered a GT500 Diffuser from eBay. I love the thick hollow fin design, but someone didn't let the fiberglass cure and so I'm stuck with this and waiting on an exchange: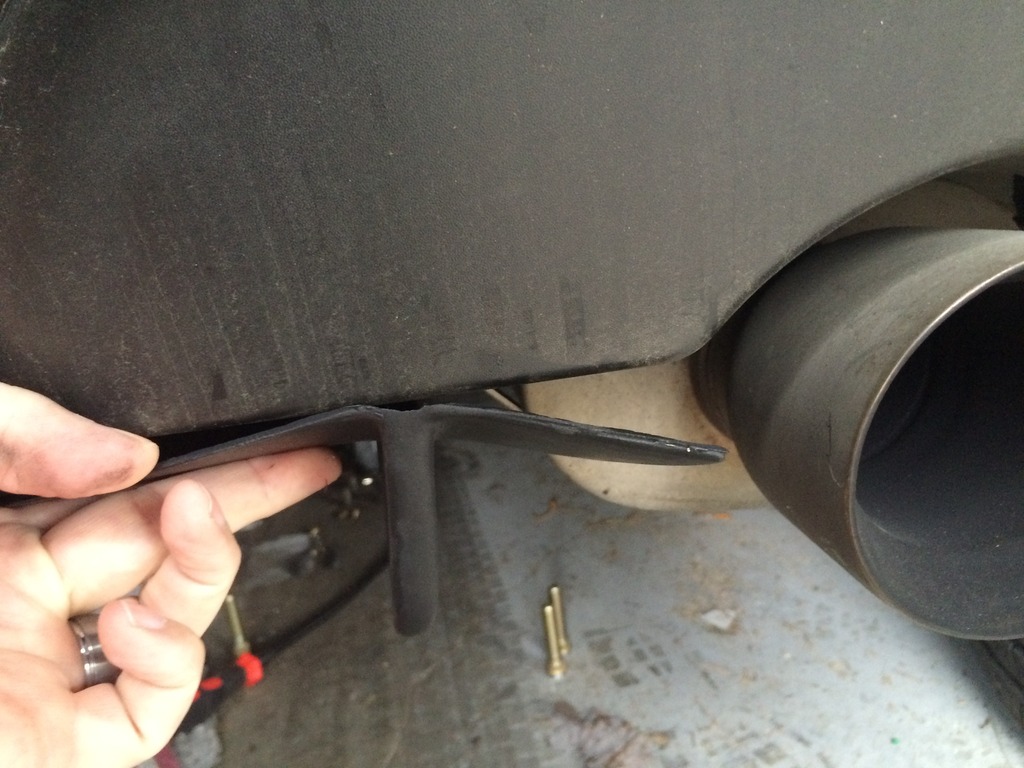 Now here's where the work accelerating part come in- Hopefully I'll be in Spokane the last weekend in August working with Craig Woolman (Maxwell Power's old builder) on assembling a Hybrid Longblock capable of 500WHP. Pulled the Valve covers and intake manifold from my 'spare' engine in about 20 mins apiece, then hit my head against the wall trying to get 3 of the cam bolts off. Got advice from a couple of engine builders and the Amazon orders are on their way, these will be going to Equilibrium Tuning in California to get the heads combustion chamber matched.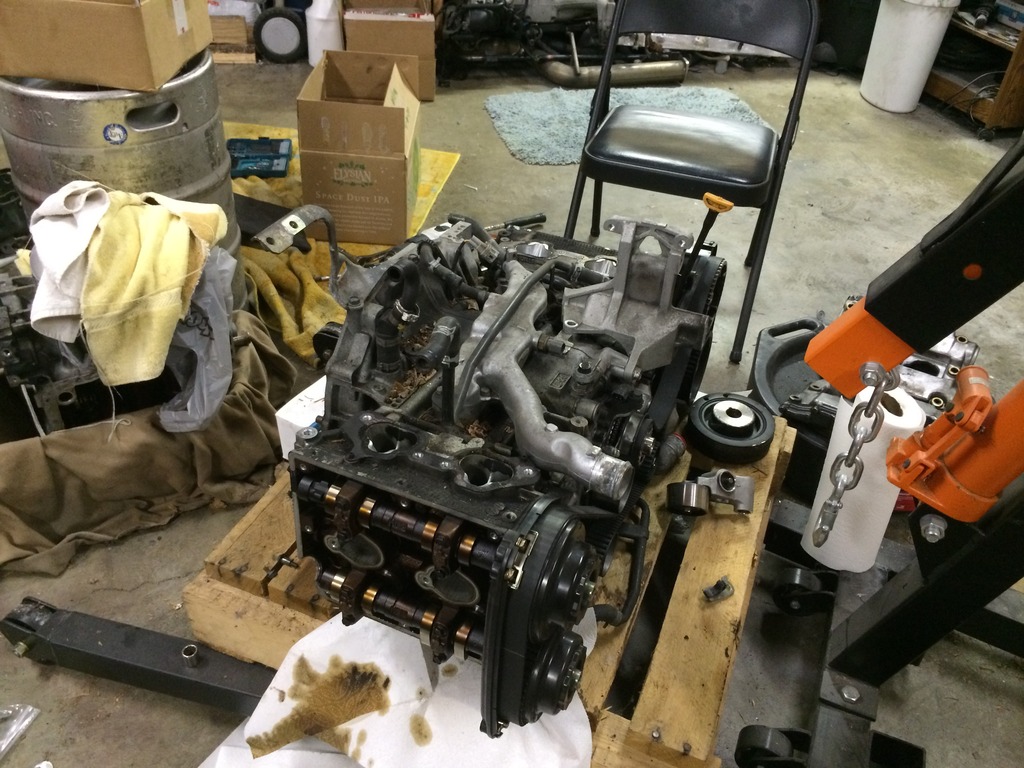 Of course, I'm never just satisfied with just function. I purchased my spare console pieces and will be working on a wood grain interior. It's a Saabaru, so damn the critics.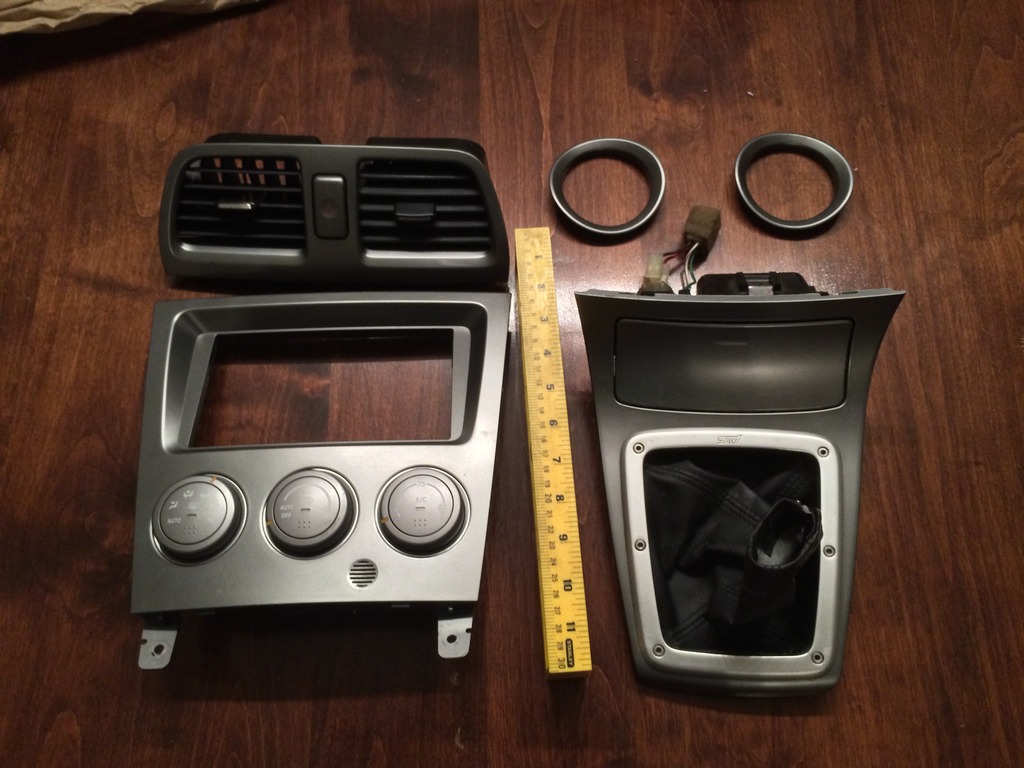 I visited the Hydro-Dip.com facility in Meridian, Id and got hands on with their samples. Beautiful work, true factory quality: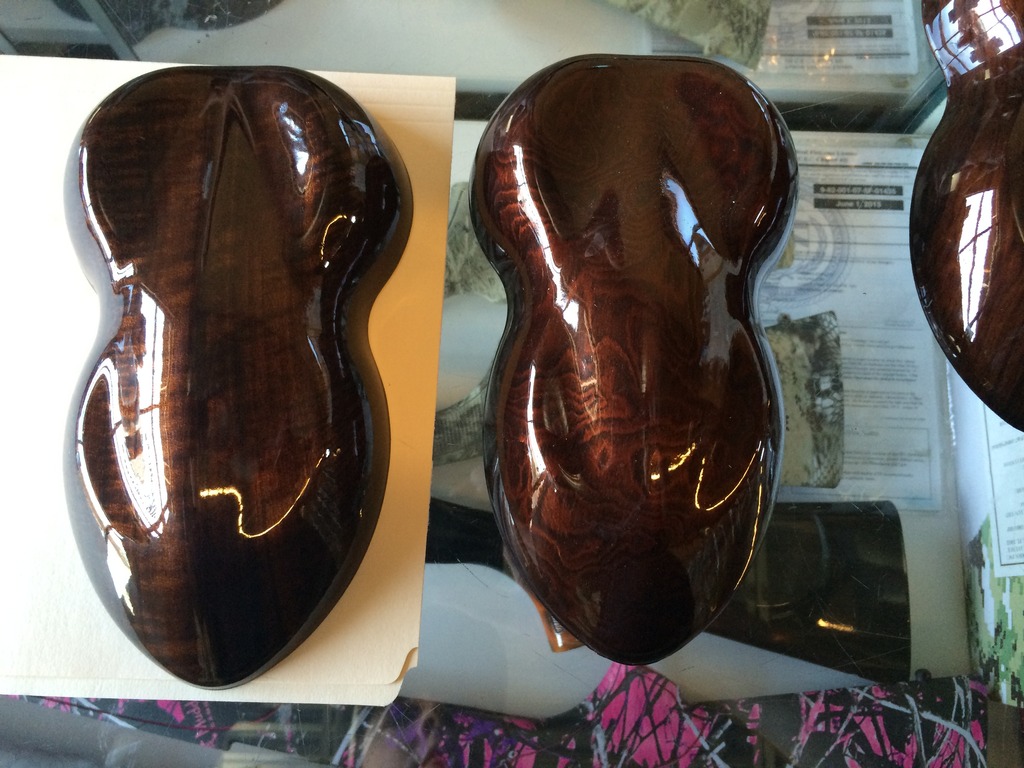 Here is the current planned workload:
Pull Heads, send to EQ Tuning
Replace rear diffuser
send interior to Hydro-Dip.com
Build long block
Get EWG uppipe solution from Nameless Performance (they're working on a solution that fits now)
Install longblock, new clutch and STI Type-RA transmission
Block off hood scoop
Redo headlight LEDs (halos are failing again, considering new pattern)
7-30-2015
Worked on the Cam bolts with a traditional breaker bar, impact gun and hex bits plus valve lash. Got 2 of them out, had to drill out the other two. this took HOURS, even with the carbide tipped bits running at low speed.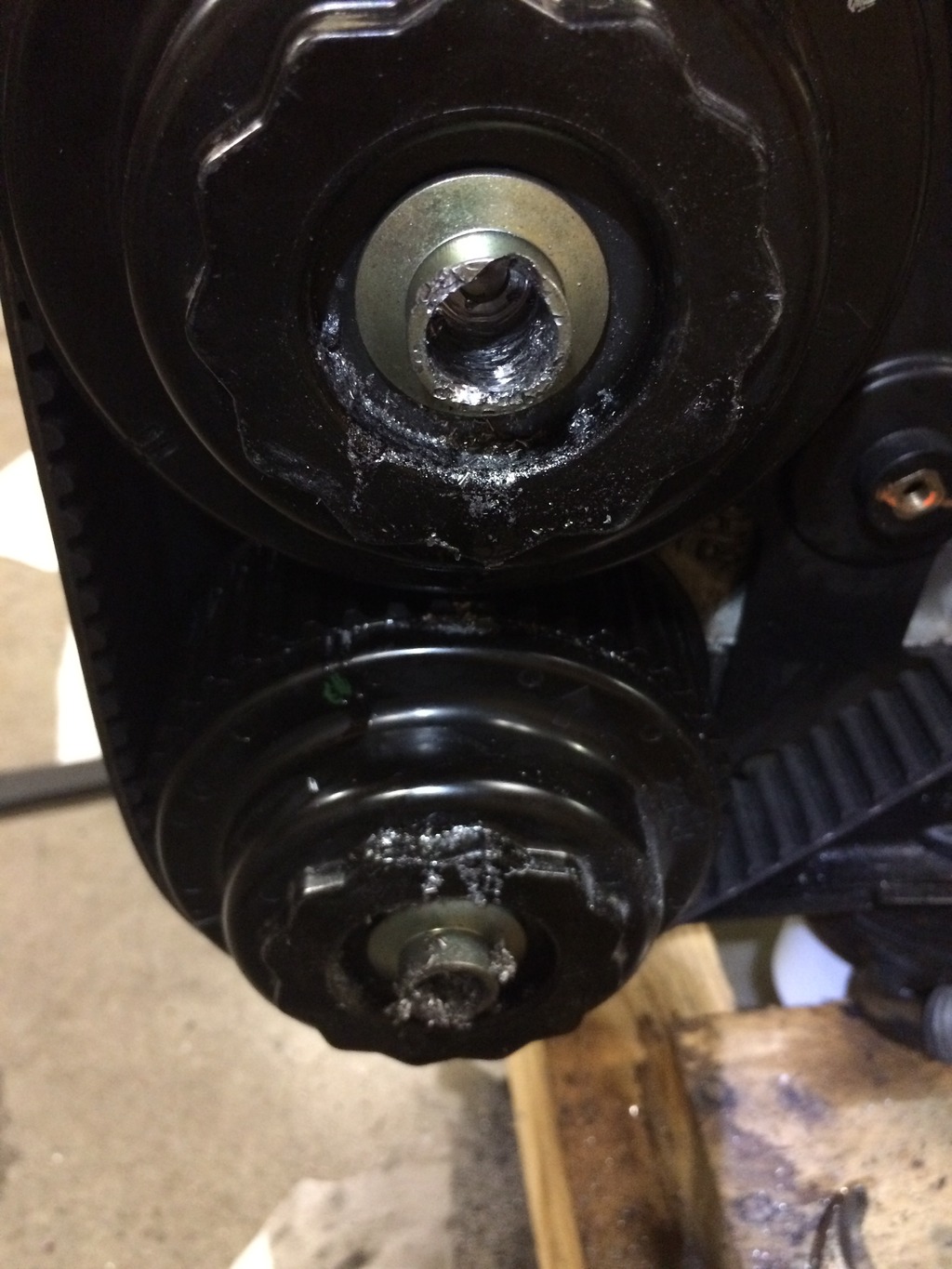 I suggest to anyone trying this, get a 4 foot pipe at home depot and a regular Allen Key in the end of it. Wish I'd started with this, much cheaper anyway: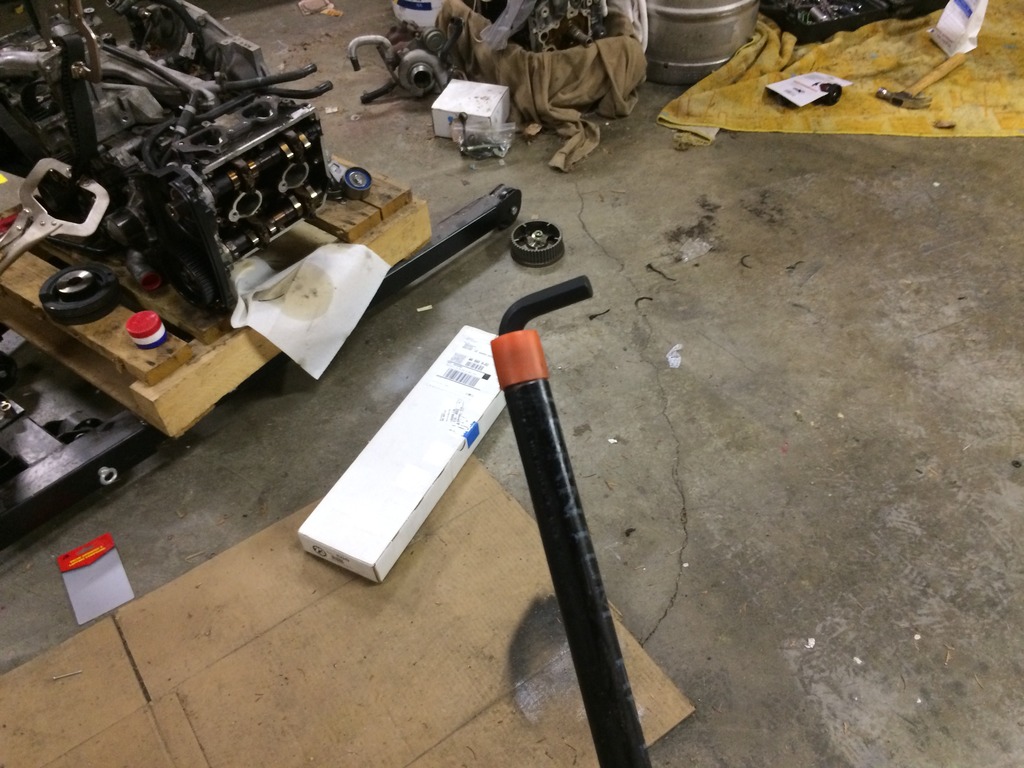 Rest of the heads and their bolts came off without issue. just needed to hammer a socket on the back of the valve springs to get them to pop out, shipped them off to equilibrium tuning this morning: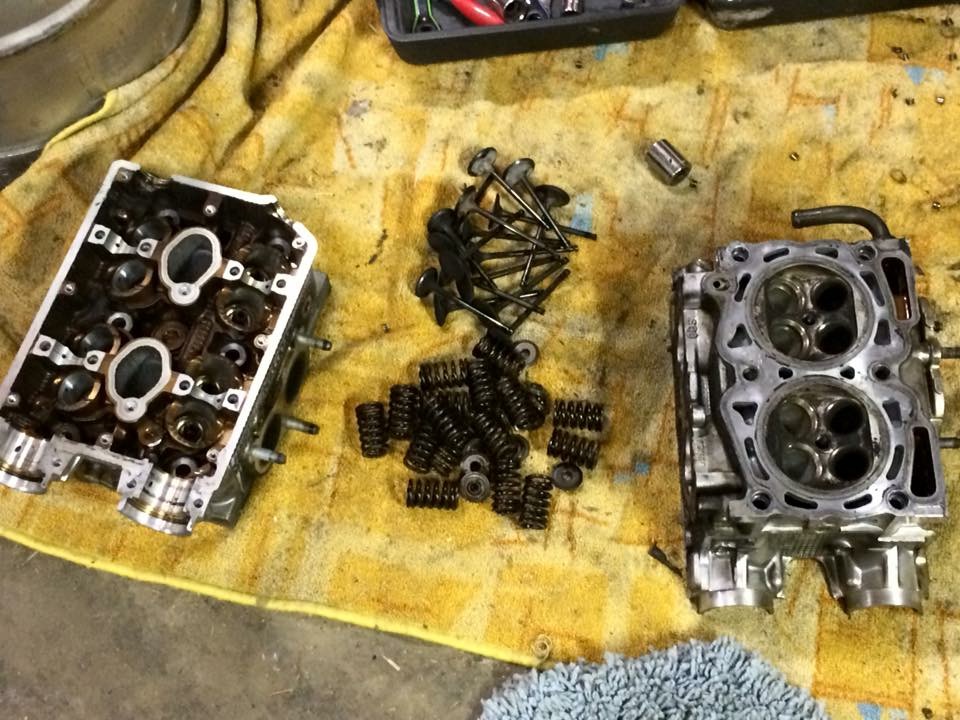 8-23-2015
Progress- first, the form and function exterior stuff:
Here's how the wheel gap and fenders lined up with the new lugs and spacers. Highly improved, the way it 'should' have been new: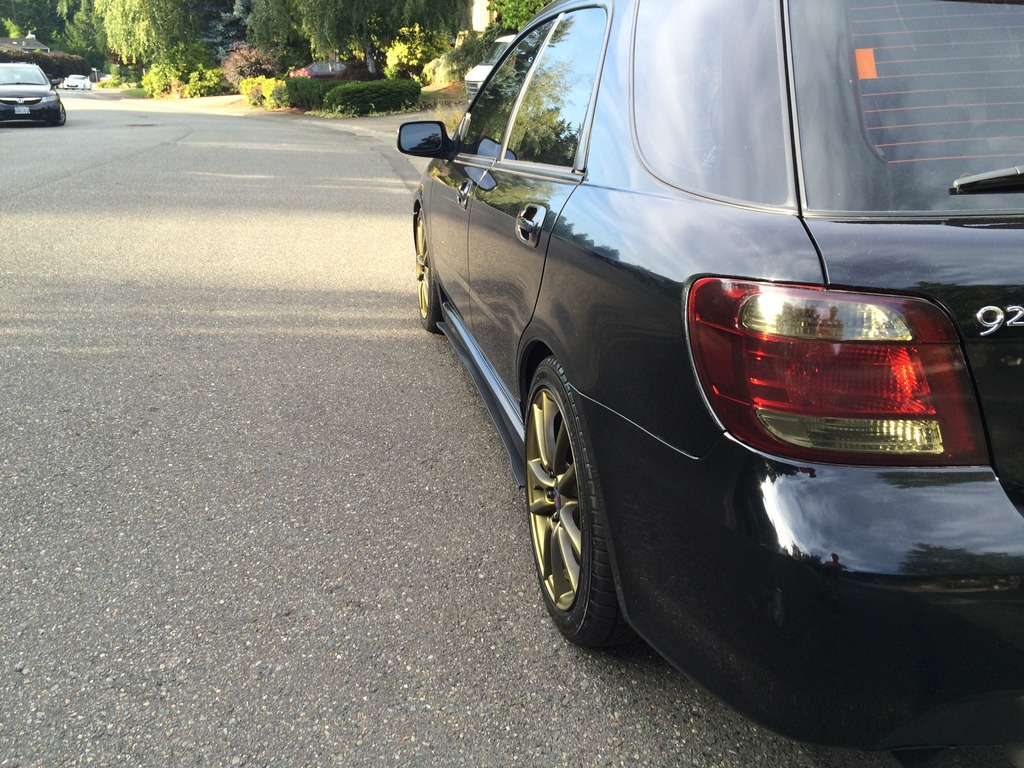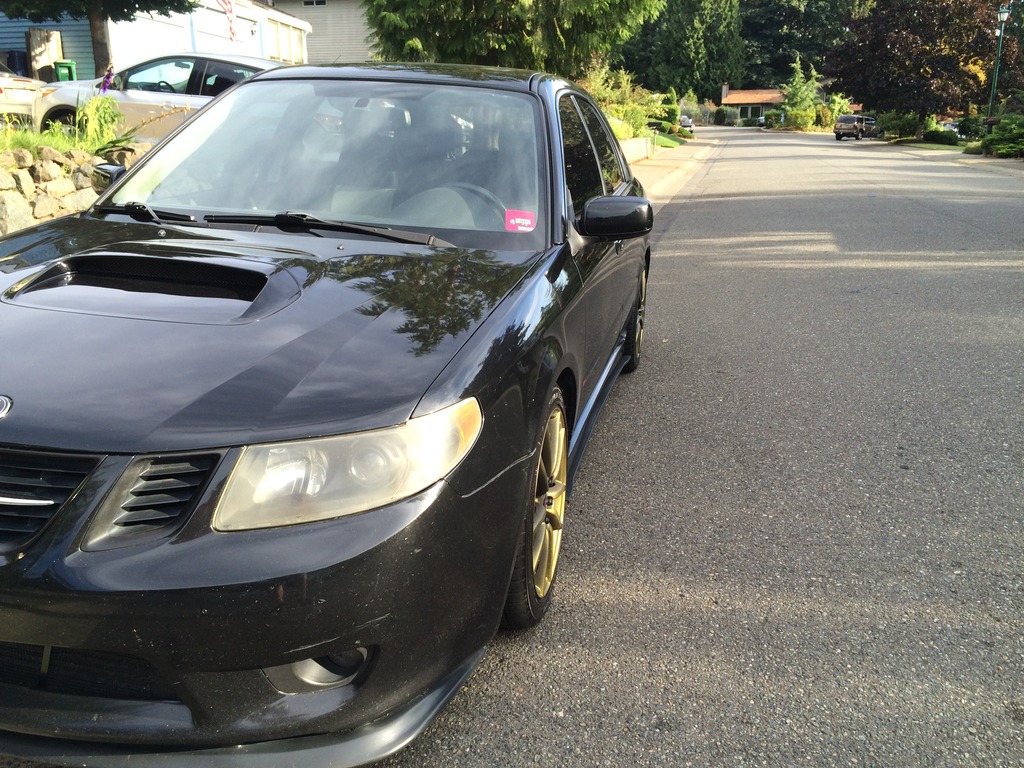 Next, I worked with my diffuser vendor and the manufacturer of the GT500 diffusers told them I should just heat gun it first. It did work ok after all, and aside from a 'bump' on the RH side where I worked it over the charcoal canister and a gap on each corner, it came out with a fairly factory appearance: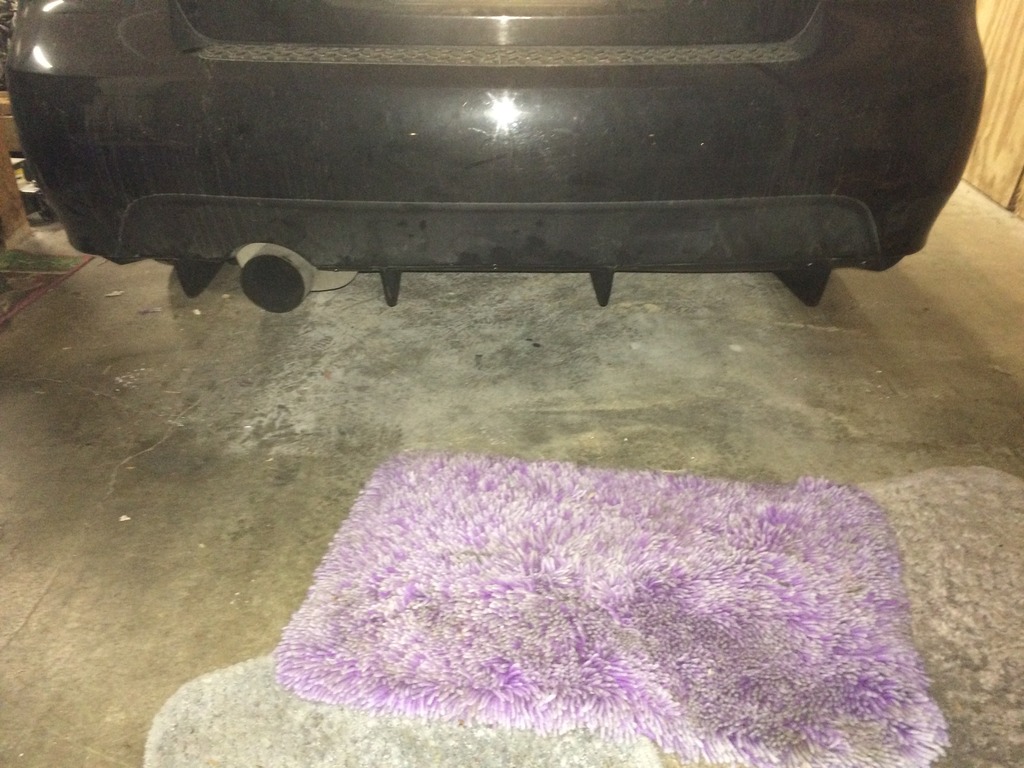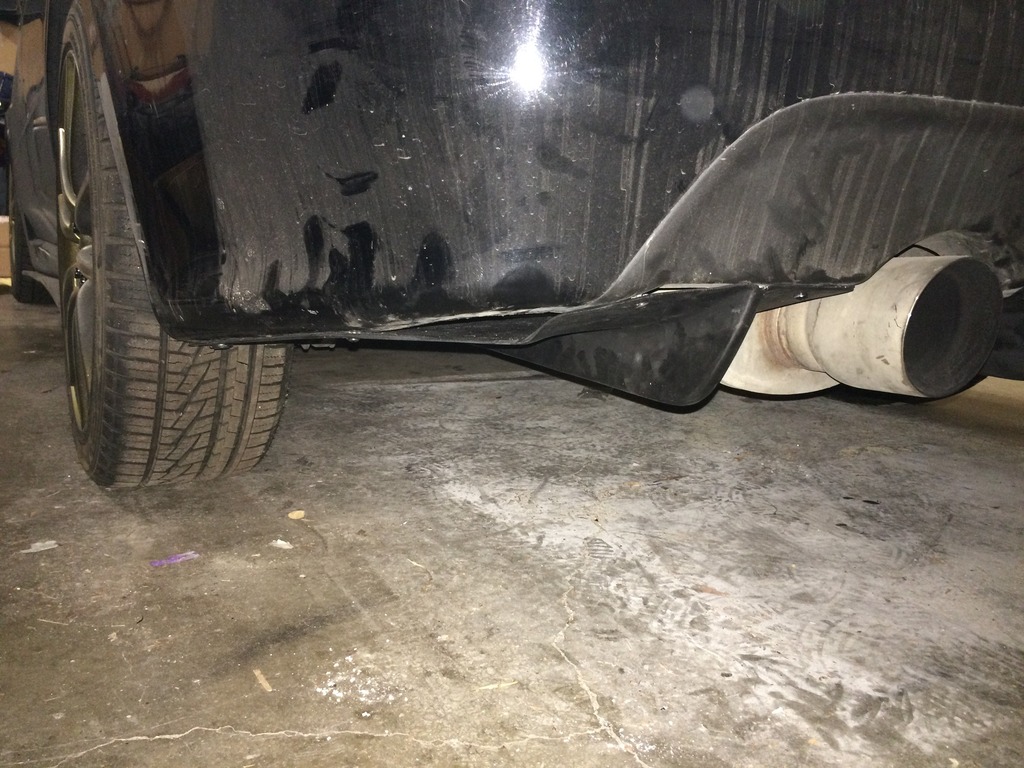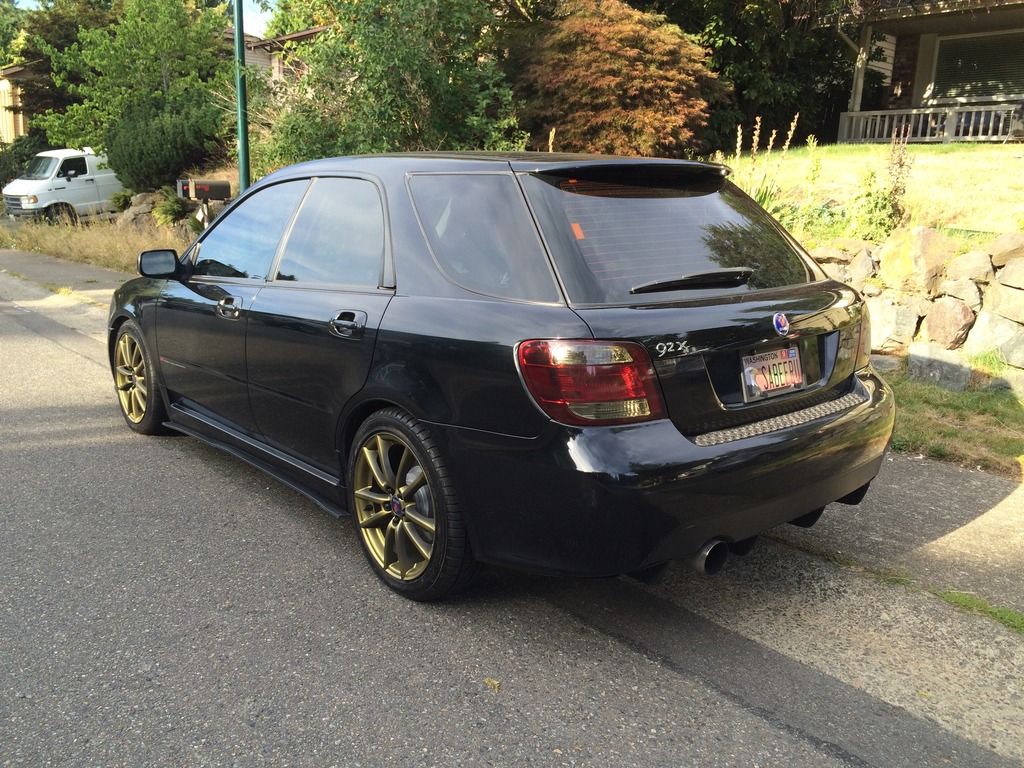 After a year of staring at a scrap plastic piece and gutter guard on my workbench, I finally pulled out my spare (and better painted) hood scoop and got to work on blocking it off. I started by doing some rough trims around the edges and pushed the pieces into the scoop until I figured out where to make the cuts to go around the tabs. I kept it a very tight fit, so while not windproof, it stayed in place even with the scoop upside down.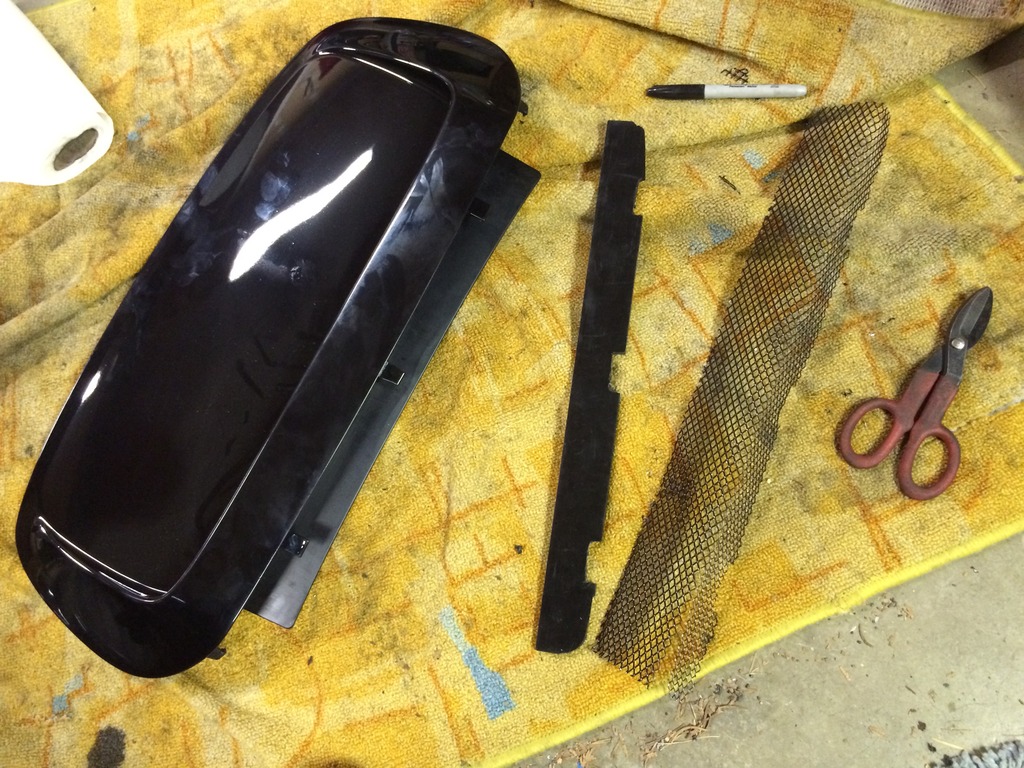 Once they fit, I put 3 screws through the bottom and used plastic bumpers on the sides to press the plastic and mesh into place: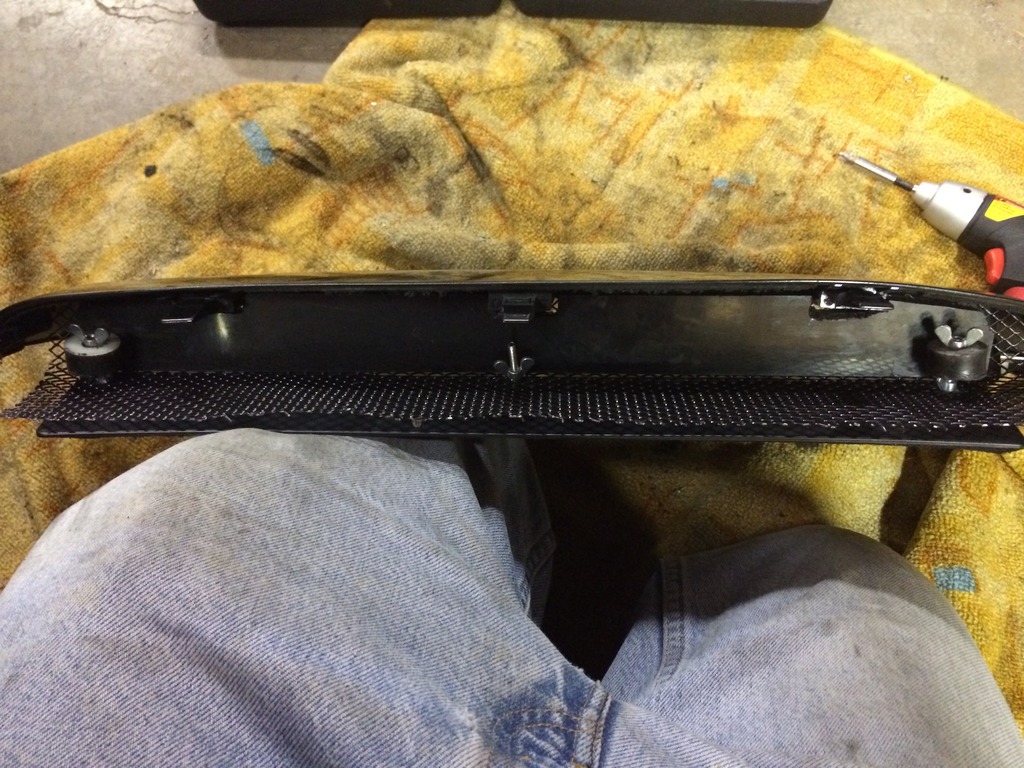 From the front it pretty much looks like a fake factory scoop and is completely immovable. It should block off about 95% of the airflow going in and hopefully help with fan efficiency.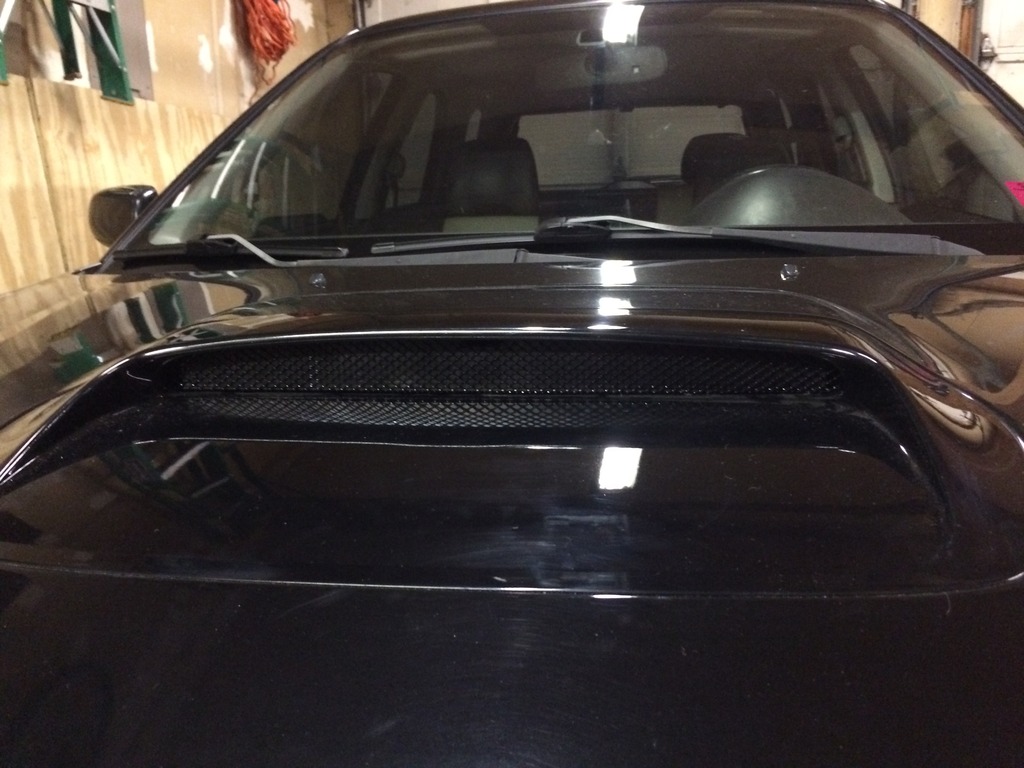 To prep for the new interior panels, I pulled the HVAC dials. I was able to remove the amber light and started the all black controls: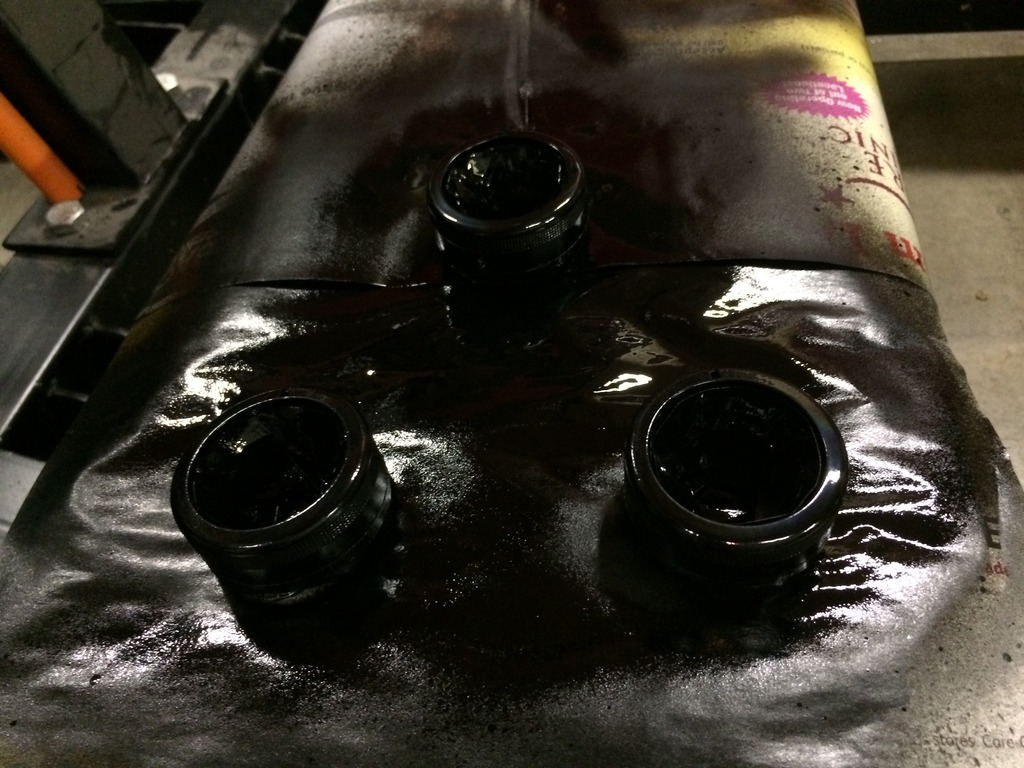 10-12-2015
I've been wishing since I got my 9-2x that a bit more was done with the interior than the 2-tone seats and the steering wheel. I've had plenty of folks tell me that they hate wood grain, but I pulled the trigger and I'm damn pleased with the results. I bought the black HVAC inserts, painted the dials myself, and arranged for a custom pattern with Hydro-Dip.com. This is the way it should have been from the factory, and looks so stock, you'd think it came this way: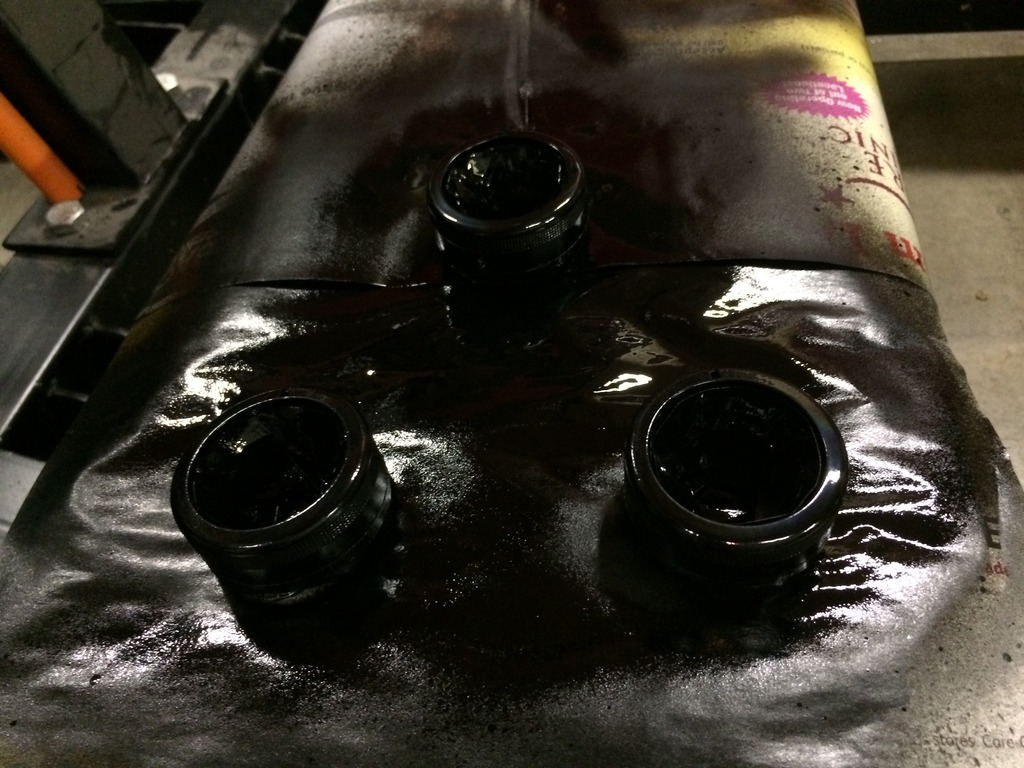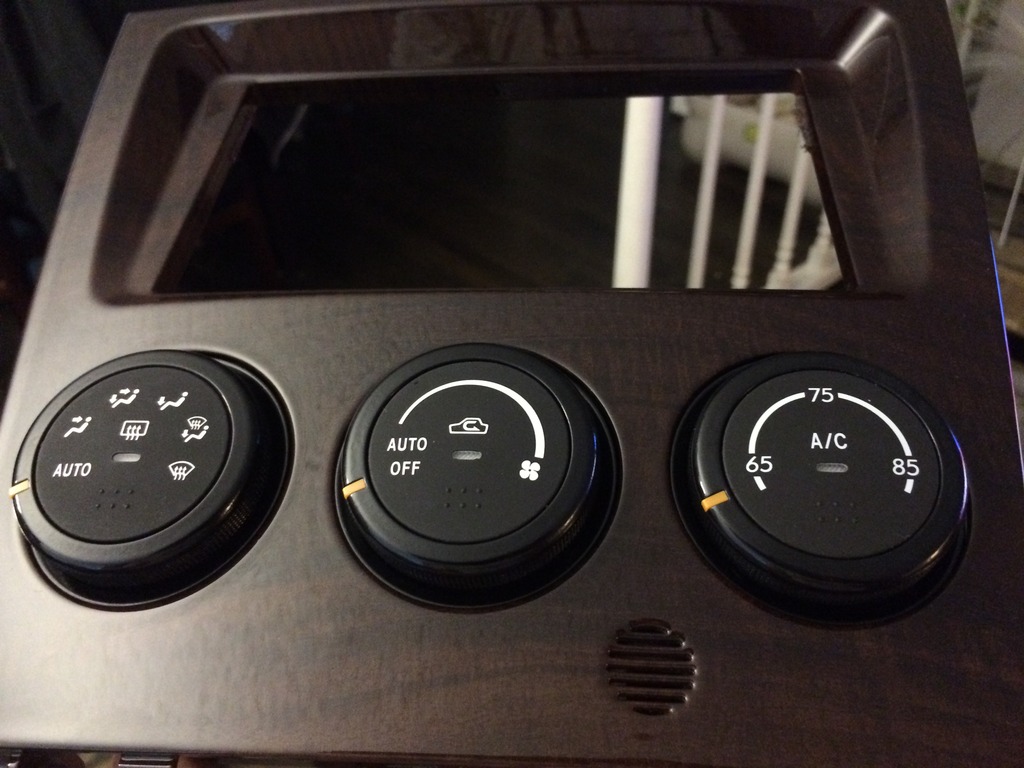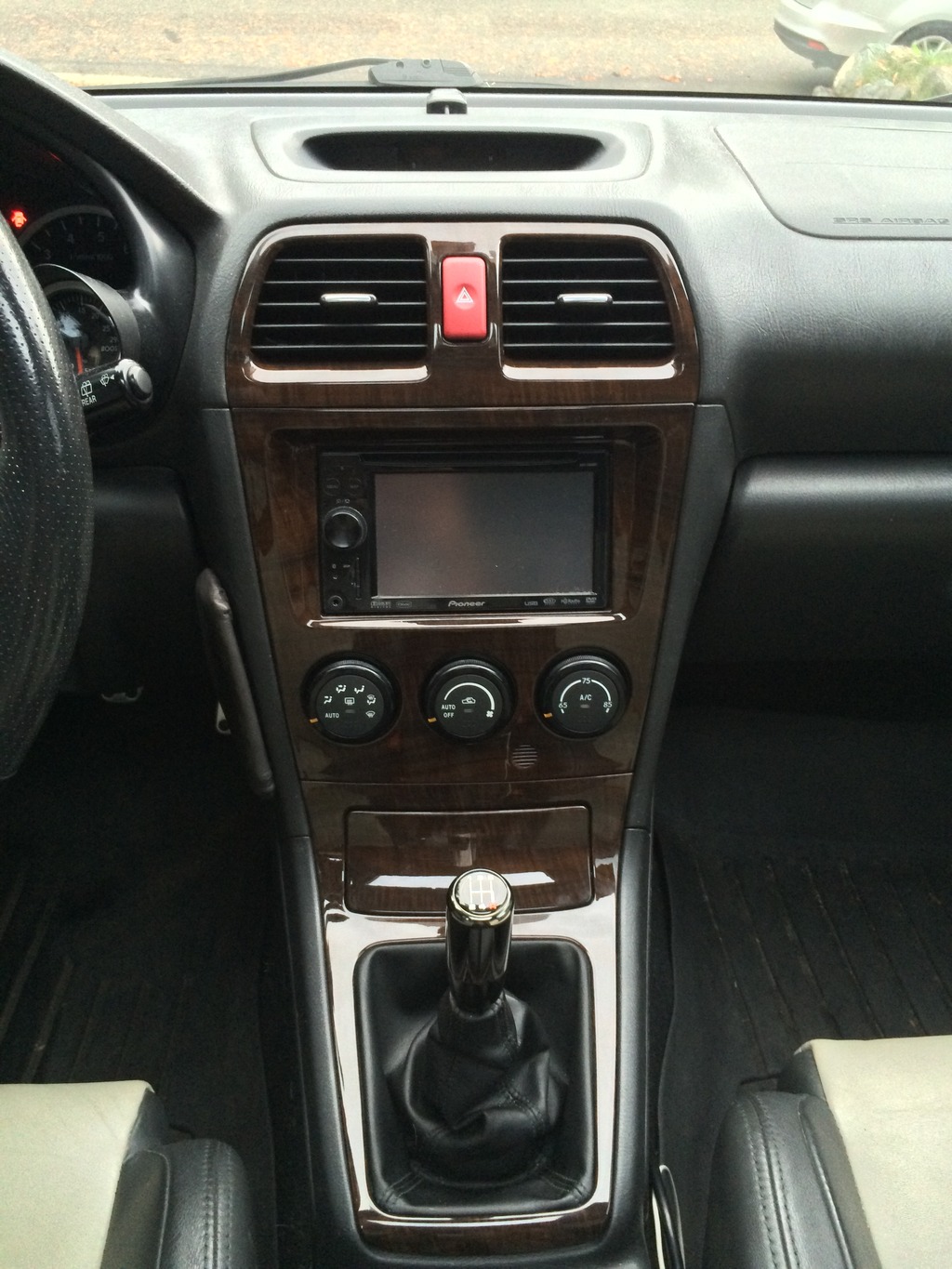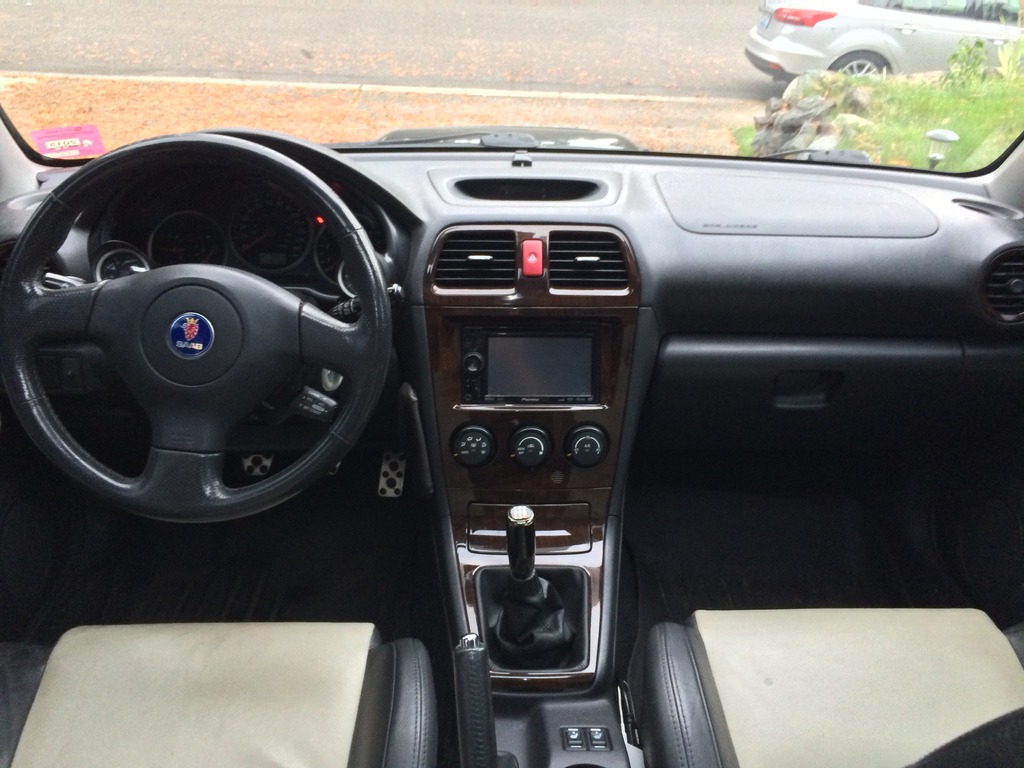 A few weeks overdue, but I had my heads shipped back from Equilibrium Tuning in California to Woolman Performance in Spokane for final work. For those not familiar, Woolman Performance is Craig Woolman, the old engine builder for Maxwell Power. I had Craig build out the full longblock and walk me through the entire process over the course of a workday. I'm probably forgetting some items, but here is the rundown:
EJ257 Block
JE Forged Pistons
ARP 625 Head Studs
Manley I-Beams
Killer B Oil Pickup and 6qt pan
Hardened Crank
ACL Race Bearings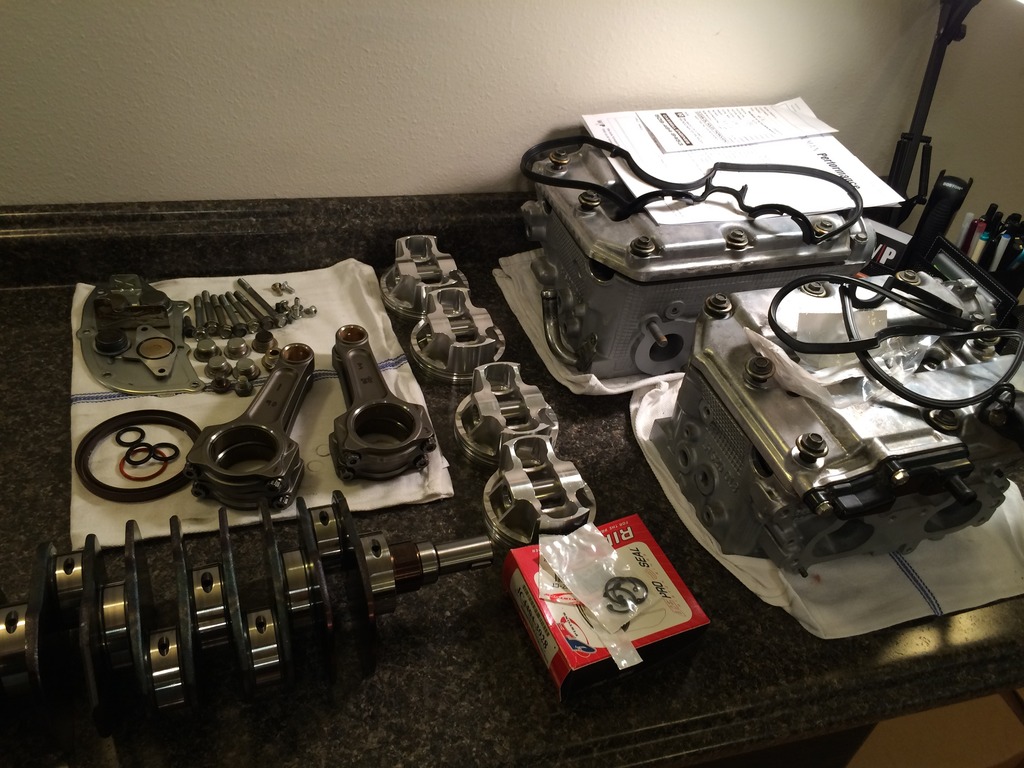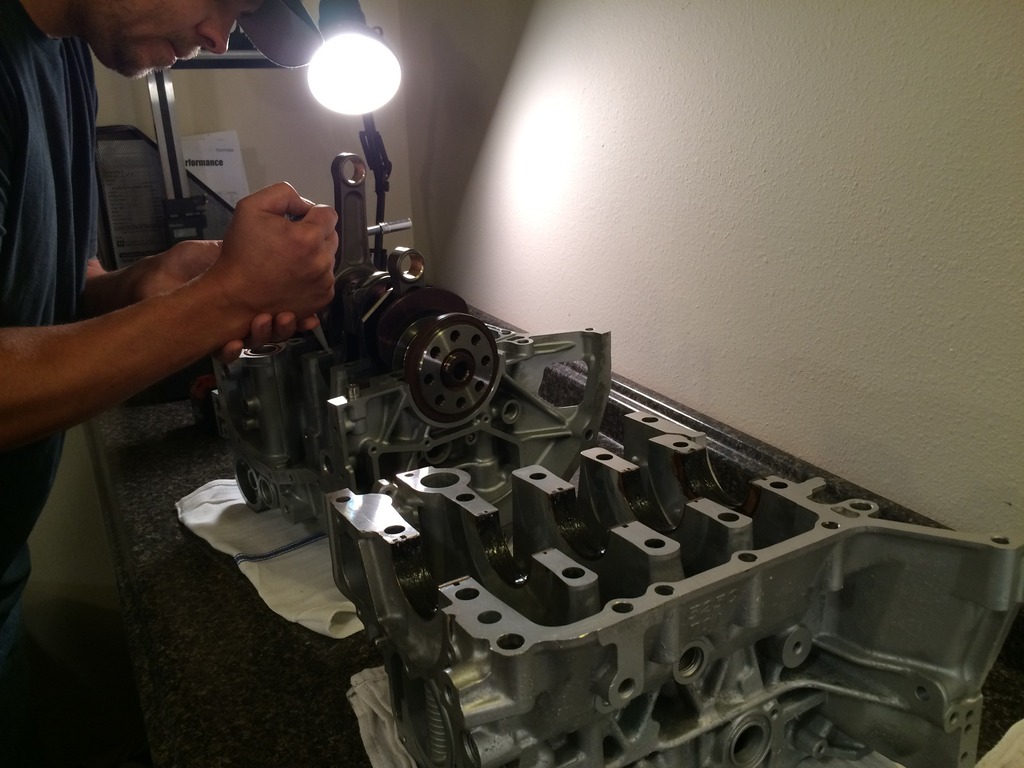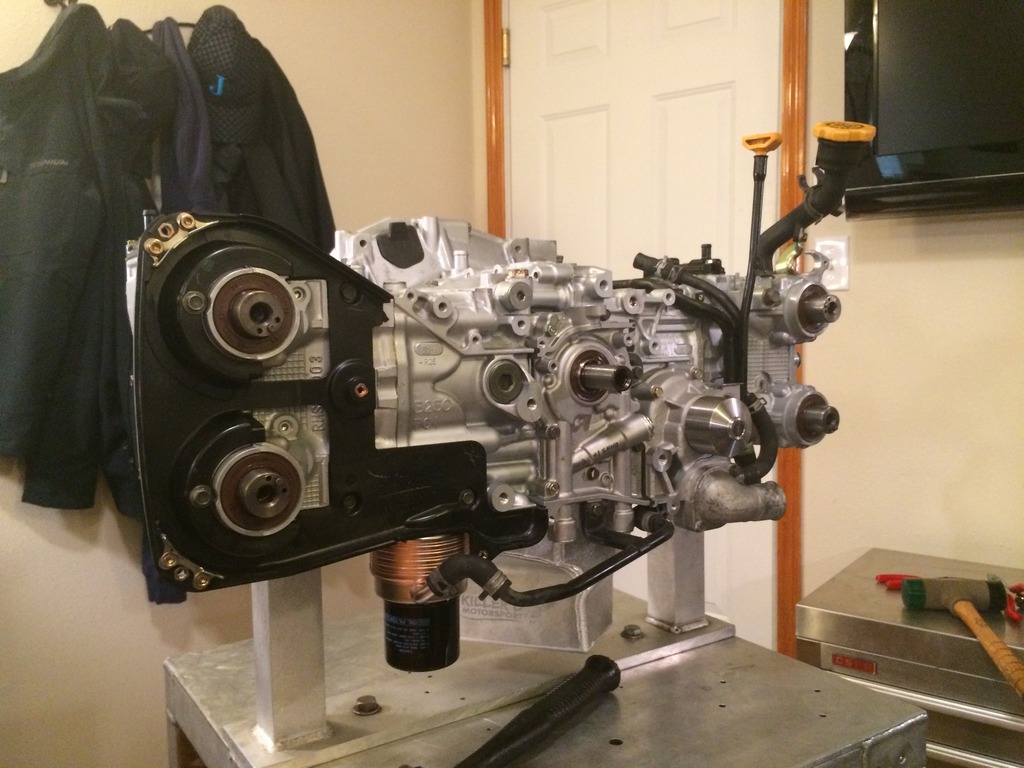 Plus a couple of personal touches: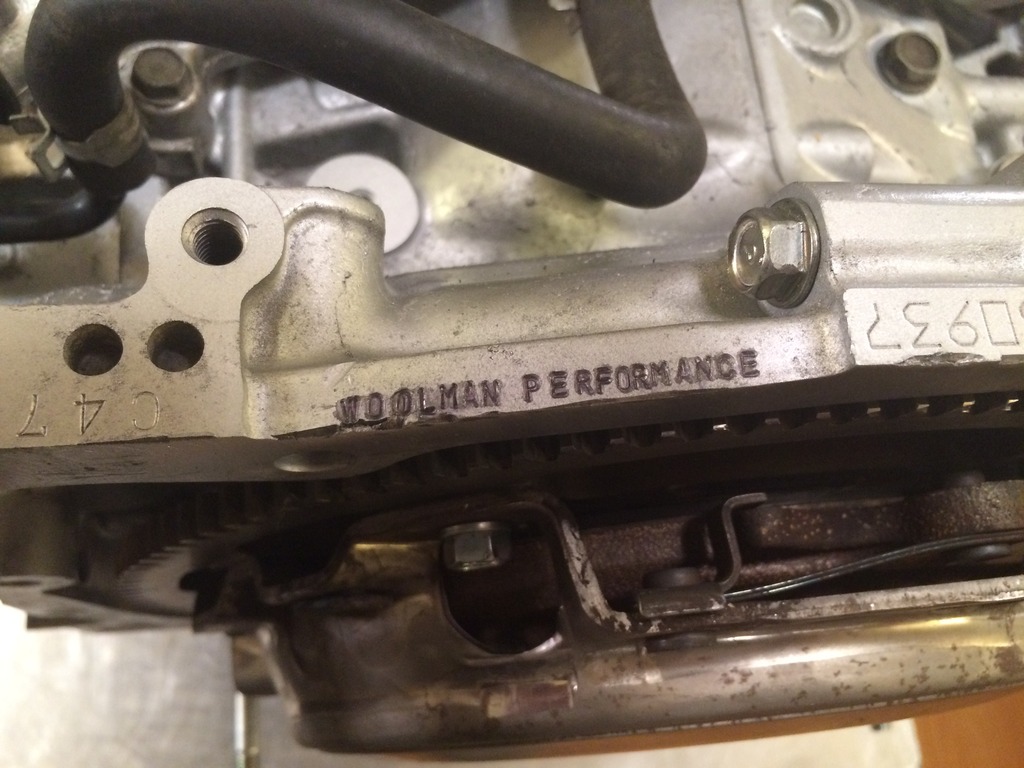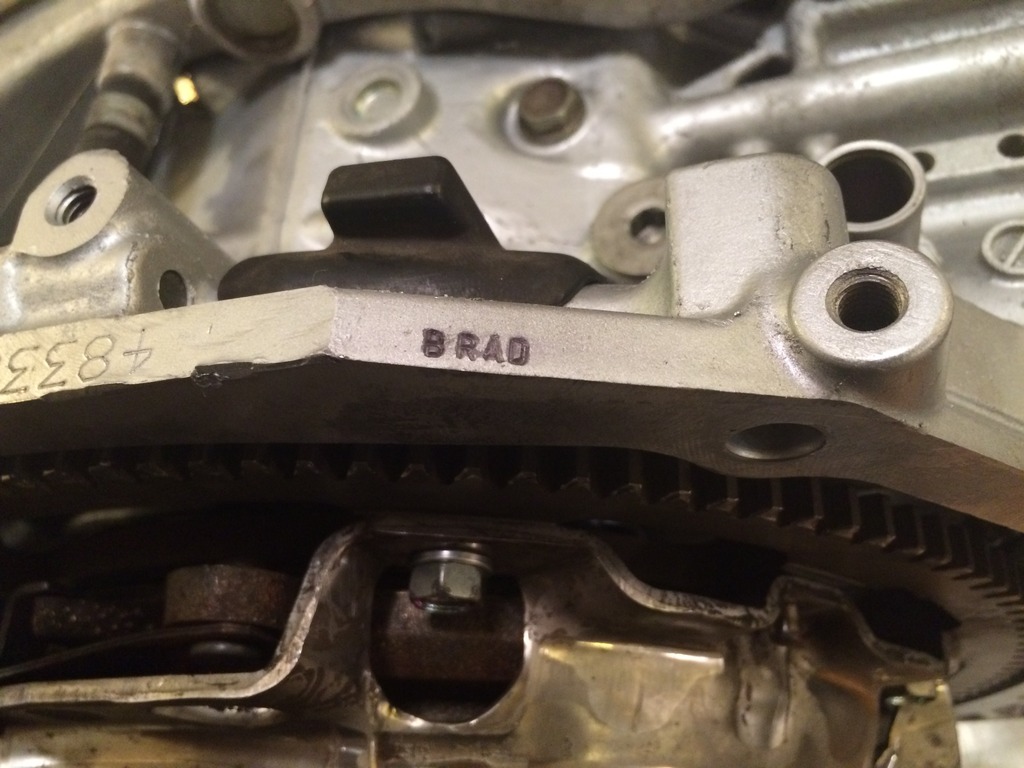 Now I'm just waiting on Nameless Performance to complete their EWG UpPipe and I can move on to the Engine/Tranny install.
2-8-2016
Still waiting on the Nameless EWG solution, but I realized that shouldn't hold me back from my break in time. So, on to the big stuff- I pulled the Type-RA trains out and bolted on the Moore Performance blast plates, mismatched because they had redone one side to avoid hitting the trains tunnel on the driver's side (It hit anyway, whack that with a hammer before install if you try them, it's a PITA after the fact).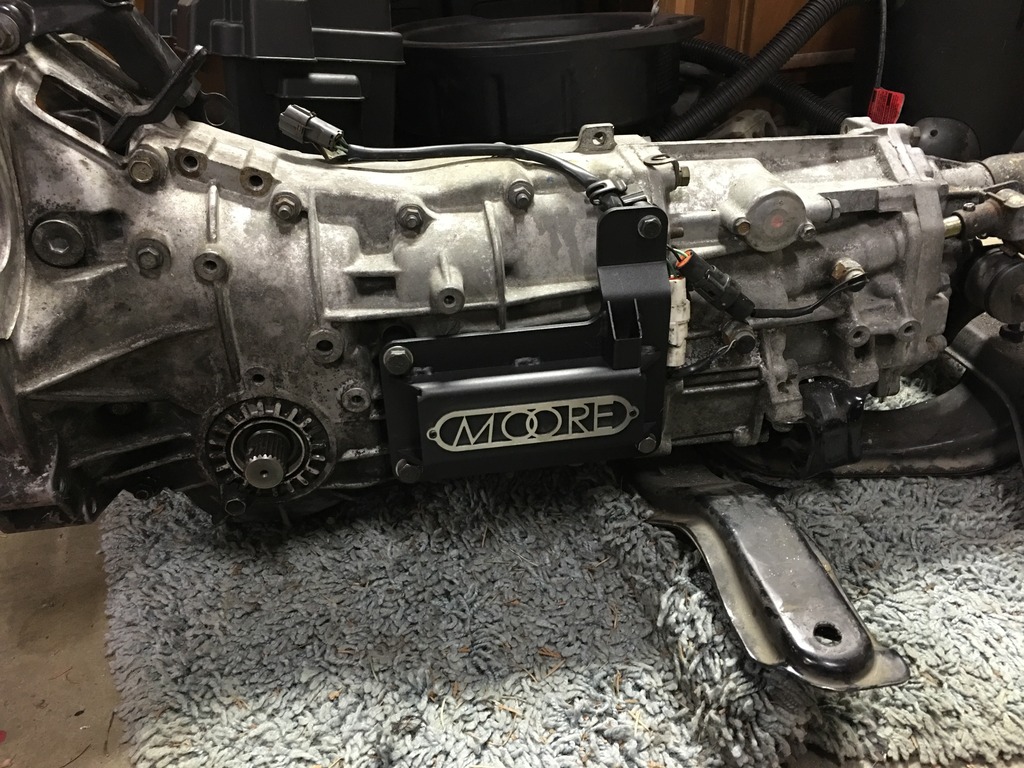 Off to the shop! I coudn't bear to tie up my garage for that long, so I had the install done by AWD Auto in Kirkland, WA.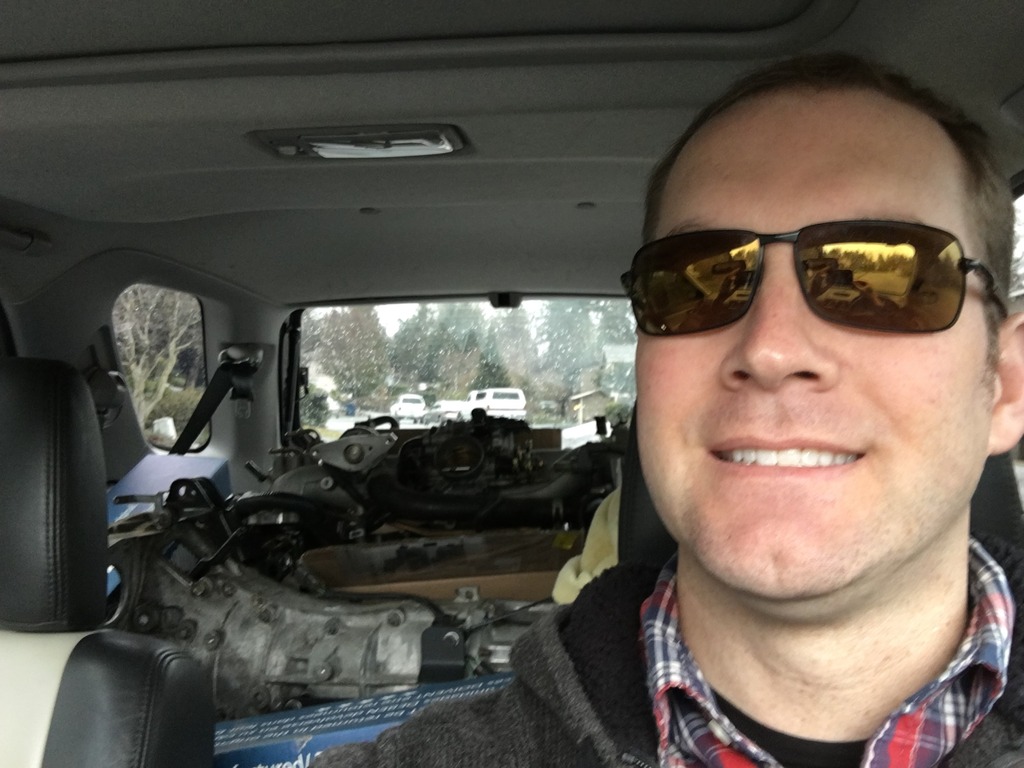 Partway through install; here's the point where they should have noticed that stupid blast plate bolt: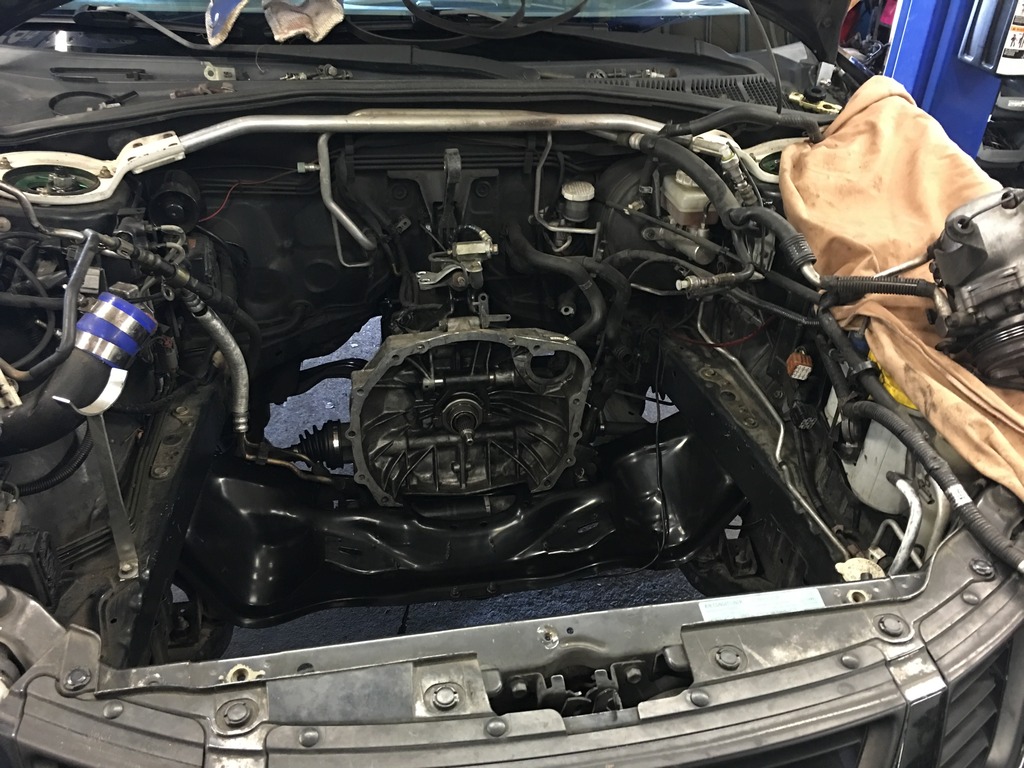 And here it is, looking pretty much exactly the same, but at least I took the time to do some cleanup and work on matching the blue pieces: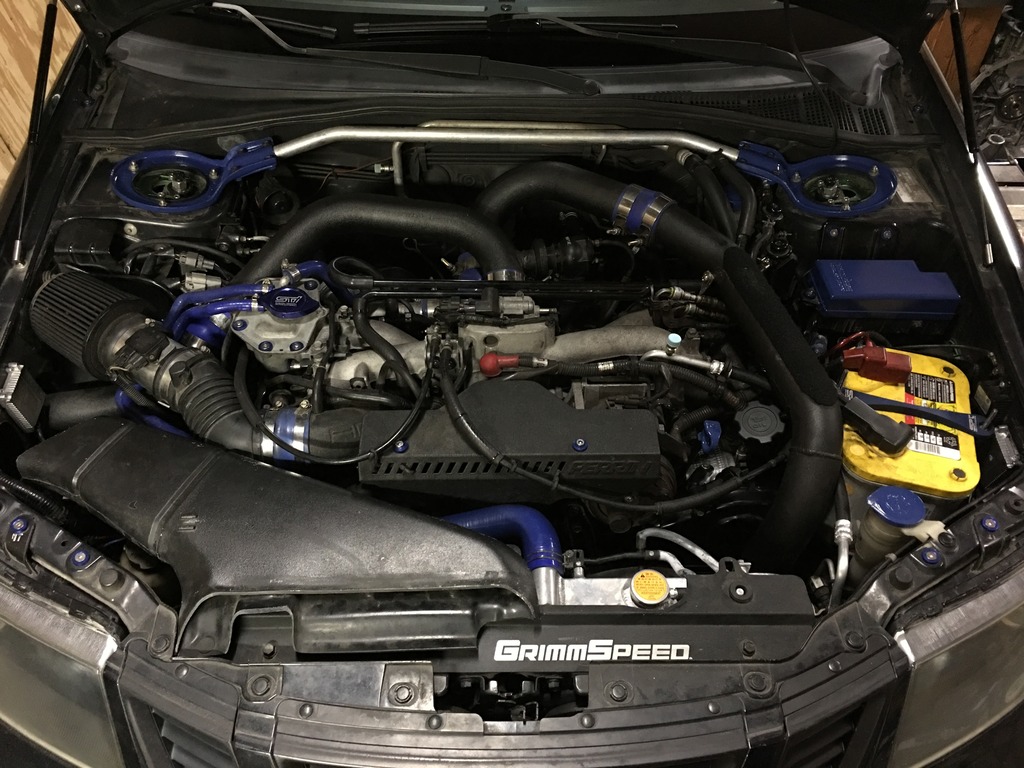 Since I don't have a lot to do during break in, I'm back to work on getting the lights 100% once and for all. Redid the tails with LEDs: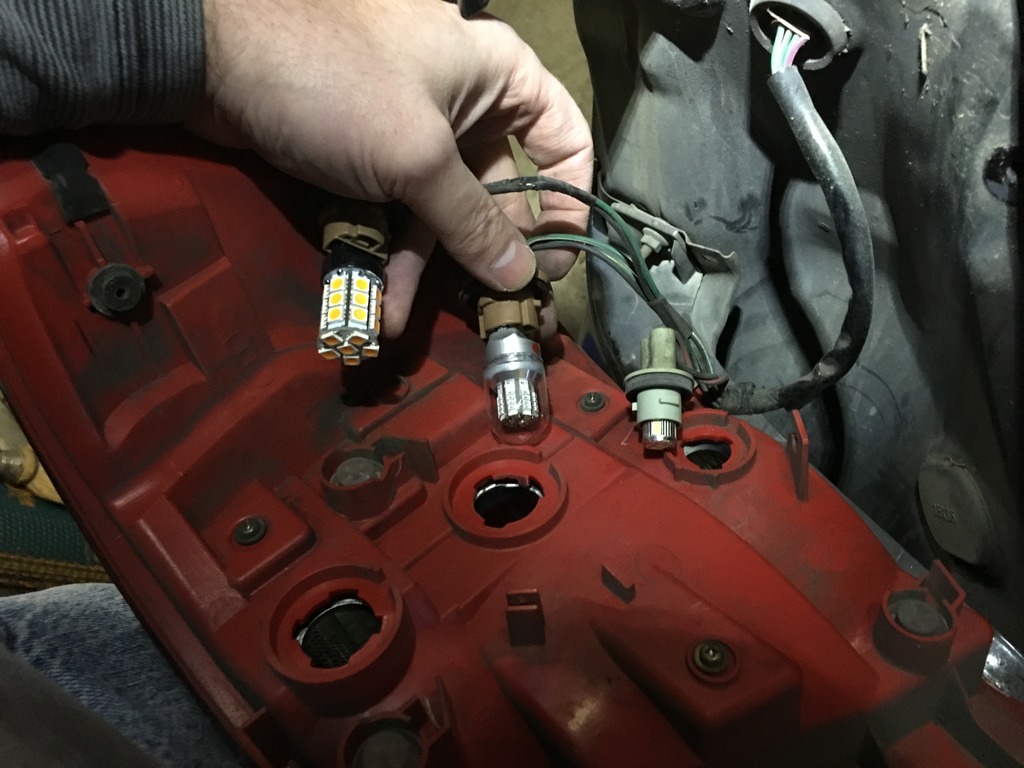 Since my tails are blacked out, here is the comparison with just the new bulbs in the LH lens: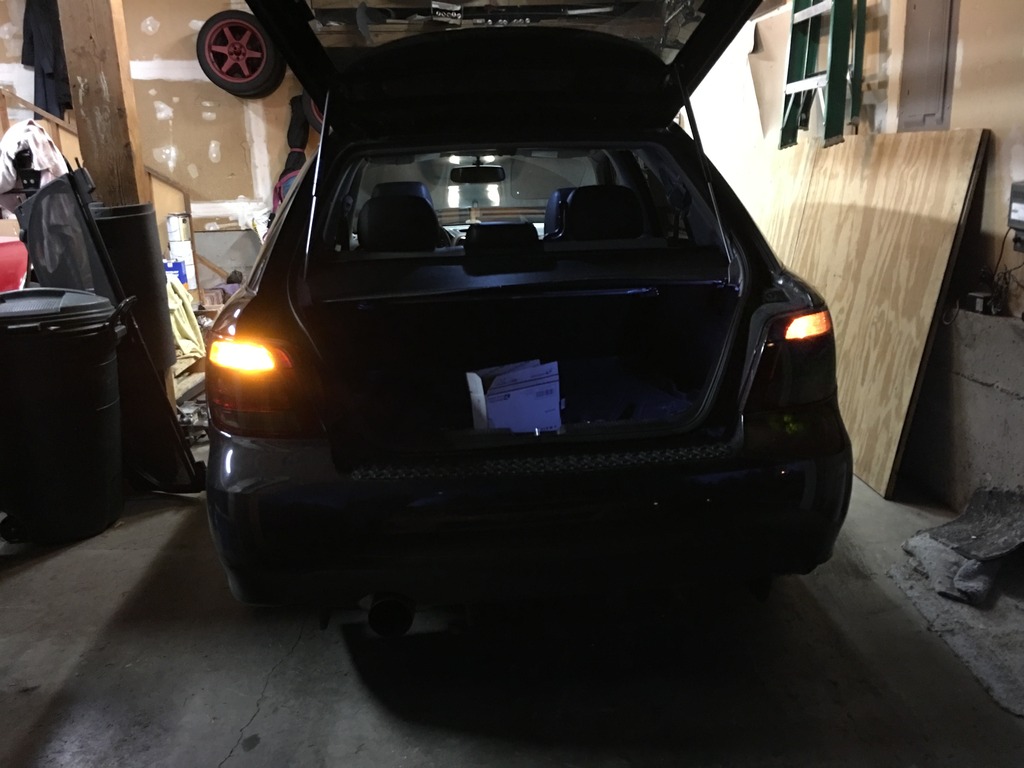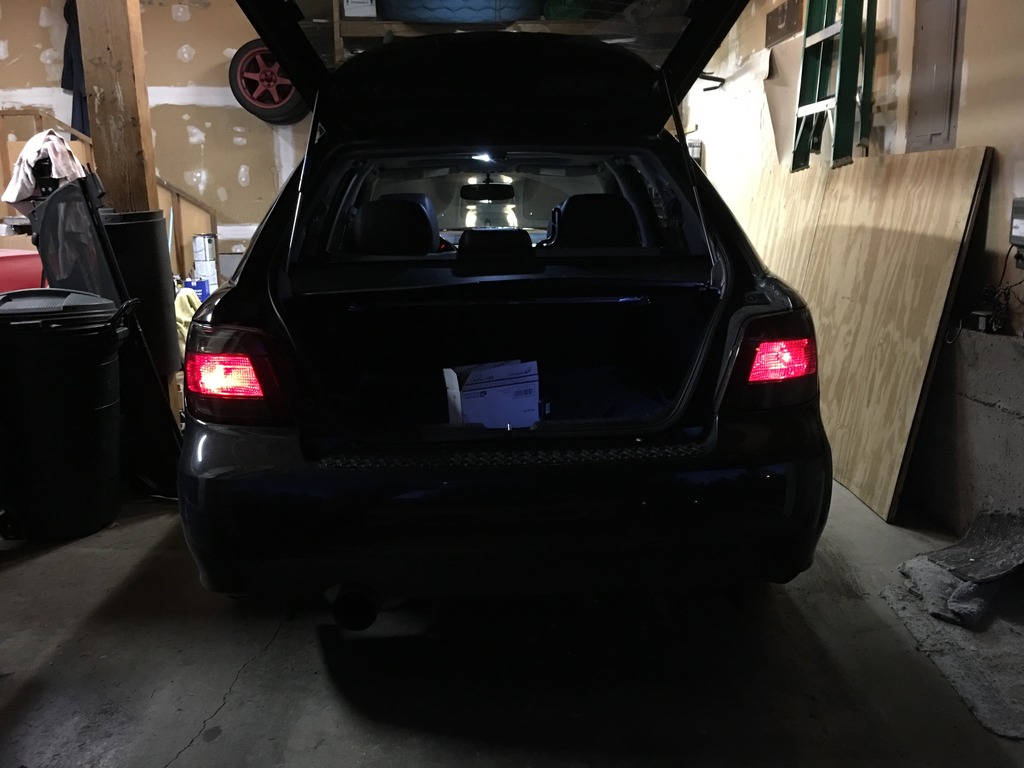 I needed to reseal my fronts anyway to stop fogging and had some dead LEDs, so I redid the halos and integrated the LED strip so they would appear as a continuous pattern. Wired this to the turn signals so I have the Amber switchback effect (Sorry about the Amber pic quality, the turn signal bulb made this the best pic my camera could do):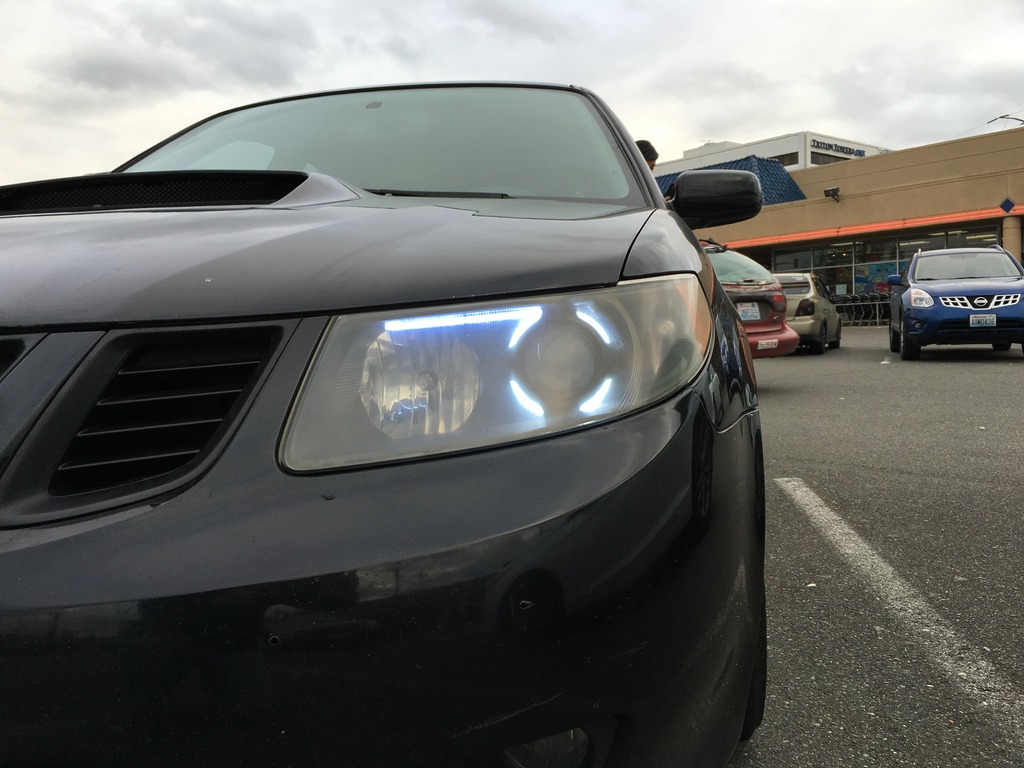 9-10-2016
WAY behind on an update (Social Media skills aren't what they used to be). First off, I upgraded from the FP 68HTA to a Blouch 18G-XT, side by side here with the old turbo and a TD04: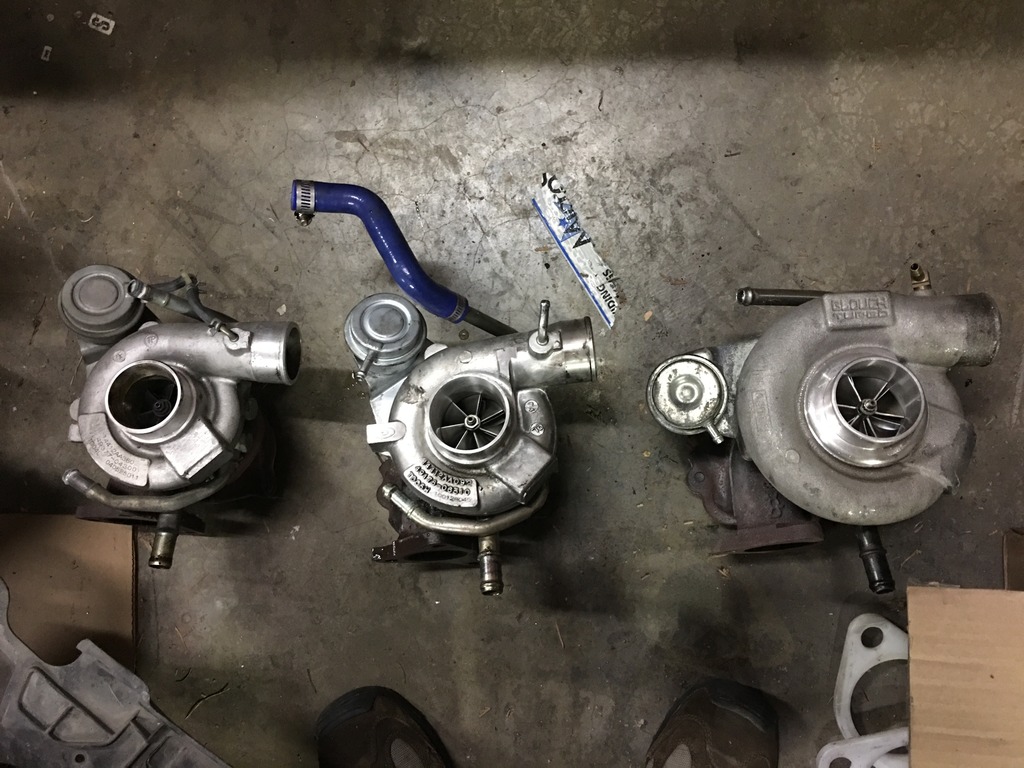 Next, a thank you to the team at PIA in Parkland, WA; 351AWHP, 378AWTQ and my turbo lag feels the same as stock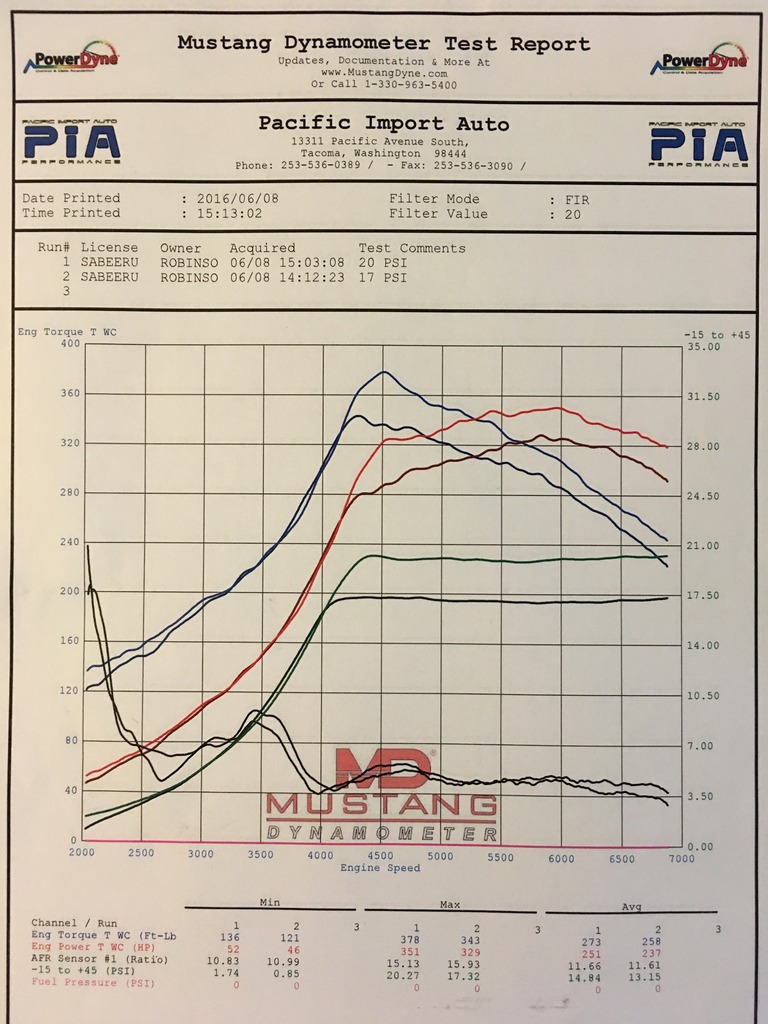 A bit of cleanup under the hood was in order, very pleased with the look and just wish that Blue batteries weren't just for boats: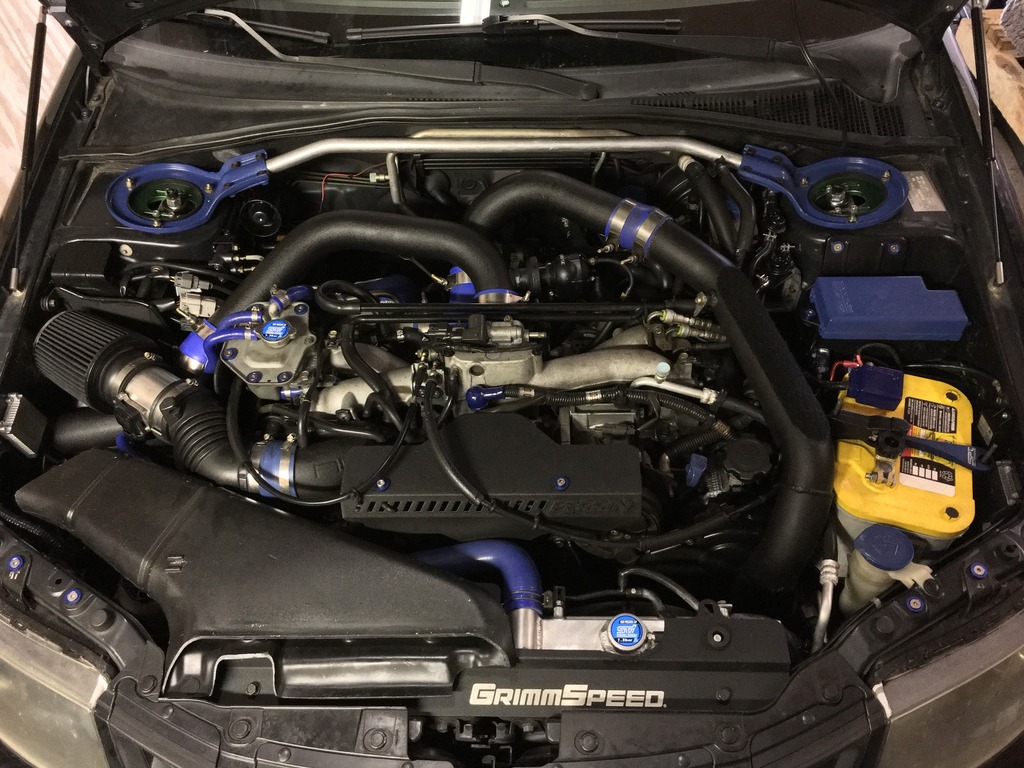 For the sake of my wife's tailbone on road trips, I swapped the stock Fortune Auto springs for swift springs: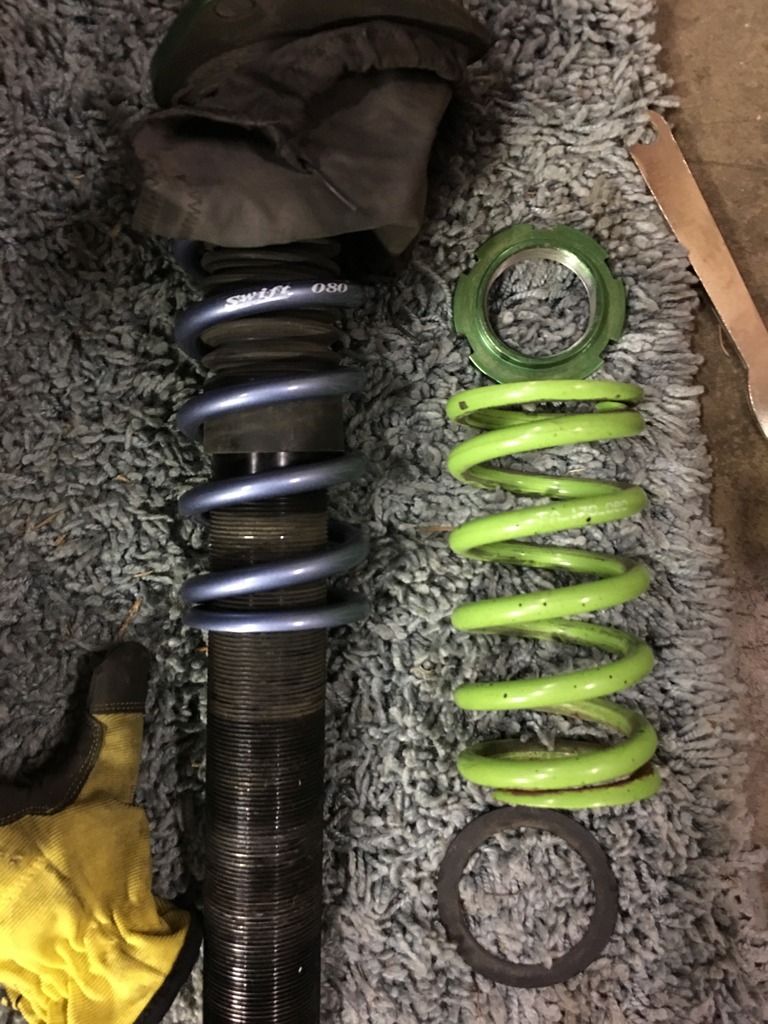 Pretty pleased with where it's at right now, couple of small fixes is all it needs. Hopefully the next uploads are AutoX videos