'77 95 V4 van conversion by melle
By diyauto
You must be logged in to rate content!
'77 95 V4 van conversion
Compliments of melle @ saab-v4.co.uk
3-10-2012
As requested by some of you, here we go with a project thread on my 95 V4 van conversion. Yes indeed, I'm a bit van-mad: http://www.saab-v4.co.uk/speedball/topic.asp?topic_id=2078You might have seen some of the pics before elsewhere on the forum.

I got this '77 95 V4 for free couple years ago. The car was partially dismantled and the owner had to get rid of it because he couldn't afford the space any more he'd rented for its restoration. I had the car transported from the South of the Netherlands to my workshop in the North with the intention of breaking it.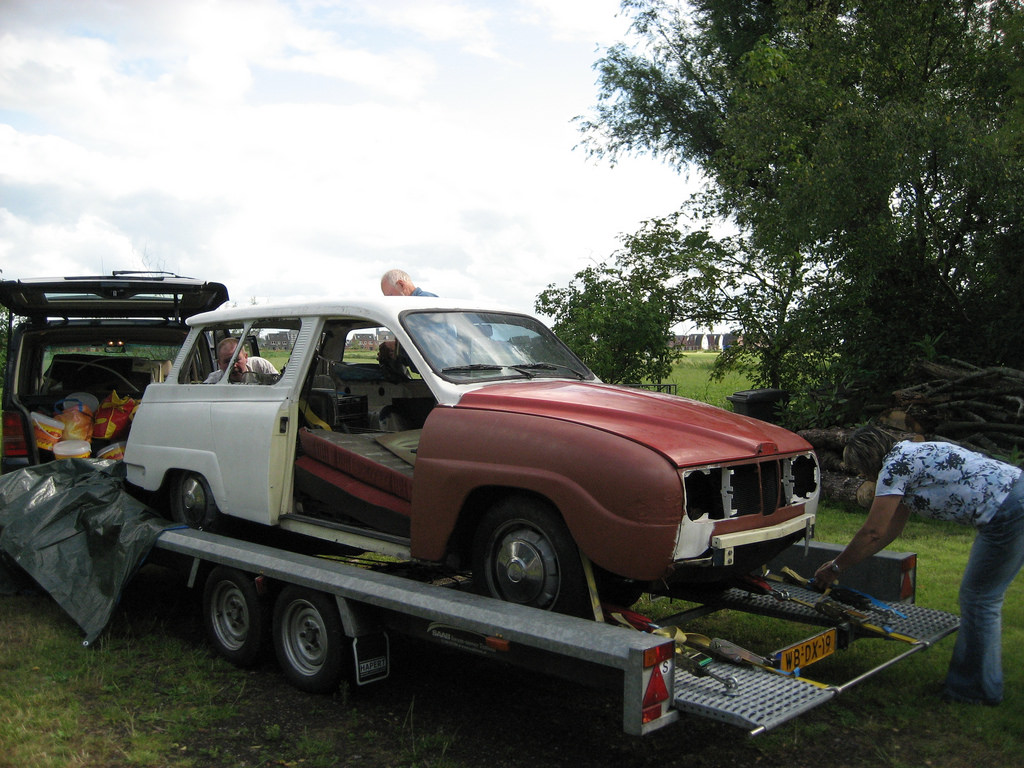 Interior and bumpers weren't included: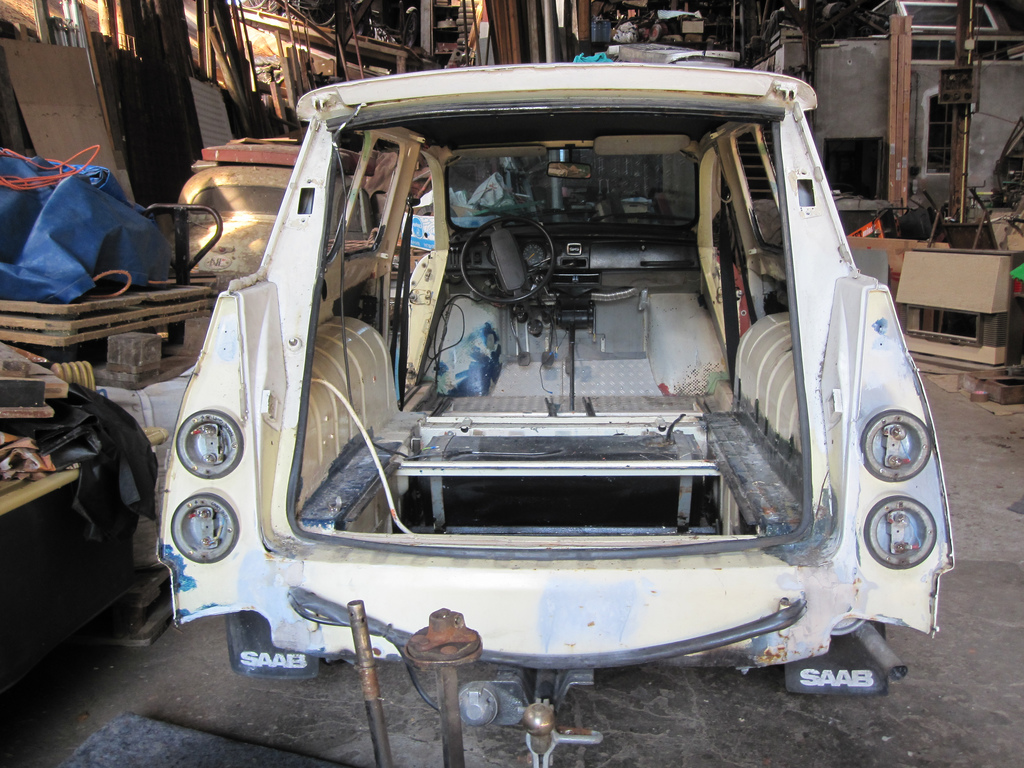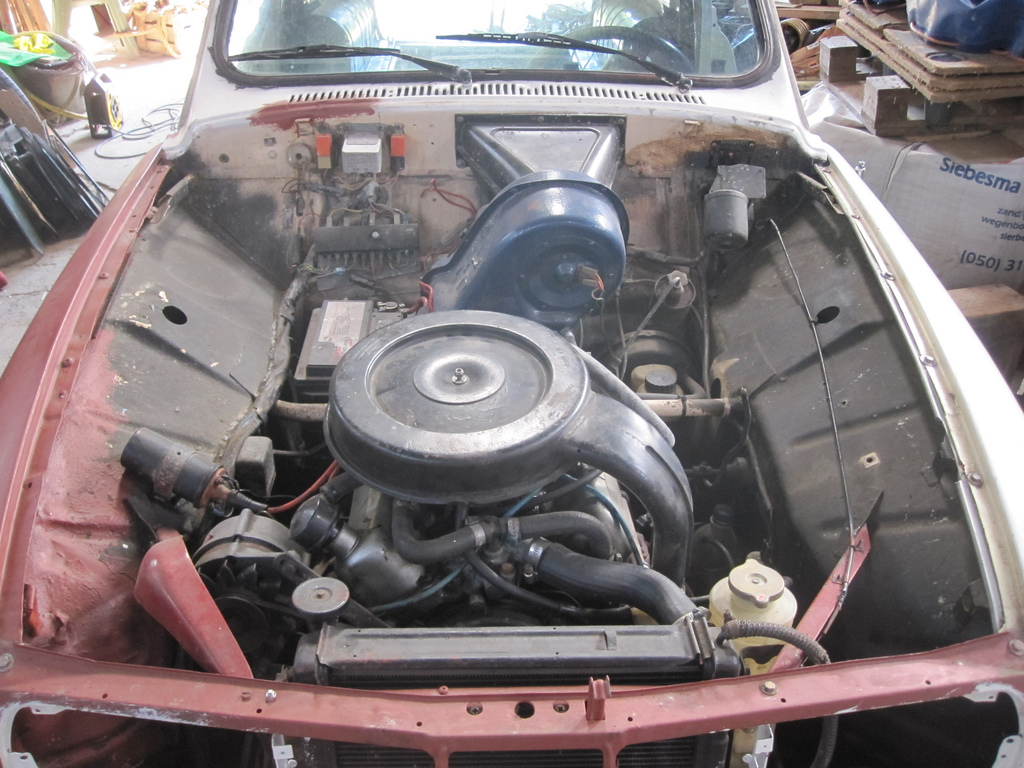 It came with some spares as a bonus though: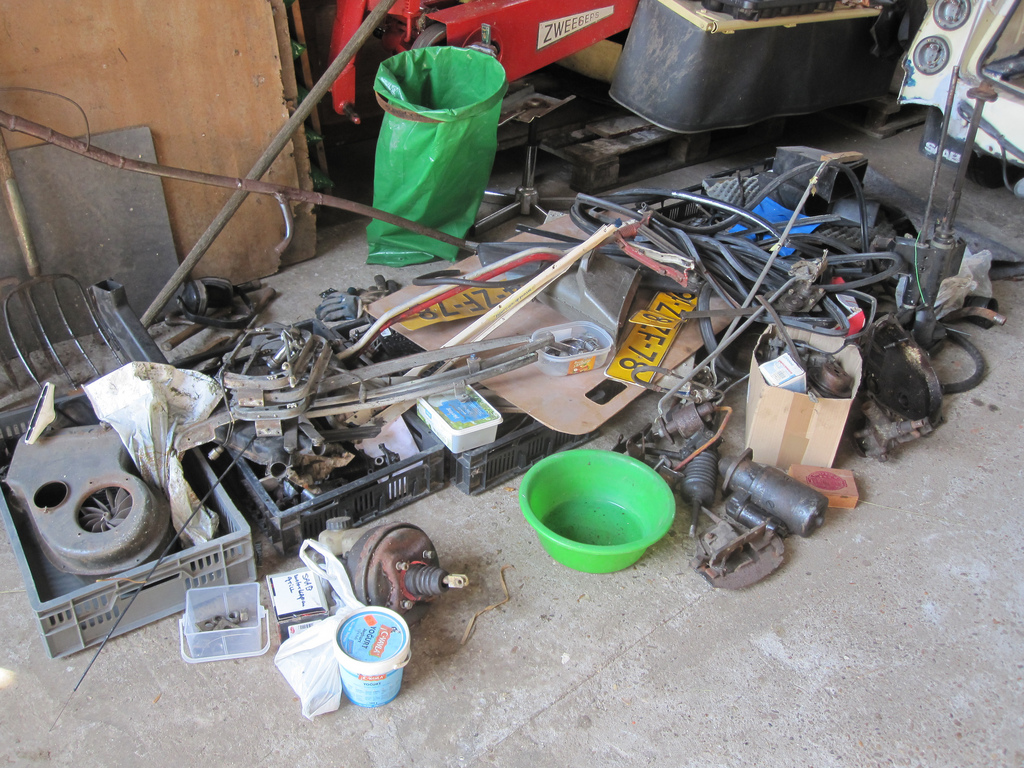 The car was on very good tyres on powder coated rims, so these went straight onto another 95 I had back then. On further inspection I found it was fitted with a VeGe engine (1500 HC) and a reconditioned gearbox. These went in my 96. I had the car on the lift the day before I planned to break it and found it to be pretty solid over all. This made me decide not to break it, but convert it into a panel van instead. I've always wanted to have one of those, but as they're pretty rare and I'm a poor fella the real deal has never been an option for me.



I decided to stay true to the style of the original vans (1969/ '70) and fit it with chrome bumpers. But since for the rest of it it's not original anyway, I thought I'd make it exactly as I want it: with a heightened roof and MK I/ II Ford Escort van rear doors.

Conversion sketches: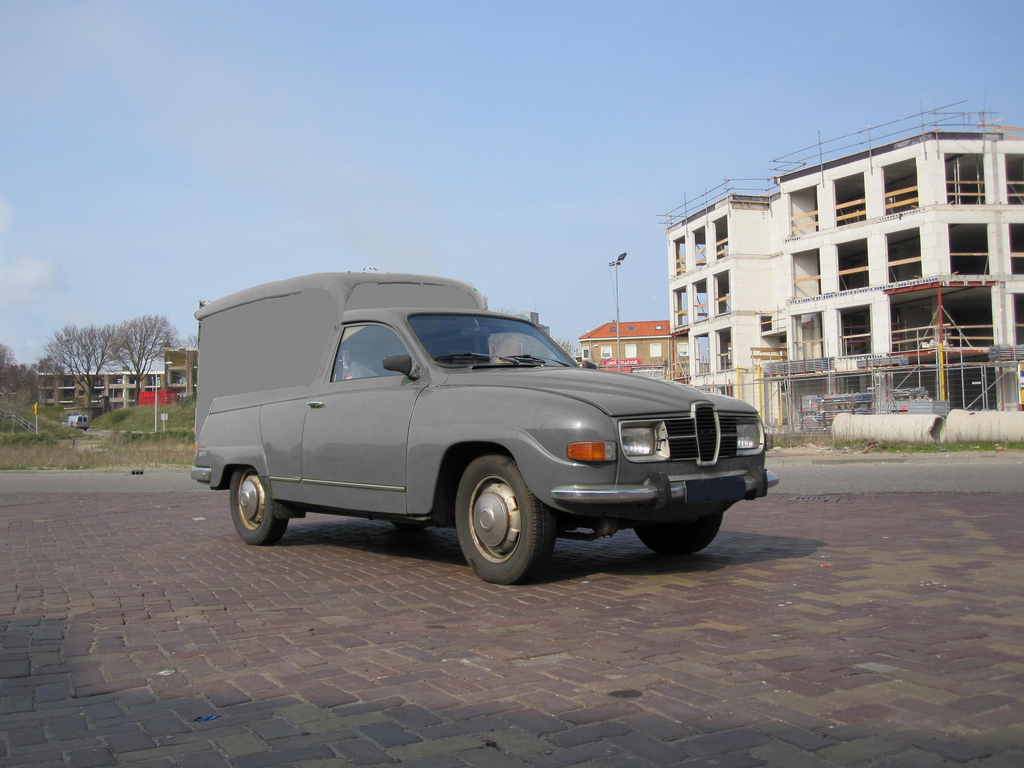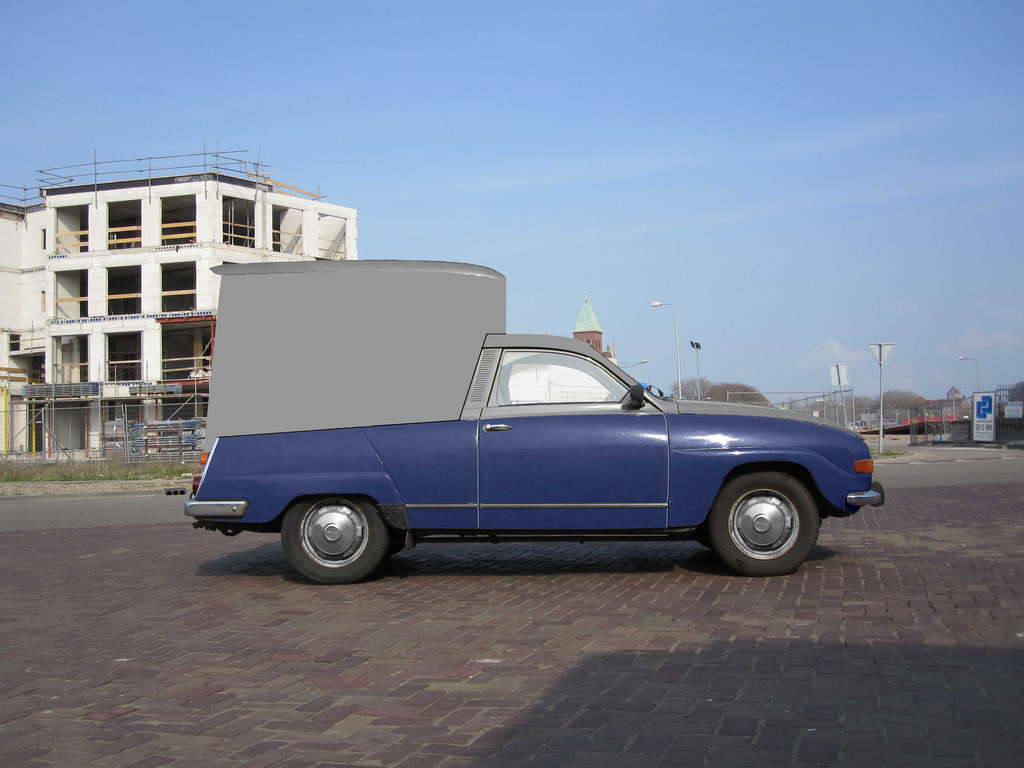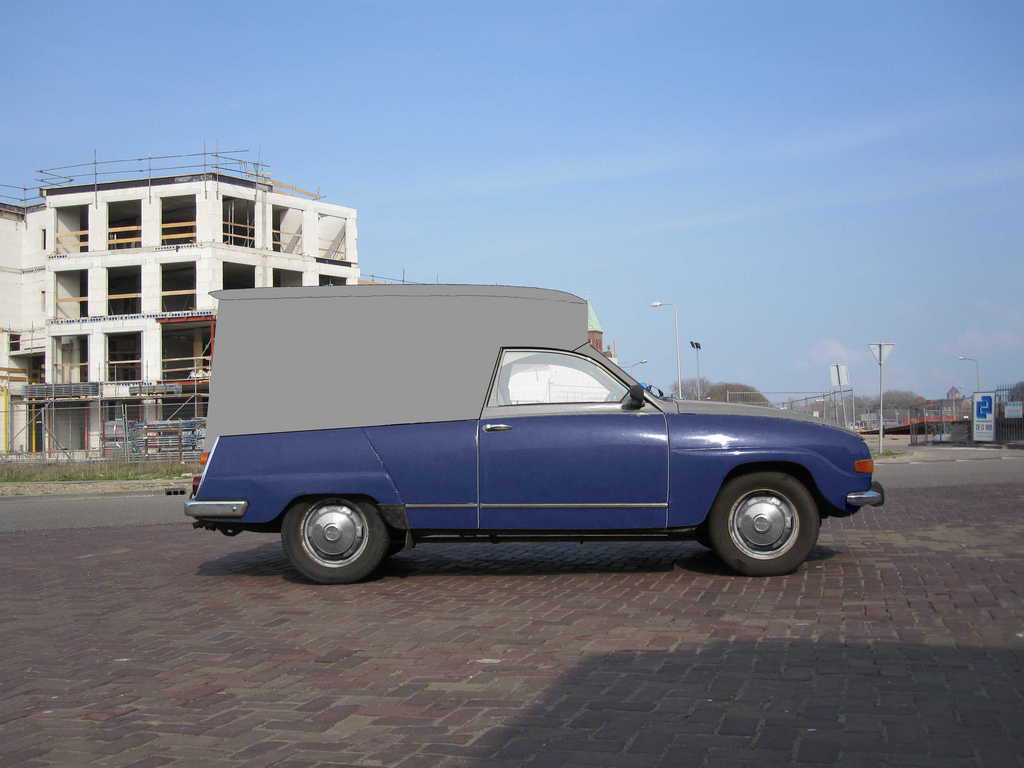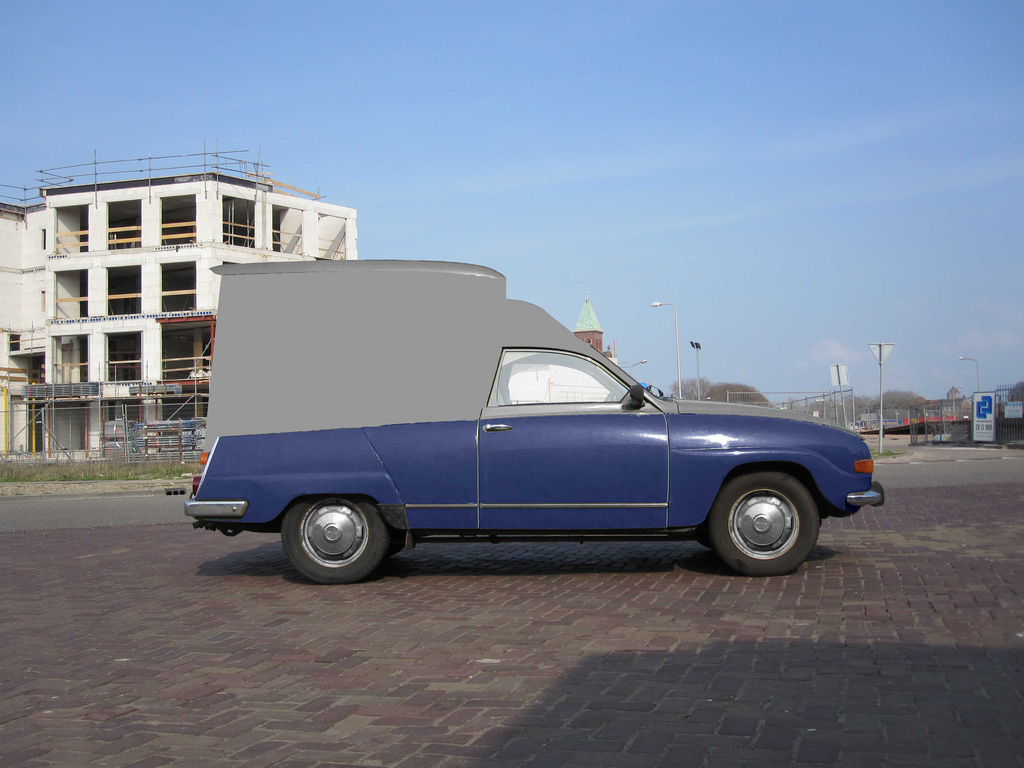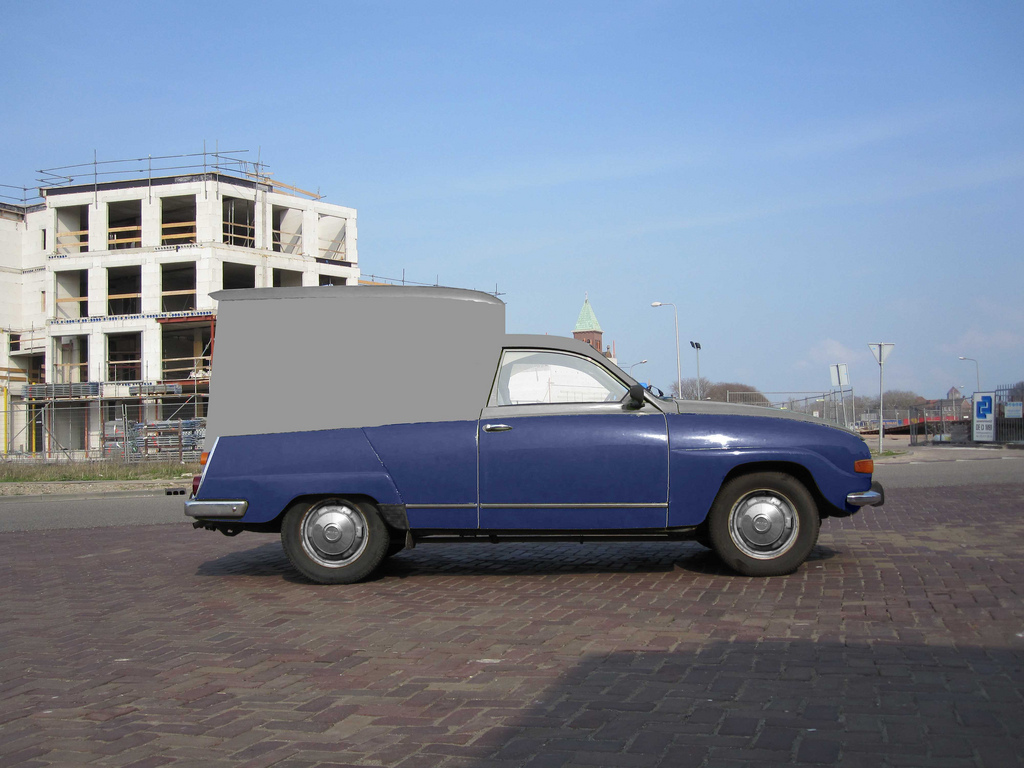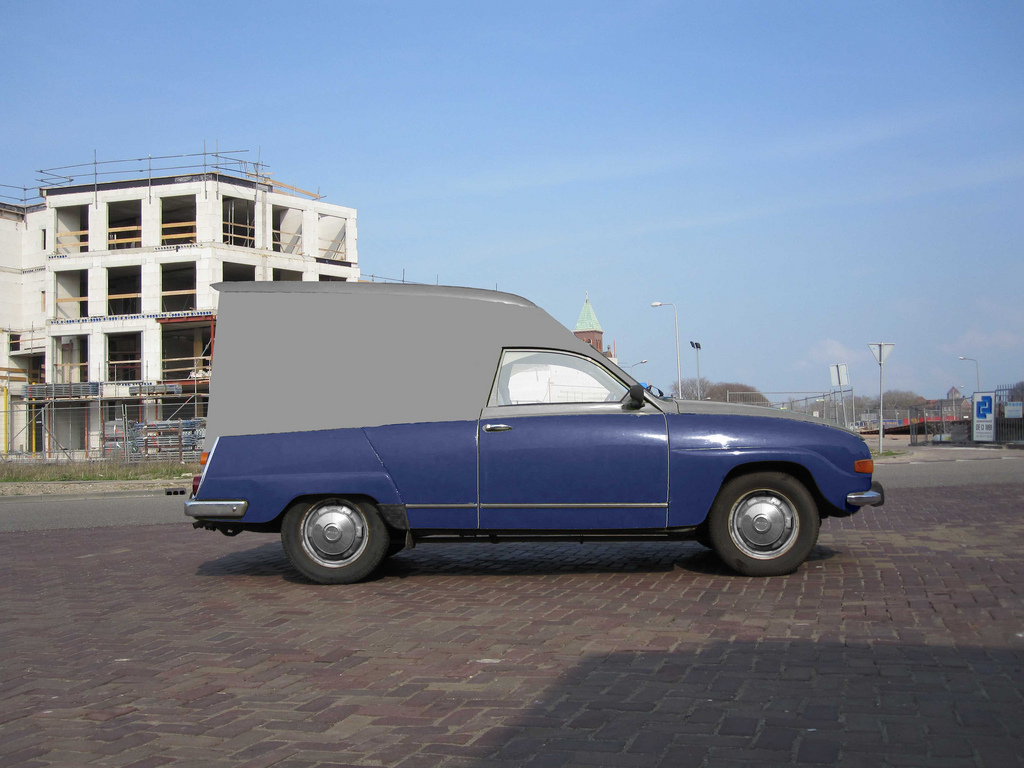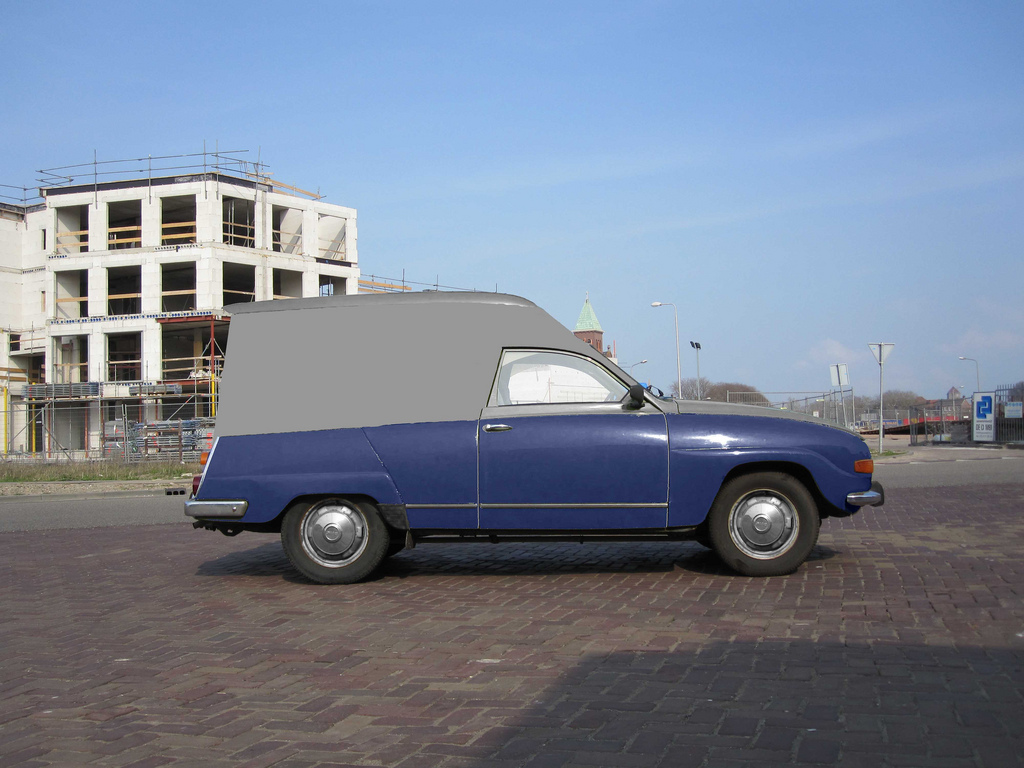 Mock fit heightened roof: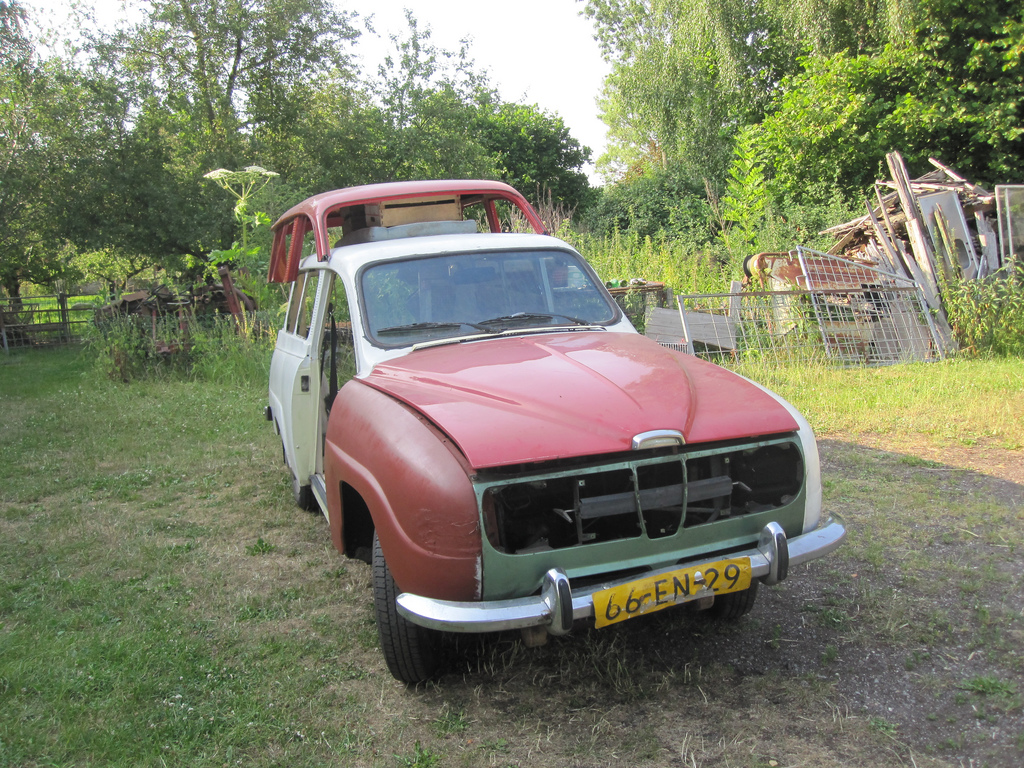 For practical reasons (mostly lack of time) I finally decided against heightening the roof, so I'm only closing off 3 out of 4 side windows and converting the interior.

Most of the structural welding (mostly floor) is done and the inside is starting to take shape: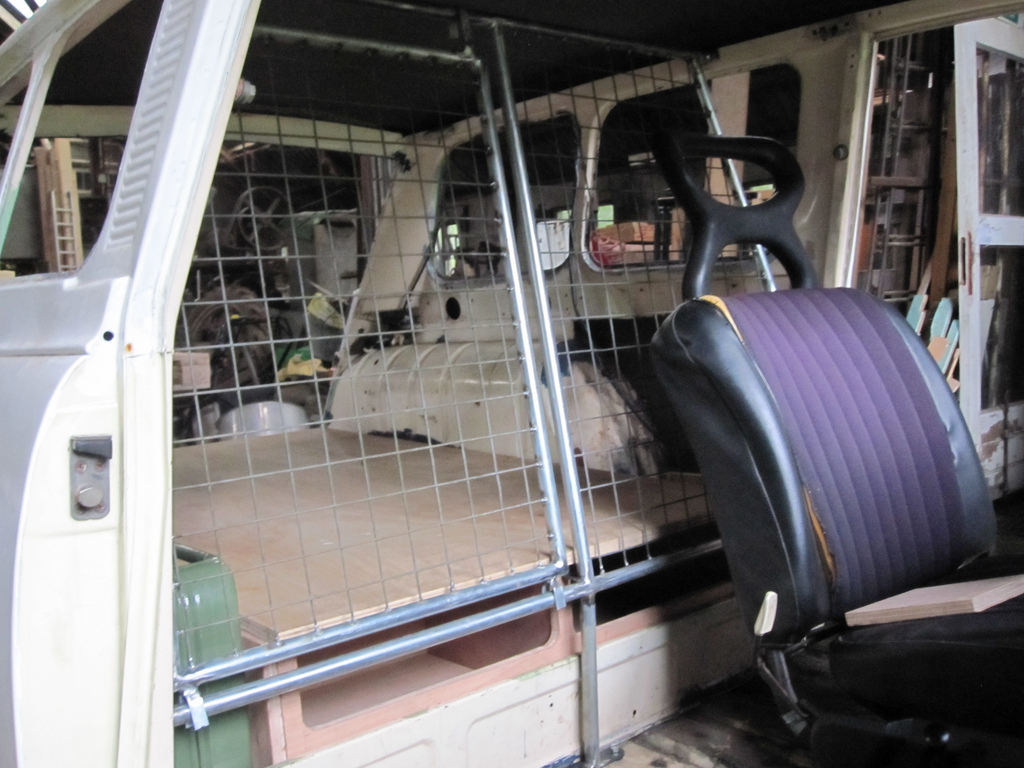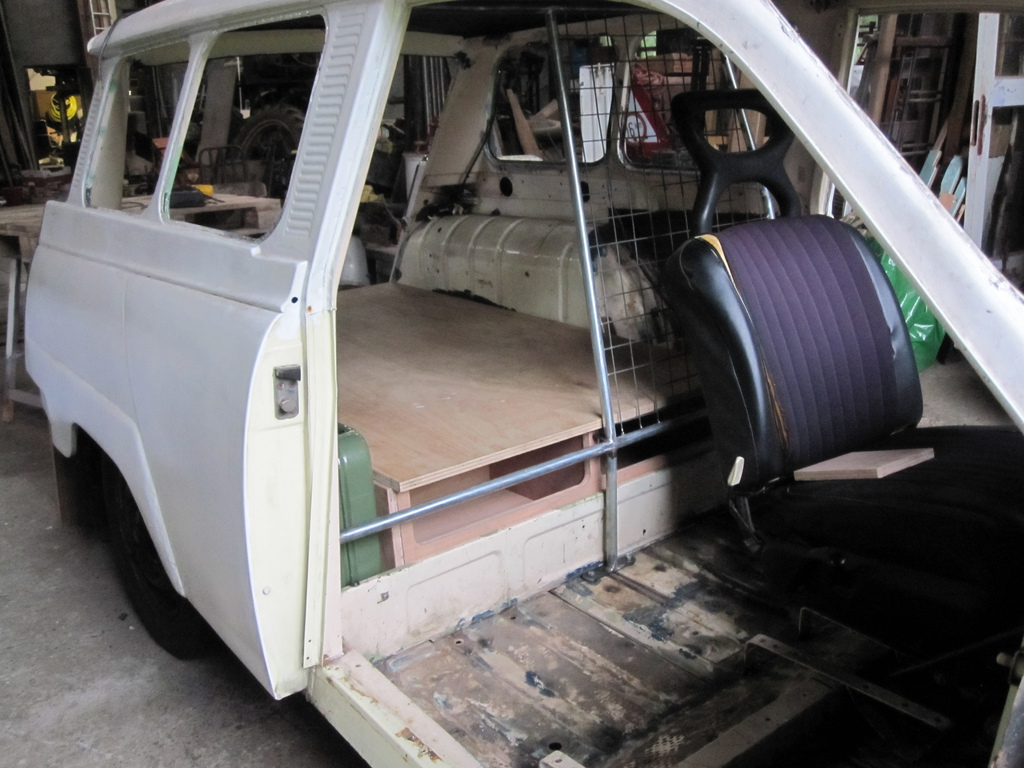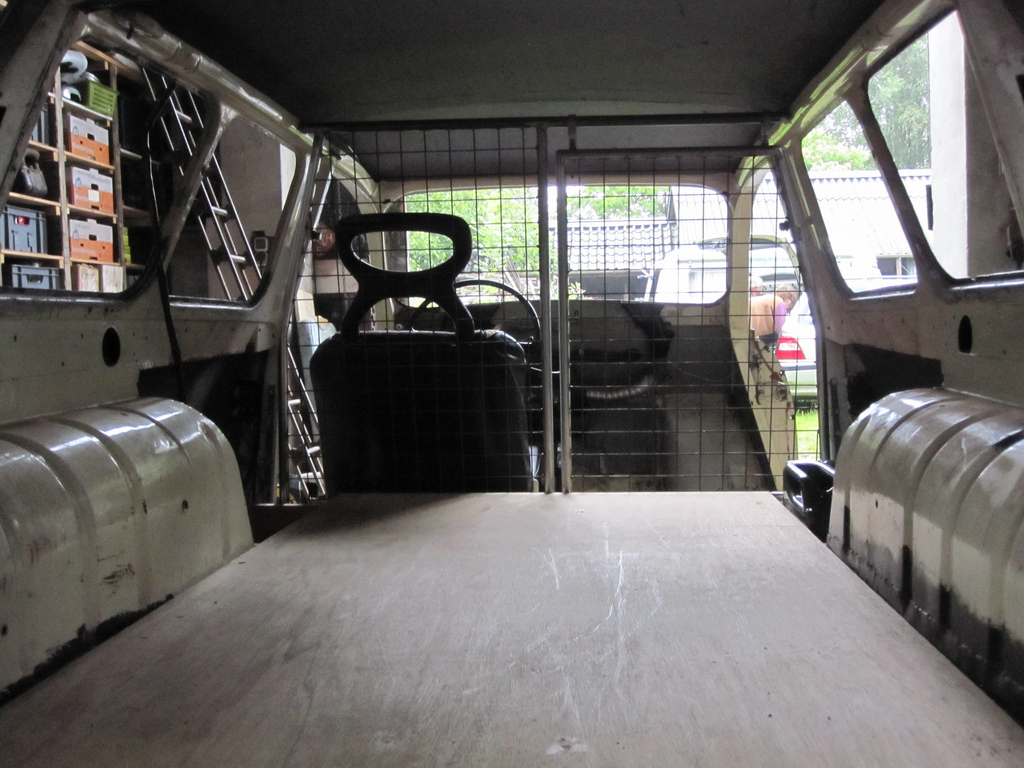 I have an overhauled V4 for it and a gearbox with only 17k kilometres. Couple weeks ago I found a set original van-seats in Finland (hope to find a way to get them southward). Progress on this project has always been slow and will also be slow in the future, since I used to live in Amsterdam, Aberdeen and now in Aarhus, Denmark and my workshop in in Groningen (NL).

More to follow!
3-12-2012
October last year I started repairing the right hand side front inner wing that has been damaged in a collision. The 'new' panel is now aligned correctly, the bit between the new panel and the door is still deformed. Not the easiest piece to reshape, but the rest of the car is still perfectly straight, so it's worth the hassle.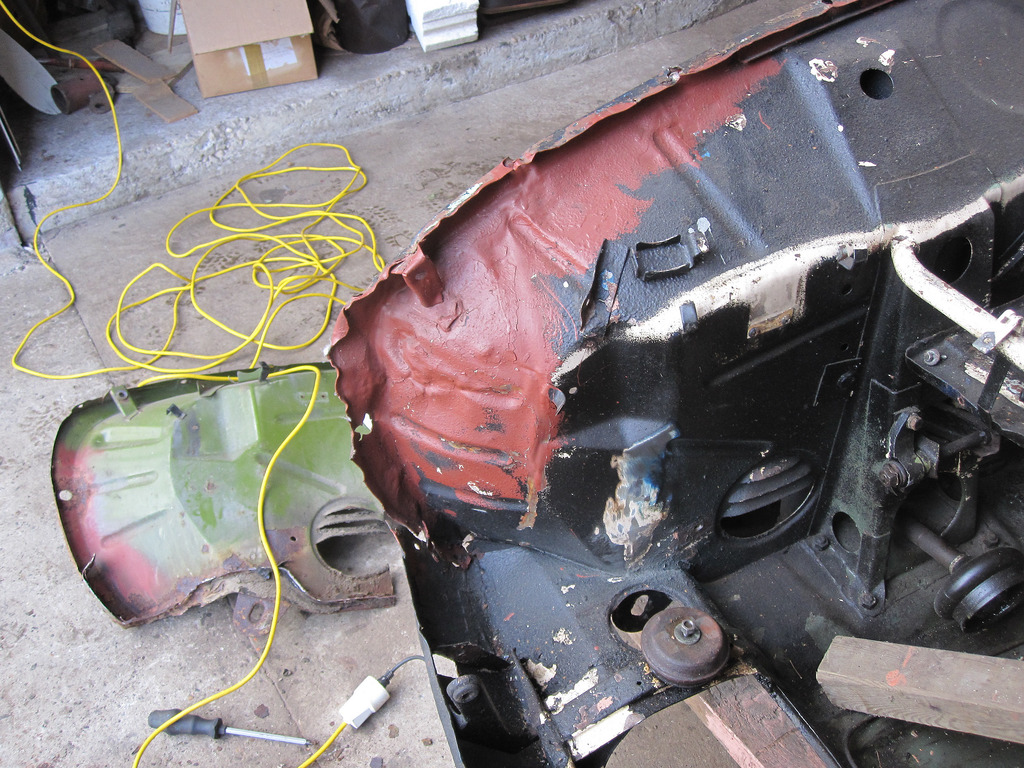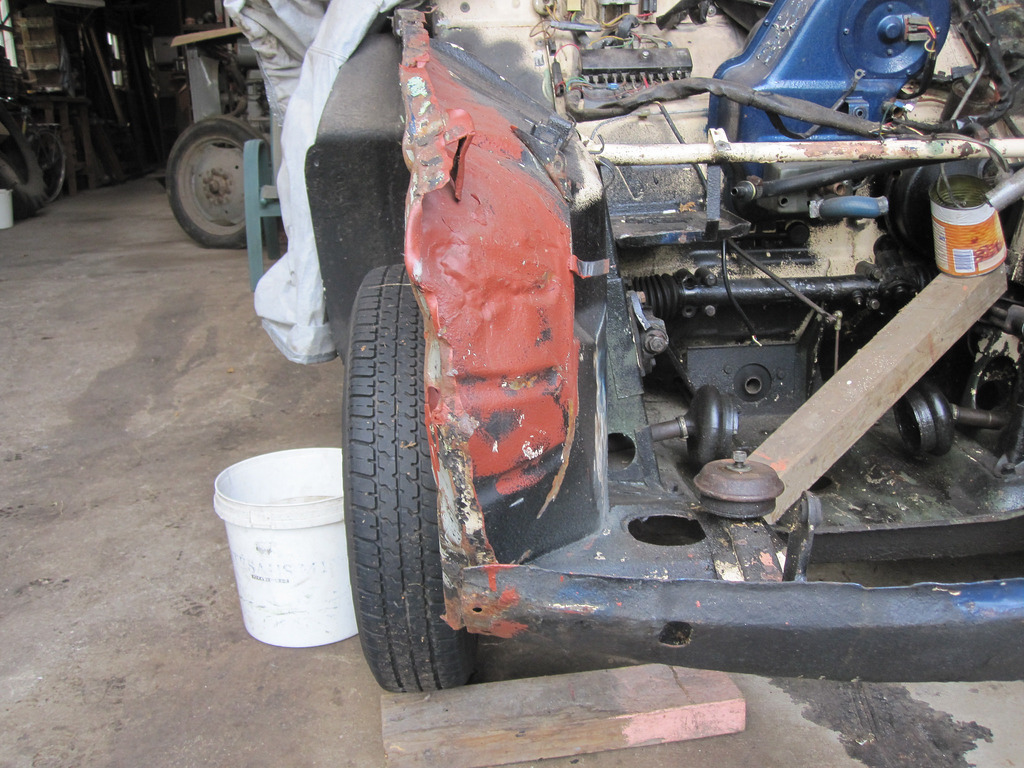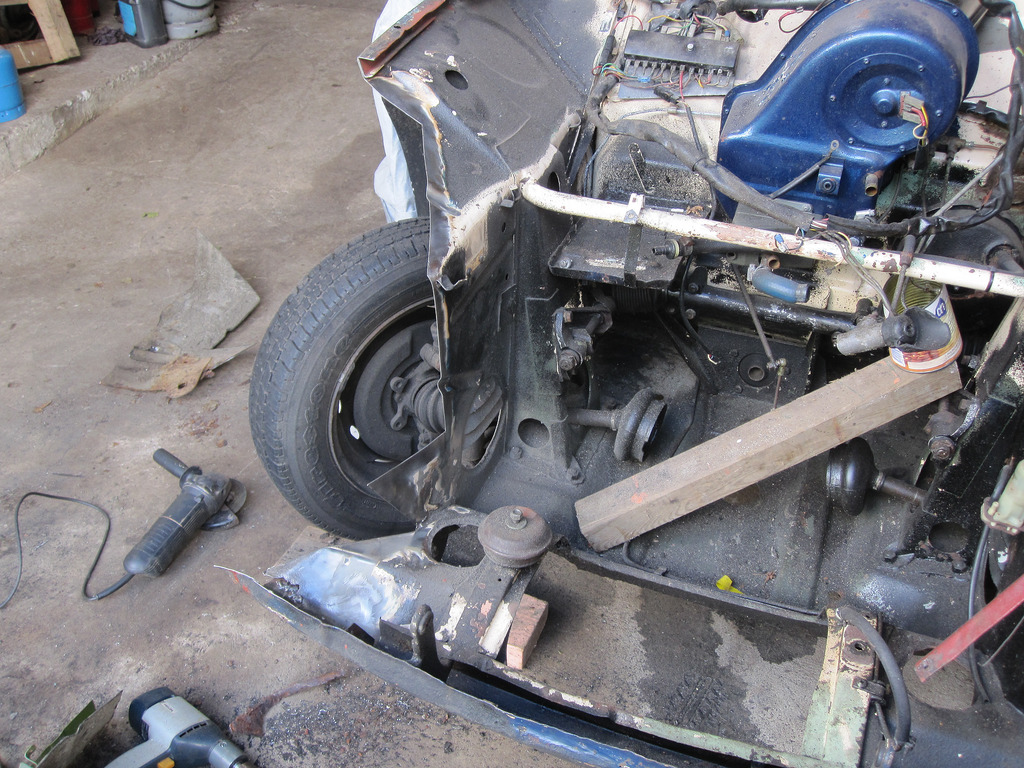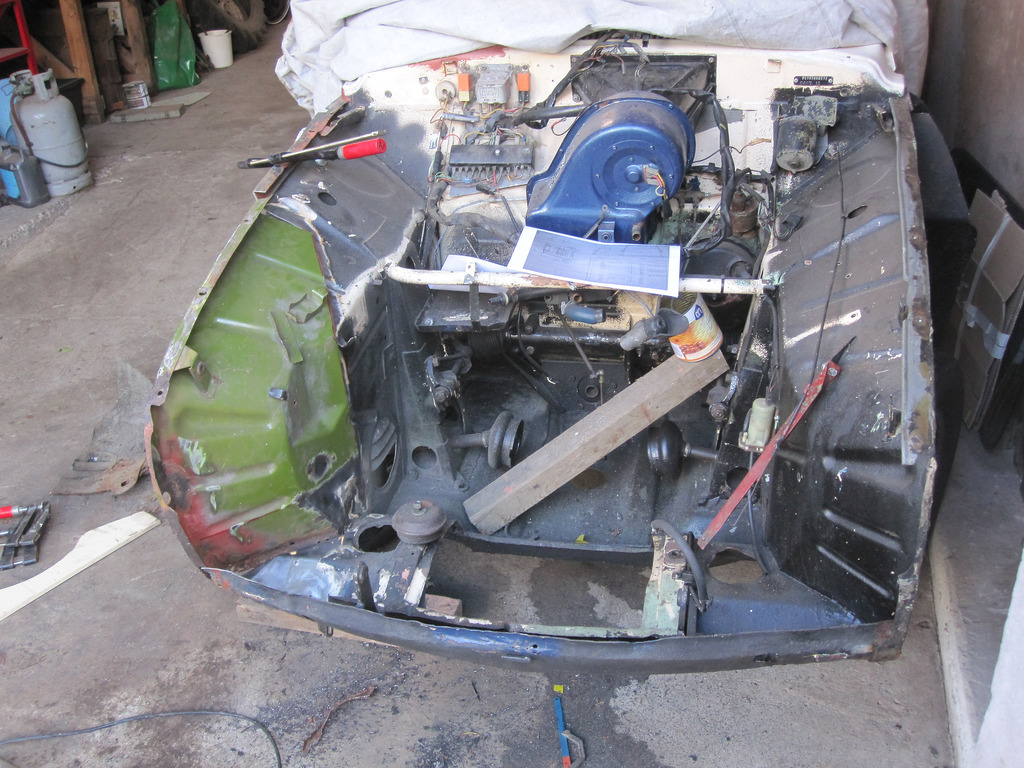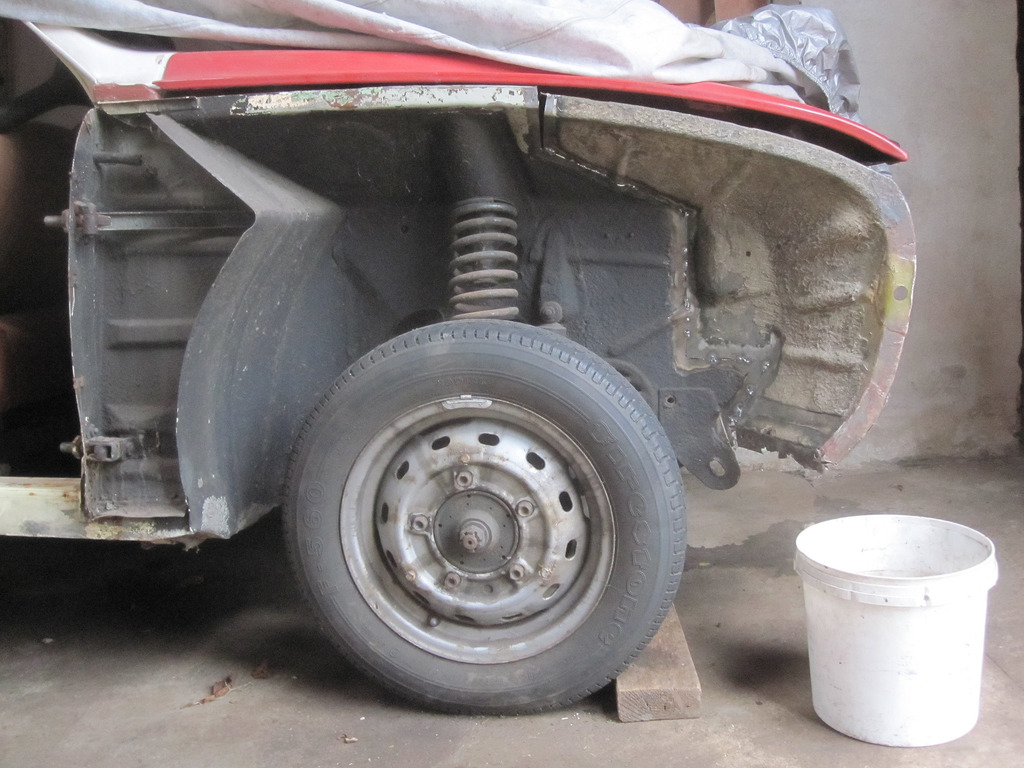 Last week I made panels to close off the side windows. They look a bit off in the photo, that's because they're not yet attached to the car: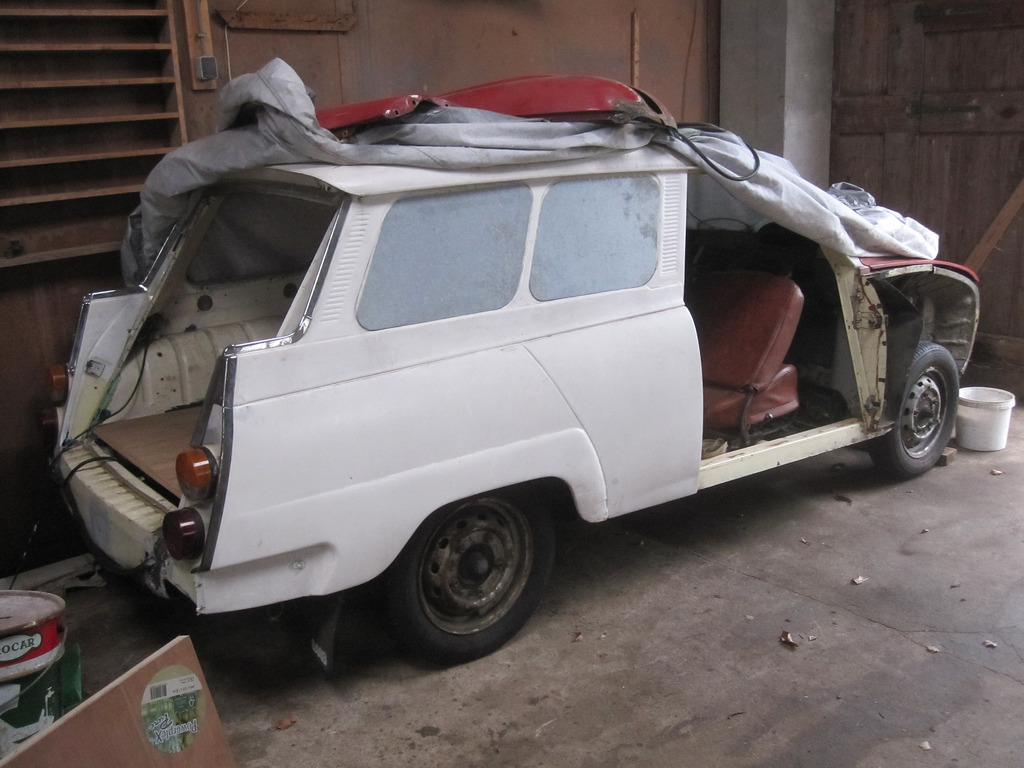 My initial plan was to make a CAD drawing and have the panels water jet cut. But last weekend I was caught by a rush of enthusiasm, so I just traced the original glass on a sheet of galvanised 1,5mm steel, cut the panels out and shaped them on the disc sander. My idea was to weld them in, but I changed my mind to glueing them, this will minimise the risk of deformation.

I think I'm going to keep the window behind the passenger door (that's right hand side

). Might be handy there, since the mirrors are crap. I have a very cool (but still not very good) double face van mirror for the passenger side, might try how that works. These were used on Dutch postal vans in the '70's and '80's: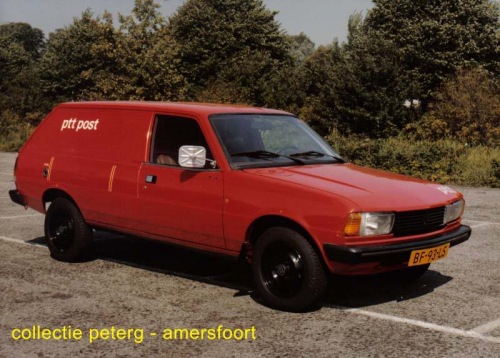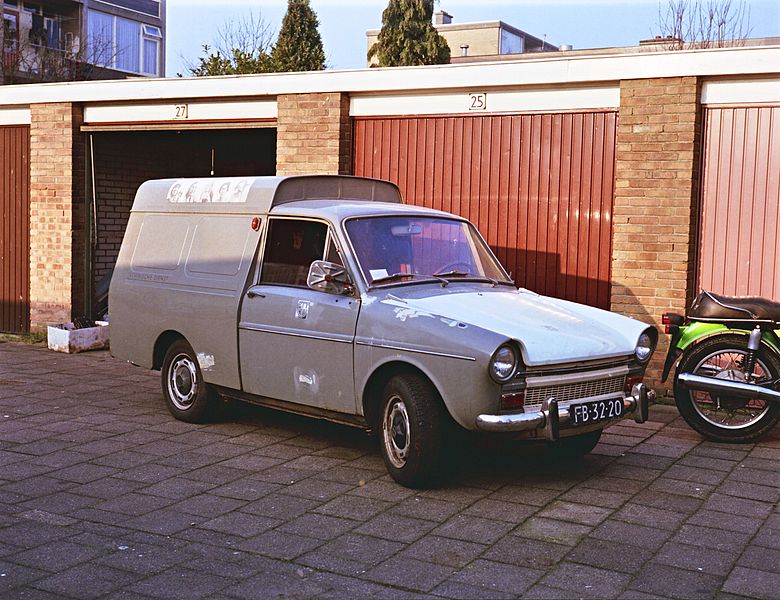 3-14-2012
The new panel is aligned and exactly mirrors the opposite side. I used the body measurements table from the factory shop manual and straight edges, cords and finally the panels and the bonnet to check the job.

I've been stupid enough though not to remove the spring before starting to cut the panel... Luckily I got the tip through the Dutch forum to remove the spring in order to stop it from distorting the panel even more. Did that yesterday morning before I went home: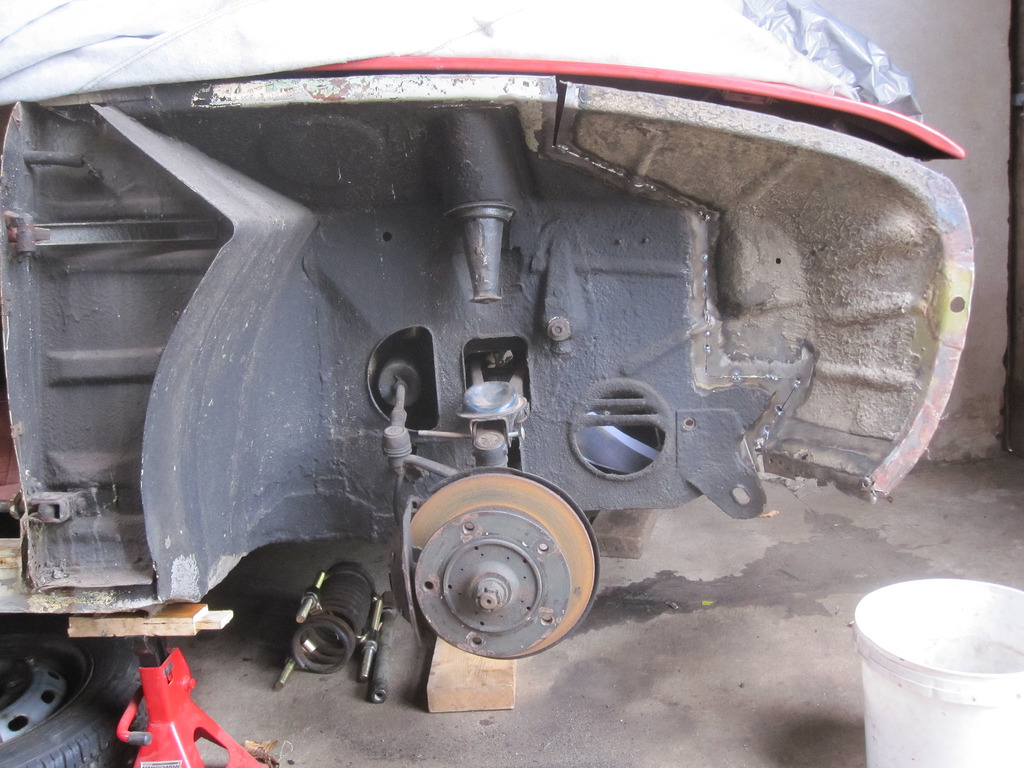 Back in Denmark now, but hopefully Easter will give me some time off to at least complete the welding on the front wing!
8-5-2012
Holiday update!

Wing now fully welded: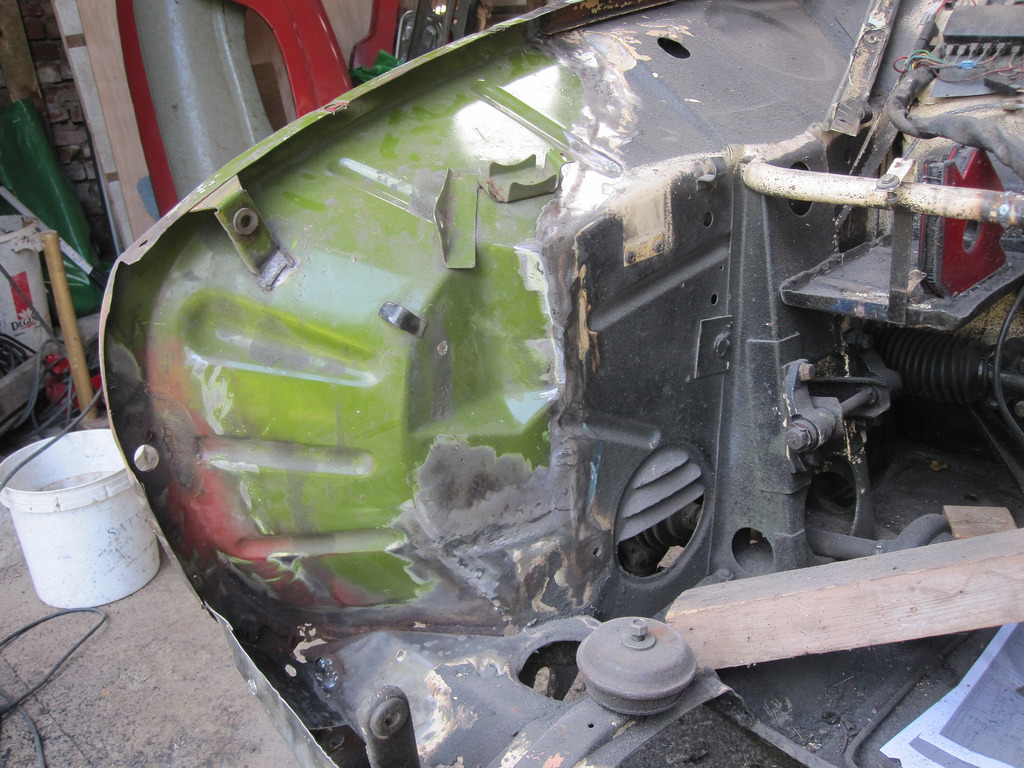 The bent support bar already suggested further damage to the front: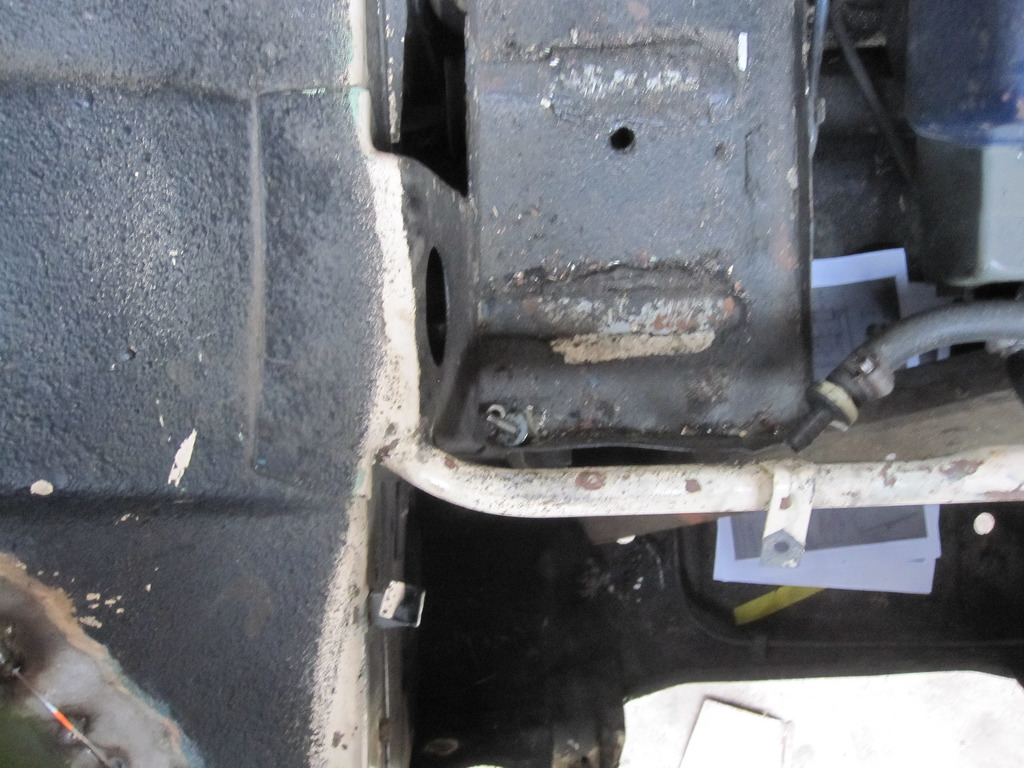 I fortunately have a workshop manual with a body measurements table, a 96 for comparison and professional alignment tools (the car stands levelled on supports):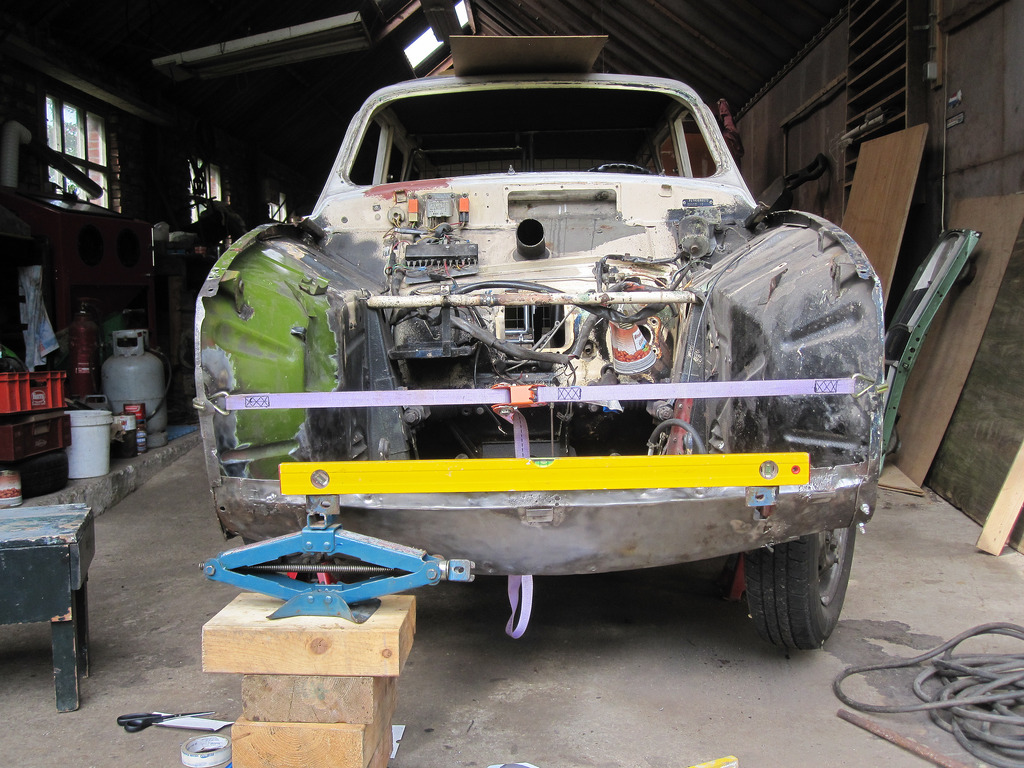 I've cut the bar, aligned the wing and the tower and welded it back together. The nose is now completely back on track, in the front area there's only some minor welding work left on the corners of the front valance. Around the suspension towers there's nearly no rust. Next year I'm going to replace the rotten rear floor and there's a small hole left where the floor meets the firewall under the clutch pedal (that's to the left.

). Hopefully next summer all welding will be done.

When I got bored with panel welding, I've proceeded with the interior. I've decided to create a third (foldaway) seat behind the passenger seat. A part of the cargo floor folds up and is secured with a metal safety support. There will also be a two point safety belt for this seat. I've made sure the seat meets all RDW (Dutch VOSA) safety rules for its model year. The window next to the extra seat will be kept.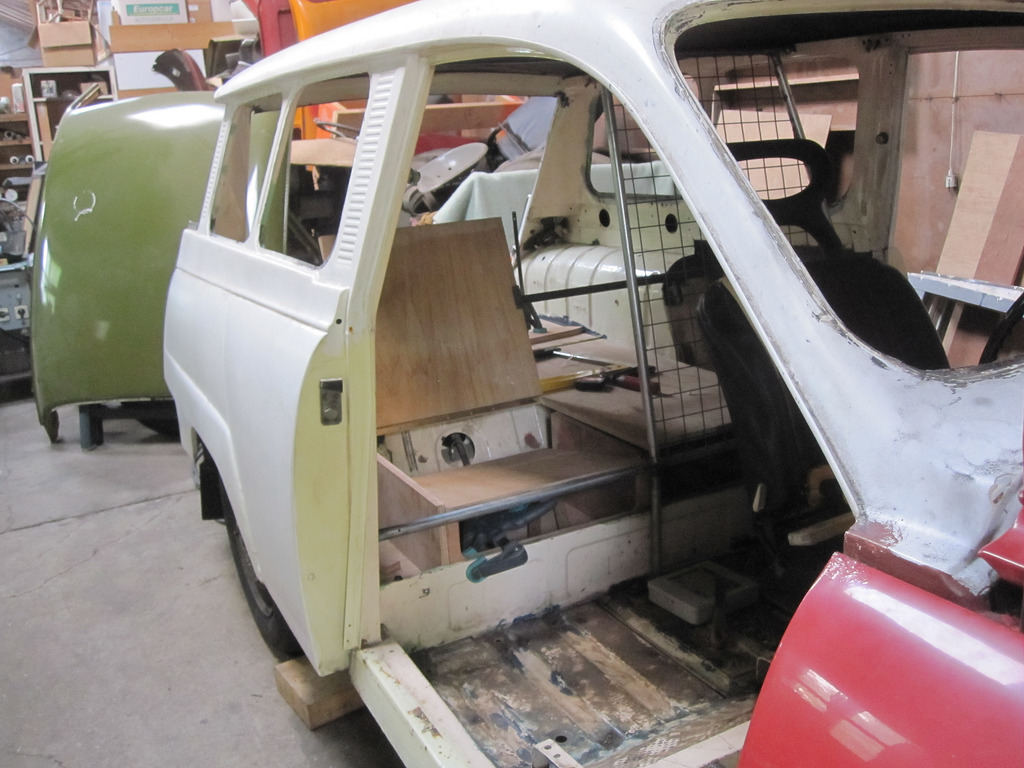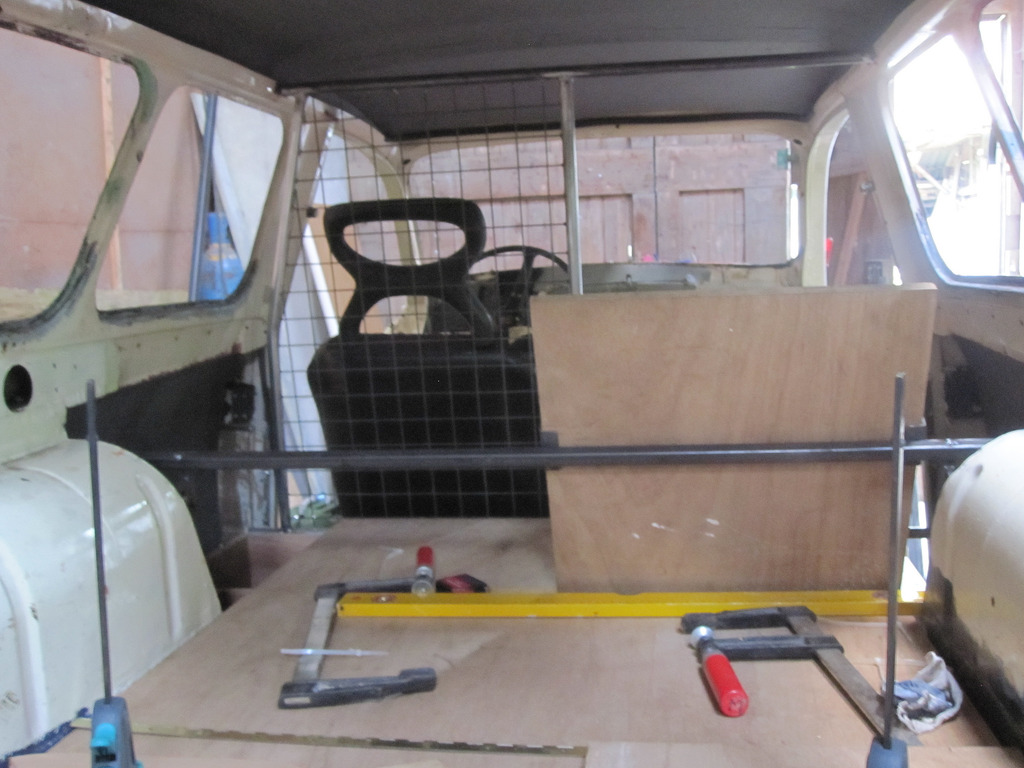 Then I've made a start on scrap ply moulds for the wall panelling. The final interior panels will be done with new plywood.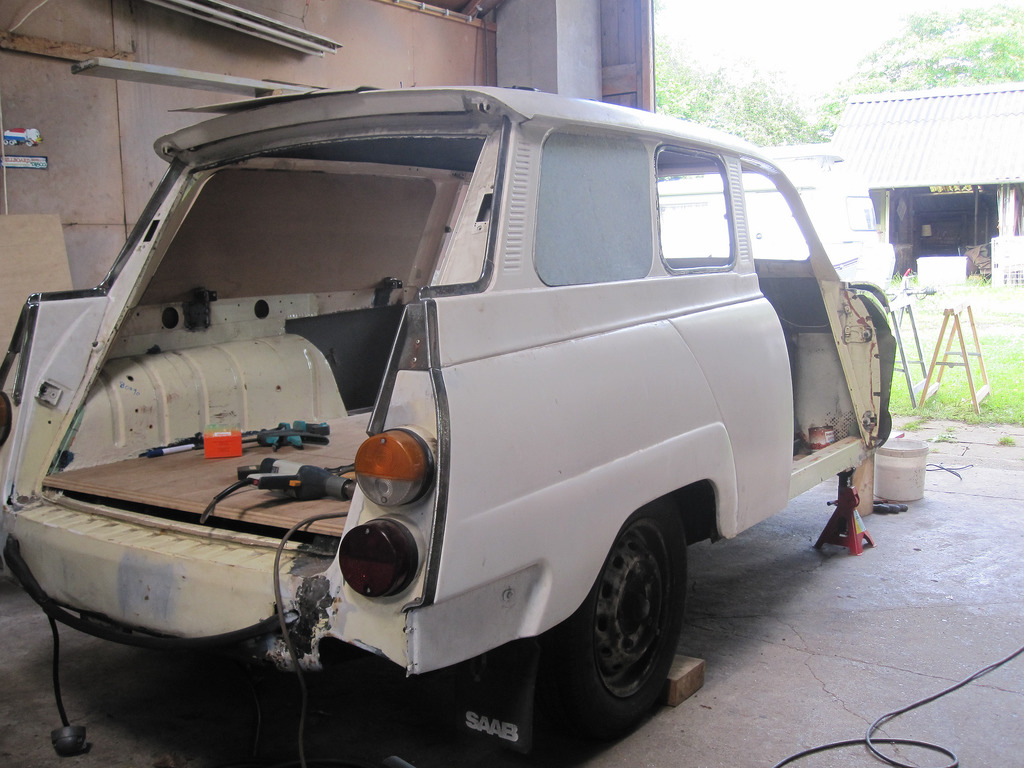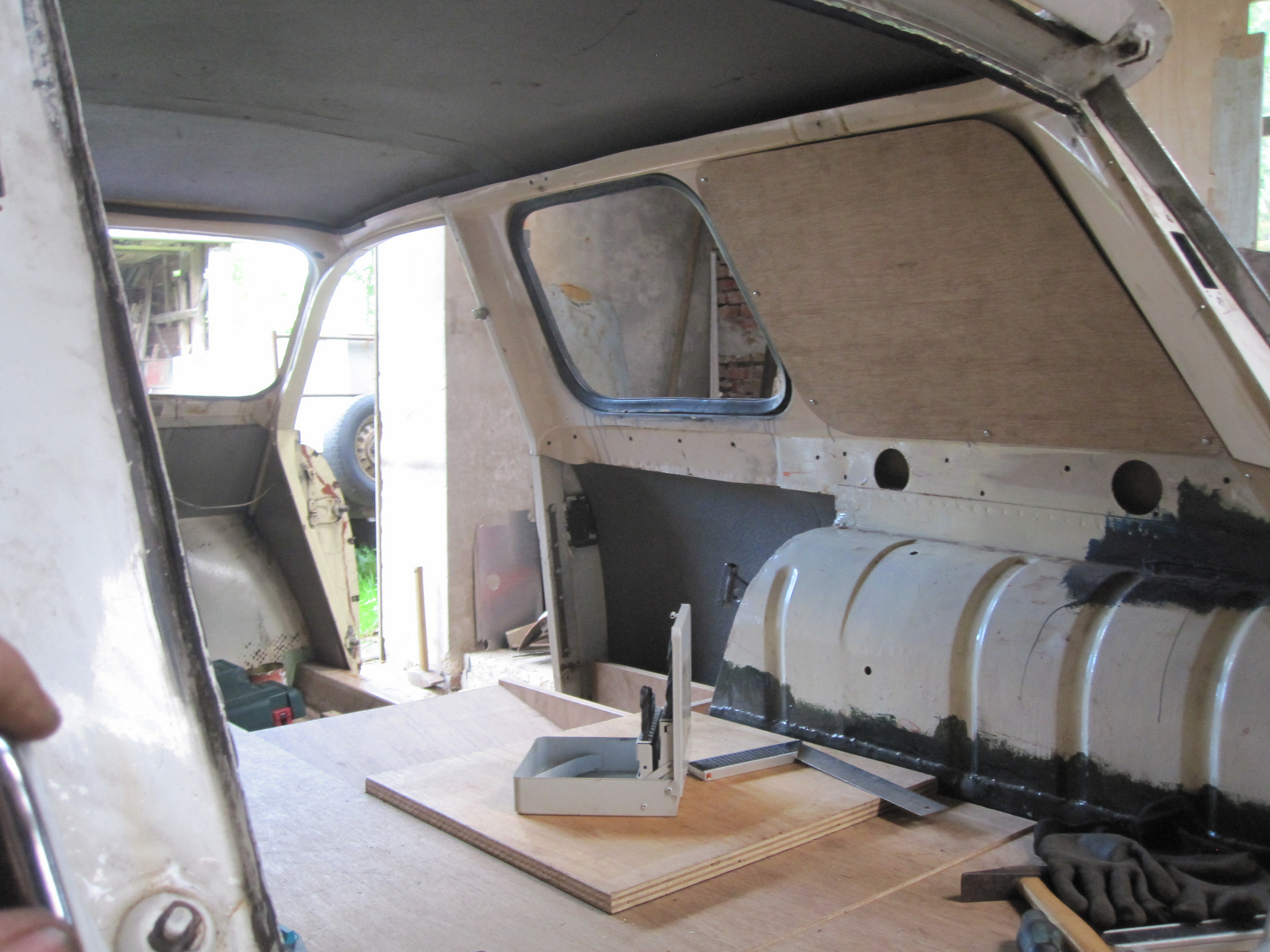 I've welded a tip-up crate rack for the left side wall. If the rack is folded away, the room between the wheel housings will be free from floor to roof (for example to transport an engine on a pallet). On the left hand side wheel housing a 12V>230V inverter and 12V and 230V sockets will be installed. The car will also have a second battery.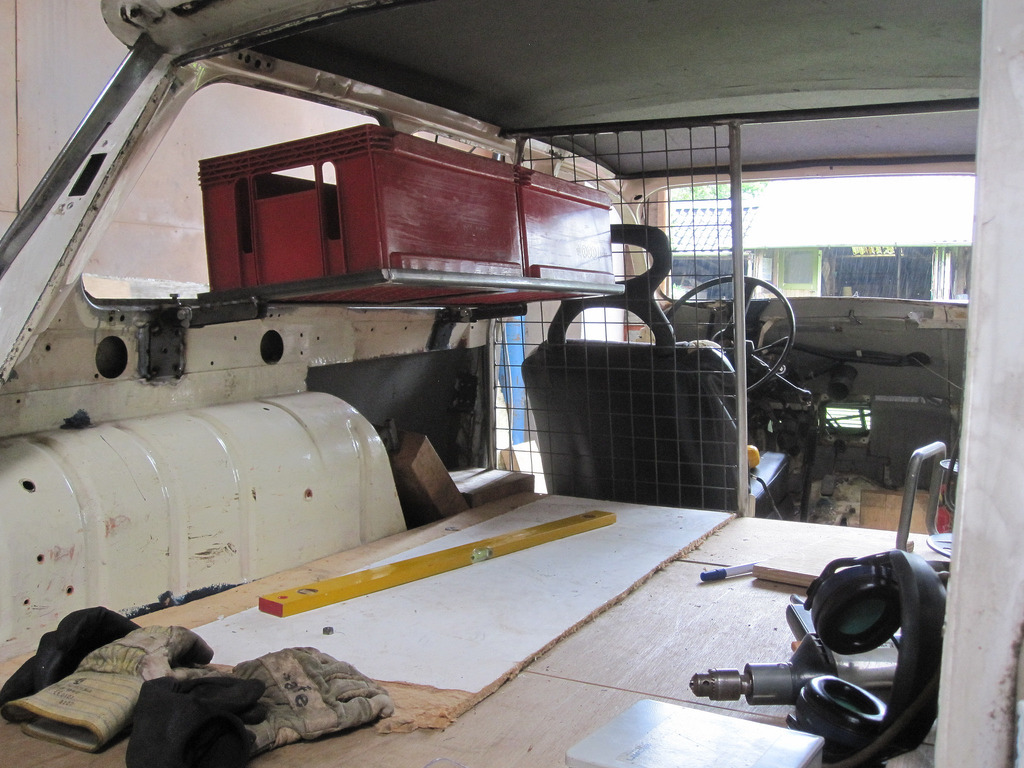 Last but not least I've dropped off some metal at the zinc coater's. Job, as ever, very well done:
12-2-2012
Not much done, apart from s.exing up the towbar: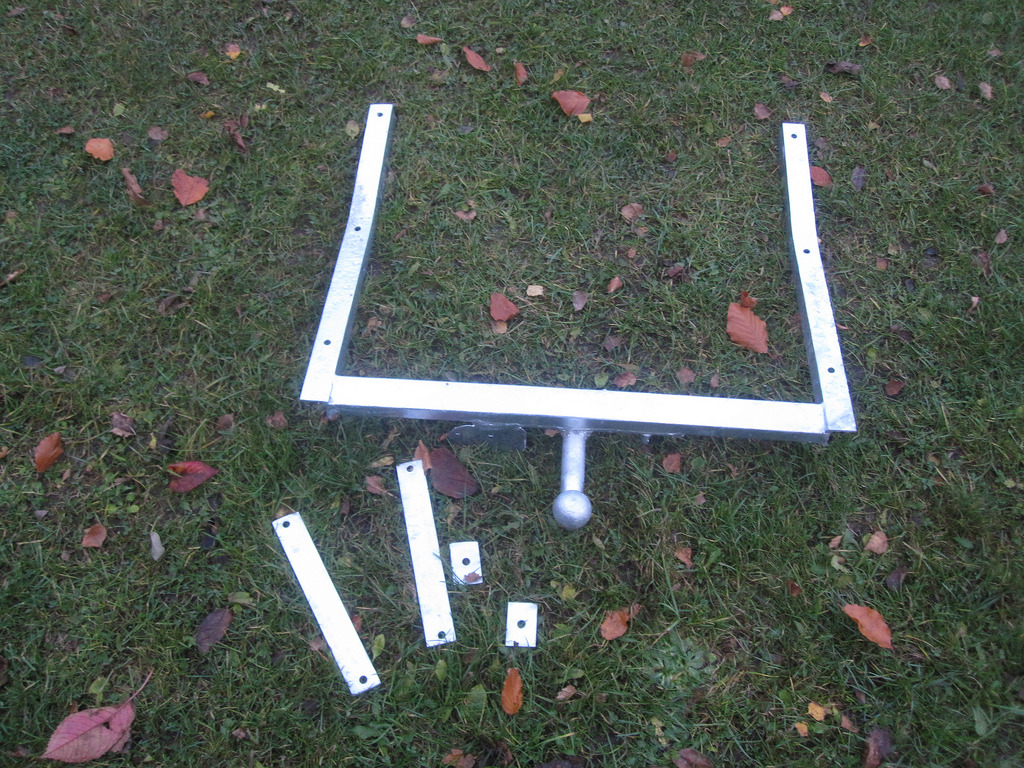 Thinking of how to raise the suspension a bit: http://www.saab-v4.co.uk/speedball/topic.asp?topic_id=3574
1-7-2013
Cheers! I actually know that one, plus some others: http://www.saab-v4.co.uk/speedball/topic.asp?TOPIC_ID=2078&whichpage=4
3-7-2013
Hey Simon, great find, cheers! Looks like neat conversions. I've also been tossing with the idea of a single side panel instead of blocking the individual window spaces, but decided to keep the front right side window.

Not much progress on mine unfortunately... Had a week off last month so went down South to the workshop. Was a bloody cold week, so didn't feel like being in the freezing barn doing the last bits of welding on the front valance and rear floor. Choose to refurbish an engine in the heated workshop instead, so I have at least two V4s ready to go in once the welding is done.

It really is a pain that my workshop is so far away, but can't afford to have a second one here in Denmark...
8-15-2013
Not much has been done to the 95 this summer, but at least I can report a bit of progress. I've cut out some rotten metal and replaced it with fresh stuff and I've cleaned the majority of the engine bay from a thick layer of body safe.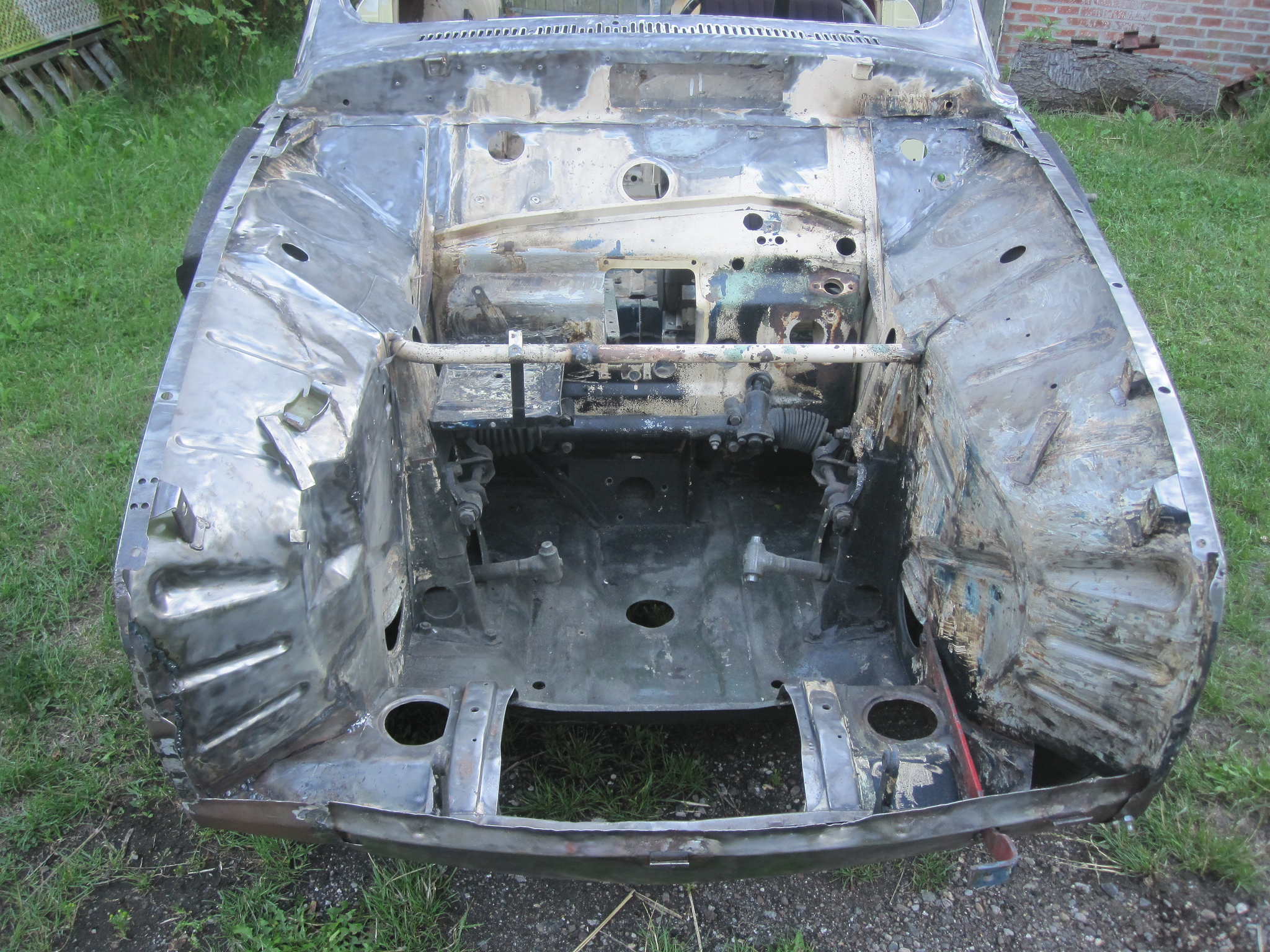 The car has loads of these pitted spots, I cut them out and weld new pieces in.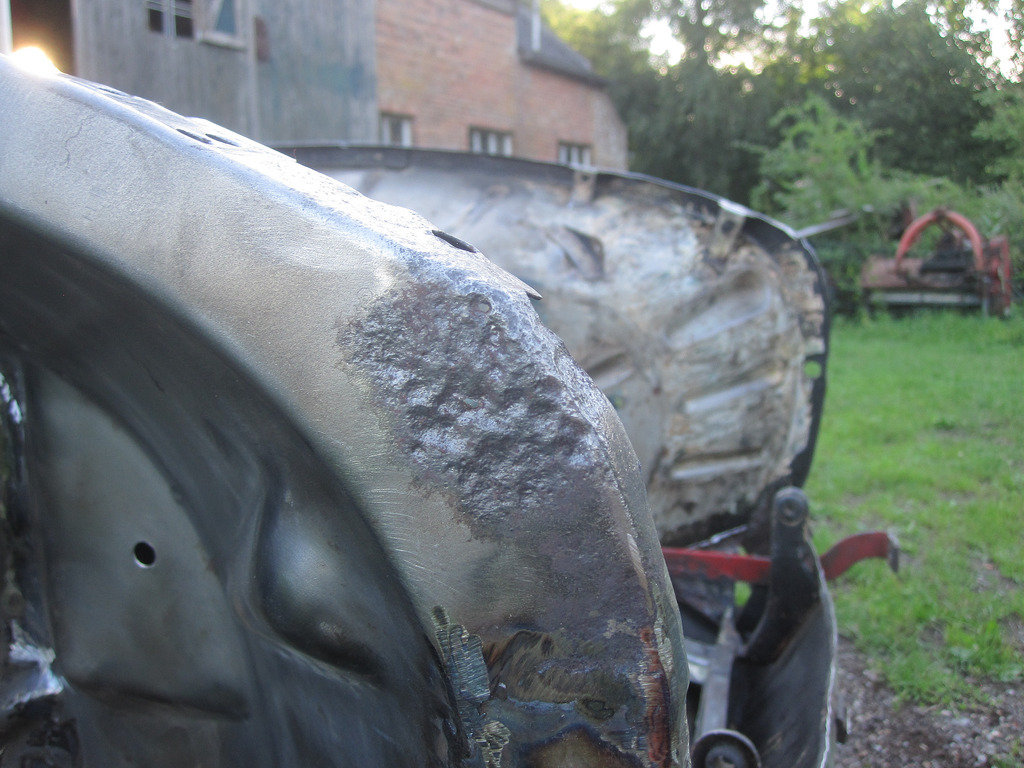 Also the vent below the windscreen has suffered a lot, not sure how I'm going to solve that. Think it'll be either tig welding some bits in or replacing the hole thing. I have a better one kicking about and this will also give me the chance to properly repair the bulkhead at once. The corners of the windscreen require some repairs as well.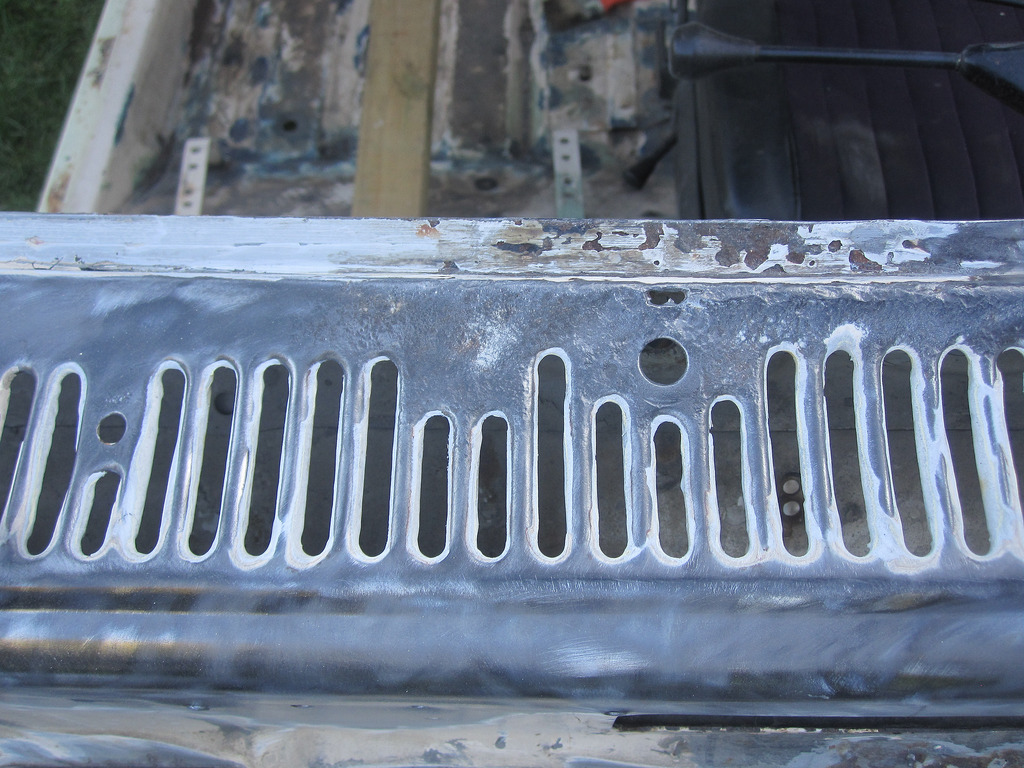 The rear floor is in a pretty nasty condition, think I'll replace it all at once with a better floor I already have. Preparing the 'new' floor before welding it in will give a better result than many small repairs on the existing floor I guess.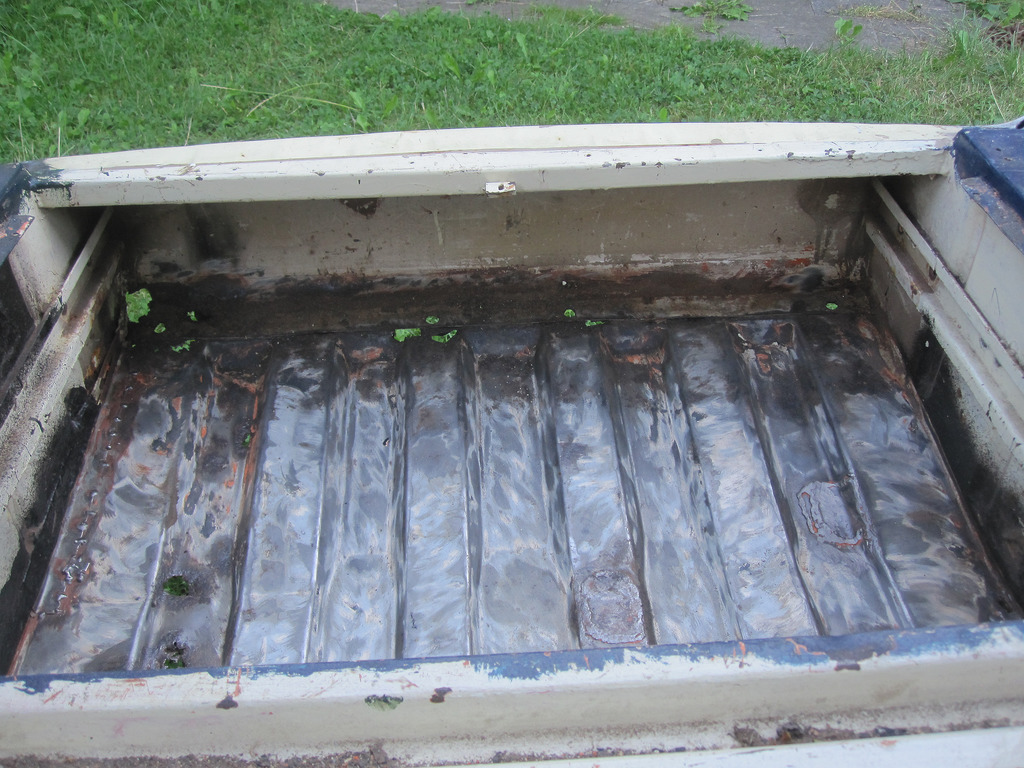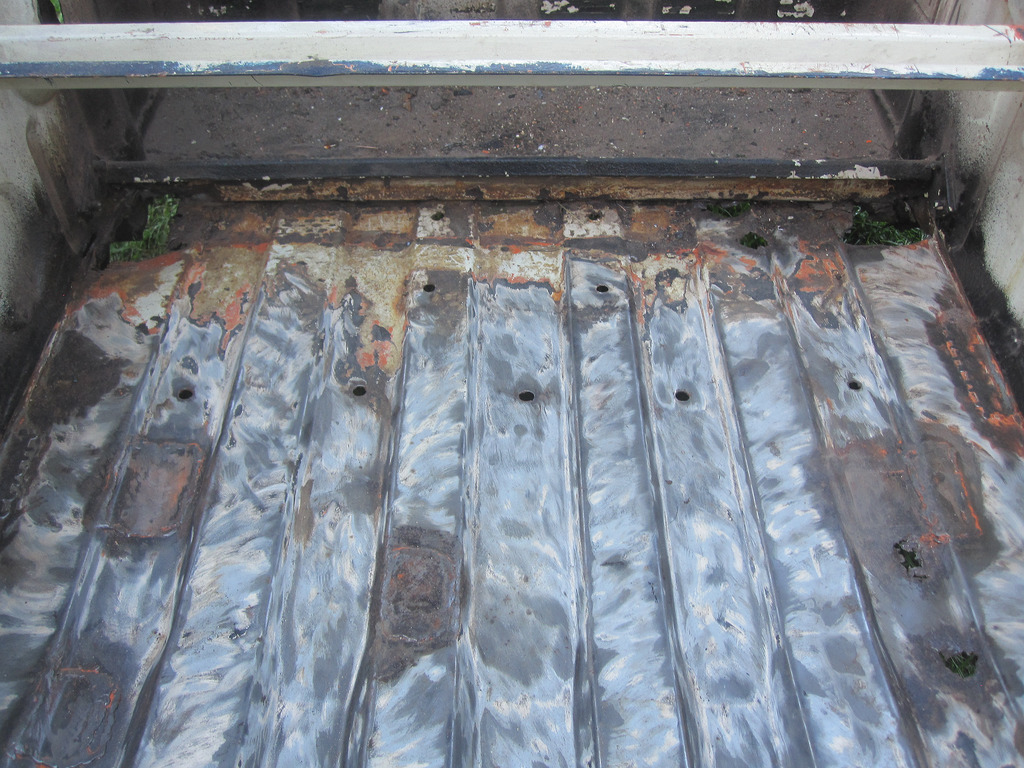 There's been some repairs done in the past on the rear wheel arches/ cargo floor, I'll leave them as they are. It's not done as I would have, but it looks neat enough not to bother me.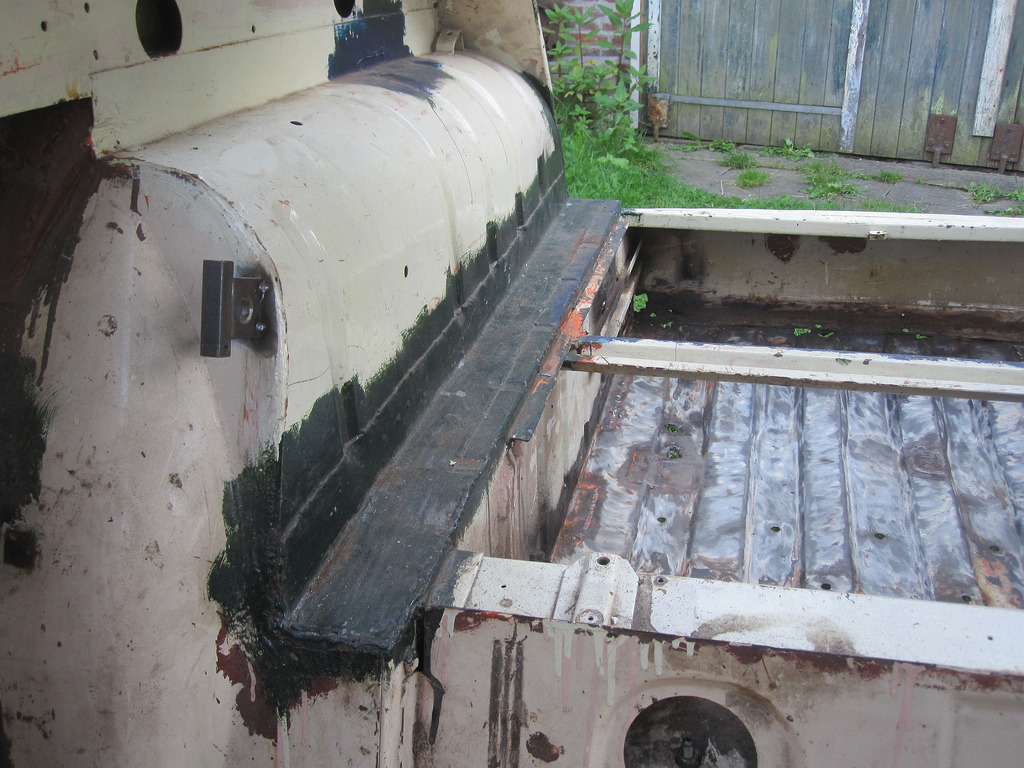 Current state of affairs:
8-17-2013
It's pretty solid over all, but the amount of welding required is still bigger than I initially hoped for. I think I've done all the tricky bits now, apart from the air intake below the windscreen. Suspension towers are in great condition, hope the rear spoiler will appear to be solid as well. I've also welded up over a 100 screw holes in the floor and the car has a couple more holes that shouldn't be there... I'll be taking the wheels and suspension off later, but it's handiest to keep it rolling as long as possible, because I love doing all non-welding work outside on a tarpaulin.

I'm in no hurry at all, but I'm looking forward to having the welding done as it's not really one of my hobbies. That'll take another couple of years though I'm afraid...
1-28-2014
Ace! Where did you find that one? Is that a Norwegian number plate?

I've scheduled a couple of days welding next week, hope to make some progress. I start to hate this being a long distance project and it looks like I'm moving even further away from my workshop later this year...
2-15-2014
Not sure if this qualifies as progress but at least I had a couple days of fun with the welder. Bought an automatic welding mask, flippin' amazing gadget!

Air box and firewall were in pretty bad nick under 1/4" filler (vent cover didn't fit anymore), although I've seen worse: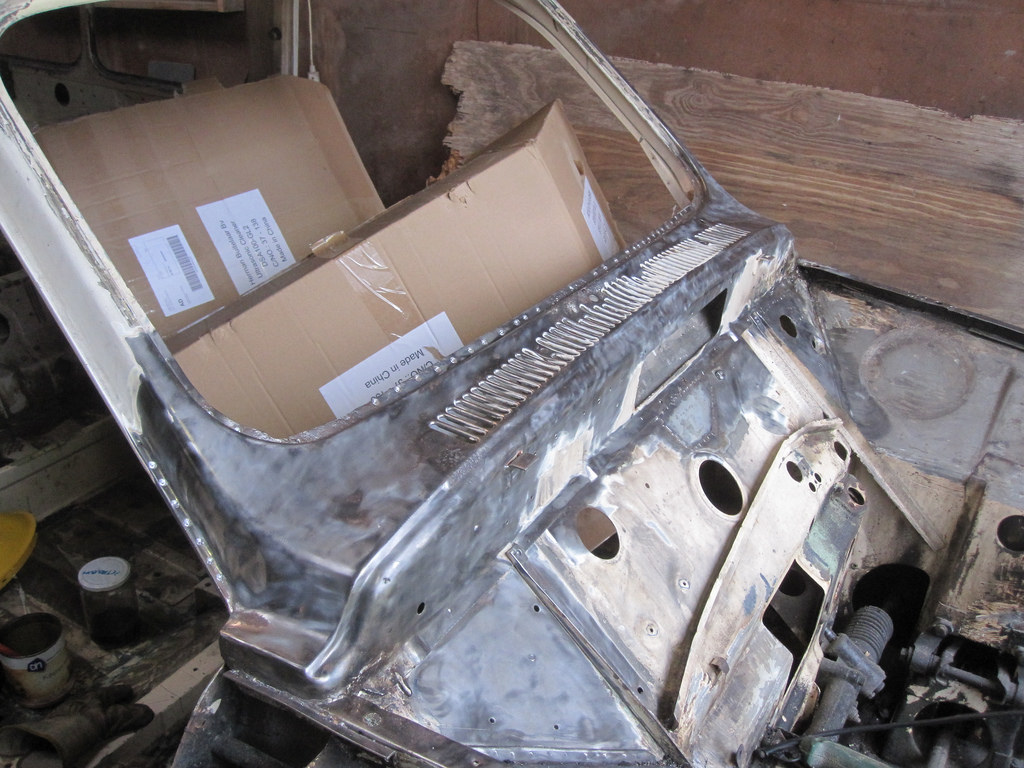 So I drilled the spot welds and cut some tin out: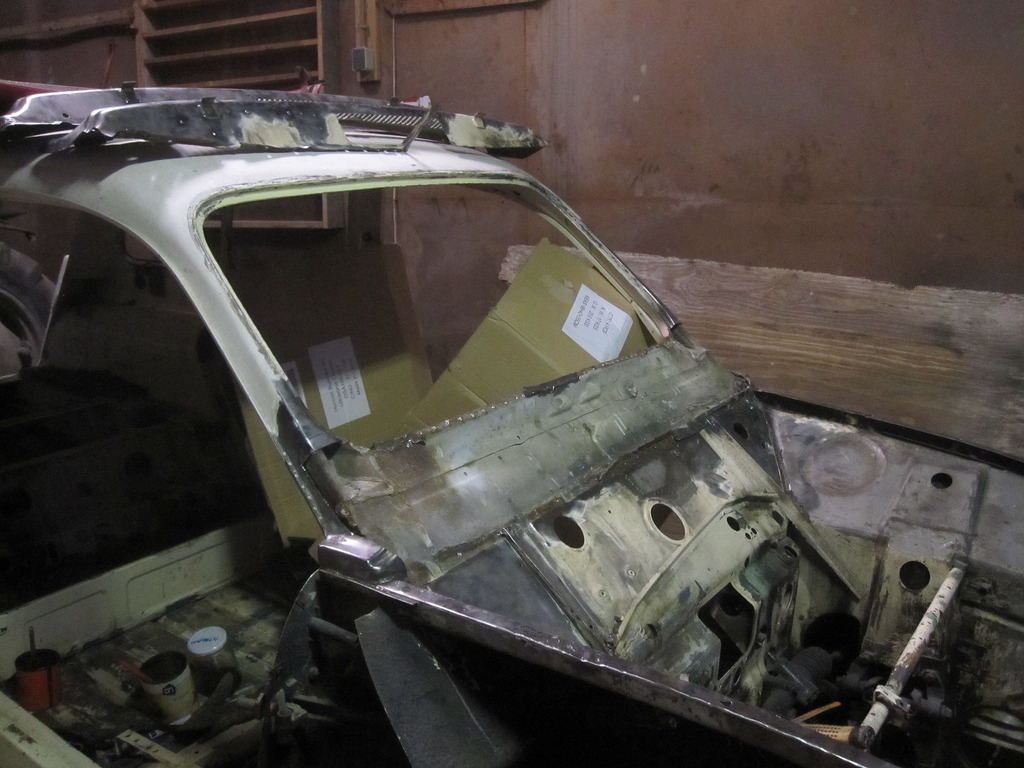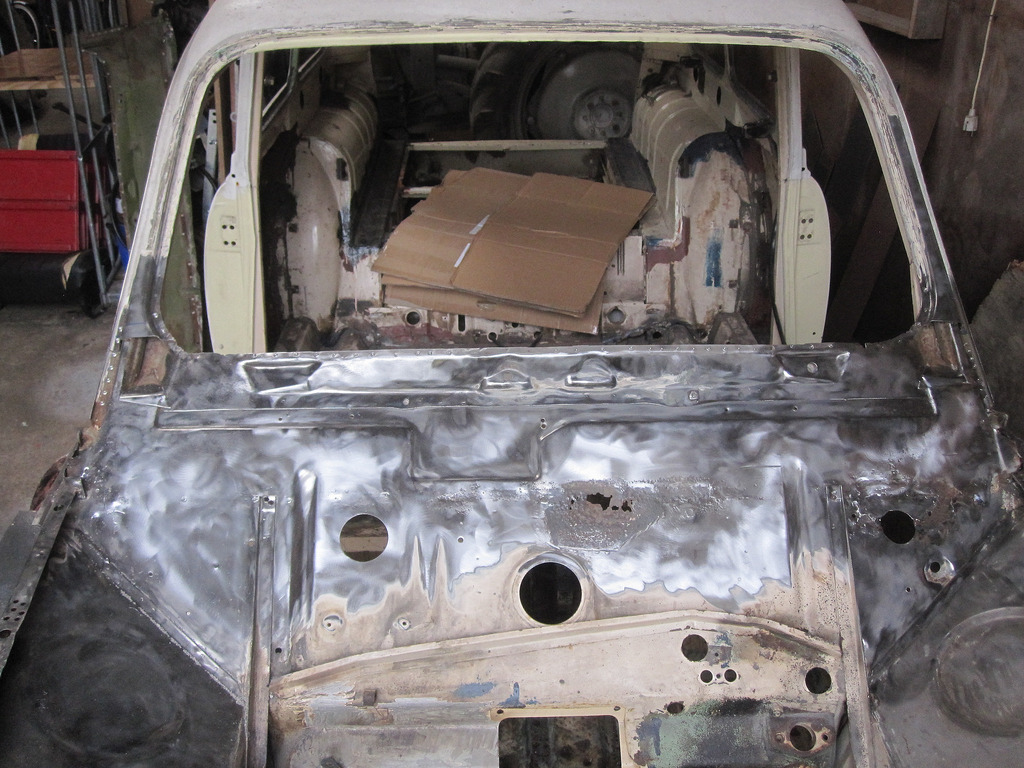 Fresh metal in place: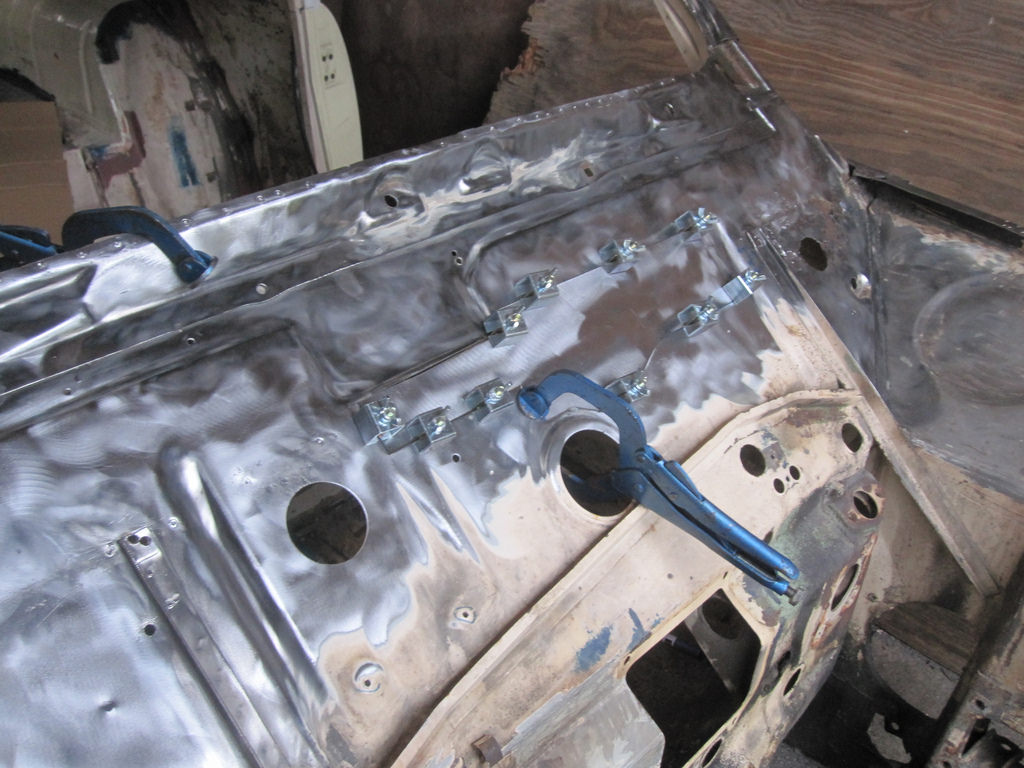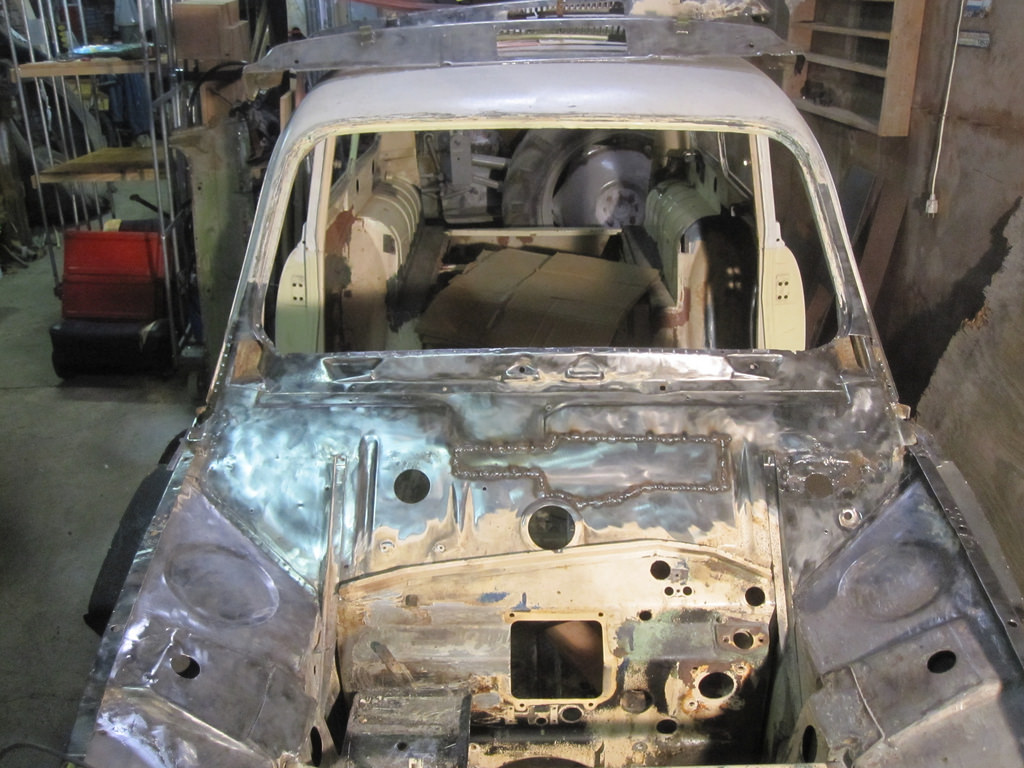 And cleaned up: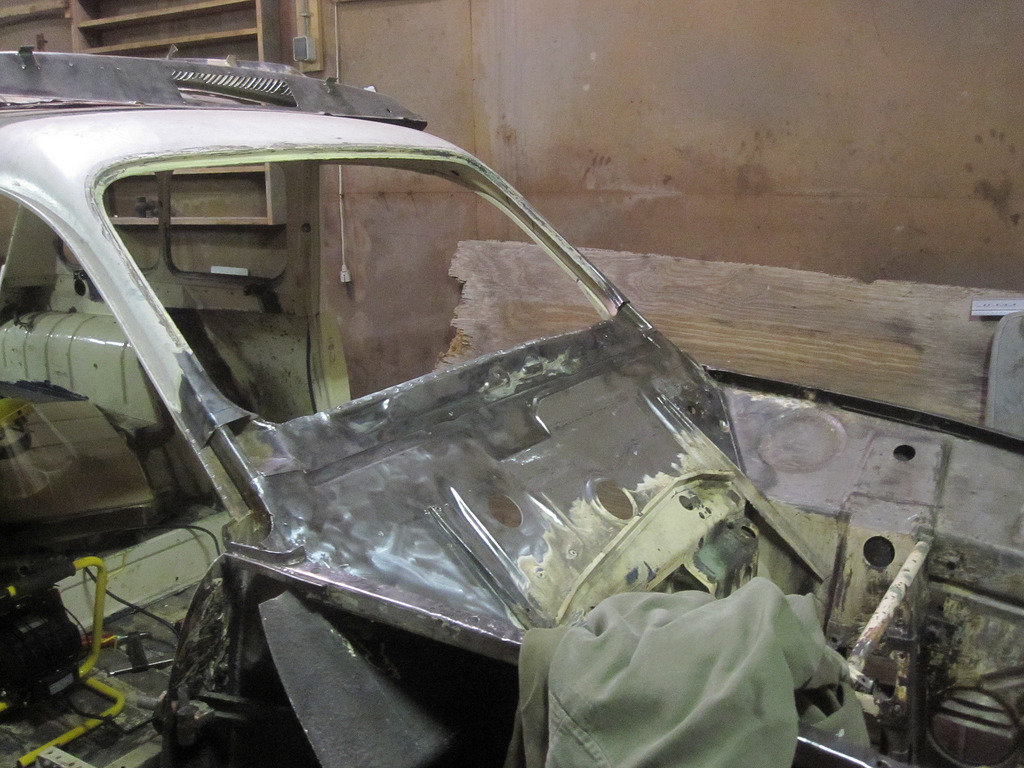 One piece on the firewall left but I had to leave that until next time. I have a very uncomfortable spinal disc herniation and working in a bent position definitely doesn't help...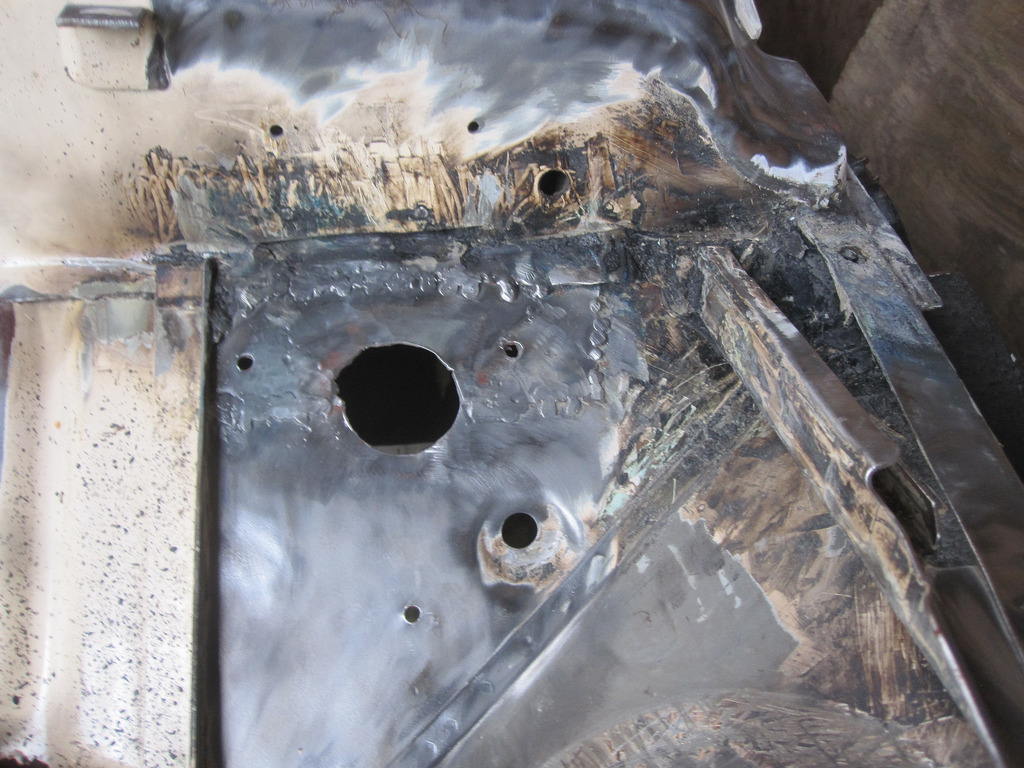 I had a donor air box that cleaned up pretty OK but however still needed some patching with pieces from the original box: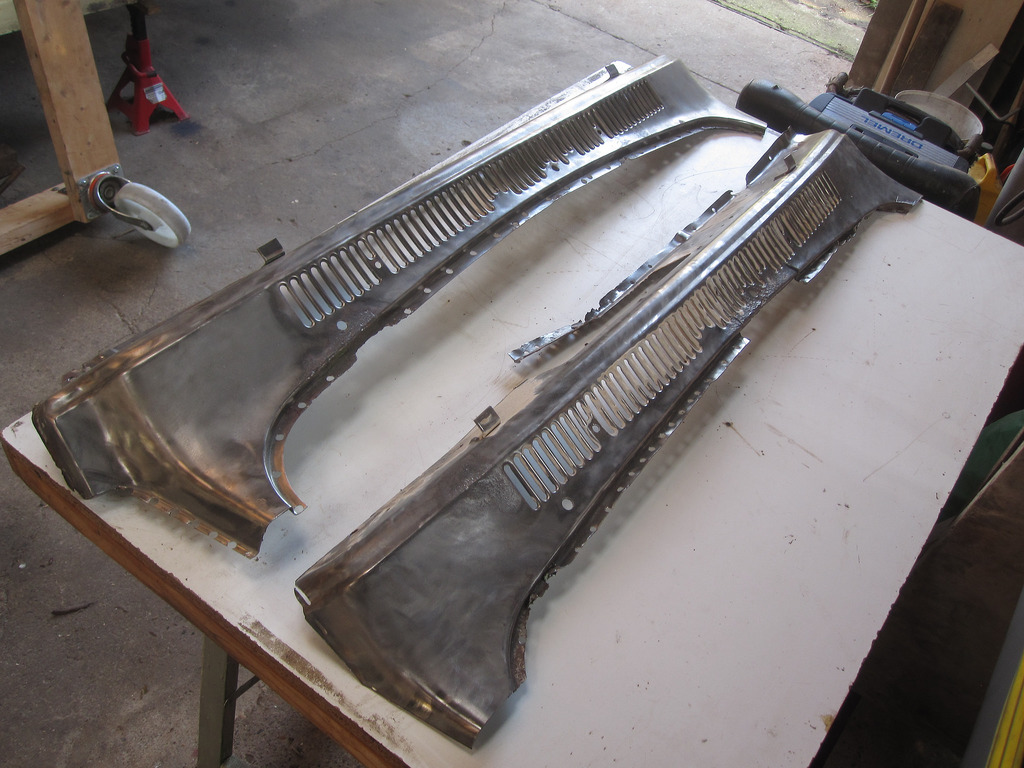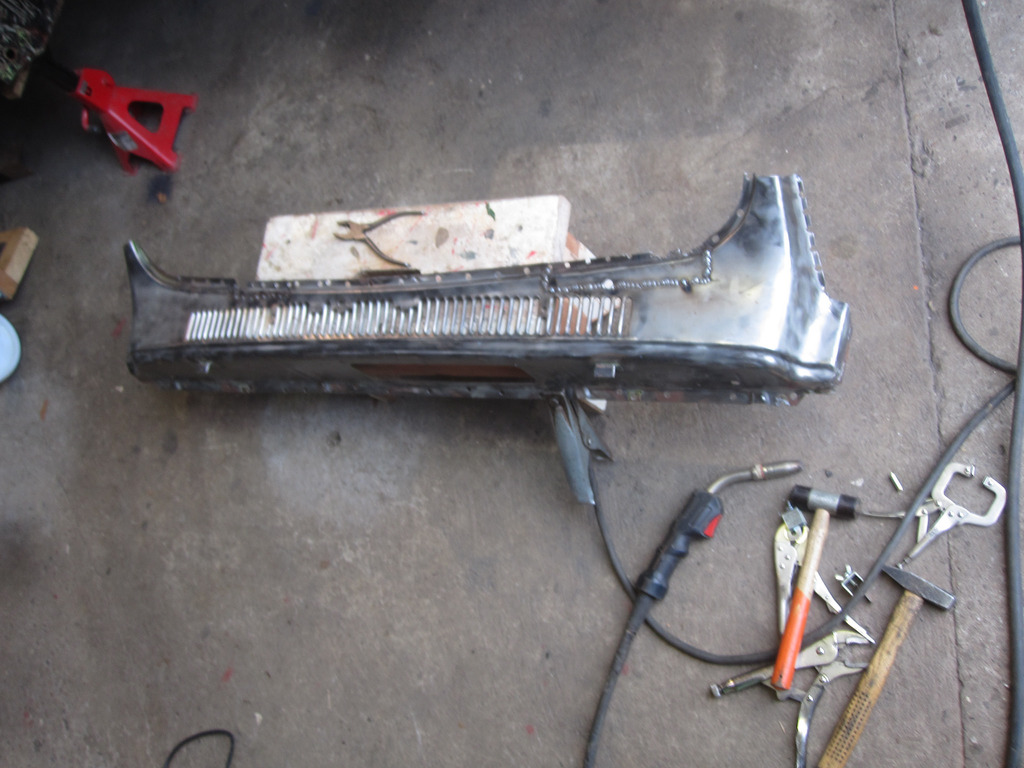 Sorry for the crappy pic. The window channel will get some fresh metal next time.

I've taken all front suspension and steering parts off the car, the rear axle with wheels and the hand brake cables are the last bits left at the moment. Also did a bit of under seal scraping because I'm not looking forward to doing it all in one go once the fun jobs are done.
2-16-2014
Cheers. Bit jealous of where you are with your project, nice work.

Got some new wheels for the 95, Continental 5.90 and Michelin 6.40 cross ply tyres.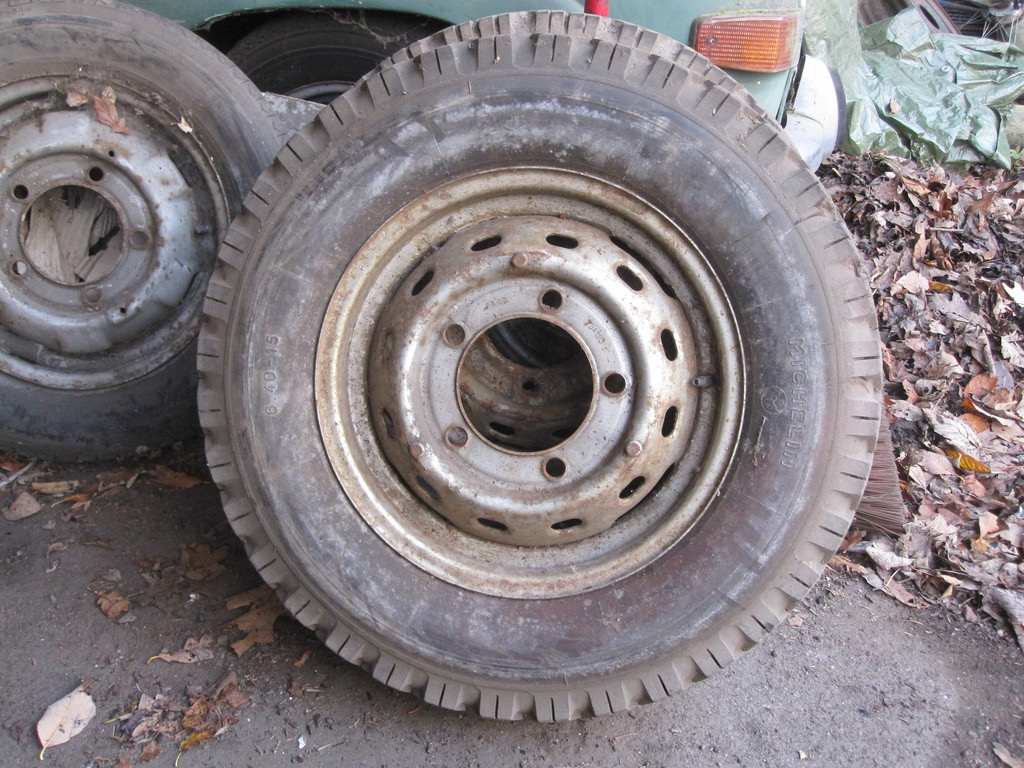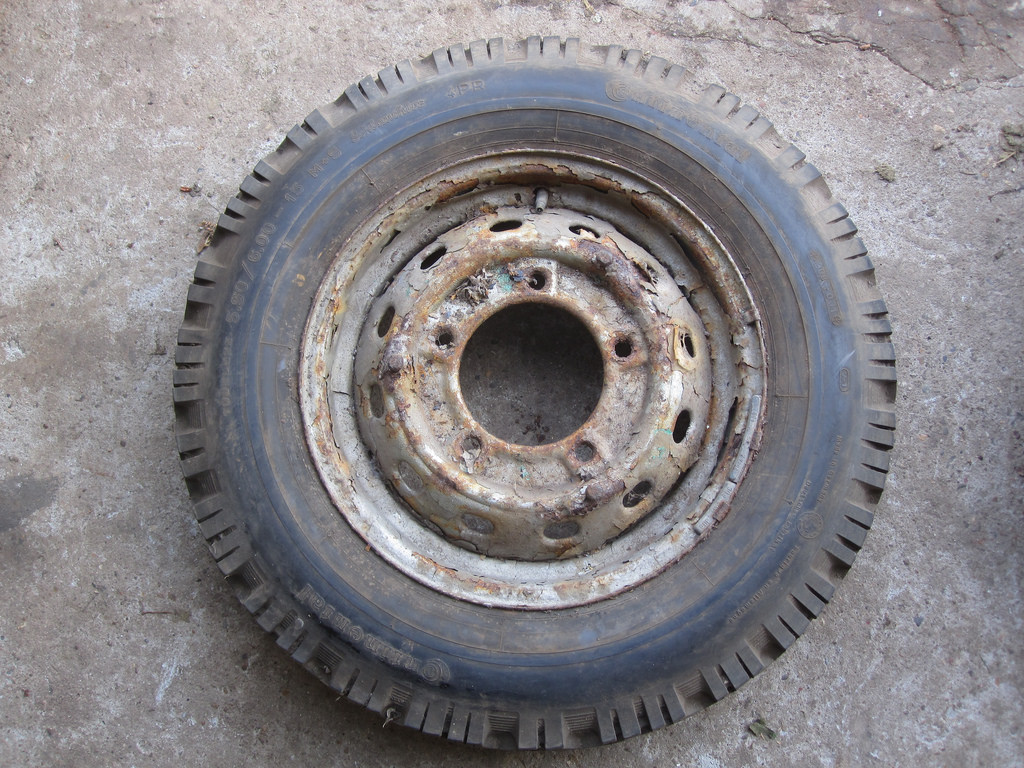 No worries, I have plenty better rims. Suspension will be raised a bit, see http://www.saab-v4.co.uk/speedball/topic.asp?topic_id=3574. I have 900 rear springs that I'm going to try as front springs and original 95 rear springs from Finland.

And some inspiration: http://retrorides.proboards.com/thread/98127/lifted-road-cars-pics
2-18-2014
I work in the sunny North of the Netherlands (between the showers that is). Denmark is not much colder at the moment, winter lasted exactly one week this year.
8-10-2014
He once emailed me "I have a 7000 euro offer here..and It dont make me warm..." Draw your own conclusions. The photos you posted are old, I've seen some of them before. I also have interior pics where you can see that a lot of bodgy welding has been done to it and that it needs a lot more to make it a solid car.

Having said that, I want that van!
4-12-2014
This one is RHD and it went from the UK to Germany about 10 years ago, so could be the one. I know Nick Senecal had a 95 van, but iirc that was a '69 and this one is '70. See my original van topic for more pics: http://www.saab-v4.co.uk/speedball/topic.asp?topic_id=2078
9-22-2014
It's in my workshop in the Netherlands and it won't come to Ireland in the foreseeable future I'm afraid. Gives me good reason to pop over to NL every now and then (don't tell my family and friends

).