Susan by Tristared
By diyauto
You must be logged in to rate content!
Susan
Compliments of Tristared @ saab-v4.co.uk
10-26-2011
I've been given word that the zinc spraying and powder coating of my wheels is now complete, and so I can (partially) reveal the efforts of the past 6 months...

Just a little back story... She's a 1970 model with a 1700 - to which I'm still not sure where it came from, I think a Sonnet, with a longer legged box as cruising is more relaxed at higher speed than my previous v4, but that was along time ago, so I can't be sure.

When I first bought her, over a year ago, she was apparently a very dark green (I'm completely colour blind) but under the bonnet she was black, so a few coats of 2 pack and she's now all the same.

The near constant overheating was down to a failure of the head gasket, so a tear down was required. The bores where in remarkably good health so HC pistons will be a job for the (hopefully distant) future. I had new valve guides inserted with new stem seals and the valves reground along with a skim, and the temp gauge needle has been obedient ever since.

Back from the head shop...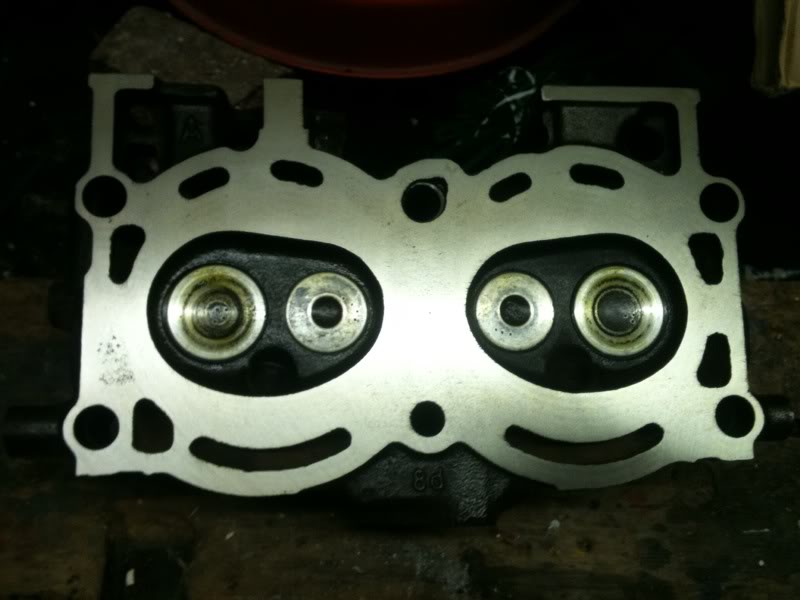 Back from the body shop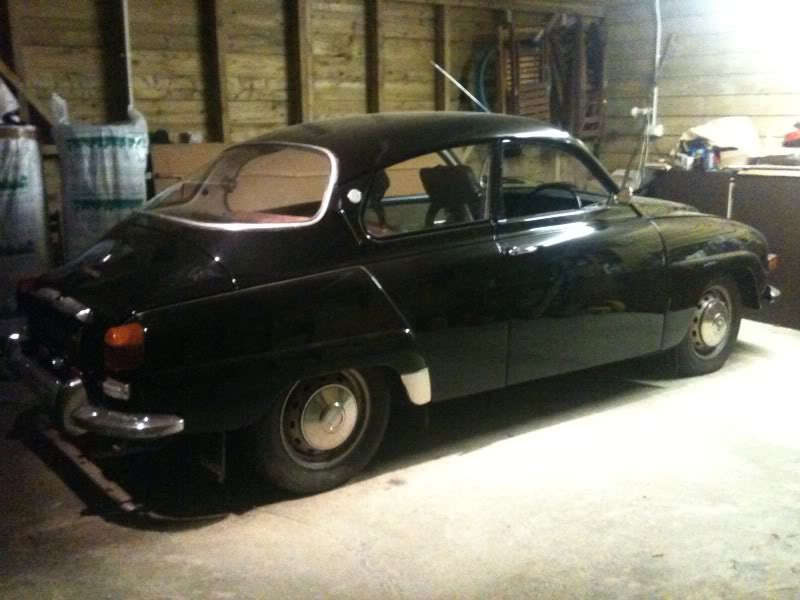 Wheels & Bumper off to be refinished.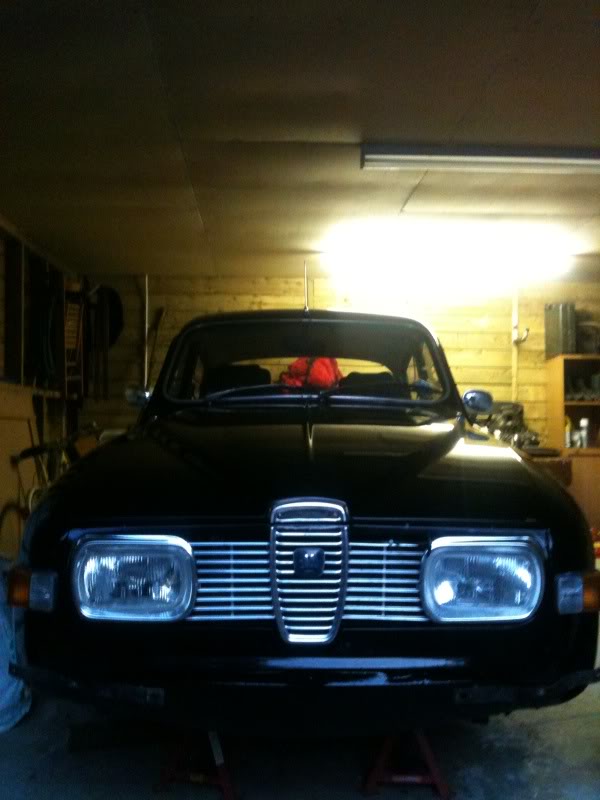 Still a lot to do, I'll update when I get the wheels back....
10-27-2011
..the interior is like new. Backs up the 45k mileage.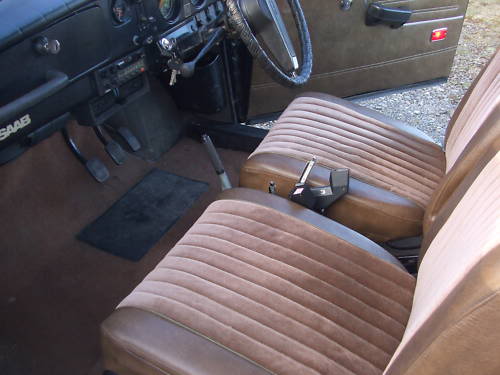 2-19-2012
Rare that a genuinely pleasant surprise comes about in field of classic car ownership. A recent ebay win bought about just that.

On receiving the car, I was shown that it indeed turn over, needing only the engine and a few other bits - it seemed like it would be a good buy.

I finished removing the lump this morning and found what looks like a 'new' Vege engine!

I've yet to confirm this but under the air filter was a boxfresh single choke Weber carb, new looking core and spark plugs, still blue coolant, and my biggest surprise when I drained the sump - golden yellow oil!

The heater pipes have surface corrosion but other than that the rocker covers, heads, and block are (a) factory black.

I know this isn't exactly conclusive, but I'm feeling hopeful.
3-6-2012
Quick project page update - though these were taken a few months ago...

With renewed wheels - I'm so impressed with the finish of zinc spraying and powder coating, I have sent the rocker box covers and all the pipe work on the engine that is currently being rebuilt to have the same treatment.

Some interesting shots of the interior - The car was in the ownership of SAAB dealer in Scotland for a large part of it's life, which is where I would imagine it received it's unusual extras.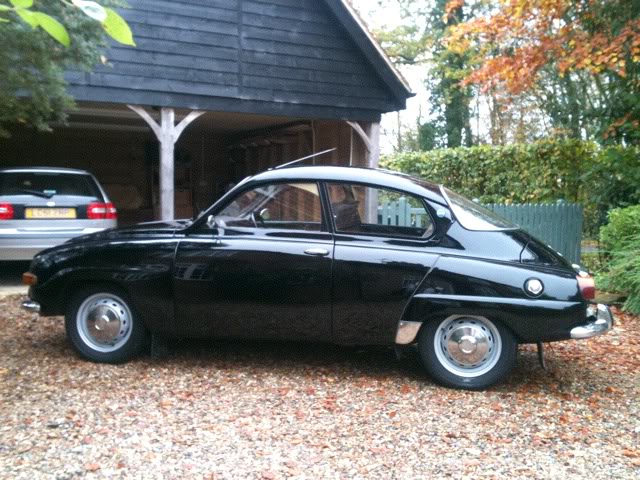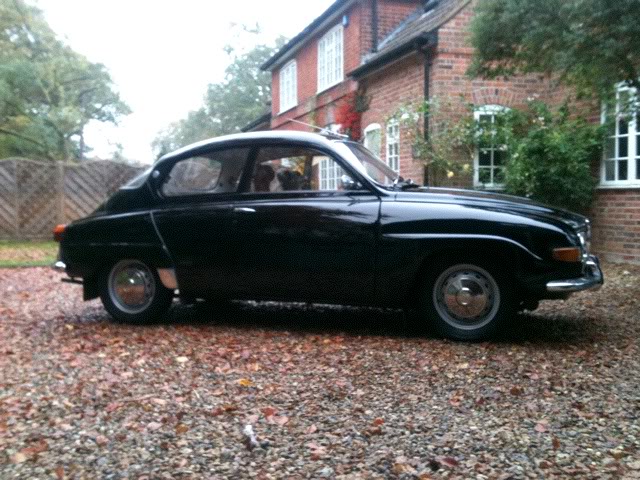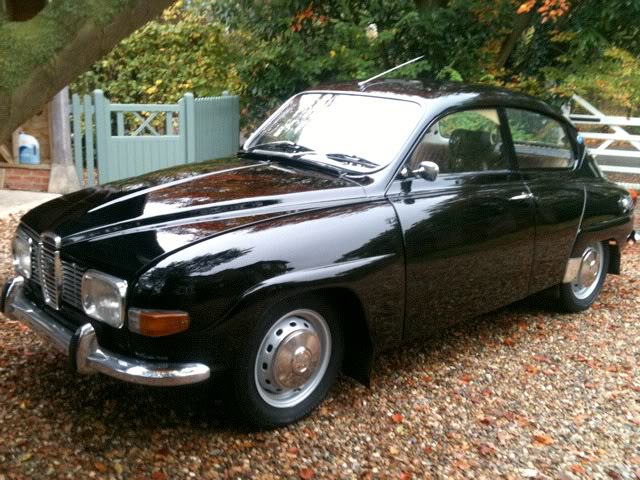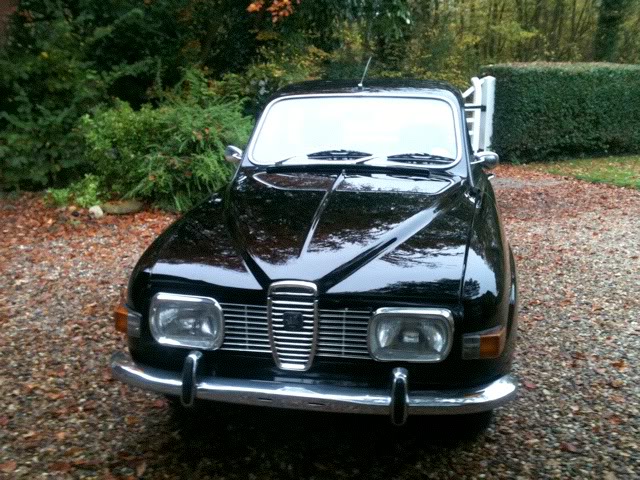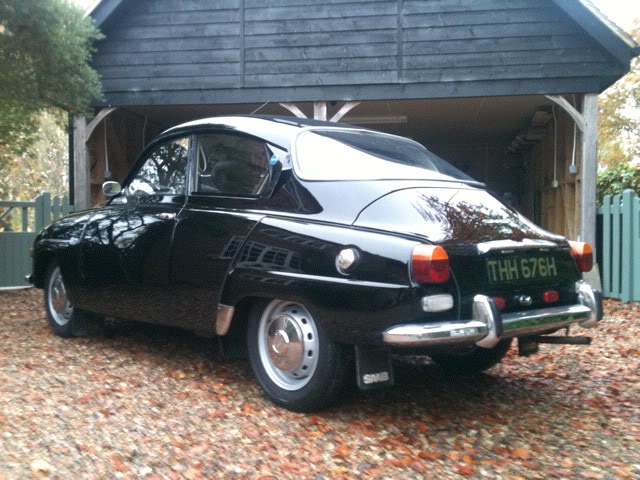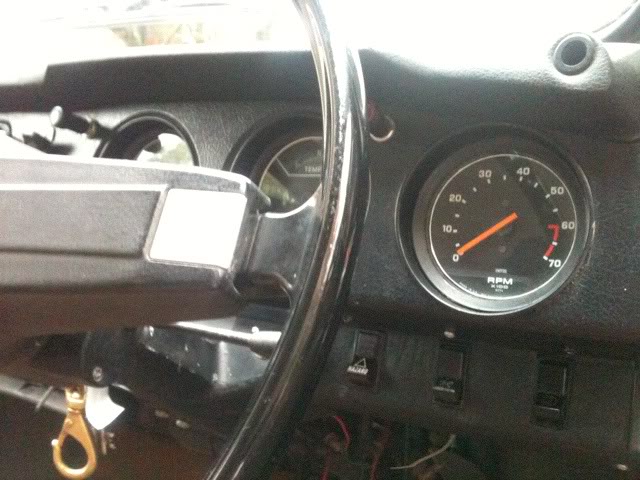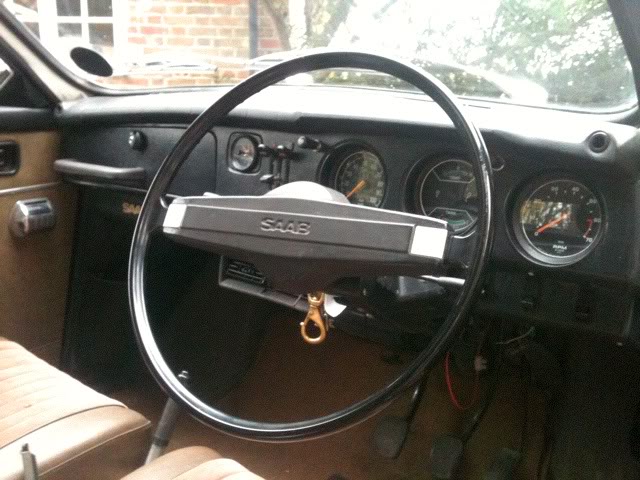 Oh and that engine (that I think is an almost new VEGE unit) I found on ebay in a wreck in Croydon...

My word - it's incredible... It's like being propelled by a giant sewing machine.

I had to seriously consider whether the 1700 motor was worthy of an overhaul.
3-26-2012
Work continues on the procurement and renewal of engine parts for my 1815cc 'Big Valve' engine...

2.9 - 42mmm inlet & 34mm exhaust valves...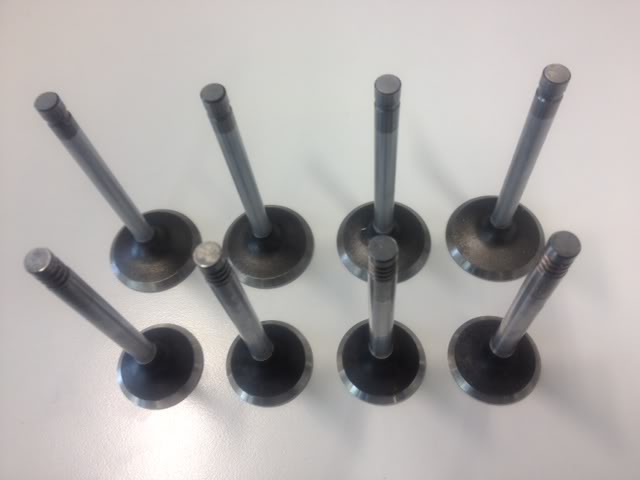 Zinc sprayed engine parts...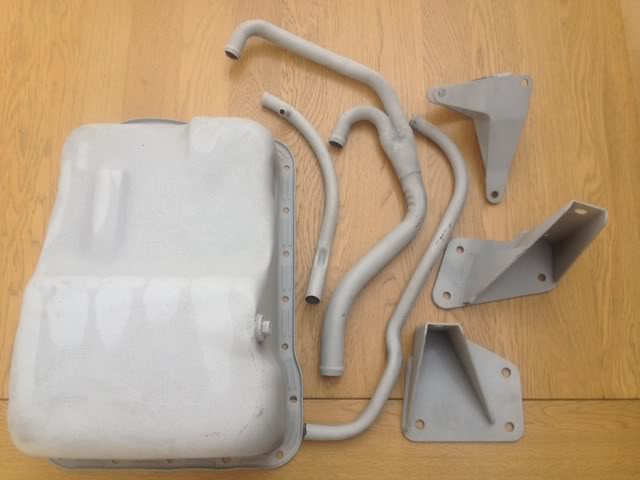 Bead blasted alu parts...


Rocker covers after zinc spraying in Hi Temp primer...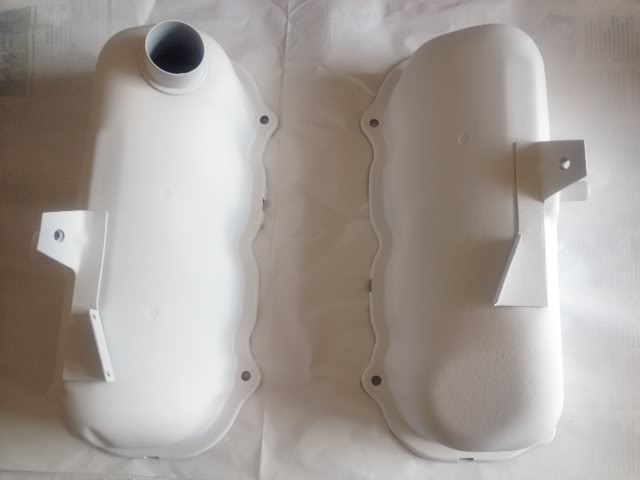 7-2-2012
Progress has been slow in recent months, cash flow and delivery times have taken their toll and it's only been this weekend that the project has once again moved forward.

The block is back from the engineering firm, it now sports 93mmm bores and properly bedded in new balance and cam shaft bearings. A day soaking in thinners and neat industrial cleaner is all it took to get it ready for painting.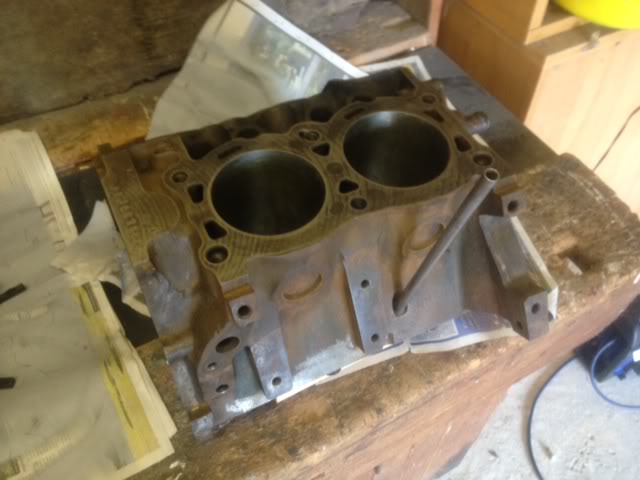 Which was remarkably enjoyable due to the quality of paint I found – it's a bit like painting on liquid lead. The original engine colour had been a green silver, though that could have been dirt – Anyway, the new colour will be just silver. Funny how it's the products that openly state they will kill you in an instant that are really good at what they do.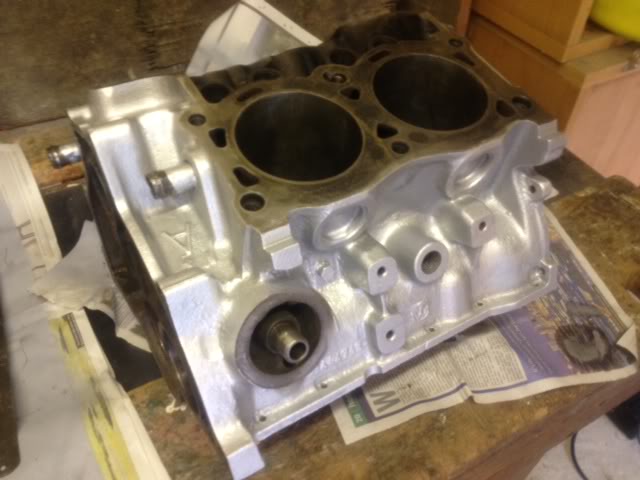 The engine will be running stiffer valve springs so I thought it would be prudent to upgrade to metal gears. I want to like them, but then I know how much they cost. They better whine like hell, that way I get something out of them!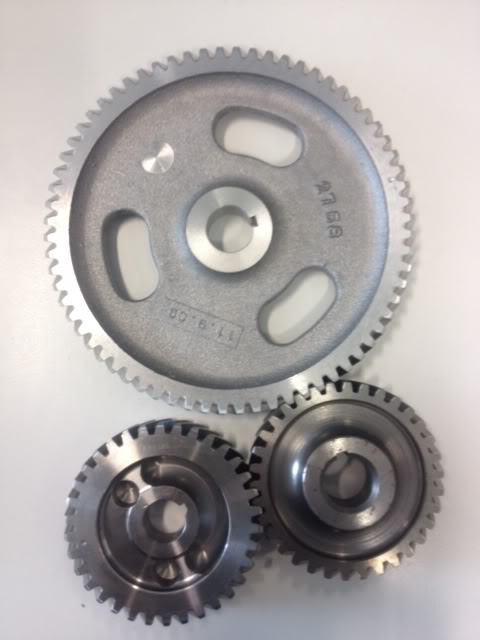 The only slight deviation from my engine project has been the procurement of a SAAB 900 Nardi Steering wheel that I managed to get of the 'bay for a respectable price (considerably cheaper that the 96 items). Just waiting on the kit from the U.S to fit it. I know it won't work straight out of the box, nothing ever does…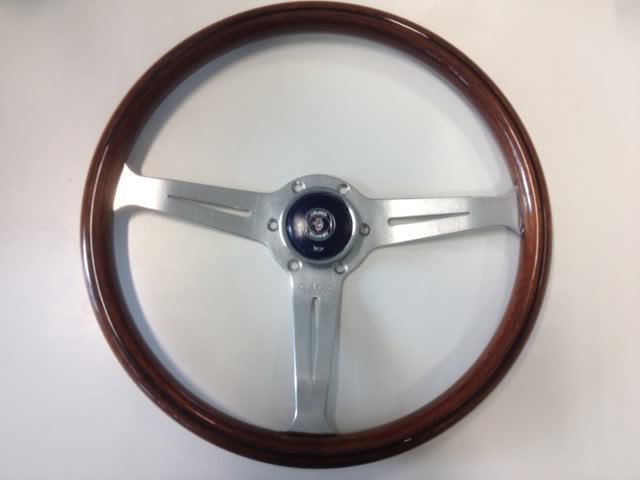 Just waiting on the timing cover hole where the fan used to be to be welded up, and the big valve heads to be finished and it's time to put everything back together. Which brings be on the next point – I had been looking into getting some copper head gaskets made so that they would fit a 93mm bore, turns out some old Victor Reinz items that I had firmly believed where standard bore size, fit exactly. Very happy about that.


Now - I just need a tube of Graphogen, some Hylomar, an assortment of stainless steel jubilee clips, some new metric bolts, some…. etc, etc.
7-9-2012
Thanks to all for the encouraging words - Another productive Sunday in the garage…

The crank is back from the workshop, the big ends needed .25 off, the mains were fine – it was balanced as a matter of course. The all-important numbers and bearings with a liberal coating of Graphogen – marvellous stuff…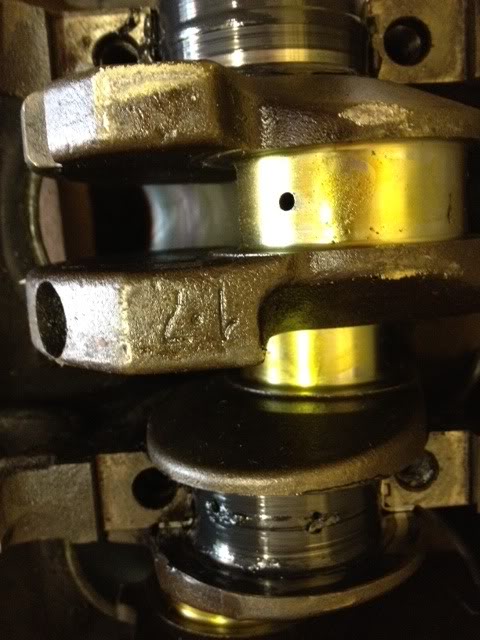 93mm Pistons are now in… That's a fun job isn't it… You can just about see how much the piston protrudes from the block with the HC pistons.





ARP Mains bolts in, Conrods to follow.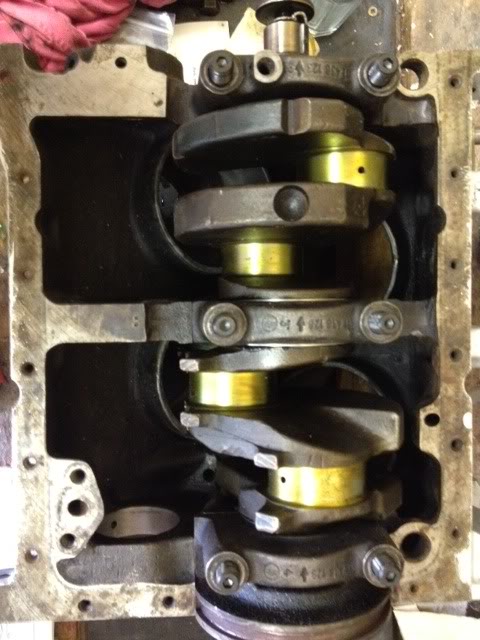 I sheared a bolt trying to remove the thermostat housing when stripping the engine down, which I later managed to remove with the judicial use of a blow lamp. To make sure this doesn't happen again I decided to rebuild the engine using stainless steel Allen bolts. First thing back on was the fuel pump blanking plate.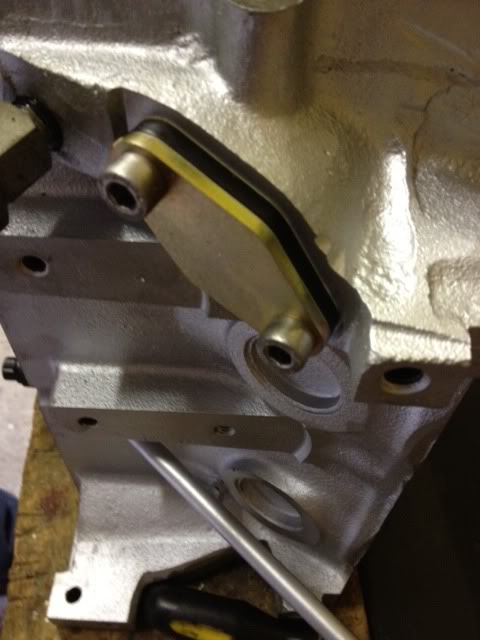 Driving home one of the coolant hoses let go on my stand in engine, after I treated it to an oil change of all things… had to stop every ten miles to fill up with Evian - Unbelievable.
Feeler gauges showed the height to be around .25 thou so - 0.635mm... The Gaskets I've got which are 93mm in bore already are around 2mm thick. I don't know how much they compress by but, if the crank doesn't turn when the heads are on - I've got some problems.

Pistons were NOS Ford items from:

s p e c i a l i s e d e n g i n e s.co.uk
7-10-2012
The crank work was done by a friend of my Fathers who has recently gone into retirement, as a favour to him – so I really can't pass any details on to you about pricing.

Nearly all the components were found on eBay (both U.K & U.S), with exception of the Oil pump, which was sourced in the states.

The bearings are from Thorntons, and the gears from Malbrads.

The gaskets I have are 93mm bores – I'm unaware as to whether they are standard or not.

the shopping list for my engine:

Block bored to 93mm
Balanced 1700cc Crank
2.9 - Scorpio Conrods
42i/36e - 3 angle valves
Heads machined to fit valves + inlet opened up.
93mm Oversize Pinto Pistons
Full ARP bolt kit
Timing cover fan removed and welded up
Melling M87 HV Hi Flow oil pump
Weber DGV carb
Alloy & Steel Gear set
Full Gasket set
Silicon Rocker Box Gaskets
.25 Oversized big end bearings
Standard mains bearings
Balance shaft bearings
Camshaft bearings
All external surfaces bead blasted and zinc sprayed where necessary.


My Father keeps winding me by saying it'll have about 80 horses in it, which I'm sort of concerned about as I'm not going to stop until I get 110...

...at the wheels. – Basically more than an MGB.


Any clever types out there have any idea what this little lot may result in?
9-12-2012
Camshaft – maybe, one day, I have enough to get done at the moment.

So, work continues at an ever slowing pace…

Timing cover plate back from the engineer shop having had the fan bearing hole welded up…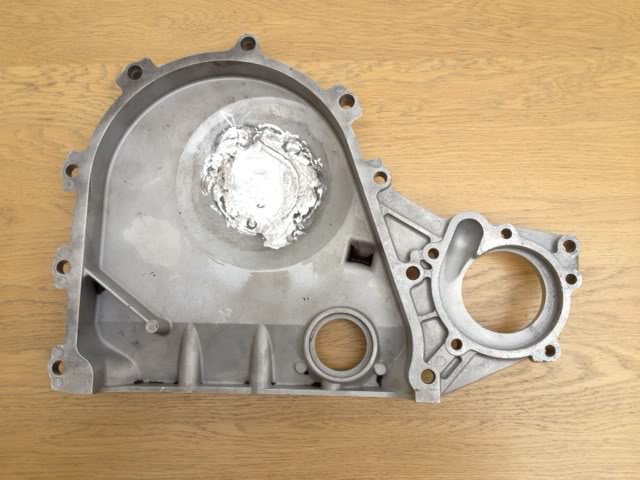 …in etch primer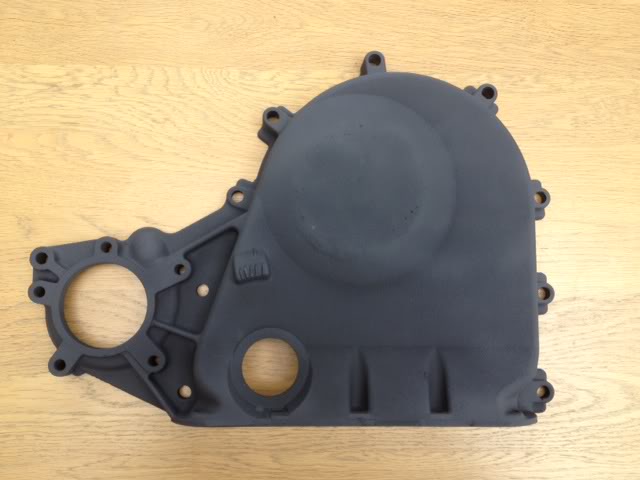 …and painted in calliper/engine paint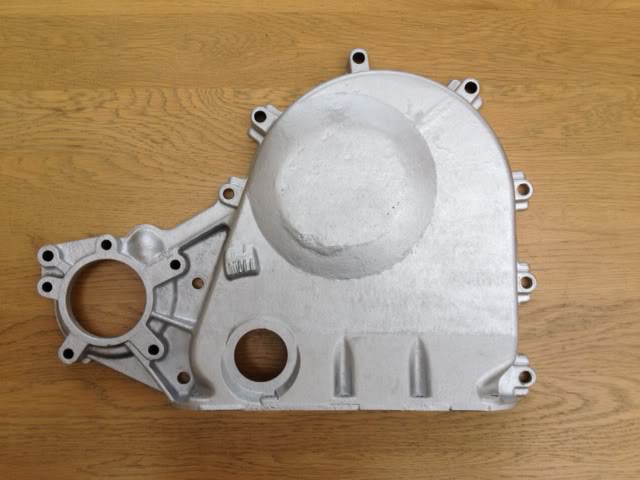 Heads back from the Walsh Cylinder Heads of Dalston. Now sporting big 3 angle valves and ported inlets…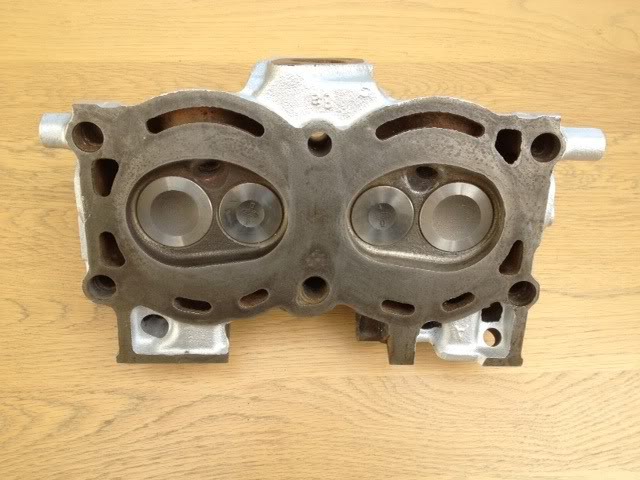 Now sporting big 3 angle valves and ported inlets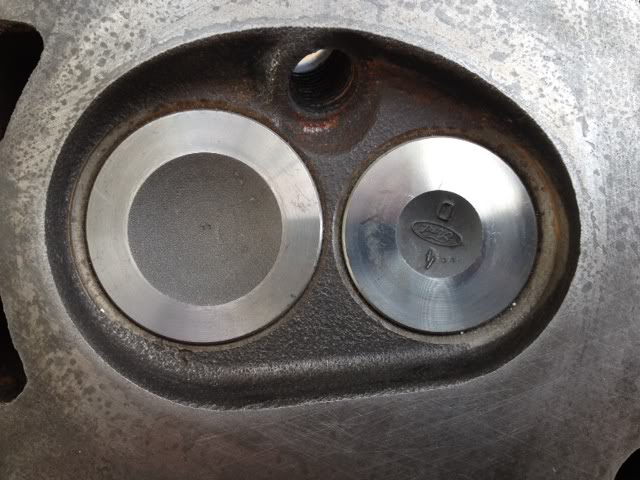 …and thicker V6 valve springs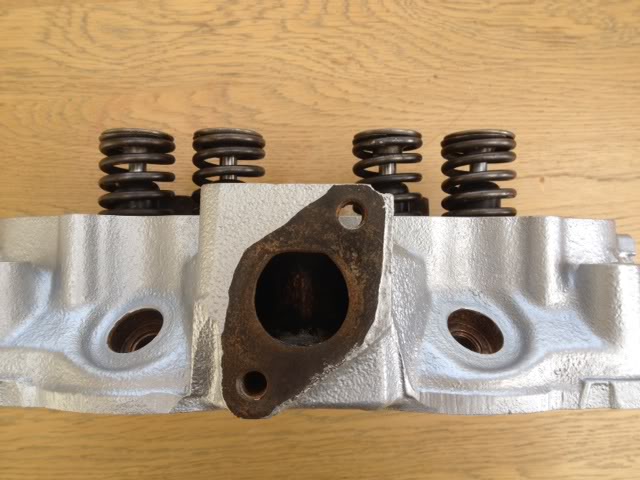 New Melling high pressure oil pump in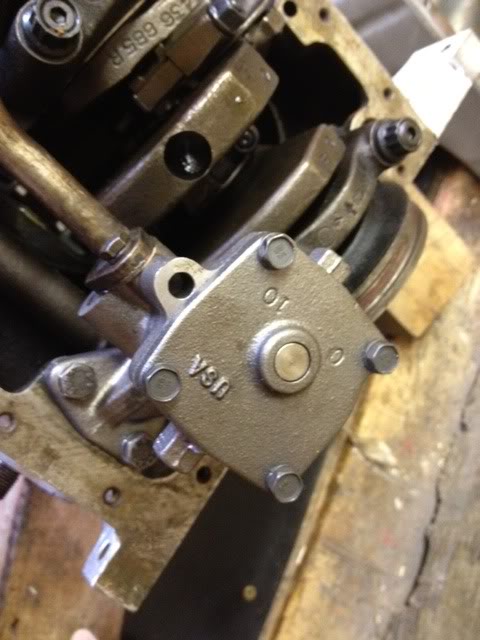 All put back together, and awaiting Malbrads rocker cover washer/spreaders (which are sitting next to me at my desk).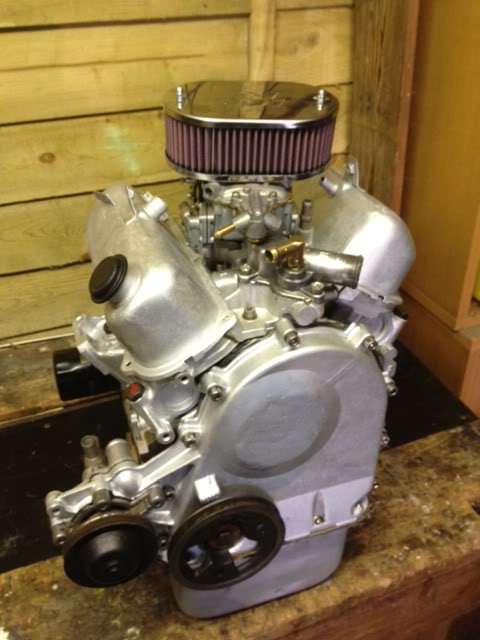 Now I just need to sell the C&T manifold (which I really don't want to) and then I can get the Jetex exhaust, and electric fan, and the… etc.
9-13-2012
I had thought about using SS Allen bolts for the exhaust manifold, however I seem to remember the left hand side is really quite difficult to get a firm grip on… I'll have to see.

The anticipation to see the engine in place has now completely over ruled the requirement for high power output – I just want to drive the thing now! – I'm not going rallying, and the car only gets used a couple of times a month to travel 30 or so miles on country lanes. Hopefully they'll be a bit more fun.

Yes I was a little a taken back by the welding job, apparently cast aluminium is pain to weld – it pops and throws material everywhere. Oh well, as long as it's oil tight, I don't mind.

Of course I now have to strip the engine bay for a repaint. A shiny silver block in a manky peeling black engine bay just isn't going to be on.

Any advice on chemical paint strippers would be greatly appreciated.
I'm pretty sure everyone here knows what goes on, but here are a couple of videos from the engine rebuild...

Milling the engine cover...

http://www.youtube.com/watch?v=-CRQ0waOcBo&feature=youtu.be

Pistons doing their thing...

http://www.youtube.com/watch?v=jYNdUl4v1aI
10-2-2012
Here's a brief look at what has been occupying my mind for the last couple of weeks.

I have for a long time been interested in perfecting an electric water pump conversion kit for the V4. On the grounds of tuning I have managed to kid myself that it is indeed necessary, but I'm fully aware that this is just another project, and I have to say it's been fun.

I have tried to keep the diameters, and placement of the inlet/outlet pipes the same, which I have managed, albeit with a few parts that were designed for Koi carp pond keeping (they look robust enough). The coolant pipes will have to be shortened, whilst the return from the rad has been kept long so I gauge how much needs to come off, the connector allows it to fit perfecting inside the orignal U shaped pipe - once one end has been cut, obviously.

The pump is a Bosch design, that was used to keep a 3.0 V6 Vauxhall Omega cool. My only real concern is that the water will be pushed through the rad too quickly for it to dissipate it's heat.

Research has shown that there are companies selling electronic devices that regulate the pump speed so you can actually present the engine temperature. No more thermostat?


…I think I'll start off with a switch.


I'm current cutting out a mounting plate that mirrors the footprint of the water pump backing plate - out of stainless.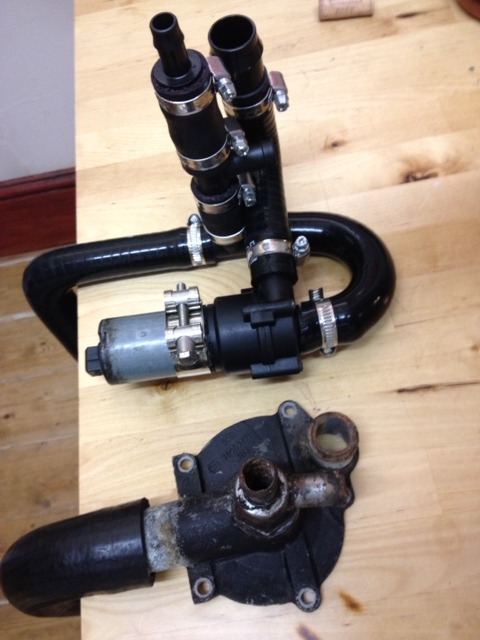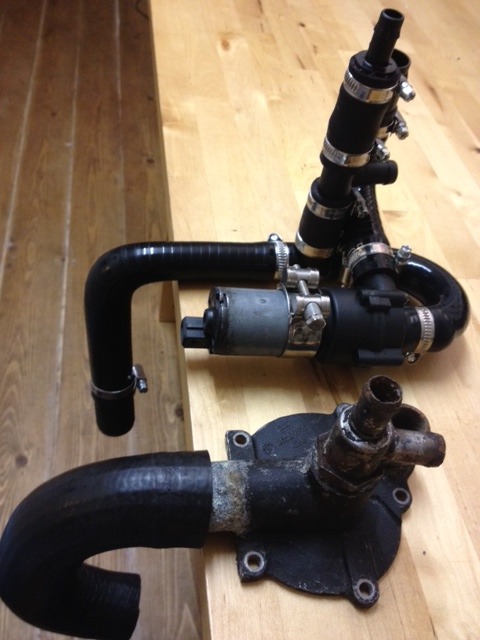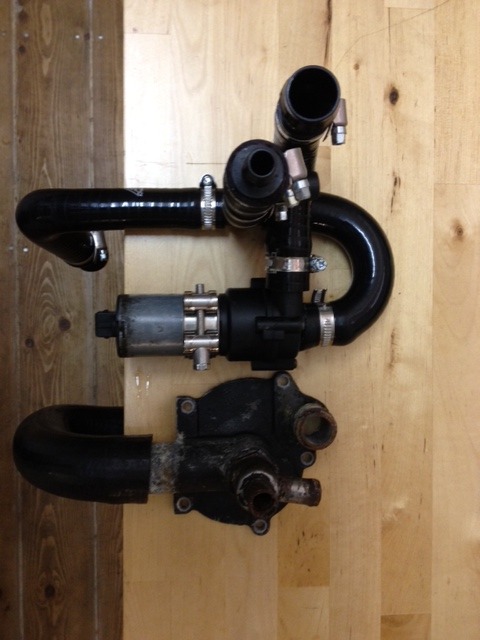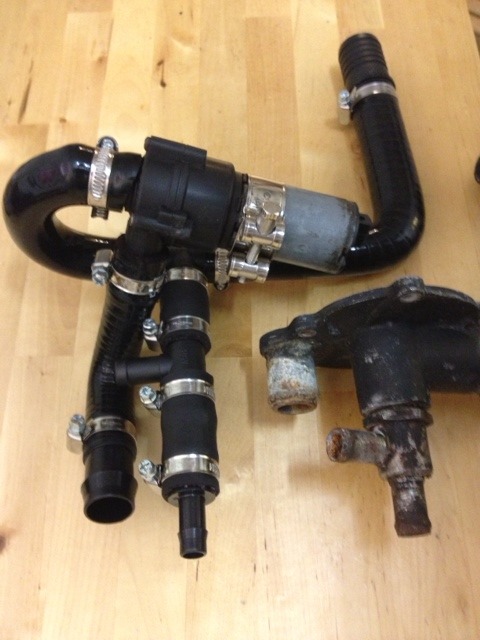 It's always a great Friday when something arrives in the post!

This is the Nardi boss adapter for mounting the wheel shown in earlier posts.

It's only taken 3 months to get the right one!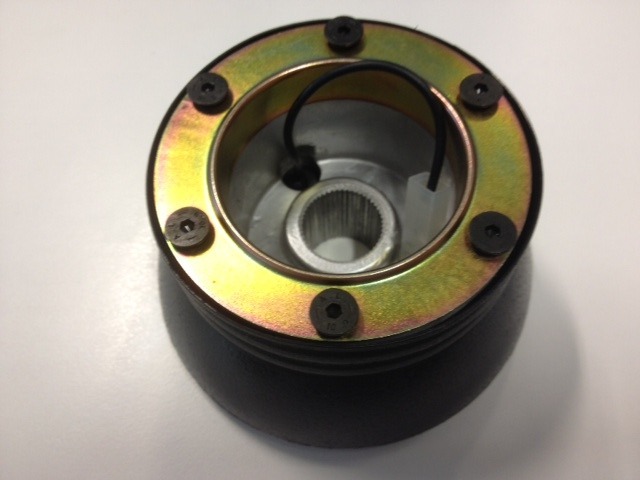 10-16-2012
...and it's in!

I do have a trim ring that covers the six bolt heads, somewhere. Not sure if it's needed.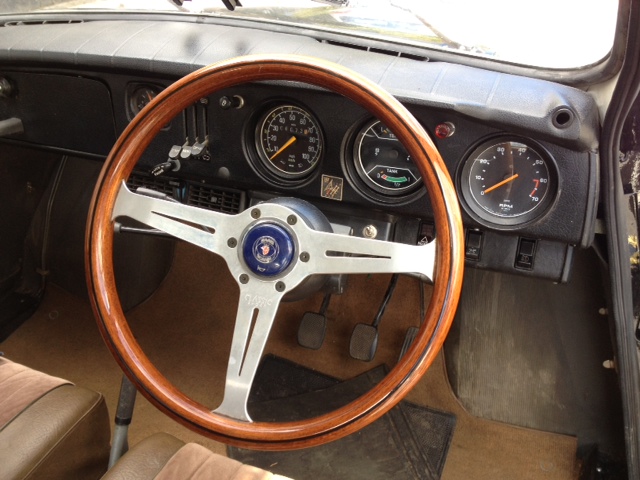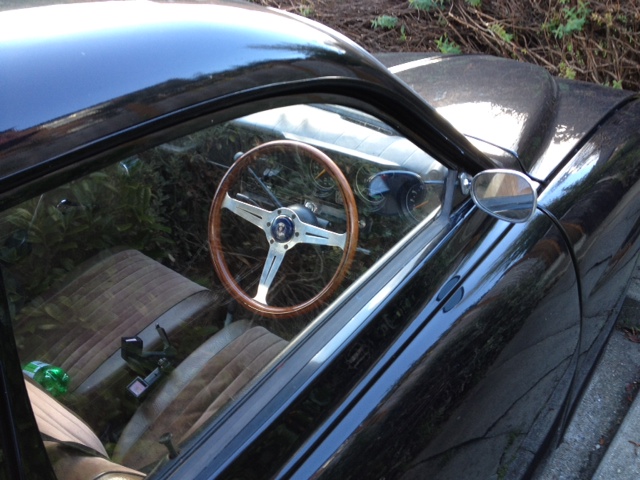 10-25-2012
Electric water pump has now been completed, with the finishing off of the adapter plate/bracket.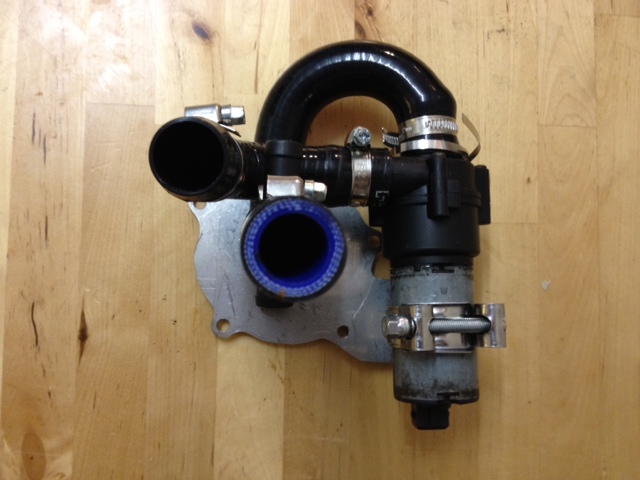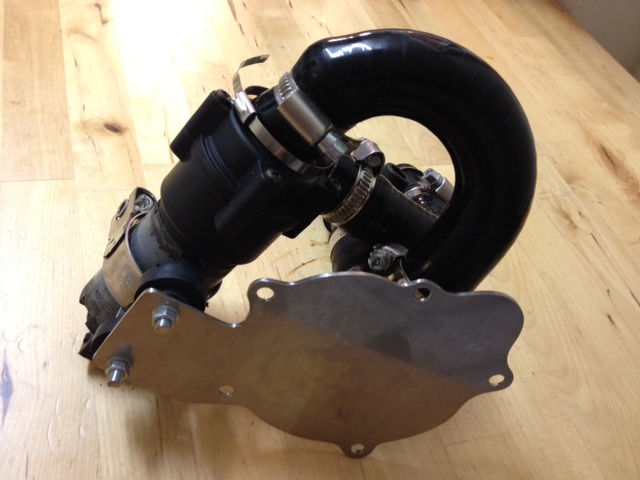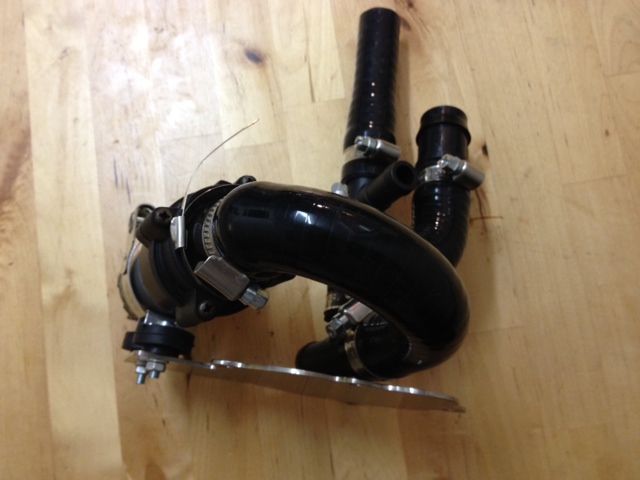 It's a Nardi part..

Part # 4300.00.4302
11-6-2012
A week off work, sadly not to sit on a beach and continue my ridding the world of gin.

I realised half way through my engine rebuild that putting it back in the car with the engine would look ridiculous.

So…

Day 1


Day 2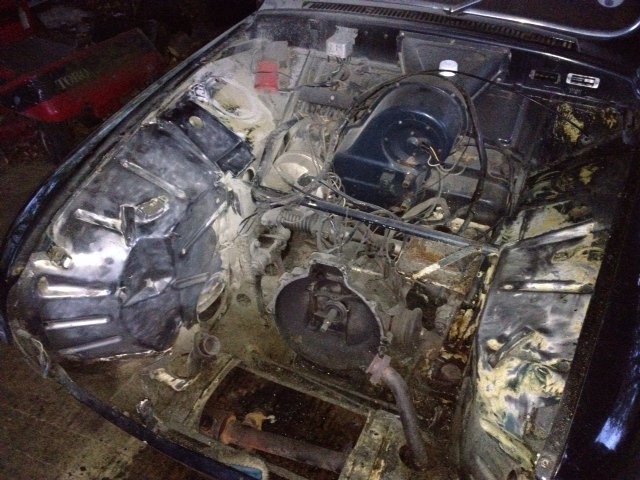 Day 3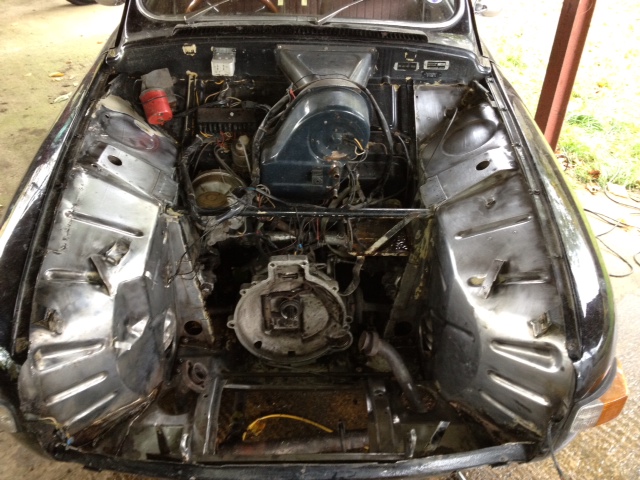 Day 4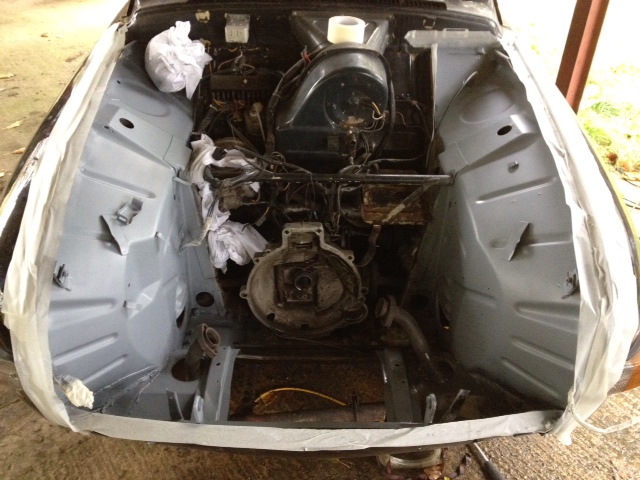 Day 5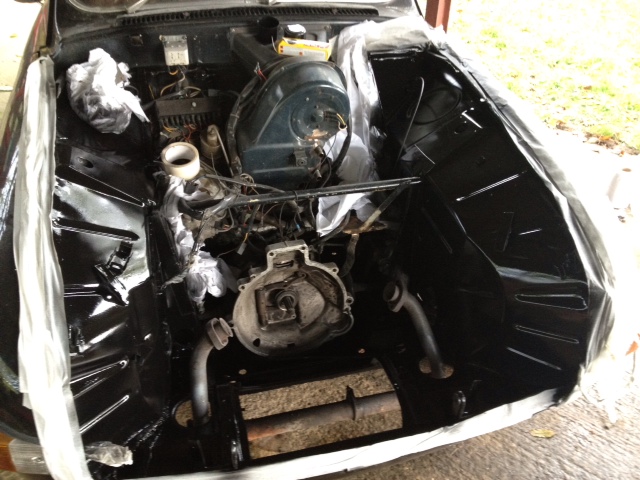 I did manage to get the engine in – but I was too cold and tired to take any photos

Next Sunday – there will be some key turning.


Nothing will happen, obviously - but I'll give it a go.
I used a paint and varnish stripper from Wickes - absolute waste of time. Apparently all strippers have gone this way, including Nitromors which I would have used.

Dichloromethane has been made illegal – this was what gave strippers their bite, so to speak (some people died using it on an enamel bath – or something).

An industrial looking wire brush and a small Bosch angle grinder worked the best, and then a couple of grades of emery paper.
Just thinking back – the amount of congealed oil around the base of the turrets was just staggering, no wonder the engine bays don't rust, I had 2 inches of this thick black, obnoxious substance that just wouldn't go away.

Did Ford own an oil company in the 60's?

I must have used an entire 5l bottle of detergent and boiled the kettles 30 times to get it all out.

A steam cleaner would have been the way to go, but could I find one?

HSS have 4 in the whole country.

So that's 1 for every 15.5m people...
11-12-2012
Engine in last night…

Pressurised the oil system with a power drill on the distributor/oil pump drive.

Let the electric fuel pump fill the filter properly.

Would you believe – regardless of the cold weather - it started on the first turn.


I'm still amazed.

Sadly it's going to be 2 more weeks until I can get back to it, and put everything else back together.

The anticipation is almost palpable.
12-14-2012
The bead/shot blasting, zinc spraying and powder coating (for the wheels) was all carried out by:

http://www.rfiscreening.co.uk

Ask to speak to Steve. Nice chap - Incredible place - he's pioneered the use of metal spraying (and then polishing) onto wood, with some really eye opening results. The last time I was there was last Tuesday (getting all the forward grill brackets zinc'd) there was a cross section of English oak there that looked like it had been cast in stainless.
1-10-2013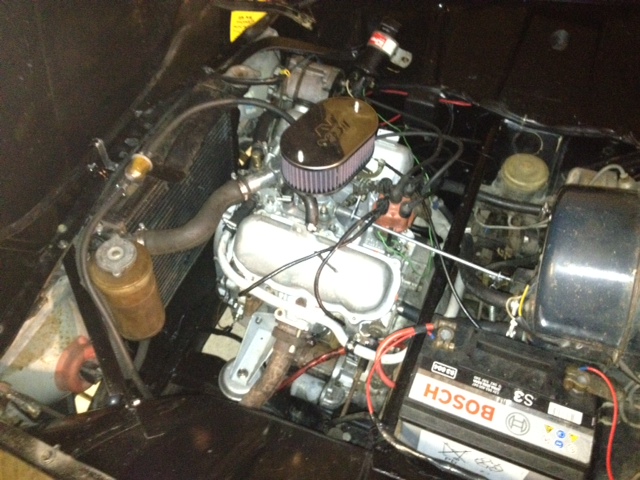 Well the engine's in… for now. The car has now sparkling acceleration and will cruise at 70mph with 50% throttle (I'm not saying it's capable of 140mph – obviously) I have to say in this state of tune it really reminds me of a Mk1 Golf Gti I used to own.

Now for the down side. The car has a thirst for coolant on a par with Oliver Reed during a Jacobs water biscuit eating competition. It'll near as damn it empty the entire coolant system after 5 miles. There are no signs of external leaking so something's going on with the heads. The gaskets were old Victor Reinz items so I'm concerned that the problem may lie elsewhere, though quite what else it could be is slightly beyond me. I have a suspicion the gaskets weren't handed… Anyway, I've had enough of motoring related issue's this month and the temperature outside has dropped markedly. This can be February's problem.

So, another head gasket kit it is, and a flatness check for the heads.

Should have kept the Golf.
3-27-2013
Quite how the hell this happened is beyond me, if something can go wrong it usually does… Somehow I ended up with a gasket kit with two left handed gaskets…

If you fit two left handed gaskets this is what happens…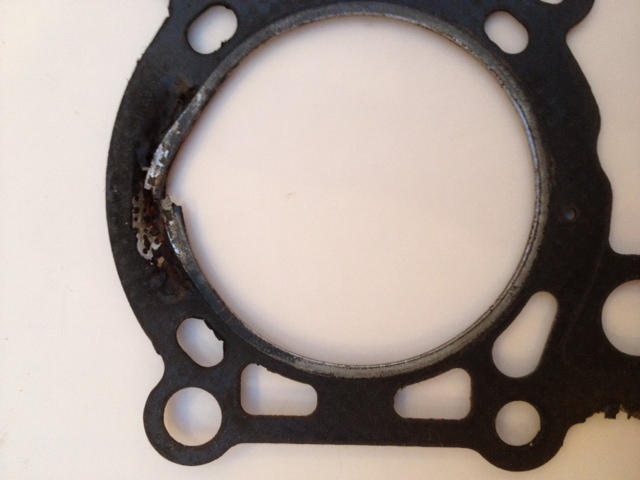 *Deep Breath*

So good excuse to open up the exhaust port a bit, as I had overlooked this…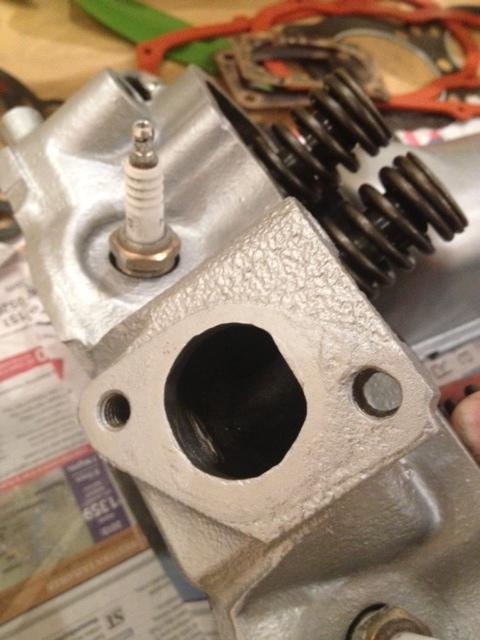 …and give everything (another) coat of paint.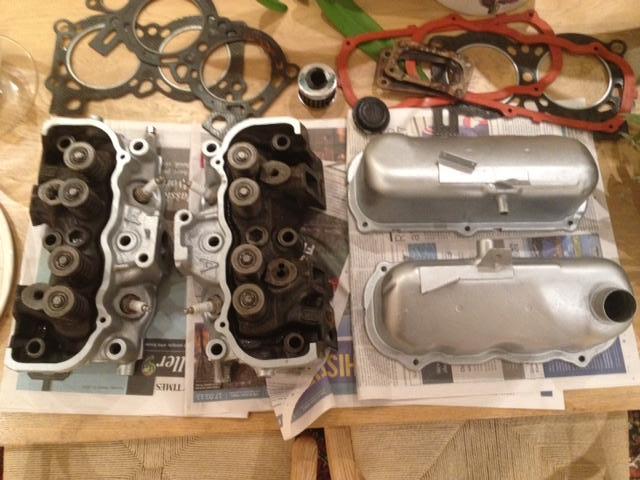 Before I stripped the engine I wondered as to what could have happened, I thought maybe the head bolts could have got tired and so bought some 12.9 grade Allen bolts, which have now been fitted…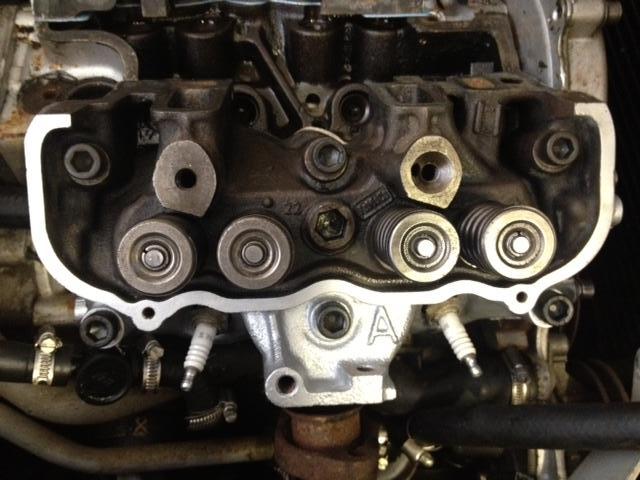 Looking forward to getting everything sorted this weekend, so I can finally have an eventless journey…
3-28-2013
I got the specs from the technical pages of this website...

www.tcfixings.co.uk

Is the name of the firm - Though they only had 90mm in so I cut them down to 75mm - The specs read 80mm but having looked into it I was pretty certain that they were close to bottoming out. The heads have been skimmed so maybe thats got something to do with it?
4-22-2013
I replaced the head gaskets and the overheating problem persisted after buying a Clarke digital torque adapter, I can confirm that the heads needed tightening, and some apprehension I can unconvincingly confirm that the engine is complete. For how long remains to be seen but I have passed the 100 miles mark without incident, so I feel I can say this with (not much) confidence.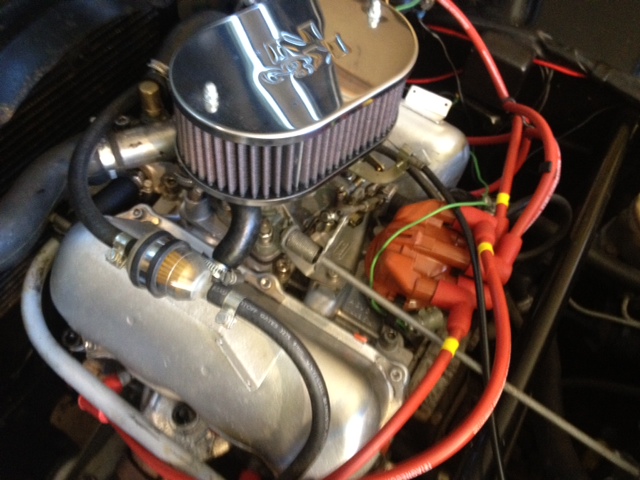 I decided to mark the occasion with some Magnecor 8.5 silicon leads, and a NG 900 distributor that I shameless stole the idea of using off some guy from the other forum. I confirm that they make no difference Whatsoever, other than make the engine look good, which is so important. I also put together a holder for the fuel filter so it's up and out of the way.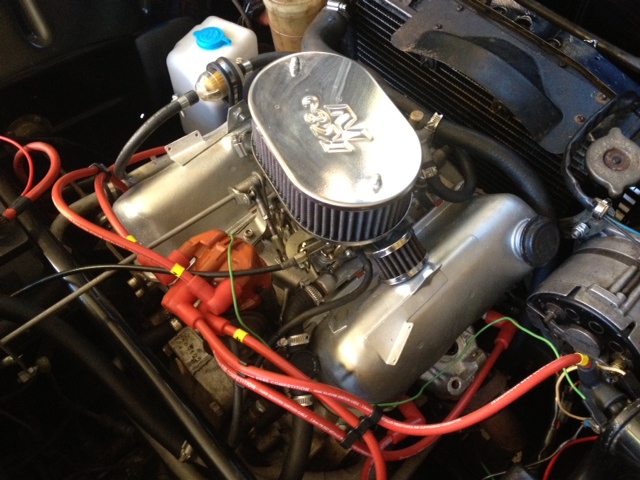 The eagle eyed users will notice the new looking windscreen washer bottle, this was from a kit off eBay – made for the 96, I have to say – I was really impressed with it. Expecting a design that was probably created by someone who had the concept of a car described to them, the whole assembly went together really well, all I had to do was grind the tabs of the existing slot on bracket and extend the wiring - that was it.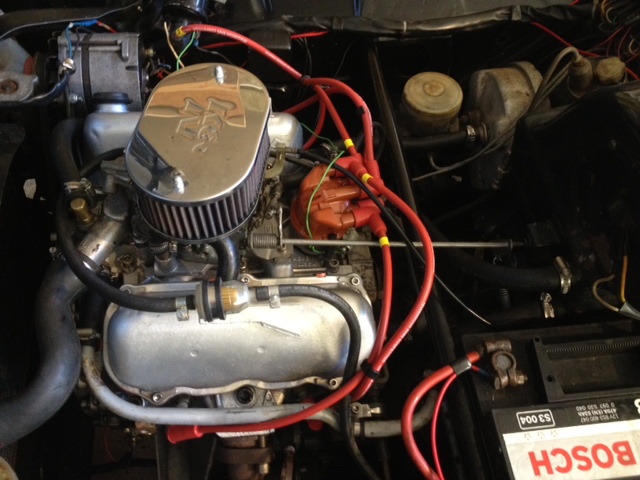 The car's going in for its MOT this week, fingers crossed.
4-23-2013
It's off the New Generation model SAAB 900...

http://www.ebay.co.uk/itm/Distributor-Cap-SAAB-900-II-93-98-Beru-/300886348395?pt=UK_CarsParts_Vehicles_CarParts_SM&fits=Car+Make%3ASaab%7CModel%3A900&hash=item460e39526b#ht_2063wt_1199
7-1-2013
Since I put my tuned 1815cc engine in I have had to remove it once, suspecting I had incorrectly put back the diaphragm clutch it later turned out that the garage had used the wrong clutch release bearing on the conversion.

Well it looks like it's going to be coming out again, as on my way home on Sunday night the clutch pedal started to vibrate like a road drill.

I'm starting to wish I had perfected some sort of engine loading mechanism you can find on American tanks.

…either that or using wing nuts on the bell housing.

Still at least this gives me an opportunity to send back the carb that doesn't work properly.

Starting to feel like I've had enough of this…
2-14-2014
Some before and after shots of a recent acquisition…

The miracle of vapour blasting.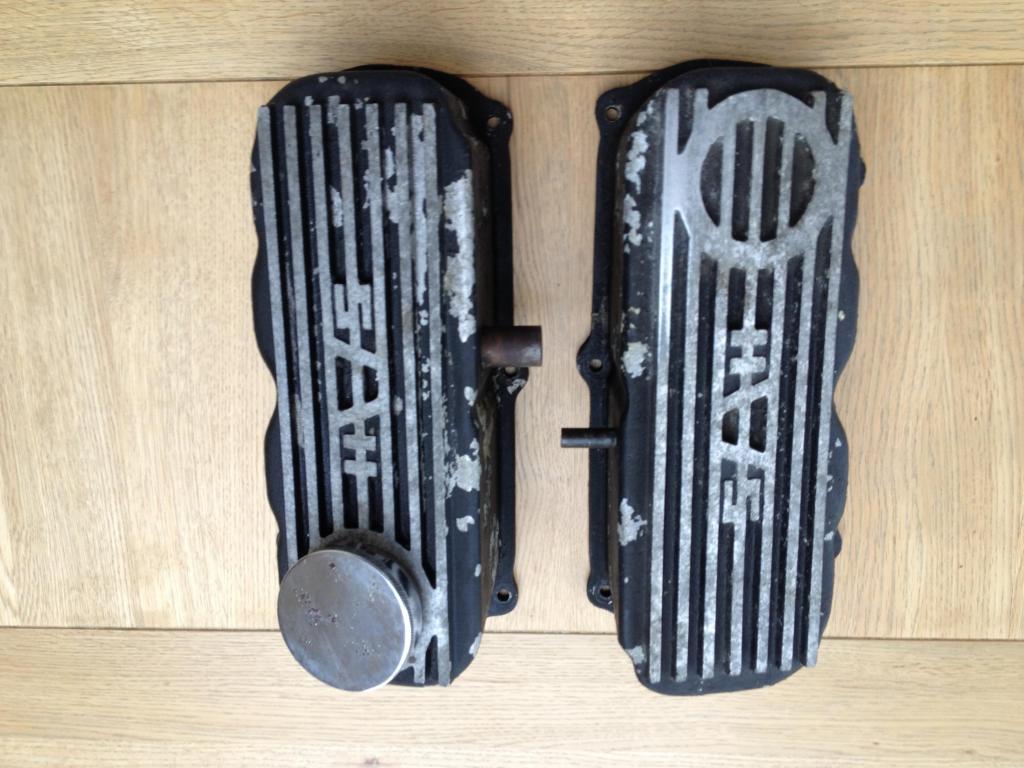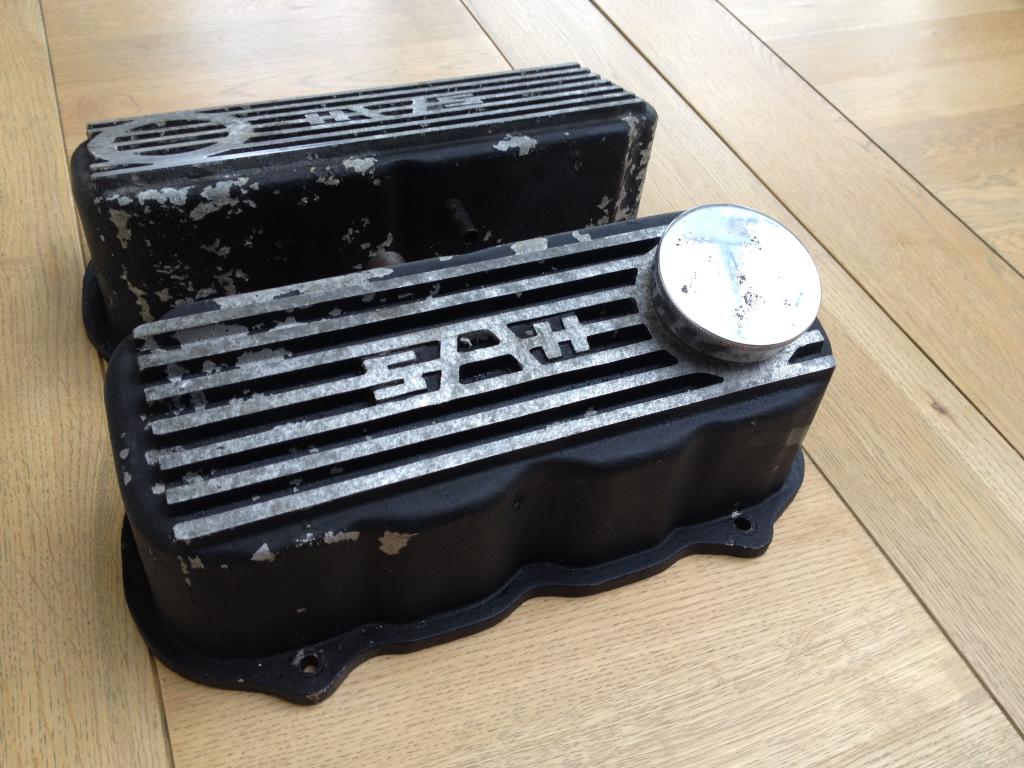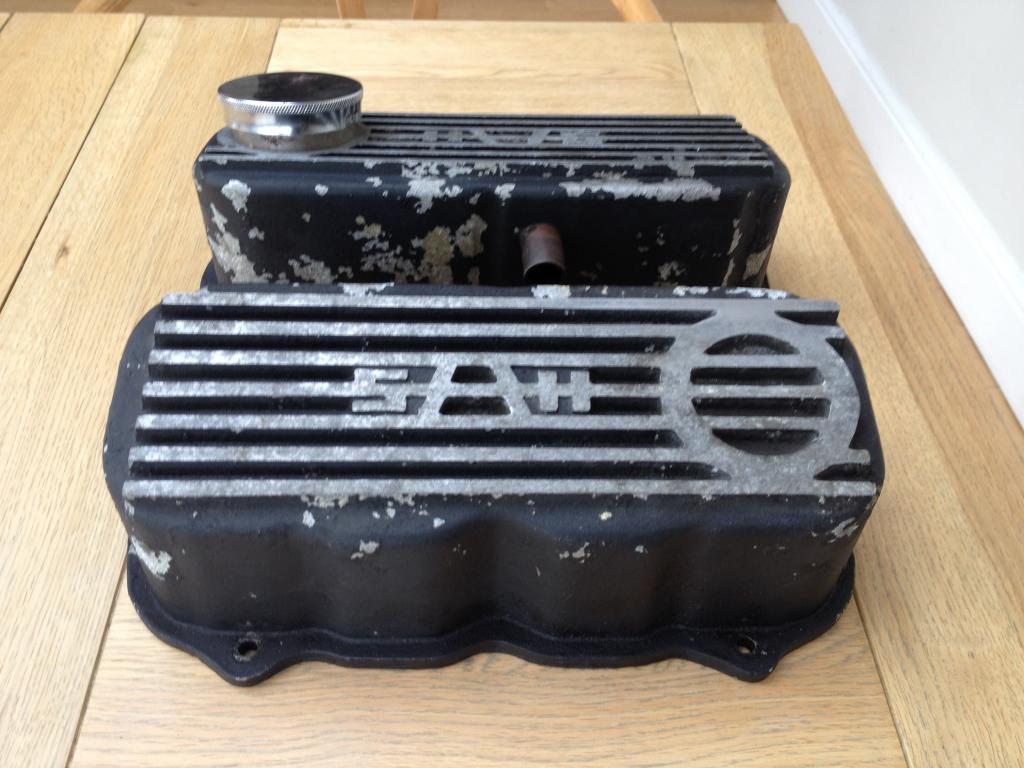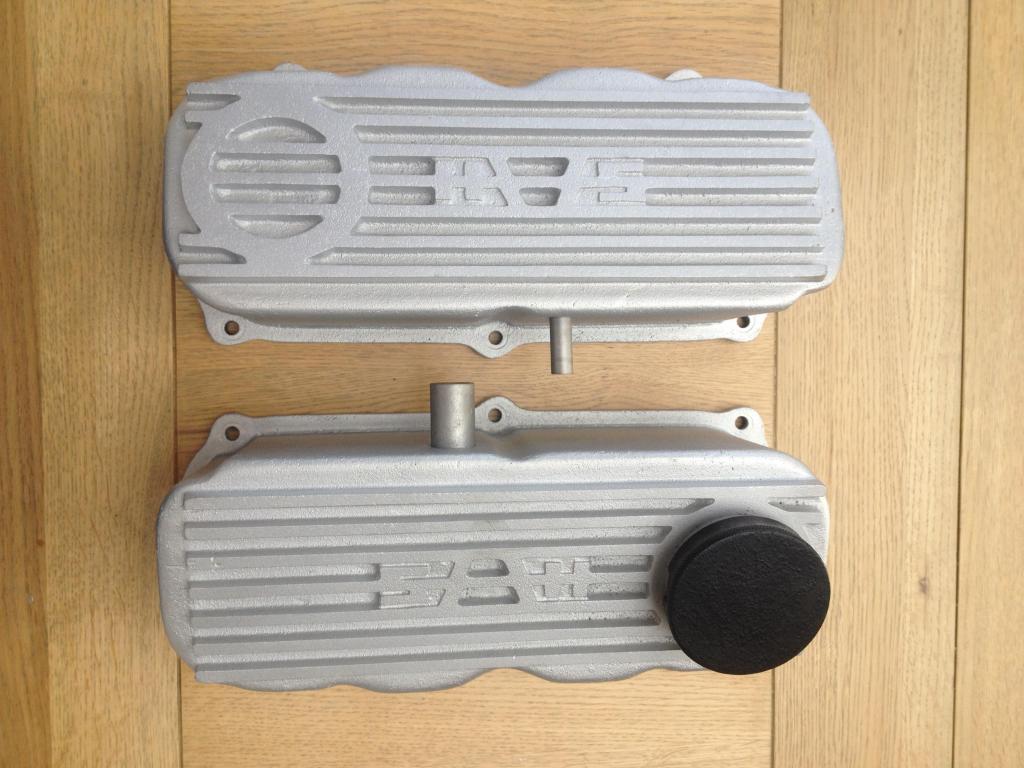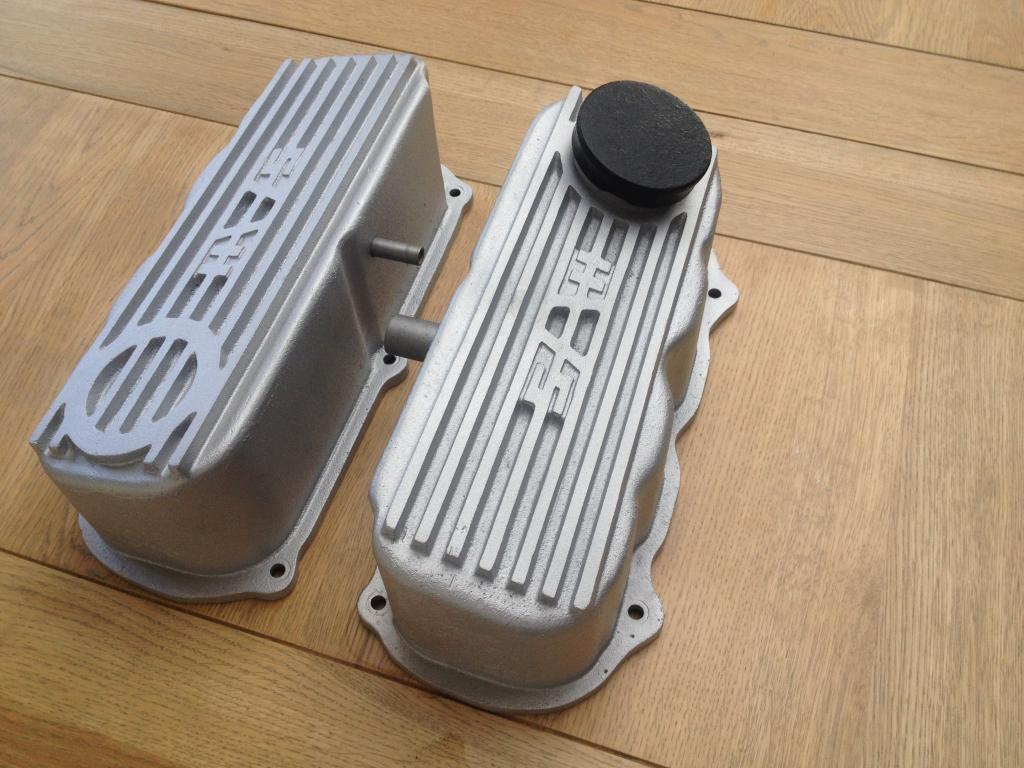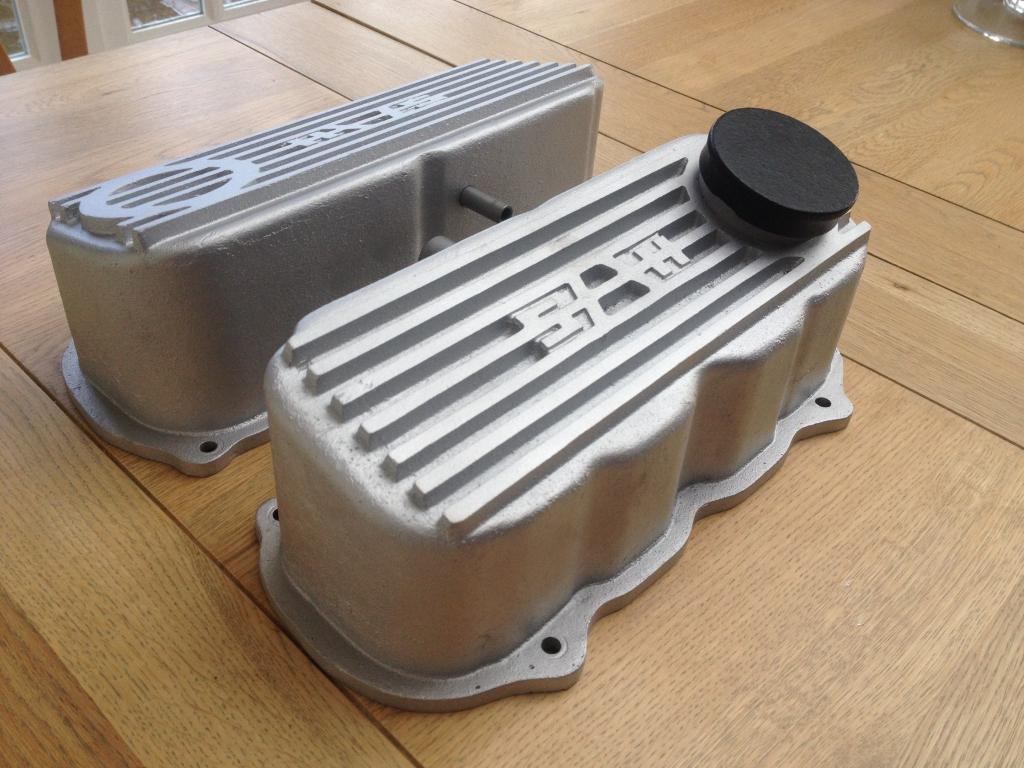 They had been left out in the rain for a long time so the chrome on the filler cap had been completely ruined – so that was zinc sprayed and hi temp painted. More fortunately the firm that made them is still trading – so I may replace at a later date… - Doesn't look too bad in black.
3-12-2014
I've had the engine out to check how well the bearings have bedded in and freshen up the paint work, I've also decided to resurrect my electric water pump idea I chickened out of in fear of failure…

...and to fit some copper head gaskets I had made up. I can now perform headwork without having to buy any new gaskets!

It'll all be going back in on Sunday…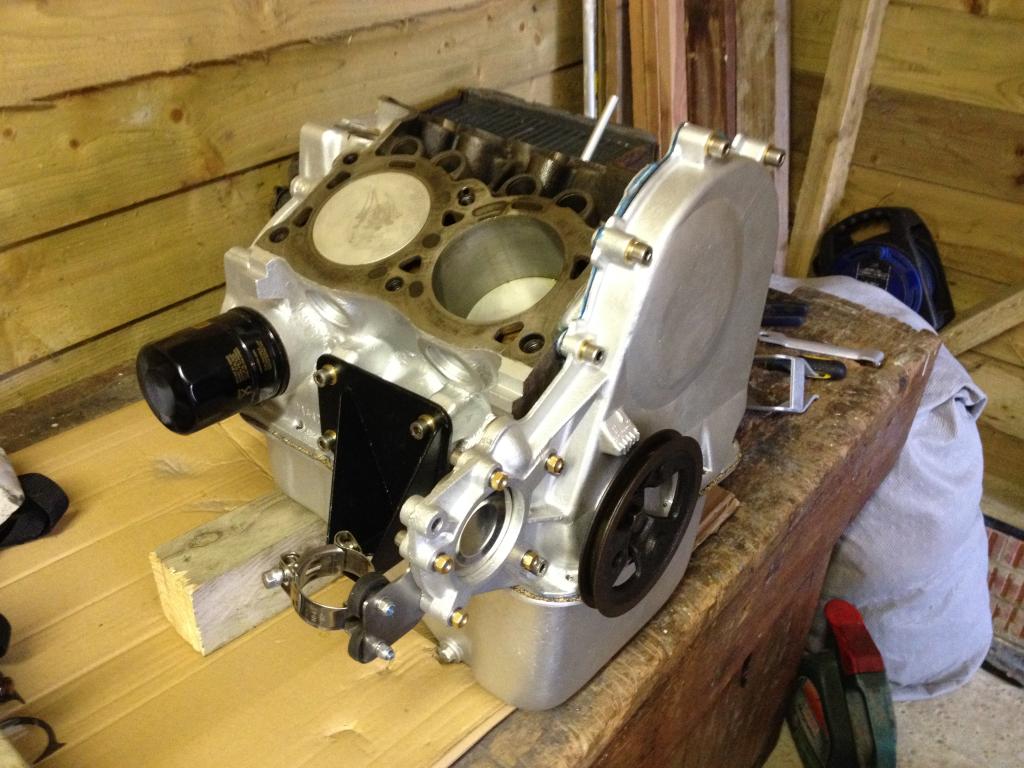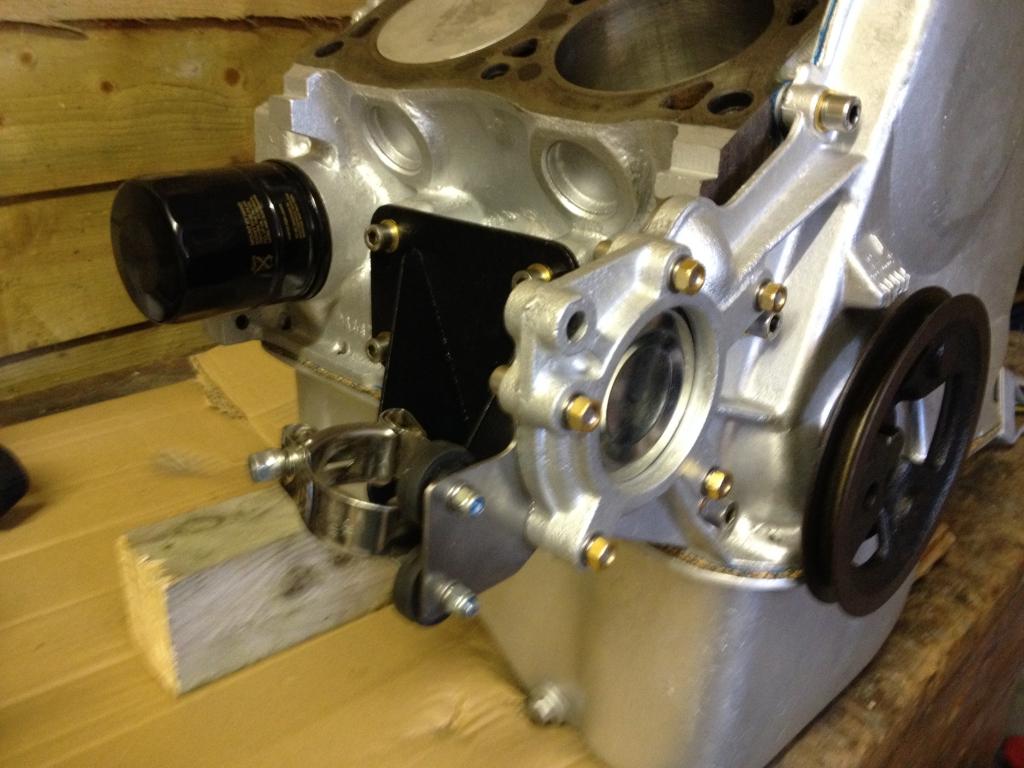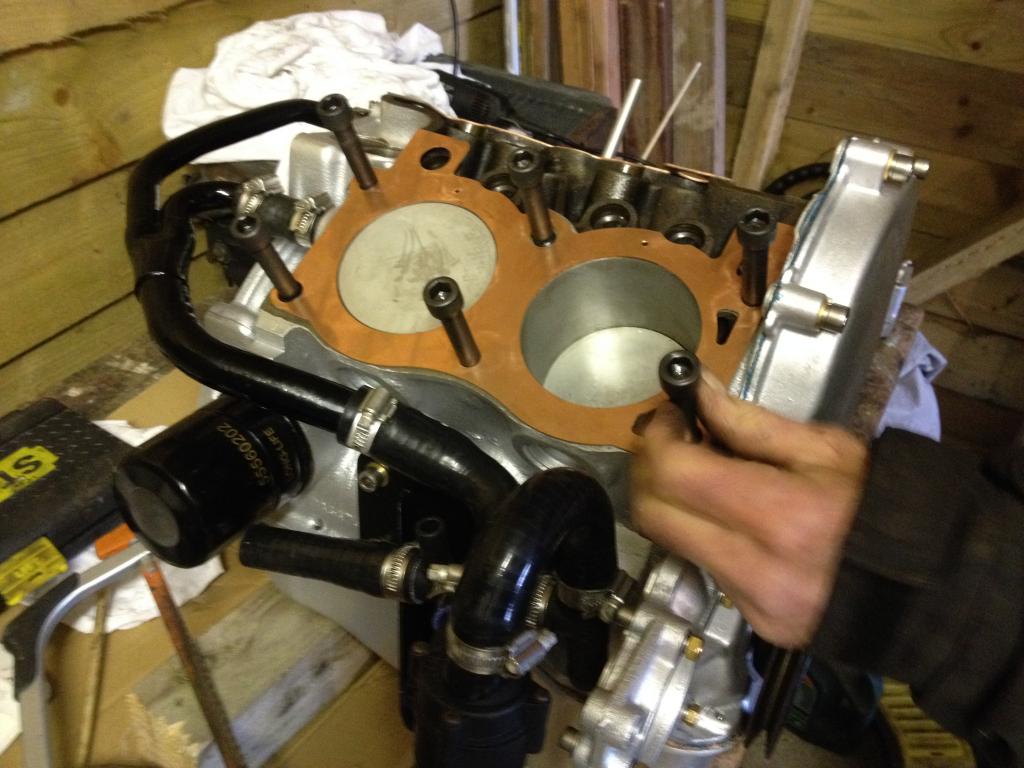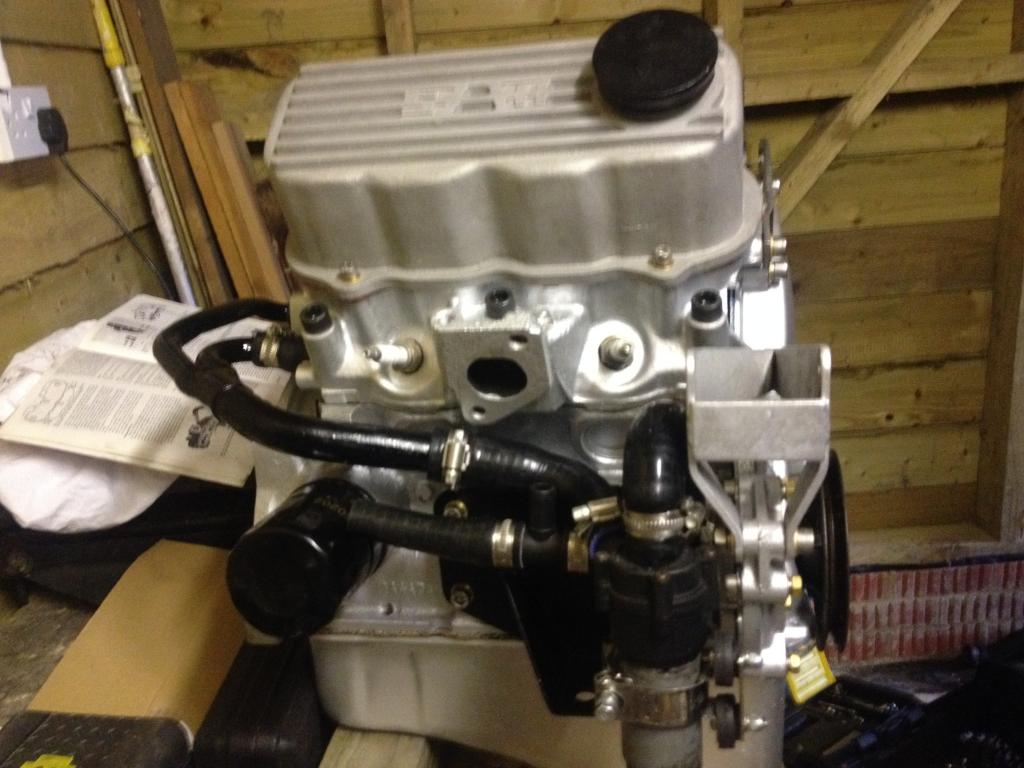 On a side note…

I managed to track down an early cheese grater grill…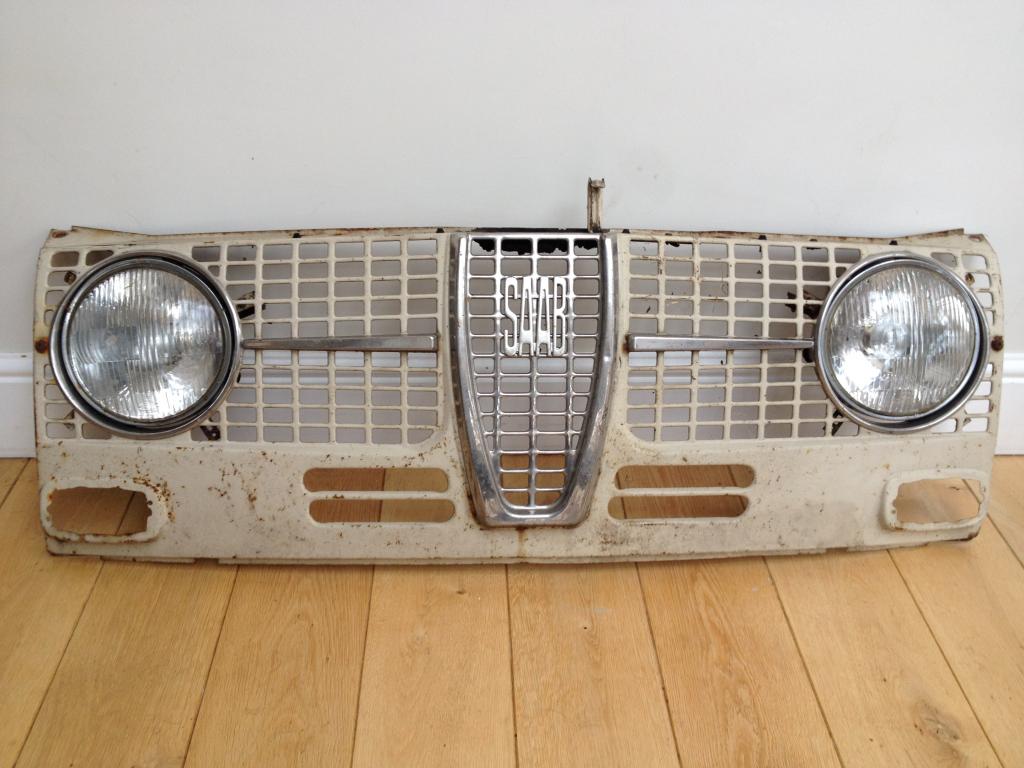 This has now been stripped and sent off to my (now good) friends at RFI screening to be 'virgin brown fused alumina 70/100' blasted. This will remove all the paint and provide an excellent foundation for primer.

The headlight adjusters will be blasted and zinc sprayed.




I'm not a fan of round headlights with wing mounted side indicators so I'm going to adapt some MG Midget sidelight/indicator combo units as they're as close to the originals Hella's as I can find that are easily available (I understand that the Hella units are now extinct). I'm in the process of tracking down some flat bumper bracket irons...
7-21-2014
Not sure whether I should be proudly proclaiming that I have mechanical mastery over my 96 at this point in time - as they are actually aware of pride and so when to fall.

Anyway – it would appear that heeded advice has worked. After a very long time with some 800 grade emery paper the heads and copper gaskets were cleaned and suitably finished to accept the Hylomar blue spray coating, which has managed to seal the system.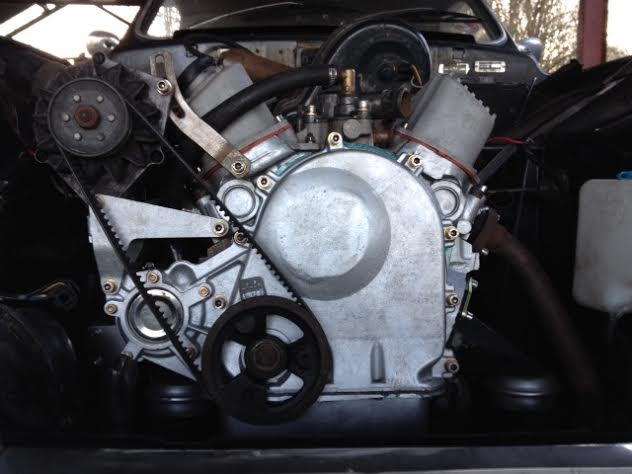 The engine is now in and now running – and kept sufficiently cool due in part to the re-cored 'full thickness' radiator, and the electric water pump I designed.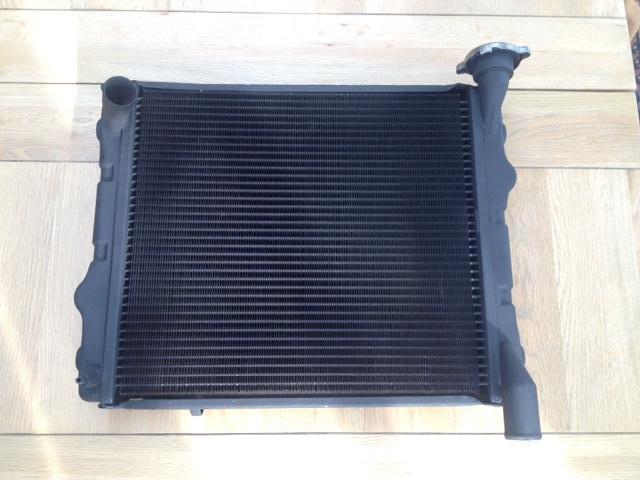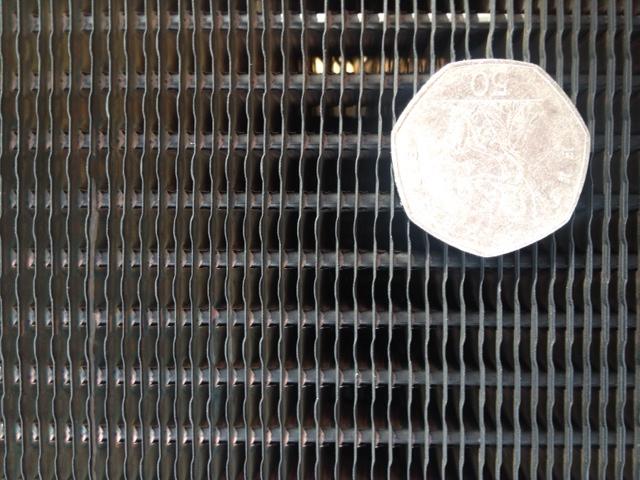 The space for the electric fan has now gone, and so a cowl was ordered from Kenlowe that allows the assembly to be mounted behind the radiator (just).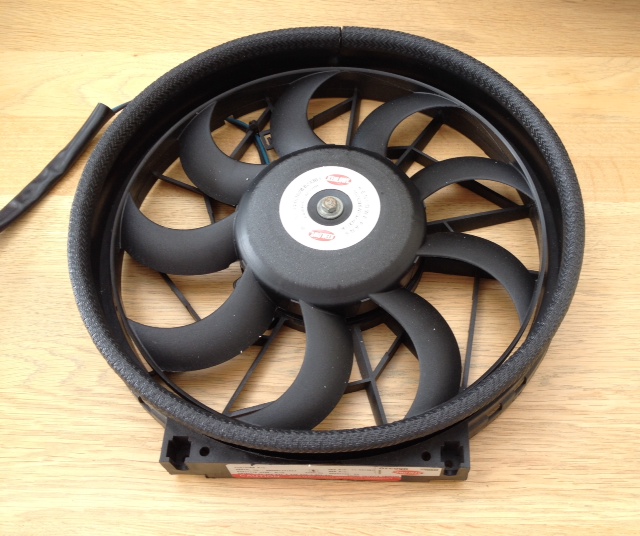 I decided to paint the front grill myself, which is taking rather a lot of time, as it's a bit of a learning curve… Can anyone tell me if you're supposed to flatten gloss black before applying a clear coat, or does it go straight on?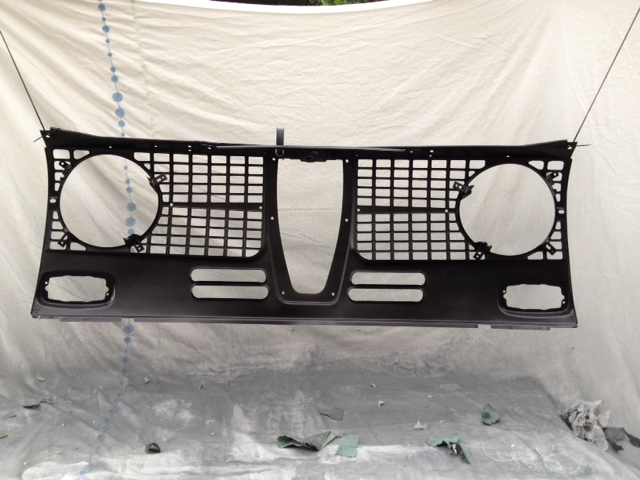 12-18-2014
Not an awful lot to report, my engine rebuild has taken an age due in part to a change of premises, so I don't think Suz is going to be back on the streets this year…

I've found myself a few things to do away from the barn.

So – the front grill is now complete…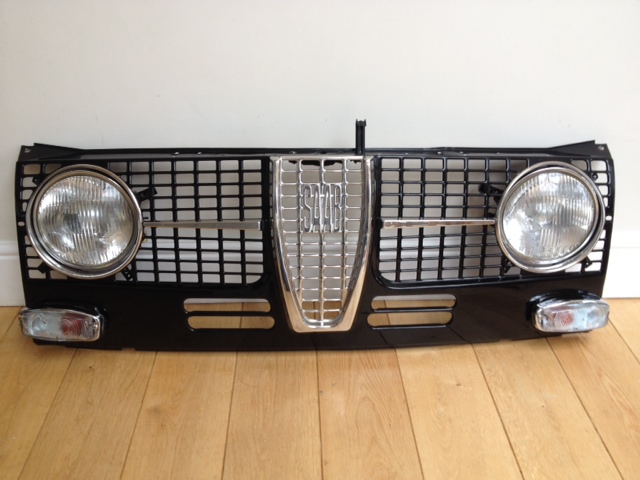 I'm particularly pleased with how the headlights turned out – I modified some electric fan ties to make up for the failed plastic bolts that secure the chromed headlamp surround.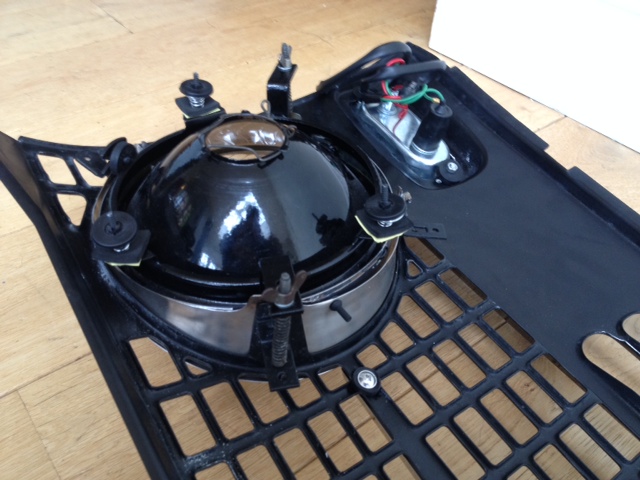 I decided to make up a proper blanking plate for the water bump out of 316 stainless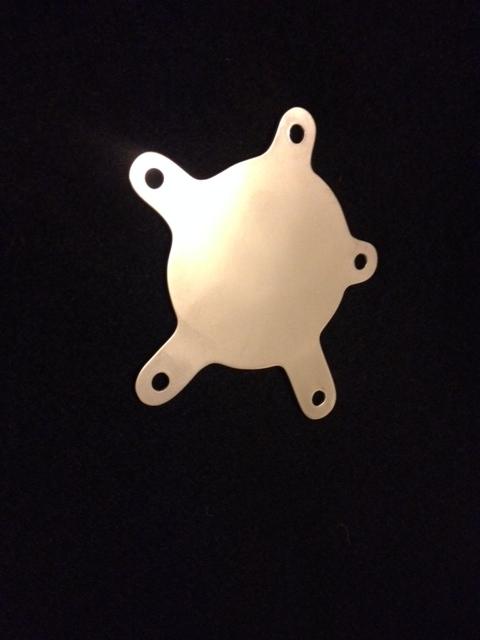 The next project is a copy of the throttle assembly. In… you guessed it - stainless!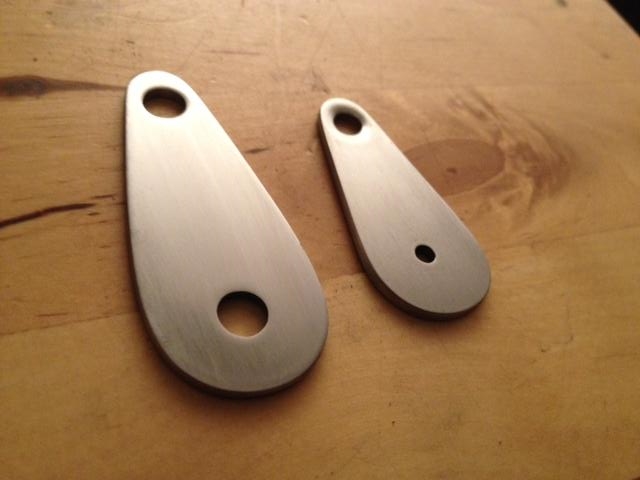 The benefit being I can change the position of the bulkhead end cam, putting the link where the spring hole should be. I'm going to have the return spring mounted off the rocker covers next to the carb.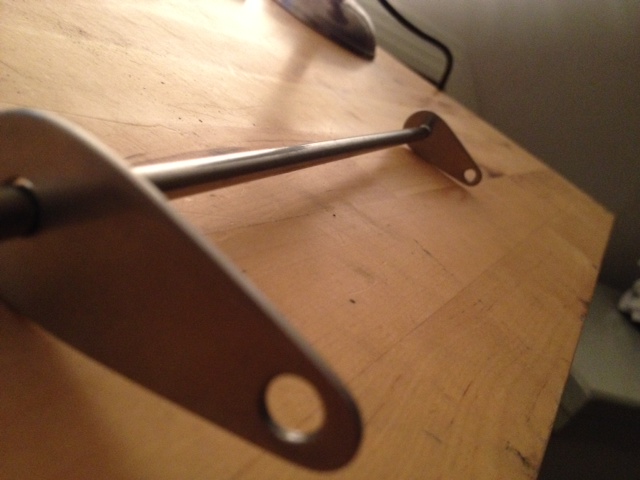 …just wish I had a functioning car to put it all in!
4-8-2015
...we're on our way.

The electric water pump has now been fully tested and works as it should. Being able to cool the engine rapidly after use, by leaving the pump on and fan on is a neat trick.

Not exactly one for the purists - at the moment.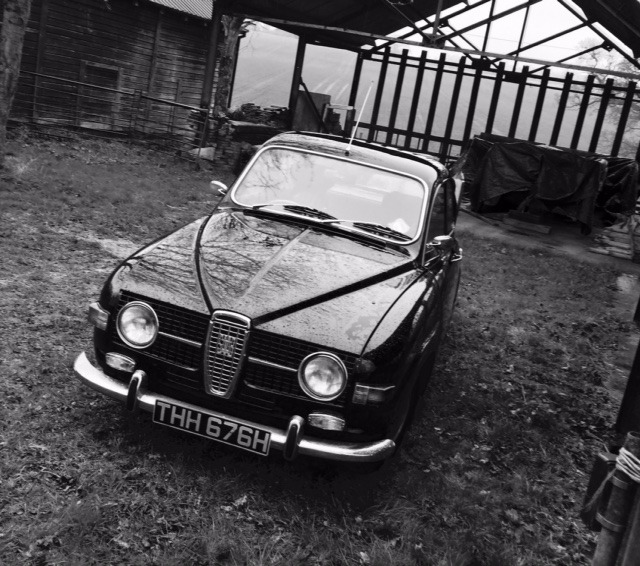 5-11-2015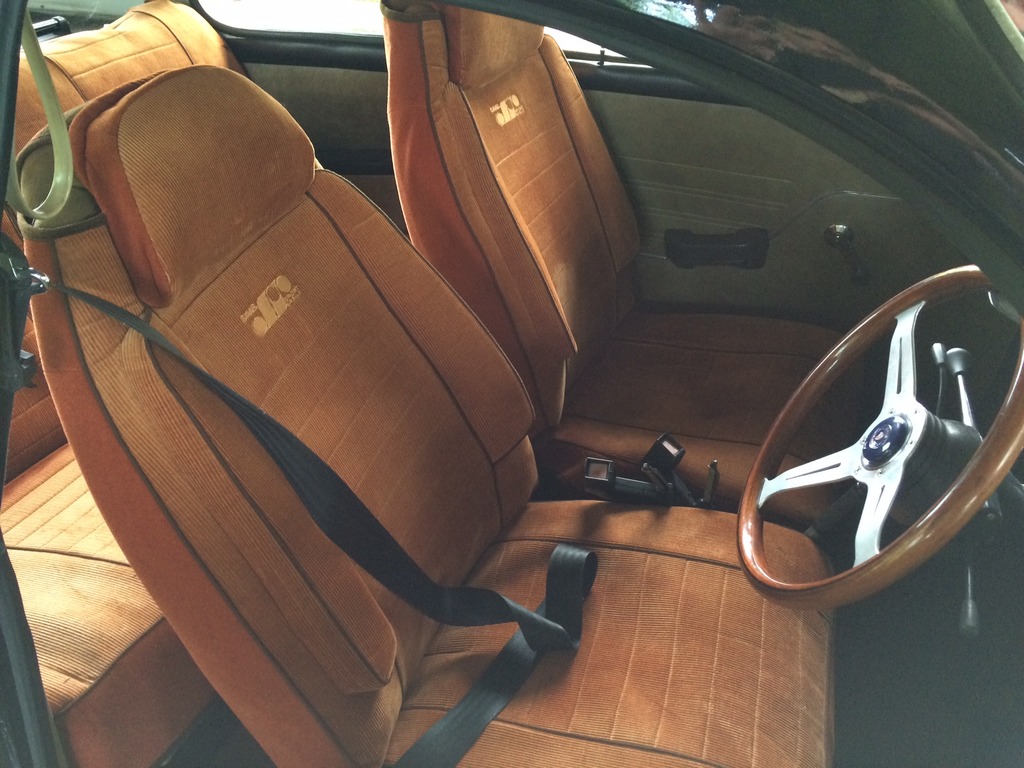 I managed to get a Sport and Rally interior for a 99 - Thinking that it would fit the 99 seats I stashed a while back.

They didn't - there's two types, and of course I had the wrong ones.

At least the instructions for fitting on the forum were spot on. Though, I can't help thinking they need moving back a tad.

Anyone else found this?
7-15-2015
So, I re drilled the seat runners - and I now fit in my car. Which is nice…


Some shots of my recent endeavour…

Heater housing back from blasting and zincing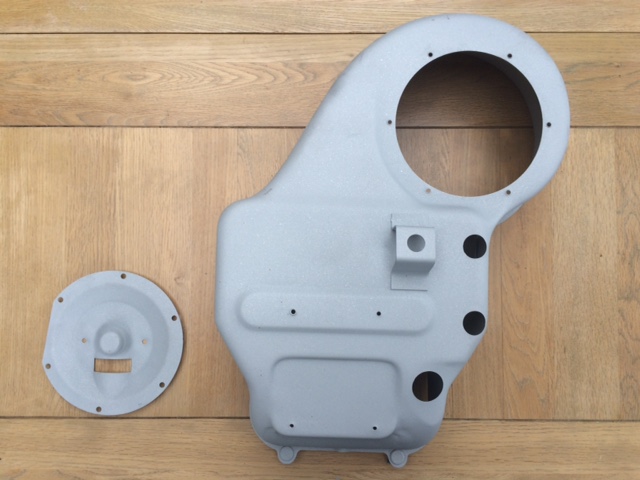 Back of housing in primer, which I think is pretty close to the original colour – and the motor plate (in Hycote's Rover Hurricane Grey).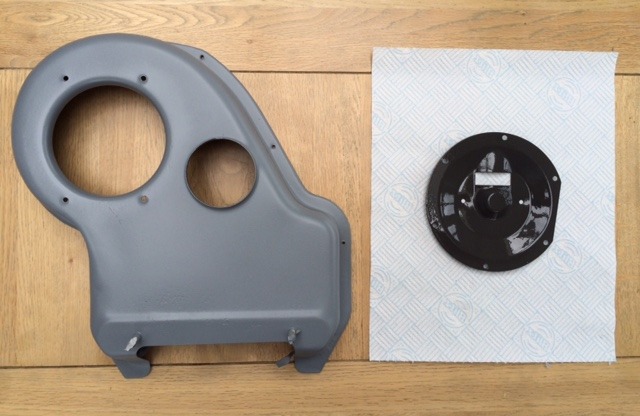 Motor plate put back together – I didn't like the idea of self tappers cutting into my fresh paint work – so I glued some washers on.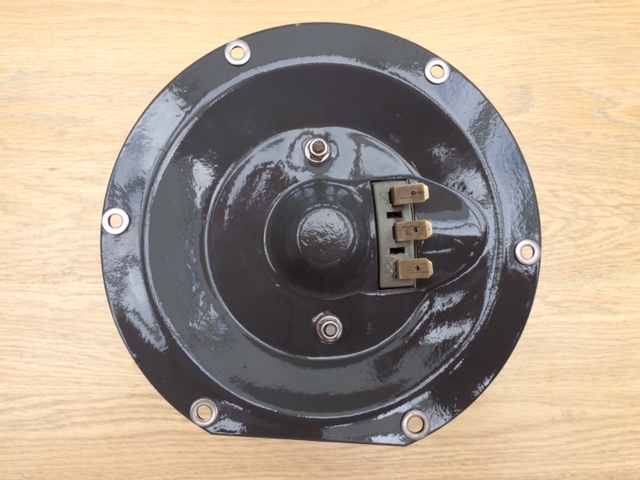 ..in fact - I dislike self tappers entirely. I re-drilled the holes and used M5 socket head bolts in A4 stainless for the perimeter.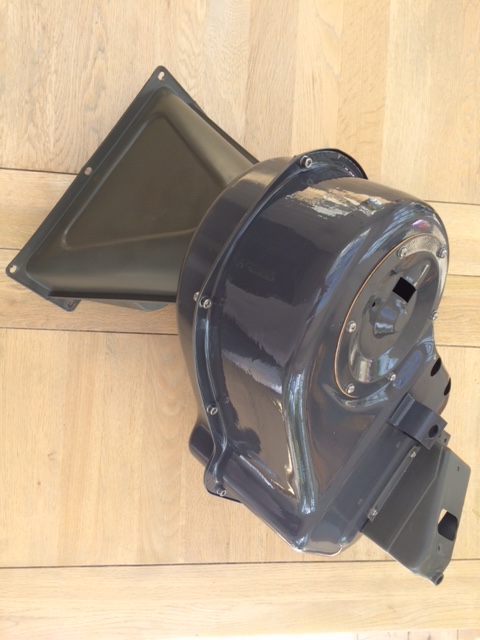 The joy of having a parts car is the ability to restore items and then put them on the road going car immediately. Though, this does sometimes highlight production changes.

The assembly on the left is from an 1970 model, the heater matrix is easily a third larger than one on the right (from a '74 car), it is considerably heavier as a result. You can see the top heater matrix connection is lower down the housing on the right.

I also get the impression from the forming marks on the later model that the earlier one is better made (possibly thicker metal?)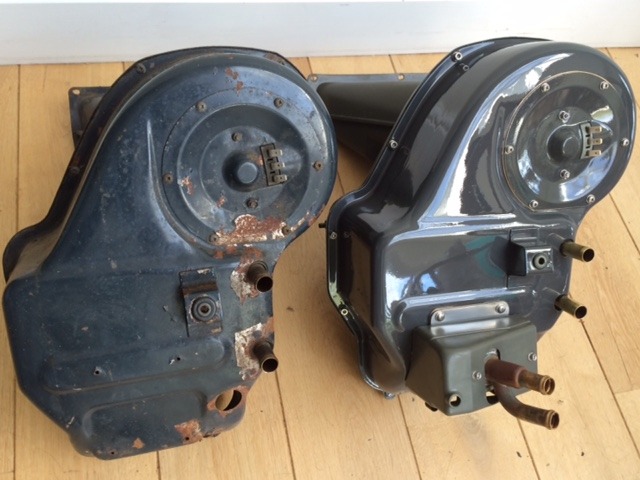 …just need the sticker for it now.

Nudge-nudge.

Oh - and I transplanted the nylon throttle rod bush neatly into a new grommet from a set bought off the 'bay. This was a concern as I would imagine any oem replacements are tricky to come by...
9-1-2015
Tidying of the engine bay continues...

Some before and afters - I was trying to emulate the cadmium coating on the clutch master cylinder.

Using Rover Cashmere Gold and BMW Bright Red - Both from Hycote.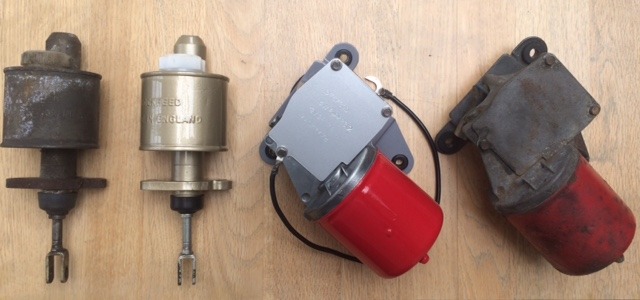 9-4-2015
I will most certainly start a thread on electric water pumps, presently I'm still learning about their characteristics, and playing with the plumbing

layout. I'm also having some problems with my fuel system that's strangely having an effect on temperature (first was a blocked fuel filter, and now I think my fuel pump is on it's last legs).

Once I can be sure what is happening - I'll tell all.

Slightly more exciting however (only because it's the latest thing to happen)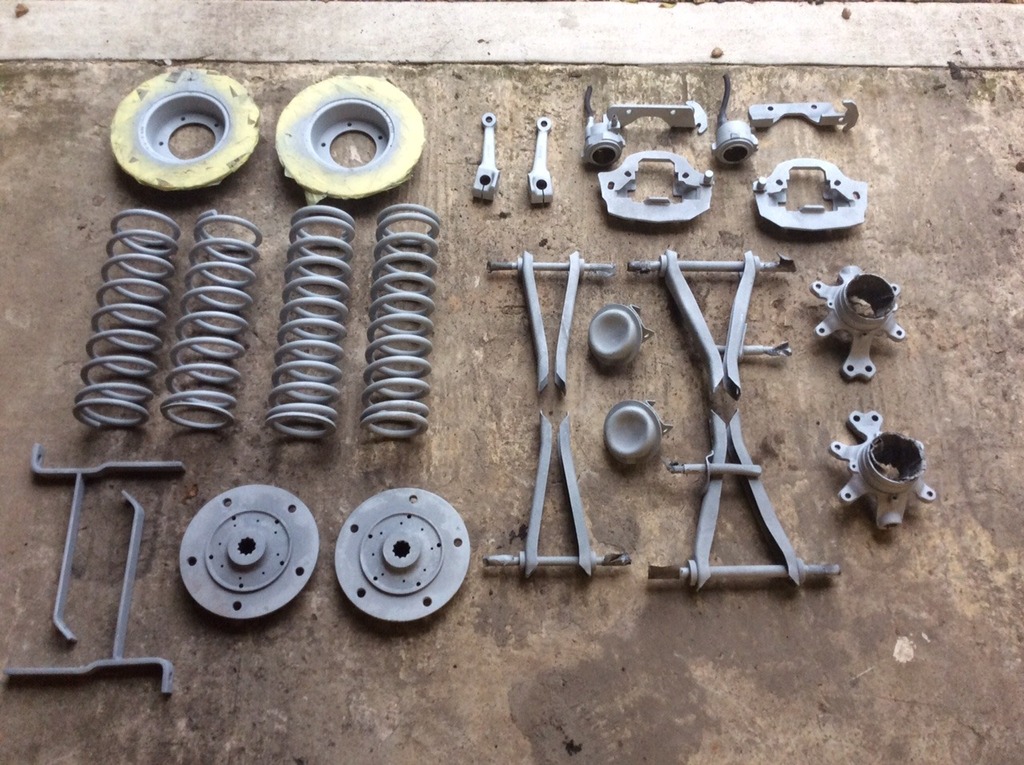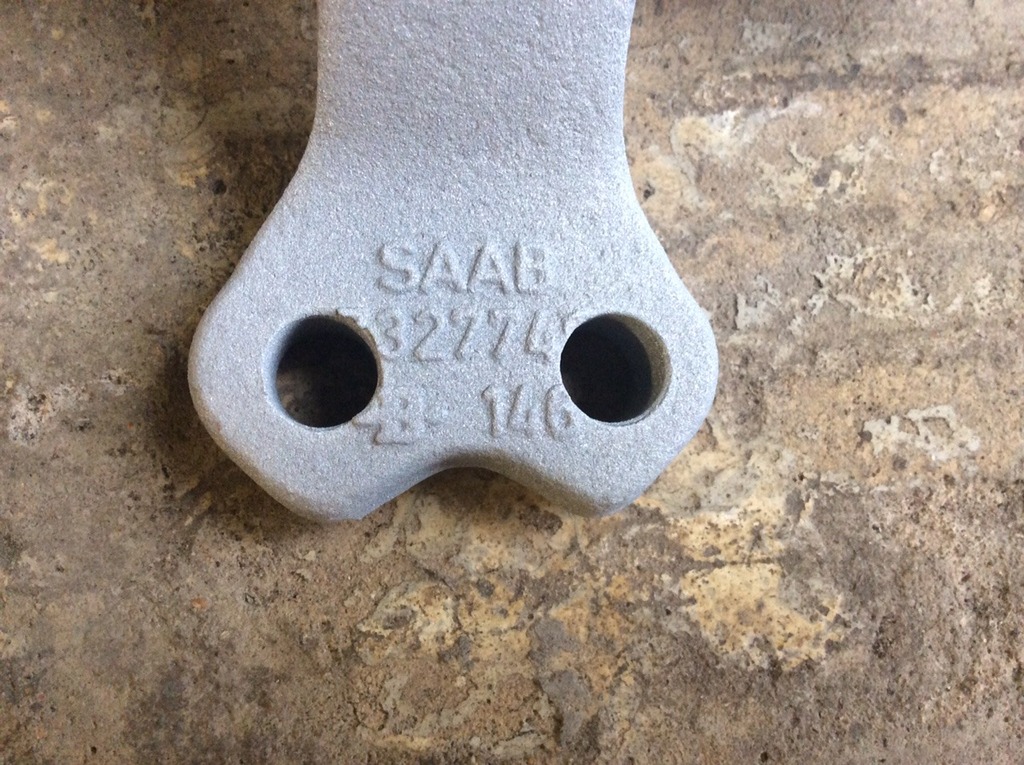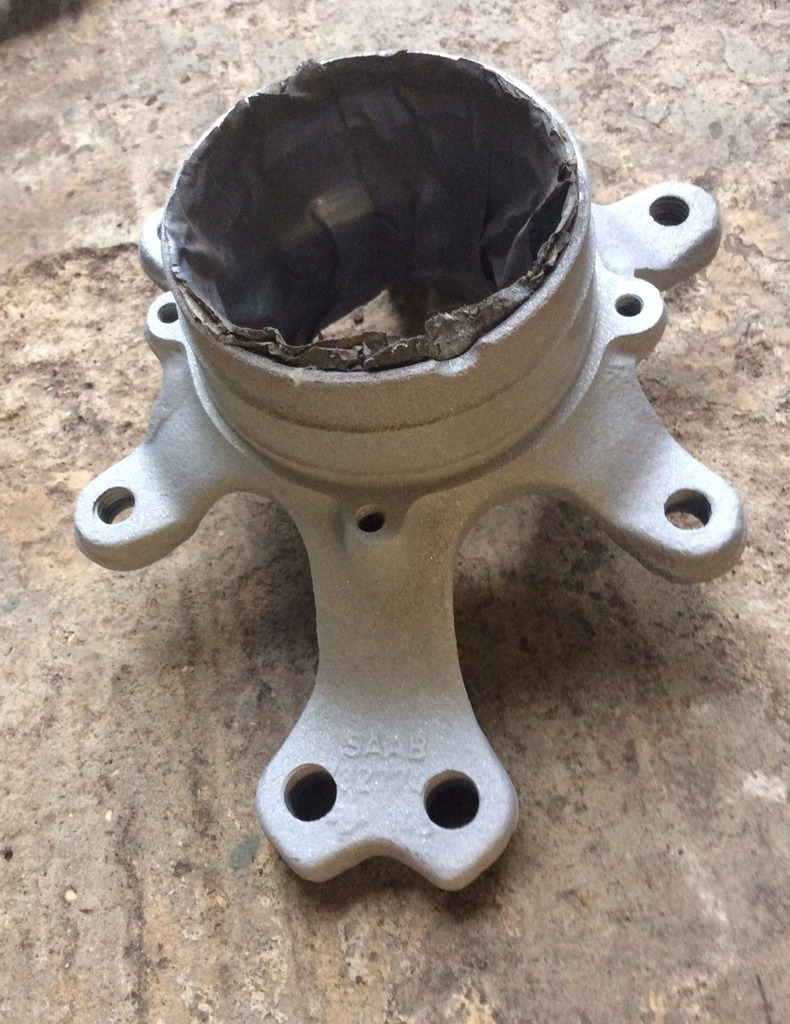 Now – the engine has all been in metric, whereas the rest of the car is in imperial, as a child of the eighties this simple doesn't compute.

I'm going to have to learn – but does anyone have the bolt sizes/lengths needed to finish this little lot off?

It'll be having the full 316/A4 Stainless allen headed bolts and dome headed nuts, after everything's been immersed in off sea oil platform paint, or

something similarly unnecessary in spec!
9-9-2015
Certainly is useful...

This is the grommet set -

http://www.ebay.co.uk/itm/Grommet-Set-Rubber-Blanking-open-closed-blind-Grommets-assorted-sizes-125pc-/161605868593?hash=item25a075dc31

Again really useful, the windscreen wiper motor mounts can be found inside, and blanking for the dashboard grab handle.
10-27-2015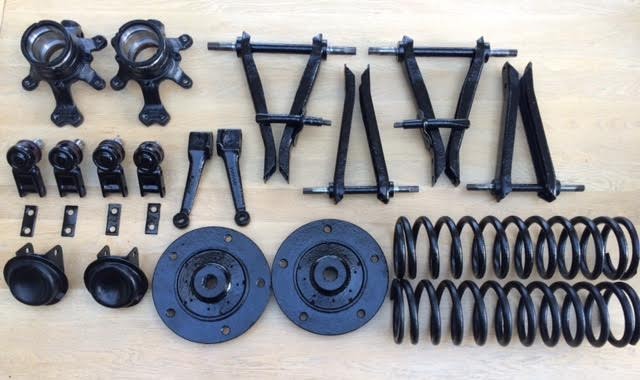 Following on from the blasting and zincing the parts where coated in three layers of Epoxy Mastic 121 which is pretty impressive stuff.

Using a bench mounted wire wheel to remove excess paint off where the bushings go on the wishbones, without realising that the arms were bouncing of the nut that holds the wire wheel on – it barely marked the coating.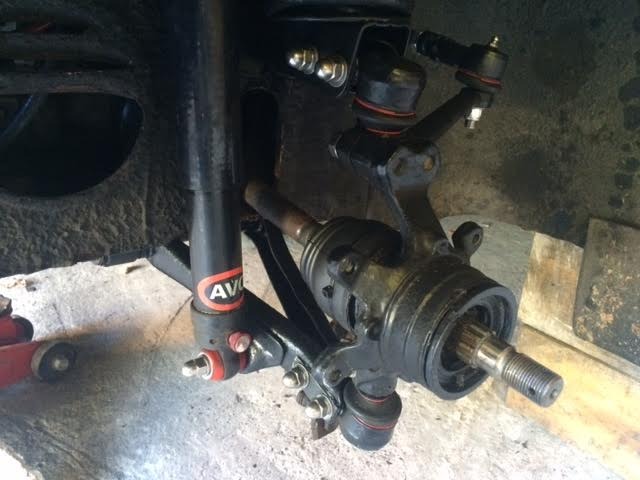 …and all in, and now sporting stainless domes filled with copper slip on the threads, no more wincing when driving through standing water! Man imperial sizing is a pain the ****.

I took a couple of coils off the springs, it's still not quite right in my opinion, but I want to investigate using a 900 upper wishbone with the spring pivot, so no great shakes, I can always take more off.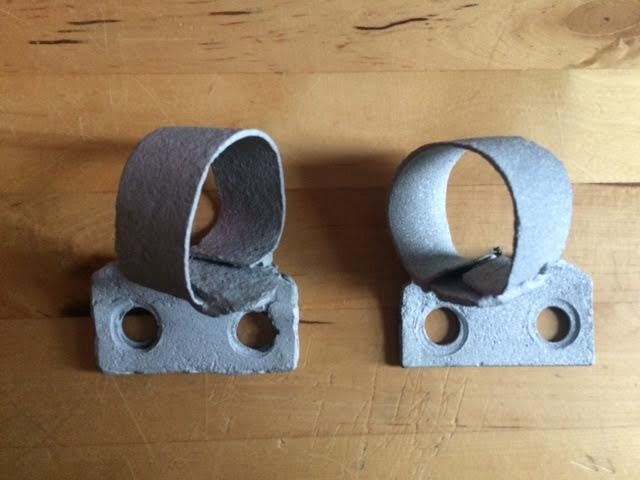 No arb at this point - because this is what I got back from the blasters. Quite what was going through the mind of the technically gifted toddler when these went on, is beyond me. The bushings were D sectioned???

Just one of a number of bodges I've had to reverse on this car. I'm going to make some new ones – they really don't handle well without.


Now – on to some new fun stuff.

Having come across a link on the forum to the chap in the US who came up with the pressurized cooling system (in fact here's the link - http://www.vsaab.com/html/Articles/Cooling.htm) Well, that was a red rag.

I didn't subscribe to his particular method of attachment, so I made my own bracket that straddles the gutter on the bulkhead – I'm over working in stainless, the stuff is just too hard, so on this project I switched to brass.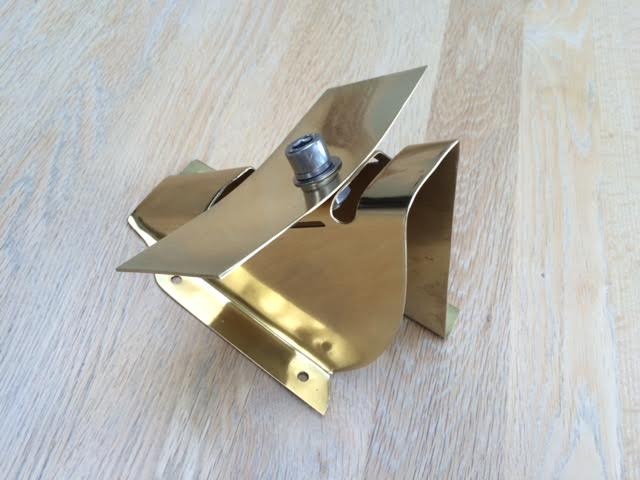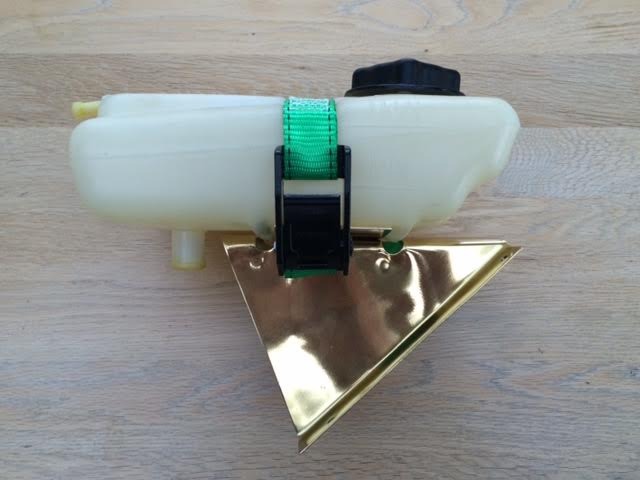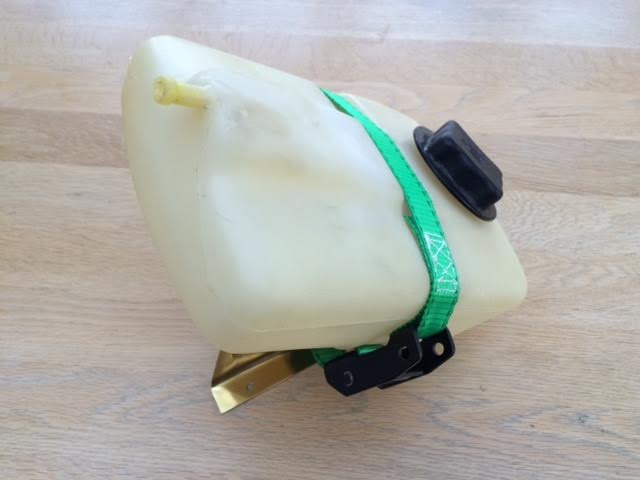 A spare rad went to the reconditioners with the instruction to weld up the filler neck (my other 3 core rad with the neck still in place is now redundant, and due to costs – up for sale, see section on this forum if you're interested).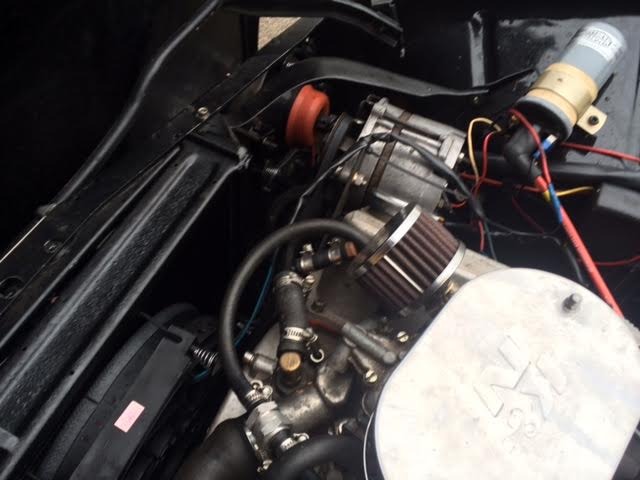 …and in!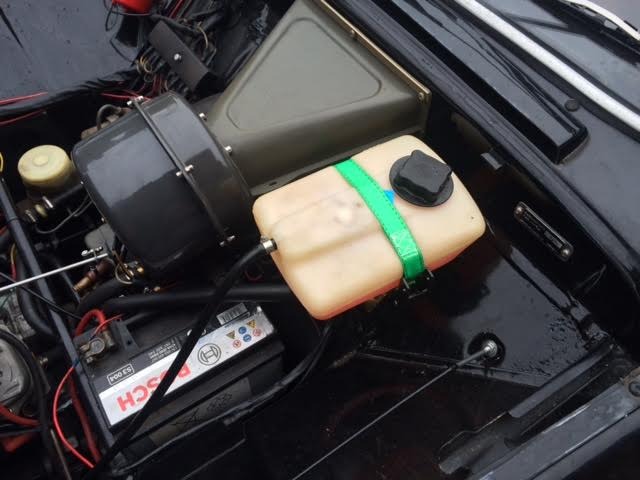 Low speed shake downs where completed last night, and all seems to be functioning as it should.


How boring.
10-30-2015
There was a chap on this forum that lowered his 96 and stated that he flipped the lower control arms so that the shocks weren't under extended…

I thought I'd try the same. I've tried finding the thread, but to no avail.

I had to remove the arb to get it surfaced – and the result was staggering. I've now fitted later springs which go some way to remedy the problem, but a lot of the magic is still missing.

I'll be interested to see what the setup is like with both (later springs + arb).
1-25-2016
After finishing my front end suspension rebuild, I thought I'd work on something a bit more visible before starting on the rear...

I stripped a spare dash panel and cut out the twin instrument holes...




...and tig welded in some new metal.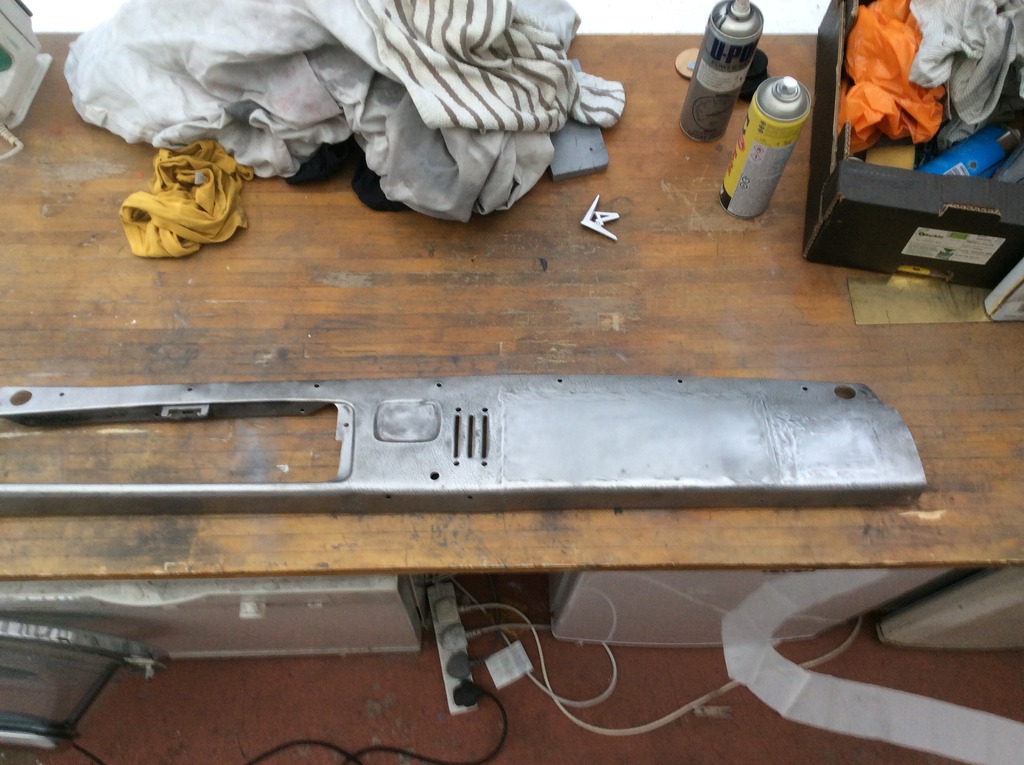 Many layers of primer, and then started experimenting with gauge layout...





...test fitting gauges.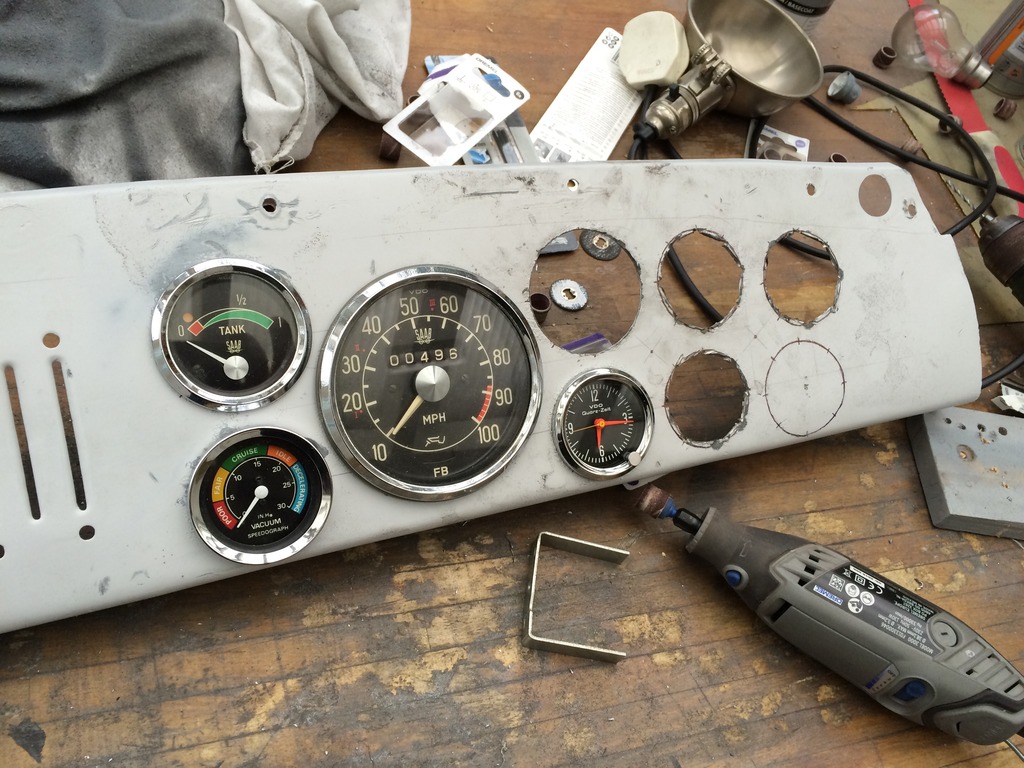 Gauges - but no lights...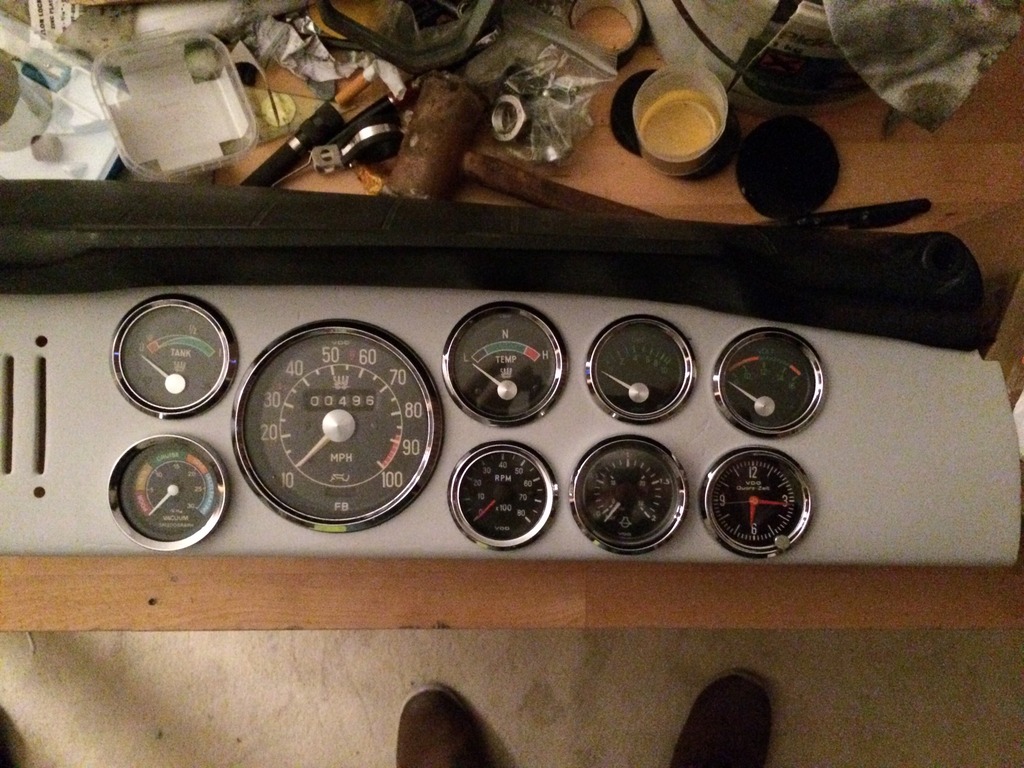 Finished item - plus light (so no more having to open doors to see what you're doing at night) using early Audi and Porsche dials and a new Rev counter - all vdo apart from the vacuum gauge...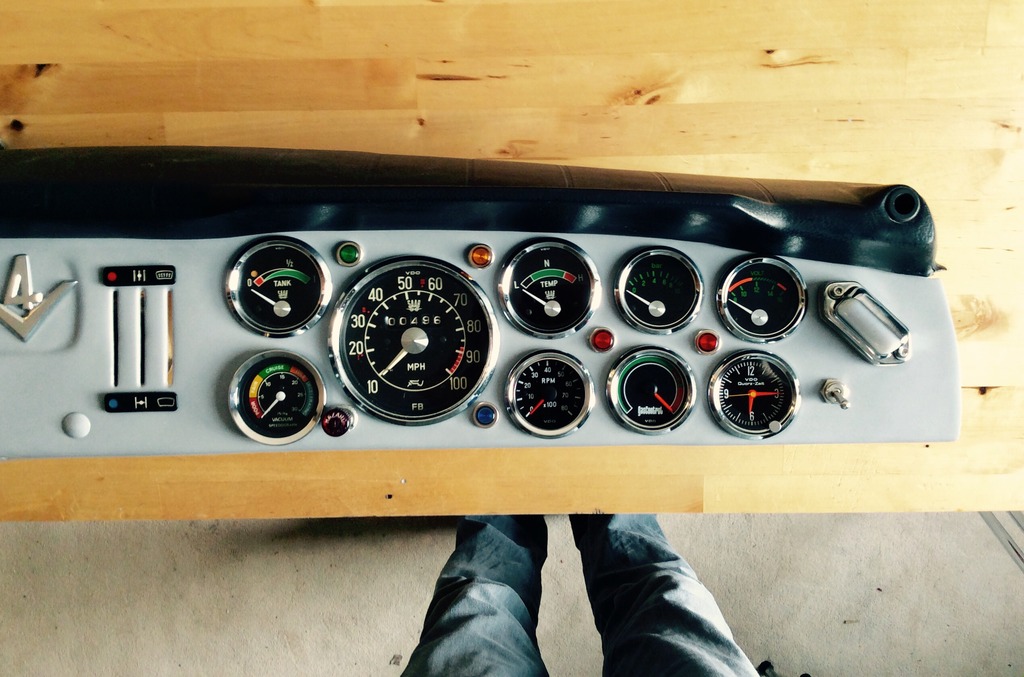 Check the wiring loom - I'm almost completely colour blind which makes that a load of fun...




...and in - plus a chrome effect strip, for a bit of embellishment - and a load of toggle switches.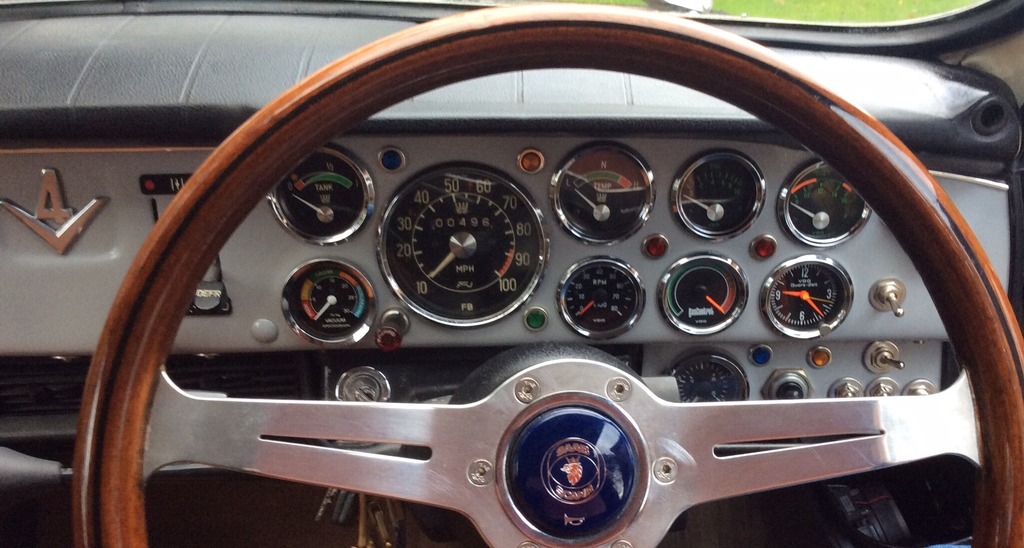 The choke has been moved to the right of the steering wheel - and I put in an audio jack socket in its place, the stereo is in the glove box. My 1969 SAAB is now iPhone compatible. Big chunky switch for the water pump, flicking between on with ignition and on permanent, and off.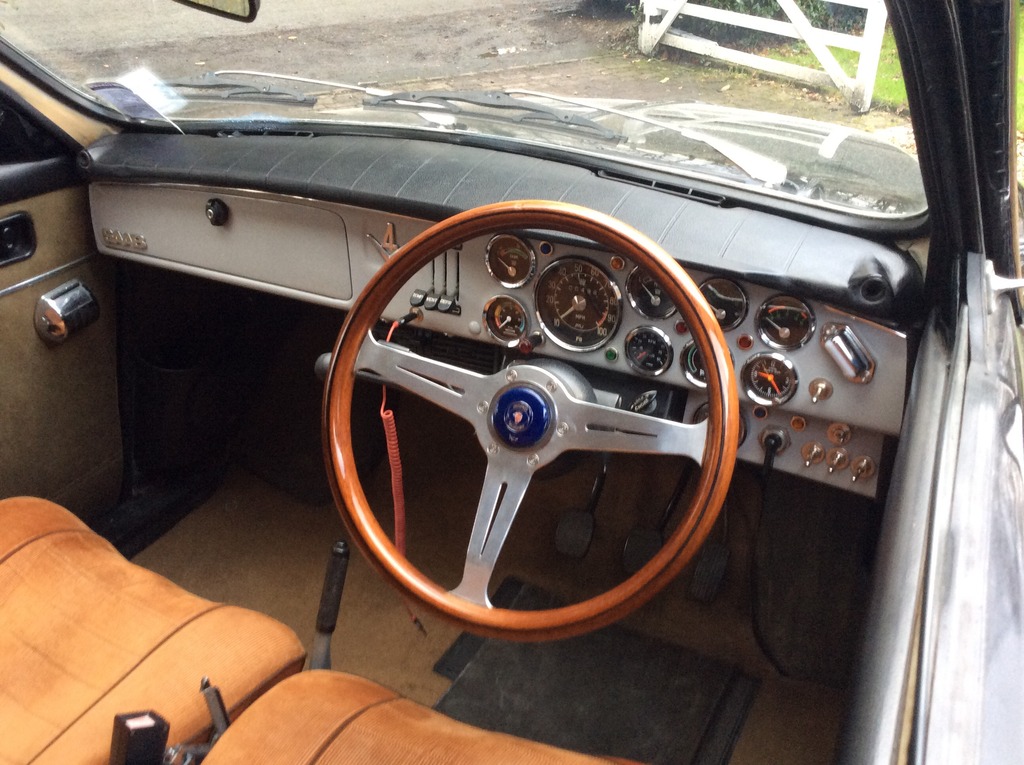 Looks like the inside of a Soyuz capsule at night!
1-26-2016
Thanks all...

Yes. I don't mind mods as long as they look a bit 'factory', or better still what a special division within, would have produced.

After seeing that Abarth exhaust for sale a while back, I started to think about how other performance focused parts might have looked.

I'm going to be making another similar style dash albeit with a few changes - as this was one of the most enjoyable projects to work on.

If you're interested in one - pm me.