Builds
Shoopster 2.0 : Shooptronic! 2001 JDM EJ205 AVCS+OEM shiftronic into a USDM 04 WRX
By diyauto
You must be logged in to rate content!
10 minute(s) of a 17 minute read
Shoopster 2.0 : Shooptronic! 2001 JDM EJ205 AVCS+OEM shiftronic into a USDM 04 WRX
Compliments of Shoopster @ www.clubwrx.net
12-7-2016
We've come a long way since my first buy & build thread in 2013! The Shoopstermatic underwent a #megaswaptronic job this year.
Nutshell version: Everything under Shoop's 315k km body is now only 145k km old, Japanese, and in nearly showroom condition. (And damn near every bolt has anti-seize on it!)
Spring 2016 I bought a 2001 jdm bugeye WRX with OEM shiftronic (manual option) transmission. It couldn't be registered here because it's a RHD under 25 years. To even consider this swap project, we needed the whole car for everything to work.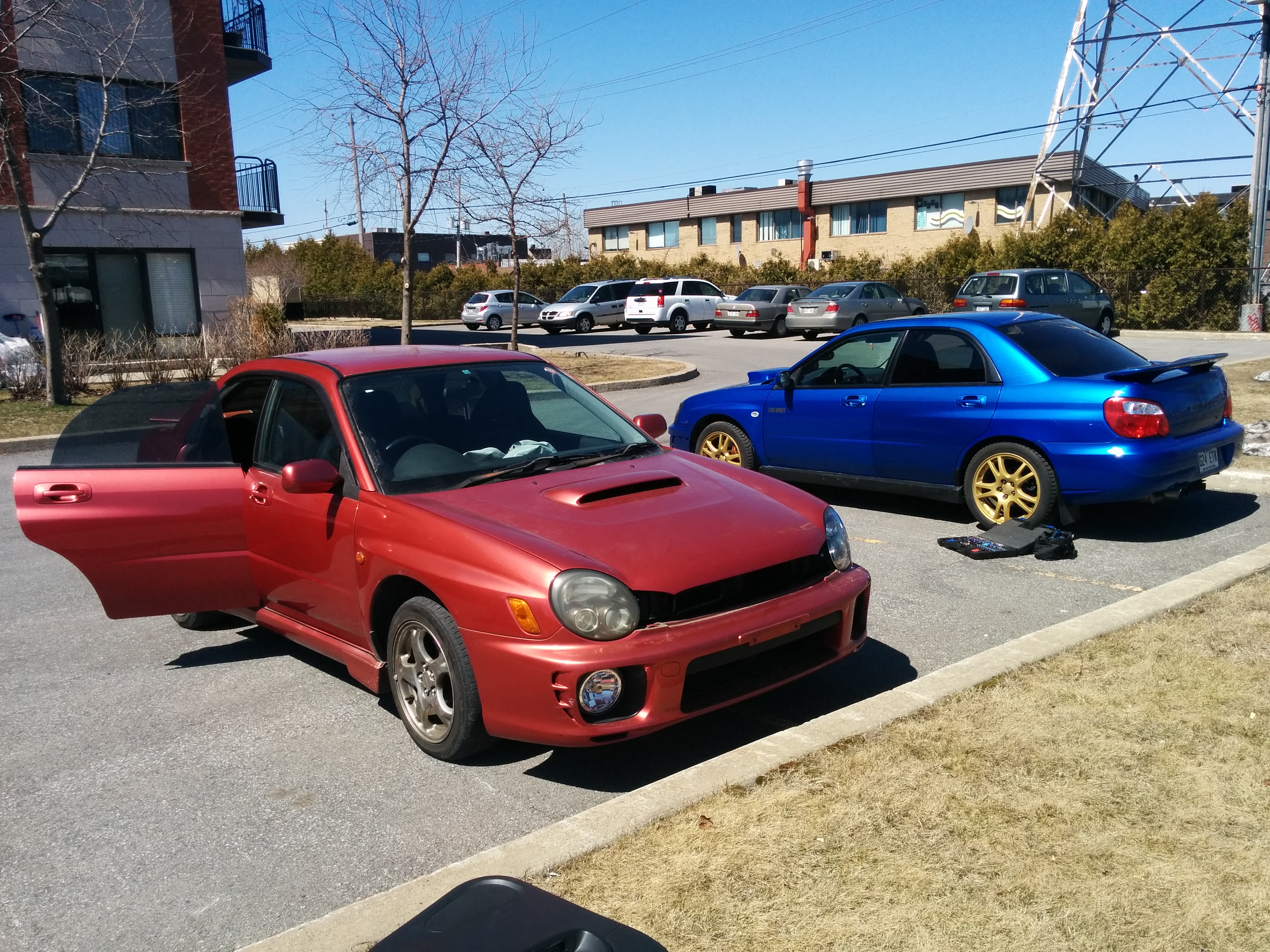 AFAIK, the shiftronic bugeye WRX, with paddle-shifts on the steering wheel, was available everywhere except the US/Canada market, which didn't see the shiftronic option until after the drive-by-wire/electronic upgrades of 2005+ . I belieeeeve this makes the Shoopster the only shiftronic GDB in North America, and quite possibly the only shiftronic GD with a moonroof anywhere

[I've no idea whether this transmission option was ever offered, anywhere, for the blobeye WRX; if you have one, I'd love to hear from you. ]
I think it would be easier to list what's still original/factory (USDM Sept 2003) on the Shoopster, because most of the body panels have been swapped too, at some point: So, the Shoop still has its original trunk, shell, three doors, sideskirts, rack & pinion.
The man who made the impossible possible, my boyfriend Sebastien Gagné, who must love me very much to make this the greatest birthday present in the history of greatest birthday presents.
Shoopster's #megaswaptronic album on Imgur (to be sorted and elaborated)
Shoopster's MOD LIST - OEM JDM from the bugeye
- 2001 EJ 205 with AVCS, ECU, entire harness
- Transmission TV1B4YB1AB, Final Drive 4.44 (Shoop's old USDM 4EAT was 3.9)
-> high/low shifter, Auto / Hold / Power
- Interior:
-> Momo steering wheel, silver center, paddle shifters
-> Cluster with digital gear display and outside temp
-> Special Edition WRX front & rear seats, door cards
-> Special Edition rugs (Impreza, RHD though) and rear center rug
-> Pioneer Carrozzeria speakers
- Climate control heating & a/c system (to be completed)
(standard in Japan since at least 1993; available for US as of 04 STI)
- Entire suspension, drivetrain, gas tank, everything! has been swapped for the bugeye's, except
-> rear brakes STI RA v.6 with slotted rotor (front Brembos installed since 2014)
-> v.9 STi crossmember (reinforced with support bar)

Shoopy's Exterior
- Nose: 04 STi
-> bumper, big fogs, HID's (OEM harness! joy!), fenders w/sidemarkers (ditto!)
-> hood with STi scoop
-> JDM radiator from a nose-cut (must've been WRX because Auto)
- JDM STI rear passenger door, lightweight (?)
- JDM OEM smoked (tinted) both rear windows
- JDM OEM smoked rear glass and wiper
- JDM OEM rear bumper
- OEM 2006 STi roof vane

Shoopster's MOD LIST - Aftermarket
- Zero Sports stainless steel hood-splitter
- Modified OEM airbox and HKS high-flow filter
- Zero Sports after-maf stainless steel 3" tube
- Okada Projects plasma coils
- 2JZ Fuel pump
- Zero Sports damper pulley
- Zero Sports top & bottom rad hoses
- Zero Sports rad shroud
- Perrin intercooler coupler & collars
- Mishimoto Expansion Tank
- Mishimoto silicone ancillary hose kit
- Grimmspeed flex up-pipe
- VF28 turbo (STi v.6)
- PTP Turbo blanket (blue)
- Cobb heat shield
- Invidia catless downpipe
- AEM wideband o2 and gauge, in an Ortiz Customs center-vent pod
- Autometer Boost/Temp/Oil Press. / pillar pod
- Borla Hush twin tips catback
- Sickspeed horns (painted gold & blue)

The Shoopster runs on:
- Lucas Oil 10W40 Synthetic every 6k km
- Amsoil 75W-90 Gear Lube (diff)
- Subaru ATF
- NGK Iridium spark plugs BKR6EIX
- Summer: Dunlop Fierce Instinct ZR All-Season 225/45ZR17 94EW on DAI Revo Gloss Black (7.5" +42 with Firehawk forged 15mm spacers)
- Winter: Nokian Hakka 8 215/45R17 on STI v.7 goldies

Shoopster's TO-DO LIST in no particular order
- Power steering leak
- Driver's side valve cover leak
- Install Mishimoto turbo inlet + new manifold gaskets
- Install STI pink injectors (cleaned & flow tested) & a tune
- Swap front seat belts
- Install jdm door harnesses
- Re-install radio
- Lost honking in one horn
- Install LED over license plate
- Connect driver's side-marker (extend wiring)
- Clean up fuel-harness spaghetti-bowl in the trunk
- Connect big fogs (were previously modified to fit USDM WRX harness. oh, the irony.)
- Install driver's side window-controls (complete panel) on passenger side too
- Make a hole for cabin temp sensor in trim below windshield
- Complete the jdm climate control console (heat, a/c)
- Complete front & rear wipers
- Cluster indicates Driver's door is open when locked :/
- Wiring for moon-roof and roof lighting (no moon-roof on bugeye)
- Install heating elements in front seats (JDM are unheated) + wiring
- Fab & install WRB Auto-folding mirrors & inverse mirror-control right-left button (because JDM yo)
- Install OEM rain-guards (over the doors)

[B]Shoopster's wish-list[B]
- another set of WRB GDB sideview mirrors (to motorize)
- Zero Sports trunk spoiler
- EJ207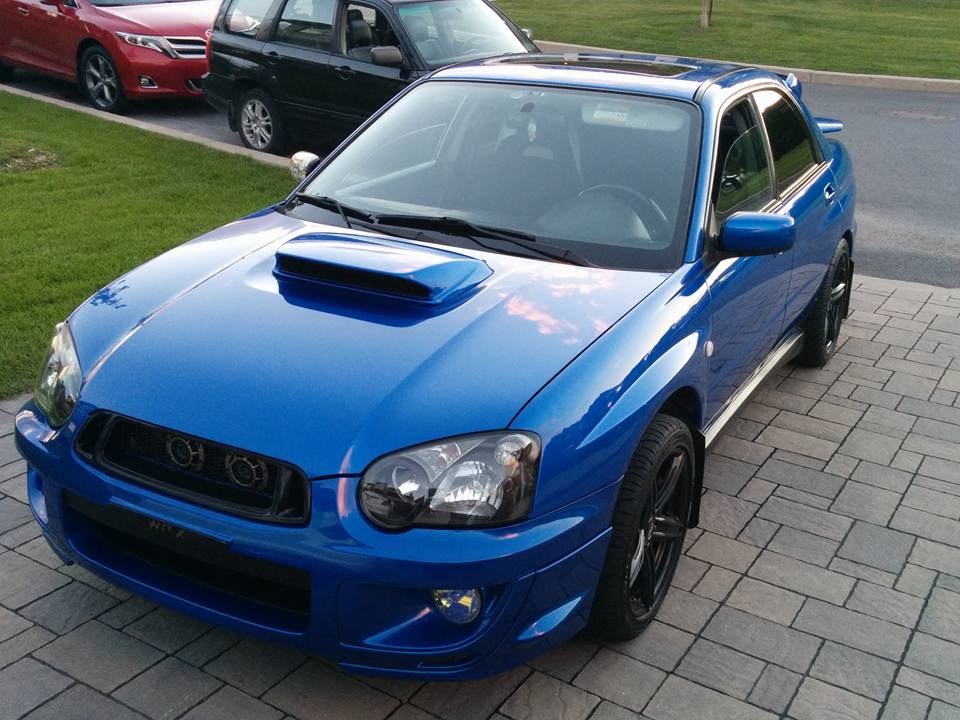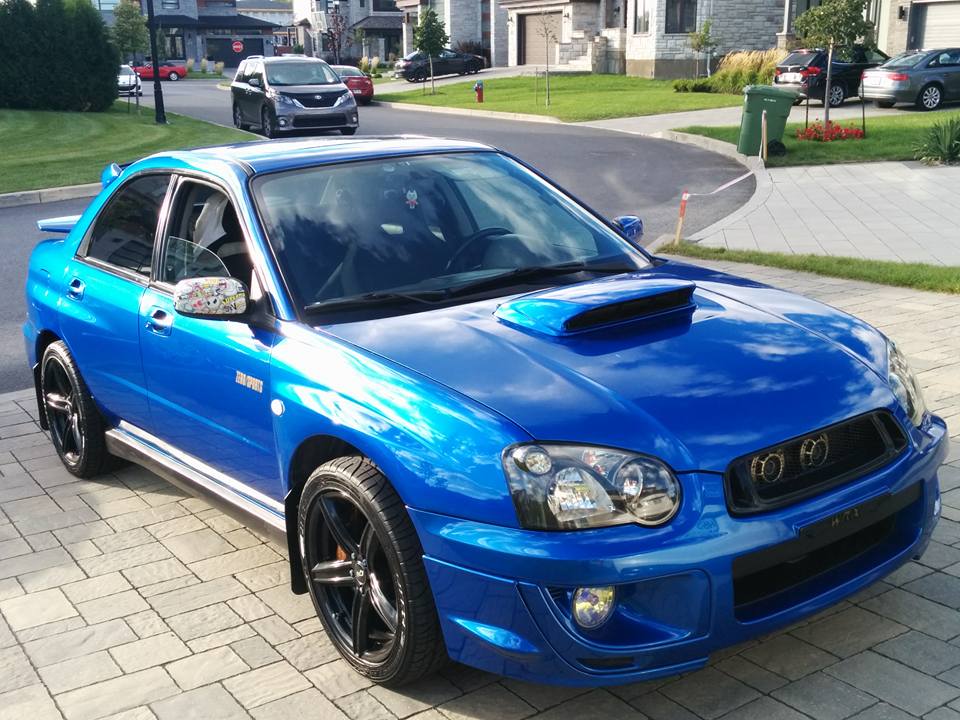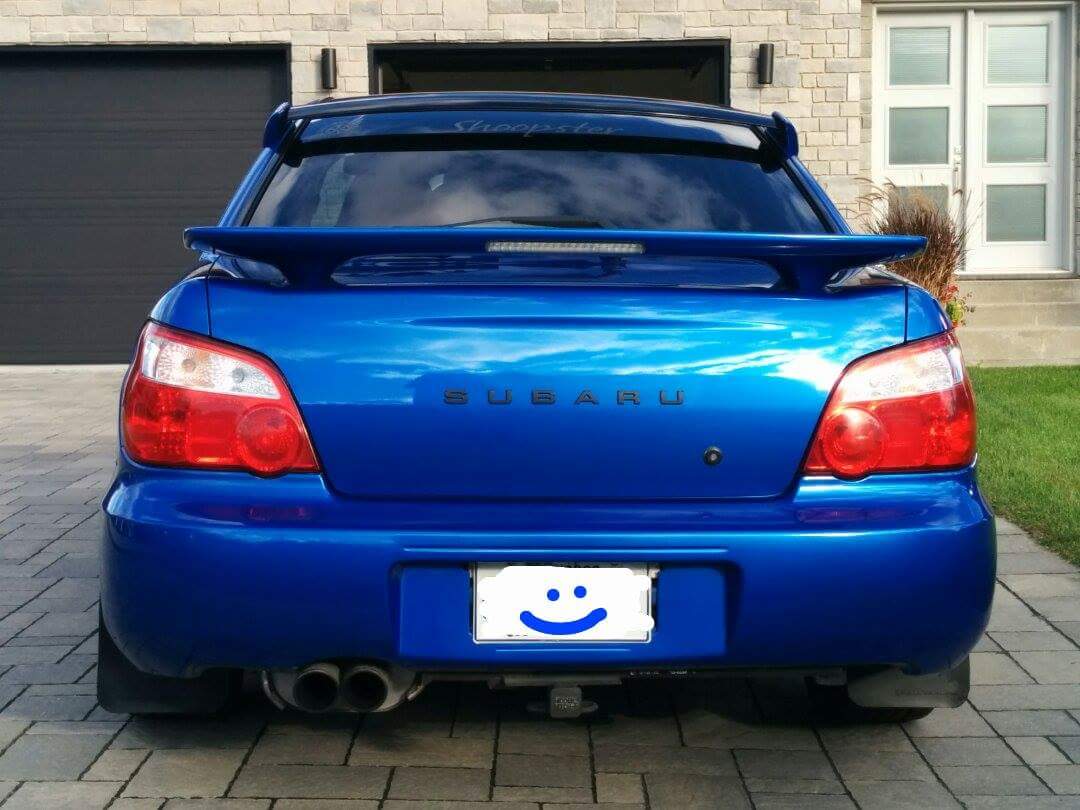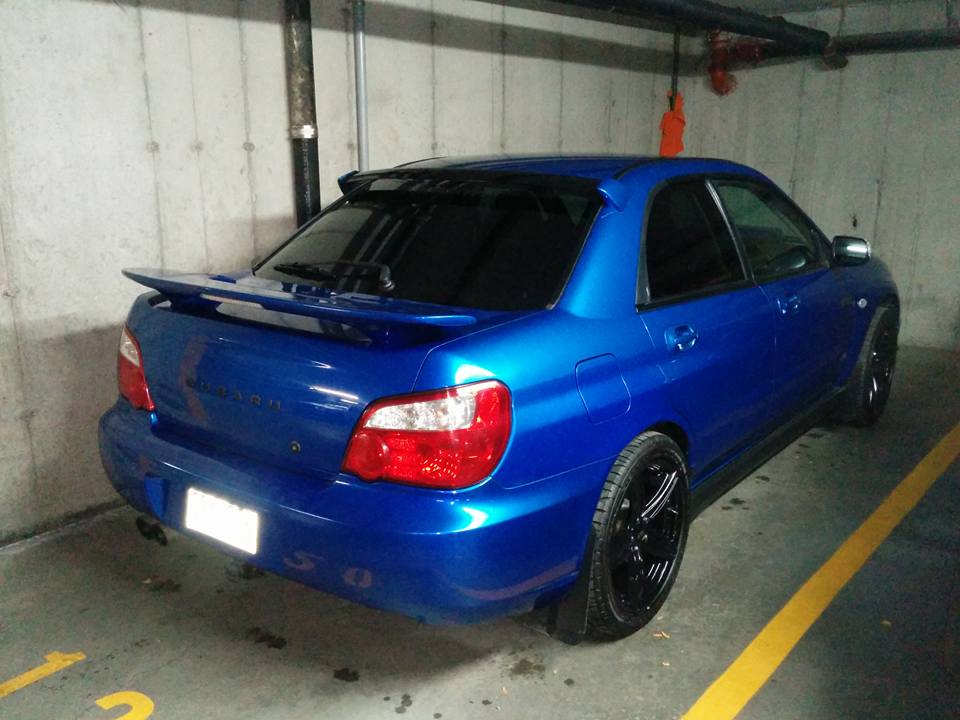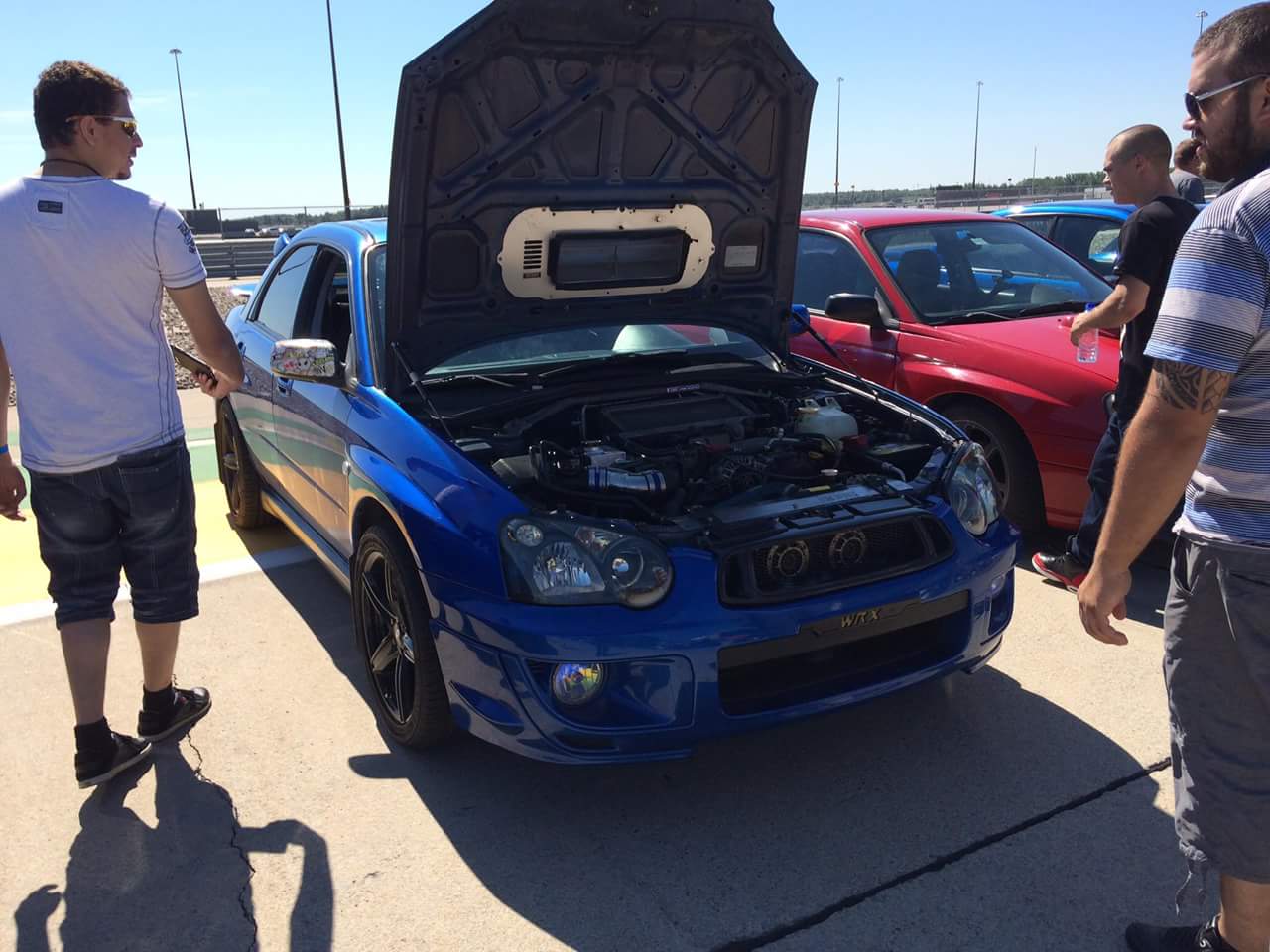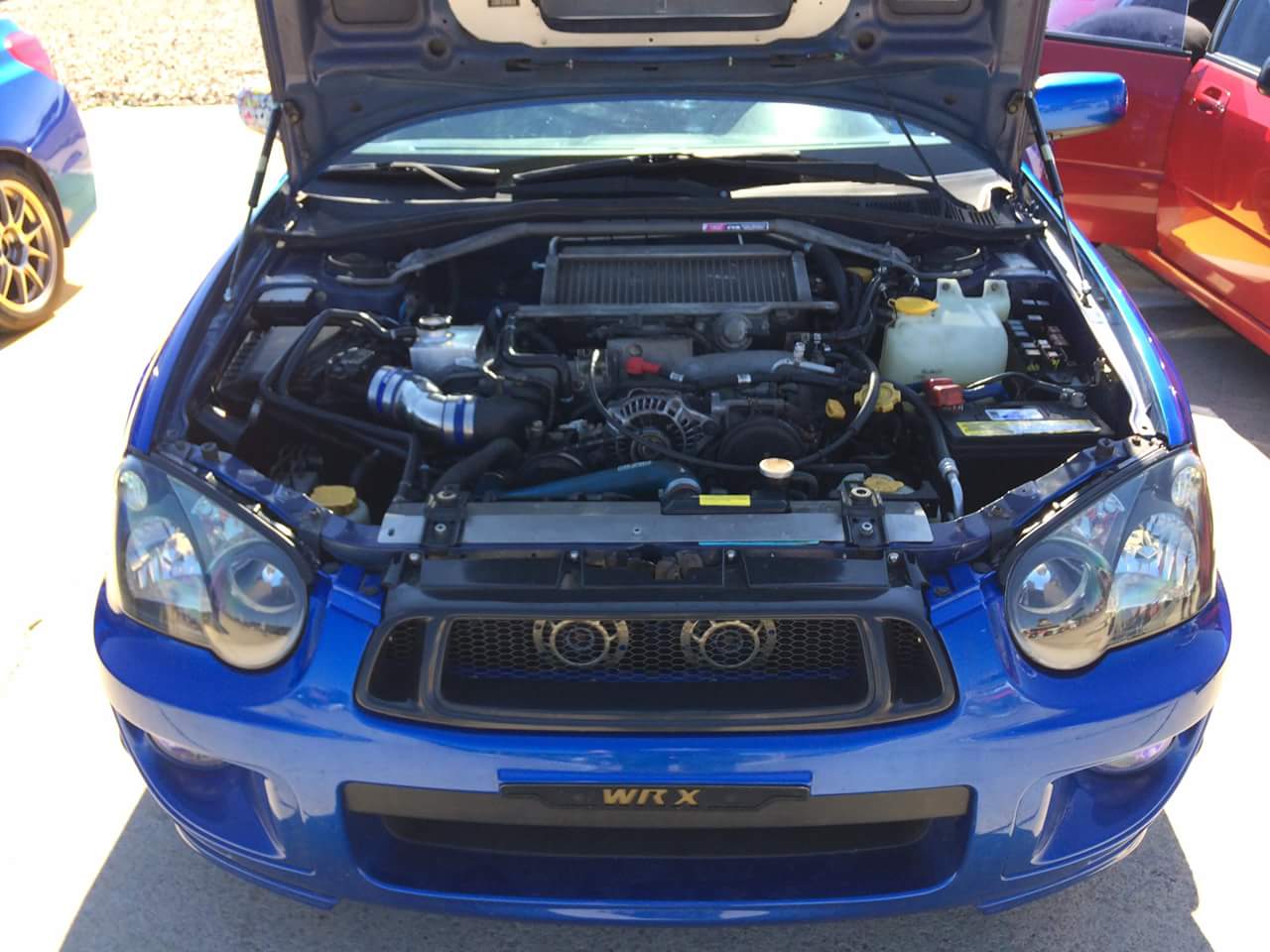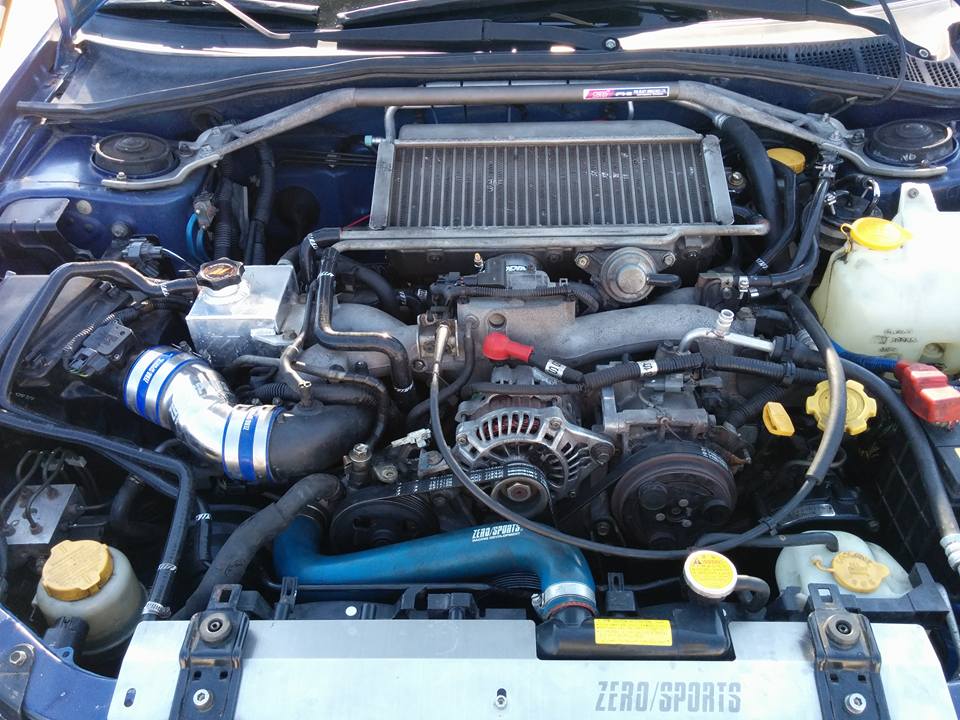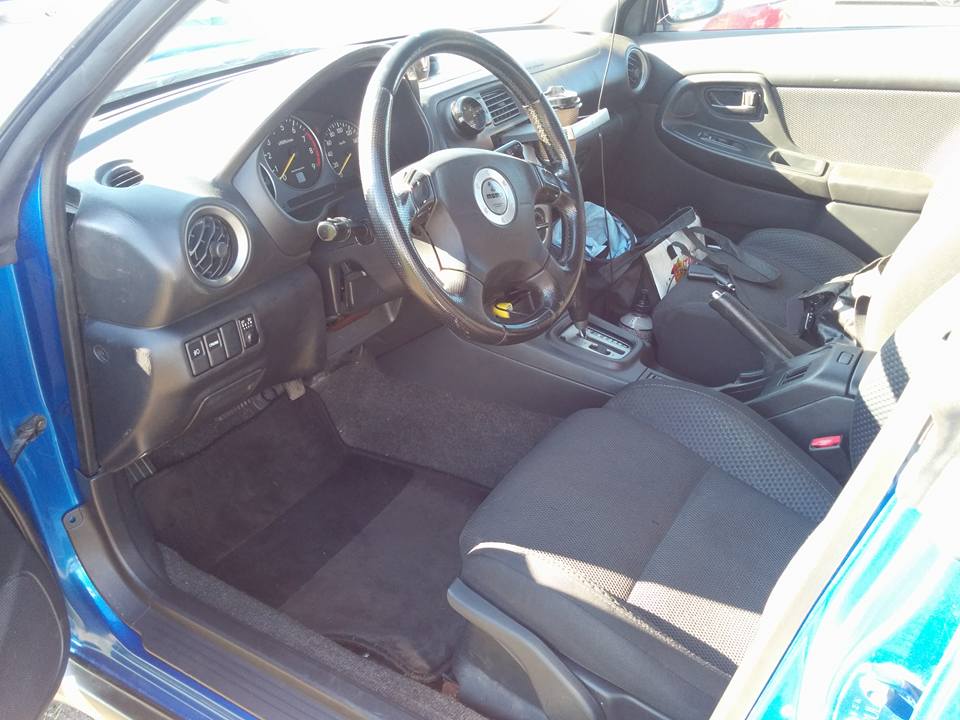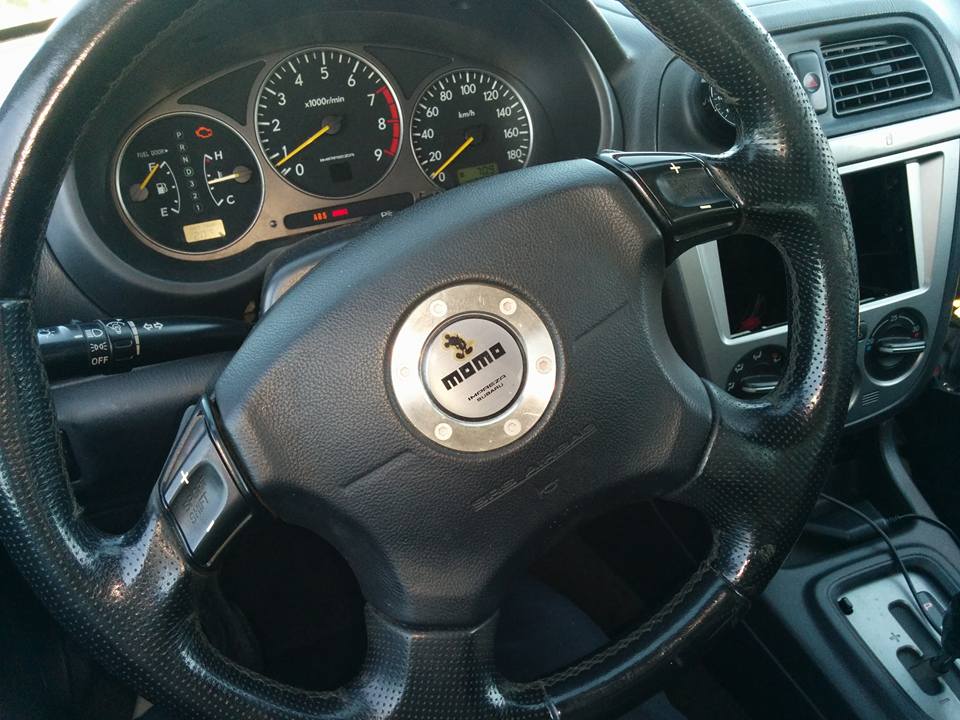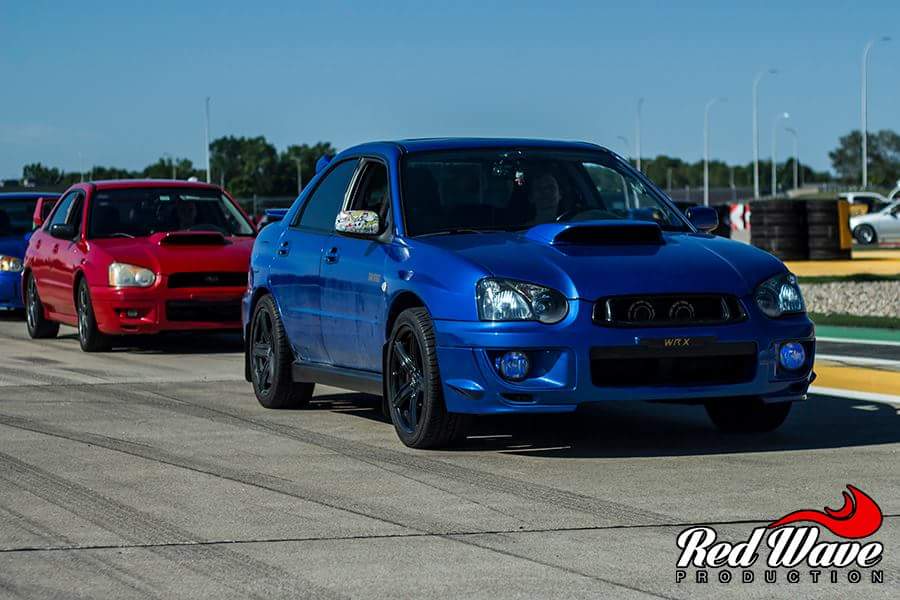 More pics and Shoopster's Parking-Next-to-Other-Subarus exploits
http://www.facebook.com/spottedshoopster
Shoopstercam - The Shoopster's dash cam footage compilations
I'll start with the Completed Swap Story, and later on down the thread I'll relate individual upgrades and installations.

The Shoopster was ready to roll literally the very morning of Quebec's biggest annual Subaru meet, Subiefestival 2016. Finished installing the interior plastics at about 6 a.m. with a lot of $%#@! cuts on my hands, no sleep, and made it to the convoy!

About an hour into the drive, almost at the entrance of iCar Mirabel where it was held, Shoopy started sputtering while rolling along at a calm cruise. But then it also happened all the way home, about an hour's worth of what felt like misfires. The gauges weren't re-installed yet, there was no way for me to know what was going on until I reached home.

We spent a week wondering what it could be, my ECU popping all sorts of transmission CELs, struggling up my steep driveway, a nightmare! Well, finally we had a good laugh: the green test-connectors were still connected

talk about a n00b mistake.

The CELs disappeared, and Shoop seemed to be running ok... except every now and then, when cruising calmly at say, 5-10% throttle, you know, just keeping up with traffic, or slowing down gradually to match its flow, Shoopy would start to sputter; she sounded like she was drowning, even stalled a couple times when I came to a stop light. By this time my AEM wideband o2 was re-installed, and its readings in comparison with the car's own front o2 sensor (via Tactrix) were identical, so we knew the readings weren't off. Shoop would not only fall mega rich, like down to the 10's, for no reason (but idled ok), but would also fail to correct itself for a good 5 seconds or more. NO CELS >.< And it was happening more and more often.

We spent most of August through November looking for the problem. We tried
- 4 different MAFs (Shoopy's 04 one was no good apparently, two others we had laying around were no good, either. Finally the one that worked properly was the Bugeye's original MAF, go figure.)
- changed the fuel filter, still did it.
- tried Shoop's old fuel pressure regulator, no change.
- new spark plugs, nope.
- thought it might be the fuel controller, so he hard-wired that the to 12v. Not it, put it back.
- fair to say that there were several weeks' worth of "F*** this", much logging, we even consulted JR Barrios who generously offered his advice (o2 sensor)
- tried another (used) front o2 sensor, no change
- I was convinced my fuel level was involved somehow or some valve (I'm no mechanic, but that's the second time I fill and stall). But it also happened on bumps & potholes (which can also make your foot 'stutter' on the gas-pedal) so Boyfriend-Mechanic was convinced there was a bad ground somewhere.
- He added a ground (I couldn't say where, exactly, sorry) and then (coincidence?) he got a CEL for the o2.
- I bought a new Denso o2 sensor (about $100 less than from Subaru), and that worked! ... for about two days >.< Then I filled up the tank to about 3/4 full went down the ramp to my garage, and stalled on the way down (O.O omg handbrake!).
- Seb tried several different maps, did some modifications in the ECU, nothing helped.
- The worst part of all this was, we had no idea if the bugeye had this problem prior to #megaswaptronic . We had only test-driven the bugeye up and down the block a few times - a couple o' WOTs to check out the manual shifting setup - but we couldn't take it out for a real drive since it didn't have plates/registration.

Into November 2016 now, and so Shoopy was Parked 'Til Spring as far as we were concerned, largely due to a severe case of F*** This-itis. Meanwhile, an auto WRX shows up on his lift at work, which gave him the occasion to sort through a bunch of ECU's that were stored on the shelves at work. The identifier for the program on Shoops' jdm ECU is A4SD501A, he found a A4SD800B, which seems to be a Revision. This stock map, when compared with mine, had three tables (charts, references) that were absent from the jdm bugeye's.

Long story short -- low battery, he almost bricked my car lol -- the new map works! Shoopy's AF ratio stays awesomely normal now. We're wondering if maybe at some point there might have been a recall for this, but since we've no way to check the Japanese VIN, I guess we'll never know. Which is why I'd love to talk to any other shiftronic bugeye owners overseas, to see if they every had that same problem...