Builds
Binjoau's 09 WRX MPS long rod-GTX35R Build Thread by binjoau
By diyauto
You must be logged in to rate content!
6 minute(s) of a 139 minute read
Binjoau's 09 WRX MPS long rod-GTX35R Build Thread
Compliments of binjoau @ nasioc.com
11-15-2010
UPDATE: FOR ALL THOSE WHO DO NOT WANT TO READ THE 40 PAGES...................
So the build has changed a lot, having gone through another built motor that spun a rod bearing and another motor that had some oil useage issues I finally gave in and decided to do it properly.
The car is now going to MPS in WA for a full build and completely new motor setup:
Details:.......
2009 WRX Premium
Engine
MPS 2.5 Long Rod Shortblock 8500rpm
New EJ257 Semi Closed Deck Case
STi Crankshaft
ACL Race Bearings
MPS Saenz Super Strong +2mm Rods
Custom JE Pistons
Full Blueprint and balancing
MPS Modified oil pump
MPS Stage 3 B25 Heads
+1 mm Valves
High Performance Springs
Ti Retainers
Shimless Buckets
New Valve Seals
Mild port and polish
Kelford R-199-B Cams
Turbo / Accesories
Cobb Accessport
Perrin GTX3576R .82 Turbo kit (reversed intake mainfold)
Tial External Wastegate
Perrin FMIC
Invidia N1 catback exhaust
Agency Power UEL headers
ID 1000cc Injectors
ACT Street Clutch
ACT Lightweight flywheel
TGV deletes
Stock oil pan with Covert p/u
Walbro 255lph
ARP headstud / rod bolts
Grimmspeed 8mm phenolic spacer
Forge recirc BOV
New timing kit
Mishimoto rad hoses
Perrin Oil Cap
Perrin Alternator Cover
Perrin Catch Can
AEM 900cc Water Meth with failsafe
Brakes / Suspension
Brembo GT40 BBK
Custom fog light delete brake cooling kit
Competition Cermaic Pads
Goodridge SS brake lines
BC Coilovers
Perrin SS with bushings
Wheels / Tires
Rota Torque R (safety orange)
Federal SS 595 235/35/18
Audio / Visual
Pioneer AVHP4200DVD
JLG6600
JLC3 components F
JLC3 coaxial R
JLW3 HO Sub and Enclosure (subaru red)
STI V-spec Lip
OEM Sport Grille
Cobb Knob
Full side skirt / rear spats
The car leaves for MPS within the next few days, needless to say I am excited!
Hi all, I am quite new to the site but have been a member on clubwrx.net for quite some time now. Thought I would migrate my build over here so....
To give you a little background, I bought the car new back in early 2009, I had done a few modifcations to the car, stage 2 etc and loved every minute of it. A month or so ago the car spun a rod bearing and I was quite annoyed to say the least! Although as I am not the kind of person to sulk about something I thought I would do a project and make the car something I would really enjoy!
So the car currently has:
Perrin TBE,
BC Coilovers,
AP
Perrin Intake,
SS and bushings,
Sport Grille, STI V-spec lip and other cosmetics etc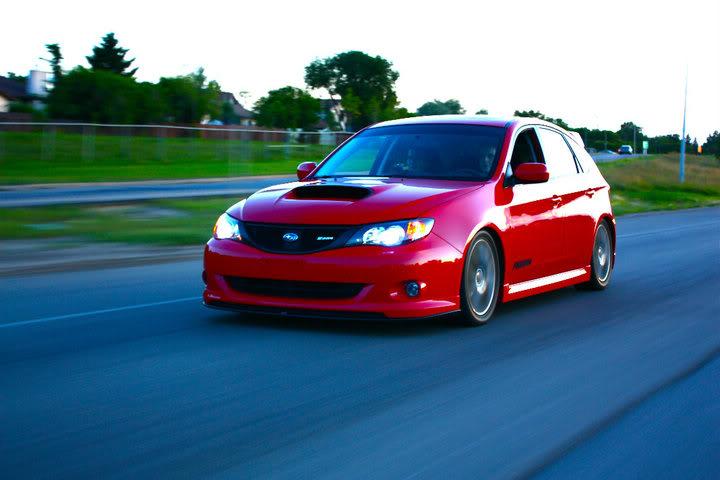 Now with the above in mind, this is the parts list I have partly acrued, some is either shipping or I have not made a final decision on:
Raw Stage 3 Forged shortblock
P&L High Flow oil pump
Blouch DOM 3 XTR
APS 70mm Inlet and Intake
ID 1000cc Injectors
Walbro 255lph
FR UEL headers and Uppipe
Killer Bee oil pan / pu combo
Exedy stage 2 clutch
ProcessWest TMIC (sleeper style )
I will also be adding Rota Torque 18x9.5 +38 et
(cant decide on what colour to powdercoat them yet though, suggestions??)
I think thats everything so far, i will be keeping this thread updated regularly and I am picture happy.
I am also willing to answer any questions and I am open to suggestions, however this is a build thread, if you feel the need to bash, do it somewhere else.
I may even ask stupid questions from time to time but I am here to learn!
Thanks