Builds
Brandon's 2012 ISM STI Build GR Sedan by evans609
By diyauto
You must be logged in to rate content!
9 minute(s) of a 172 minute read
Brandon's 2012 ISM STI Build GR Sedan
Compliments of evans609 @ www.clubwrx.net
10-6-2013
Hey everyone,
I figured I'd start a thread seeing I have a few things done and plan on doing a lot of things to my car. So here goes...
Previous cars:
1999 Buick Century
2001 Chevy Cavalier
2004 Olds Alero
2004 Nissan Sentra (first std)
2006 Mazda 6 GT
2011 Hyundai Genesis 2.0T
Winter Beater/Daily cars while owning my STI
2003 Volvo S40
2004 Chrysler Sebring
2010 Mitsubishi Ralliart (current daily car)
My current mod list
Engine/Power:
CP 99.5mm/ 8.2 comp forged pistons
Tomei equal length header
Tomei Uppipe
Invidia divorced wastegate/catless
Nameless Performance muffler delete
Perrin BPV
Perrin pulley and rad cover
Cusco Catch Can
Tomei Turbo Inlet Pipe
Interior/Exterior:
HT Autos front lip, side skirts, rear lip and exhaust garnishes
OEM JDM rain guards
SMY gauge cluster
15% tint in back
Password JDM fasteners
STI Carbon-Fibre valve caps
Hella Supertone Horns
Rally Armour Mudflaps (Black and silver)
Drivetrain/Transmission:
Kartboy Short Shifter
Kartboy front and rear shifter bushings
Suspension:
BC Racing BR type coilovers (on order)
Brakes/wheels:
Nothing yet
Here is how it sits now..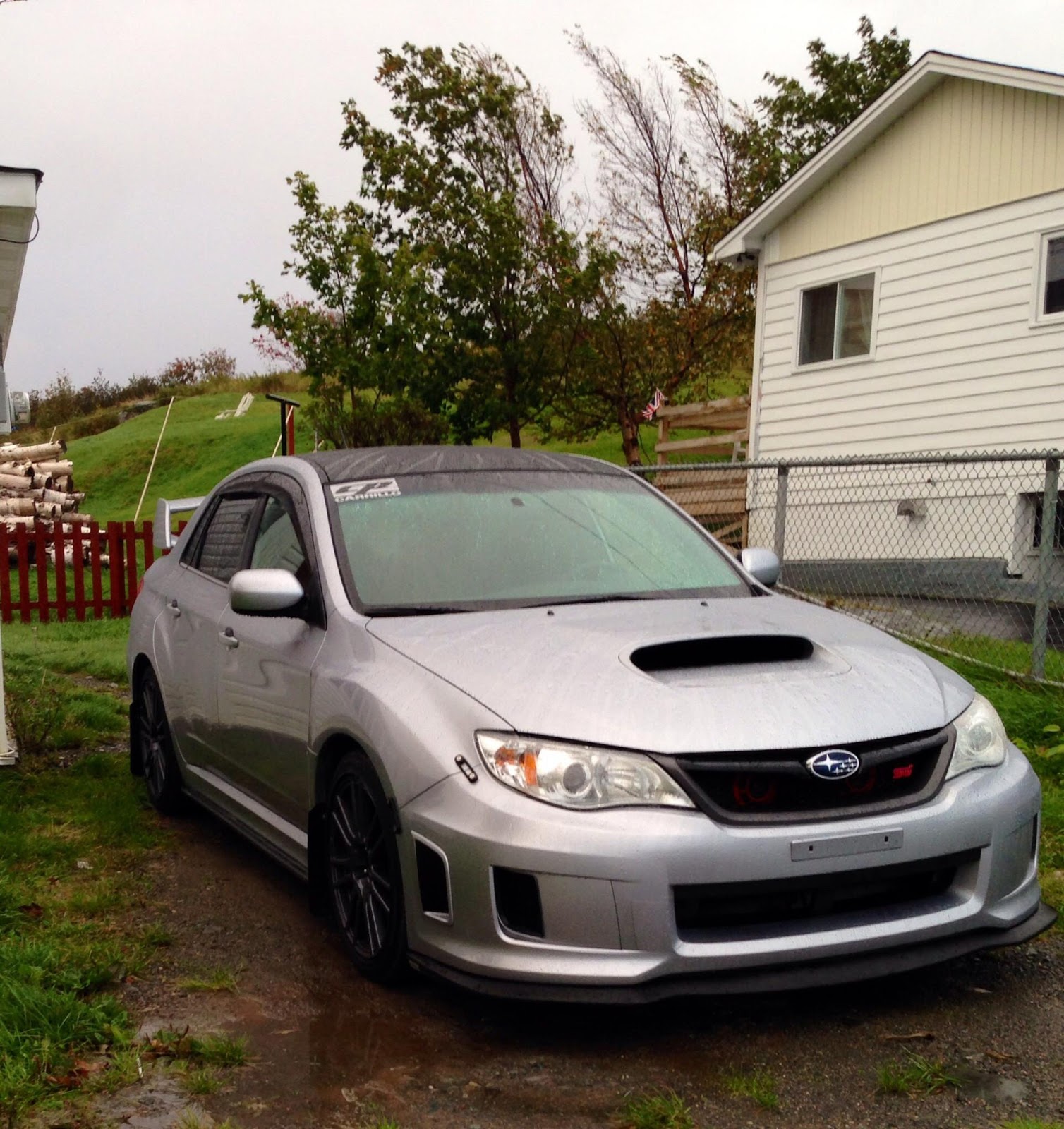 On order:
Muteki SR48 Lug Nuts (Red)
Anarchy Motive shift knob (copper)
BC Racing BR Coilovers
Aquamist HFS-3 Methanol Injection Kit
Invidia Q300 Exhaust (Stainless Tips)
Proto Tuning Holder
GTspec Front Strut Tower Bar
Agency Power UEL Header and uppipe (powder coated)
Waiting to install:
Tomei Fuel Pressure Gauge
Tomei Fuel Regulator
Subaru OEM inner fender well
Grimmspeed EBCS
Grimmspeed Y-Pipe kit
Cobb SF intake and box (blue piping)
DW 65c Fuel Pump
Soon to come: (Next Summer)
My mind is always changing so who knows
First thing I ordered when I hit 7000km was Nameless performance muffler deletes and a K&N short ram. The intake in my opinion is not great. It sucks in too much air. The mufflers are pretty good. Nice sound but lots of drone. Not my pics but they are pretty much the same \/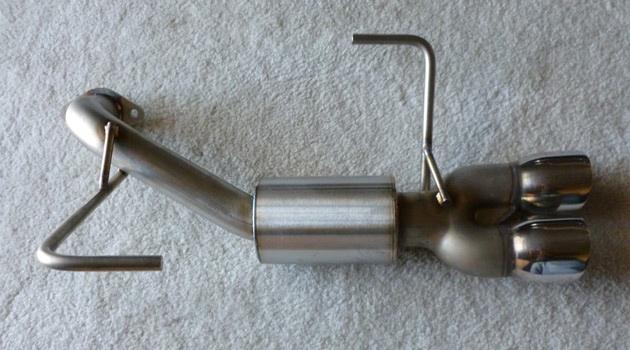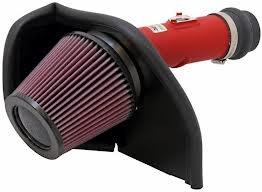 Once that came I had a custom tune done by Perrin (Stage 1) with my new Cobb V2 access port and a Perrin recir by pass valve.
I was running those few things for a little while and then I decided I wanted more power. So I was talking to my tuner and he recommended that I get a Catless Invidia Downpipe. Once I got that I took off this piece of garbage \/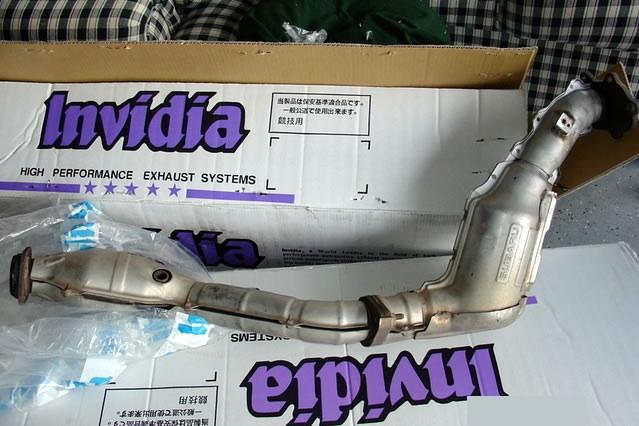 And put on this beauty \/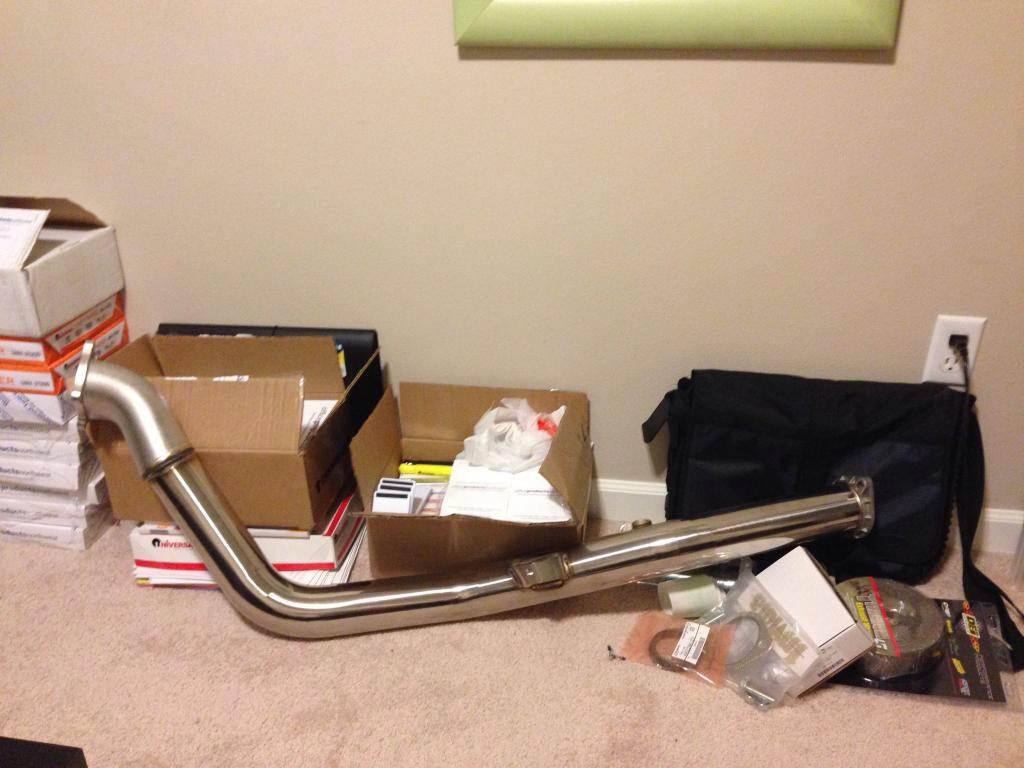 I got that tuned up and got 267whp and 290wtq on 91 Octane
The following day I picked my little brother up and we went out for something to eat. While I was parked I noticed my car let out a weird shake.. So I quickly turned the car off. Fearing it was the common issue with sti (blown ring land) I called my tuner. He told
Me to do a couple tests and see what the Cobb AP was saying. It was reading a misfire on cylinder 4. He told me to bring it in the next day. When I brought it in he begun to do a compression test. She was reading 52psi on cylinder 4 when I do believe it supposed to be around 120psi. He told me my ring land was gone. Seeing at this point it was almost time for snow I put the car away for winter. (We still use salt in Newfoundland so I will not drive my sti in that garbage)
When I took it out the following April I brought it to my tuner. The car at this point only had a little over 13,000km on the engine. We started to scrap it...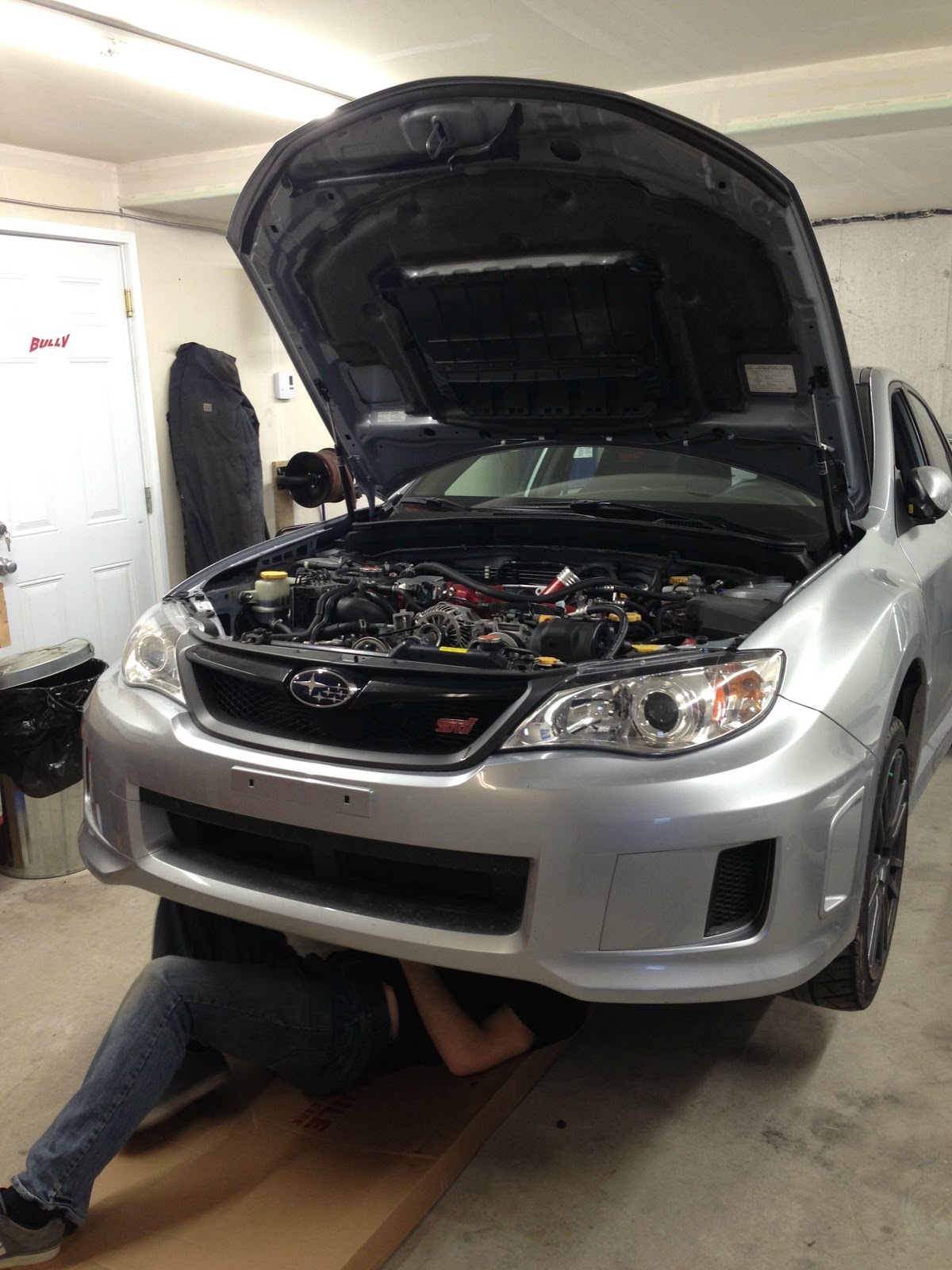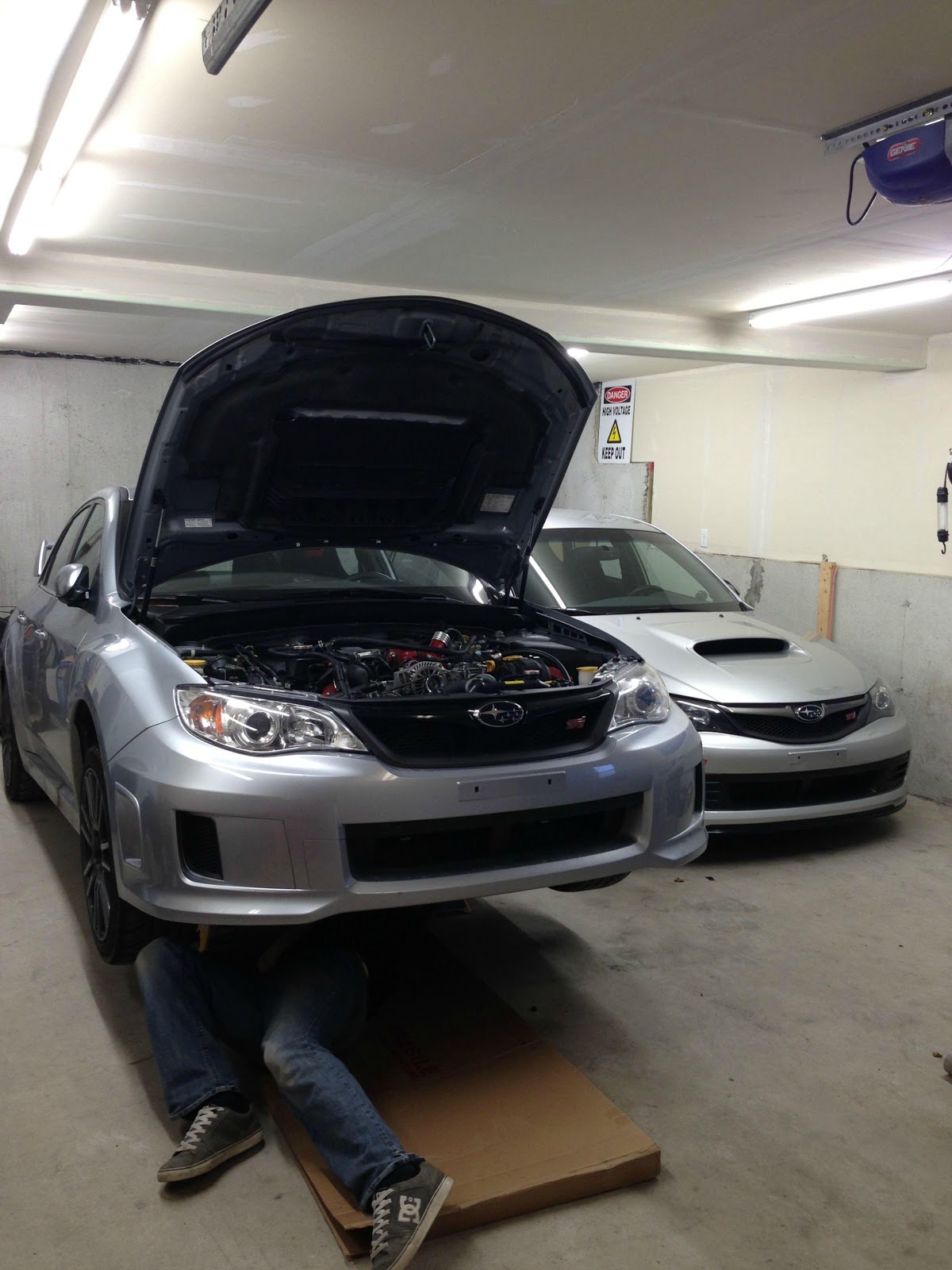 Tied up and pulling the engine \/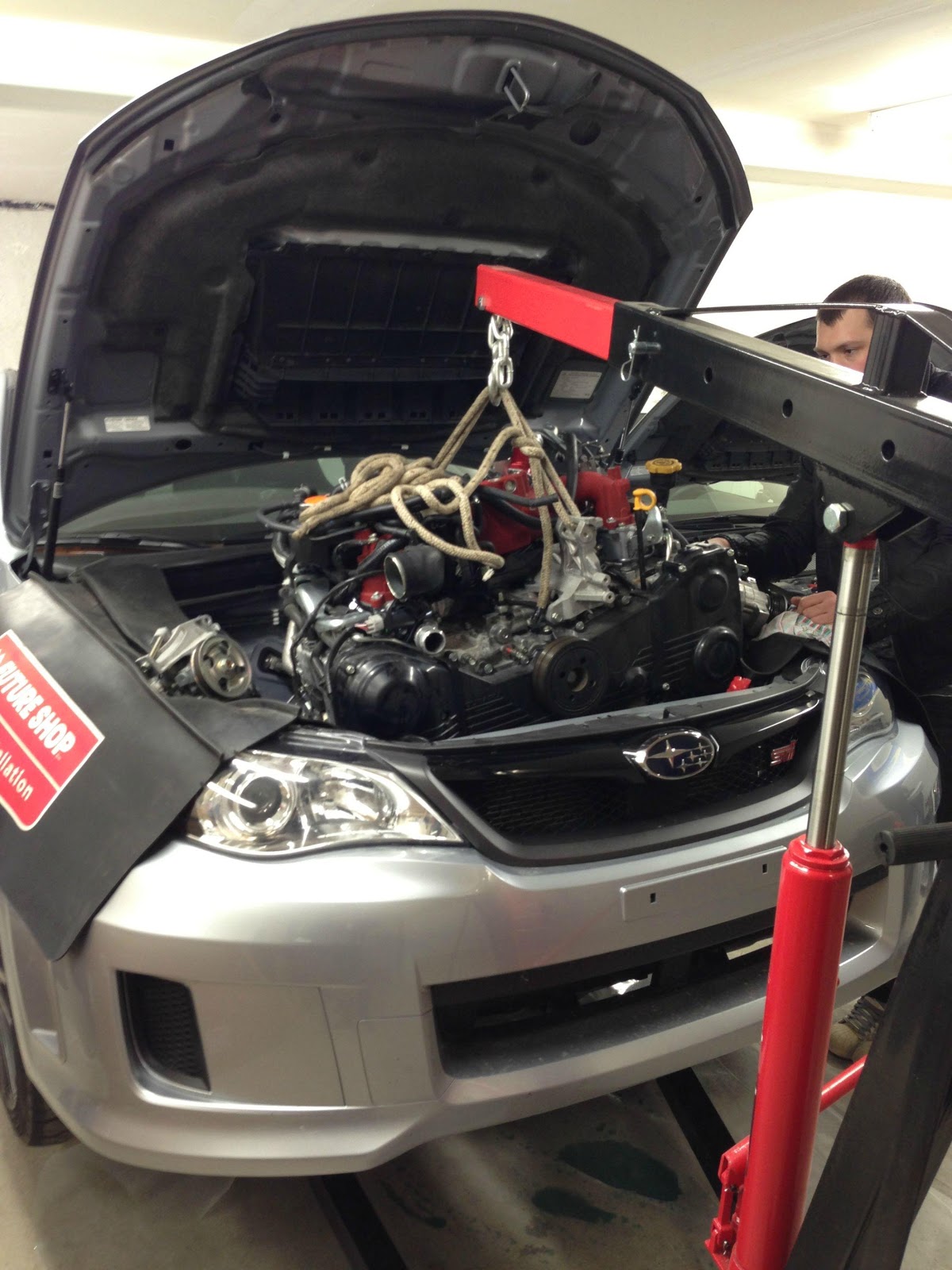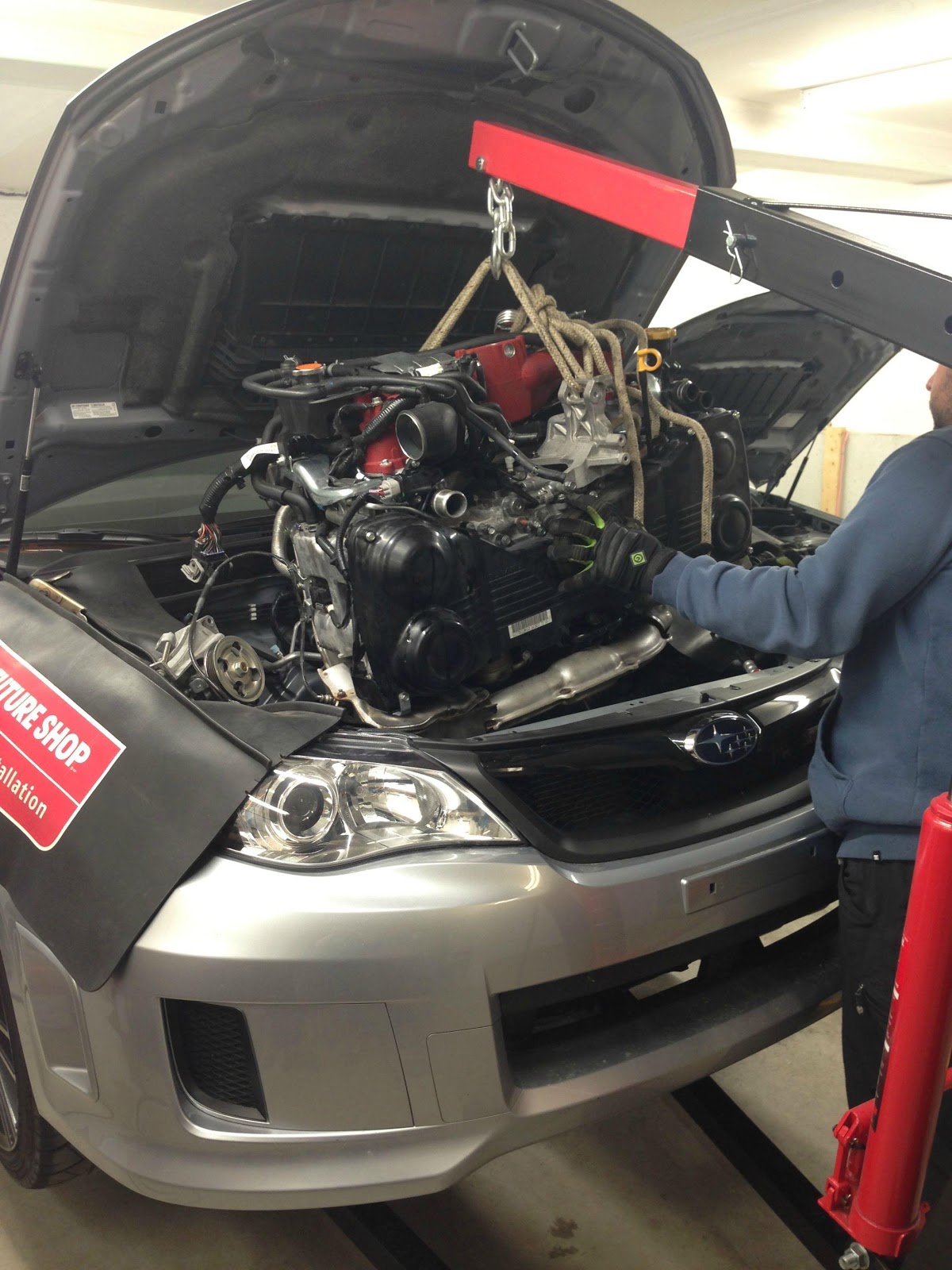 Engine out! \/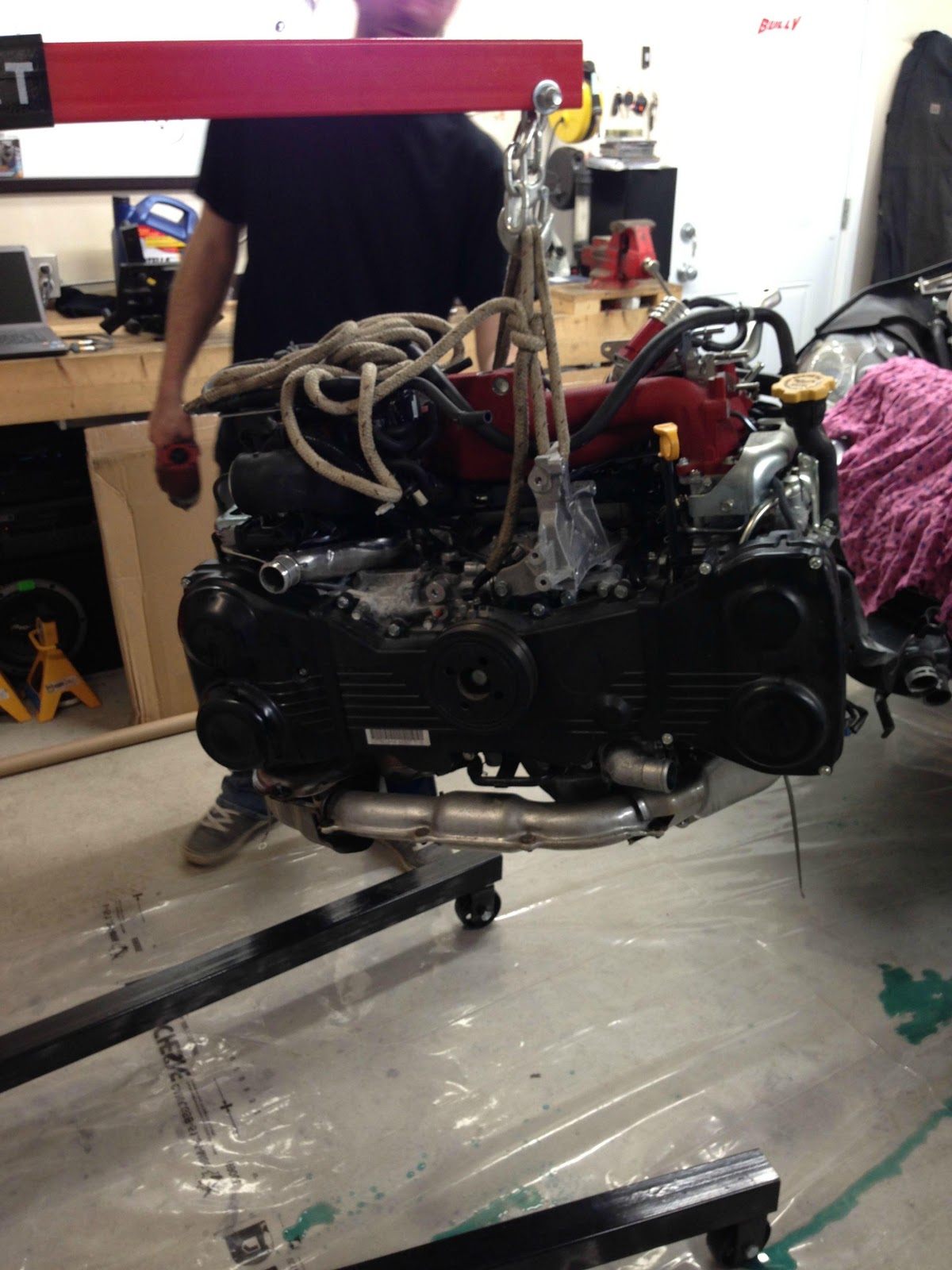 She's pretty empty in there at this point
Engine with the cam gears and intake manifold off \/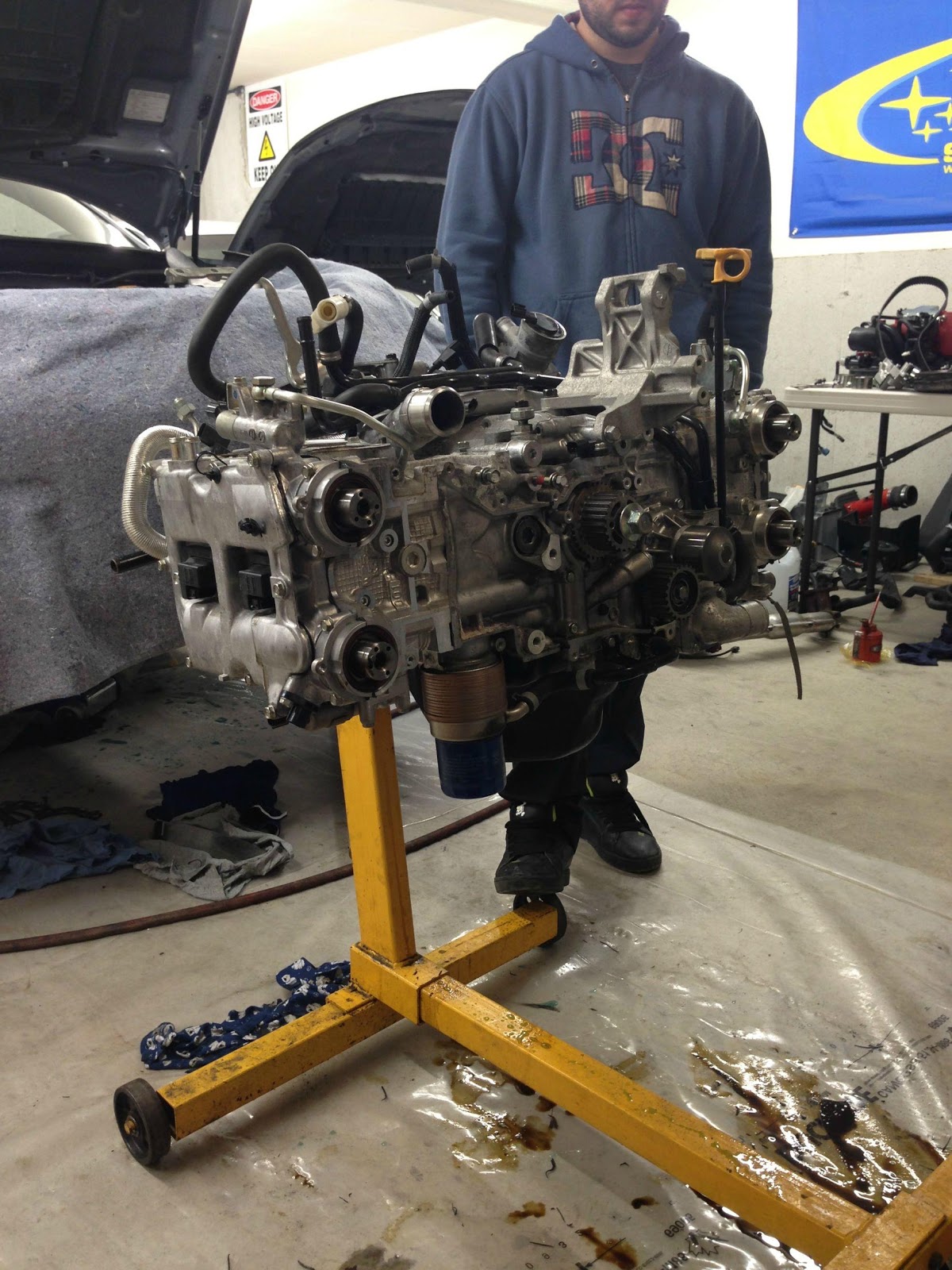 All the parts off \/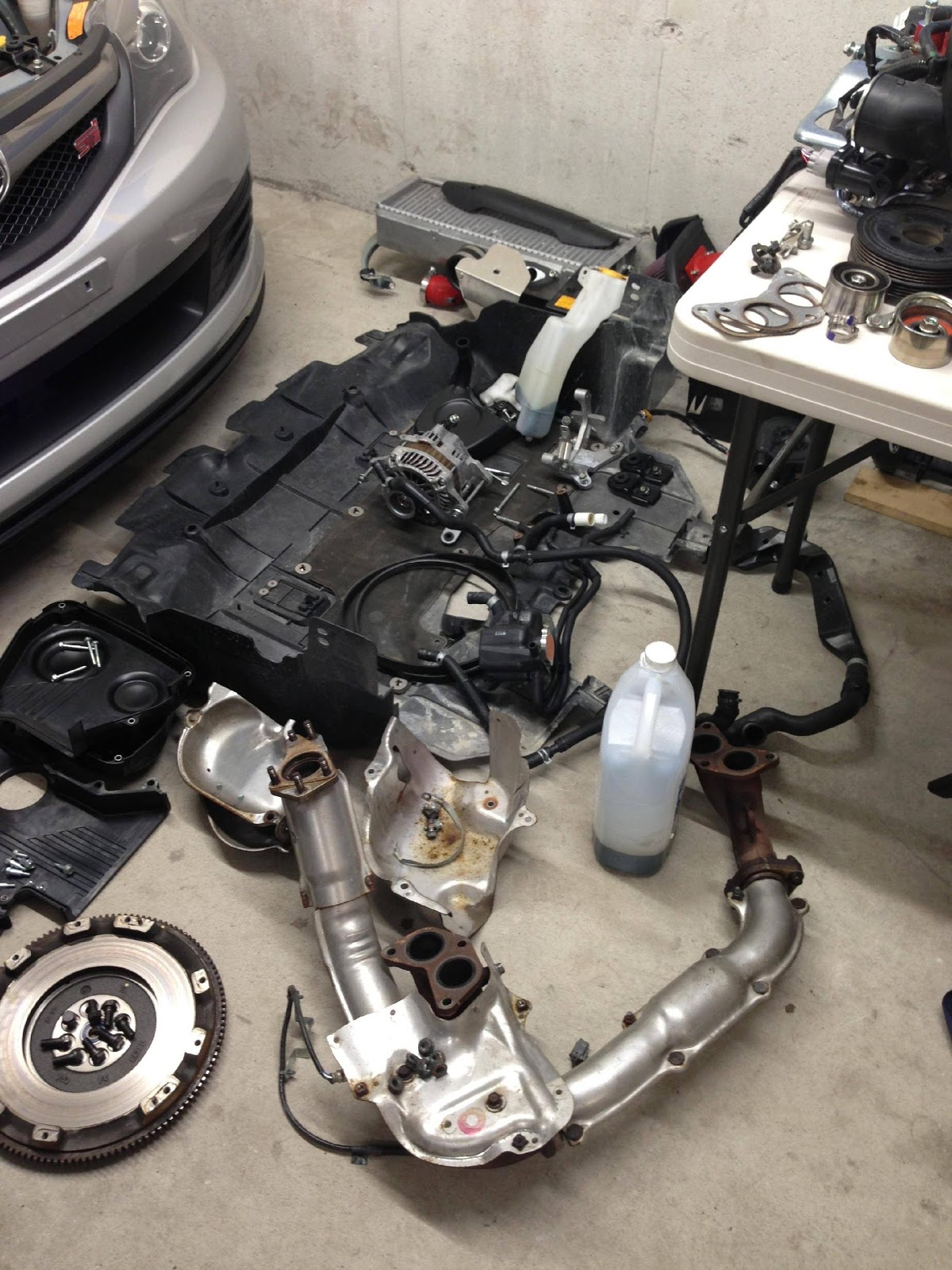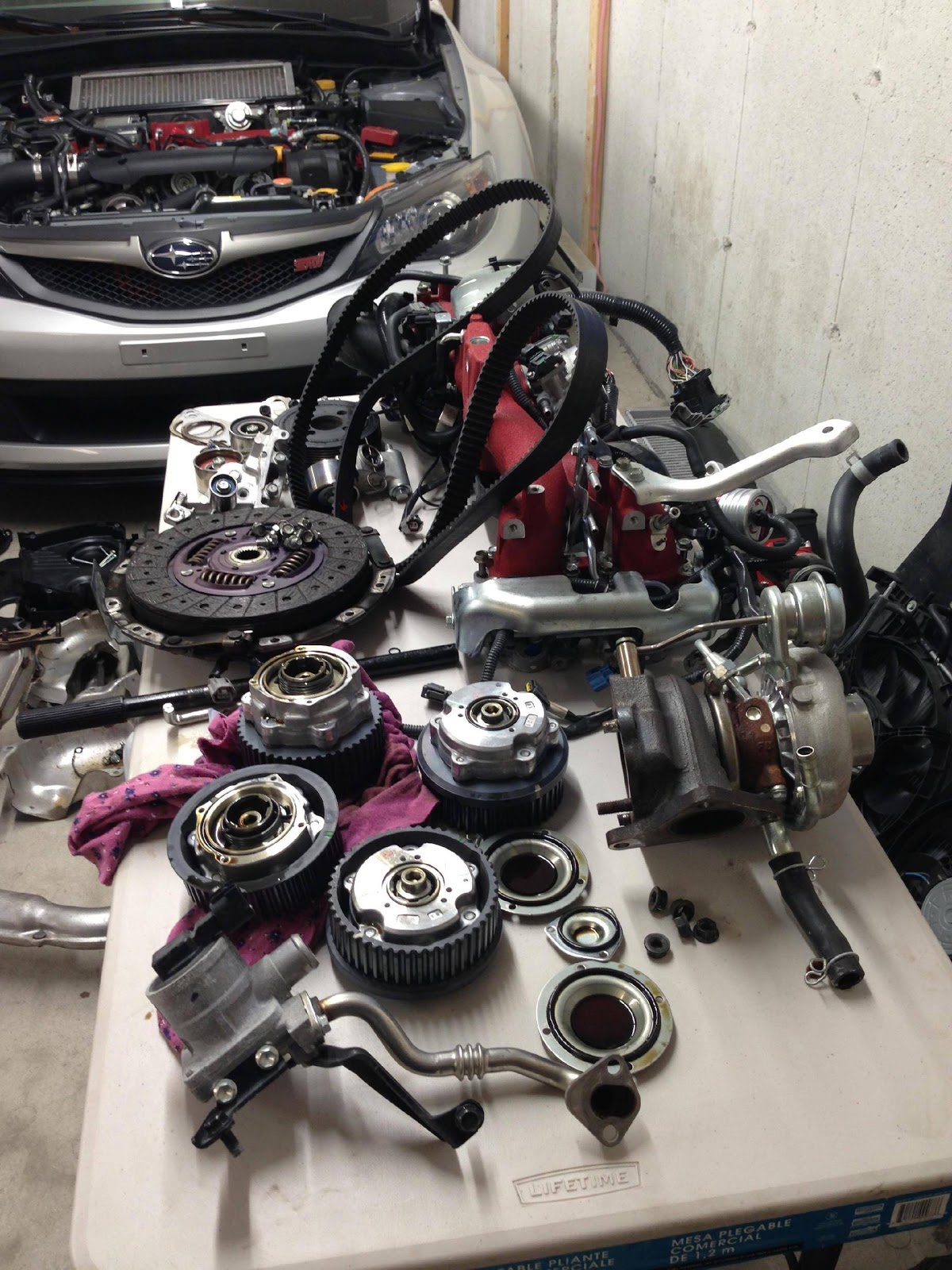 This is what it looks like with all that off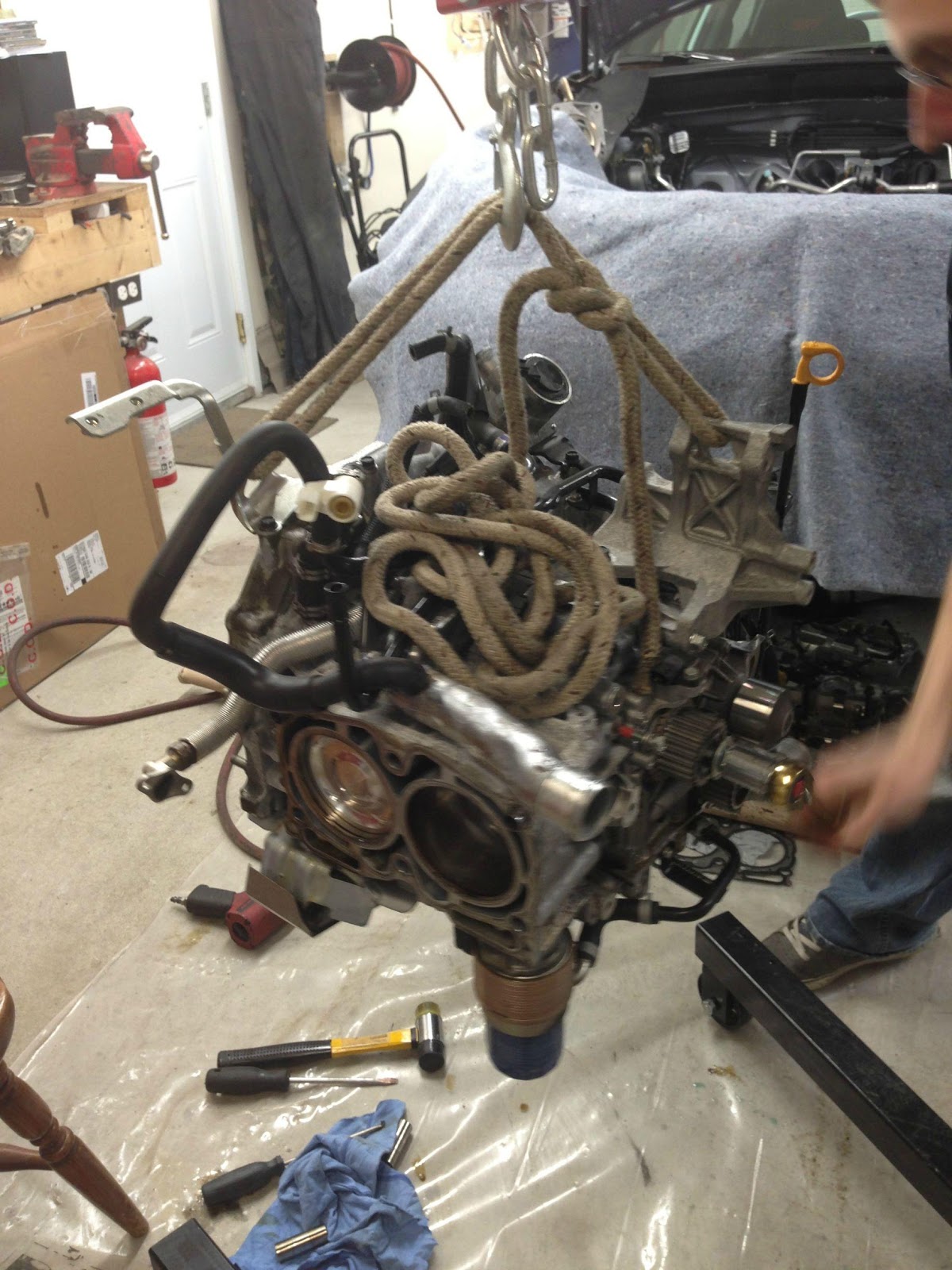 This is the cracked ring land \/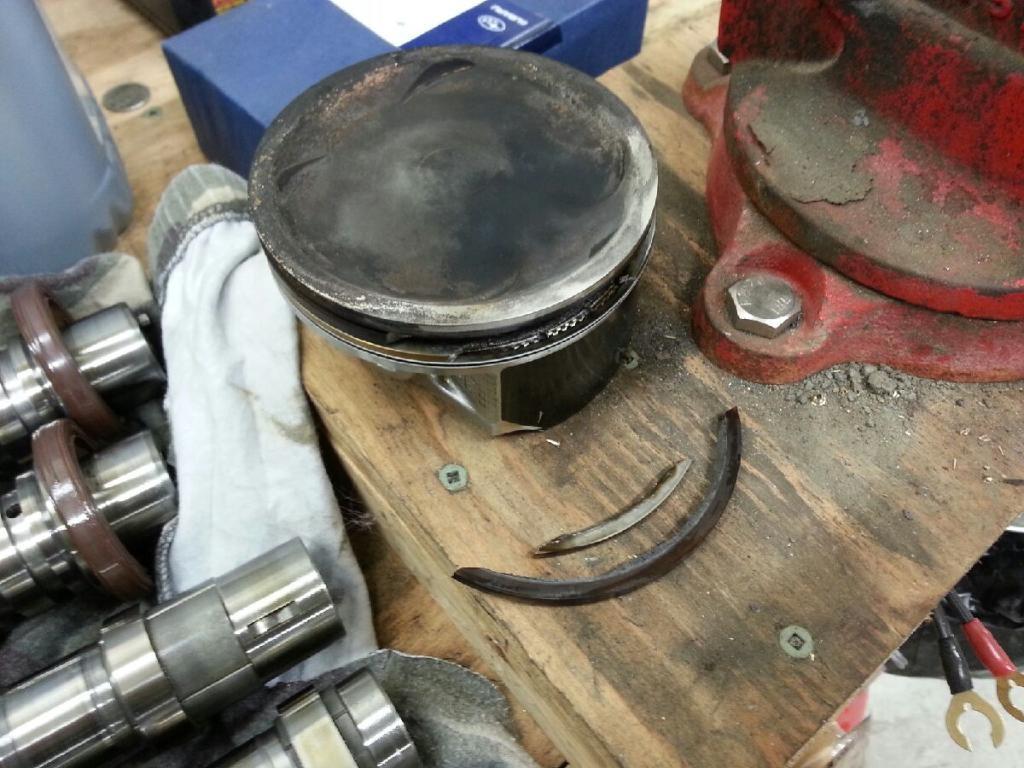 And these are the new baby's that went in \/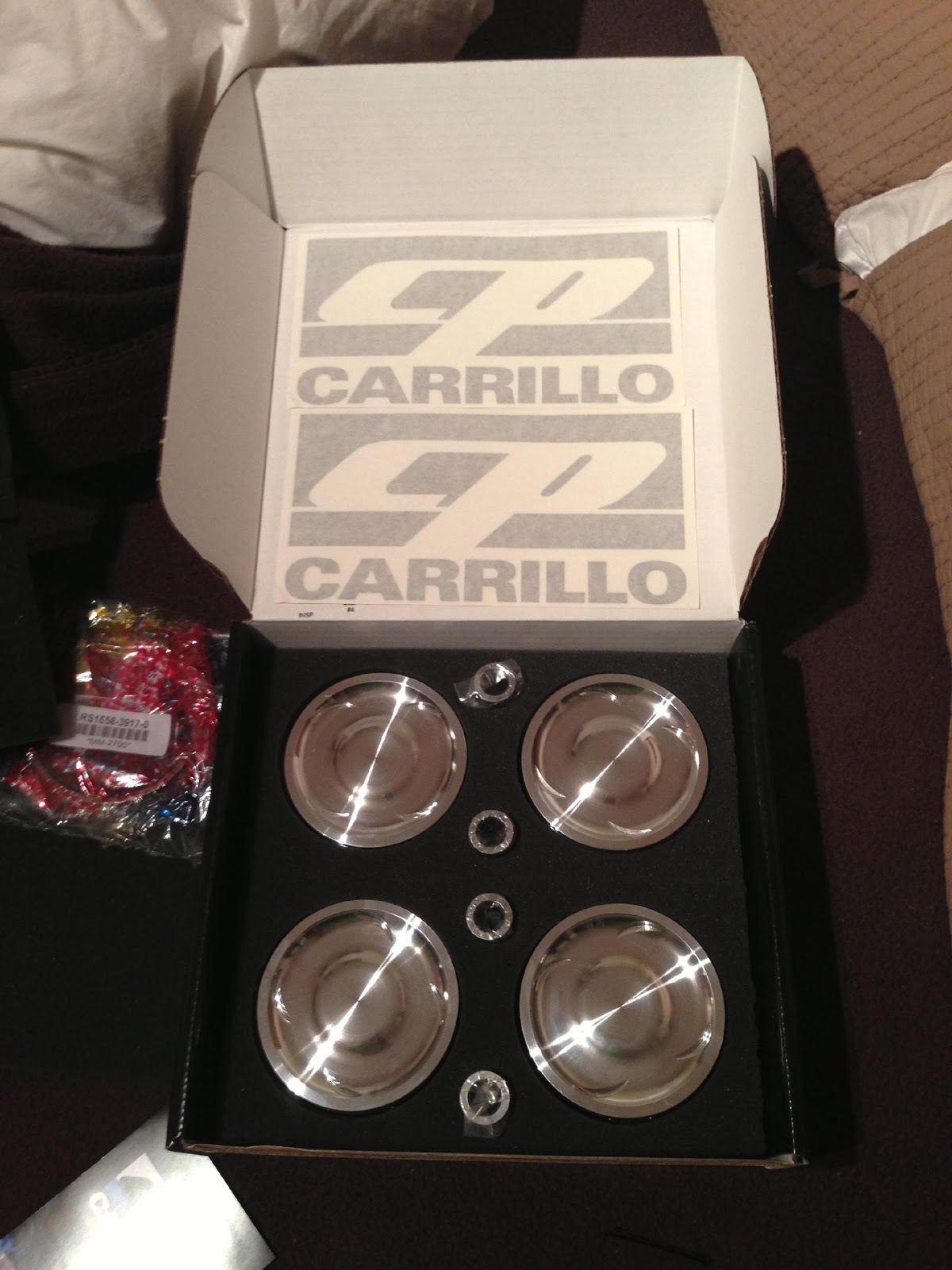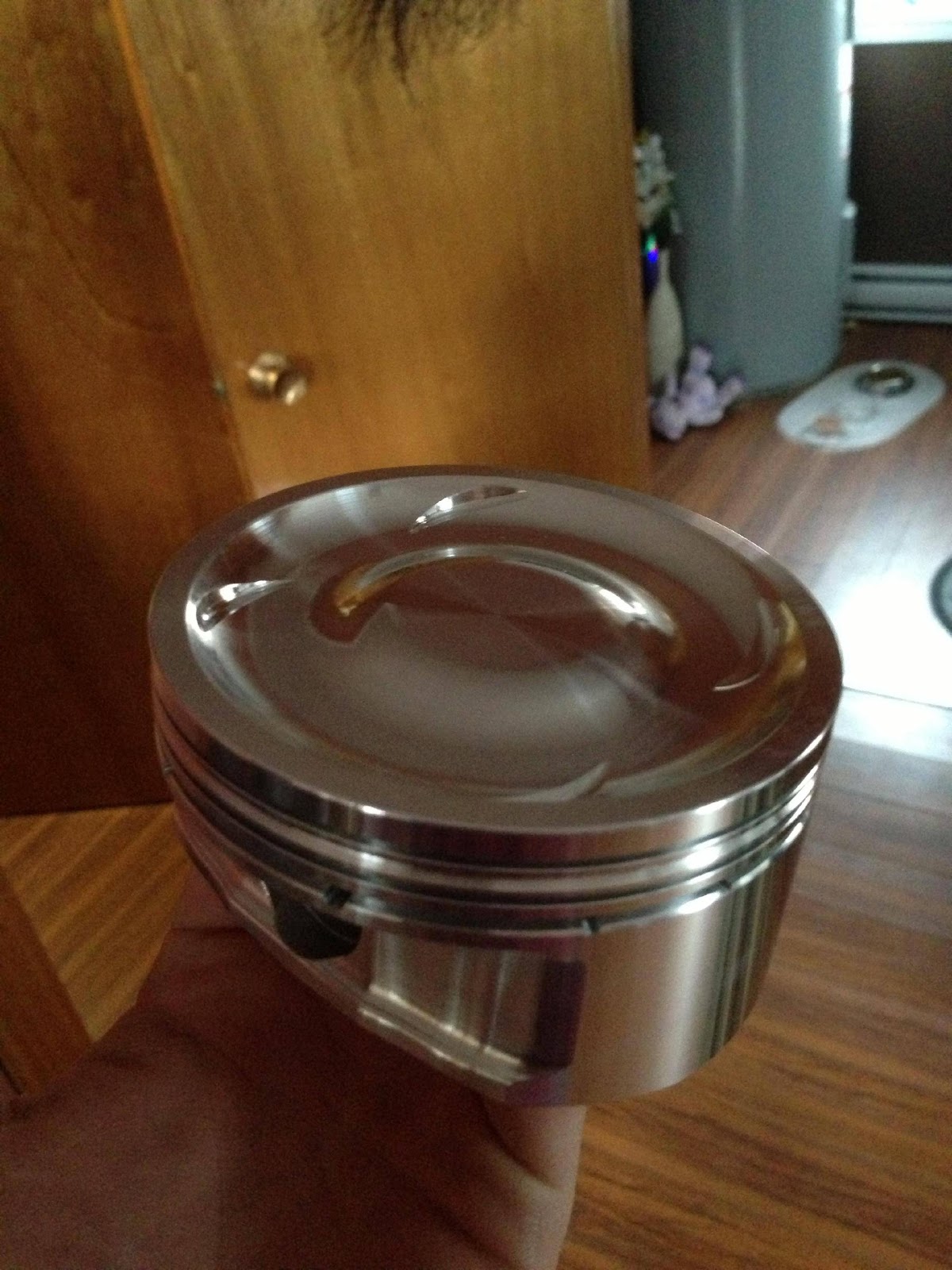 These are the new CP forged pistons put back in the block \/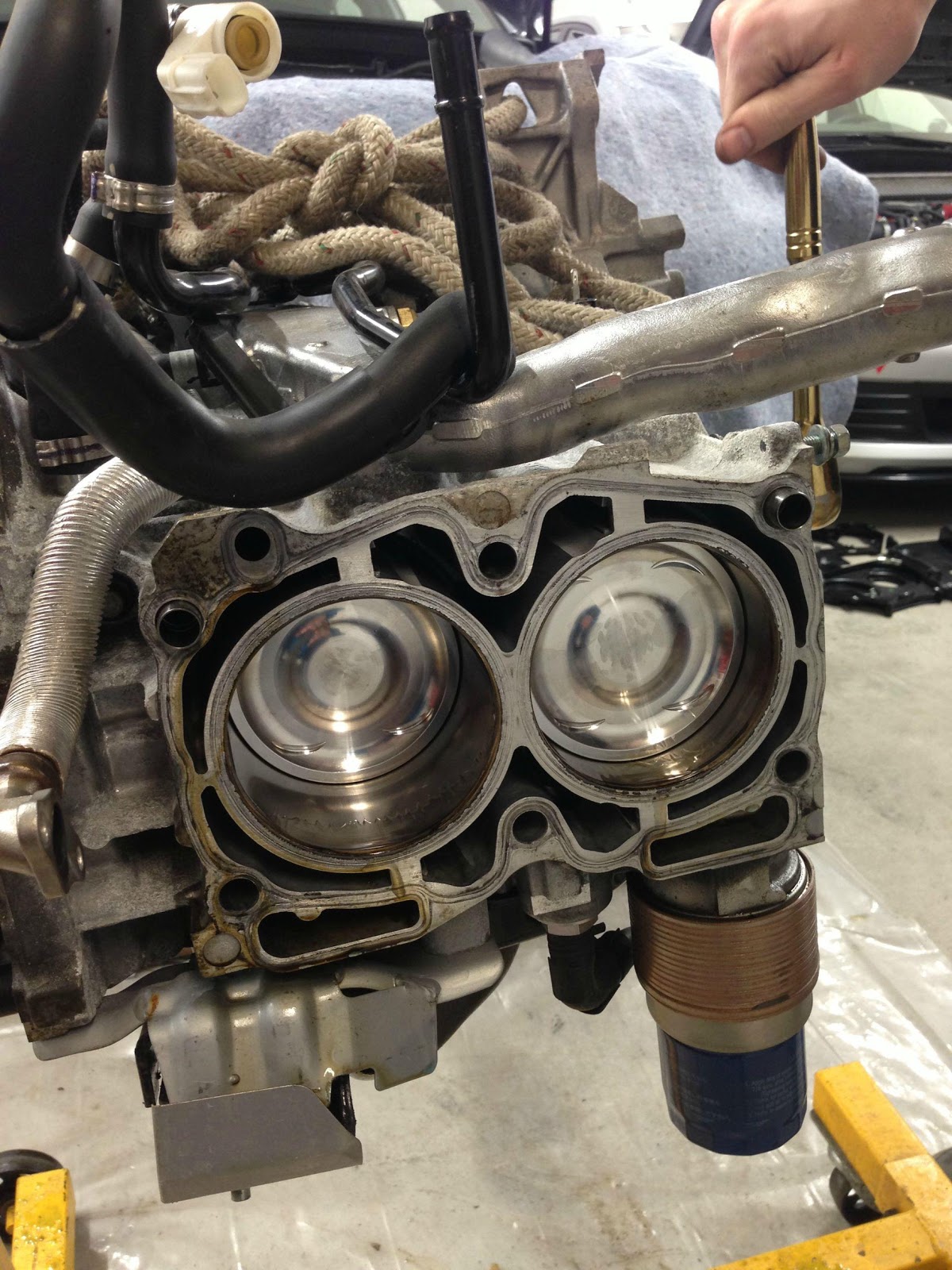 Going back in the engine bay!\/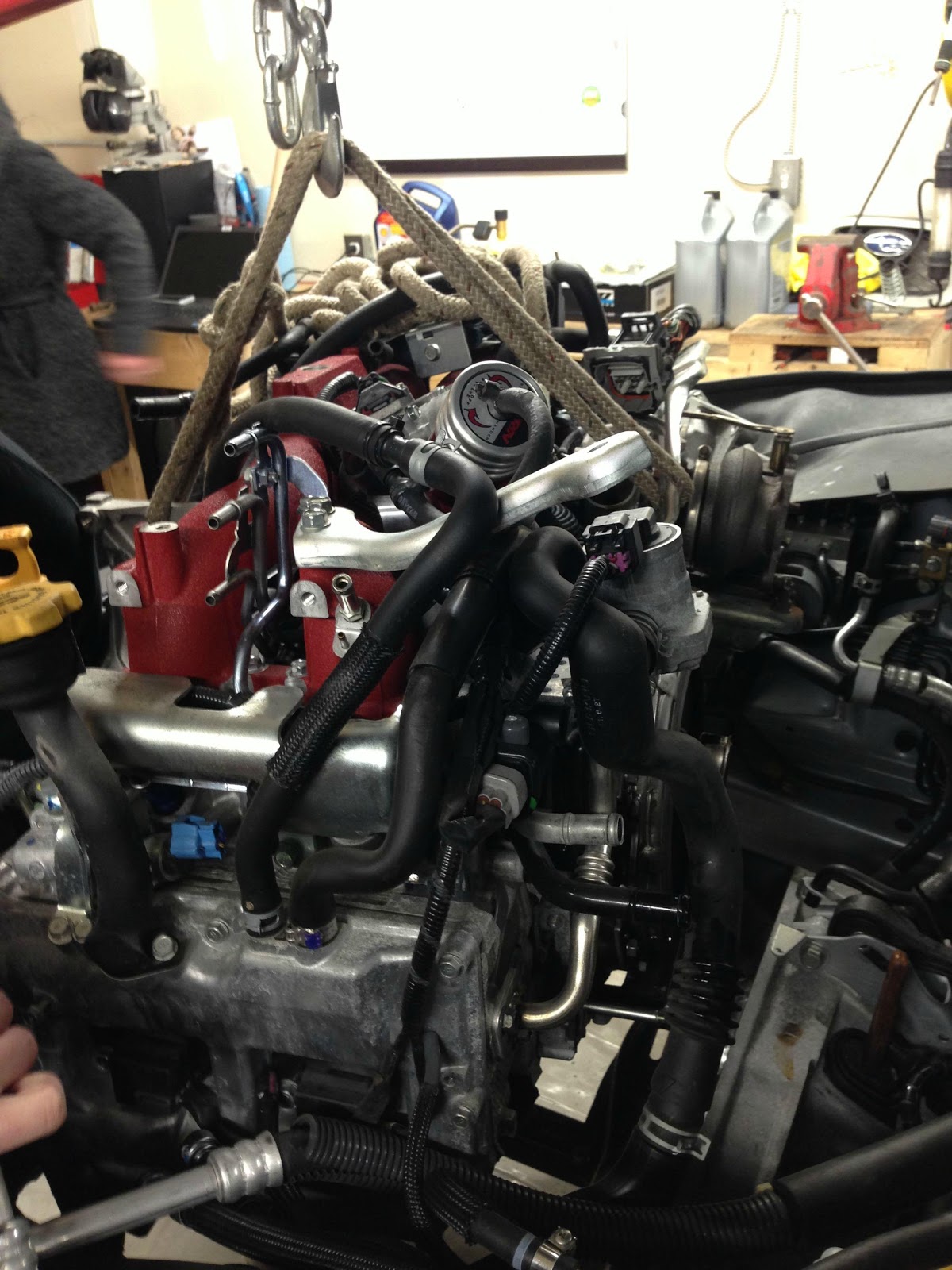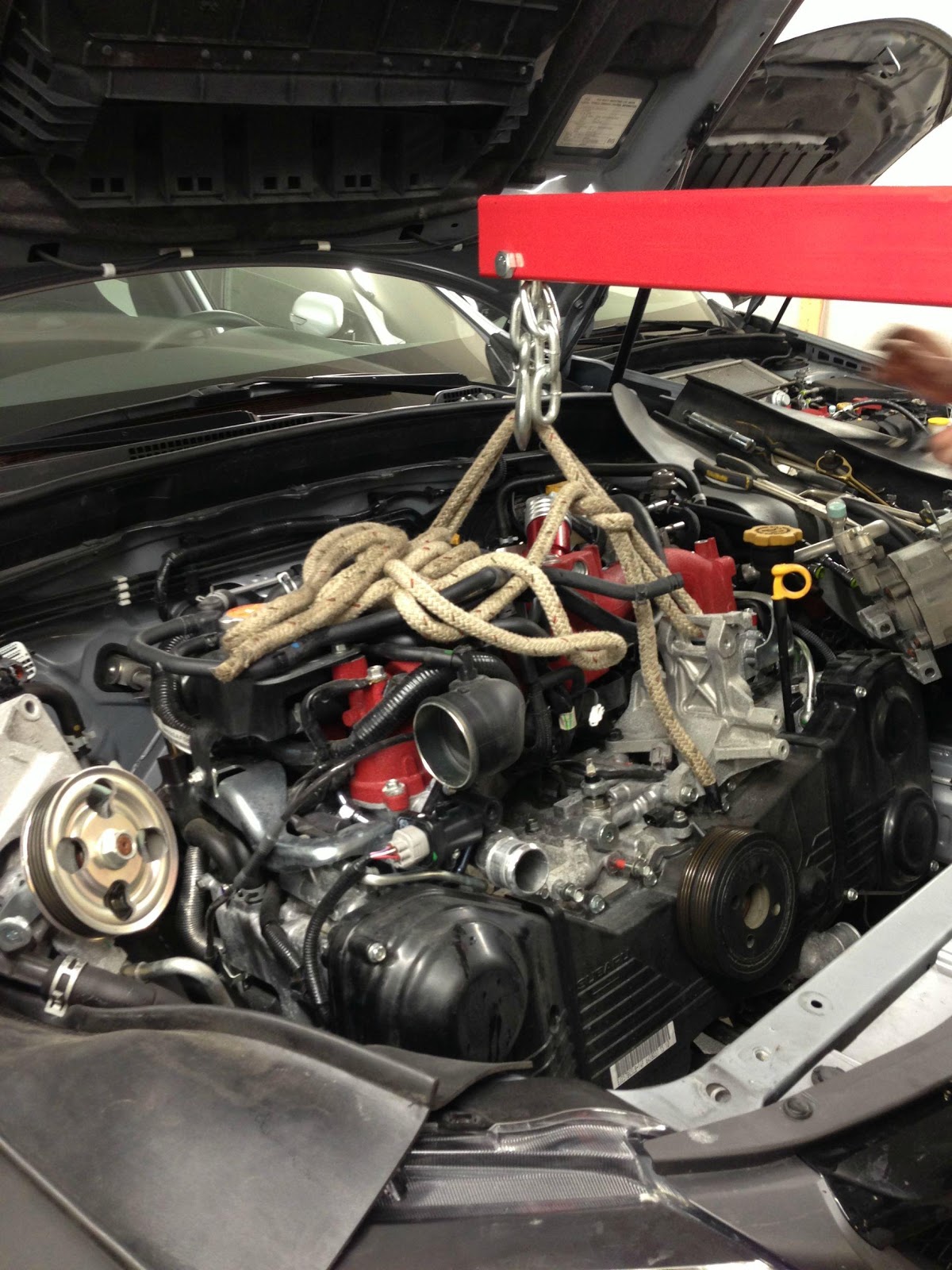 And she's back in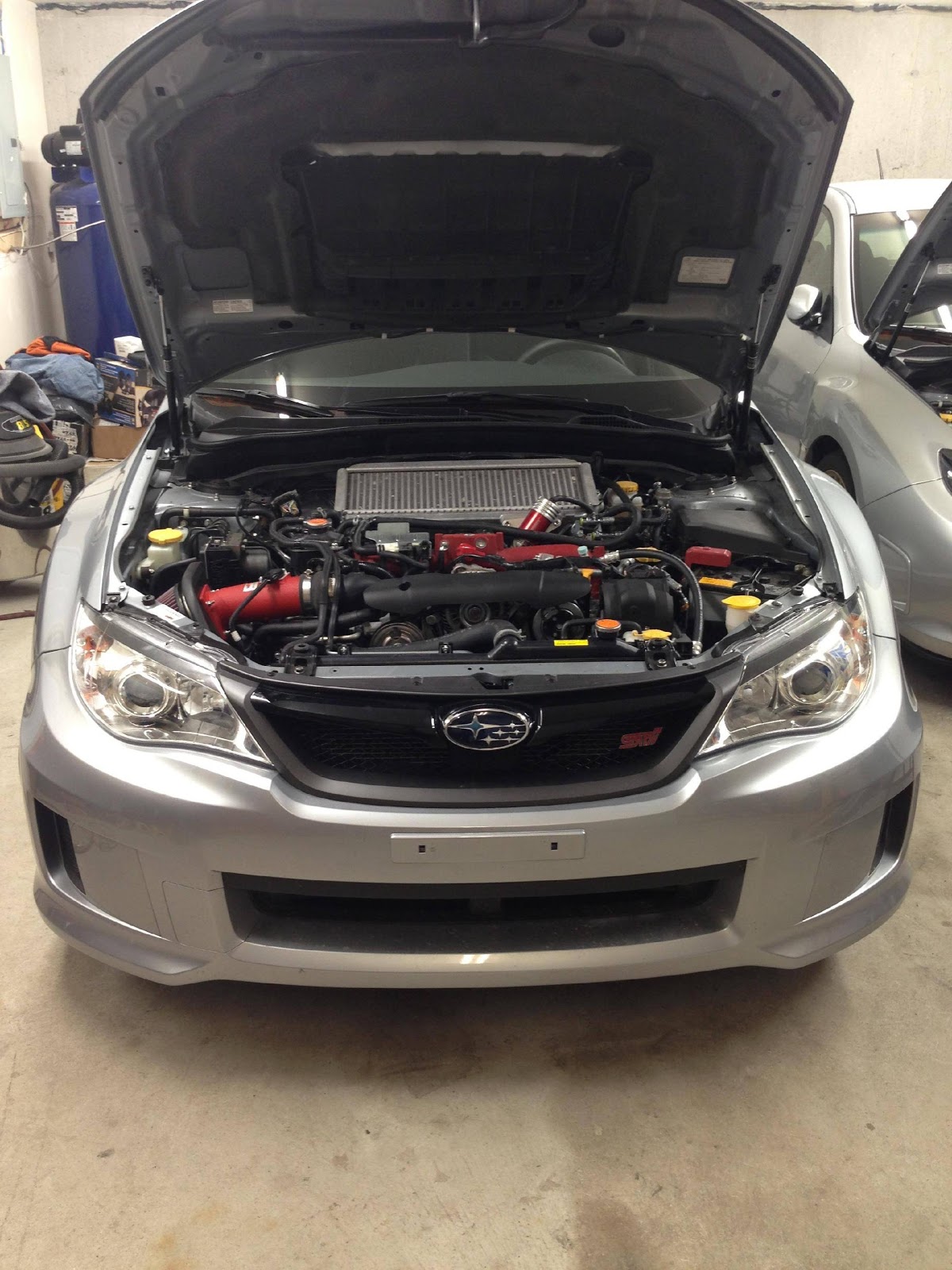 My tuner took the engine out on a Thursday, taking his time (2 hrs) and Friday he started at 3pm and at 3am the next day or morning however you want to look at it I was on my way home. It was a pretty nervous drive home.
Next I ordered a HT autos front lip, side skirts, rear lip and exhaust garnishes. And took my car to my buddy's garage.
Getting ready to install \/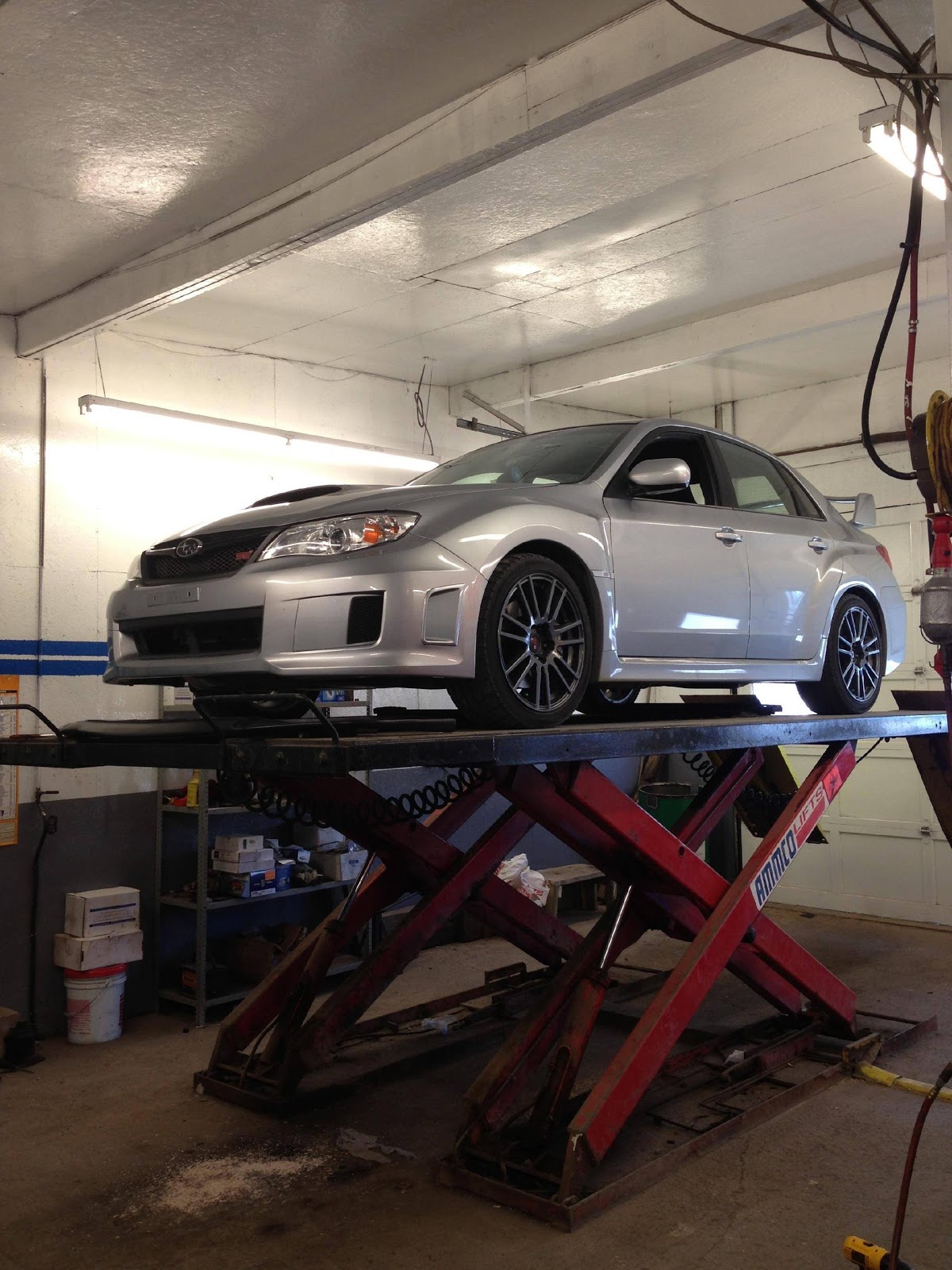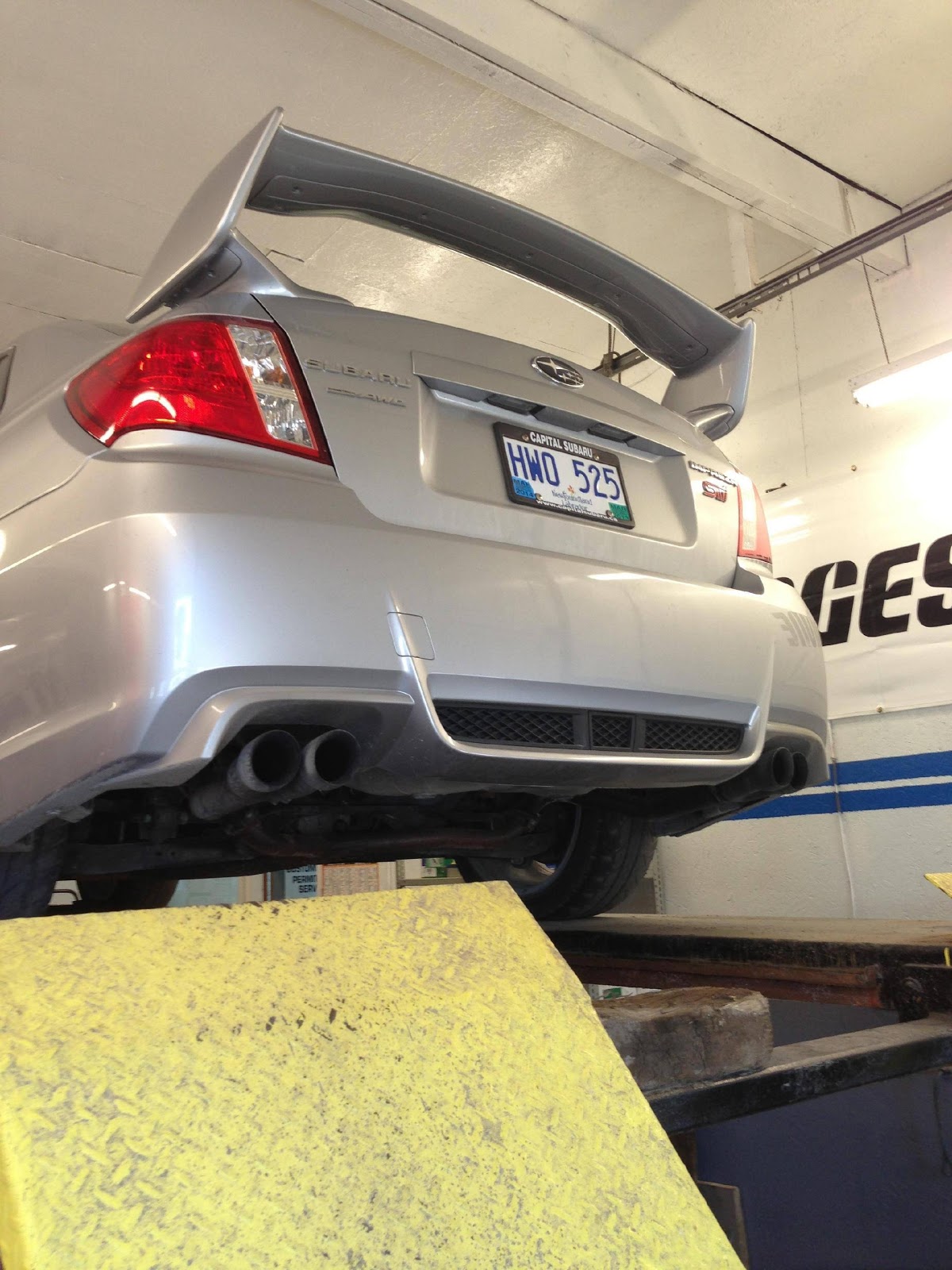 After install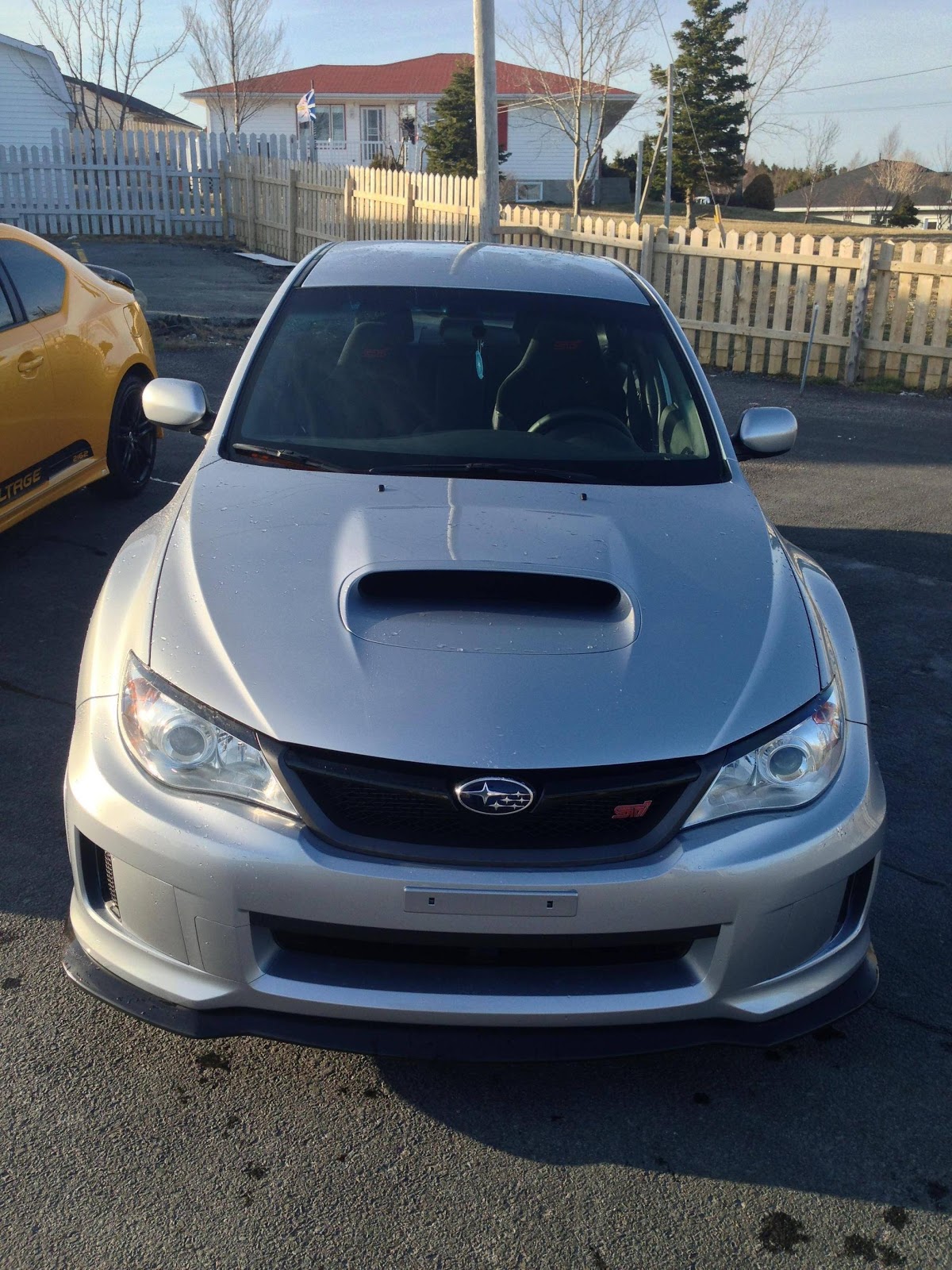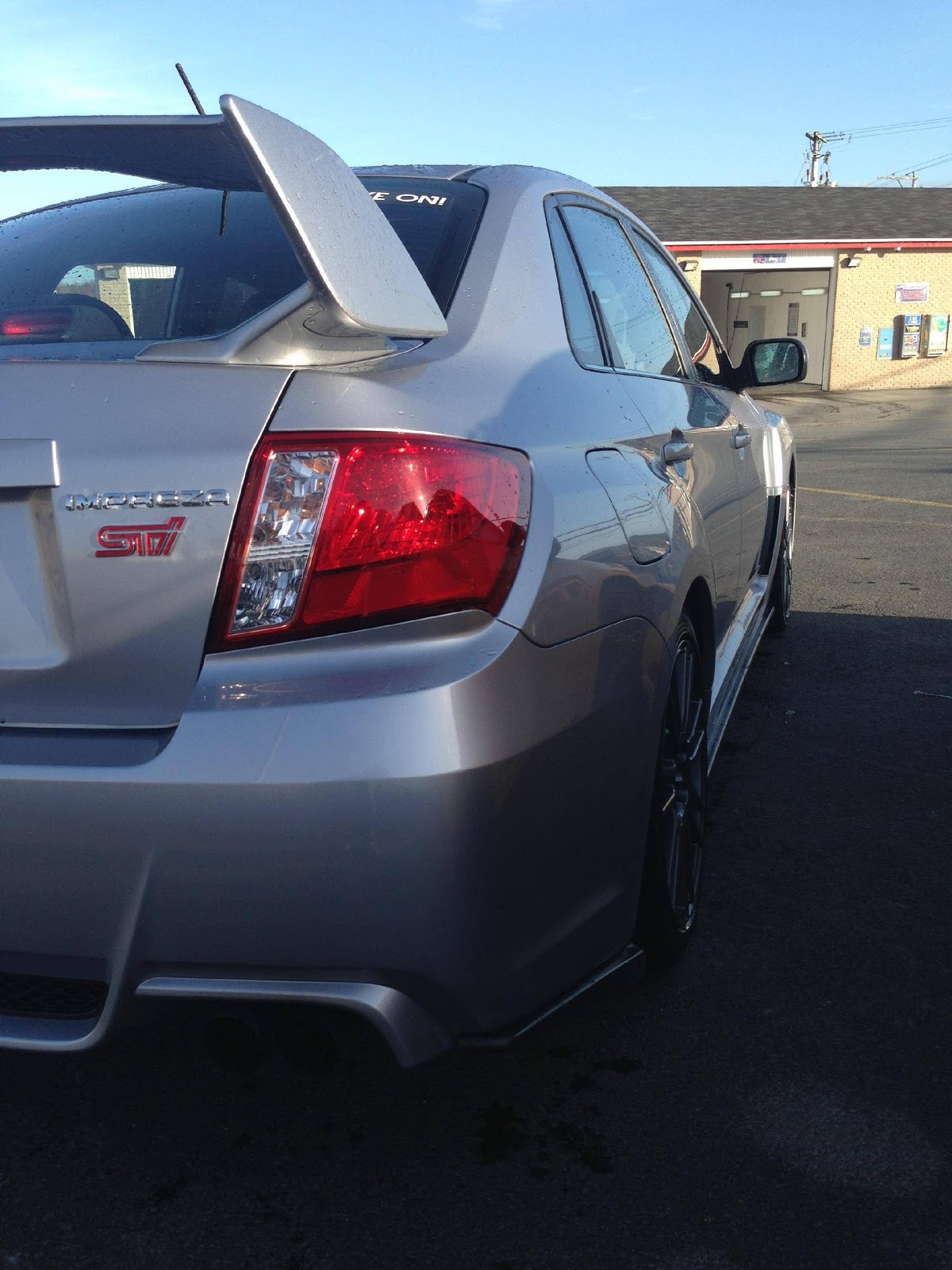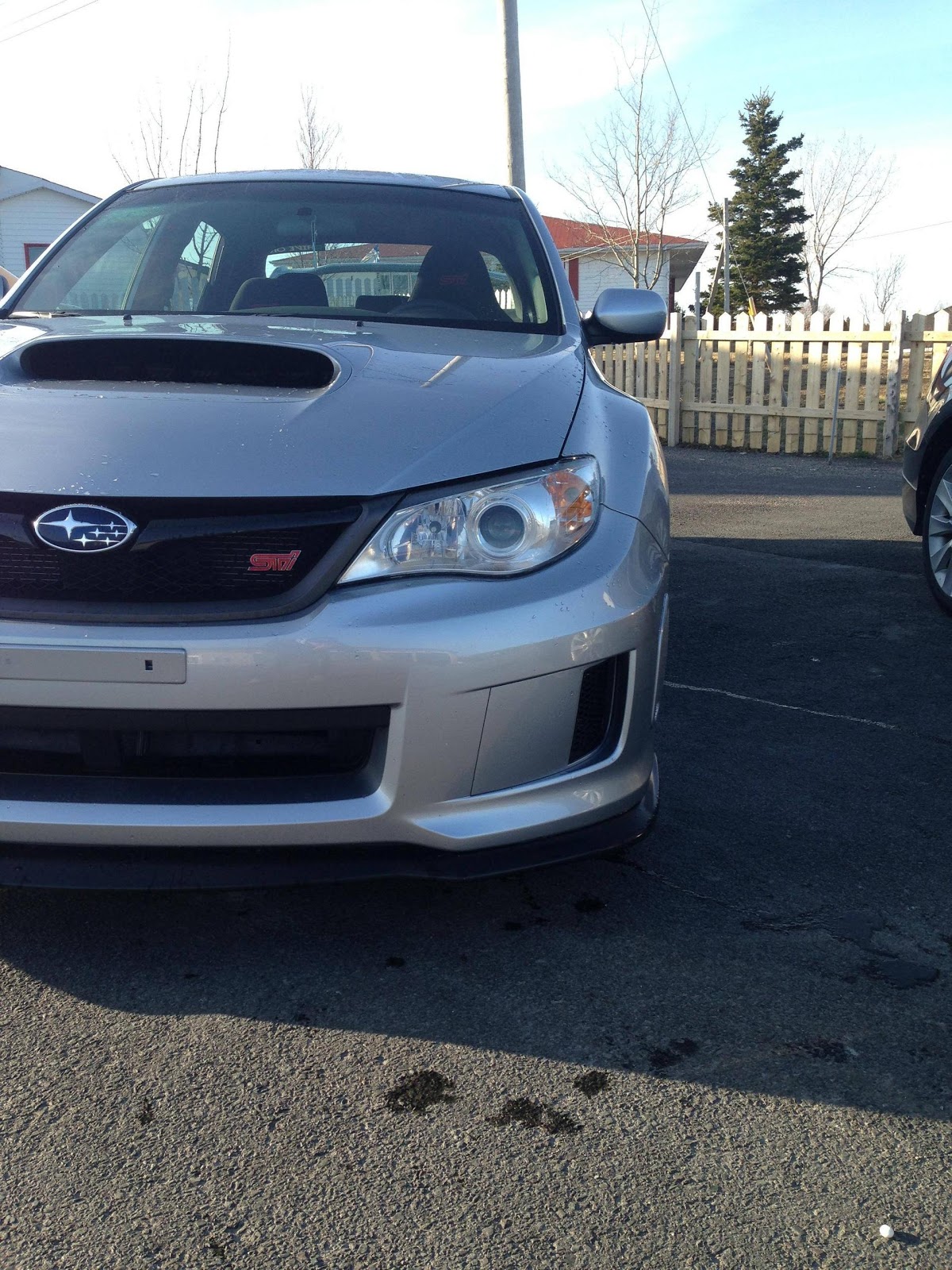 Next I ordered: OEM rain guards
Blox shifter knob
Kartboy short shifter and bushings
Proto Cobb AP holder
When they arrived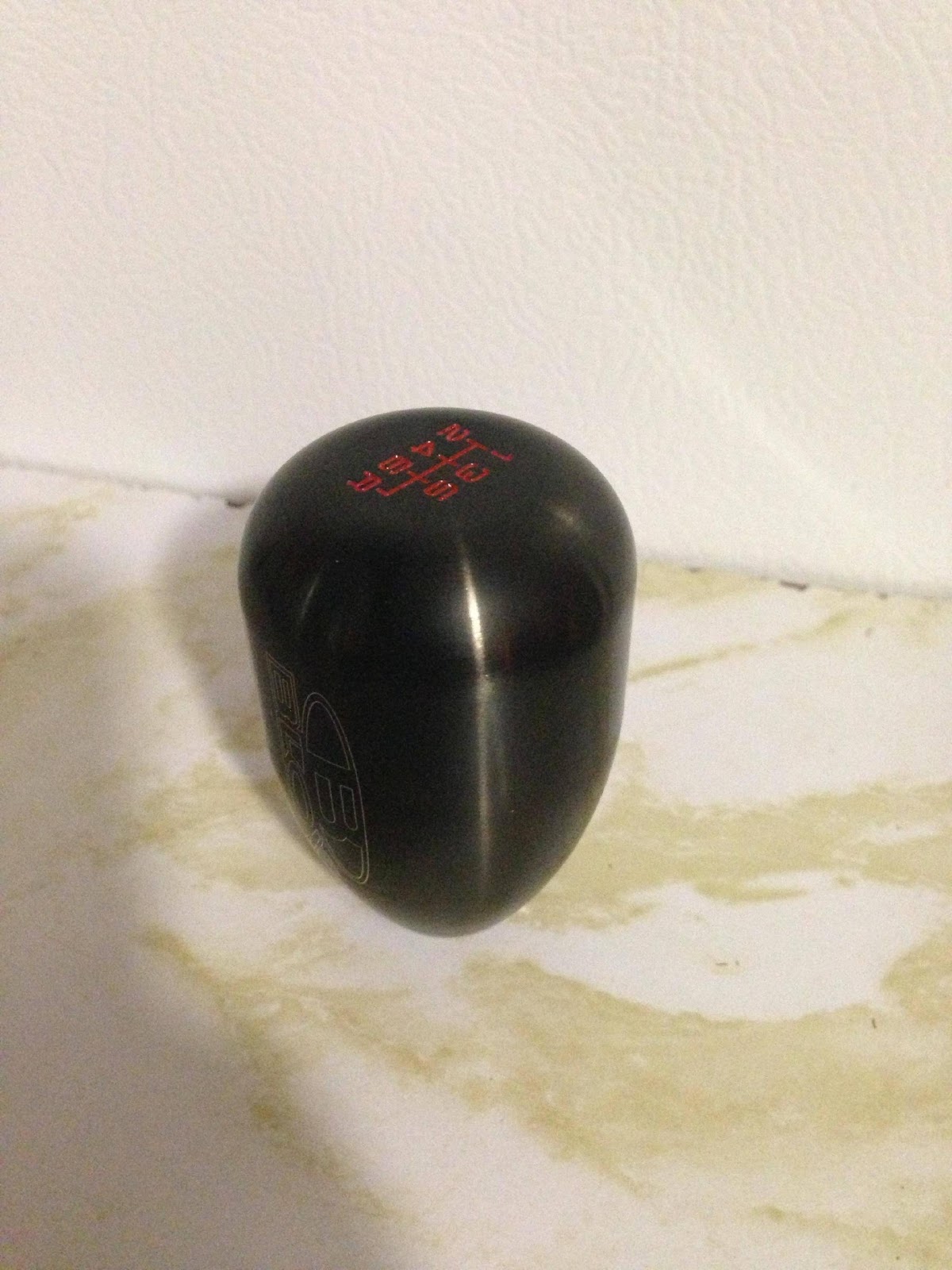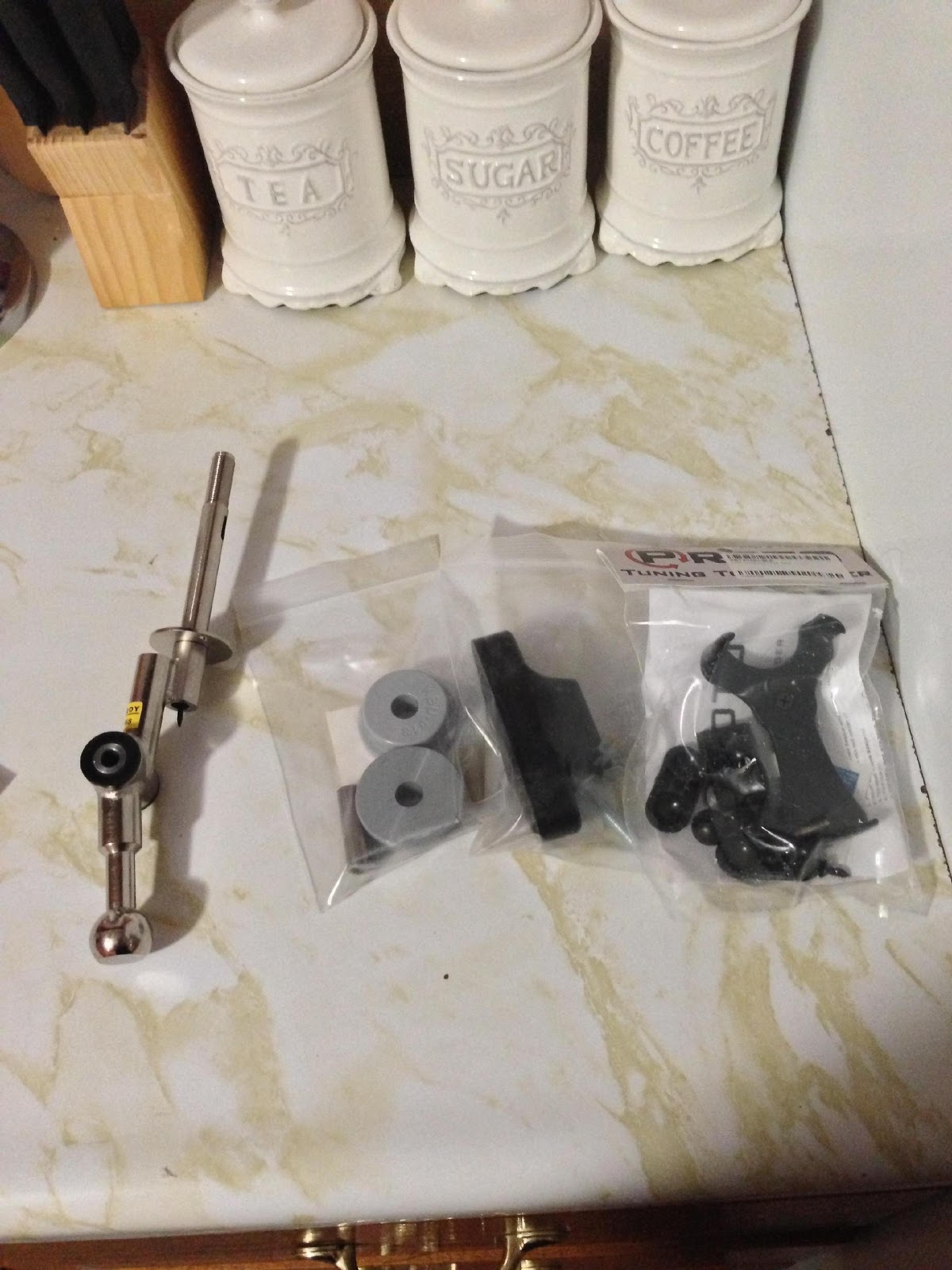 During install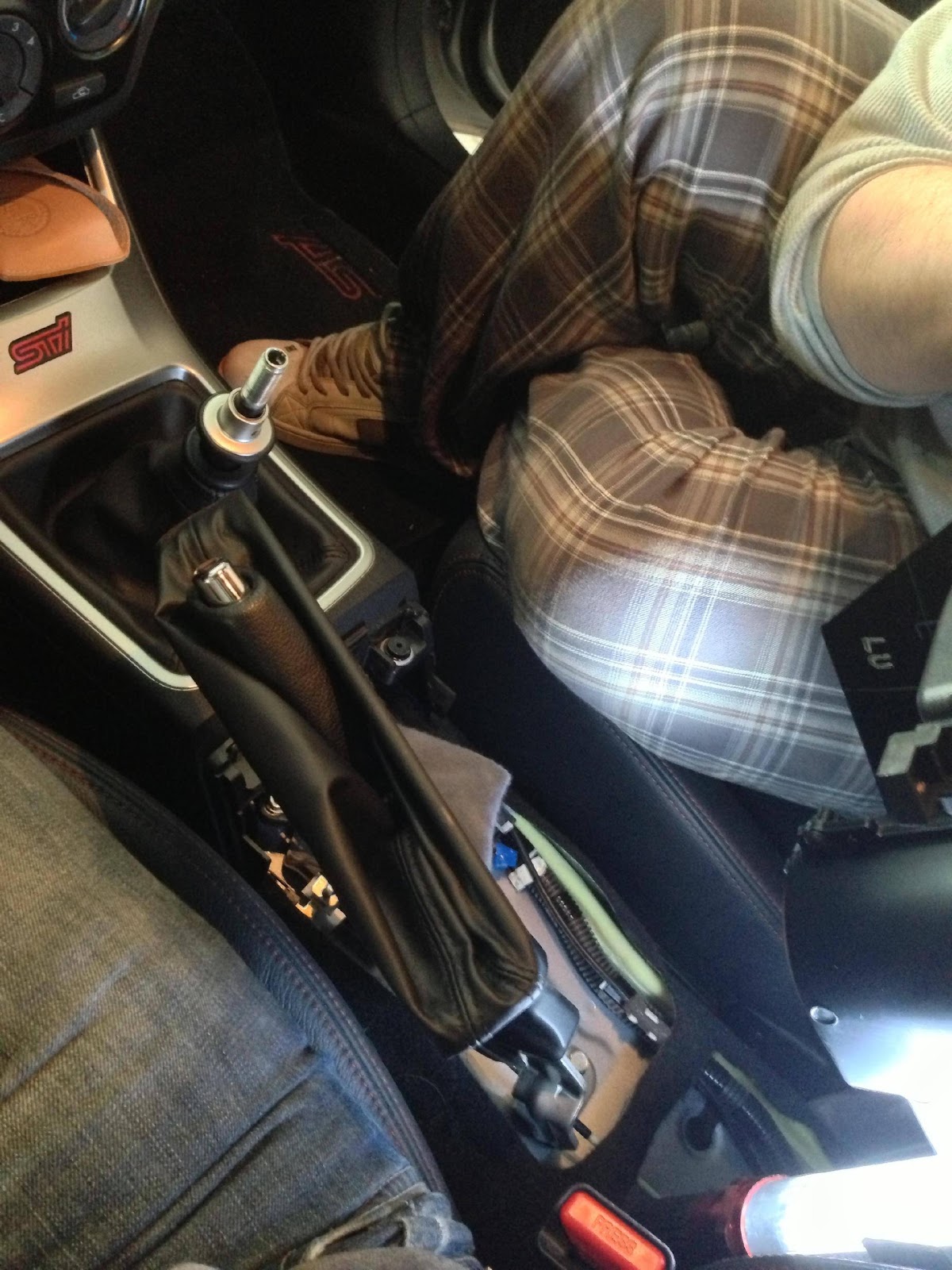 Next was the mudflaps.
Taking the tires off for easy access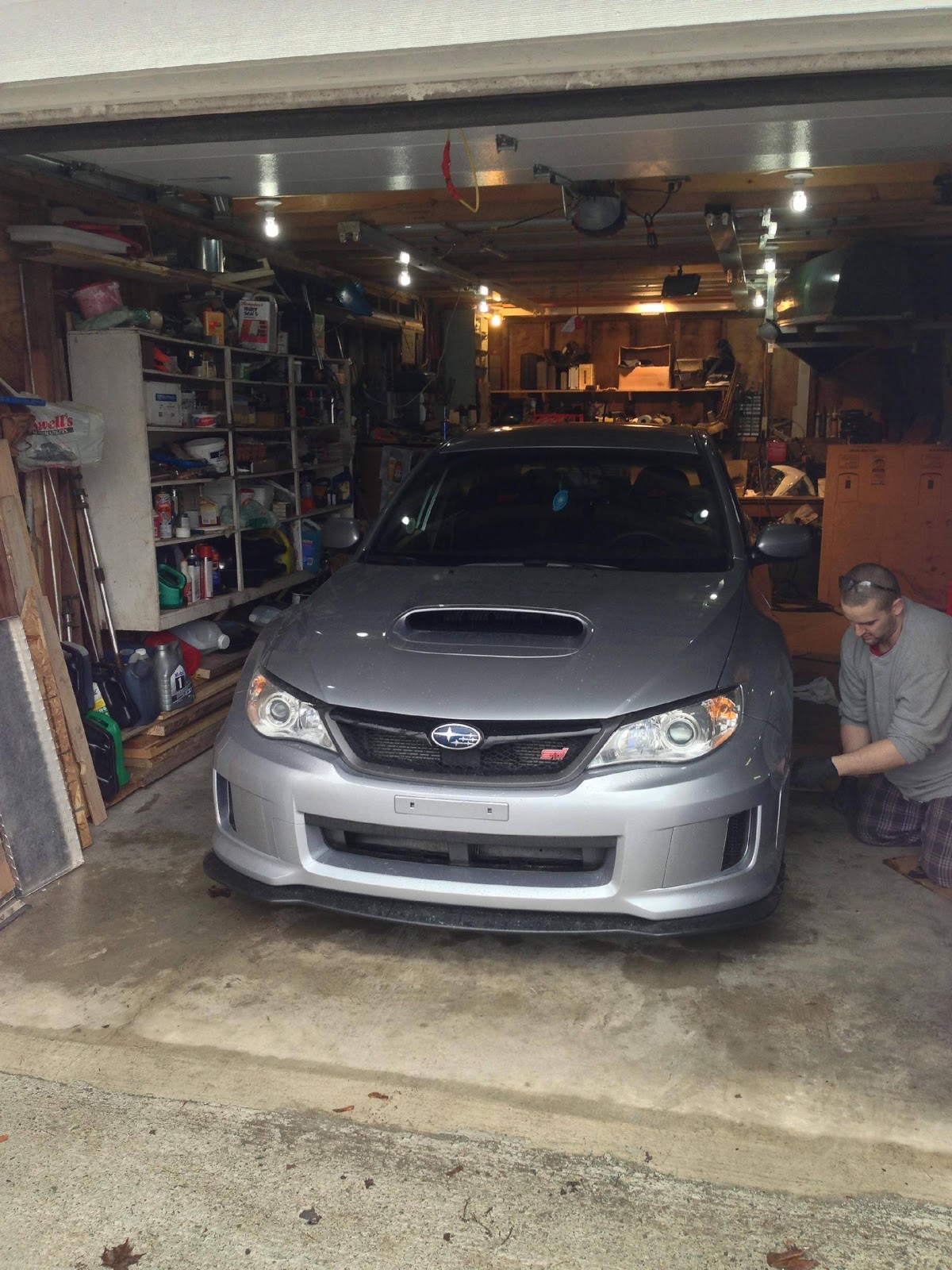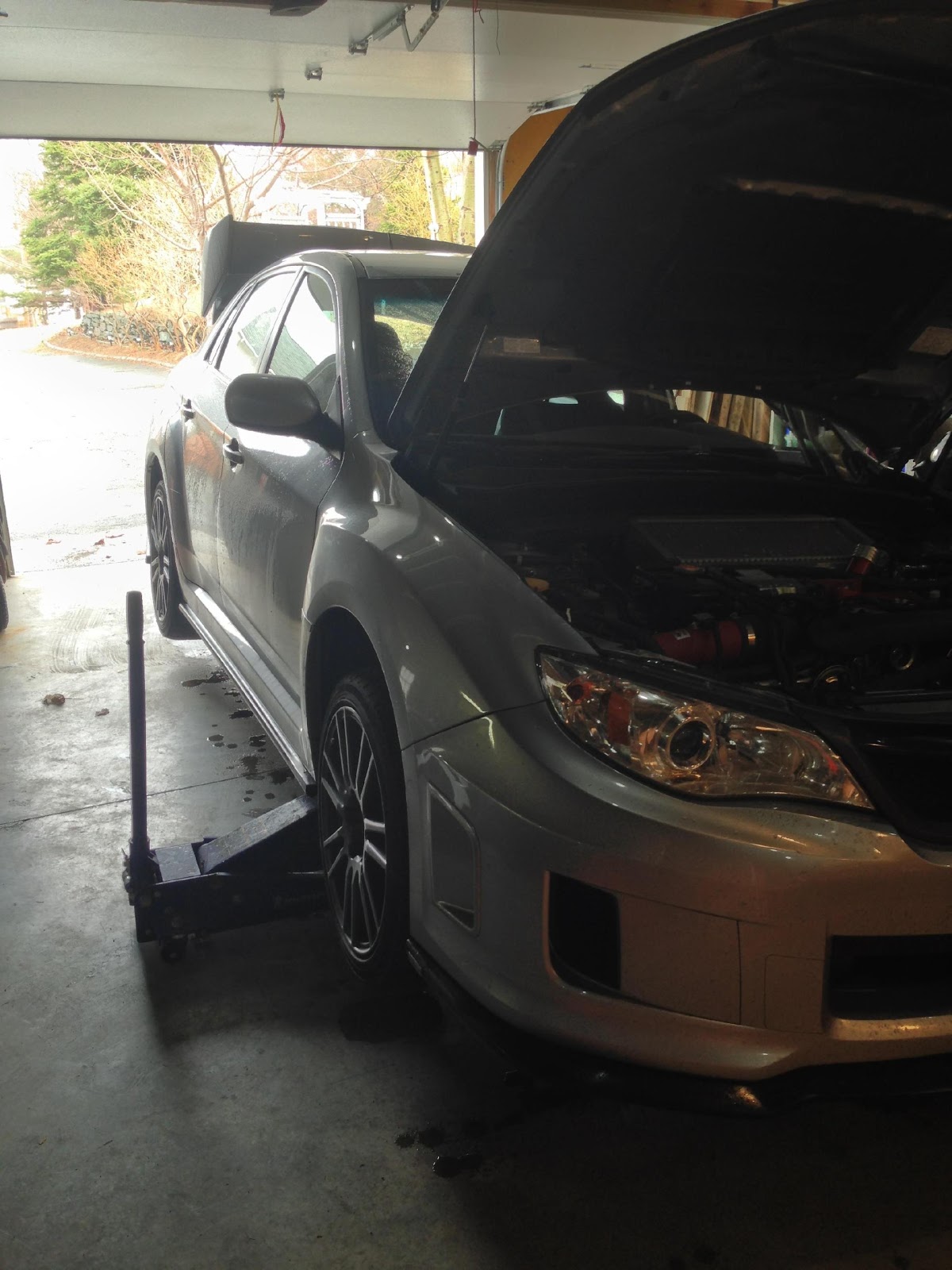 The beautiful sti brakes lol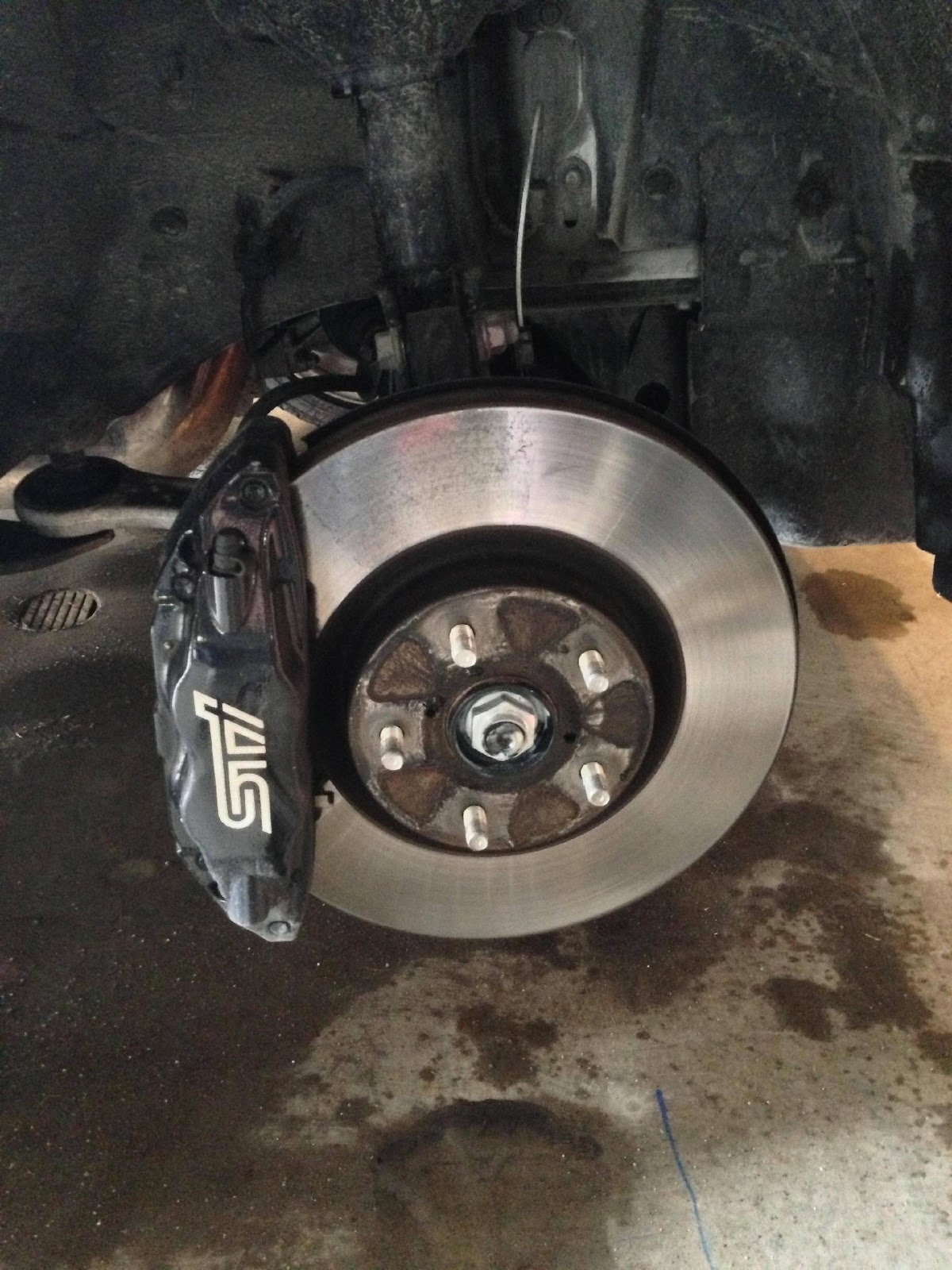 After install.. Pic isn't that great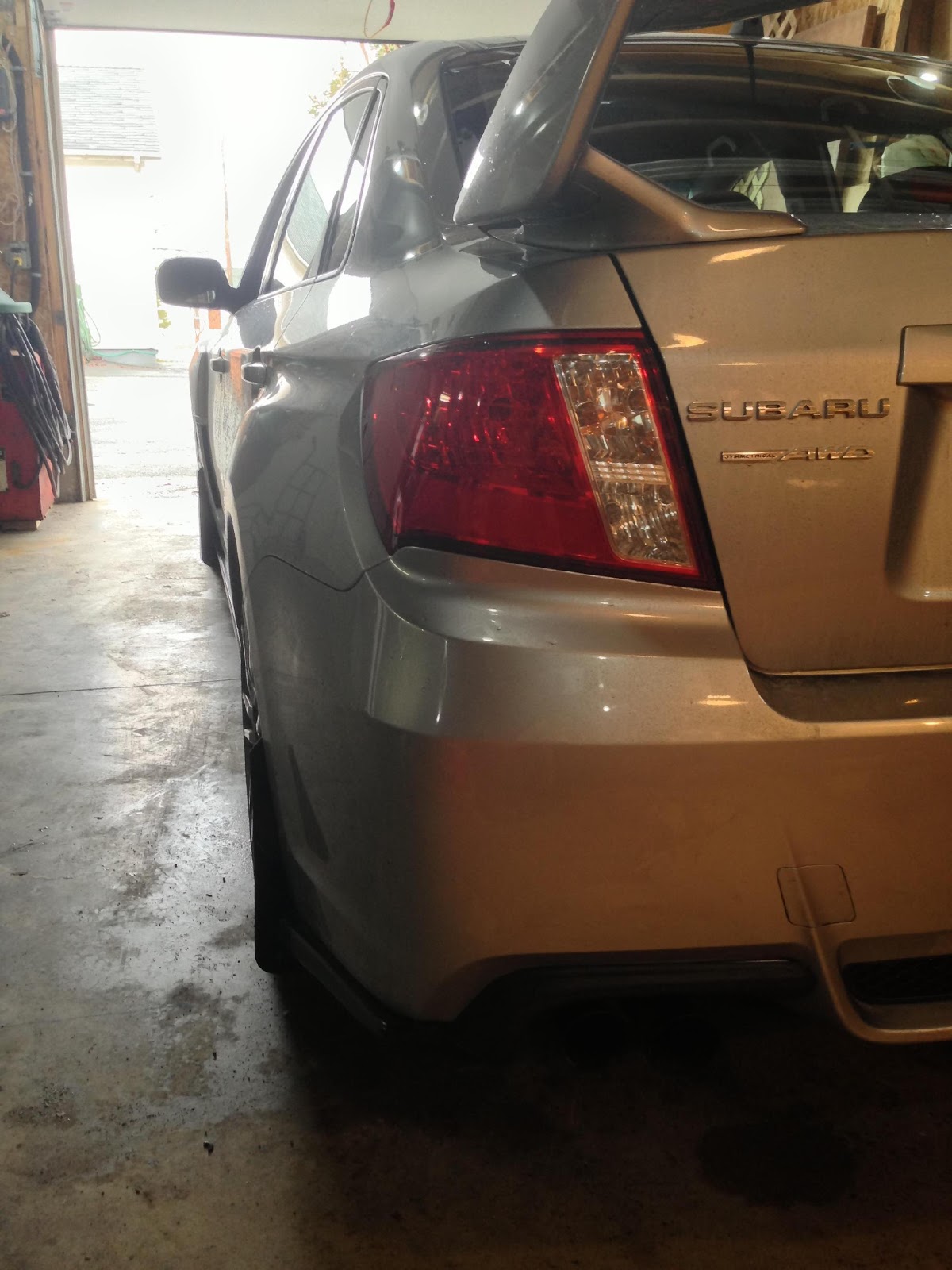 Next I ordered a SMY gauge cluster with prosport boost/vac and AEM AFR
When I got my gauges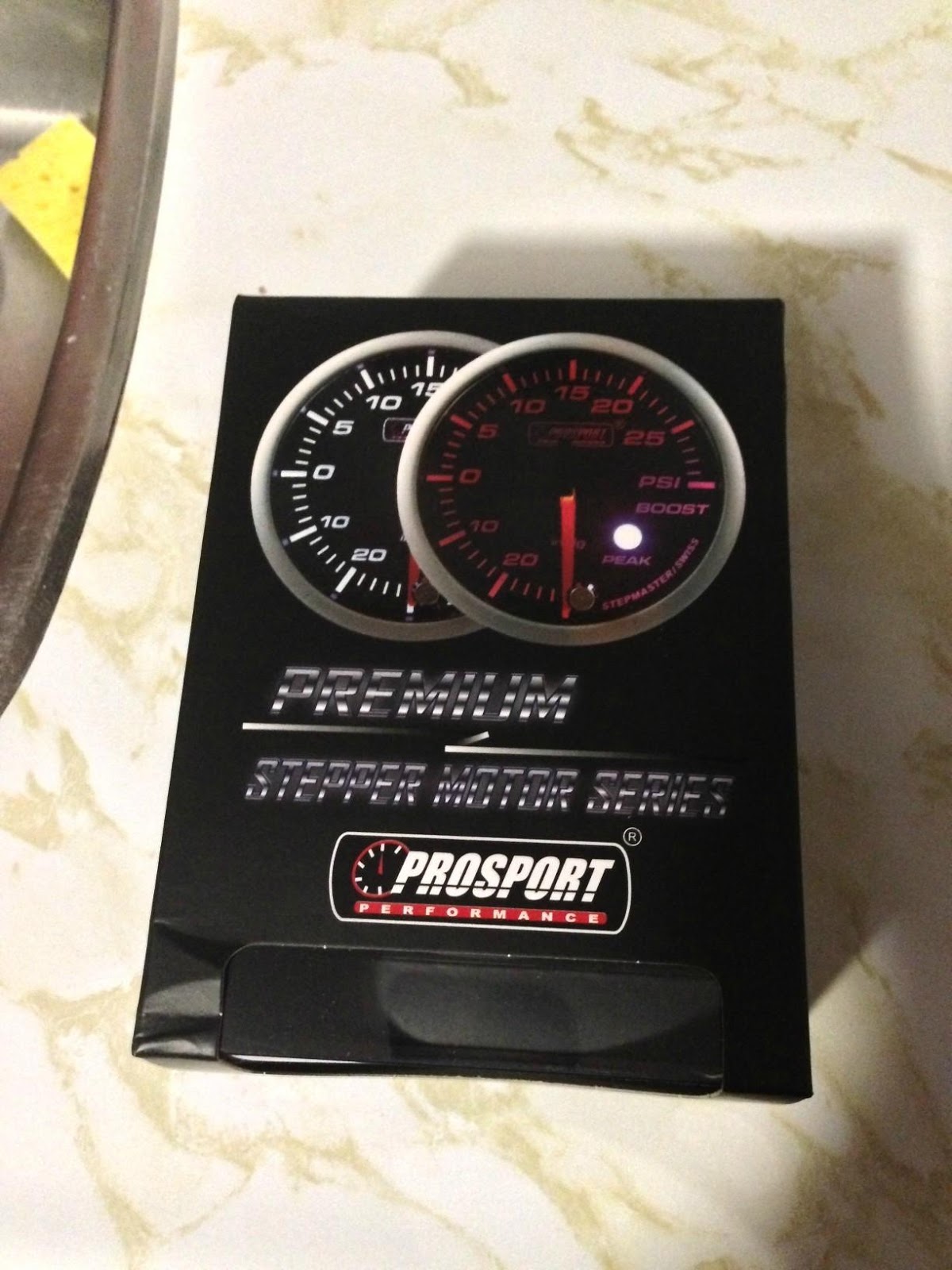 Installed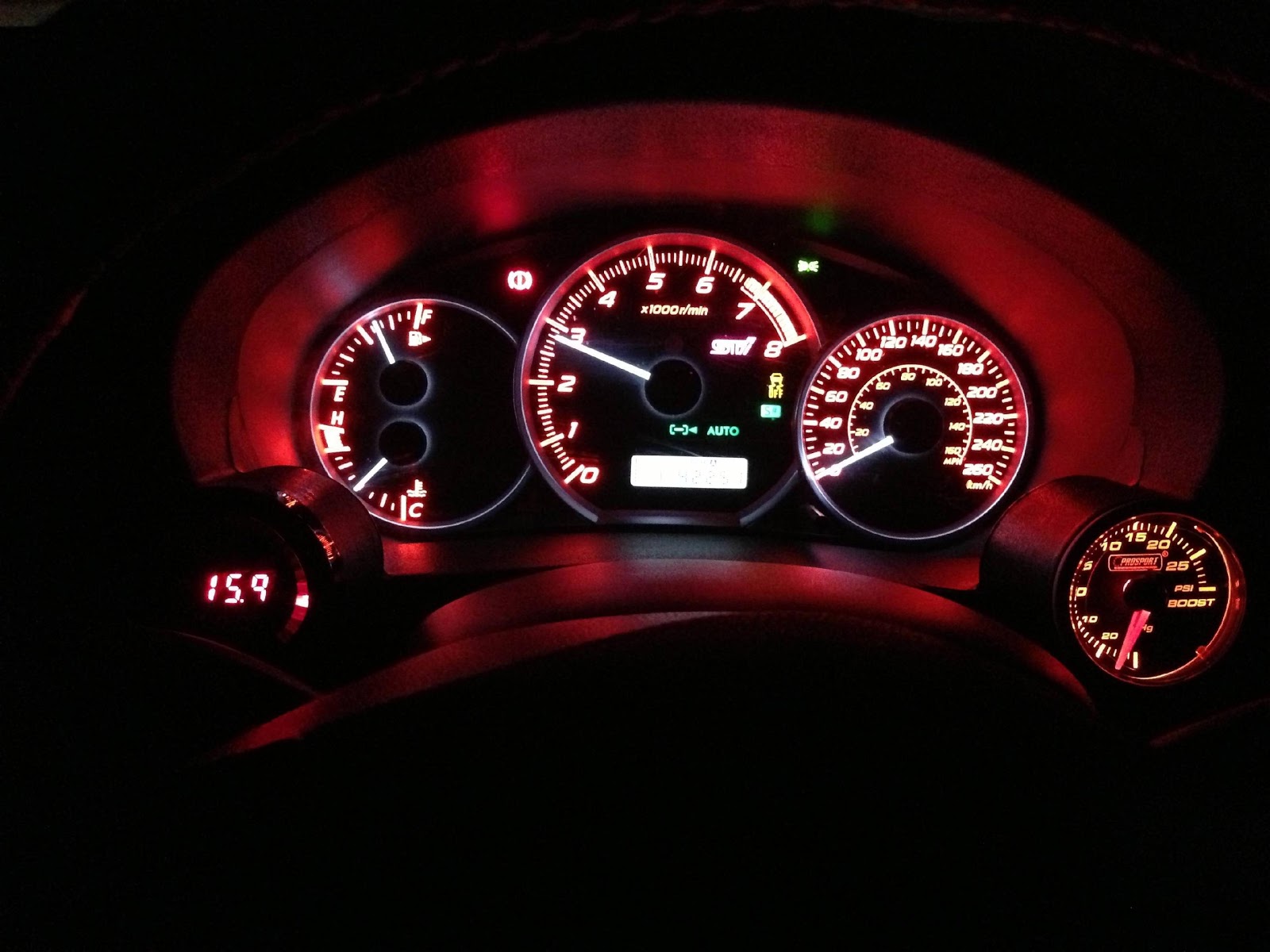 Next I got OBX header (which is garbage) changed to a Tomei EL header.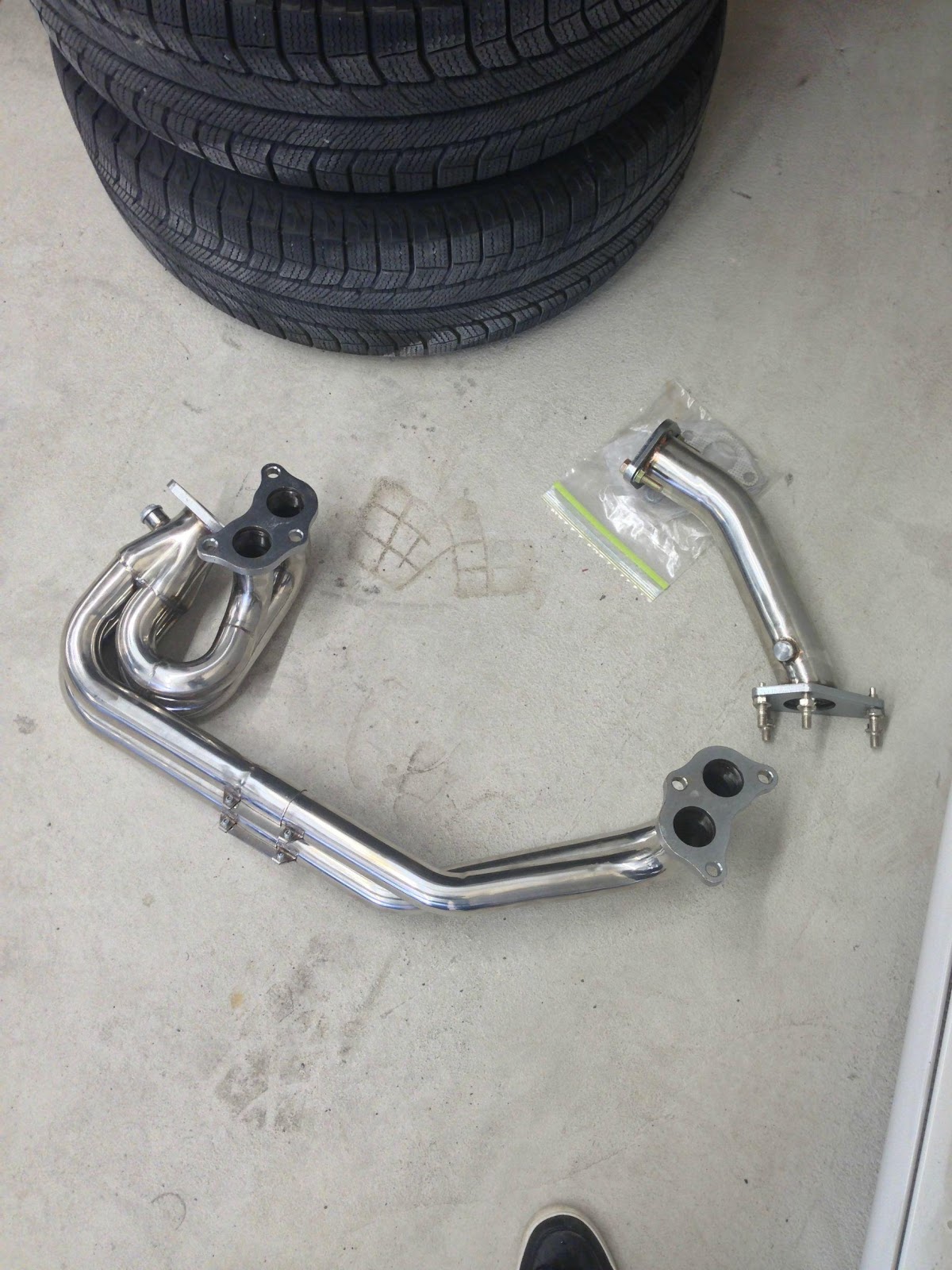 And not long after that I ordered Perrin rad and pulley covers
Before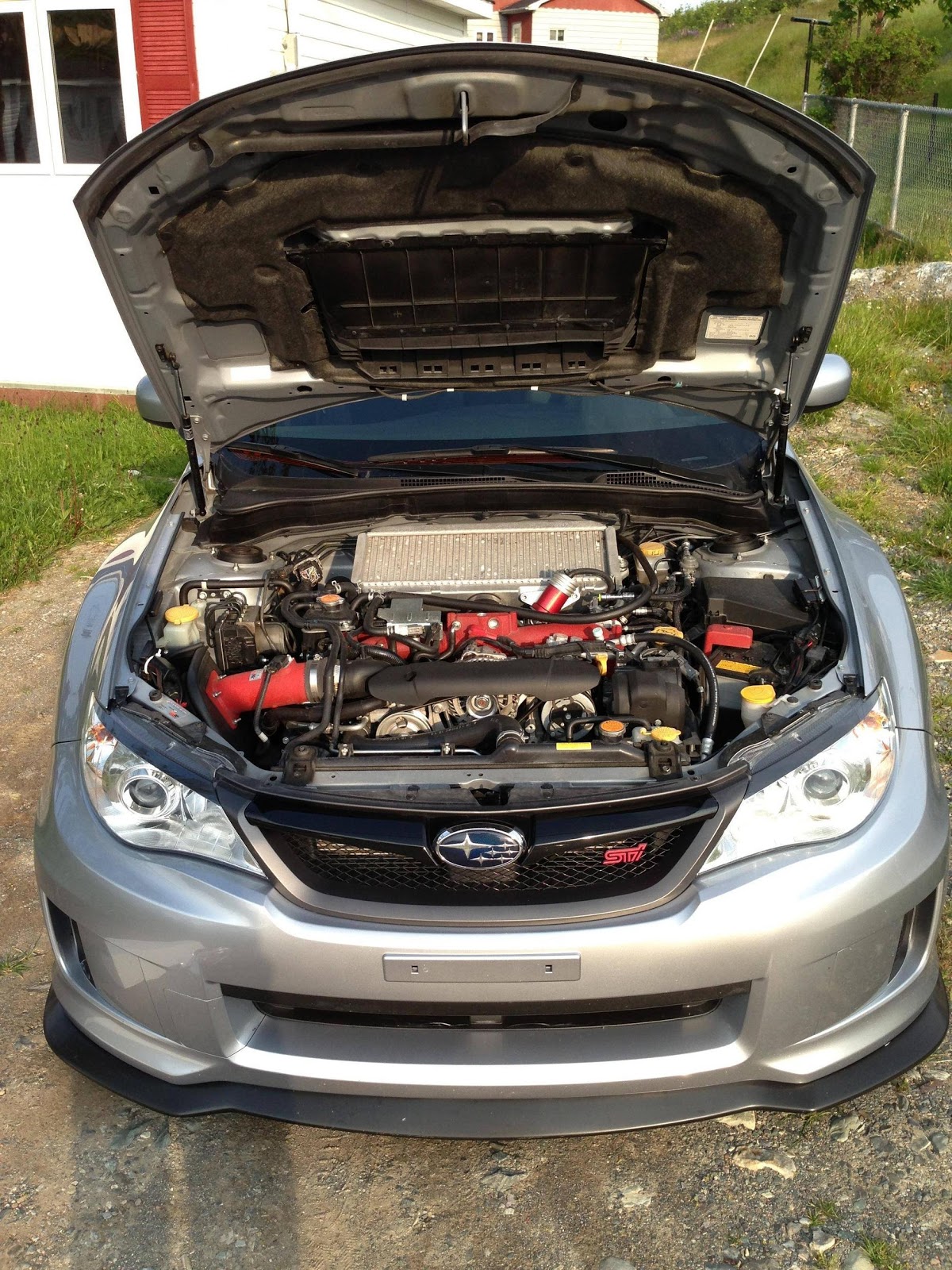 After