Builds
Jockeygolf's 2011 STI Sedan Build by jockeygolfs
By diyauto
You must be logged in to rate content!
10 minute(s) of a 60 minute read
Jockeygolf's 2011 STI Sedan Build

Compliments of jockeygolfs @ nasioc.com
8-12-2011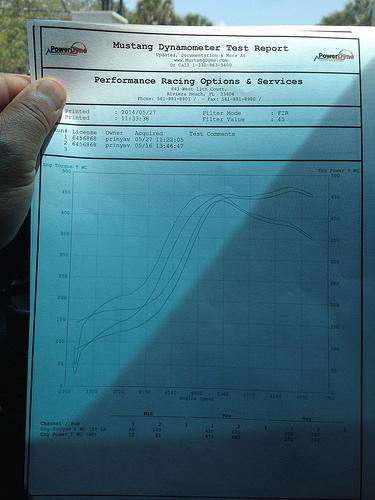 NEW COMPLETE LONG BLOCK BEING BUILT 08/15:
New Case Halves w/ Outfront Closed Deck, 1/2" head studs, pinned mains
Pauter X Beams
CP Pistons w/ Coated Crown
OEM Crank
King Bearings
12MM OEM Oil Pump
New Heads
Ferrea Comp Plus Standard Valves
Ferrea Dual Valve Springs
Ferrea Tooled Steal Retainers
Ferrea Valve Locks
Kelford Dual AVCS Cams
Every sensor, bolt, pump, etc is brand new on this long block.
Quick List of Parts as of August 15':
ECU:
Cobb Accessport V3
Block:
Cosworth 8.2 99.5 Pistons
Cosworth Rods ACL bearings
OEM Crank New case halves
Stock heads ARP Head Studs
12mm Oil Pump
Killer B Pick up
Killer B Baffle
Grimmspeed Thermostat
Techna Fit SS Power Steering Line w DEI Fire Sleeve
Koyorad Radiator
Exhaust:
ETS Bigass Headers
ETS Uppipe Wrapped in DEI silicone coating and Titanium Heat Wrap
ETS Downpipe Wrapped in DEI silicone coating and Titanium Heat Wrap
Invidia q300 cat back
Tial 44mm External Wastegate
Intake:
4" K&N Filter (ETS Rotated Kit)
Spec C TGV Deleted
Grimmspeed 3mm Phelonic Spacers
ETS 4" Front Mount Intercooler
Tial Q 50mm Blow Off Valve
Turbo:
Precision Turbo 6262 BB .64 A/R V-Band
Grimmspeed EBCS
PTP Turbo Blanket
Fuel:
DW65 Intank
Radium Engineering Surge Tank w/ Walbro 465 E85 Pump -6AN and -8 AN PTFE Lines
Five0 1200 injectors
NGK 1 Step Colder Plugs gapped .022
Fuelab High Flow Large Seat Fuel Pressure Regulator
Aeromotive Fuel Rails and Stainless Steel Lines
Aeromotive Fuel Pump Controller
Autometer Tach Adapter
Aquamist HSF-3 V2
Howerton Engineering (2) 1 Gallon Tank setup
-4AN Meth lines and No Drip Disconnect and Weatherpack
Gauges:
Smycluster Maker center bezel
JCS-Pods A-pillar 3 gauge pod
AEM UEGO AFR
AEM Oil Temp Gauge
Defi Oil Pressure Gauge
Defi Fuel Pressure Gauge
Aquamist Injection Gauge
Perrin Oil Filter Sandwich Adaptor
Exterior:
HT Autos Front Lip
HT Autos Side Skirts
HT Autos Rear Diffuser
HT Autos Rear Skirts
Transmission:
Exedy Triple Disk Clutch (cerametalic)
TIC Holy Shift Kit w Kartboy short shifter
Group N Pitch Stop
Group N Engine Mounts
Group N Transmission Mount
Whiteline Positive Shift Bushings
Whiteline Rear Diff Bushing
Whiteline Rear Diff Outrigger Bushing
Whiteline Rear Subframe Inserts
Brakes:
Stop tech Pads
Dba T2 slotted rotors
Suspension:
Fortune Auto 500 8k/8k w radial bearings
SuperPro Roll Center
SuperPro Front and Rear Trailing Arm Bushings
SPC Rear Lateral Control Arm
SPC Rear Toe Arm
Whiteline Caster/antilift Bushings
Whiteline Front Control Arm Front
Inner Lower Bushings
Whiteline Steering Rack Bushings
Whiteline 22mm Front Sway Bar
Whiteline 22mm Front Sway Bar
Kartboy Front Endlinks
Kartboy Rear Endlinks
2015 STI Steering Rack 13:1
Wheels:
Advan RZ 18x10 +35
Nitto NT555 255 35
Project Kics R40 Lugs
I have a pretty long and winded thread in the Newbies and FAQs titled "Loaded COBB AP Stage 1 93 oct in 2011 STI!! I've come a long way from that first post and want to just compile it here. I'll do my best to put everything down chronologically and with links to the photos. I want to thank all the people who have given me constructive advice etc throughout my journey on that thread. Hope you guys follow me here. I want to thank the following people/companies for all their help (if I forgot you and you want to be listed please shoot me a PM): Phatron STIMikey Jdub.csu Smeerone Tenacious Bee Xluben Themaus Wrx02ftw Rallyspec Realstreetperformance Rallysport Direct Perrin Flatironstuning Boston Motorsports IAPerformance Aquamist Howerton Engineering Bertune TAV Racing I purchased my car towards the end of September, 2010: Sitting in the driveway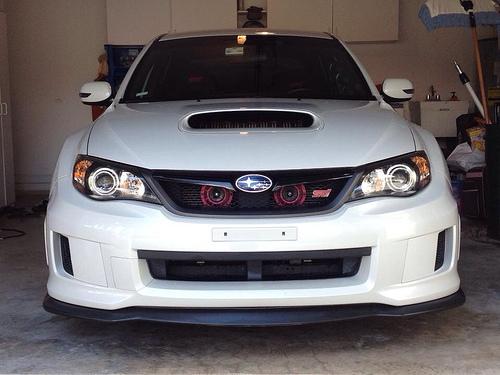 Out at one of my job sites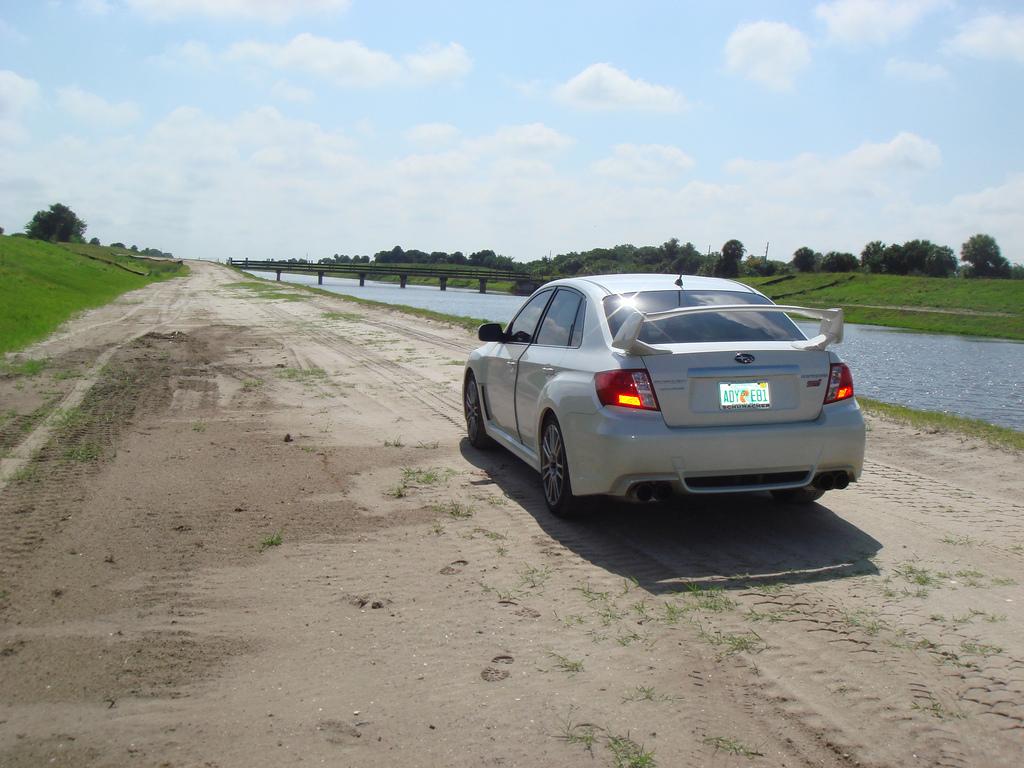 Shortly after purchasing the car I began researching the possible mods that I could do but try to keep the car as stock as possible. The most obvious choice was to purchase a Cobb Accessport and flash to stage 1. I enjoyed stage 1 for probably...1 month. It was then time to go to stage 2. I purchased the following: Perrin Equal Length Headers Perrin Up Pipe Cobb Down Pipe AEM Intake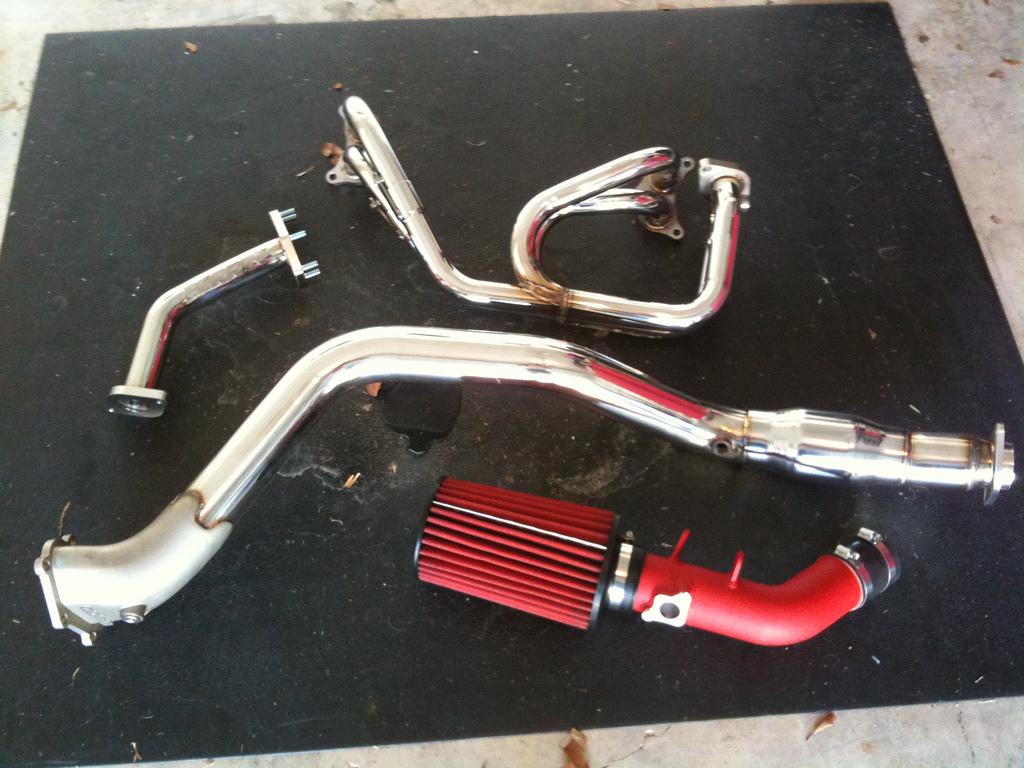 At this time I knew that an off the shelf map would not do. After a ton of research on tuners in my area, I turned to e-tunes. Given the track record of this gentleman I decided that I would put my baby in the hands of Phatron of Phatbotti Tuning. This was my first time ever working on a car and thankfully a friend of mine was willing to help me. An extra plus was that his father has a garage with a lift at his house. The install occured sometime in November/December, 2010: On the lift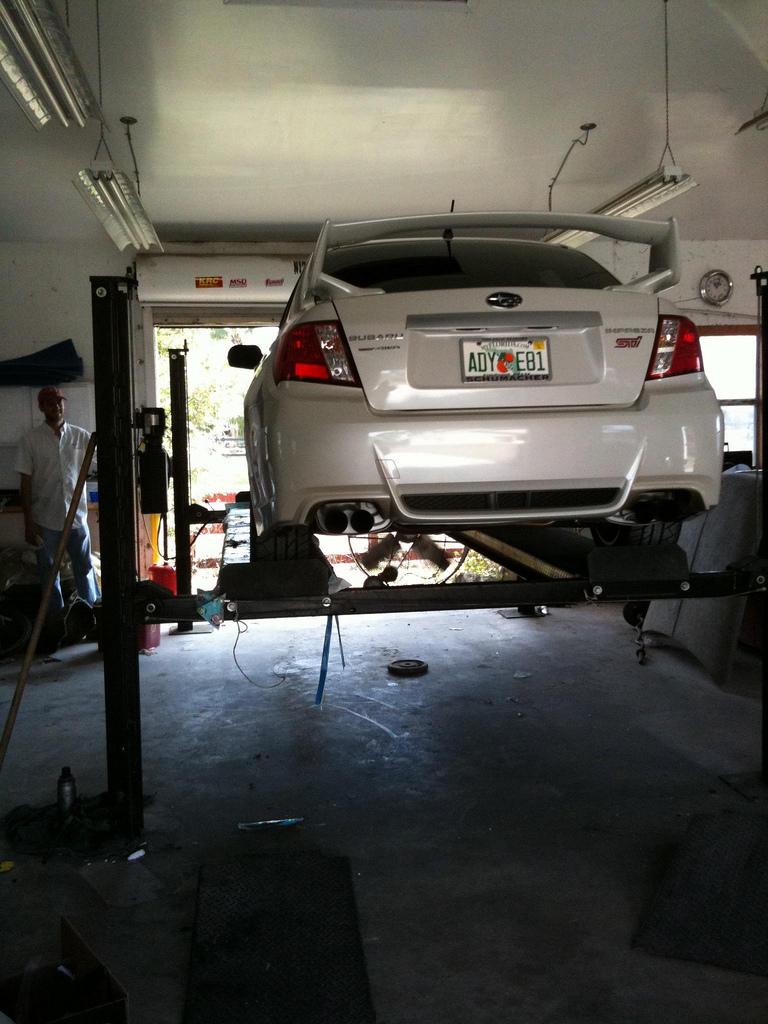 OEM Parts a plenty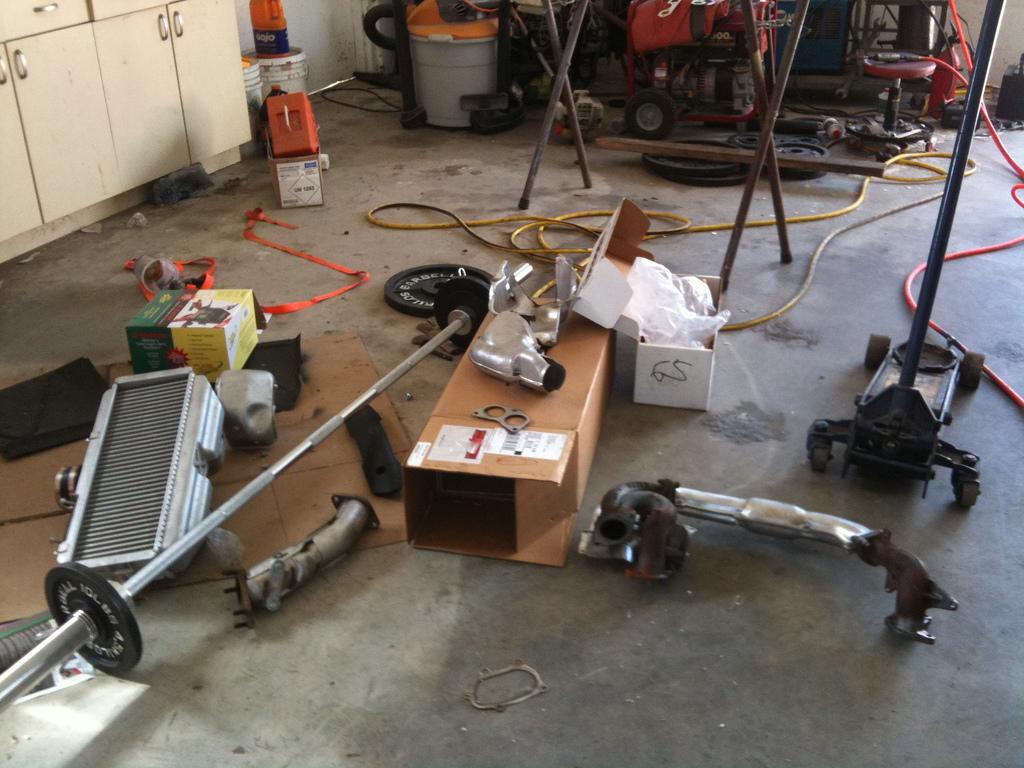 Header installed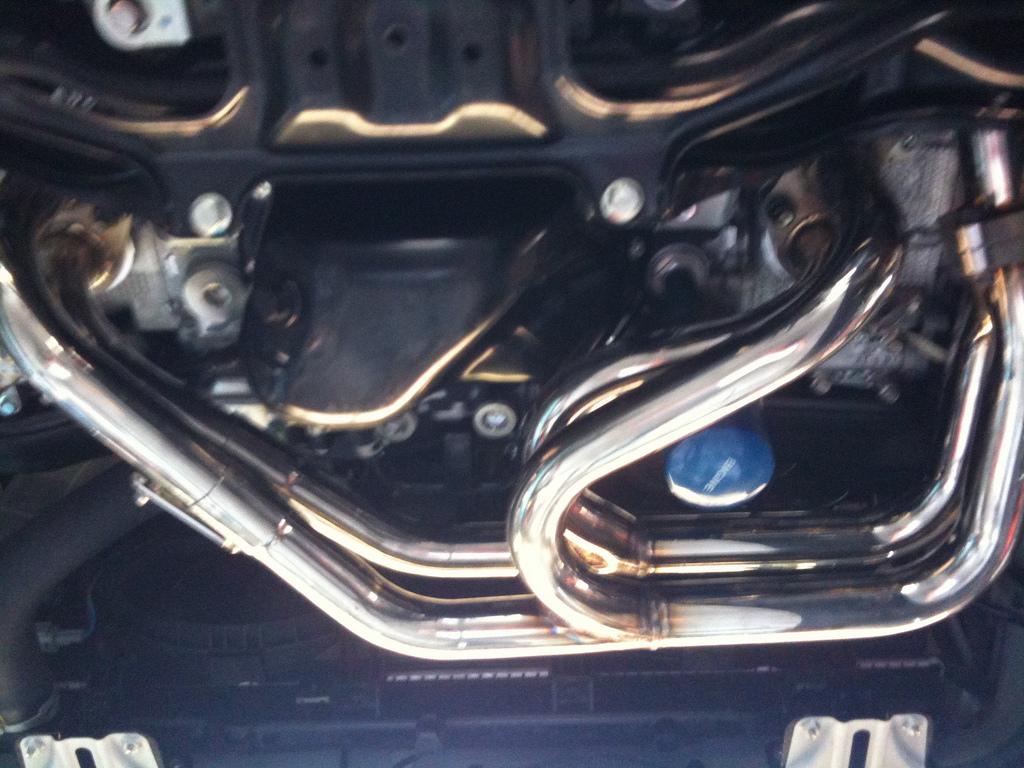 Down Pipe installed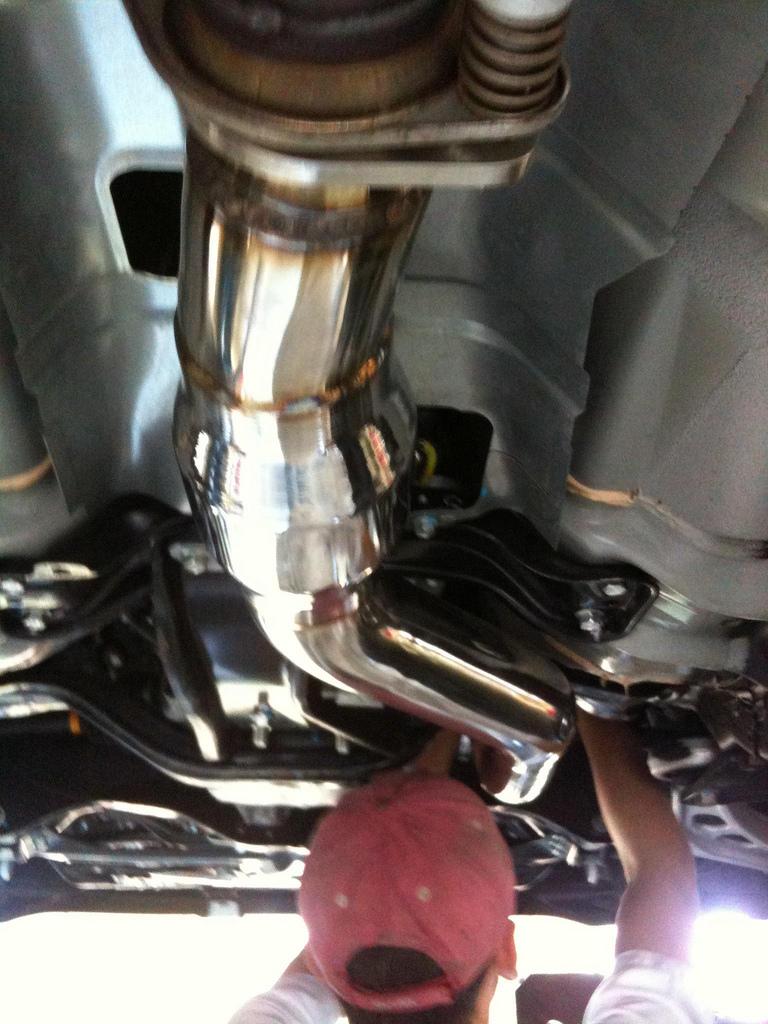 Tuning commenced shortly afterwards. What an experience. We started on 2nd gear doing pulls from 2,000 RPM to 7,000 RPM. Several pulls later it was time to move to 3rd gear. It is about 9 pm and I do a pull and then...BOOM!!!!! WTF!!!!! Lights were flashing, the car was limping and I was peeing my pants!! I pull into my neighborhood and quickly pop the hood and begin texting Phatron like a mad man. All the hoses looked ok. Turns out, this was my first time experiencing boost cut! We hit 23 PSI which was what Phatron had set the cut at. Whew! When all was said and done, several nights of pulling up till 5th gear on the highway, we were done. From what I remember we were at about 280ish WHP/TQ using Airboy to calculate the road loads. A decision was then made to upgrade the stock boost control system and the By Pass Recirculation Valve sometime in December, 2010: Grimmspeed 3 port Electronic Boost Control System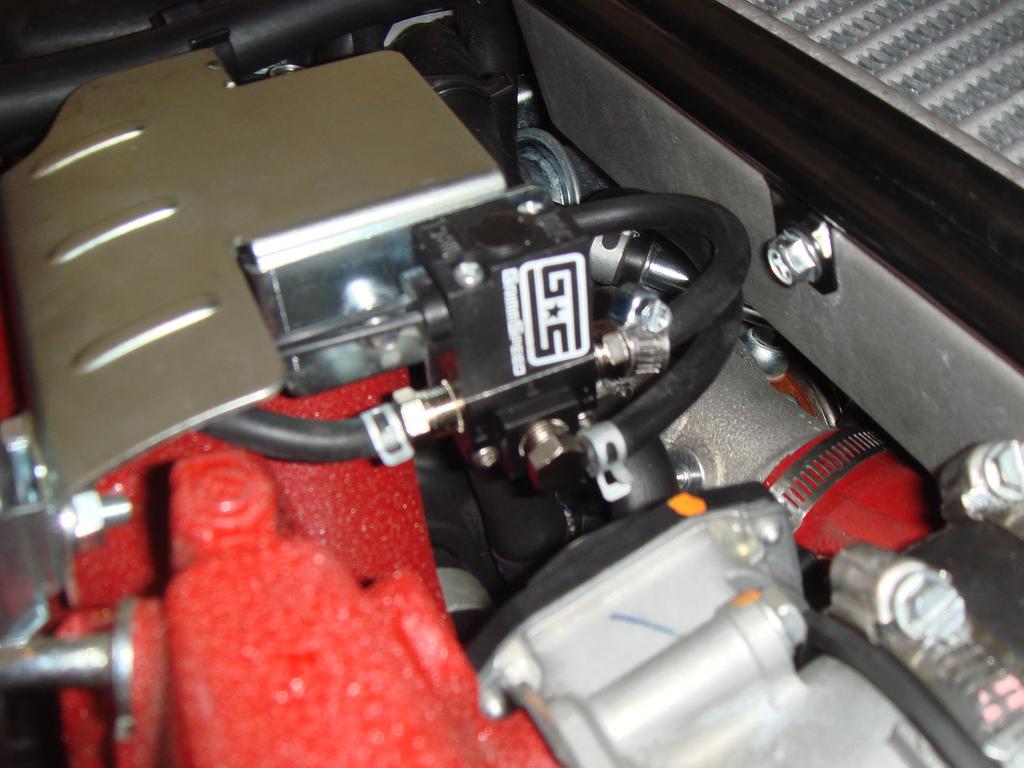 Forge By Pass Recirculation Valve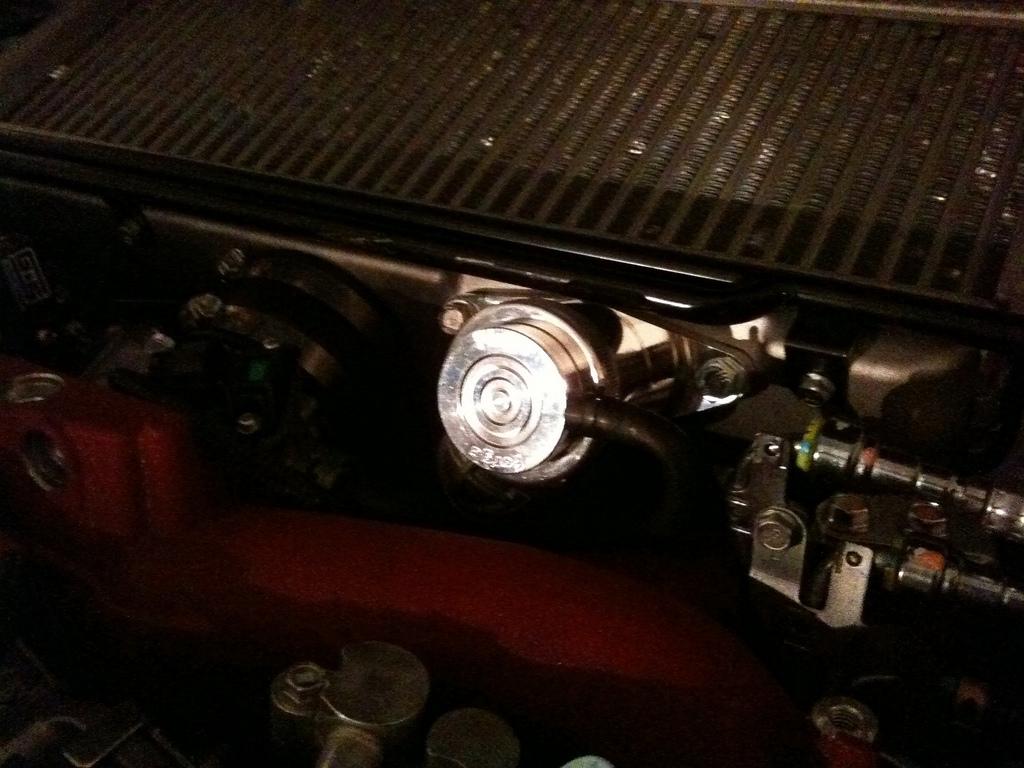 Retune w/ Phatron. I knew this would not be enough for me. It was fun but I wanted more. Research began on what the stock engine could be pushed to. 400 WHP was the limit that I found consistently. So my focus was on a quick spooling turbo and the required supporting mods. I purchased in December, 2010: Please keep reading the following posts to see the rest of the progress. I had to chop up my original post in order to insert pics rather than just having links.
Blouch Dom 2.5XT-R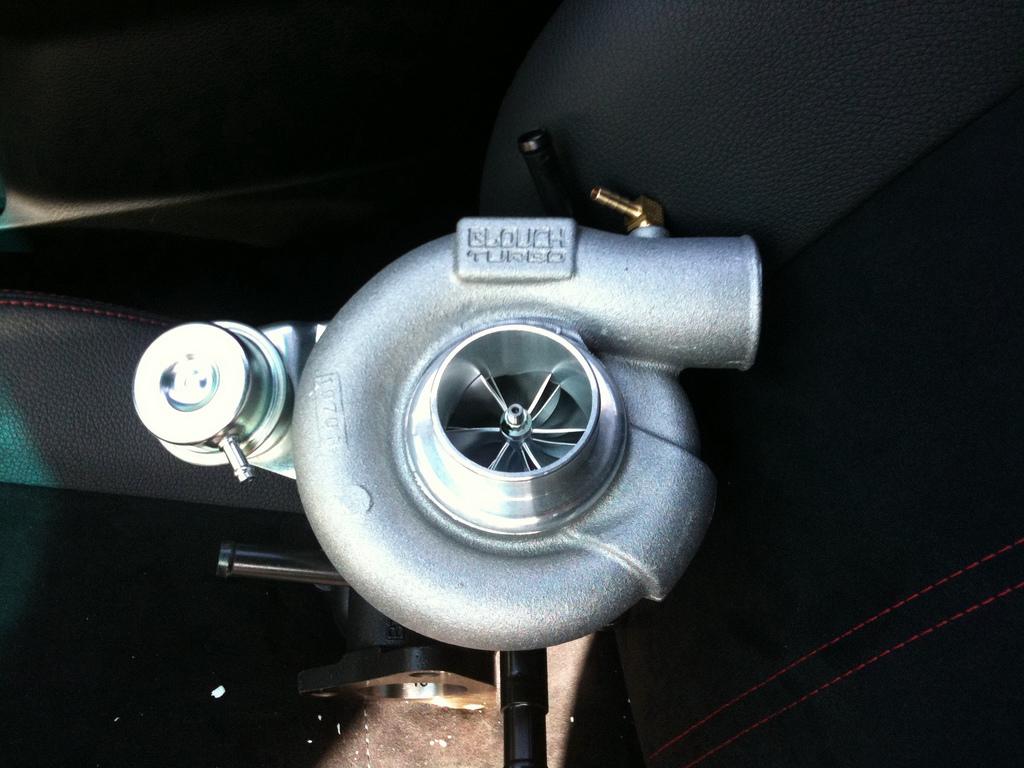 Deatschwerks 850 Injectors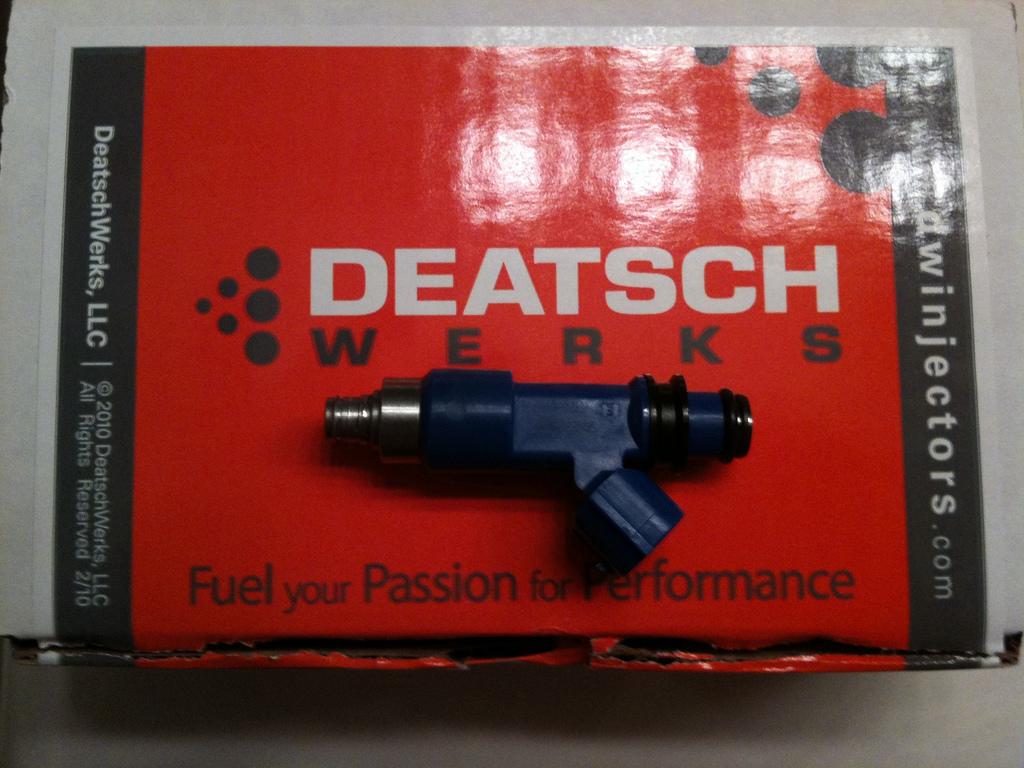 Walbro Fuel Pump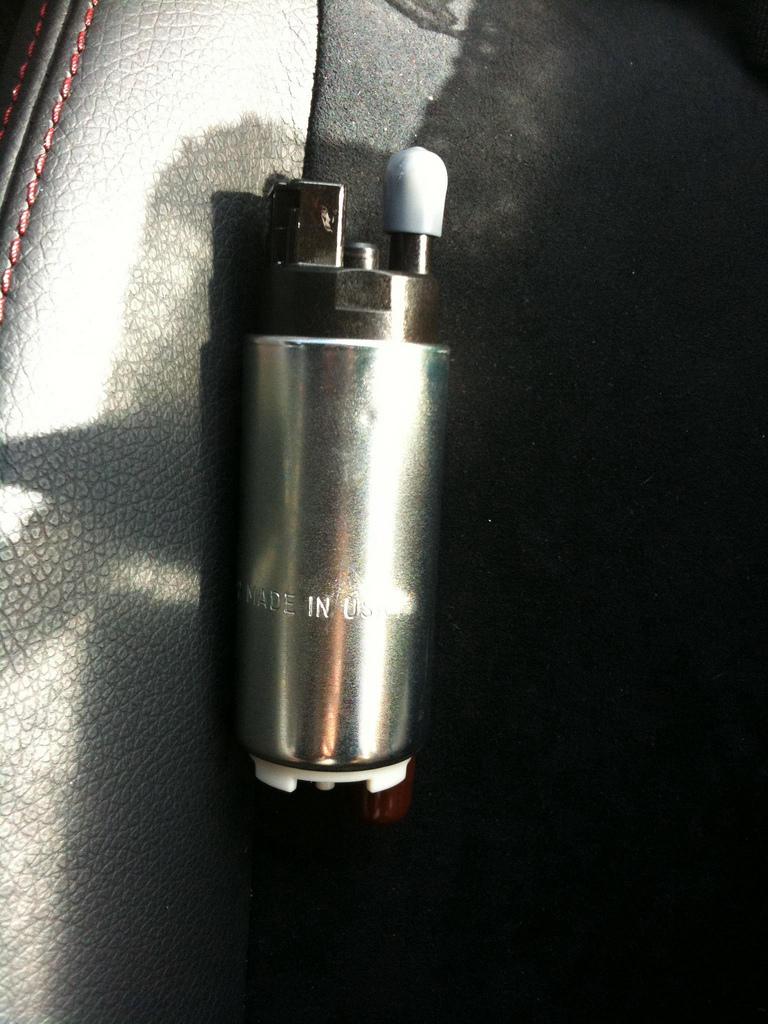 NGK 1-step Spark Plugs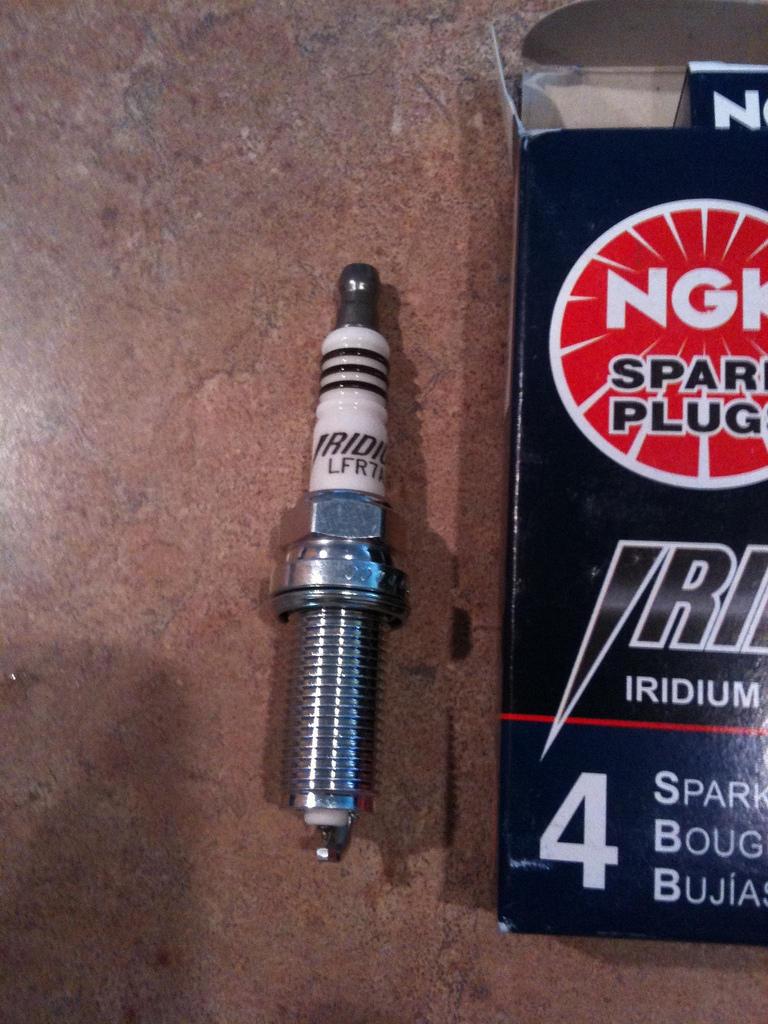 Perrin Turbo Inlet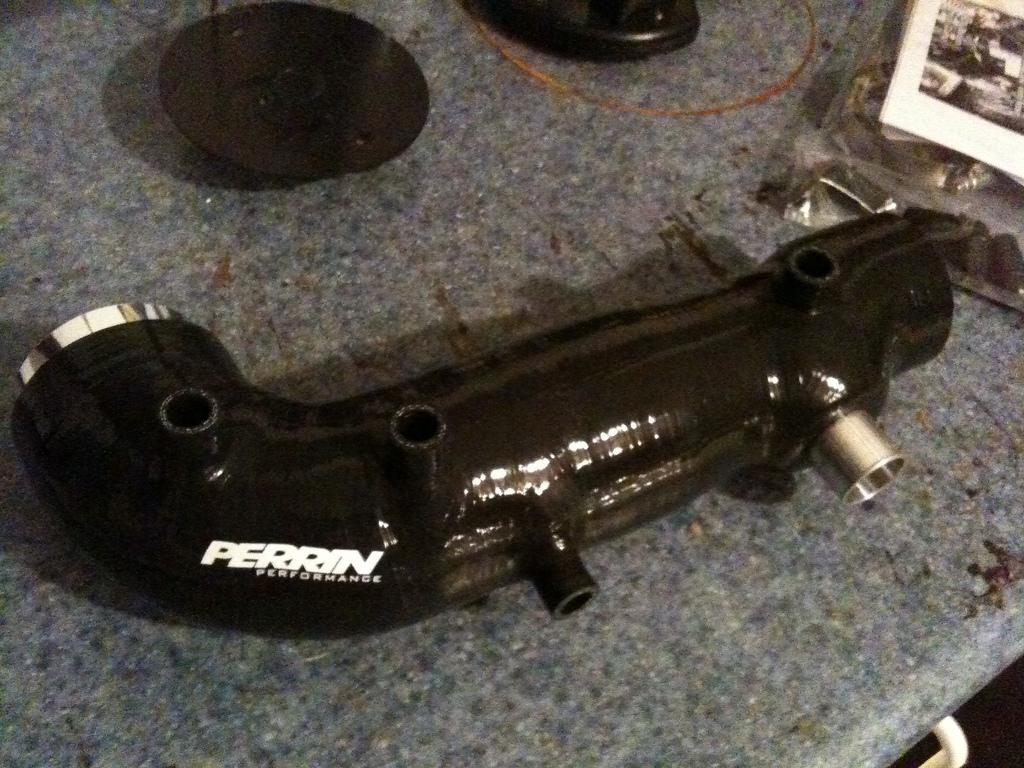 KStech 73mm Cold Air Intake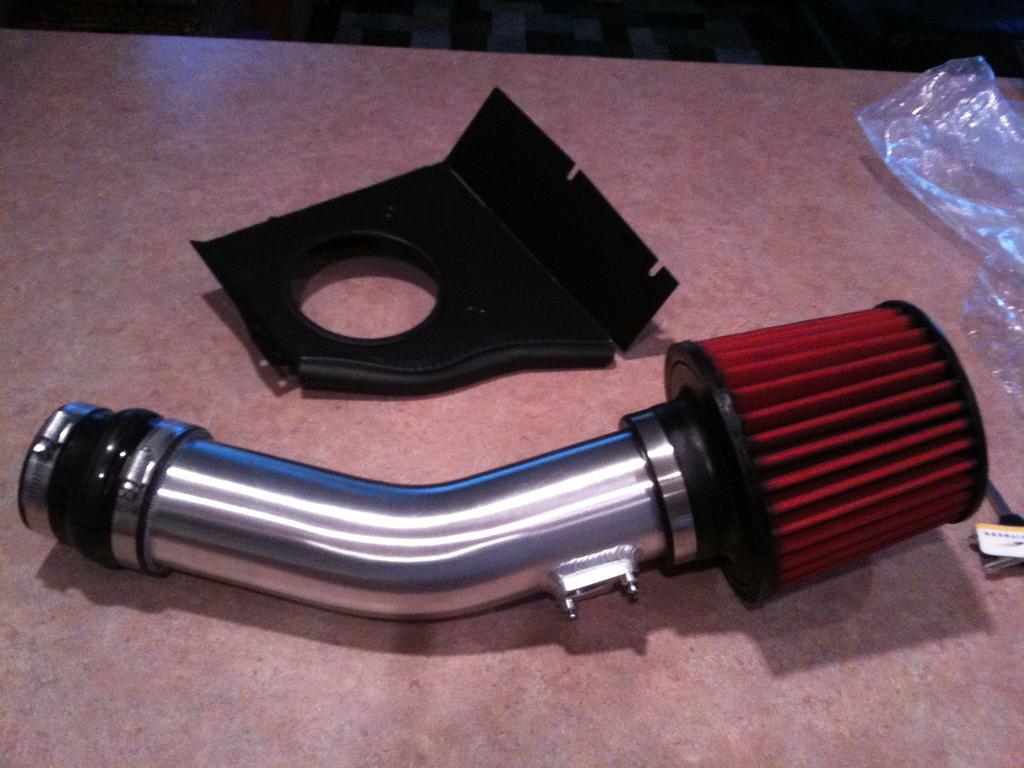 I was a little side tracked after purchasing these items when Invidia released their quad tip exhaust for the sedan. I had to get it and I was not going to leave the bottle neck in the exhaust so the Cobb had to be replaced by the Invidia Down Pipe. The purchase was made and exhaust installed in January, 2011:
Silicon Coated the Down Pipe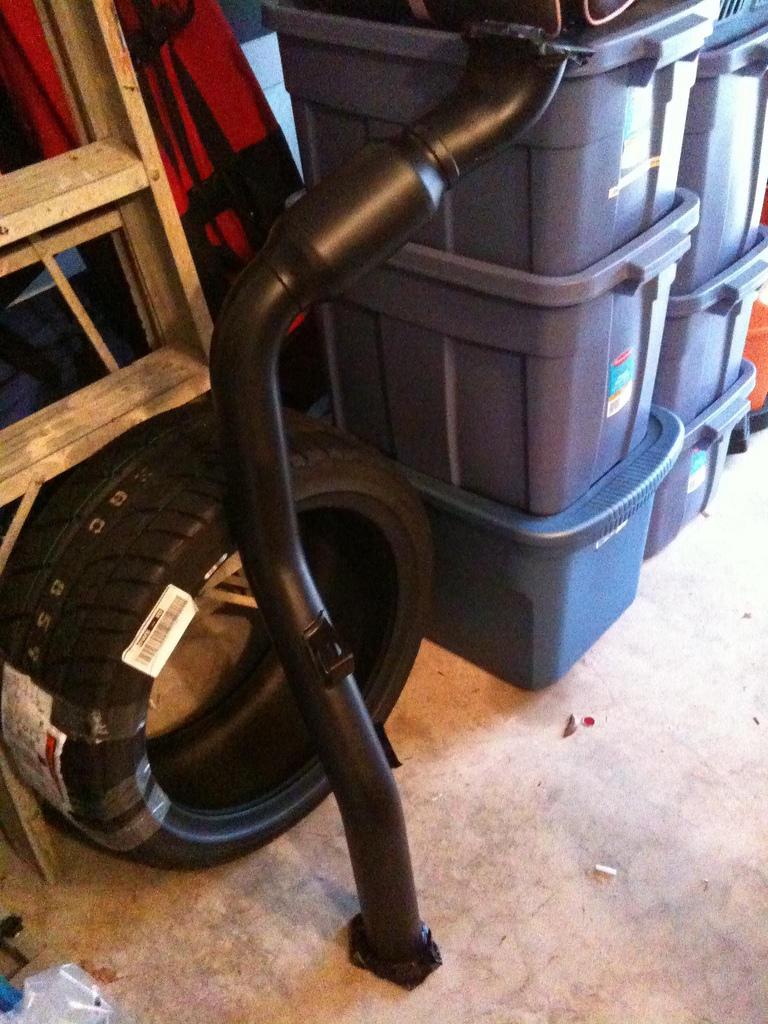 Titanium Wrap Down Pipe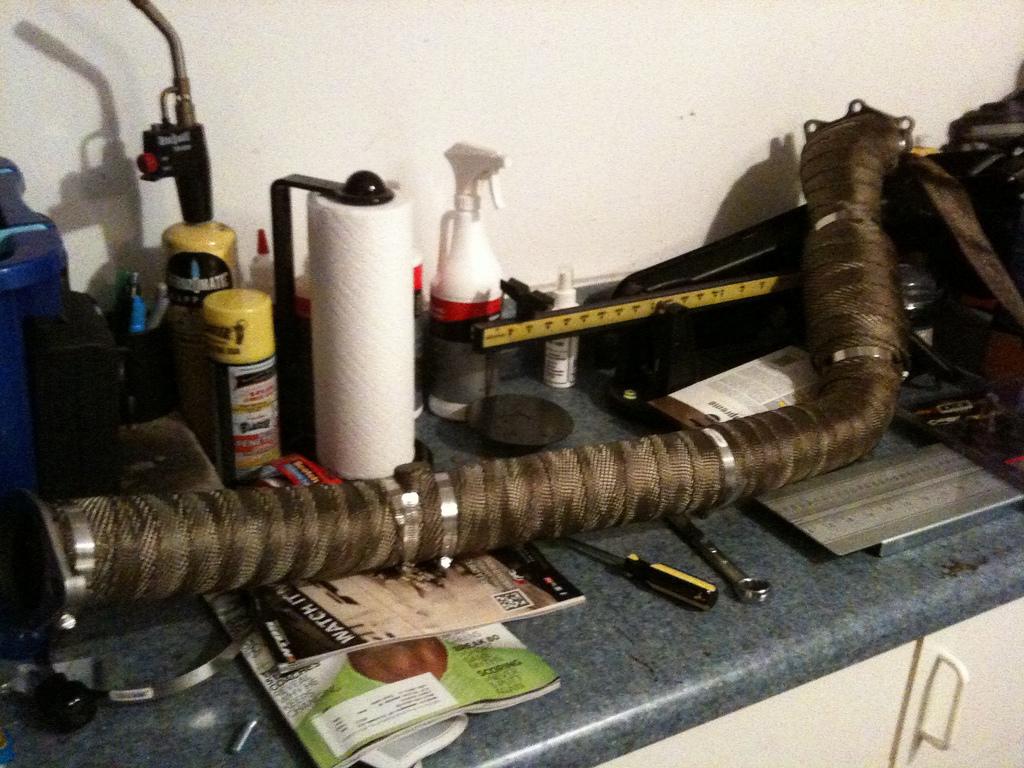 Exhaust Installed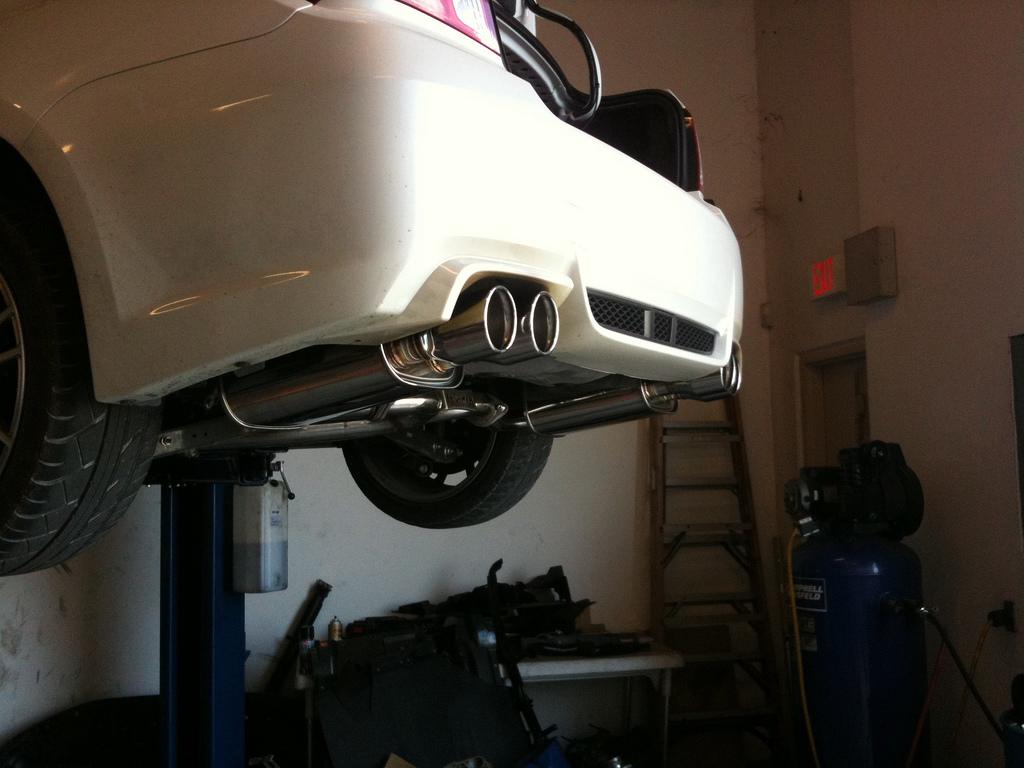 More tuning with Phatron shortly afterwards.
Okay, back to the turbo and the other parts. Before I can do that I had to get an AFR Gauge. I didn't want to mount the gauge just anywhere so I had to go with something that was as OEM looking as possible. With that, I had to fill the second gauge bezzle so an Oil Temp Gauge was purchased. I know I know, an Oil Pressure Gauge will be coming soon:
AEM AFR Wideband Gauge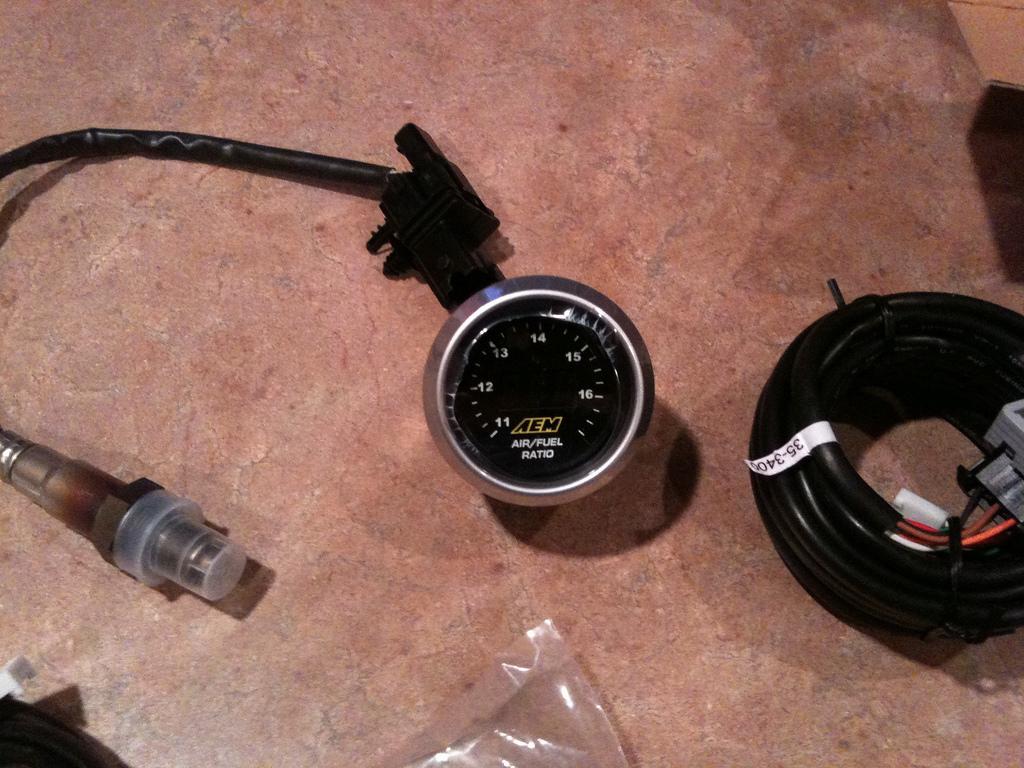 AEM Oil Tem Gauge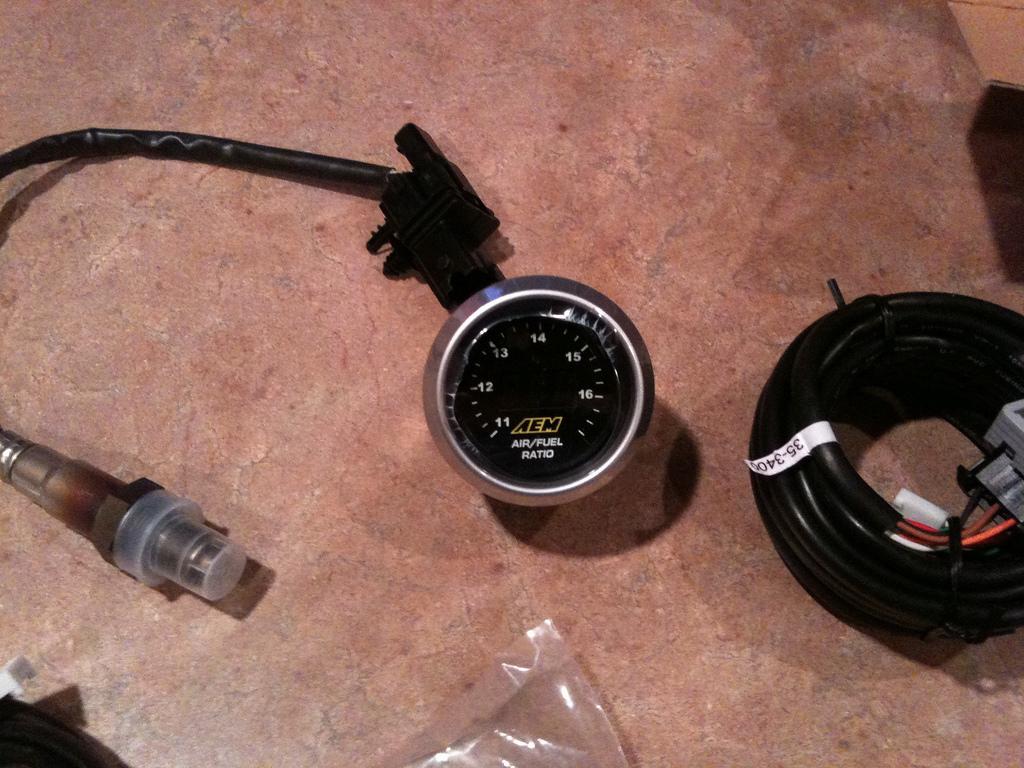 SMY Cluster Bezzle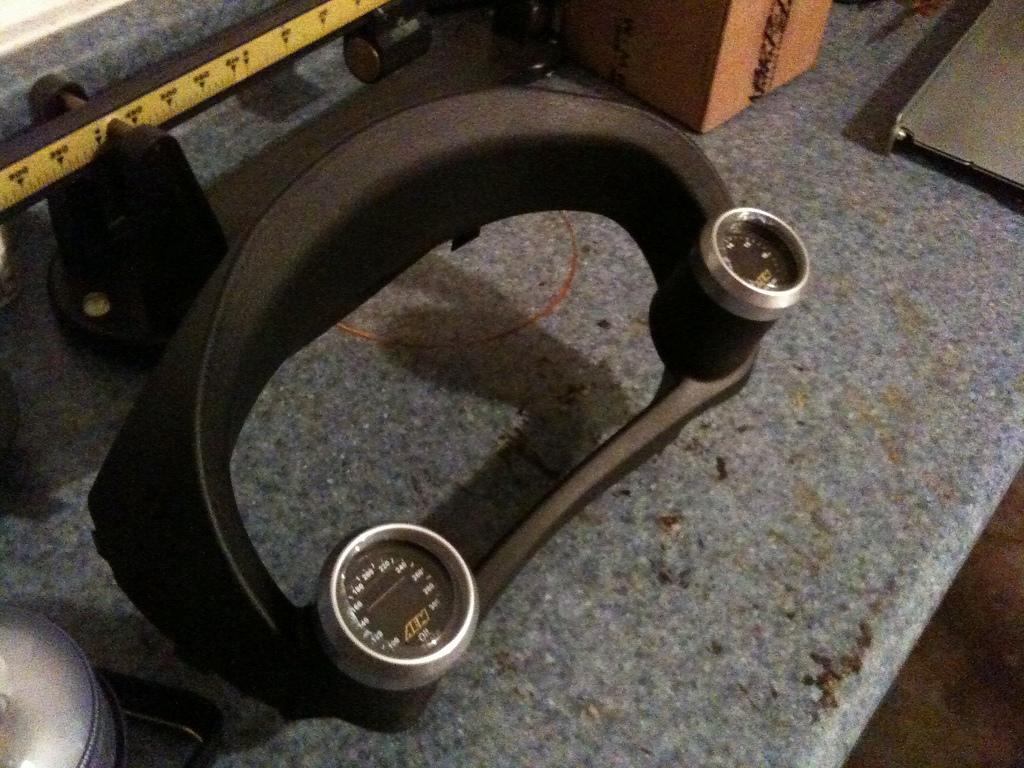 Perrin Oil Filter Adaptor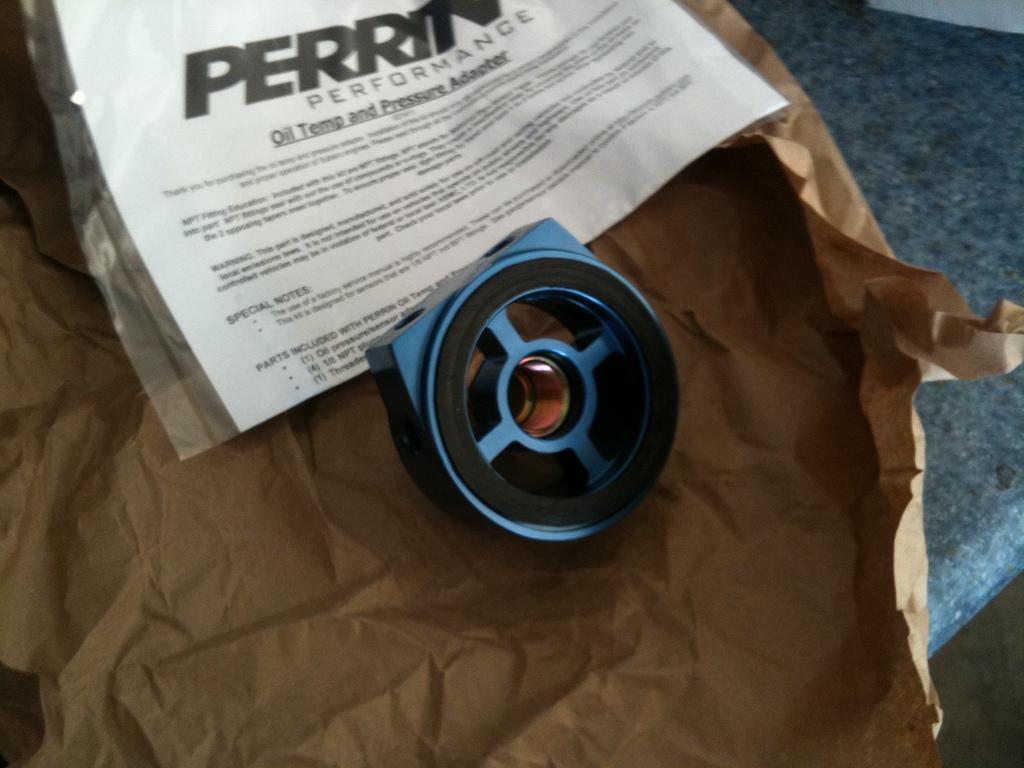 Gauges being installed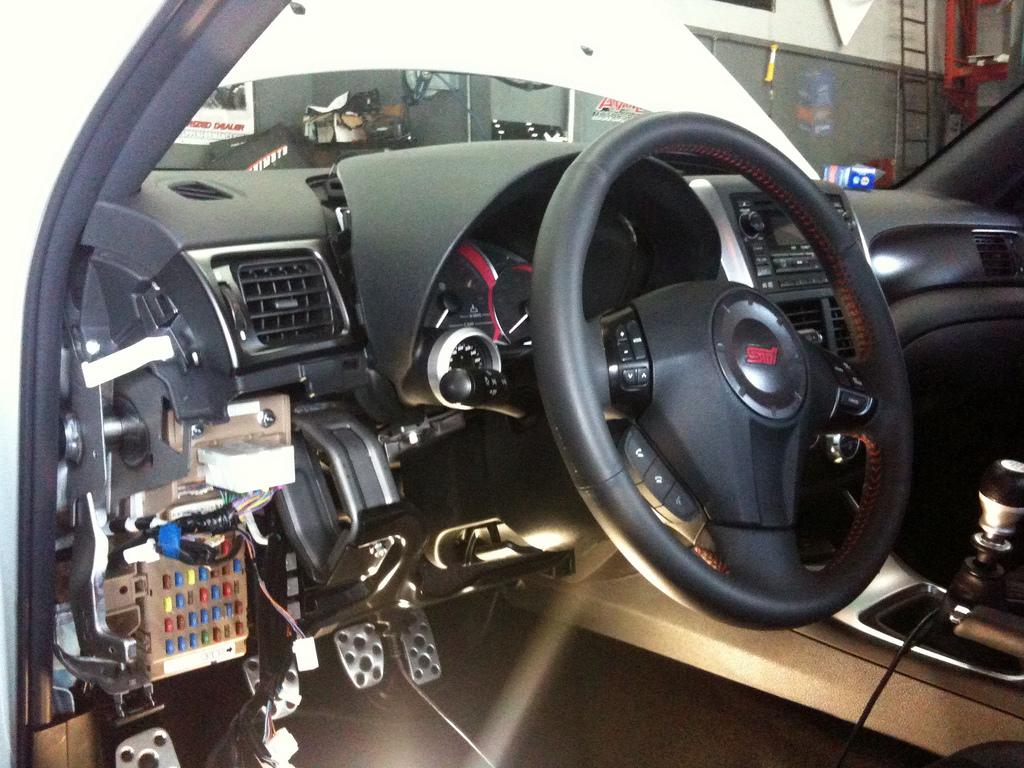 Gauges Installed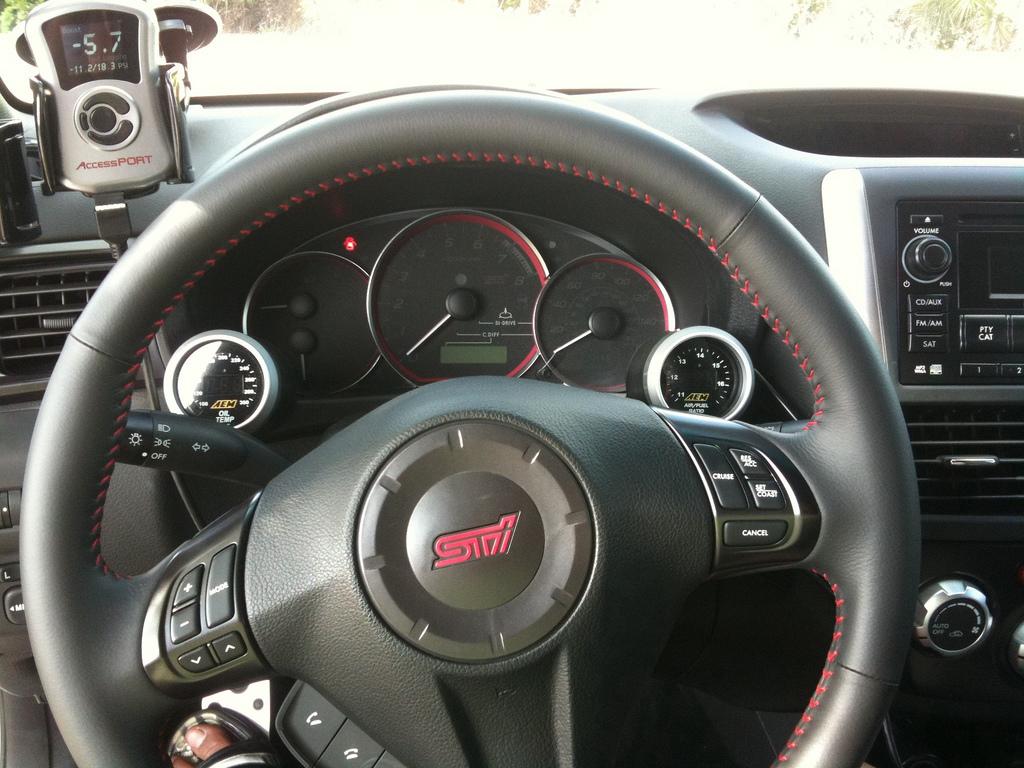 We are now ready to go with installing the turbo now that the AFR Wideband is installed. This happened sometime in April, 2011:
Holy crap, my engine bay is a mess!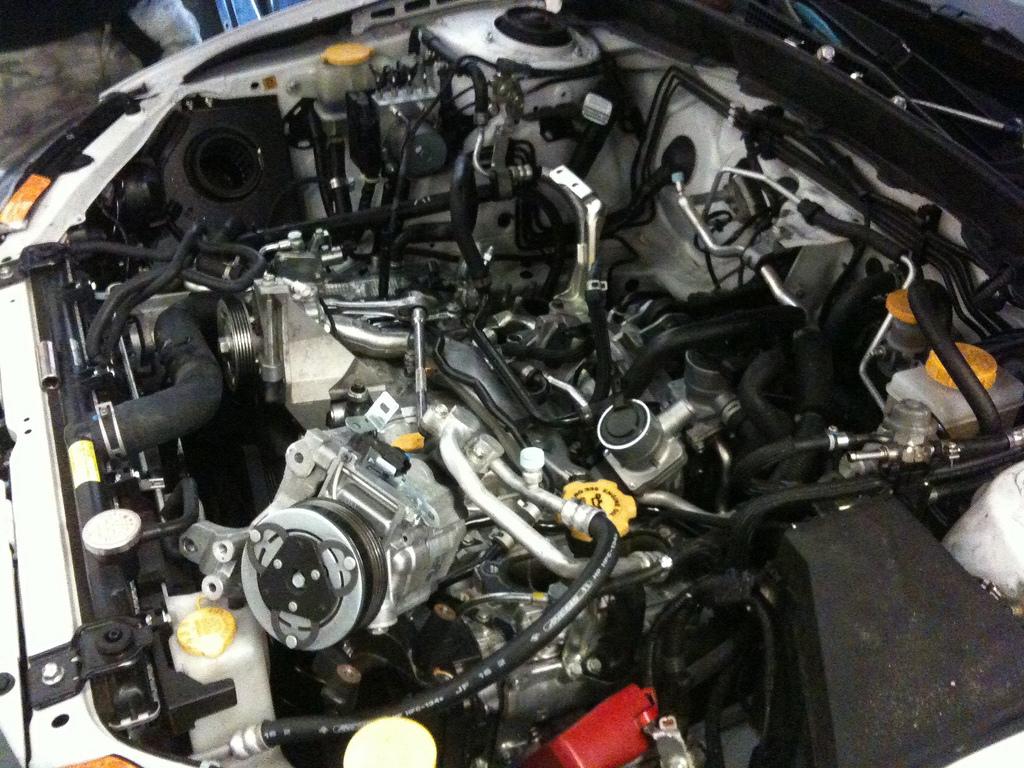 Intake Manifold is off