When ocd meets opportunity ..... The 91 Legacy ss project by 22B05STI
By diyauto
When ocd meets opportunity ..... The 91 Legacy ss project
Compliments of 22B05STI @ www.clubwrx.net
10-3-2011
I am sorry I have taken so long to start this thread as I had promised. Anyway Here we go I will upload as many photos as I can the add some comments along the way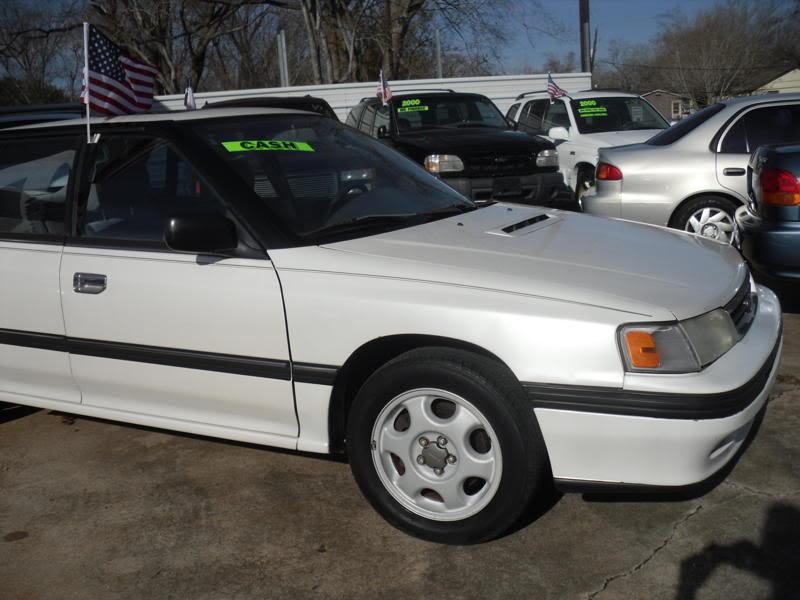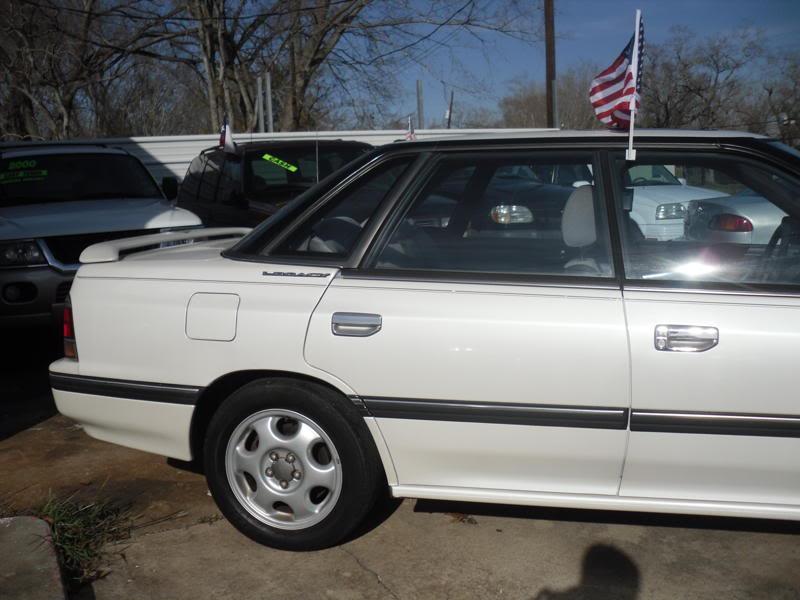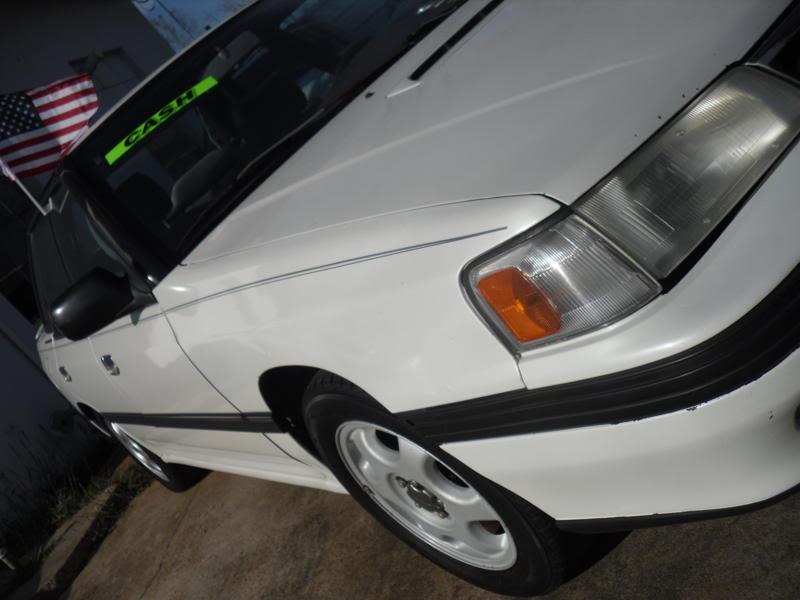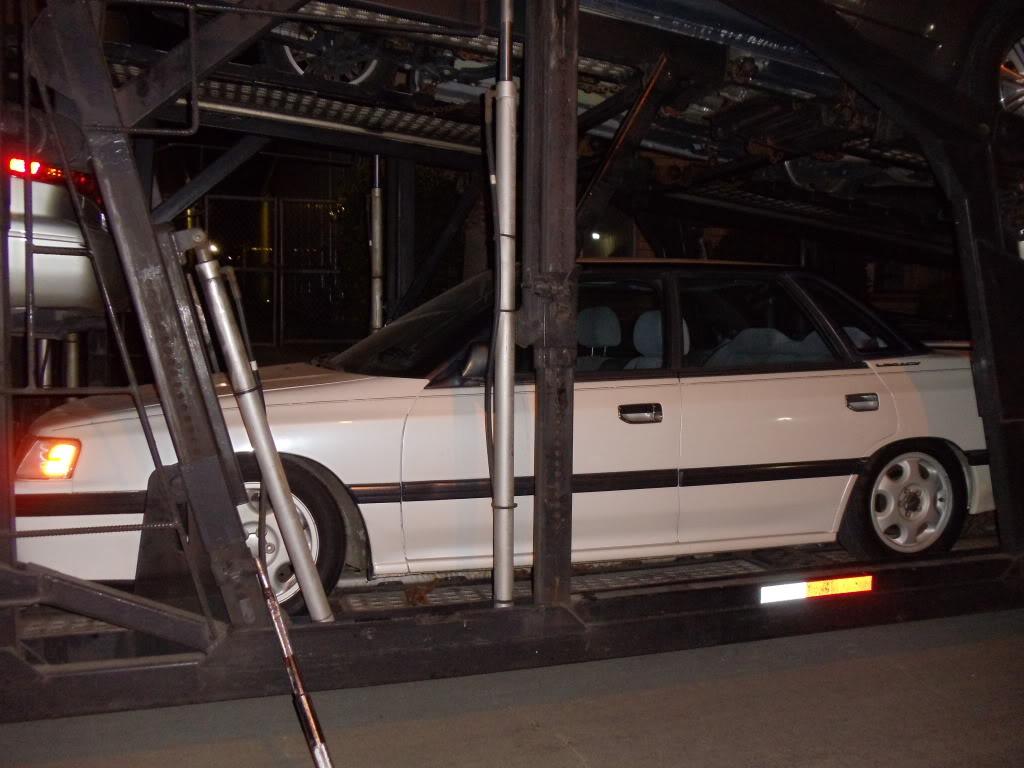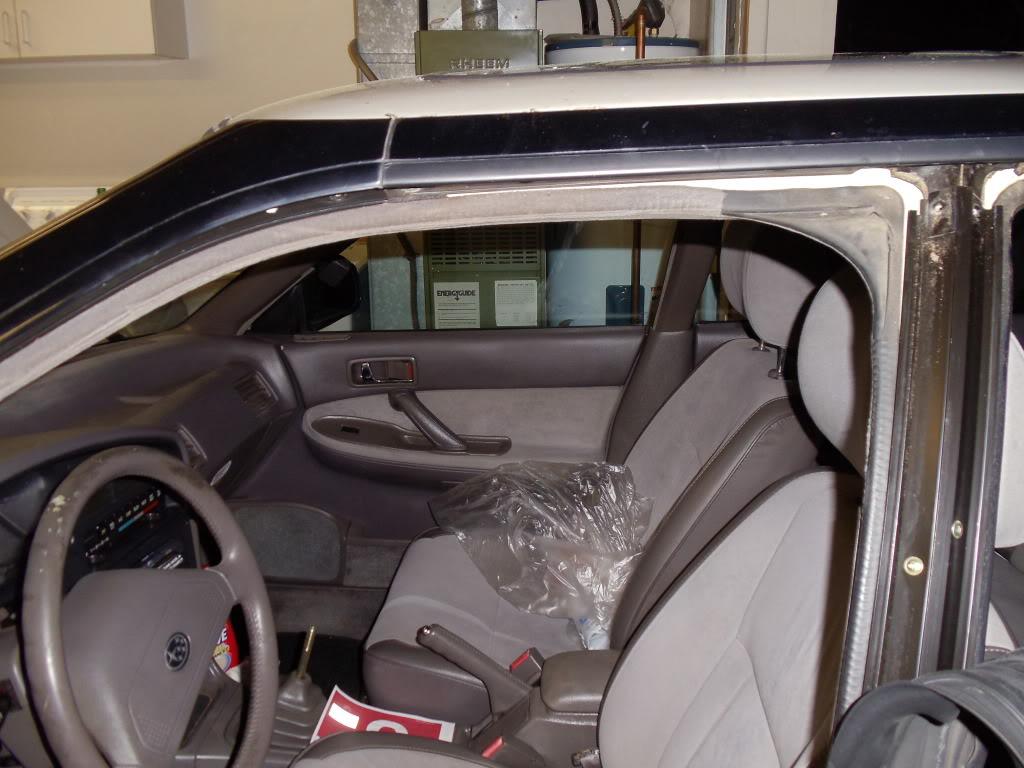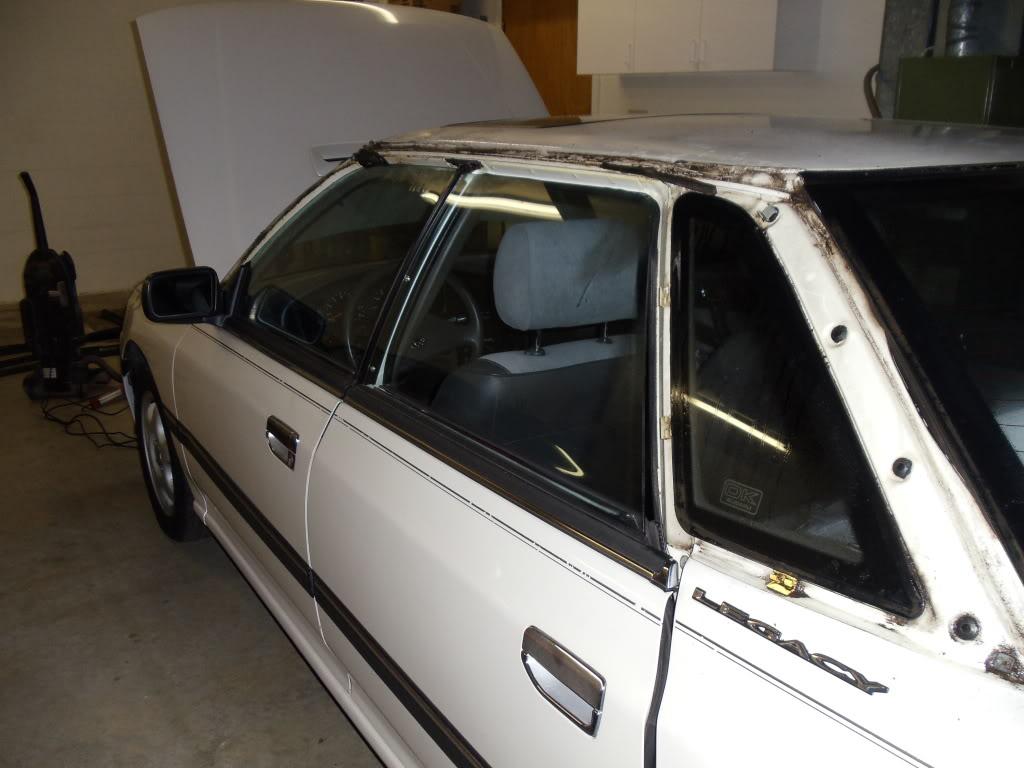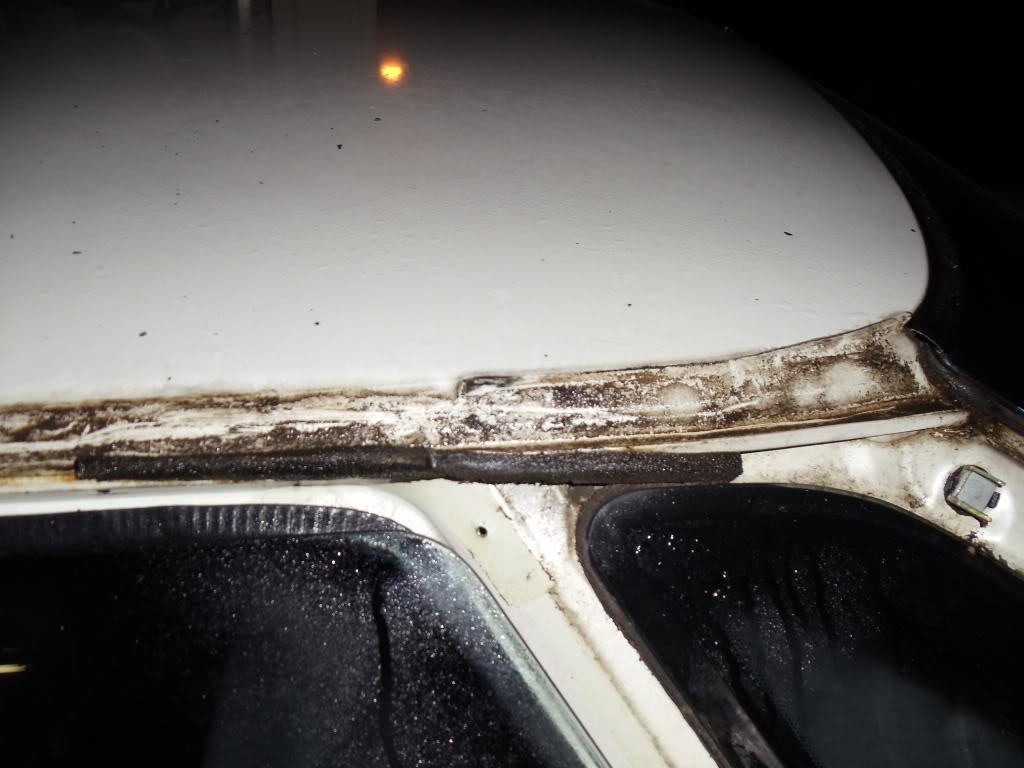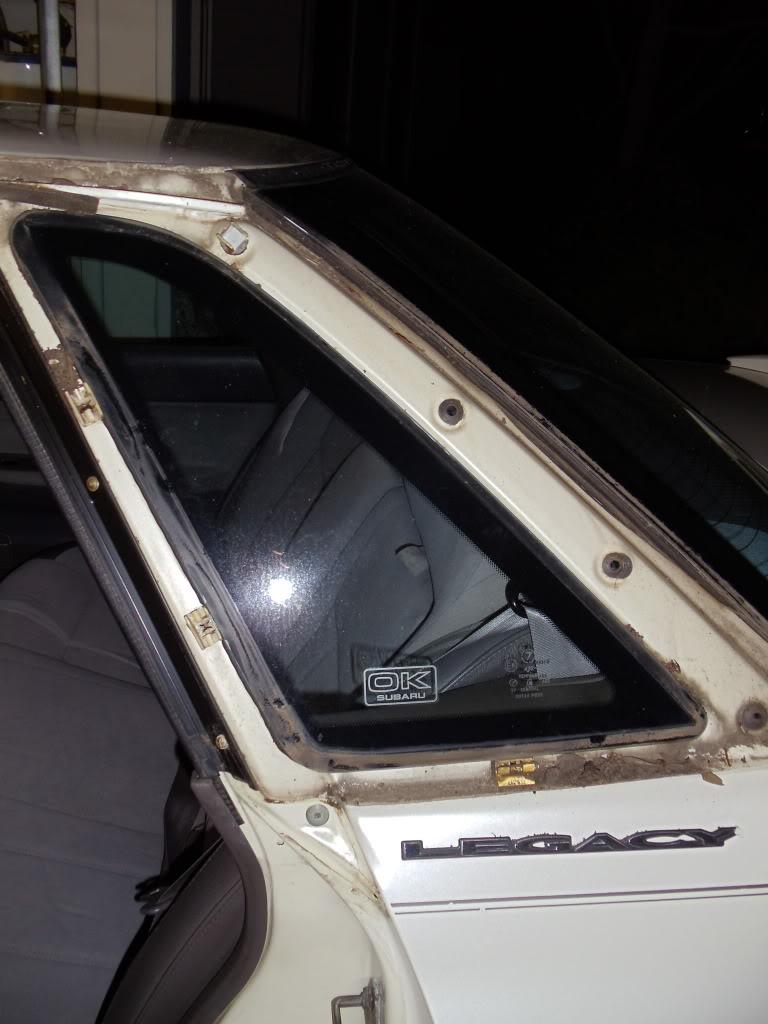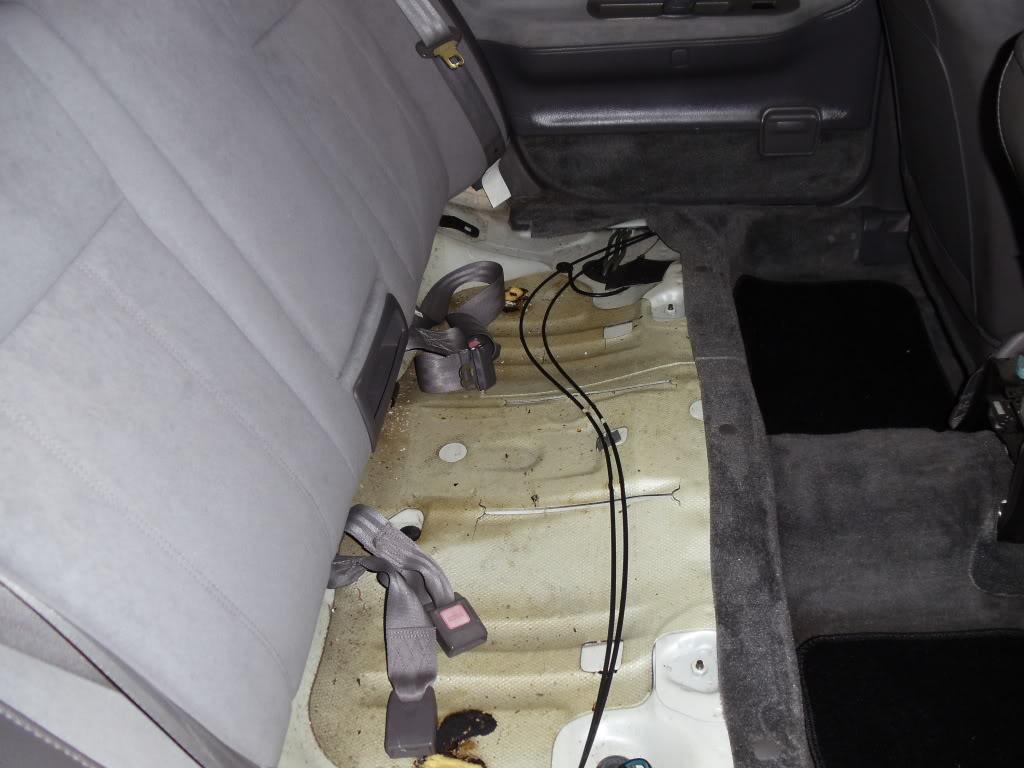 First few photos from the day I bought it to when it arrived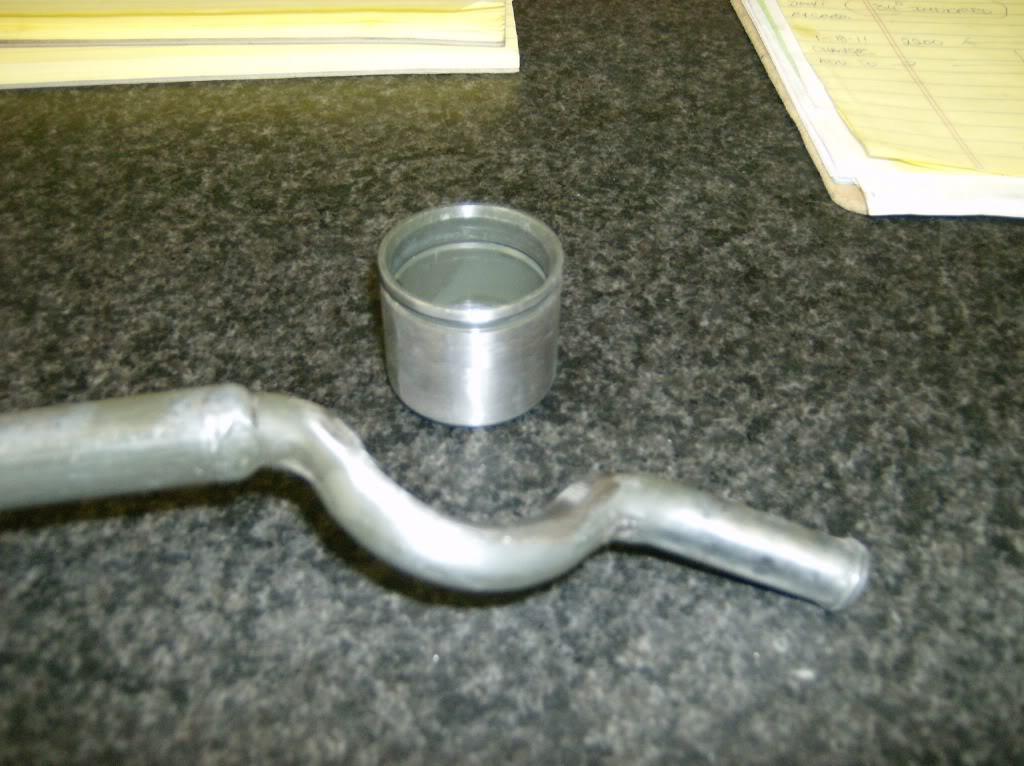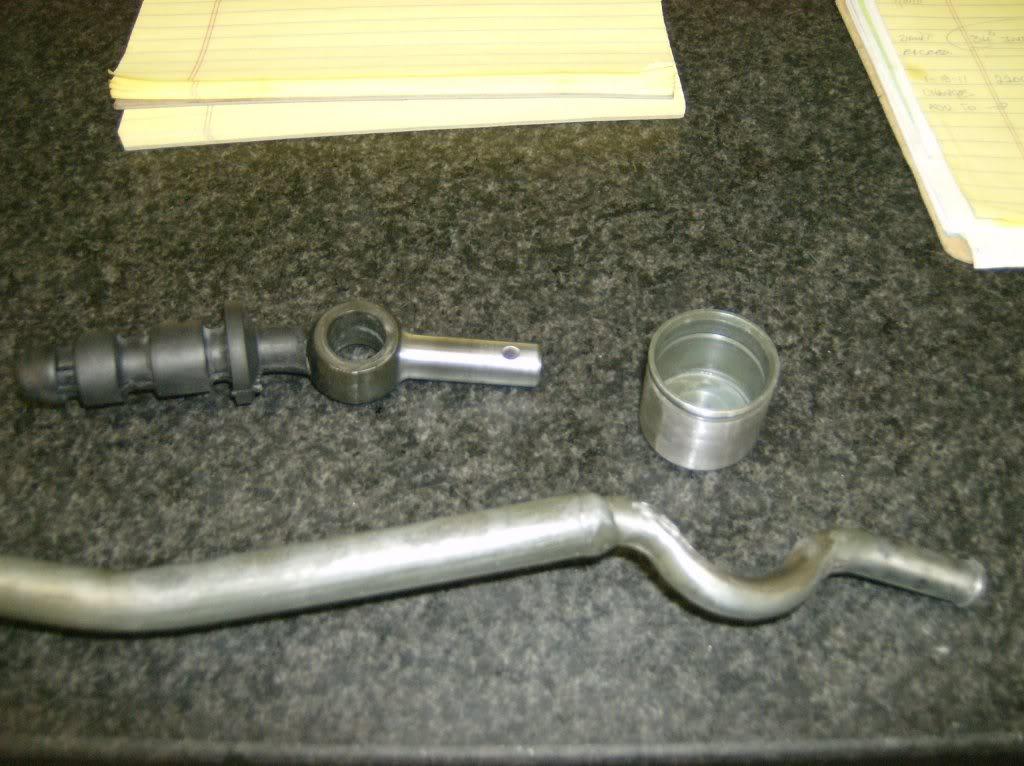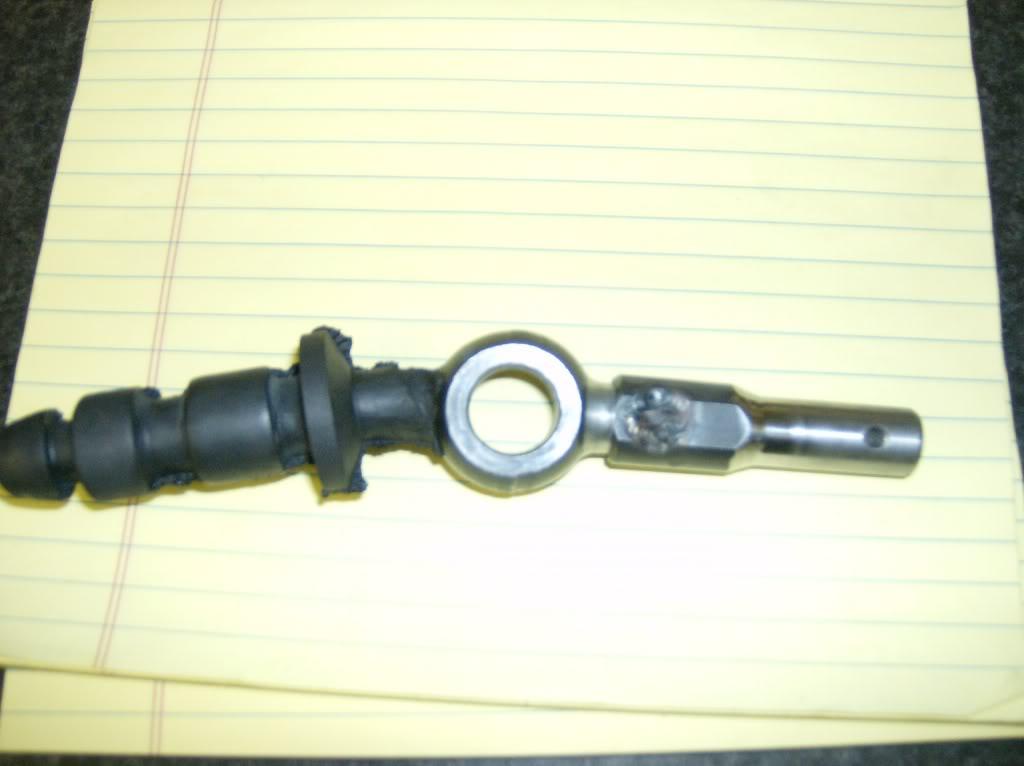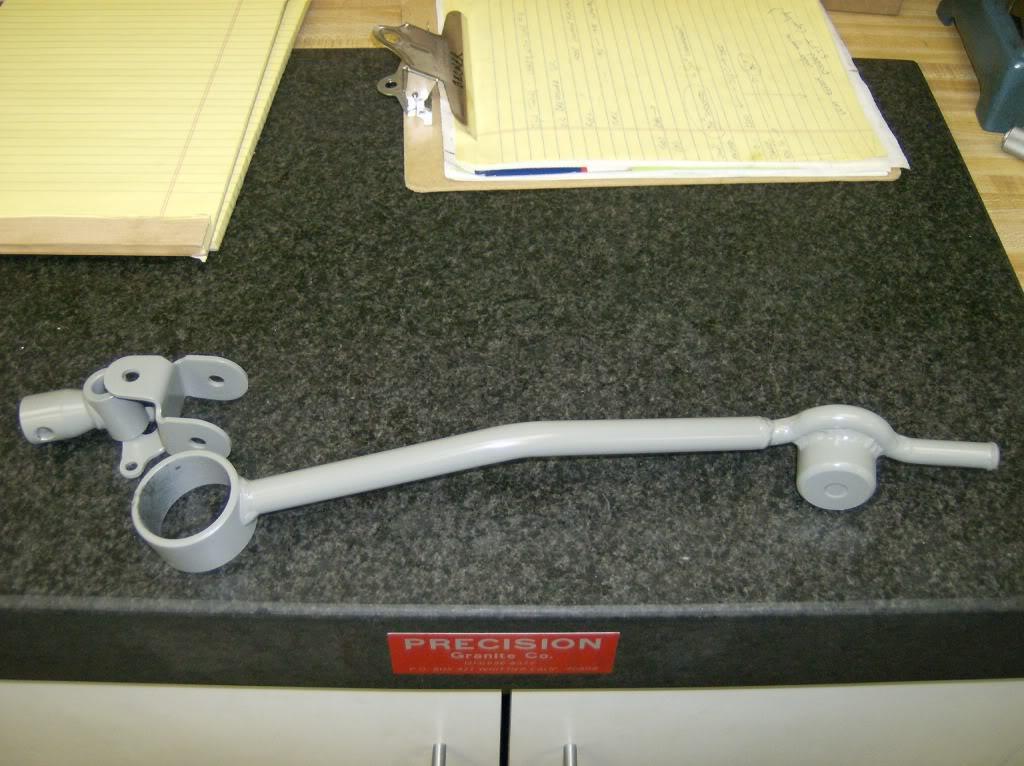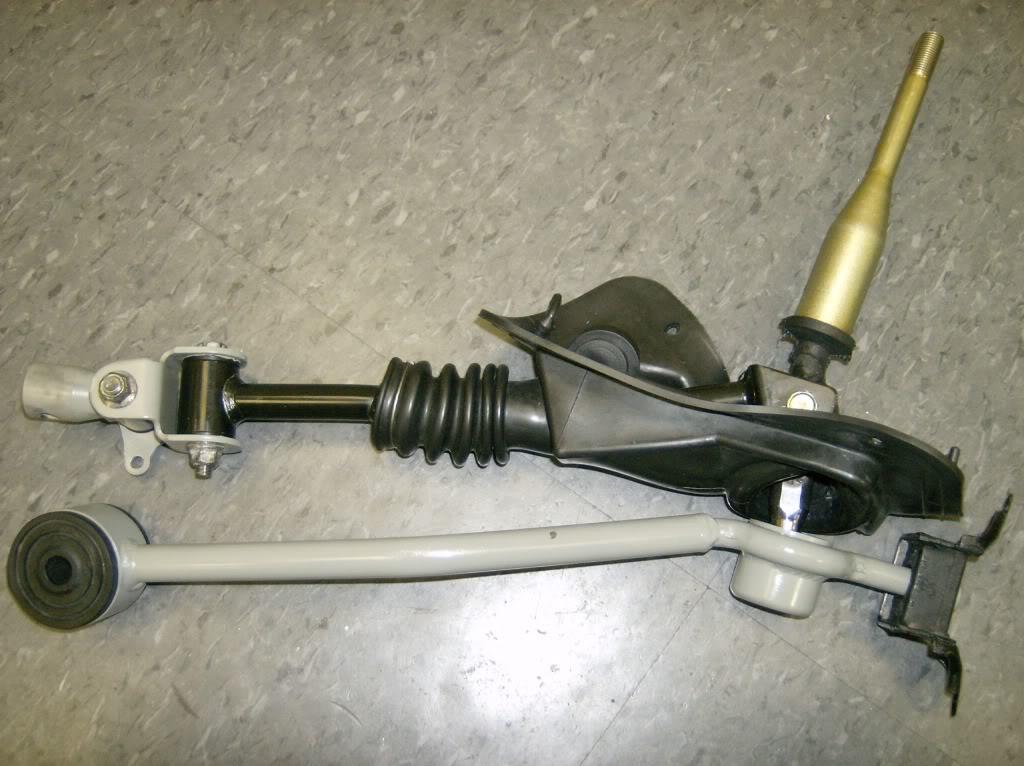 Making short throw shifter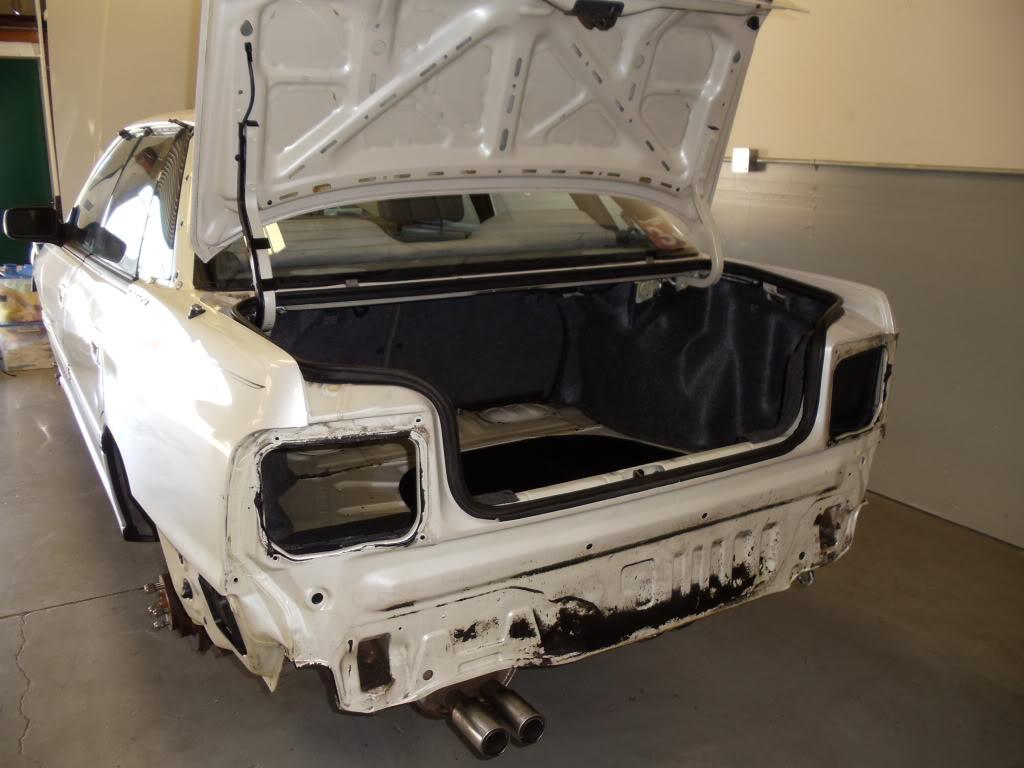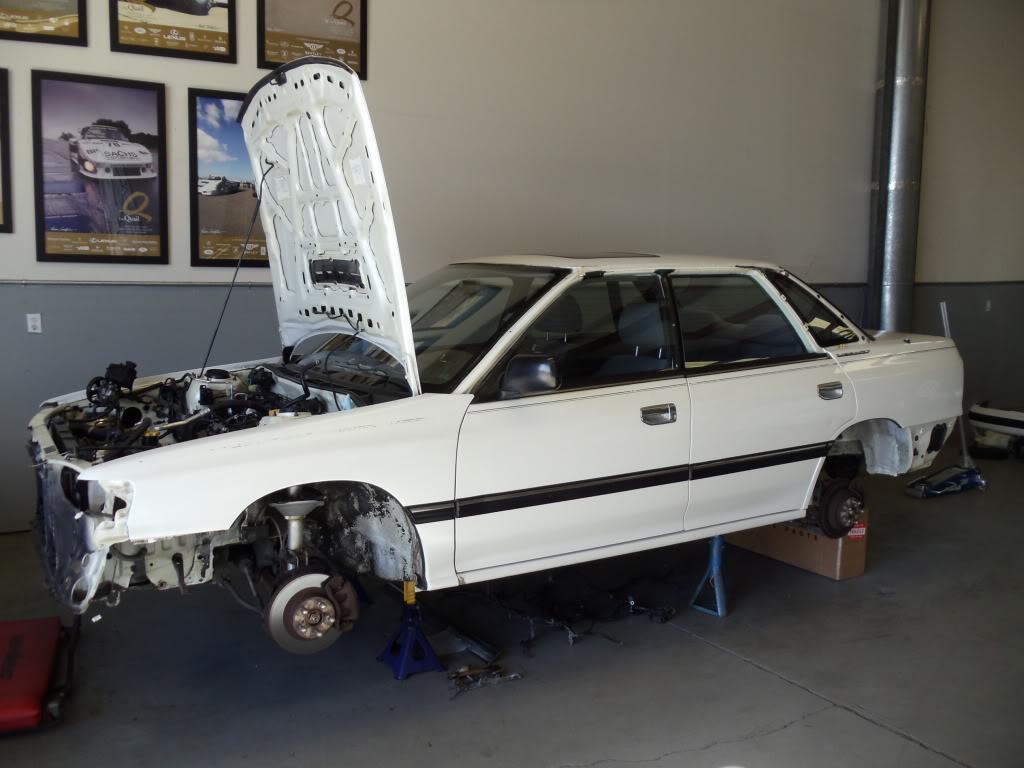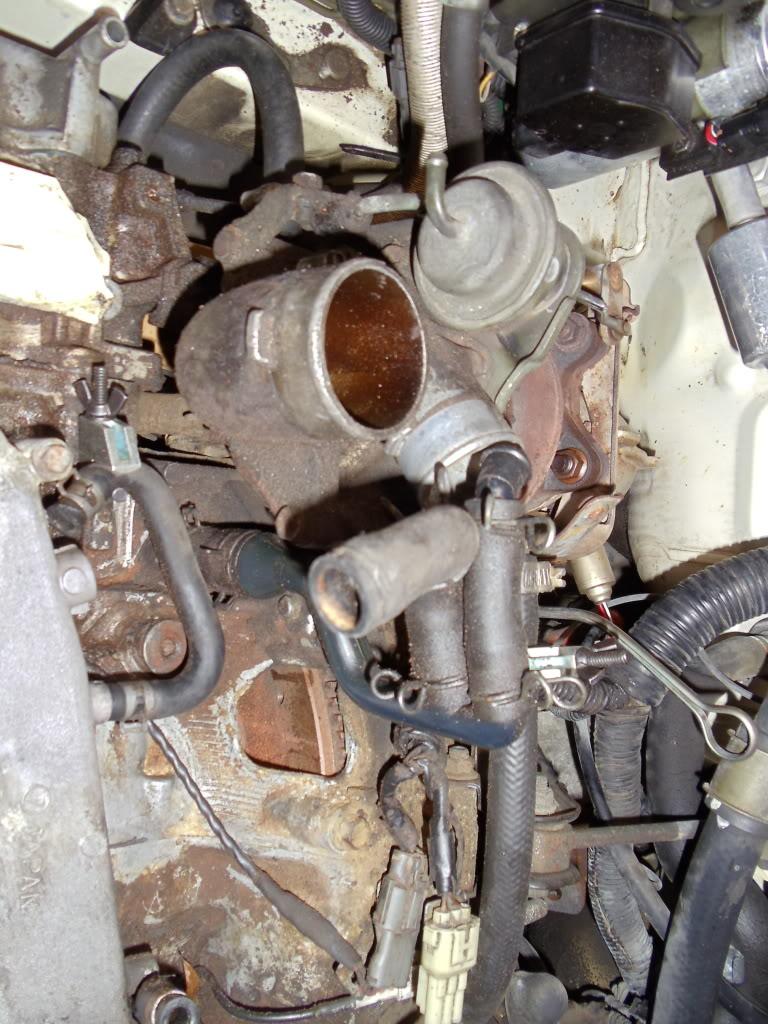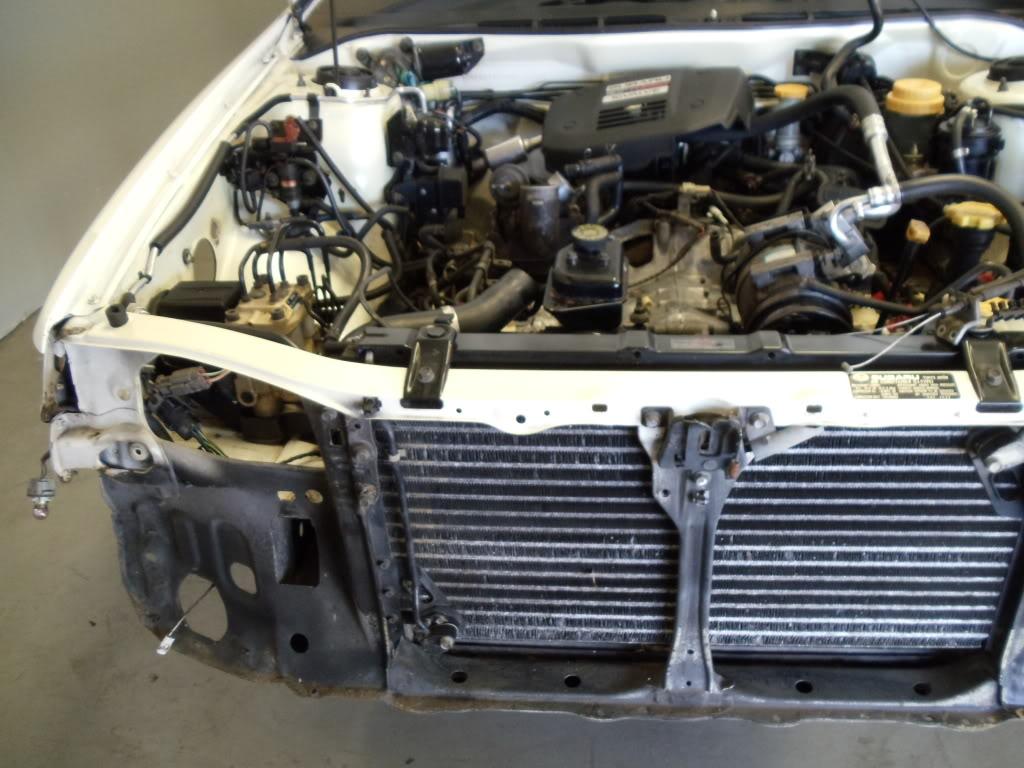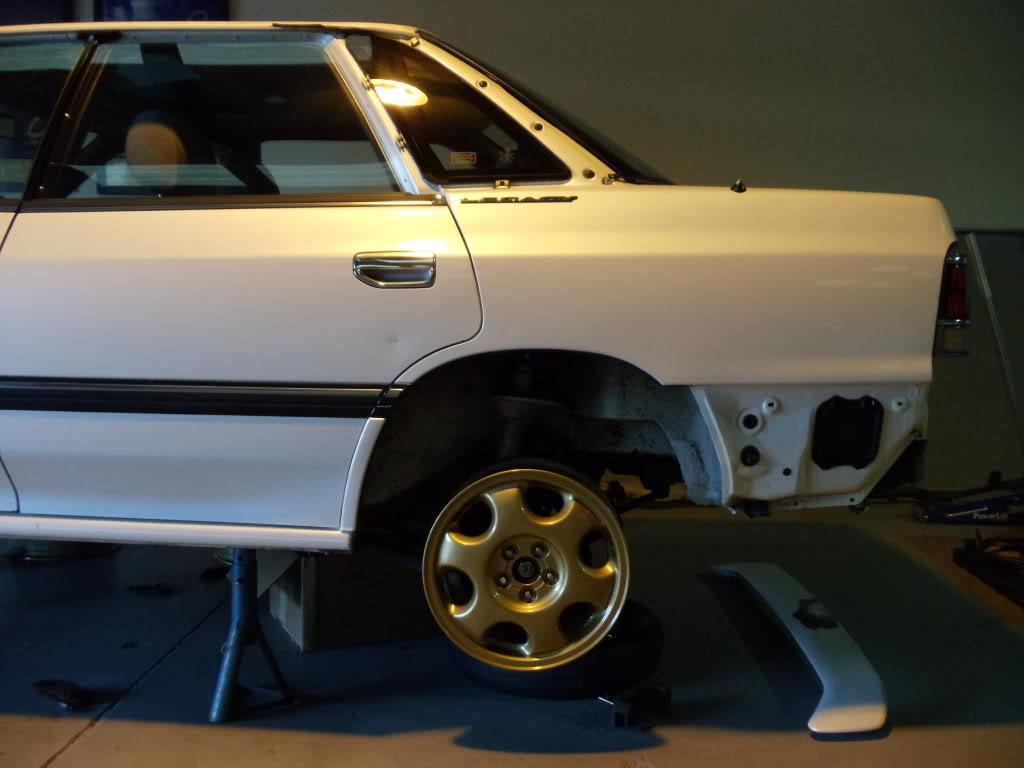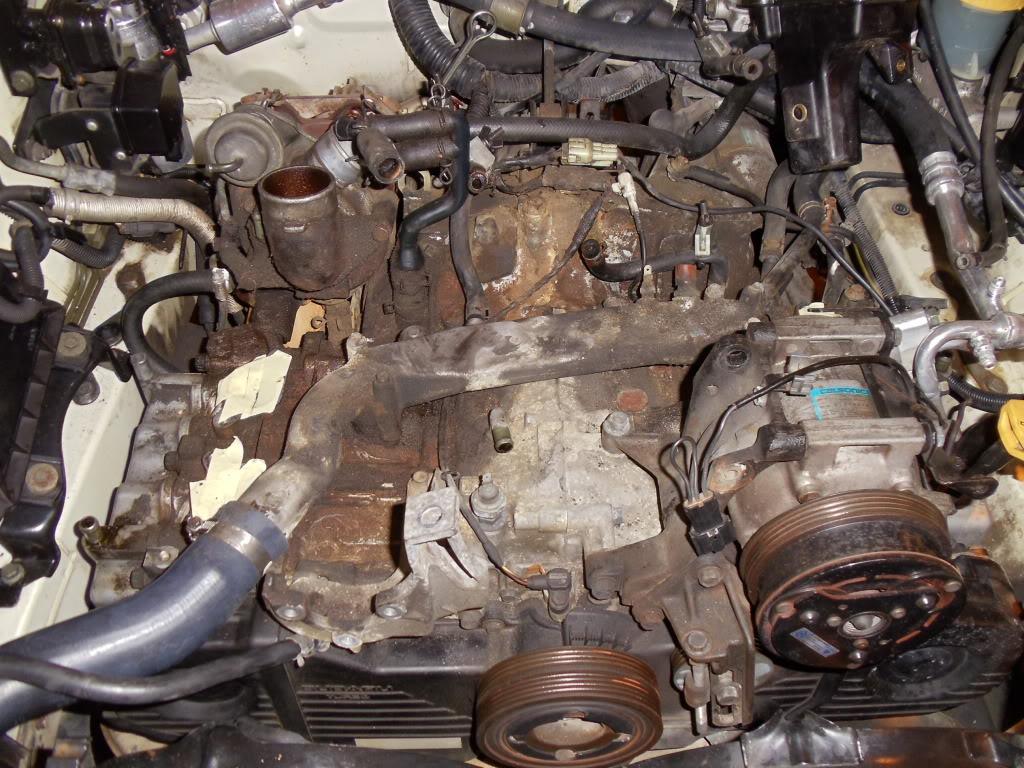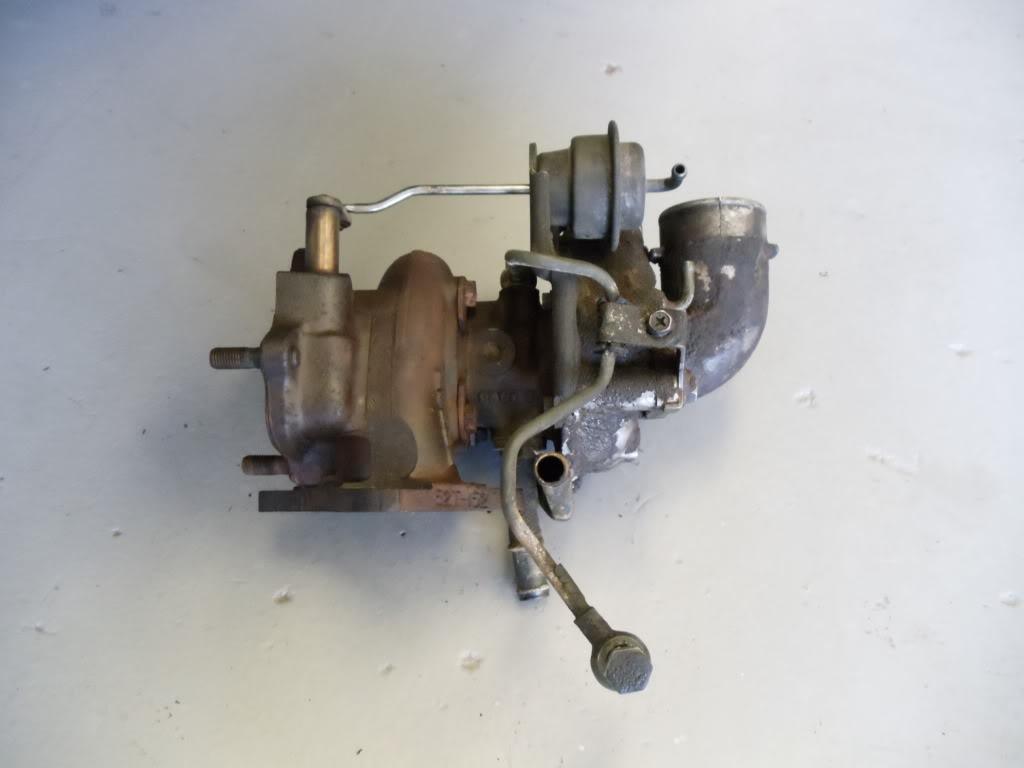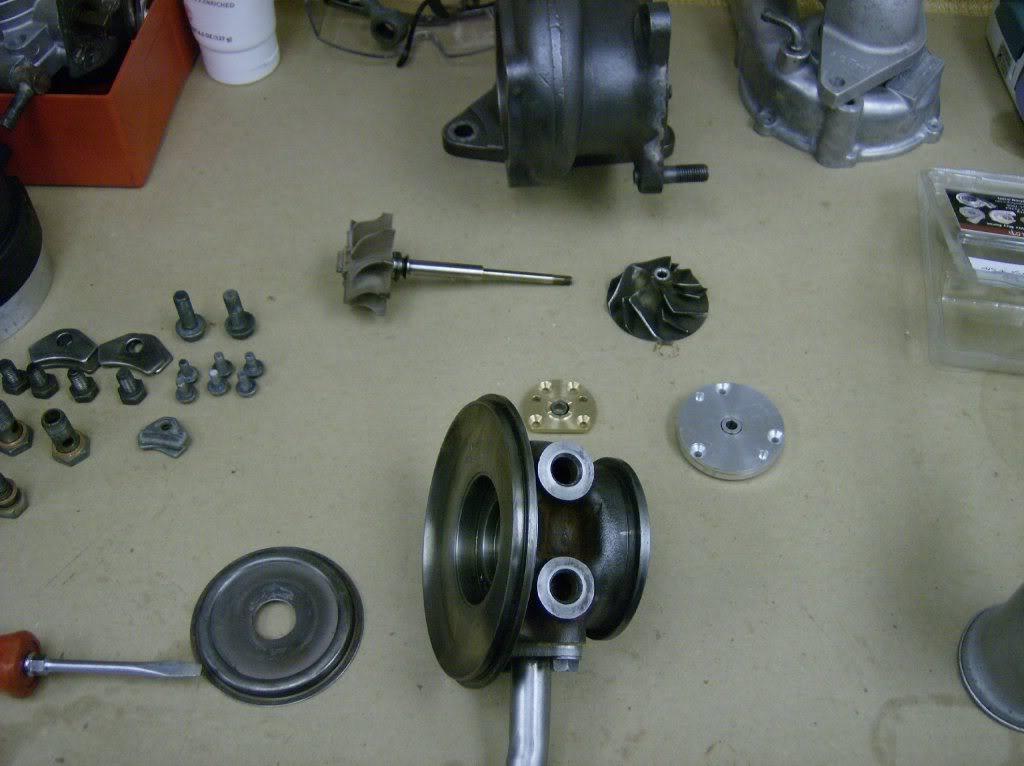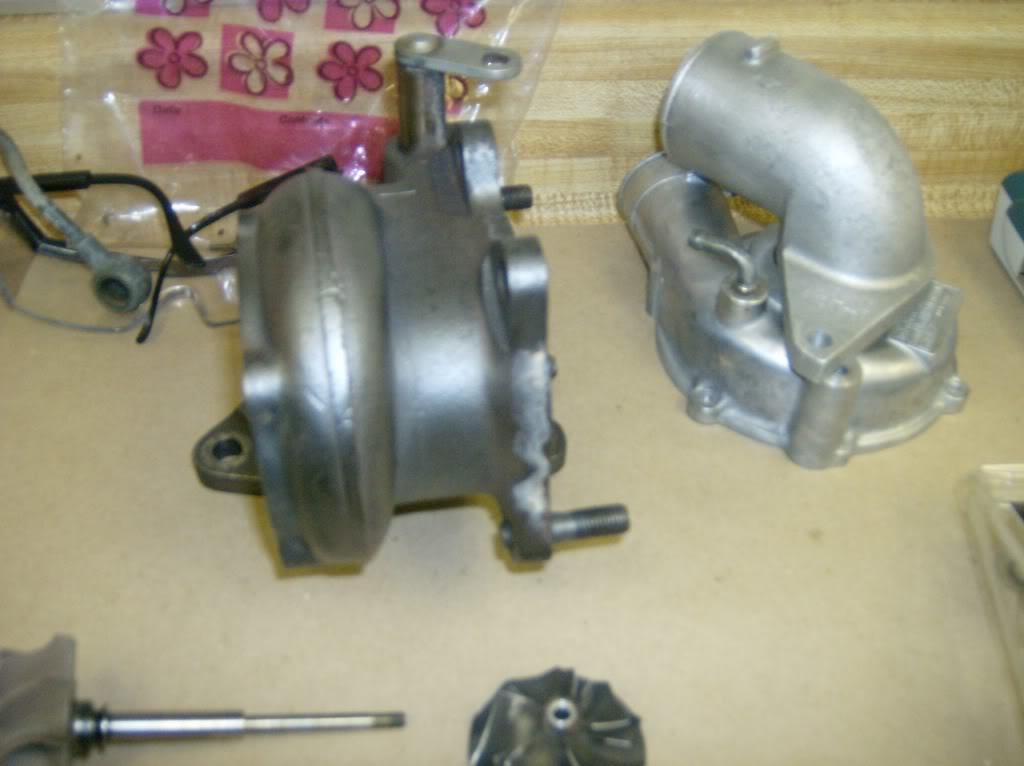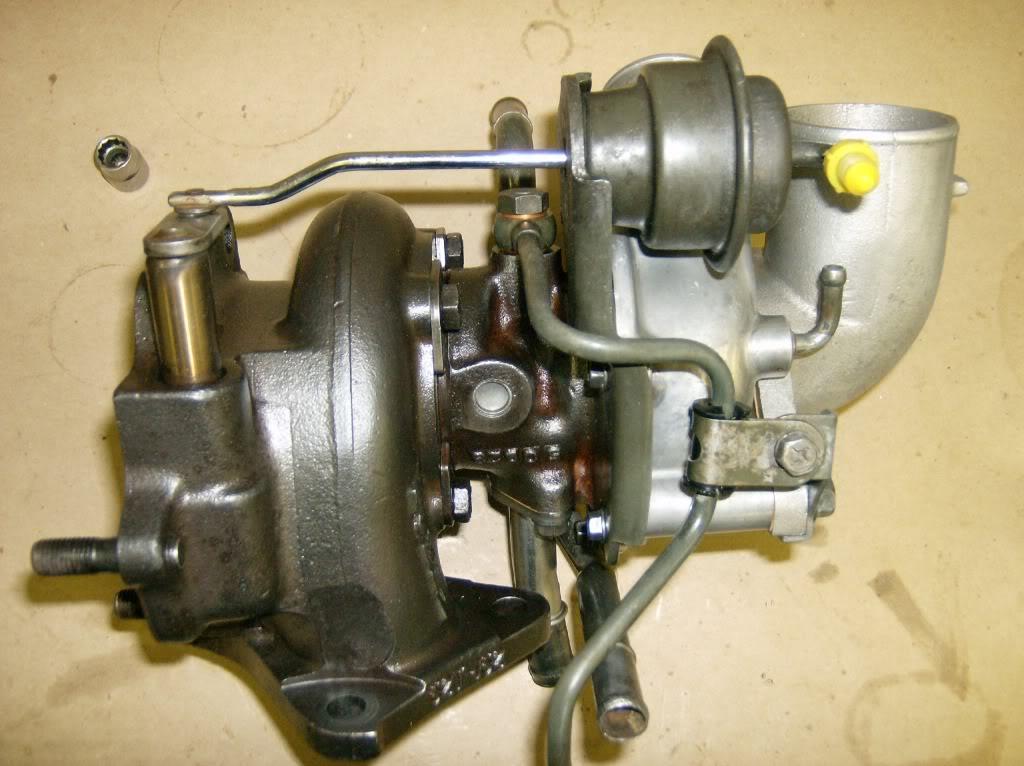 Rebuilding turbo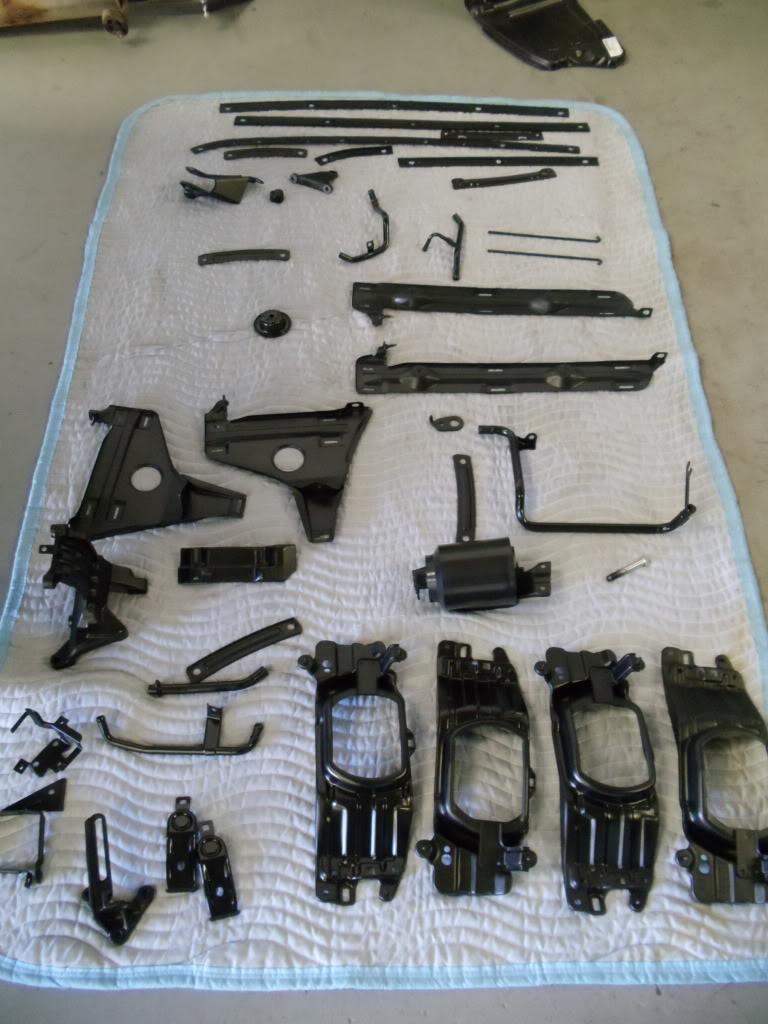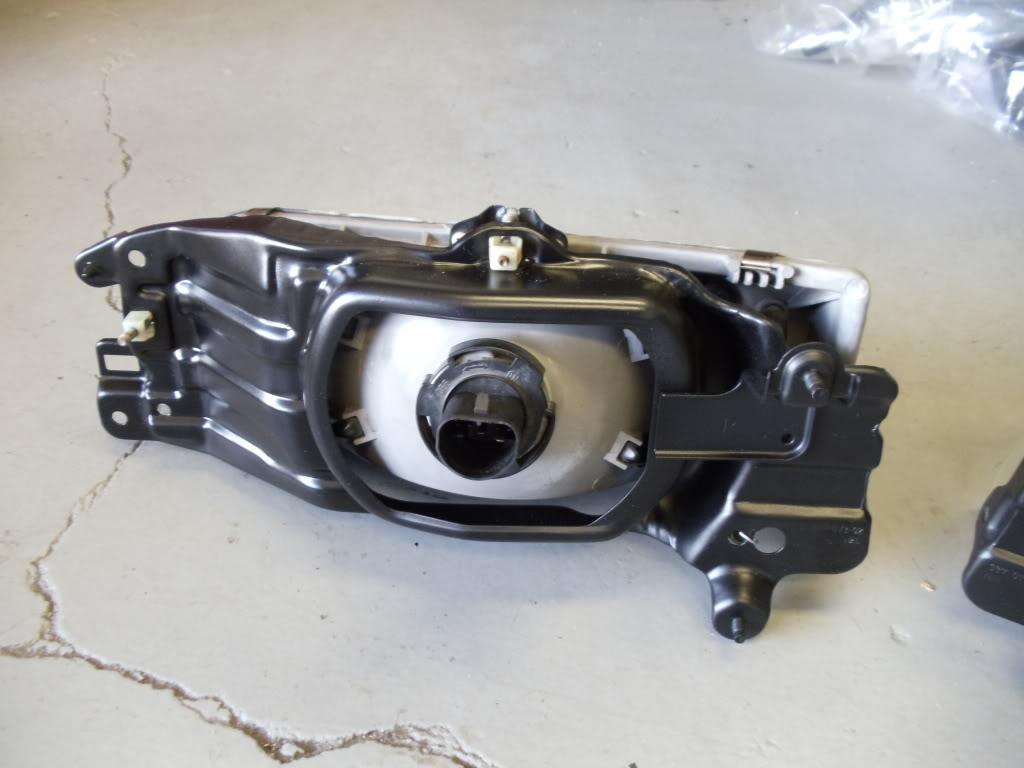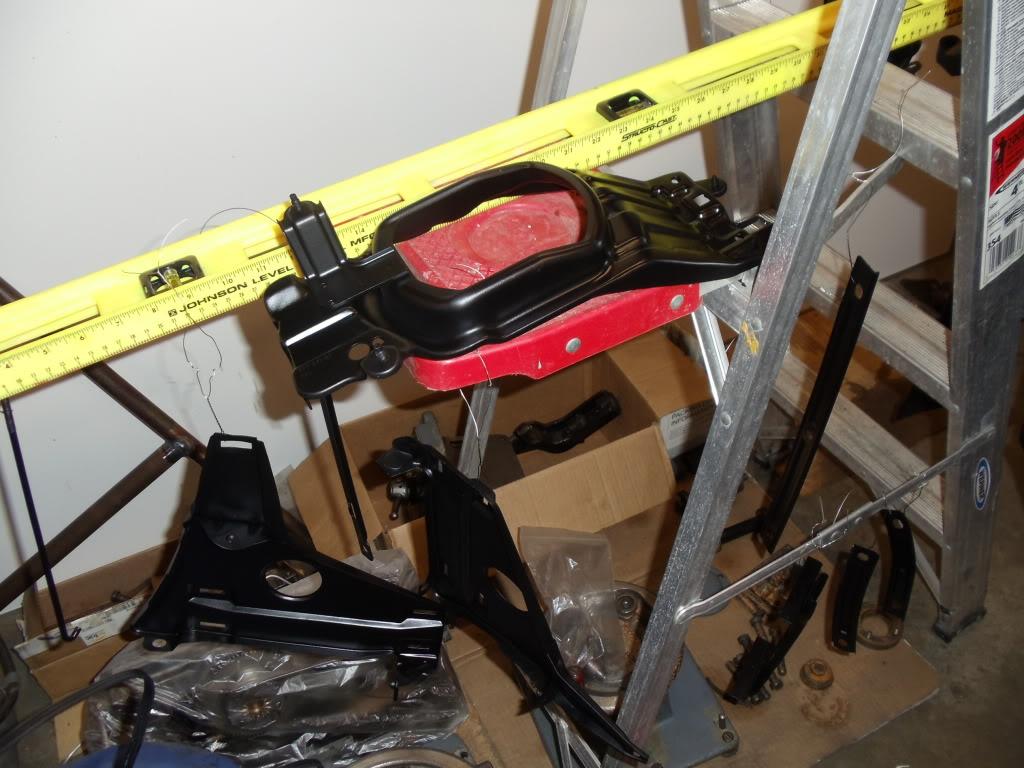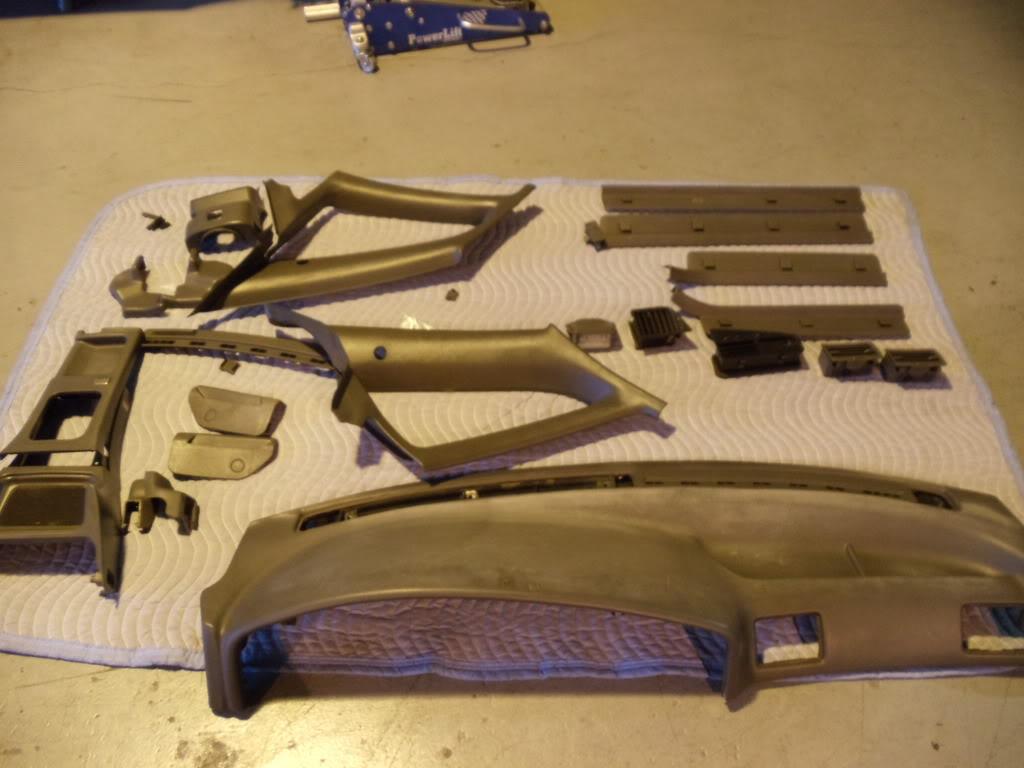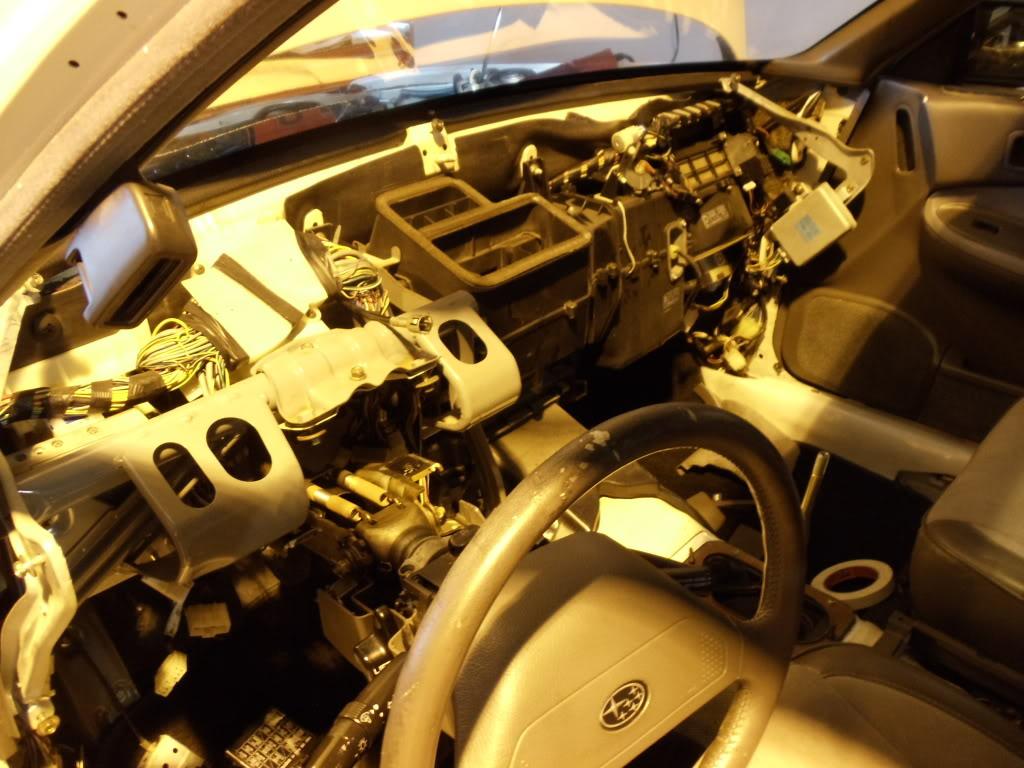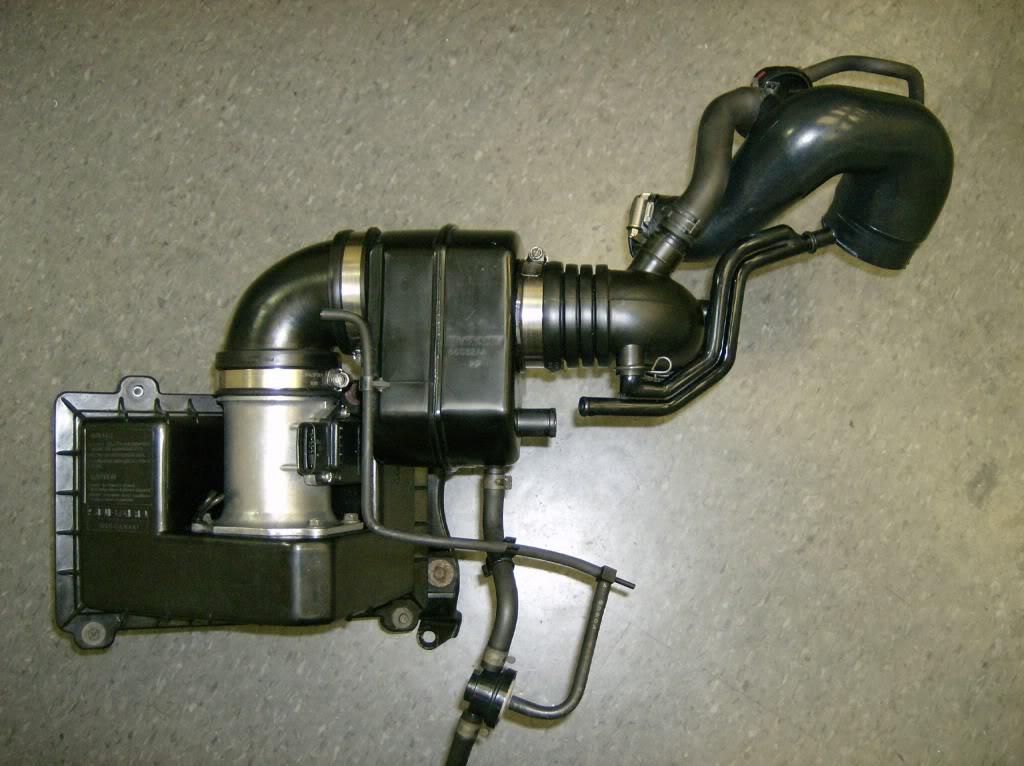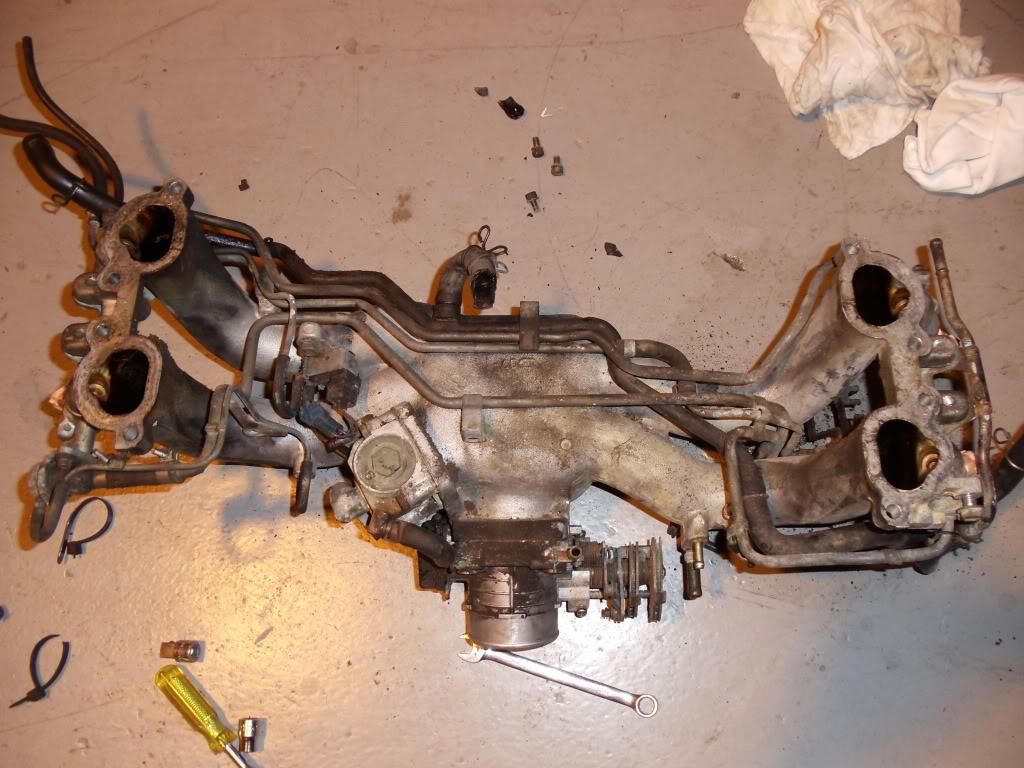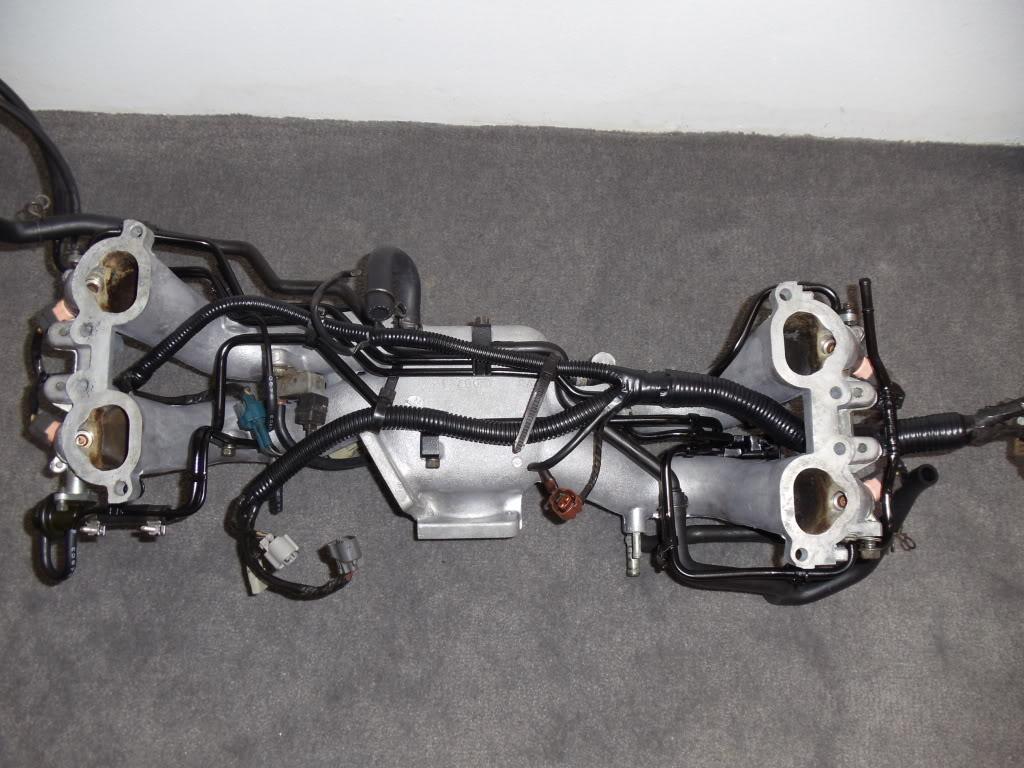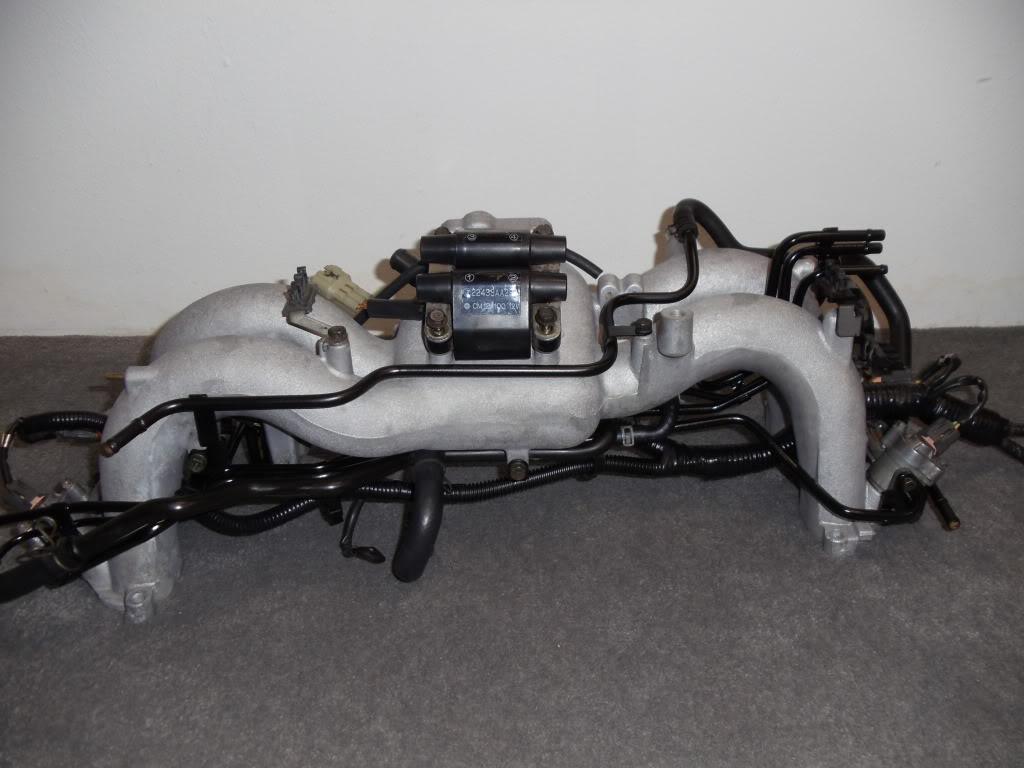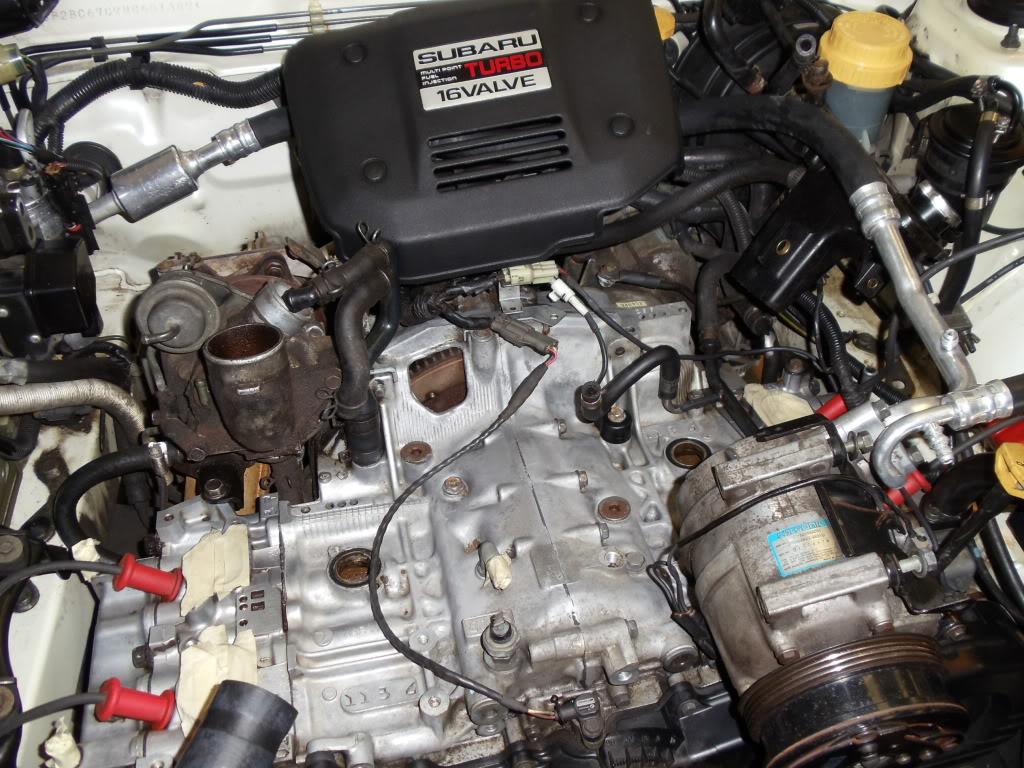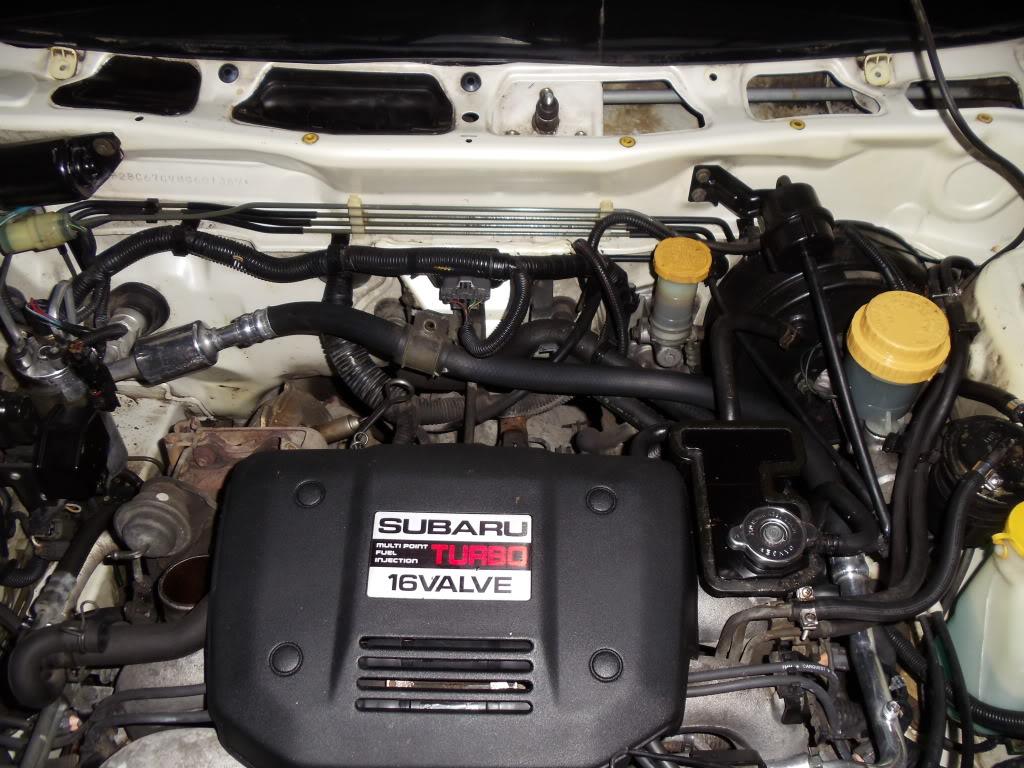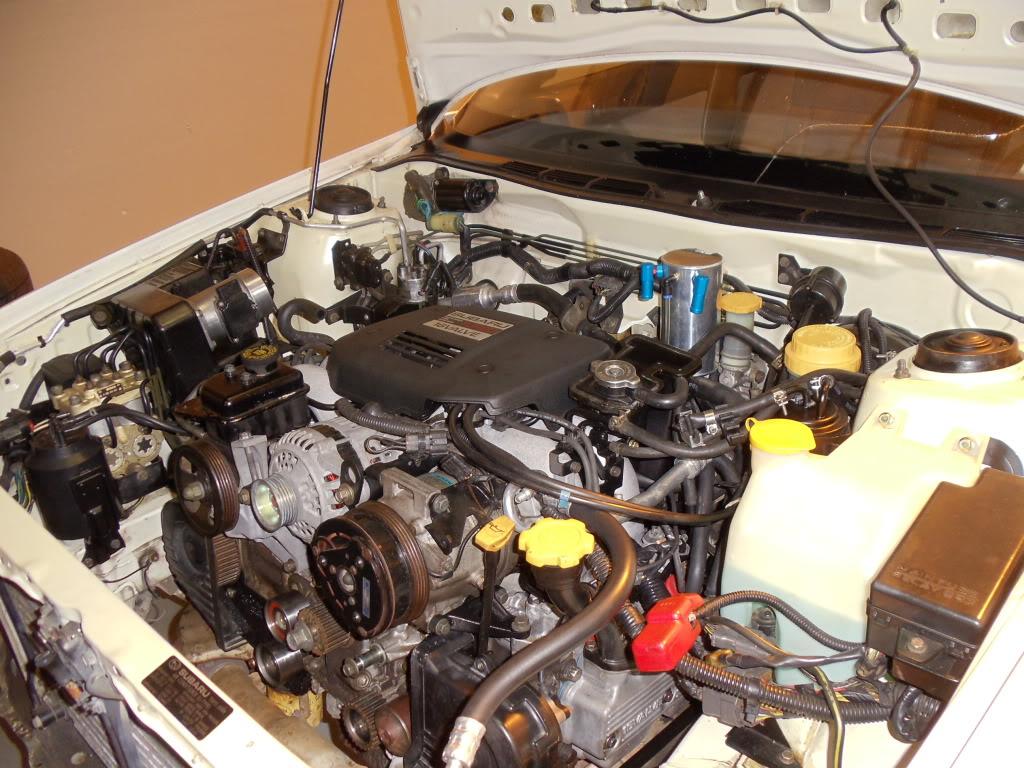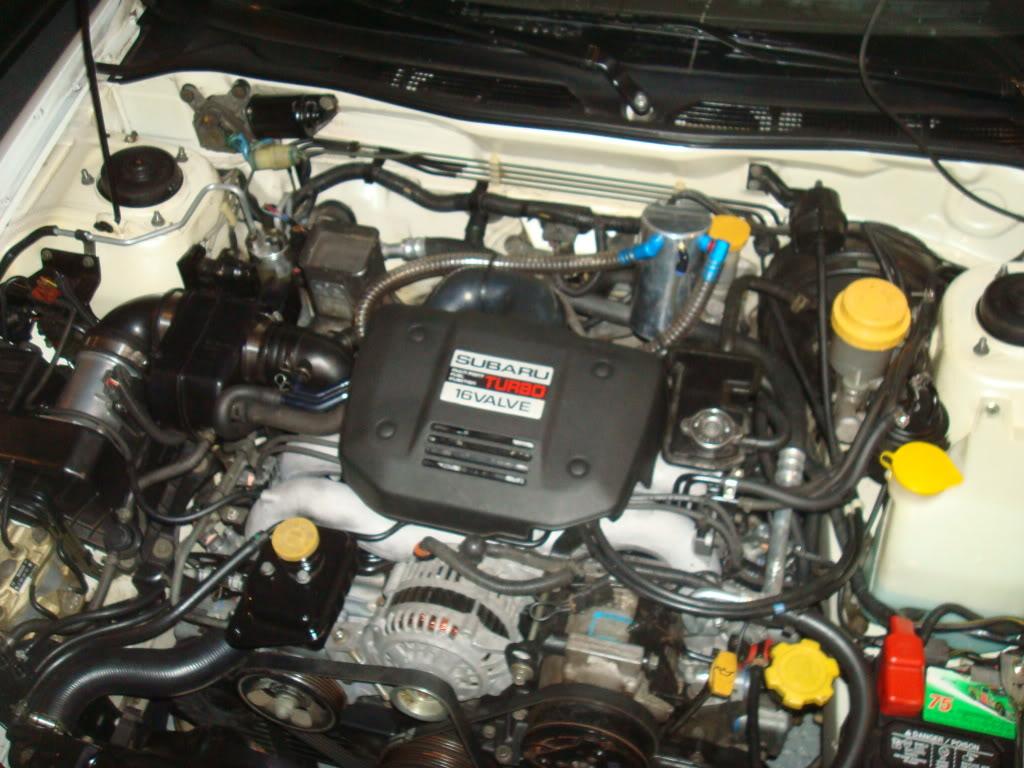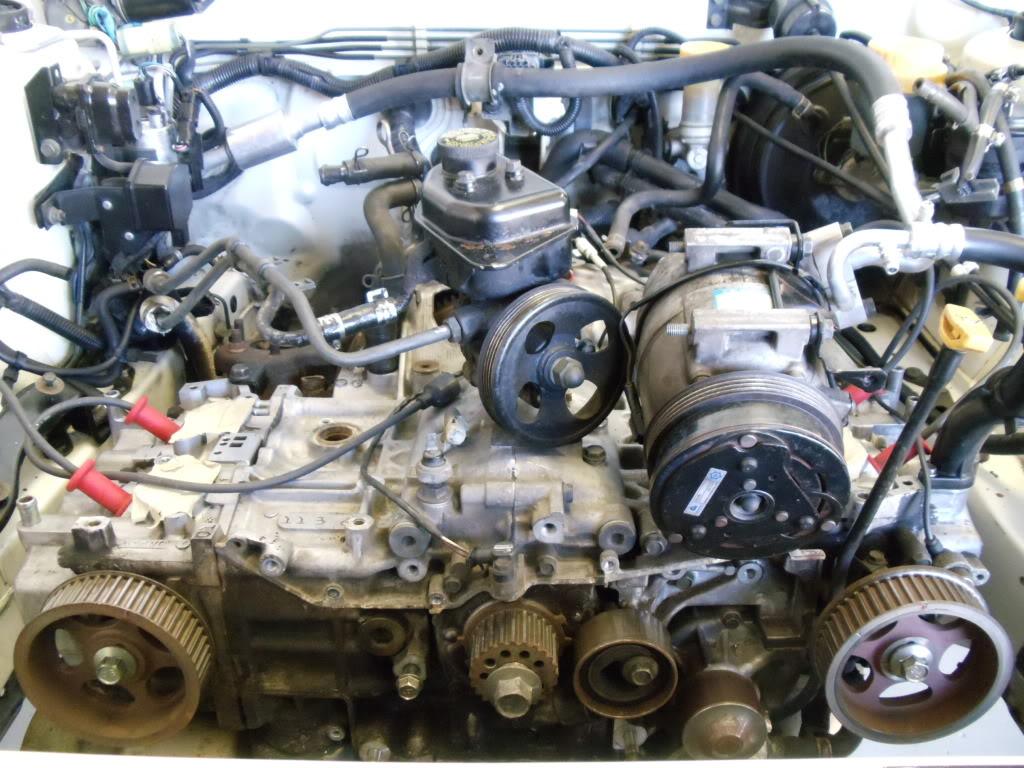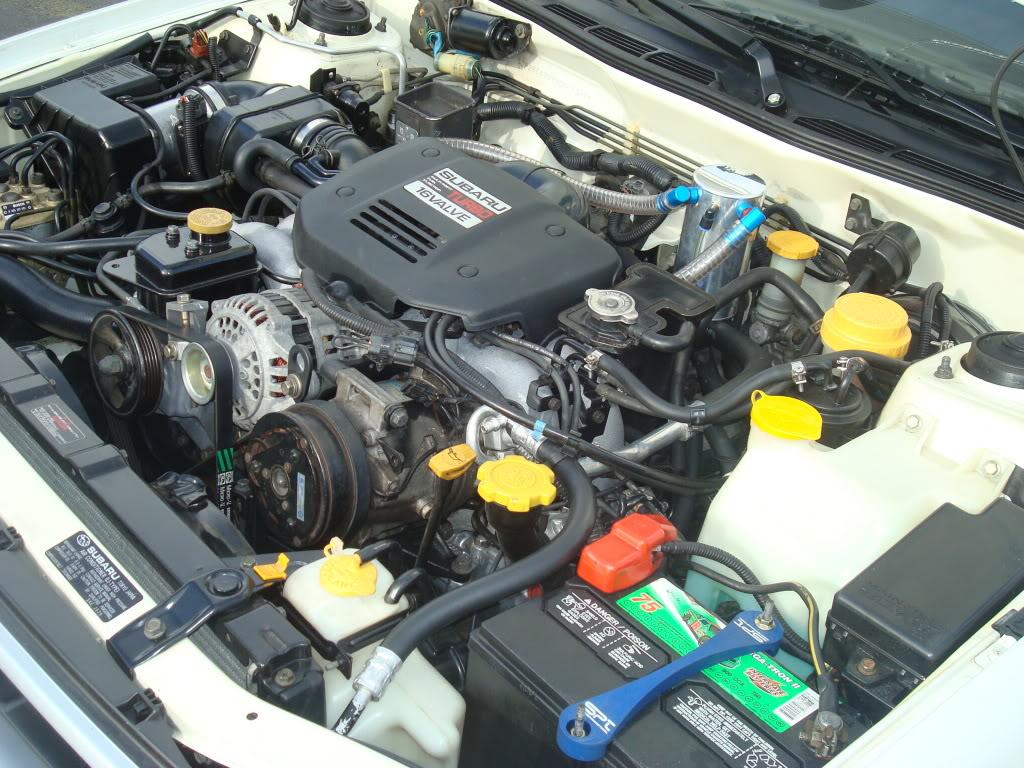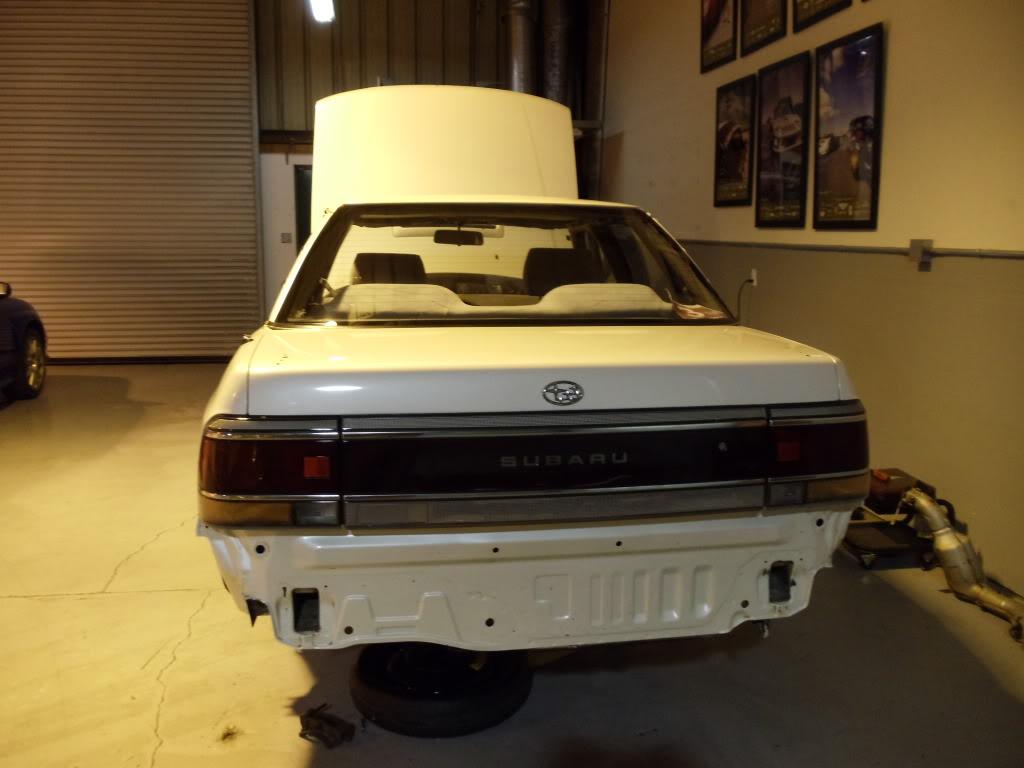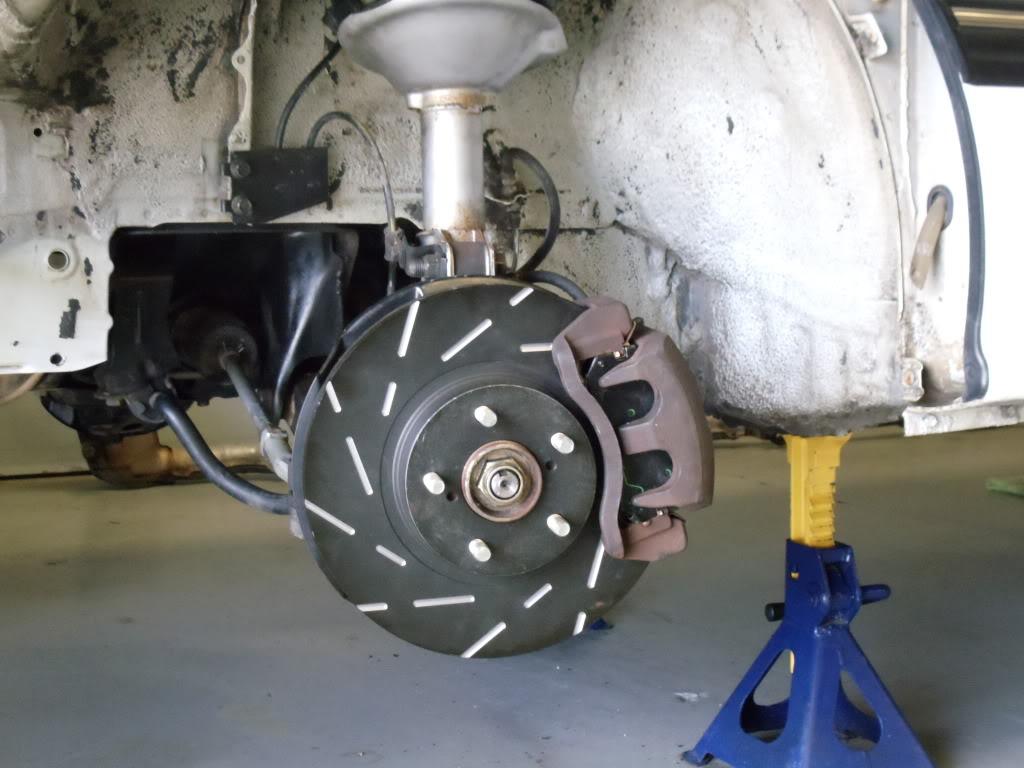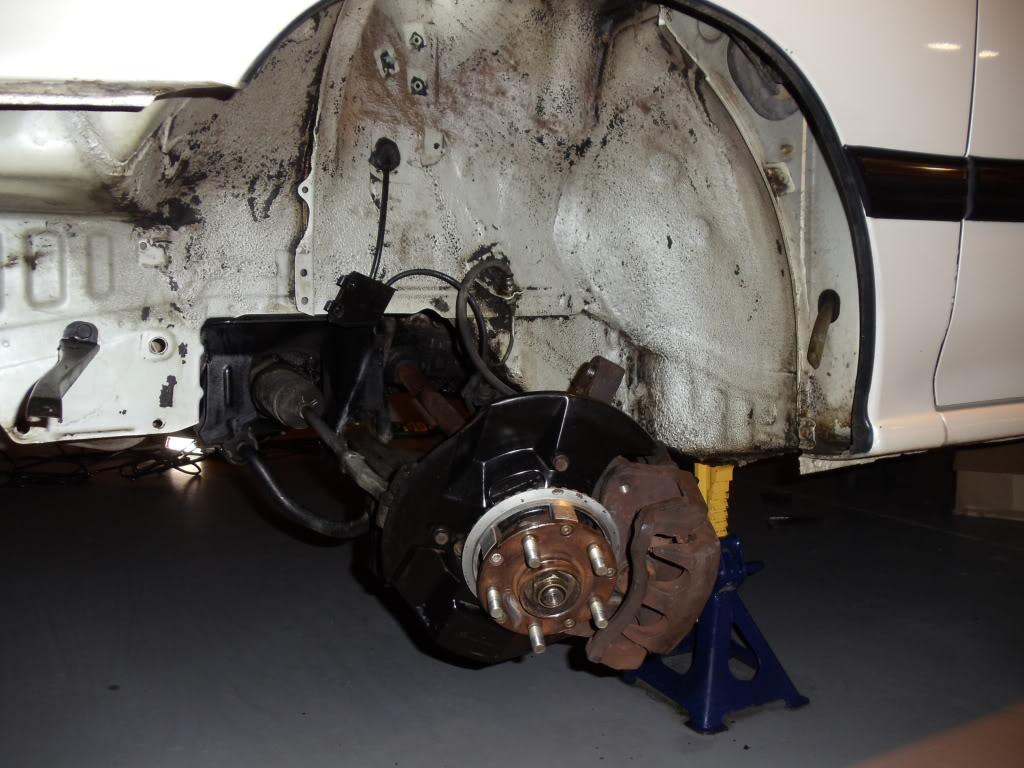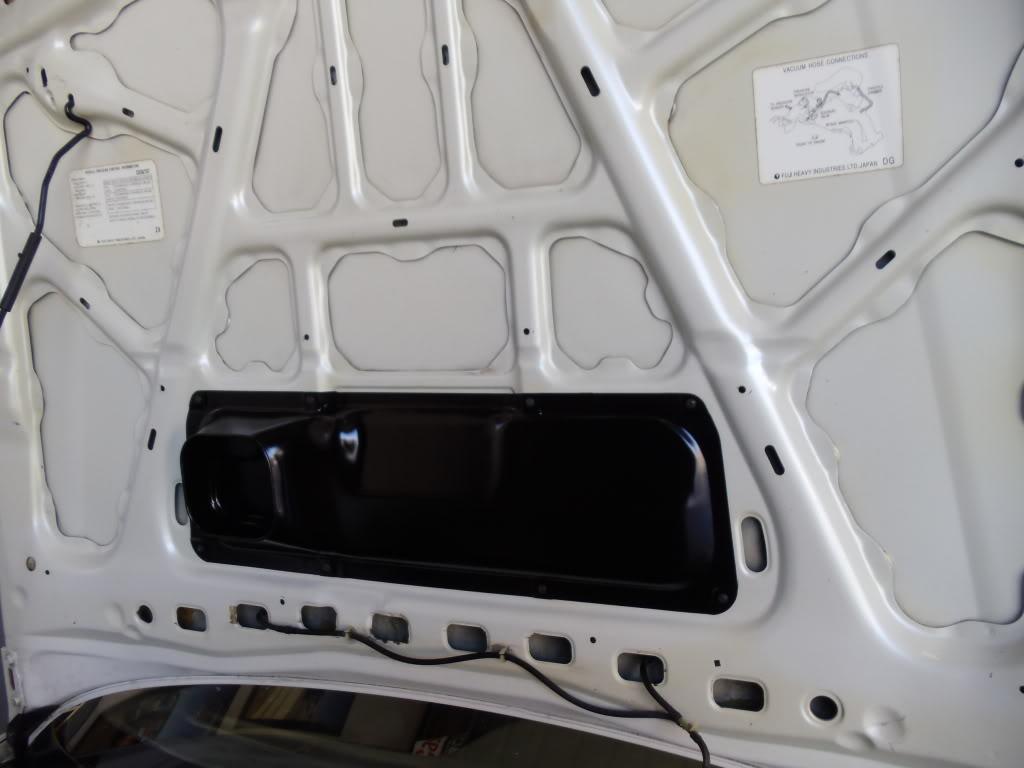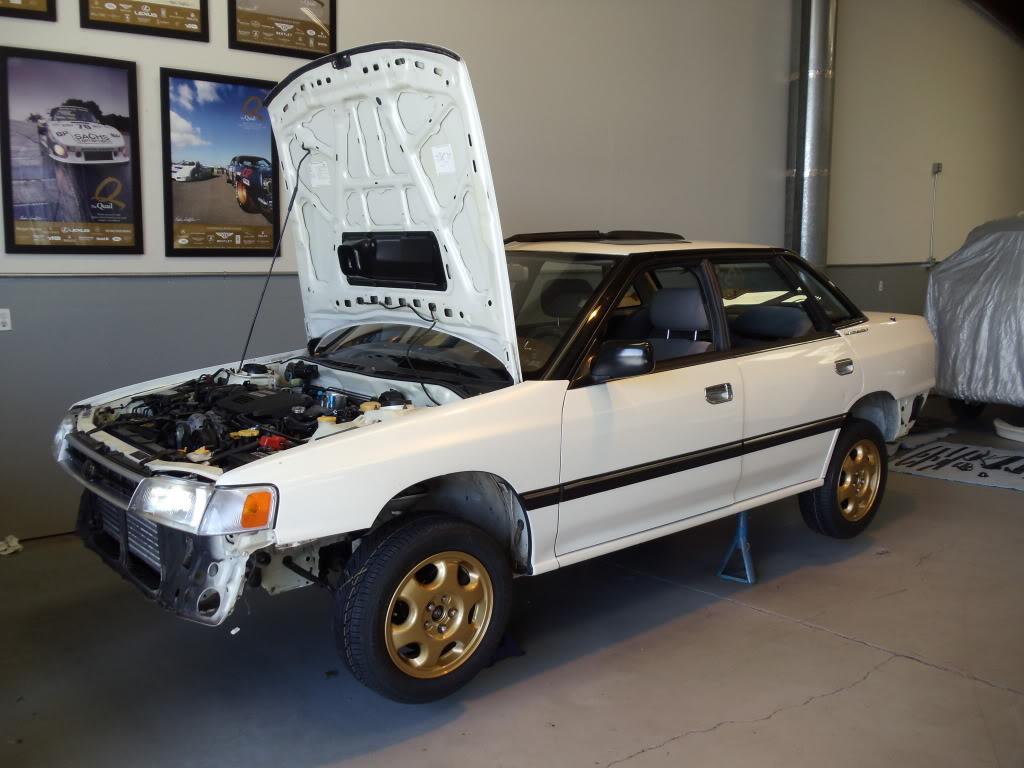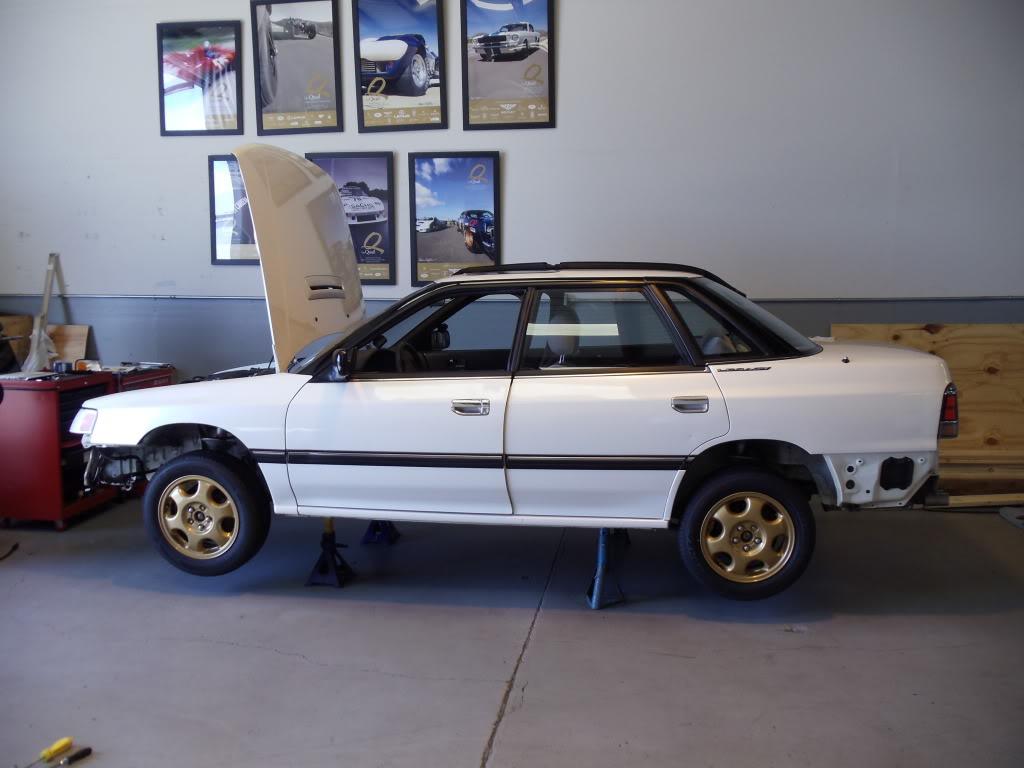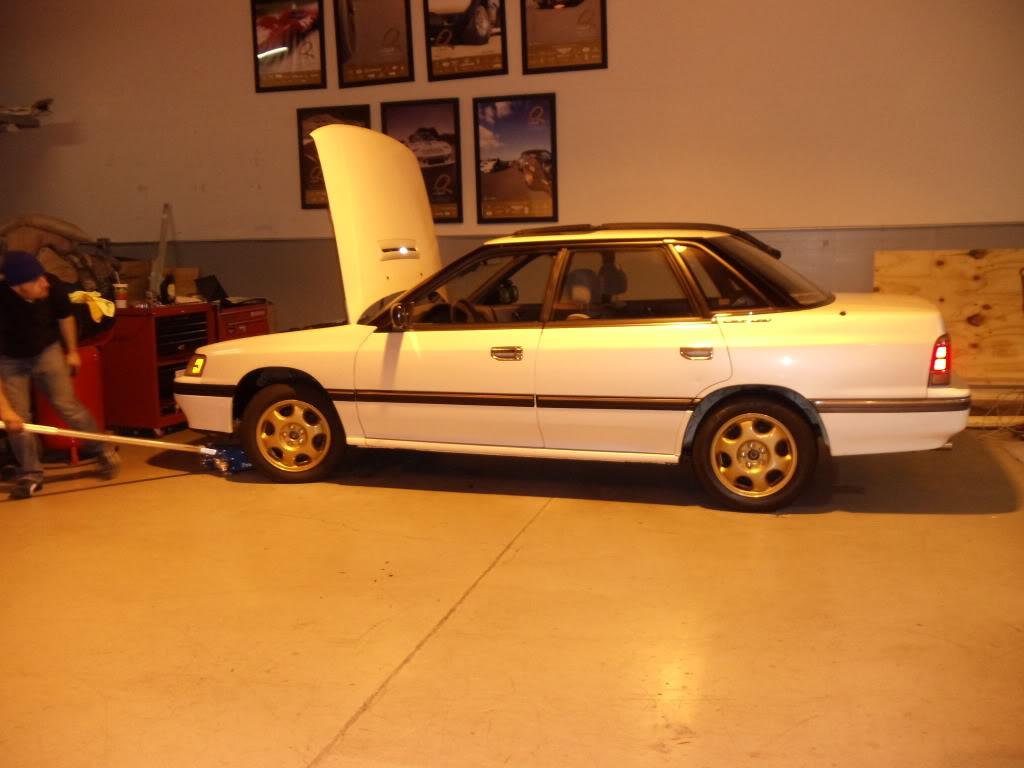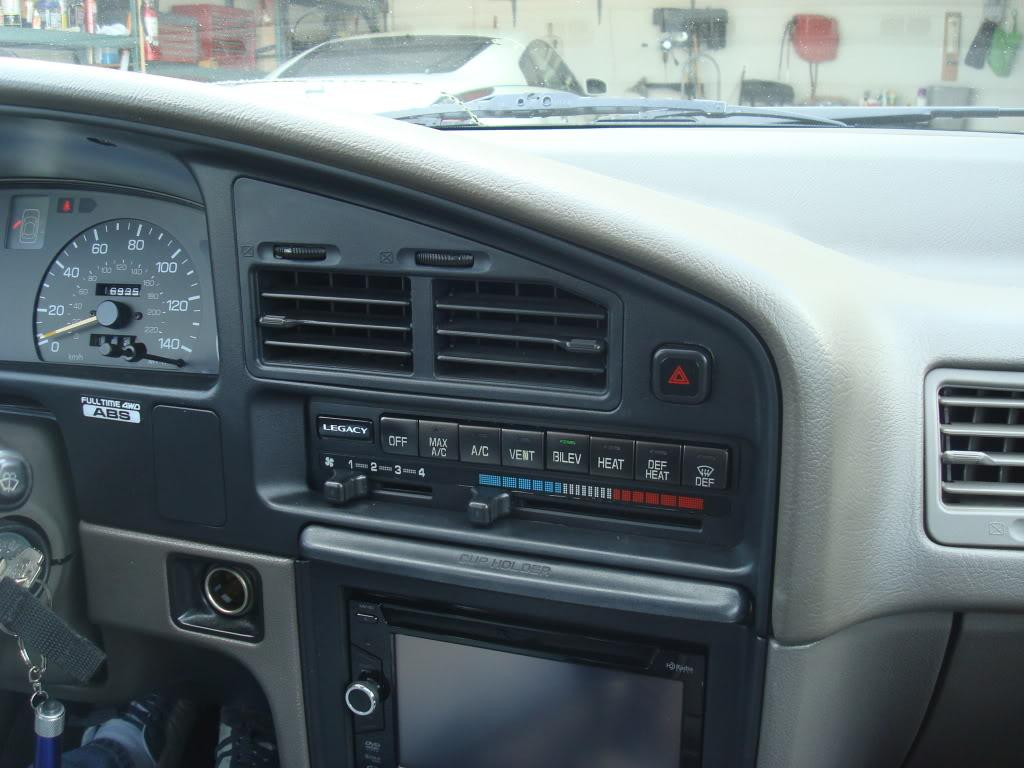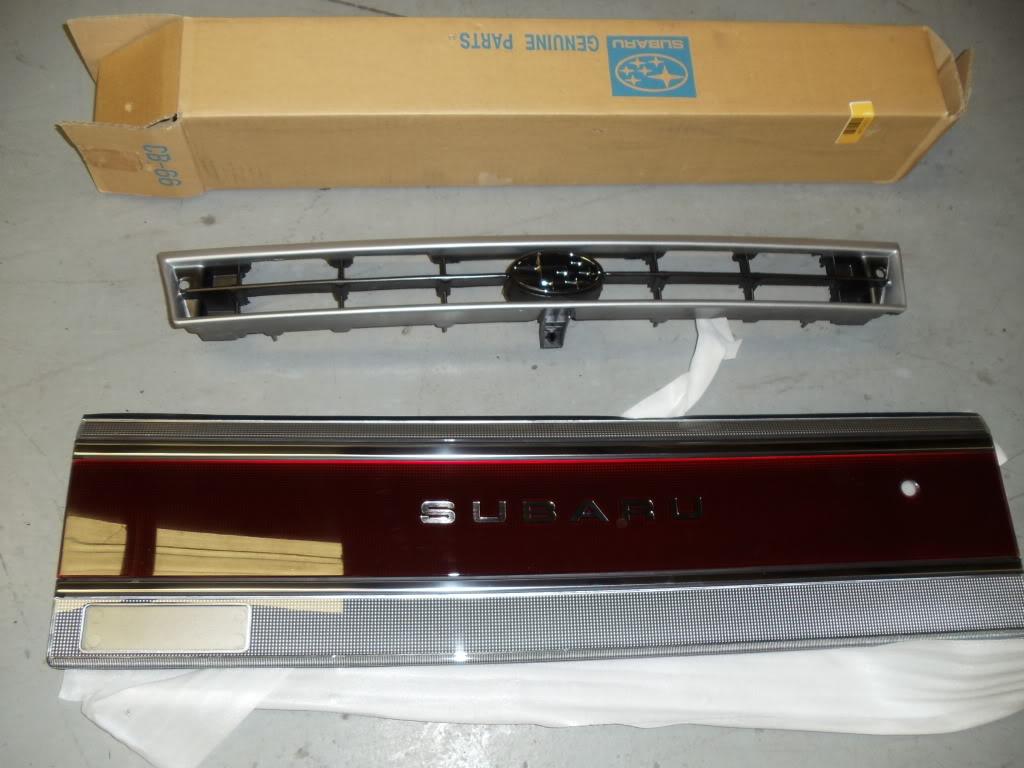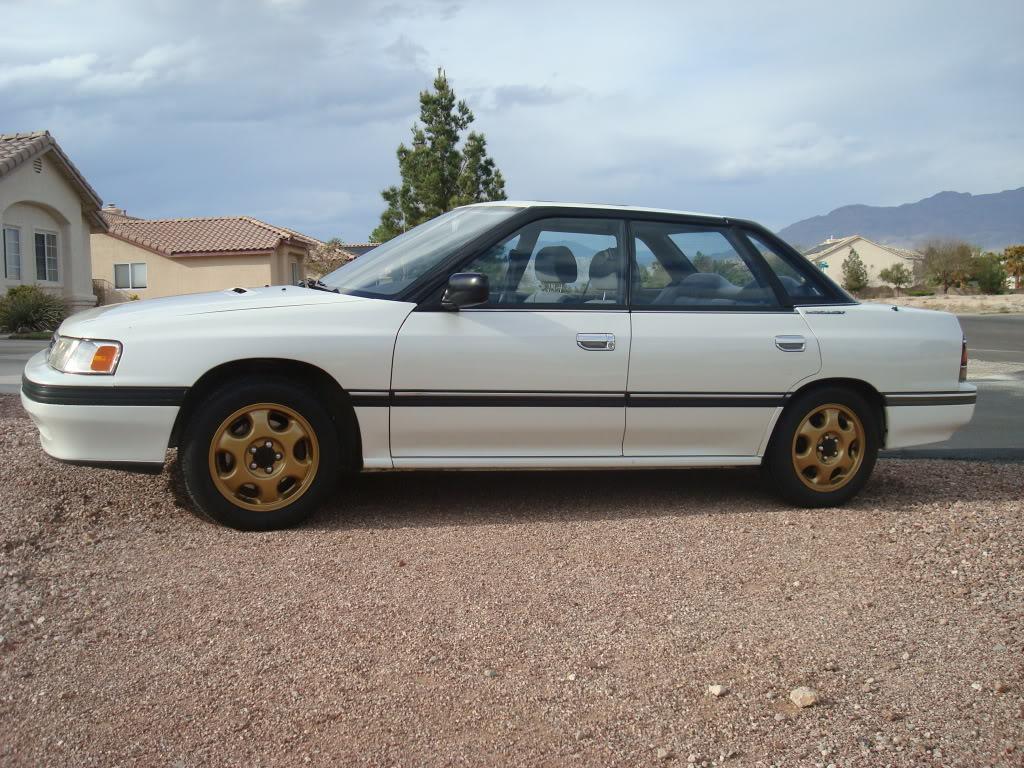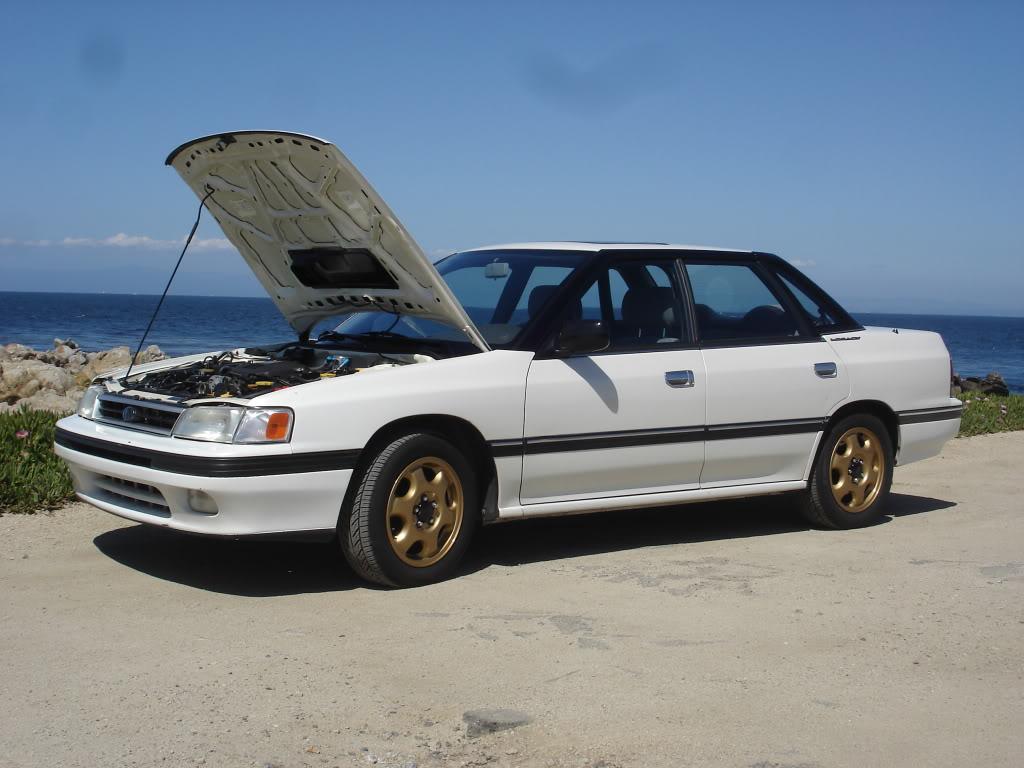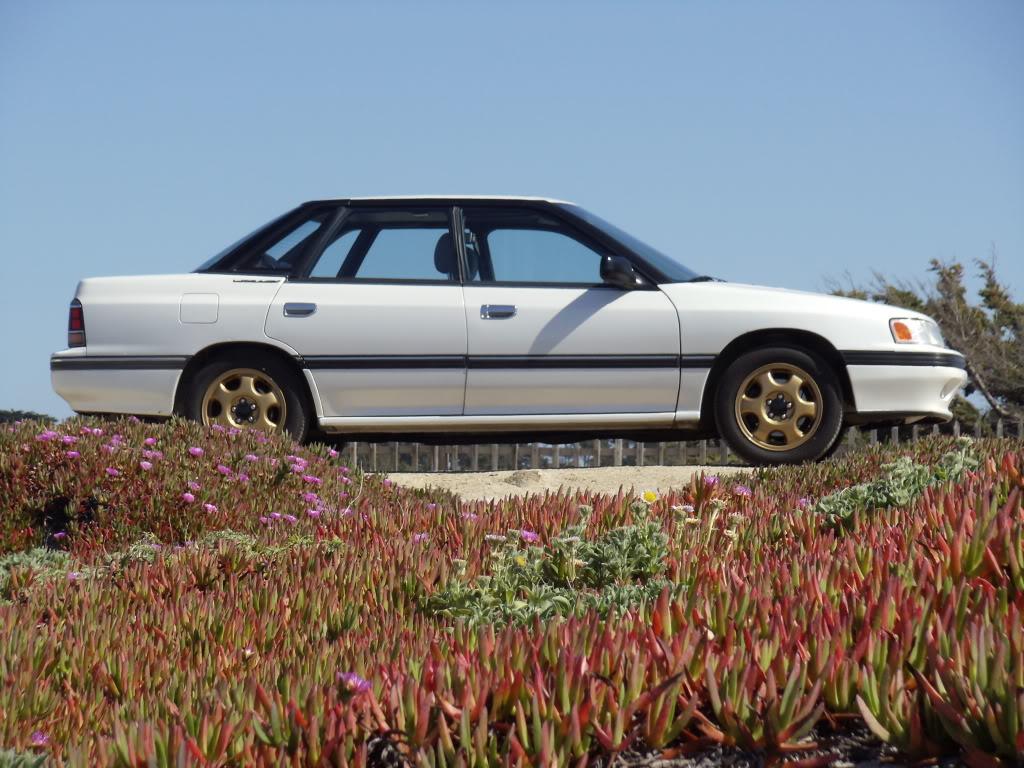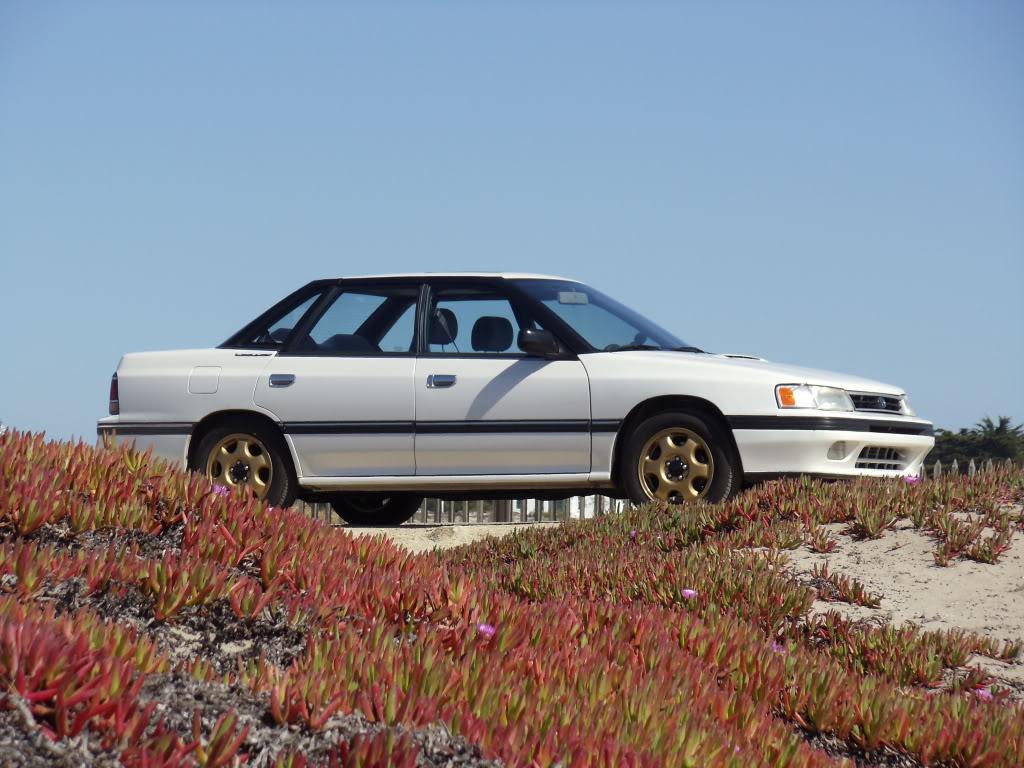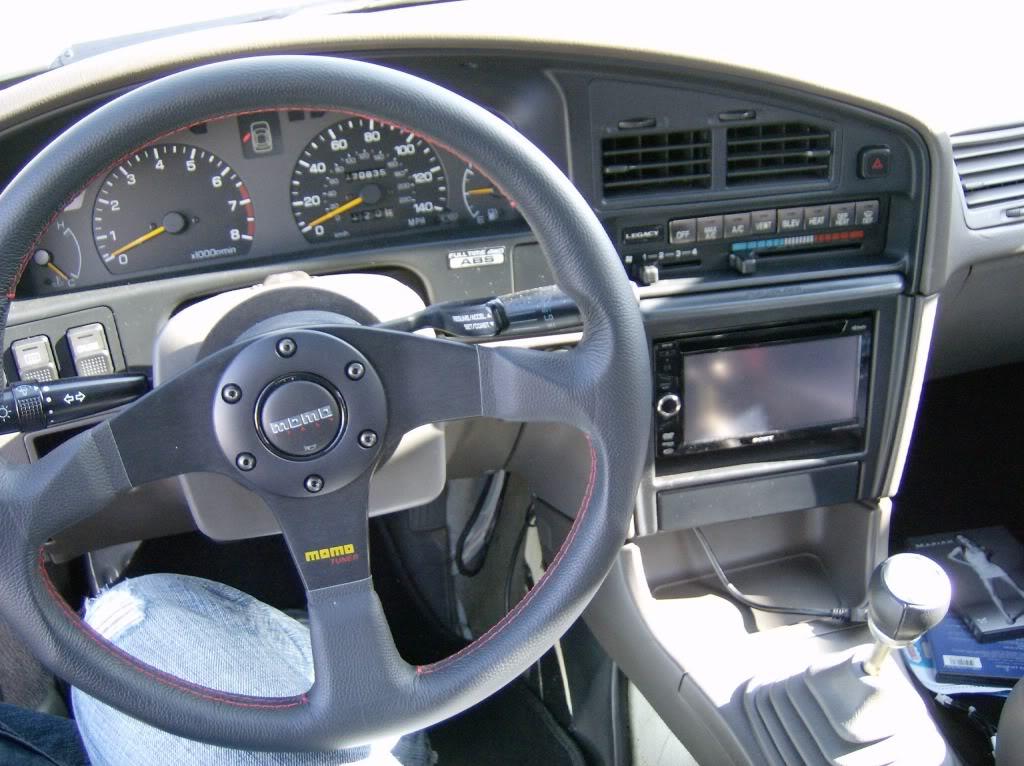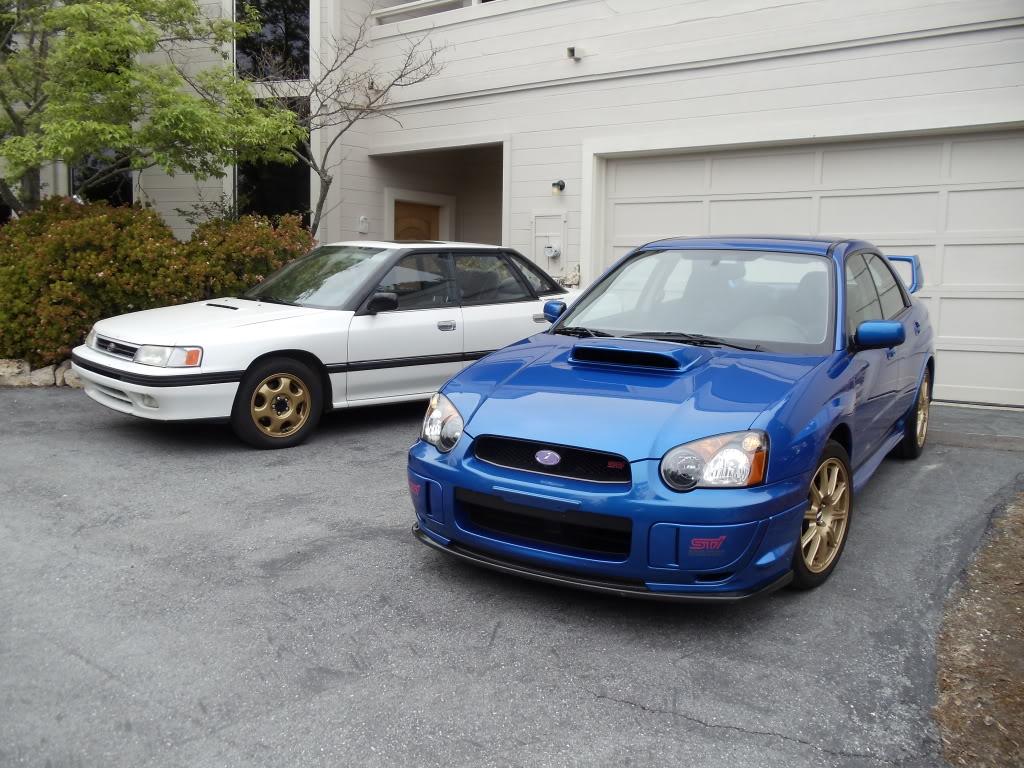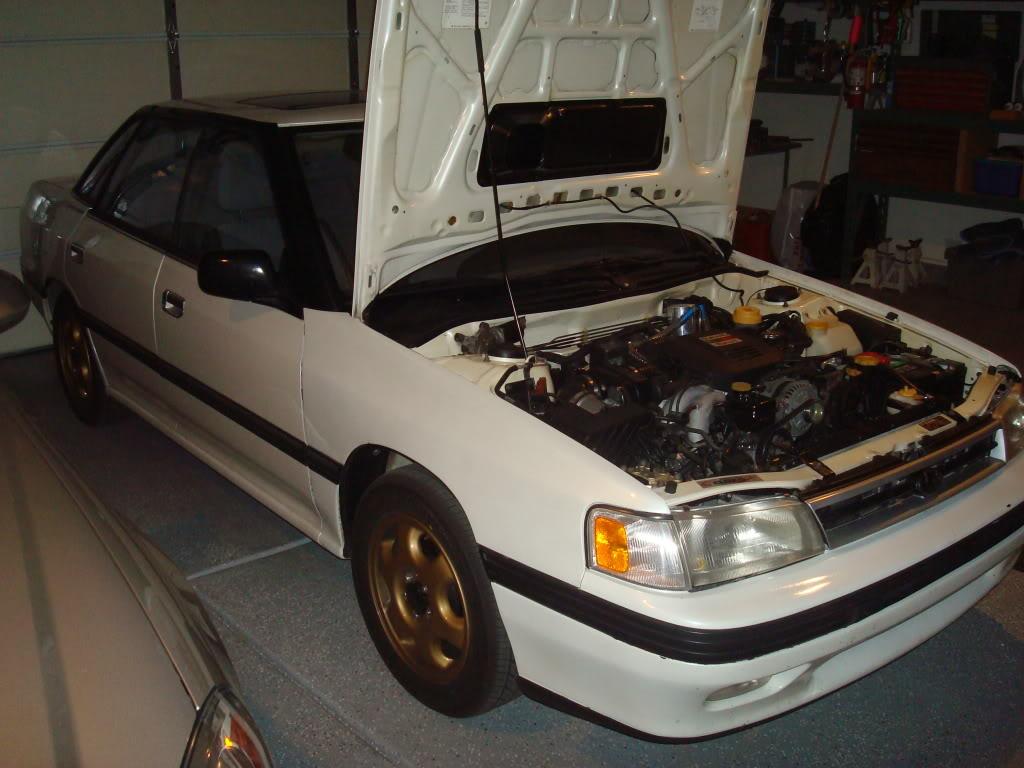 The car back together with all new breather hoses cambelt turbo rebuilt, new inlet hose for turbo. New door seals windshield trim around windows new door seals new grill and rear garnish. new tires and the list goes on......
Well you would think thats where the story ends. The cars is all new and back together, well not quite. I went to Indiana to work for a team for the Indy 500 and when I went away the bumpers were going to be painted for me. Well the guy who was doing the job decided to strip and paint the whole car so when I arrived home it was stripped out and looked like this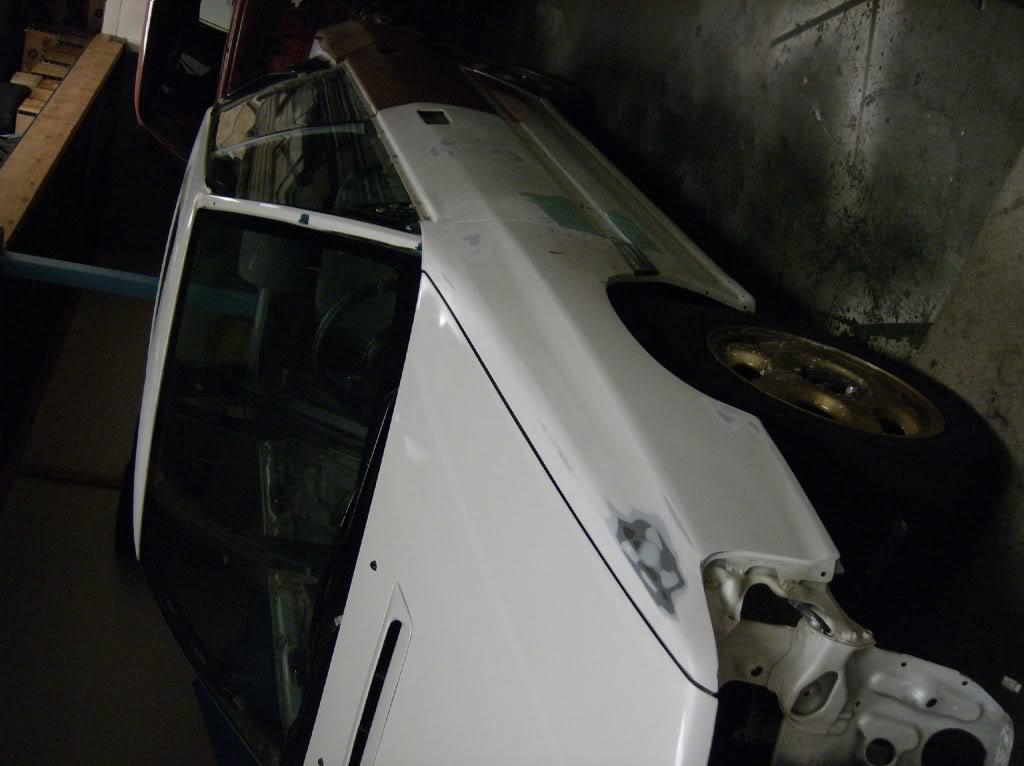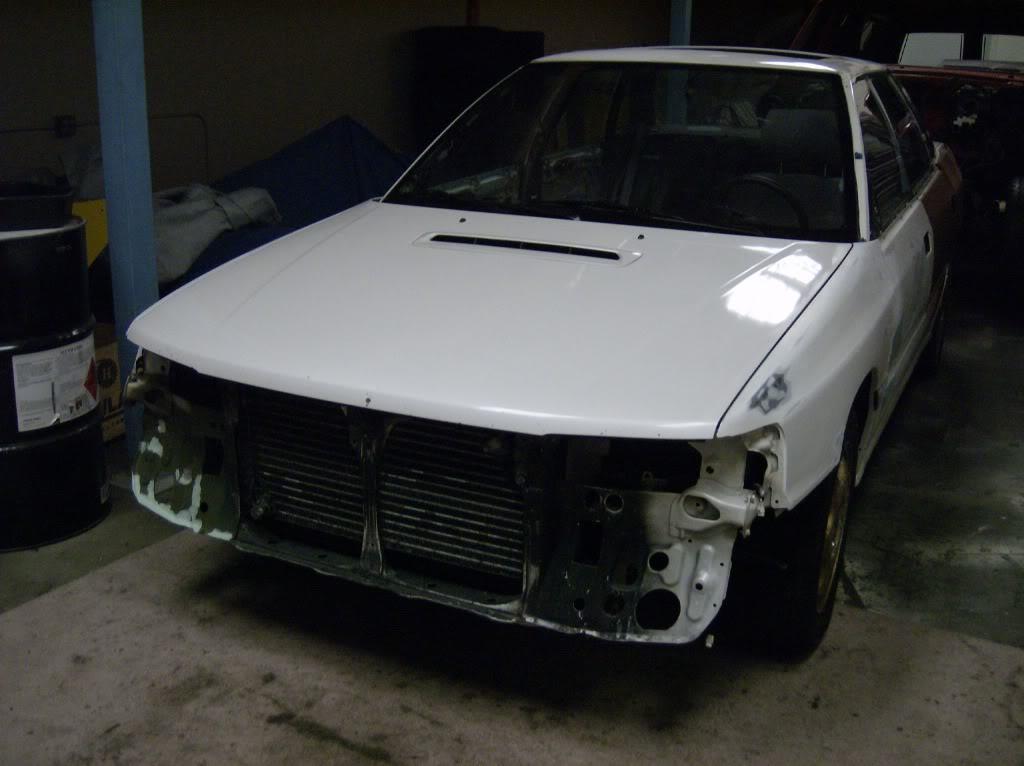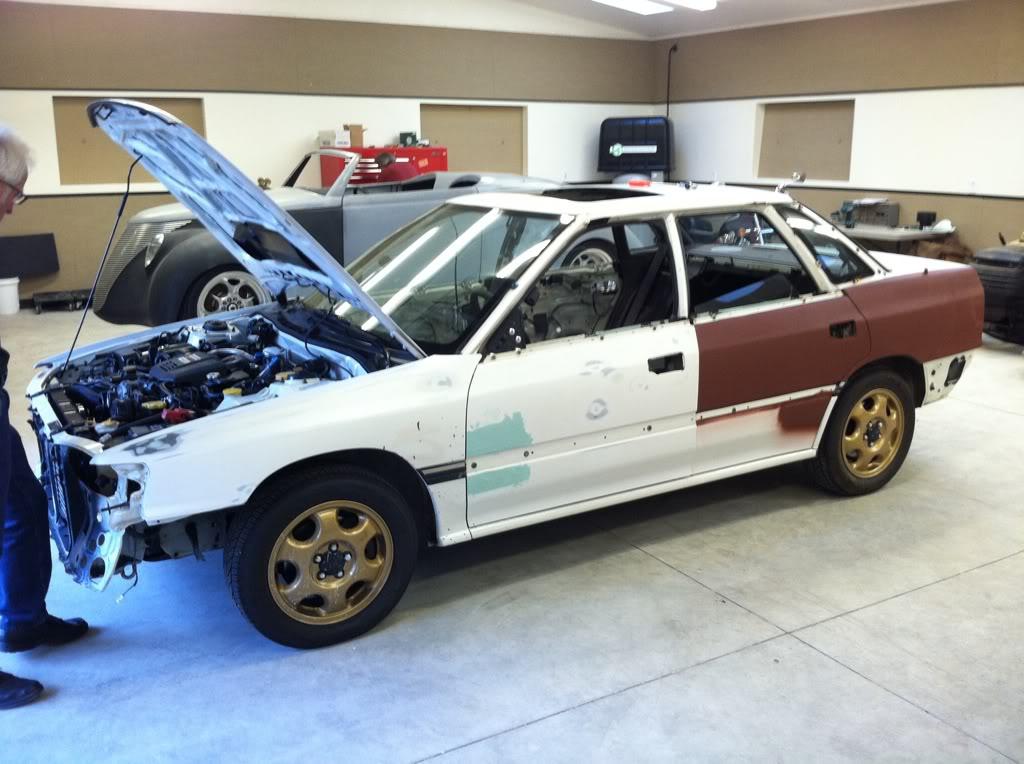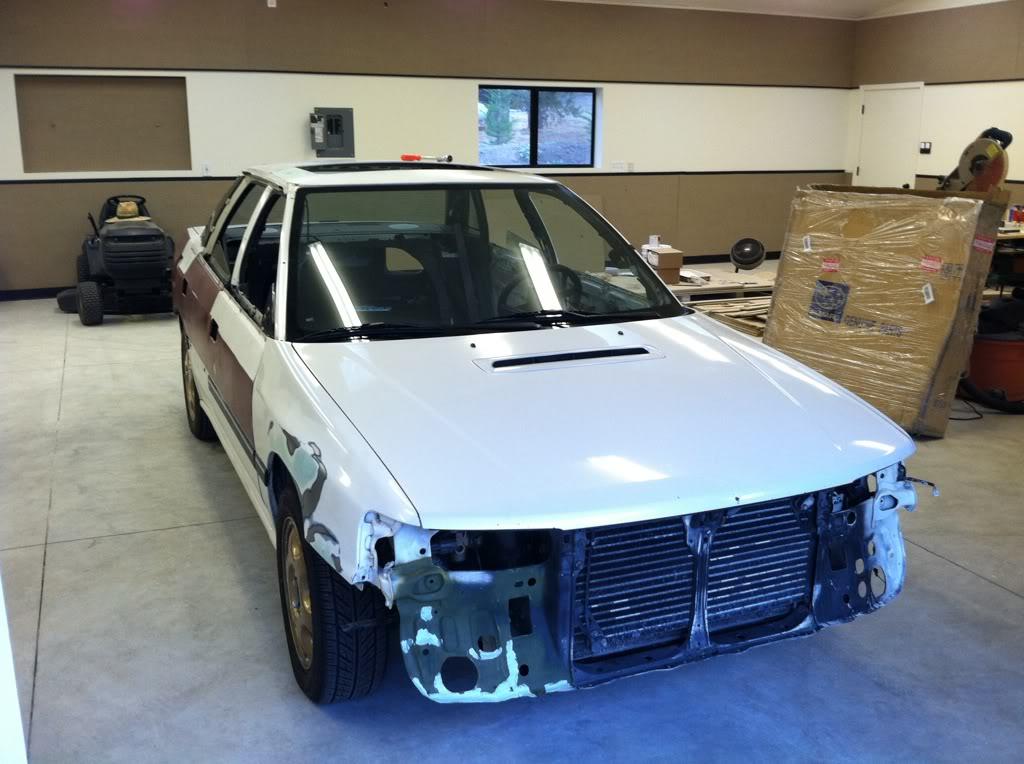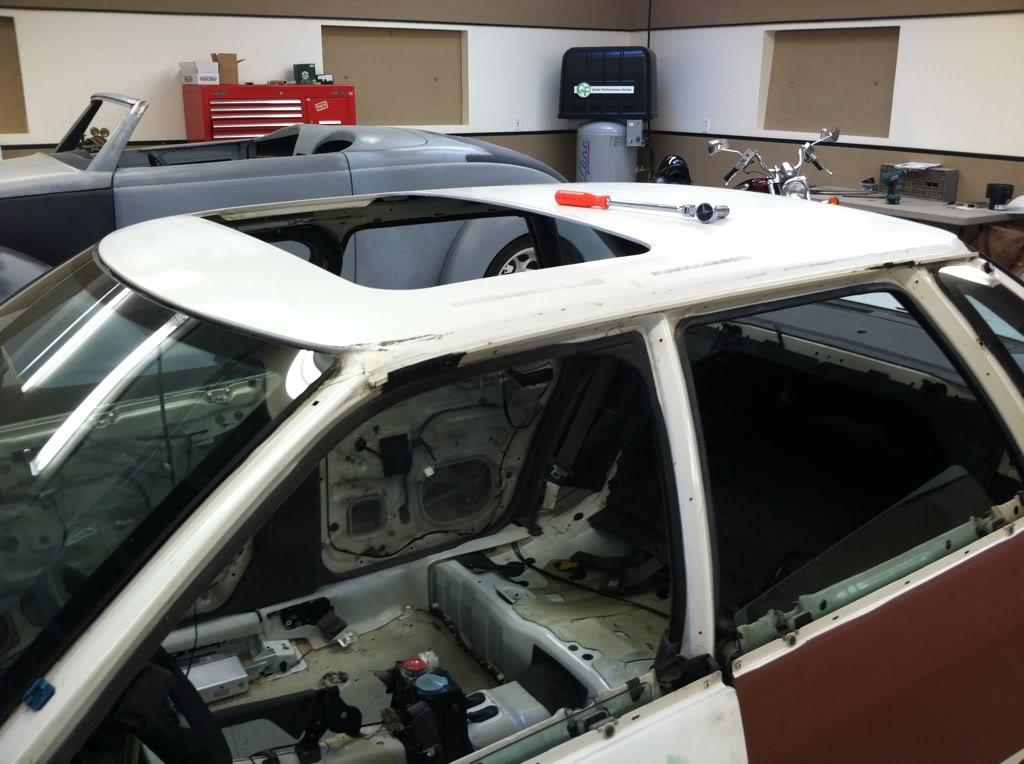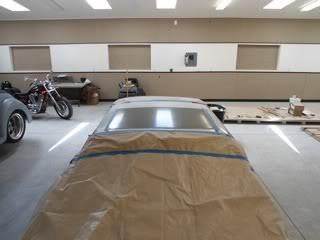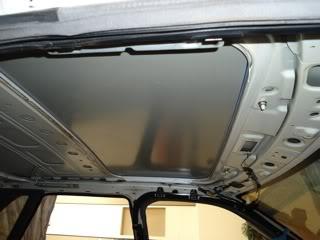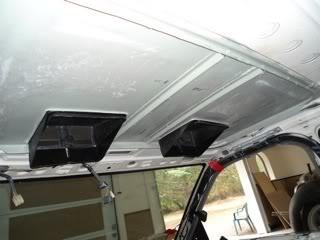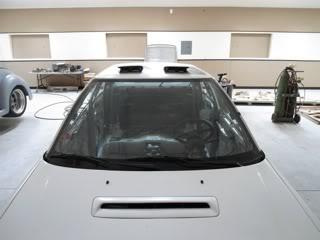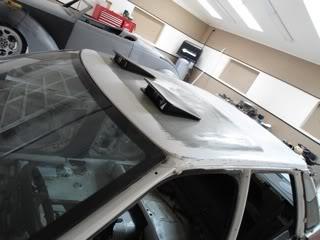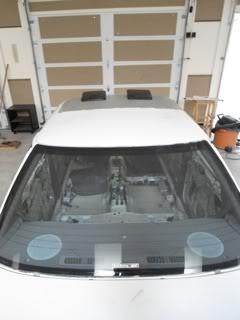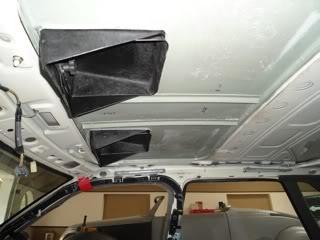 So with the car stripped I decided to remove the sunroof and fit Group A Legacy rally car roof vents. The work was done by Bruce at specialtymetalfabrication.com and he is awsome at his job. I could not be happier with his work.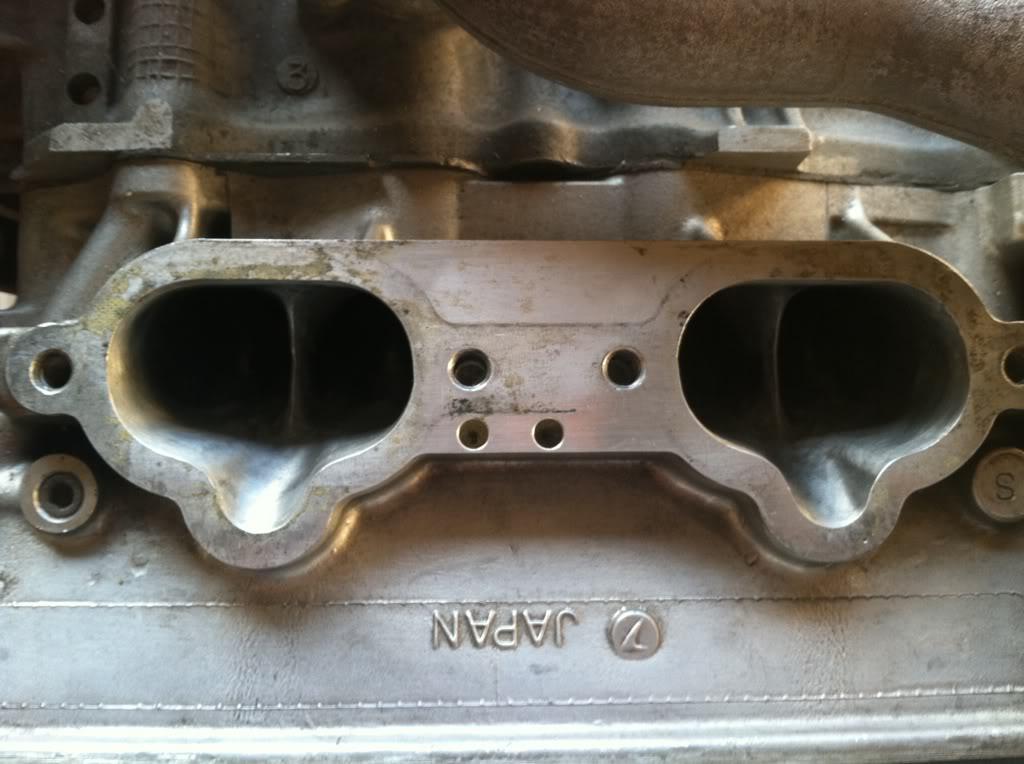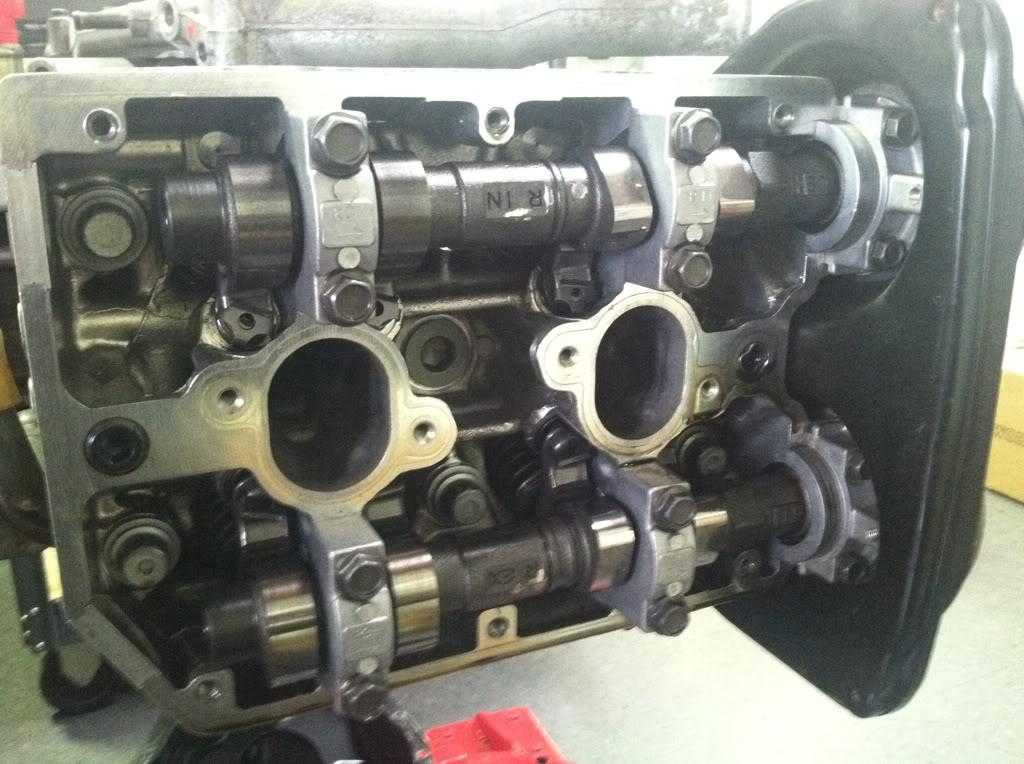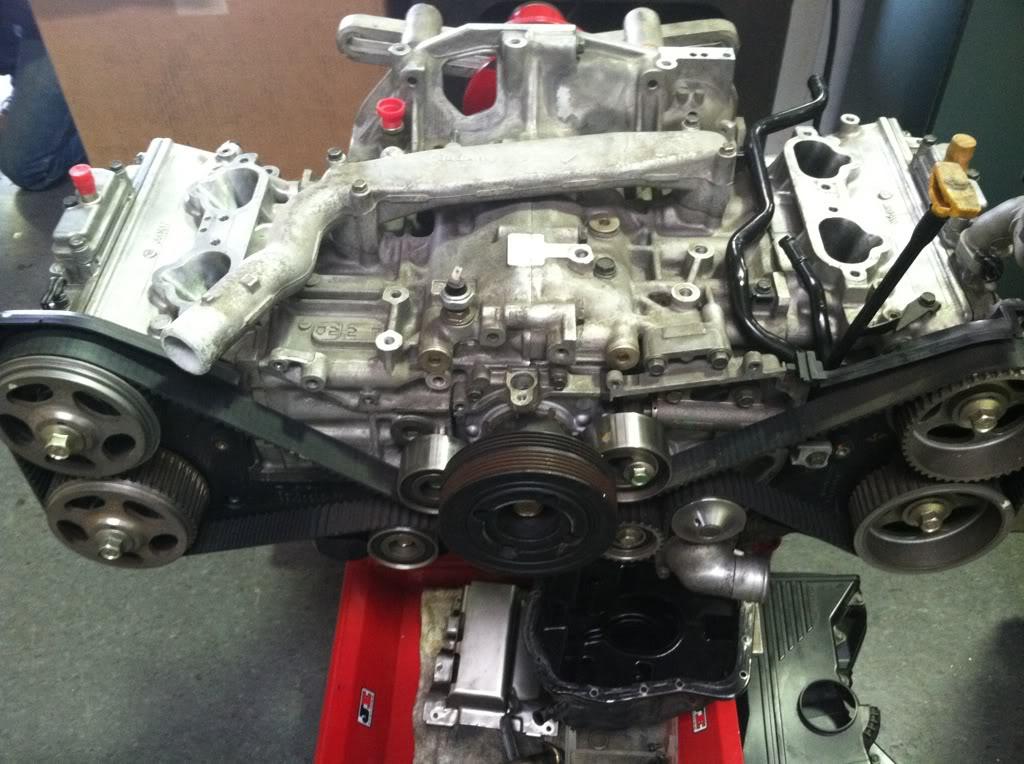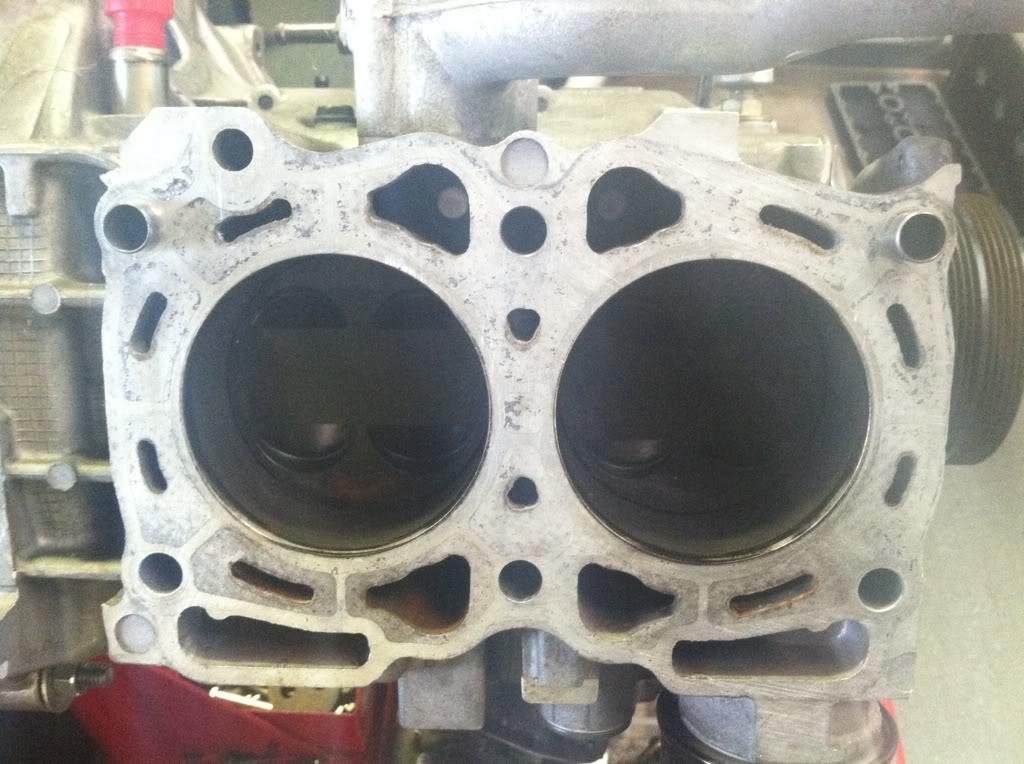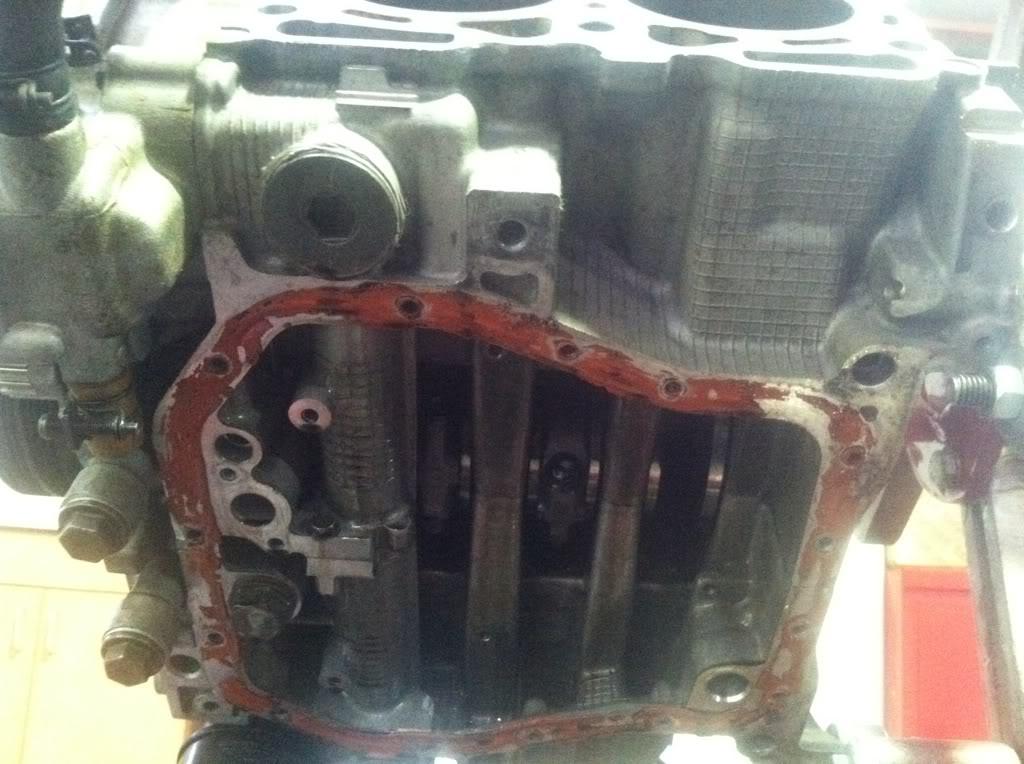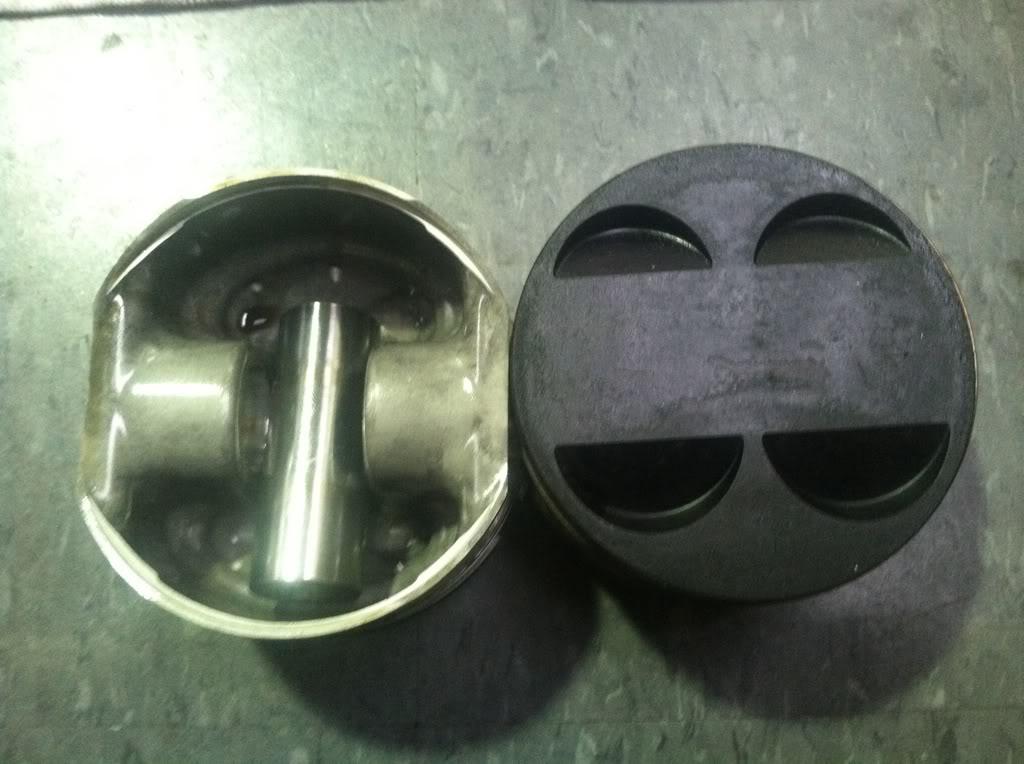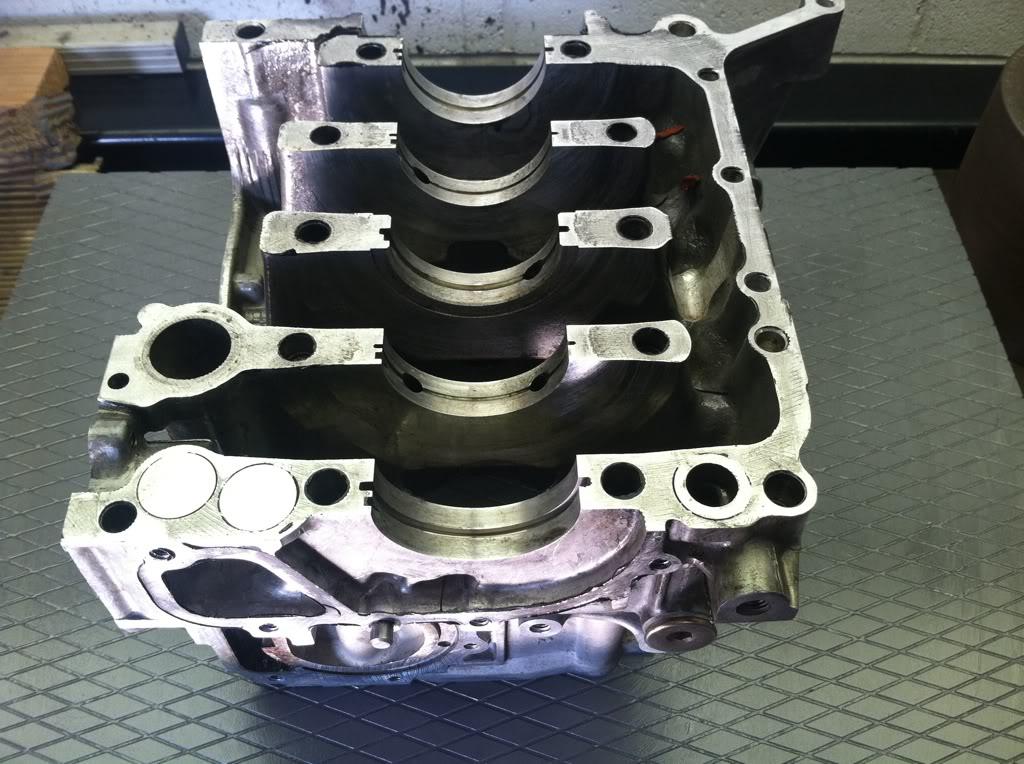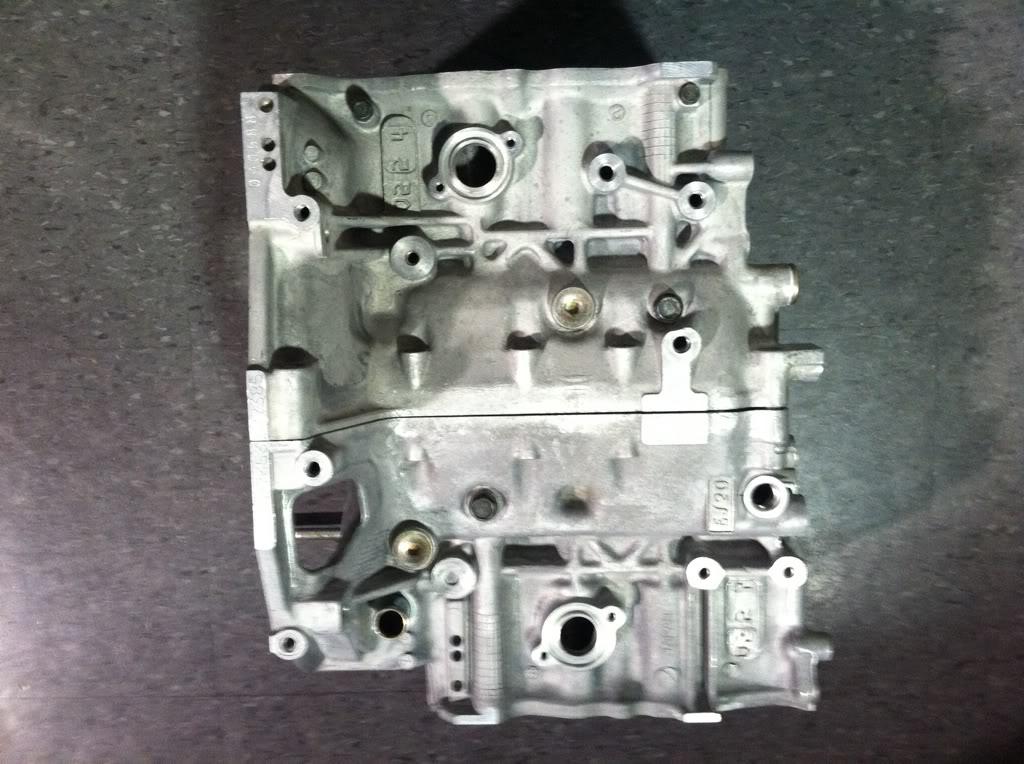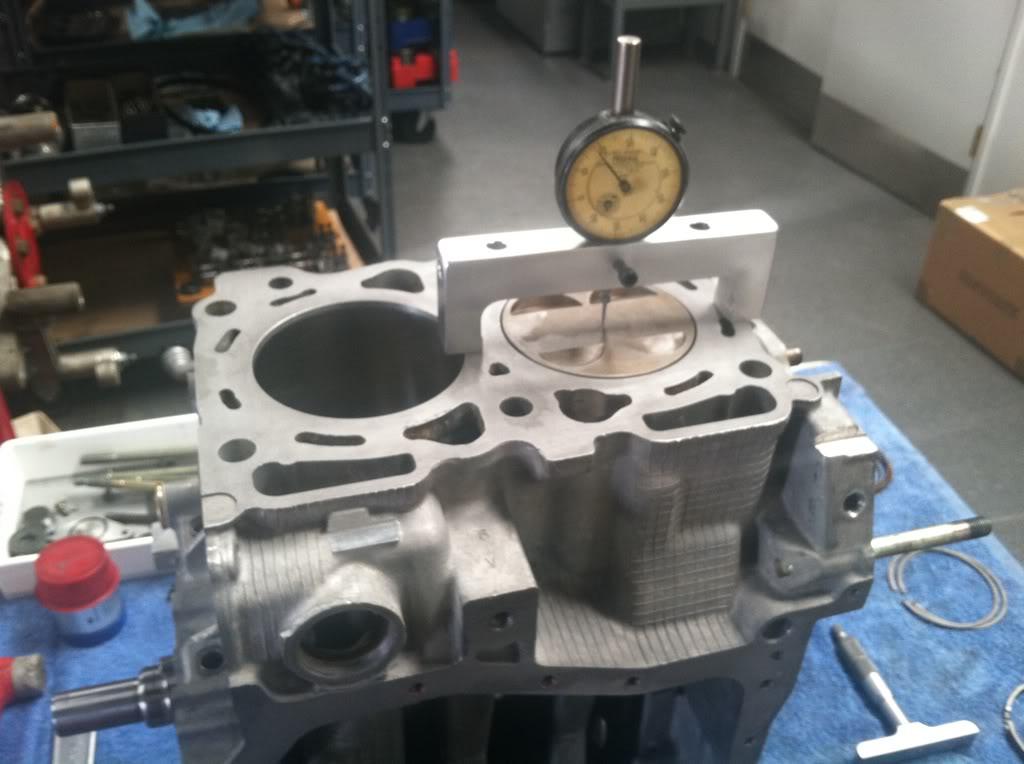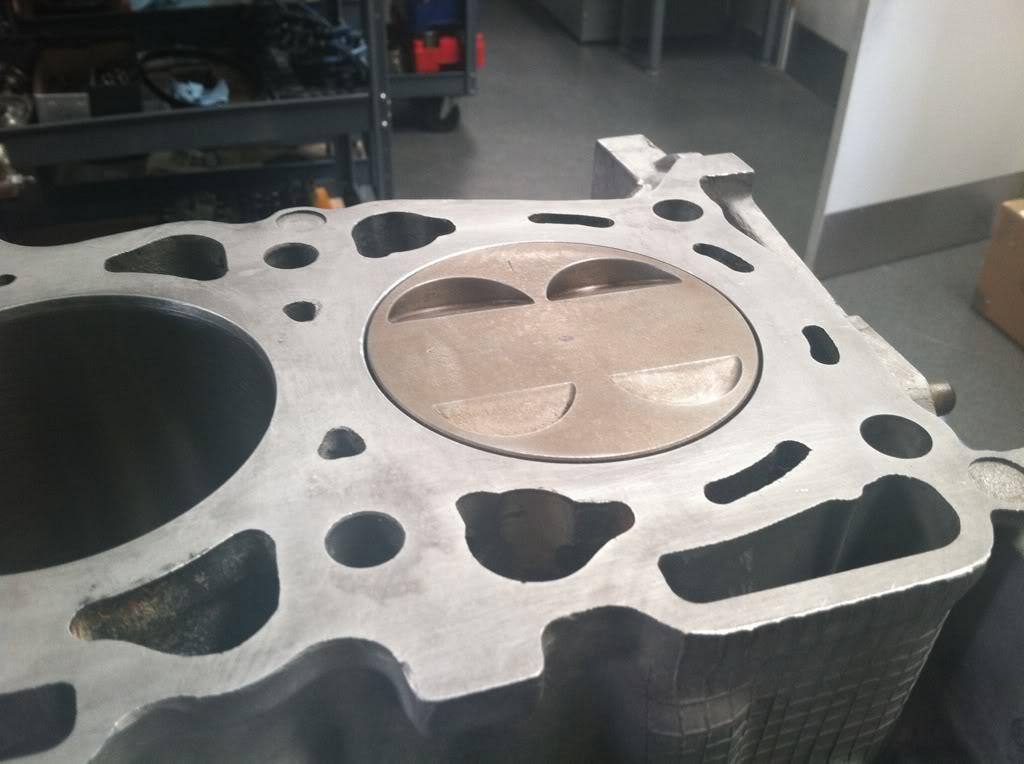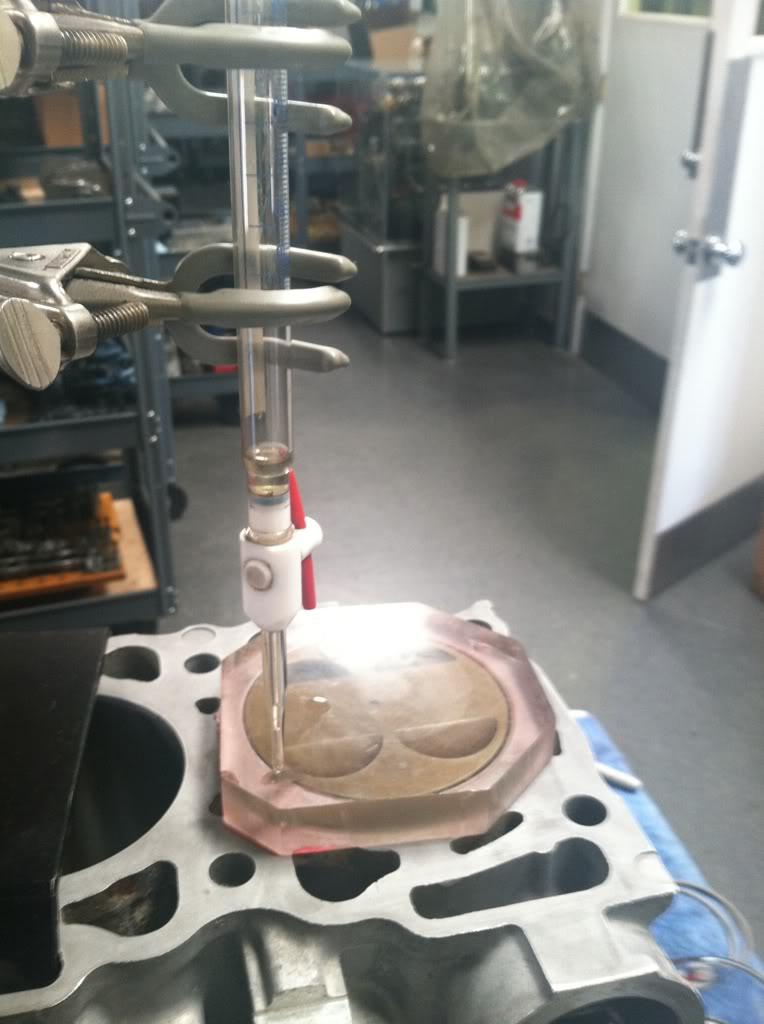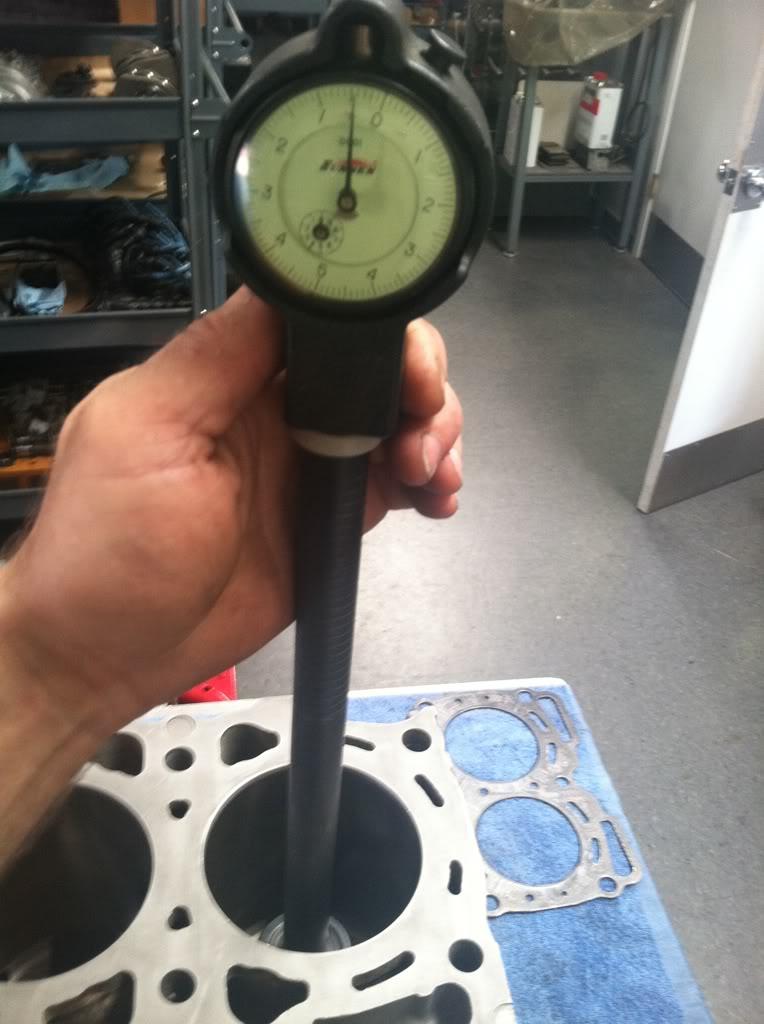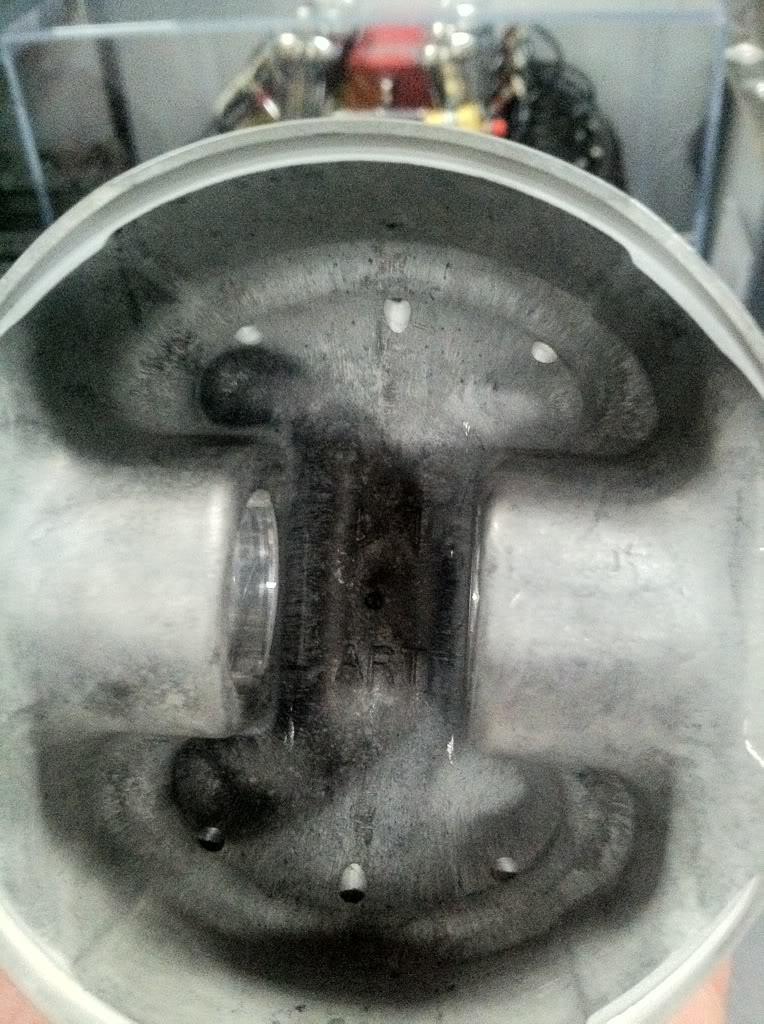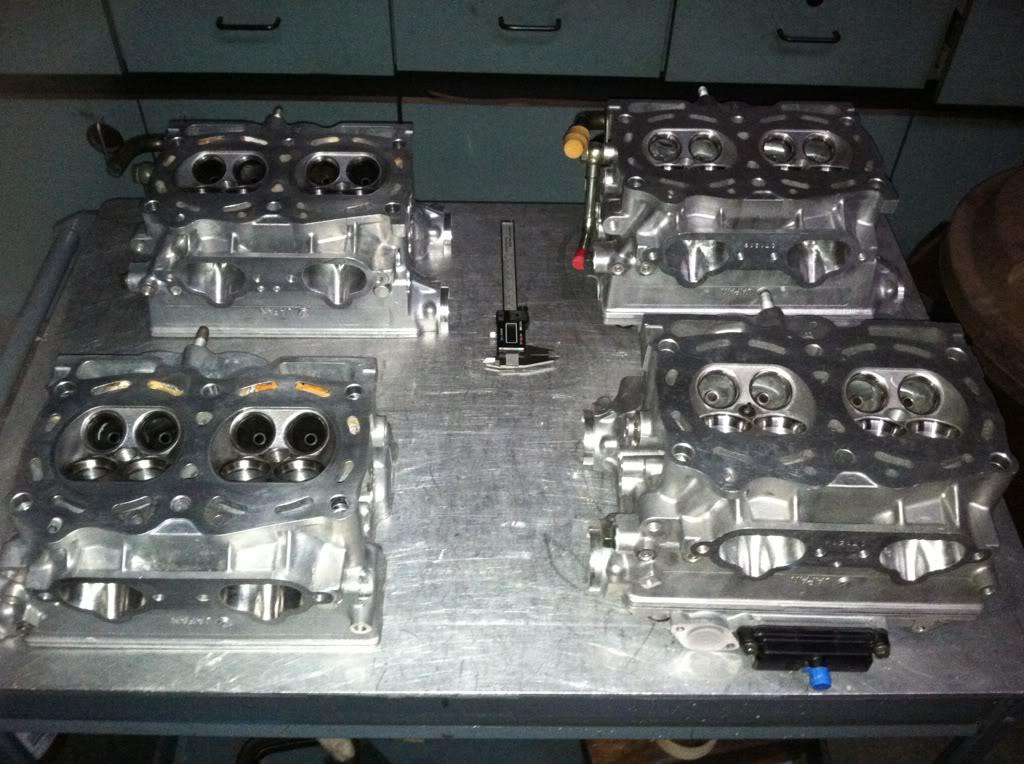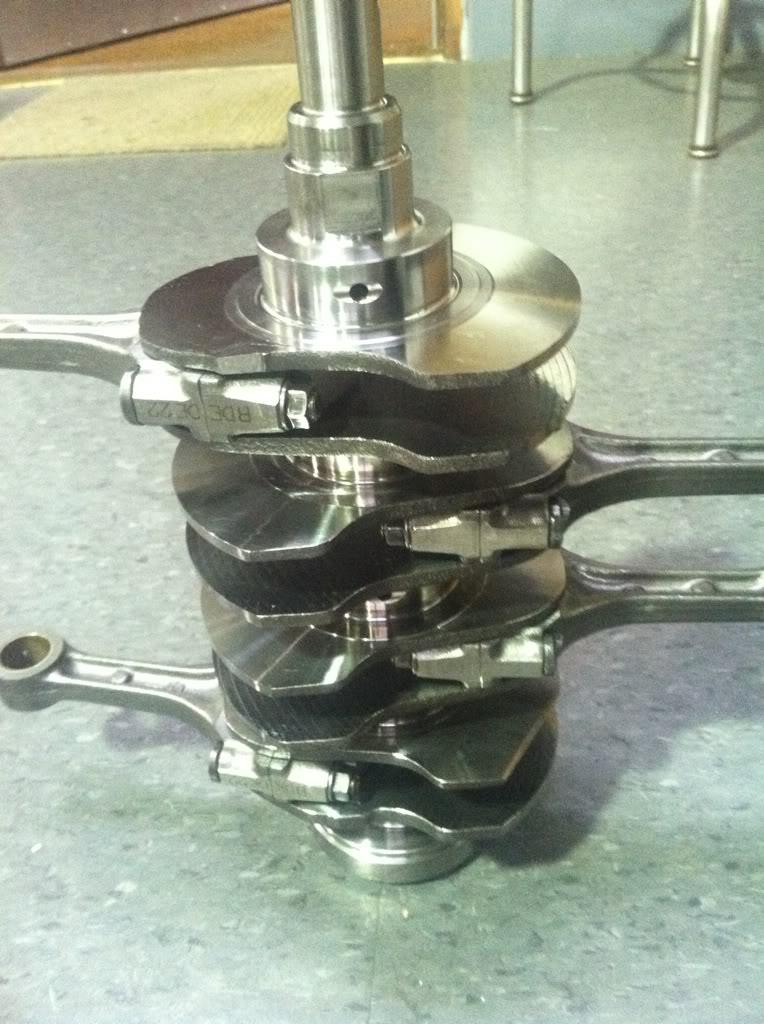 I purchased an engine which came directly from STI and it was meant to be a full wrc spec engine but to my dissapointment it was not. It was a EJ20 engine 2.0 with factory hand ported cyl heads, which were actually found in the Legacy rsras. It also had a spare set of heads which I have ported to match the factory ones. I also change the porting a little on the factory ones which should give some gains also.
I will post more as I go but this is where the project is right now, still heaps of time to be put into the engine but also I am going to completely strip out drivetrain and paint underside of car, then go through all the pieces and paint then fit them back into the car with a new engine and a planned wrx Ra six speed close ratio box behind the EJ20
10-4-2011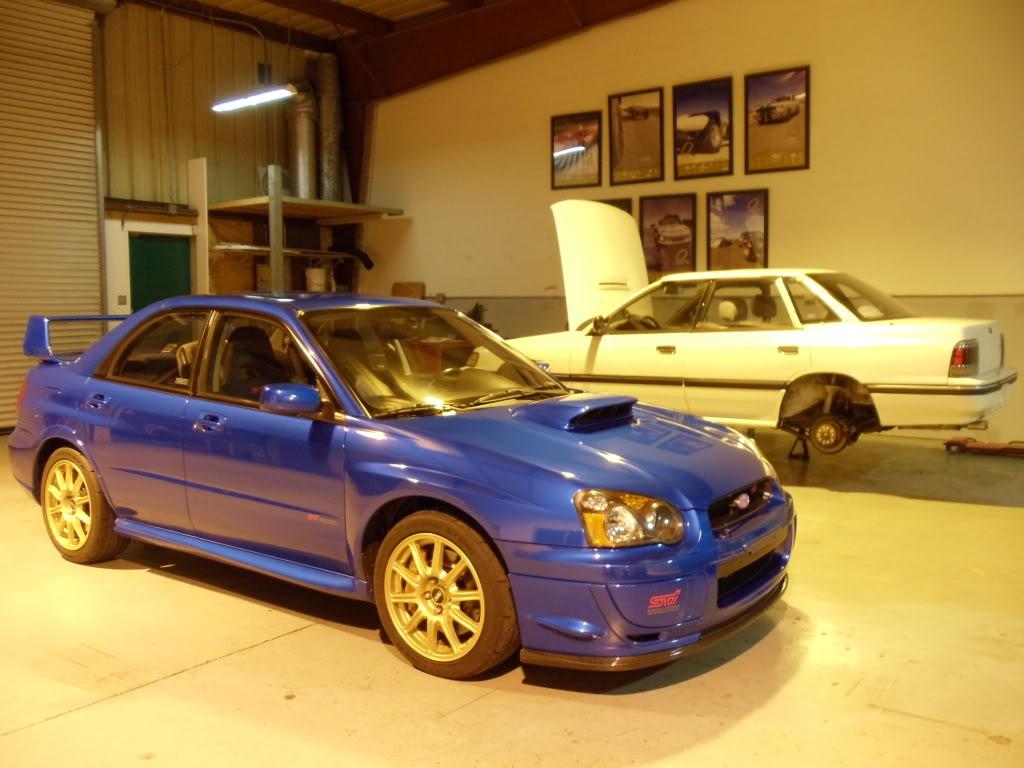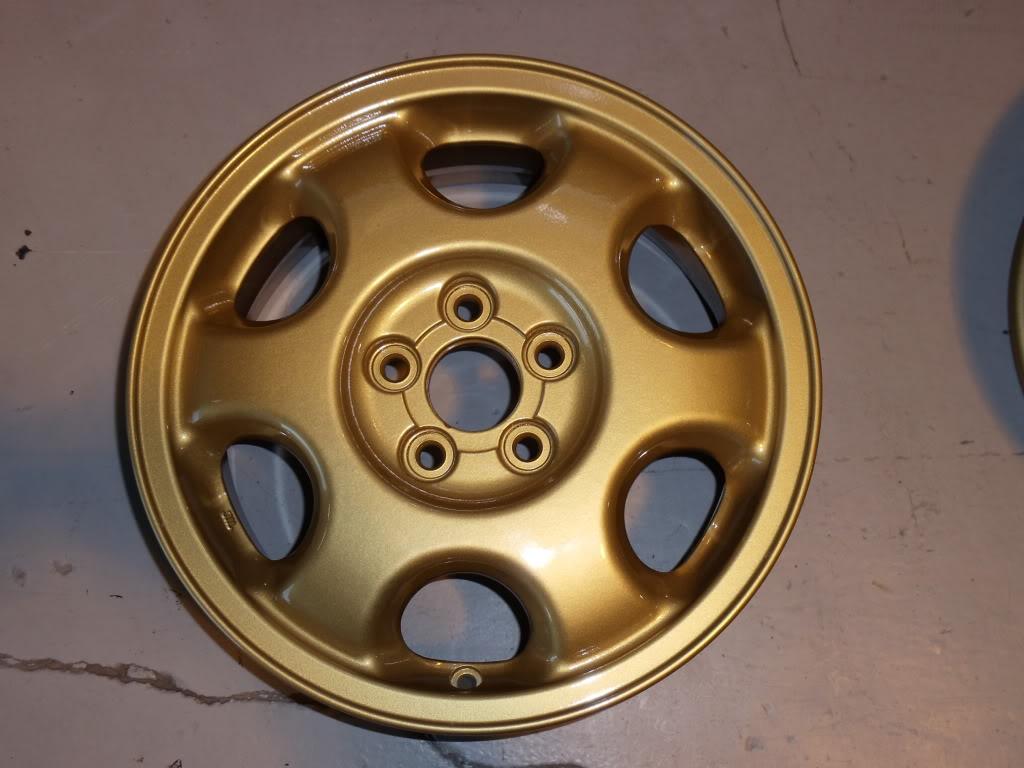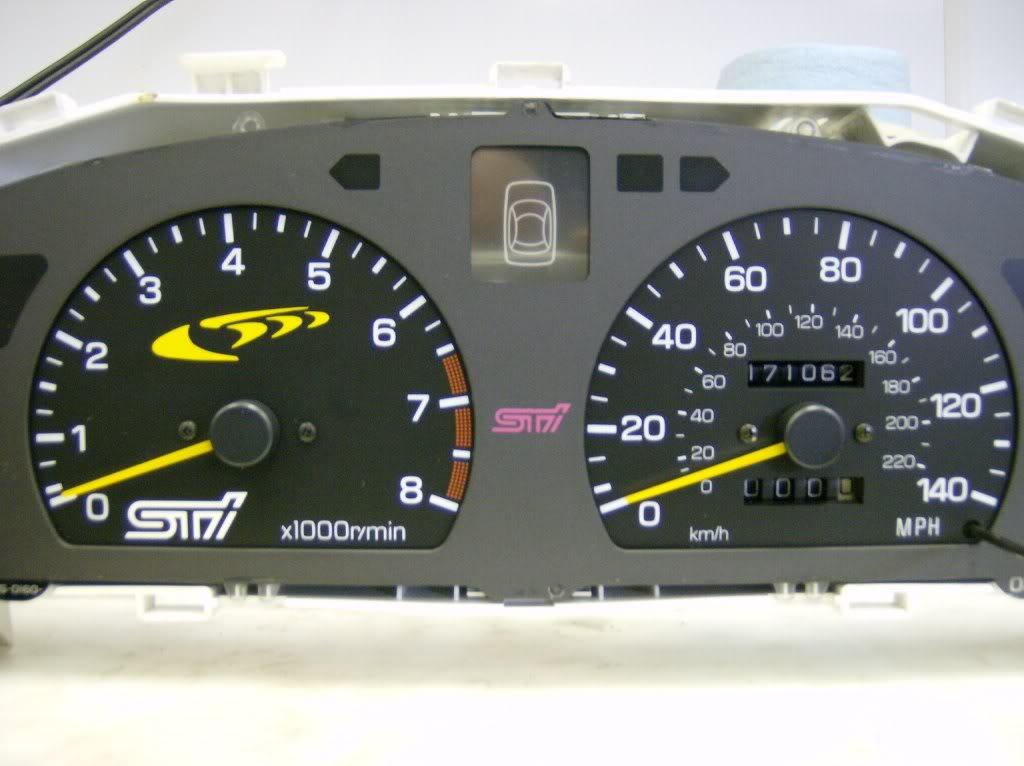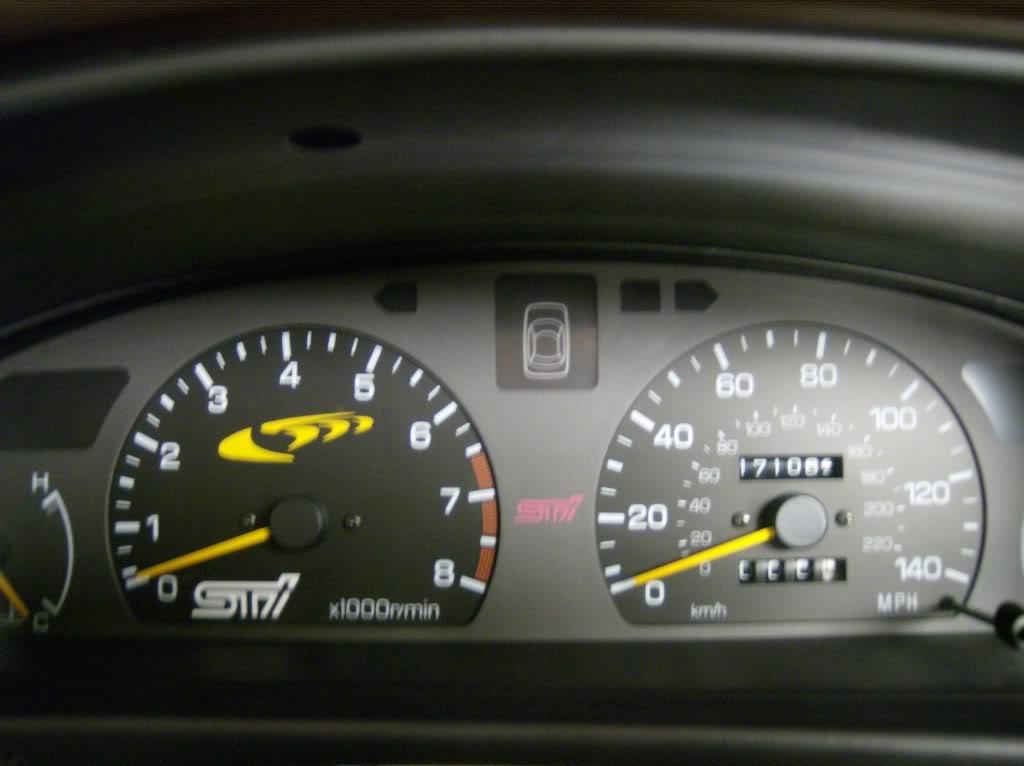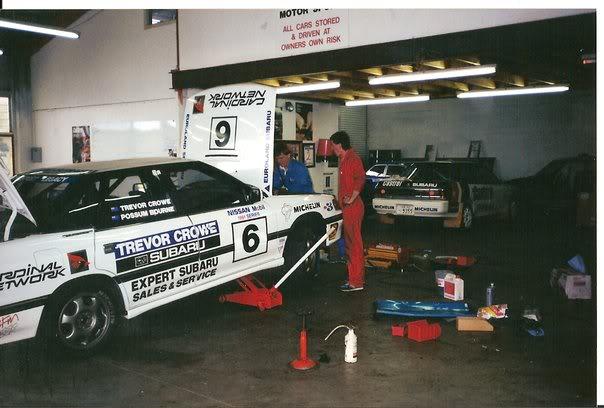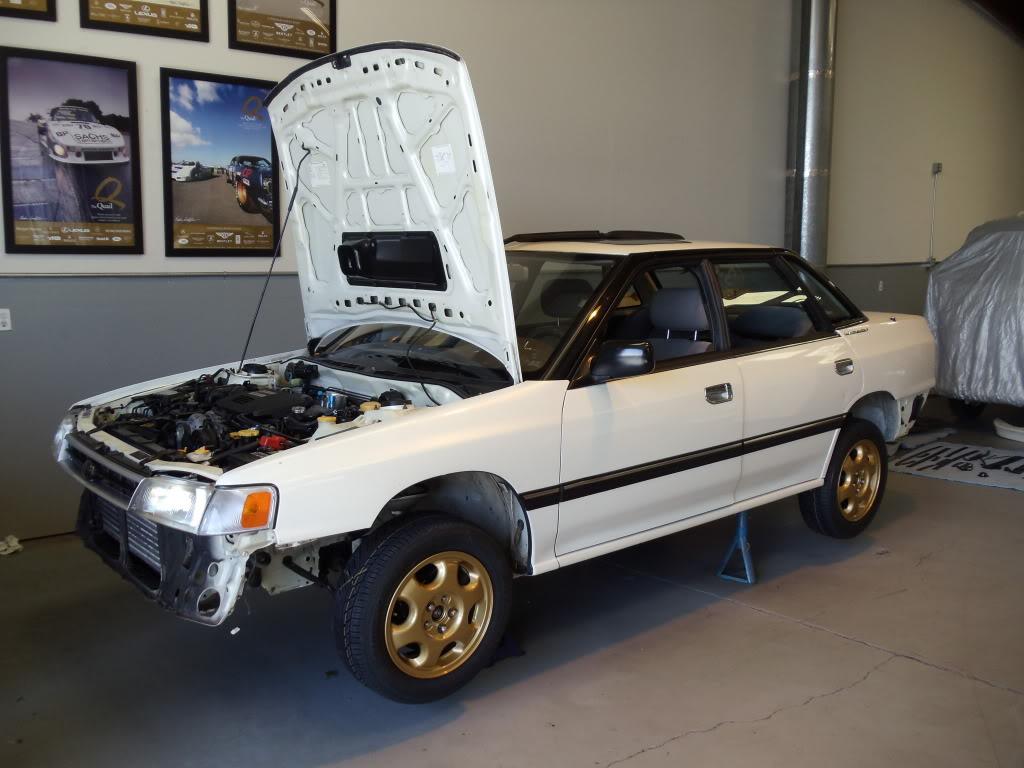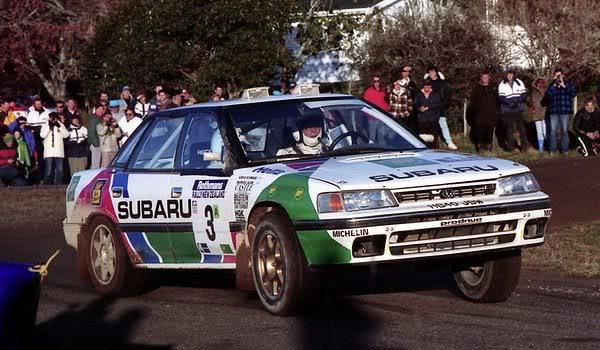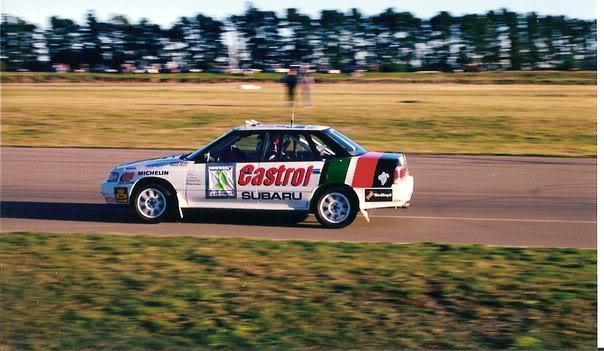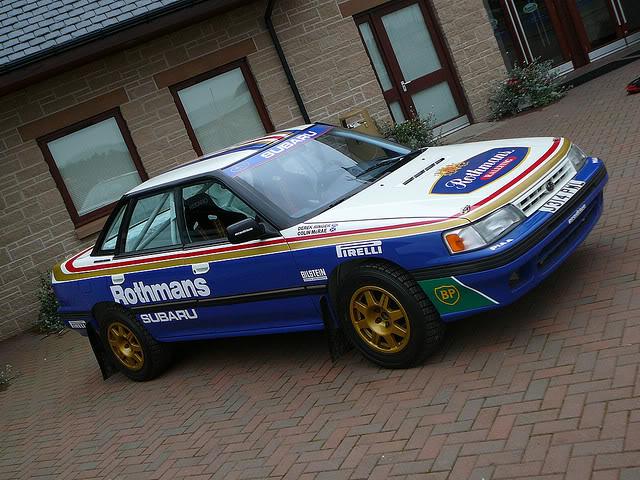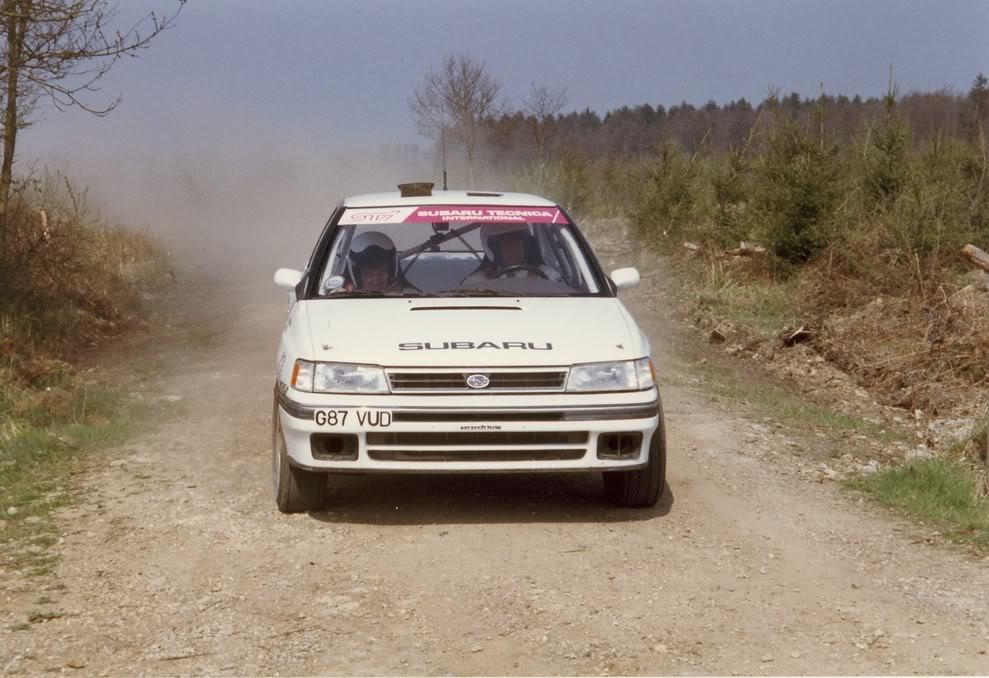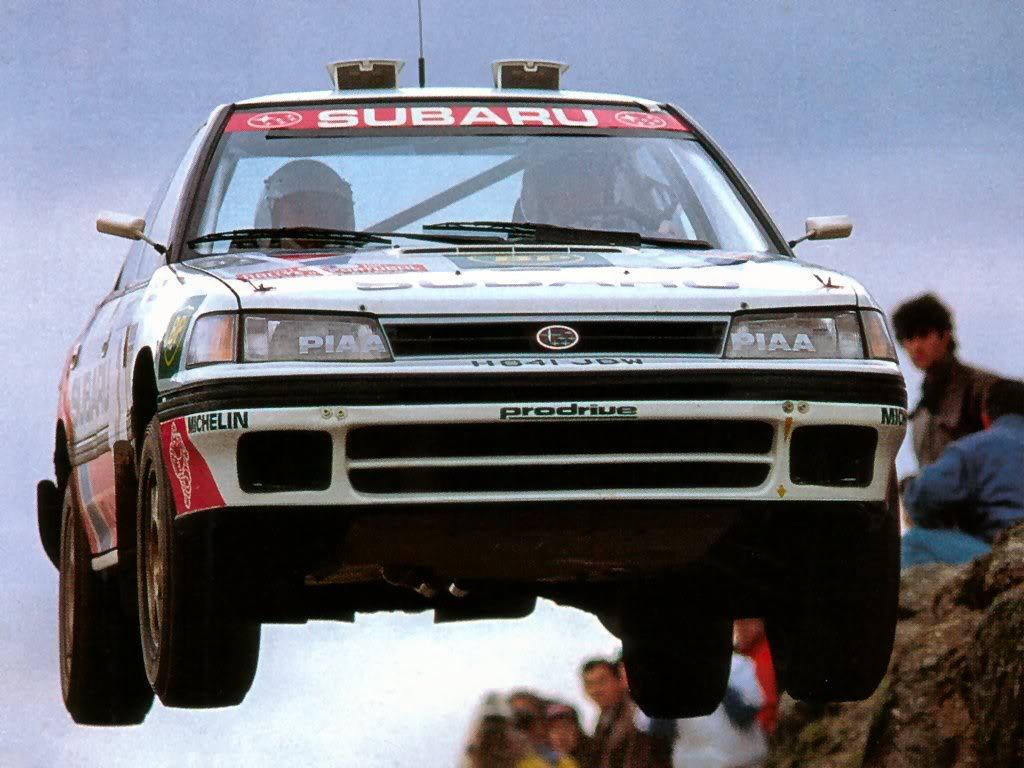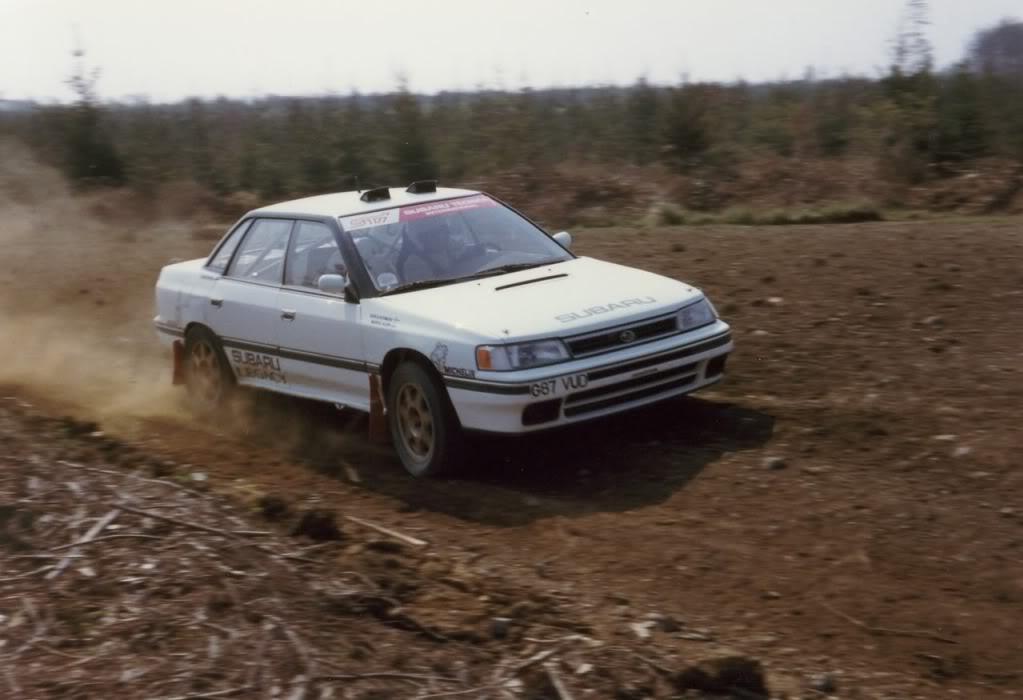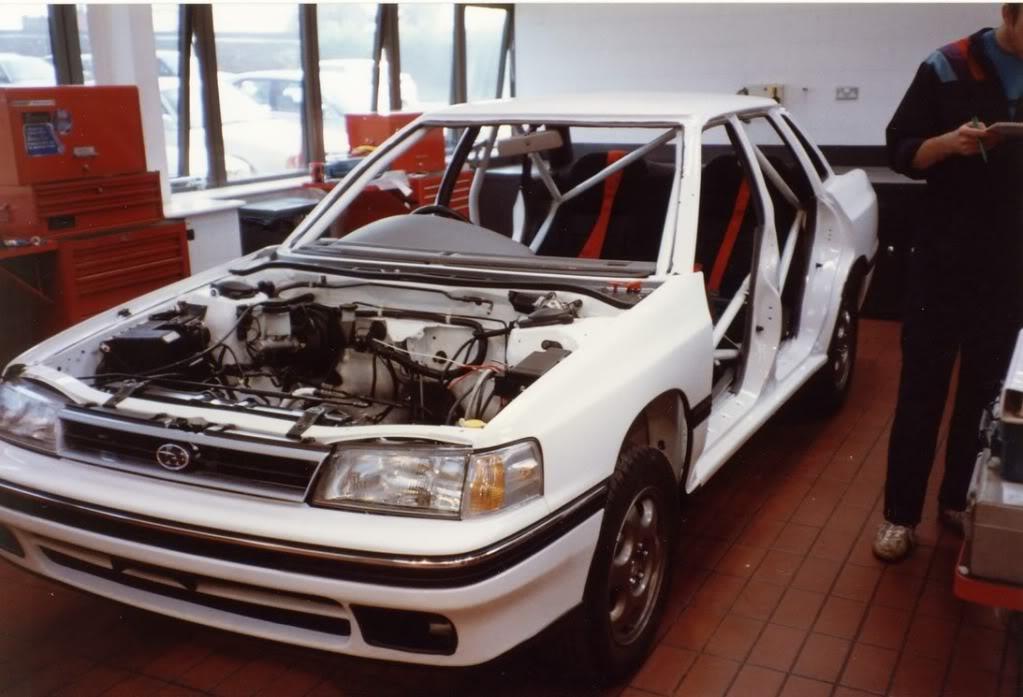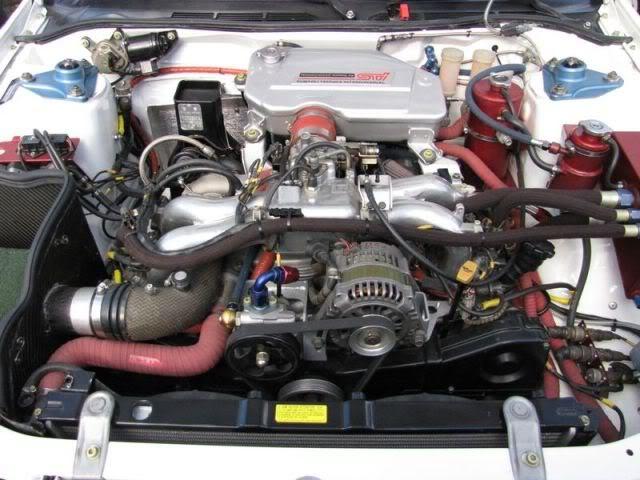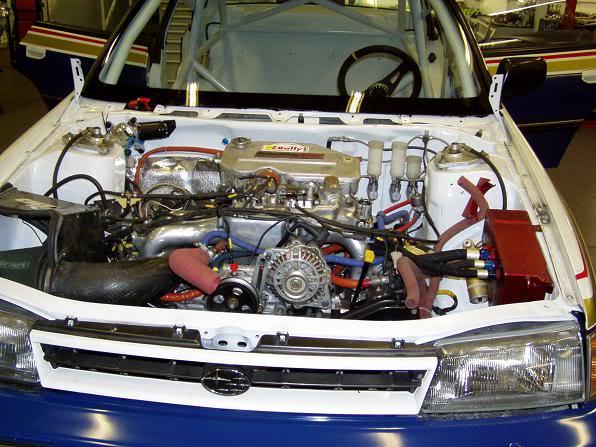 Some misc Legacy photos
10-16-2011
finished stripping the car out to a bare shell at which stage it will be painted pearl white inside and out including underneath and then the long rebuild will begin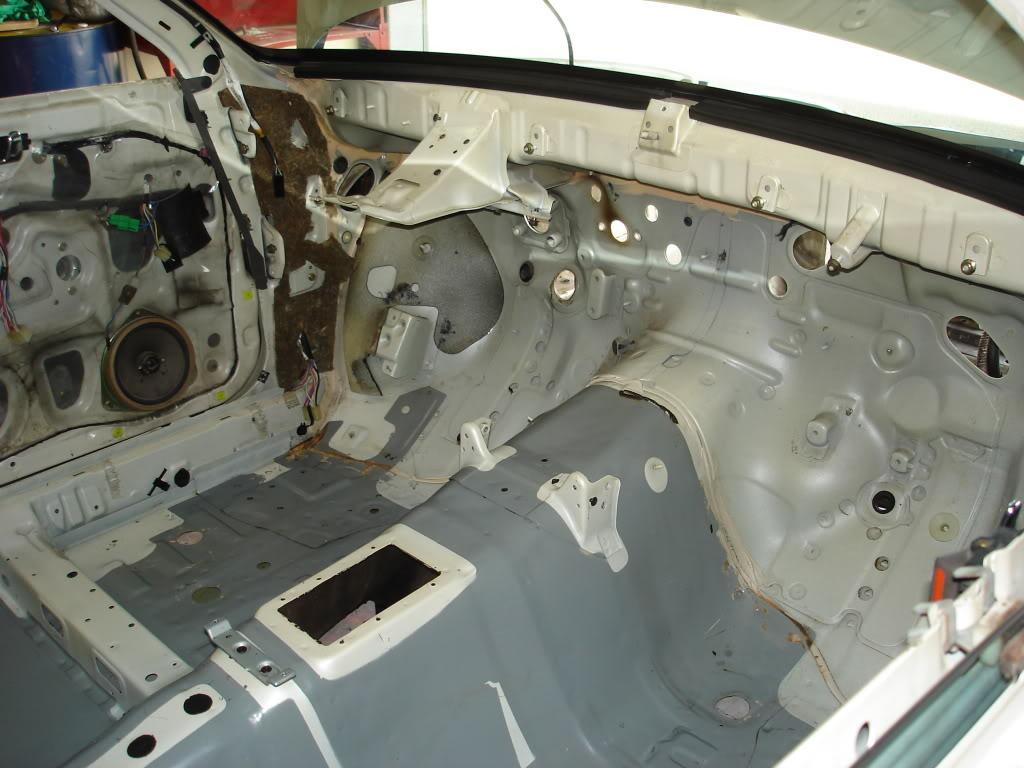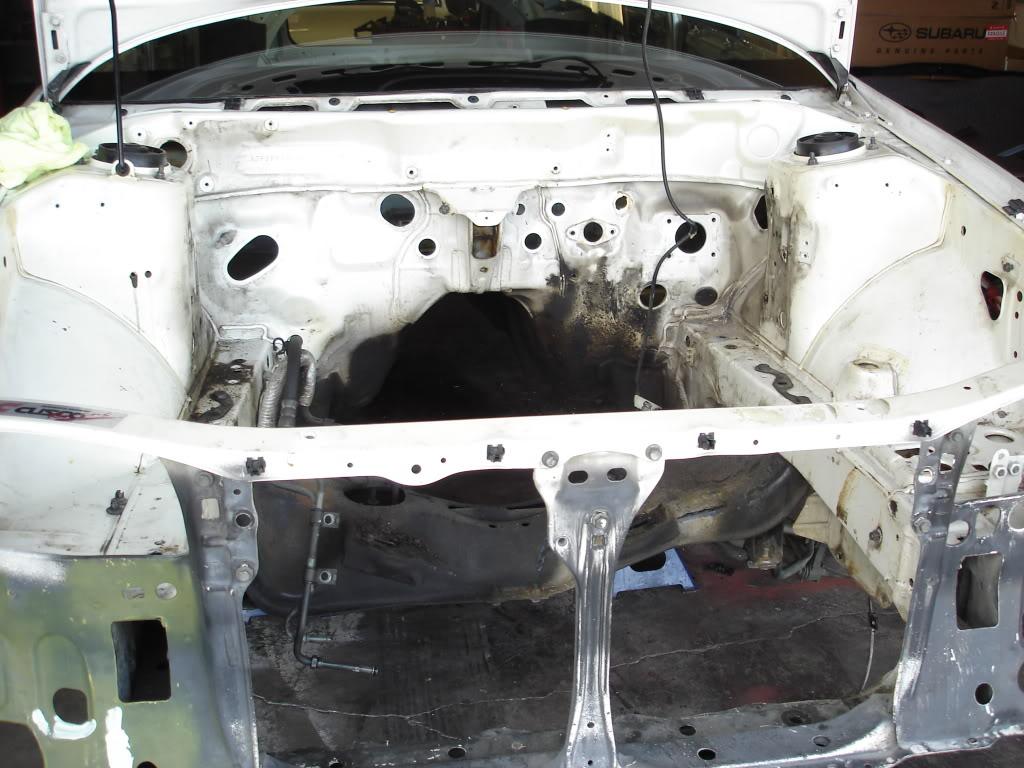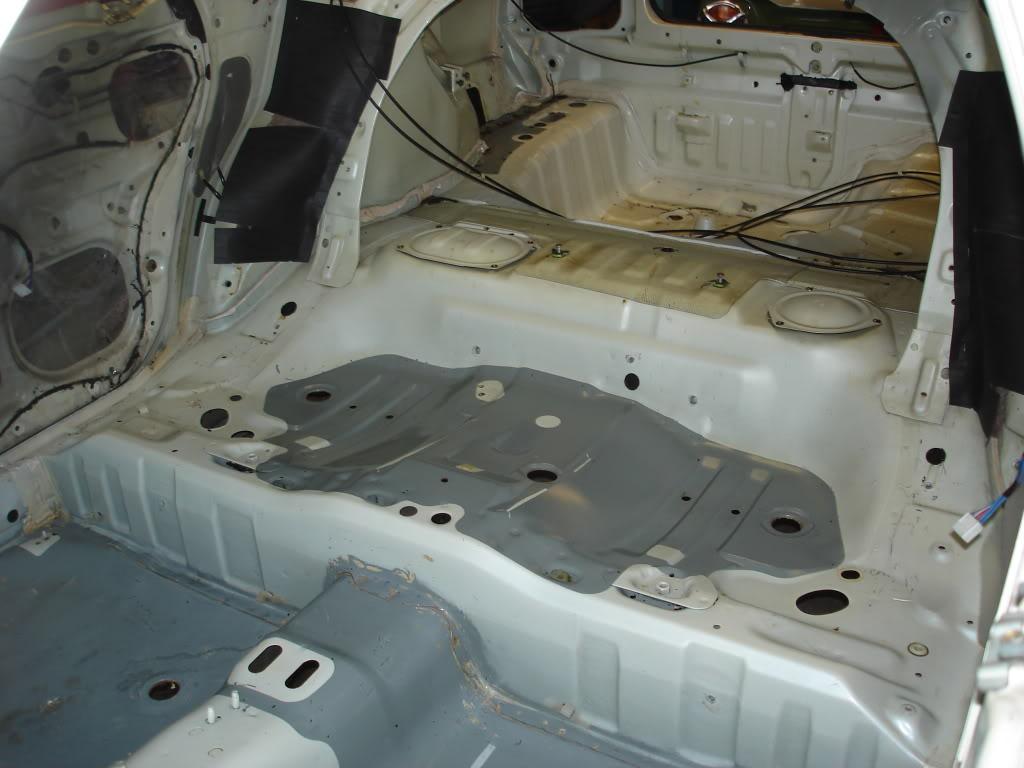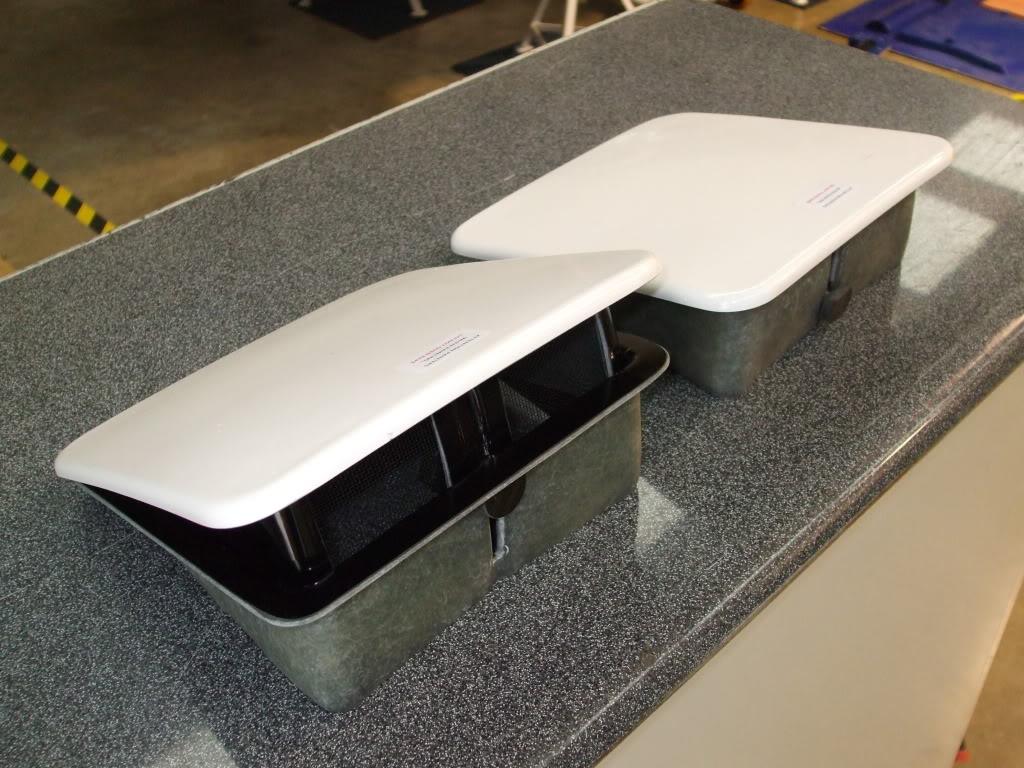 There is a good picture of the Possum Bourne roof vent also that will be fitted
10-21-2011
I cleaned all the brake and fuel lines for the Legacy, most of the parts were covered in underseal and with a lot of turtlewax bug and tar remover I removed all the dirt and seal and everything is in exceptional condition. I also stripped out the doors tonight, I have to go through every piece going back into this car, I want it to be like new.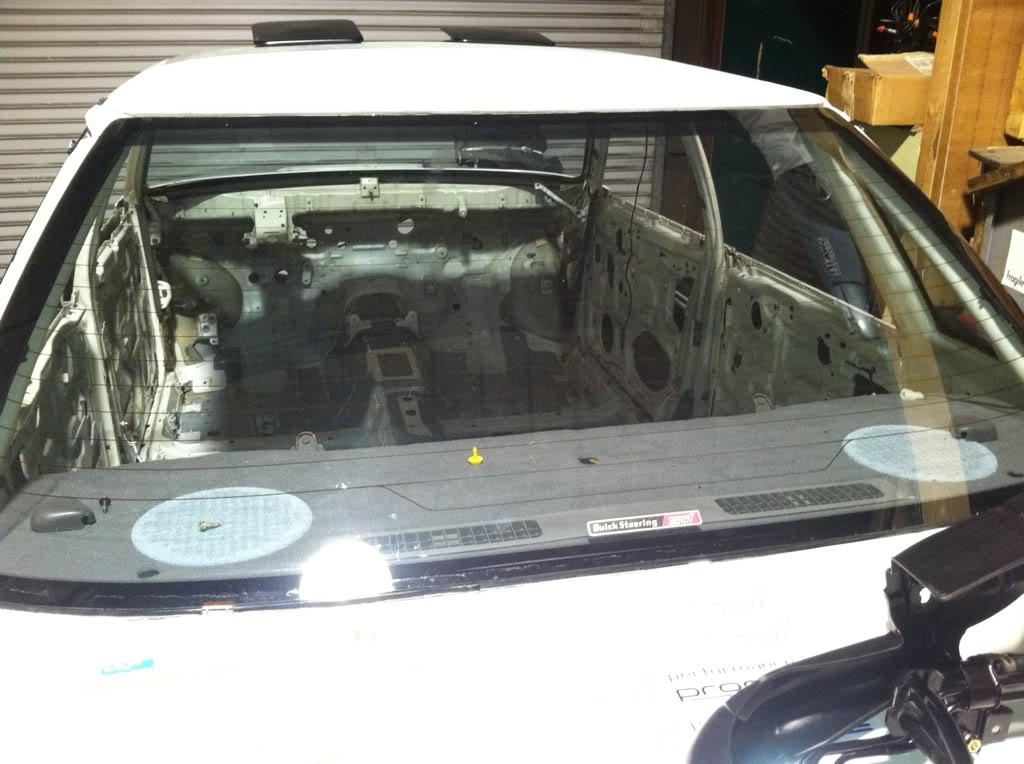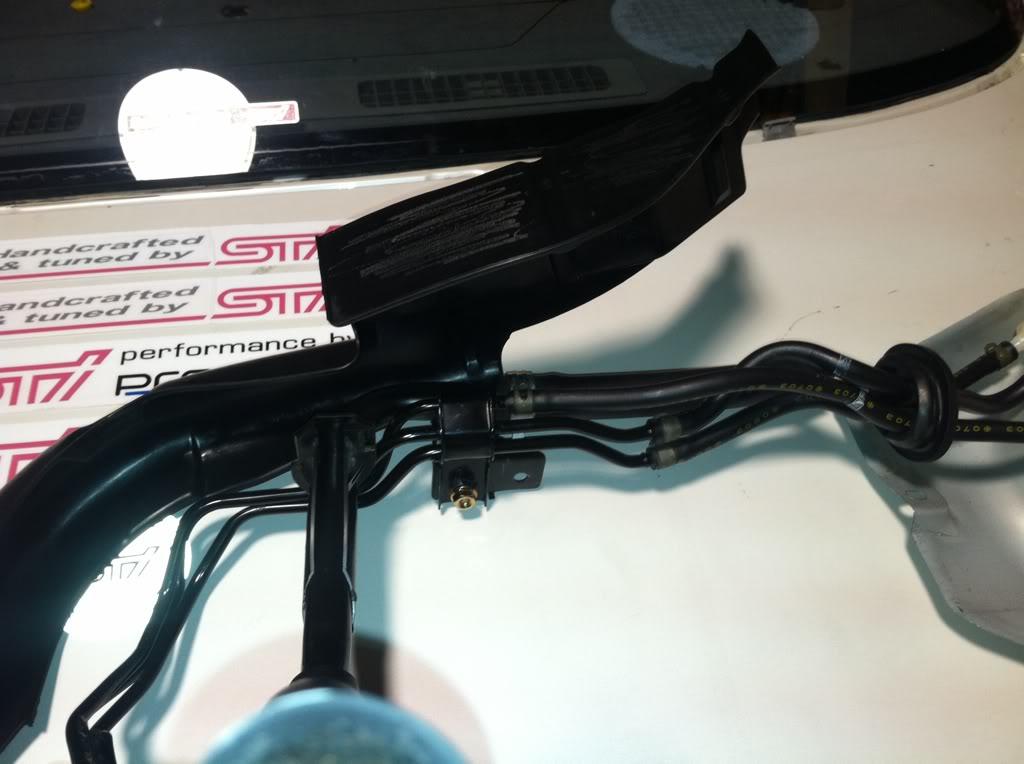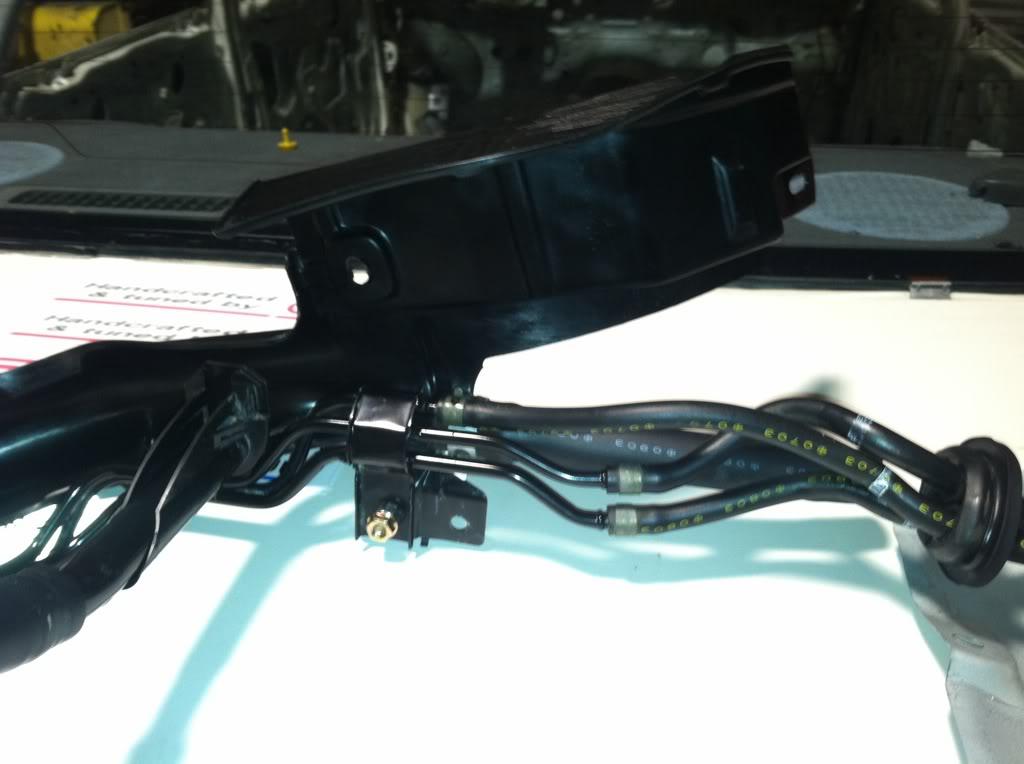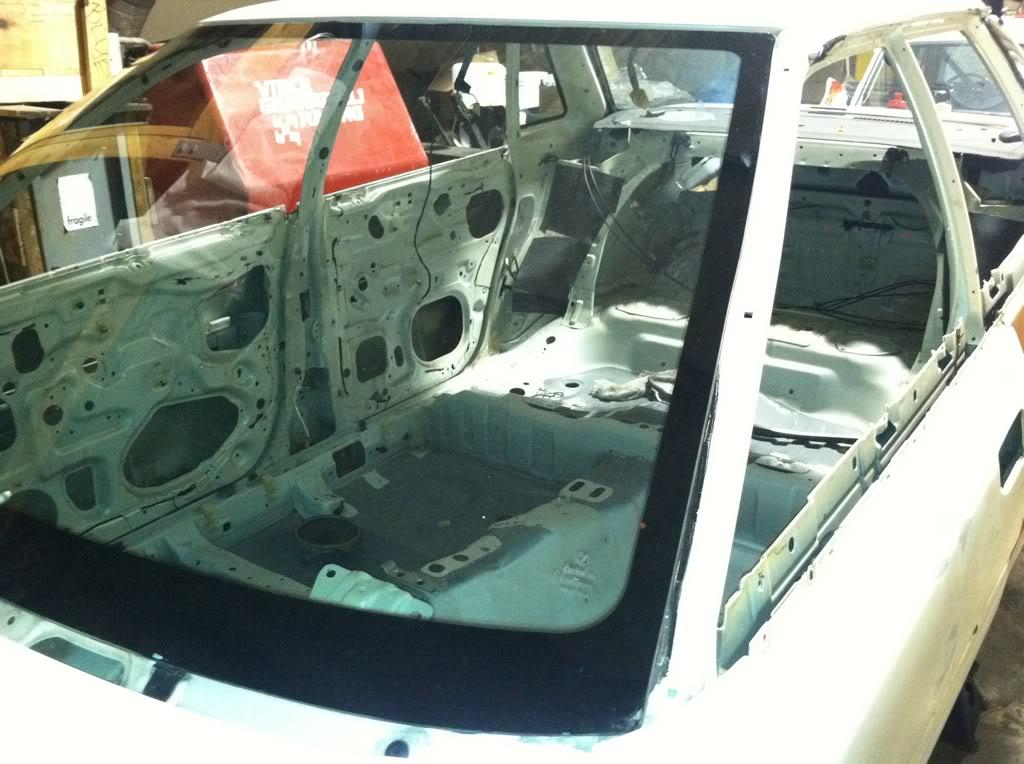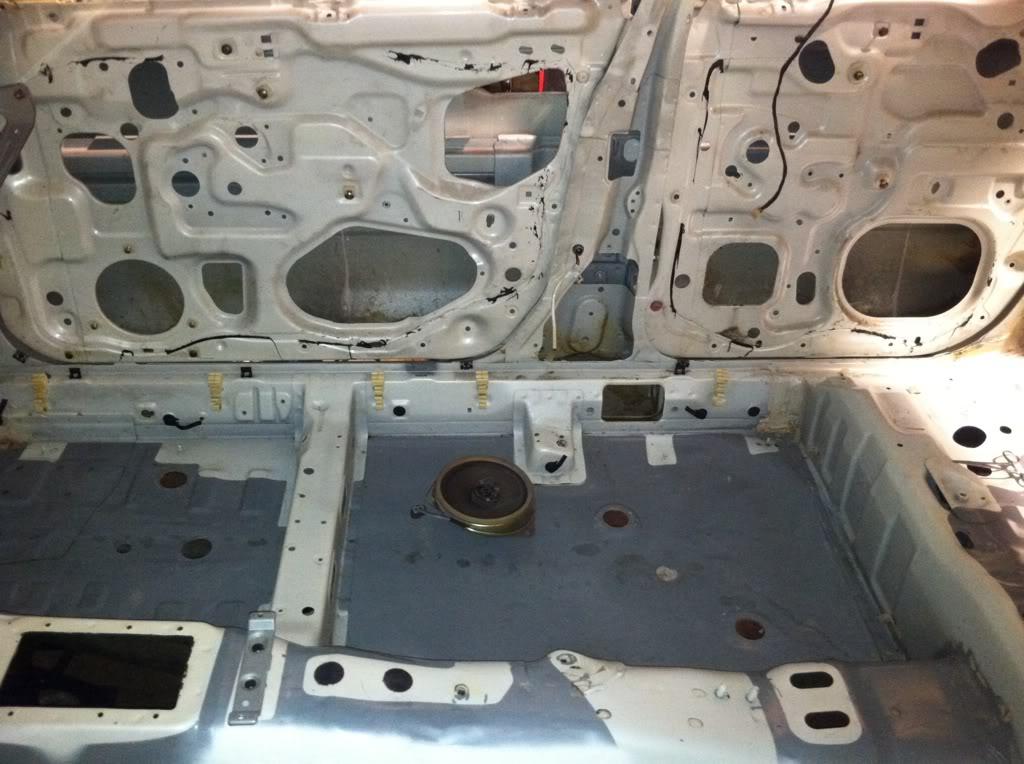 You can see the fuel filler breather hoses, they cleaned up really well and it only took about an hour to get them to look like this.....wished there was an easier way
10-26-2011
I had the rear crossmember at our shop today that I am planning on using on the Legacy, we measured it and it looks like it will bolt into the Legacy, it is actually built for a GD.. Impreza. It will be on display at the SEMA trade show. I will hopefully be getting a front crossmember from them also. The company is Kaminari, we had just finished working on the owners Lotus Cortina so I was fortunate to be able to take photos today when he picked the car up so here are a few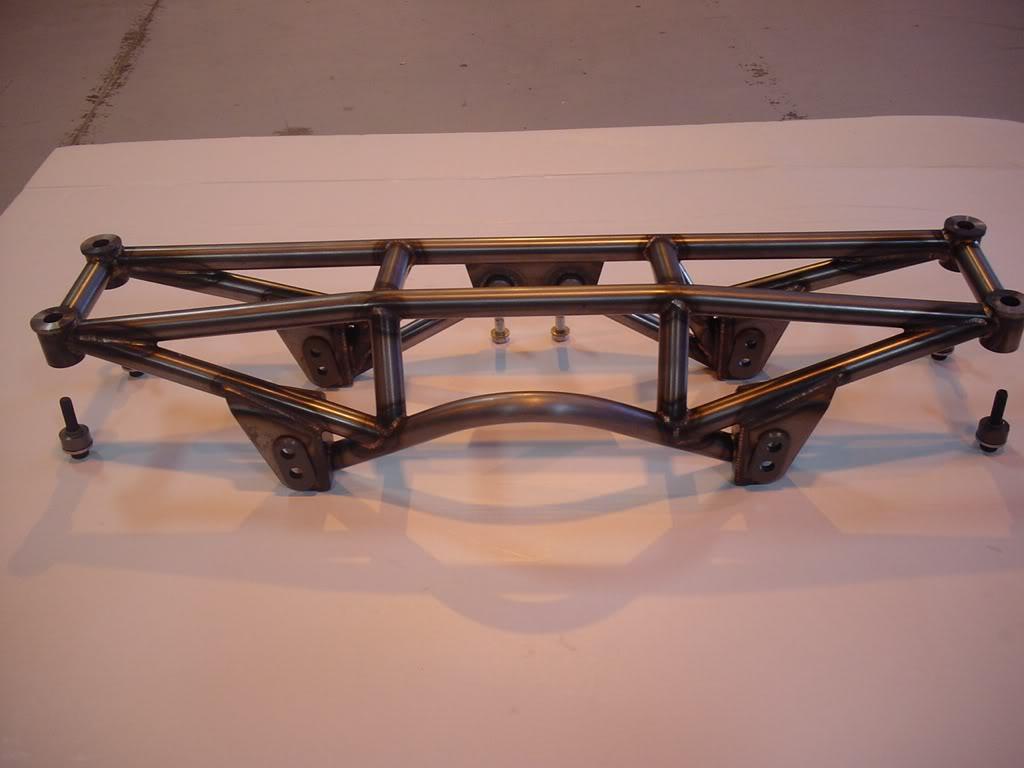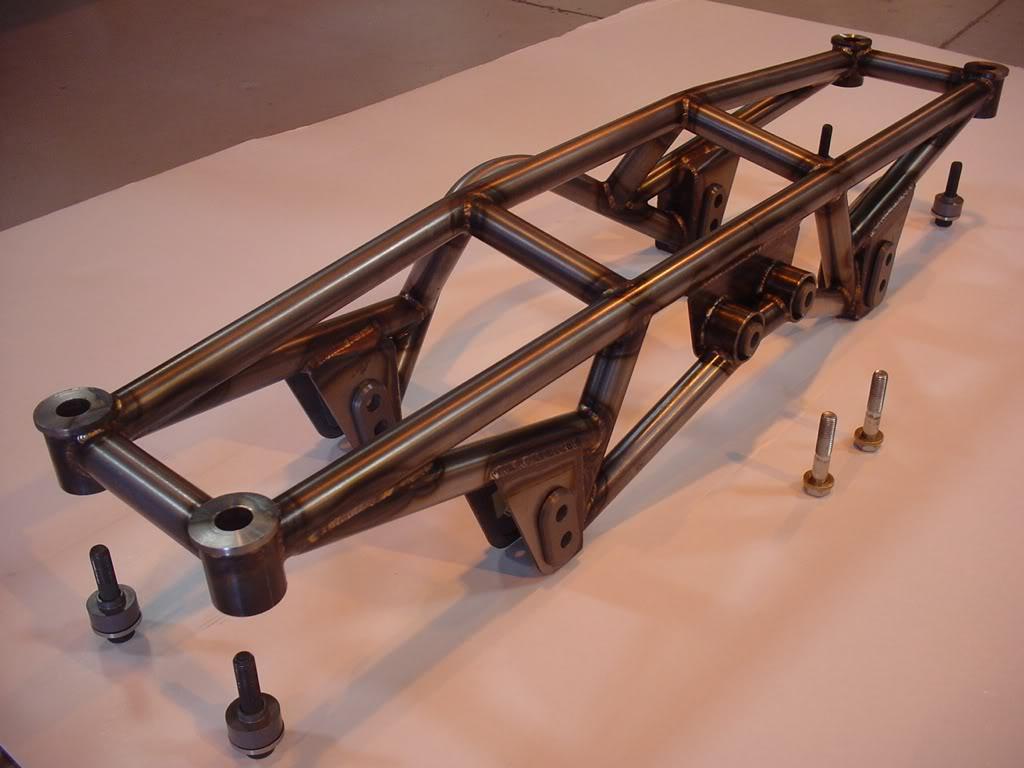 If you are interested message me and I can put you in contact with him
10-27-2011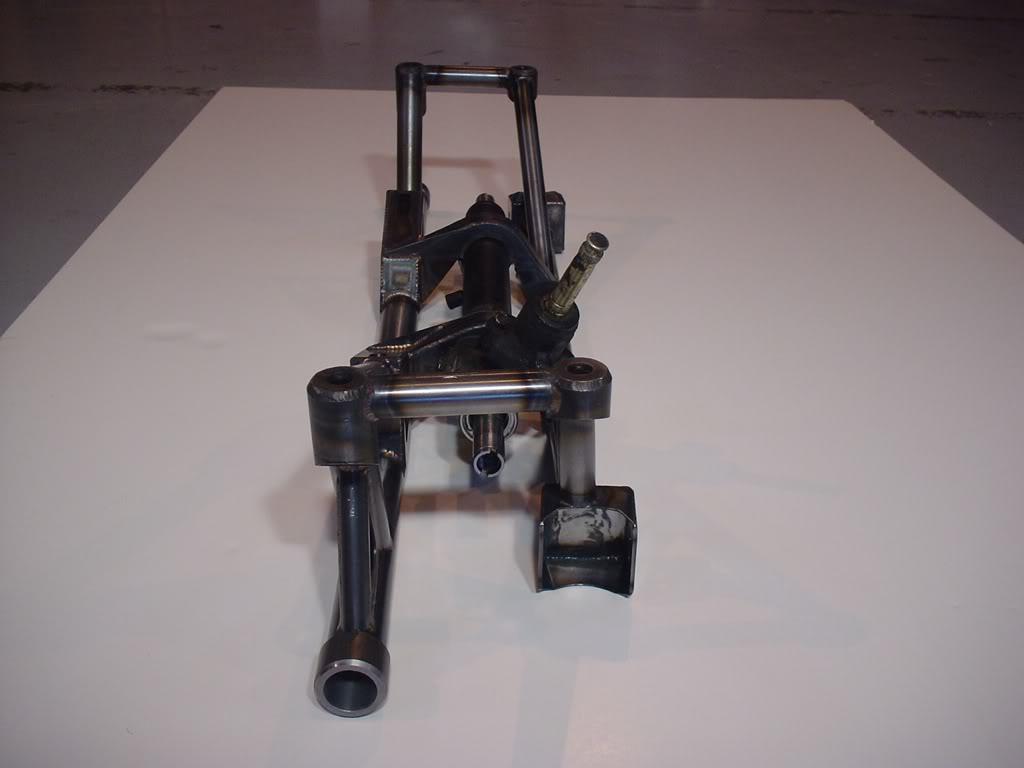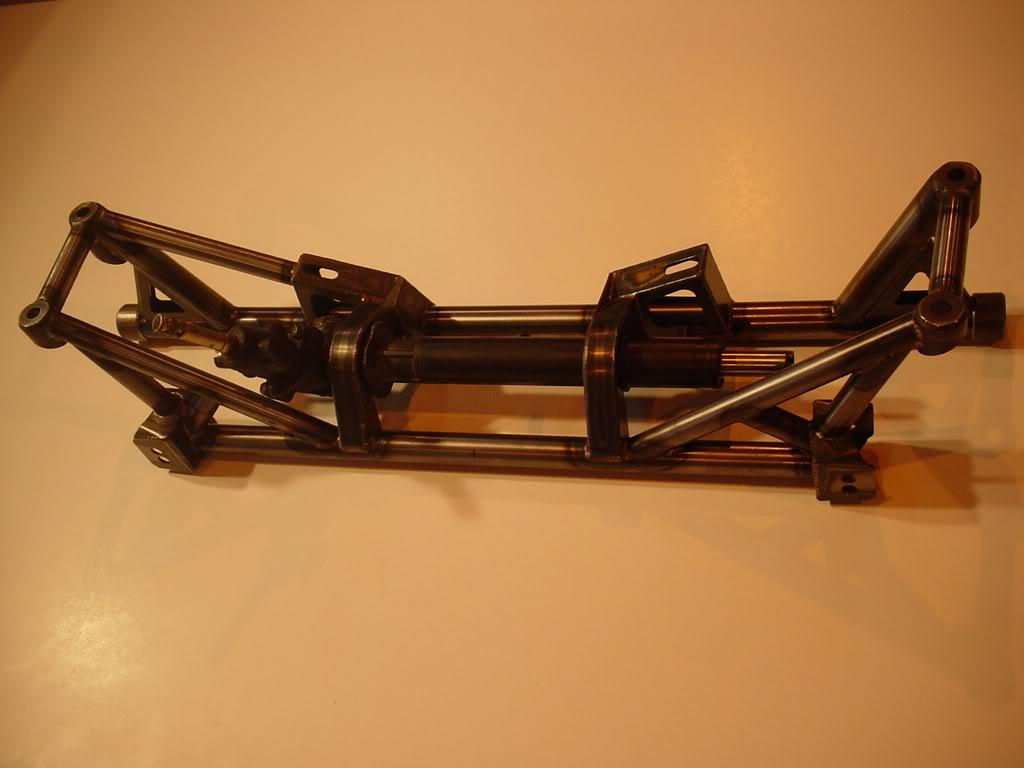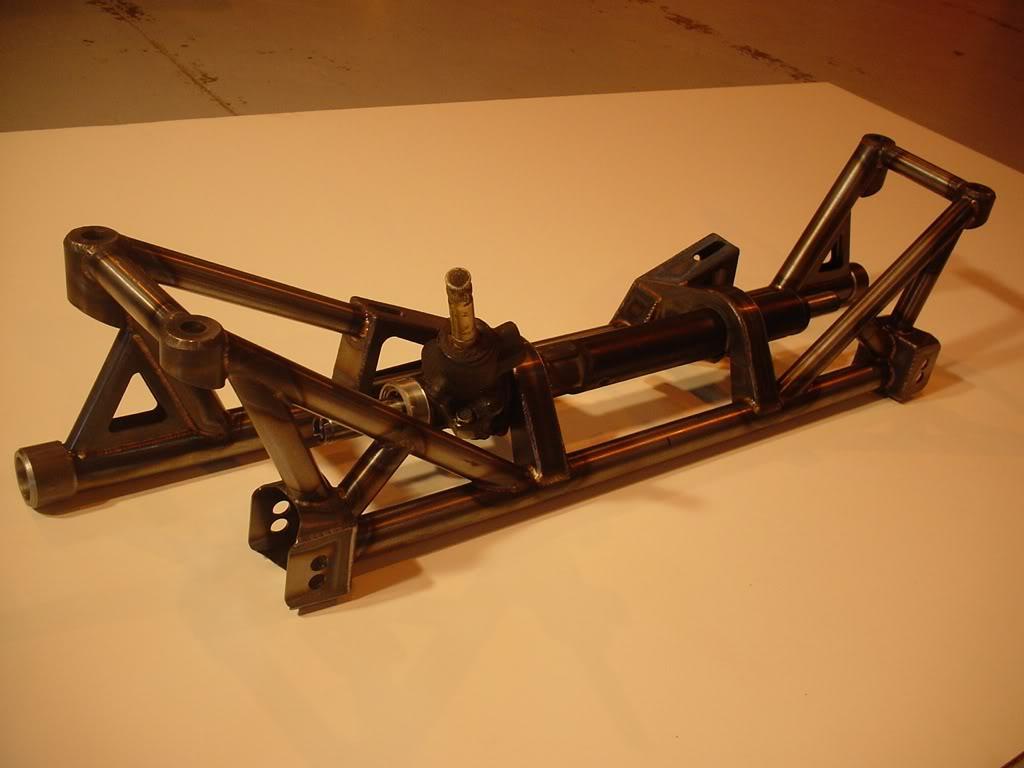 Here is the front crossmember, I really hope this will fit also does anyone know if GD impreza front crossmembers bolt in also? We checked and measured the rear and it is the same, it would be awsome to fit both into my Legacy
1-5-2012
Update
Hi everyone, sorry I have not been online lately. I have been busy working on other projects to help make money to buy parts for the Legacy. I just finished work on a 84 March Indycar and will be spending the next few weeks or so working on a Indylights car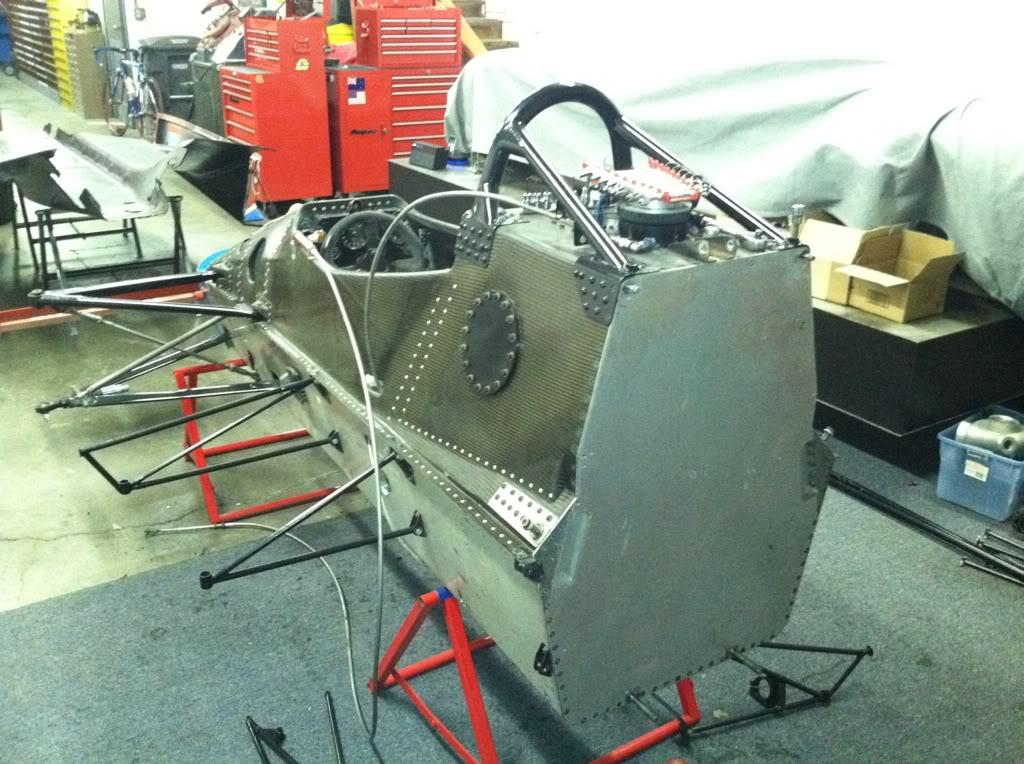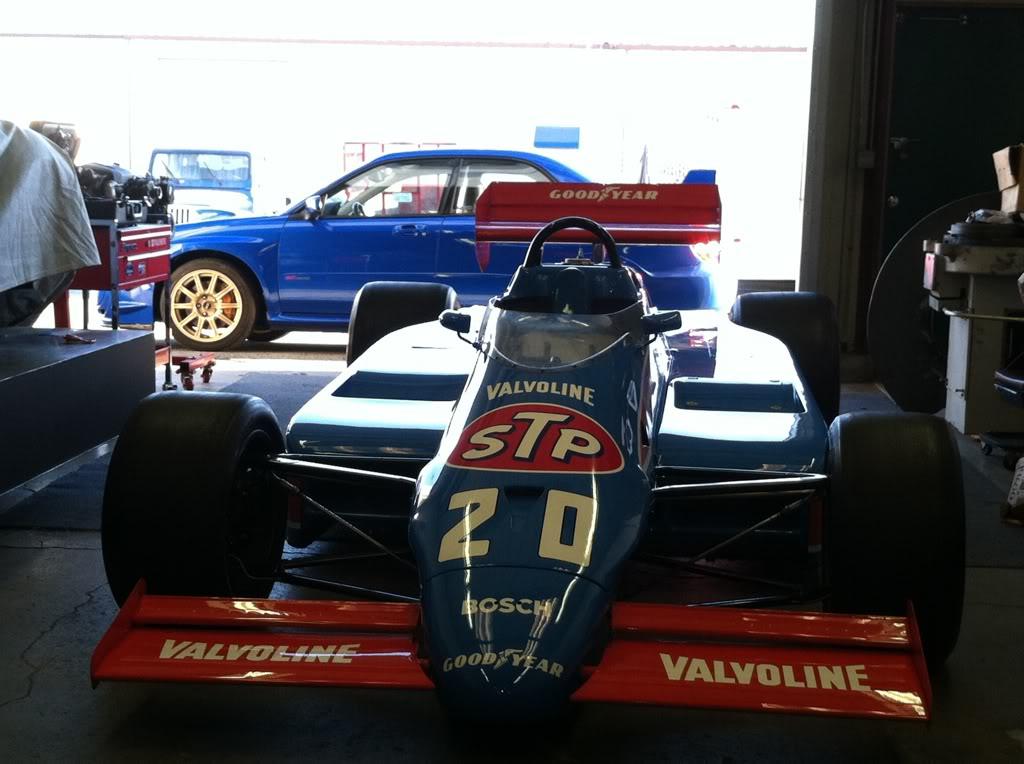 I am still searching for parts for my Legacy and have just placed an order for the proper intercooler and lines and pump for my EJ20 Engine. I am also going to be taking my Legacy to get the subframes made and fitted soon so I am very much looking forward to that and having Ray do some seam welding on the shell at the same time.
I also had a great Christmas and got a scale model of a Ferrari 512LM that I worked in the 90's while working for my dads business.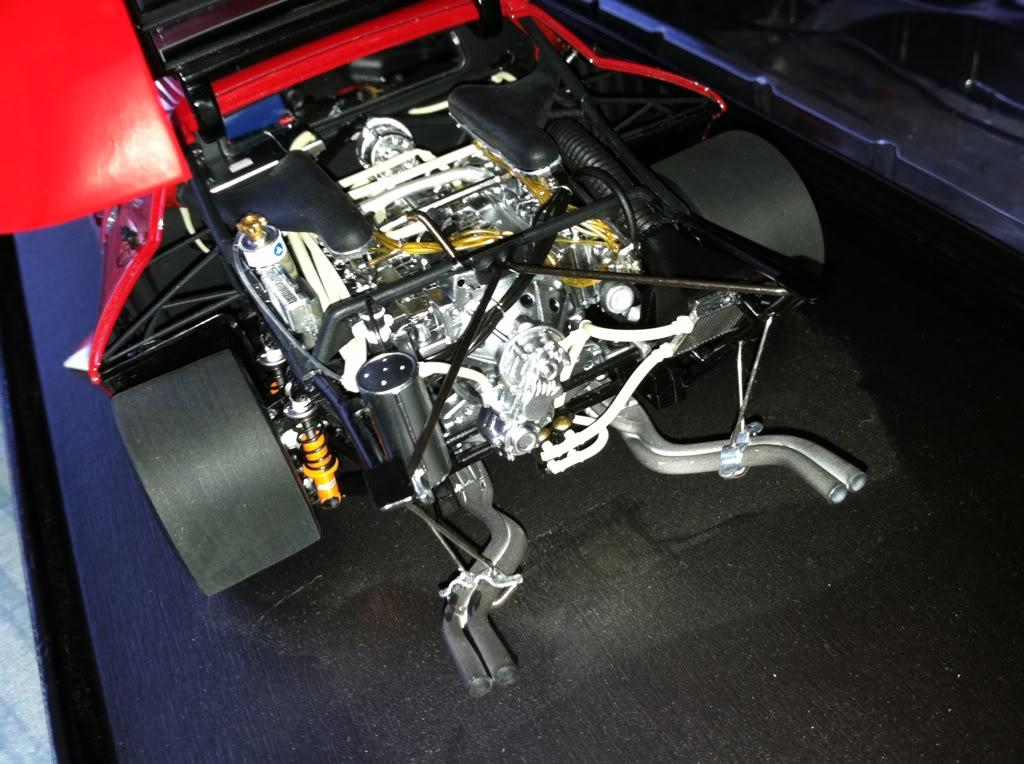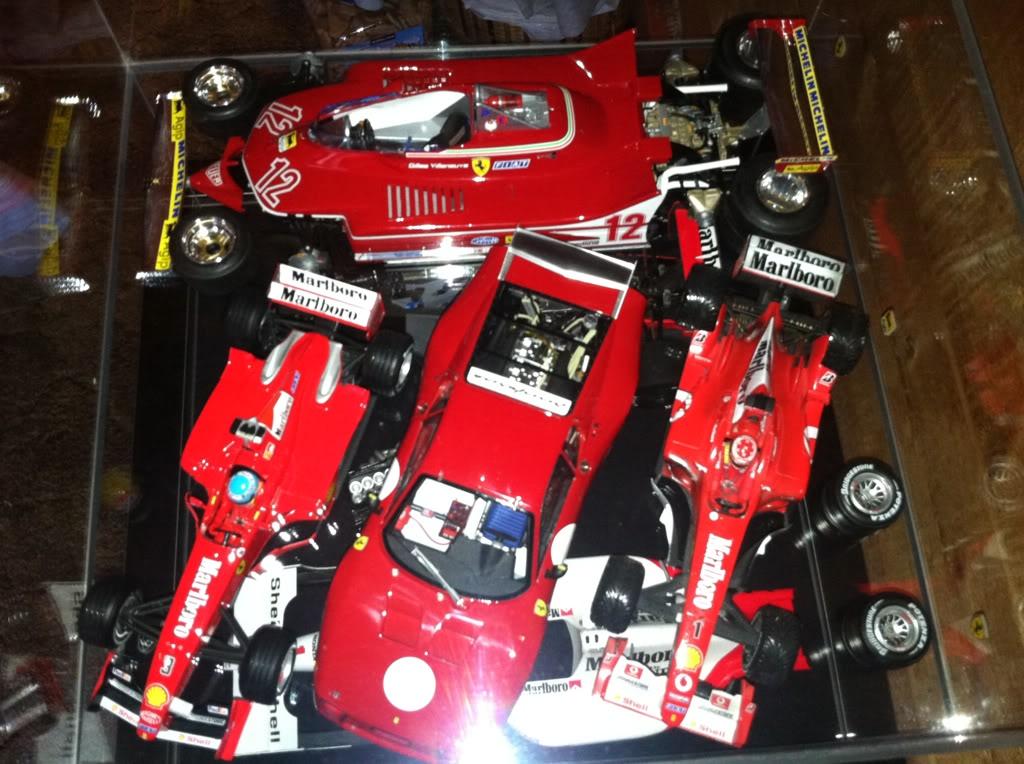 In my spare time I like to build and collect scale cars, above are a pics of models I built and csome I bought.
The Last few weeks of last year were spent working on an Alfa Romeo sports car engine similar in a few ways to the Ferrari engines we have built in the past, it is a huge project and will require hundreds of hours as it is being built up from a lot of parts which were bought out of Italy.
I am currently back working on a Cosworth DFV which is one of several we have to do this year.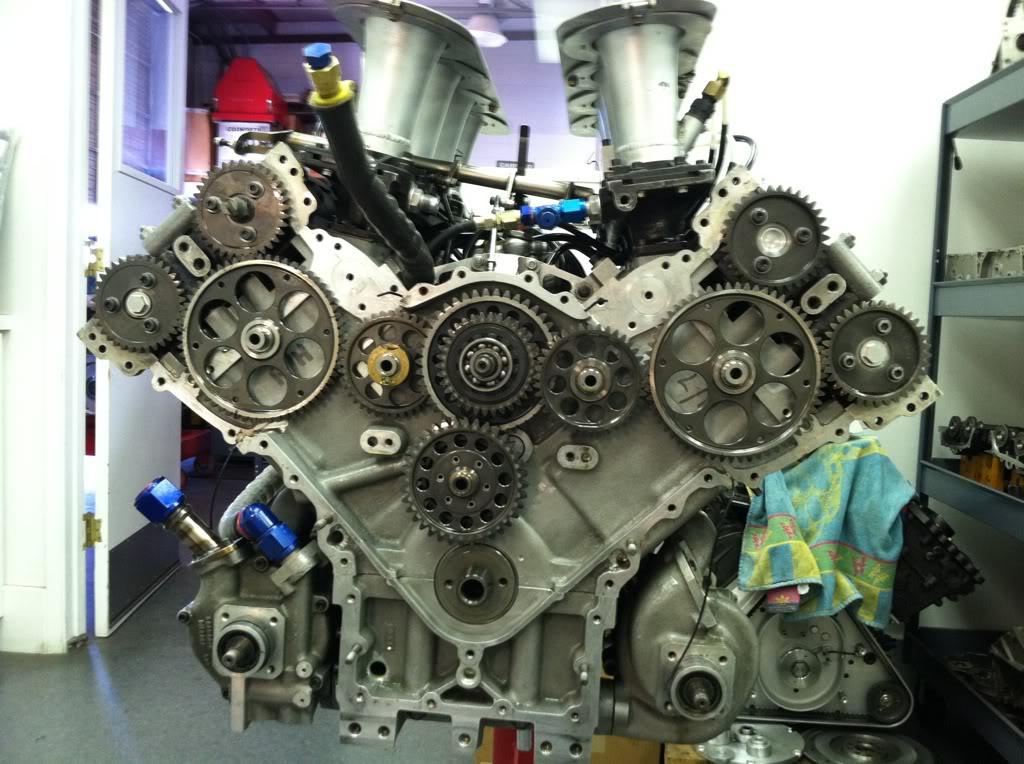 Well I apologize the thread has gone cold but I hope you guys will keep checking in as I will be back working on the Legacy soon
4-1-2012
Well today I sorted through a load of parts that I took from two N/A 2.2 Legacy sedans from a local Auto dismantler called picknpull. One of the cars was obviously a very nice car before it was crashed but the trunk and rear garnish were in excellent condition which I want for the spoiler delete, I will have one painted with original spoiler and this one without. I also picked up a good carpet, rear parcel tray with speaker covers and cutout for rear brake light. The big thrill was finding wind up windows with arm rests
etc in excellent condition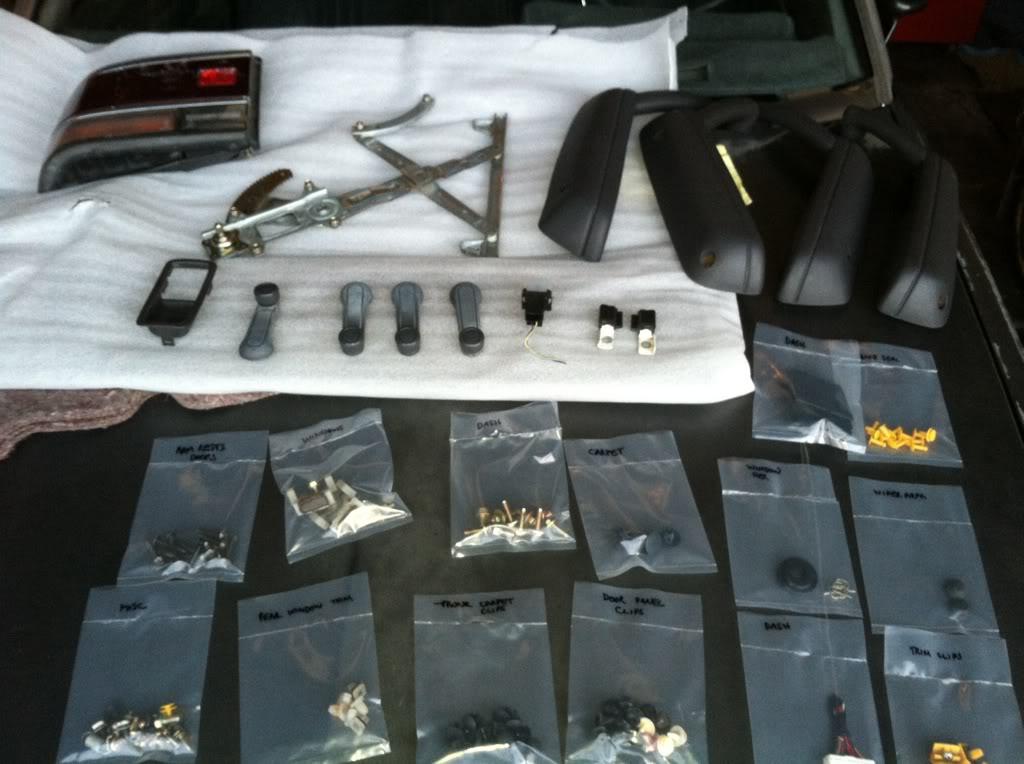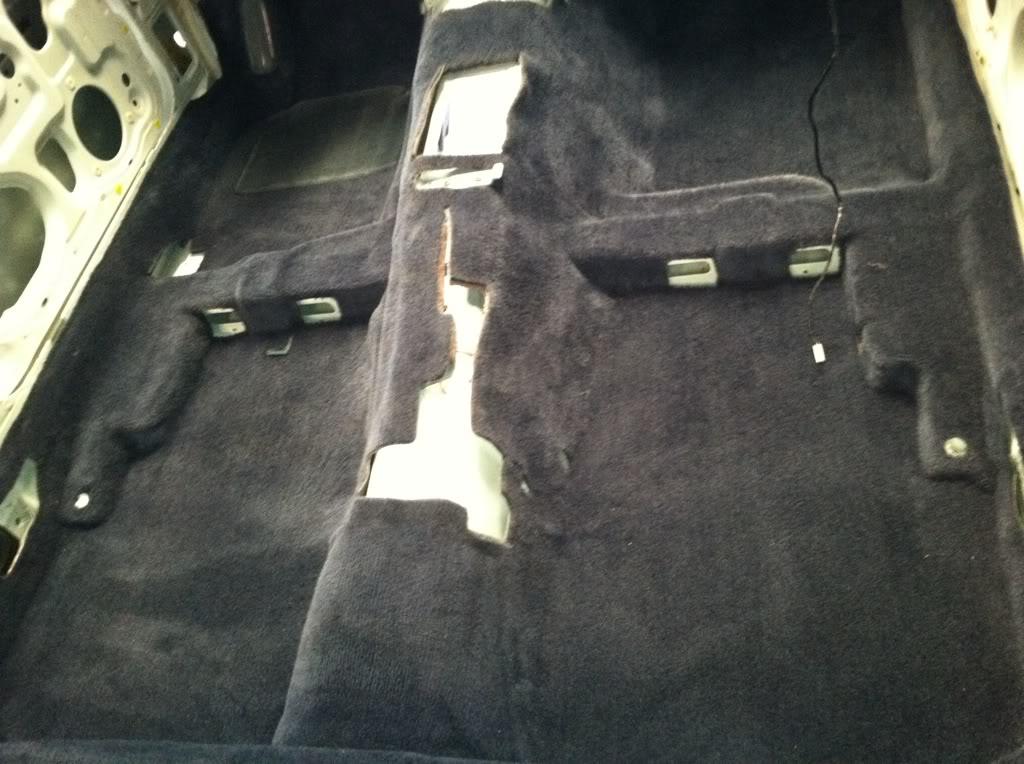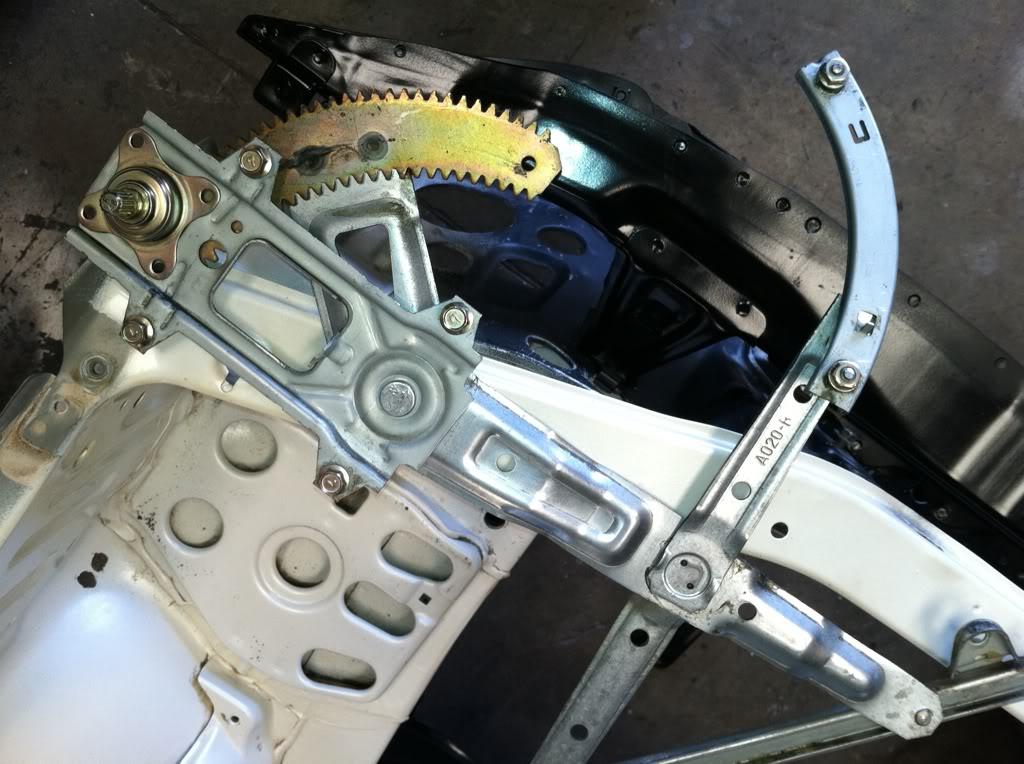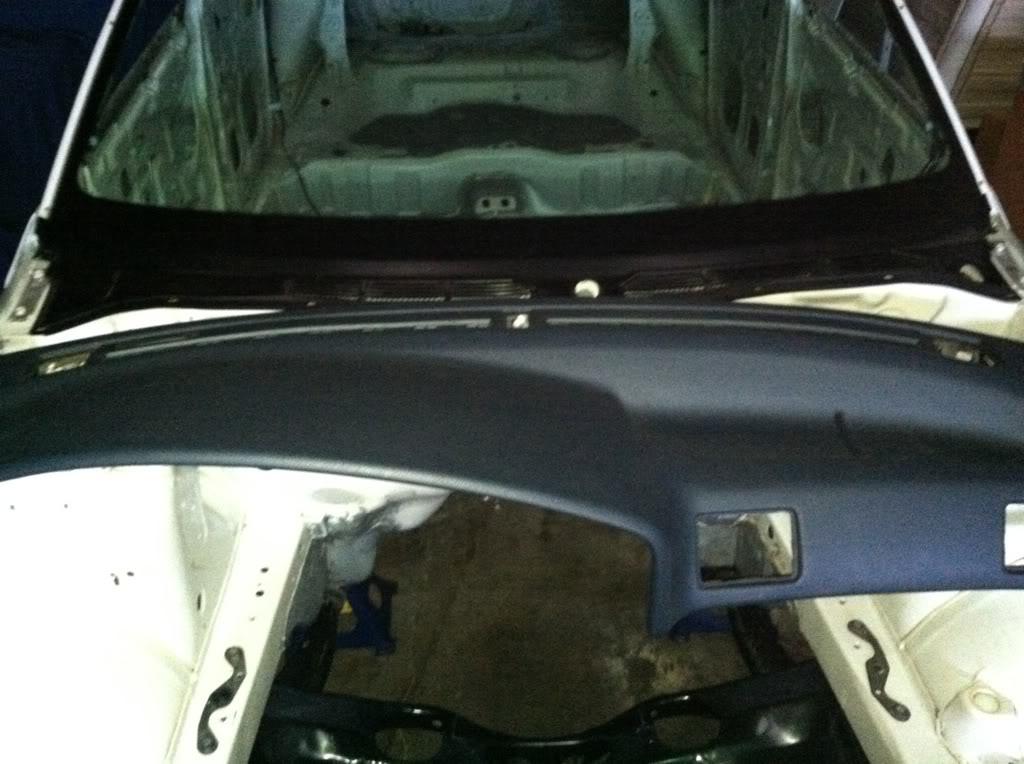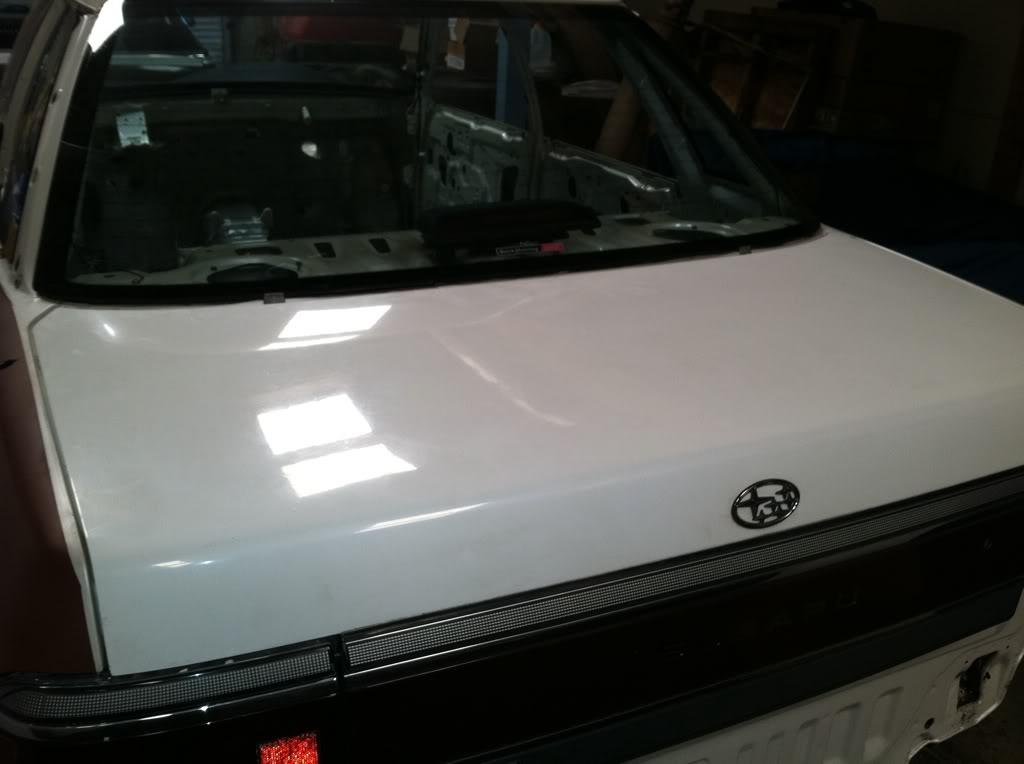 I also picked up spare dash pad with no sunburn

which I will have to respray to correct color and a bunch of the trim clips and fasteners etc which I labeled and sealed in bags.
9-19-2012
Hi guys an update that is overdue here. I have the car on a rotisserie that I bought and it has been seam welded. I have finally gathered up all the pieces in NZ and will be getting a massive amount of parts shipped over for the project. I have so much going on it's hard to keep up. I hope the photos will keep you guys interested in the project. My apologies for not keeping it going like I should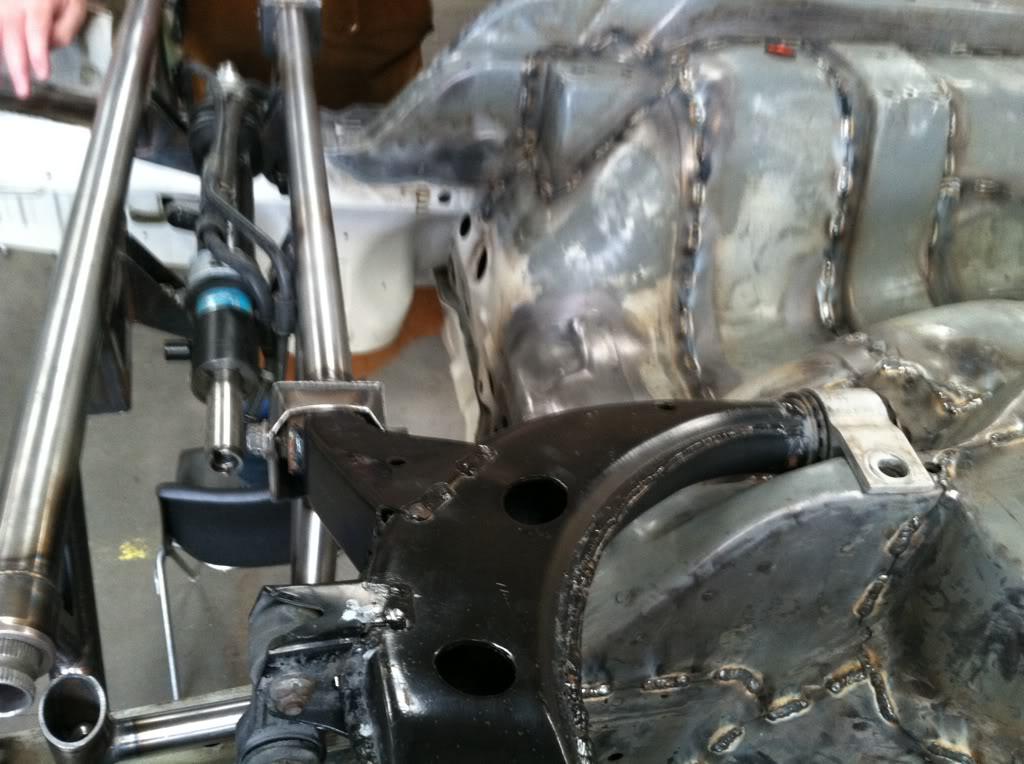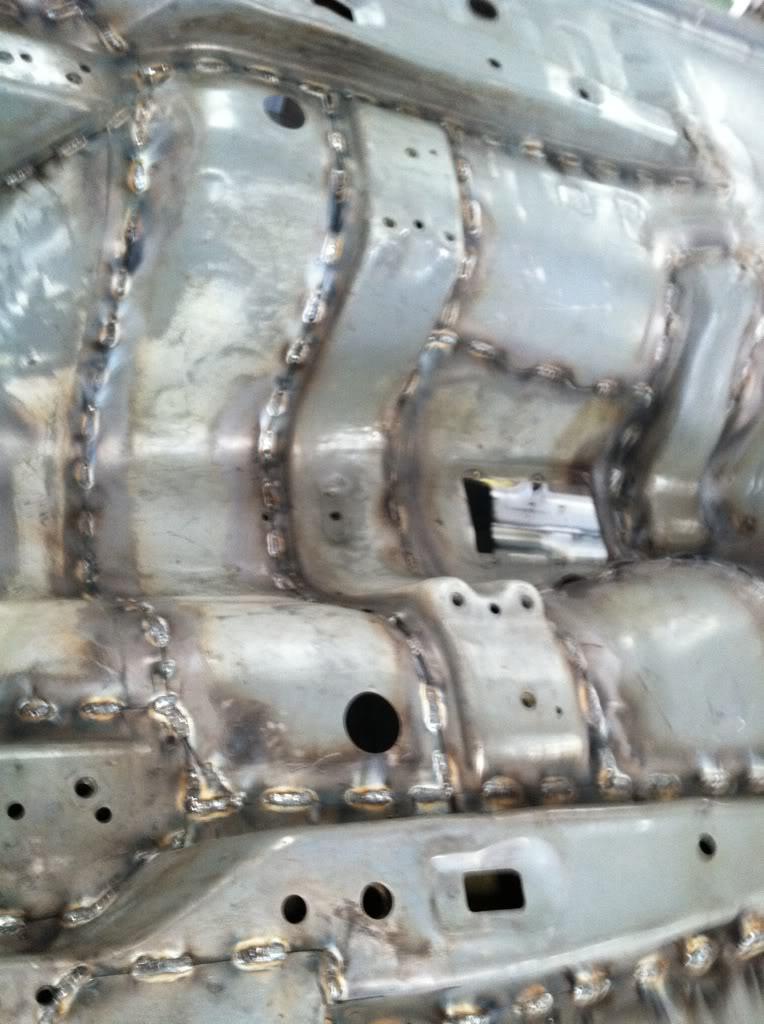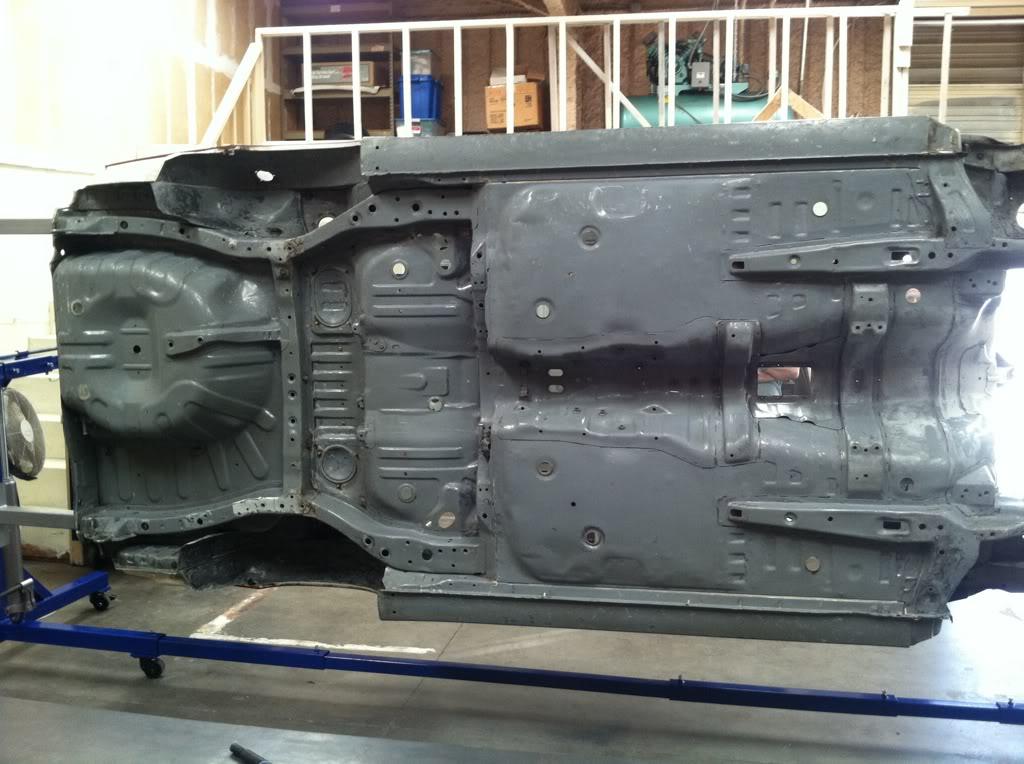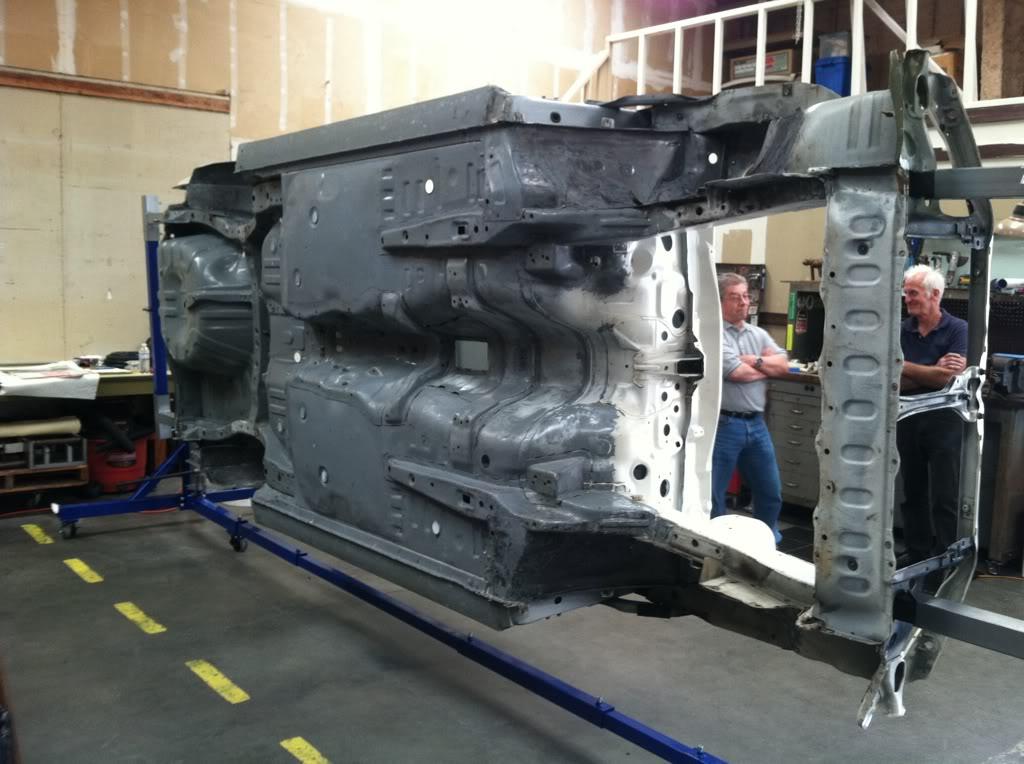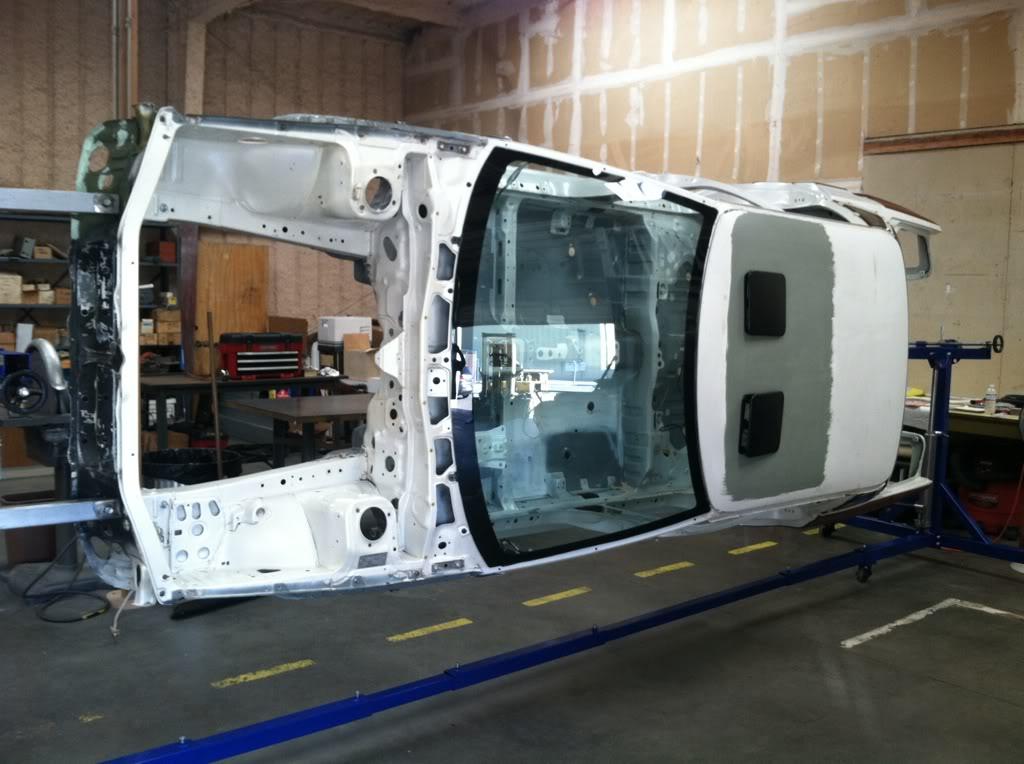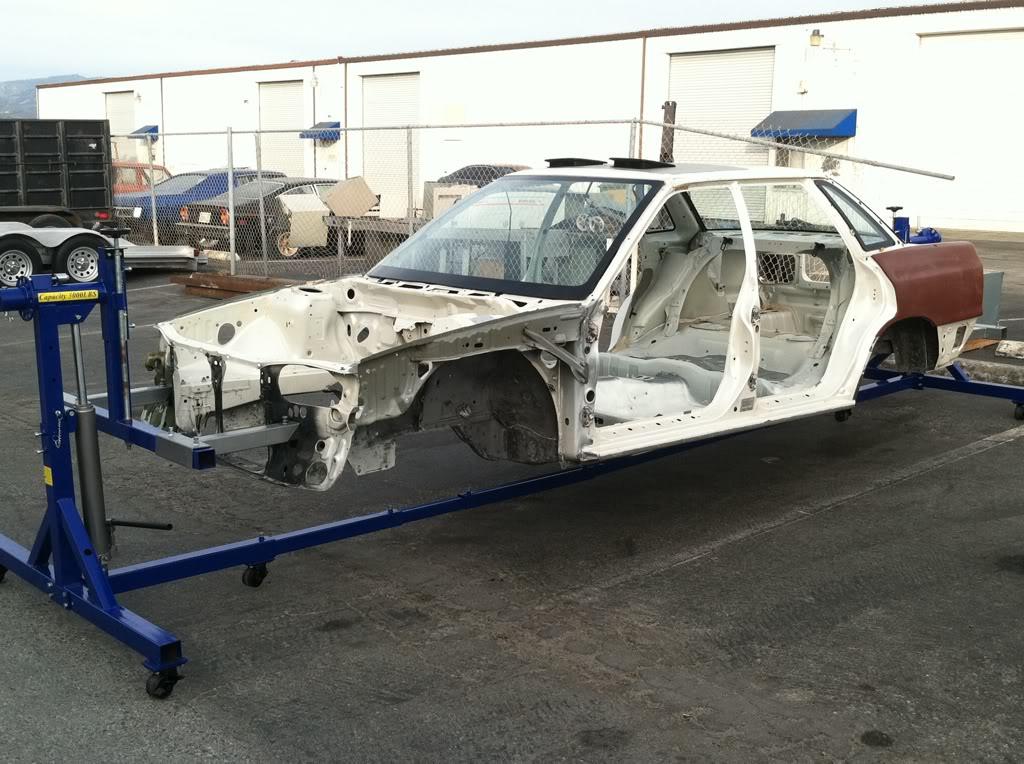 9-24-2012
Thanks Everyone, I hope that This project will continue to be interesting, I will try and post information along the way regarding the project but at this time there really is not much going on. I did want to mention that Modesto Subaru has been very helpful in supplying some of the much needed parts for this project, I had recently purchased new fenders, hood, drivers door and fuel tank and straps and protective covers as well as some plastic trim pieces for the wheel arches. And a front bumper cover. I will be painting a spare set of bumpers, fenders and hood in the hopes I will never need them. I have bought many parts for this car which have been the last one available through SOA so I
Think it's very important to have spare parts that are new because of what I have done with this car, also they will be
Painted with all the other parts so the paint will match.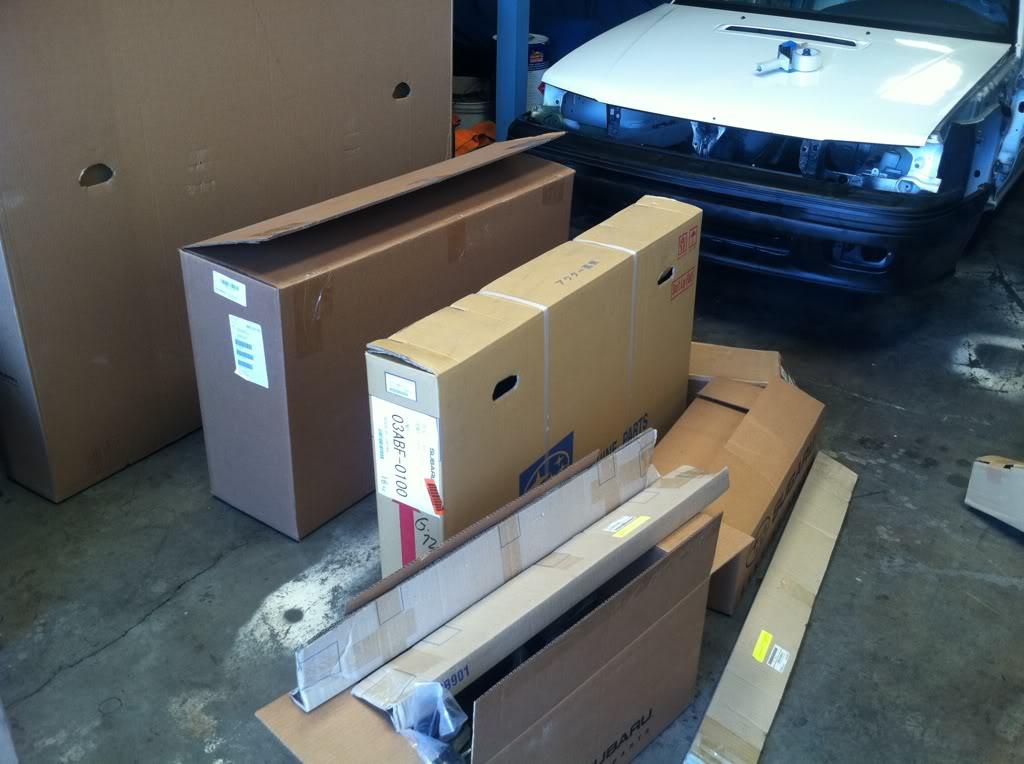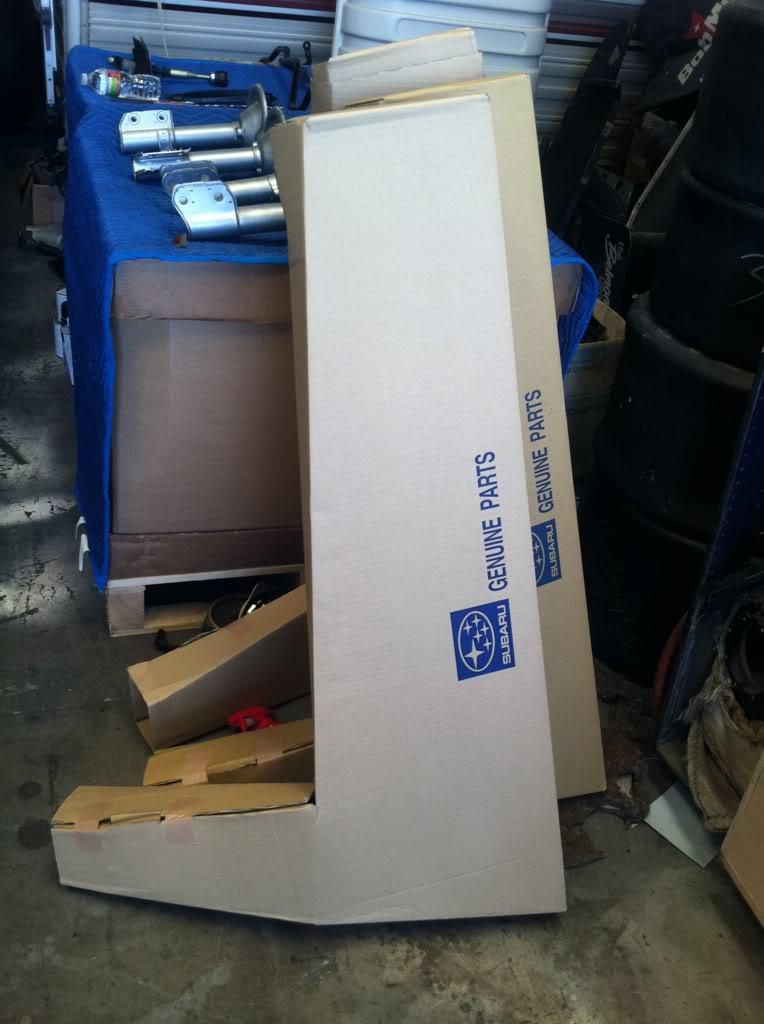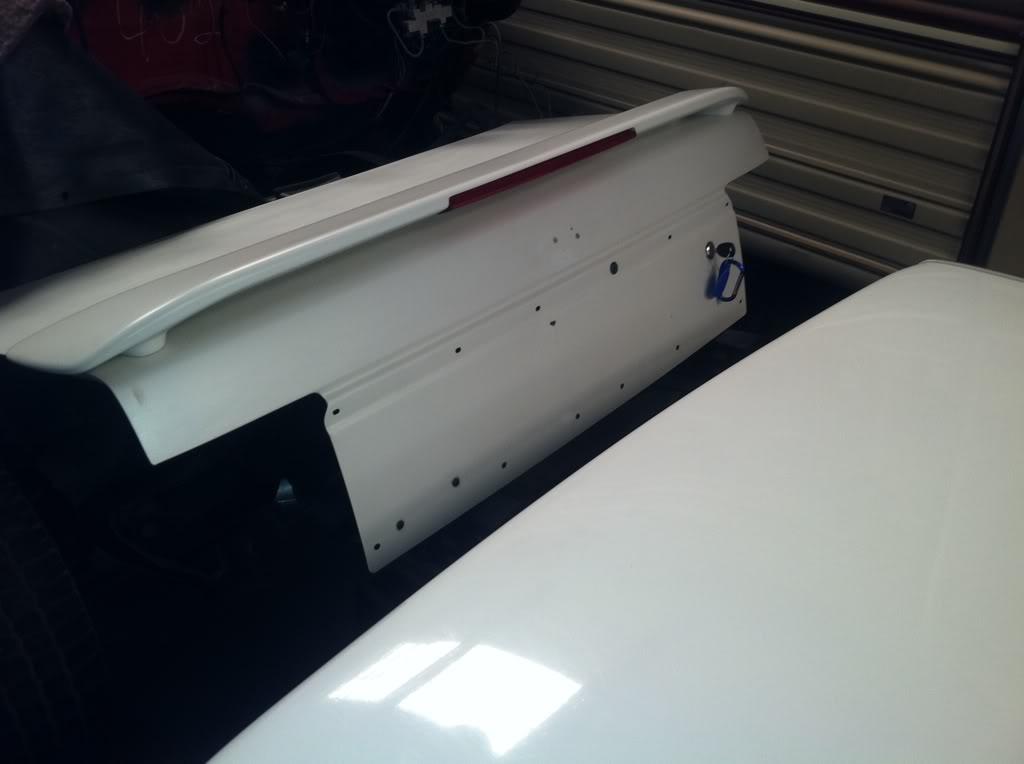 Thanks Everyone, I hope that This project will continue to be interesting, I will try and post information along the way regarding the project but at this time there really is not much going on. I did want to mention that Modesto Subaru has been very helpful in supplying some of the much needed parts for this project, I had recently purchased new fenders, hood, drivers door and fuel tank and straps and protective covers as well as some plastic trim pieces for the wheel arches. And a front bumper cover. I will be painting a spare set of bumpers, fenders and hood in the hopes I will never need them. I have bought many parts for this car which have been the last one available through SOA so I
Think it's very important to have spare parts that are new because of what I have done with this car, also they will be
Painted with all the other parts so the paint will match.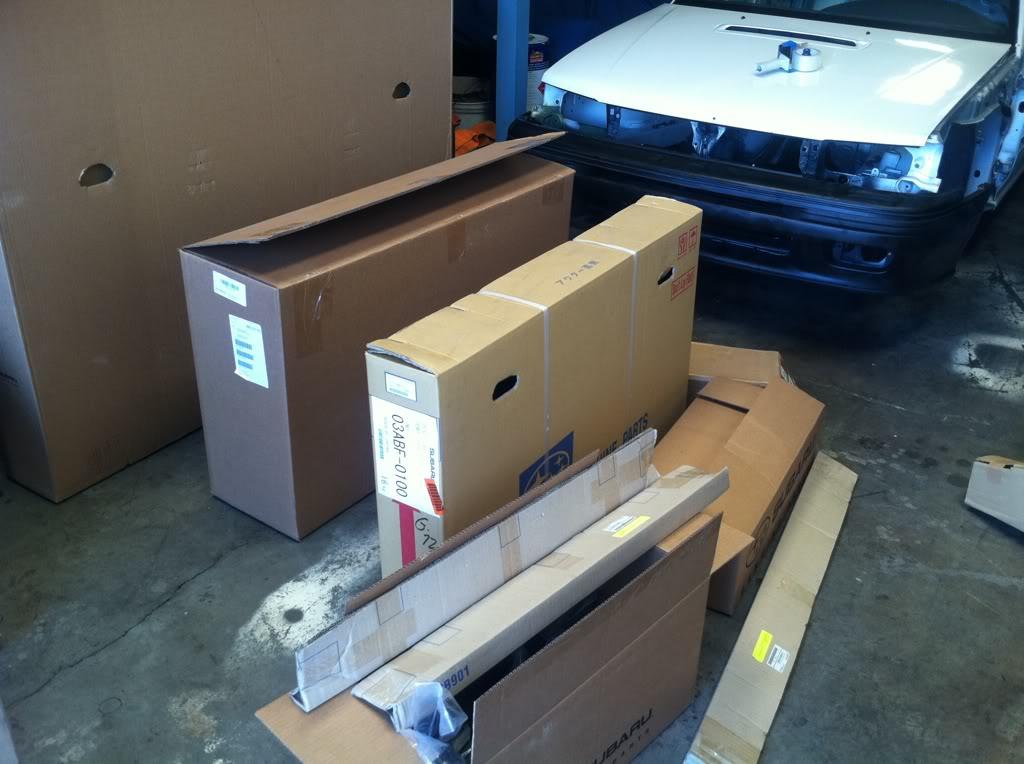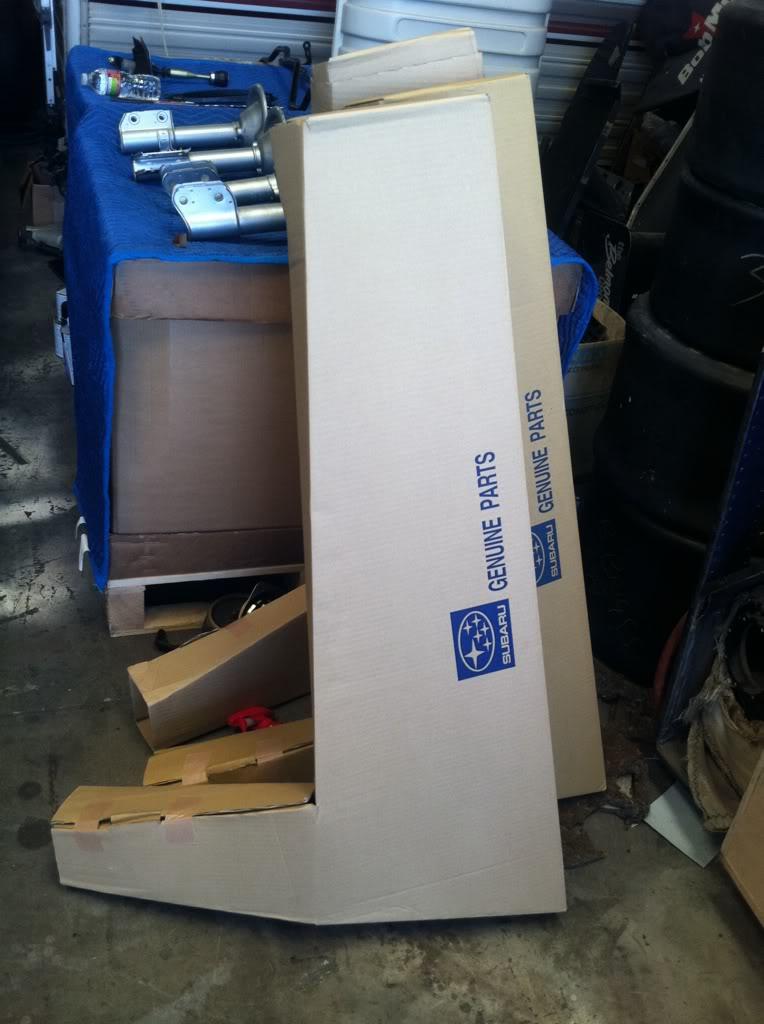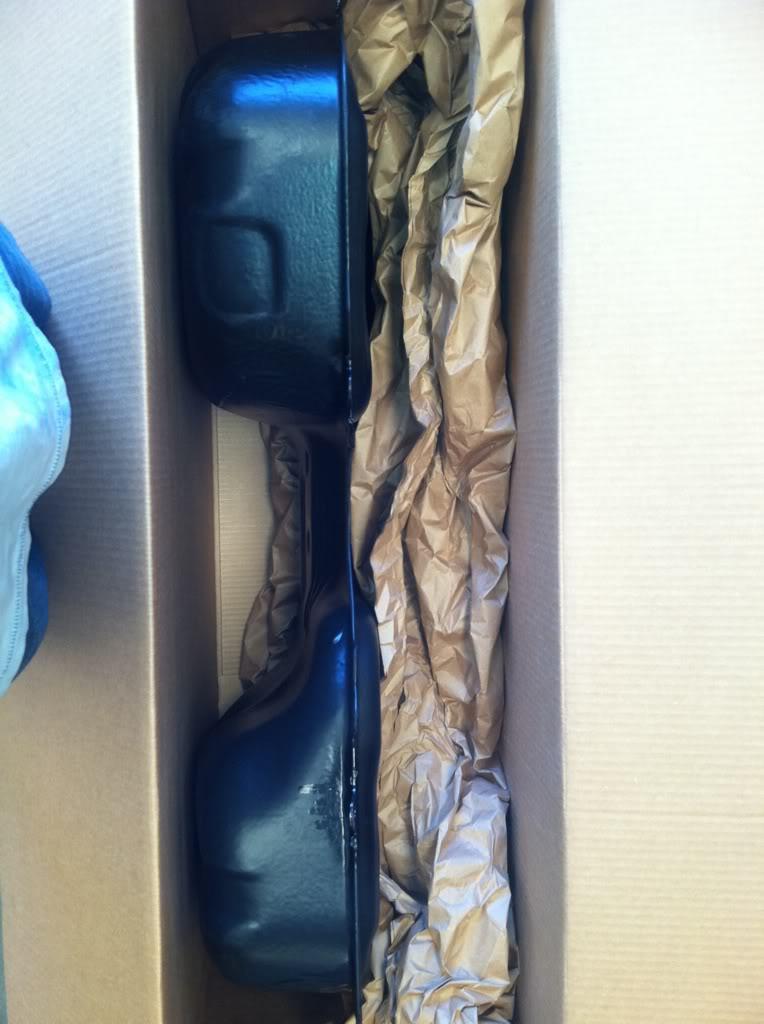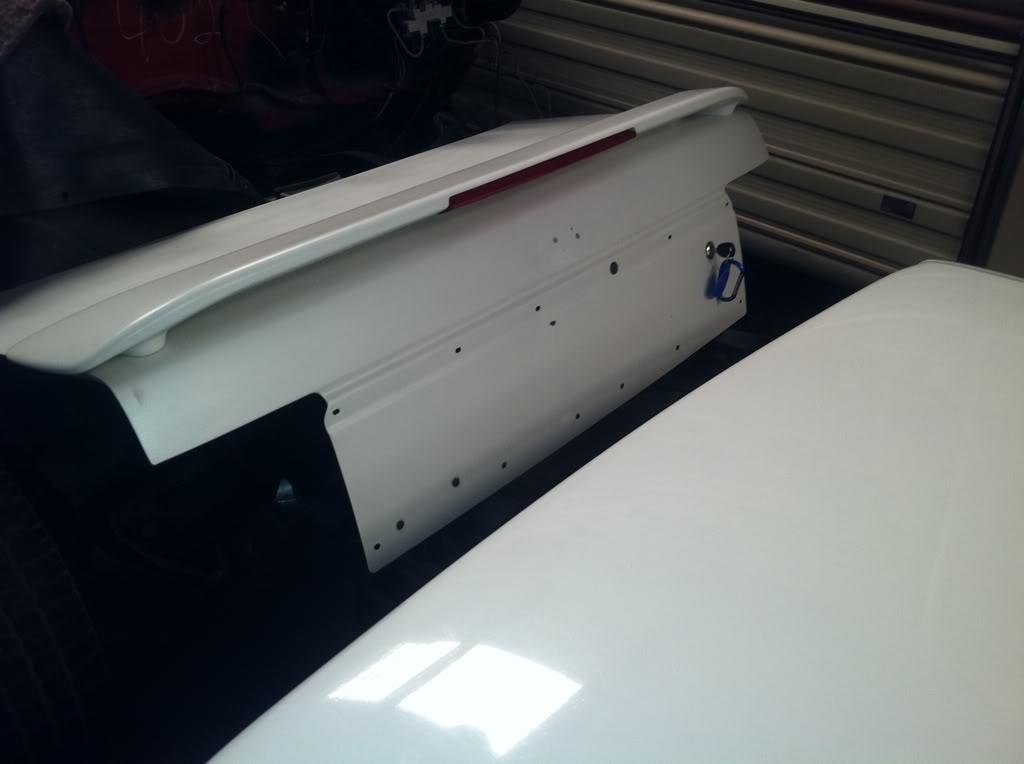 9-25-2012
Interior:
· Momo Cobra three spoke steering wheel
· RA specific seat fabric (velour inserts the same as RS)
· Low grade headlining
· Deletion of passenger visor vanity mirror
· Manual windows (RS – power windows)
· Manual locking (RS central locking)
· Air conditioning – factory option – none climate control version (RS – climate control)
· Addition of rear scuttle brace (TBC)
Exterior:
· Rear spoiler deletion
· Rear windscreen wiper washer deletion
· Black side skirt deletion
· Black, manual adjustment side mirrors (RS power mirrors)
· Manual radio aerial – located at top of right A pillar (RS power aerial – rear left flank)
· Blue tinted glass (RS Bronze)
· Paint colours:
o Type A: Ceramic white#57
o Type B: Ceramic white#57
o Type C: Feather white#30
o Type D: Feather white#30 or Black mica#52
Engine:
· Internal:
o Hand built / blue-printed engine by STi
o Crank shaft, flywheel and clutch cover - balanced and hand finished
o Cylinder heads and intake manifold - hand finished / casting lines and gaps removed / polished
o Forged pistons
o Forged connecting rods
· Turbo (TBC):
o Turbine rotor diameters(in/out): 52.5 / 46.5 (RS: 52.5 / 43.0)
o Compressor Impellers diameters(out/in): 56.0 / 45 (RS: 56.0 / 41.2)
o Maximum boost pressure: 450 Hg (RS – same)
o Intercept point: 2,800rpm (RS: 2,400rpm)
o Turbine blades: 10 (RS: 9)
· External:
o Gold painted cam covers
o Gold painted intercooler reservoir
o Intake manifold cover - deleted
o Twin electric radiator fans (larger capacity than RS)
· Output:
o Power: 220 PS @ 6,400 rpm (RS: 200 PS @ 6,000rpm)
o Torque: 27.5 KG m @ 4,000rpm (RS: 26.6 KG m @ 3,600rpm)
Transmission:
· Close ratio gear set (Types B – D only)
Chassis:
· Aluminium sump guard – custom sub frame mounting bracket and side splash guards (plastic)
· Deletion of under body sound deadening
· Hardened bushes (STi grade - except rear differential mount, trailing arms, and stabilizer bars)
· Hardened coil springs (measure is: KG / mm) – Front: 3.2 / Rear: 2.85 (RS: Front: 2.51 / Rear: 1.89)
· Revised damper rates (measure is: pull/push and 0.3m/sec) – Front: 190 and 140 / Rear: 130 and 85 (RS: Front: 126 and 31 / Rear: 82 and 25)
Adoption of an advan "GROVA" high grip tyre
· Quicker steering ratio / rack
· Deletion of driver / switch operated 'variable assistance' power steering
· Deletion of ABS system




Here is a little about the real legacy RSRA
And here is a real RS Type RA in New Zealand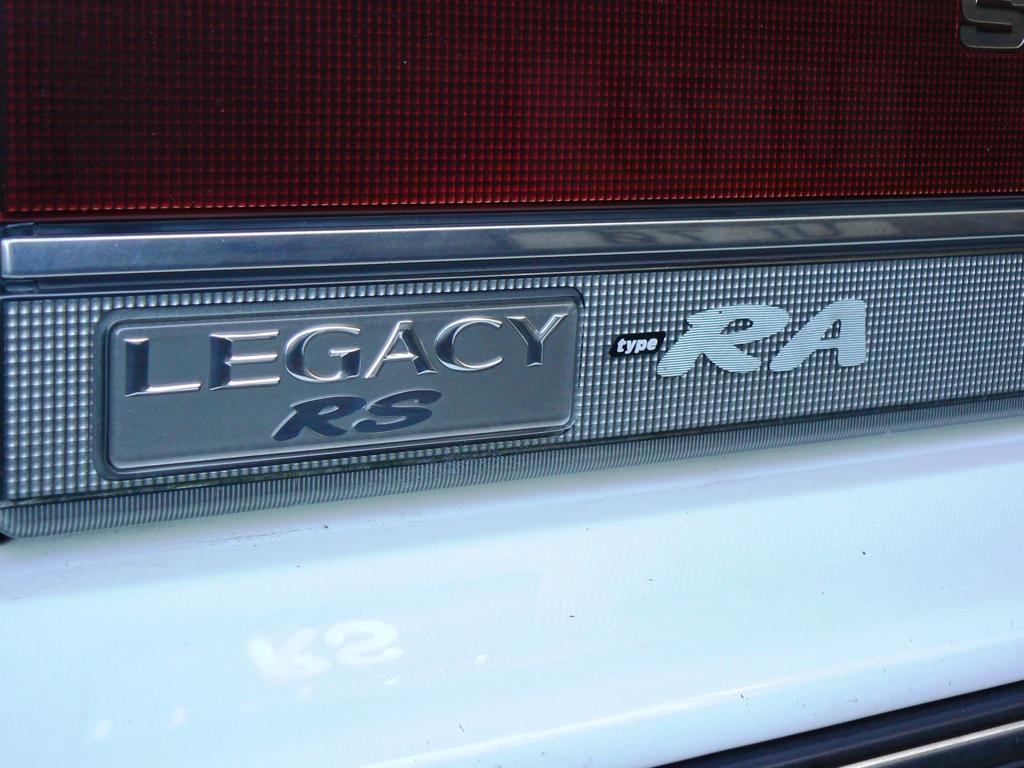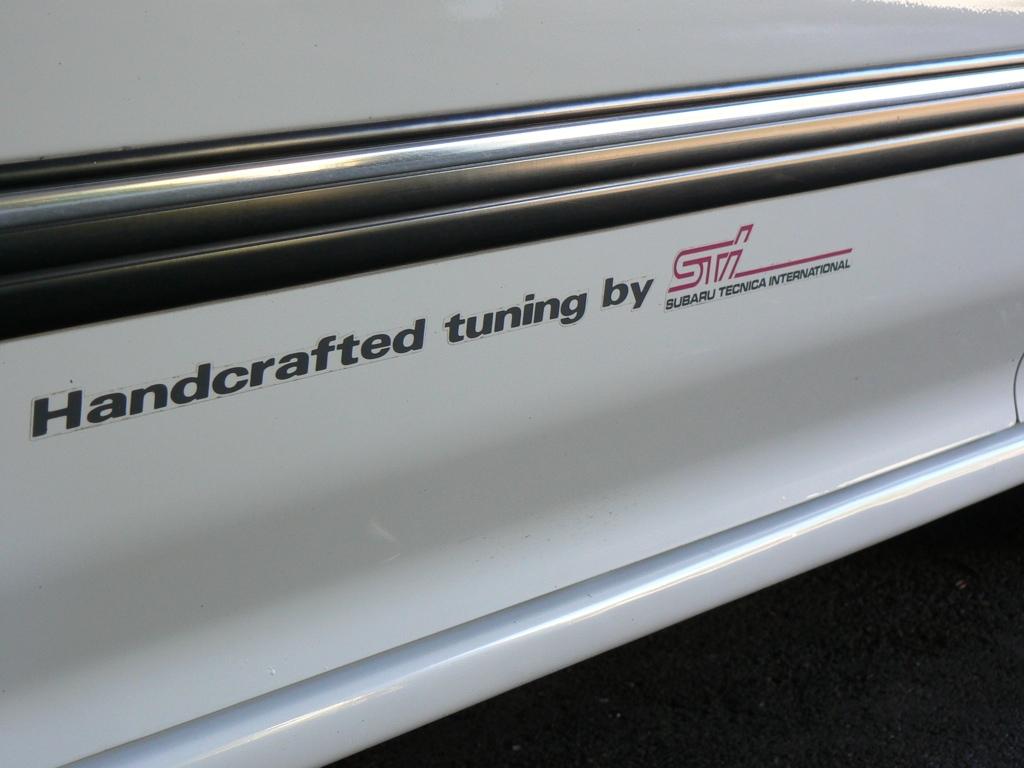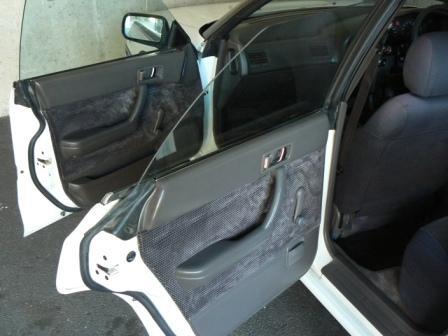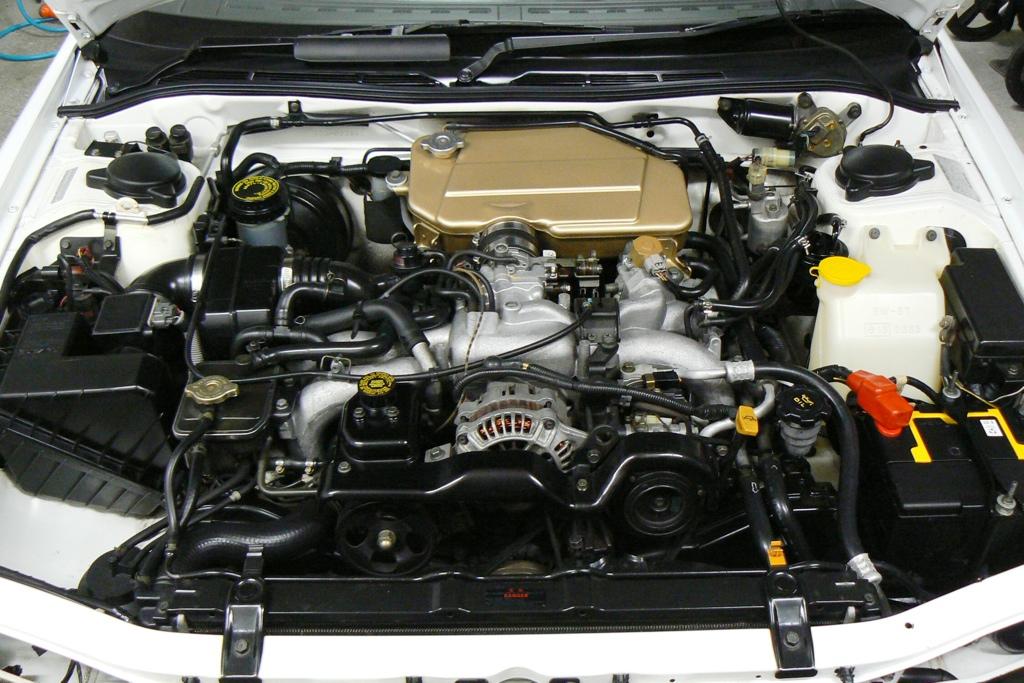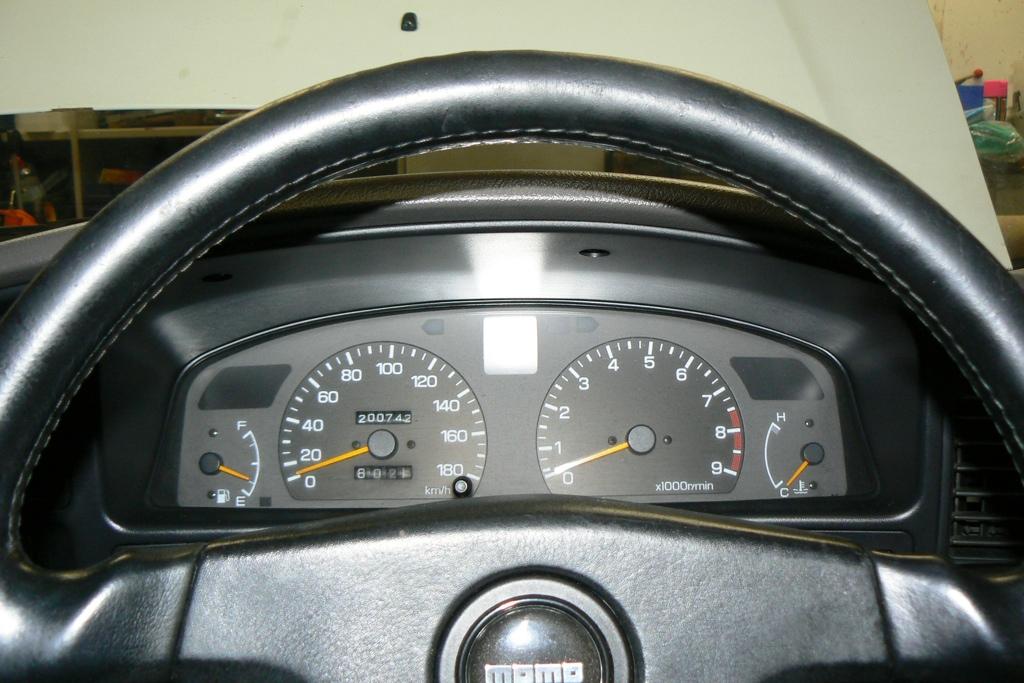 LEGACY RS type R & type RA
RS-R
The debut of first Legacy was the end of January, 1989 (February 1 release). The turbo car was only sedan RS of 5MT at first.
In October, the same year, RS-R is added in accordance with a debut of GT which is a turbo car of a wagon (and 4AT version of sedan RS).
It is written with "a basic grade model of RS which is suitable as the material of a competition car for motor sports" and a new car commentary book.
RS-R, A type
RS-RA
In November, '89 (December 1 release), pure competition car base for motor sports, RS-RA of a STi tune appear.Therefore the position of RS-R became considerably vague debut two months later.
It is written with a new car commentary book with "the order production RA memory model that executed engine fine-tuning same as the challenge car that 100000km speed records RS-R in a base."
RA seems to mean, 100000km speed record challenge "RECORD ATTEMPT" instead of RA of Rally.
(There is an opinion that RA means "Race groupA")
RS-RA put a fine tune to a rally and a dirt trial competition to be based on RS-R more.
As for the engine, forging piston and high resist pressure connecting rod metal are built in, and, as for the intake port and exhaust port, it is revised gap and polished up.
A crankshaft and the flywheel which got of balance are mounted the car with.If it is a beginner's class level, suspension is strengthened to the rank who can participate as it is.Variable ratio power steering is important, too.As for this, the steering gear ratio becomes quick.
Without close ratio transmission, it was announced as 100-limited model at first.Actually, seem to have continued job-order production of 20 monthly productions.
Long-awaited close ratio transmission was carried than a B type from May, '90, and increased with a catalogue model.
Engine specifications do not change from a latter period model C type, but ECU becomes 16bit, and a torque up in middle low rev .(be said by an emission control that became mild) and continued to exist to the last D type, and handed over a duty of RA of legacy to impreza WRX-RA with full model change-over, and the grade of RA disappeared from legacy.
↑100 limitation,A-type
↑close ratio transmission, B-type
↑After minor change model C-type
↑Last model D-type
Engine
RS-R
The engine & Transmissions are the same as RS.
RS-RA
based on RS-R and handcrafted RA tuning same as 100000km speed record car (RA: RECORD ATEMPT)
crank shaft, flywheel and clutch cover hand finish balance
induction system (cylinder head, intake manifold) hand finish repair gaps and polishing
A gold Alumite treatment surface cam cover
A intake mani-fold decoration cover abolition
An inter air conditioner case special color
A forging piston
forging kelmet high resist pressure connecting rod metal
A double radiator electric fan
close ratio transmission from B type
engine performance curve
→ Traveling performance curve of RS
GT RS
Maximum power PS/rpm
Maximum torque kg x m/rpm
200/6000
26.5/3600
220/6400
27.5/4000
Turbine rotor diameters (in/out)
compressor Impellers diameters (out/in)
Maximum boost pressure
Intercept point
number of blade 52.5/43.0
56.0/41.2
450mmHg
2400rpm
9 52.5/46.5
56.0/45.0
←
2800rpm
10
– CHASSIS
—RS-R
Hardened coil spring,damper and bush(equal with STi product)
(except rear differential mount, trailing arm rear side, a stabilizer)
Adoption of three spoke steering MOMO "COBRA"
Adoption of an advan "GROVA" high grip tire
The abolition of steering assist power change over switch
—RS-RA
Difference with RS-R
A variable quick power steering
gear ratio In going straight 15
(over all) In full steering 13
Hardened coil spring damper
The level that can just participate in an intermediate class rally
Hardened bush(equal with STi product)
(except rear differential mount, trailing arm rear side, a rear stabilizer)
Suspension
GT
SEDAN
GT
WAGON
RS
RS-R
RS-RA
Spring rate
(kg/mm)
F
R
?
2.5-2.8 2.3
2.51
1.89
2.63
2.17
3.2
2.85
Damper damping force
(pull/push 0.3m/sec)
F
R
126/31
82/25
126/31 82/25
146/97 112/74
190/140 130/85
Stabilizer
(external diameter-mm)
F
R
17?
19?
18
18
17
19
– Body color
Apride model→ A B C D
RS-R Ceramic white#57
Dark blue#56 Ceramic white#57
Indigo blue-M#13
Black mica#52
RS-RA Ceramic white#57 Ceramic white#57 Feather white#30 Feather white#30
Black mica#52
10-8-2012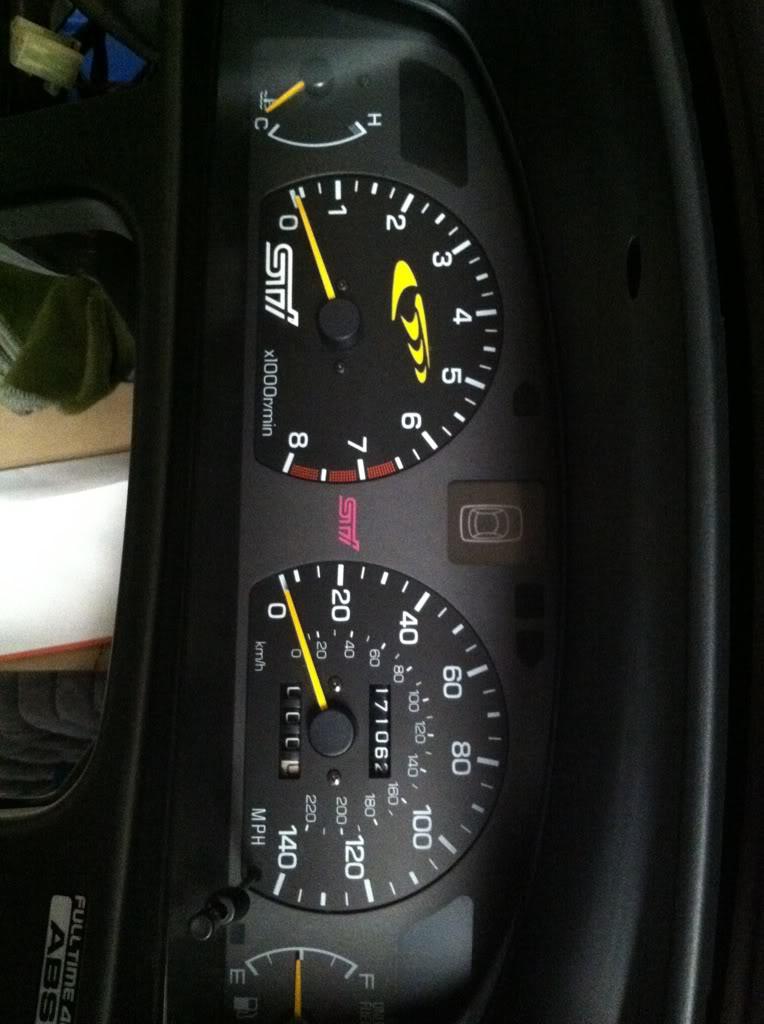 I also added some decals to the instrument cluster which pays tribute to the old McRae 555 Legacy and STI. I have a new Tach which reads higher RPM as in the RA Legacy so I will have to re apply the decals but you can see how it will look.
I have been doing some projects for a local guy that owns a Subaru dealership, I fitted a small block Chev in place of a straight six in his 55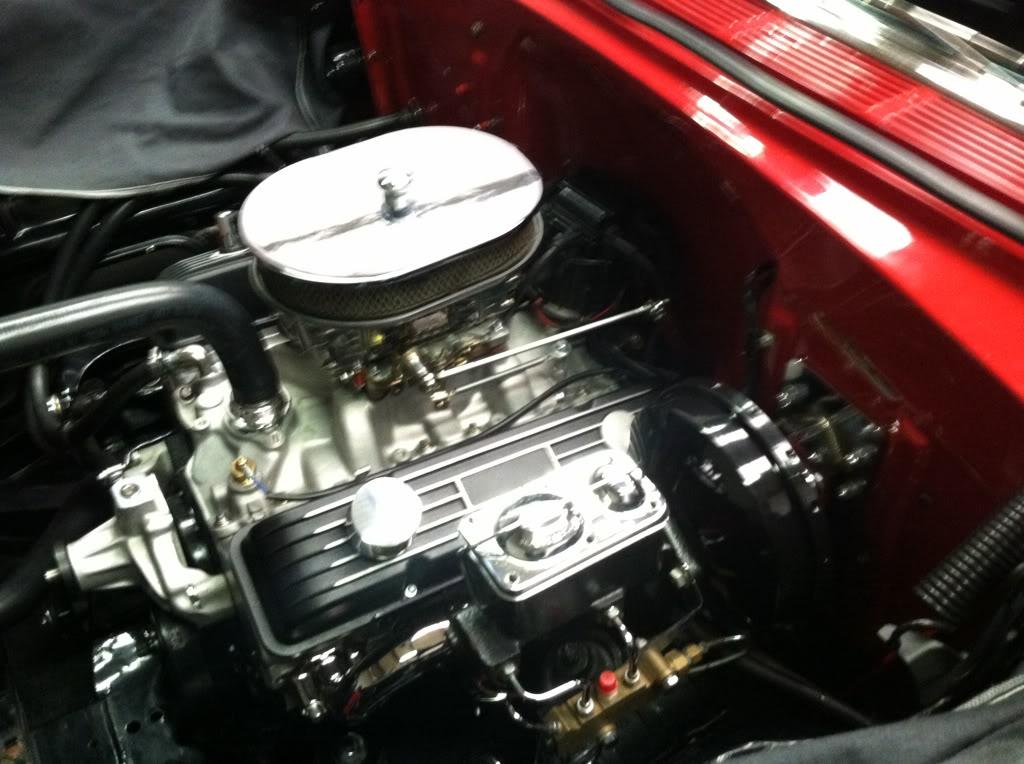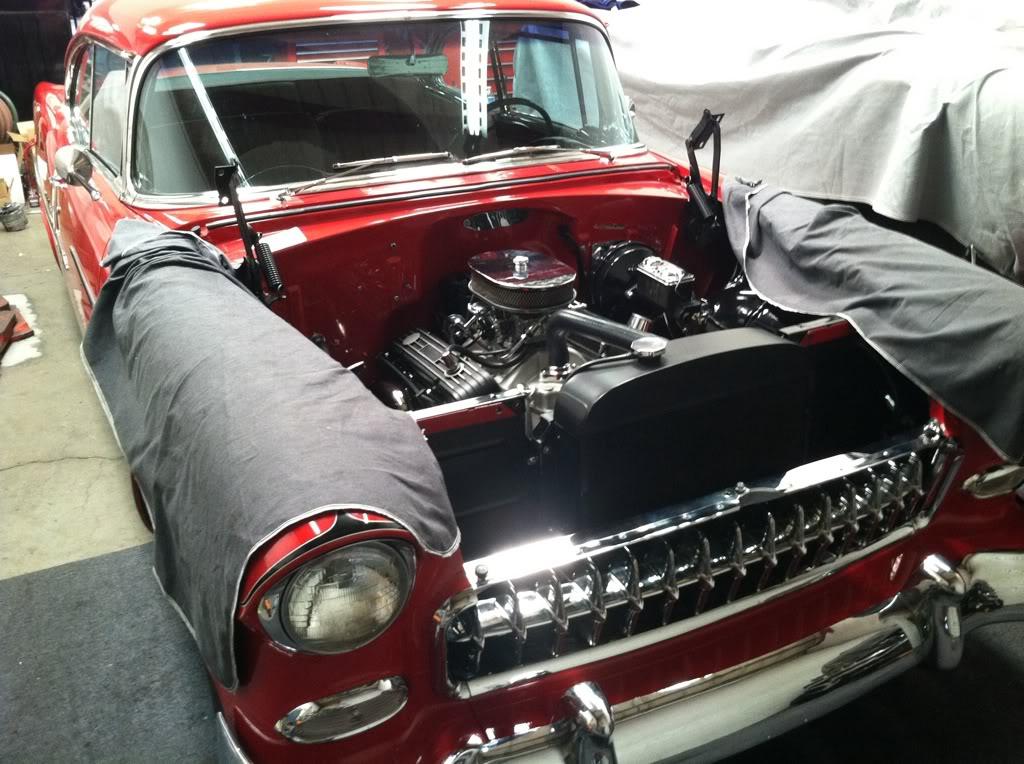 I have some Ideas and a concept to put forward to him regarding his Subaru dealershi and I hope to form a further affilliation with that dealership and hopefully lead to some interesting things in the near future. I will hopefully have some things to talk about soon
11-14-2012
The Legacy is almost ready for paint, I fit the doors and new fenders and hood today. The seam welding is all finished and the jack stand mounts are now all finished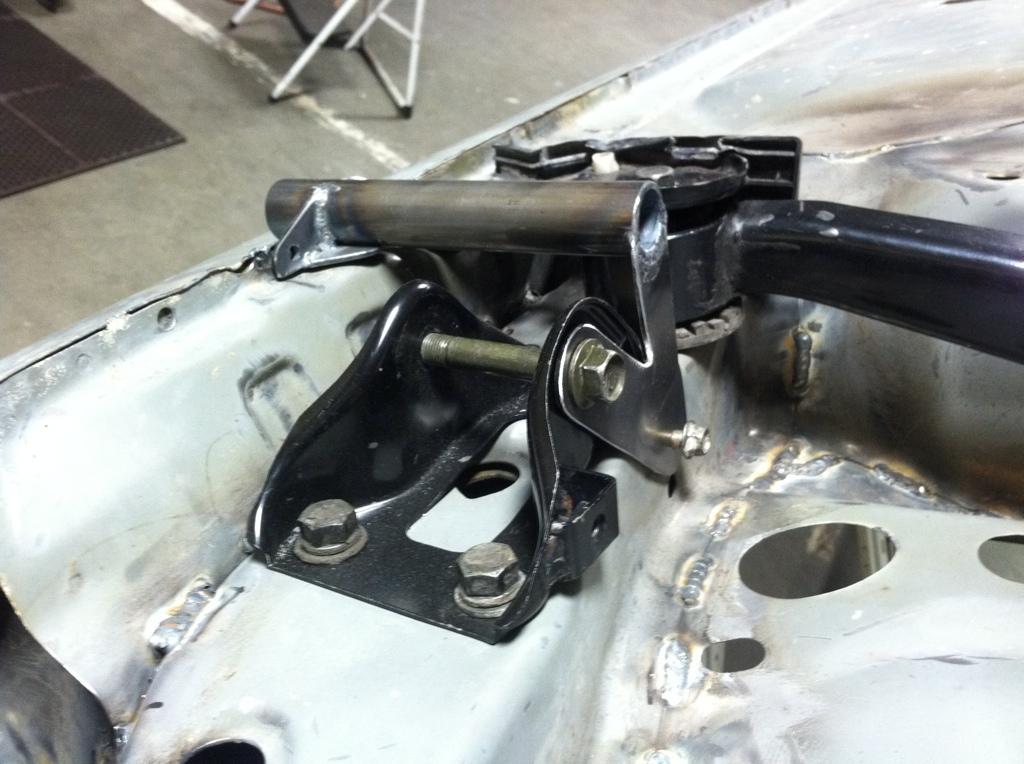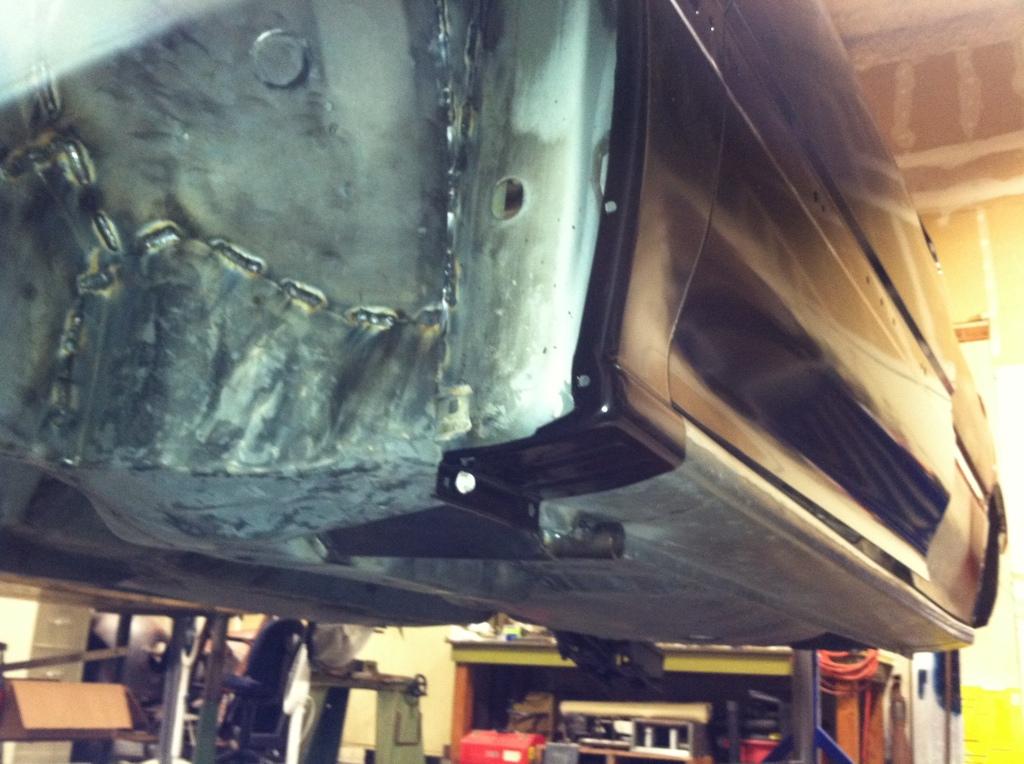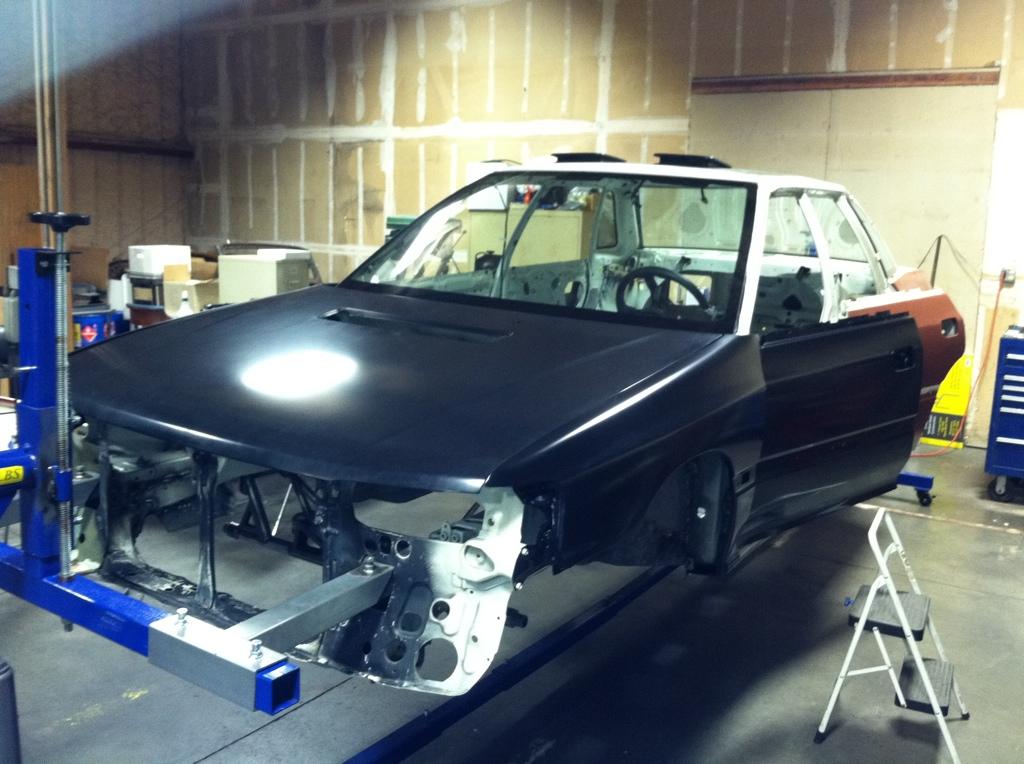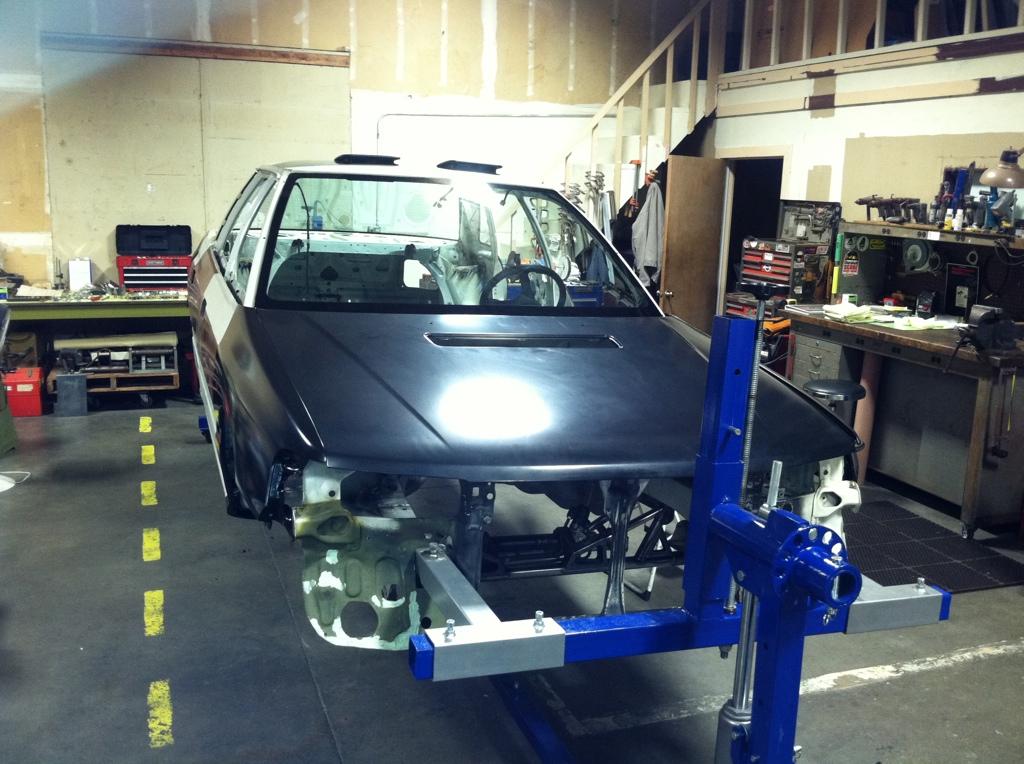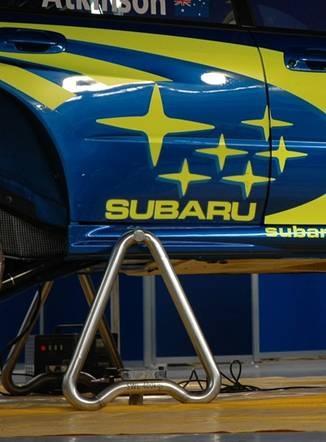 We will be making the WRC style stands as pictured, the mounts welded onto the Legacy are for these stands!
12-12-2012
This week was a big one for the Legacy project, I received all the parts from New Zealand so I now have the intercooler, intercooler cooler and pump ( cooler mounts in front of radiator, all new lines for the intercooler to the cooler, then all new coils, a rear garnish with RA badge, two new Rear bumper covers from Japan, and one new front bumper cover from Japan.
Also a used intake complete with all the fuel lines and wiring loom.
I also bought a six speed trans from a Japanese spec RA with Viscous center diff and Suretrac front and rear diffs. I have already stripped and cleaned the trans and fit all the parts back on it. I also disassemed the pump
For the intercooler and will post pics of these parts soon, the intercooler and intake and pump and cooler were all used, the price these as new parts are extremely expensive, so I had to opt for used.
Here are pictures of some of the new parts, the front bumpers in photo shows one USDM and lower bumper in photo is JDM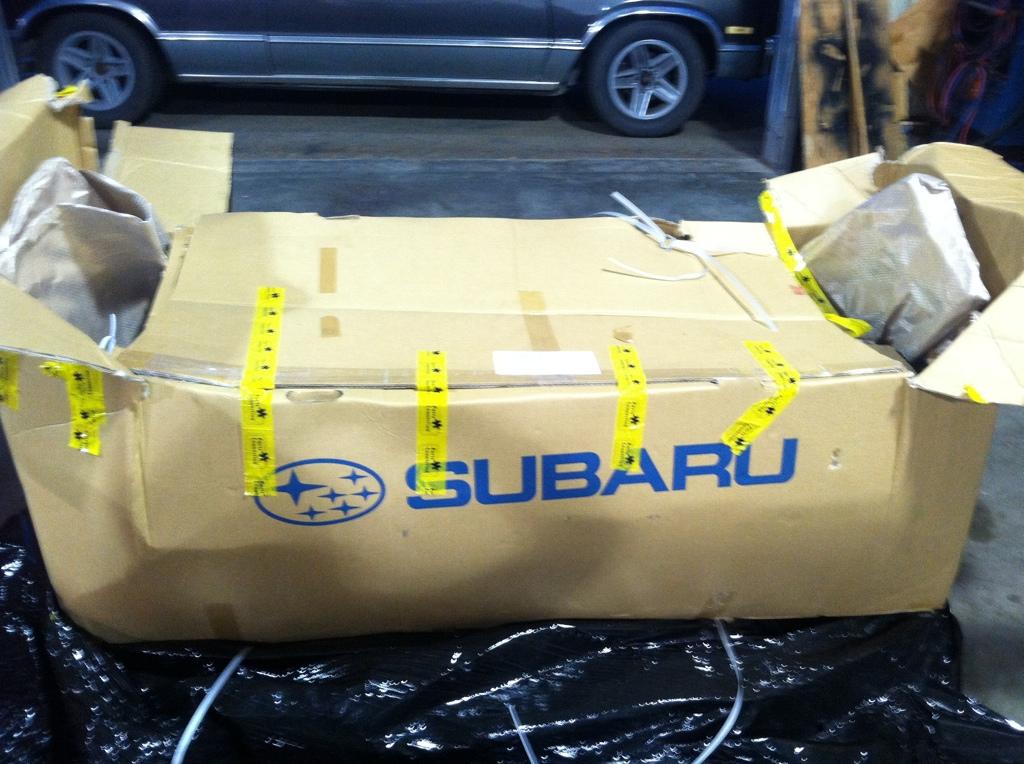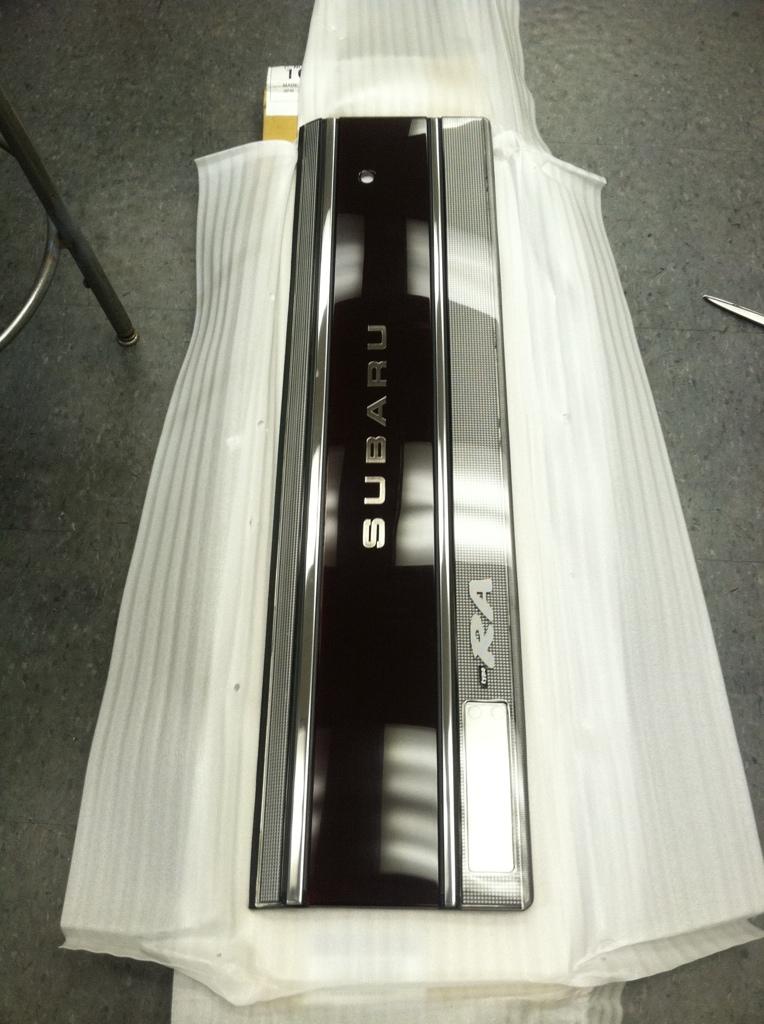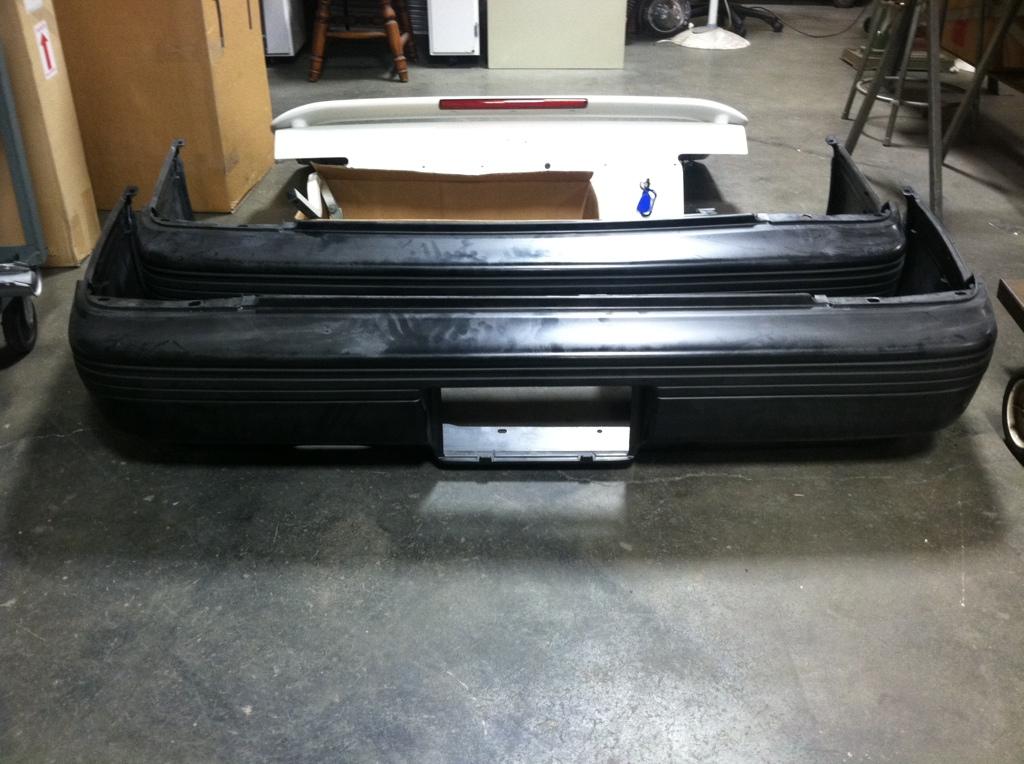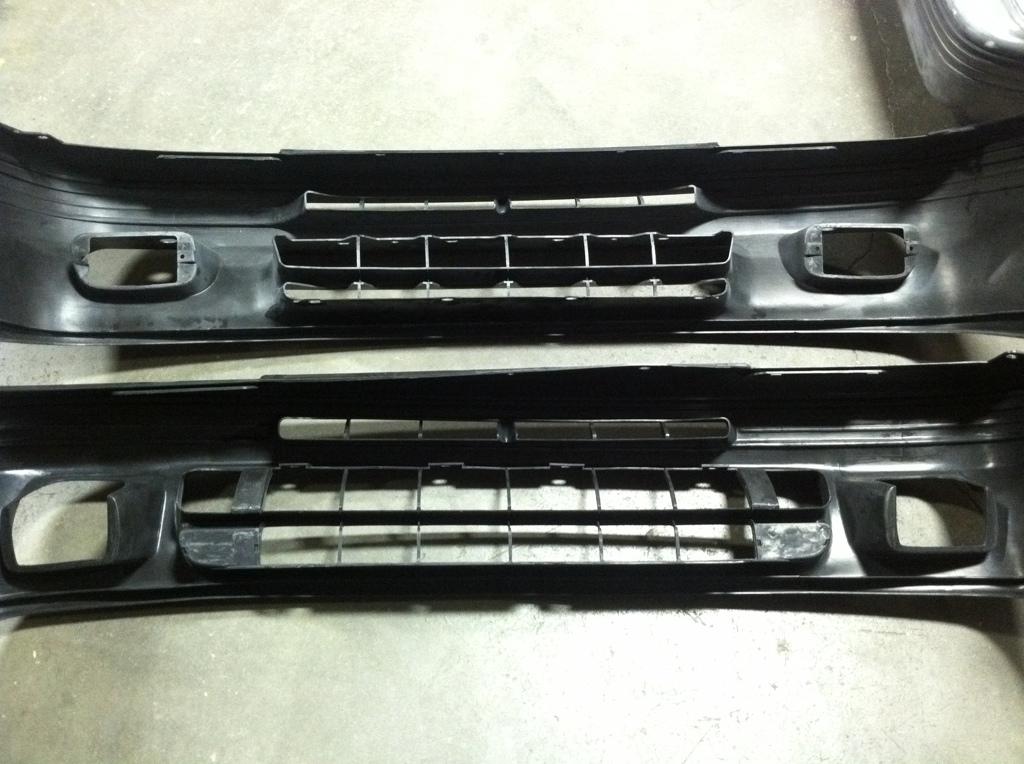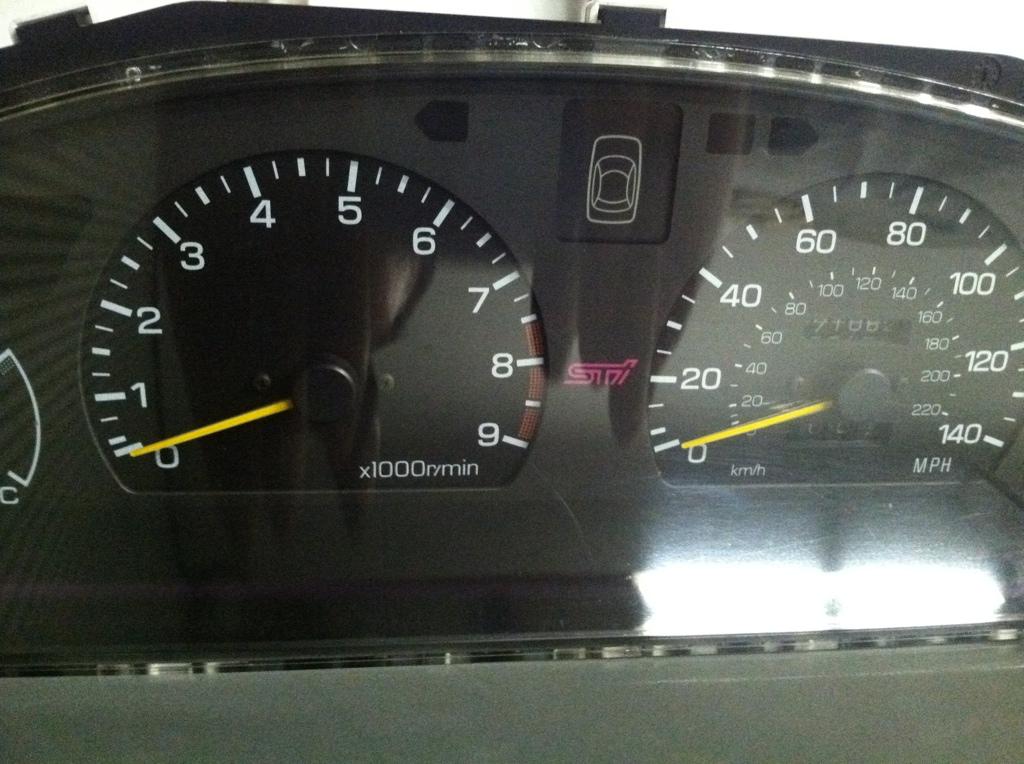 Above is the new tach fitted which is the same as the RA has with 9000 RPM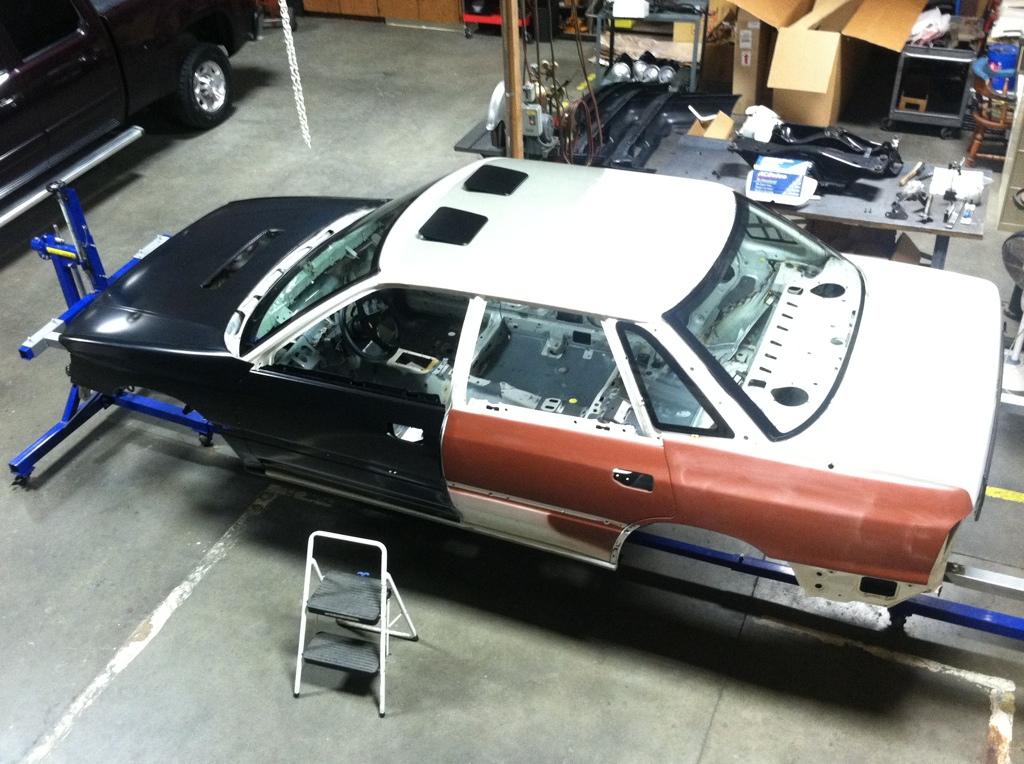 New panels on the Legacy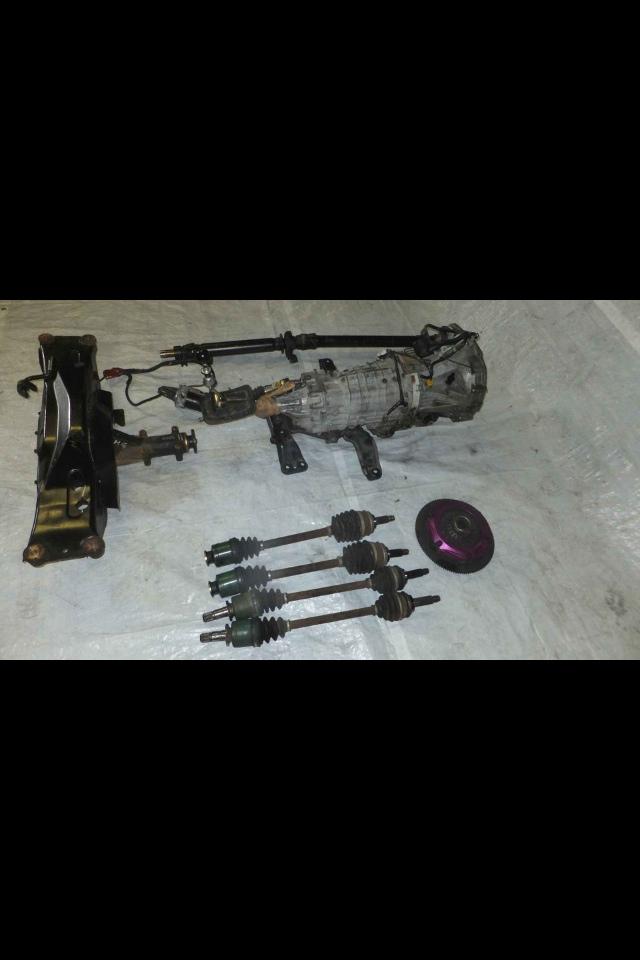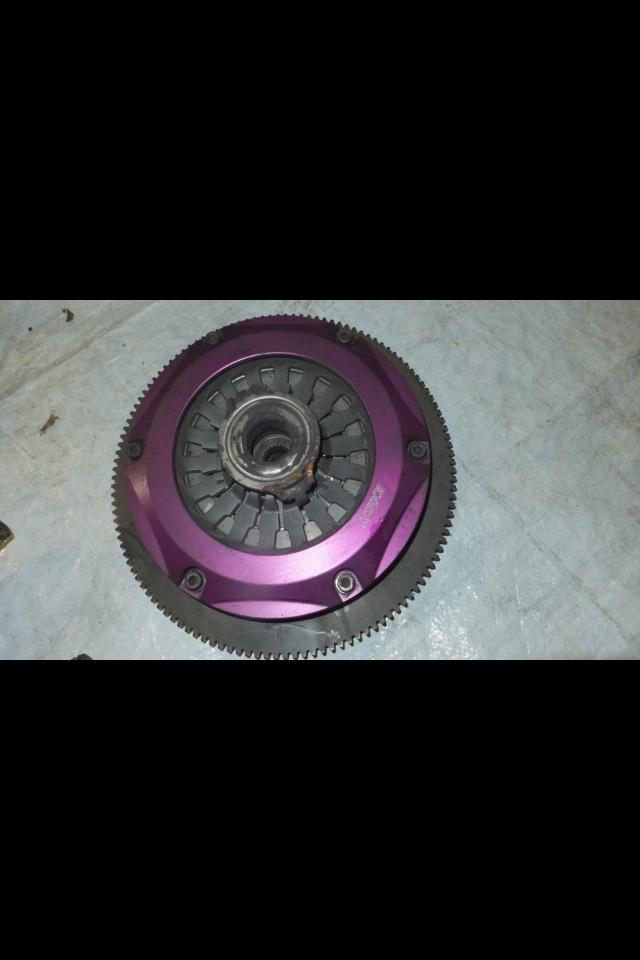 I will post more photos soon, it has been a busy week and I have not taken as many photos as I should, however I will take some more to update this build!
I have been making steady progress everyday, I gave the Six speed transmission a major cleanup and it looks really good now. I stripped and rebuilt the starter which came with the six speed and painted it again, I even managed to preserve and re use the decal. The intercooler pump has been re painted also and I need to get two metric o rings and it can go back together. I will try and take some pictures on Saturday of the engine bolted to the trans, It looks great.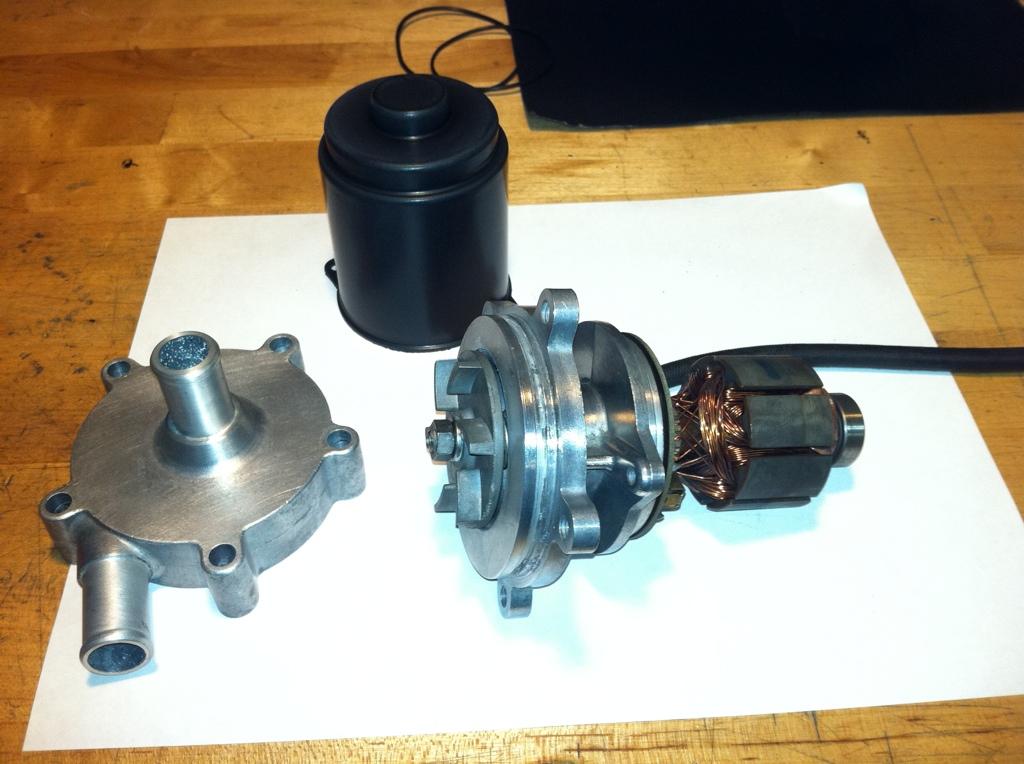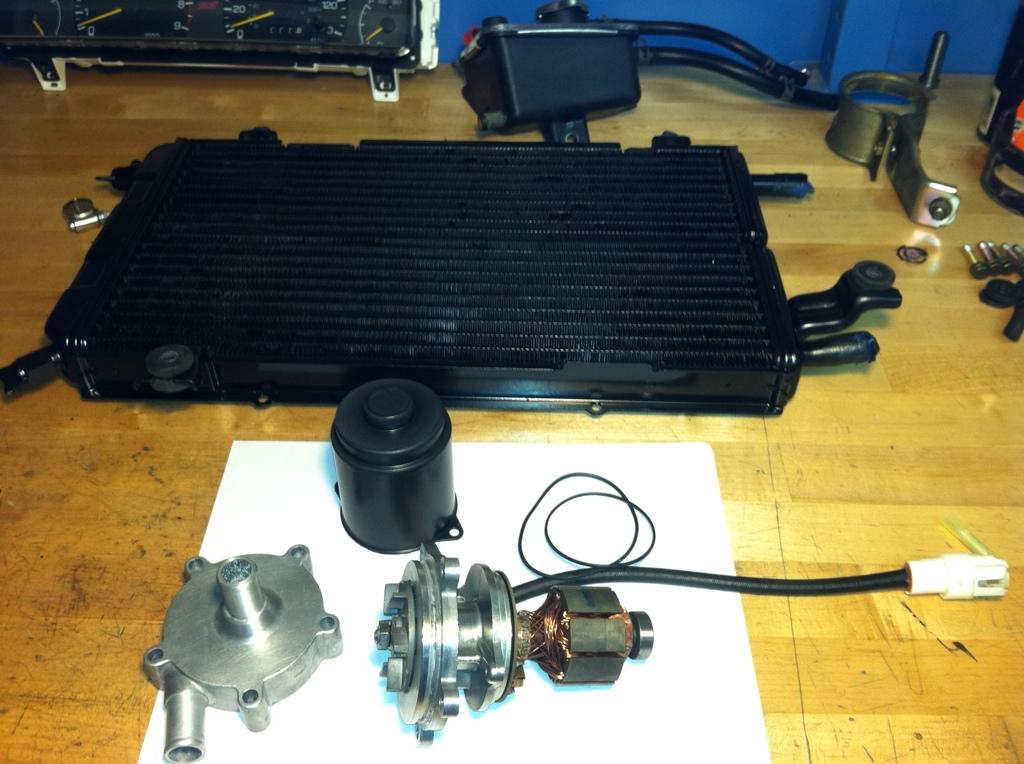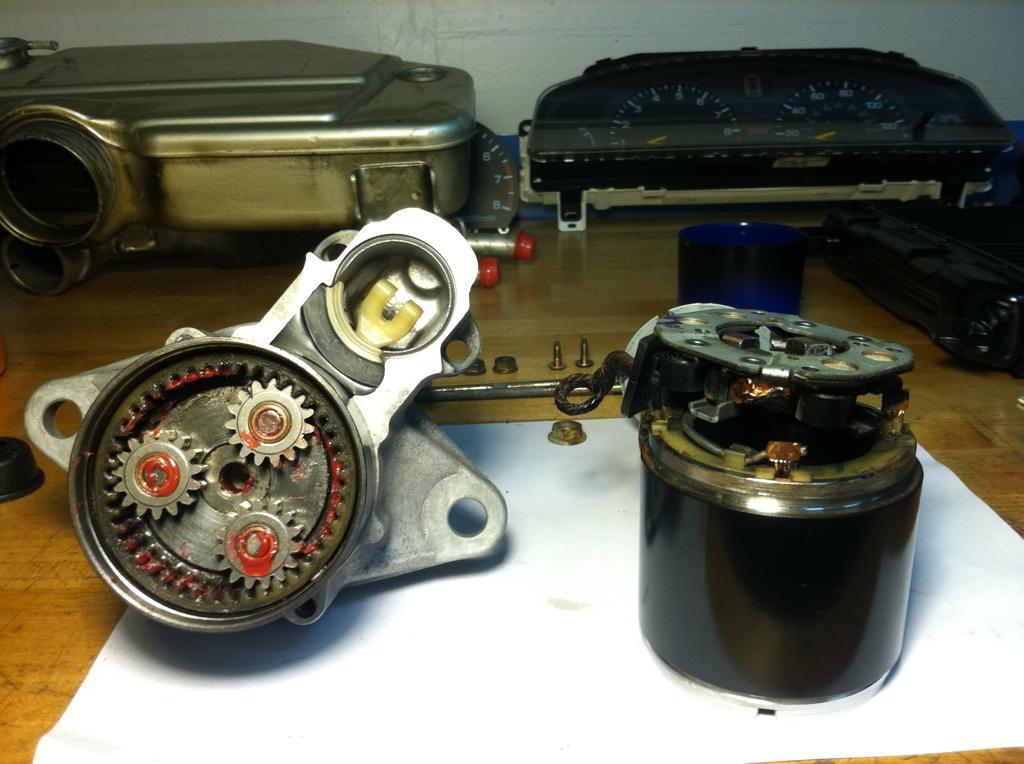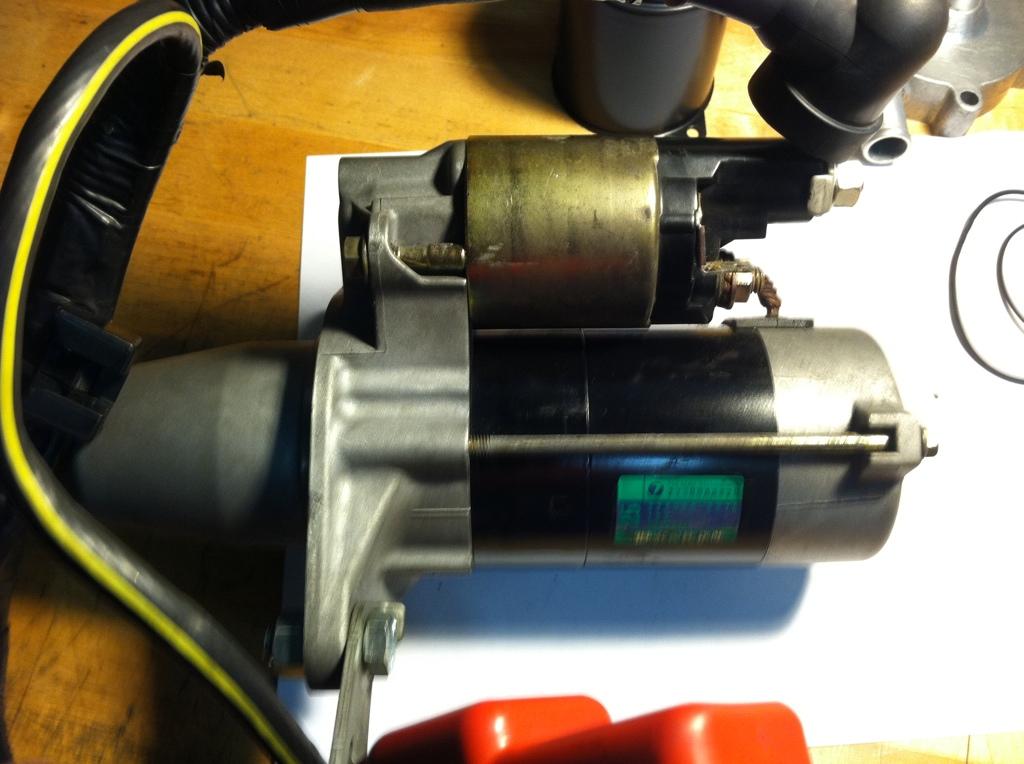 I spent the last two days working on my intake manifold from an RS Legacy. So after milling of the unwanted mounts and hours and hours with a grinder in hand here's what I came up with.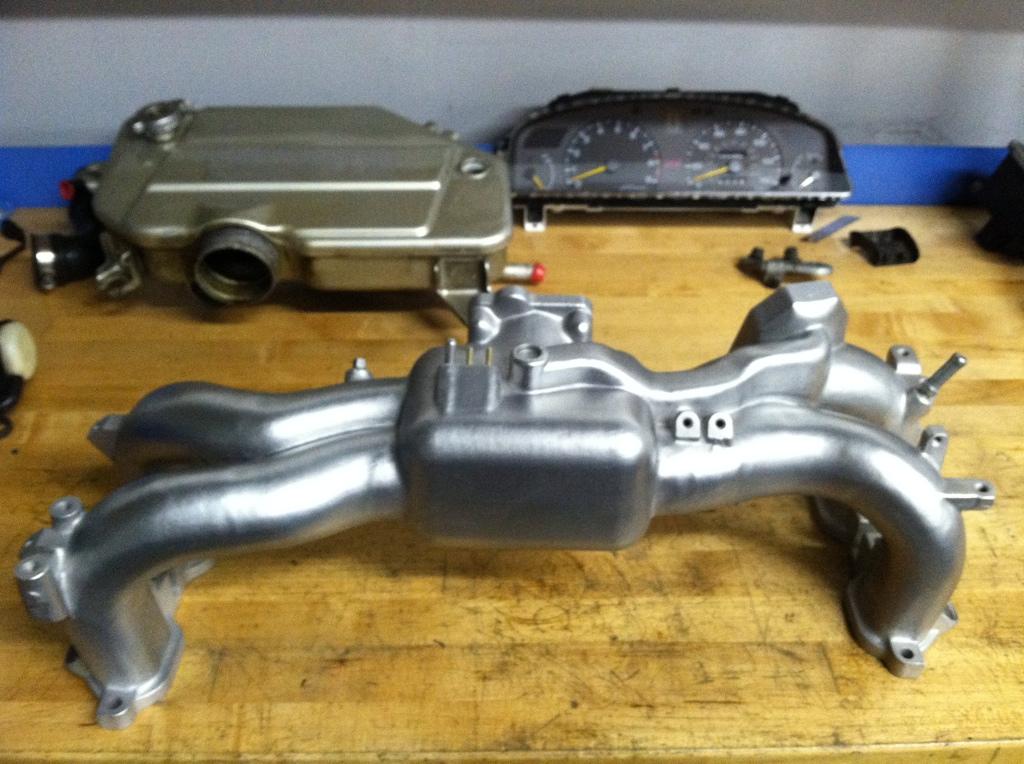 Here's the gearbox, I am going to mock up and check all the fit of parts so there is still the engine build yet to be done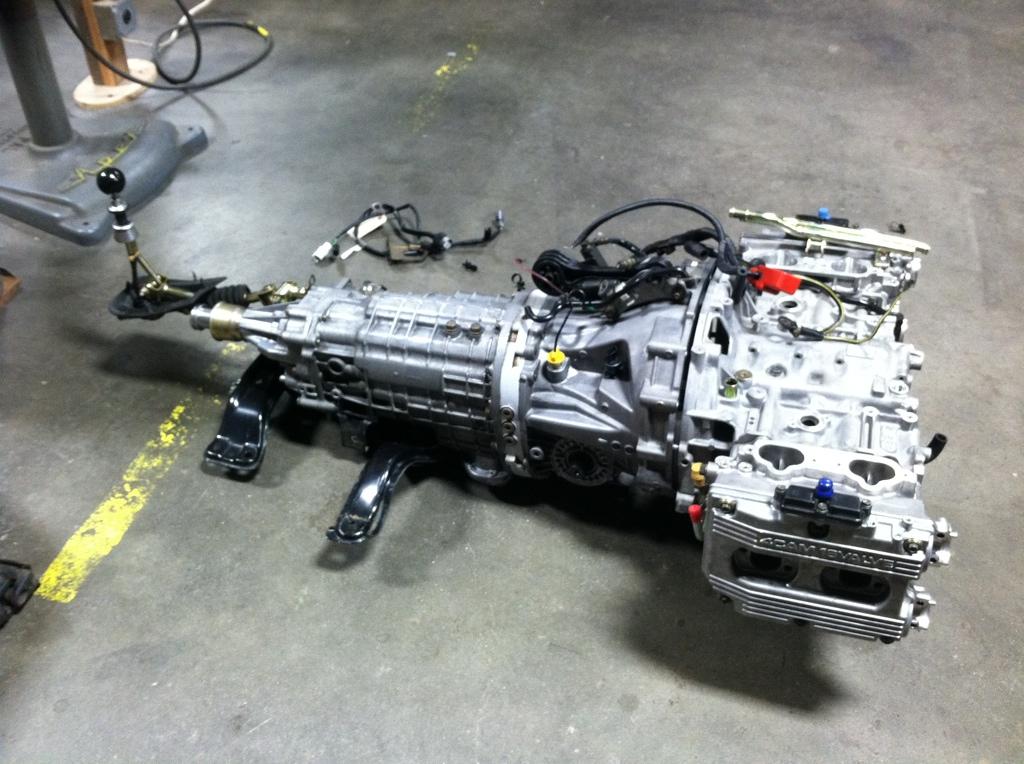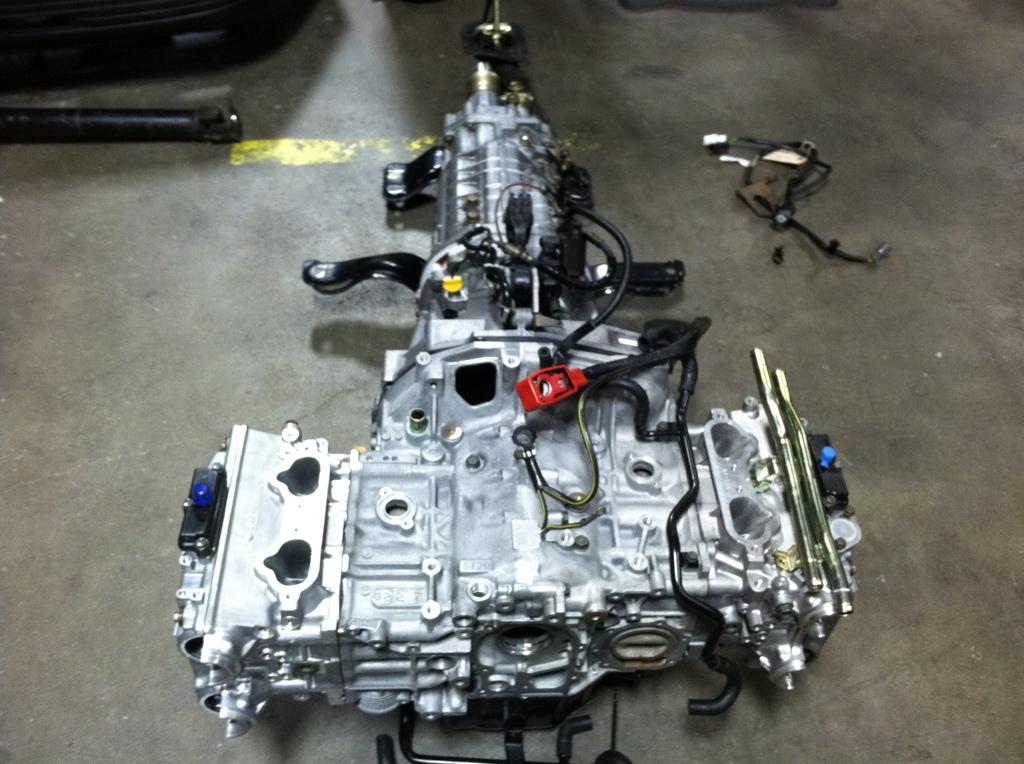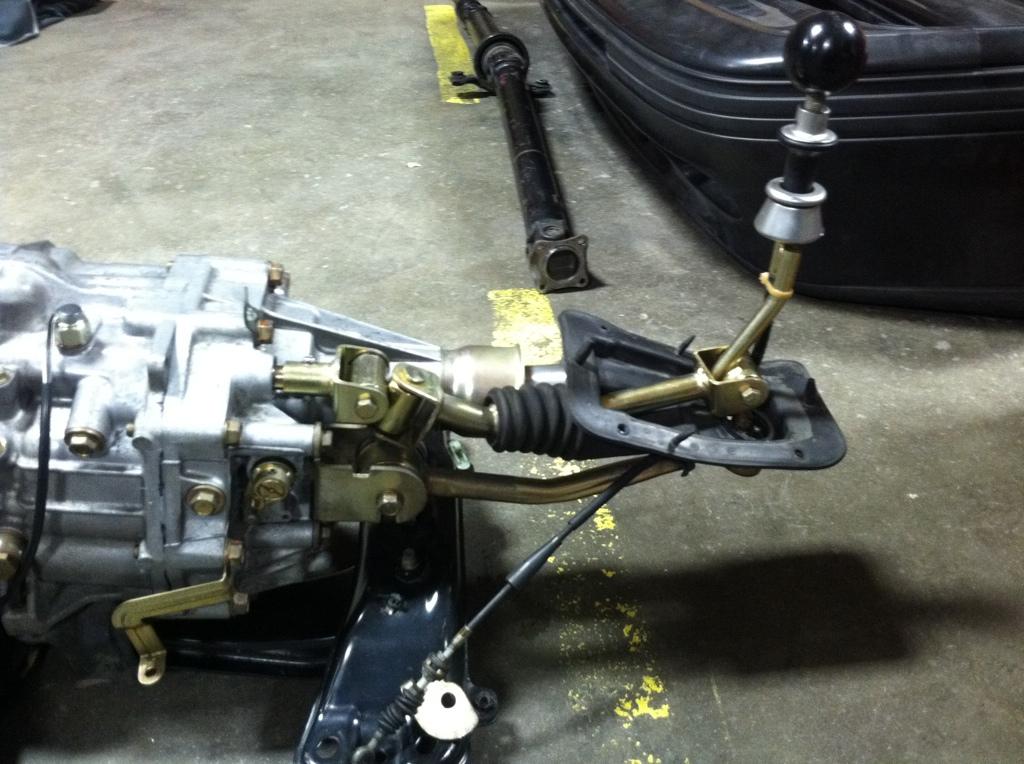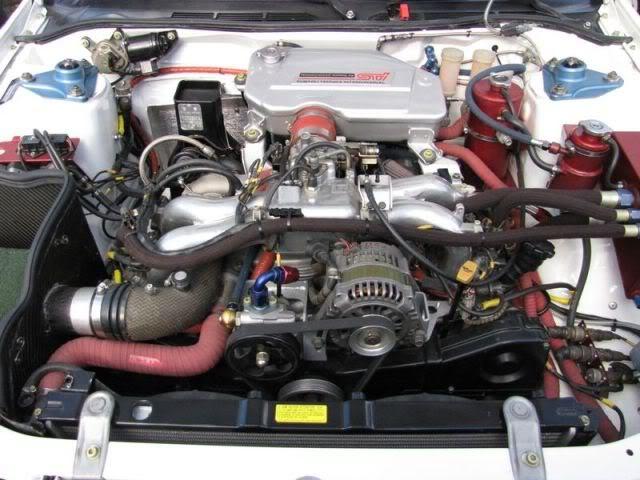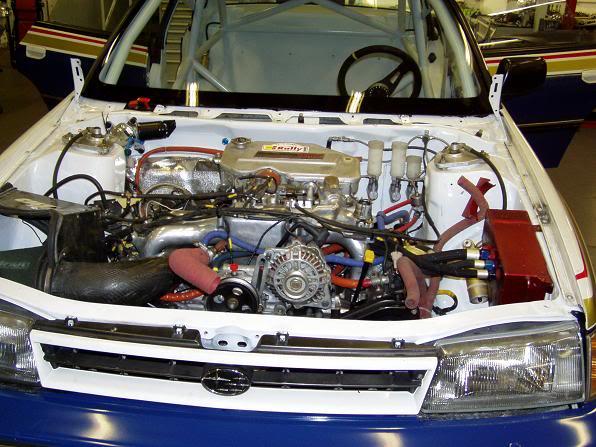 I Know I have posted other pictures of the prodrive Group A Legacy and the engine bay but here it is again, this is what I wanted my intake to look like, I did decide I wanted a little less of a polished look and this is my manifold which still has the air control passage as the McRae legacy in Rothmans colors did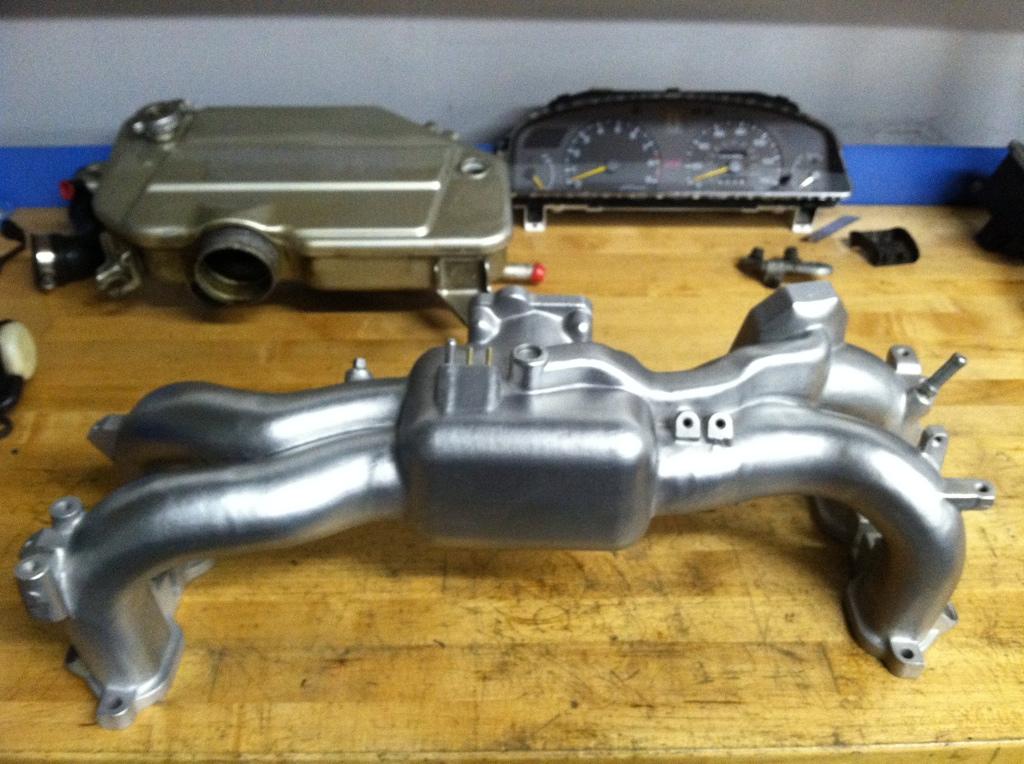 I spent the evening on the mill making a frame to protect my cooler that's mounted in front of the radiator, it cools the water in the intercooler, and it's vulnerable to damage and very expensive so it's worth the effort to make this frame to mount a meshscreen to protect it.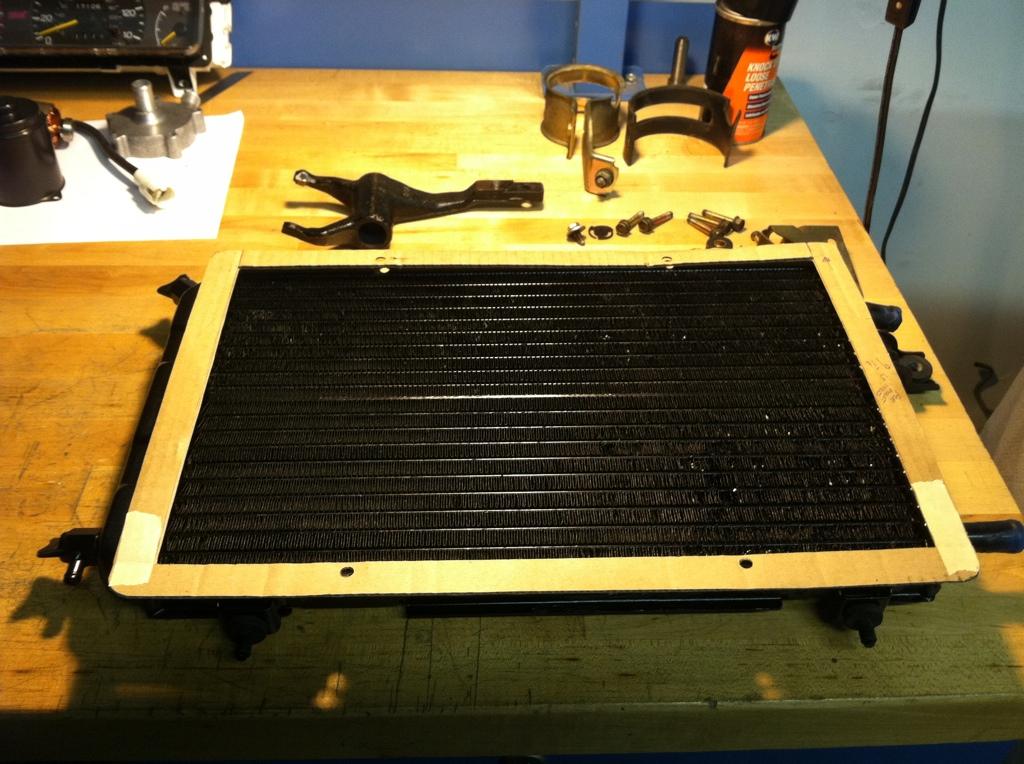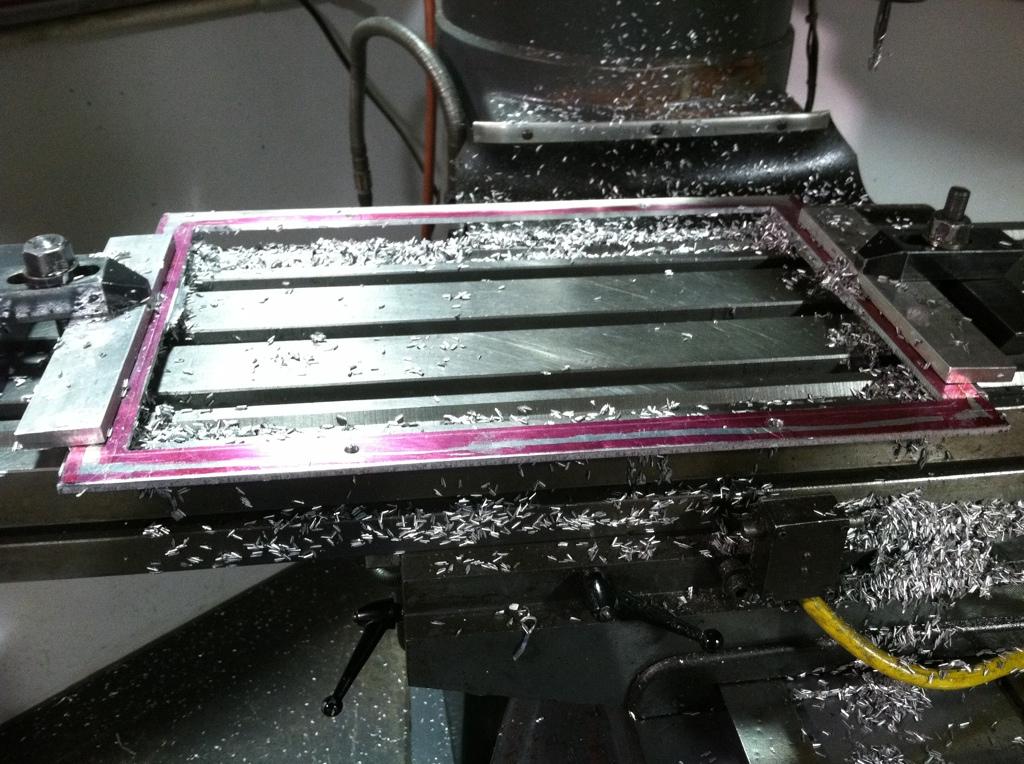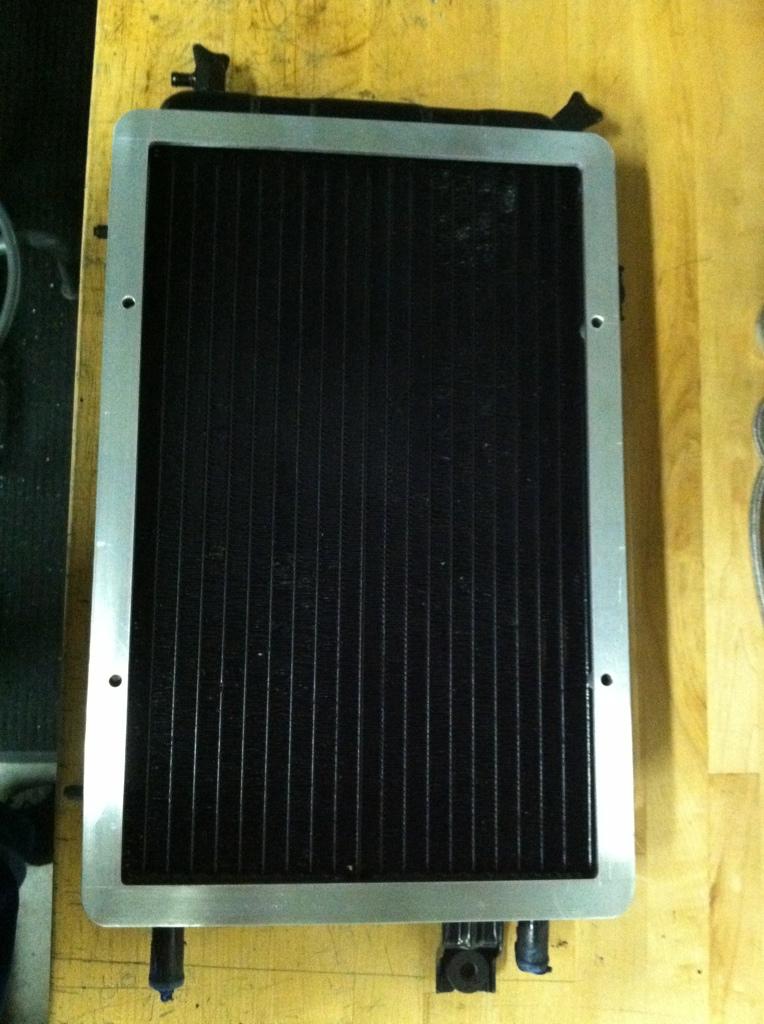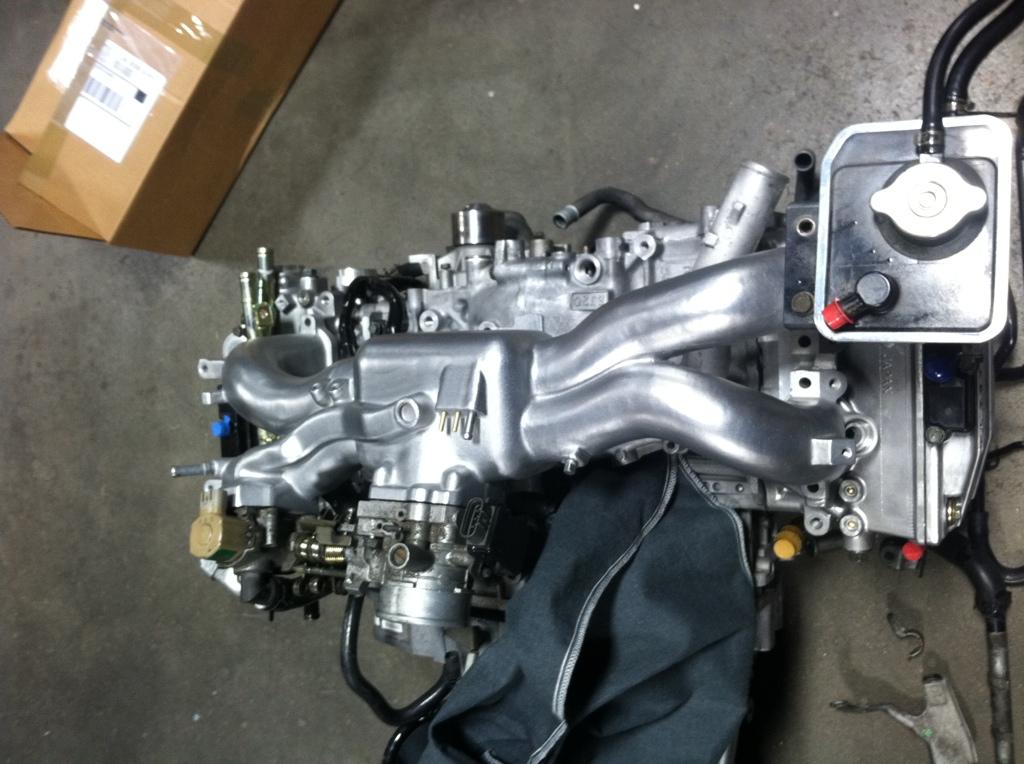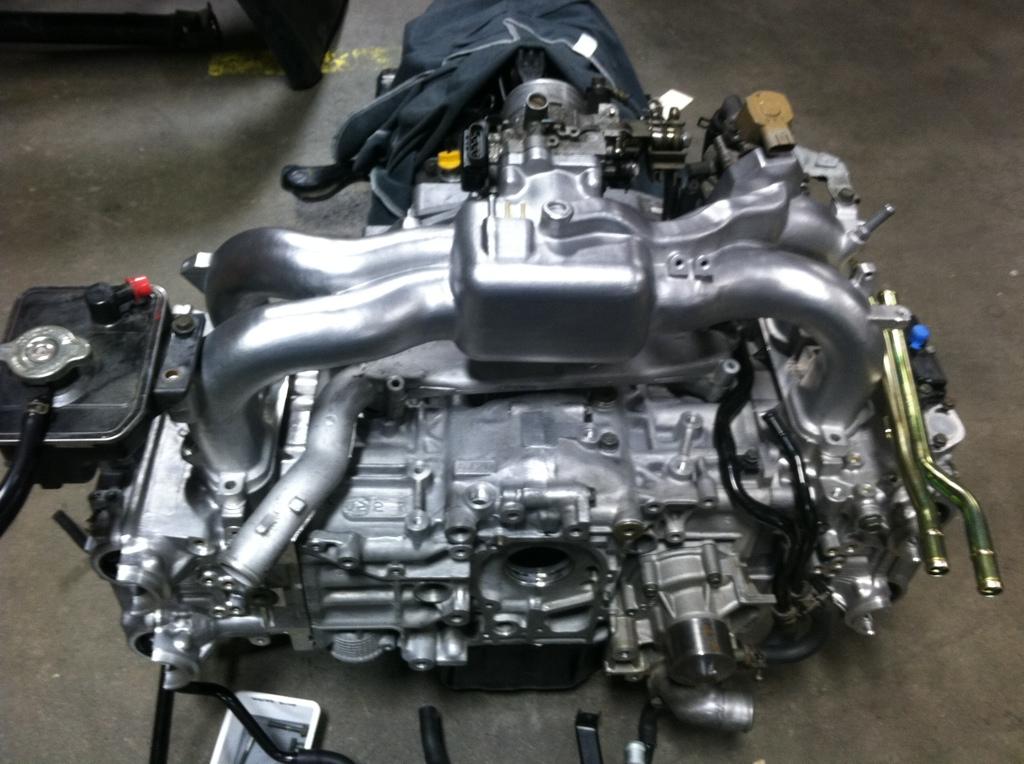 Mocking up the engine to check layout of lines etc
1-3-2013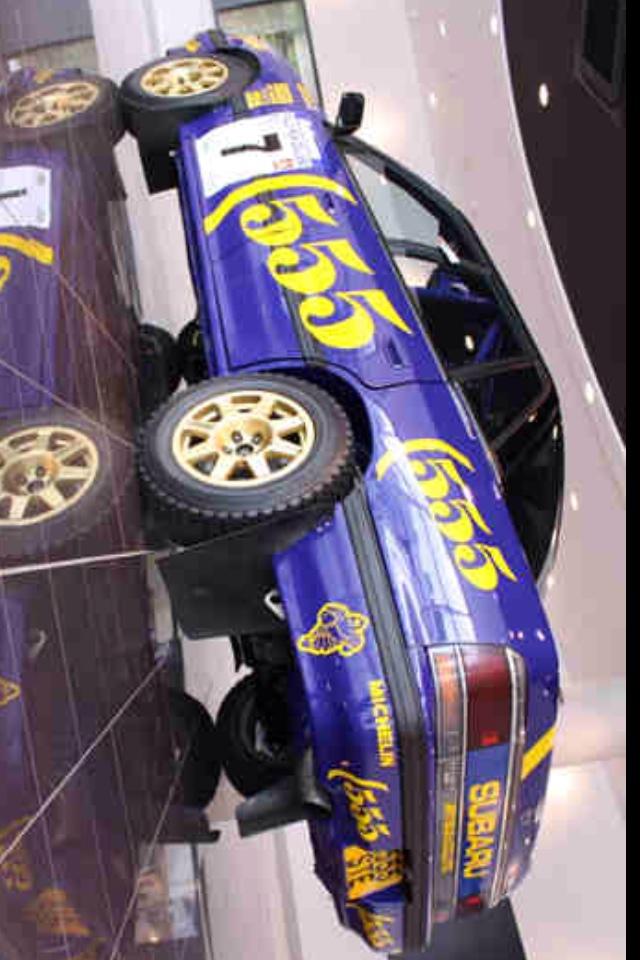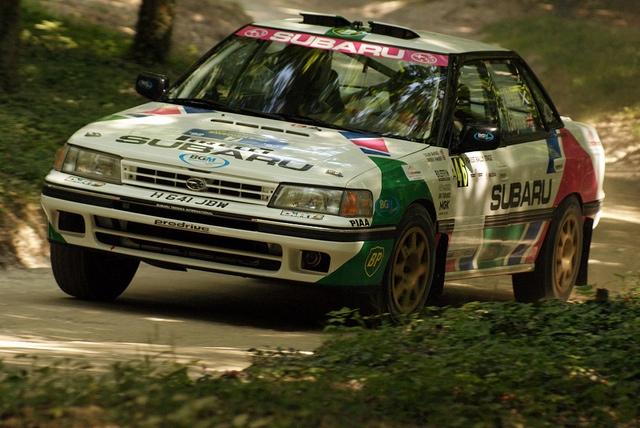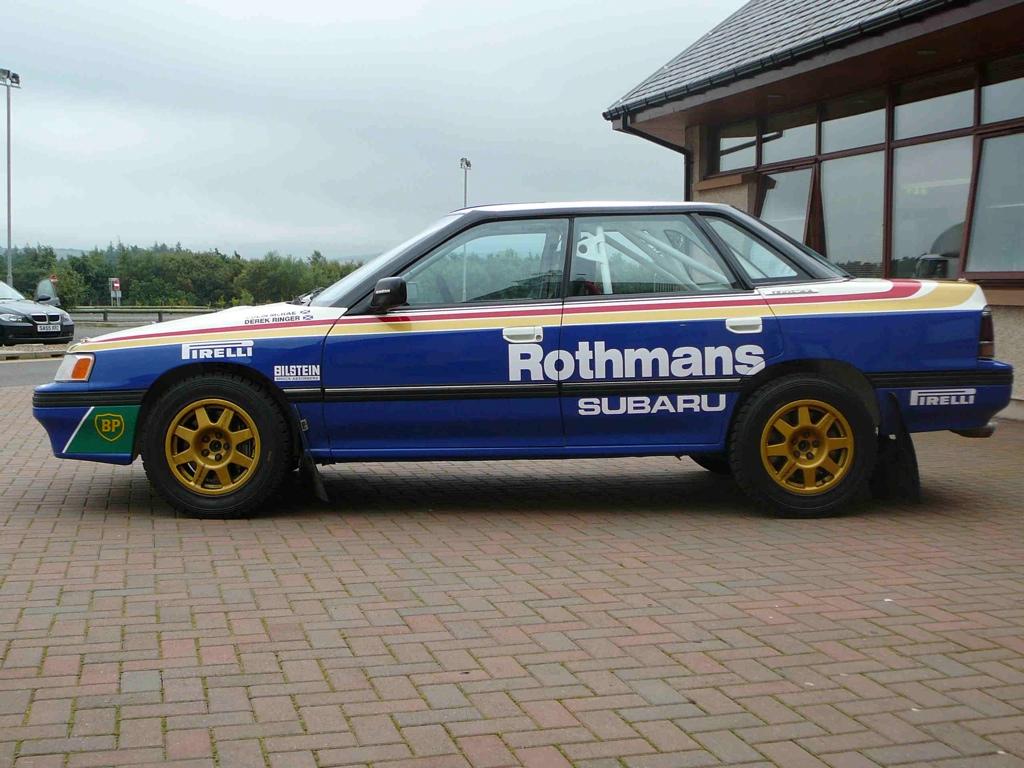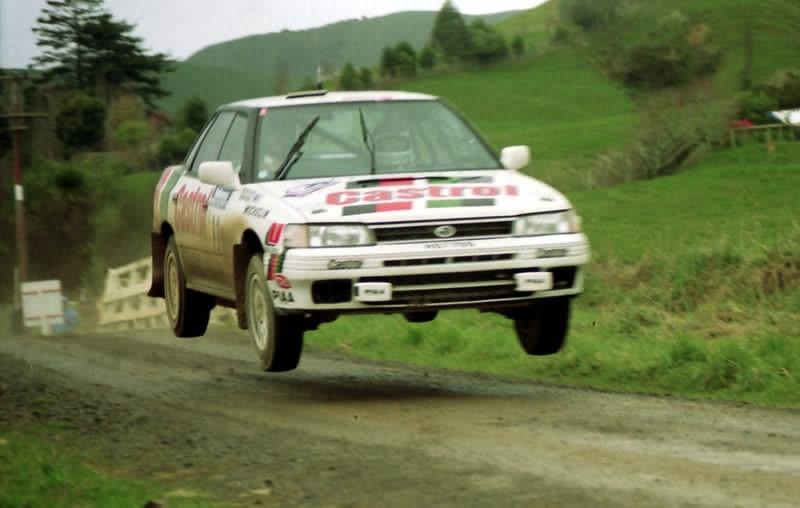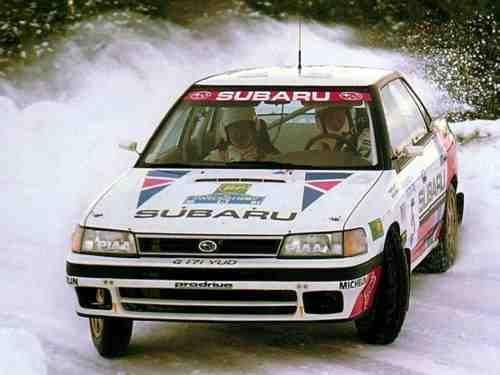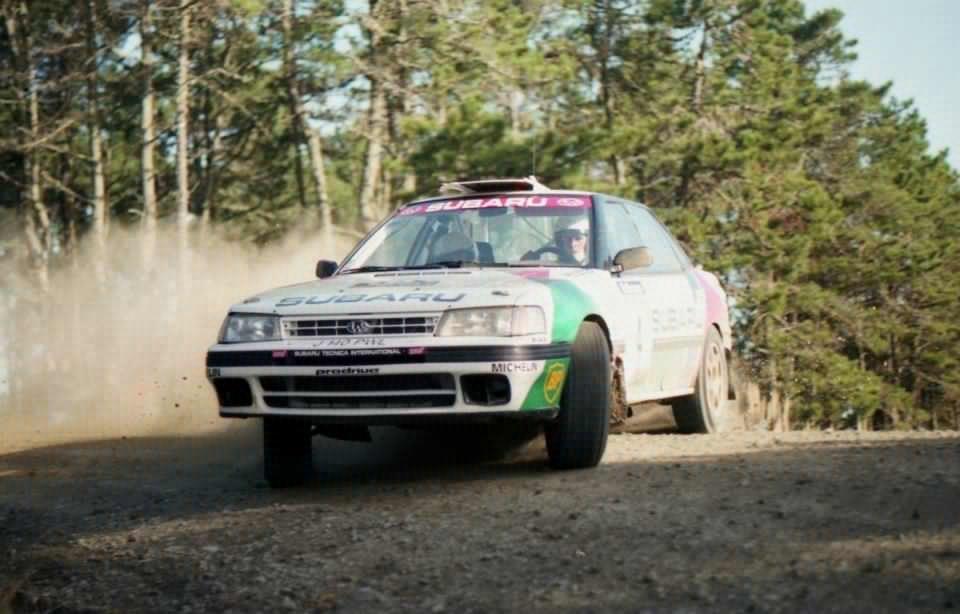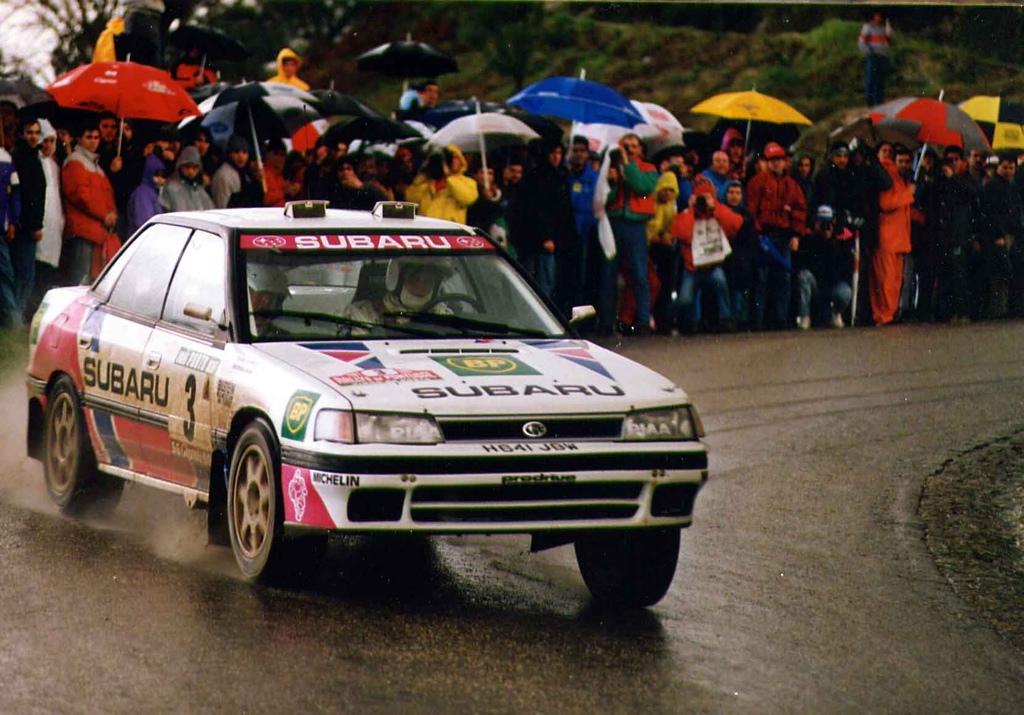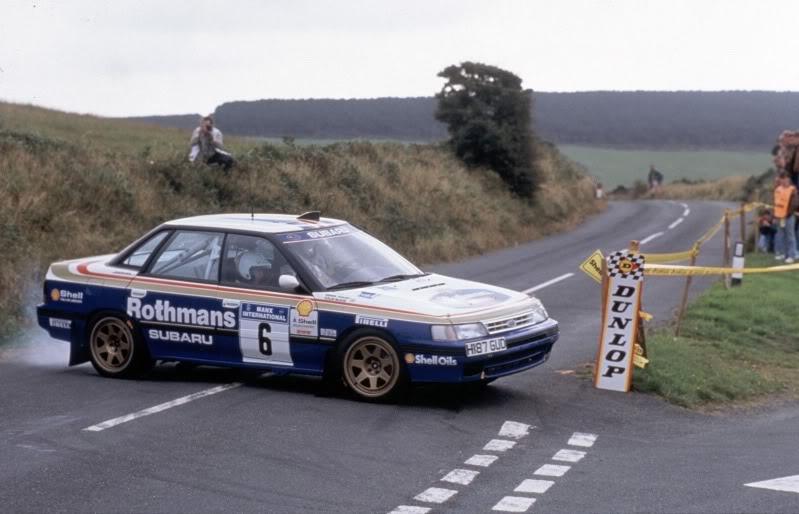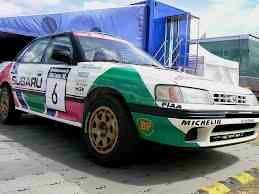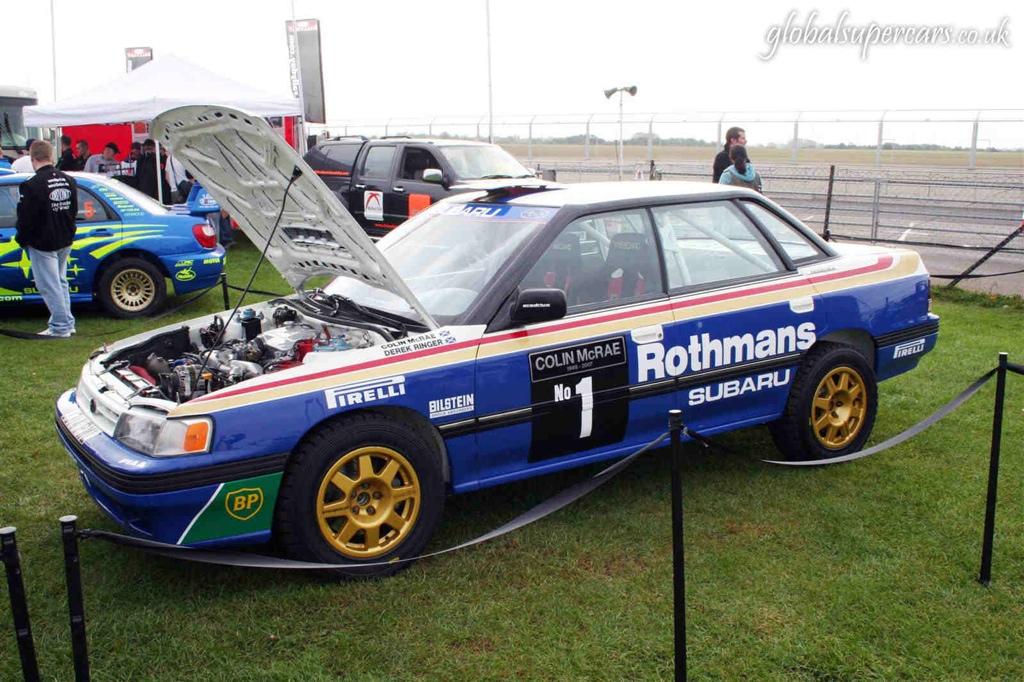 Some Legacy photos from the Net
1-5-2013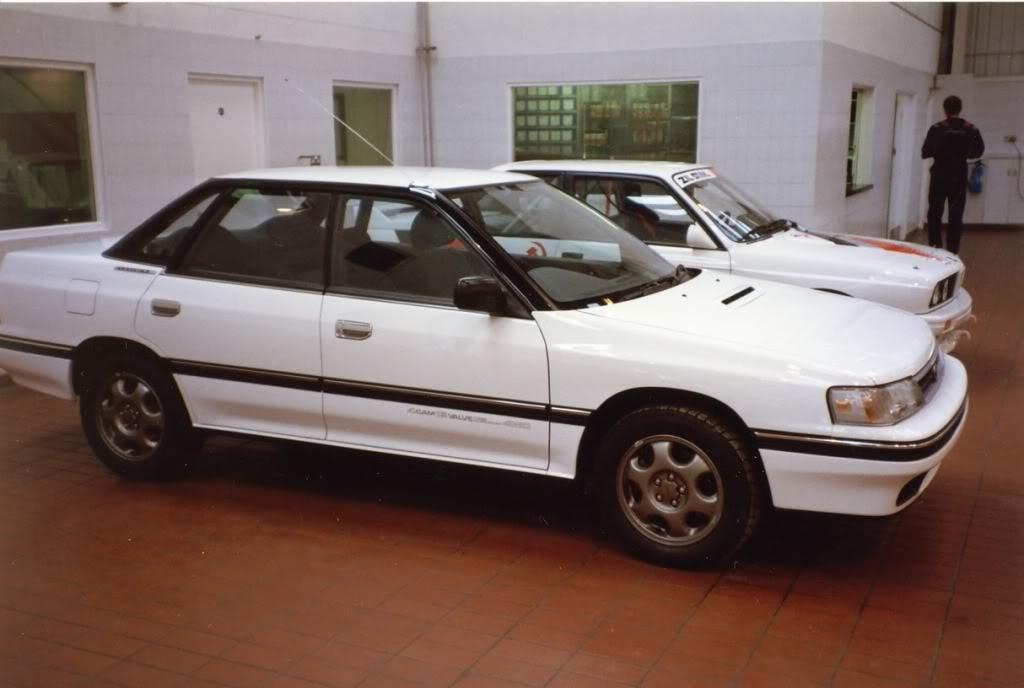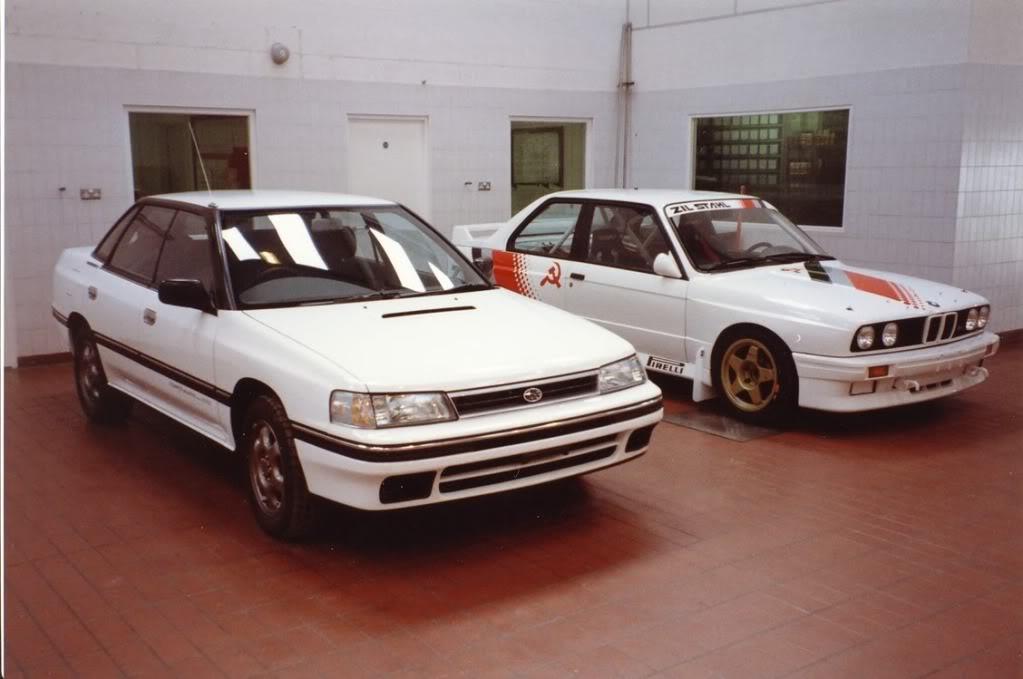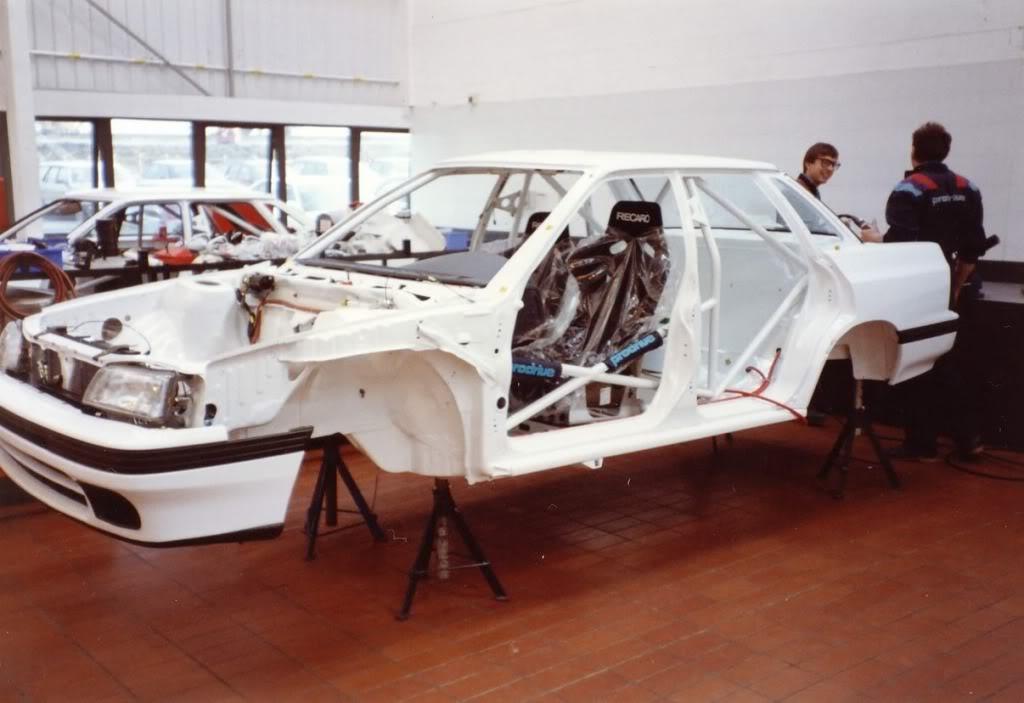 Above photos are original Pro Drive Legacys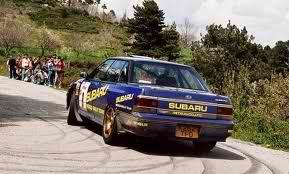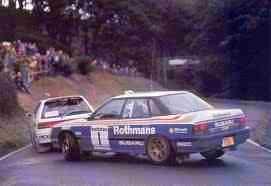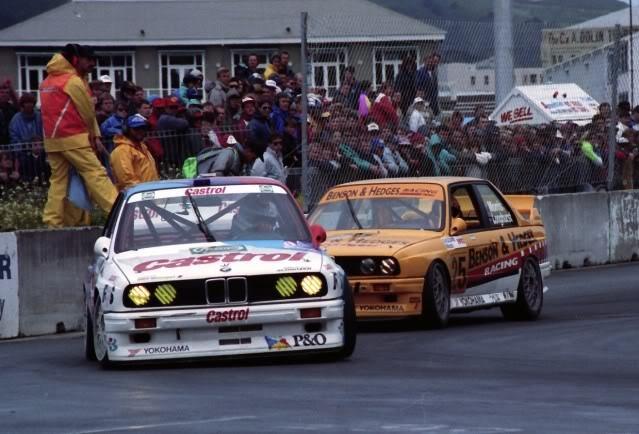 These two BMWs were running in a race we were racing a Legacy in ( Wellington, New Zealand. Nissan Mobil 500)
This is the 1989 Pro Drive Legacy press photo. I plan on making my legacy look much like this, it is a great looking car
1-9-2013
I am in the process of rebuilding all the parts off the legacy and once complete I will offer the complete drivetrain from my Legacy all rebuilt for sale. Today I finished the knuckles complete with new factory bearing and seals, I will be using later Impreza ones on my car.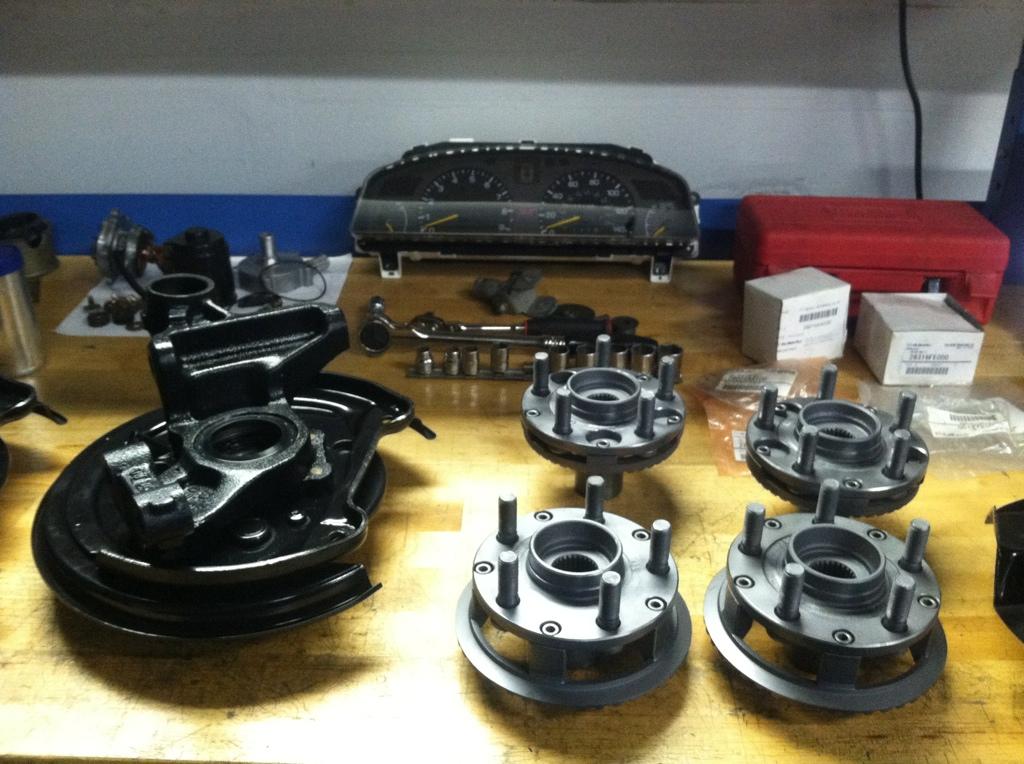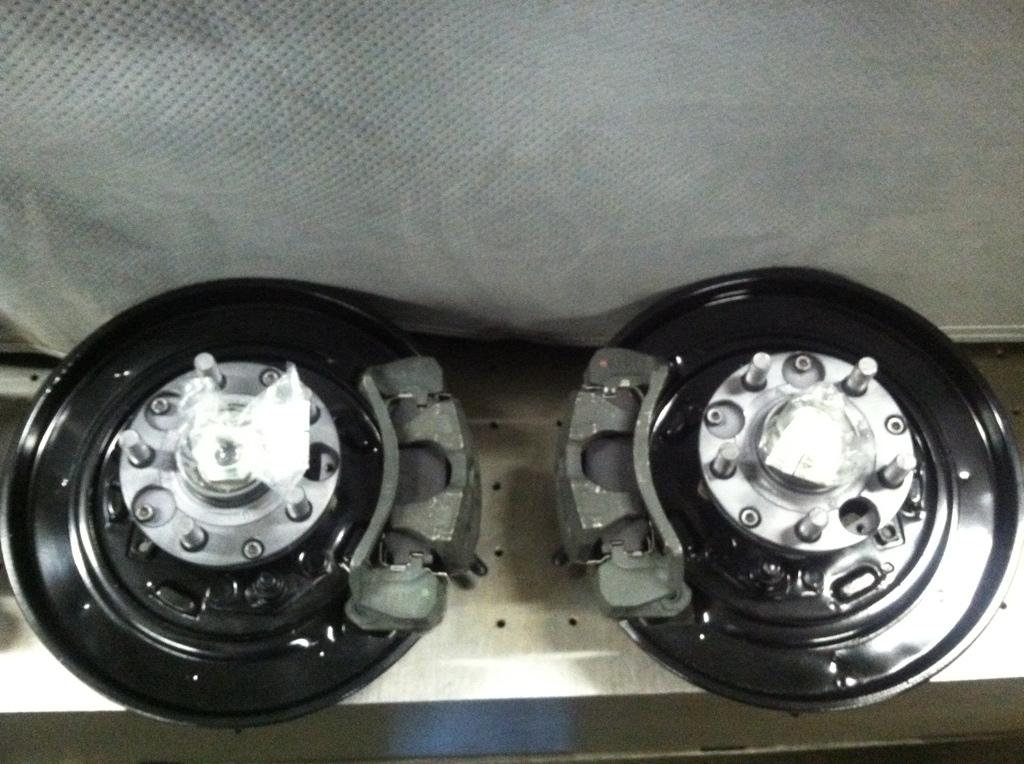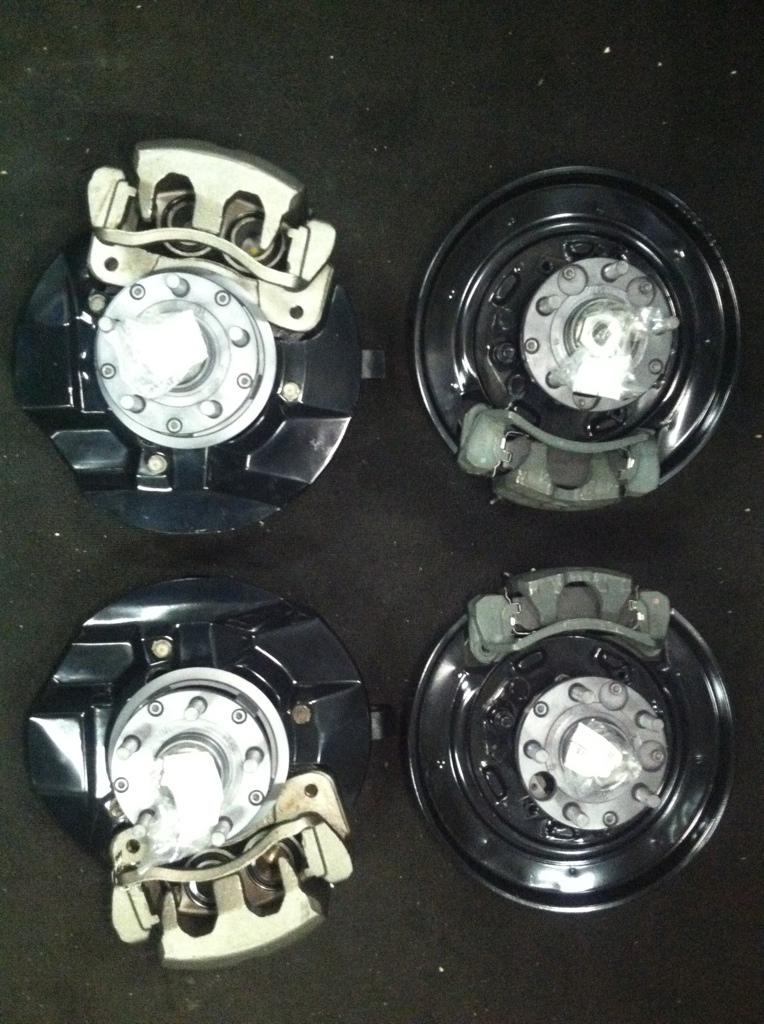 2-16-2013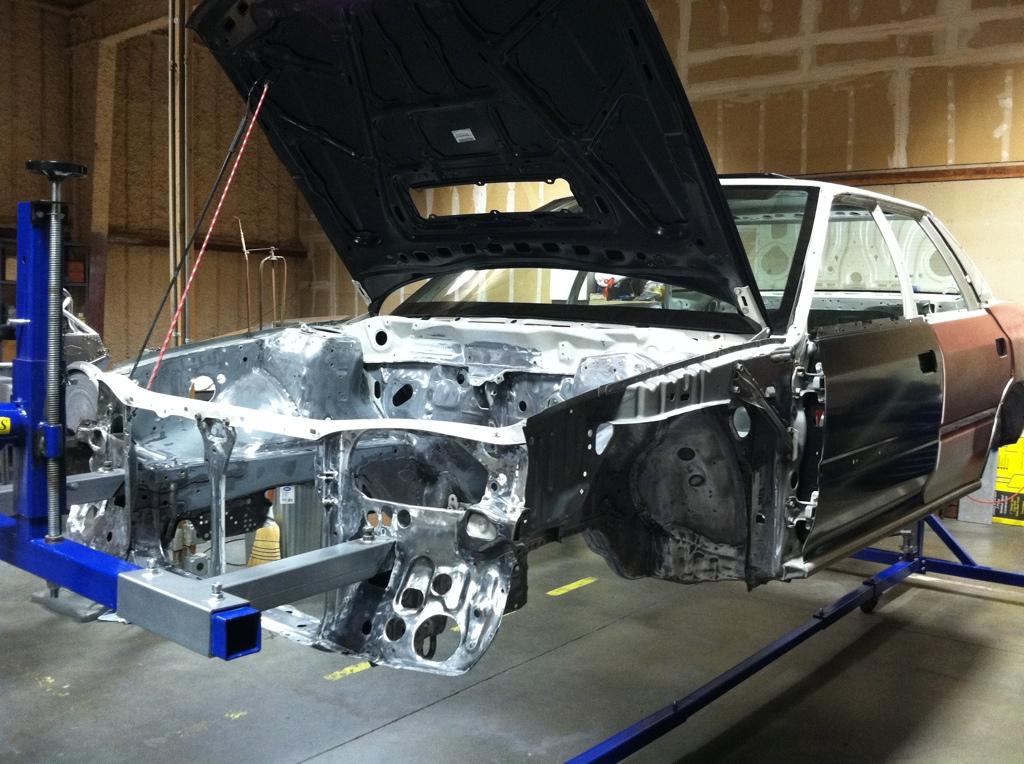 I have been sanding and prepping the car for painting, it's been a very big job but I am nearly finished and it should be away to the paint shop soon, then finally some assembly work can begin.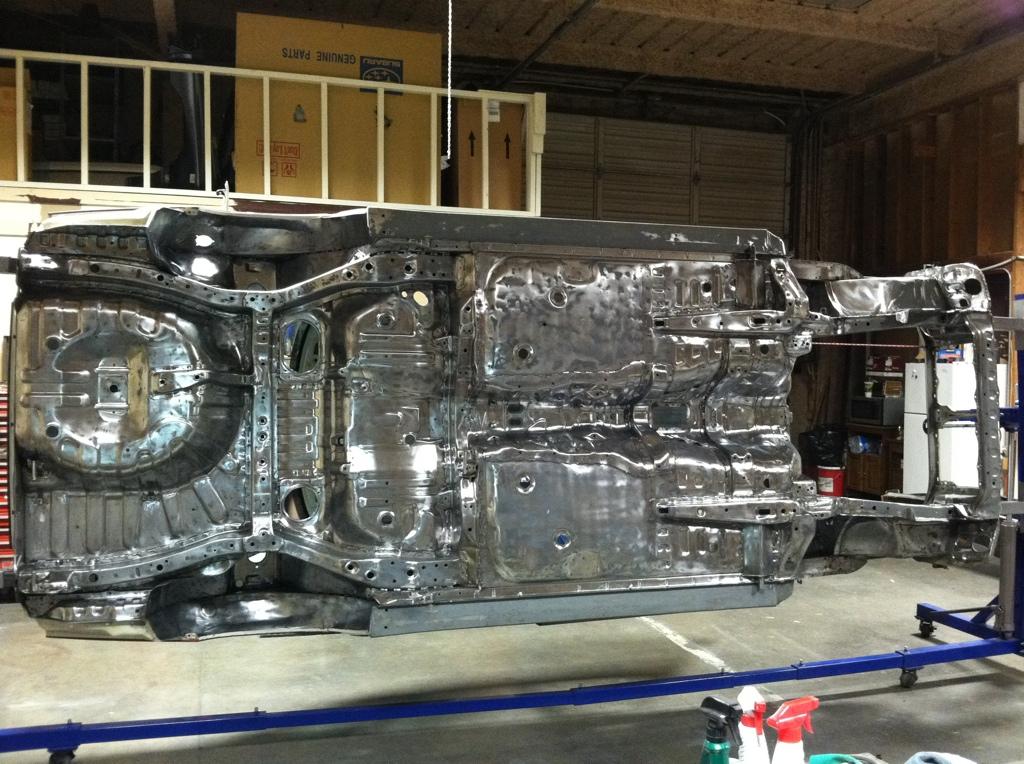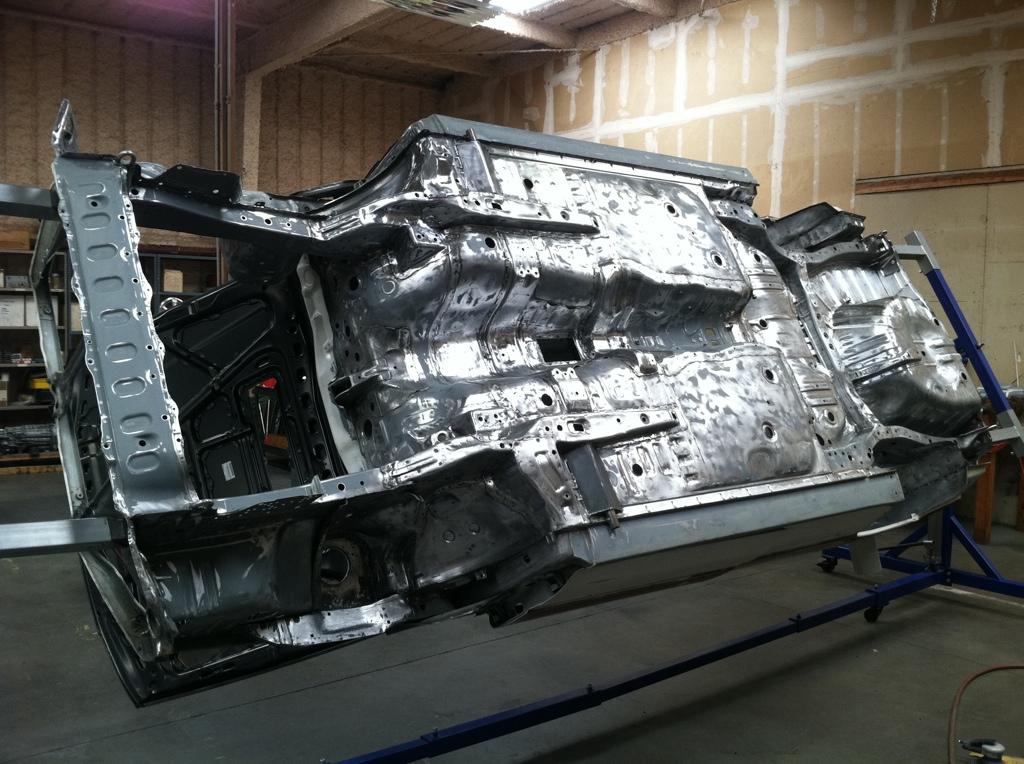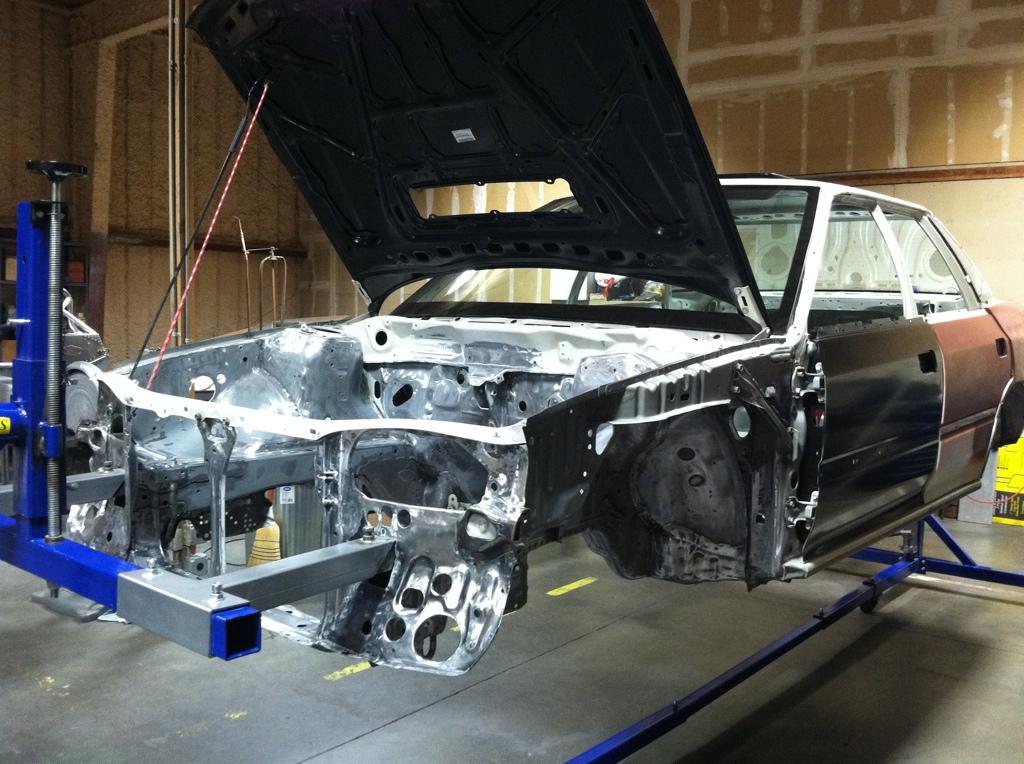 Hi everyone, I am still on a massive search for Manual window door cards and I have not been able to find any, I have all the handles and mechanisms, I just need the cards ( panels ) if you know of any please contact me
Thanks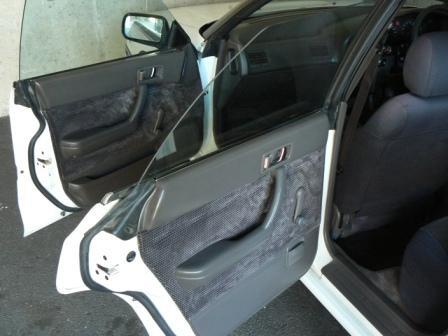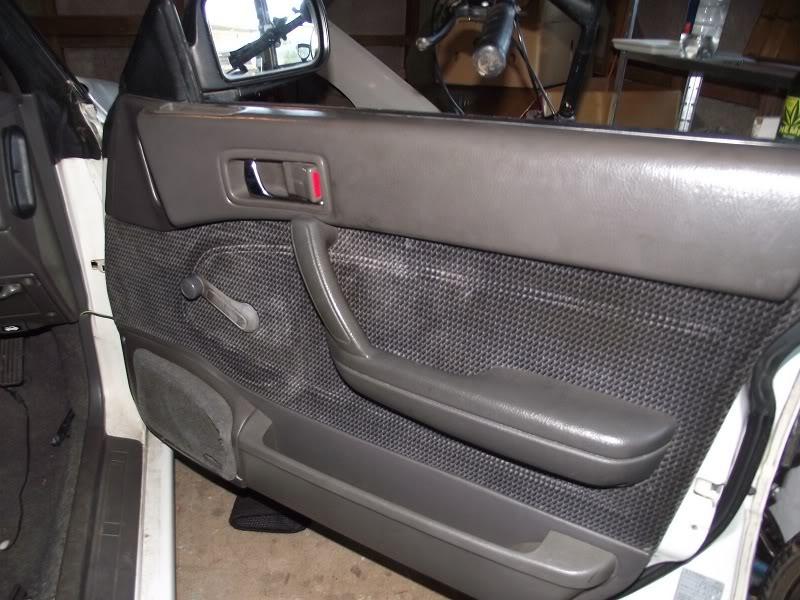 3-23-2013
It was a fantastic day today, the painting has begun with the sealer now on the car and it looks awesome just having that done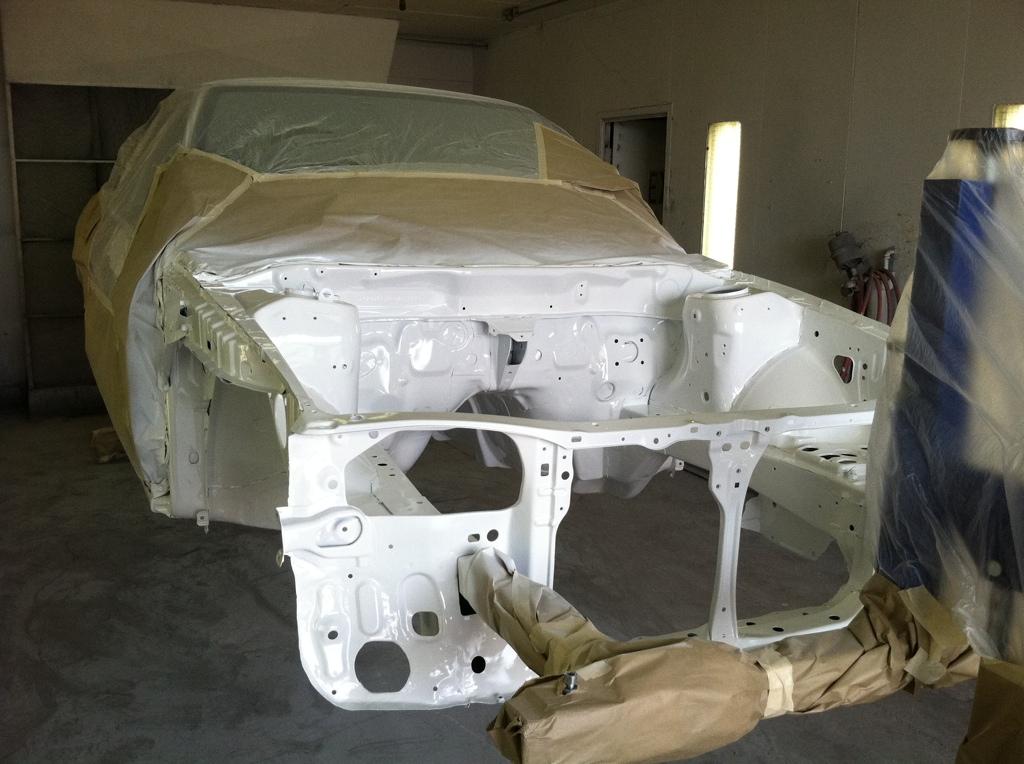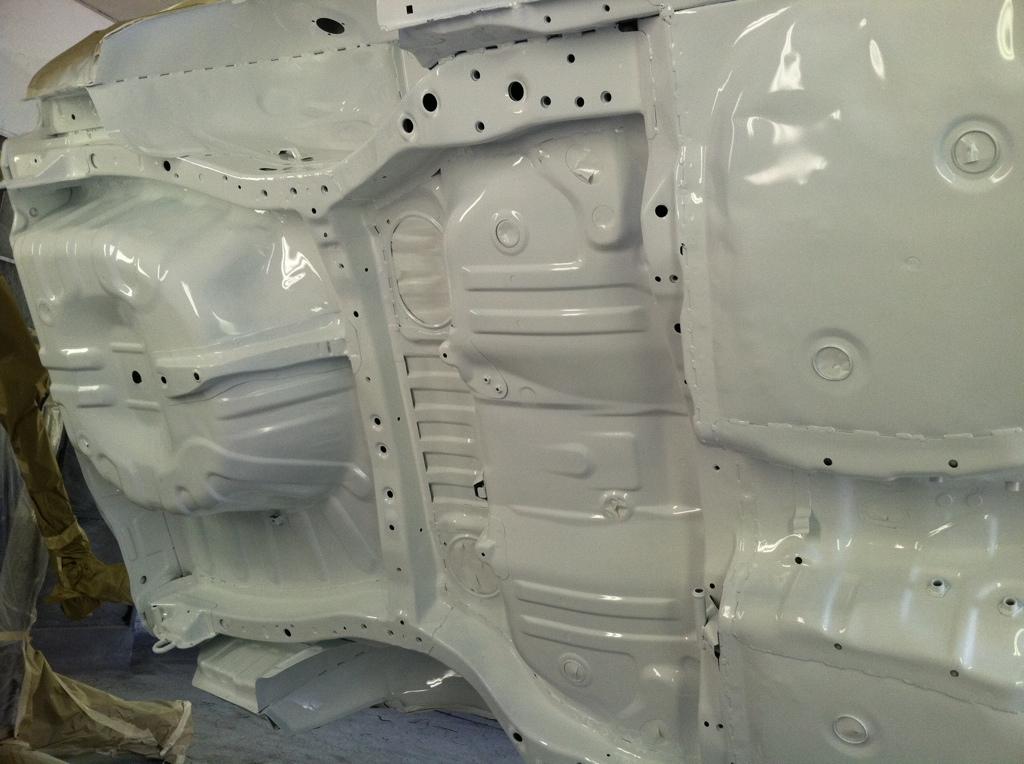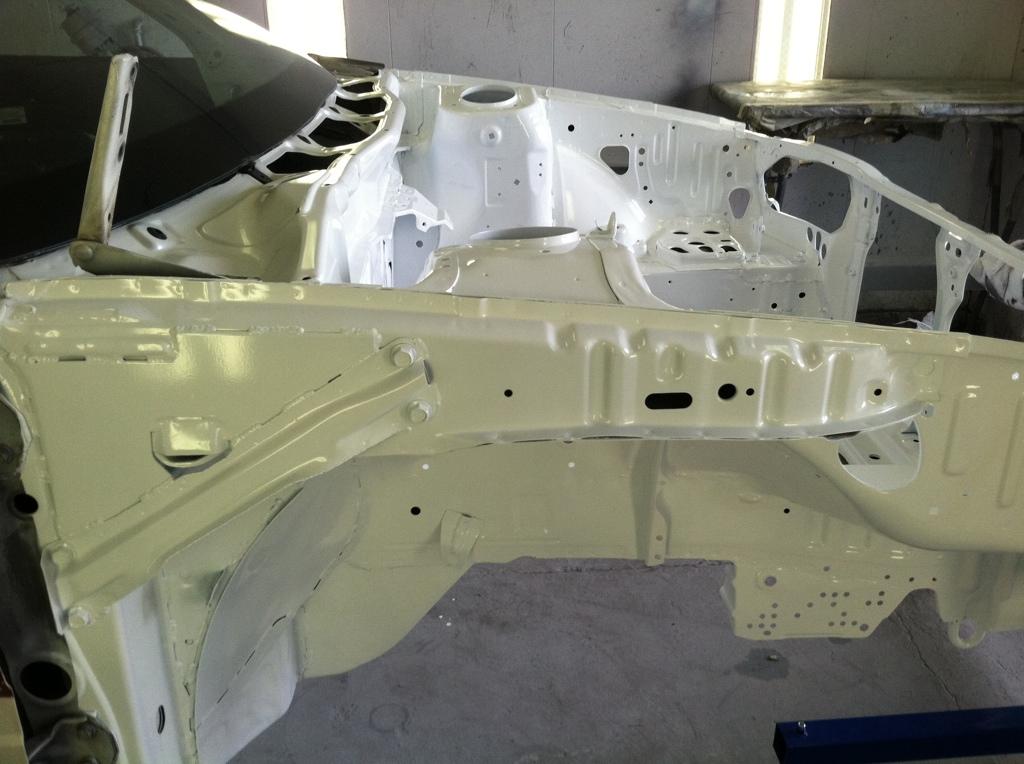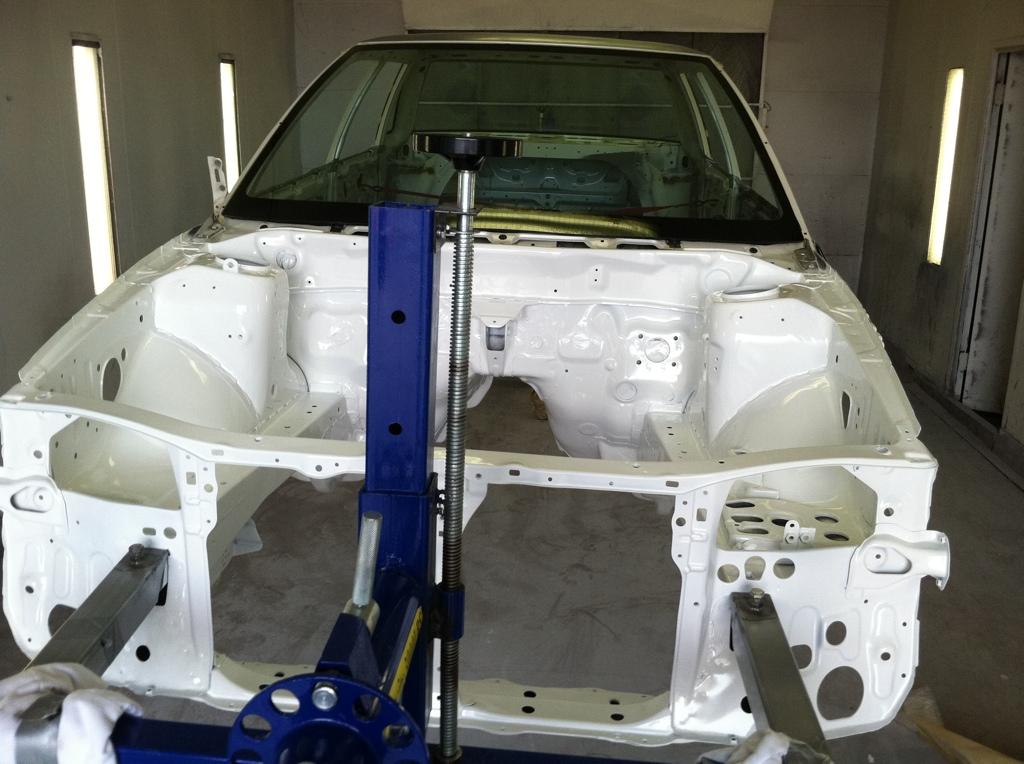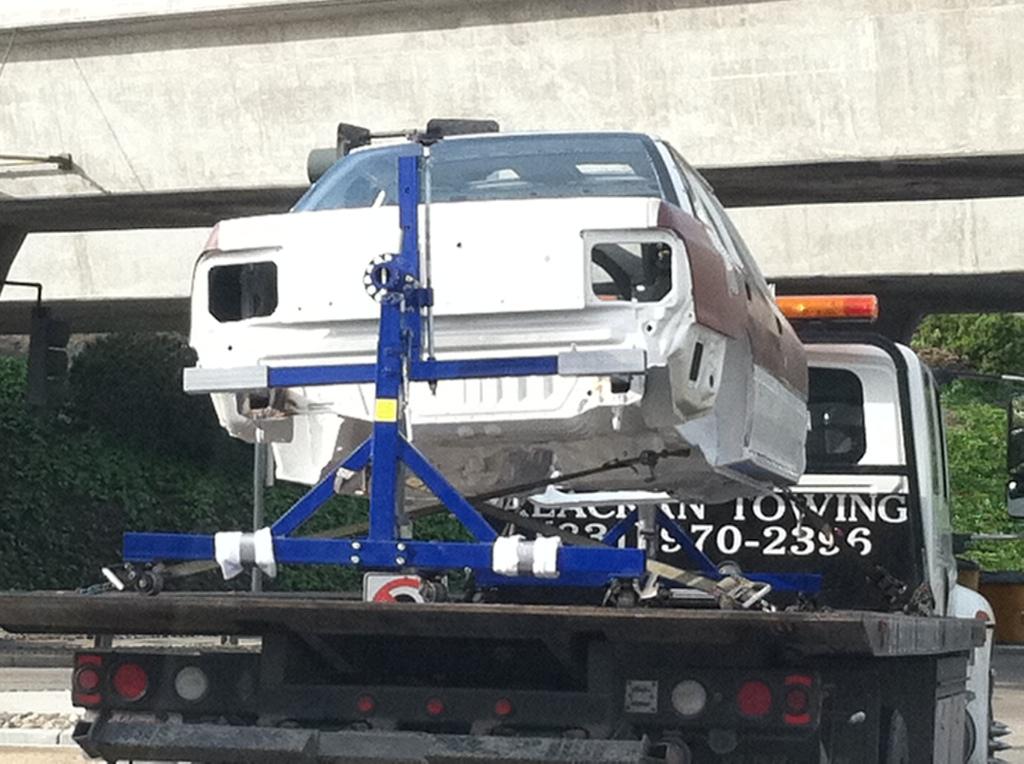 4-12-2013
Project update......
One part of the project with this Legacy has been to rebuild all the parts that will not be going back on the car and sell them, It has added a significant amount of work to the project, however I hope that it will keep one or more Legacys out there running.
I am currently rebuilding the original 2.2 SOHC engine, last weekend I crack checked the crank, Cams, rods , pistons and pins and assembled block and measured bearing clearences
I also stripped and cleaned the heads and faced the valves and cut the seats, I think I will do a little clean up inlet and exhaust port work as the casting are very rough!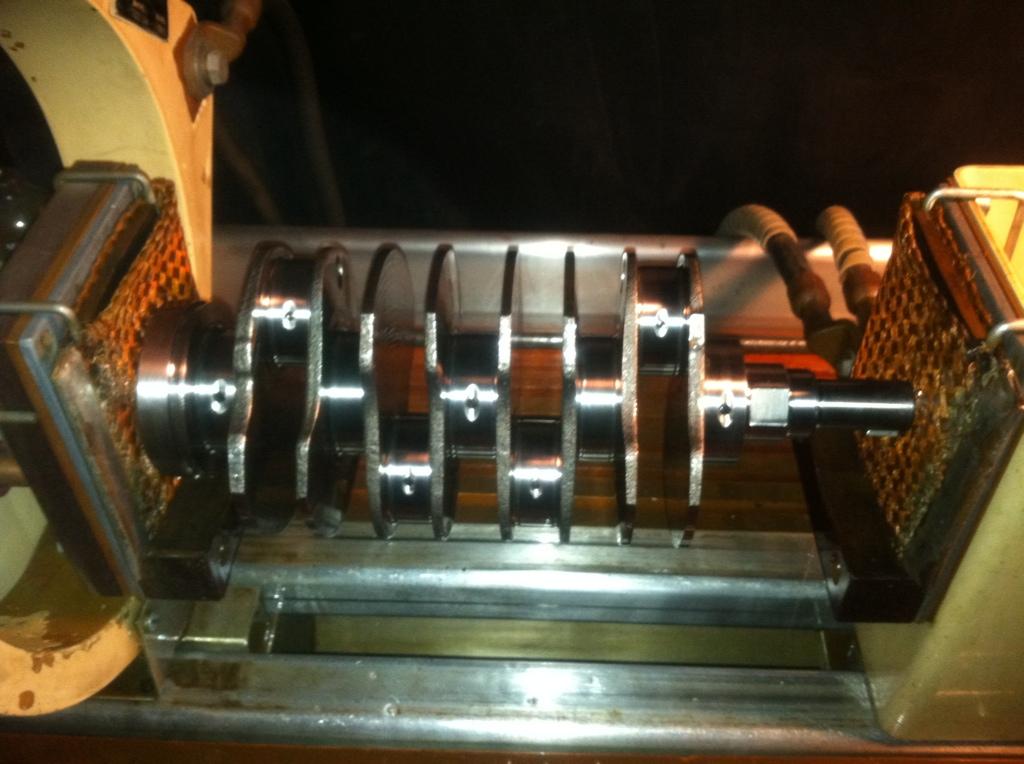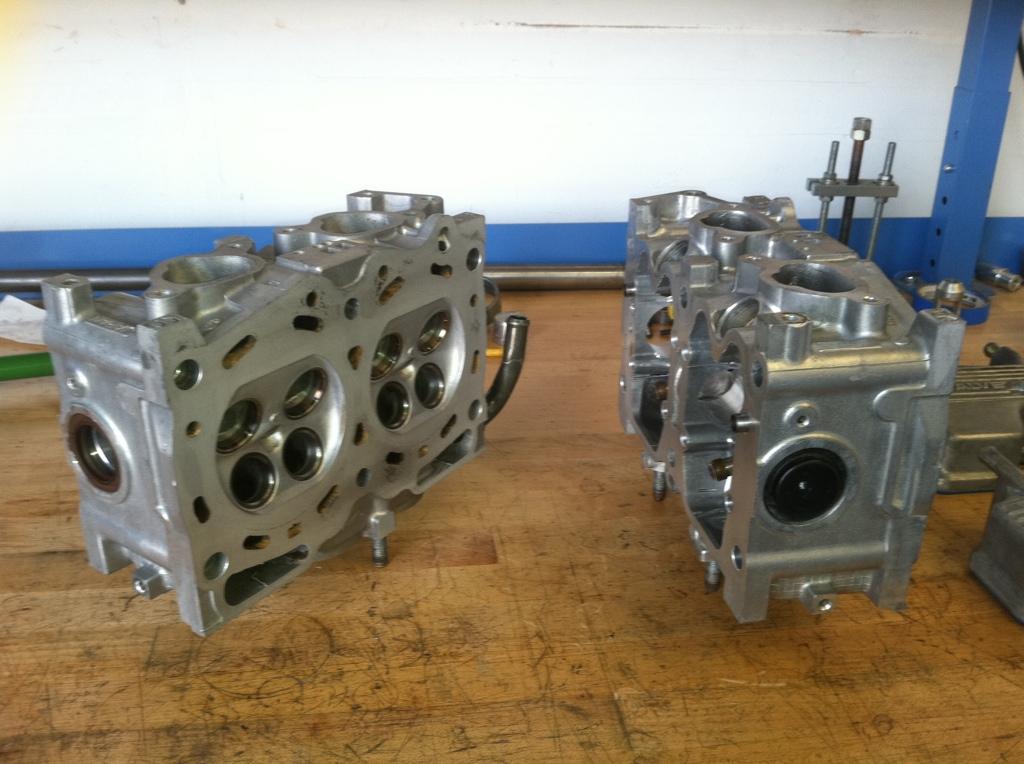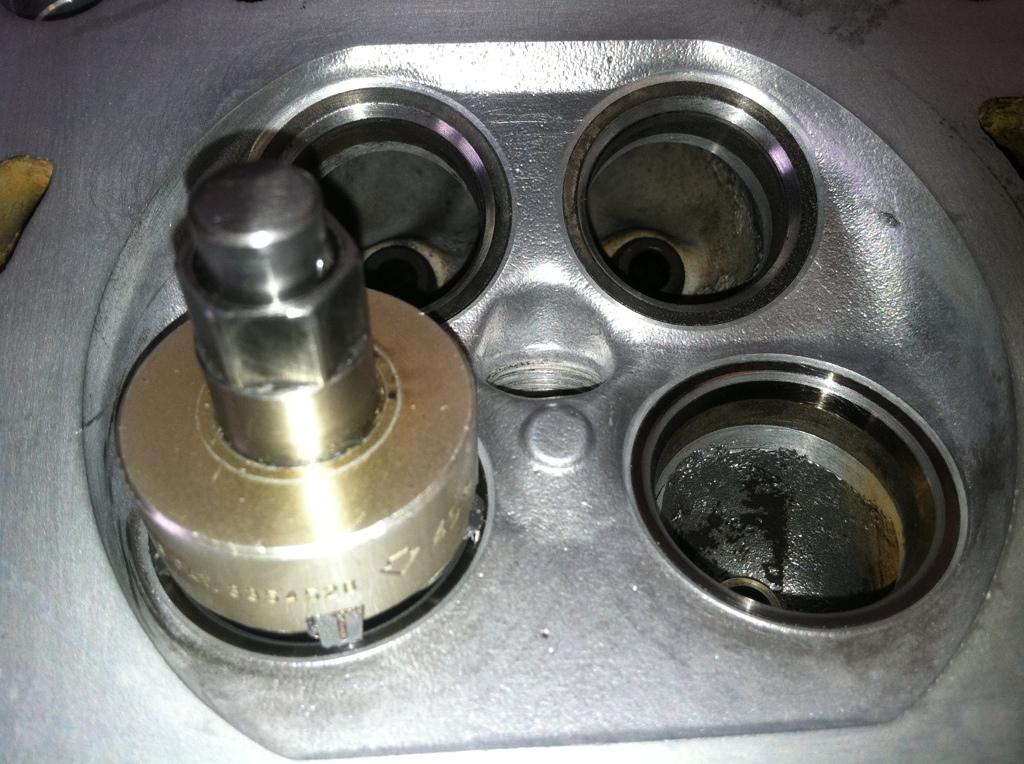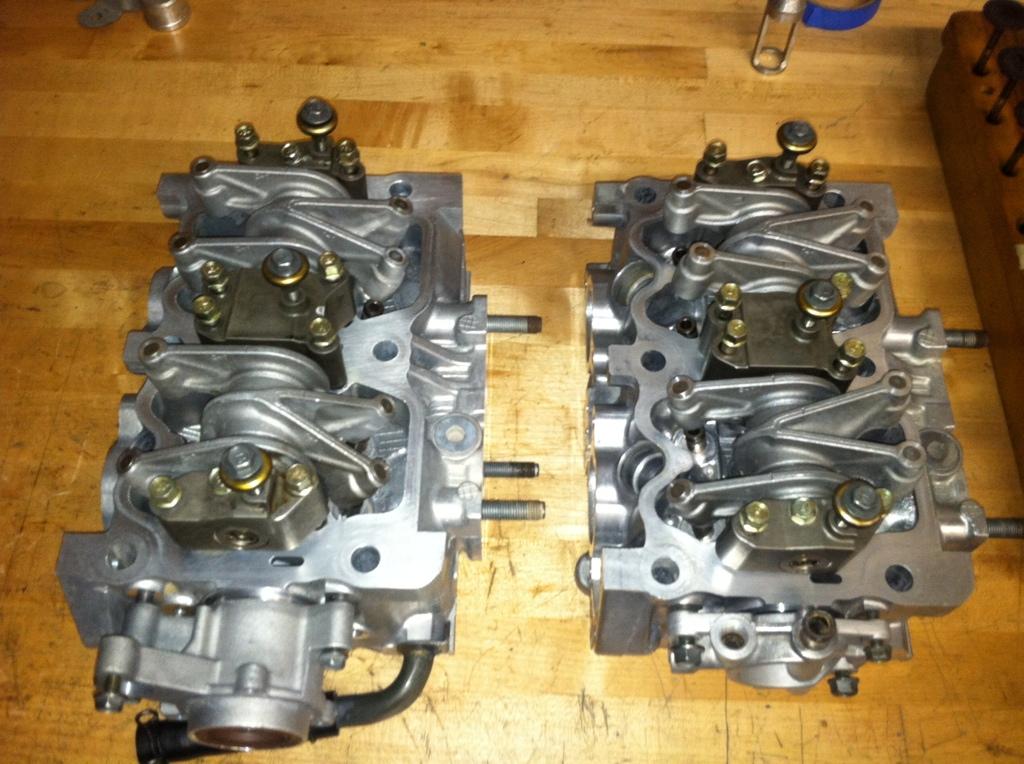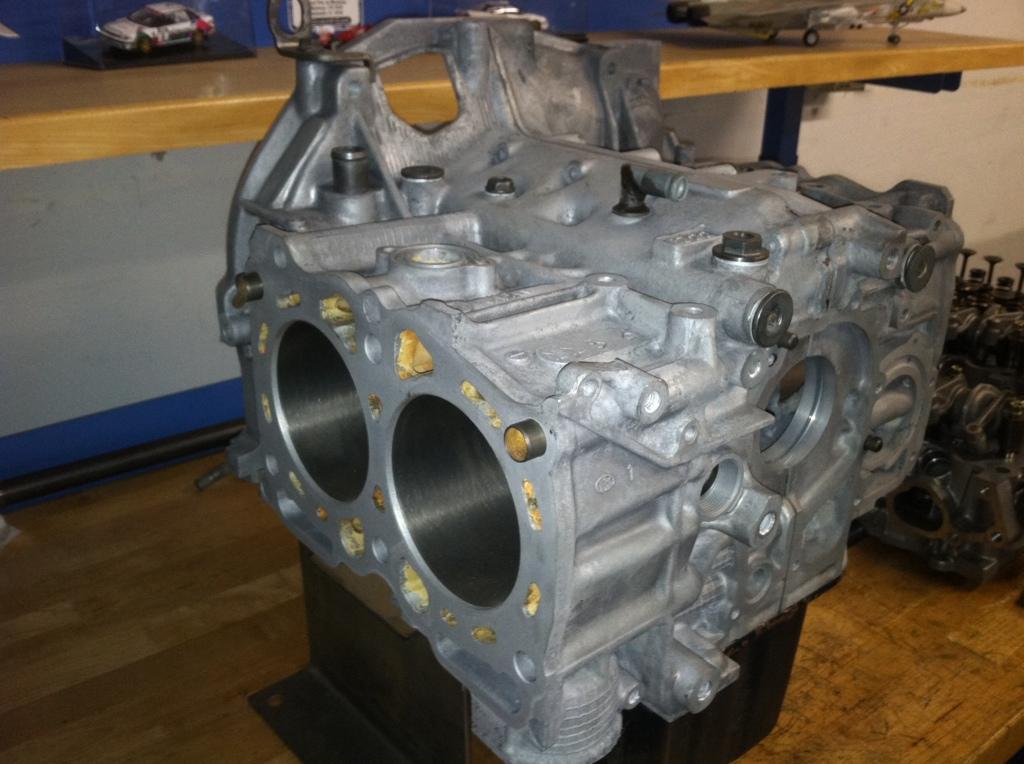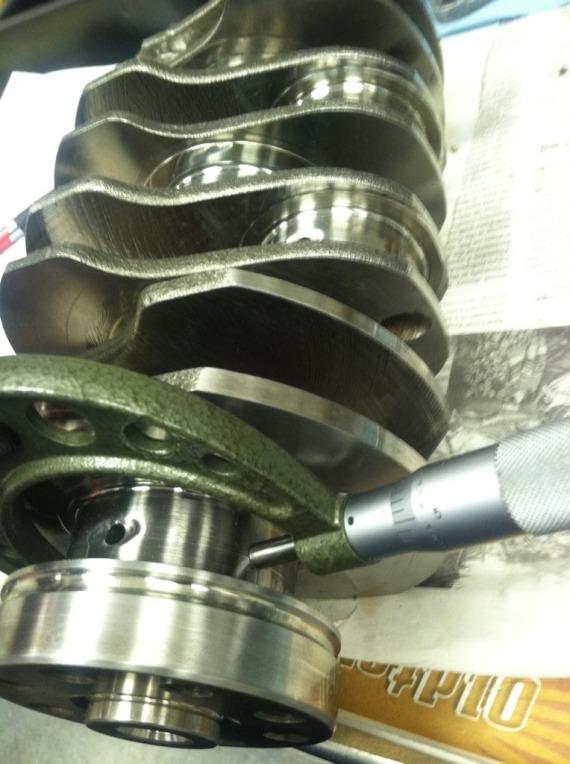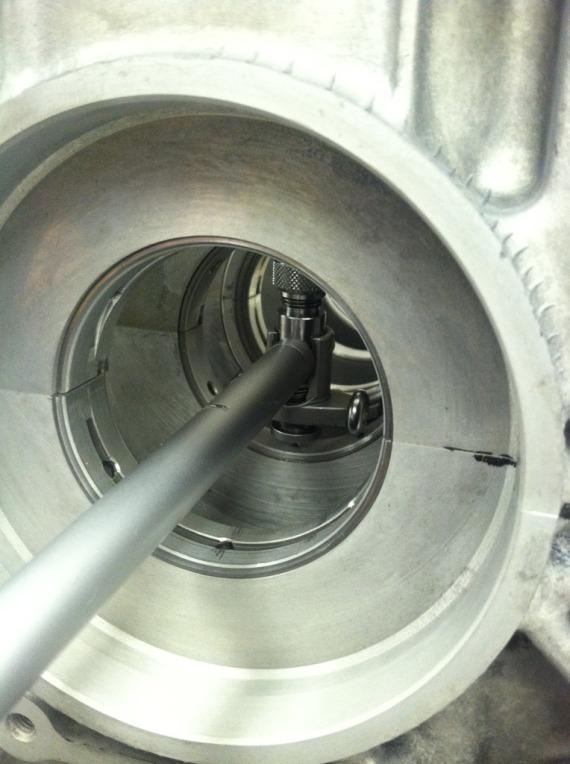 6-1-2013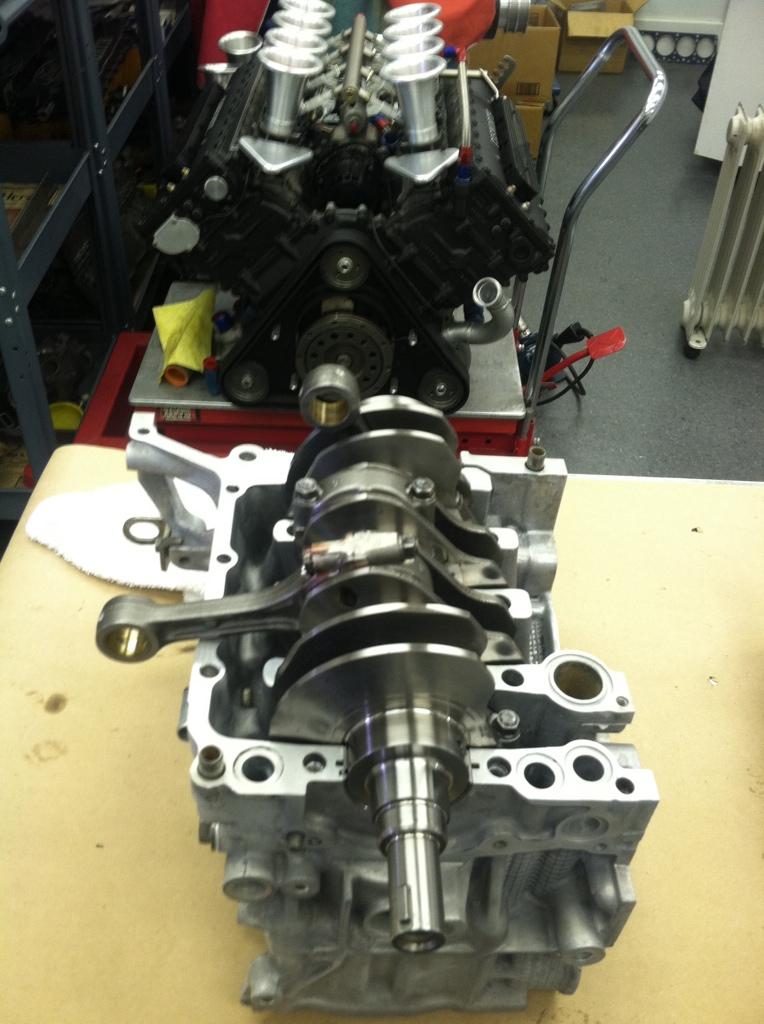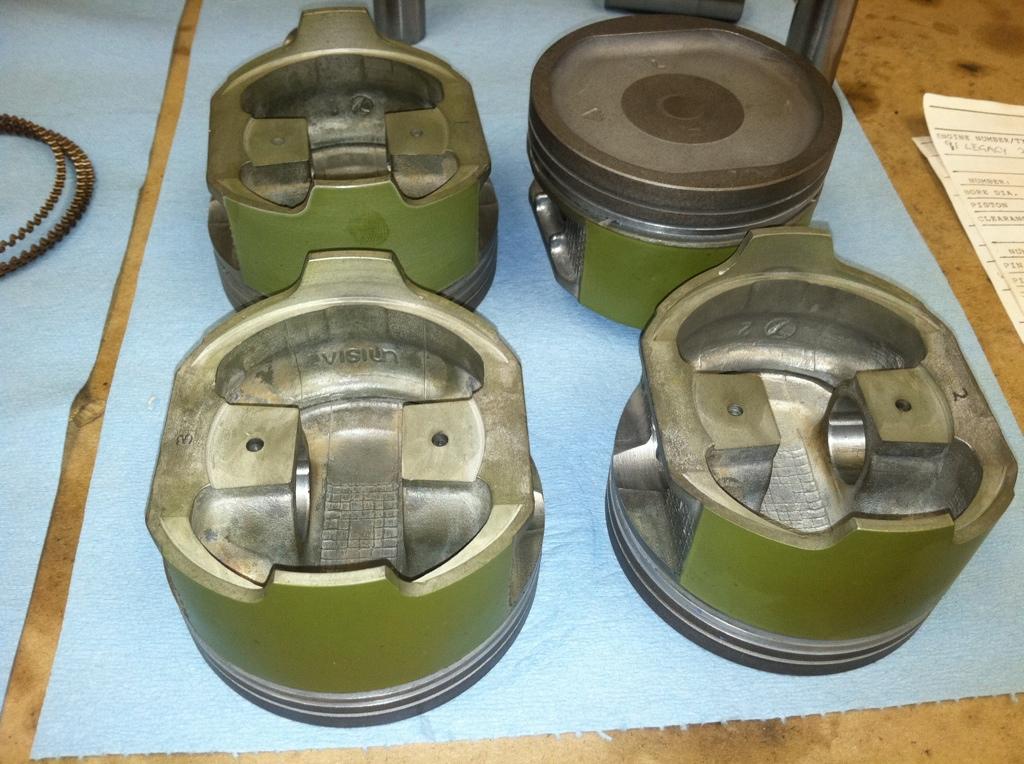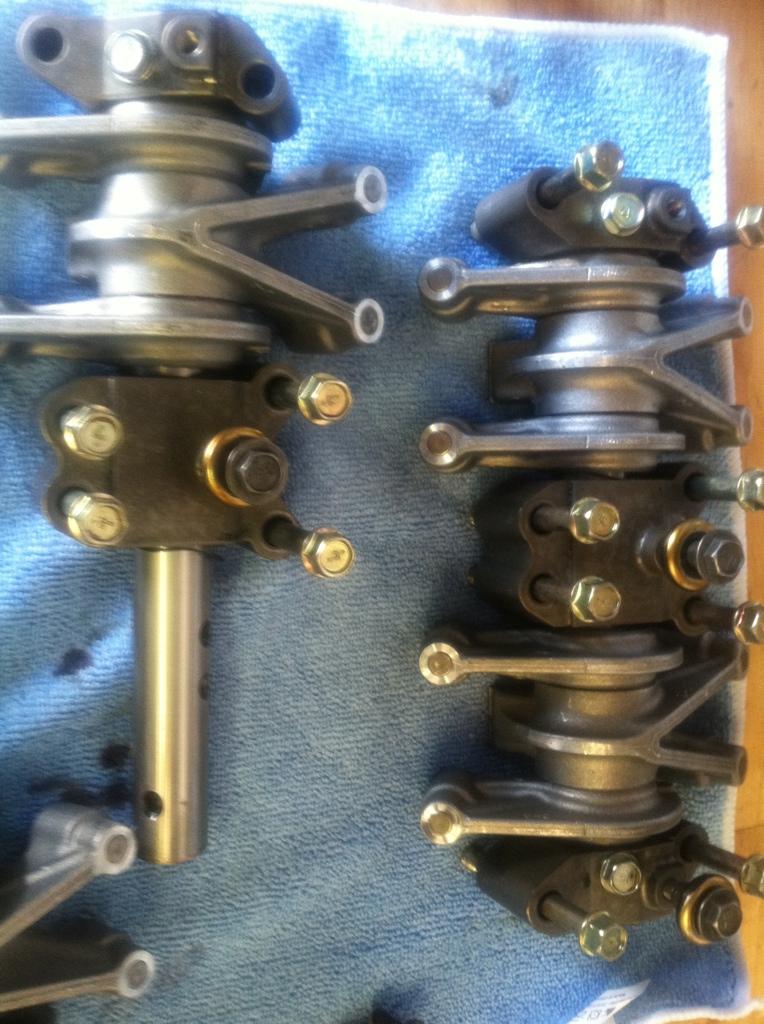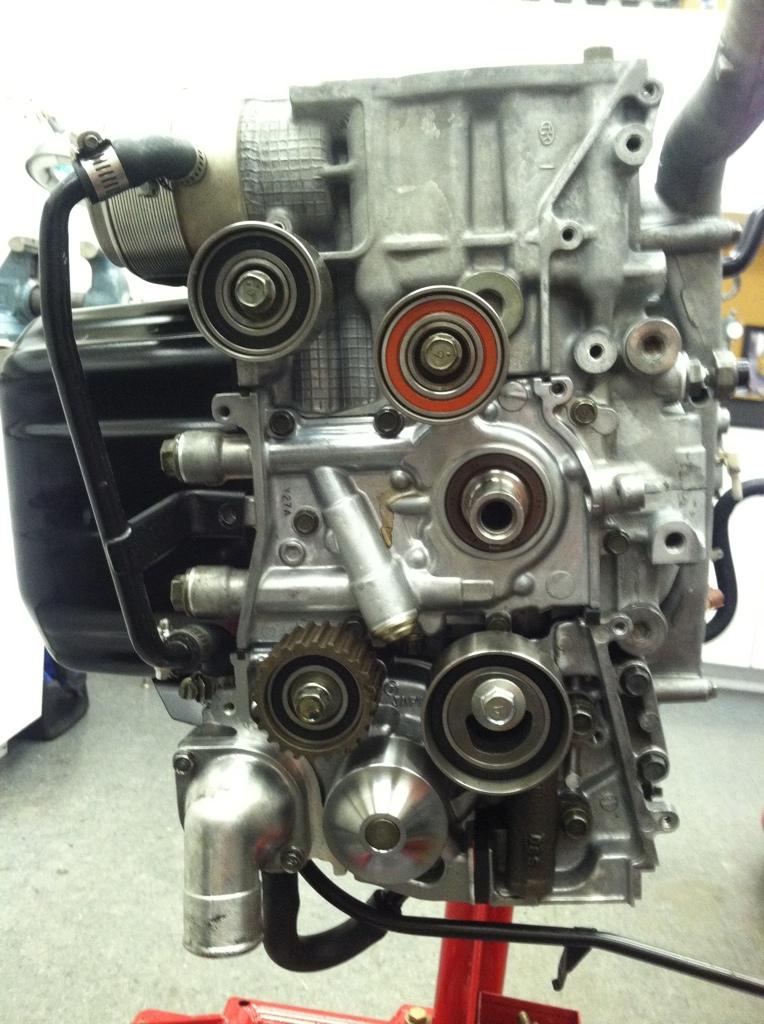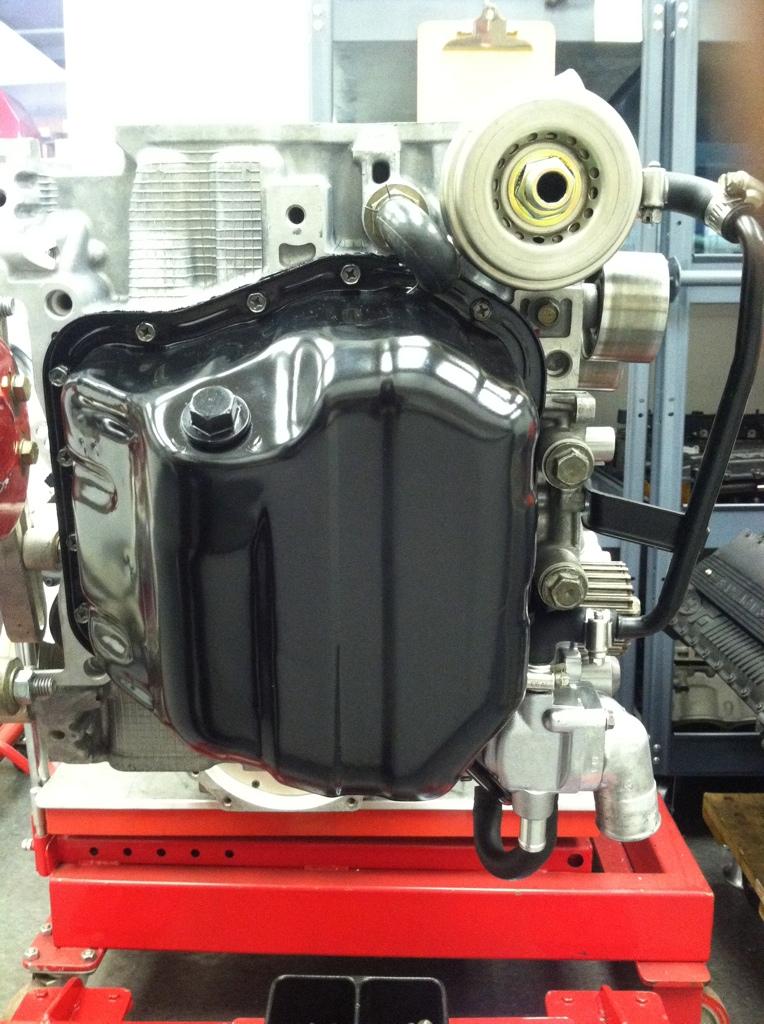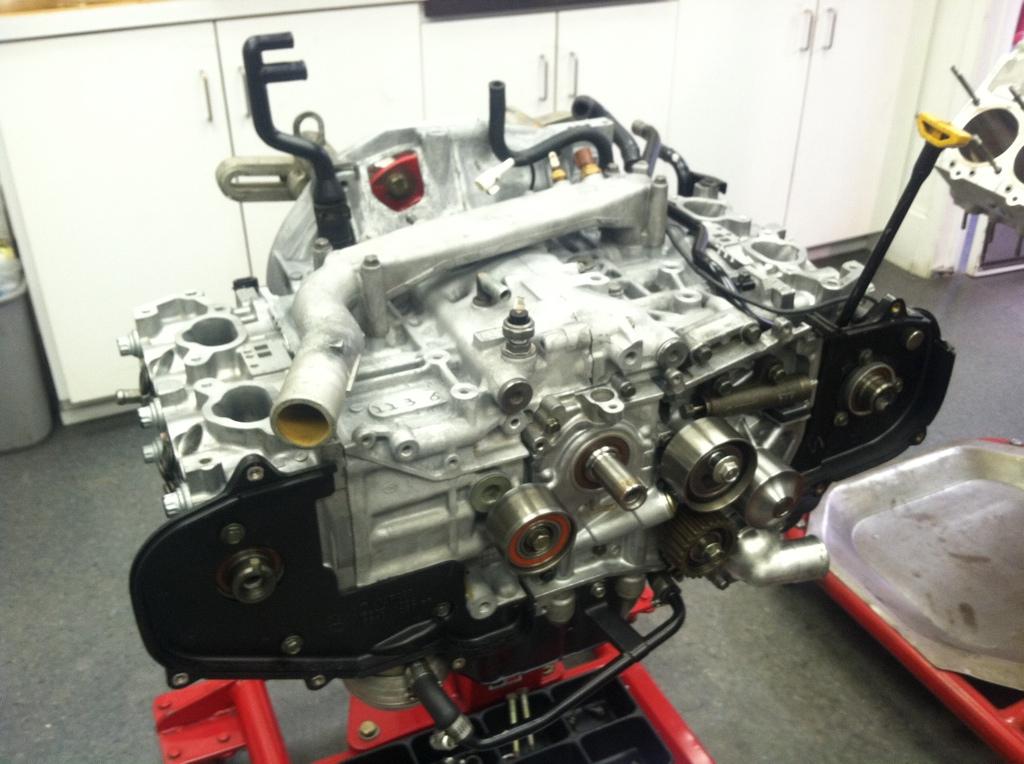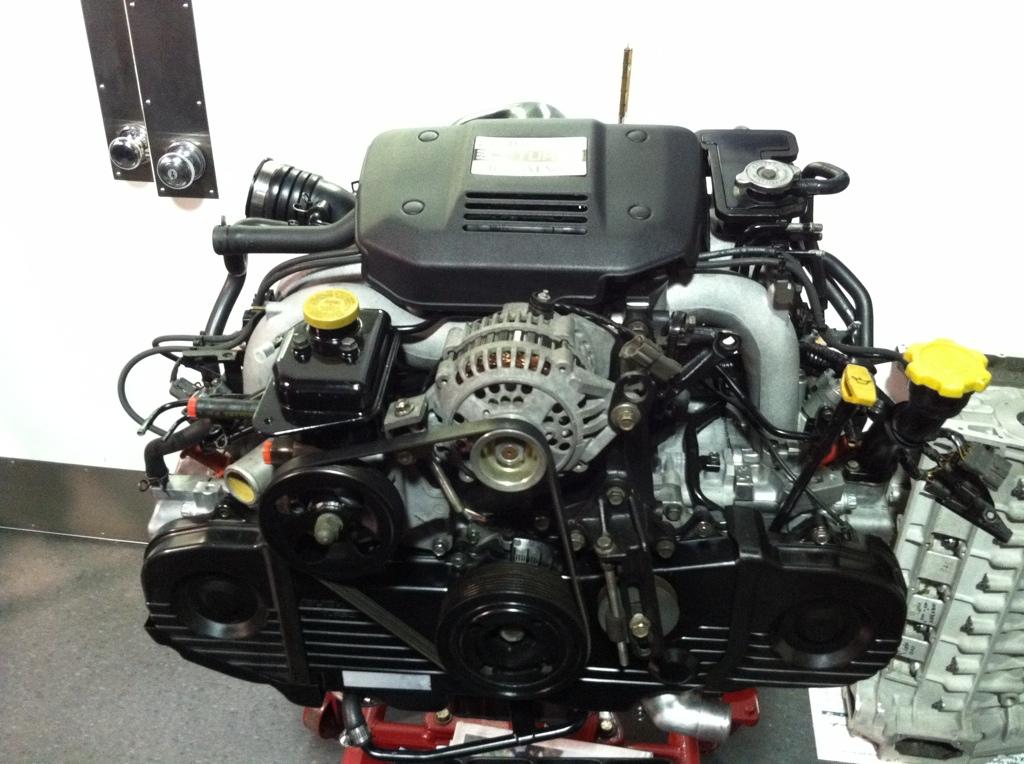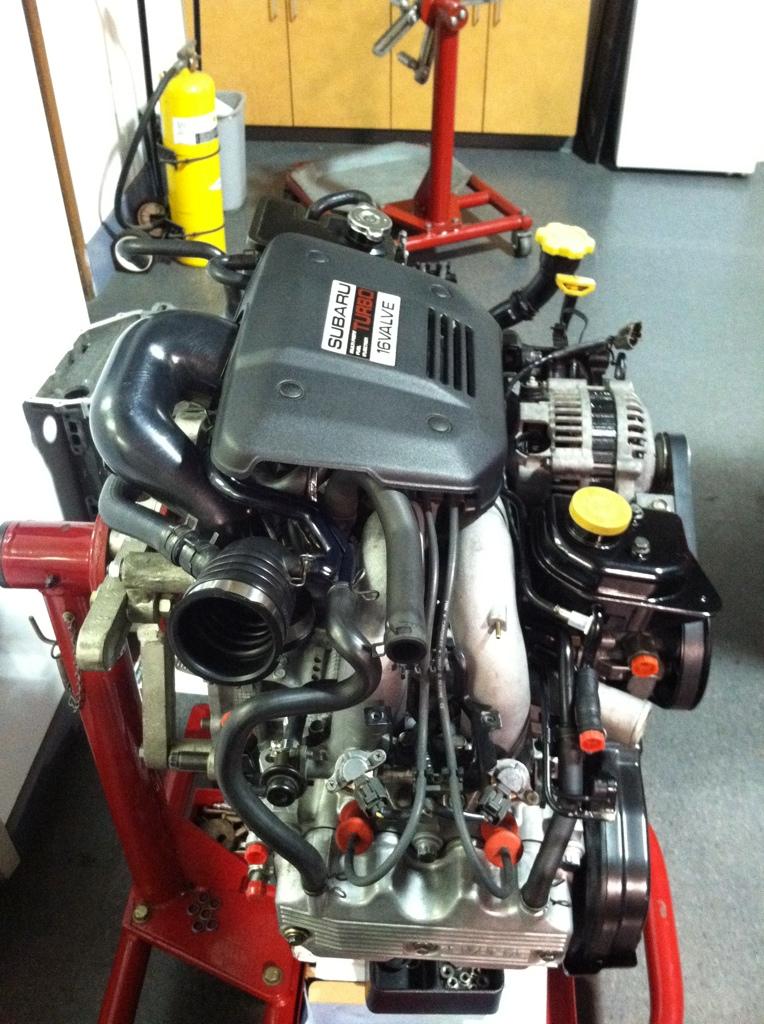 6-24-2013
Here are the last few before the car gets painted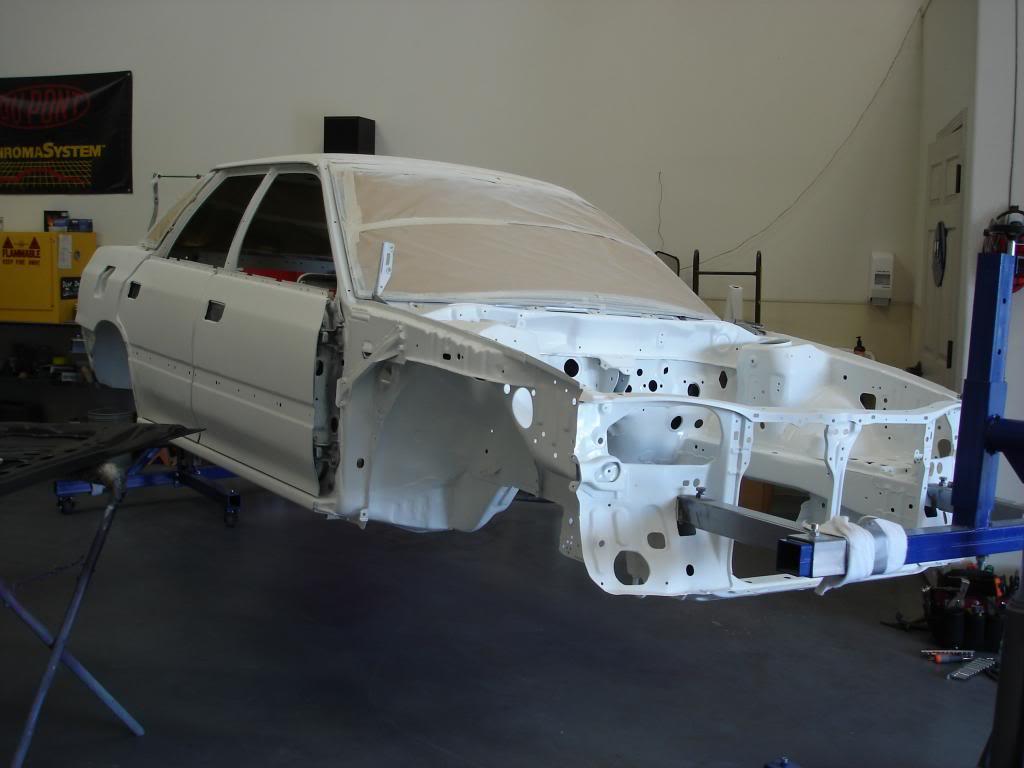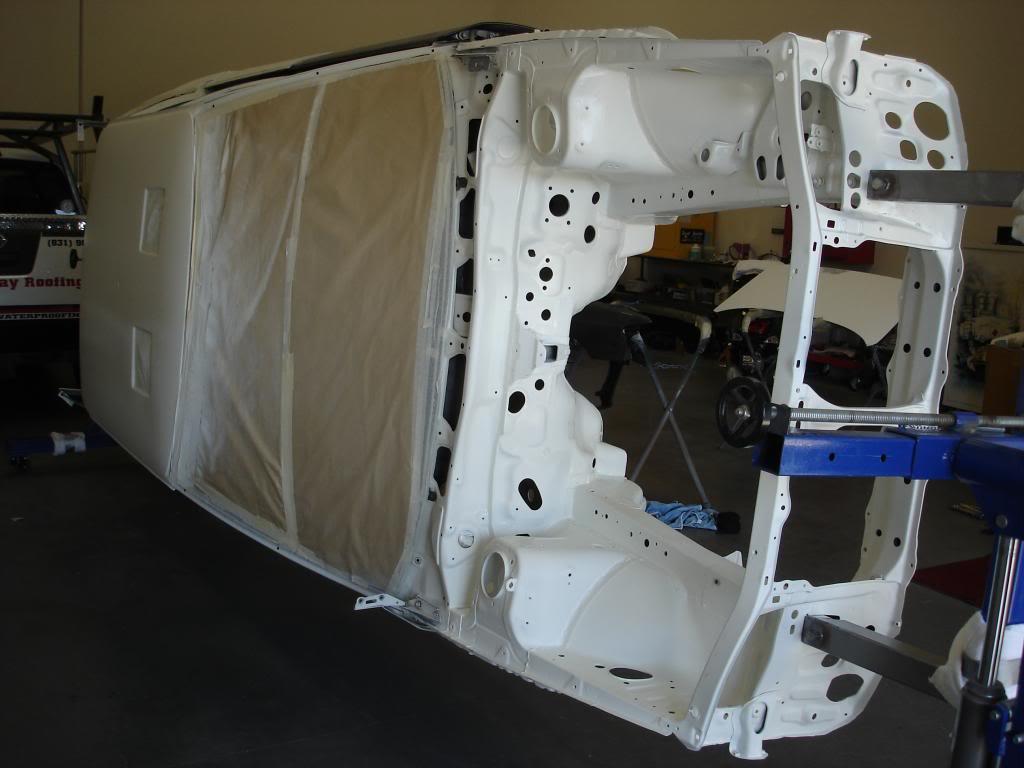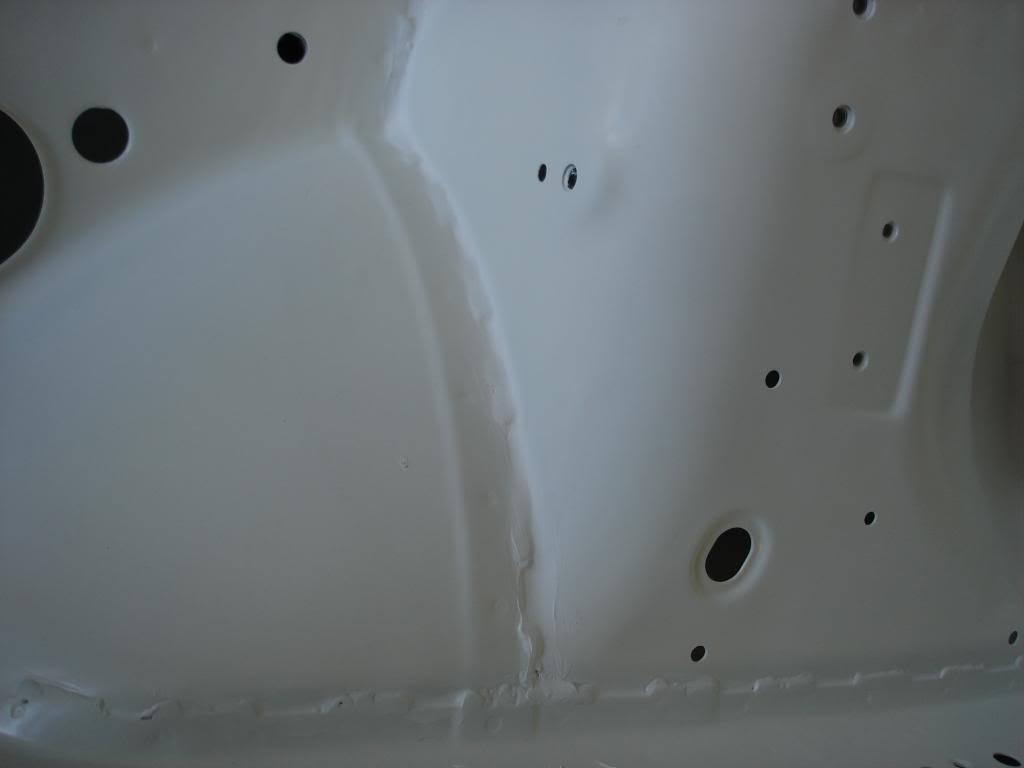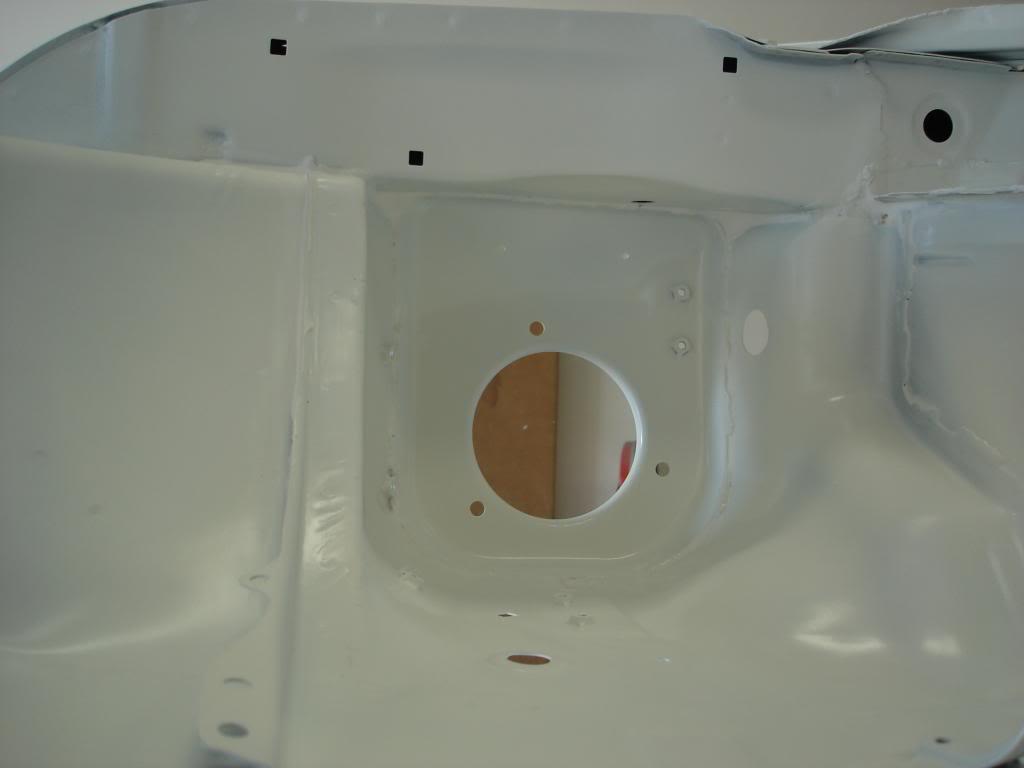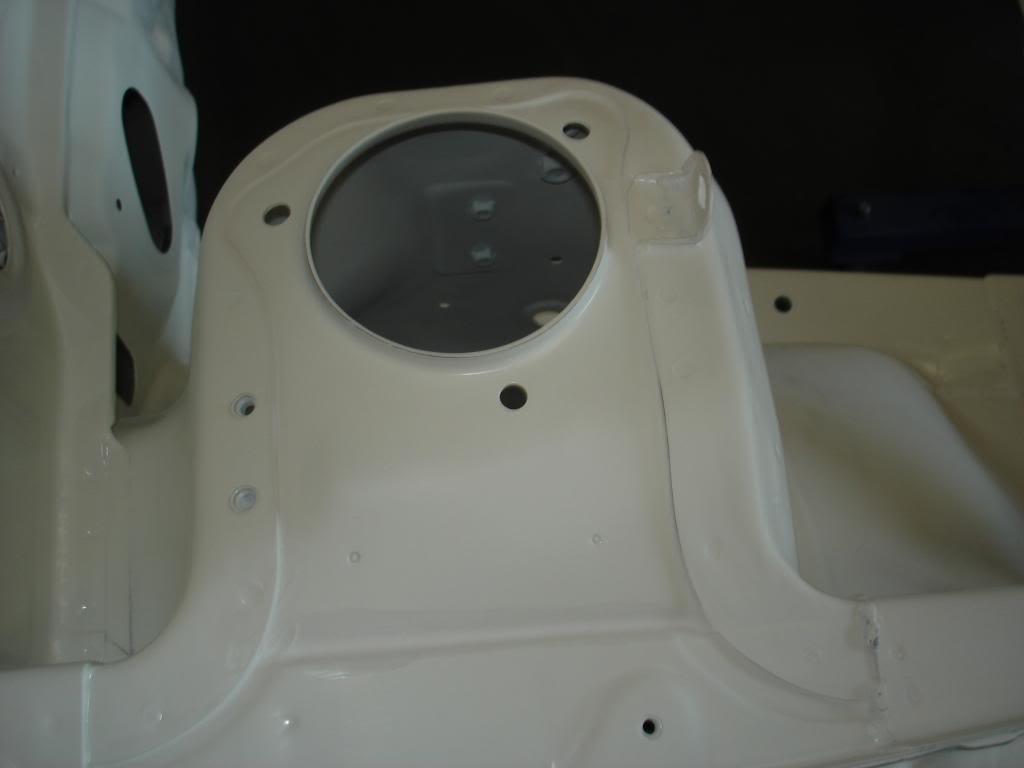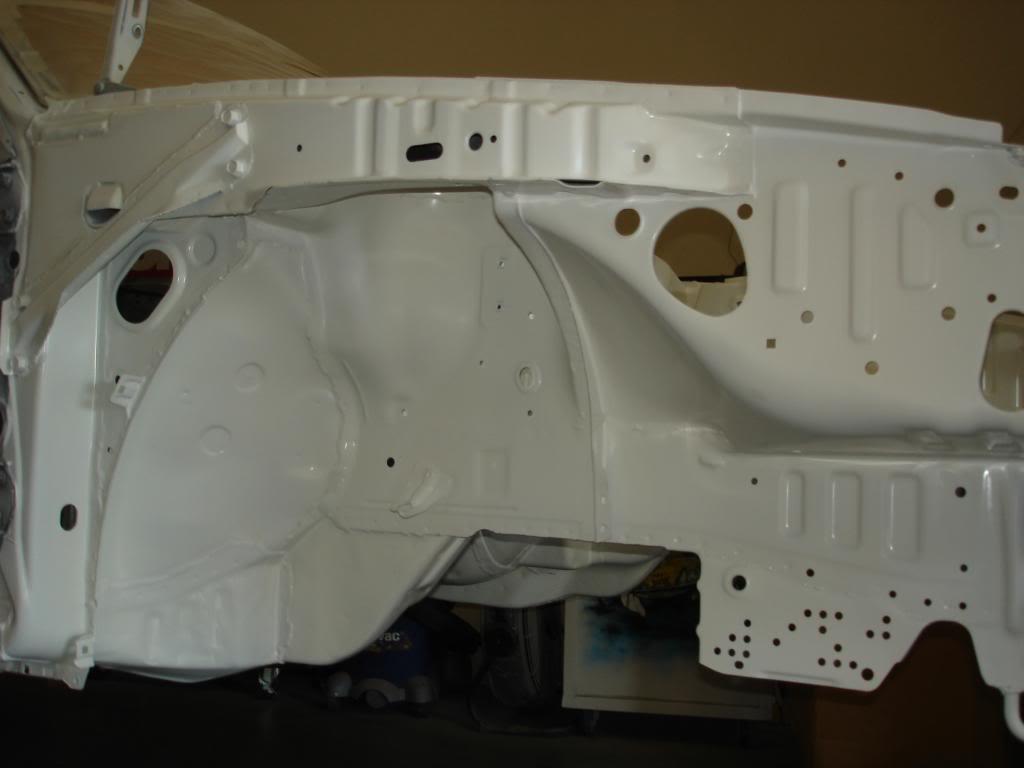 7-11-2013
The legacy is now painted, it is awesome to see it now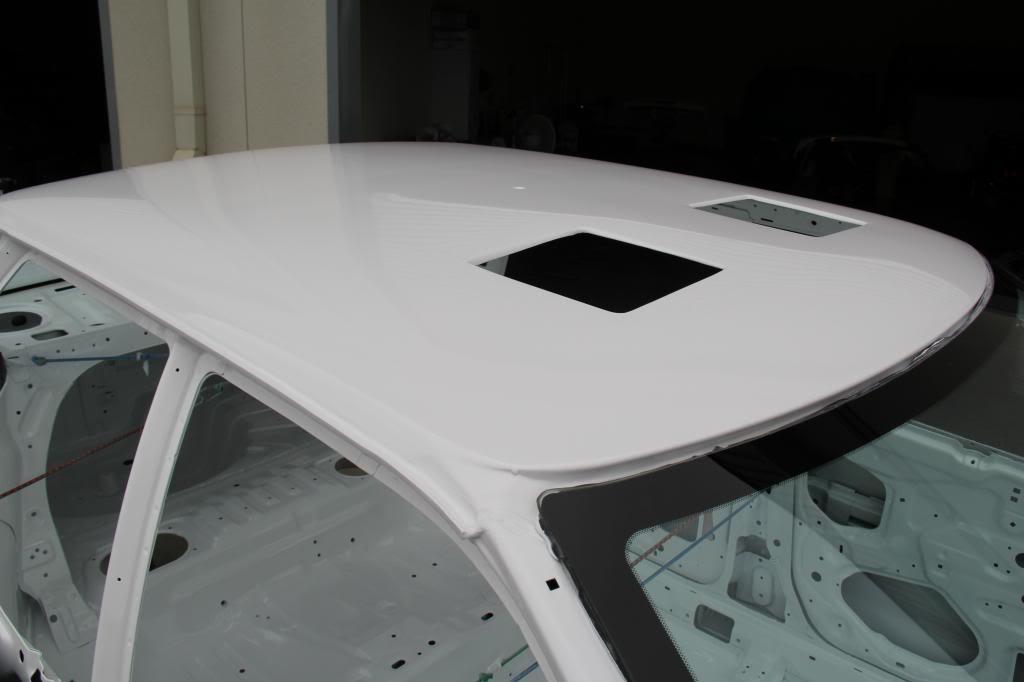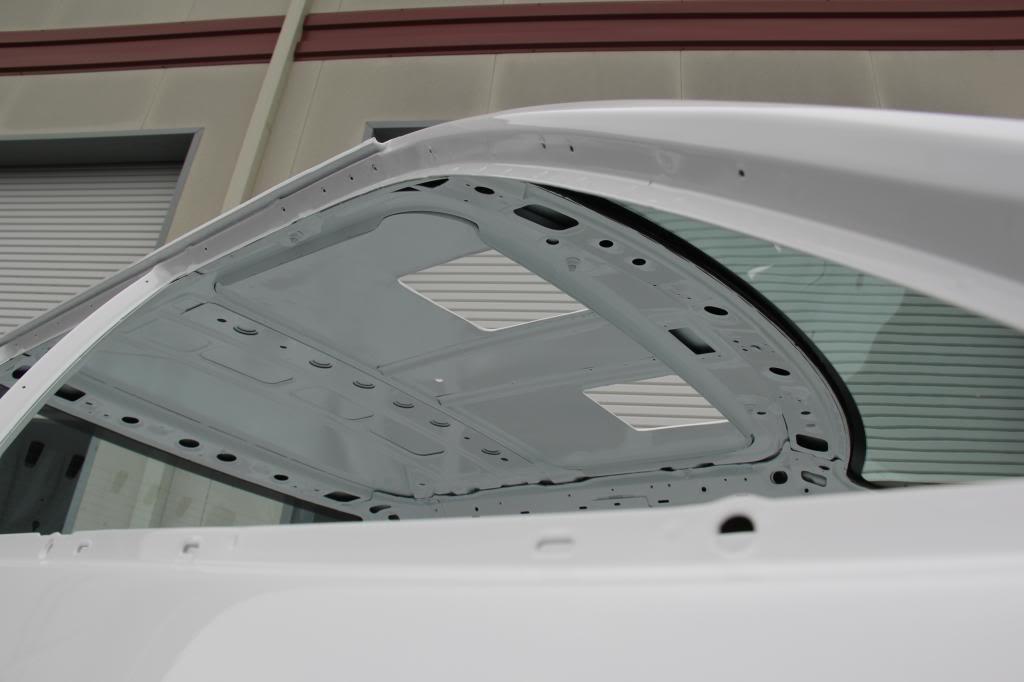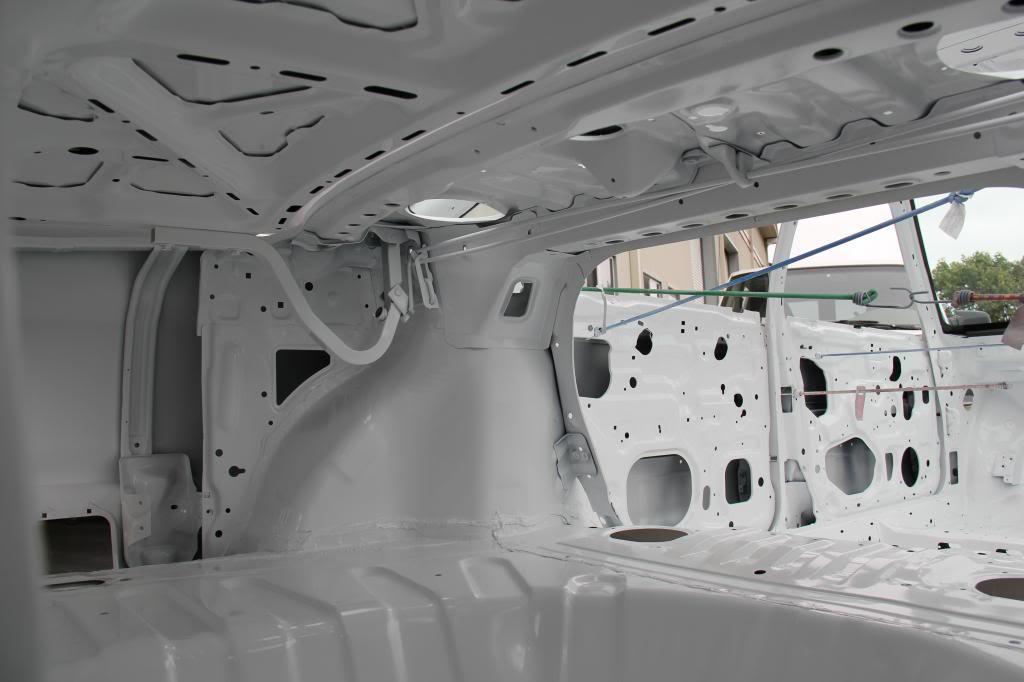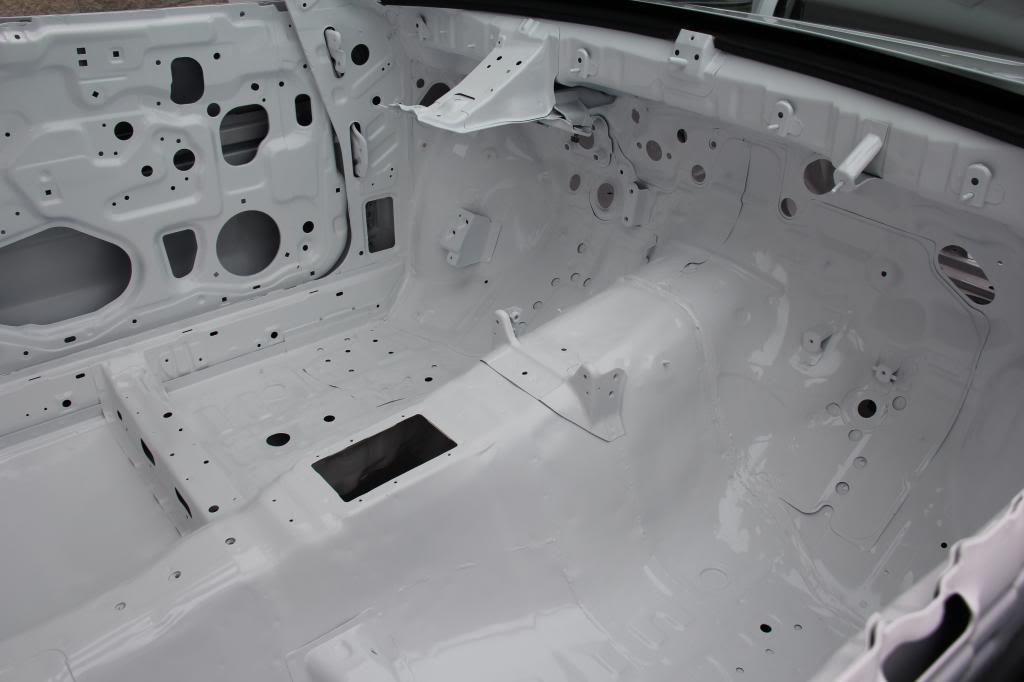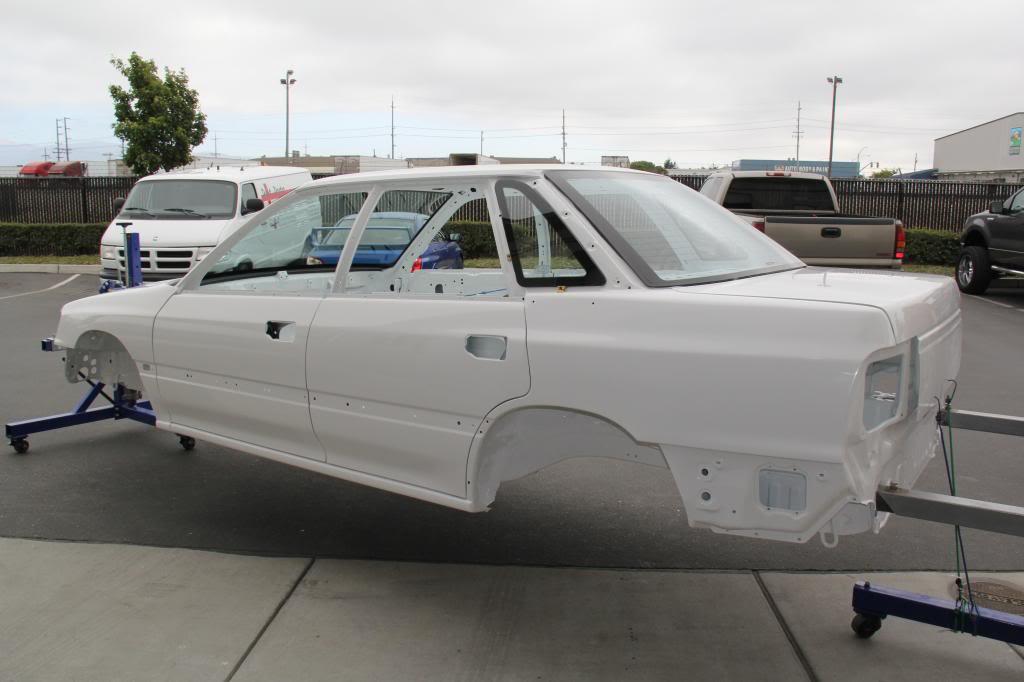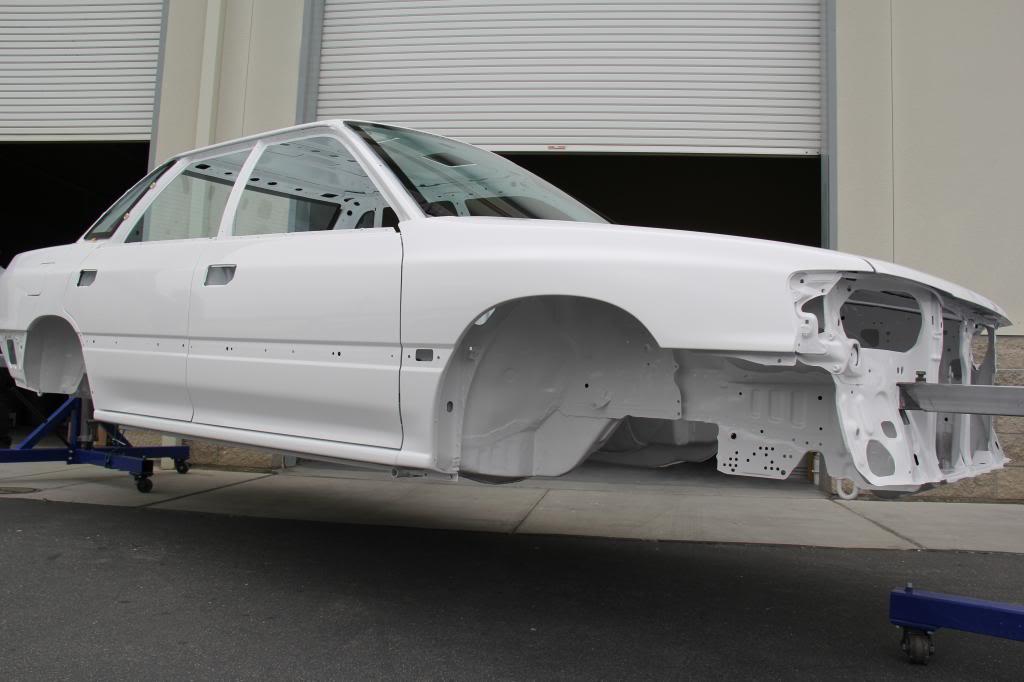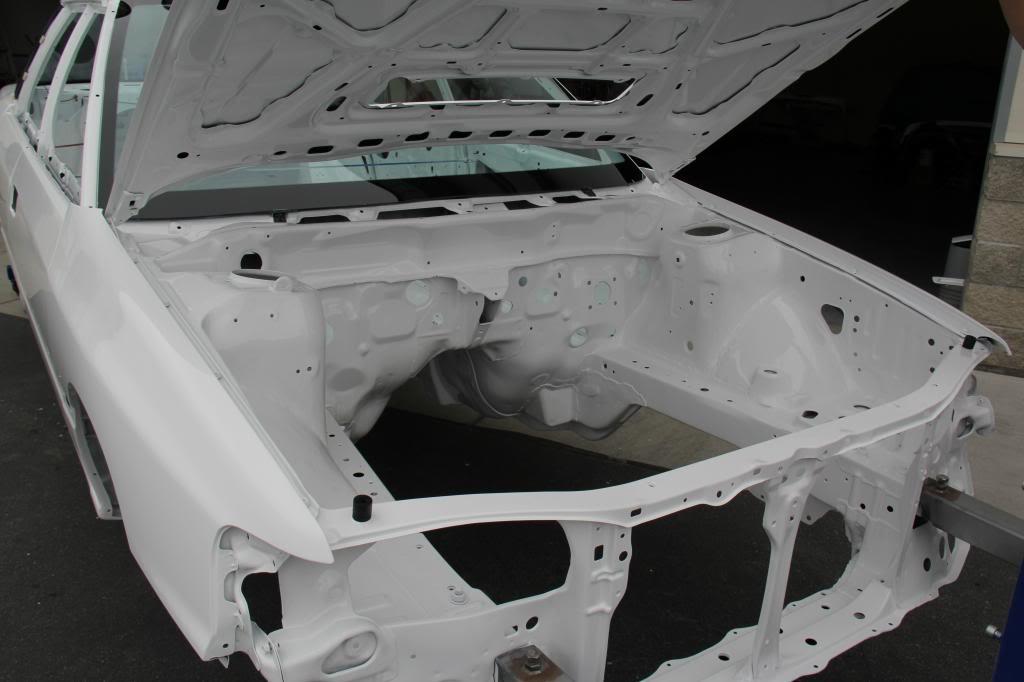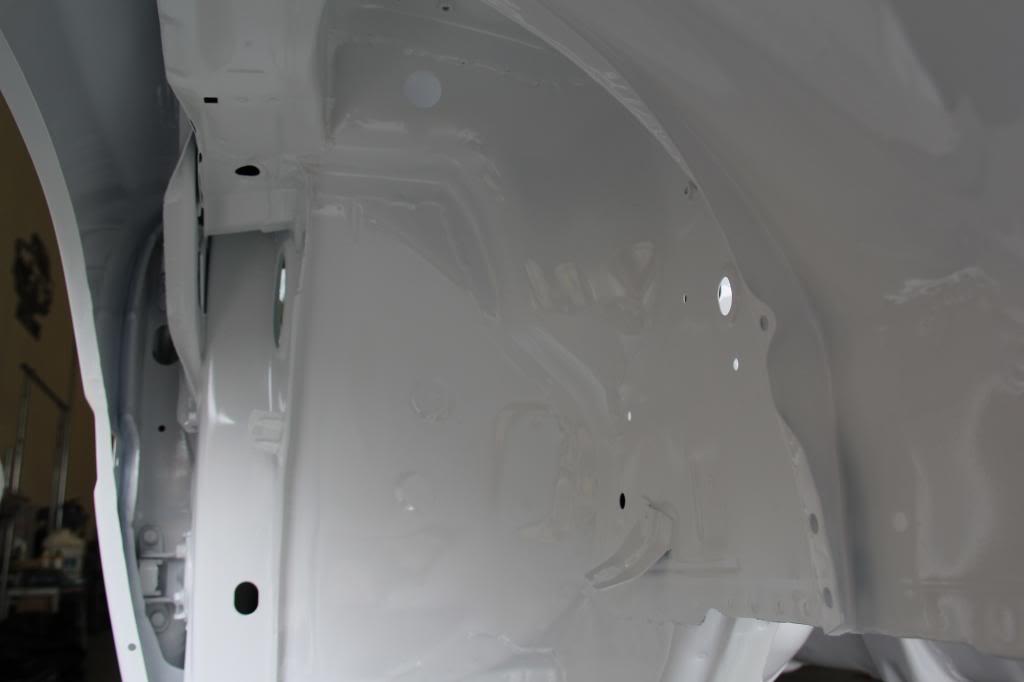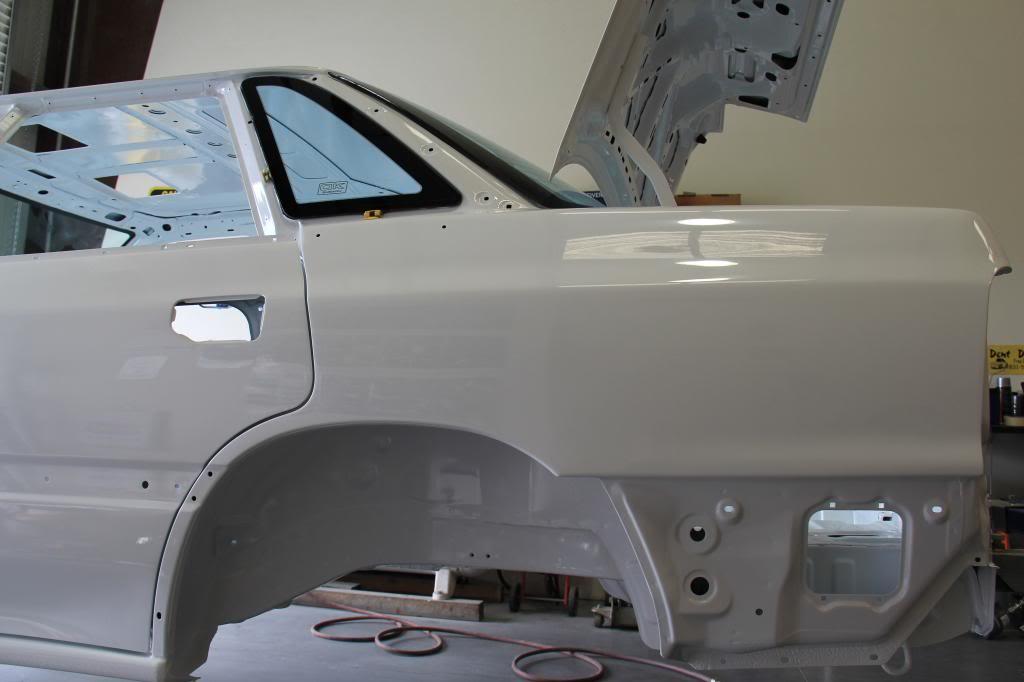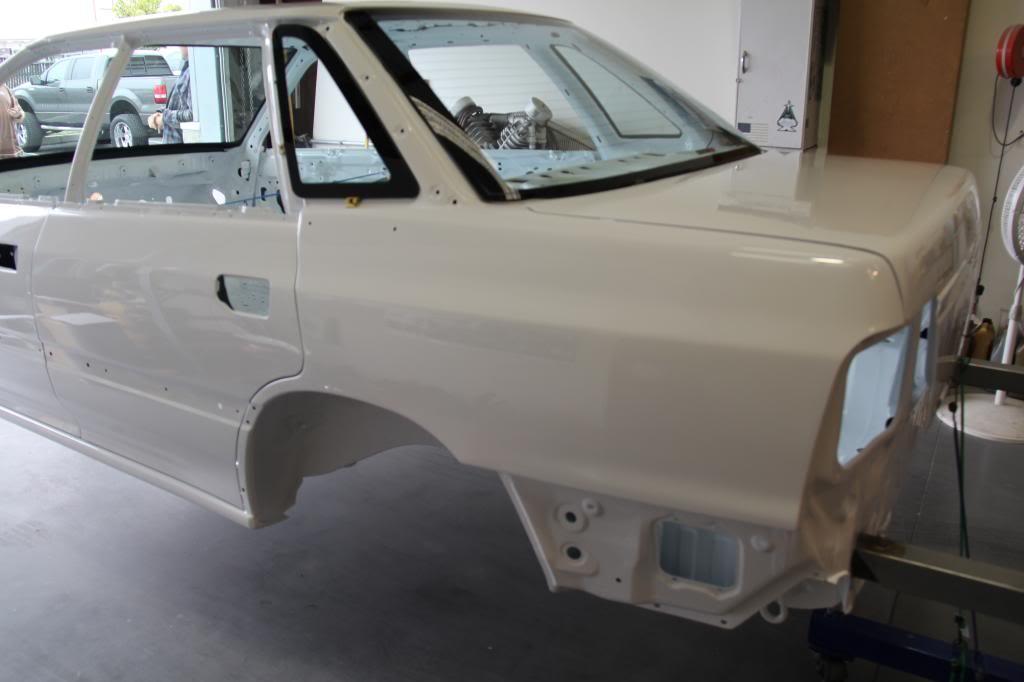 The legacy is now painted, it is awesome to see it now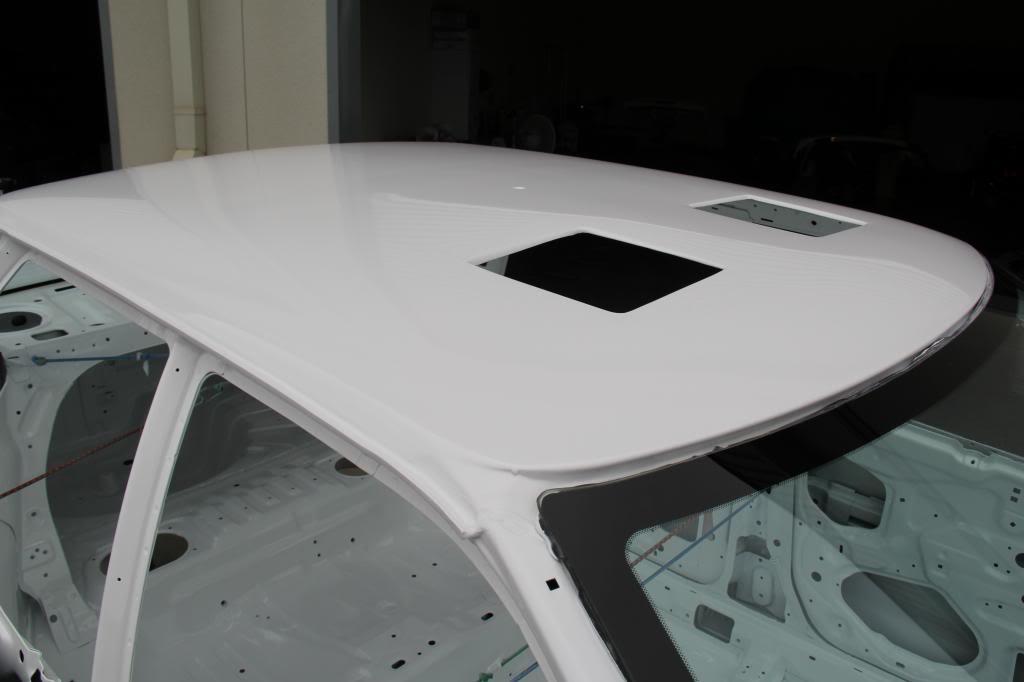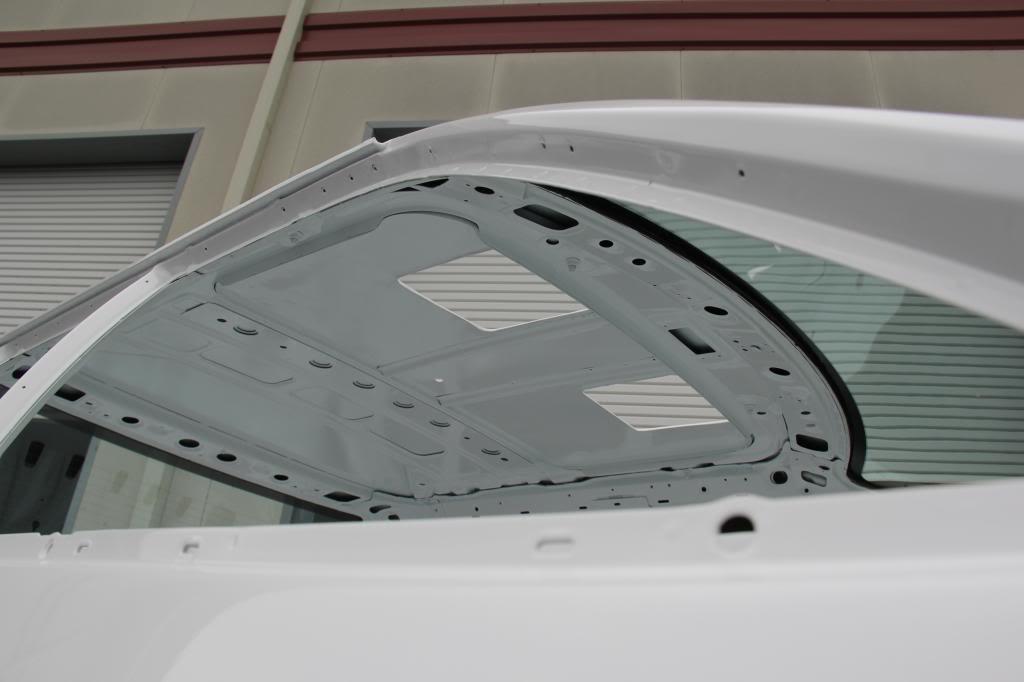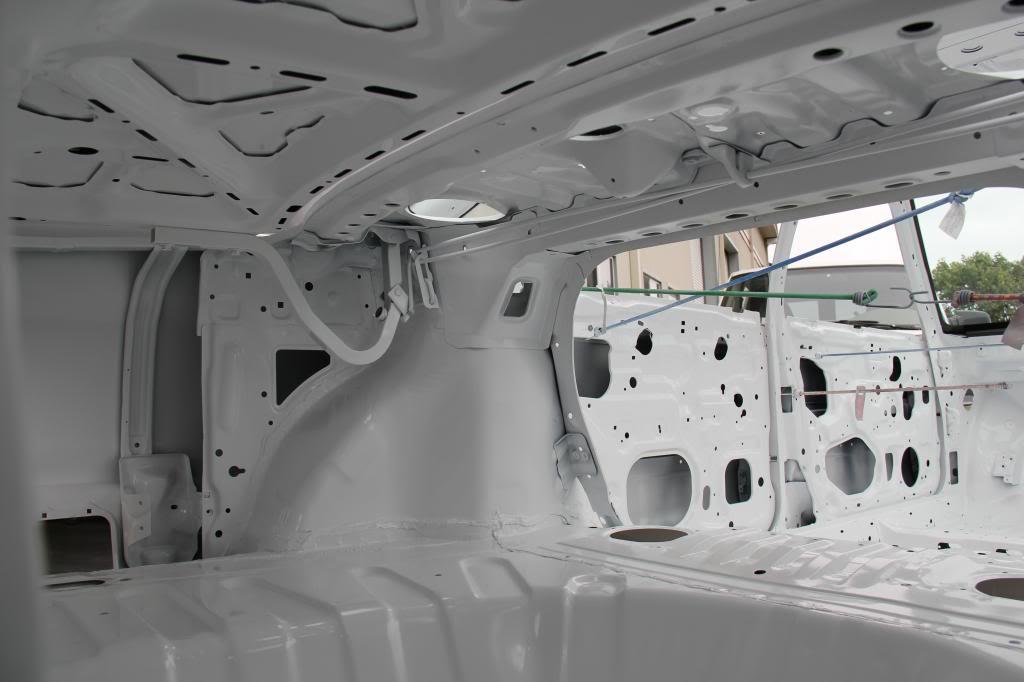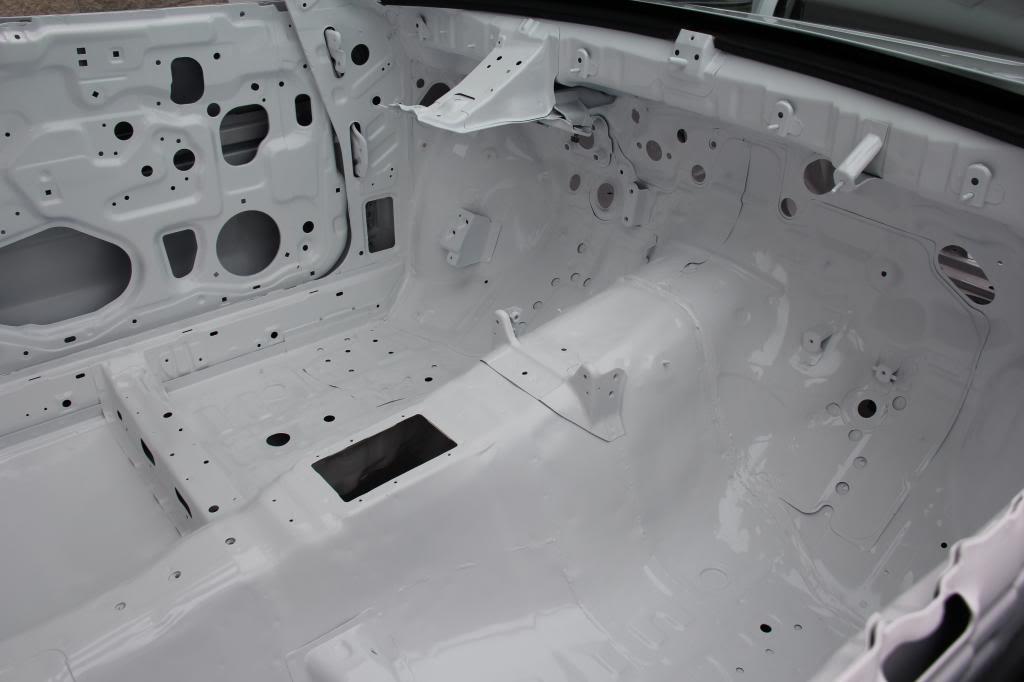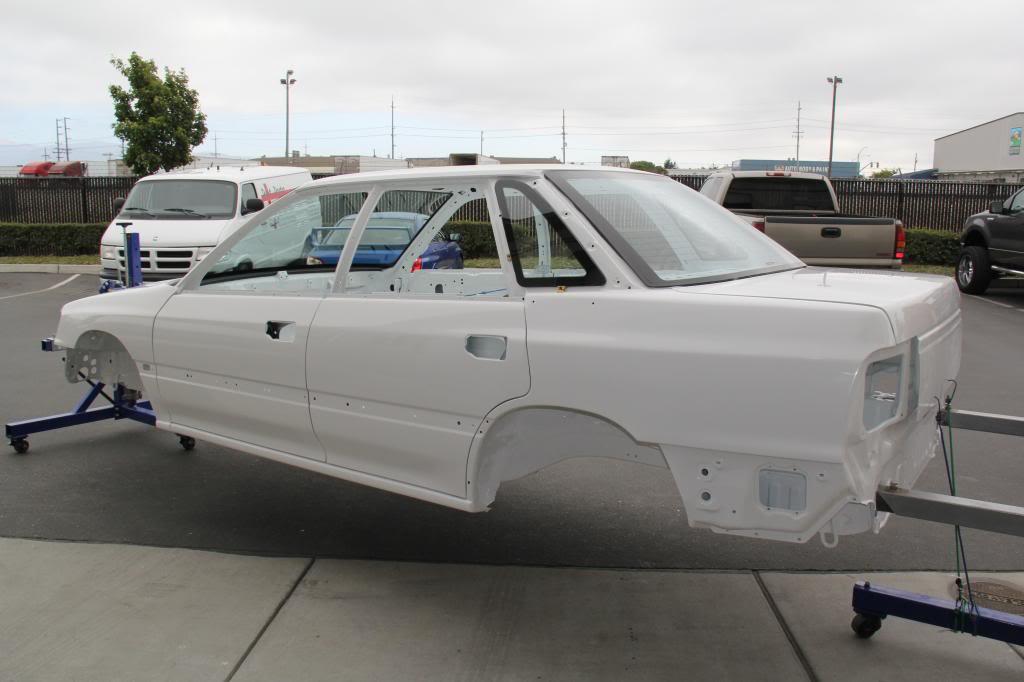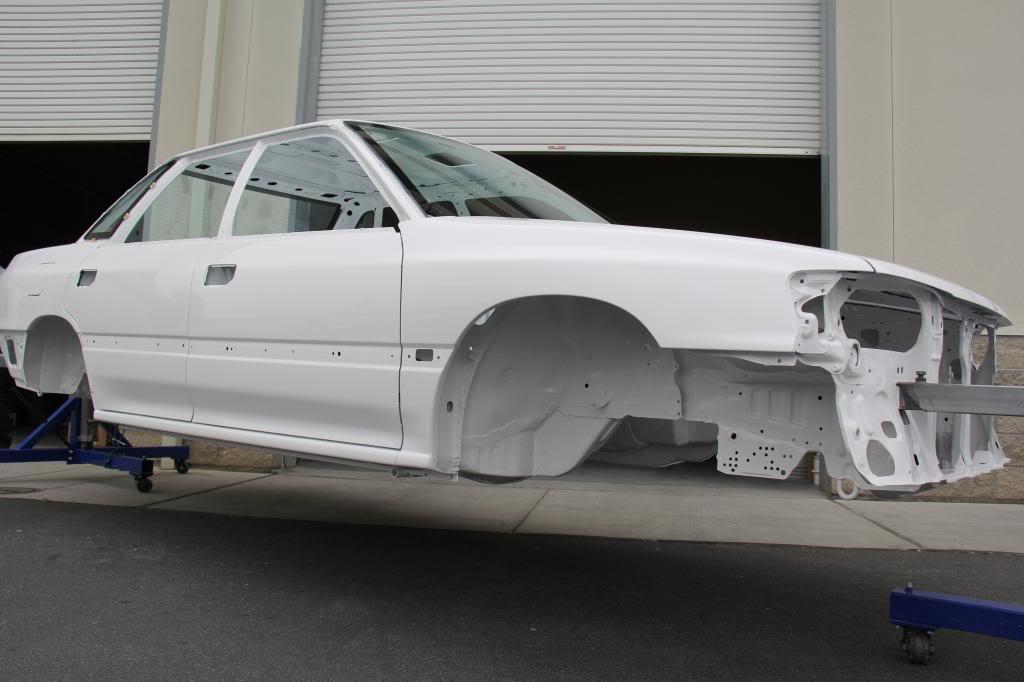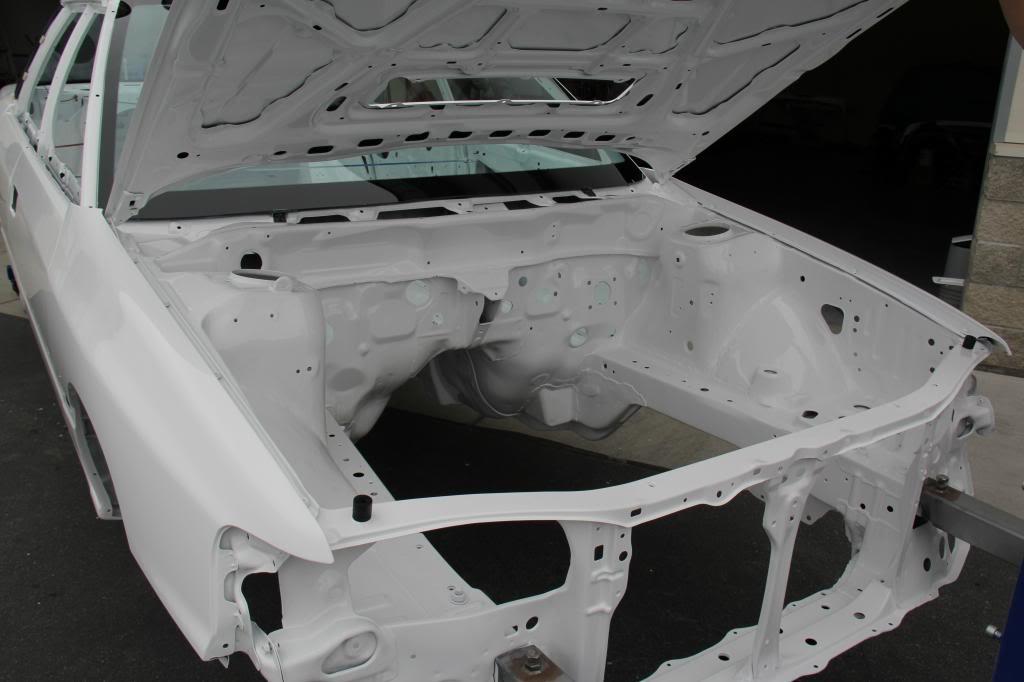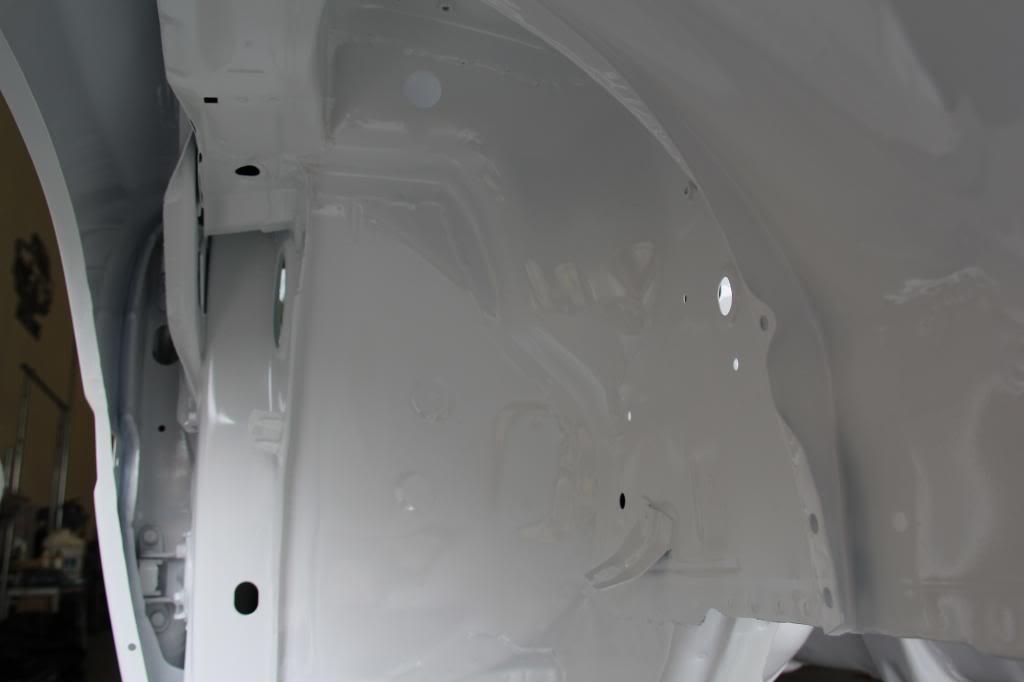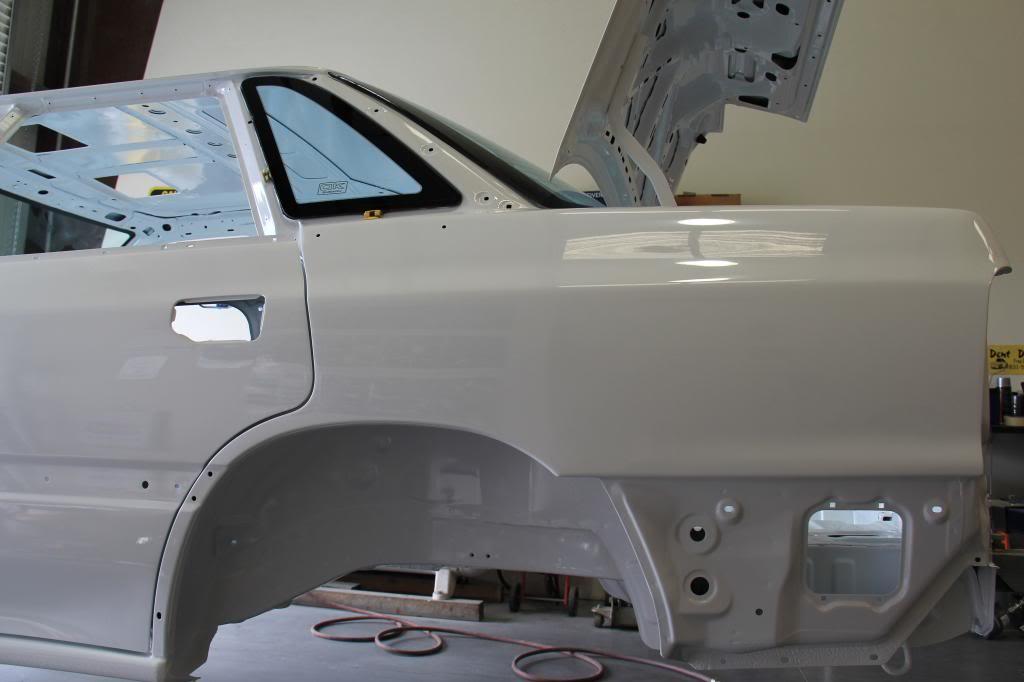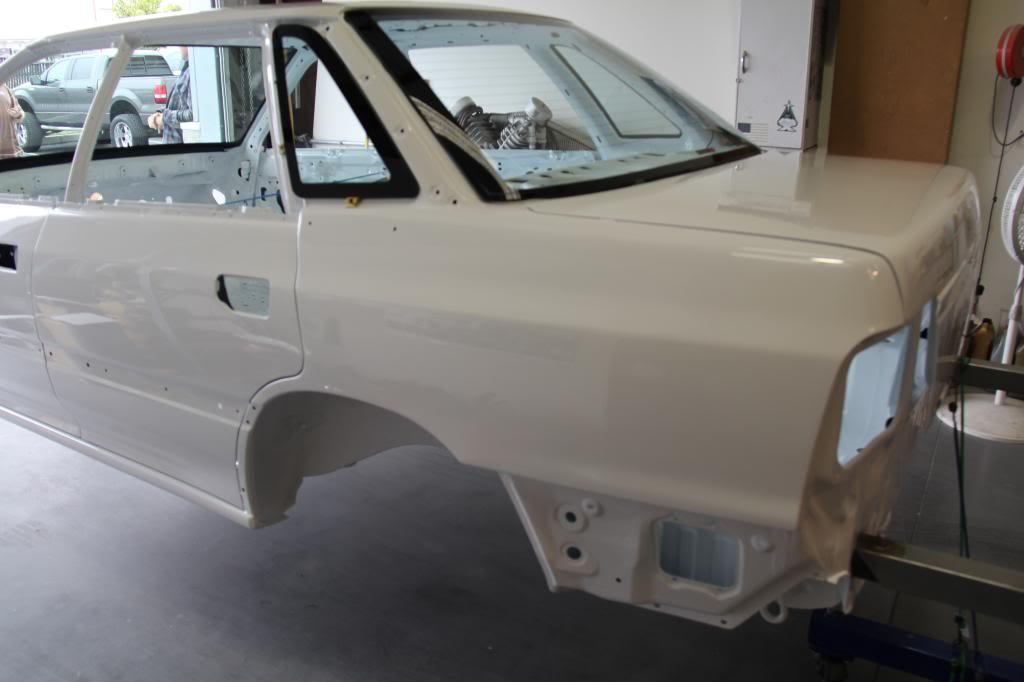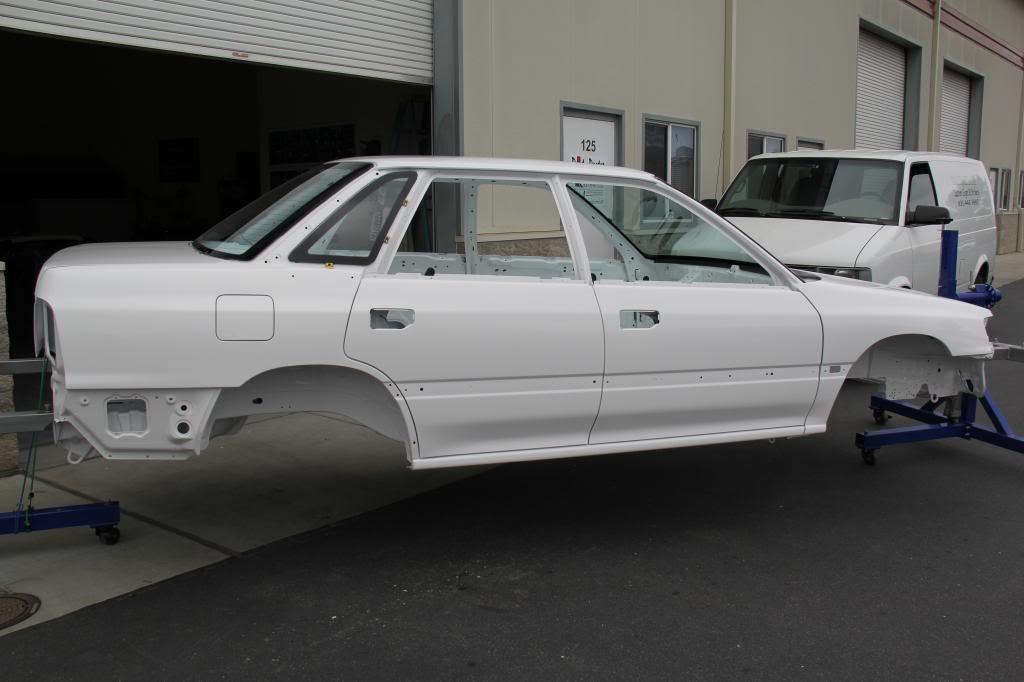 7-23-2013
I am already well underway with the assembly of the trim and I have all the glass in the doors and manual window regulators in and the trunk assembled, I have the brake lines and fuel lines run through the car. I will post more pics soon, here's a few to give you all a glimps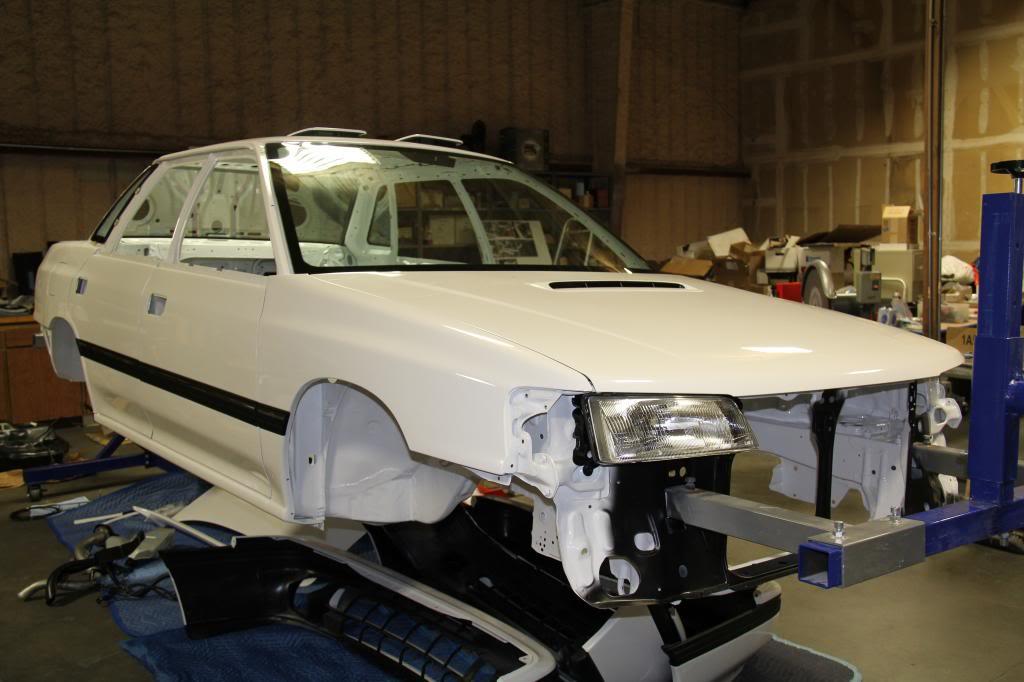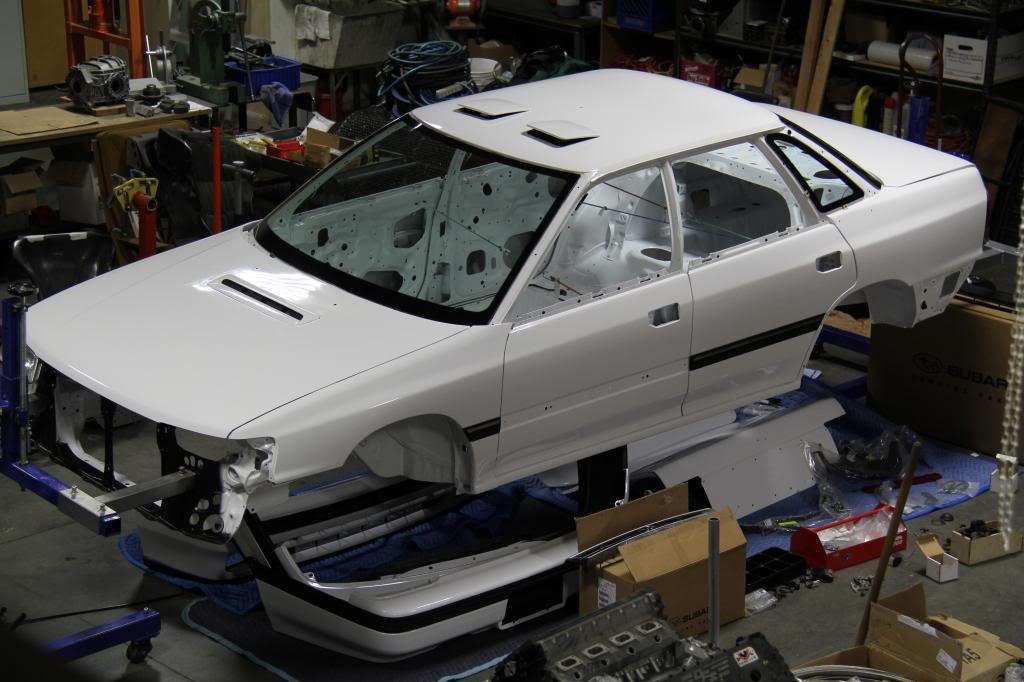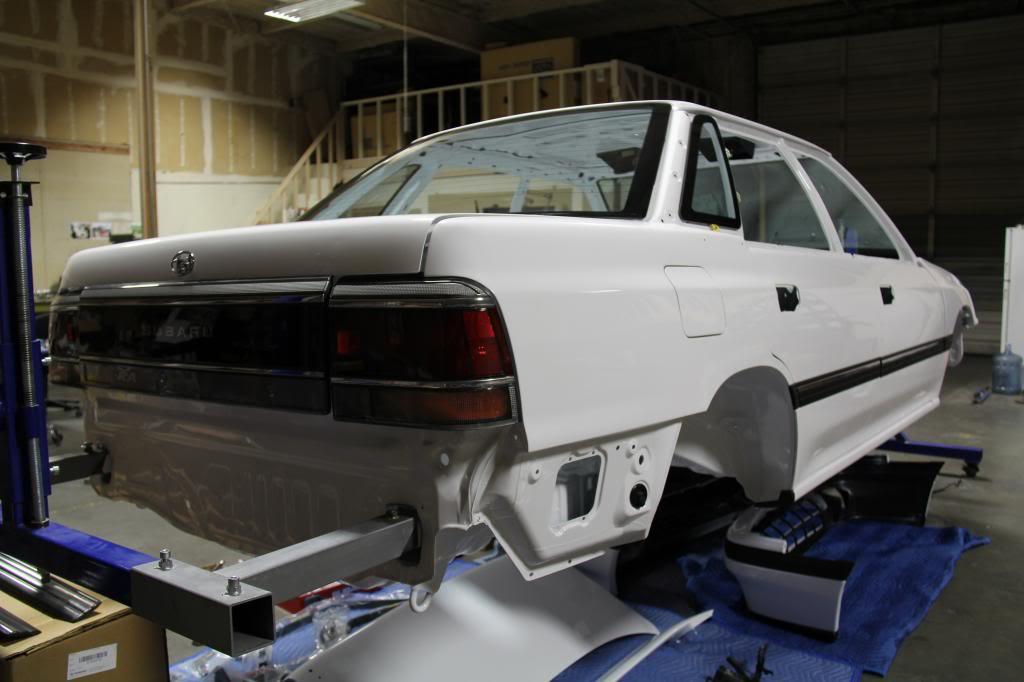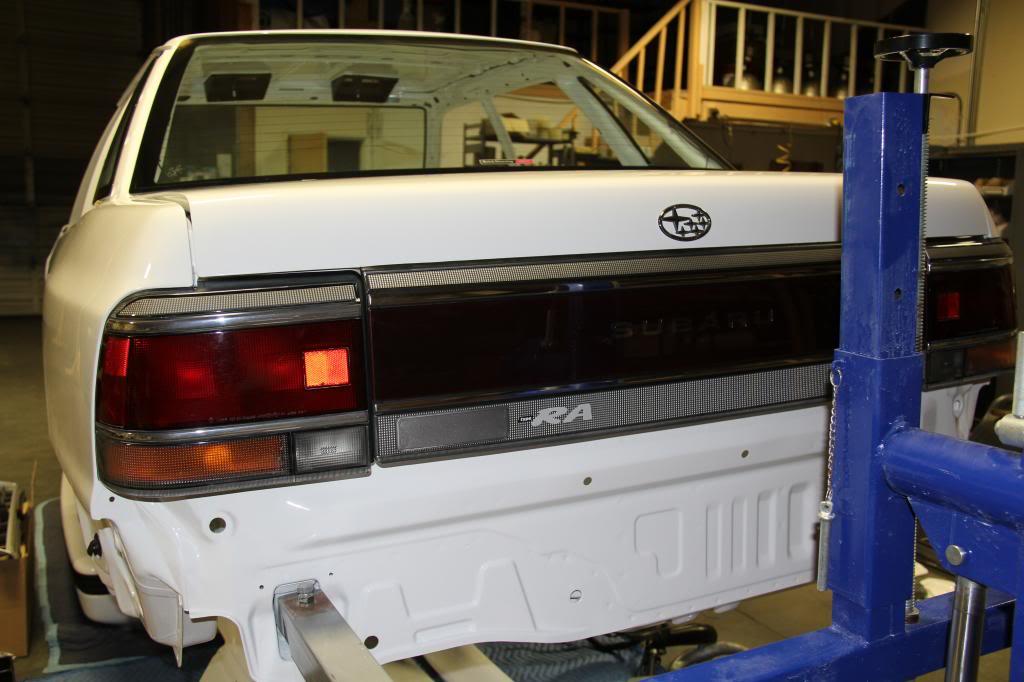 7-28-2013
I have had a few people ask me about removing the trim so I will post a few photos that will show what holds the trim in place, once the rubber door seals are removed and the screws removed from the channel that retains the door seals, then the trim can be removed from the clips. There is a nut on the rear corner window trim that needs to be removed from the inside of the car, so the inside trim piece needs to be removed to get to it, I have taken a photo of that so it will make sence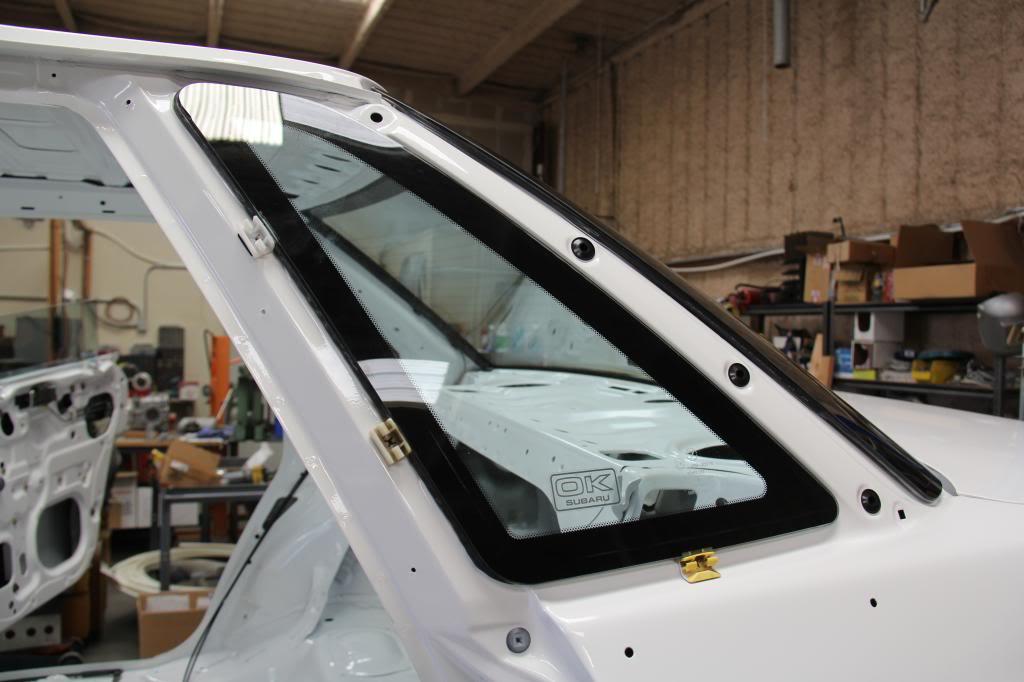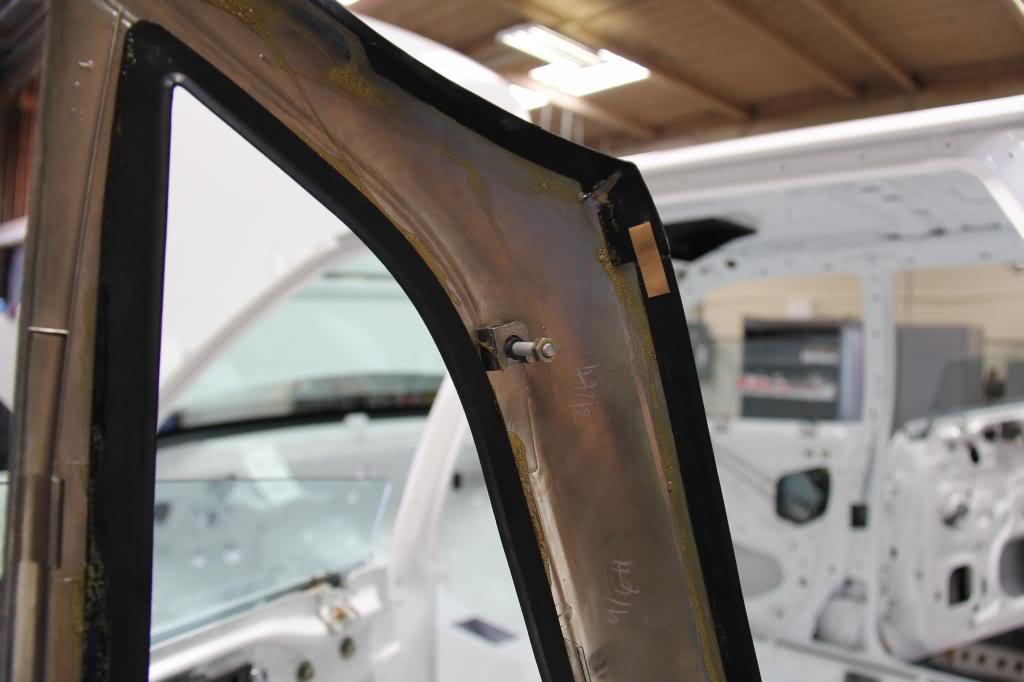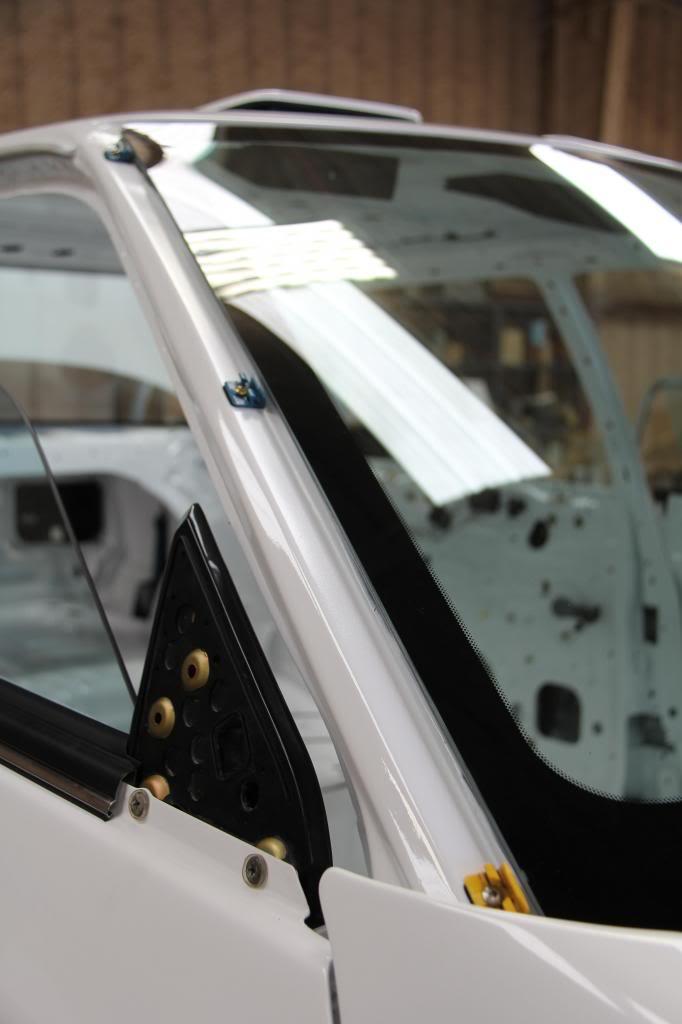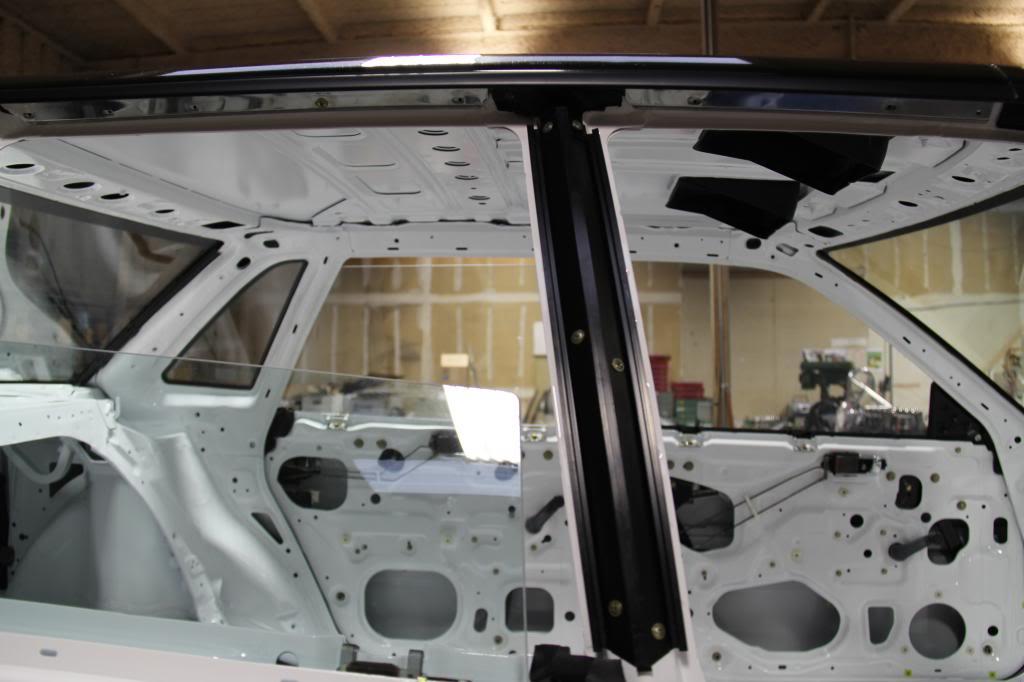 The last photo shows the trim with the channel removed, you can see that the screws go through the trim !
Now for a project update, I have fit most of the trim on the car, I am missing the trim on the left front door(center moulding) and both rear doors I need the trim that runs against the glass. I have most of the fuel system in except for needing a few clamps to finish the job. I have all the window regulators in and all the glass and door seals installed as well as the locking Mechanisims. I fit the window wiper mechanism back in place and all the lock mechanisim back in place in the trunk.
Here's the photos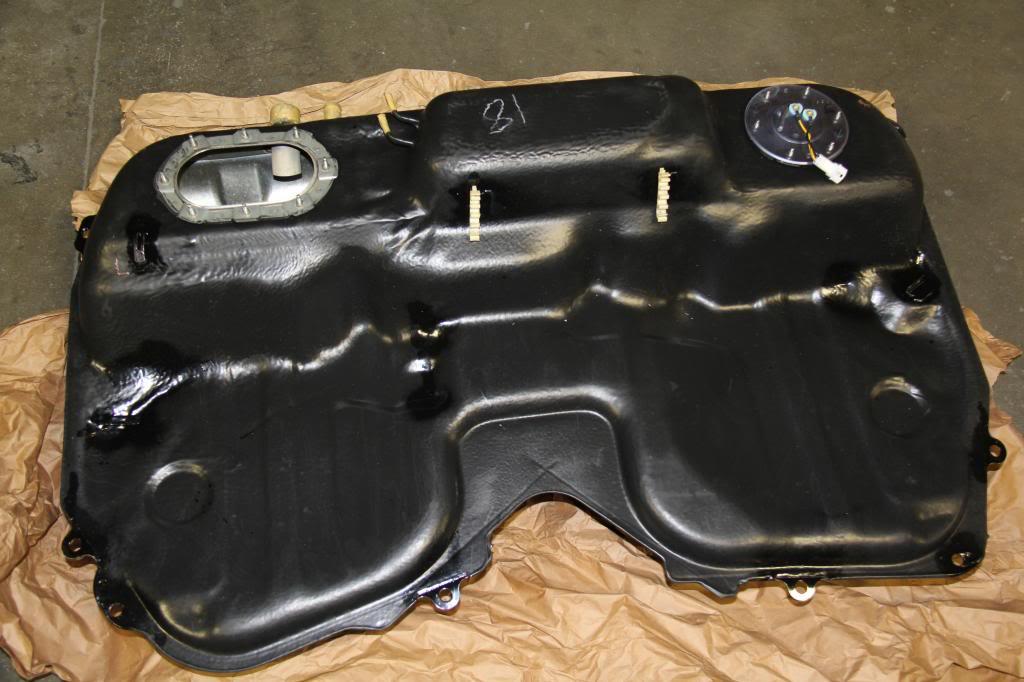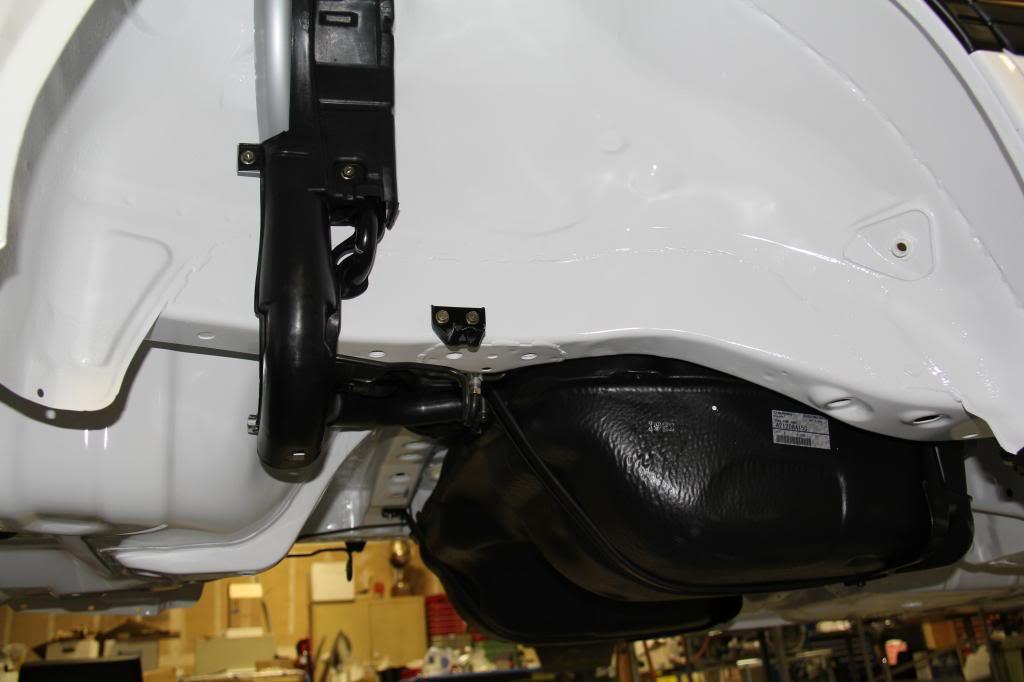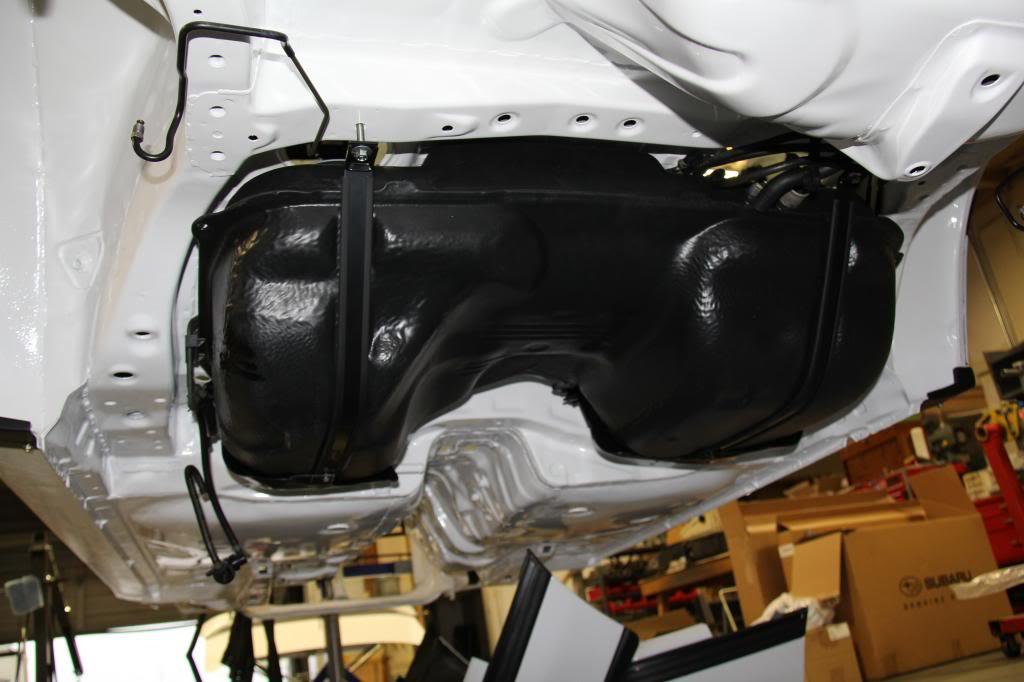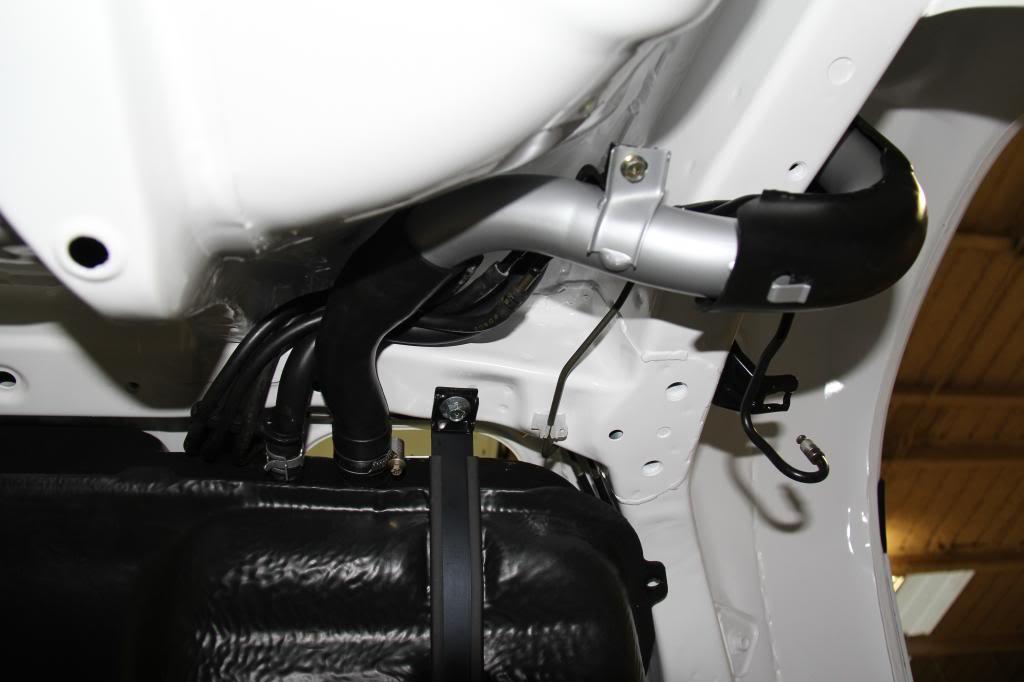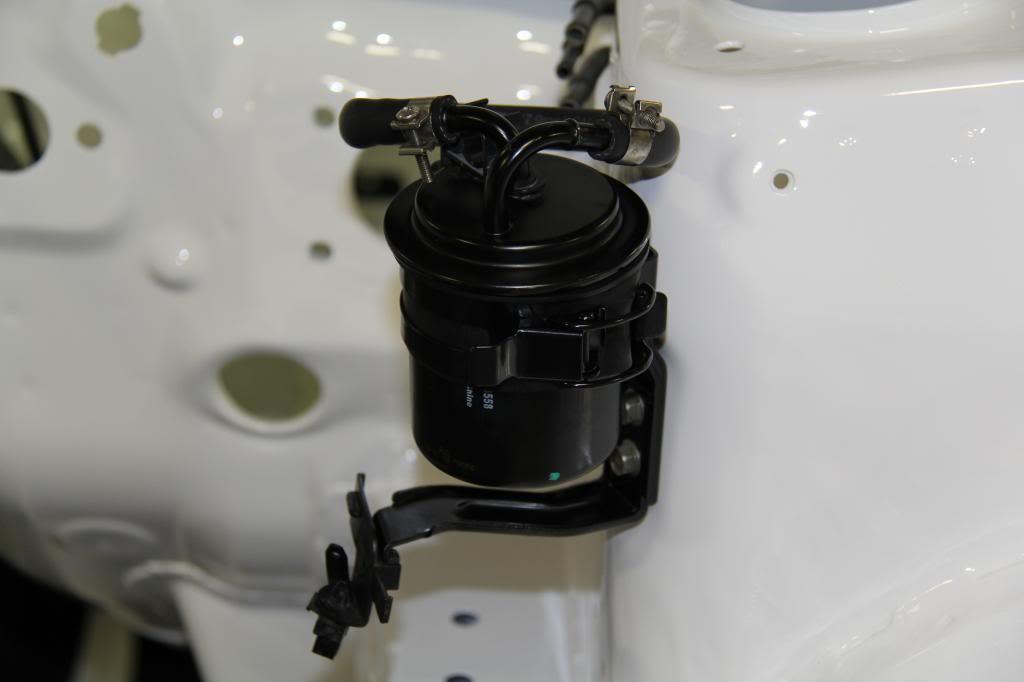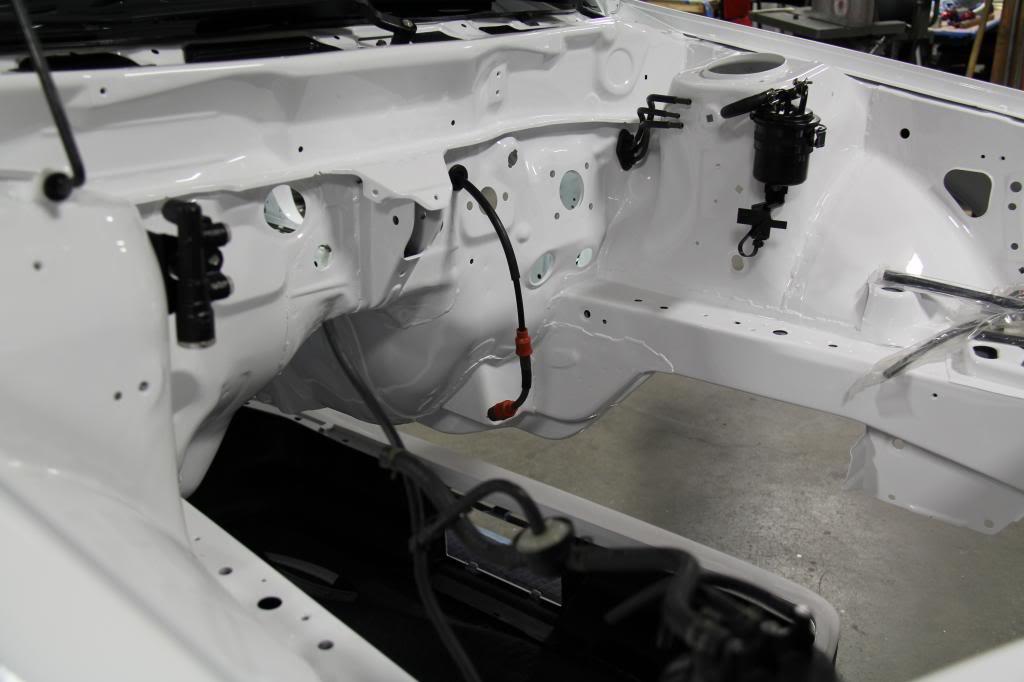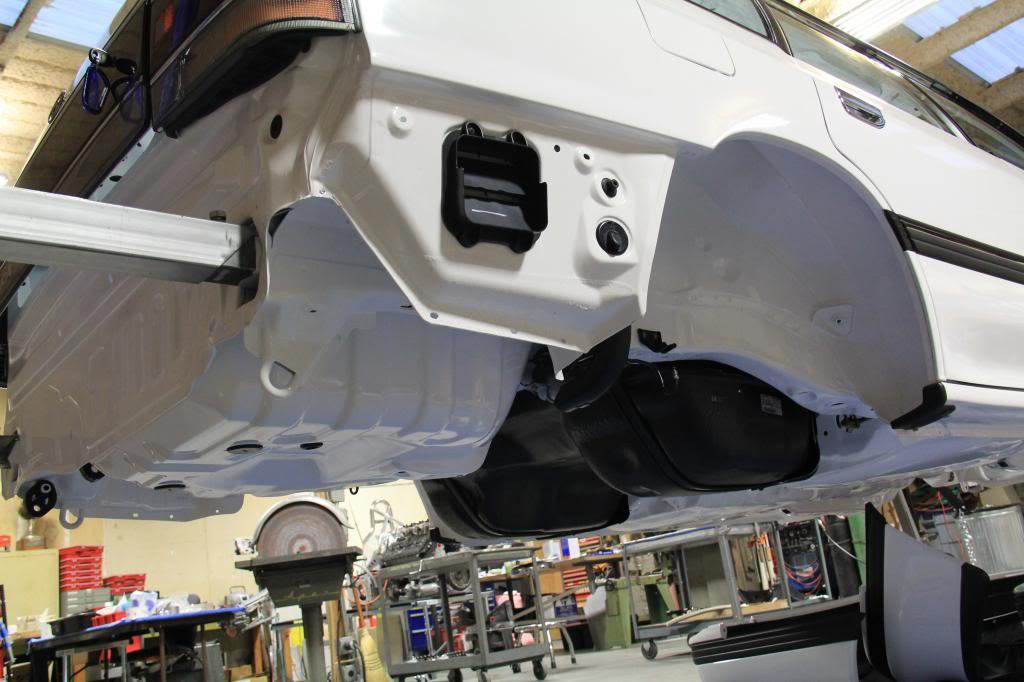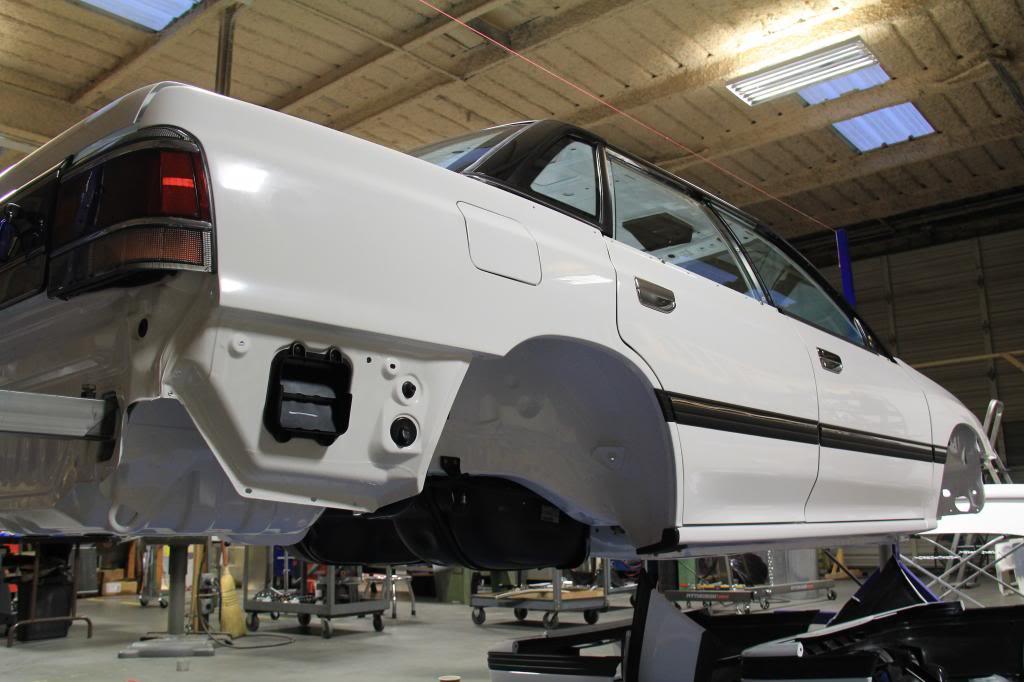 Here are some photos of the doors etc now all back together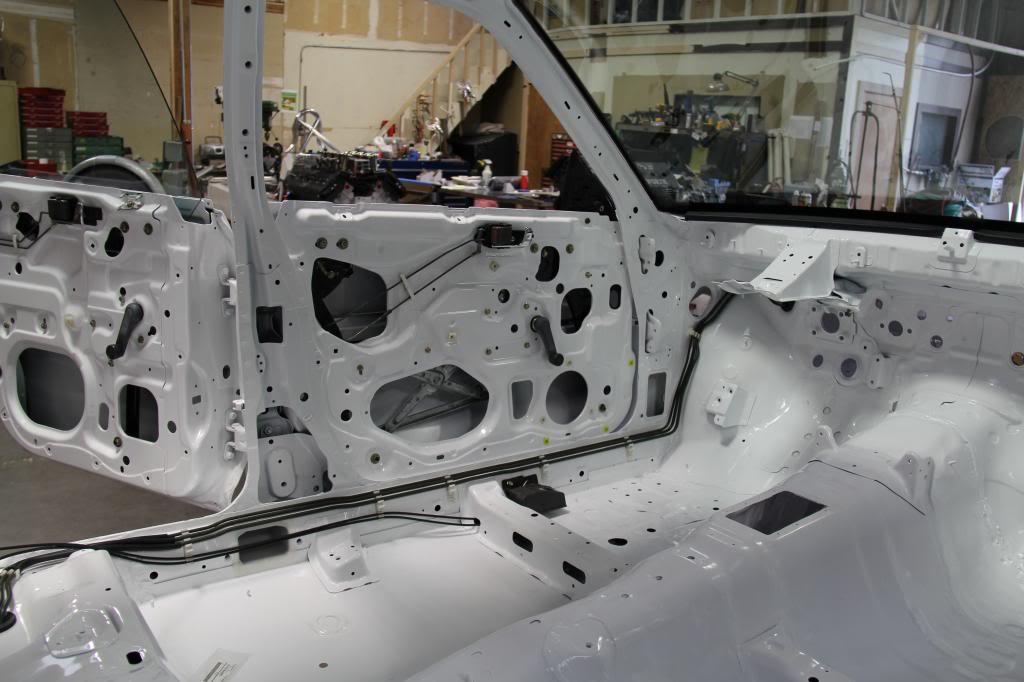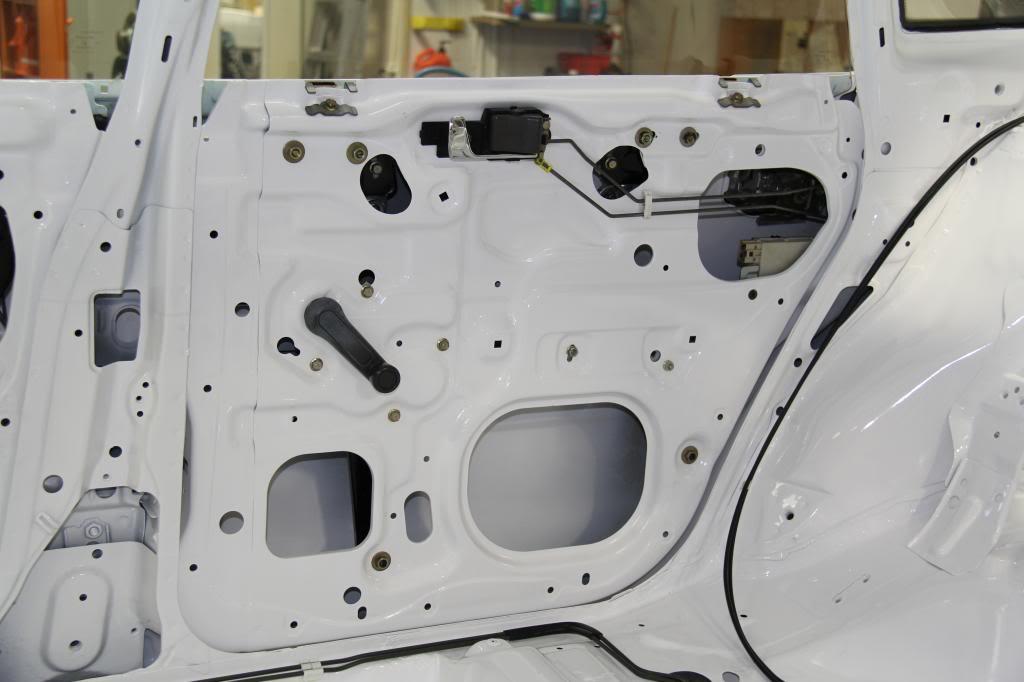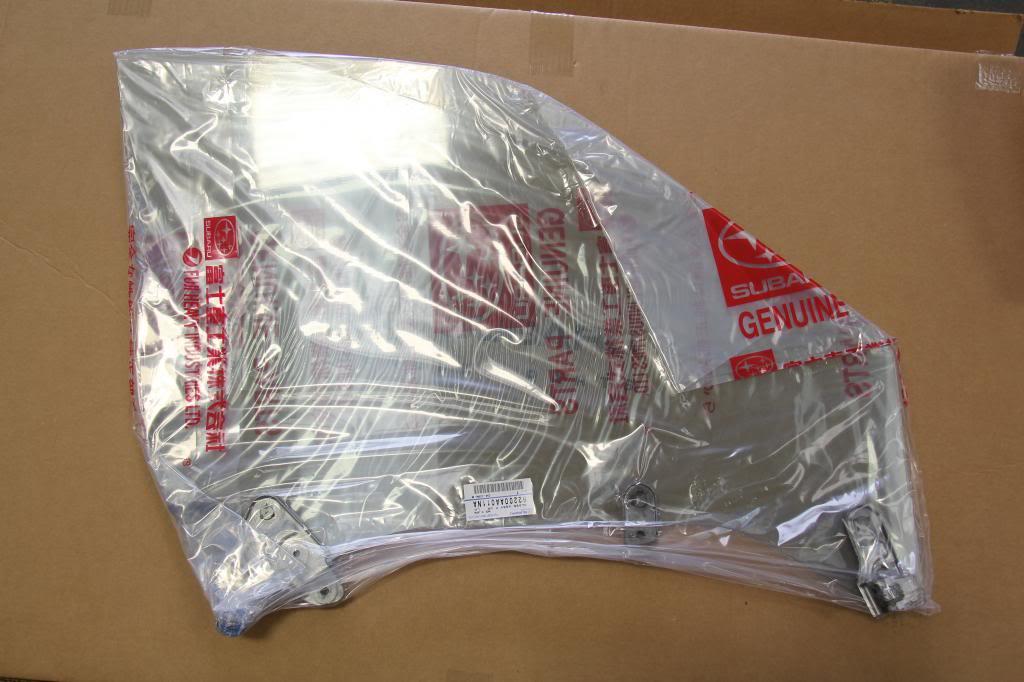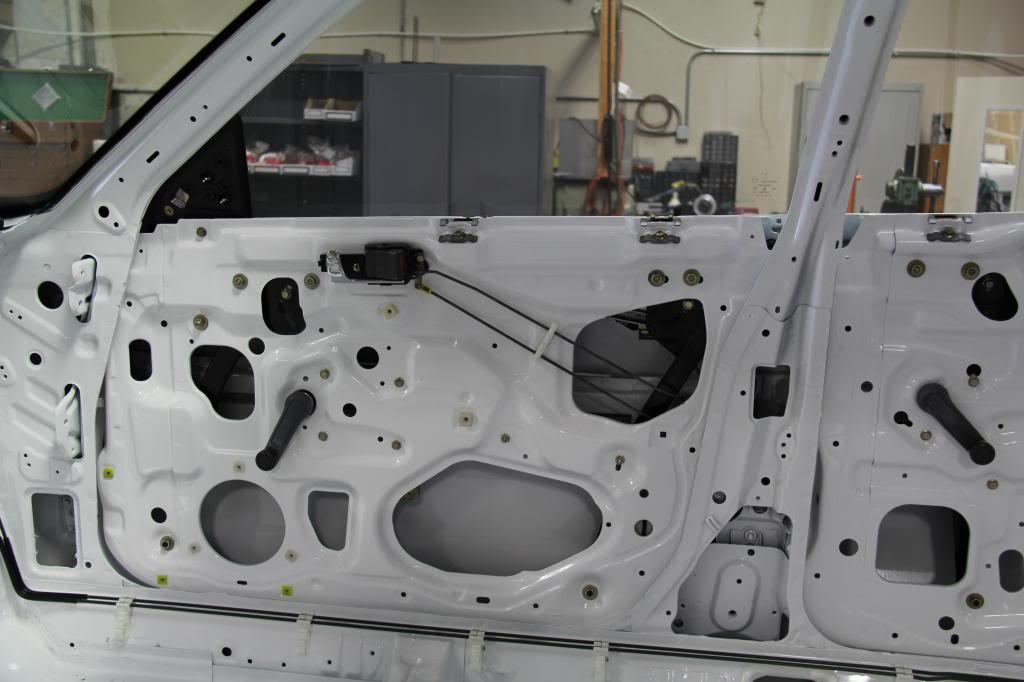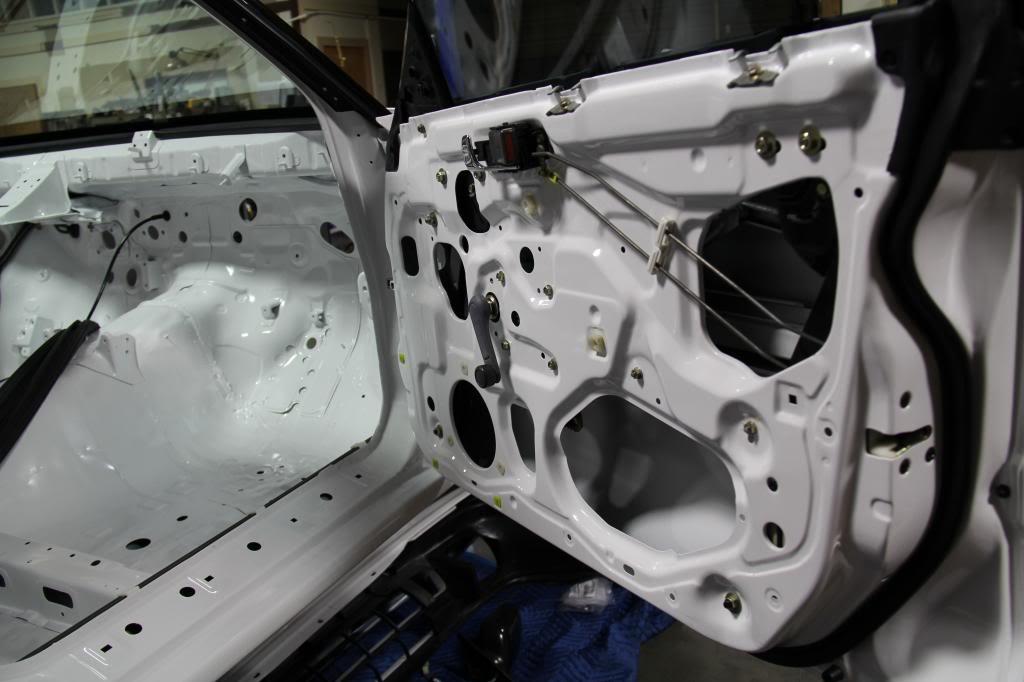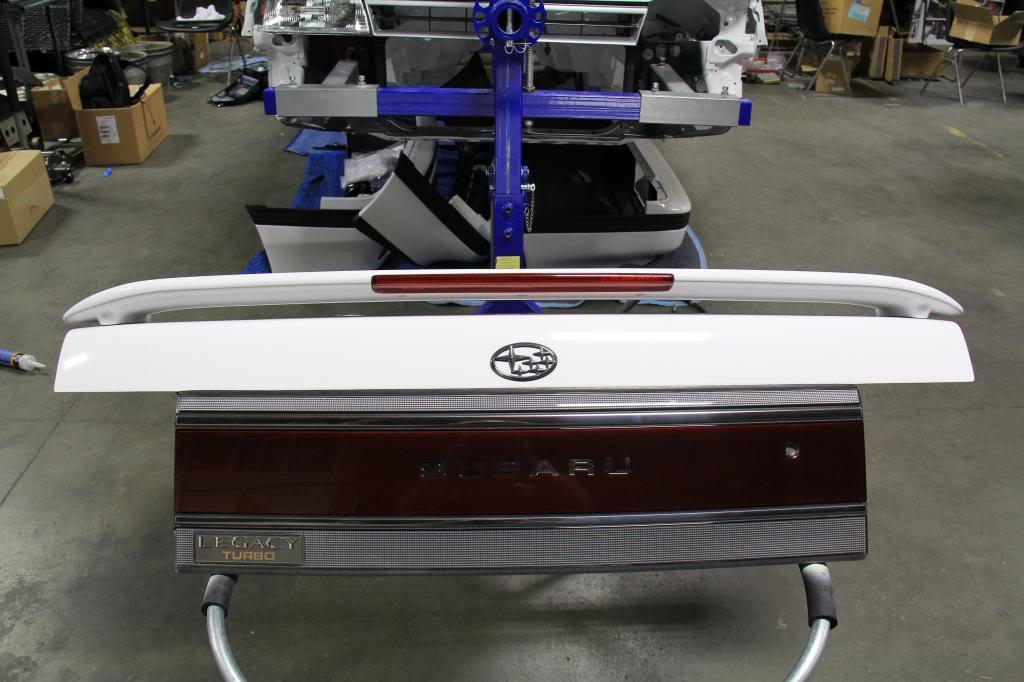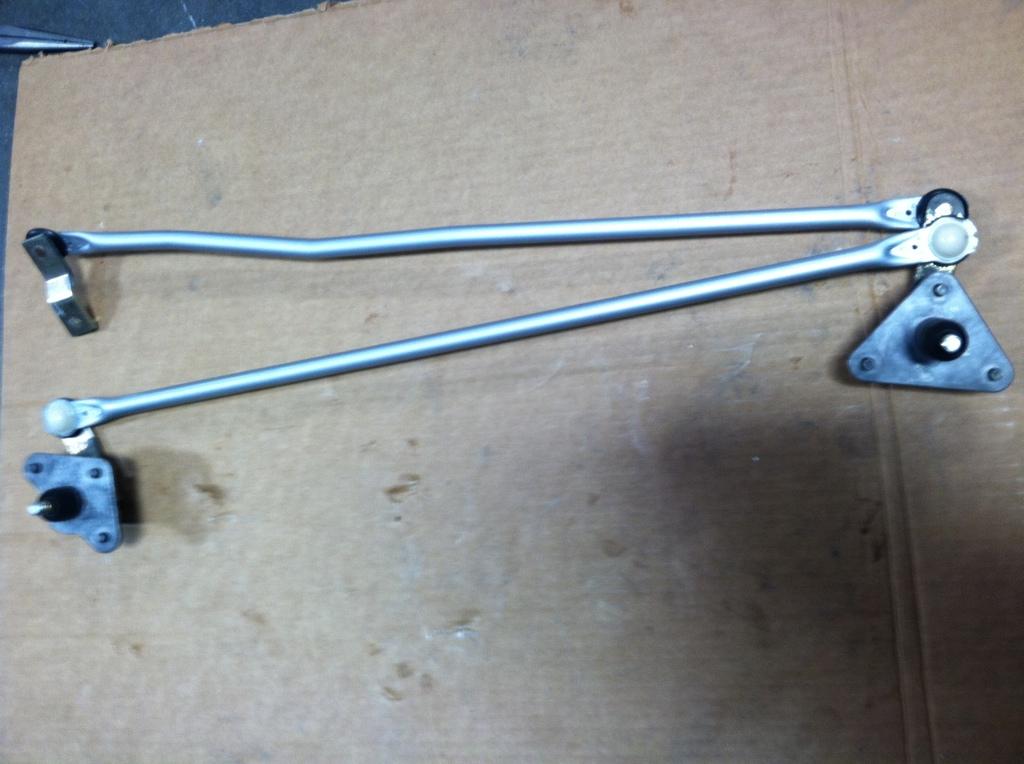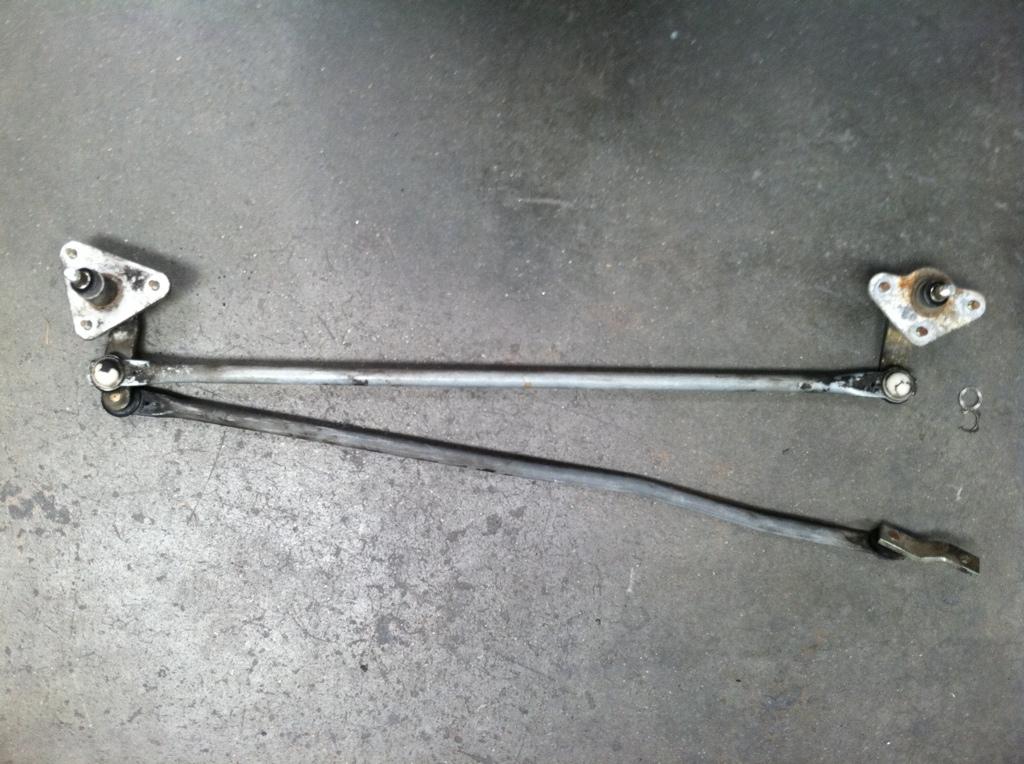 8-12-2013
Thanks, I appreciate that you are following the build, it's going a bit slow at the moment because of me working in the American Le Mans series this year, so I am travelling a lot. We have just won five in a row in the p1 class.
There is a lot to do with the Legacy build so it's going to be a long build thread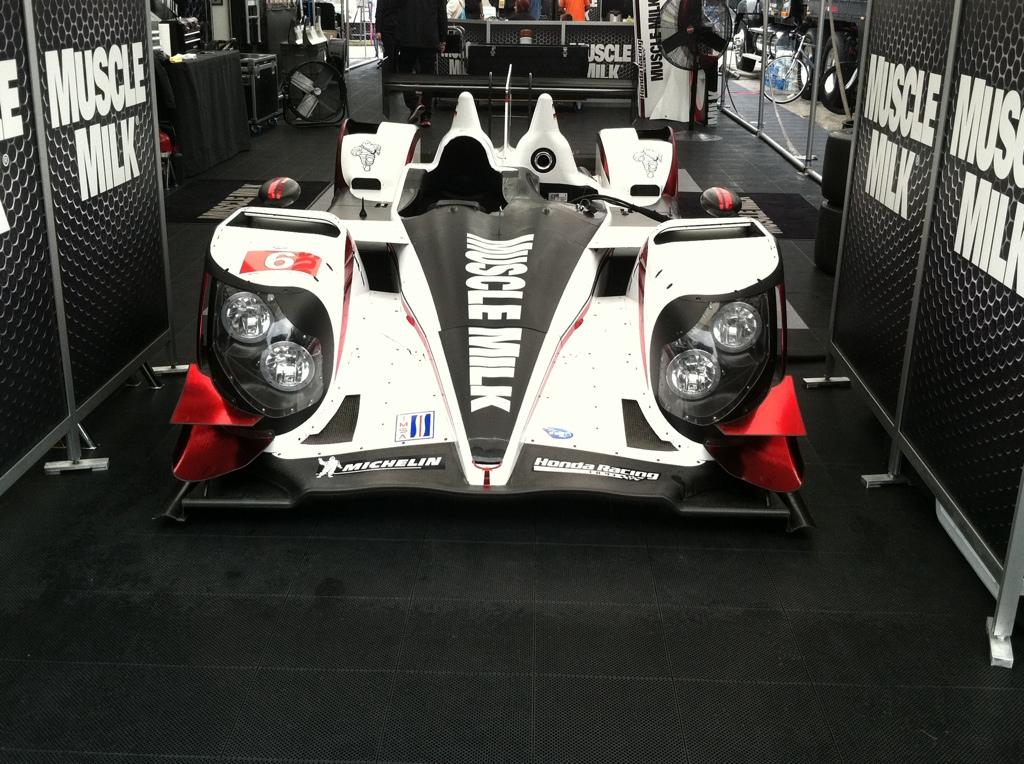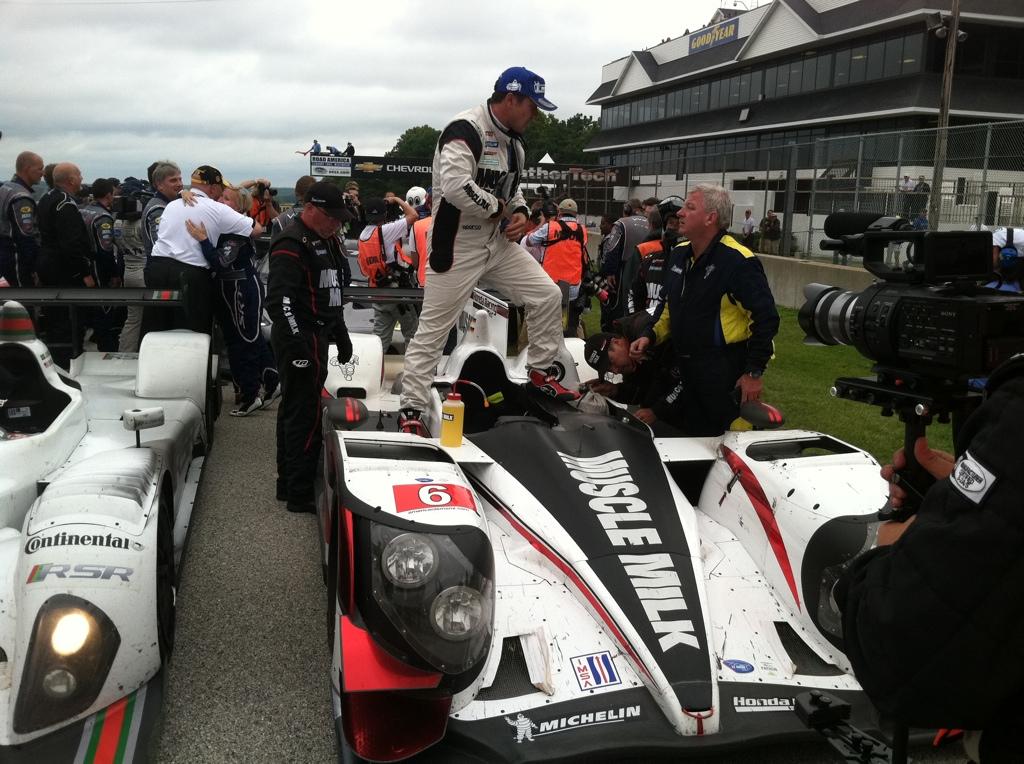 9-26-2013
Just a quick update on my work, we won the 3013 American Lemans championship with a total of seven overall wins in a row. There are two races untill the end of the season
72 Hours with Muscle Milk Pickett Racing at the 2013 Grand Prix of Baltimore - YouTube
Here is a in depth look at what happens over a race weekend
Here are a couple of pictures of my front subframe which is finished and will be shipped out to me soon from Ray at DRC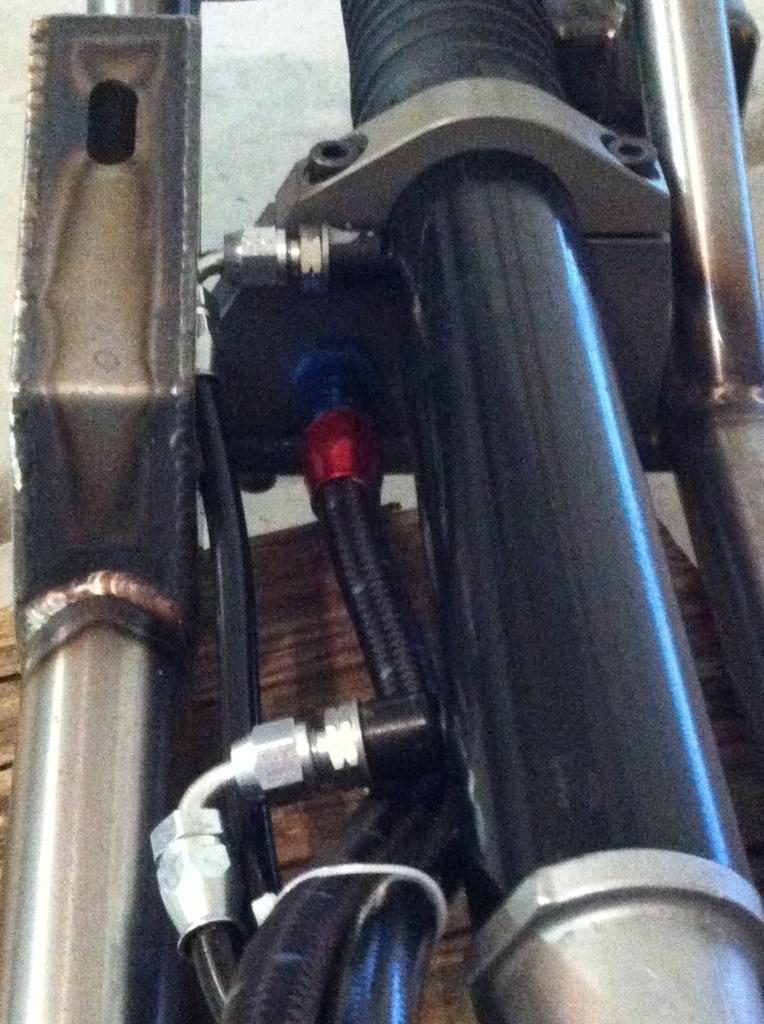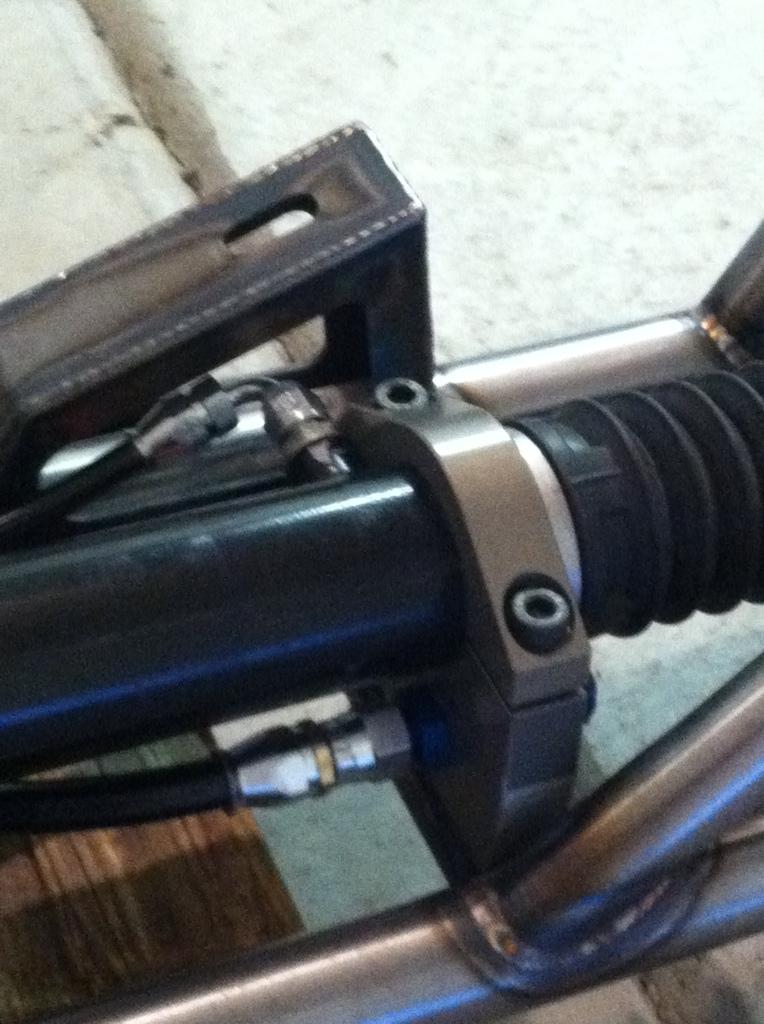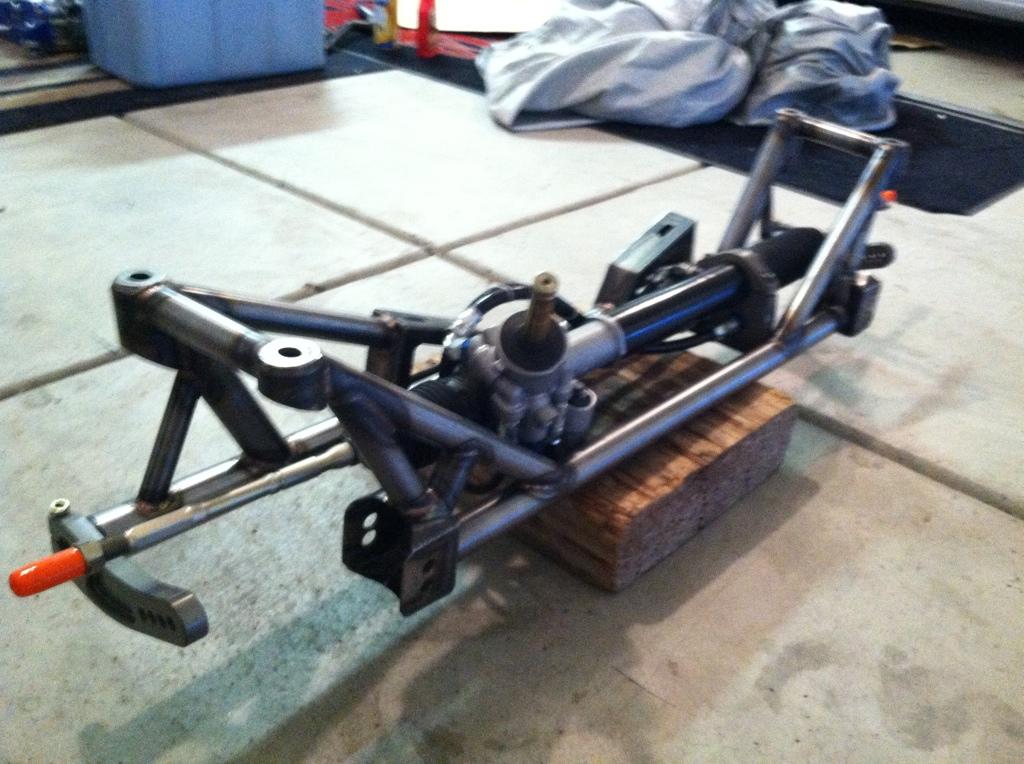 It will be painted and fitted to the car soon!
10-30-2013
Hi everyone, well I finally have an update, I have the front Sub frame painted and fitted to the car. I have to get a steering rack from a 05-07 Impreza STI and also need to modify a intermediate steering shaft to fit between the column and the rack as I have been told these are different spline on the Legacy Column compared to the Impreza. The front Bar set up is great, there are four positions on the ARB Arms to Adjust the bar from a soft to firm position (the Softest setting being the hole furthest away from the bar at the end of the arm which is where there is the most leverage action on the bar) also the splined bar itself can be easily changed.
Here are a few photos of the Subframe in place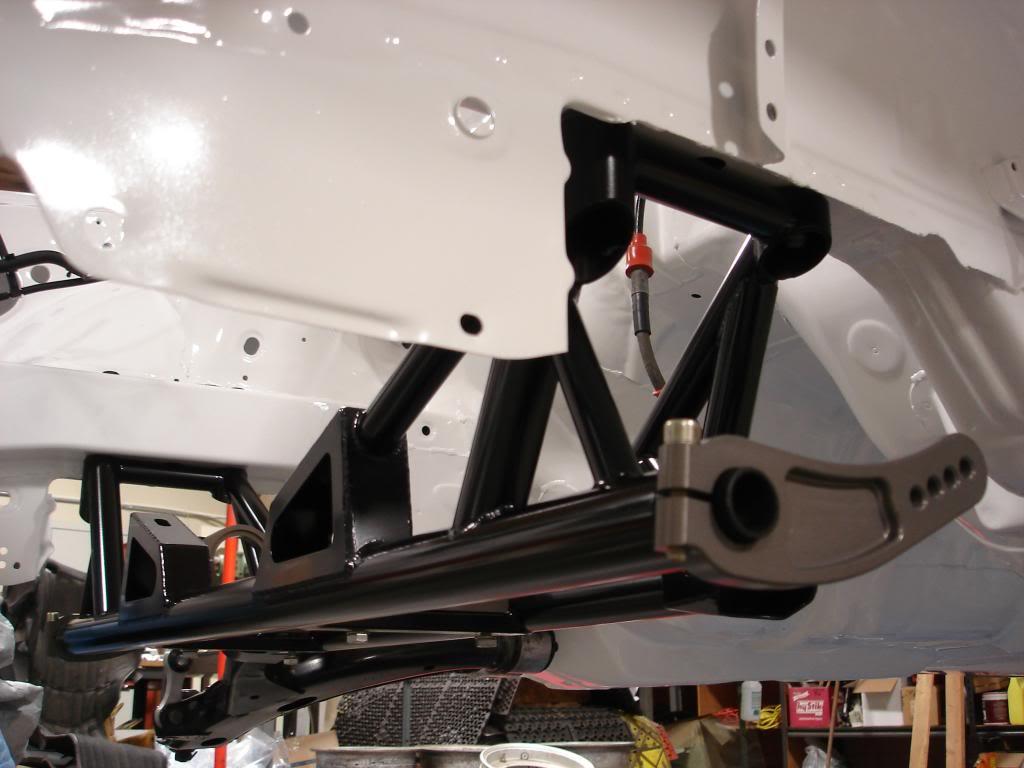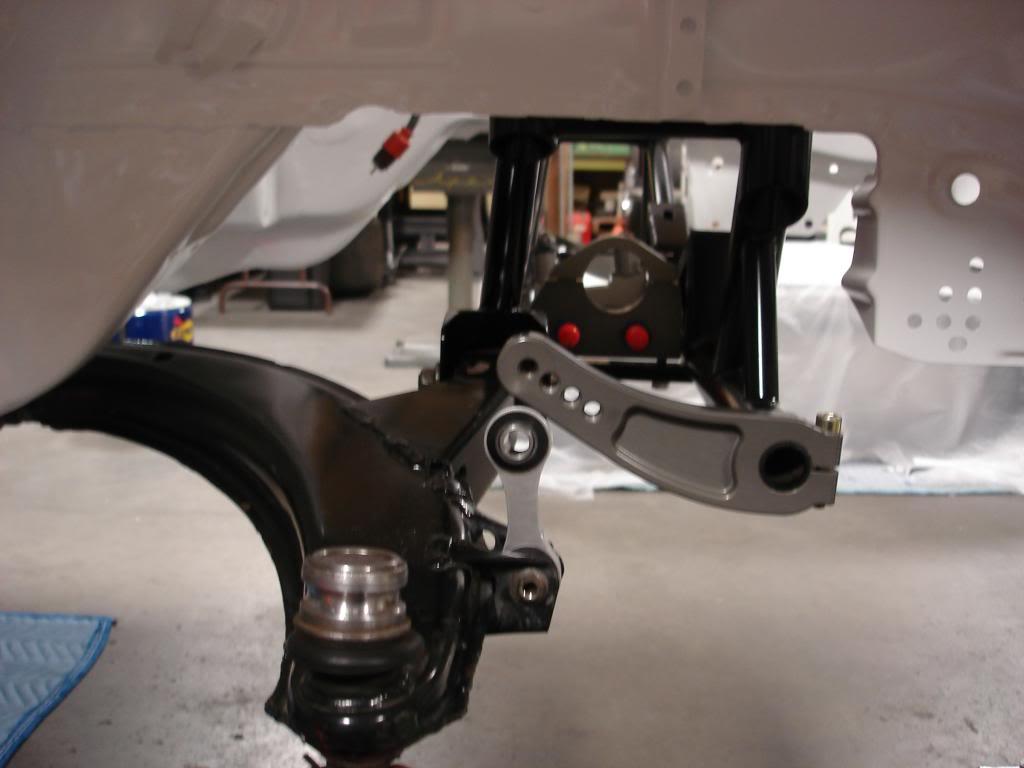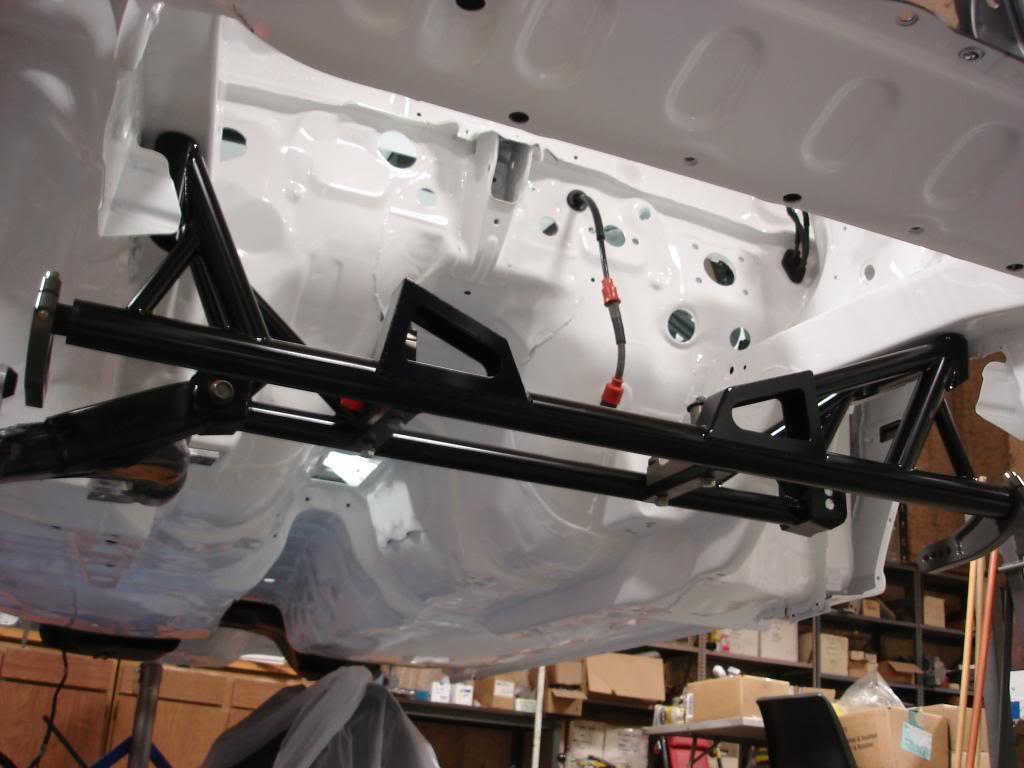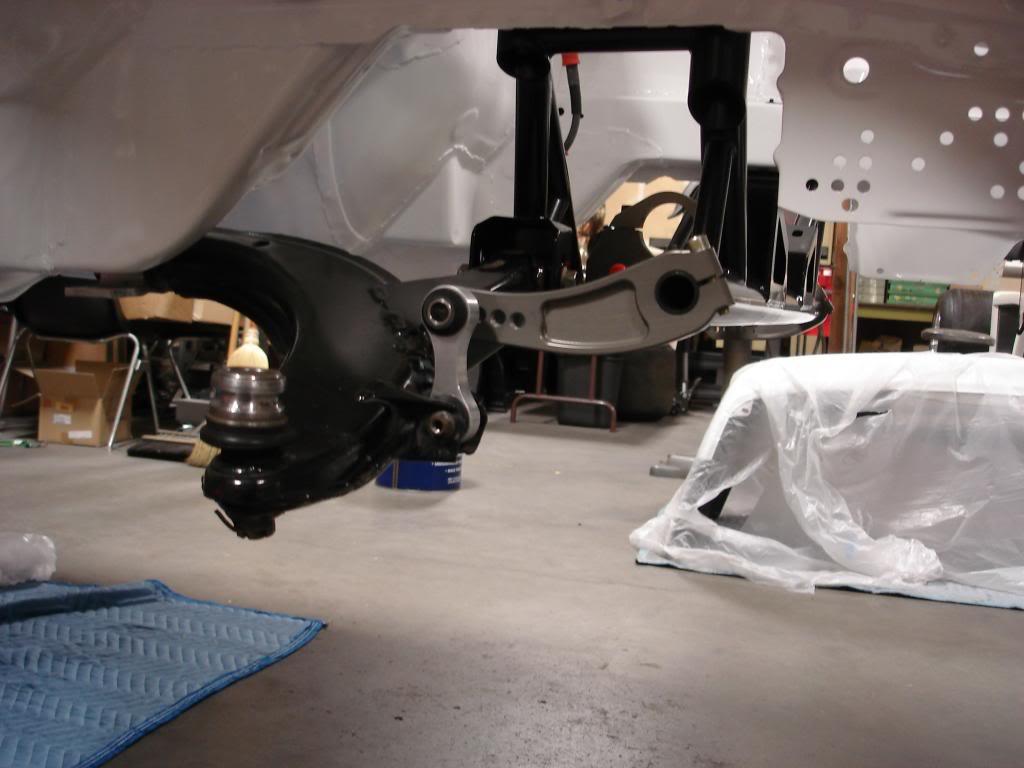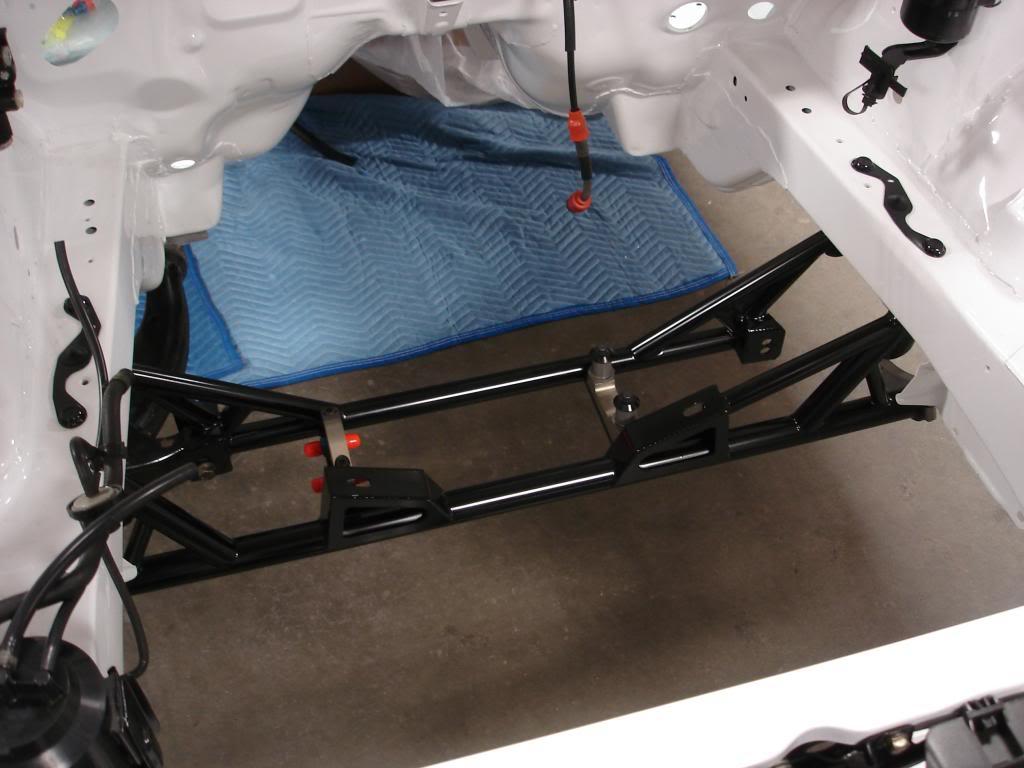 11-17-2013
The second part of this project is nearly finished. I have slowly been going through all the original parts and rebuilding them. I hope that someone will be interested in buying them to rebuild another Legacy back to it's former glory. Here is what I had in mind, I have to paint the diff housing which has rusted a lot just sitting around and go through the steering rack and fit bushings to lateral links and trailing arms and then this project is finished !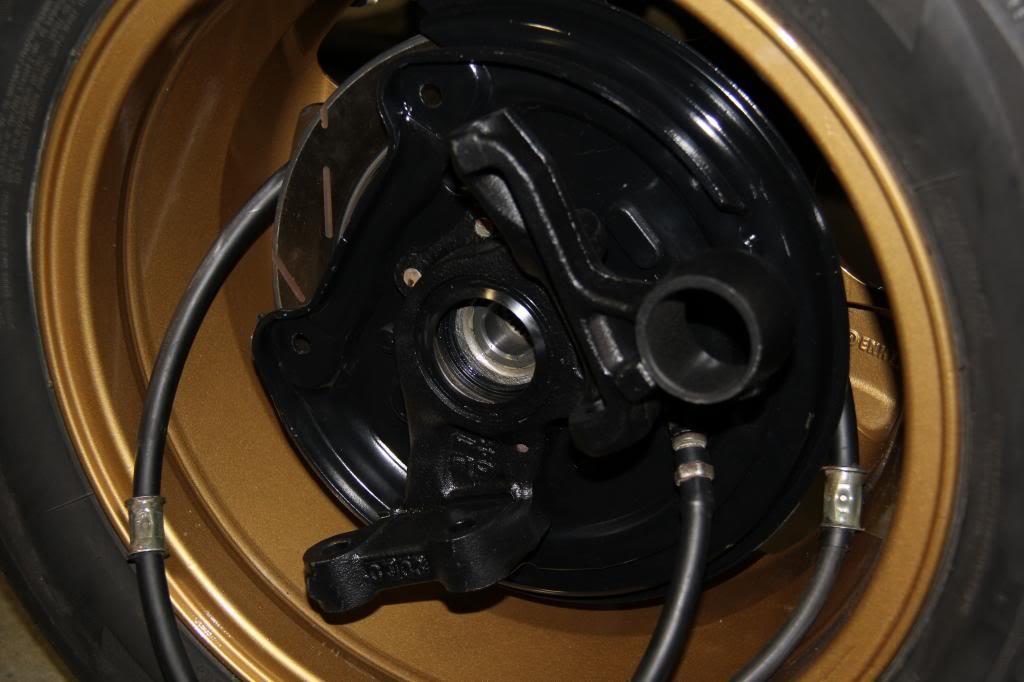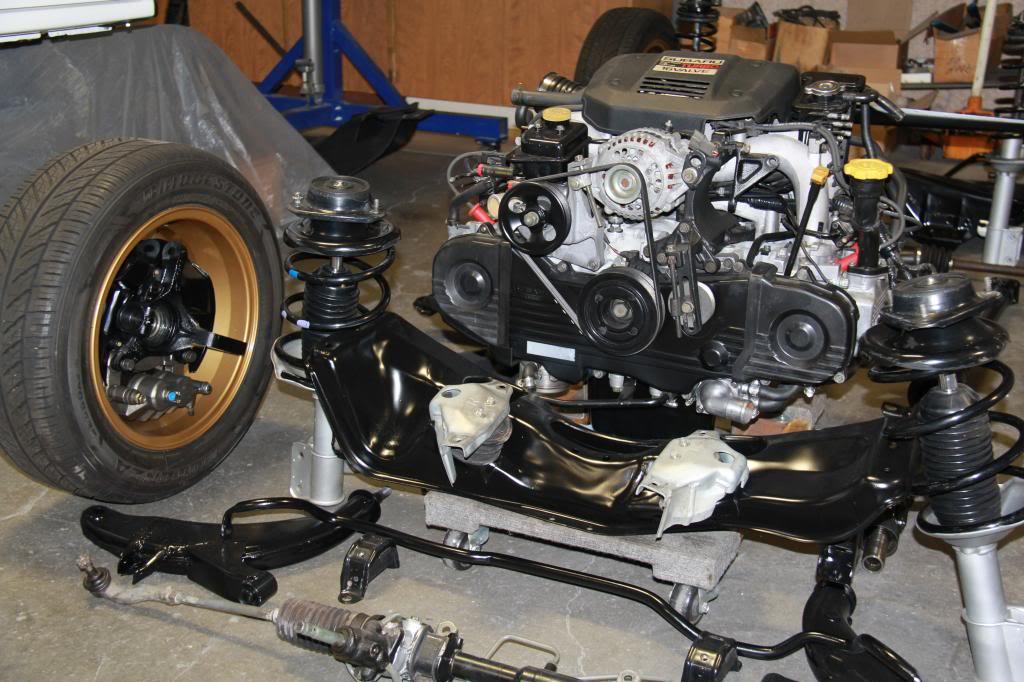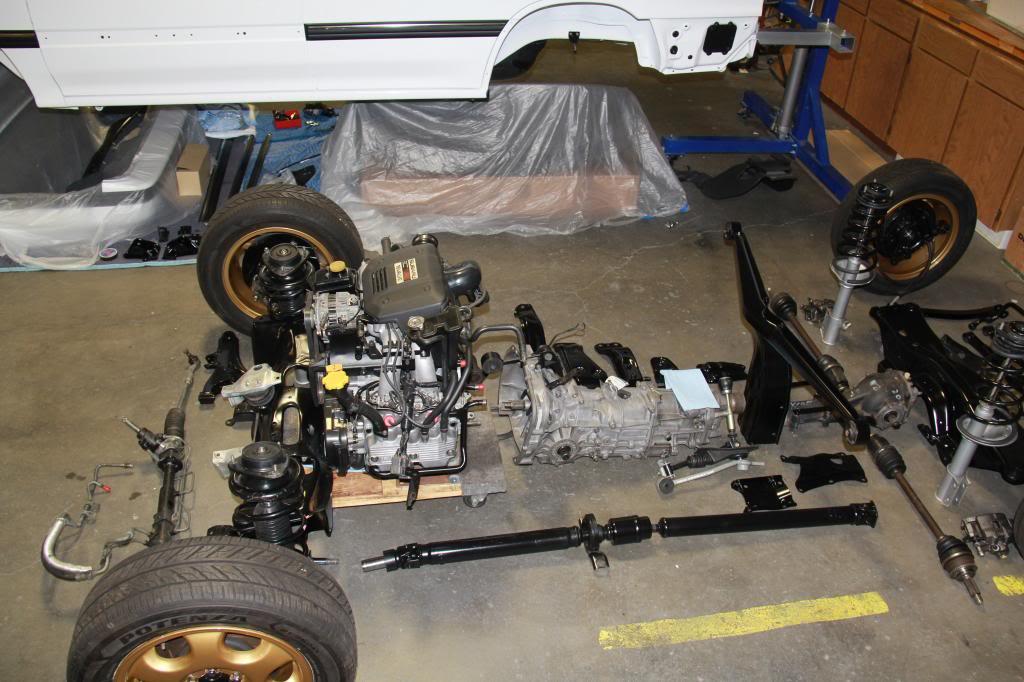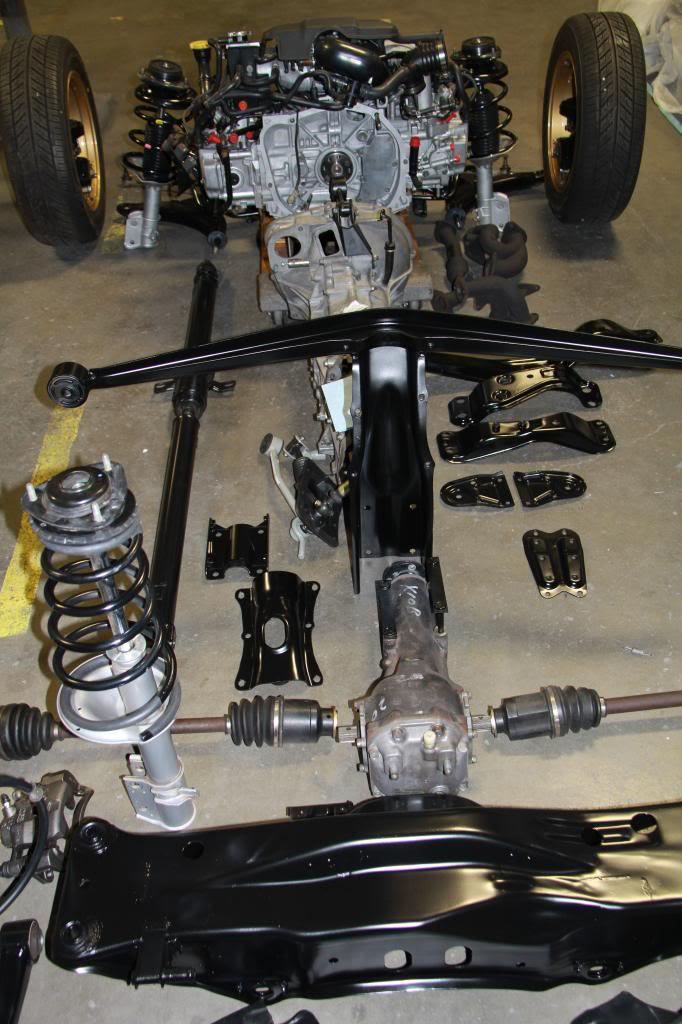 11-23-2013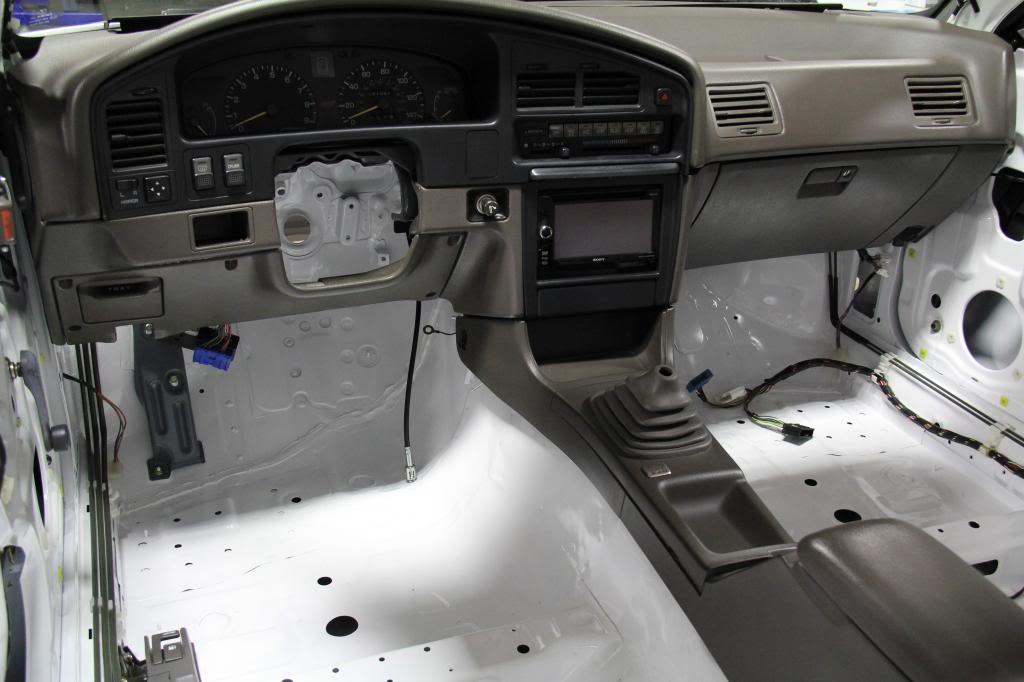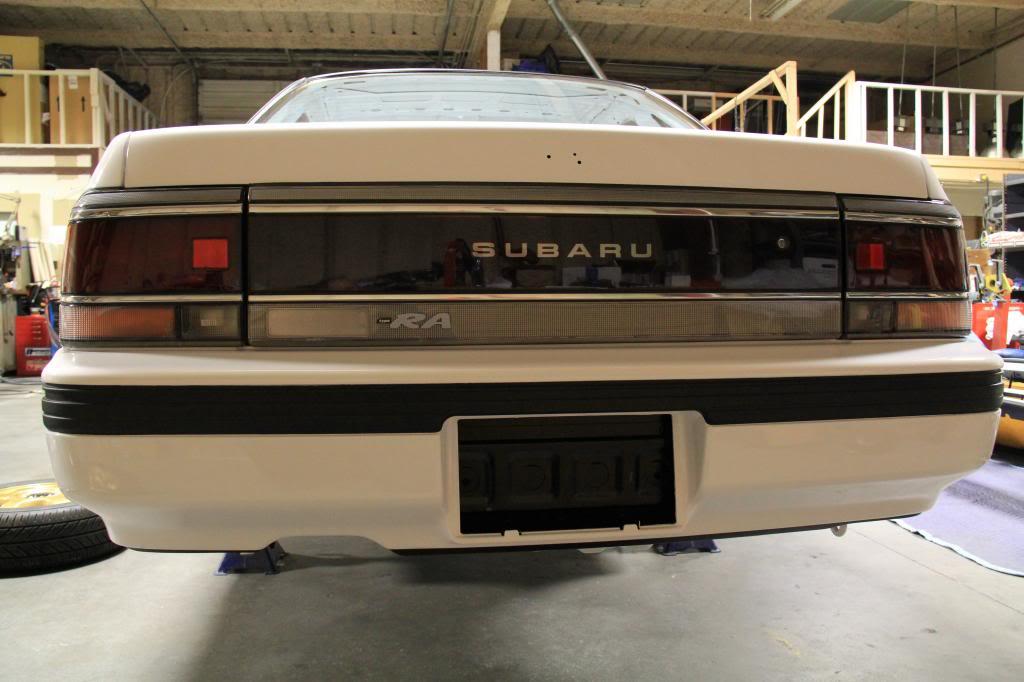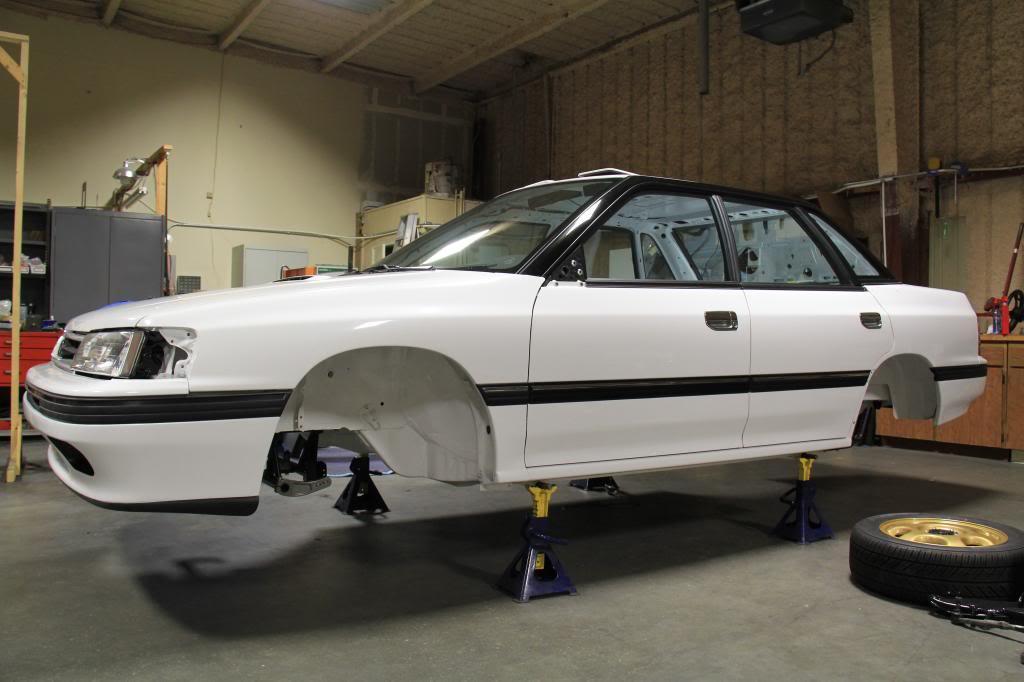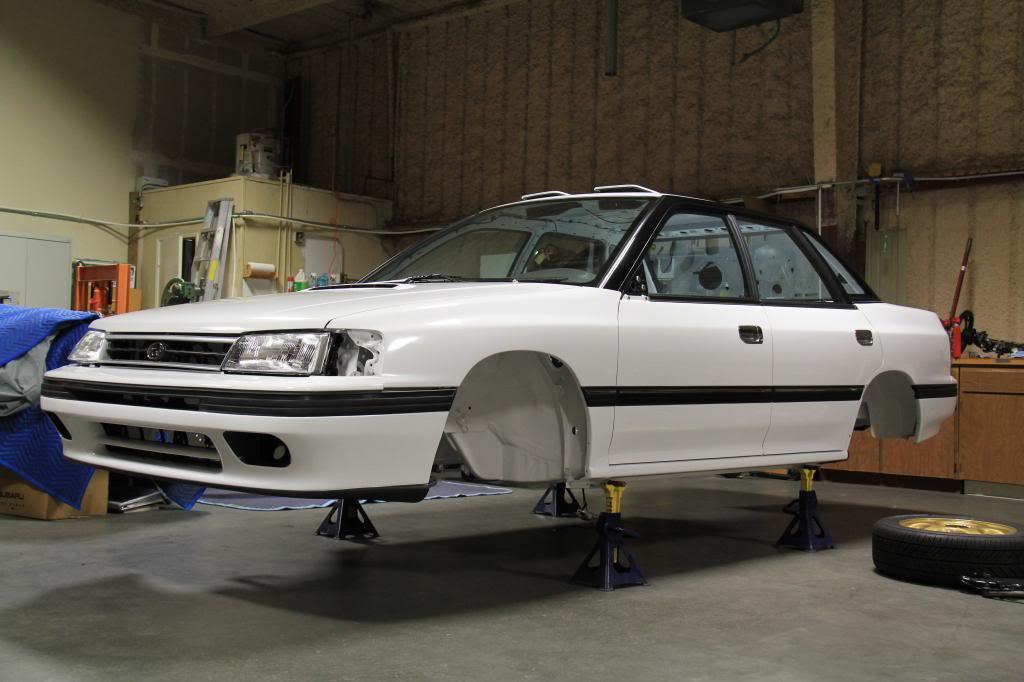 I had to get the Legacy off of the Rotissorie today because I sold it. I will use the money towards the WRC stands which I just purchased. I decided to fit the bumpers to the car just to take a look at it also it keeps them under cover and safe. The front bumper cover is the USDM one and will not be the one I will fit to the car, It will have the JDM cover!
11-24-2013
Here's something I had not posted, It was going to be a surprise but I have found someone that has original style prodrive wheels, he has cast new wheels, actually he built the original wheels as a worker for the original manufacturer.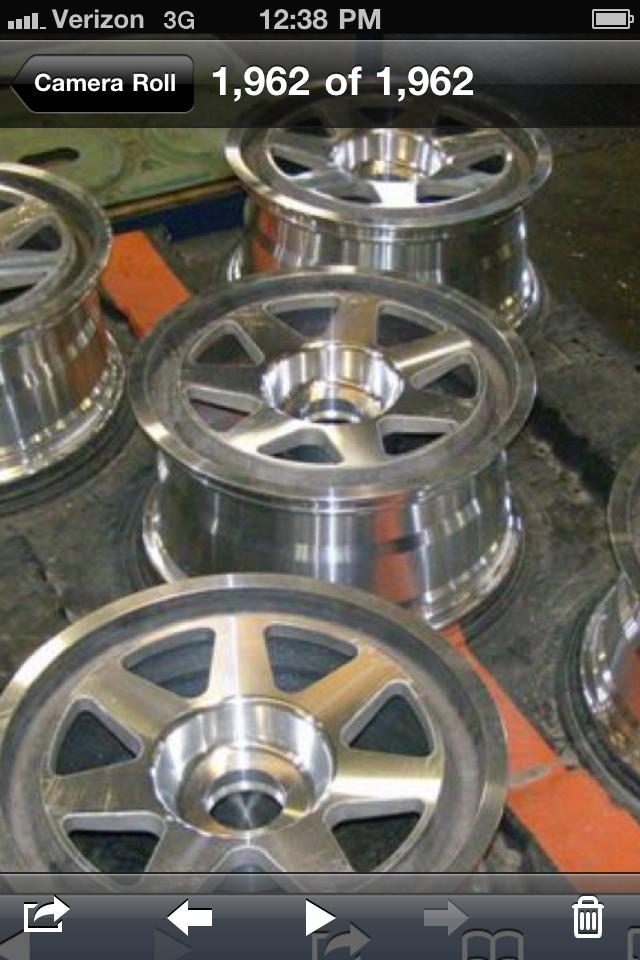 I can have them machined as required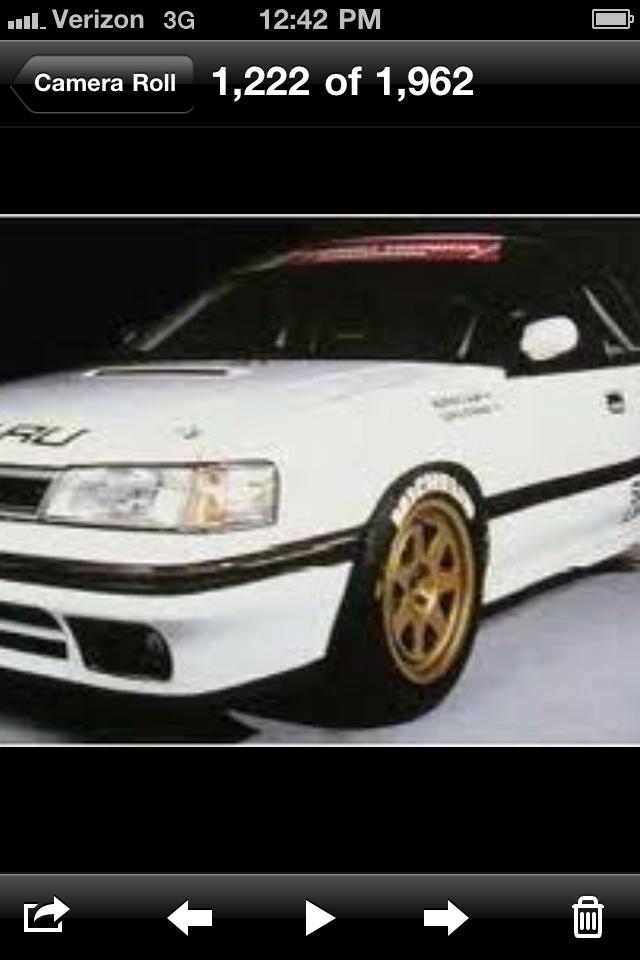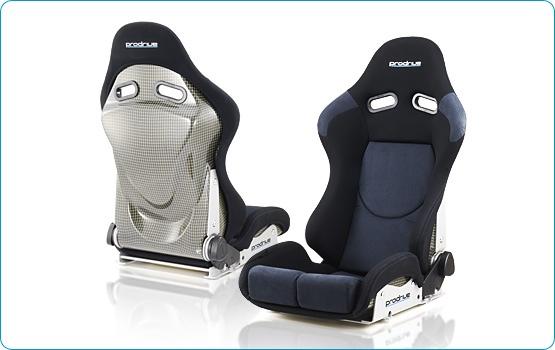 Front seats I intend to find and purchase and fit to car
There are a few things that I consider very important to this project, The Front and rear Sub Frames which are hand made and done by a true craftsman and fabricator, his welding is a work of art.
The Engine is also very important to me, and having the original hand ported cyl heads on an engine that was shipped direct from STI, well that is fantastic and a great part of this project also.
The wind up manual windows are also another great find and part of this project, having those and the correct engine to make it like the genuine Legacy RA is priceless. There are a couple of other items that I thought was significant when it comes to the RA Legacy, and Gerald at Strongs was able to find me a genuine rear garnish and the genuine Type RA decal attached as shown in this photo. It may have cost me a lot of money however it was well worth it.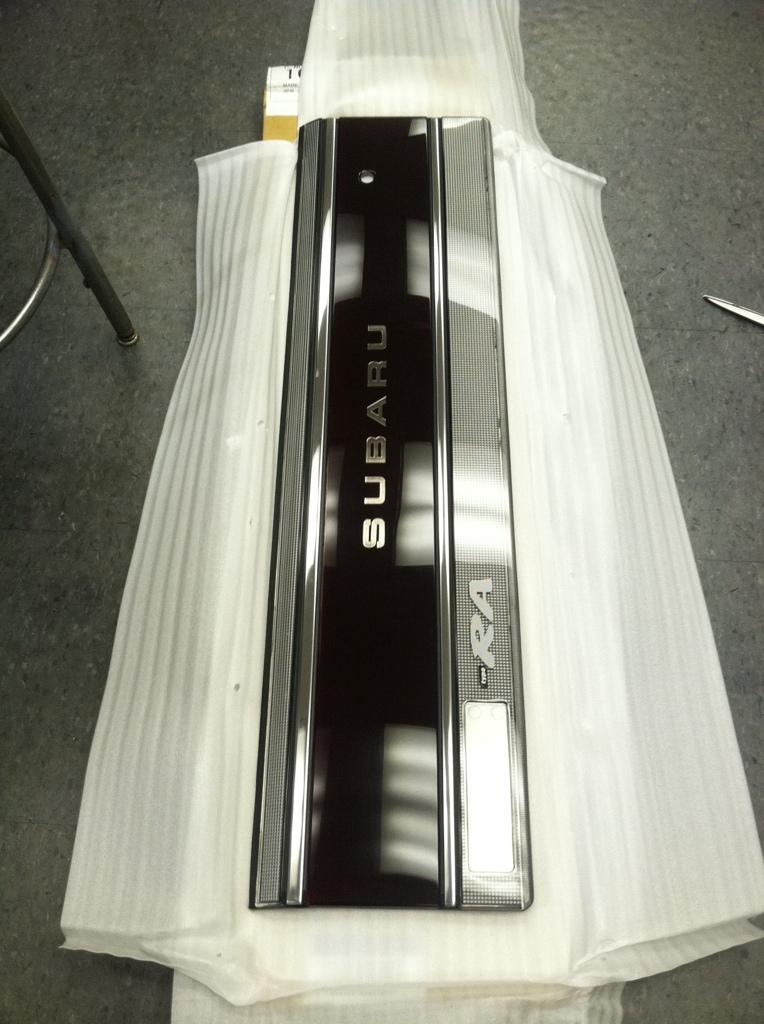 Then one of the members on here helped my significantly by finding this new badge for my intercooler as found on the RA Legacy, so a very special thanks to him. It is a very special find as they are no longer available, I have purchased the last turbo hood here in the USA as well as many other items that were the Last available and it makes it really awesome to know that many of the new parts used to build this car can't be found now.
Here is a picture of the badge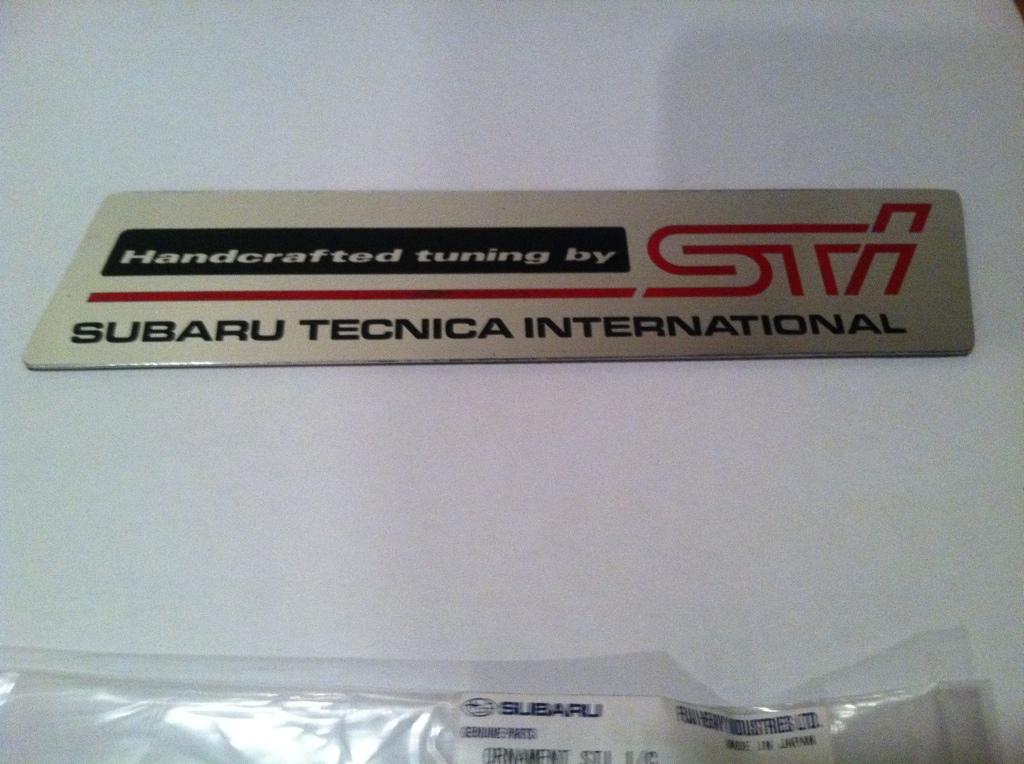 There is another part of the project that is amazing and that was the work done to remove the Sunroof and fit the filler panel. This was also done by a true craftsman
Bruce at Specialtymetalfabrication.com did this part of the project. The Possum Bourne roof vents are also another special part of the project specially having the opportunity to work with him on Several occasions thanks to Trevor Crowe running the Legacy. Here are some photos of the roof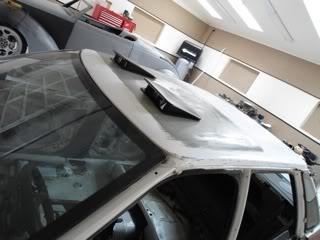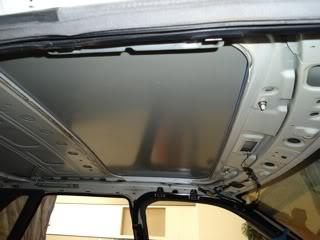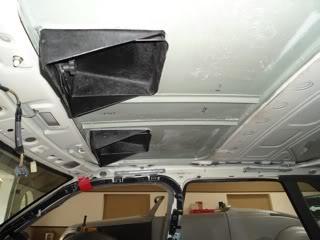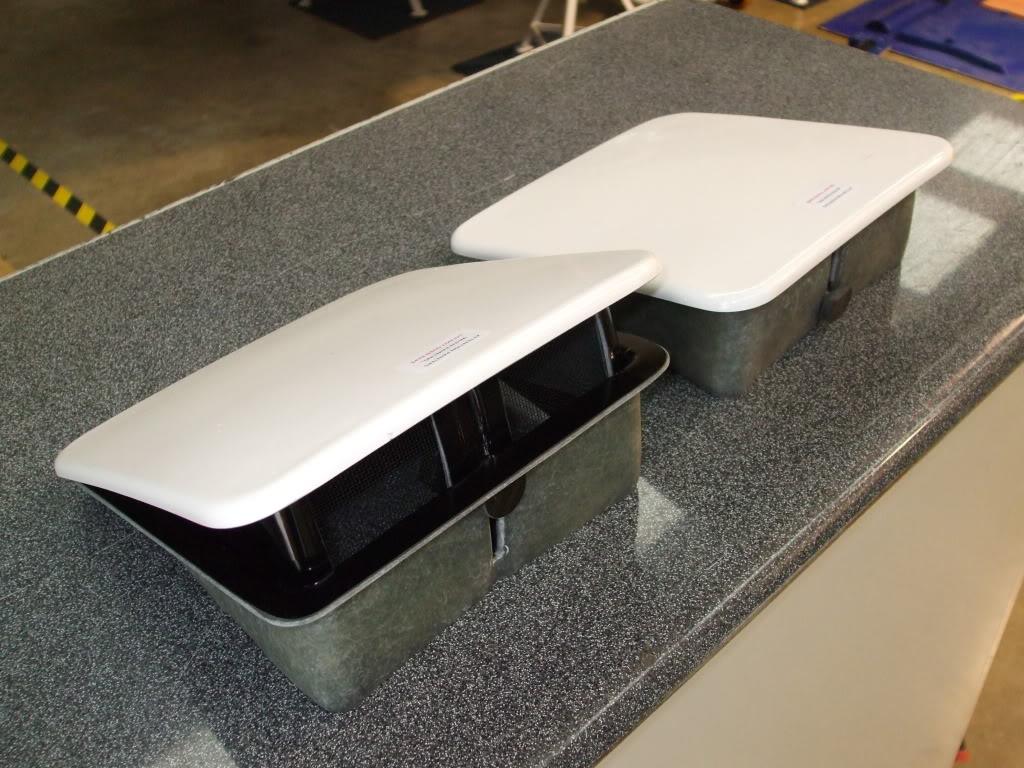 Possum Bourne Motorsports vents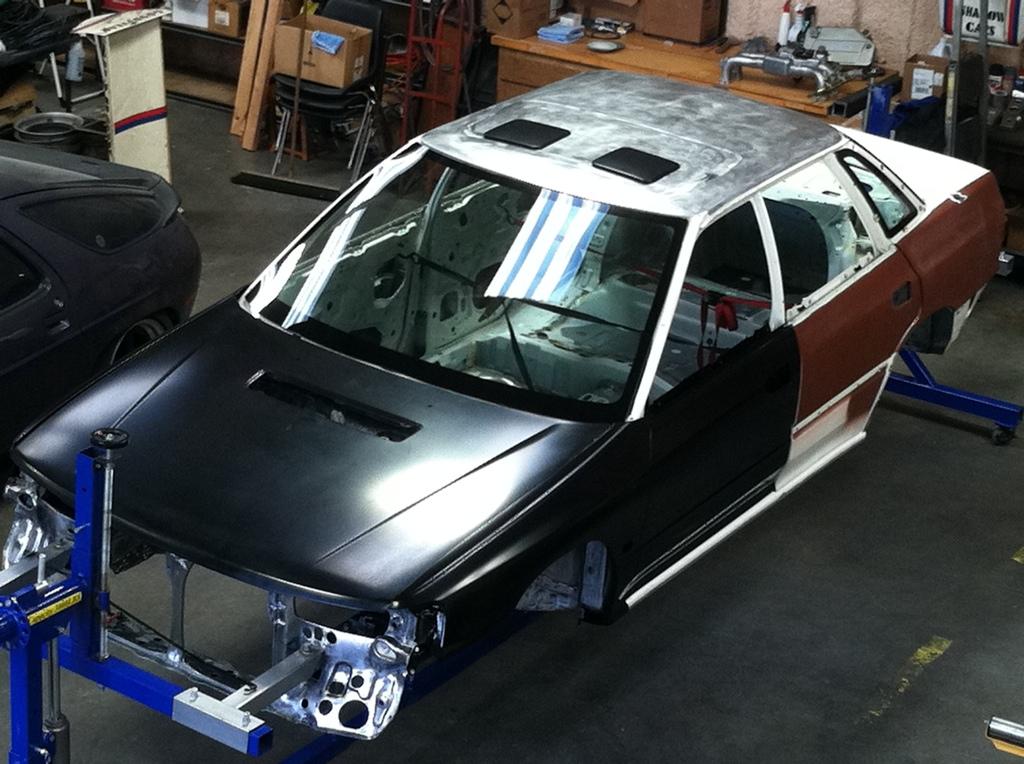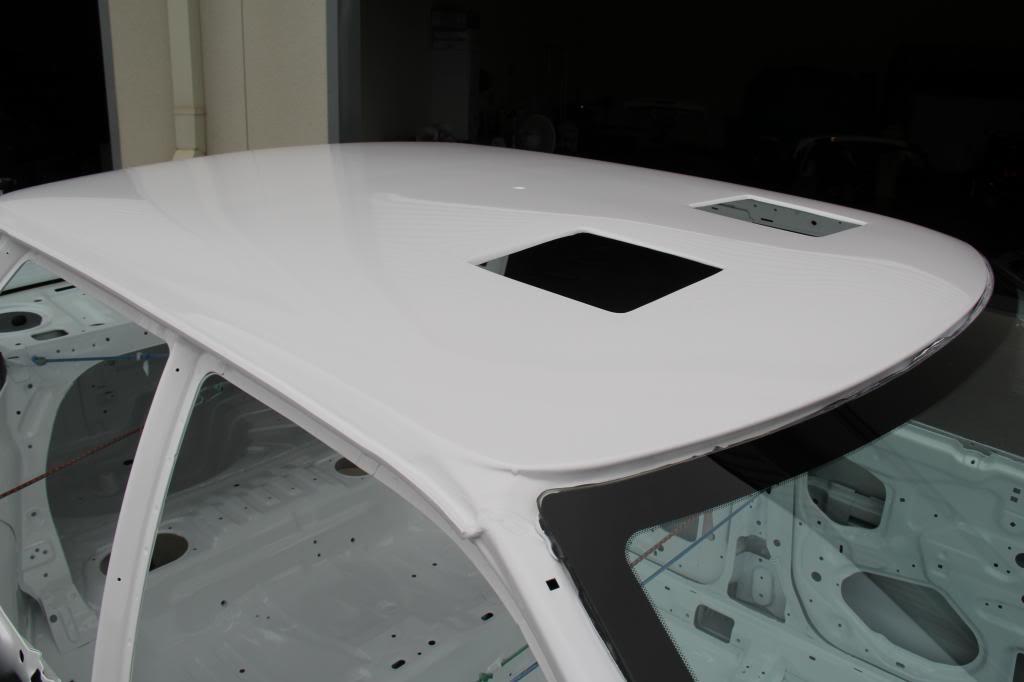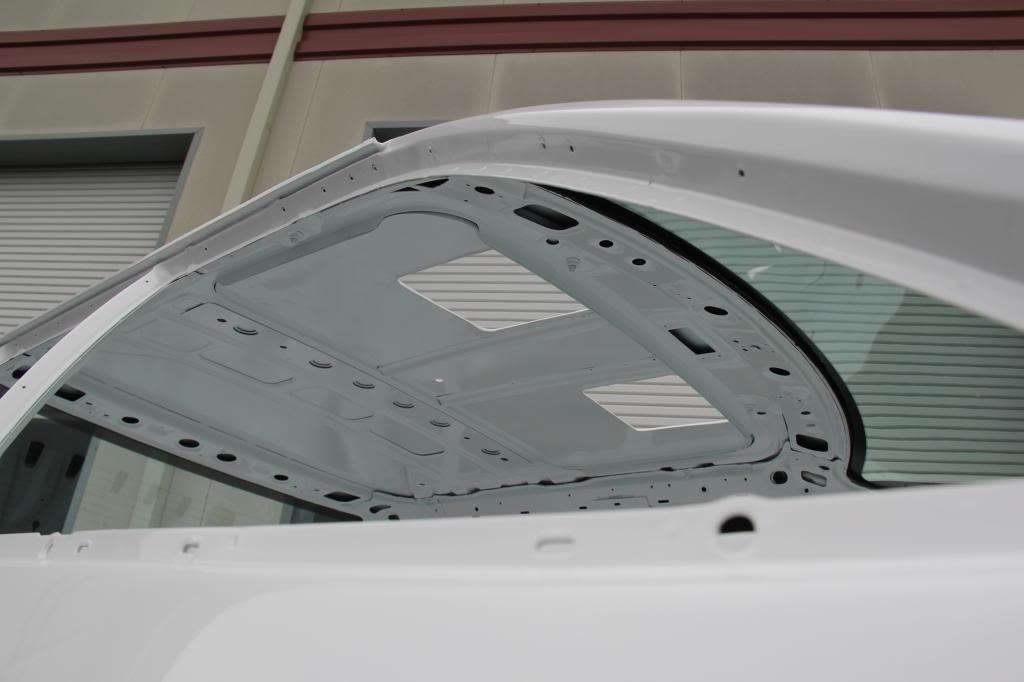 A Diversion from the thread here but I wanted to mention this, as some of you know the Legacy project slowed down this year as I was Traveling a lot to work in the ALMS on a P1 car. After the season end we won eight out of ten races and one Fourth place and A DNF in the season final at Petit Lemans in Atlanta Georgia. We won the Drivers and manufacturers Championship and I finally attended the Championship Banquet as part of the Series champion crew.
I was lucky to have my Wife and boys there with me for the last race having spent so much time away traveling to races this year. It was also a special occasion to have my wife there with me on the grid holding the flag before the race.
Our race car was also parked outside the Banquet hall on the big night so it was a special event.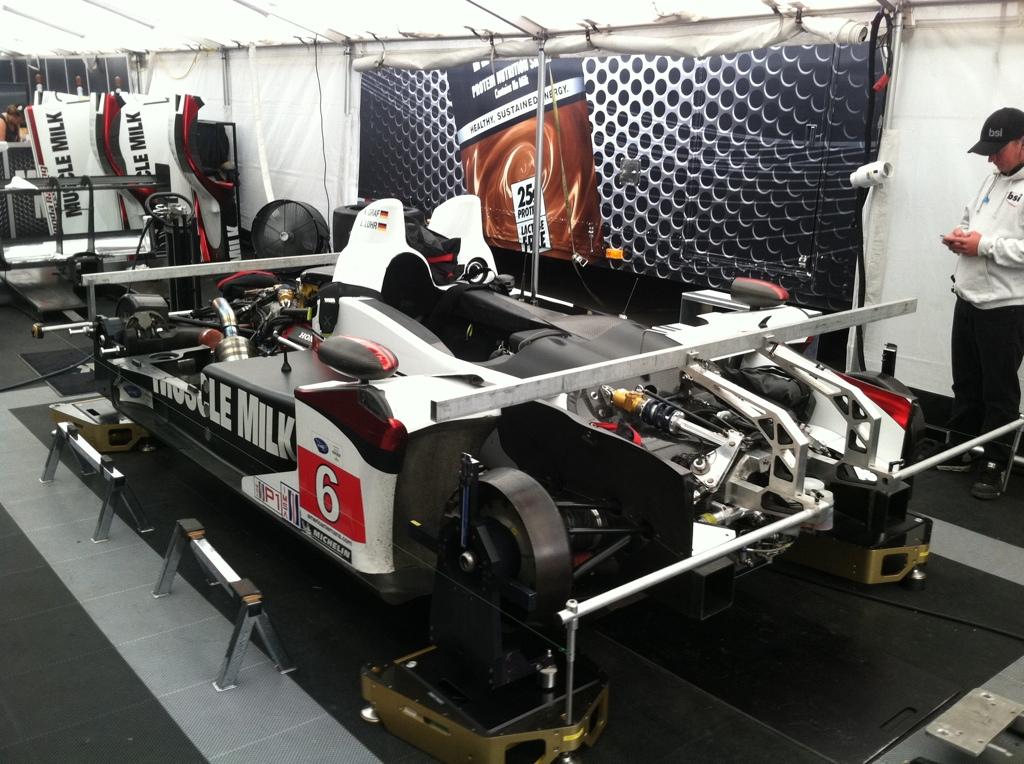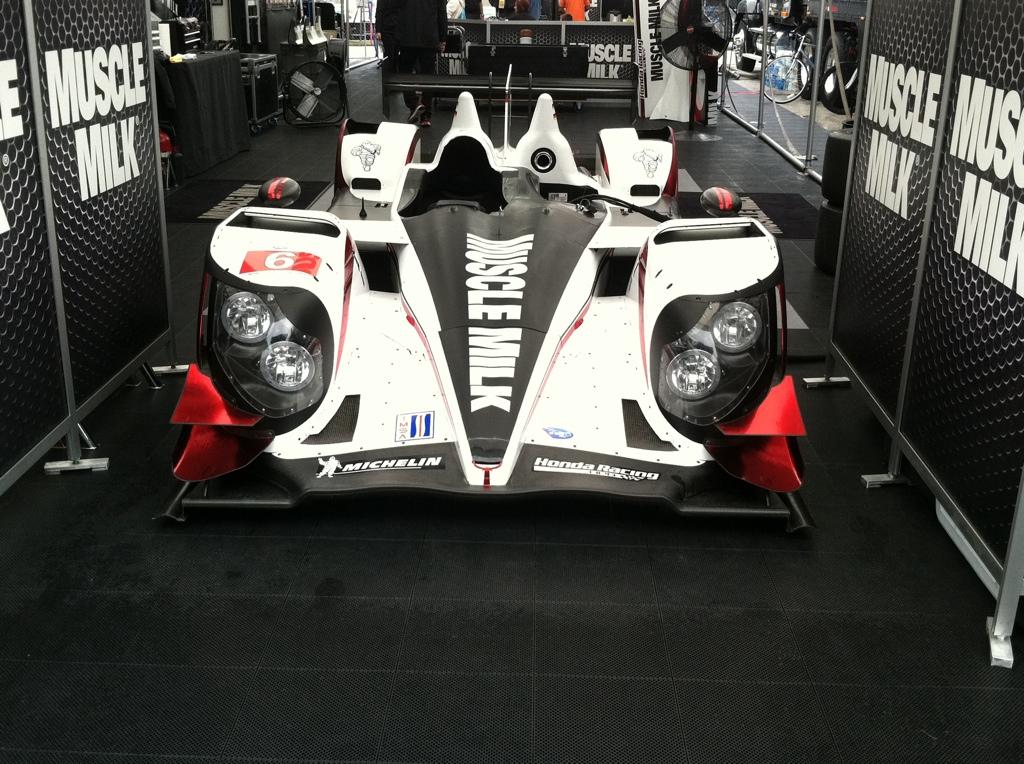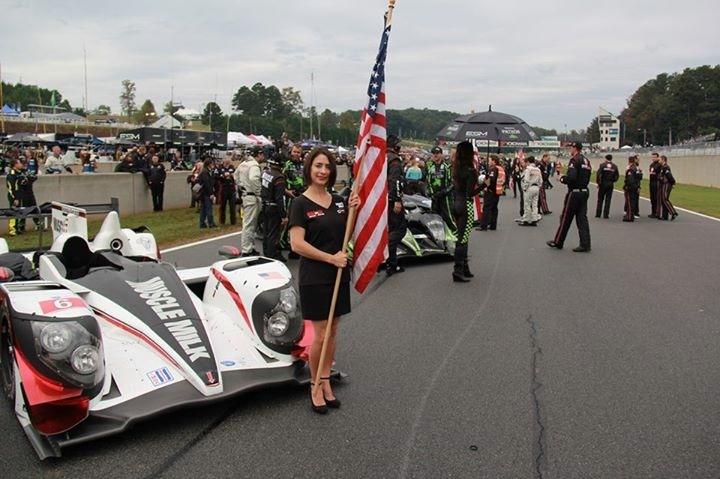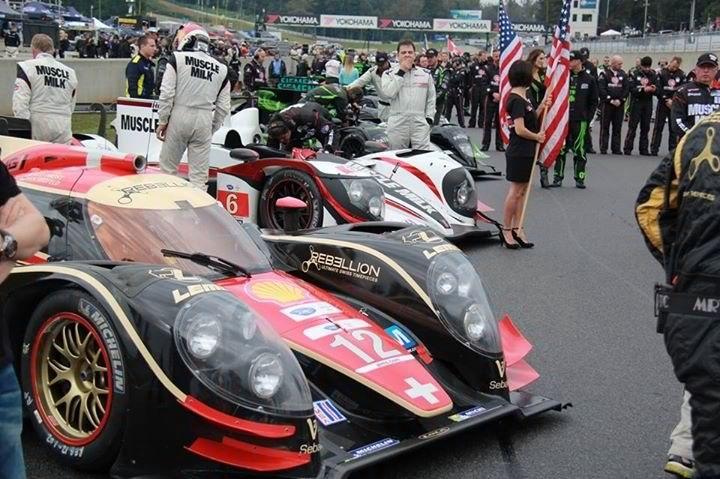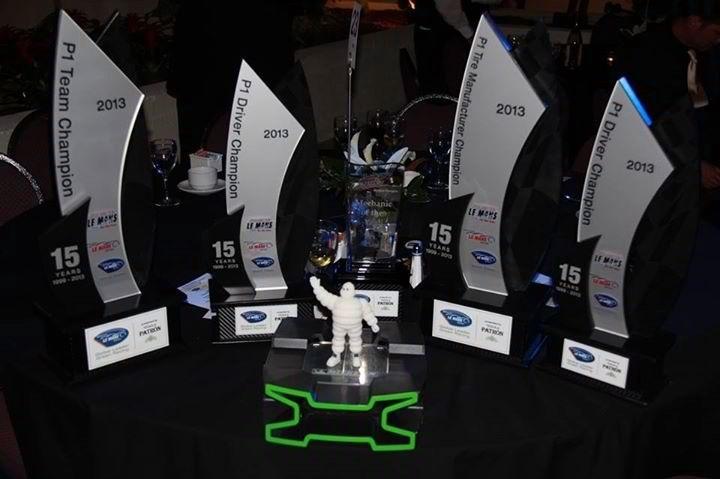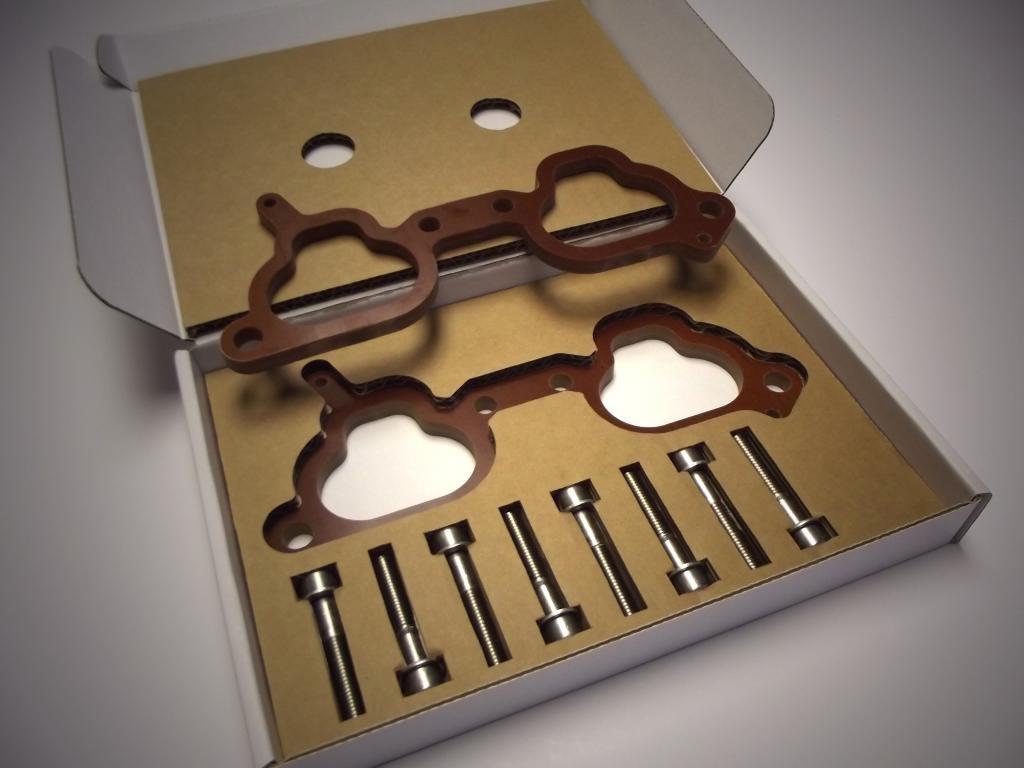 Here is a kit for the intake manifold that I also plan to get, it's basically a thermal spacer that replaces the factory gasket and helps prevent heat soak into the Manifold!
12-9-2013
The stands arrived from England today so I went and put the car on them after work
I have to say these things are a work of art !
2-8-2014
I know it has been a while since I have posted anything regarding my build and it's because I have been very busy with the race and test schedule this year and also got into fitting a supercharger to an 03 Corvette and the kit was a disaster so I have had very little time to work on the Legacy.
I did have time to fit a Walbro 255 LPH in tank fuel pump, I did not follow the instructions as I did not like the way they wanted to mount the pump, I modified the base mount which was rubber and I was able to fit it just as the factory had with the original.
This pump will easily support the 350 hp that I hope to make from this engine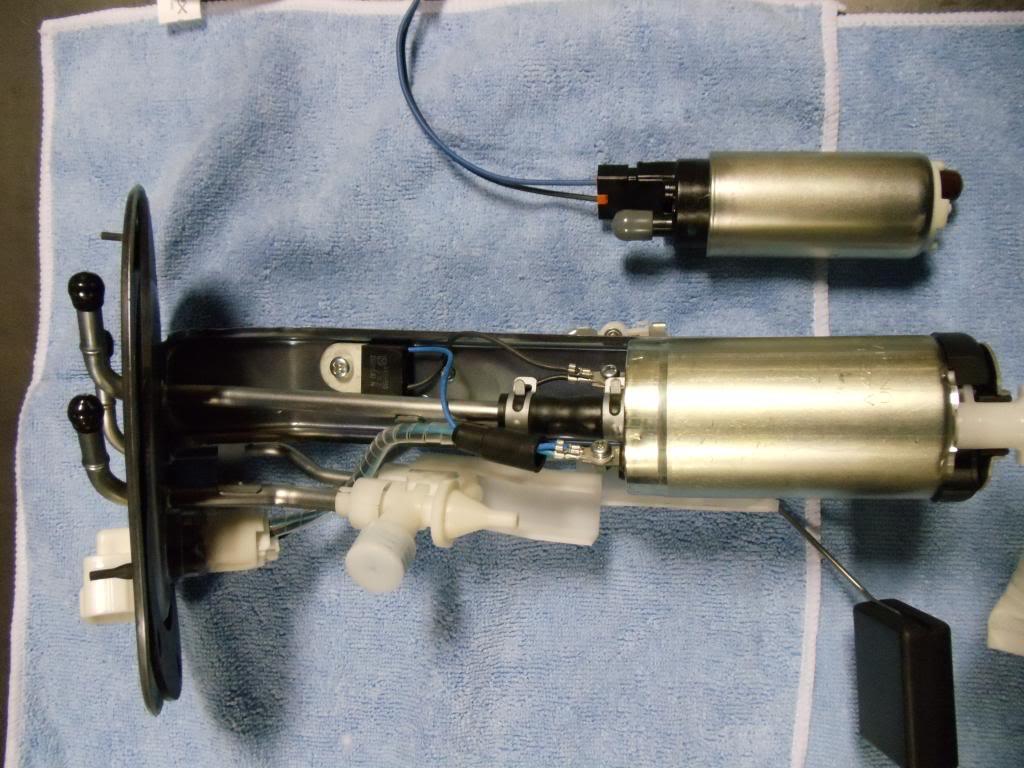 this is the original pump next to the new pump to be fitted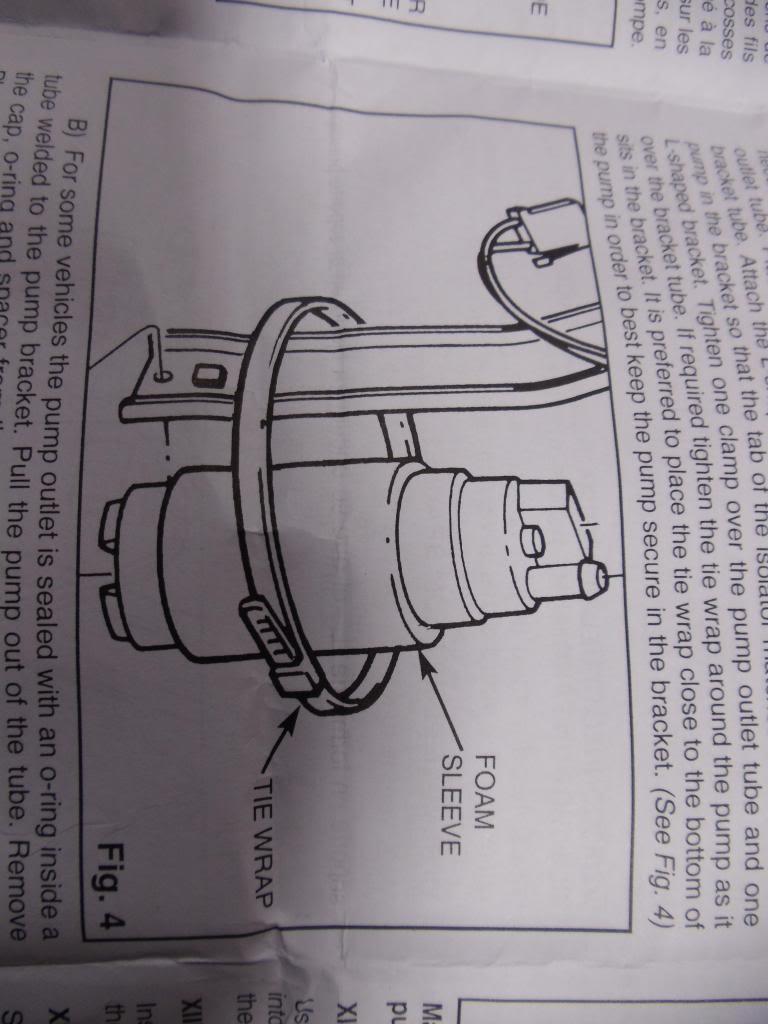 The instructions called to wrap the body of the pump in supplied foam and tywrap to the mount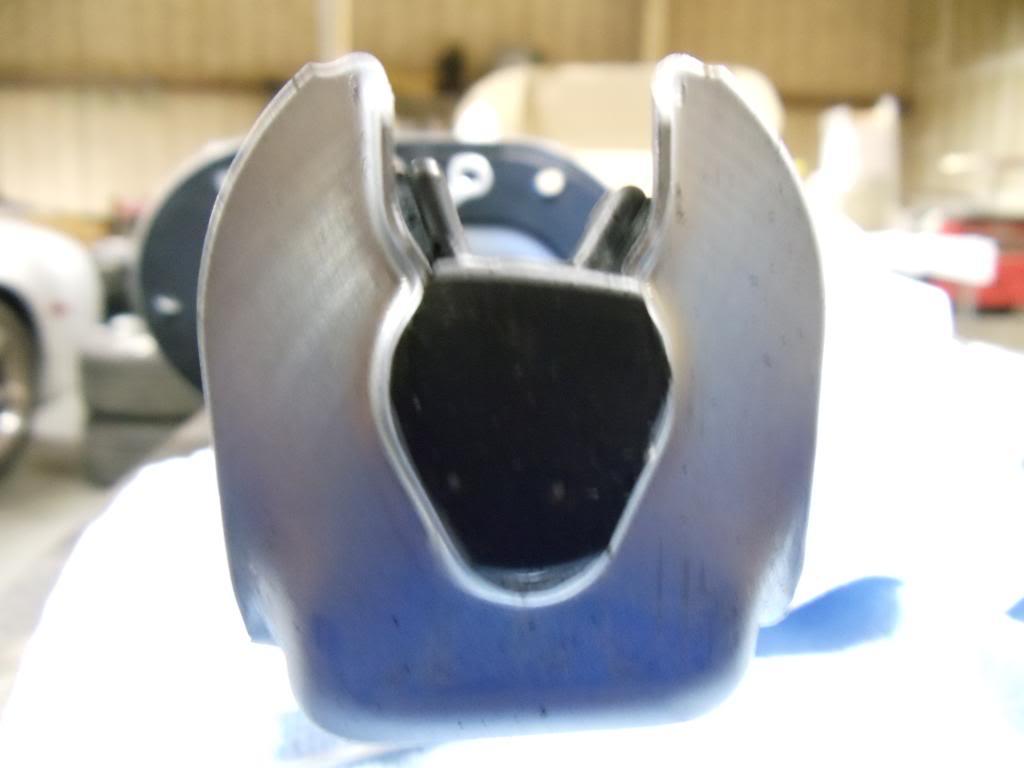 I modified rubber base mount to fit as the factory pump was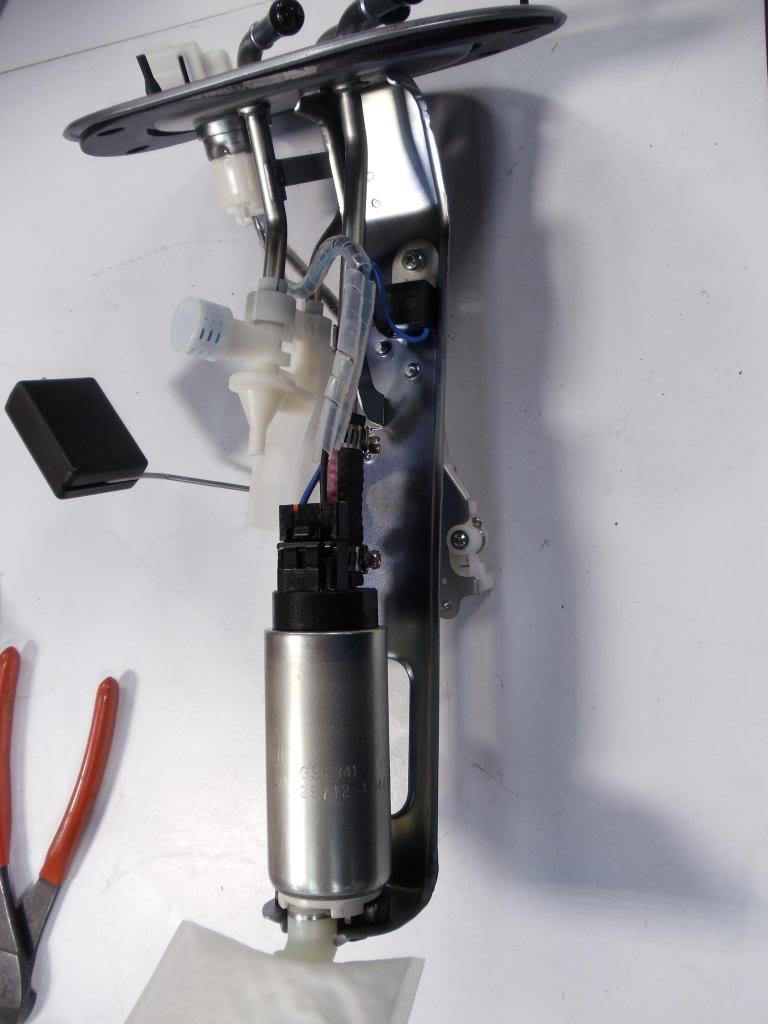 the finished pump install just as the original pump was mounted
Today I was able to assemble the new STI Knuckle/Hub assembly which are the early 5X100 Press in Bearings which match the 2001 Subaru Impreza RA trans and Half Shafts and CV joints that I have. I also masked and repainted the Knuckles as the original paint is a thin coat from the factory.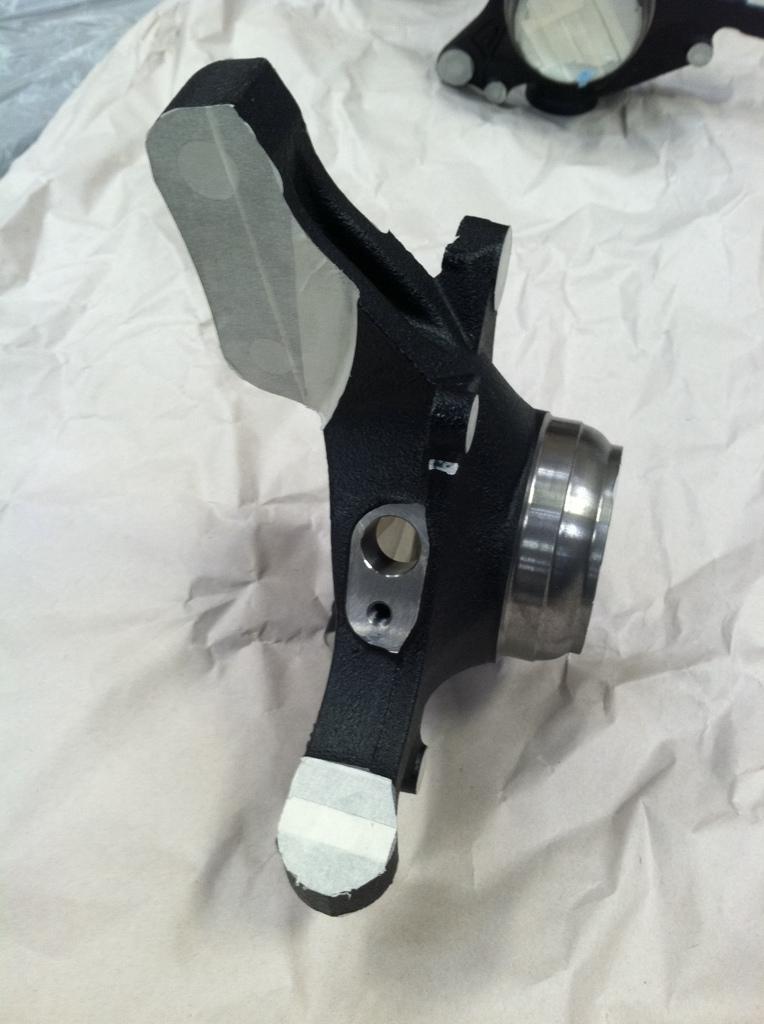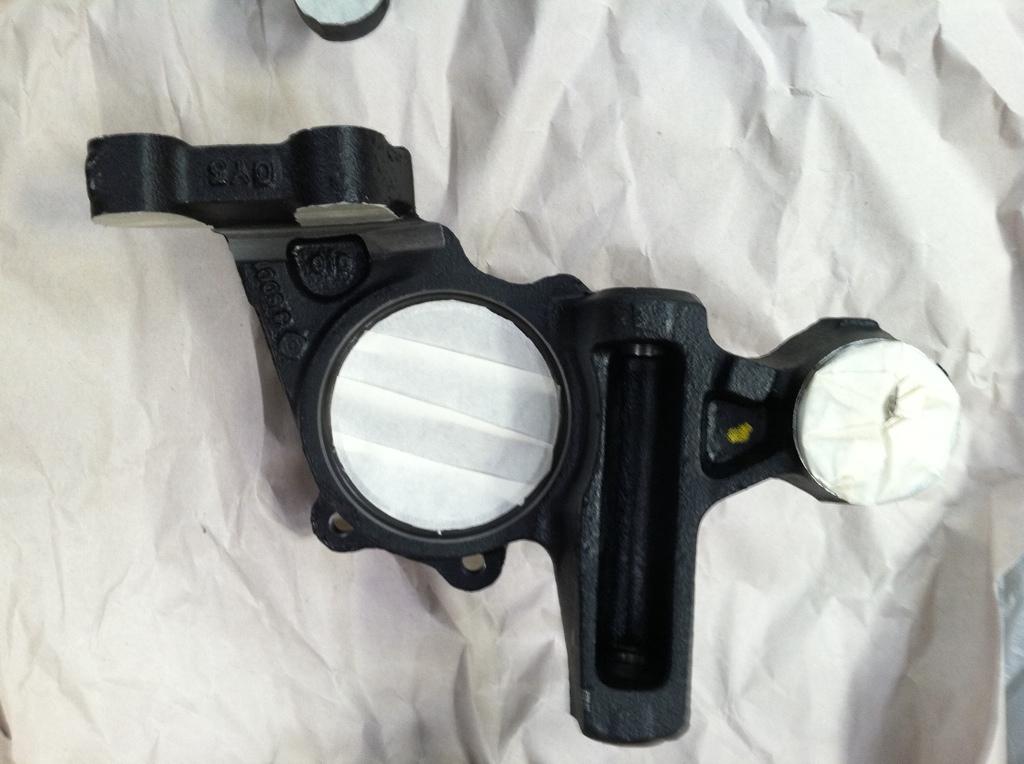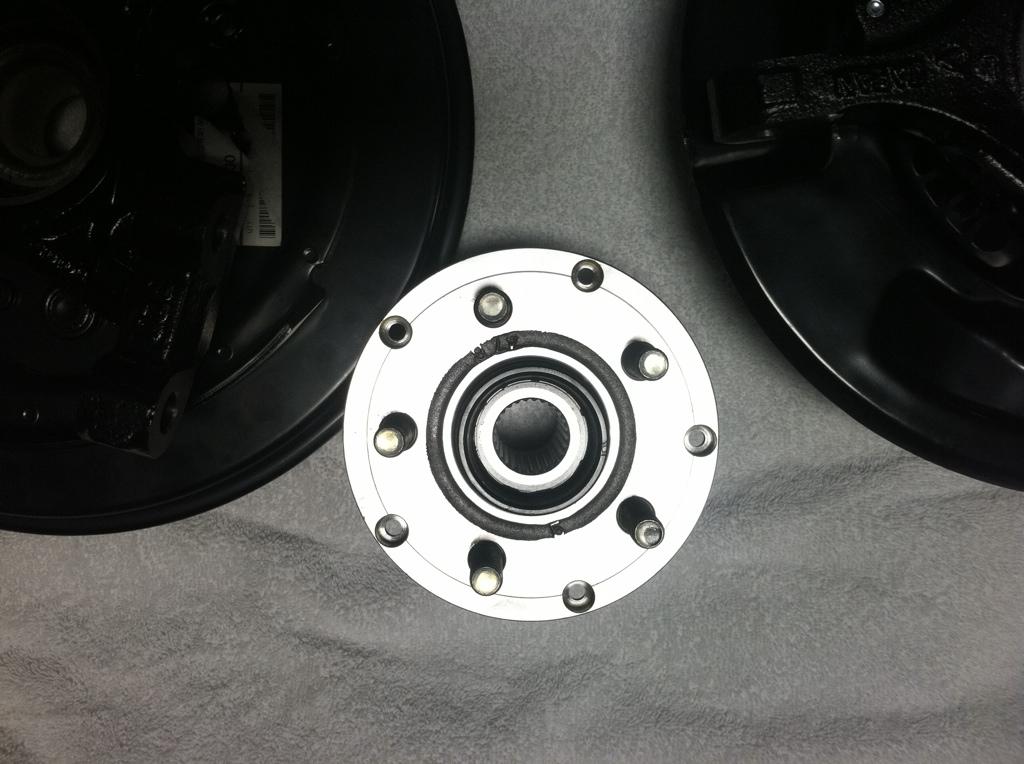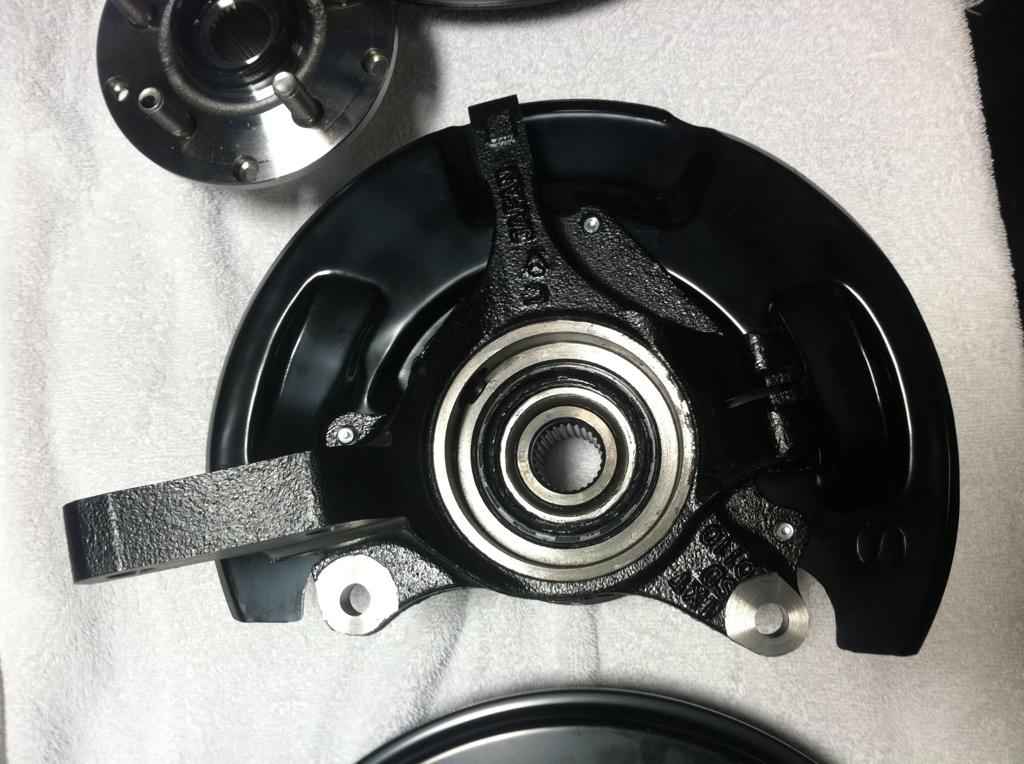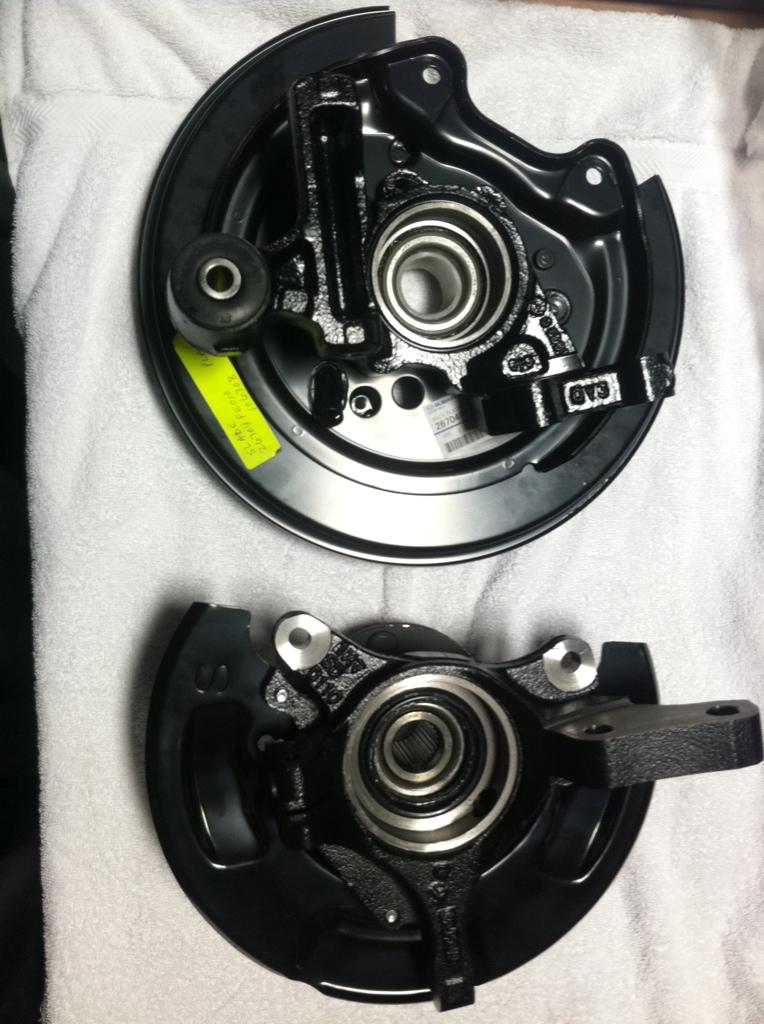 I will not have ABS so I will make Aluminum plugs and press into the Bores where the sensor would be.
I have all new parking brake assembly's and hardware, unfortunately I was not able to finish the rear knuckles as the dealer only sent two bolts for the backing plates, I will get them and finish Assembling them soon.
2-23-2014
I was faced with a decision regarding what to do with the nuts and bolts and all the original steel parts on the Legacy, I had bought a lot of new bolts for the struts and suspension and backing plates and they were all zinc plated (silver) and all the original were the green color which I was not able to confirm what process it was so I went with the silver, and actually two different processes depending on where the parts were being used. I also processed a lot of the hardware in gold As it wasoriginally.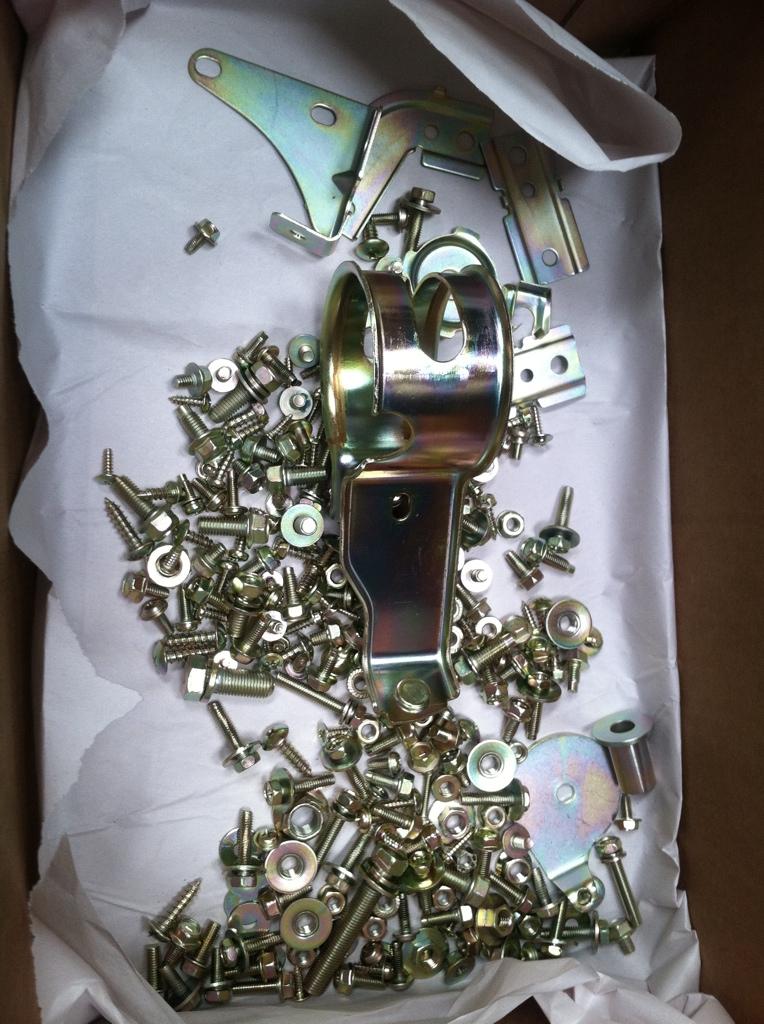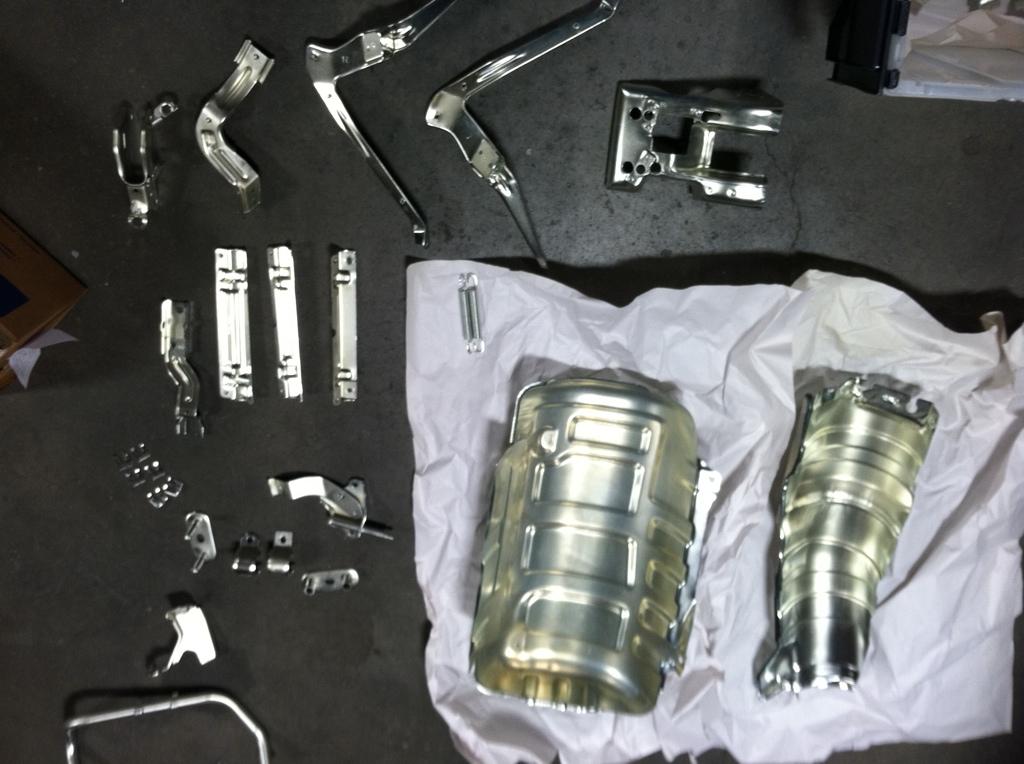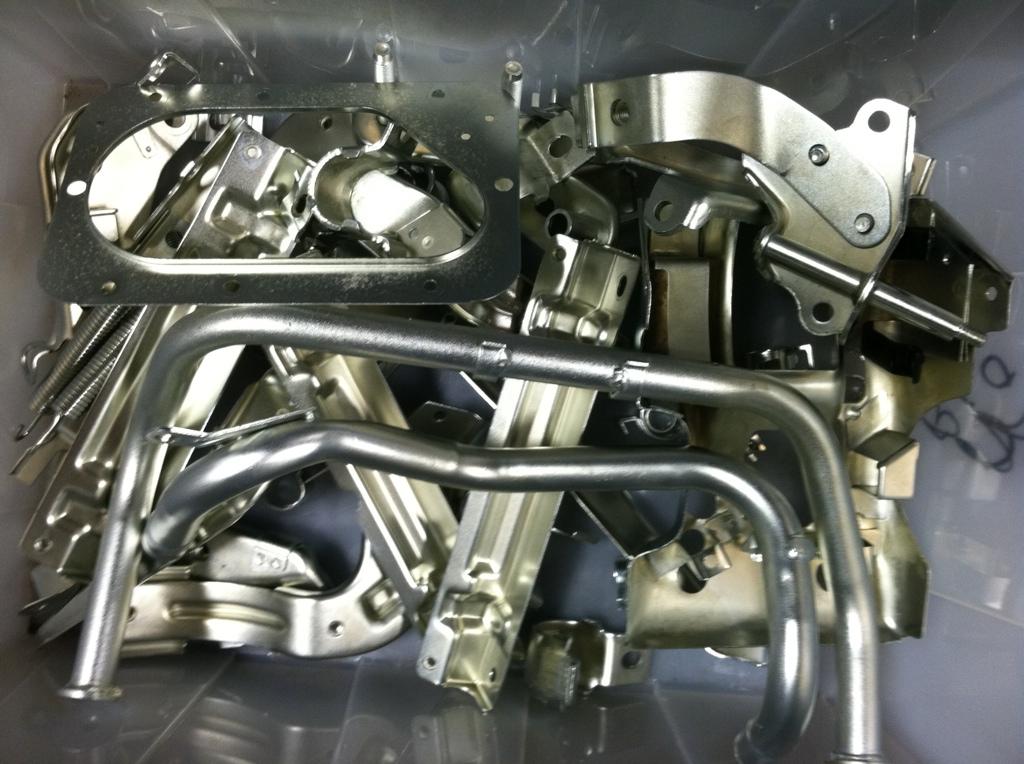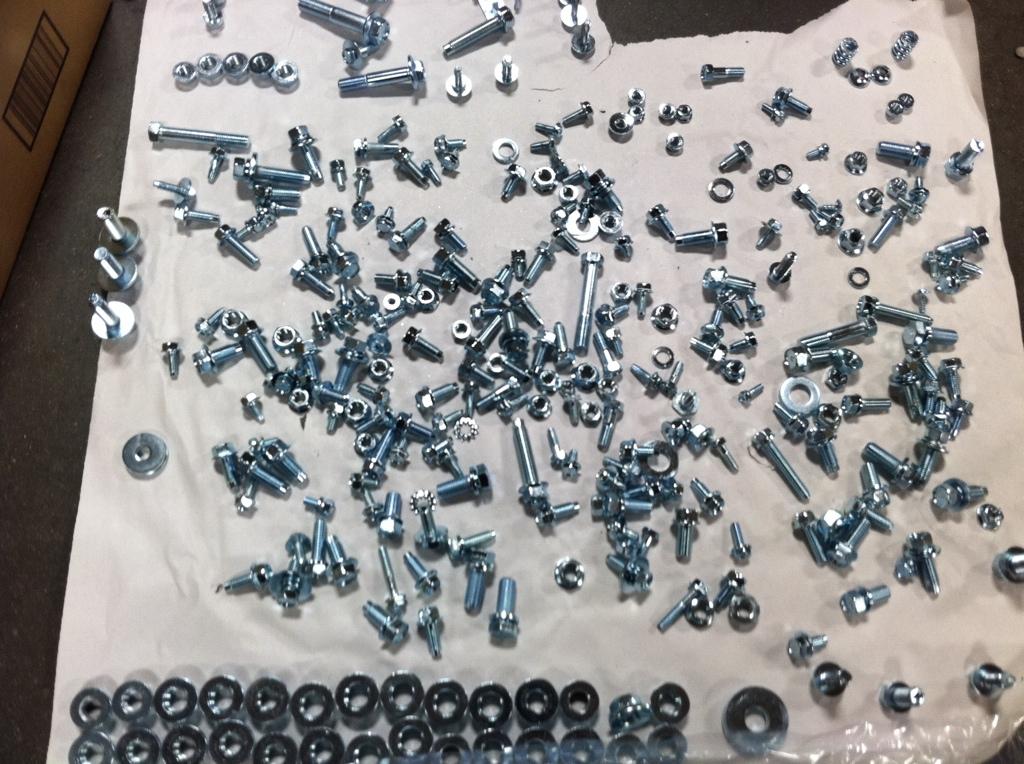 I also made the decision to go with STI front lower control arms and steering rack and Inow have those parts at the shop. I will buy the Ohlins struts this week also.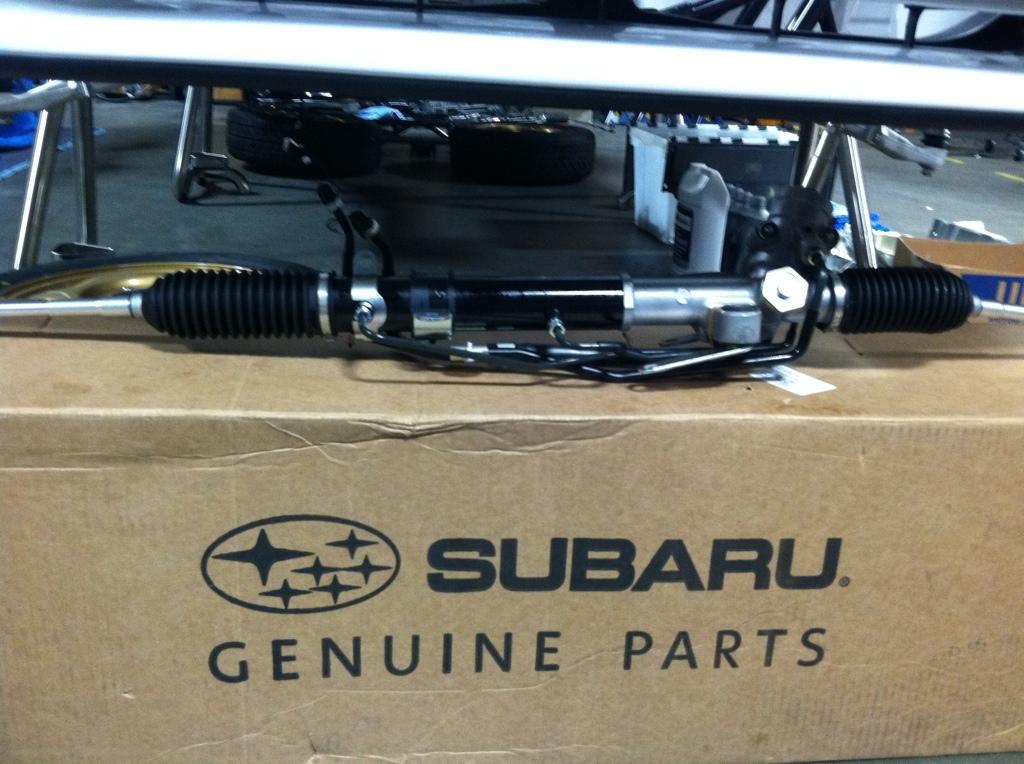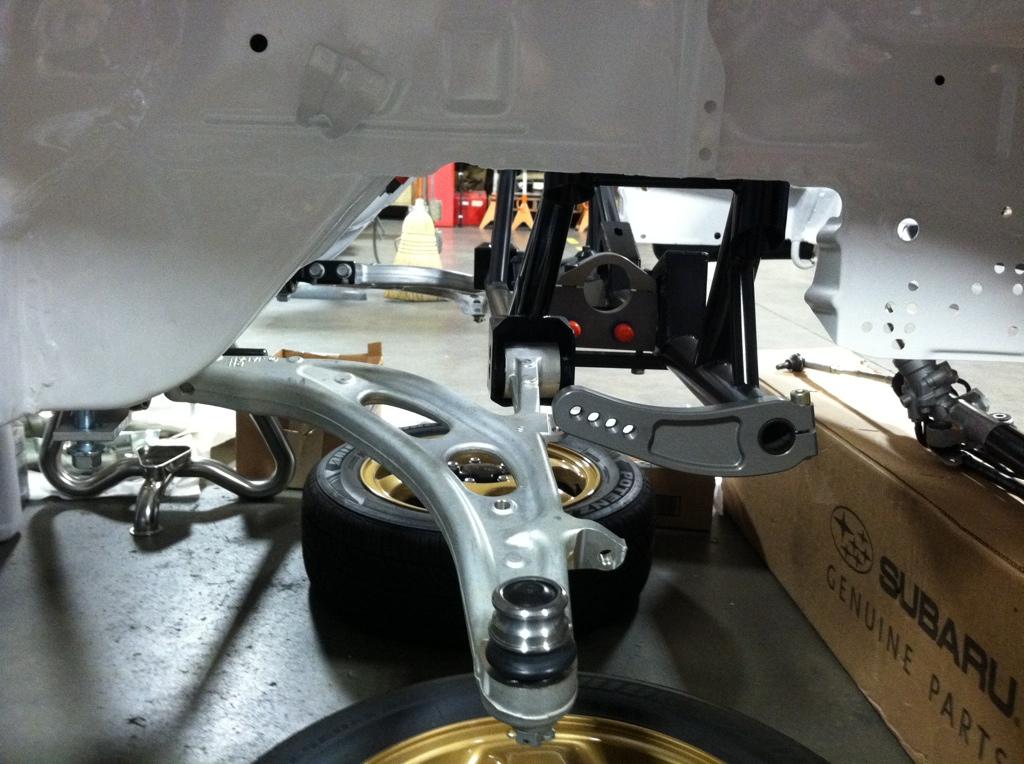 2-25-2014
The Ohlins dampers are now ordered and paid for, It will be great to see the four corners in place soon. After I get back from the 12 hours of Sebring I will be spending some time on the car again. I have been away so much this year as Daytona is an early start to the race season.
We finished fifth.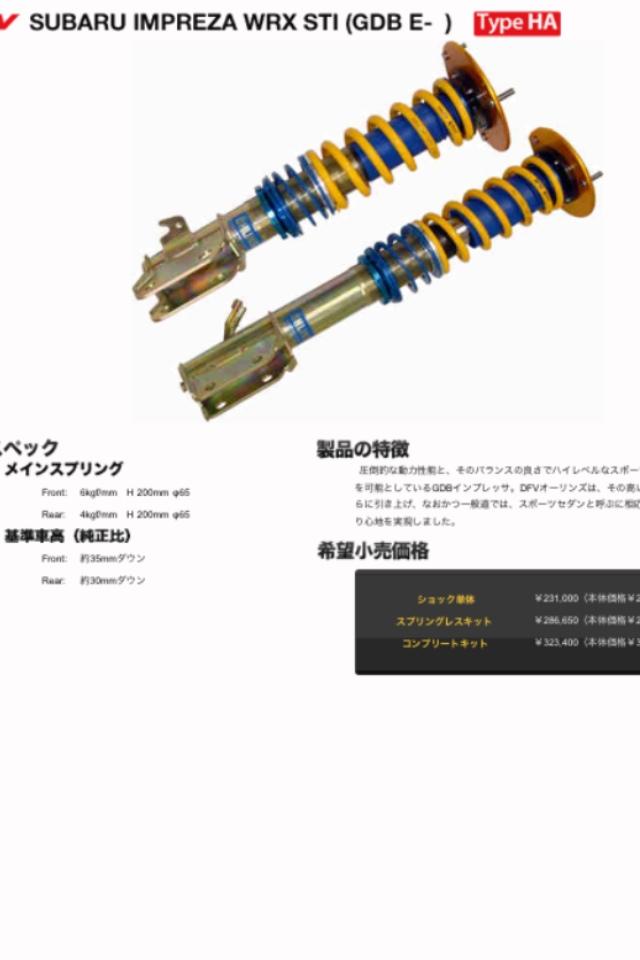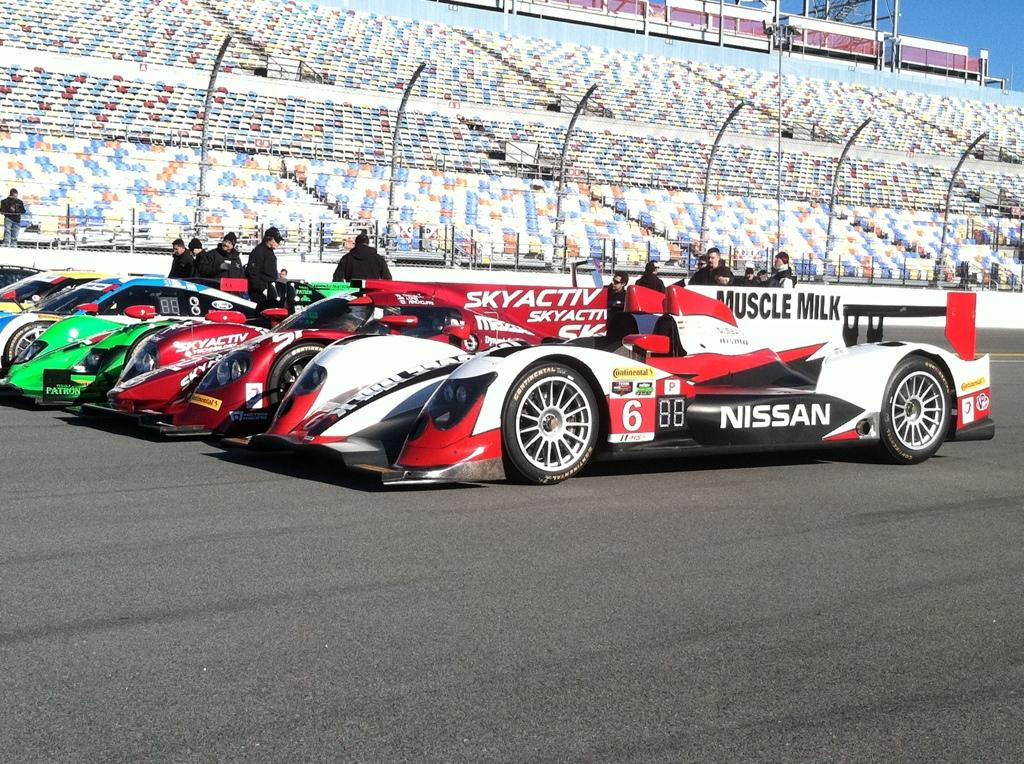 The Muscle Milk Pickett racing car that I am workingonagain this season
2-28-2014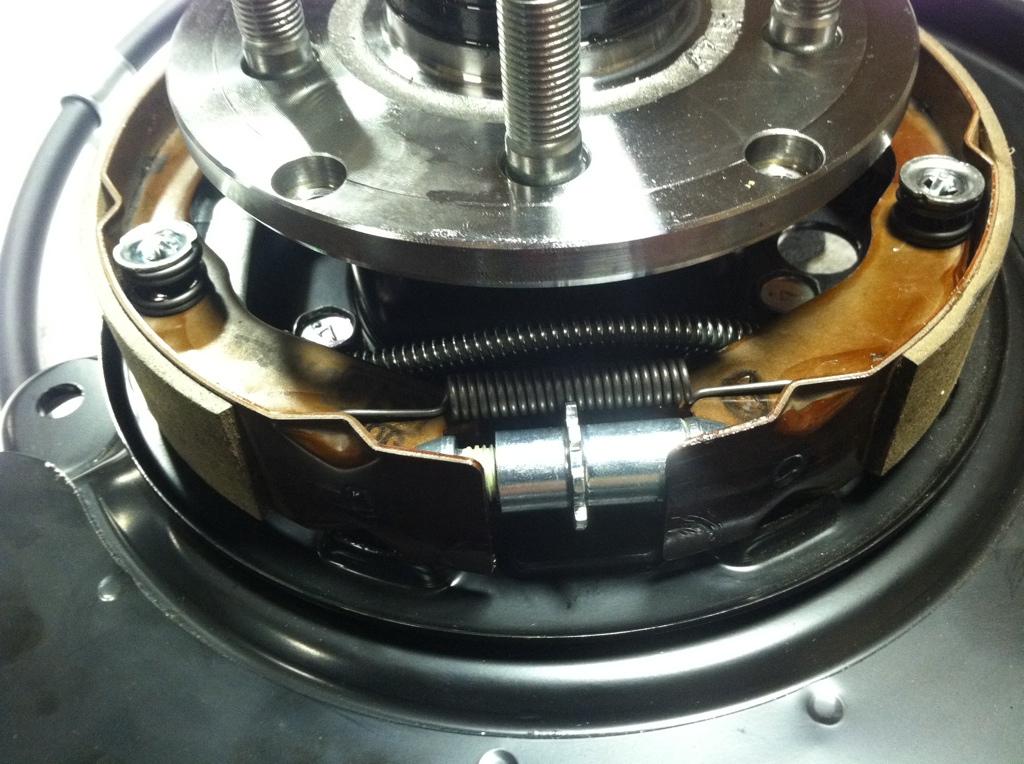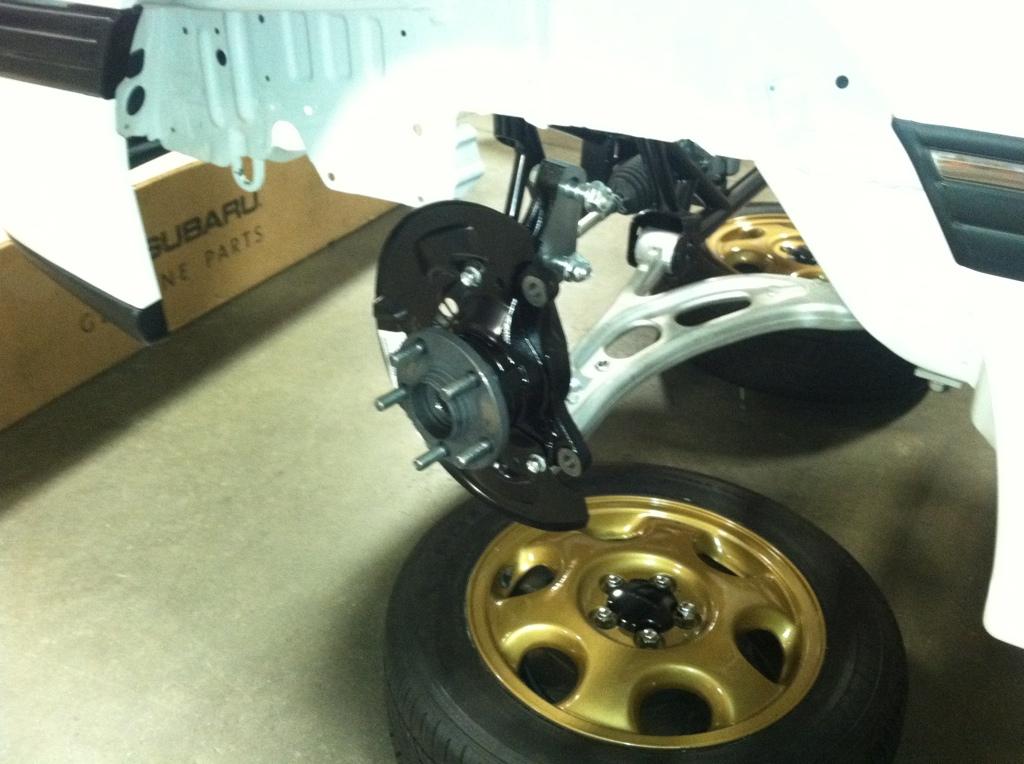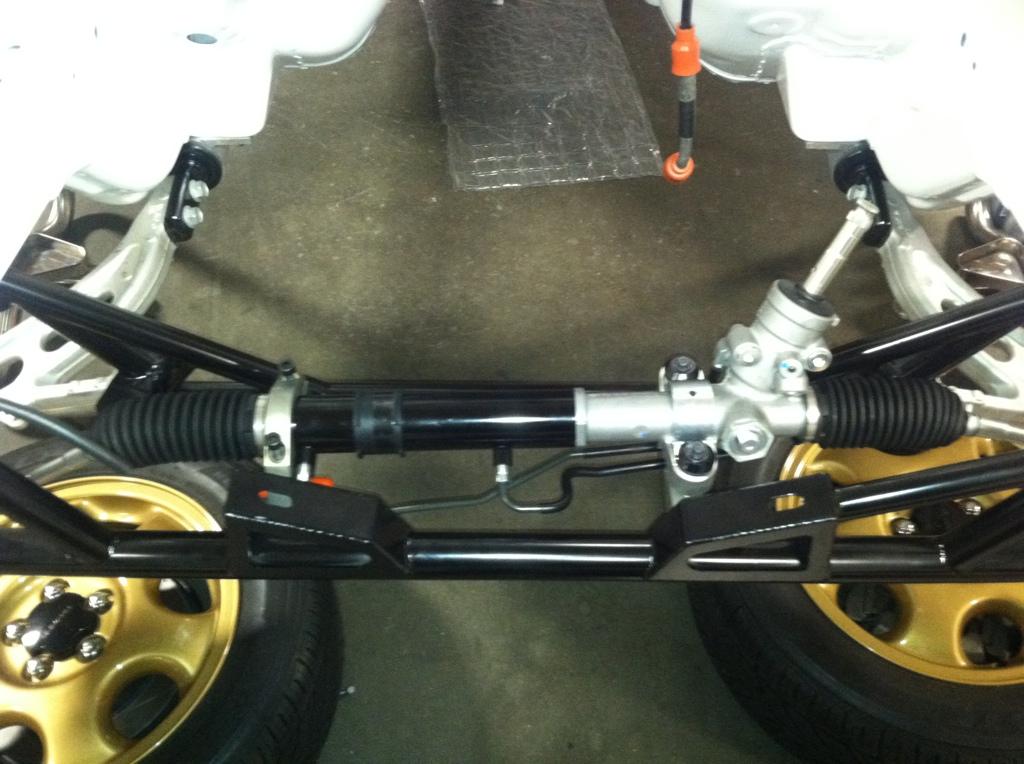 Today I assembled the rear parking brakes to the STI Knuckles and started working on the steering rack fitment to the sub frame. I also have the wiper motor installded which is a new unit but obselete part from dealership. I was fortunate to find this on EBay with just one small scratch on it but otherwise in perfect condition
3-26-2014
I have had a lot going with the Legacy project The Ohlins coil over struts have arrived and I have been searching for a top strut mount to use as these are for an 05 STI and I knew I would need to find a good alternative and I think that I will be using Cusco adjustable camber top Mounts. The big surprise was the Clevis had changed between 04 and 05 STI with the change from 5x100 to 5x114 in USDM Impreza's. So I am going to make inserts and re drill the Clevis on the Struts.
I also finally got the Intercooler pump together, I was waiting for the metric O rings and the plated parts made this 20 year old pump look like new, which is great as these are really expensive. Unfortunately it looks like I am missing a bracket to mount the pump.
I also pressed apart the Steering Knuckle as I need to fit the Legacy steering colum joint to the STI assembly which I bought new with the rack. I will post pictures of that soon.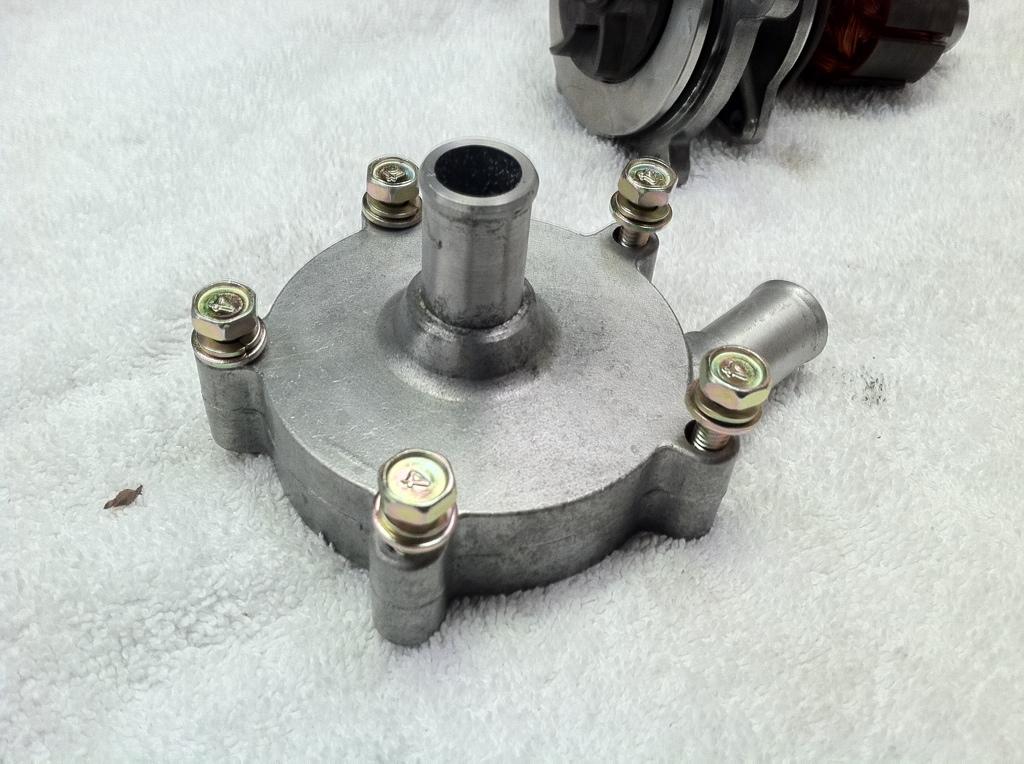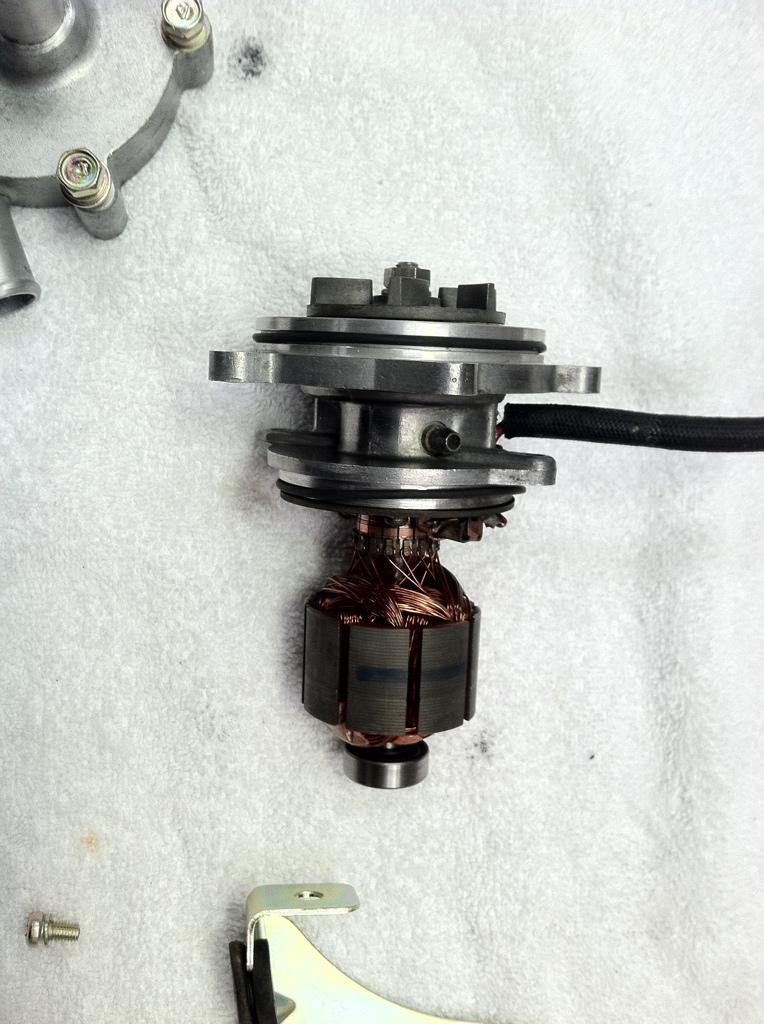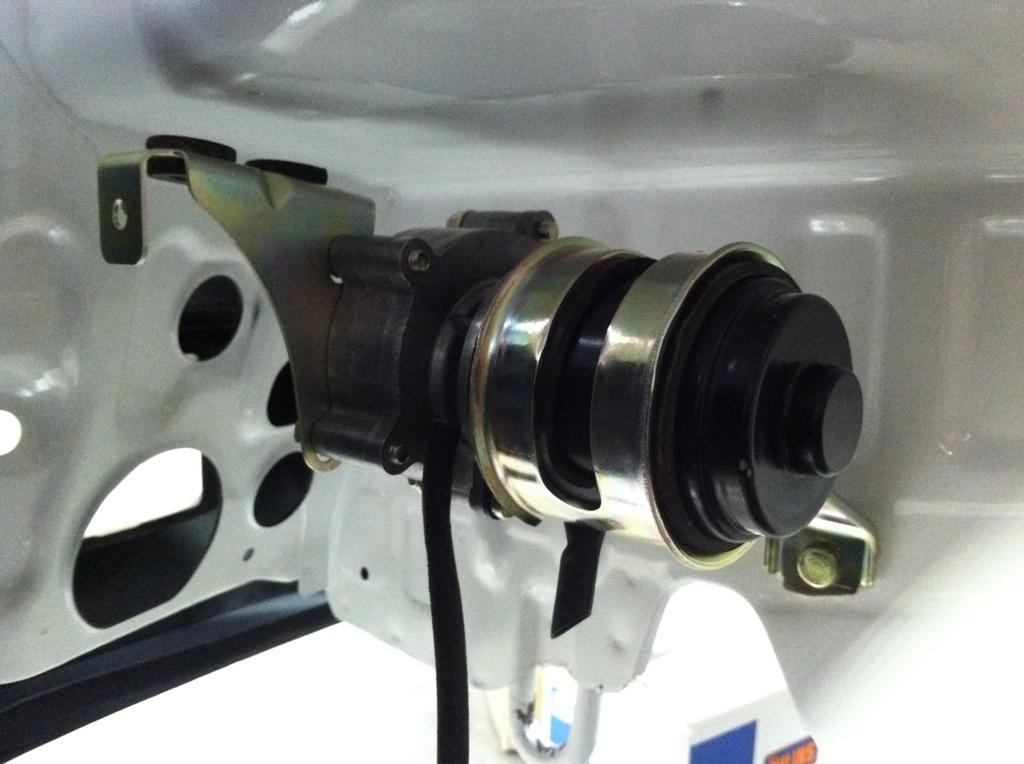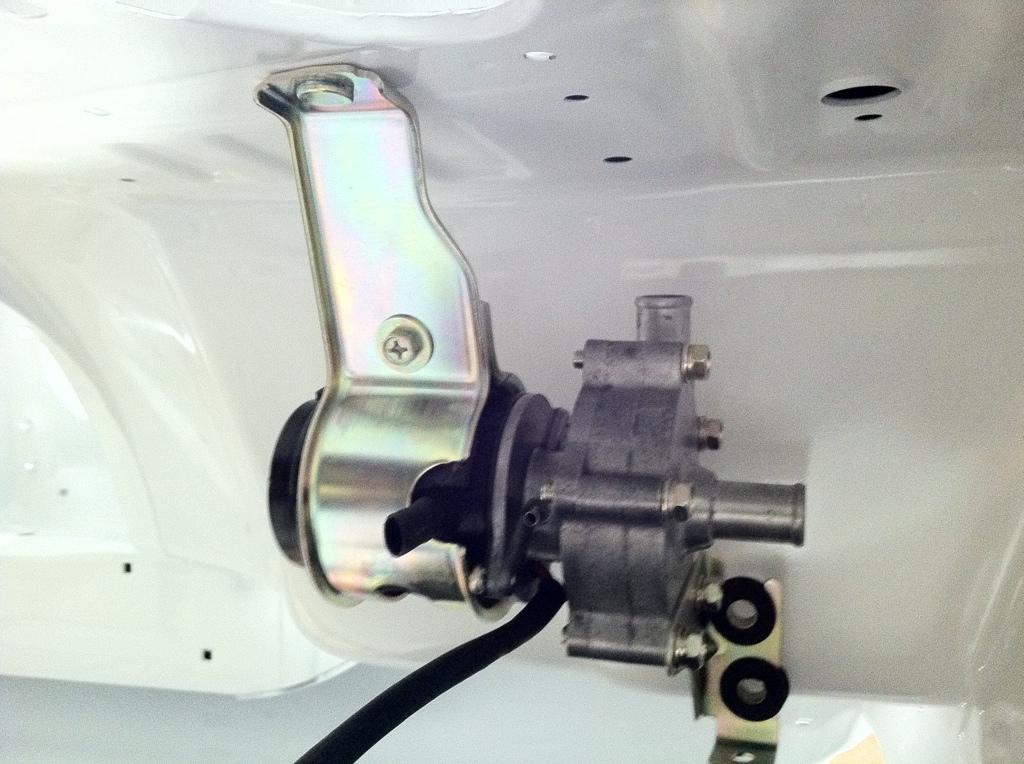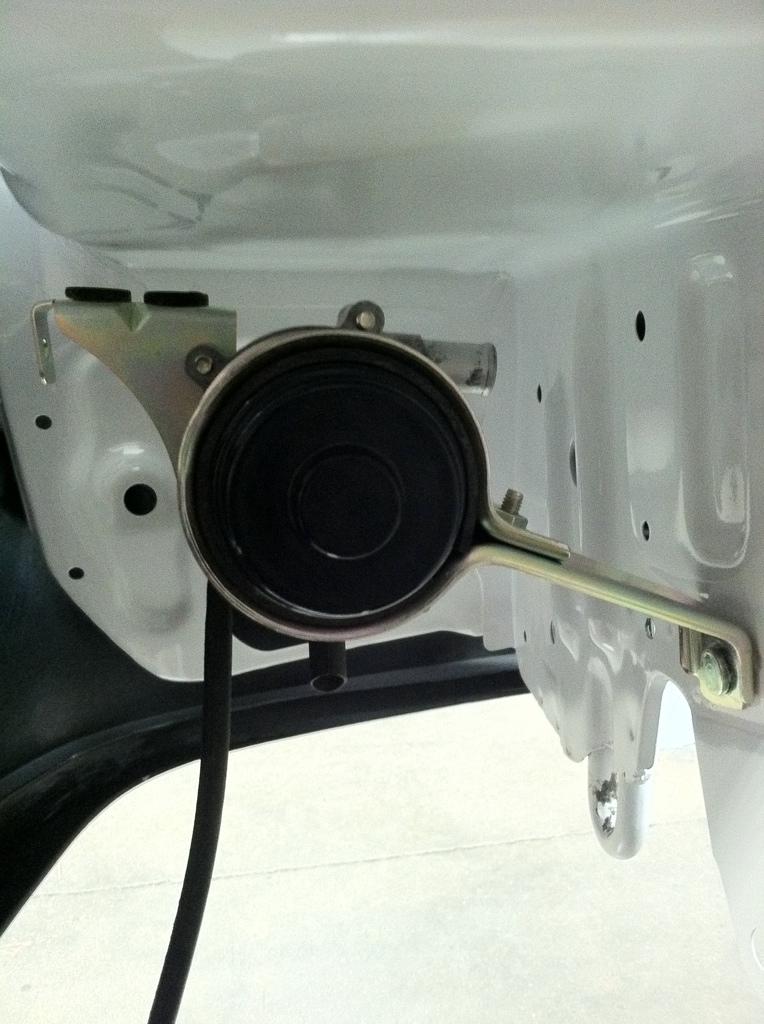 3-27-2014
Here is the steering rack joint/Knuckle I fit the original Legacy splined knuckle to the new STI joint. This took me several hours to do but it came out looking like an original part.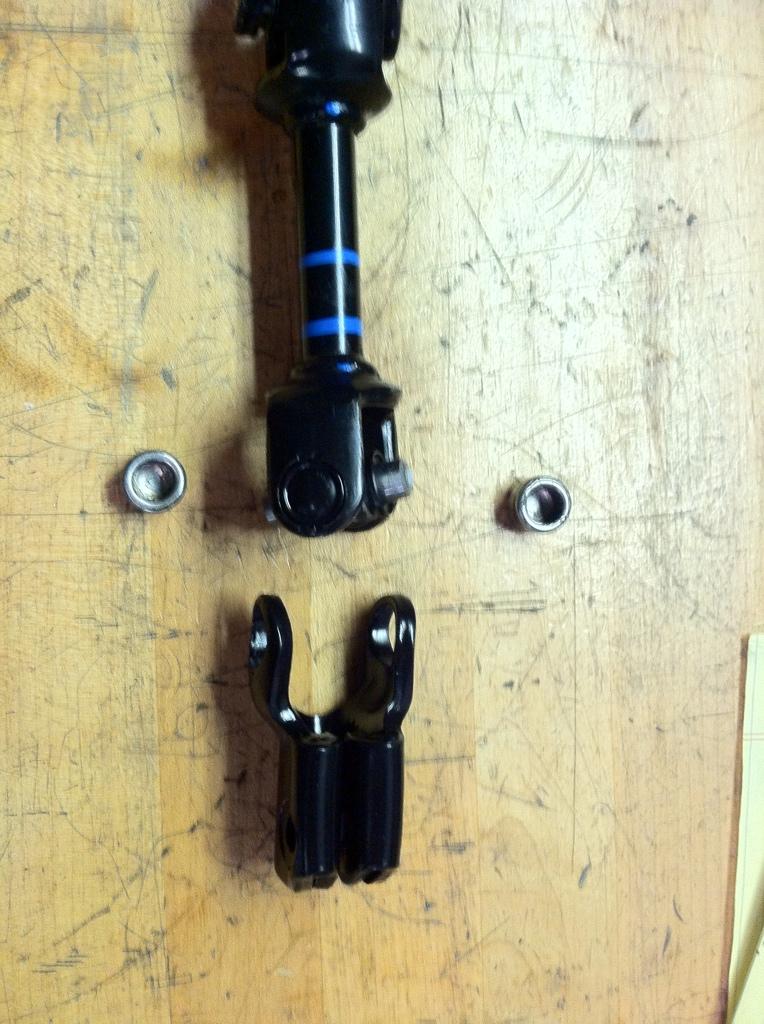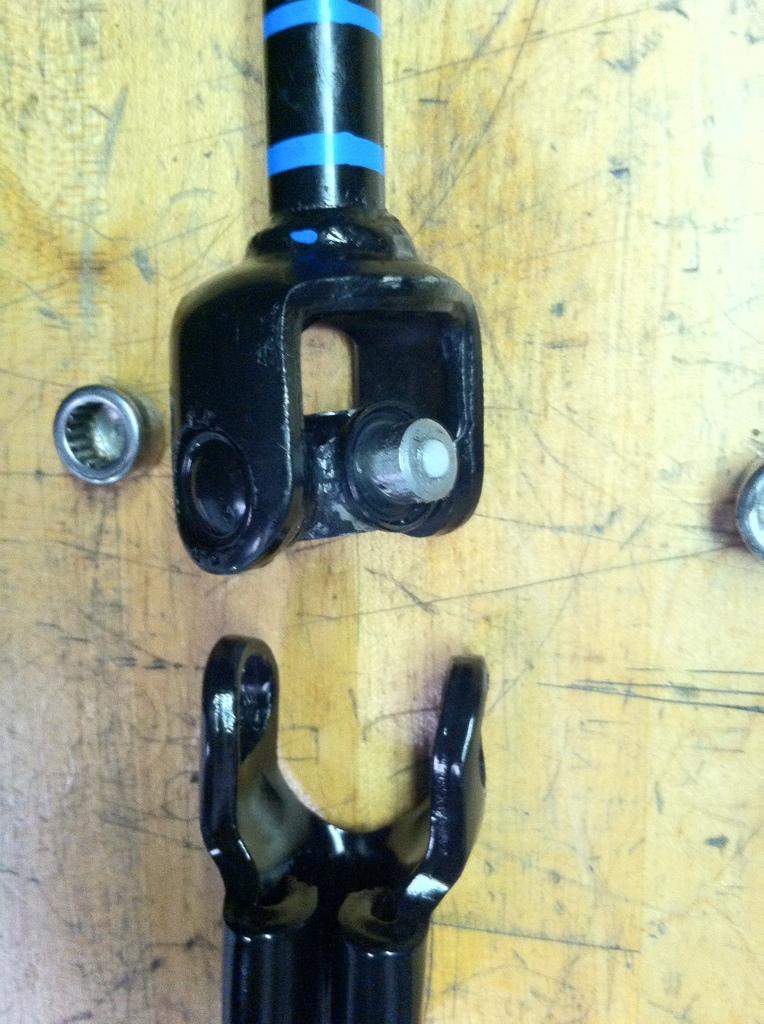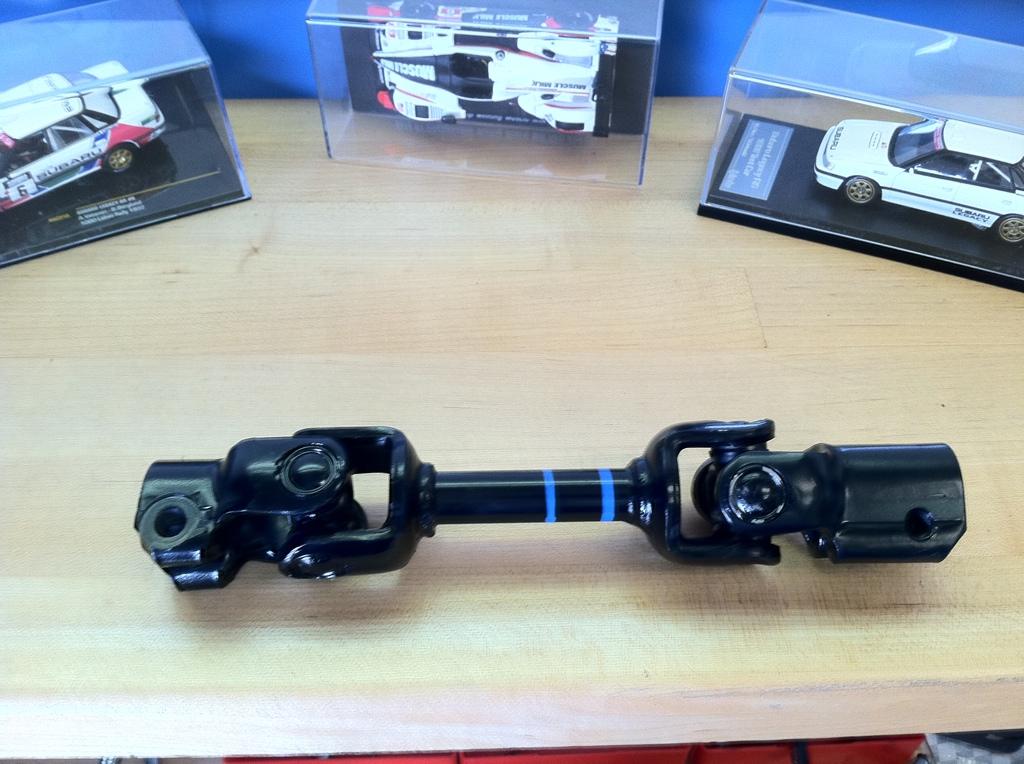 Here is a look at the Ohlins DFV Road and track dampers, I will post a few so you can see the difference between an 04 and an 05 STI, I will post pictures of what I have come up with as a solution after I have the peices made.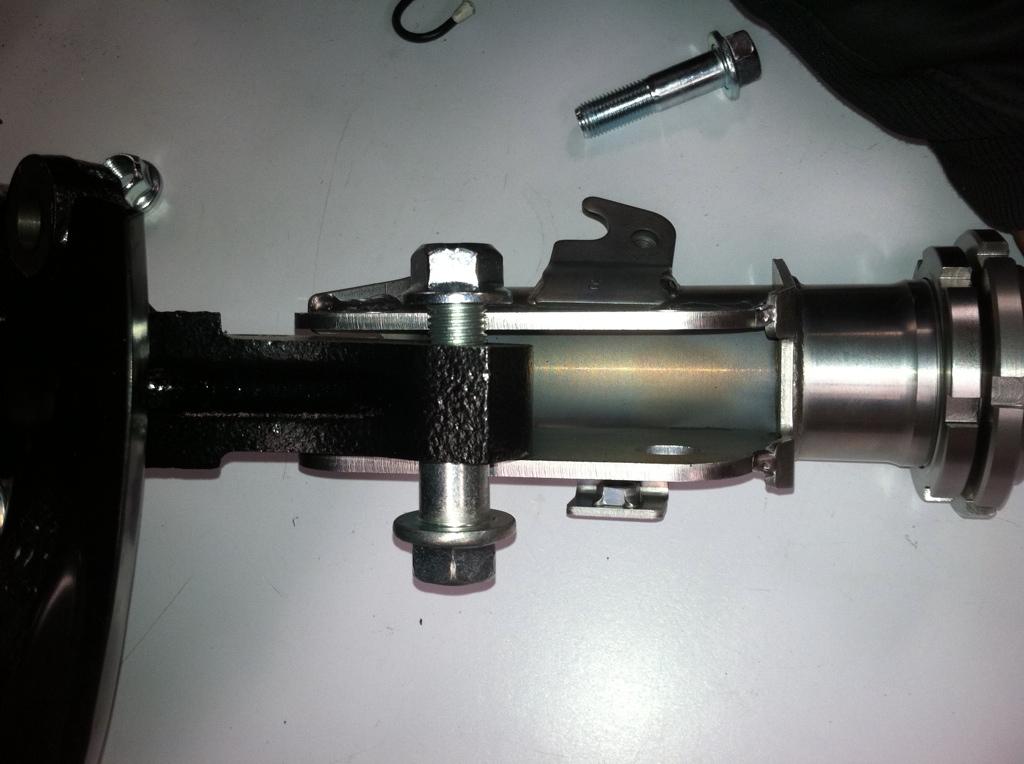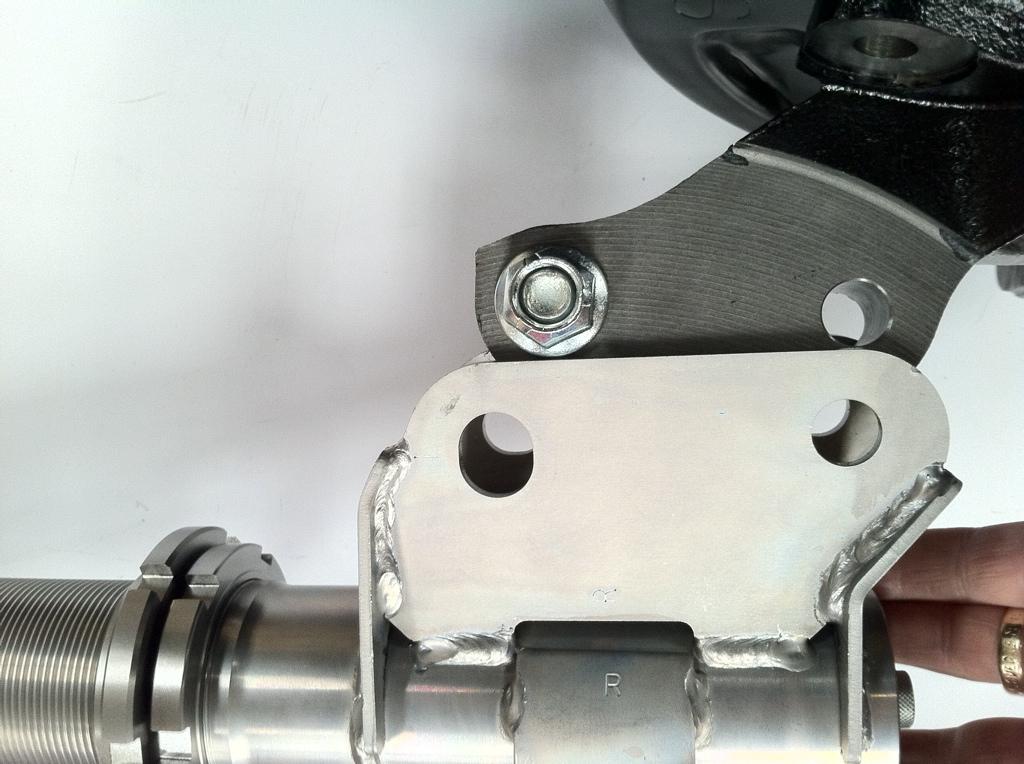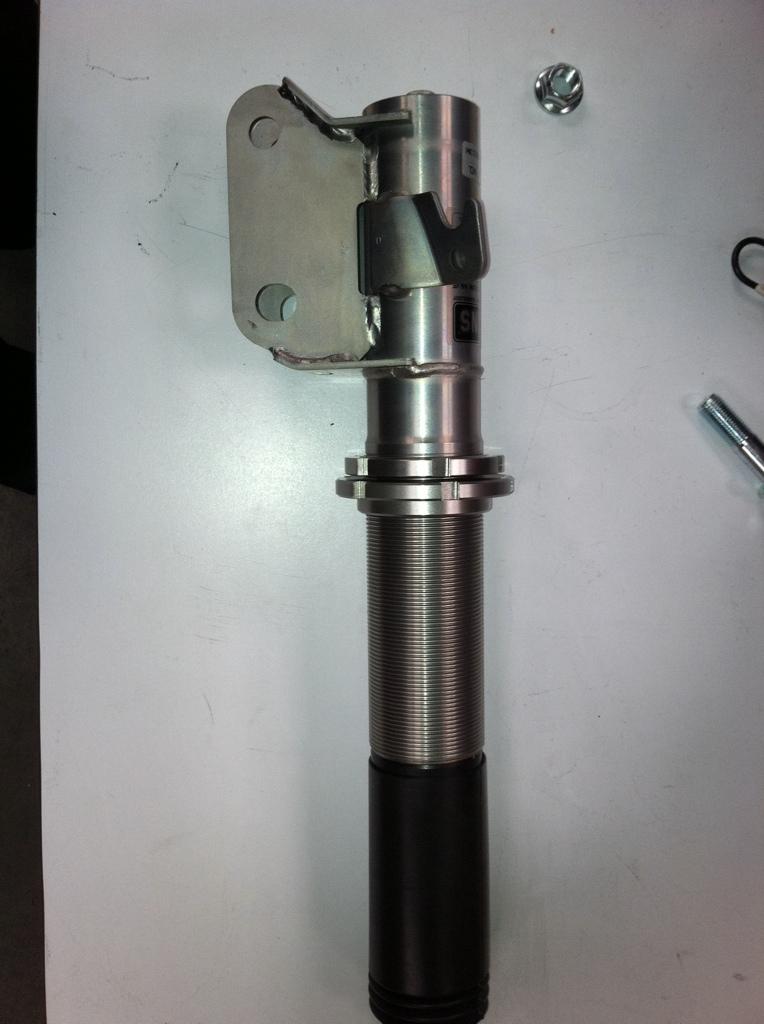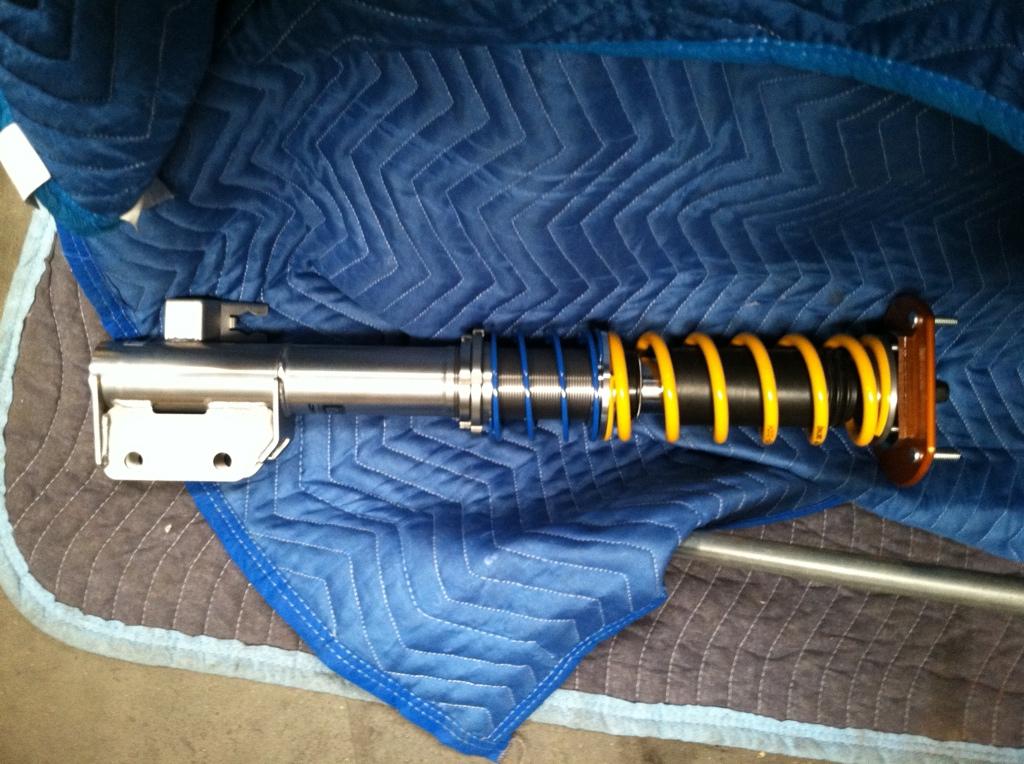 3-29-2014
Today I spent the day at the lockal Auto dismantlers and I pulled a whole lot of clips and plugs in excellent condition and some exterior trim pieces which were in good condition but the best part of the day was finding a complete Non ABS brake line set up which was in perfect condition, I basically wiped it off and fit it in my car and it looks awesome. This part is dealer obselete so I was concerned about the likelihood of finding one so it was a great day today with my project :-)
I also found a head liner which I will have to modify for the roof vents, it looks like it will be another tricky project, but I will get on to that soon and then I will have it re upholstered to be a material like my 05 STI, I dont like the vinyl, it looks cheap.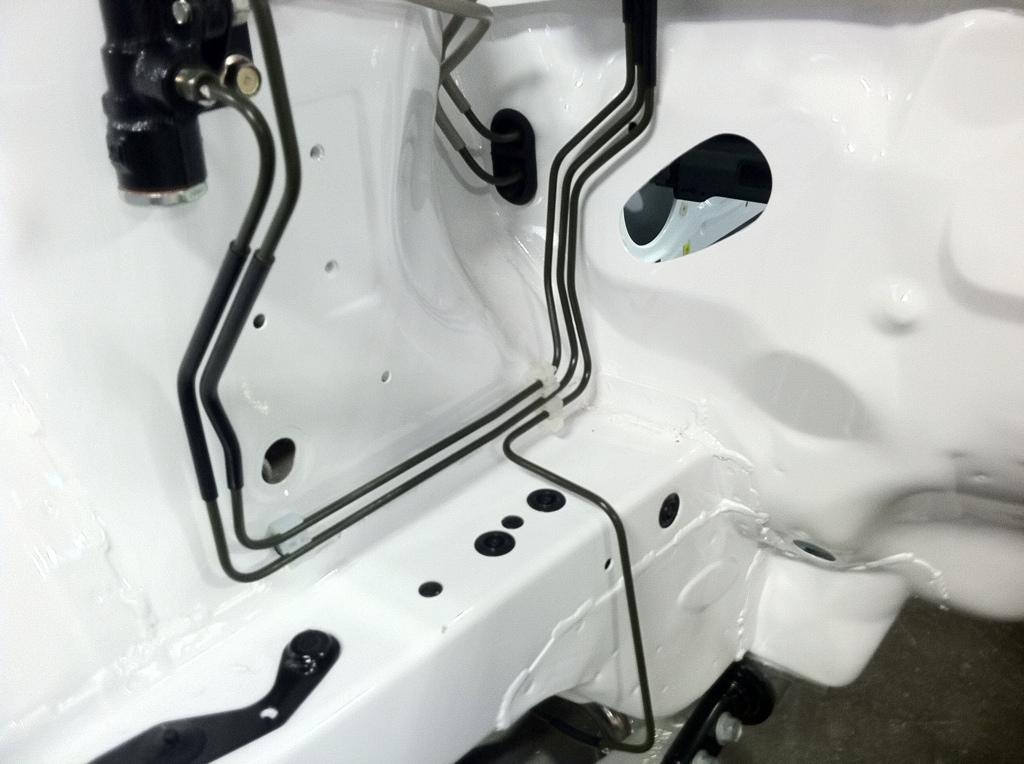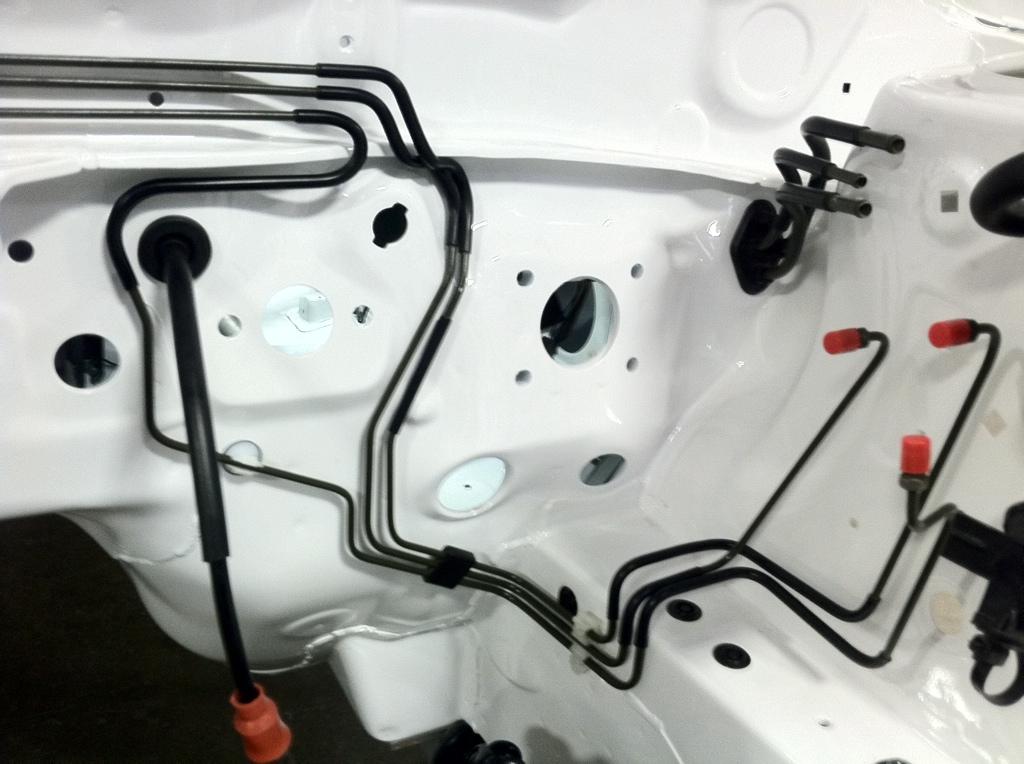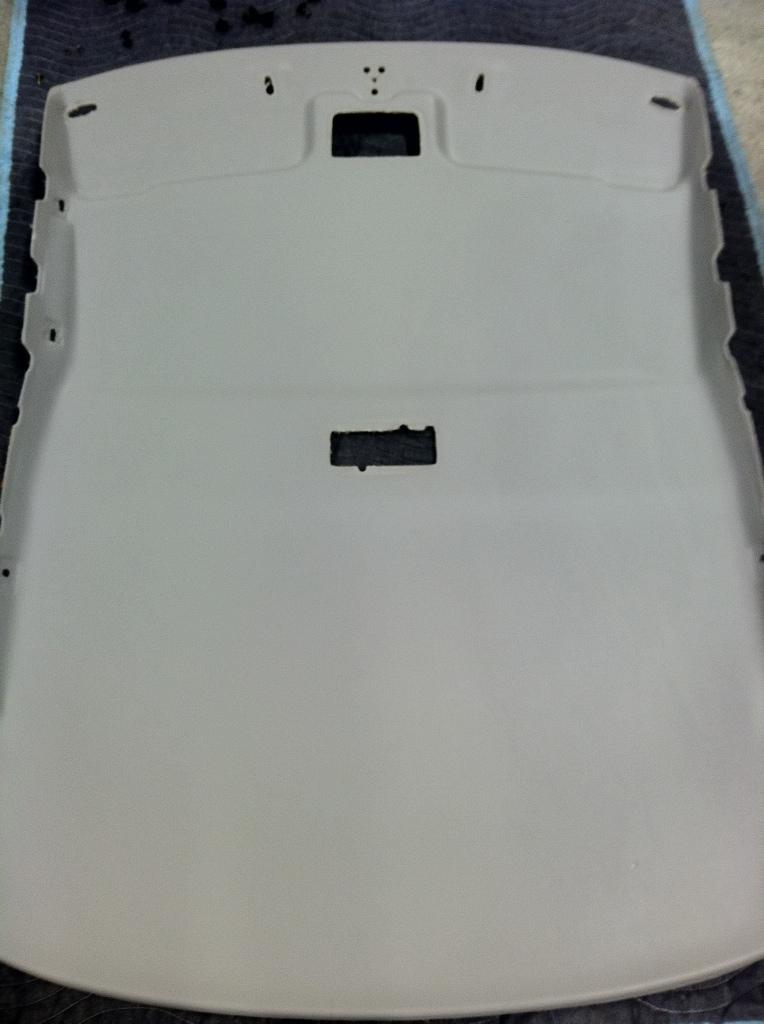 4-3-2014
Thanks everyone :-)
Today I turned my attention to something that will put a smile on my face one day when I get to use it.... The Throttle pedal
Here are a few photos from the process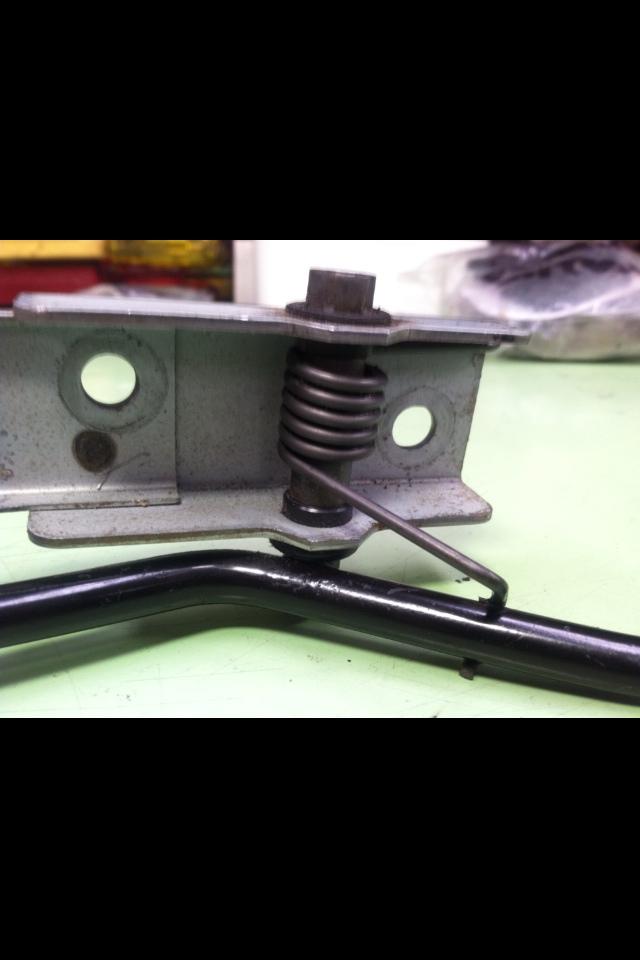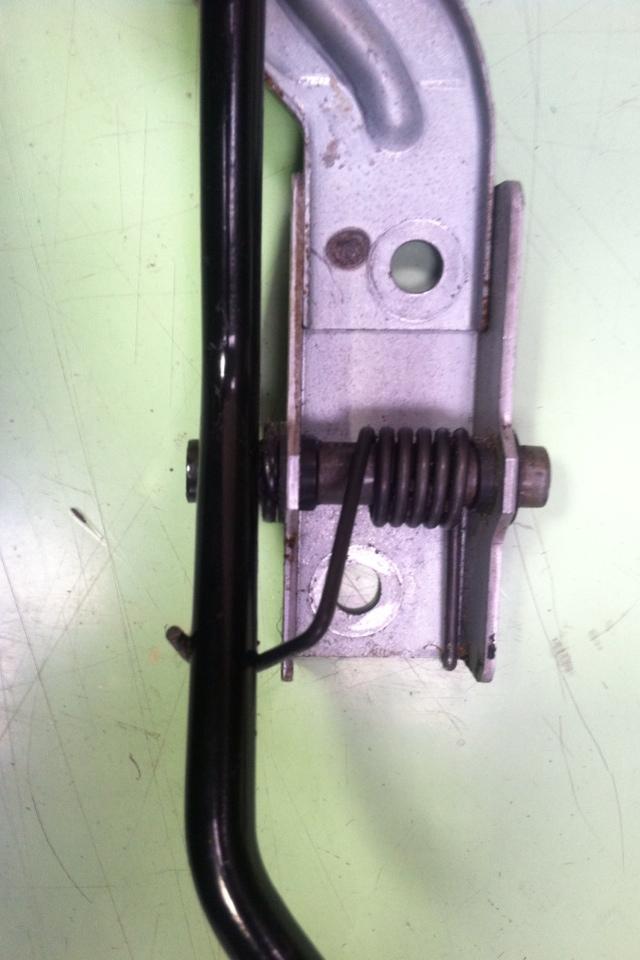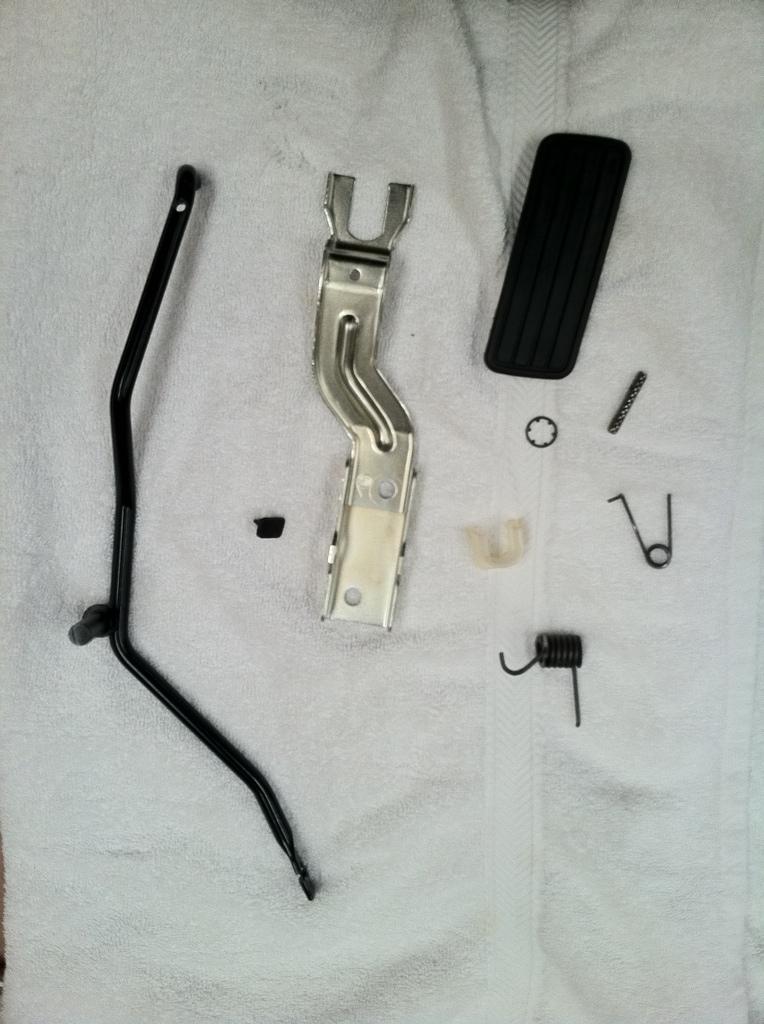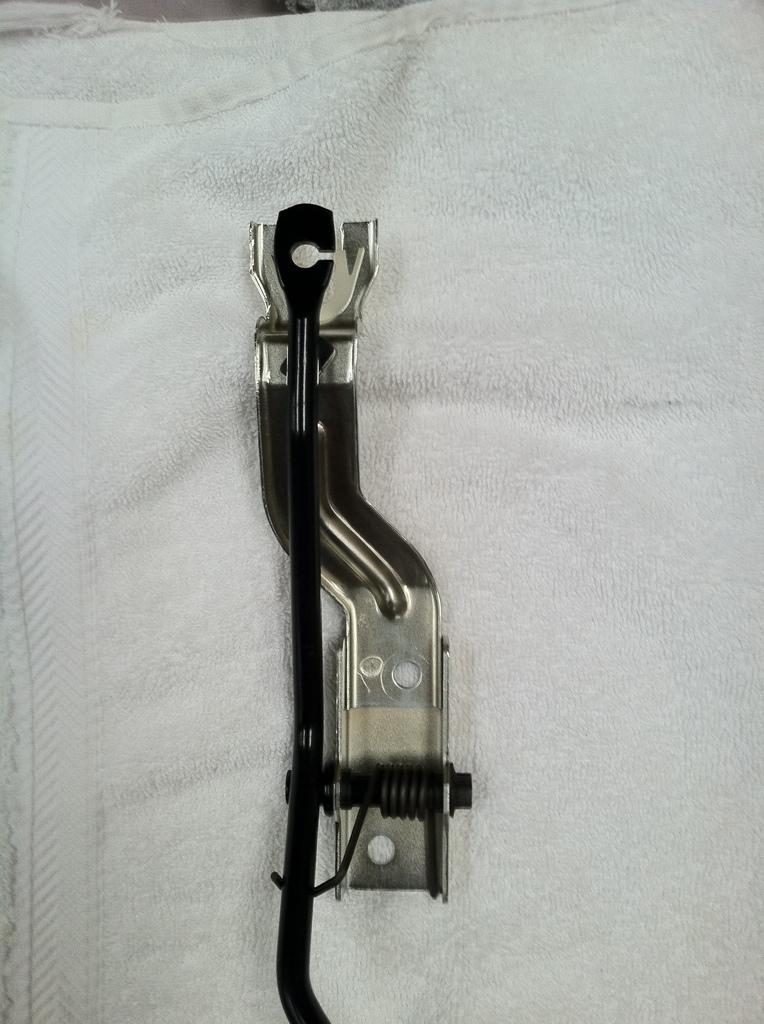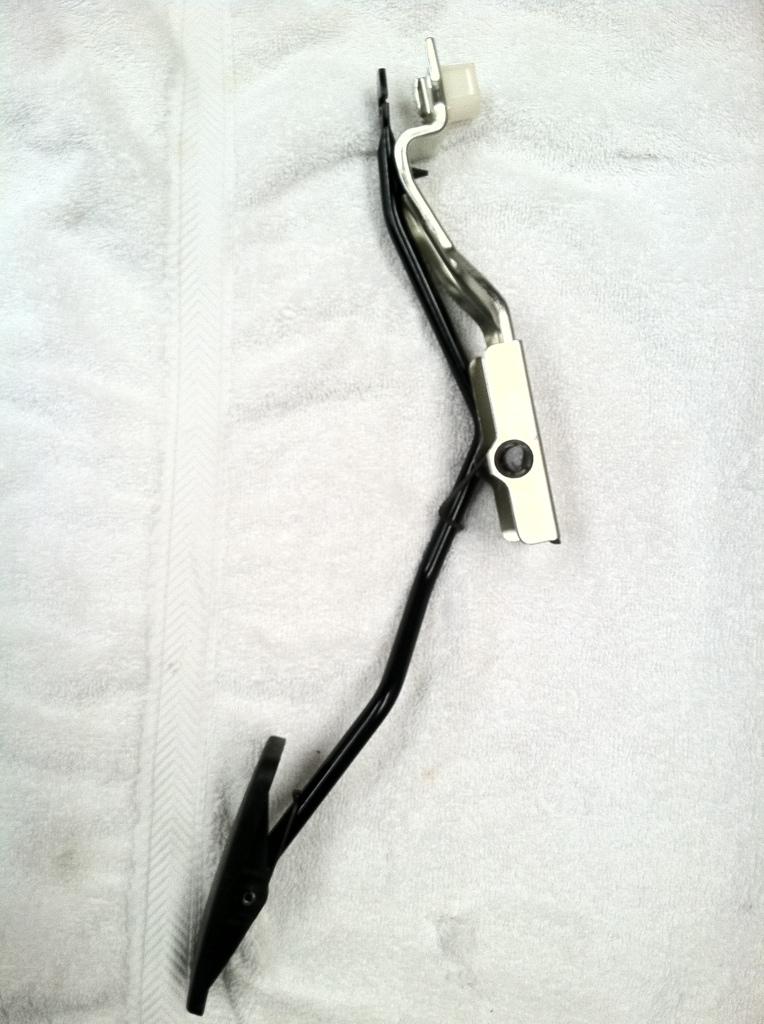 4-8-2014
Today The Cusco parts came from Japan :-)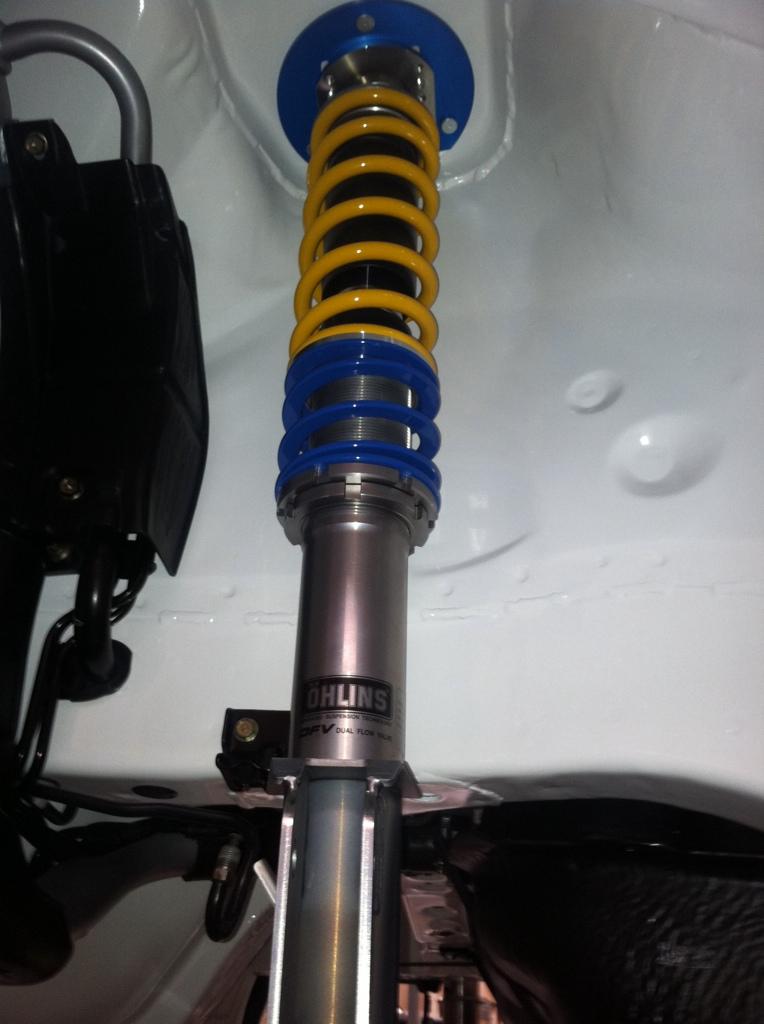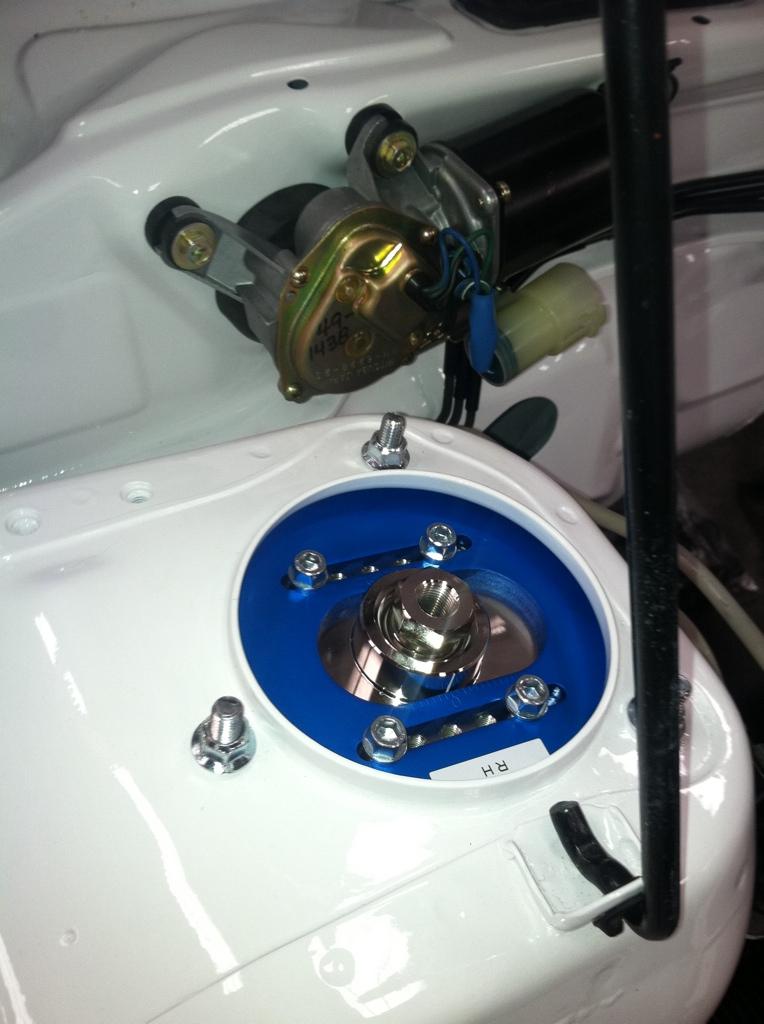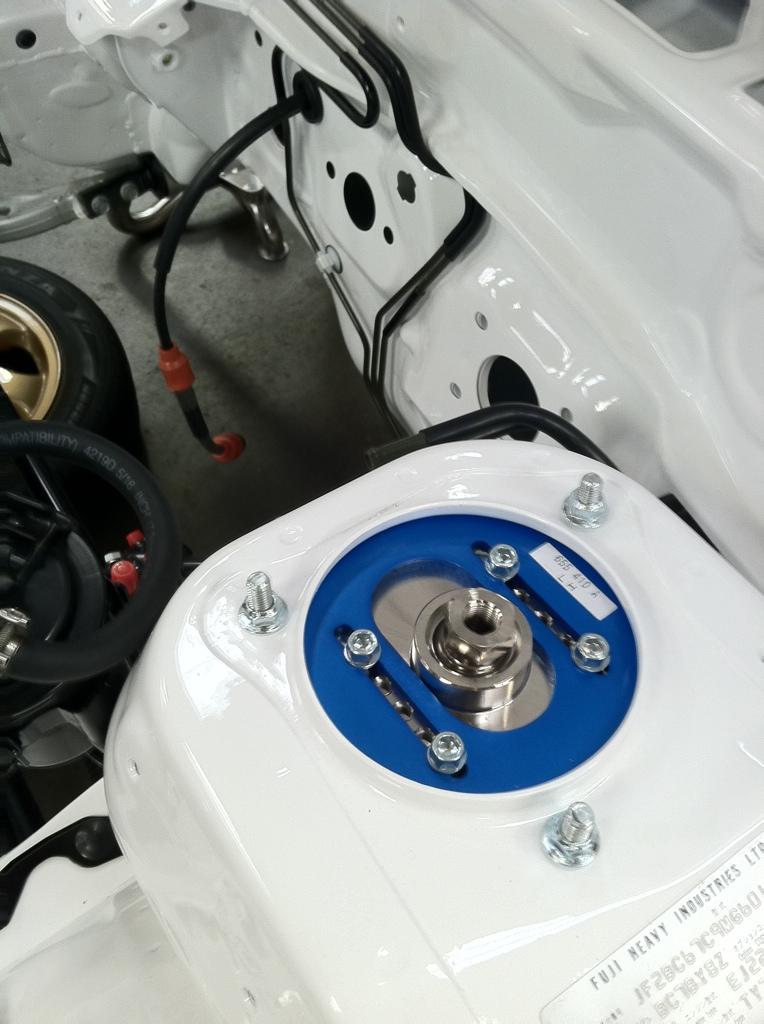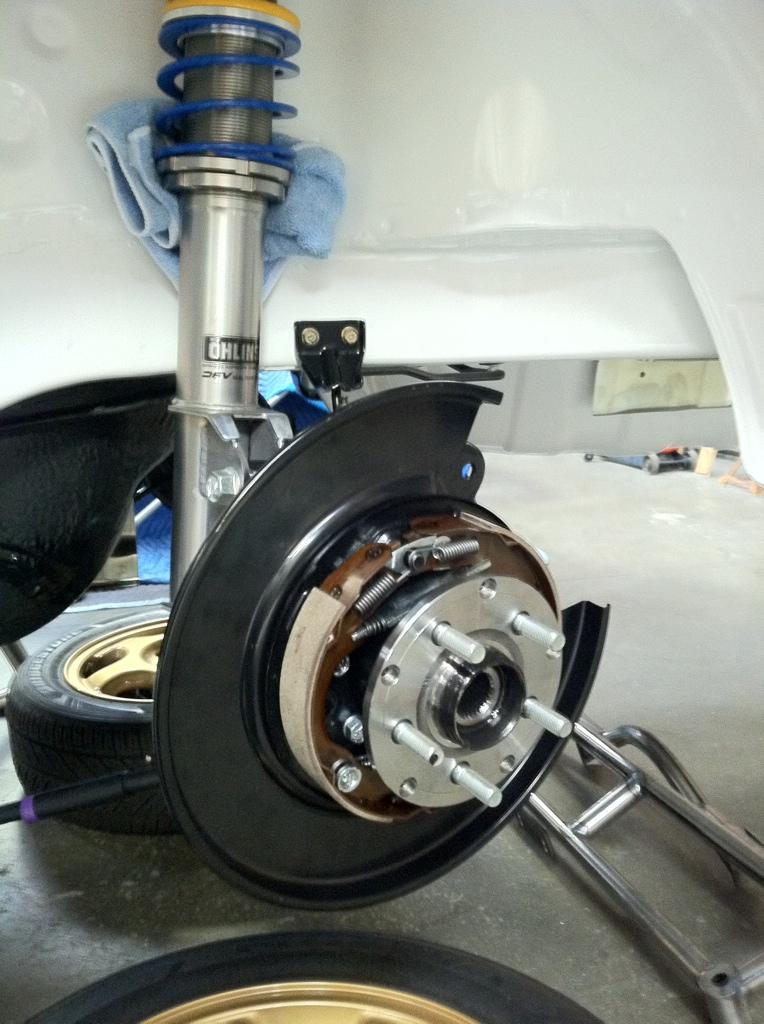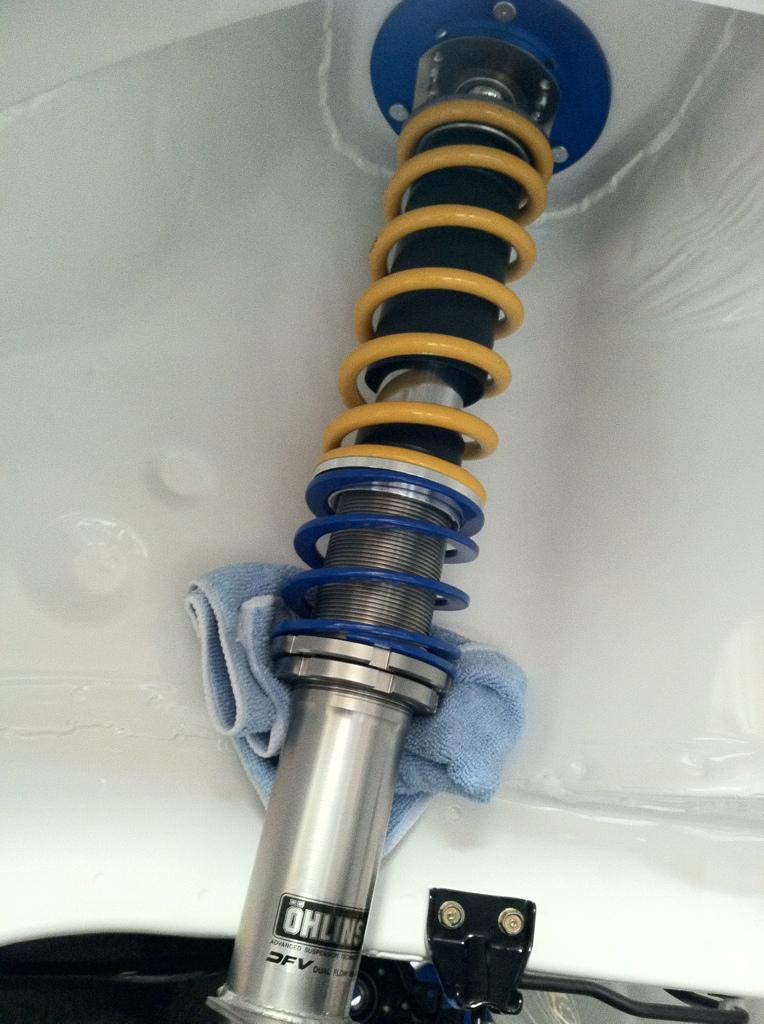 The rear and front top mounts are camber adjustable although the rears have very little movement because of the size of the hole in shell, I may be able to move the position of the screws that hold the adjuster in the plate if needed. I will look at the camber once I have a rear subframe and lateral linksThe front ones have much more
adjustment.
4-9-2014
Last night I finished assembling the steering column, I replated just a few of the parts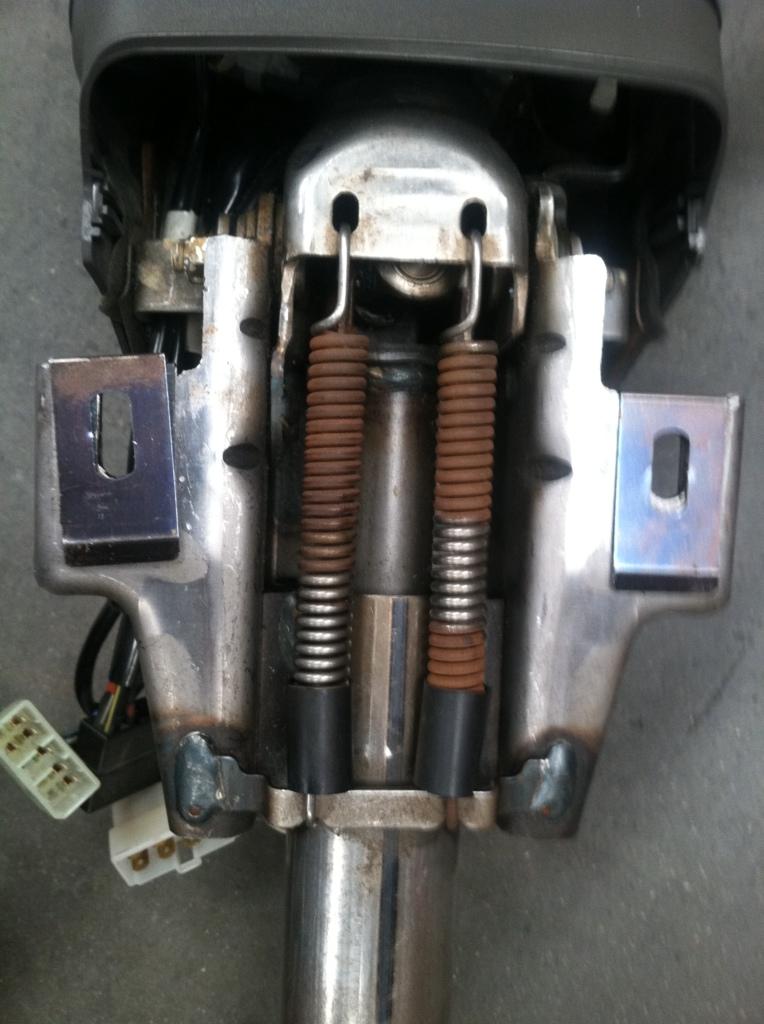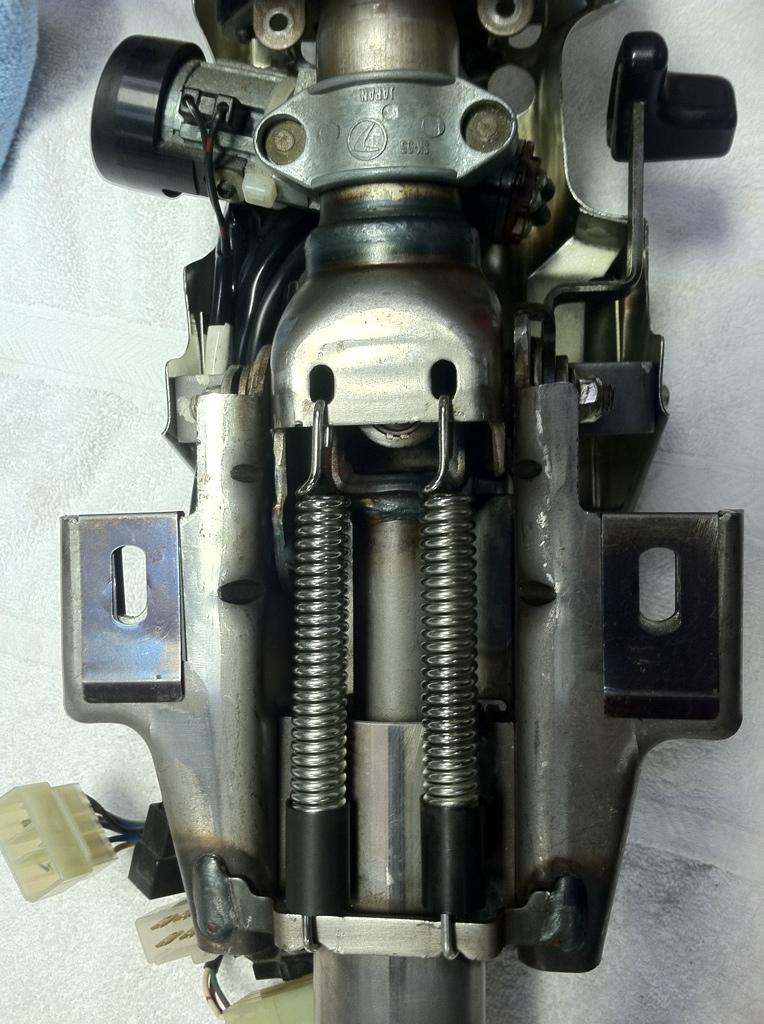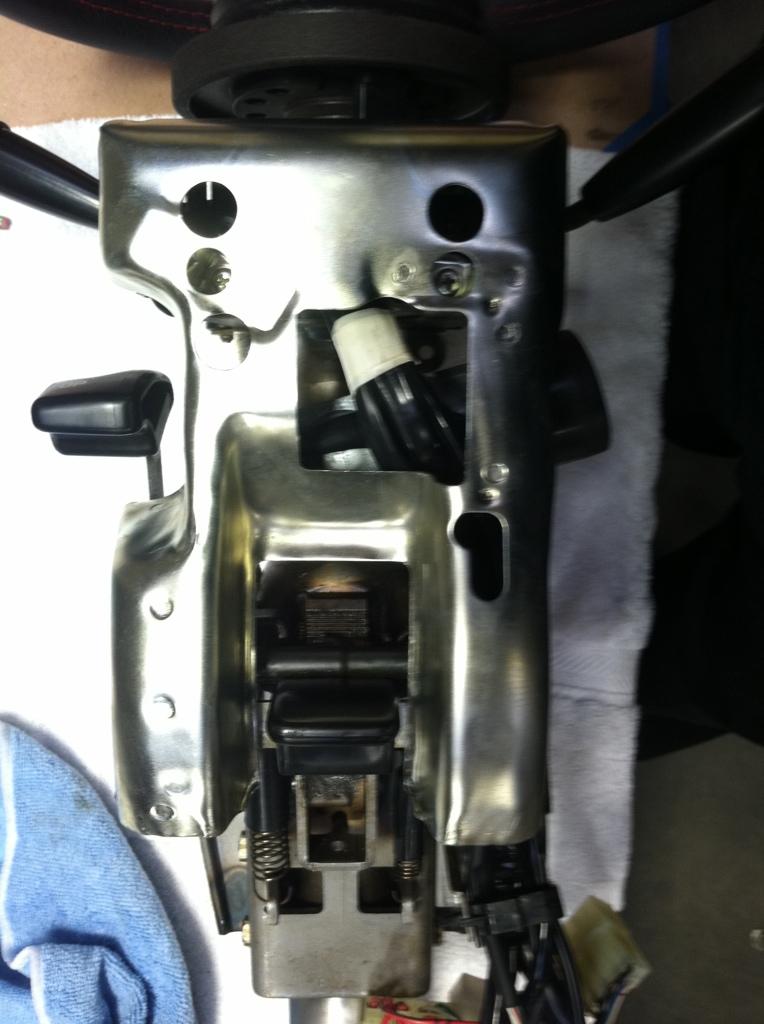 4-22-2014
Today I fit the JDM front bumper cover as I am having a person from Subaru of America come and take photos with the possibility of doing a article on the project, unfortunately I do not have the correct bumper support etc for it but I want it to look as it will when it's finished. I have also finished almost all the trim on the car, the front cowl and rear wheel arch trim pieces are on and the trim above the front and rear windscreens are in place. The window washer bottle and hoses are in and I have a lot more parts comming from Subaru soon to finish a lot of the small detail pieces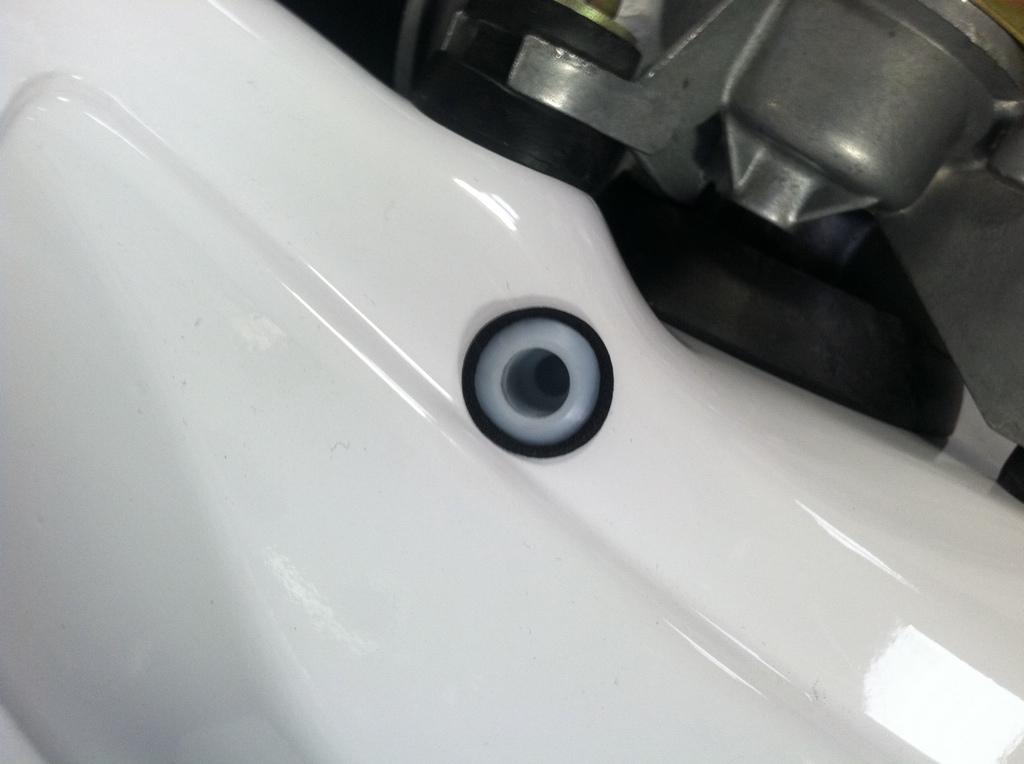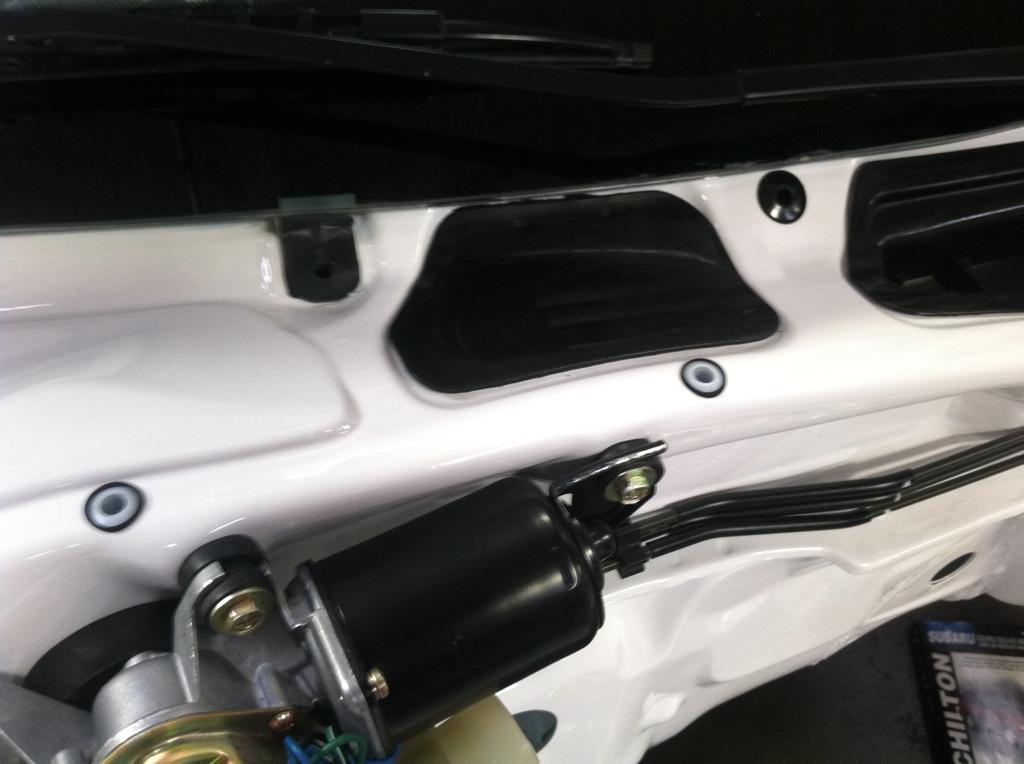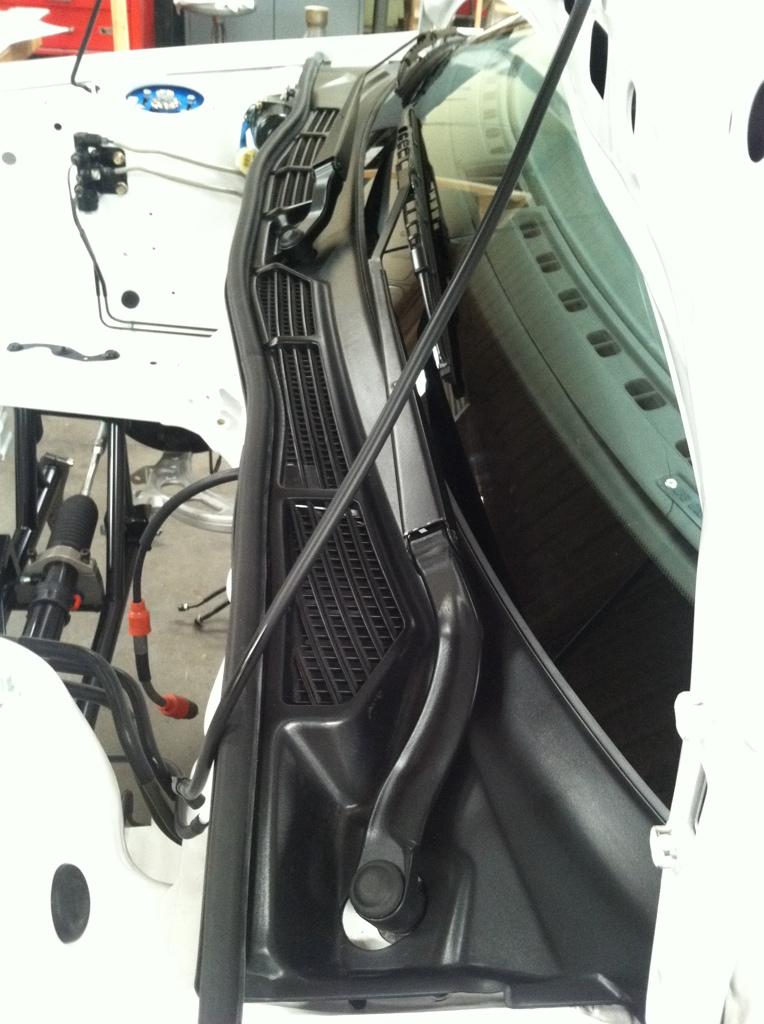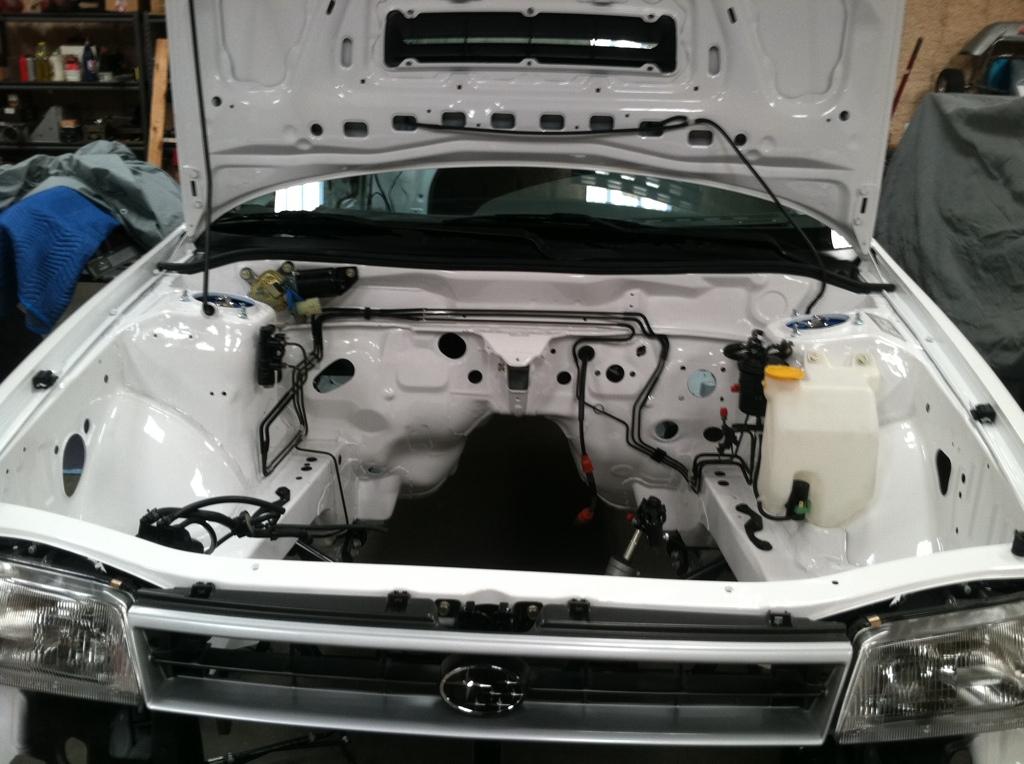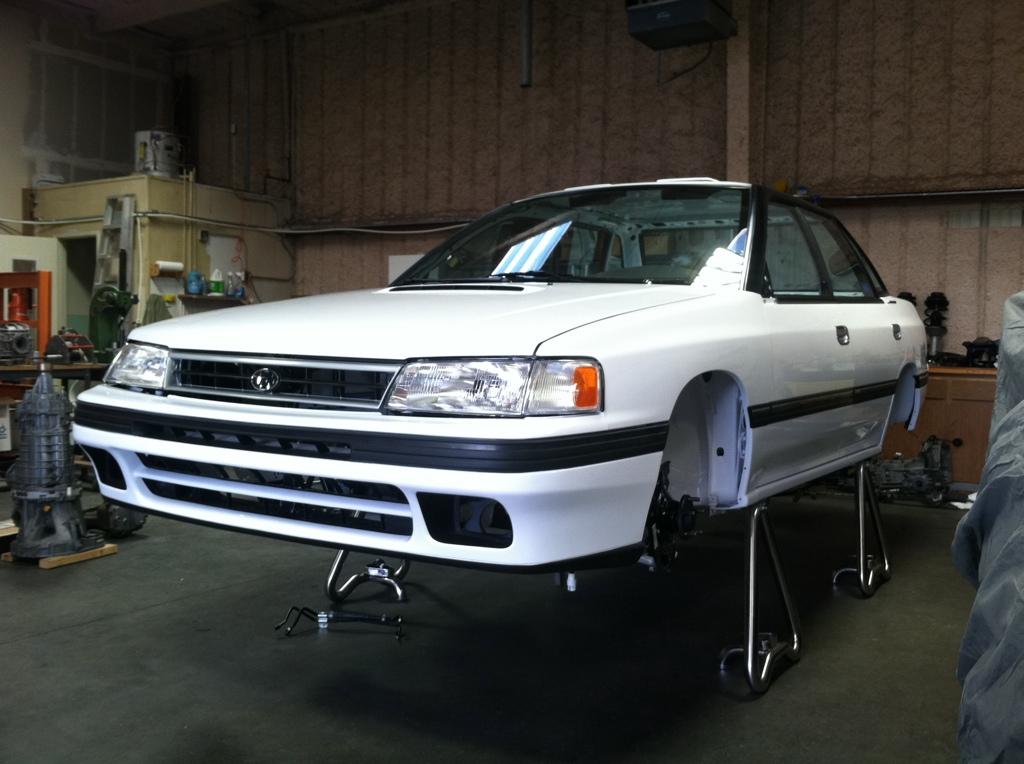 4-24-2014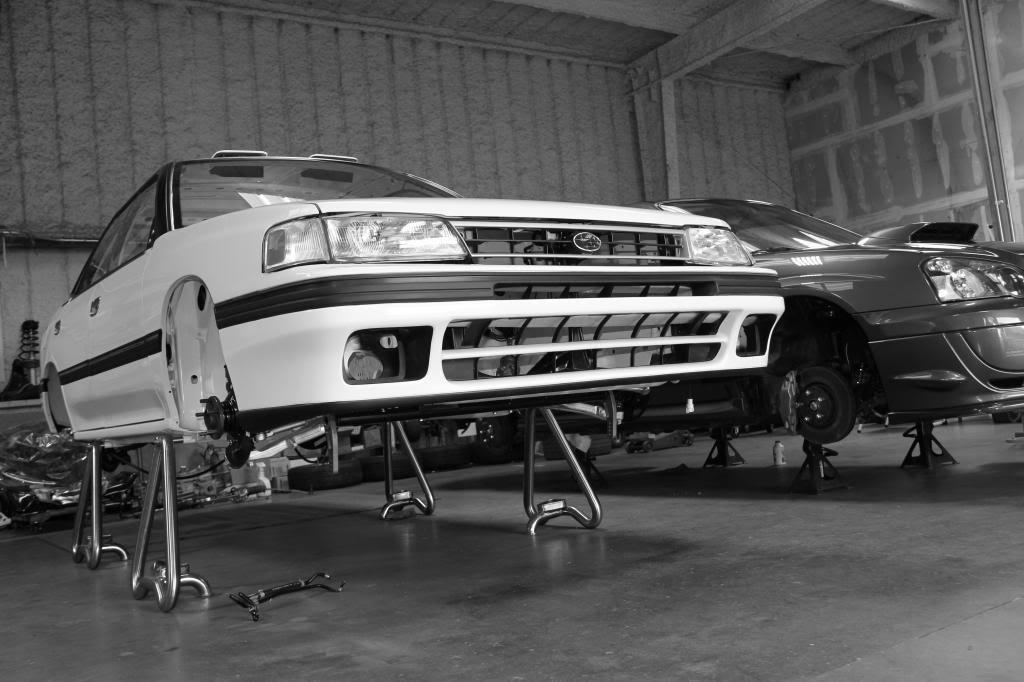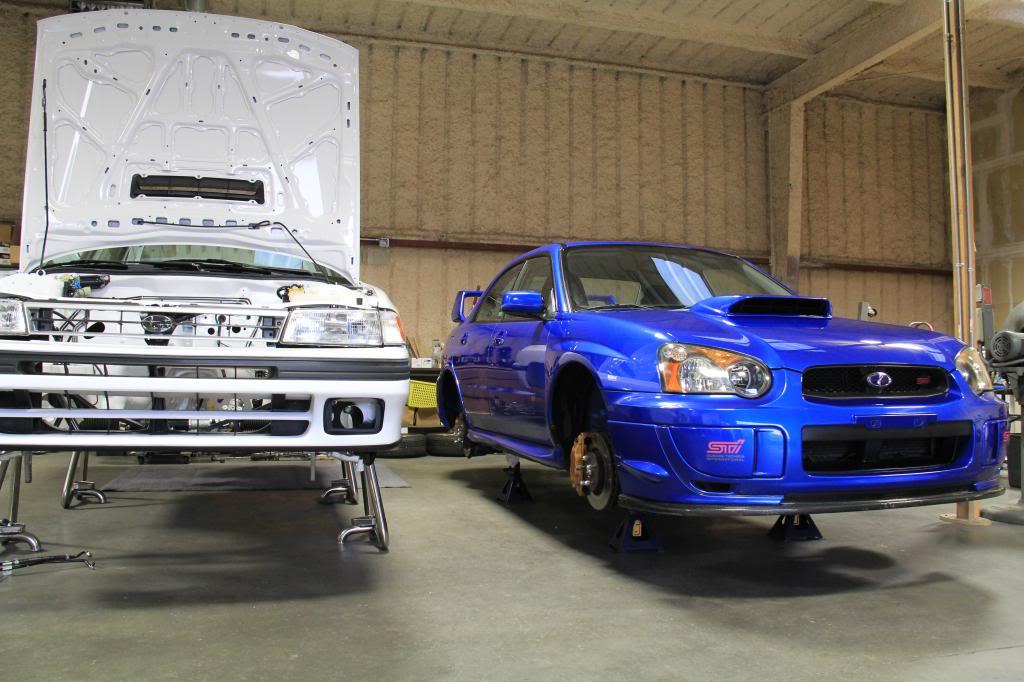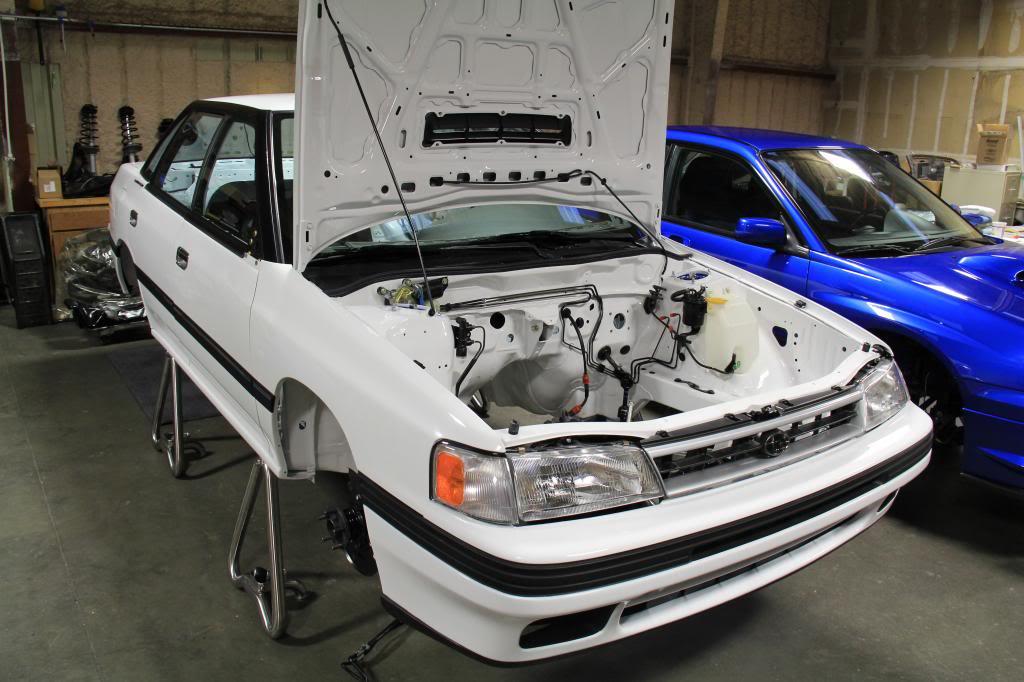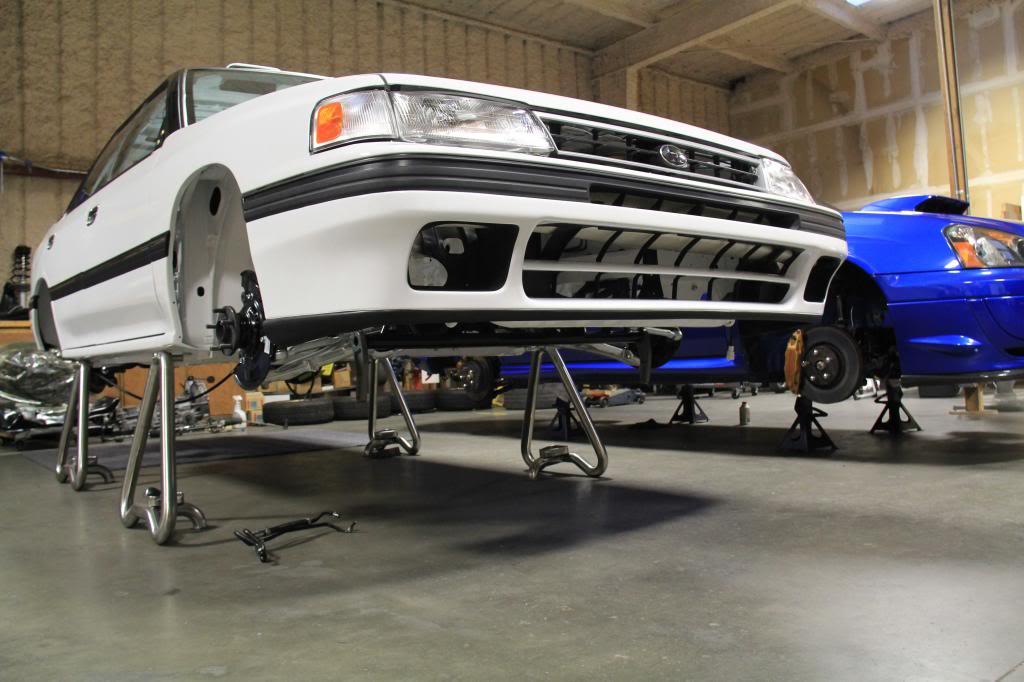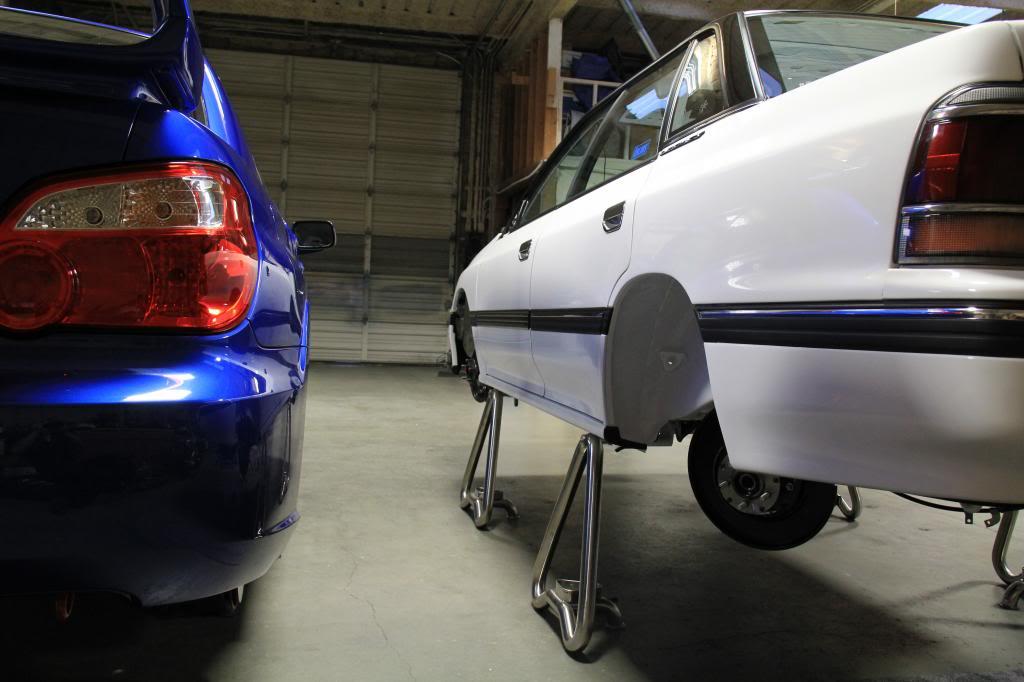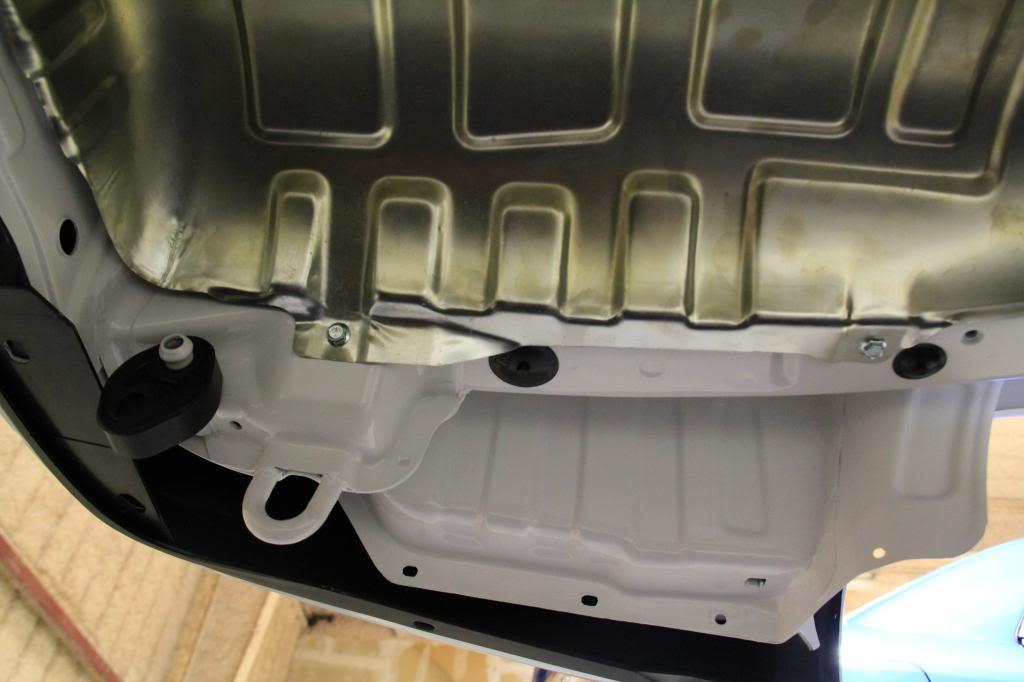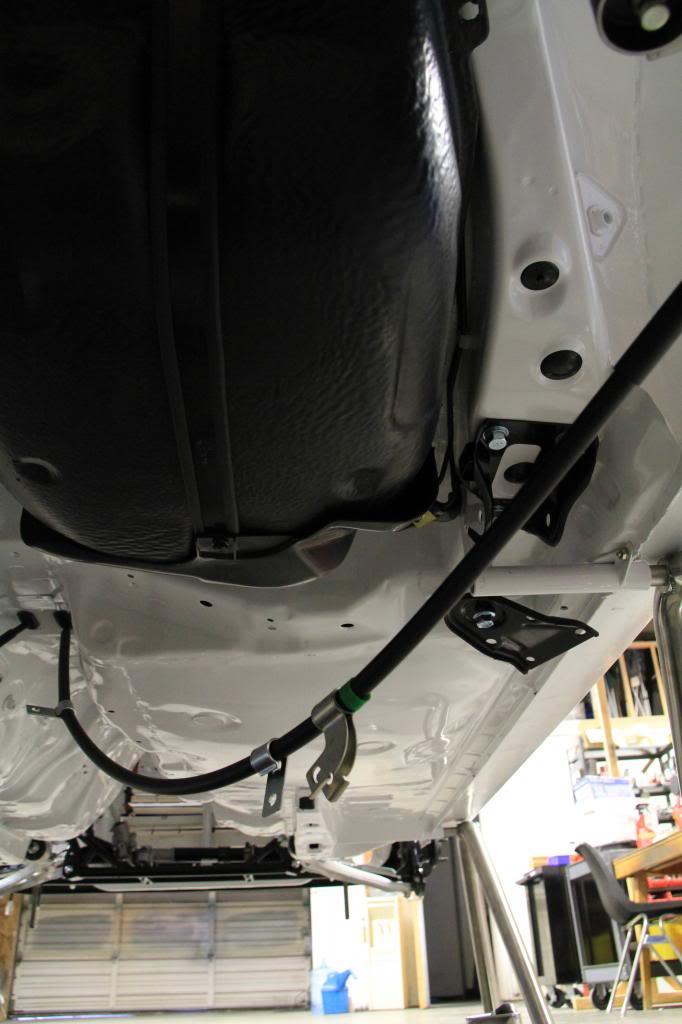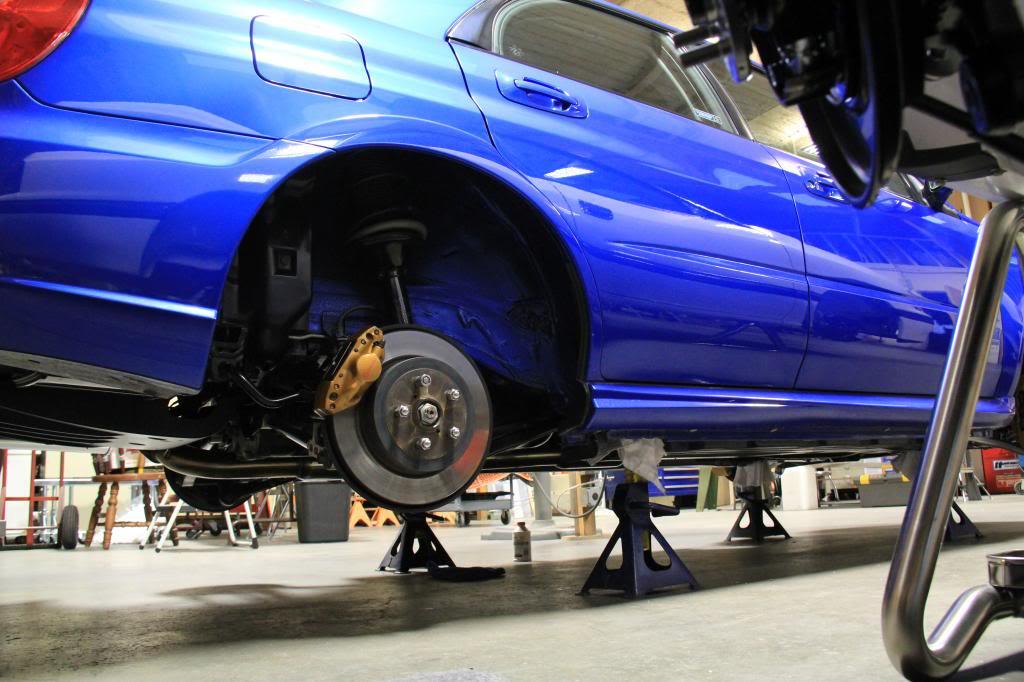 Here are a few photos that are up to date as of last night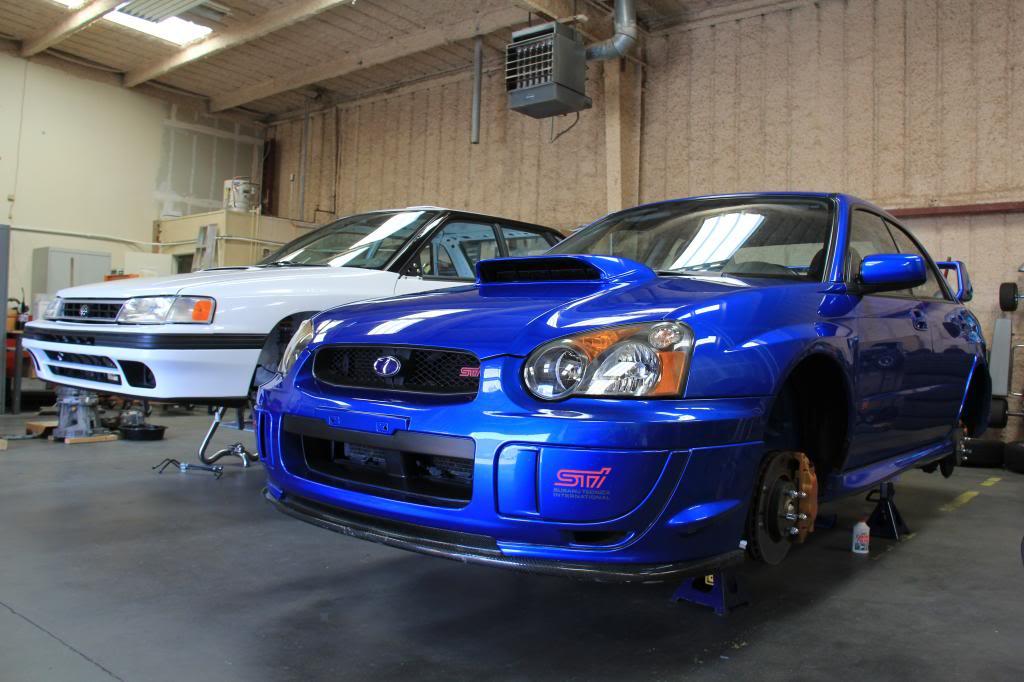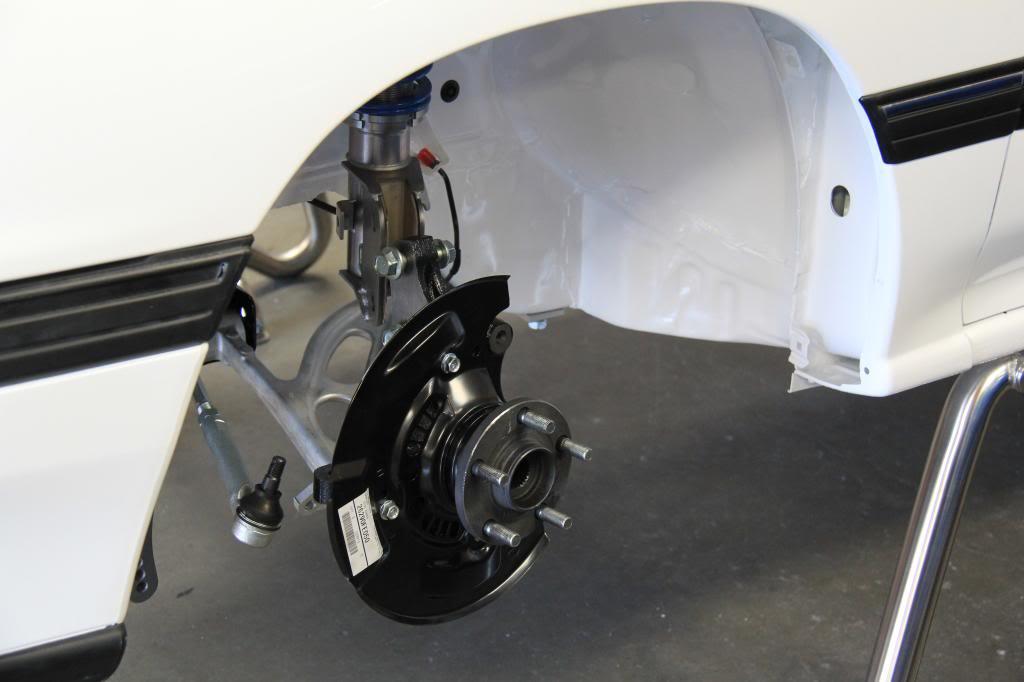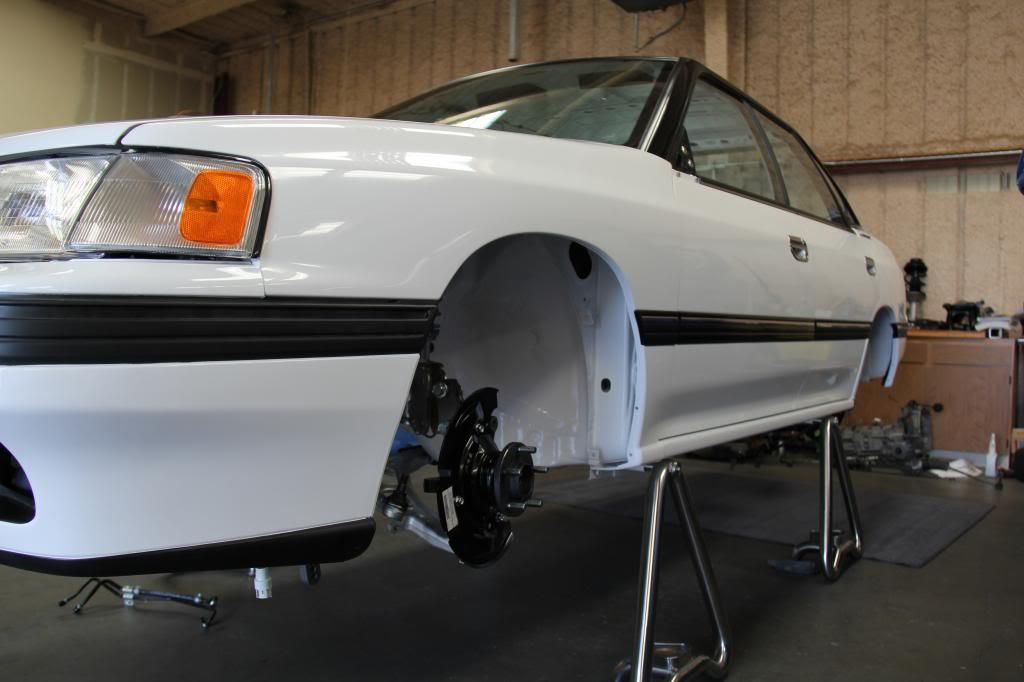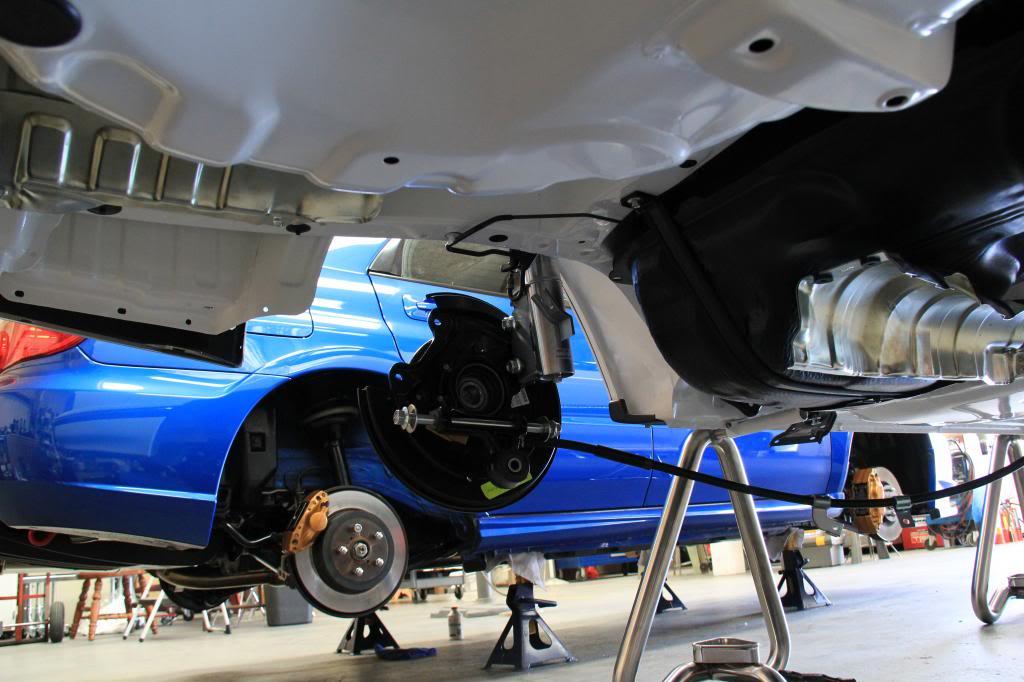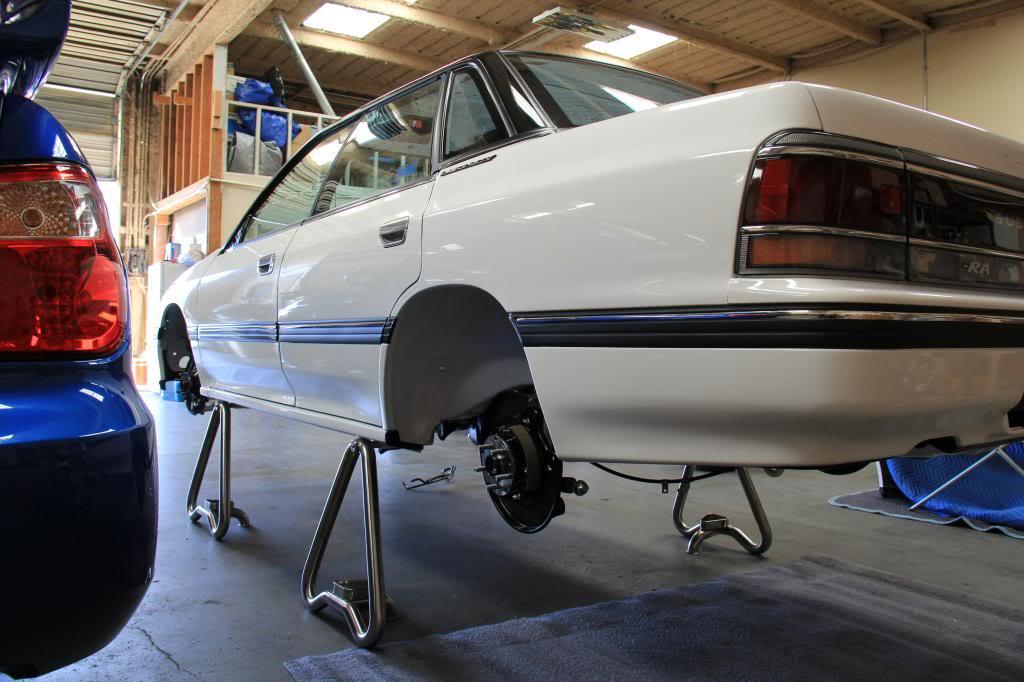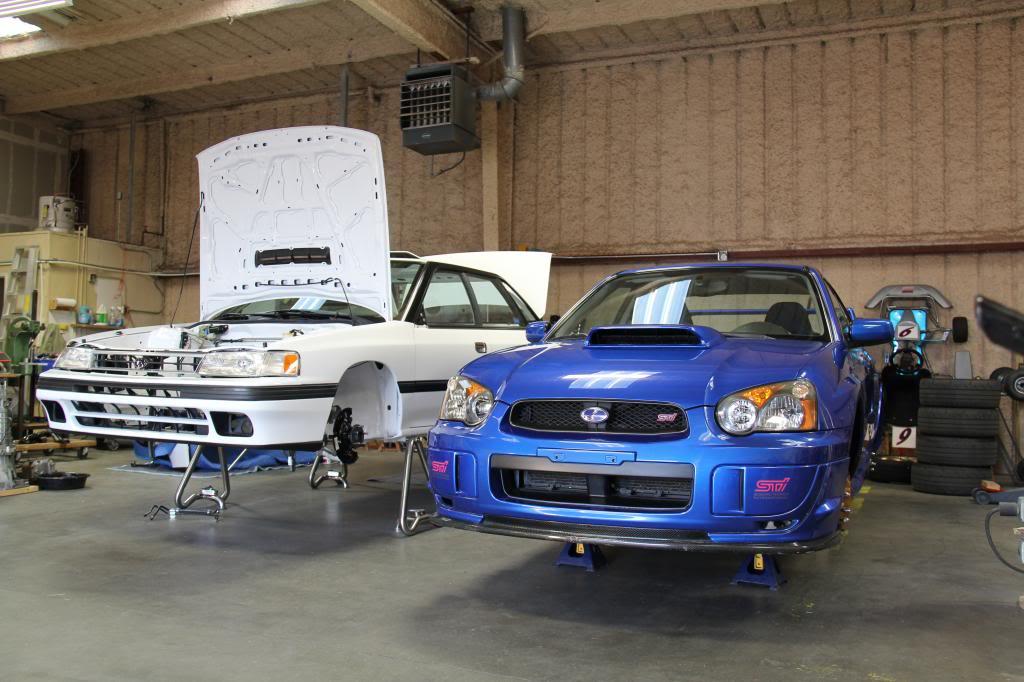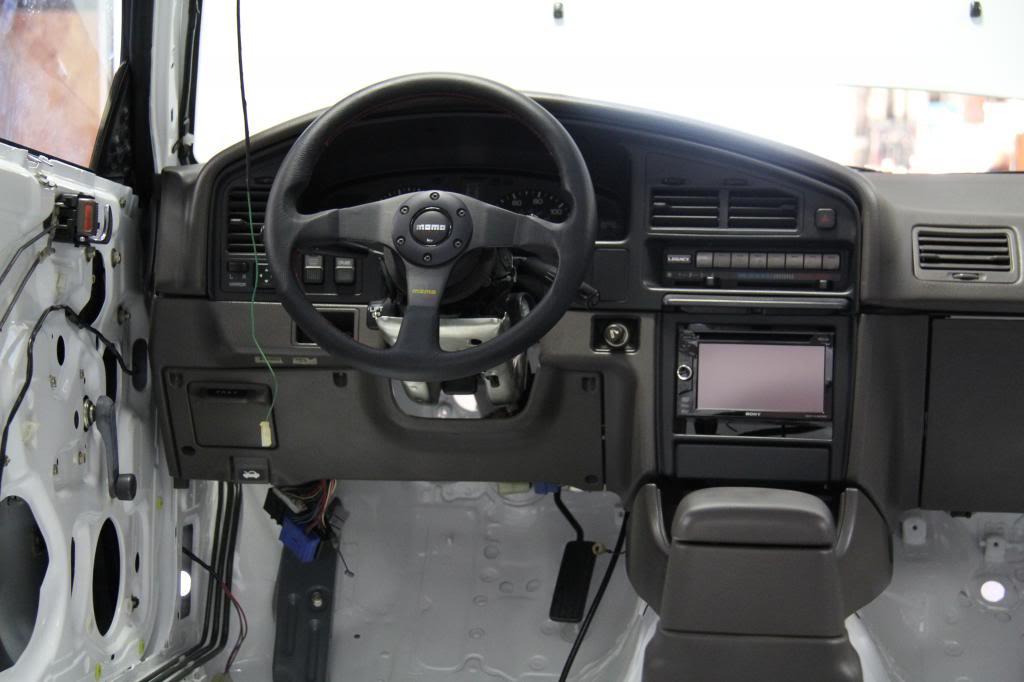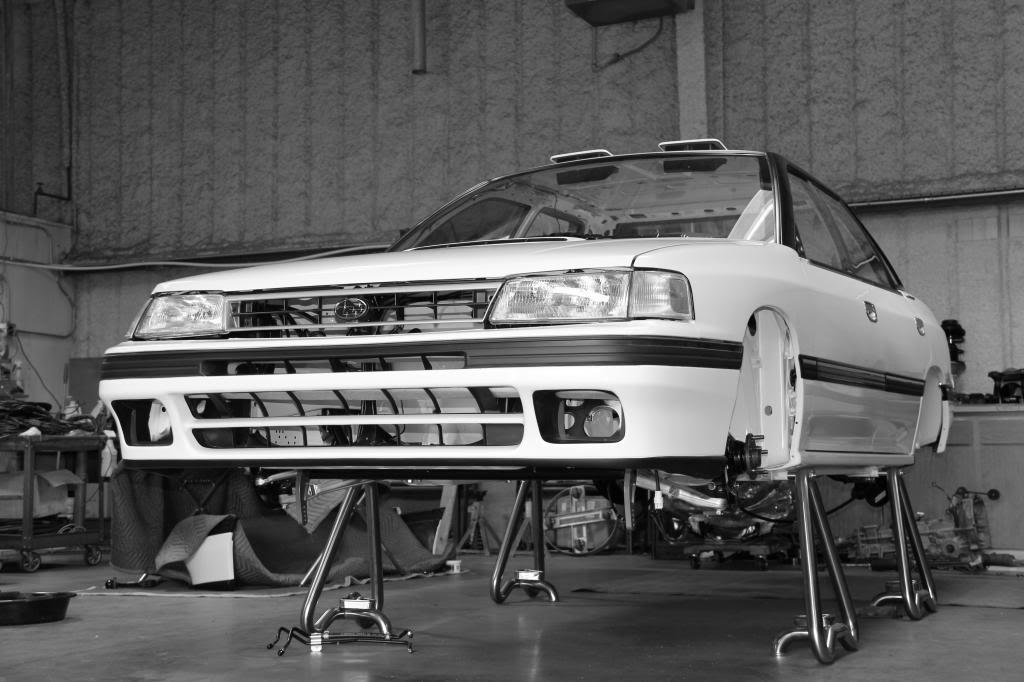 5-1-2014
Today I received some parts from FedEx that I was very happy about, these are parts I had custom made by my friends at Aerodine Composites and they give the original set up a much more finished look. I am very happy with the result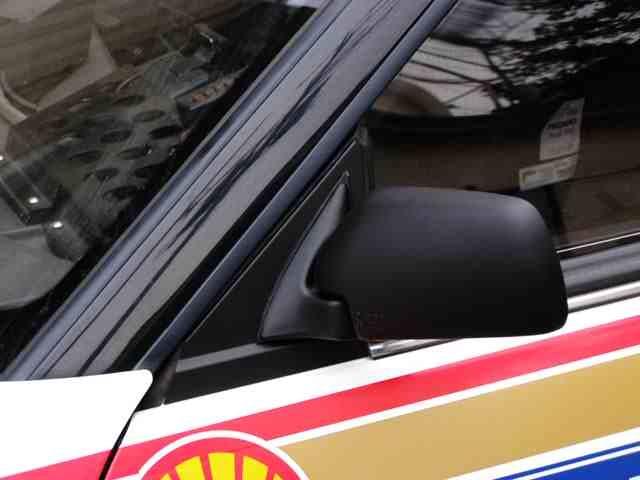 Above is the original set up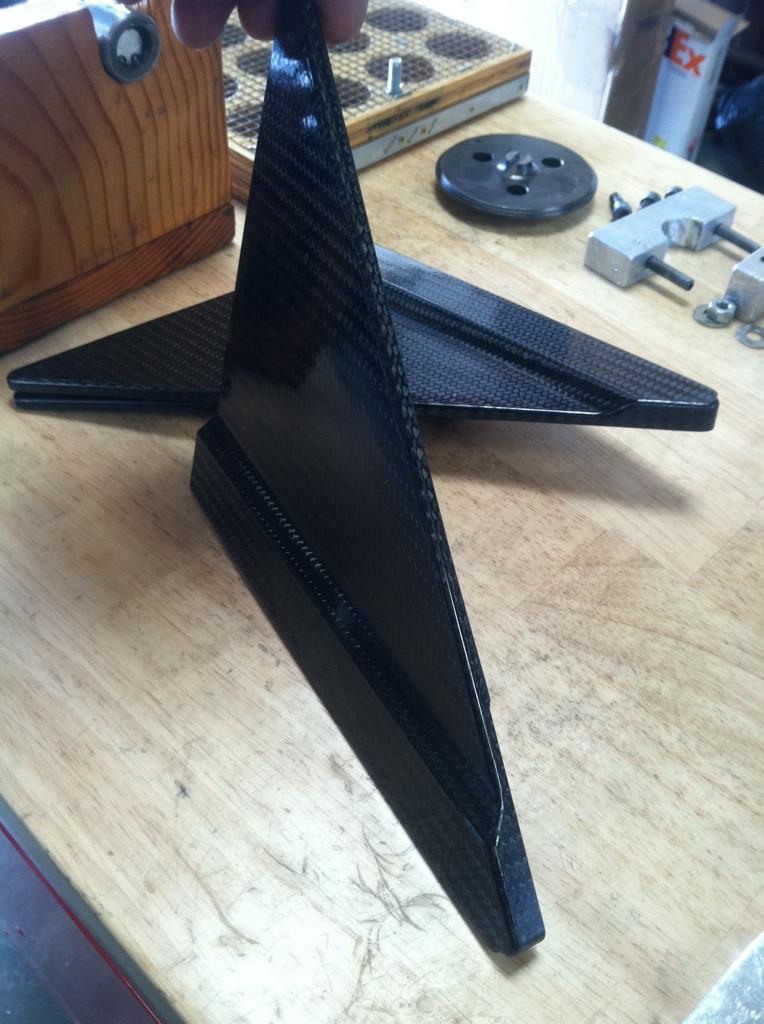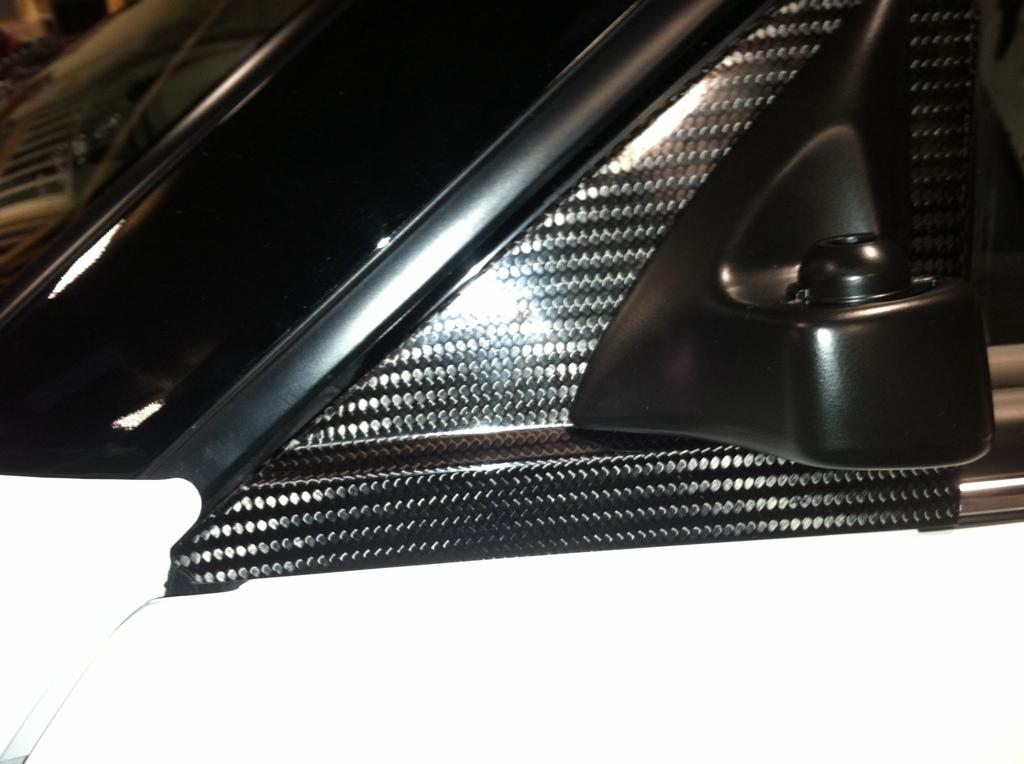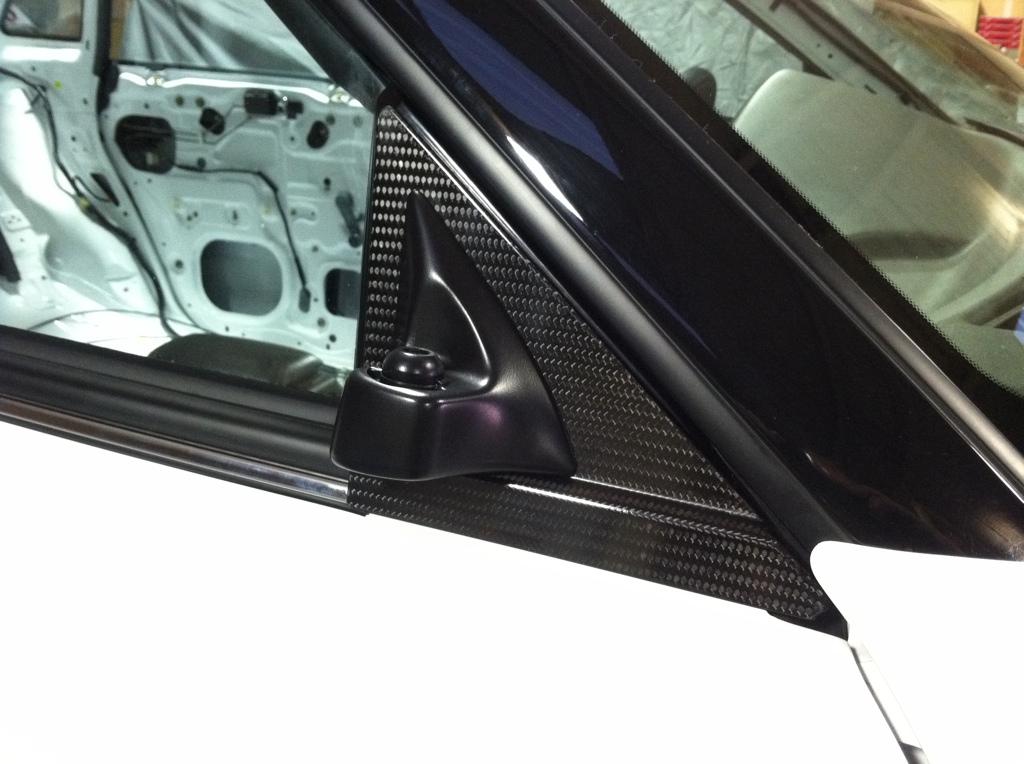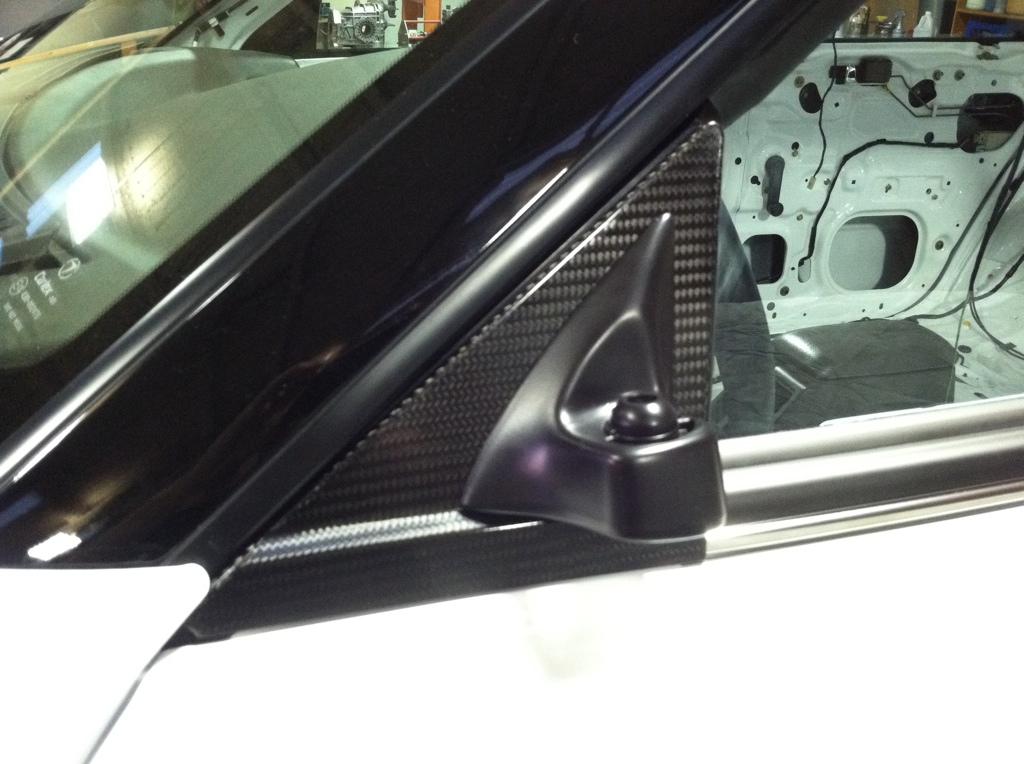 5-4-2014
This weekend I was busy on the Legacy, I have painted the Trans Mount and the Diff and made a rear Strut brace out of a 2005 STI Impreza Brace.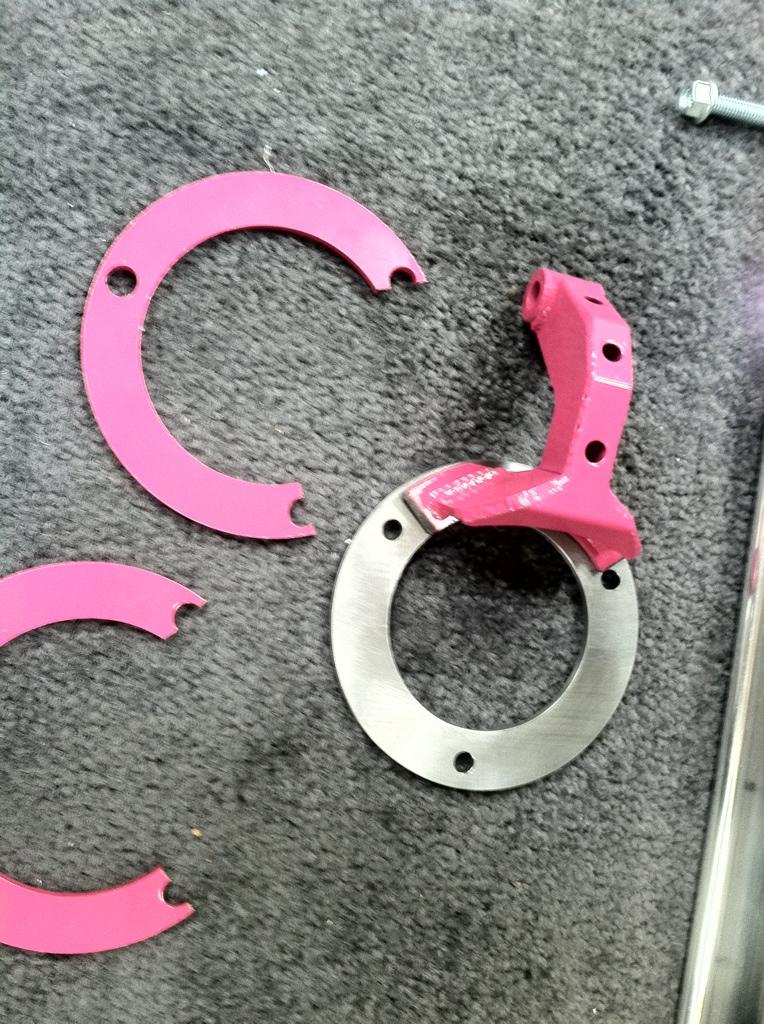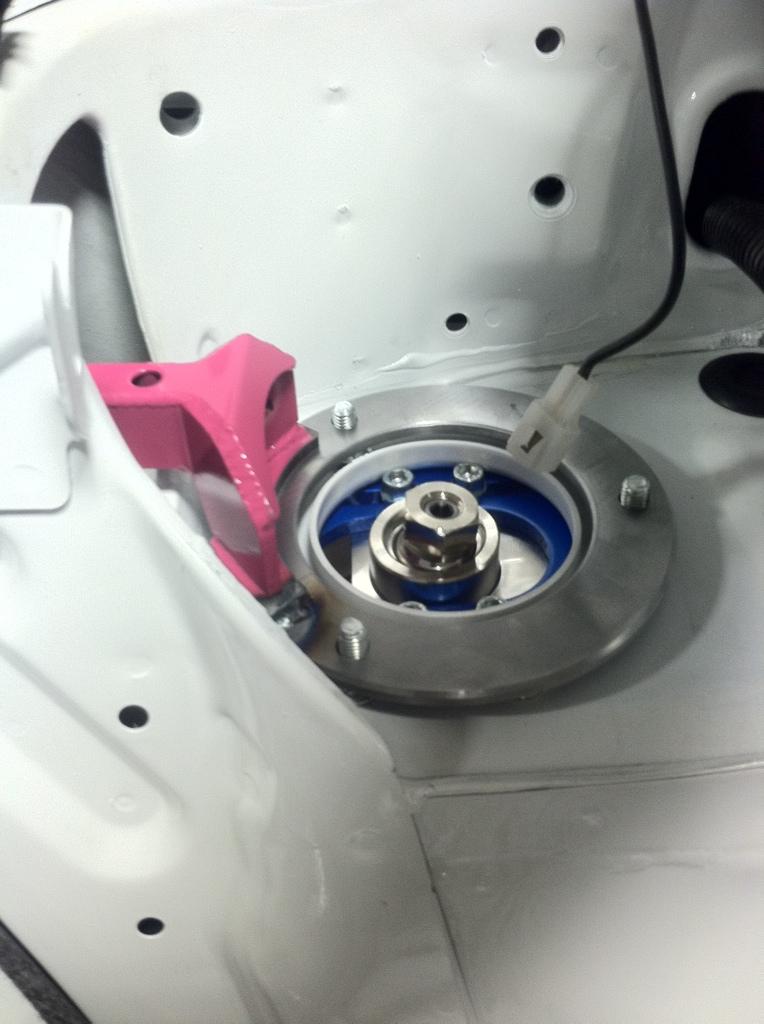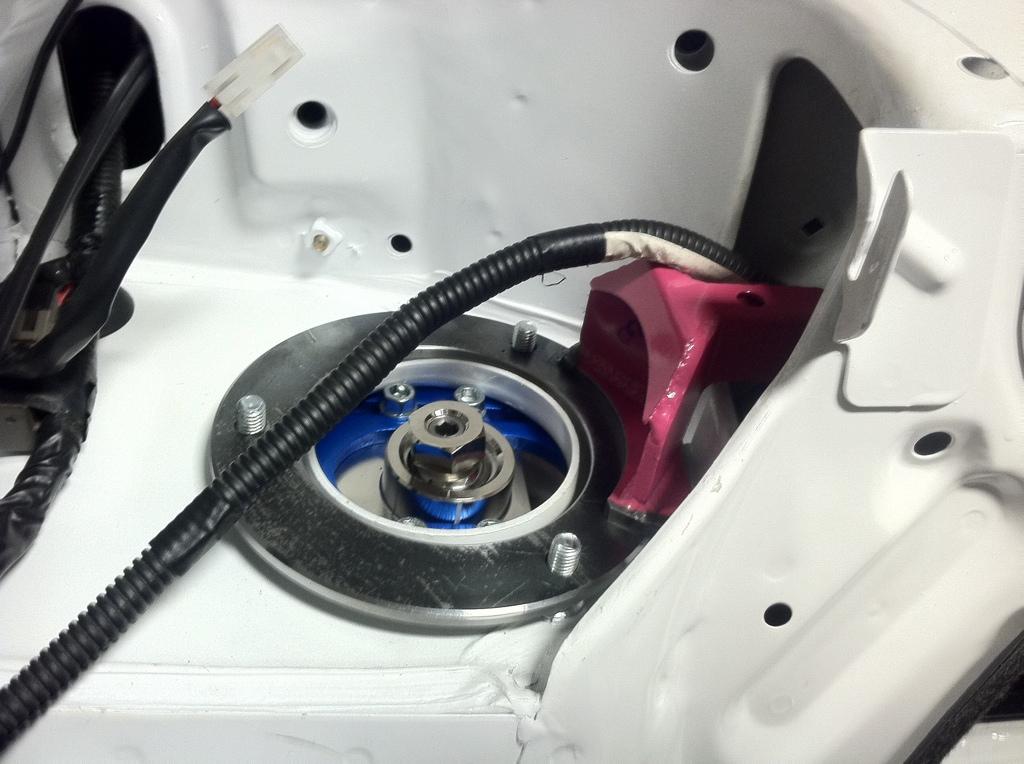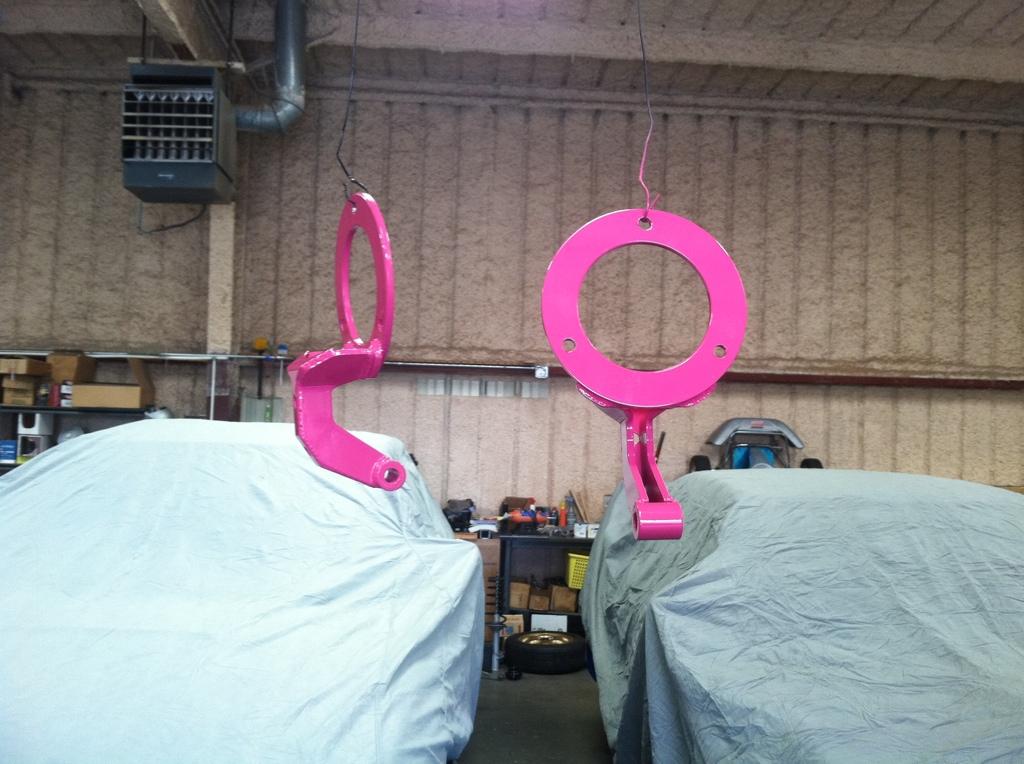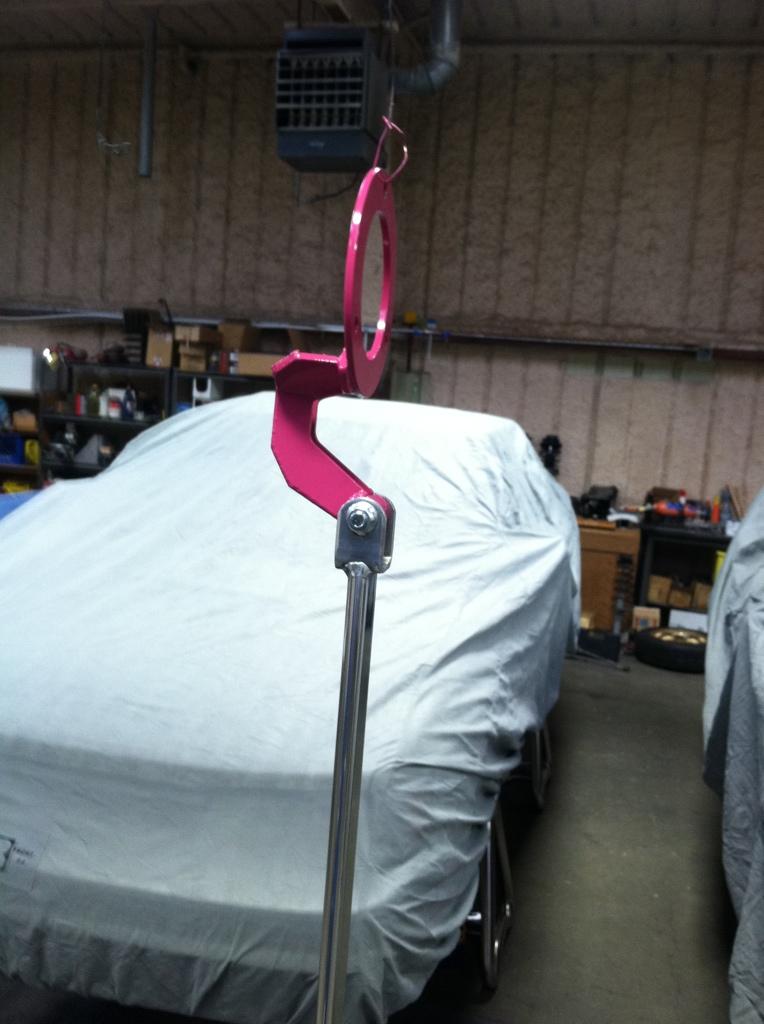 5-10-2014
Today I worked on the Diff and I was able to salvage a Legacy RS badge and I was very happy with the result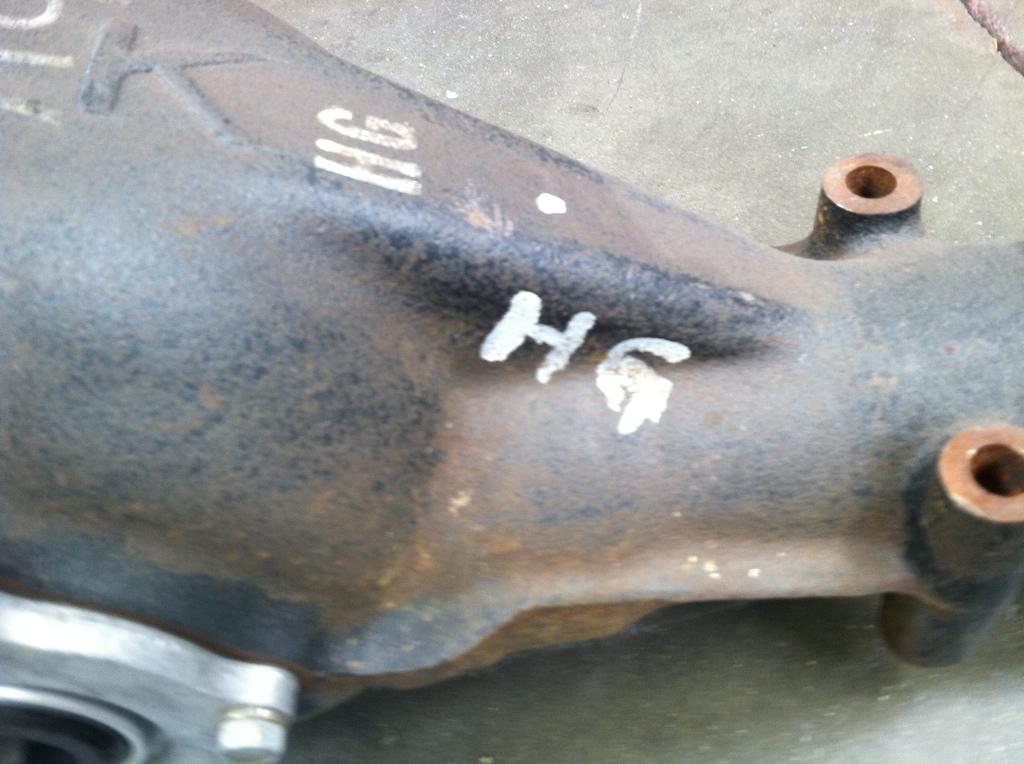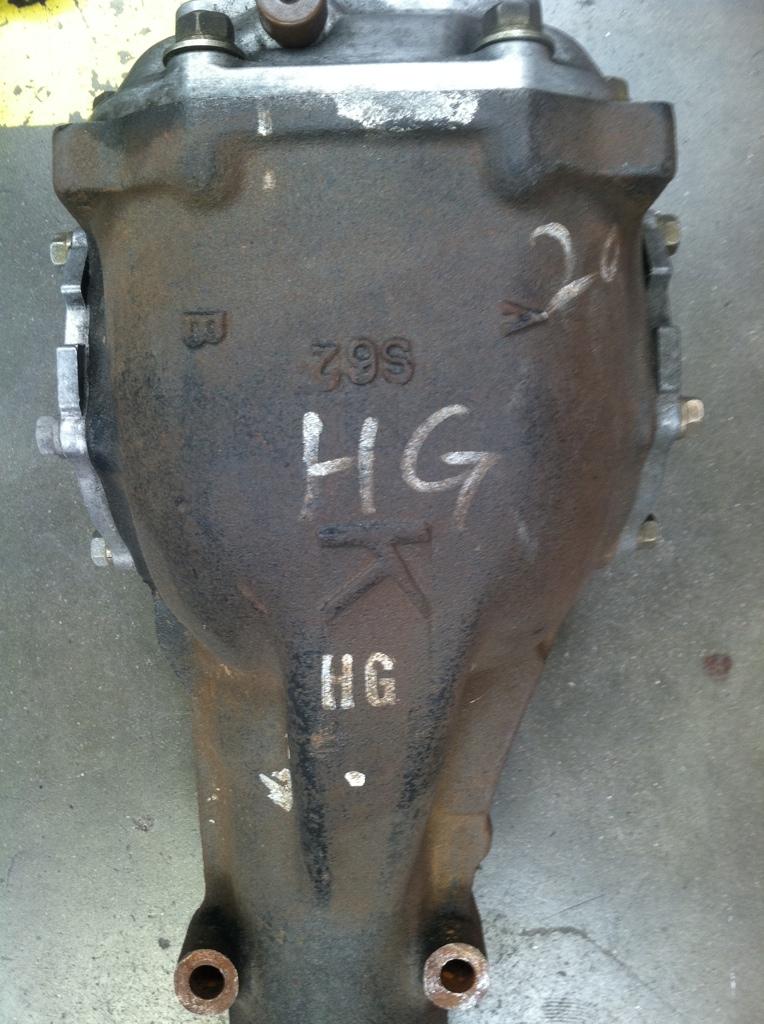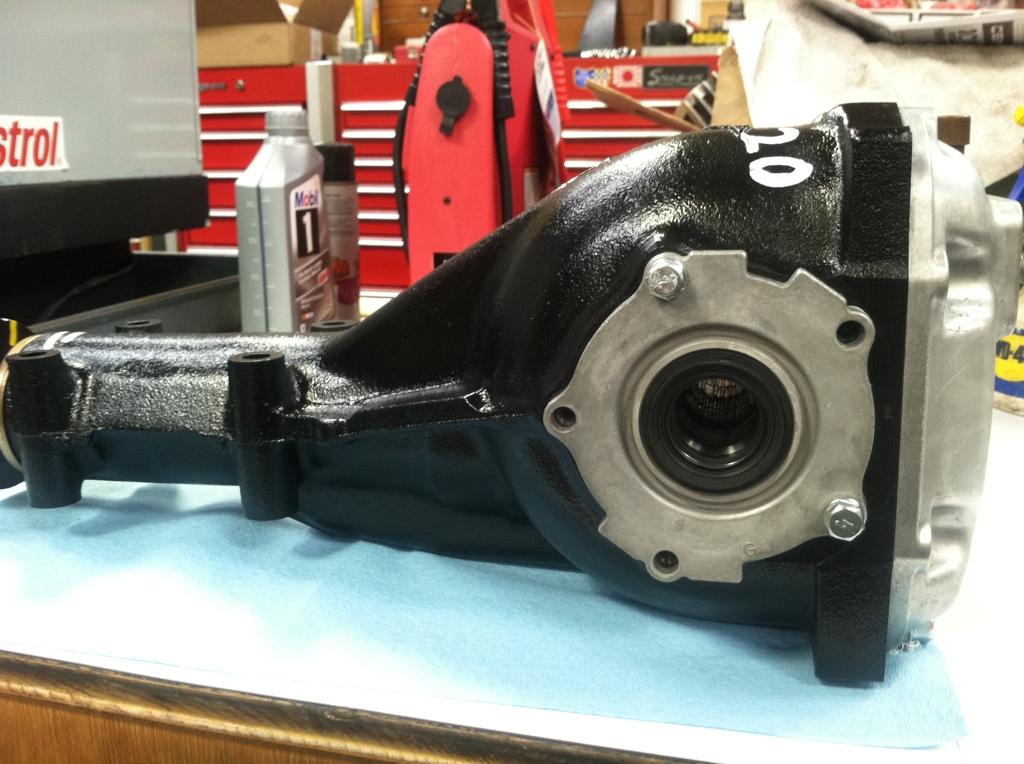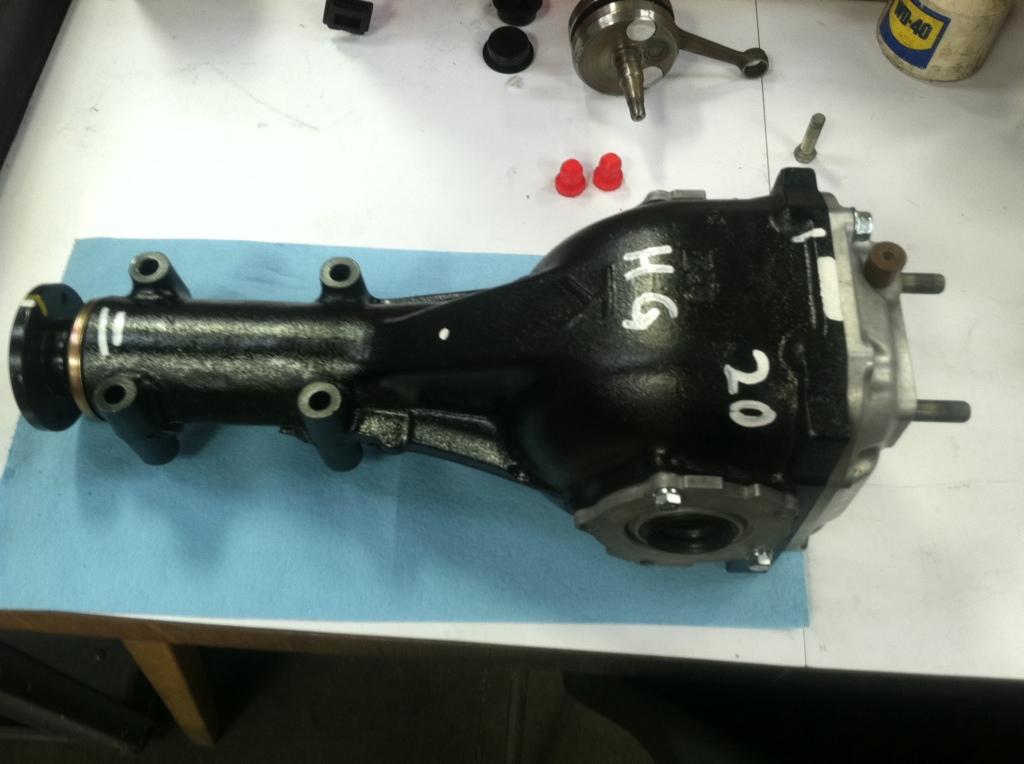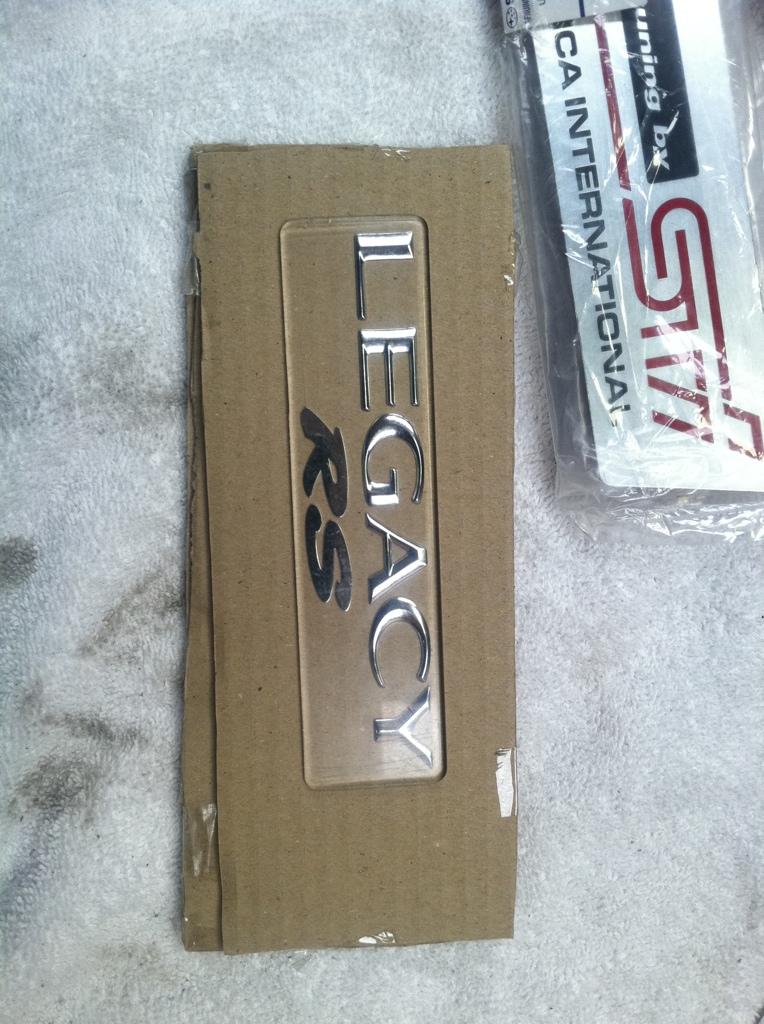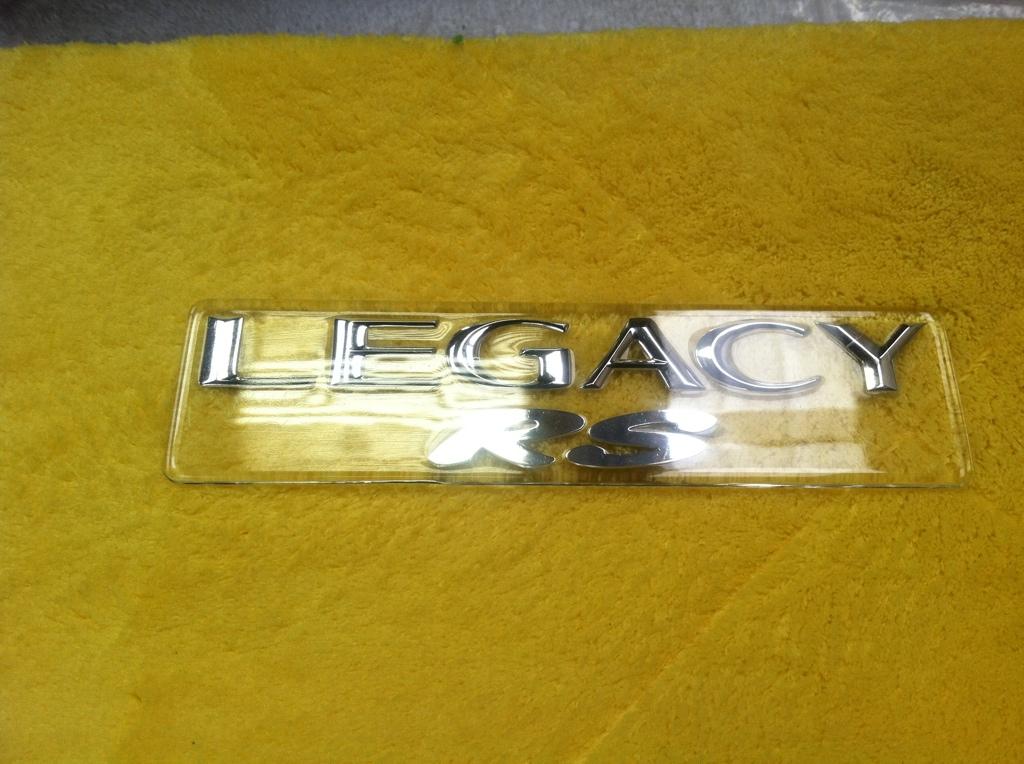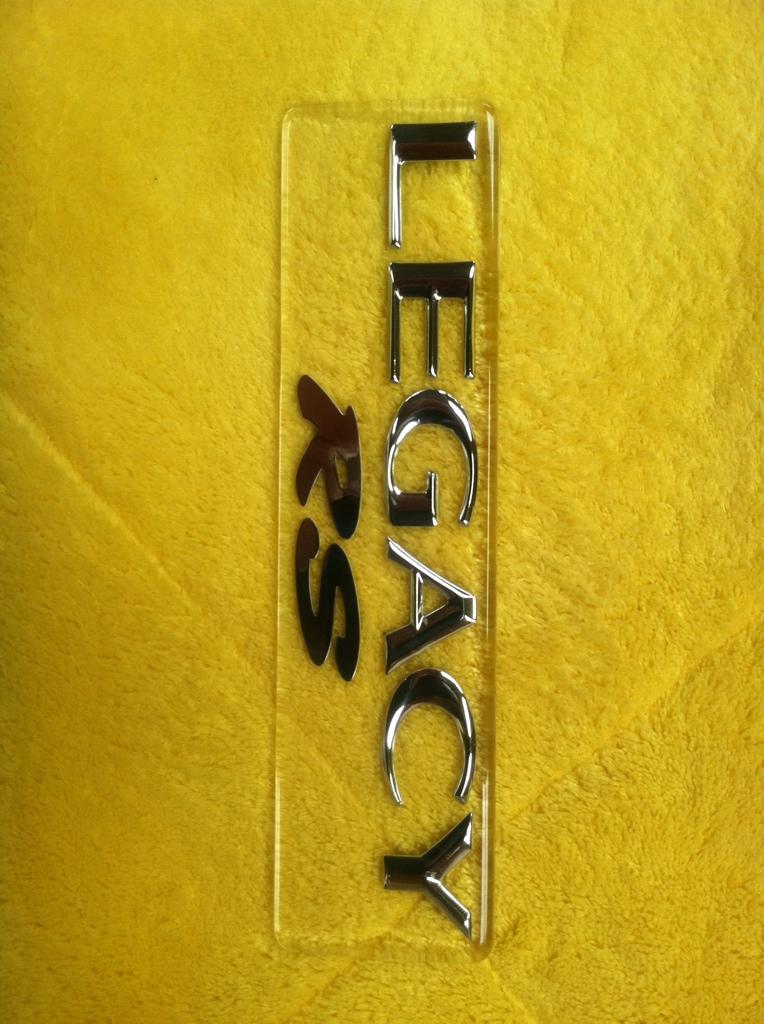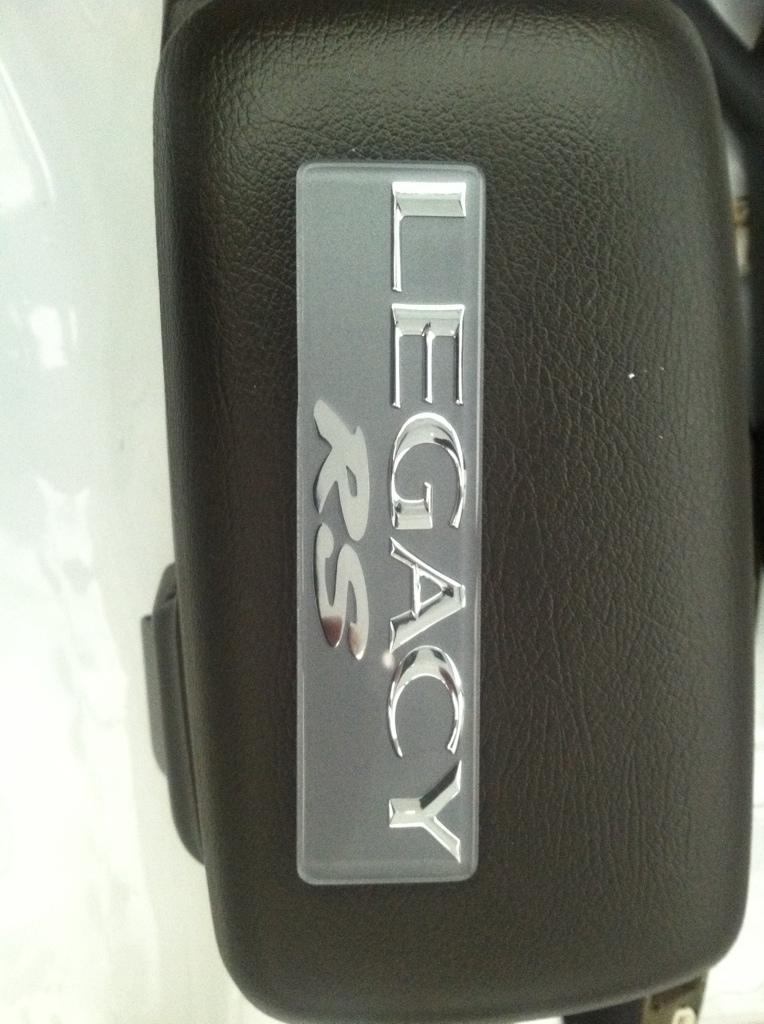 7-26-2014
Hi, I know it's been a while since I updated the thread, I have been busy working on the transmission and I ended up stripping the case off of it after I had an issue with not being able to get the transmission strainer back into place after I removed it.
It is now back together and the case has been cleaned and the bolts and brackets have been re plated gold zinc.
I also had an original strut tower brace shipped over from New Zealand and I have just finished that project, I re painted the mounts and polished the bar and plated the bloats and adjuster. I also fit a Perrin short throw shifter adaptor and we made new shift linkage bushings at the shop. I have also been working on the factory fuel rails which I will have to use because we live in California and I will have to get it checked for emissions etc so I did a lot of work to help them flow more fuel.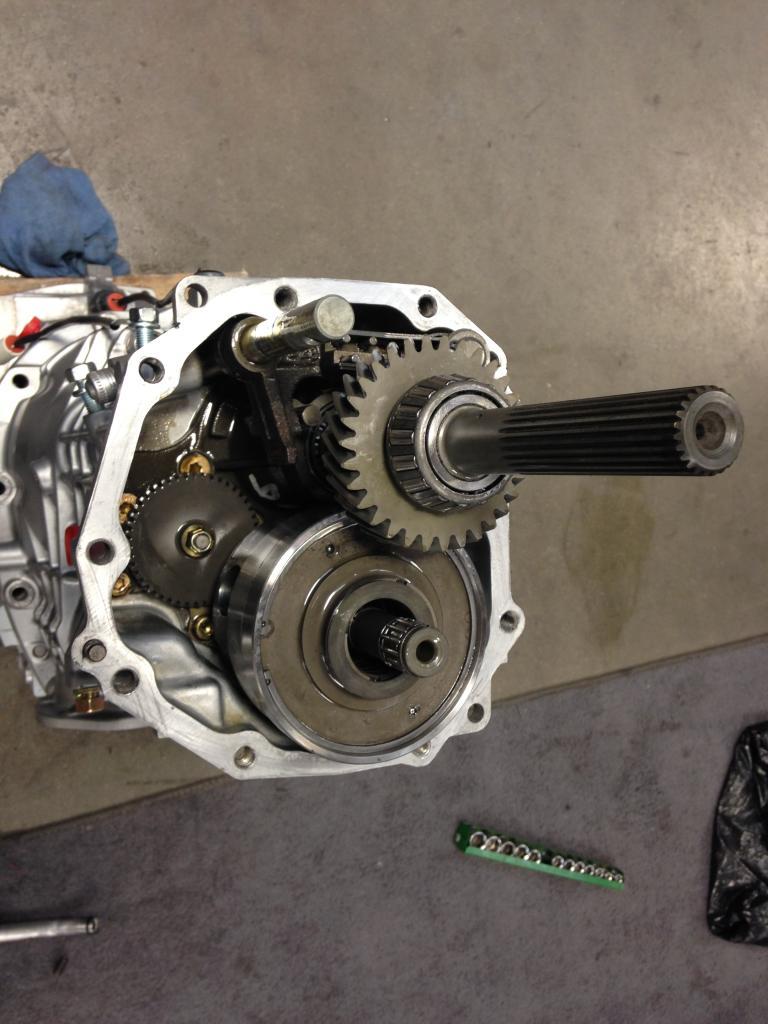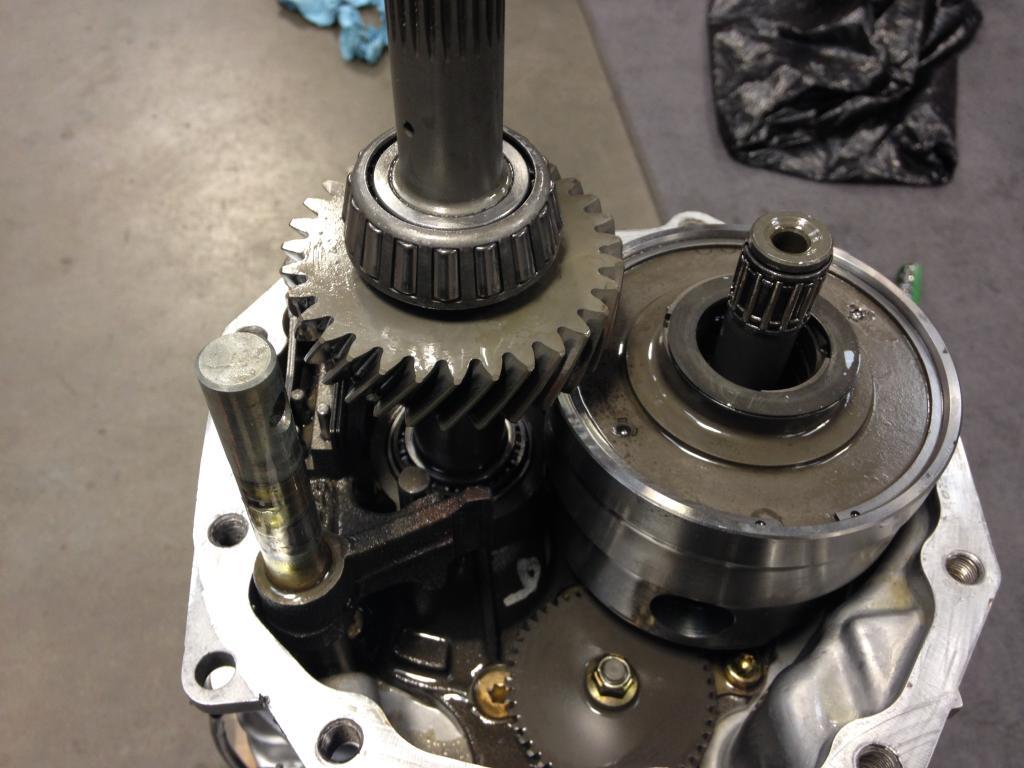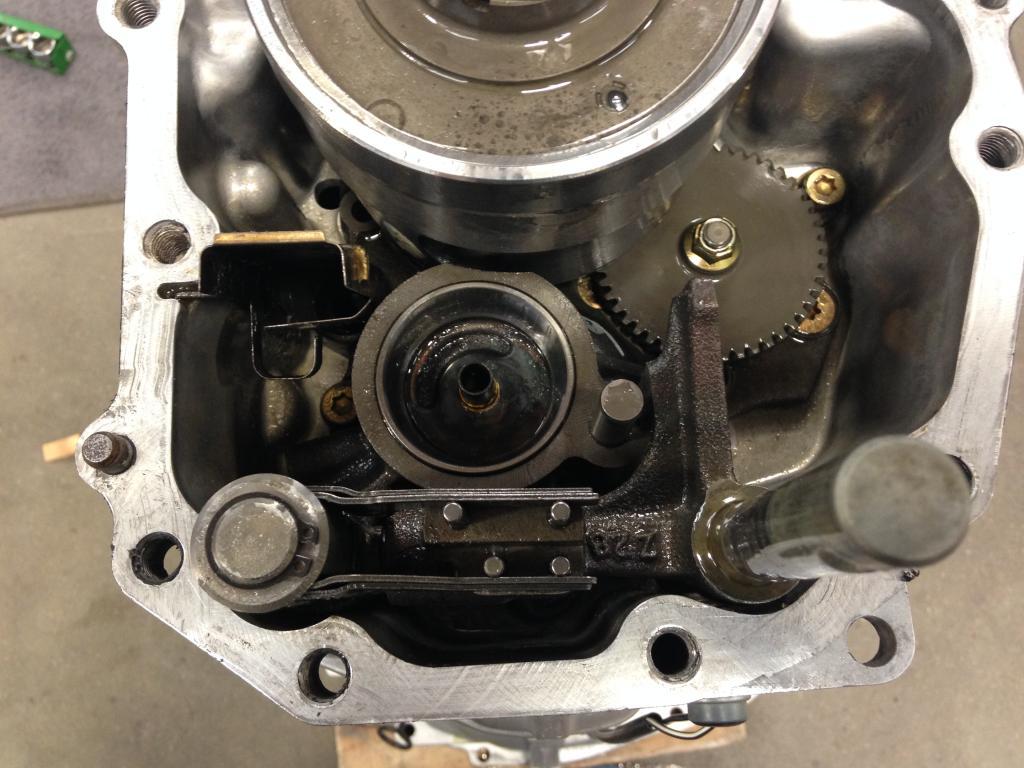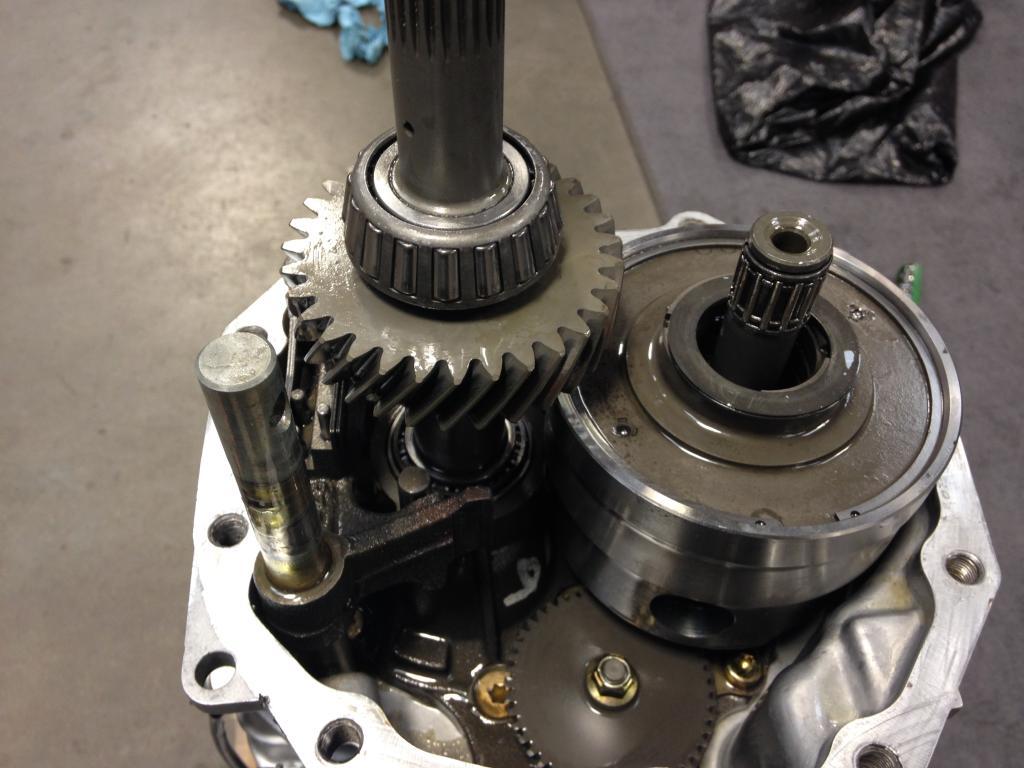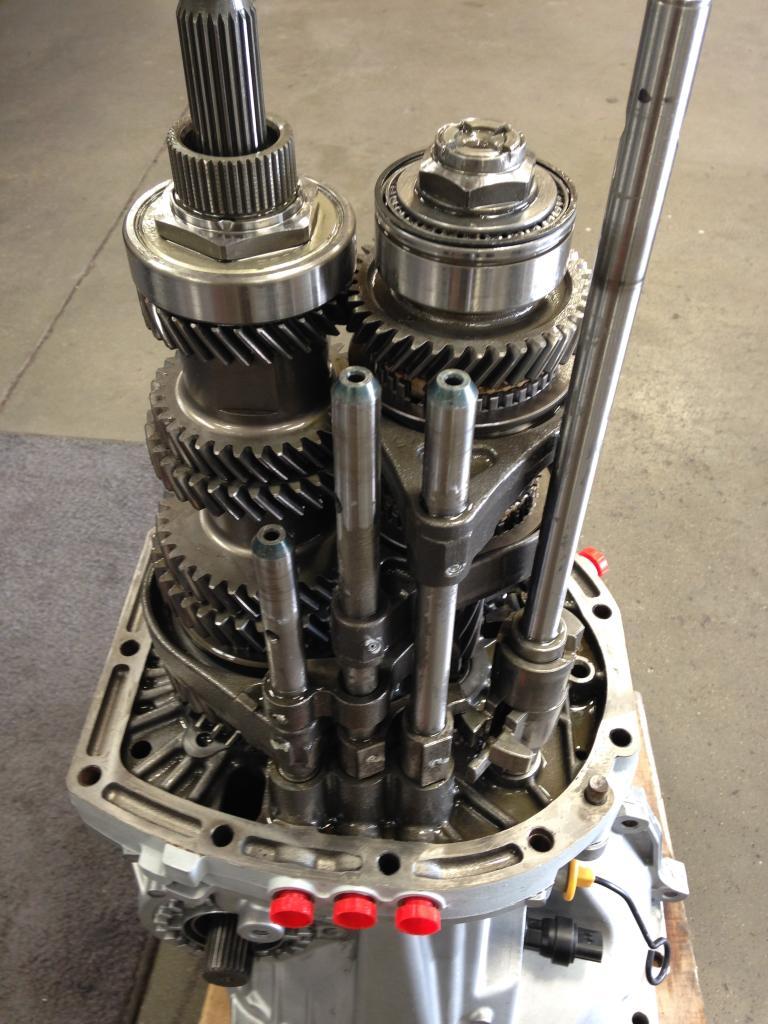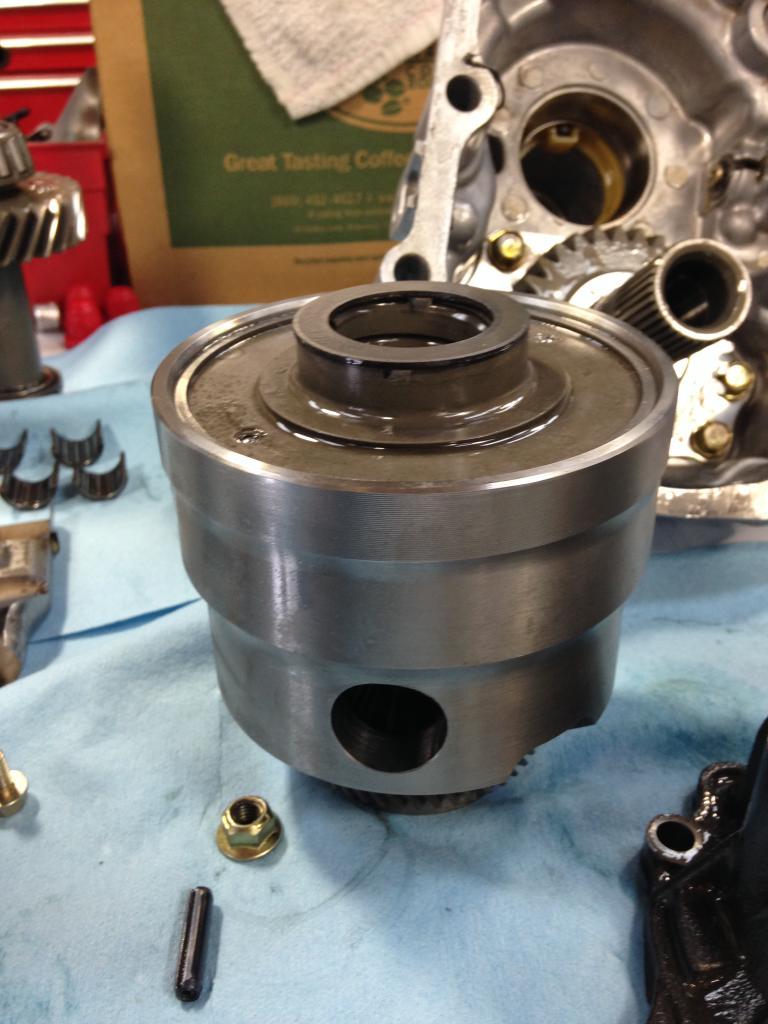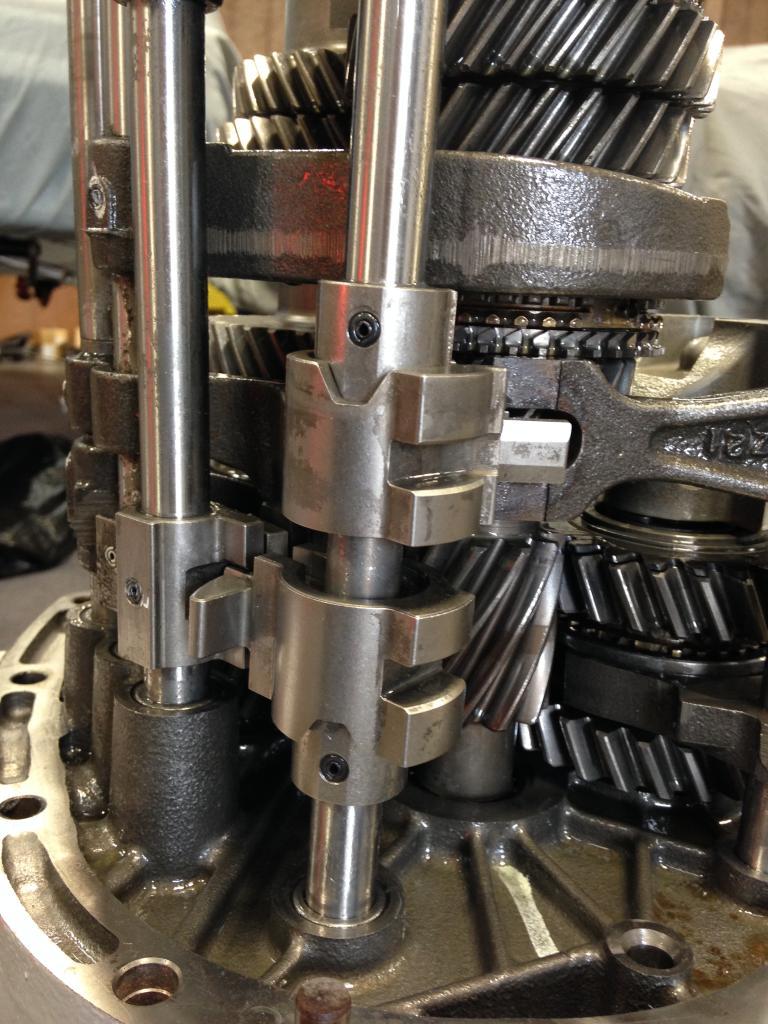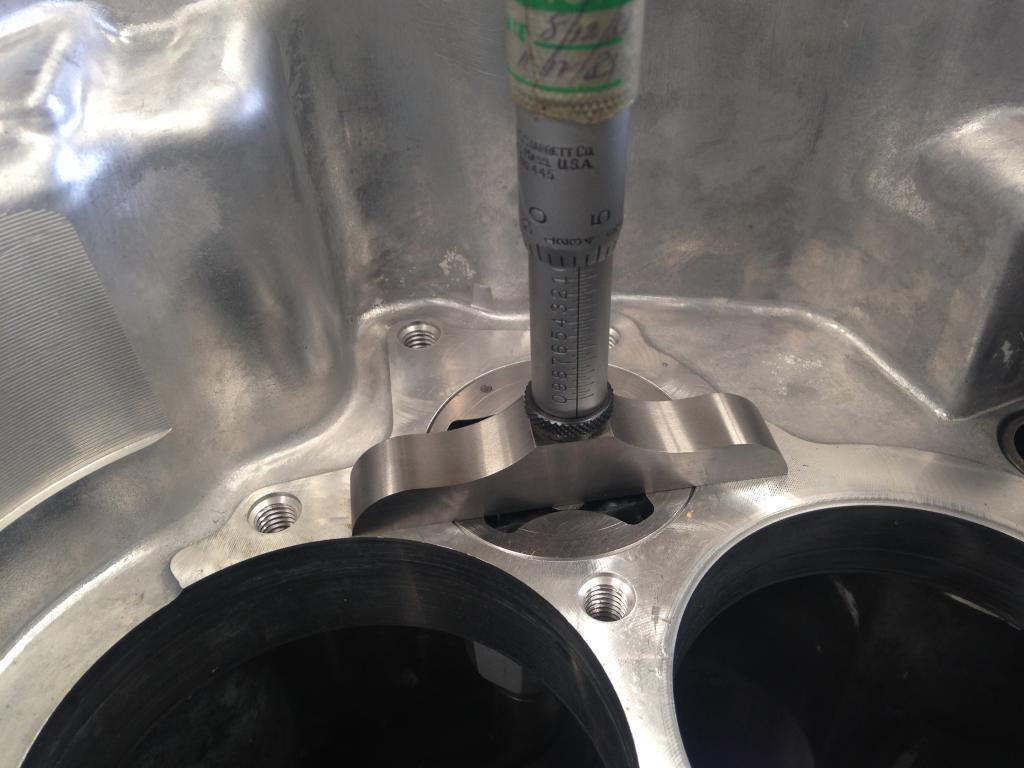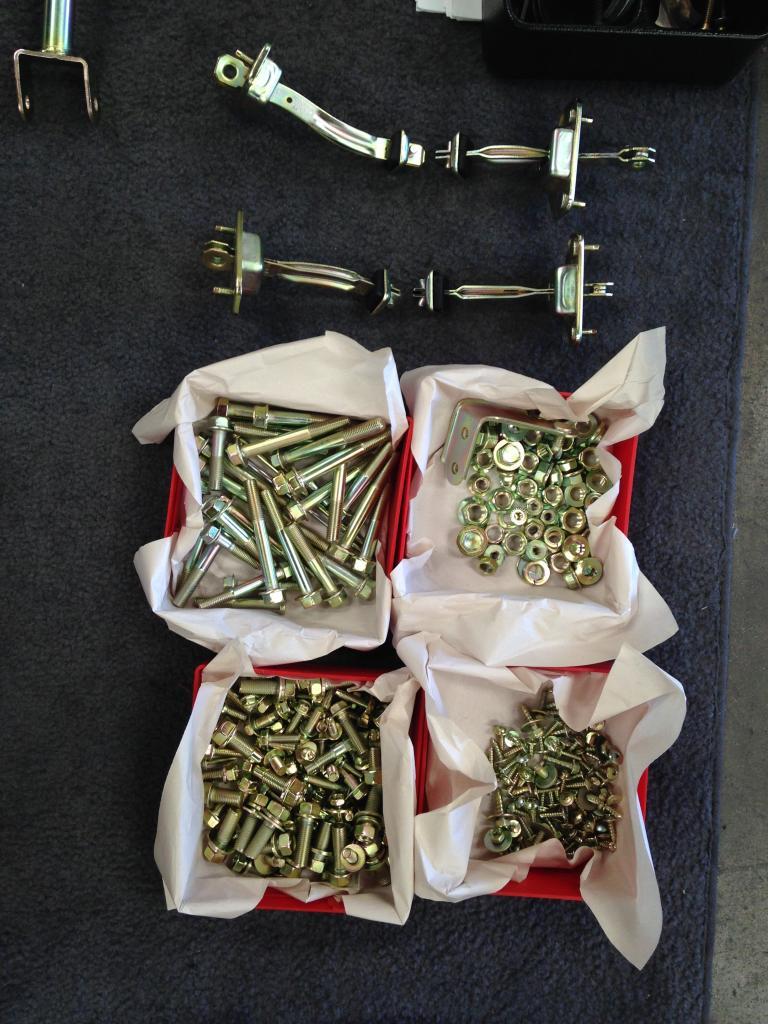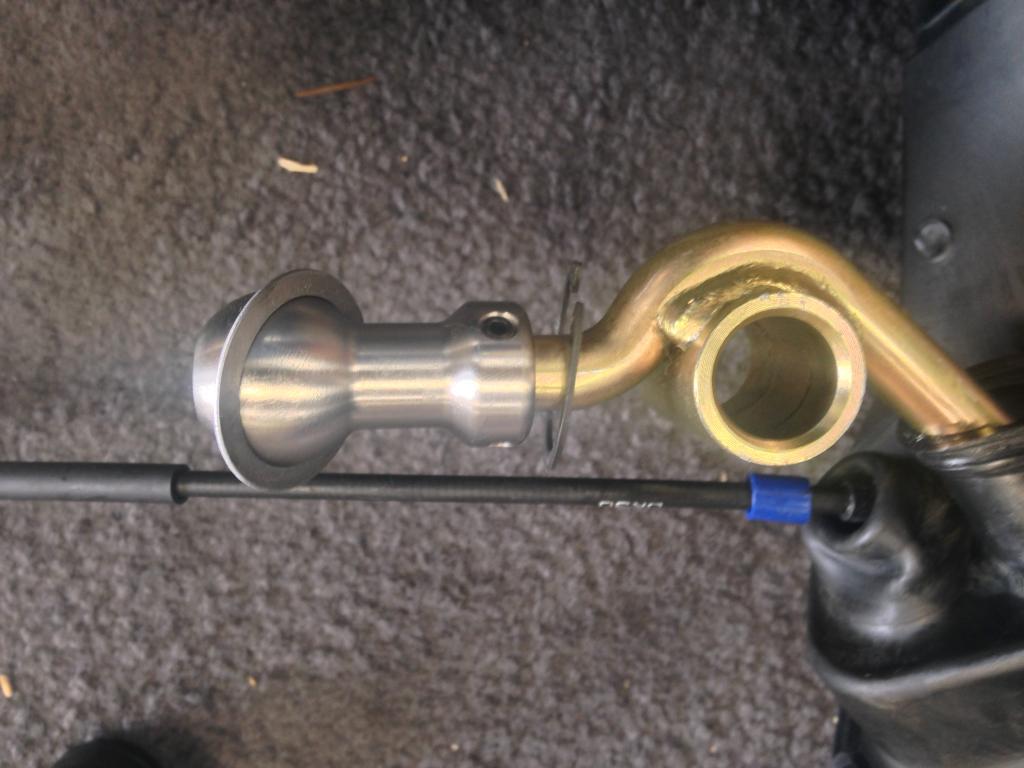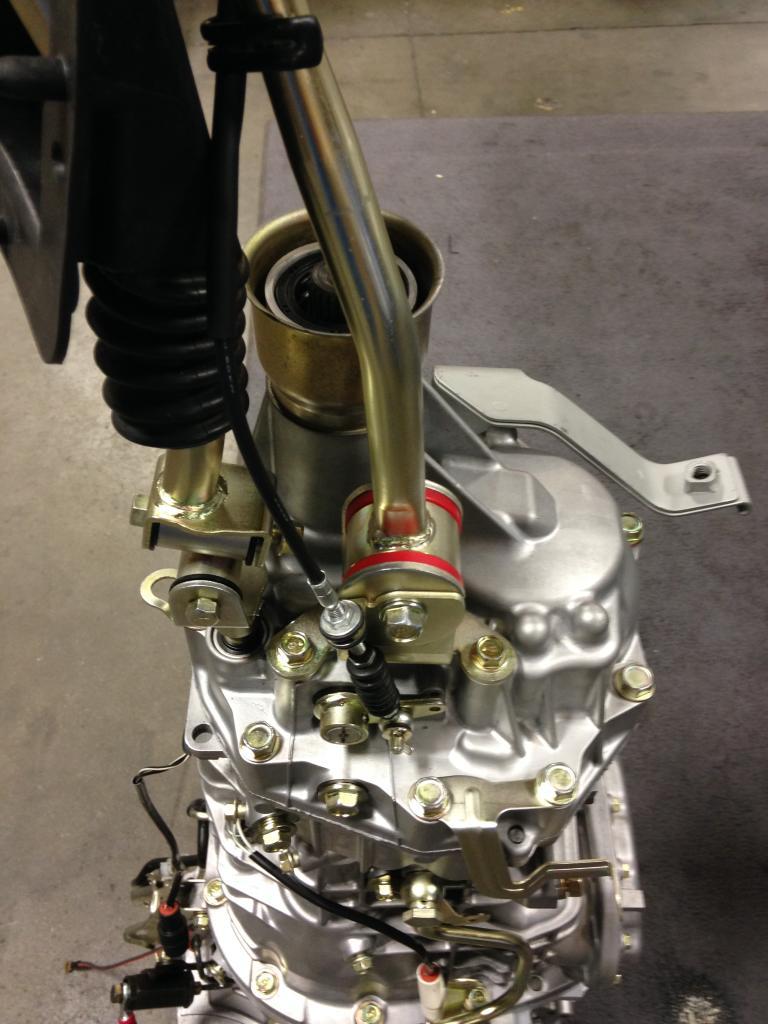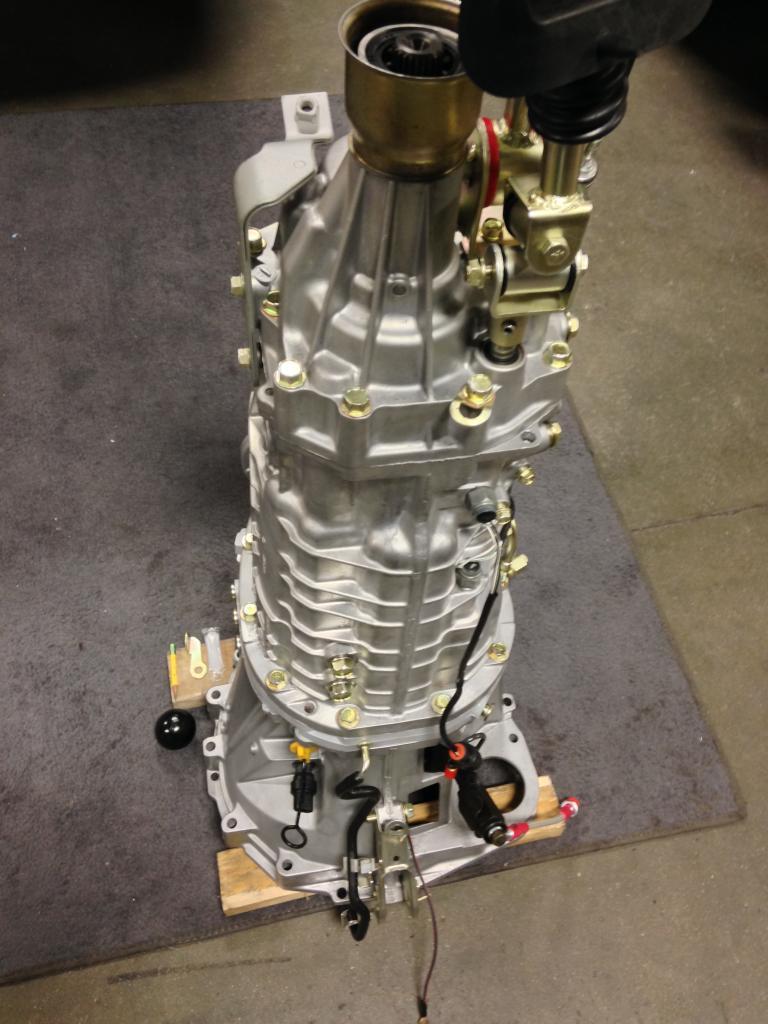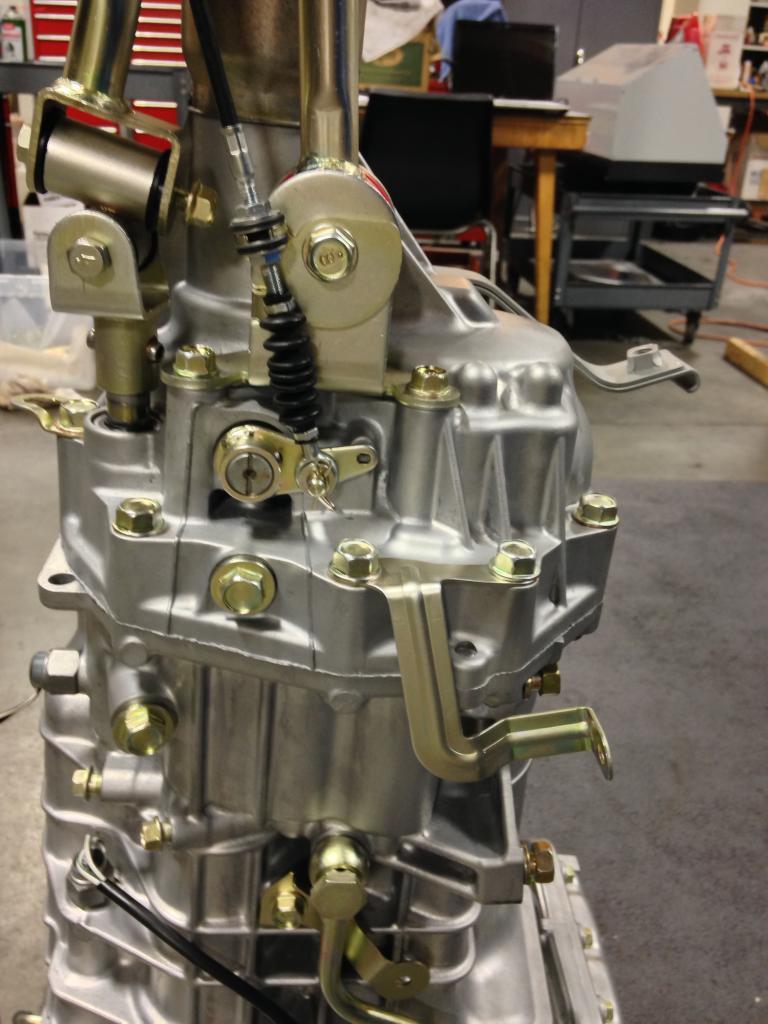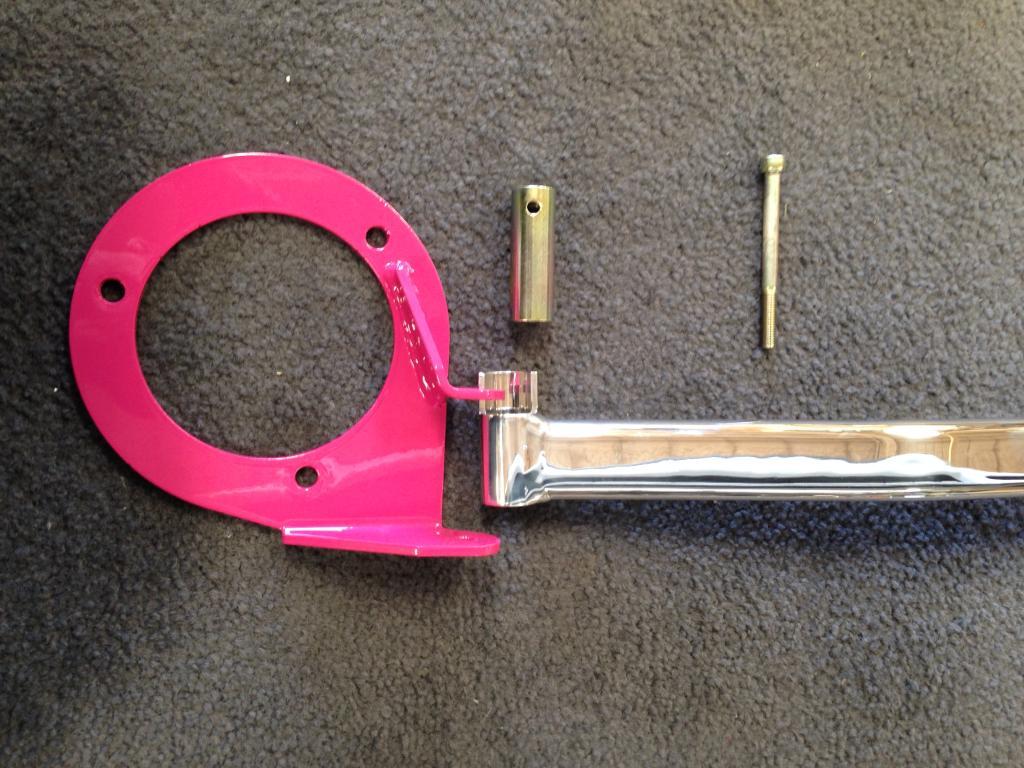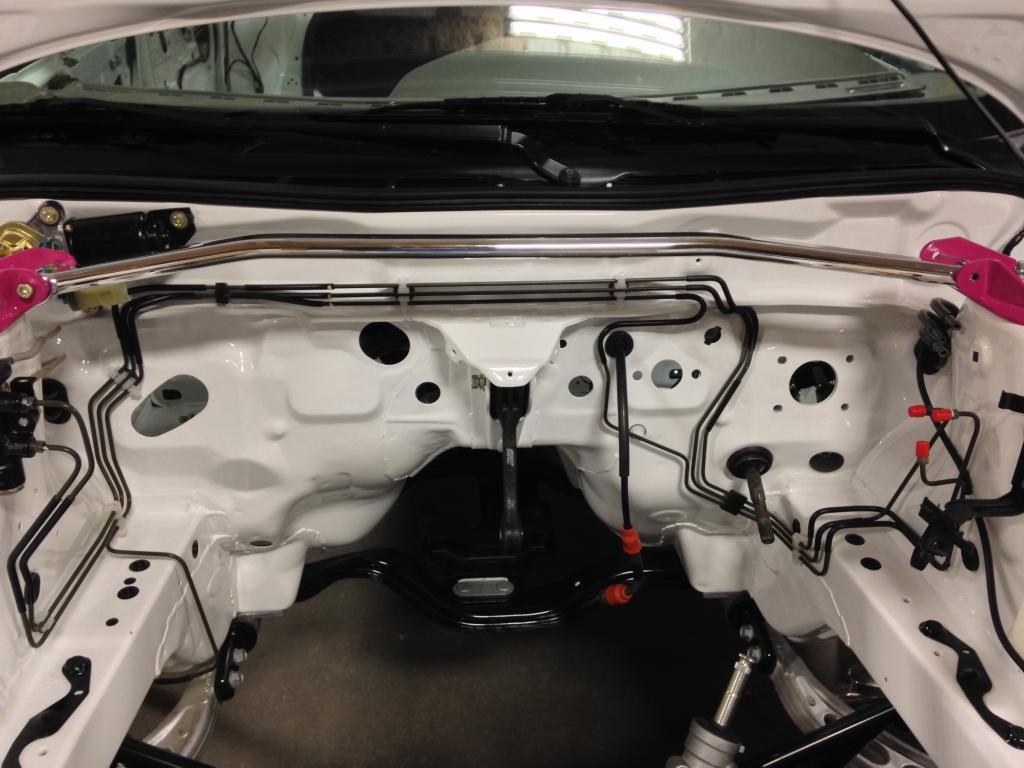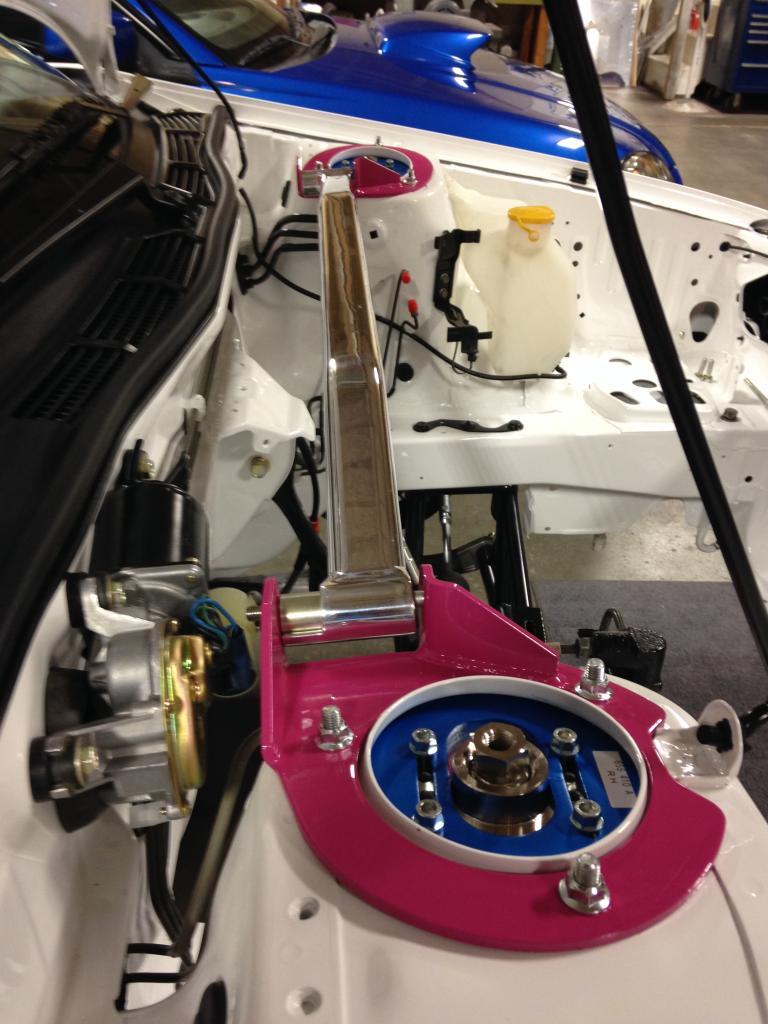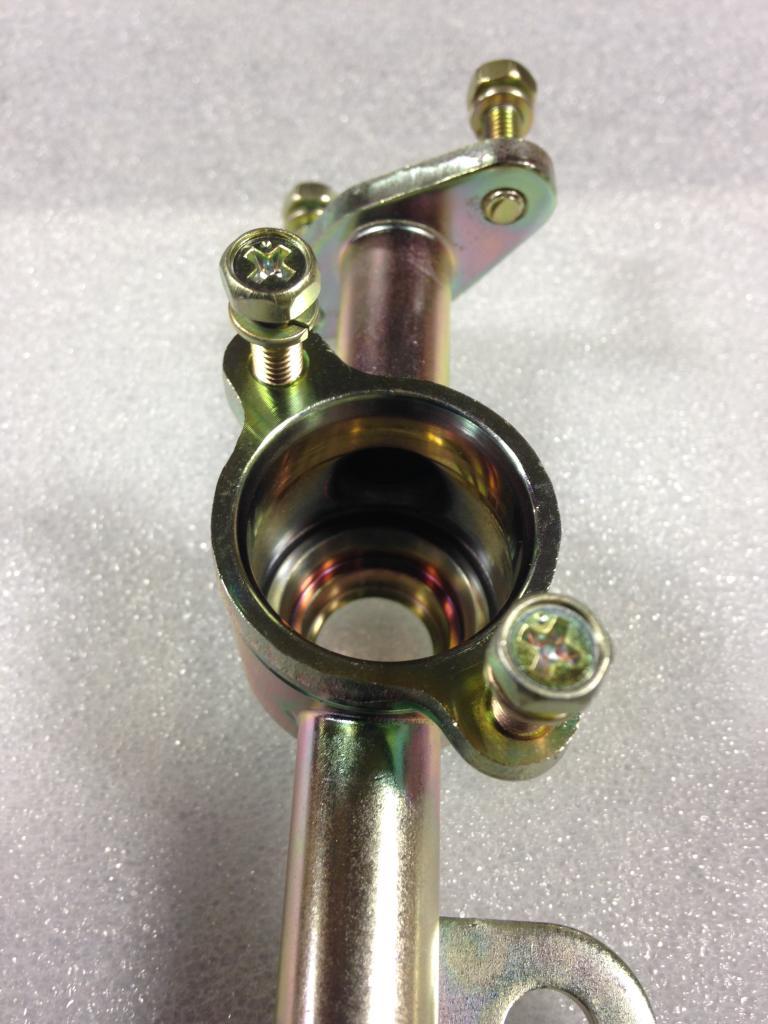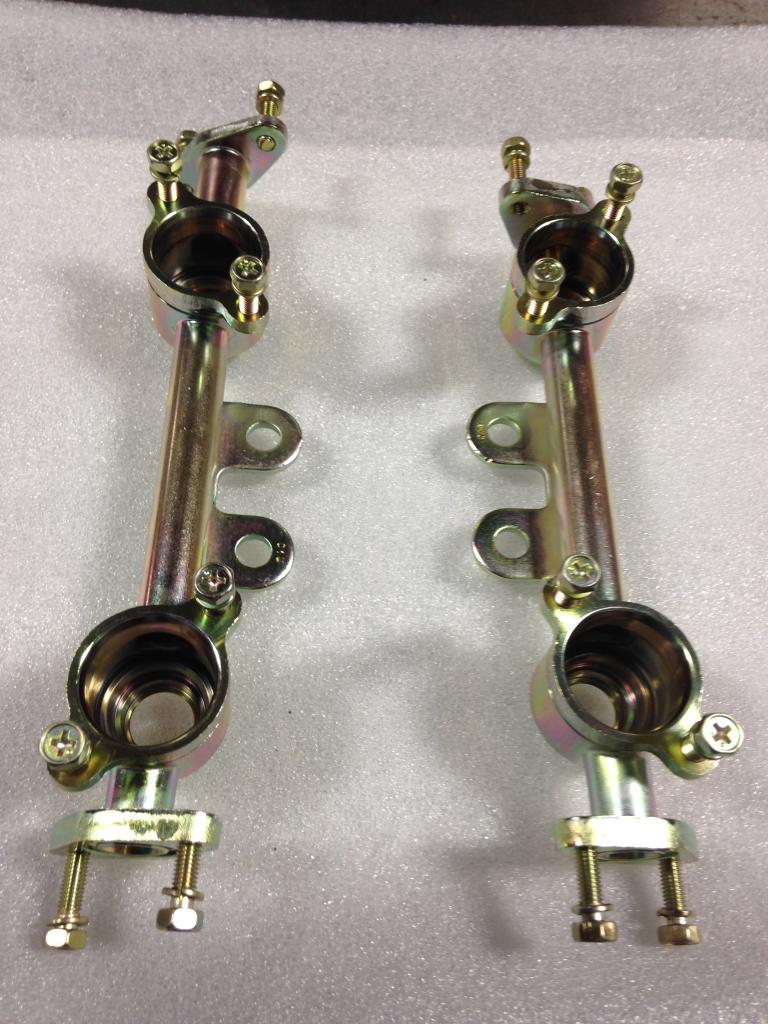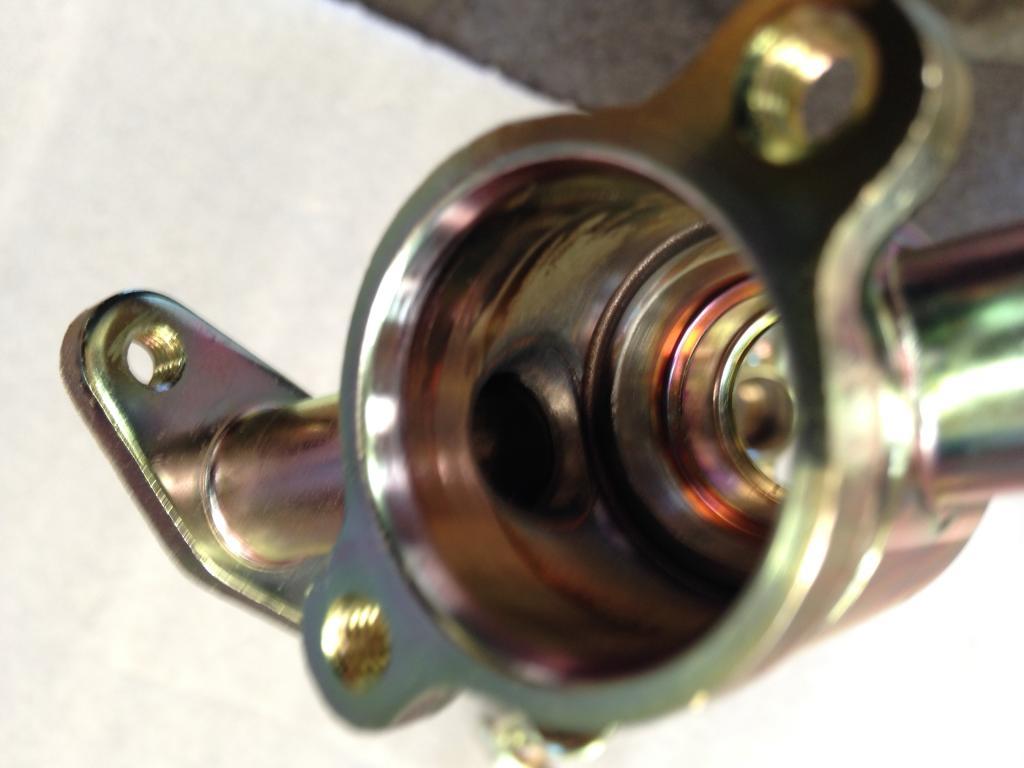 Here are some update photos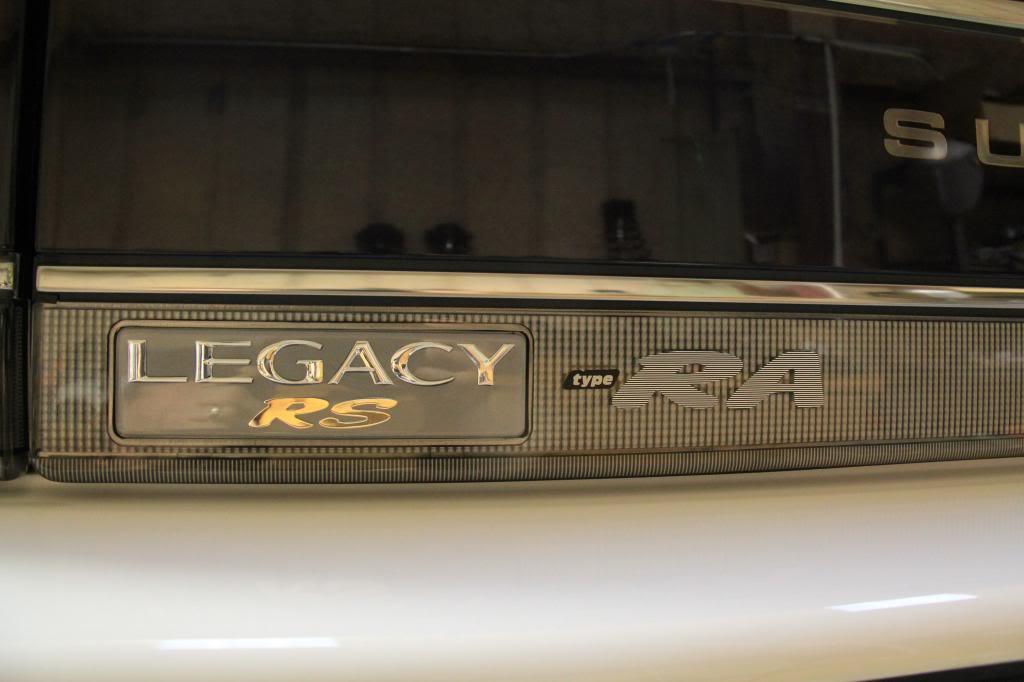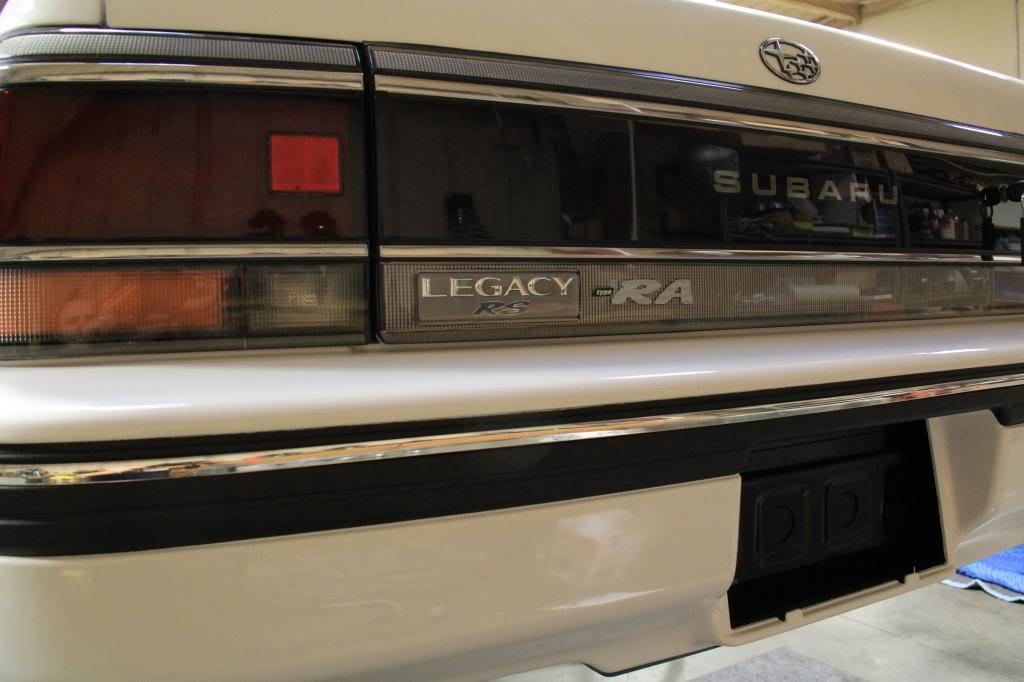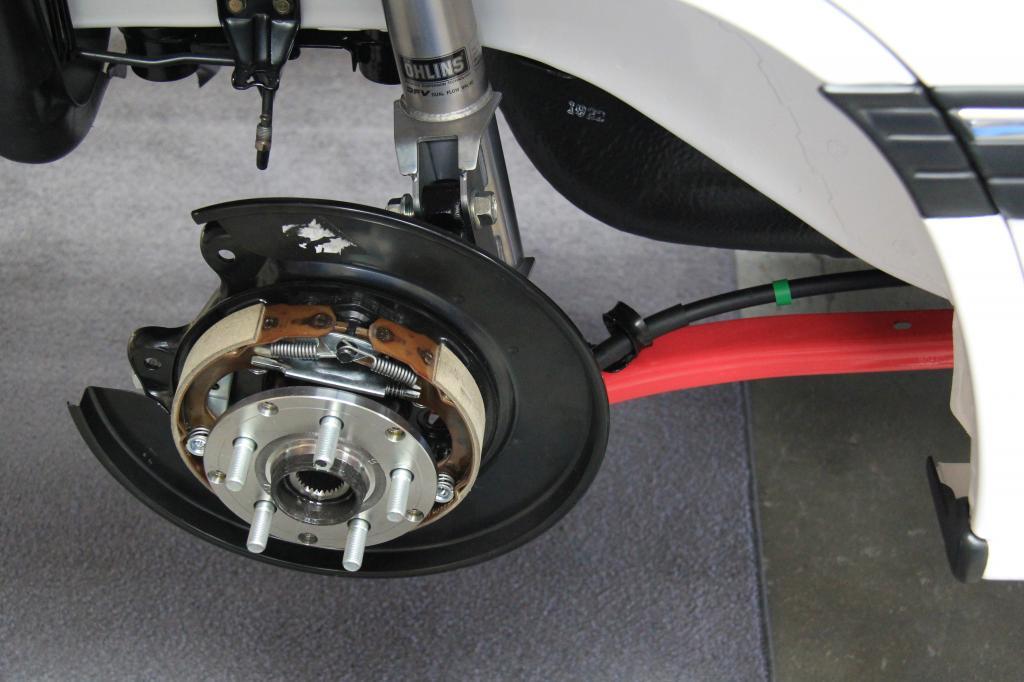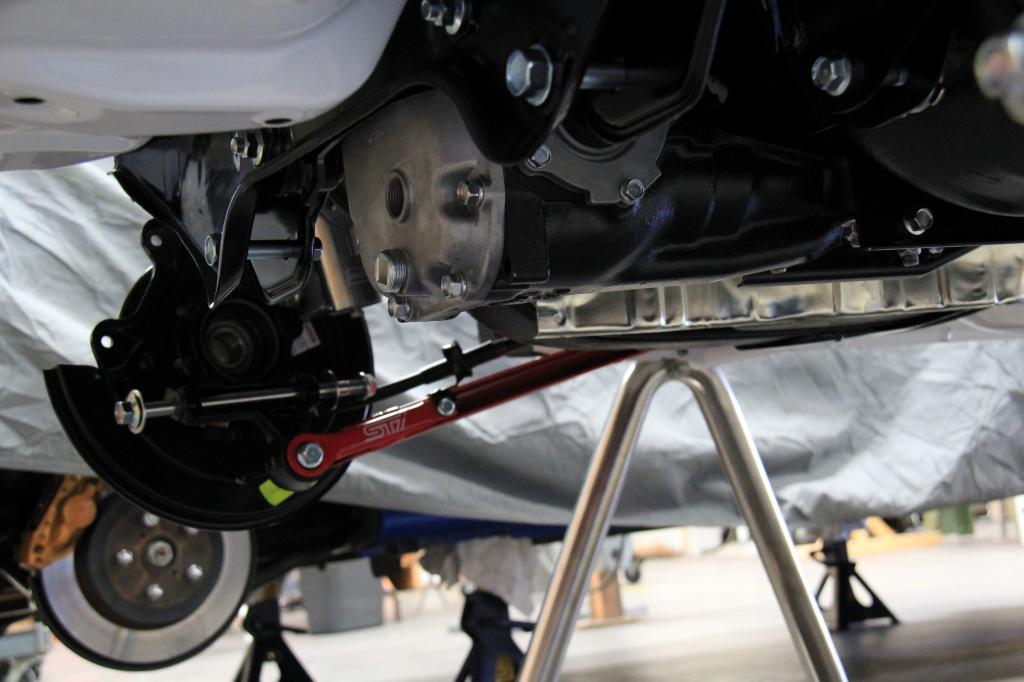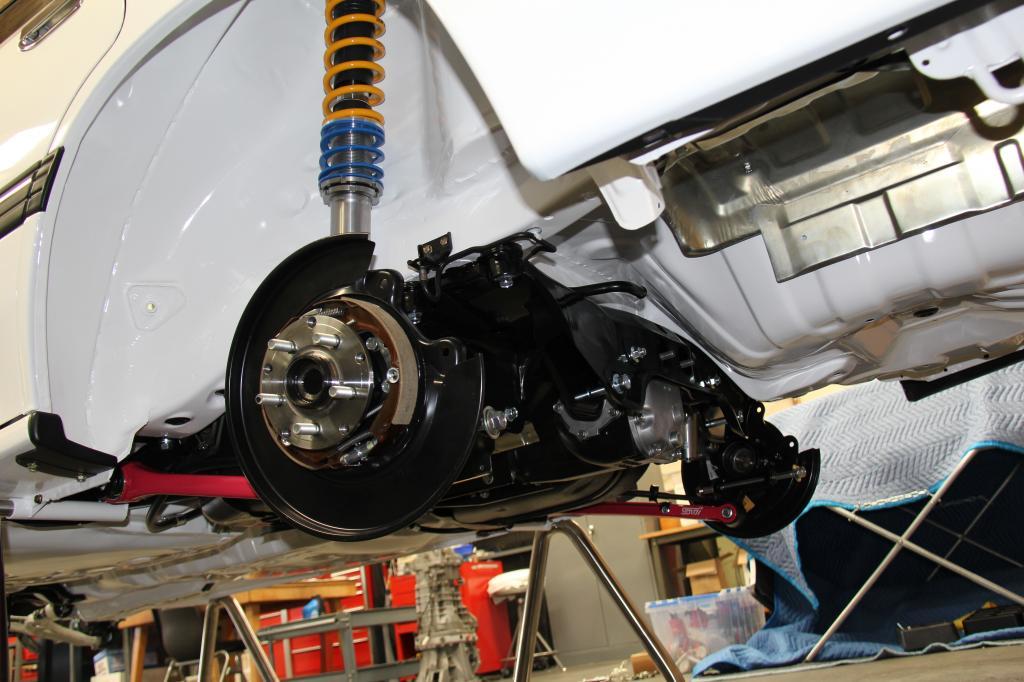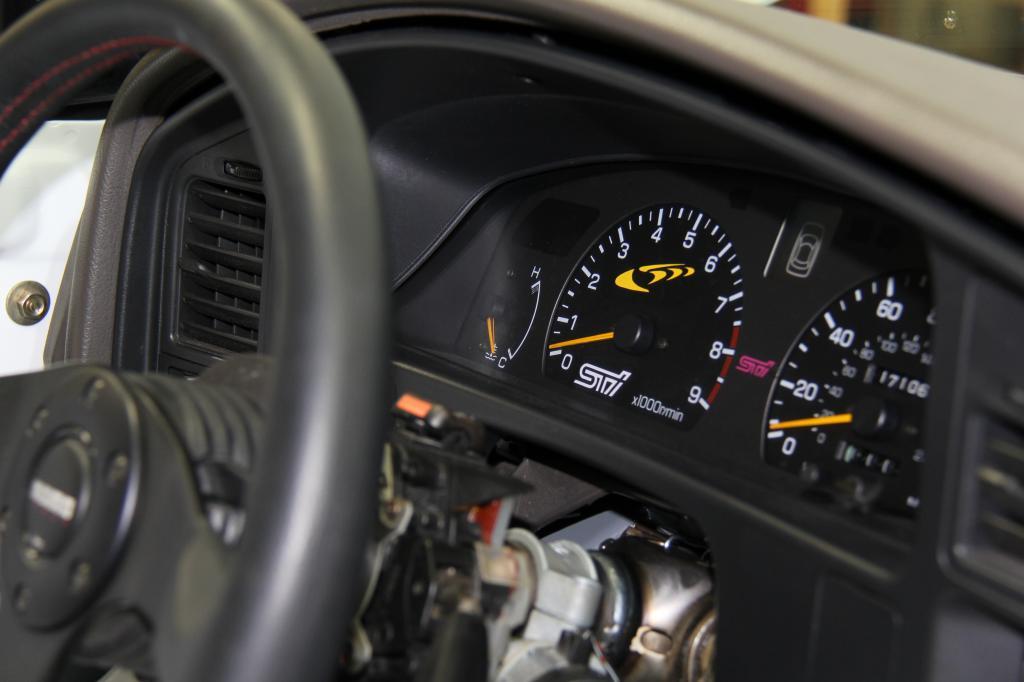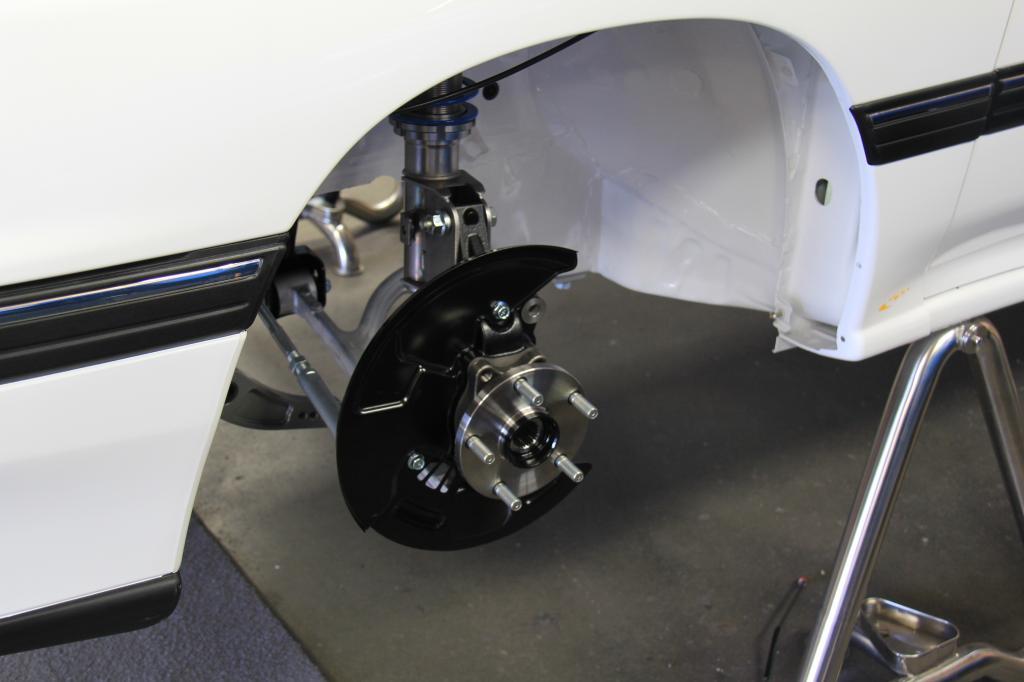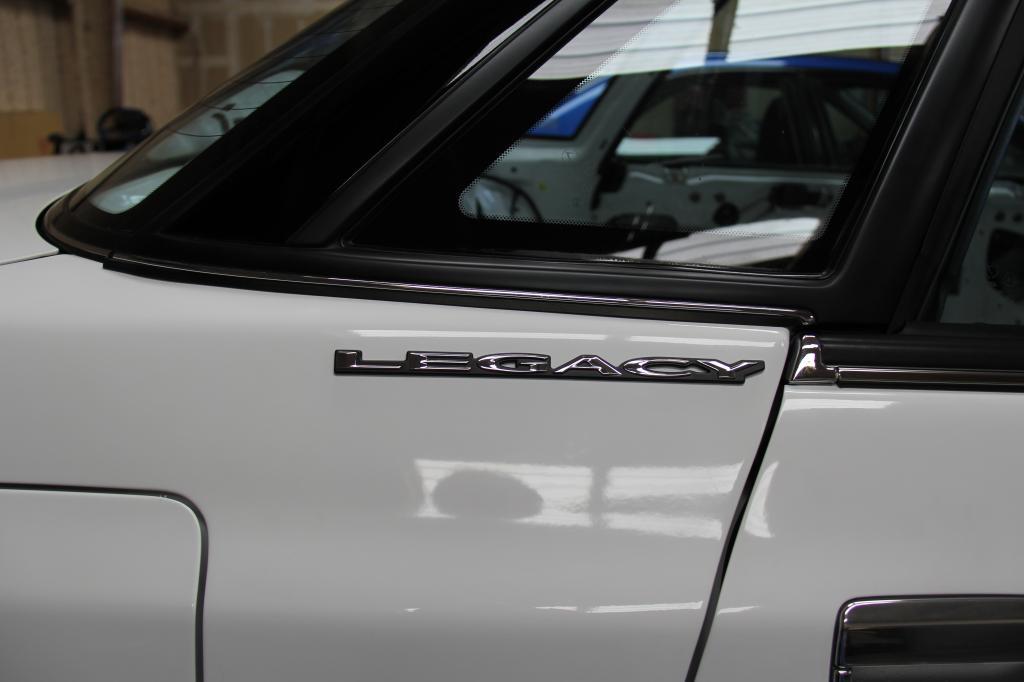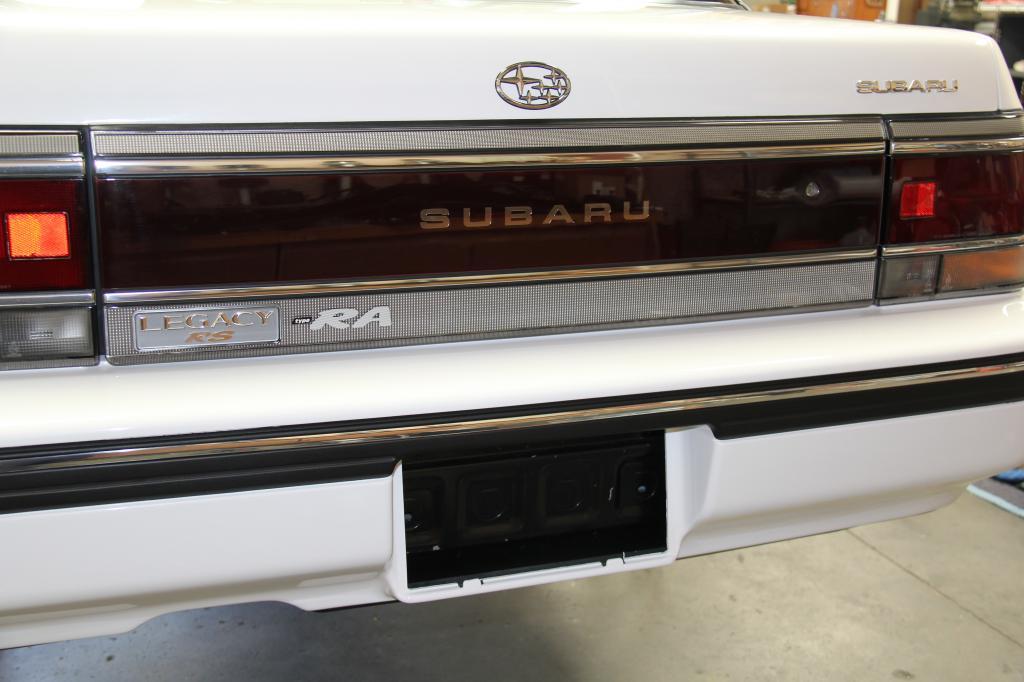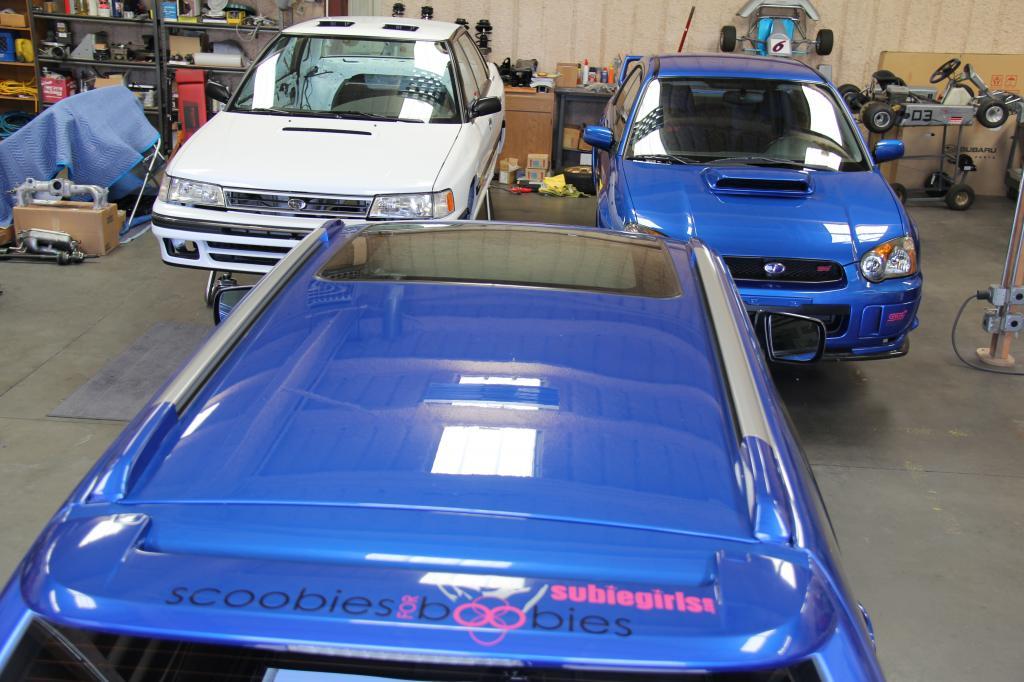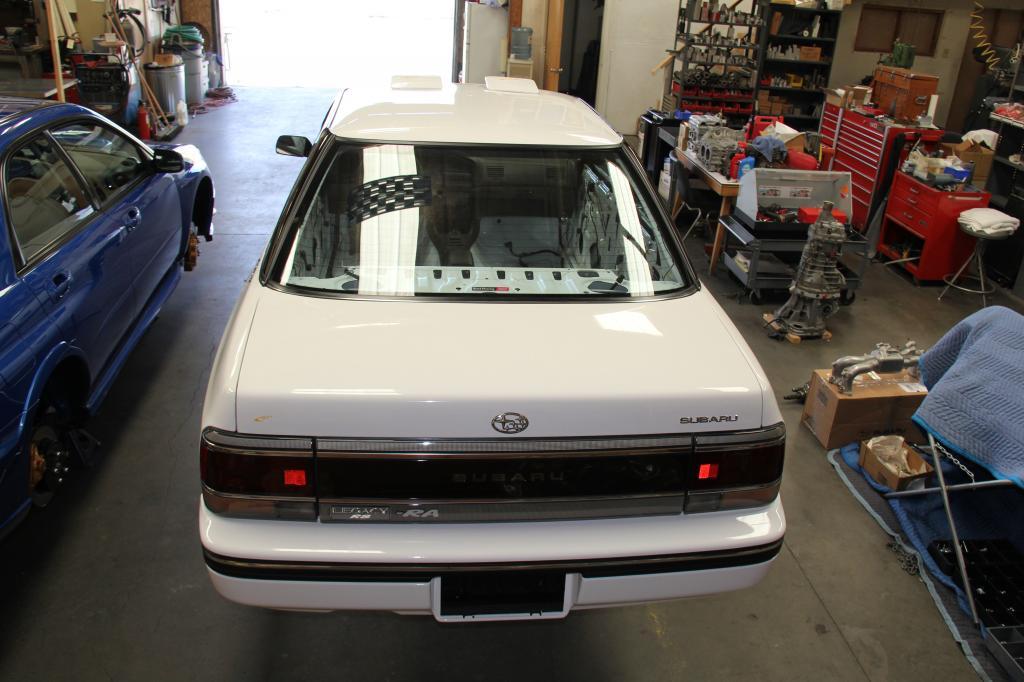 10-1-2014
Hi guys, unfortunately as some of you know I have had to completely stop on my project with the Legacy as I have run out of money to support it and I was unable to sell any of the parts I rebuilt that were out of the Legacy that I was not going to use Again in the car.
I have started a build on a Shadow DN5 Formula one car and I have the intentions of conting with the Legacy after it's done.
Here are a few photos of the project so far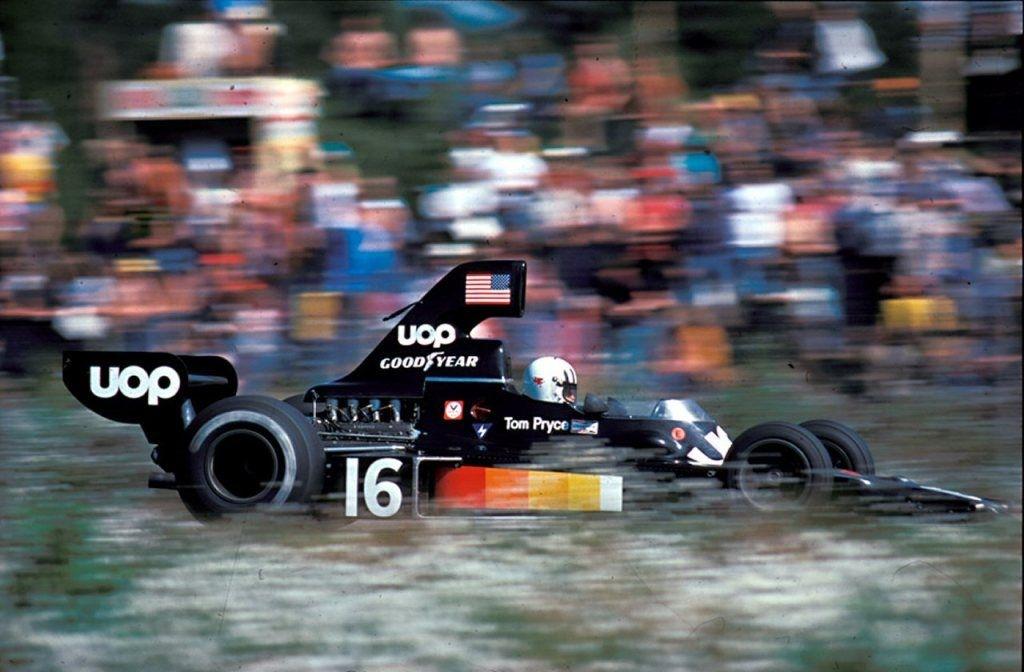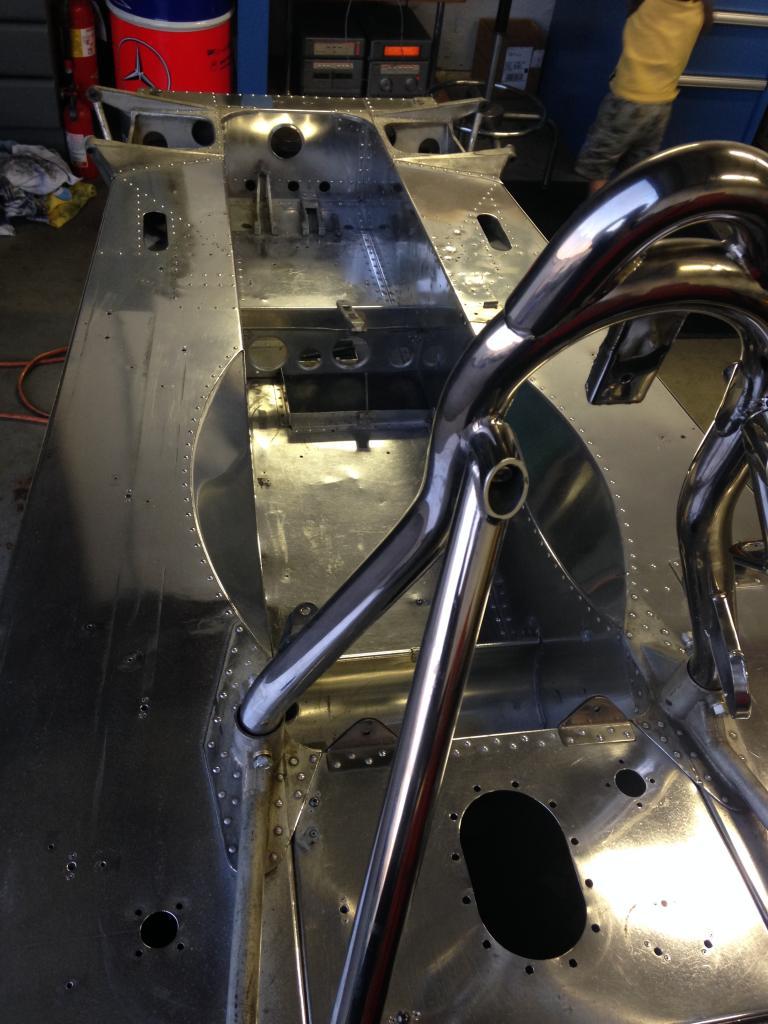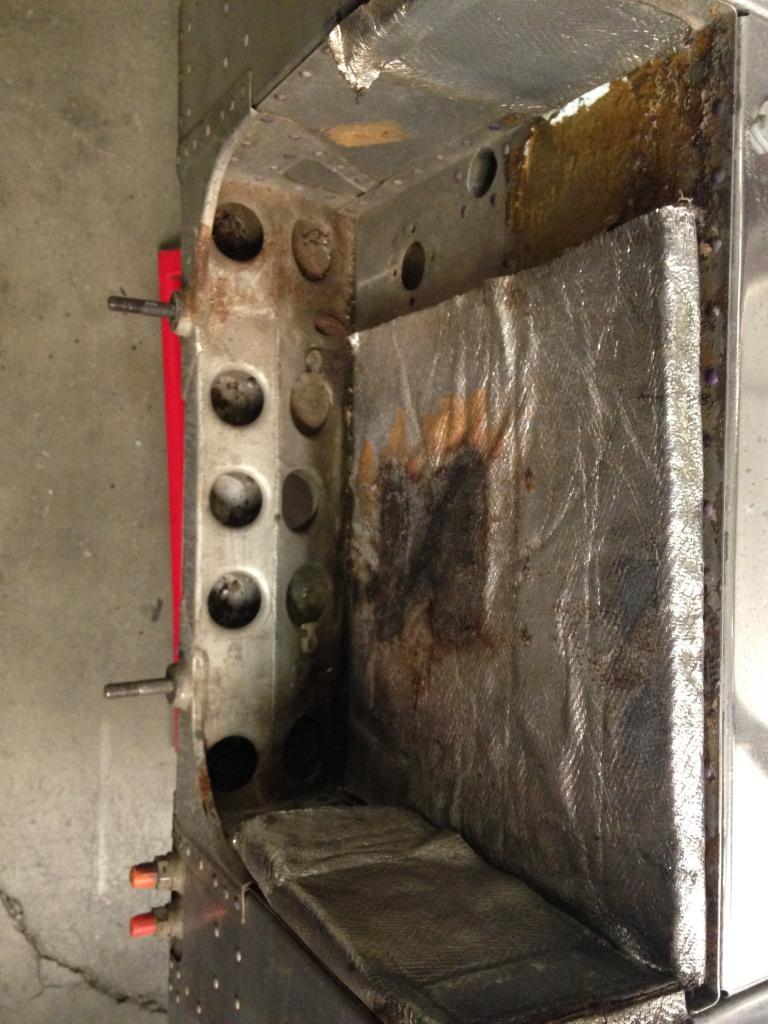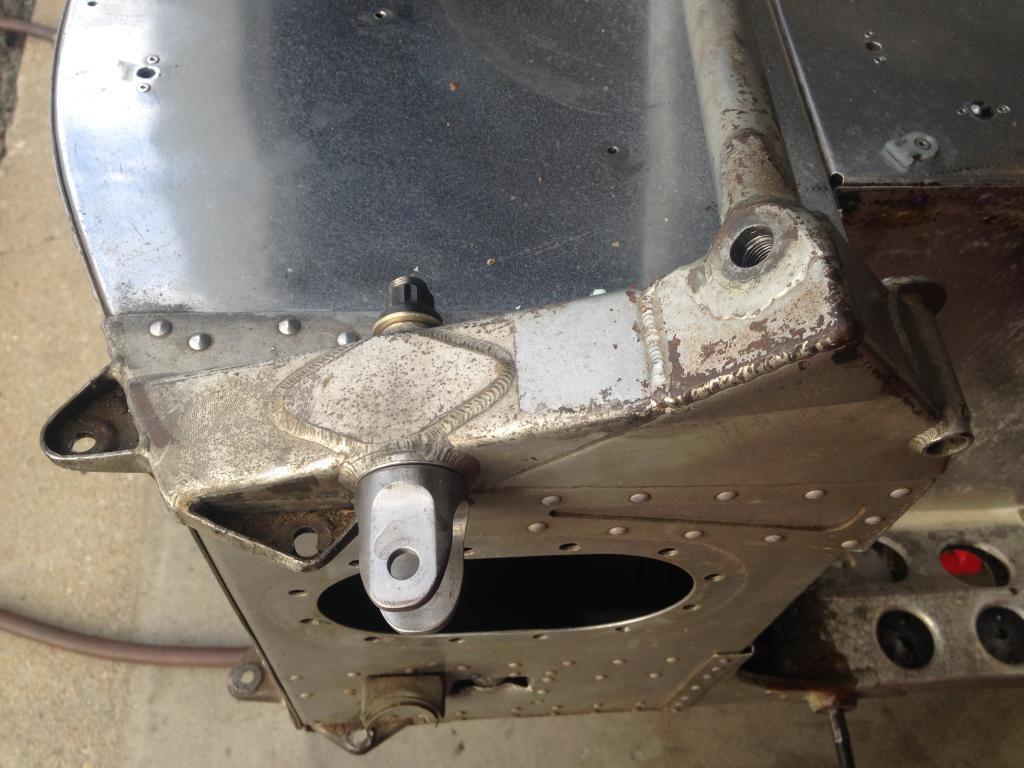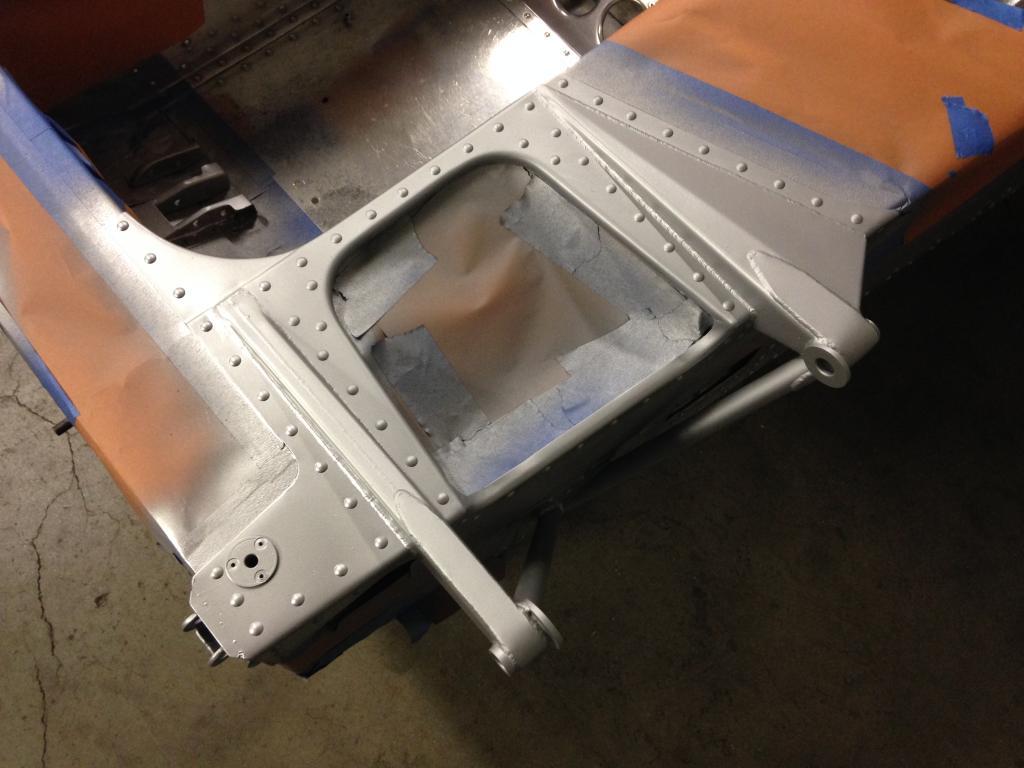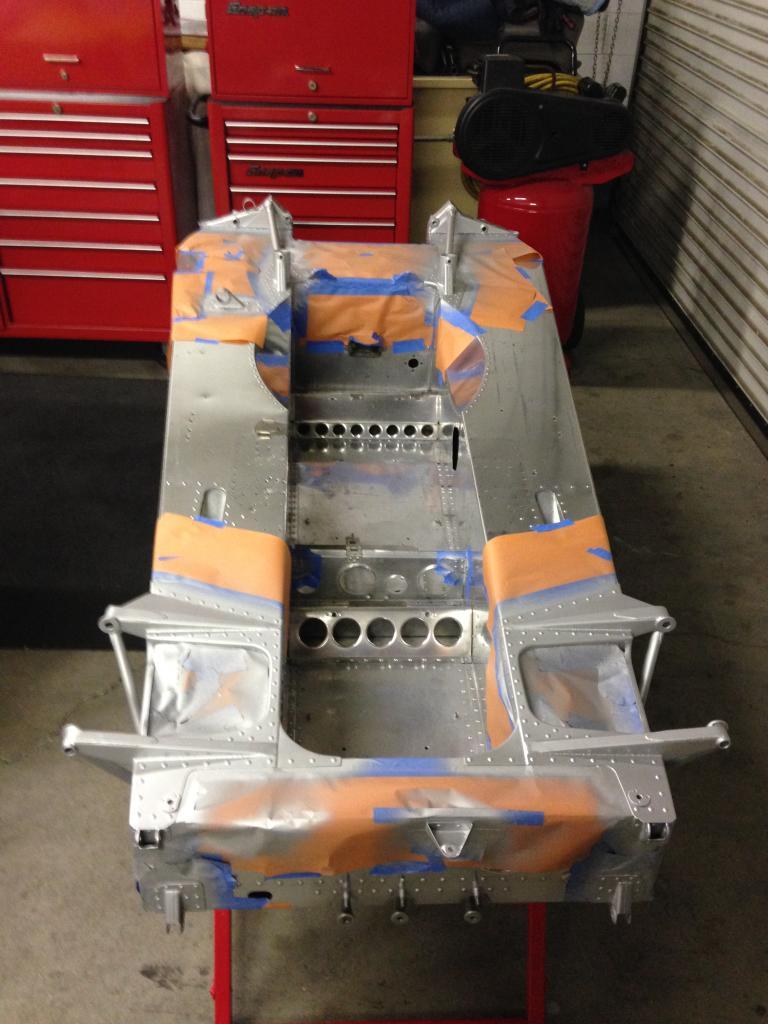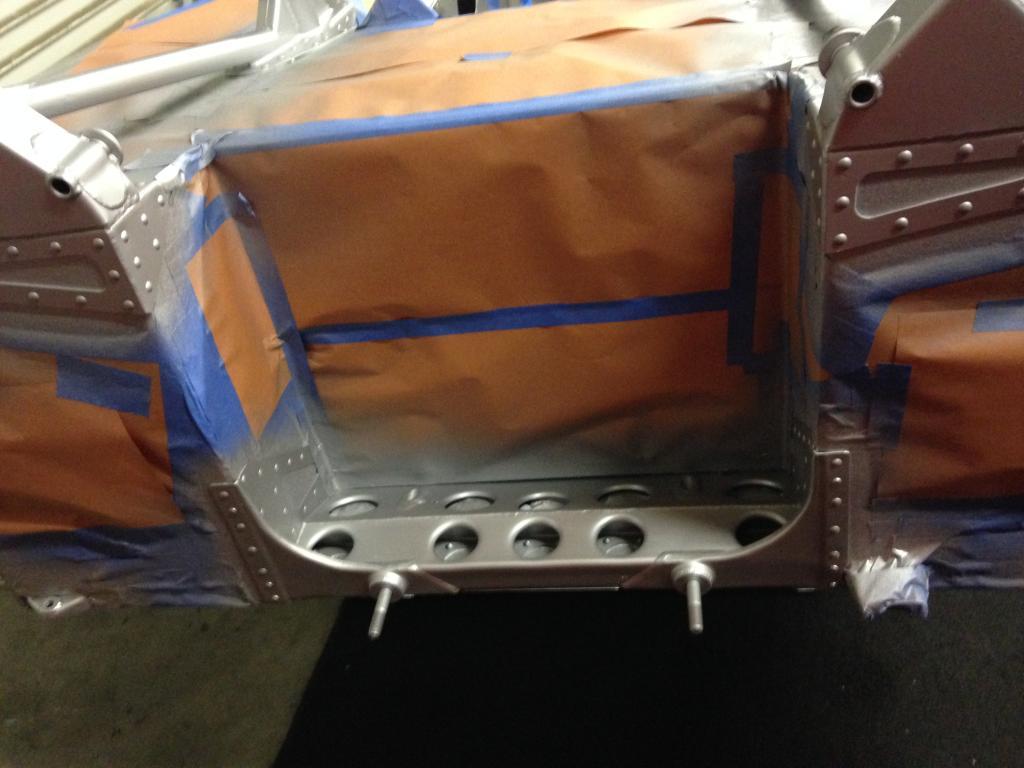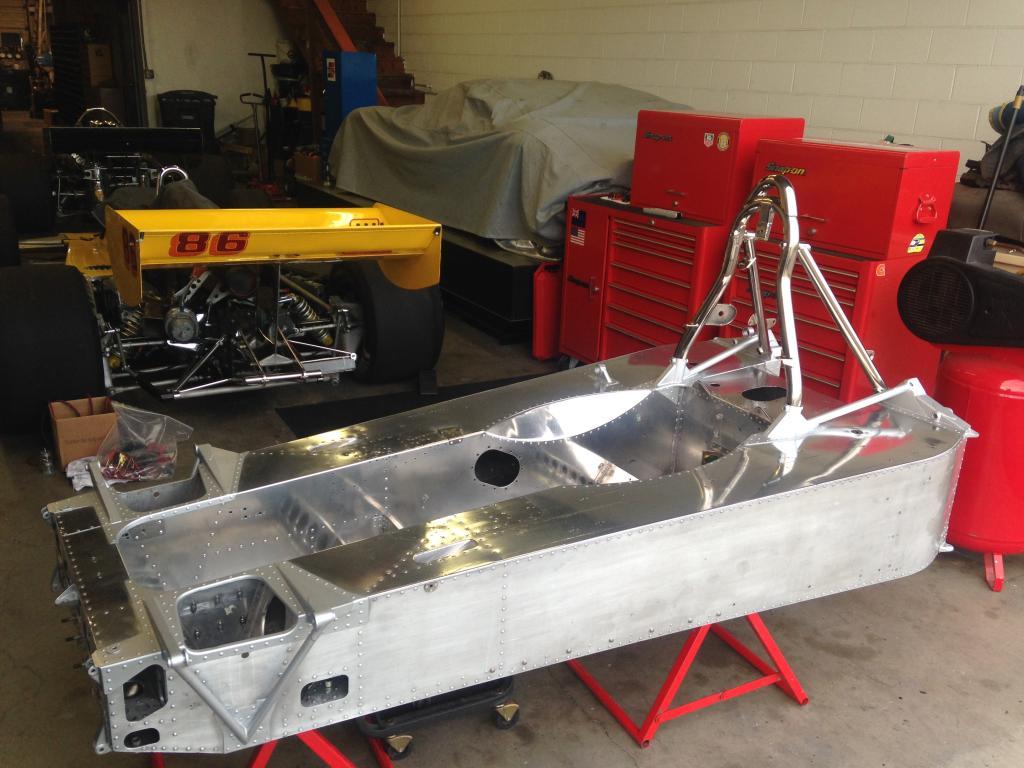 10-3-2014
Thanks guys, I have a lot of work ahead of me and I appreciate you are following the build.
The transmission is used and it came from Japan, it originally looked like this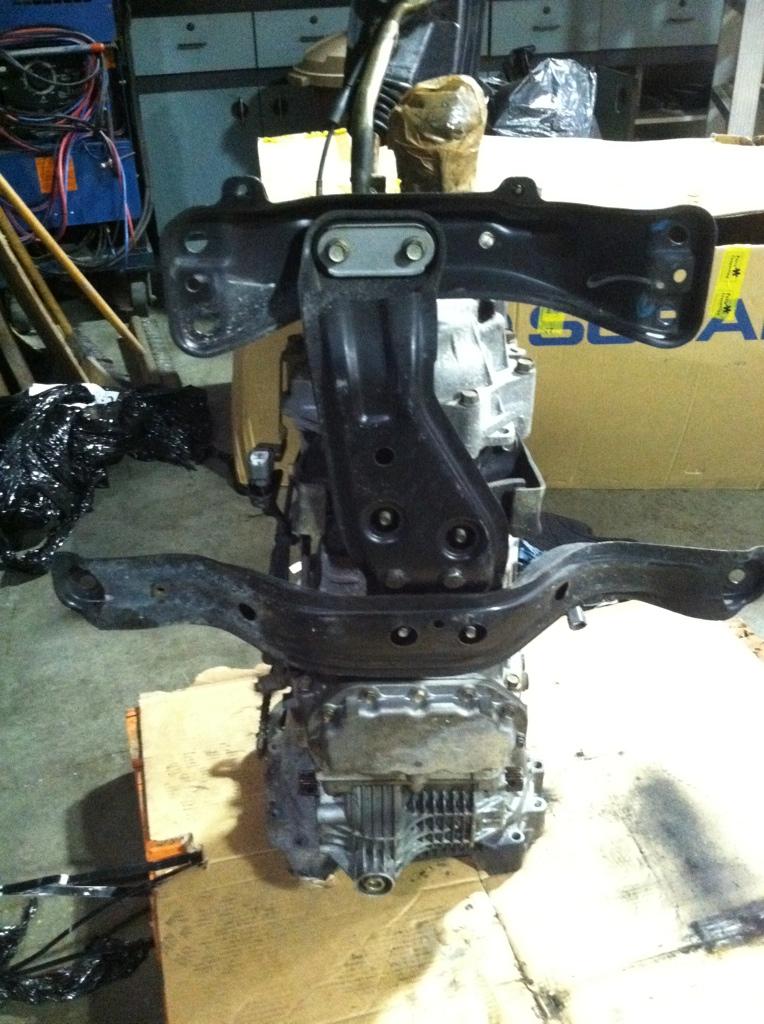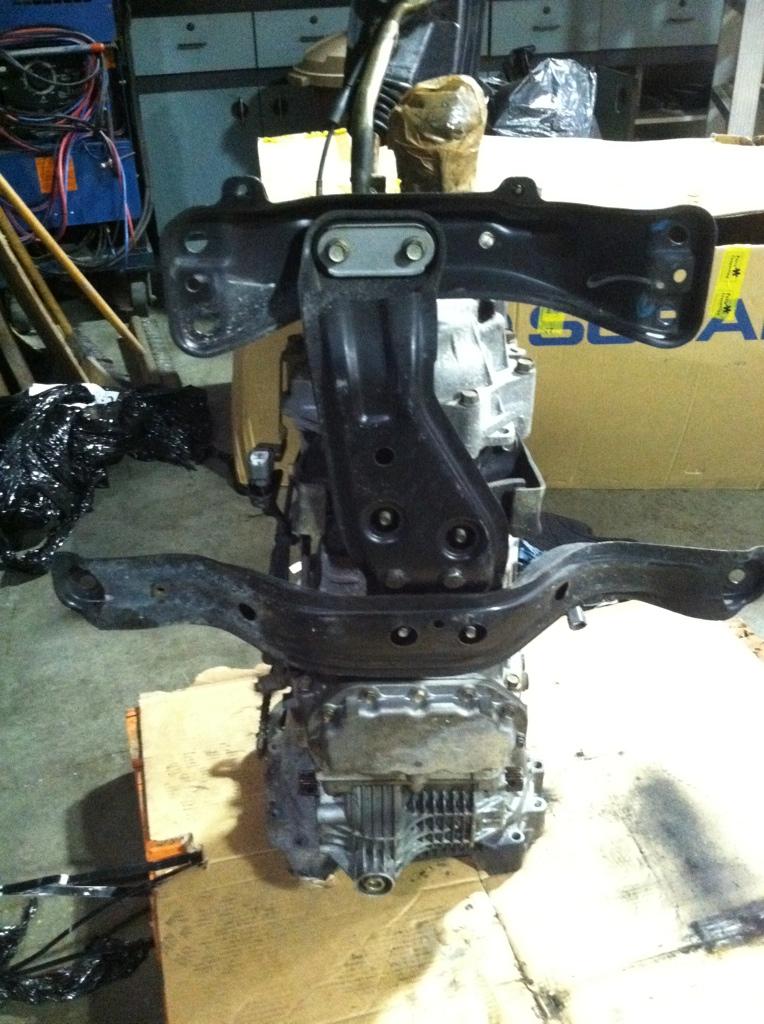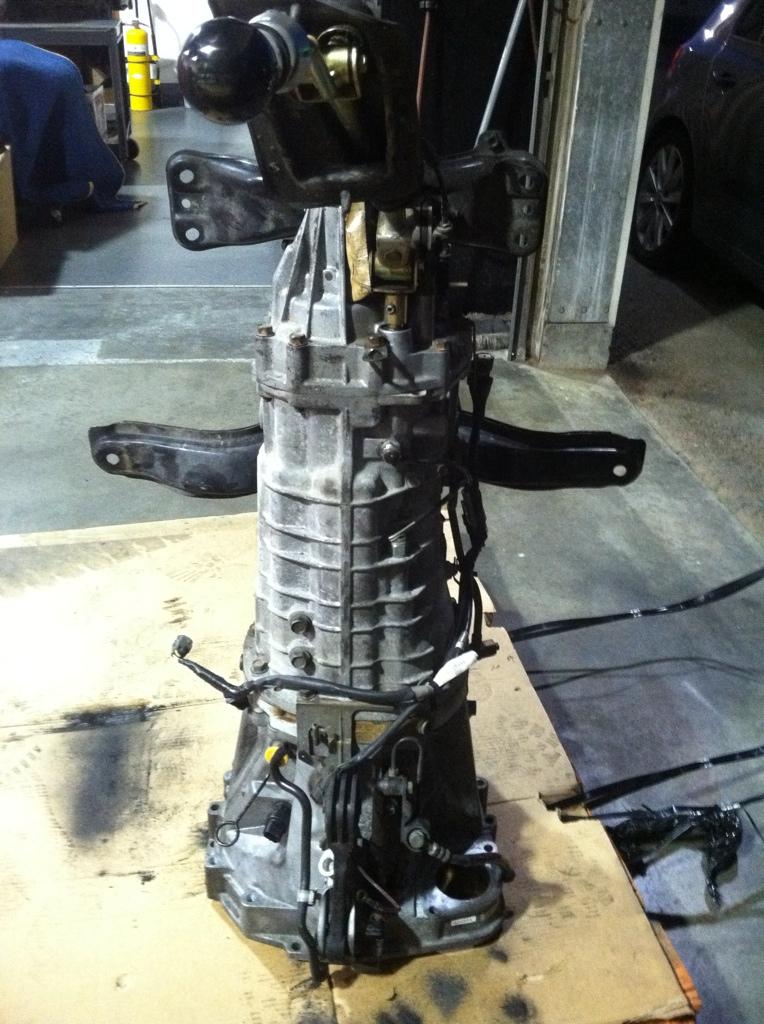 12-11-2014
Well I know it's been a while since I posted and it's because I have been very busy building a new shop for all the projects I have. It got to the point where I needed to have a building to continue work on the race cars and I was fortunate to get financial support from the owner of the cars to be able to do so. It took several weeks and a heap of work and I was able to transform the building into my new workshop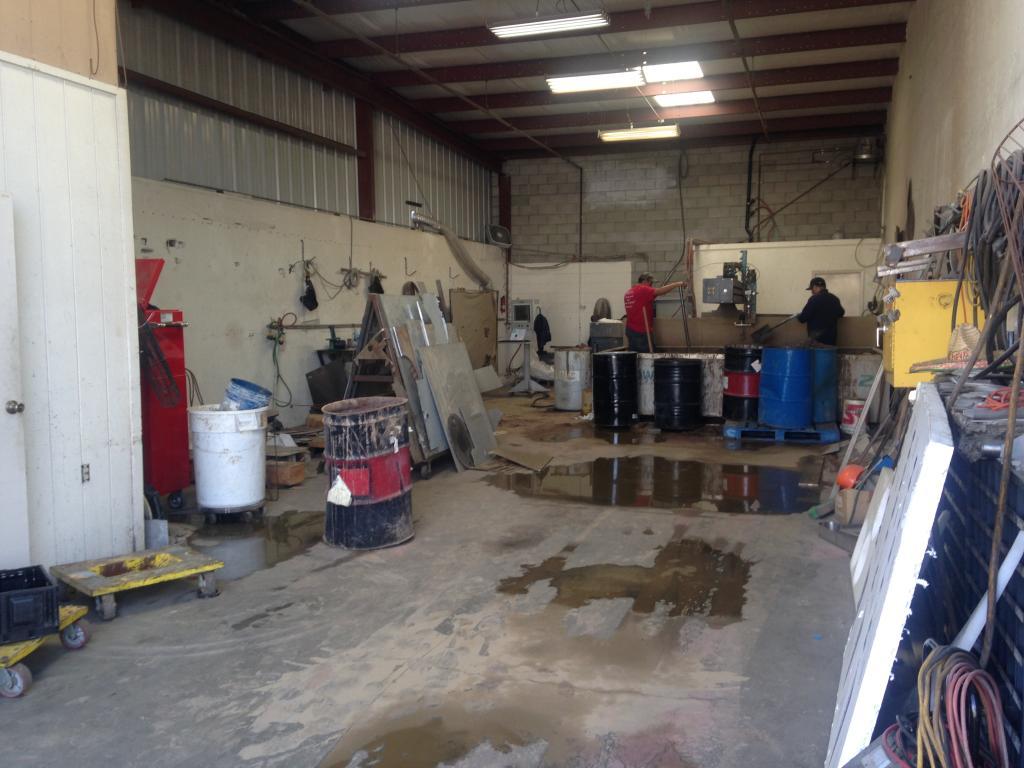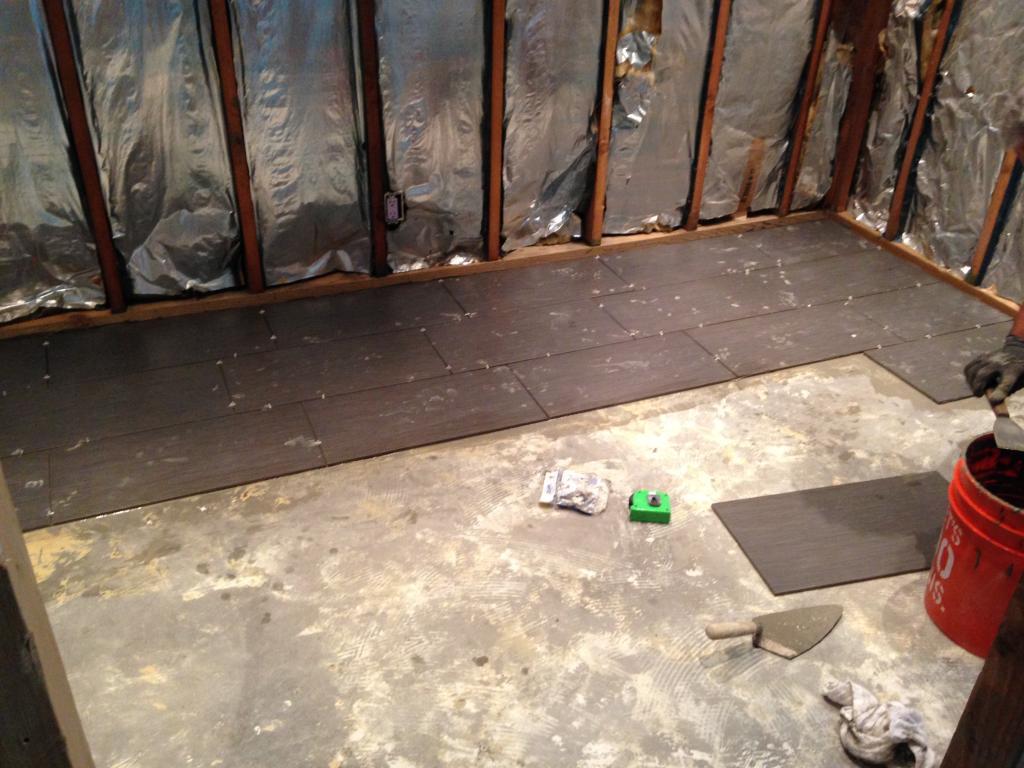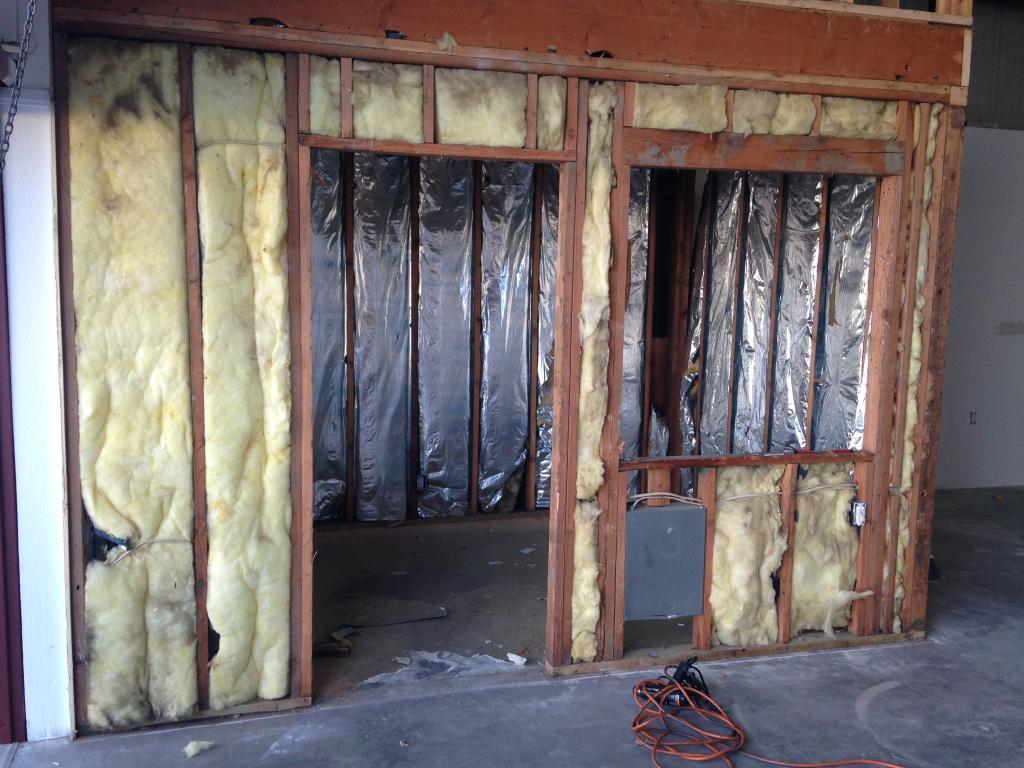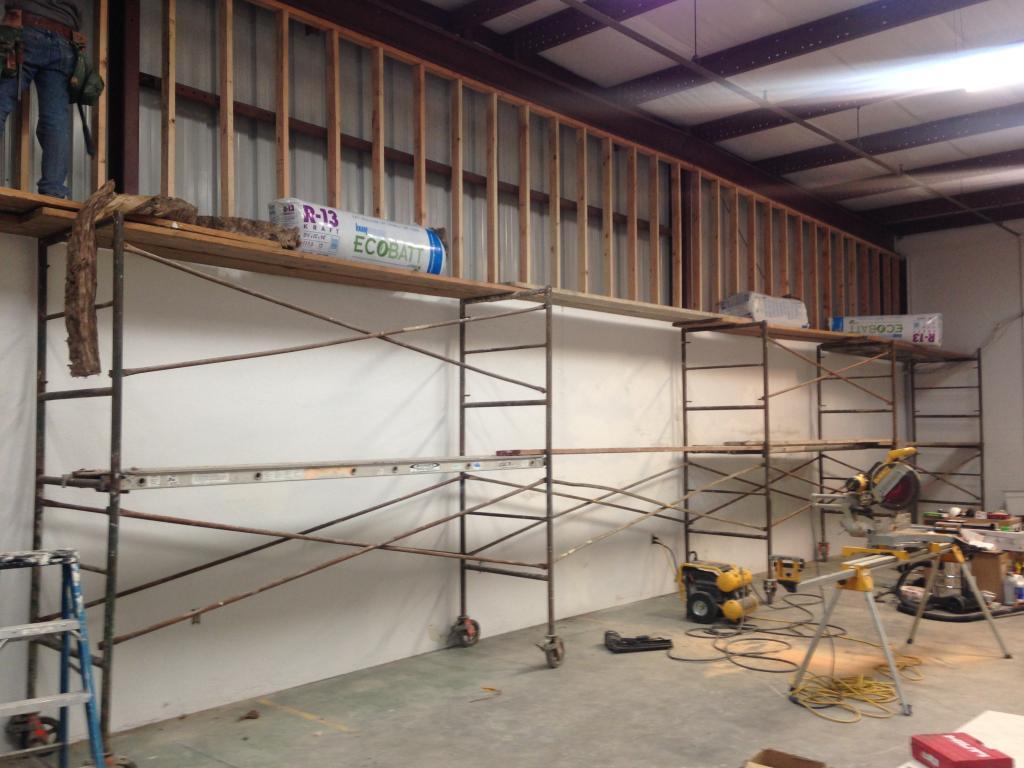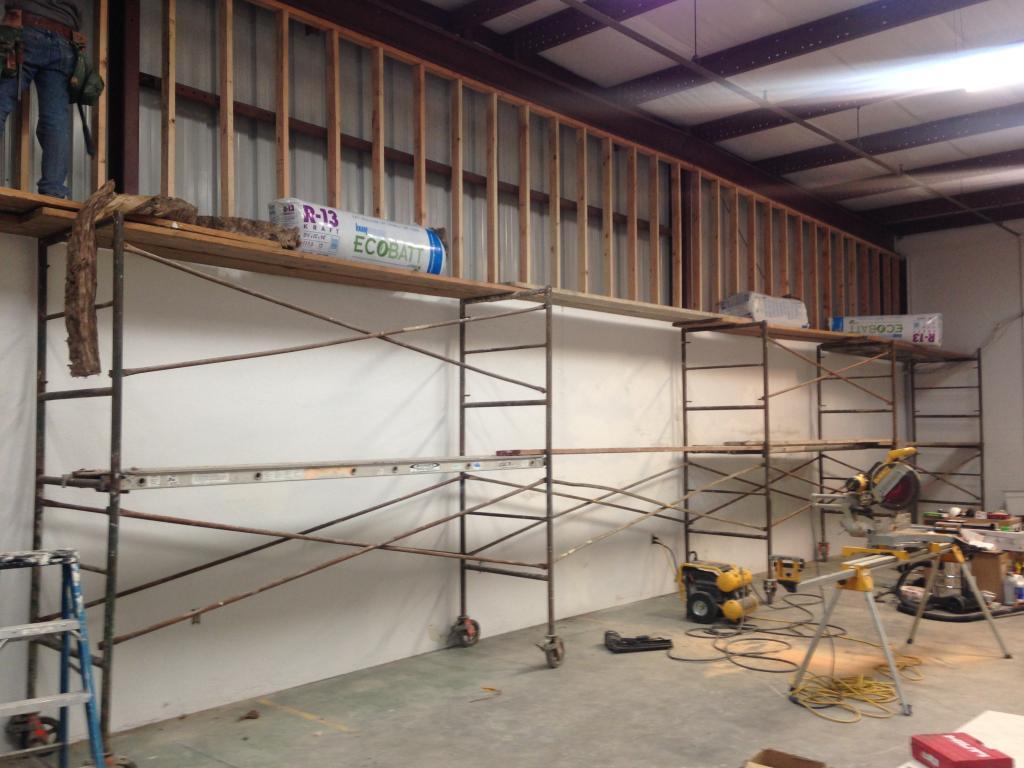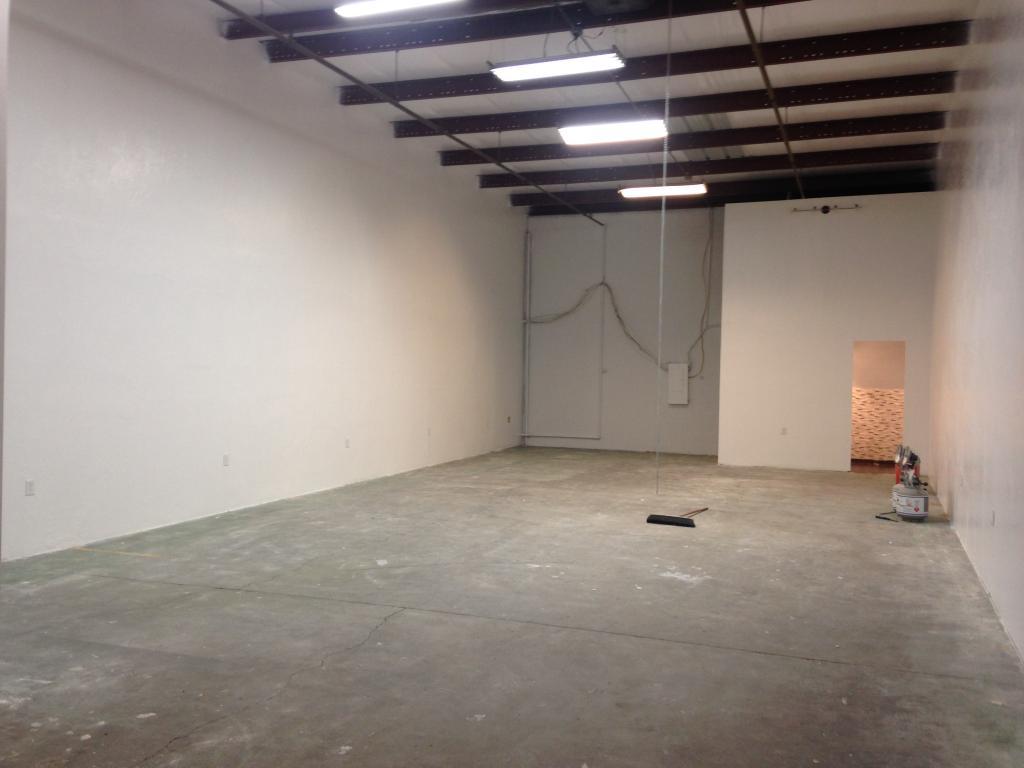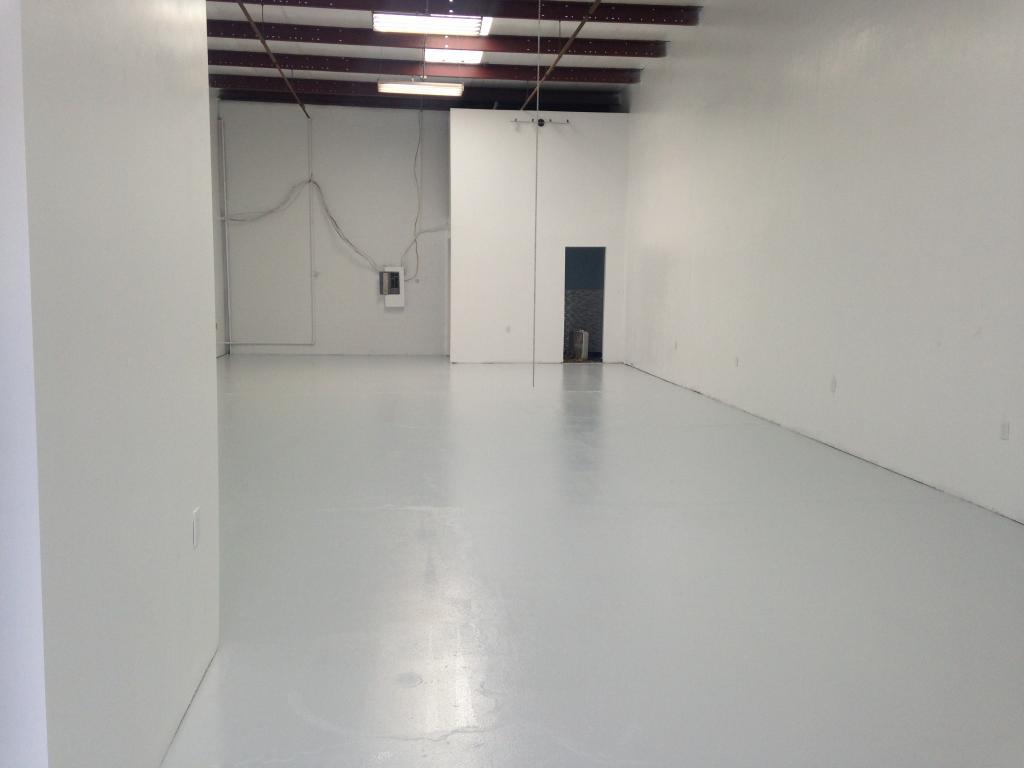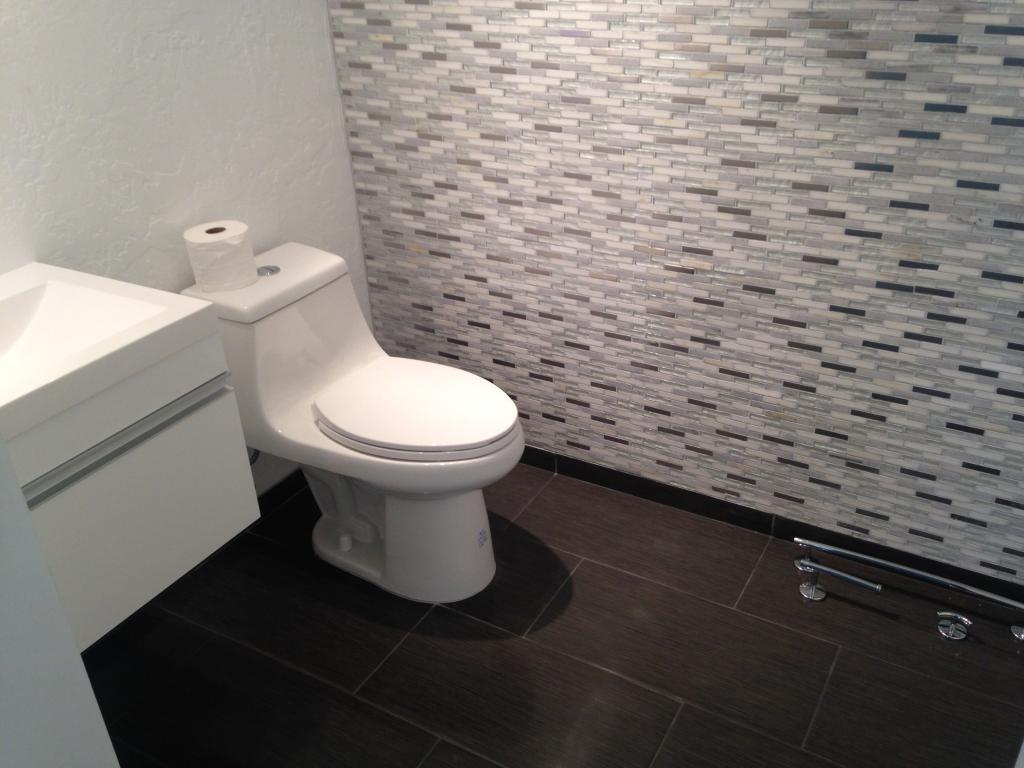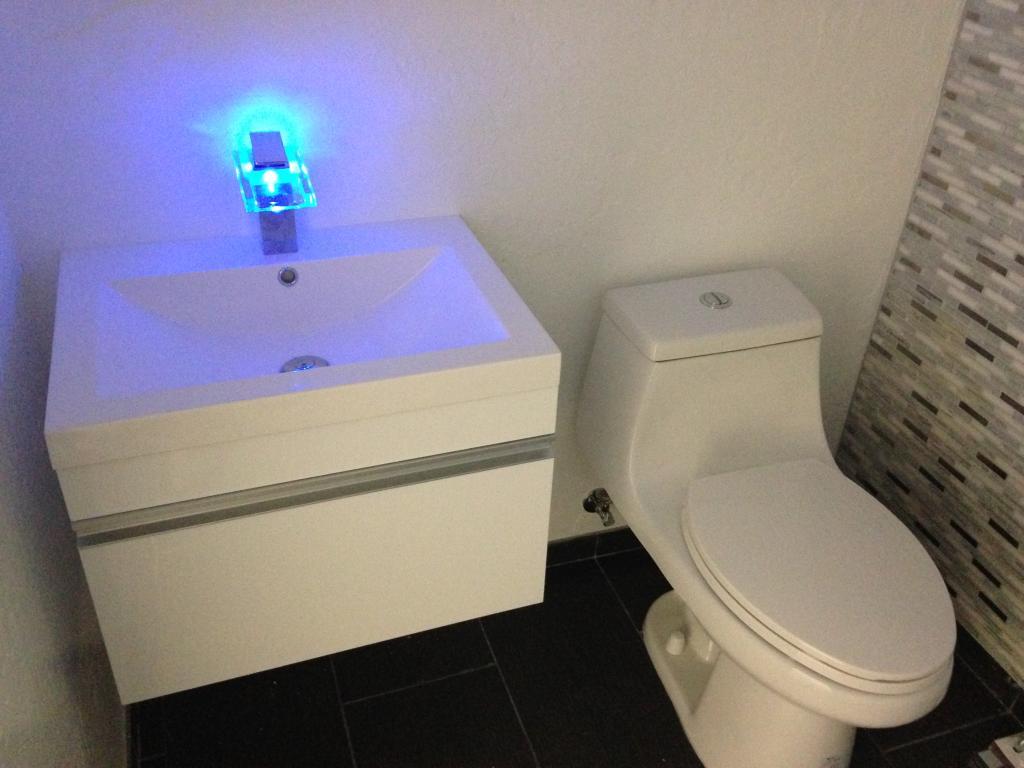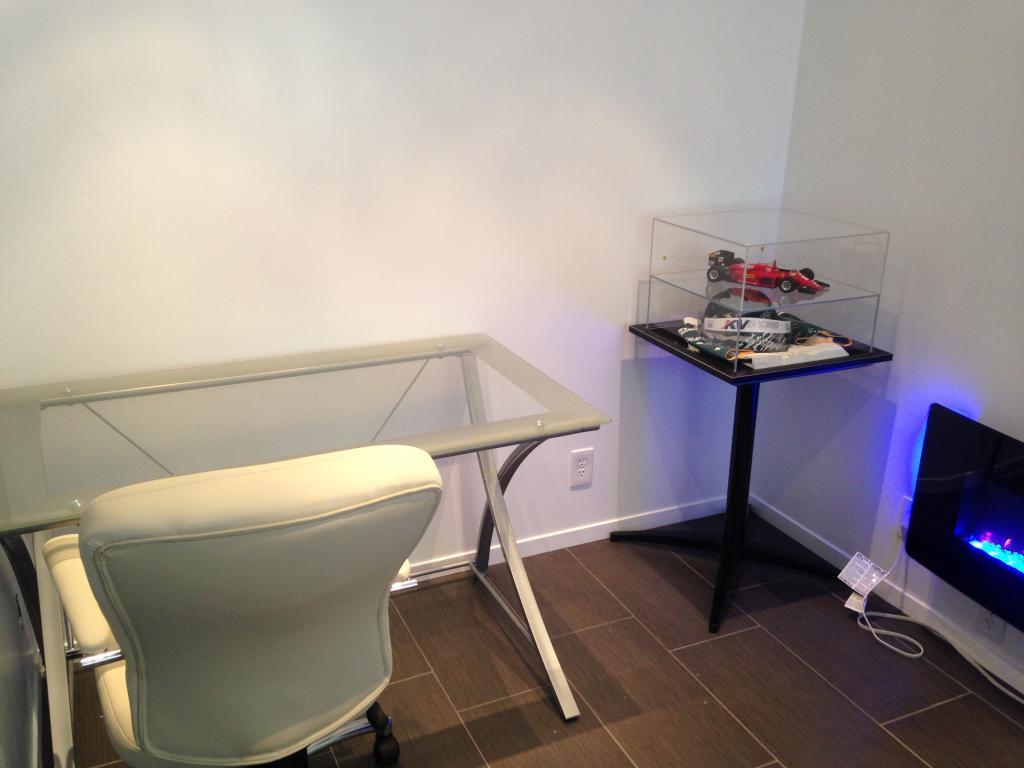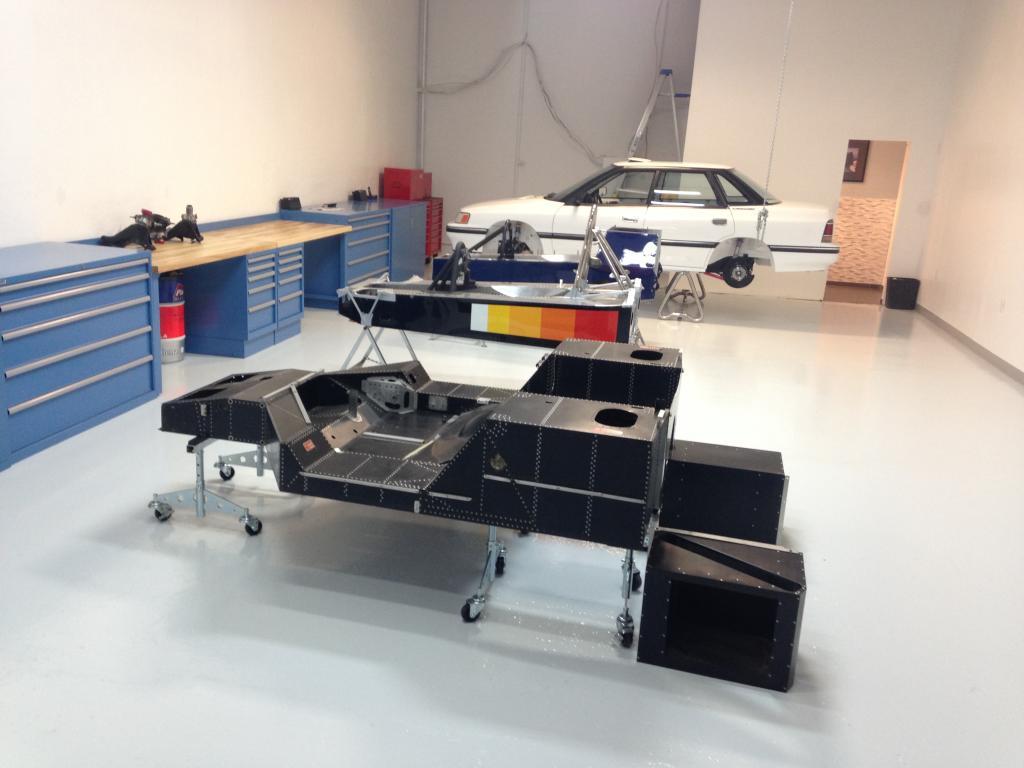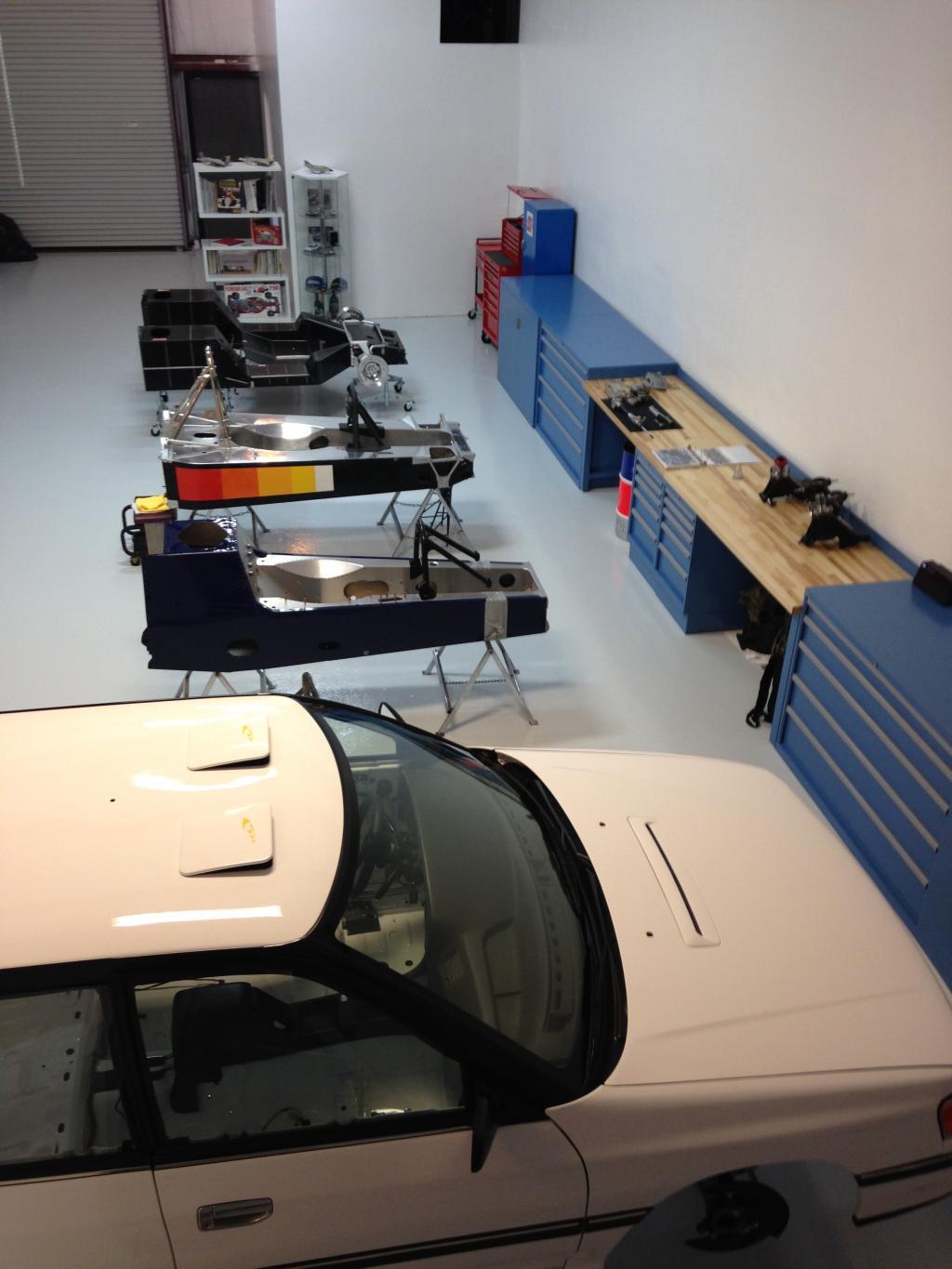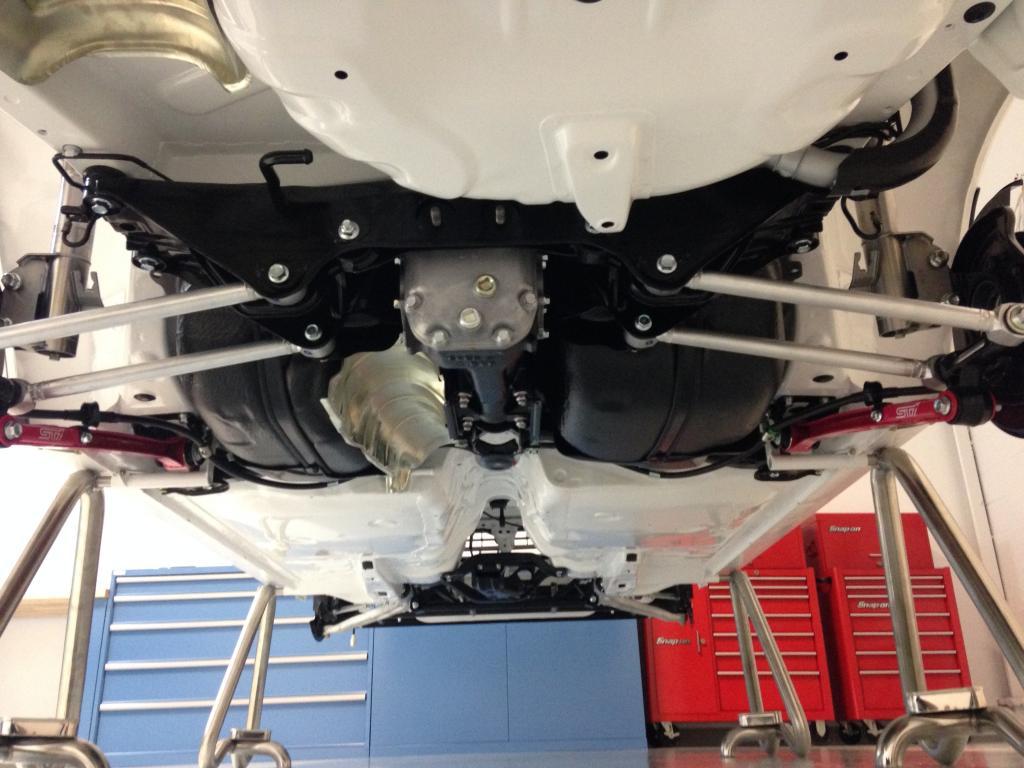 2-14-2015
Well it's obviously been a while since I posted anything, I have three Formula one cars and a Can Am car and a F5000 Mclaren M10 B in my shop. I have been busy working on those and also the building itself. Here are a few photos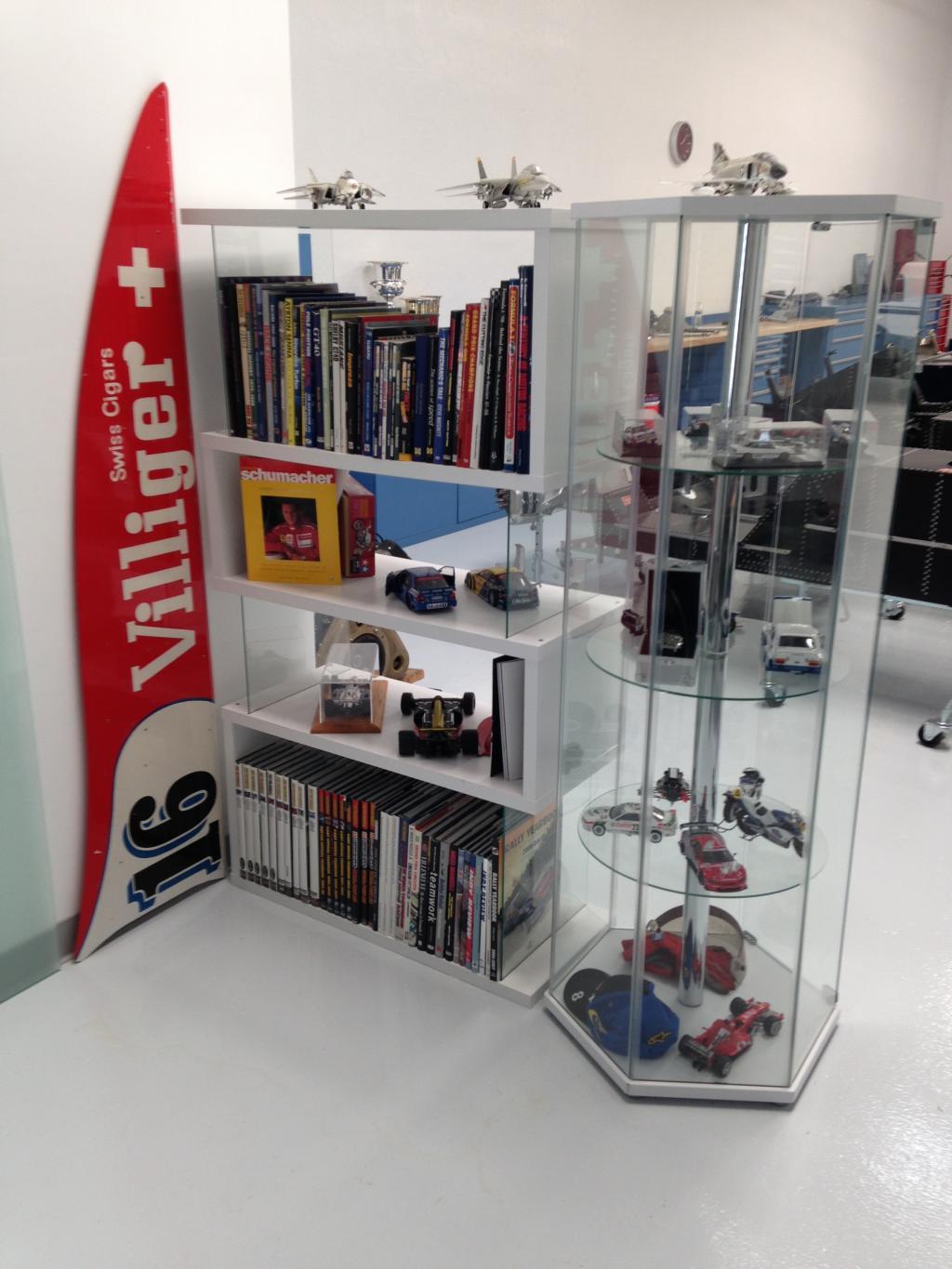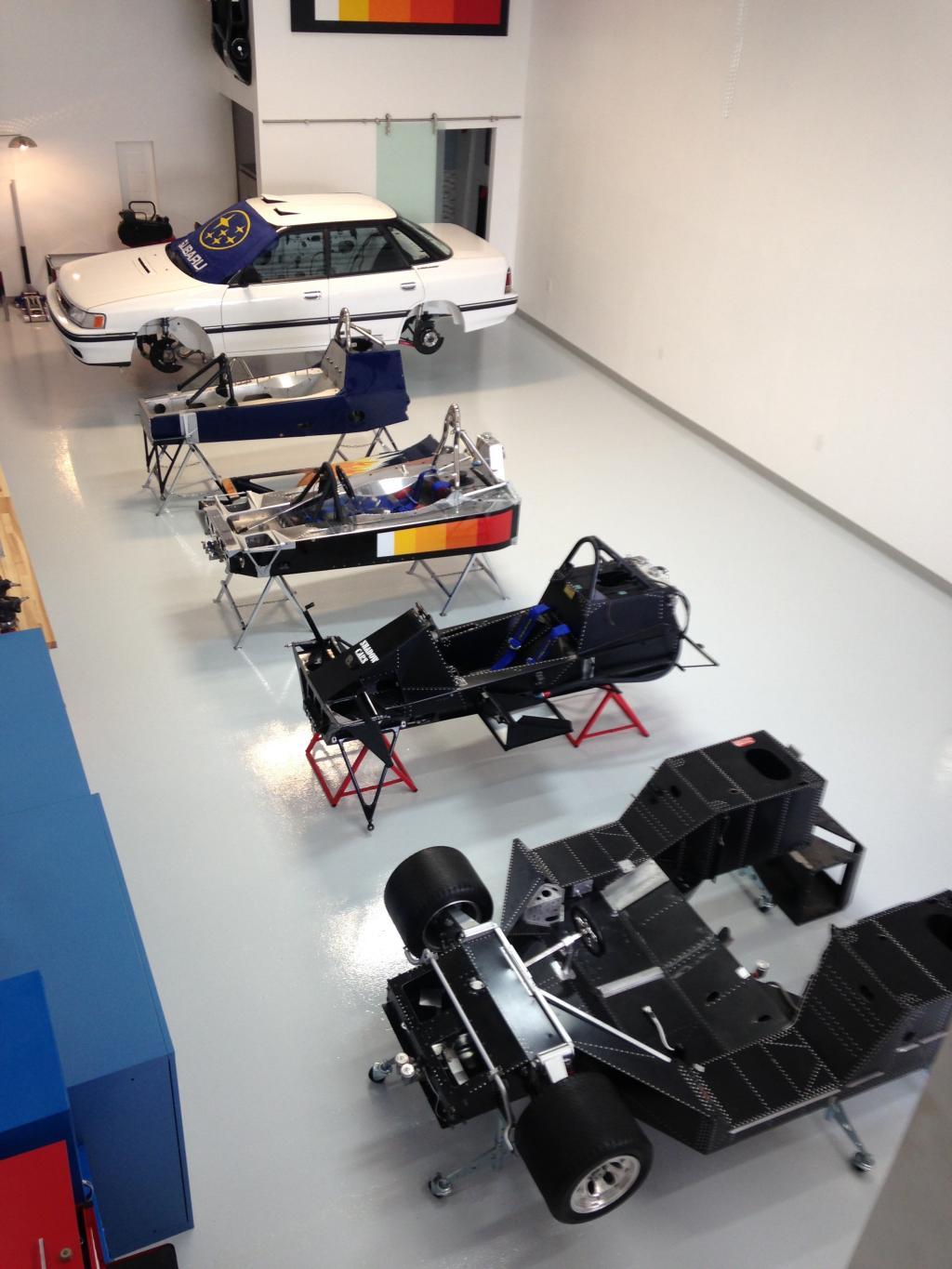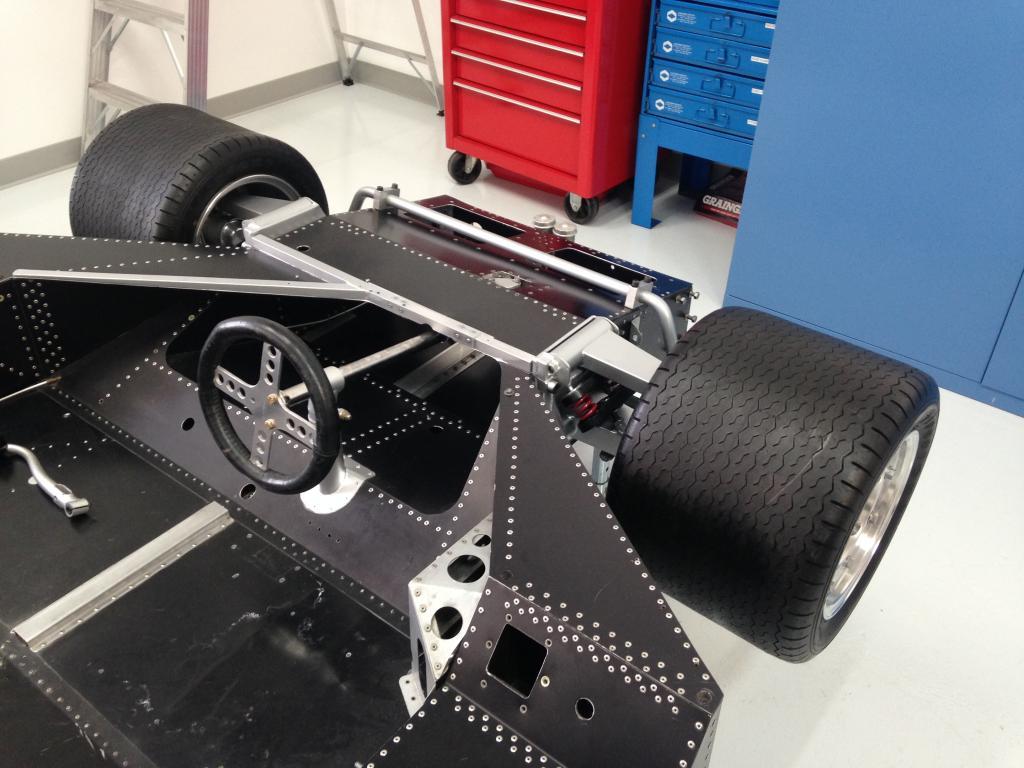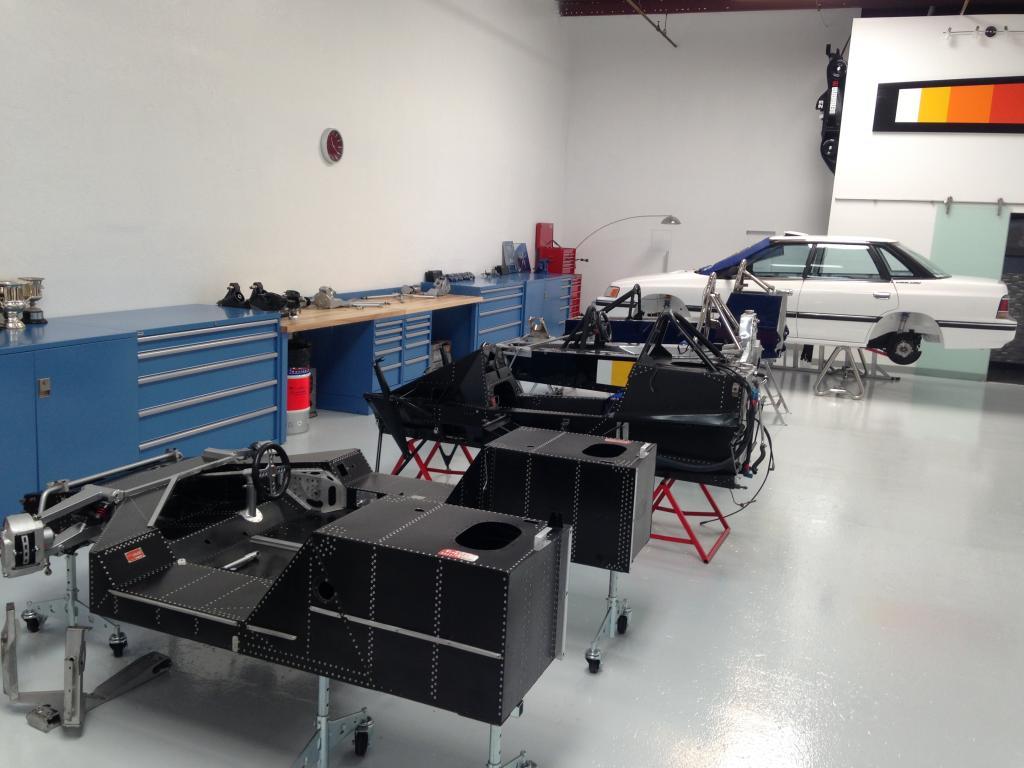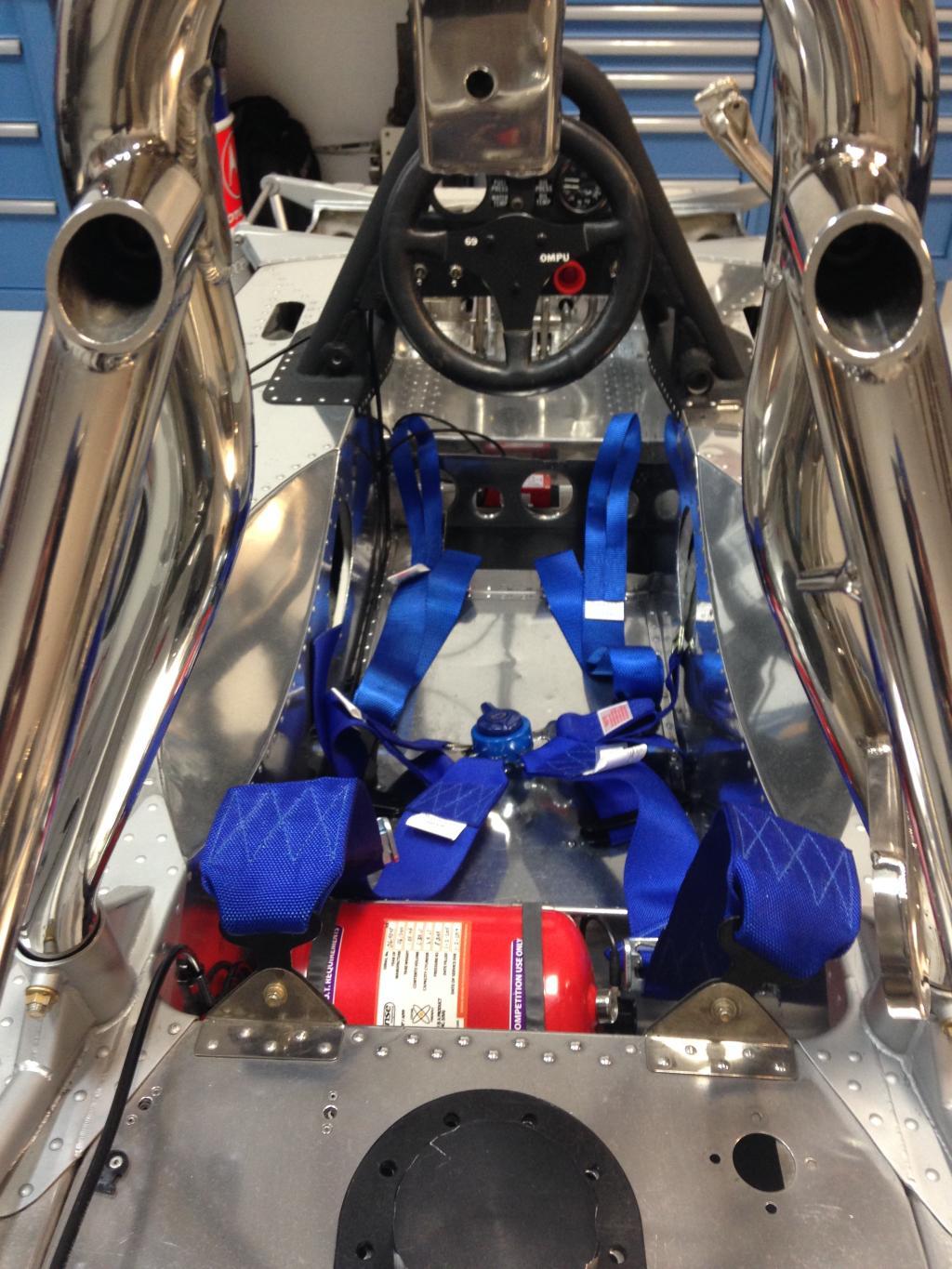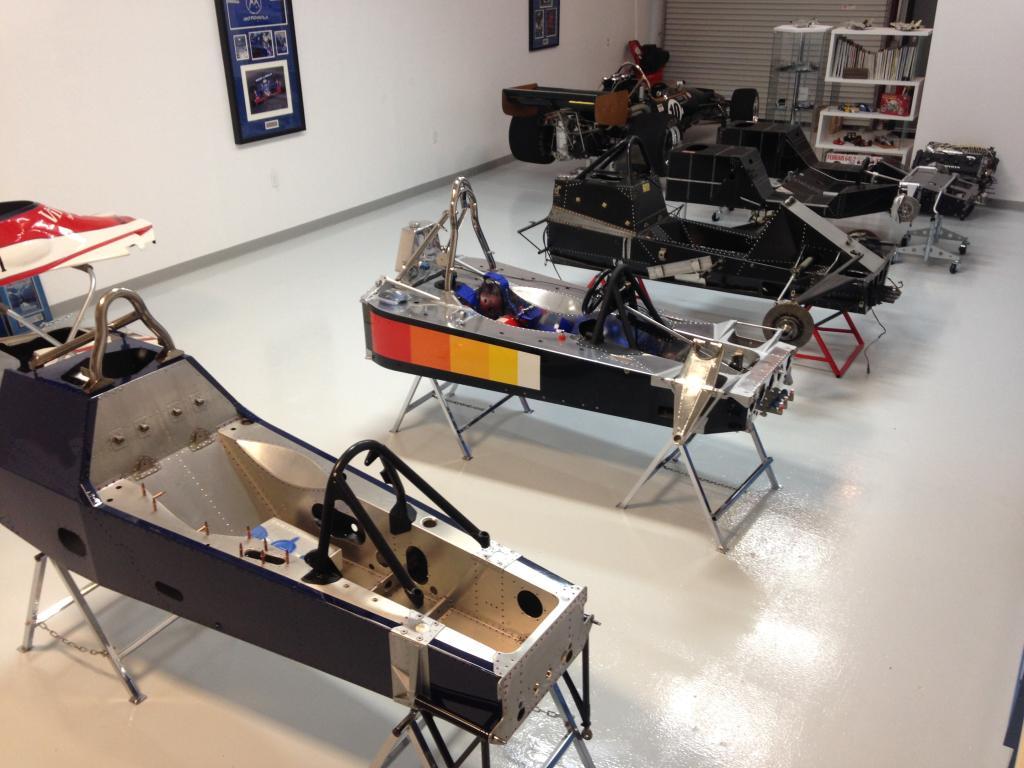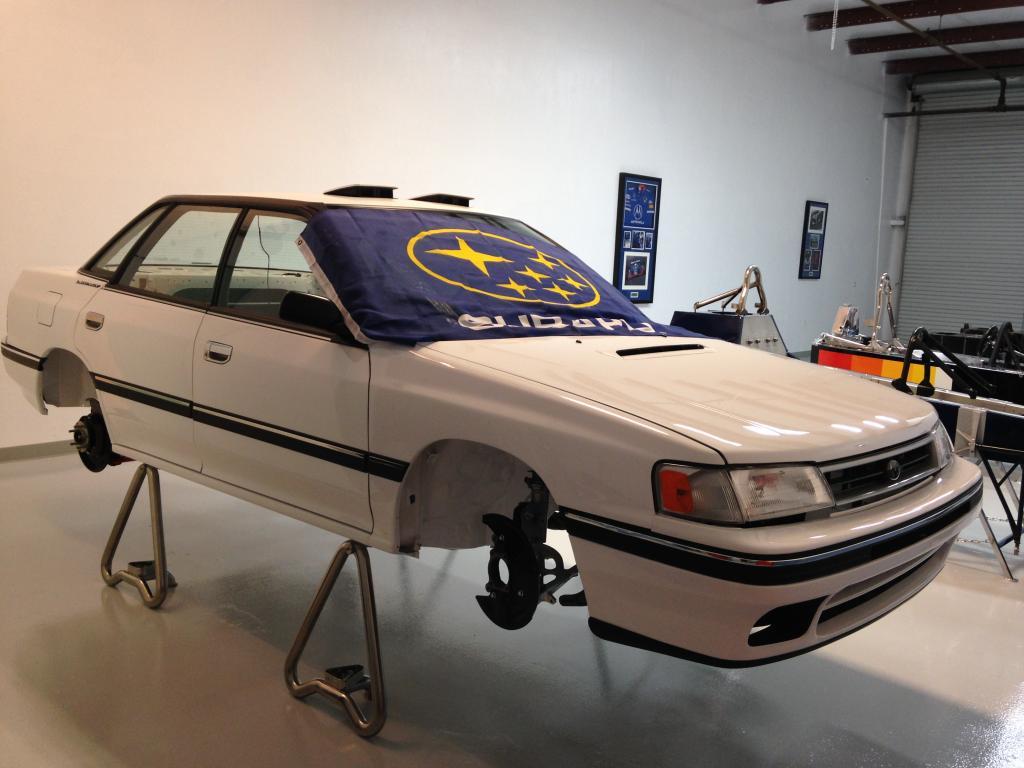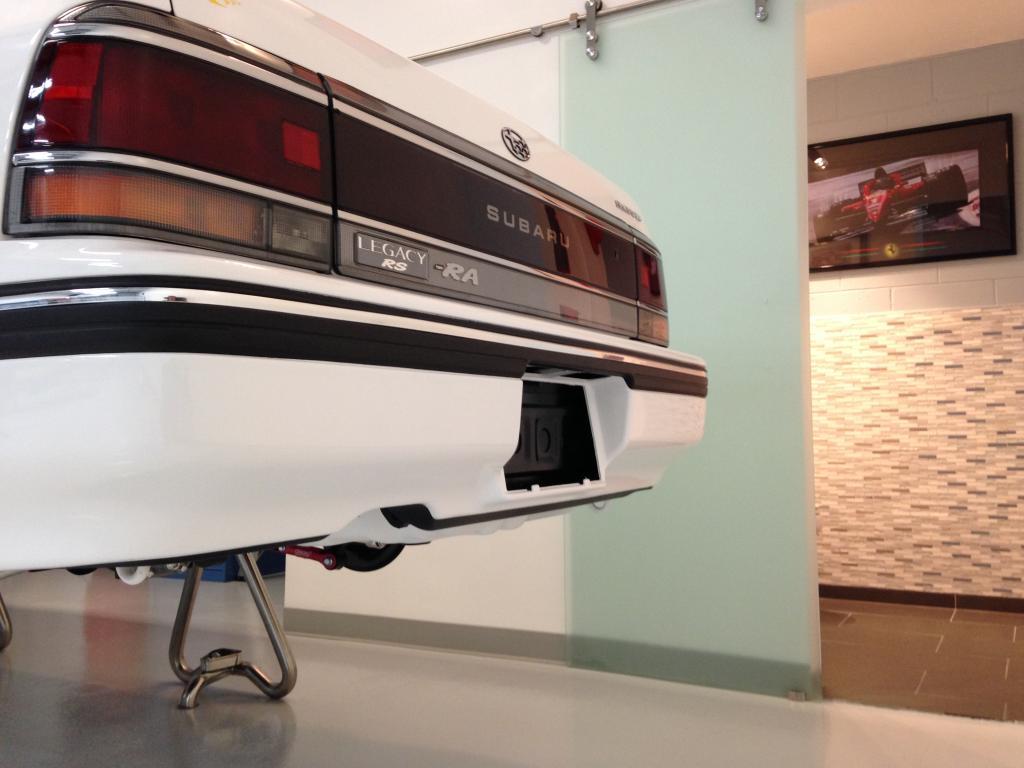 2-22-2015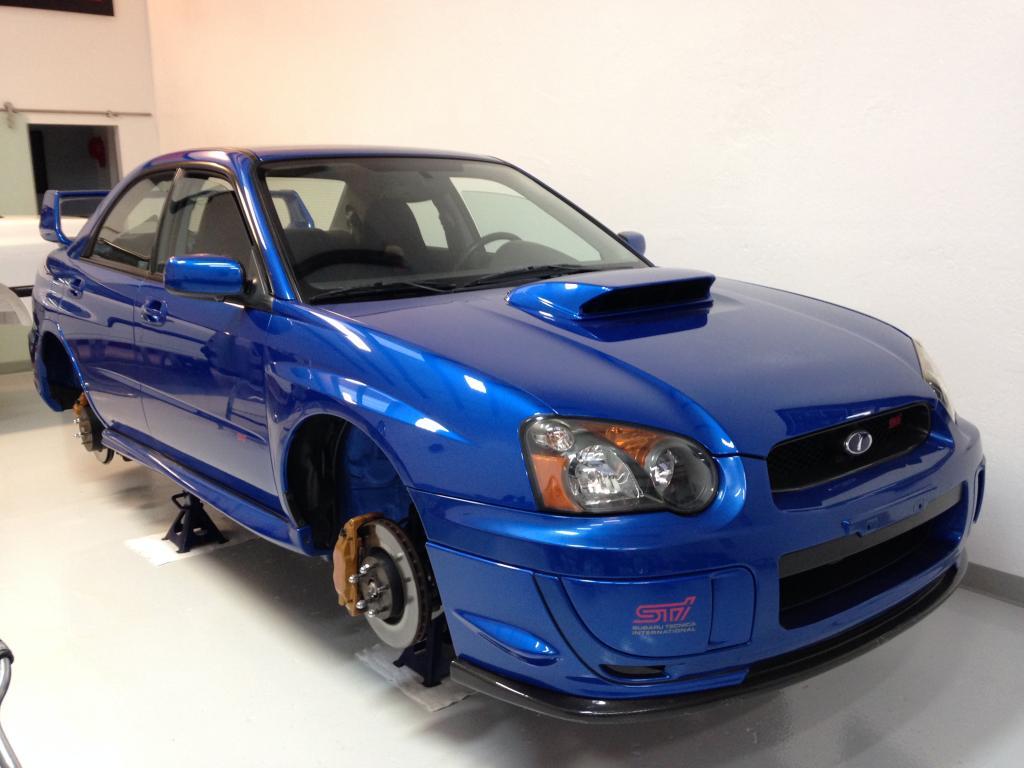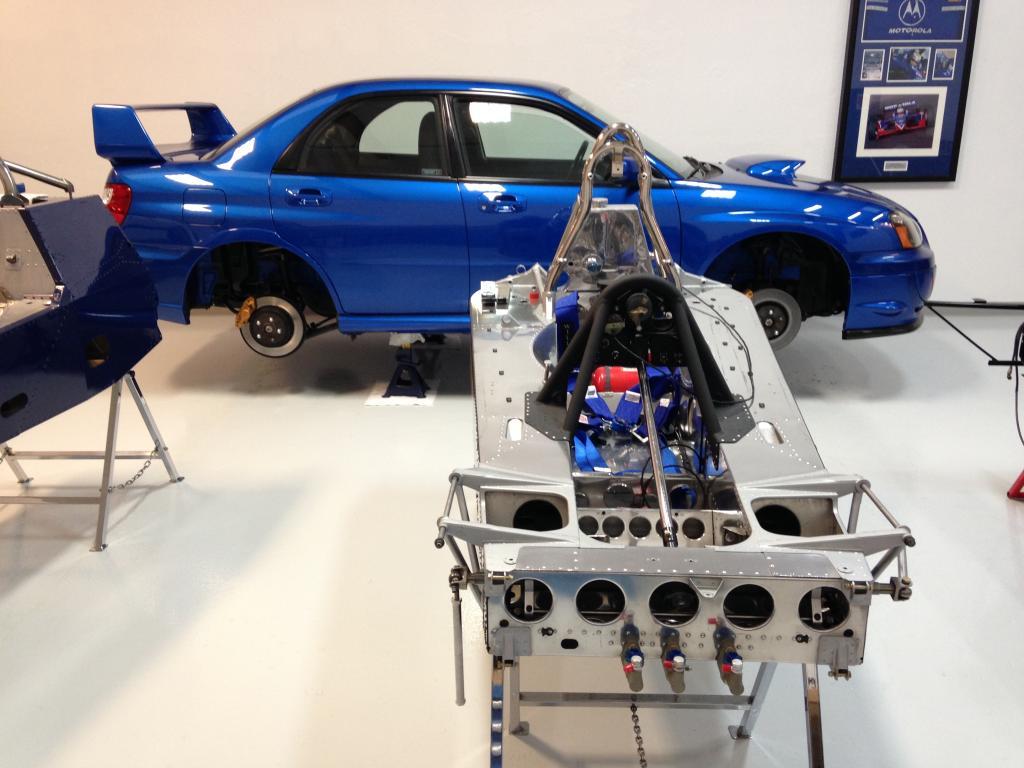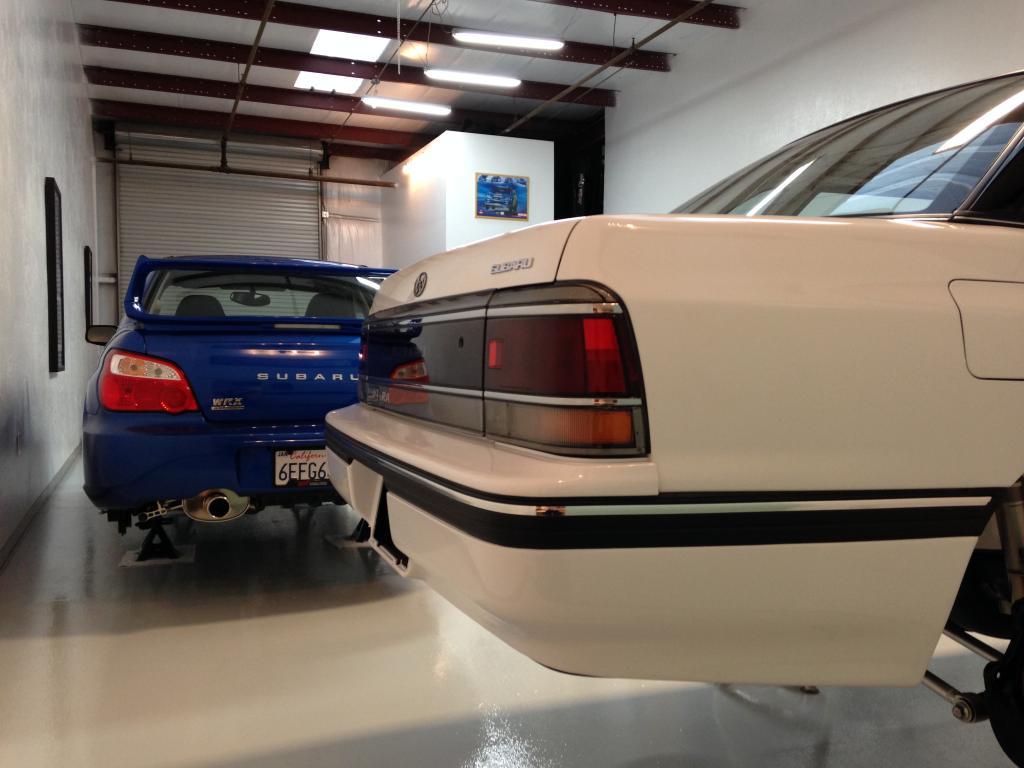 The Impreza had to be moved and is now temporarily in my shop. It has not really been in use for the last year or so, it's mainly been up on stands
2-26-2015
I am finally back to working on the Legacy and the next thing was to get the front knuckle and Hub assembled.
The issue I had was with the Strut/Wheel combination I wanted. The wheel was 5x100 and the strut was for 05 -07 Impreza STI.
The rear strut bolted direct to the knuckle which was from an 04 STI 5x 100
The strut mounted into the Legacy BC by using a set of Cusco top strut mounts.
The issue came with the front lower strut mount the 5x100 04 STI will not bolt into the lower mount clevis because the bolt spacing is different between the two years, so we drilled the 5x114 hub assembly and machined the studs to clear the bearing housing. So now I have 5x 100 front hub assembly made from 2005 Impreza STI. Once again A Cusco top mount was used to fit into the BC Legacy.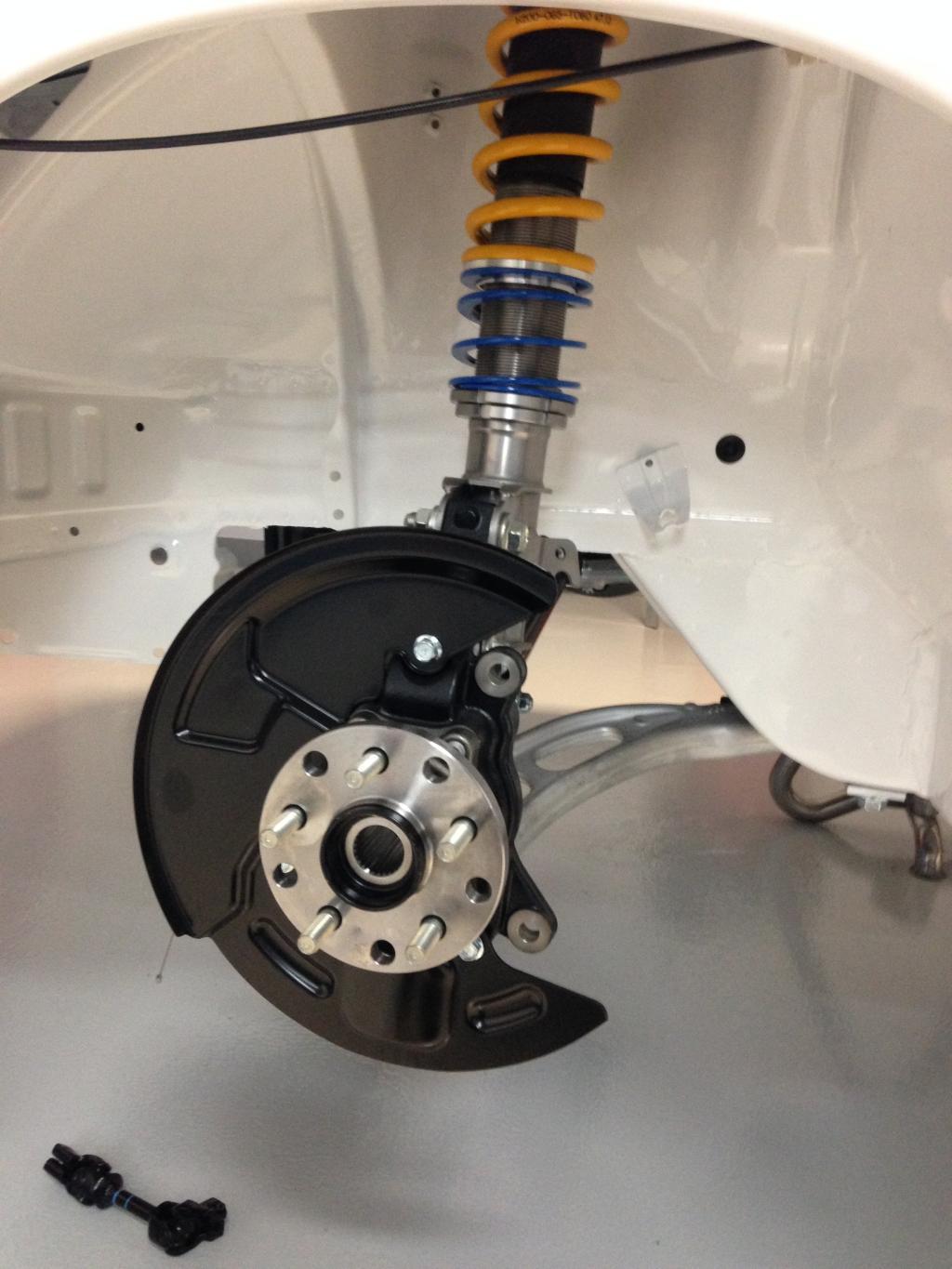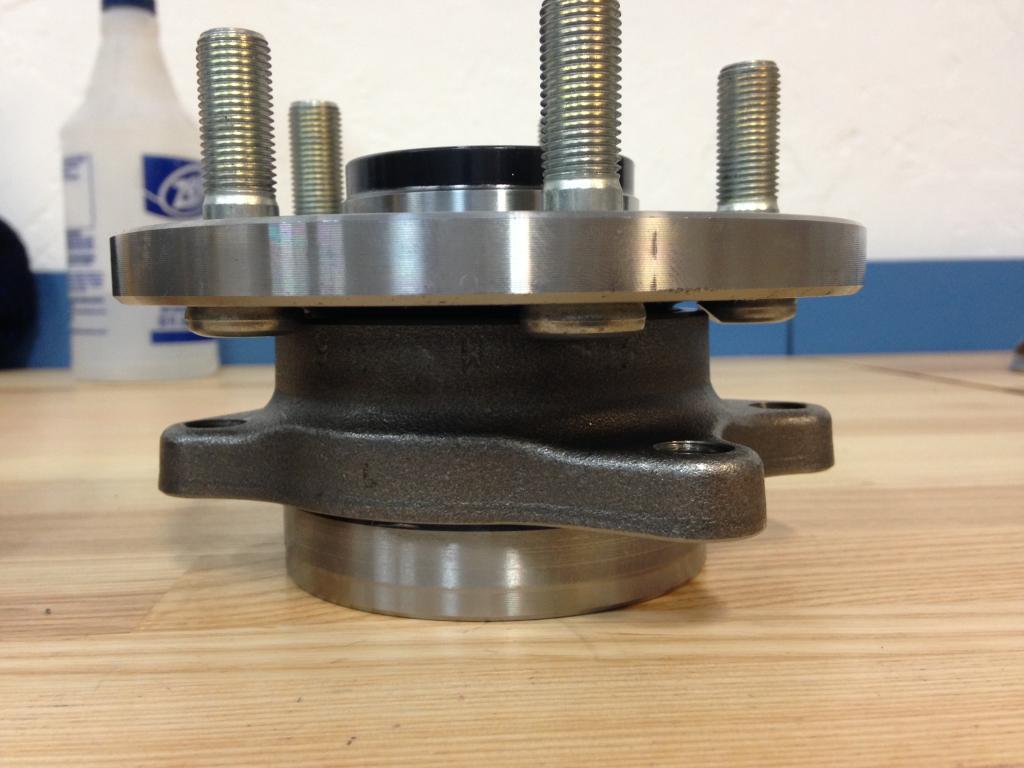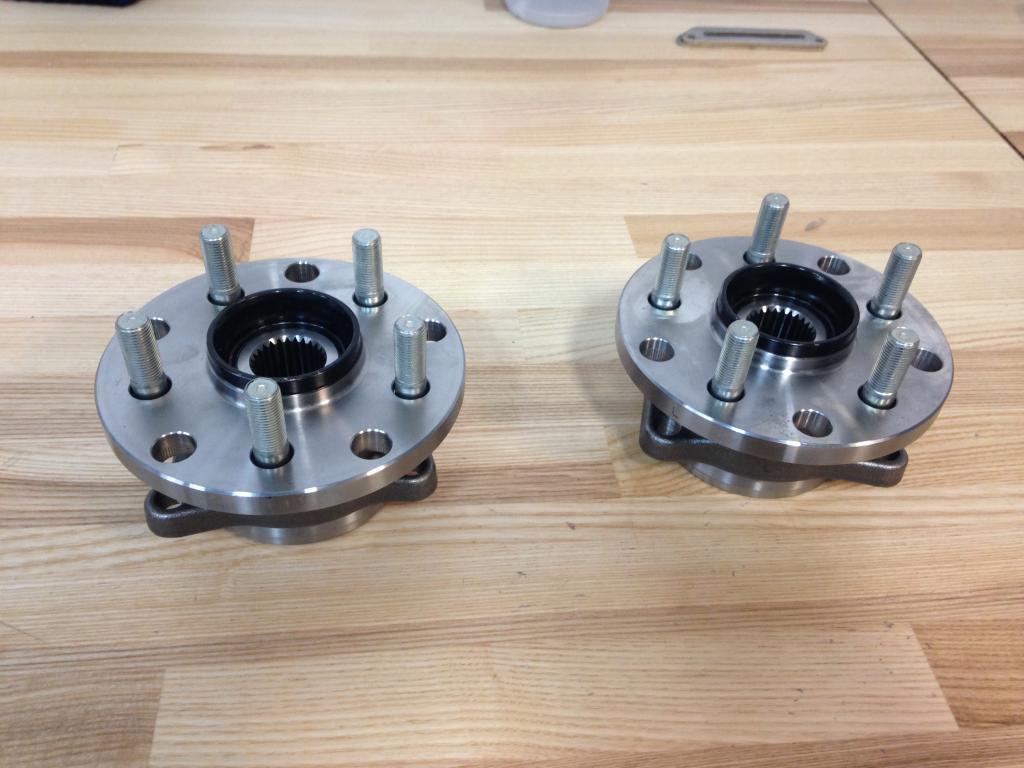 To overcome the final issue which is the diameter if the 5x114 being larger I will use one of the two piece brake rotors that is drilled 5x100 as well as 5x114 and that won't be an issue.
4-3-2015
I have some good news, I now have five Subarus, I just purchased a 1990 Subaru Legacy type R. It's in amazing condition and I am looking forward to going back to NZ and driving it, hopefully in the near future.
Here's a few photos off the trade me site it was listed on.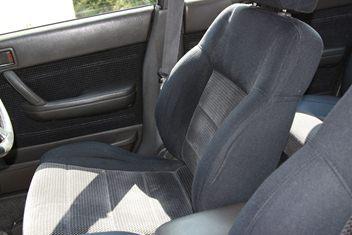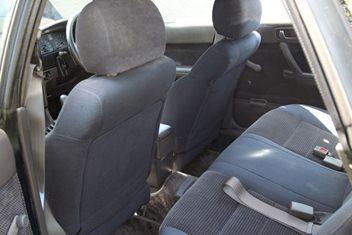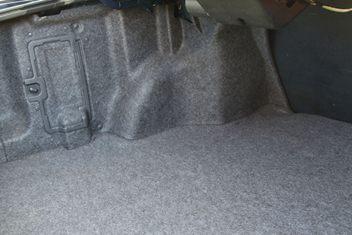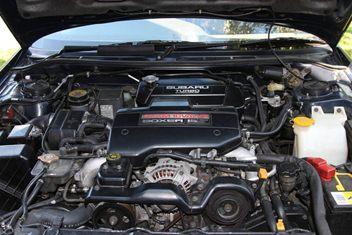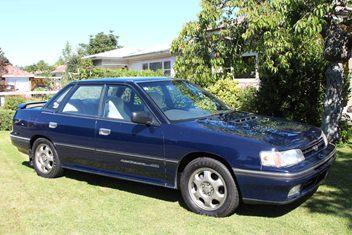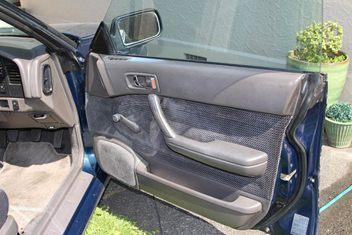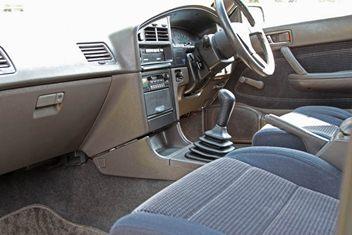 8-2-2015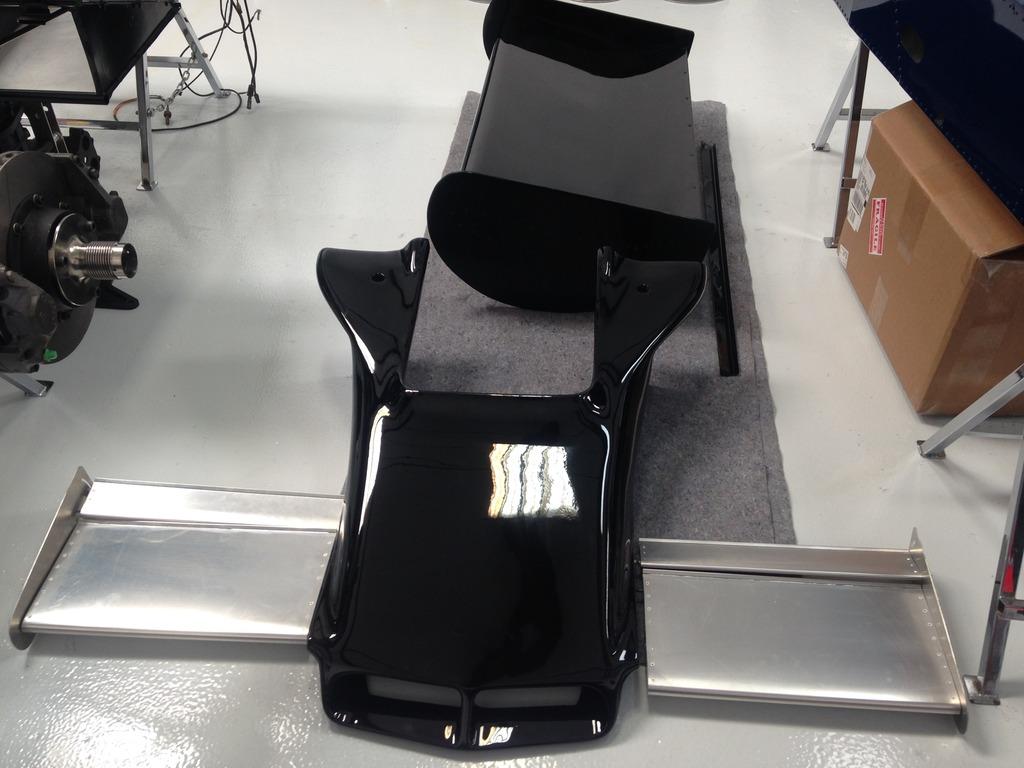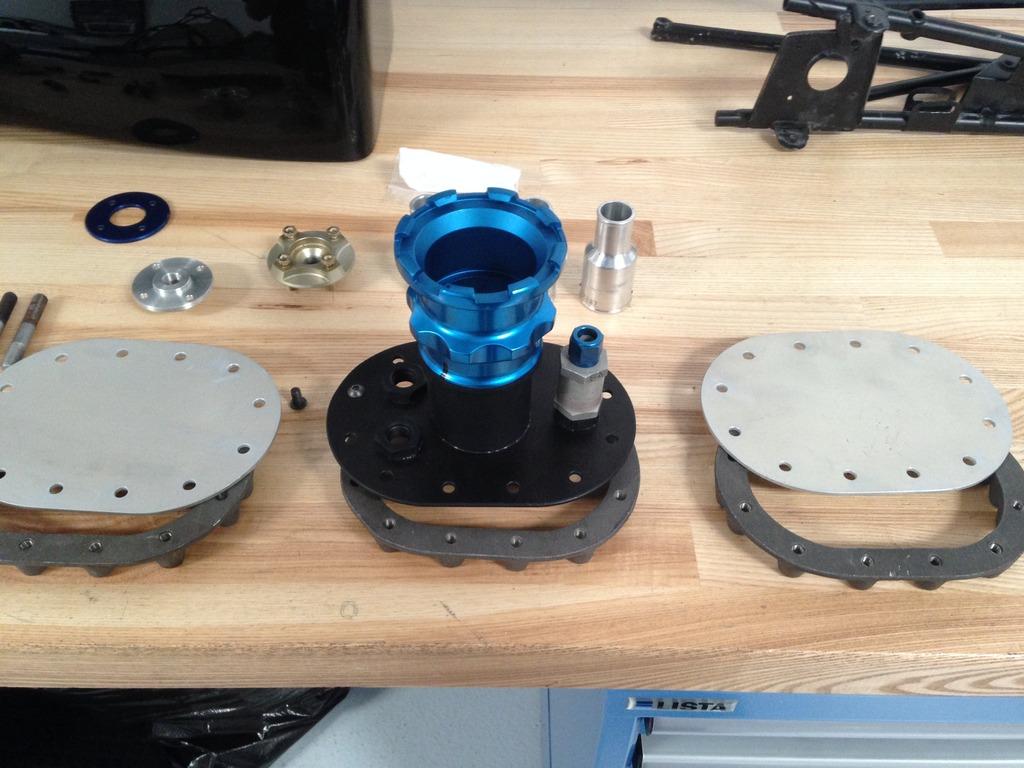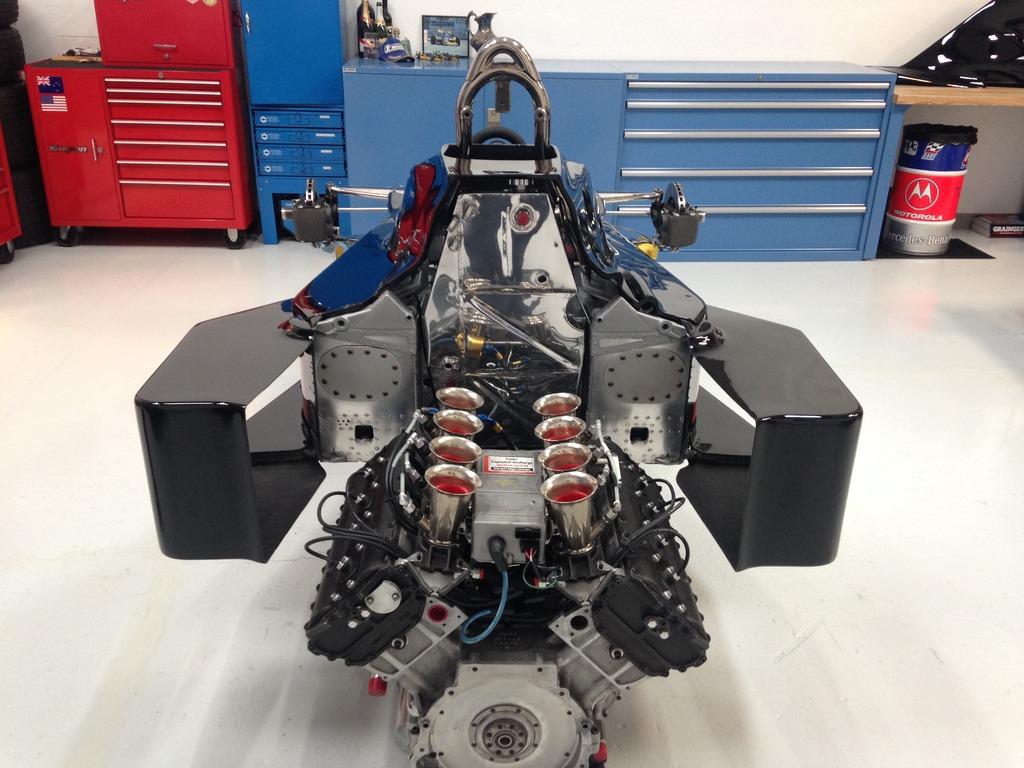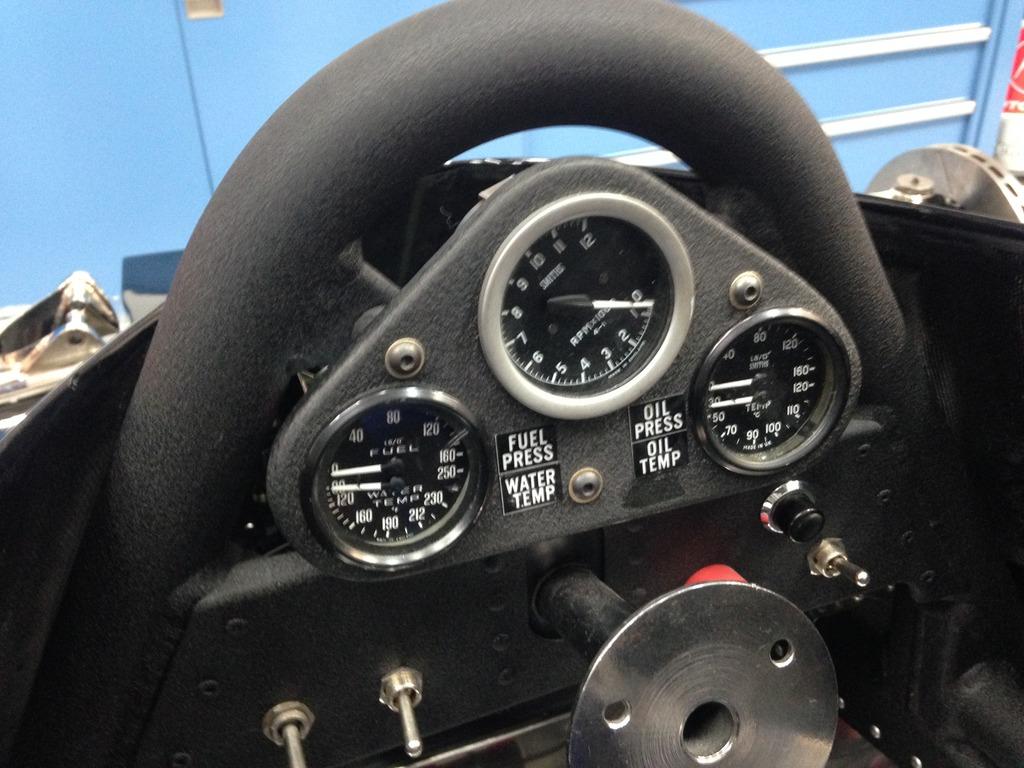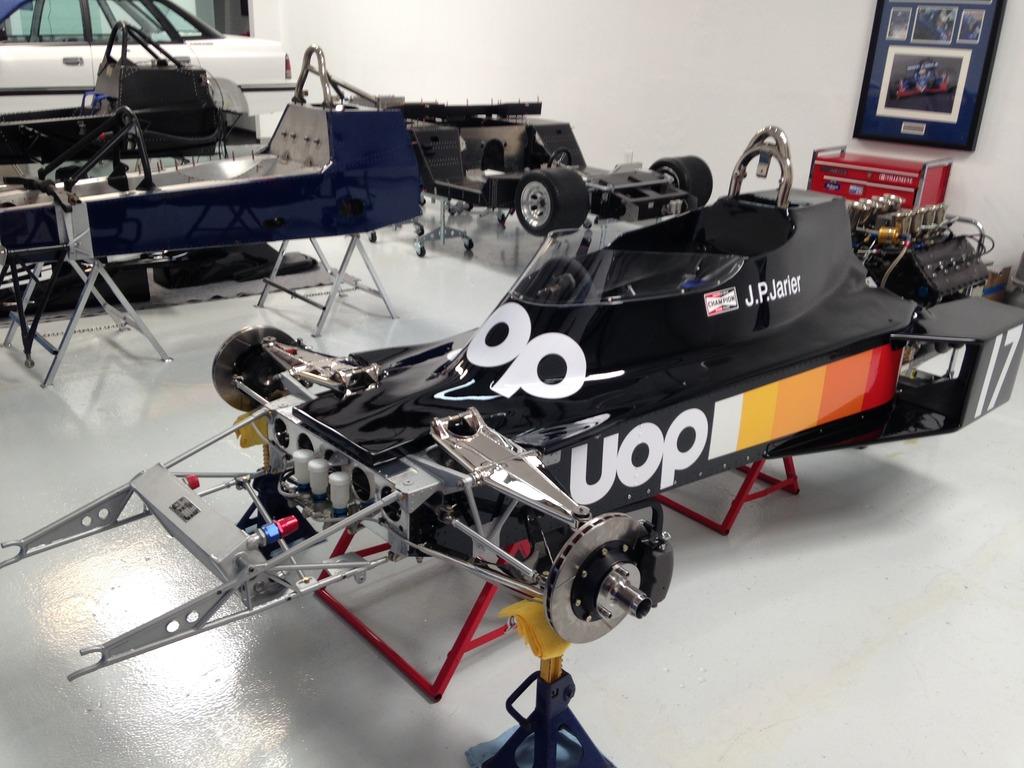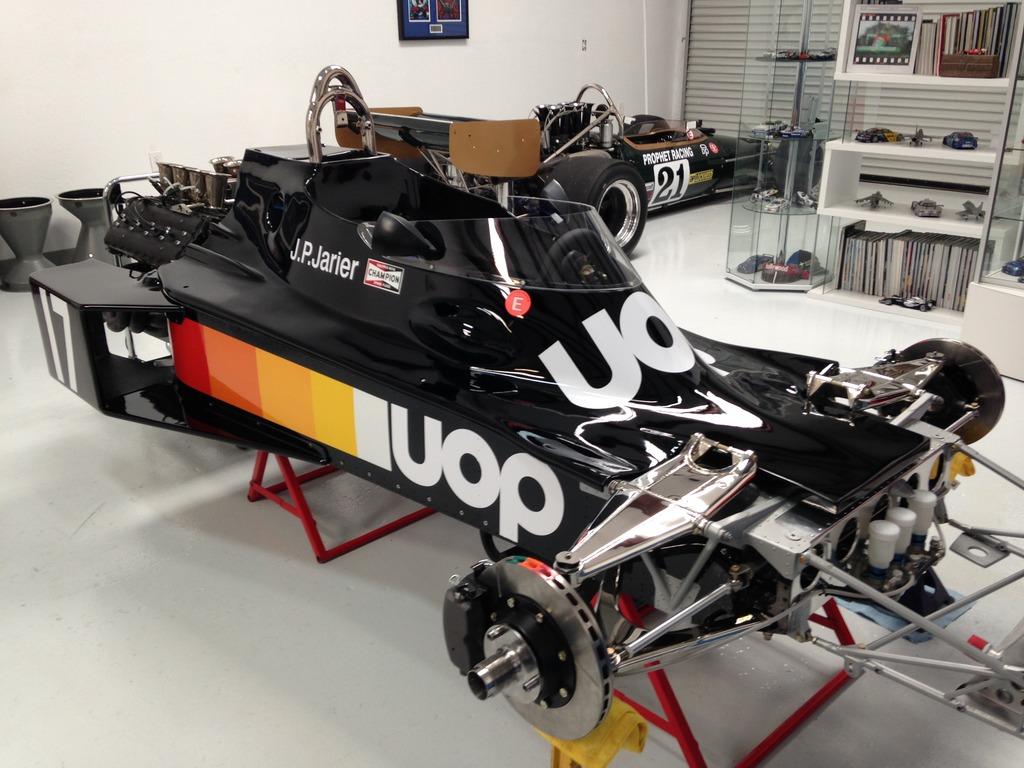 Well guys the Legacy project has not gone as planned for progress but the Shadow DN 5 is close to finished


1/24/16
The Legacy got some parts ordered for it just before Christmas and I have the seats on their way from Japan in eight weeks. Things have been extremely busy for me and I have nearly finished two of the F1 cars now. Here's some photos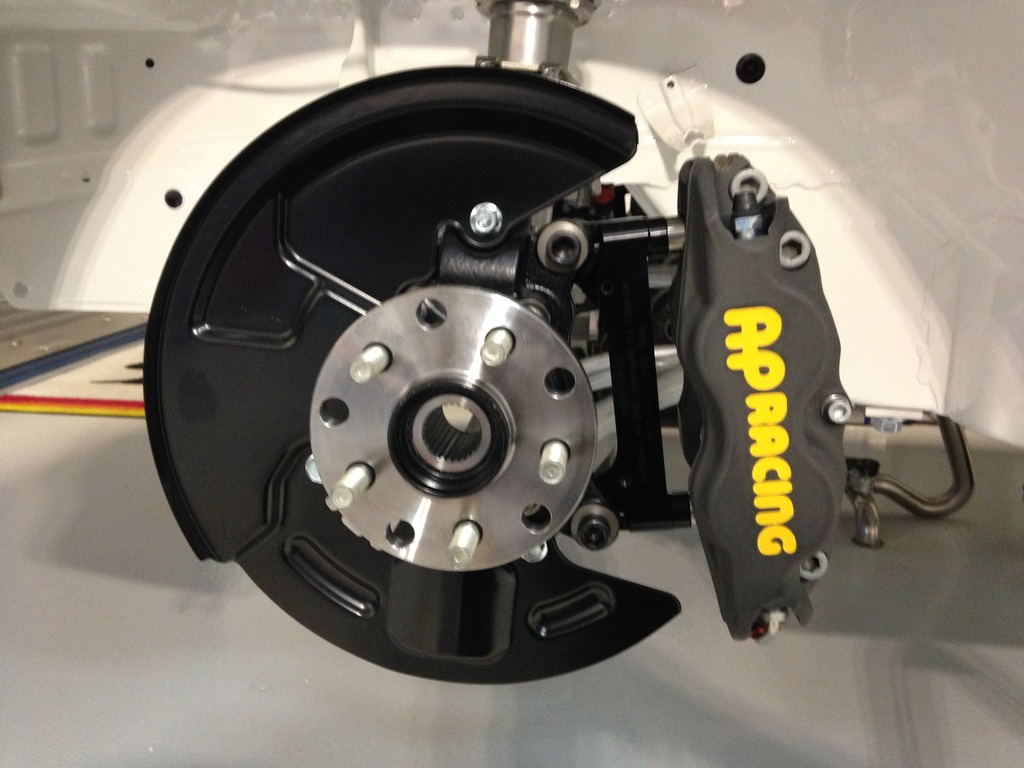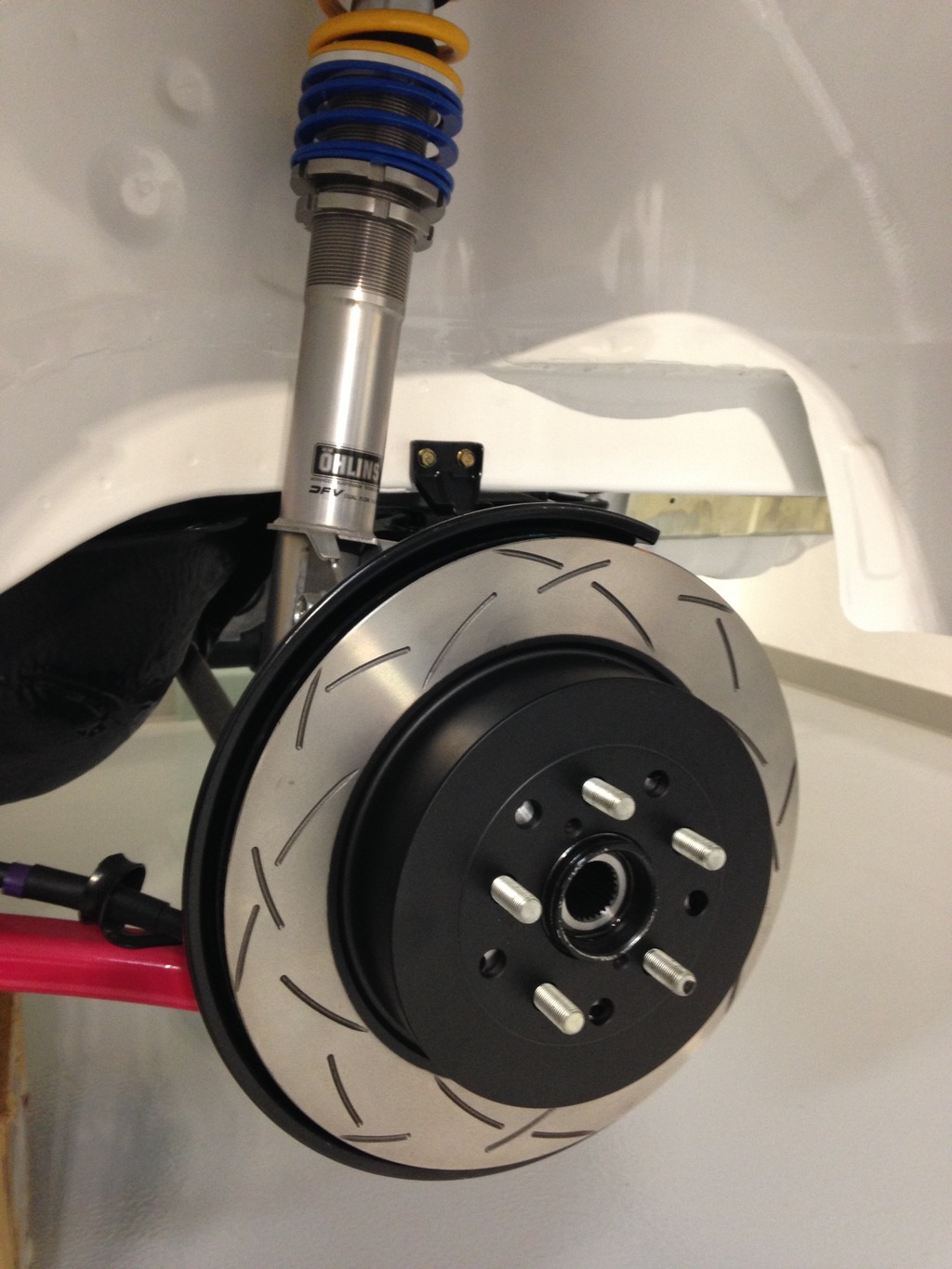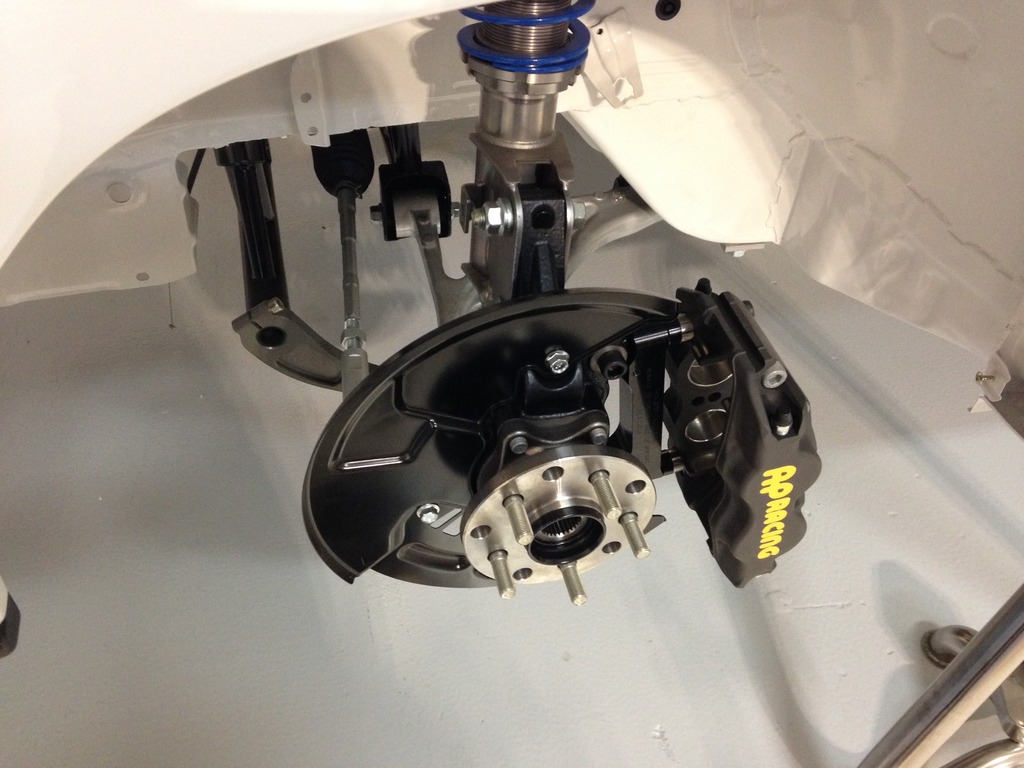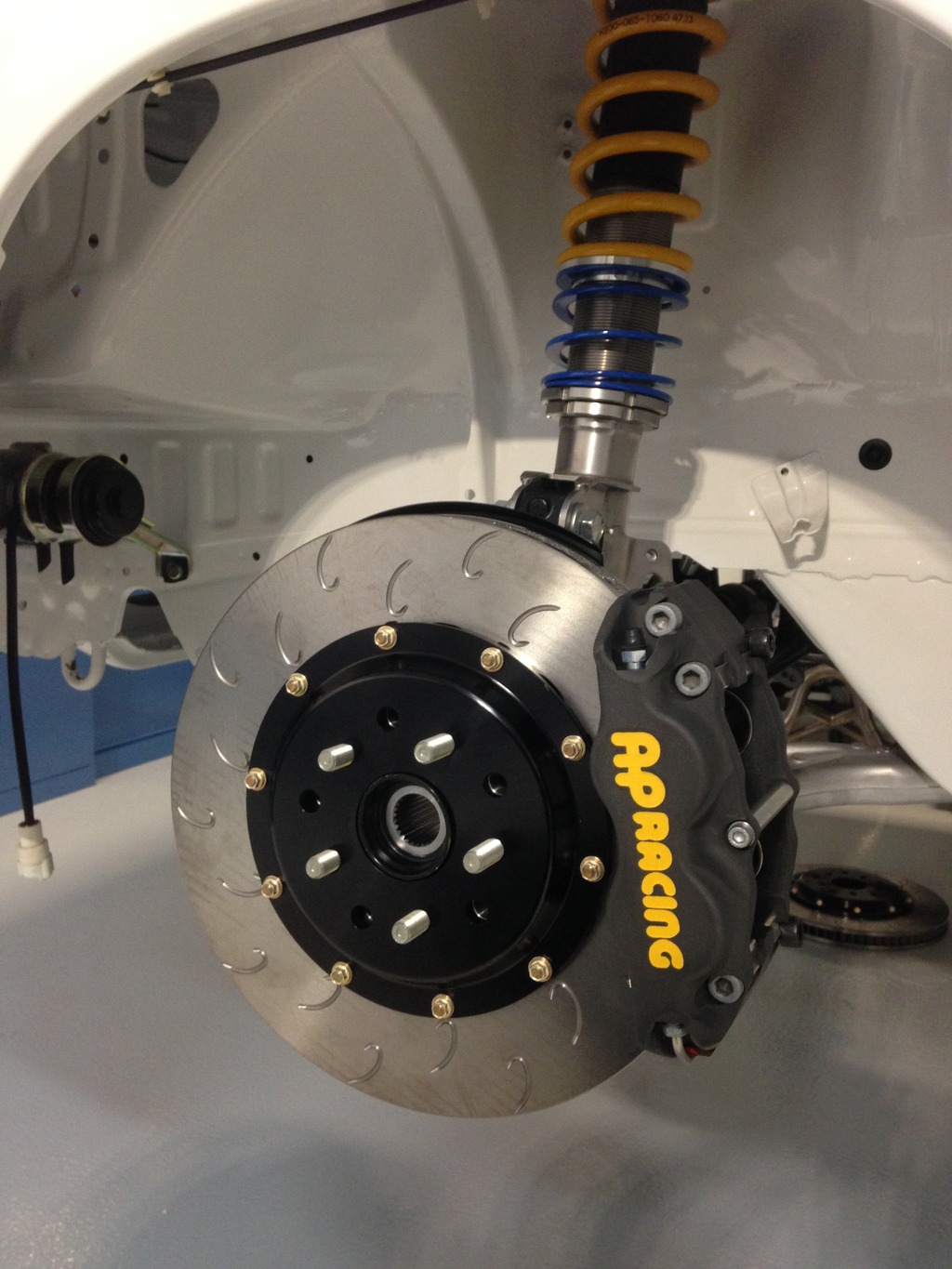 2/29/16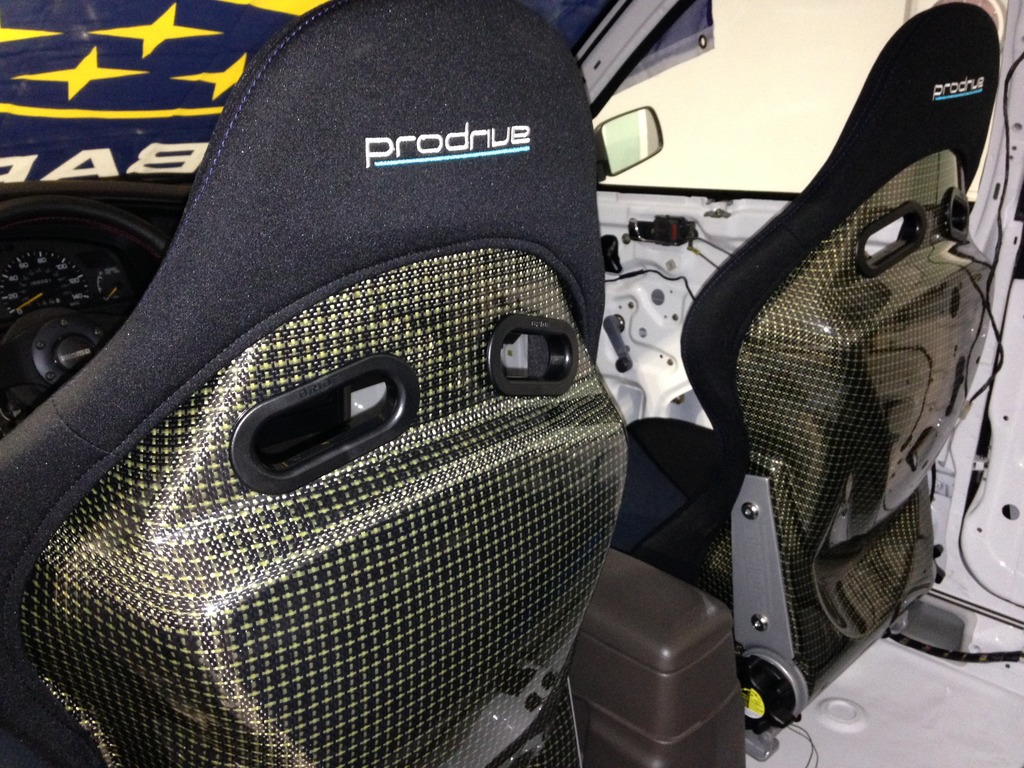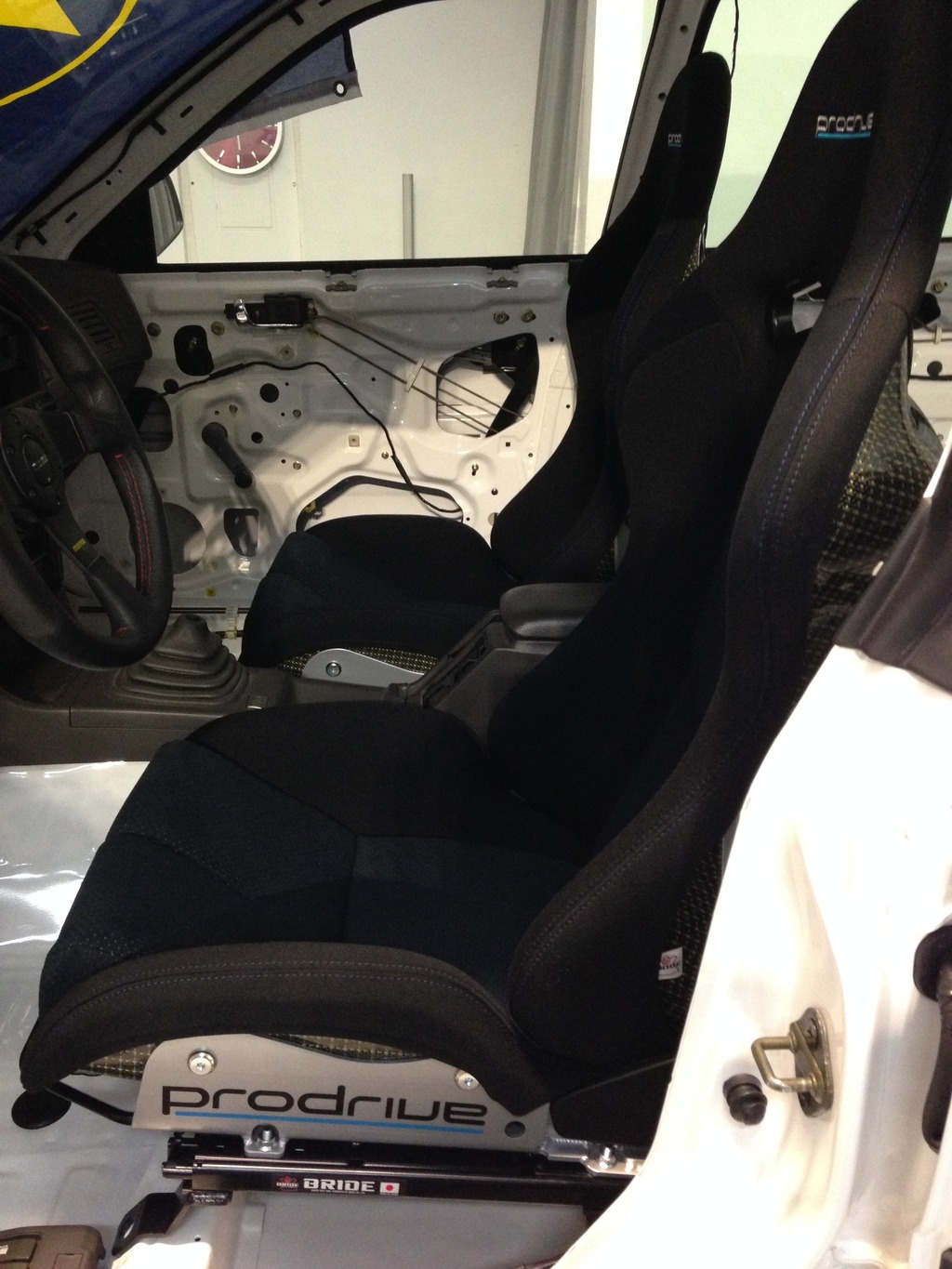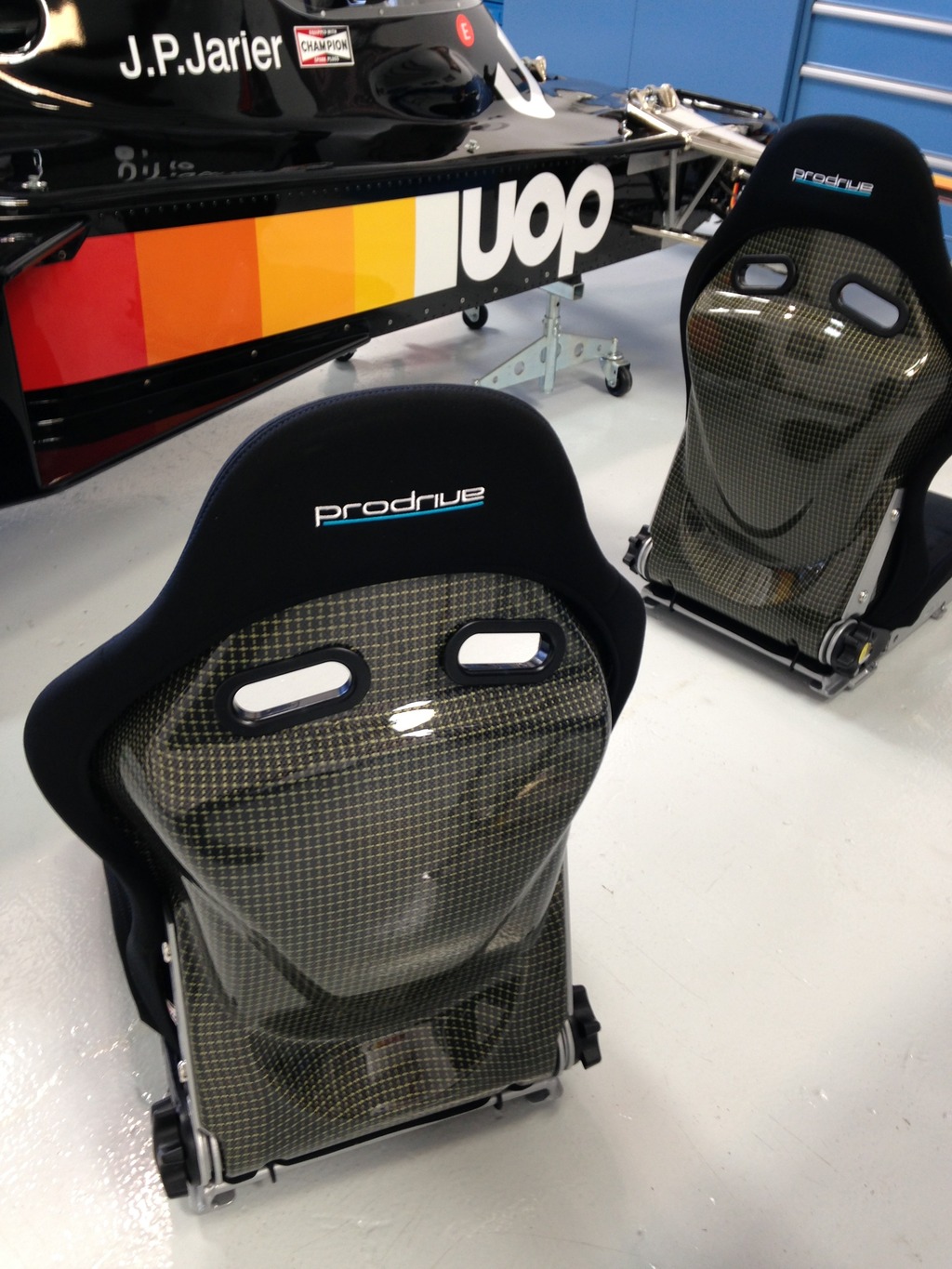 The seats arrived today, super happy with my descision to go with these seats, very high quality !
12/31/16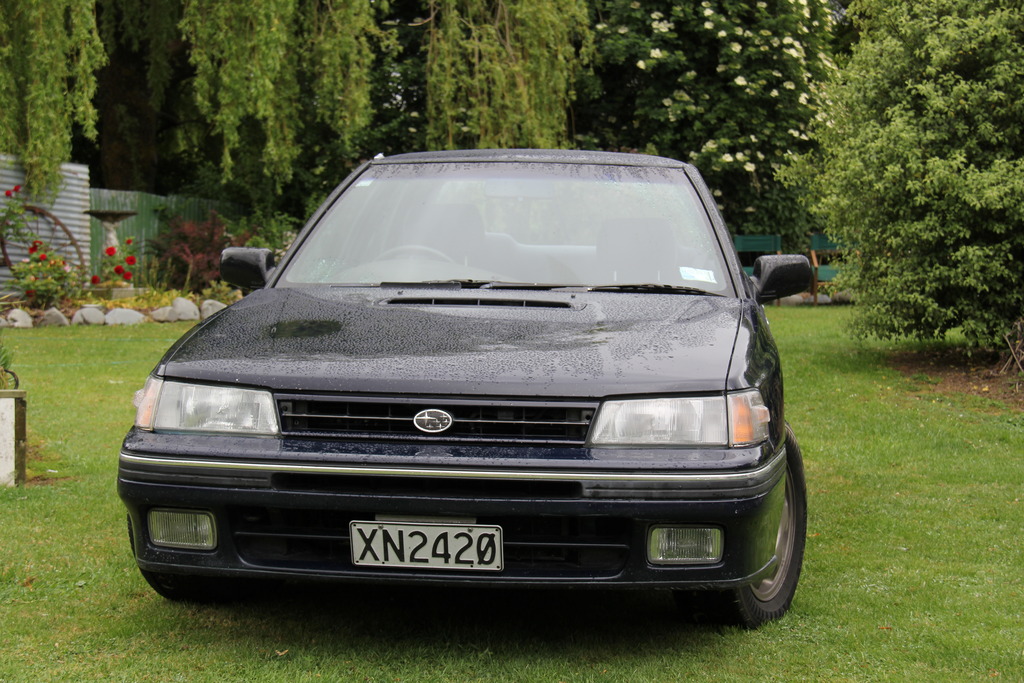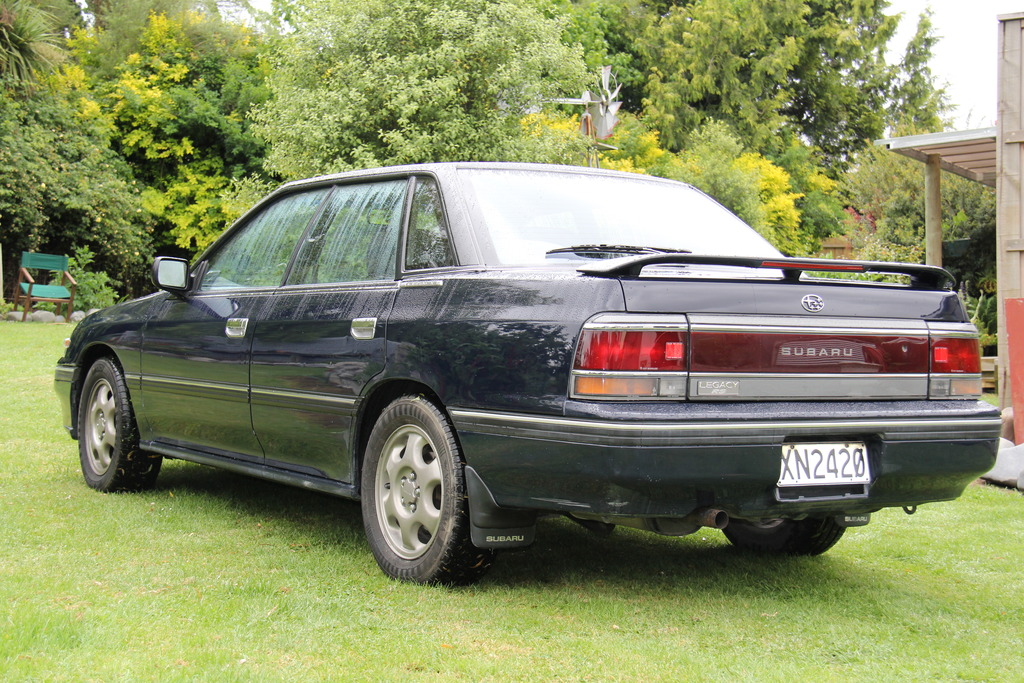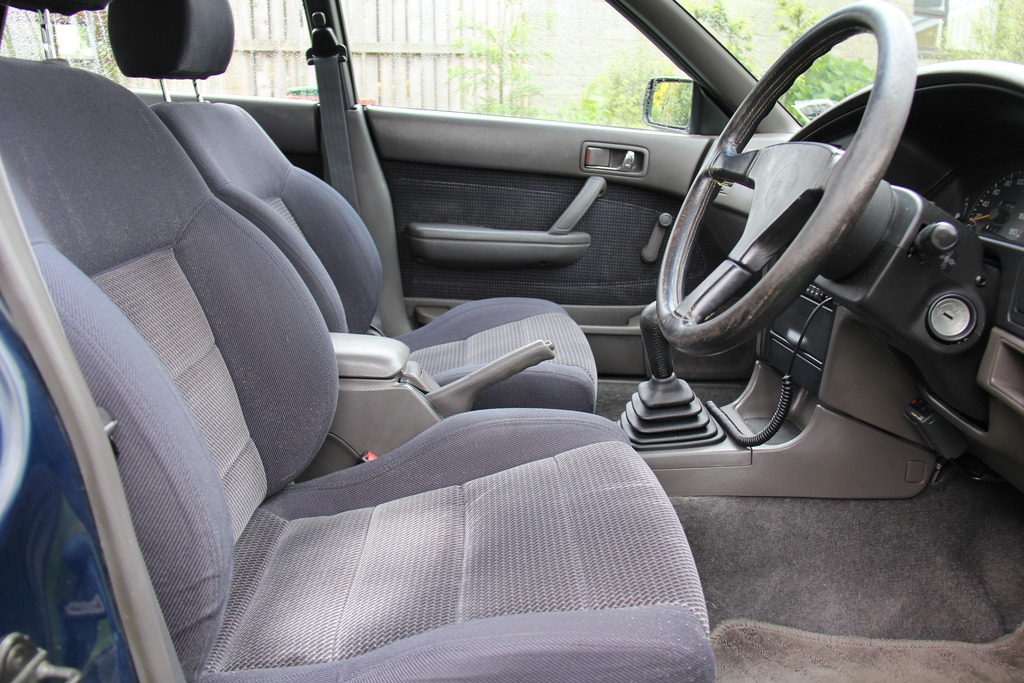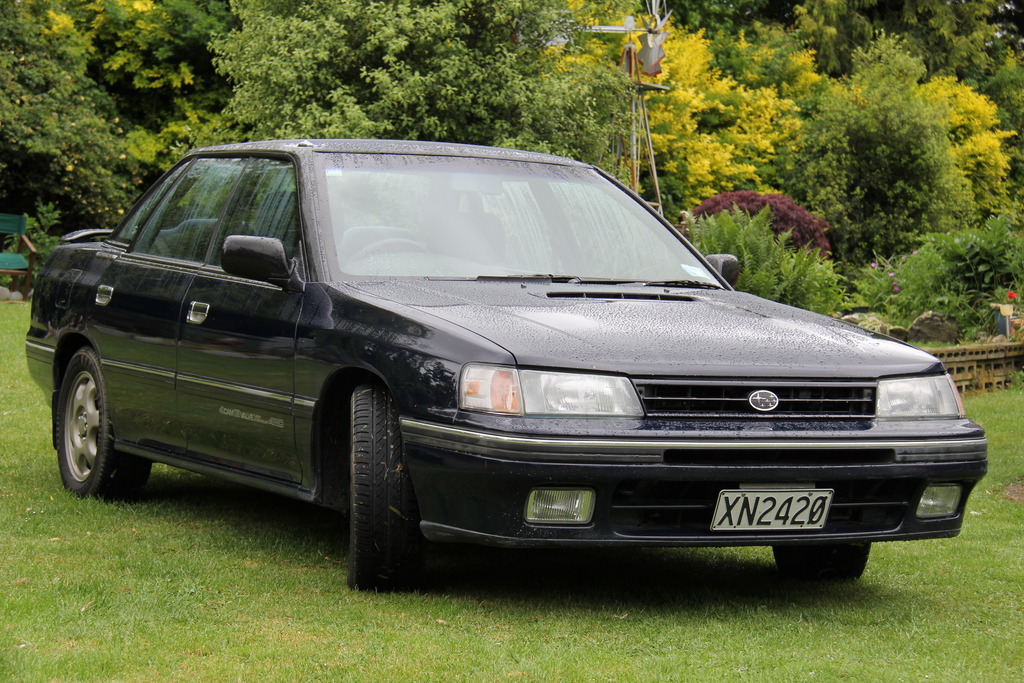 My Trip to New Zealand was great, both my cars got out for some good drives. The BC Legacy Type R is awesome, I'm very happy with it. It runs and drives great. I thought you guys would like to see some photos from my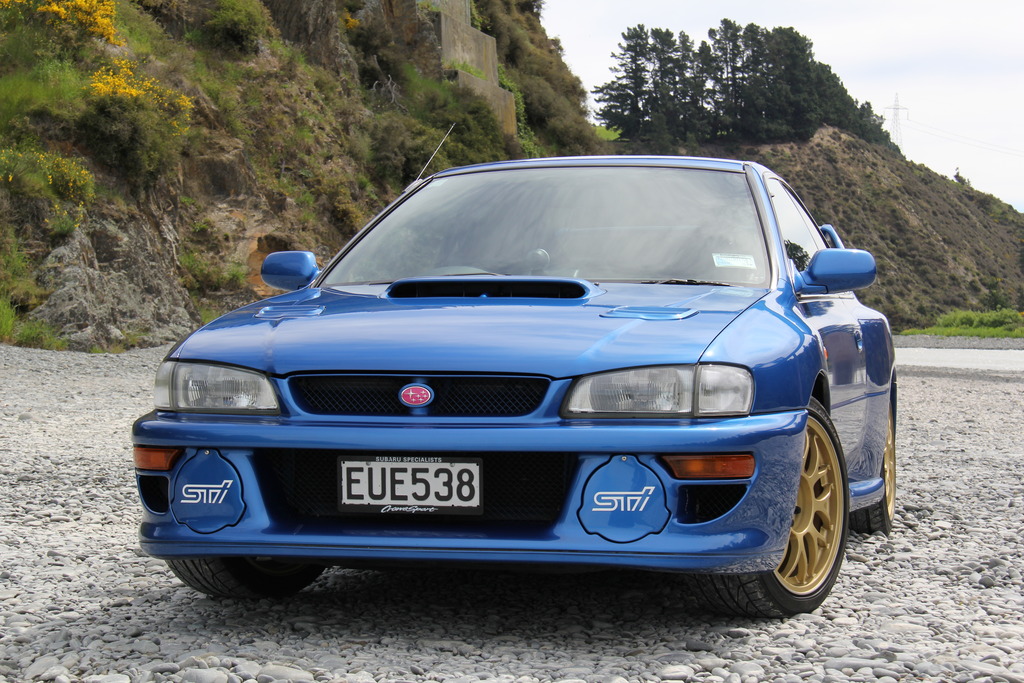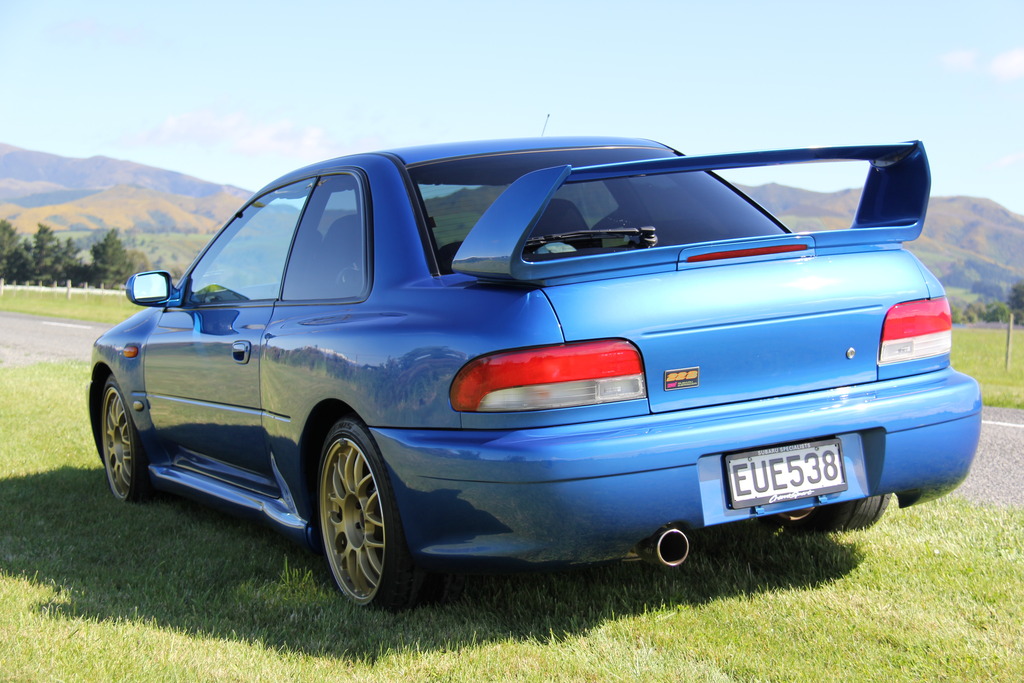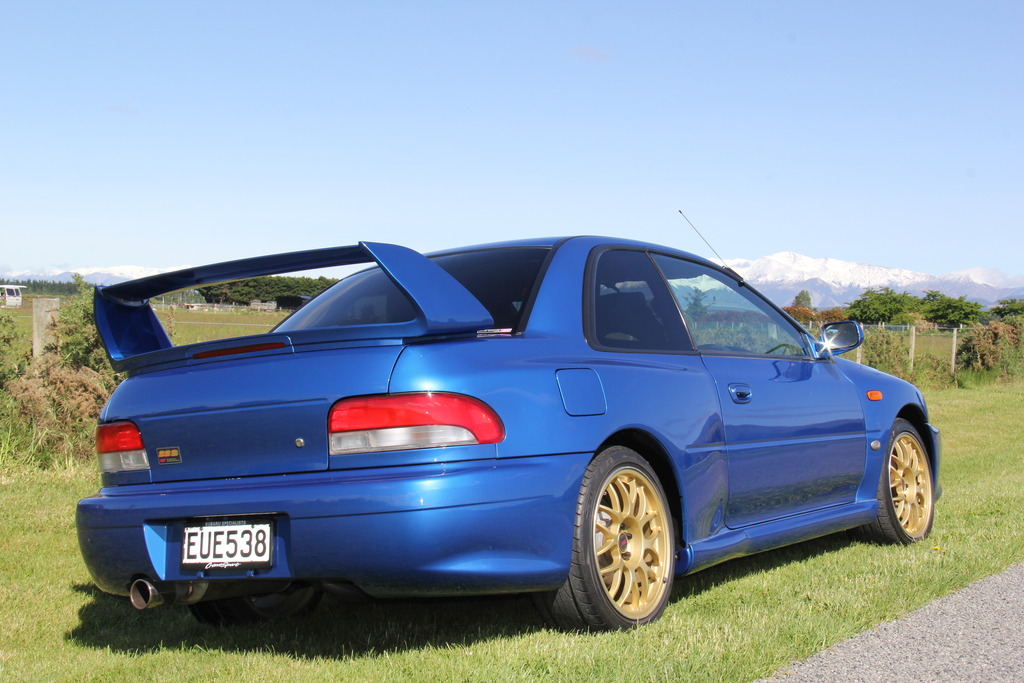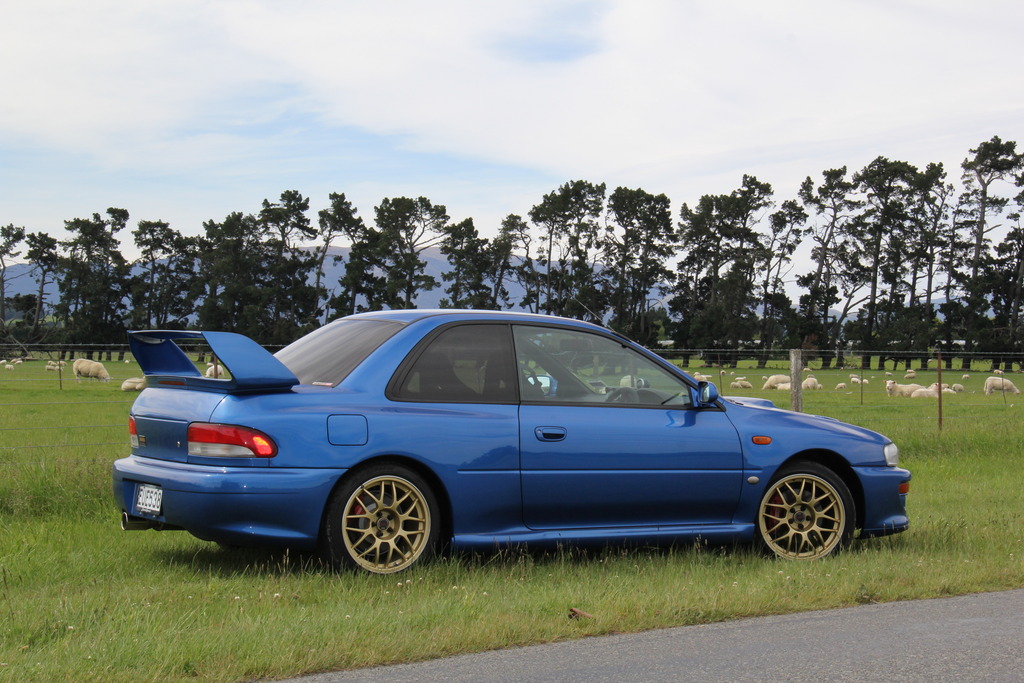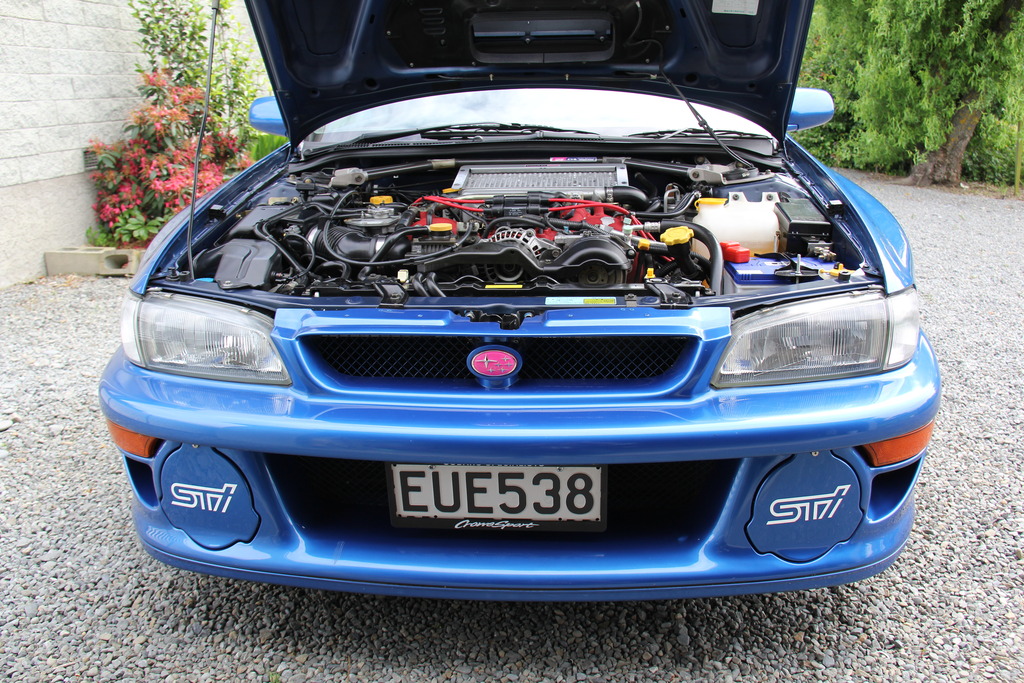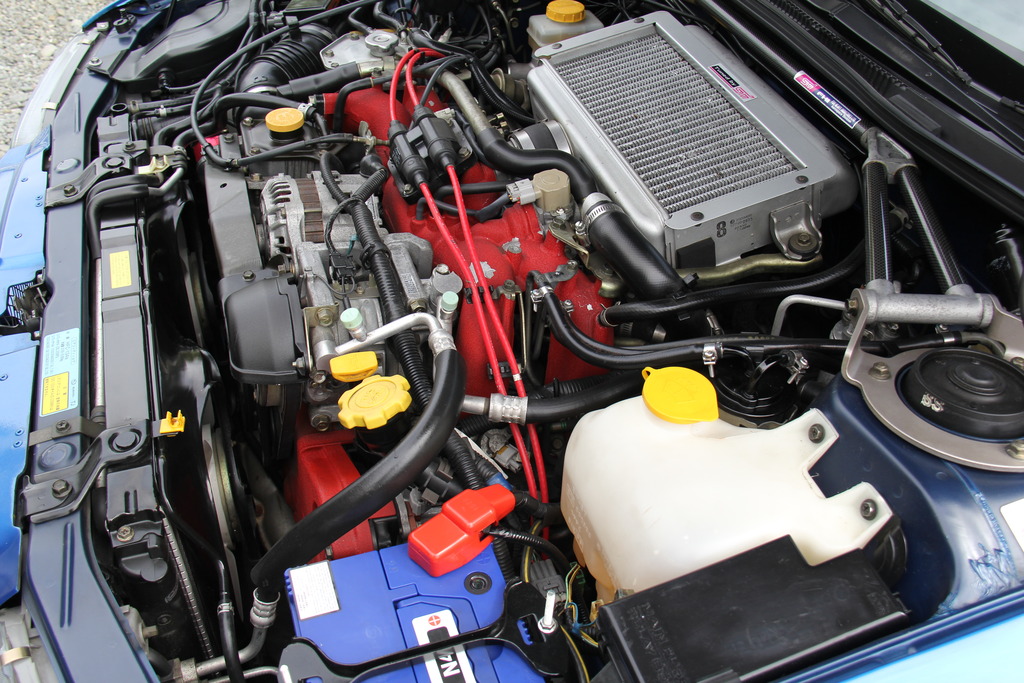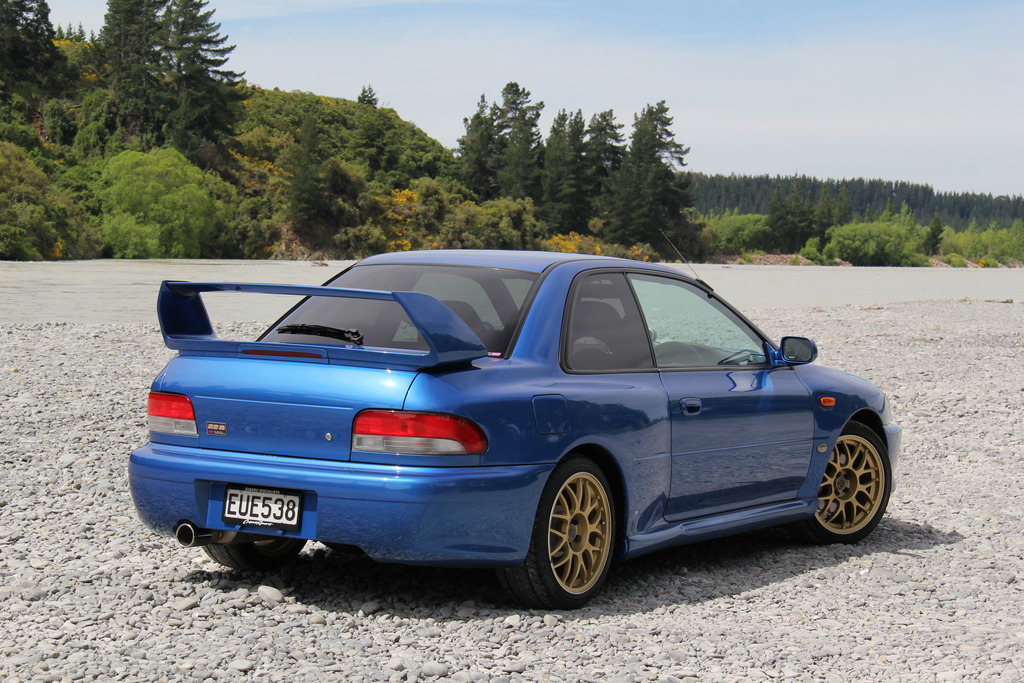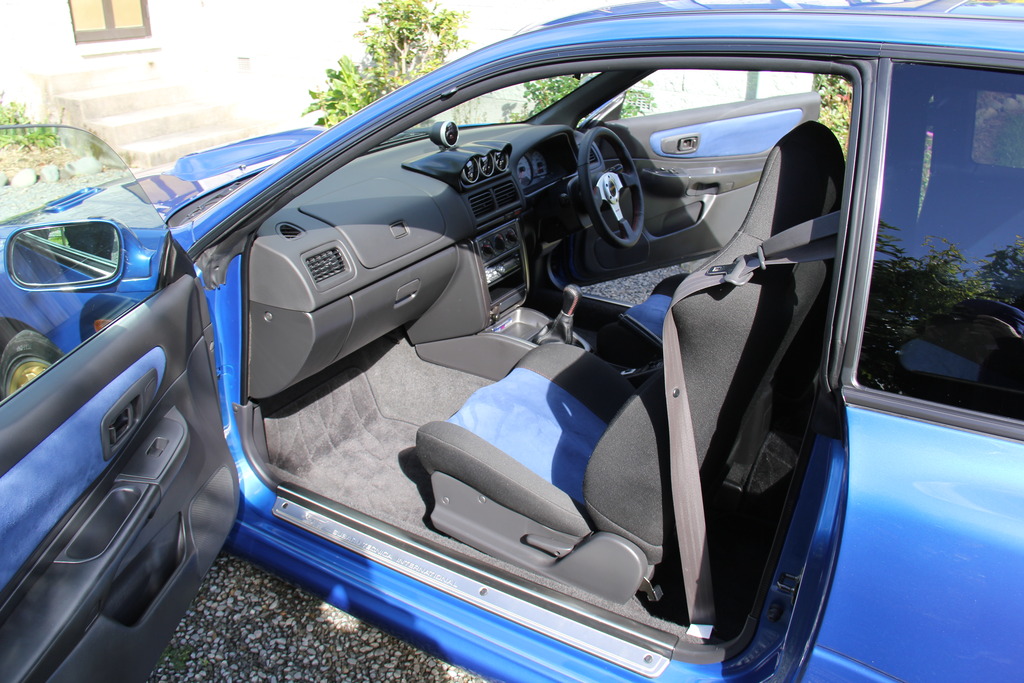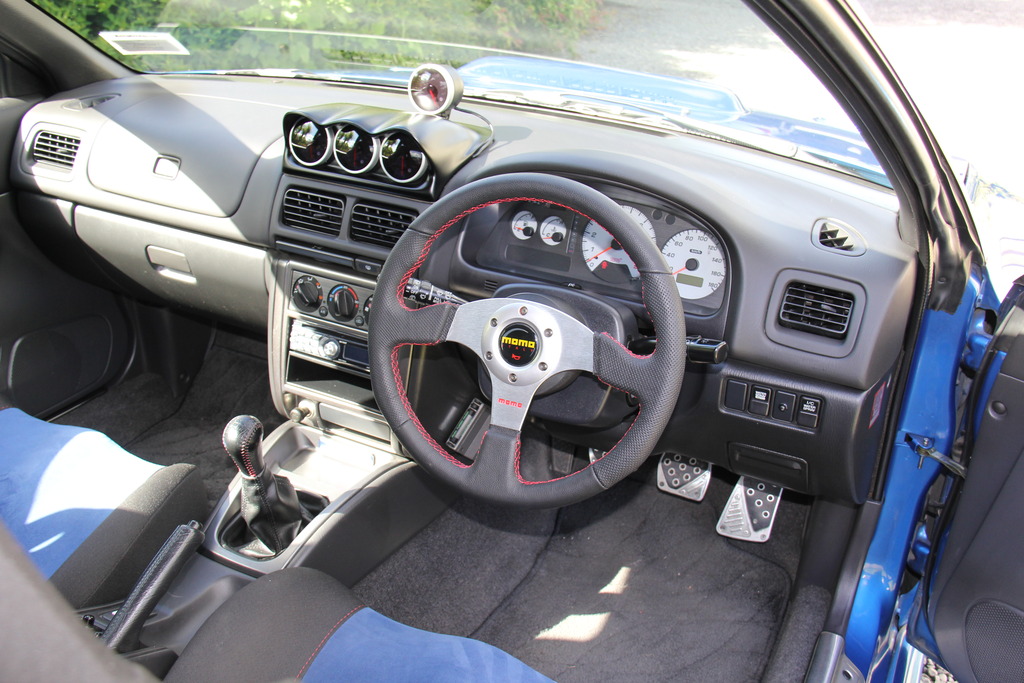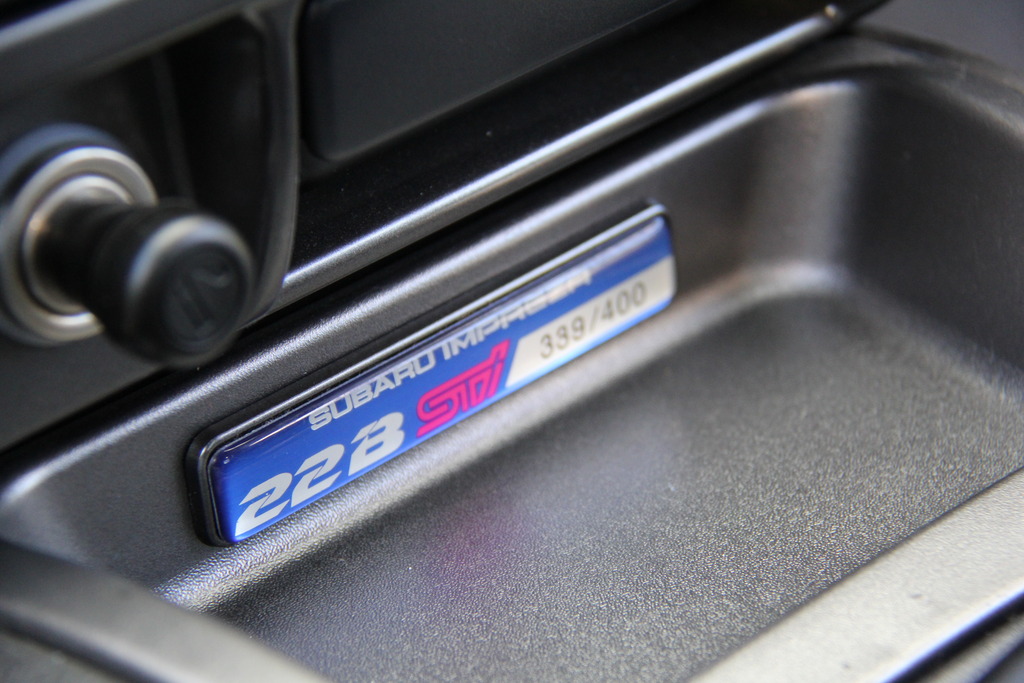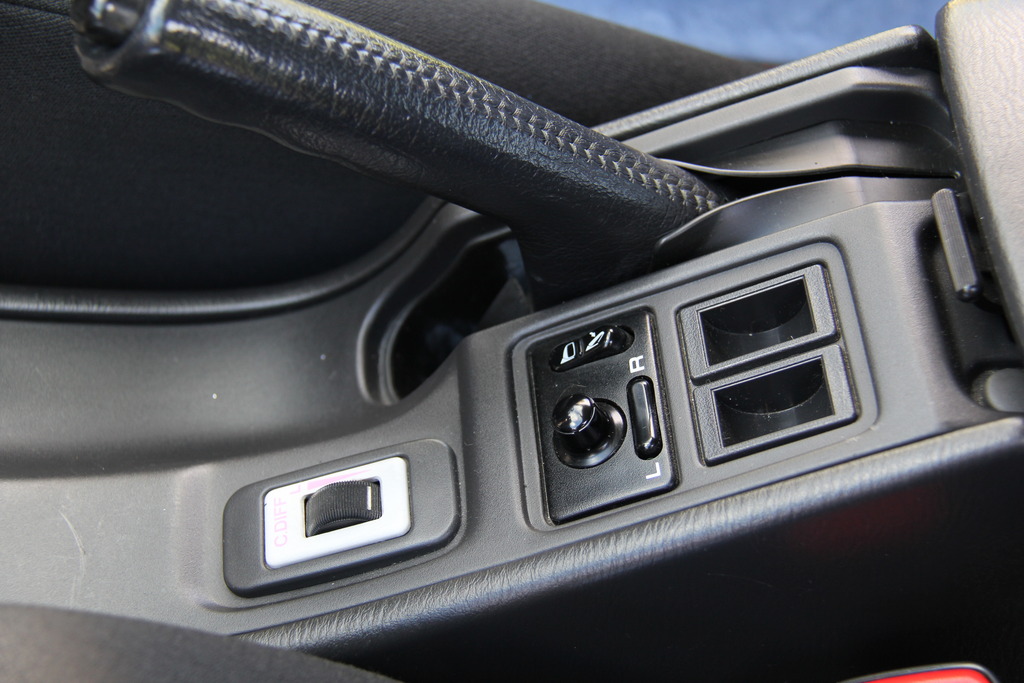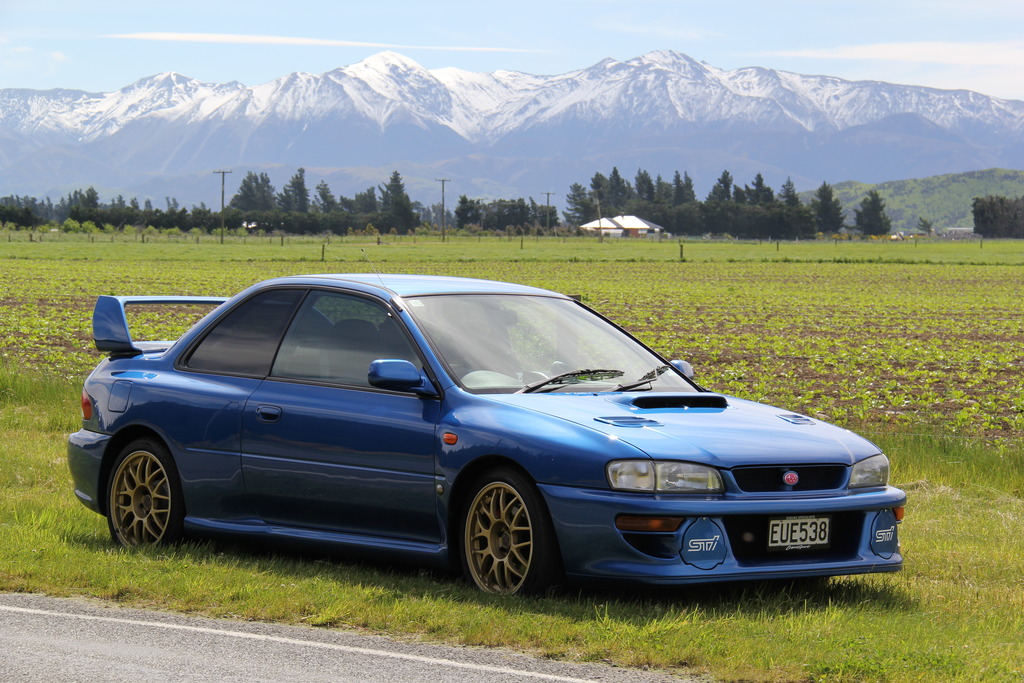 12-15-2017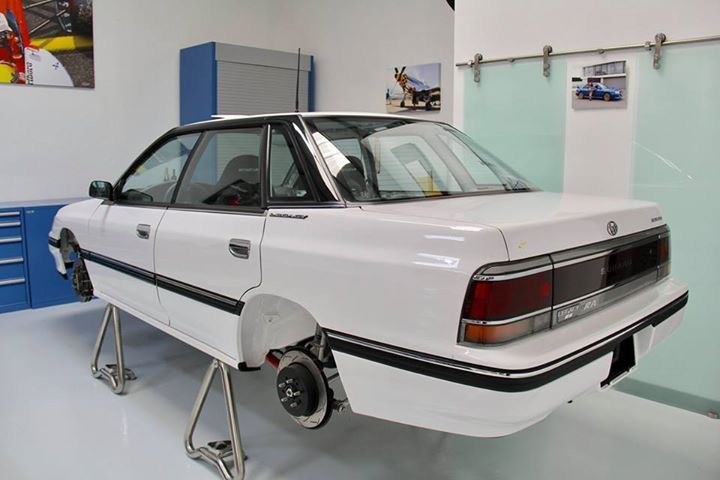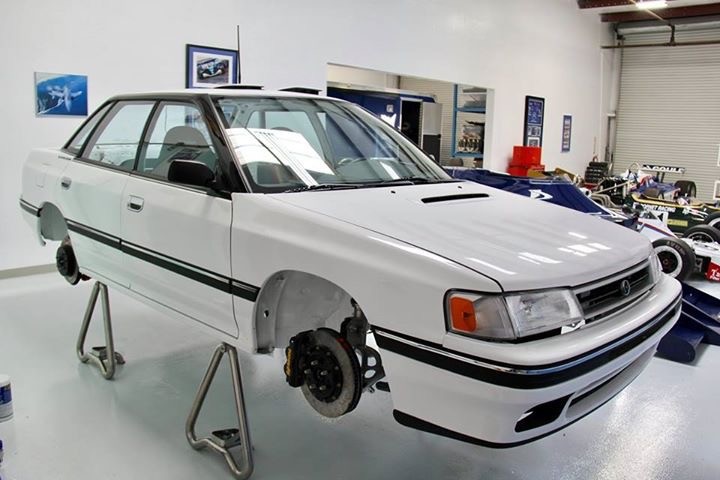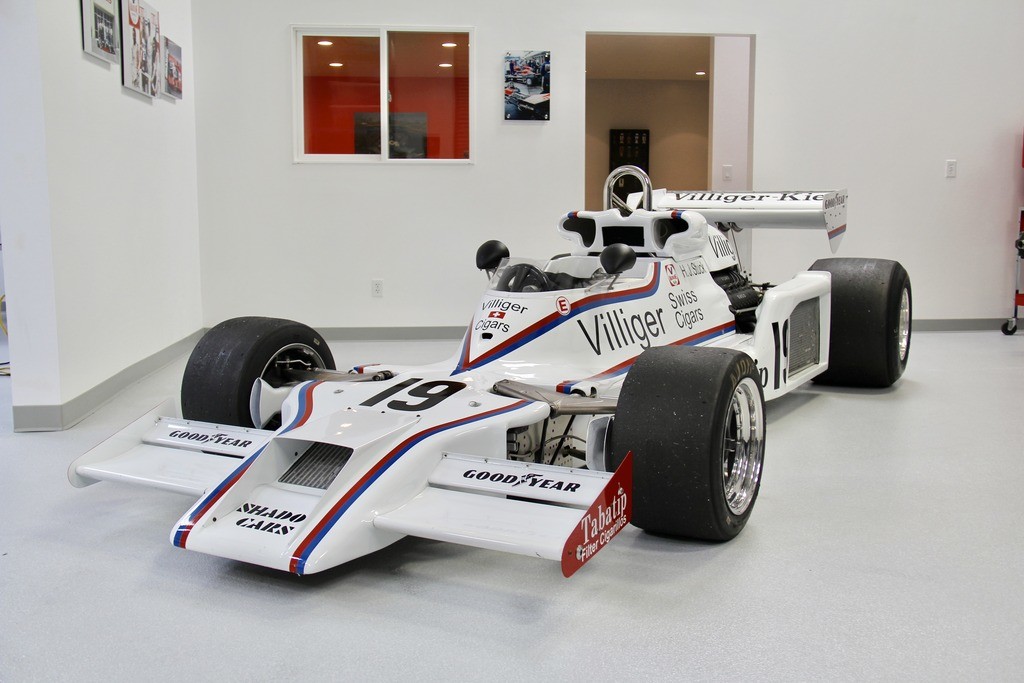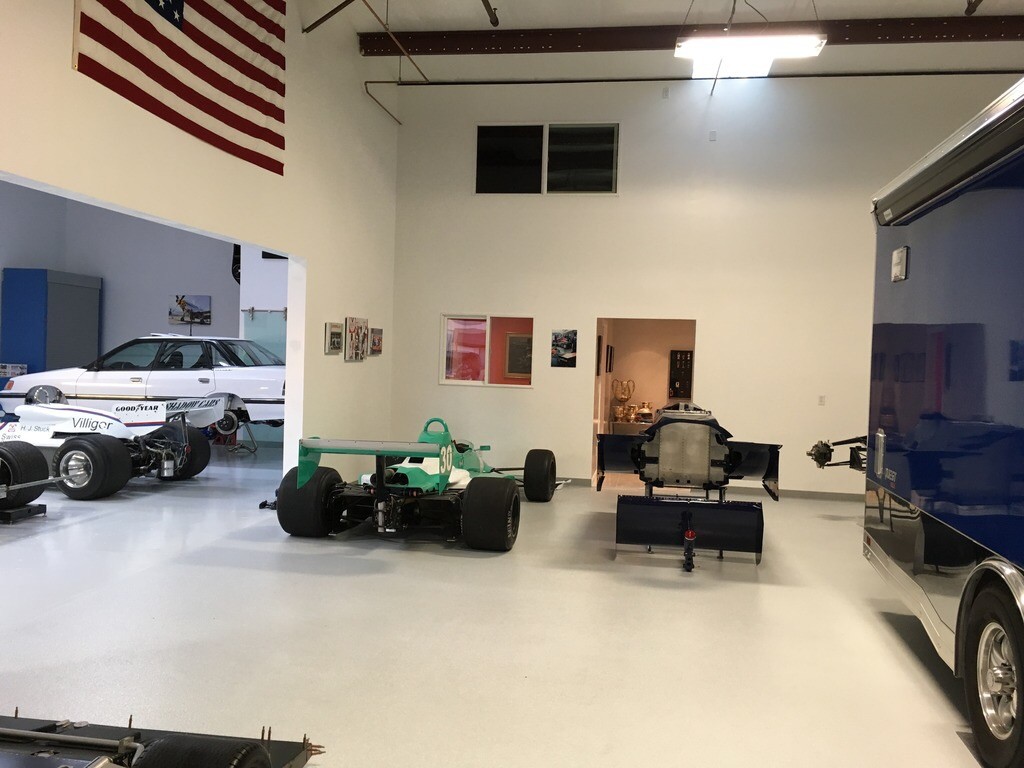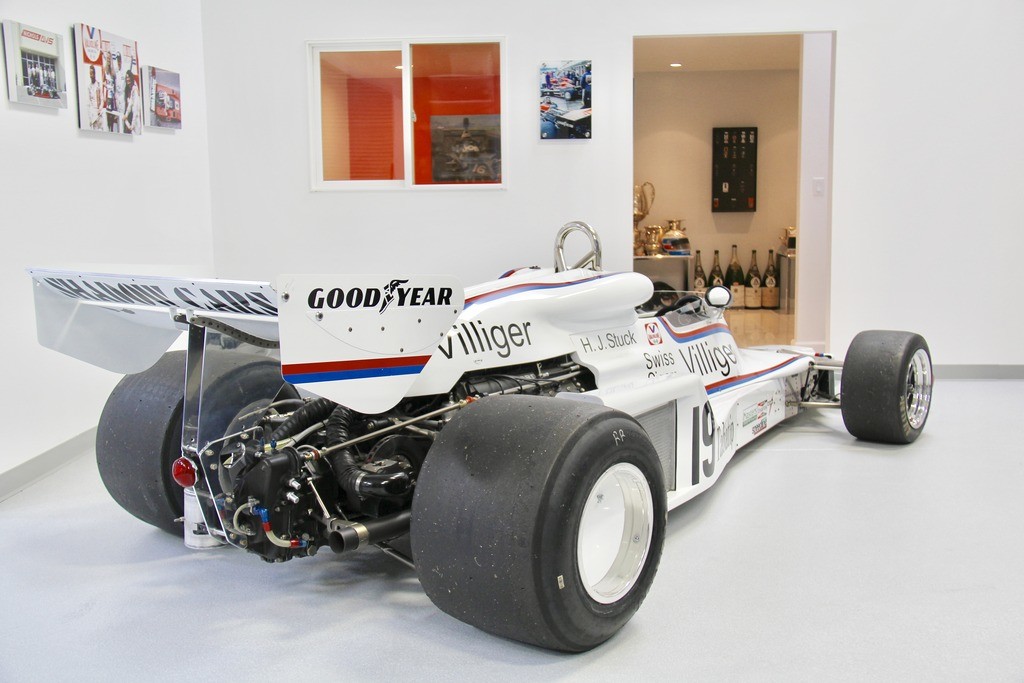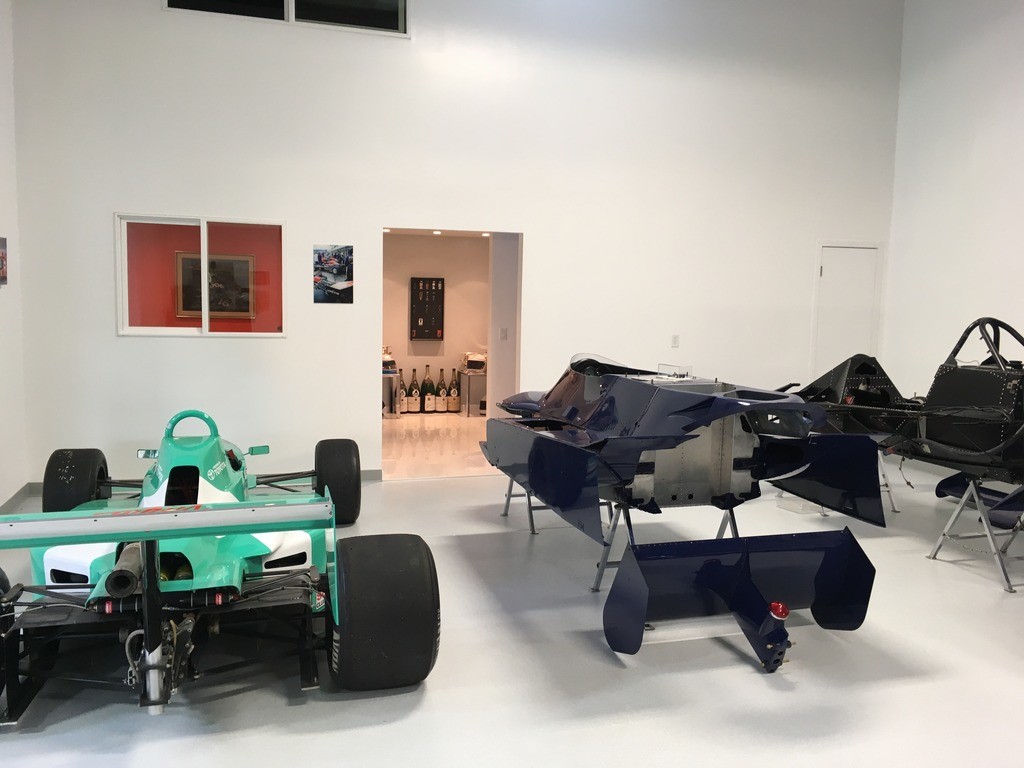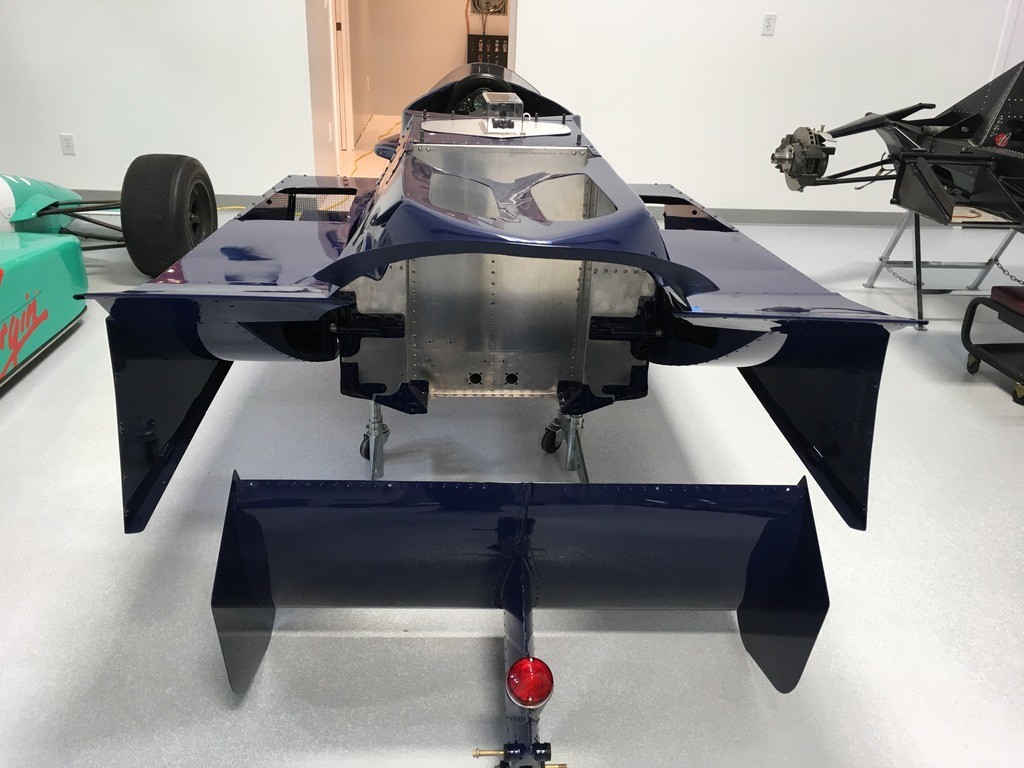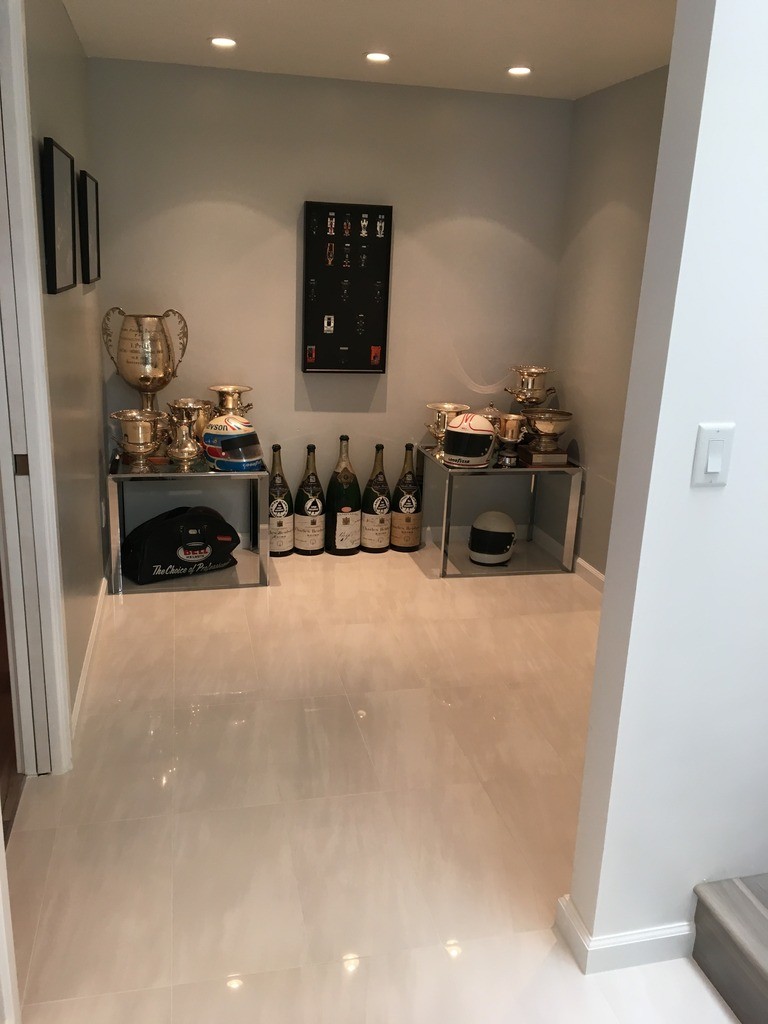 This time last year I expanded into another shop and have been busy with getting it fixed up as well as working on the customer cars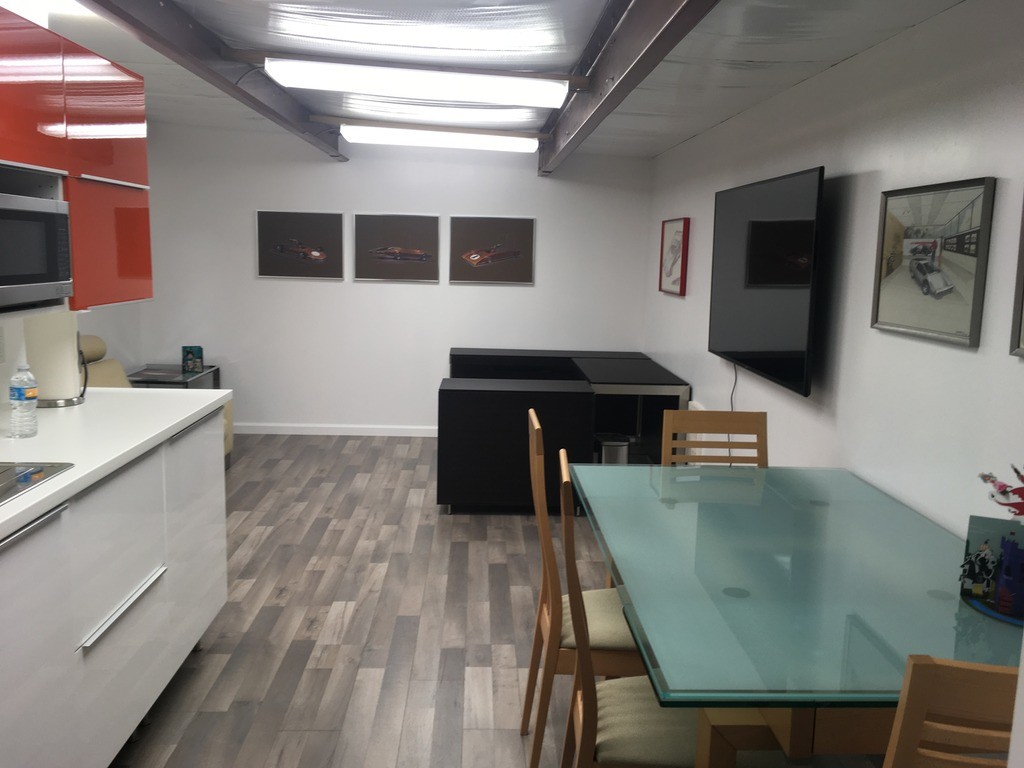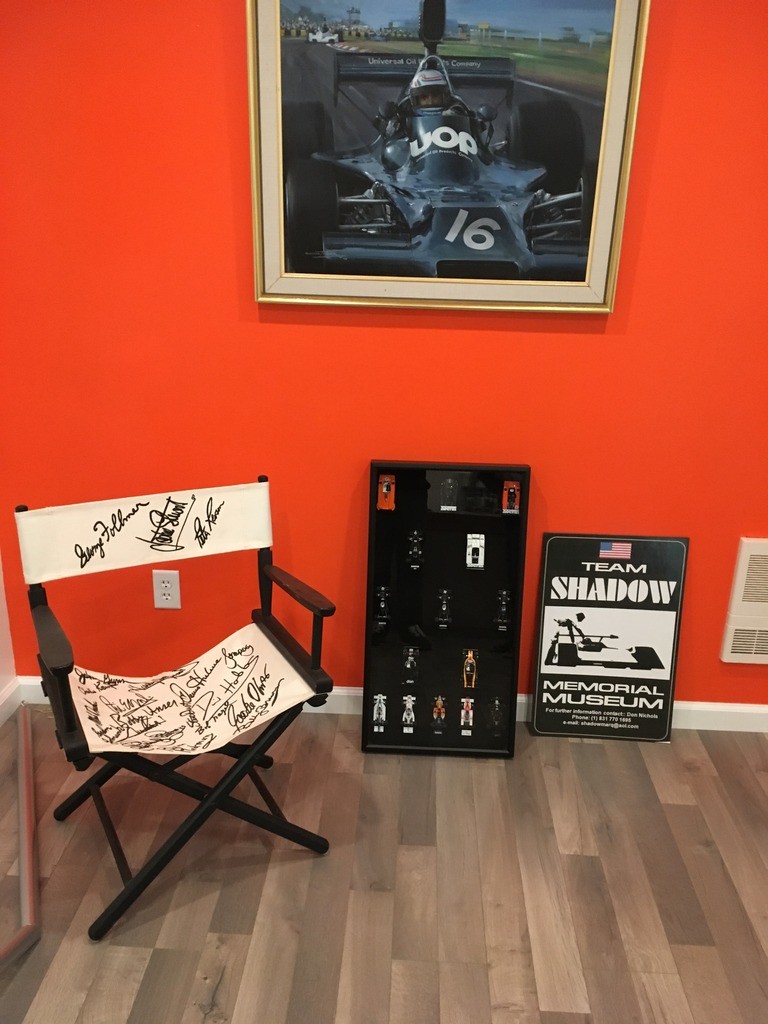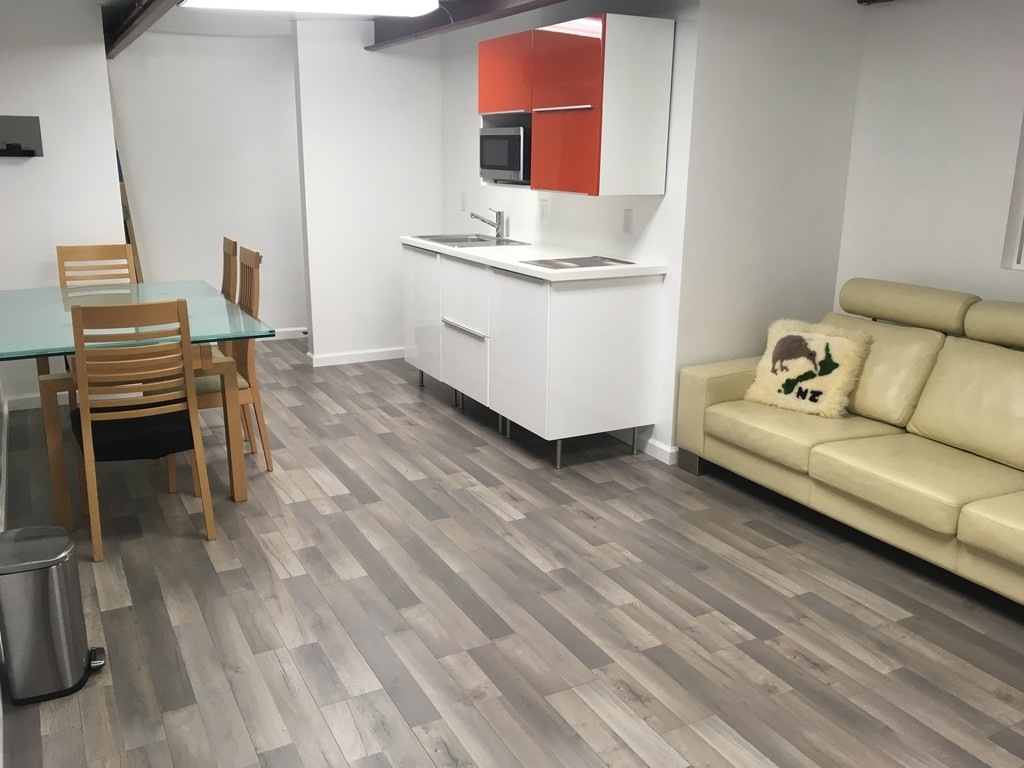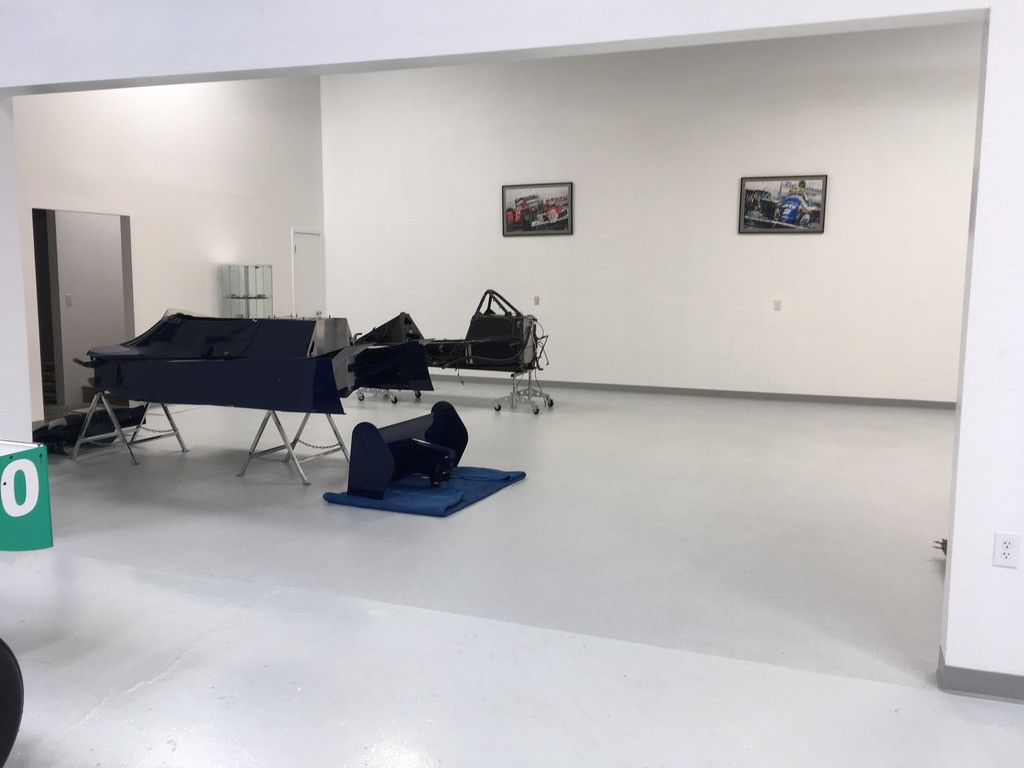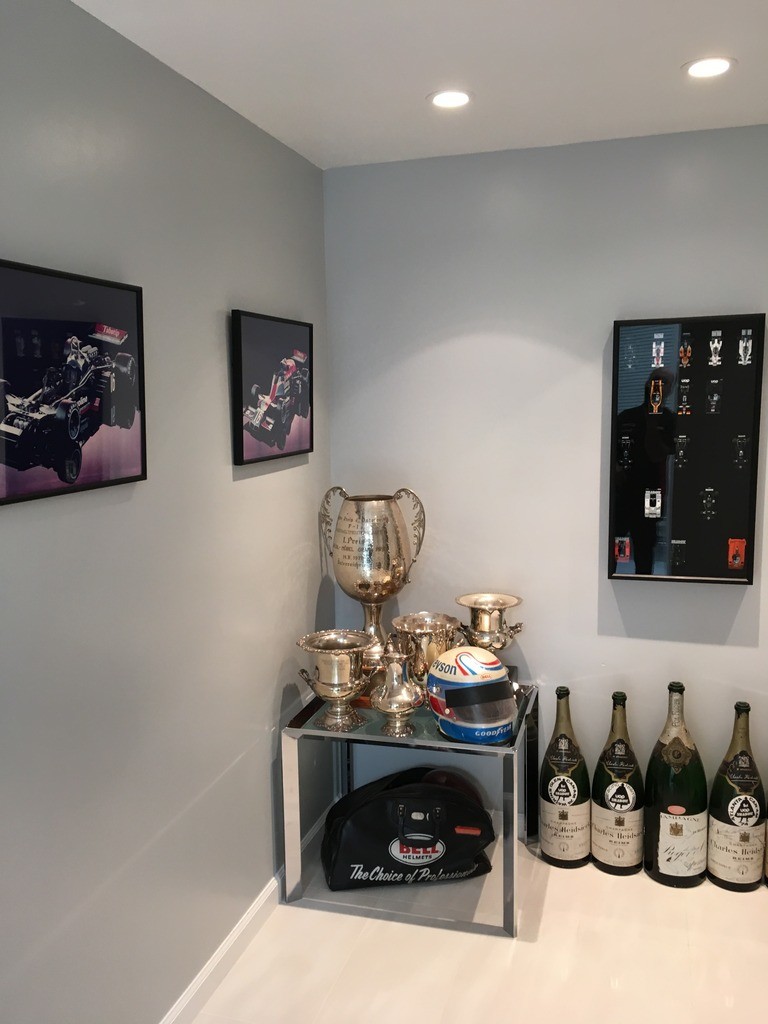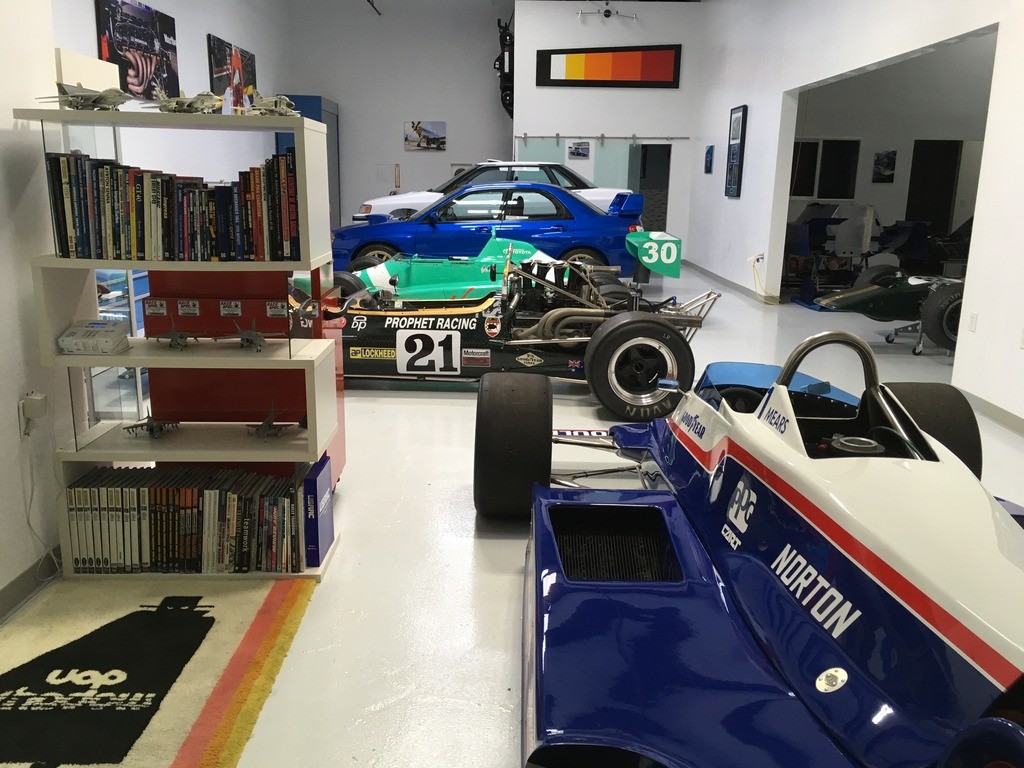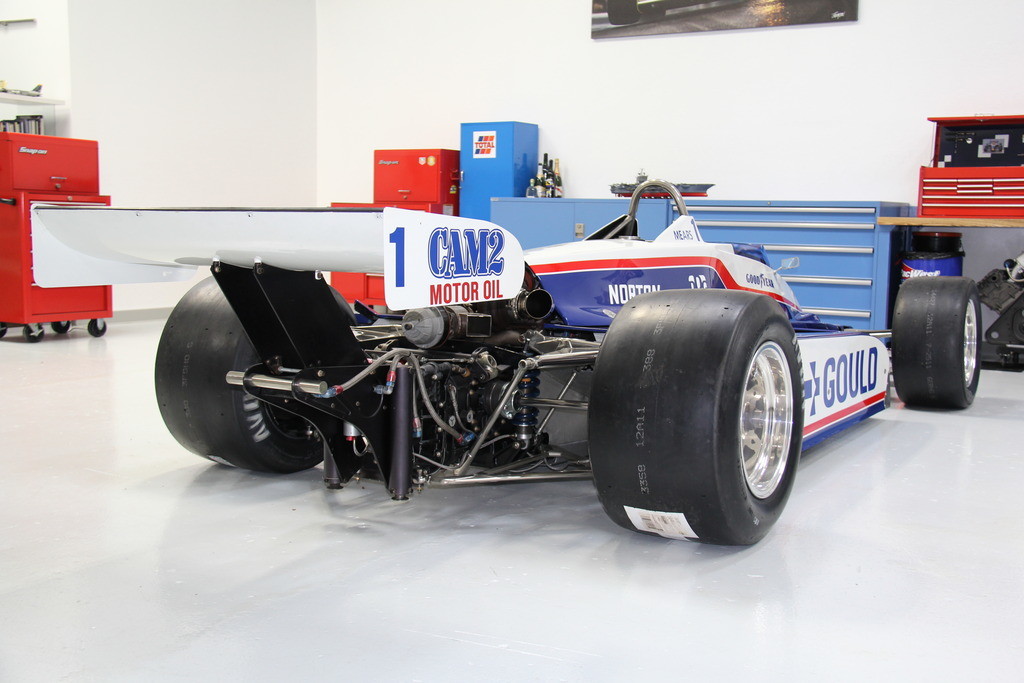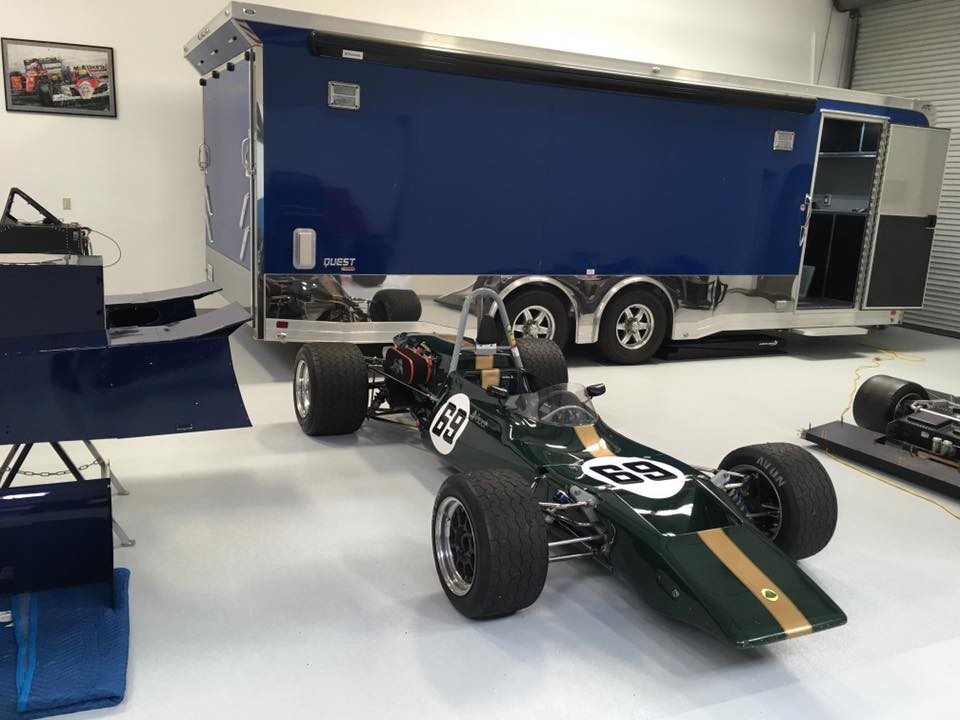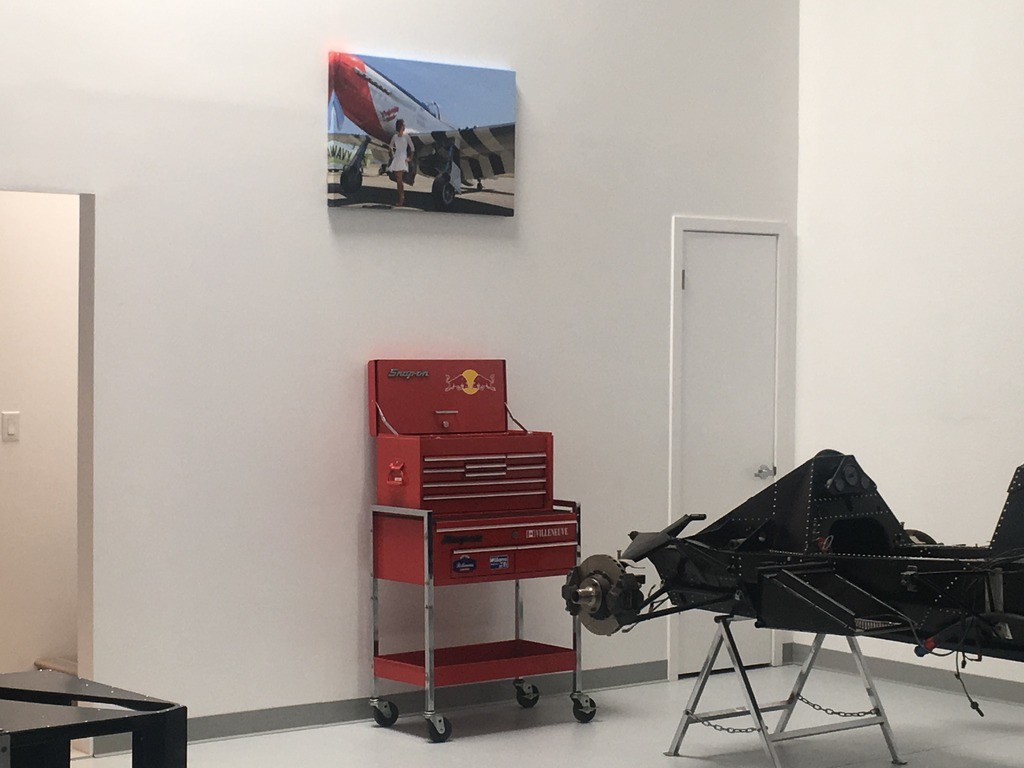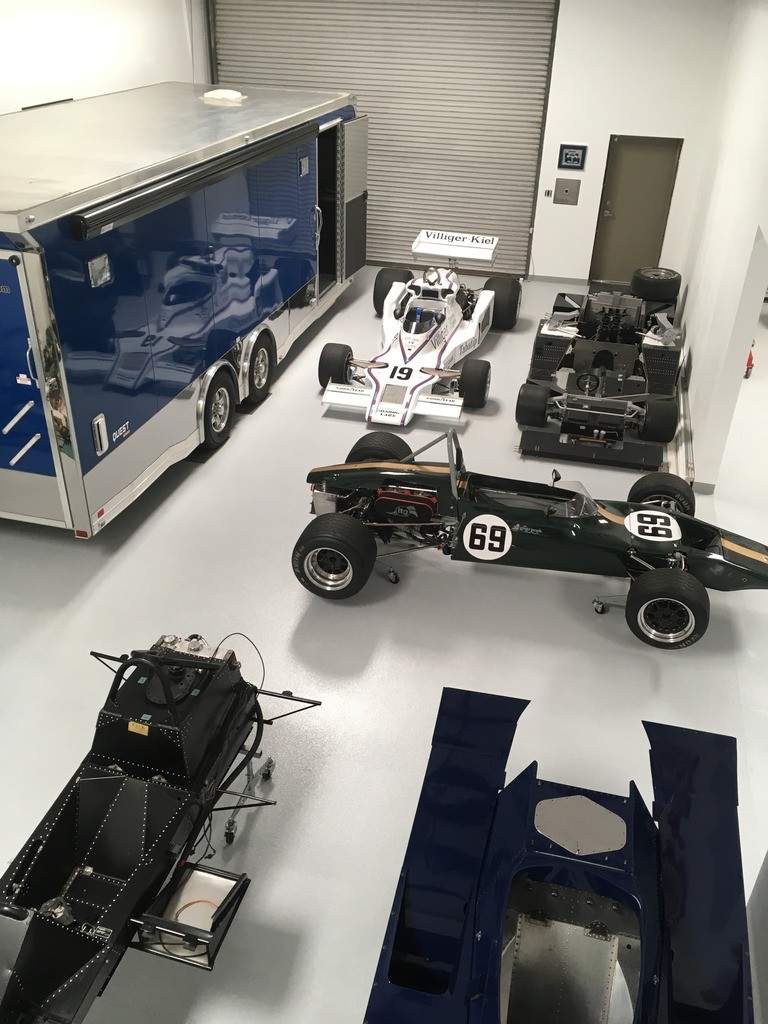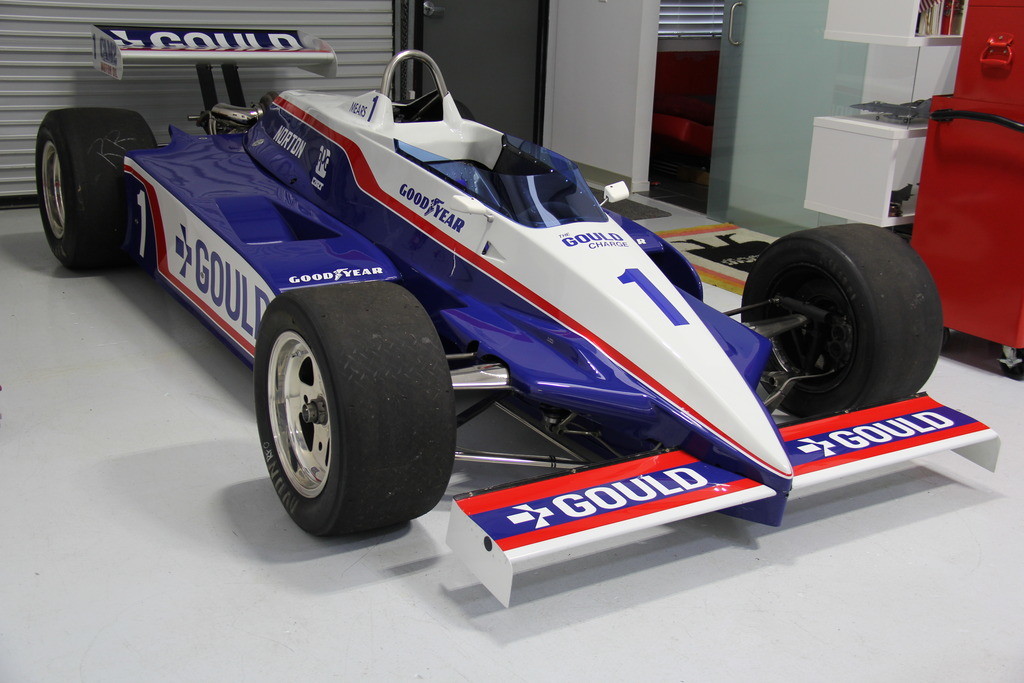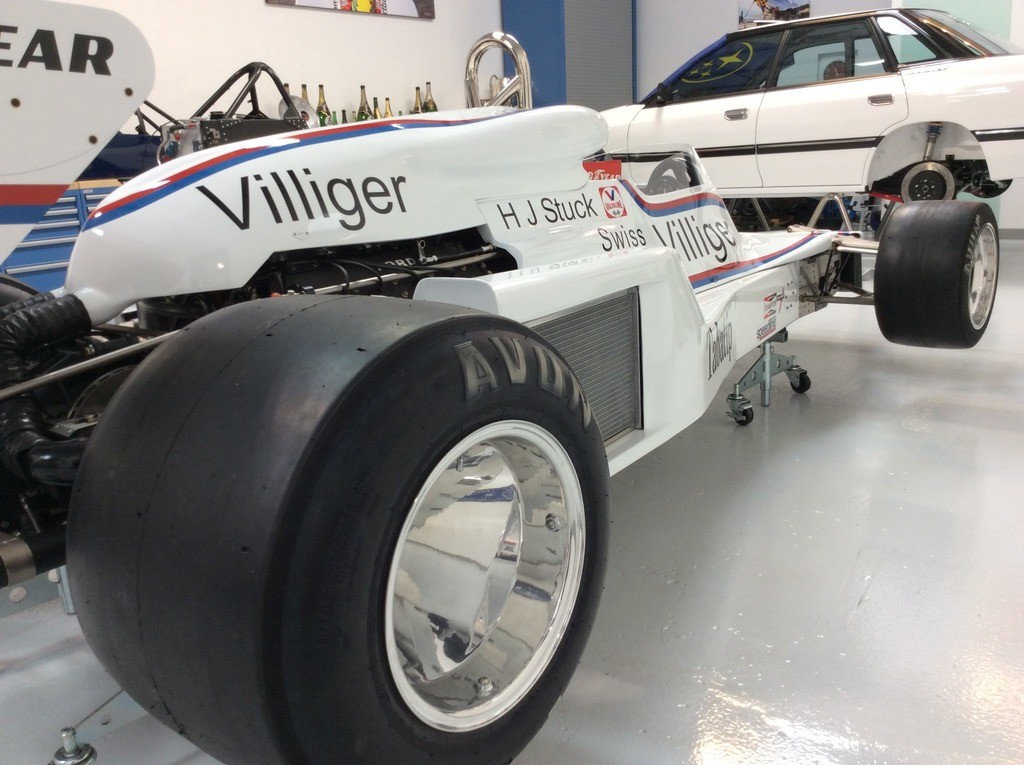 Some more from my shop and projects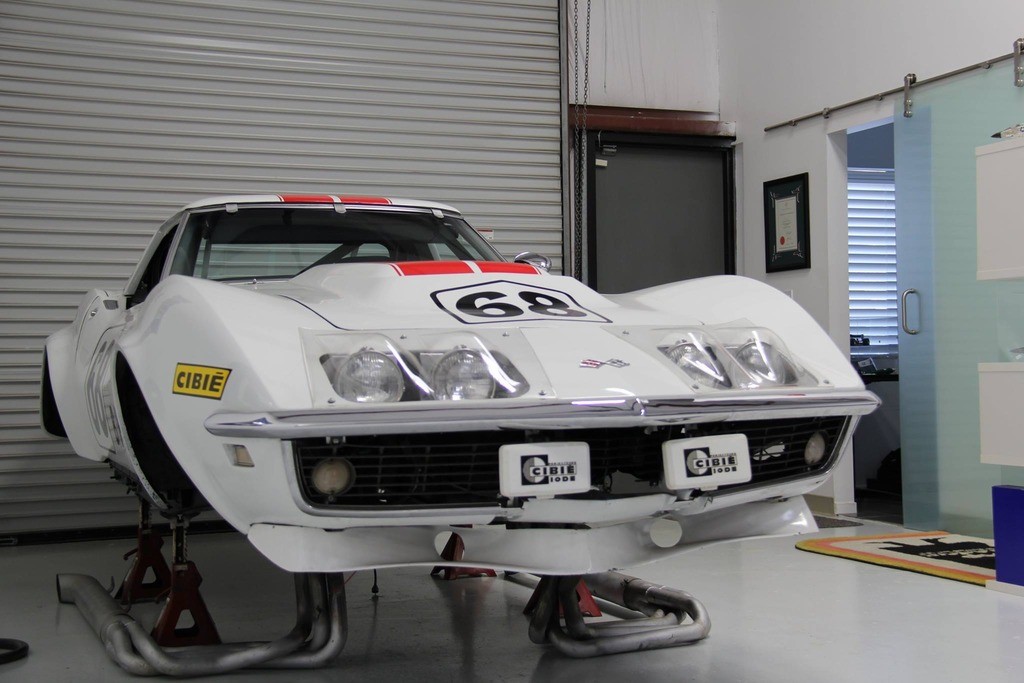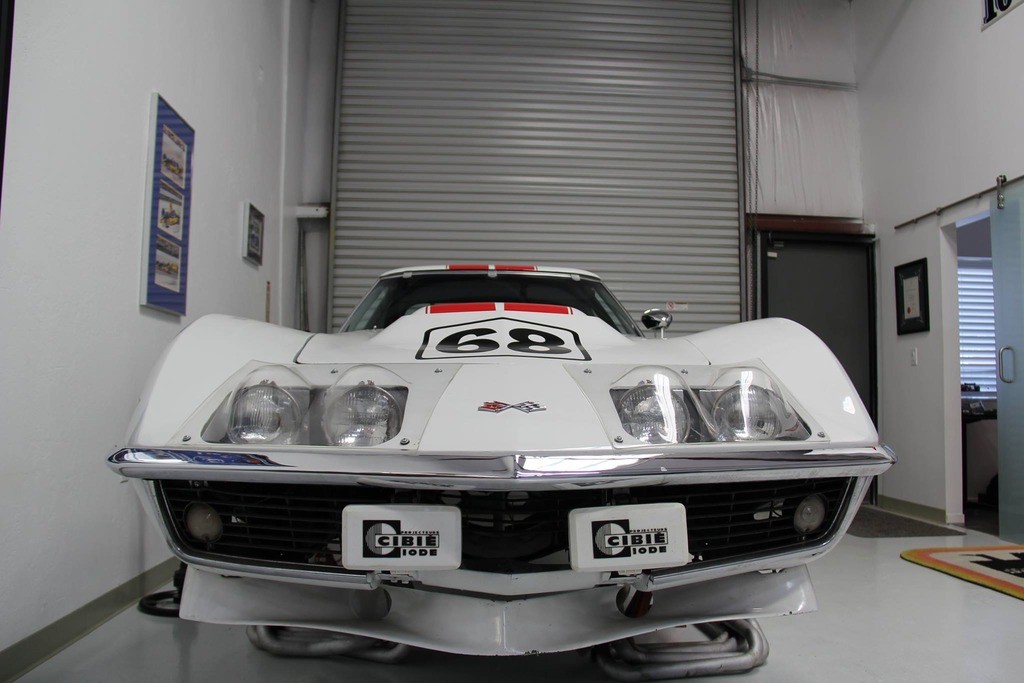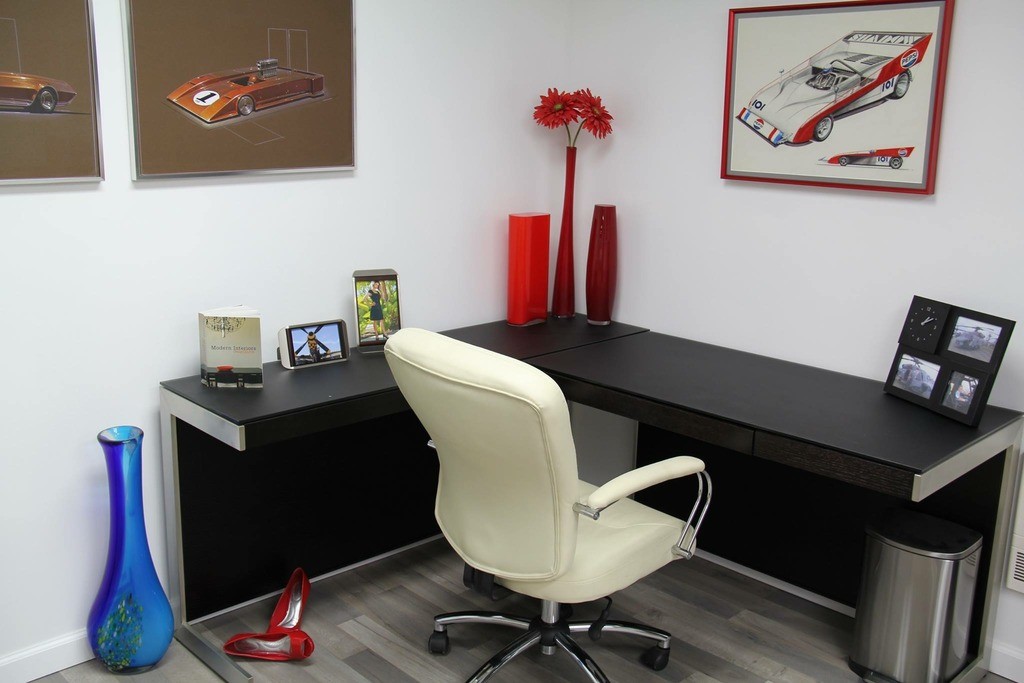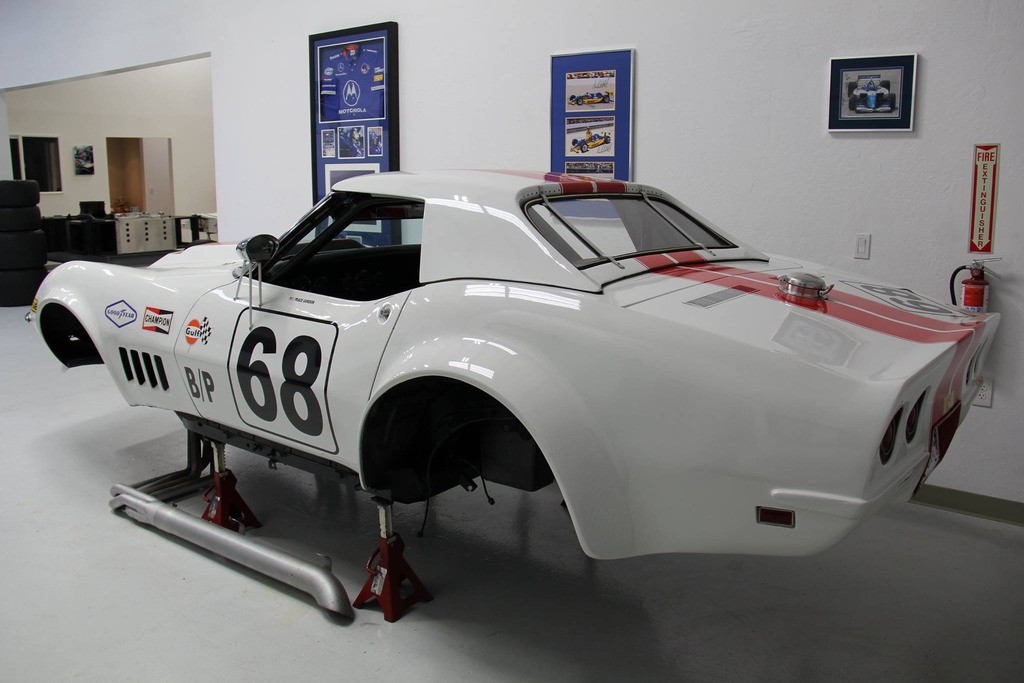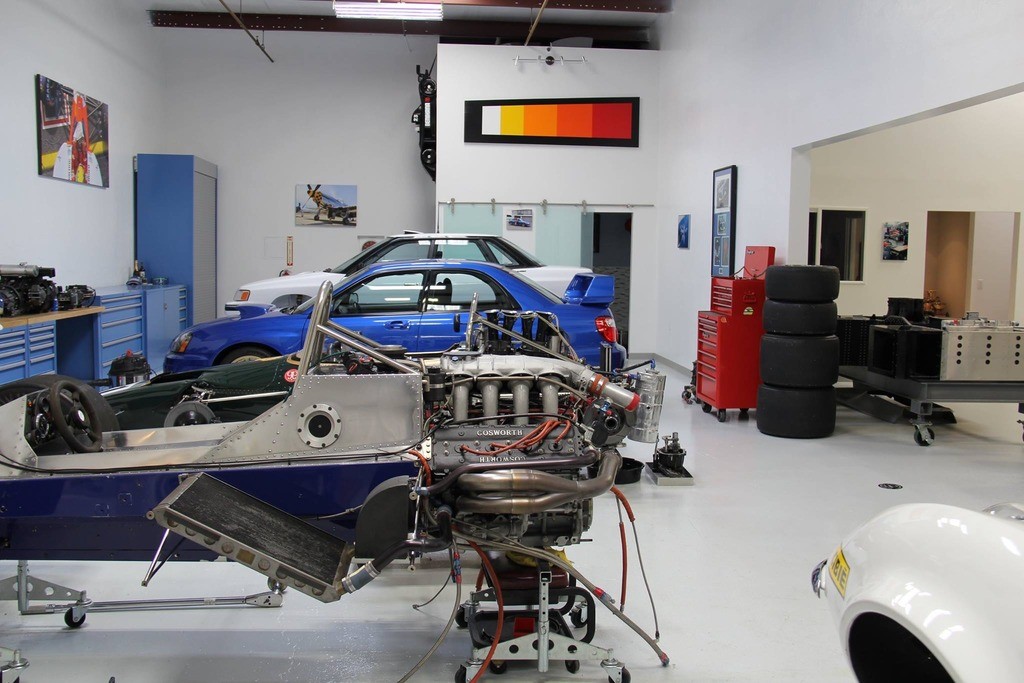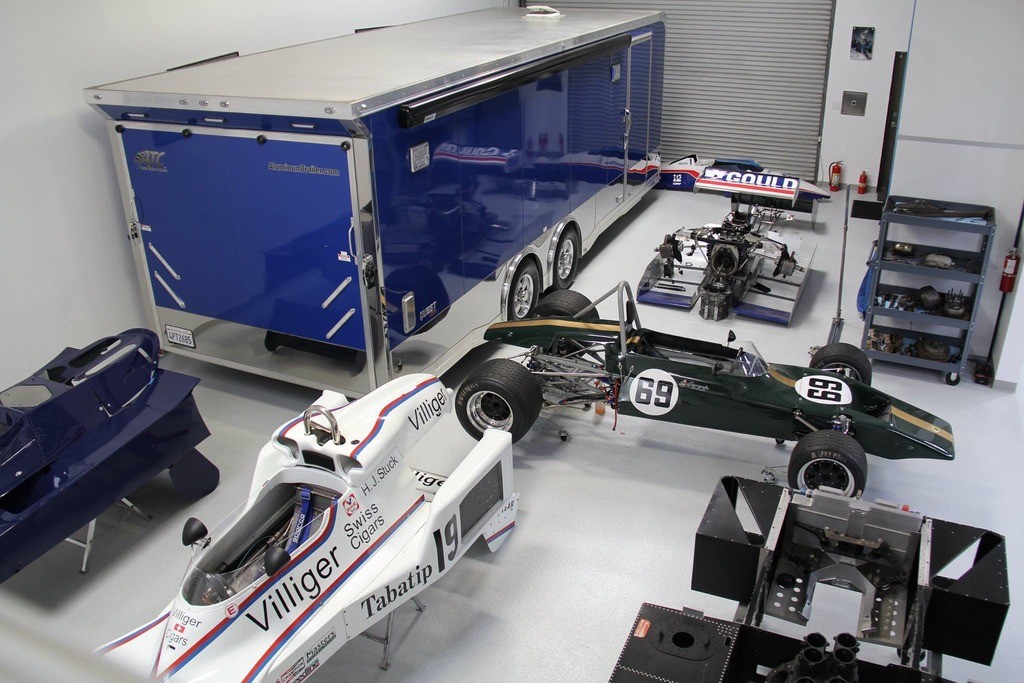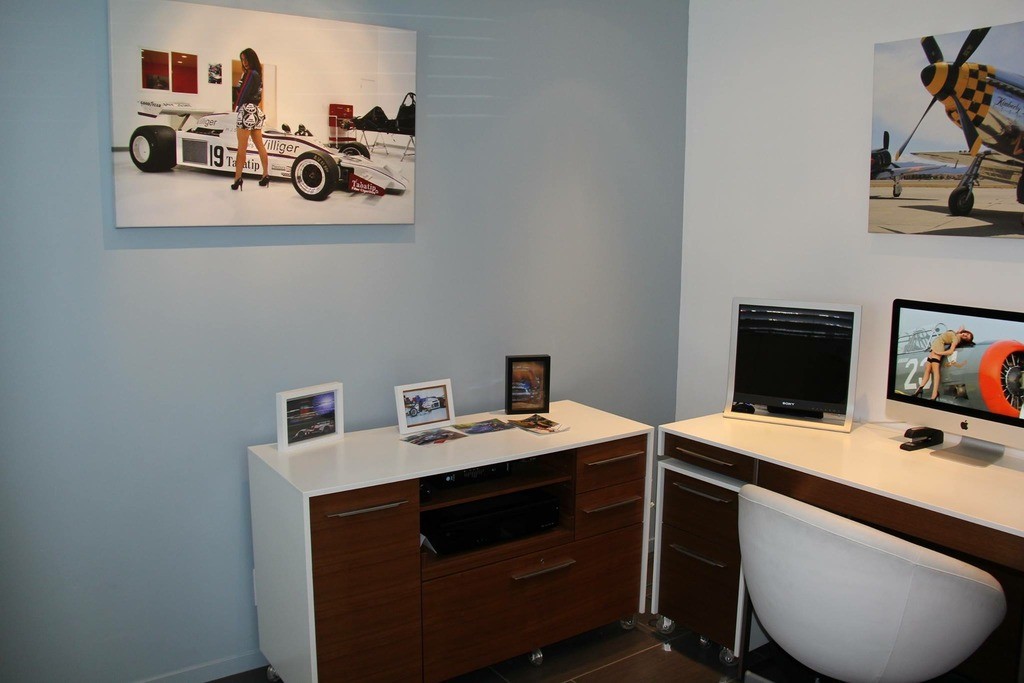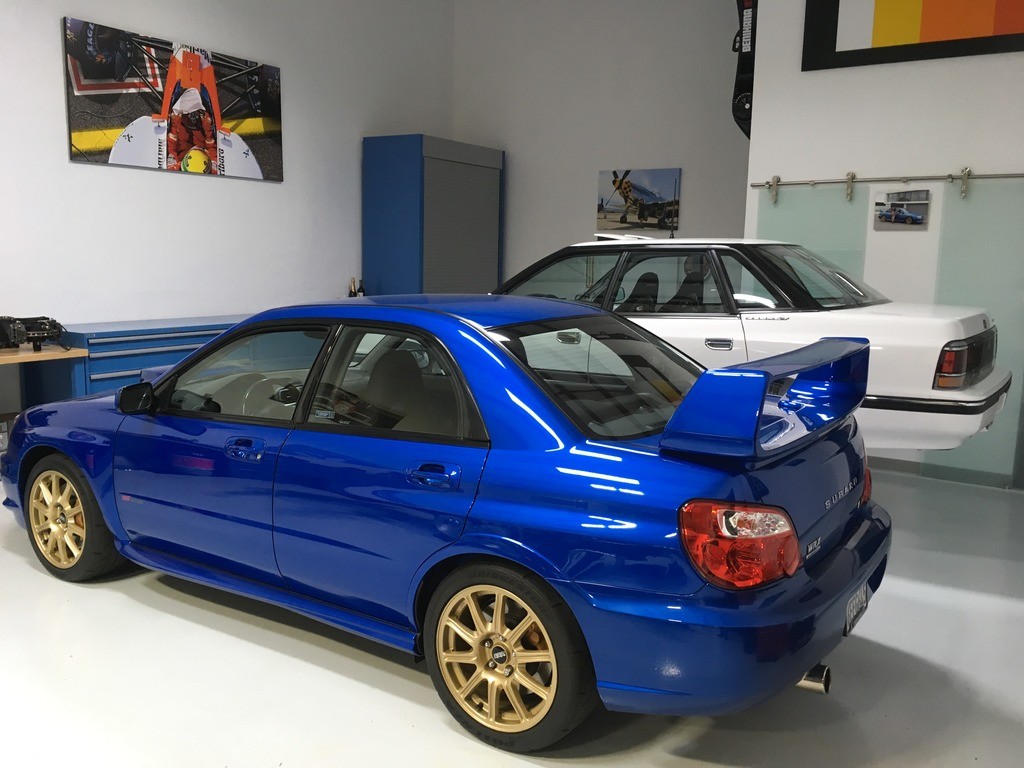 12-16-2017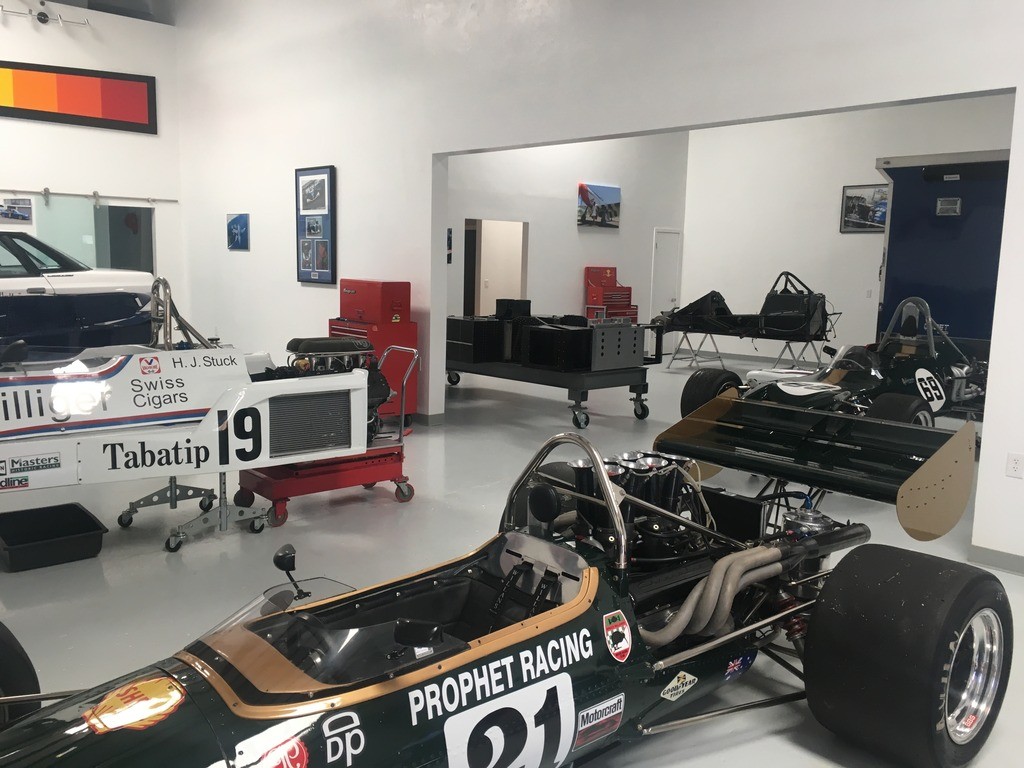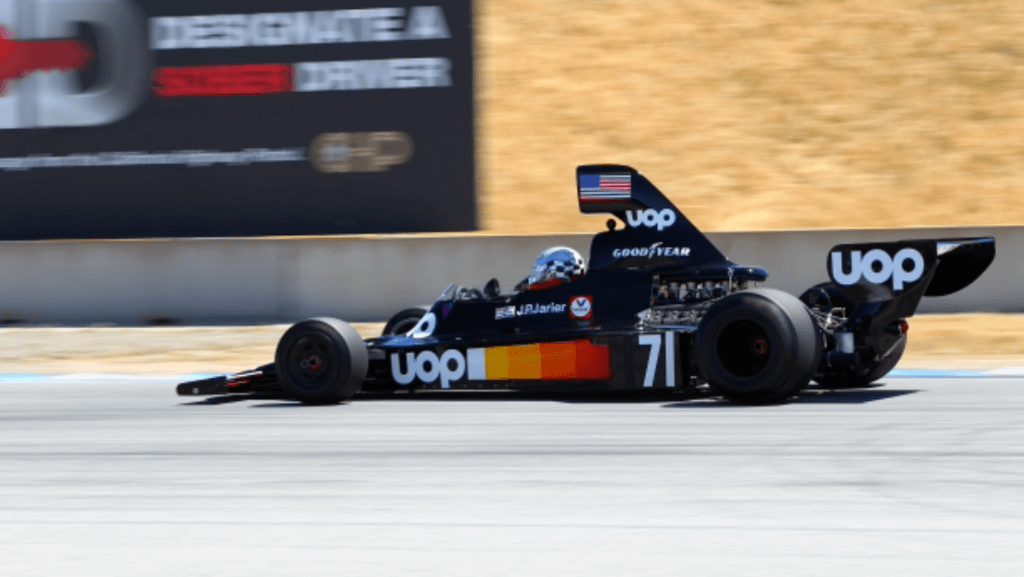 This is the DN 5 I restored on the race track.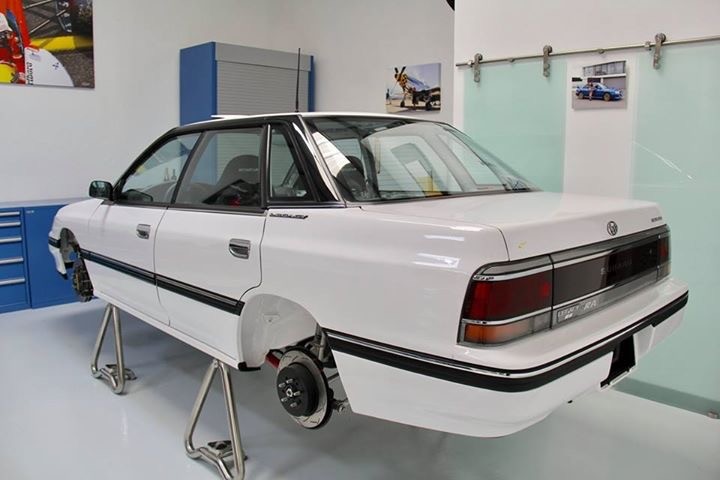 You can now find me on Facebook and Instagram to see more of these photos and projects in the shop.
@ car builds by slade