blakefogt's 1987 4Runner Build-Up Thread by blakefogt
By diyauto
You must be logged in to rate content!
blakefogt's 1987 4Runner Build-Up Thread
Compliments of blakefogt @ yotatech.com
3-7-2010
Hey guys,
this is my first post..
I picked up a 4runner last saturday.. my dad used to take me offroading about 10 years ago and I knew I had to get one eventually.
here it is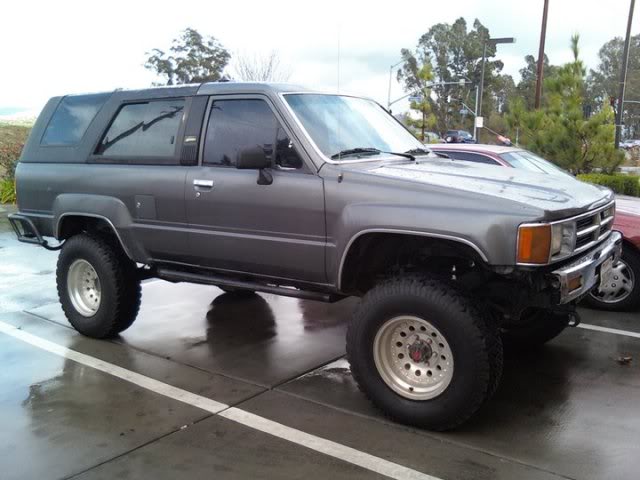 Its not the turbo model, the previous owner put the gauges in there for the tach.. he also gave me the stock one if i ever want to put that back in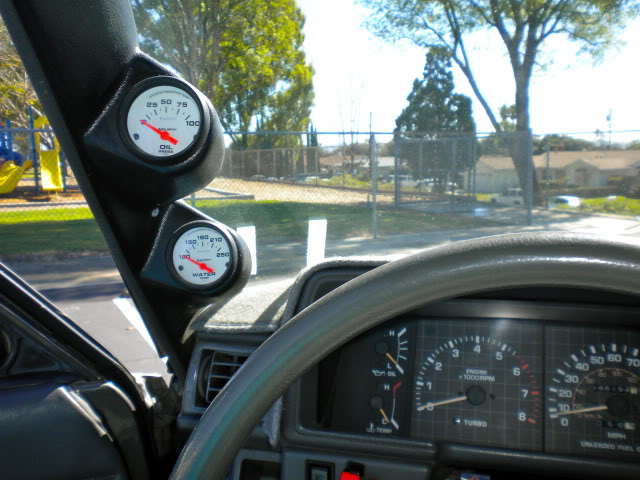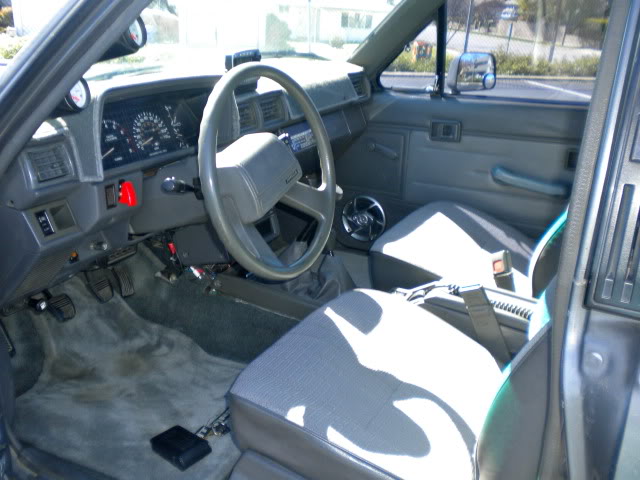 my uncle donated this when he found out I had bought it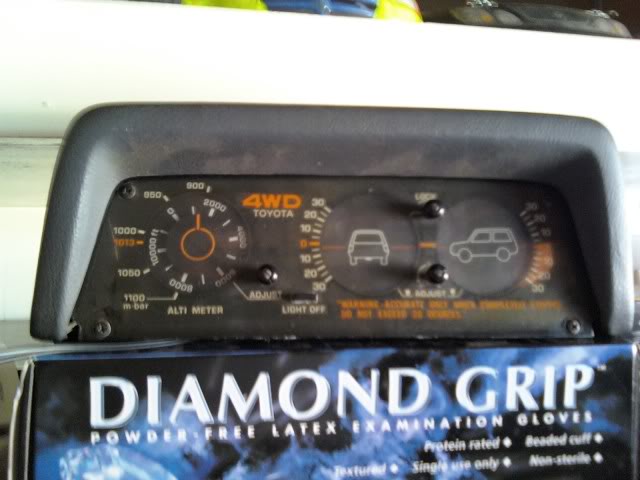 Some Info On the truck

*Rebuilt the 22RE engine (20,000 miles on new motor)
*Marlin Crawler W56-B-HD transmission
*Centerforce clutch
*Rebuilt transfer case with Trail-Gear 4.70 gear reduction kit
*Detroit EZ locker in rear axle
*Downey Off-Road header
*New OEM muffler
*Optima red top battery
*Auto Meter water and oil pressure gauges
*Pioneer CD player
*New Carpet
*Replaced brake booster, front pads, front calipers, front rotors, rear drums, rear wheel cylinders
*Replaced driver side front four wheel drive half shaft
*Replaced front seal of power steering box
*Replaced cold start injector
*Replaced throttle position sensor
*Replaced heater core
*Replaced door seals and wing window seals
*Marlin Crawler custom rear bumper
*Replaced tail light lenses
*80% tread on new BFG All Terrain tires 31 x 10.50 R15
*Trail-Gear Rock sliders
*A/C serviced and puts out cold air
*Replaced rubber seals for removable top
the radiator had a small leak on the top left corner so I decided it was a good time to start fresh and get a little bit thicker of one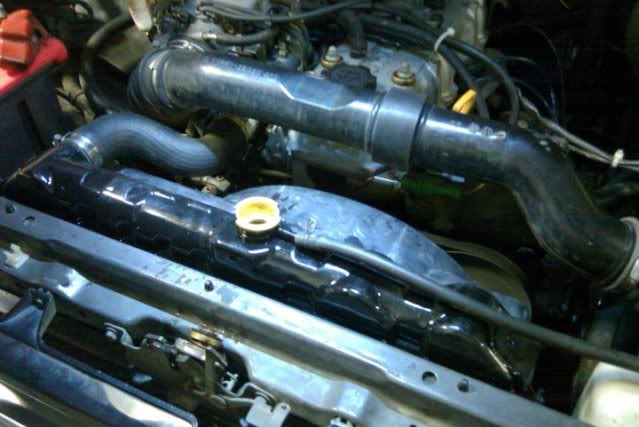 I ordered an idler arm and once that's in ill pick up the trail gear front bumper
3-9-2010
new idler arm came in tomorrow nights little project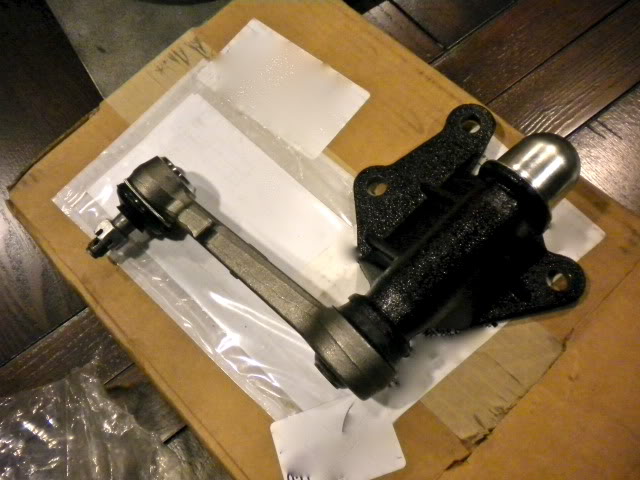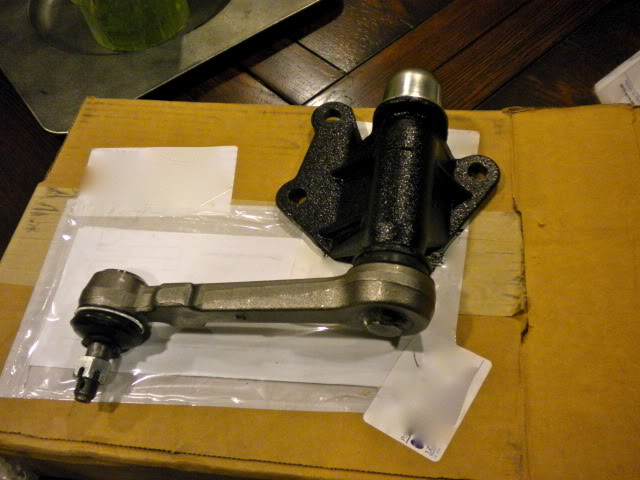 3-10-2010
eaassy job.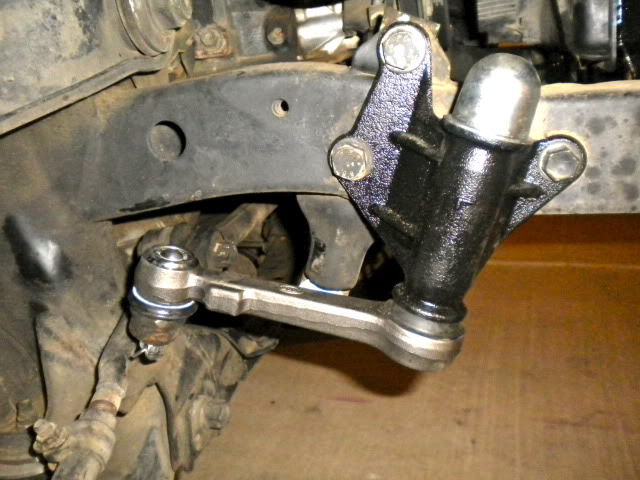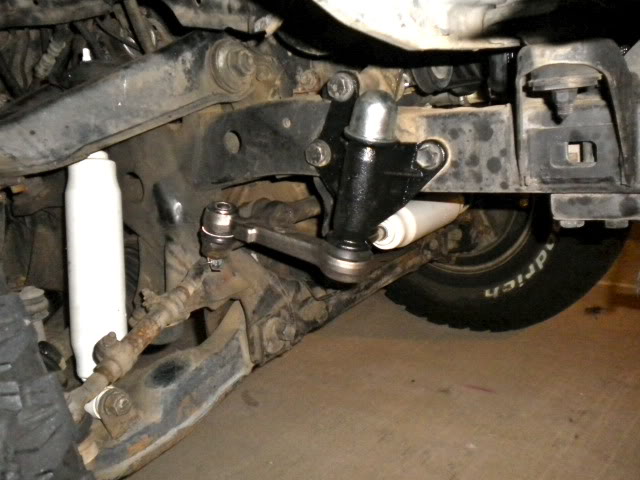 too bad now I'm toed out and have 30 miles to drive to align it..
3-11-2010
thanks!

I aligned it today. the toe was at -.80 degrees. specs require a min of 0.0 and max of .1

that was cool
3-27-2010
hey guys sorry i havent really had funds or time to update.. i got a cell phone ticket answering my bosses phone call :/ Im not sure how much its going to cost so im saving as much money as i can.. Im currently painting an old skid plate my buddy gave me for free,
but i have a question.
I haven't put the inclinometer in yet because I can not find a mounting braacket anywhere. and i dont want to pay 100 bucks for a meter that i already have. can anyone help me out?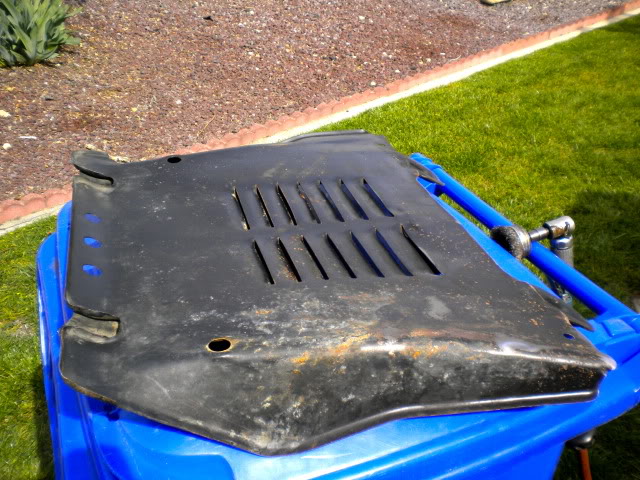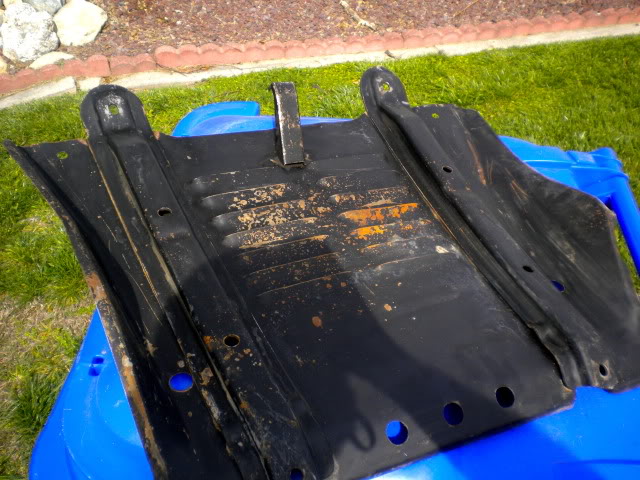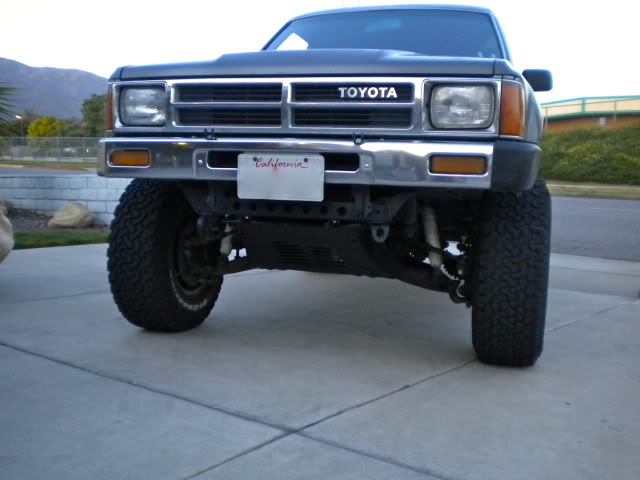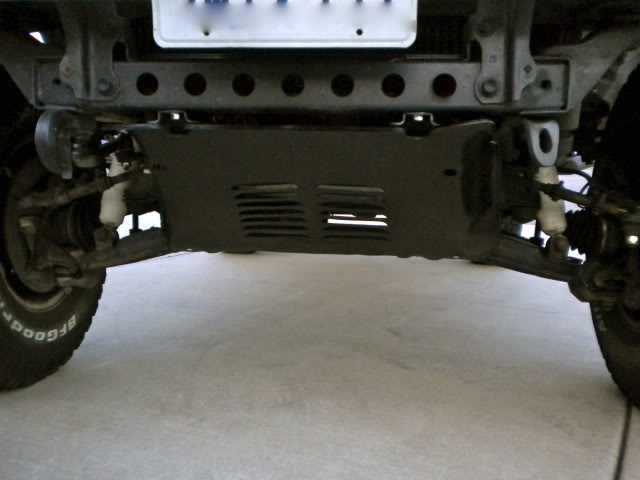 my free part with paint i already had
3-29-2010
when i was little, i used to fall asleep in my dads 4runner. now that i have my own i thought maybe me getting sleepy was just phsycological from back in the day. turns out im not as sub conciously connected to my truck as i thought i was as i started nodding off on the free way. my truck was trying to kill me.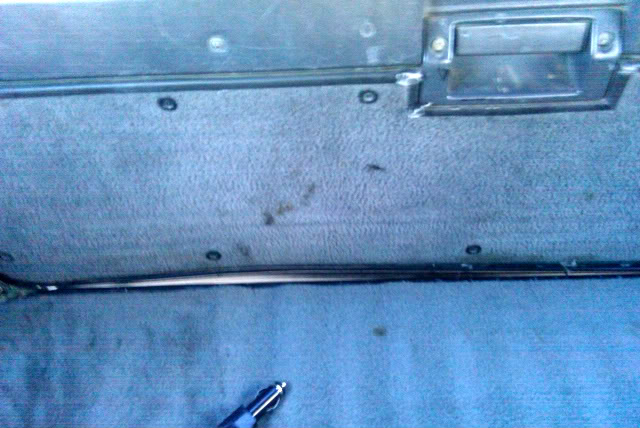 lol so i guess im in the market for a new tail gate
3-30-2010
lmao i guess so..
but i did get something cool from the toyota dealer near my house for an awesome price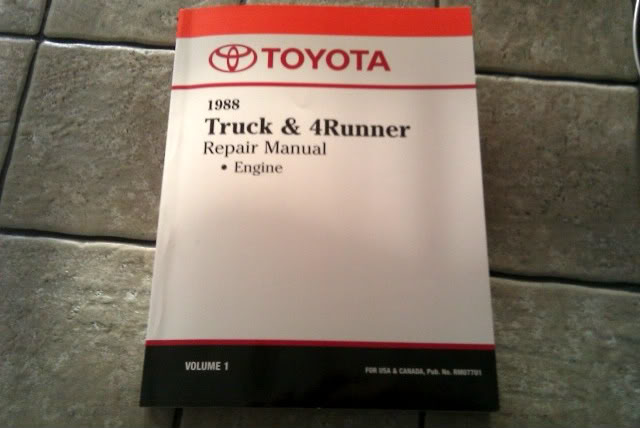 20 bucks
5-30-2010
the holes were already cut so i threw some infinity refrences in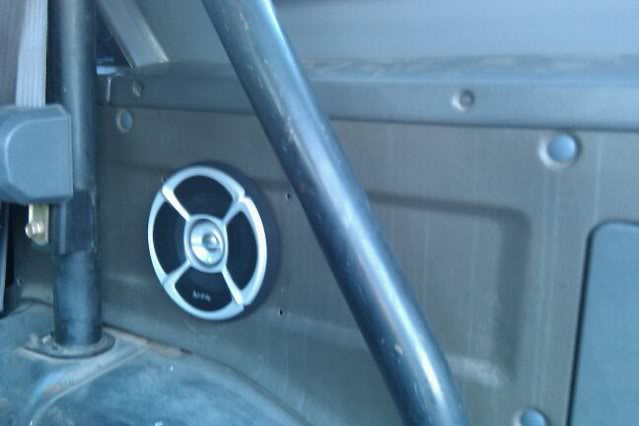 and i put a whole new climate control in, including the mechanical cables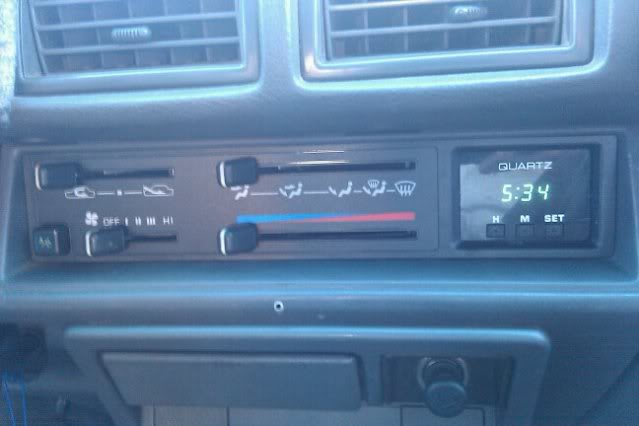 oh ya totally forgot, took it topless to the beach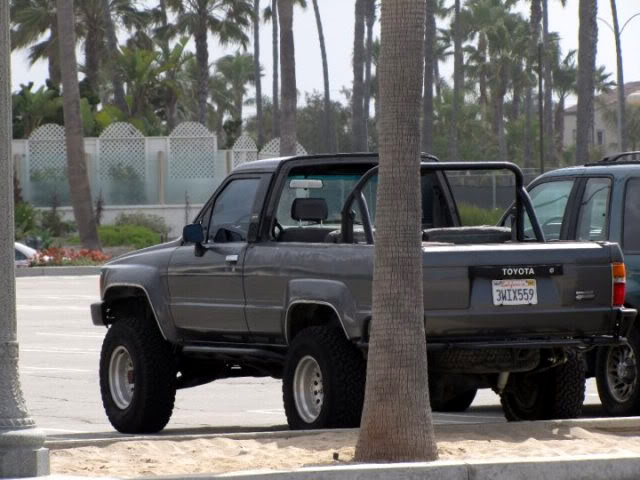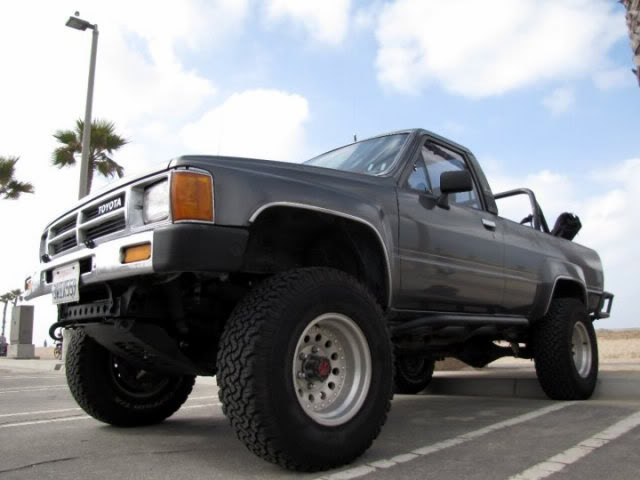 7-23-2010
thanks dude, i appreciate it.
I will have another truck eventually...
Im just trying to go to school full time and its not the most fuel effecient vehicle out there you know?
hopefully later down the road i can pick up another one.
these things run forever and hold a special place with me.
i grew up age like 5-12 being takin 4wheeling in the passenger seat.

i took this one out once.. last weekend. and it really performed.
never got stuck never hit anything.
i was very proud of it, and thats why id like to keep the price at 5k.
if nobody buys it, i definitely wont be bummed.
I really like this truck.
who could sell something with potential like this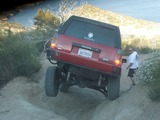 i had too much fun with it.
8-22-2010
thanks! got myself a downey soft top for 50 bucks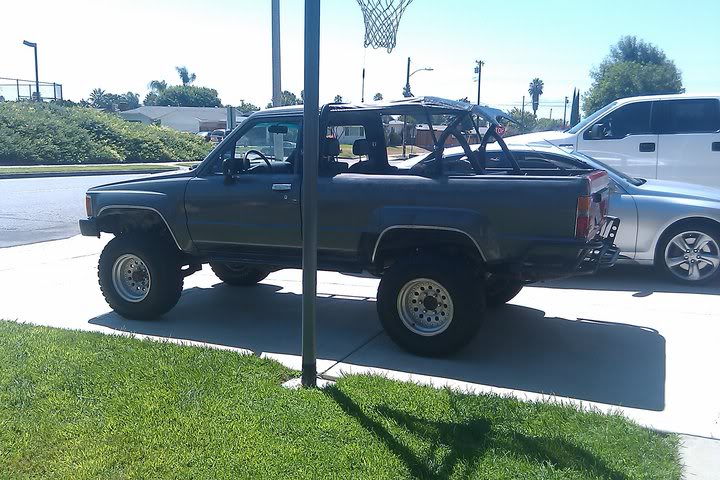 1-4-2011
i obviously got a new tail gate.. a while ago..
Paint is on the to-do list. along with some round eye head lights, and a trail gear front bumper.

one of my least favorite mods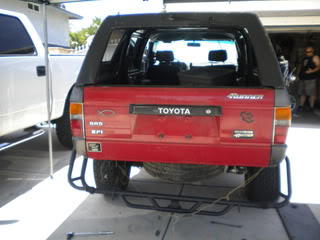 and I installed a new headunit, amp, and sub.
got the head unit from best buy, amp for christmas, and sub and box together for 20 bucks from a friend.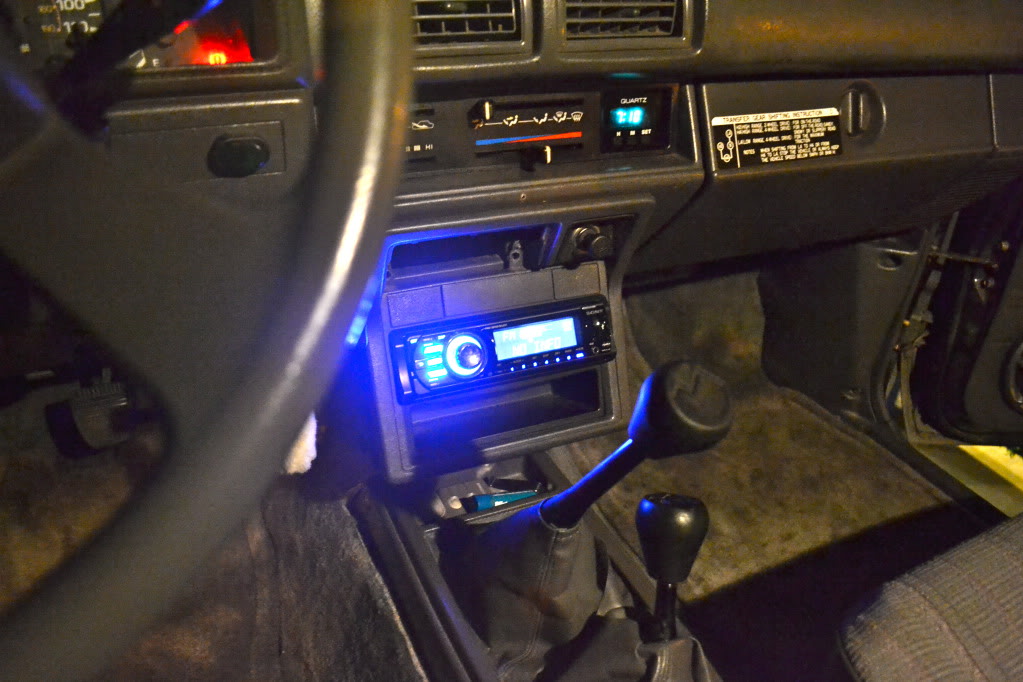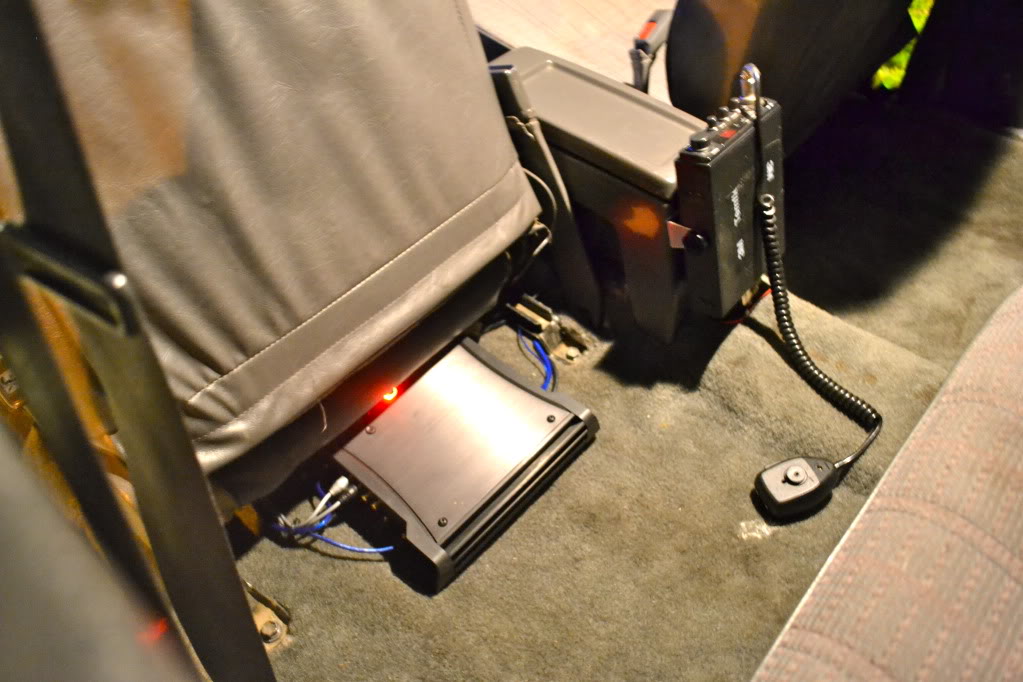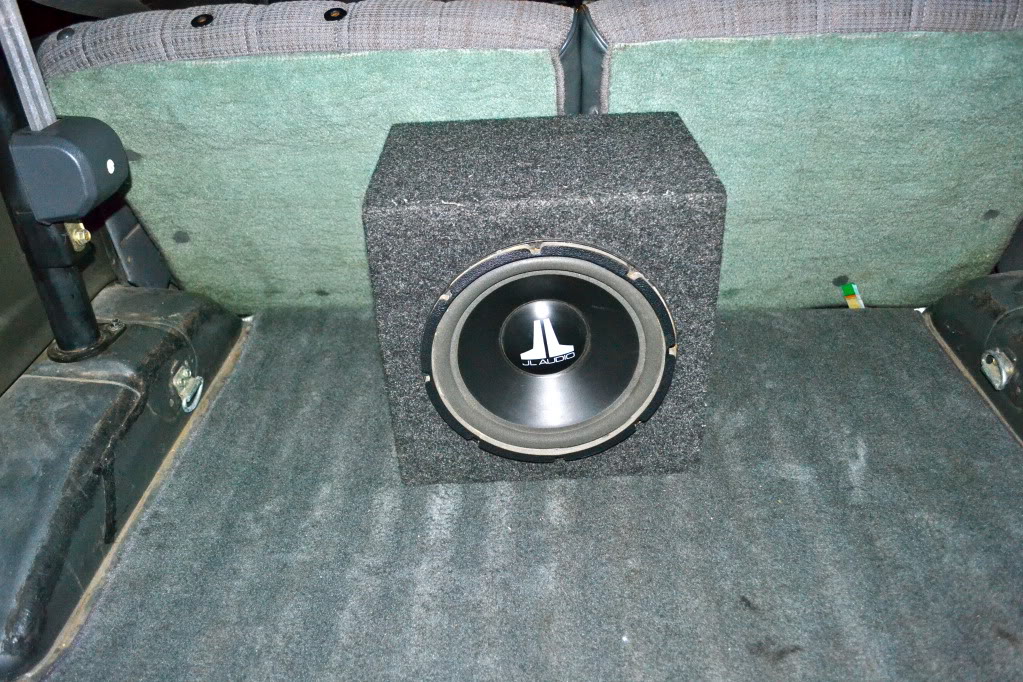 1-10-2011
look what IIIII gottttt thanks irab88 for sending it to me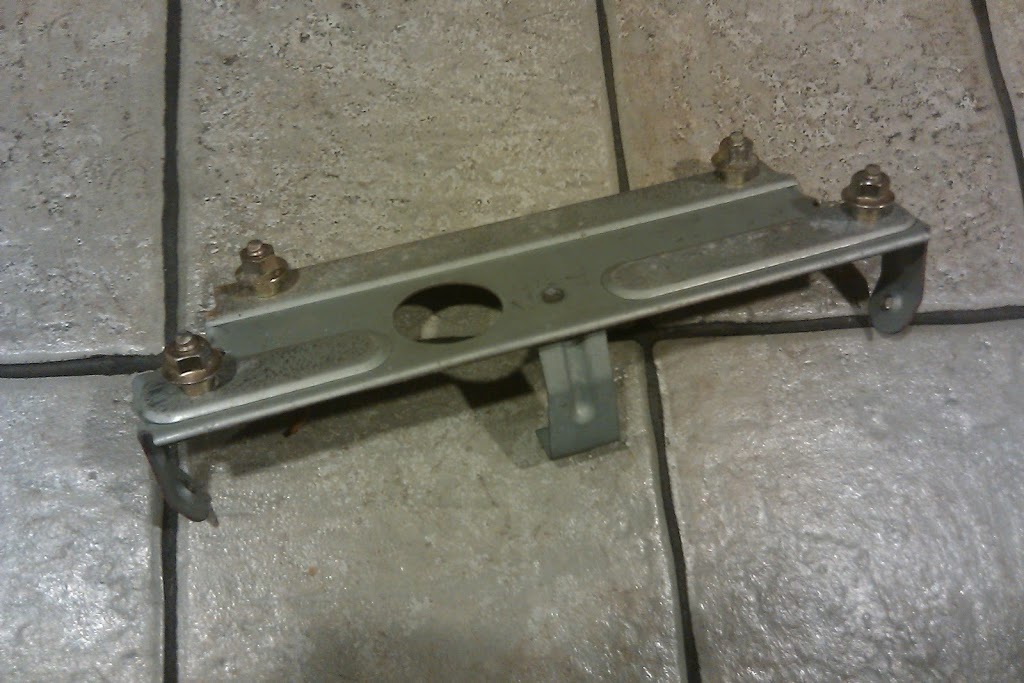 1-18-2011
talk about quick delivery! its here!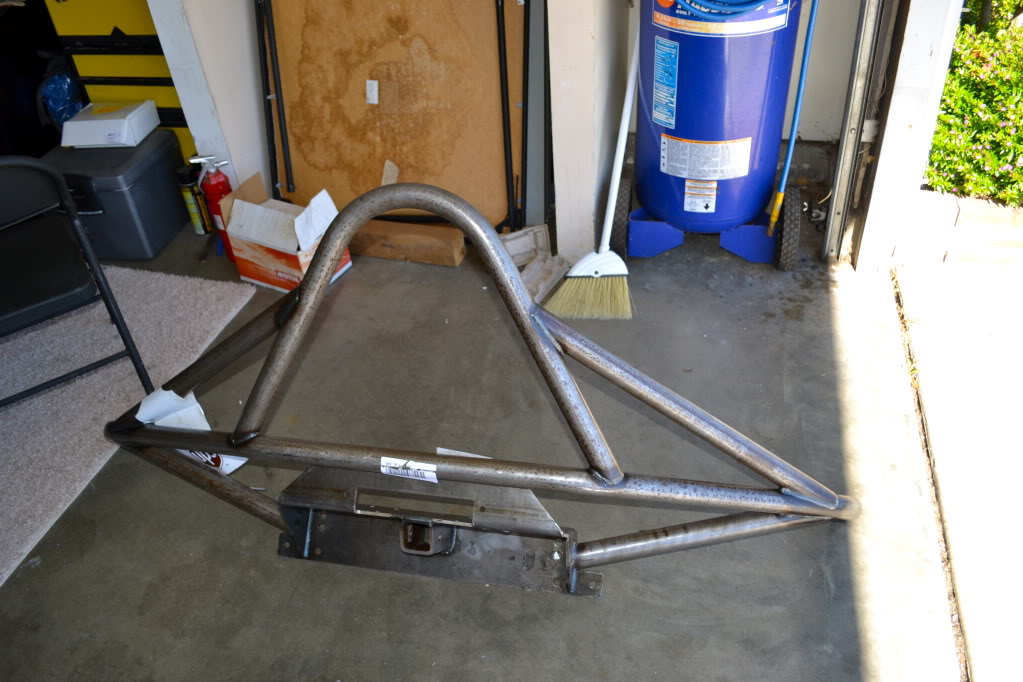 1-19-2011
didnt bolt right up, i think my frame was a tiny bit tweaked.. opened the holes up a bit... all bolted up. needs paint.. and turn signals.. :p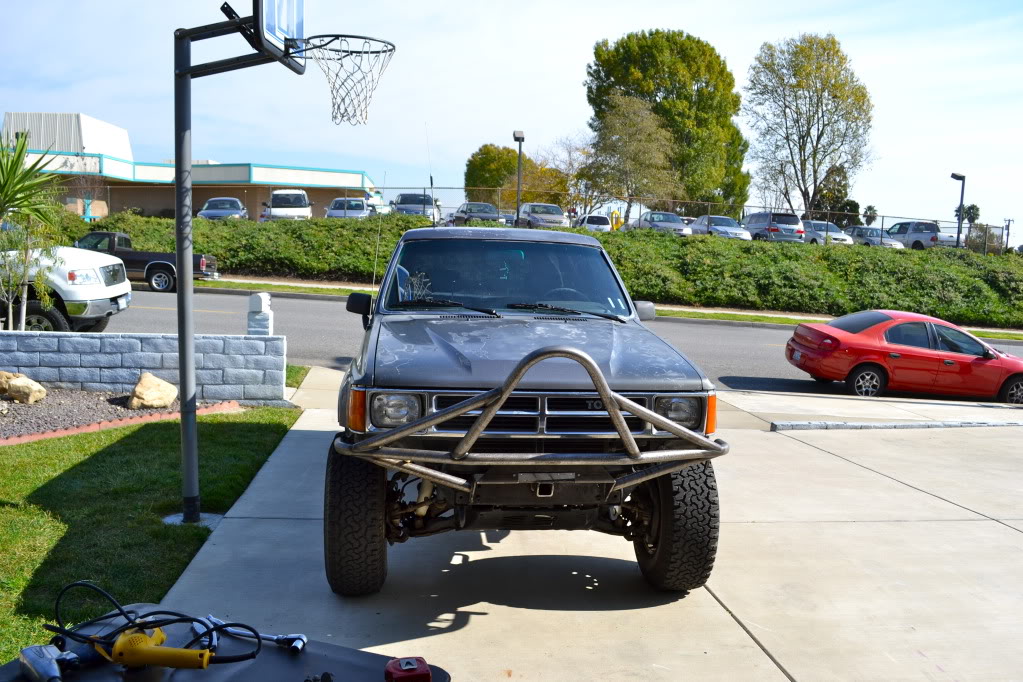 1-21-2011
yeehaw, kc lights are in phoenix right now... should be in tommorrow then i believe. California is a good place to ship stuff :p all these 9 day predictions turn into 2 or 3 days.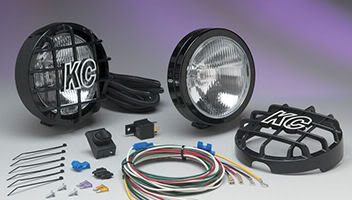 the plan is to put both of these in the center of my bumper, hopefully it doesnt block too much air for my radiator..
1-25-2011
wooo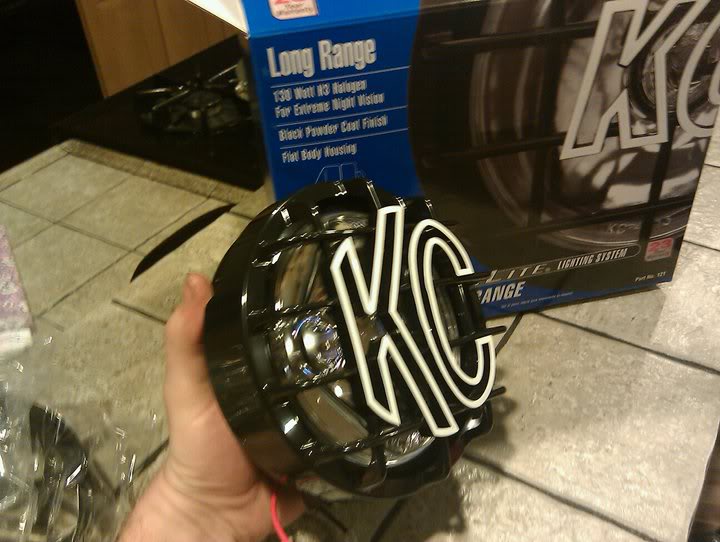 3-15-2011
on a positive note,
cool 4runner from my work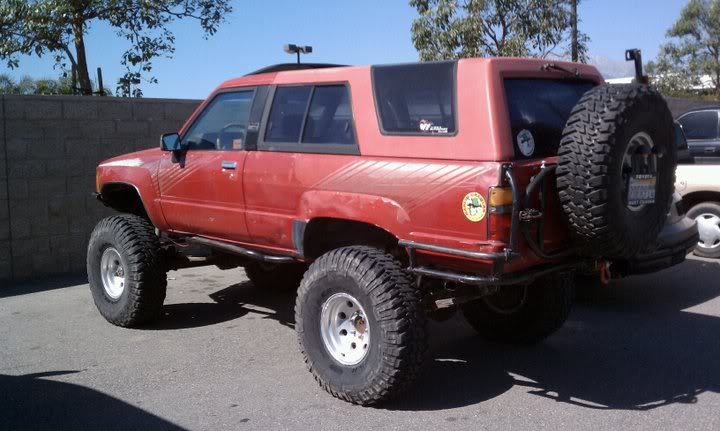 and next to my baby 4runner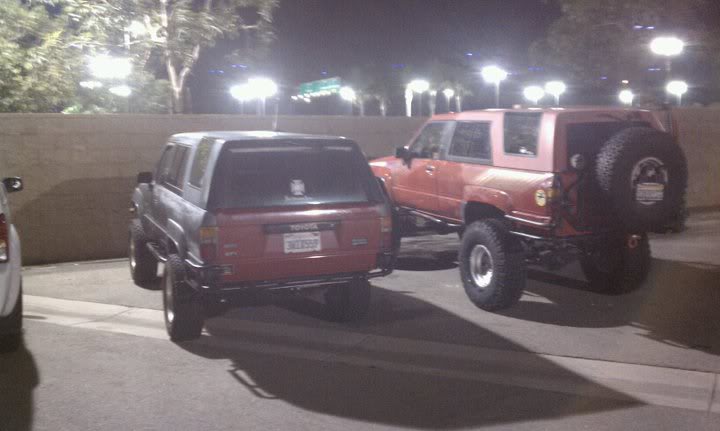 4-4-2011
developed 2... possibly 3 leaks :/ after a 100 miles a day for 5 days.
i got it up on the lift at the shop and found this.

the power steering pump is leaking as seen from above,

heres my front crank seal / oil pump o-ring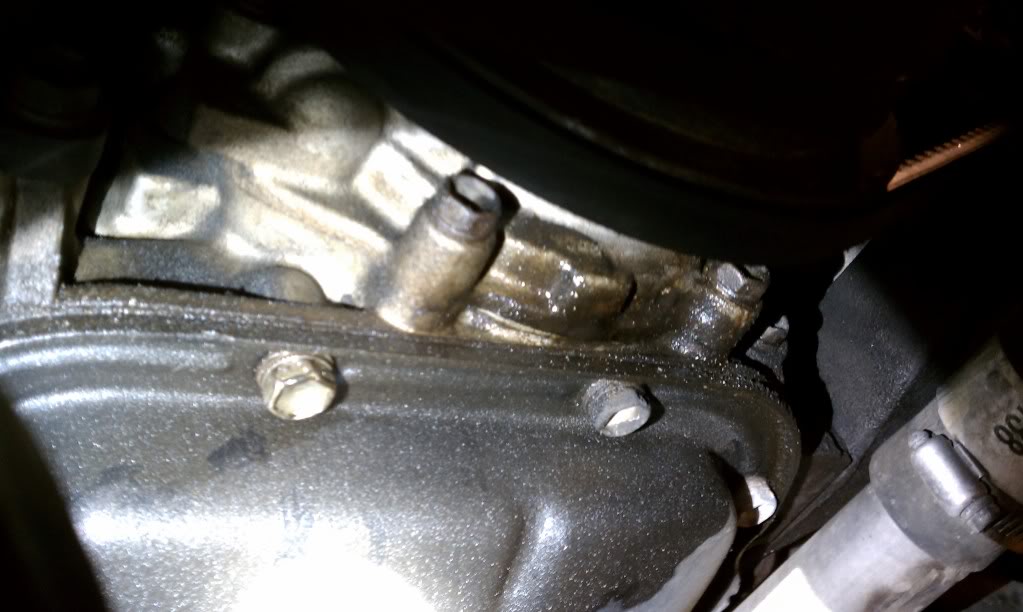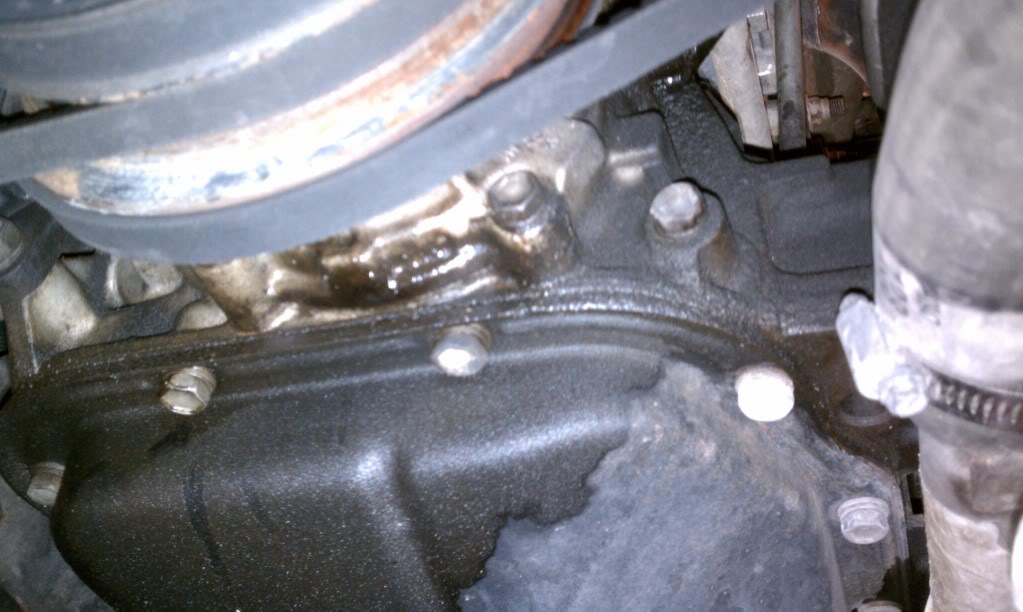 heres the backside, near the trans. Hopefully its run down from the crank but... looks alot like an oil pan gasket.
sad.face.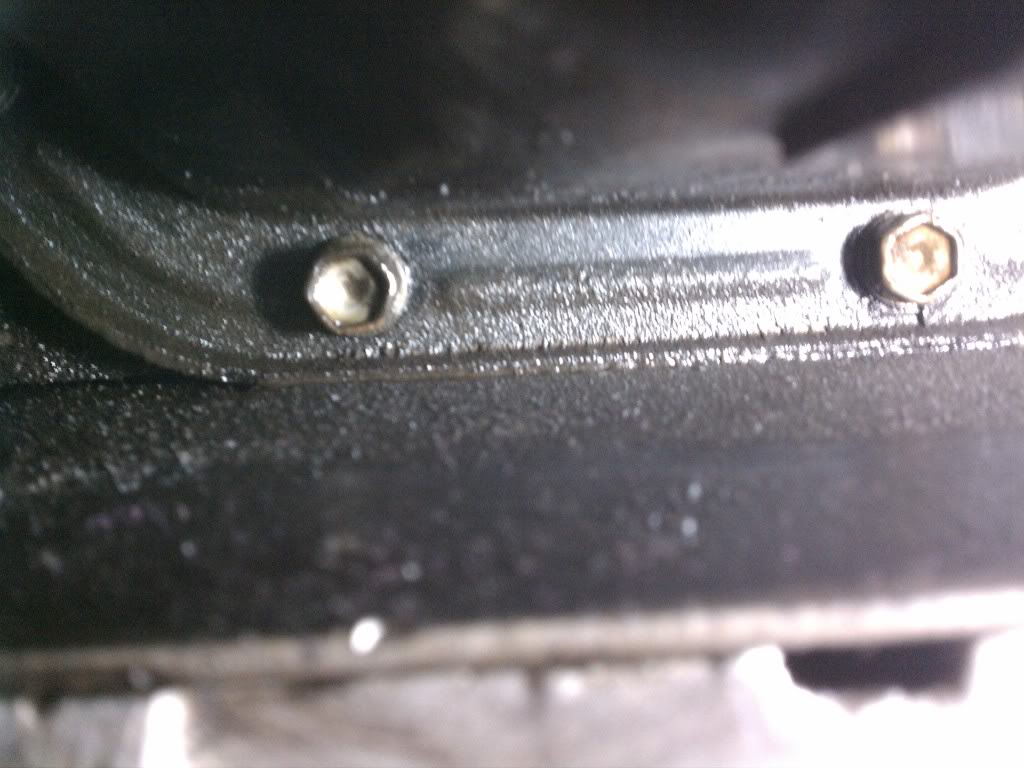 4-6-2011
oh hell no, ill get this stuff fixed eventually.. its so hard now that i got my first car/ baby back up and running with a fancy new 2110 cc engine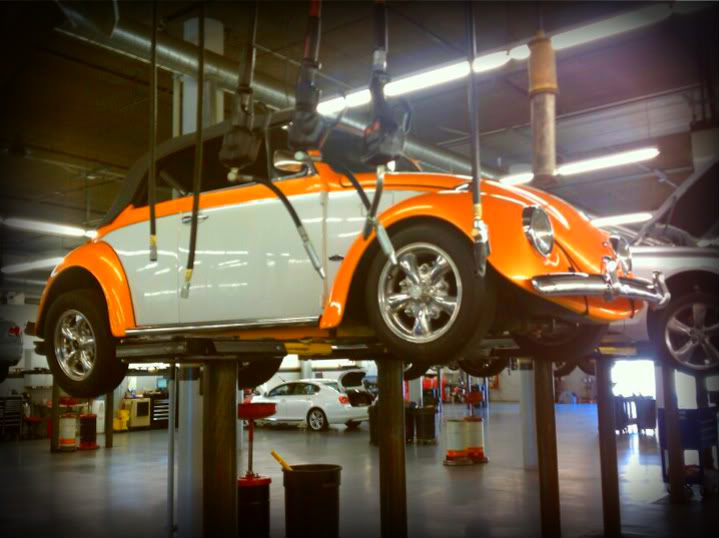 4-14-2011
yeehaw.
bought...
new factory AC condensor, Reciever Dryer (Condenser is one of five they say left in the warehouse)
cv boot kit, crank pulley, front crank seal, oil pump o ring. All with my toyota discount except the pulley.. I got that off LCE because factory wanted 400 lce wanted 140 and calmini wante 75.. but i figured new would be better.
5-4-2011
AC is blowing nice and cold and has been for a while now

Just went to my friends body shop and had my rear bumper bent back a little so theres no interference when opening the tail gate.
Now the tail gate wont open... so i took it apart and discovered the cables have siezed. Toyota wants 80 bucks a pop :'(

BIG SUPRISE SCHEDULED FOR MONDAY THE 16
5-26-2011
suprise update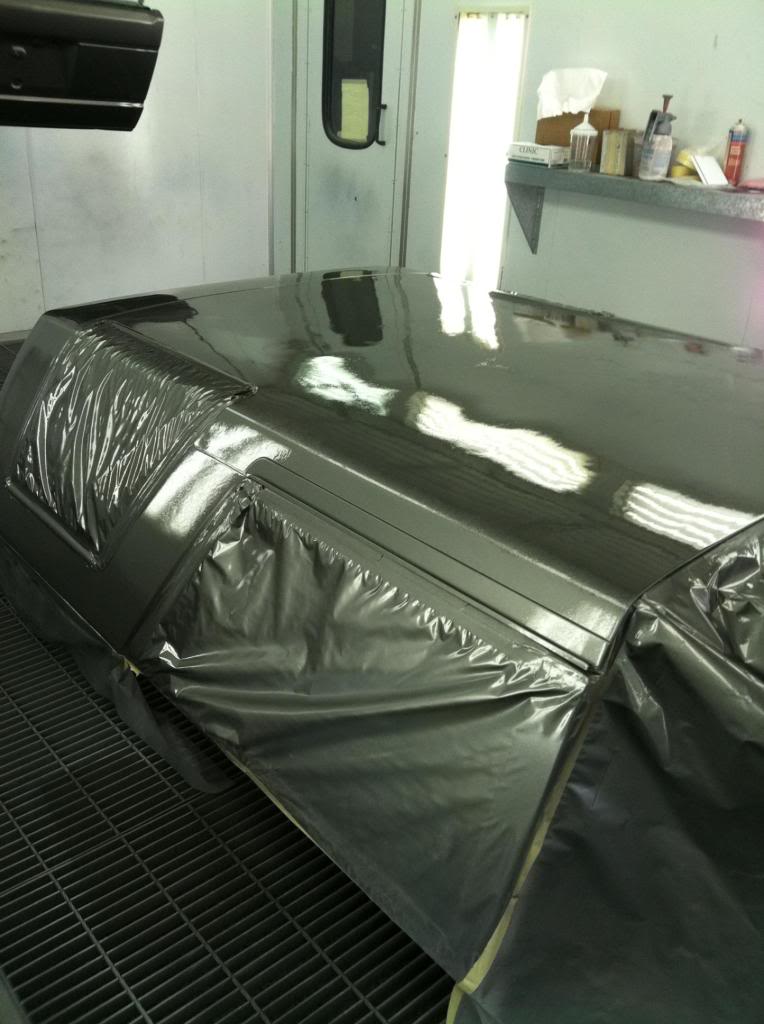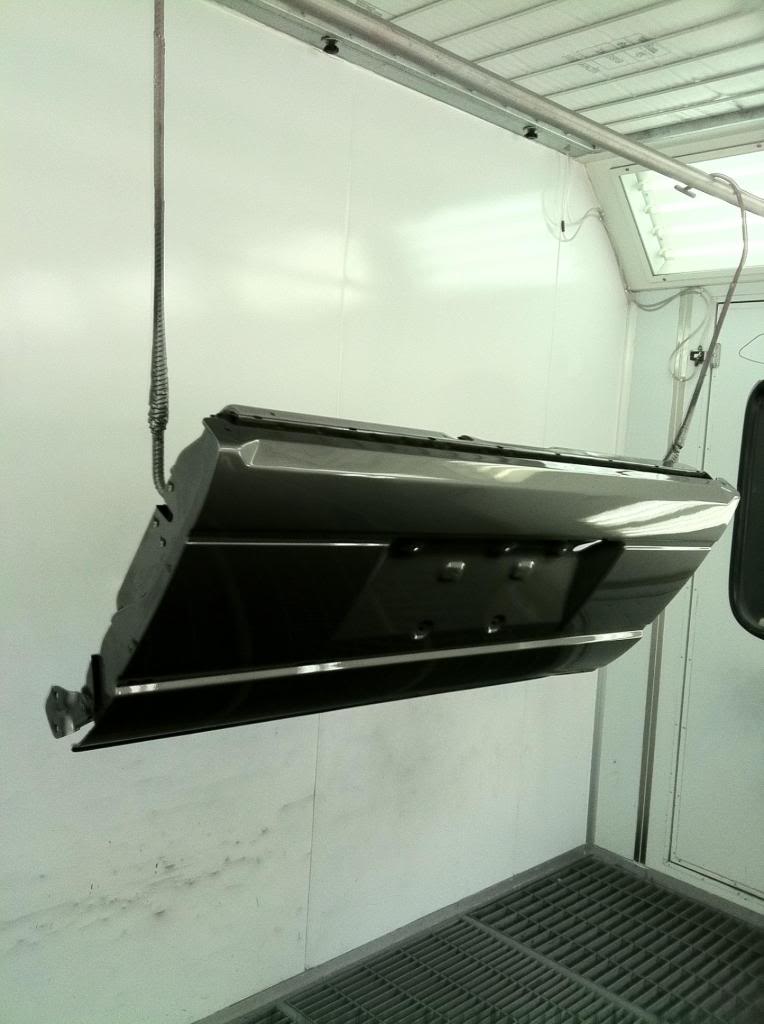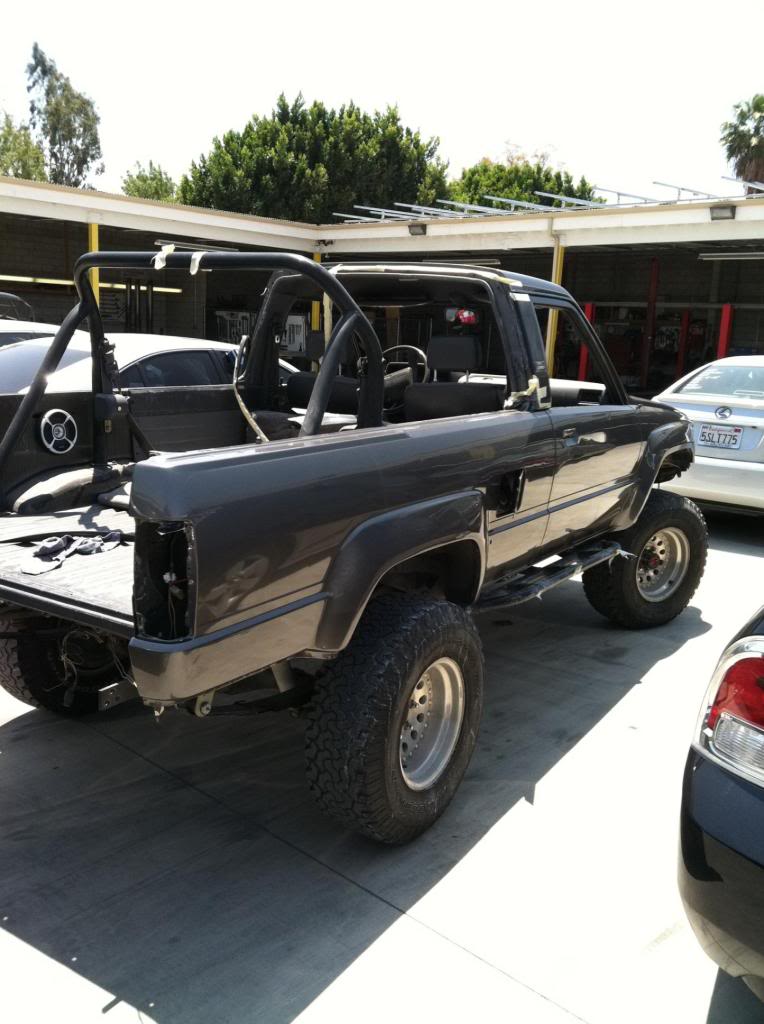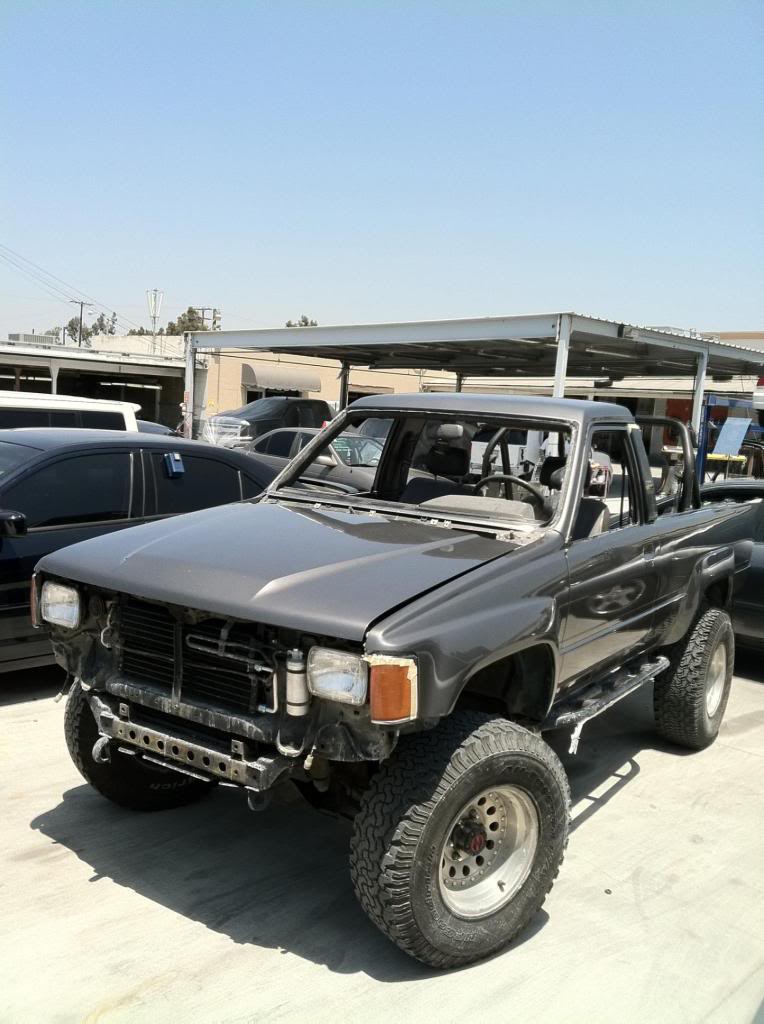 5-28-2011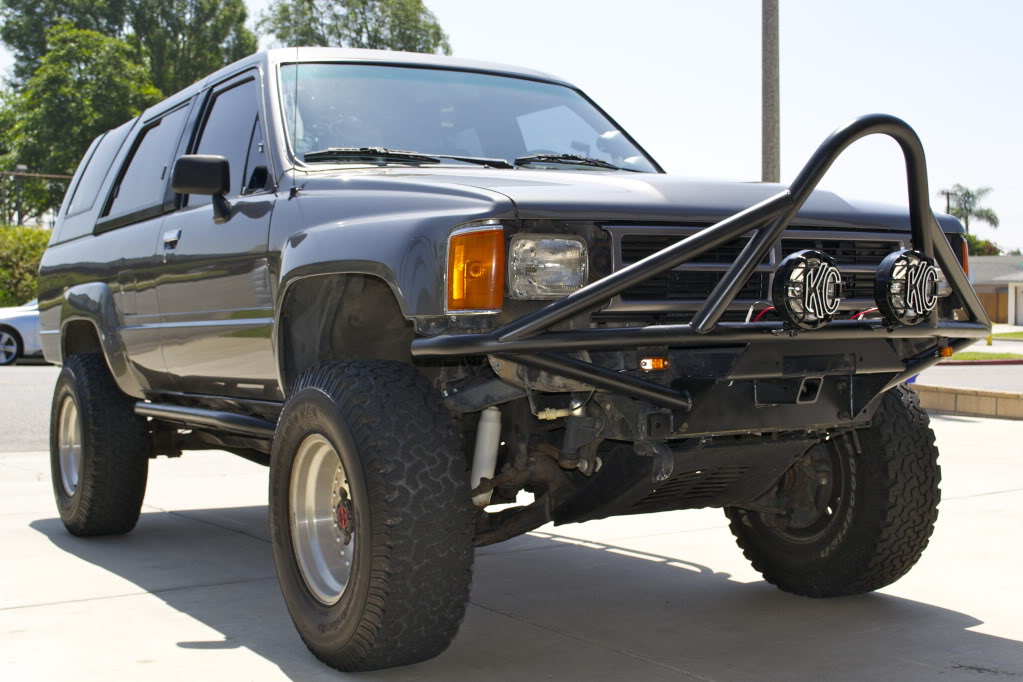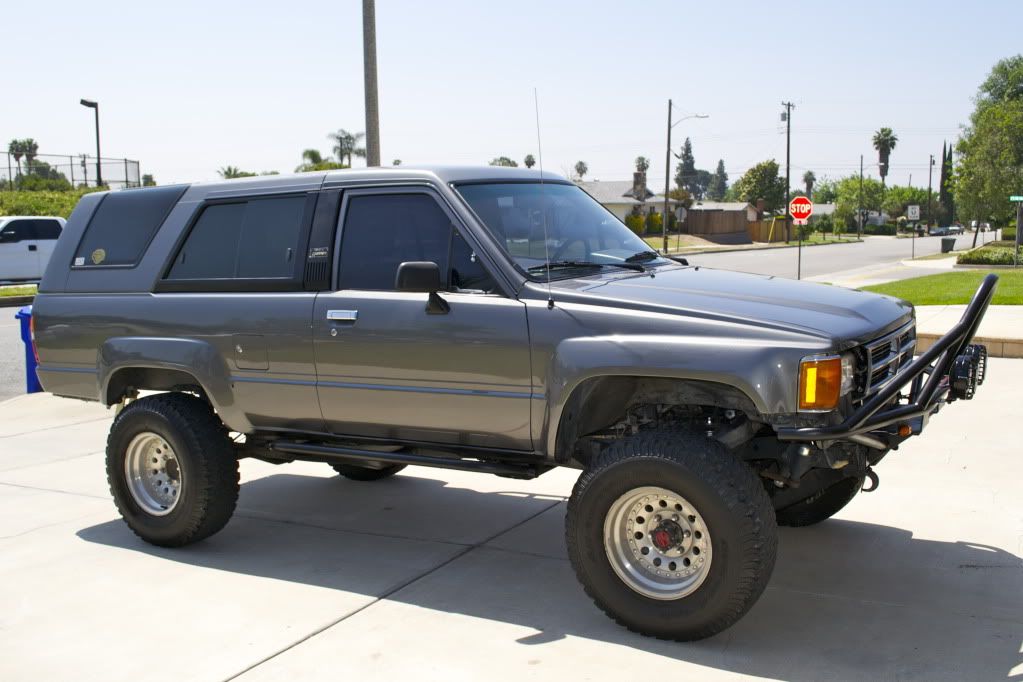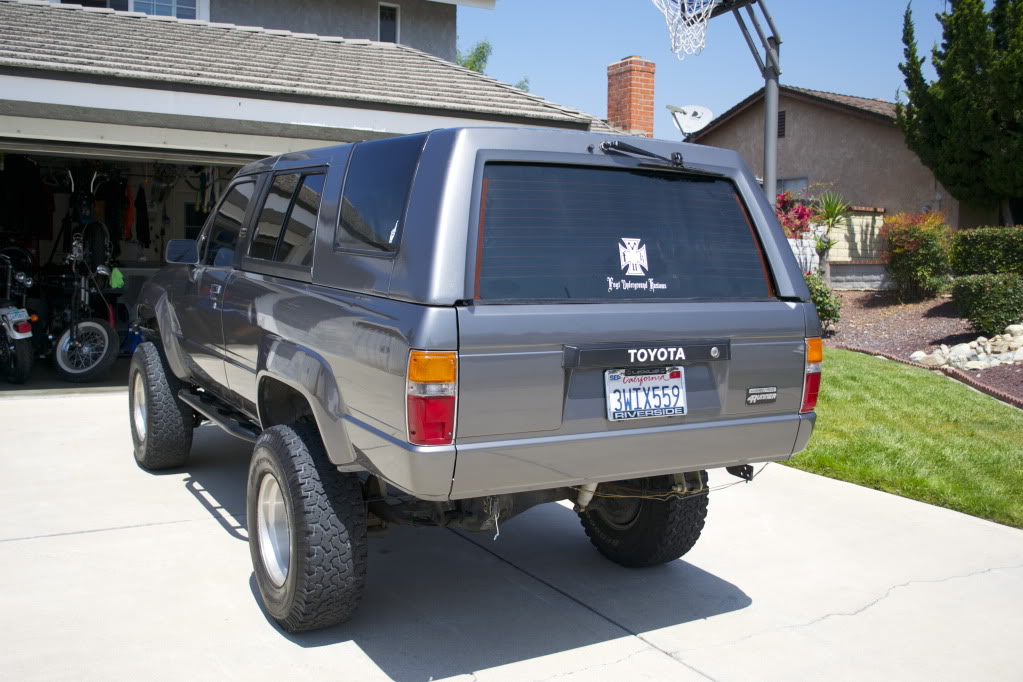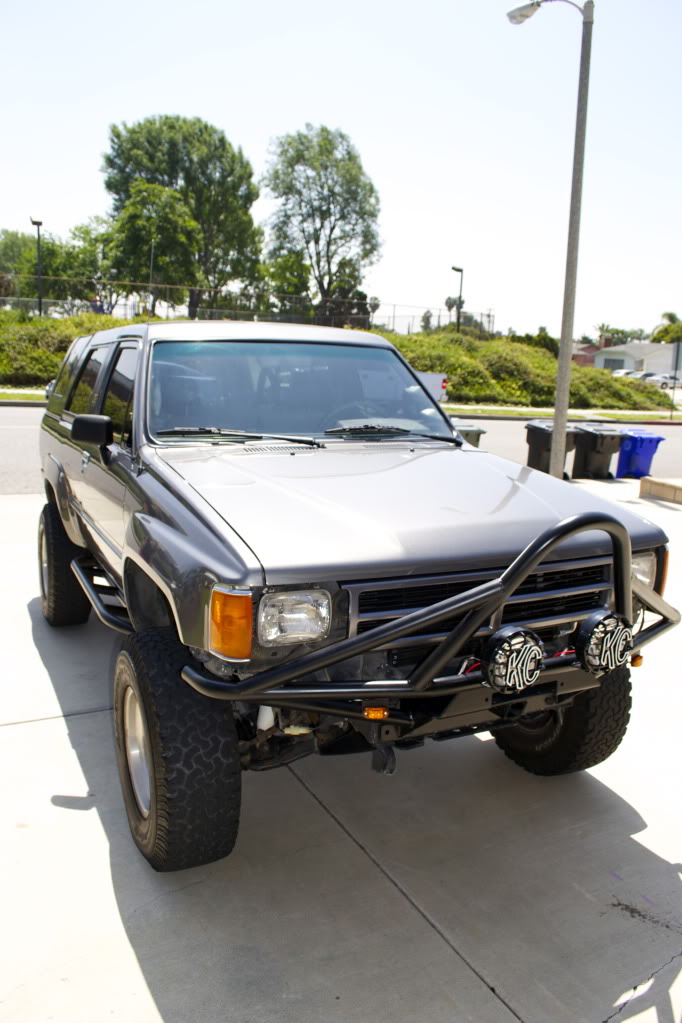 6-6-2011
why hello mr rear bumper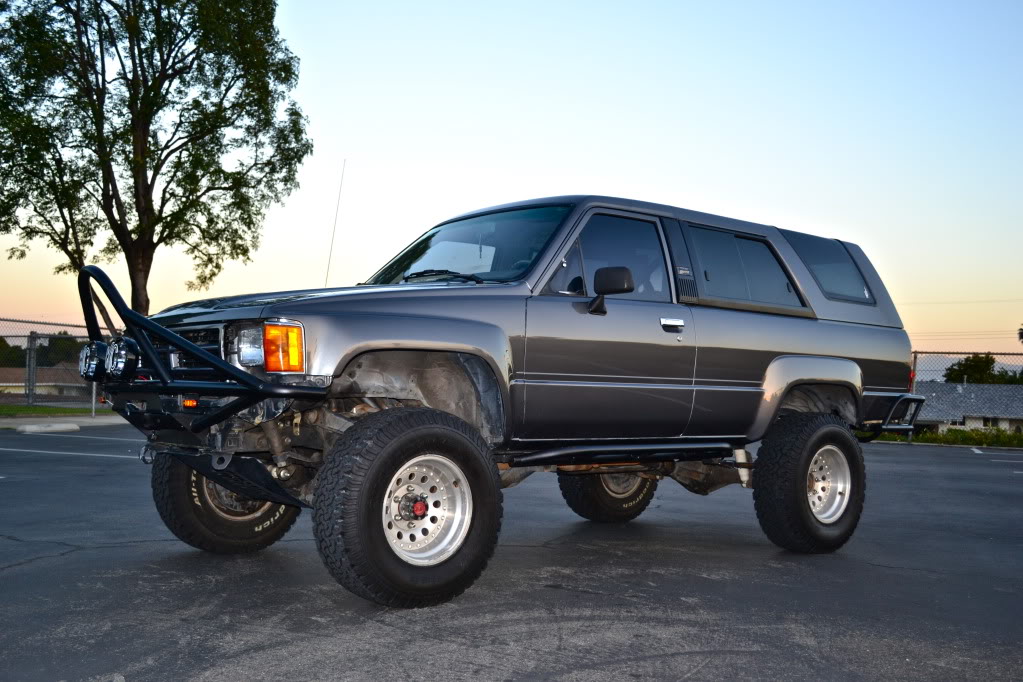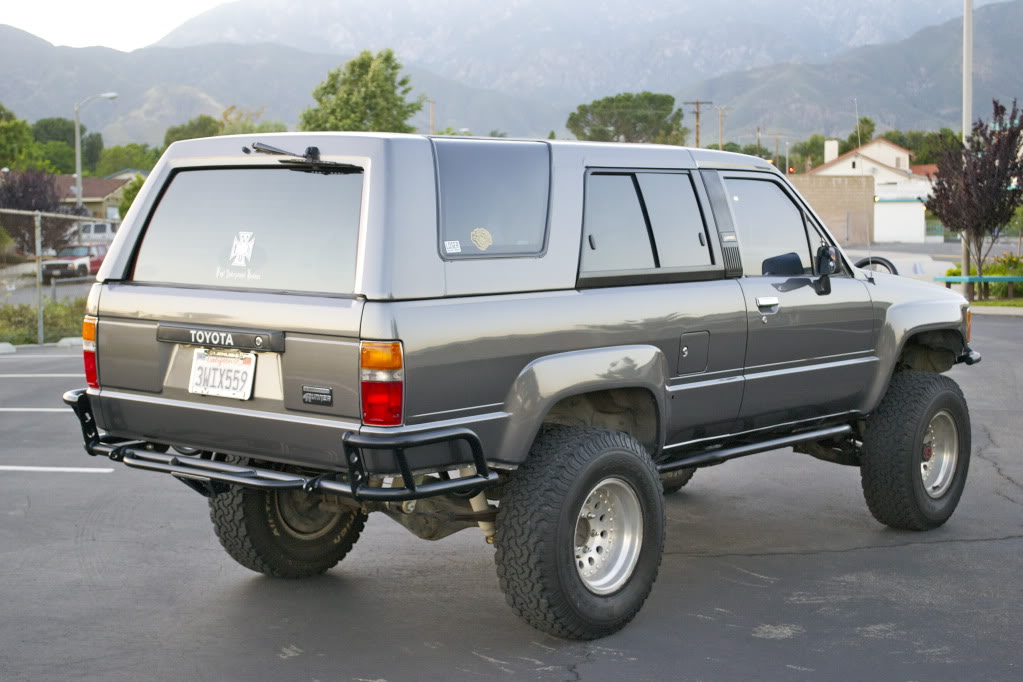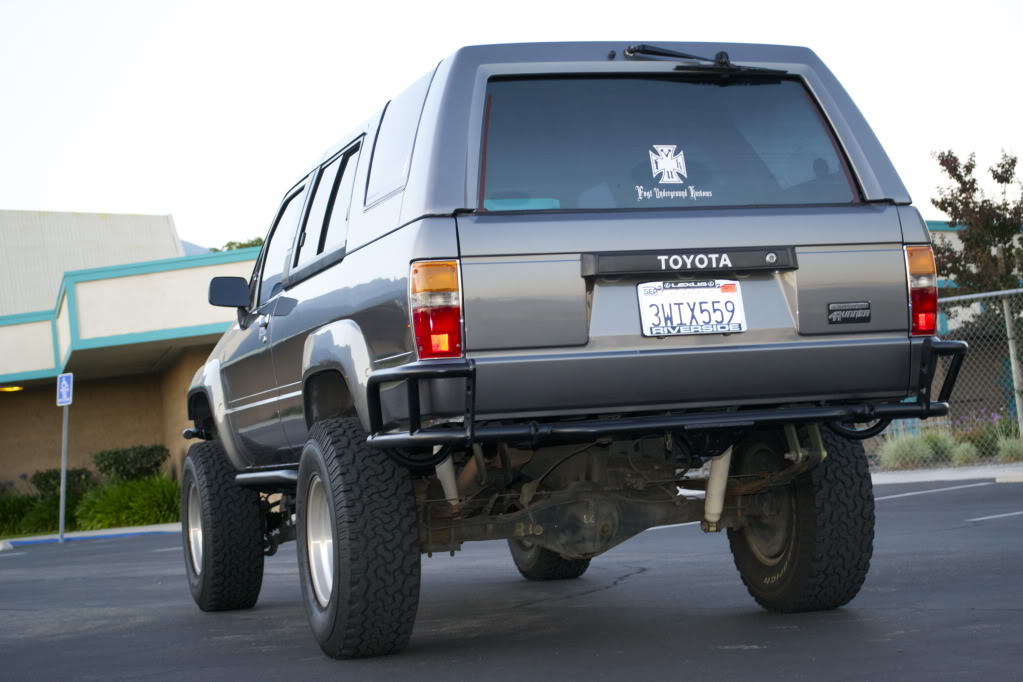 6-7-2011
lights all nice and wired up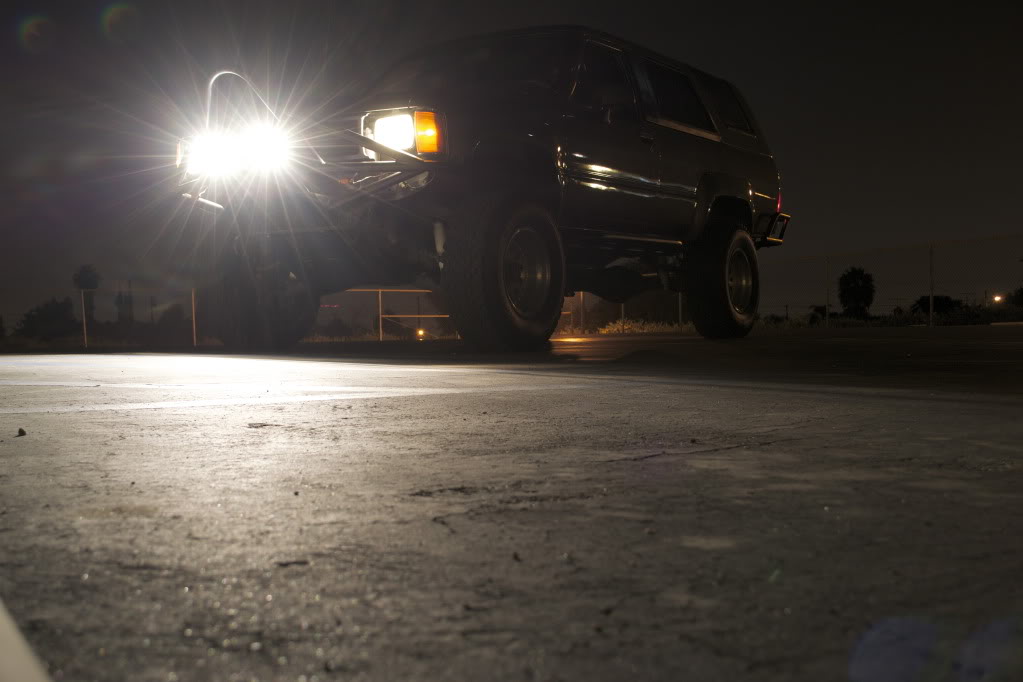 8-11-2011
YES I finally got logged in again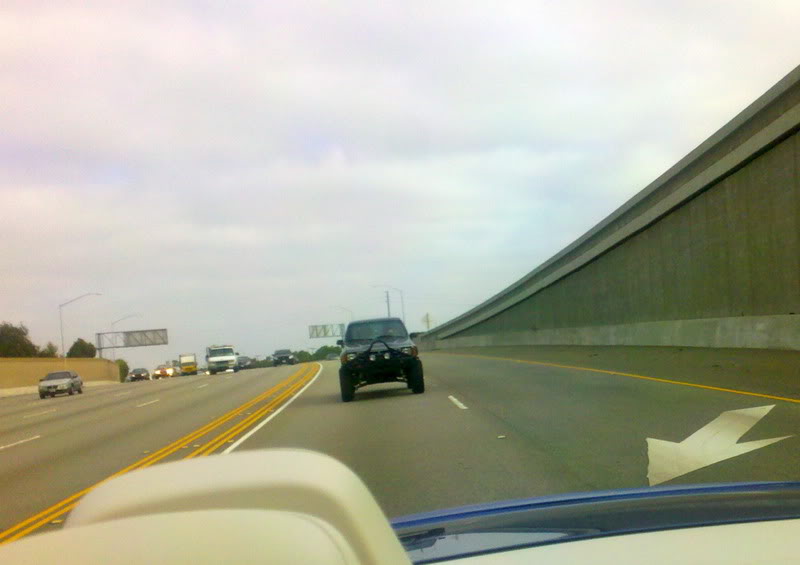 I installed the inclino finally! Big thanks to irab88 for helping me locate a bracket and even shipping it to me.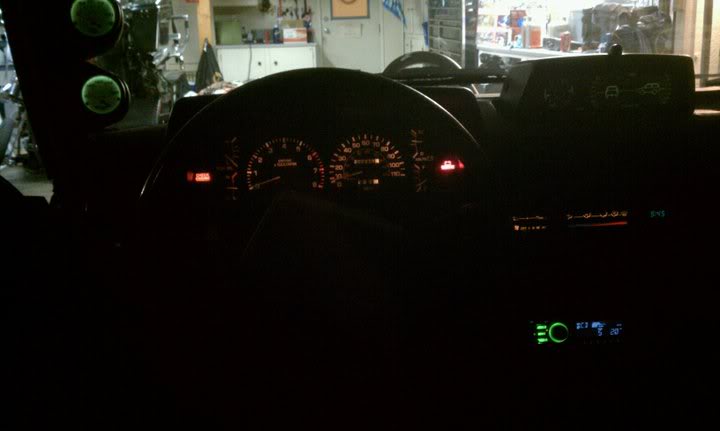 OH and I've discovered a minor exhaust leak.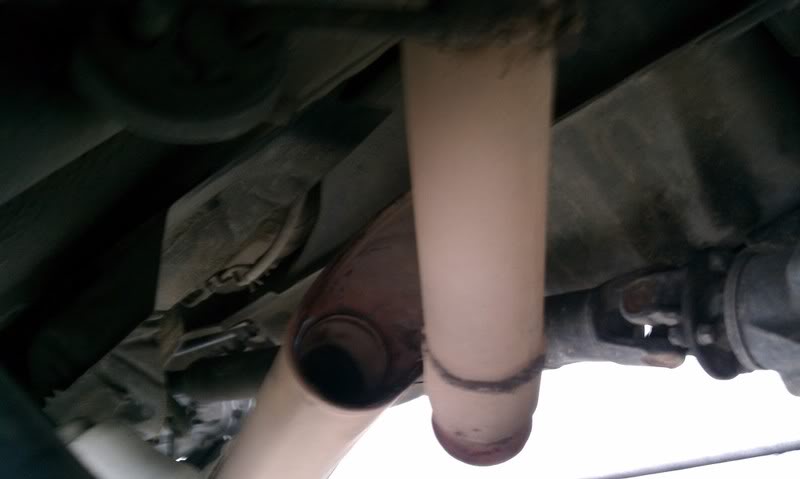 8-12-2011
yeehaw
no write up :/ I'm sorry.
It had the lock solenoids in it.. and a used car at my dealership had an older viper system installed so i yanked it out..

I can tell you where it is though.. I installed the computer..reciever deal into the left kick panel.. My dad said when he was a yota tech back in the late 80s early 90s thats where they always went... put the speaker in the engine bay.. took maybe an hour or two.. no big deal its scary looking.. but realistically power and ground for everything. This one has door locks, alarm and kill switch.
8-13-2011
couple issues that I need to clear up whenever I stop being lazy..

1. I see coolant leaking out the bottom of the Throttle Body.. but starting above the hose.. Does this mean the TB needs to be replaced? If so, any thoughts on dropping the 300 and getting the big bore?

2. Upon Initial Cold start up.. (not having run for 2 or so hours) If I don't give it any gas, it will start and die instantly. When if i do give it some blips from the gas pedal it sounds like it bogs down or floods.. Does that sound like the IACV to you? should I just hit up toyota and try to buy a brand new one?
8-16-2011
Alrighty lets get to addressing
Ign I've replaced cap/rotor/wires/plugs all within the last 6 or 7k
Possibly EFI. I don't think it's the AFM in relation to ambient temperature, when i say cold I mean engine cold not ambient cold. um.... fuel filter.. again I would think a clogged filter would be an issue more than just initial start up with a cold engine thanks for all the thinkin materials! I wish I wasn't sick right now, or I'd be out there tinkering.

OH I have a friend who wants to sell his bug for 750 bucks.. its a 66 says hes driven it to new mexico and back just needs paint.. So Now I'm torn between a cheap ol bug, and a full exhaust for my truck... hmmmm I guess it depends on the quality of the car... if its good I know i can flip it in a month's time.
8-18-2011
Well, I'm feeling better and I drive to work today.. and the ol misfire has decided it needs more attention. blatent at idle... and can be heard felt in nuetral up to about 3k
Driving down the road, I get similar results.. I haven't done a valve adjust since I got the truck... about 15k miles ago so I'm going to start there. All the plugs look typical of 7,000 mile plugs... ordered the gasket, halfmoons and grommets from toyota.. Now I'm just hoping its an exhaust valve adjustment that's allowing air/fuel straight through and popping in the header/exhaust. *finger's crossed* I'm still pretty convinced the IAC-V is acting up due to not enough initial throttle.. couple of ex toyota techs, current lexus techs agree.. so maybe I'm just no good at describing symptoms
1. the start up issue is start die instant no really sputter hence my iacv worries
2.once i get her idling under her own power, about once every... 3 seconds (just a guess) i get a misfire. rev to 2-3 k it will be a consistant.. maybe two pops a second. take of driving and its still doing the same thing.

my current theories
1. faulty iac-v
2. tight valve (according to my dad and family friend both yota techs in the late 80s early 90s) these engines got regular valve adjustments to compensate for them tightening themselves over time. It would make sense that the air/fuel is just passing right through and exploding whenever it feels hot enough.

but yea doing my research lately, basically just about anything could cause a misfire, and with 25 year old electronics... these sensors can easily develope dead spots and confuse injectors.

my valve cover gasket, half moons, and grommets should be in tomorrow. after work the plan is to replace my bugs fuel pump and do the valve job

onto a bit brighter news. The current plan is, new exhaust from the downey header back (high flow cat) to... unsure of muffler as of yet. Flowmaster seems like a fine brand... sounds sick on my mom's 5.4L f150

then! save up for the blazeland kit we all drool over
8-22-2011
no worries guys, all my valves were excessively tight so I adjusted them (warm) to .008 and .012 respectively, Adjusted the timing according to the sticker on my hood, Replaced Crank seal and o-ring.. pressure washed the whole underbelly, discovered a nifty marlin crawler button punched onto my tranny, and I must say.. She is one peppy, happy truck these days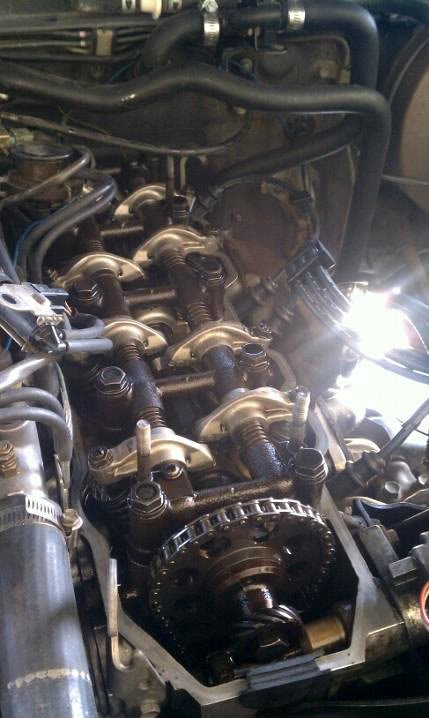 and lots of signs pointing to a full rebuild as the previous owner had claimed.. the oil pump is also brand new.
now its just the classy miss with the egr in and at idle "they all do that" says pops. Whatever! I'm just stoked she's happy. Oh the grommet to the valve cover that the pcv goes into is toast.. fortunately.. lexus uses the same grommet. I've got my dad bringing me home one whenever he gets home from work.
8-23-2011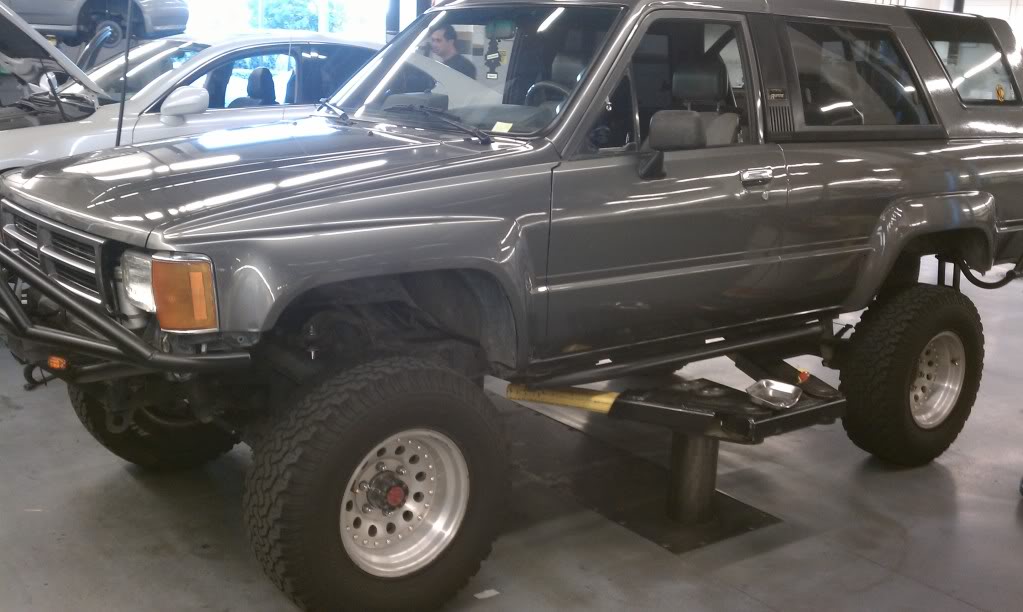 That height we wish we all had
8-29-2011
Pitted chrome, meet rustoleum.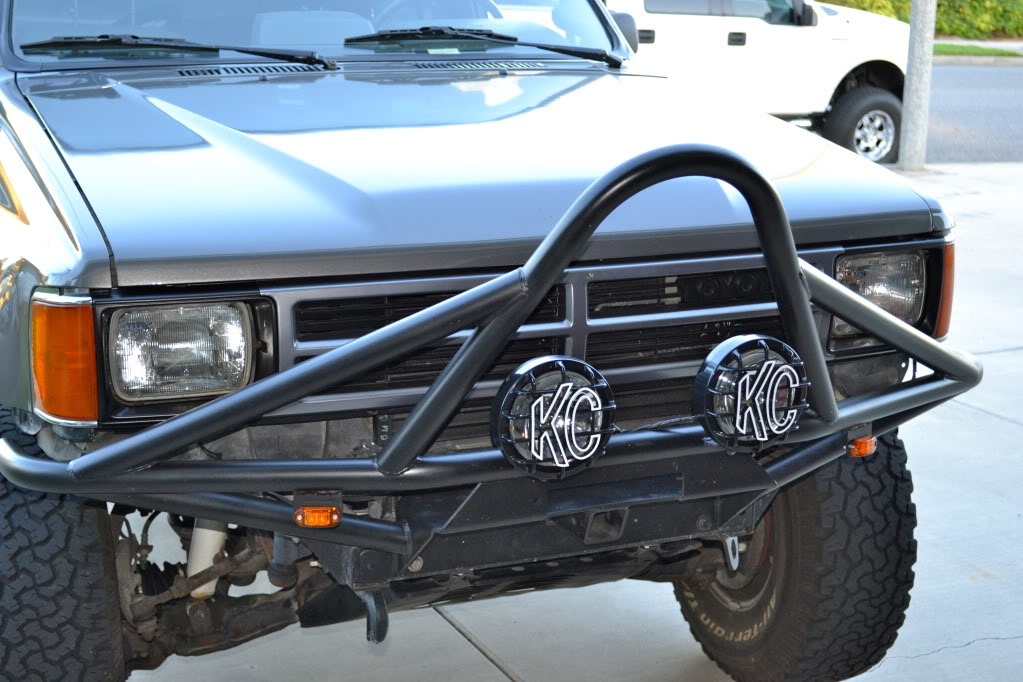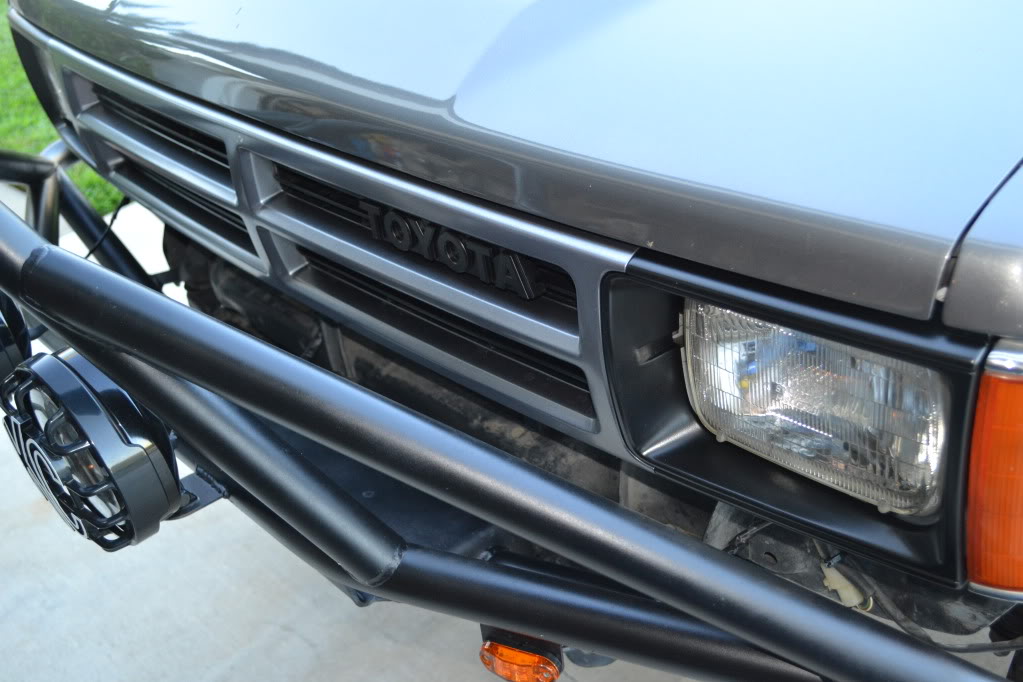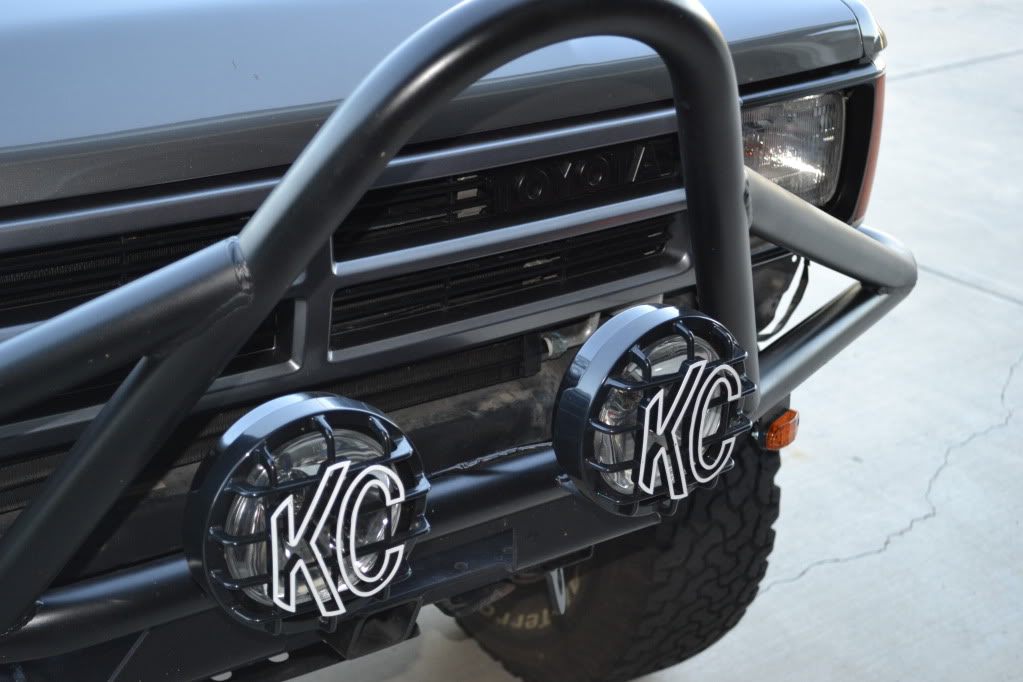 8-31-2011
the misfire has returned.. gonna check some stuff out tonight.. just in time for smog!

on a better note... I love ebay. 26 bucks and now I don't have to shove my bike in the back...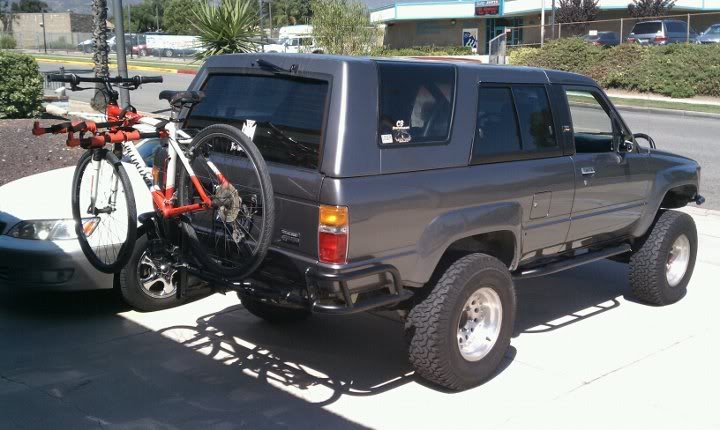 shorted the diagnostic box, it gave me 6 blips pause 10 blips.

can't find that code in my 88 book.. maybe 87 is different? HELLLP
in case anyone doubts my counting...


or.... maybe its code 6 and code 10?
9-3-2011
didn't get the cat delete yet, the muffler dude was out of flanges to make it happen.. but got the flowmaster... sounds soo much better video soon.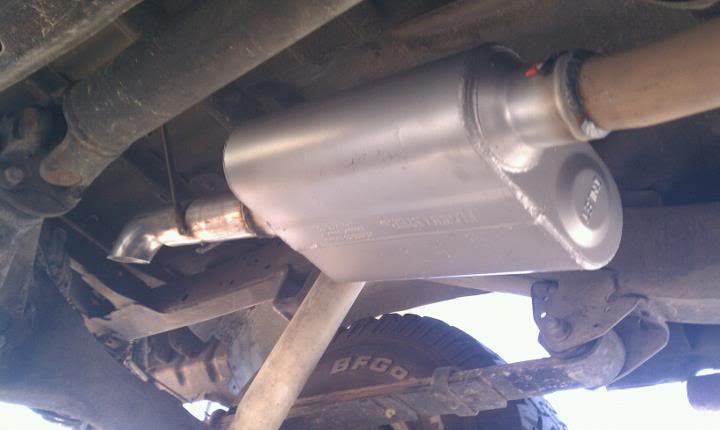 9-5-2011
thanks man! Its up on top near the intake. The stock one is still in the stock location..
the misfire is still going... took the O2 sensor out.. first thing I noticed... no label.. so the previous owner must have bought a cheapie? I know these work best with denso... but... check out the white stuff.. according to google, it could be silicate... warming the sensor.. giving false readings... which would explain why my spark plugs look hot.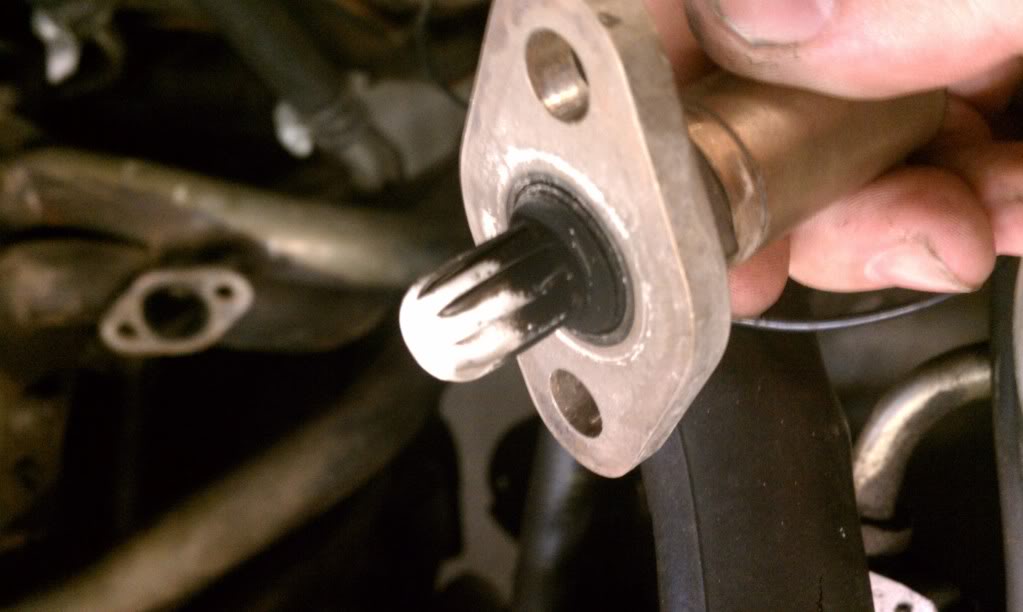 9-6-2011
strange i found part #234-1051 denso at autozone.com.. like 35 bucks...
toyota wants 142 for their part# 89465-19265...
usually I go with Toyota just because, its lasted this long right? but... almost 5 times the price? makes me skeptical..

oh well.. I'm gonna think about it.. feel free to advise..

gonna paint my wheels black today

yeehaw
I really like the change.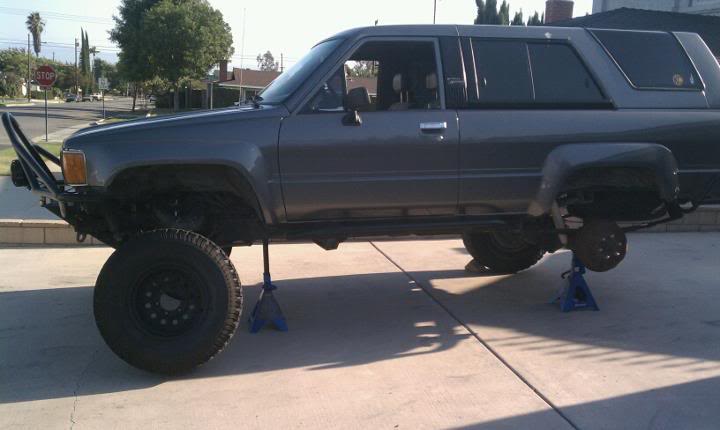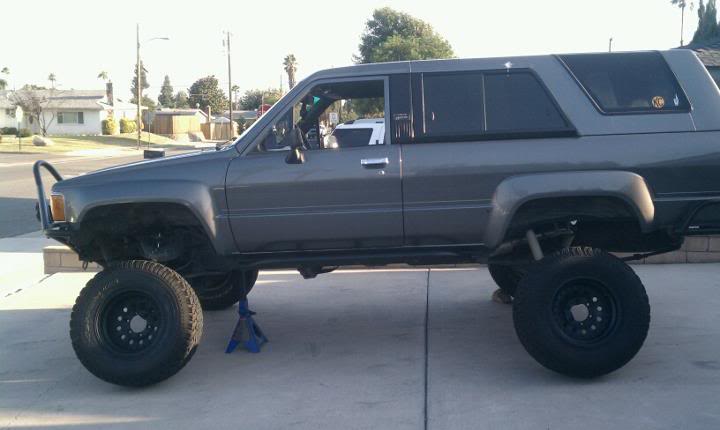 half way done.. done for the day.
9-8-2011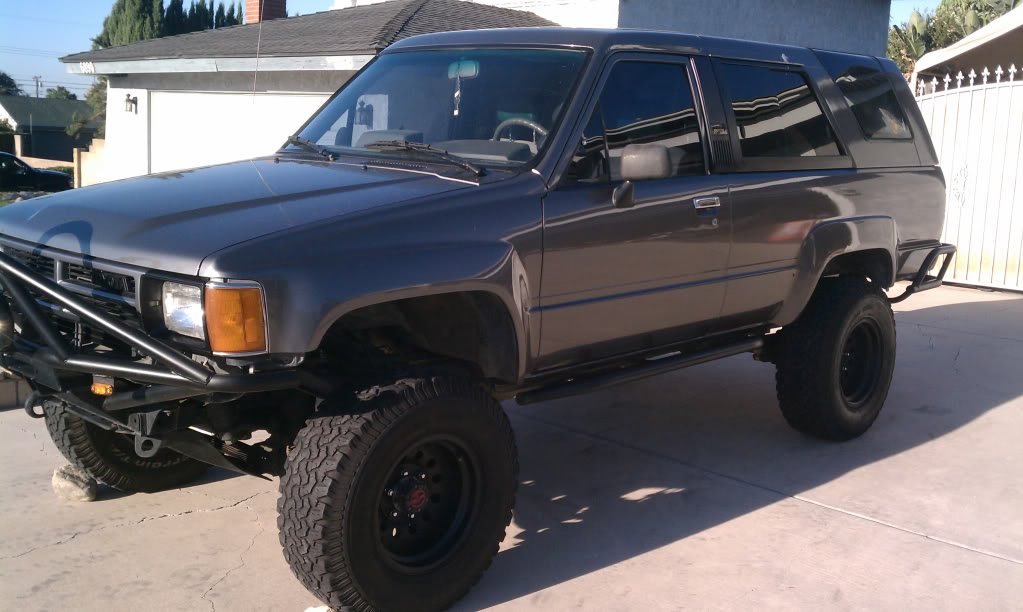 I'll paint the other two on Sunday... Very pleased with the results.
9-13-2011
woo o2 sensor came in!
boo! misfire is quite obvious. gonna break out the o-scope to see if any of my ignition system crapped. even though it is all new and factory.

It's about time to inspect fuel system..
figuring I'll be starting with grounds... looking for corrosion.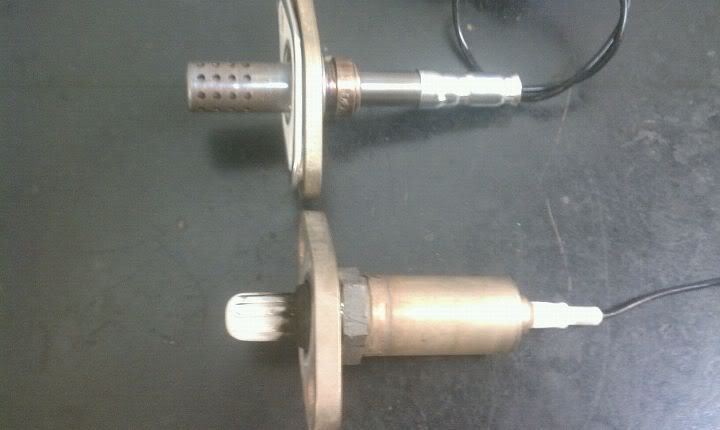 9-14-2011
lookie what I found in the back of an extra parts/tools storage at work. It's a 1987 model.. looks like it's never been used. 1987 truck... 1987 diag machine... with instructions.. Off at 5... shop closes sometime between 7-9... Gonna play Back to the Future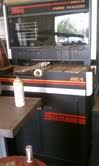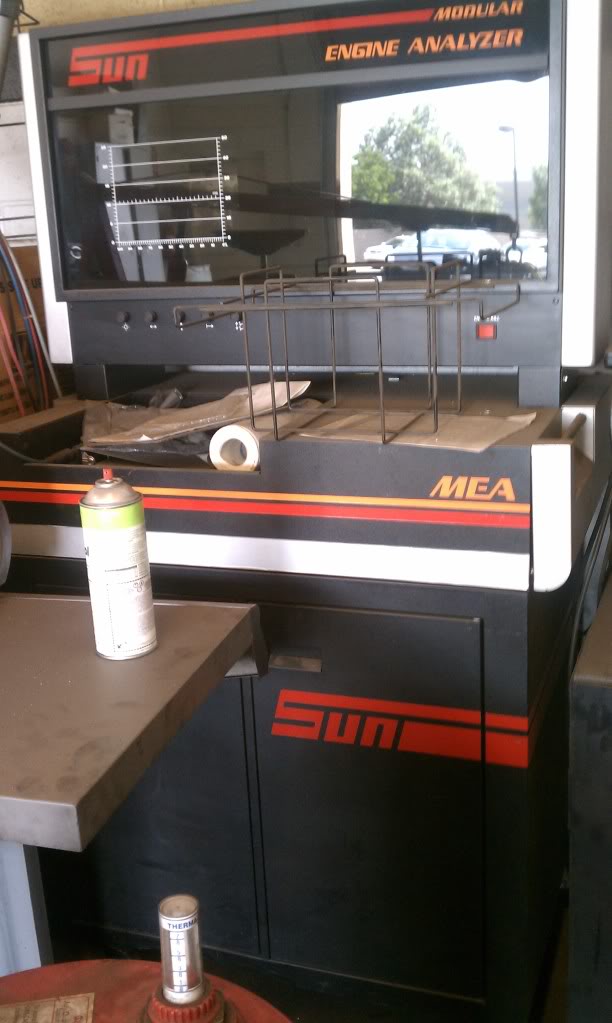 9-25-2011
so with some math.. I'm about $6,800 deep.. including initial purchase. Soo if anyone wants this truck.. the bids start at $15,000... :p I kid.. this thing isn't going anywhere but including all the new parts in came with.. it's probably got more like 8 invested in it.. the PO took a hit selling it to me.. ANYway.. I was just bored.. didn't have a good update.. and made a little autoupdating spread sheet thing... on the mac its called numbers.. lol. some prices are estimates.. based on prices right now since i didnt write them all down.. i figure they are within 10-20 bucks of what i paid.
this post will probably disappear if i do ever need to sell her :p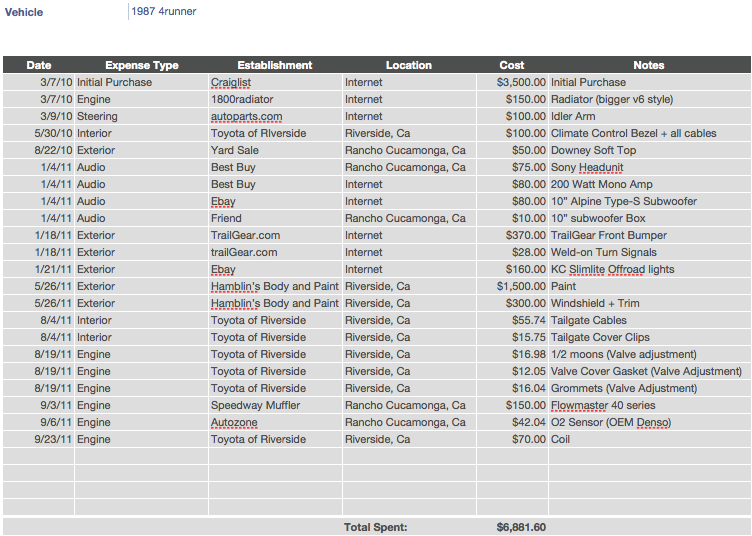 still updating stuff I initially forgot.. I think it's basically done though.
I feel like I've seen subs in the squares before.. where the jack goes.. sweet set up when you do it.. hopefully them facing eachother doesn't do somethin wacky like cancle the sound our. (wave and a trough)
As far as wheels.. I'm pretty sure mine are just old American racing aluminum.. old school things. Are those outlaws? Lol.
Regarding the cables... Actually I had my dad do them :p annnd finally the tires were bought back in 06 by the previous owner.. this was just his weekend warrior so he rebuilt the motor in like.. 02 and put 20,000 in it by 2010 when I showed up.
10-5-2011
bought chef's LCE intake last Saturday..
pretty awesome.

I found out my boot from the throttle body to the intake was leaking..
i bought a new one through toyota and the truck is running flawlessly.
the truck will chirp the tires in 2nd and 3rd! I've never done that before.
pics when its not raining.. but you know how it looks :p
10-6-2011
Actually I got the deal by being a Lexus technician.. I had my parts guy call up the toyota dealership and hook me up.. Can you believe its list price was like 70 bucks?? wow -_-

either way yea that solves my lean/hot looking spark plugs, weird o2 sensor marking and all.. Just not enough fuel.. I drove it to Disneyland, and it climbed up the 57 like it was nothing.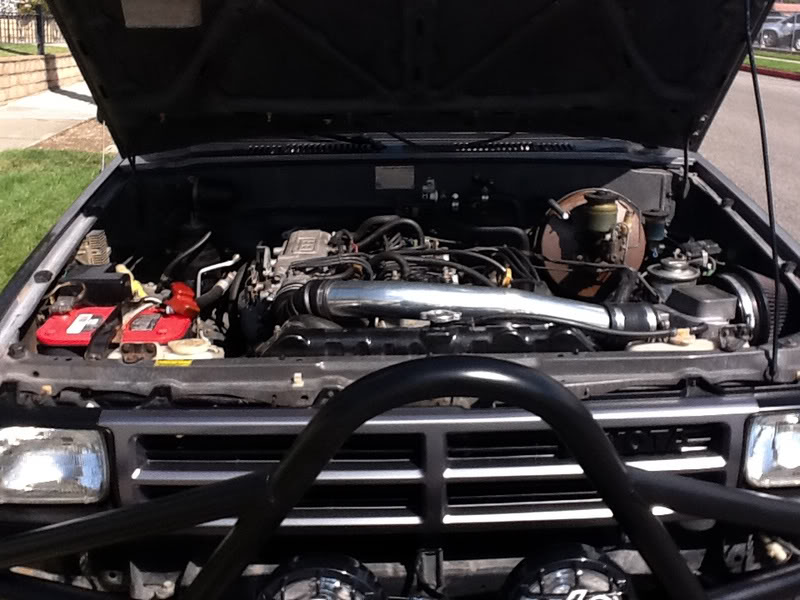 10-31-2011
installed LED's for my dome light and cargo light in the back, what an amazing difference! I can see! Just ordered white leds for my dash, a-piller gauges, and clinometer.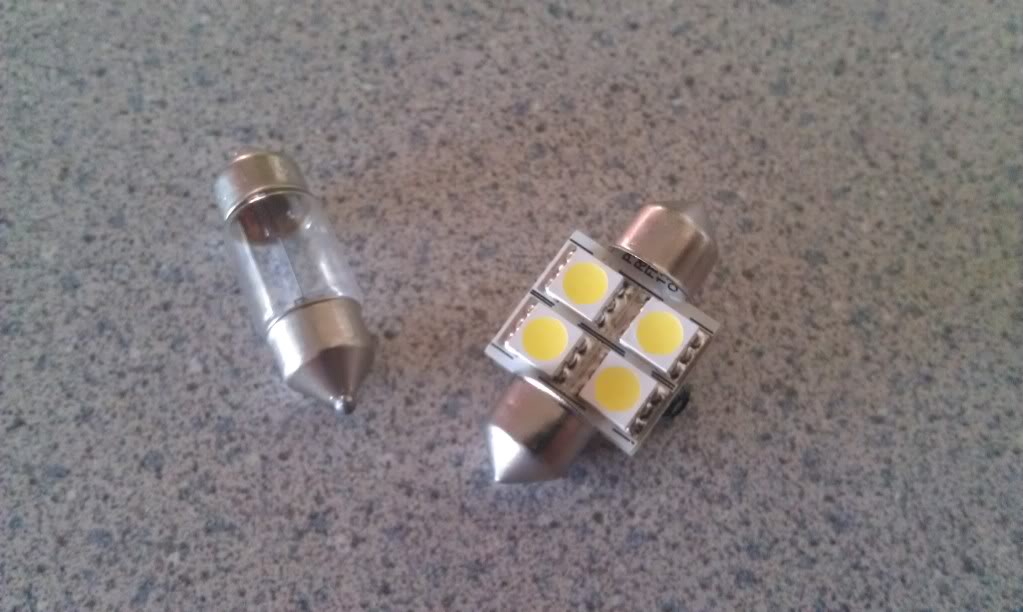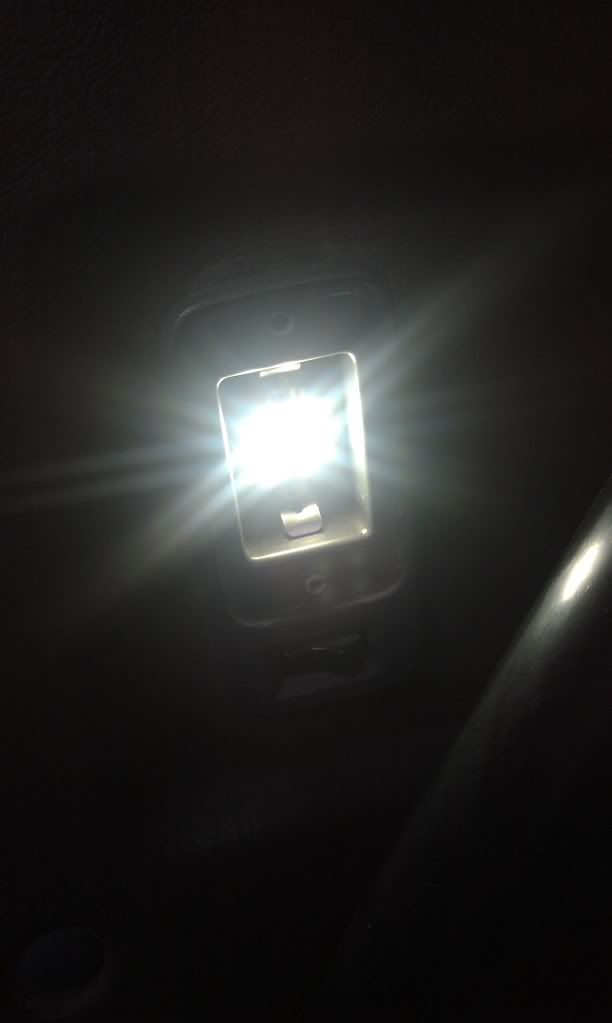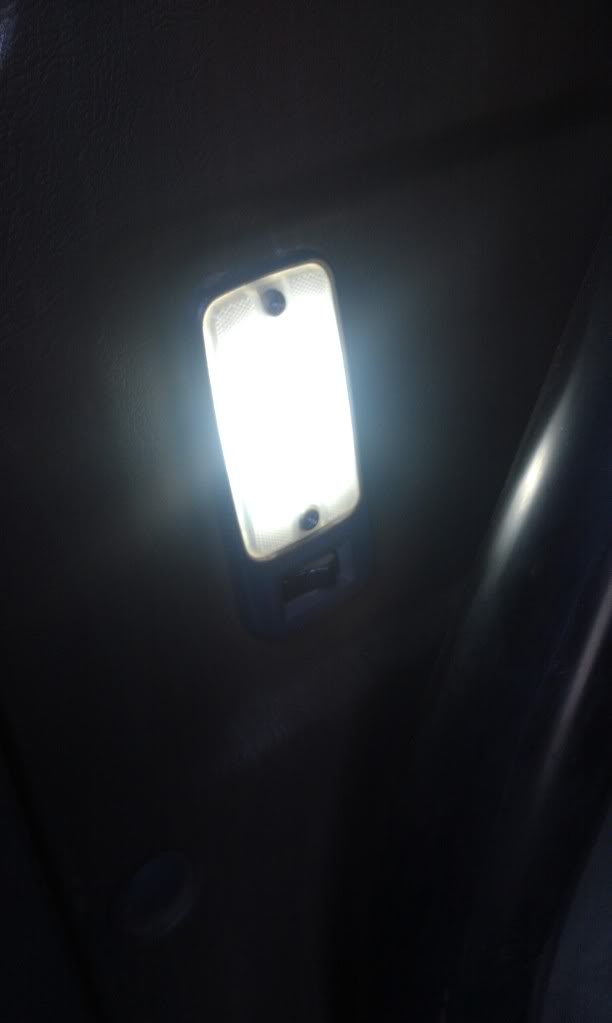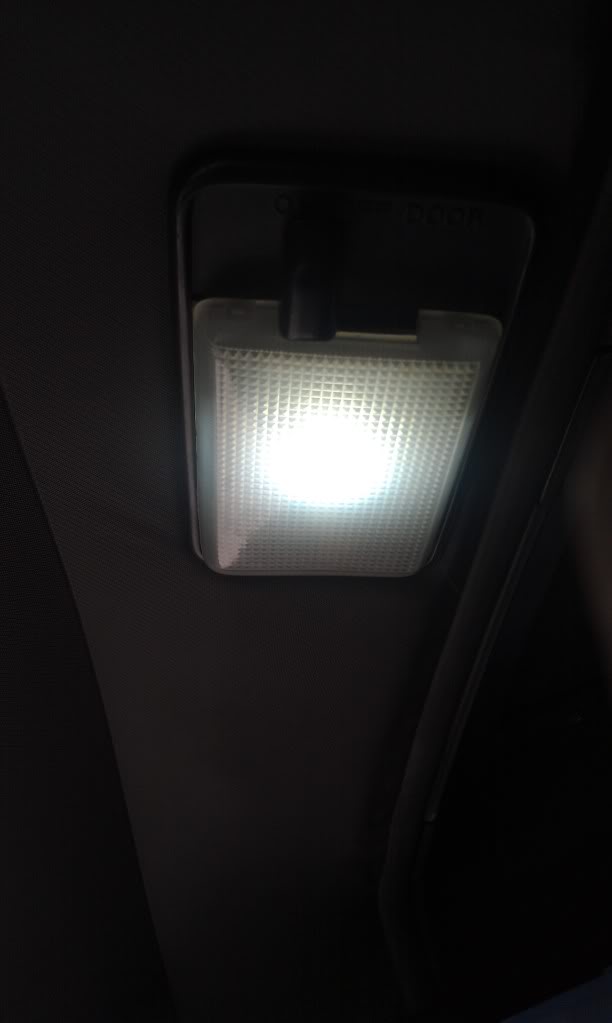 You have to trust me when i say, its brighter than my cellphone gives it credit for. I wouldn't suggest looking directly at them in person :p
http://www.superbrightleds.com/cgi-b...2Ffestoon.html

they are 3022-xHP4 in cool white
and my bad, 7 bucks each. still cheap for what you get, in my opinion.
11-1-2011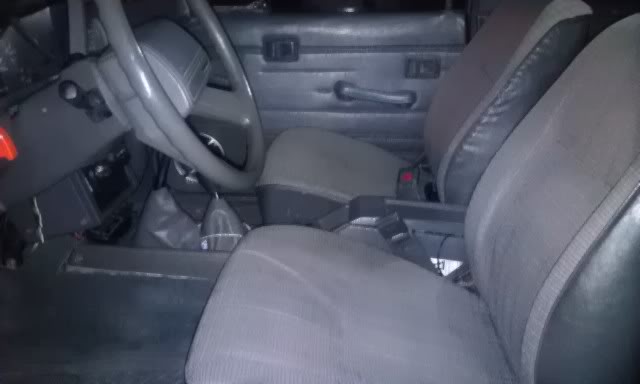 11-8-2011
It begins! Before and after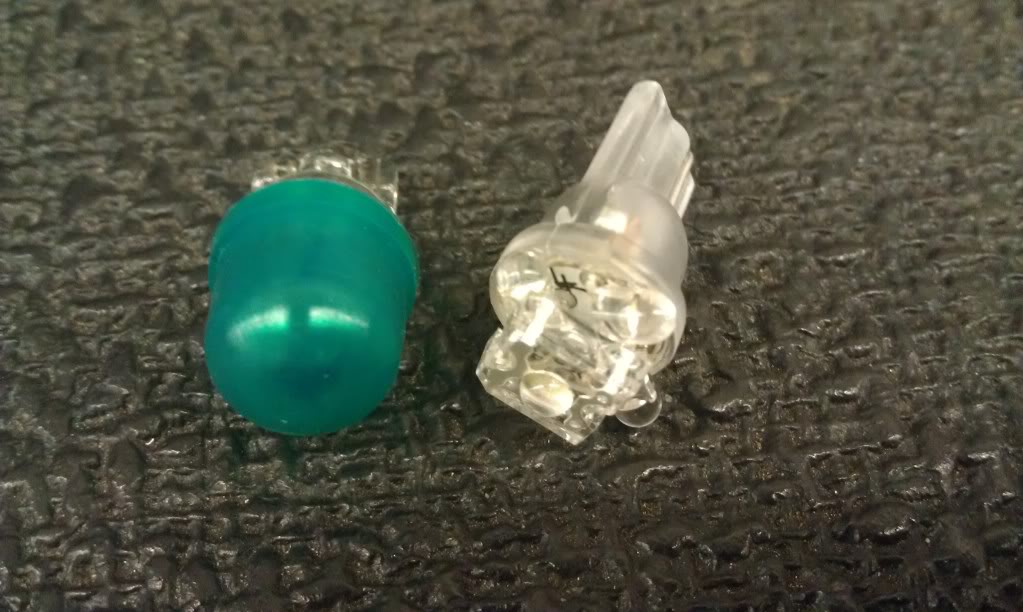 This one is my favorite, sorry I didn't take a pic of the bulb I used.It's 3 Leds one on top and one on each side.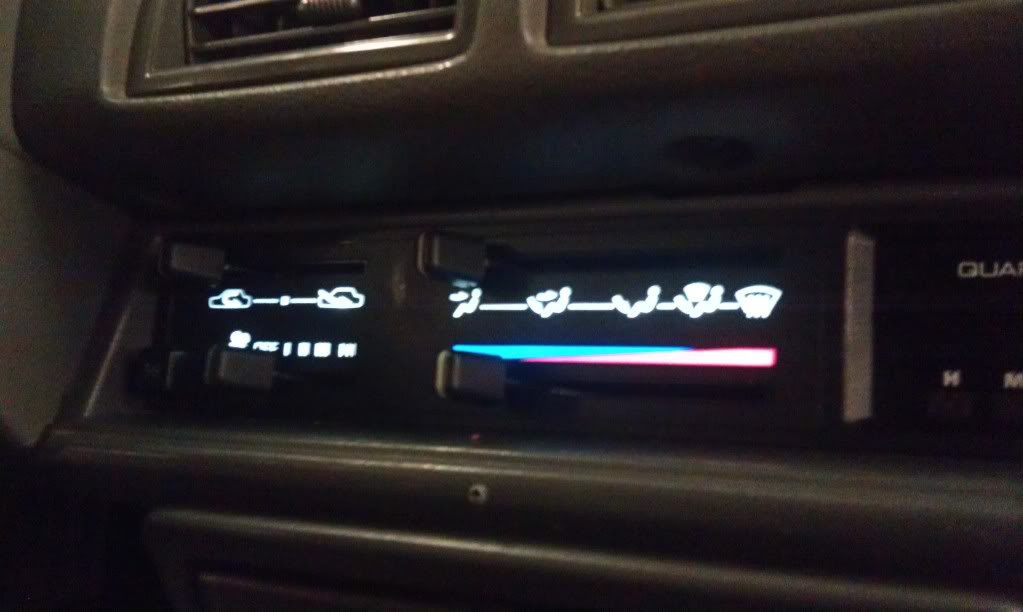 These are the same color as the rest of my gauges, my phone just picked up a little more blue than what you see in person.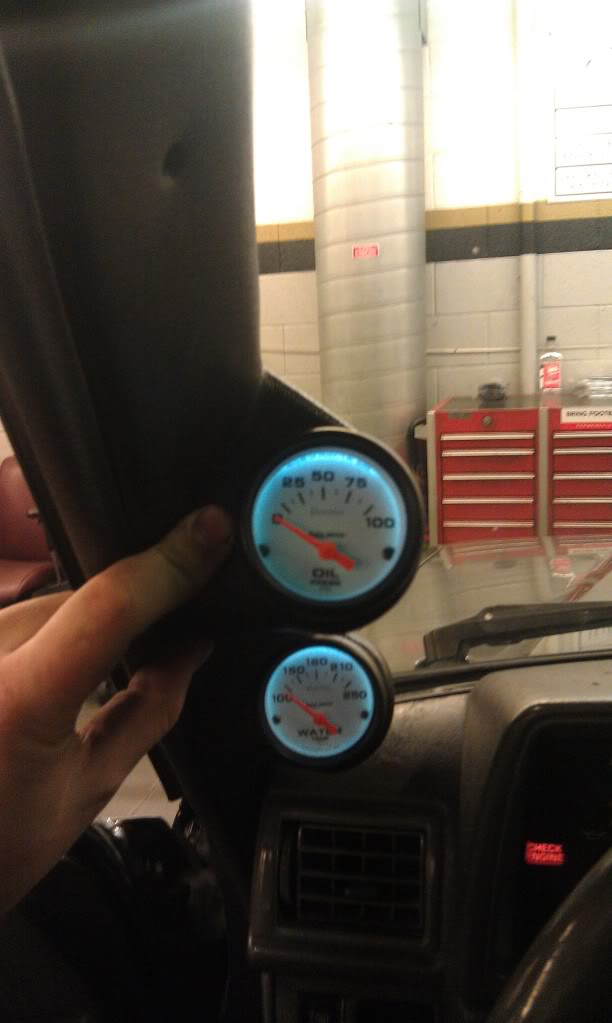 And finally, the whole cockpit.



All in all. If the bulbs last, I find the lights to be very clean looking and a worthy mod for someone looking to make a pretty drastic change very quick. Hit me up if you need my old bulbs. Or part numbers for the new ones.


11-9-2011
sure!
for my set up specifically, I used superbrightleds.com

for the 194s (1 in each pod on the A pillar, 3 behind my main cluster, and 2 behind the inclinometer) I used WLED-x5

http://www.superbrightleds.com/cgi-b...ini-wedge.html

for the climate control

I used 74-xHP3 on the same page. It was barely too wide, so i took a file to it and it fit right in.

and for the dome light and cargo light I used

3022-xHP4

http://www.superbrightleds.com/cgi-b...2Ffestoon.html
11-29-2011
no college. I'm happily employed in my career as an Lexus Technician

Just got some SR5 seats swapped into my truck for free. My uncle is selling is crawler ( for cheap) and said if i came over and put my seats in his, i could do it for free. What a difference!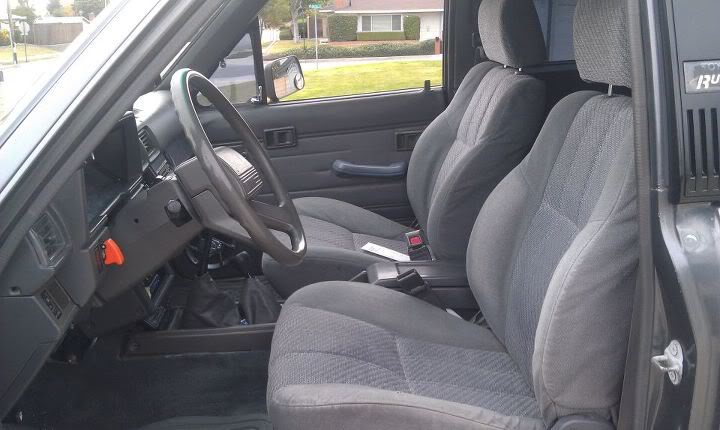 although I do wish he wasn't selling his truck.

http://inlandempire.craigslist.org/cto/2702108213.html

It was very capable.
12-17-2011
long time no update. the truck developed a new misfire, that at this point has it only running on 2,3, and 4. no 1st cylinder. replaced spark plug. tested spark plug wire resistance. verified spark. tested compressions.. 165 all 4. adjusted timing. adjusted valves.

nothing.

seems like the signs point to an injector failing..
12-25-2011
thanks!

woo got RoundEyes for Christmas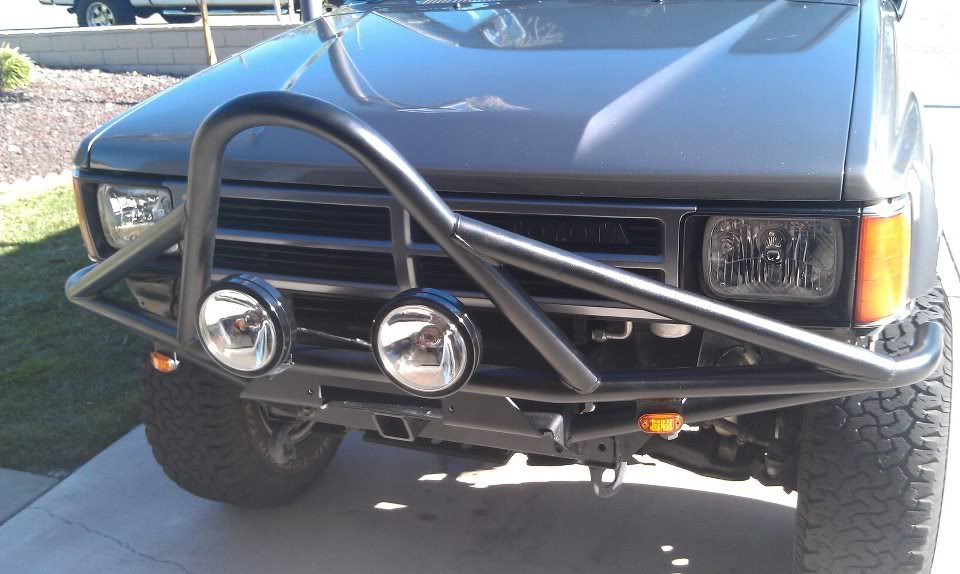 1-7-2012
ahha after i drove back to san diego my truck started spraying gas everywhere.. pinched an injector o-ring. -_- i had a feeling thats what it was going to be, so that was a relief.

all is happy again.
2-12-2012
here's the beginning of the trail report! my pics don't do anything justice, can't wait for the epic pics to be uploaded.

http://www.yotatech.com/f100/trail-r.../#post51869278
2-14-2012
thanks! next time you better come! :p

heres a good action shot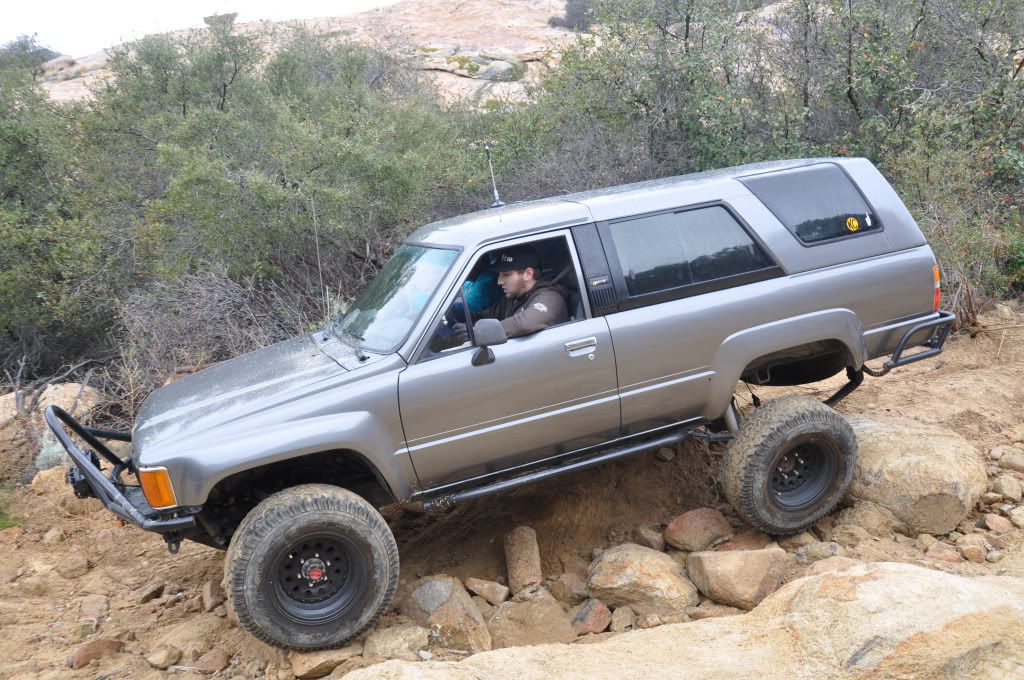 2-14-2012
2-15-2012
Minor damage from the weekend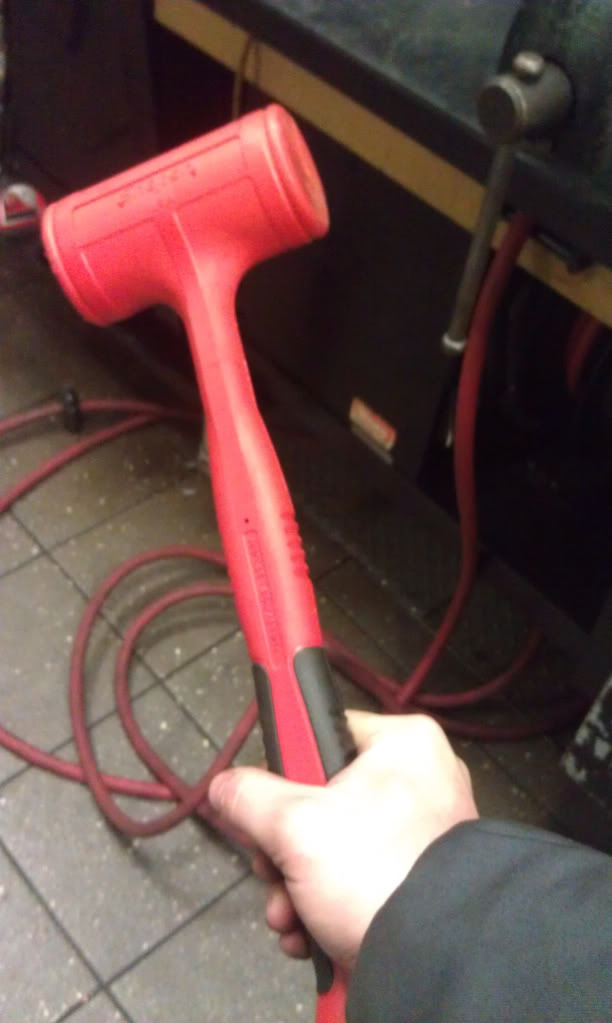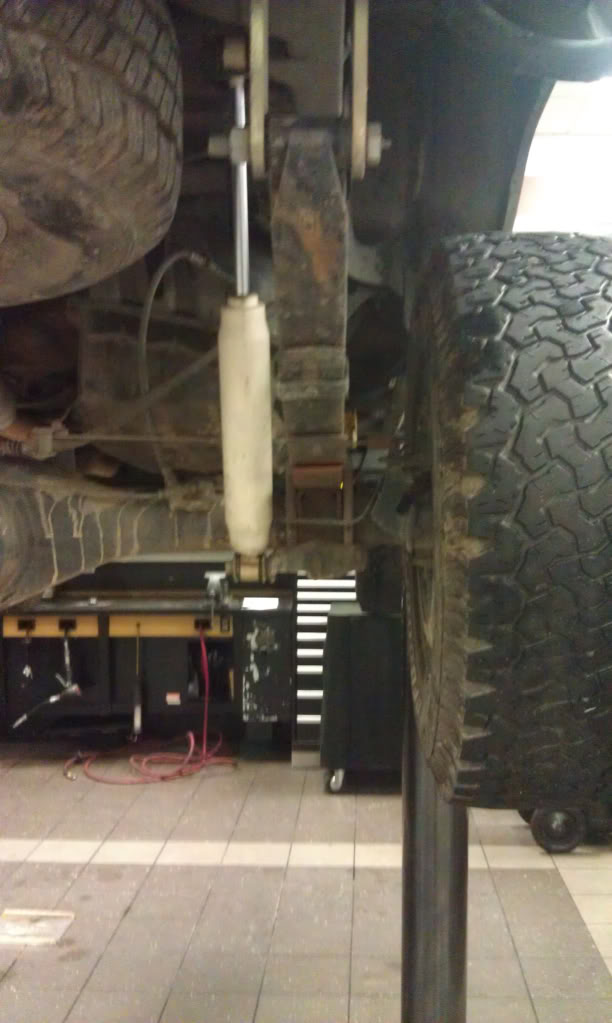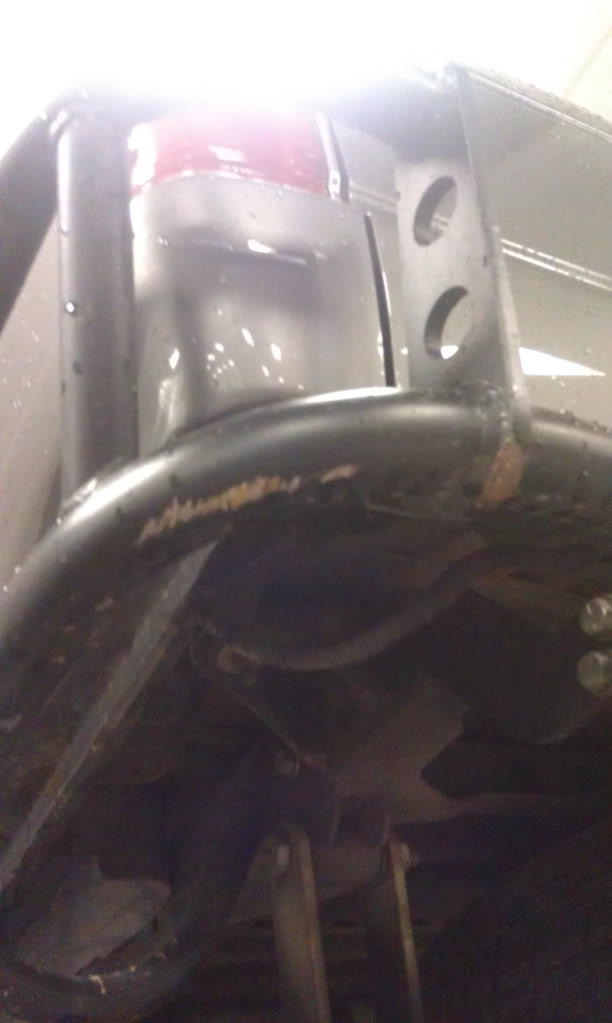 3-10-2012
I'm thinking its the front output shaft seal... fingers..crossed :p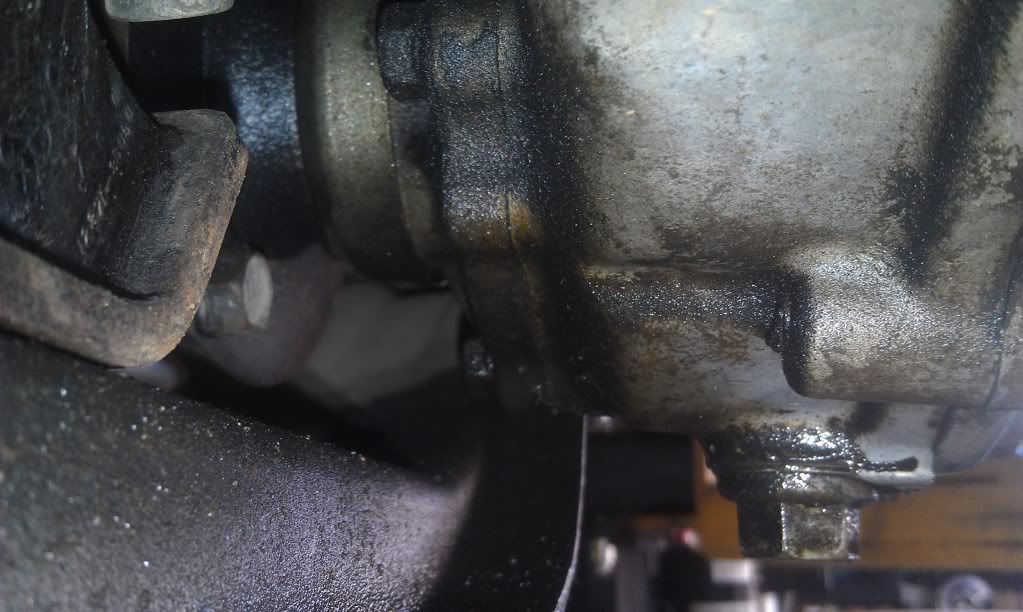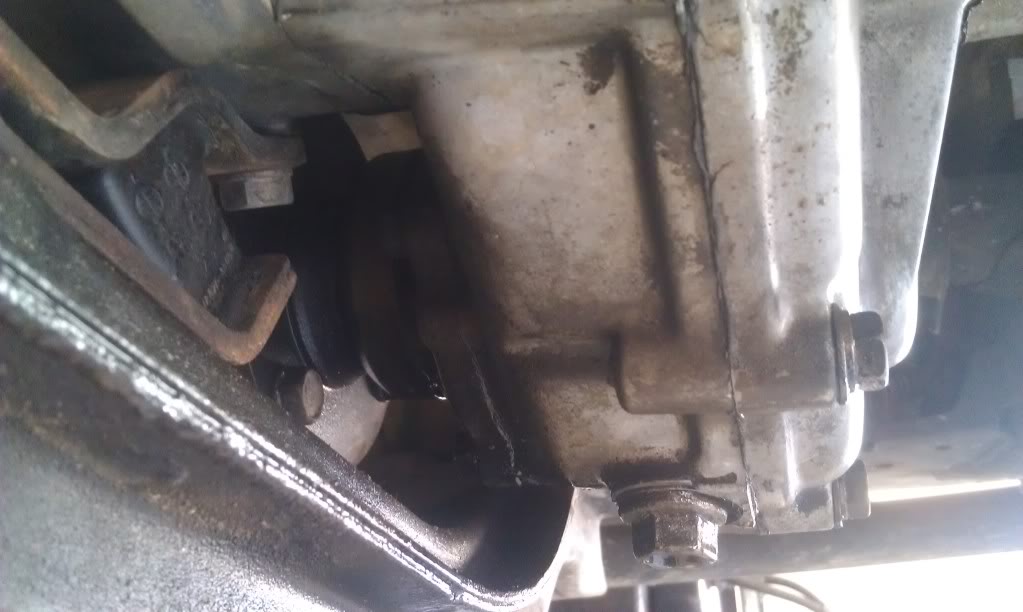 3-15-2012
well my seal came in for the front output shaft. Hopefully it's self explanatory, all I've got going into this is "It's easy" lol

wooo!!!
3-16-2012
Figuring stuff out**

To summarize it..

I supported the transmission with a block of wood on top of the jack, removed the cross member, unbolted the transfer case side of the front drive shaft ( mark which holes line up to avoid vibration) took an impact gun to the 30mm nut hidden by the drive shaft, pulled off the piece under that.. splined cover that bolts to the drive shaft. Then un bolt the last 4 bolts ( where the paper gasket is) and pull that cover off.. in there is a felt - like seal thing, and a hard plastic seal pop replacethose two and reverse it. Wish I had those instructions to start with though :p
yea neither did I! :p I ended up staying late breaking loose the diff drain plug, and trans drain plug. I'm lucky the previous owner didn't strip em out they were so tight.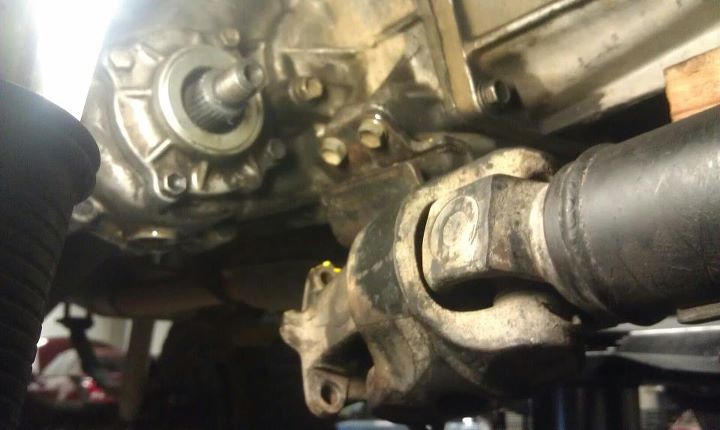 so there is one piece that is not in the picture. It slides over the splines of the transfer case, and bolts to the drive shaft. once you slide that off, then you can access the 4 bolts seen on the transfer case. in that cover is the gasket and carpet like o-ring thing. That is also the separation that I didn't realize I would need to take a part, so I didn't have a gasket for it. The metal around the splines is NOT removable. haha I tried trust me. It's a retainer and the seals go in from the inside. Hopefully someone who was as lost as I was comes across my jumped assortment of tips. Oh, and its been almost 24 hours and no leaks!
and now I have technical terms!
here's where I was working.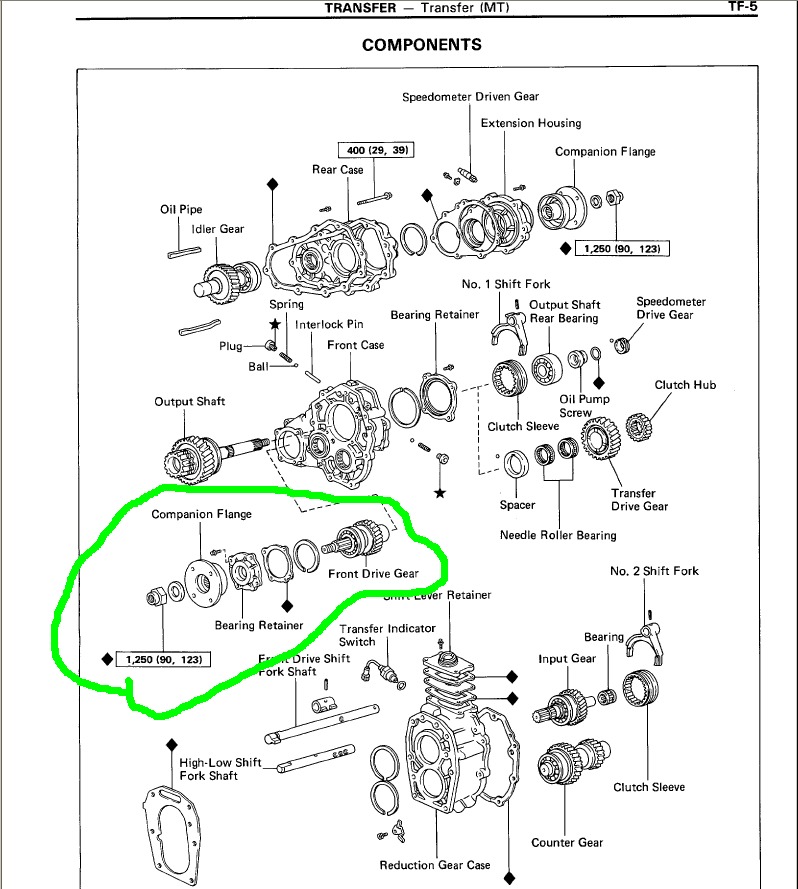 the seals are hidden just inside the bearing retainer. So everything from that to the nut with 1250 (90, 123) underneath need to come out.
3-17-2012
blew good ol alpine :'(
given kicker comp a shot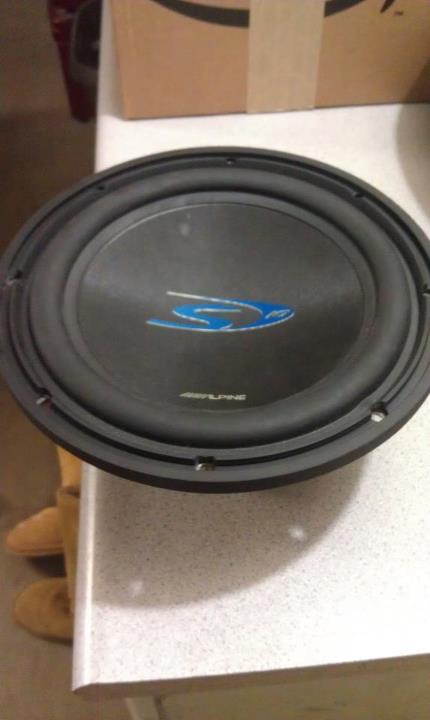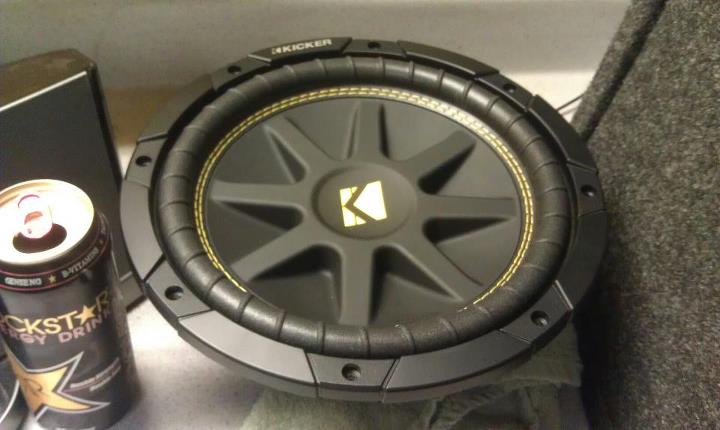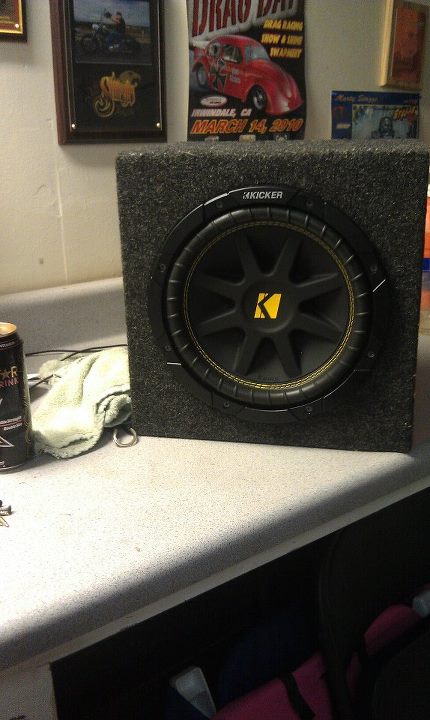 3-25-2012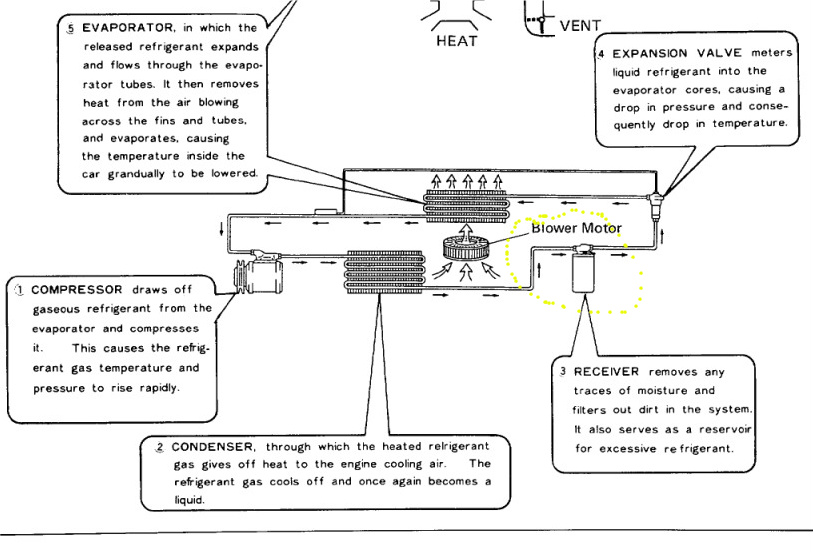 4-11-2012
my biggest issue with my truck



4-26-2012
So.. this morning at about 6:30.. I backed into my neighbors car :'( i was going <5mph
but if you looked at his car you'd think i slammed into in 3rd gear..
His damage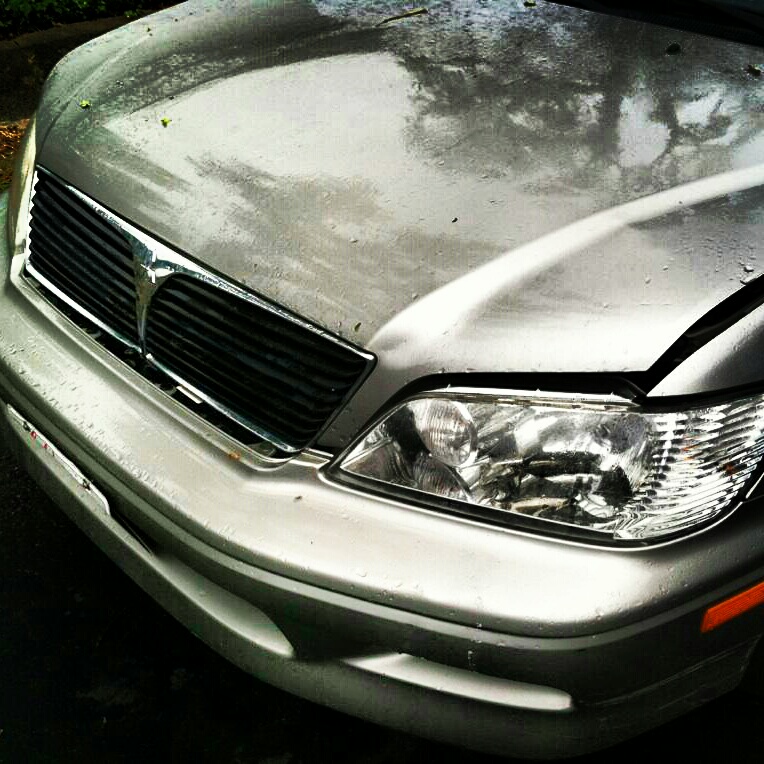 mine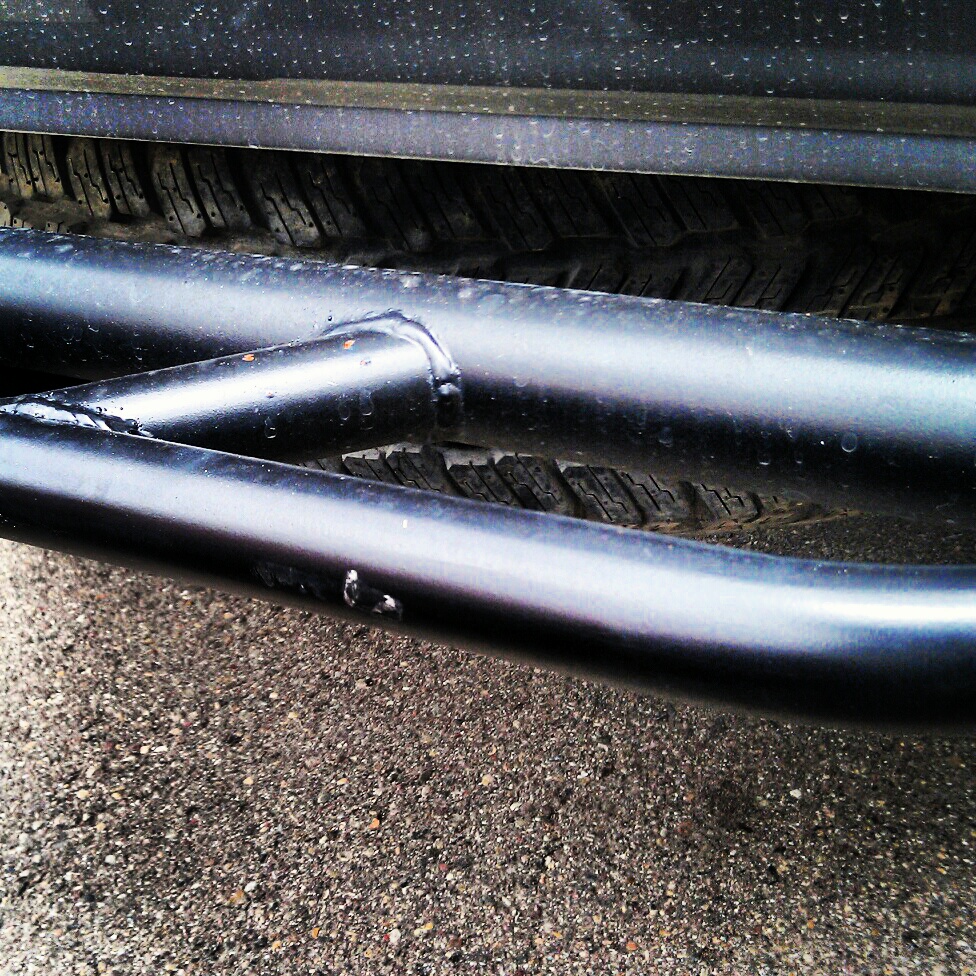 my dad went and talked to the owner while i was driving to work..
I'm just waiting for him to show up so i can apologize and do whatever it is i have to do.
It just stinks... trying to save money.. having none.. and wasting it on avoidable crap like this.
ok so I talked to the guy.. super cool dude.
basically he flattened the hood and pulled the grill out himself.
He said if I can get find the latch that opens the hood, That'll be the end of it.
unfortunately.. I can't find it. Gonna have my dad give me a hand when he gets off work.
so i went out to go find the latch.. I knocked on his door, and he came out and said "i fixed it bro! no harm done."
So i asked what i could do.
"nothing! just be a good neighbor."

I'm bringing him some microbrews from San Diego to welcome him to the neighborhood.. haha.
5-1-2012
hahaha yup!

yesterday I was driving home from work and i see this white thing fly out a guys window, hit the ground, and start spinning.. with a giant white cloud around it. i swerve to miss it and my right tires hit... a puddle of it. WHITE. SPRAYPAINT. :'( so i speant 3 hours getting it all off... then washing... then waxing. haha what luck!

on a positive note.. a guy I know wants to sell me 5 32" BFG mud terrains for 300 bucks! barely used... the tread depth of the 4 used tires are the same as the spare which has never touched pavement. the only bummer is theyre off a Jeep JK... with 17's. but I can snag a deal on some cheap wheels and still get a better deal than that lovely 900-1000 dollar price tag for tires.. haha. stay tuned!
5-8-2012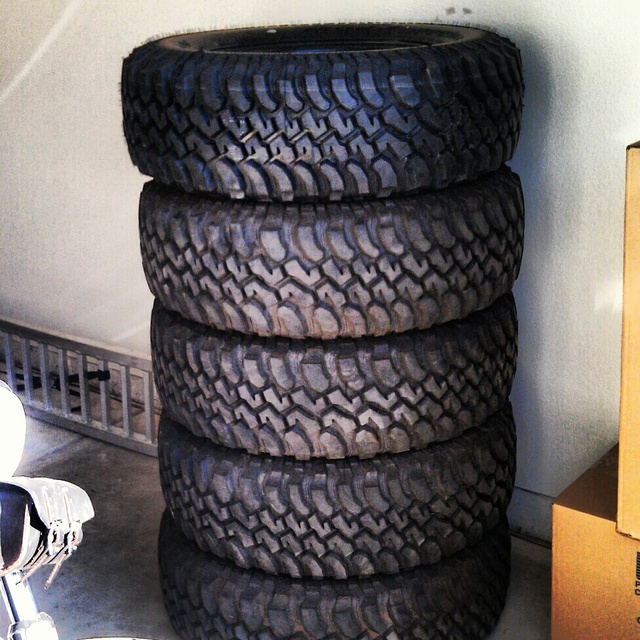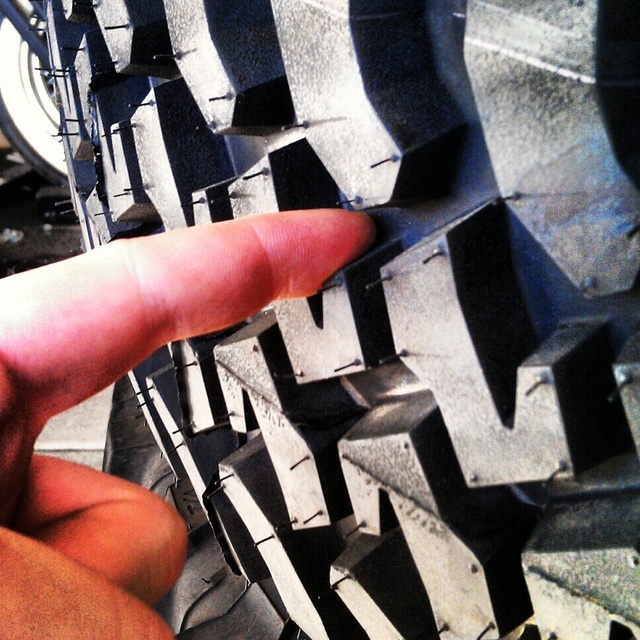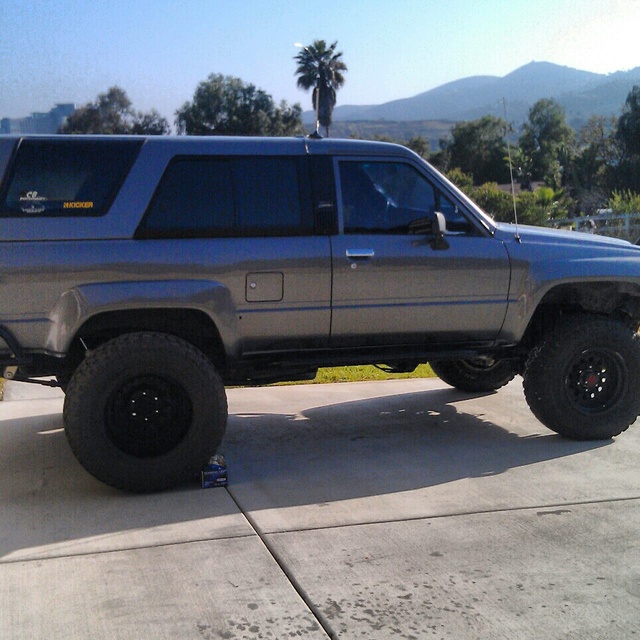 Next paycheck ill be getting wheels and mounting them up
Mfg mudterrain KM 275/70/17 iirc
5-9-2012
you guys aren't going to like my rim choice :x

procomp 7089's

heres an example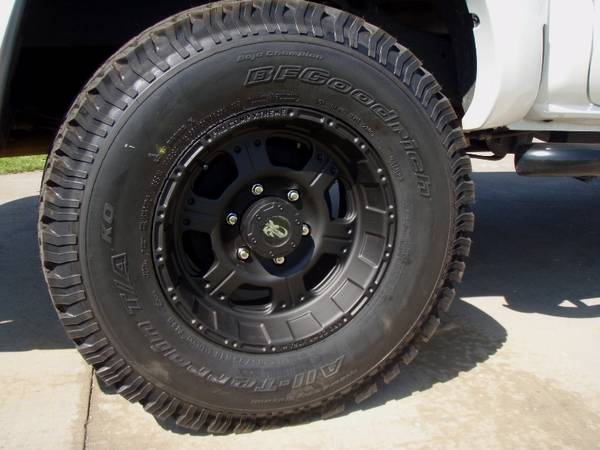 5-10-2012
'm almost positive he has raceline renegades. virtually the only difference i see is a gap in the spokes where mine will be solid. I'm going to have to ask my sales guy to measure the center hole for the hub.
pro-comp 7089 (the ones i want)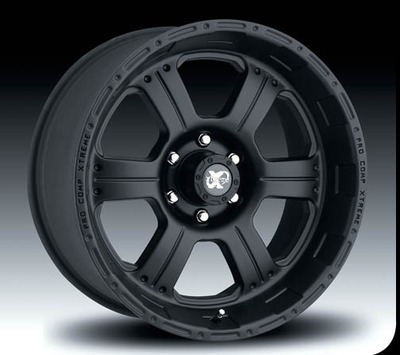 raceline renegade 6 (the ones I think maltese has)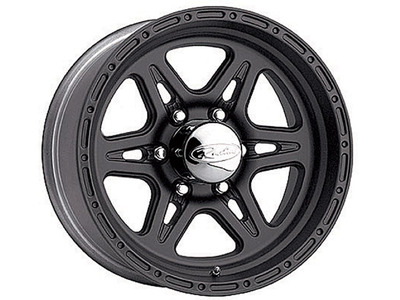 5-22-2012
So I ordered my wheels yesterday..
And my truck repayed me by destroying a 9 month old windshield.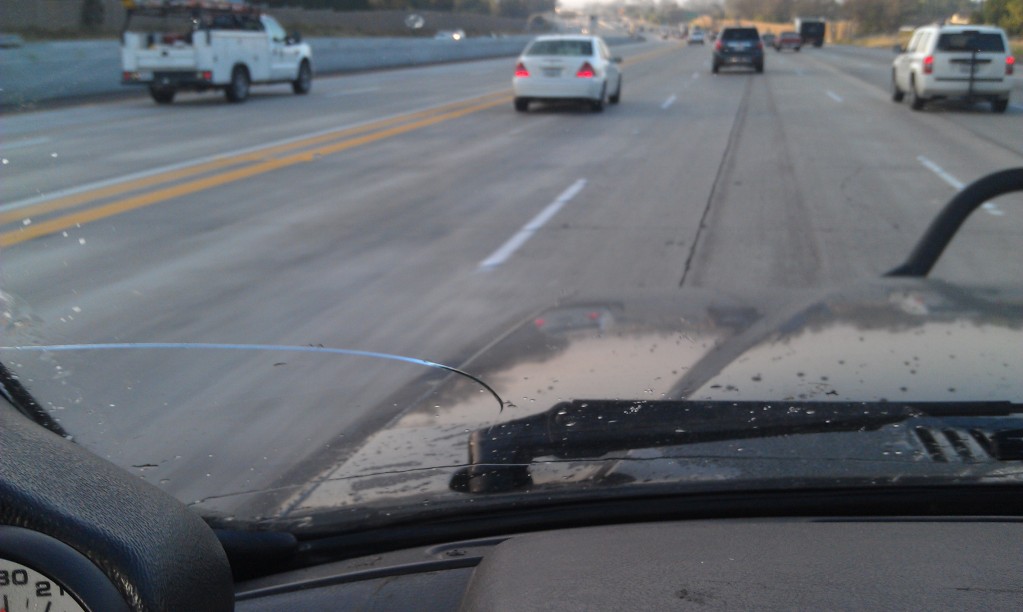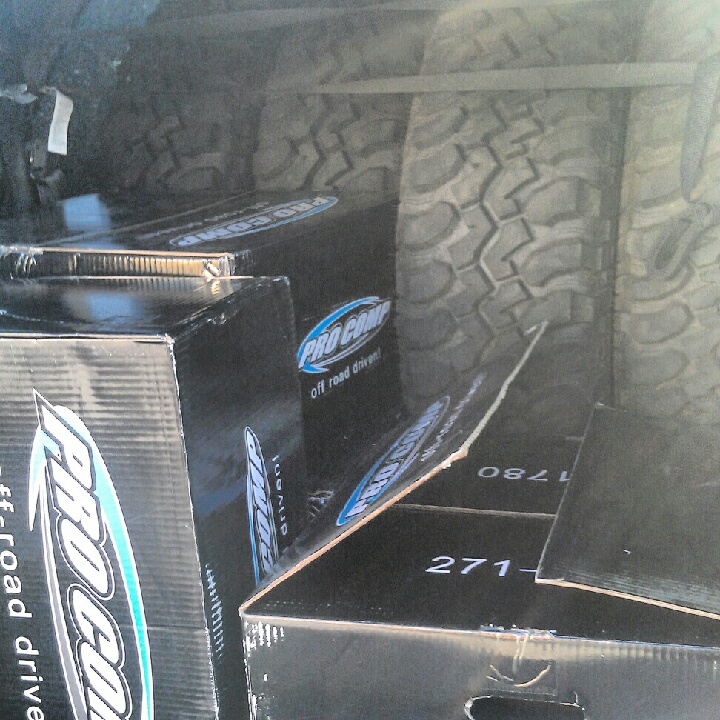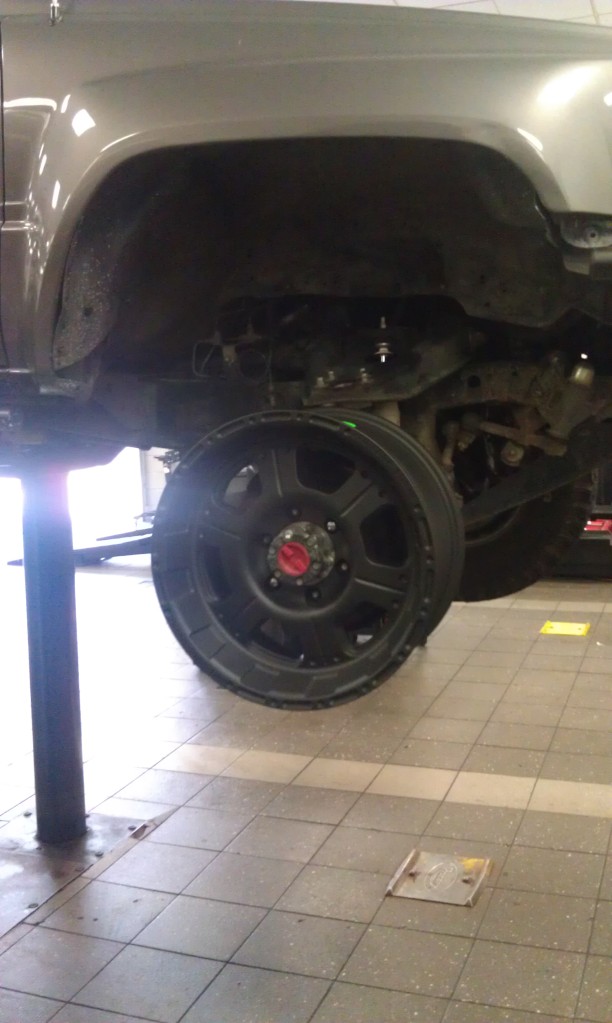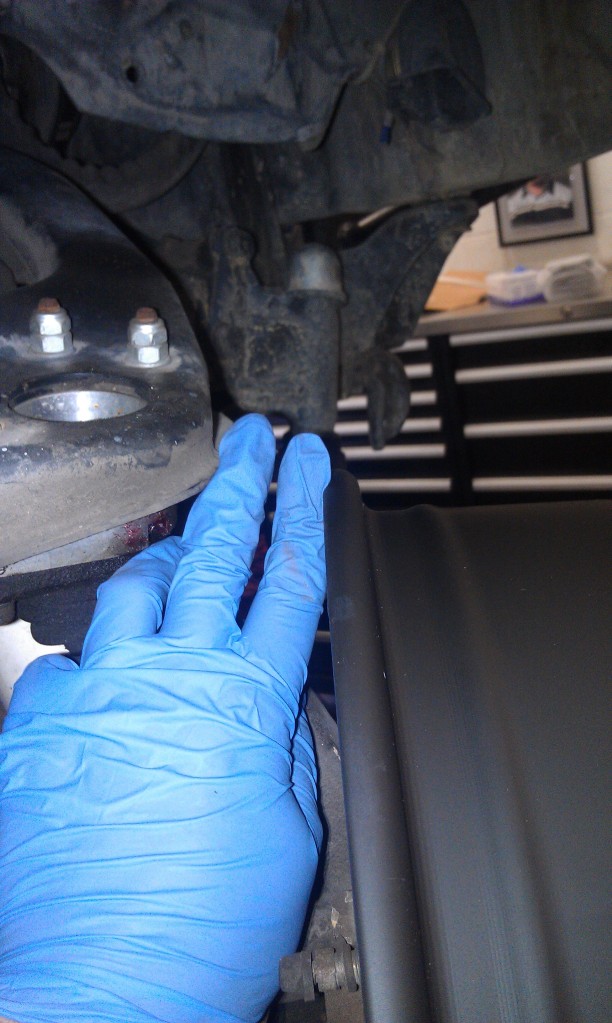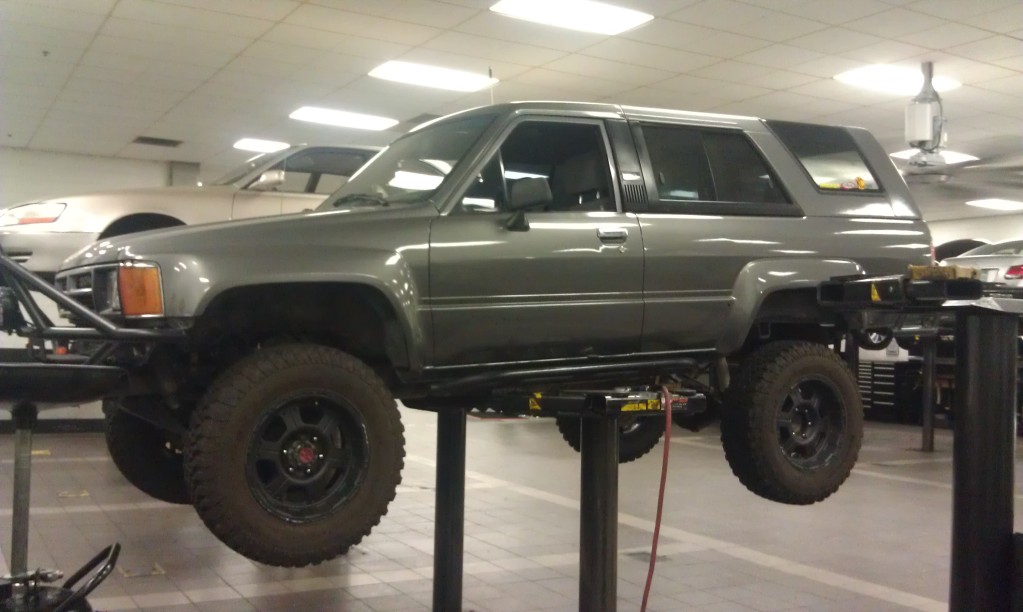 I'll post some non cellphone pics tomorrow. I really dig the look.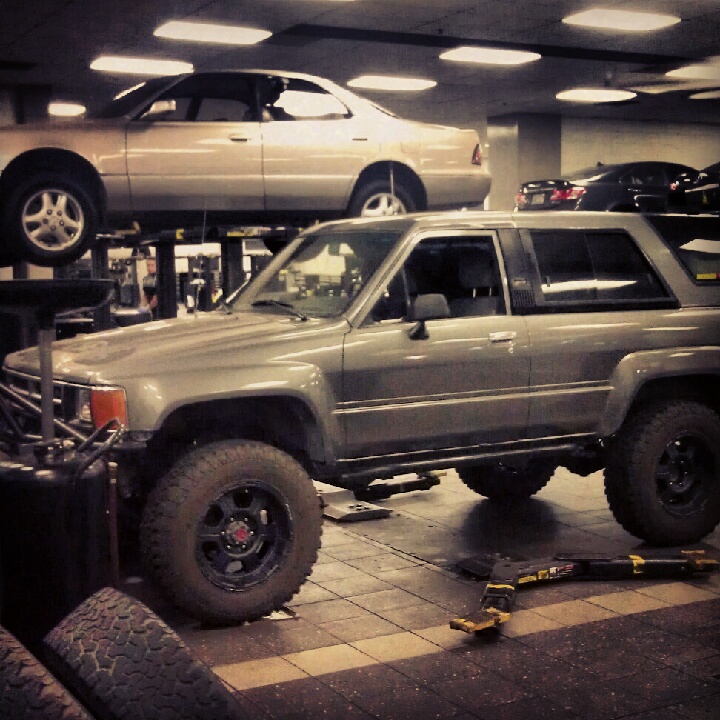 And this is why she pulled to the right.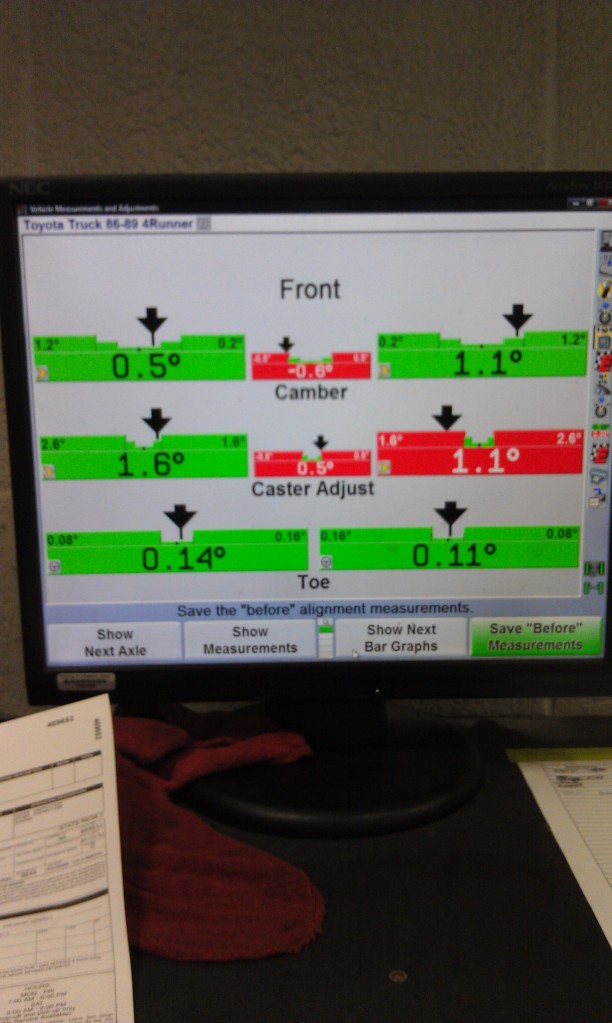 5-23-2012
heres some daytime shots.. yea my driveway makes my truck flex :p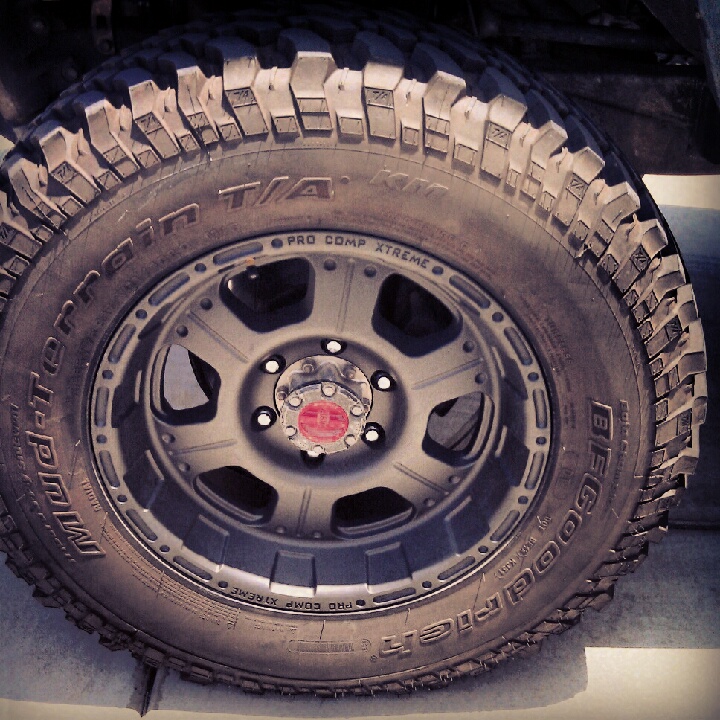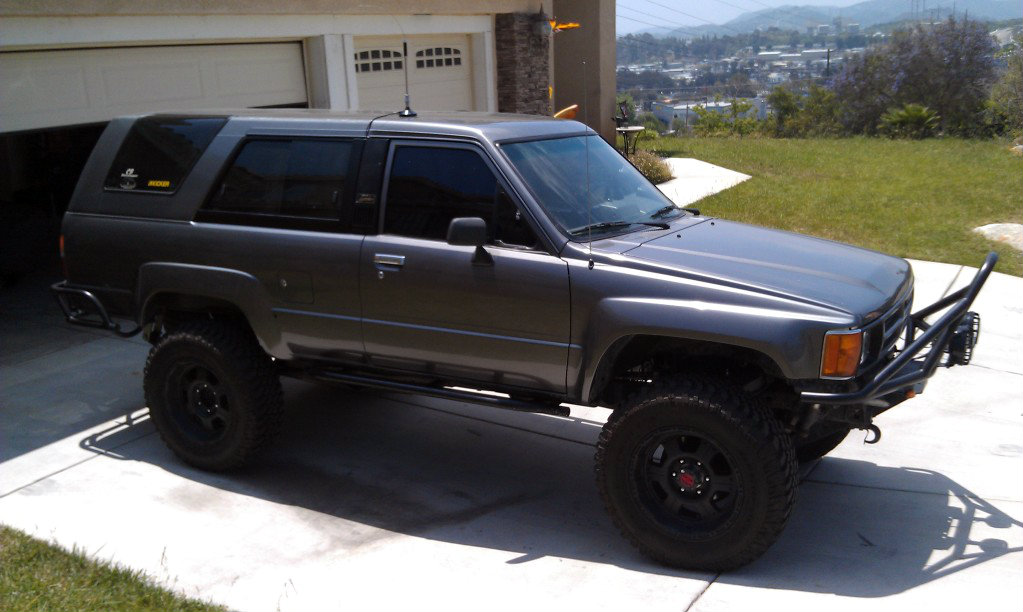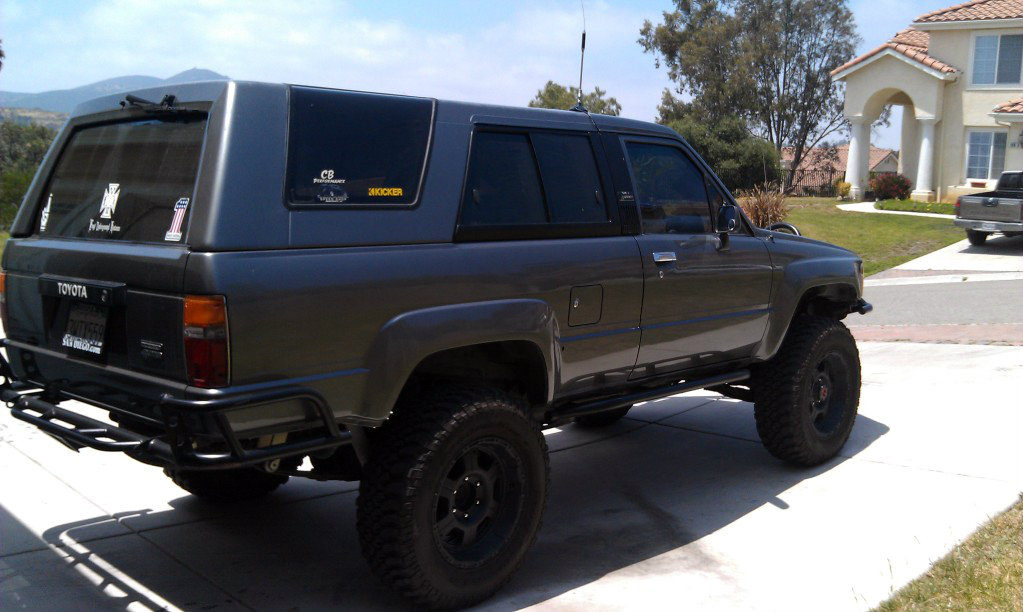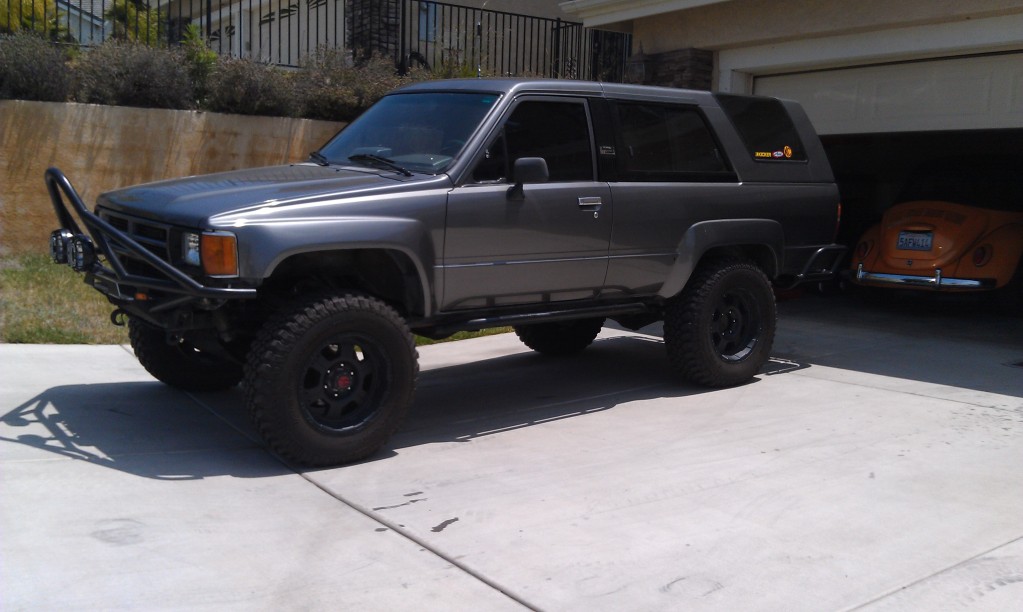 and you can see my baby hiding behind the truck too :p
5-28-2012
much appreciation! I'm just finishing moving the whole family down.. Can't wait to get back to fixing my truck she's still a little leaky.. but I really dont wanna drop the pan. haha. brake spray and rags and its like theres no leak at all! :p Oh don't know if I mentioned it.. but my 9 month old windshield cracked on my way to pick up the wheels... she hates it when i spoil her :p
6-8-2012
It's to-do list time guys! (will update... slowly)

*windshield
*power steering pump leak
*rear main seal leak (possibly)
*oil pan gasket leak (possibly)
*SAS
*double din headunit with bluetooth audio/gps
*either handle the rattles of the plastic in the back, or replace the plastic.
6-24-2012
so I've been degreasing and rinsing trying to find the exact source of these leaks... and unfortunately.. all i can see after 2 days of driving is drips on the flat spot of the transmission/bell housing. I've been looking for any reason to prove its not the Rear Main Seal.. but I'm pretty sure it is. dang.
7-8-2012
Knocked out my bad water pump. Aftermarket and lots of play.... Just how I love em.
7-12-2012
product report... suprebrightleds.com I bought bulbs 11/08/11

i have one gauge on my A-pillar flickering. sadface.
ahha i have no idea, but i really like the increased brightness. what a weird coincidence that you bright up LEDs, right when one of mine fails. but yea, I think the bulb i used works great for the domelight.. but they do not dim. It sounds like that diy panel will have a bigger output... but really it comes down to what you feel like doing. at night, i never have an issue finding something due to poor lighting. hope my vague non-direct answer helps :p
7-18-2012
green LED's came in today. Let's see this factory2.0 gauge set up :p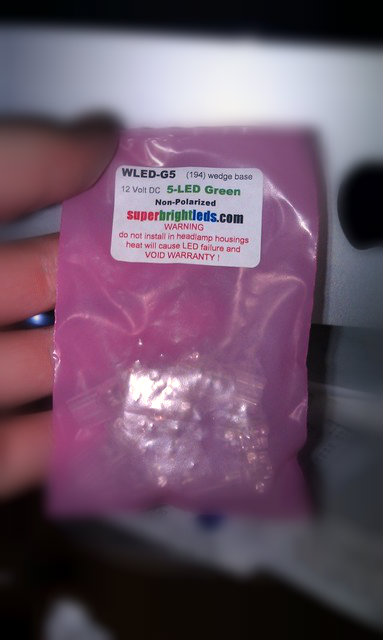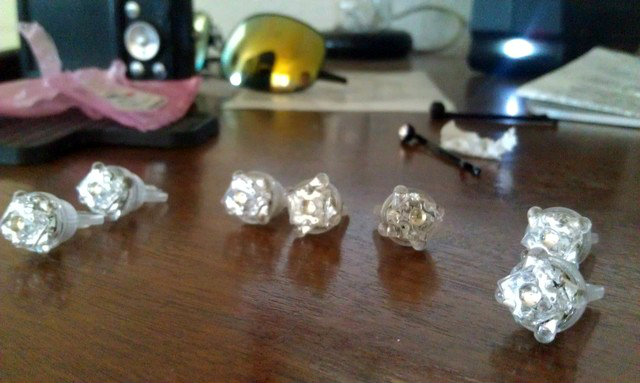 ok so i got interupted with an 11 minute phone call... but the whole ordeal should take 30-45 minutes.. I got held up with so accesory switches... but stockers should do it in no time.

my speedo cluster intself took 3 bulbs. all down the middle in a line. i used old white LEDs for my left, right blinker lights and bright. 2 for my clino. and 2 for my pods.
I'm happy with most of there stuff... I understand quality control might not be the best so ill give them the benefit of the doubt. Even so i love the difference enough to where a little dash manuevering is no big deal. These do not dim, but I have ordered dimables for my moms dome light.. on accident. Lol.

On to the pics.

Obviously my cellphone doesn't do it justice. The pods aren't way brighter than the cluster. Very pleased with the results. Maybe the climate control needs to be green too? Not sure what I want.. lol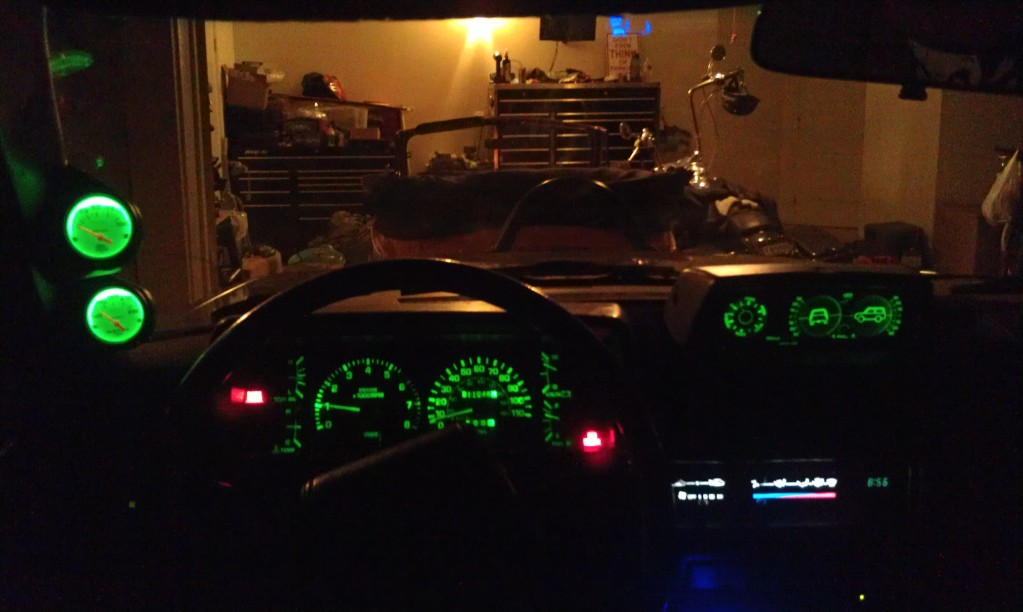 7-30-2012
We've got transmission noises!
My truck found out I was trying to save up for some SAS goodness and decided to throw
a wrench in my plans :/ Sounds like a countershaft bearing issue to me.

In 1-3 and 5th (everything but 4th) I hear a constant whine type noise. It reminds me of what straight cut gears/a super charger would sound like if the volume was set to 1 :p This whine is only audible
while the vehicle is "under load" clutch pressed in, giving any percentage of throttle. No noise with my foot off the gas. I imagine a bearing is going out? just based on everything other than my direct drive causing noise. counter shaft bearing?

both fluid levels of the transmission/transfer case are fine,
and I perform changes at the FSM suggested intervals.
well it was rebuilt and stamped by marlin crawler at some point before I bought it, so i contacted them with the whole background story.. see what they suggest. I know I can rebuild it, and have access to all the Toyota pullers... It's just a matter of how long i can go like this, how long my truck will be down, most cost effective action. This thing drives me 50 miles a day 5days a week so I need it back in action. for now im going to keep using it, if its the bearing, I imagine all it will do is get noiser... not much else can get damaged... I hope.
7-31-2012
That would make me just slightly passive aggressive :p

It's true though, luckily I have tools and knowledge at my disposal.
I just need some time and experience to really make it a fun ordeal

heres a vid to help show the sound... 5th gear you can hear it the best. but if you really listen you here the whine quietly behind the exhaust noise 1,2 and 3rd gear.



9-3-2012
picking up a trans jack today!

just cleaned the LCE K&N intake today.. interested to see how my mpg will be. Before I cleaned it driving 65mph all highway i managed 21mpg...

I still need to contact Marlin Crawler and find out how interested they are in helping me with my HD trans they built... I don't have a puller so it seems like ill be whipping out my wallet to tear it apart.
9-15-2012
still saving away for the transmission rebuild by the way.
also on my saving list:

Blazeland w/ bilstiens
budbuilt under armor
9-22-2012


Let the festivities begin.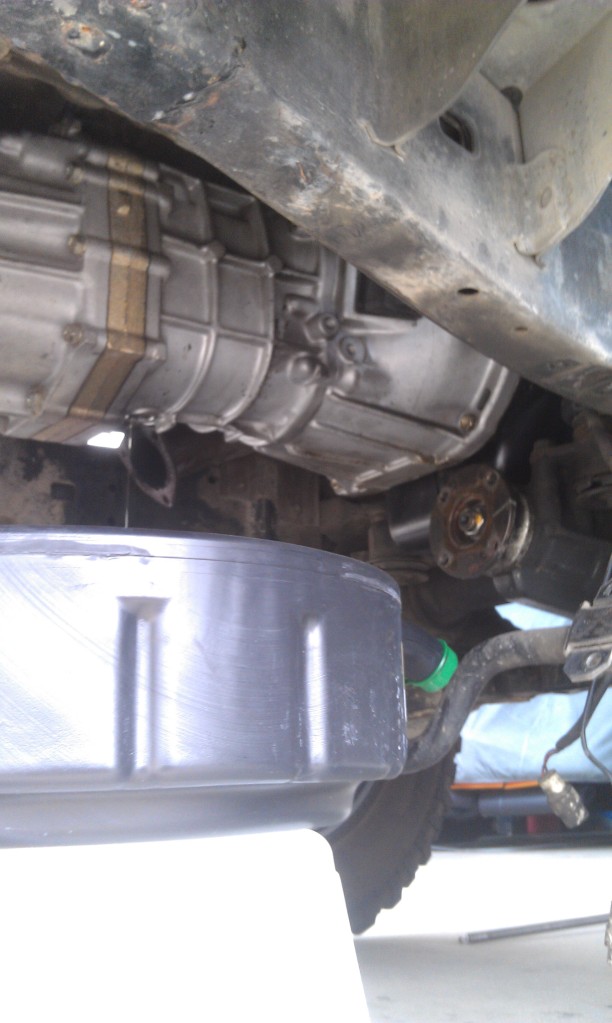 I've got the exhaust and drive shafts out of the way.. clutch slave disconnected. Disconnected starter, and draining the fluids, next up... Cross member!

Painless so far.
Haha ya that was a fun couple of days.

Well got the trans out a few hours ago.. fun stuff.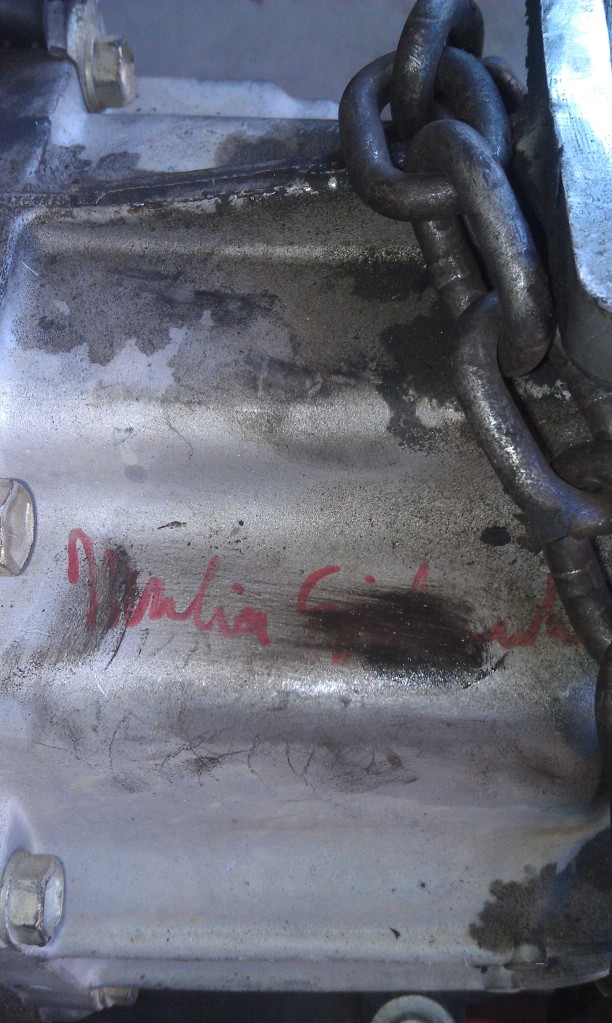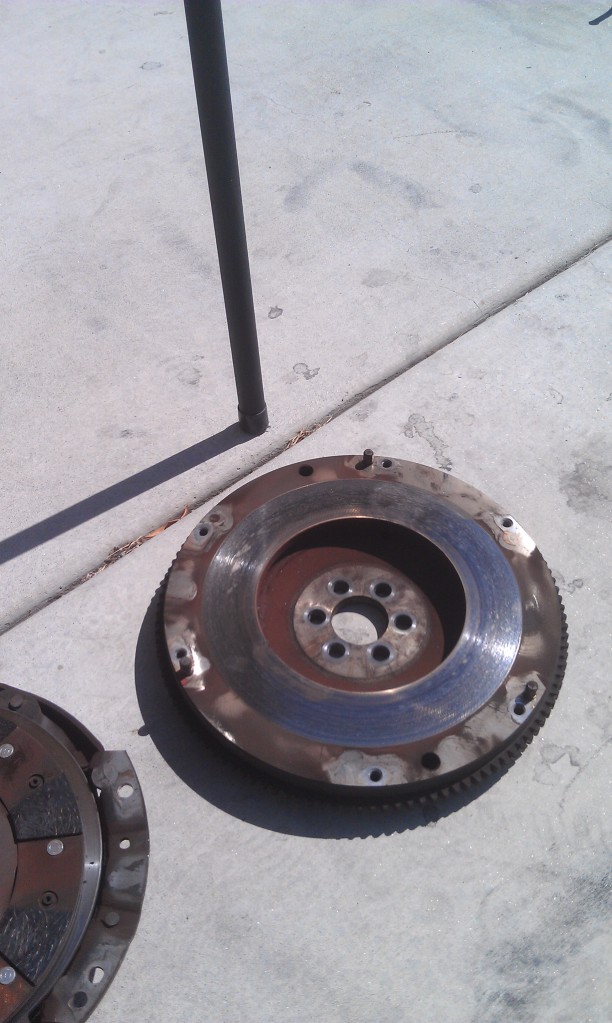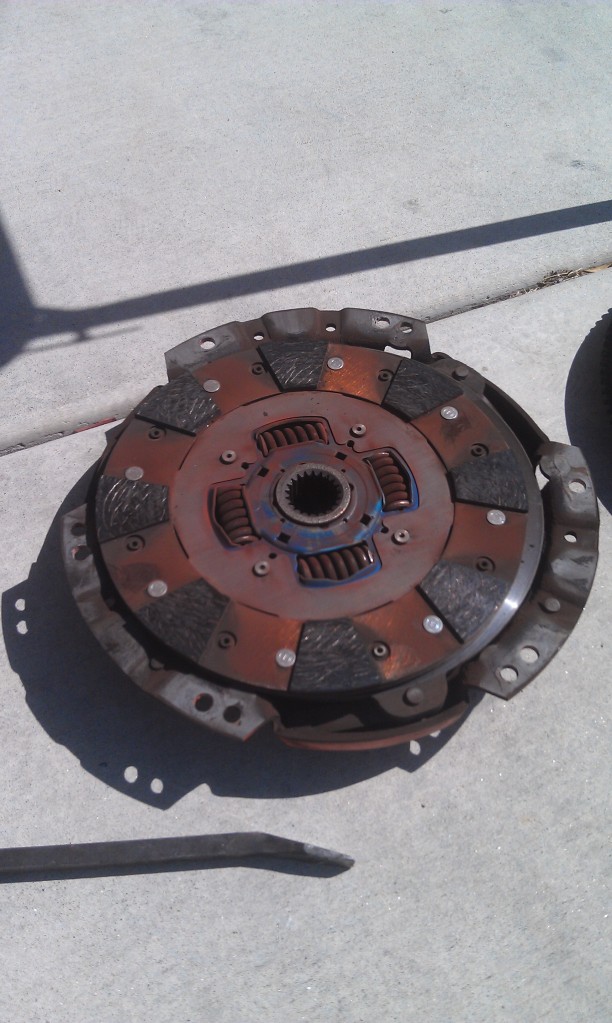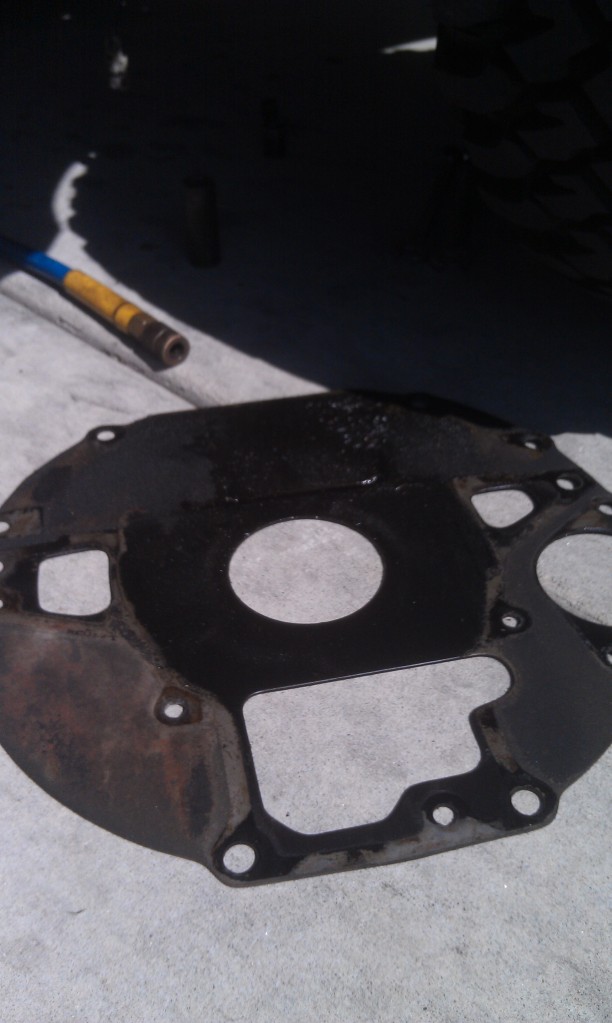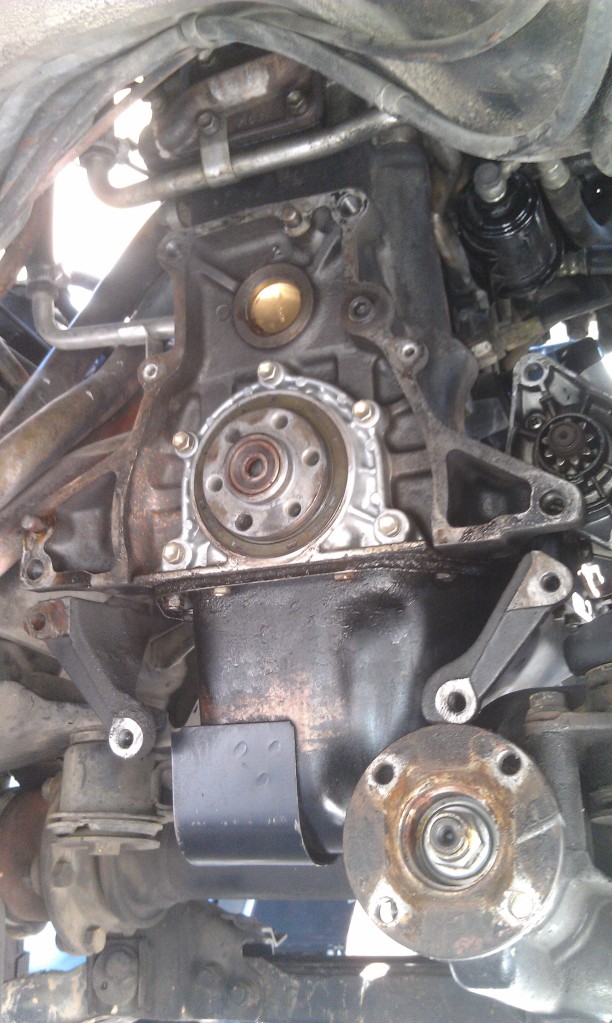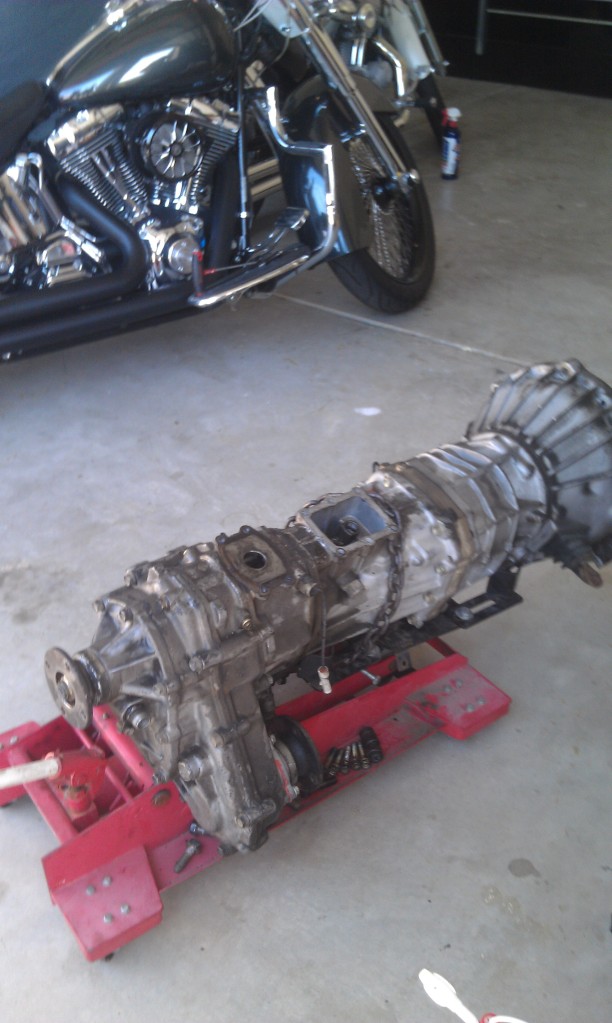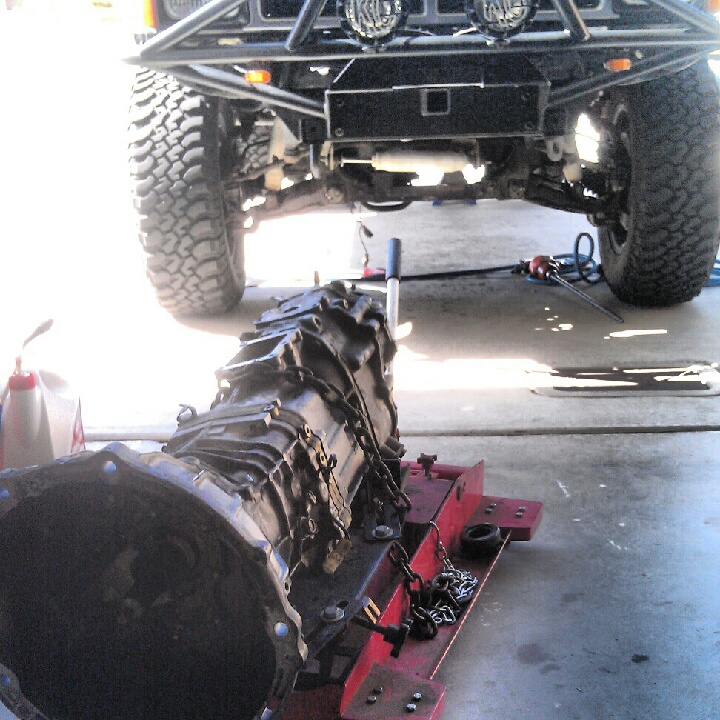 10-14-2012
Will do! Thanks for the kind words. I was looking at an SAS but I think I'd like to try blazeland for a while first. Blazeland is bolt on, and I'm not real big on commitment. :p I do love seeing a truck articulate like crazy and keep the body level.. well see! I want to get budbuilt armor all underneath too. I thought about selling this truck once, but ive gotten way too attached. I still have the Craigslist ad printed out in my "auto" file. :p
10-24-2012
trans is still running smooth! Last night i resurfaced my rotors, replaced pads and shim, and repacked bearings. feels amazing...

This weekend I'm doing an Adopt a Trail Clean up in Big Bear.. should be fun.. camping and wheeling throughout.. pretty stoked.
11-3-2012
So, I took my truck out last weekend to Big Bear.. and realized.. I really could use some sort of an OBA system..

Then I found out my friend is getting rid of a Viair compressor that he used on an air ride car..

I grabbed it and decided to use it as the starting point to my system.
It's a 380C model.. 100% duty cycle at 1.48 CFM.

My first plan was to turn my sliders into air tanks... but with compressors come moisture.. and I don't want my armor rusting from the inside out.

My current plan is to find.. some sort of air tank.. possibly just the viair one. 2.5 or 5 gallon, I haven't decided. I want the compressor mounted on the passenger side cubby in the back, across from the jack. The air tank, I'd like to have quick disco's So If I need space I can put it in my passenger seat, or even leave it at home. Since it is a daily driver.

That's about as far as I've gotten in planning anyway..
for the picture hungry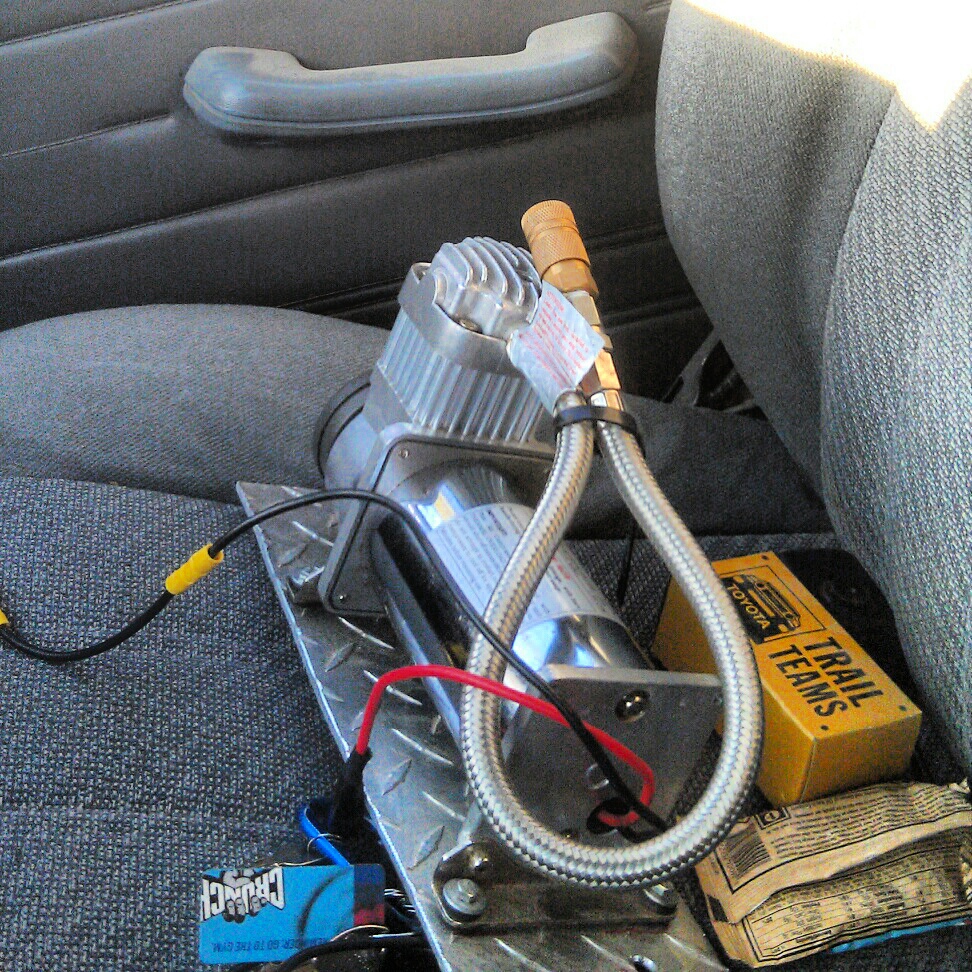 11-4-2012
Thanks Chef! Yea I figured if the compressor doesn't work out, I'll have the whole OBA set-up already done, and just swap out the compressor later. you know? Right now I'm torn between the cheap conversion style of air tanks, and clean sturdy look of the viair tanks.. but 70 bucks seems so damn expensive..

I've been pretty good with my truck as far as doing things.. maybe the expensive way.. OEM parts, or at least reputable replacements (LCE).. I think I'm gonna just do it with a viair tank... now the question is 2.5 gallon vs 5 gallon. I think if I do 2.5 gallon, I wont lose much space and can probably leave it in almost permanently.
looking at the dimensions of the 2.5 its biggest measurements are about 2ft by 1ft...

http://www.viaircorp.com/Schematics/25gallon_dd.pdf

assuming thats enough to take some load off the compressor.
it seems with my compressor, I'll be mocking this kit
only difference would be that my compressor is 100% d.c. and not 30%
http://www.viaircorp.com/10003.html
2-2-2013
long time no update!

today i was driving my truck to the store and heard a weird groan.

On the way home, it was a groan that related to the speed I was traveling..

turns out my front u joint on my drive shaft seized! luckily i caught it early..

So I dropped the drive shaft, and now i just have to wait for monday to either go to work and replace it or just give it to a shop... FWD 4runner for the win!
I never posted any pics of big bear on my build thread?? D:

well... here are a few i threw on "Post pics" thread.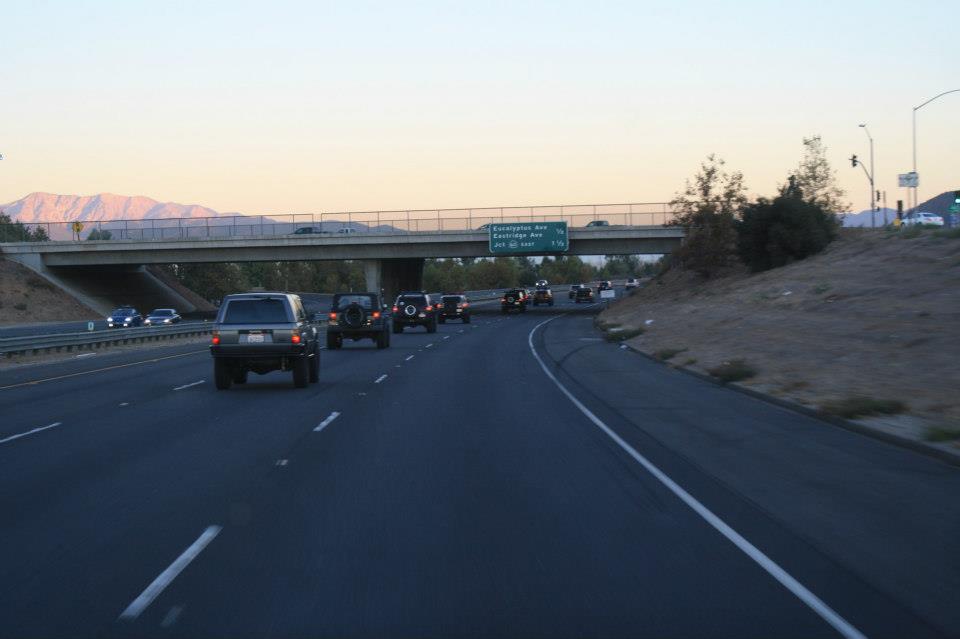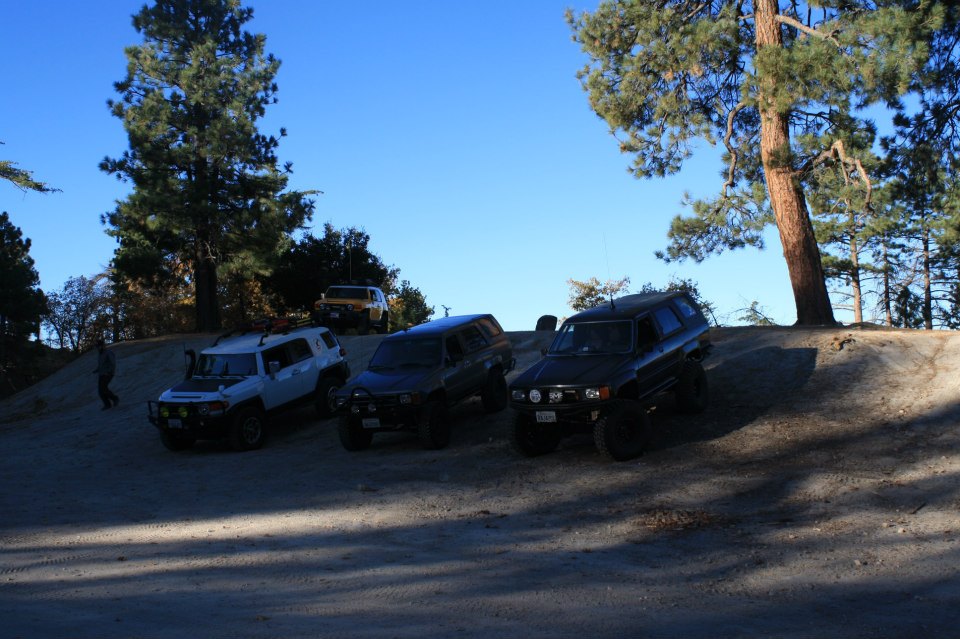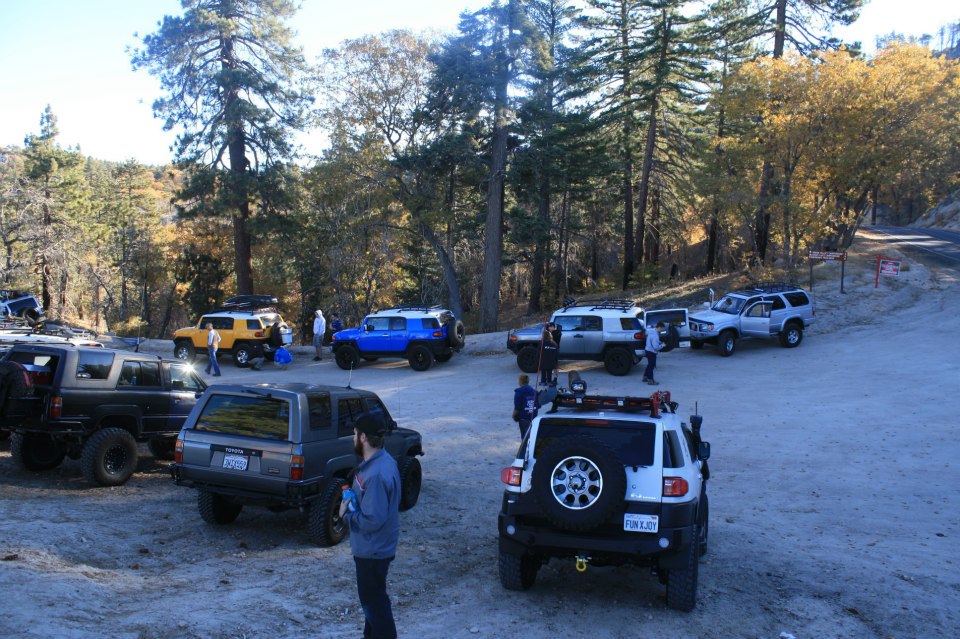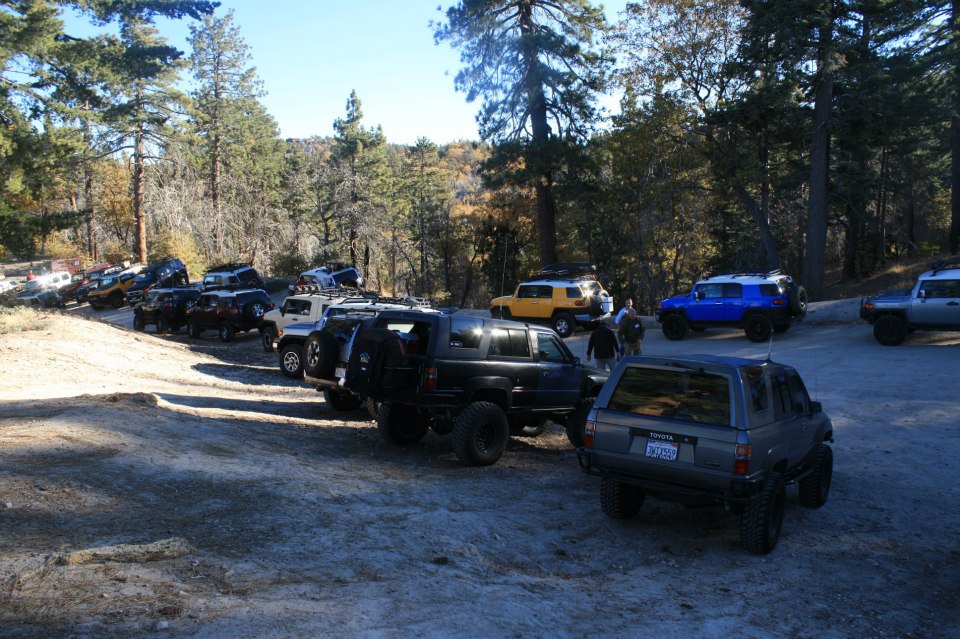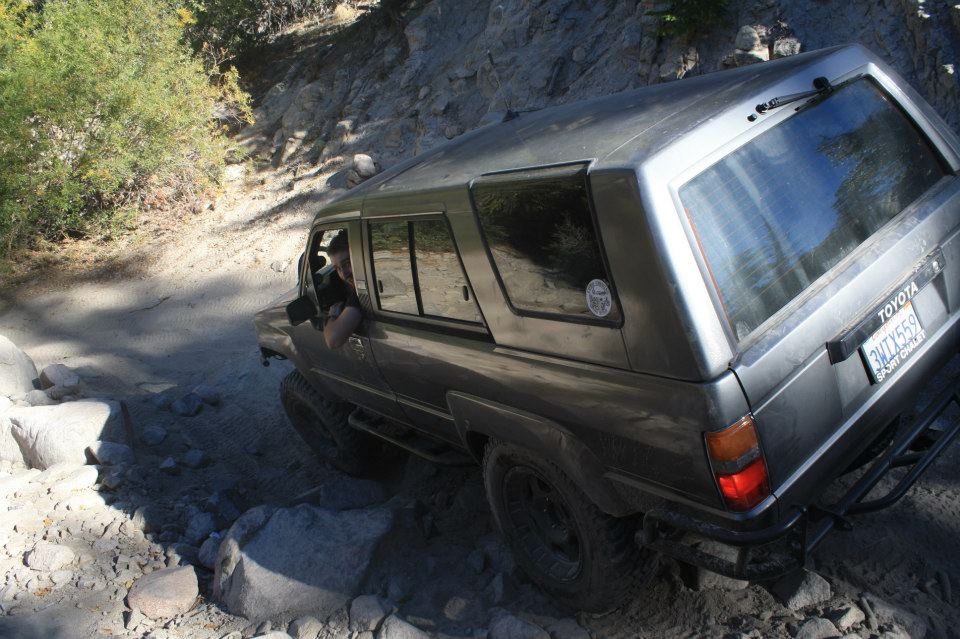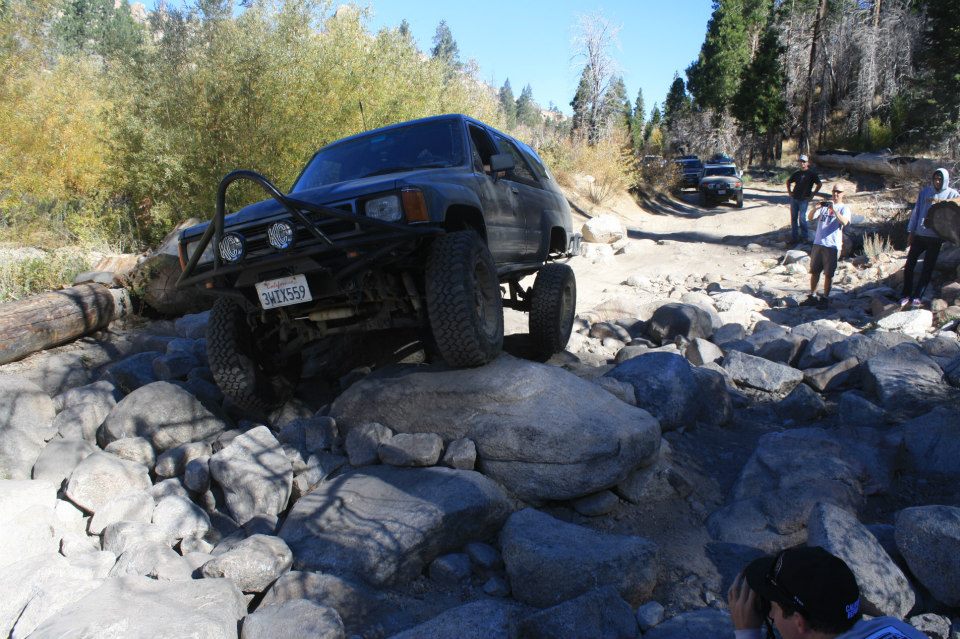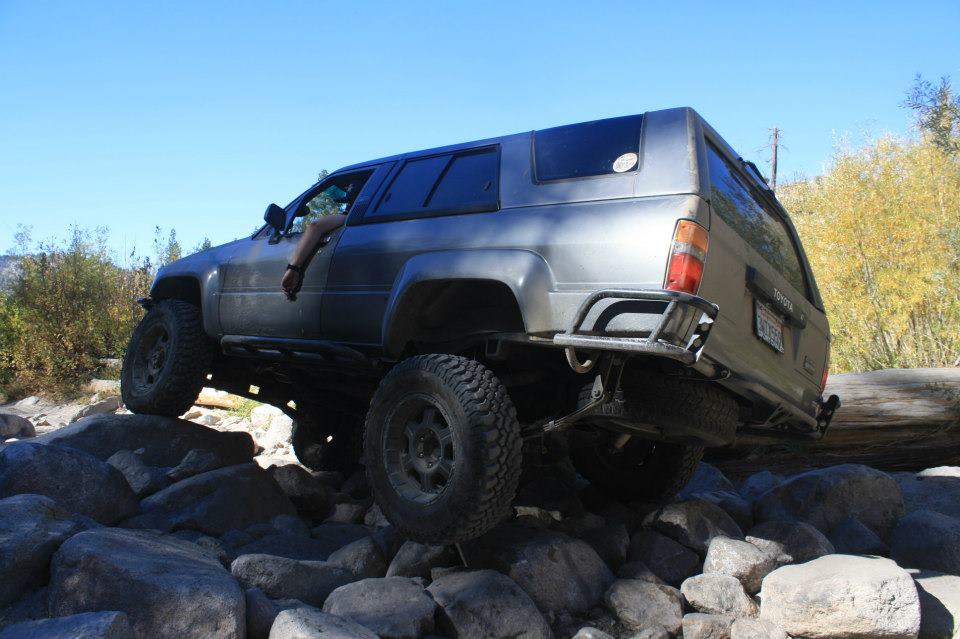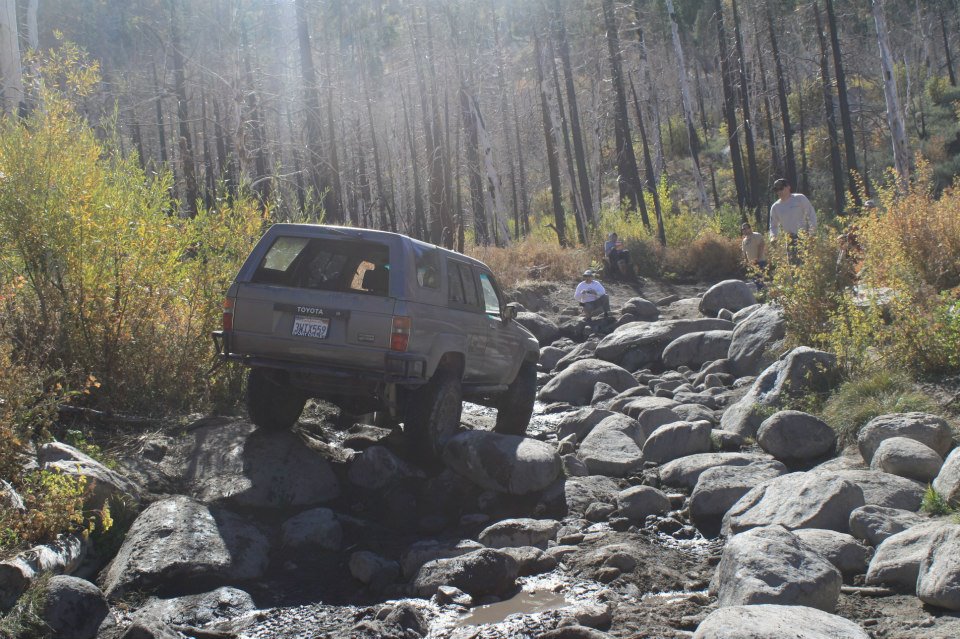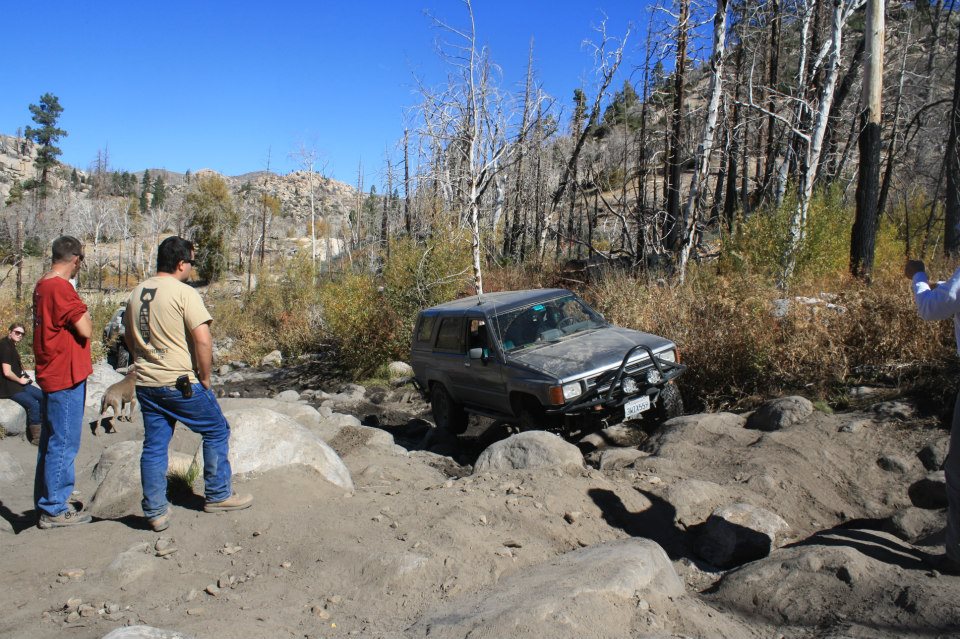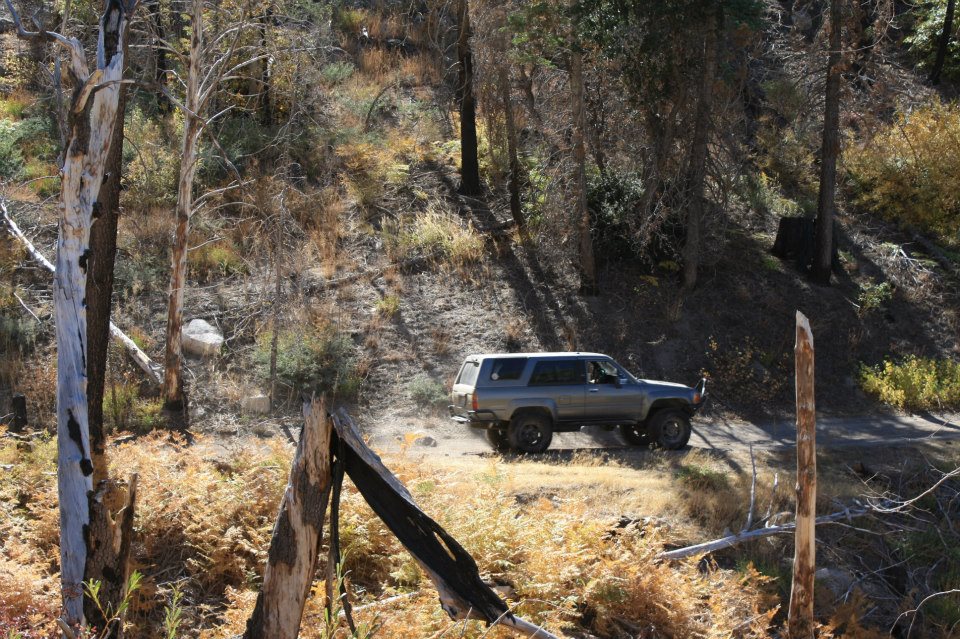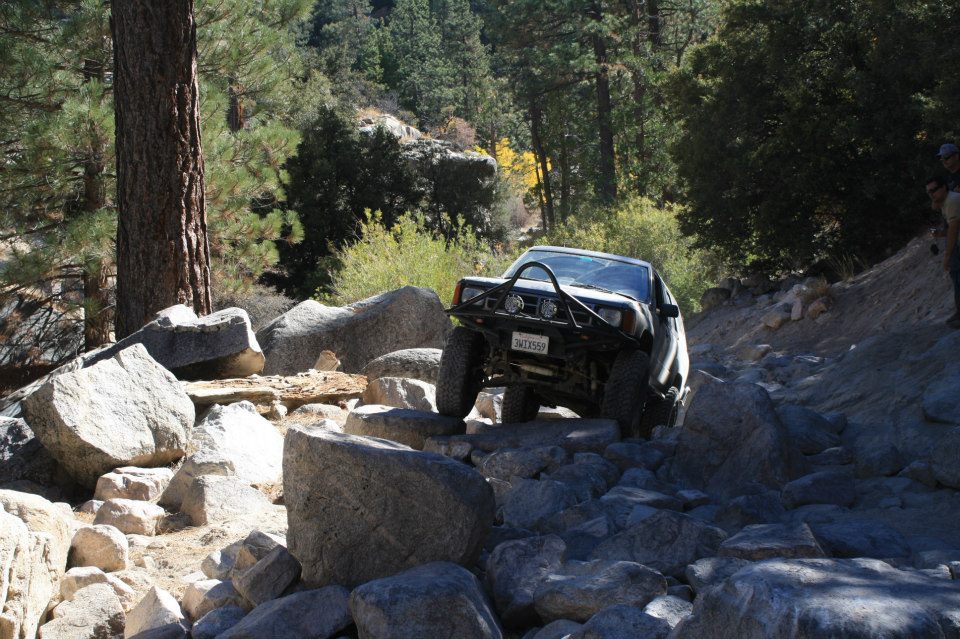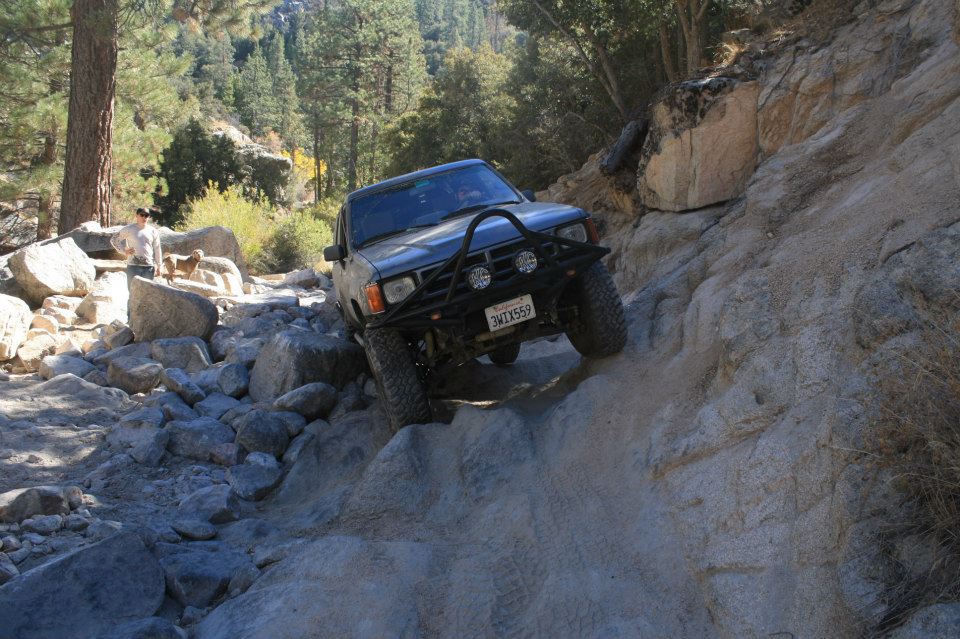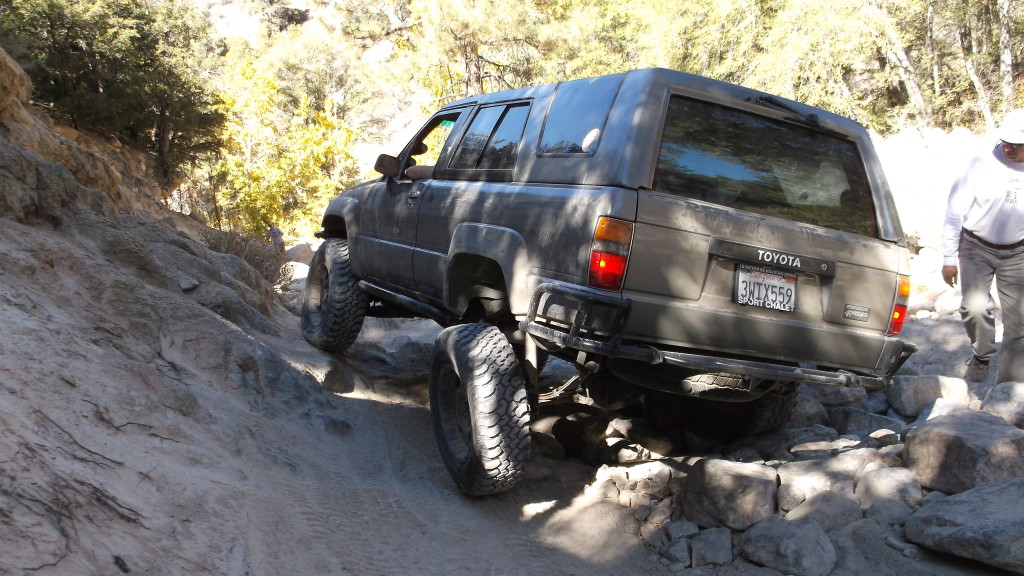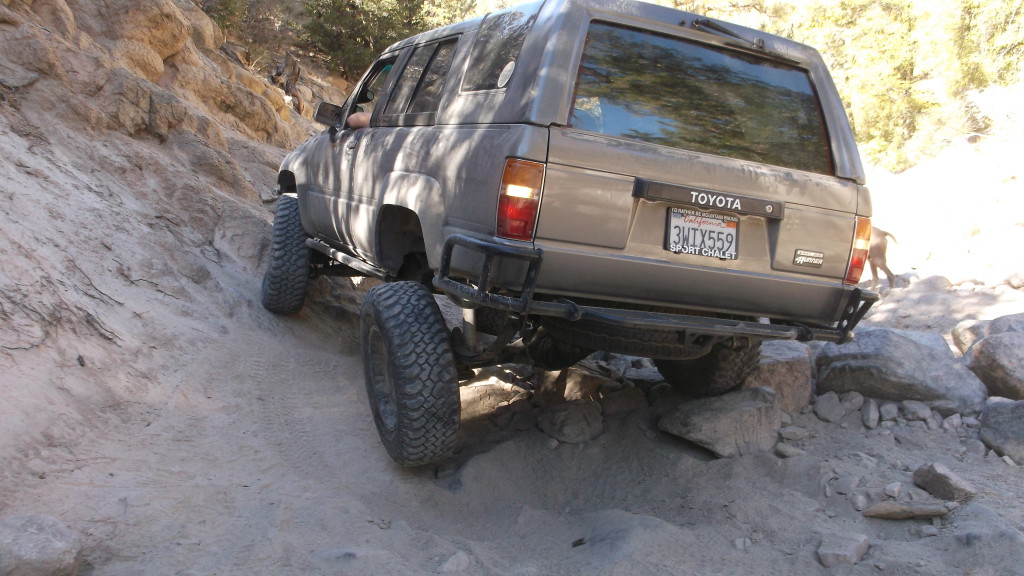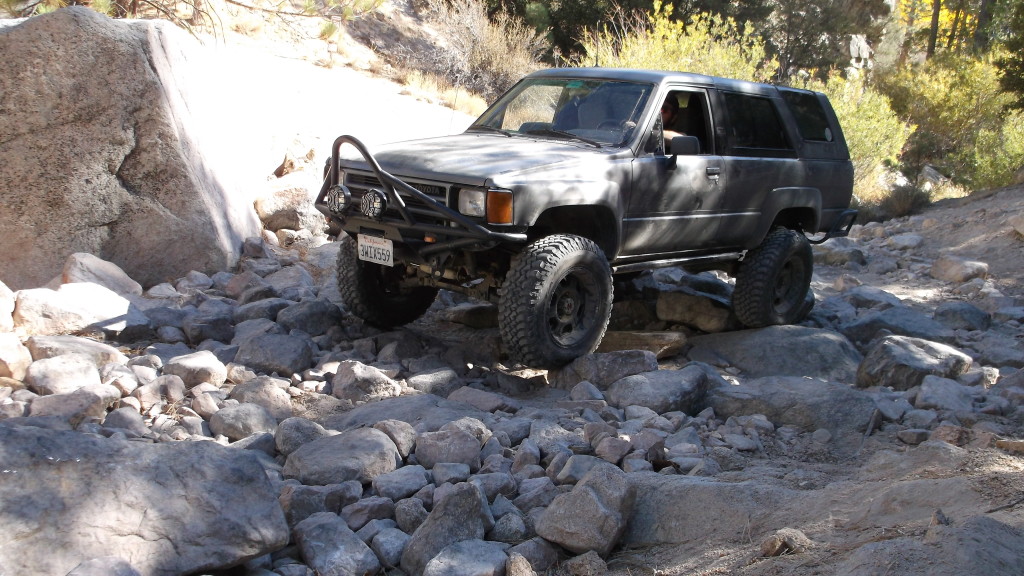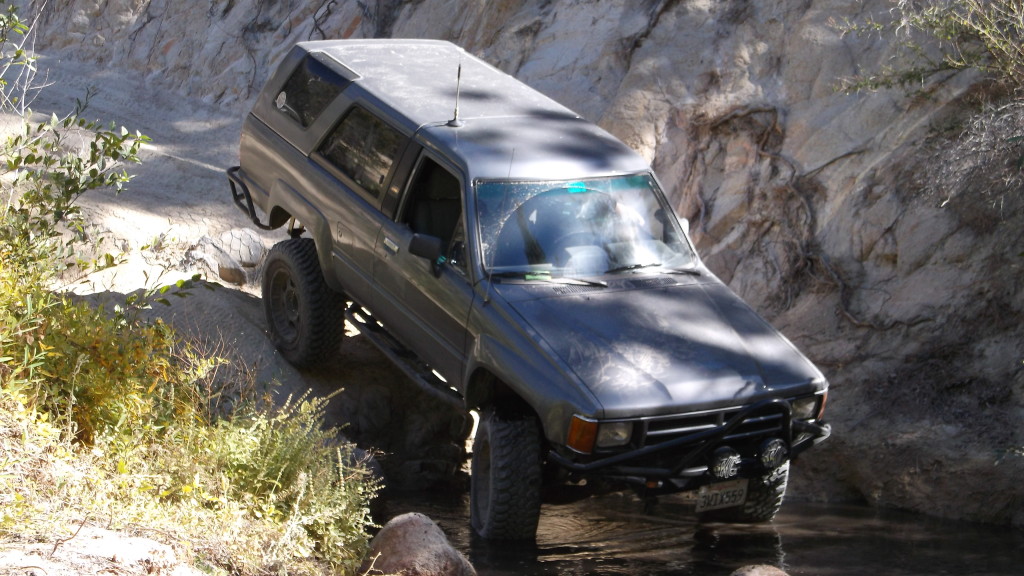 forgot my skid plate :x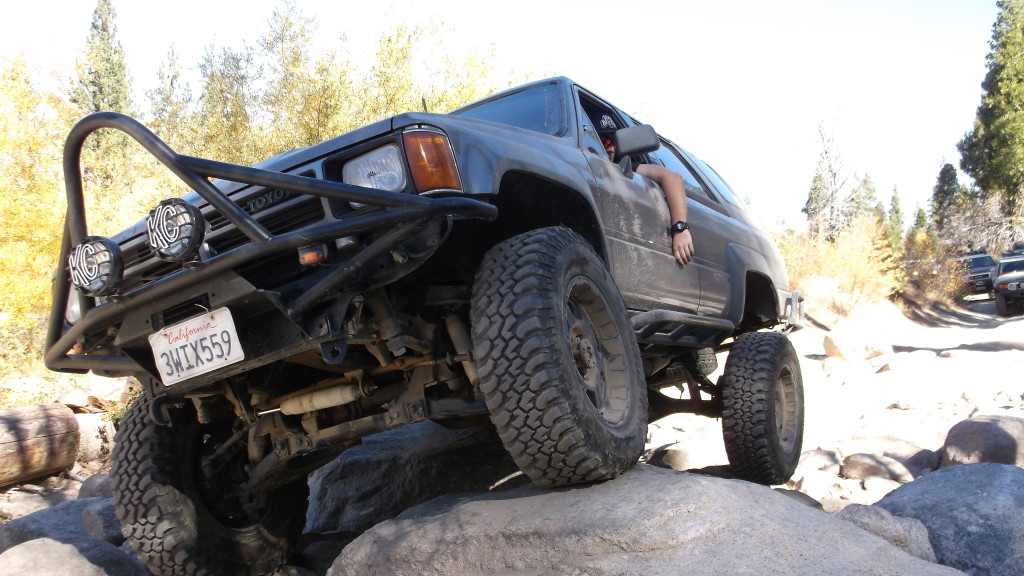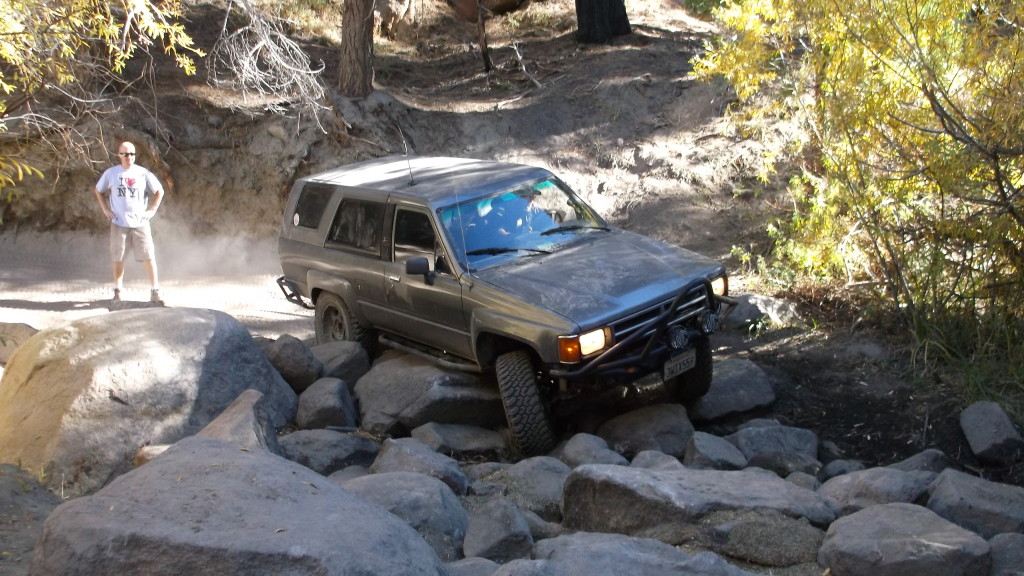 3-14-2013
Just went to Corral Canyon this past weekend.. Epic Trip and the rain really made a tough trail tougher. At the end of the day our crew ended up with a broken front axle and broken e-lock (both on one newer 4runner) and a bent tierod on an FJ Cruiser.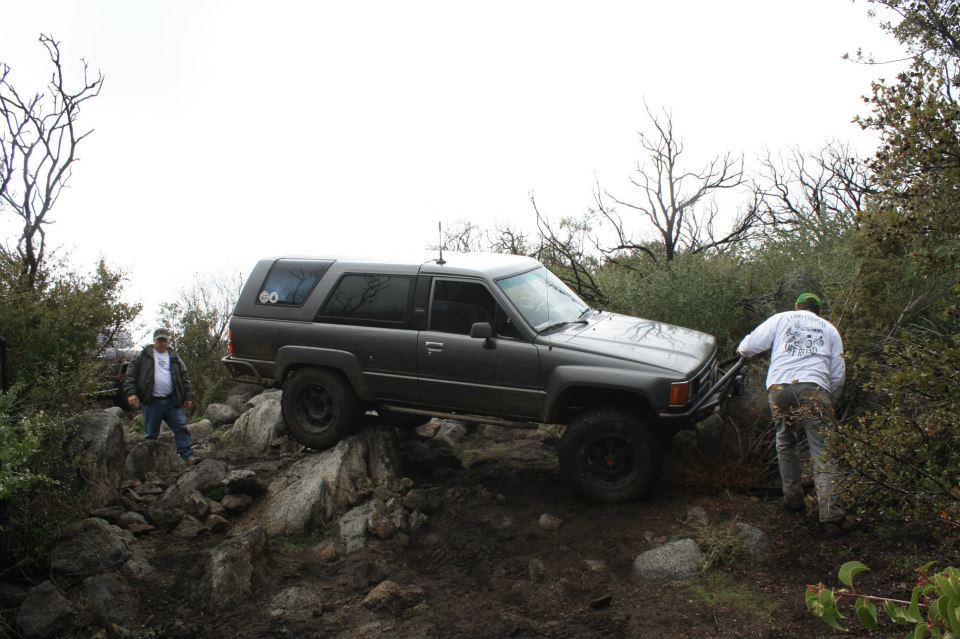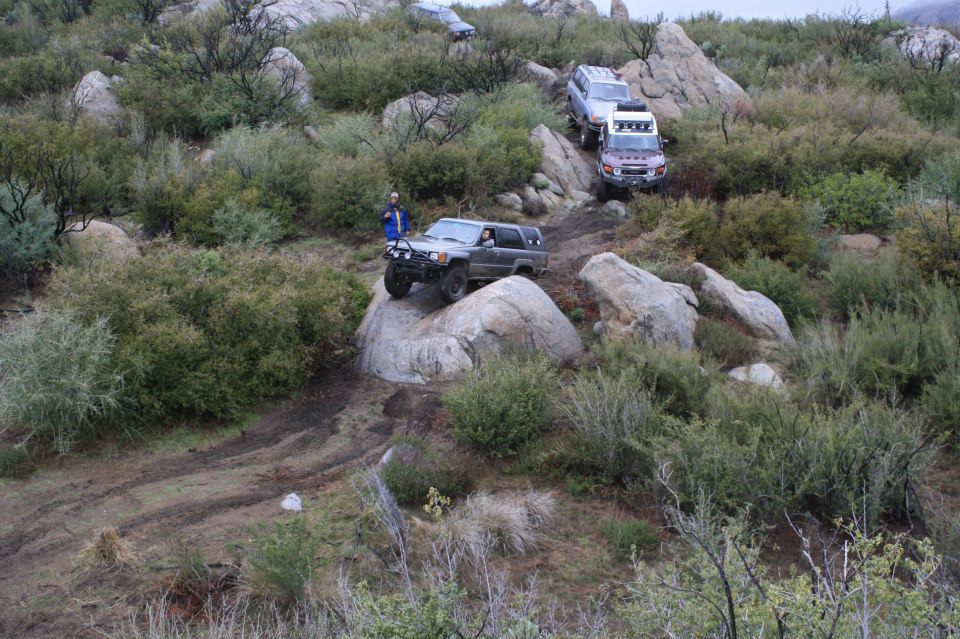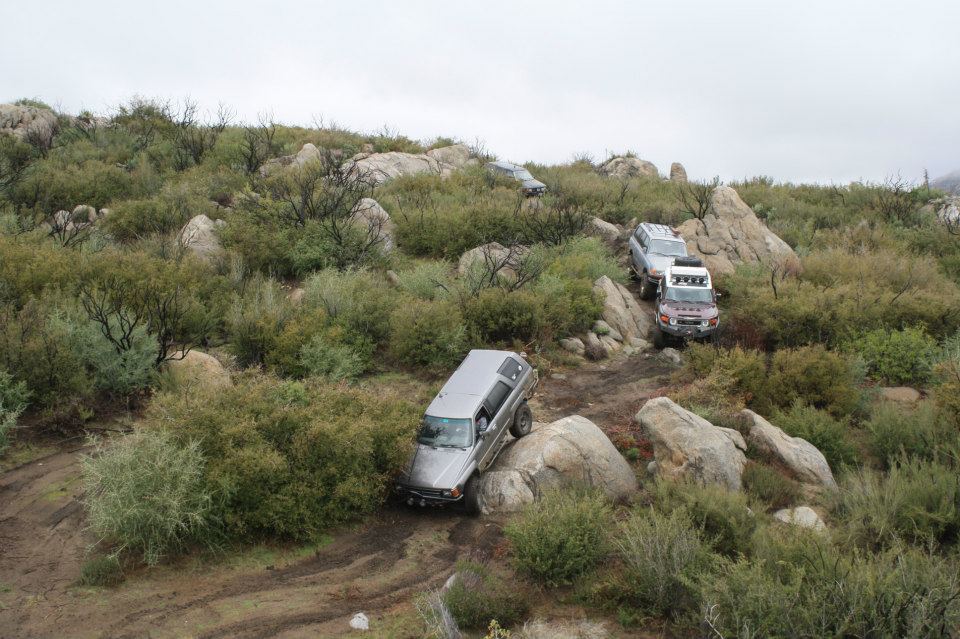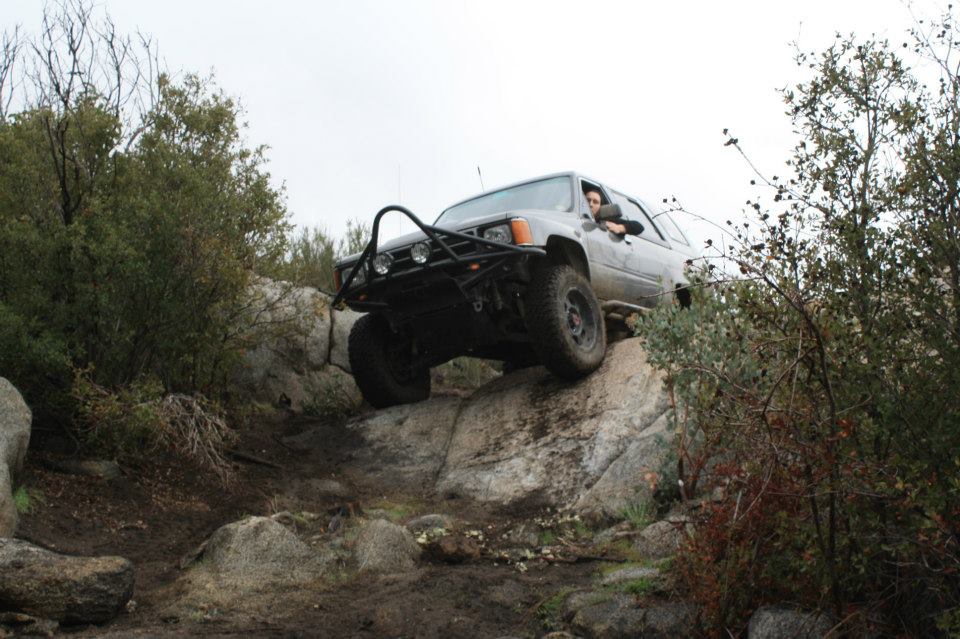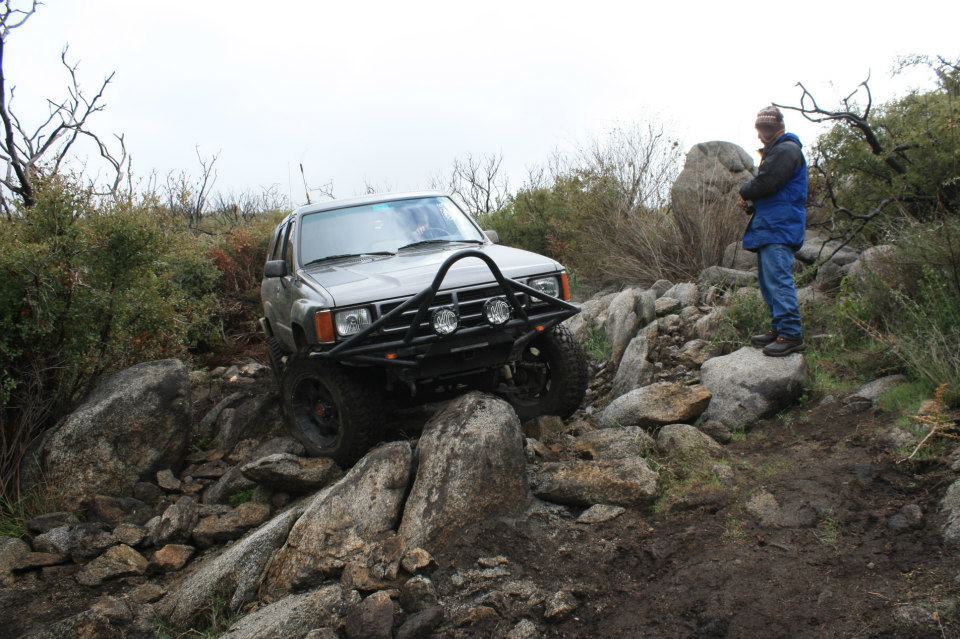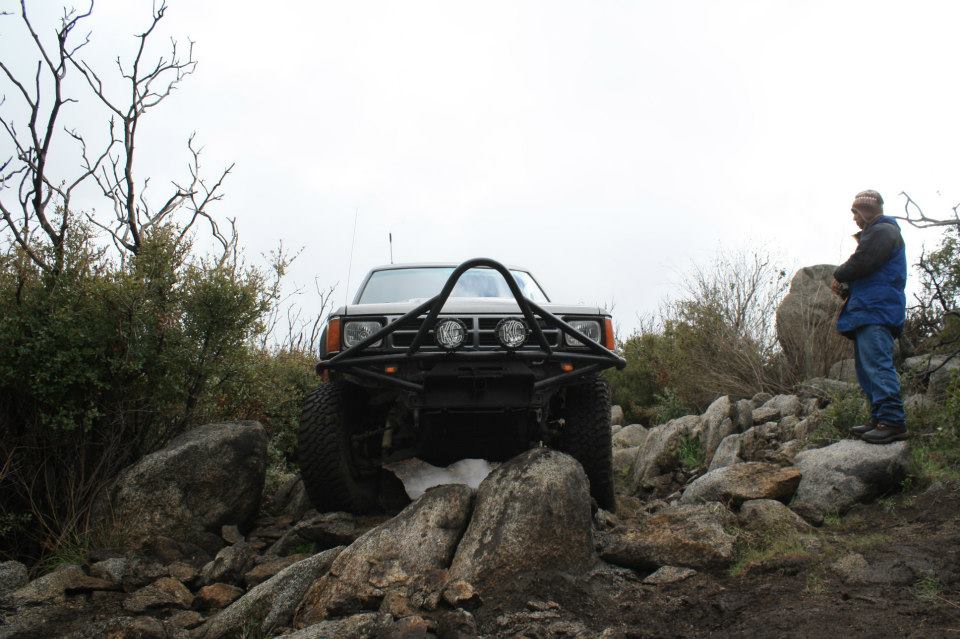 caught me doin some booty flexin :p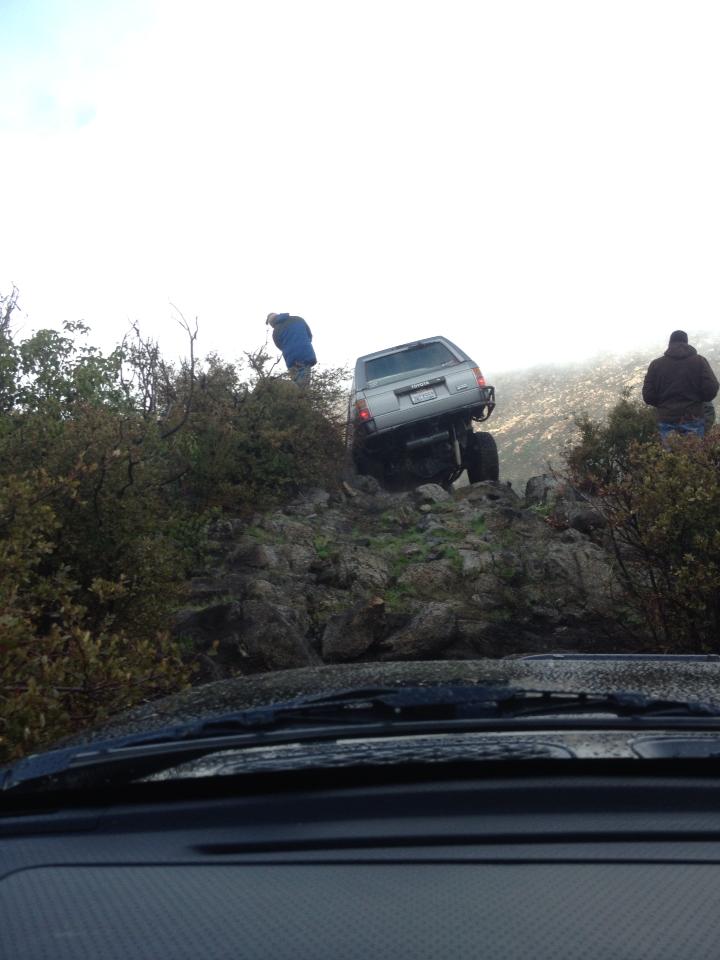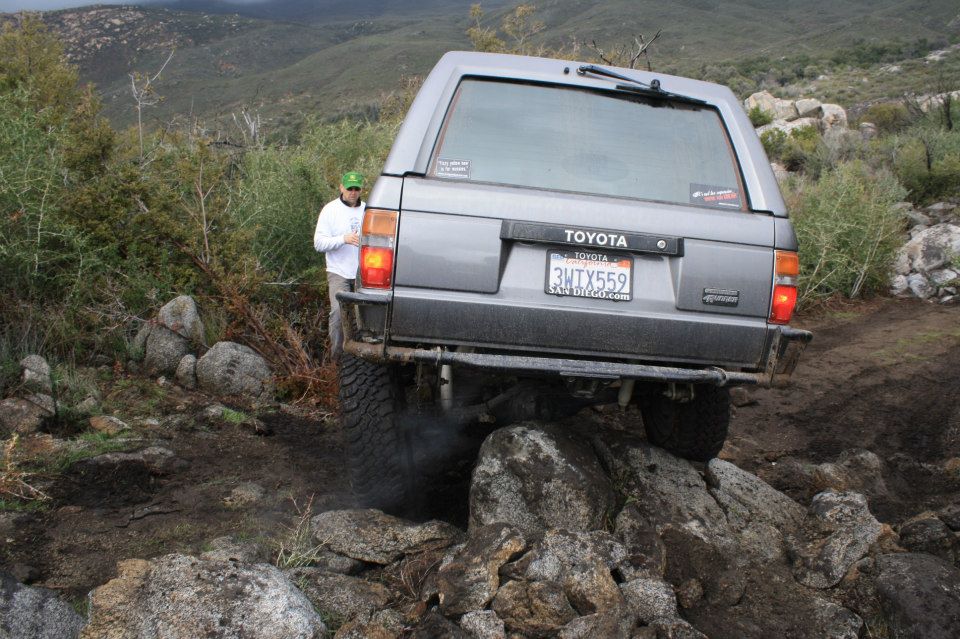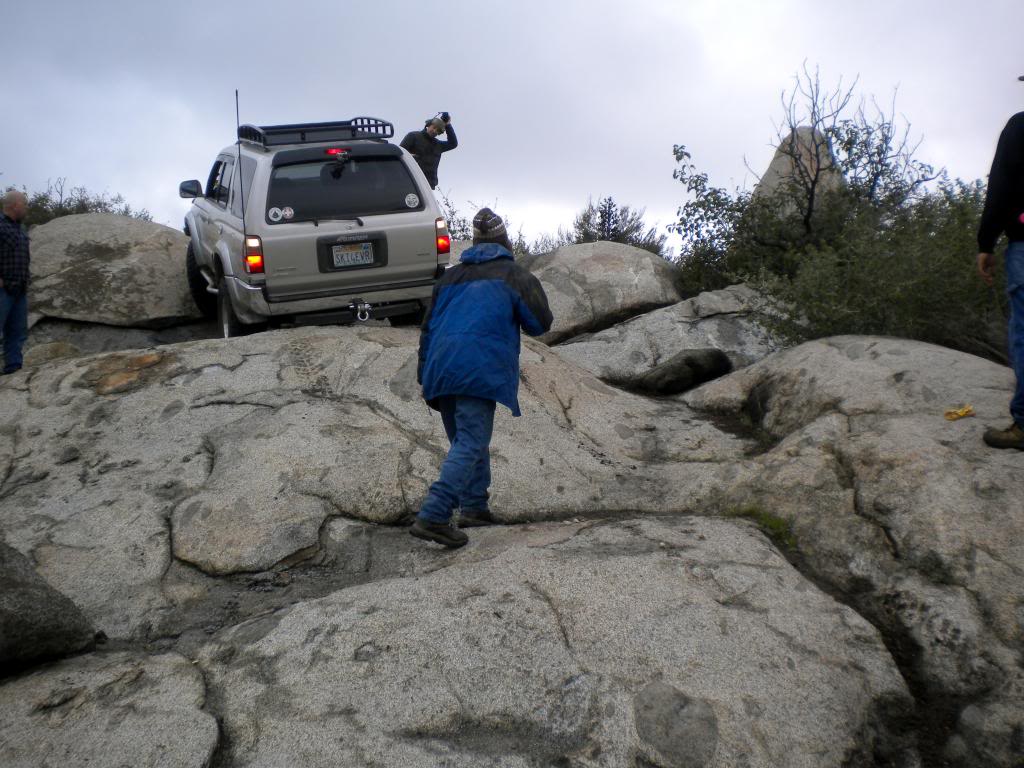 I'm in the beginning of this vid...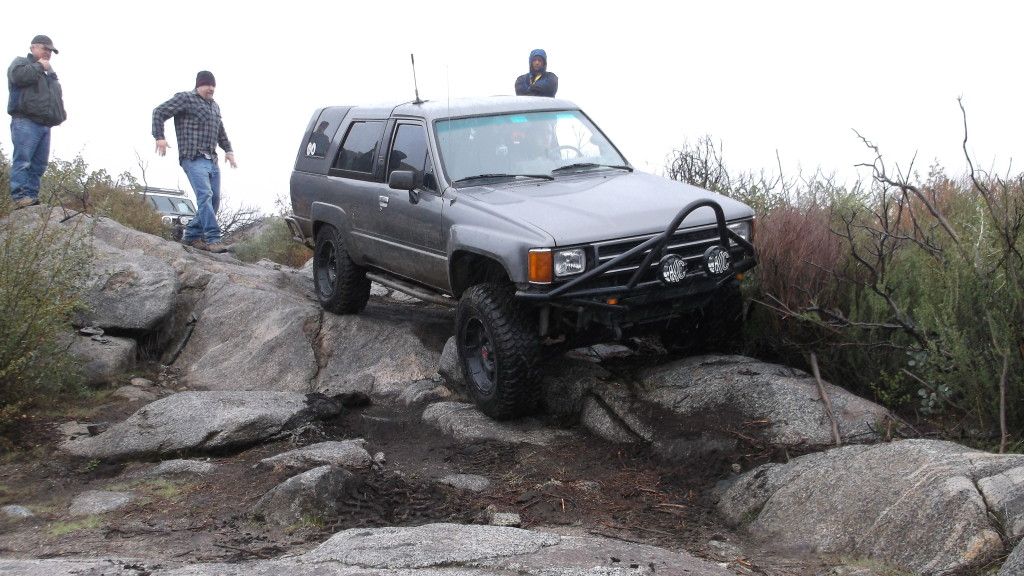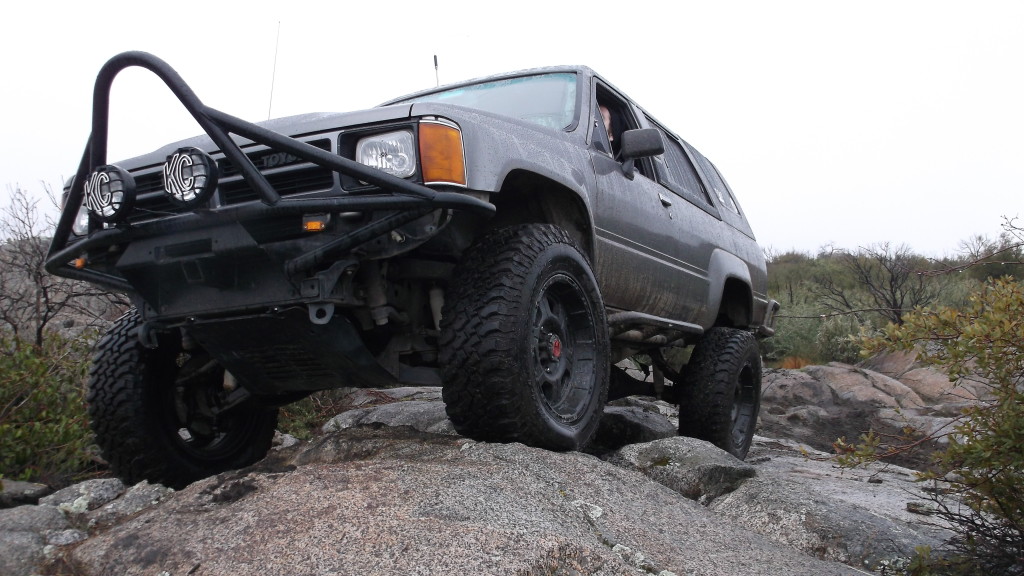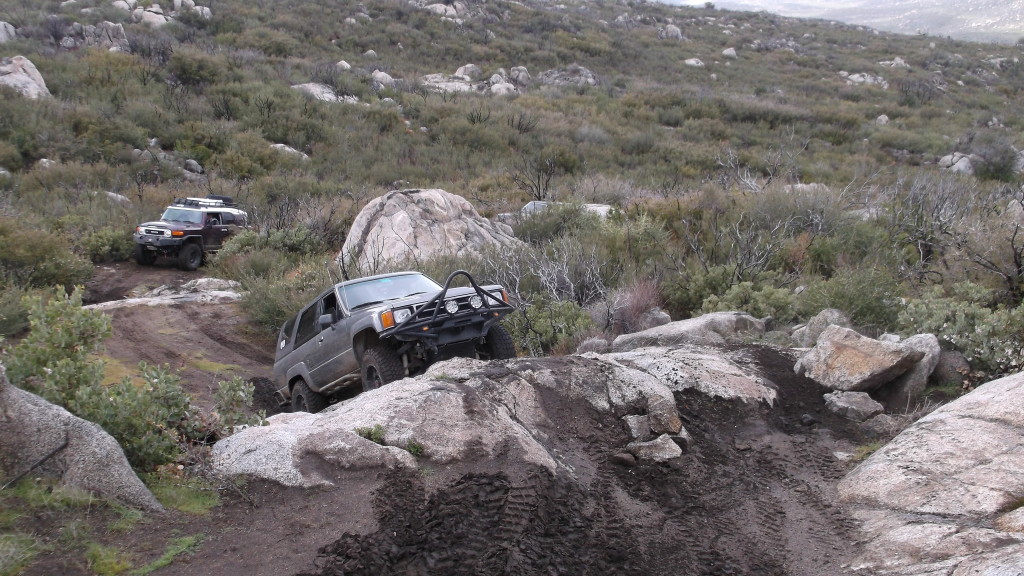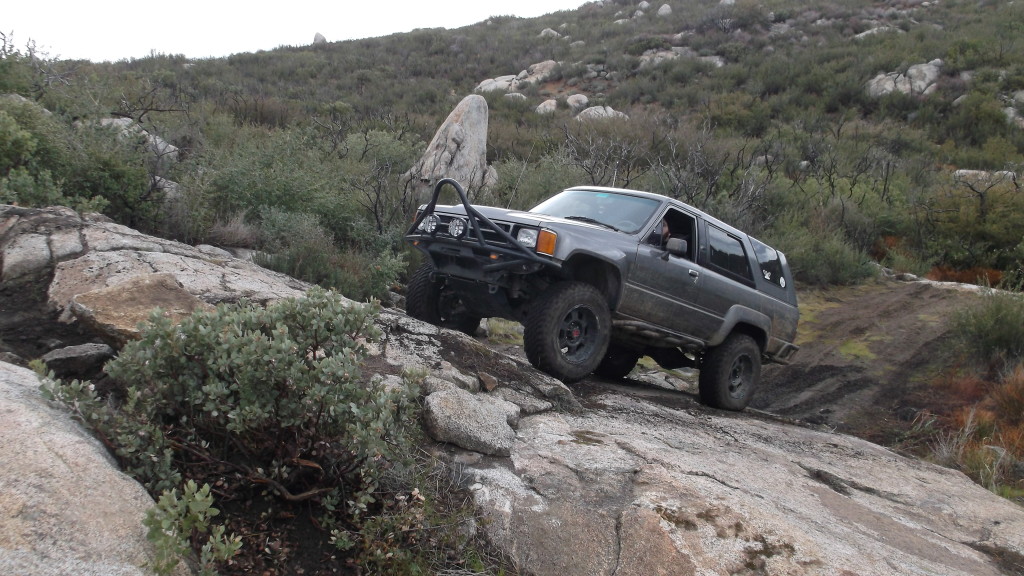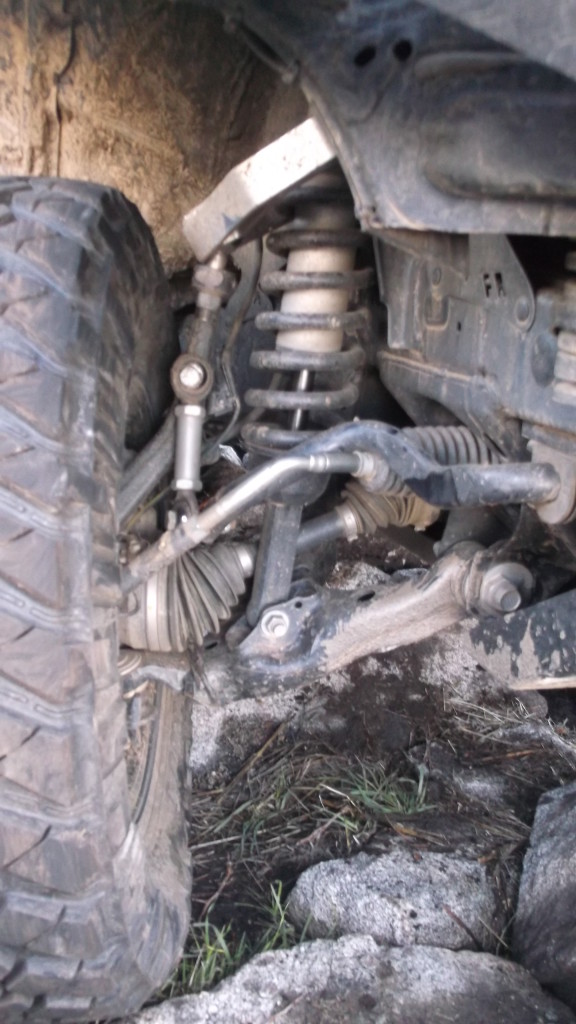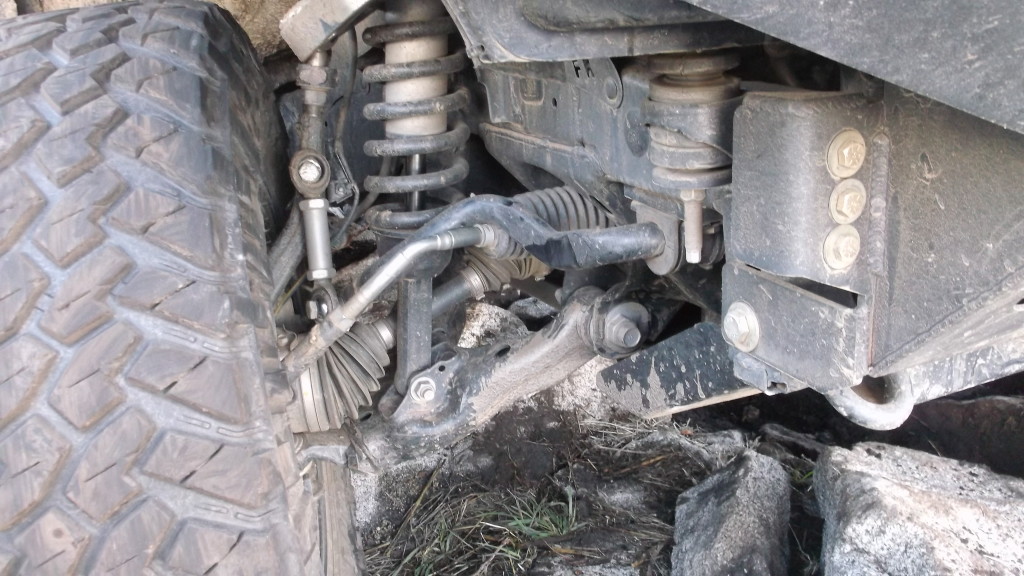 4-2-2013
woo my alternator finally died! (sarcasm.)
I figured it was because my power steering pump was leaking onto it. I bought a rebuild kit from Toyota like 6 months ago.. and never felt the need to actually rebuild it.. until my alternator died. After spending an hour dumping degreaser into the alternator and forcing the pressure washer in there praying to fix it.. i accepted alternator defeat. Took it out and sent to my dad's buddy's place to get it rebuilt. Offered to vAMP (heheh) it up to 160 AMP for 130 bucks out the door. SO i took it apart, verified to brushes were worn to nothing, and gave the whole thing to him. Spent a good chunk of Saturday stumbling through an exploded view of the PS pump trying to match new o-rings to 25- year old o-rings that had turned square...
and finished early Sunday cause i got mad saturday and resorted to beer :p

Moral of the story.. or Morals...

new Alternator = holy crap I love my headlights
new PS pump = no more complaining about someone using PS fluid instead of DexronII/III ATF causing it to leak.
Optima battery that's been in the truck longer than I've owned it = capable of driving the truck for 3 days with the weakest/almost non existent alternator and still passing a load test after charging.
5-19-2013
long time no post but my buddy has an almost complete axle w/ highsteer sitting in his backyard. Suddenly I'm trying to save up 1300 -_- this is not good.
5-21-2013
During my last offroad adventure.. I took a detour to get home as fast as possible once it got dark. Jacked the paint up pretty good...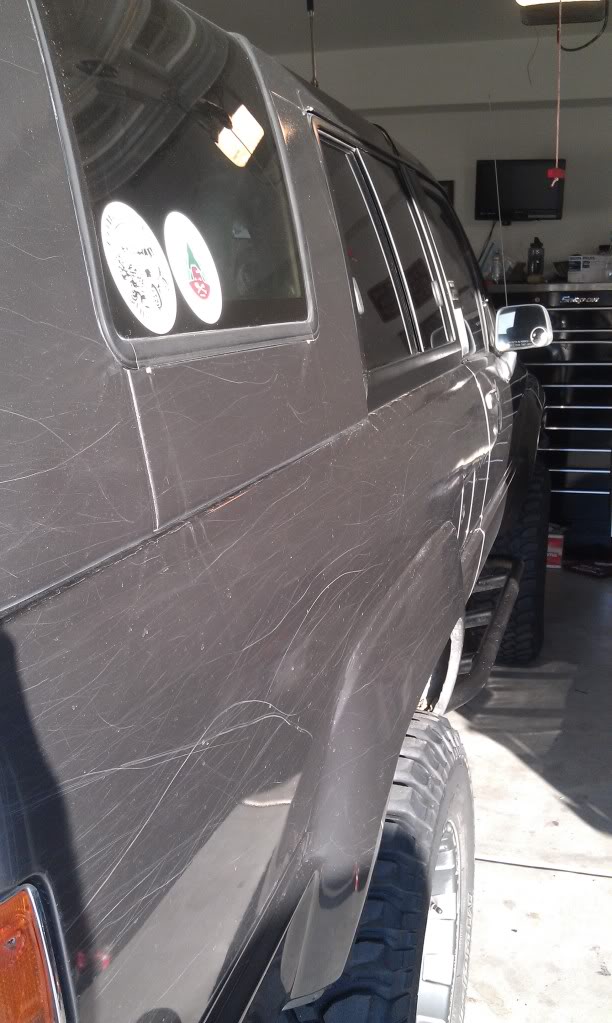 for a couple of weeks i was basically in a state of melancholy.. if I used that word right.
Well a guy at my dad's work wanted to give it a once over for cheap and I figured, why not. I'm more than pleased
6-28-2013