dano's tank by dano
By diyauto
You must be logged in to rate content!
dano's tank
Compliments of dano @ dorikaze.net
6-7-2009
because i don't like long, drawn out build threads heres my ride from start to now:

Mods so far:

Engine Bay:
Ae101 4agze with Microtech ECU LTX-8,
Custom intercooler piping and K+N filter,
TRD oil catch can,
TCS Sportline magnetic oil drain plug,
Aluminum air dam,

Exhaust:
Custom Headers w/ 1 1/2" primaries to a HKS Sport Exhaust

Tranny:
T50 with TRD short shifter,
ACT Extreme clutch and modified disk,
resurfaced flywheel

Rear Diff:
TRD 2 way LSD installed by AE86 tuning,

Suspension:
Polyurethane kit
Cusco front strut bar w/heim links,
Cusco adjustable panhard bar,
Whiteline adjustable front sway bar w/heim links,
Megan racing 4 links,
TCS Sportline rear traction brackets,
Swift 8/6kg front and rear lowering springs,
AGX front and rear adjustable shocks,
Tein camber plates,
Battleversion NCRA's,

Brakes:
SUZUKA High Performance Stainless Steel Brake Braided Lines,
hawk hp brake pads,
Brembo rotors,

Interior of Car:
Cusco spin turn (drift)knob,
momo coarse steering wheel and hub,
Netami quick release hub,
Diffused grenade from 1942 (shift knob),
MSD dis-tach driver,
Type R 11k 5" race tach w/hidden shift light,
Nagami shifter foot plate,
R32 skyline GTR seats(daily),
Sparco Evo Seat (track) w/ Custom seat bracket,
Painless wiring,
RCI Platinum 3" camlock seatbelt,
fully caged with DOM 1.5" tubing and FIA approved padding,
dead pedal from 87 nissan 200sx,

Exterior of Car:
T3 red tow hook,
Metal hood pins,
Deft racing carbon fiber hood,
J blood front bumper, side and rear skirts,
Redline taillights,
Extreme dimensions widebody front & rear fenders,
Ueo style! front bomber bar & Garrachi braces,
Modified rear spoiler,

Wheels:
14x6 fronts supras with Falken Azenis 195/60/r14
15X10 rear American Slot Mags with stretched NITTO 450 205/50/r15


Also has:
new rear calipers
new axles
new rear wheel bearings
new head gasket and seals at 316,000km
new waterpump
Dorman Wheel Studs from a 02-03 Toyota Corolla/Matrix PN# 641-4208 (DON'T BUY!!!!! THEY'RE ****!!!!)link: http://www.hunt4steve.com/05TacoExtLn.html




flew in to vancouver, bought off Dee Lo, and drove it home: 1987 black GTS with a Ae101 60k on the motor just swapped in, battery relocated behind the seat and new brakes and rotors all around, trd short shifter and trd header with 2.5" exhaust...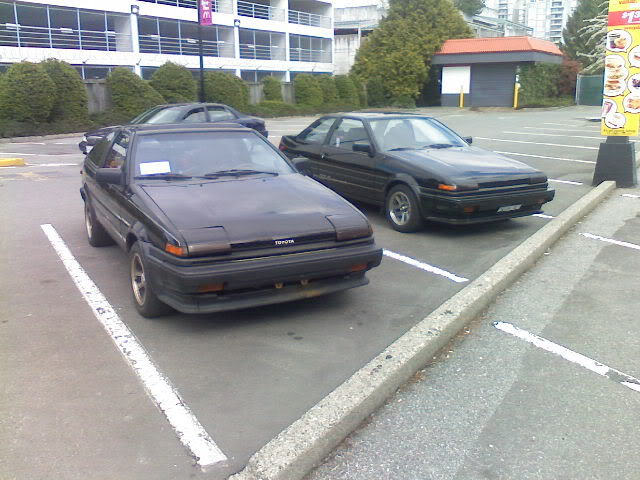 home: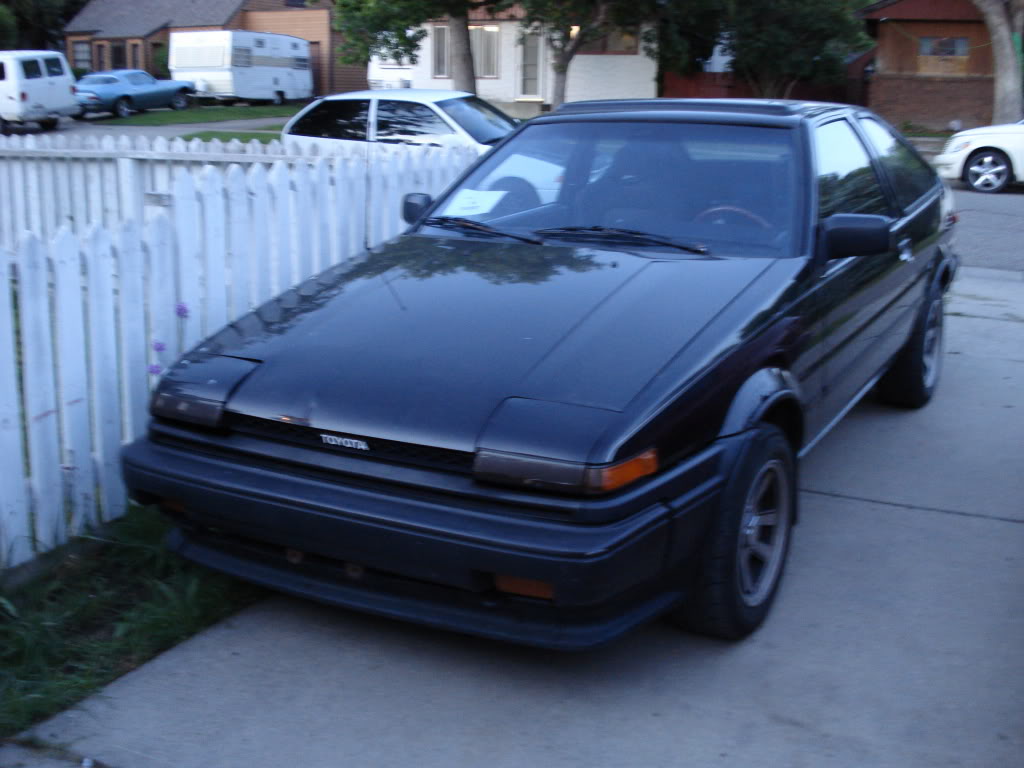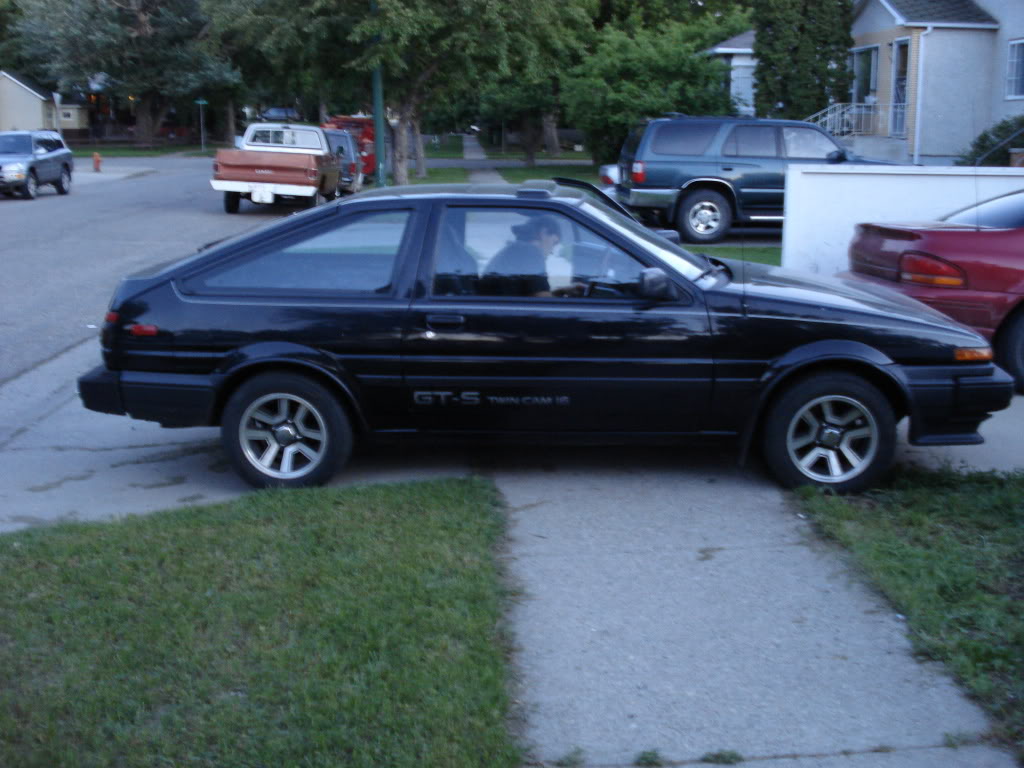 added skyline seats and new carpet: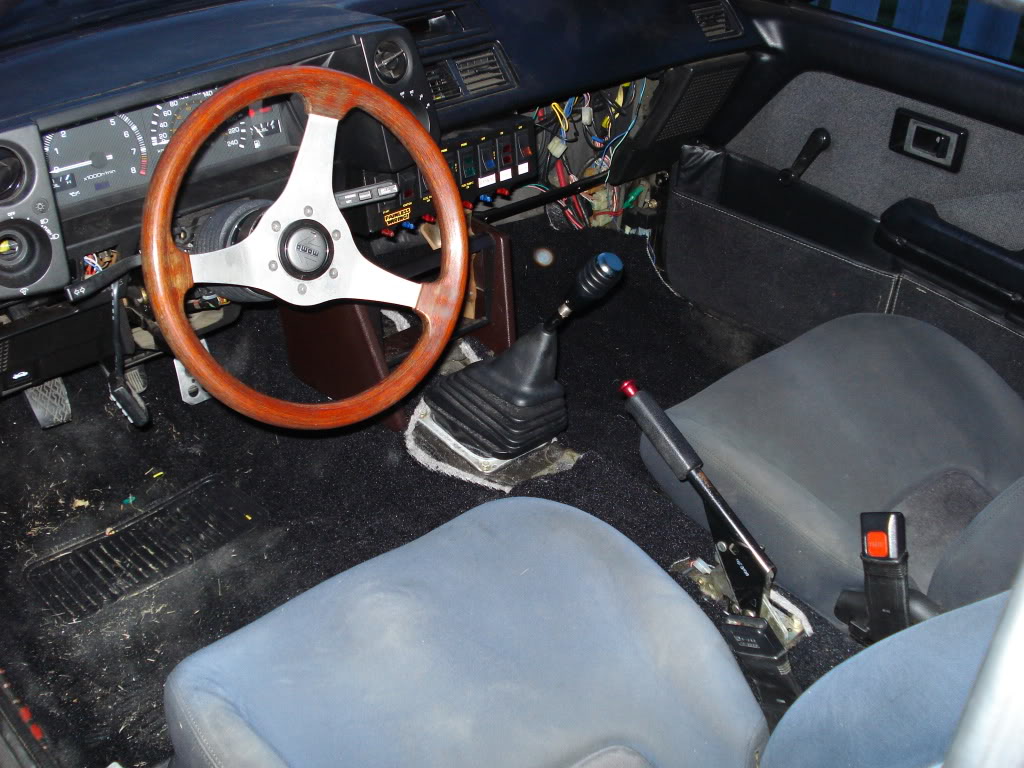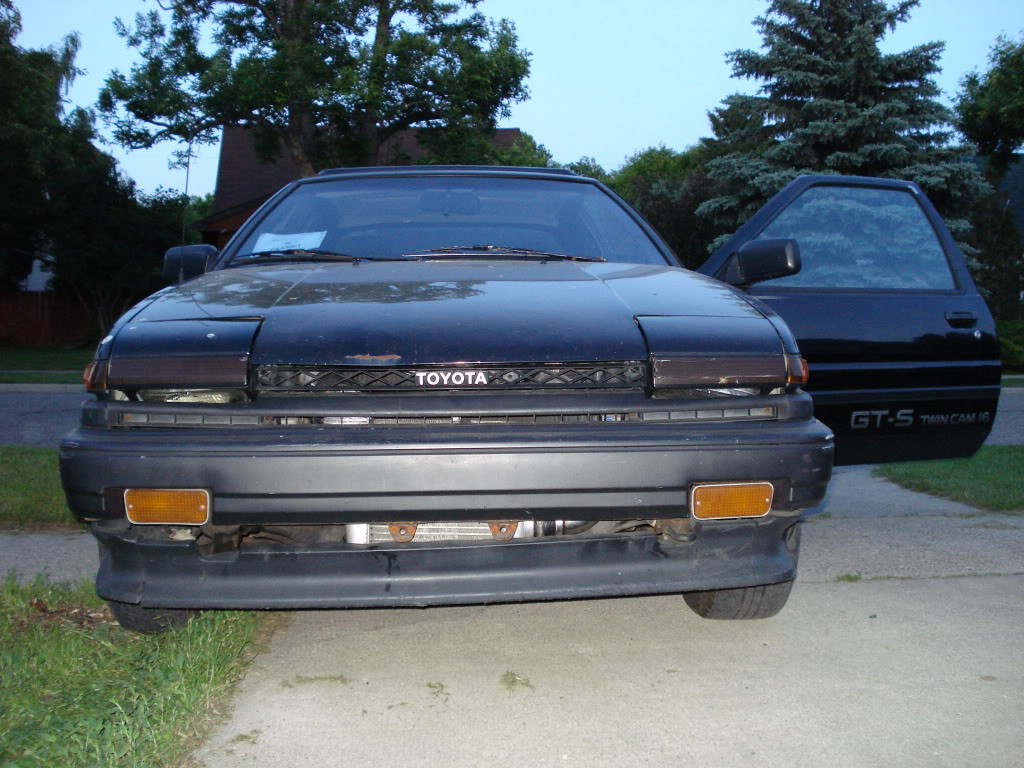 put the redlines on (middle piece was broken in the mail):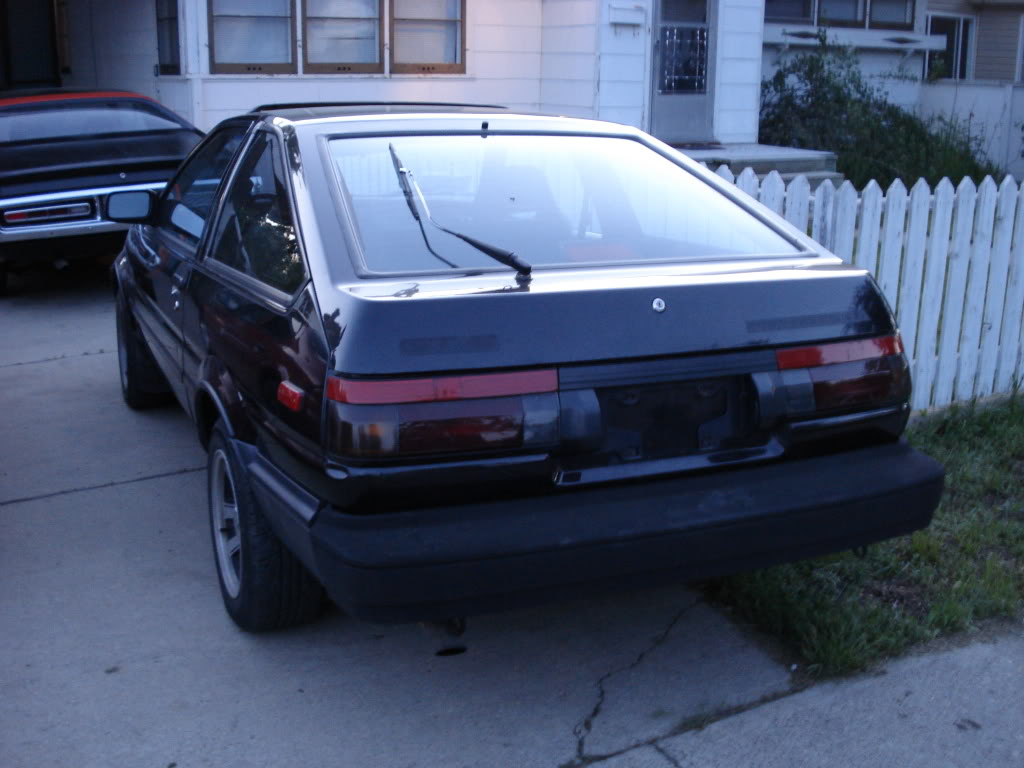 painless wiring and my own descriptions lol: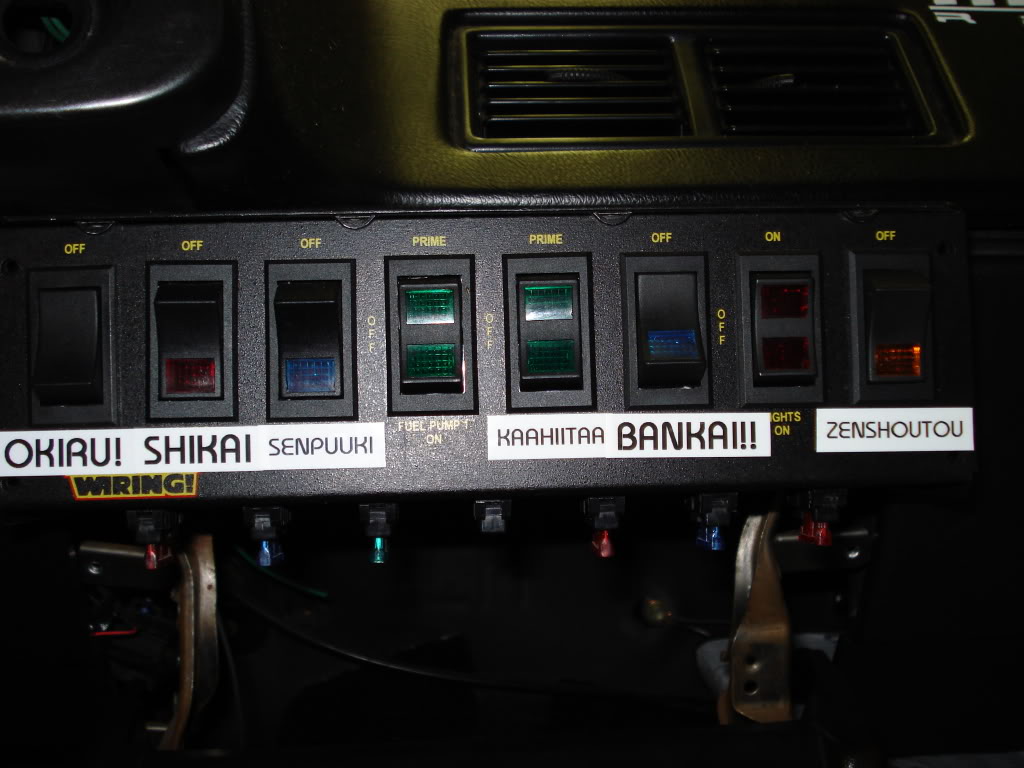 replace rear suspension: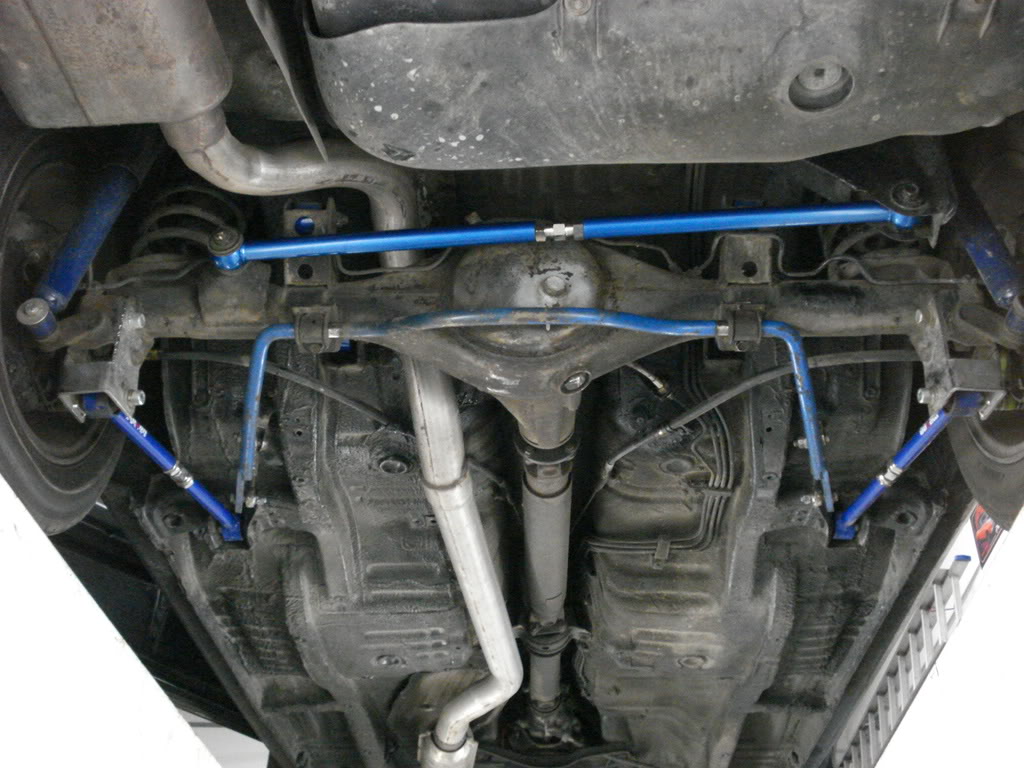 time to get rid of that stock bumper: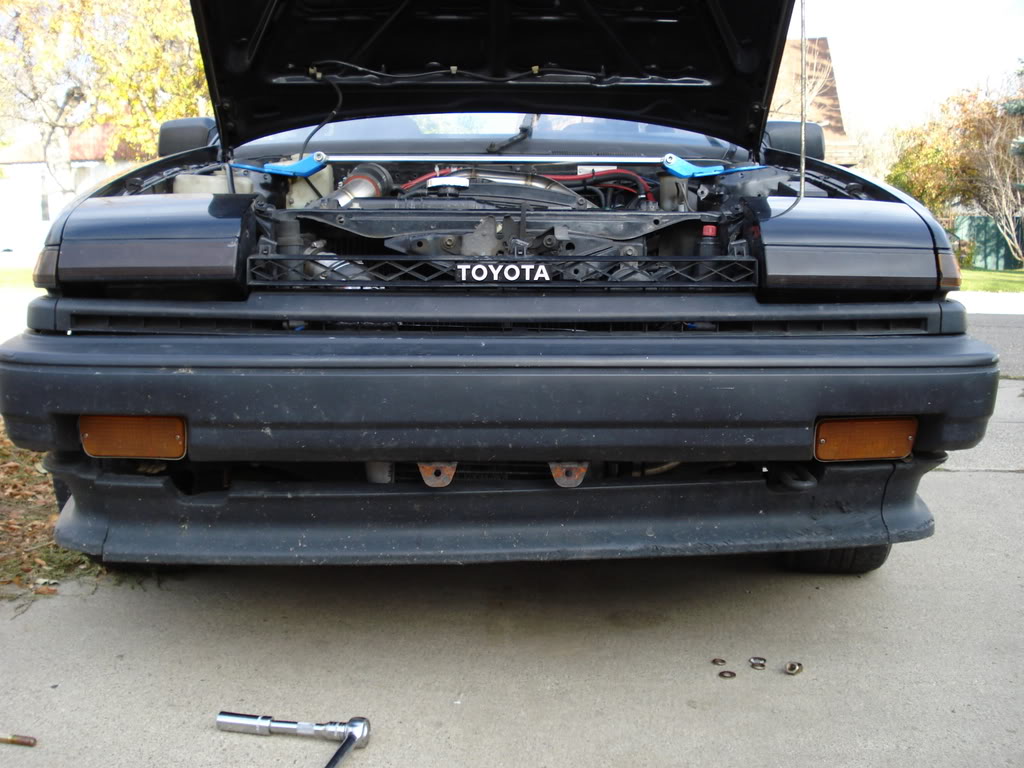 much better: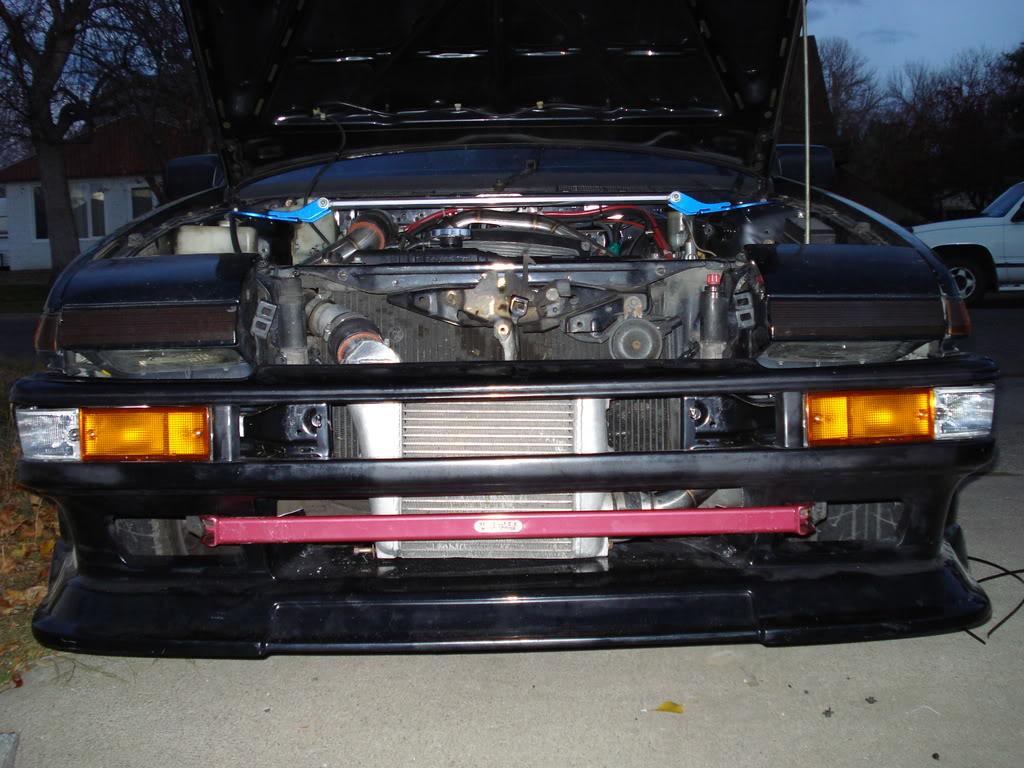 stitch weld that front end: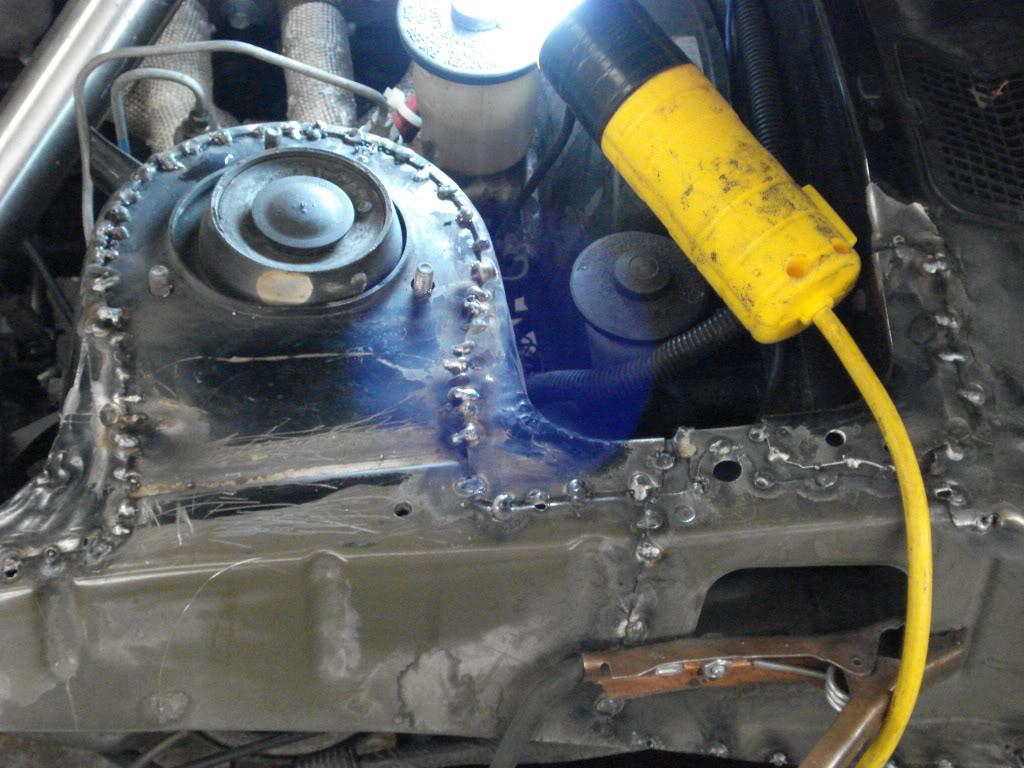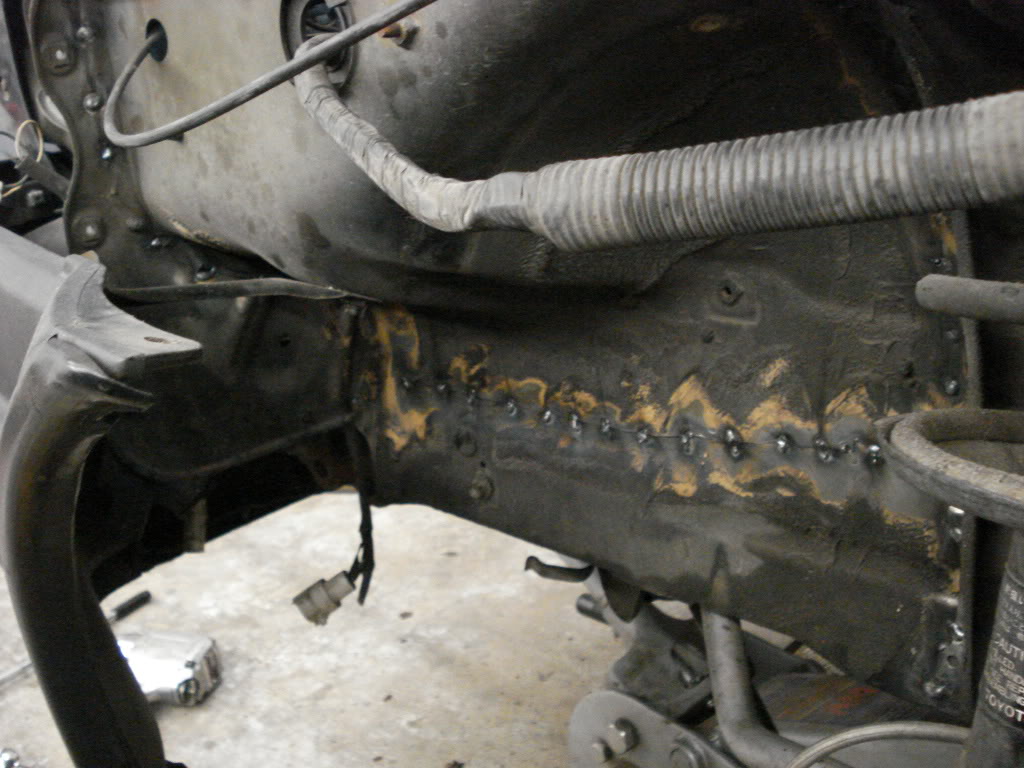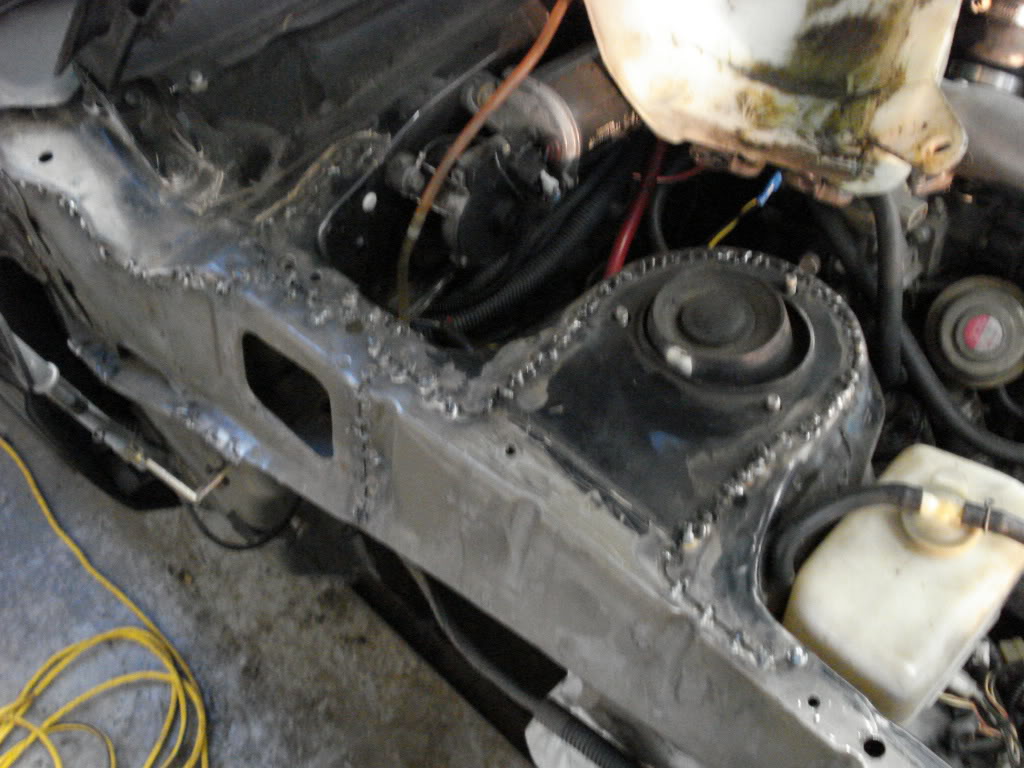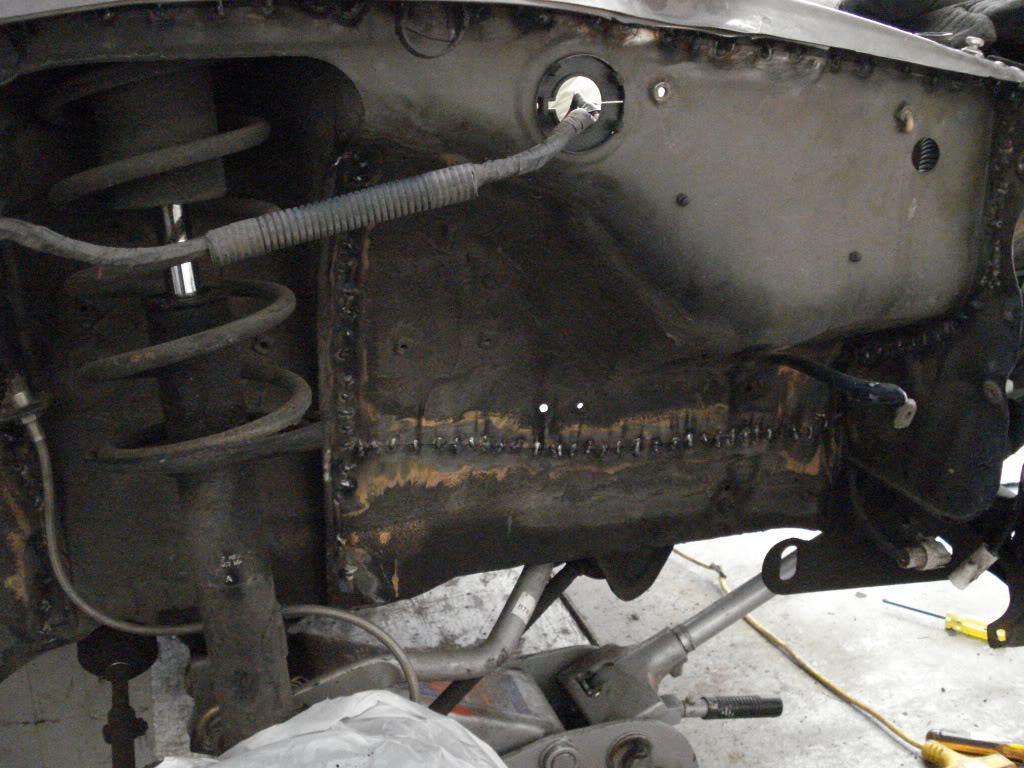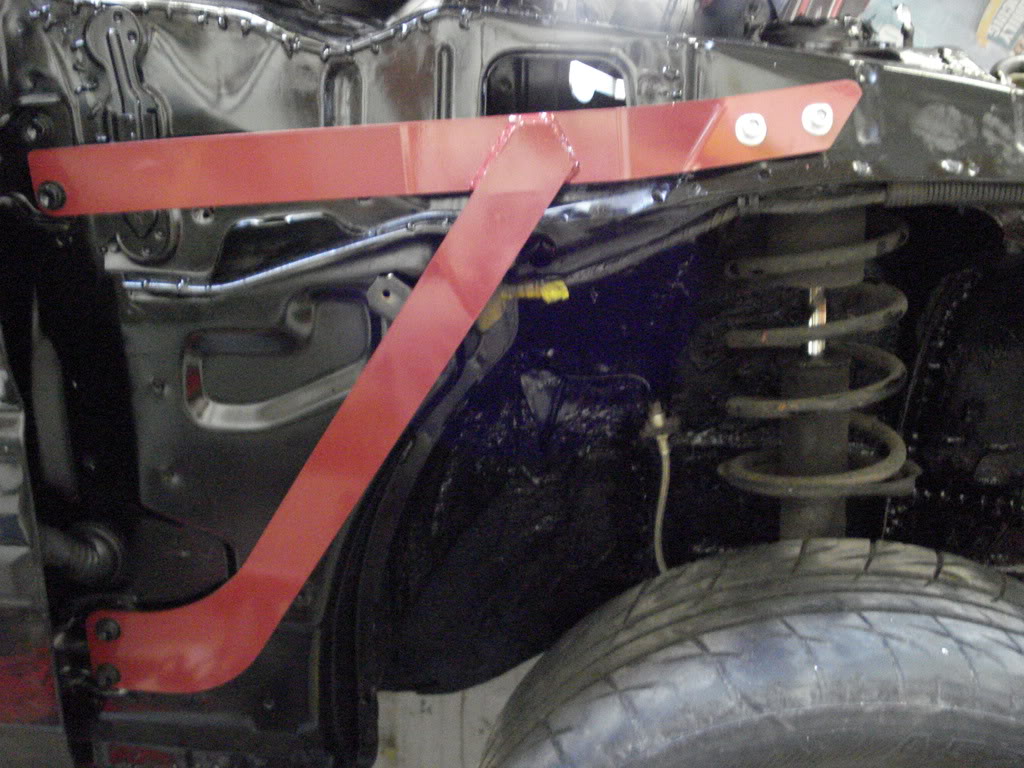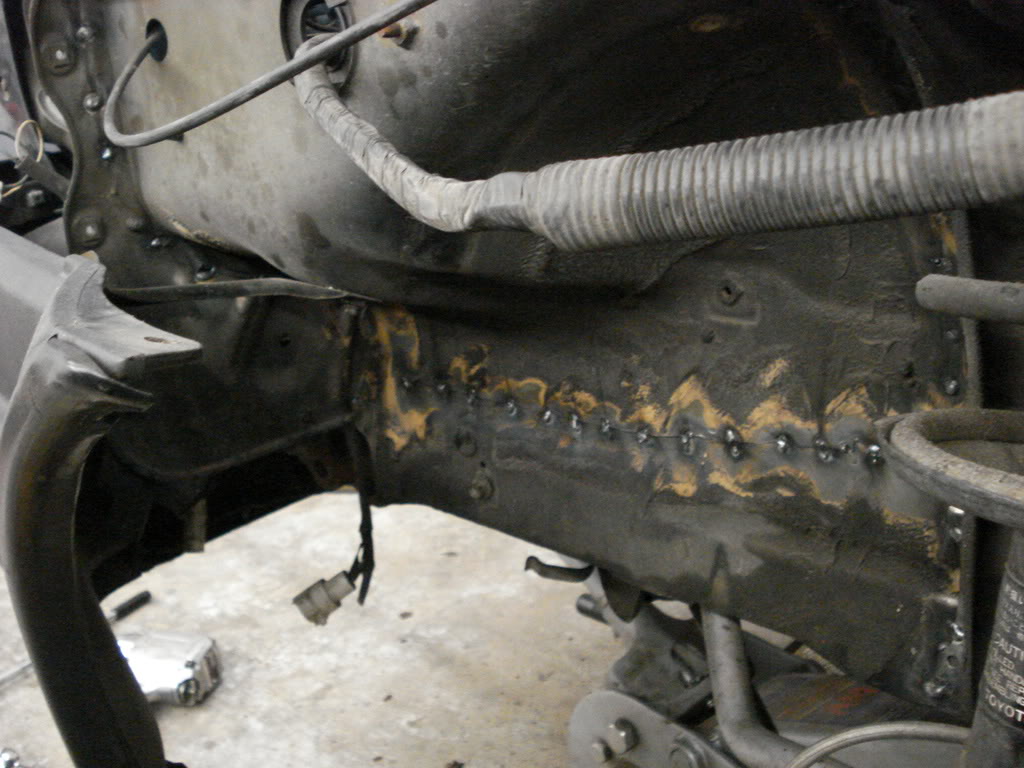 time to fit those 15X10's under there: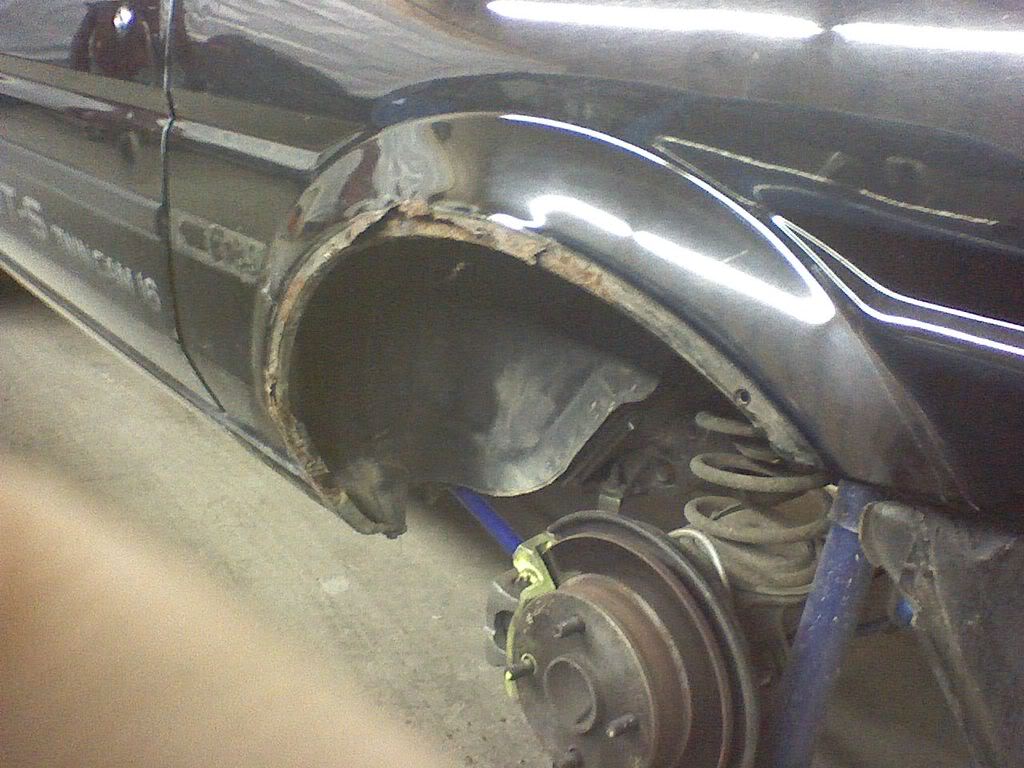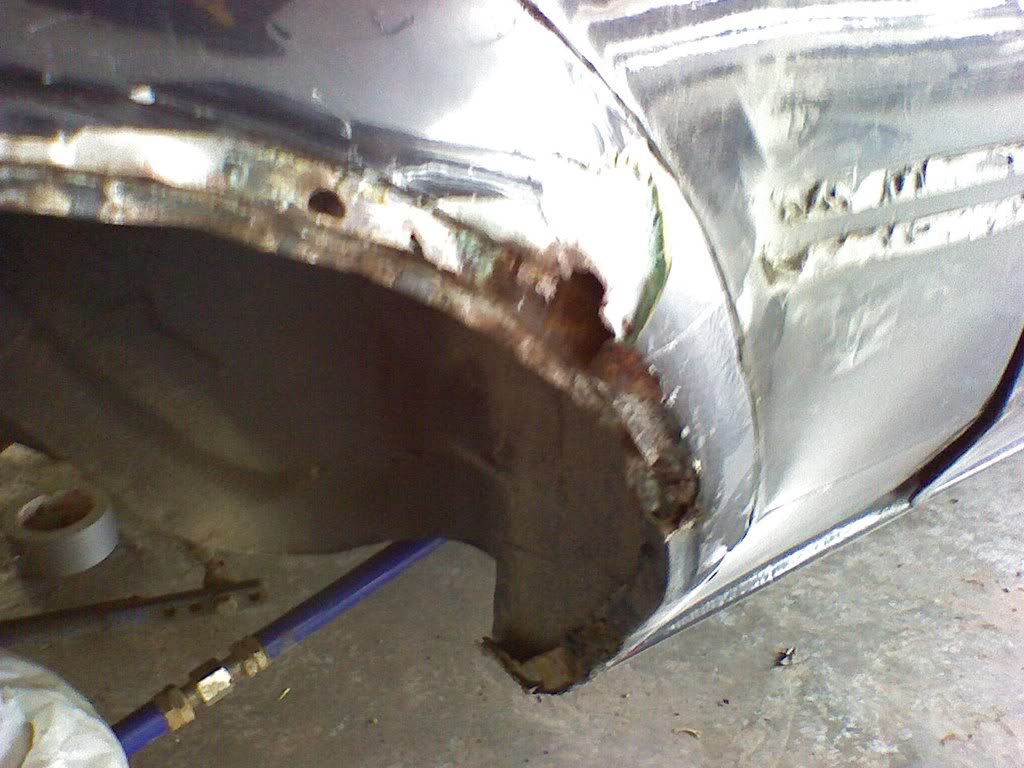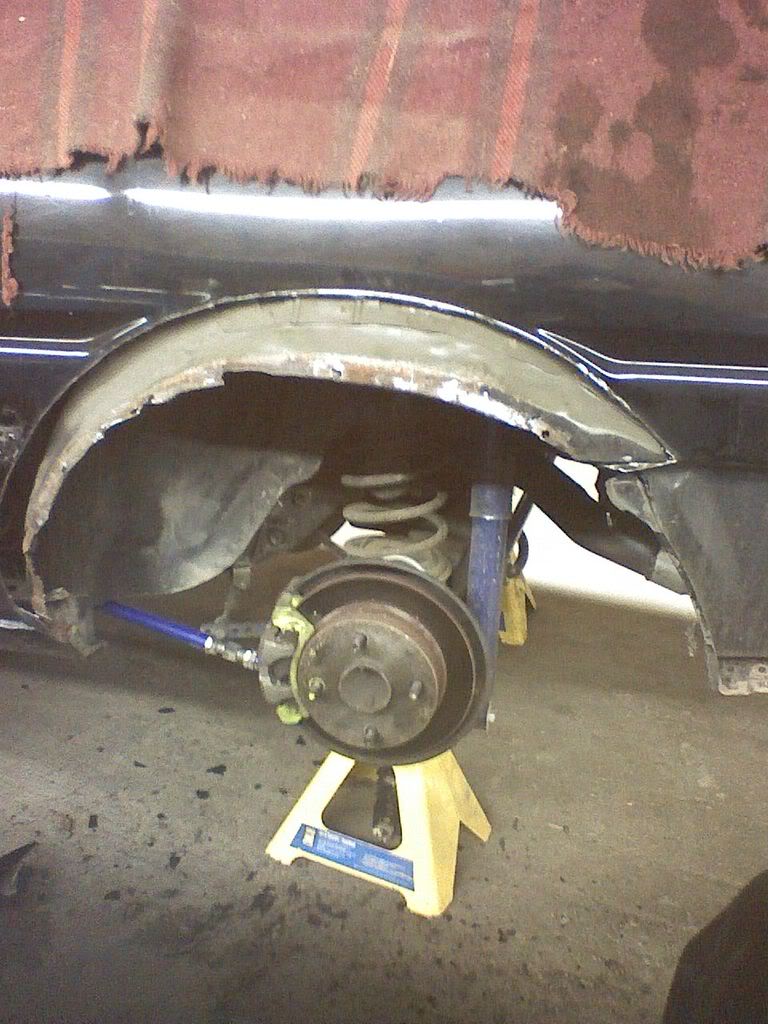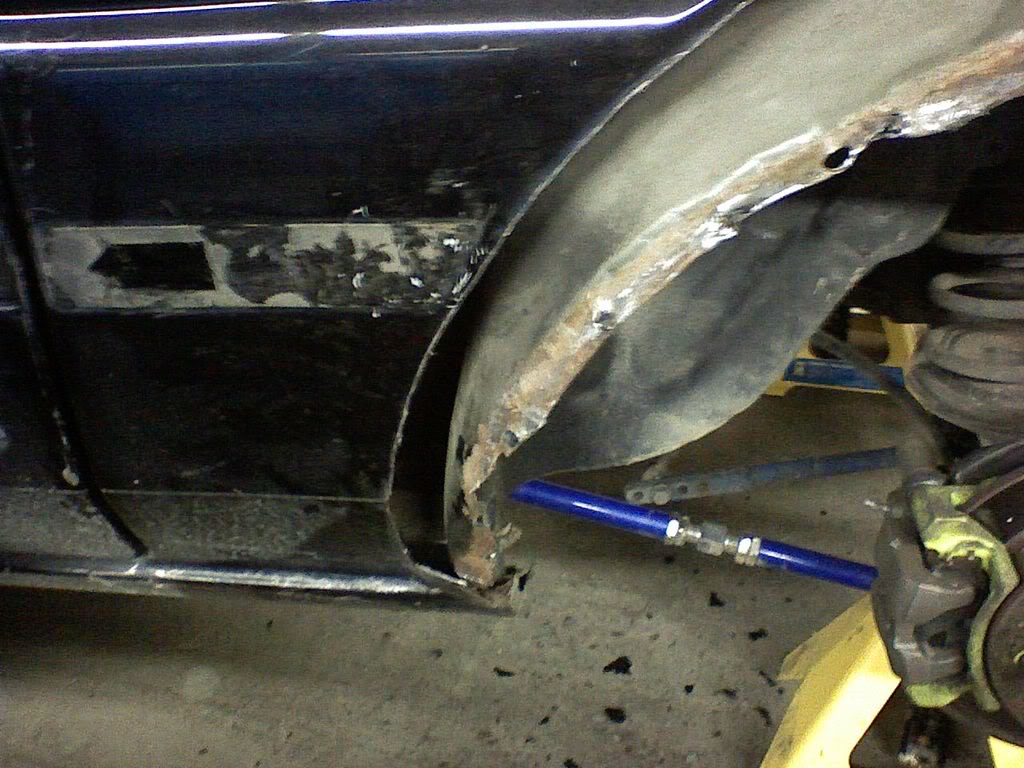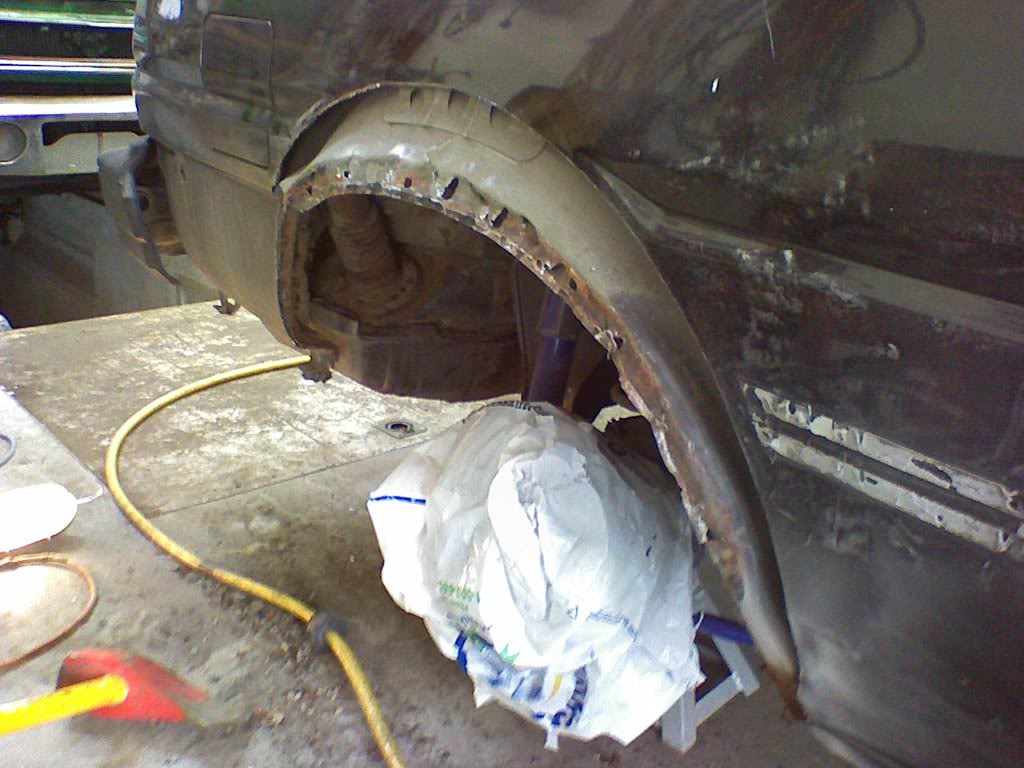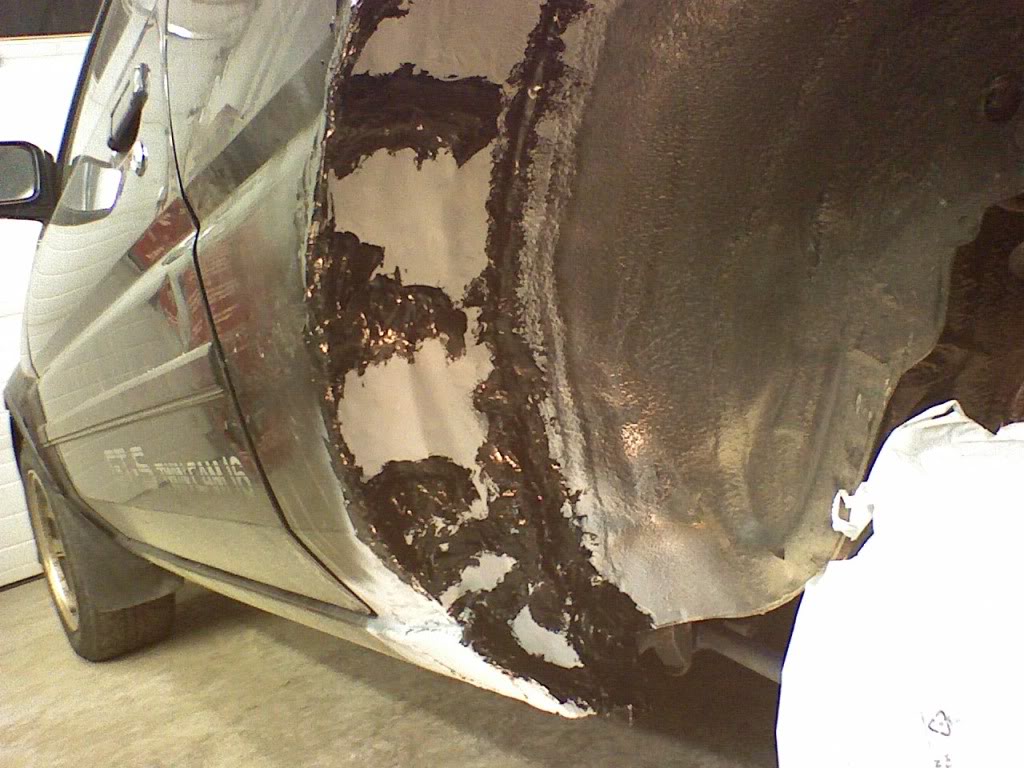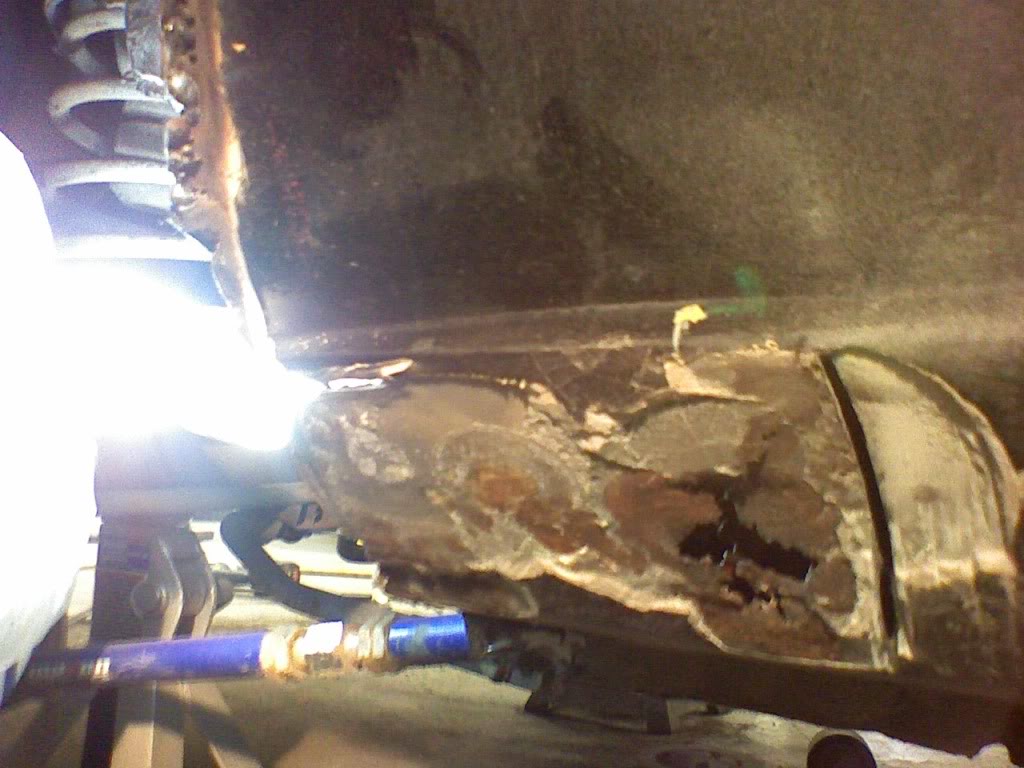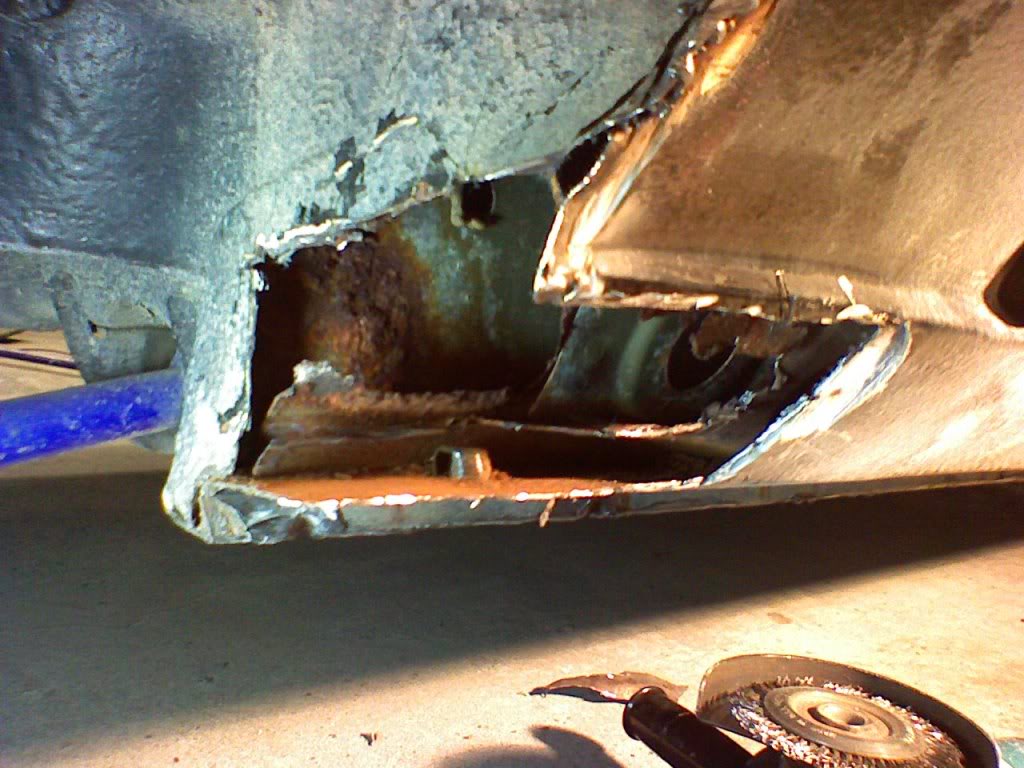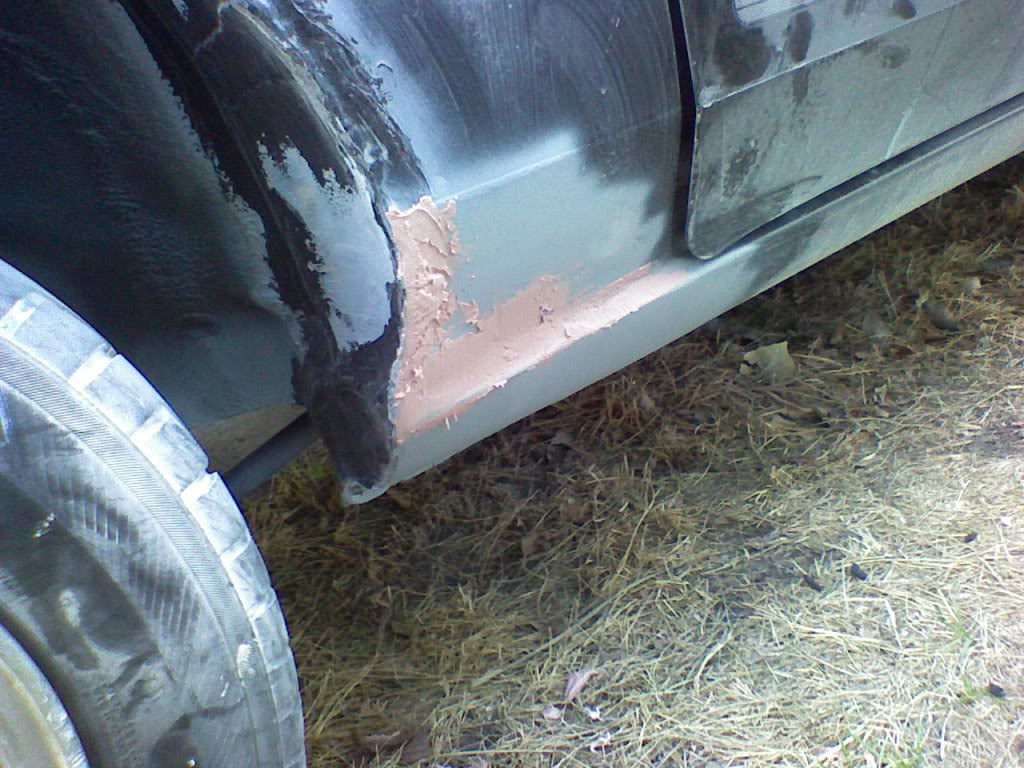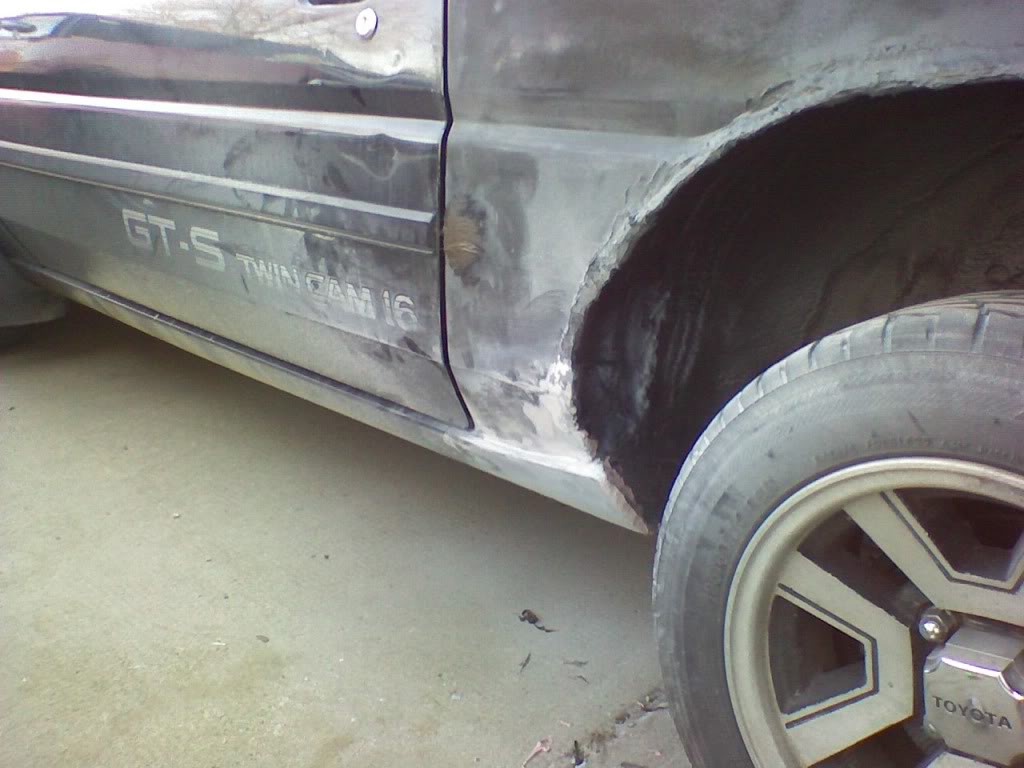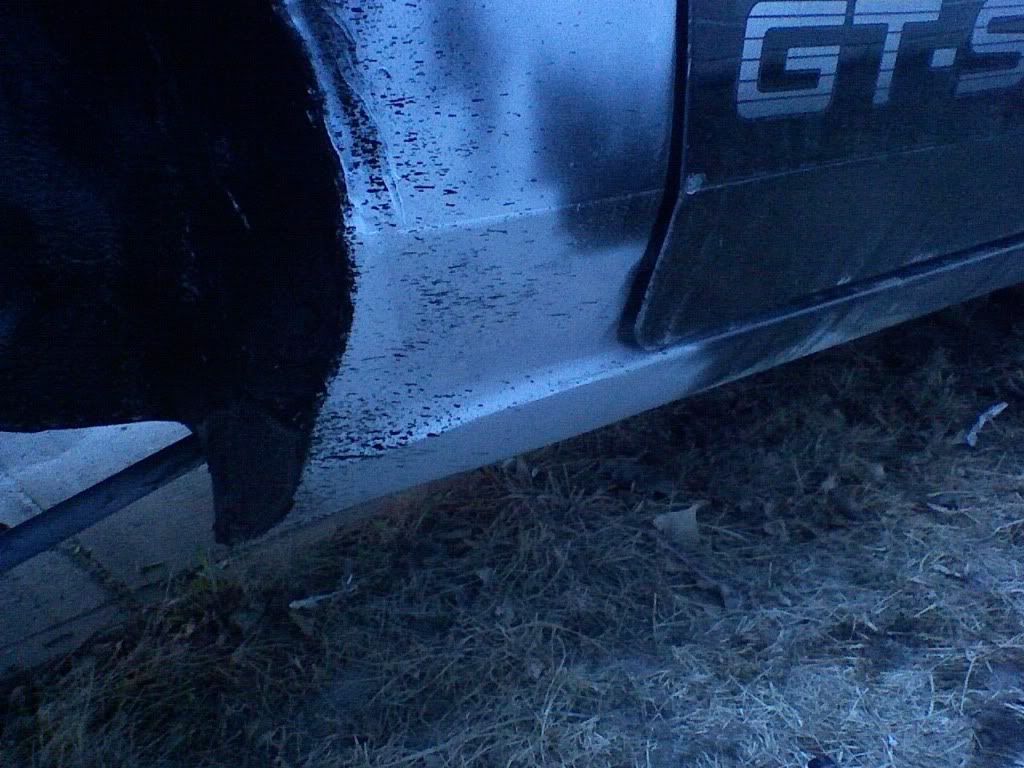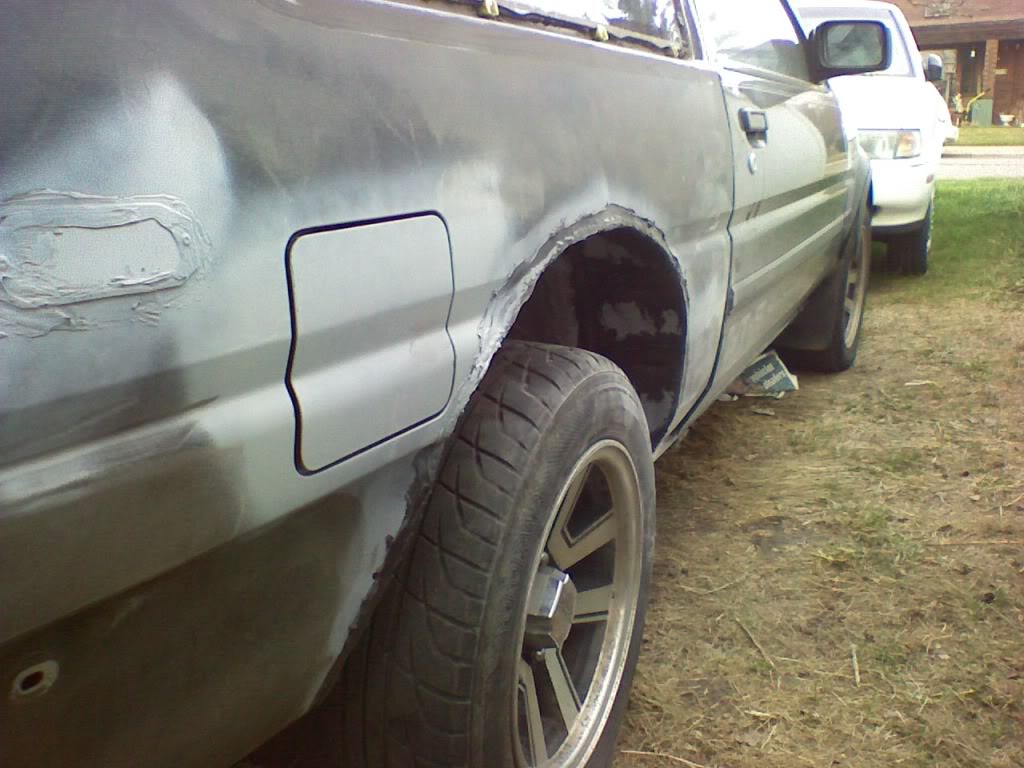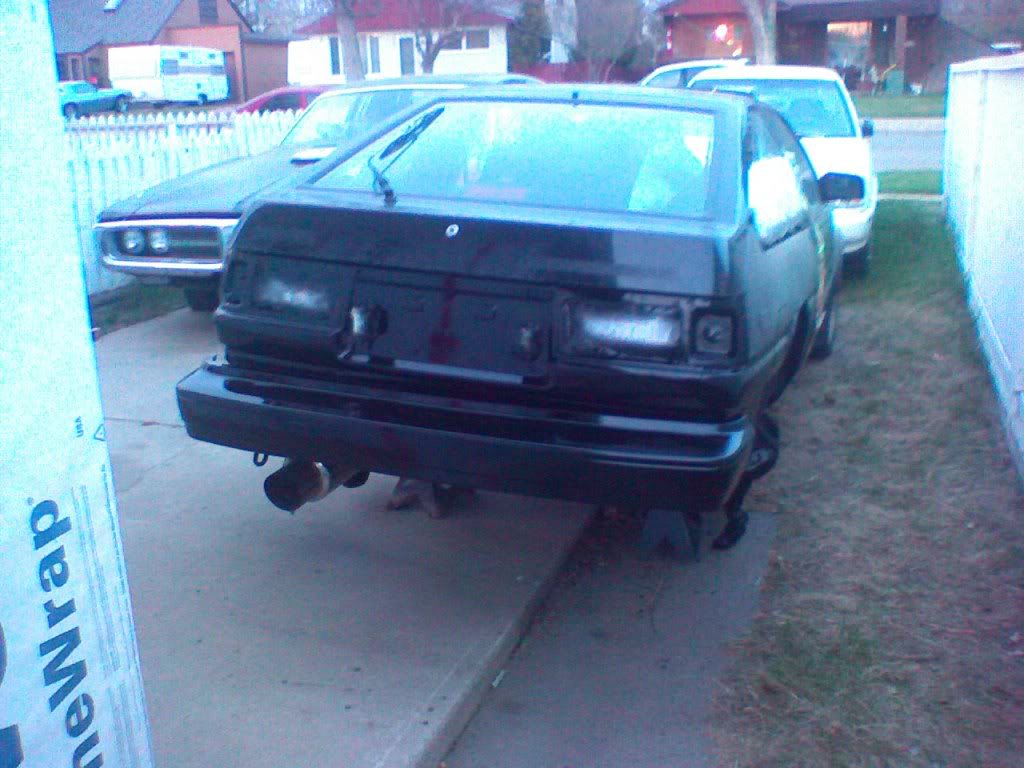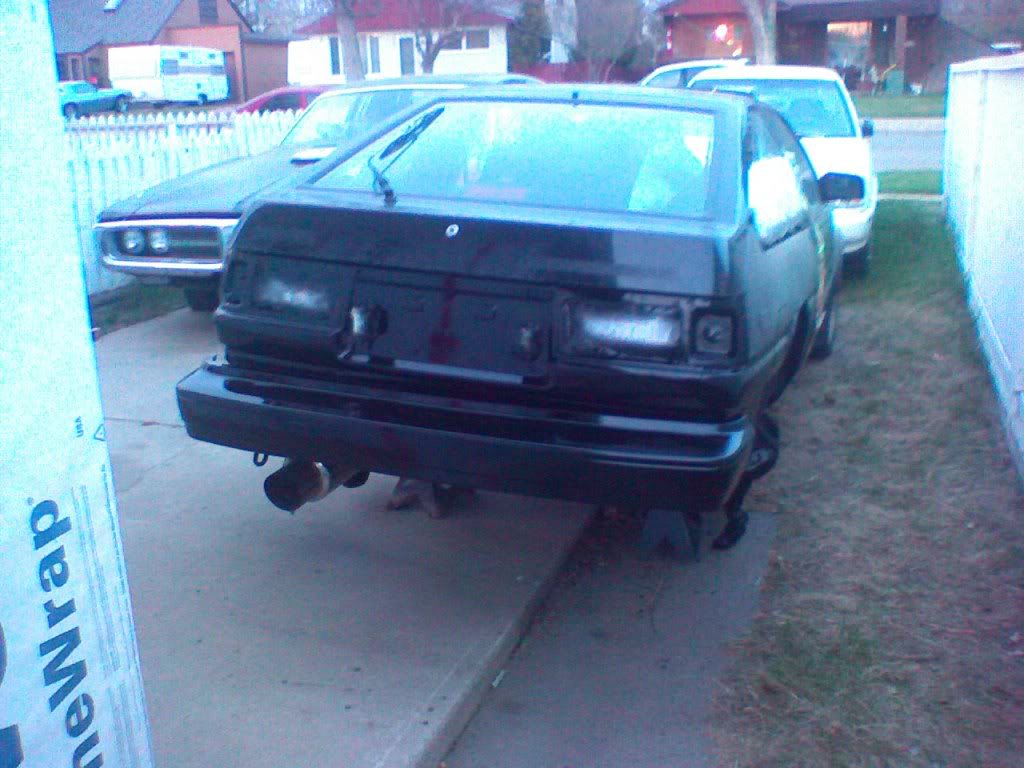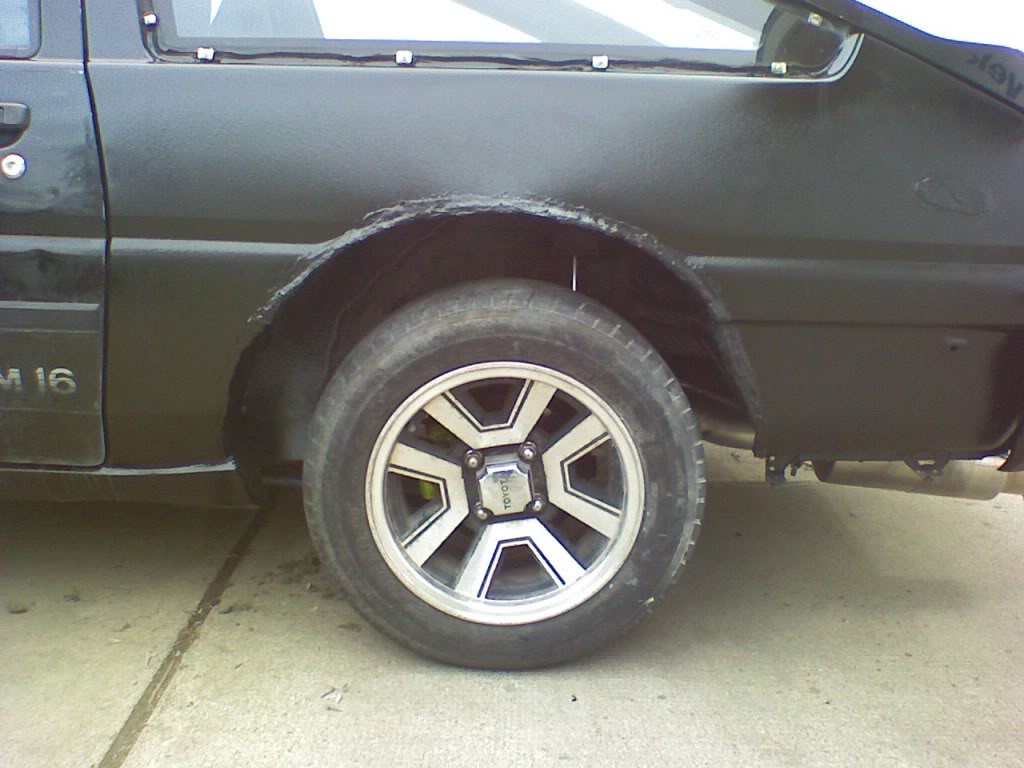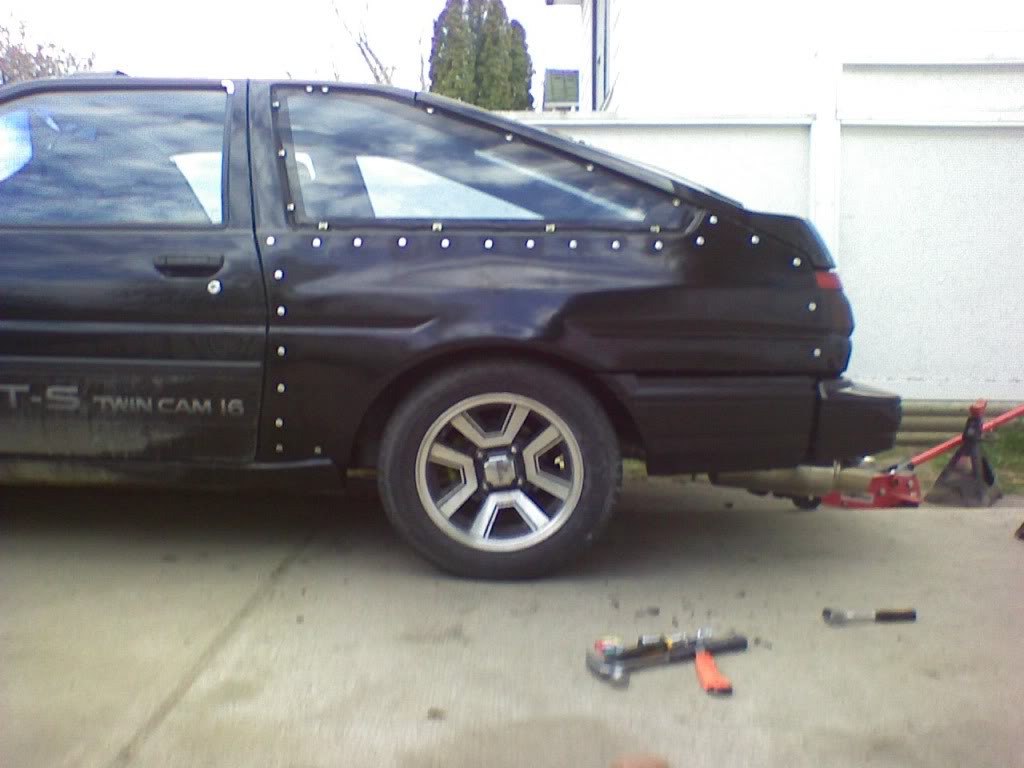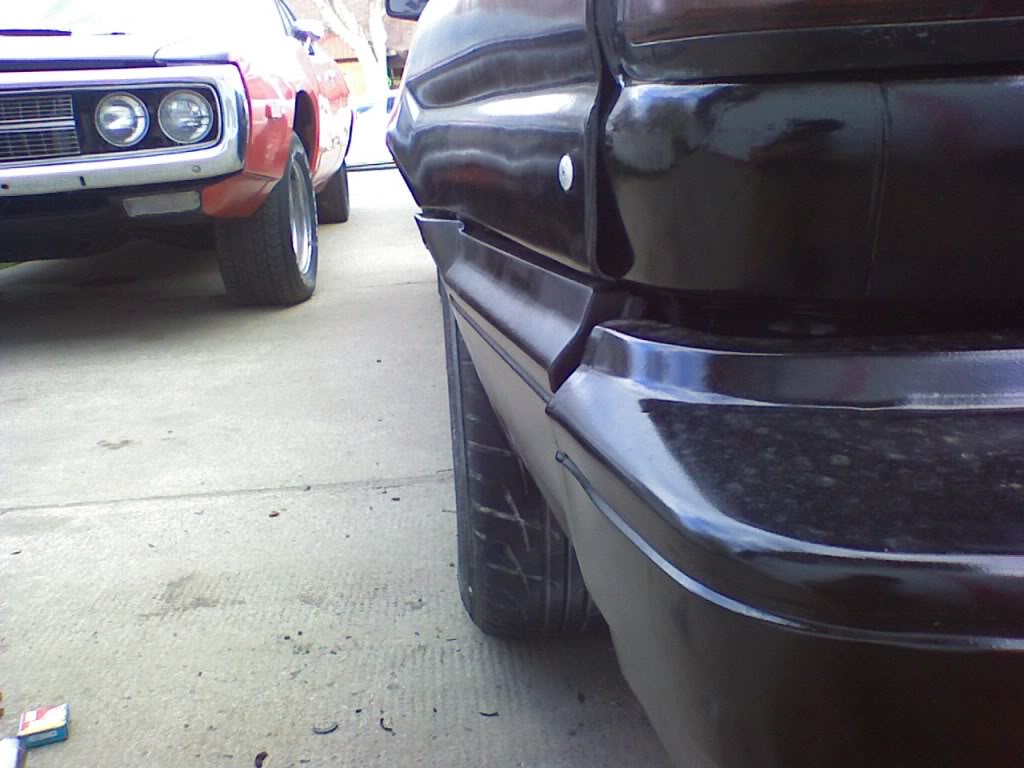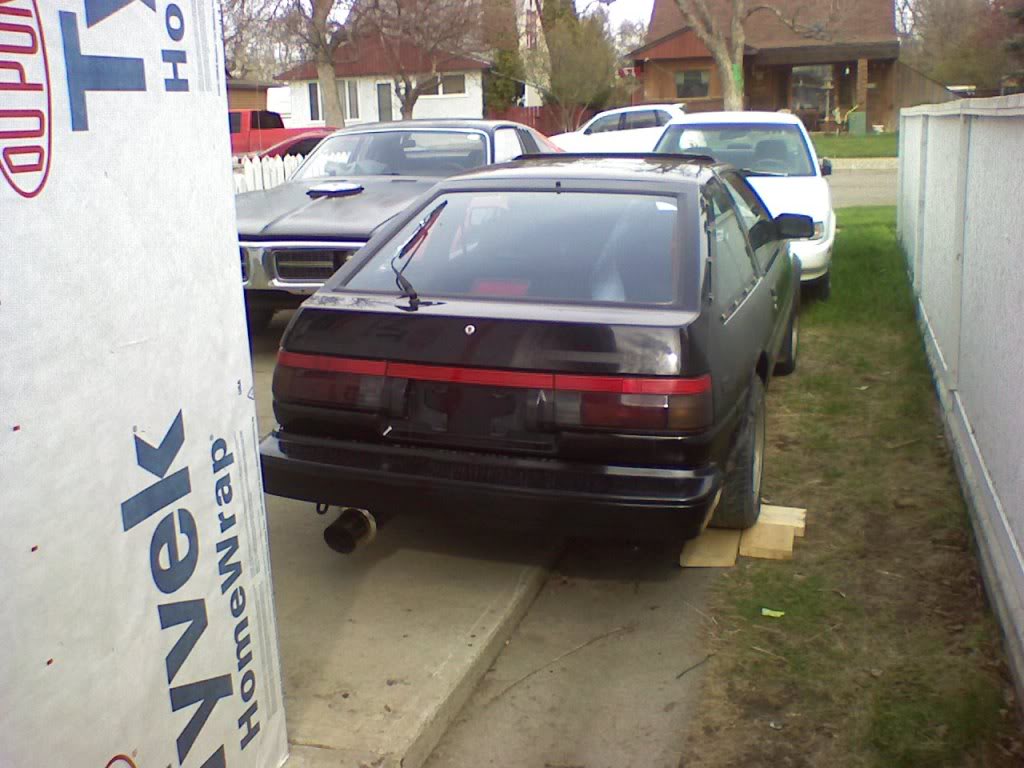 new hood: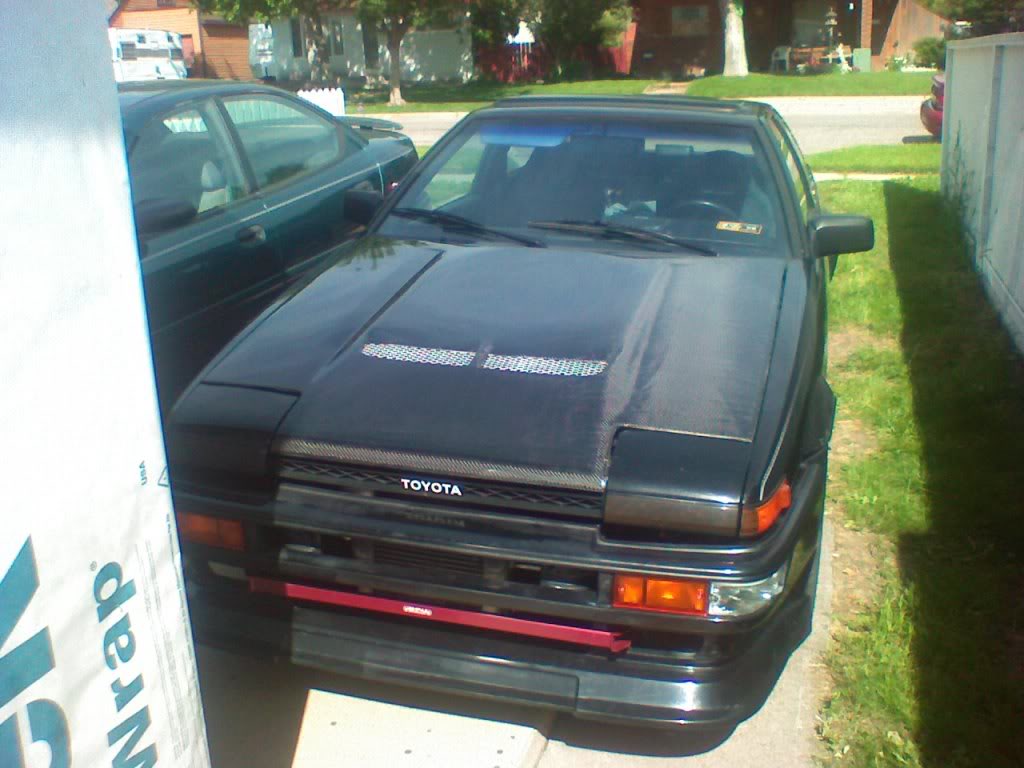 paint those vents: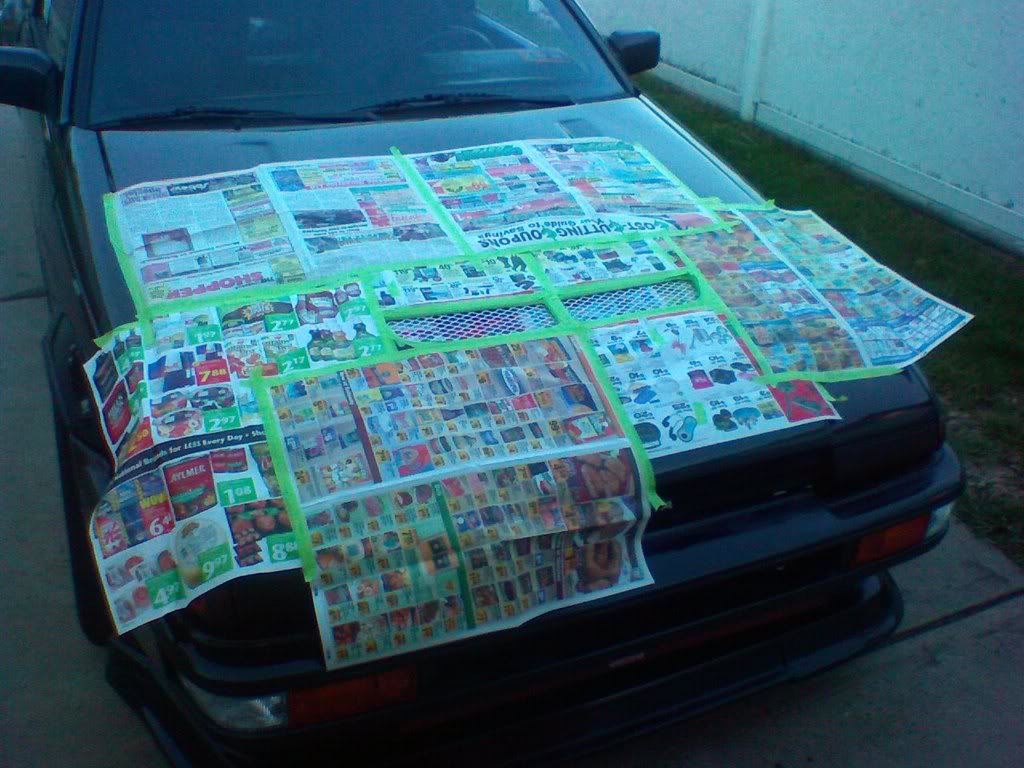 add rear wing: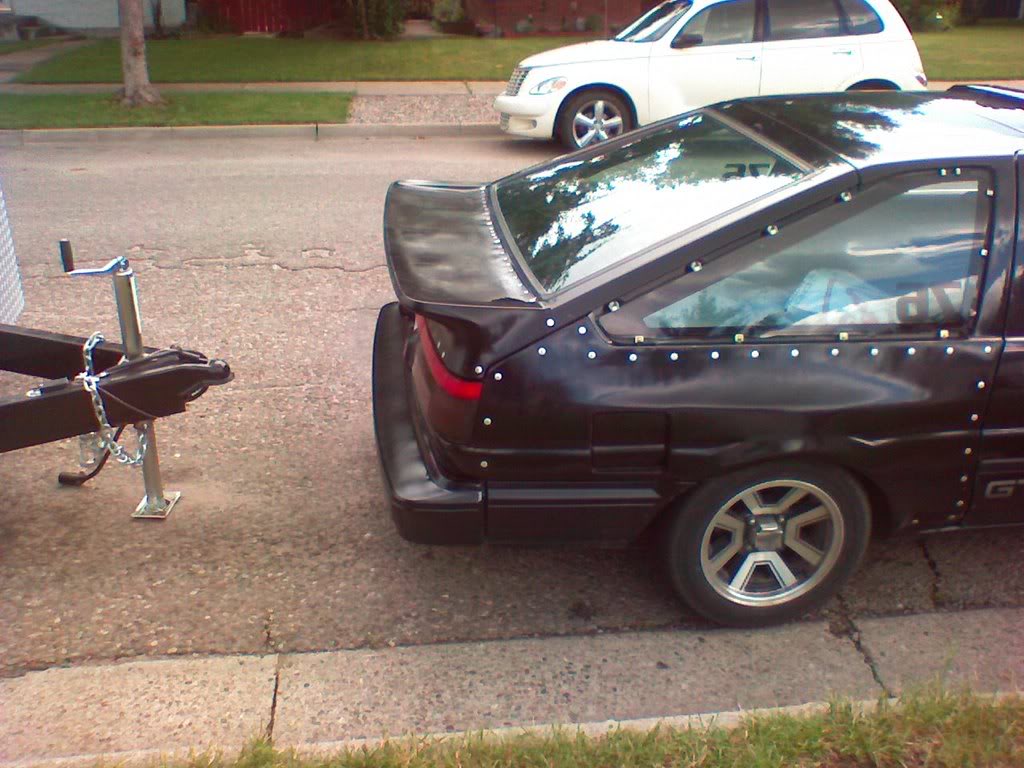 project #1 instead of thr rubber bushings you get with shocks, I used the set of polyurethane bushings that were for my front sway bar for more stiffness ( i installed a whiteline sway on the front instead of using the stock sway bar) I was suprised - no noise or squeaking...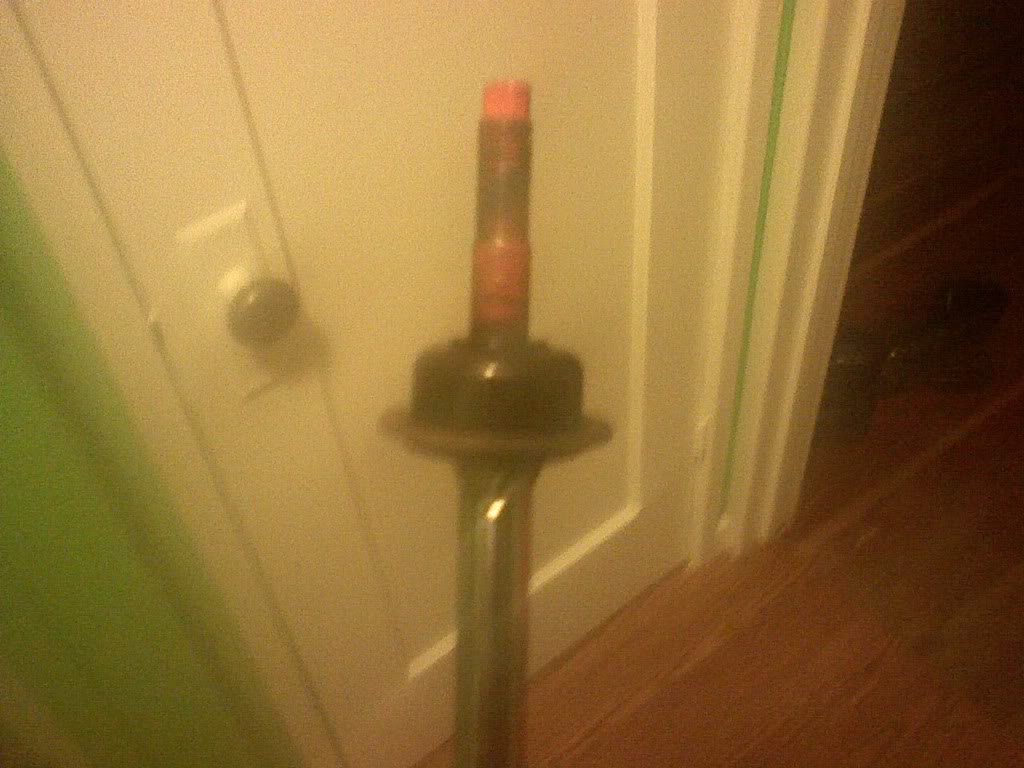 project #2 I had to tap the intake to run my new oil catch can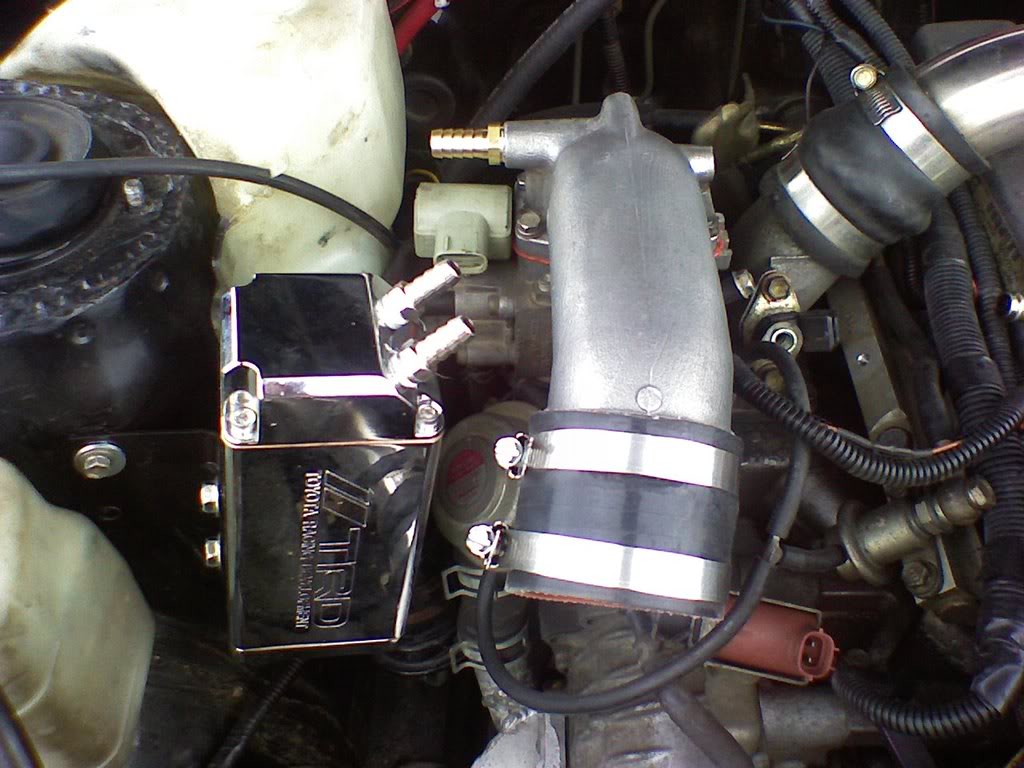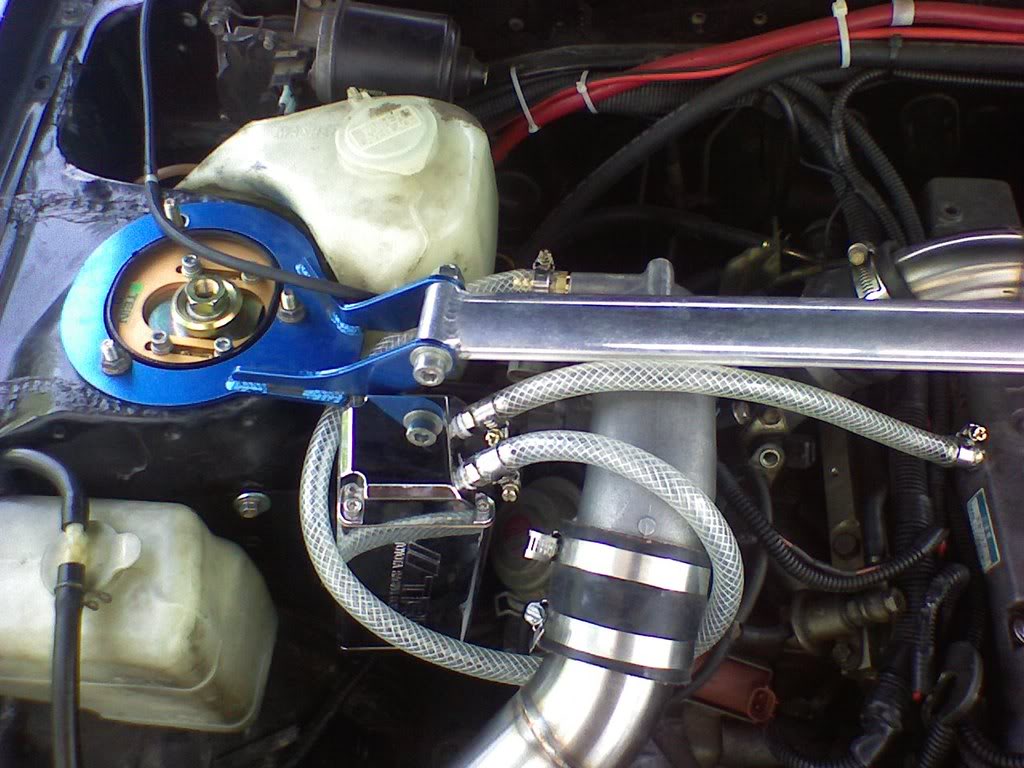 remove sound deadning - the dry ice trick is the cat's meow...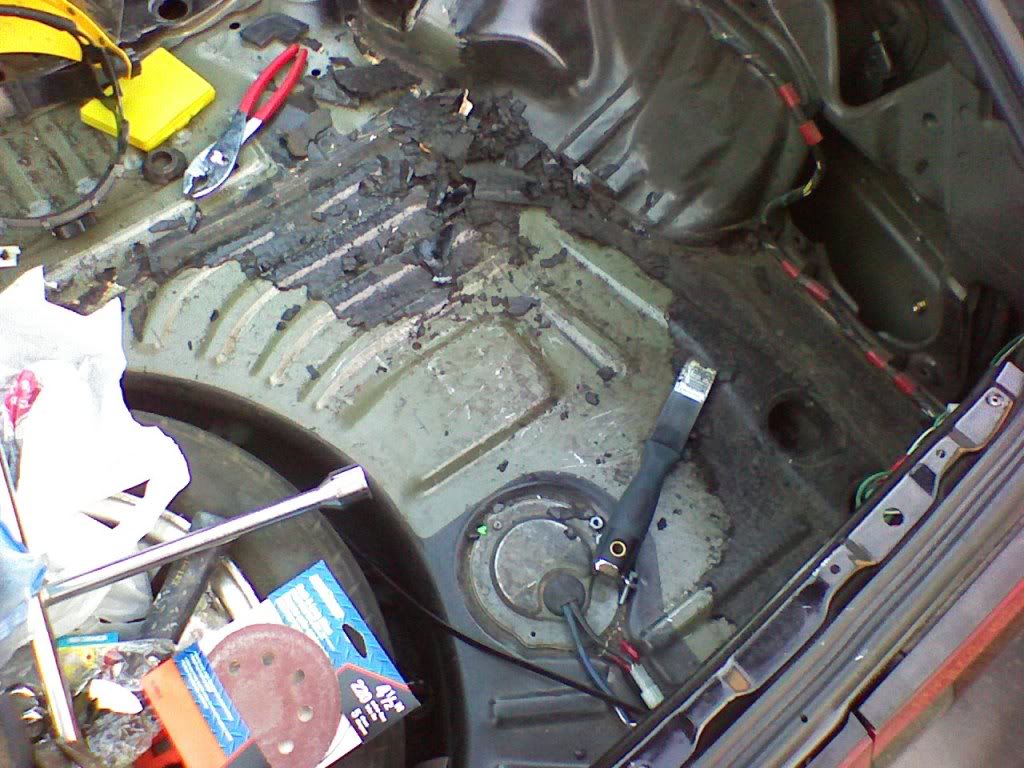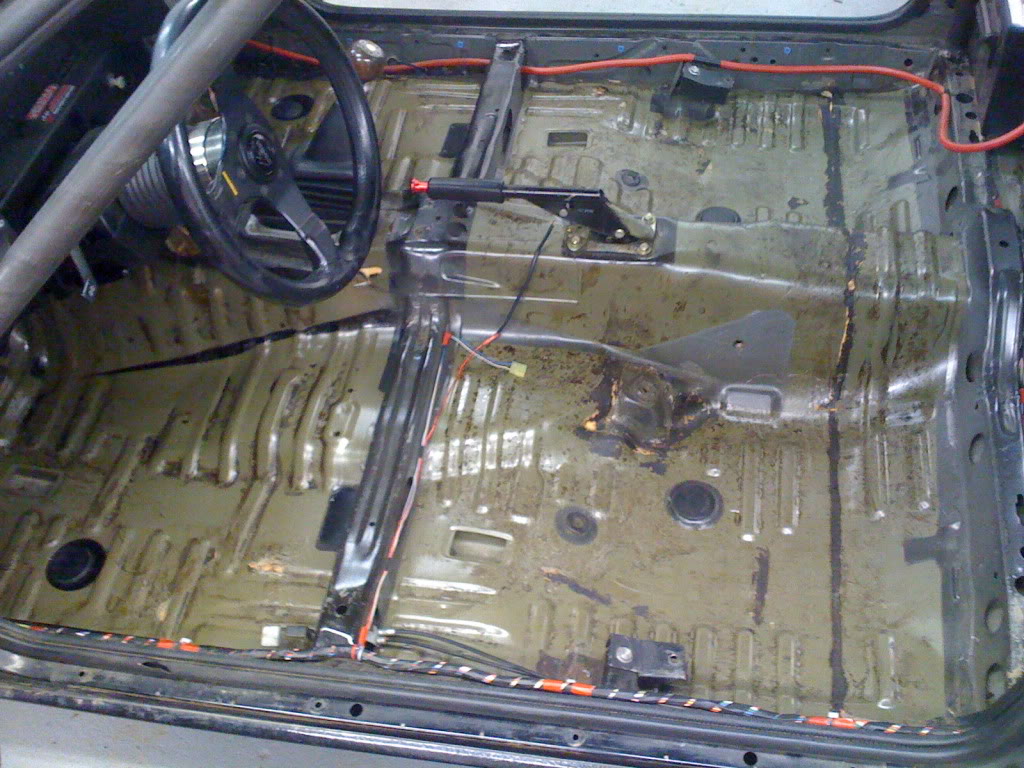 time to cage it: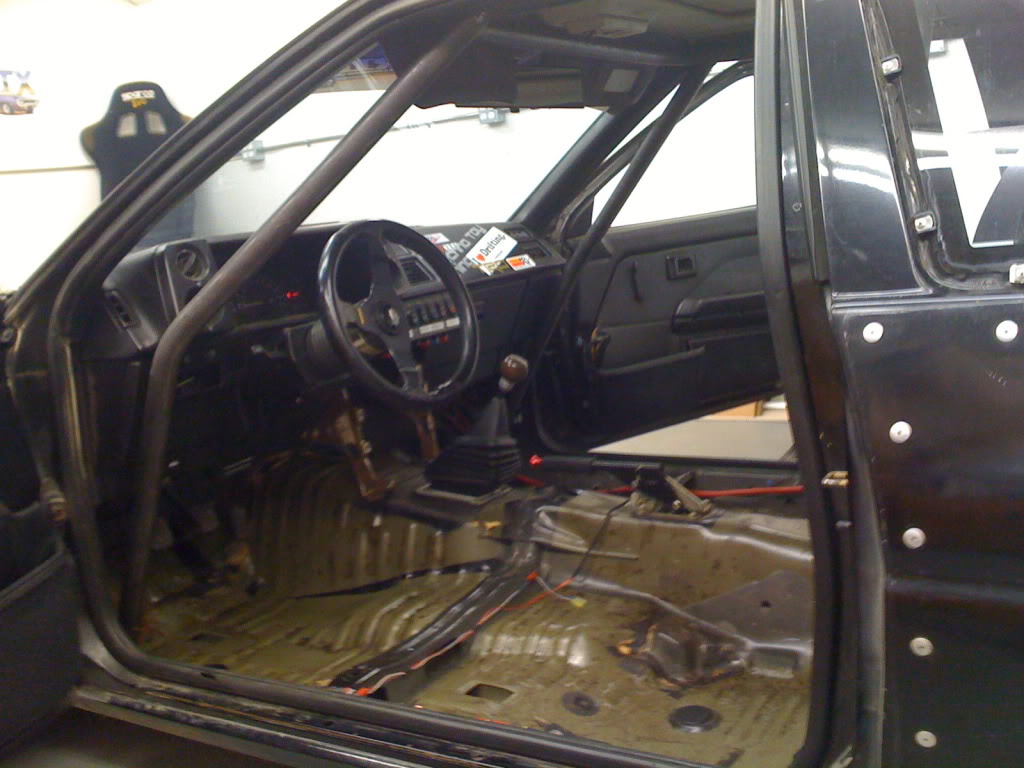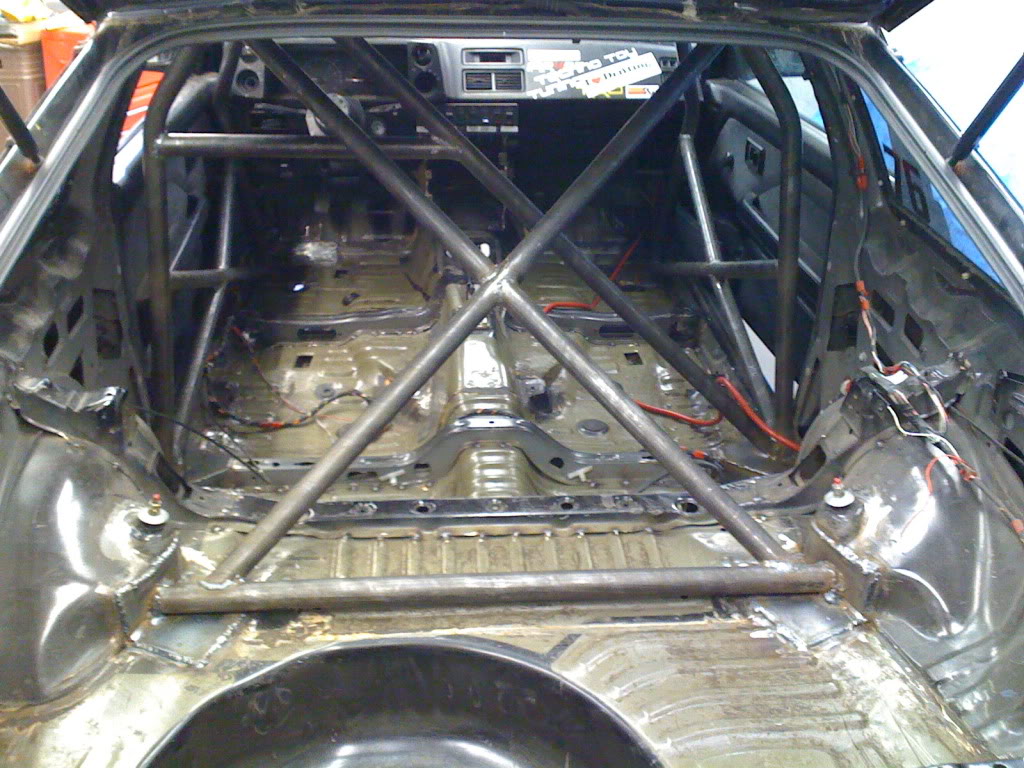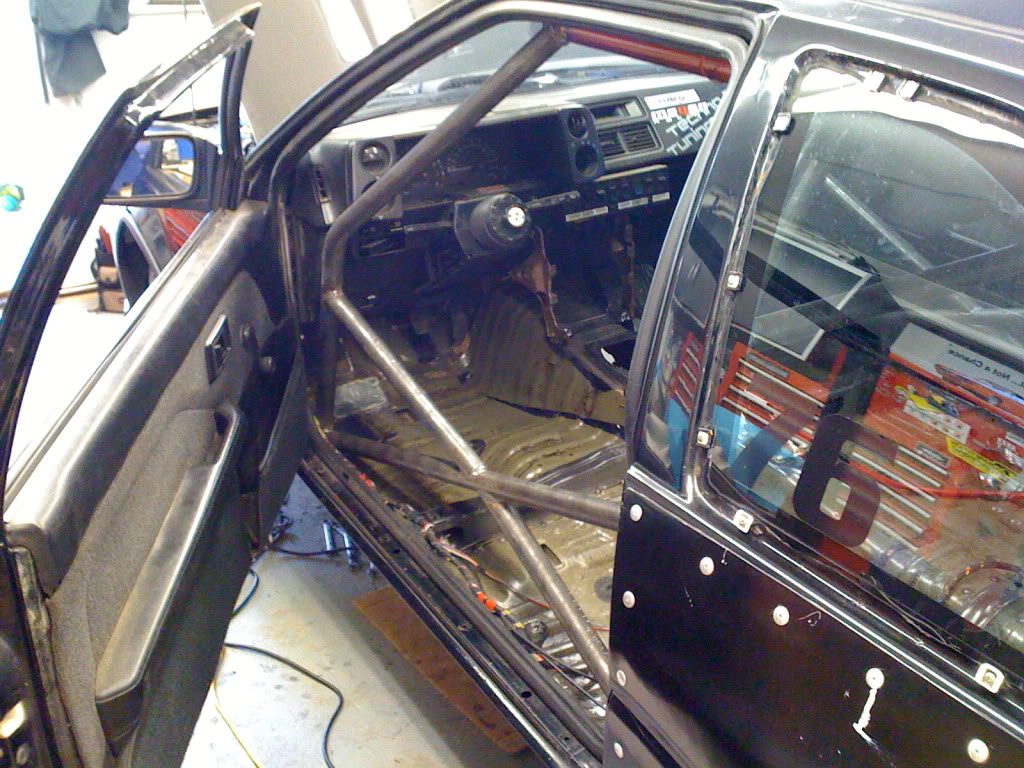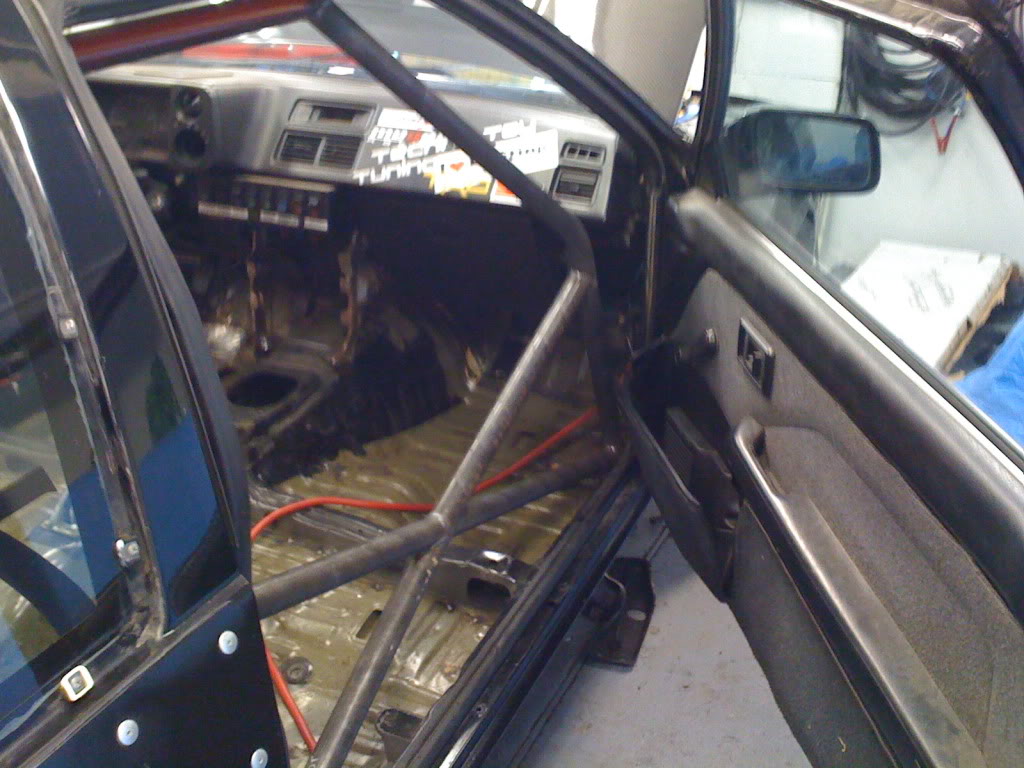 and paint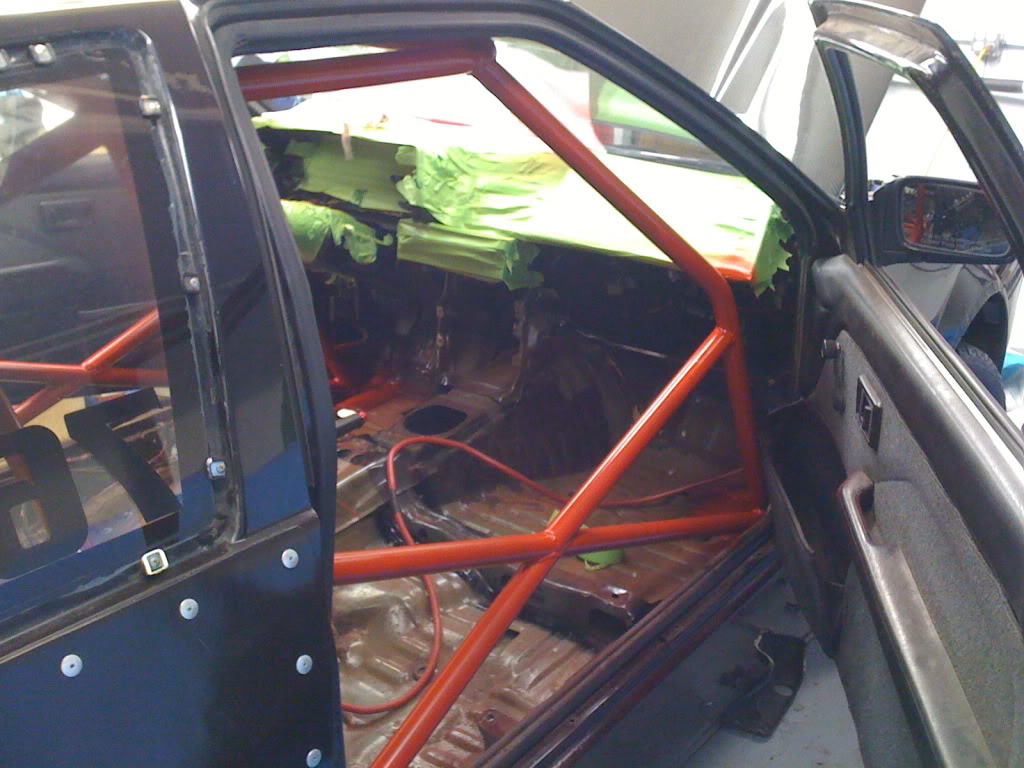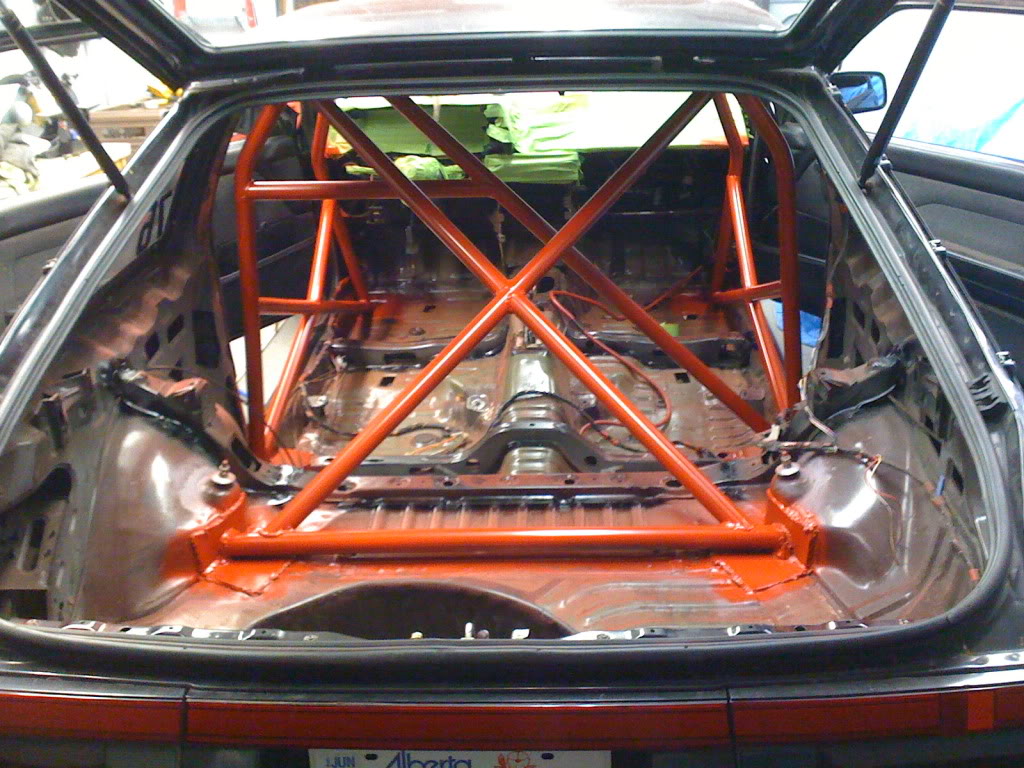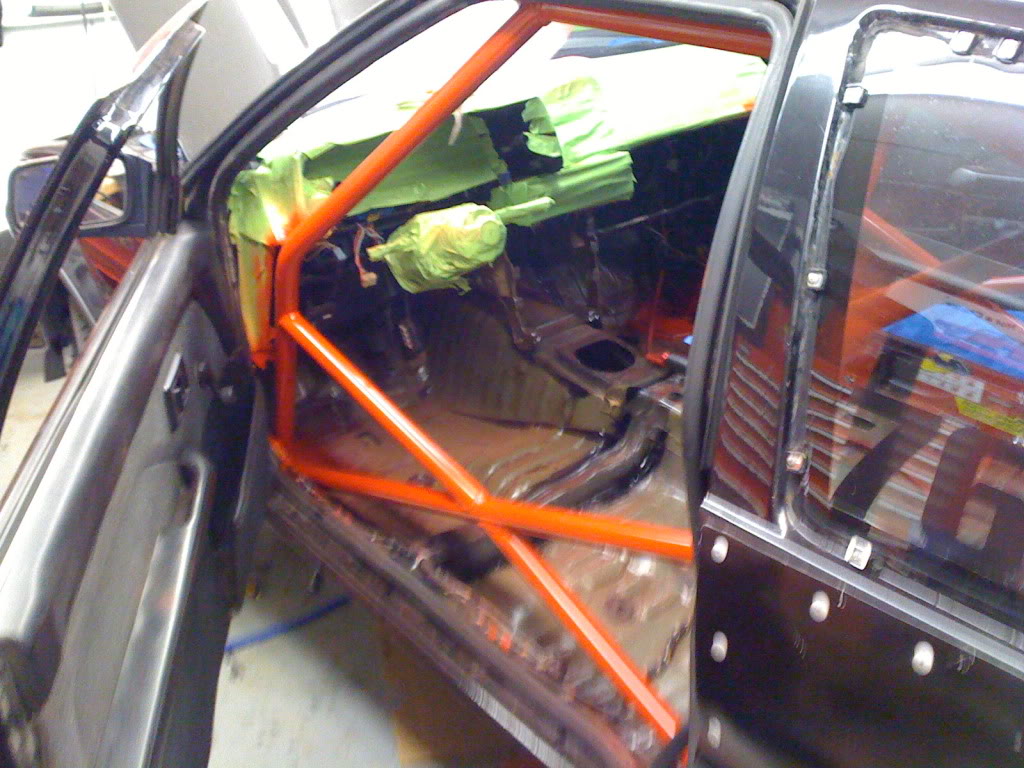 yeah...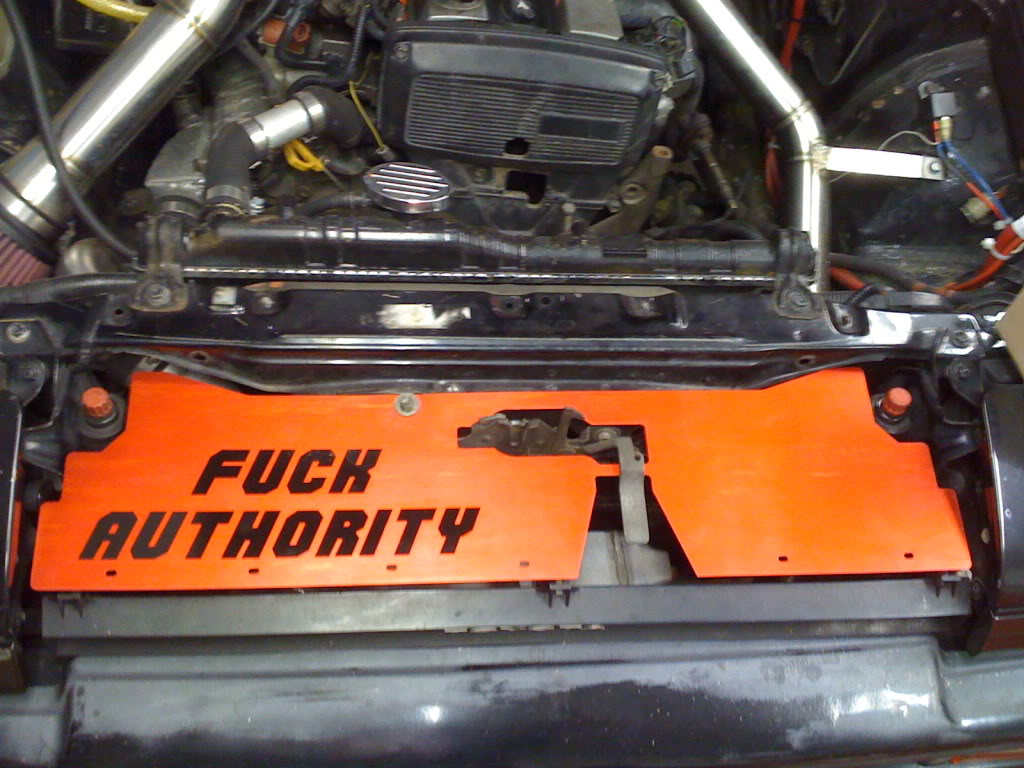 shifter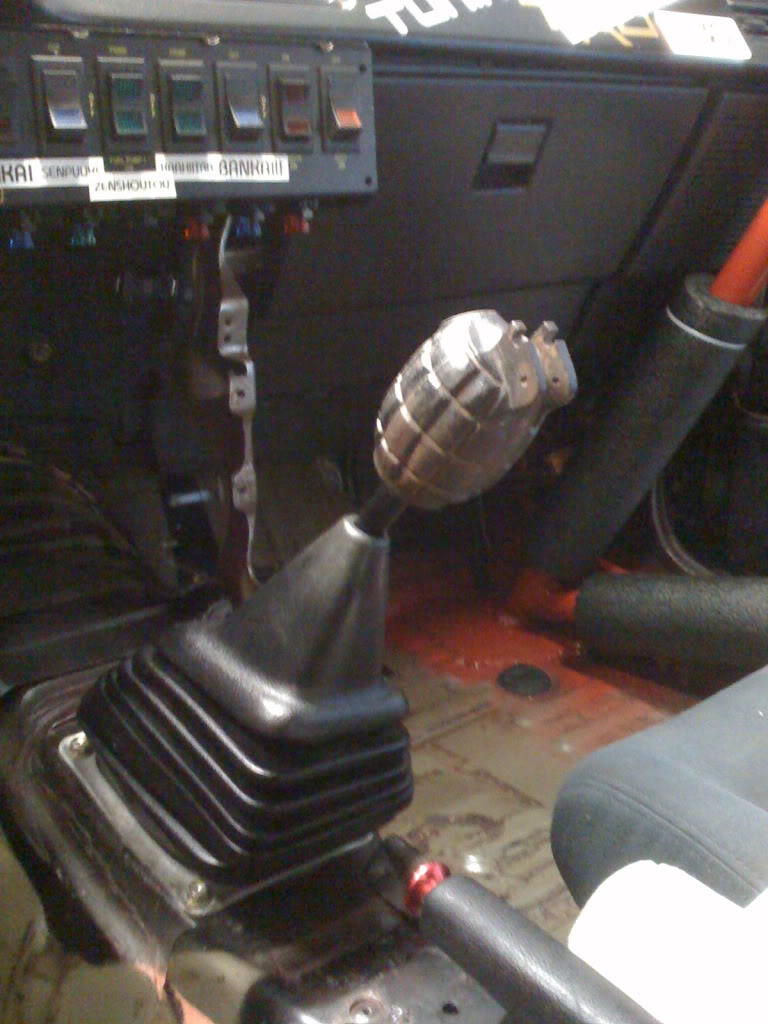 hood pins


project #3 time to fabricate my own seat bracket for my sparco - took about 20 frustrating hrs and 80 dollars in flat metal from home depot (half of which i threw away or ruined) but I came out with this design where its the lowest i can lower a seat, and slightly over to the right of the rollbar to fit my seat with no rubbing issues, and it uses 6 of the stock bolt positions!!! the 4 stock bolts and the 2 seat belt locations! This sucker ain't moving!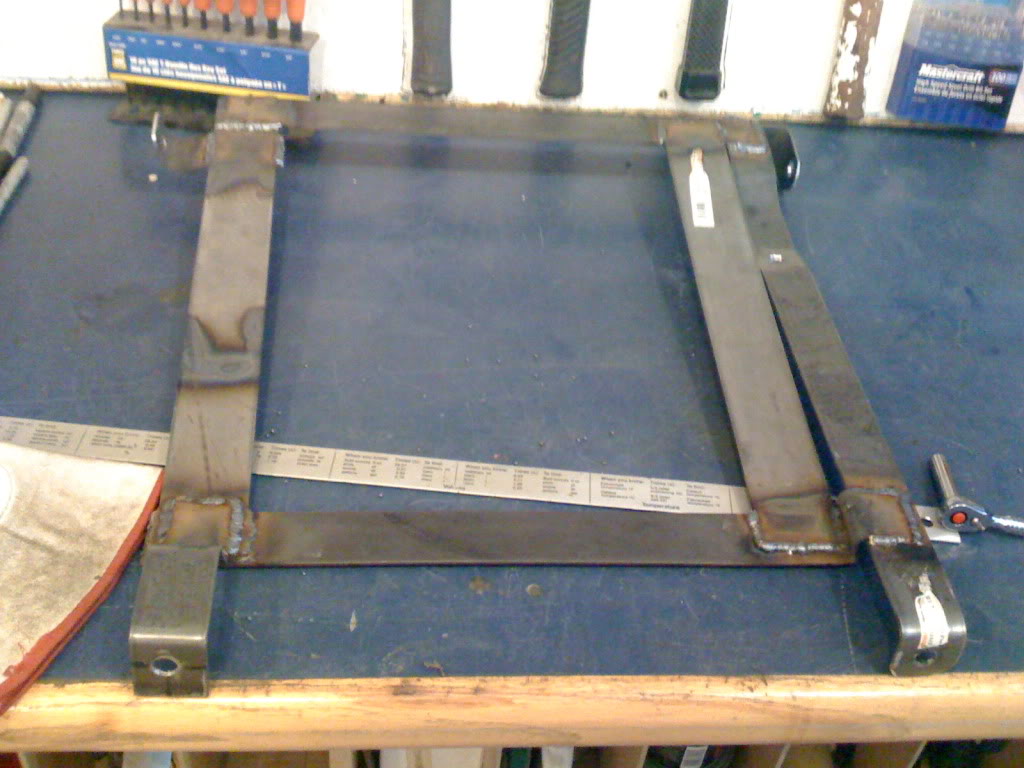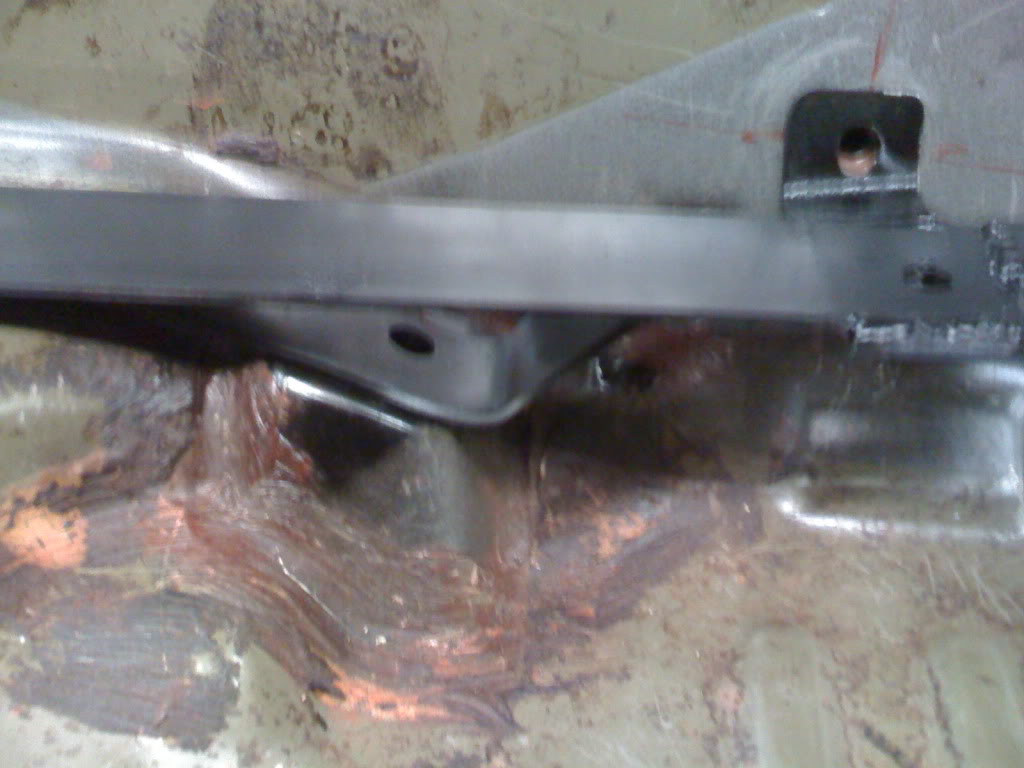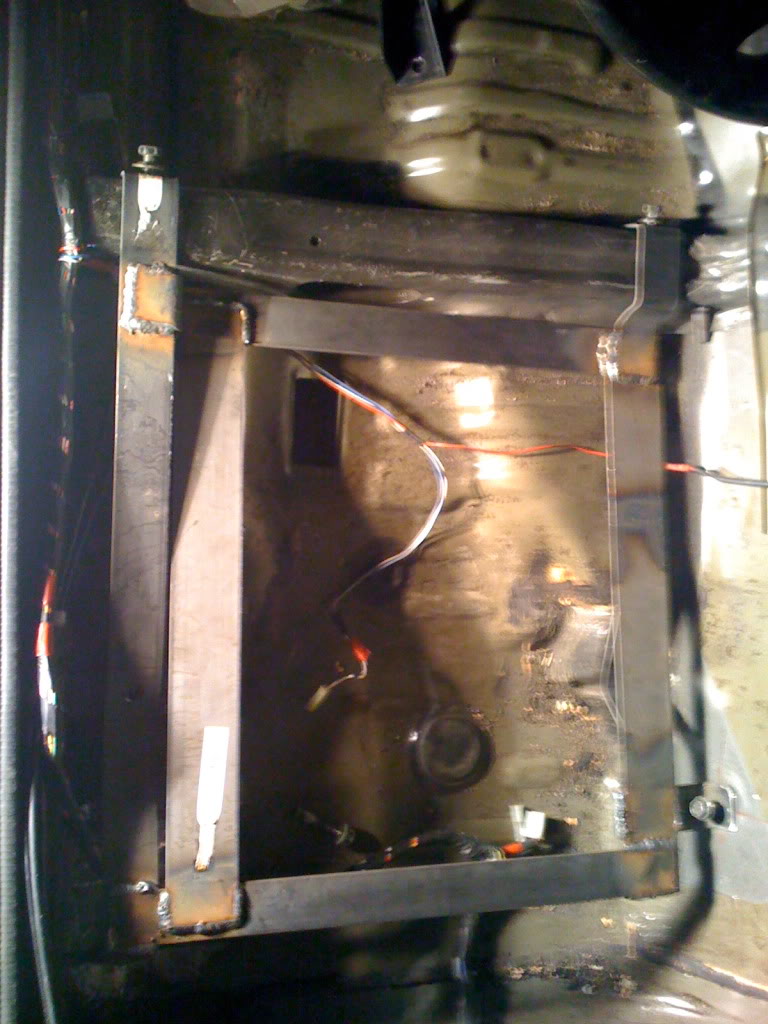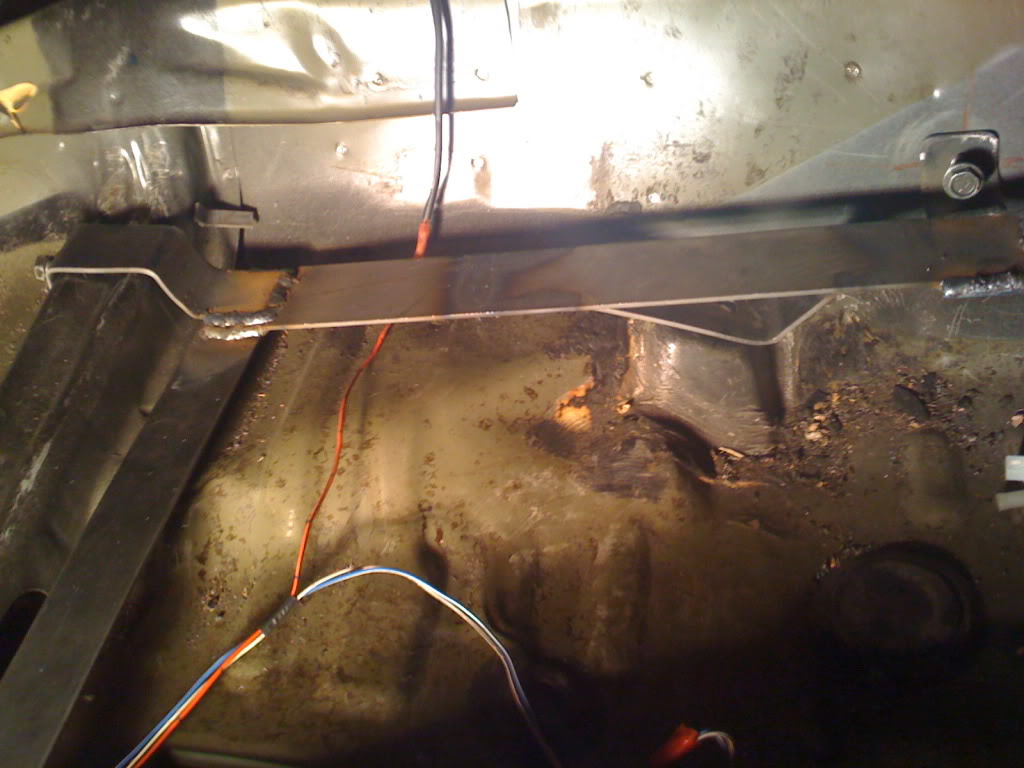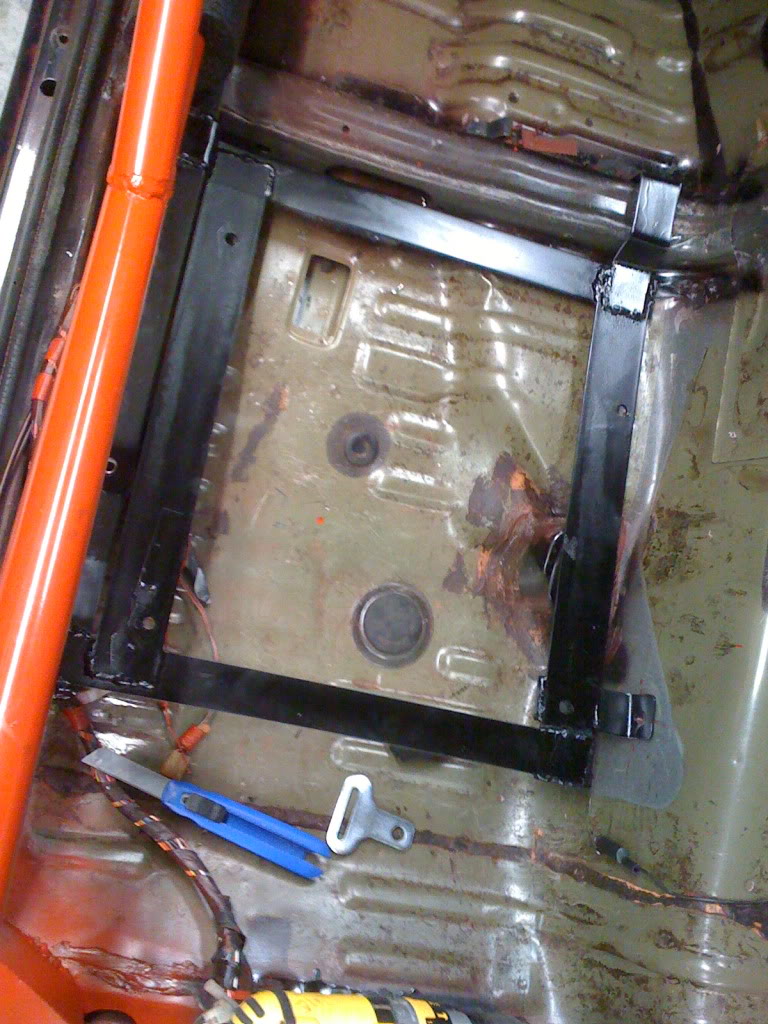 time to lengthen those wheel studs for the 15X10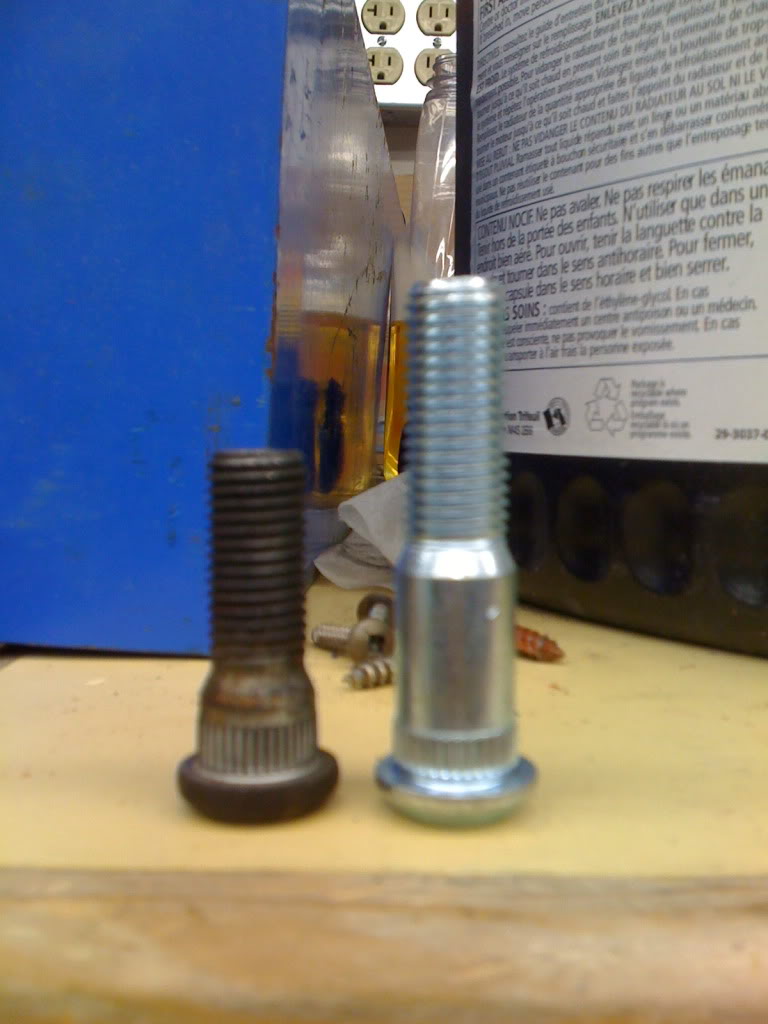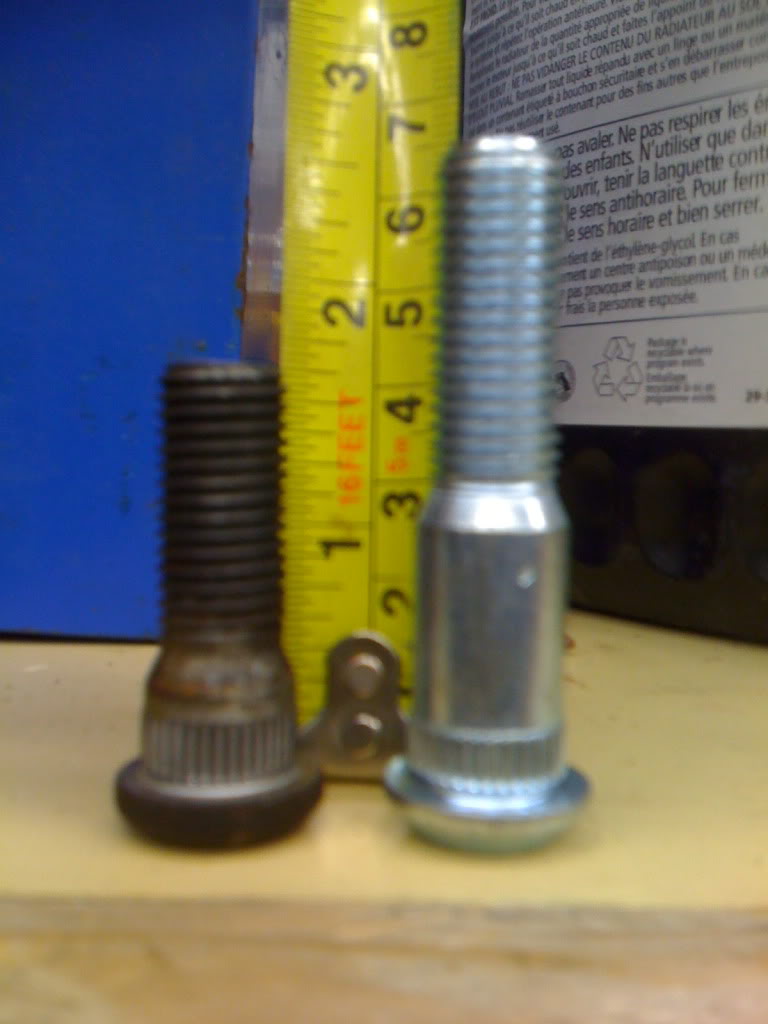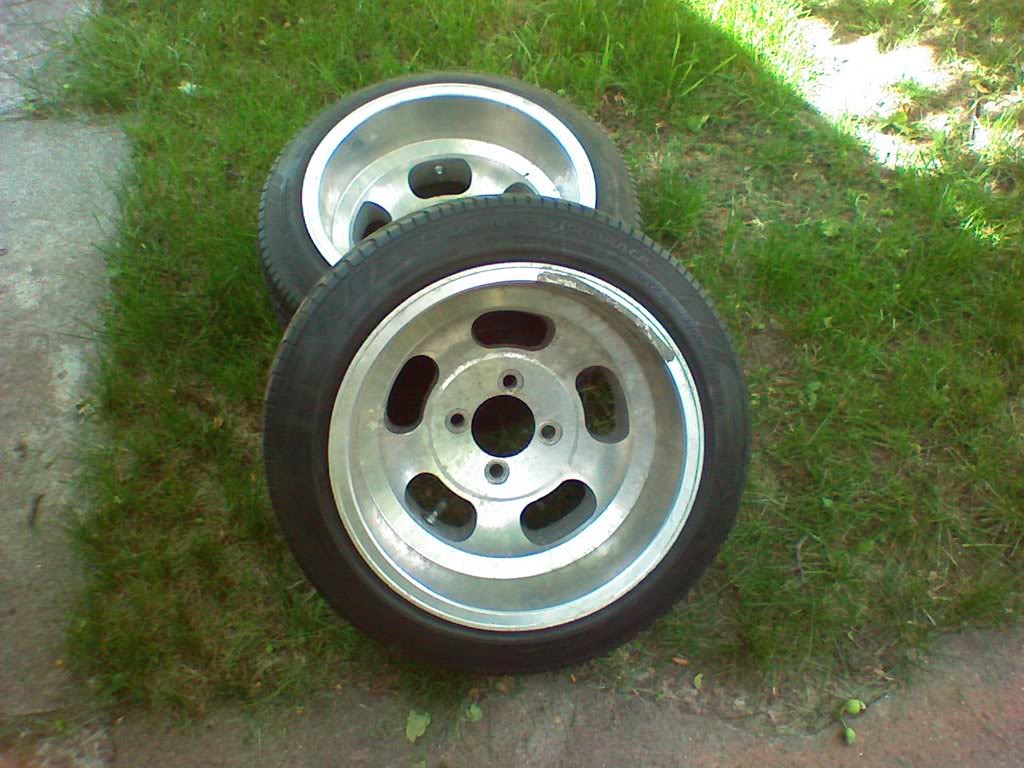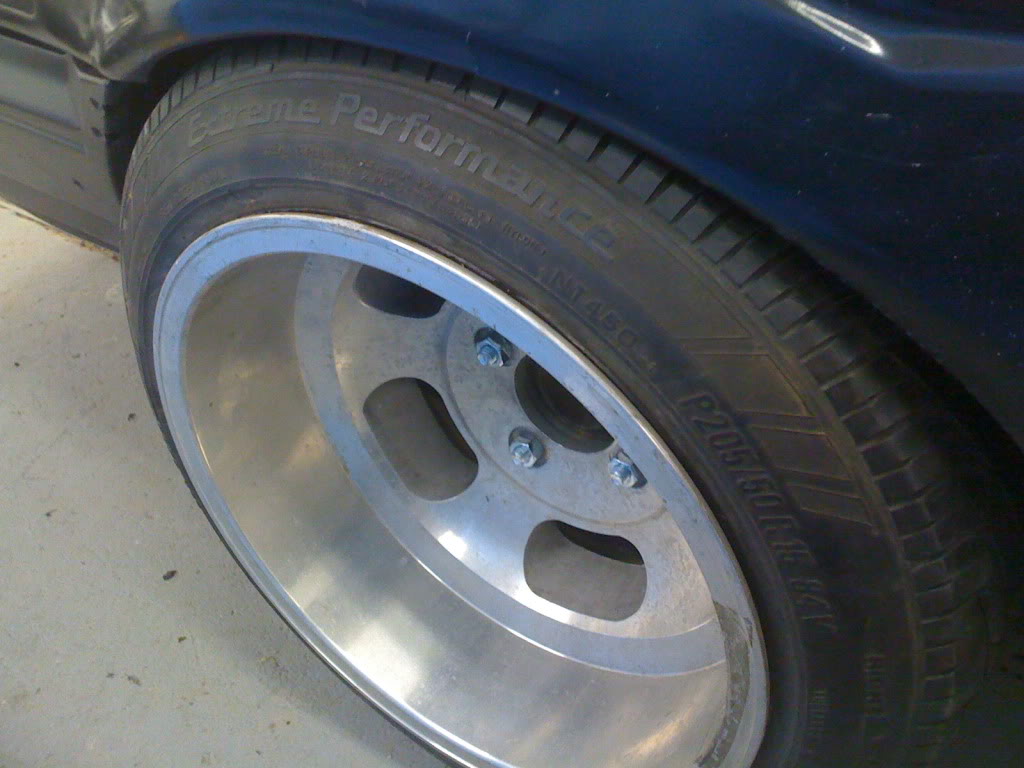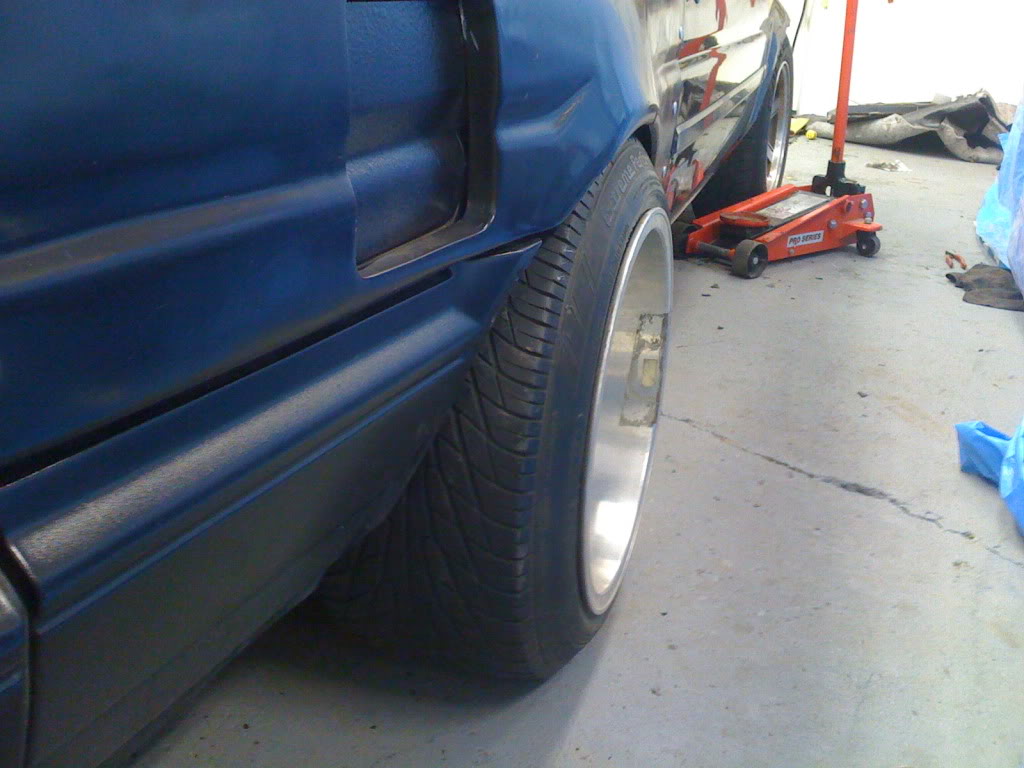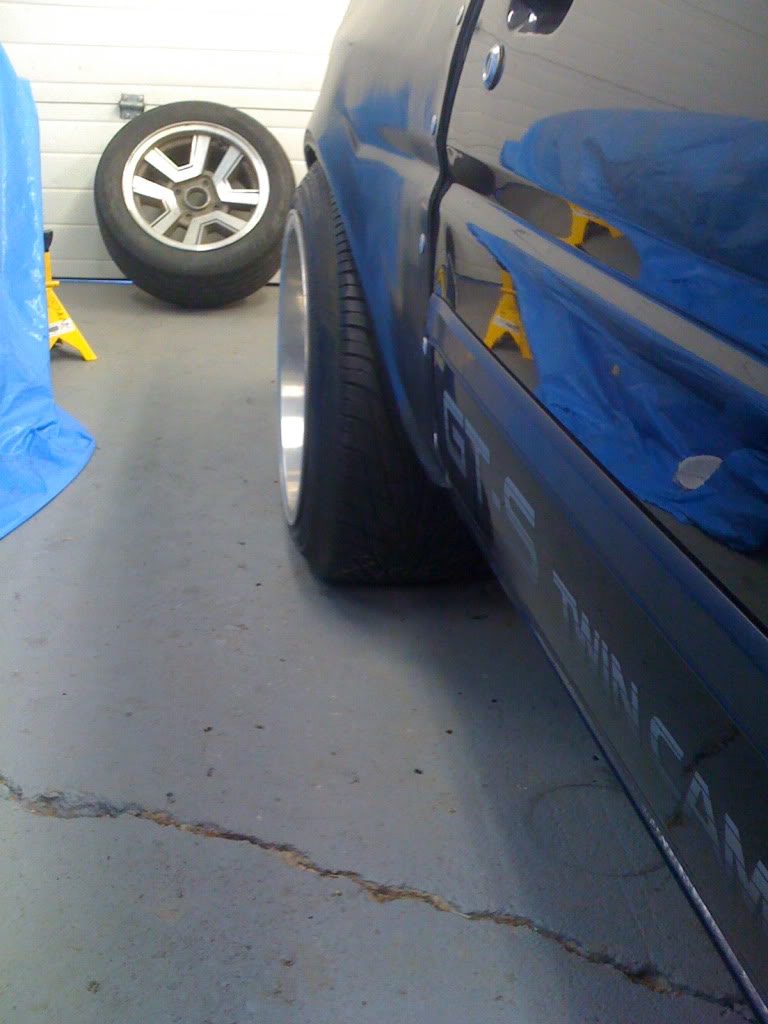 project #4 I robbed a deadpedal from a 87 nissan 200sx cut and mounted it top the footplate so now my foot has a place to rest on long trips...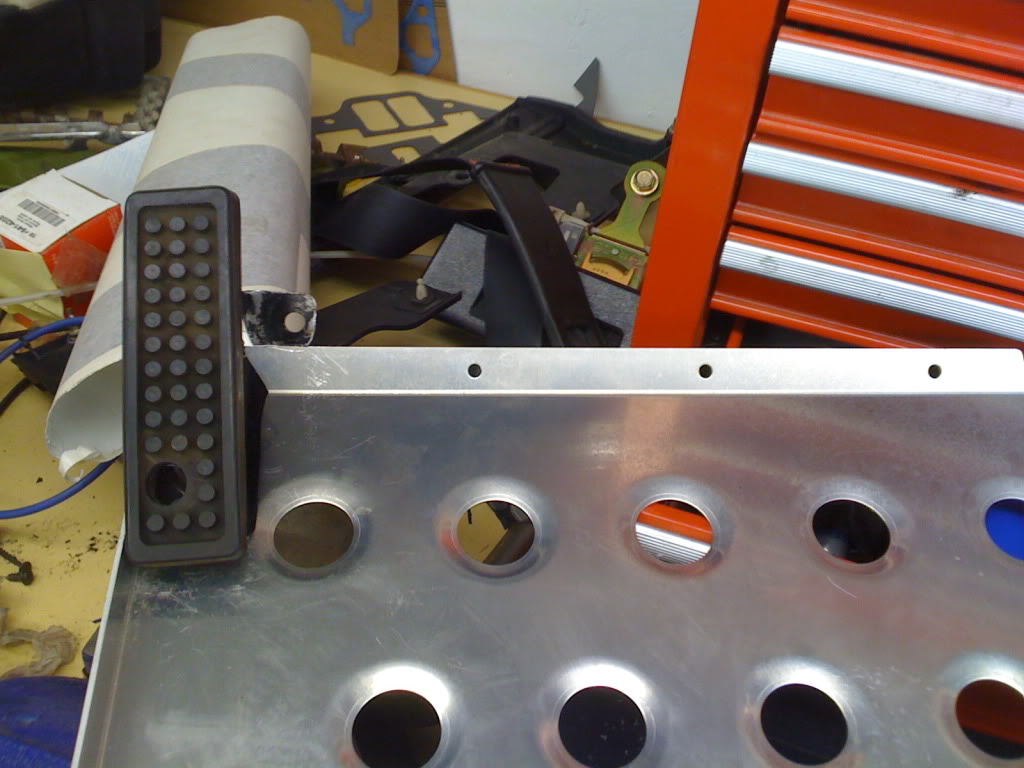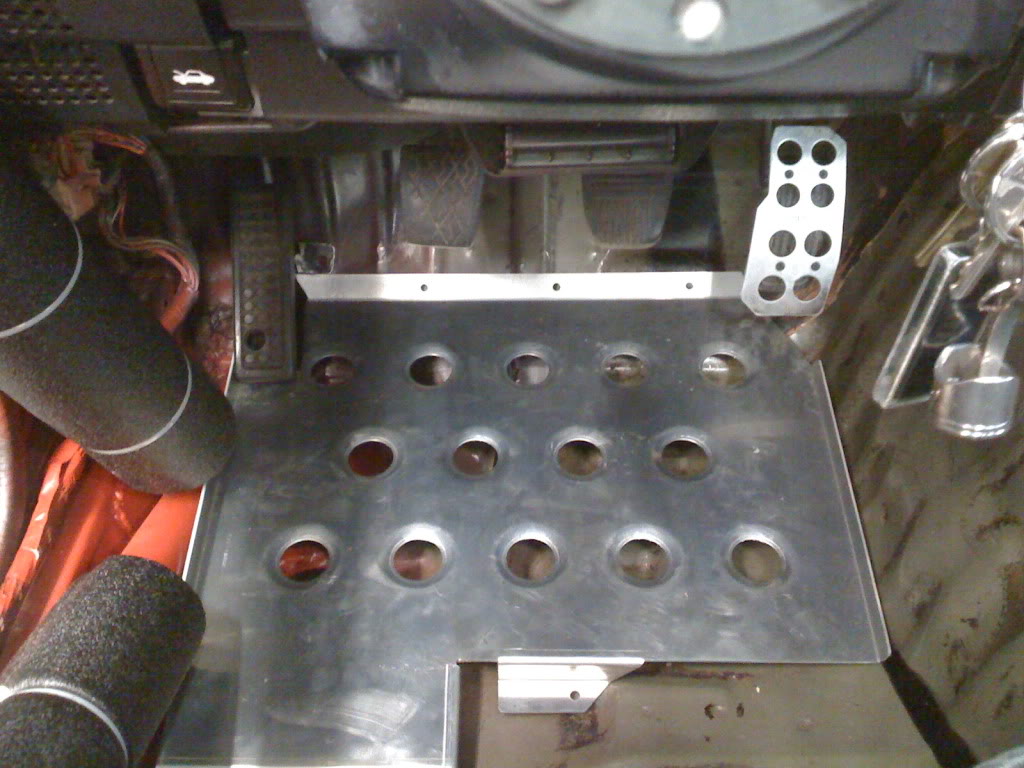 added a tach this weekend so i can finally see ,y rpm's...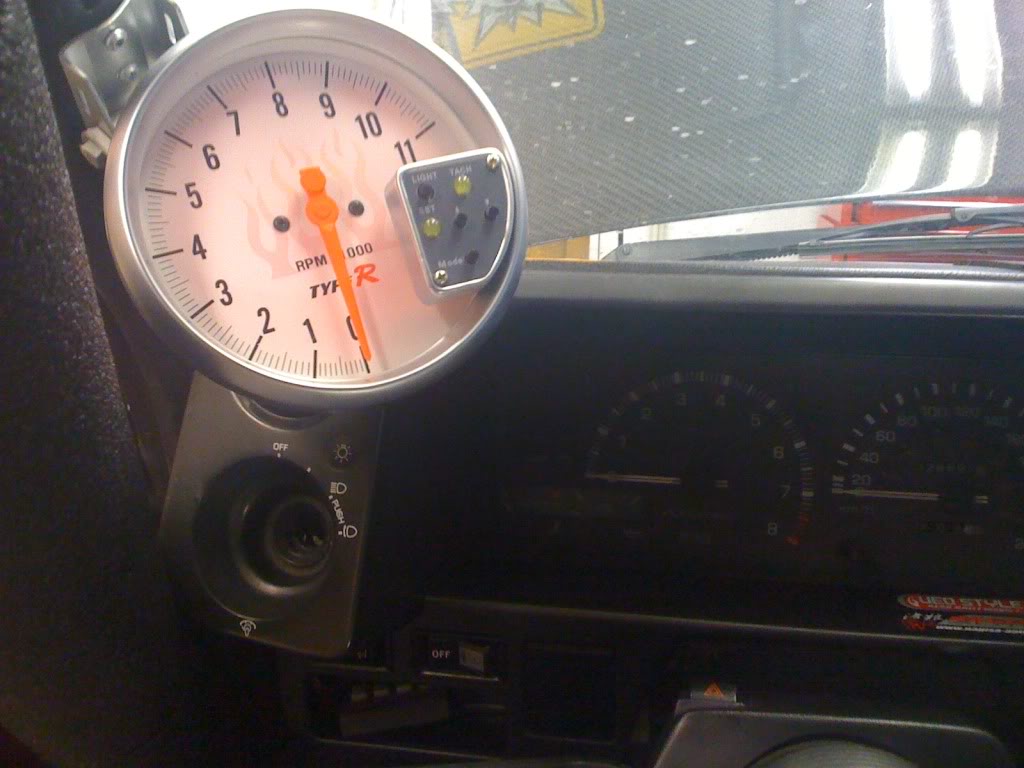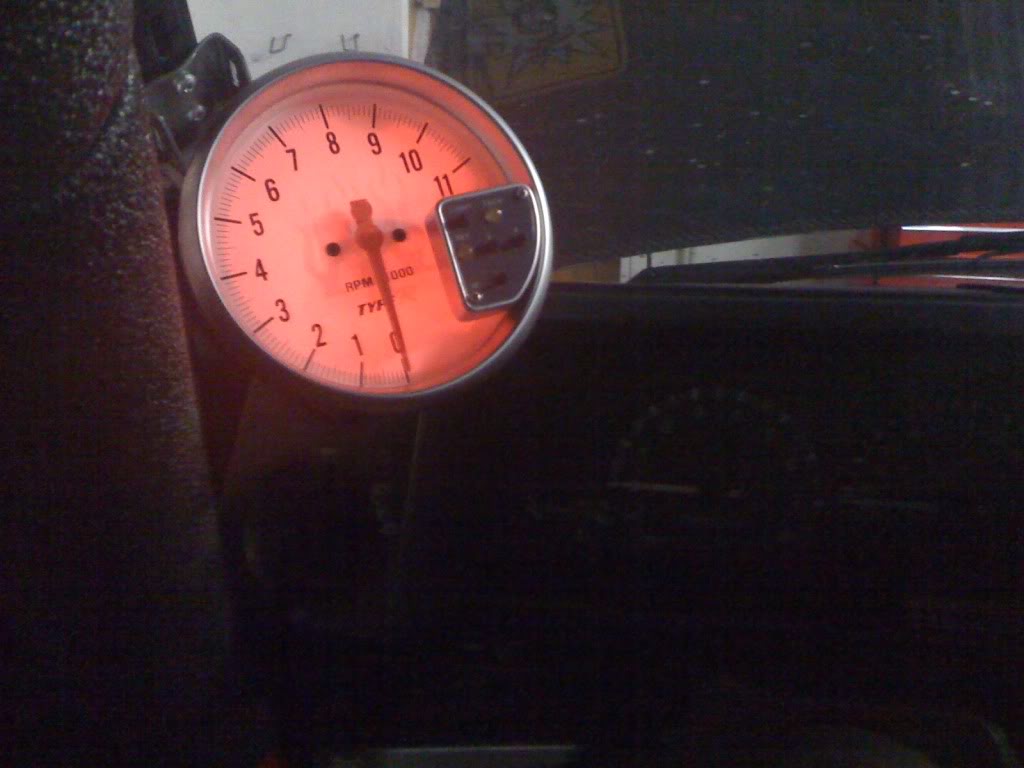 decided to hide the shift light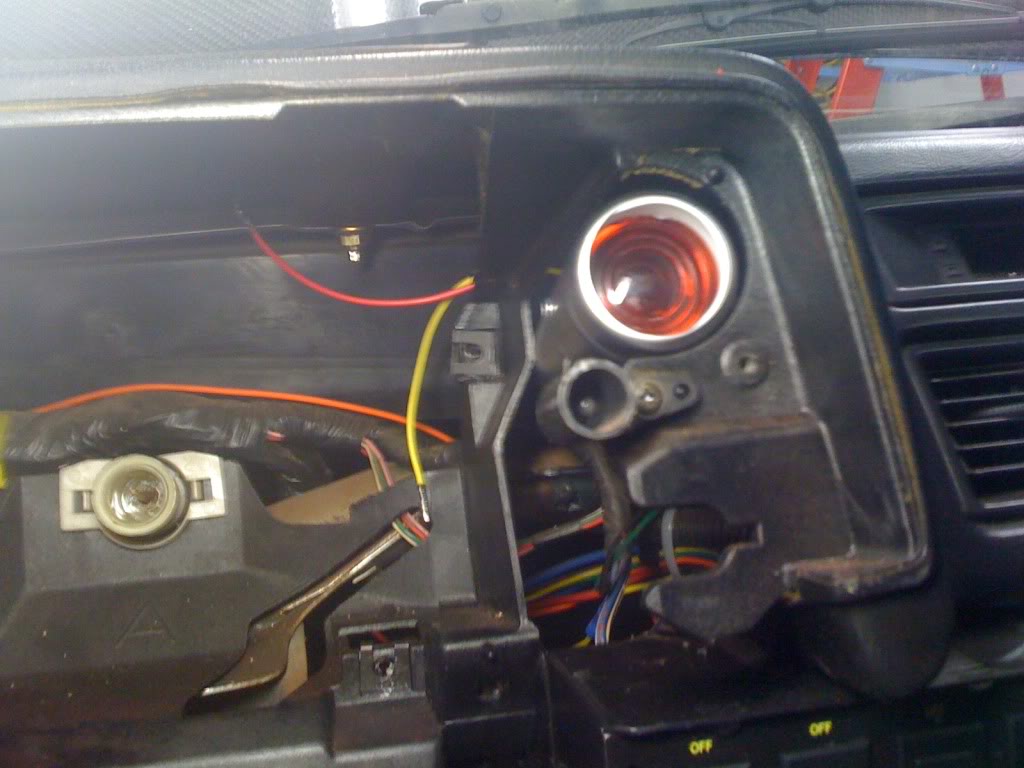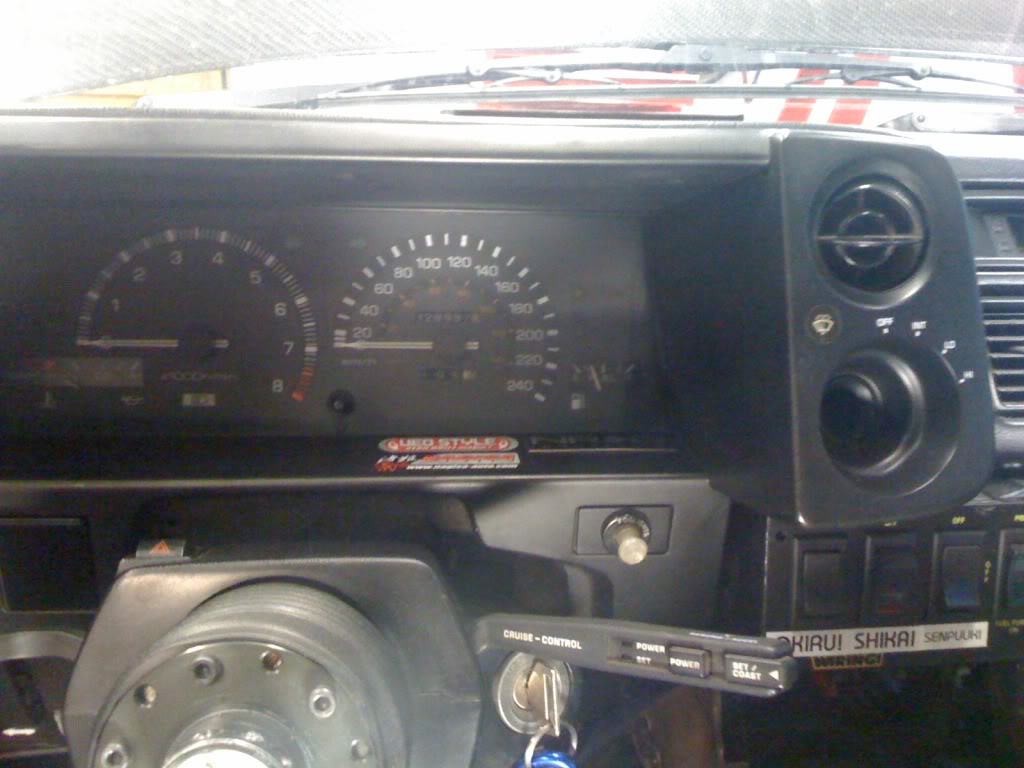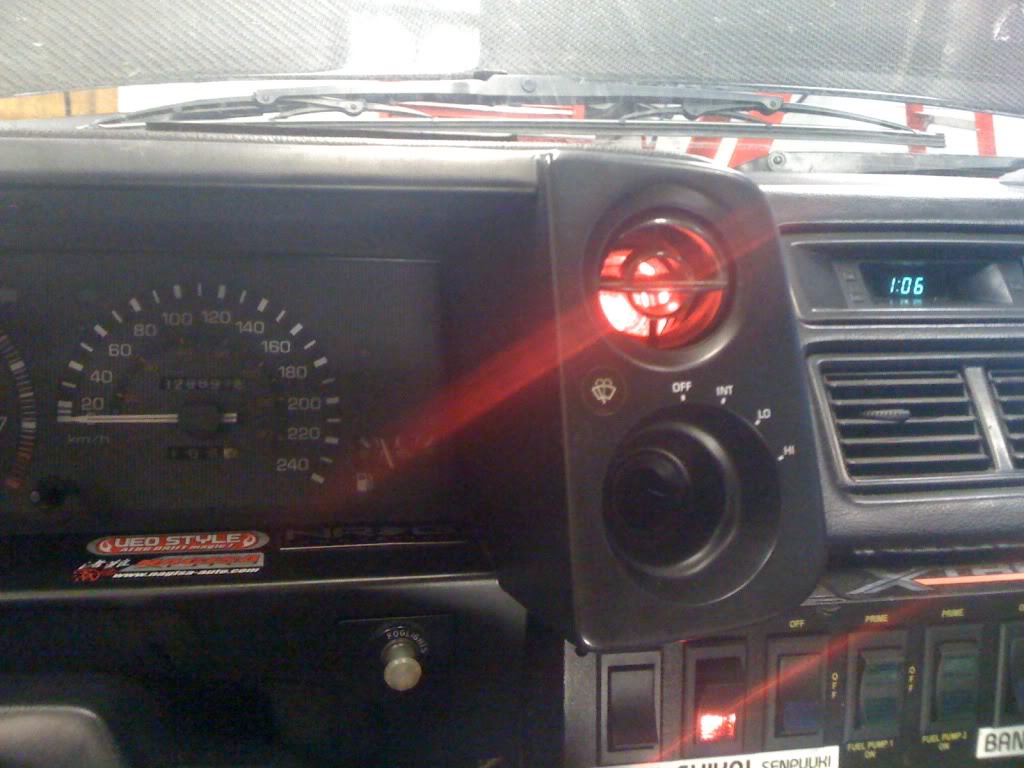 new header made up by steve g with 1 1/2" primaries and a 2 1/2" collector mock up: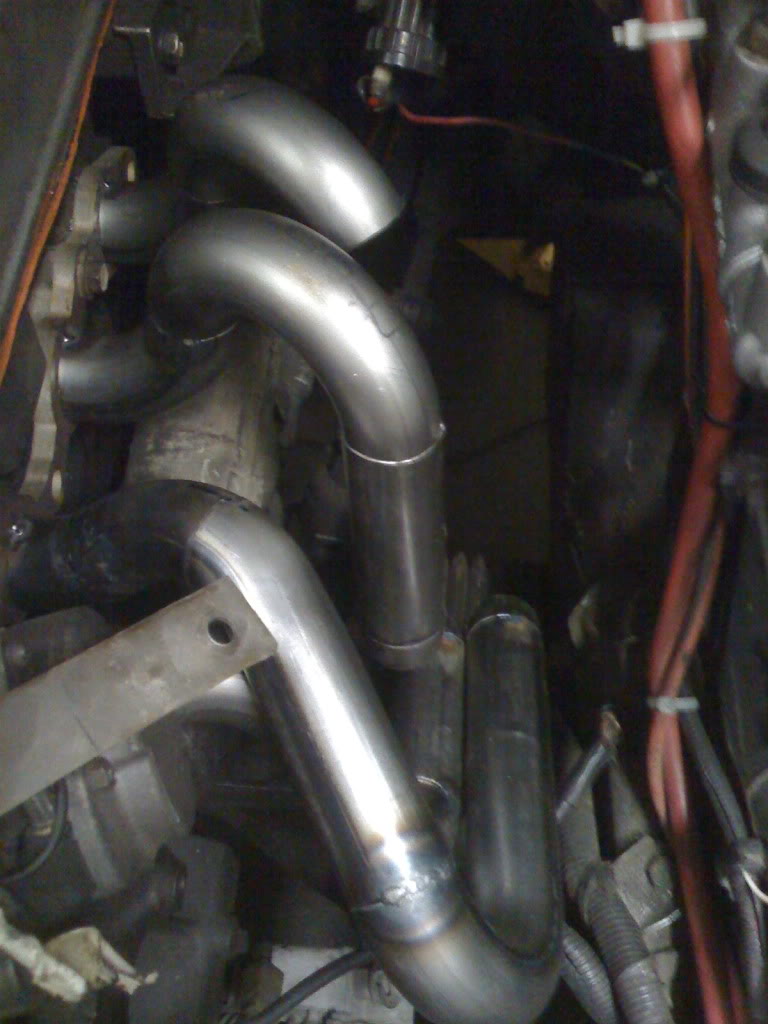 make sure it clears the intercooler piping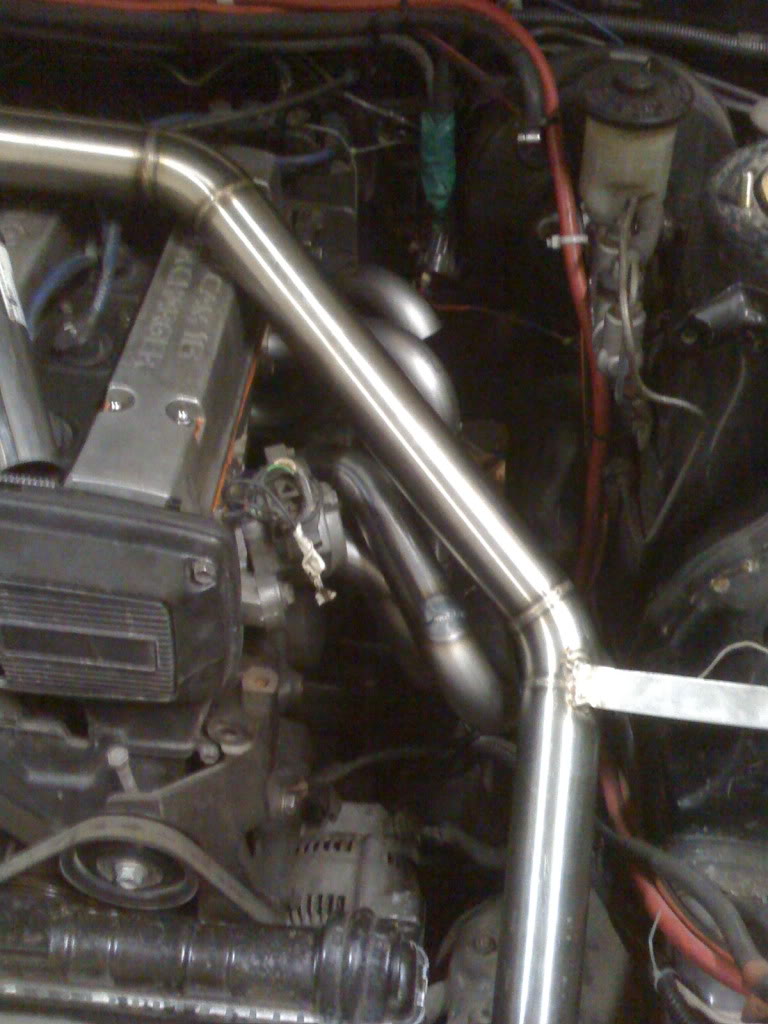 as it sits now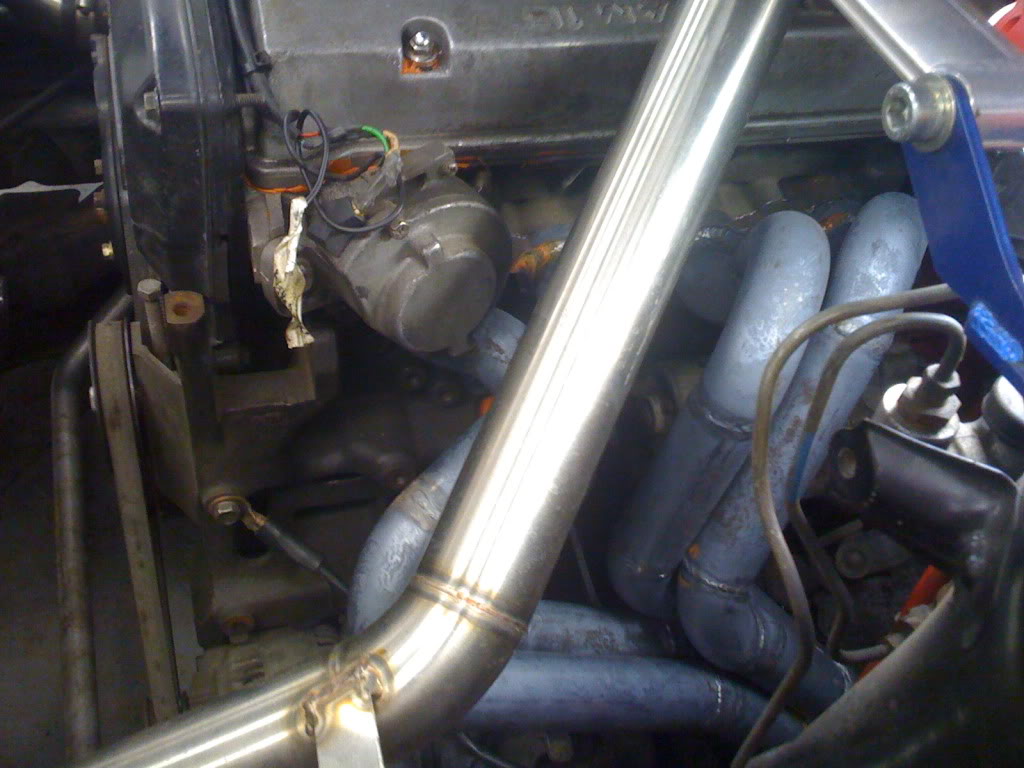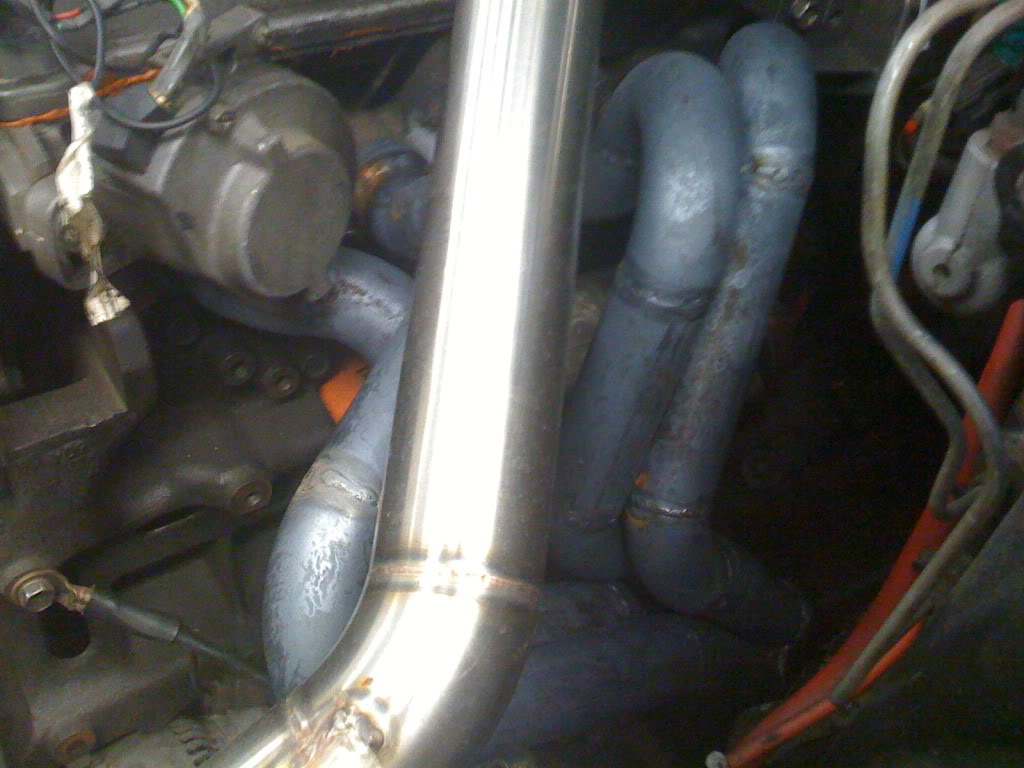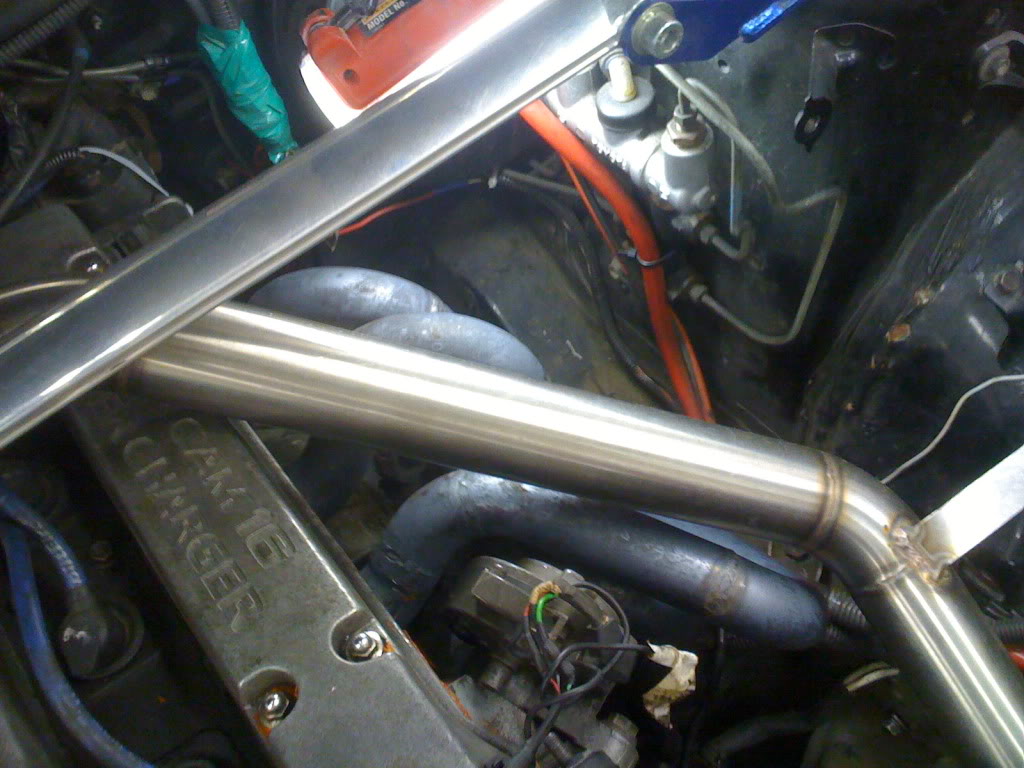 6-30-2009
added pics of the new header - its a bit louder than the TRD 4-2-1, and i definitely noticed more torque on the top end, is has a really nice note to it mated with the HKS exhaust...its not finished yet, still have to add a o2 sensor bung and seal up any leaks before i take it to get ceramic coated, once i do that, I'll take some before and after pics of the header out of the car...
7-1-2009
that cage is illegal because of the bends on the rear bars
here is whats taken from dmcc/formula d rulebook:

7.4.8 Rear Hoop Supports:
The main roll hoop shall have two braces extending to the rear attaching to the frame or chassis. Braces shall be attached as near as possible to the top of the main hoop not more than six (6) inches below the top and at anincluded angle of at least thirty (30) degrees. No bends are allowed on rear braces. On cars where the rear window/bulkhead prohibits the installation of rear braces, the main hoop shall be attached to the body by plates welded to the cage and bolted to the stock shoulder harness mounting points.

I don't know about you but to me it doesn't say they have to be straight or in a x pattern, I went with the x 'cause i thought it would be stronger...
7-31-2009
Well I have to report that the wheel studs are **** and i wouldn't reccommed them to anyone. To sum up what happend - I had them on the rear with my 15X10's for a month of daily driving and some spirited driving, and the night before the local autocross, i was coming home and all the wheel studs came off the axle when i casually turned the corner. Upon inspection all the knurls on the studs were stripped and mangled. lesson learned. don't buy studs from napa, stick to toyota...
5-20-2010
Phase 3:complete.


Cusco engine and tranny mount -tranny mounts look like oem - but heres the difference in stock vs cusco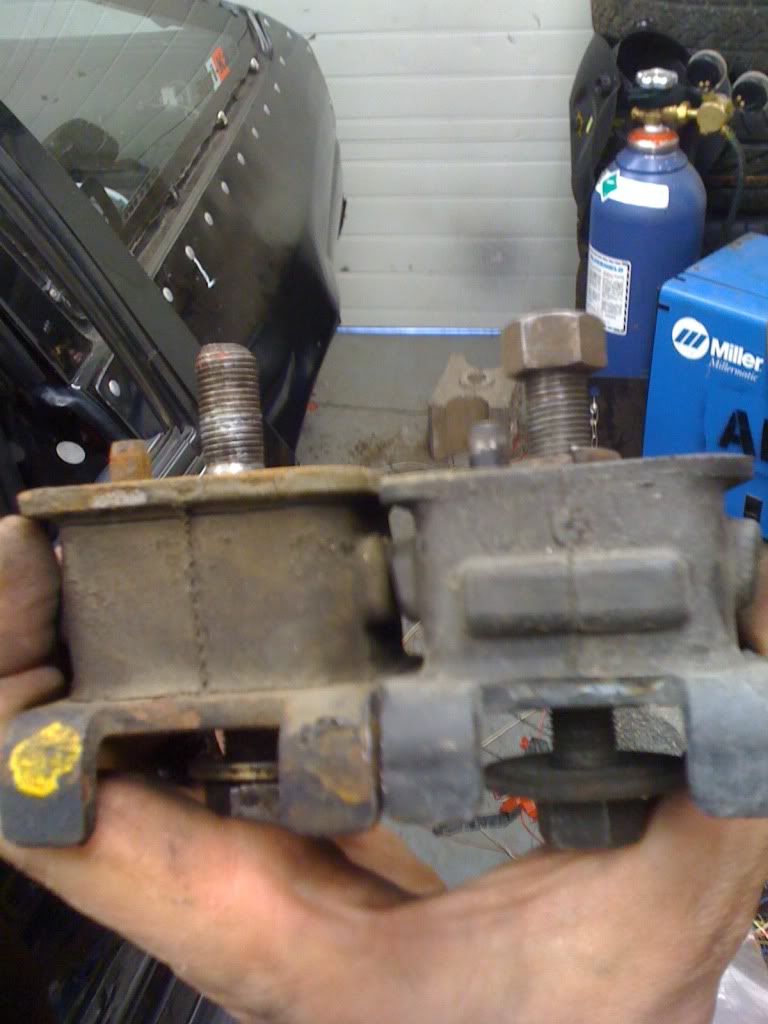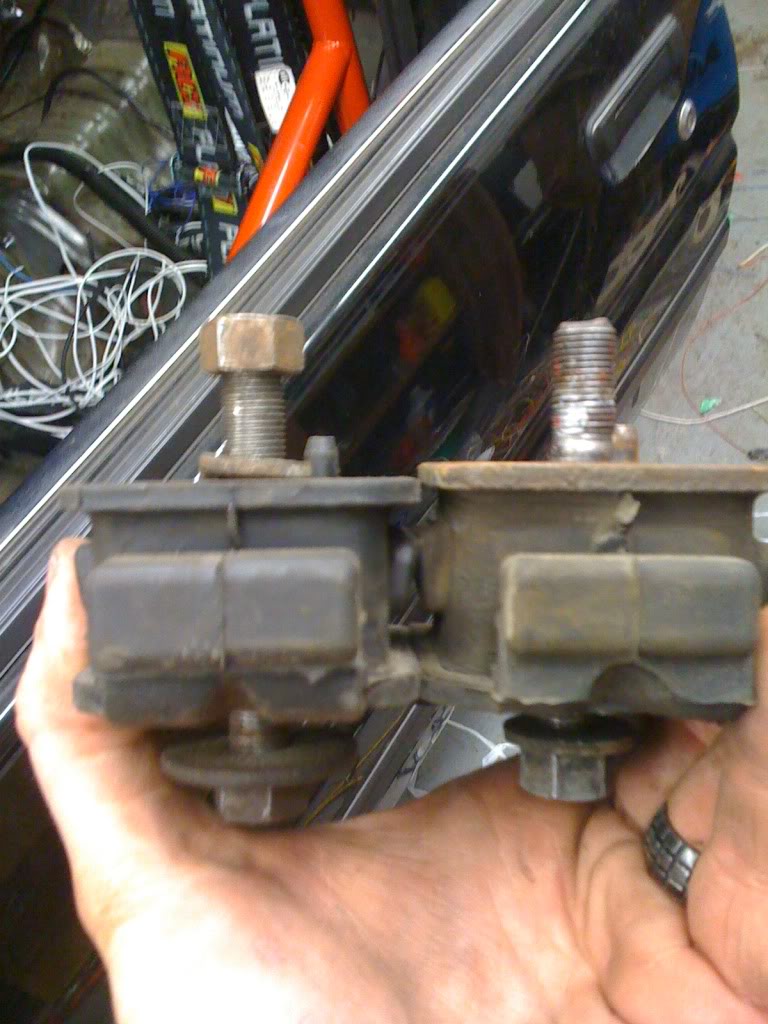 greenle custom rack for more angle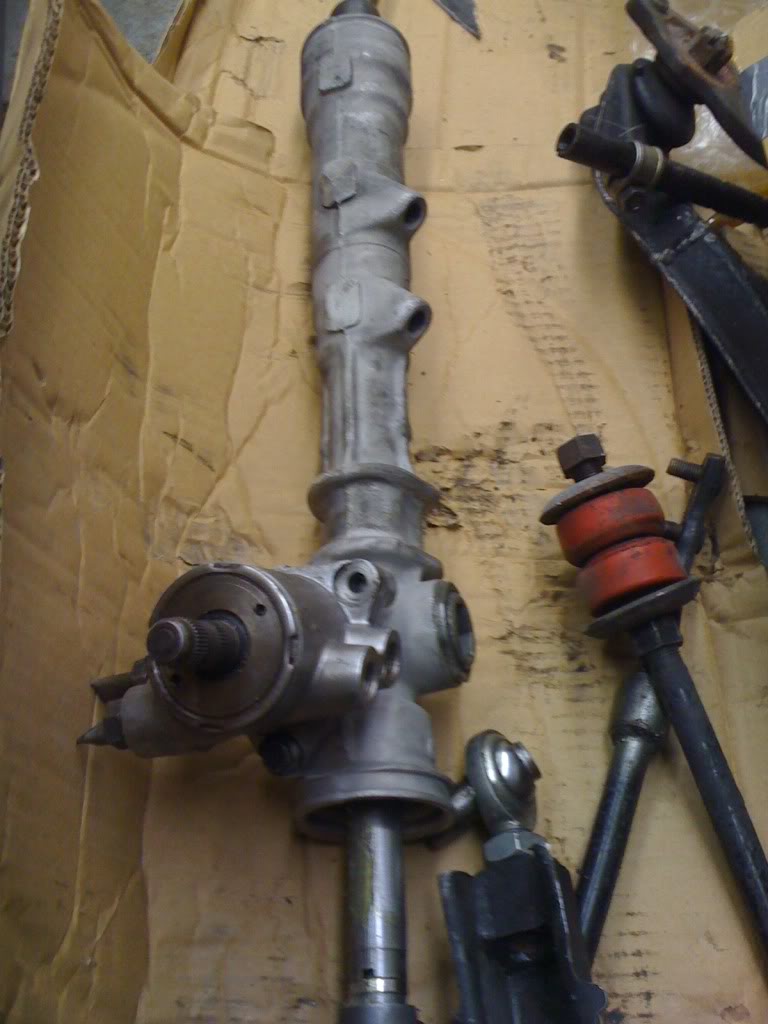 painted: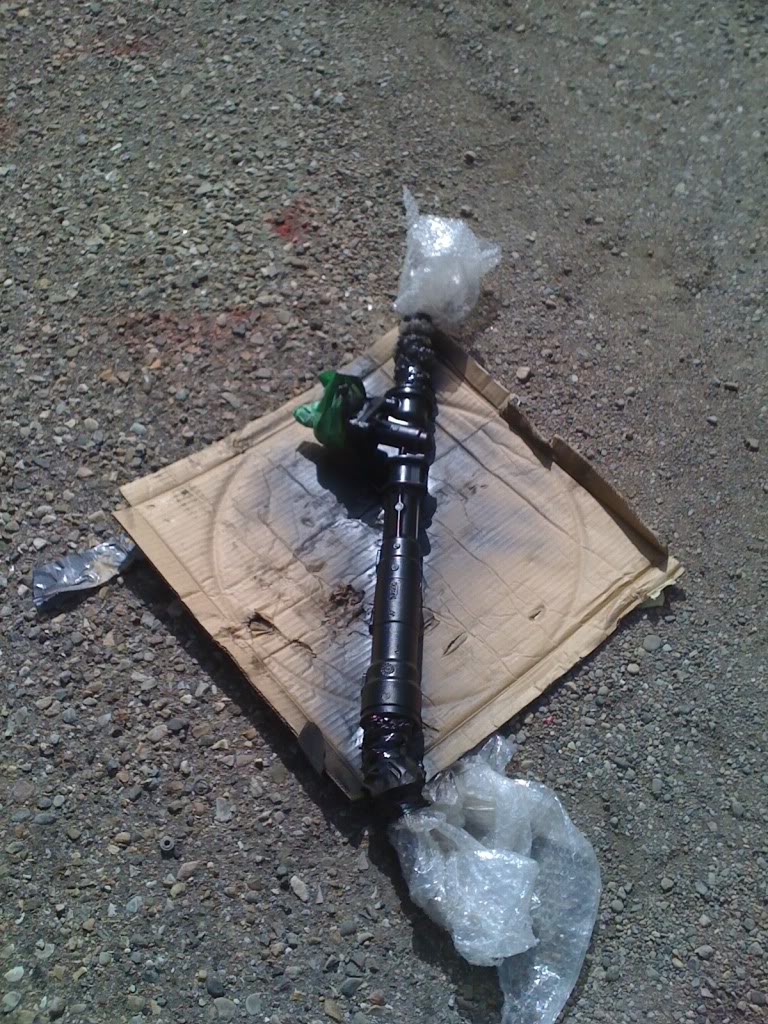 greenie custom extended lower control arms (I boxed them in for more strength)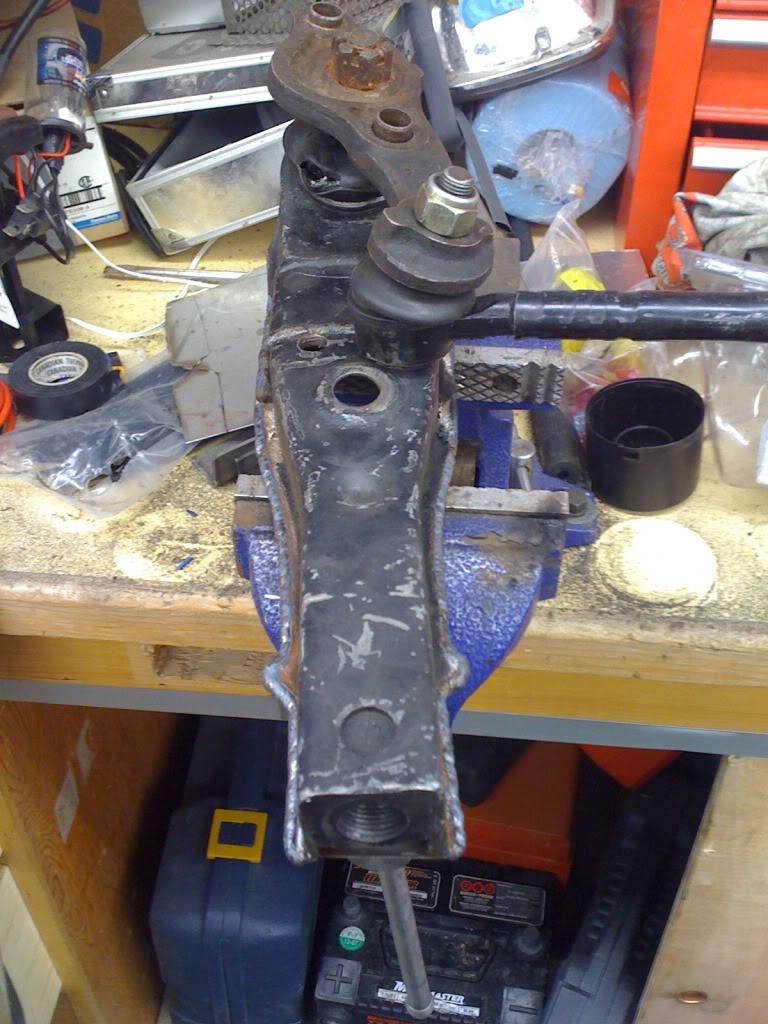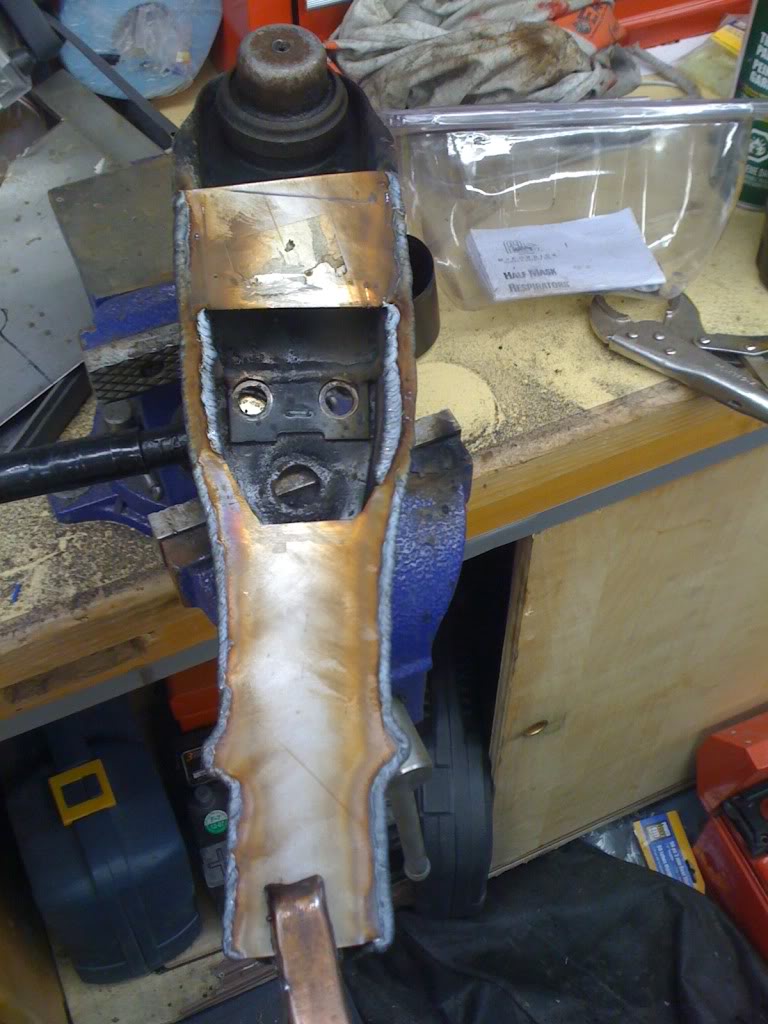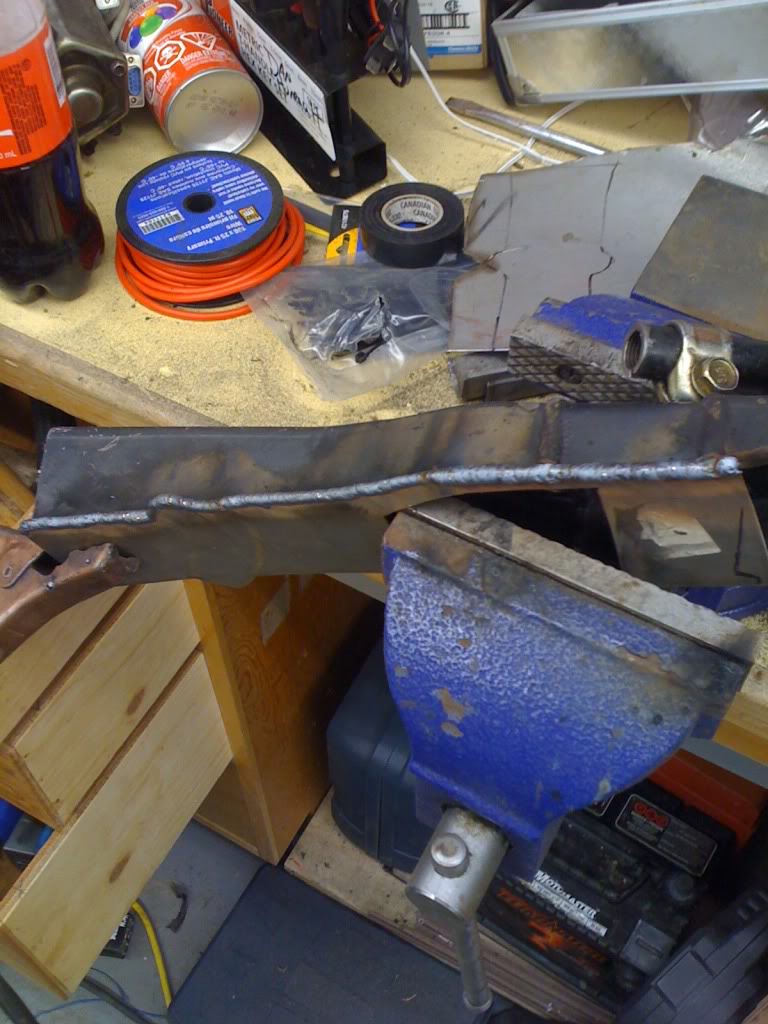 painted: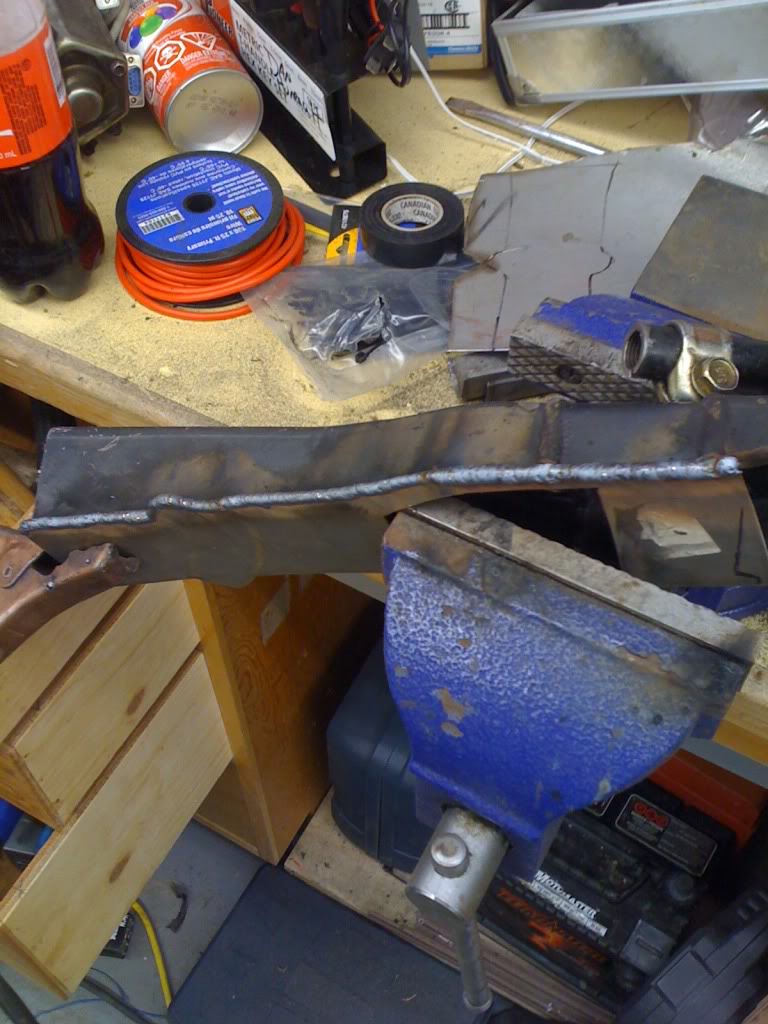 Had to make some custom spacers for the rod ends of the LCA's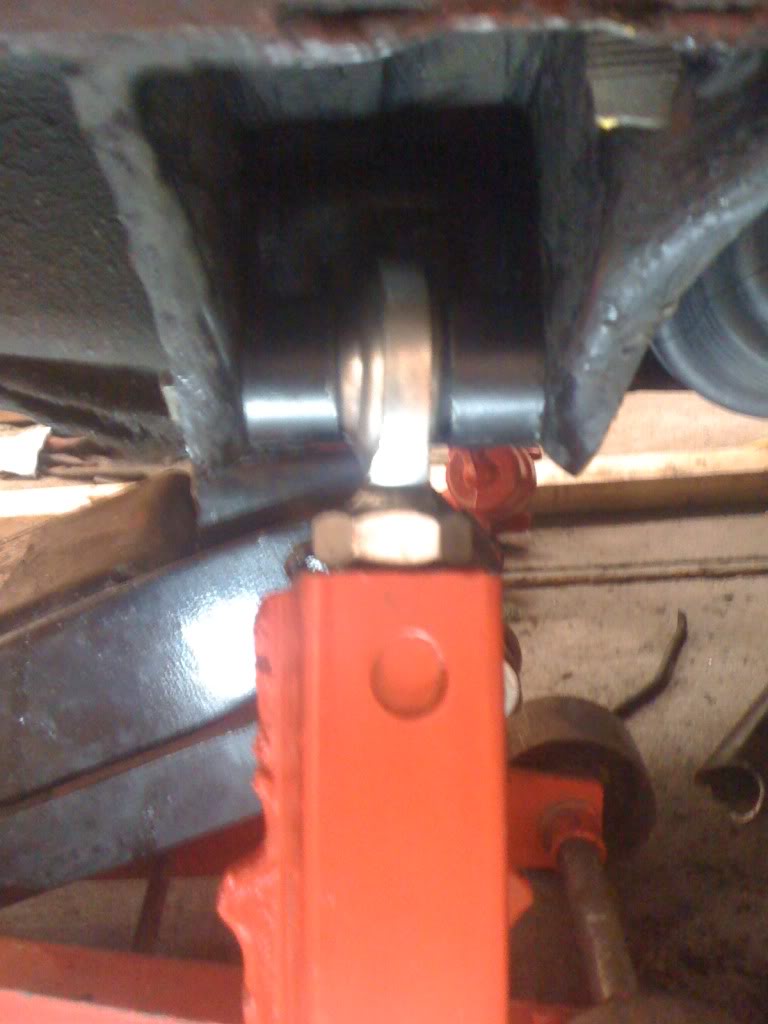 shortened tie rods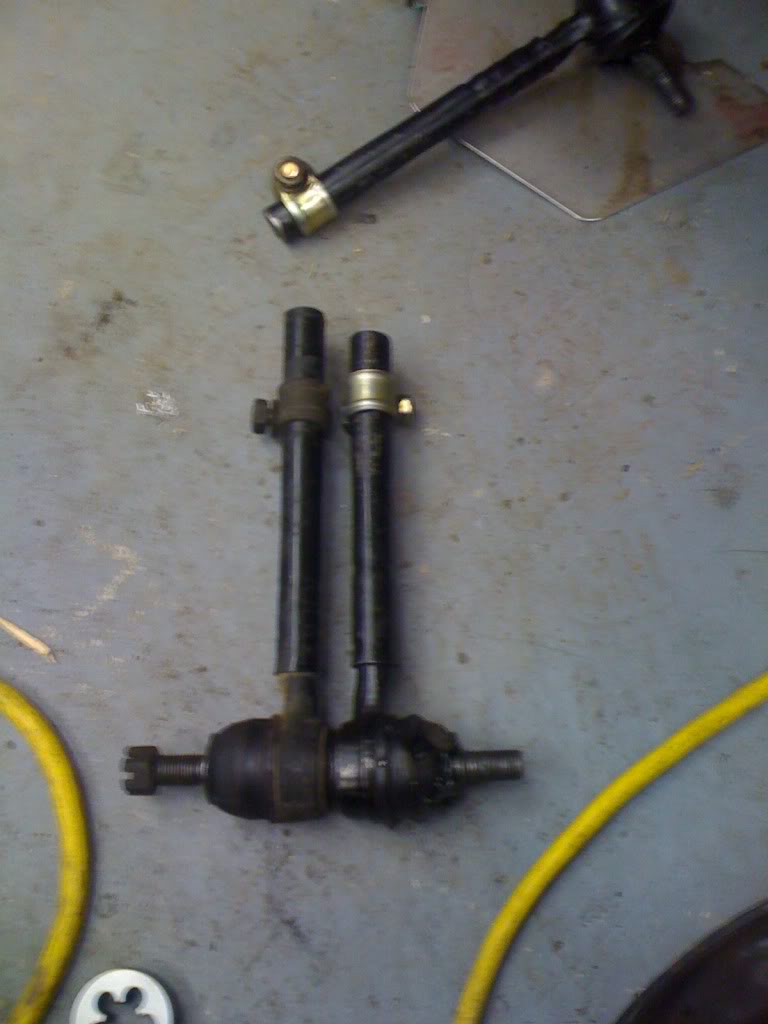 Revolver coilovers front w/6kg swift springs with 40mm RCA's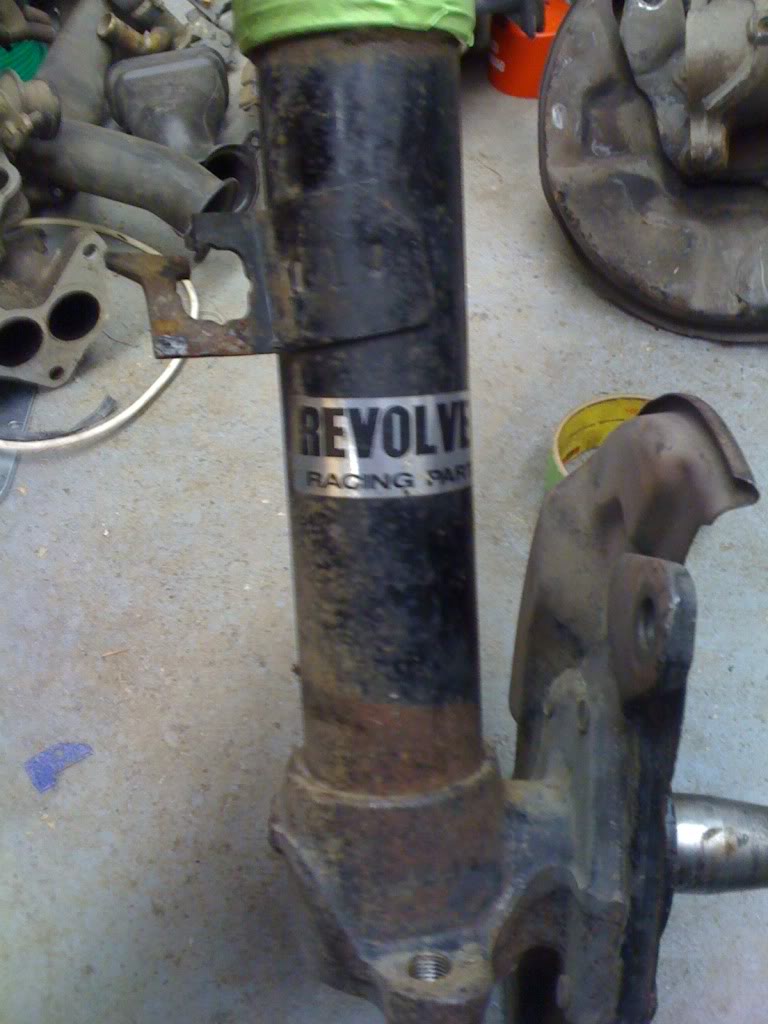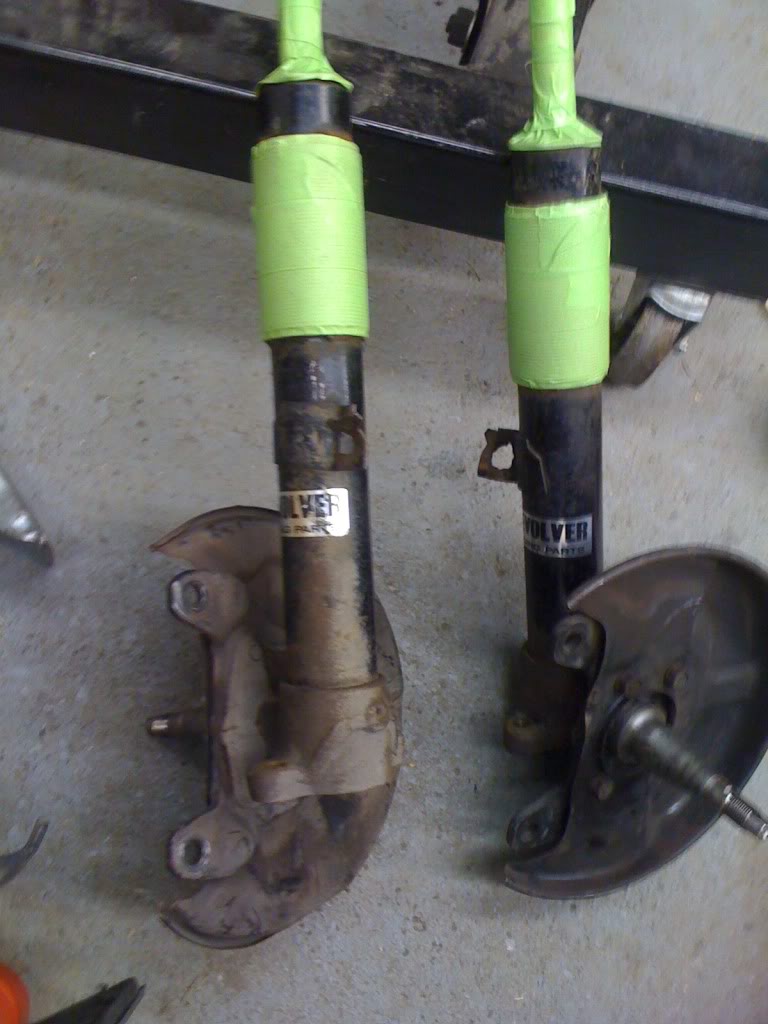 painted: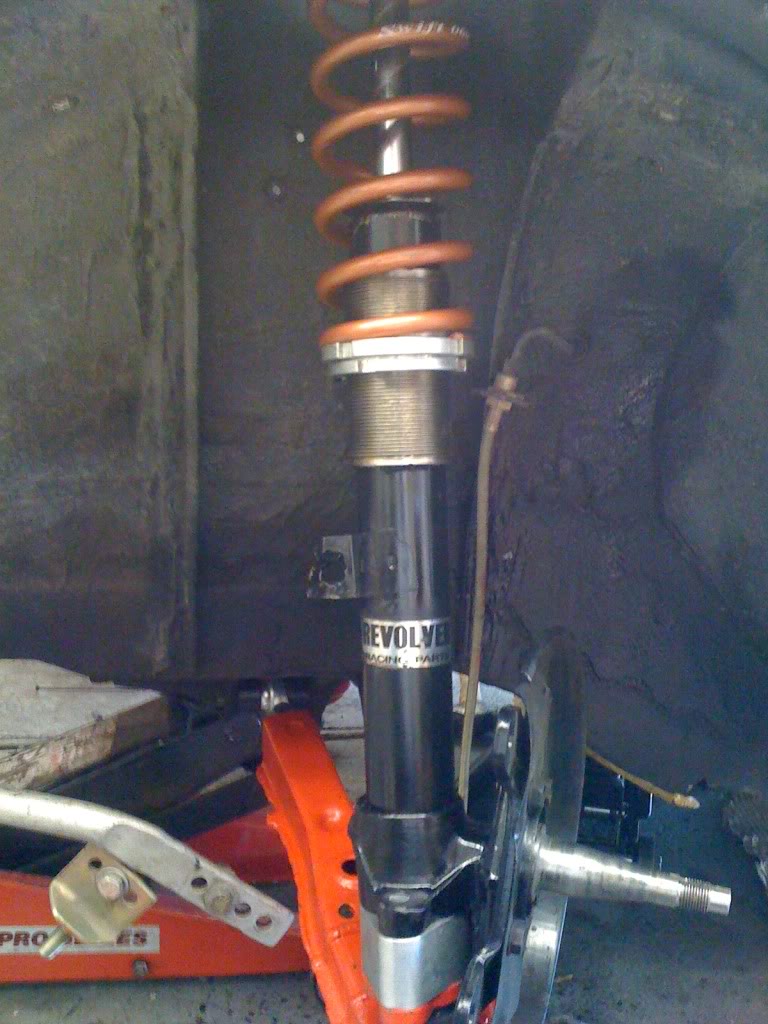 Sift garage/Silkwood rear coilovers w/9k springs when i first got them: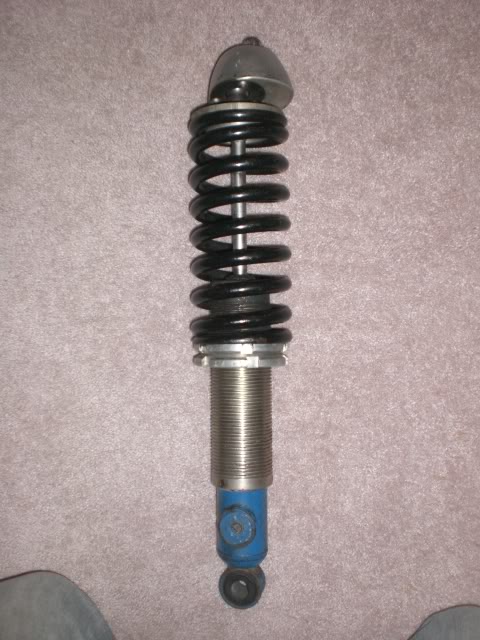 now with agx/ 5k eibach springs (the trd shocks were blown)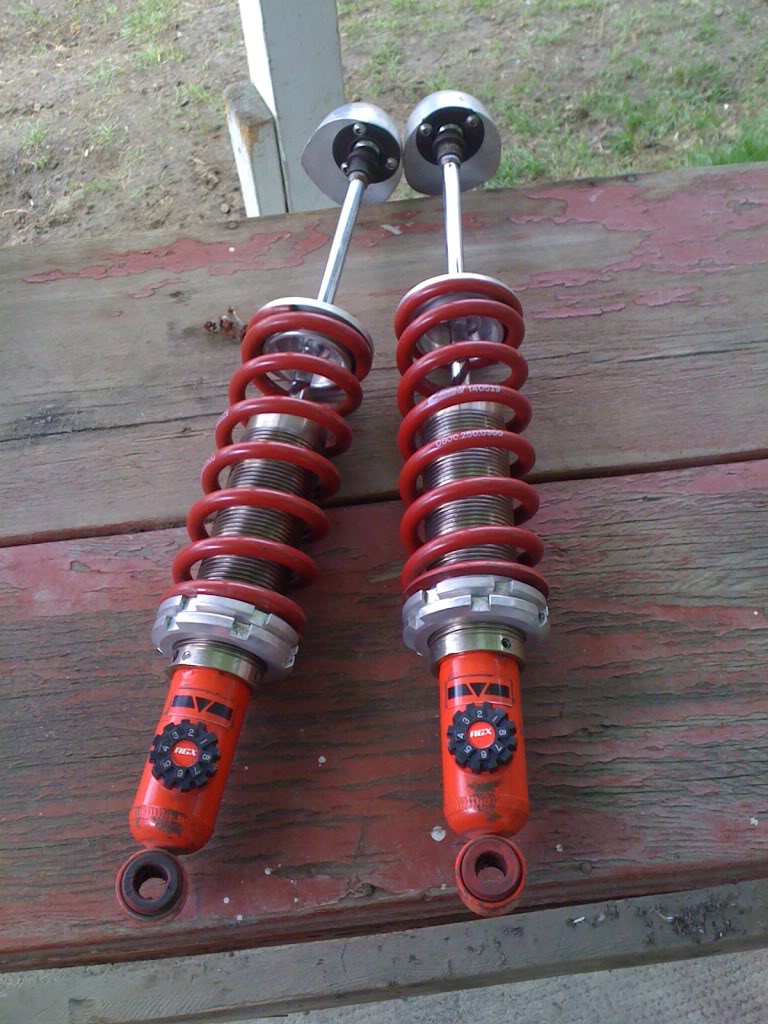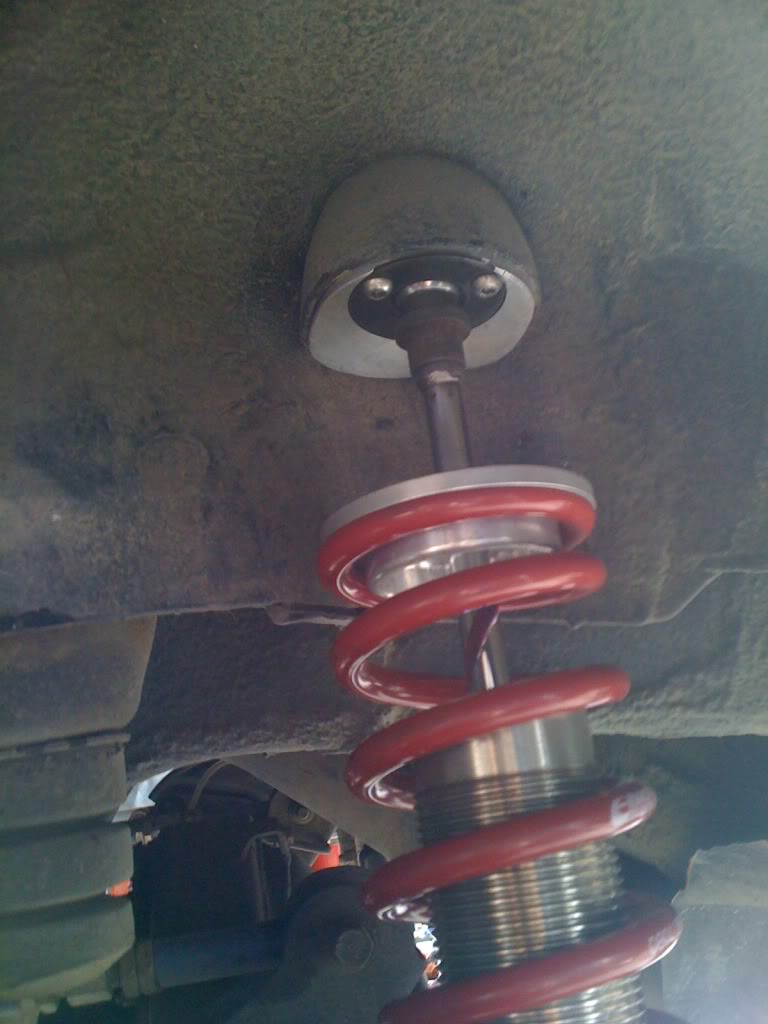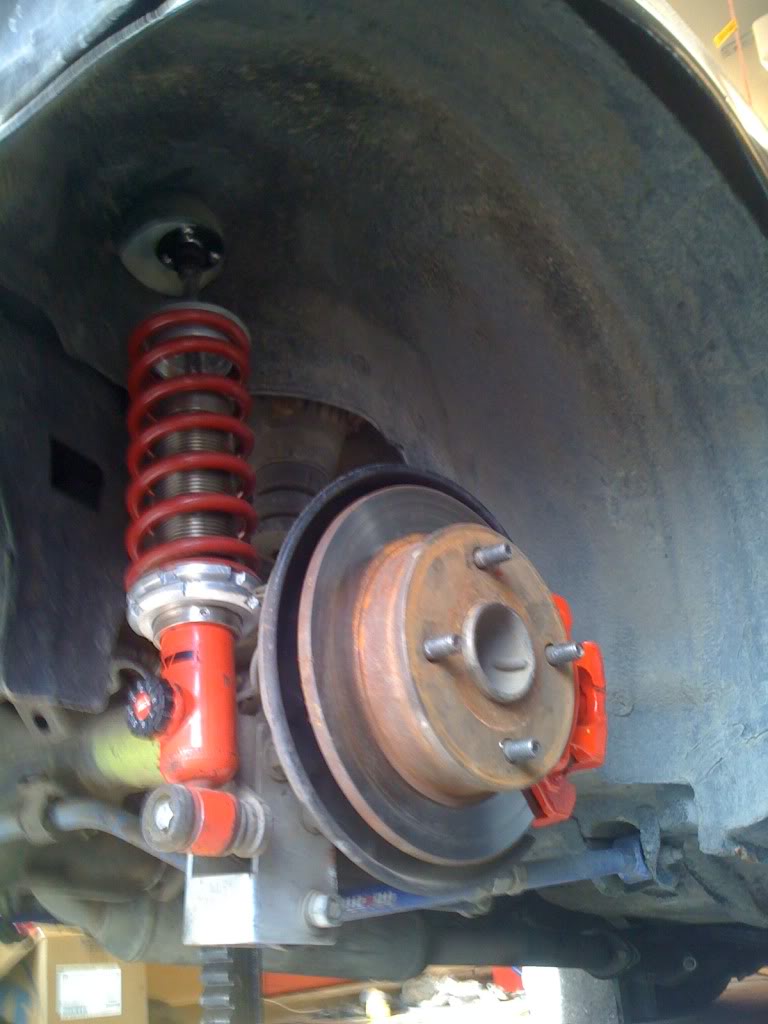 slotted rotors: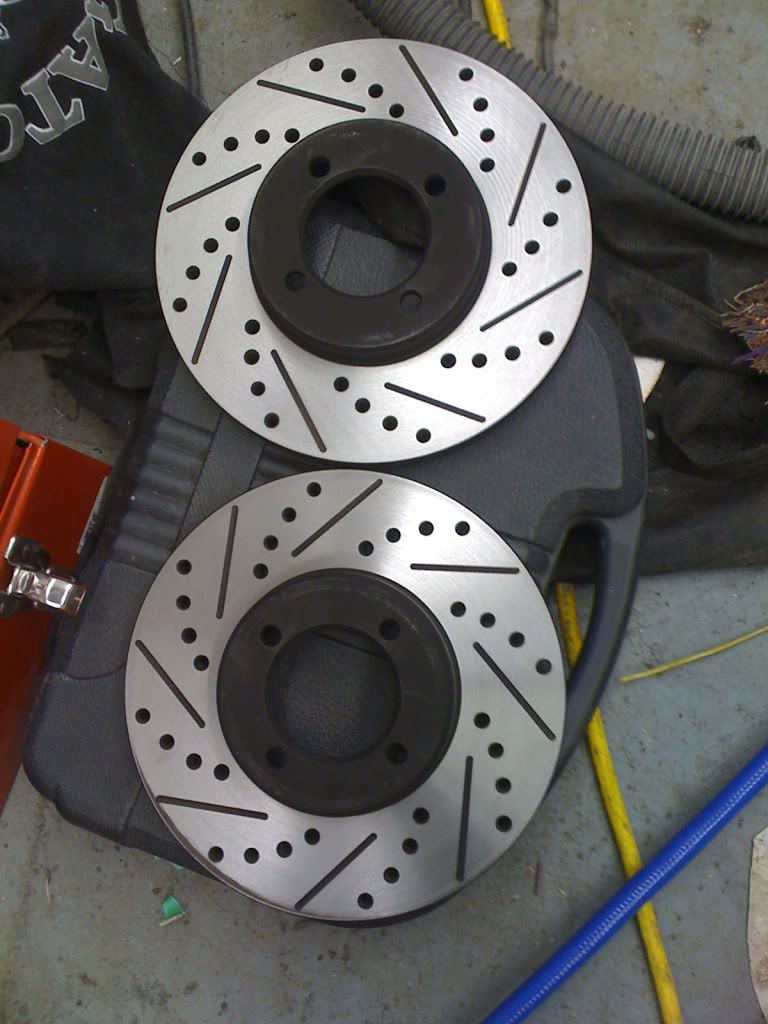 Did a bunch of aluminum polishing: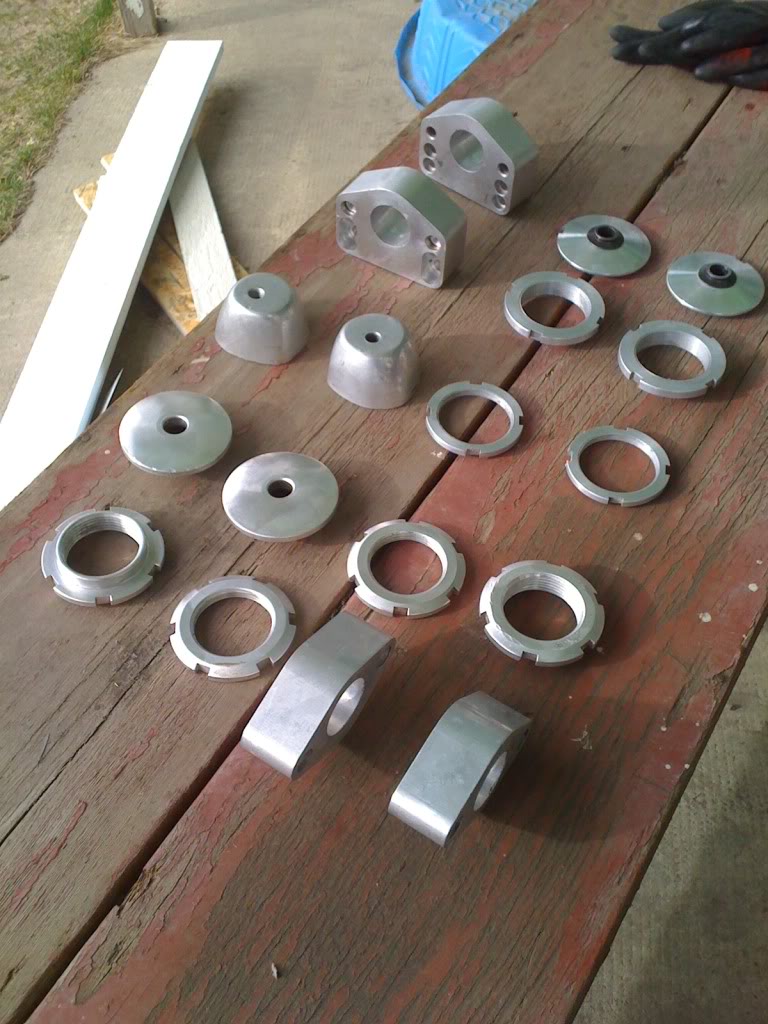 including my 15x7 0 offset old school riken aluminum rims on the front: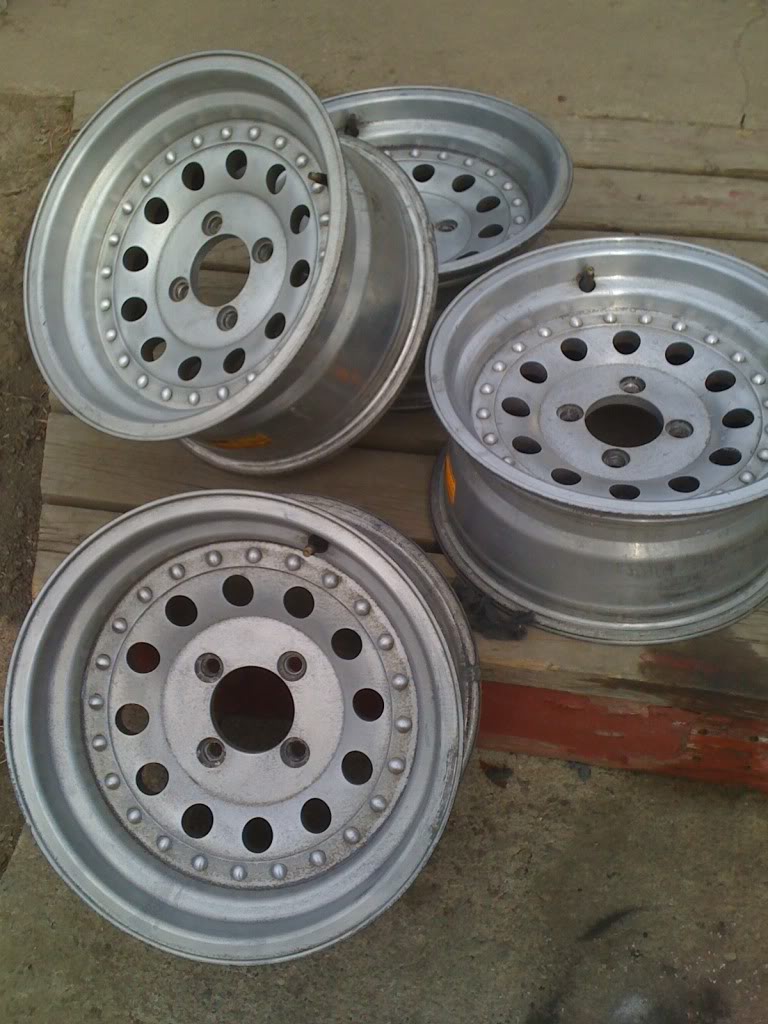 and my American racing: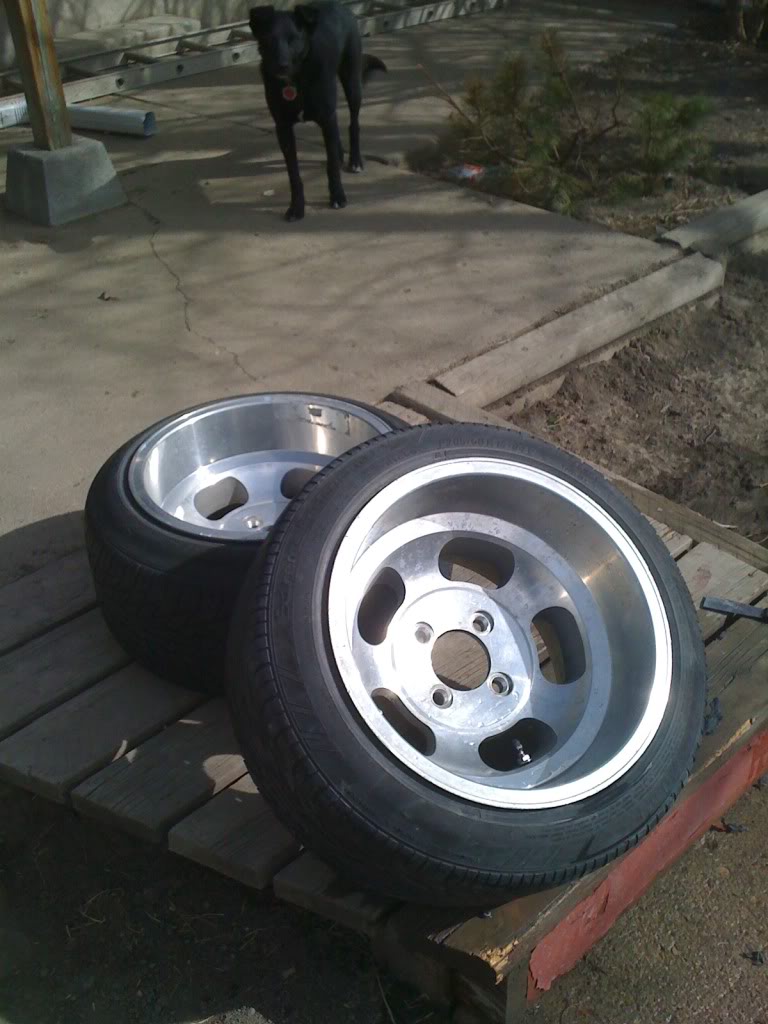 15x9 diamonds on the rear (for those that don't believe!)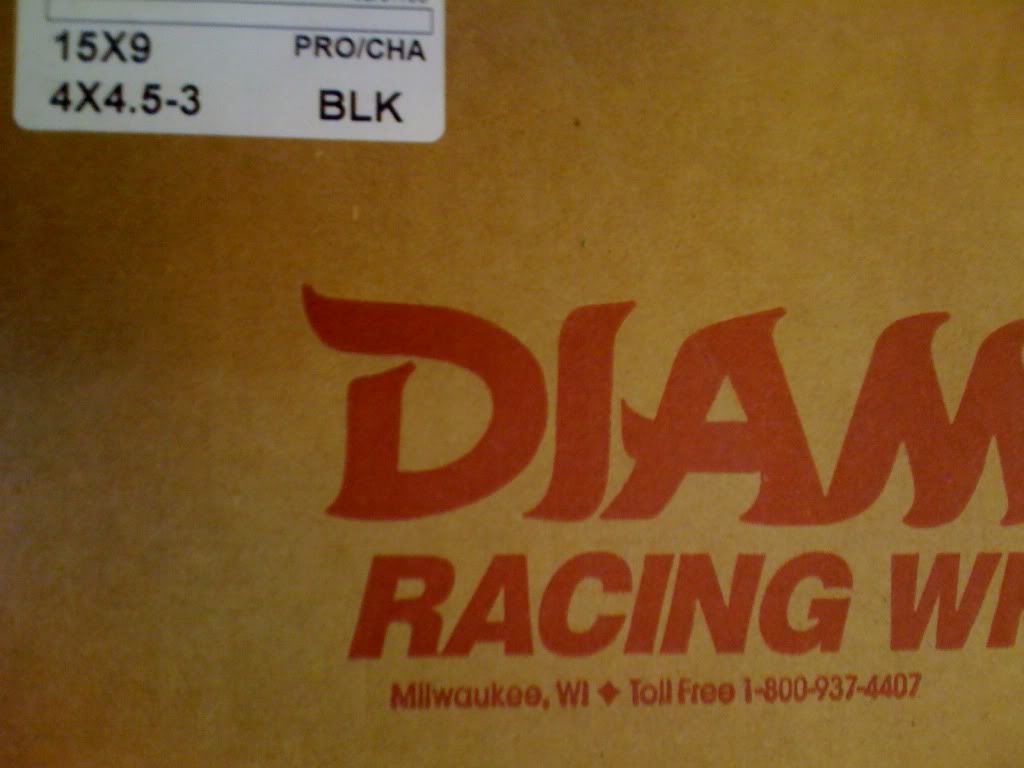 Pulled the engine and did the gaskets and seals and painted it red while it was out: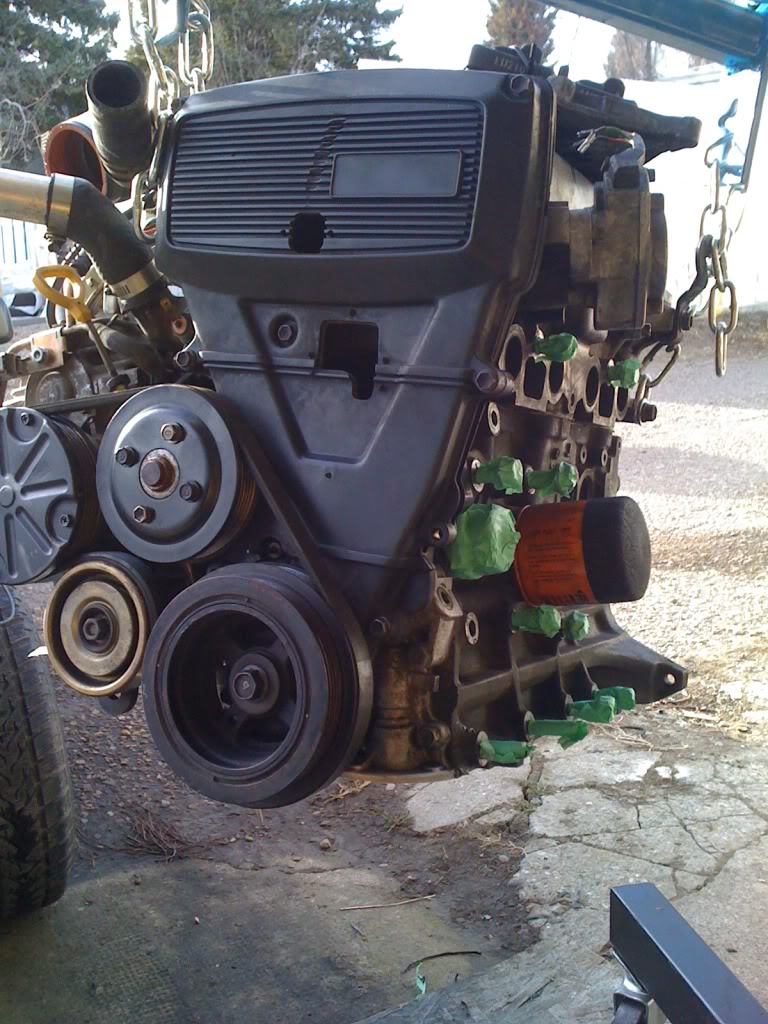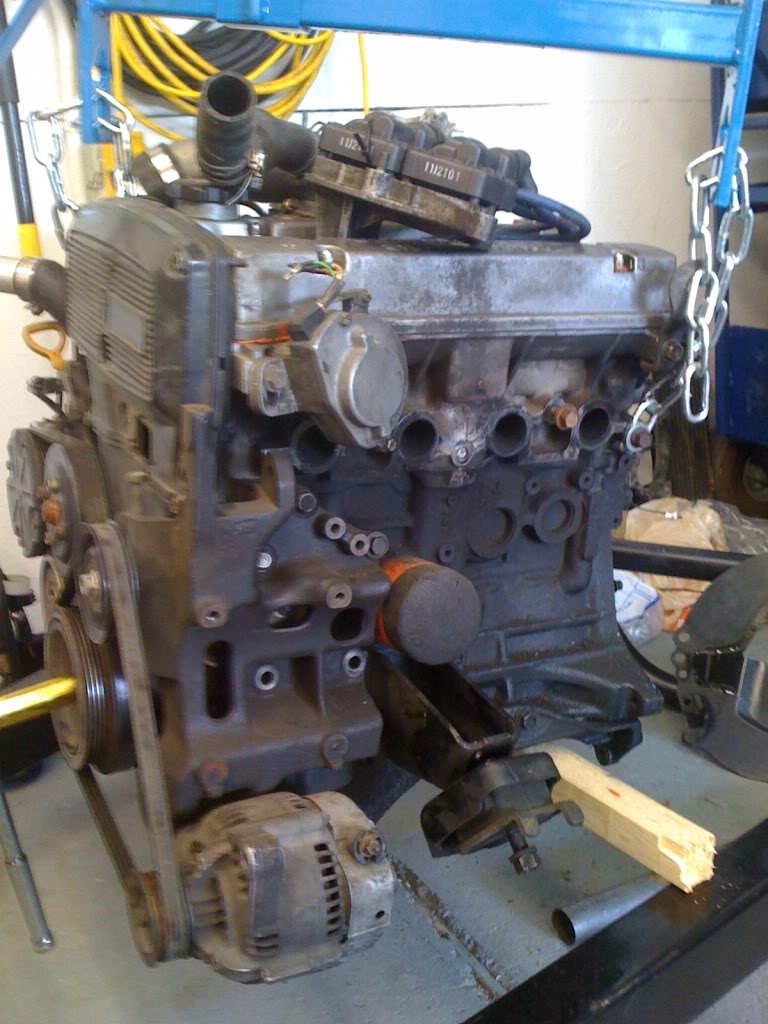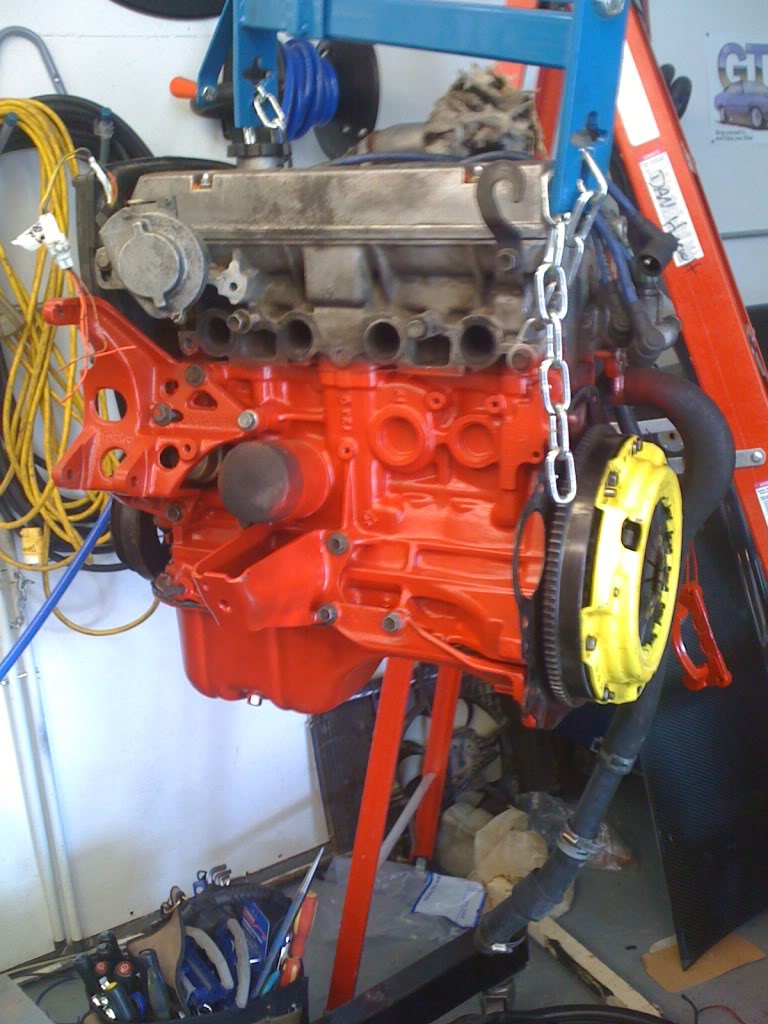 While the engine was out decided to paint the engine bay satin black: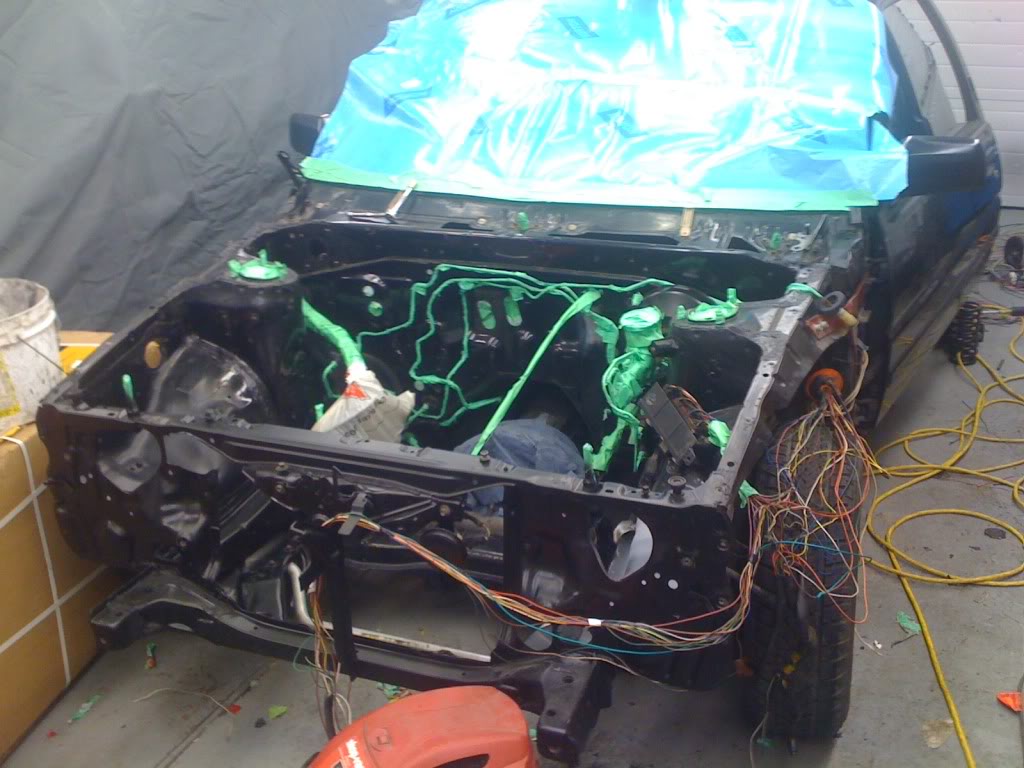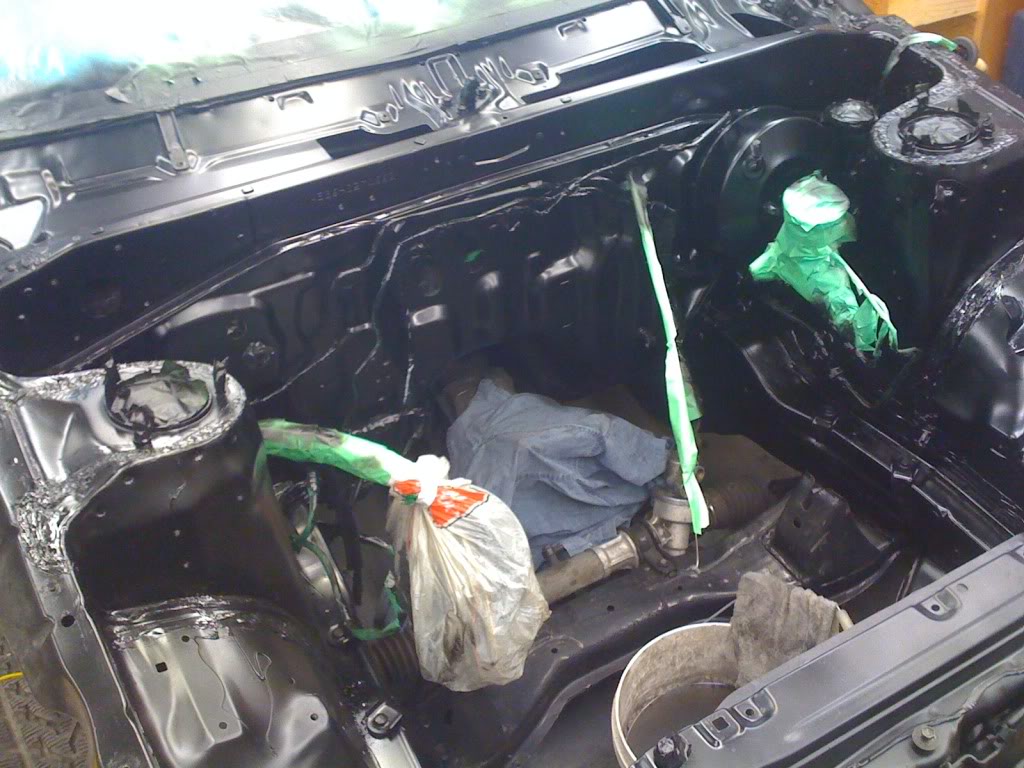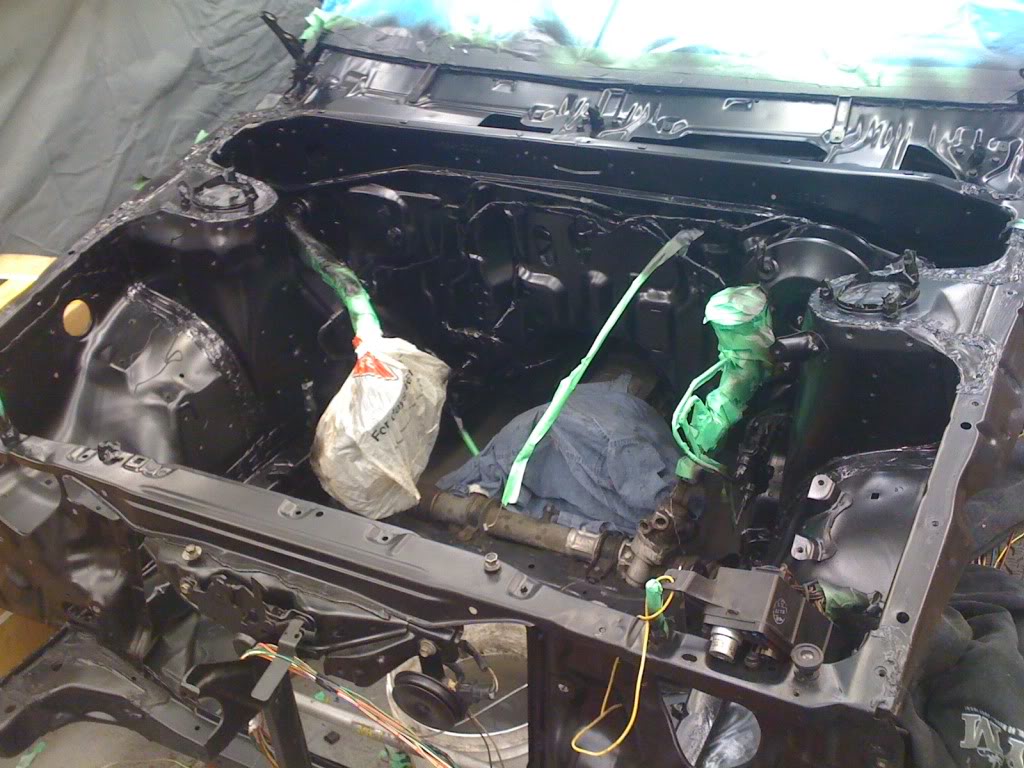 Running a Revolver lightened flywheel: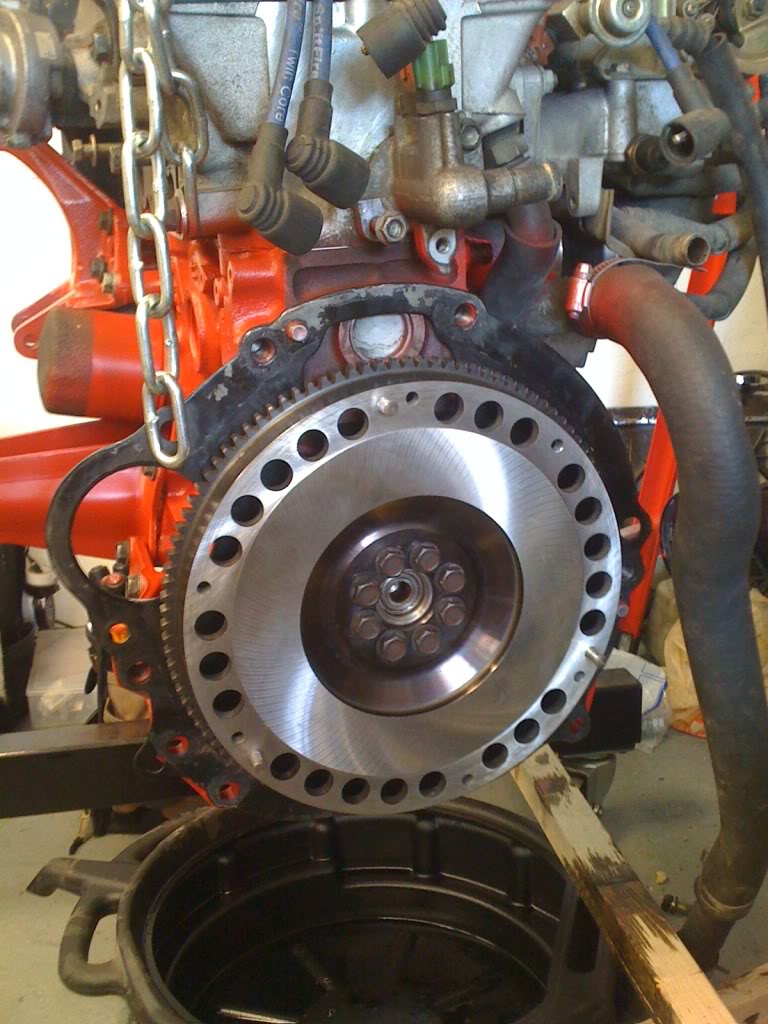 As it sits today with painted valve covers from a bluetop to match engine (plug wires sit like that cause they sent me the wrong ones - waiting for new ones)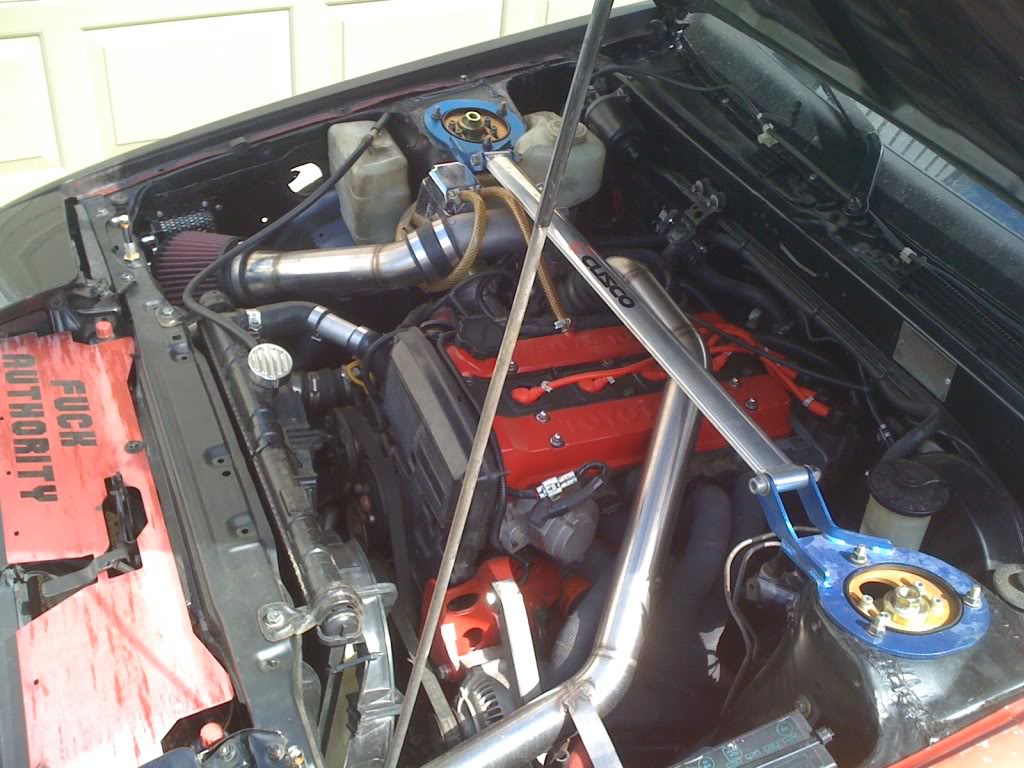 Dual fans from a 95 AC neon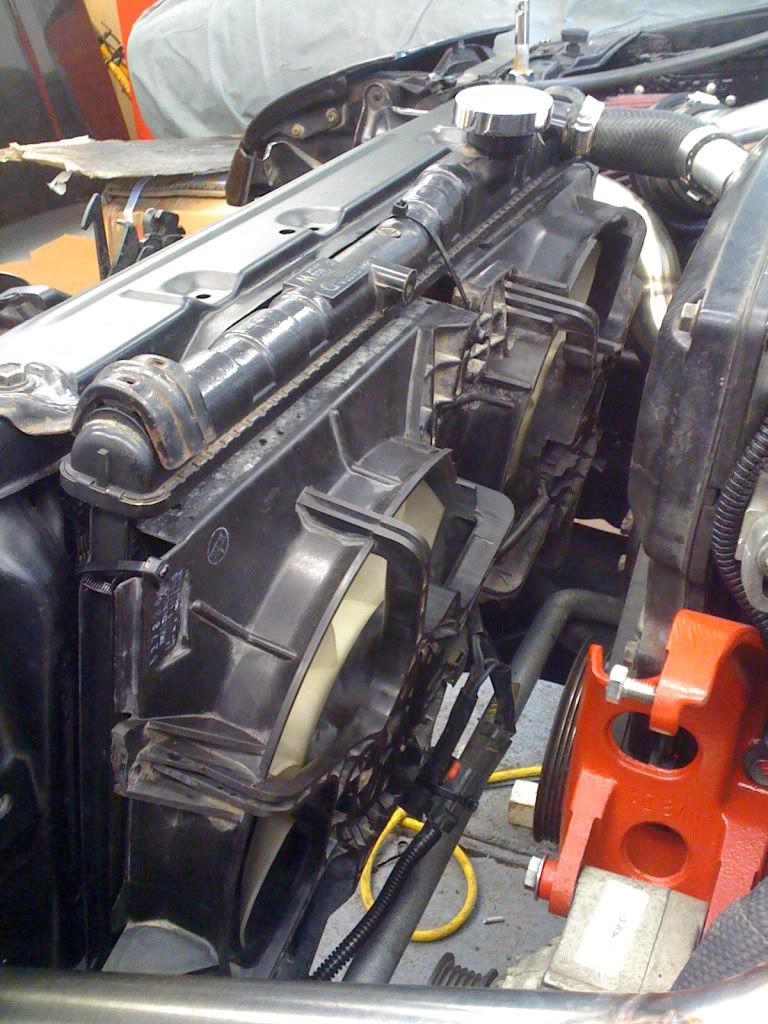 Cleaned up my heater vents and core so i can now have heat!!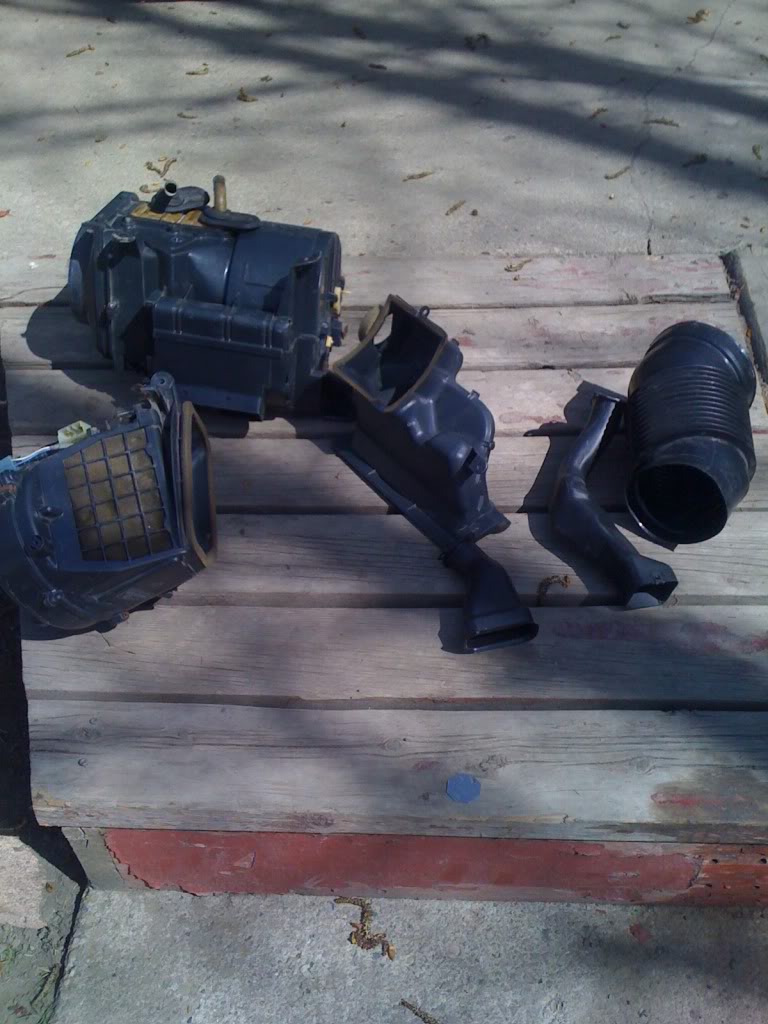 Painted all four brake calipers: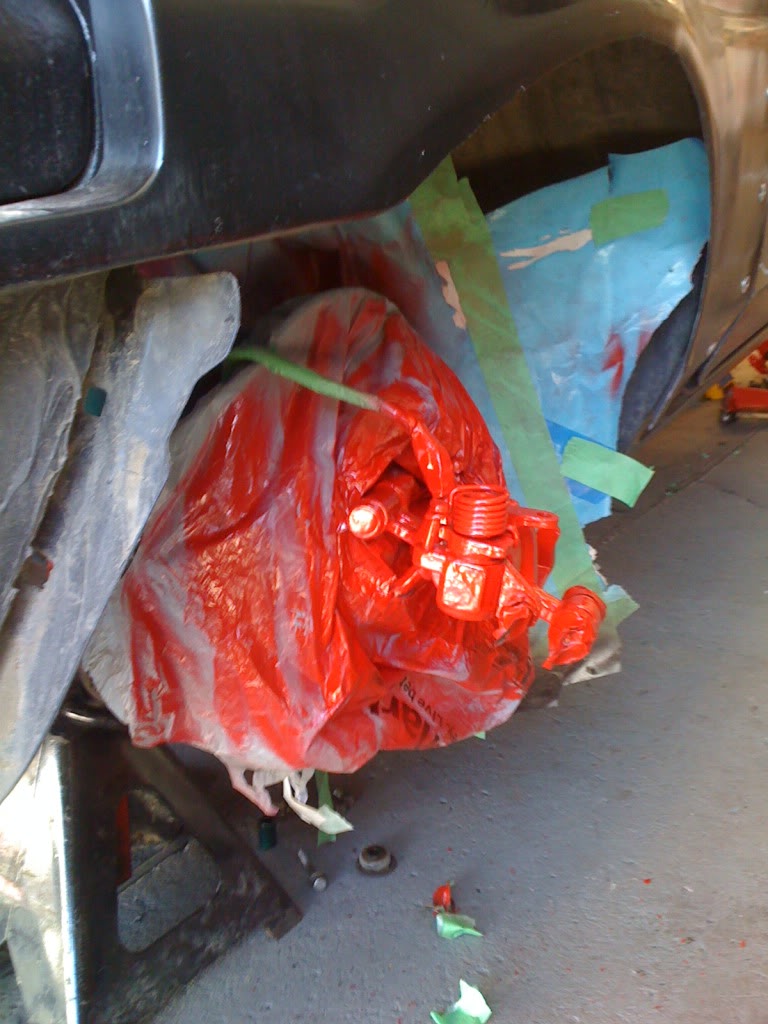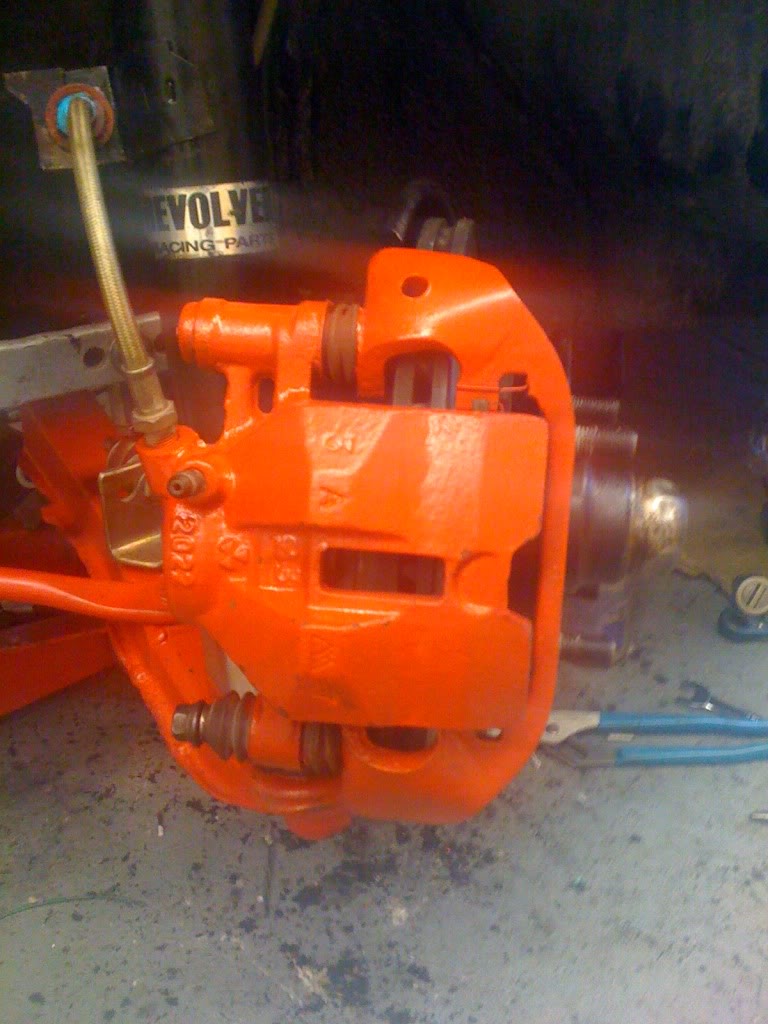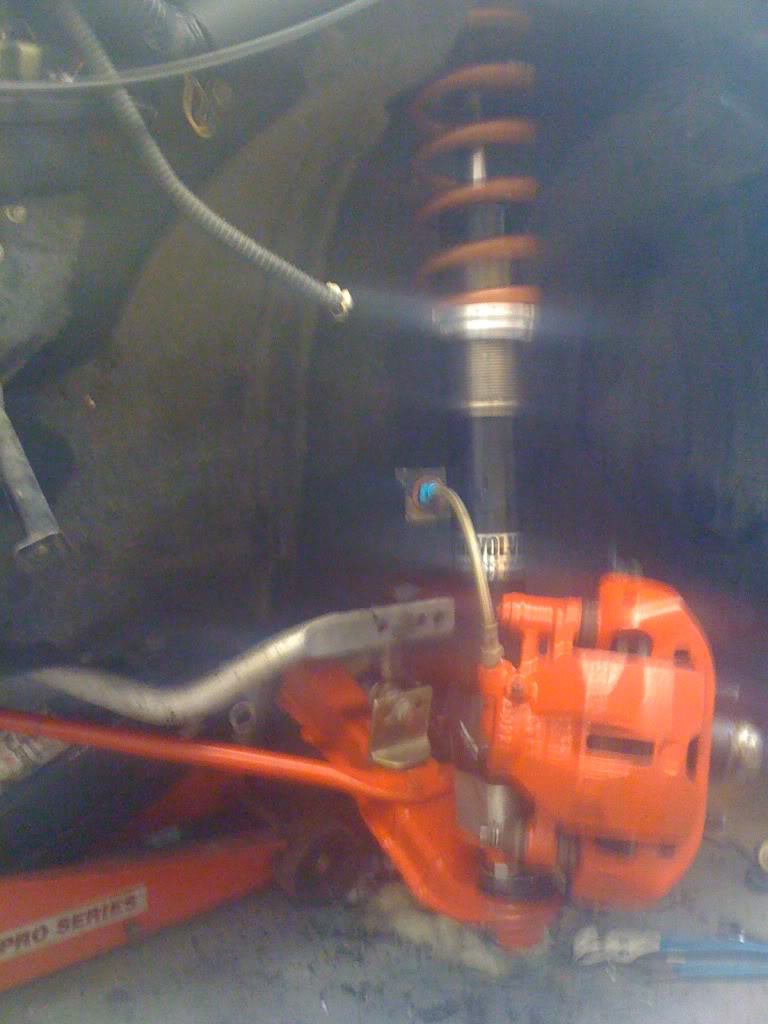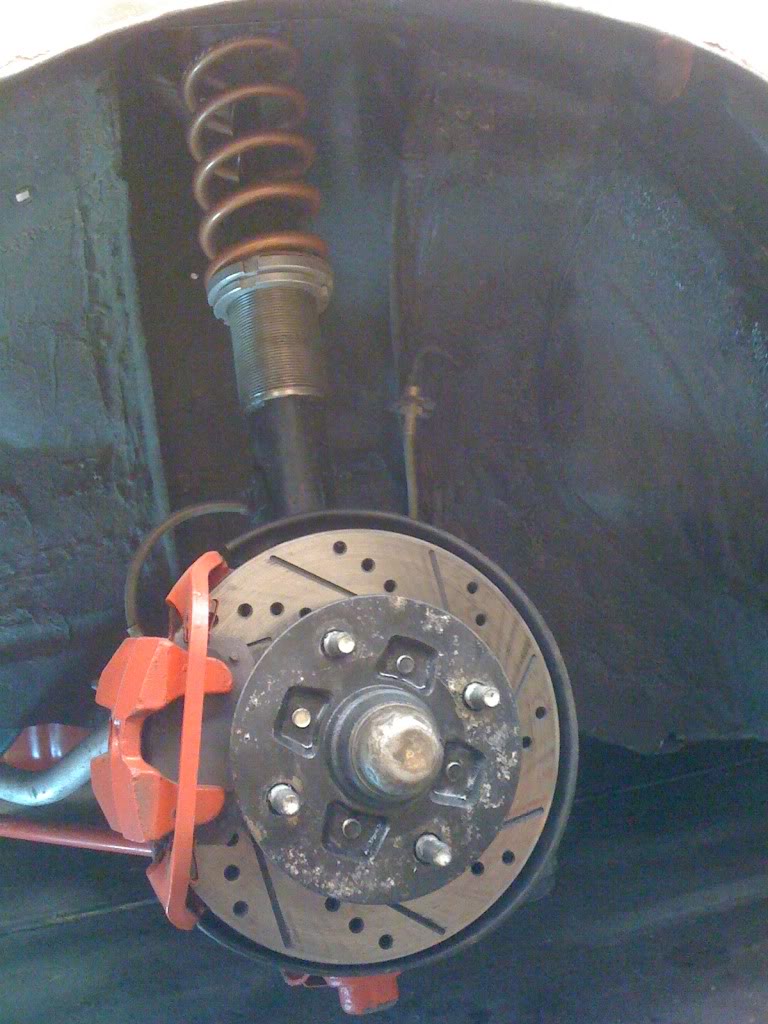 I had to run a kill switch So I decided that I had to re-wire the entire front half of the car to get the clean look so all you see is the harness on the engine and neatly tucked away, alternator and starter wires!!!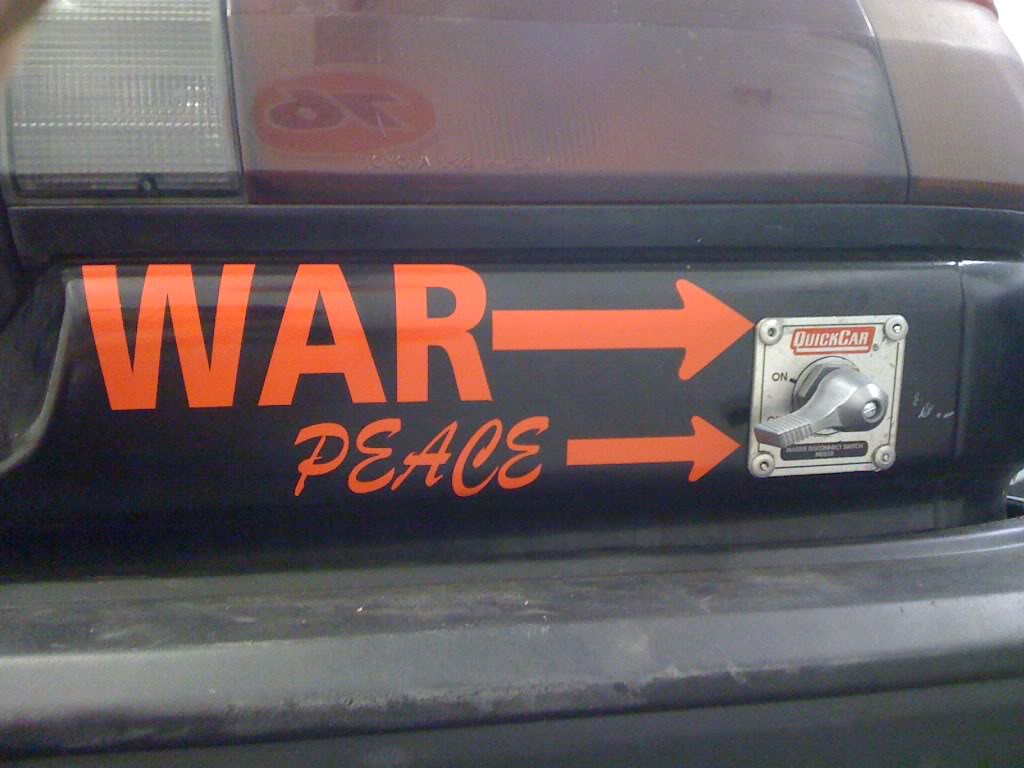 here is how I did the gernade shifter without wrecking it by welding a nut on it: Have you ever seen the inside of a stock shift knob?:
Cut out the middle: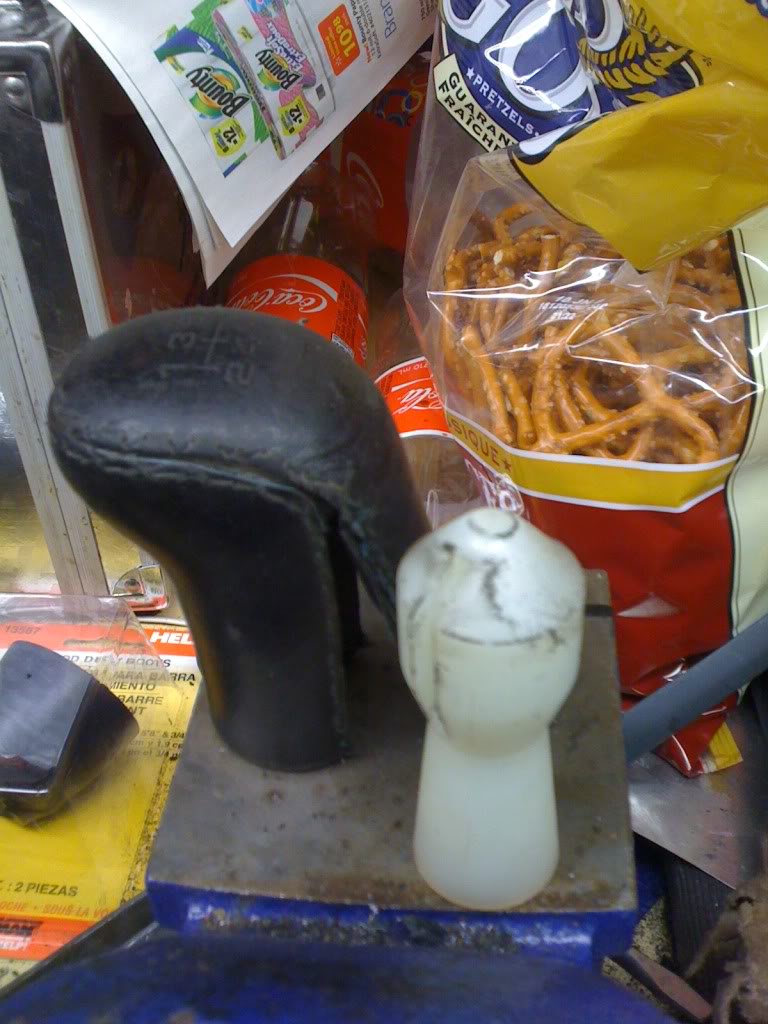 Now grind it down: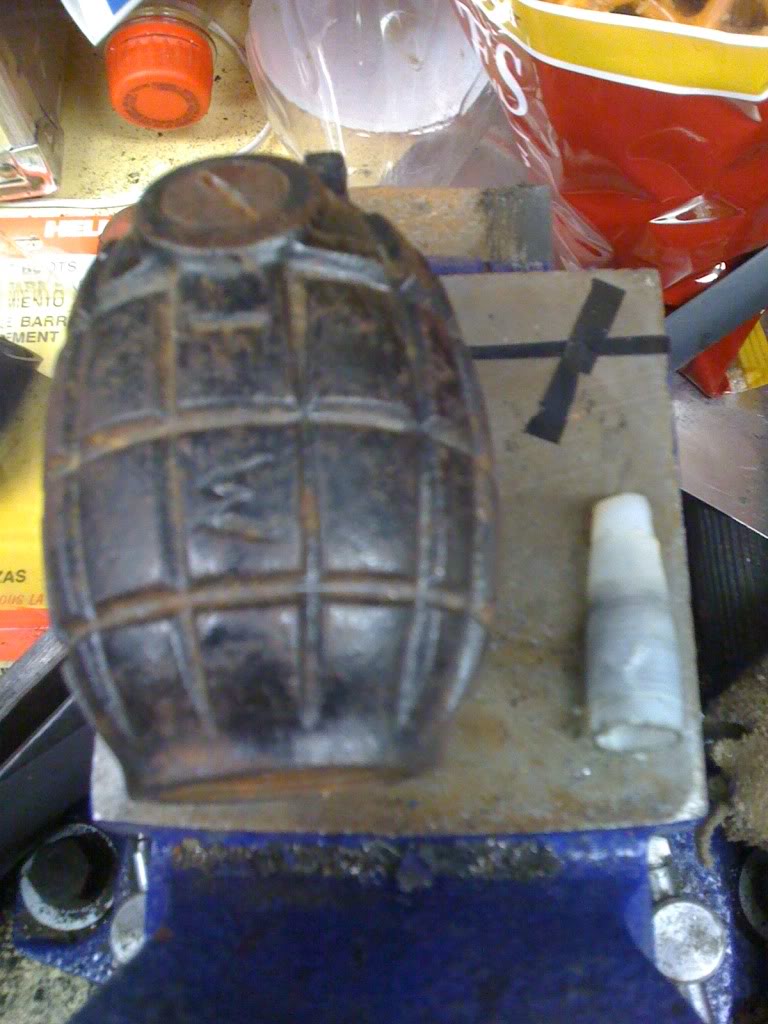 install: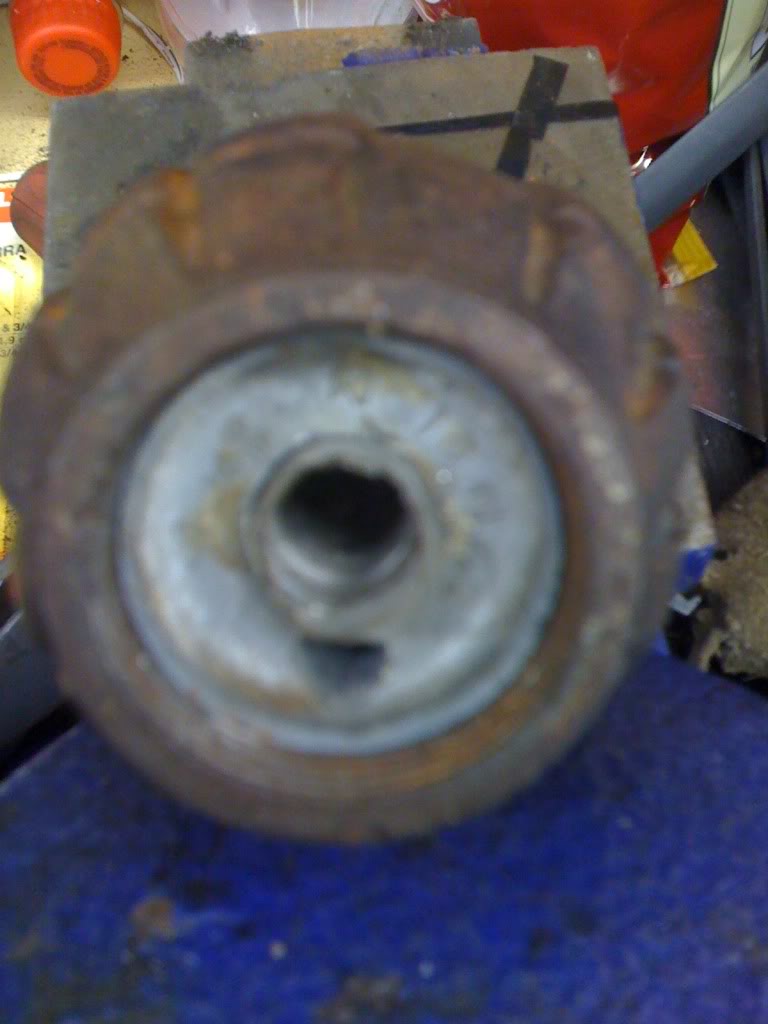 simple.


Project #5:

Bought some Hella Housings to run some HID lighting so I built some brackets and they're super lightweight!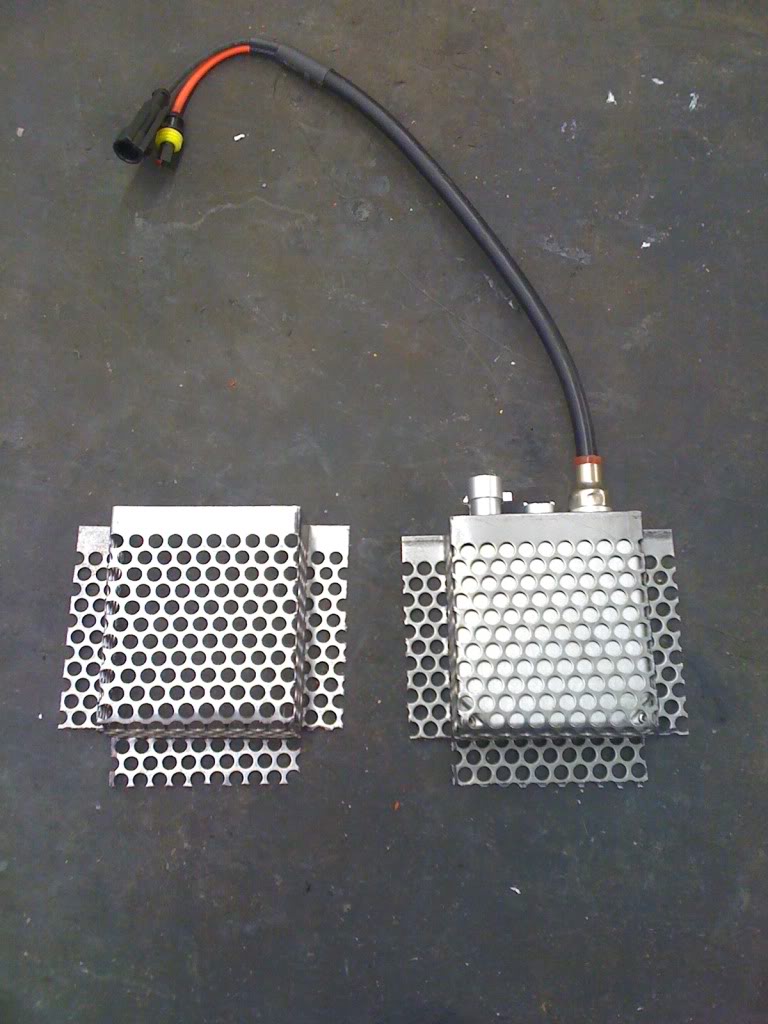 painted: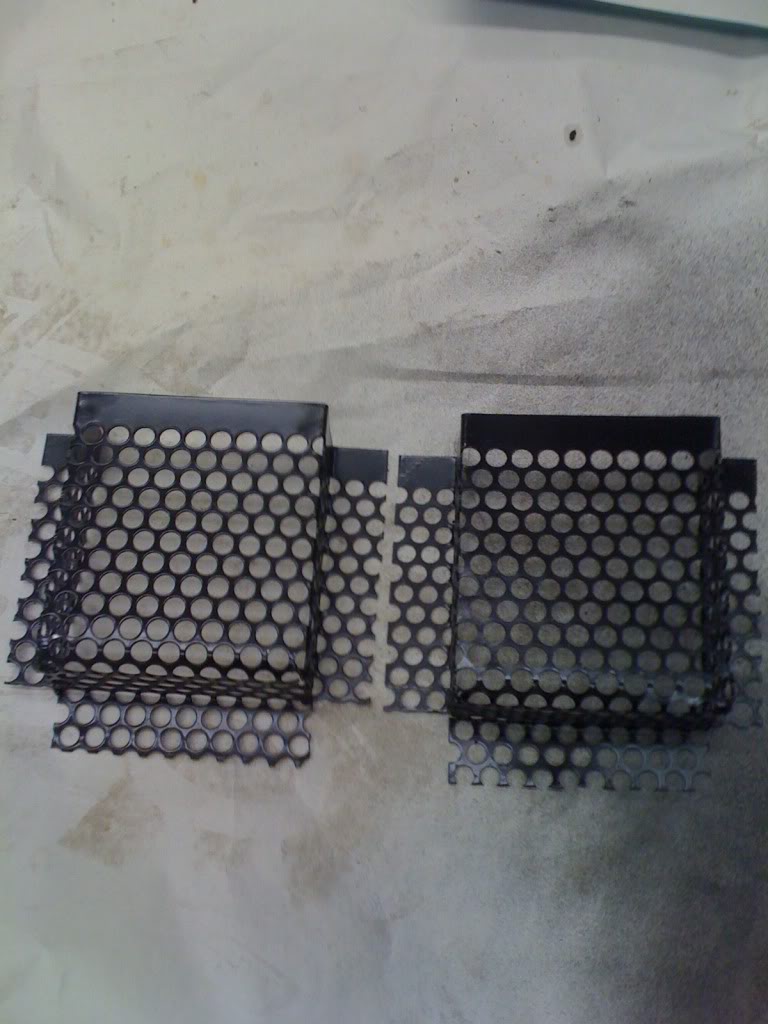 installed: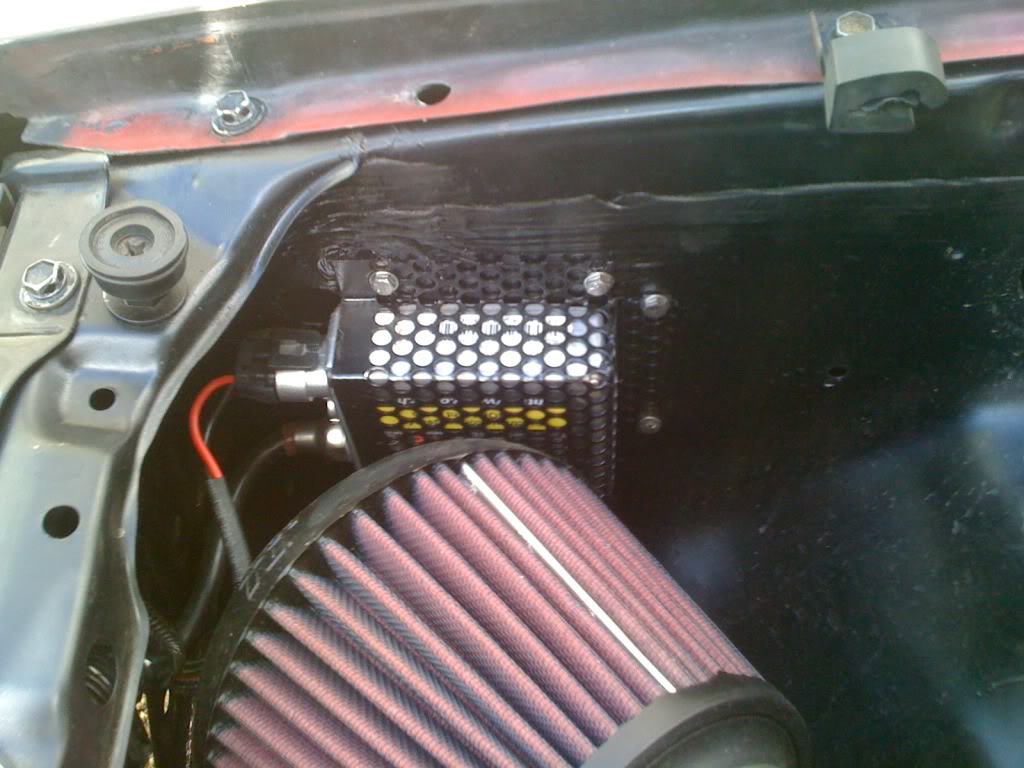 Project #6:

Becuase I was running the painless wiring console I wanted to keep it in the same spot so I decided to make my own out of a army gernade case. First I cut it up: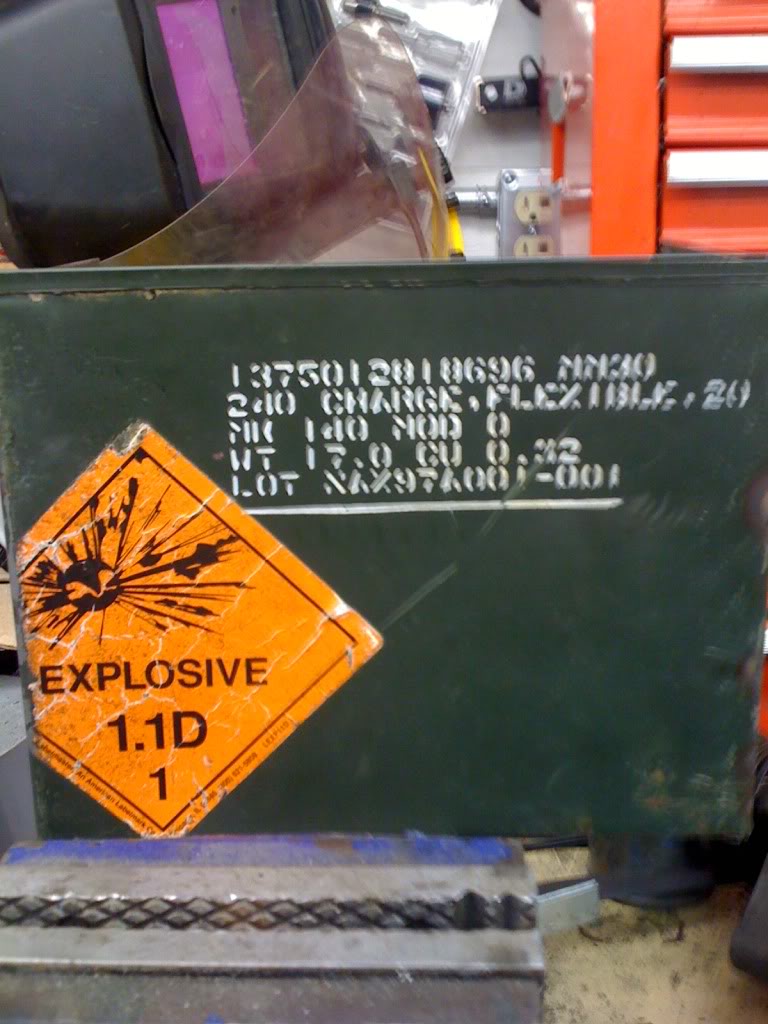 Then I measured and bet the sides to match the oem console brackets, and spot welded them in place: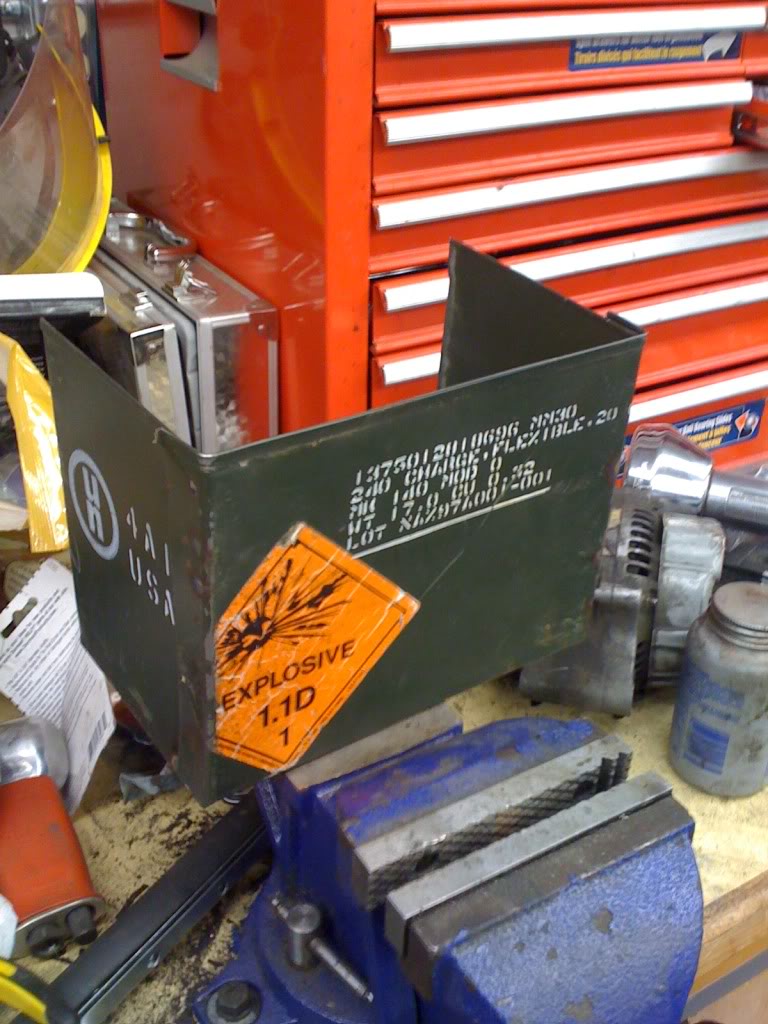 Then I cut a hole for my new deck so I can finally have music: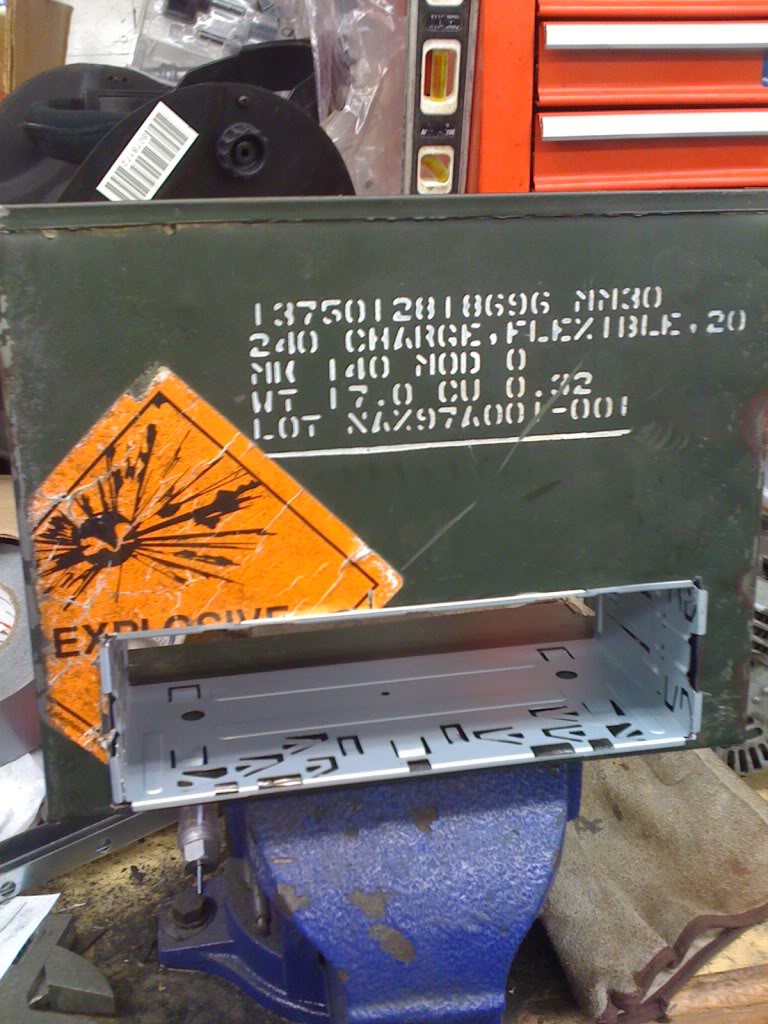 Then I need controls for heat (now that I have it!) fan, cigar lighter ect and thought "what would Q do for James Bond?"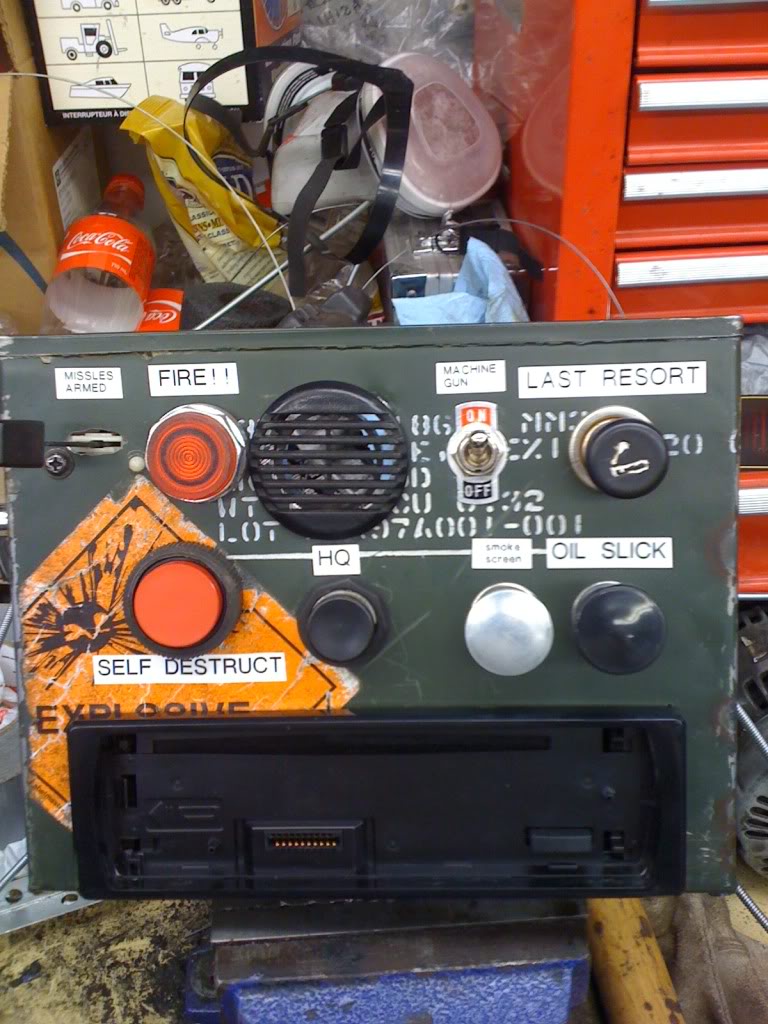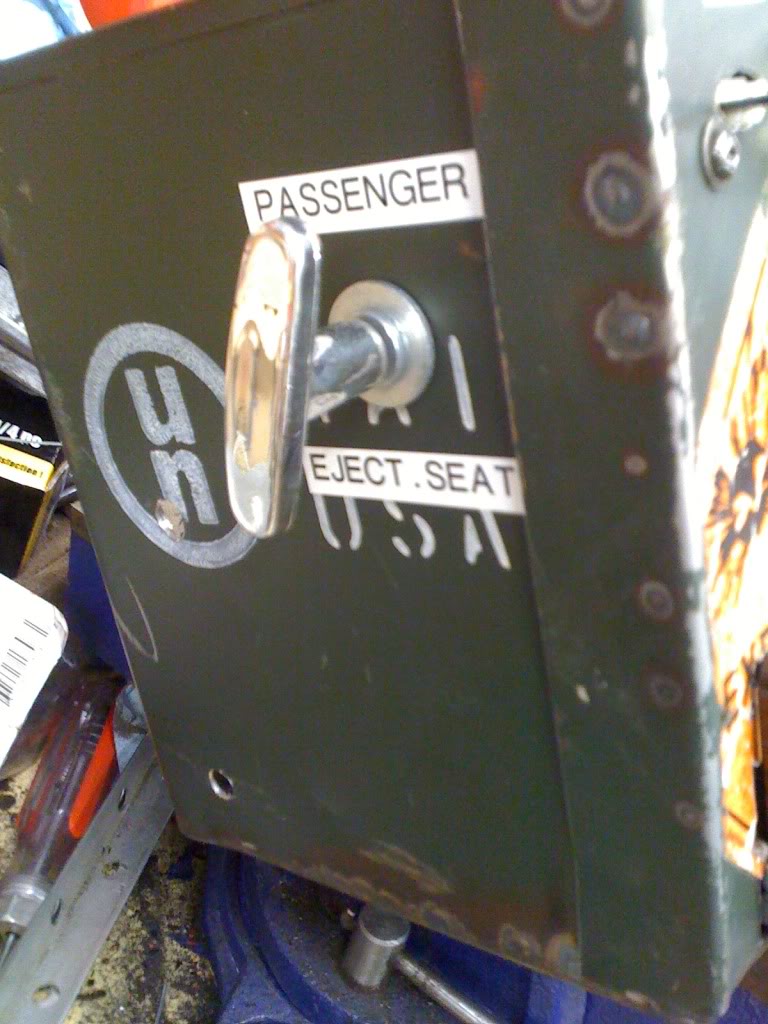 Installed: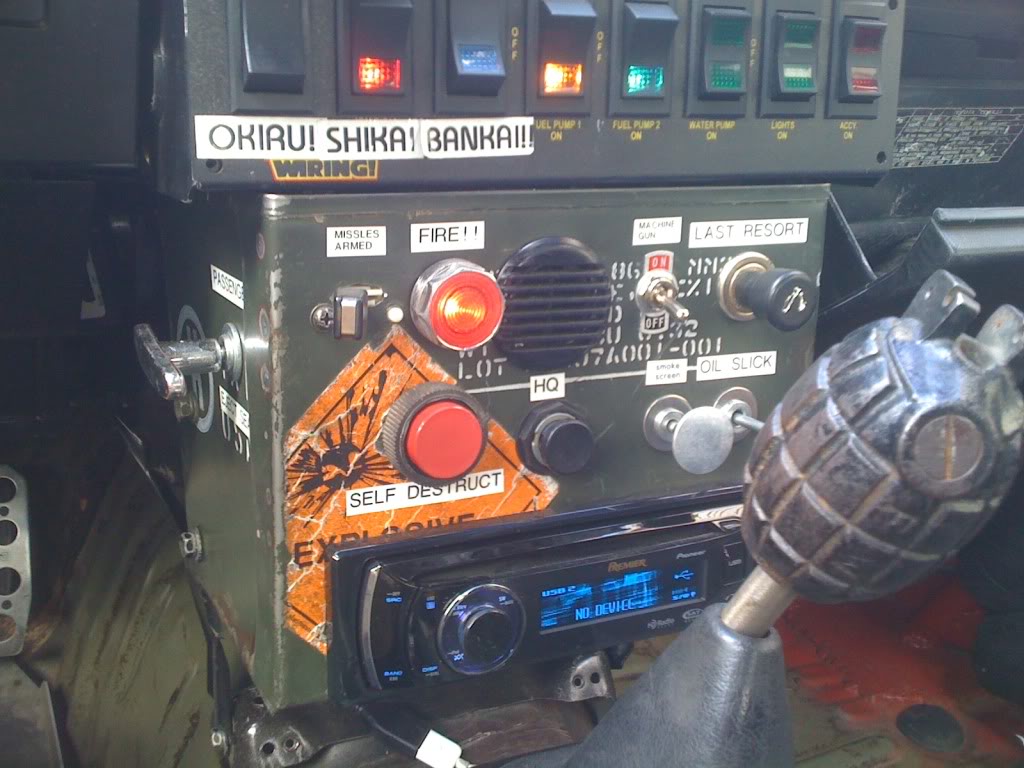 The passenger eject is my heat, the smoke screen and oil slick are my vents, The missiles aremed is my fan, the machine guns do nothing right now, The HQ button is so you can talk to Q (obviously) and every bond vehicle needs a self destruct button!

Project 7:

Bought a bar from greenie that wouldn't fit proper (intercooler bar was in the way) so rather than chopping it up i decided to make my own version: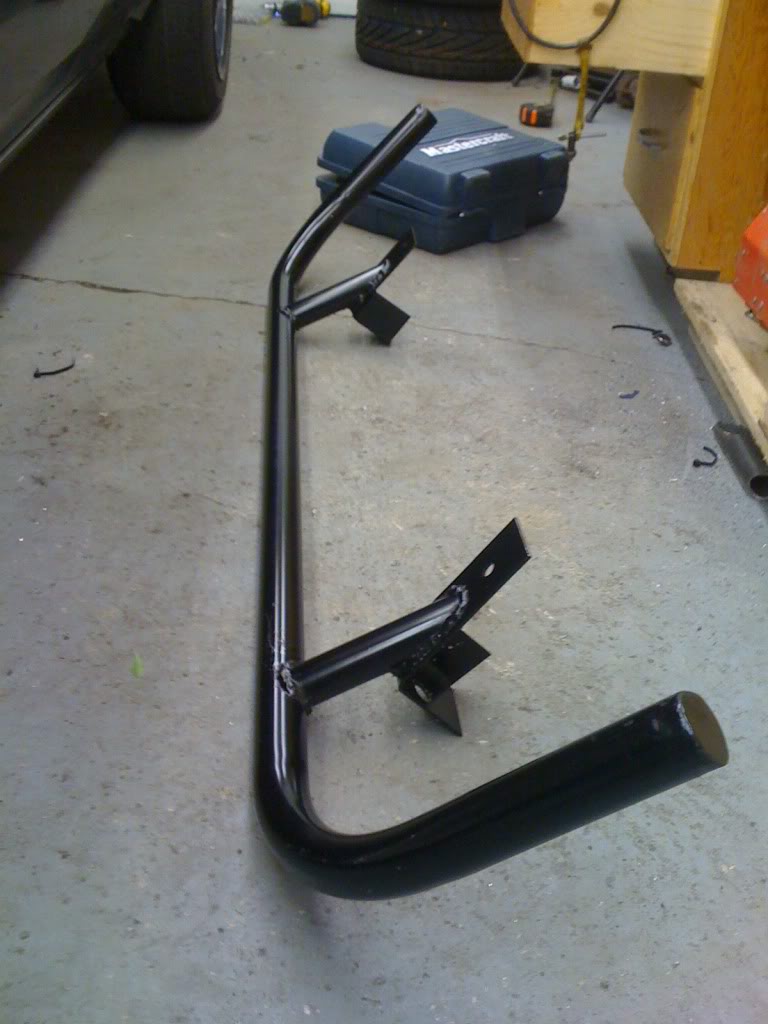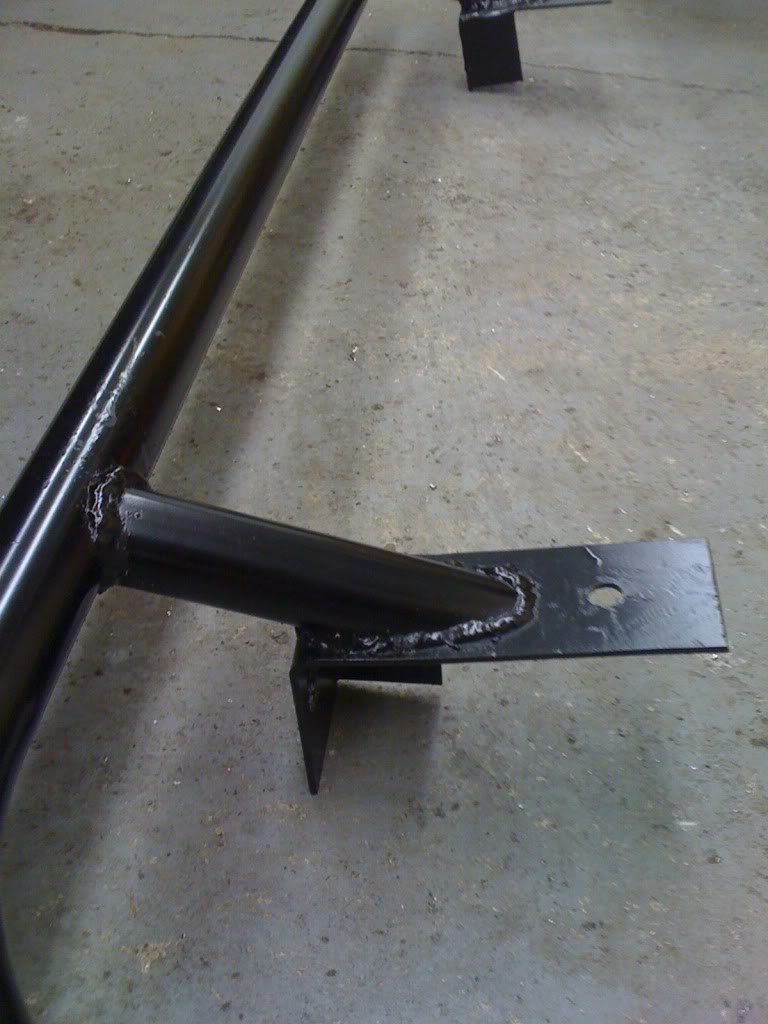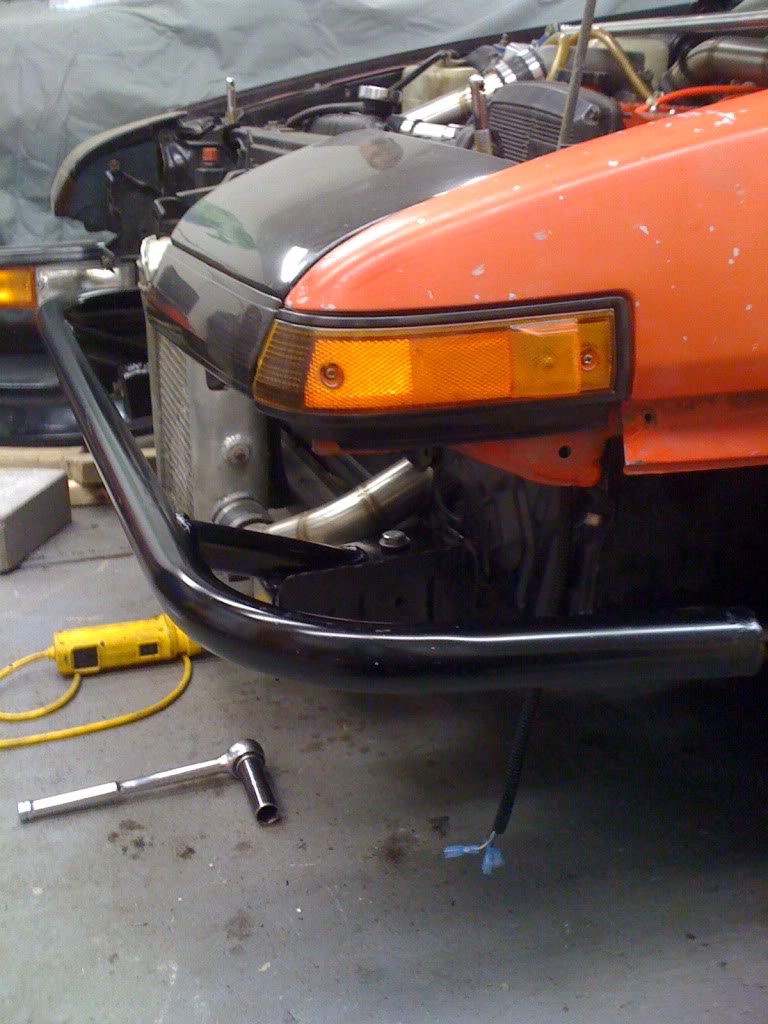 installed - perfect height and fitment and capped the ends: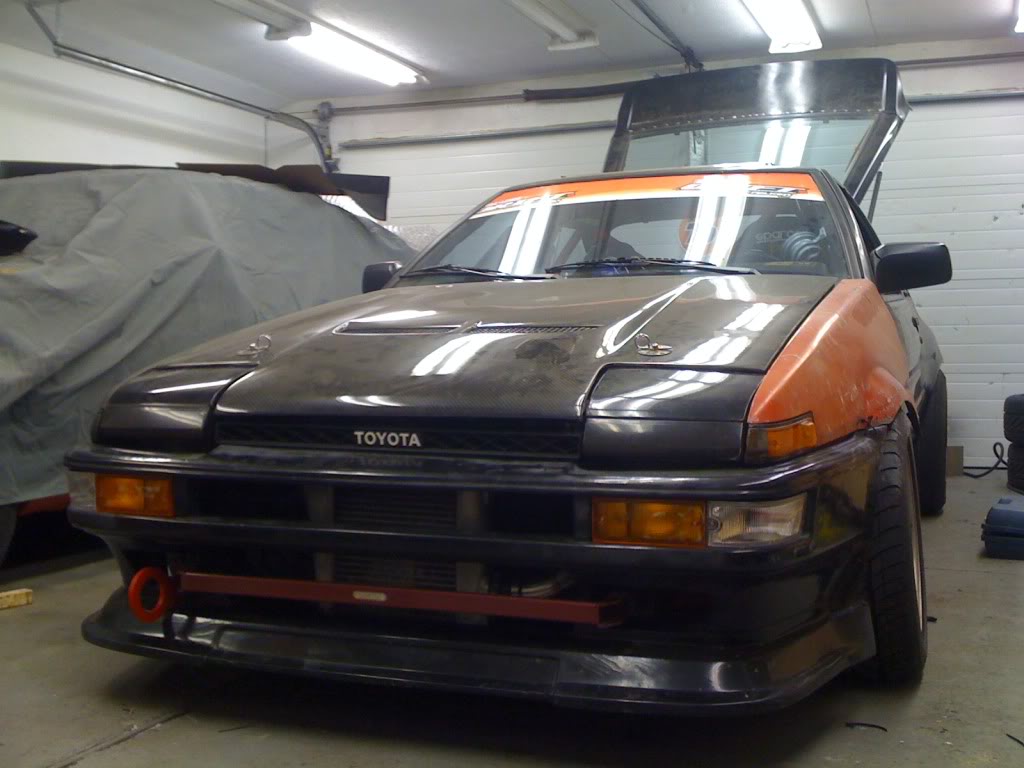 Took it to the car wash before heading to Regina: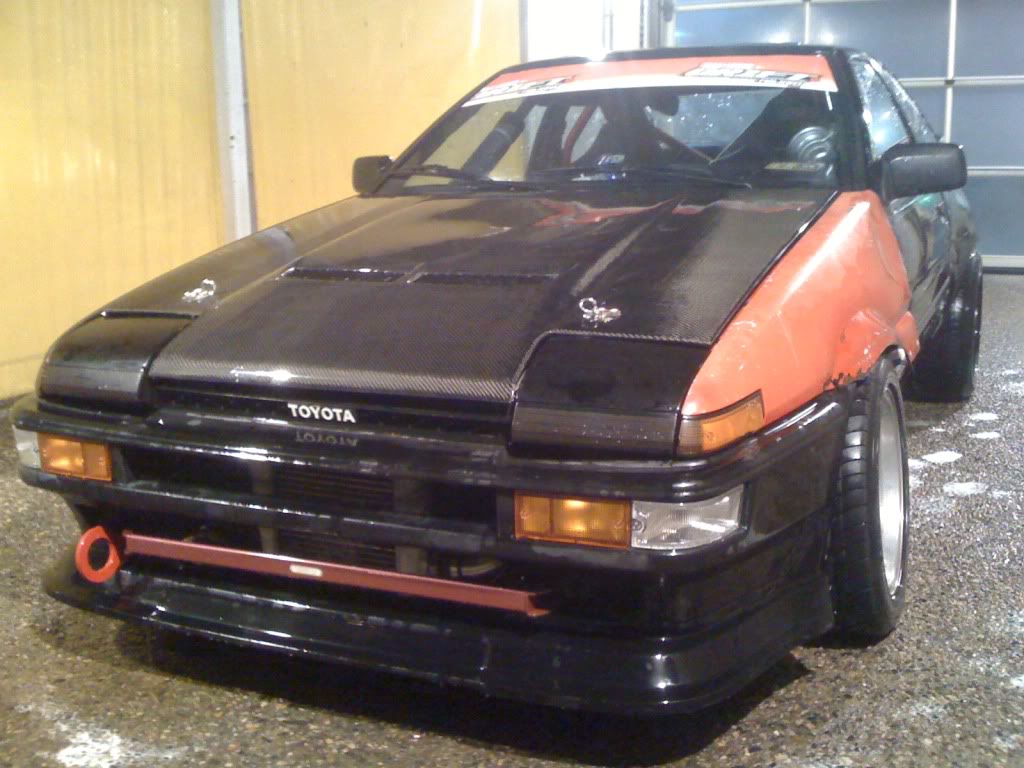 Forgot to mention that I had to cut and widen the stock fenders by 1.5" to accommodate the -5.5
degrees of negative camber I'm running!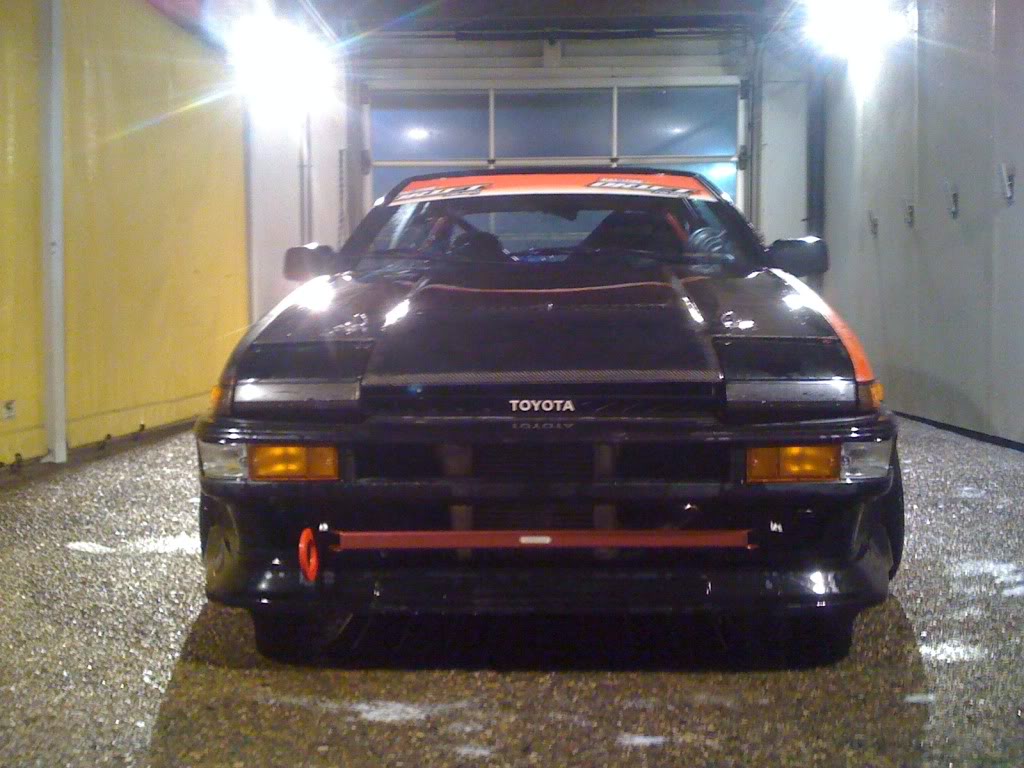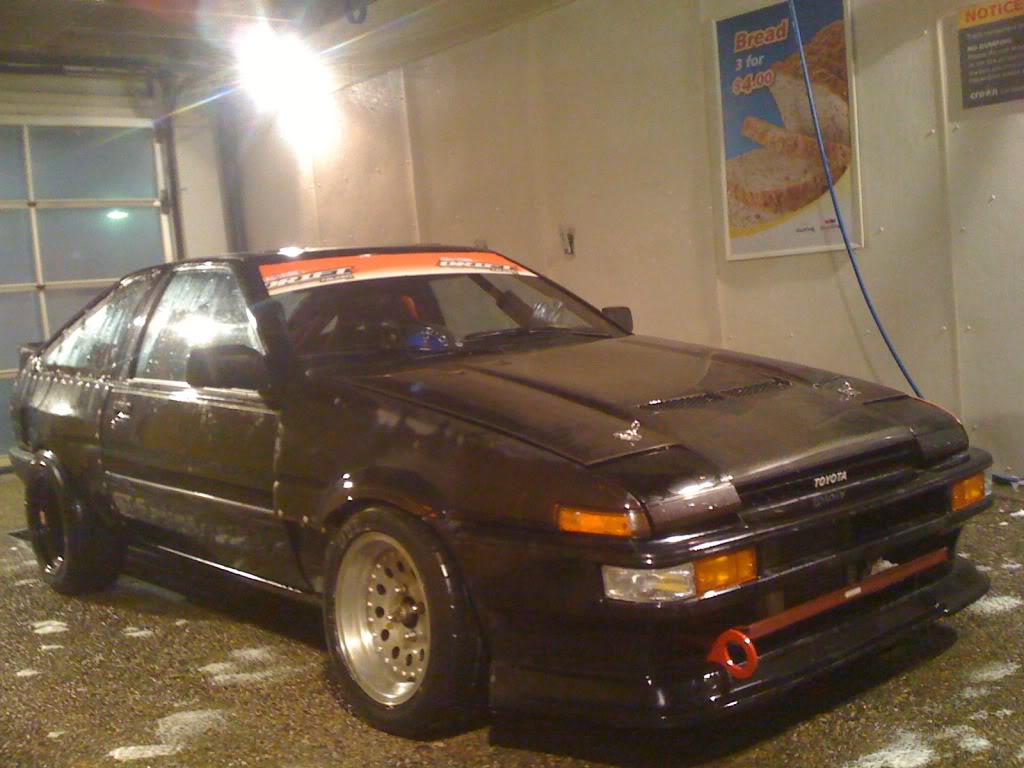 I also bought a brand new jdm rear bumper and but my jblood skirts on them!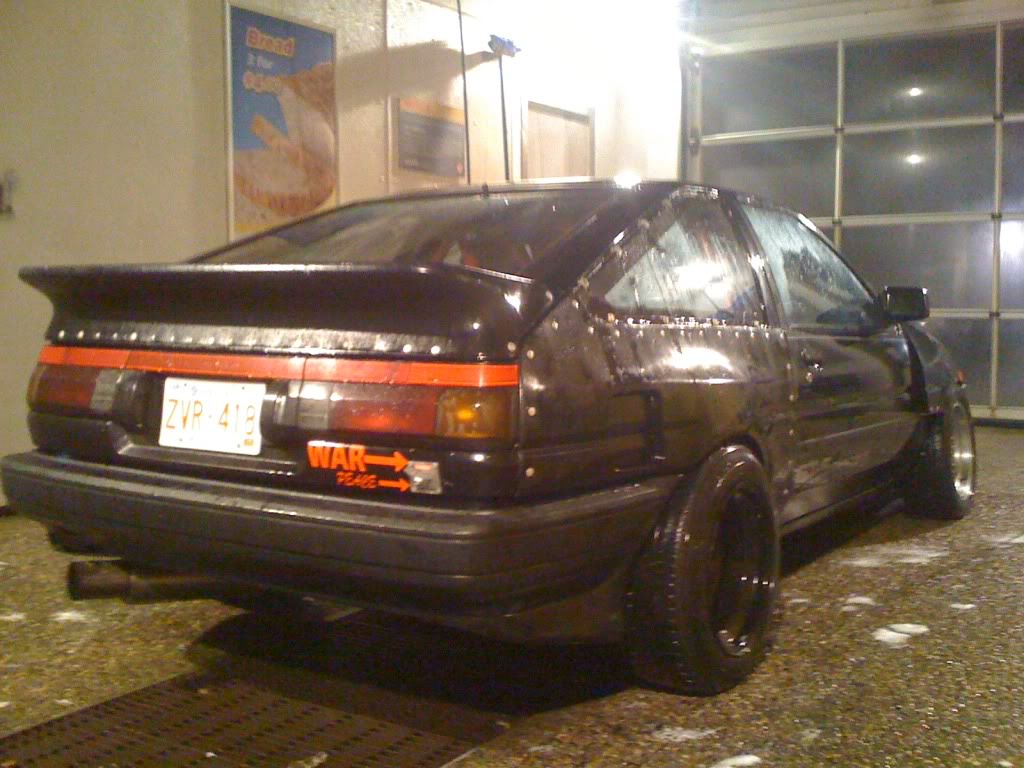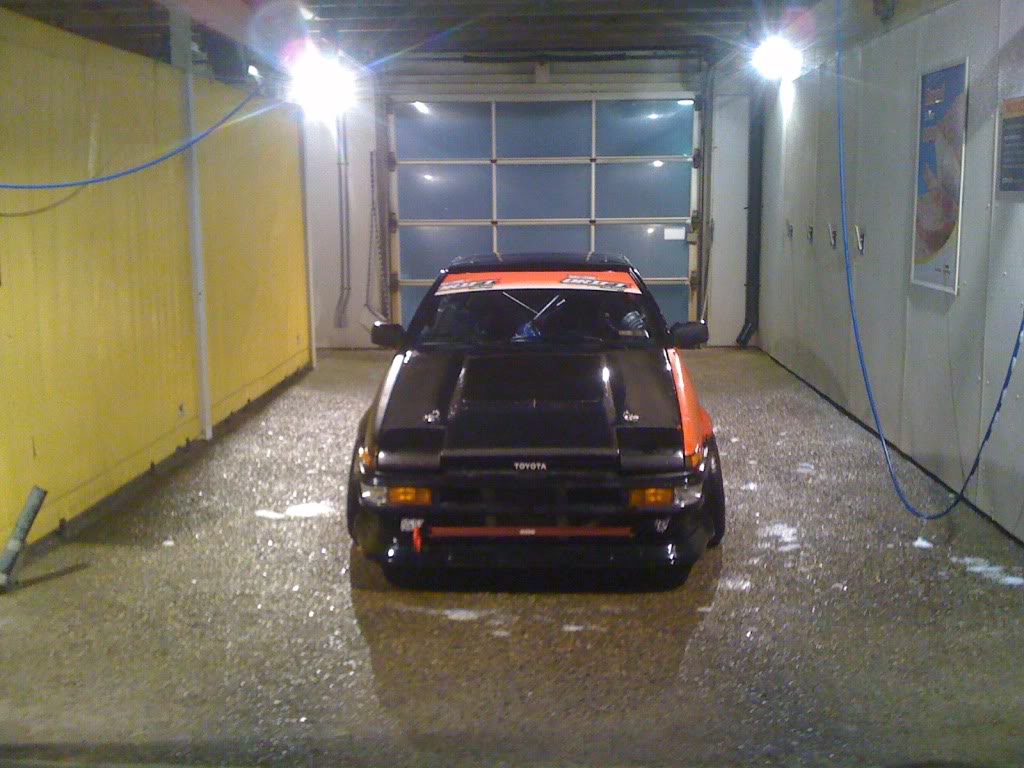 5-25-2010
can't because this happened on the way to the regina drift away camp on the ab/sask border this weekend on the highway cruising at a 110km/hr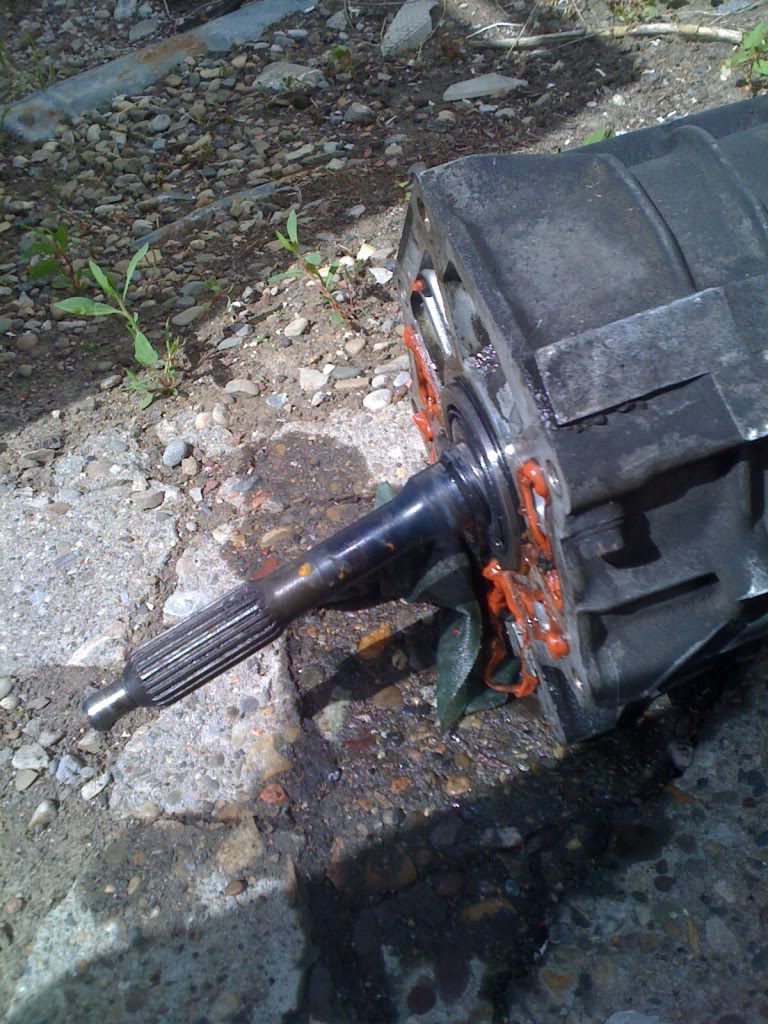 felt like a slipped clutch when it happened who here has ever broke the input shaft?lol
5-27-2010
its wierd how it happened - the tranny has been reliable for the past 3 years without clutch kicking (i prefer feinting) with smooth shifting between gears - I had it swapped and ready to go with a spare tranny the next day. I had a crazy idea to head back for day 2 but I would be leaving around midight which means i'd be getting there just when the gates opened and then leaving back home after the drifting. I'll wait for the next one...looks like you guys had a blast - I checked out the photos...
7-18-2010
I was gonna do this swap over winter but seeing as my gze spun a bearing at street machine weekend, here we go: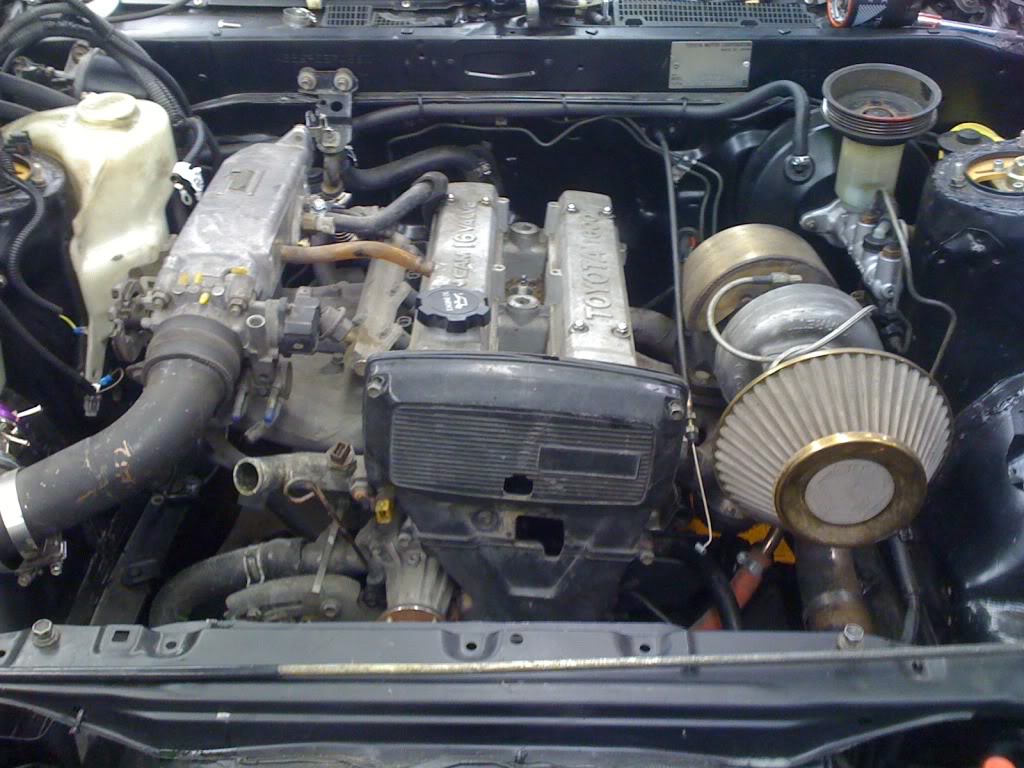 8-4-2010
Update:

fuel hooked up.
finished intercooler brackets.
finished hooking up the new 2.5" exhaust today.
should be fired up by this weekend.
nice.

blitz baby.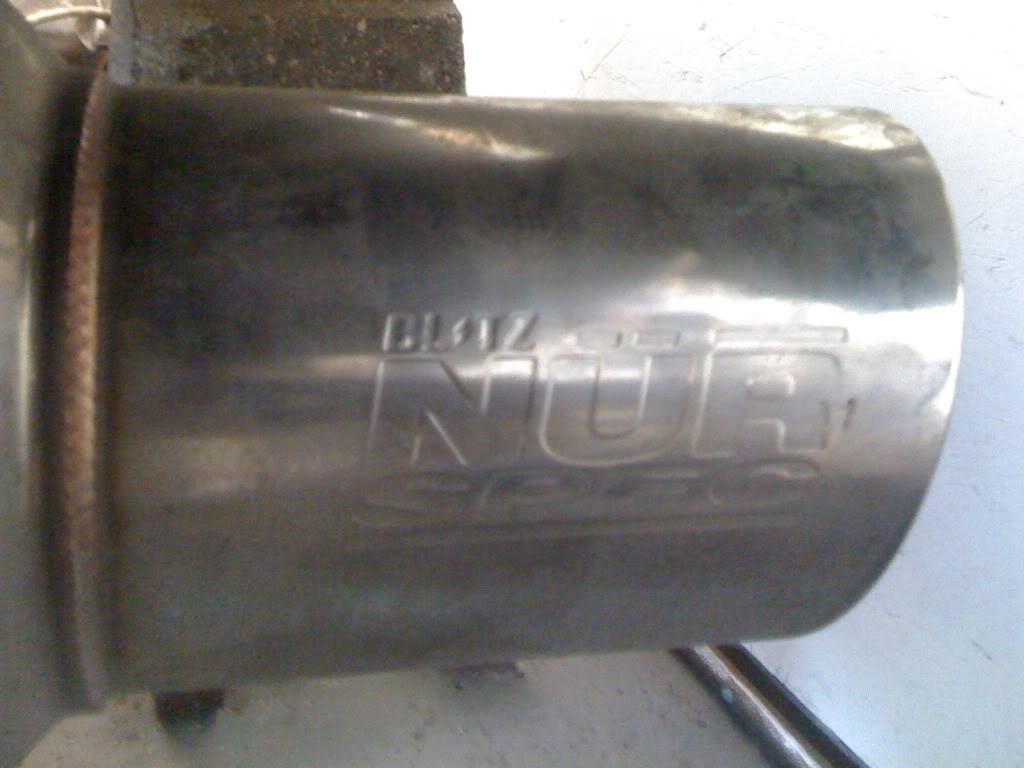 8-7-2010
Intercooler piping finished. new starter installed. just putting it all back together now...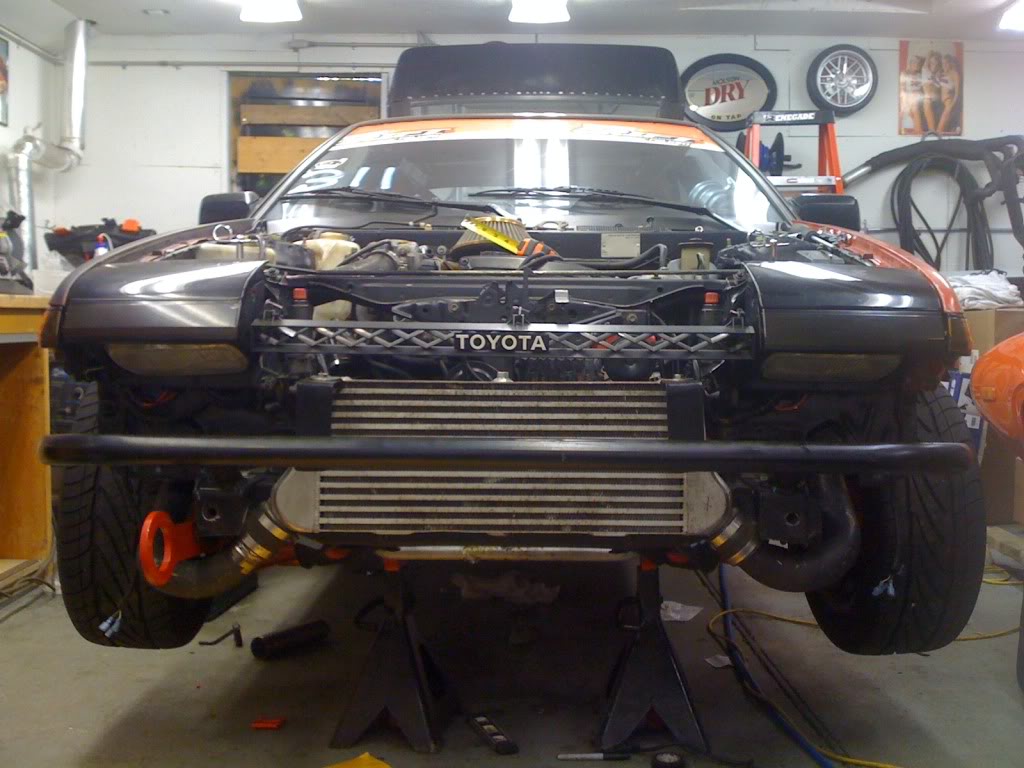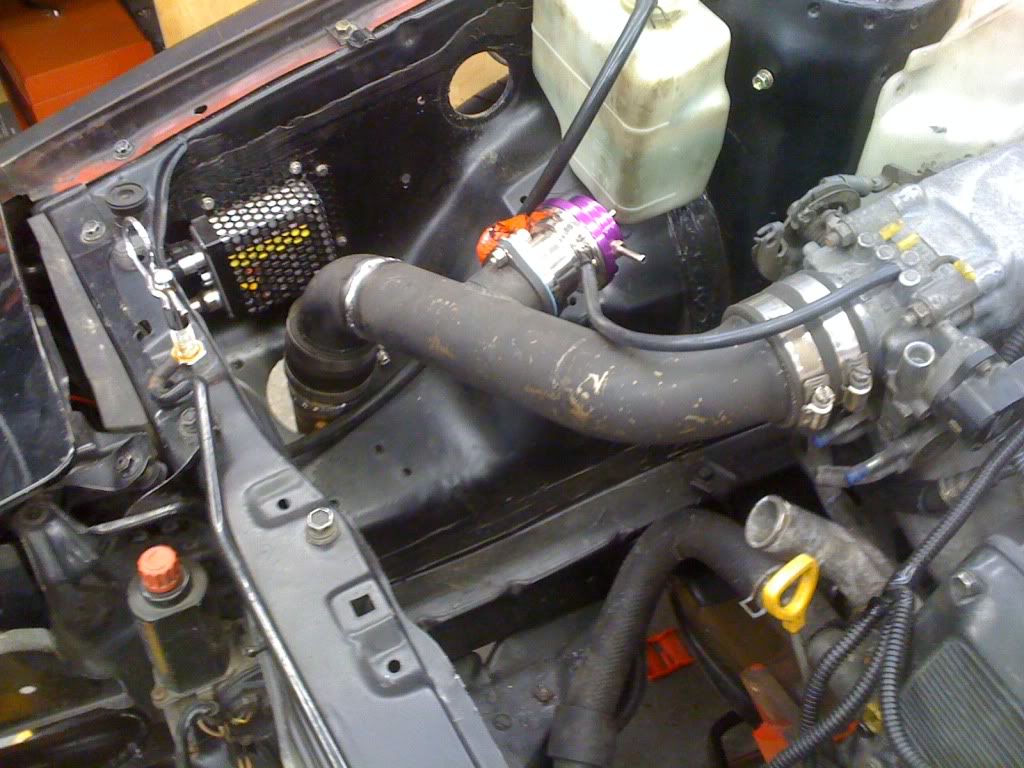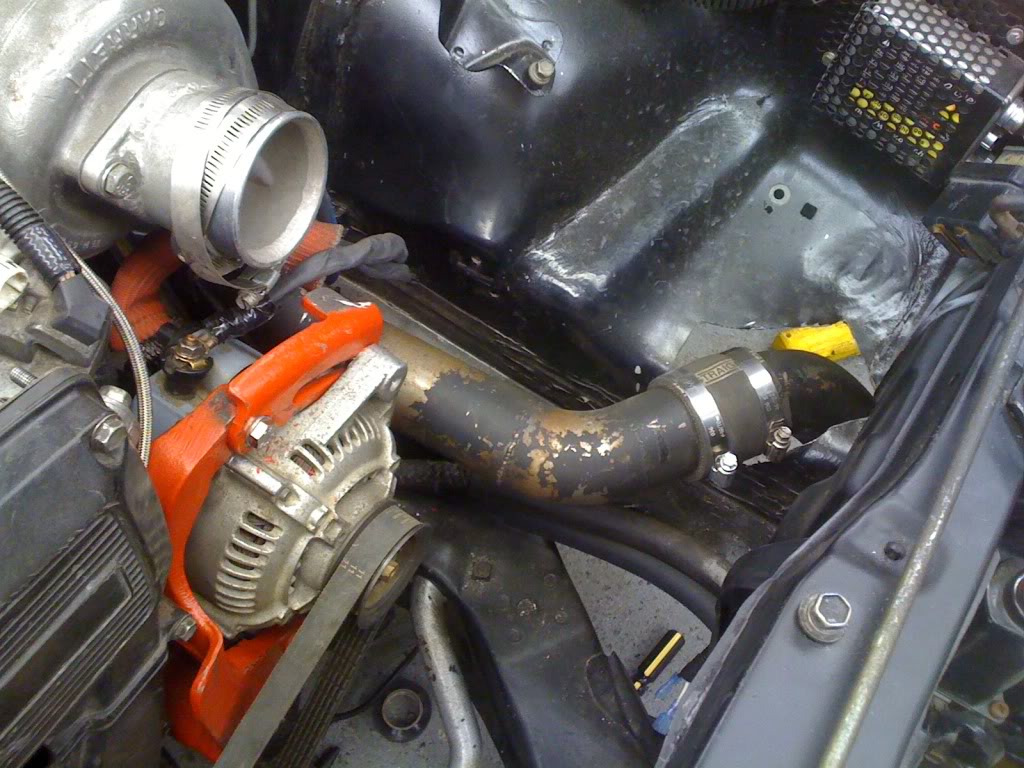 9-5-2010
After some major oil issues its up and running!!!!
Heres the work I've done in the last couple of weeks:

New trd SS shocks in rear coilovers: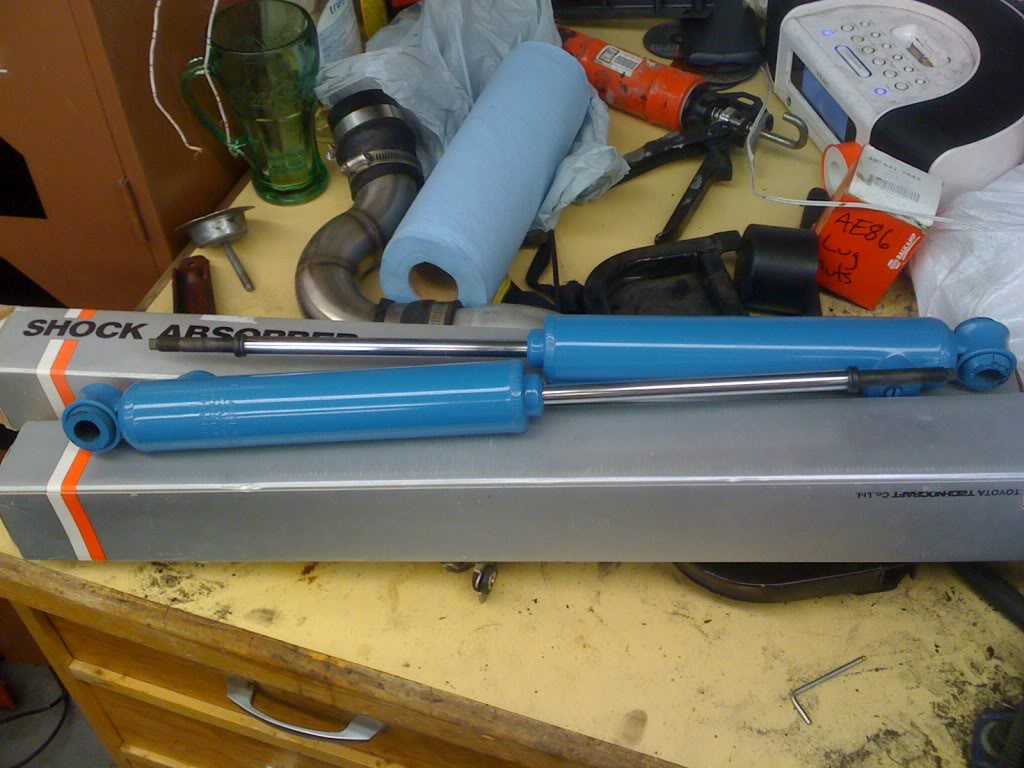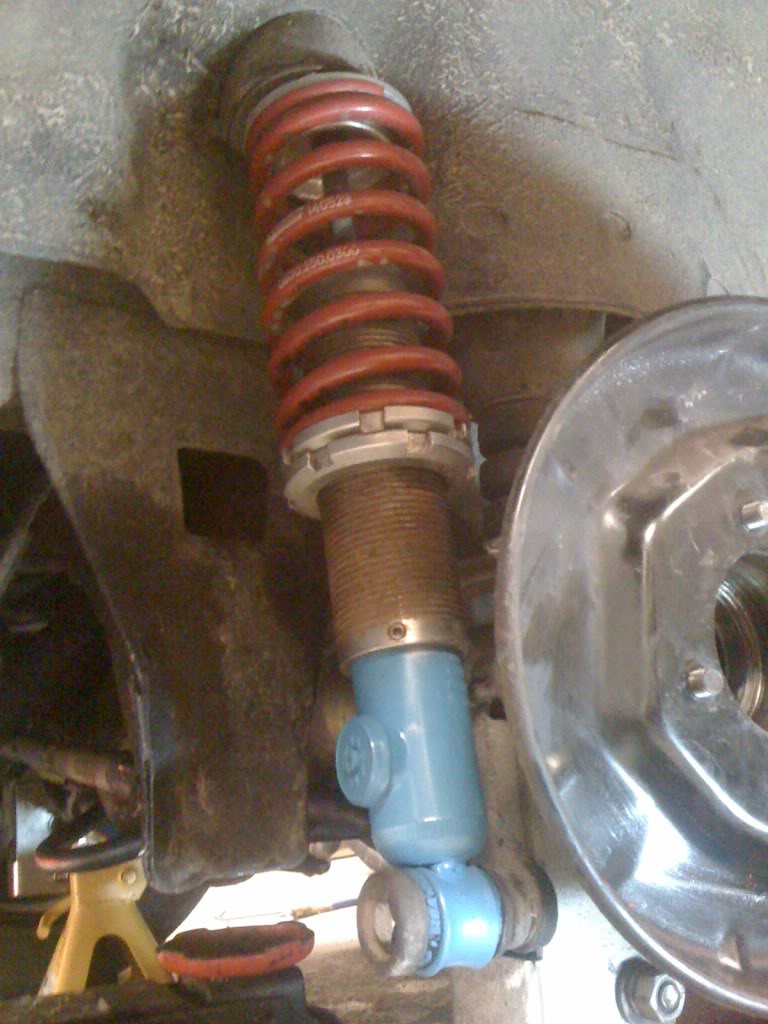 Air temp sensor for wideband: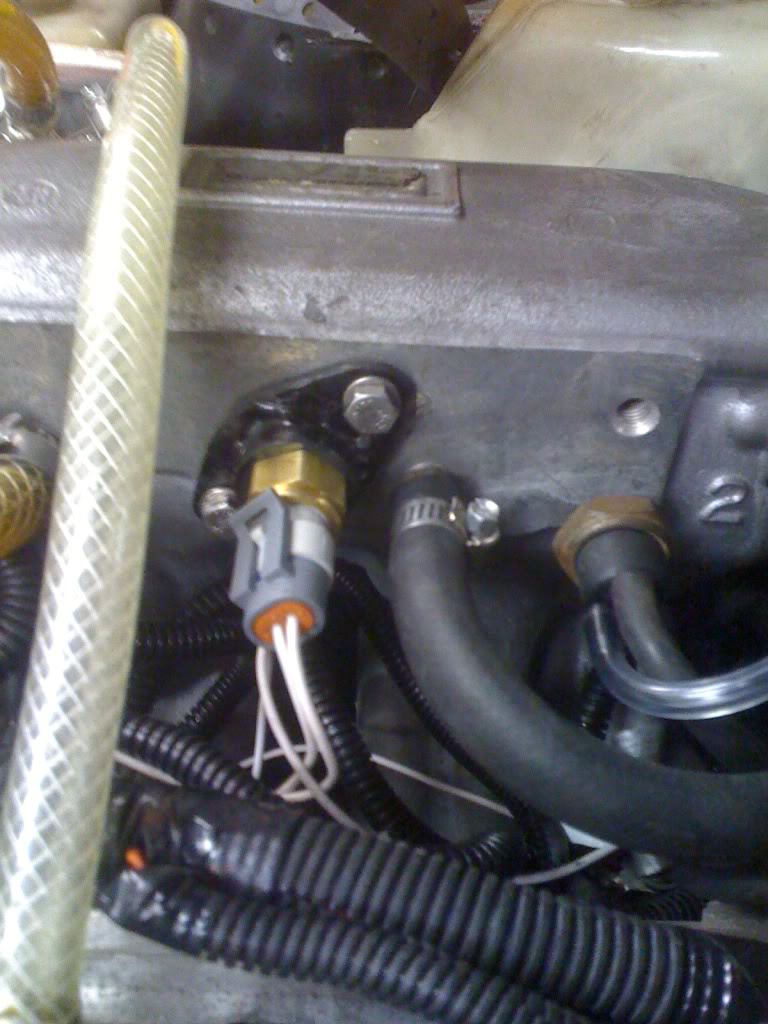 Unsure If I would like going with a turbo setup - I moved all the ae101 parts I could on the motor so if I wanted to go back or go twincharge setup its almost next to nothing to switch over now -
FWD Throttle body uses the same throttle sensor as the ae101: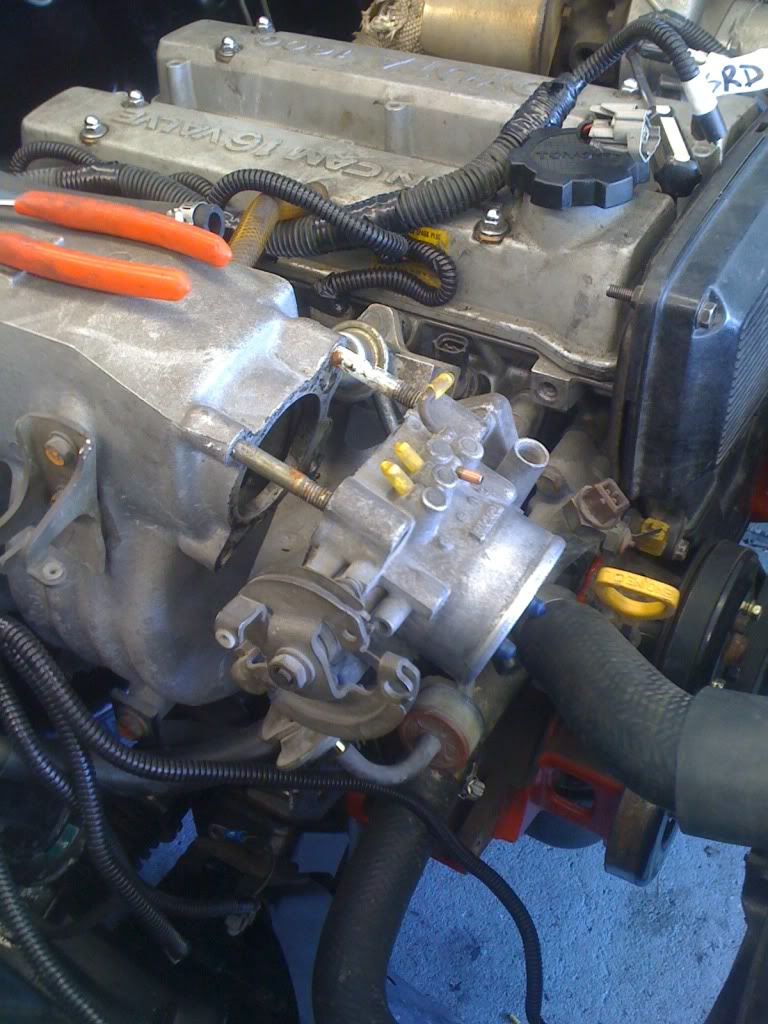 Moved all the pulleys and water pump from the ae101 over and I'm using the s/c mounting base so I have a tensioner pulley I'm using from a saturn so I can put enough tension on the water pump belt. The smallest belt I could get was from auto value at 27 1/2" and it was still loose which is why I need the saturn pulley which was just the right size after spending the day in the pick-n-pull. The alternator is still on the same side as the ae101 using the MR2 bracket because thats where I ran the wires for the ae101.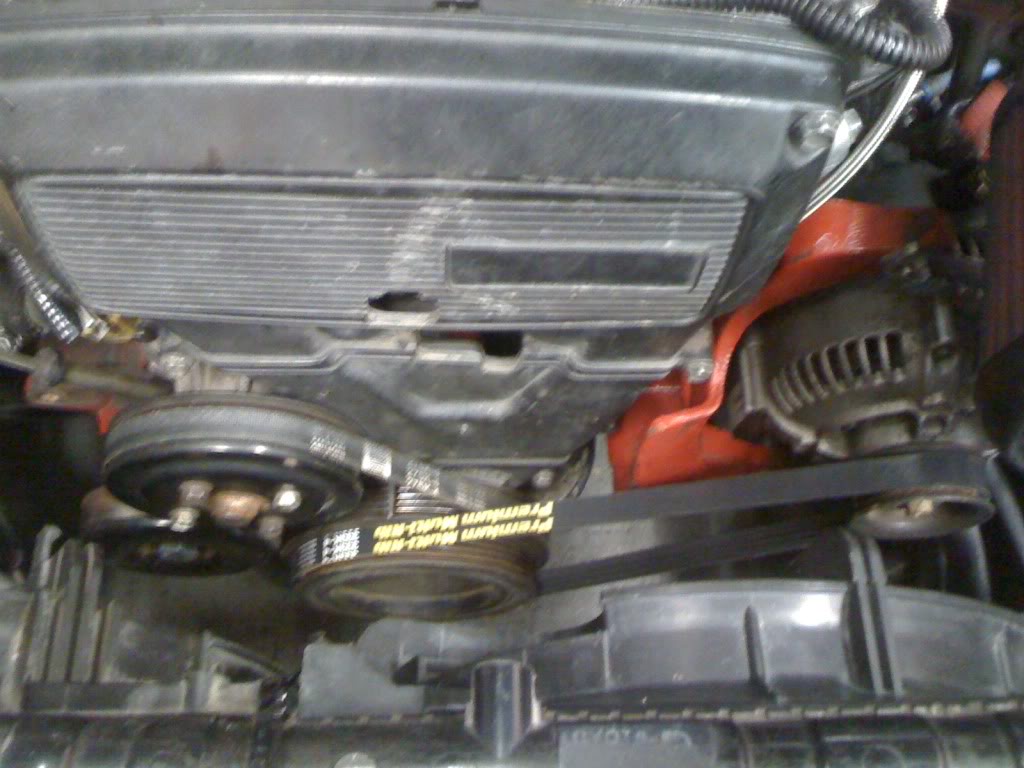 Heat wrapped the turbo manifold, and downpipe: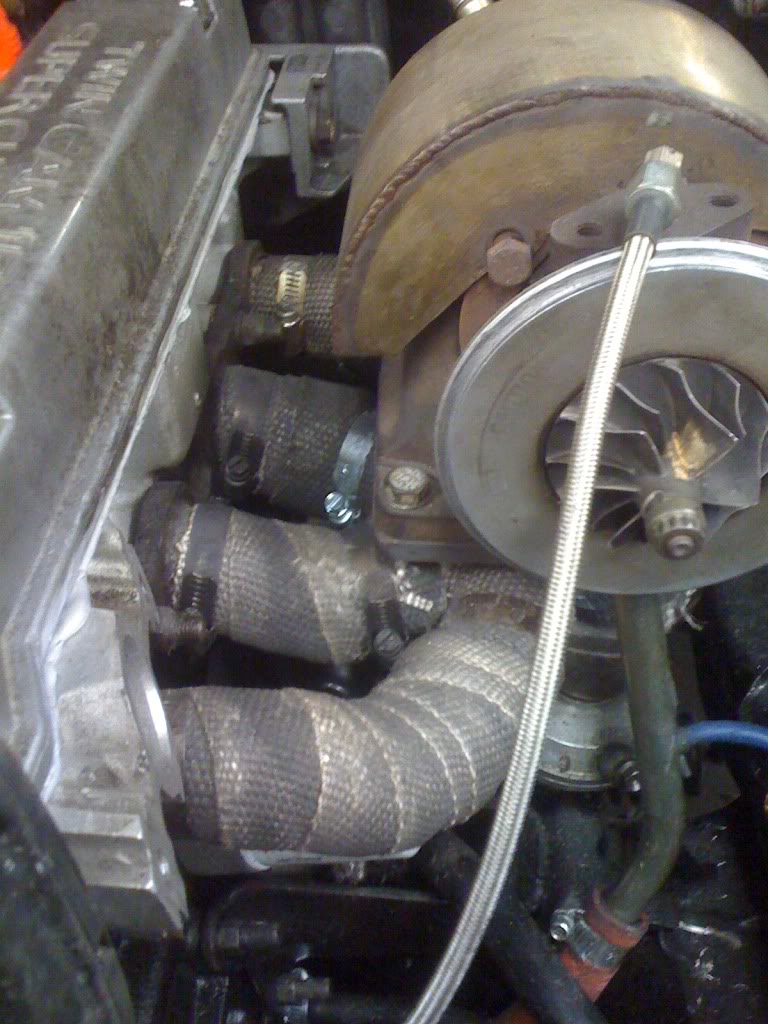 With the new turbo setup I needed a boost guage and a air/temp sensor for the wideband setup so with a 2" hole saw it fits the guages perfectly into the stock dash bezel - I like it!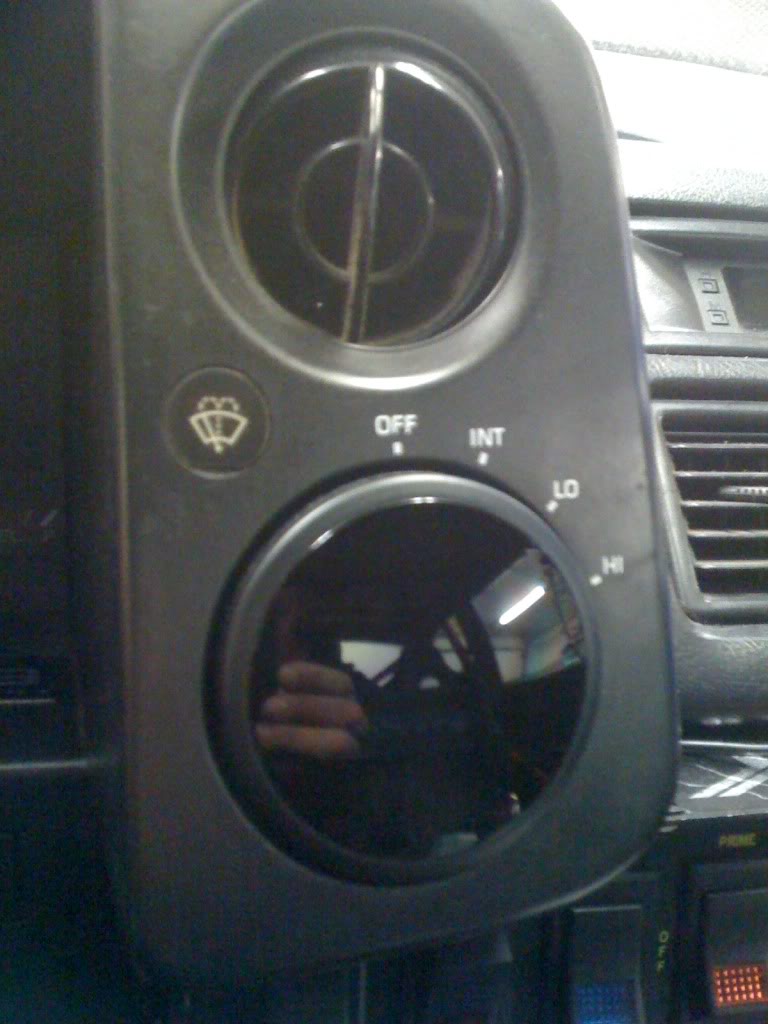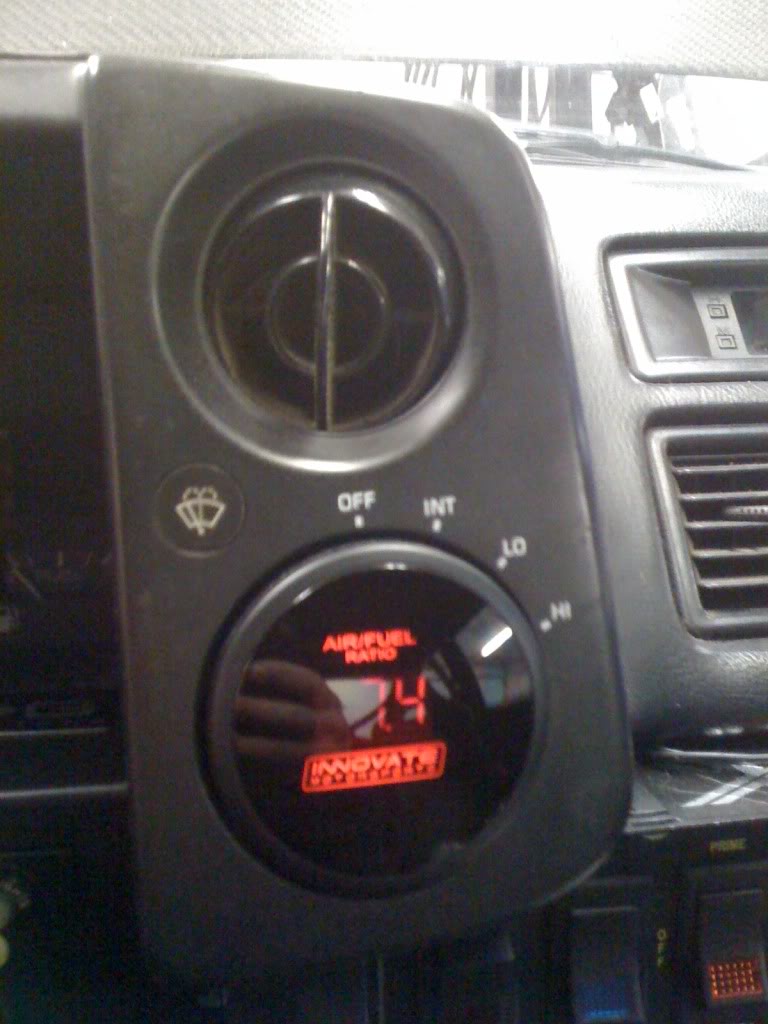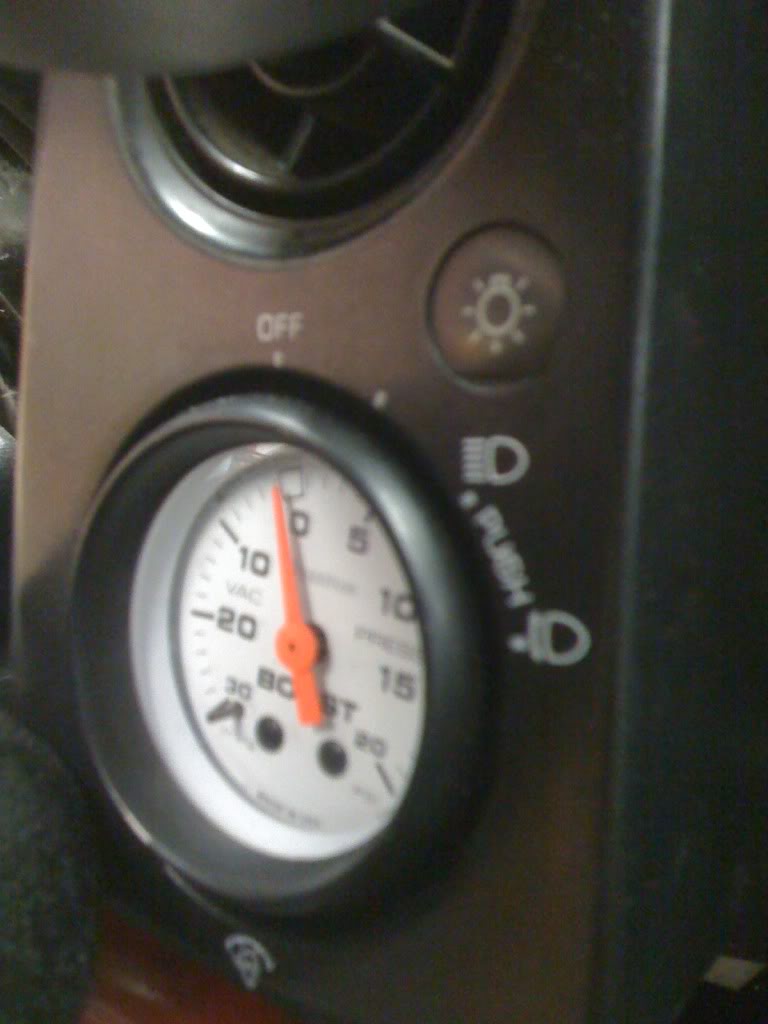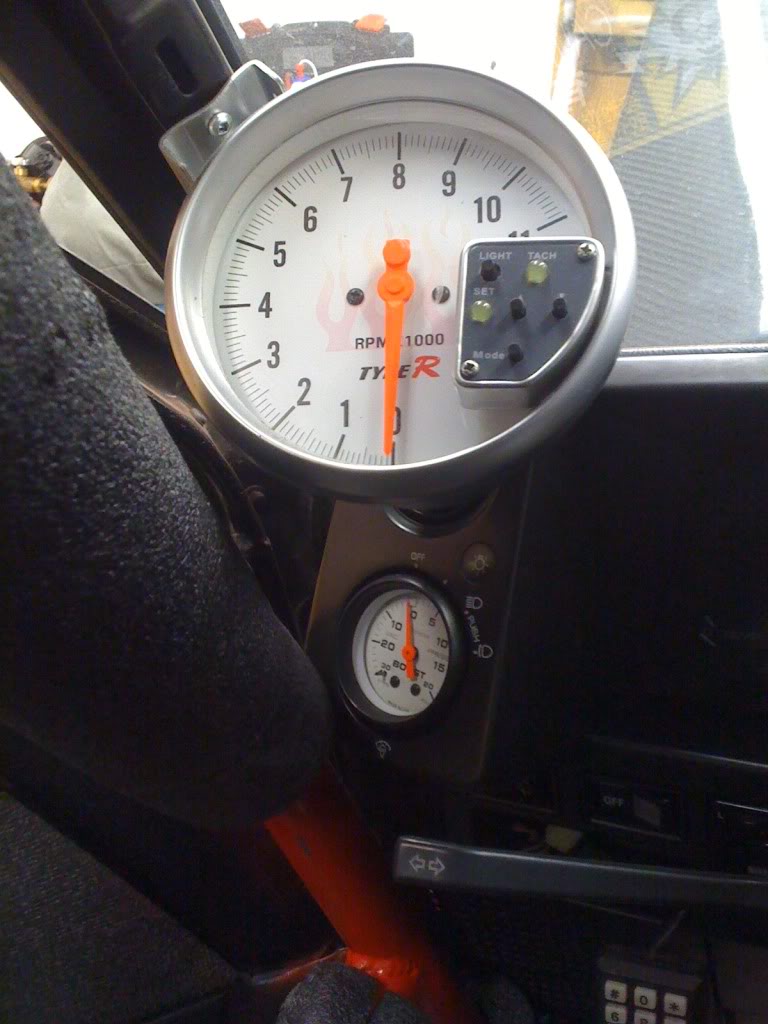 While I was waiting for parts I finally put on my sideskirts I had for almost 4 years now lol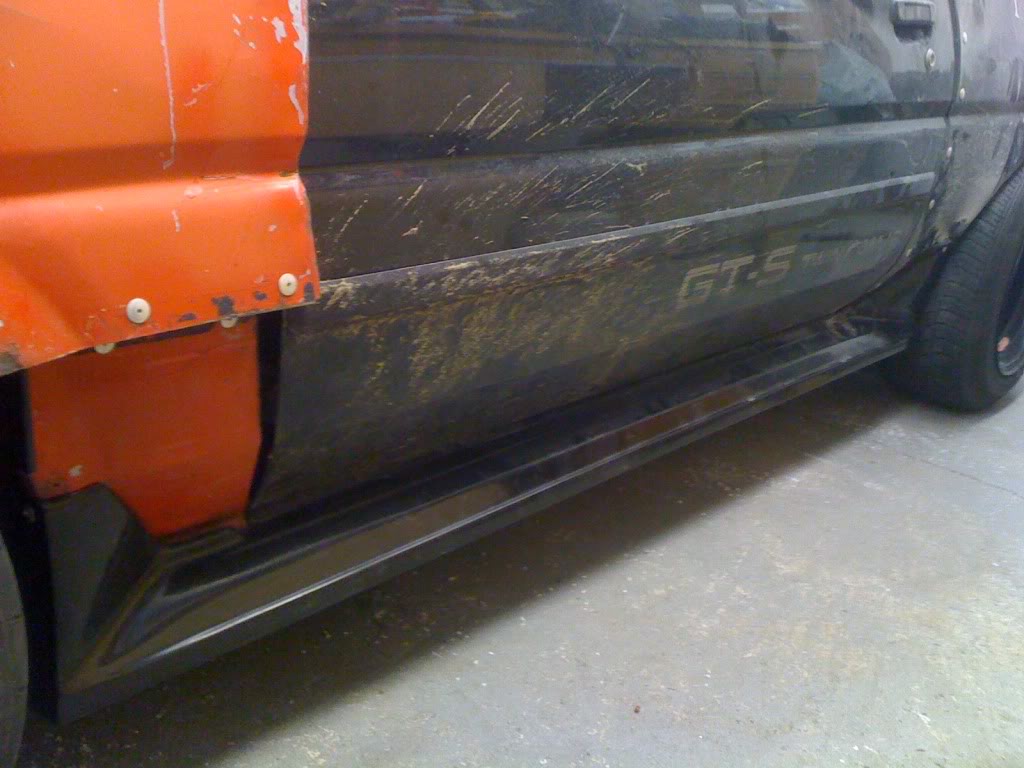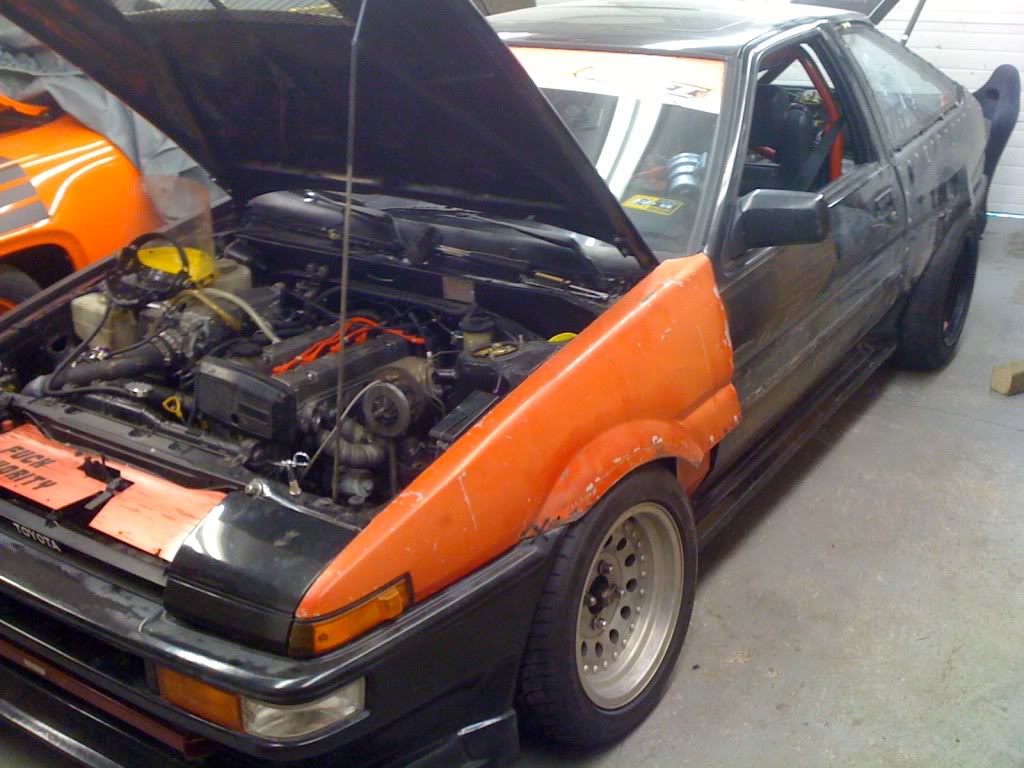 Remember the control panel I made? not every button did something - but now i needed to hook up a wideband - the machine gun switch turns it on and the HQ button is what you use to open the circuit to ground so the only button that doesn't do anything now is the self destruct (for good reasonlol):


As it sits now back with my s/c valve covers: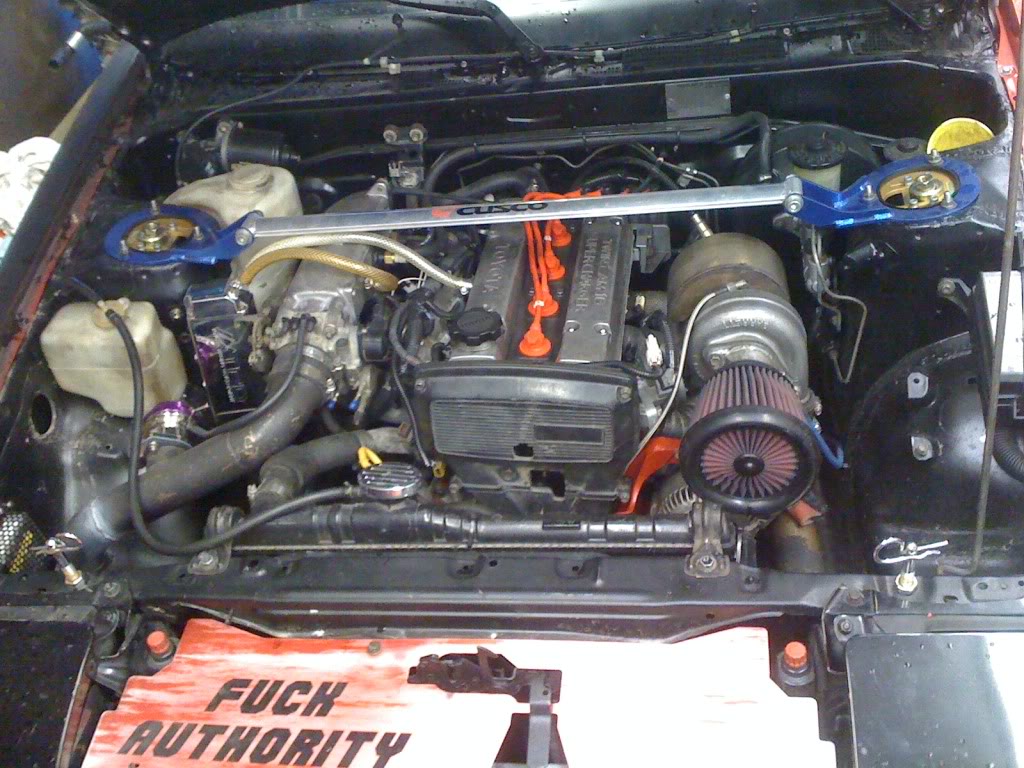 The things I can't take a picture of but the work I've done:
Finished finding all the oil leaks,
rebuilt the cam angle senor (thanks steve!)*reason why I spun a bearing and wondered where the oil went*
and adjusted the ride height,
installing a HKS turbo timer right now
See you at the JCCS Show in Long Beach this coming weekened!!!
9-21-2010
Came back from an amazing 6800km road trip down to JCCS, met some great people, thought I'd share some AE86 photo's:

Bonneyville Salt Flats where a S2000 joined us: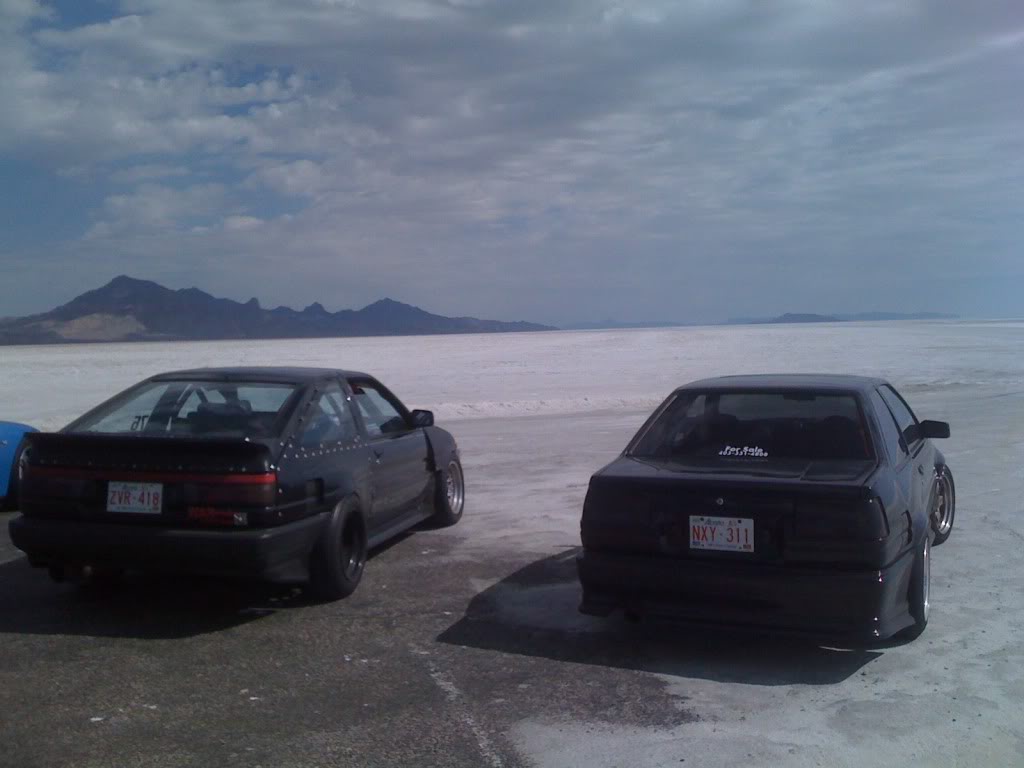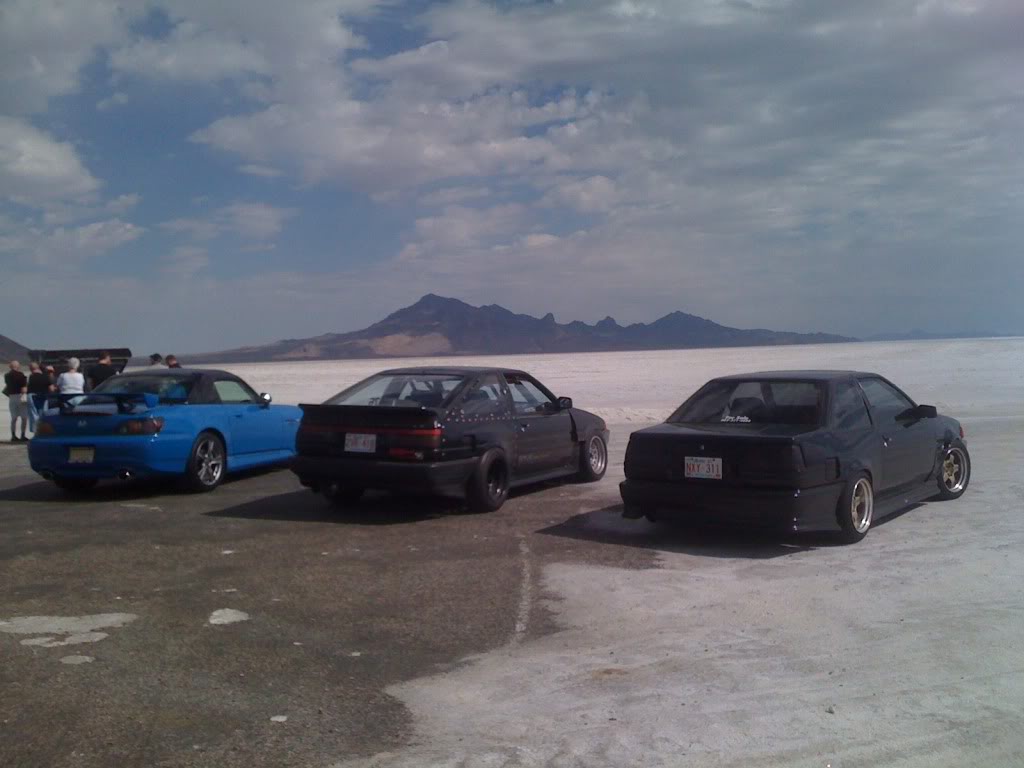 The Infamous Shoe Tree: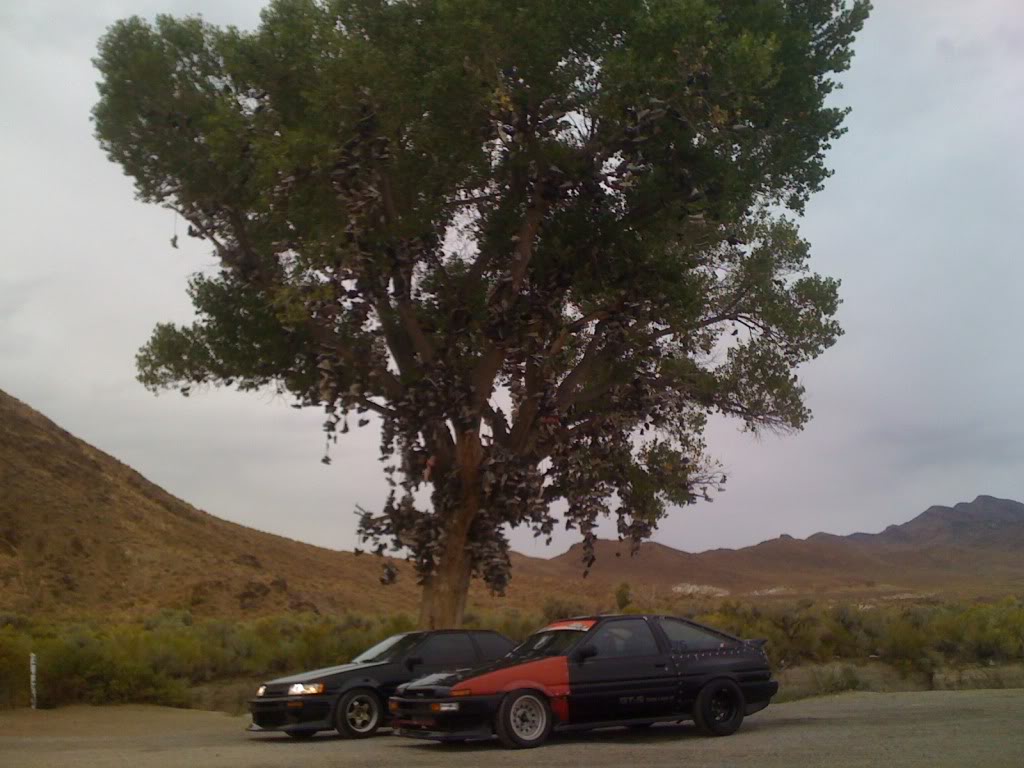 At the forumla D Parking Lot blocking Traffic to sell our tickets met a nice 240z owner: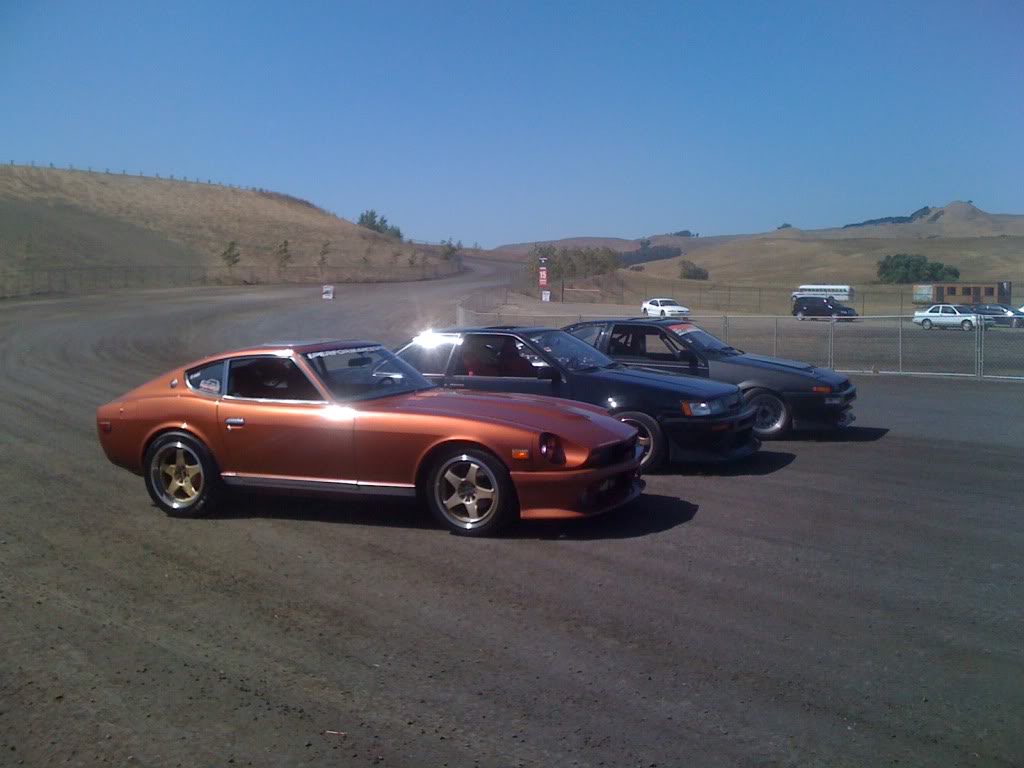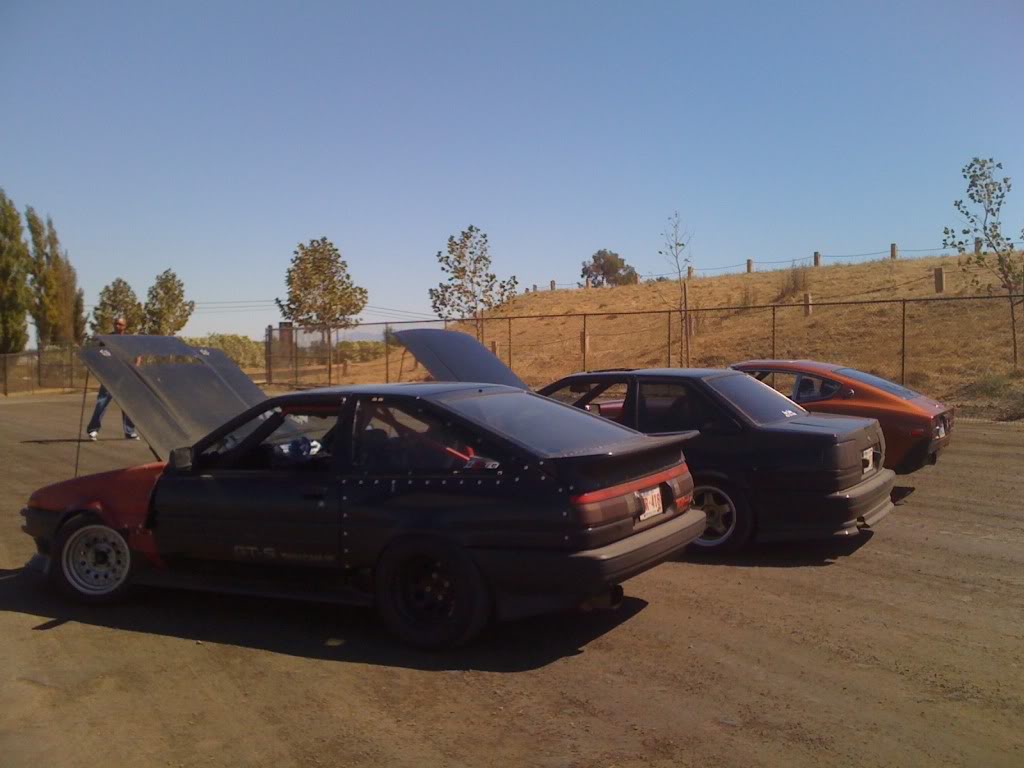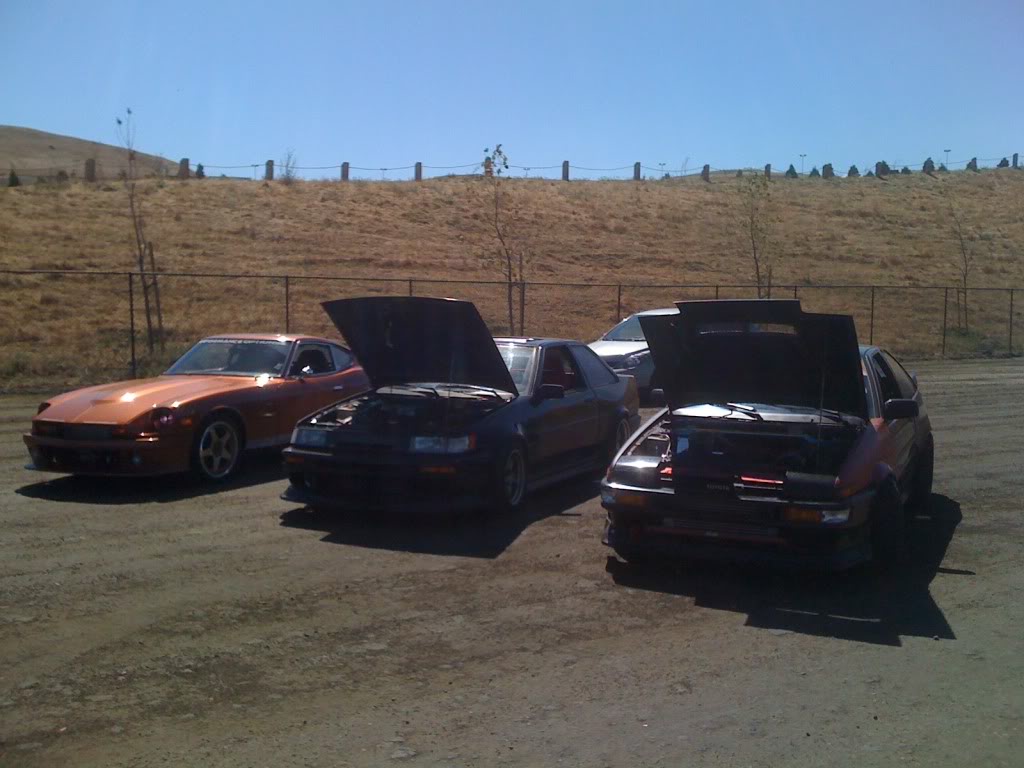 Along The Pacific Coast Highway: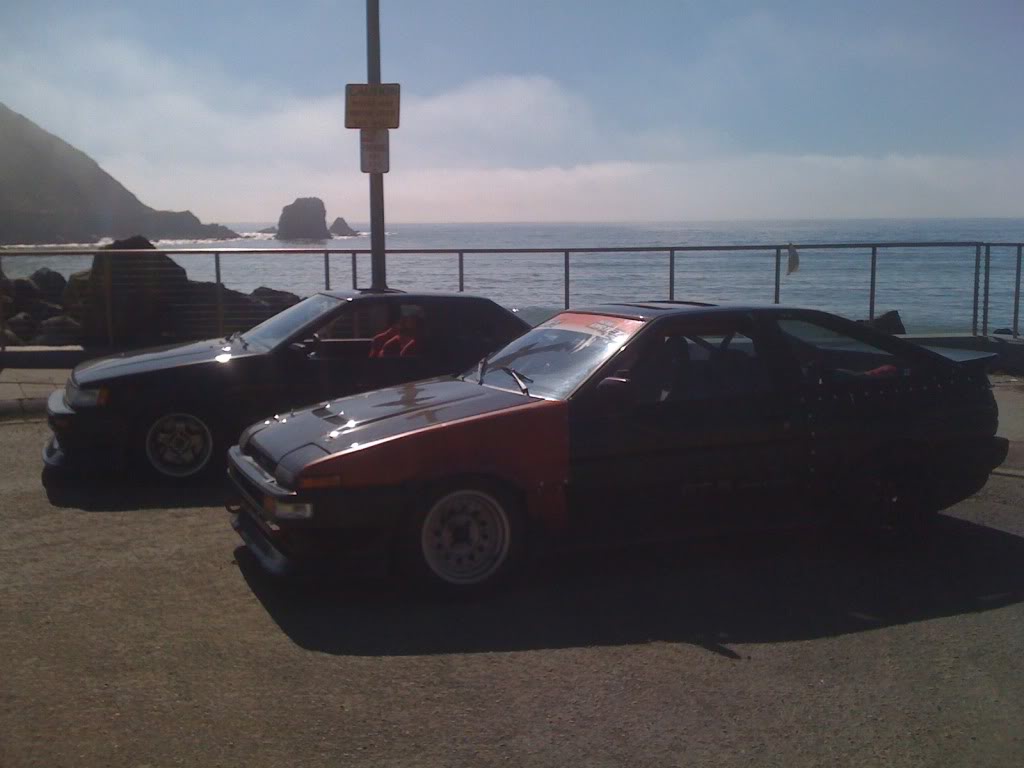 At JCCS in Lonbeach at the Queen Mary: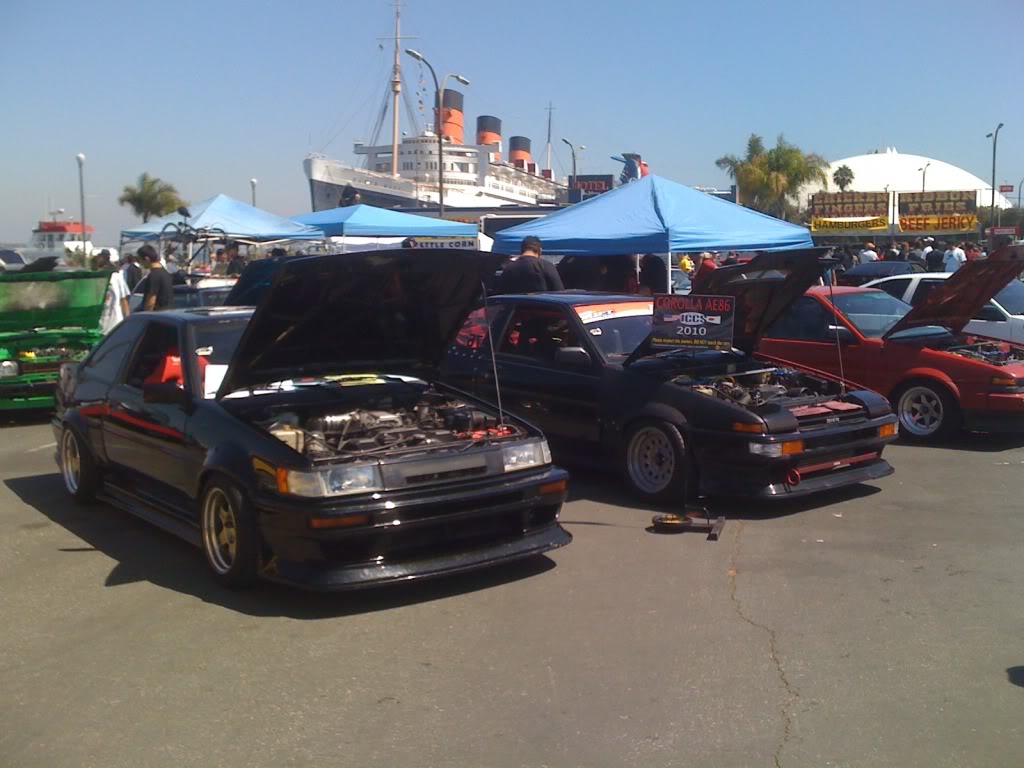 I'll start off with some pics from last year that I finally got my hands on from our road trip on the salt flats on our way to JCCS: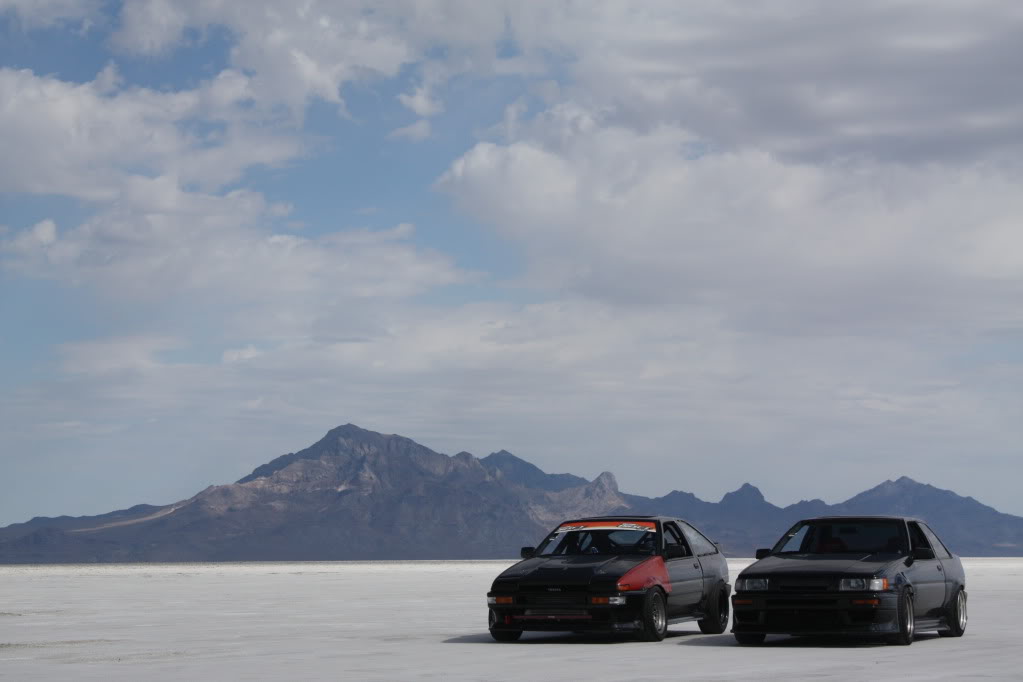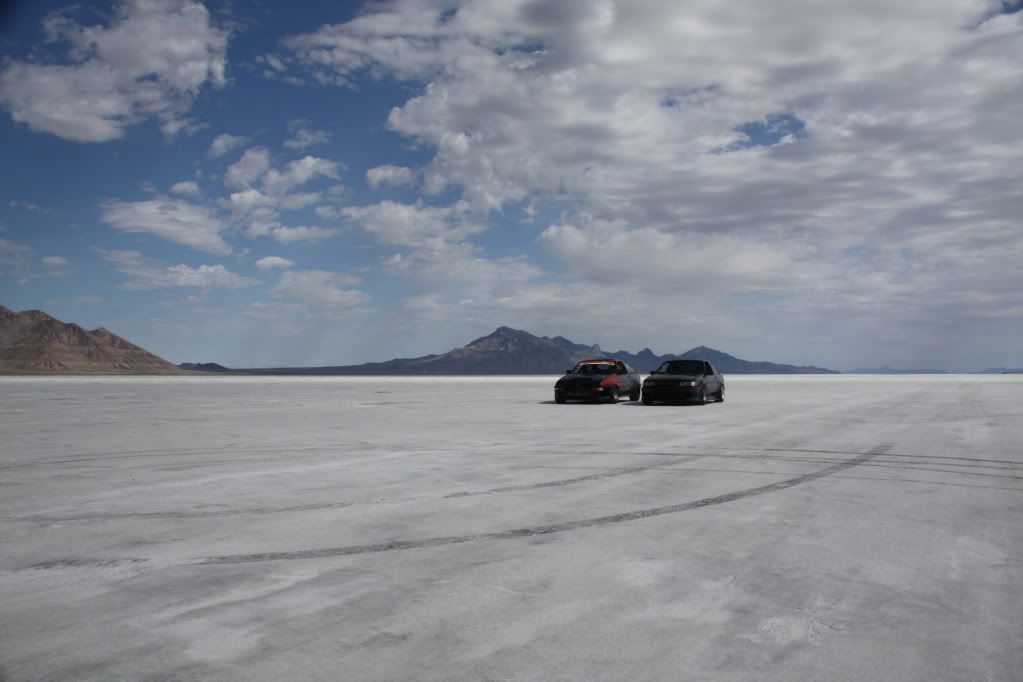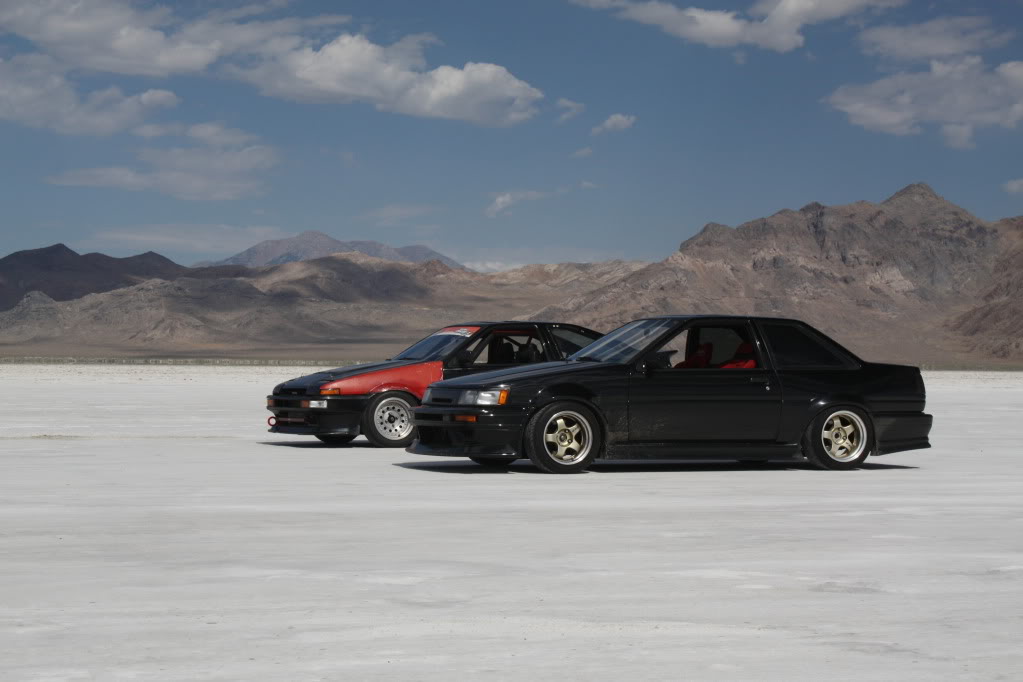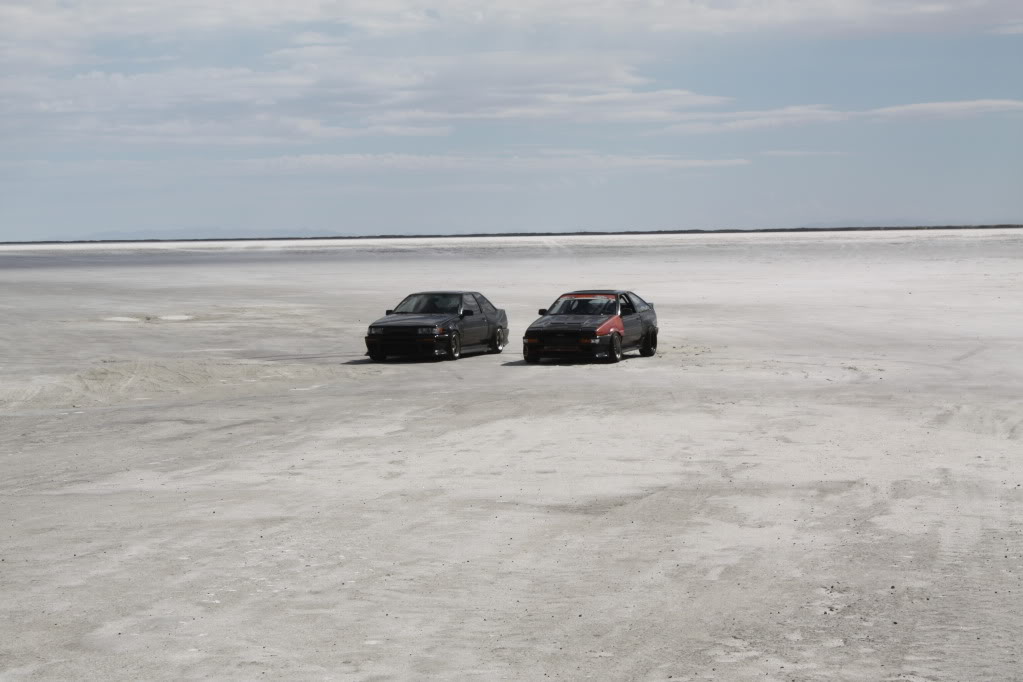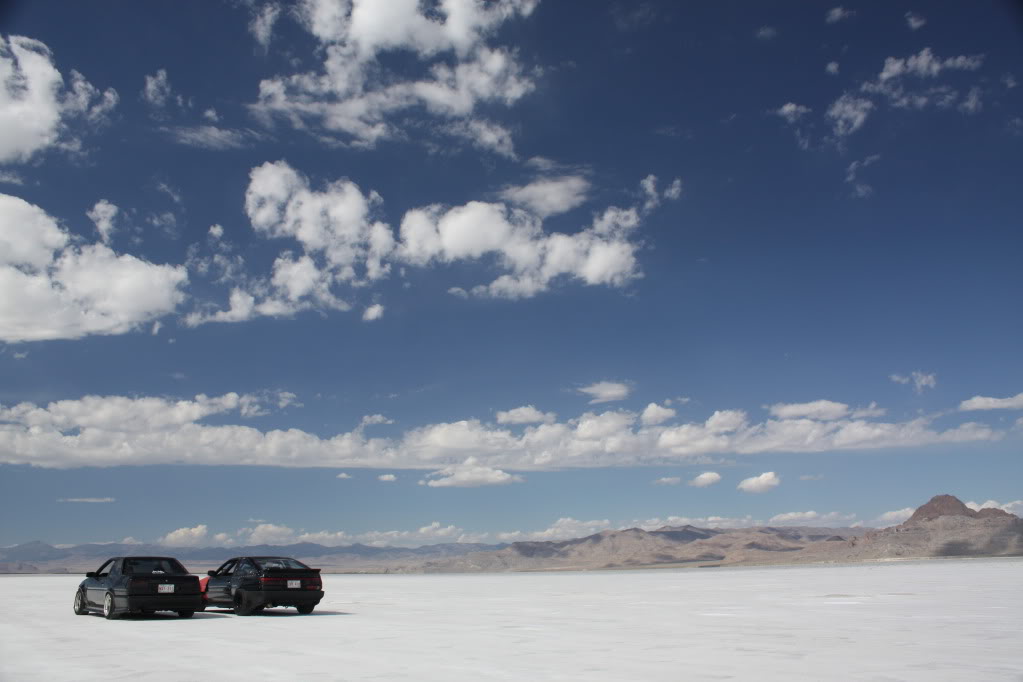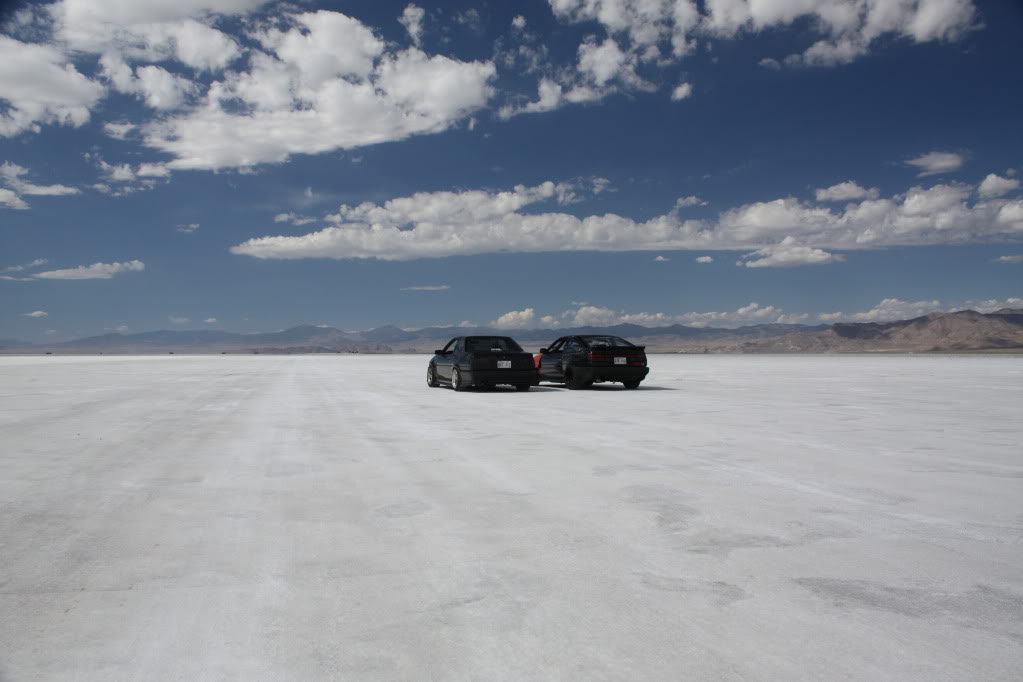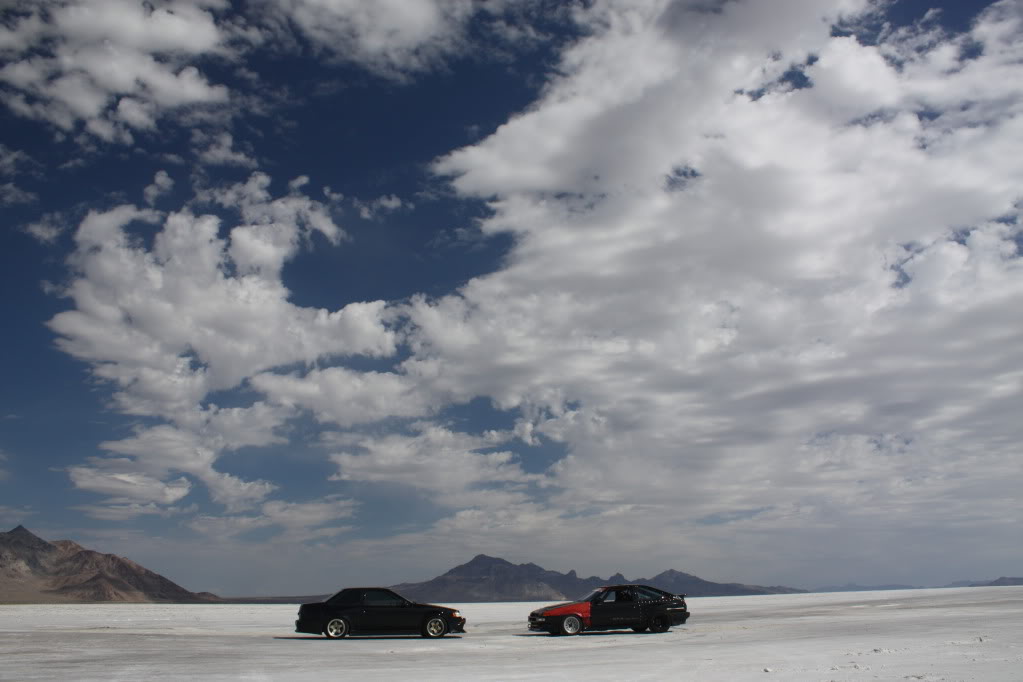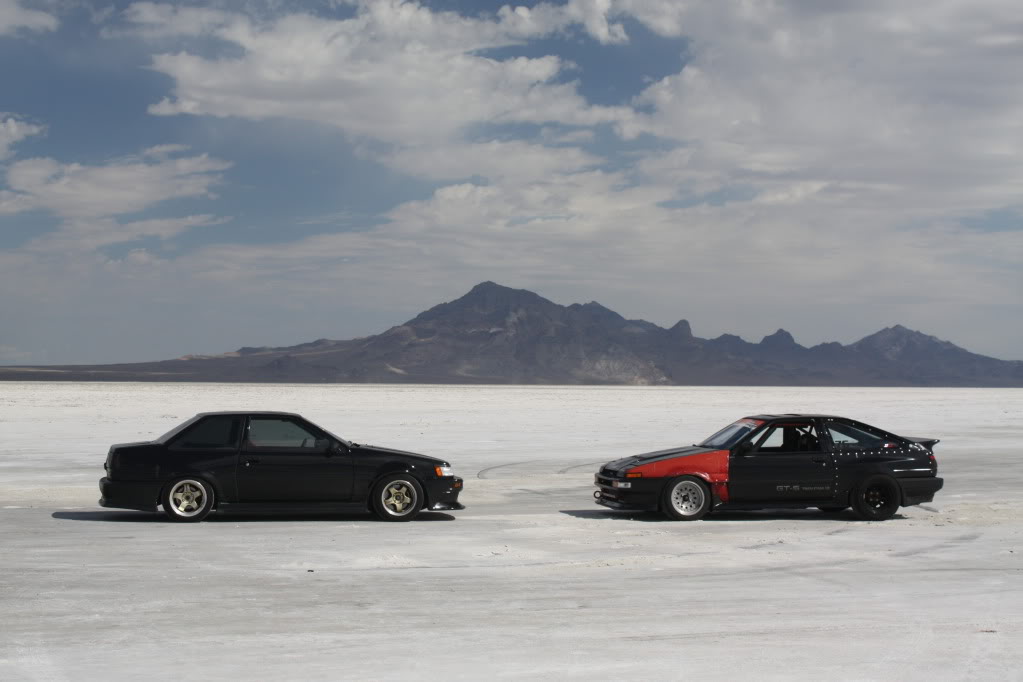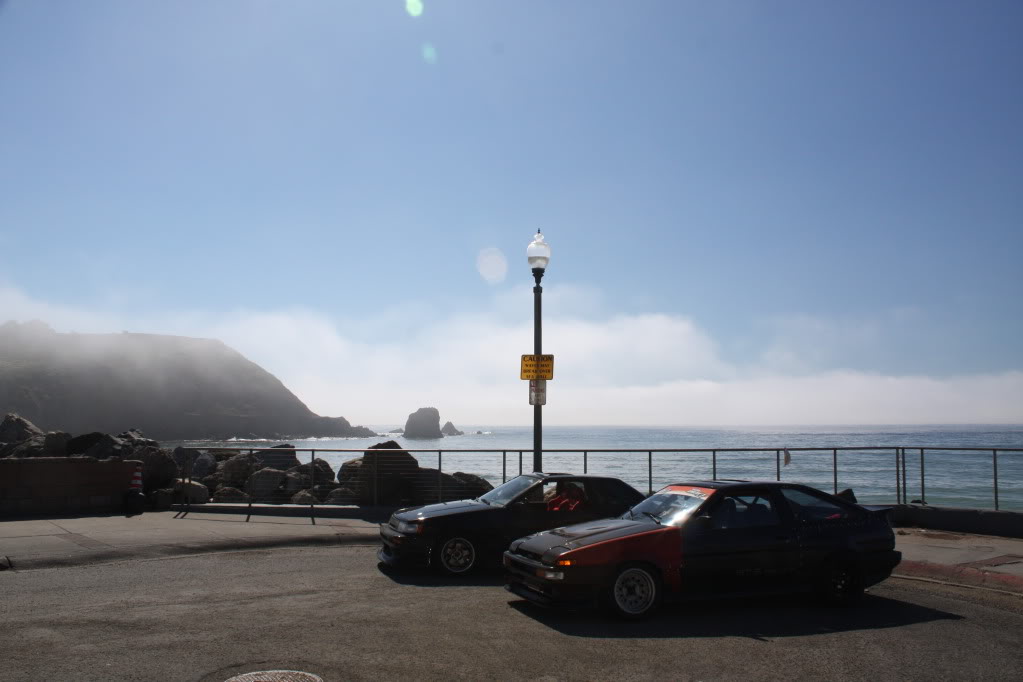 So I started parting out my car and selling off parts to help fund my 71 plymouth roadrunner project - Any parts I could make myself I made my own and sold off the rest starting with welding the diff for the first time - can't be a drifter without doing it at least once: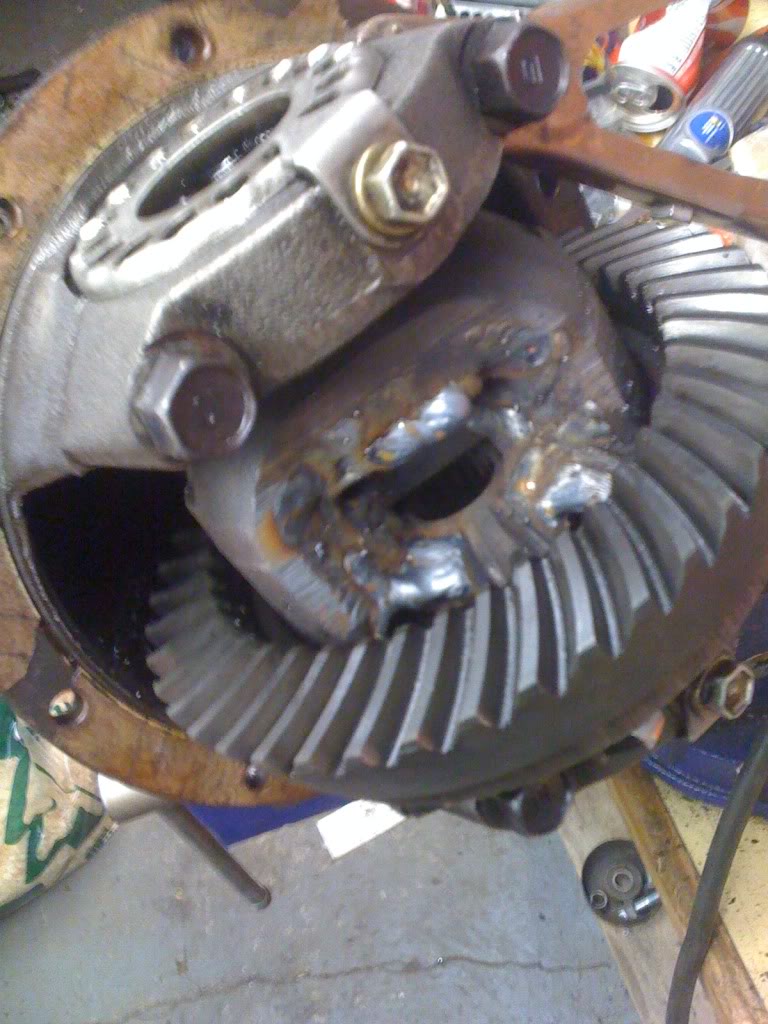 My negative camber last year was too much at -5.5 so I shortened the lower control arms and put it to a more resonable -2.5 to 3 degrees: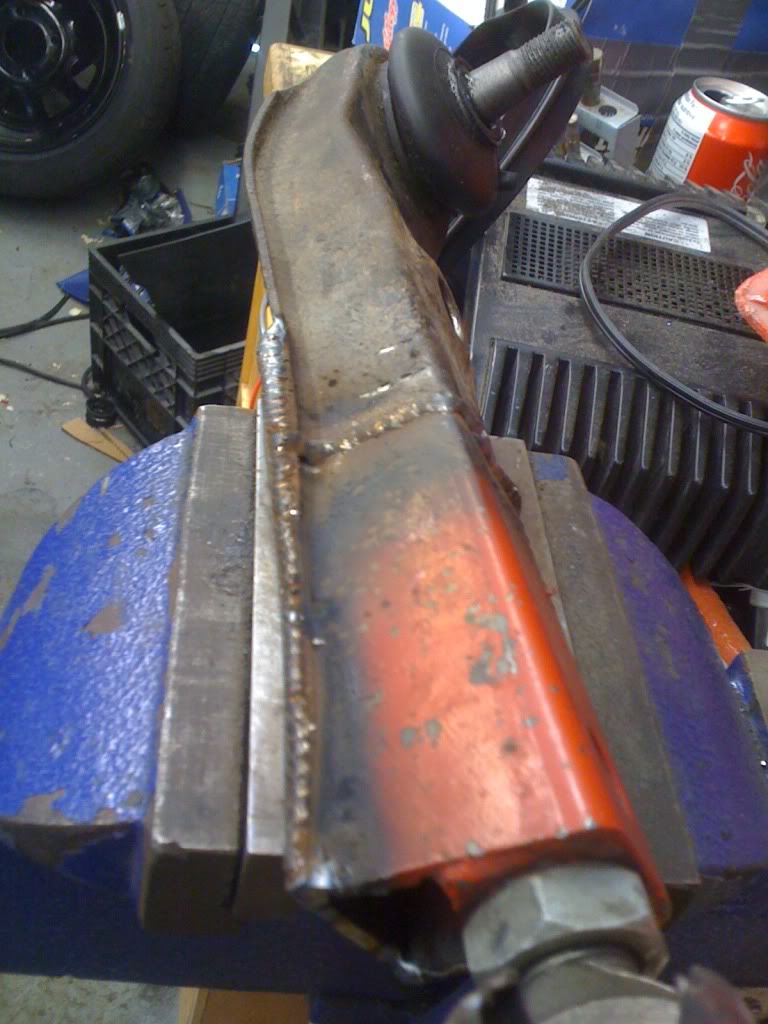 I also sold off my 4 links so I just lengthened the stock ones for now with new poly bushings: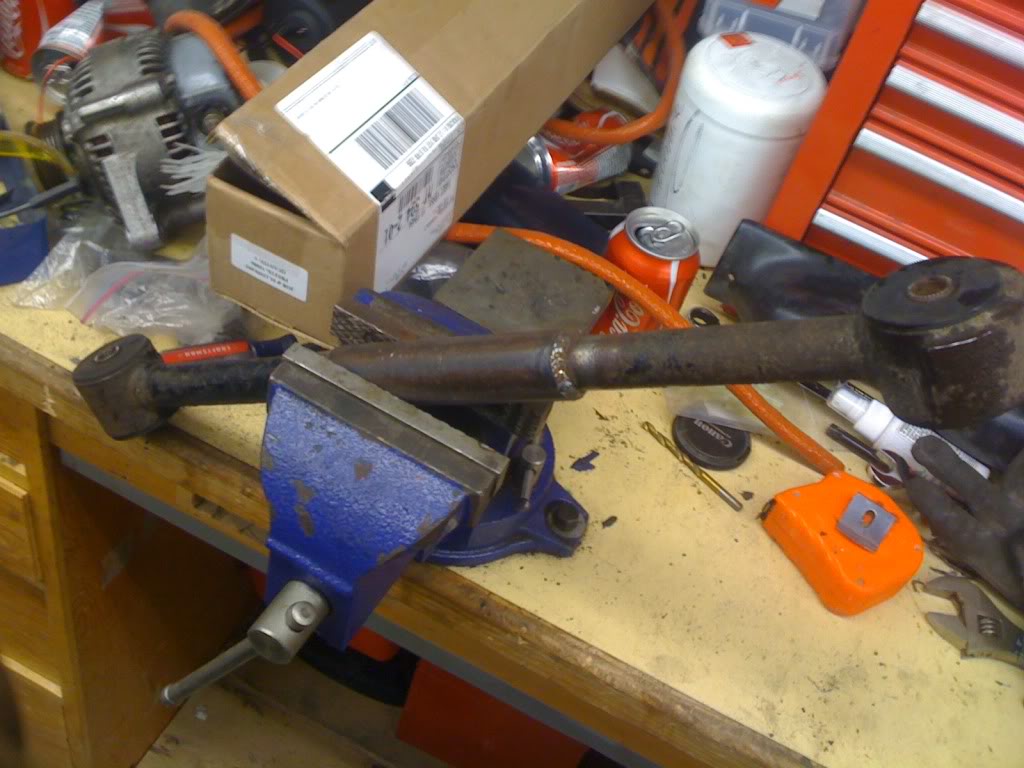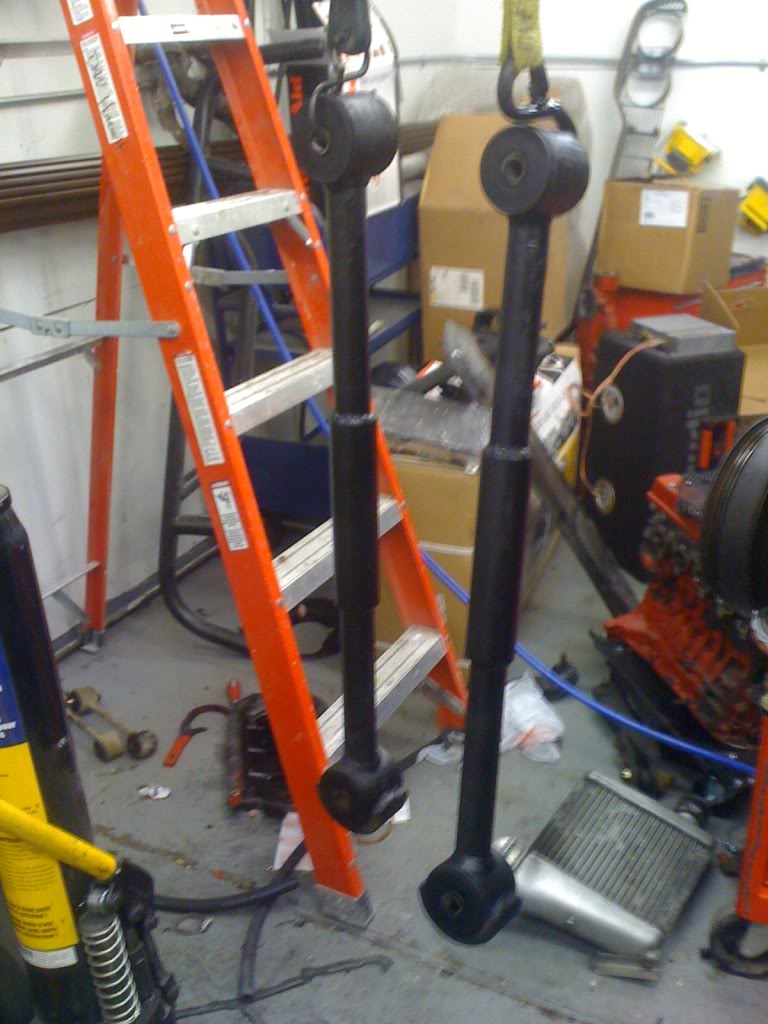 I sold the carbon fiber hood to beardo - thanks! (as well as many other goodies) and had some fun with a stock hood I had kicking around: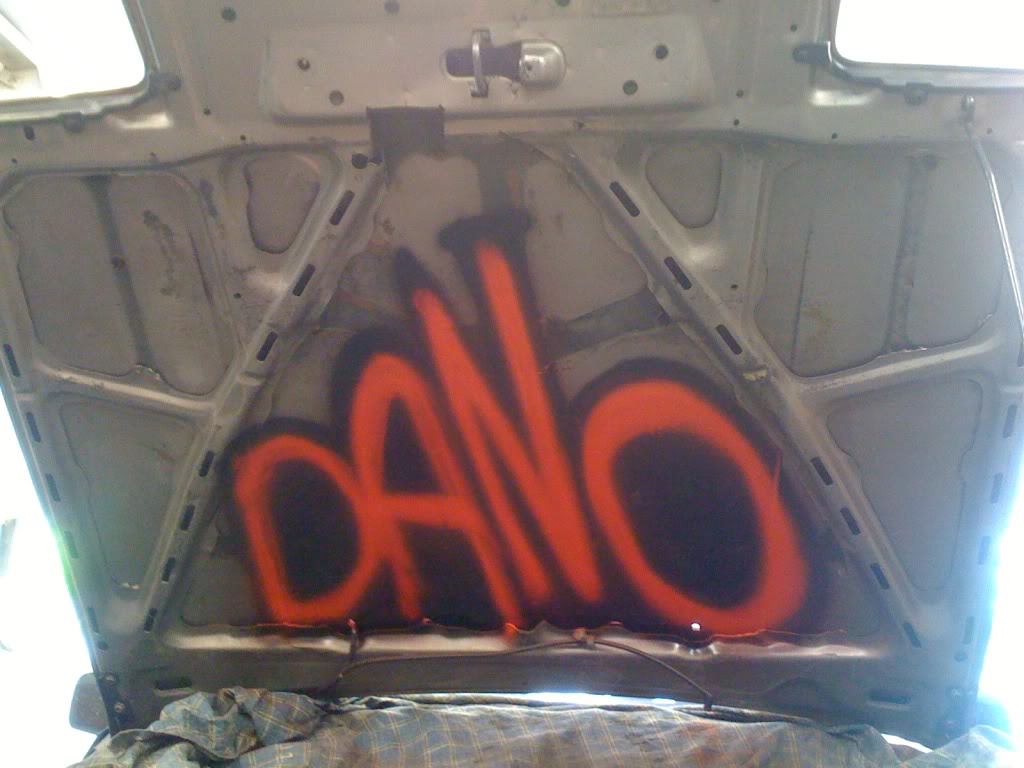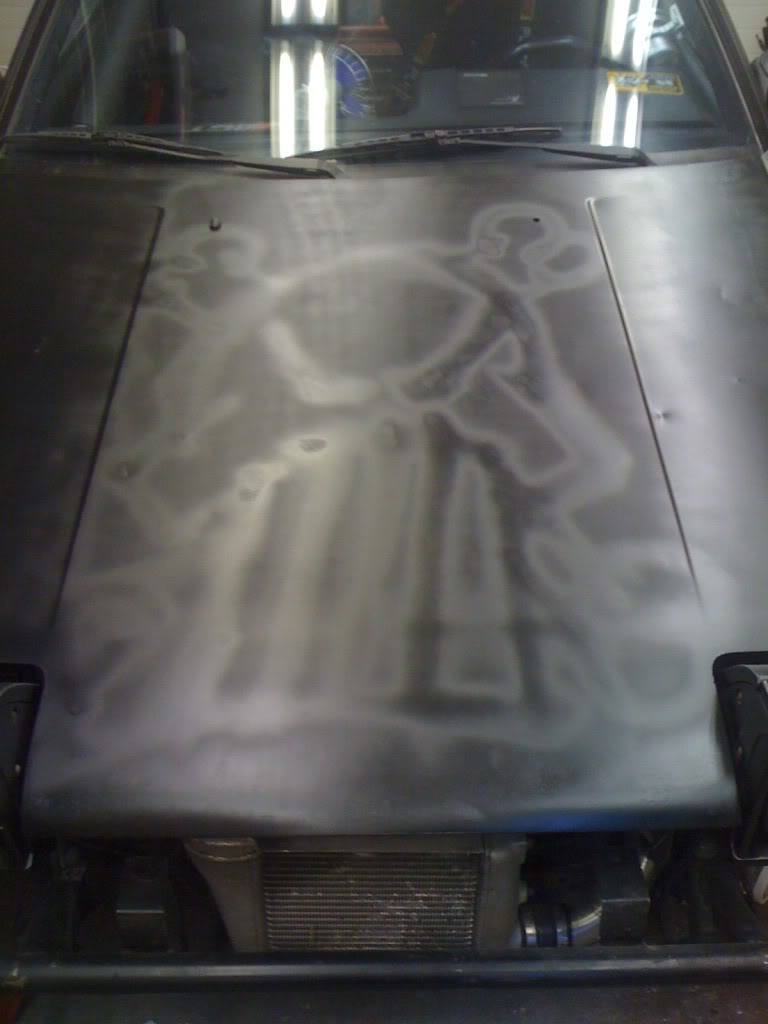 I was gonna sell all the parts off it and sell the car as well - but our local autox lccs and sassc announced this year that we have autox pretty much every weekend this summer - unlike last summer where the count was zero - so I got sucked back into the project again and made it better - alot better:

new shoes: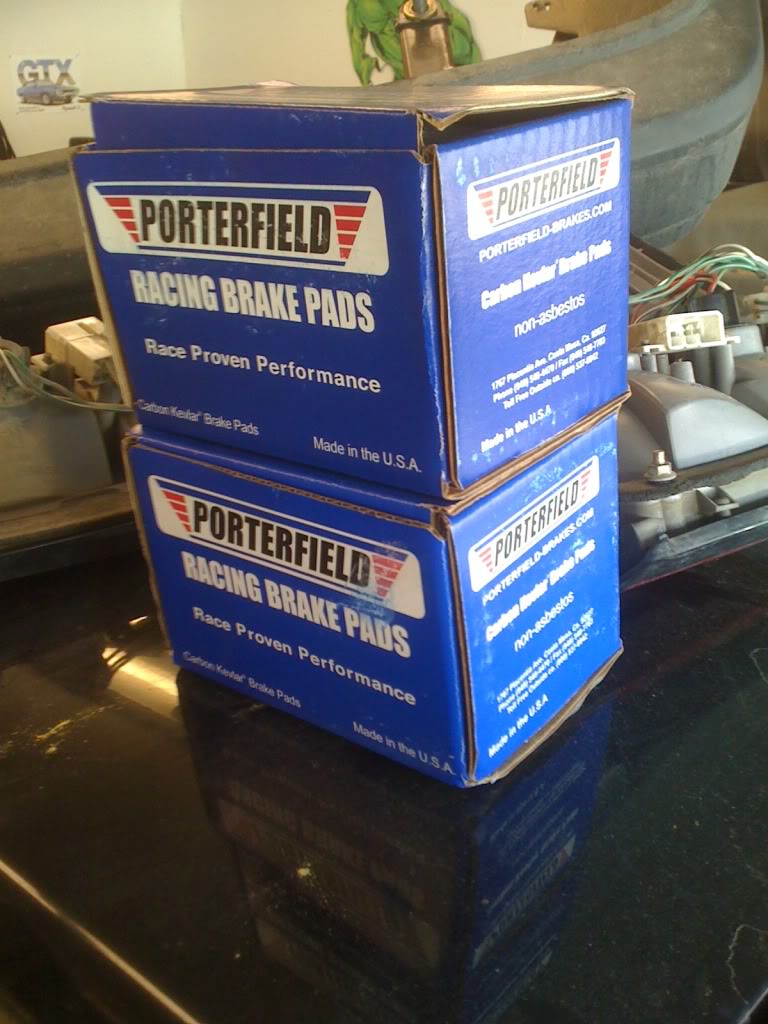 My 15x9 Hudge negative offset diamonds now has rubber and doing this I obviously had to remodel the car again to fit:

So then It started: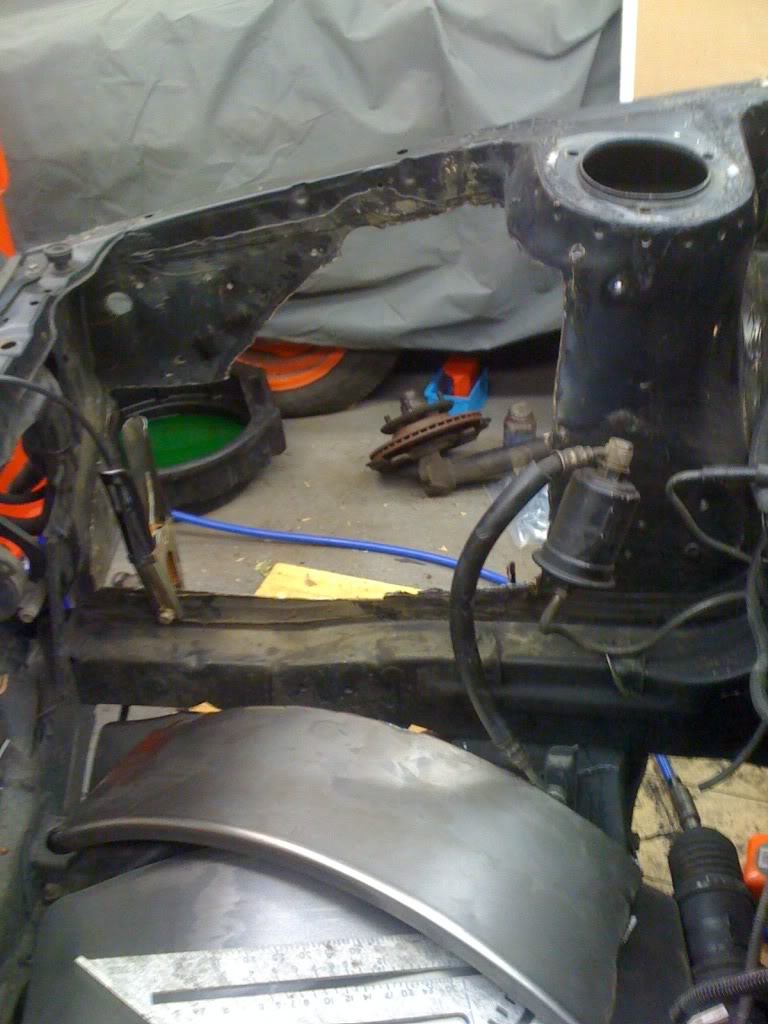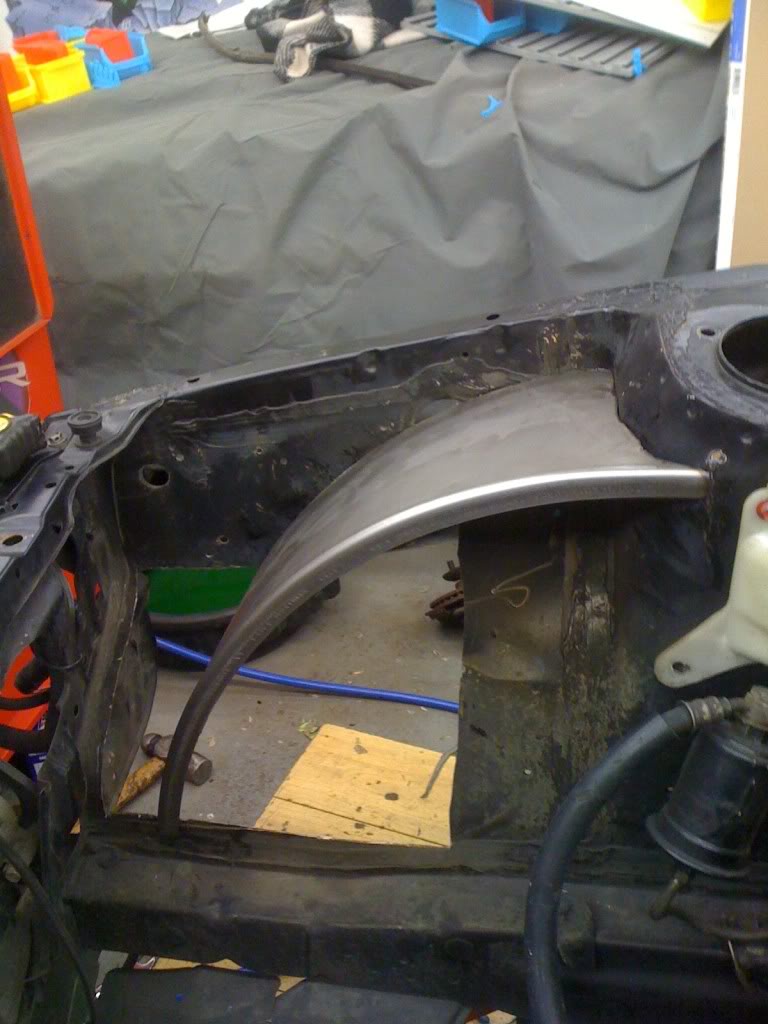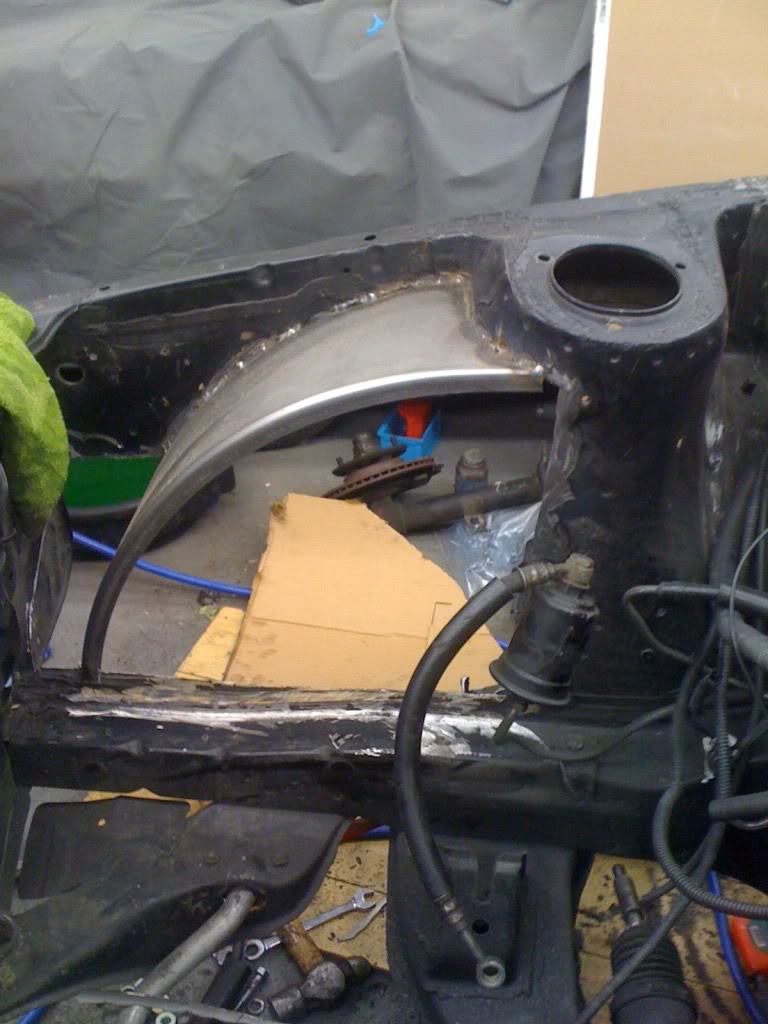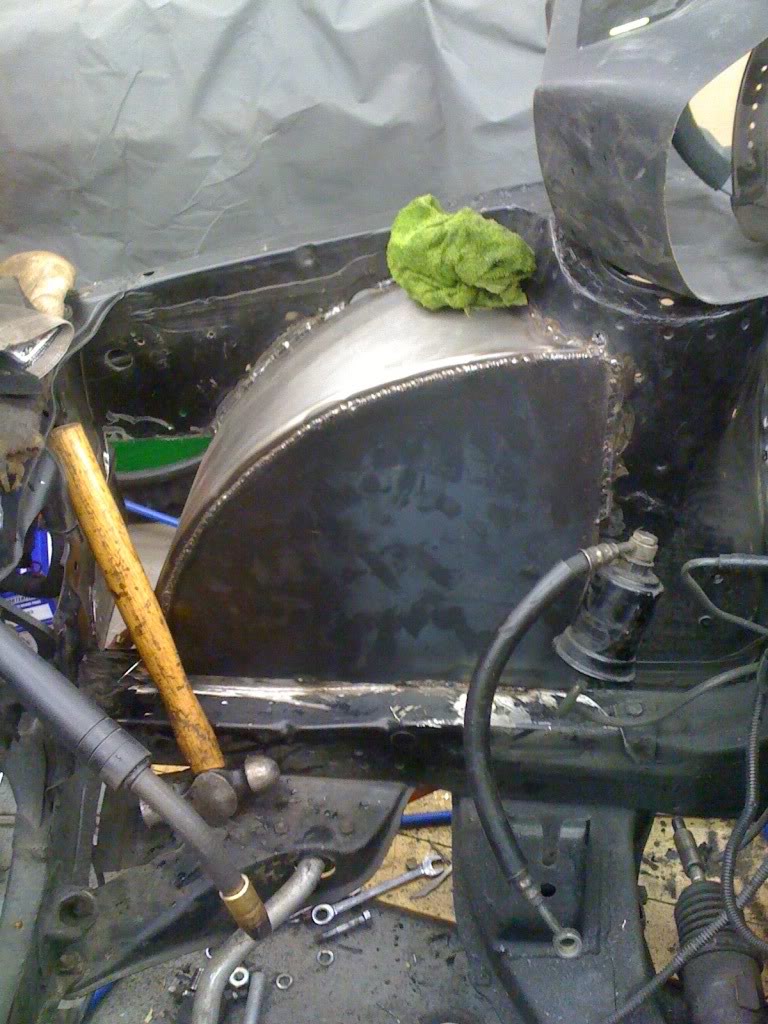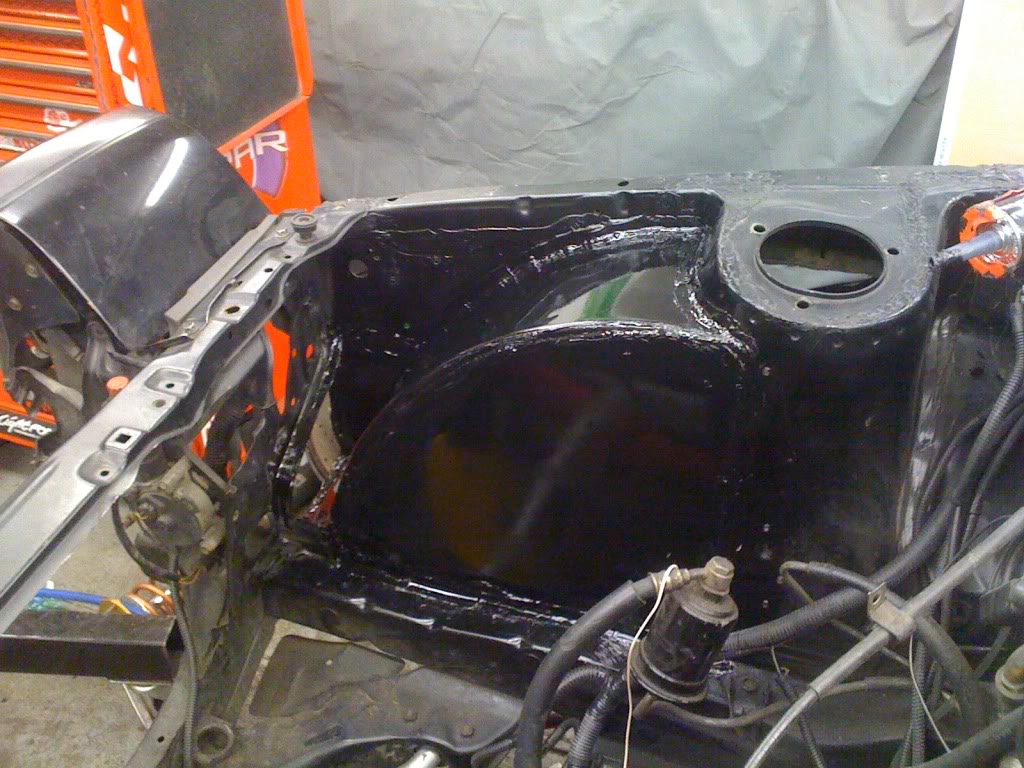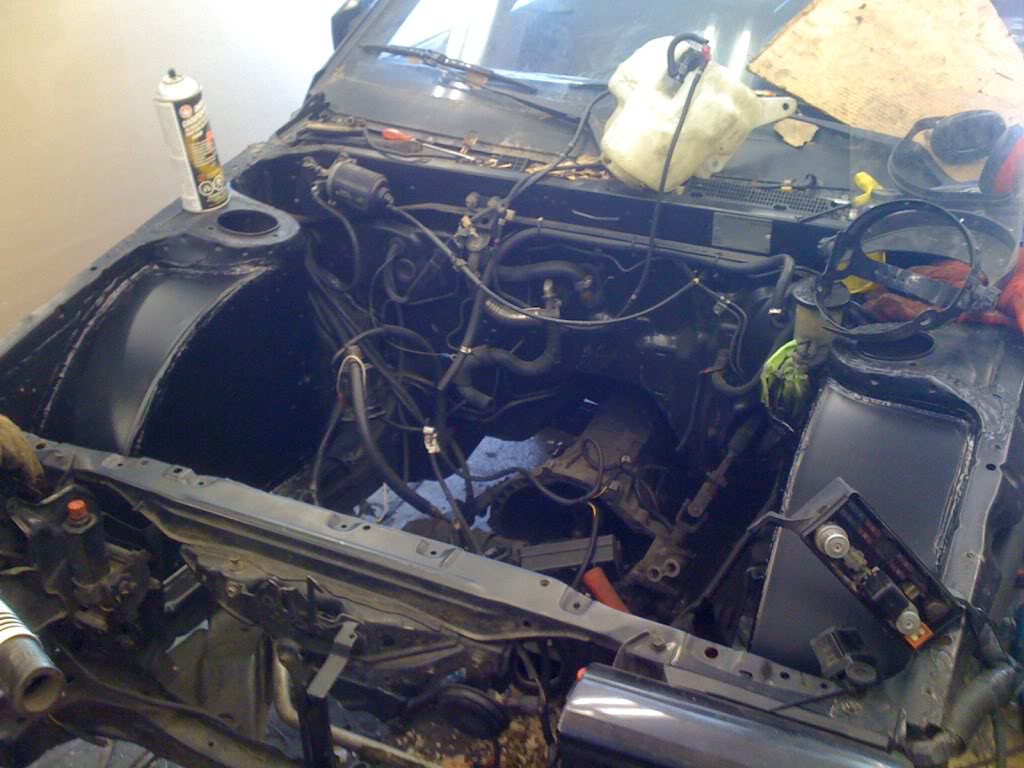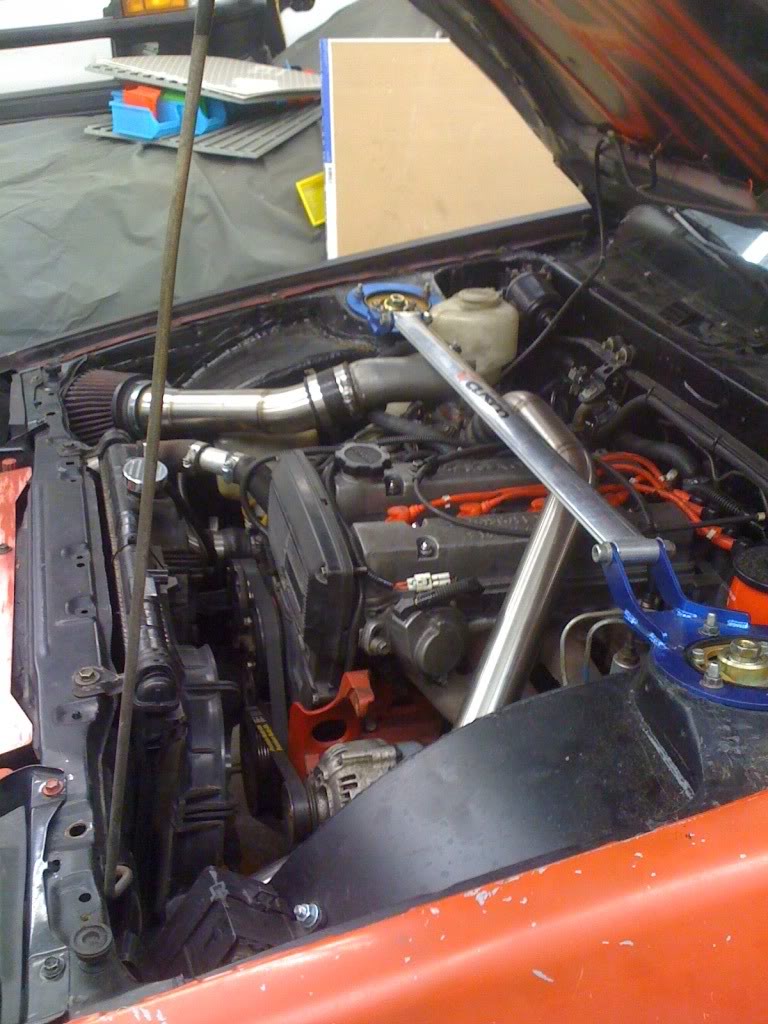 I cut out the front splash shield and welded in the chute so I can bring fresh air to my intake: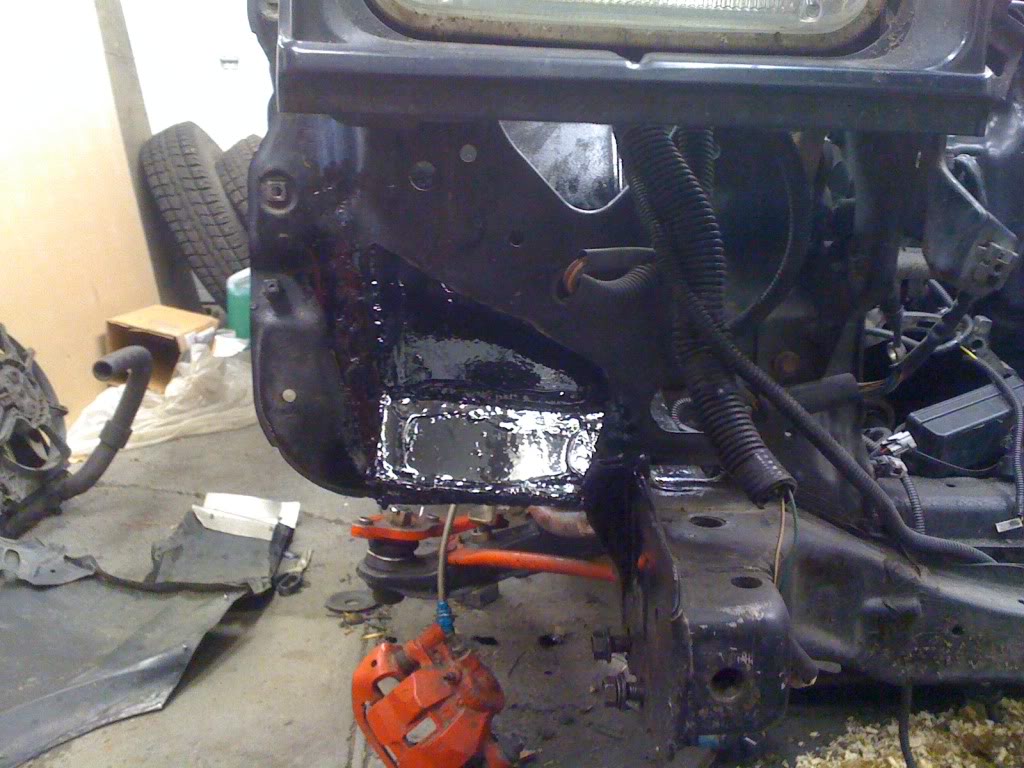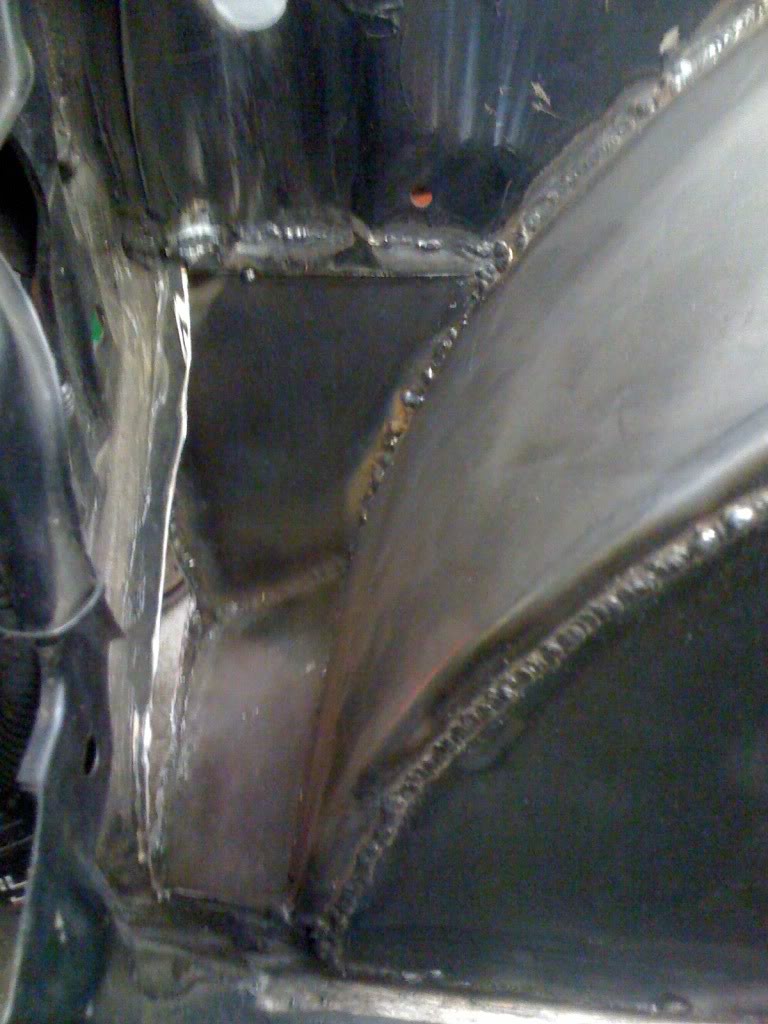 After tubbing the front I had to Tub out the rear into the cab - Passenger side: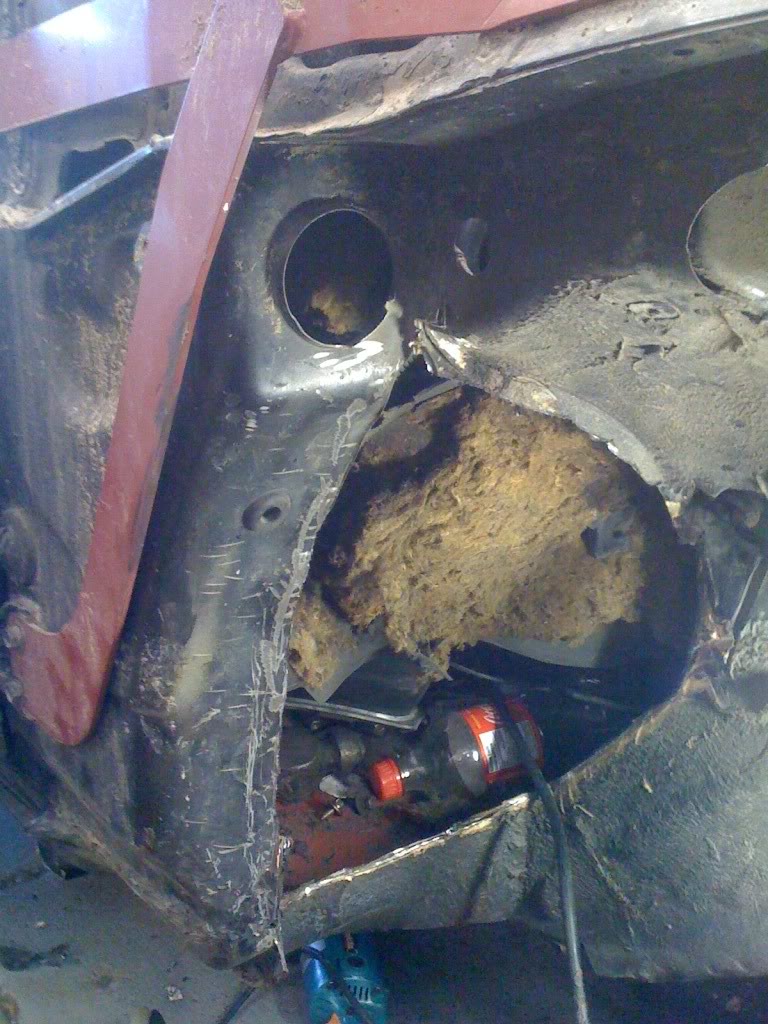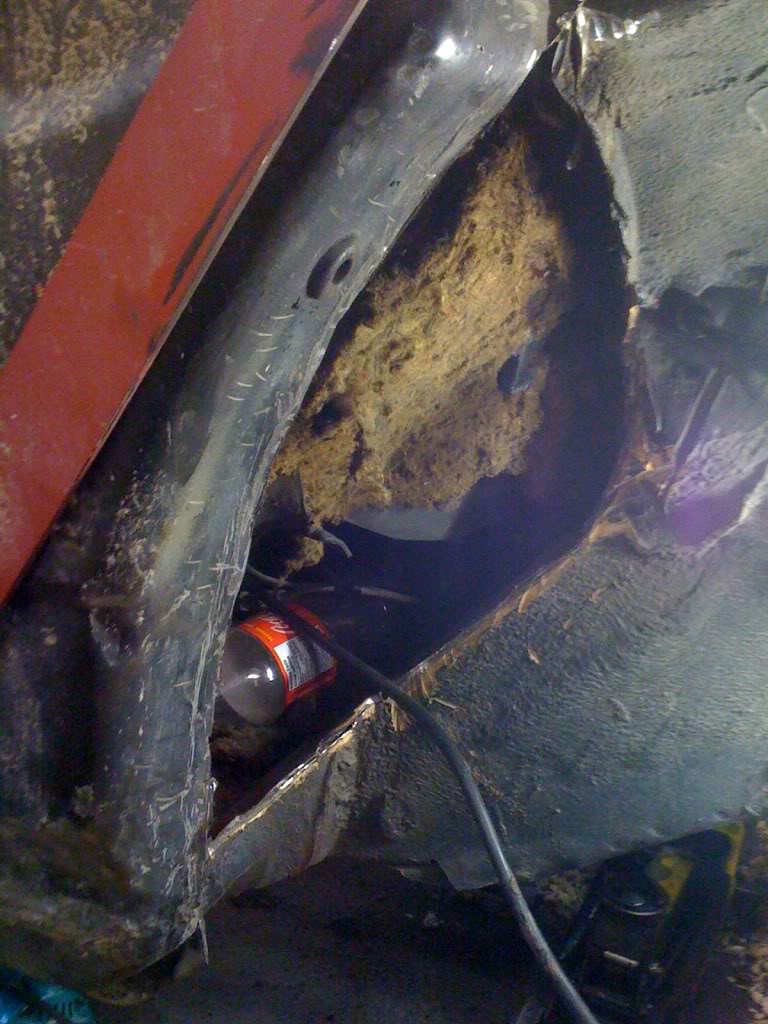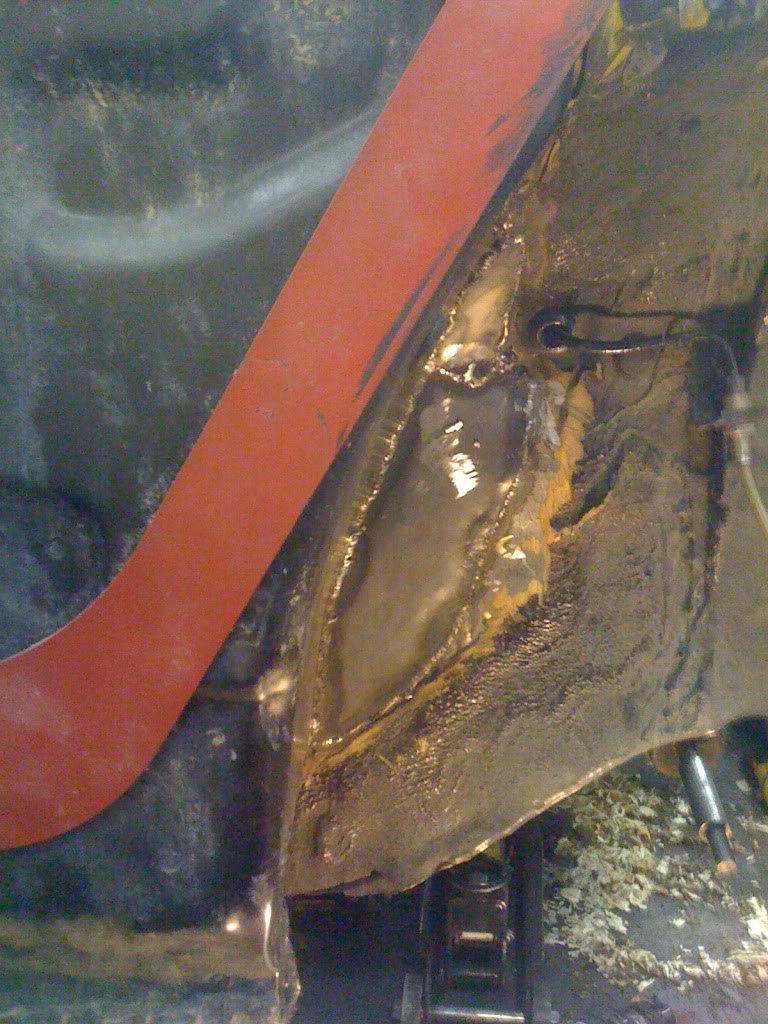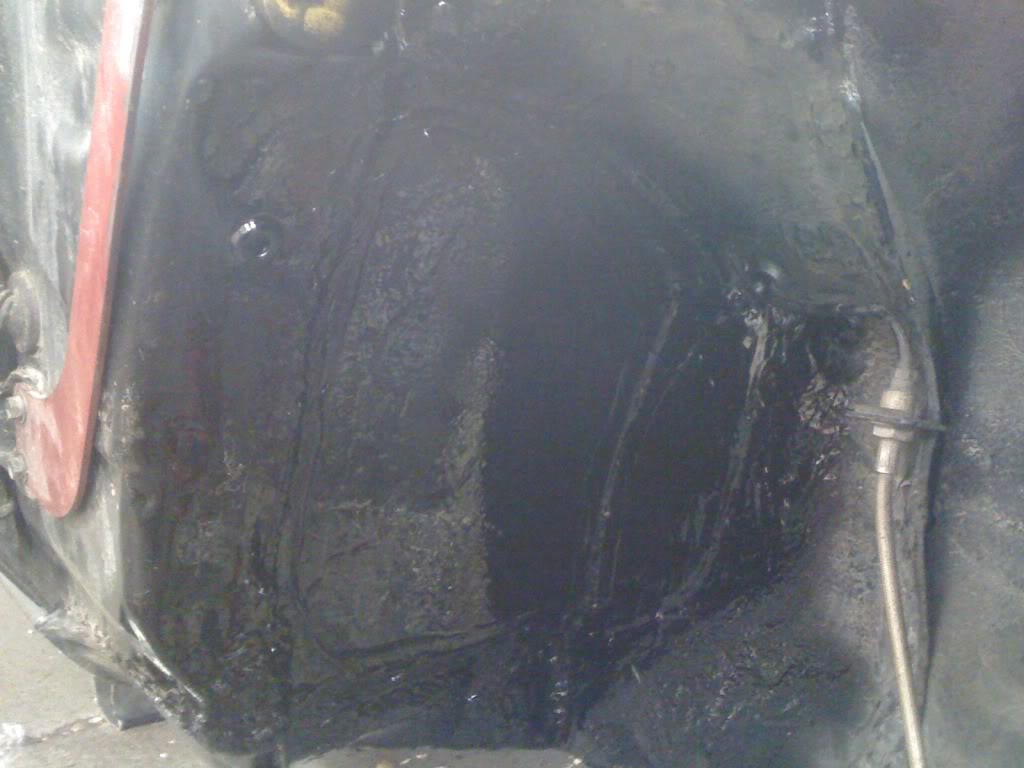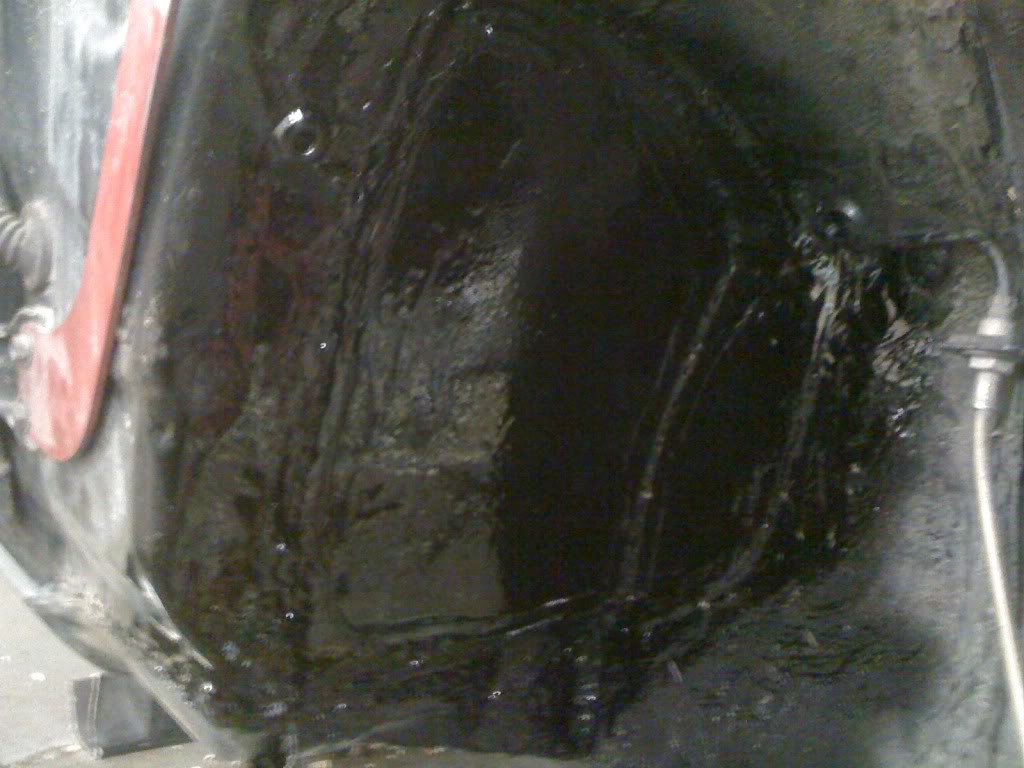 inside the cabin passeger side (sorry i dont have a drivers side pic yet: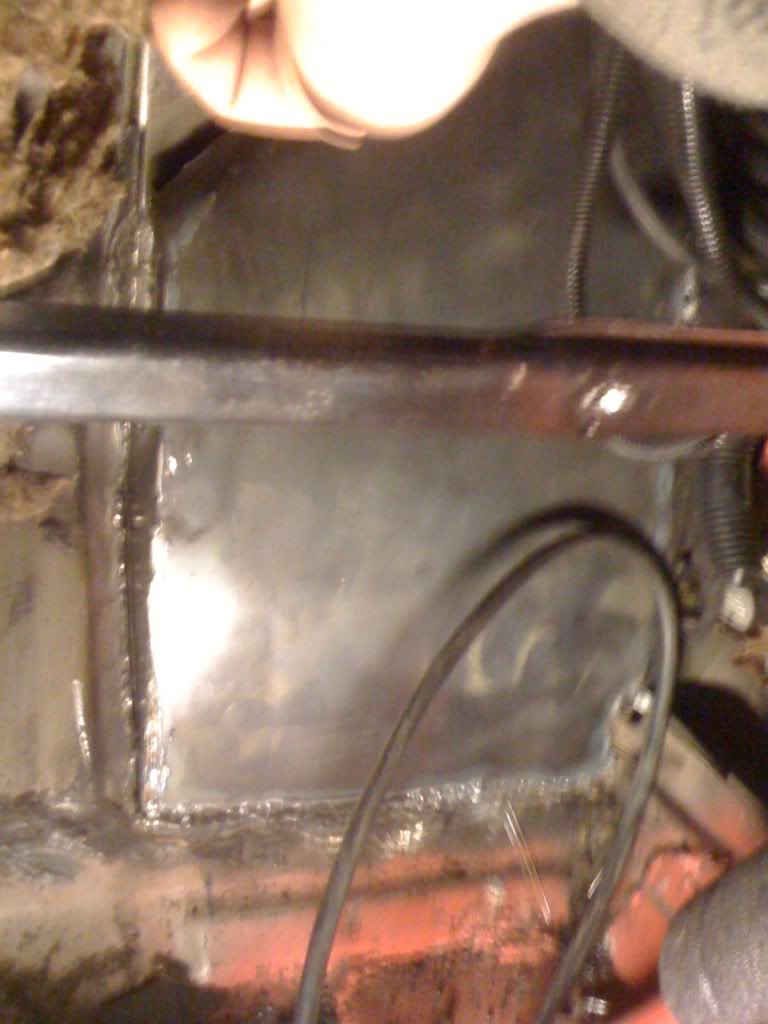 Drivers side: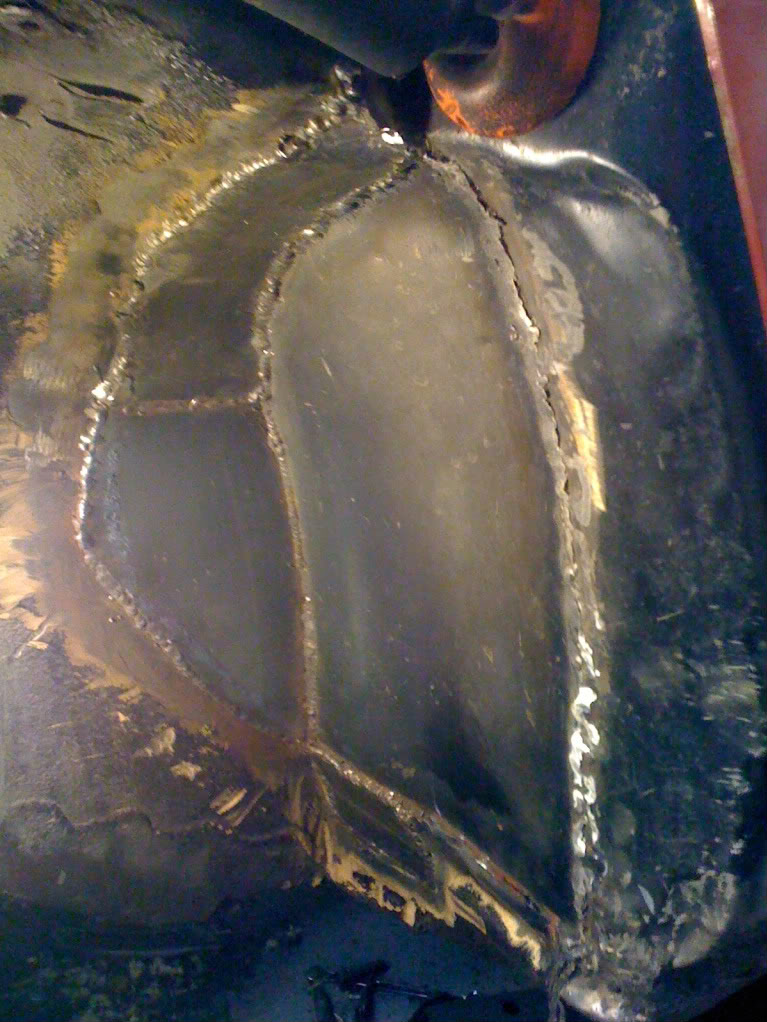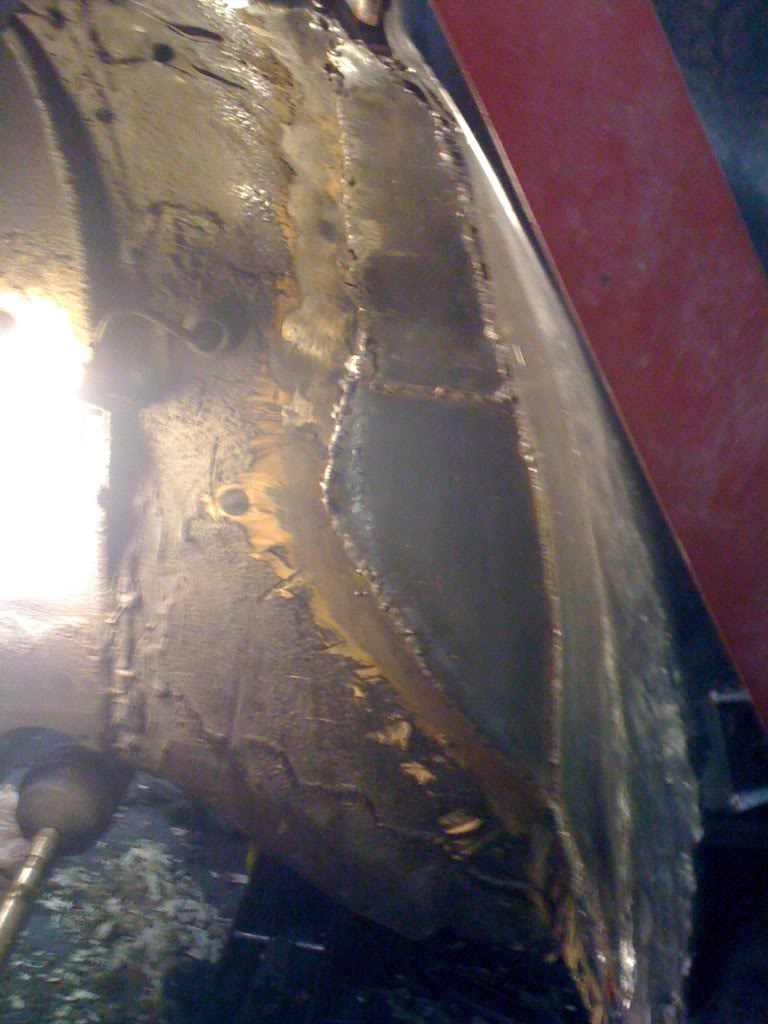 Clearence from framerail to frame rail (Also with full castor on oem rods):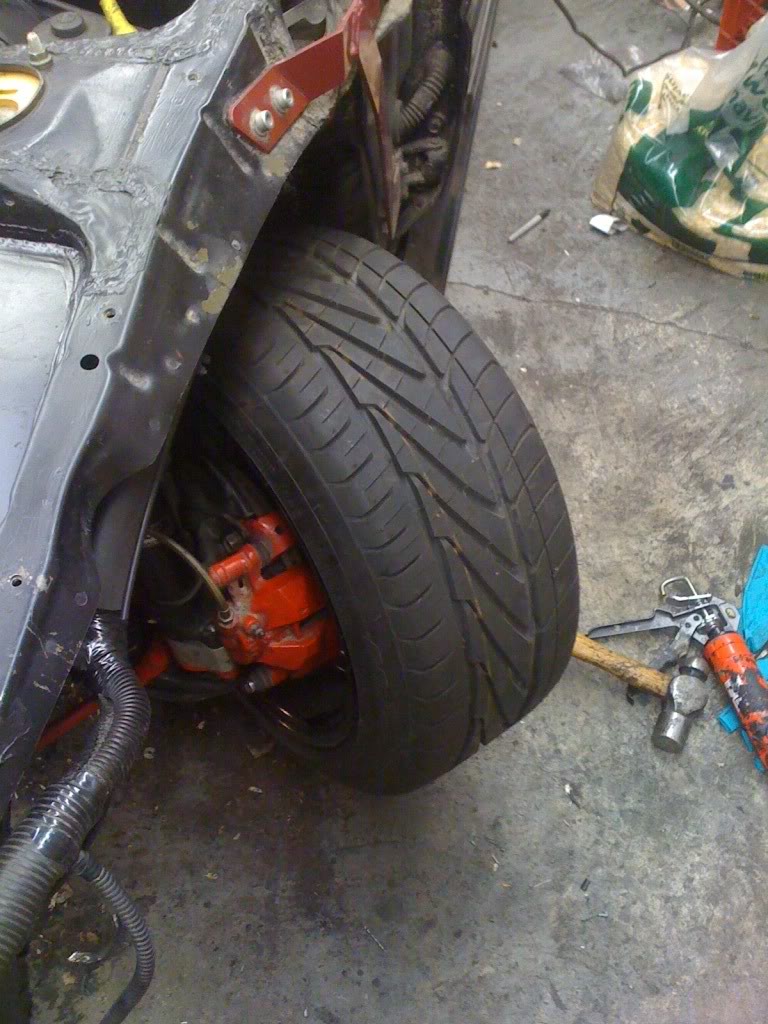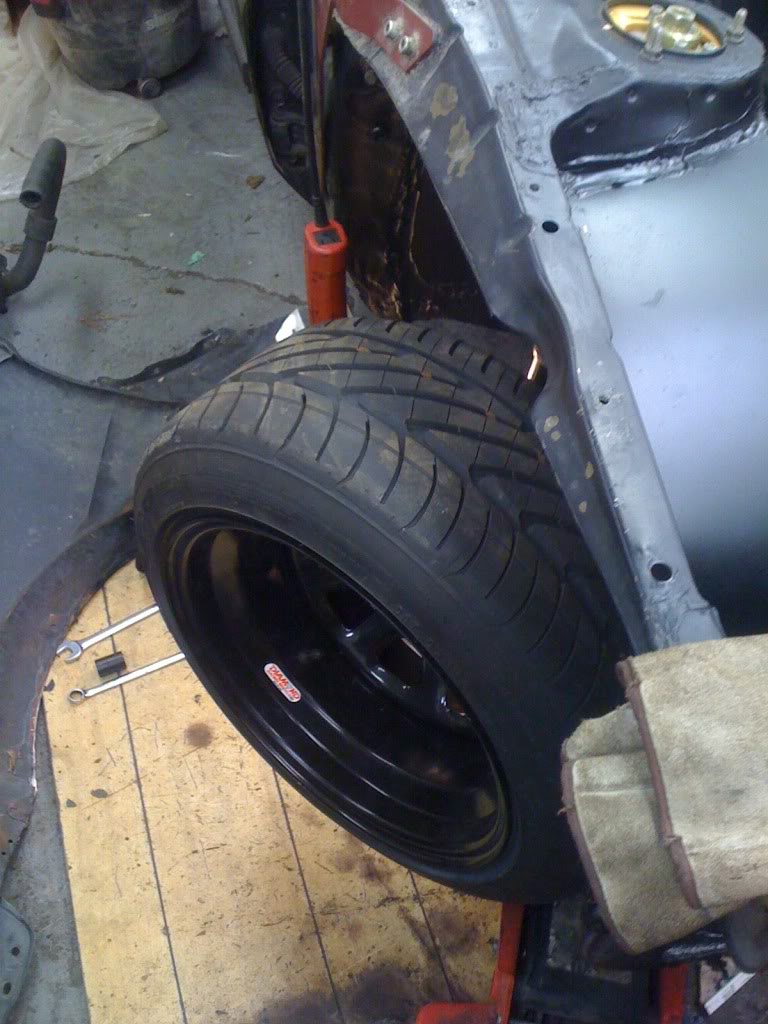 Because I mini tubbed out the front I had problems with the clutch no hitting the tub - so I had to lengthen it and strengthen it - its pretty close to my brake pedal but adjusted it so no its fully engaged when its flush with the tub: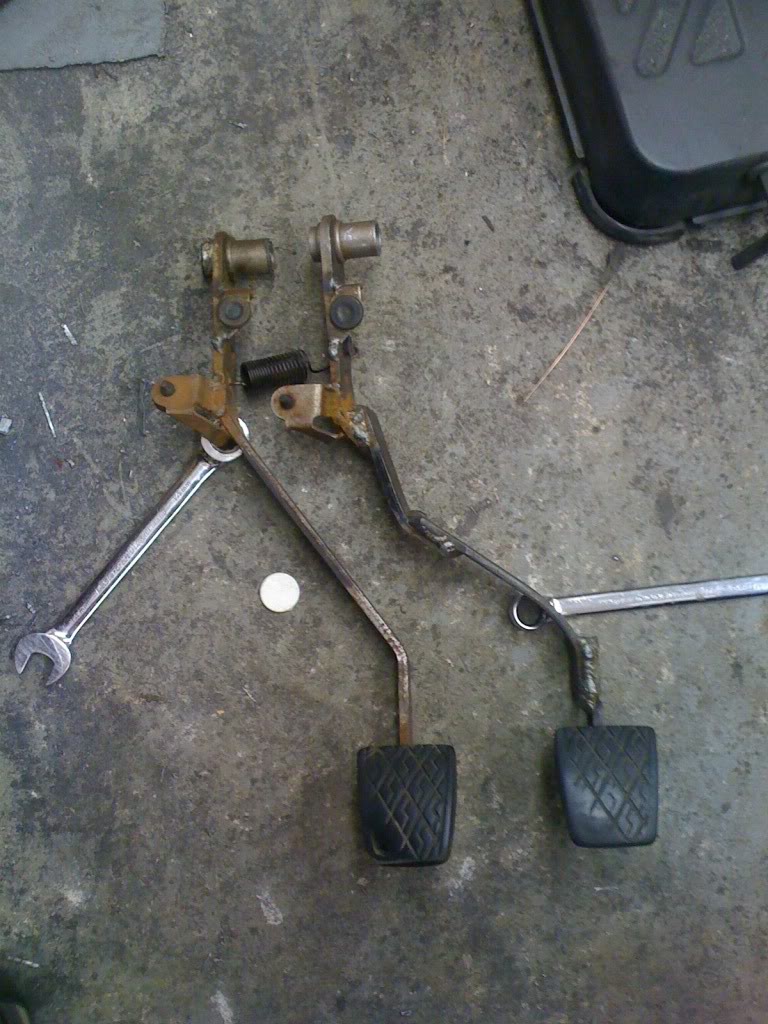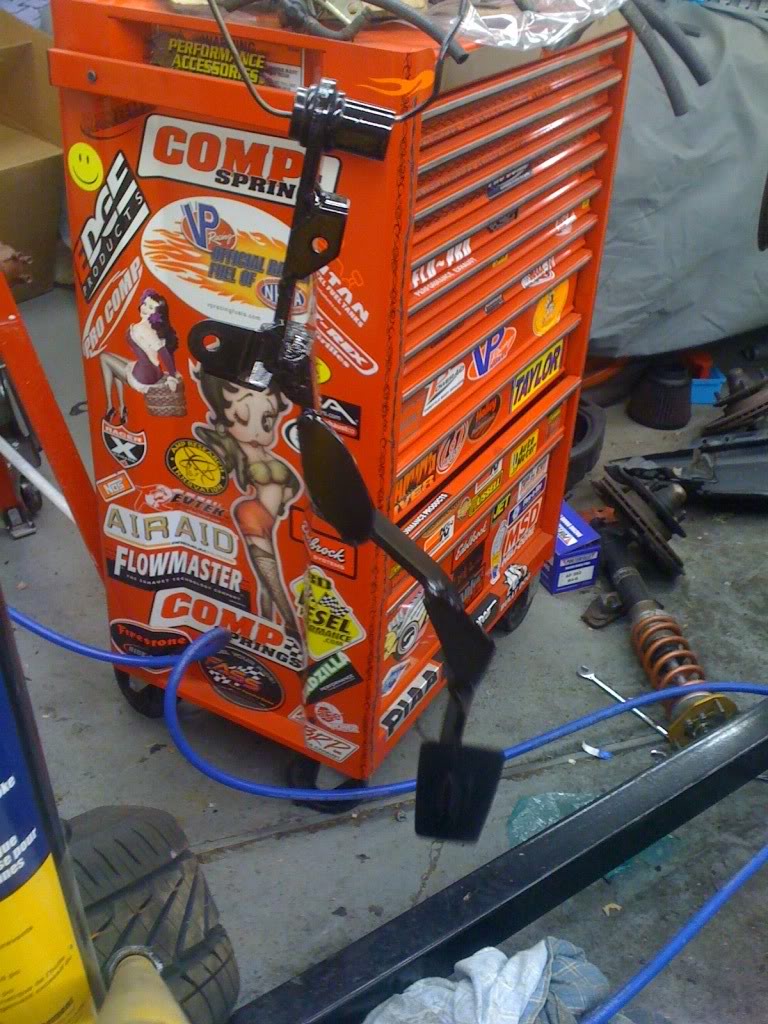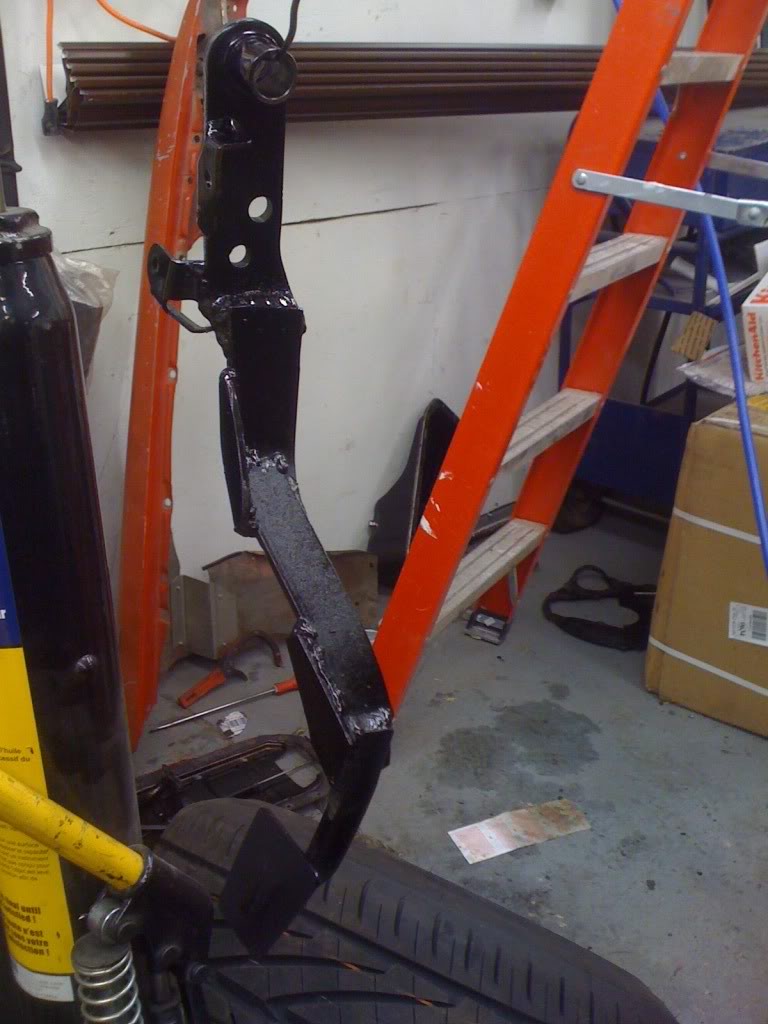 Made my own fender braces: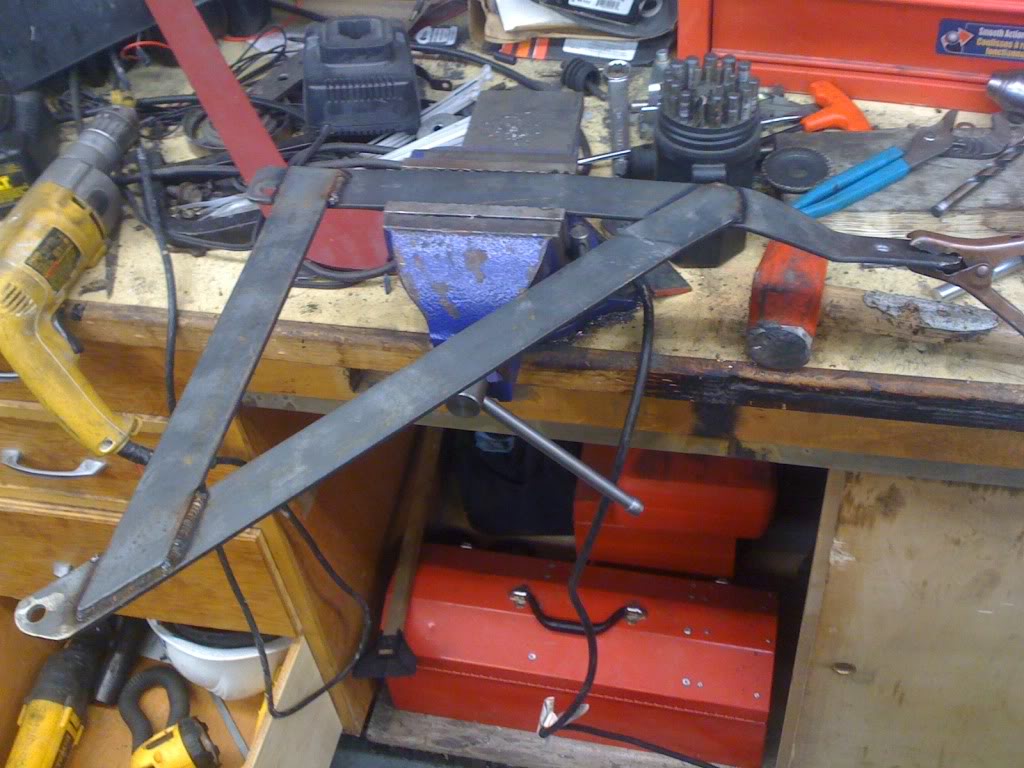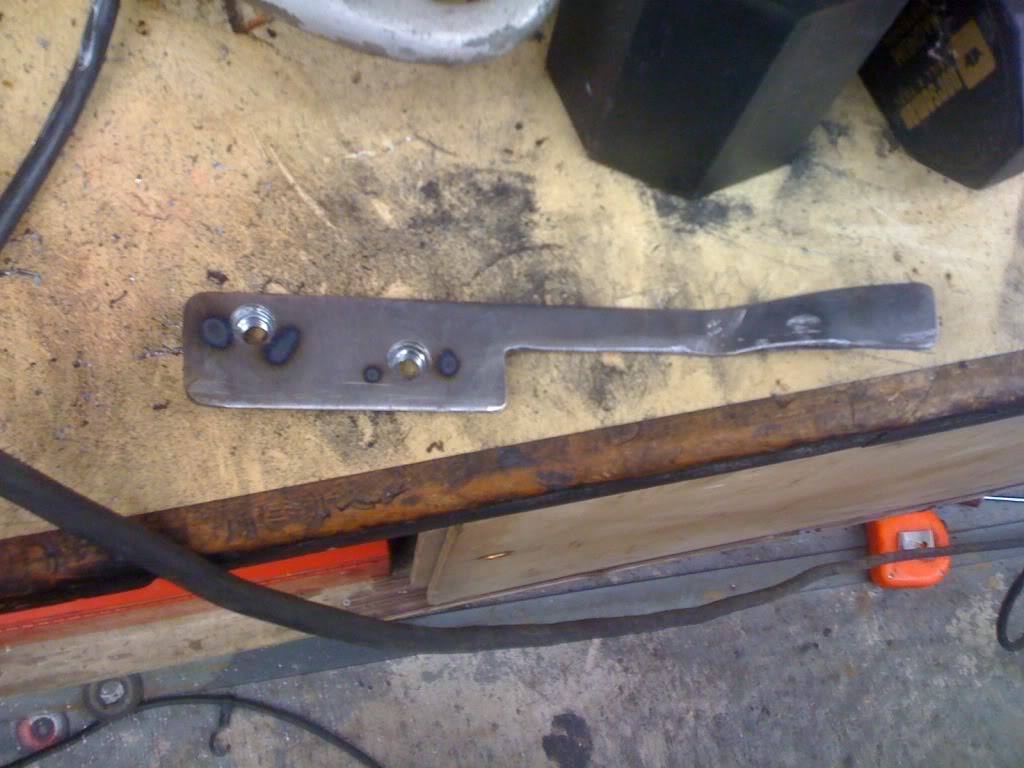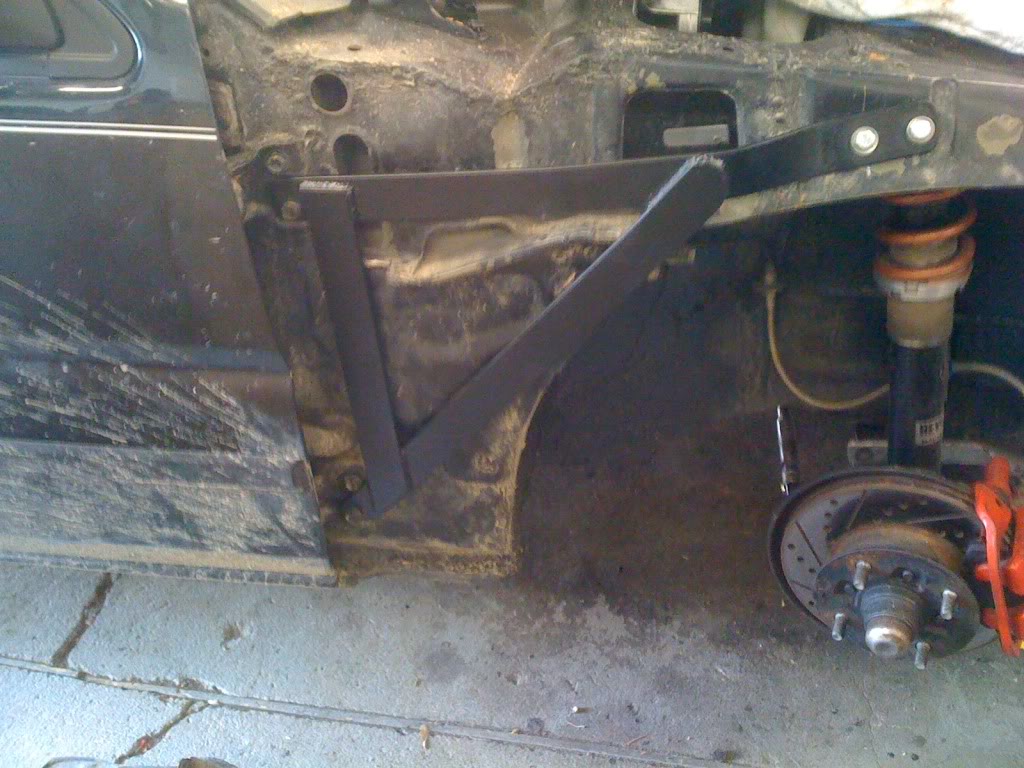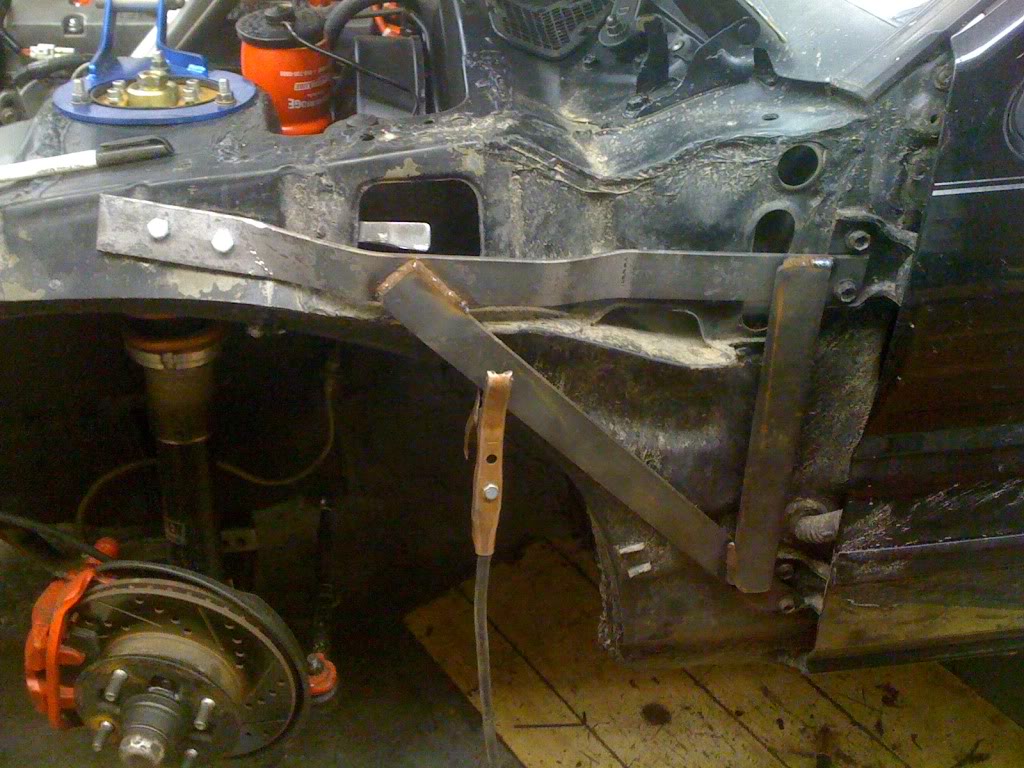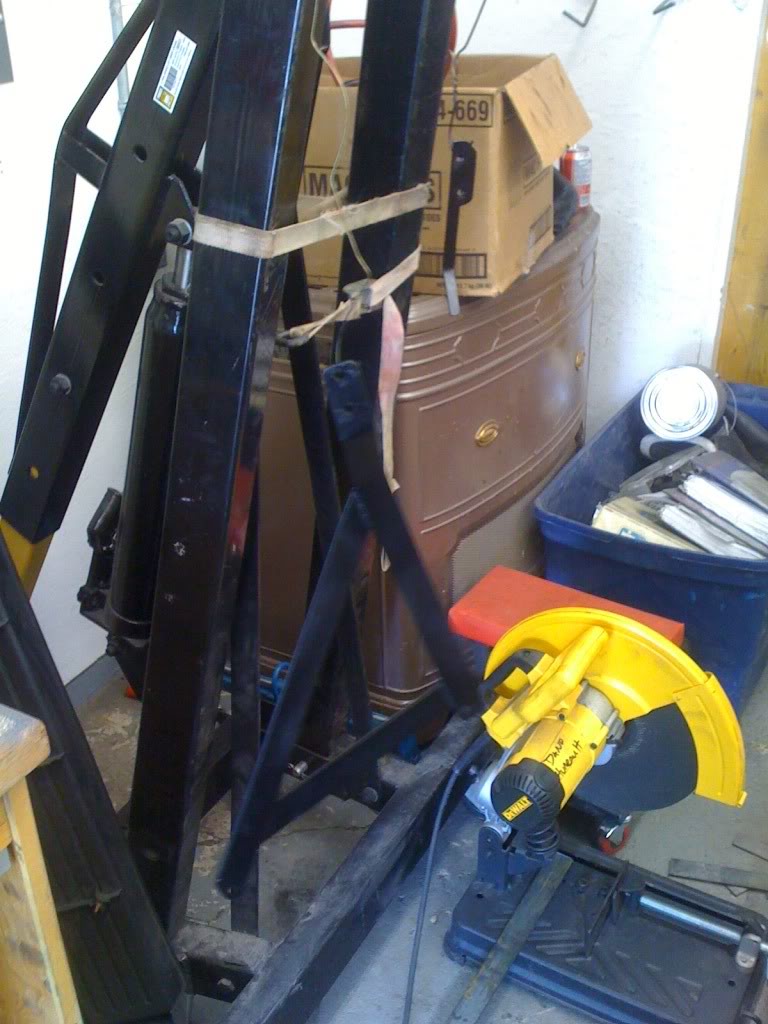 Now I also Picked these TRD N2 fenders from 87j-spec, and fitted them ontop of my widebody - So its a widebody kit ontop of a widebody kit! Do you reconize these fenders???!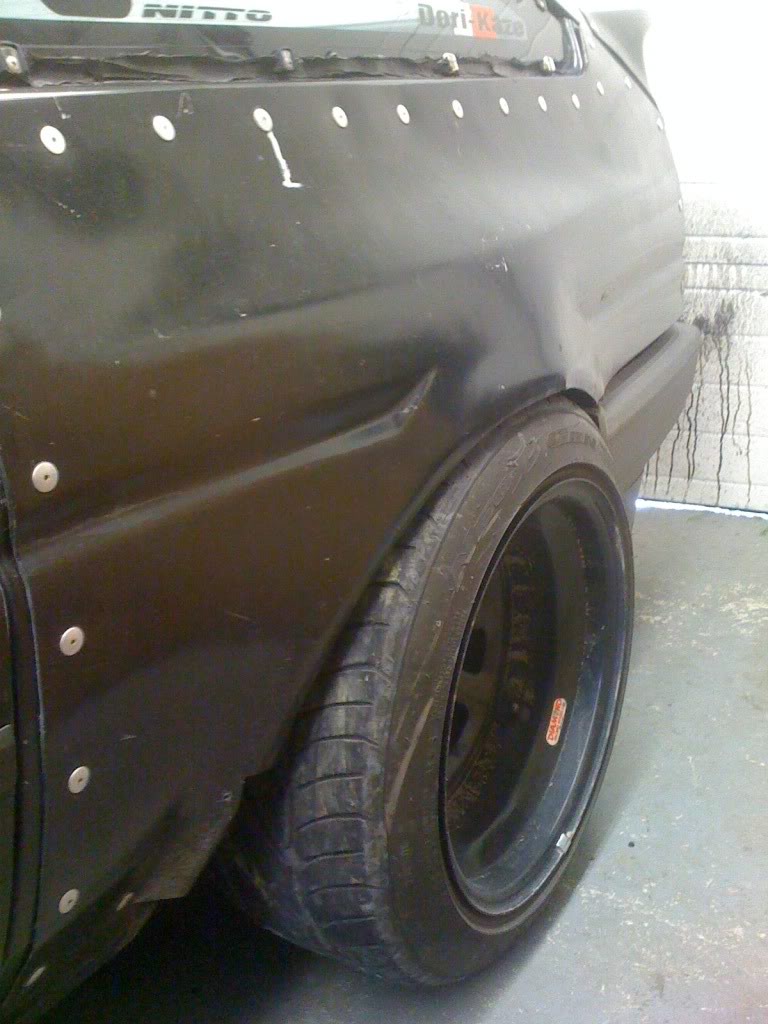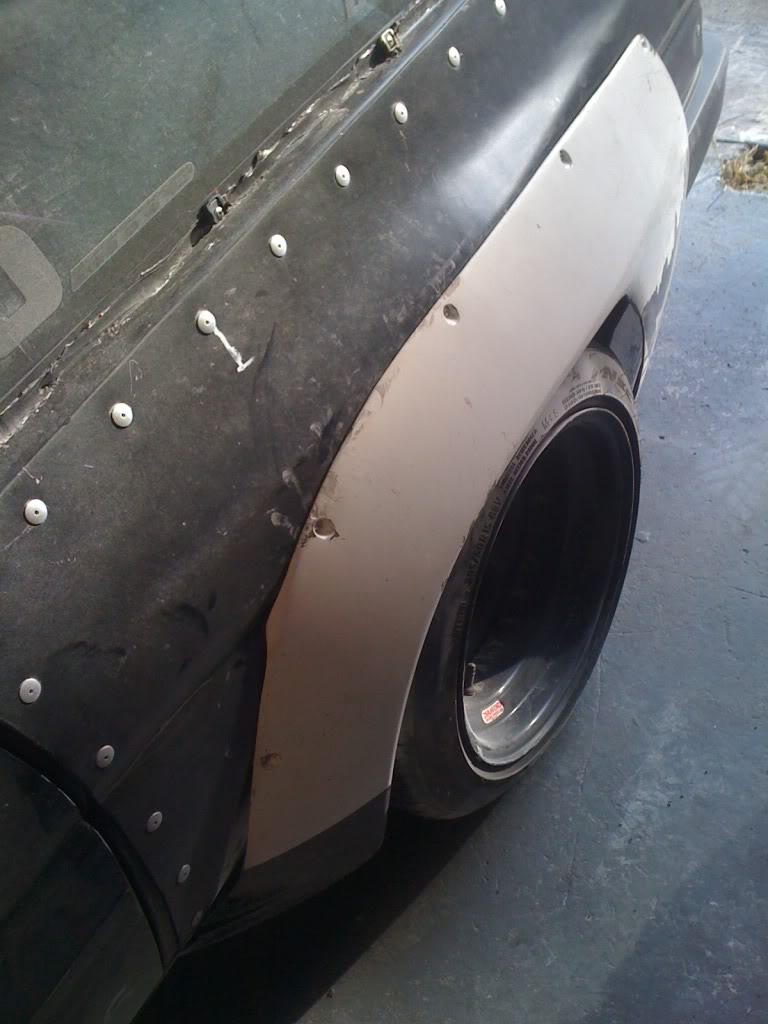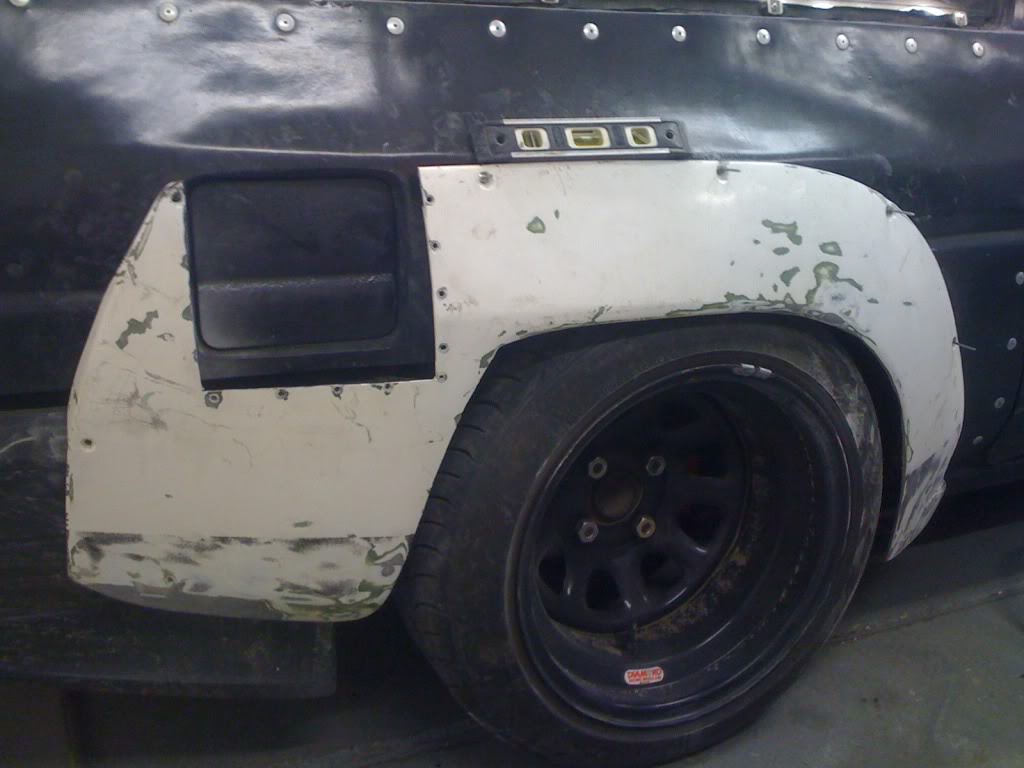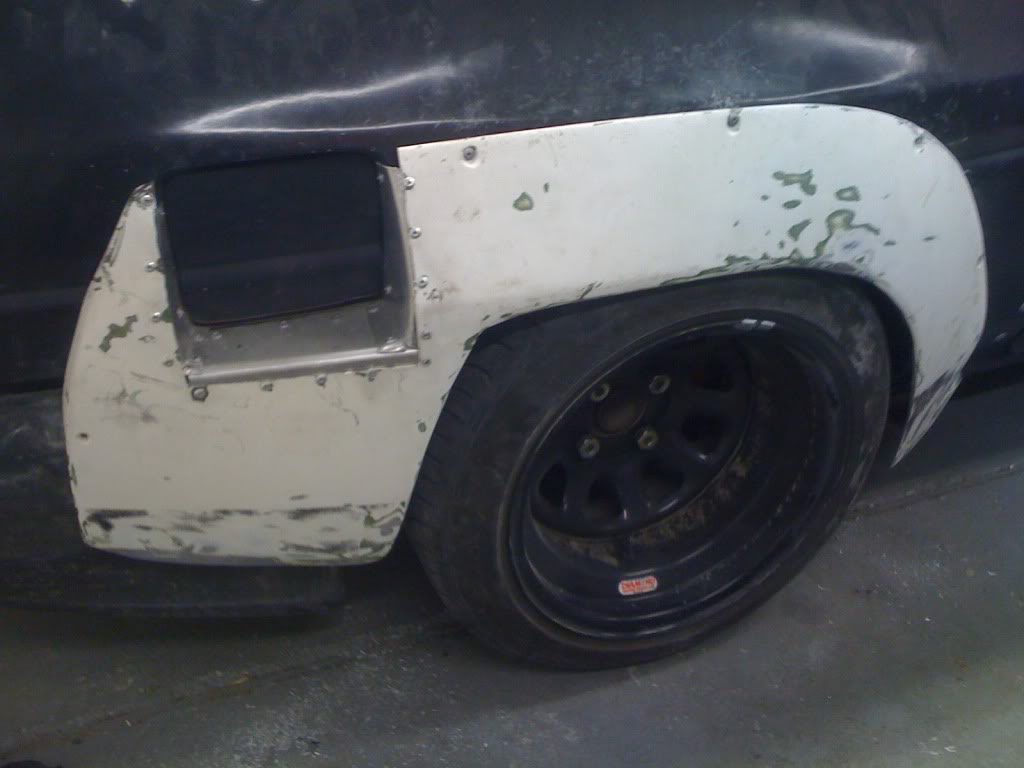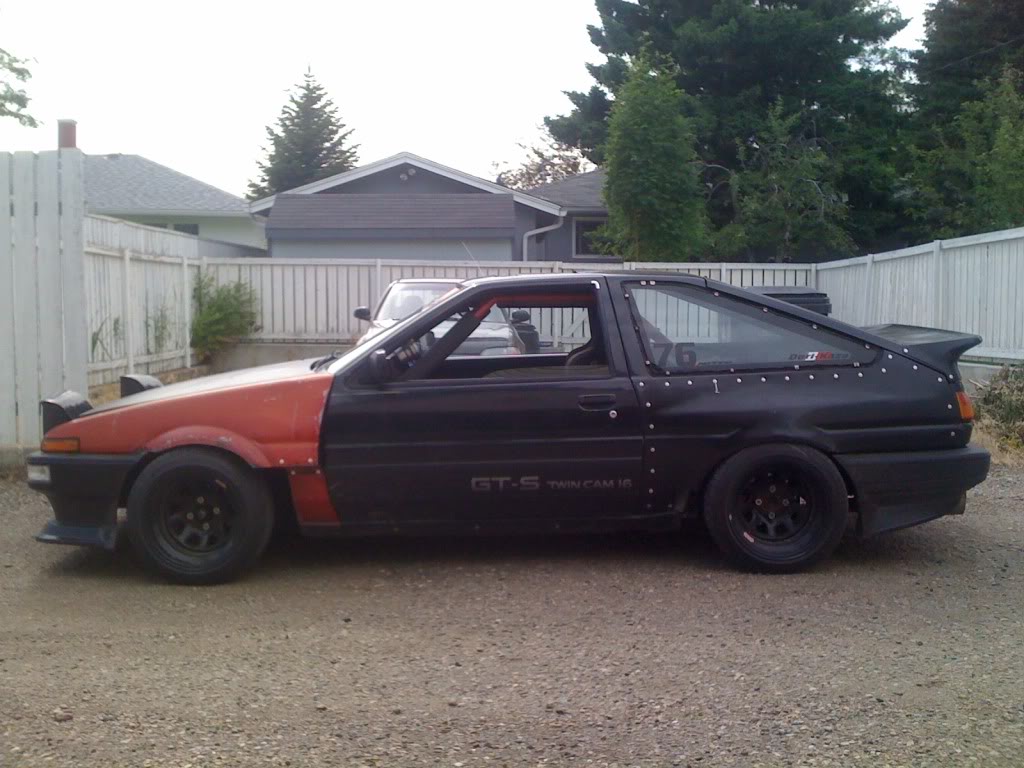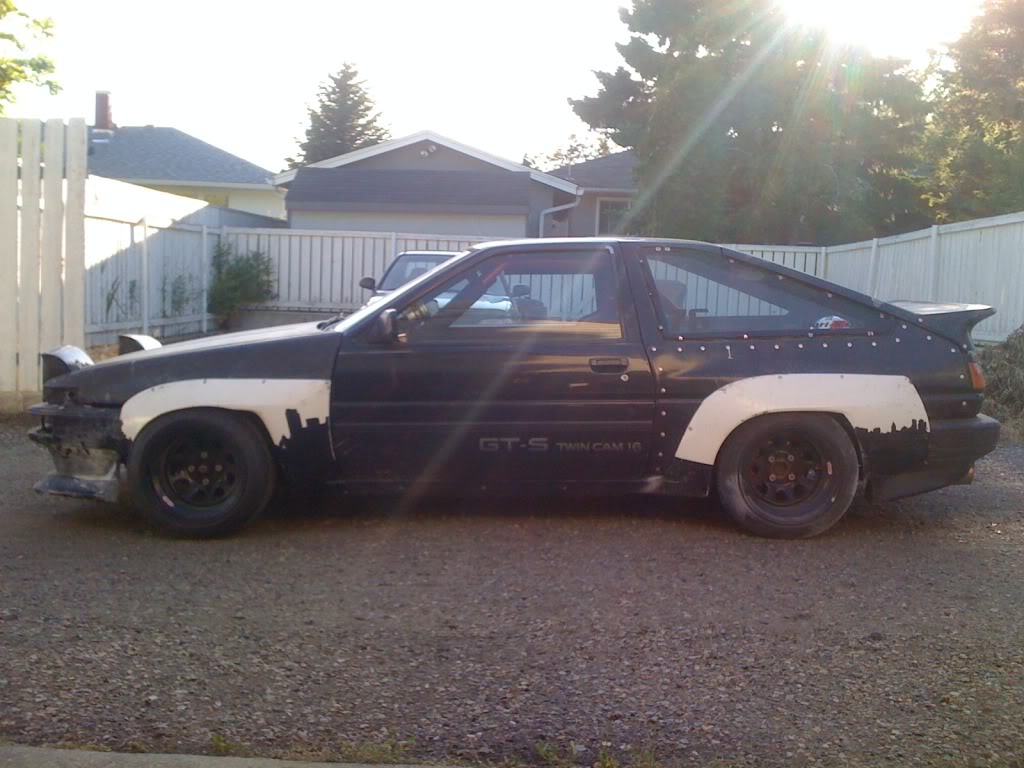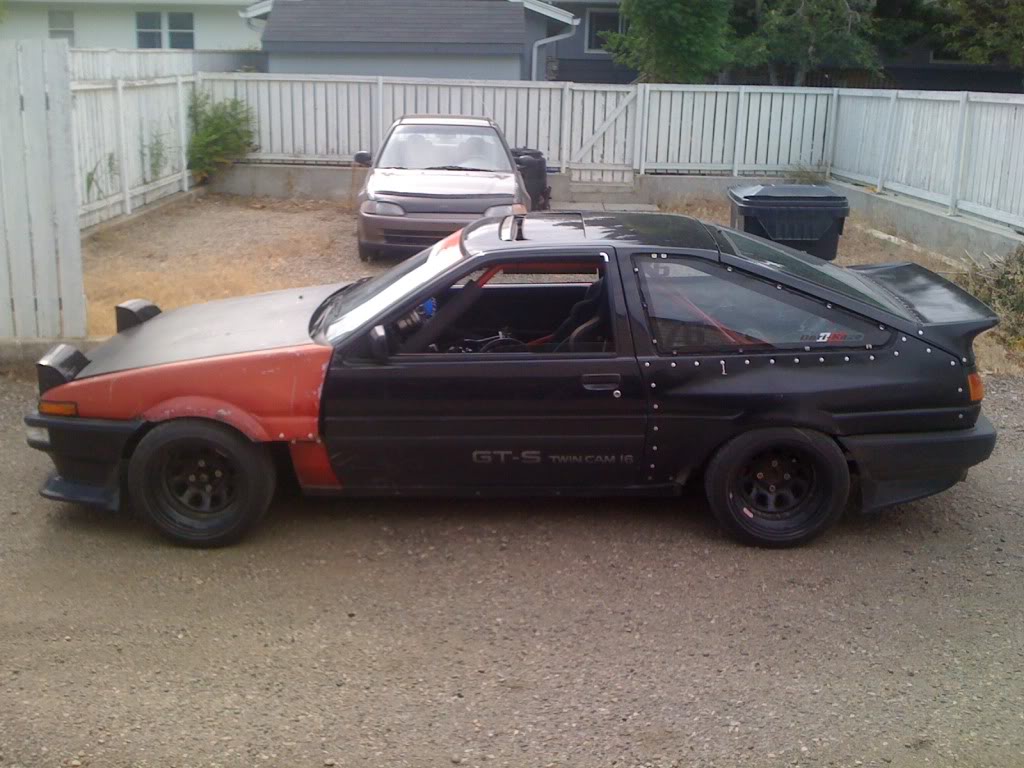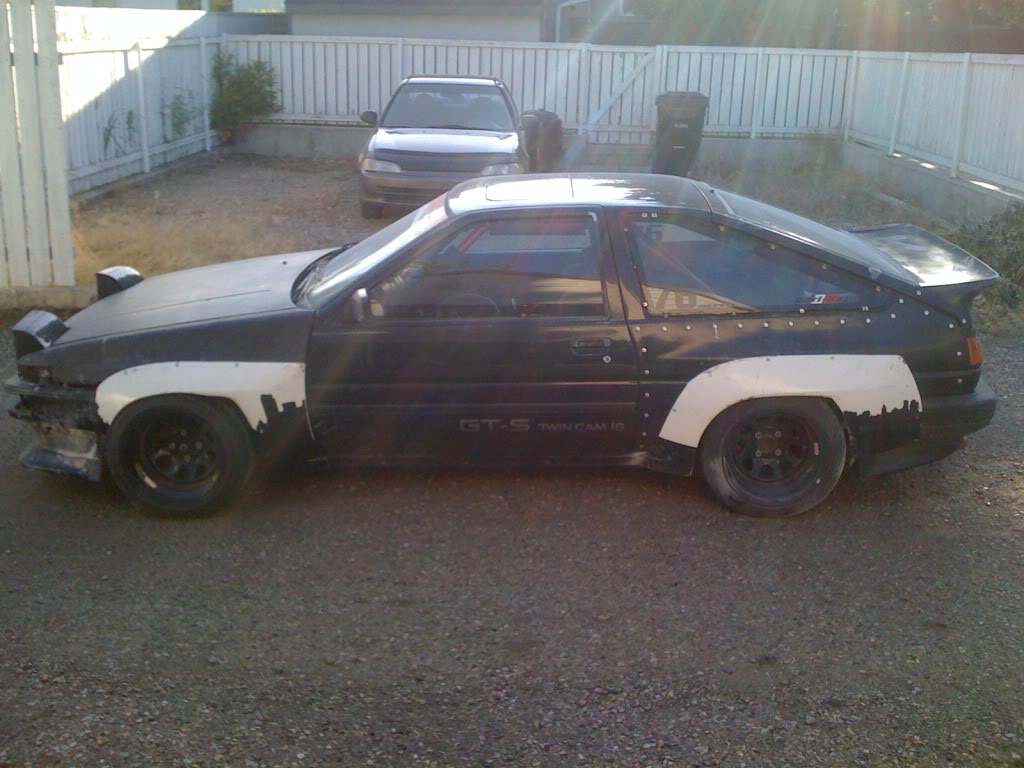 I always wondered how they did the big white lettering on tires you see for time attacks and a couple months ago I saw a vid and it showed a race team spray bombing the letters on the tires while still on the car - i thought "hey i could do that!" and I made my own stencil and a couple months later on speedhunters I saw that rauh welt uses the same method for his cars (they are actually nitto's - neogen series if your wondering):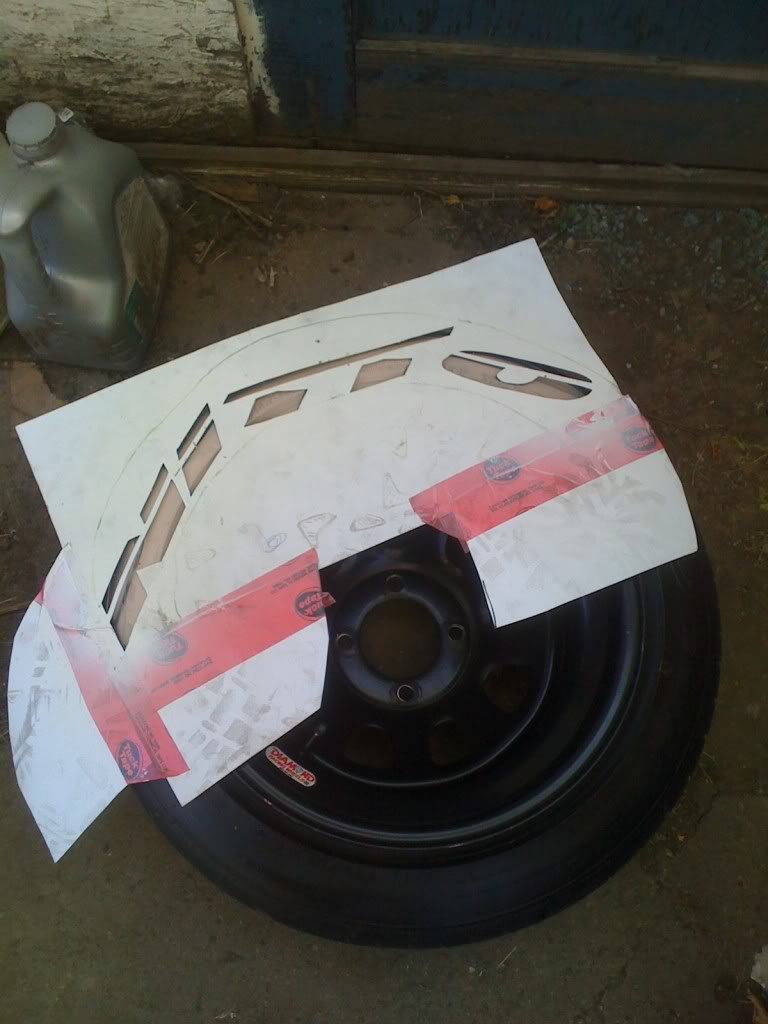 And how she looks today for the first time ever she's all one color!!! - here's some pics at street machine this year with my buddys S12!!!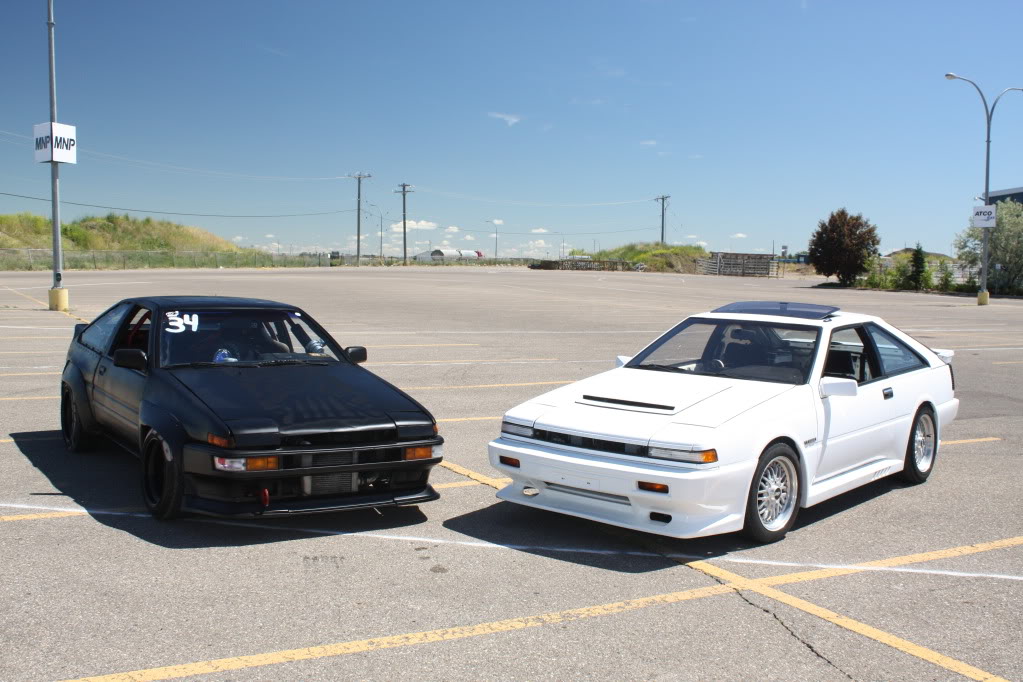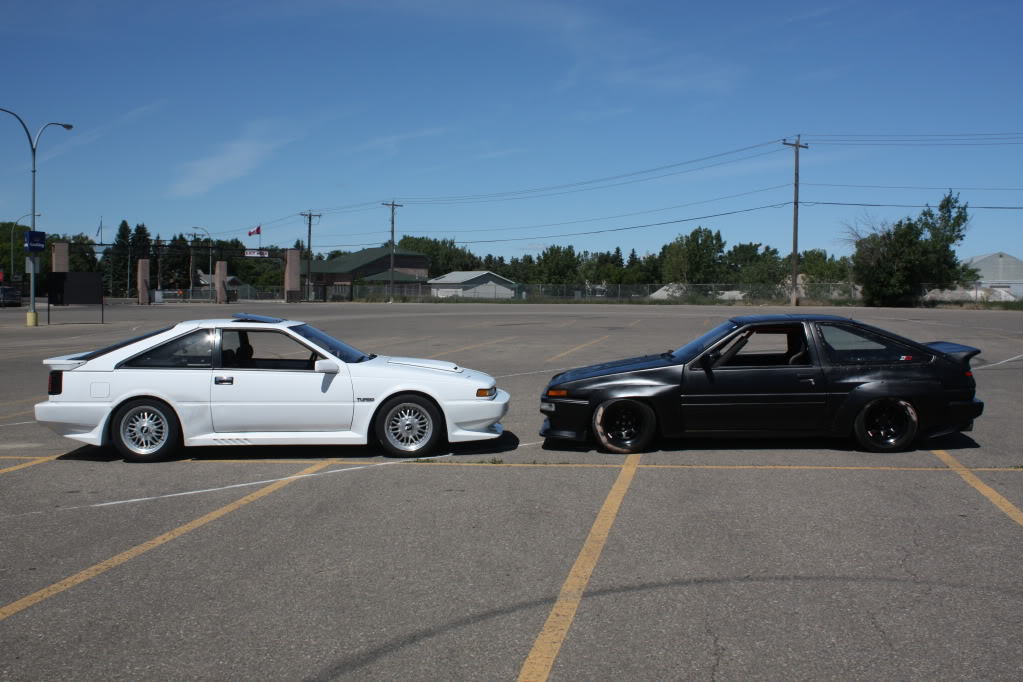 (missing my war and peace which is back on now)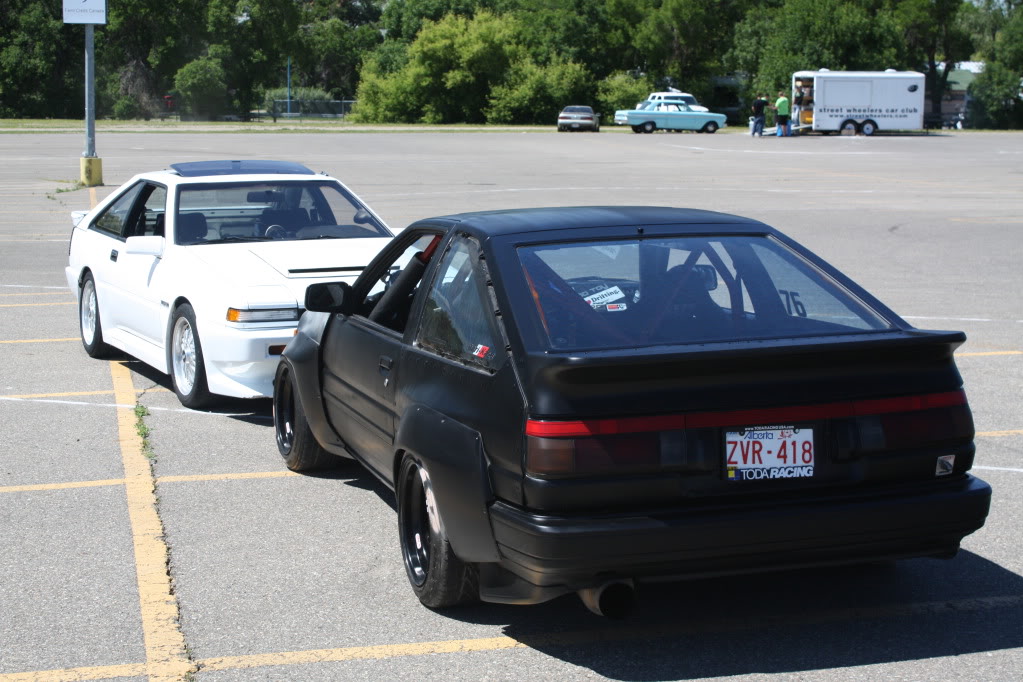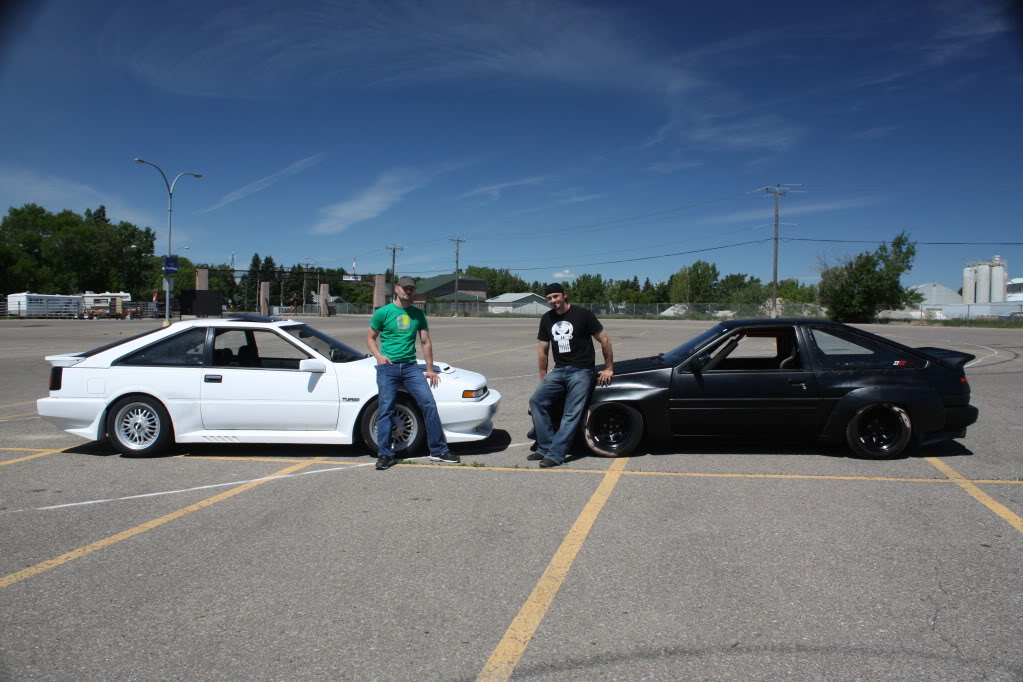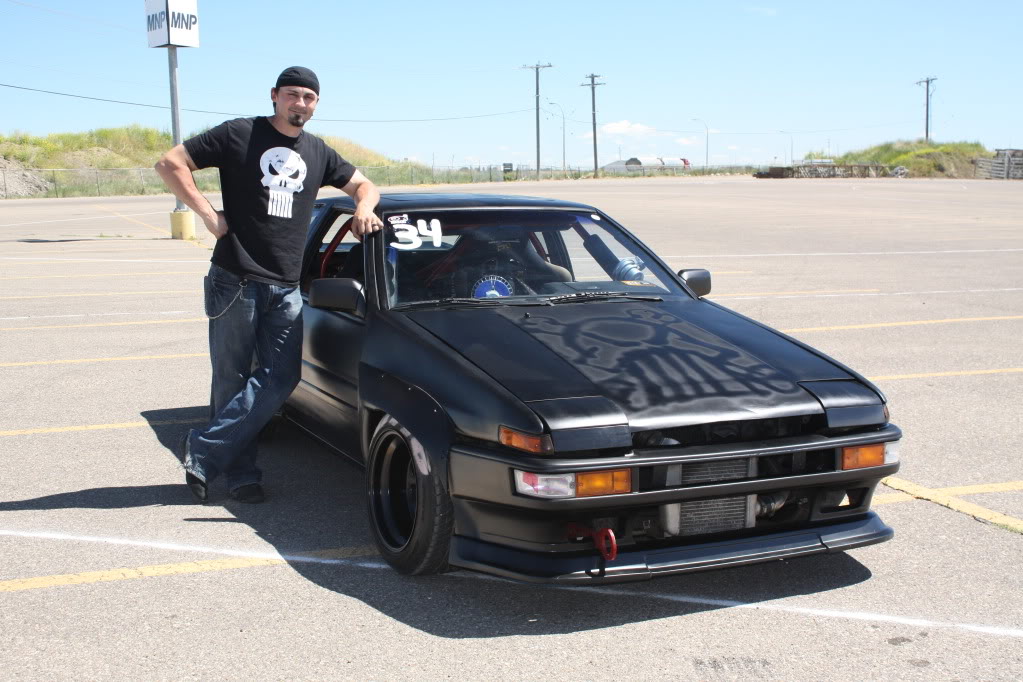 I'm Hoping to get some professional photos done before it gets wrecked so I'll post'em up when I get them done!

thanks for looking!
8-5-2011
MOAR Pics!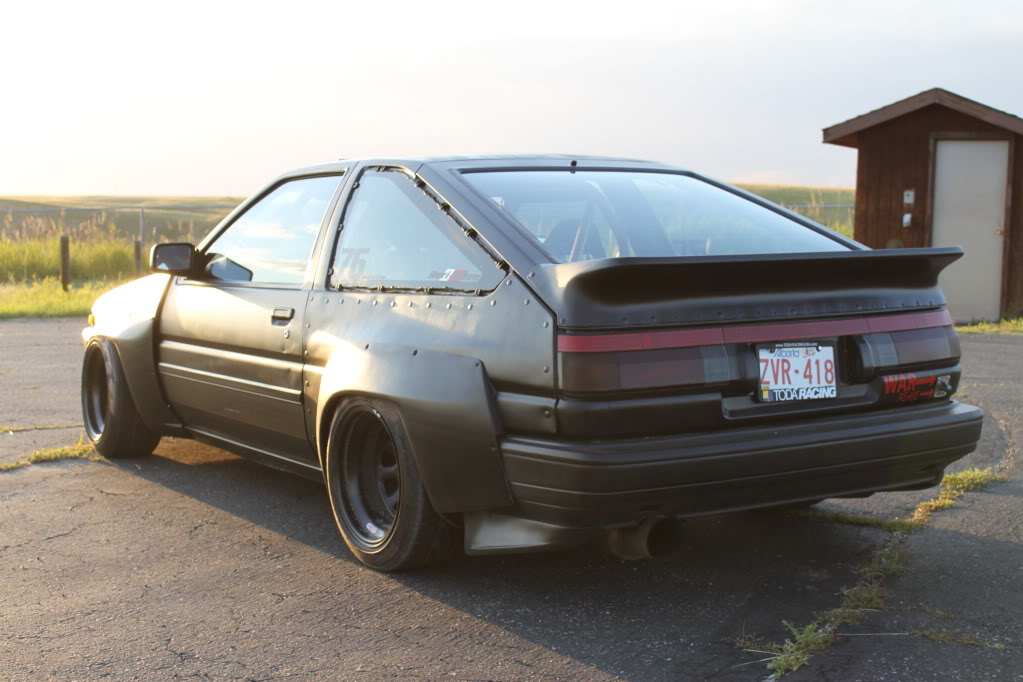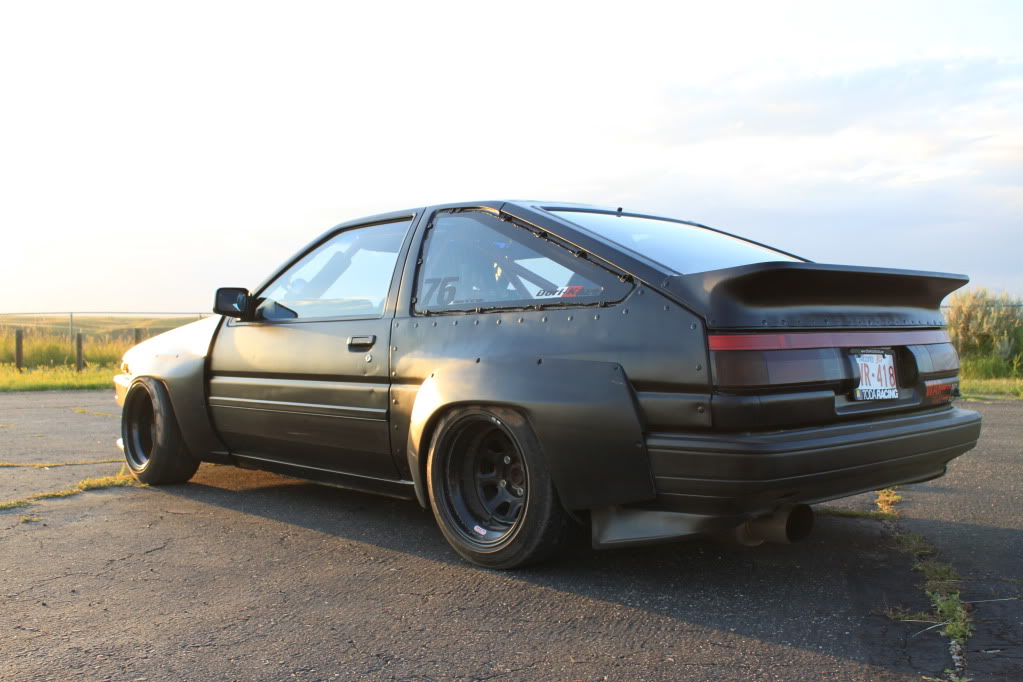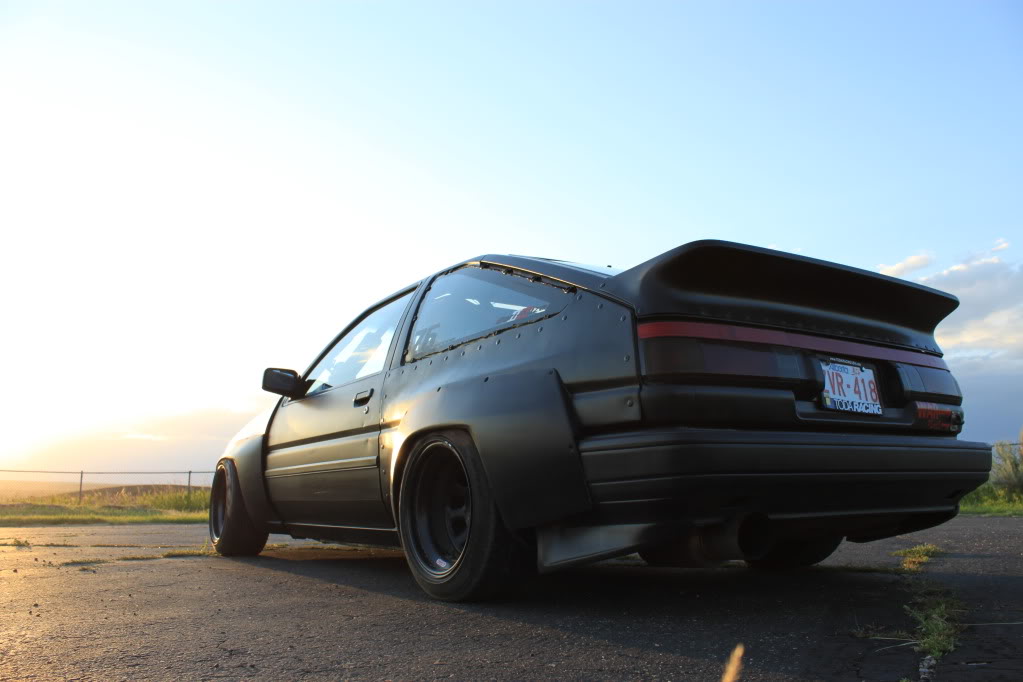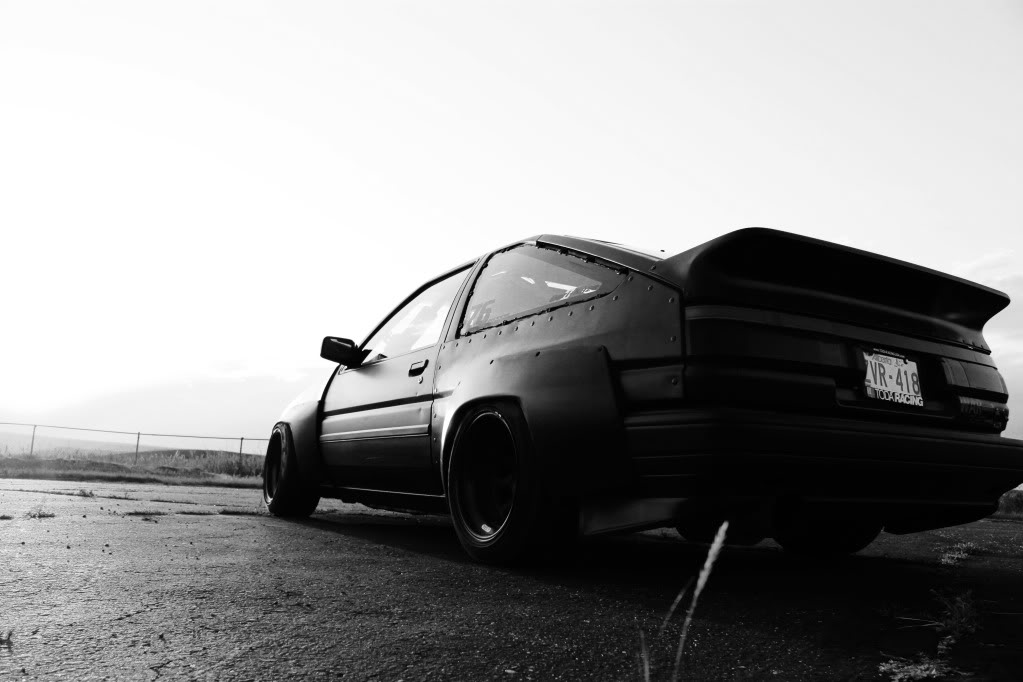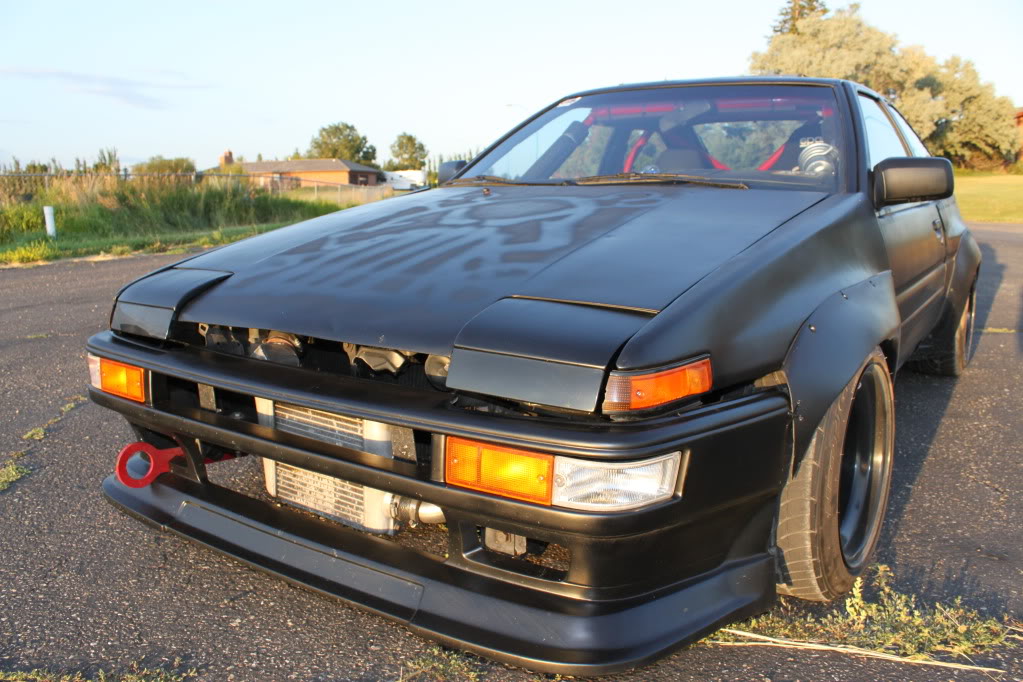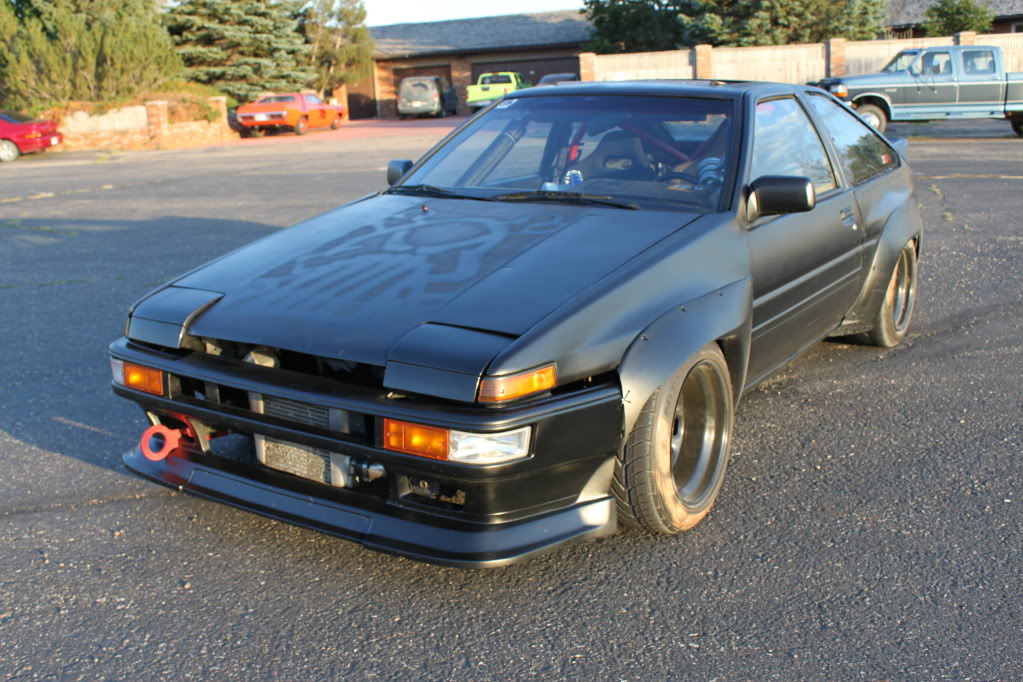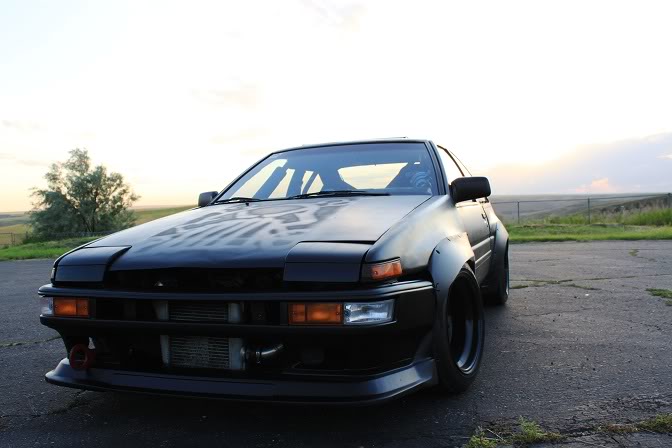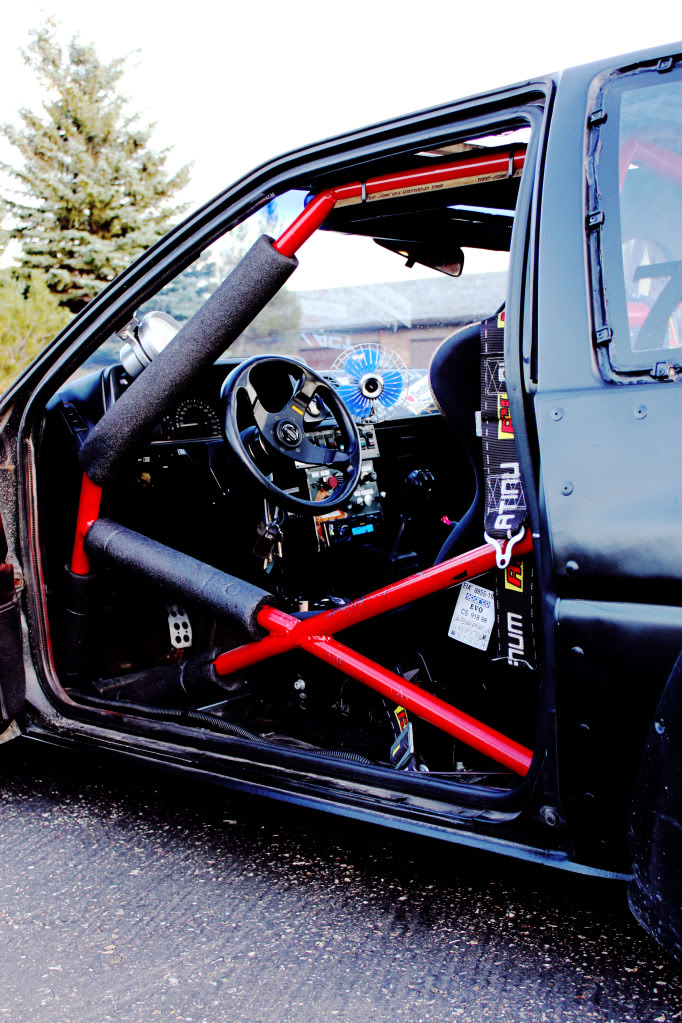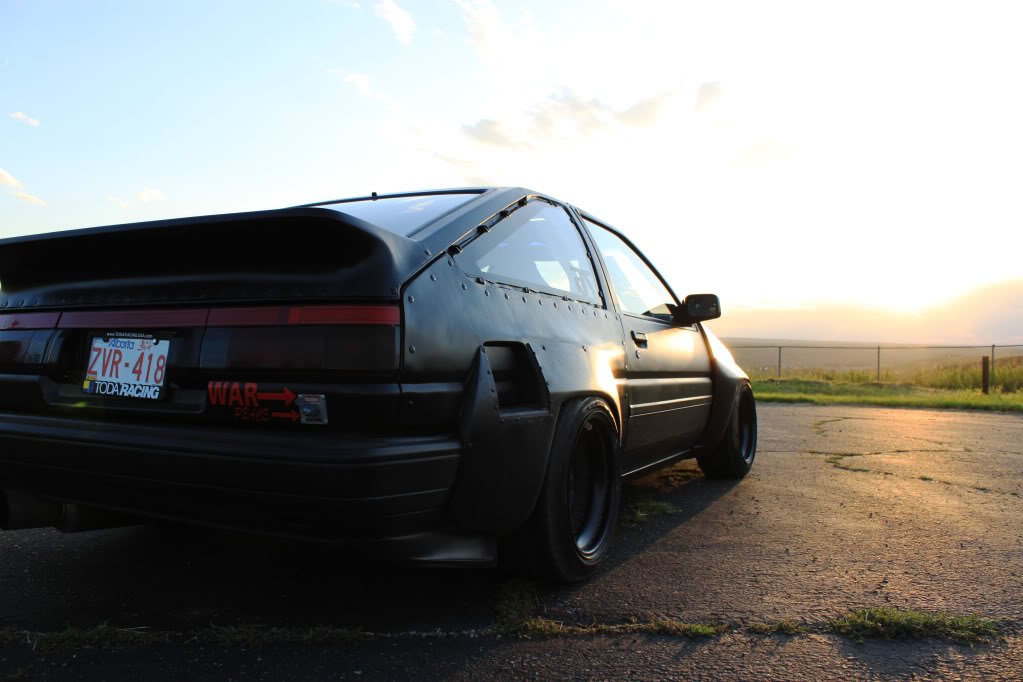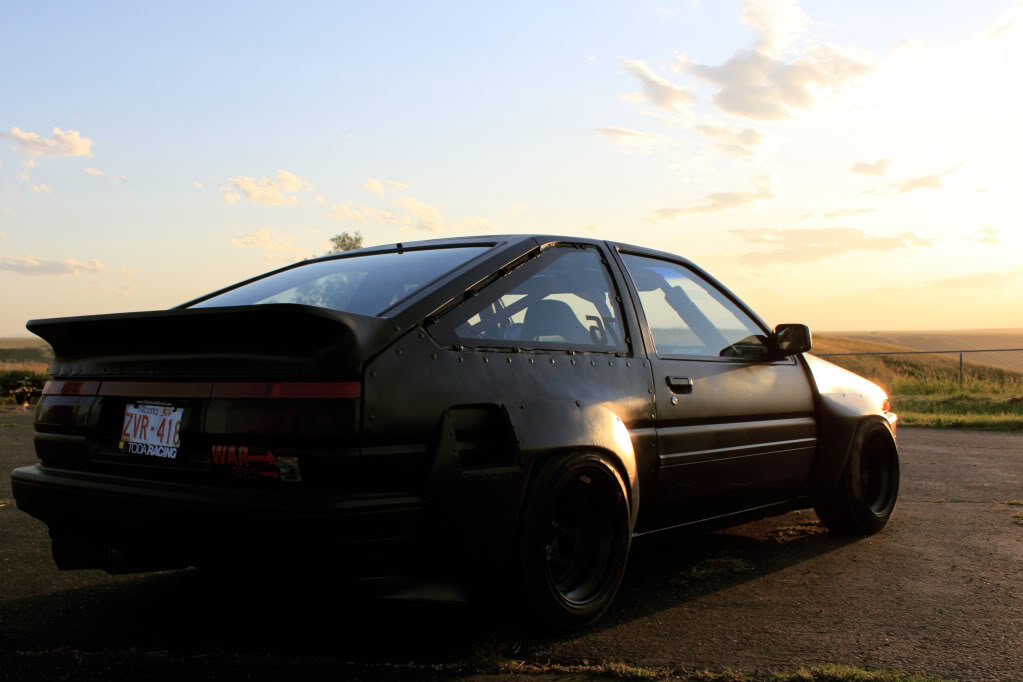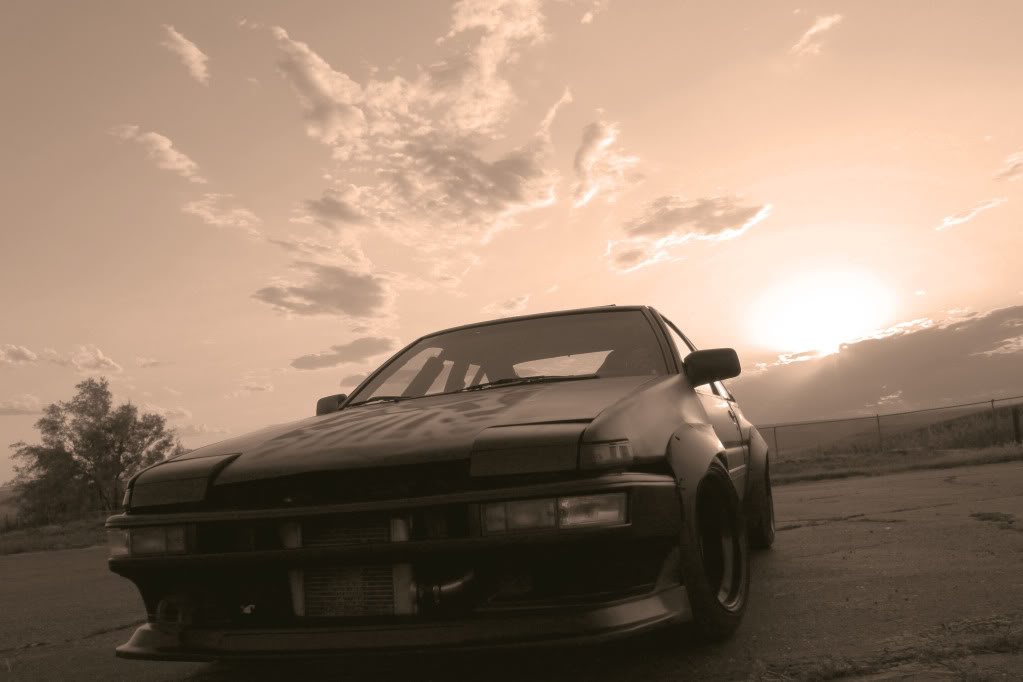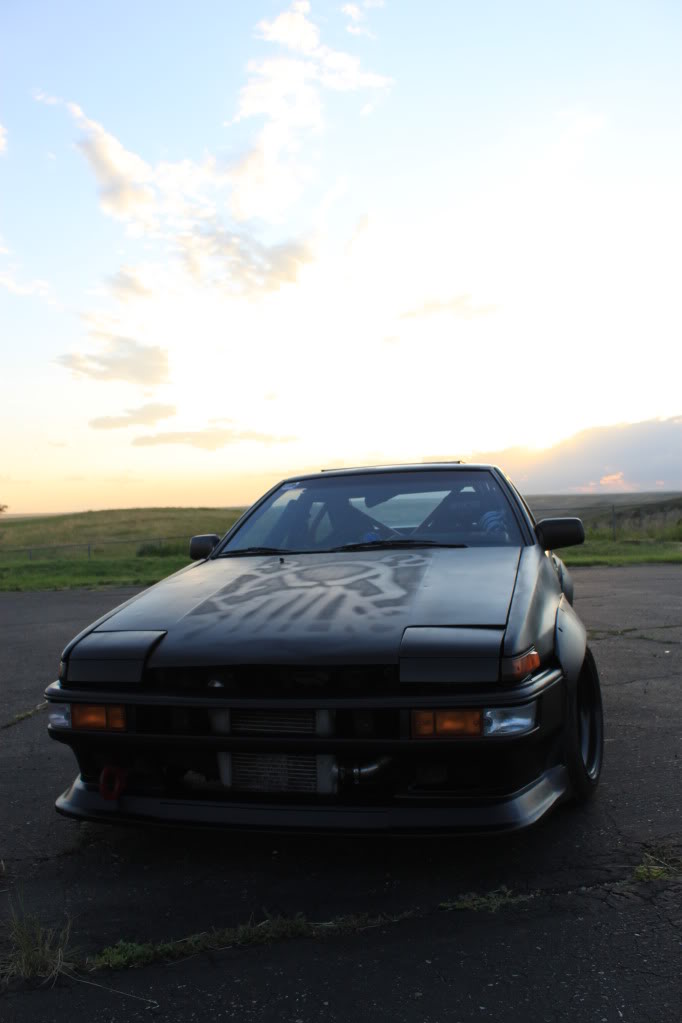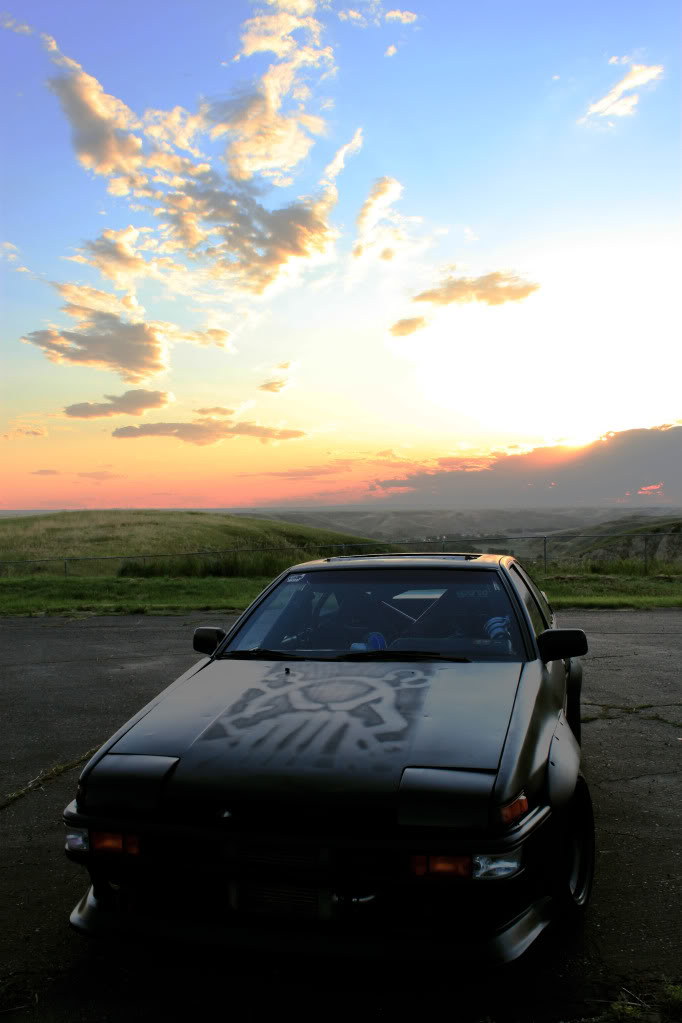 Thanks for looking!
8-17-2011
Mowing the lawn at spec-d roadcoarse day on Aug.10 - I just copied and pasted the pic he posted on DW but I hope he's got more photos I can buy off of him - If so I'll post them up here!


10-3-2012
so been driving the v8 all summer now, finally got around to posting pics - I'm still so ****ing pissed that my phone destroyed the data for my pics - heres the piddly amount I have left - should be quadruple of what I have here - I'll have to post pics of what I did for the clutch, fuel, brake lines, how i modified the firewall, painted headers, painted engine, rad support ect the next time I yank the engine out,,,

car ready for swap - forgot how much narrow the stock tires were: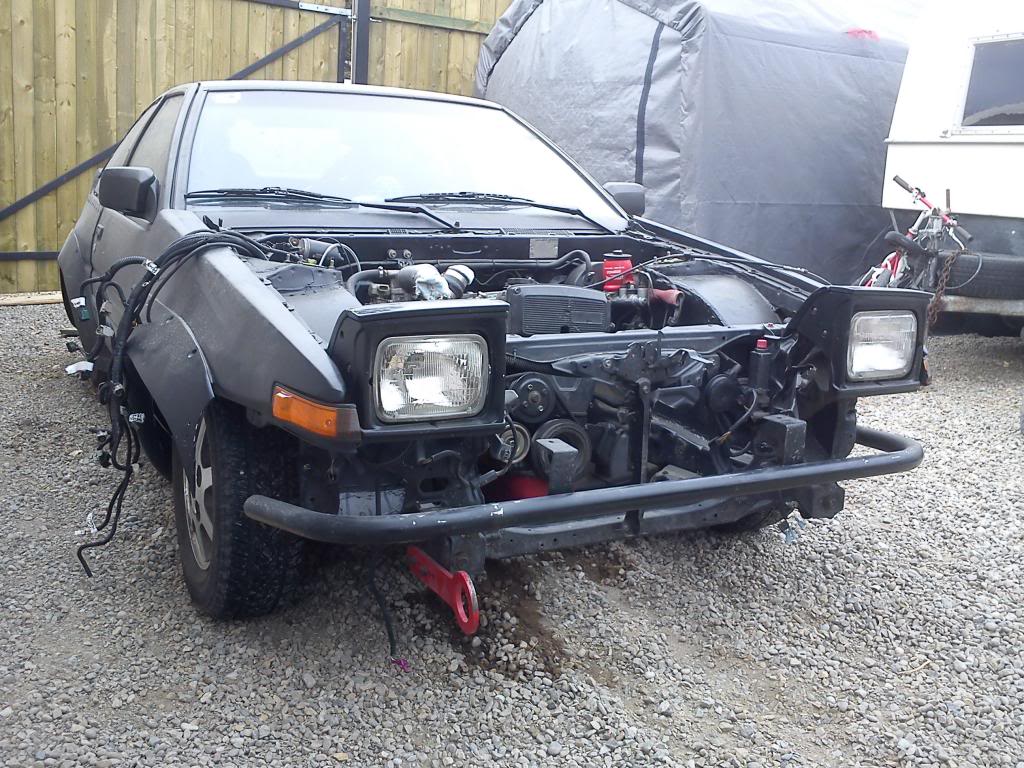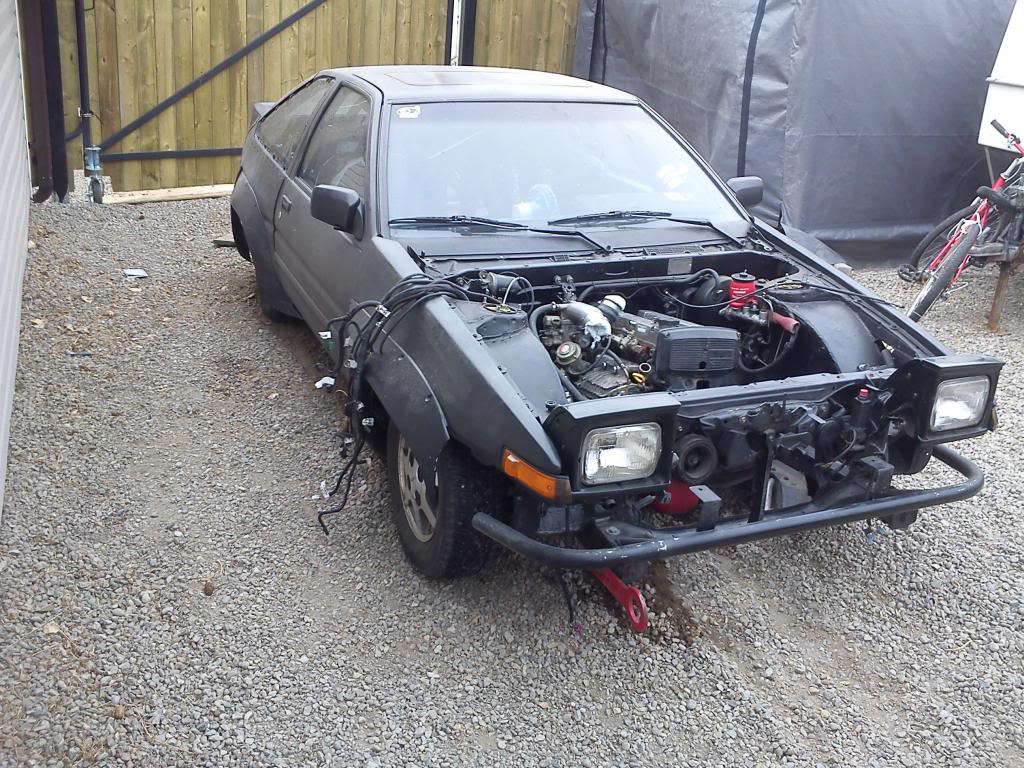 started cutting the firewall: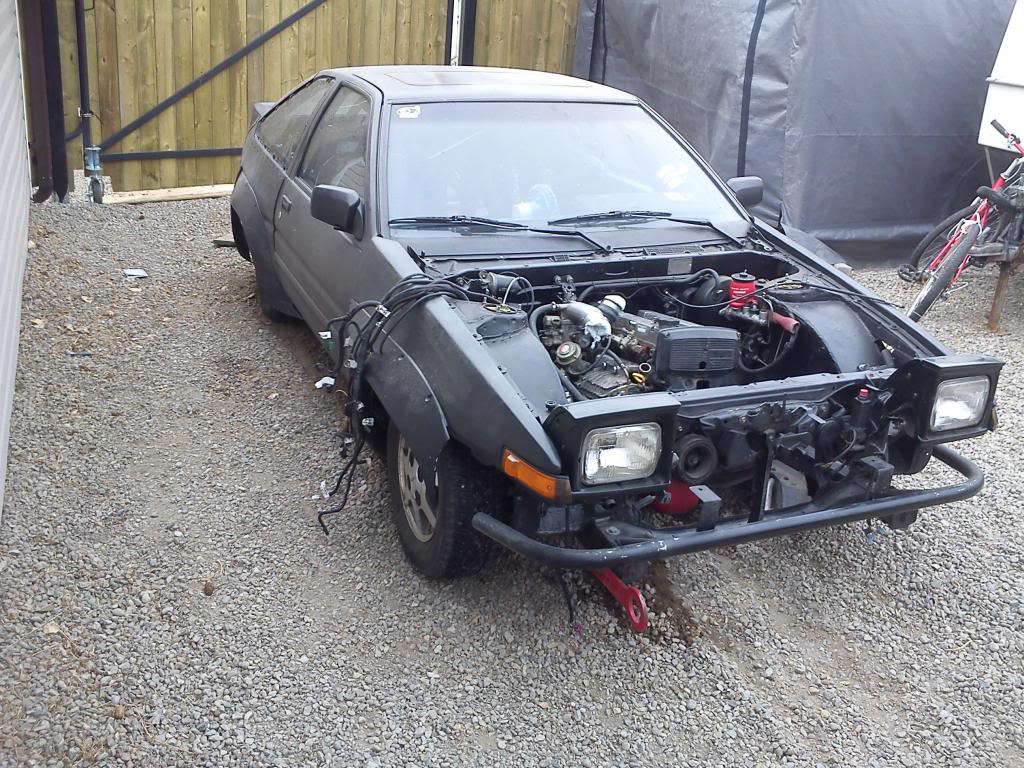 cut hole for shifter so I can run either w58 tranny, will need to make a better adapter plate next time I pull the motor: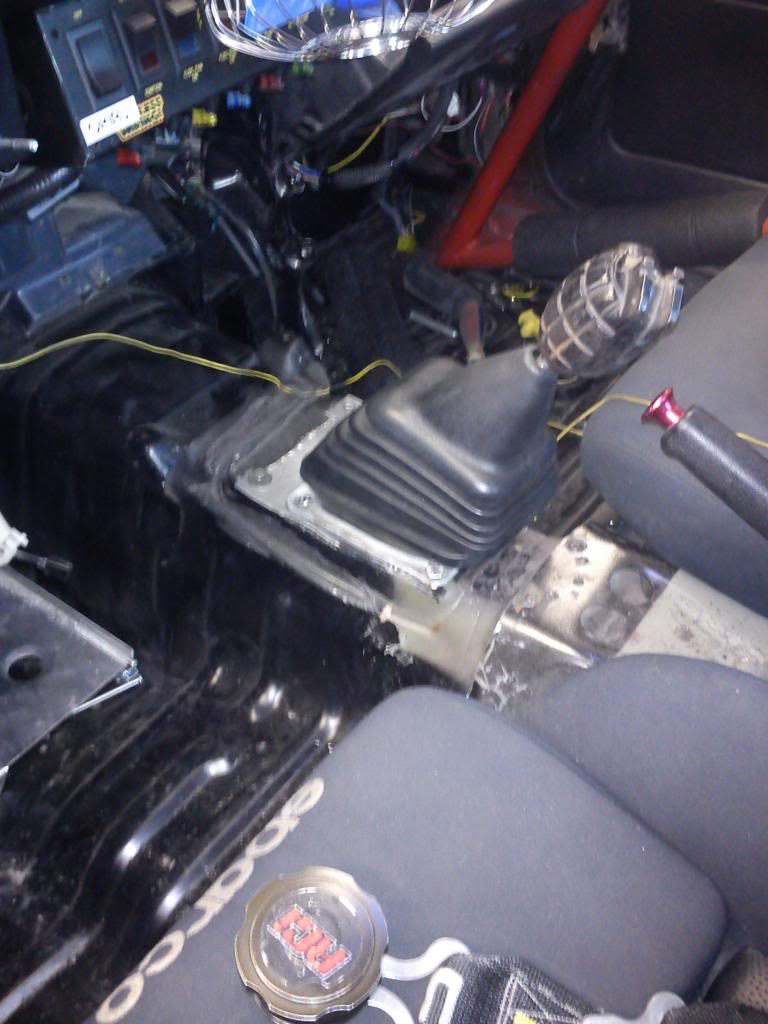 skid plate made of 1/4" tubing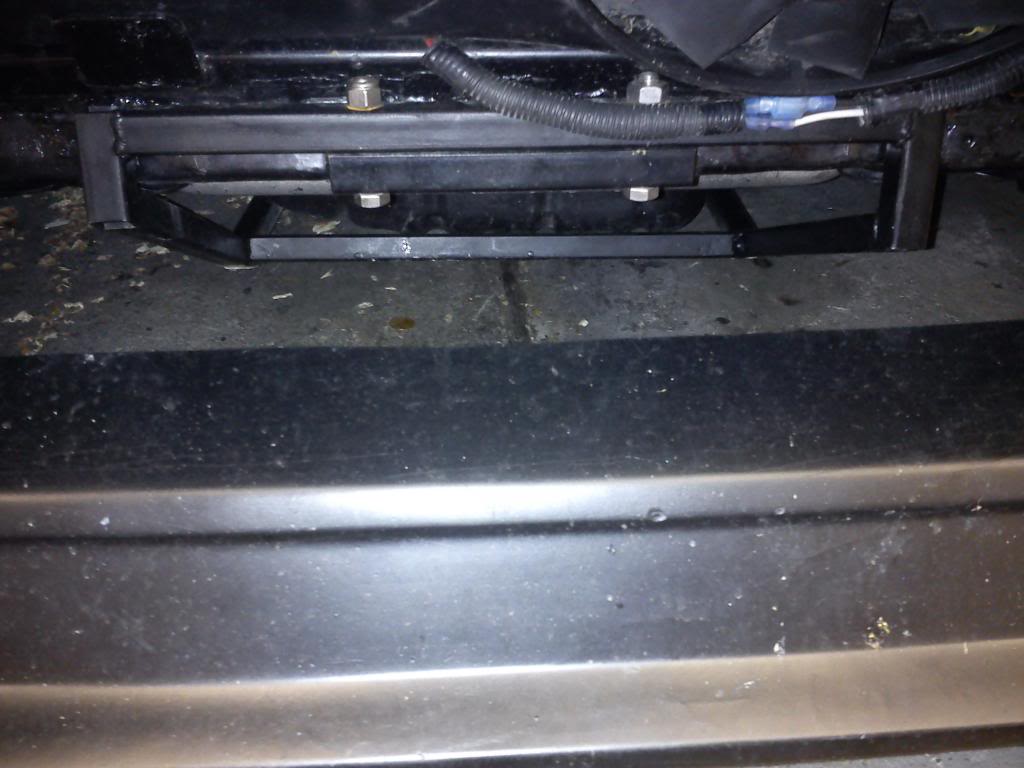 rad support braces off my bomber bar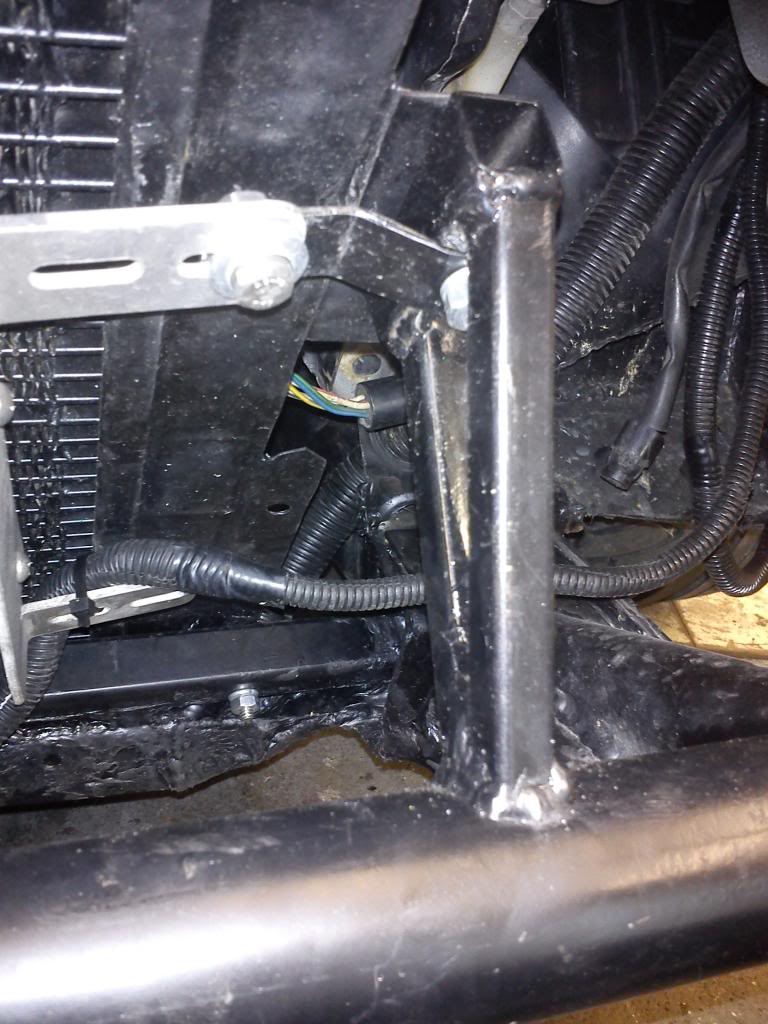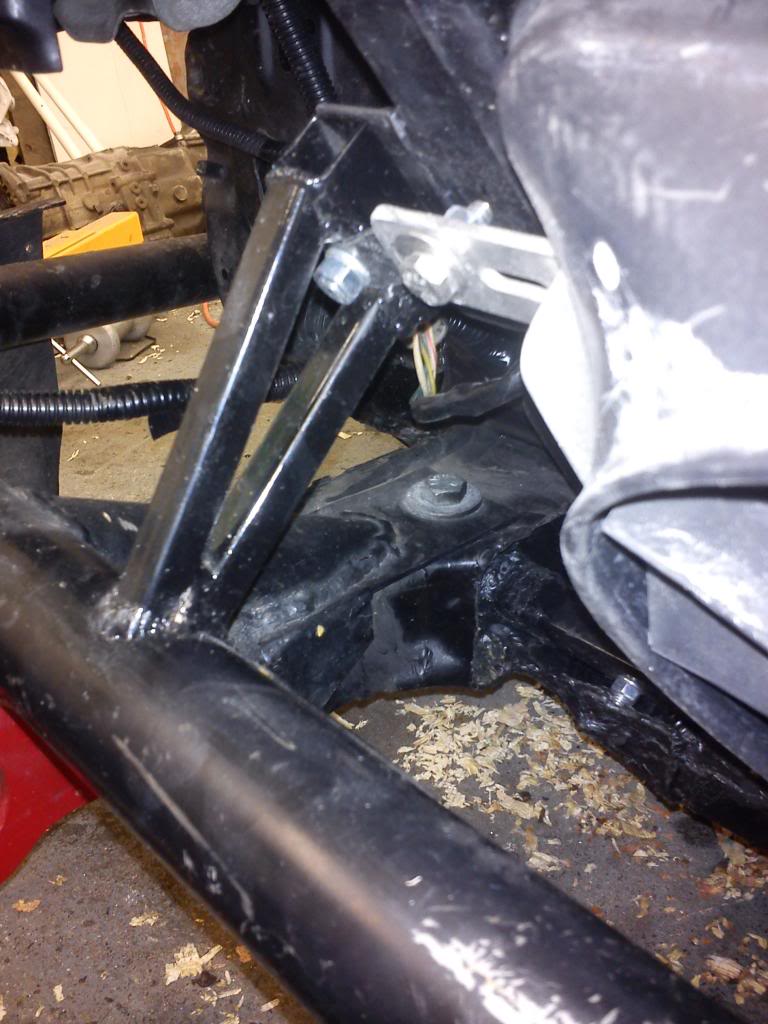 mockup: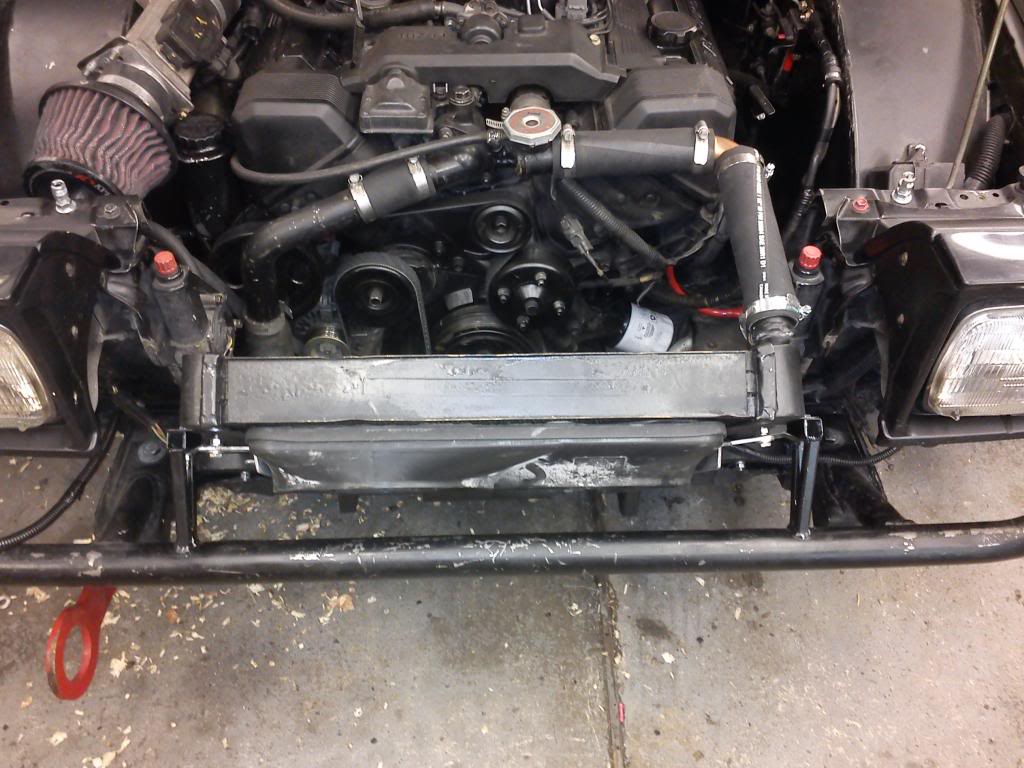 with bumper on and hood closed: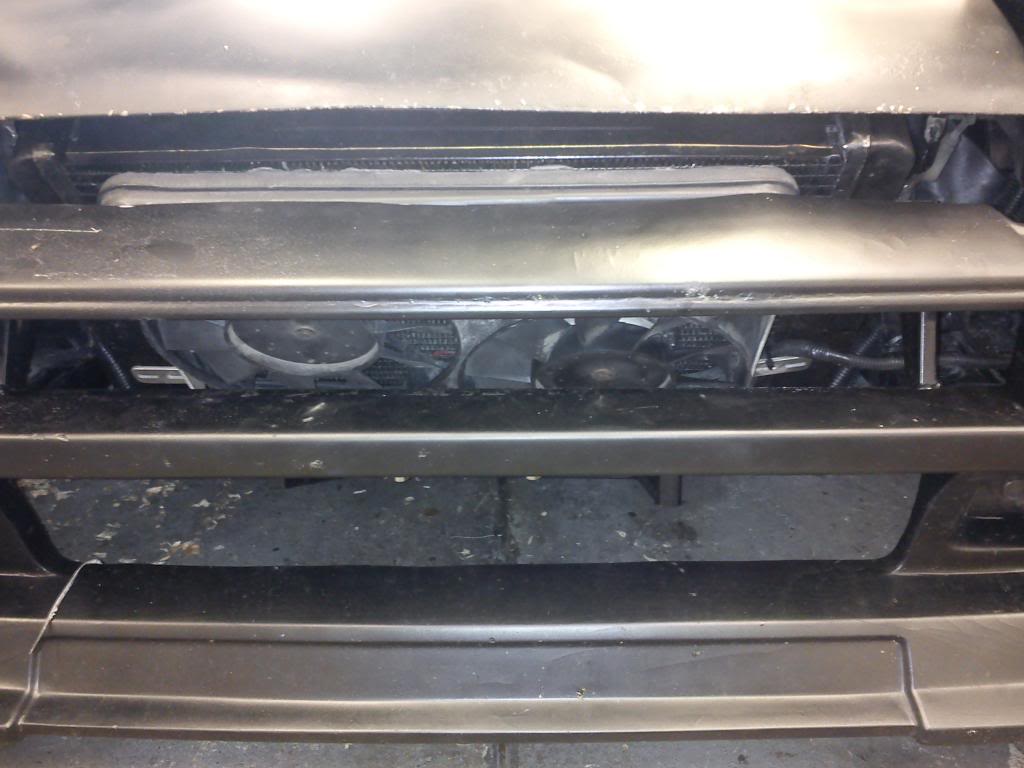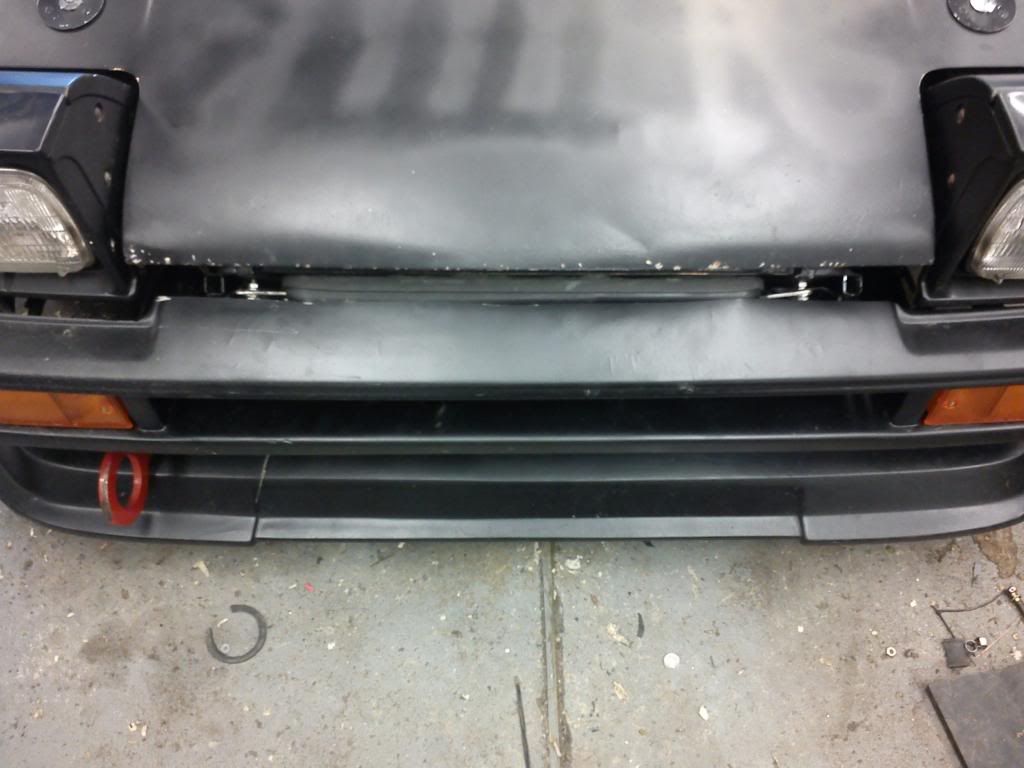 engine installed: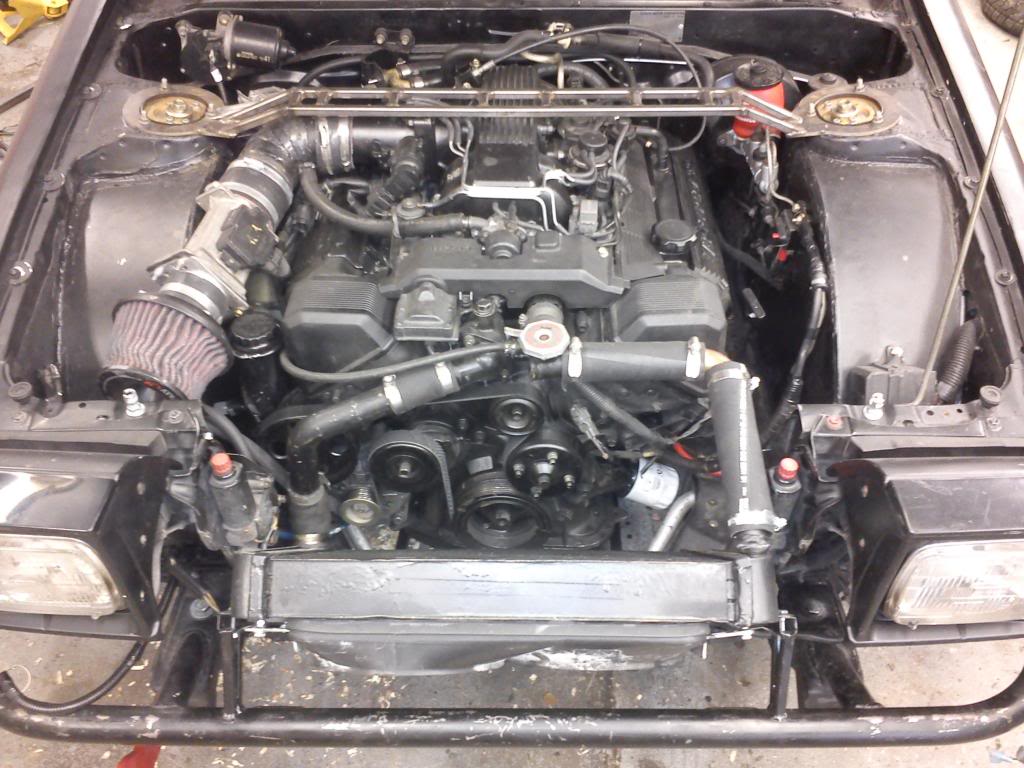 made my own rad brace from 1/4" tubing, just fits under the hood and is still pretty light!