My White Hatch‬ by sekang0
By diyauto
My White Hatch
Compliments of sekang0 @ club4ag.com
1-25-2013
Got this car Aug 14, 2010 from a guy named Neil in Pasadena, CA. Took this pic few days after driving it back.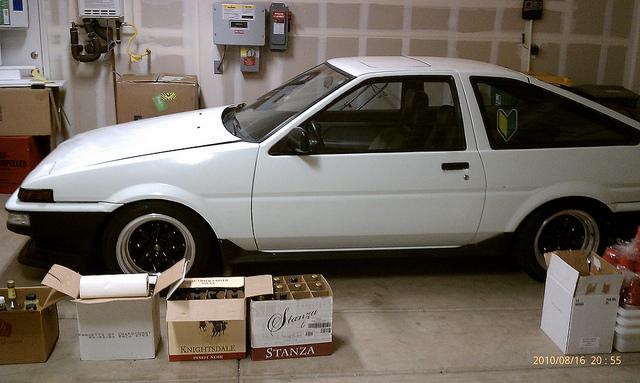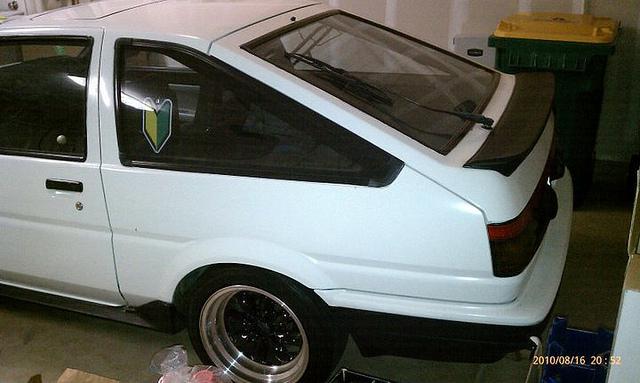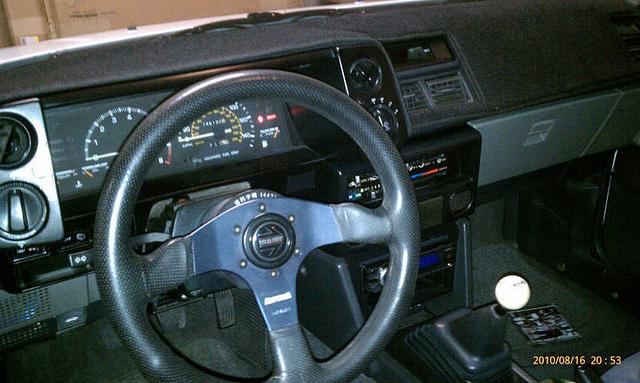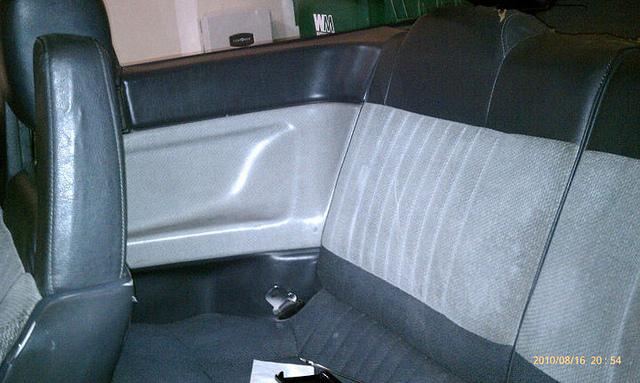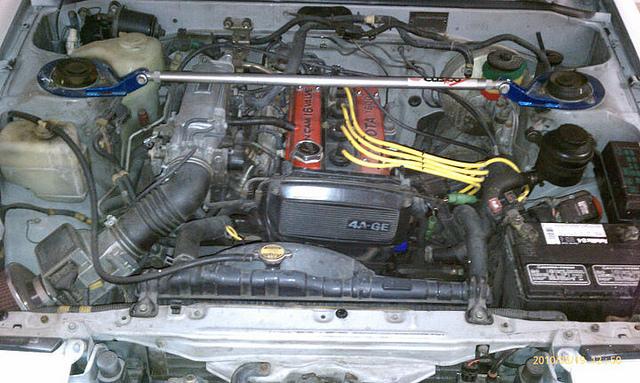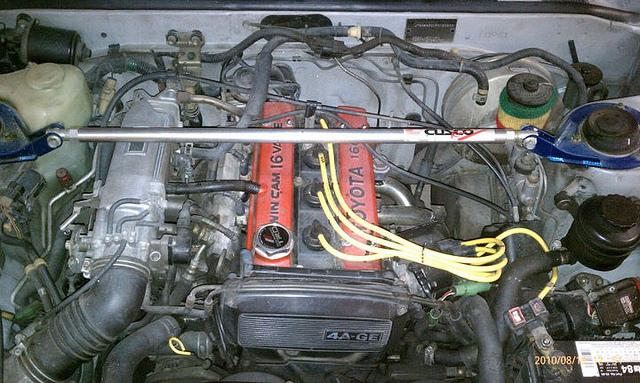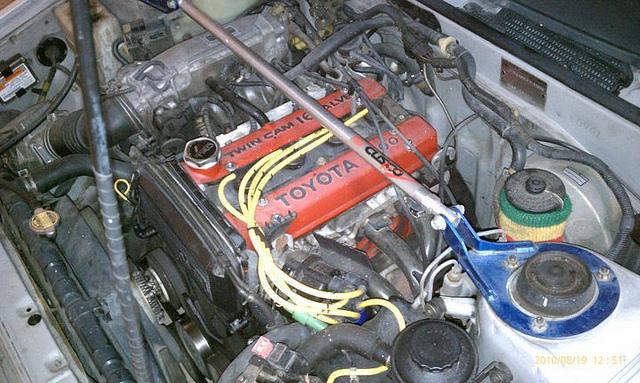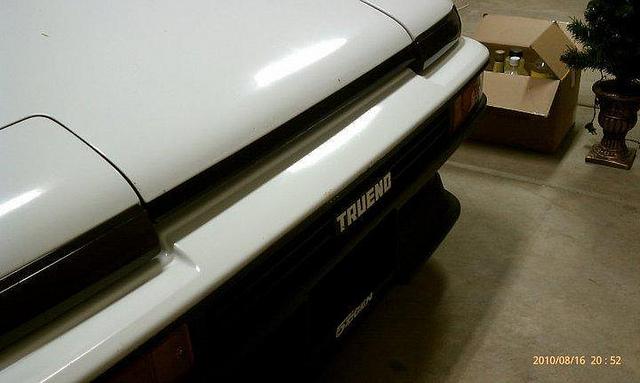 Bought the TE37s from AZSR5 (Jon) for it over a year before I even owned the car lol...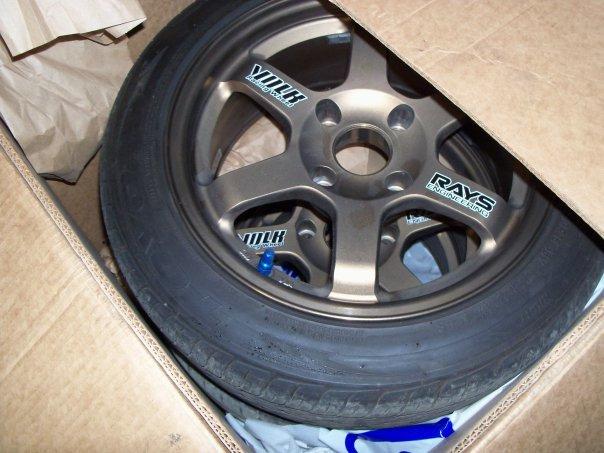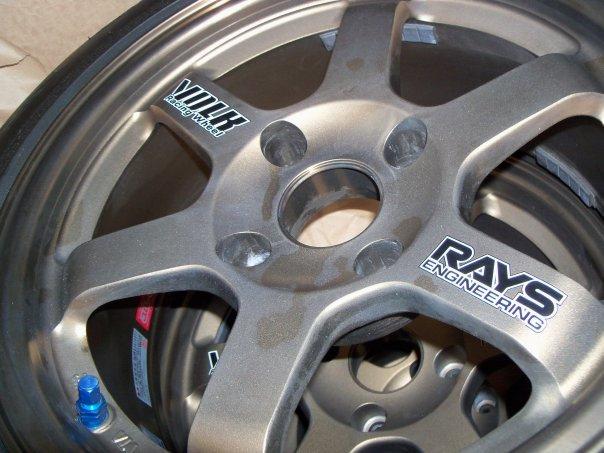 Got these shortly after....
sway bars from HASHIRIYA (Wes)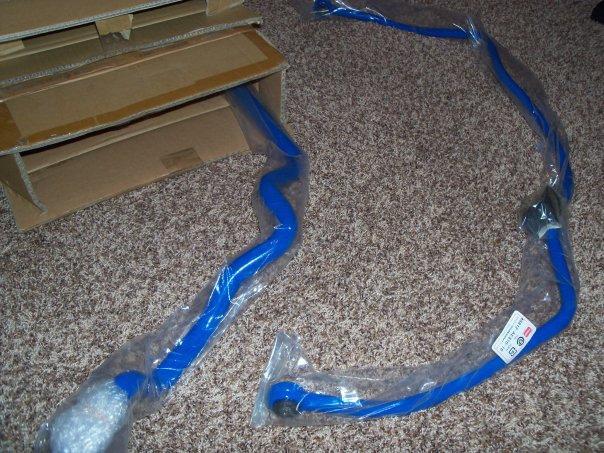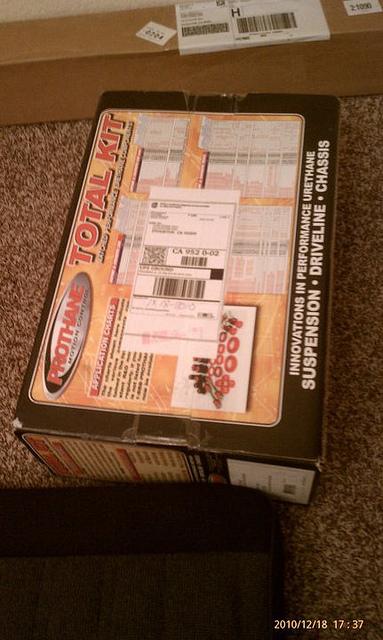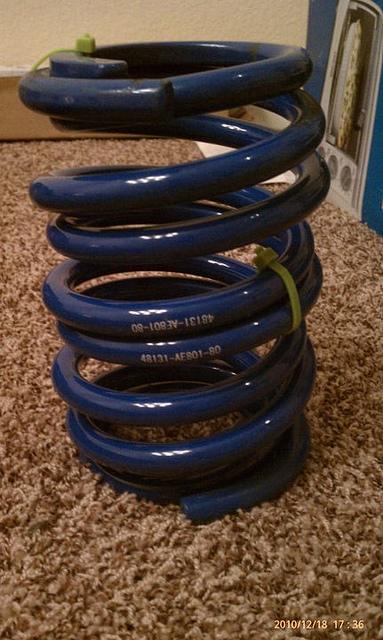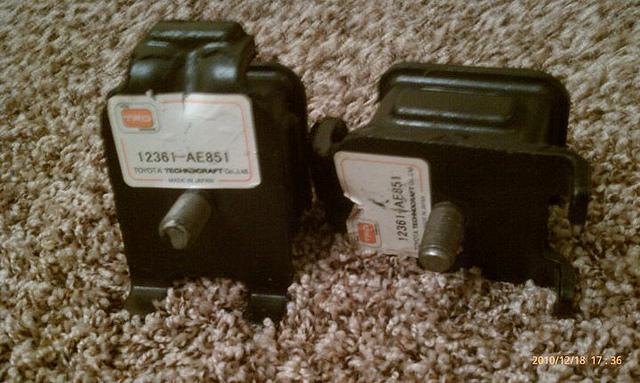 Did a shifter bushing replacement. Didn't take pics of em but they were the black delrin ones.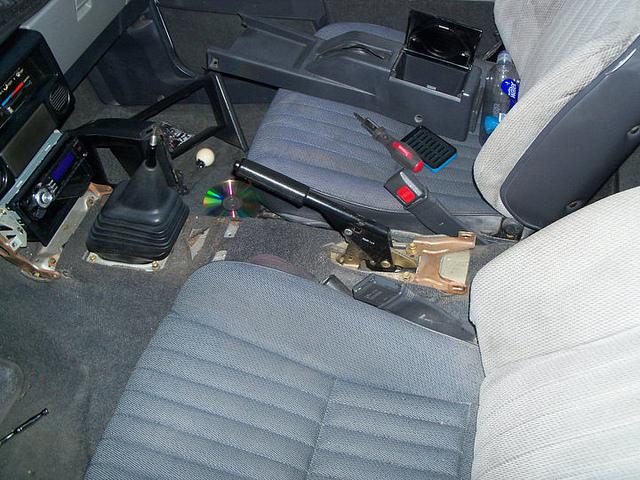 The bushing was nonexistent....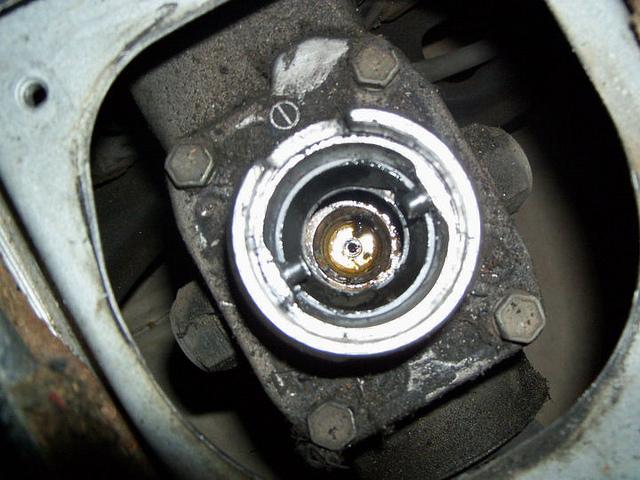 a few pics of spring and swaybar install....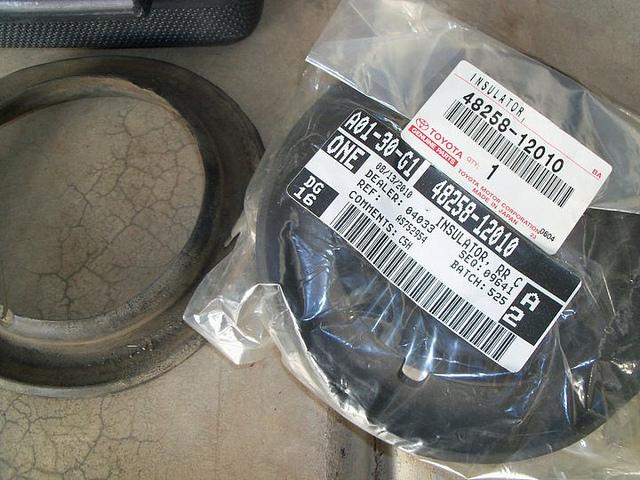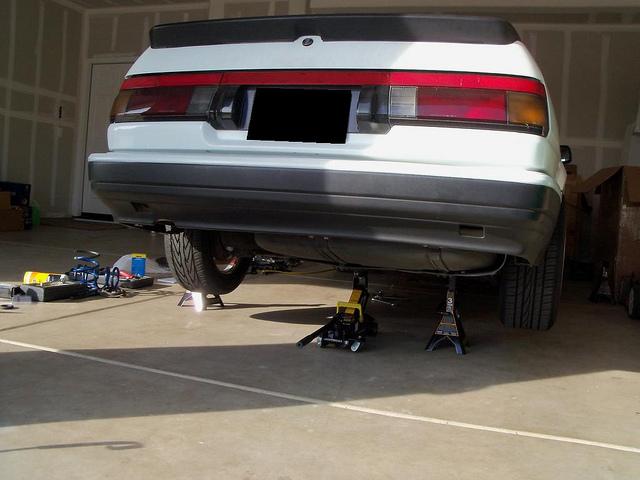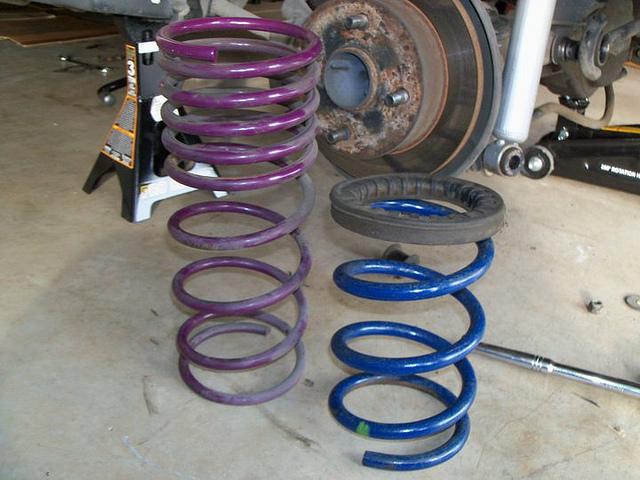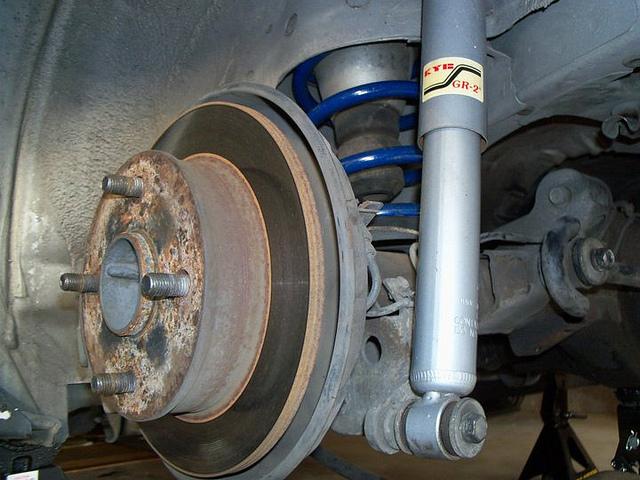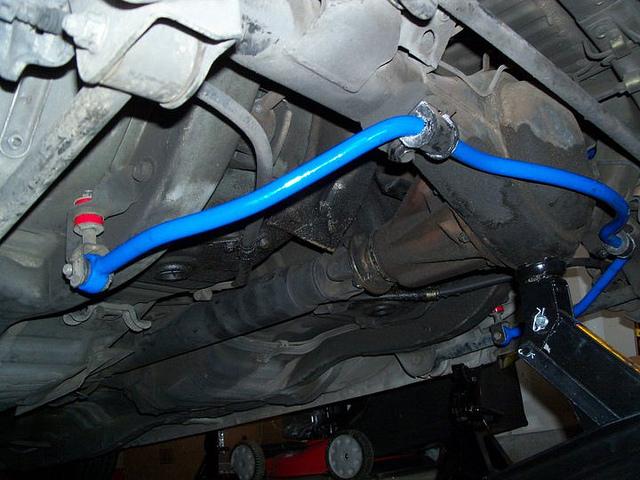 wheel swap time!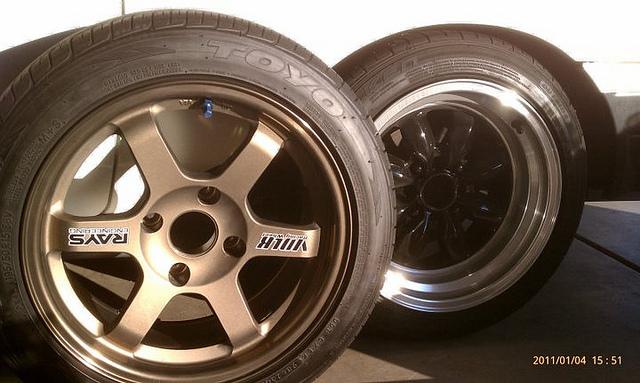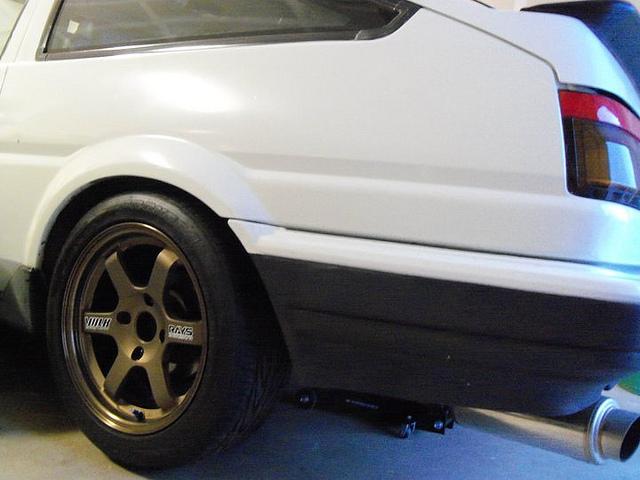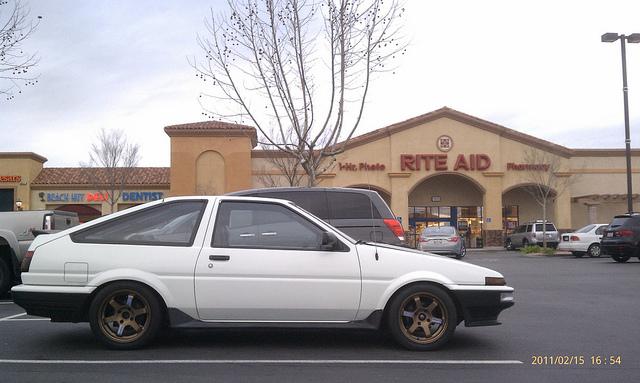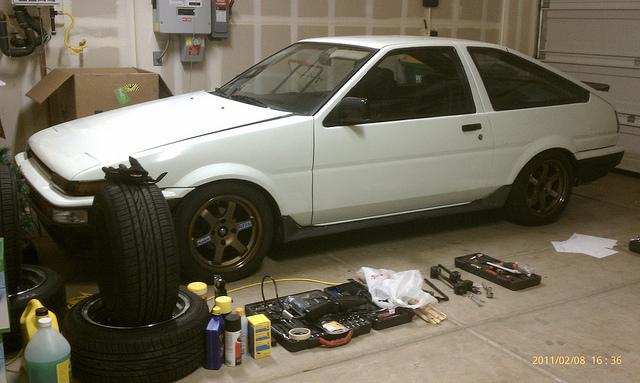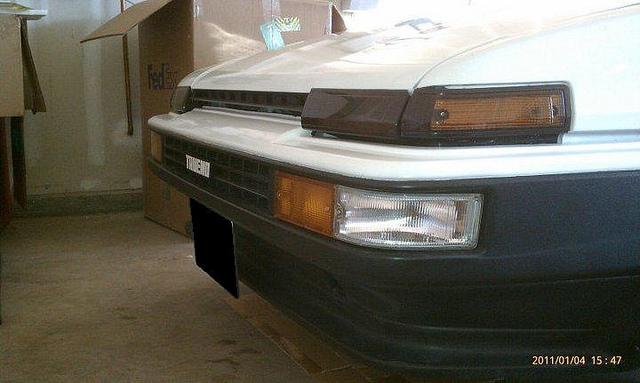 SEAT-BACK SWAP!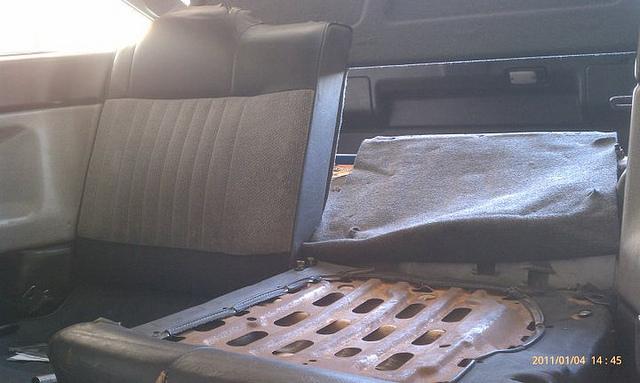 the seats were in pretty poor shape..........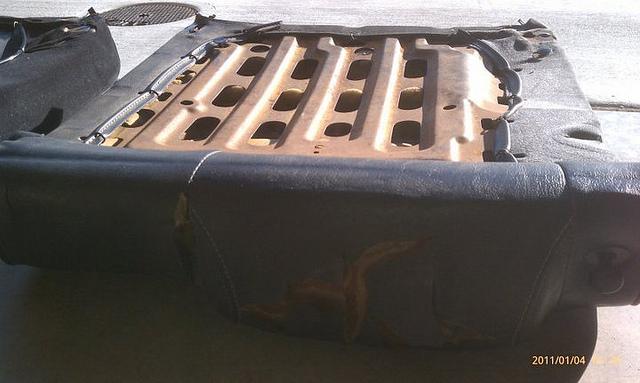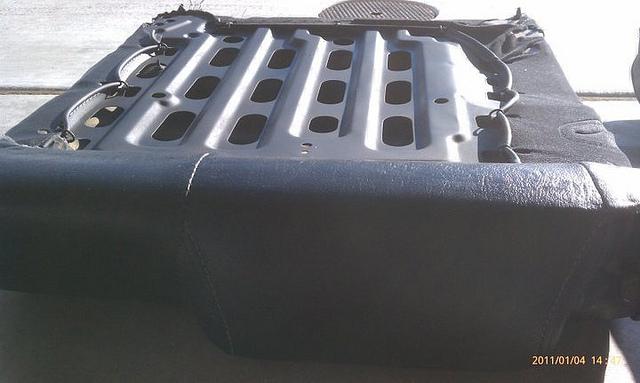 sprayed em with Rustoleum rust prevent and treater i think... something like that.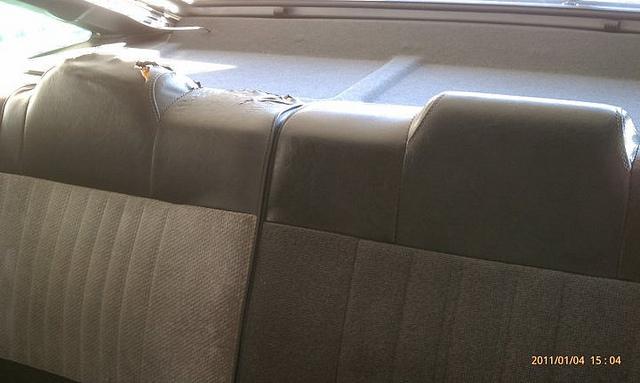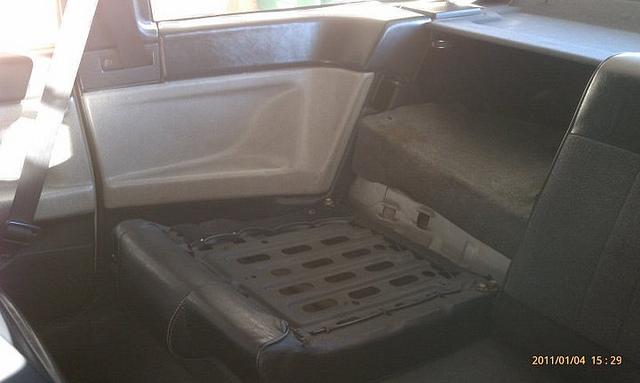 Can't leave the little details out.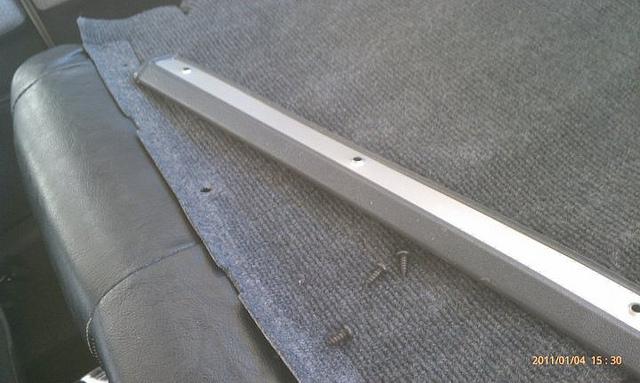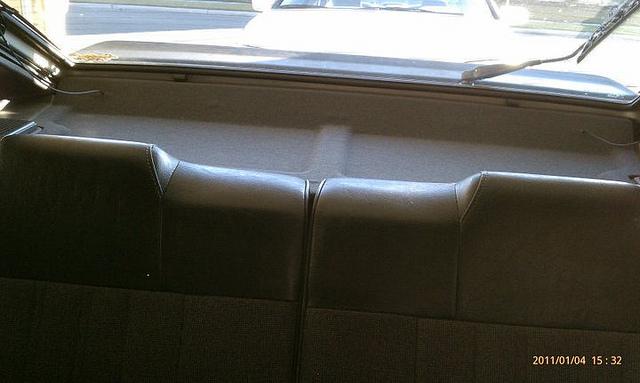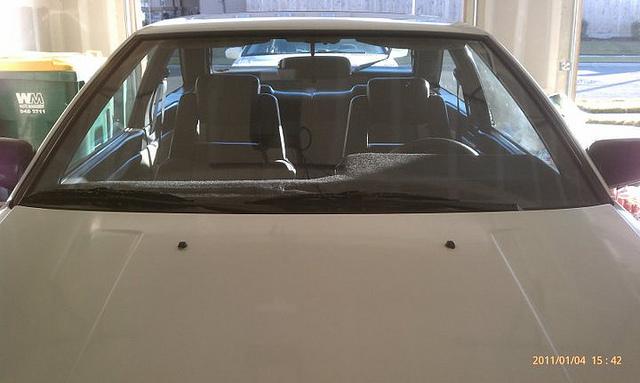 VALVE COVER SWAP!
these were just nasty wannabe ferrari red....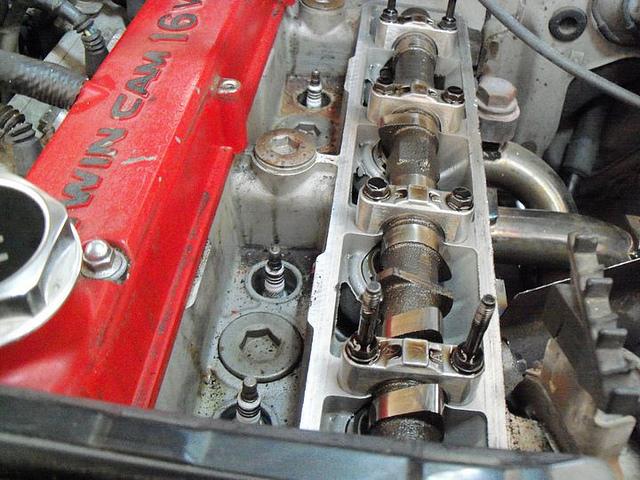 sourced these off of ebay. Said they had Alodine coating on em. Not sure if it was legit but they looked nice with the pure metal color...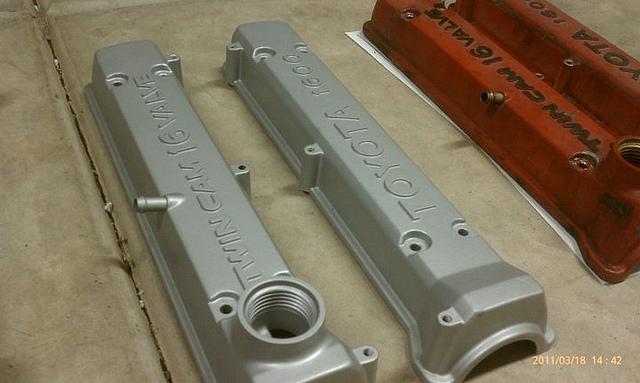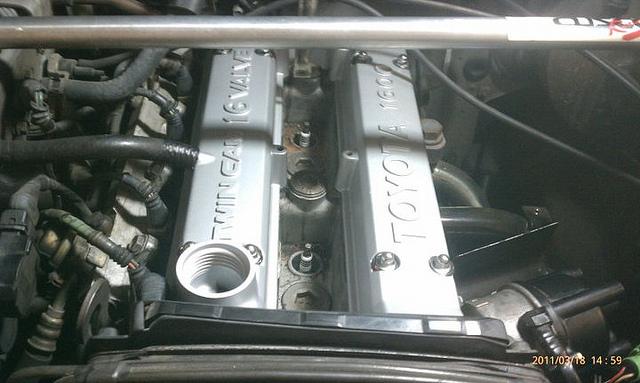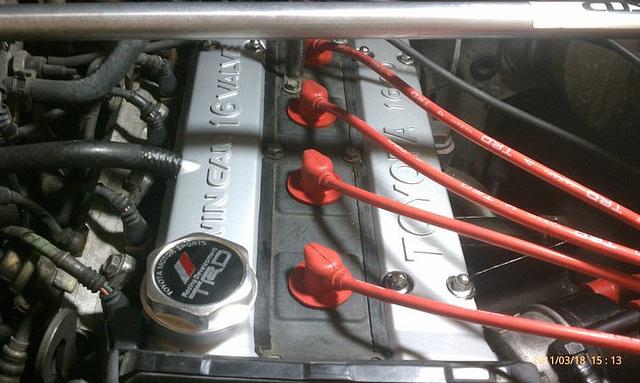 Other random pics below are up to date i think..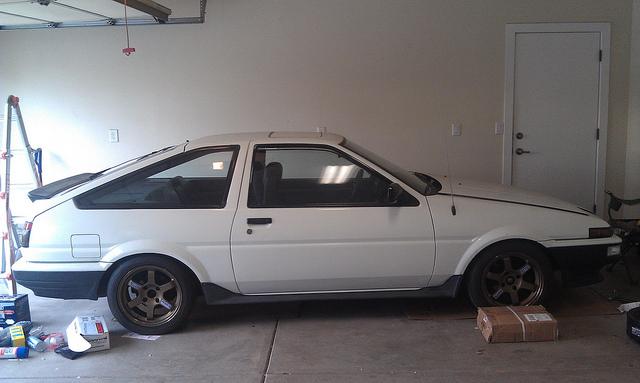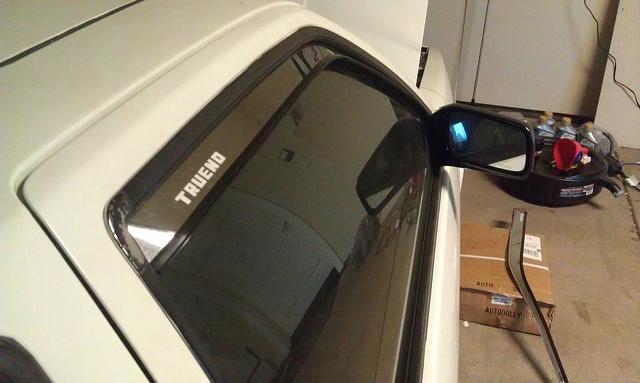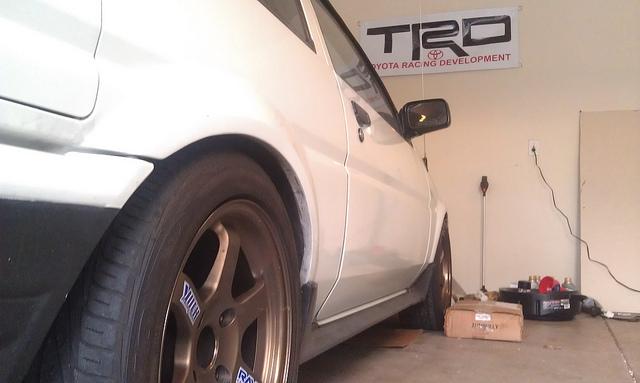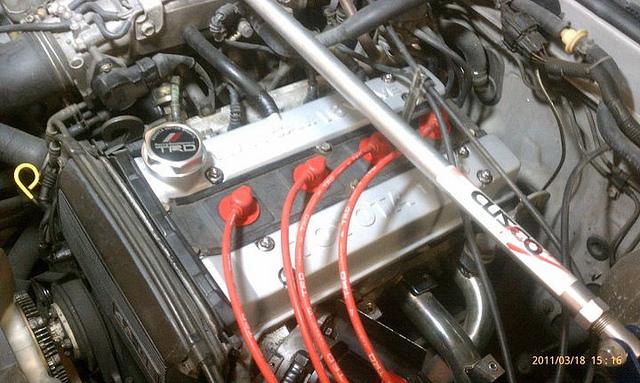 THANKS FOR LOOKING >.>
1-26-2013
Got this today. used HKS sport exhaust. Thx to Deuce Cam and so carefully packed!! Legit seller.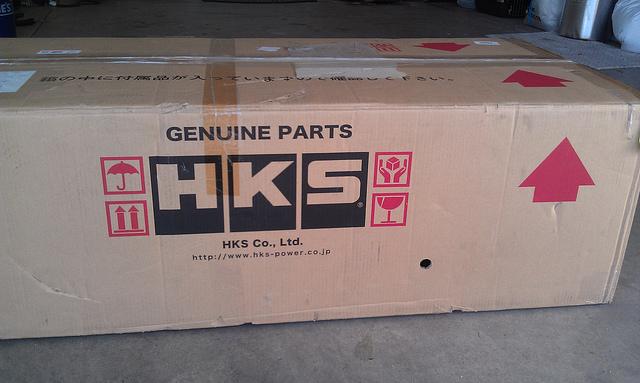 Also got this from RidgeRacer. Wanted this NST short shift kit forever now but its always sold out. Thanks dude.
Cant wait to install but gotta get the car up and running again.
2-13-2013
Installed NST short shift kit today. Damn thing shifts amazing now. Short crisp throws. Didn't take too many pics but here are the ones I did. Extended bolts are 45mm. Fits nice but the boot is a little tight now. Might cut a ring of material off the top....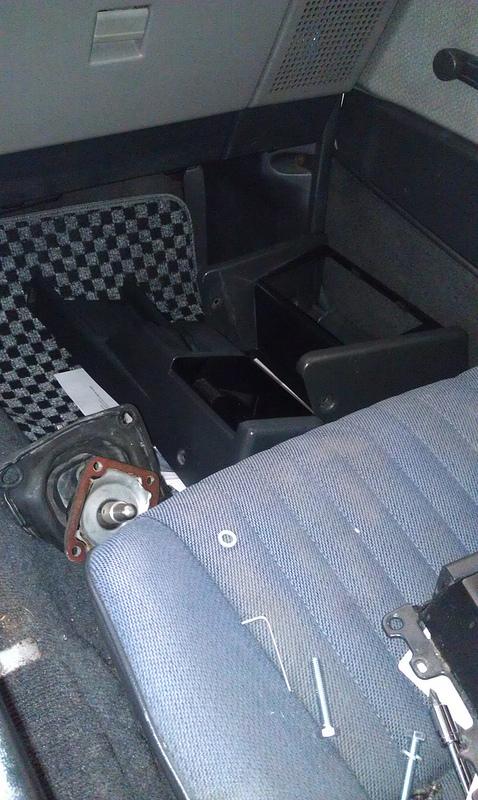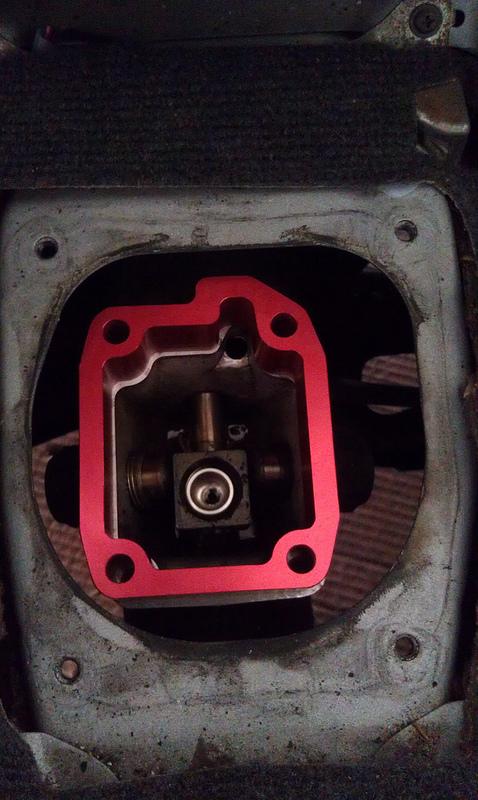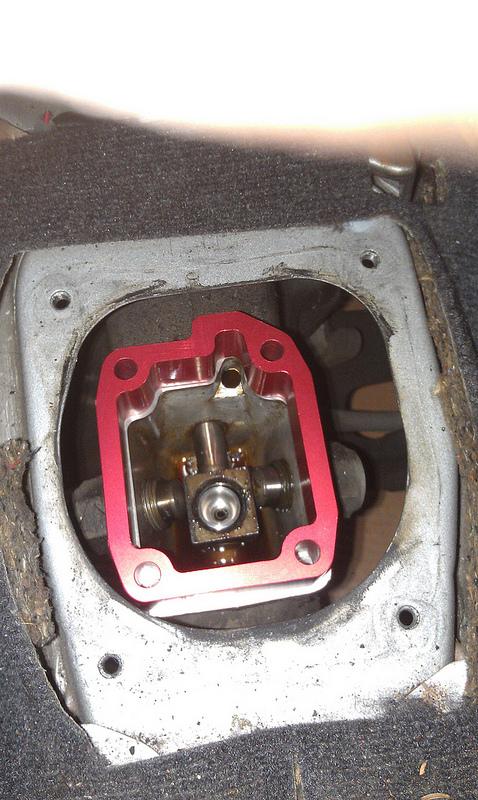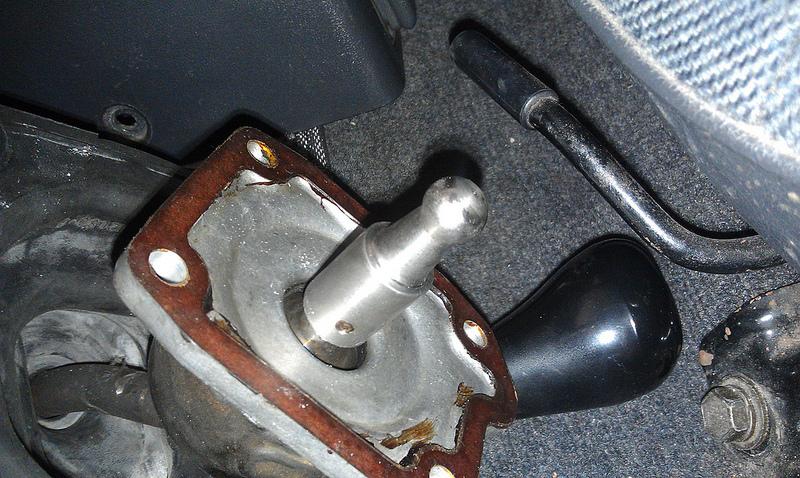 2-21-2013
Still trying to find out why its not passing SMOG.
Cleaned EGR system today. Wasn't too bad. EGR bladder works fine and so did the vac modulator but replaced it just because the cap was loose and inside was black... not sure if its supposed to be.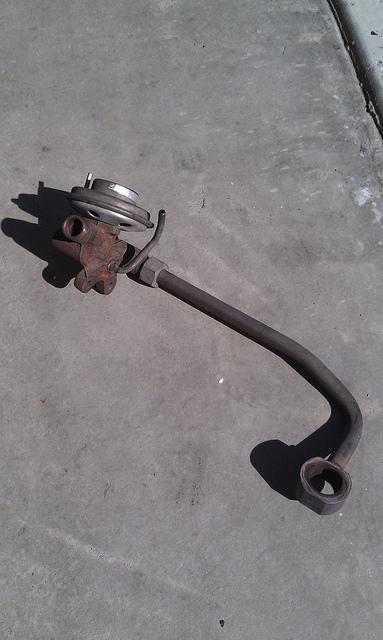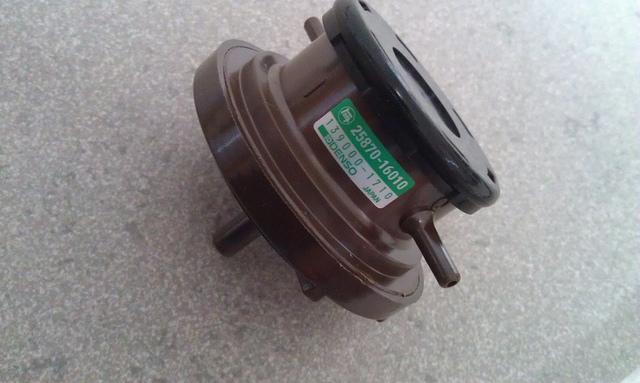 Replaced TPS also just because I suspect its bad. Killed 2 catalytic converters so far. Shouldn't just throw parts at the car but new is better.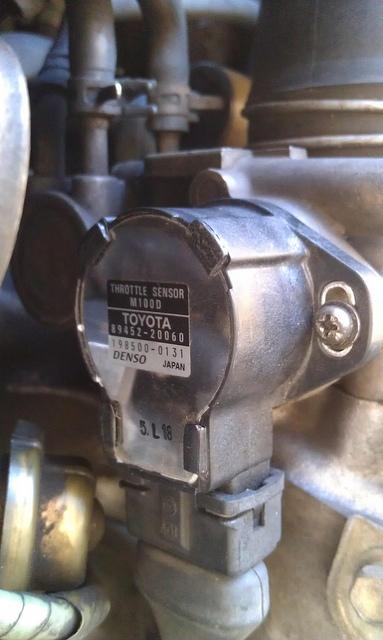 Also, while I was out there workin on the car. THIS CAME IN.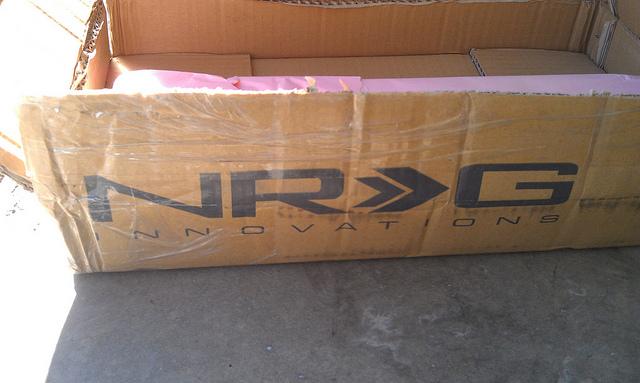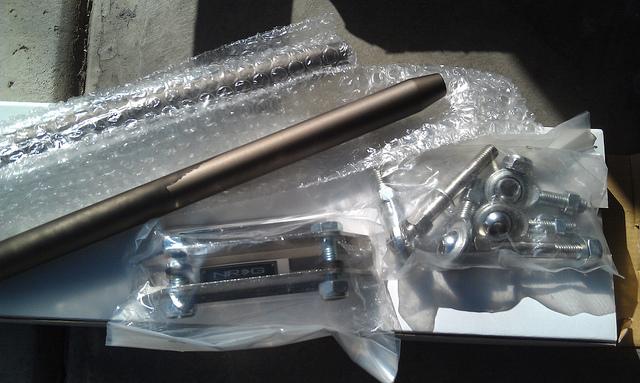 Gonna turn my Cusco strut bar into a tri-bar soon...

2-22-2013
Strobelite wrote:
Hmm , I didn't passed smog in my 86 until i changed the CAT after the second try, well that was after i did a tune up, changed the spark plug wire set, spark plugs, new oil, and seafoam and a new O2. on the first try ,it was boreder line close to passing. timing perhaps ?
Maybe I should seafoam too. Everything else you listed is new on mine too. But my stock exhaust mani was really loose on the downpipe last time. I just tightened it up as best I could but I might have to take it off the car to get it super tight.
2-24-2013
AE86 Gauges. We forget how lucky we are to be looking at them and have them looking back at us ...sometimes.
Bought these yesterday and was told they were in working order. For the most part they were except for the left hand turn signal....
The exterior lights worked fine. But the green arrow circuit didn't. Bugged me big time...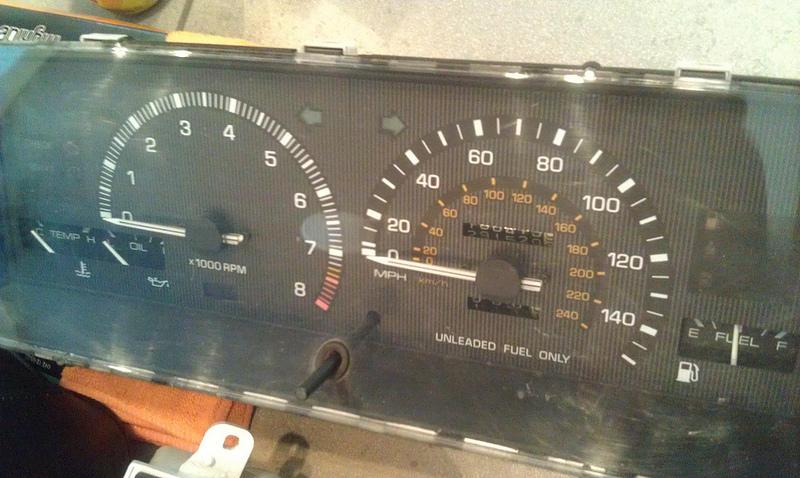 Had to take all the gauges out and put them onto my good working zenki circuit board thing...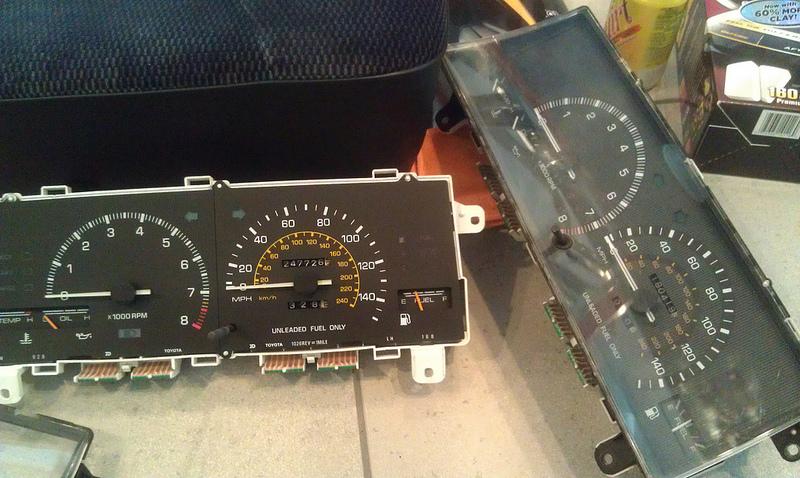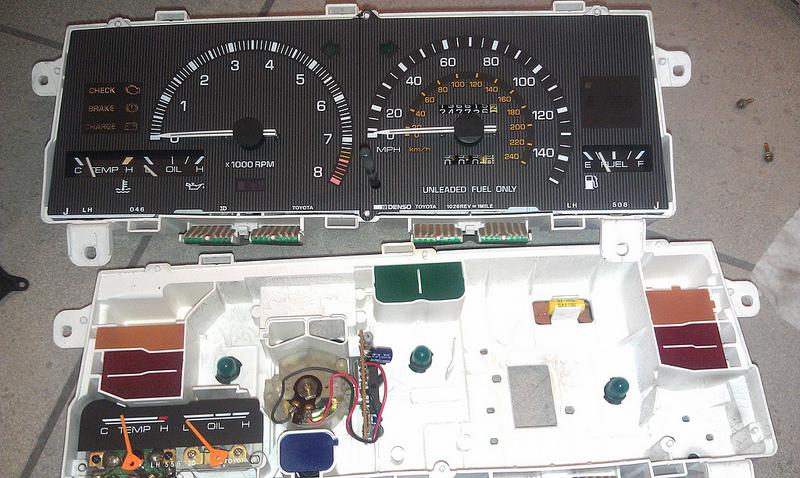 How it looks now. Nice kouki cluster. Real mileage (swapped odometer). Nicer tac.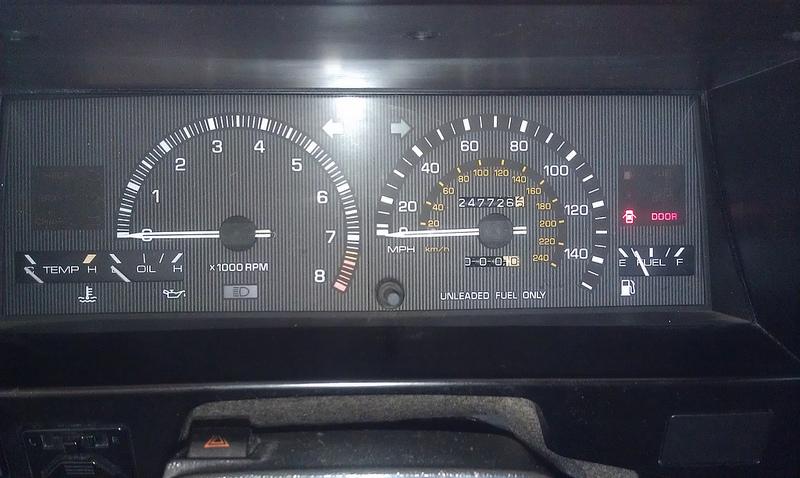 New project to add to the list! Or... something to save for when needed. Bought from user chi-town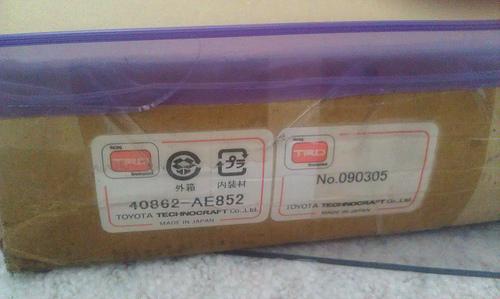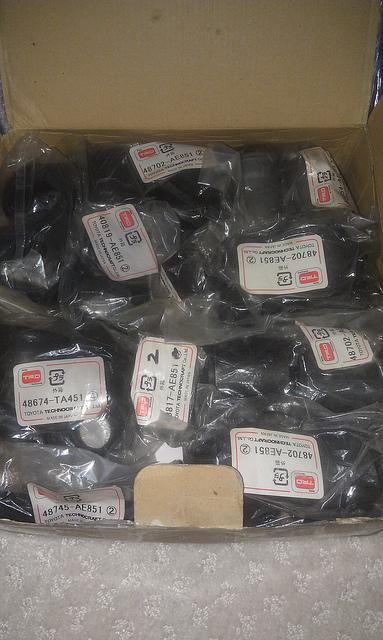 2-26-2013
Smog is all done! Time to put some goodies back on.

What I did today:::
Took stock mani/downpipe out...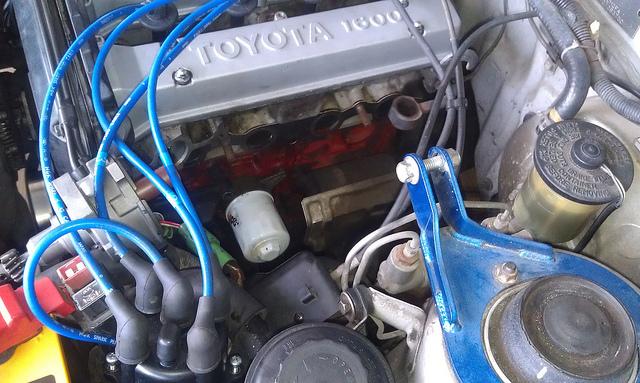 TRD 4-2-1 header and new Denso O2 sensor.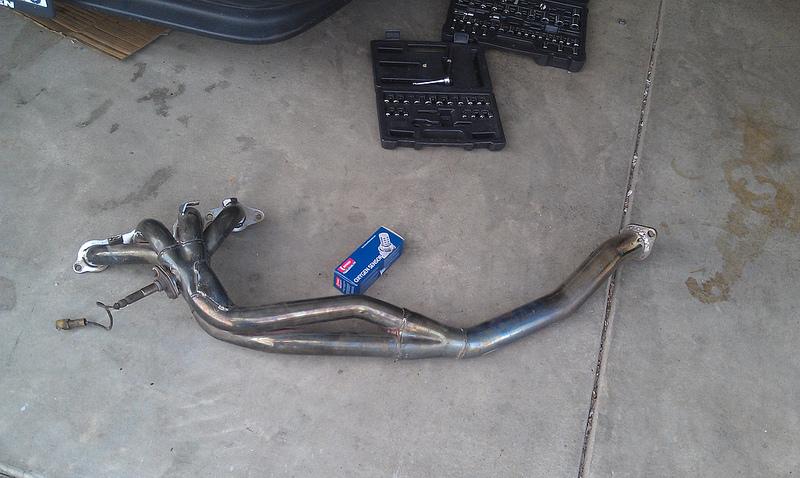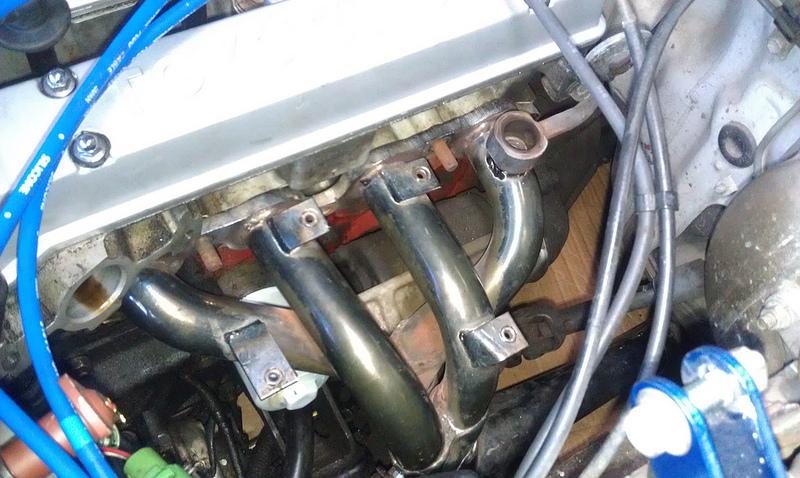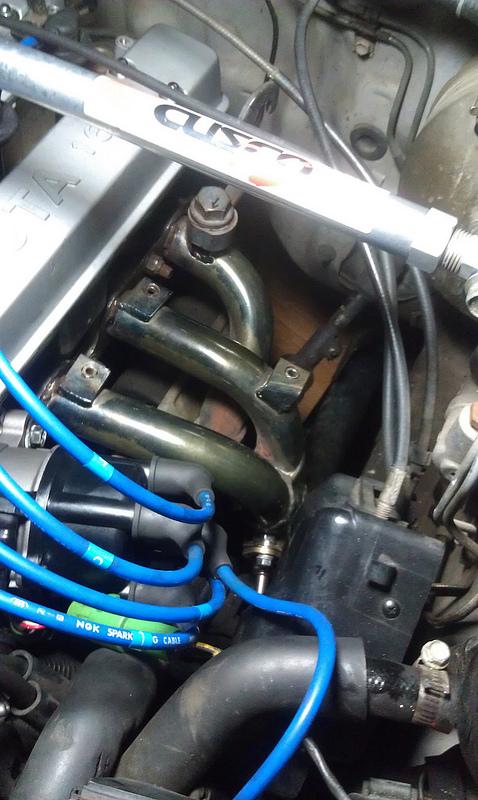 Got this too while at Autozone for a exhaust gasket...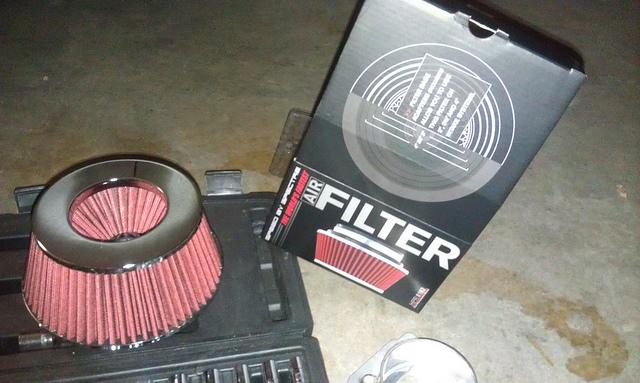 I want to get the Injen system but haven't yet...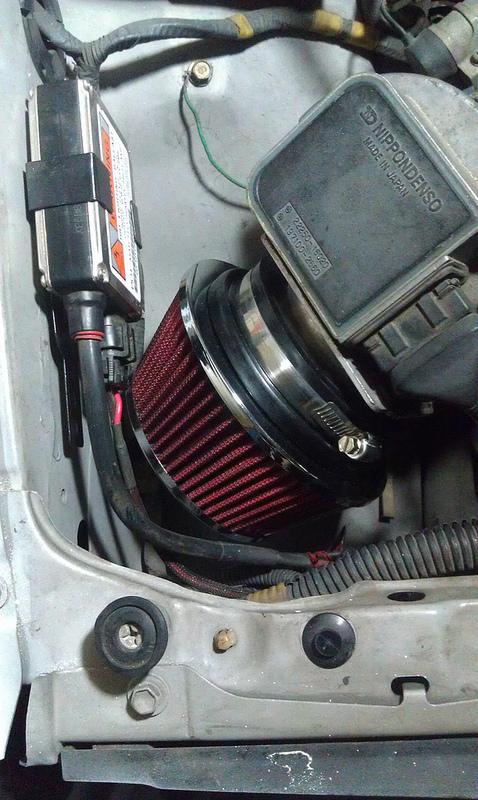 Putting this on soon. HKS Sport. Tried to get it mounted today but no time... Been running a 5Zigen Fireball catback system. I think it was made to fit by previous owner...
welded on muffler? iunno...but this is more stock looking.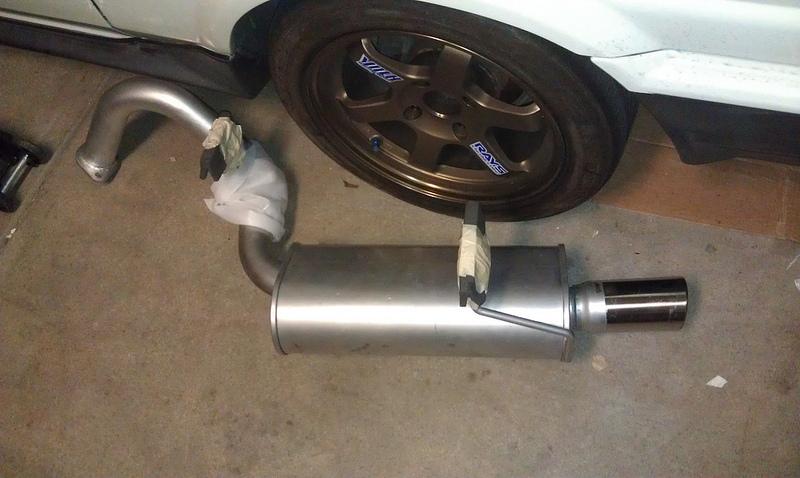 3-26-2013
Just an update...
Since my last post, just have been acquiring new parts and taking pics. Here are a few.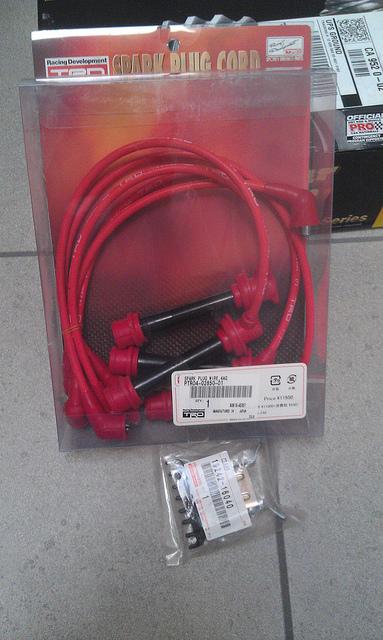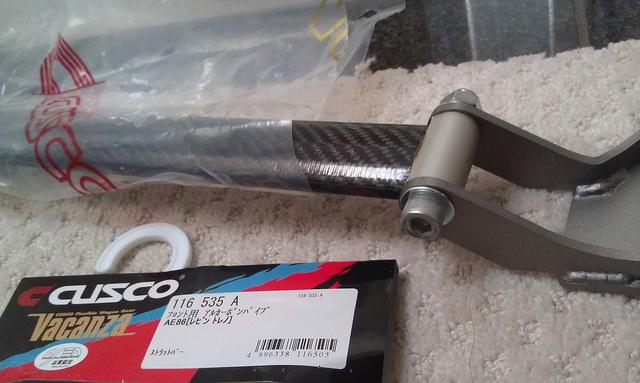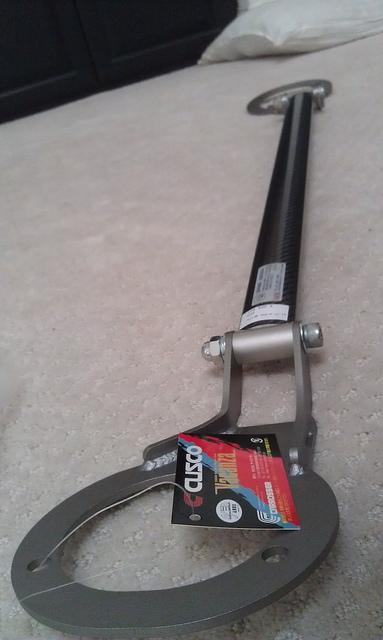 LOL read below...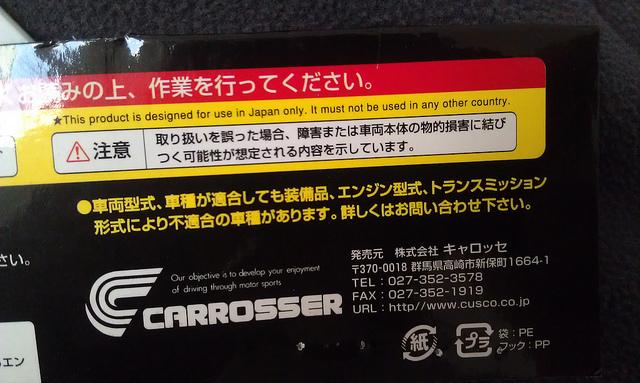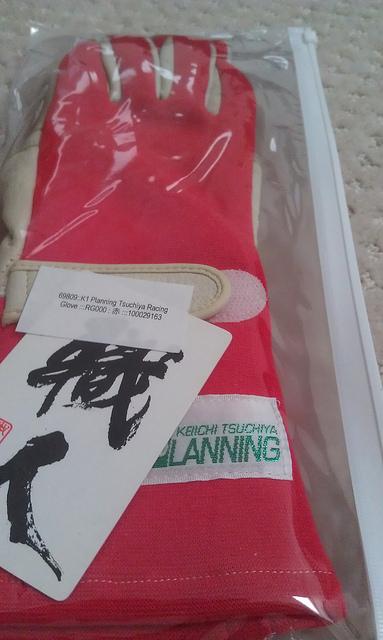 K1 Planning gloves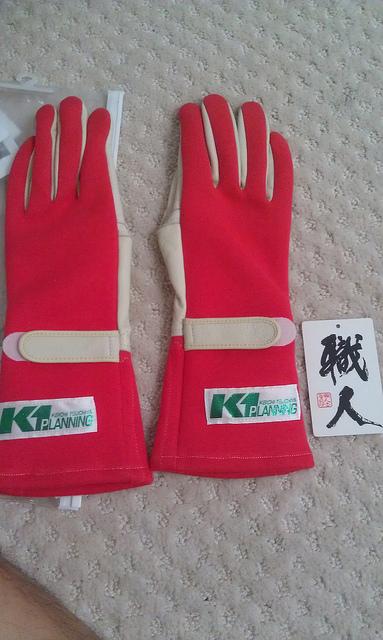 Pre-made stickerbomb sheet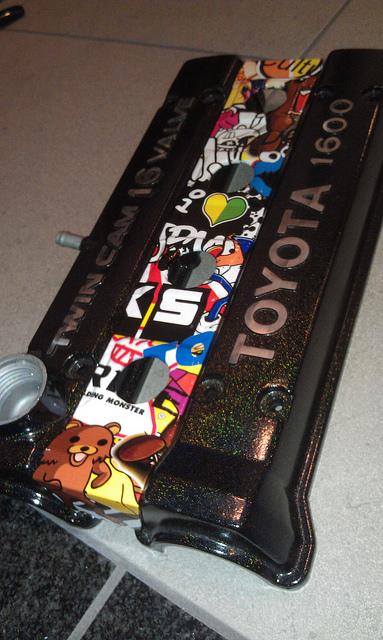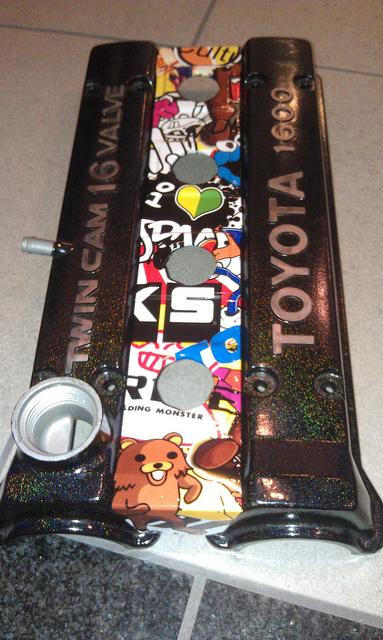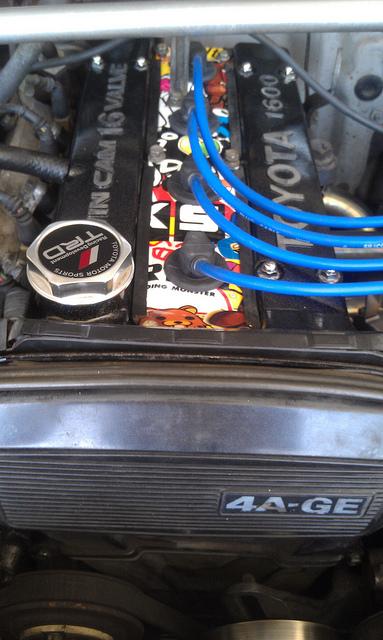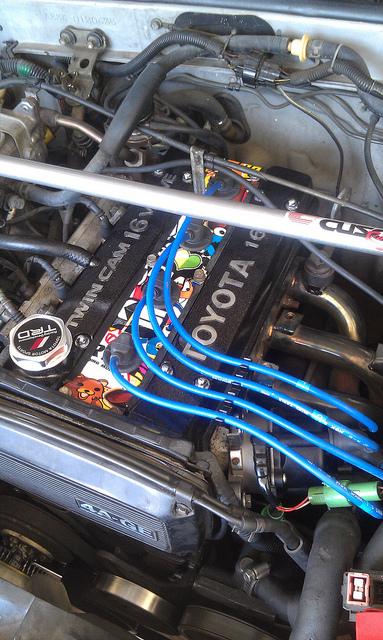 newer condition Kouki interior waiting to be swapped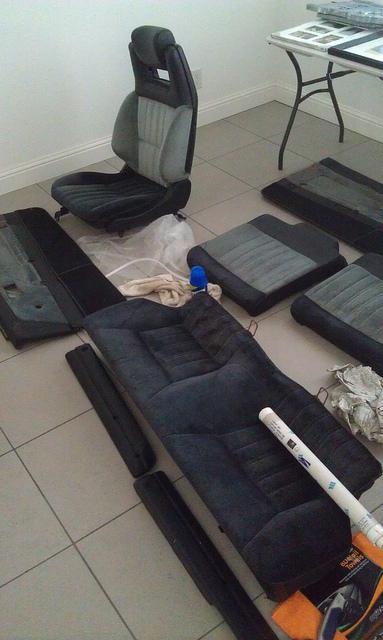 Finally washed her after 2 years (was non-op for a year and a half)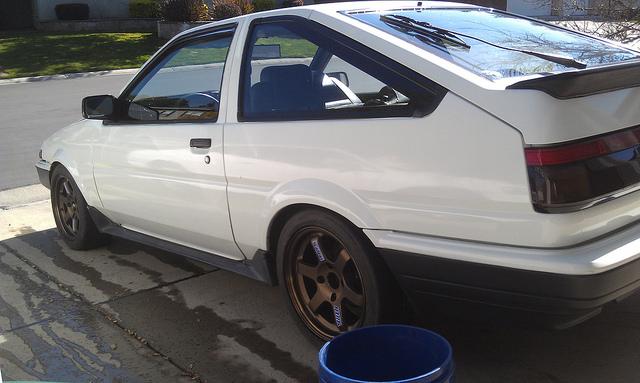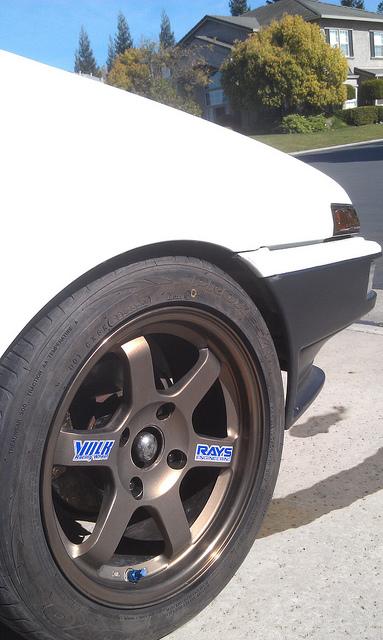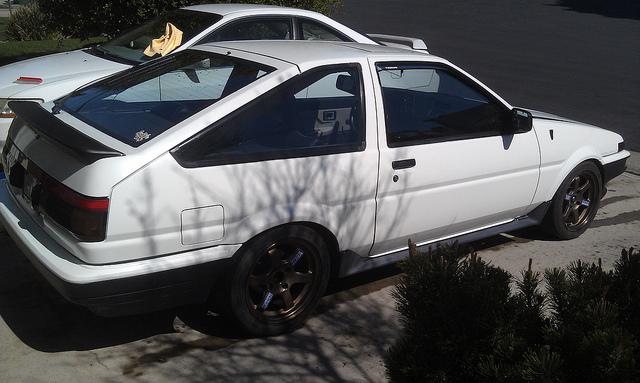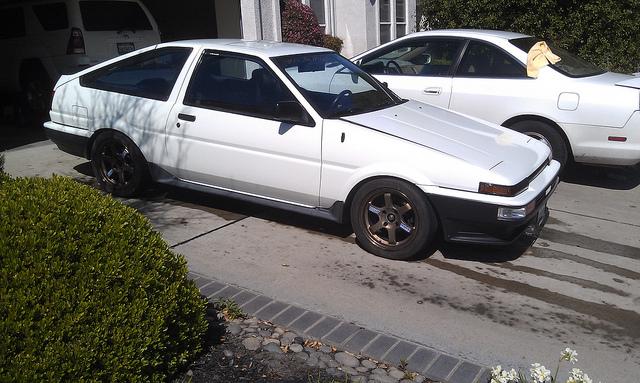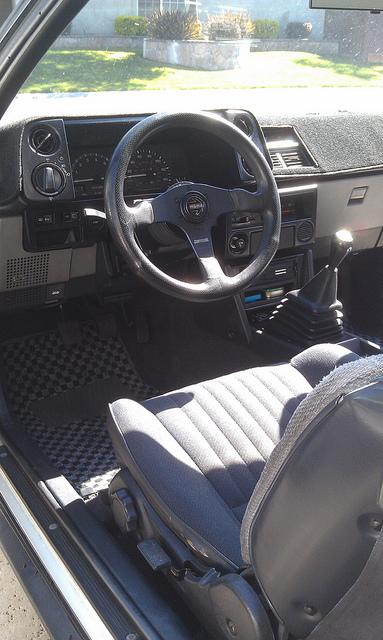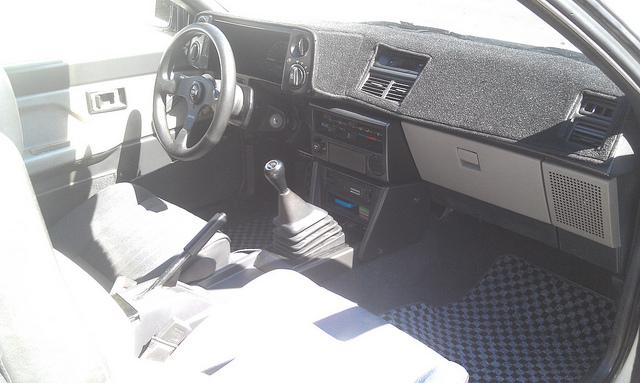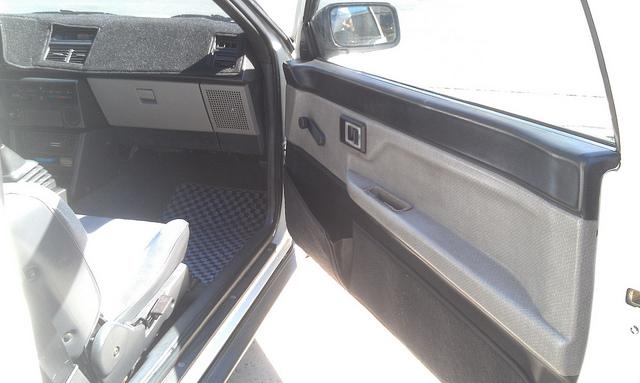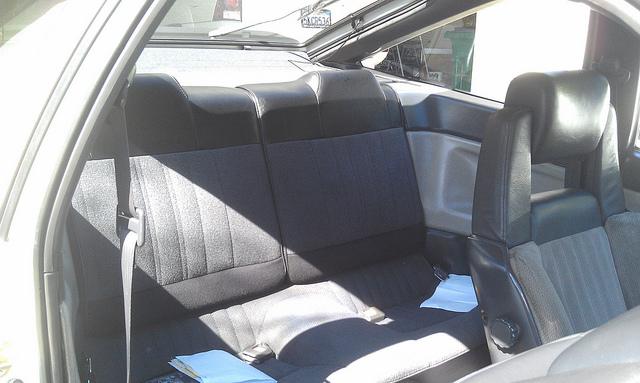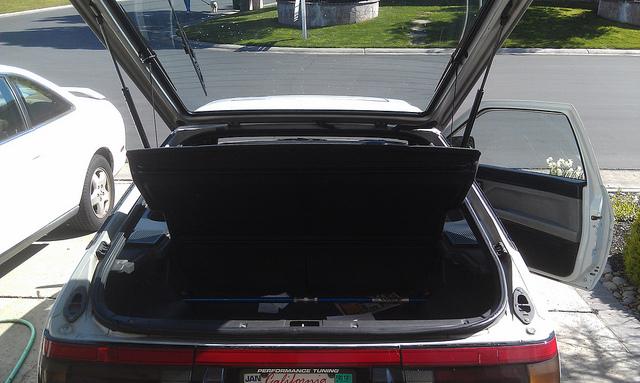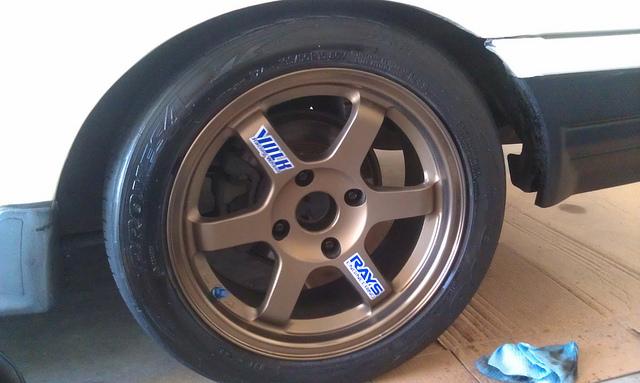 4-3-2013
Thanks! Currently waiting for HKS 256/256 cams to come in. More to come slowly...been real busy. Strut bar swap is next I think.
4-25-2013
STILL just hoarding parts.... no time.
These are carbonfibercollection's mini OEM-style CF mirrors in the shops section. Check em out.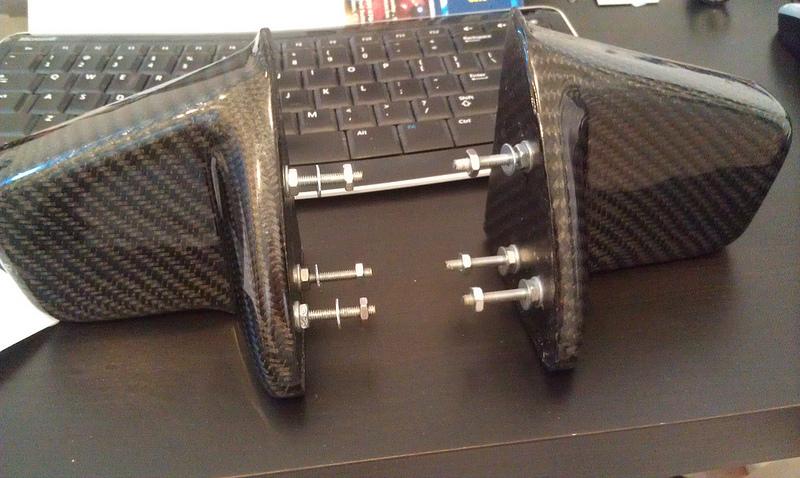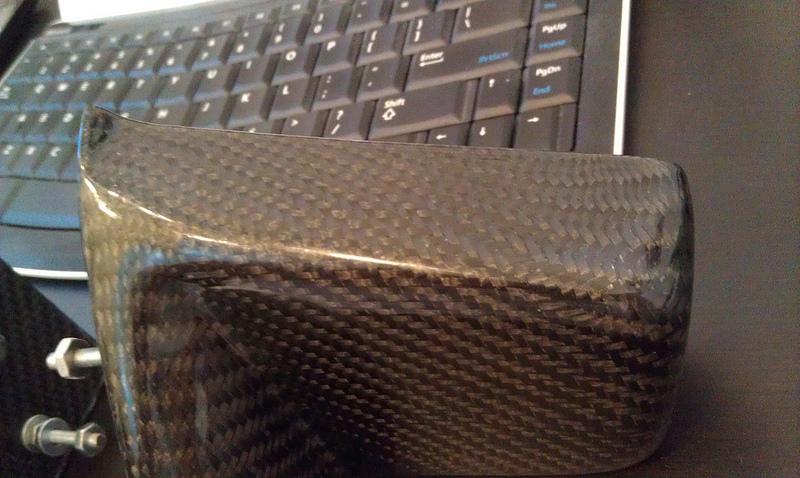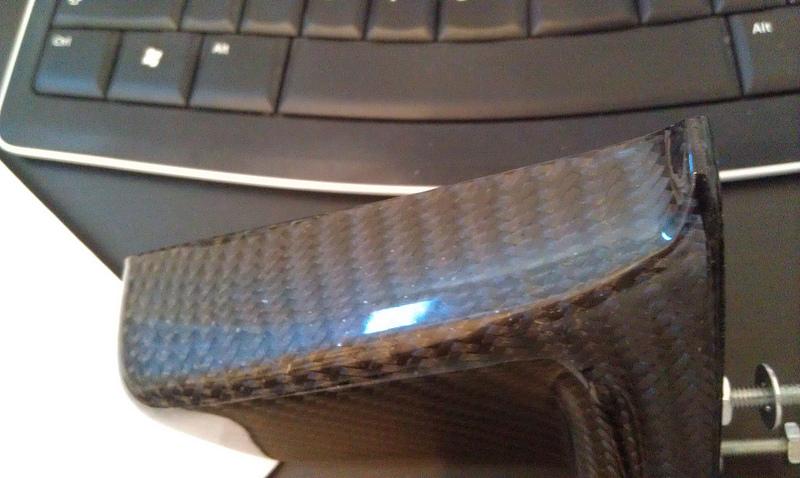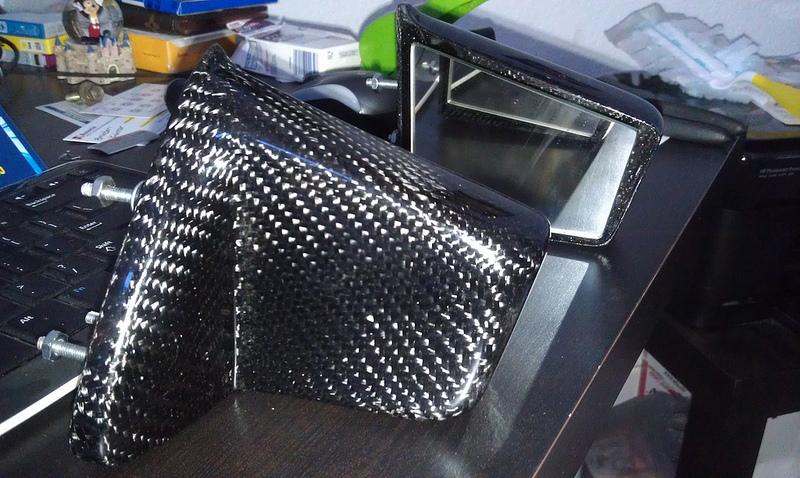 4-26-2013
Mirror test mounted............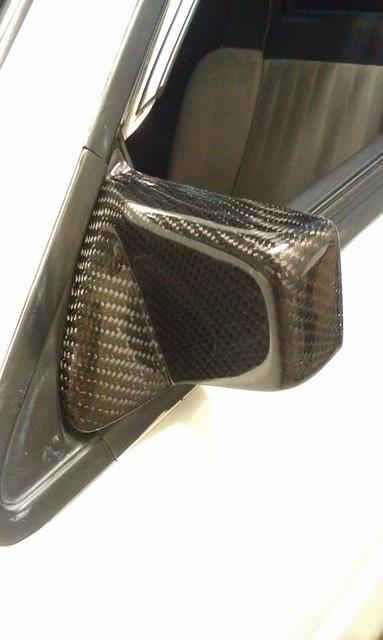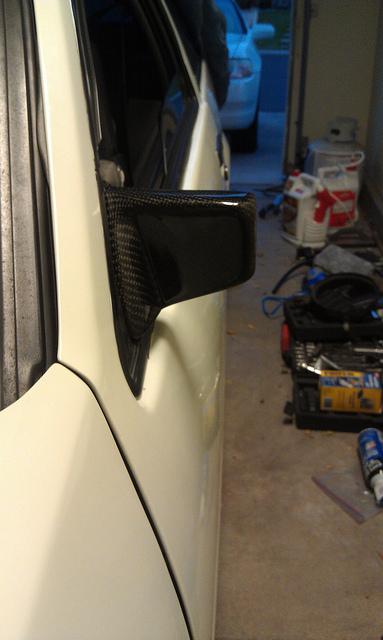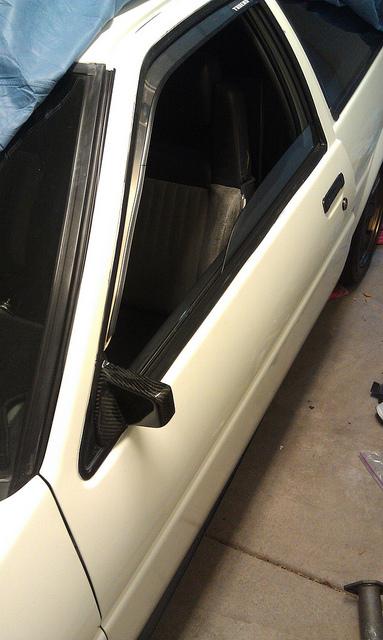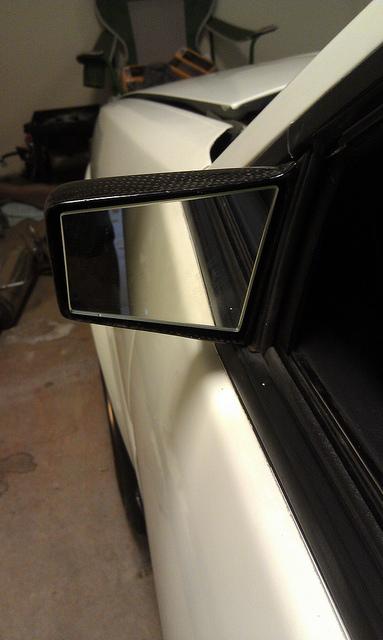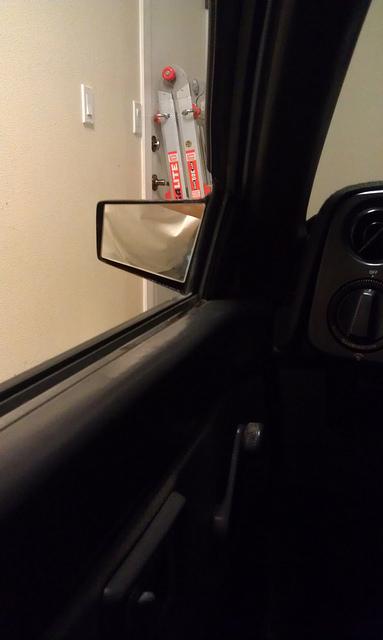 3-19-2013
Thanks! The mirrors provide no function really. Just there for looks and weight. Can hardly see out of them the way they were designed...
7-16-2013
Time for an update!
Installed some things that had been collecting dust.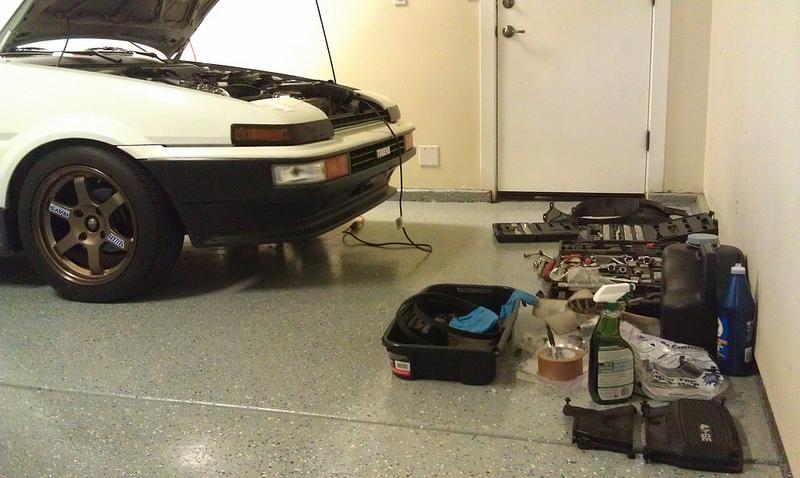 BEFORE: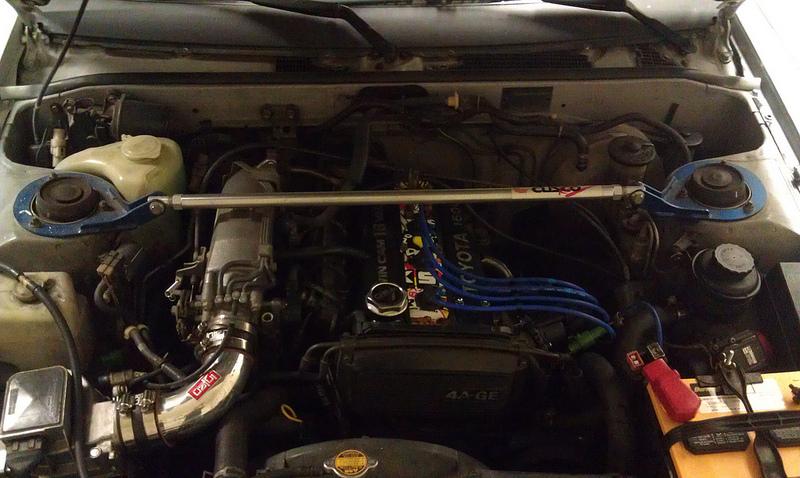 HKS 256/8mm on both cams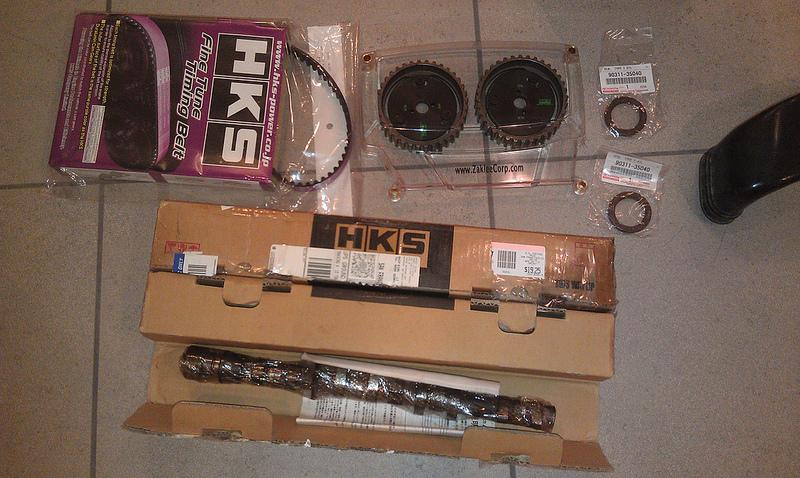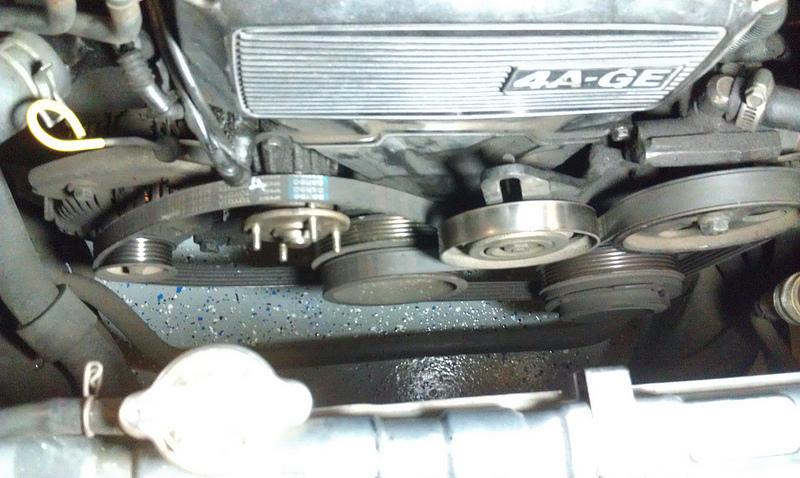 This crank pulley bolt was a pain in the ass to get out...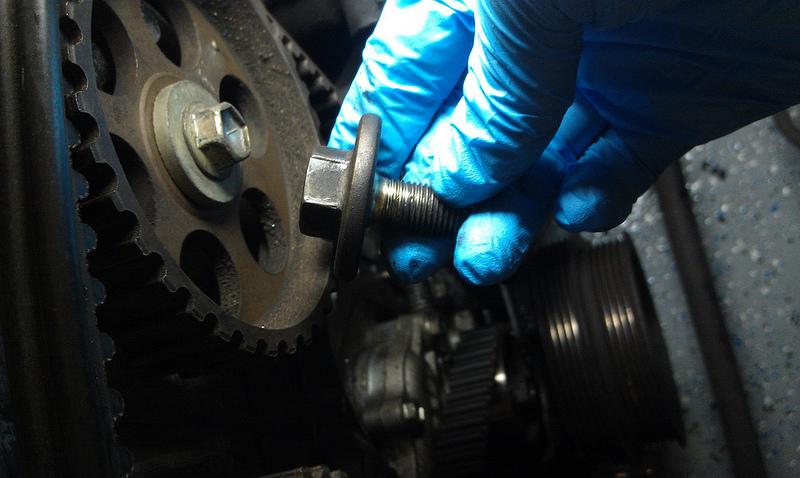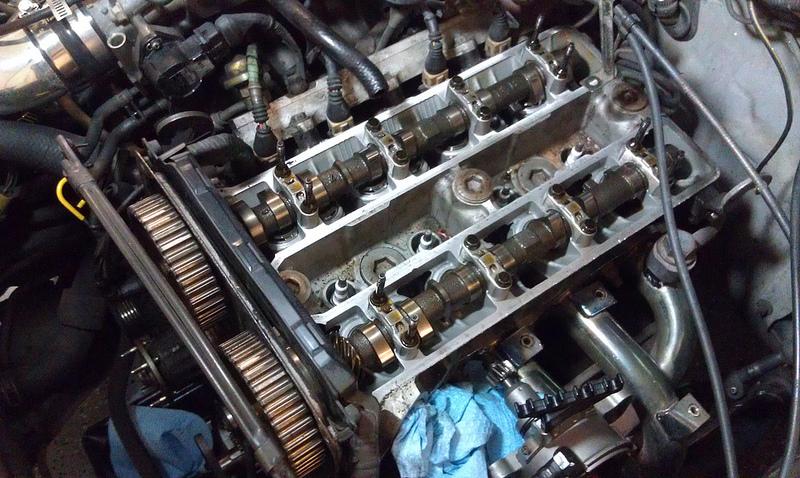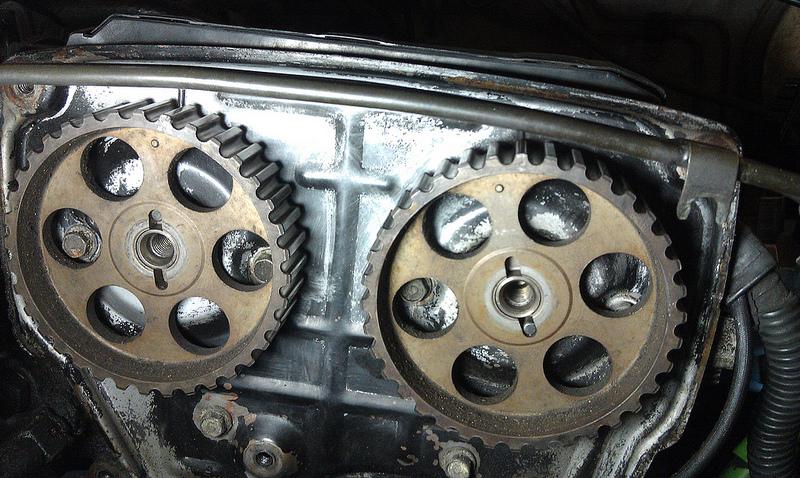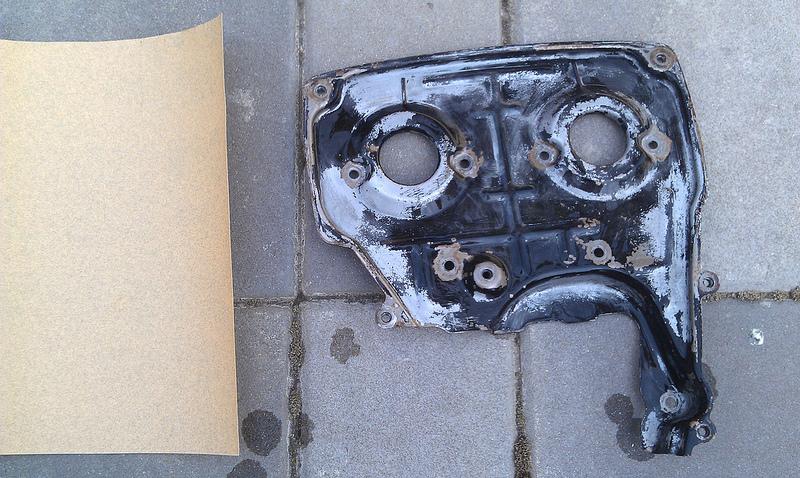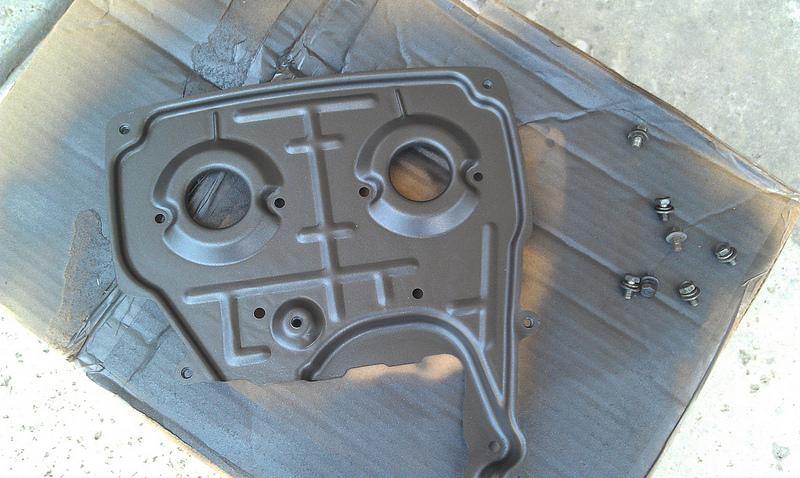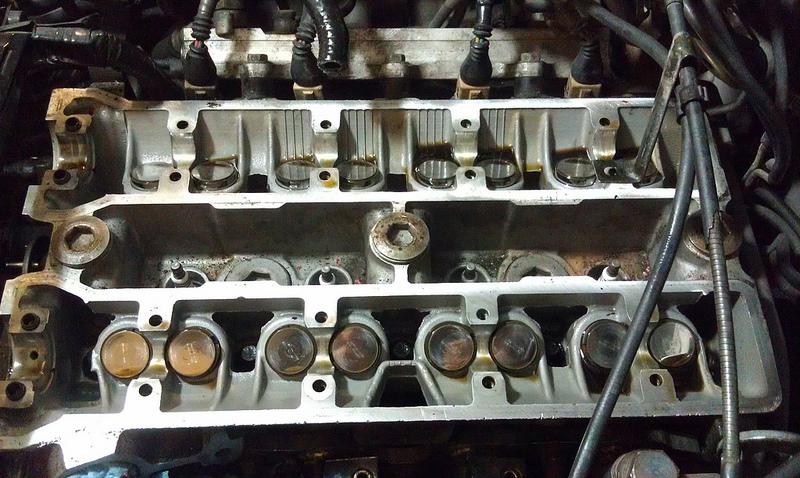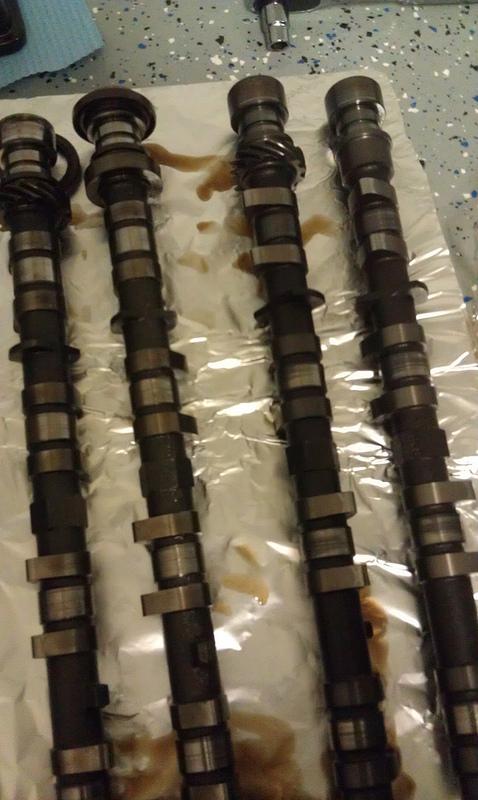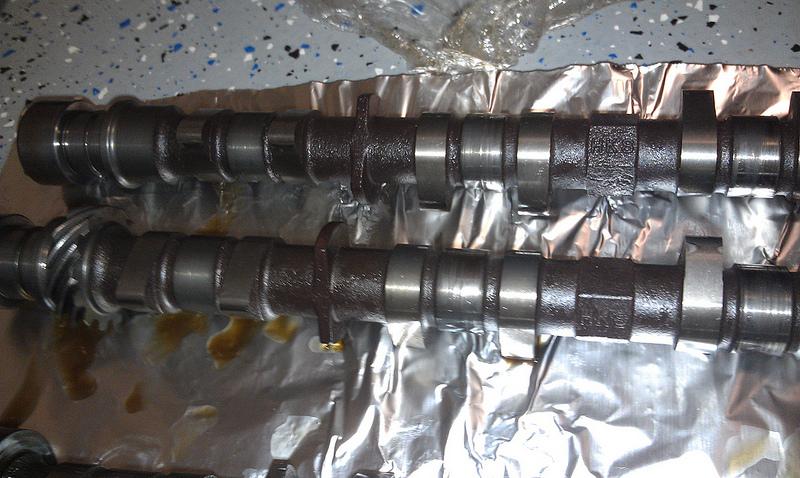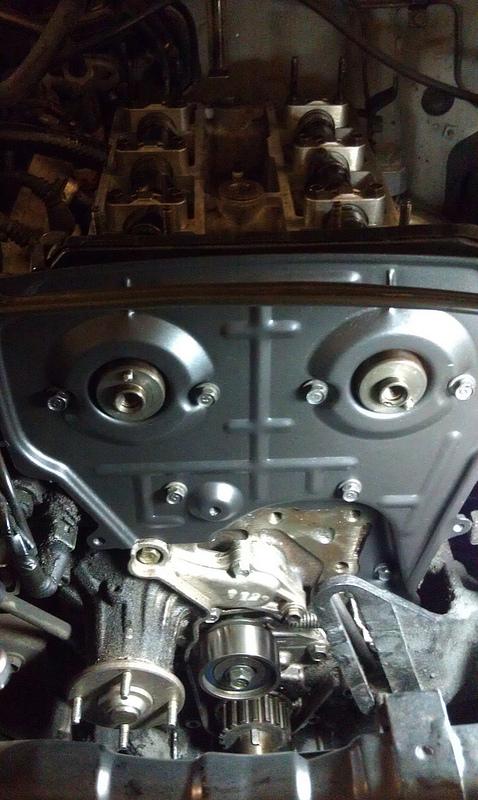 Had to go old style black ones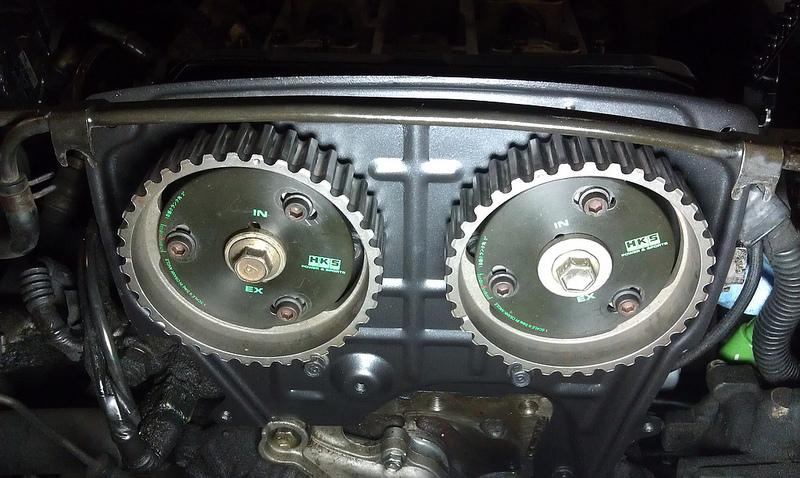 My spark plugs were in wrong

Dunno where my brain was....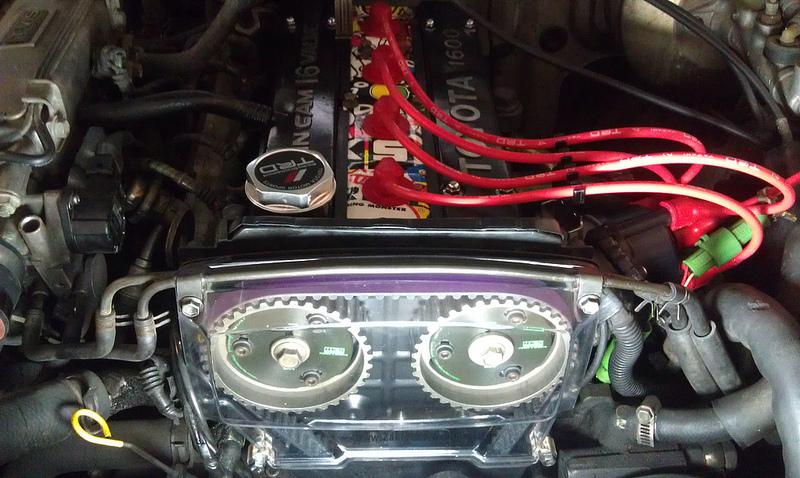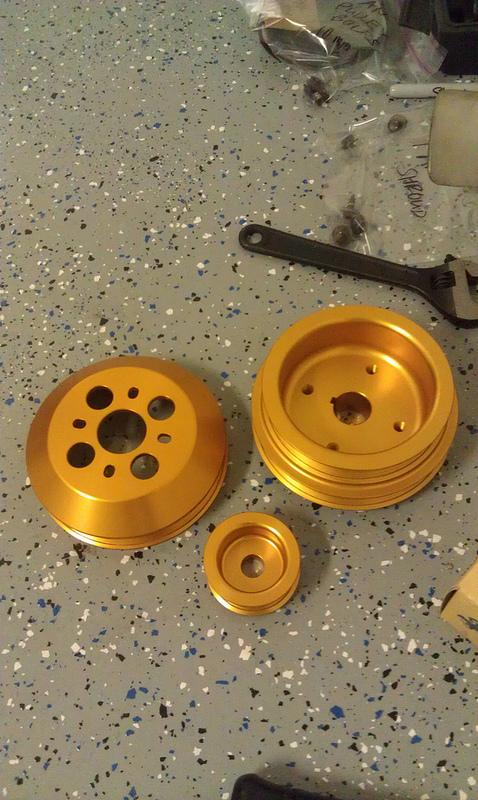 AFTER: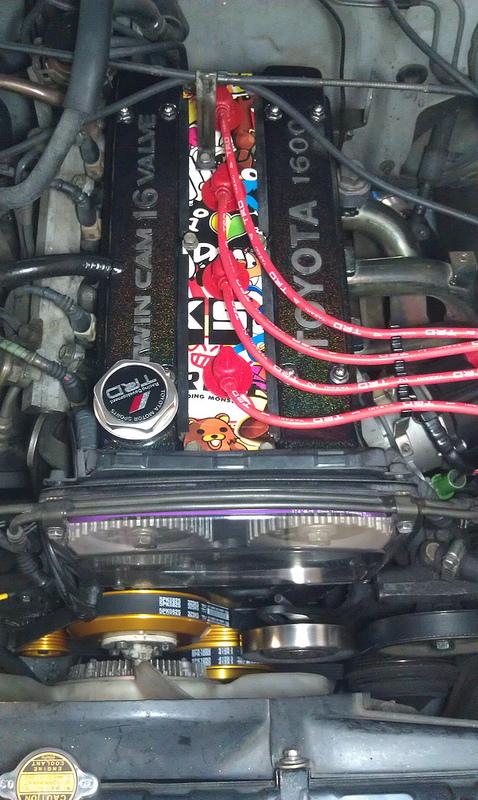 Need to get rid of that clutch fan next......
More pics: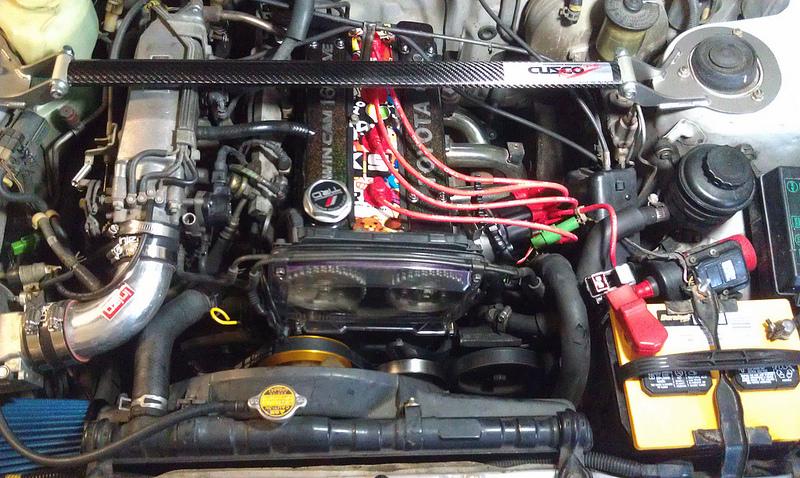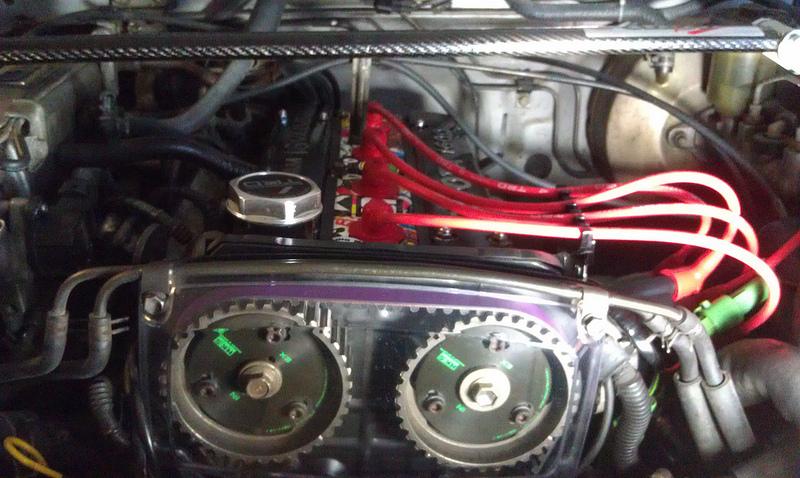 7-31-2013
UPDATES FROM THE GARAGE
4 links & panhard install: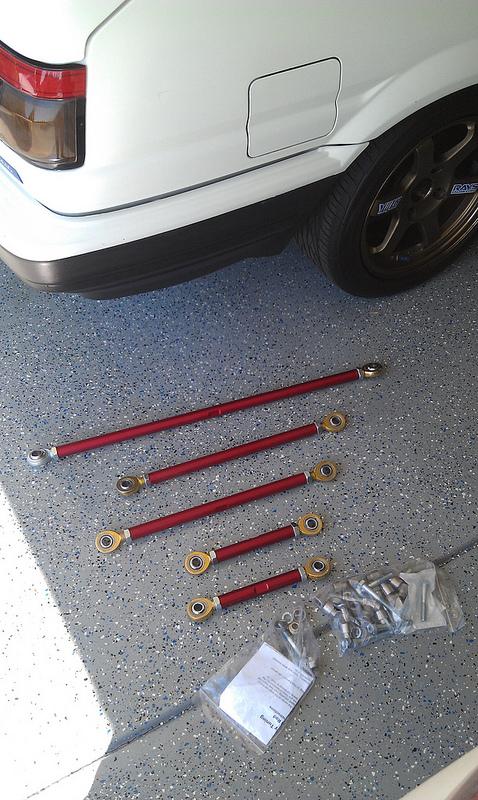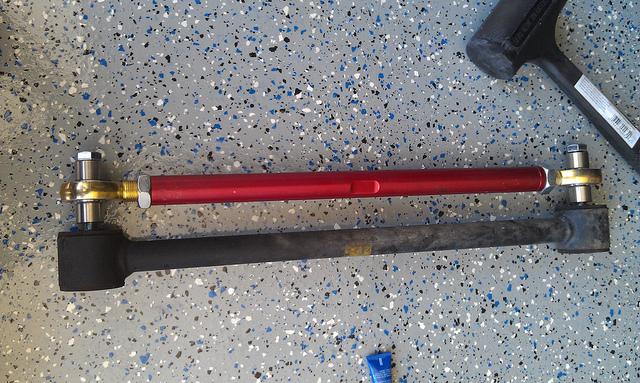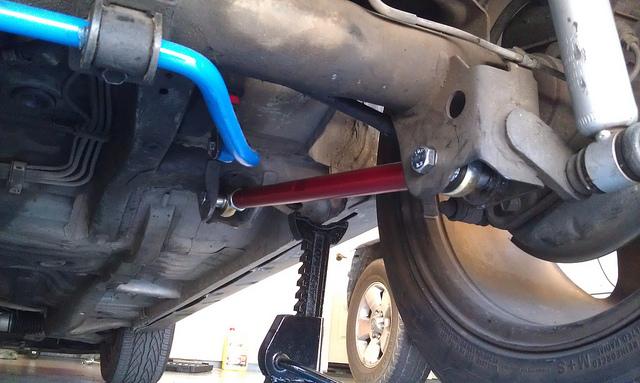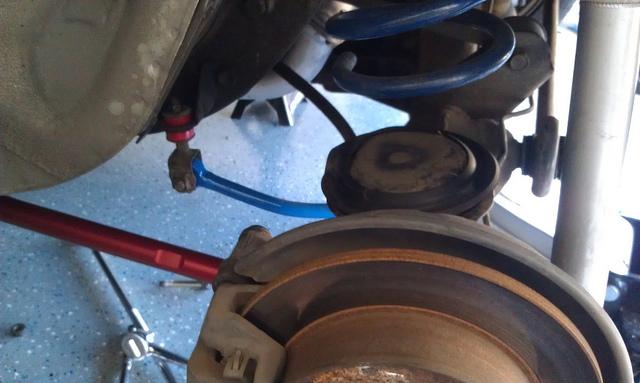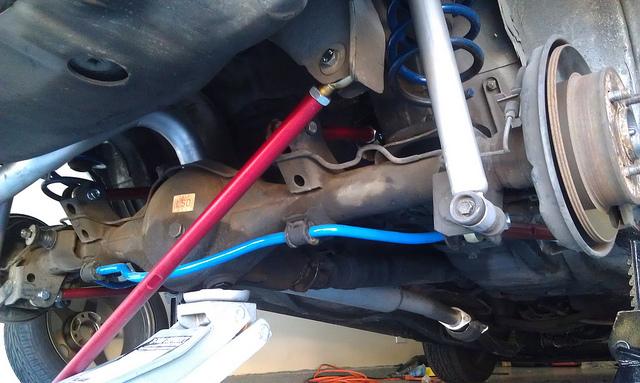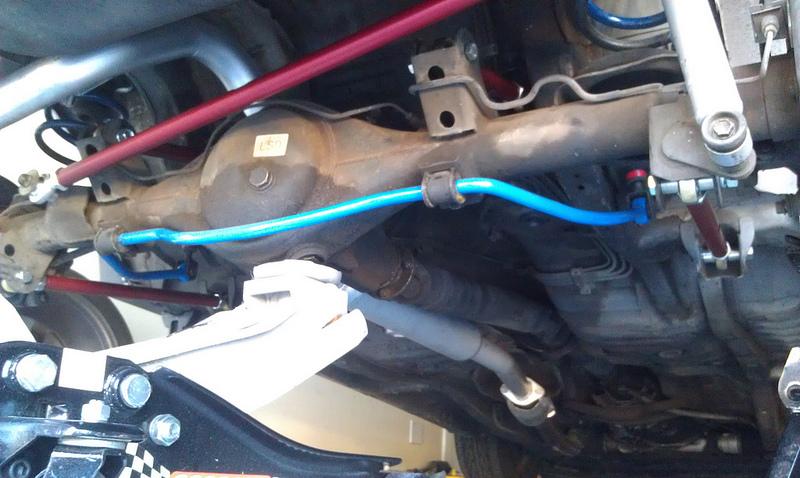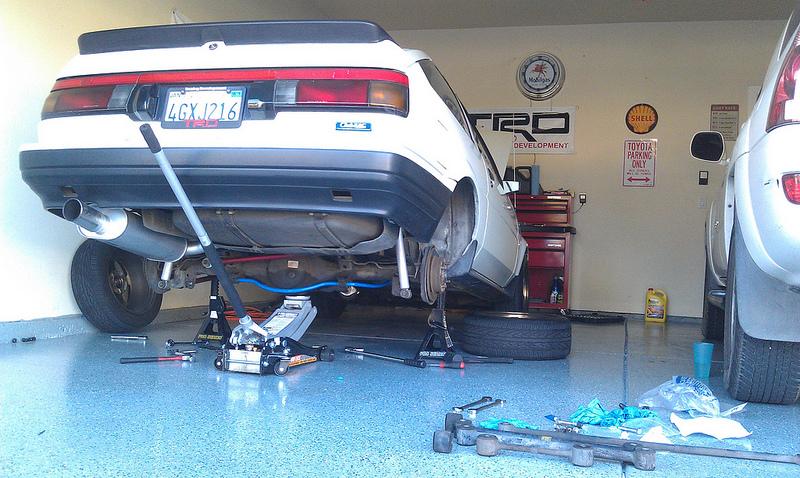 Radiator/Fan install: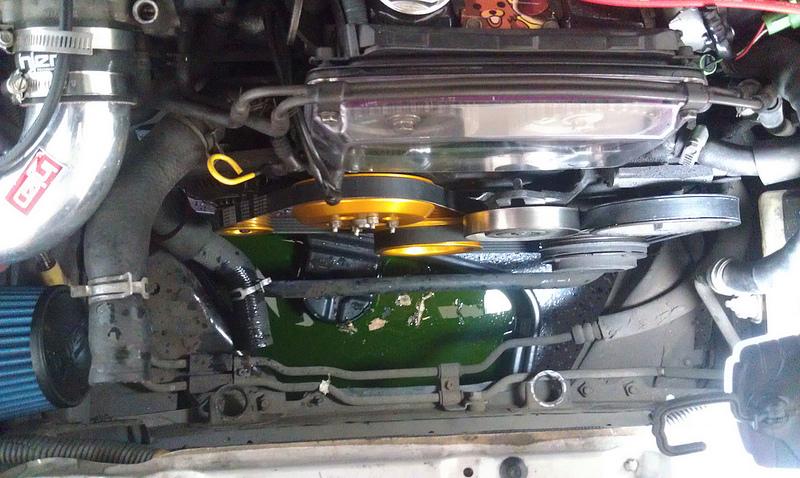 Had to cut down the lower right tab because it was too long.
Also had to dremel out the top right hole because it didn't line up well on the radiator.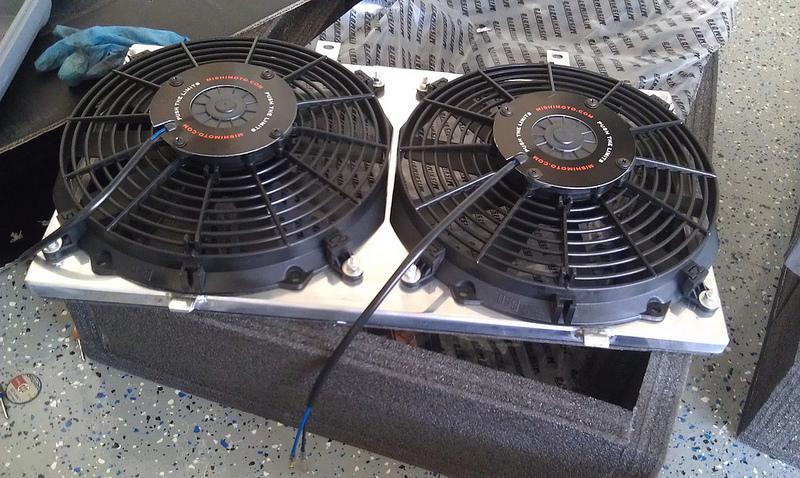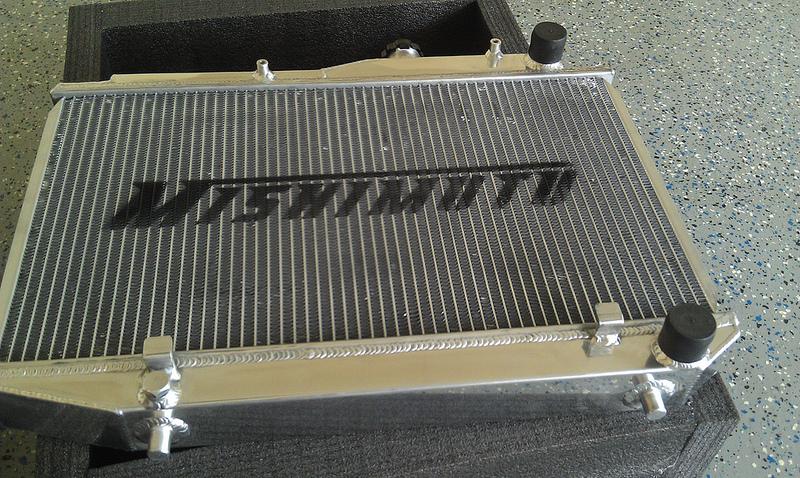 You can see the gap on the lower right due to the lower tab being too long....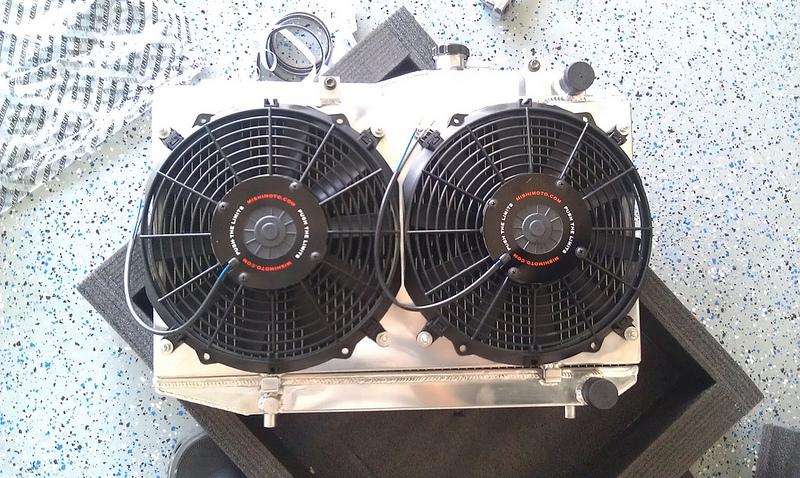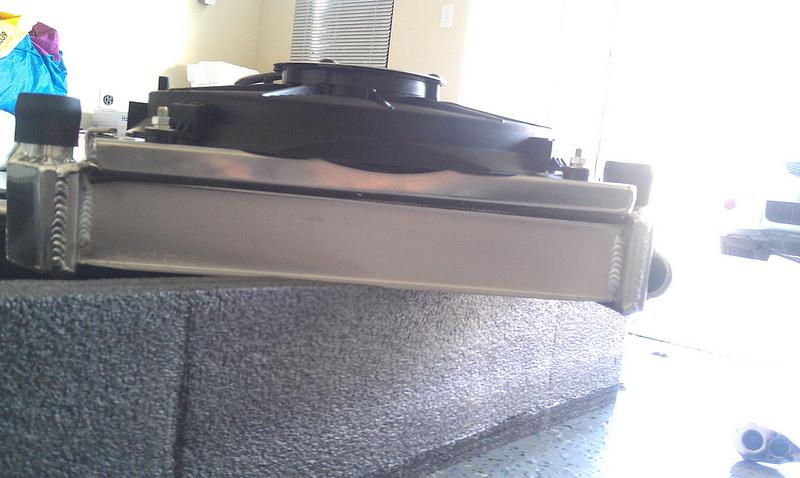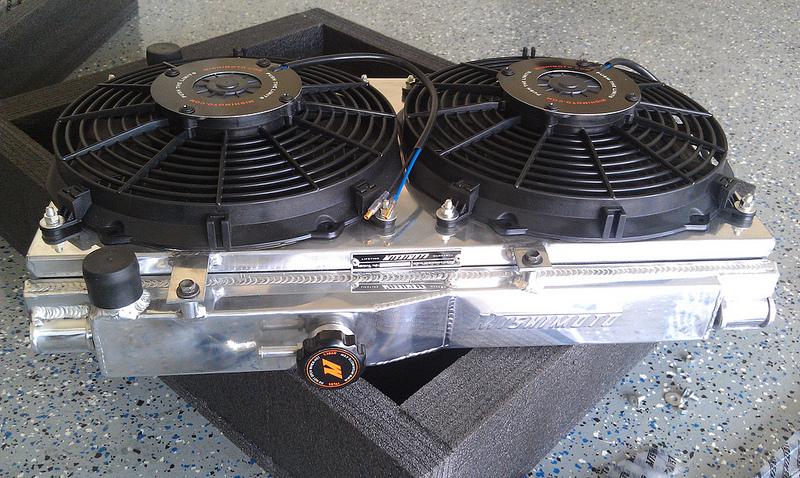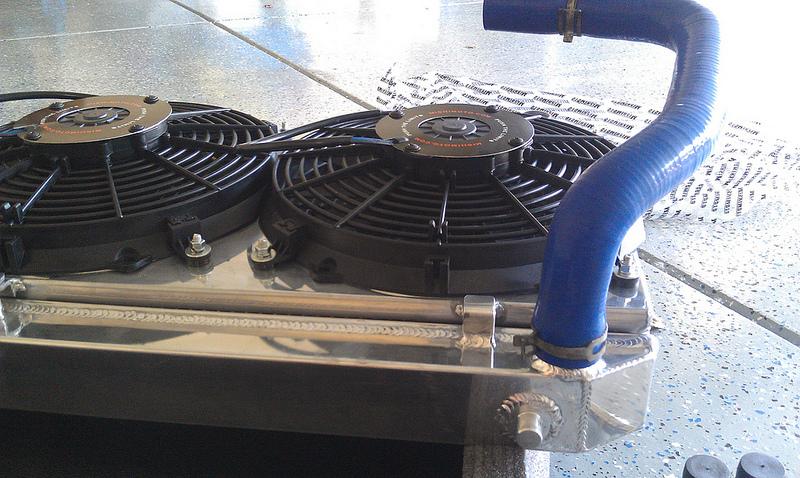 Just needs to be wired up now. Using a Derale fan relay kit with temp control from a probe that slides between fins.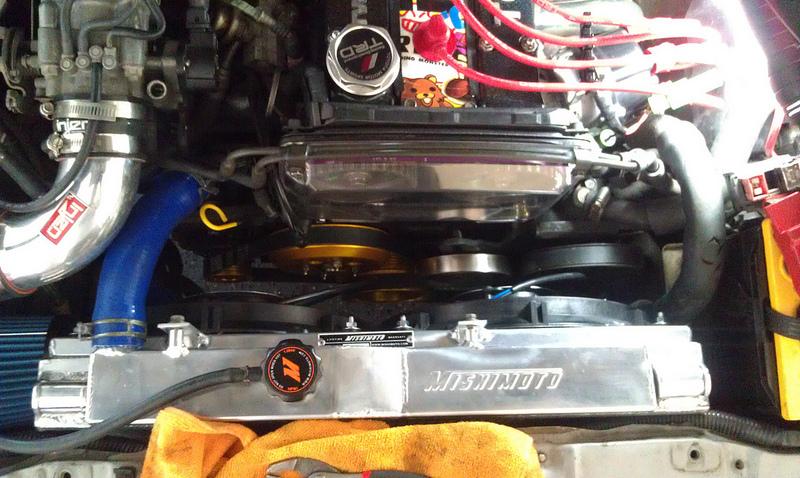 8-13-2013
joel23 wrote:
looks good man i like that mishimoto rad and fans may have to pic one up in the future...
Thanks man. It's workin out good so far.
Went for a drive today to test hose leak. Clamp was a little off before. All good now.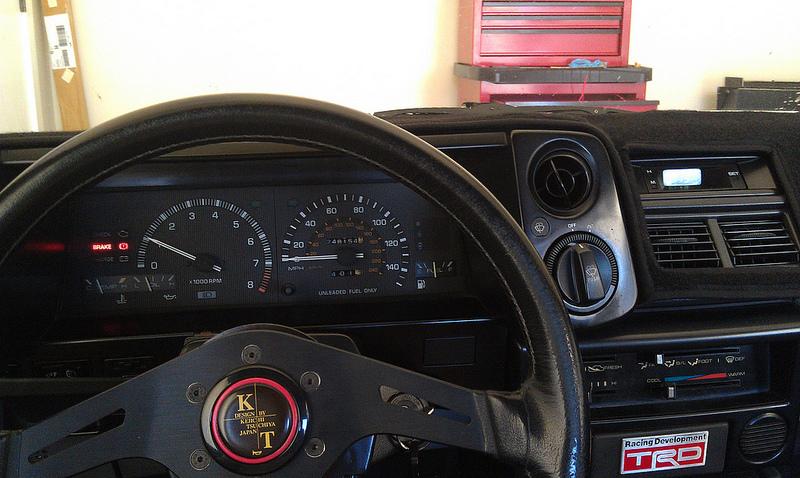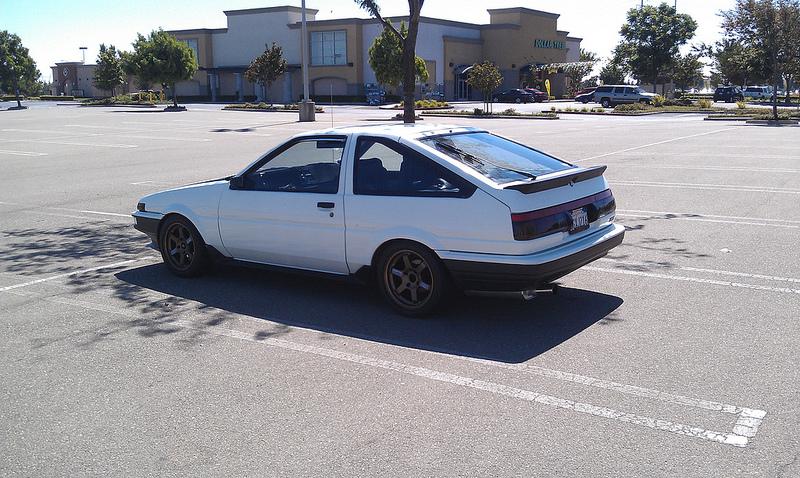 BeanBone wrote:
Sweet build! Does the Mishimoto rub against the Injen?
Yea it does. Had to use a dremel and grind out the inside "pipe stopper" rubber area so I could push the filter in further and clamp it down.
8-15-2013
ElChinoxNJ wrote:
Are you running the hks cams at 0 degrees both or did you time the cams? How do they feel daily driving Im looking to pick up a pair for myself. Thanks!
Should've degreed the cams but didn't. Running at 0 with ~850 rpm idle cuz I have AC/PS. Any lower rpm and there's a bit more shaking of the car left and right than I like from engine shaking (stock ECU). Driving is just like normal and smooth but rev powerband is better higher up and pulls more... if that helps haha.
10-20-2013
Update pics:
Lost my front plate a while back so NEW PLATES.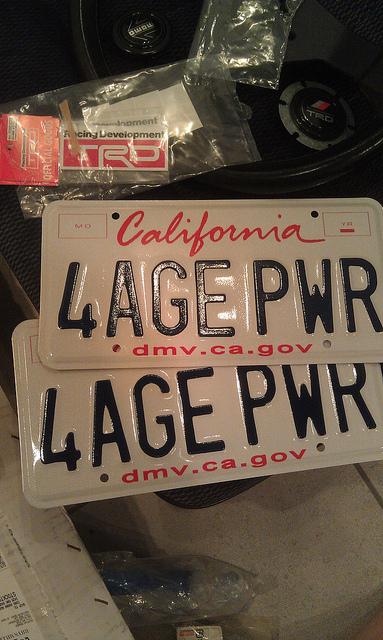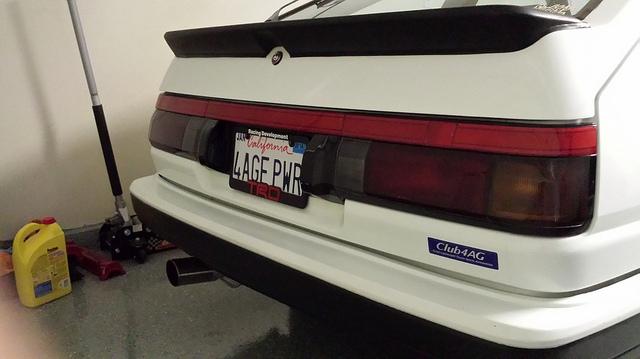 genuine TRD knob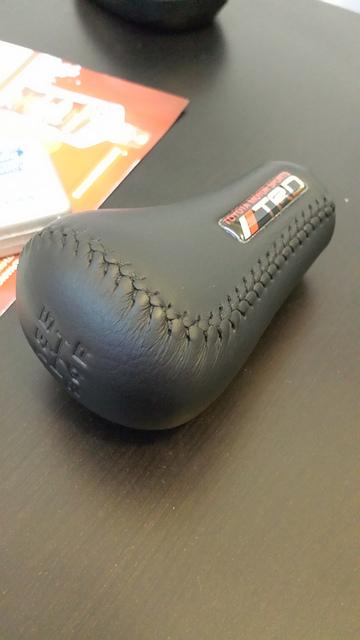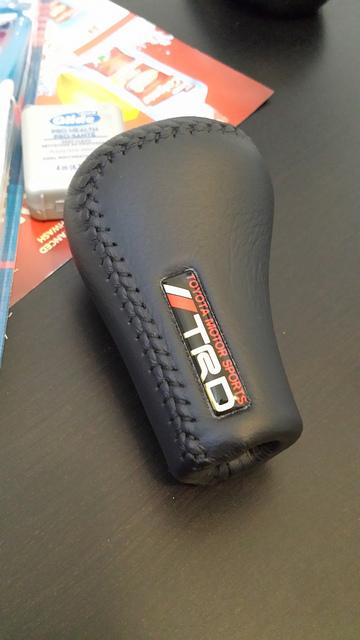 Thought long and hard about changing the interior... Didn't need to be very practical since its not my daily...
Interior before: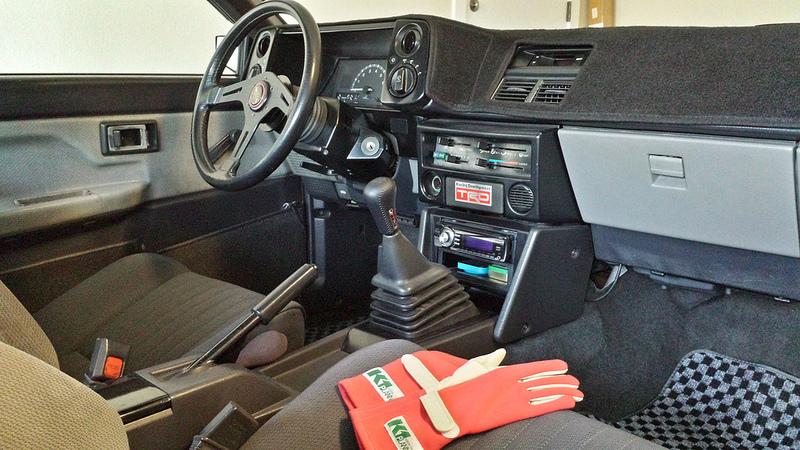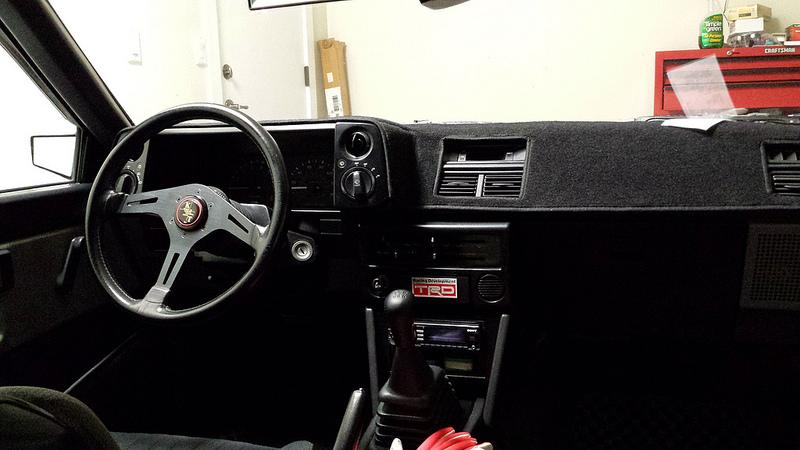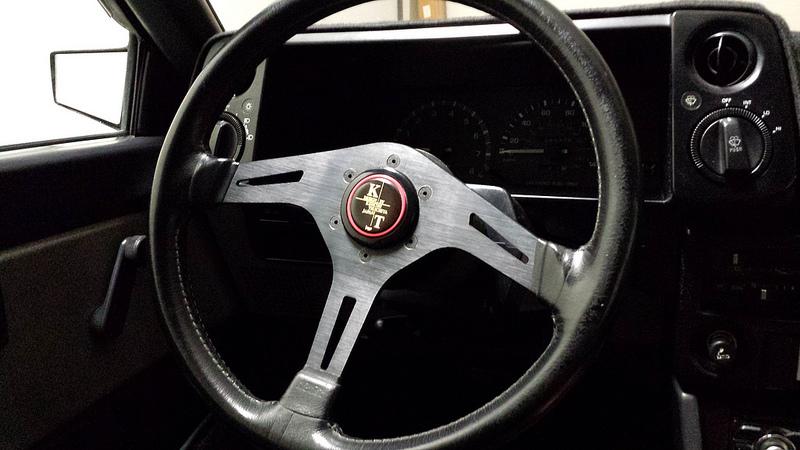 Sold front seats!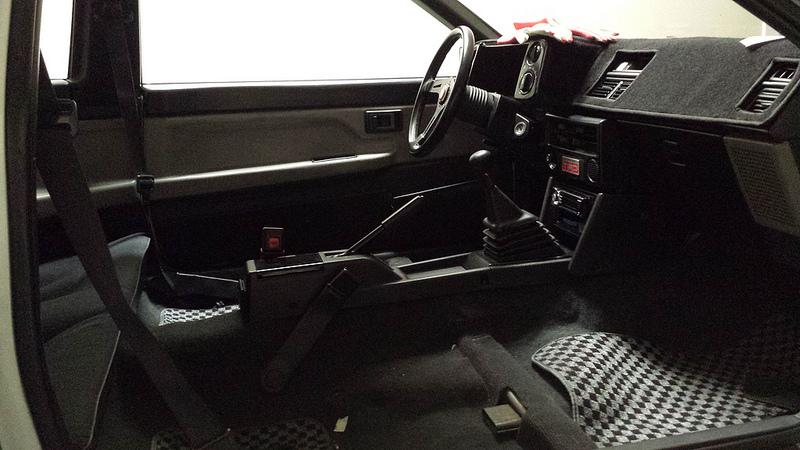 Picked up some replica bride gias v2 from member stock4ag. with wedge engineering brackets.
The first "fake" part I've bought...
Makes me sad and happy at the same time. Lot of hate with fake stuff.
I can use them without caring as much about rips/wear down the line was my reasoning.
Better than stock, and pretty sturdy so far.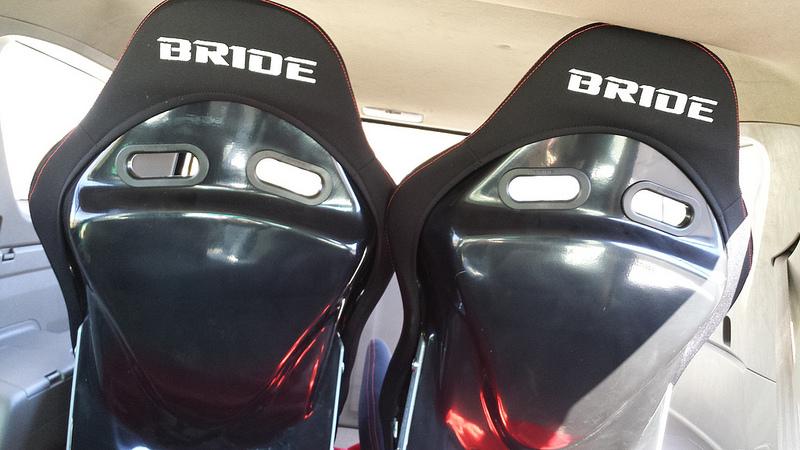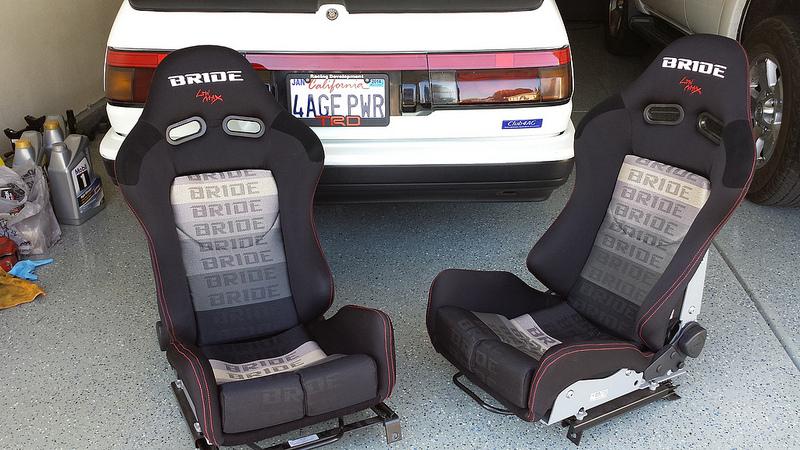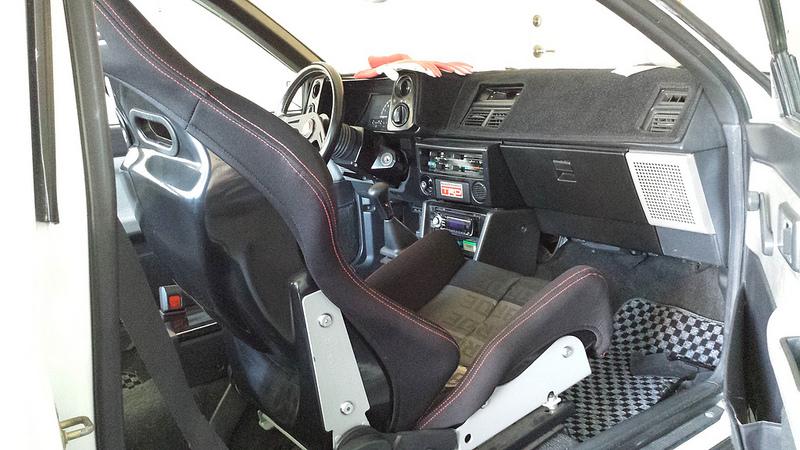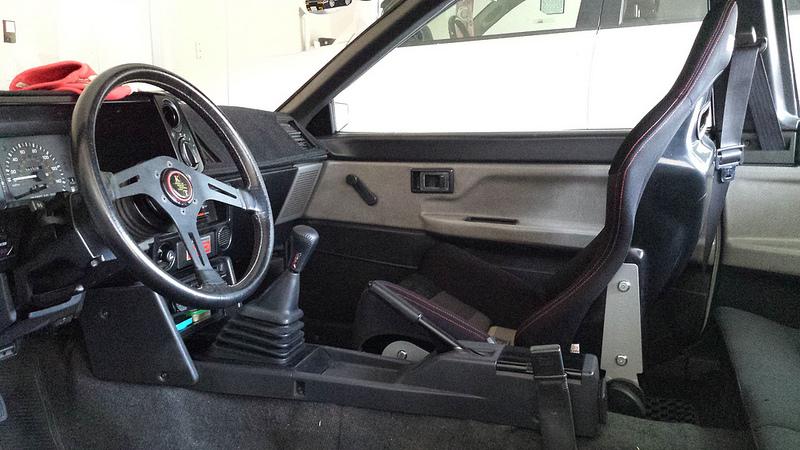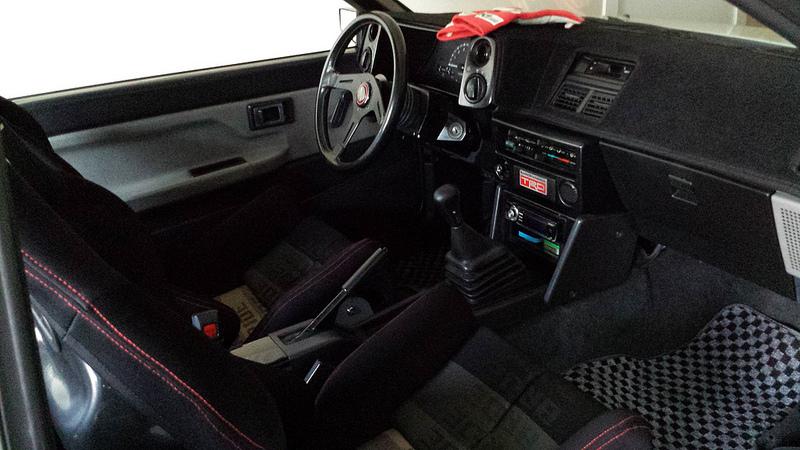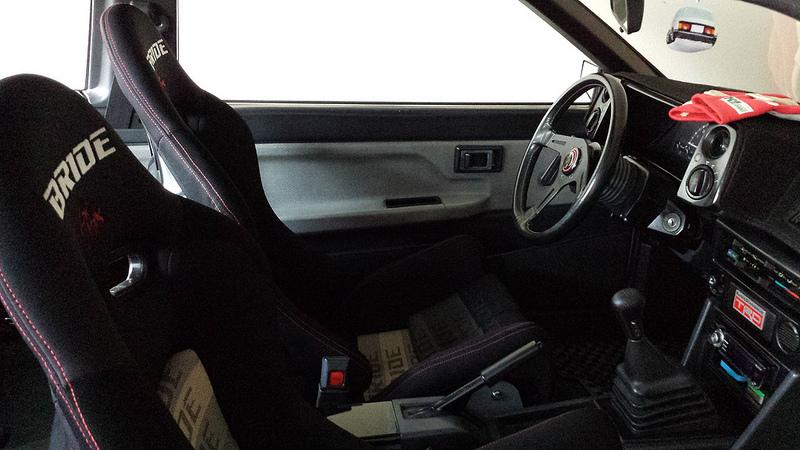 10-22-2013
Deuce Cam wrote:
Are you happy with the mishimoto fans, and e fan conversion in general? I've had one of their fan shroud kits and conversion stuff in storage for a while and just haven't got around to trying it. I'm hoping it's not another mod I have to find out the hard way that I don't like lol.
The fan is good. Not too loud. I use a Derale relay switch with temp probe between rad fins. Just takes up a lot of space in the engine bay cuz the shroud adds thickness. Will have to make the fans easy to remove if you do any future accessory belt maintenance. I could tuck my wires down lower but I just put them on top in case I ever need to yank the radiator out.
Also to make the rad fit properly... The rad support sides should either be trimmed a bit or hammered in to fit lower pegs into the rubber mounting bushings.
12-28-2013
Merry Christmas and Happy New Year!
Been busy and haven't had time to update in awhile. sooo...
Here goes!:
This damn oil filter didn't even work. Guess I ordered wrong one. Liked the pic tho.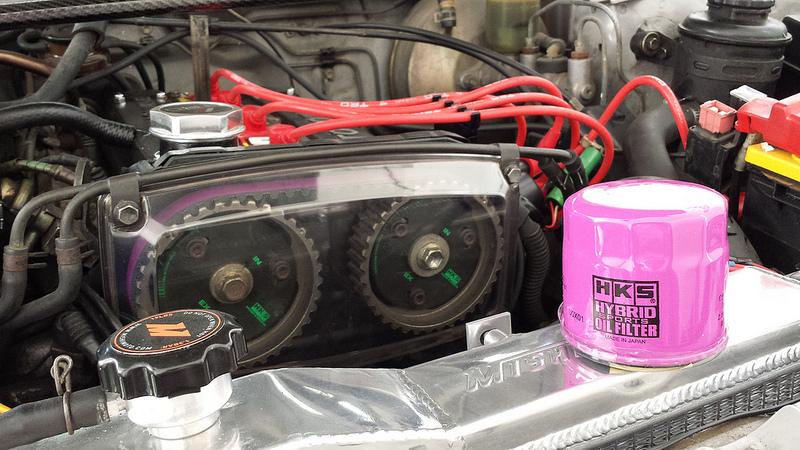 Me at a Word Up event in Stockton, CA just watching awkwardly.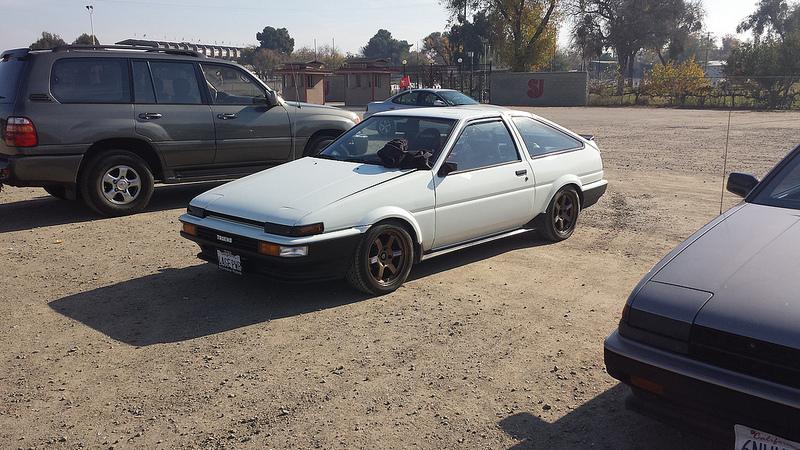 And the next 2 days of work begins! Glowing parts of awesomeness.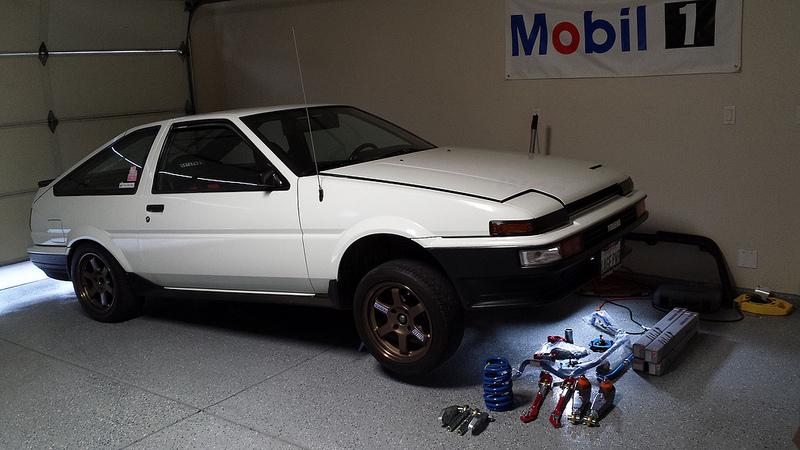 Parts List:
T3 LCA, tension rods, PS knuckle and tie rods, RCAs, strut tube spacer/gland nut
Cusco camber plates, tension rod bracket brace
TRD sway bar w/ TRD bushings, 8kg springs, front 5-way adjustables short strokes, rear 8-way adjustable short strokes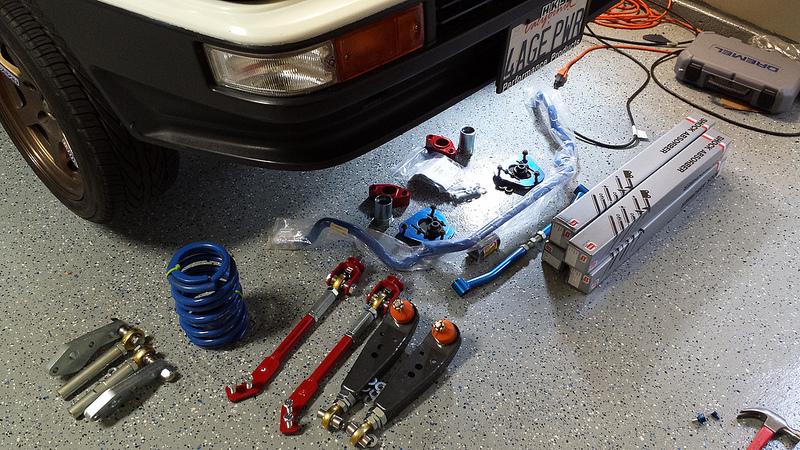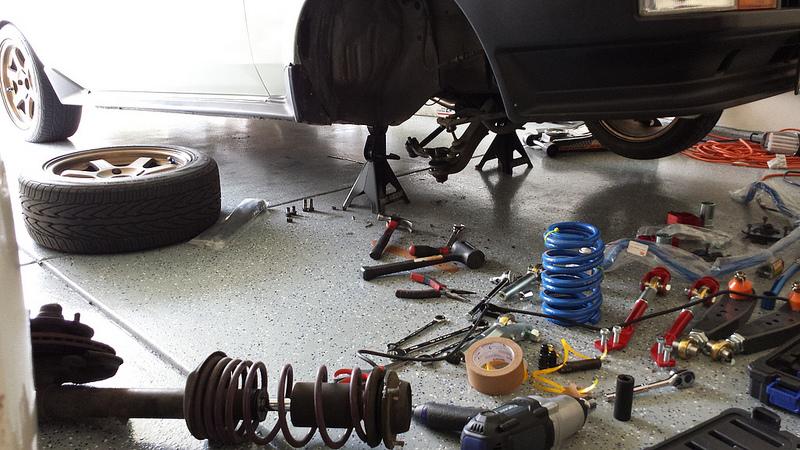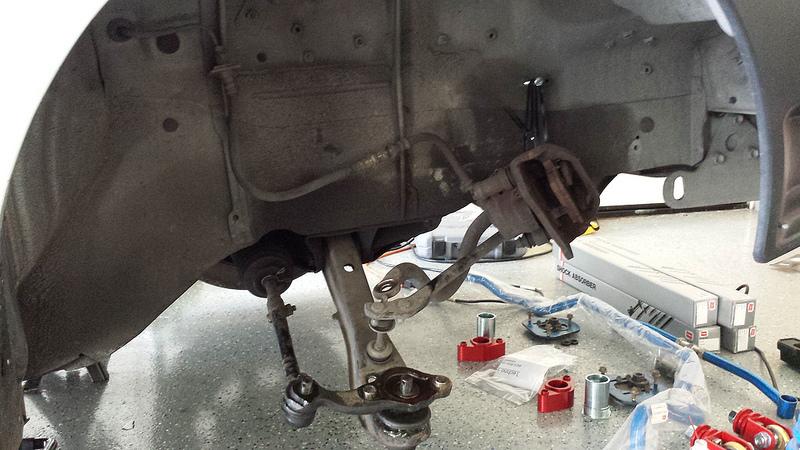 Was stuck here until someone told me I should turn the steering to shorten the rack!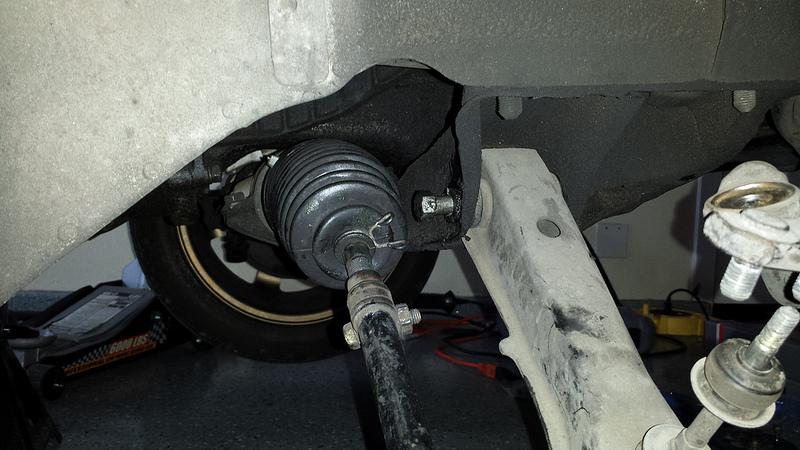 Spider-web caliper suspension.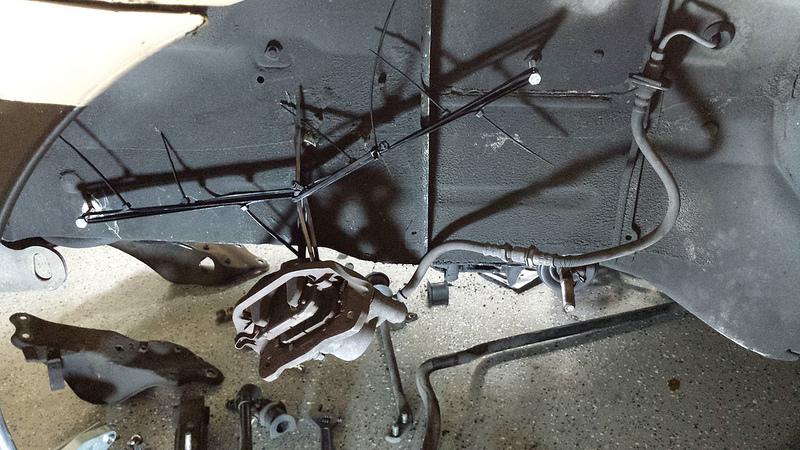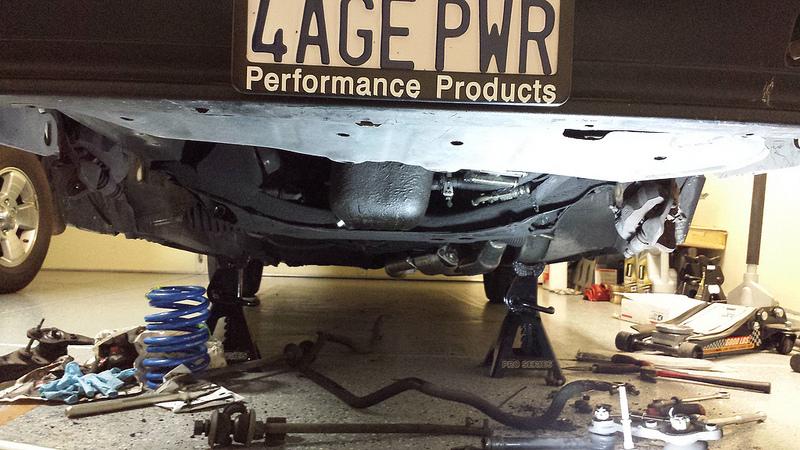 Really dirty.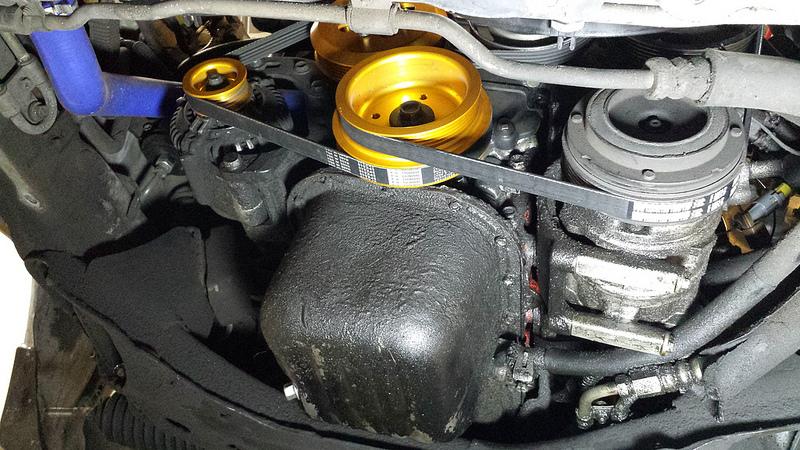 Needed a new tool. Next day I picked up a plumbers wrench as recommended by local 8-6ers.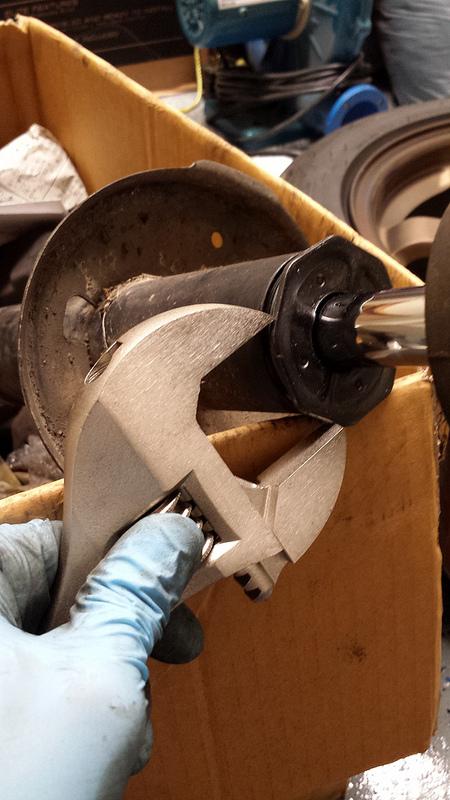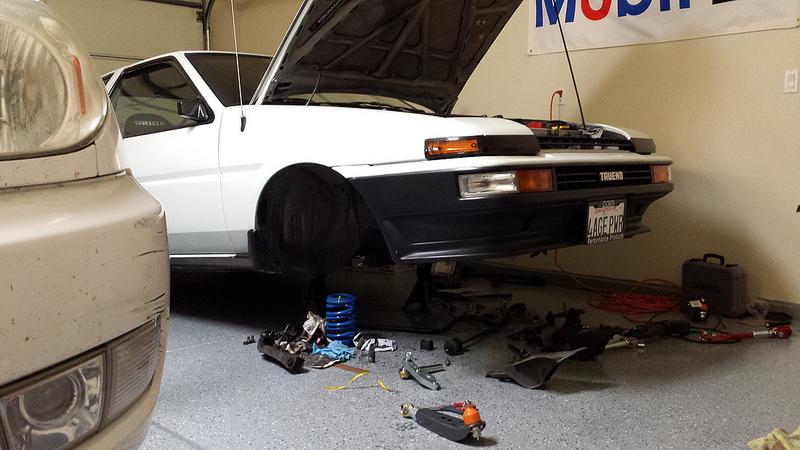 Last time I would see these beauties outside of the strut casing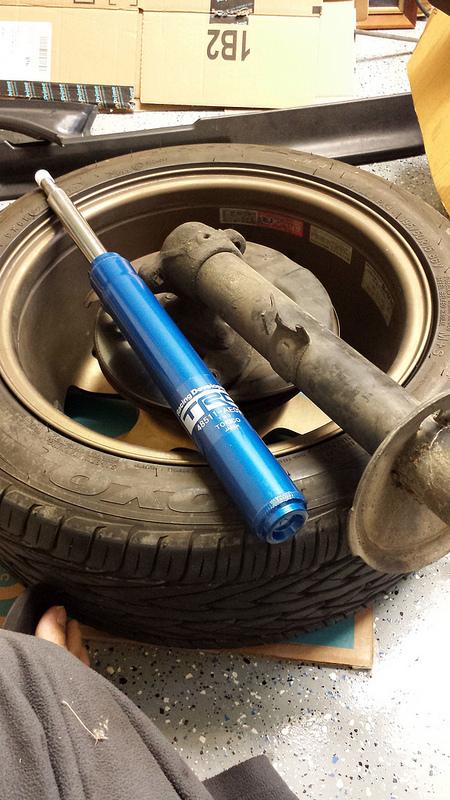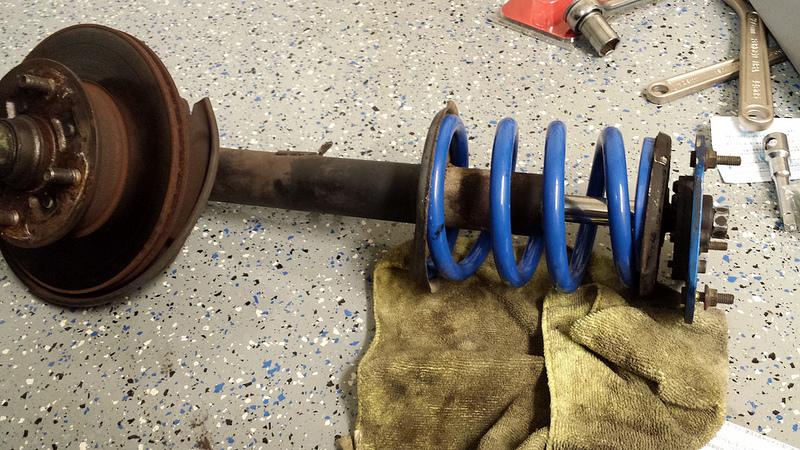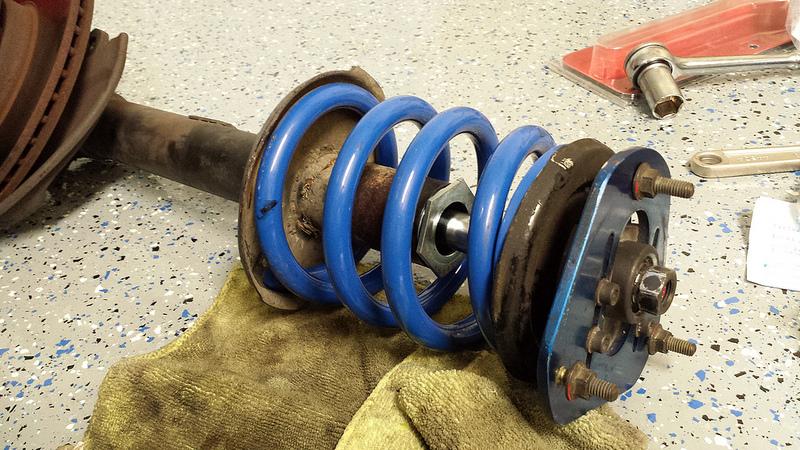 BEEFY! T3 setup.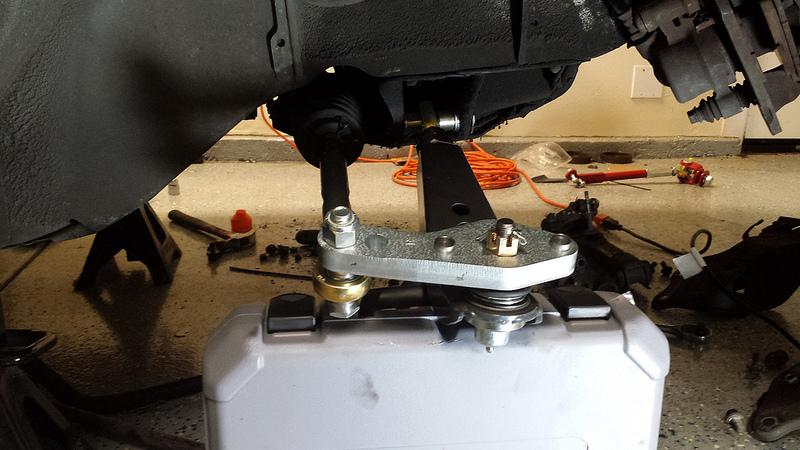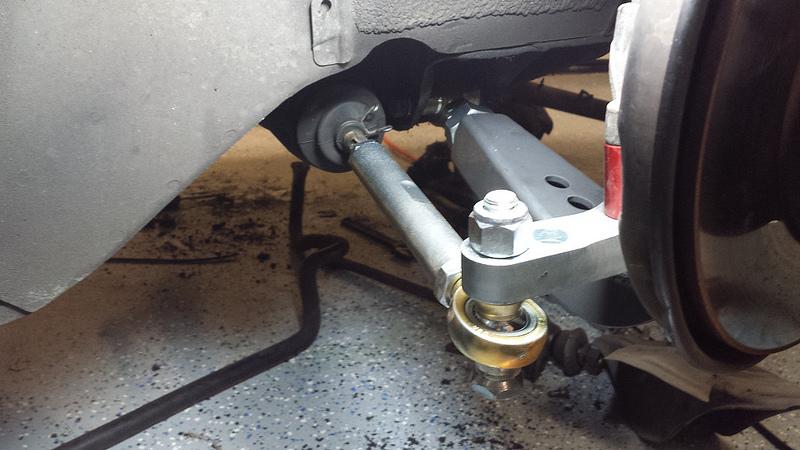 Sad to say I've had this sway bar for ~3 years. Been sitting pretty in the bag until now.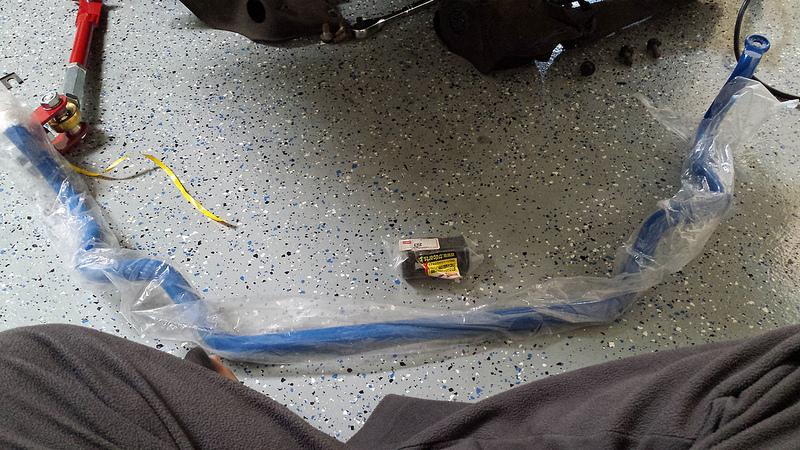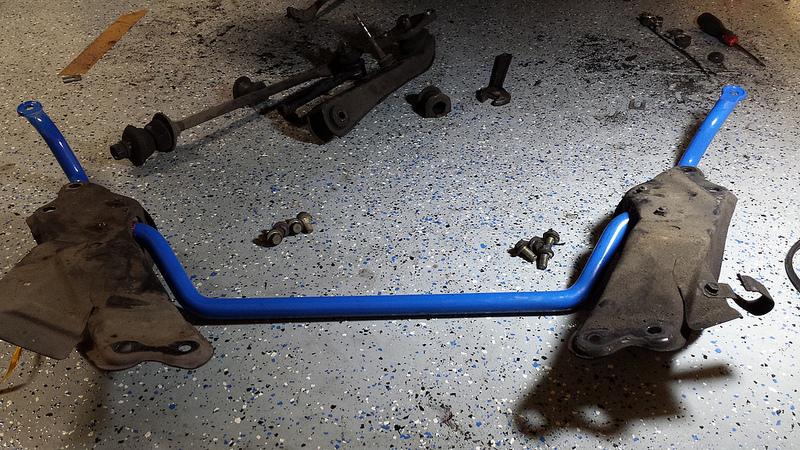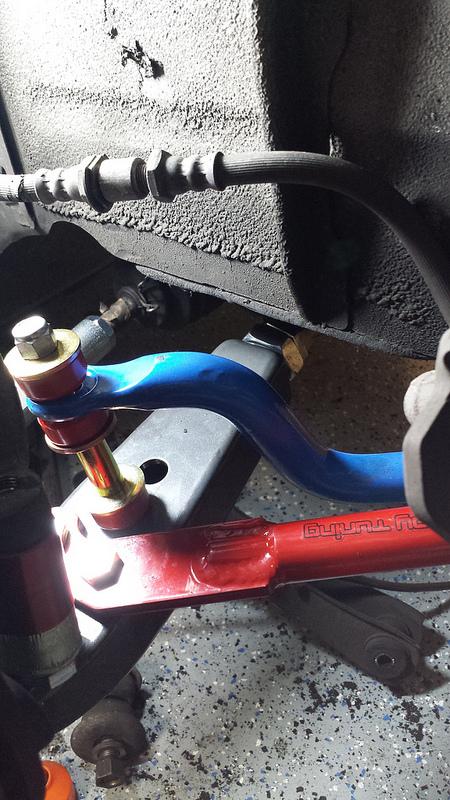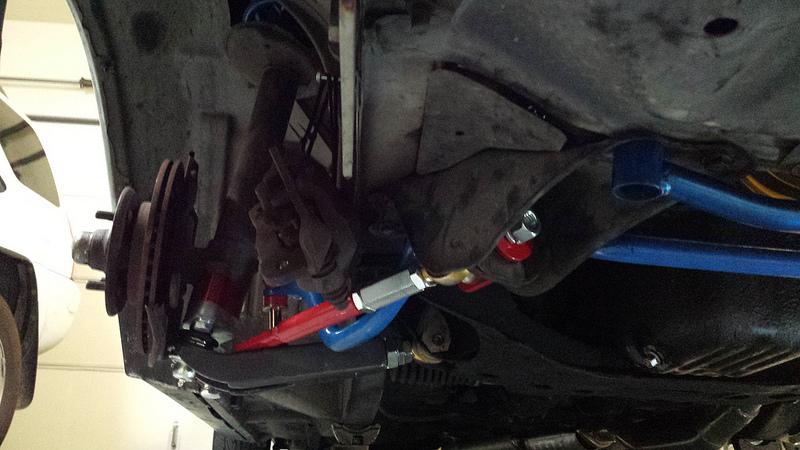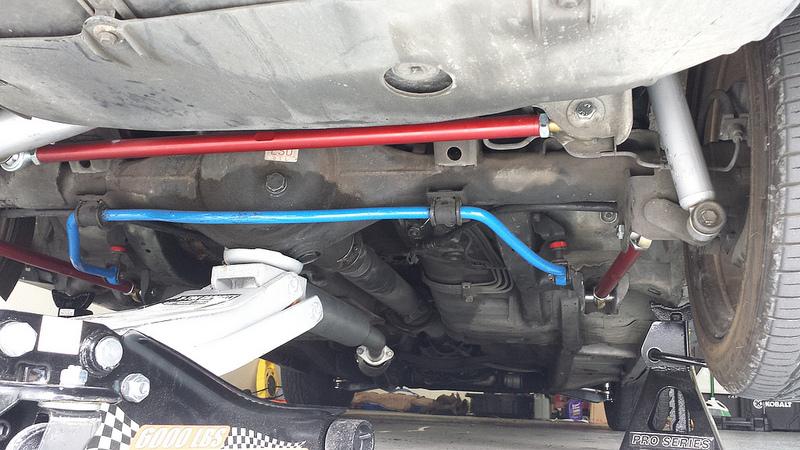 Rears I put on a few weeks later. This was Dec 27th.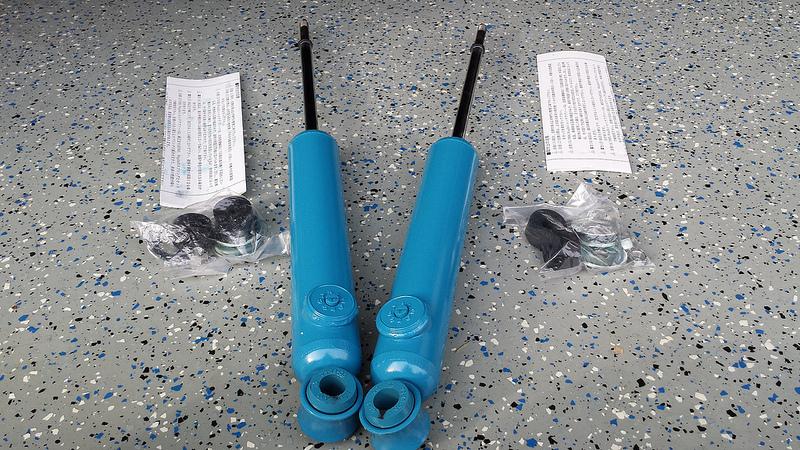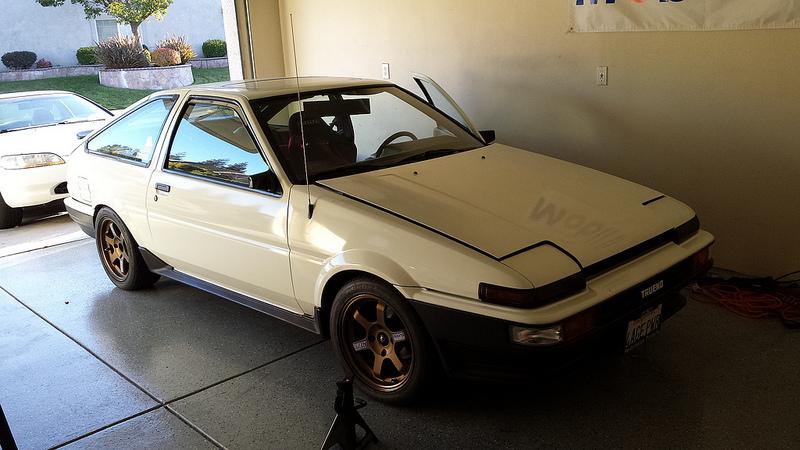 Plans for 2014: Looking forward to the new year!
Front subframe rigid collars. These are not the spoon units.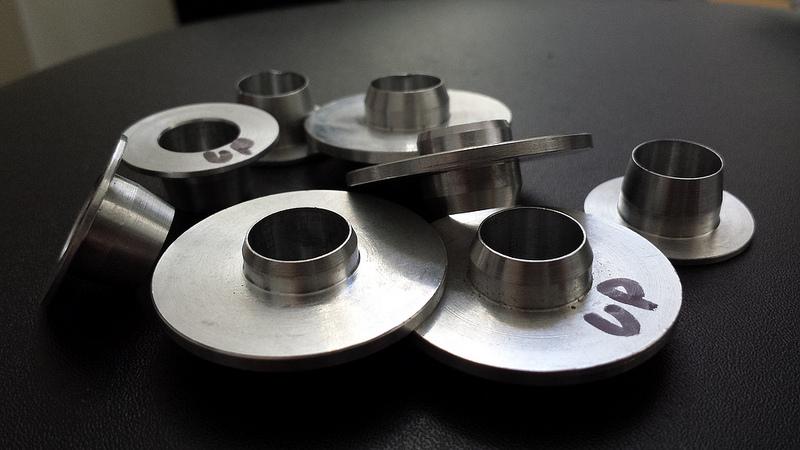 These will hopefully be put to good use on a build.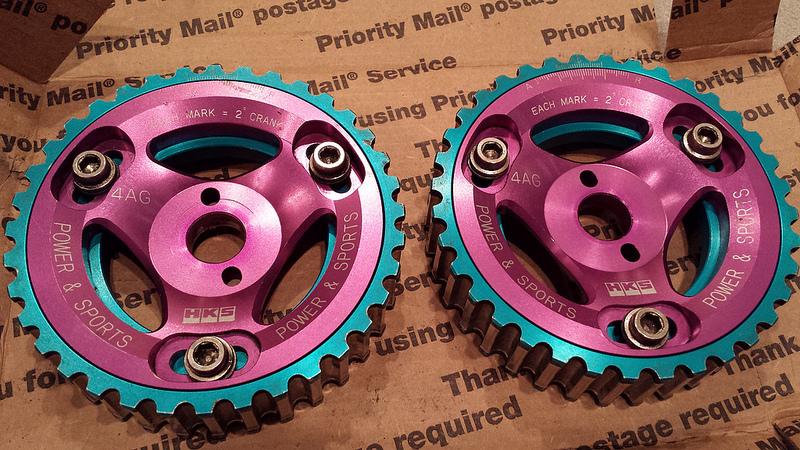 These ITBs too will either be on a build or on the 86.
And the carbon drive shaft in the background from gaijin_rokurunner will go on as well.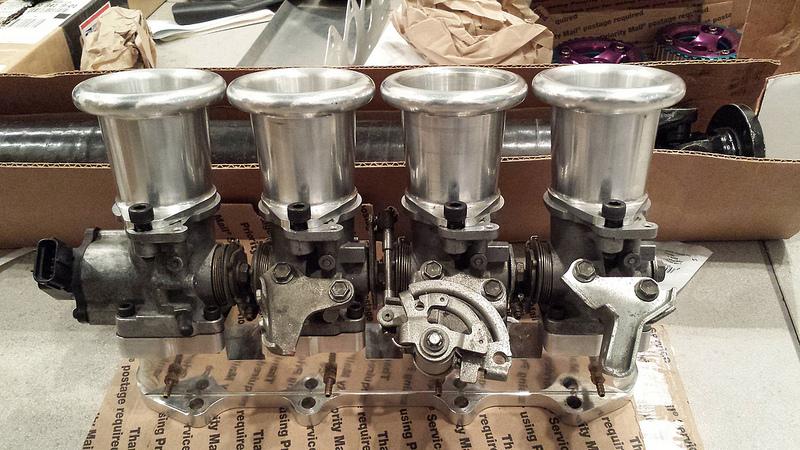 5-19-2014
PHOTO UPDATE
Drove down to Socal to pick up this Varis carbon fiber hood.
Needed a new clear job badly. This was January.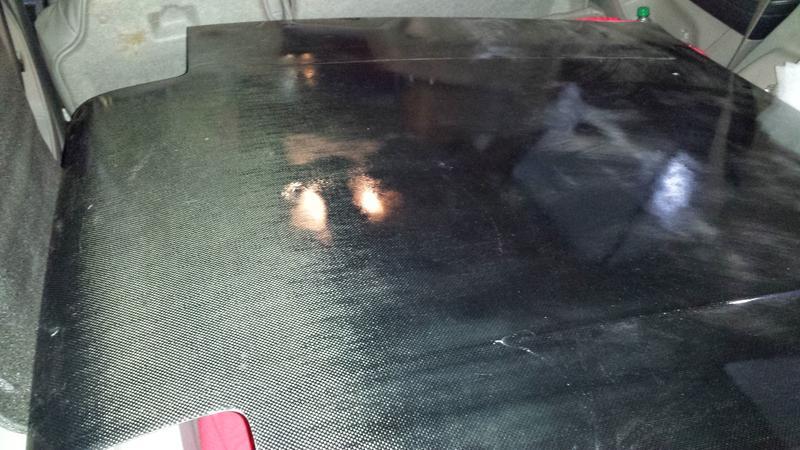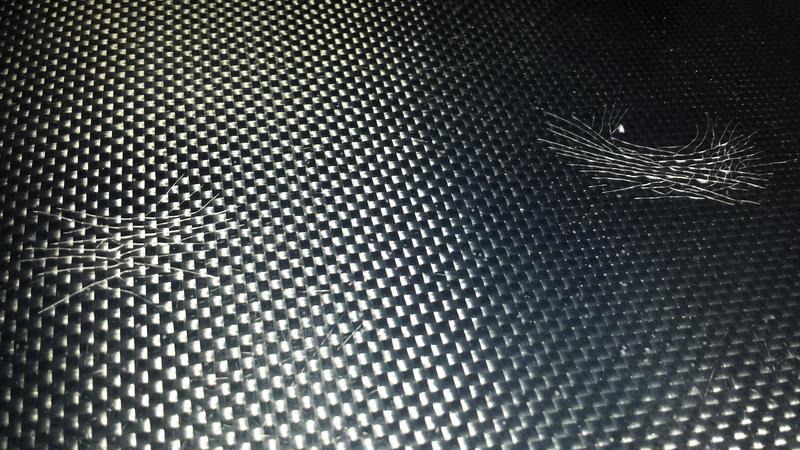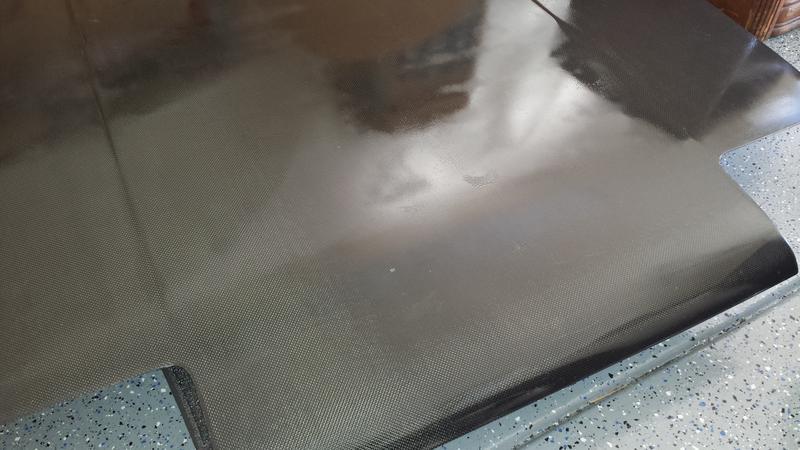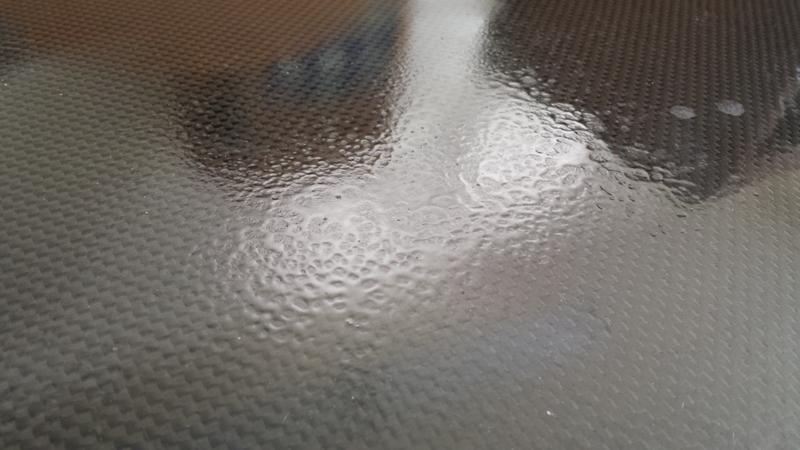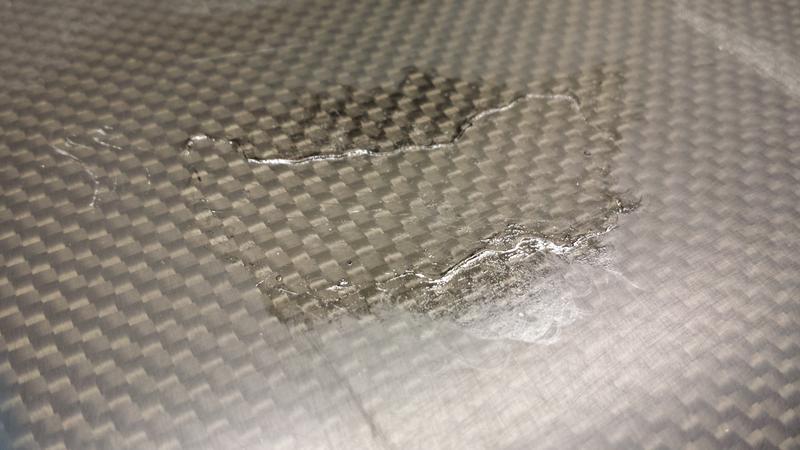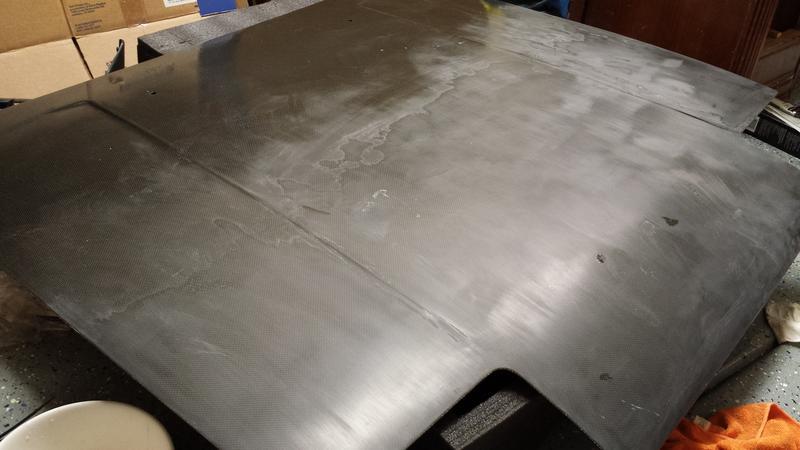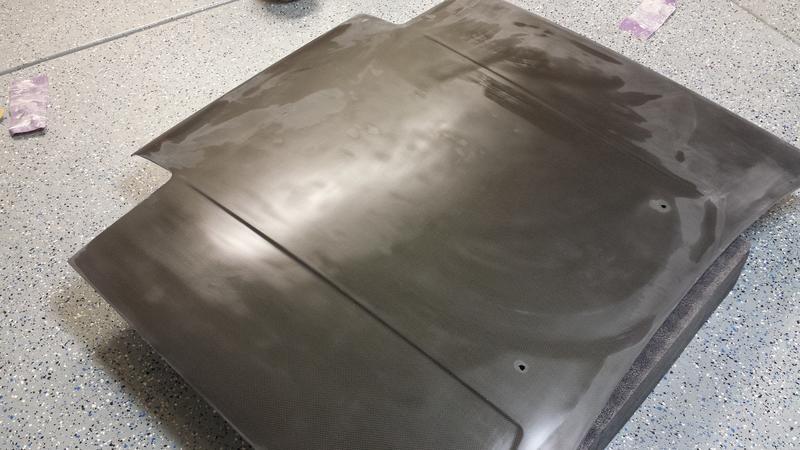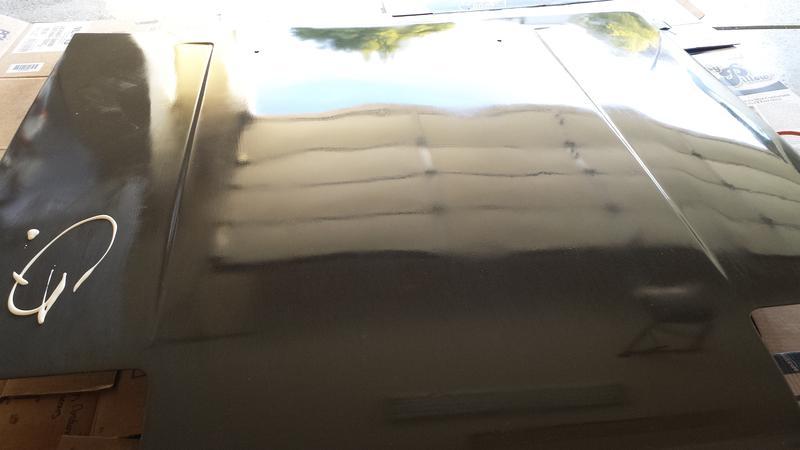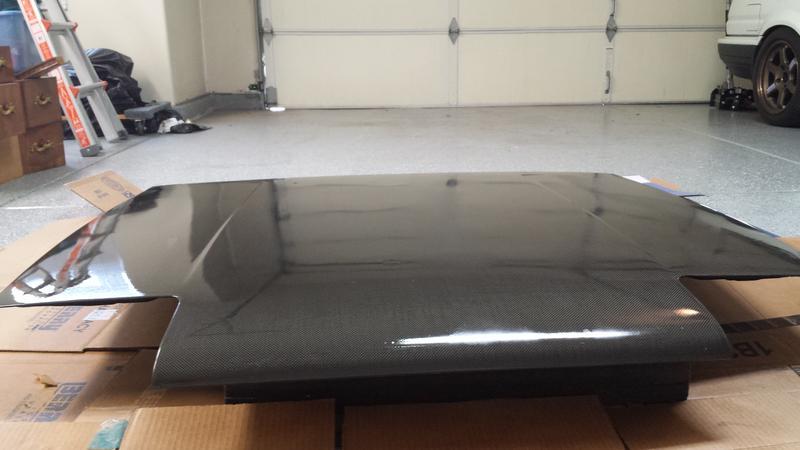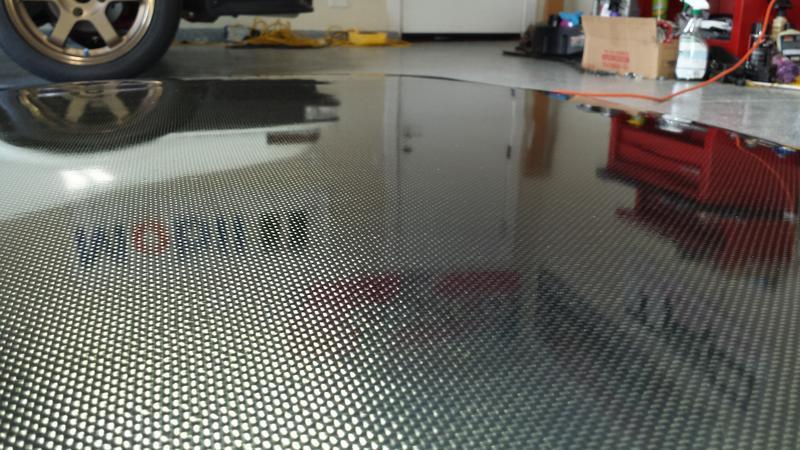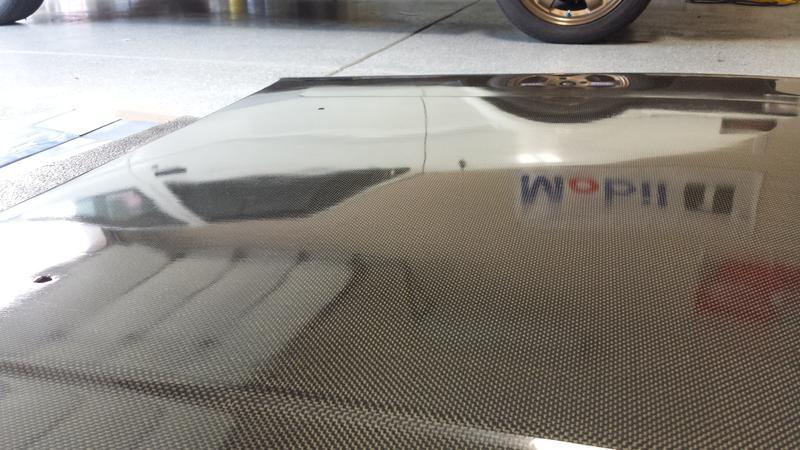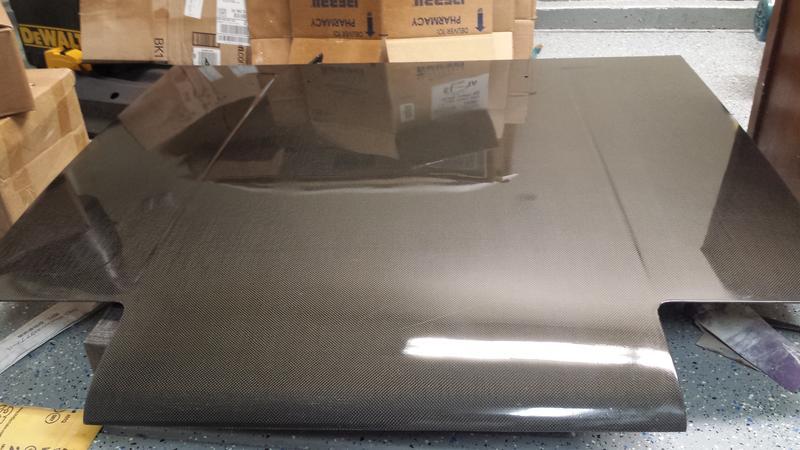 Not perfect but it works for now
Dash cap install...
I think this was 2013 still...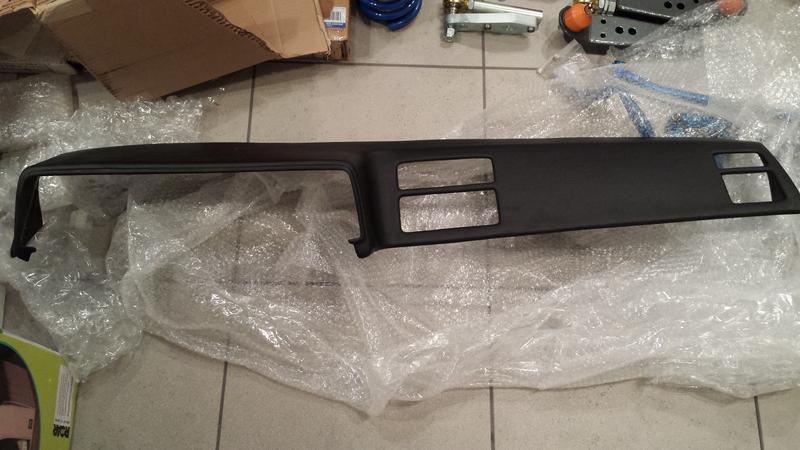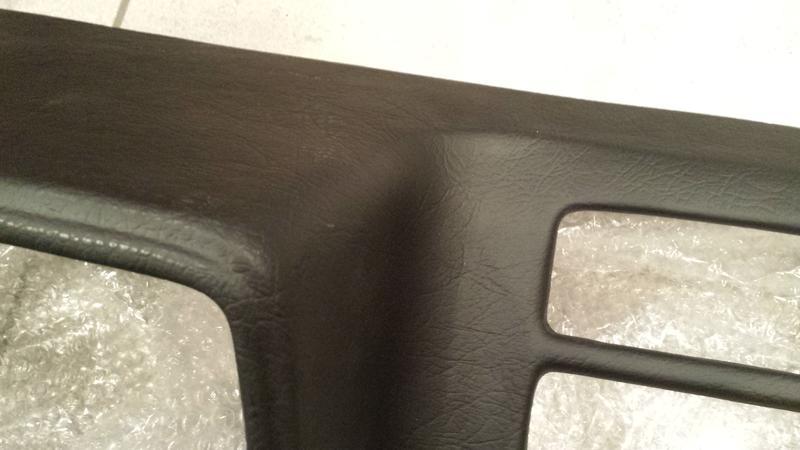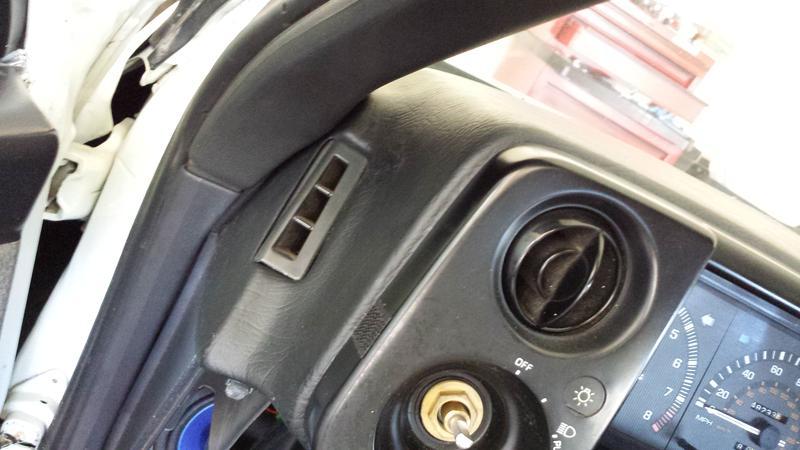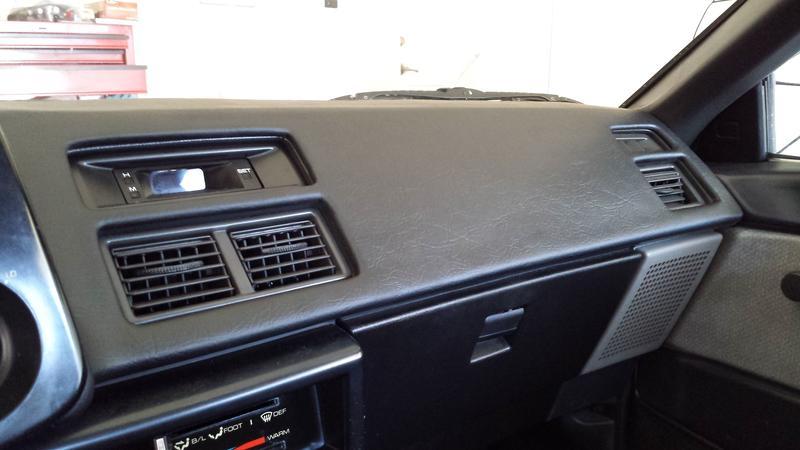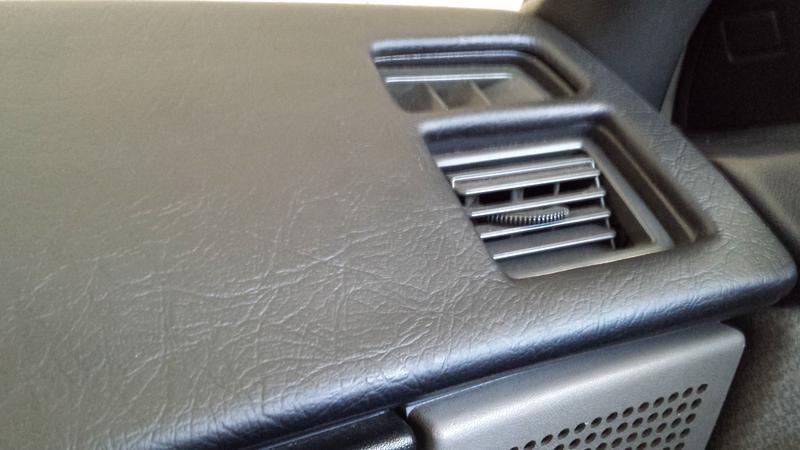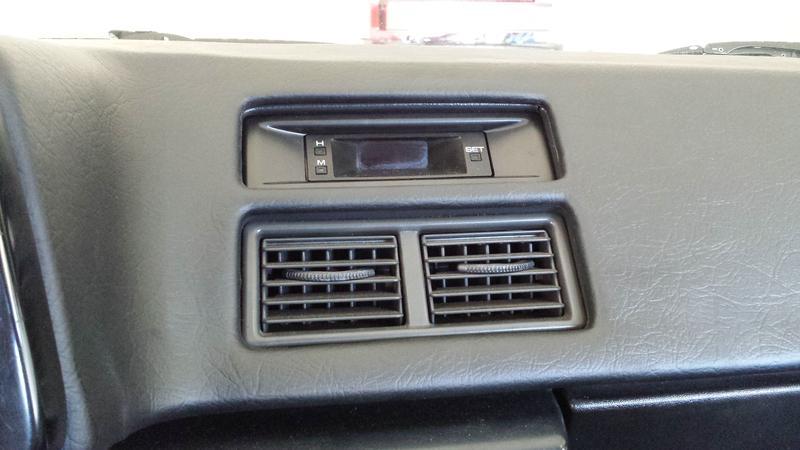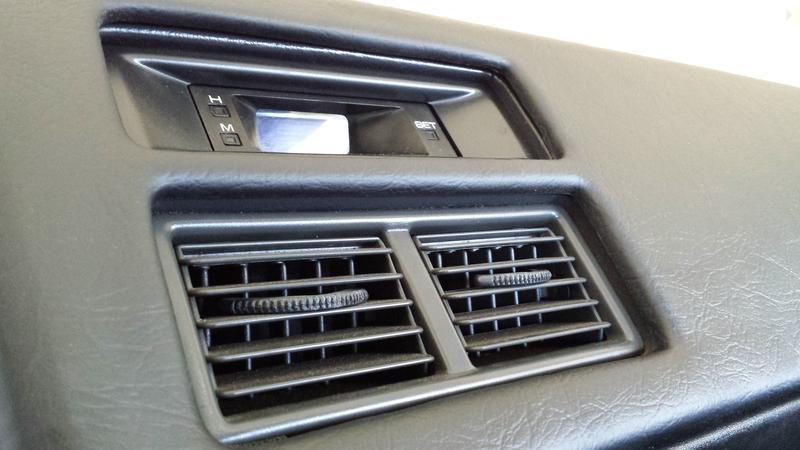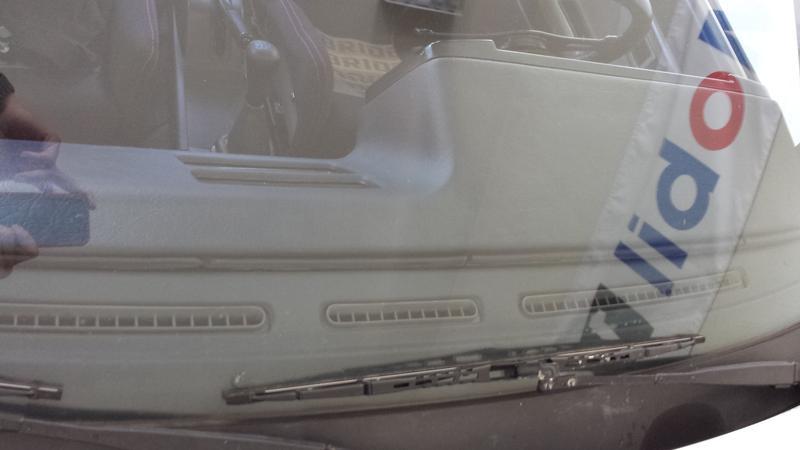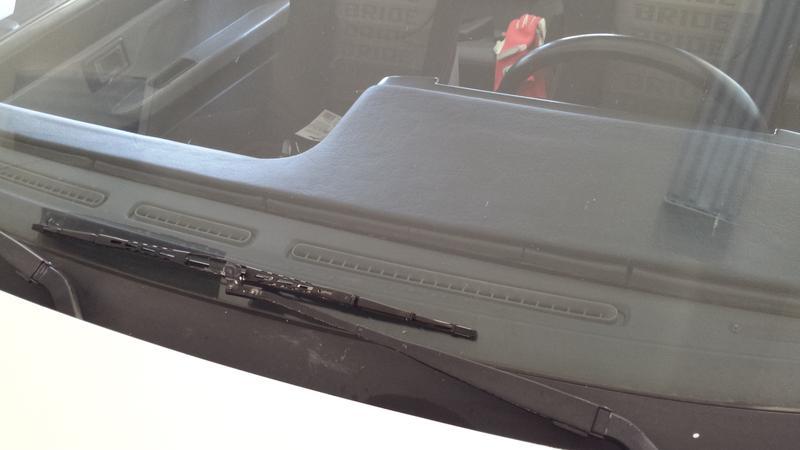 So far, I think I liked my cloth cover better... This cap bends in the sunlight so it needs to be held down with velcro or some kind of adhesive.
I just placed it on the dash and secured it with a few pieces of velcro but its not really enough to keep it from warping.
Track day in February at Thunderhill Raceway Park.
Trackday prep....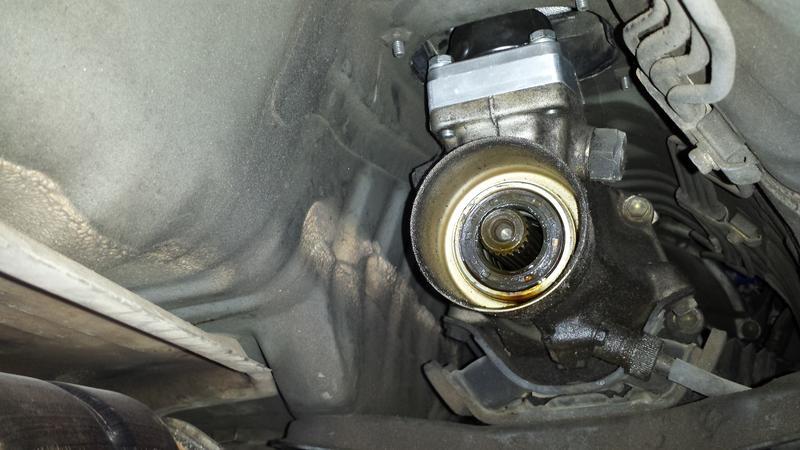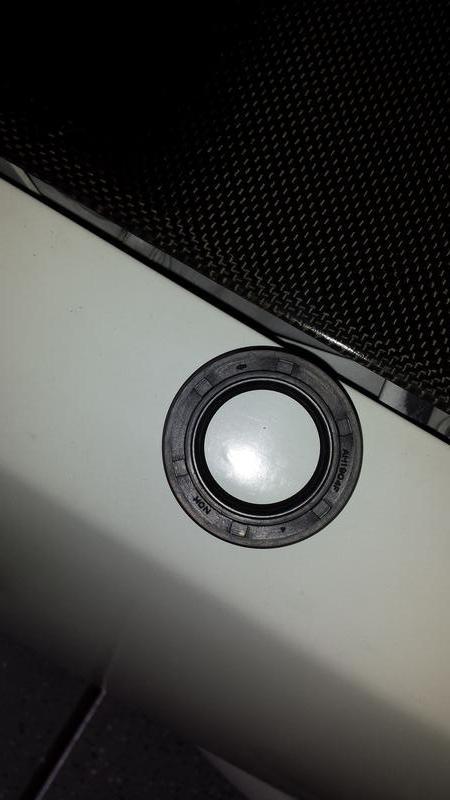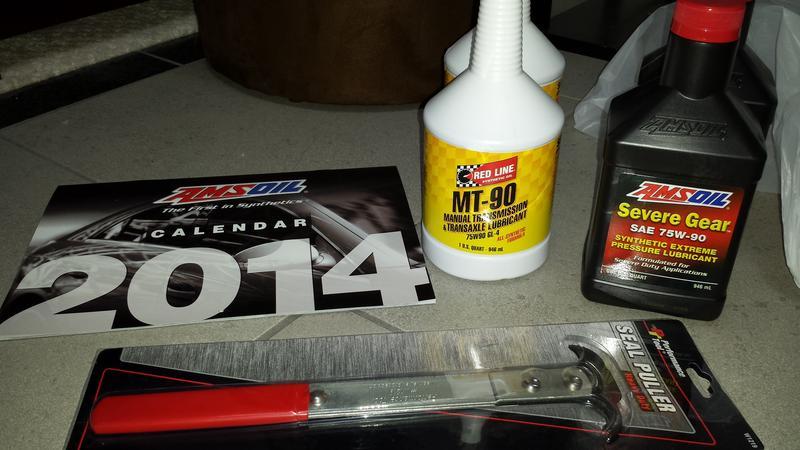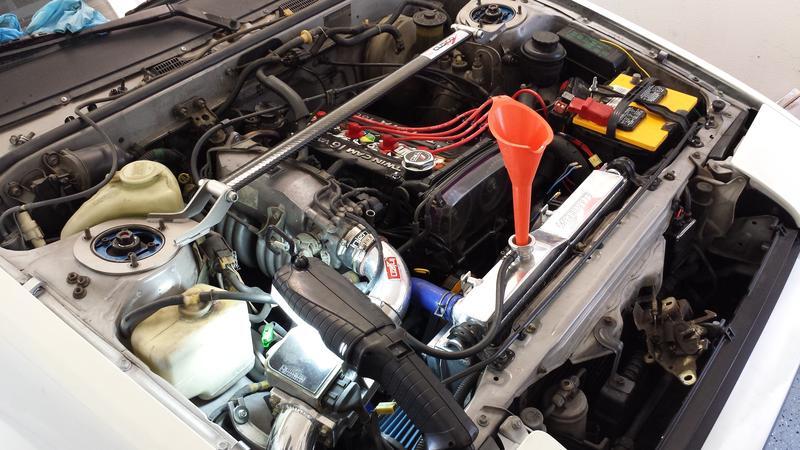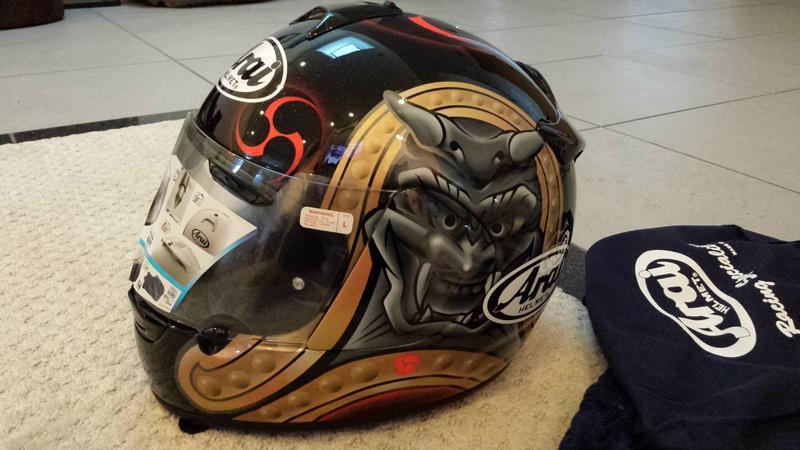 Got there dark and early...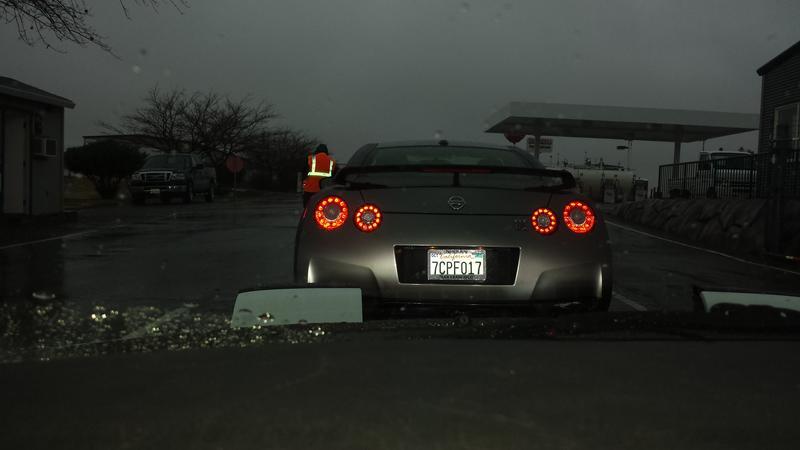 Spun and almost got head-on'd 5 times around a blind corner...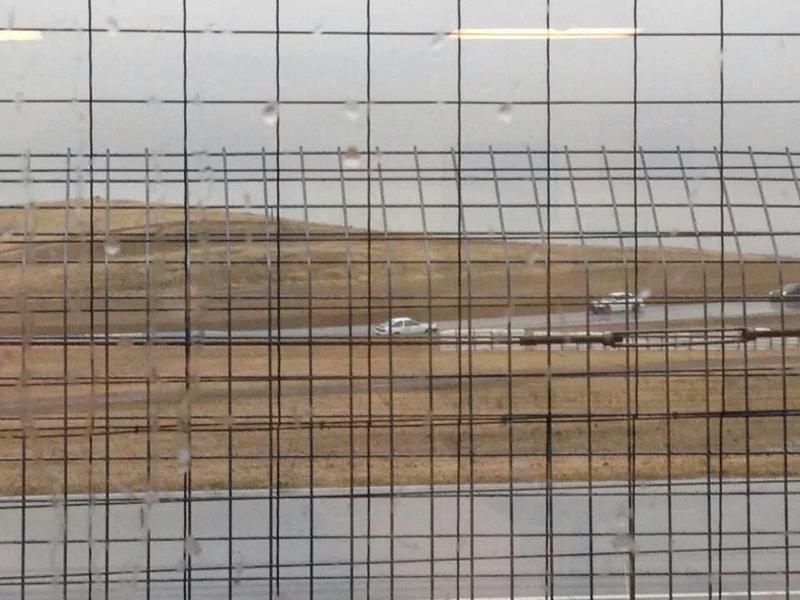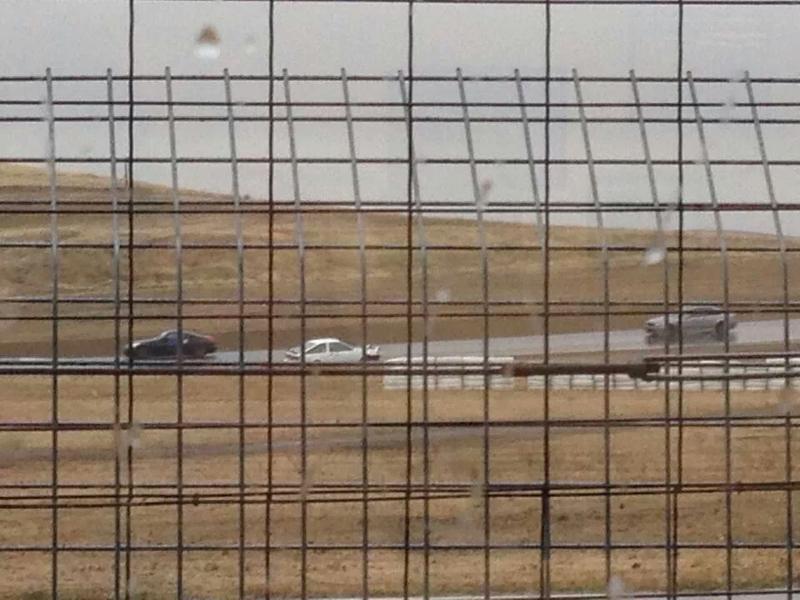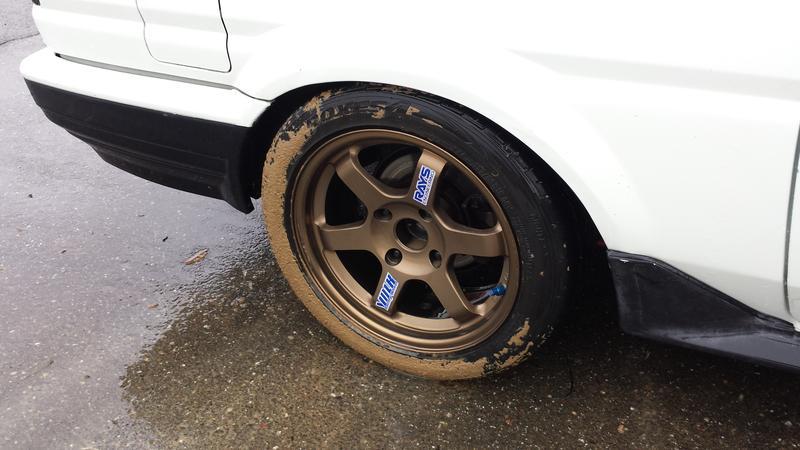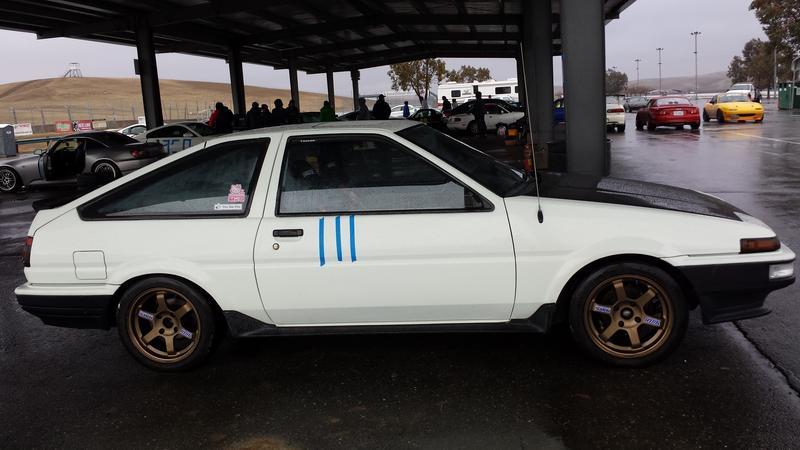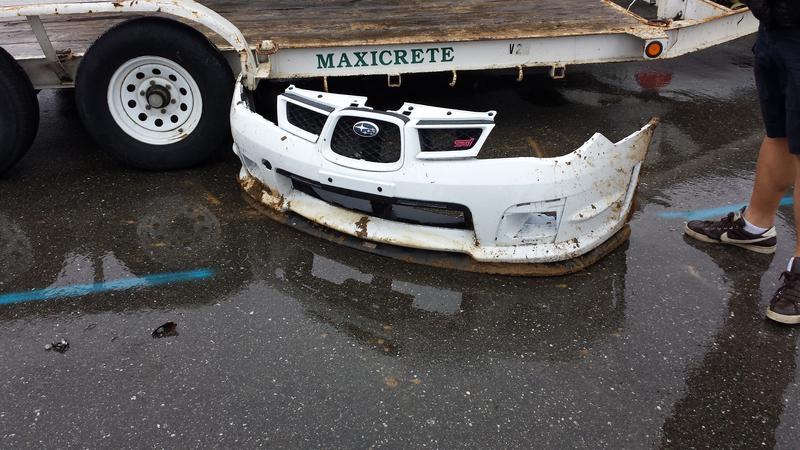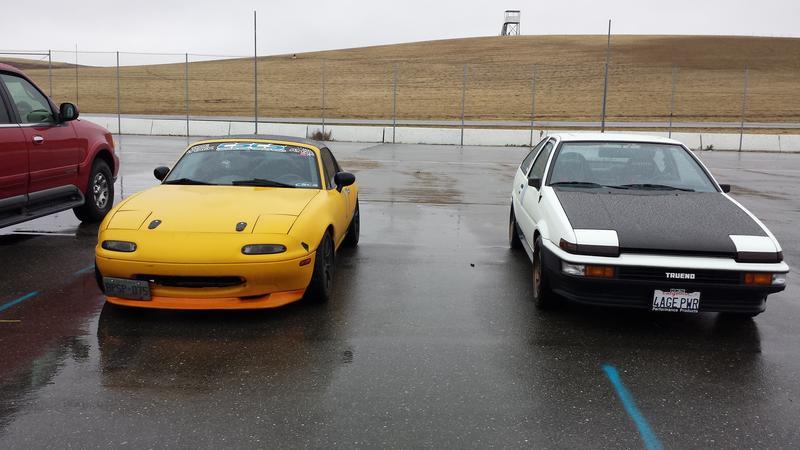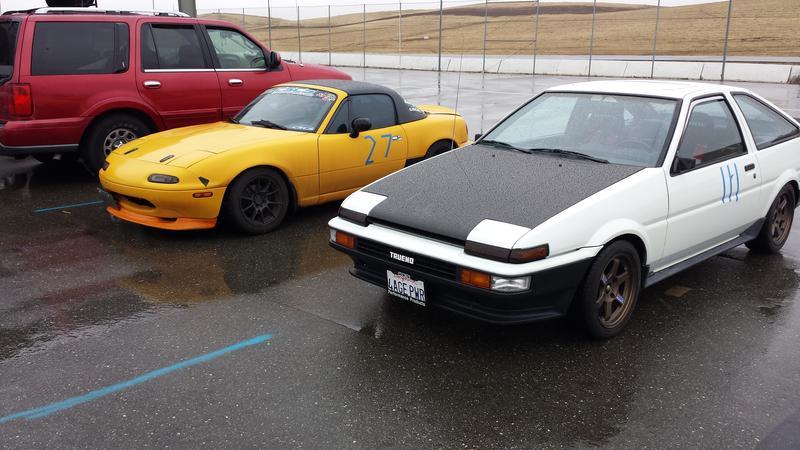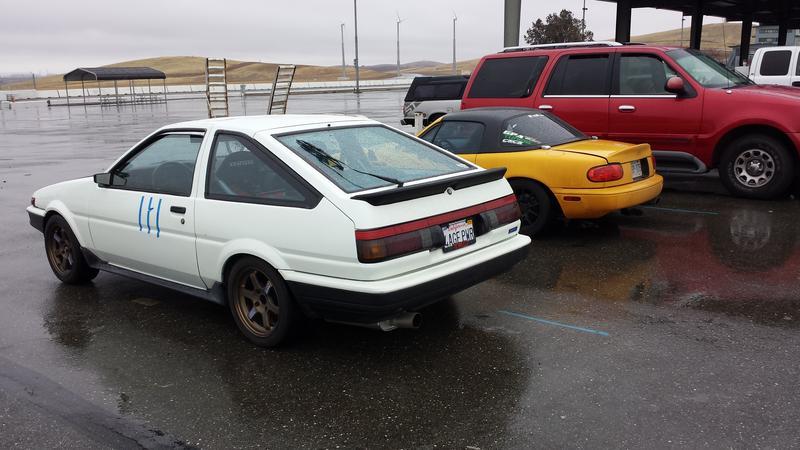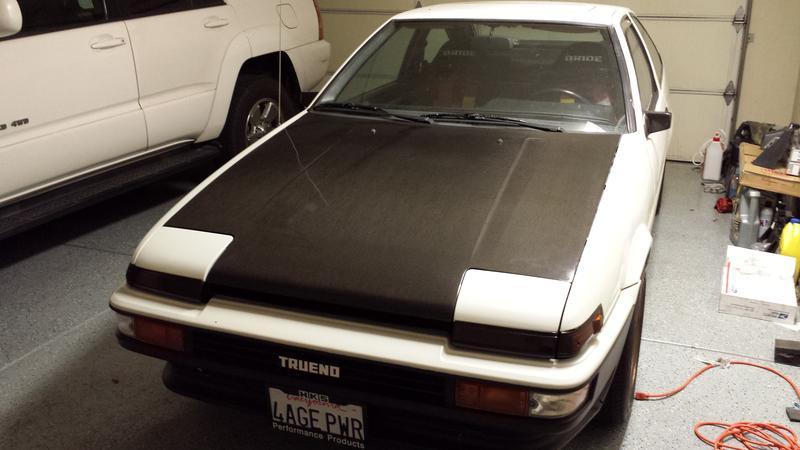 Figured I'd need this for the next track day since I didn't have one installed...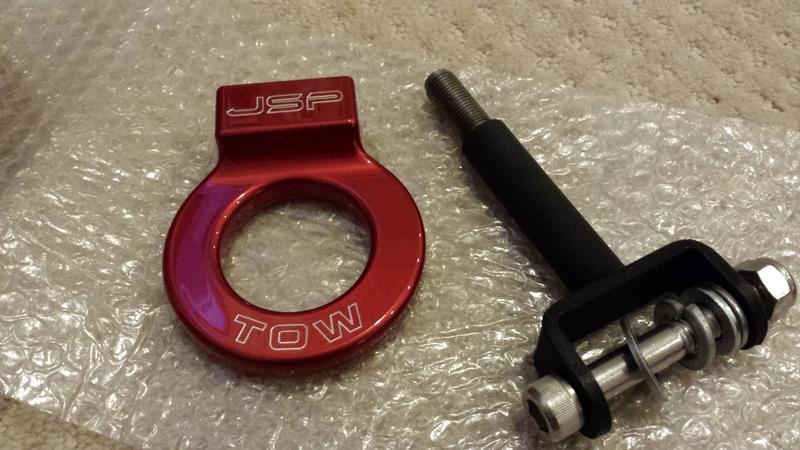 Also got these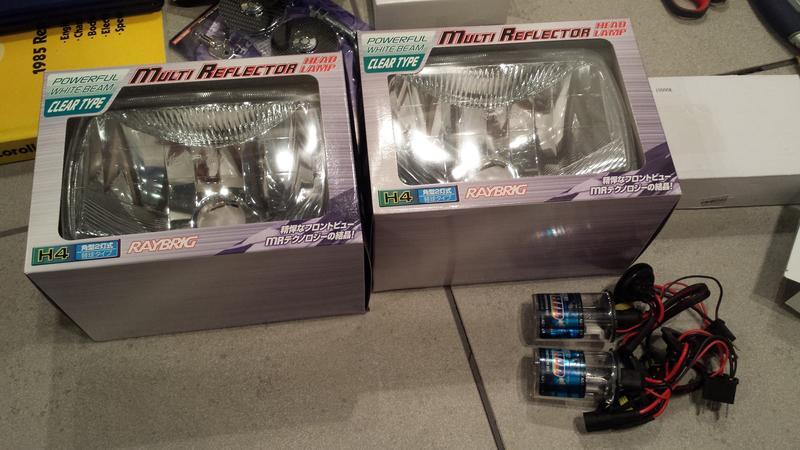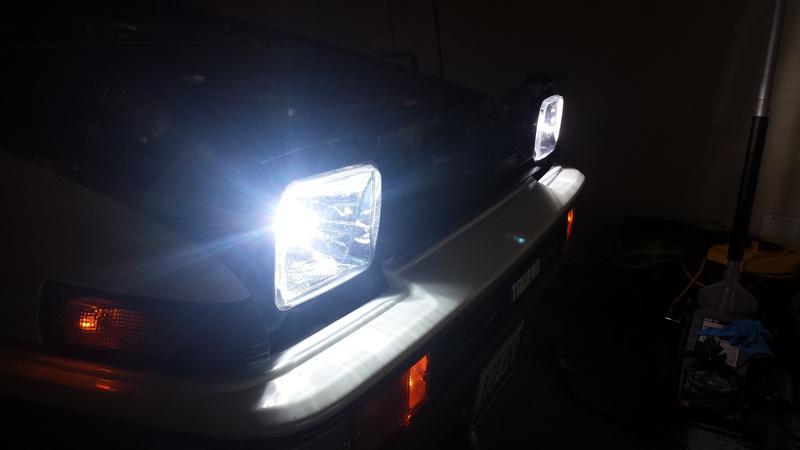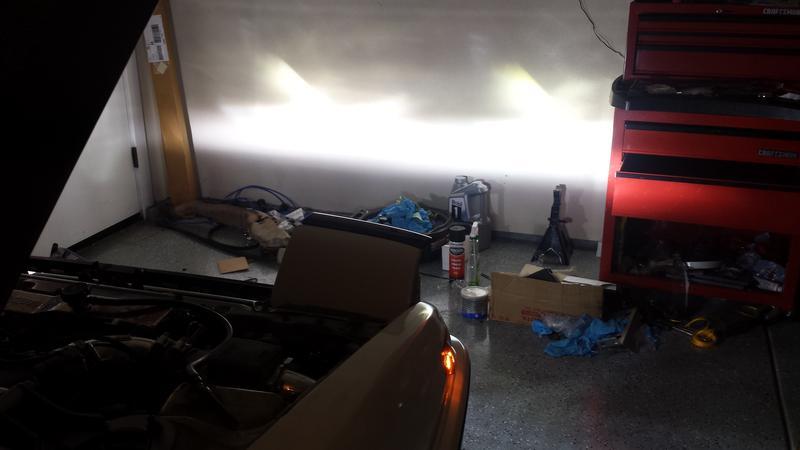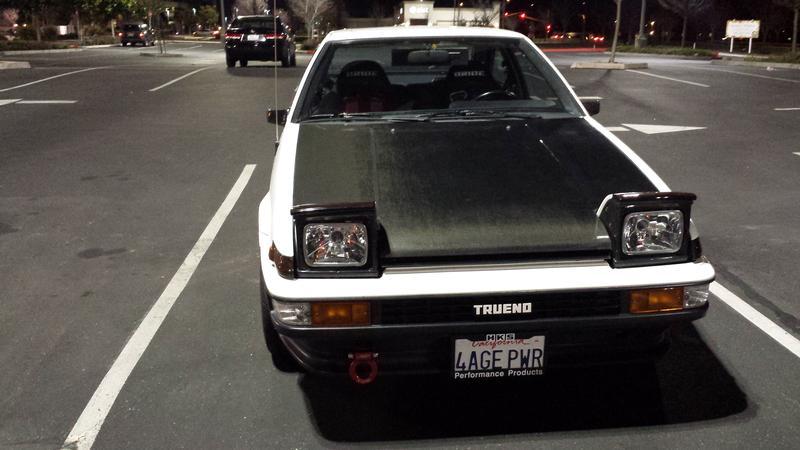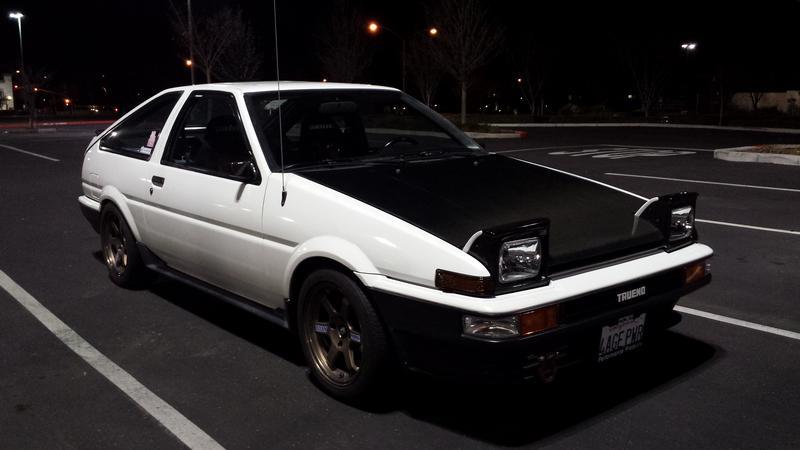 Got this Ukiya86 rad cooling plate from EP Importers.
Check out his site or hit him up on Facebook for your part needs from Japan!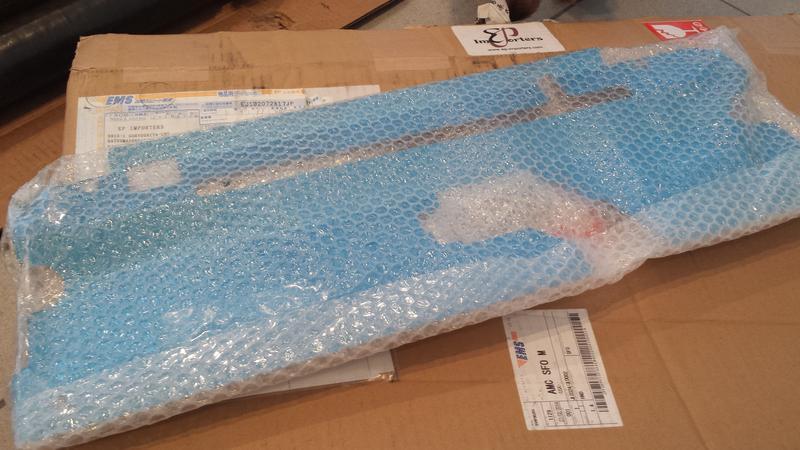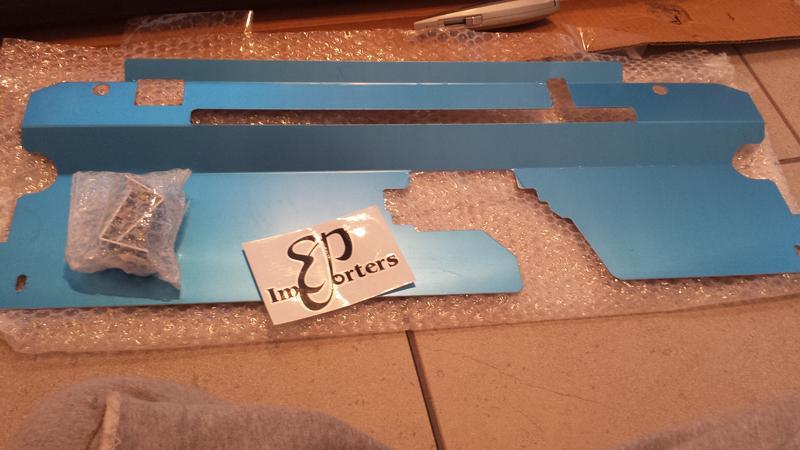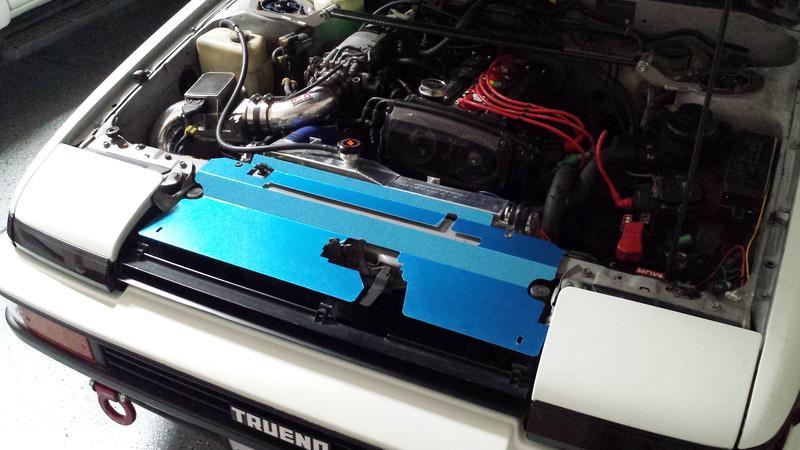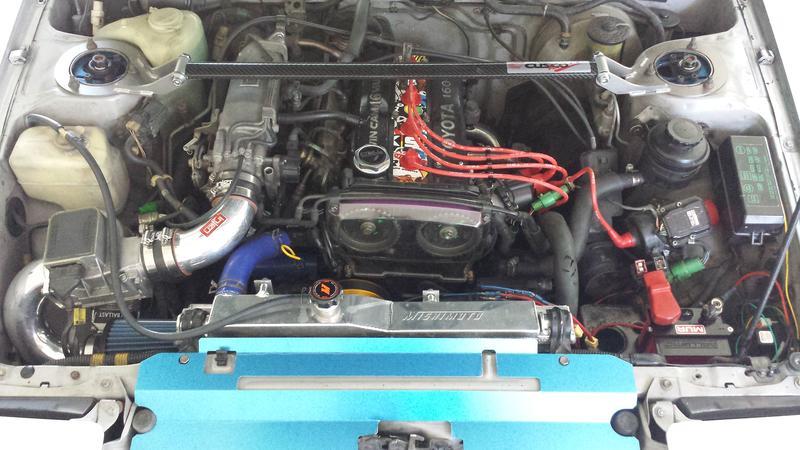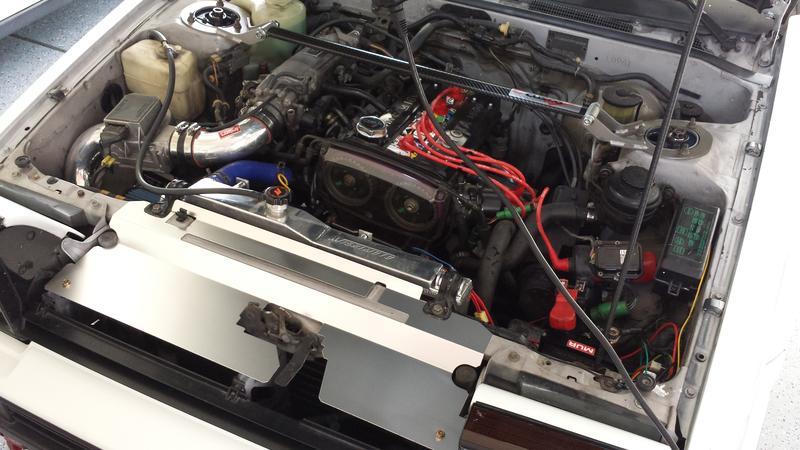 Lithium battery install...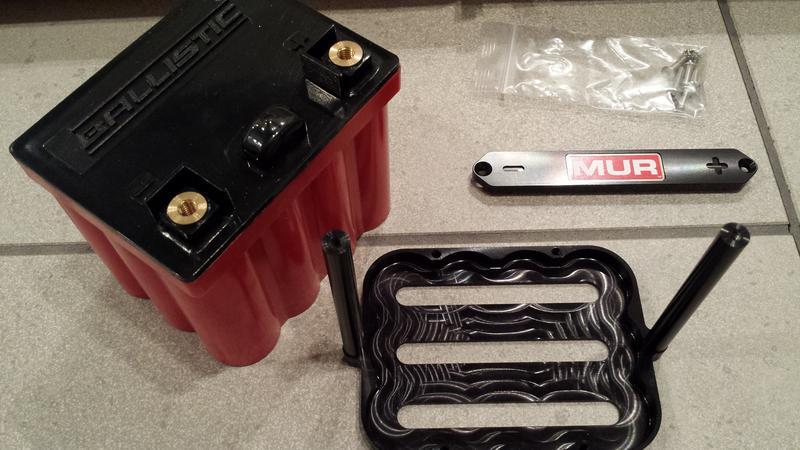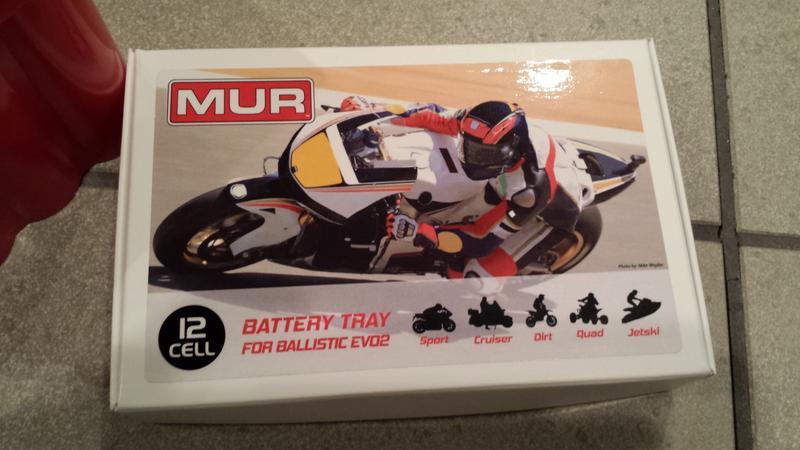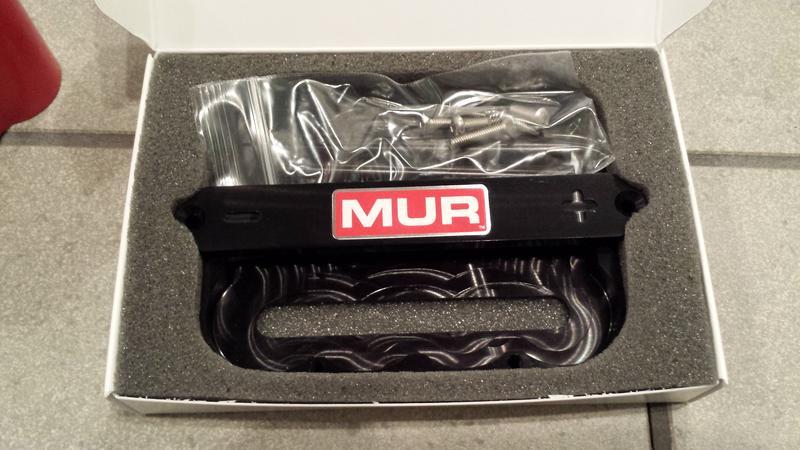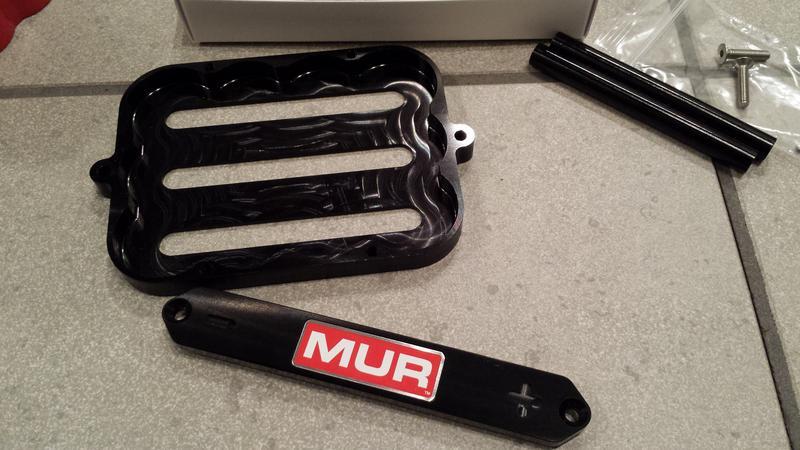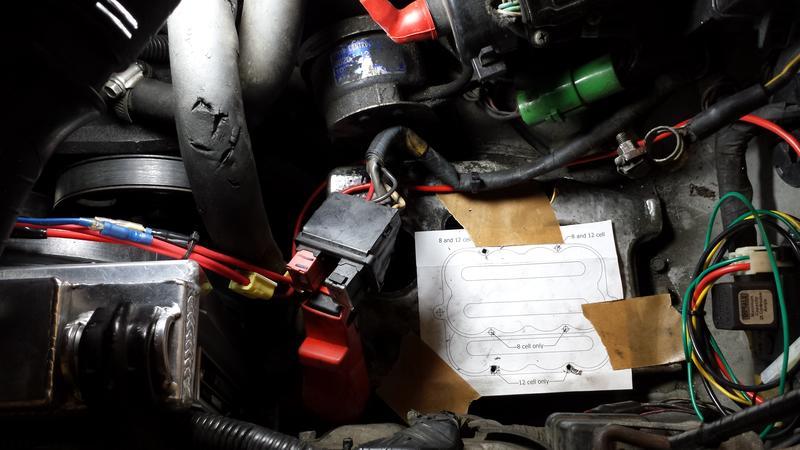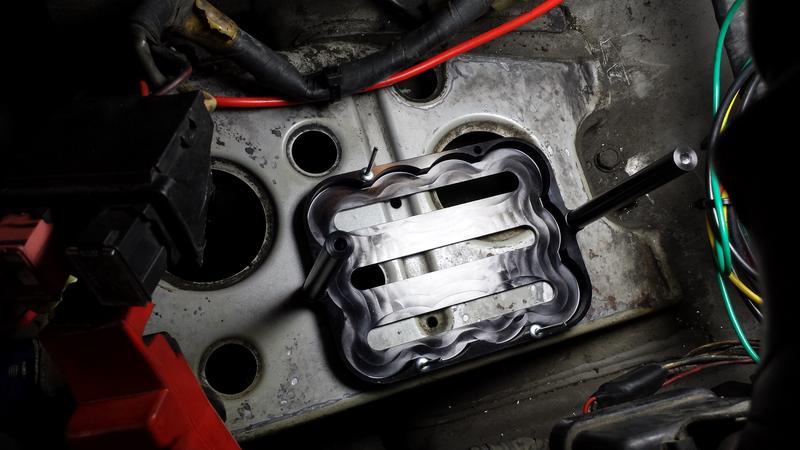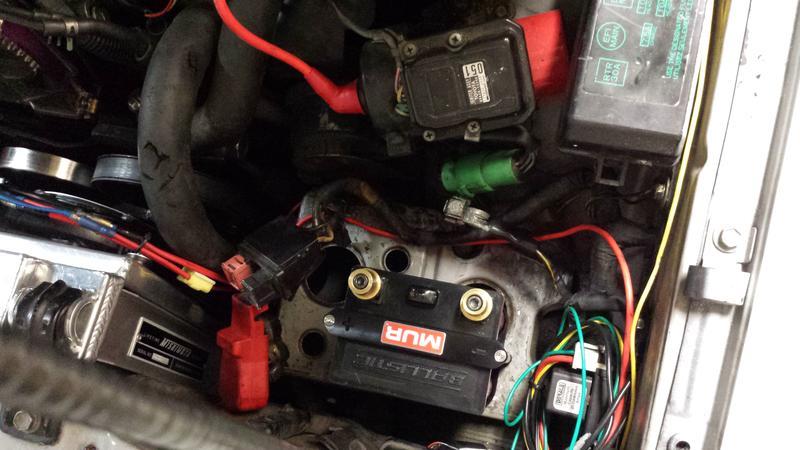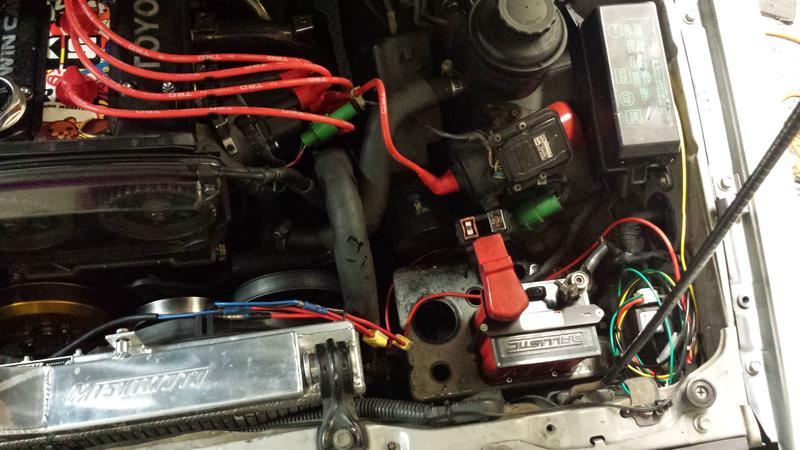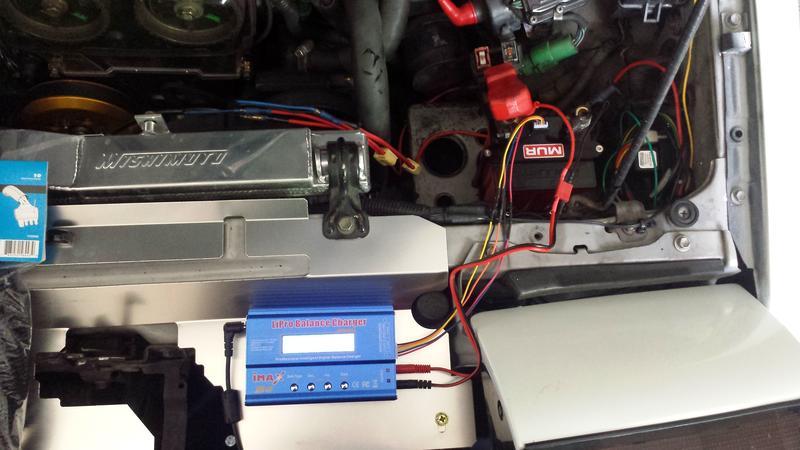 Something wrong with the rear strut bar....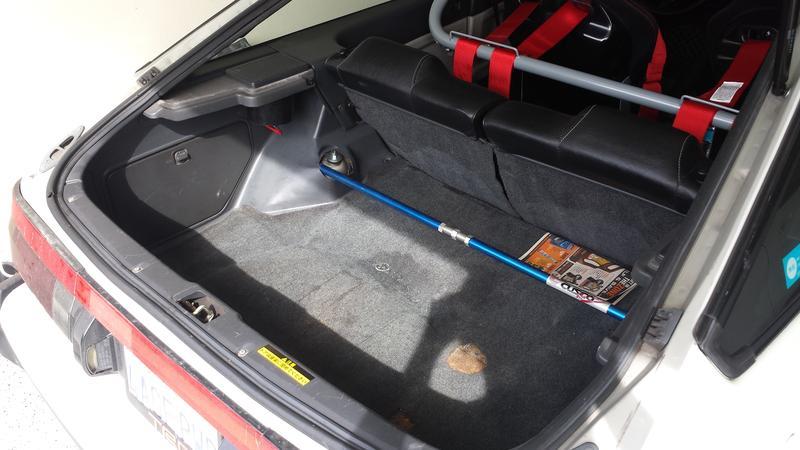 Removal of panels and inspection....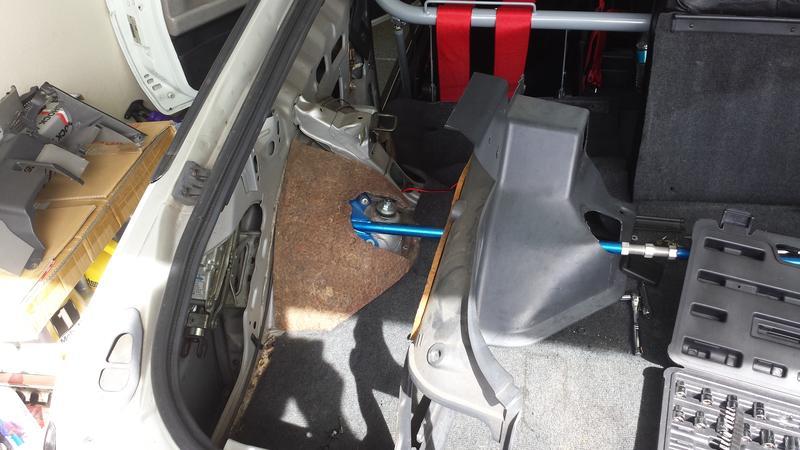 HOLY HELL... last owner had this held it with self-tapping screws... -_-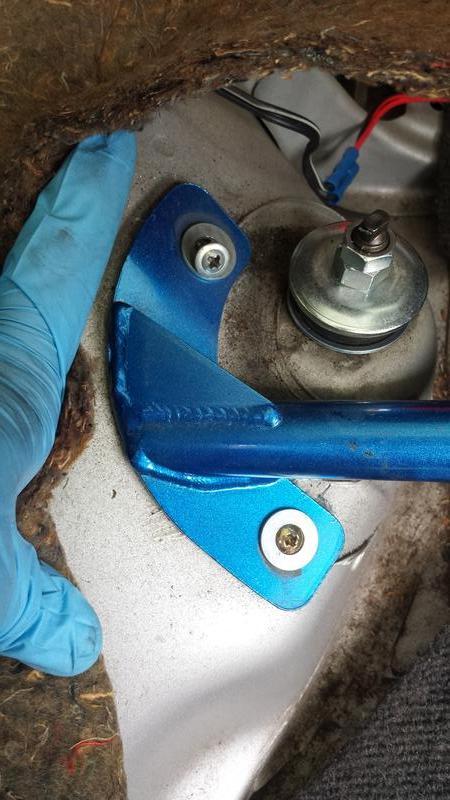 Drilled larger holes and mounted proper hardware...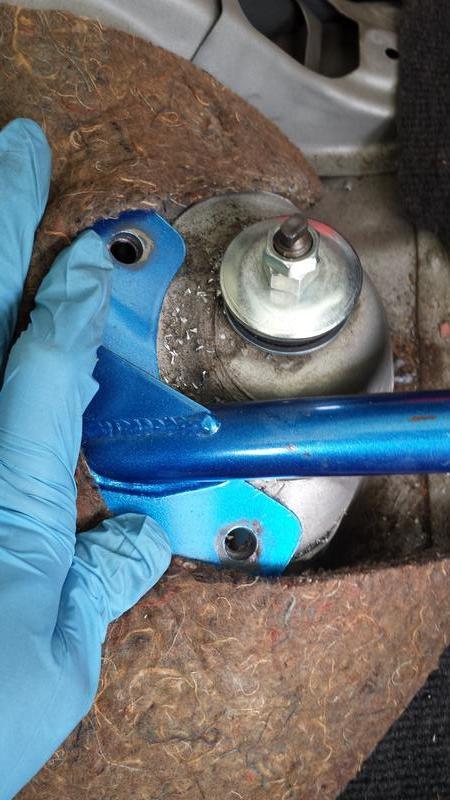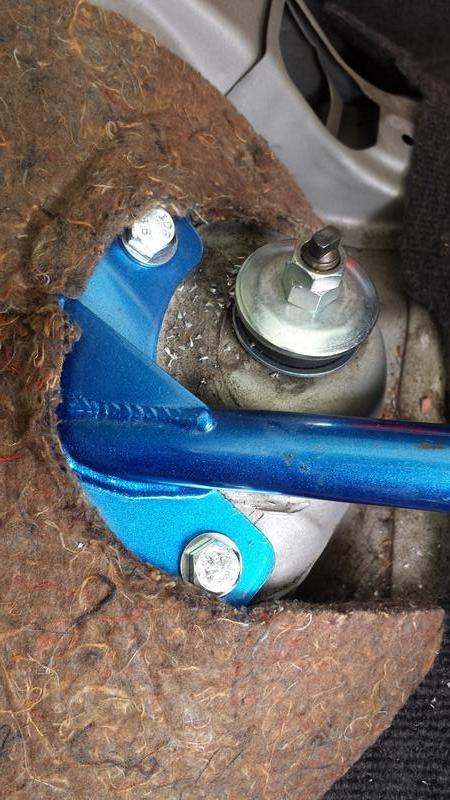 Swapped this out from T3.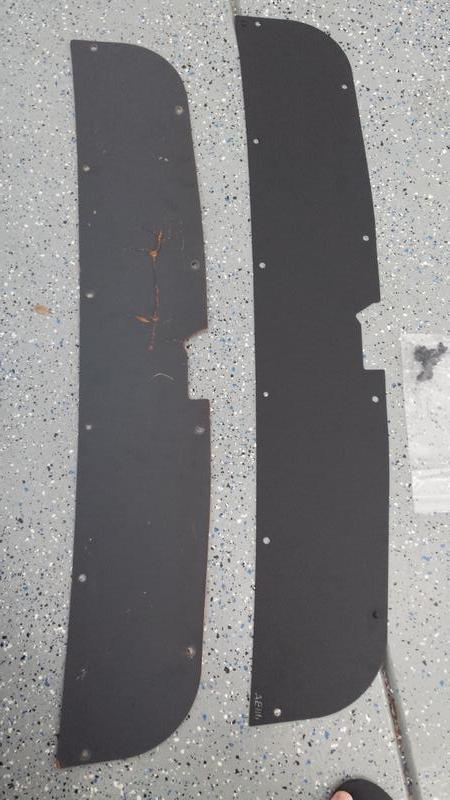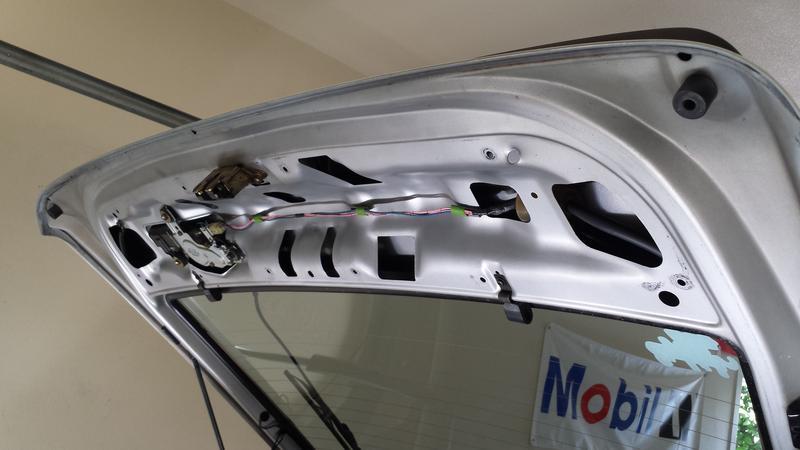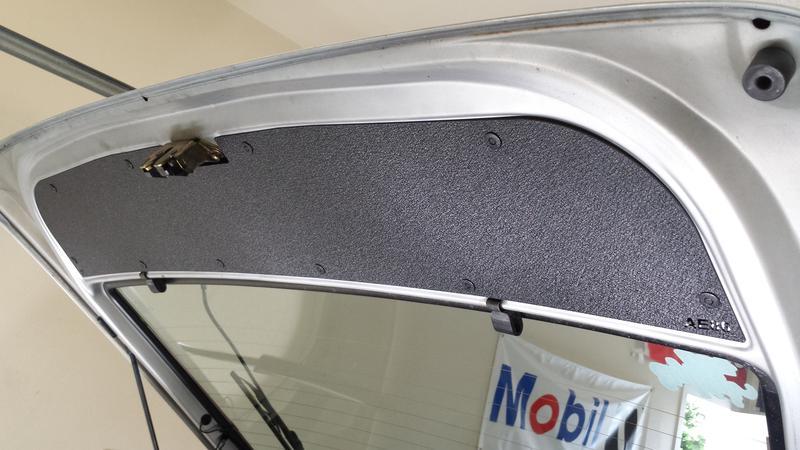 Got these doors from member ViperVern on here.
Really a shame he parted out his hatch.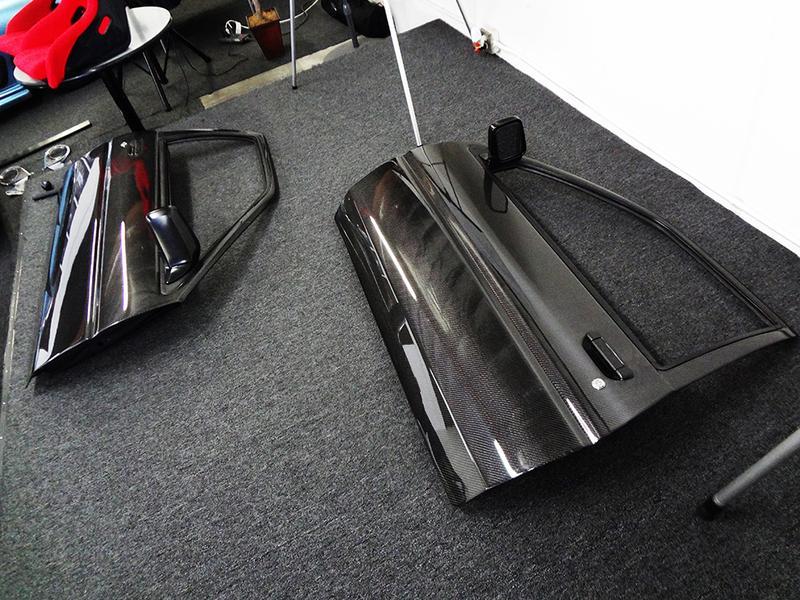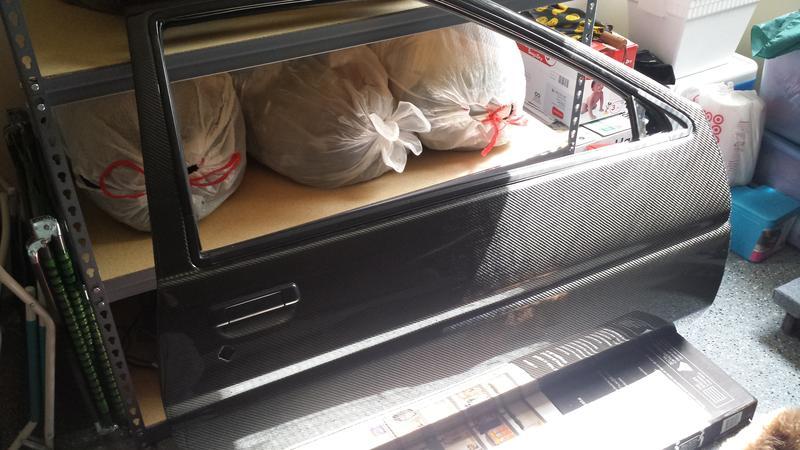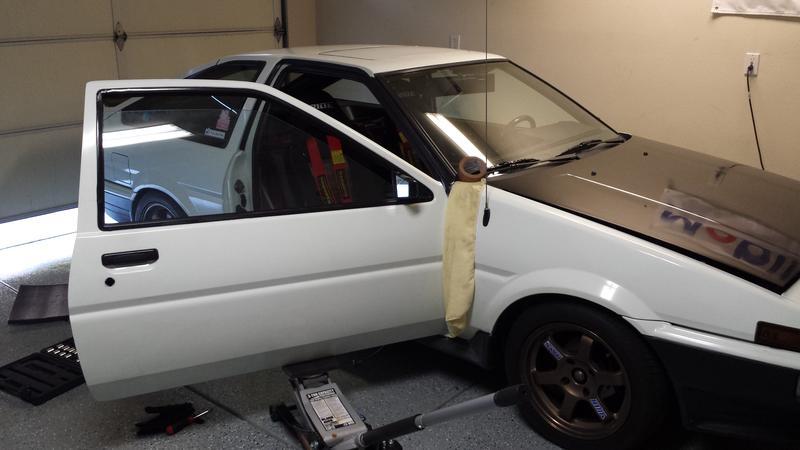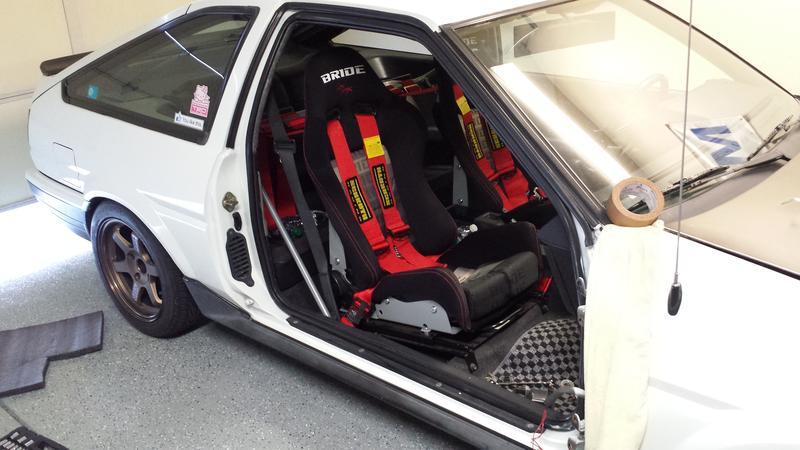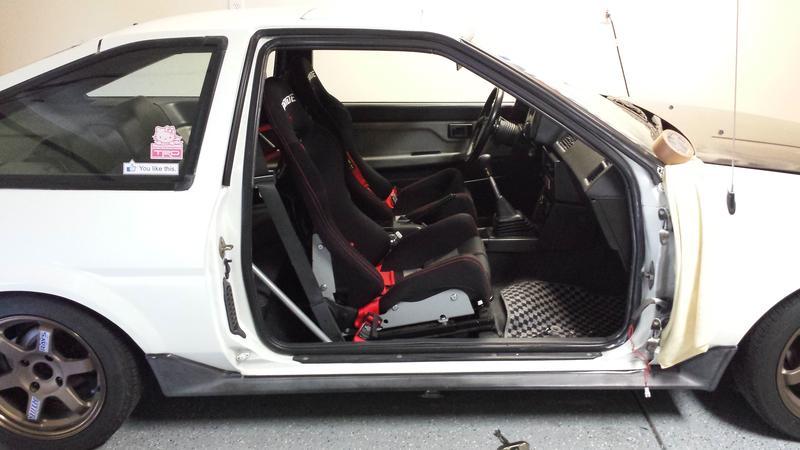 Moved the solex locks over.
Needed to mod the locks a bit due to the thicker FRP door skin.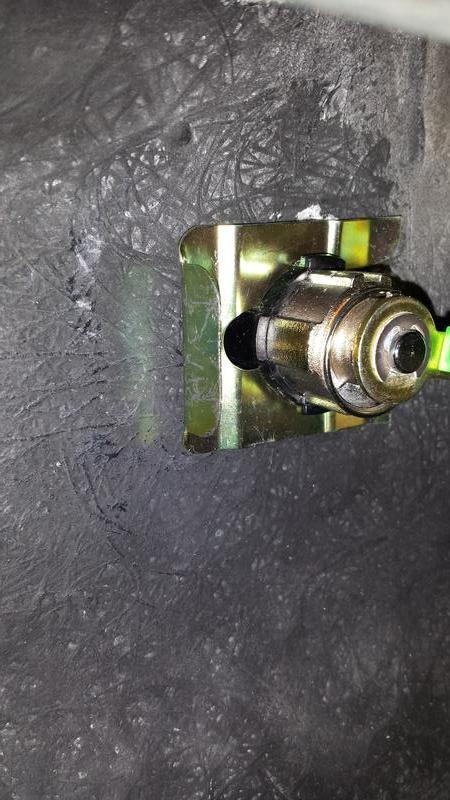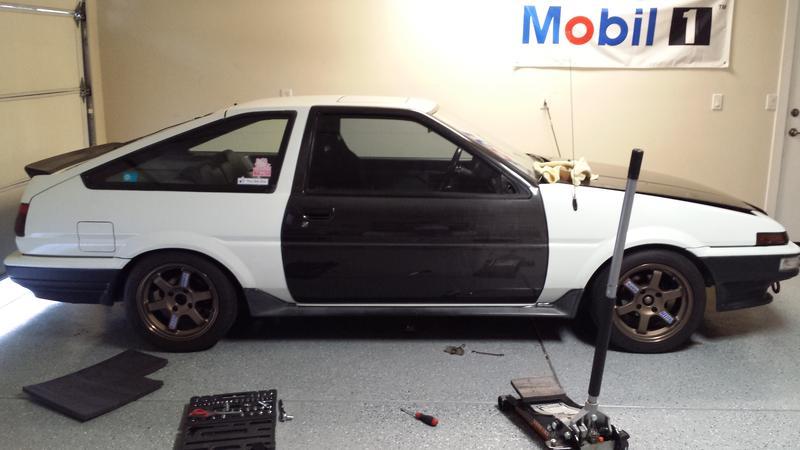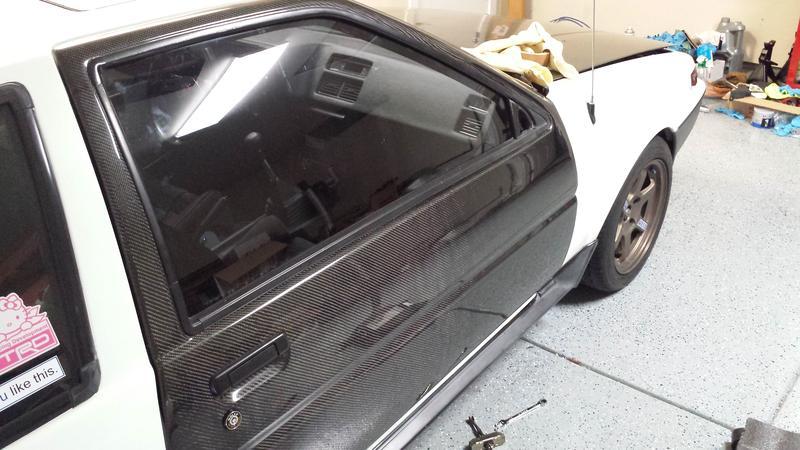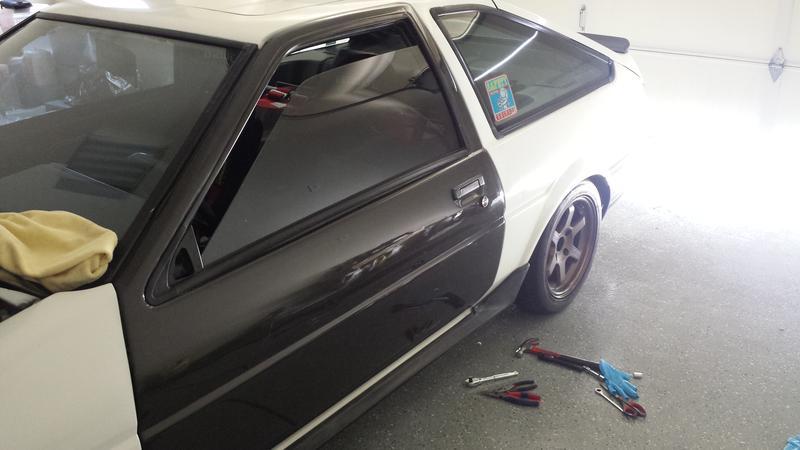 They work ok with the standard door panels.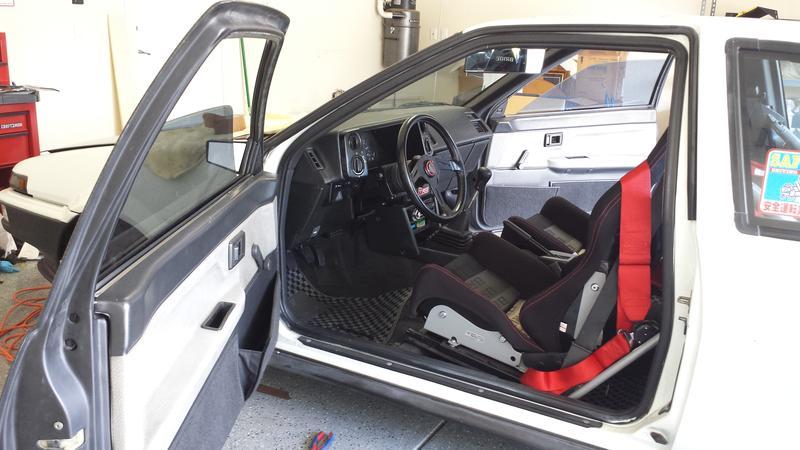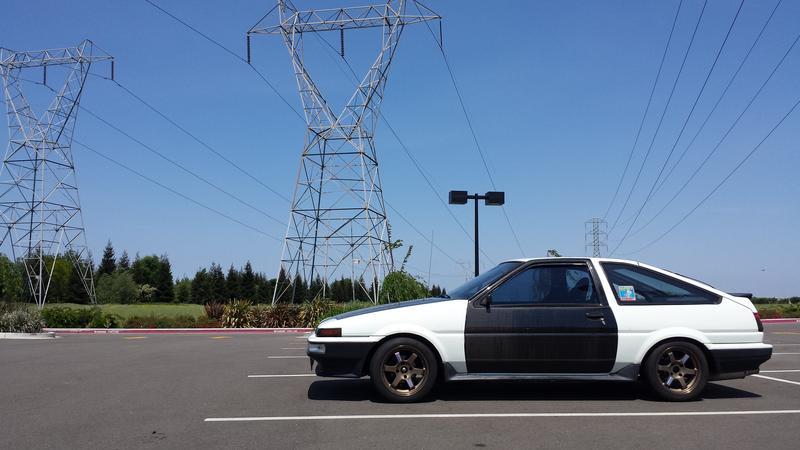 Installed old zenki lip that I've had off the car for 1year+ now...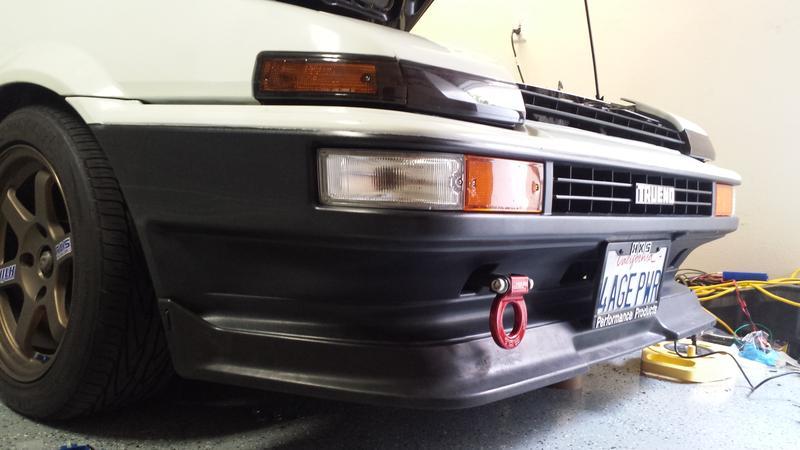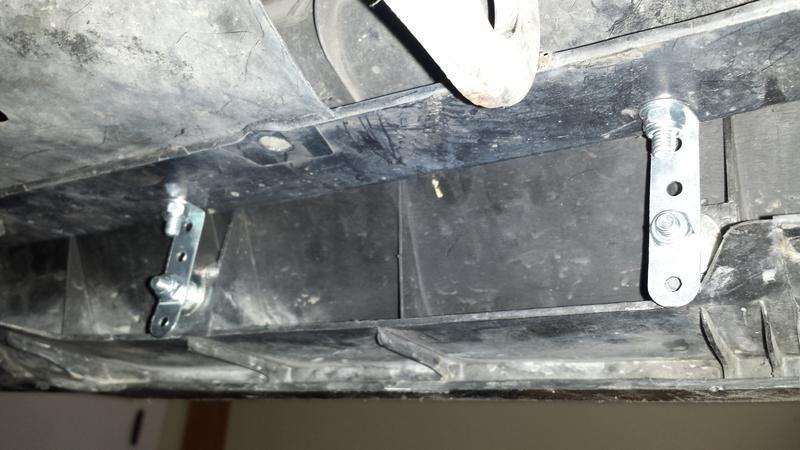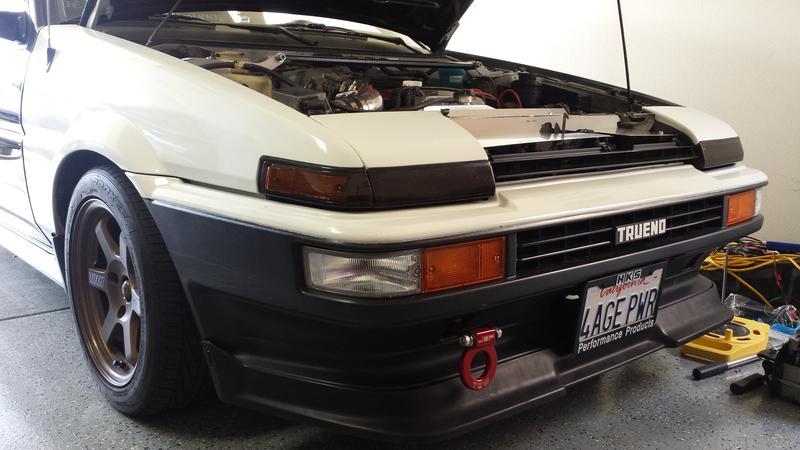 Swapped rear seats out for a set I've had in storage for over a year...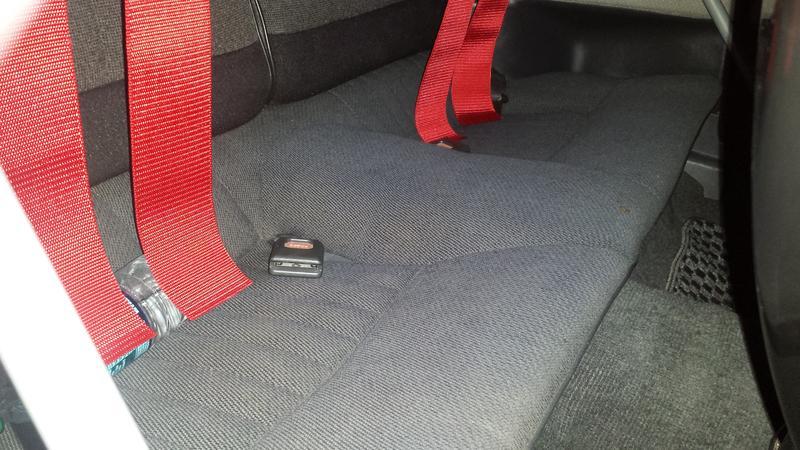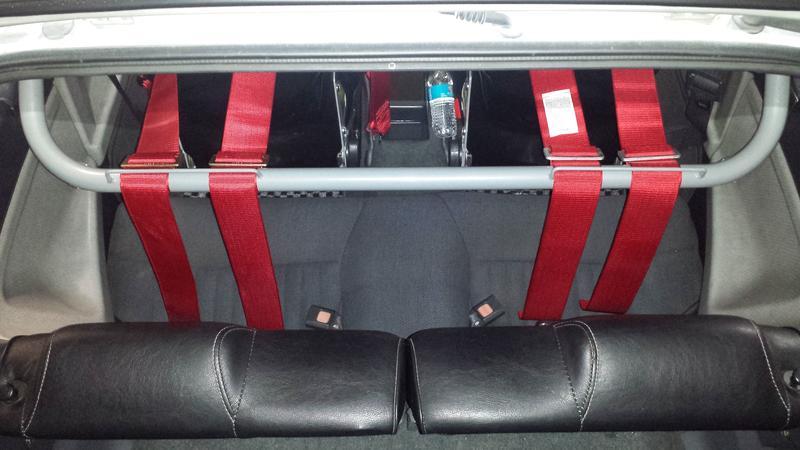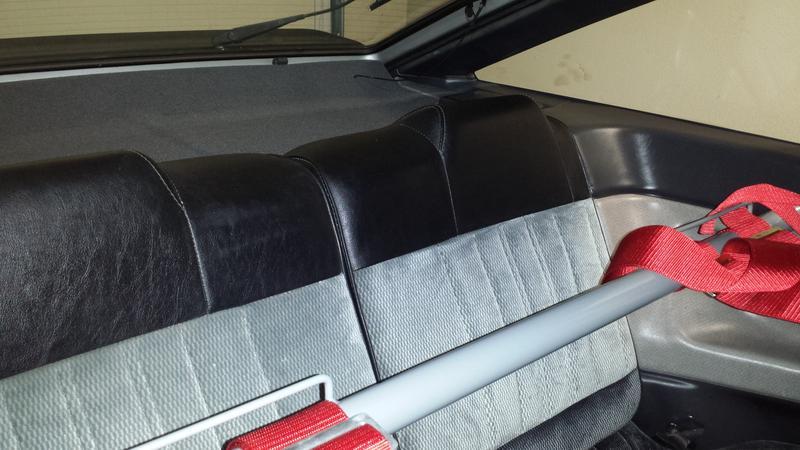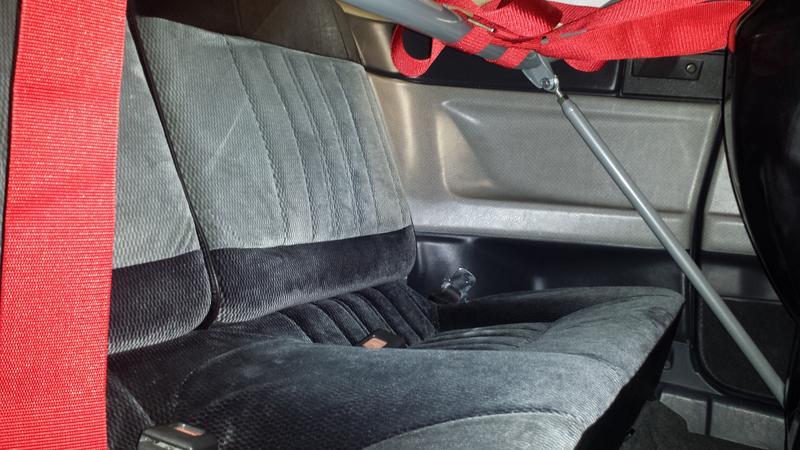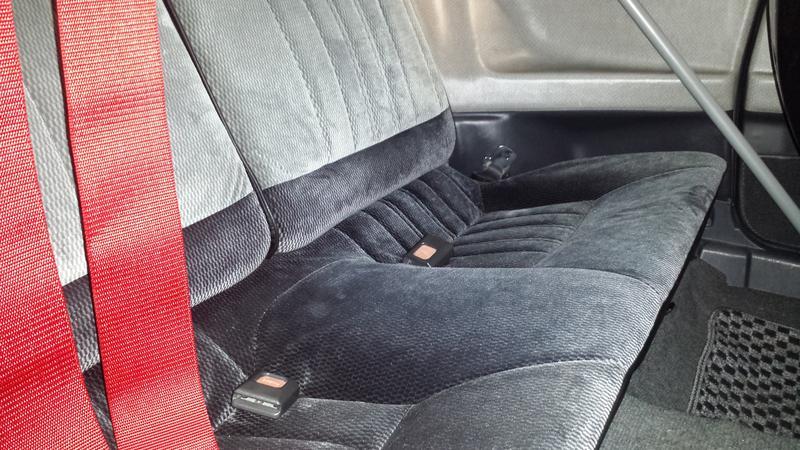 Oil last changed 11/2013. Still really clear....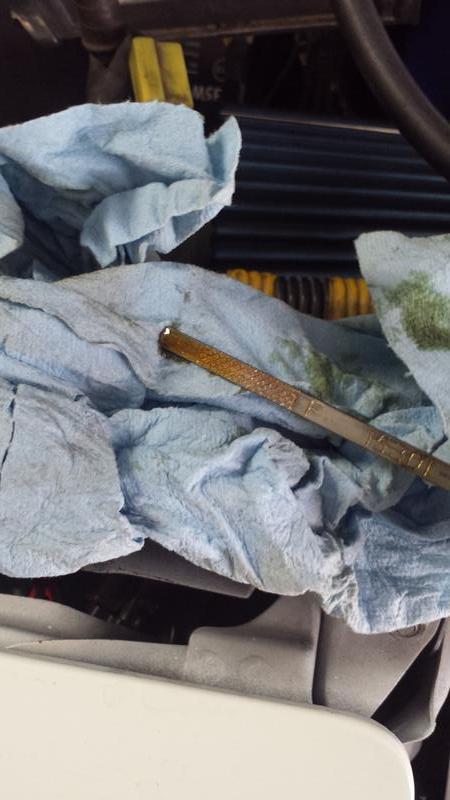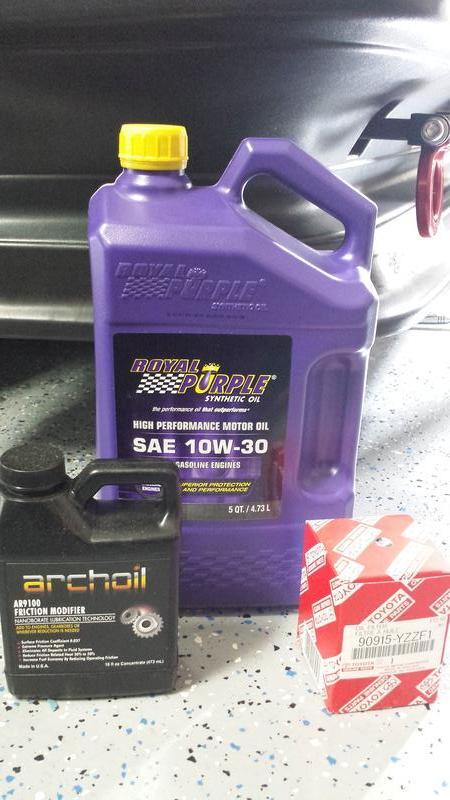 Most current pics of the car.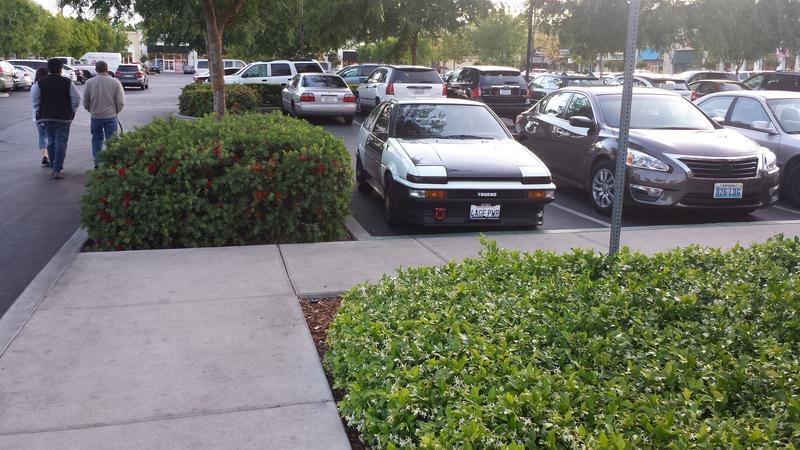 StraitupD's modern zenki side decals being applied.
Got a set of white and black to compliment the doors.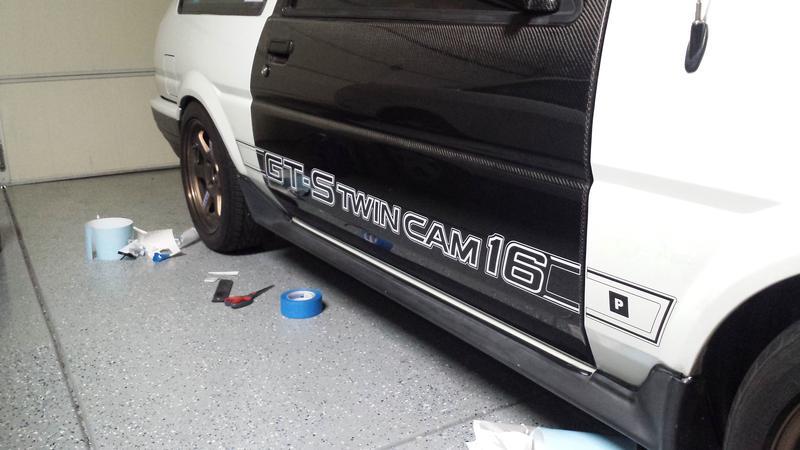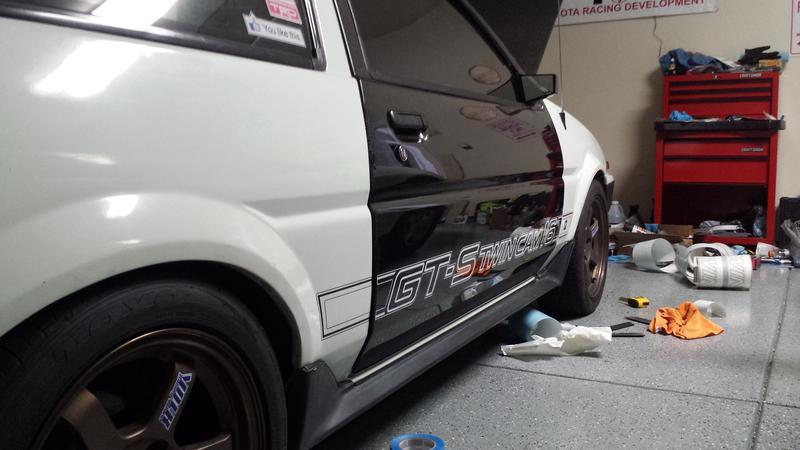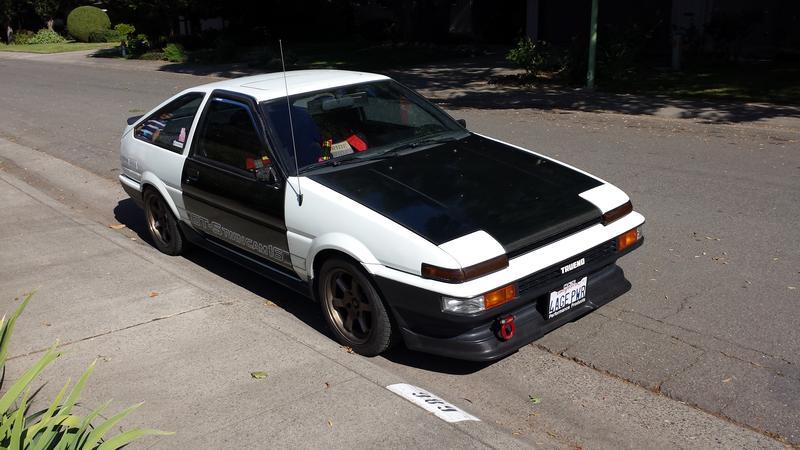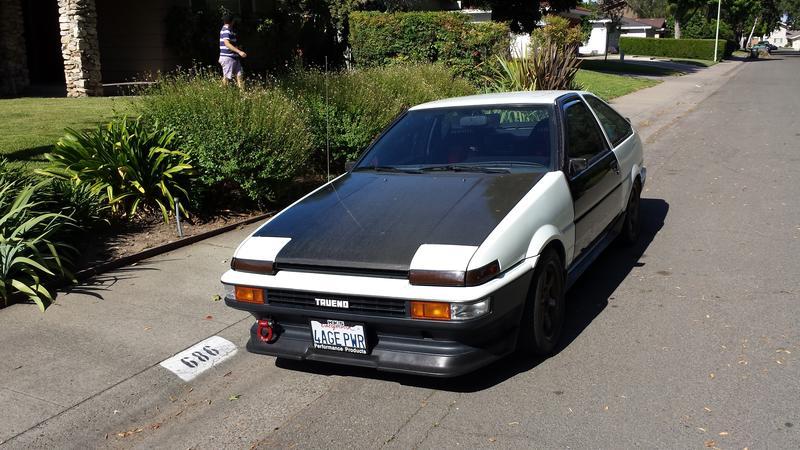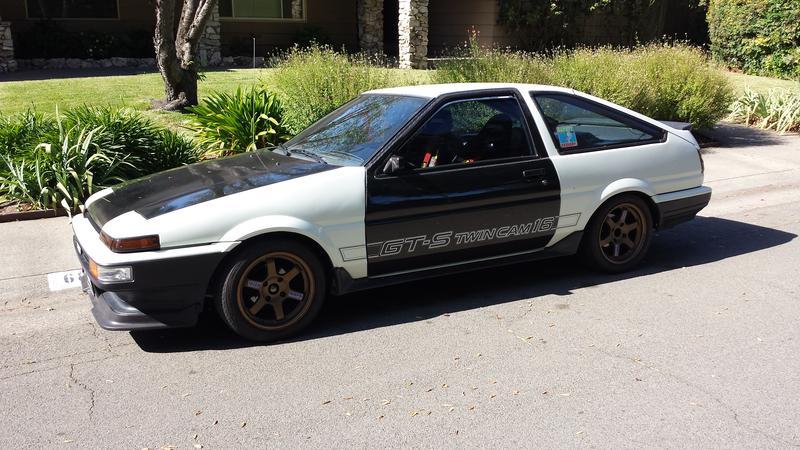 All the posts from today are from January to present.
Been moving things along.
Also, if you want to view the build of my smallport head courtesy of oldskewltoy.
Happy motoring!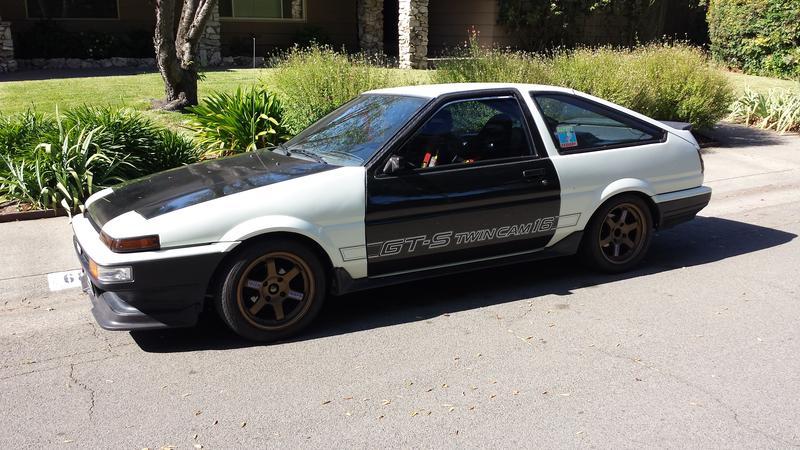 8-17-2014
Thanks for the kind words!
A photo update...
I think this was an event from back in February.
Car understeered like crazy hah.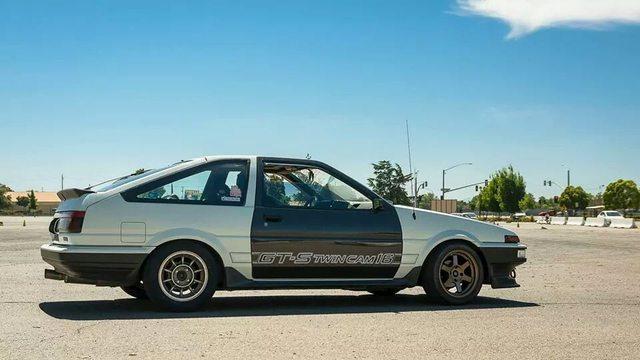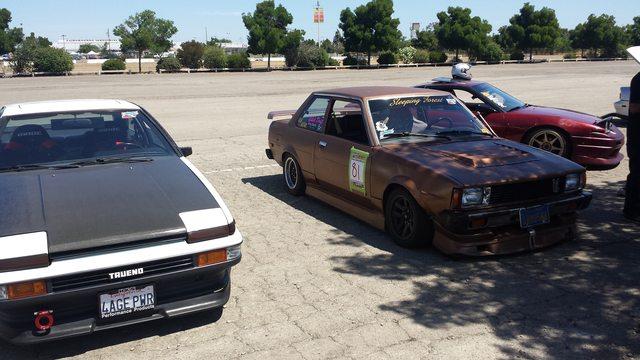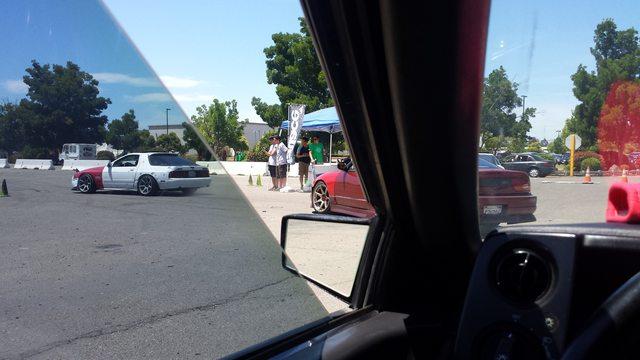 Got head back from OST a while back.
It has TODA 272/9mm exhaust cams and shimless 1SZ buckets.
Work on the 2nd engine will have to wait for some time though.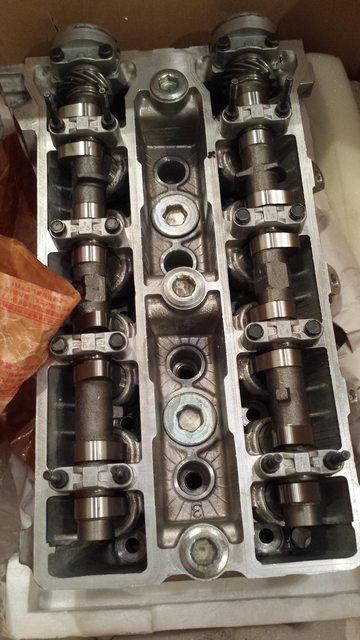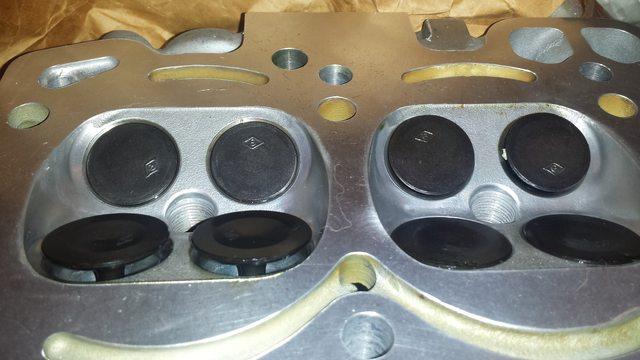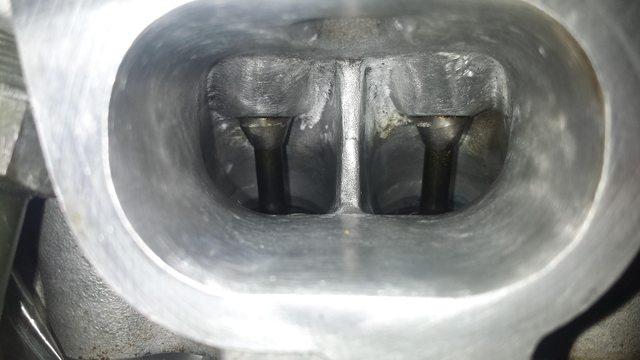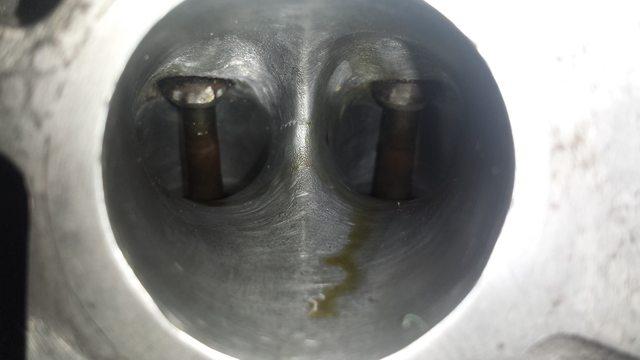 Got Tomei connecting rods for future but....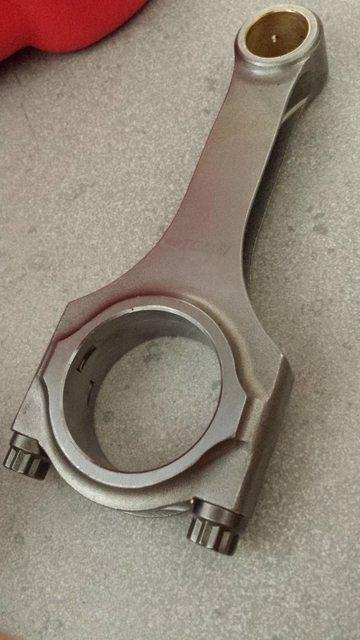 One looks like this...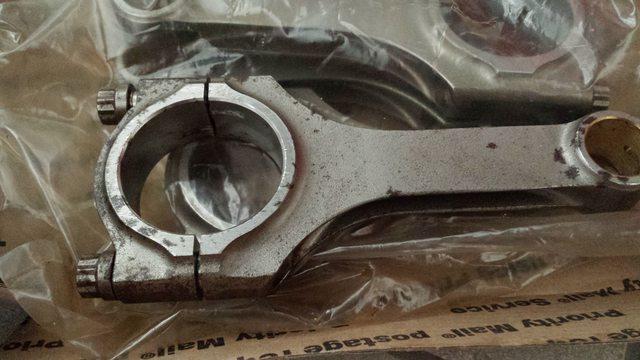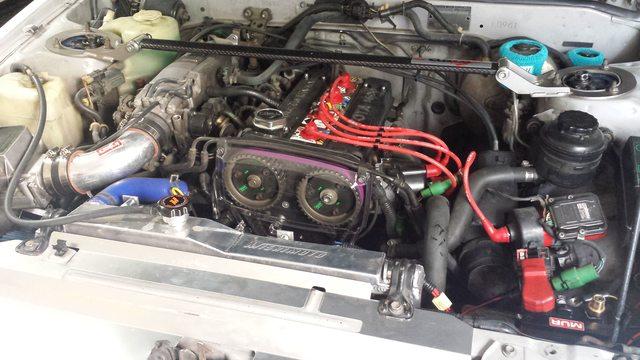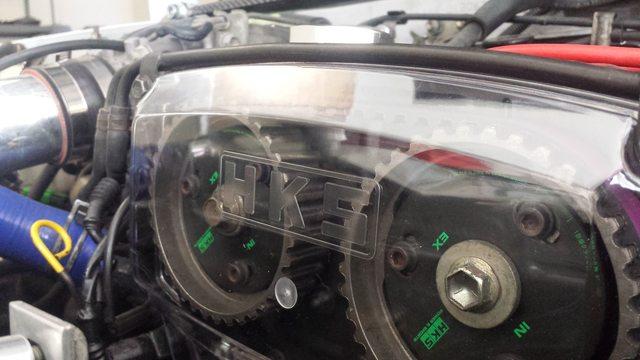 A few from 8/6 day meet.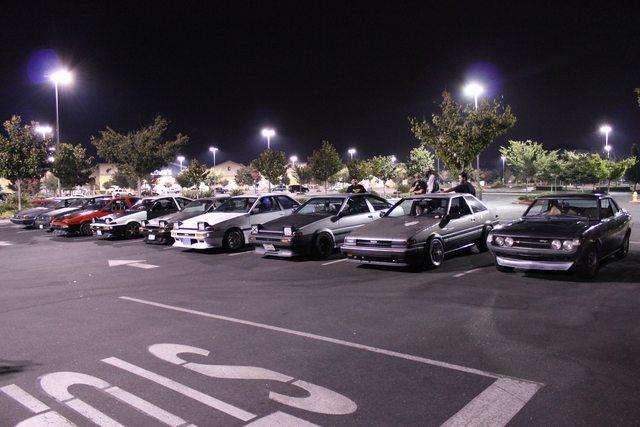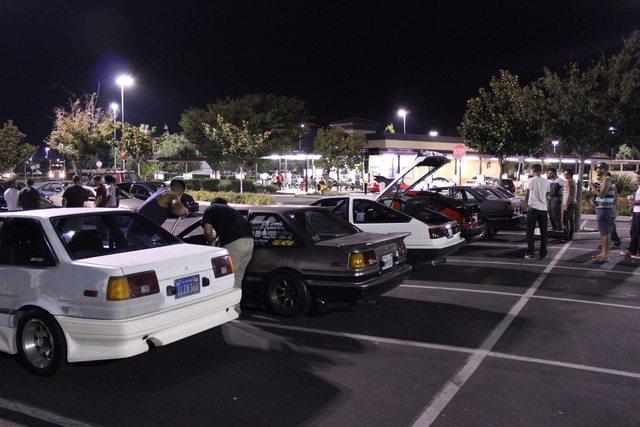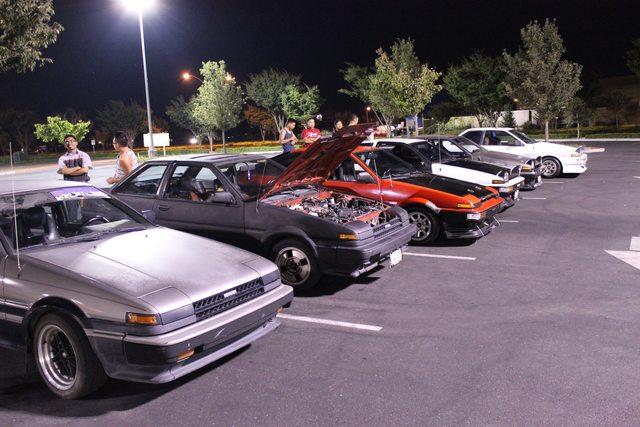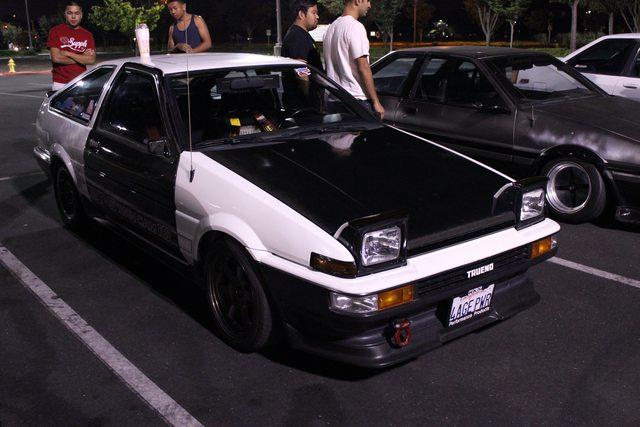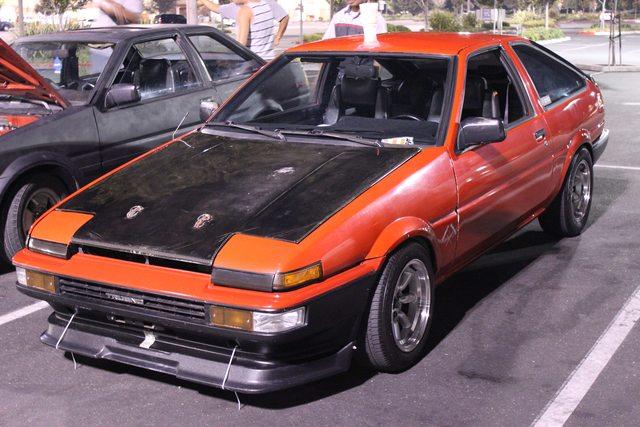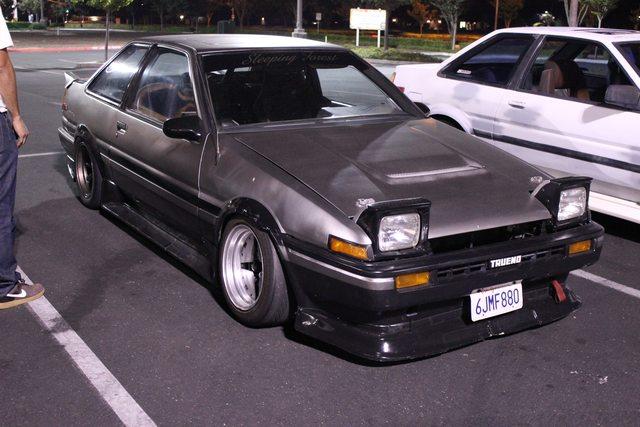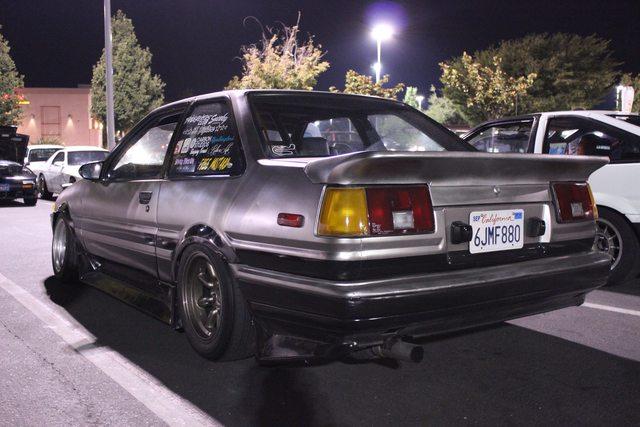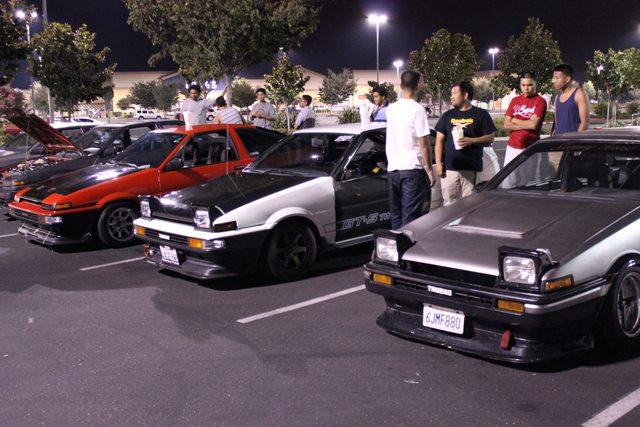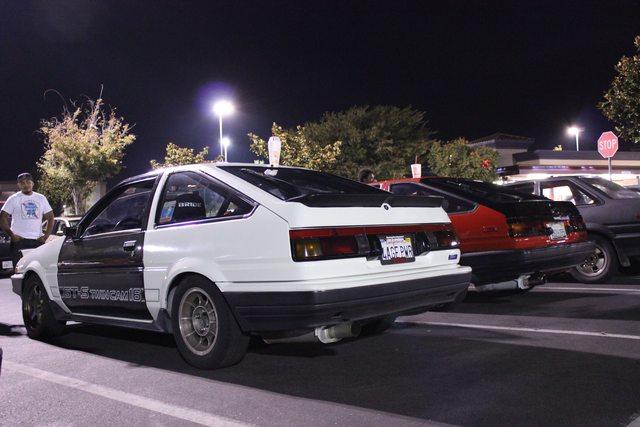 Got these in from Ep Importers.
Check out their site and contact them for your Japan parts needs.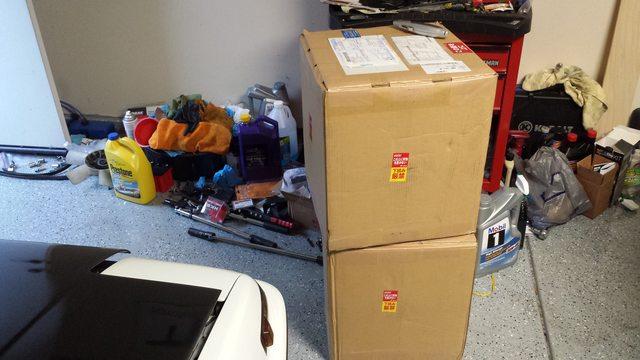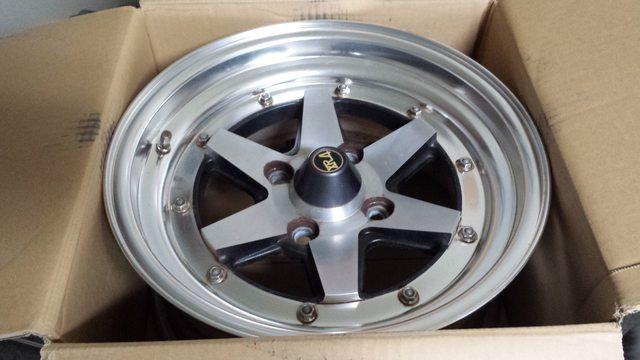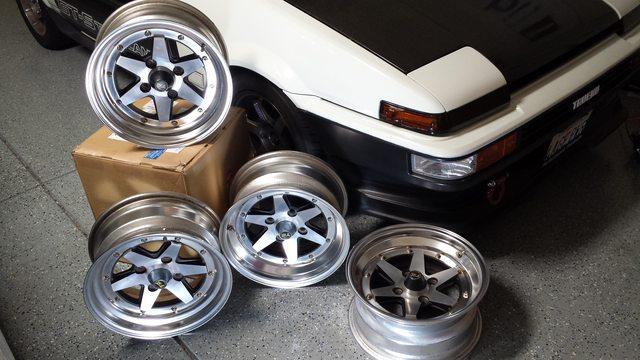 My next post will hopefully be about these.
AE manual rack with A/C retention and cruise delete.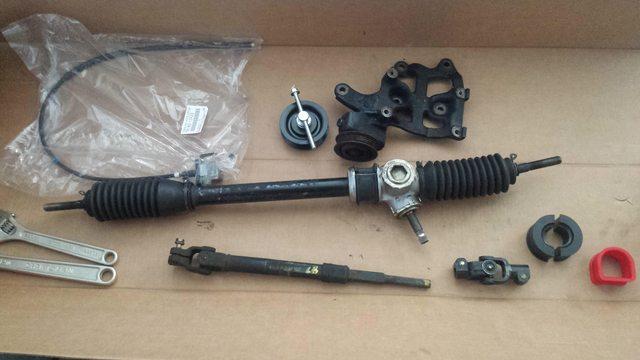 9-15-2014
Update.....
Manual rack will be next hopefully.