The build Ive Been Waiting To Do For 6 Years by KODYHUGHES
By diyauto
The build Ive Been Waiting To Do For 6 Years
Compliments of KODYHUGHES @ supraforums.com
5-6-2013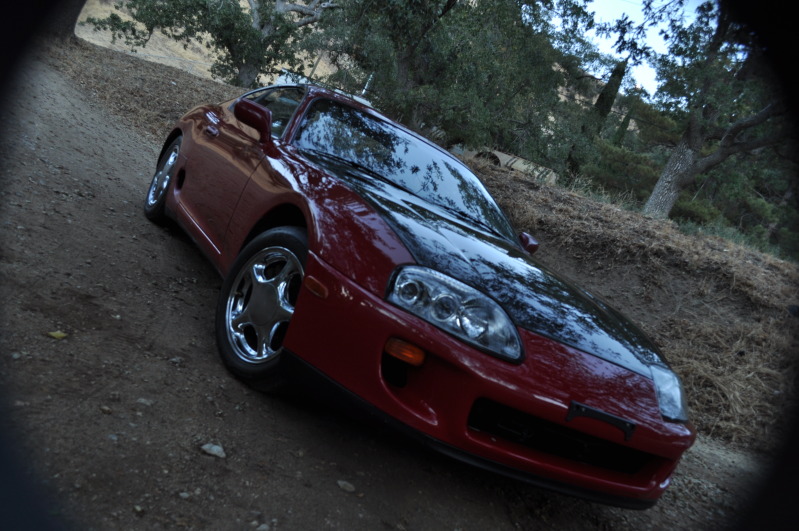 So like the title says, ive been waiting for 6 years to finally start this build.

Why ive waited so long ? I'm not exactly sure, most the time ive owned this car i was on the fence on whether i should just swap in a GTE or if i should boost my existing 2jzge.

Ultimately I've decided to go the na-t route and piece together my own kit.

I haven't gathered all of the parts but i really wanted to do a build in progress thread so you guys can see the conversion come together.

Ill include my list aswell as the parts i have gathered up so you can get an idea of where this build is heading. Also since this is a progressive build thread ill be updating it constantly when ever i do something new to the car or when parts come in.

Precision 6266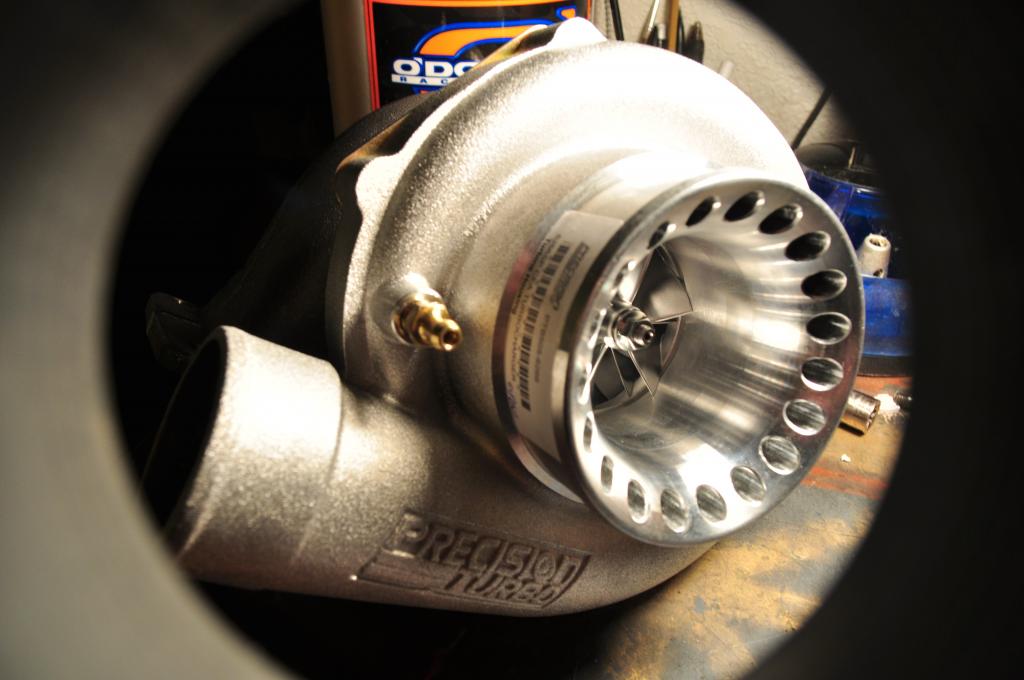 Precision 39mm Wastegate 2 bolt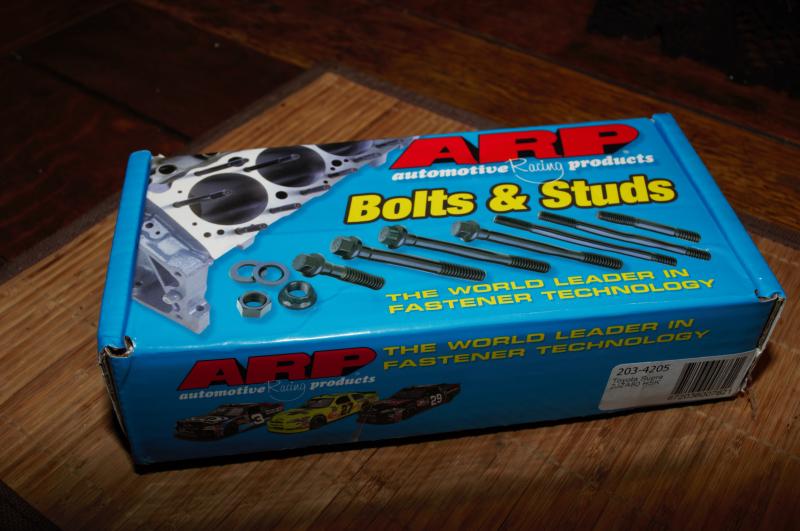 Treadstone manifold ( on its way tomorrow )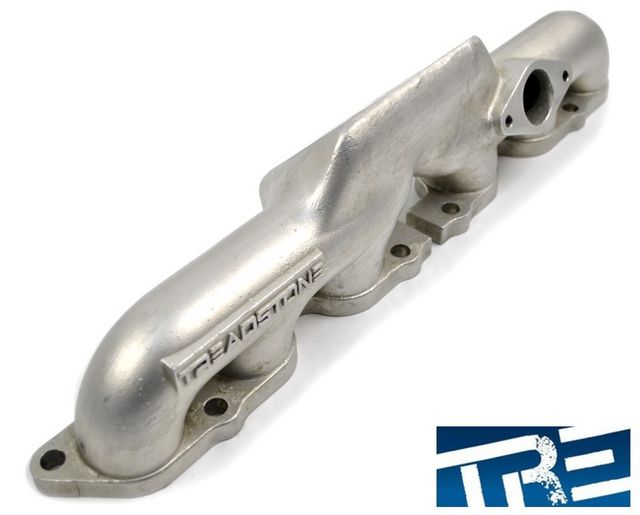 Turbo intake ( also on its way later this week )
so like i said not much but its a start.

List Still needed to be obtained:

Custom Fabed Downpipe
Mid pipe-HKS
Intercooler-cx racing
BOV-blitz vd
Widband-NGK AFX
Headgasket-TT OEM
Fuel Pump-AEM 320 LPH
Injectors-550 cc
FPR-undecided
Boost Gauge-blitz
intercooler piping-CX racing
engine management-haltech sprint 500 ems
6 puck Clutch-clutch masters
Boost controller- Hoping to find a good condition blitz SBC
Timing belt-Gates racing
Oil Feed/Return Lines- An steel braided
GTE oil return flange- cxracing


From the list im sure you can tell ill be swapping out the hg and fuel system to hopefully obtain safely mid low to mid high 300 WHP.

Im excited to finally start doing this build. Im planning on ordering about three more parts by the end of the week so hopfully ill have a good parts flow.

Tomorrow or the next day depending on when the manifold gets here ill post pictures of the test fit with the manifold,waste gate and turbo mounted so i can take measurements for the downpipe.

My goal in the end is to safely run boost with the possibility of having room to run more.

I most likely will be trying to make the engine bay look as stock as i possibly can since i live in california. I have some ideas that im going to try after everything on my list is installed into the car.

Hopefully everything goes as planned !!

Thank you for taking your time to check it out !

5-7-2013
Manifold came in, loving the quality. Its very thick and surprisingly its alot more open in there than it looks in photos.. After actually seeing in in person and looking inside i dont think creep will be much of an issue.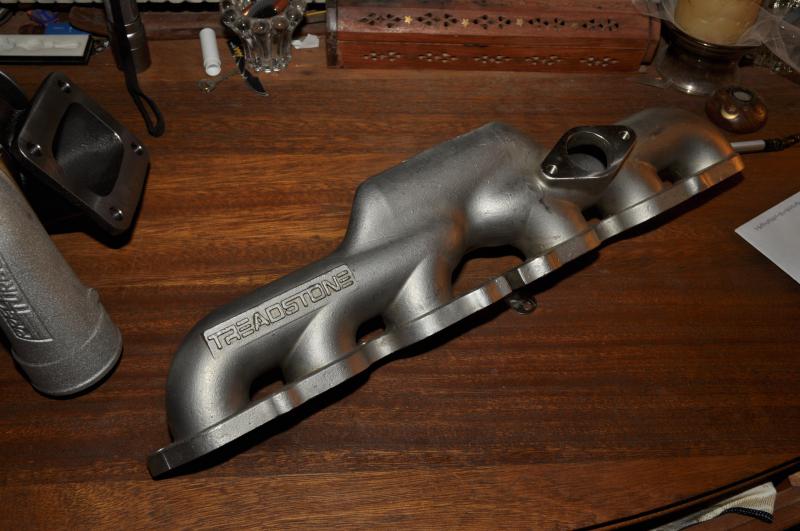 5-7-2013
Thanks !!

I was hoping to run around 10 PSI maybe alittle more since im swapping out my head gasket and the variety of springs does offer me some options to choose from.

How ever i suppose i could run a similar spring setup as you. Ultimately depending on how my tranny feels at 10 psi will determine if i want to run more or not. I dont expect to have my transmission last forever however i want it to last long enough until i can afford an upgrade like r154.

*EDIT*

manifold mocked up with turbo and waste gate.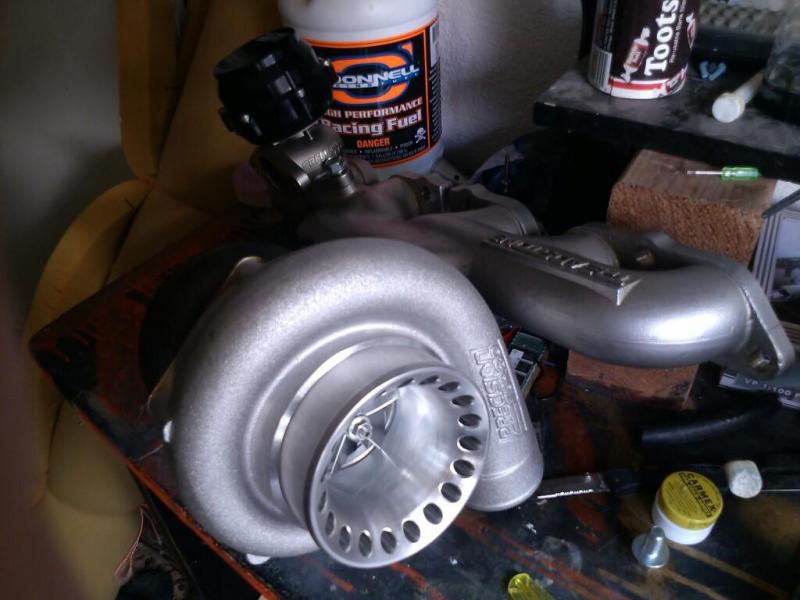 very happy with the fitment, everything looks great to be. no issues what so ever.
5-13-2013
Got to work today to test fit the manifold.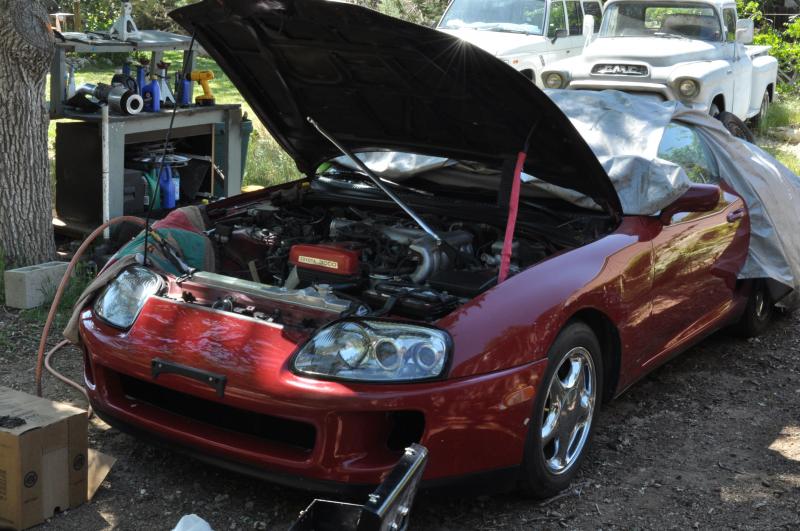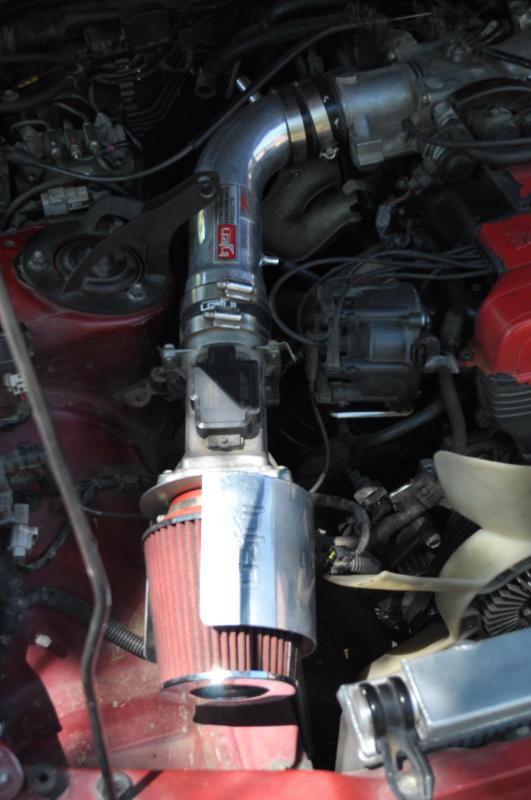 removed manifold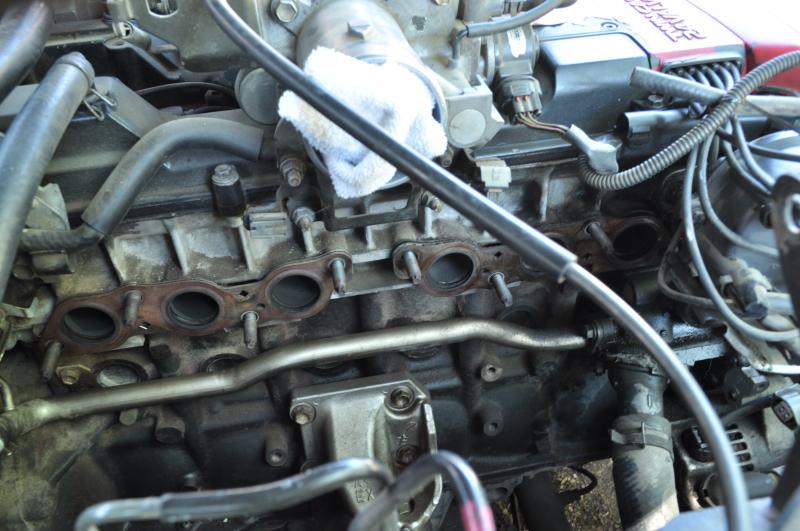 and test fitted the new one !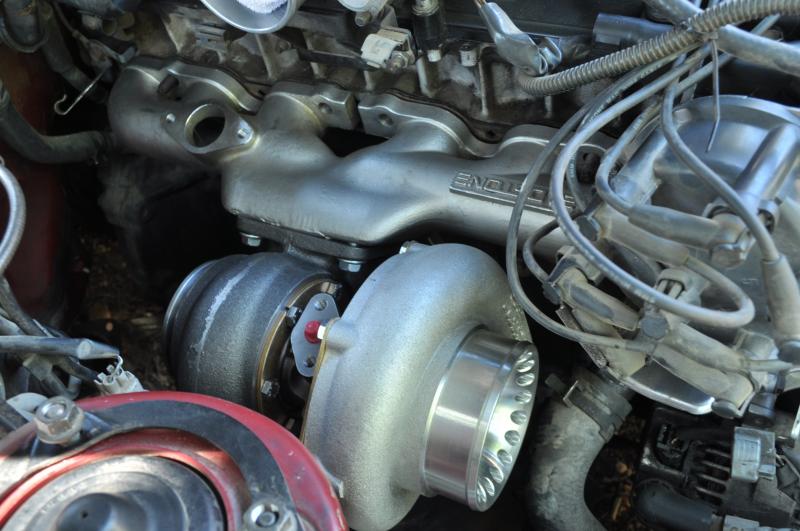 I love the way it looks... so far i just need to shorten the studs abit because they do poke out far enough to where i can actually mount the manifold flush with the head. So going to trim those up.

I have 800 CC injectors on the way as well as the intake..
Thanks !!

The injectors ive ordered are supposed to be a direct drop in with no resistor box needed so im sure they are saturated.

They are designed specifically for the 2jzge so they are a direct replacement. I dont plan on maxing them out right away, i just want to have room for more power in the future. But yeah like ive said i just want to run or start at mid 300's then work my way up.

I dont have any doubt my engine setup will withstand whats about to be thrown in its direction .. I am slightly unsure about my transmission but as long as it can last just a little while until i can afford another.


Going to be ordering the fuel pump tonight or tomorrow along with the FPR and maybe the head gasket !
Thanks !! yeah my main goal is to have this turbo as low as i possibly can. Im going to need to find a shop or someone who can make a custom down pipe for me because ive never welded before.

The hotside AR is .68 and the charge side is .70 for the turbo. It fits amazingly and from my research this turbo should offer a good spool time aswell as enough room for HP.

Did you want a photo like this ???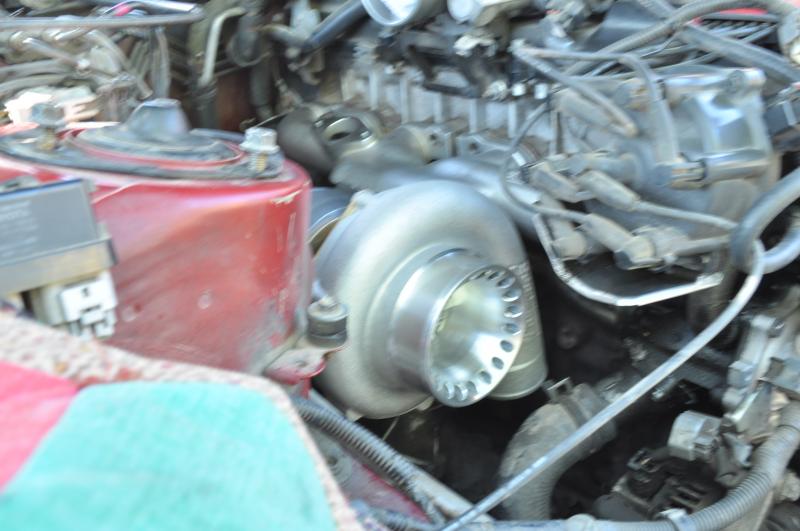 Whats also nice is that i dont have to mess with different dist caps or making sure the turbo is clocked properly, my intake pipe i got today fits absolutely perfect aswell as the wastegate. Personally i think the placement of the wastegate is spot on. its not in the way of the throttle body at all and im not having to modify much at all.

Only modification ive had to make is i had to shorten the studs because the manifold holes are very close to the manifold it self so i had to grind em down. Also i had to bore out the holesjust a pinch so the manifold slides on easier.
5-20-2013
Injectors came in today !!! Originally i was going to get 550 cc injectors but i decided to go 800 CC so in the future i wont have to worry about upgrading my fuel system again. Included connectors for direct plug n play and flow chart.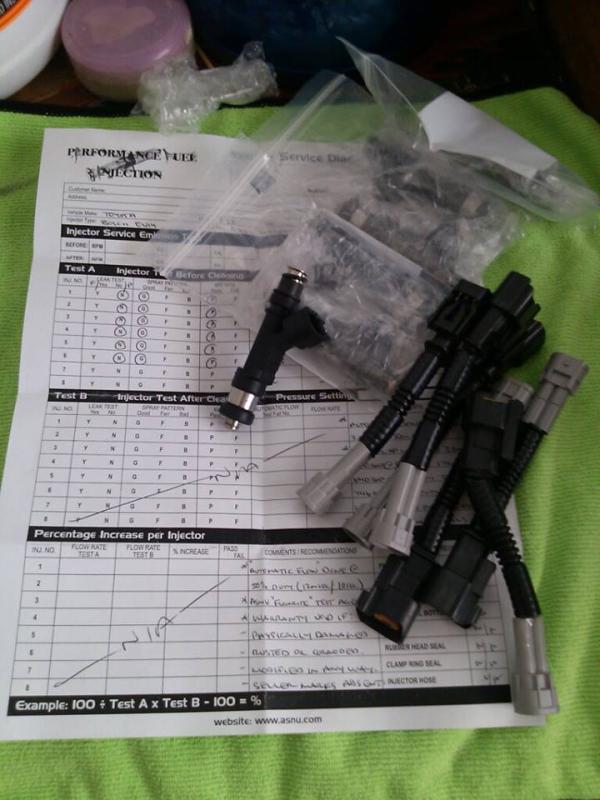 5-21-2013
4 layer steel head gasket came in !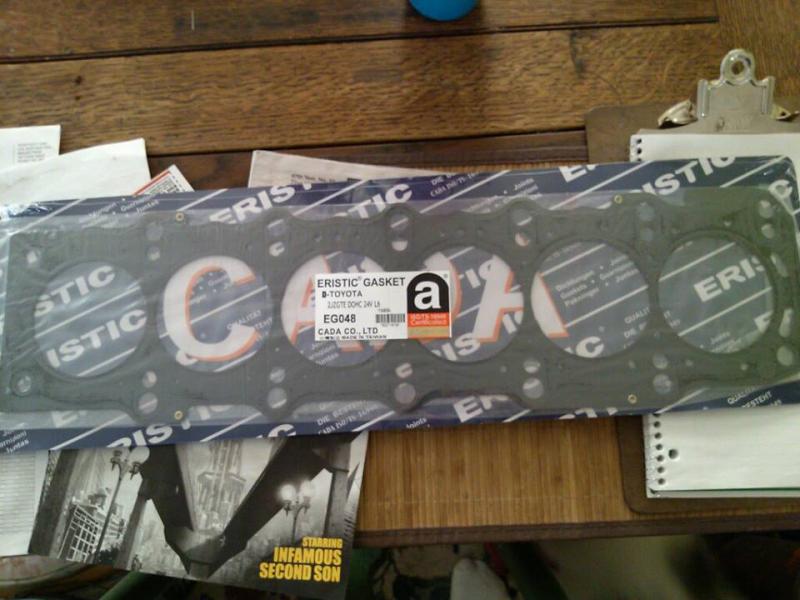 and a fitting for the oil feed of the turbo .

Didnt post it thought because you all know what those look like...

any ways slowly coming together.
8-25-2013
Sorry i haven't had any updates. Recently I've been having to spend most my money on other stuff. However i want to order something else.

I'm thinking either...

AEM 320 lph fuel pump, or FPR. I would like to finish my fuel system components but right now i can only get one of those two.

After then i want to focus on exhaust for the down pipe and midpipe. Hope fully ill be ordering tonight !
8-26-2013
In my opinion they are if you plan on running upgraded injectors like i do. For instance since im running 800 CC injectors its possible my stock FPR may not allow enough pressure for them to function to their best potential . If i have an adjustable regulator when i comes to tuning it will allow easier access to obtain the best power output.

But yeah if you plan on running stock injectors then there are no components you need to upgrade because the system is designed perfectly for one another. i believe one upgrade that just is re wiring 3 wires to do i believe a 13v mod to the fuel pump and youll be able to squeeze some more pressure out of it.

I just personally want my fuel system to be good enough so i dont have to worry about upgrading it as i want more power. Literally it will be a matter of just making sure my engine can handle the boost. Add more fuel and tune.

Im even considering replacing my fuel lines with steel braided ones but it may not be necessary.


However i went ahead and ordered the 320 lph pump and a T4 turbo flange gasket.
9-3-2013
Slow progress i know, but got my fuel pump in. Just that little bit closer..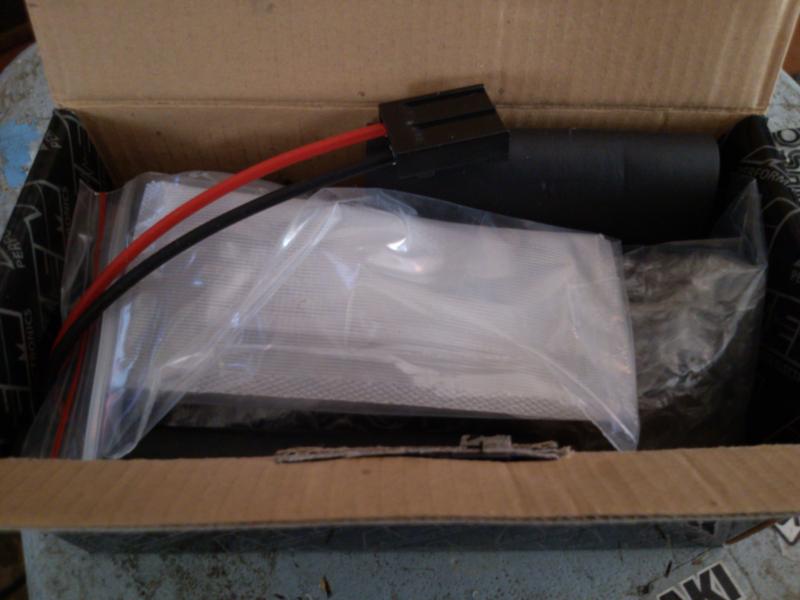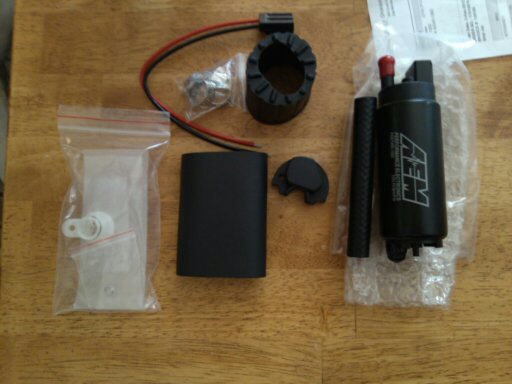 9-5-2013
Thanks !

Just picked up my midpipe from a fellow supra buddy.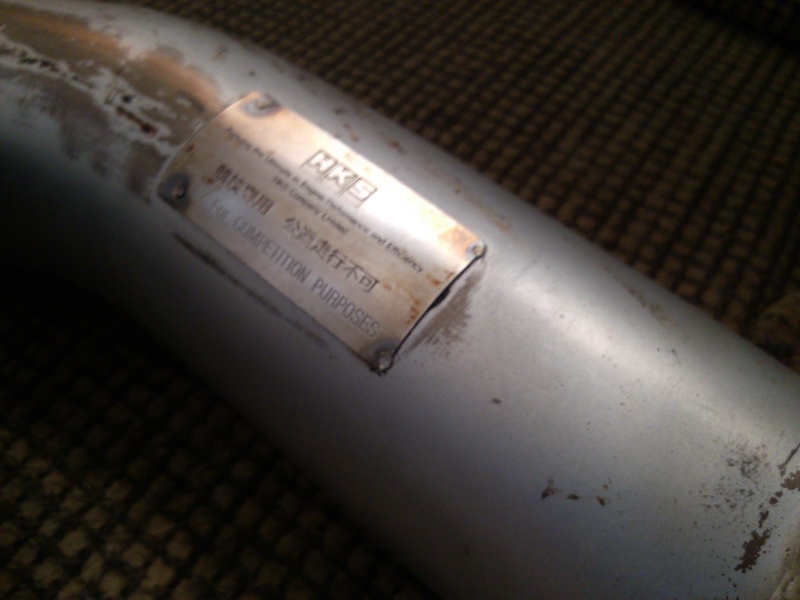 Actually probably one of my more prized parts im proud to now own. Even though its the only used part the car is going to have on it... HKS is always good enough used or new.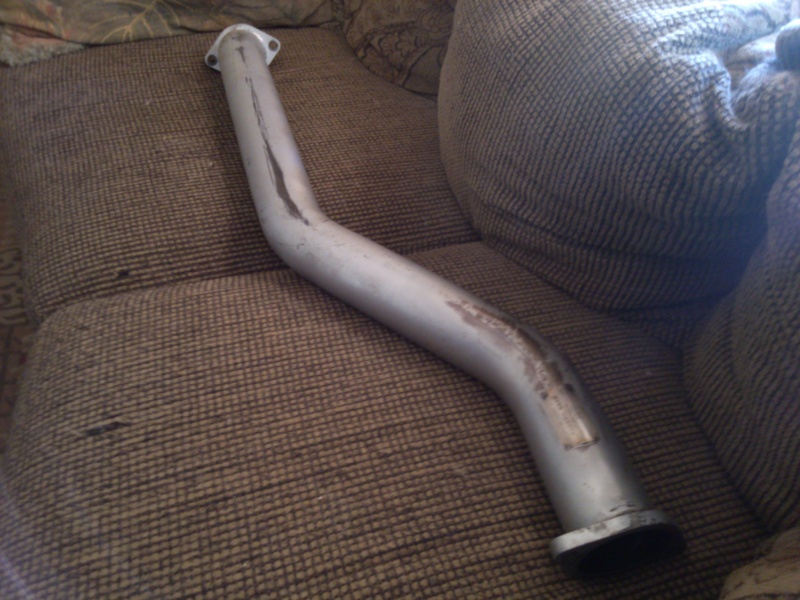 I have ebay exhaust on my s13 from turbo back and its actually really good quality. its all CX racing and those pipes are so tough its crazy.... was drilling a hole to install an O2 bung and it took forever because that pipe was so thick and strong it destroyed 2 bits in the process.

Just had a really good deal on this pipe and hes being a good friend and letting me wait on paying him till i can afford it.

Now im sort of looking for some 3" pipe to attempt to make a downpipe. I would typically just buy a down pipe.. but all the down pipes im finding are slightly clocked because most single turbo top mount manifolds have the turbo slightly facing to the side instead of straight forward. My turbo faces straight forward and im gonna have to either get the pipe custom made or just modify the downpipe i could buy.
9-17-2013
So initially i bought an intercooler that was only a 25", initially i thought that was the measurement of the core not from end to end. So i got it here and it was wayyy to small. My s13 has a 30" intercooler on it, so i figured id exchange them and the smaller one of the 240sx is fine it doesnt look bad.

Anyways this is the inter cooler ill be using, its a 30x12x3" .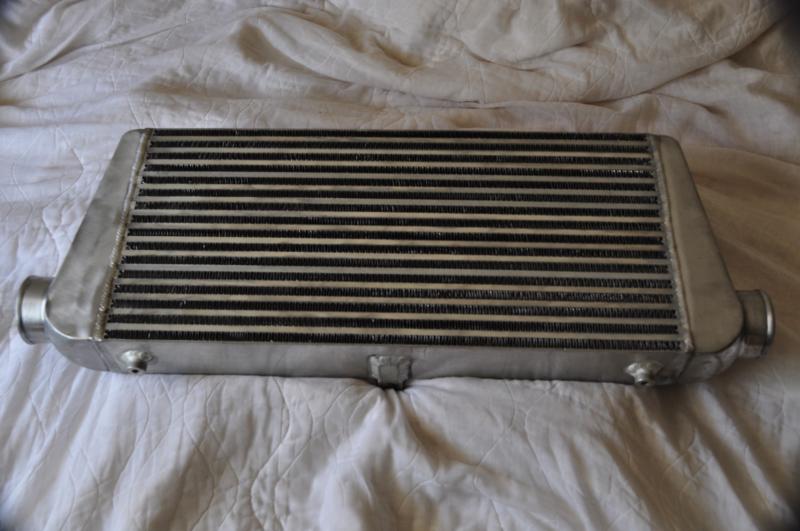 10-2-2013
OIm saving up next to buy either the exaust pipe material or ic piping. I can agford the exhaust right now so i may go ahead and buy the materials and go to the local exhaust shop to hopfully have something fabbed !

Still need:

Exhaust
ic piping
Boost gauge
Oil feed/return lines and flanges
Engine management
Clutch
Wideband
Bov
And a couple ither minor stuff and i will be able to actually post the build installations and maybe videos in between.

Sorry its been a slow build just being jobless always makes it take a bit. Excited though !
10-17-2013
I wish ive made more progress !! Lately been sort of leveling out with the parts gathering. I havent been able to order anything lately. I too need a clutch ... im looking at a clutch masters 6 puck.

Dont need too much for the engine bay but still need engine management and wideband and boost gauge etc. Just needing to save up, hopefully my next purchase will be an FPR and ic piping.

:EDIT:

Finally made another purchase, and its not a high end FPR but its alot better quality than even i anticipated. Also since its a replica of aeromotive FPRs i can just replace any internal parts to the name brand with no problem if anything goes wrong.

But ultimately from looking at everything included im happy.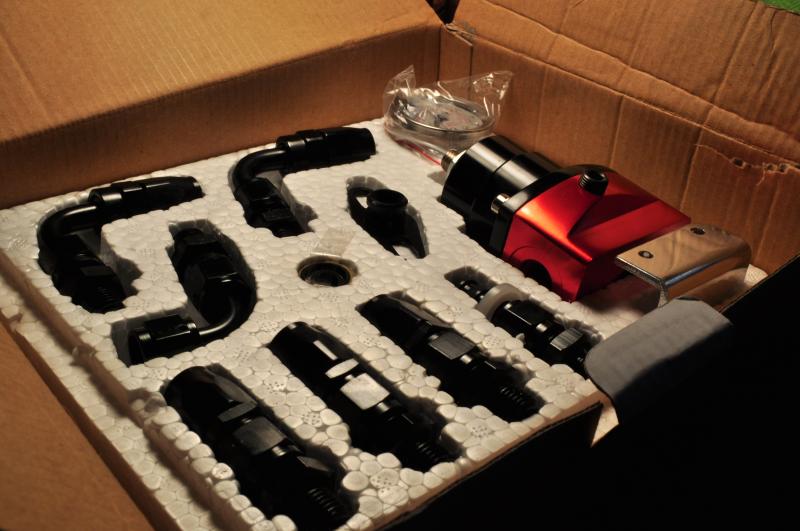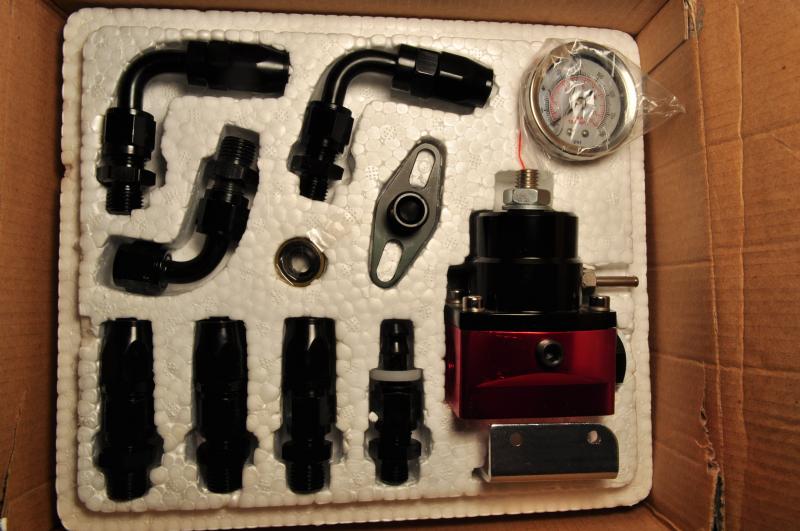 11-4-2013
My so far small gathering of parts.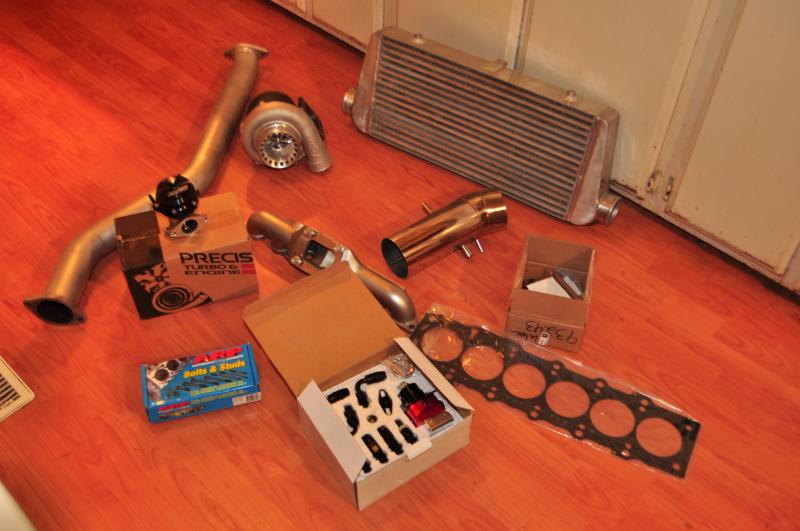 11-19-2013
So i got the wideband in today! im happy, it looks really great and i love the quality of everything !!

The box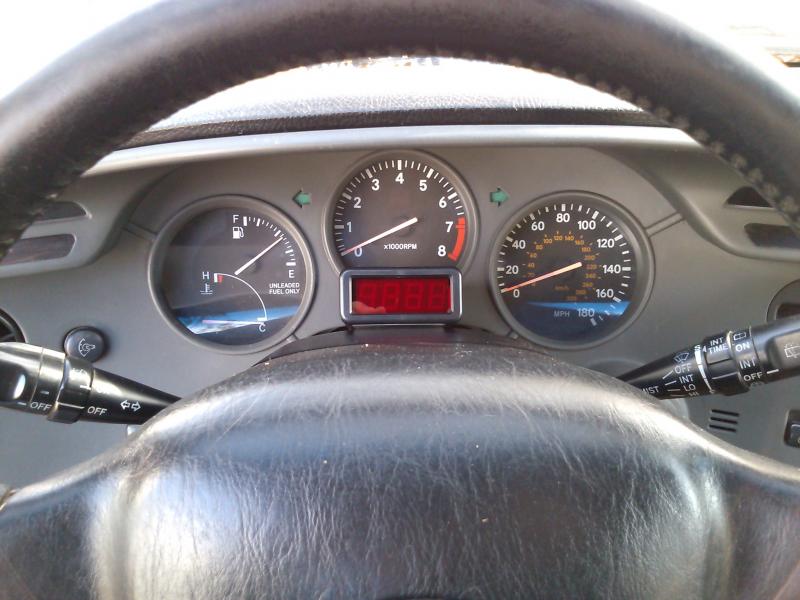 11-27-2013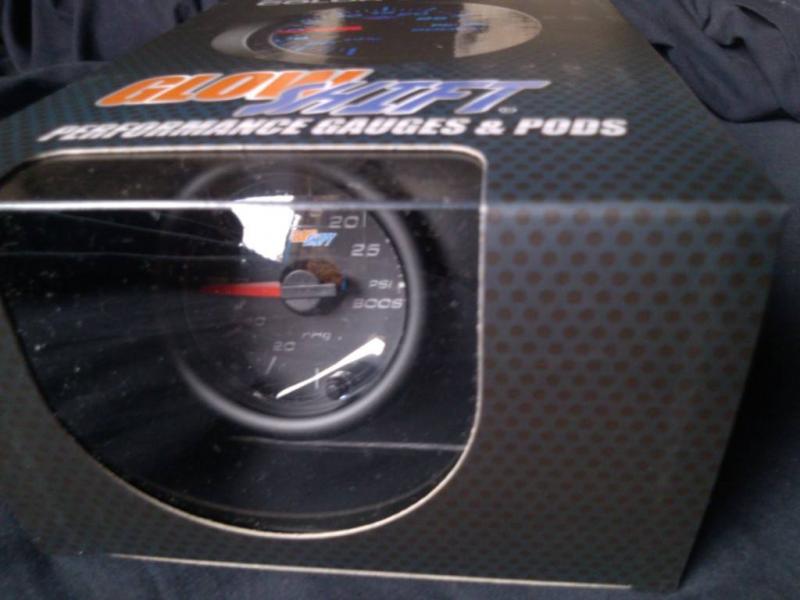 Small update, i know alot of people dont usually like glowshift but personally ive had them on my s13 for years and no issues. Also i've helped many others install their boost gauges and they work well and accurately from what ive seen. So Im excited ! 52mm to replace the clock. Only gauges that will be in the car is this and the wideband.
12-4-2013
Ok guys, Im having slight trouble on deciding my engine management now. Previously my main plan was to buy a haltech sprint 500 because it seems like a good system and well priced. However after talking to the supplier ( Real Street Performance ) in a short simple way to explain what they told me That system only is capable of managing 4 or 8 cyl engines. So now im going to have to save up for longer to buy most likely the AEM EMS V2 that plugs into the factory harness.

But here is my problem, I have the NGK AFX wideband as ive posted earlier which does not have any output signal wires to give the ems a wideband signal. So my question is do i need to have a wideband signal to the EMS ? or is there some other way ? I really dont wanna buy another wideband and i love the NGK one.
Hmm, that one is slightly confusing to me. Personally on my AFX i only have pos and neg leads .. no output wires. Thanks for that post its just slightly opposite of my question. I just need to know if the EMS needs the wideband input to be coming from the aftermarket wideband gauge. or if it can use the factory o2 sensors to get its af ratio reading.

Its really frustrating because i dont know if i need to buy another wideband that has an output signal ( which i really do not want to do ) so it can supply the EMS with wideband information.
Now that i found it i can relax, ill just use this one and not have to worry now ! but yeah im hoping to order some more stuff before the end of this week. It will be awhile before i get my management ordered but i'm still looking for an ic piping kit that will require little to no modification. Its just tough because since my turbo is bottom mount its alttle difficult to find the right piping. and i have to have my down pipe custom made so i still have alot to get done.
12-6-2013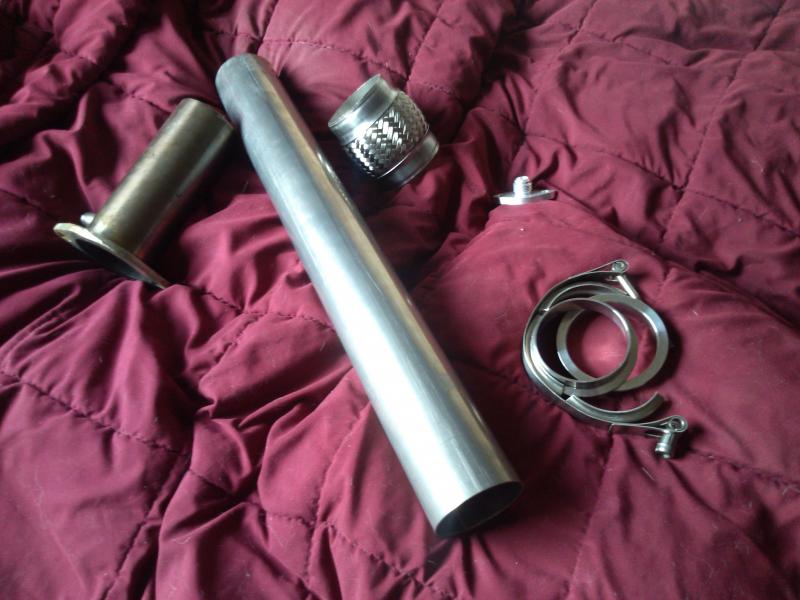 Update, got my exhaust materials and the return oil flange for the turbo.

Currently im talking to a couple people to get some welding done. Hopfully will find someone locally who can help me out. Until then, ill be planing on my exhaust design.
12-10-2013
What i plan on is doing pie cuts and cutting all the pipes to the proper measurement. then just having someone basically weld it together.

Also small update: got my boost controller in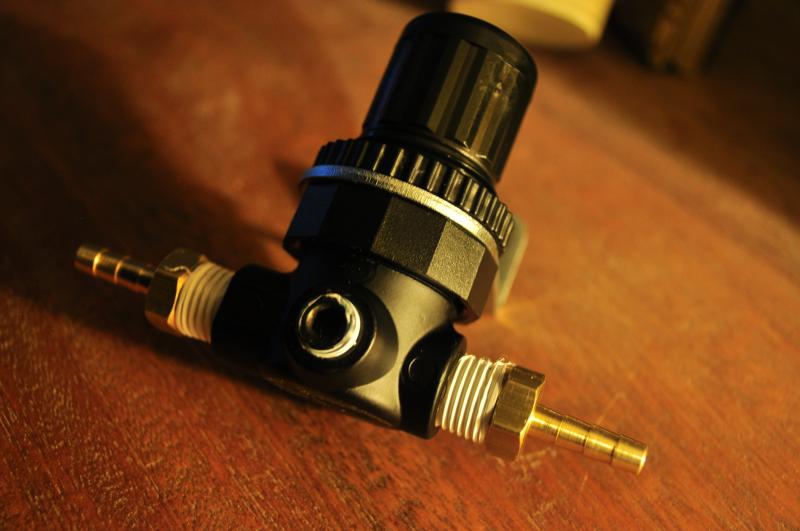 Also got the intake hose for the turbo to intake pipe.

when some more snow melts up here im going to install the turbo again and redo some measurements and hope to find someone to do a decent job on the downpipe.
12-14-2013
Small update:

Im not exactly good at pie cuts but im trying. This is about the right angle for my DP considering the turbo is so much lower than a traditional manifold. So now im talking to a couple people to weld this, then test fit and if i need to add more pie cuts so be it. Ill need to practice more but i dont have tons of pipe. So this will have to do.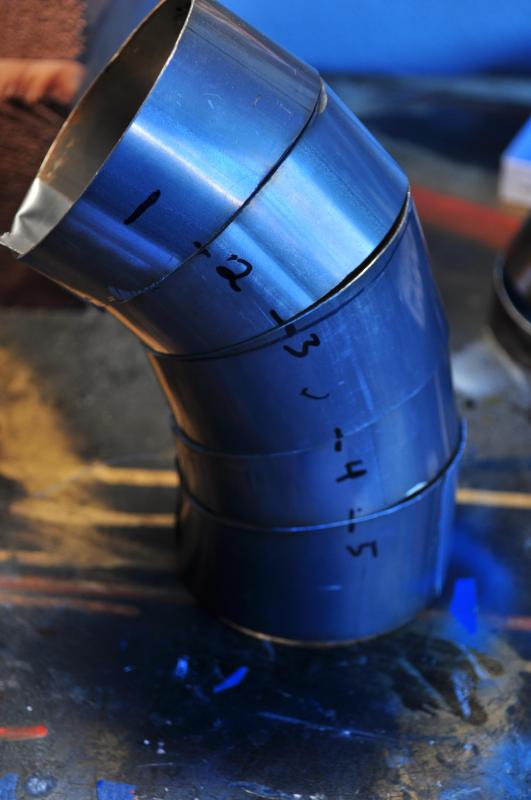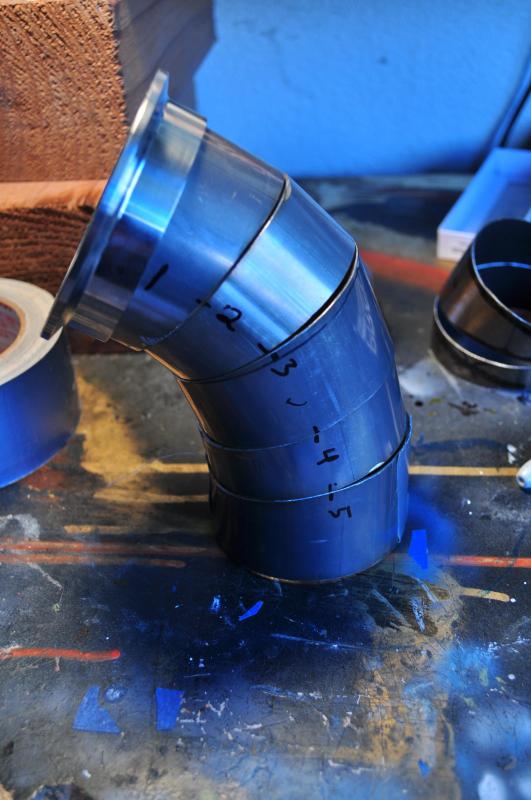 12-17-2013
Small update:

figured id take a photo of the intake and how well it fits. Not cutting or aftermarket anything for the distributor. Even the heat shield for the dist is left alone.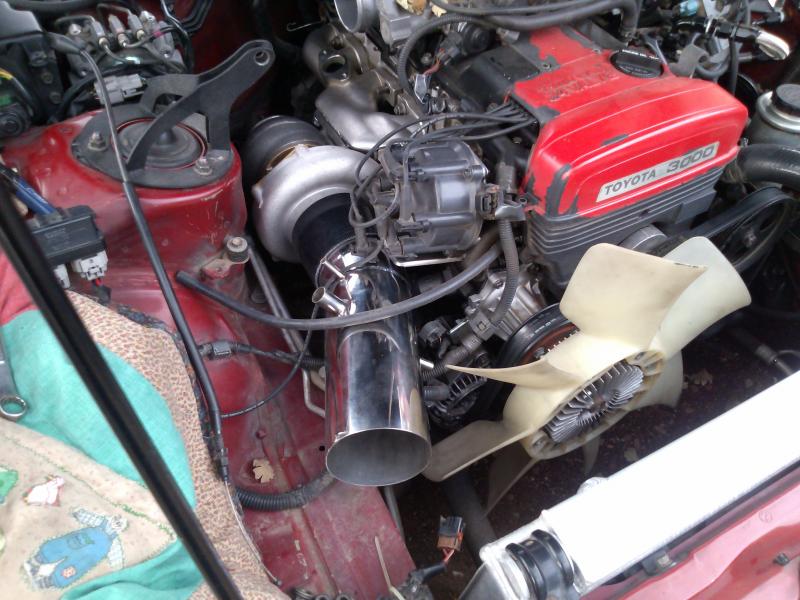 12-19-2013
Rough design of the downpipe. I smoothed everything out and sent it with my friend to get tigged up.


12-20-2013
Thanks ! Yeah the turbo is really nice where its at, the only thing ill have to delete is the clutch fan because the way the compressor housing will hold the charge pipe it will have to go in the path of it.

I'm pleased with the DP, especially considering that it only cost me about 80 dollars for the materials and the person welding it for me is doing it for free. So 80 dollars for a DP not bad. I chose 304 stainless steel and its really thick so im pretty sure its going to hold up well. The flex pipe on there should allow me to have some play if its not exactly perfect when its bolted up. But when i was mocking it up and test fitting different constructions it fit perfectly and i mocked it up with the mid pipe so its in the stock height under the car so that was my main focus when making it. Hoping it works out !
12-31-2013
Small update, bought a small universal piping kit and just test fitting different configurations.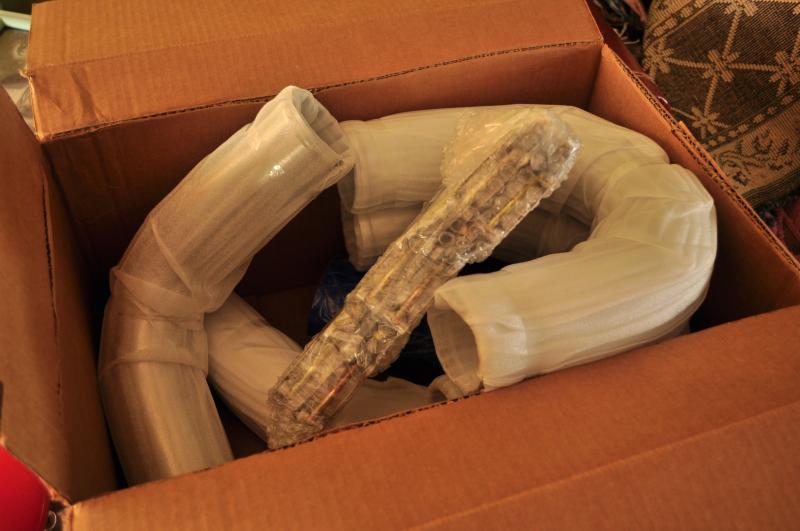 On the intake side i have it figured out. Going to use my factory injen intake. Have one of the vacuum lines welded shut, and the other for the valve cover vacuum near the TB im going to cut it and bore it out for the flange for the BOV.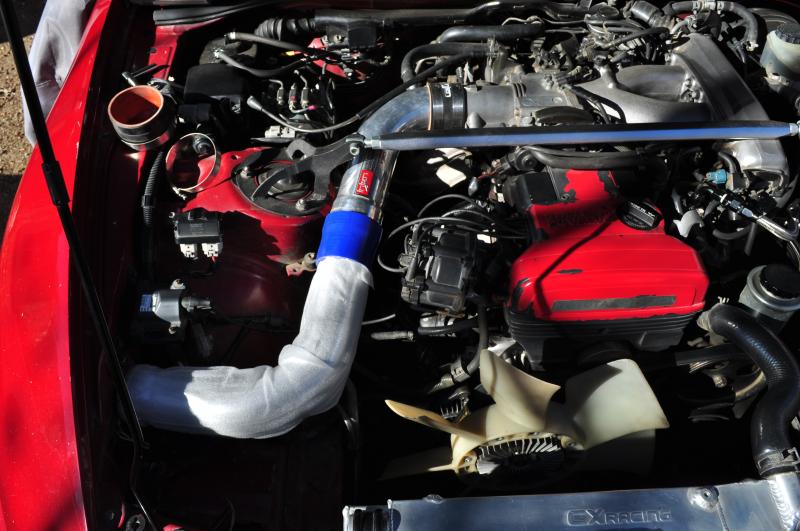 arranges perfectly to the factory pipe ducting.

The hotside on the other hand will need some more attention, the hardest part im trying to get my hands on is the U shaped pipe for the drivers side of the piping. Even though this kit comes with two U shapped pipes they are not spaced wide enough to properly fit. Soon as i get my hands on one of those... i should be able to basically have the IC piping of the project setup.
1-2-2014
Small update, got a special package in the mail today !!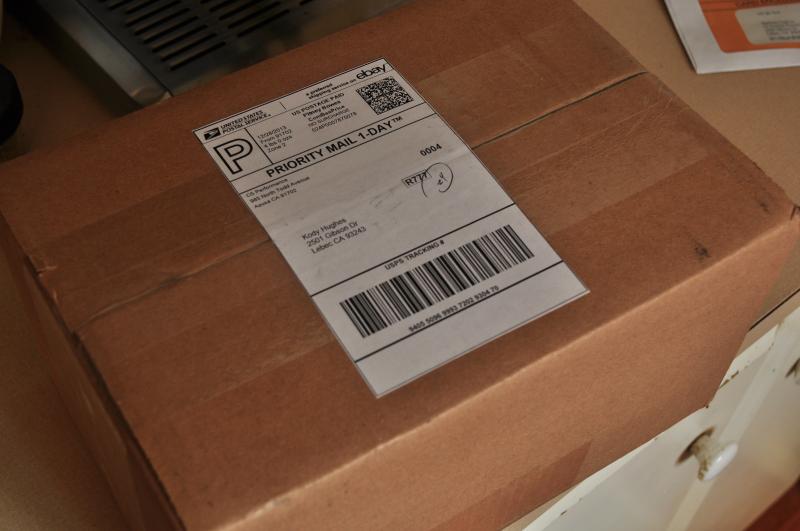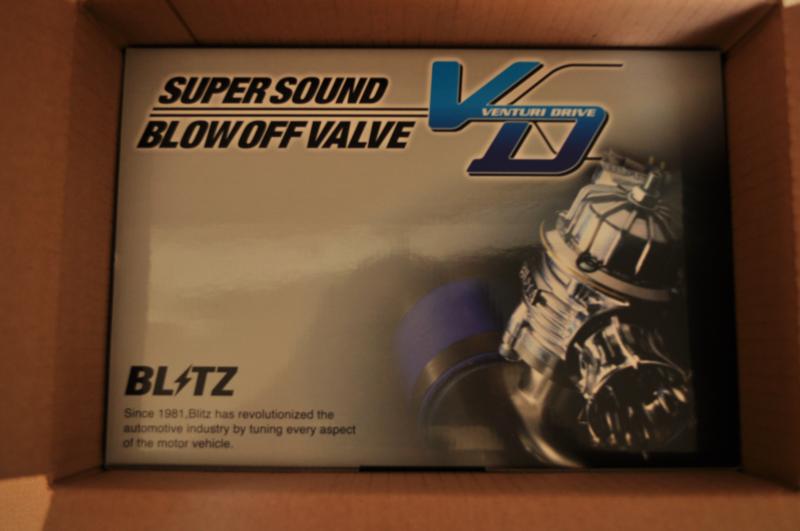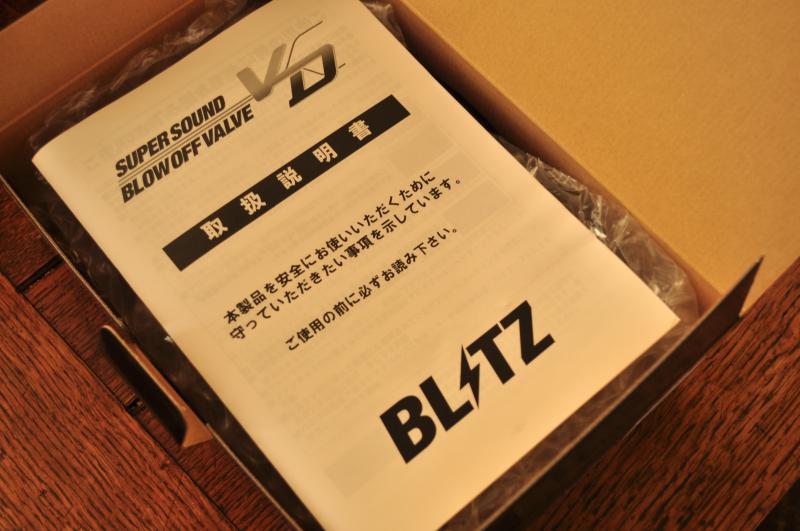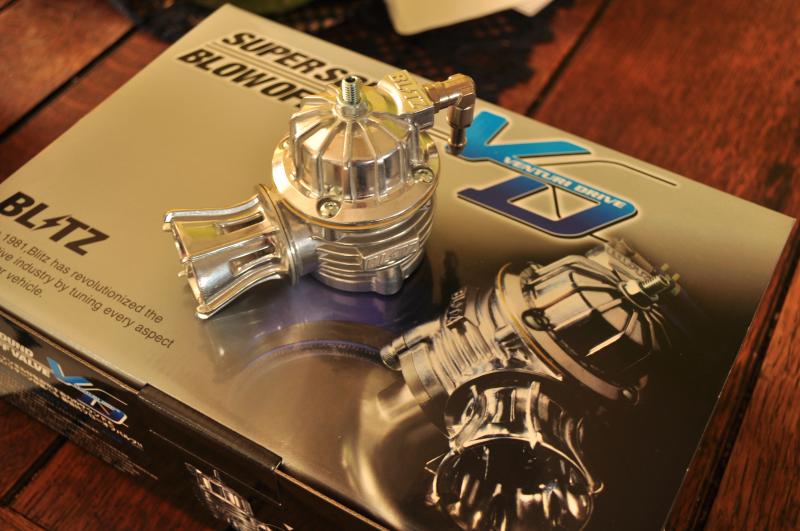 Also have some more stuff coming in the mail soon maybe next week.

Now all i need is the clutch, engine control, and turbo feed/return lines,timing belt and im pretty much done with the parts gathering. Hoping to start the actual build soon.
i got this one on ebay for 185 dollars. but then ca tax pumped it to $ 202. If i could afford it i would get anything and everything blitz makes for the supra but its just pricey. But im happy with this bov, I've been looking forward to buying it since i first started my parts build up.

Extremely nice quality and just screams mid 90's jdm to me.

Also have an oil cooler coming in aswell as some 98 front amber lights from the side markers.
1-3-2014
Just to add some pictures to this thread.

Got some 98 style running lights. Not factory toyota oem but they look alot better to me.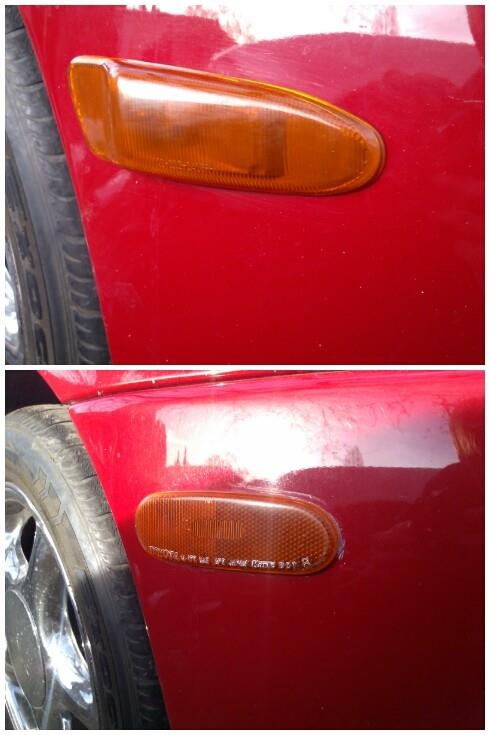 1-16-2014
Sorry there hasn't been much of an update.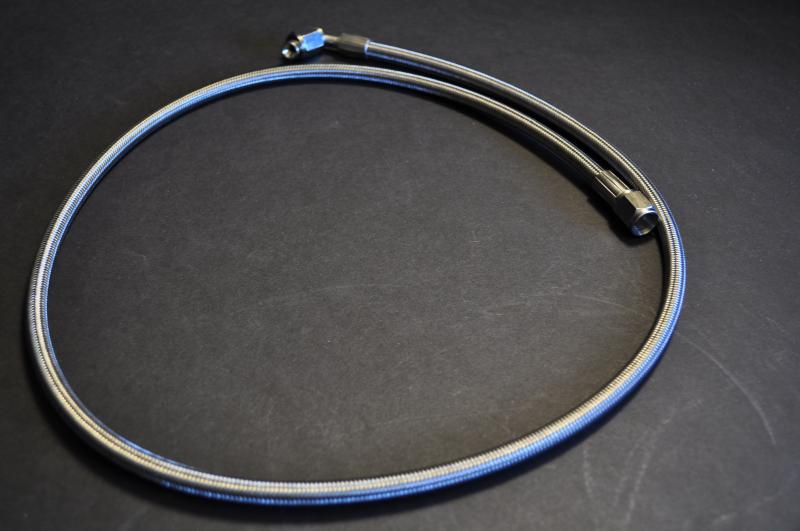 small but its something.



Really the only work i had to do on the manifold is drill the stud holes in a slightly oblong shape because a coupe of them seemed close together and it was making it hard to even get it onto the studs. Then on the studs them selves i had to cut off alittle bit of the end of them because on the manifold the studs if they are not shortened they will hit the manifold itself and keep it from actually sealing to the head.

All and all if you have a grinder to shorten the studs and an air drill or a normal drill ( may take some patience and a couple good bits ) its a pretty simply process but for forsure worth it.

Its an extremely solid manifold and i have absolutely no questioning its quality. This is the type of manifold that will last MUCH longer than the engine it self. So much so id say this manifold will last longer than my lifetime. And i know thats a dramatization but its how i feel about the quality of it. Its piece of mind that i will never have to worry about anything cracking or a weld breaking.
6-8-2014
Sorry about no status. Reason being is its been crunch time at ITT tech. I finally finished school, and getting my associates degree on the 26th. After that, im planning on getting a good job to actually be able to afford the ecu and clutch. The ecu and clutch are the last things i need to start this build besides little hard ware pieces. I cant wait.

Small update.. the people i had Tig weld it didnt do that great of a job... bad enough i dont wanna show it off. So im going to buy a roll of heat wrap to cover it.
7-1-2014
Finally ordered my last couple things and im starting the build today officially.

Today i mainly focused on getting the wrap around intake off and wiring harness off. I still have the two temp sensors on the block, the starter, and a few others but i decided id end it at that for today.

I've taken some shots of the progress step by step, and was considering doing my own thread on a basic na-t build since not many seem to have many images of the steps involved.

So first a shot of the engine bay as it was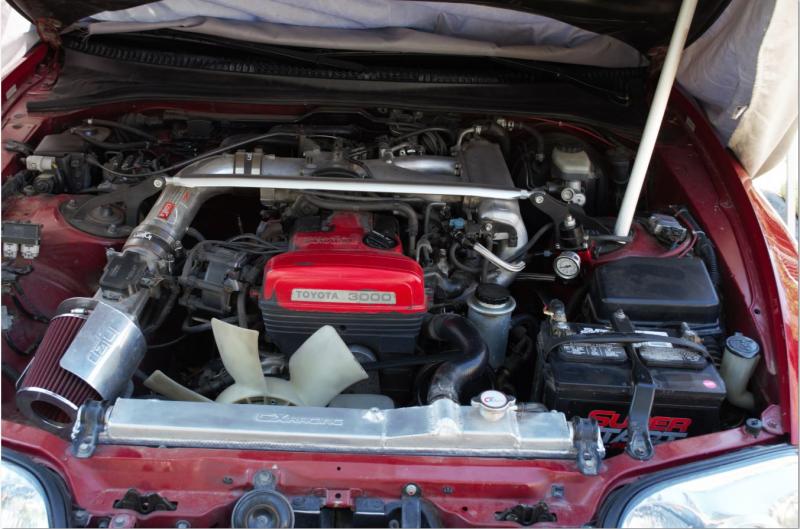 Then removing the battery and tray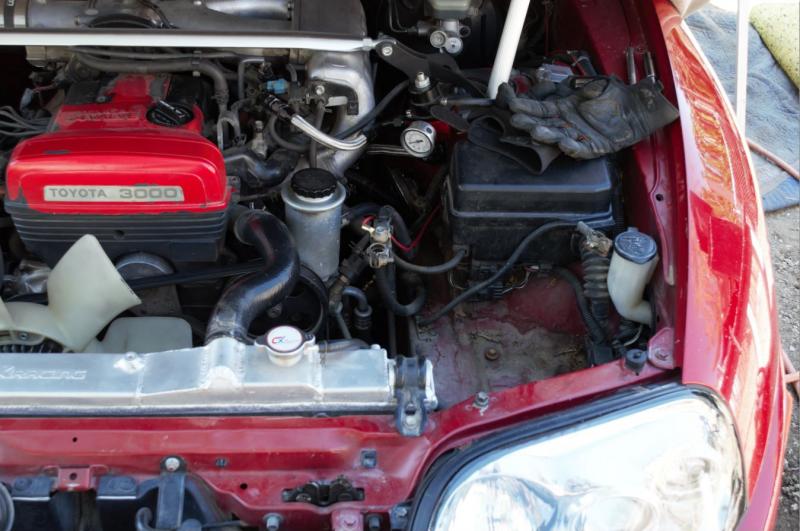 The strut tower bar and intake pipe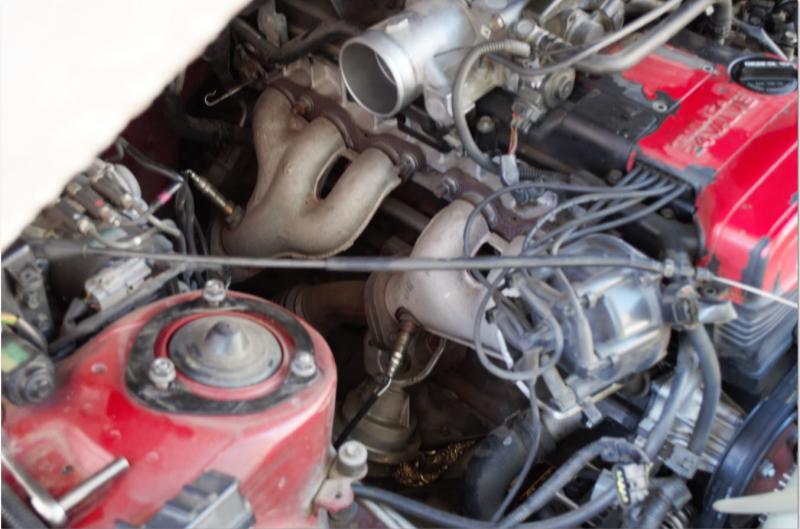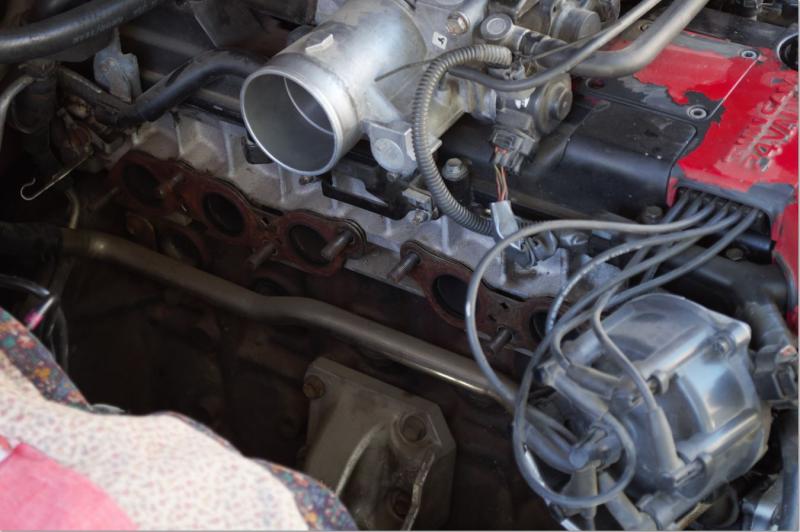 Disconnecting plugs and vacuum lines on the TB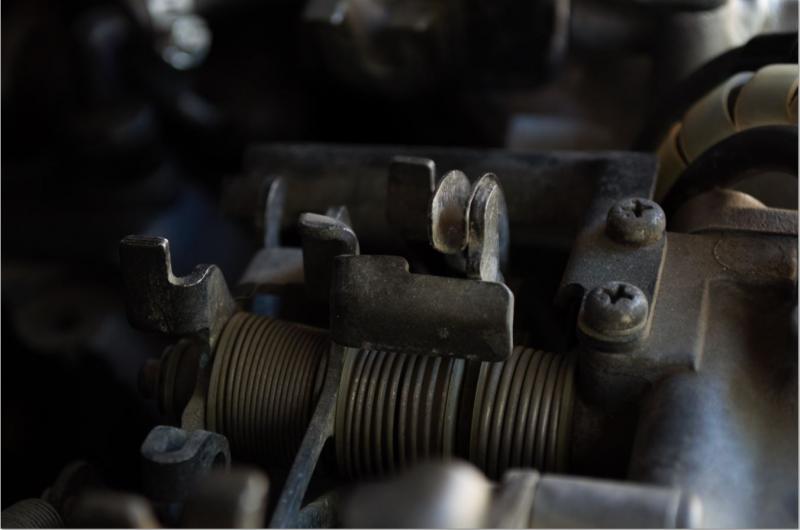 Y section removed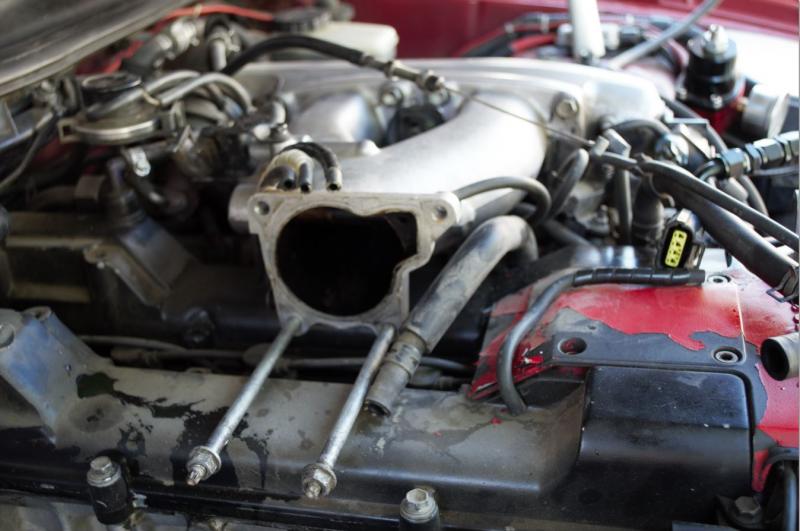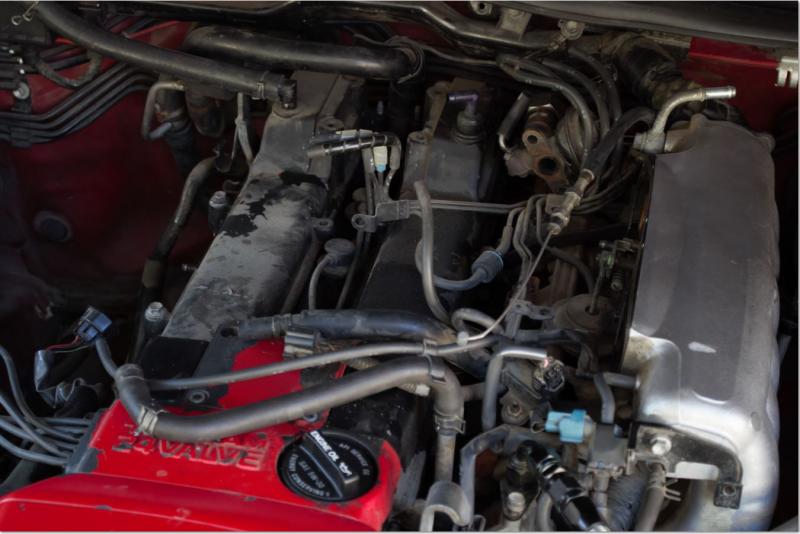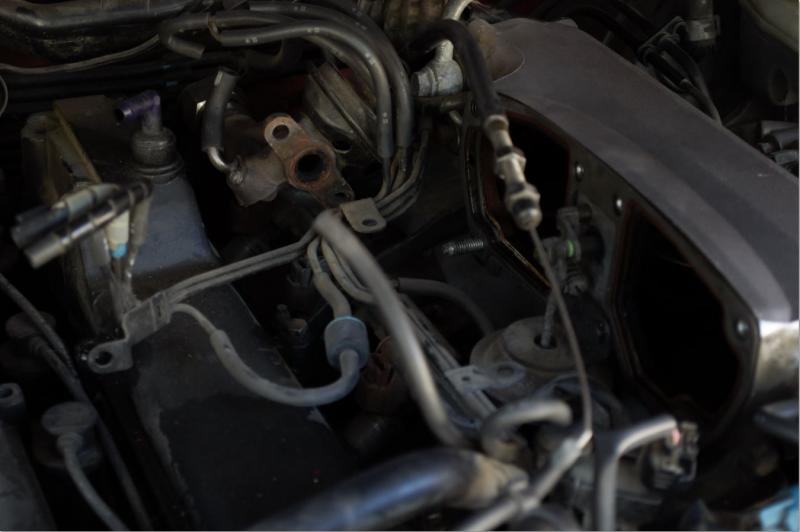 Removed next section of manifold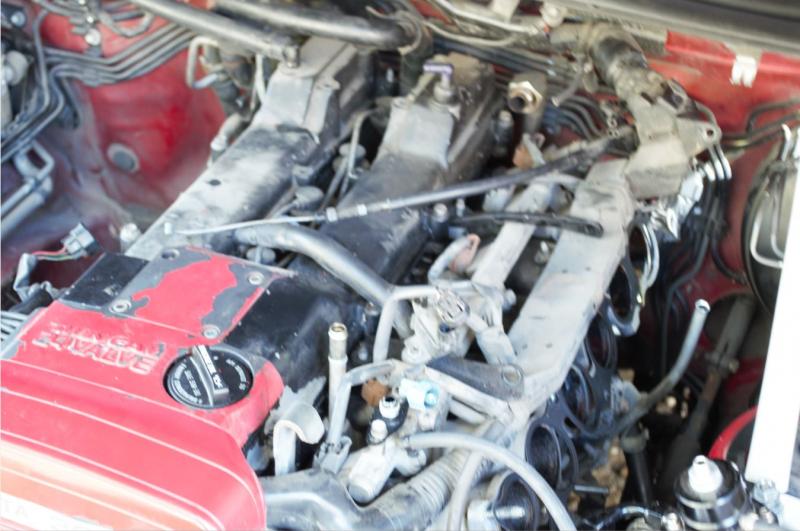 Removed spark plug wires, and disconnected everything on the exhaust side and started disconnecting the intake side.


Thats my progress so far, hopfully tomorrow ill have more shots.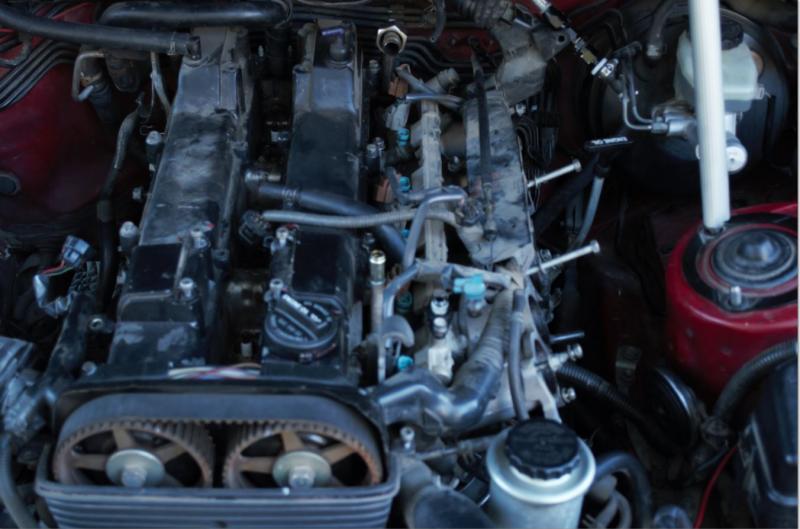 7-3-2014
Slightly more progress today.

Removed the power steering pump from the engine and pushed it forward so i do not have to disconnect the lines.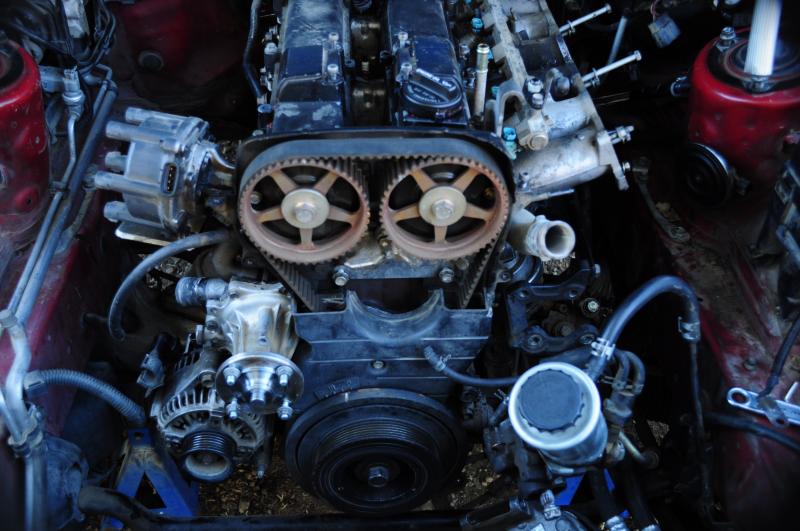 Also unbolted the hardline for the P/S on the bottom of the engine so it doesn't pull the lines out.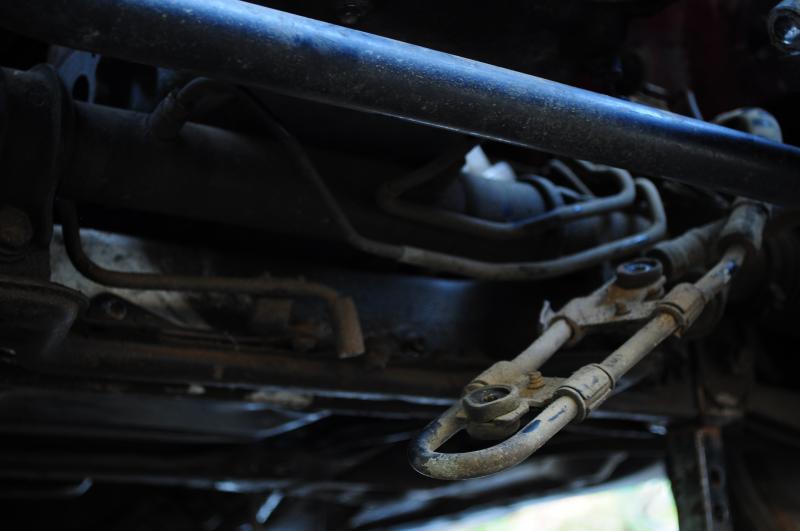 Removed the AC compressor without disconnecting the lines aswell and just have it resting the hard lines. Its not causing any damage as the rubber lines are not being pinched or punctured.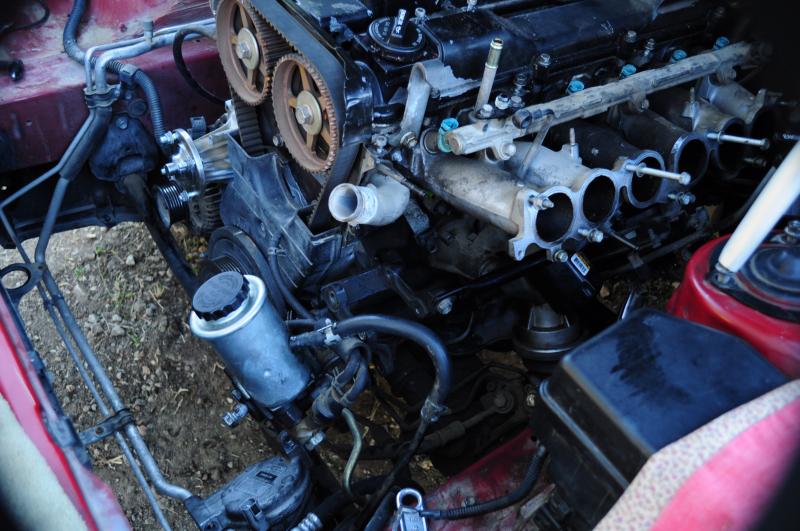 removed the drive shaft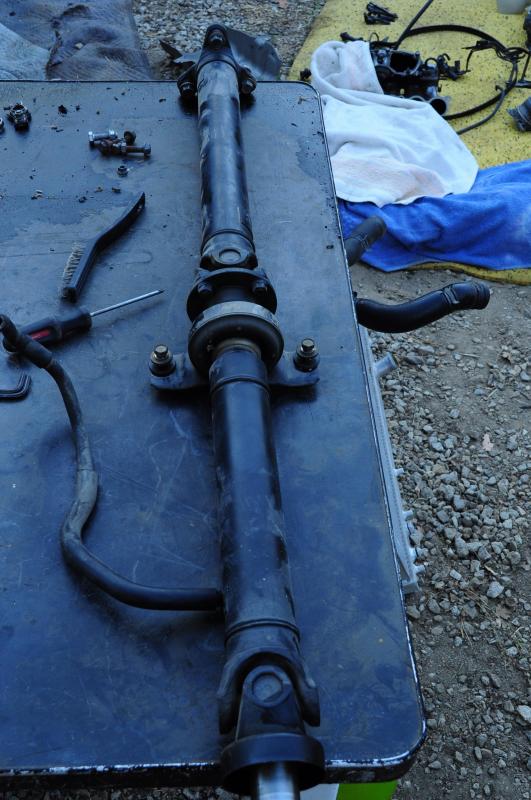 and Wiring harness is out of the way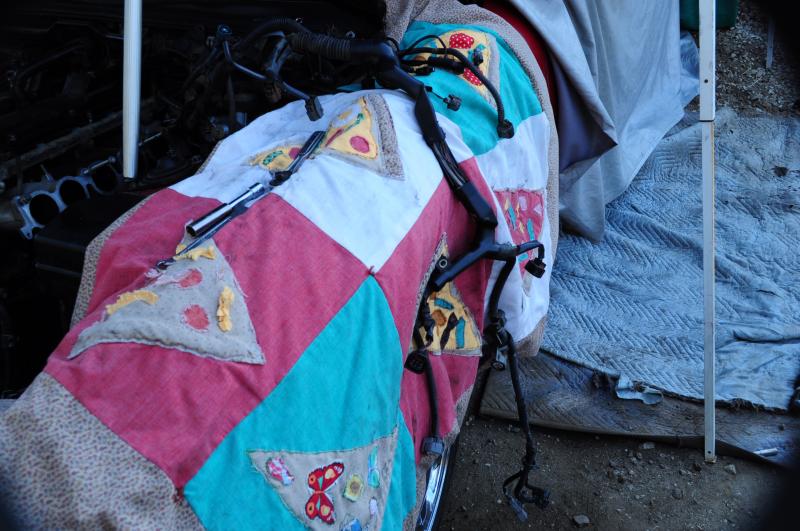 Now all thats needed is removing the motor mounts and transmission mount. Pretty much waiting on someone to help me with getting the engine out. Because i need myself under the car tilting the transmission while someone else is cranking up the hoise and pulling it out.

When that happens ill have some more updates !!
7-9-2014
7-10-2014
Ohh yeah gonna sand and re paint the valve covers.


Also, pressured washed the engine and engine bay this morning. Im gonna have to soak the engine alittle in degreaser to get it more clean. but its actually alot more clean than it looks.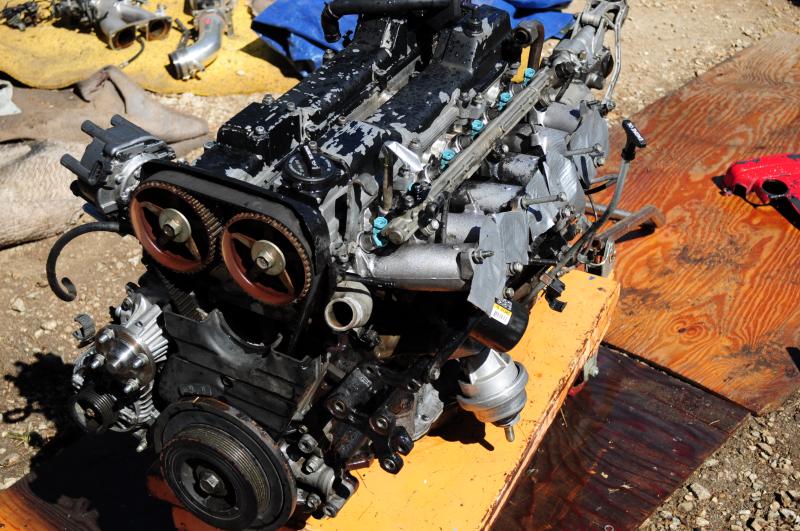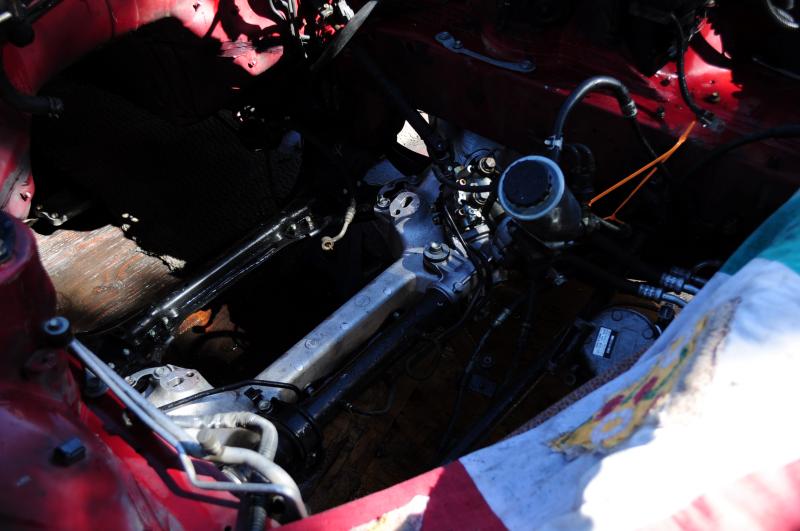 And after cleaning all the grim off the transmission i uncovered that its a 96. Considering my car is 94 and i thought it was a 94 tranny. This is a nice discovery because now i know its a couple years younger than what i thought.
Got my new timing belt in today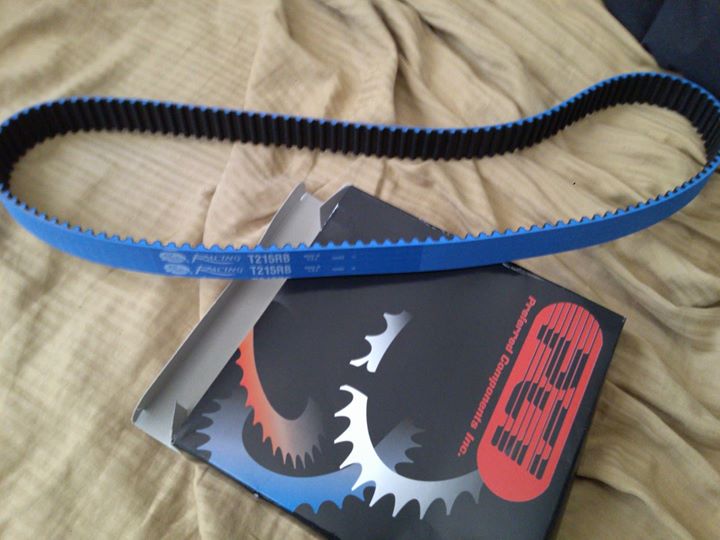 and took off the intake runners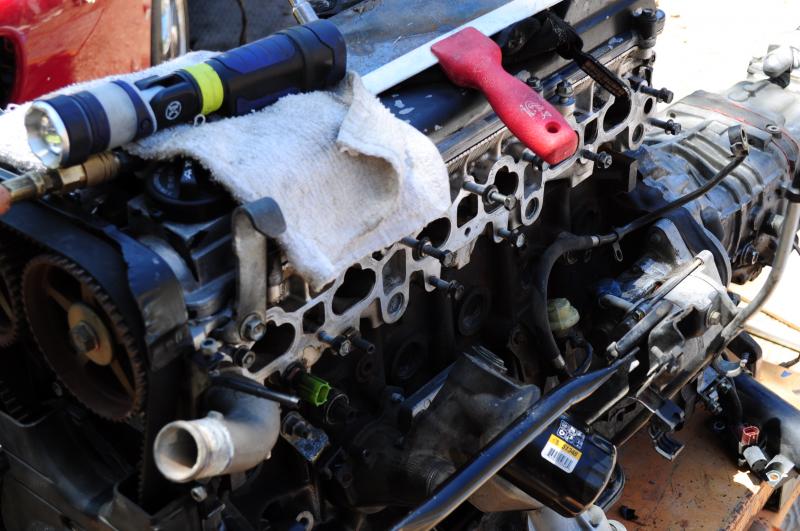 spark plugs look very good and promising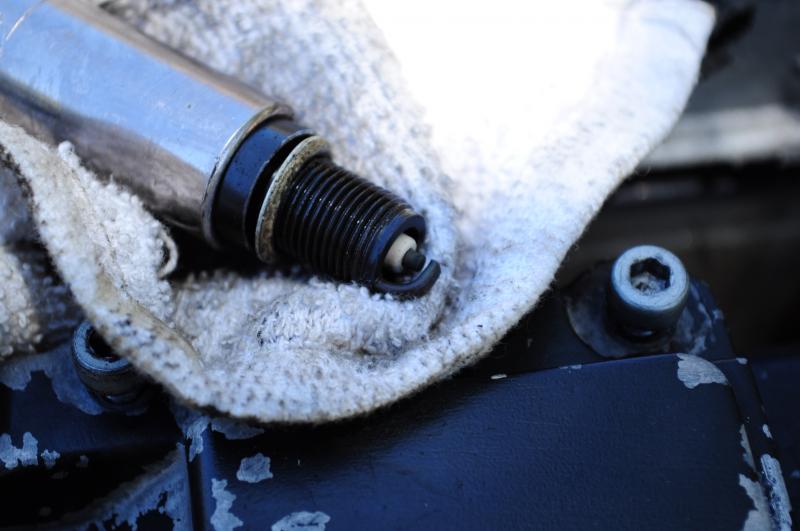 Aswel as the intake valves. Very clean inside which makes me more confident in the engines integrity.
I completed at NA-T build about 3 years ago on the 96 SC300 and loved it, however it was an auto with a BL 3800 stall on a 4 speed power glide. Played hell at stop and go but was a beast on the highway. You're doing great so far, keep us posted. Here is a pic from my build that may give some ideas. Sorry for it being so big.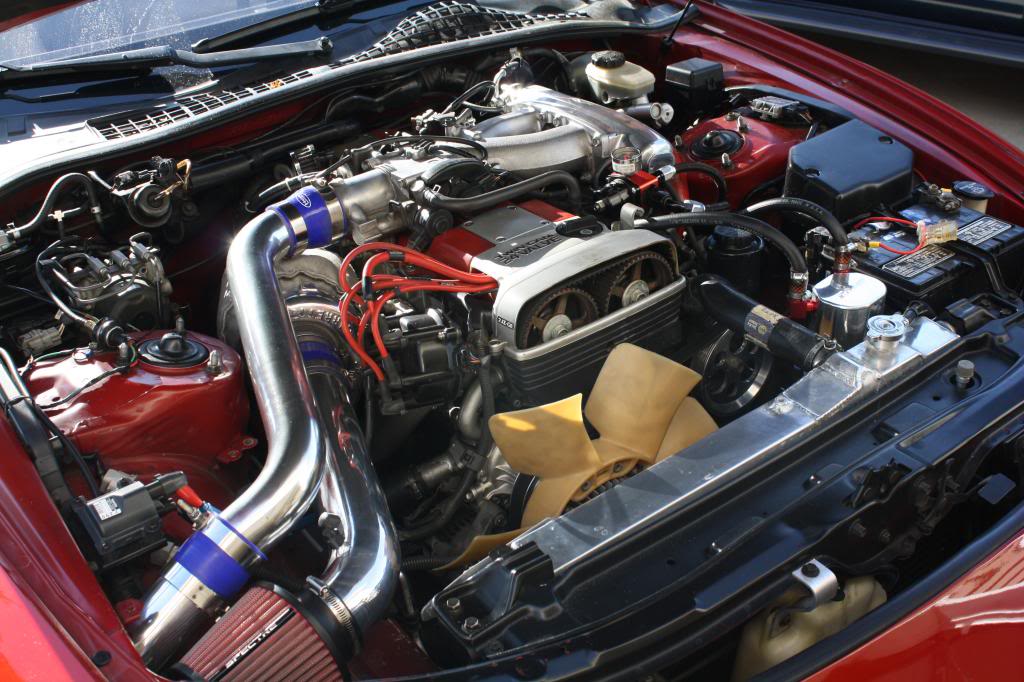 Looks great !!! yeah im slowly but surely making progress. Tomorrow going to get it on the engine stand, flip it around and get the mid section off for the oil pan. Drill it and put the oil return flange on, then flip it back up and start taking the head off to change the head gasket.

Also going to have my flywheel resurfaced and change the rear main seal along with some other seals just for reassurance.
7-11-2014
Some more progress.

Separate the engine from transmission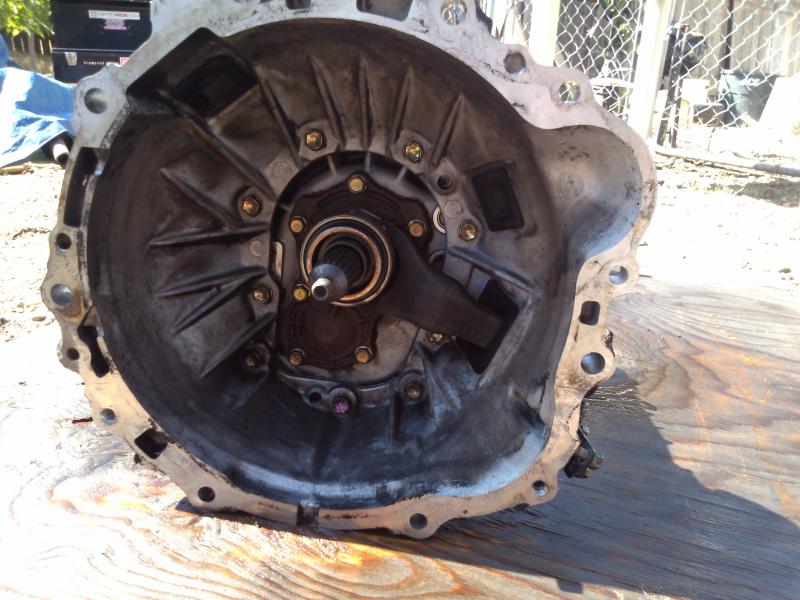 removed the clutch and flywheel

put the engine on the stand flipped it over and started on removing the oil pan

every thing looks clean and no chunks Just a couple dents from the outside and a piece of gasket that came off while i was pulling the pan off.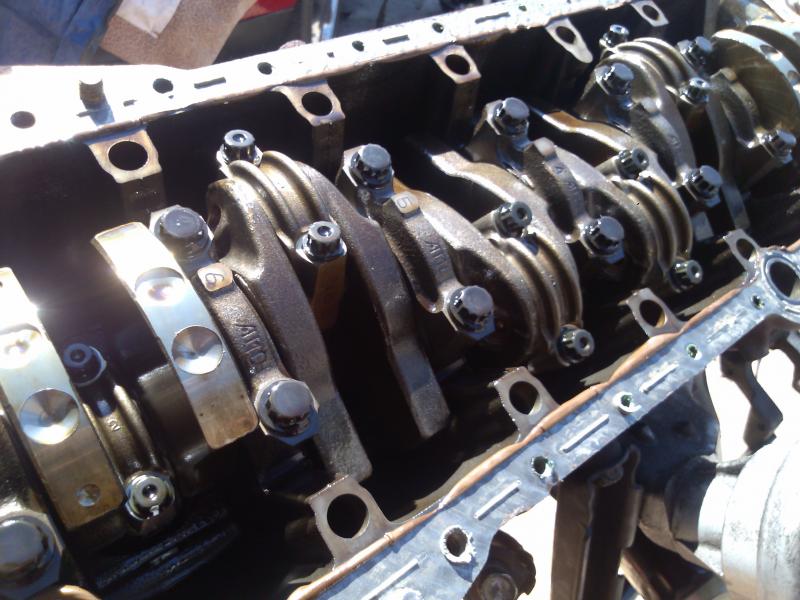 Time to clean all the nasty old gasket material off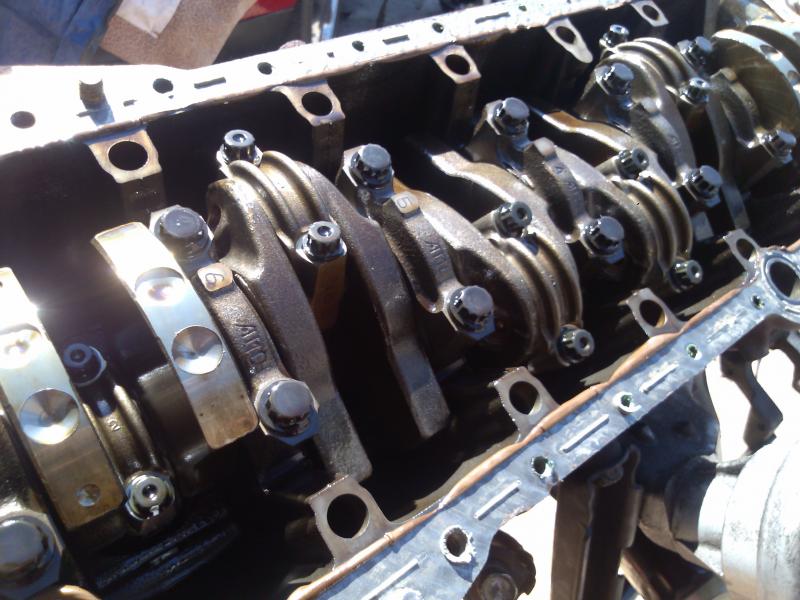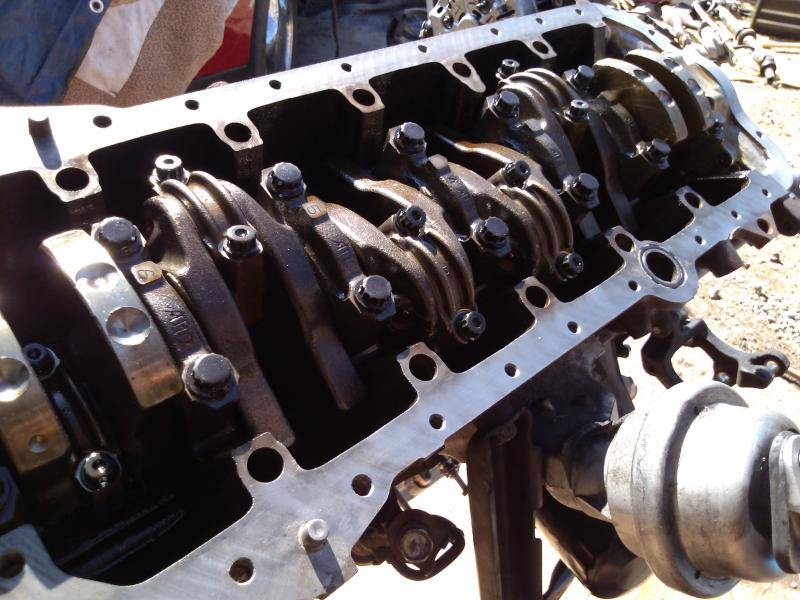 So thats my progress for today. Tomorrow going to drill the mid section of the pan for the return flange and dril and tap the holes for the bolts. Probably going to use 12mm bolts for the flange or 10 mm.
7-14-2014
Started with the head today.

Took off the belt and tensioner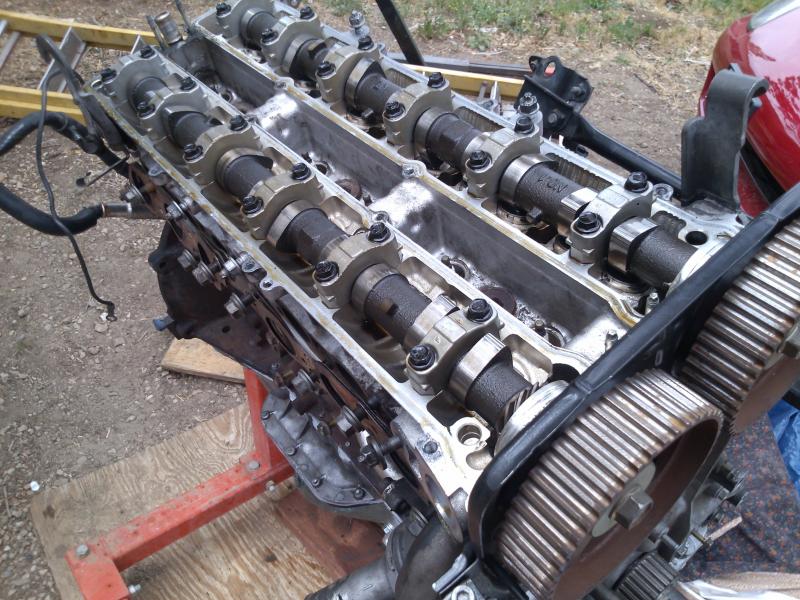 Then the valve covers and started the proper sequence for disassembly of the cams.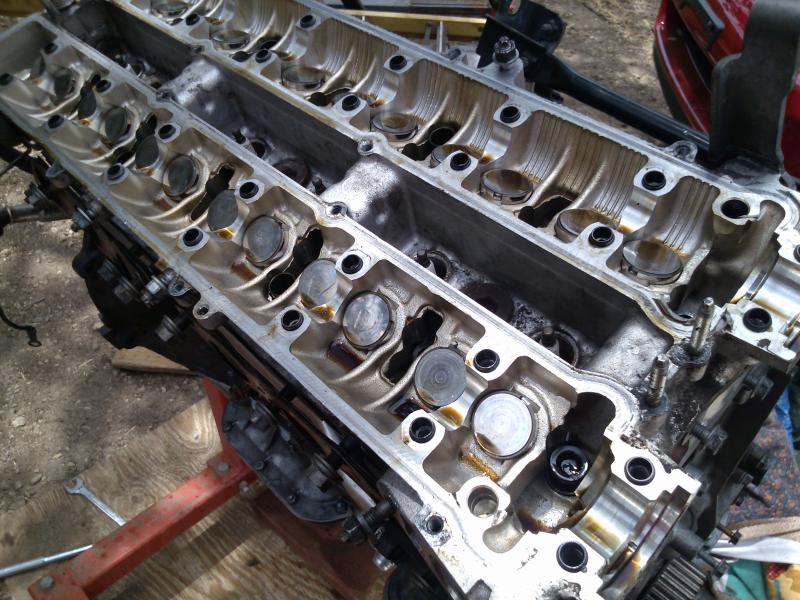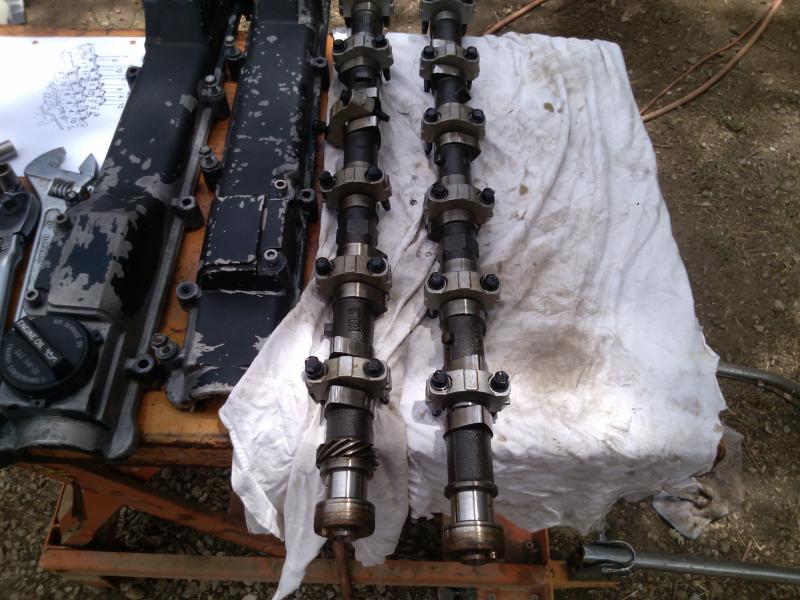 Everything looks clean and barely worn in. It doesnt even seem to have many marks on the valve caps. smooth and clean. Im actually becoming more confident in this engine as i dis assemble it further.
yeah im happy with it. except i JUST ran into a problem, when i was taking out the head bolts one of them seemed to of stripped. hate when everything is going smoothly then when something goes wrong it goes wrong badly. When i used the socket that i did it fit perfectly and snugly into the head bolts so i was confident it was fine and i nearly untorqued them all in the proper sequence until i got towards the back bolt and it just stripped. So now im possibly facing having to drill the head of the bolt off.

Another option that i was thinking of is blocking off all oil passages and covering the surrounding valve/springs and taking the same socket and just welding it to the bolt. Both are crappy because drilling the head off will shed alot of metal flakes every where and welding may throw some beads around in places i can't see.

On the other hand welding it would heat it probably enough to expand the metal and it would be a very solid connection with the socket and bolt and im positive that it would work. Im just not happy about the situation right now at all.
7-15-2014
Yeah i ended up drilling the head down until it hit the washer and it just fell right off. But yeah now im using my air compressor to blow it all out and possibly gonna pressure wash the inside.

But yeah i got it off and started cleaning. Everything seems in good condition. I started cleaning the pistons and since i took this photo i cleaned the deck even more.
7-16-2014
Another update, finished cleaning the head and making sure its completely clean on the cam side inside and out. And took the head studs and installed them accordingly to ARP's specs except i torqued them to 90 lbs instead of 80.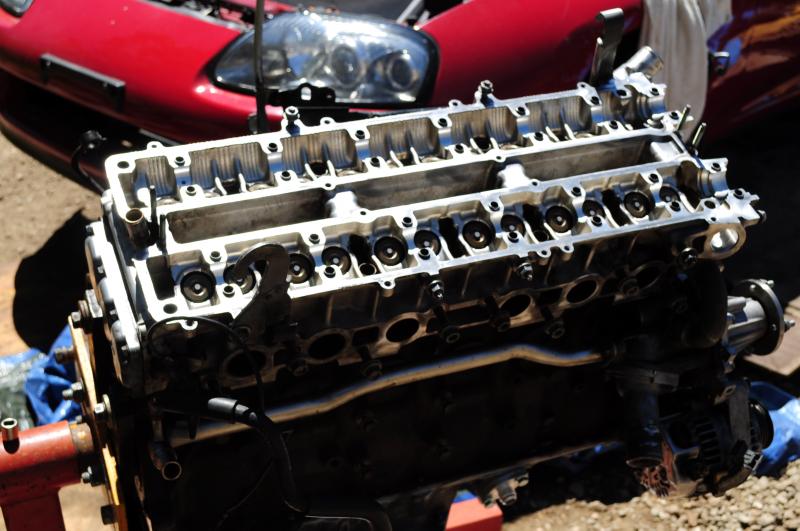 then carefully re installed the cams with lucas oil stabilizer for assembly lube. Great stuff for installing cams, so thick it just sticks to the journals and its very smooth stuff.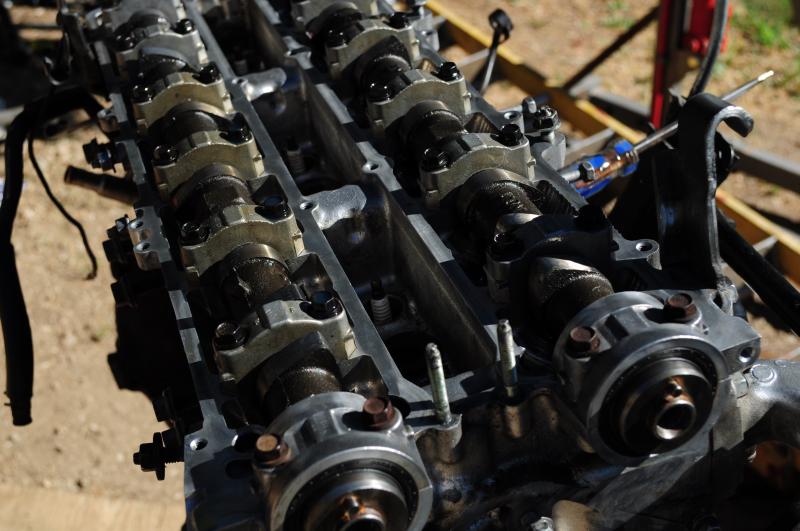 7-16-2014
Also got the timing plate on and the cam gears aswell as the new belt.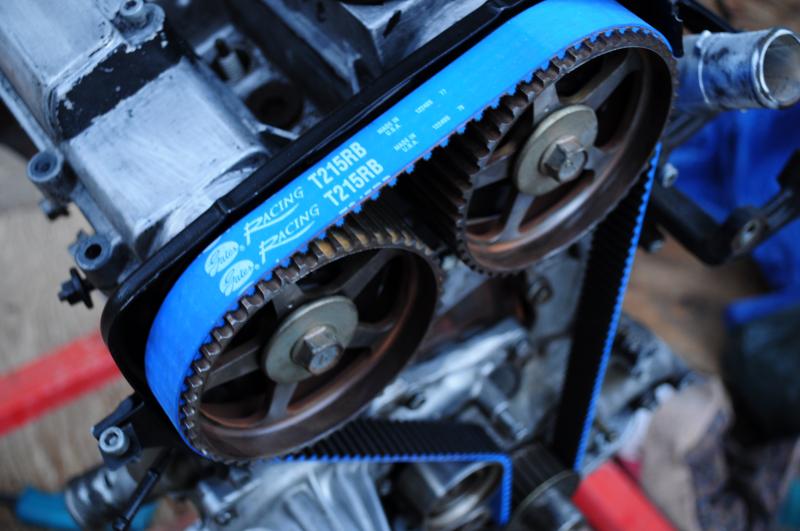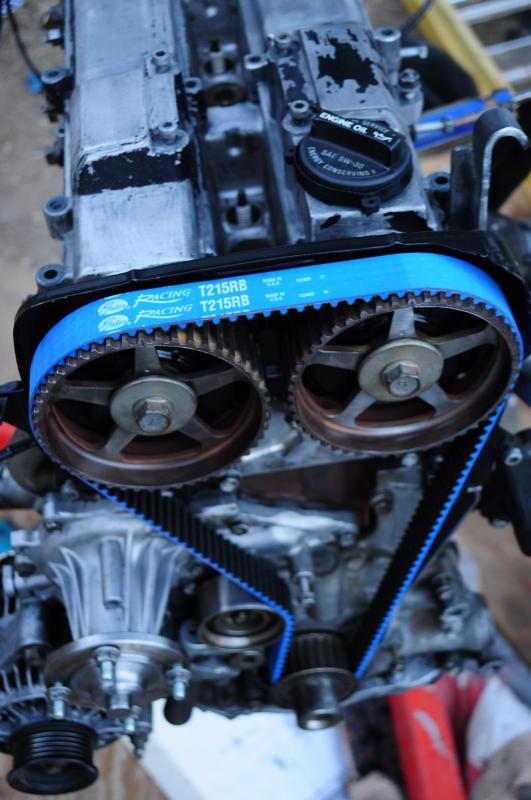 7-17-2014
Painting my cam covers and timing covers aswell as test fitted the turbo to measure and make the oil return hose.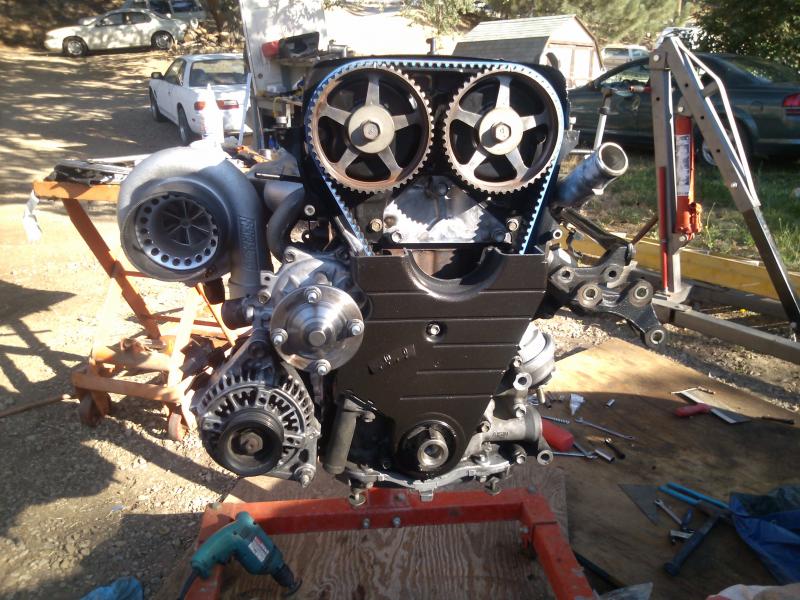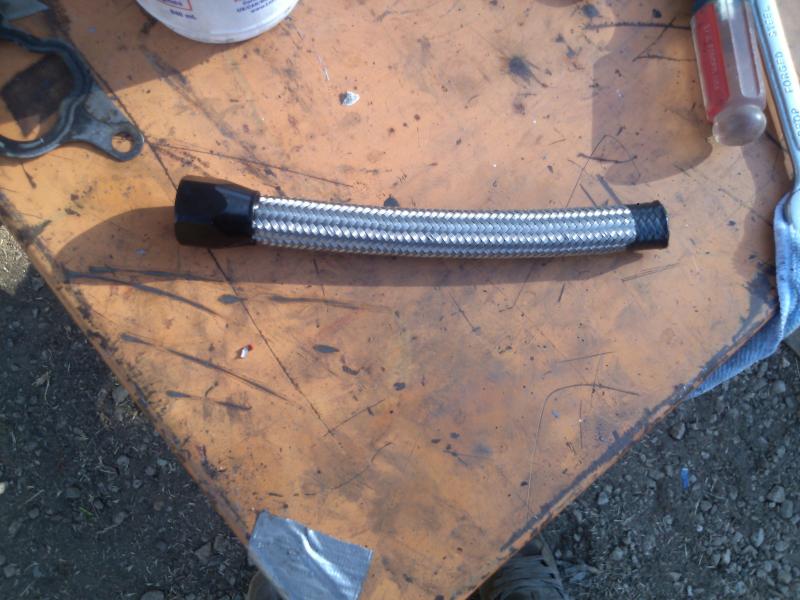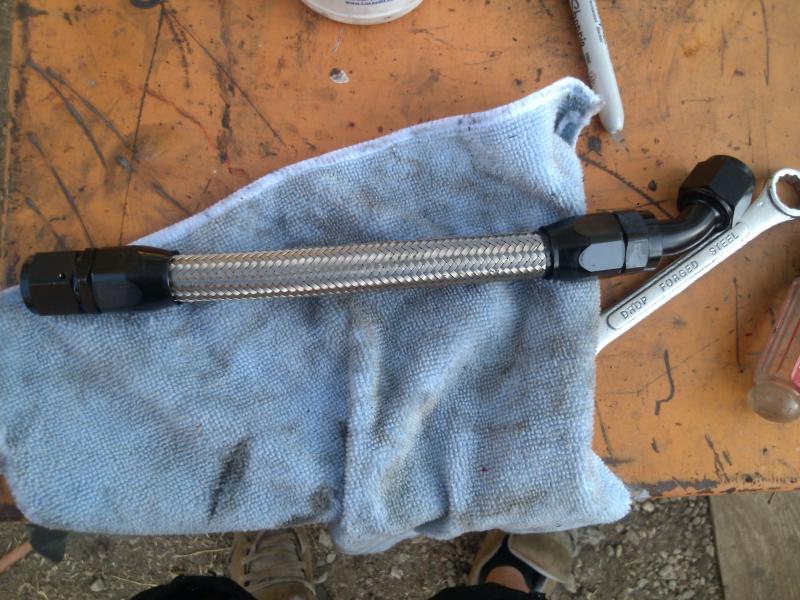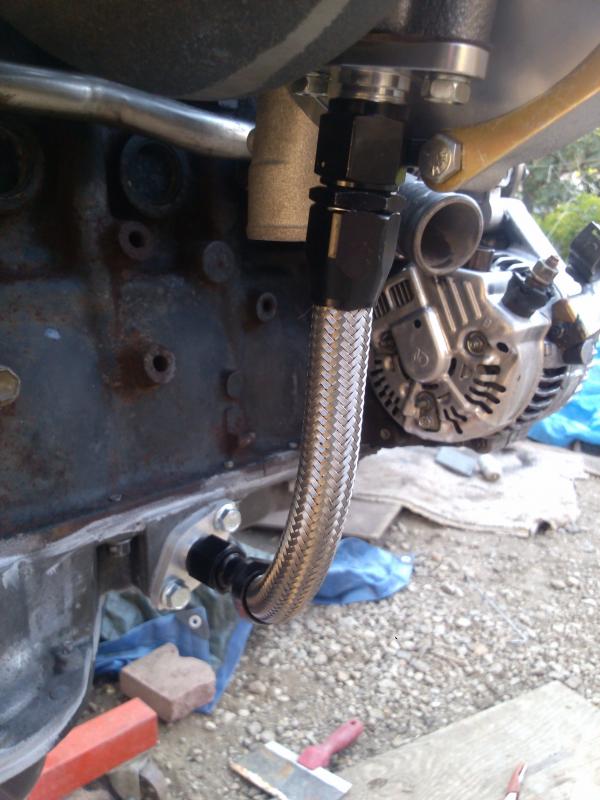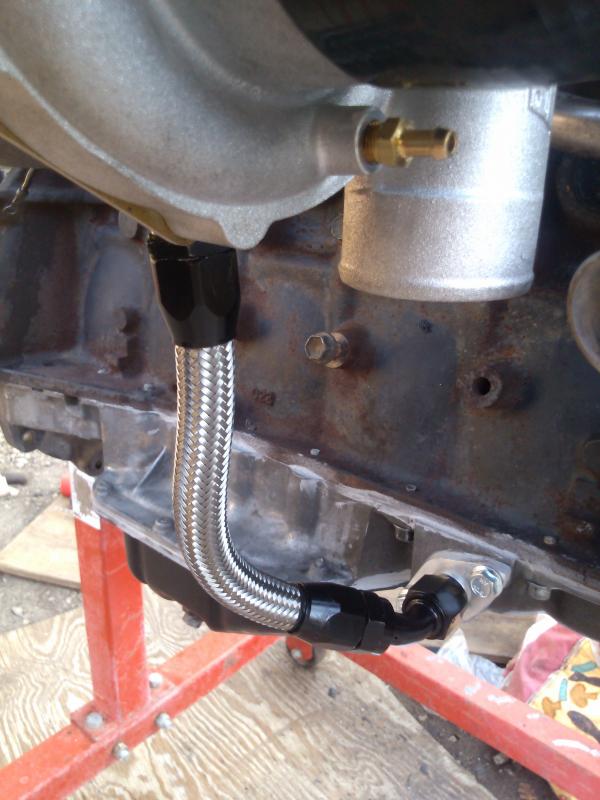 Tried to make it as straight forward as possible so i don't thing i'll have any problems with flowing.
7-18-2014
Yep !! very simple and to me if you don't want to have to modify anything this manifold is a great option. Because i don't have to modify the distributor in any way and its no where near the intake manifold so its not really an issue.

Today's goal is replace the rear main seal, install the lower intake runners along with the new injectors and install the flywheel and clutch. Possibly mate the transmission to the engine today aswell.
Just finished most of the tasks i wanted put the lower intake runners, new injectors on, and replaced the rear main seal.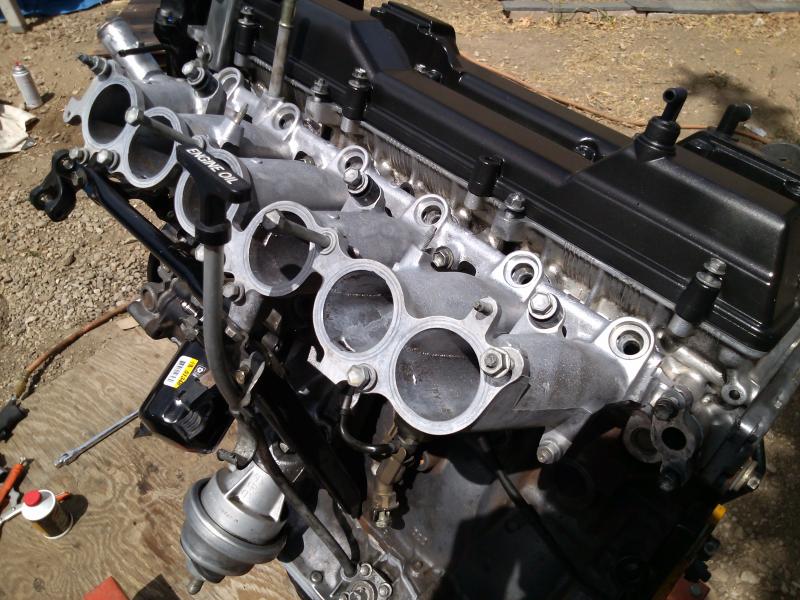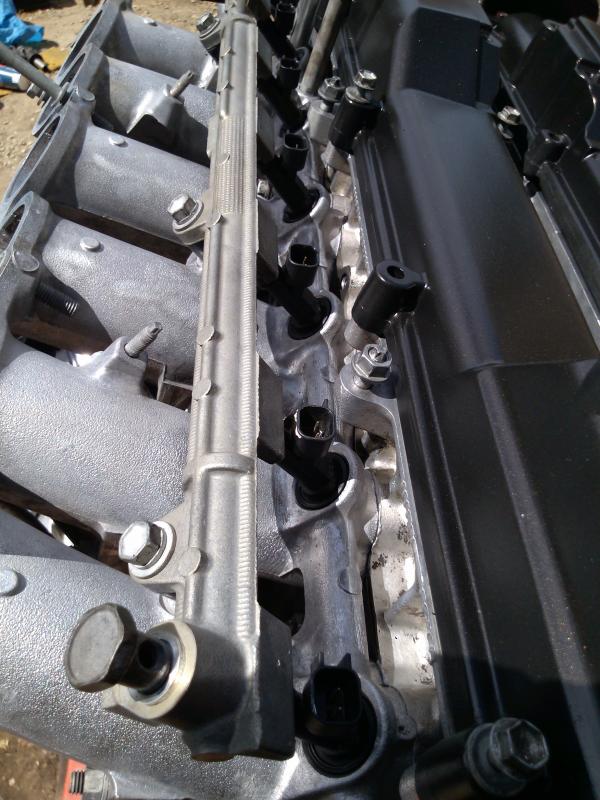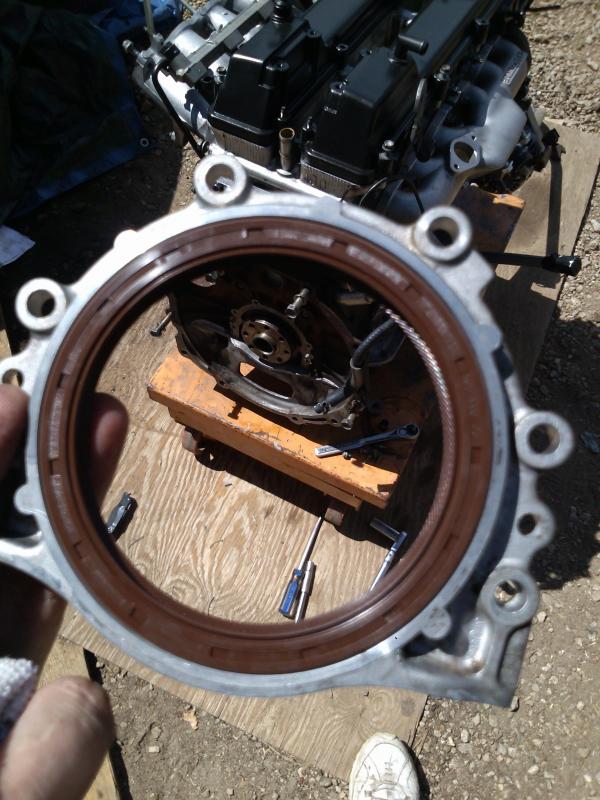 Going to do the clutch sometime today.
7-19-2014
Make some egr block off plates. Went slightly different than what my template was because i discovered they can both be the exact same shape and size.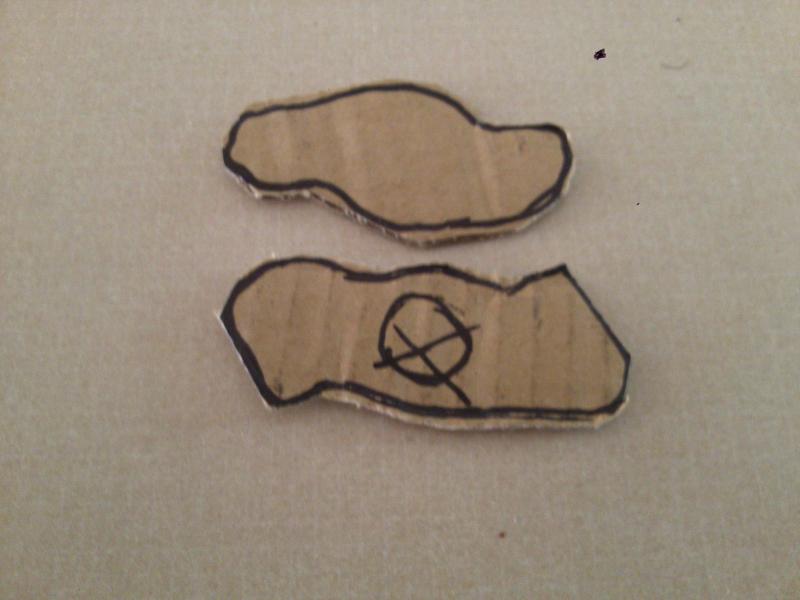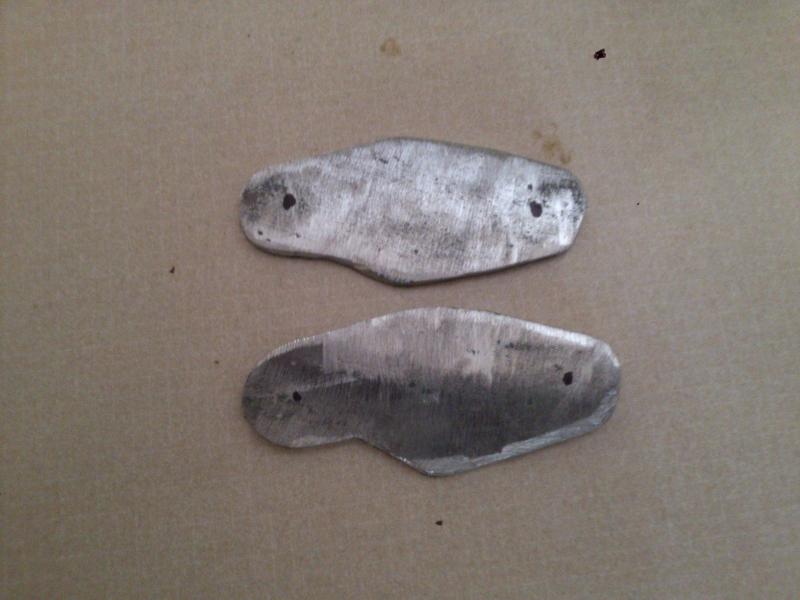 7-22-2014
Yeah they are 800 cc injectors.

Today im focusing on the interior of the car like installing the boost gauge and routing the boost line. Also had to pull my driver side fender off because i wanted to route my widebands wires from the bay into the same loom for the wiring harness so it doesn't look to far from factory and happy with it so far. But im going to source my widebands power from the under hood fuse panel and currently looking for a switched power source. Thinking about taping the pos wire to the Main fuse but not sure if thats a switched or constant source. Ill sort that out eventually.
7-23-2014
Yeah the wideband has two grounds.. One for the ems and one for the power source. Sort of makes it a solid setup.

But yeah frustrating day yesterday. But today worked out slightly better. Got the FMIC fitted and made the brackets to mount the intercooler.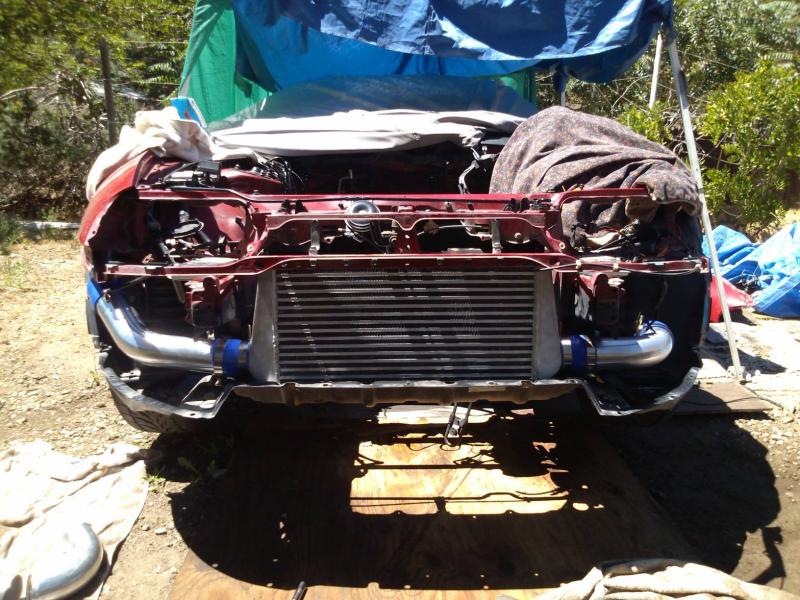 7-24-2014
After finishing the intercooler and piping a started mounting my oil cooler. I used factory screws and managed to bend an old power steering bracket to pinched the rad up against the frame and now its solid.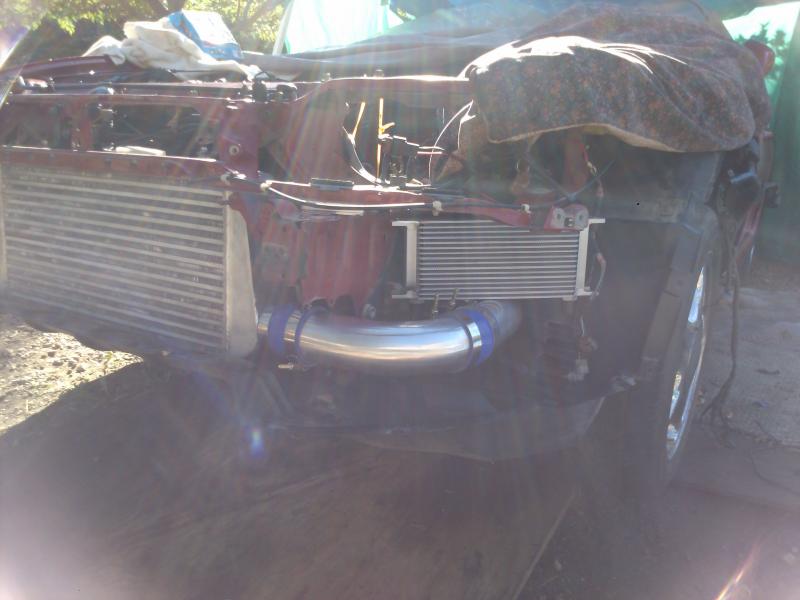 Then hooked up the lines and it fits great and out of the way. I would sort of like it closer to the bumper vent so its more visible. But with the IC pipe there, there isn't to many options.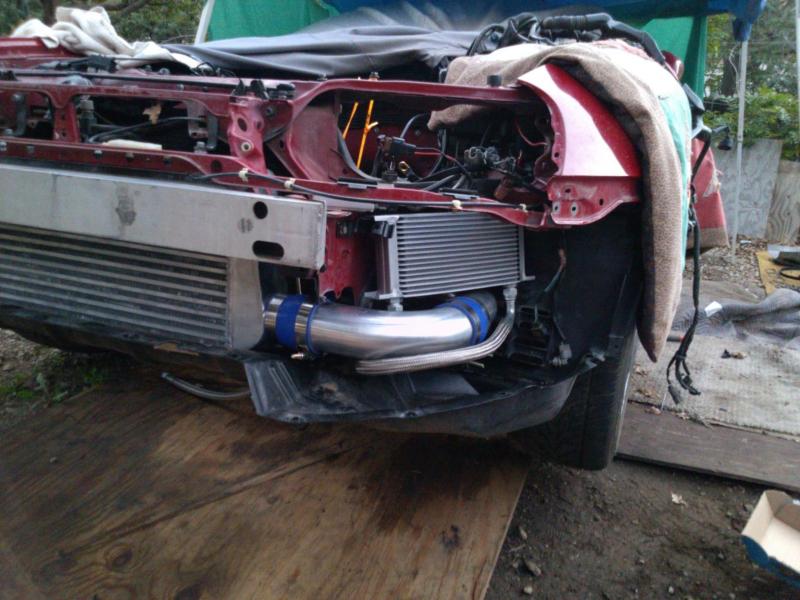 And after the frustration with tons of clips and plastic body pins for the mouth, the top of the bumper and tightening everything onand trying to adjust i got the front end back together.

The headlights in the photo aren't bolted down so they're not perfectly level or anything.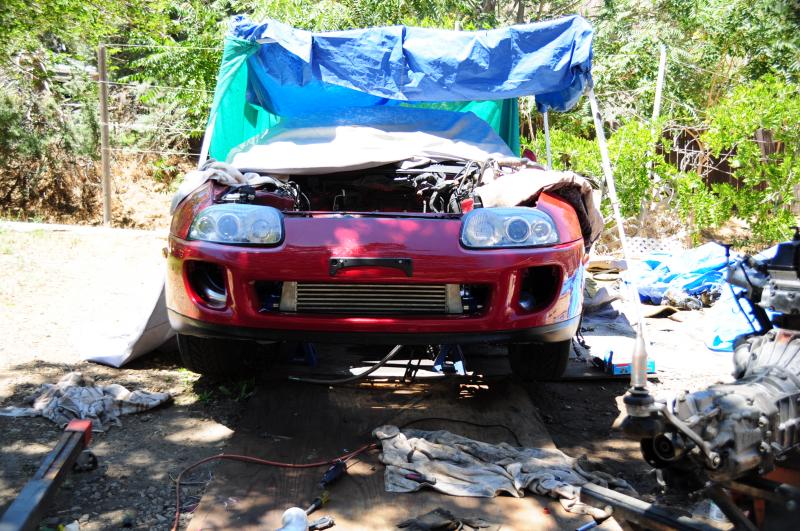 Cant even tell there is an oil cooler. ohh well. I was hoping it would be more obvious since i just like the look of oil coolers through bumpers. But over all the intercooler in there looks soo much better to me.

Now i need to order the new power steering cooler.
7-29-2014
So i wish i got more shots of getting the motor in but this is what happened.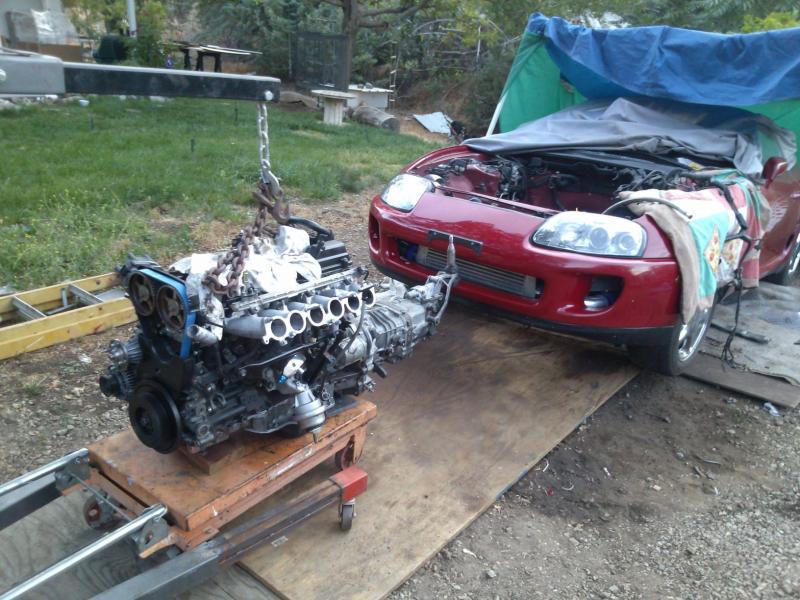 After i got the engine in i decided to put the turbo on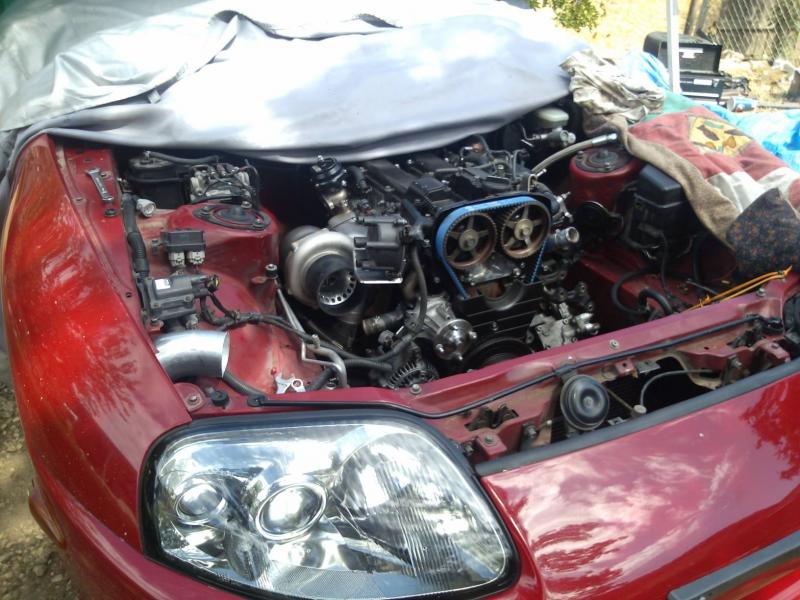 After getting all the wirring harness connected and the intake manifold completely assembled. I can now focus on getting the ic pipe 100% finished.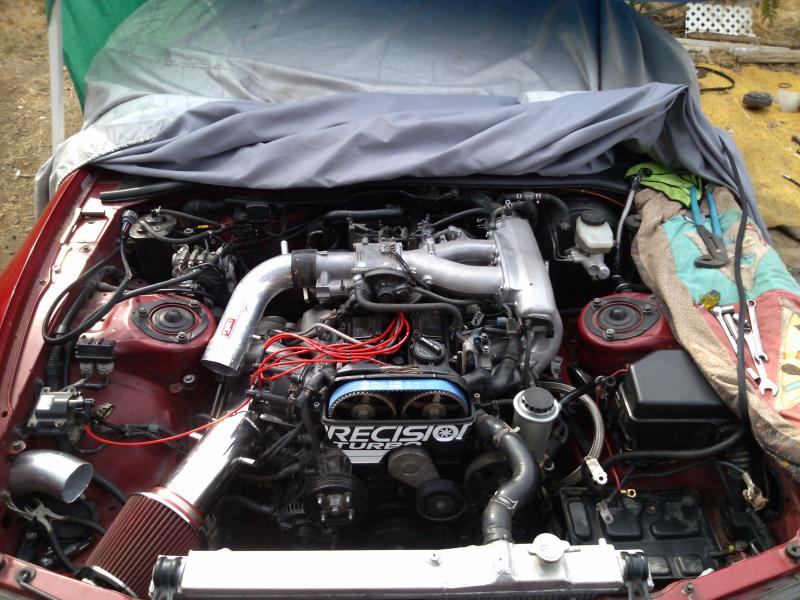 I will use the injen intake pipe but im going to have the ports on it welded shut. Then im going to buy a 90 degree intercooler hose and just connect the pipe coming out the fender to it with a small section of intercooler pipe.

Then i have to buy another 90 degree hose for the lower section and that will be all i need for the intercooler pipes.

I'm considering using one of the ports on the injen intake as a hole for welding the bov's flange in. Ill just bore out one of the holes to fit the blitz bov flange and have it welded. after that i just need to get the EMS.
8-9-2014
Might aswell if your pulling the motor out ! I would like to but where im at and with no garage its no place to even attempt painting a car.

Small update today, Finished 90% of the intercooler piping today. Just have to do the lower section near the rad. But just trying to make it a safe distance from the crank pulley ! gahh its alittle close for comfort but ill sort the problem out.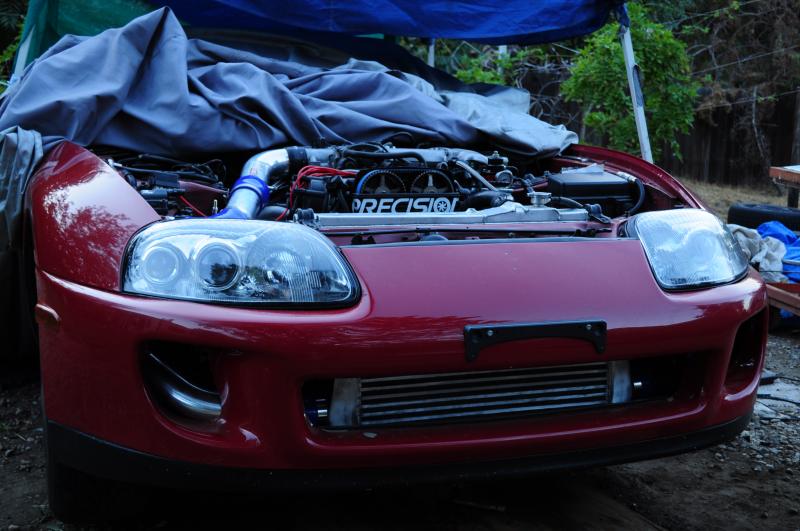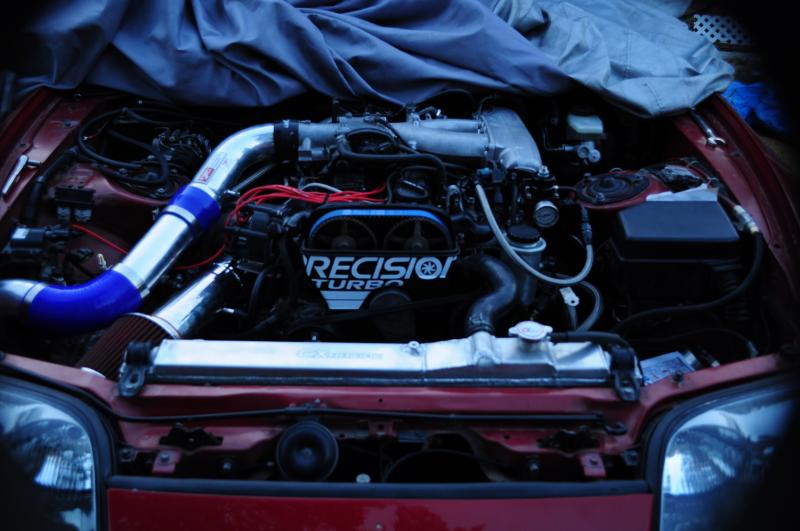 Now im waiting on my transmission mount so i can bolt the transmission back up and drive shaft so i can lower the car back down. just need shipping to hurry !!

Decided forsure to use my injen pipe, its a nice bend and i bored out one of the crank case ports for my BOV so now i just need the flange welded on.
8-10-2014
I'm using 3" pipe all the way around. The injen intake is slightly odd because its a 3" pipe but the side that connects to the MAf is a 3.25" so i bought a 3.25" to 3" coupler and it worked well.

So far i have all the couplers i need, I just hope when that pipe is fastened it will not hit the pulley. i was test fitting one last night and it seemed like it wasn't going to hit but it was close.


Then im about to order my 12" fans and look for a switched source under the hood. I just want them to stay on at all times when the key is on.

then i neeeeeed to get my ems can't start it with out it.
8-11-2014
got my transmission mount. Finally i can bolt up the transmission !

This thing is MUCH MUCH stronger than the stock one. And i picked it up for the same price as an OEM replacement which is softer. So im happy.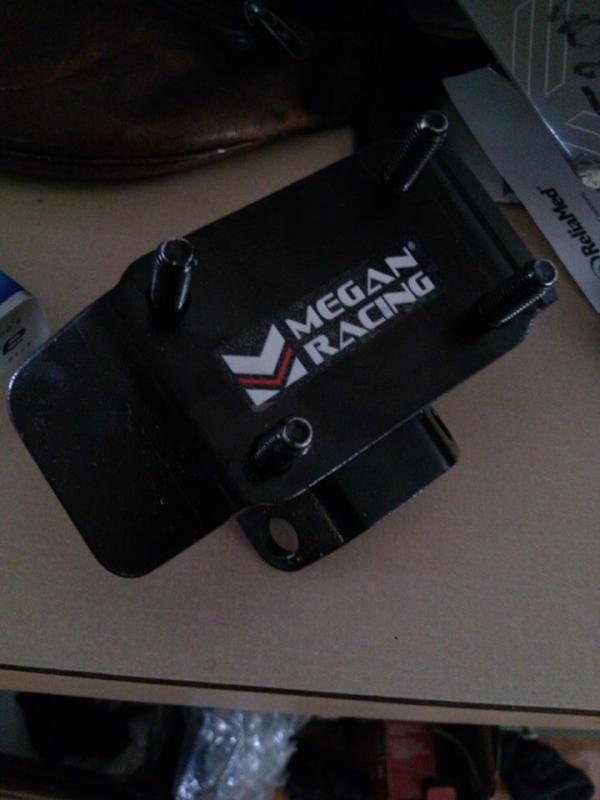 Thanks ! Happy with the progress ! i just have some more work to do. I figured i'd make a video of how its sitting right now.
8-12-2014
Thank you !!! small update, if you've seen the video i just posted talking about the Injen intake and boring that hole out my friend welded the flange i bought for it and he finished last night ! this is what i t looks like.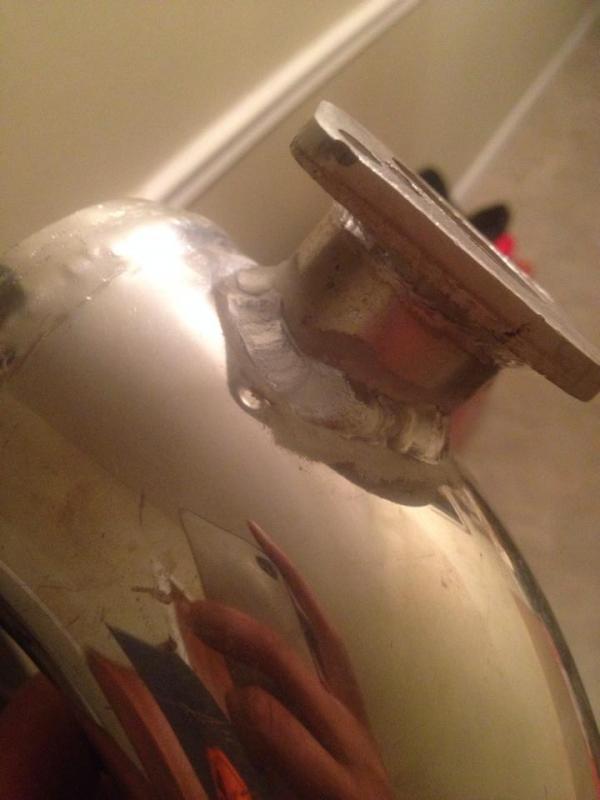 and this is what it looks like with the BOV on it.


8-13-2014
Thank you !! I finally filled the transmission with gear oil.

Now all the cars oil is running on amsoil.

And its finally off the jack stands ! felt so good lowering it back to the ground.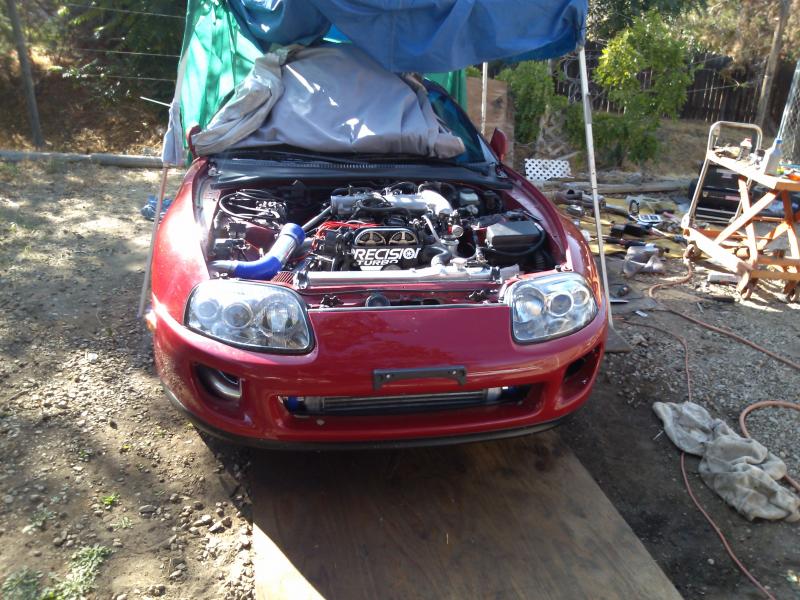 Bov looks nice, i was contemplating putting it in a different spot before but im happy now with deciding to go with the direction i did.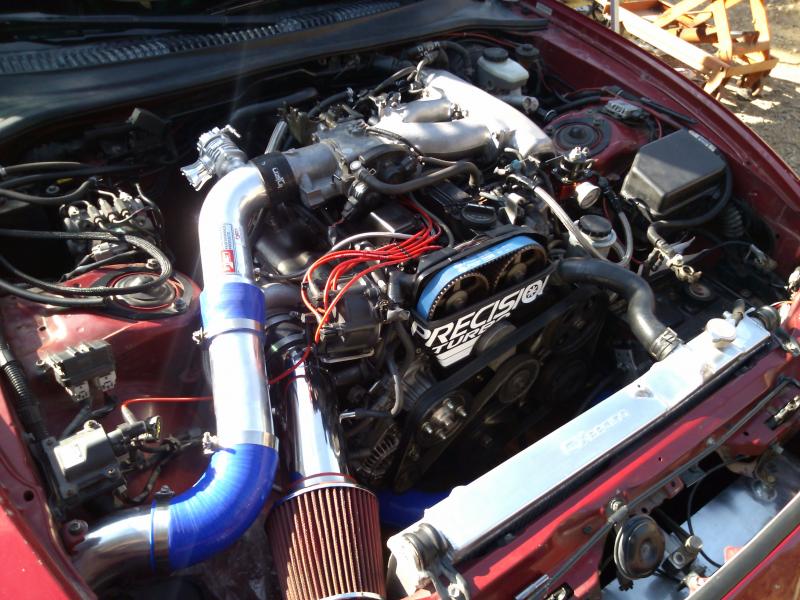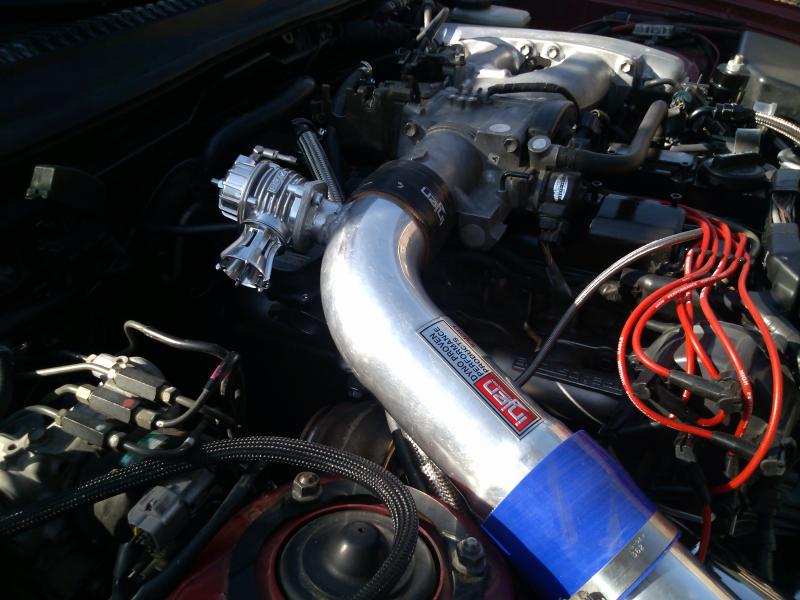 Finished routing all the vacuum lines and plugging the ones i needed to.

So this is the new vacuum routing.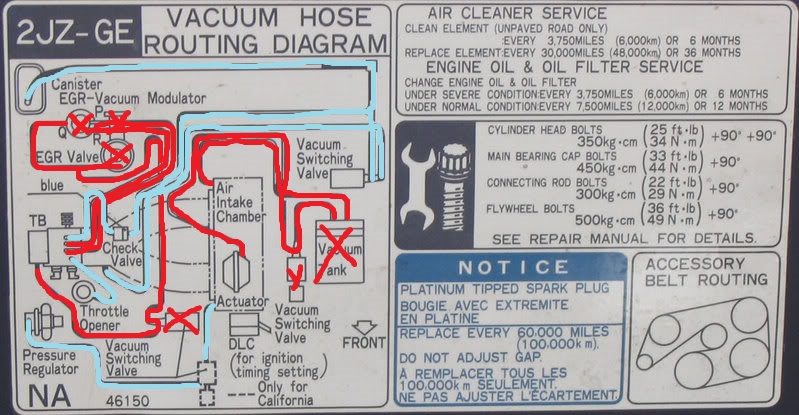 I decided to keep the " canister " because i don't mind it being there and its nothing to really worry about.
I have kept the Canister specifically for that, i know its a charcoal canister that typically is used to keep those fumes down. I noticed some cars literally don't need them some do.

Can't keep the Vsv however because the vacuum lines are all used on the turbos intake. I don't feel like threading in any more barbs for vacuum.

Plus i already tack welded the Flap in the intake manifold shut so the flap doesn't open and close. I've heard and seen some horror stories where people keep them and if that thing even slightly opens under full boost it will shred and suck right into the valves pistons etc.

The thing about systems like that when boosting a non turbo car is you have to make sure they are in 100 % vacuum at all times and i feel like its not worth risking having it even opening and closing inside of a boosted engine.

But yeah finished my down pipe welding it. No i probably won't show it off because the only thing i have to weld with is a 130 dollar welder. but no worries its strong and i made sure it can hold the weight of the cars exhaust system with ease.
Im going to show a distance shot because its nothing im proud of. Just happy its solid. Just finished drilling and welding the o2 bung in. Everything fits great.

Anyways.. at first i sent the sections i cut up to a guy that uses a Tig welder. he said he was having a hard time welding stainless steel so he told me he only could do certain portions. So he gave it to me halfway welded and since he wasn't too inclined to finish it i decided to.

Anyways... yeah you can post this to some weld facebook page so people can see what not to do lol.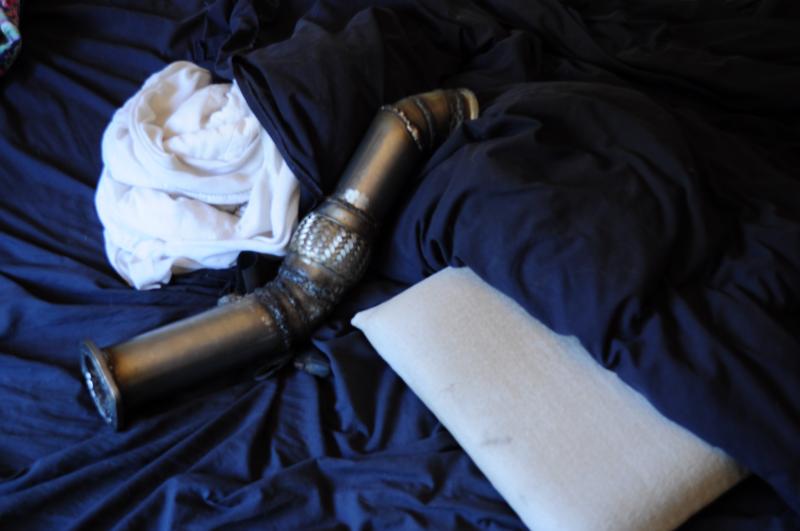 8-17-2014
Small update Finally installed my fuel pump. Figured id do a step by step on this one.

Popped off the spare tire shield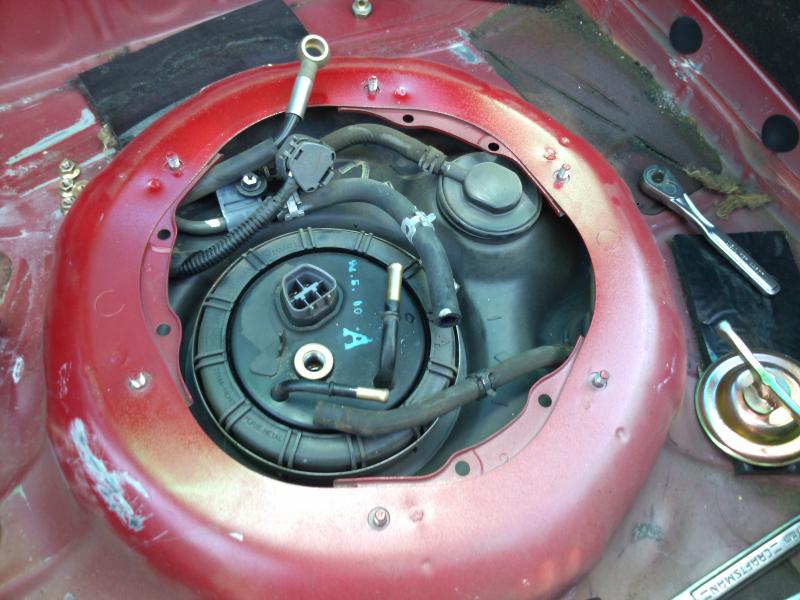 Blew it out to clean out the dust and made sure nothing could fall in.

Then pulled the fuel hanger assembly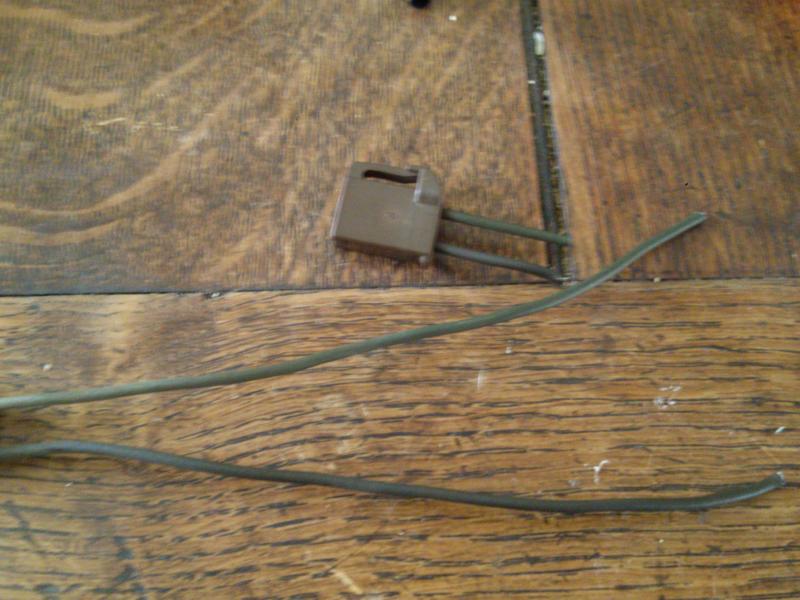 Green is Positive

stripped and prepared to solder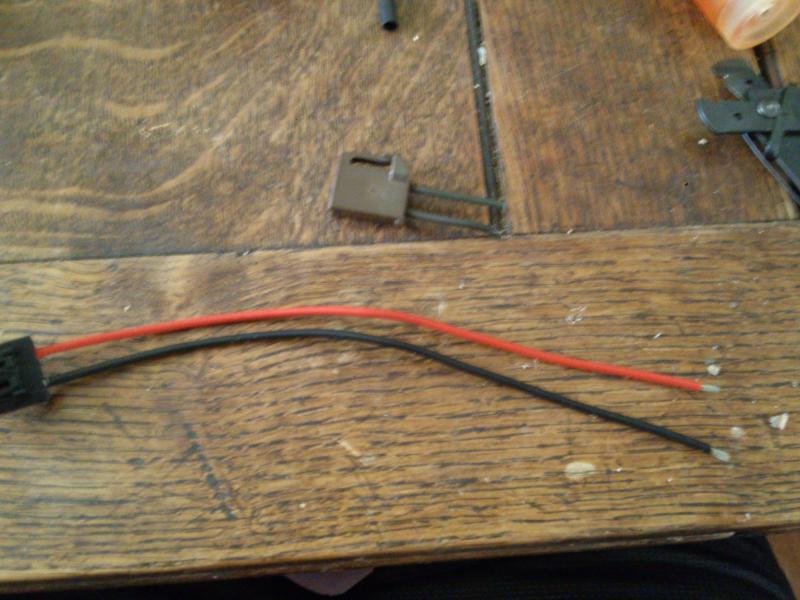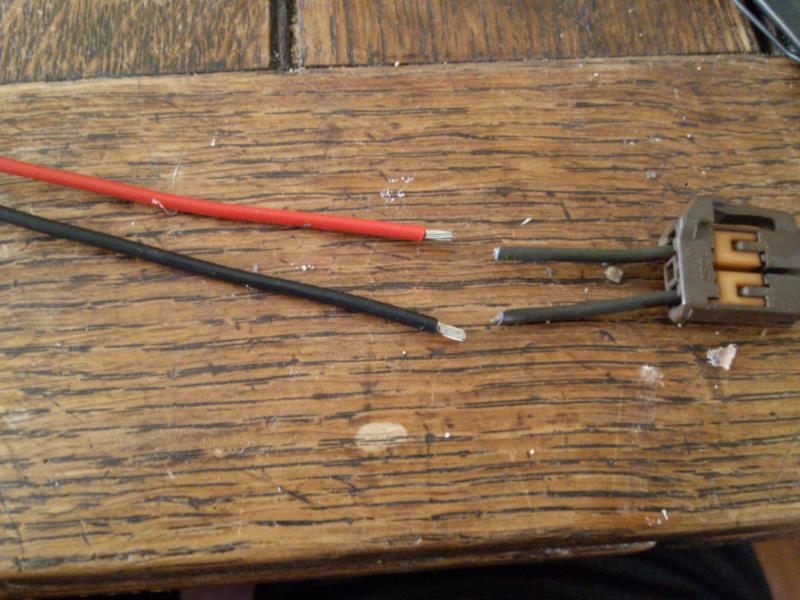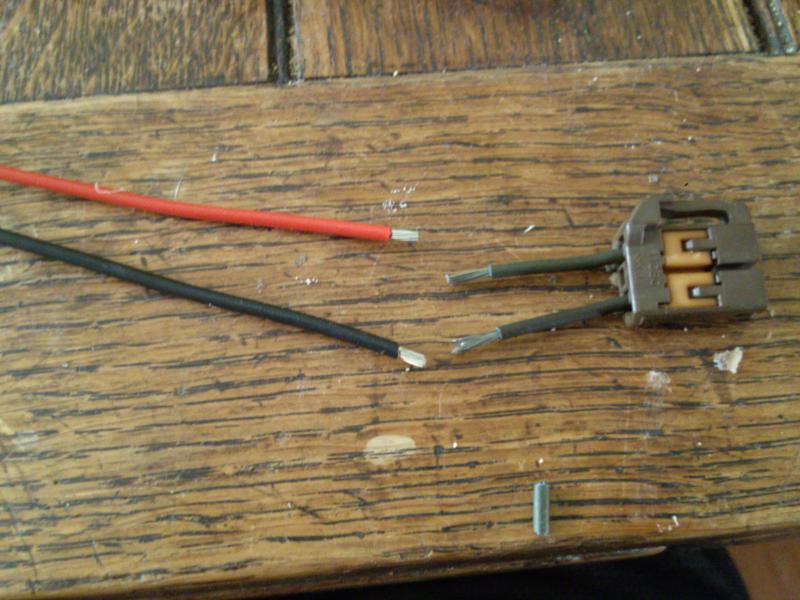 shrink wrap put on BEFORE solder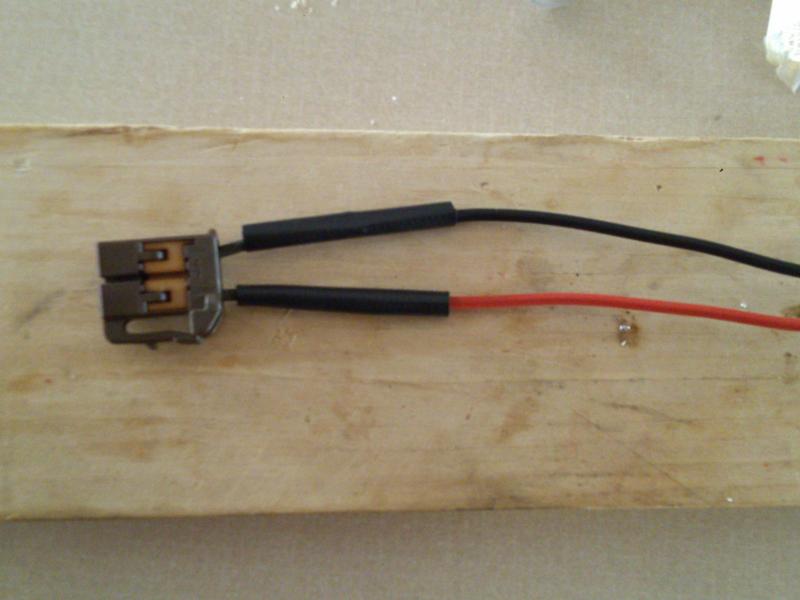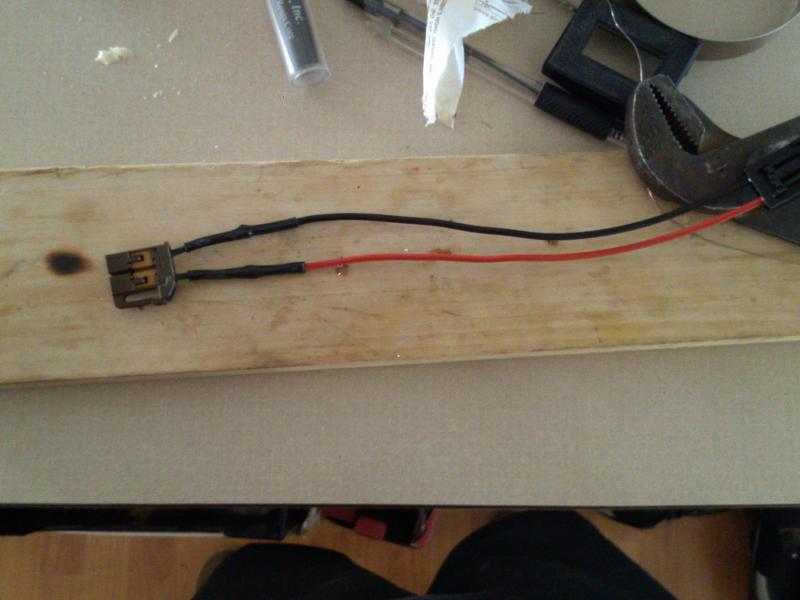 Put the new pump on the hanger with the new hose.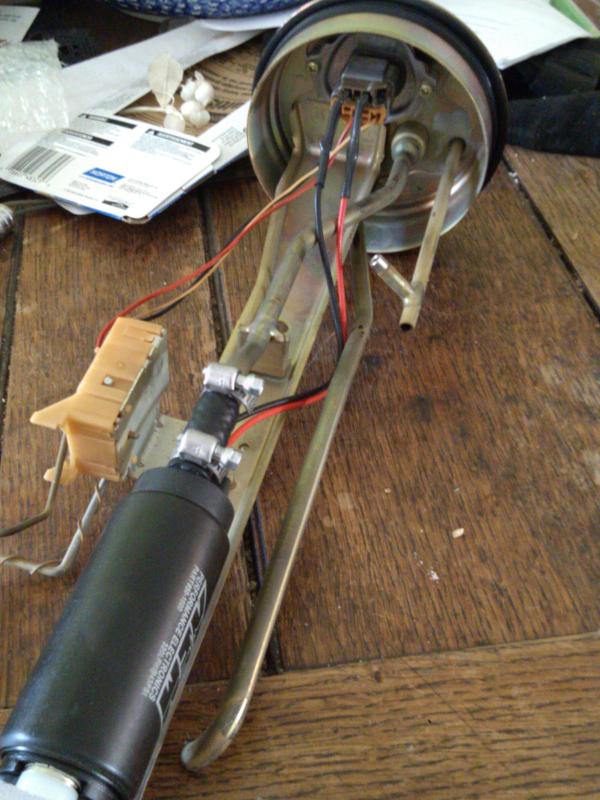 Didn't use the supplied clamps though since i didn't like them just used some extra ones i had lying around.

Re installed the assembly and connected everything back up and turned the key to make sure the float was still reading and it was fine ! now i need to hook up the relay and see if i can hear the pump working.
8-18-2014
Heat wrap came in and wrapped it up ! looks about 100 times better to me.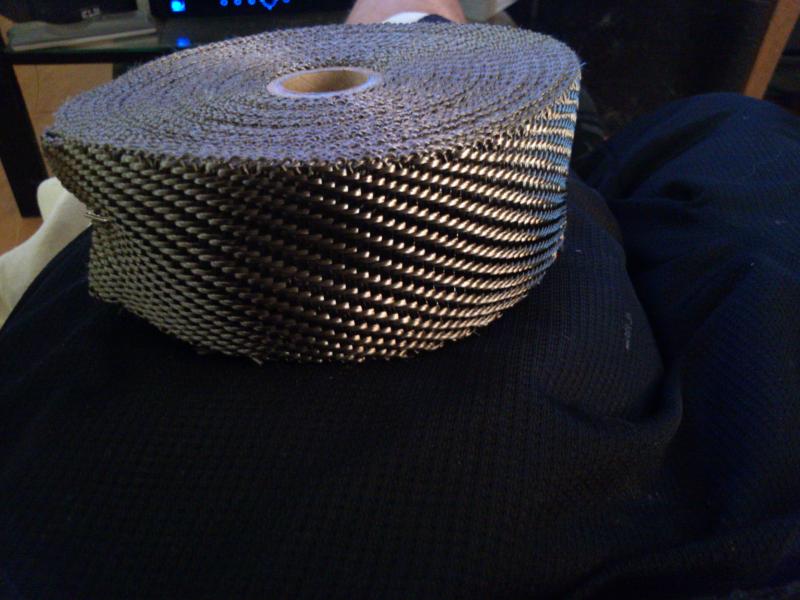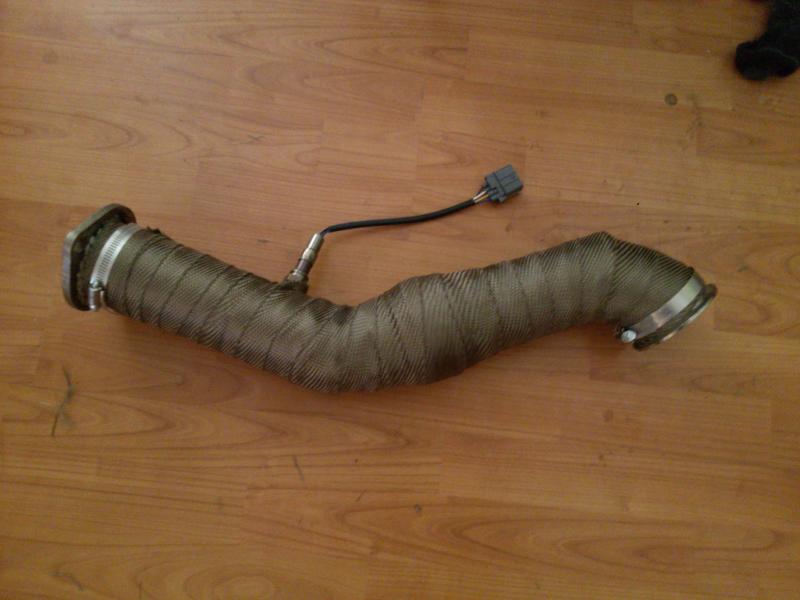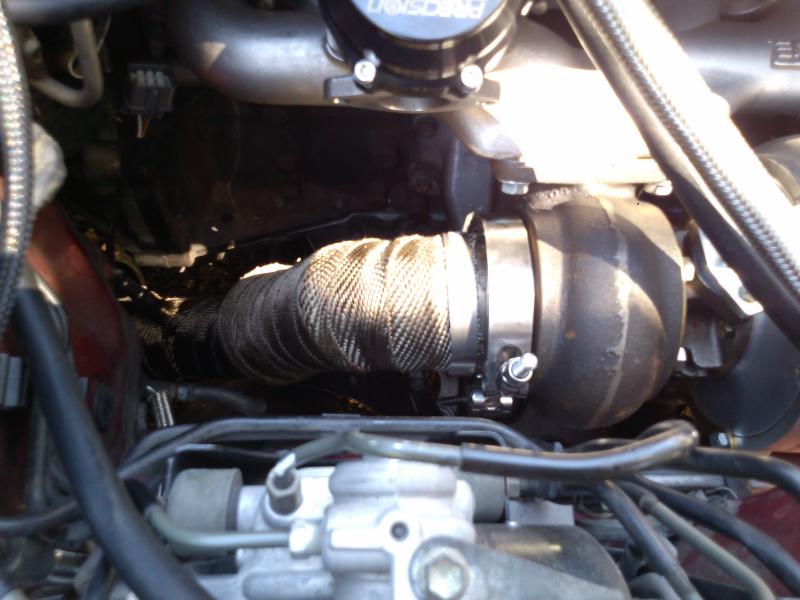 Personally i don't need to delete it, Since my manifold makes sure its not interfering with my intake there is no need to delete it.

If you have to delete it you can just use it as an cam angle sensor type setup, then going with LQ9 coils. But you have to have an EMS to do so. OR get a GTE ecu and add a GTE oil pump which has a timing sensor built in apparently.



Also small update, routed the wiring through the fire wall for the ems V2.

2 of the red wires and one of the black wires is going to be for the Map sensor

And one red wire and one black wire will be for the IAT.

I labeled them both inside and outside the car so when i get the sensors ill know which wire goes where.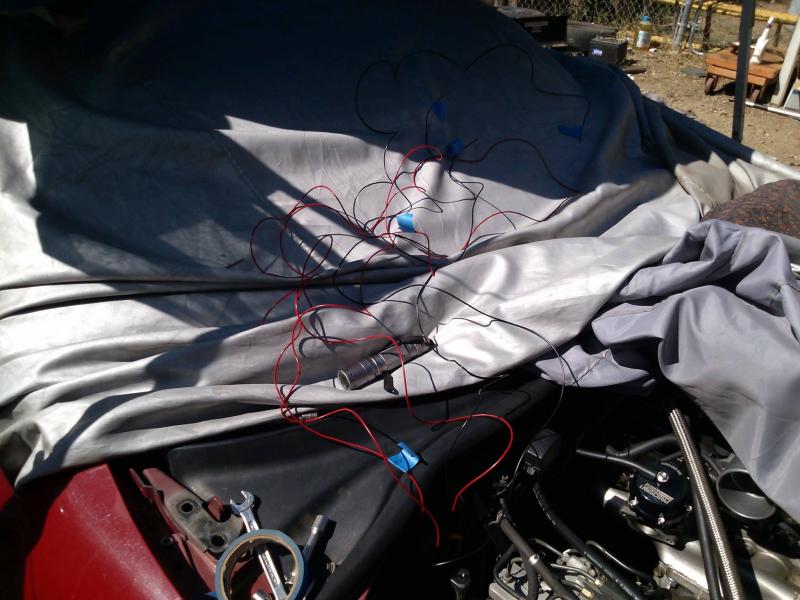 Now on the inside of the car i need to prepare for splicing these wires in the designated area on the harness. Then it will be true plug n play and i won't have to worry about it when i get the ems.
Thanks !!! yeah that was a main goal because i wanted to keep the engine bay temps at a minimum. Cooling is my main objective when upgrading. So everything i've added should keep the engine wear down and keep everything nice and proper when pushed.

Also, late night goodies tonight. The last couple parts to complete the build.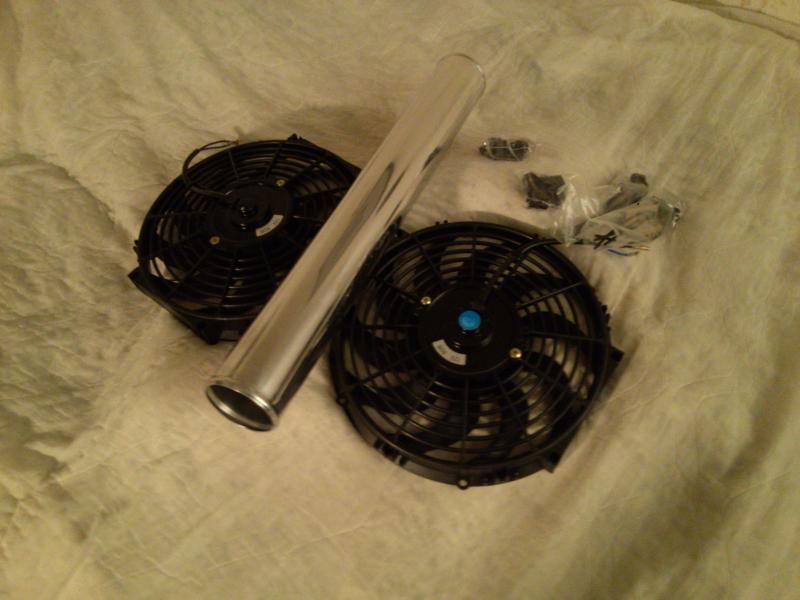 12"'s going to be putting those in tomorrow. I'm going to cut that 23" ic pipe to 18" and connect the last gap in my ic piping.

Then its just a matter of saving up for my AEM EMS along with the sensors.
8-19-2014
Finished the IC piping, Fans, and wiring for the fans. I was going to do a relay kit but i don't mind having them on a toggle.

My battery is partly dead and they still pull alot of air. with out a shroud i can still feel them sucking air from even infront of the intercooler. Im sure when my battery is charged they will pull even more. They aren't very loud either.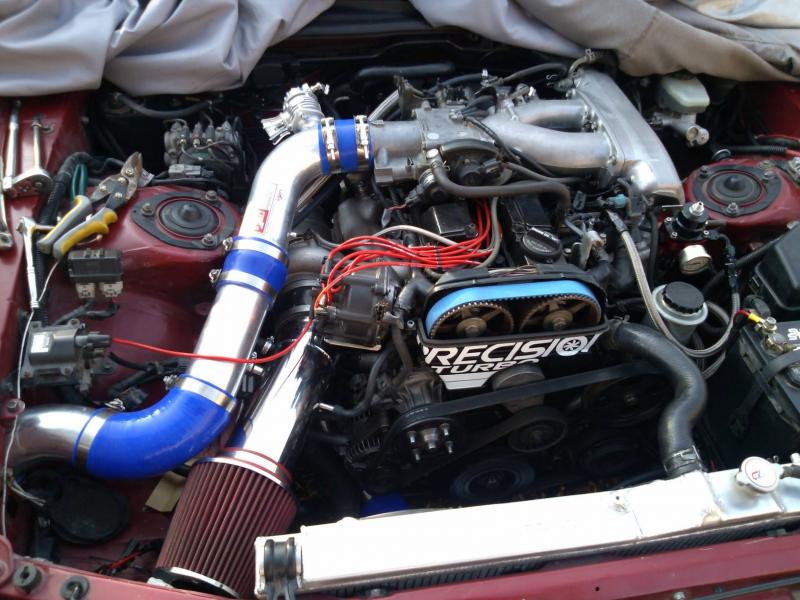 8-20-2014
Update, Finally started it. Kind of rough but thats expected with how the nothing is basically designed for the factory ecu. I had to plug in the maf because it simply would start up for a second then die with out it. After this video i put the maf into a blow by style just to see how it acts soon.

Other than that everything seems mechanically sound. Open down pipe so its alittle loud. But soon as my gasket comes in for it ill bolt it up to the mid pipe.



1-11-2015
Slightly went down hill.. Due to constant family hospital trips and tragic stuff happening in 2014 i've basically been leaving the car in the drive way since i last posted the video of its starting .


So now its 2015 and my car has finally received the attention she deserves sooo much.


To give you an idea about what happend is i was saving up for the ems... and then car problems with the DD. Money had to be spent on parts and things non related supra .


NOW im back in the game... i AM finishing it this Year and i promise you guyss will see more updates.


Right now i installed an SAFC II and modified my intake pipe to fit my MAF. and the car runs and seems to drive. But i have to spend time on tuning it to idle as smooth as possible.
2-28-2015



Very excited to say ive officially obtained my EMS !!!! the guys at ECU Masters really helped me and answered all my questions. the have alot of patience which make life simpler



thank you
3-3-2015
Latest update:

Installed my ECU masters standalone. Did clean up the photo after this picture but generally its in the same way.


Very nice kit so far, true plug n play. Just ran a vacuum line through the fire wall and also ran two wires for my IAT sensor. Its nice that it basically comes with a jumper harness so i don't have to cut into the stock harness. Just had to add wires with the pins into the ems connectors for wideband input and iat input and since it has a built in Map i don't have to run more wires out to the engine bay.

Lastly i have to have my iat sensor bung welded into my ic pipe and ill be able to install that then see how the car runs.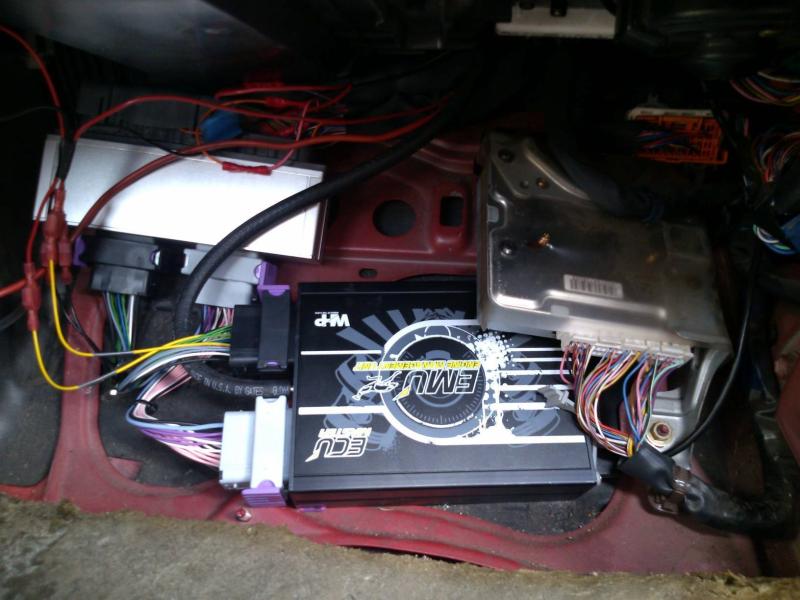 ECU Masters really took care of me and uploaded a base map for me to atleast be able to drive the car to the tuner.

And when that happens, i may be able to get some footage of the dyno runs.
3-28-2015
So finally able to drive the car now, my roads SUCK ! So much so that i don't even like getting into boost because of how rough they are.

i am working on the startup and idle, but besides that the car seems to run pretty good in my opinion.

After this video i did go back to my laptop to add some more fuel at the higher rpms. Was pulling somewhere in the low 12's around the time the boost was reaching above 0 inhg.

But i think im going to aim for mid 11's or maybe even low 11's.

Then im going to see how it does.

Didn't even get passed 4k really ! ha, but yeah i love it. Main things im working on is cold start, stabilizing idle, and richening out the af ratio in the upper rpm.



3-30-2015
Thanks man !!! yeah they did such a good job. Plug n Play harness and for someone like me that doesn't have much tuning experience under my belt i learned pretty quick.

Honestly i think the ecu masters standalone has more potential than the AEM EMS V2. And its simpler. It has a built in map sensor so you can just run a vacuum line into your fire wall into the ecu instead of having to purchase a map sensor.

Only sensor you have to purchase is a GM intake air temp sensor and thats it.

Its VE based tuning, so literally once you enter all your vehicles info like engine CC, how many cyls, fuel injector size and iat brand, it immediately loads a base map tune. Then you can alter the map and press + for more fuel at any given RPM or - for less fuel.

And its map sensor based tuning so as it reads more boost it automatically enters the higher VE. Literally you can turn up your boost and the system automatically adjusts as it reads more pressure. Unlike the older systems you had to completely retune your ems when you added boost. With this system. It isn't needed aslong as you have your VE map with enough fuel.

In the video i posted i was leveling out around 12 AFR under boost. Hooked up my laptop, spent about 10 mins adjusting for more fuel in that area and now its leveling out at low 11's under boost. and about 10.50 at max boost. So its a safe tune and not likely to cause excessive damage.

Really excited !