V8 1973 VW Beetle Project by V8 Super Beetle
By diyauto
162 minute read
You must be logged in to rate content!
V8 1973 VW Beetle Project
Compliments of V8 Super Beetle @ http://www.hotrodders.com
1-2-2008
Hello all!

I'm in the process of building a V8 Bug out of my 1973 VW Super Beetle. I know this is possible because it's been done before. I'm on the v8bugs.com forum where you can find a handle full of example and different ways to accomplish this, but I still have questions. There's a lot more traffic here so hopefully I can get some help. I'm pretty much a beginner hot rodder that's a DYI kinda guy.

I'm looking into building a custom 2"x3" tube chassis for my build. I've took some measurements from my bug and designed a chassis in Illustrator to size. I'm trying to design the frame so it'll use the stock suspension up front.

I currently have a 283 SBC and th350 to put into the bug, but at the moment the motor is the block, with pistons and all, and heads. The motor is at my old mans (he works nights) so I don't have access to measure the motor off for mounting and what not.

Could anyone tell me, ballpark figure, about how much distance I'll need from each frame rail to fit the engine with mounts and shorty headers?

Here's my frame design, the distance between each frame rail is exactly 27.5". Also I intend on mounting the motor to the crossmembers that hold in the front control arms / suspension. Is this enough distance? Could I bring the distance between the two main frame rails closer? How should I mount the engineto the cross member with then motor mounts I have (see picture below)?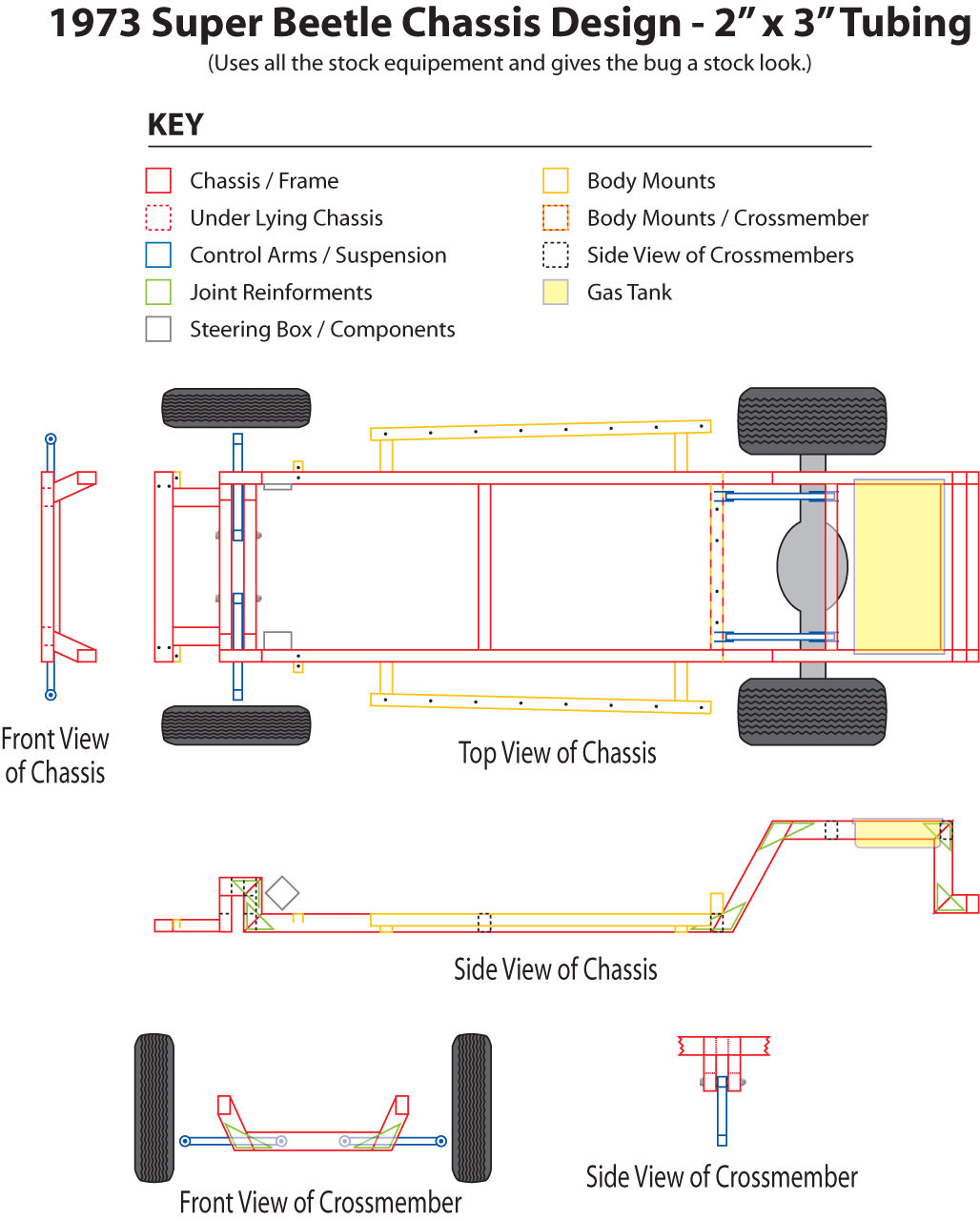 Here's some pics of my beetle and progress. I'm still working on cutting out the trunk!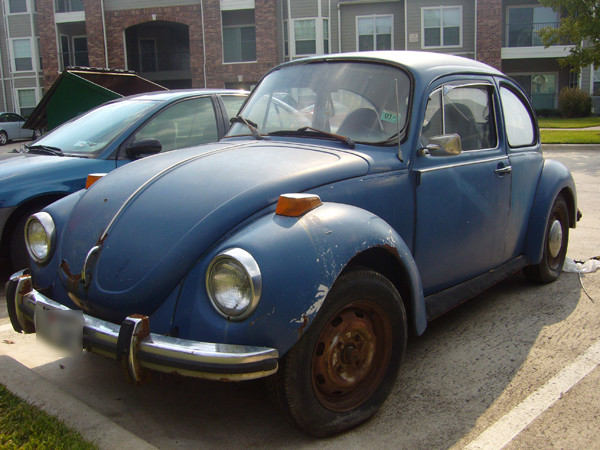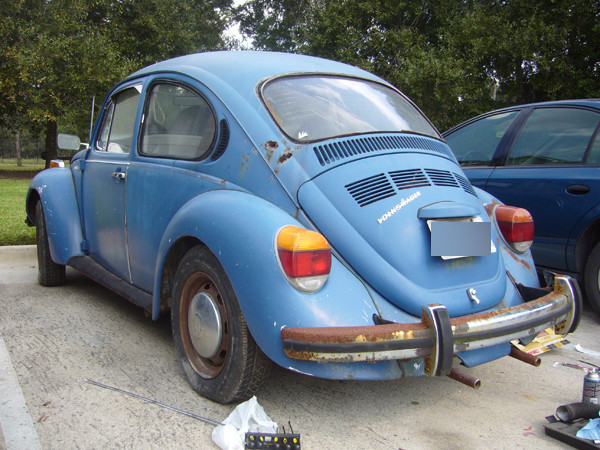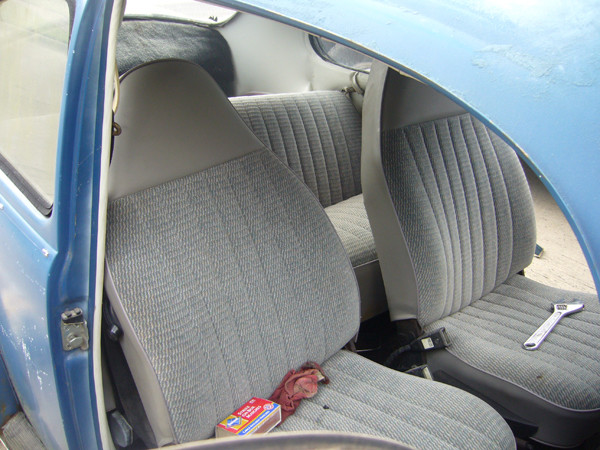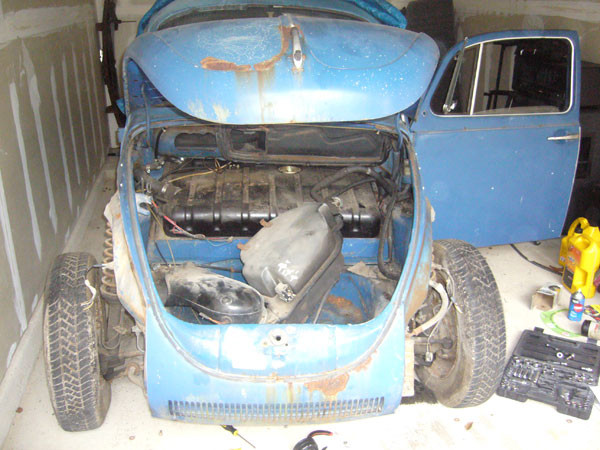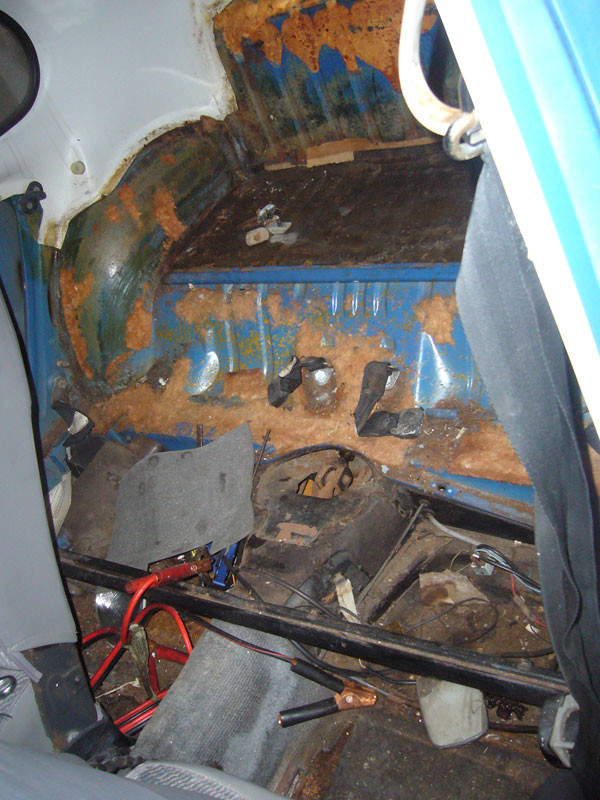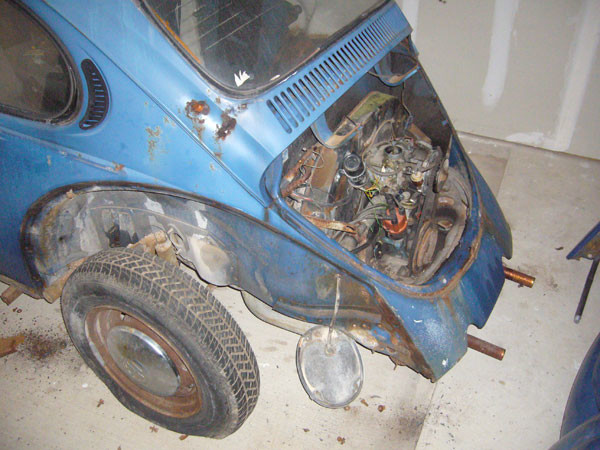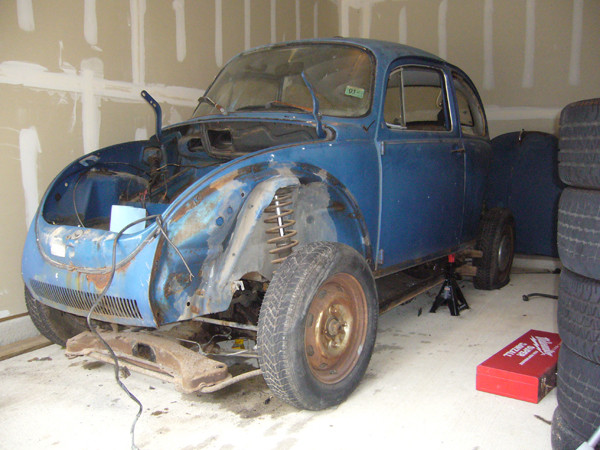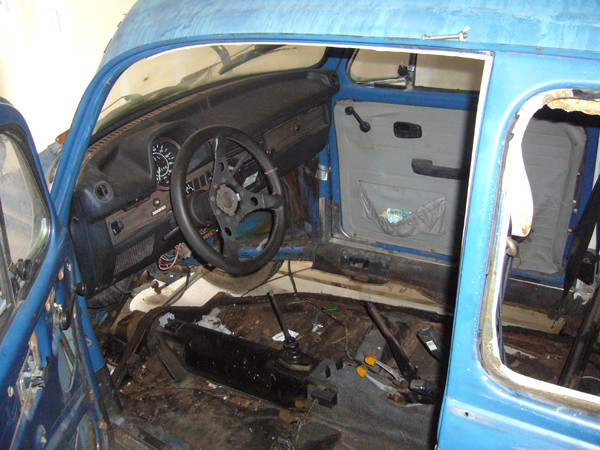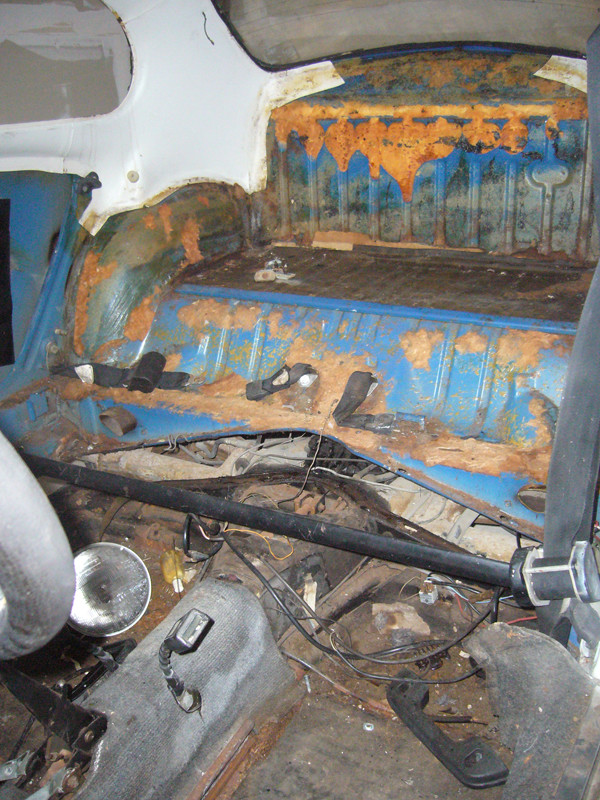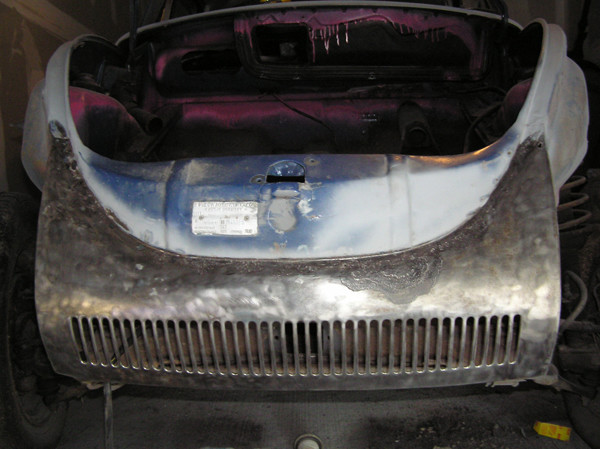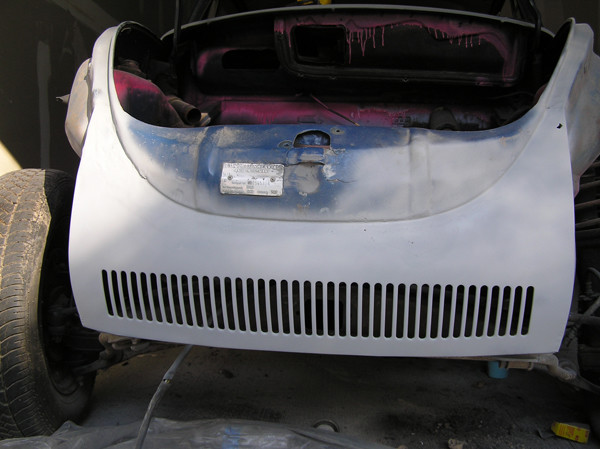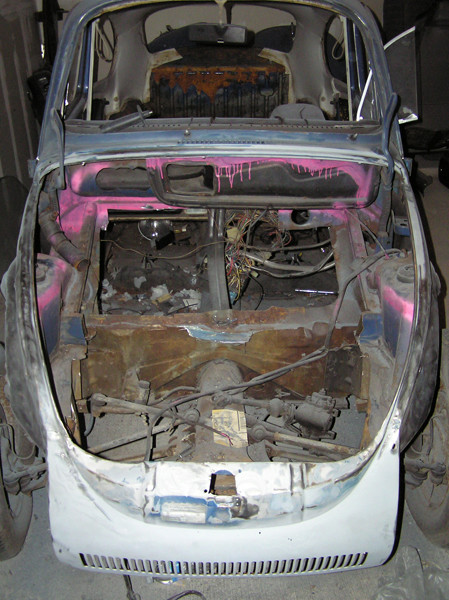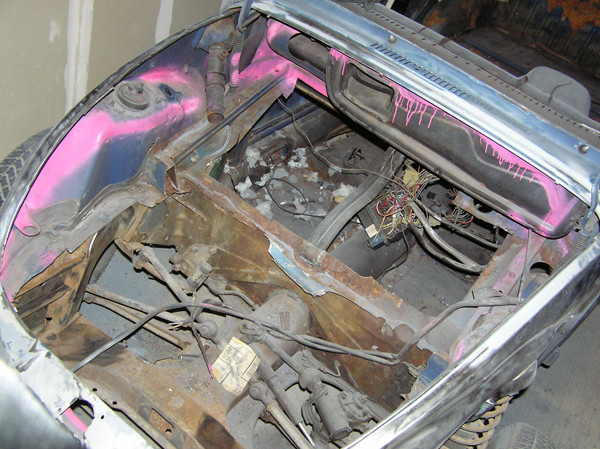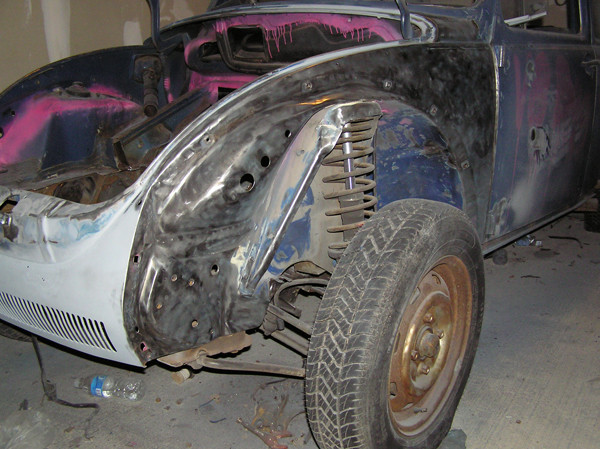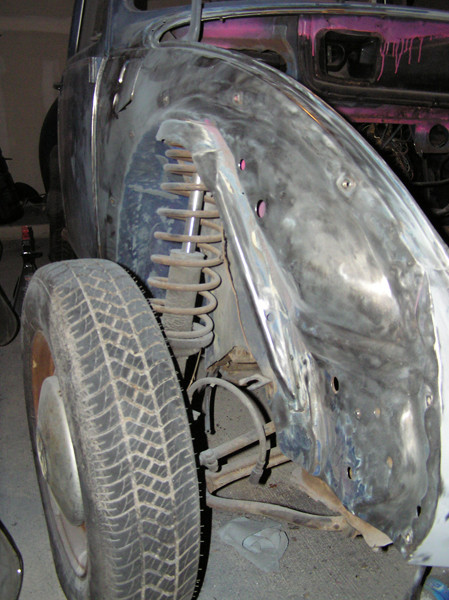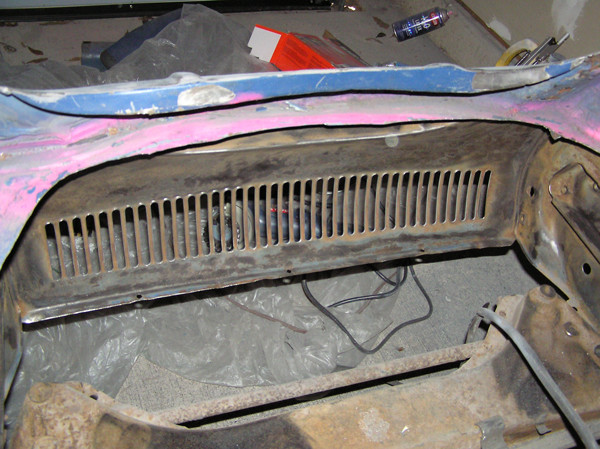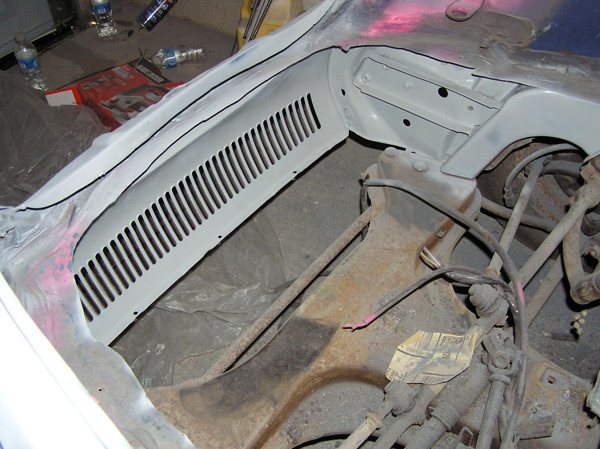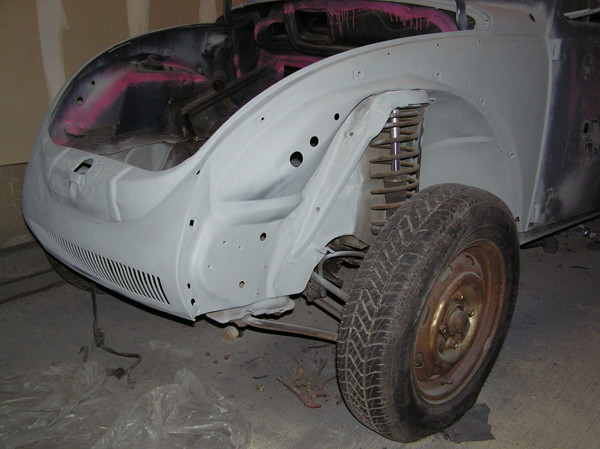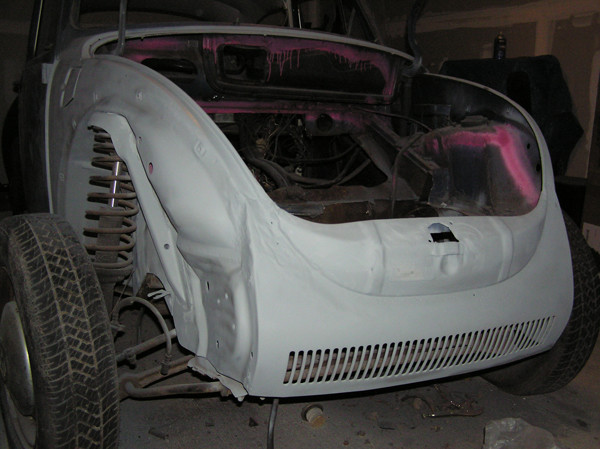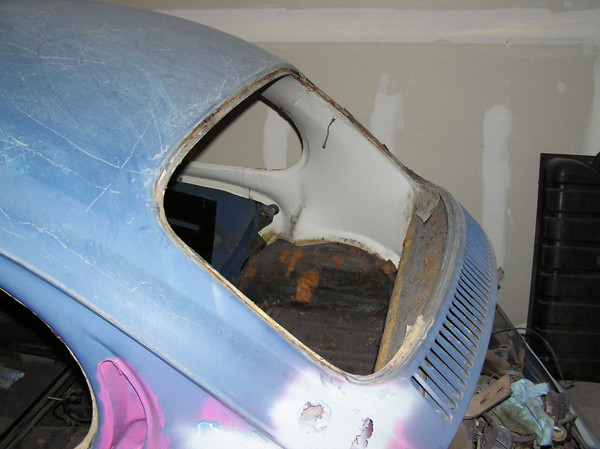 Here are the motor mounts I will use!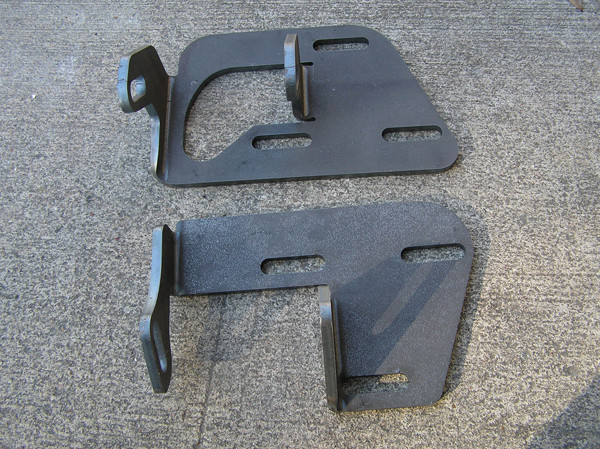 LOL! Yeah, I've restored a 1974 VW bug before and it wasn't too hard. The cars are really simple and cheap to fix up.

Before: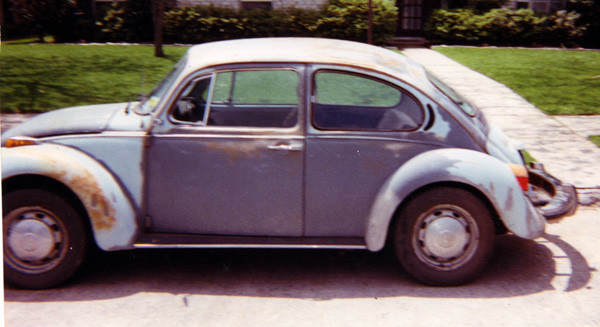 After: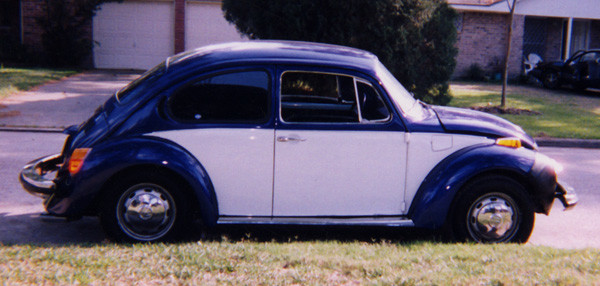 Having a father that's an old school hot rodder, a love for V8's and a basic knowledge of vw super bees, I decided to take on one of these projects. I got a complete running vw super beetle for $500 (needless to say I'll be selling the parts I don't use, engine, etc.) and my old man threw in a V8 and rebuildable tranny after I told him what I want to do.
1-3-2008
LOL! Oh well, I'll take the quarter mil it's worth and invest it! Nobody likes that Bee anyway, j/j!

Yeah, I designed it to use the OEM front equipement. I was thinking about reinforcing the top of the struts with a fabricated bolted in bar like you see on ricers and possibly fabricating some lower control arms, but really I intend to use the stock stuff, so it'll look stock (sleeper).

I got this idea from the V8bugs.com forum (on my own). The owner of the "Bug from Hell" uses the stock front end on his and he has a big block, but his is more of a mid mount.


If the McPherson suspension is stronger then I don't see why it wouldn't work? Right?

As of now, nothing is set in stone......but I think it would work. That's why I'm seeking advice before building so I really appreciate the help!
1-4-2008
Thanks Dalesy!

I agree, the simpler the better! I'm trying to keep the amount of welds down to a minimum and I'm trying to keep the front suspension simple too.

I'm convinced now that the stock front suspension equipment is not the way to go. I'm thinking about redesigning the setup to use the control arms / A frames, steering boxing / linkage and whatnot from a S-10 pickup or blazer. I want the car to ride 2"-3" lower than the stock look so I'll take messurements and work something up. I'll just use some chrome smoothies to give it that stock look so it'll be a sleeper. I was thinking of using a rearend from a S-10 too but I'm going to look in to your idea first.

What do you guys think?
1-7-2008
Hey guys,

After reading some suggestions and going through this site, I'm thinking of basing my V8 Bug chassis after a T-Bucket. If you've seen my plans it's not too far from that already. I'm trying to figure out an inexpensive way to design a tube axle front suspension using spindles / calipers from a S-10 and possibly using a jeep front leaf spring as the front suspension spring for the tube axle. Would that jeep leaf spring hold up on it's own?

Something like this?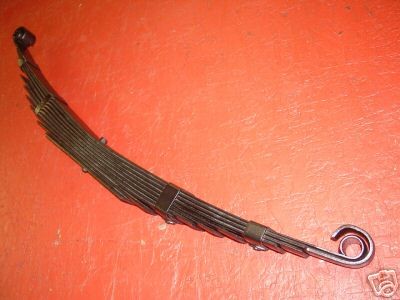 1-8-2008
Thanks Double Clutch for the advice.

I've taken everyone's advice into consideration and have rethought my plans. As soon as I'm certain which way I want to go I'll redraw my plans and post them for everyone's review just to be on the safe side.

As of now I'm thinking that the chassis will be similar to what I have but a little more like the t-buckets front end. I plan to use some jeep front leaf springsand I'll treat the front end like this.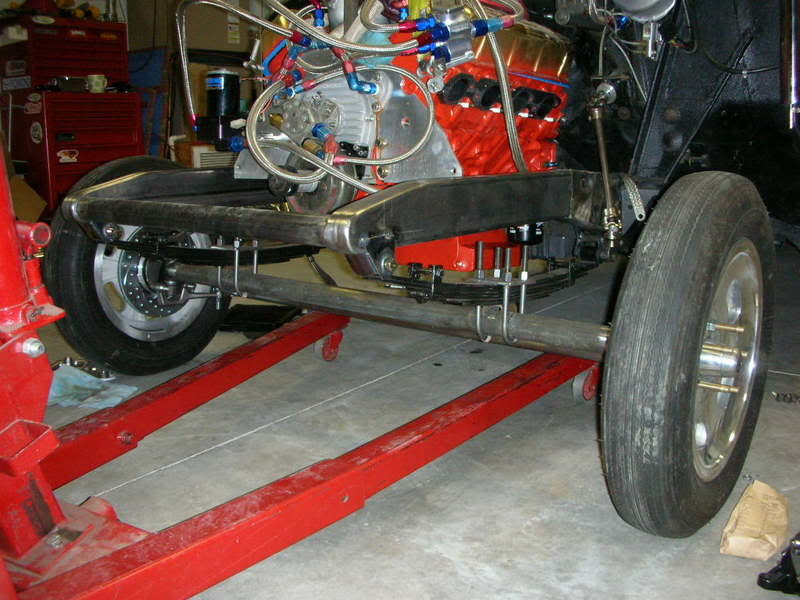 I'll just do a tube axle front end. I'm trying to figure an inexpensive way to fab it so I could use s10 spindles and calipers. I guess I just need to go out and buy the parts to figure it out?
1-14-2008
I got some things done this weekend. Finally, someone reliable came out and bought the bug pan, transaxle and motor from me. It took about 4.5 guys, lol, to lift the bug body off of the pan, while on a trailer with the front wheels strapped down, and into the garage. We did it this way cause of the super's front struts.

After getting my cash for the parts I took a trip to the local junkyard. There are dozens of places to choose from up and down N. Shepherd here in Houston so I did some haggling and yard hopping. After two hours out in the rain I left with a 10 bolt S-10 rear, left and right complete spindles (spindle, rotor, brake caliper), steering box, steering linkage (<---all from a 93 S-10) and rear leaf springs from an Isuzu Amigo. I got all these parts for $350.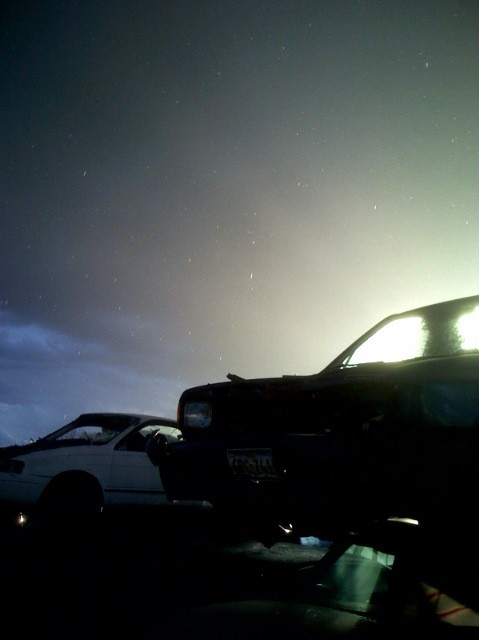 Here's a photo of the bug body and one of the leafs to the side just mocking up to see if the leafs are of decent length. Seems like it'll work fine. I'll post pics of the other parts later this evening.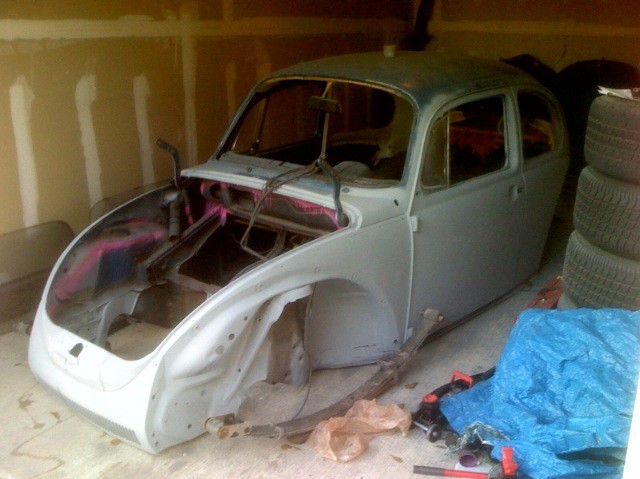 I'm about $750 into this project so far.

Soon I'll post some mock up plans of the frame design using the leaf concept up front and using coilovers in the rear. After building the frame and everything seems to work out well I post the plans with the dimensions if anyone wants to build one from them.

Does anyone have any opinions about using these coilovers for the rear of my bug? I think they'll work and they're pretty inexpensive. From jbugs.com for $59.95 for a pair.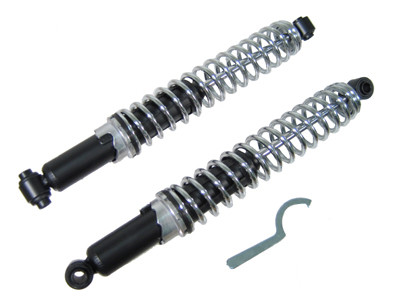 Here's the second draft of the plans. I'm going to go over the measurements again tonight just to make sure this will work.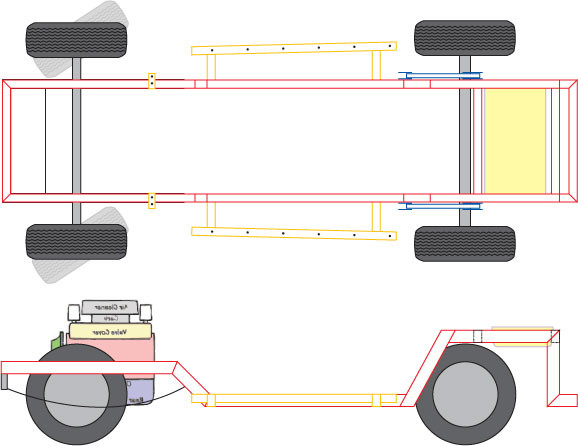 This design utilizes a leaf spring front suspension.
1-16-2008
I'm almost to that point, I've just about finished cutting away what was the trunk area. Next I'll mock up the motor to see how everything fits.

I agree and it's a fact that there is more room for the engine in the super beetle due to the bigger trunk area. I like the rounded hood and windshield too, that and the car has a louvered front end so I don't think it'll be necessary to cut holes in the hood for the radiator.

Here's some pics of what's left of the trunk area after cutting the rest away. I've got 24" of space between the place where the body mounts. If I need more I'll just cut away those two point where the body mounts up.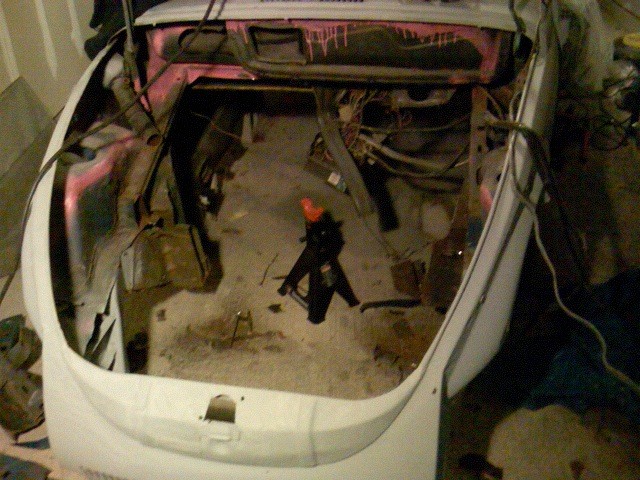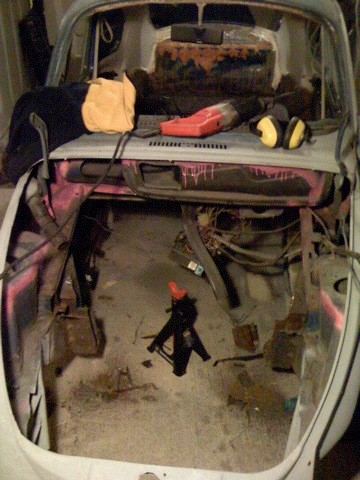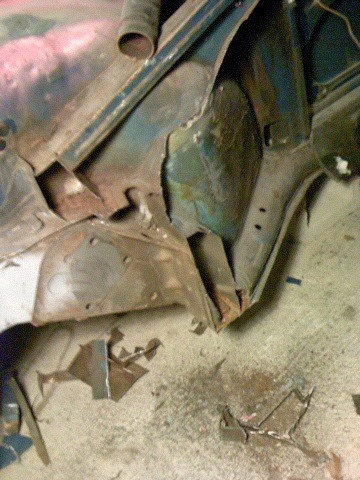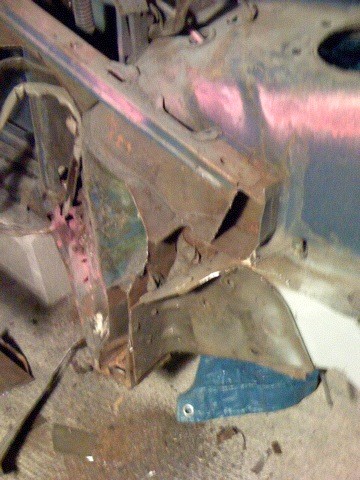 Here are the complete spindles, steering box, steering linkage, and rear end I got from my trip to the junkyard. These parts are from a chebby S-10.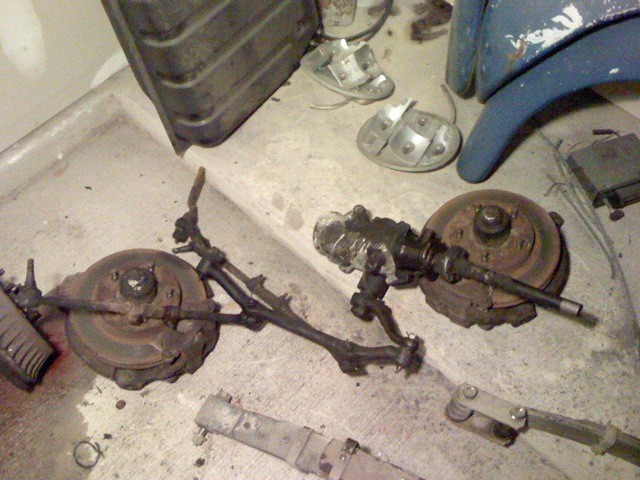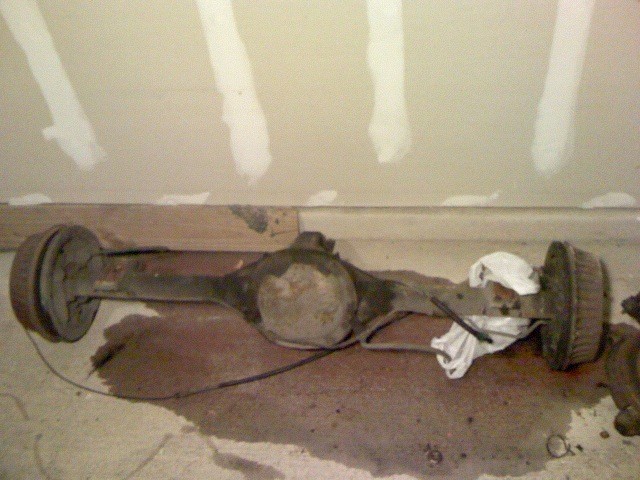 1-24-2008
Here are some progress pics. Looking at them doesn't look like I've done too much, but I basically removed the dash, the door windows, handles and hardware, the few remaining items attached to the body like rear view mirror and the straps by the doors, and all the wiring and insulation.

Here you can see I remove a little more metal from the truck area and there's plenty of room for the V8. And also there's the one side of the frame mockup.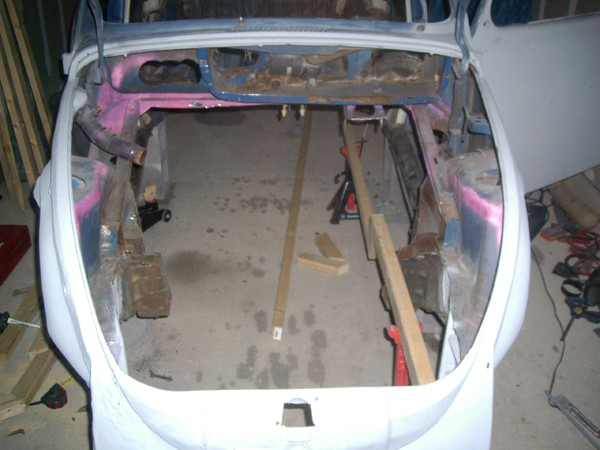 Here's another angle. I want the front of the frame to pretty much sit where the bumper beams are which is out of the way of the louvered front clip. This will help air flow come in the front to the radiator so I don't have to cut away the hood for vents / grill. The 45 degree angle you see to lower the front leafs will probably move forward 5 or so more inches. I decided just to do all around leafs for simplicity. I'll use the leafs I recently got for the rear and I intend to get some jeep front leafs for the front of my bug.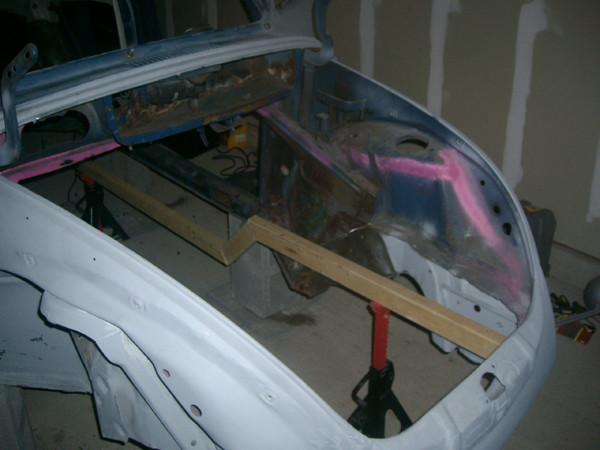 Here's a shot of the bare door.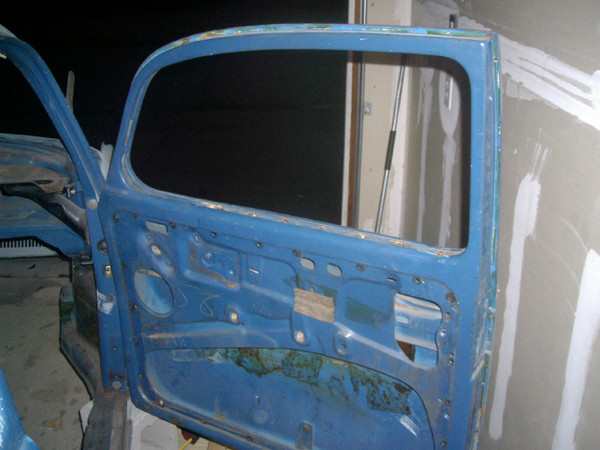 All the wiring and insulation is now gone.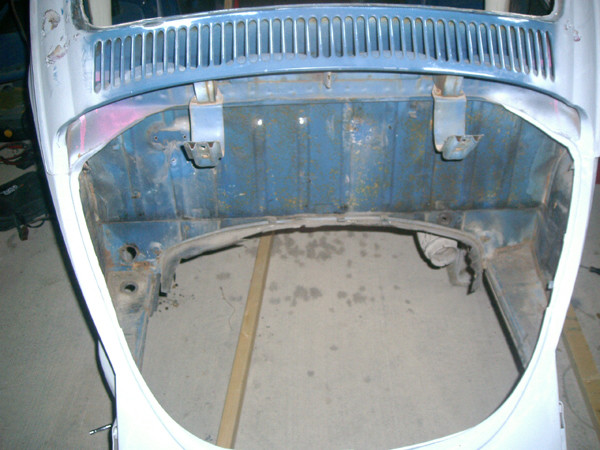 Here's the other.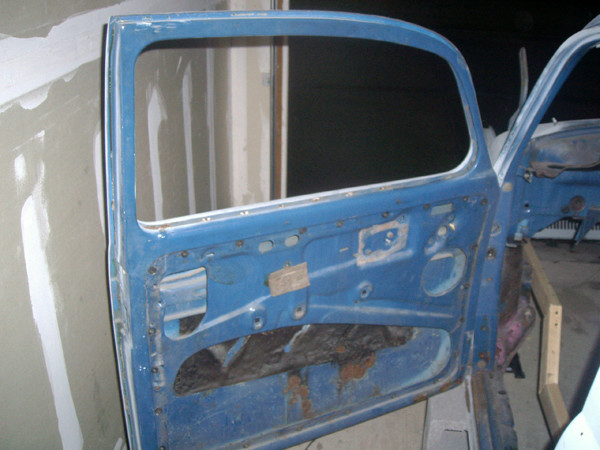 Here's a view of the dash gone and how the frame rail runs. The 45 degree angle will move forward cause I'll get some shorter leafs giving me more leg room.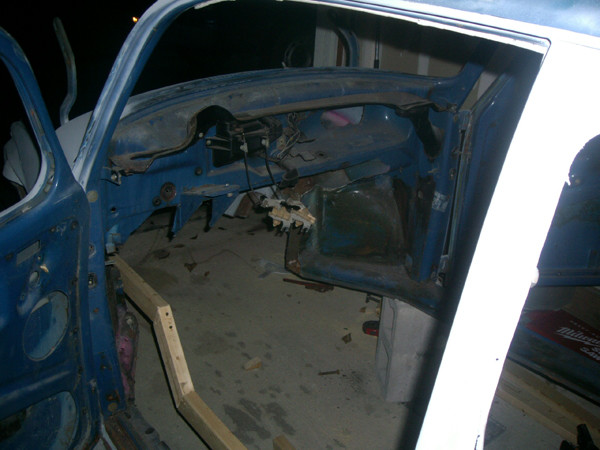 I knocked all the foam out of the rear but there's still more cleaning up to do.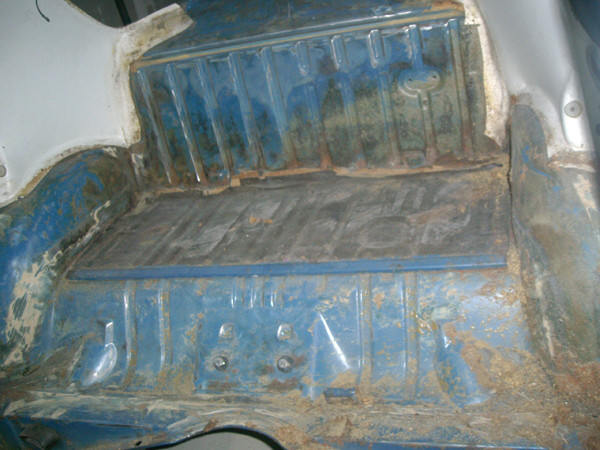 Shot of the rear clip after striping paint and priming it.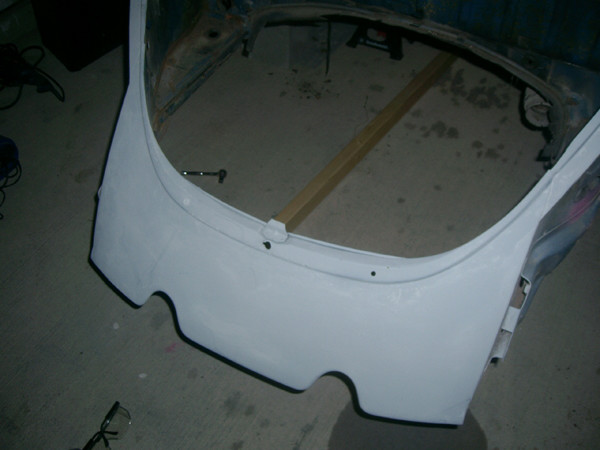 Piecing it together.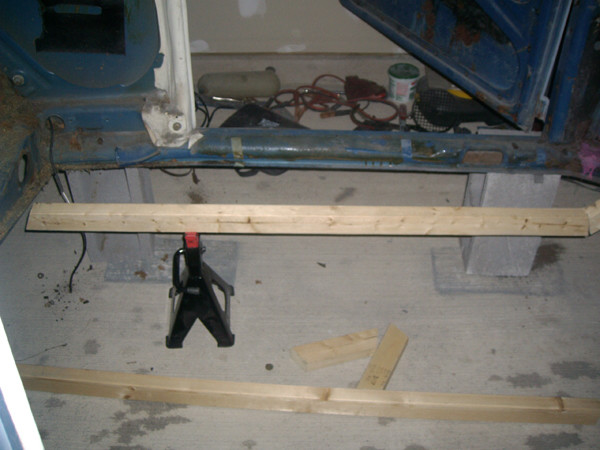 2-18-2008
Been practicing welding and daydreaming of what I want my bug to look like. Here's what I Photoshopped up.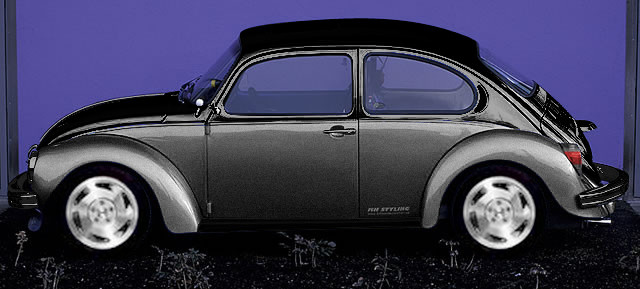 Here's a bug that I kinda got the idea from.



I'm hoping to make the trim, bumpers, running boards, and possibly the dash out of carbon fiber to reduce weight. I've been looking into mold making and carbon fiber fabrication. Here's a link to a tread on how to make carbon fiber parts from the stock one.

http://www.bayarearidersforum.com/fo...hreadid=145975
I know exactly where I'm going with shortening the S10 frame. From researching I've found it's pretty simple to short the S10 frame. It's apparently two separate sections that fit into one another and is then welded together. Just grind the welds and cut (easier said then done, lol).

Here's a image I put together to show what I'm talking about.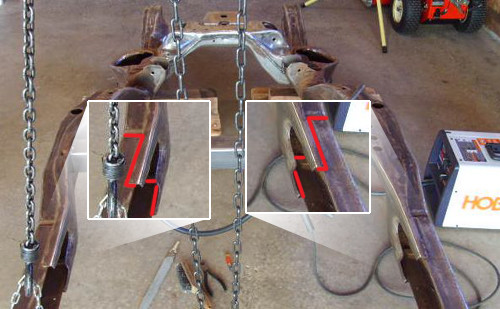 So, FINALLY, got me a chassis. It ran me $150 Ext. cab, 2wd, 1994. I got the chassis from this really cool retired mechanic that has a shop connected to his house with a car lift and all kinds of tools. He offered to help me out by turning my rotors, showing me how to rebuild the tranny, etc. He even loaned me his trailer to use and gave me a manual steering box to use. So I got a hella dell and found someone willing to help me out, and a new friend.

Anywho, here's some pics.


Me and my puppy making the hour trip.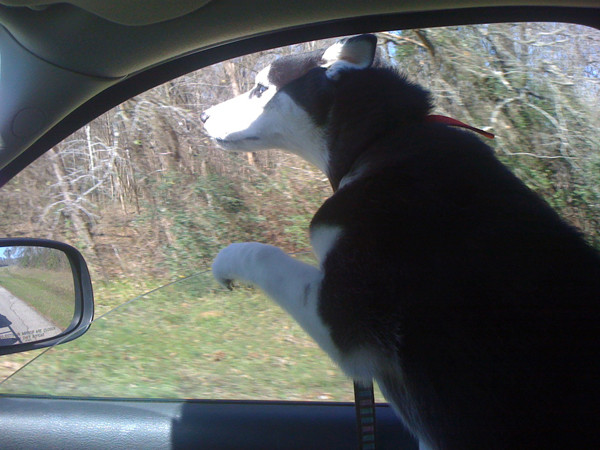 Chassis on the trailer.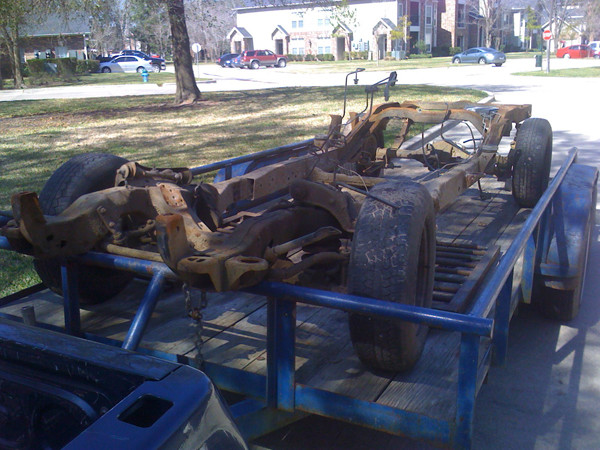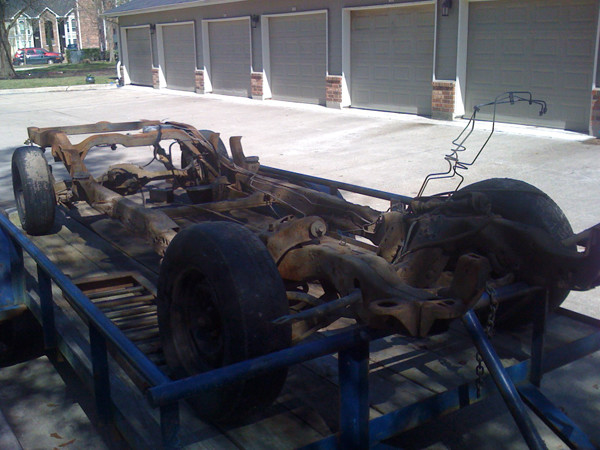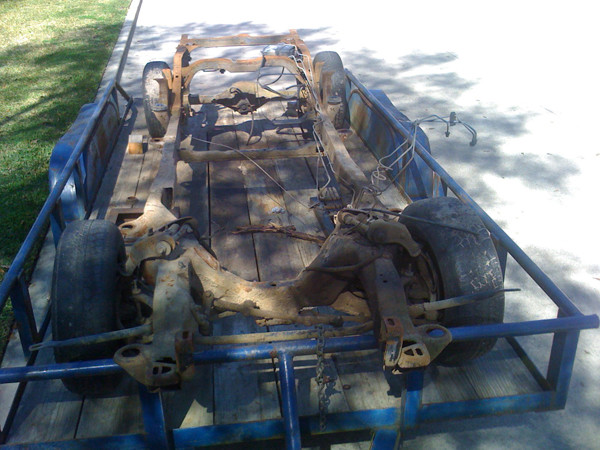 Chassis under the bug body.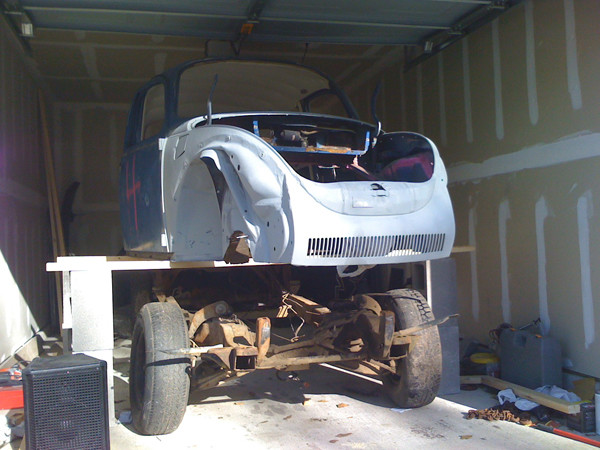 I've got to remove about 27.25" between the wheels. The front wheels aren't completely lined up with the front wheel wells but you get the idea. I'll get to removing the body mounts, cutting the frame off the front where the steering box and linkage bolts up, installing the shorter leafs, cutting the rear of the frame off and last but not least shortening the wheel base. Then I'll rebuild the chassis with new paint, bushings, and brake hoses. Work, work, work...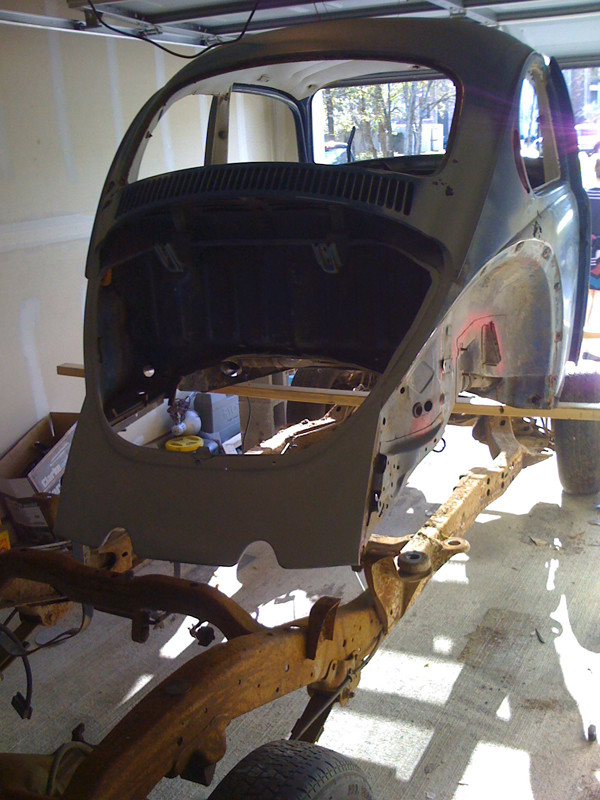 Here's a pic of the wheels I'll use. They're 1988 Corvette wheels, 16"x8.5". I decided to use the 16" wheels because tires will cost a little less. I plan to have these wheels machined to take care of the curb marks, to make sure they're straight and so they'll look new.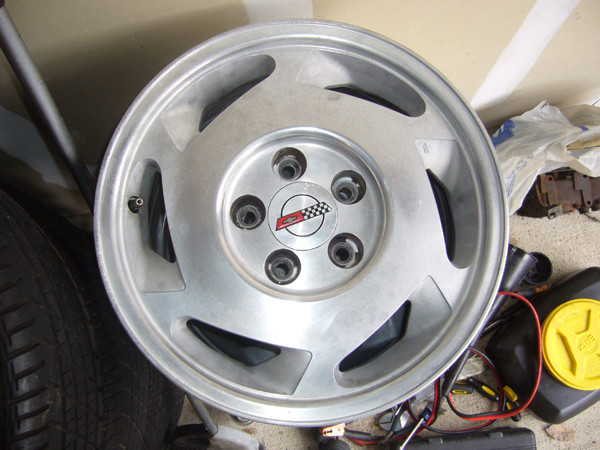 2" aluminum spacers to fit the vette wheels.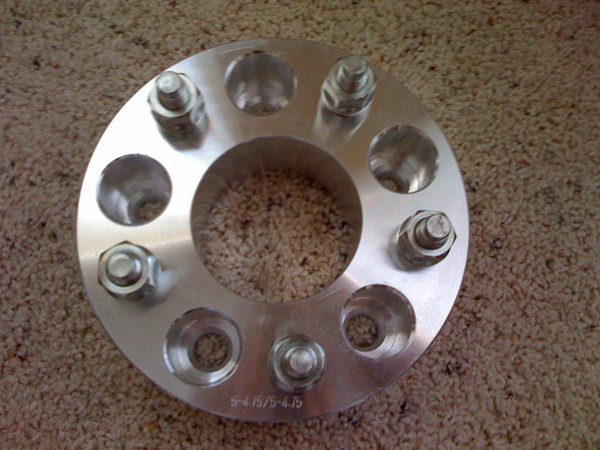 2-24-2008
I got some frame work done this weekend.

Cut the end of the frame down and I will weld on some new shackle mounts. Possibly just might remove the stock mounts from the frame and weld them in the new location or I'll just use some round tubing and what not.
Trimmed down the front.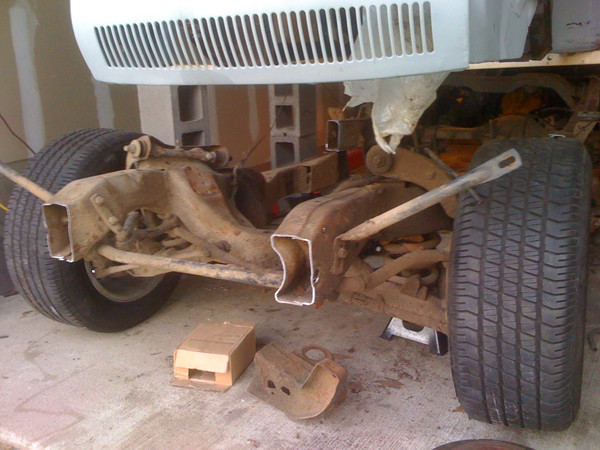 Here's a pic of the frame shortened at the stock welds. I removed 27.325" between the wheels. I'm in the process of aligning the two pieces back together to be welded. You can see the section from the middle I removed on the floor.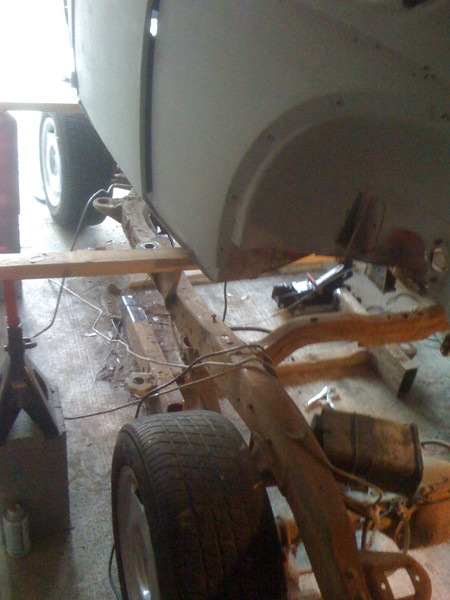 The other side.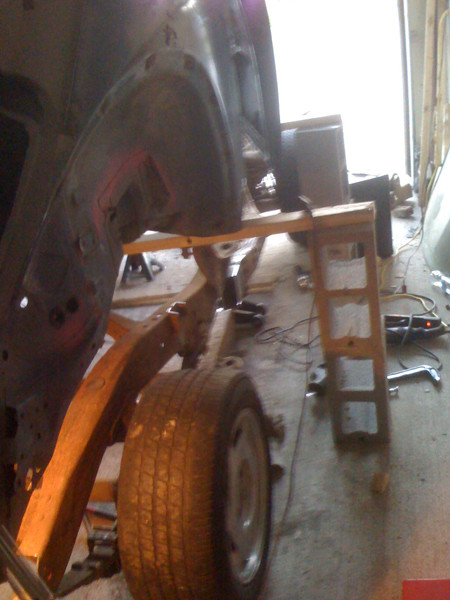 The front frame overlaps the rear section.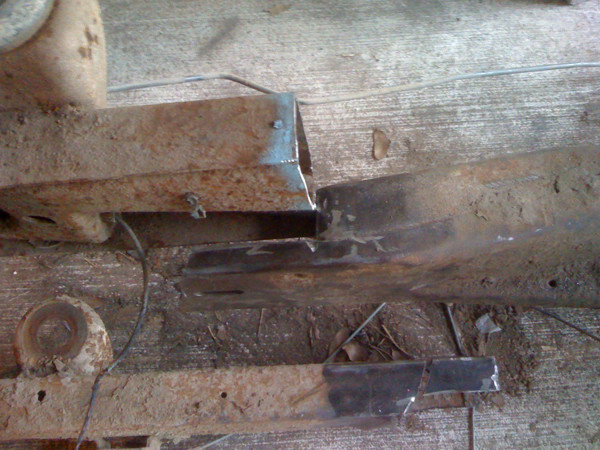 Here's a shot of the rear. The frame and shackles should fit under the body. We'll see, but looks like it'll work.
Measuring the modified wheelbase.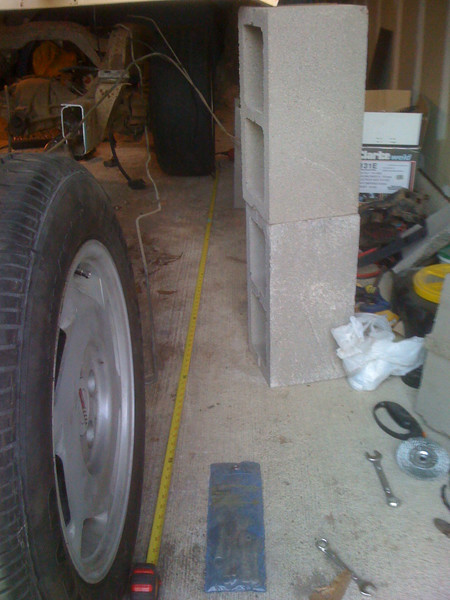 Looks pretty close. 95.25". I'll have someone help me next weekend just to besure it's the correct wheelbase, to tack it up and then it'll be welded back together.

95.25", Yeee-haawww. j/p.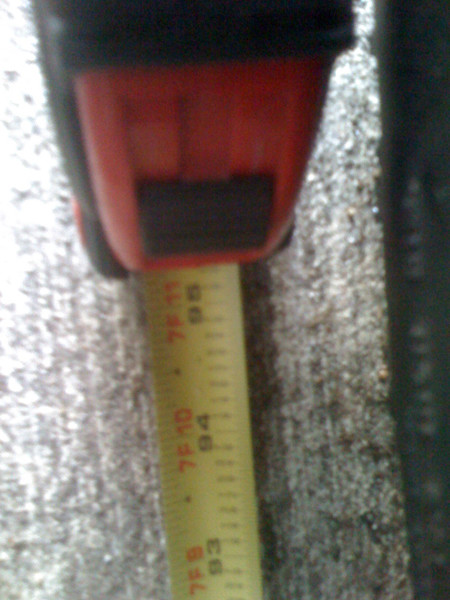 Next, frame welding then I'll finish removing the body mounts.
2-25-2008
Thanks! I will definitely have more pictures as I go.

The blocks and 2x4's are temporary. Soon the body will be sitting on the S10 chassis. The body really isn't too heavy. I managed to stick those blocks and 2x4's under the car single handedly. Lifted the whole front of the body with one hand and stuck blocks under it with the other hand, then I repeated for the rear and slowly managed to get 2 blocks high
I'm just trying to make due with what I have.

Well, the stock joints over lap one another.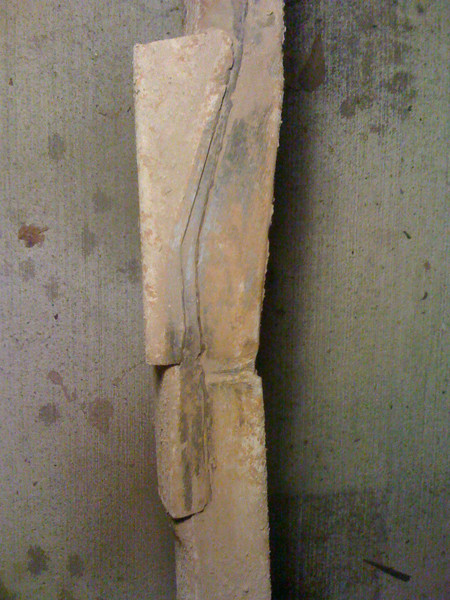 That should hold but I'm thinking of adding gussets as well for add strength. And you're right, I don't think the added metal will affect my ride weight wise. At this point I'm able to lift and move around the frame and body with ease.
3-3-2008
Here are a couple of pics of the prepped frame ends and a picture of the frame clamped together before I tacked it, then started welding.

I'll have pics of the finished welding / fish plating later this week.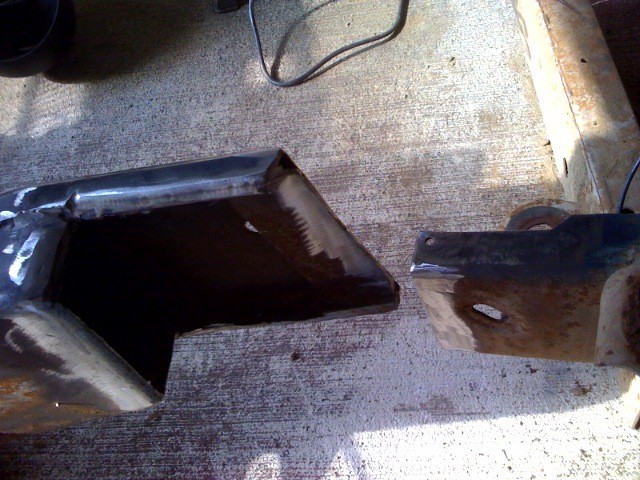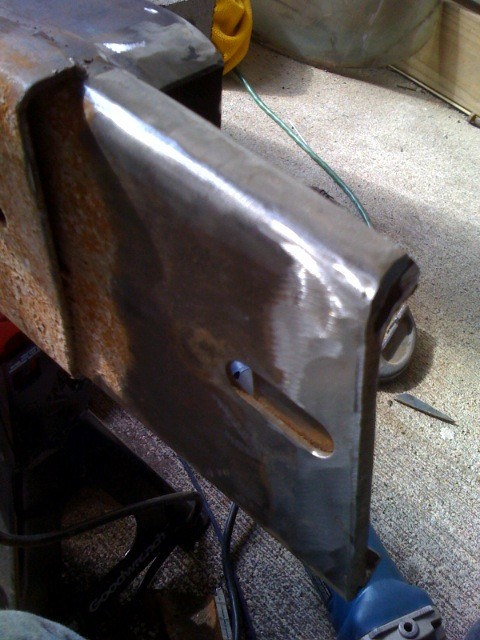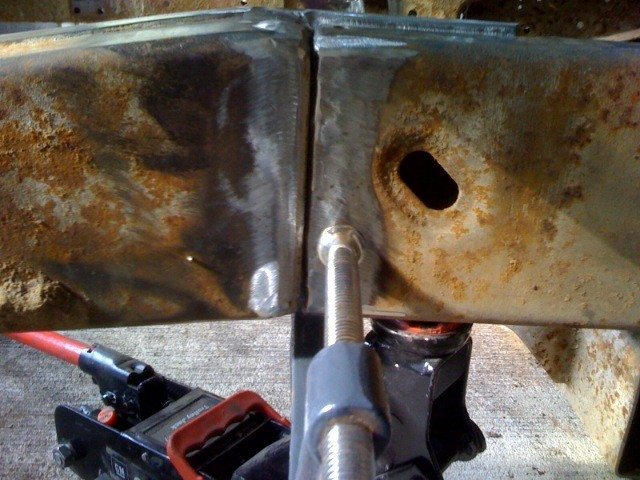 3-5-2008
OK, I did a search on this forum but found lots of threads with the word body in it but nothing specifically talking about body channeling.

Can anyone tell me or give me advice on the best way to channel a body to fit / lower a the body on a frame / chassis? I'm wanting to look ahead into this because I will run into this soon and would like to kinda know where I'm going with this.

Is it as simple as placing the body on the frame, centering it (well, in my project's case), and cutting away the body sheet metal, using the side of the frame as guide?

Any advice / input would be appreciated!
3-9-2008
Hey guys, I got the frame welded up but I've run into a little trouble. Hopefully some of you could give me some advice to help me fix it.

I have an arc welder that I'm using to do the welding and I'm getting some slag inclusion. I'm a novice welder and I can weld a good looking sound bead using a circular motion technique flat, no problem. My problem comes when welding vertically. I think part of my problem is when welding vertically, bottom to top, the molten metal would run a little and trap some slag. Also, I'm using a 3/32 rod and I ran the first bead along the butt joint and then did multiple overlapping beads just trying to be sure I've got it welded up good. In doing so I've managed to trap some slag and I'm wanting to get rid of any slag inclusions. Before each pass I would clip and brush the slag away. So what I tried was grinding down the welds smooth and you could see the slight slag inclusion. I've used a wire brush and even a cup brush attachment for a grinder to try and remove the slag. I could completely get it out. So I would weld another few overlapping beads down to try and fix this to find I've made it a little better but then would run into the same problem.

How do I fix this? Also, I've having a little trouble welding on reinforcement plates. The slag is tending to fall into the cracks. The weld metal from the rod also would just sit on top the plate rather than weld the metal to the frame. Is this cause I'm welding it not at the right angle?

Here's some pics.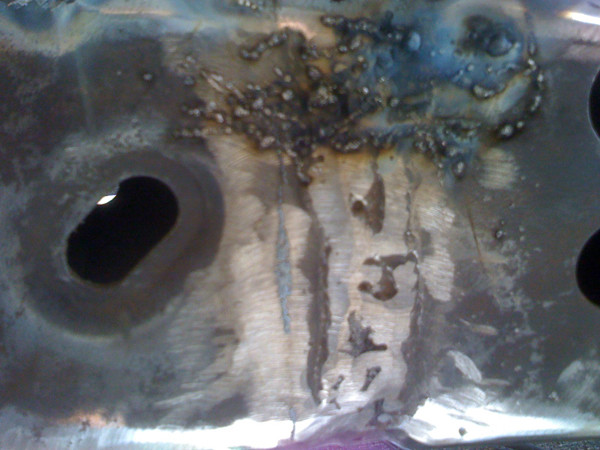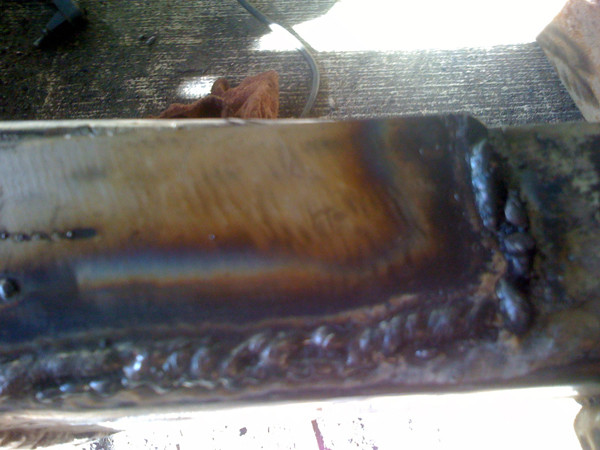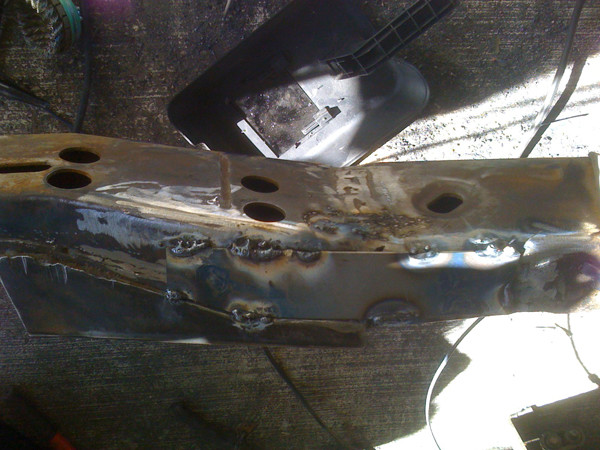 3-16-2008
Updates.....

Finished welding the frame halves together.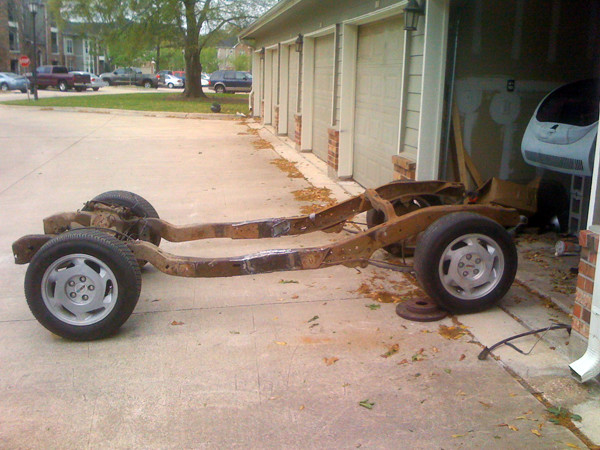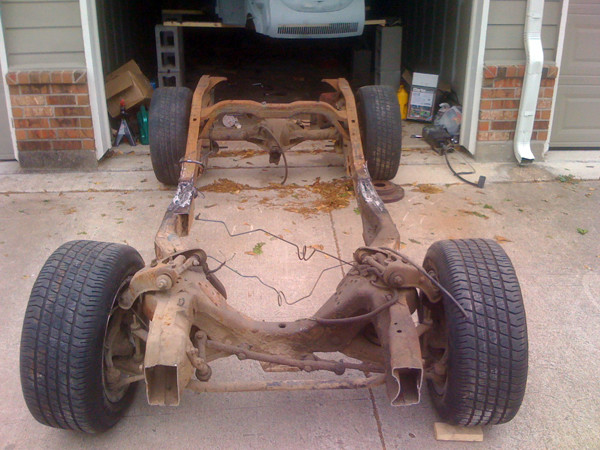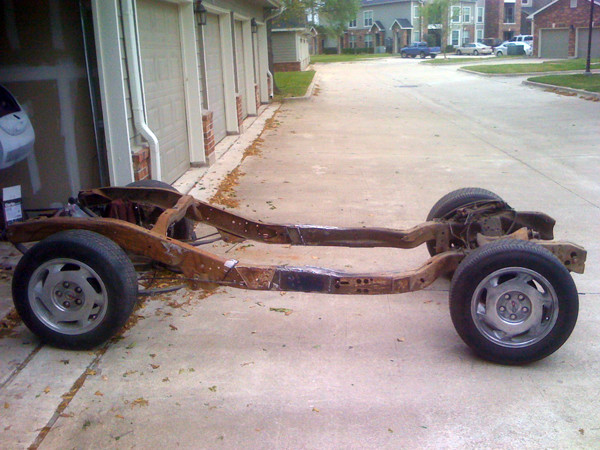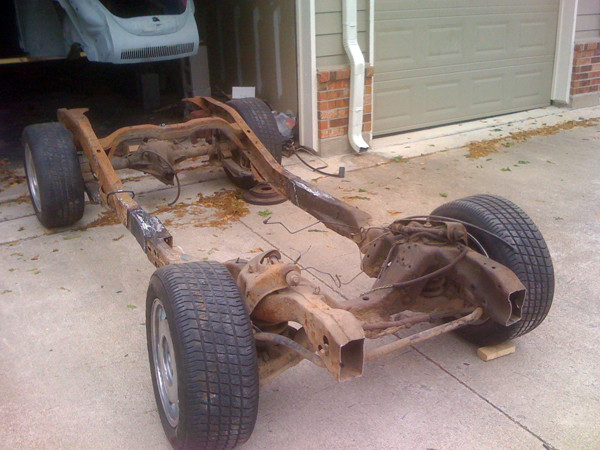 I didn't see how close the tie rod ends were to the wheels. Pretty close.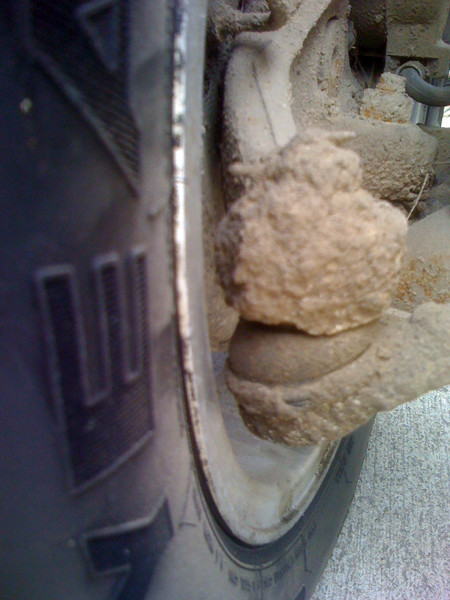 Inside shots.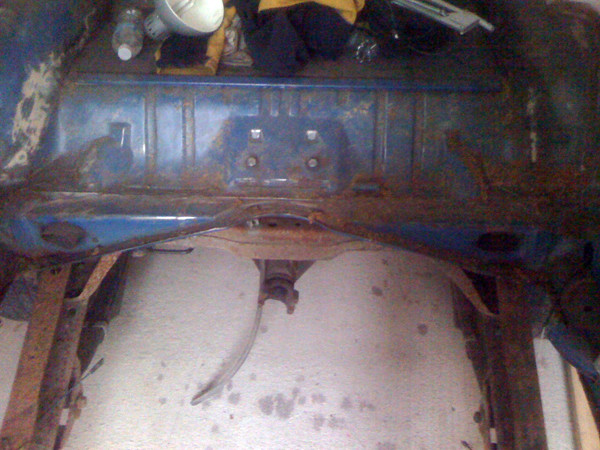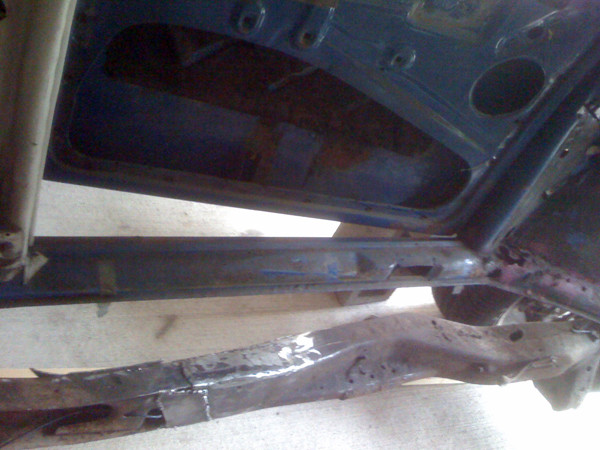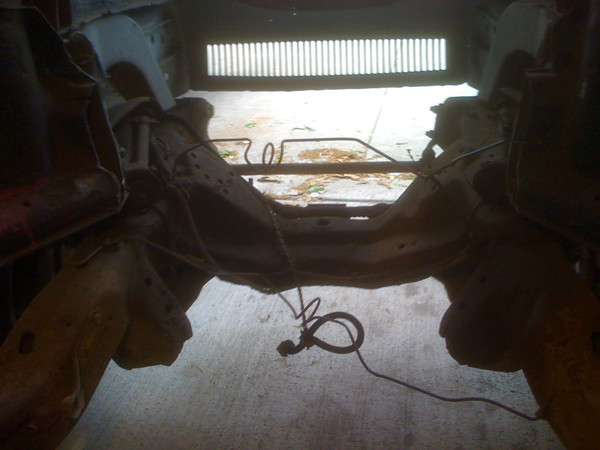 Some shots of the wheels / body with the fender on.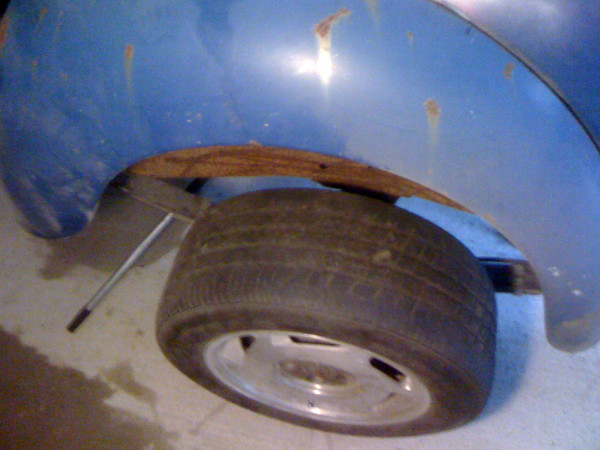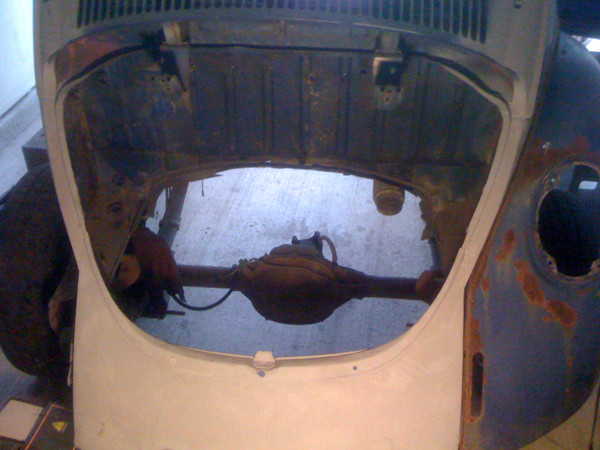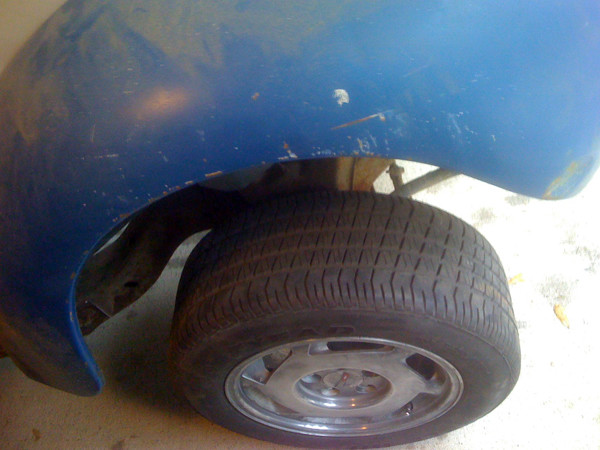 Looks like I'll have to add 2" to the fenders to cover the rear wheels.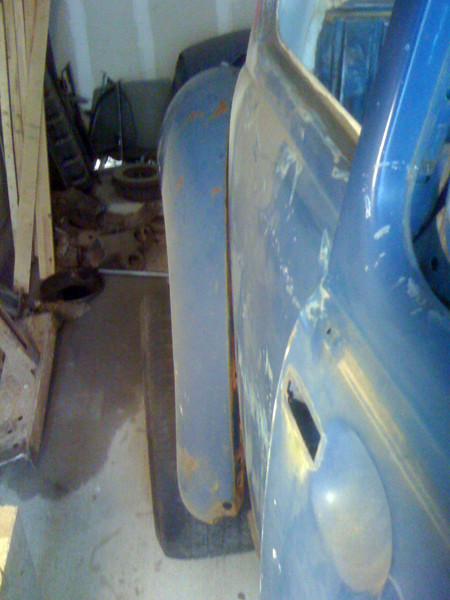 The front seems okay. I guess the rear of the bug body is narrower?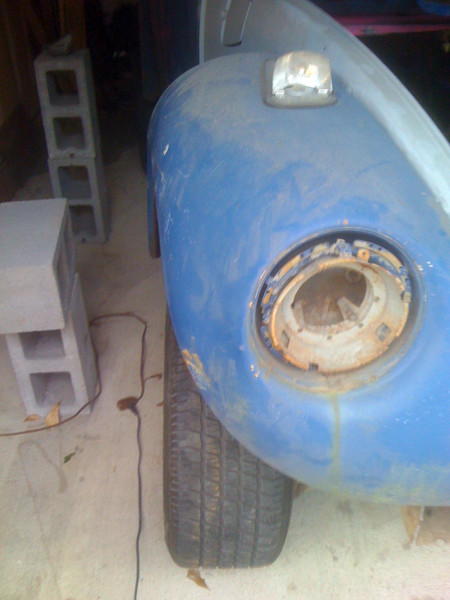 Bug body sitting on the S10 frame.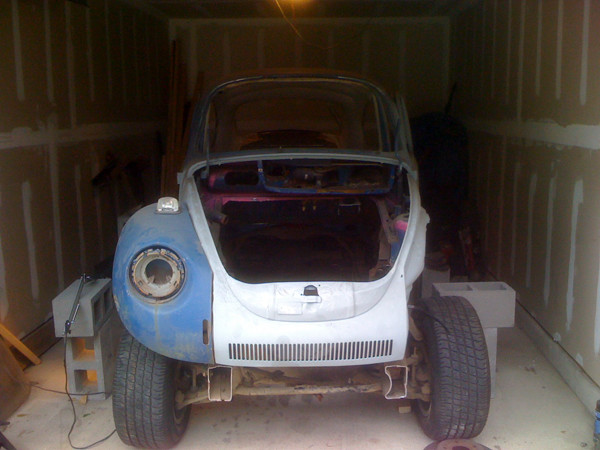 Next I'll channel the body and remove the necessary metal so it'll drop down on the frame. Then I'll make the body mounts.
3-17-2008
I think I heard a faint grown from the Frankenwagen (the last picture)...

I will keep safe as I go and I always dress for the occasion while piecing together my monster.

Lookin' like a mad scientist....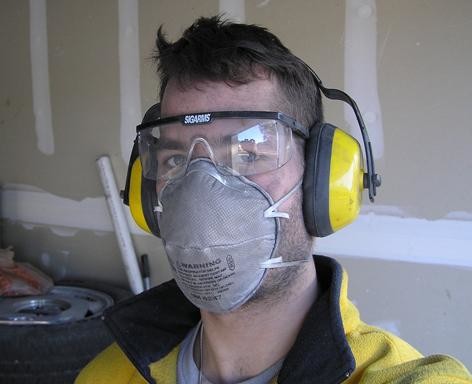 The day I claim "it's aliiiivvvve" will be a great one and I'll definitely get pictures and hopefully even some video. Until then I'm just taking my time with it.
3-22-2008
Updates.......

I cut away a lot of metal over the past couple days. Removed most of the luggage metal, the rear tire well, and front.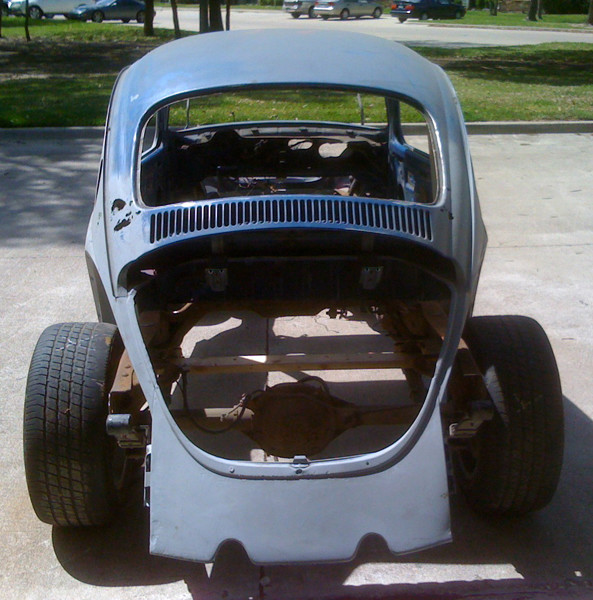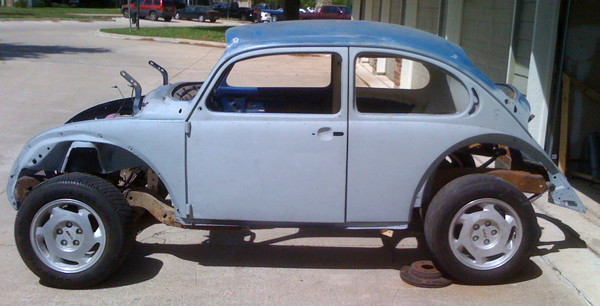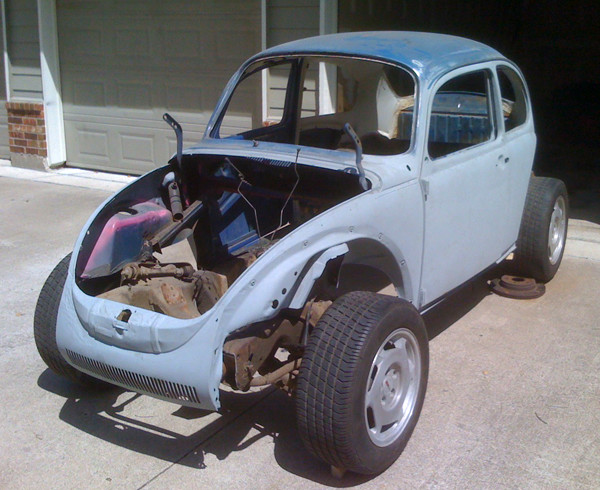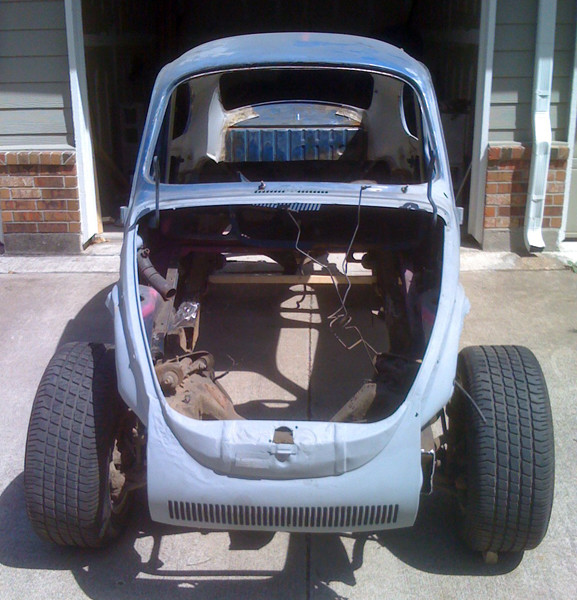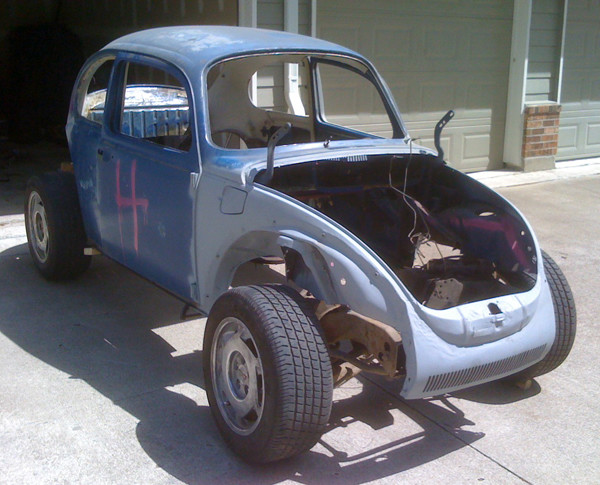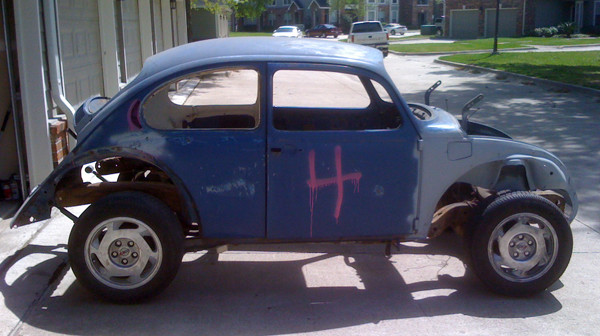 I'll post more tomorrow with all the fenders on! 8-)
With the fenders. Looks like the body needs to come forward a little. Might even need to move the rear back a little.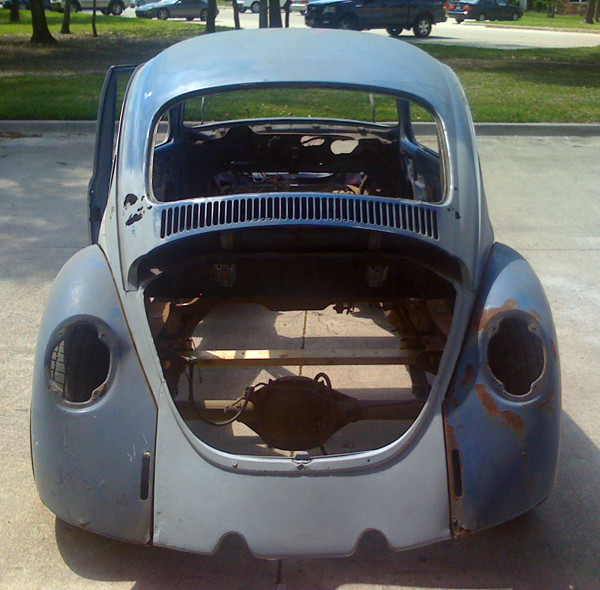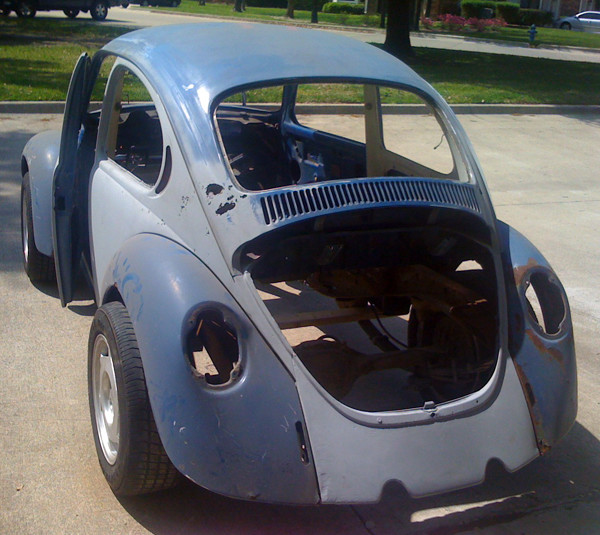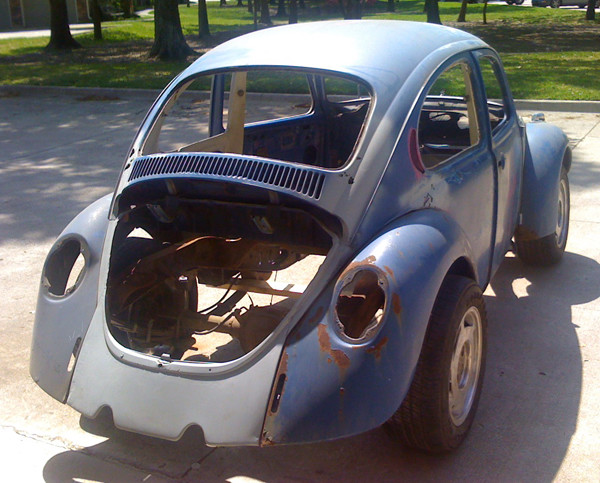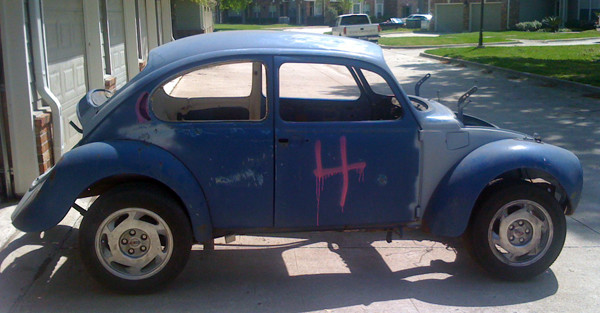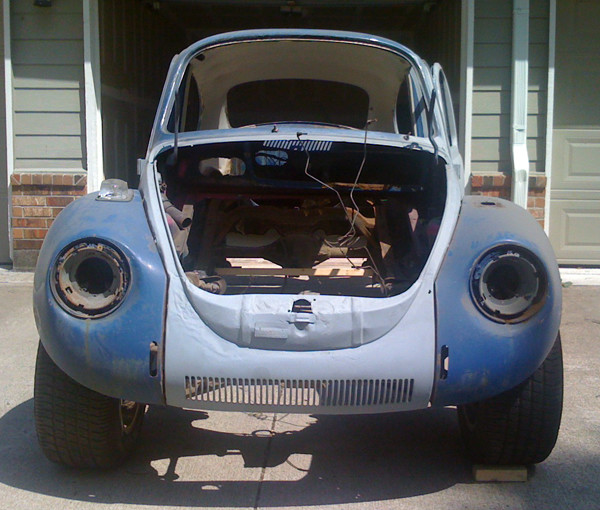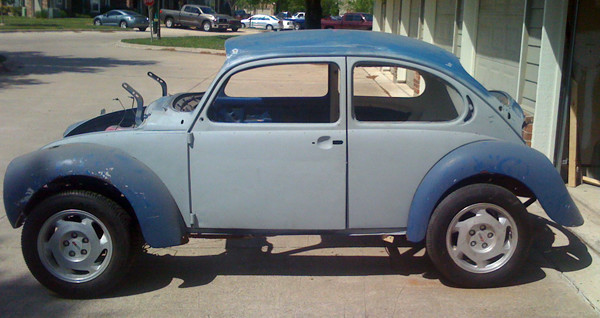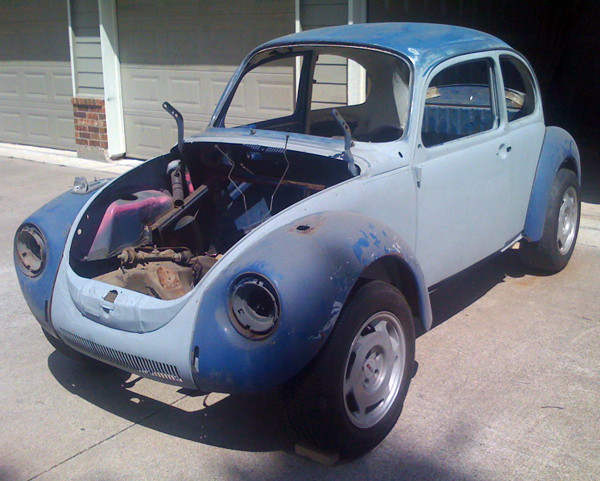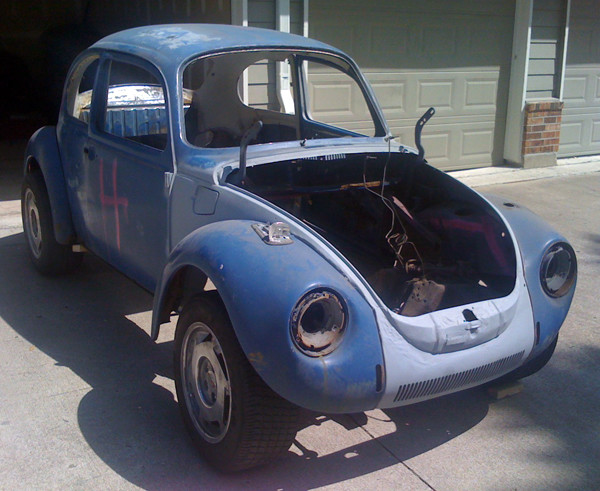 3-31-2008
I was able to fix the wheel centering problem this weekend with a little adjustment of the body and some more trimming. I basically pushed the body forward about 2" or less and remove some more of the heater channels so instead of the top part of the heater channel sitting on top of the frame it now is about 1.5"-2" lower than setting on the frame rails. The body really, because the shackles aren't hooked up yet, needed the rear dropped essentially.

Rear Driver Side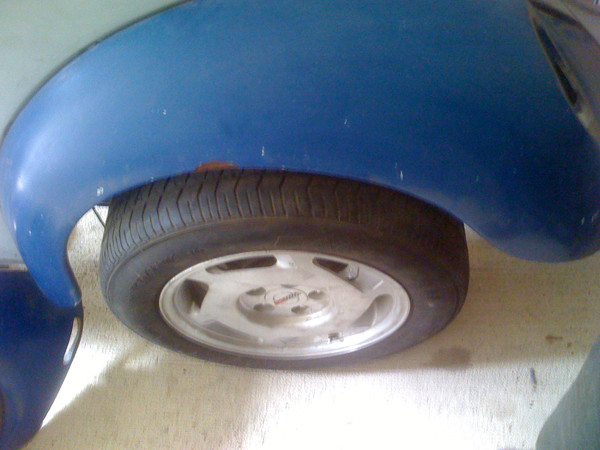 Rear Passenger Side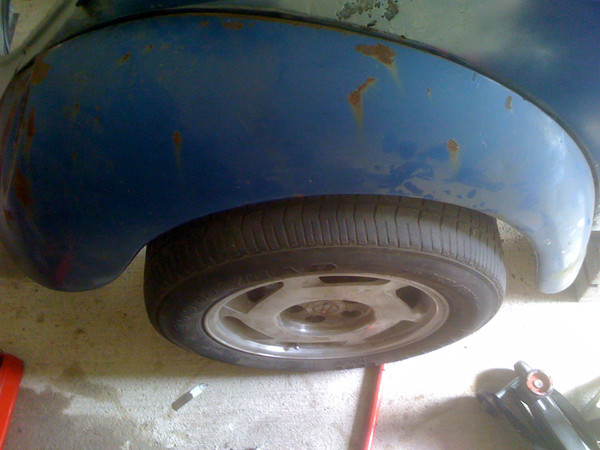 Front Passenger Side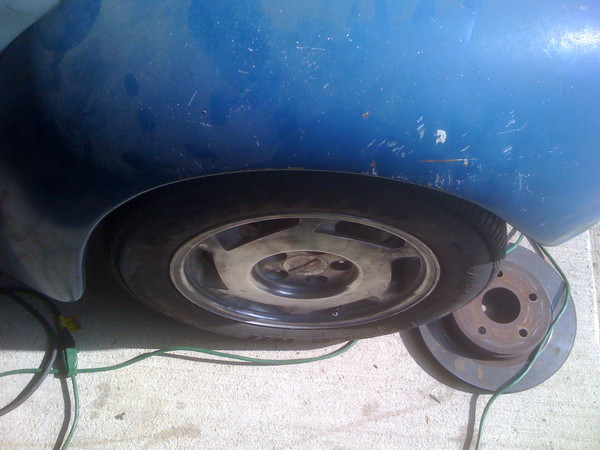 Front Driver Side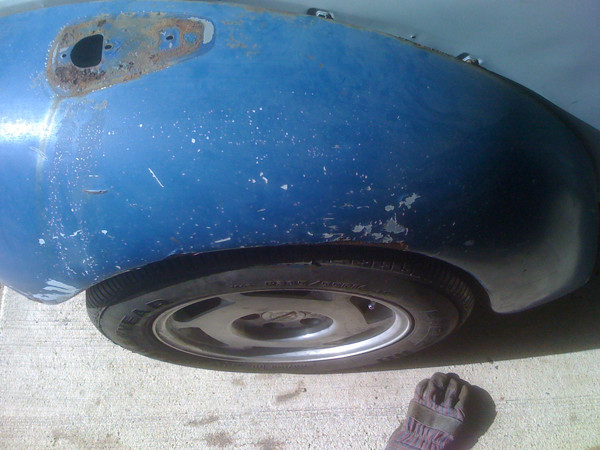 Got about 2" of height between the wheels and fenders. I'll probably have to lower the rear some more after hooking up the shackles.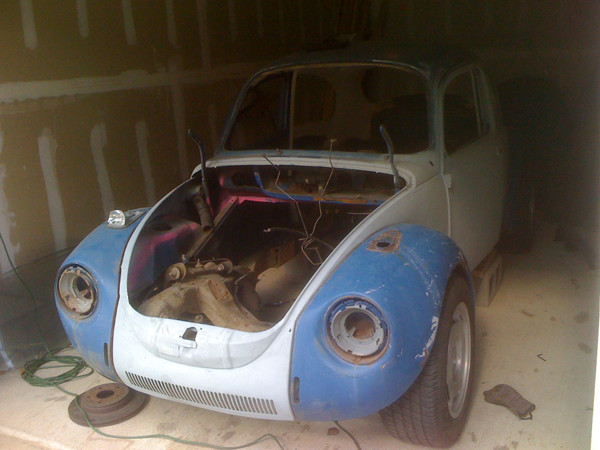 Couple shots of the engine bay.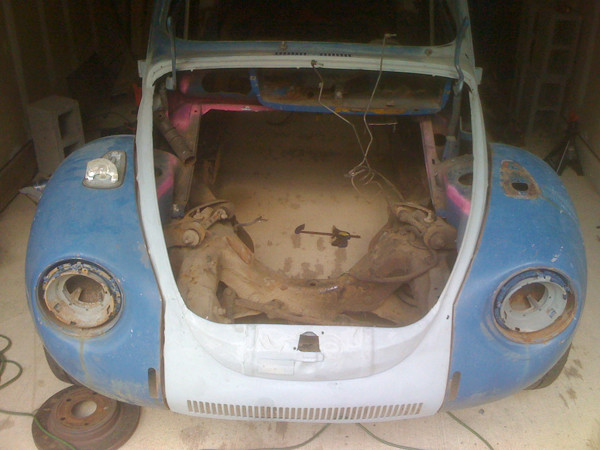 4-3-2008
Well, I got a few parts to play with.

Found a heck of a deal on craigslist. Bought an Edelbrock 600 cfm carb #1406 (electric choke) for $30. That's 30 cheeseburgers, LOL!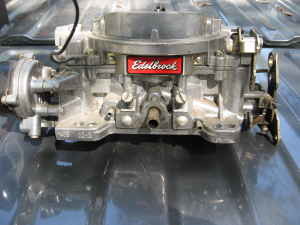 These parts below are on there way from Summit.


Bought a rebuild kit for the carb.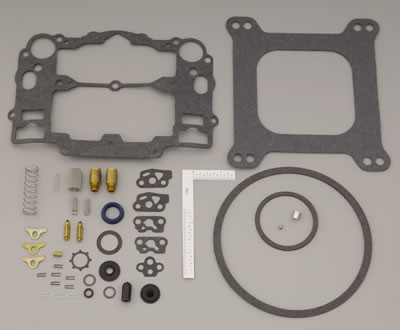 Total cost of carb about $70.


Ordered a Edelbrock Torker II Intake, rated 2500-6500 rpm.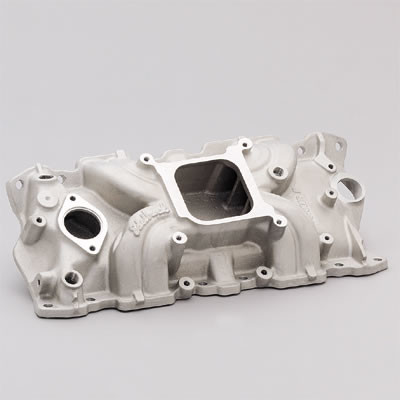 Last but not least, order a head gasket kit so I can install the 2.02 heads i got for the 283.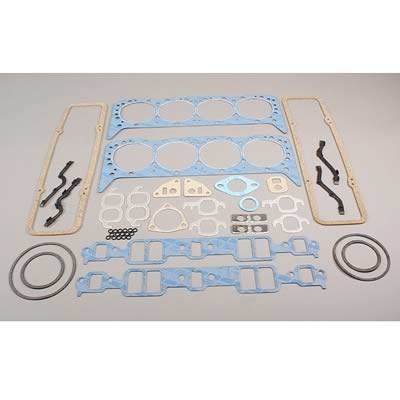 And apparently they threw in a hat into my order? LOL!
4-8-2008
For my B-Day, April 4th, I received my shipment of parts and as a gift my fiancé and soon to be mother-in-law bought (almost) every bushing and ball joint I need to completely rebuild my S10 chassis for my project. Also, I was able to score some angle iron from work to make body mounts for my VW body and I mocked up the shackle mounts. I'll post that progress later this week.
4-13-2008
It's been a little slow in the garage these past couple weeks. I've welded the side body mounts for the bug. It's basically angle iron welded flush against the bottom of the frame. I've still got to make a couple set of mounts for the front of the car and for the rear section. Then drill holes to be able fasten the body down.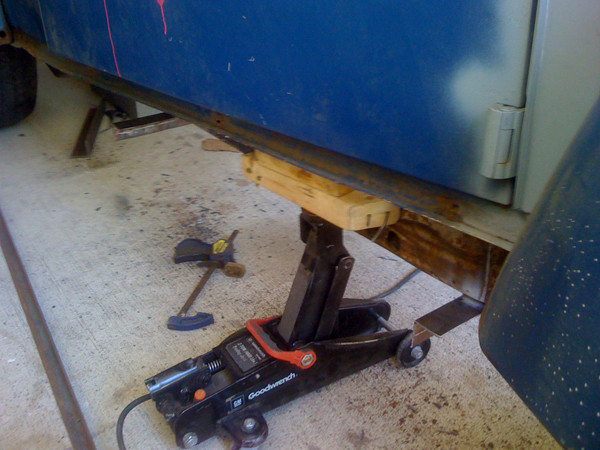 I was thinking of using a long piece of angle iron to run along the side of the body so that way I could use the original bolts that run along the heater channel. That wont work out cause I had to cut a good chunk of the heater channels out so the body would drop down on the frame.
4-15-2008
I made a place for the gas tank to mount. I'll be using the stock tank and looks like it'll work out great.

Here's where the tank will sit. I mounted it at an incline just like how it came from the factory.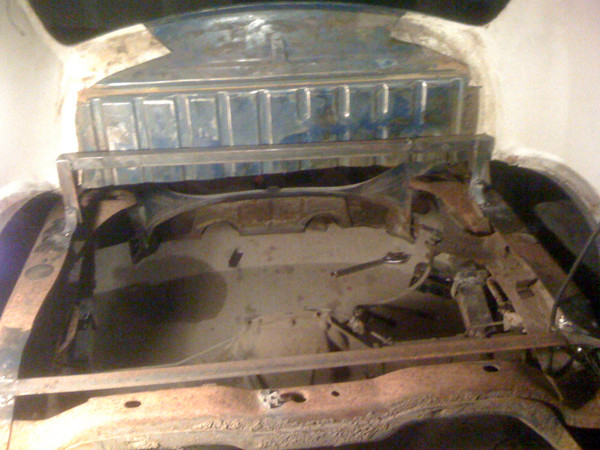 Is it a coincidence that the tank bends match up with the luggage shelf?........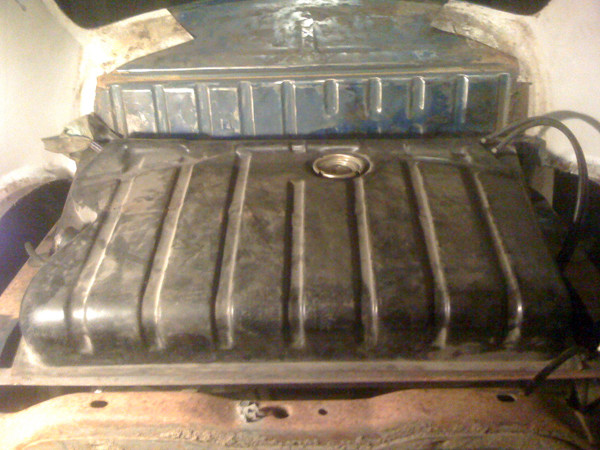 And is it a coincidence that the bottom of the tank is concave underneath almost like it was meant to be a front engine V8 conversion (it's hard to see in the photo but the bottom of the tank almost wraps around the rear differential)?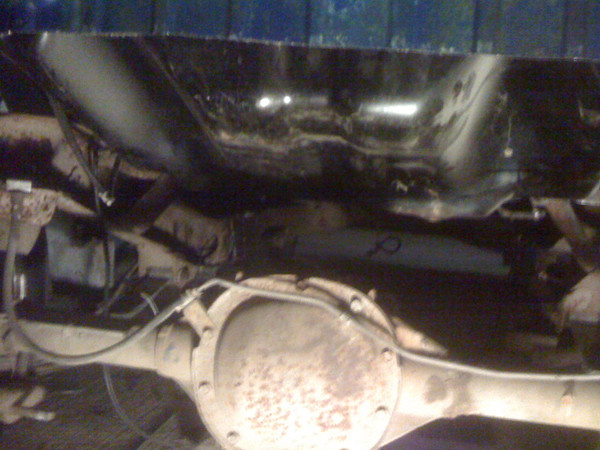 I think not!!!!
4-21-2008
I welded on four body mount tabs to the gas tank frame. I then welded in two cross members to make the tank / body mounts frame more rigid. Seems like a good idea and it'll hold the rear of the body down tighter.

The tabs / body mounts are basically just pieces of angle iron.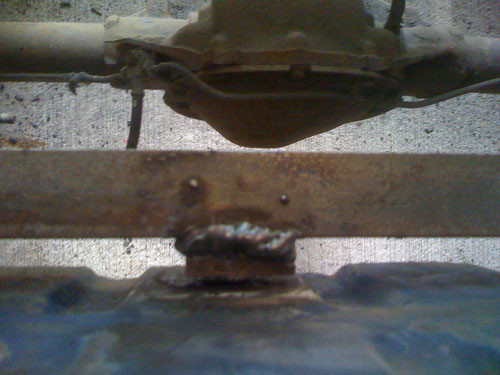 Here's a shot of the four of them.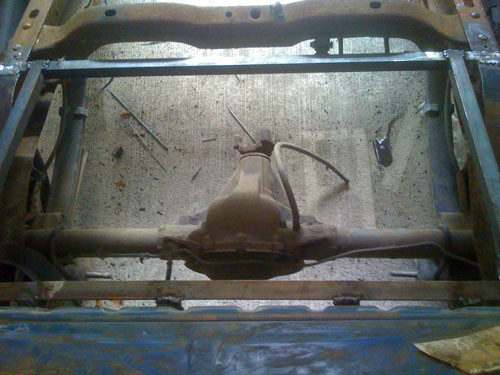 Here's how the body sits now. Once I weld up some shackle mounts it should lift the frame and body up 1-2 inches.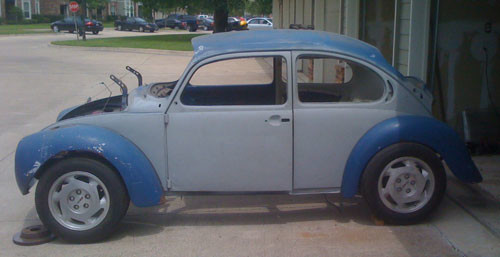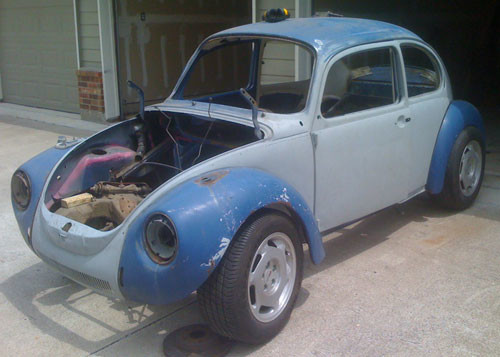 Today I went and got some more stuff to rebuild my chassis, tie rods, brake pads, brake hoses, sway away bushings. I think I'm just lacking a couple bushings for where the shackles will mount to the frame.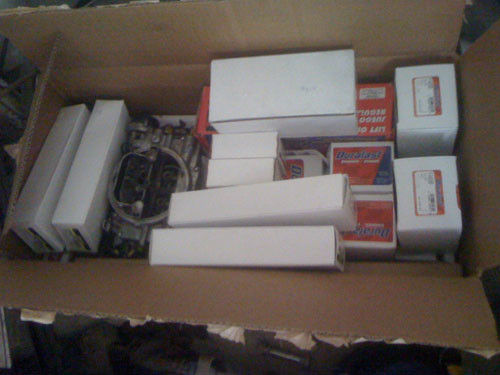 Next I'll modify the original front fender mounts so that way they'll support the weight of the front of the body. Then I'll cut away a little more of the body around the suspension arms for clearance.
5-4-2008
I started widening my fenders. I think I'm not going to keep them as wide as they are. Right now they are 3" wider but I think all I need or want is 1.5" so that way the outer edge of the tire is inline with the outer edge of the fender. So I'll have to go back and grind the welds off, slide the fender in and then weld again.

BTW, this welding was done with my stick welder, if you can't tell. I had a hard time getting it to start an arch because I tried to keep the amps as low as possible to prevent burn through. Seems to work just fine, but there was the occasional burn through. I used 1/16" 6013 rods and the sheet metal is 22 guage. Who's says you can't use an arc welder for sheet metal?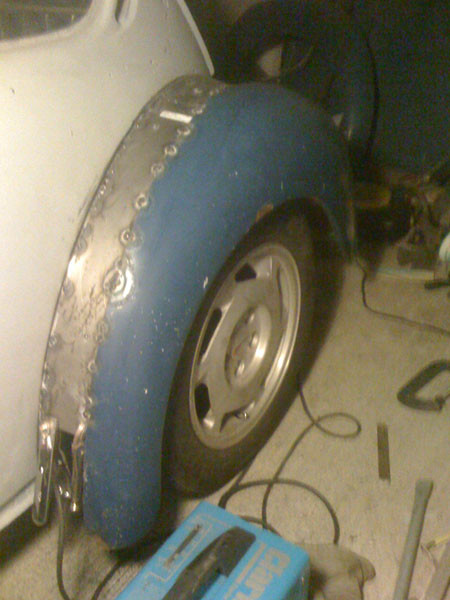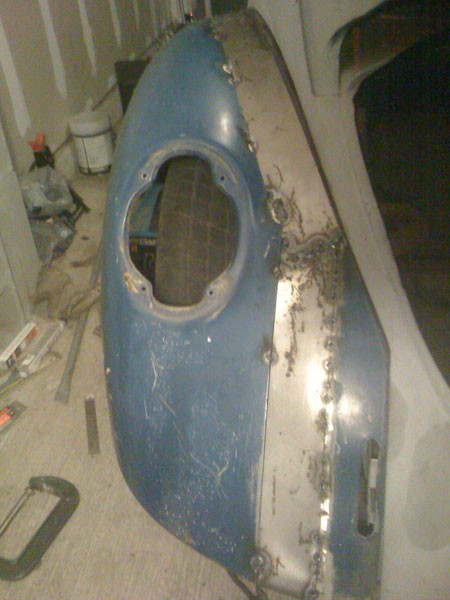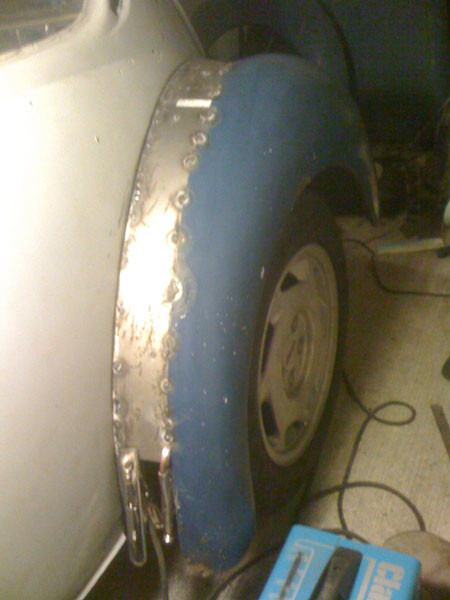 What do you guys think?
5-5-2008
Thanks for all the helpful hints!

I would've love to have built a 2x3 tube chassis using a Mustang II suspension. I went the route of using a S10 chassis because it was a lot more affordable, budget for this build at this time in my life is limited, but the only draw back is it'll be a heavier vehicle and I had to cut out quick a bit of the bug body to make it work. I've seen the front fenders as the rear idea somewhere before on volksrods.com, cool idea. And using the front fiberglass clip is a cool idea too, but I really like the look of the super front compared to the regular beetle, that and I plan on using the bumpers. So, it'll look pretty much stock except the wider fenders and bigger wheels but that's a pretty common modification on non-V8 bugs.
5-7-2008
I was thinking about maybe doing some similar things that this bug has done to it. Notice the cut out holes in the fenders, front and back, reducing drag and I love the look of these running boards. They direct the air around the vehicle reducing drag. The running boards also kinda act as ground effects. I'm thinking I'll make an air dam / scoop up front that'll act like ground effects with a function. These are only thoughts at this point cause it'll take away more from the sleeper factor, but it'll look more modern and cool. 8-)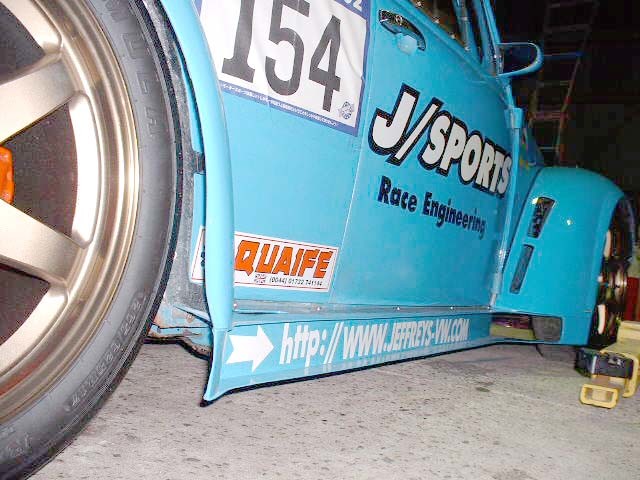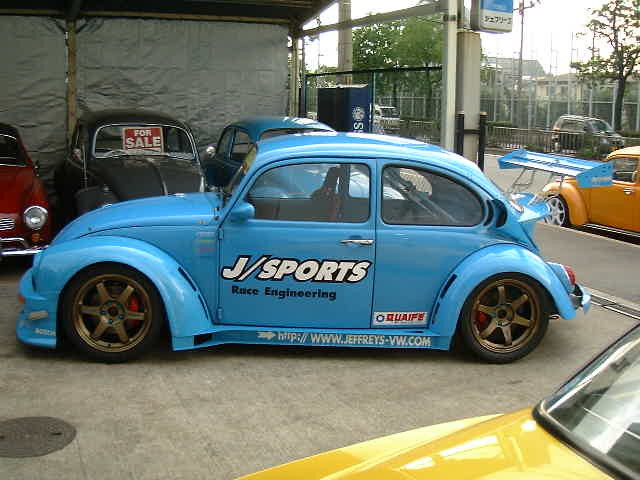 I widened the other fender. This one came out a little better as far as the shape. It's hard to tell, but I'll have to go back and redo some of the work on the first fender I did. There's a couple parts that aren't flush and it's about 3/4" - 1" lower at the tail light assembly. I'll probably bring in the fender about 1/4" too to even it out with the other. Turns out the body shifted a little when I lifted it to do the fender work so they're pretty close to the same width. I don't have the body mounted just yet cause I'm waiting to get the motor in so I can be sure the hook will clear the air breather / carb. One is off by about 1/4"-3/8". I'm able to still my four fingers up under the fender between the tires and the inner fender lip.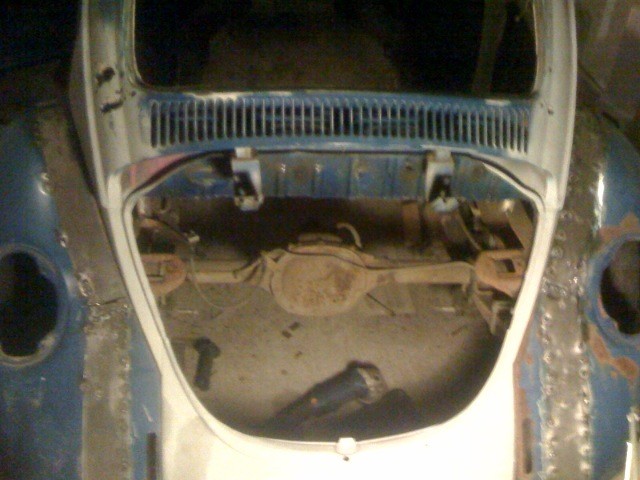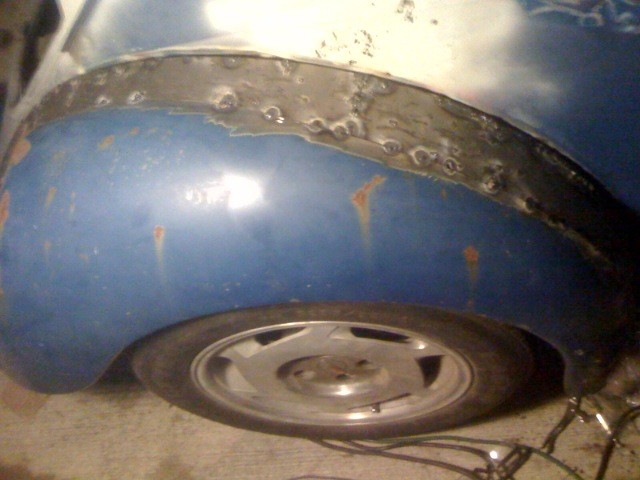 More to come......
5-8-2008
Here's a little more for ya!

Here are the shortened front body mounts that originally came on the S10 chassis. I'll use these to support the front end of the bug body.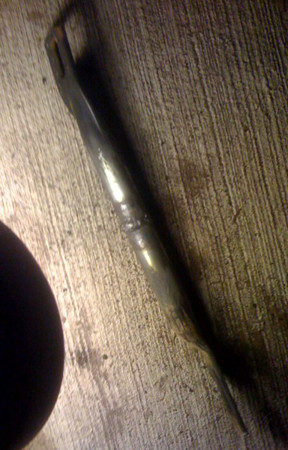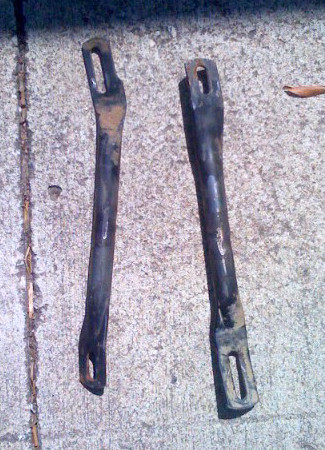 5-12-2008
OK, where I left off last is I had to even out the fenders width wise and the measurement from the bottom of the tail light housing was off about an inch. So I completely redid the drivers side rear fender cause some of the extension metal wasn't exactly flush and I fixed the two problems while I was at it.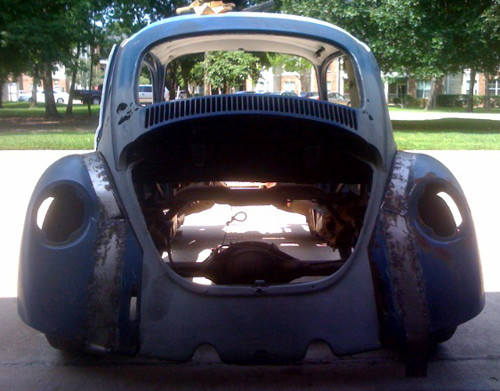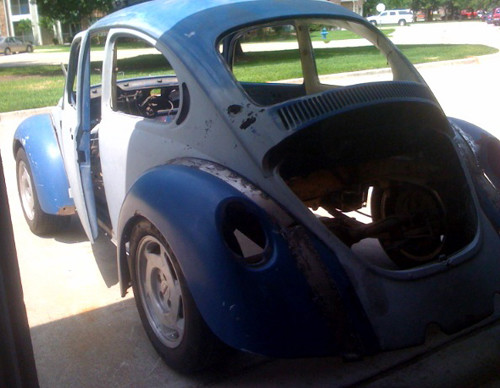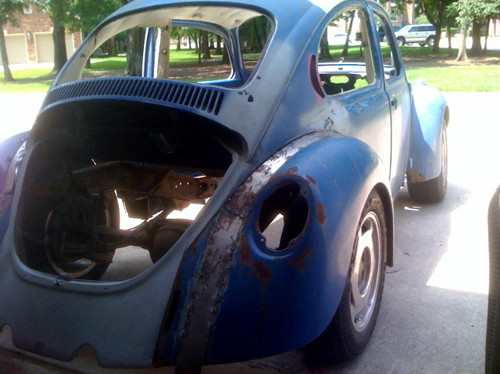 5-21-2008
Thanks for the link, but I'm thinking of going this direction with the car.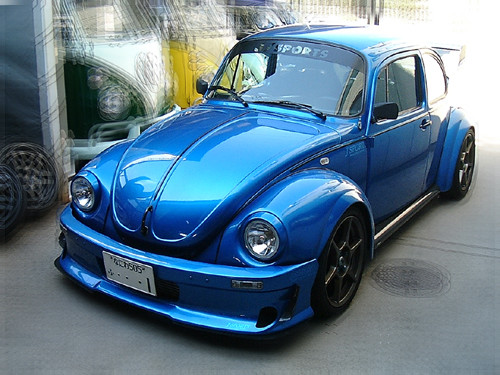 I'm thinking of buying a drift front bump made for a 95 sentra, because the top of the body kit it similar to a bug bumper, and modifying it to fit on my bug. Then I'll cut away the metal on the bug below the bumper point and mount the radiator right where the wide opening is on the drift bumper. Well, it's an idea at the moment. I like the look of that modern looking bug.



To insert a picture simply right click your mouse, select copy image address, hit reply to whatever thread, click the button at the top of the message box that looks like a picture with mountains and a suns, and then just paste the picture link into the box that pops up.
5-27-2008
This weekend I did some more work on the fenders. Basically removed them and did some welding on the inside seems. Next I'll grind down the welds flush and start getting them looking finished. I've got my work cut out for me on these fenders!


While I had the fenders off I started welding in the shackle mounts. I was going to make some custom mounts but I don't have the right tools. So I'm in the process of cutting the end of the frame down and welding in the stock frame sections that held the shackle bushings.

Here's one side tack welded.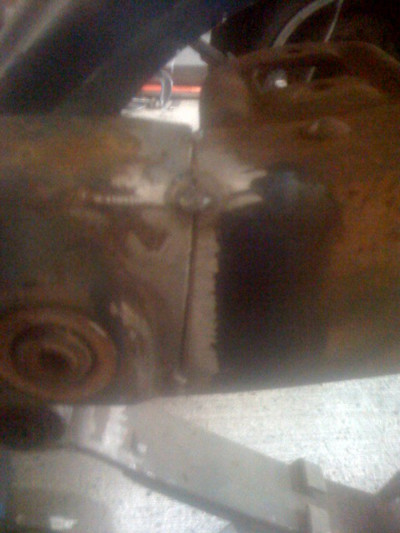 Here's the complete weld. I'll next go back and grind it flush.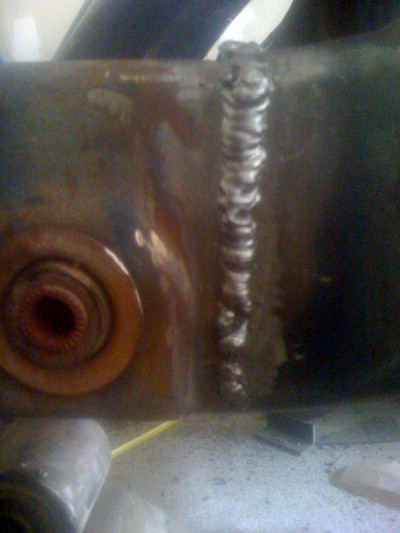 5-28-2008
My camera phone doesn't do too well in low lighting, but here's the weld ground flush.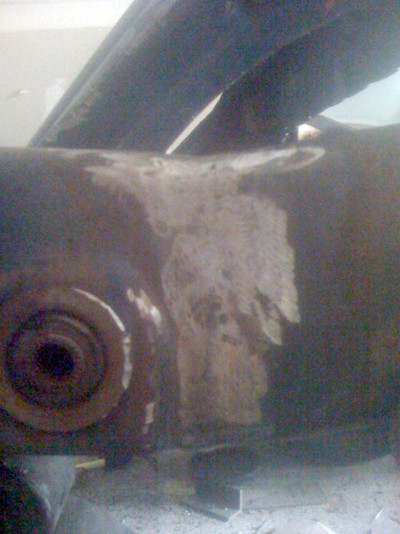 I finally got to hook up a shackle. I then got on the frame to test the spring out. Seems it'll have a smooth ride in the rear. :thumbsup:

Now I'm in the process of welding up fish plating to reinforce it.
I sent back the Torker II intake and head gasket set I bought. Once I get my refund back I'll be purchasing a new set of GM Vortec heads

and a Summit Stage I (idle-6000 rpm)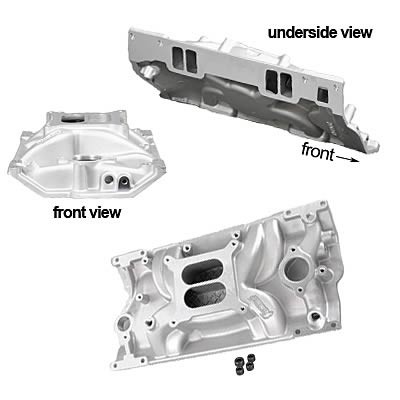 Vortec intake. These heads have a 64cc combustion chamber and it'll lower my 283 compression ratio from 11:1, pop up pistons, to 9.7 so I can have a good chance of using pump gas!
5-30-2008
BAD NEWS:

For the past couple months people have passed me up and seen me working on my project. 99% of them have been really cool about it and actually couldn't wait to see it progress. There's been one lady whom is a mother of 2 or 3 kids and apparently one is an "infant and sleeps early", which I understand. Any who, she came to me and askd me one night if I could stop working on my vehicle. It was just before 9. I was polite and told her no problem. About a month later I was working on my car and it was 8 o' clock and she screamed from across the complex "Hay, it's 8 o' clock. I just ignored her, stopped working on my car and closed the garage. I rarely work on my car past 9 unless it's a weekend. Well, today she drove by stopped right in front of my garage and took a picture of me working on my bug. All I could do is pose. LOL!

Needless to say chances are I'll have a complaint filed on me being I'm fabricating a car in an apt garage, that I'm renting. Now, I don't know what rules there are if any against doing something like this, but I'm thinking this isn't good. I'd hate to have to sell my project that I've put blood, sweat, and time into and I'm sure I wouldn't get anything near what I've paid for all the car parts except the things I've recently purchased.

Not looking good. ****in' *****
(the forum converted the real words, LOL, too funny)!

I've considered possibly renting a garage / storage space from somewhere's but the way these gas prices are and my limited time, that wont work for me. I'll keep you guys posted on what happens but it's looking like I'll probably have to part with ol' Blue so I can keep a roof over me and my fiancés head.


This comment deserves a triple sad face
6-2-2008
Finished welding up the fish plate and have the shackle hooked up for the first time. Seems the rear lifted 2 inches. That's OK cause I have some lowering blocks!


I tried to get a shot of how close the shackle is to the fender. It's about an inch away. That's alright cause I have a couple inches to play with as far as moving the body back and I can modify the shackles so they're rounded off instead of square. That should give me the clearance I need.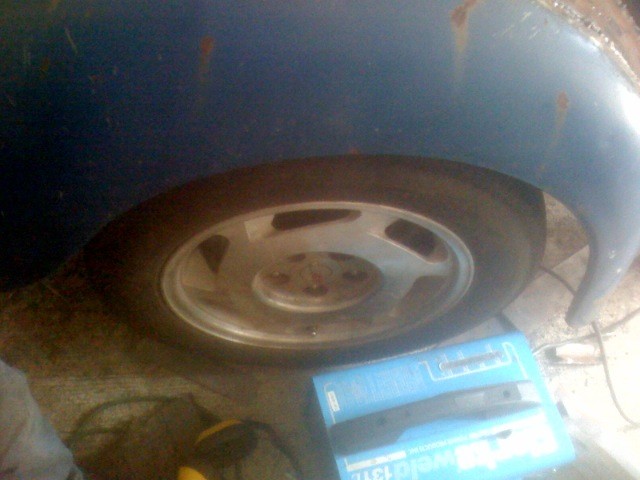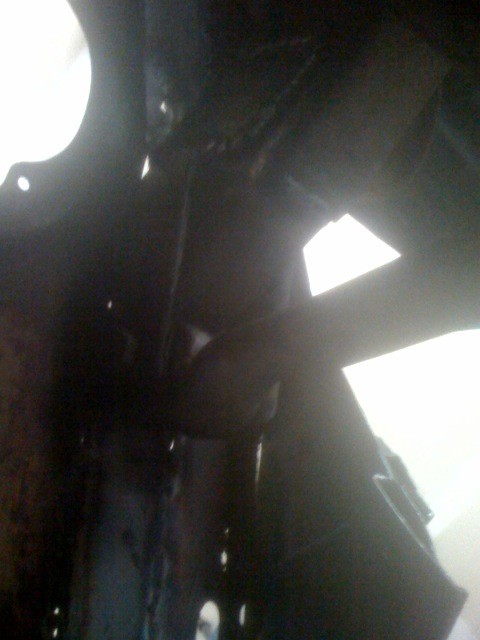 Once I figure out my welder problem I'll finish up the other shackle and the fender work. Then I'll move on to making a roll bar / cage and finish up the body work so I can start painting / rebuilding the chassis.

It's getting there!
6-3-2008
I welded in the other shackle tonight.


Cut.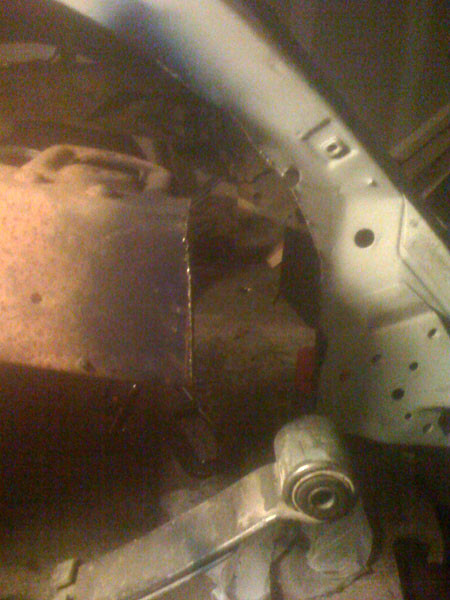 Ground and tack welded.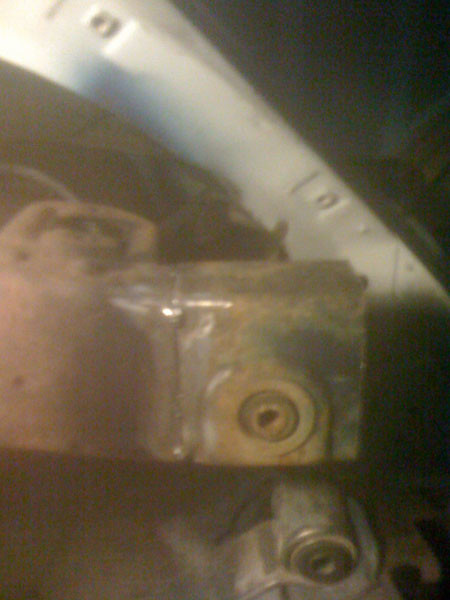 Welded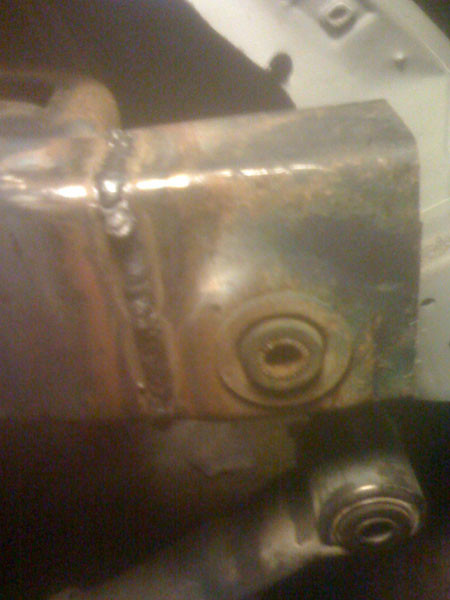 Next is to grind it down, weld in a fish plate, cut the end at an angle so it'll fit under the fender and last but not least I'll box off the end.
6-4-2008
Since I'm getting pretty close to the stage of building a firewall, flooring, roll bar, etc. I made up a detail of how I think it'll go together. 8-)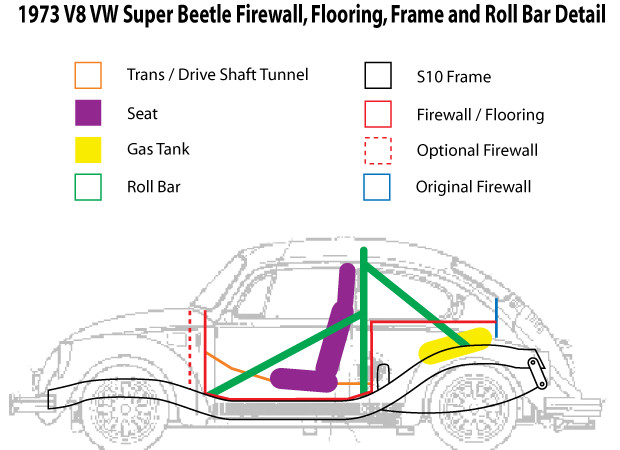 Seat / floor support / drive shaft detail. Not to scale but you get the idea.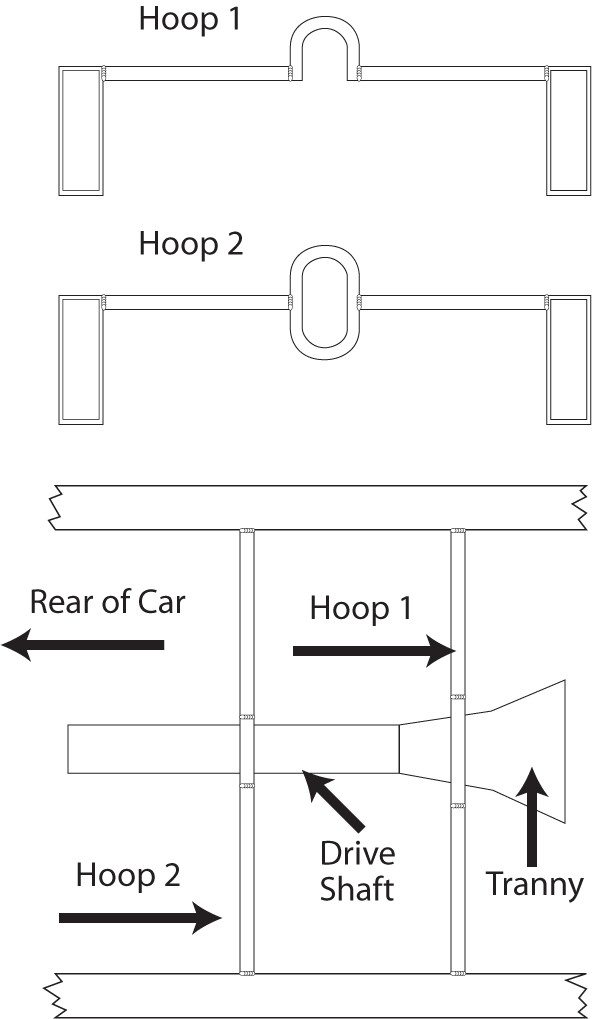 6-9-2008
Finished the shackles this weekend. Cut down the driver side shackle, welded a reinforcement plate, and then boxed off both ends of the shackles. I've got about 1/4" of clearance between the leaf spring end and the frame but when it compresses there isn't any problem cause the spring kicks out and the frame tucks under the spring eye!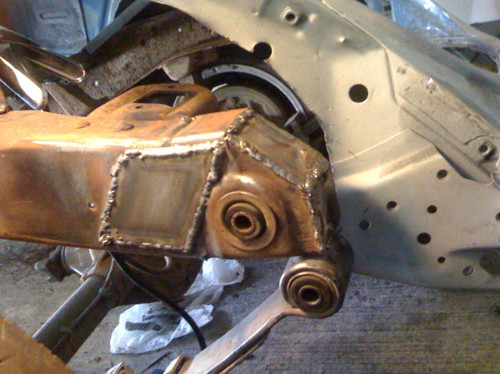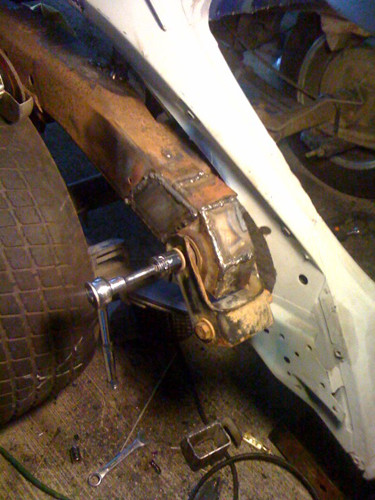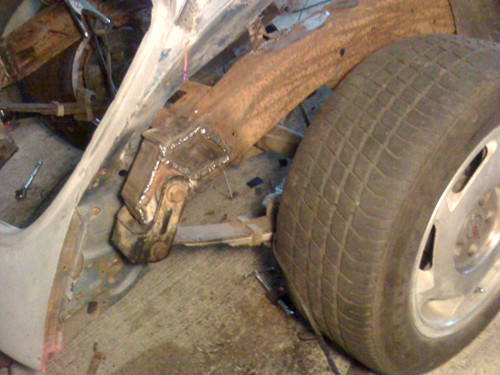 6-11-2008
Got in my goodies yesterday! One of the heads has a bent rocker stud from shipping UPS. So it's gotta go back.

Summit stage I vortec intake, idle-6000 rpms, dual plane.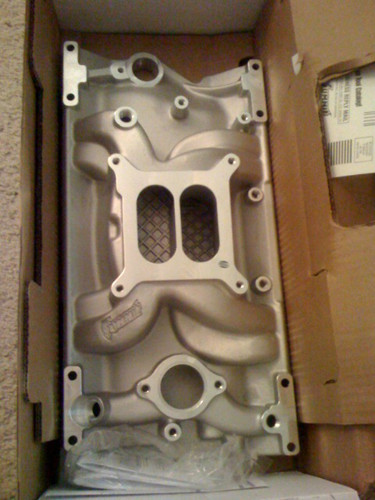 GM Vortec heads, #060.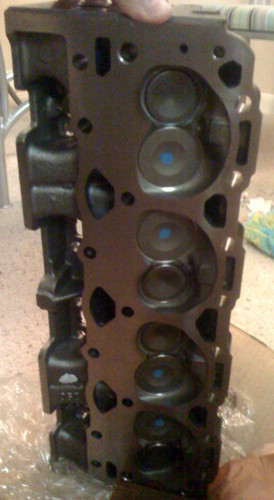 Notice anything wrong!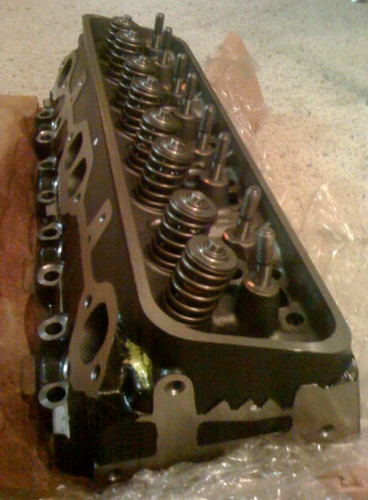 6-16-2008
Got a little bit of work done this weekend. For starters I rolled out "Blue", swept up the garage, and organized a bit. I got that out the way so I could make another mess.

Now that I've got my chassis about 85% done I'm concentrating on doing body work. My plan is to have both the frame and body finished at the same time so that way I can send off my car to get painted while I break down, paint and rebuild the chassis.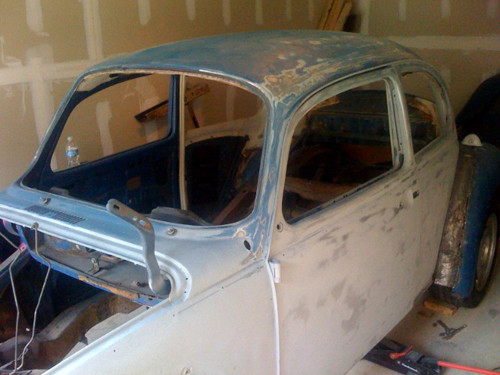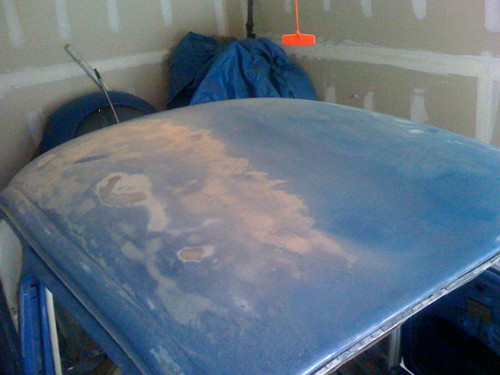 There's some dings here and there you couldn't really see but could feel. So I took care of those. I sprayed primer on those areas once I finished smoothing down the body filler.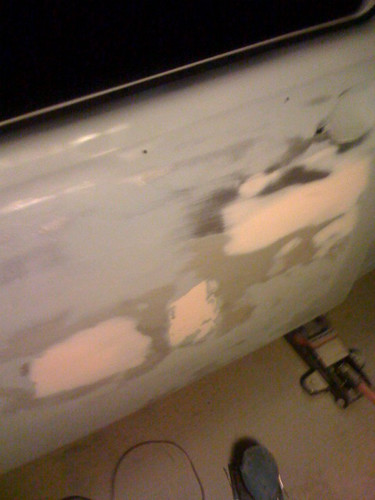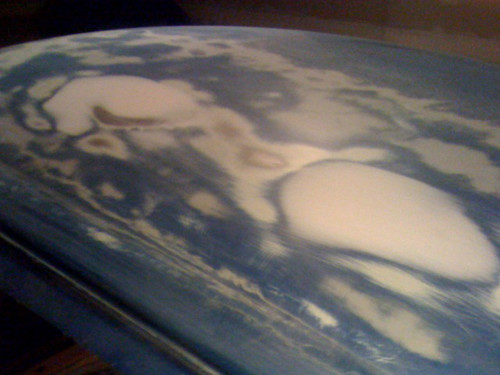 6-18-2008
Got my replacement head in yesterday and everything seems to be as it should!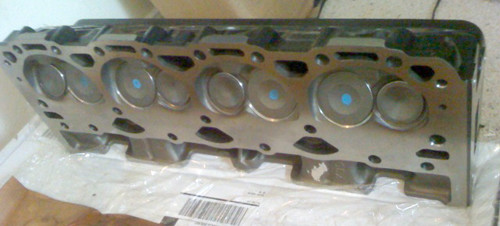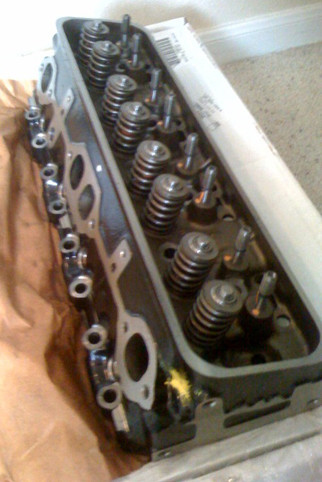 7-1-2008
These past couple of weeks I've been doing nothing but body work. I'm trying to finish the body work so it'll be ready for paint and I can move onto painting the chassis soon afterwards.

Now I know the correct way to fix rust on a car is to cut away the rusted metal and to weld in new metal but....

a) I would have to hack up another classic vw to get the metal I need cause the whole rear quarters of the body need to be replaced.

b) They make replacement panels but they are expensive. Once the rust becomes obvious under the paint I'll just fix the whole thing. This will hold me over for 3-5 years until I can afford to do that kind of panel replacement.

c) I don't want to take the risk of setting my car and garage on fire because of the factory foam installed right where the rust in an issue.

Now that I've got that out of the way here are some pics of some body work.


Got the first coat of primer on the body.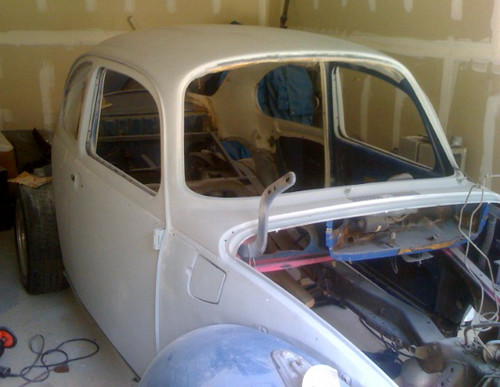 I've smoothed out the imperfections in the center of the door. There were a couple more spots on the edges.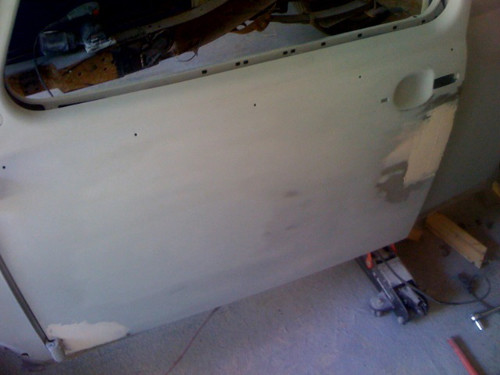 If you recall from previous pictures there were some rust holes on the bottom section of the body behind the crescent moon vent. That's been taken car of. I've finished the drivers side rust holes but here's a pic of some layering of body filler smoothing out the holes.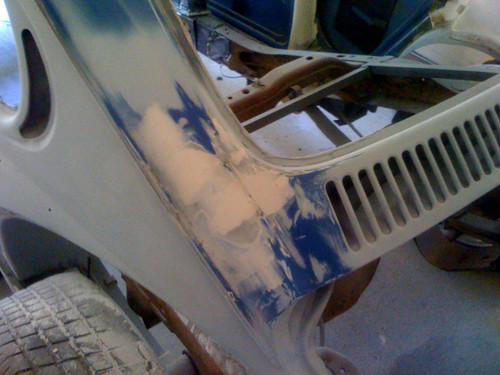 Same for the passenger's side.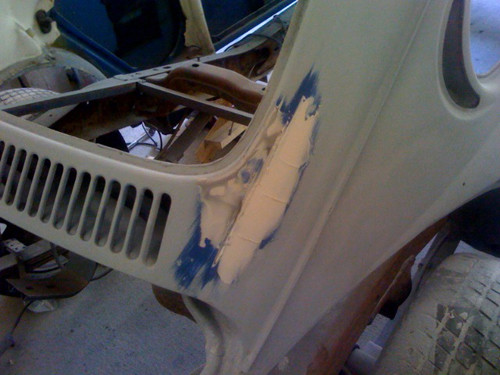 Here's a pic of the end results. Holes are gone. There's some small pin holes that need to be taken care of but for the most part it's repaired until rust comes back 5 years down the road.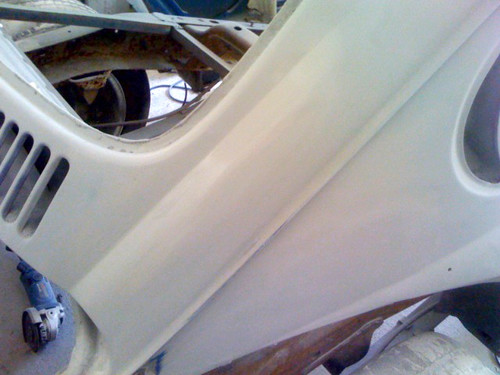 I'm just about done smoothing out all the little dings and rust repairs. Next I'm going to finish up the fenders and then I'll gradually sand and layer primer working my way from about 120 on down to 600+ grit. The last couple layers I'll work in some wet sanding. Then she should be ready for primer, base coat, and clear.

How much do you guys think I could expect to pay for primer, base and clear all from the same manufacturer? Honda Vivd Blue Pearl, paint code B-520P. I'm not looking for the highest grade paint, but something that'll last 5 years. My Uncle is going to spray my car so I'm looking into the cost of just of the paint. Enough to cover the outside, inside doors / jams, and possibly under both lids.
7-7-2008
Got the chance to do some more body work. Started finishing off the front end and most of one fender. I shaved the turn signals by tacking in some metal under the holes and then smoothed them out with body filler. There's still some little burs here and there but it's getting there.
7-10-2008
What do you guys think about this color scheme?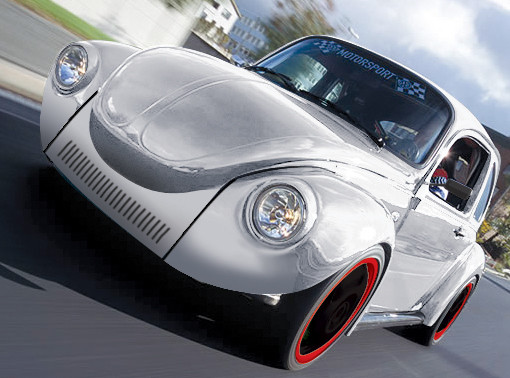 Silver, shaved bumper, lights and trunk handles. Paint my rims black and add a red lip like so.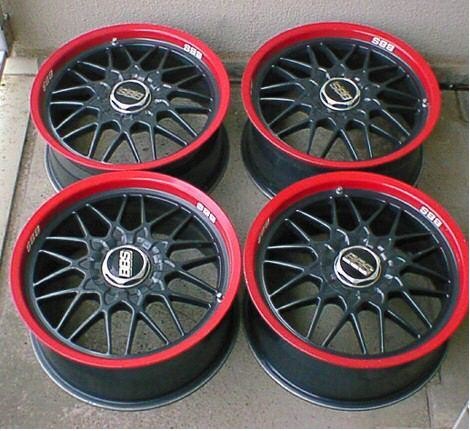 I thinking about going this direction cause my motor will be about 85% all black with red accents here and there. Yesterday I ordered almost everything to finish up my motor minus push rods cause I have to check their length.

Here's the breather and timing cover I ordered. I basically ordered all the individual pieces minus the valve covers cause I need center bolt.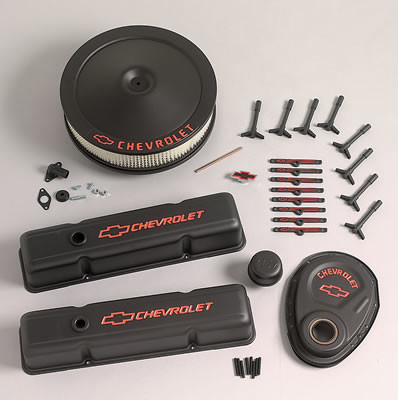 I'm going to buy some stock vortec valve covers. I might even run a red stripes down those raised lines?


Got a set of red ACCEL spark plug wires.
Ordered a black HEI distributor.....etc.


I've got mainly black with accents of red so I'm trying to carry that outside and inside the car. I'm thinking about getting these seats.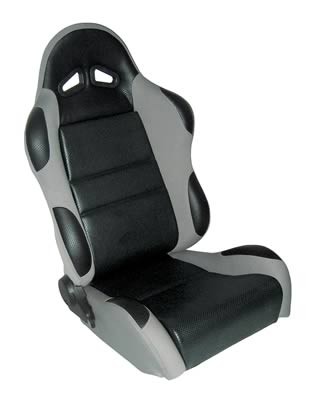 Some red belts, 5 point.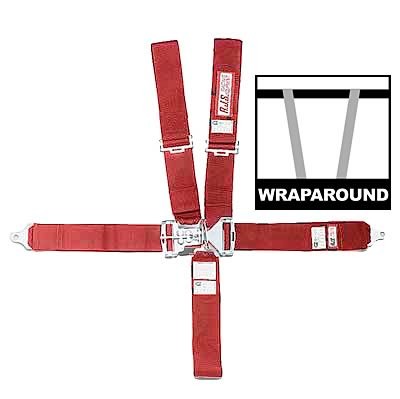 And I plan to do the interior / carpet in a dark grey. For the dash I'll paint that wood grain stripe red.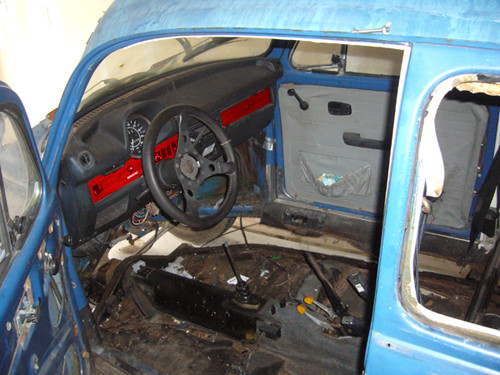 These exhaust tips.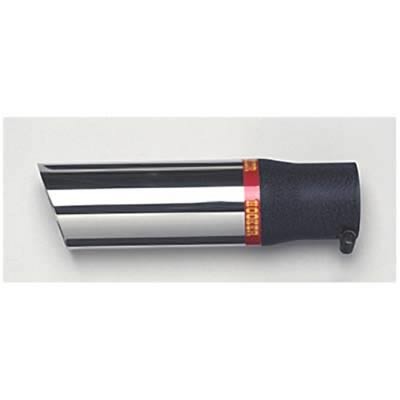 And last but not least I'll plan to get on of those 4 in 1 tachs to replace the speedo in my dash.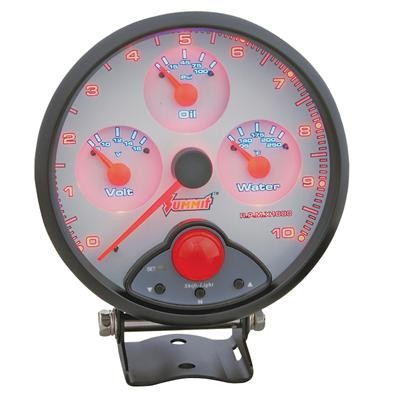 Who needs a speedo any who? I'm just concerned about people seeing my tail lights after a race.
7-11-2008
I'm kinda leaning towards the silver.

Something like this.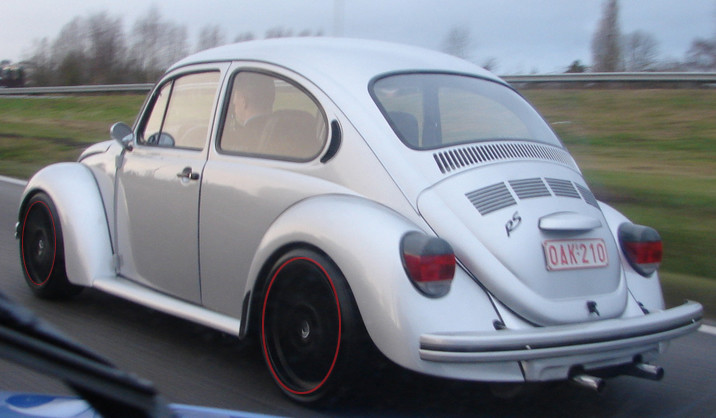 I think the stripe was too big in the previous pic. The interior would look cool like this, but with the two tone seats.



Just thinking out loud here....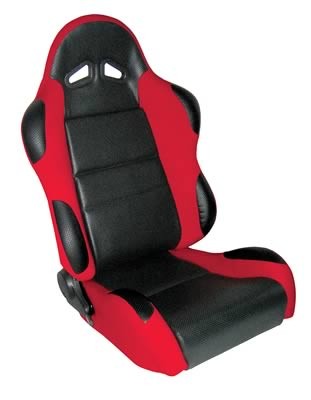 7-12-2008
Check these rotary rods out! I wouldn't mind putting one in a beetle after this project.

http://www.youtube.com/watch?v=8ZjFv...eature=related


I like the look of this rotary bug.


7-15-2008
Got my parts today...

Rocker arms, head gaskets, head bolts, intake bolts, intake gaskets, valve covers gaskets, timing cover, timing gasket, aluminum water pump pulley, water neck / gaskets, thermostat, distributor, base clamp and gasket for dist, ACCEL wires (red), valve cover breather, air breather, oil pan, dip stick, bolts for pan and timing cover, headman shorty headers, B&M 2,500 stall, TCI tranny rebuild kit and push rod length checker. I think that's all...might have left some out but basically everything I need to put the motor together minus push rods. I'll get those once I check their length (exh / int).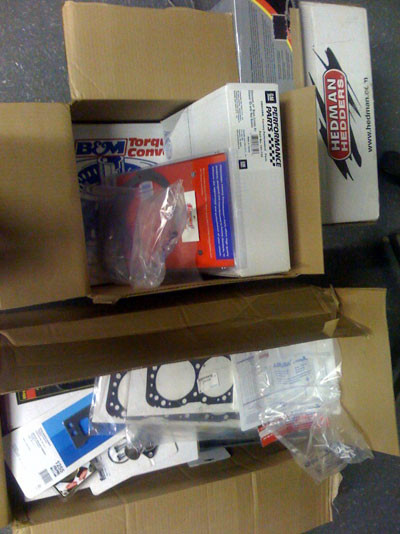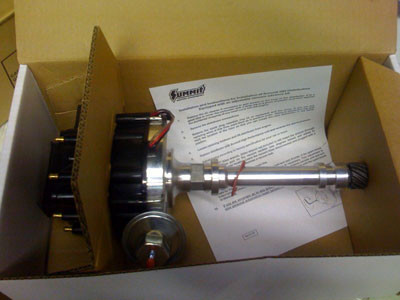 Within the next month or two I should have the motor together and in the car. That is, after I paint and rebuild the chassis.
7-21-2008
I almost traded my vw pan and motor for a 4x4 S10 blazer chassis, tranny, and diff. The deal feel through though cause the guys father got really sick.

Not much going on in the garage the past couple weeks. It's been 95+ which makes it a pain to get out and do somebody work. After about 15 mins of sanding or shaping I'm soaking wet. I'll get back at it though, soon.

I will be going to my old man's to pick up the motor and stand this week or weekend to start putting the motor together. So I'll have some pics of the build soon. I'm sure I'll have some questions too cause I've never put one together. I'll mainly have questions about torque specs and setting up the rocker arms, but I'm sure I can probably find the answers searching or I could buy a book.
7-26-2008
It was a hundred today and man was it hot! Still managed to get some work done. Ordered some push rods and some Dupli-color paint. 500º flat black for the valve covers and oil pan. 500º Glossy black for the block. 1200º color aluminum ceramic paint for the headers.

Painted the used valve covers I bought.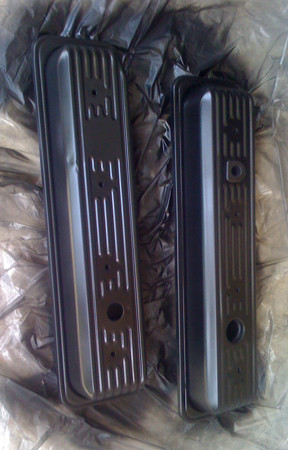 Painted the bare oil pan I ordered.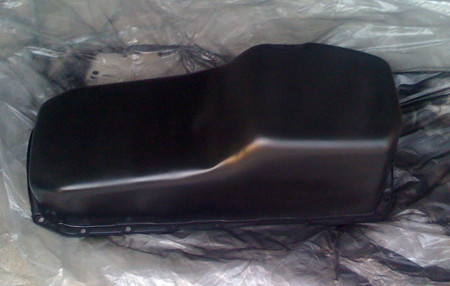 Friday at work I spent an hour on each header sand blasting the paint off. Today I painted them. Did 3 coats with one can and there's still about 1/4 a can. I put down some paint too. Now I got to figure what oven I'm going to use to bake the paint. ??? Does the paint release harmful vapors? Maybe I'll do it here at home.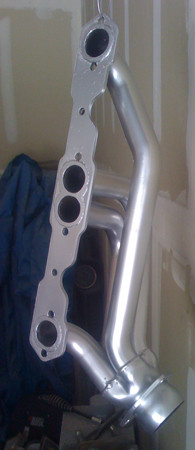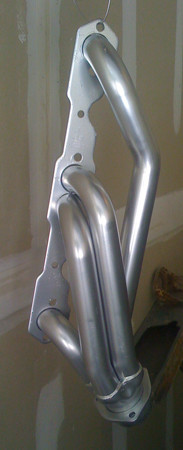 OK, so I've been talking about this freebie 283 from my old man for almost a year now without pics. Well, here's some finally. Today me and my bro went and picked the motor and stand up, got her in the garage and cleaned the engine up as much as we can. Still got some more cleaning to do before I paint it and start putting it together. The internals look good and clean. There's a little carbon build up but not a whole lot. I did find out there's no lifters in the block so I've got to get some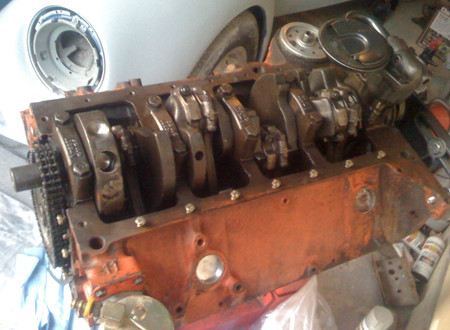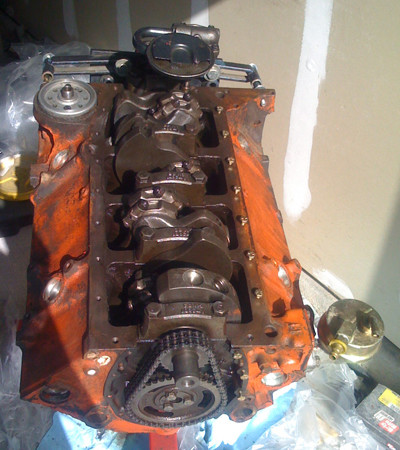 Here's some pics of the pop up pistons. . Also I found the number on the bottom of the pistons. 334-99. I searched the net and found someone who has the same pistons and his are for a 283 bored over .060. Would that be the same for mine? If so I've got me a 292 on my hands!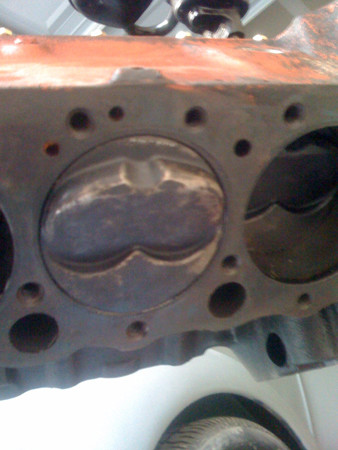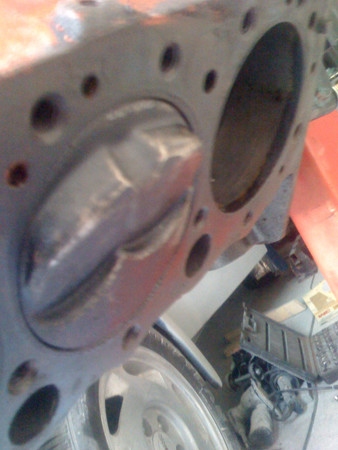 Well, that's all I've got for now. More to come. Anyone with suggestions about cleaning this thing up without taking it apart is much appreciated. And advice on sealing it up good (using silicon or sealer, what brands, etc) will be much appreciated being this my first time doing this.
7-28-2008
I inspected the block some more. Cleaned the top of one piston and fourd "7027P .060", so it's bored over .060 which amounts to a 292. Which is cool. There's a decent a mount of carbon build up on top of the pistons and on about 3/8" of the top of the piston bore. There's also a couple bugs nests in a couple holes up front which I was told is for oil? Last but not least, there seems to be some carbon that's around the top / sides of the pistons and one of the bores has a slight scratch you can feel with your fingernail.

So I'm trying to figure out what to do. ??? Looks like I'll be putting more money into the motor, but it'll be worth it in the long run. I'd like to just go ahead and bore it over .125 so I'll have a 302 or AKA "301" back in the old school days, from what I read. I'm just wondering how much it'll cost to machine the block (decking, hot tanking, boring, honing, etc.) and not to mention the cost of some new bearings, pistons, and piston rings. Good thing is, if the block is good for boring .125, I can select from a bunch of 4" (350) pistons. That and I could get some pistons that'll bring my compression to 10:1 which is what I'm looking for so I'll have a better chance running pump gas.

Do you guys think I could be looking at spending another $1000 easily? Suggestions? I want to stick with this 283 cause everyone and their grandmother has a 350 and the 283 (bored to a 302) would make for a great high revving motor.
8-1-2008
Finally got the number.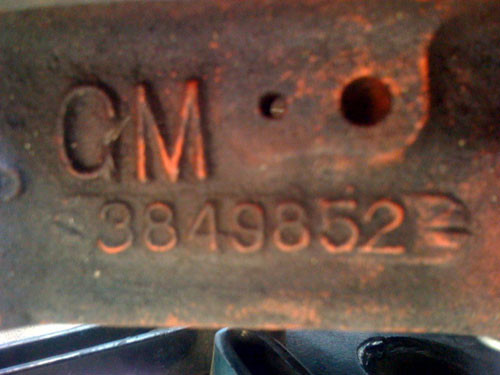 From what I've read this is a good block to have? Casted between 58-67. I don't really know how to tell what it came out of.
8-4-2008
I got the block 98% broke down this weekend. After I hone the cylinders and clean the deck it'll be off to the machine shop to get hot tanked, new freeze plugs and cam bearings installed. I plan to install the main and rod bearings my self so I'll have the crank check out too.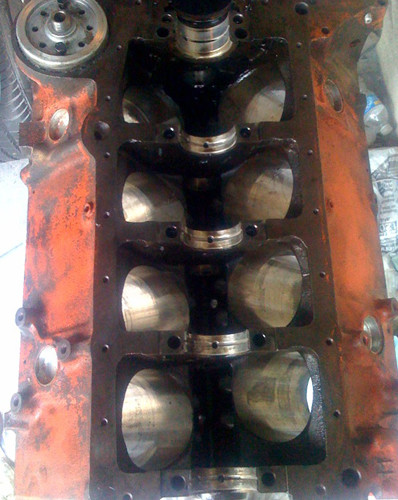 I also found out that the current cam that was in the block is a Comp Cams 270H which is too much of lift for my stock vortec heads. Either a new cam or valve springs are in order.
8-12-2008
Sounds like you got a hell of a deal! You're always finding great deals on that list of craigs.

I haven't done too much with the body within the past couple weeks cause me and the fiancé have been checking out places to have our wedding reception. We found one so I now I'll have more free time on the weekend to put some work into the body. That and it's been pretty darn hot. I'm putting me a fan in the garage to help, but only helps so much.

Here's what she looks like at the moment. I've got the hood and the front fenders on. I'm working on shaving both fenders and the trunk / hood latch.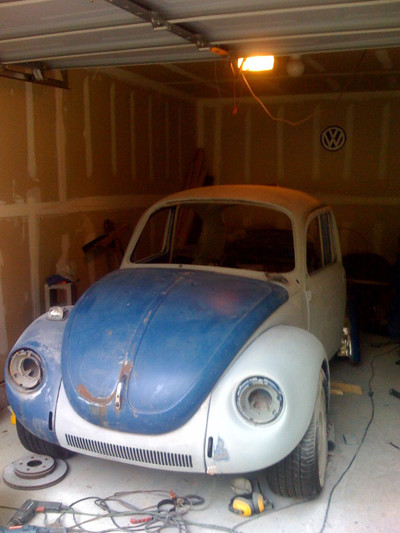 Also, I've decided to just go ahead and build F-Bird'88's 400 hp 350 motor. The parts are easier to get a hold for the 350, it'll make for a fast car and I pretty much have most of what I need for the build. Pistons and rings are a month back order for the 283 bored over .060. I've found someone willing to trade blocks plus rotating assemblies. I'm just waiting to hear back when the motor is torn down so I can go pick it up.
8-18-2008
Made the swap this weekend. Traded the 283 for a 350 bored over 30. The engine is a pretty recent rebuild but has collected a little dirt from sitting. I'm debating whether or not to just tear it down, hot tank it and rebuild it or to just clean it up as it and go.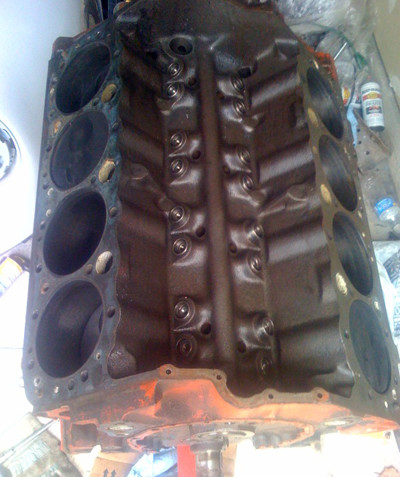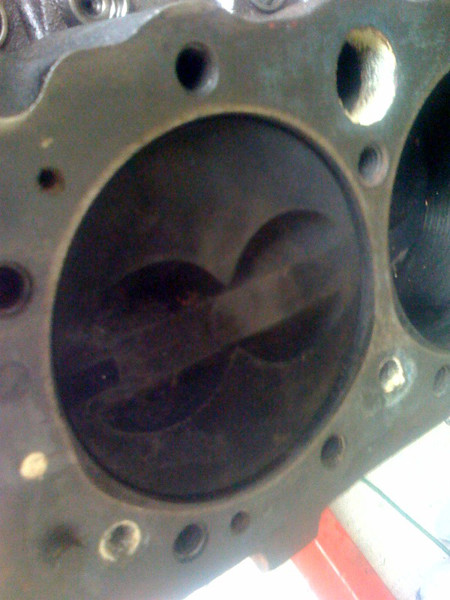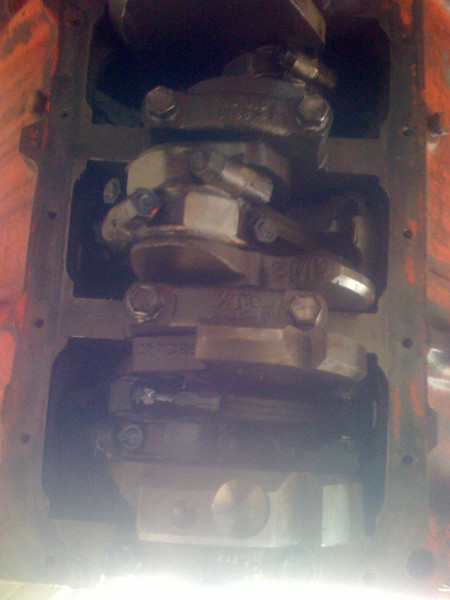 Non Echo en Mexico.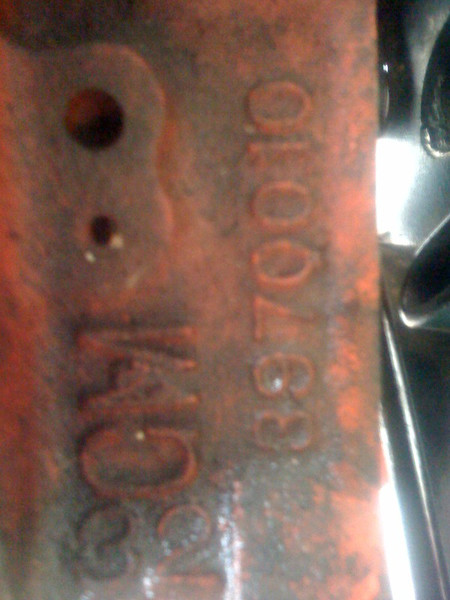 9-1-2008
Update...

I actually got to put in some hours. Still working away at the body trying to smooth here out. I pretty much got the hood, front clip and passenger fender finished. There's a couple small low spots and high spots but for the most part they're 95% done. Well, as far a body work goes.

I hope you guys don't mind pictures... ;D


I tack welded a 22 gauge metal strip under the turn signal holes and began filing and shaping.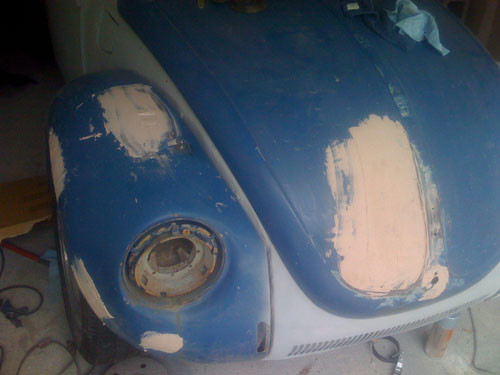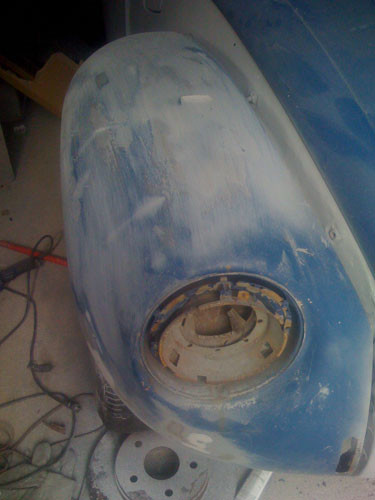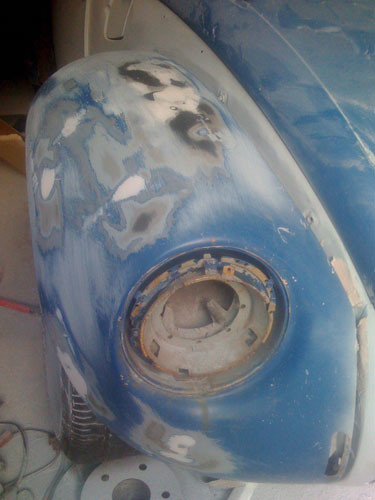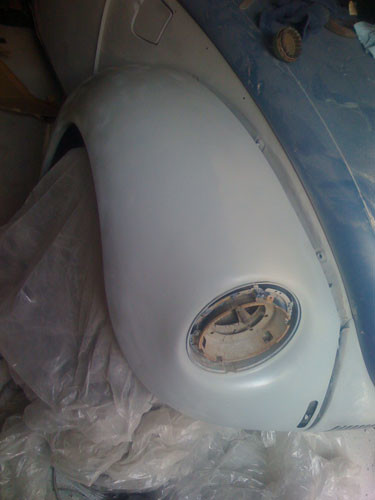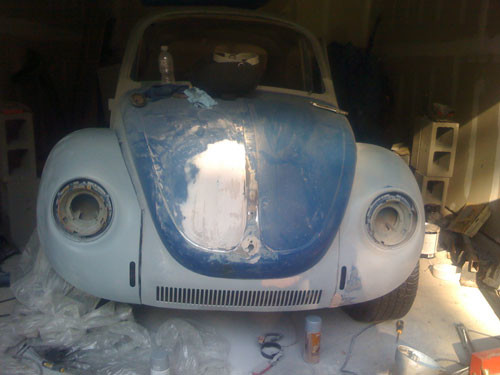 I got a little help today from my buddy Jesse.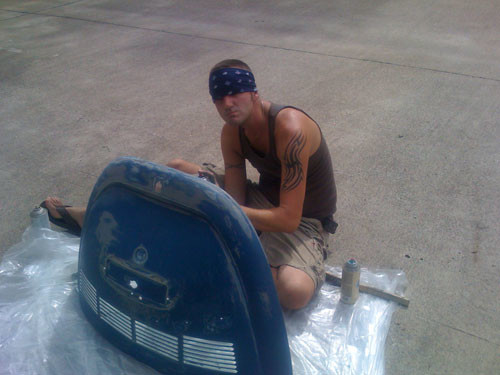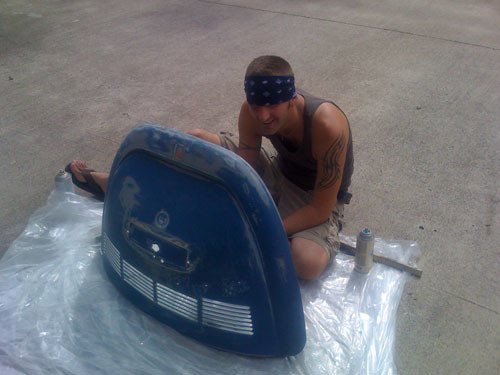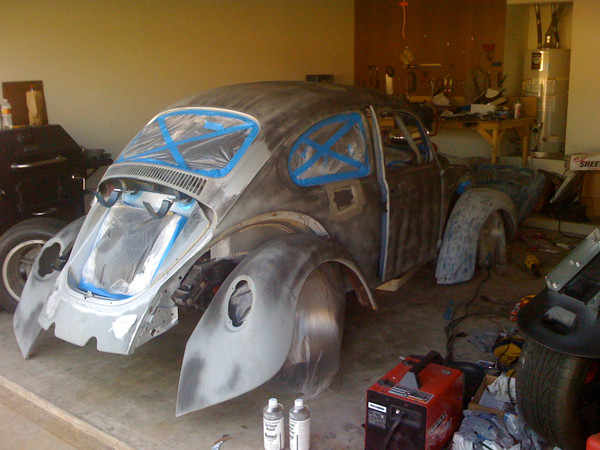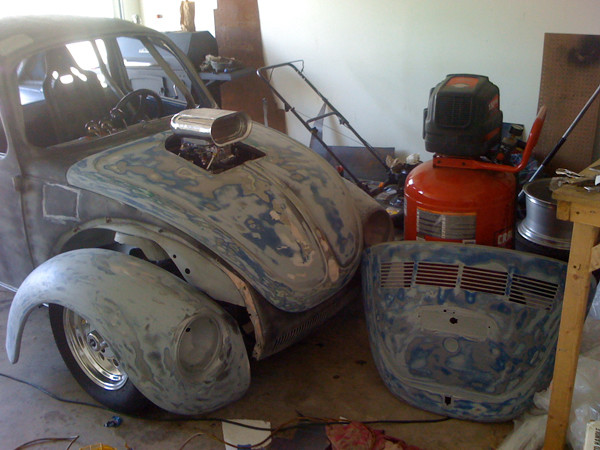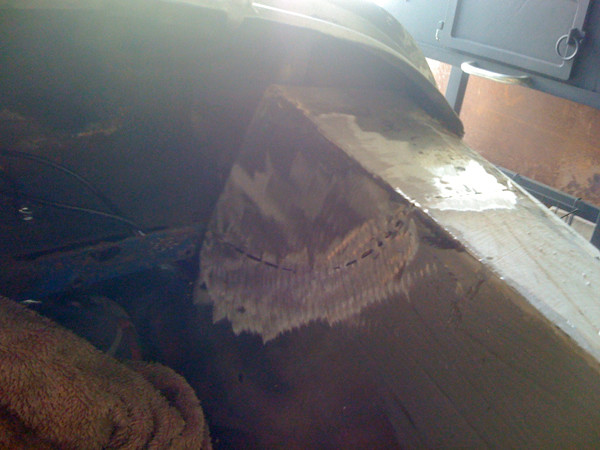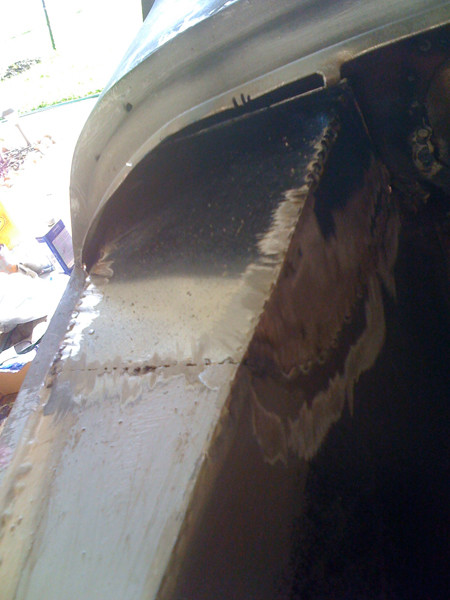 The blue paint spots you see is some sort of drafters / engineer marking paint that has worked well for marking spots that need fixing. It's really used to make measurement markings and notes.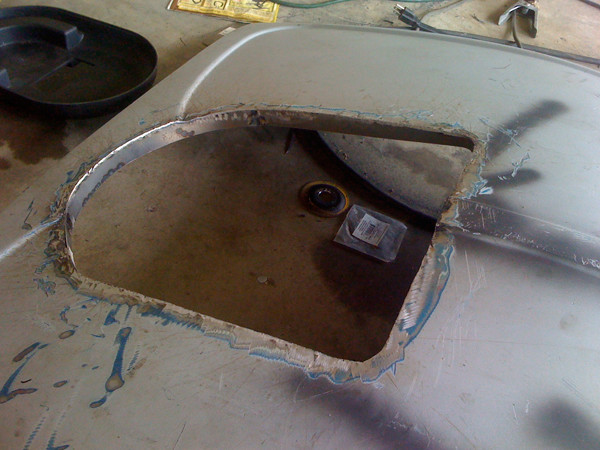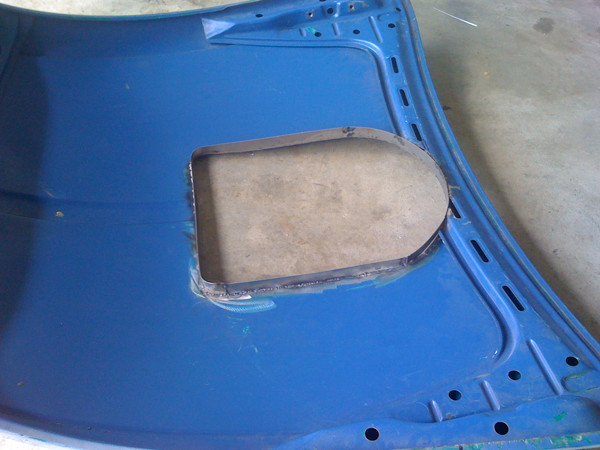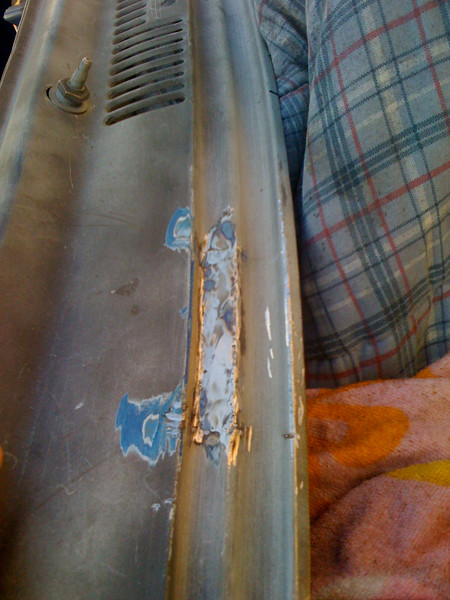 I ran out of primer before I could finish the hood. ;D
Just a little more to do to the front end and then I can move on to the rear fenders. I'm thinking of shaving the front handle along with the trim holes on the hood. I might shave all the trim holes but I'm debating whether to shave everything or to go with the slightly more modern look by painting the trim flat black. ??? That and I'm undecided about keeping either bumpers or t-bars or to just shave the bumper holes.
9-2-2008
I agree and I know I'll be happier in the long run with the 350. I'm basically building my 350 (355) based on F-Bird 88's inexpensive build. Should make for about 400 hp, if not more.

355 ci
10:1 CR
060 Vortec heads
upgrading springs with Z28 type
Summit Stage I intake (idle-6000 rpm)
750 cfm Edelbrock carb
headman s10 conversion shorty headers - 1 5/8" to 2.5" collector.
COMP Cams 12-522-5 (Advertised Duration 293/300, Lift .450/.453, 106º LSA, 2,500-6000 rpm)

Everything else will be pretty much new stock parts. I opted for a cam with a little longer duration on the intake side, and little higher lift / longer exhaustduration for the extra sexy idle.

This combo should make it scoot.
9-19-2008
Some updates on the bug.

Still doing body work a little at a time. The front end is pretty close to being finished. I still want to shave the bumper up front and the handle, but I've got to wait until I can get a hold of my brothers mig welder just to make the job easier than using a stick welder. Hopefully I can get my hands on it this weekend.

At this point I'm just tapping in high spots and filling in little low spots and trying to get the body as smooth as I possibly can.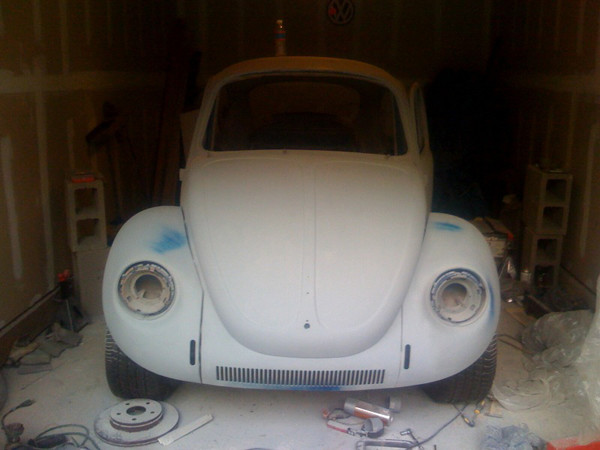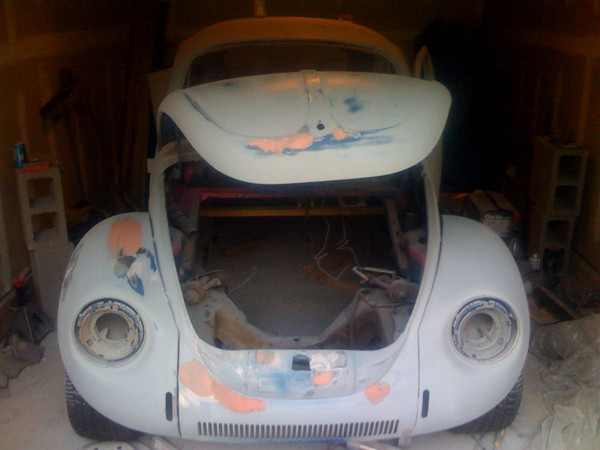 9-22-2008
All the body shaping of the front is pretty much done. Next I'll shave the bumper holes and front hood handle, but the hard part is pretty much done with for the front. Now I'll move onto the rear fenders.

I mocked up the steering. I've got a manual GM steering box and linkage. The steering wheel will be in it's stock location. I've just got to figure out what to use to mate the VW spline to the GM box / linkage.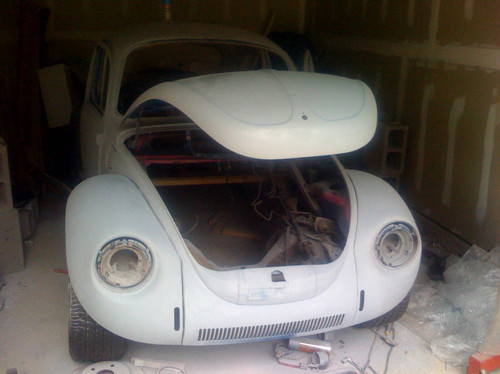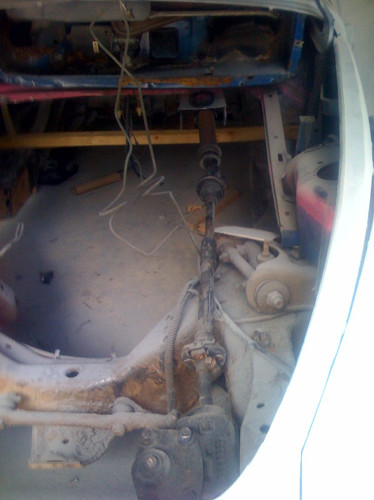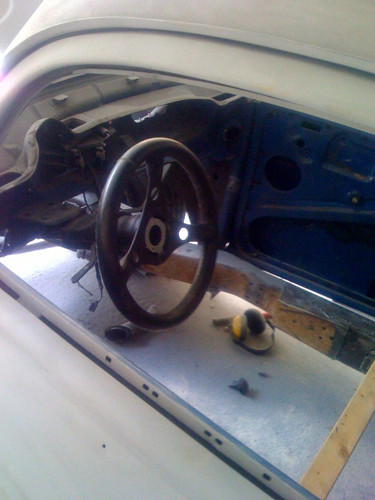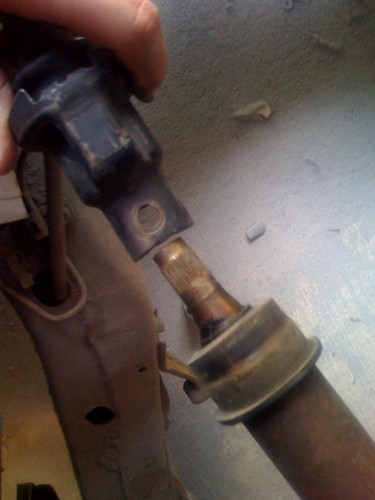 9-30-2008
This weekend a few buddies came over to help out on the the car, well, it was supposed to be one but four showed and more talking than work was done, but they got to check out the car for the first time. What basically got done was we positioned the body in it's finally spot and we lowered the passenger side 3/4"to level the body out. Friday I went and bought 5 sticks of angle iron to get it all done.

Last night I cut and tack welded in the floor support using angle iron. For just being tack welded at the moment the concept seems very sturdy.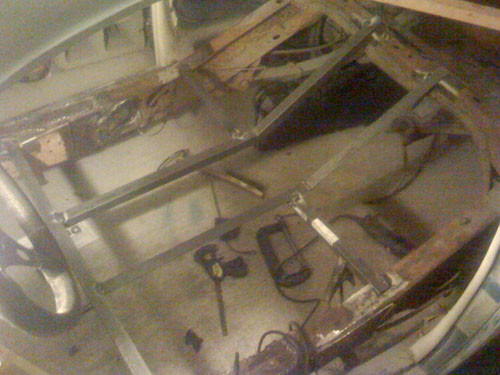 Next I'm going to weld in the body mount rails that bolt up to the heater channels.
10-6-2008
S10 2" drop spindles came in.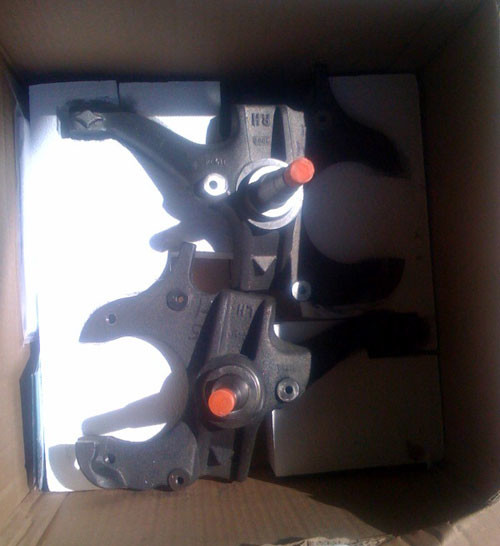 This weekend I finished welding the floor support in. Well, I didn't get to the welding underneath cause I'm not great at overhead welding. So when I take the frame apart to rebuild it I'm going to flip over the frame and tackle those welds and others.

It's been a little while since I've last welded and I was working with different rods. I had to redo a few welds cause the rods I have are coat with less coating / flux so I wasn't use to them, but quickly got the hang of it. Not the greatest weld, but looks decent.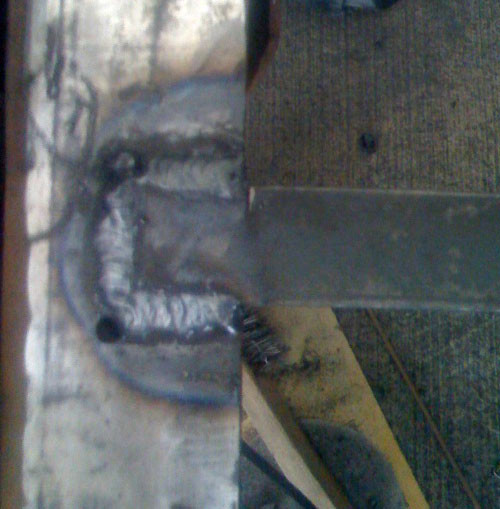 I made some mounts for the body to bolt to. Still have to weld them in though.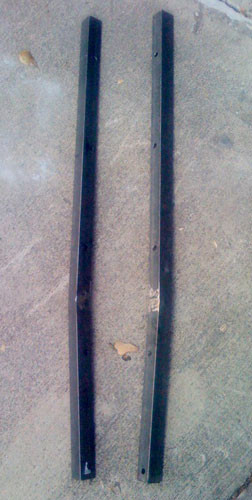 10-9-2008
Radiator for the bug in exchange for a little photoshopping. Courtesy of Ray. Thanks Ray! Needs a little cleaning but it's in great condition.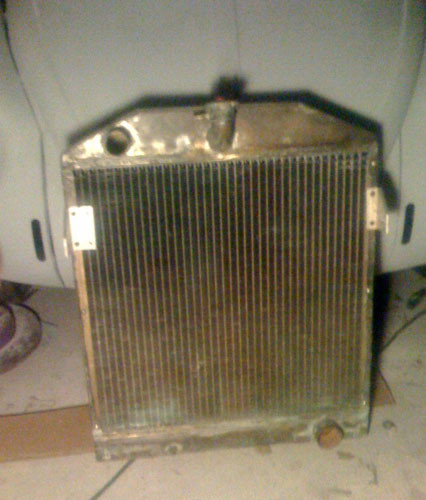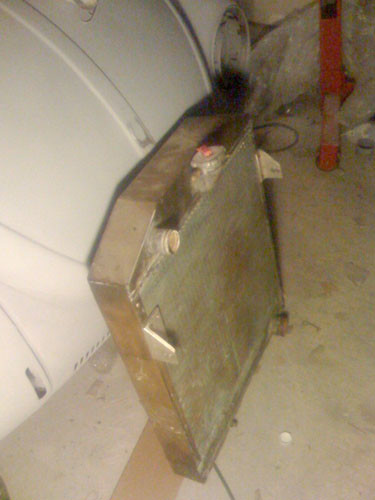 I did some test fitting / mocking up of the radiator and seems like it'll have to go in the back cause the sway bar and steering box is right where I need the radiator to sit. So I'll be building a place for the radiator to mount in the rear. Having the radiator and battery in the back should help distribute a little bit of the weight.
10-13-2008
Well, this weekend I managed to finish all the metal work on one fender and I got down a layer of bondo. Looks like it'll turn out just like I want it to. My metal work isn't the greatest, but I'll make it up in body work. Stick welding sheet metal is a biotchhh!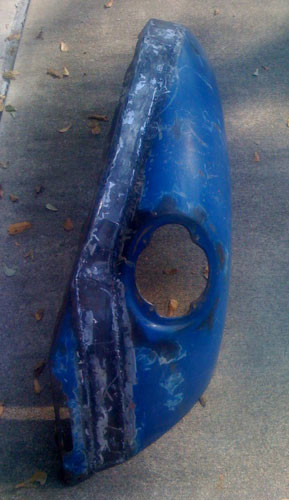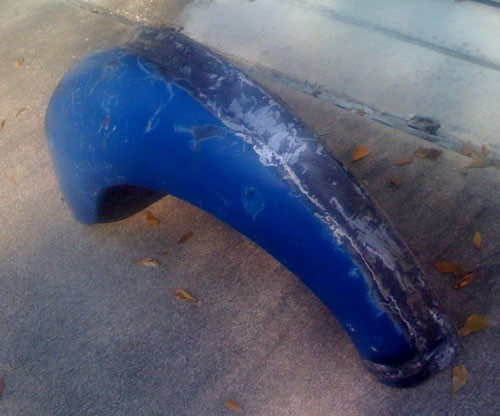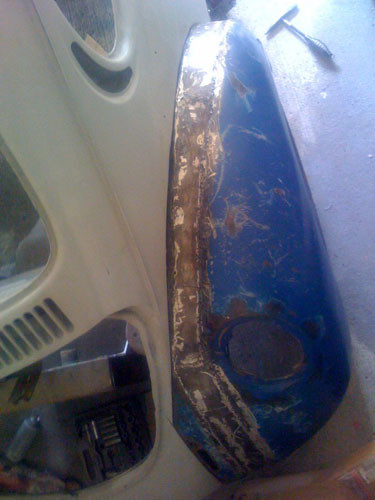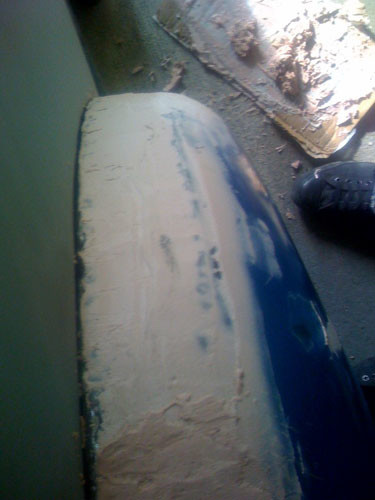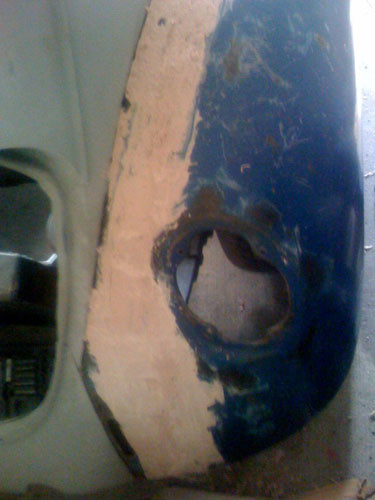 MasterSeries paint came in! This is what I'll be using to seal and paint my chassis. 2 quarts of silver and one gloss chassis black.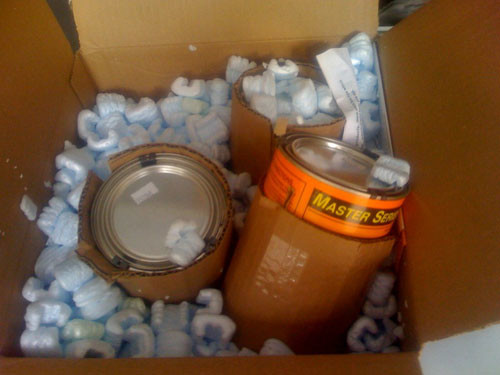 Next weekend I will hopefully have the other fender to or past this point.
10-17-2008
My goal this weekend is to finish the metal work on the driver's side rear fender (cut / weld / grind), to get some body filler down to smoothen out the transition from the natural fender to the widened strips, and to start shaping both of them.


I was thinking, the only thing in the way of me mounting the radiator up front is the sway bar. I'm wandering if I could cut it a little wider than the radiator and weld some metal, say angle iron or even some round tubing, so it's out of the way.

Like so...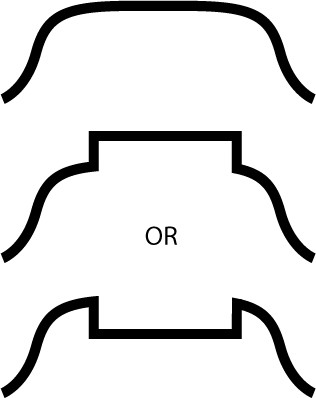 I guess the first step would be to see if the radiator is narrower than where the bushings mount for the sway bar.

hmmm.....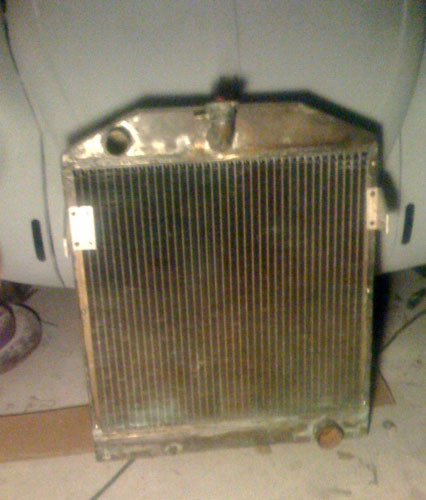 I'm thinking it could be cut and be tucked under the clip where the hood will latch, but above the louvers.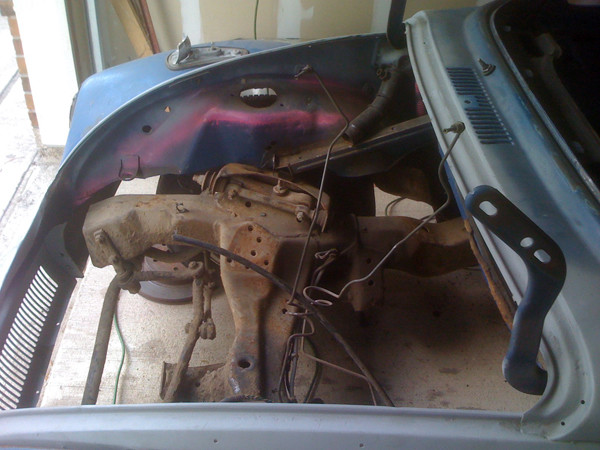 Well, here's the same radiator. What I mean by the same is I mean this is the radiator from this bug. The owner gave it to me. His bug is a super as well so there's the same amount of room. Just has to be slanted.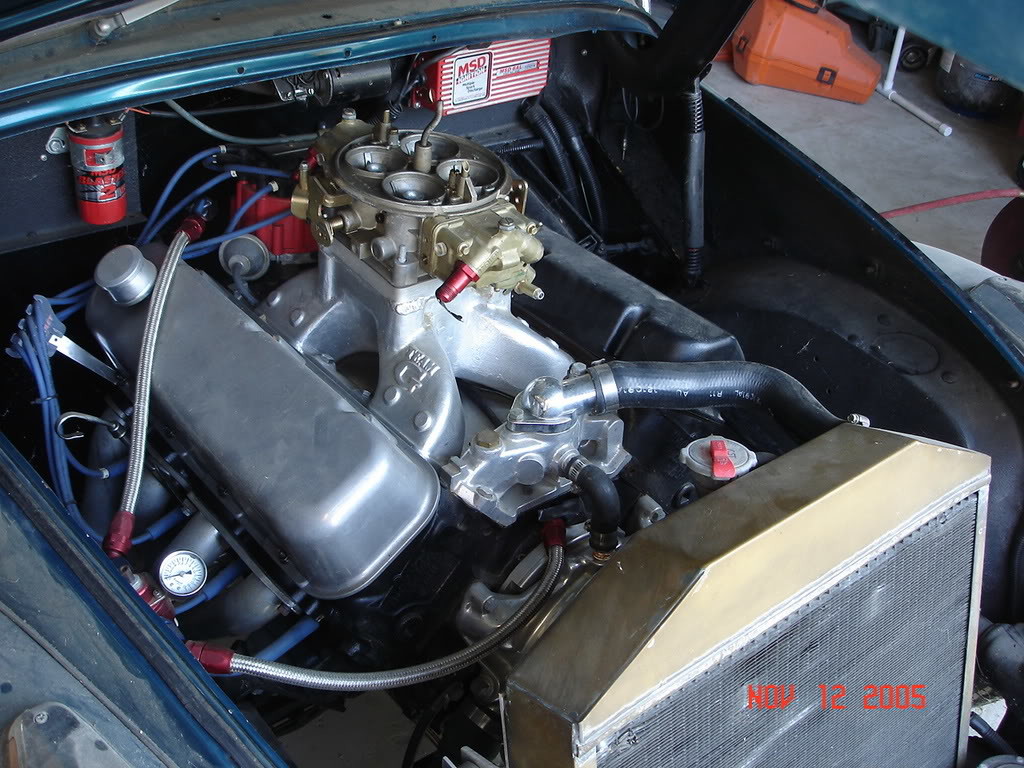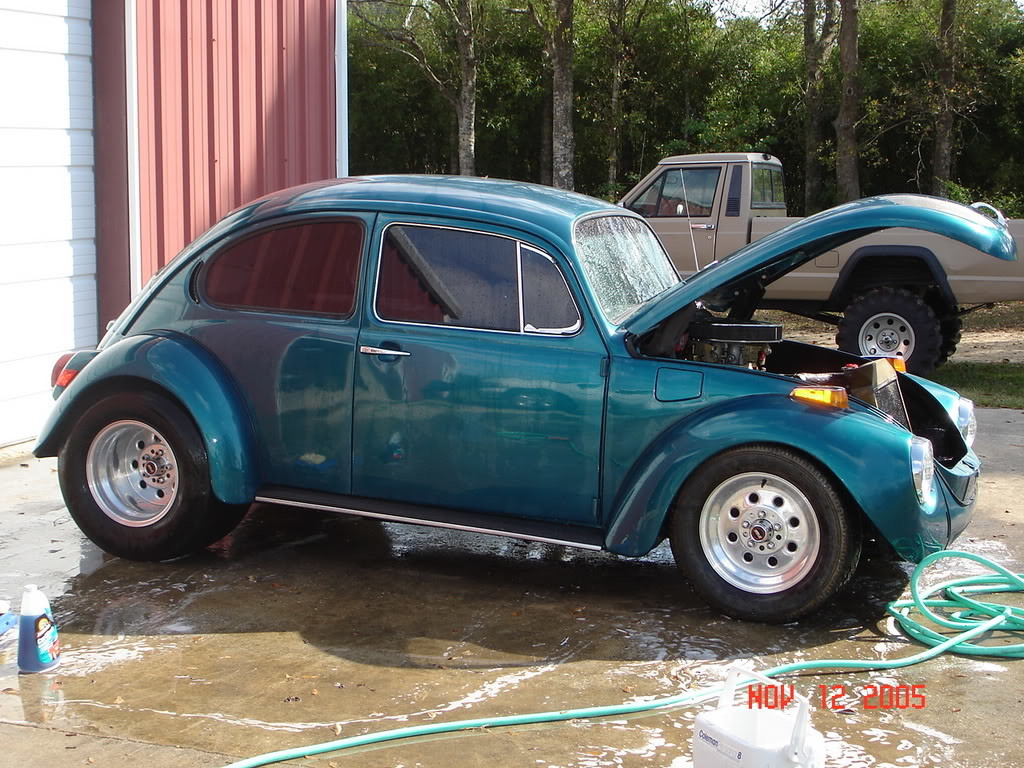 10-20-2008
A little update.

Finished the metal work on the driver side fender and got down the first layer of bondo.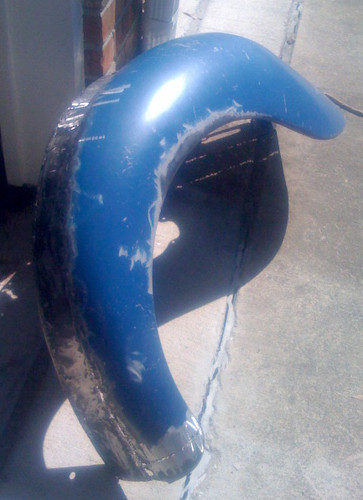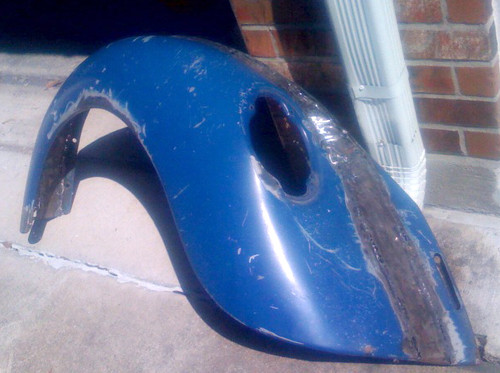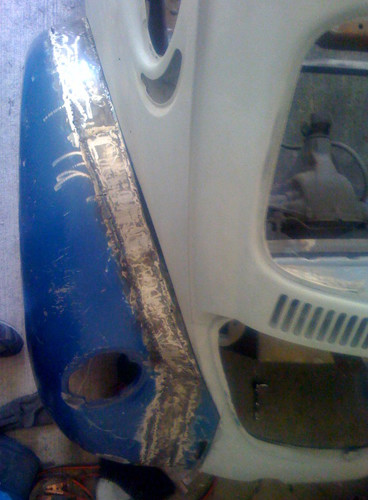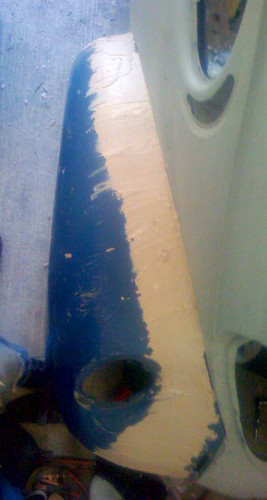 I started sanding the passenger fender with some 60 grit. Seemed like it took forever to knock down the bondo. I ran out of time before I could make any real sanding progress, but I'll need to get some 40 grit to move things along quicker.
10-27-2008
Quick update...

I worked on the rear fenders some more this weekend. I sanded down the first layer of bondo, tapped in some of the high spots and filled in some of the visible low spots. So far it seems like they'll come out decent. The shape is pretty much there, but there's a little filling and tapping here and there that needs to be done. And more sanding of coarse. Another weekend or two and I should be finished with them. This time I used a file to knock down and shaped the bondo as suggested.

These first three pictures are after sanding down the first layer.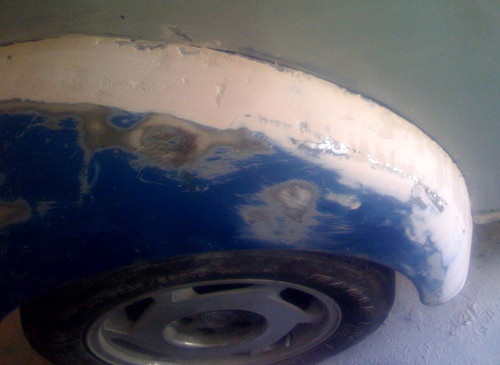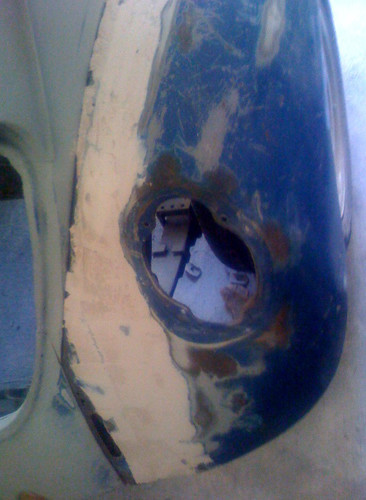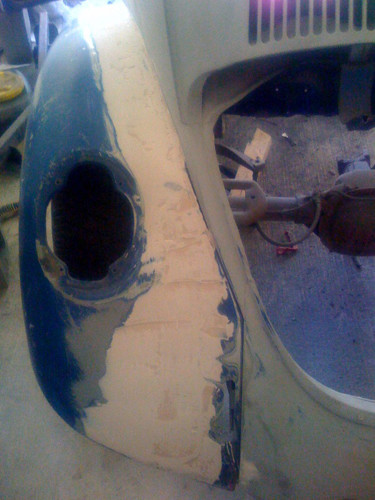 Here's where I'm at after sanding down the second coat of bondo. Still a lot more work to do but it's getting there.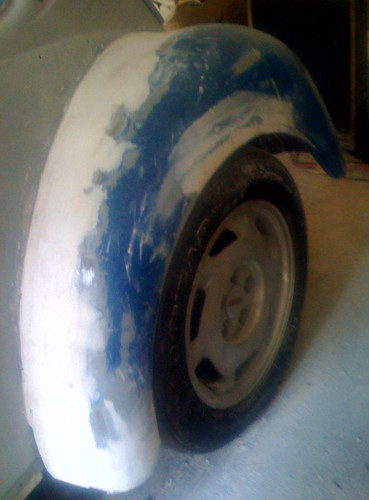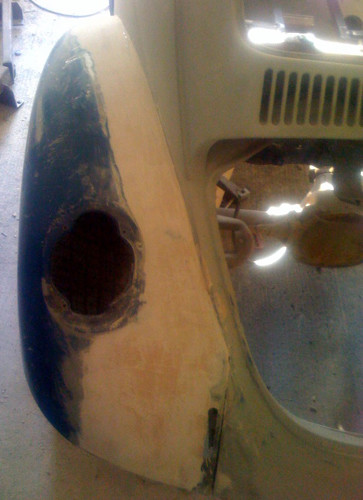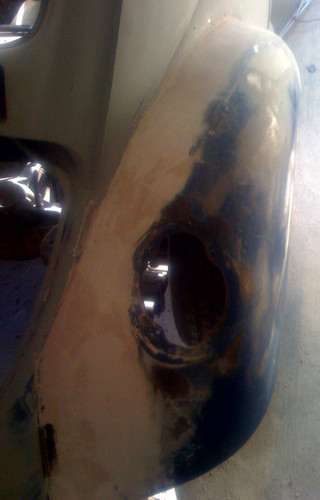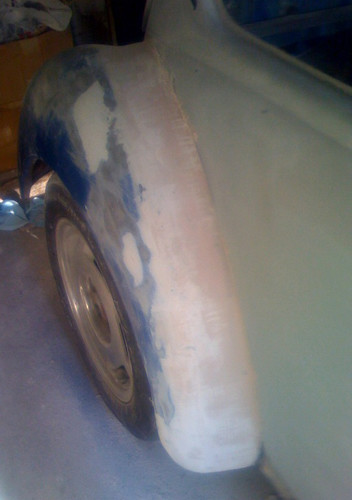 11-3-2008
This weekend I had enough time to finish the passenger side fender. Now I need to remove it and smoothen out the mounting edge. The removal should be fun.

A couple quick shots in low light before I left for work.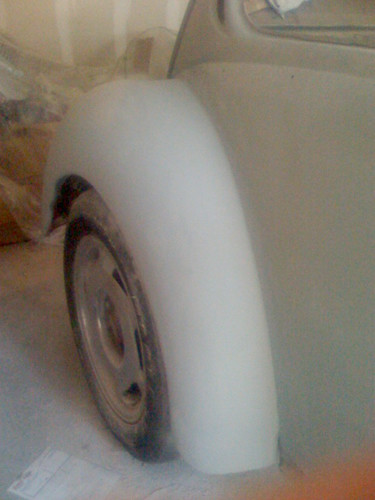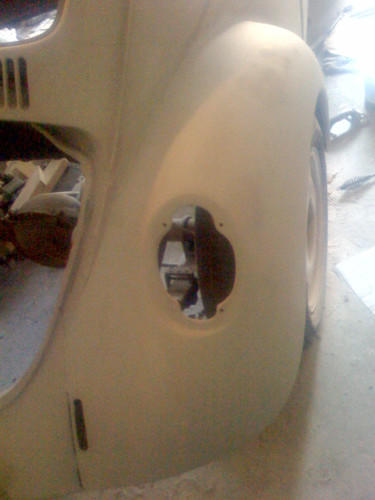 11-12-2008
Quick little update.

The fenders released quite easily. I went back and sanded down / smoothed out the seam edge, not pictured.
I did manage to work on the driver's side fender, but didn't quite "finish" shaping it. It needs a little more filler to smooth it out. I'll post pictures once I've finished shaping it.

I'm still sitting on the fence about whether or not to shave the bumpers on my beetle. I prefer the deleted bumper look, but I'm worried somebody might bump me one day just tear up the body of my car. Hmmm... This is really the last thing I need to sort out body work wise.
11-17-2008
Some more body work...

I pretty much have the driver's side rear fender done. Now I just need to remove it and smoothen the edges, but the hard work is over.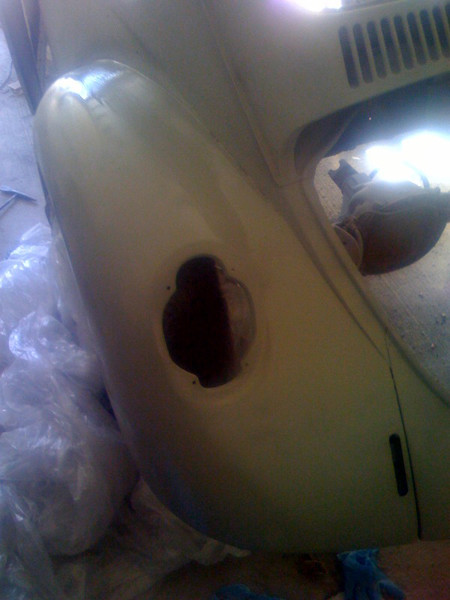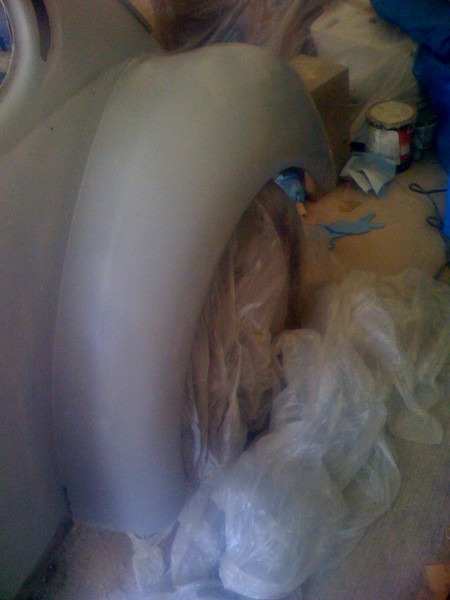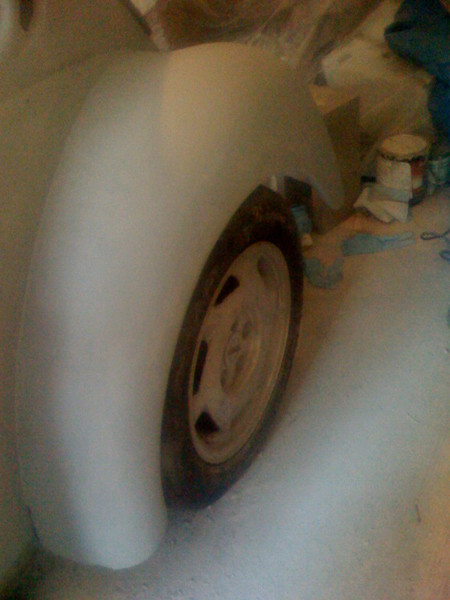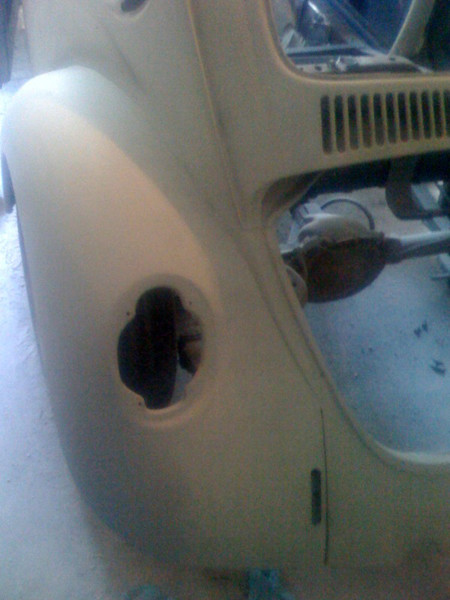 Just a little more work and I'll be ready for some high build primer. I'll have to have me a sanding get together and invite my buddy's over to sand down the body to get rid of the 40 grit marks.
12-1-2008
Shaved the bumper holes this weekend, but still more to do. So, yeah, decided to go bumperless.

Tack welded in filler strips. So much easier with a mig.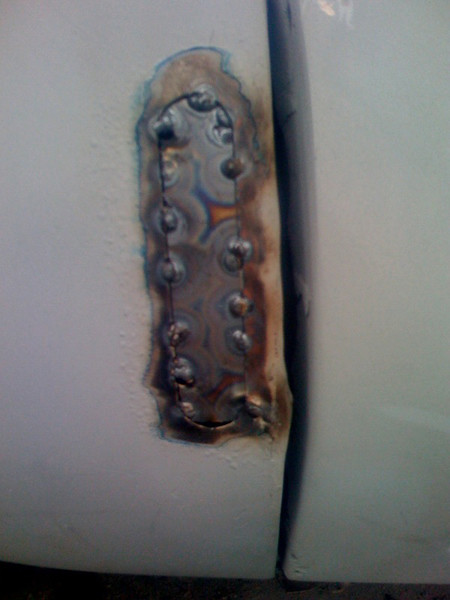 Then I ground the tacks down flush.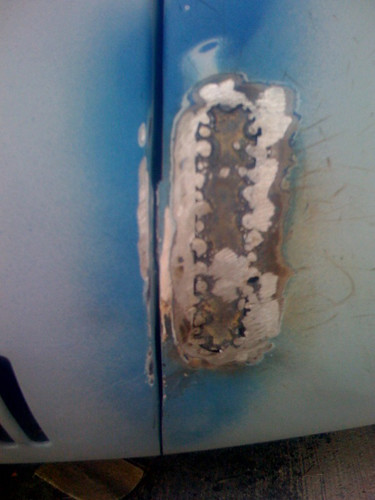 Filled with bondo and block sanded with 40 grit until flush.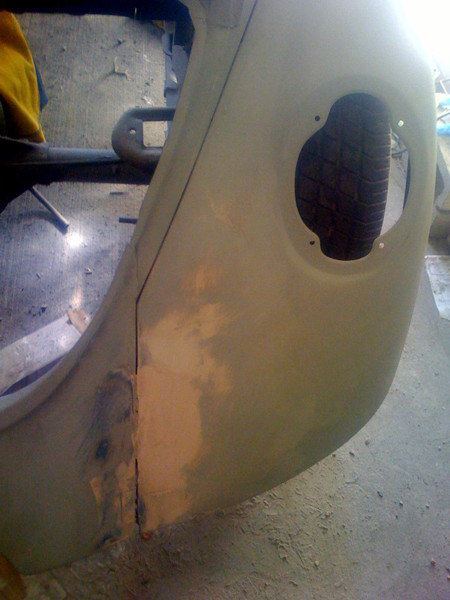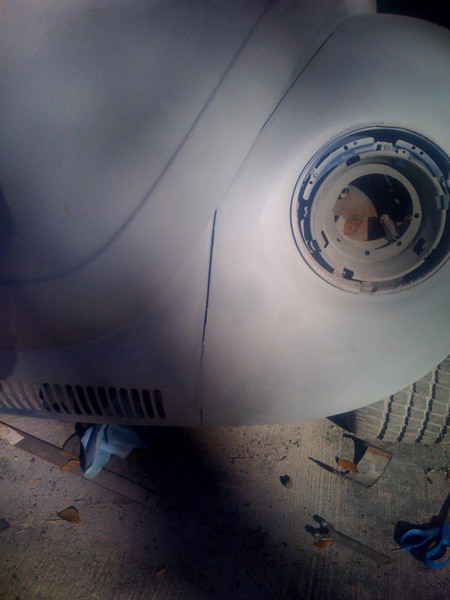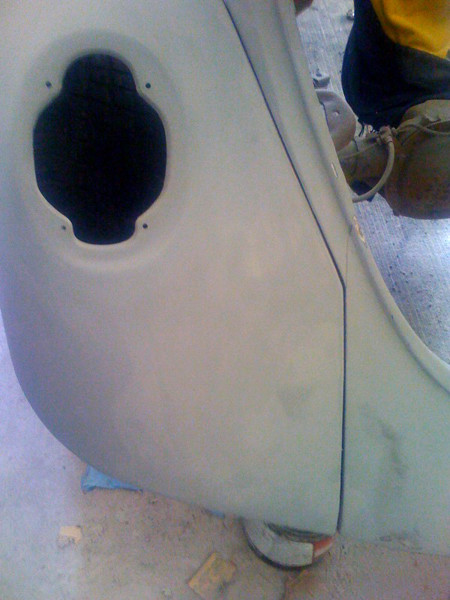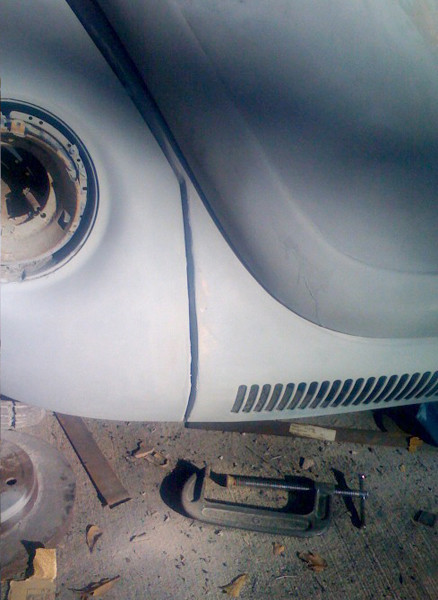 I didn't get a chance to finish the rear passenger fender cause my bro showed up ready to drink some beer and play the wii. Sometimes free time is hard to find...but was fun nonetheless. Still have to finish that one fender and remove a couple of them so I can block sand the seam edge flush.
12-12-2008
Latest vision of the bug. I was thinking silver or blue, but went back to my original concept but with some C4 black vette wheels because I see so many blue metallic supers it's not even funny.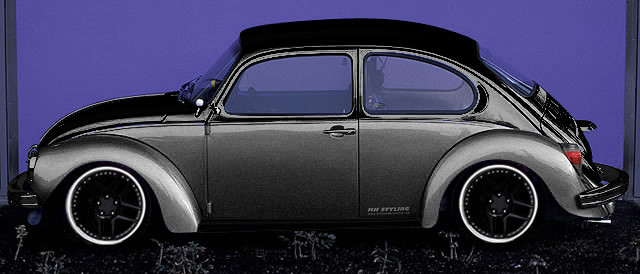 Also, last night my Mom ordered me some car parts for Christmas.

Isky cam #201278
Some Z28 type valve springs to upgrade my vortec heads - #205-D
Shim head gaskets - .015
Tranny and frame pad mounts.

I'm going by F-Bird'88's recommended build. I actually just ran across this video of how the build will sound. I'm sold on this build.

Here's the video.
12-15-2008
I had a good amount of time this weekend to get some things done. So much so I'm starting to run out of things to do body work wise...

I finished shaving the fenders that needed finishing.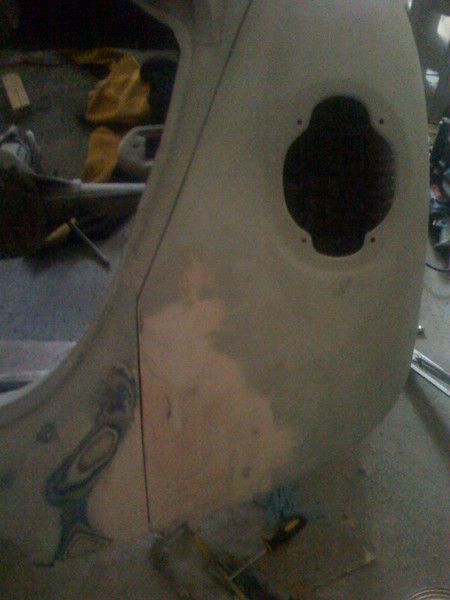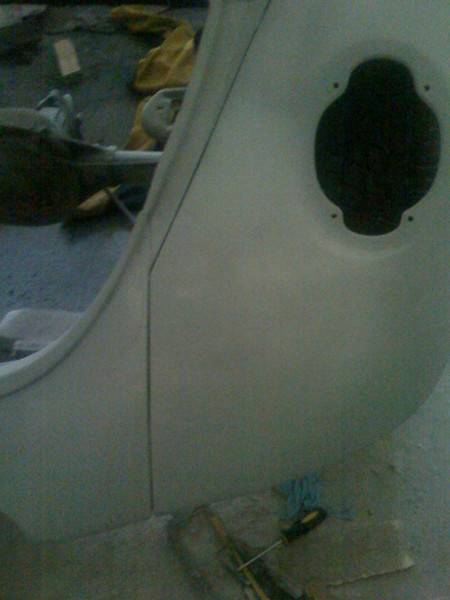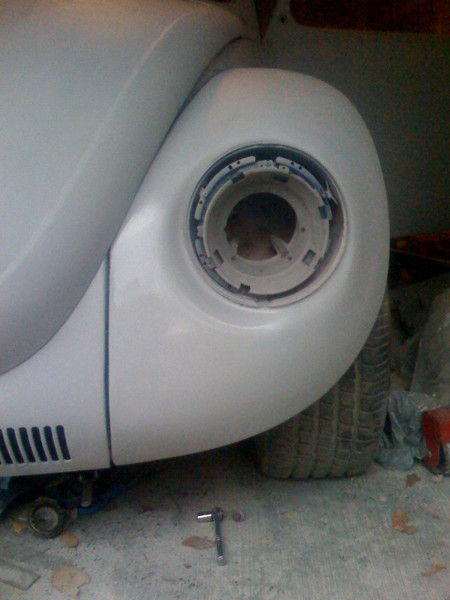 I also shaved the hood handle. I just cut off the button latch.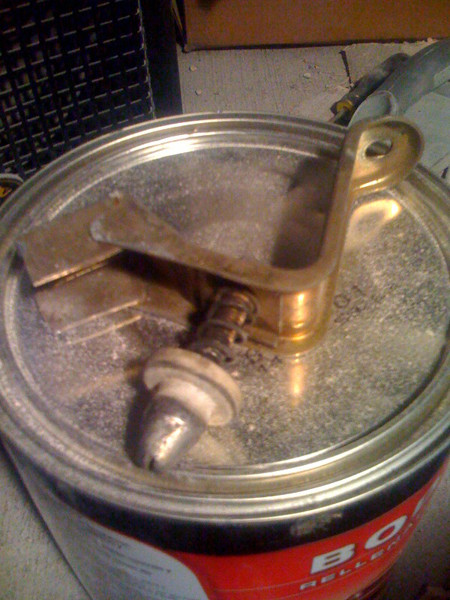 Prepared the weld area.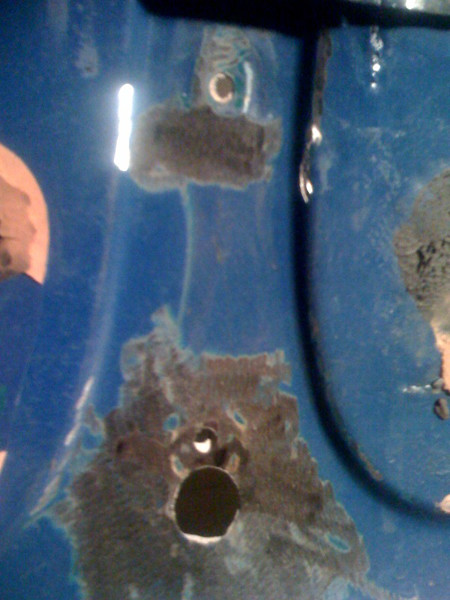 Bolted the handle assembly on with a little 1" square piece of 22 gauge sheet metal to fill the button hole.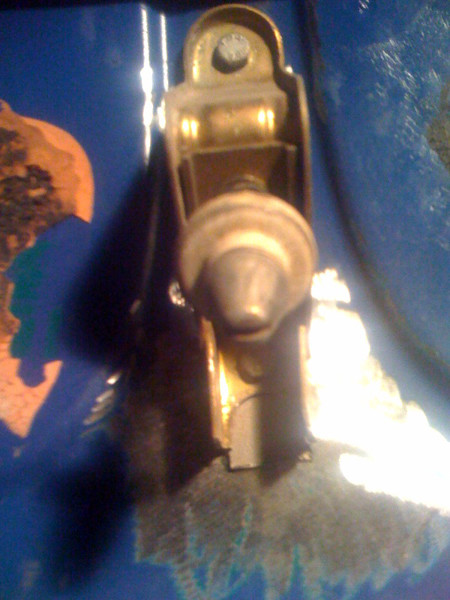 Welded in the handle, welded the handle to the filler piece, and that piece to the hood.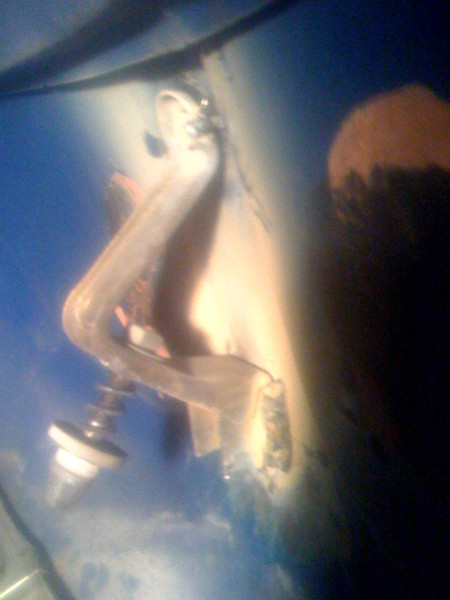 I then used a cutoff wheel to cut the handle down flush. I the weld the bolts and filler metal to the outer metal of the hood.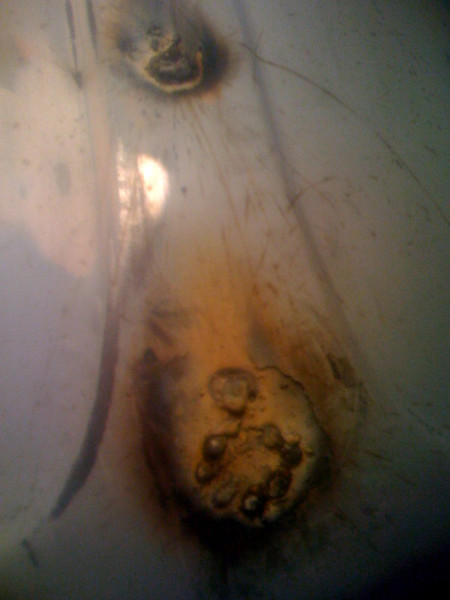 Then I ground it flush.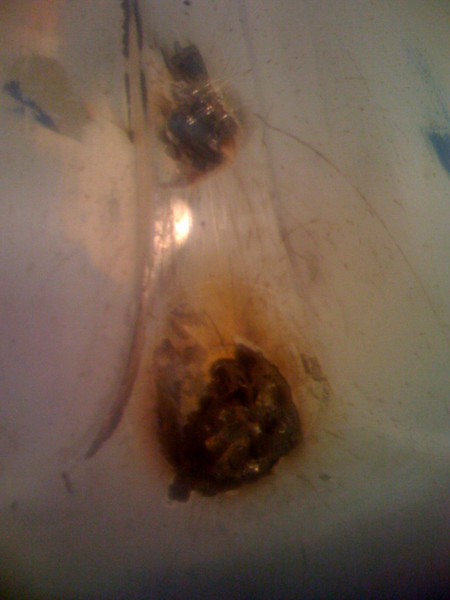 A little body filler and block sanding.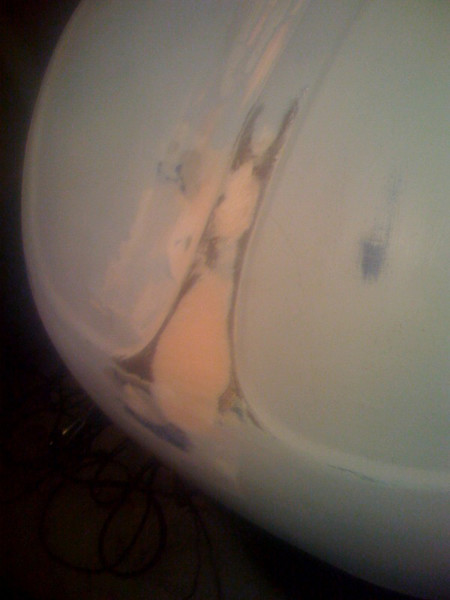 And voilà...Finished!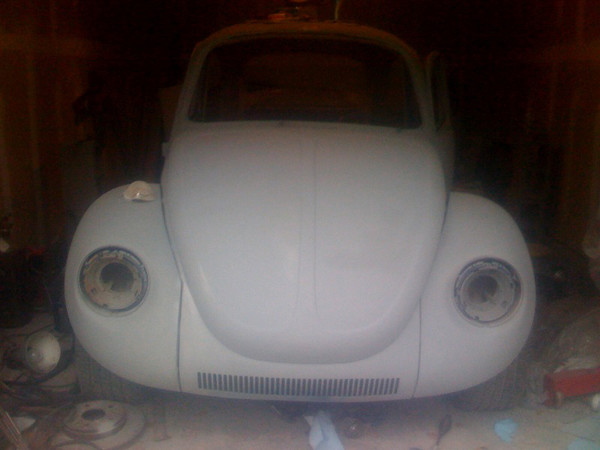 Next, i want to delete the crescent moon vents and that should be about it body work wise. The onto building a roll bar.
12-29-2008
Hey guys, update time...

Got some needed parts for Christmas. Motor mounts, tranny mount, shim head gaskets (.015), torque wrench, isky cam #201278, some Lunati valve springs, and Comp Cams double roller chain setup. I'm just lacking a flex plate and harmonic balancer to complete my motor.

Did some body work. I shaved the vents on both sides, but kept the indention behind the vents, which I like.

I drew out a template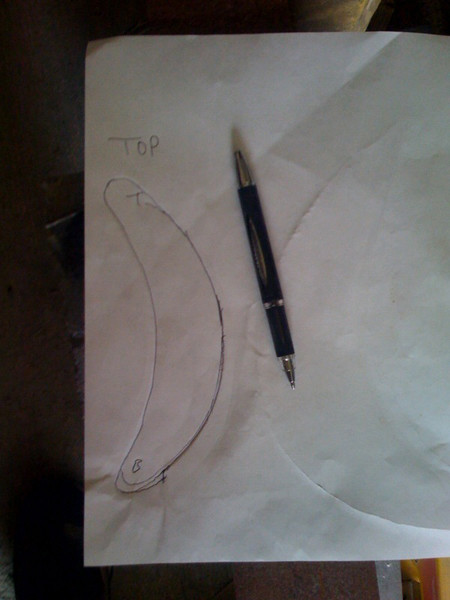 Cut the crescent moon shapes and test fitted.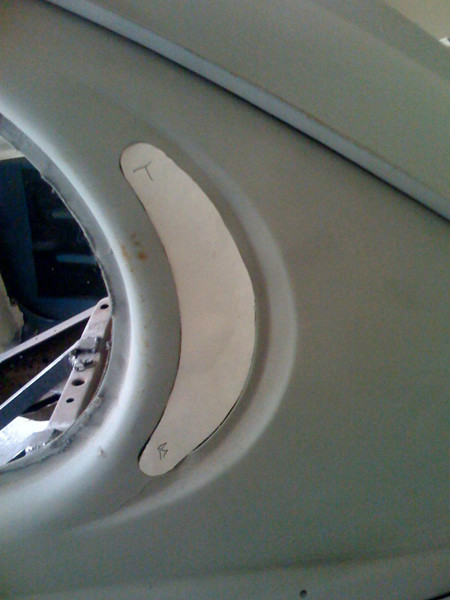 Then cut the shape out of some 22 gauge sheet metal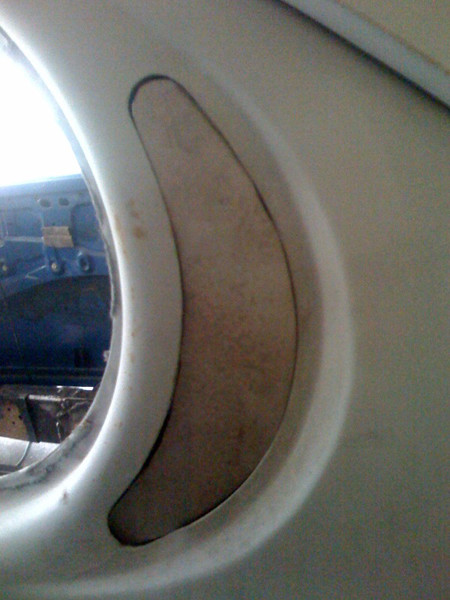 Cleaned up the weld area with a 40 grit disk.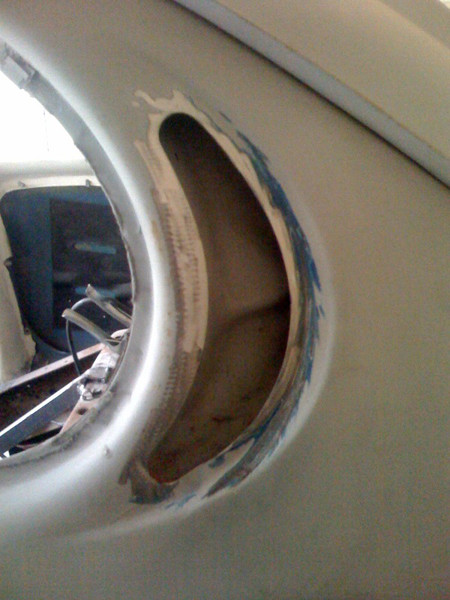 Tack welded it in place. I would've welded it up some more but there was a bit of rubber that sealed the vent in there... It caught fire a couple times, slightly. So I did enough tacks to get the job done.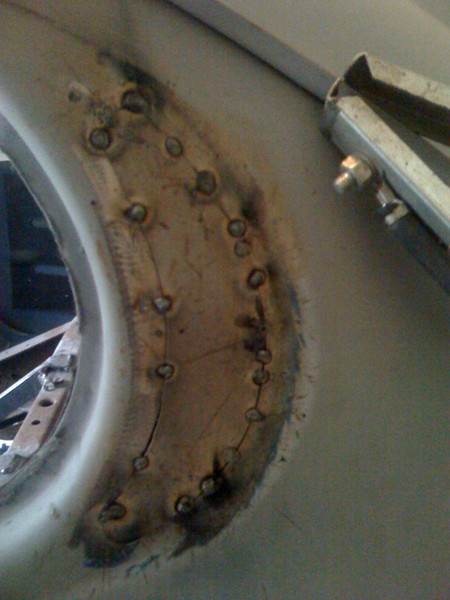 Ground down the welds flush.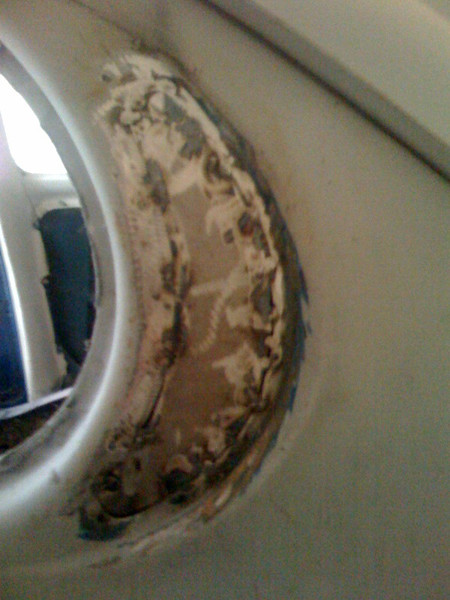 A little body filler.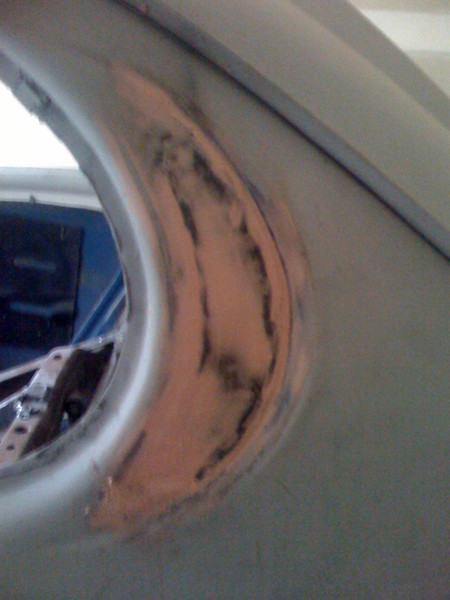 Some block sanding, little filler, block sanding....etc.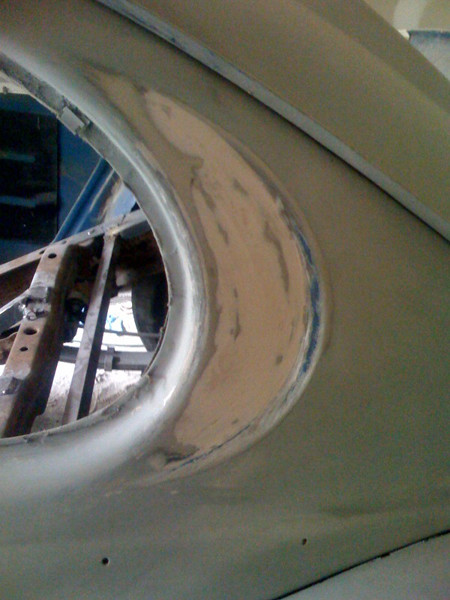 Hit it with some primer. There's still some little pits so I'll have to go back and work with it some, but it's pretty much there.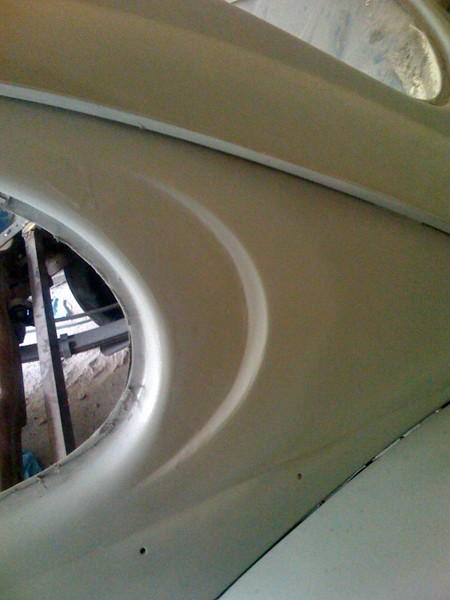 Same for the other side. Still a little work to do.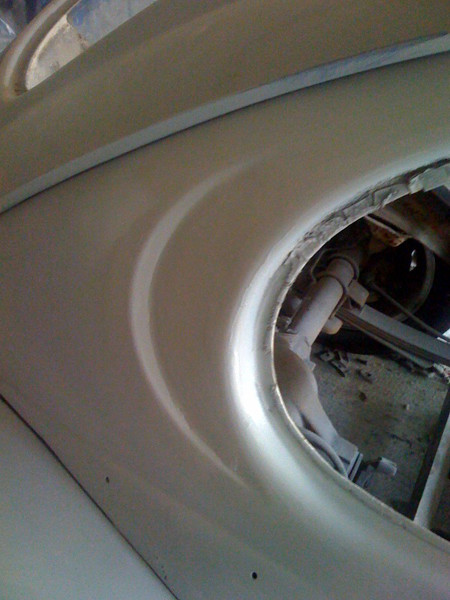 12-29-2008
I trimmed out some more of the body not that everything is pretty much where it needs to be.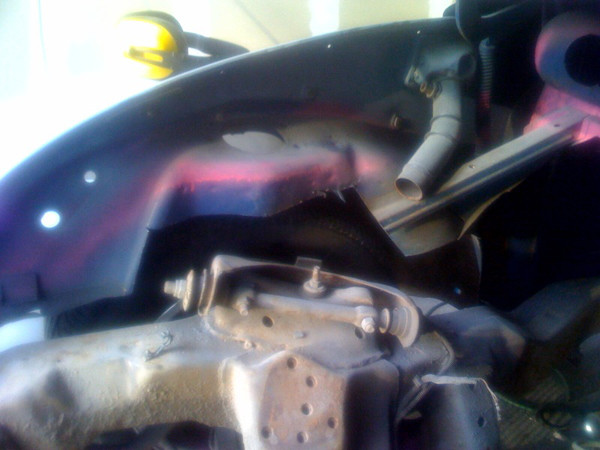 I got a little carried away on the driver's side. It was tough cutting through the supers strut housing and the gas tank mount. ;D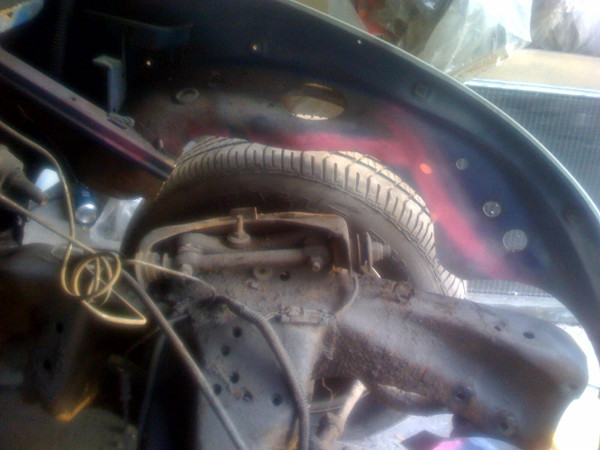 1-5-2009
Some updates.

A little more body work basically. I finished off the fresh air vents. They had little pin holes and needed some more block sanding. So that's done. Then I needed to close off the gap between the passenger fender.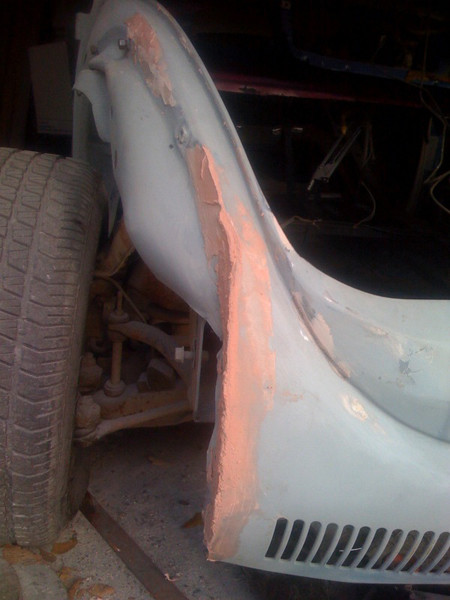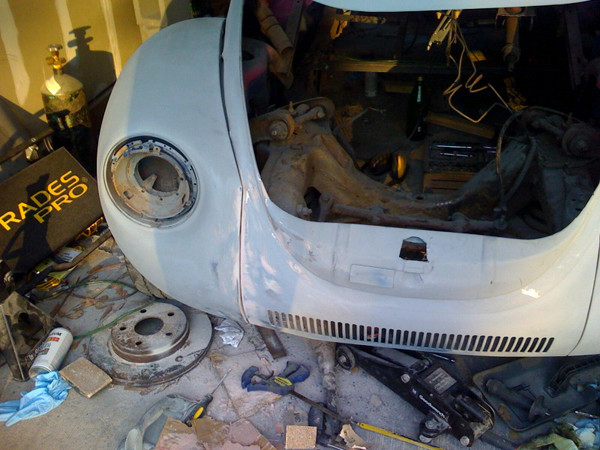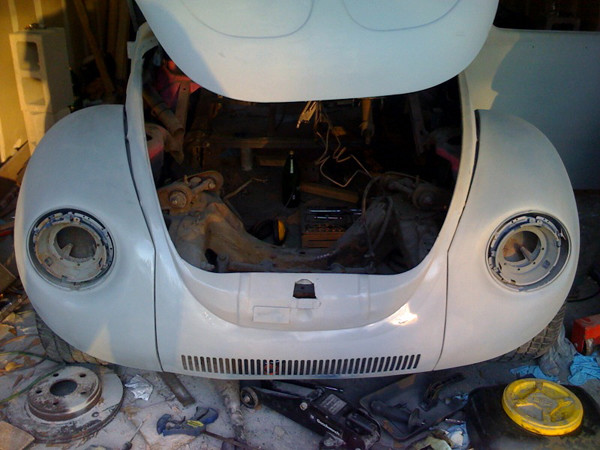 You can tell from these pictures, but I figured it was time for some sweeping. So I had to jack up the bug and remove the front tires cause they went low. Took and filled them with some air. I took I picture so you could see just how well the stock S10 width works and perfectly under the stock fenders. The spacers are to give enough room for the vette wheels.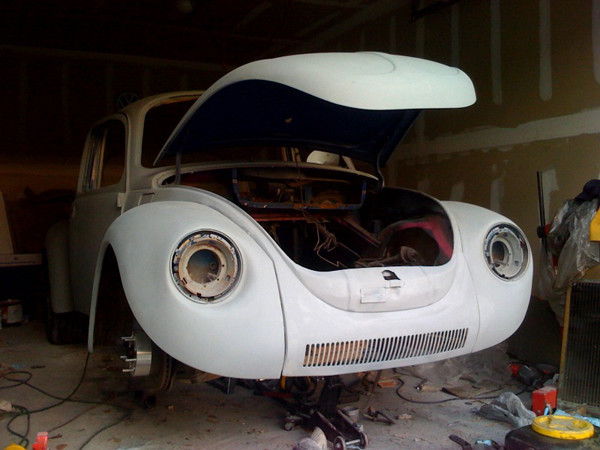 While I had the car rolled out and was cleaning, I snapped some pictures of how the body looks now.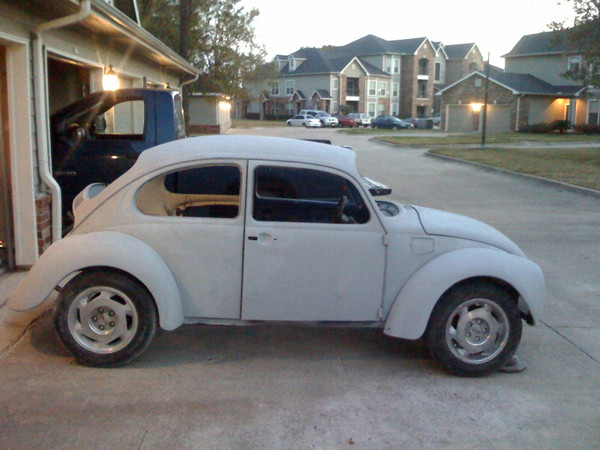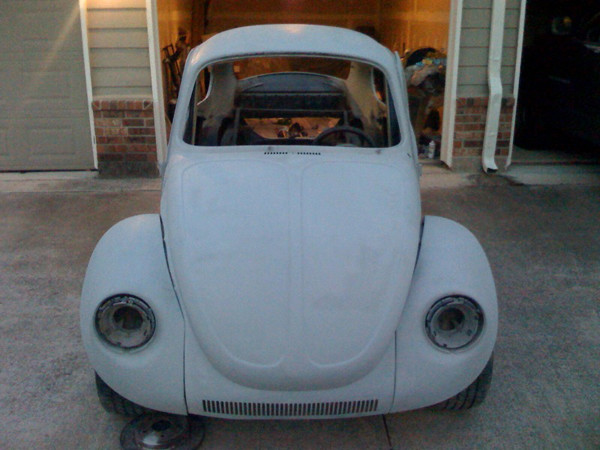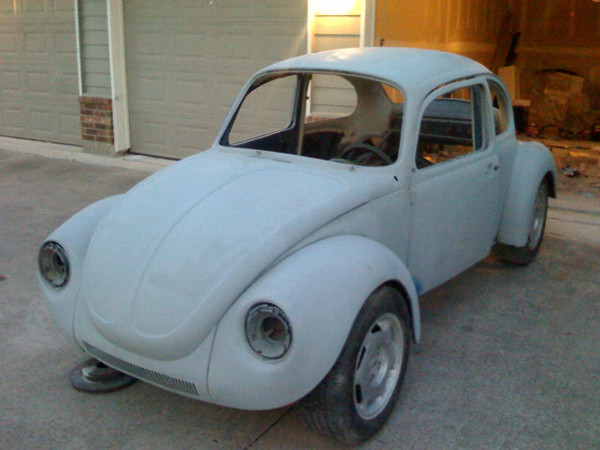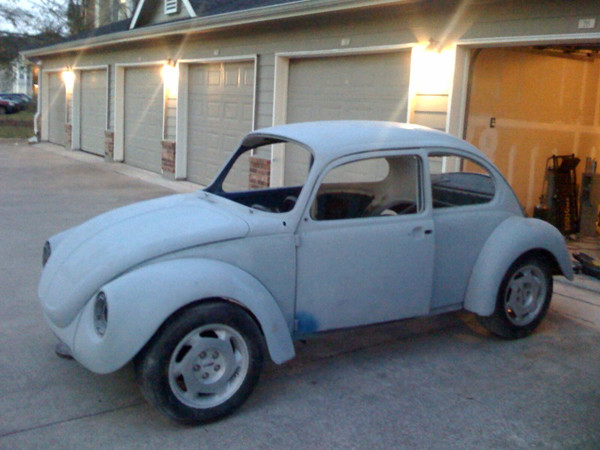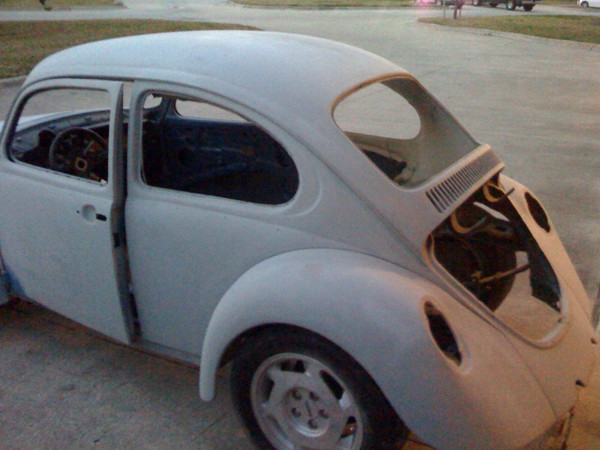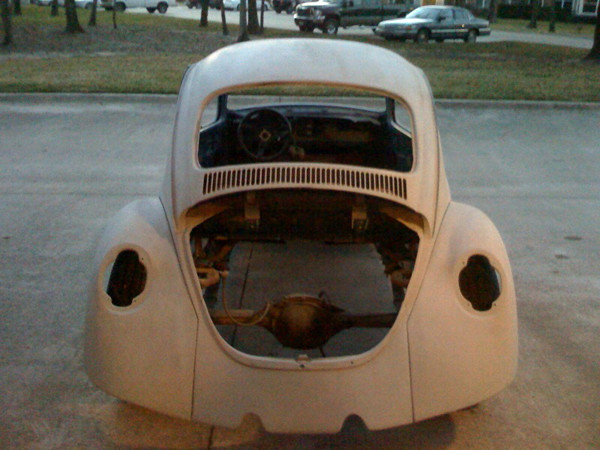 1-9-2009
While your at it, why don't you throw on an exo cage. Just kidding.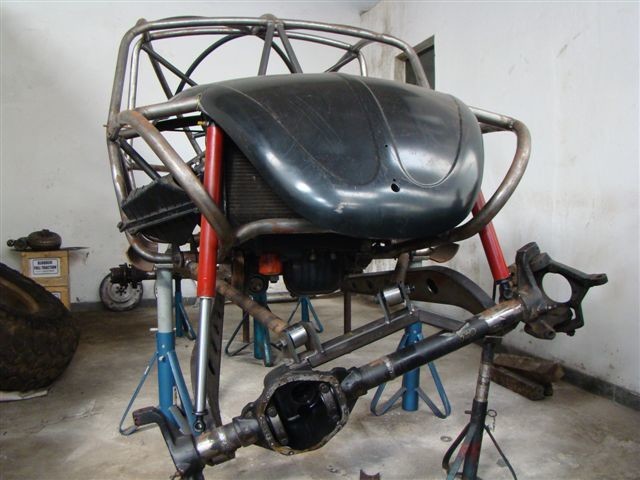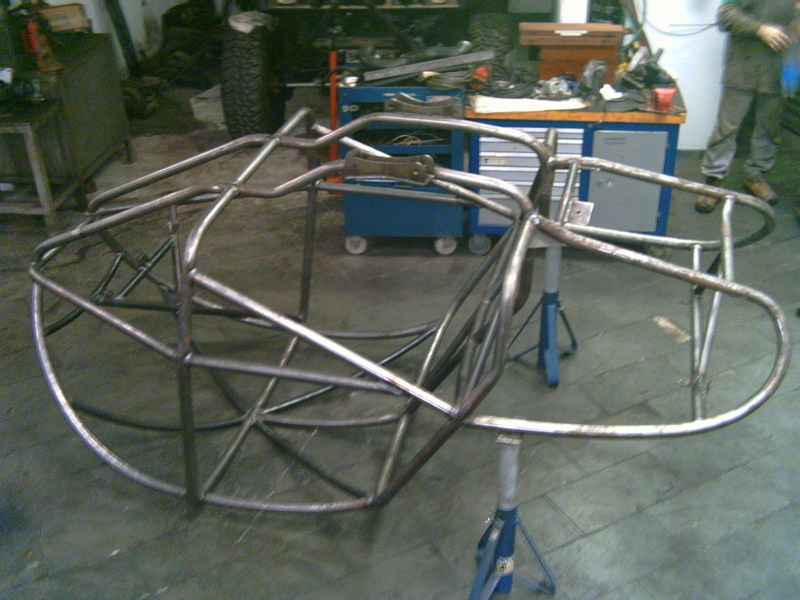 2-2-2009
Finally, some updates...

A few buddies came over this weekend and we took the body back off the frame. This time she's sitting on 4 blocks at each corner instead of two, LOL! ;D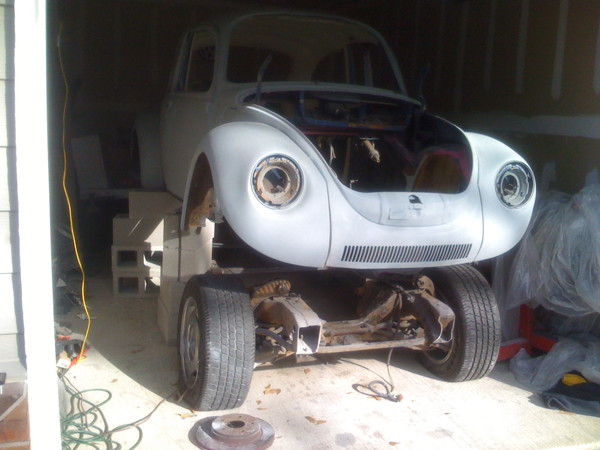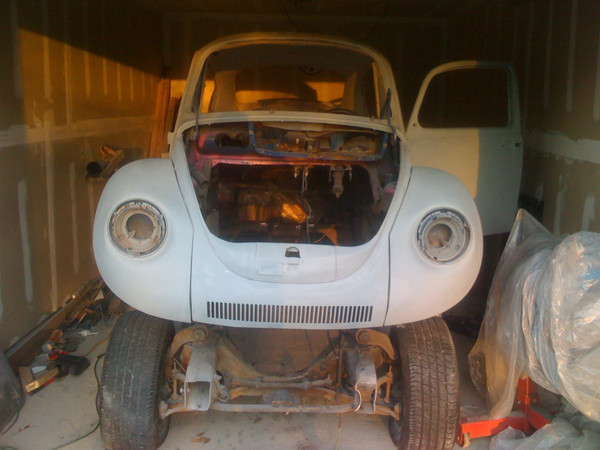 At this point I'm welding up tack welds, would've completely welded some parts but they were too close to the headline, I added a couple fish plates to reinforce the shackles I welded in, and I'm welding up the top of the body mounts.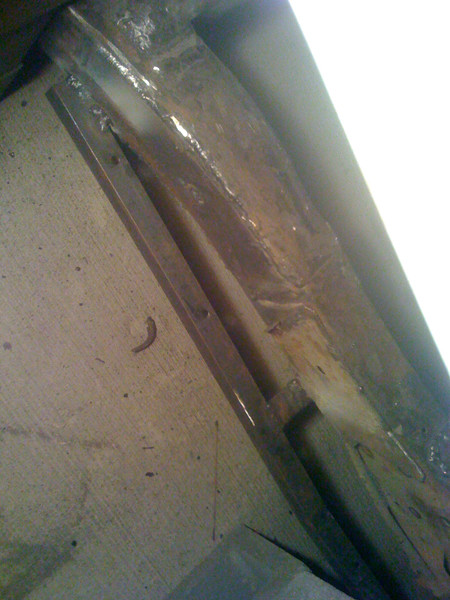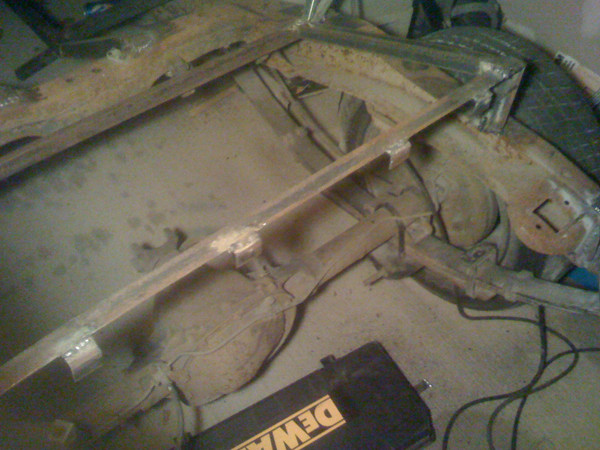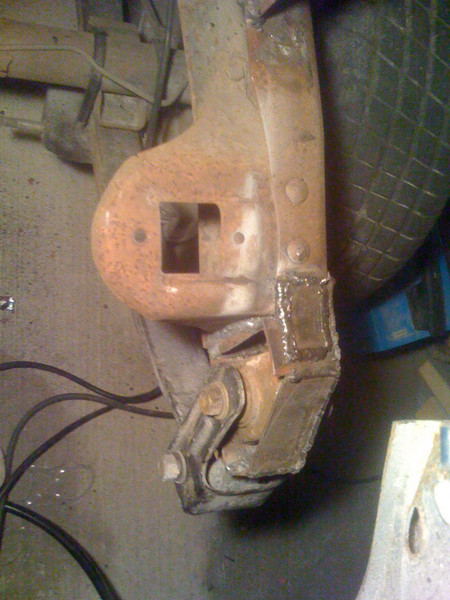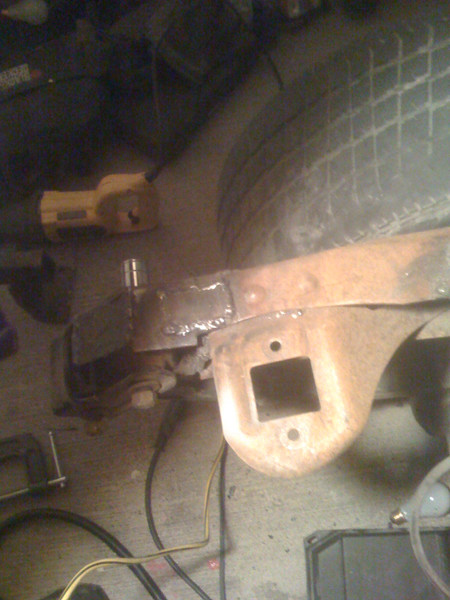 Next, I'll weld some caps onto the front of the frame, and weld in the "bolt-in" 6 point roll bar plates I bought. I'm doing this so I can remove the body (plateswelded to frame, the cage will be inside the flooring once built and I'll be able to bolt it all up) later down the road if needed. Should make for installing the engine easier.

Then the frame is coming apart, I'll weld up the bottom of the frame (suck at overhead welding with the stick welder), small parts will be sandblasted, the frame will be power washed, and then I'll paint it and start rebuilding it with new bushings / ball joints.

Once all that's done I can do the fun part. Motor, tranny and install!
2-12-2009
Yesterday I ordered the rest of the parts I need from Summit to put my 355 sbc together with the money I got back from my tax turn.

Fuel pump, high volume water pump, oil pump, gaskets, thermostat, comp cam timing chain, flex plate, aluminum crank pulley, harmonic balancer, etc.

Basically everything to finish off the engine. The only thing that will be used is the oil pump drive shaft, the fuel pump push rod, the block and internals (pistons, crank, rods). I'm going to freshen up the bottom end with some new bearings and piston rings. So a good clean up and a light hone is in line, soon.

Yesterday I also got a good deal on some used wheels for the V8 bug. They're C5 corvette wheels, 17"x 9.5" up front and 18"x 10.5" in the back. . The 88' vette wheels just didn't have the look I want for my car, but they're fine for mocking stuff up for now until I can buy new tires. Got them for $150 and they're in really great condition. Just the normal small scratches on the edge of rim lip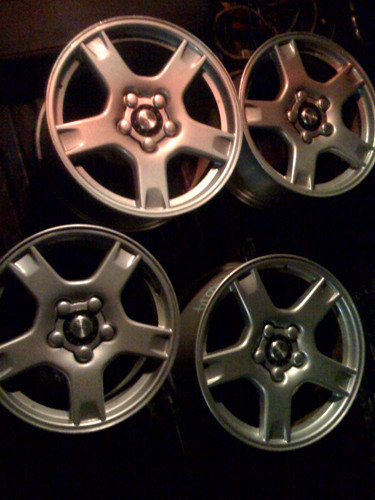 Also, on Tuesday I finished off the passenger side body mount that bolts to the heater channel. All it was needing was a piece of angle iron to reinforce it. Cut a 3" piece of angle iron, cleaned it with the 40 grit disk as well as the chassis, and welded it in. Strong and ready to go...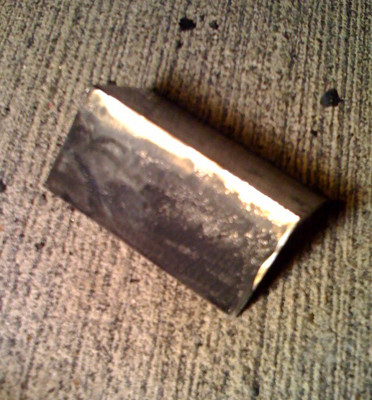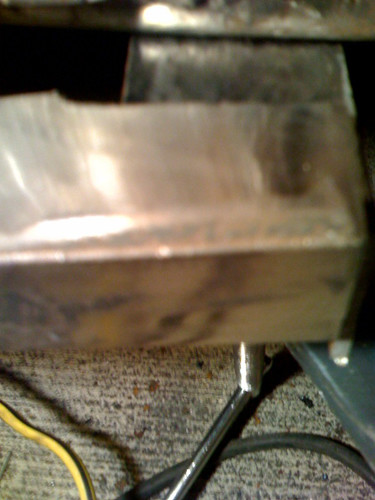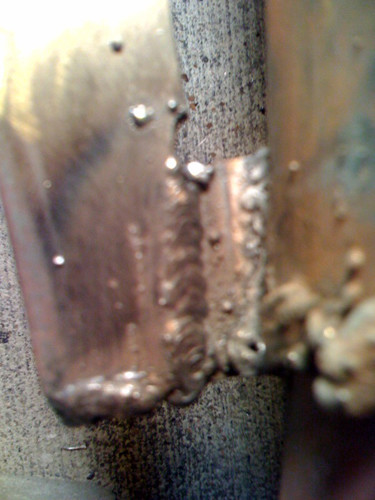 I can't wait to get the chassis finished so I can put the engine together!
2-13-2009
Here we go. I did a version with the wheels the metallic grey as they are now and a version with them painted black. They're supposed to look glossy black but I had a little trouble getting them to look glossy, but you get the idea. I like the wheels black better, but with them silver they'll probably look larger than they really are.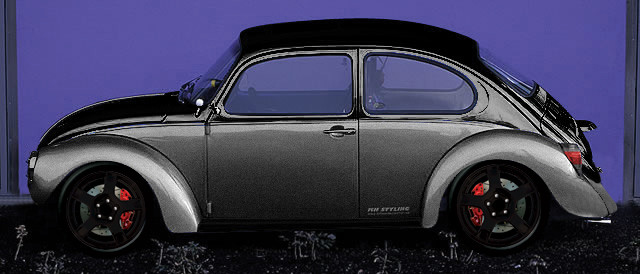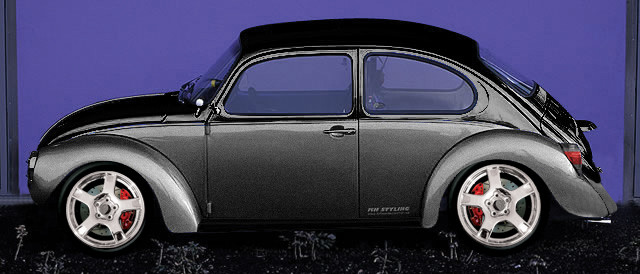 Might even through in the red stripe for the extra racy look.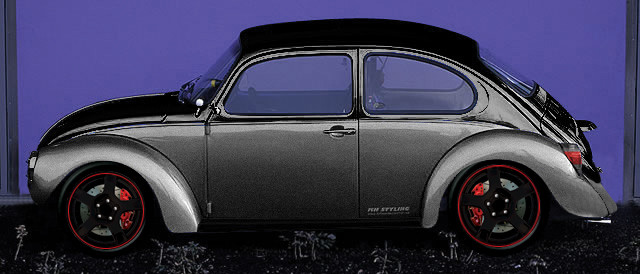 2-16-2009
My parts came in from summit. ;D For Valentines' day my fiancé got me a DVD from box wrench on basic engine rebuilding which is excellent, and a Ron Sessions book on rebuild a TH 350.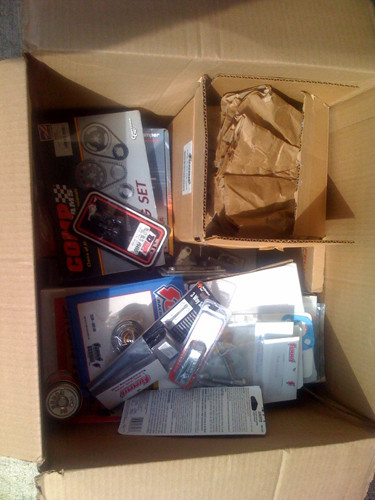 I made good progress this weekend. I drilled holes to bolt down my gas tank.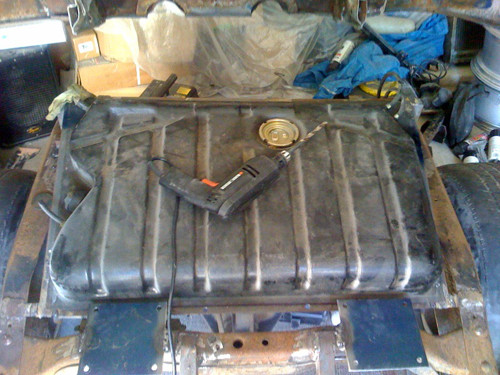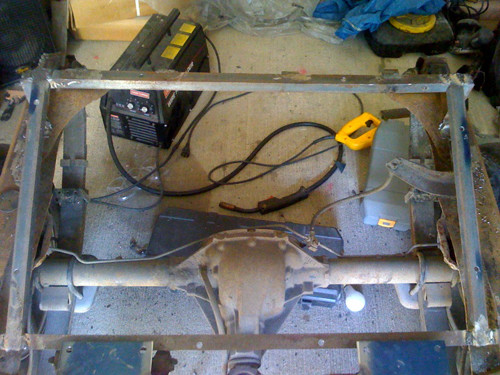 I ground the front frame caps to clean the appearance up.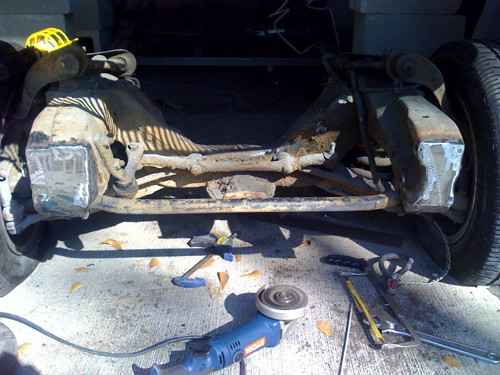 I widened the side body mount holes some to give me a little room to shift the body some and I starting disassembling my chassis so I can finish the welds underneth and get it all painted and rebuilt.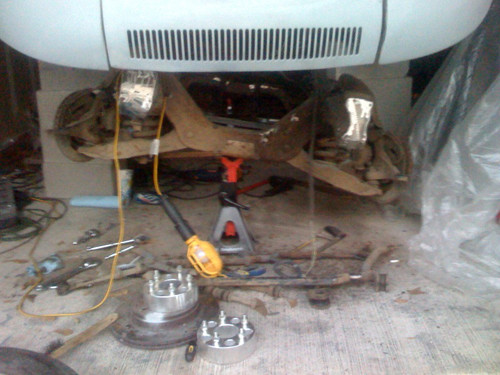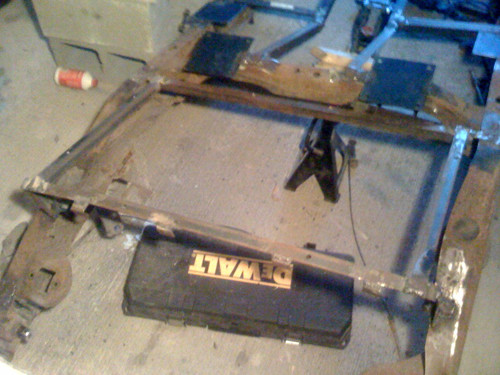 That's about as far as I could get without a ball joint separator, which I'll need to borrow, to remove the spindles.
2-17-2009
Cool! I used leaf springs out of a mid 90's Isuzu Amigo and I flipped them around so the longest end is upfront, if that makes sense. Here's a comparison of the two.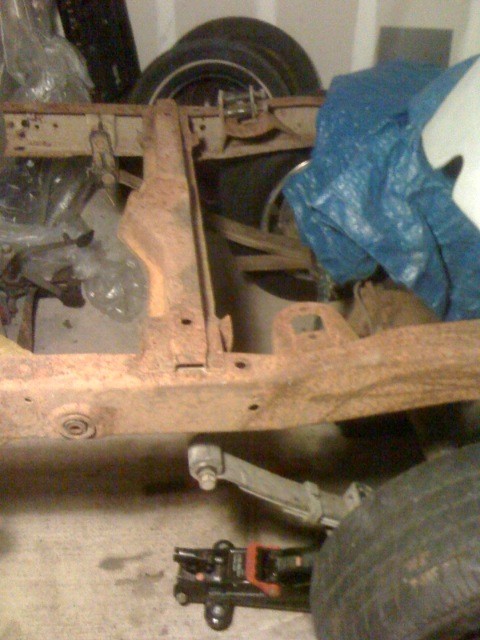 The longest end just so happened to be the same length from eyelet to center / mount (sorry, forgot the exact term). You might want to look around the junk yard and see what you can find, that's pretty much what I did. I believe the S10 leafs are 2.5" wide and the Isuzu's are 2" wide. I don't recall the length of the S10 springs, but if I had to guess they were 55"-60" long, and the Isuzu springs are 44" long. As long as can you find some similar in size you should be good.
2-20-2009
Last night I finished disassembling the chassis. What a DIRTY mess. The front of the frame is caked with dried up mud. I've got a lot of cleaning and sandblasting of small parts to do. My plan is to hopefully power wash the frame this weekend and I'll sand blast some parts here at work.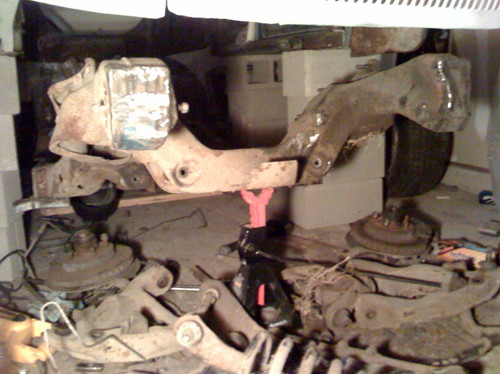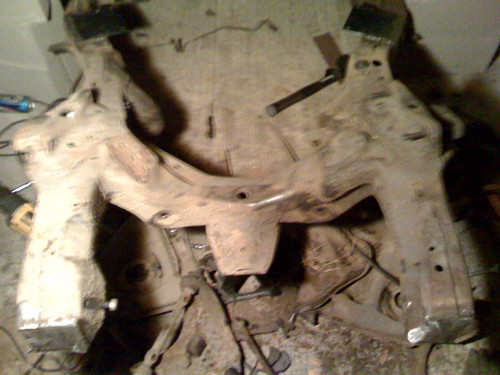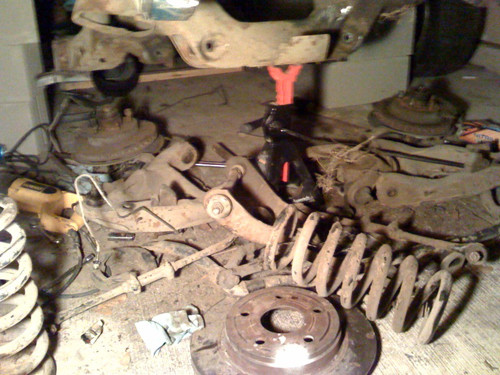 I went to autozone to see if they had a ball joint separator to rent and I didn't realize how many great tools they have to rent. From piston ring compressors, oil pump primers, etc. Lots of tools I'll need and almost bought. I'm glad I didn't buy any tools right away. I will end up buying a good valve spring compressor from summit cause the one autozone has isn't all that great.

More later...
2-23-2009
OK, so by this weekend I had "Johnny 5" disassembled and the frame and suspension parts were ready for a good wash. I called up a couple friends to see if they could help, but as usual they were busy and I had to figure out a way to do it solo if I wanted to get anything done.

First I had to widen the distance of the center blocks so the frame could slide out which required some thinking. I need to put the good old 2x3 boards under the car again to keep the body suspended. I lifted one corner at a time and slid a couple small cut pieces of wood under the body. This allowed me to slide the lumber under the body and so I could move the stack of center blocks out. Needless to say this was a tedious process, but I got it done safely.

Next, I had to find a way to load a 400-500 lb car frame in the back of my truck solo as well. I ran a board under the back of the frame, put my floor jack under the board and jack it up so the rear could roll. While crouching I had to lift the frame "horns" and slowly pull the frame out. Wasn't too bad, just required some thinking.

Then I had to get it in the bed of the truck. I lifted the front of the frame into the truck and pull it in just enough to get past the lower front suspension arm mounting points so nothing was dragging. I call the jack again, put it under the front cross member so it could roll, and I lifted the front of the frame and rolled the whole thing forward. Pain in the arse, but I got it done. The drive to the car wash was right down the street so I didn't have to go too far.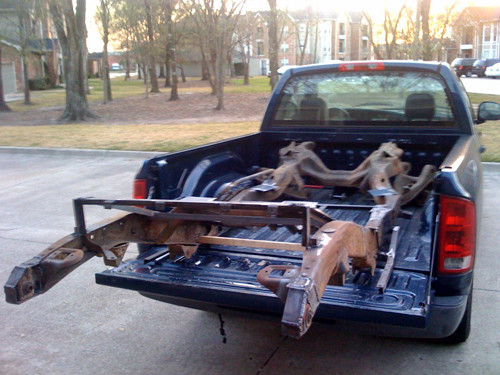 So as I was power washing the frame I need to flip the frame over so I could give the underbelly a good wash. As I rolled the frame on it's side while still in my truck bed the frame got away from me and landed on the side of my truck bed. Put a nice soft ball dint in the side, it pounded the corner right above my right rear light taking off a section of paint about the size of a golf ball, and it put many scratches in the paint. All I could do was get pissed for a moment and say oh well.

Here's the frame upside down after all that mess.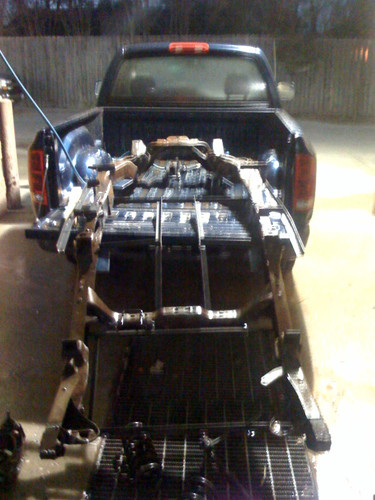 So I again had to flip it over with about as much luck as the first try and took the washed frame and parts home. Now it was time to get the frame out and back into the garage, but this time upside down so I can finish up and redo some over head welds that didn't turn out so great. I had to once again figure out how to flip the frame and get it under the car without dragging it. My creeper helped out a lot cause the gas tank mount sat on it nicely lifting the rear up. So the whole thing rolled under the car without hardly any problems. One of my neighbors happened to pull up while this was going on and he was more of a headache than any help. I know they guy was worried about my well being but he began to sound like my mother, LOL!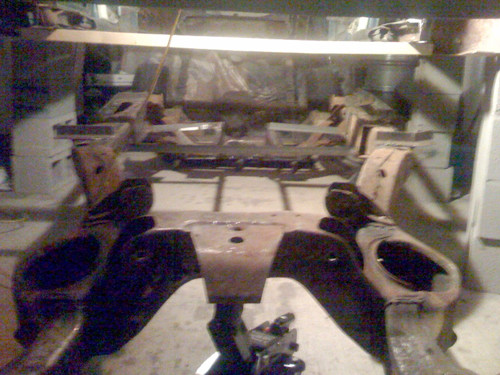 I know it doesn't seem like I got a whole lot accomplished, but I did manage to get all that done solo. I also, ground away all the bad looking over head welds and began welding. Hopefully this week I can finish welding, get some parts sand blasted and move closer to getting the frame in paint.
2-26-2009
Awesome! I'm glad to see you're making progress. You might want to start thinking about how you're going to cut the frame. Look through my thread and you can kind of gauge by the pictures how much you'll need to cut off the front and rear, but like you mentioned you'll need the springs to start on the rear and shortening the wheelbase.

Main thing is you'll want to figure out where you're going to make your cut to shorten the wheelbase. Easiest way is to grind away the factory welds right after the point where the frame bows out. Once you grind away the welds you can pull the two halfs apart. Then cut away as much metal from the frame rails as needed to get the 94.5" wheelbase.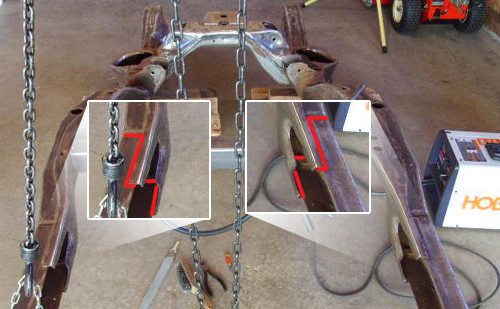 Member custom interiors did the same. See this thread.

frame welding
3-20-2009
Update...

Over the past couple of weeks I've been taking care of the underside welding and have finally finished. Not much to really photograph change wise. Hopefully this weekend I'll get the chance to pull the frame out from under the car, clean up the floor, and begin painting.

I also received some more parts and tools that I ordered. Cam bearings, rod bearings, main bearings, rear main seal, piston rings, valve spring compressortool, blocks plugs, a set of cleaning brushes, etc.

Also, I was able to find the factory stamped suffix codes on the front passenger pad of the block. Anyone know what these numbers mean?

12S231437
F 0313OKB


Last but not least I got the piston parts numbers off the top of the pistons.

TRW L3022F
.030 (which I already knew)

I was able to find out the specs on these pistons:

L=Forged in the part number
Compression height is 1.535.
Pin height is 0.927
Ring sizes are 5/64 5/64 3/16


All I've got for now. More to come hopefully soon.
4-9-2009
Quick update...

I bought some more new parts. Seems like there's always something else to buy. Parts I got to finish up the motor, tranny, rear diff, and chassis:

Hydraulic lifters, some lube for the lifters, short water pump - aluminum alt. bracket (mounts up top), starter, B&M street shift kit for the th350, adjustable modulator, B&M drain plug for tranny, bushings for tranny, tranny cooler, intermediate tranny band, all new shocks, bearings / seals, rear brake hose, and diff gasket / gear oil. I think that's all...?

Also, during this week I've sand blasted all the a-arms, put on a second coat of master serires on the frame, and I sprayed some glossy black automotive Rust-o-leum in the areas that are hard / impossible to reach with a brush.

One of the sand blasted a-arms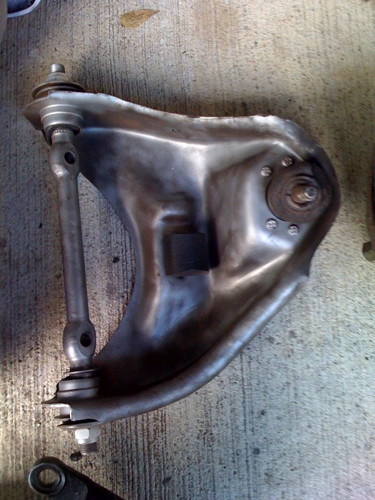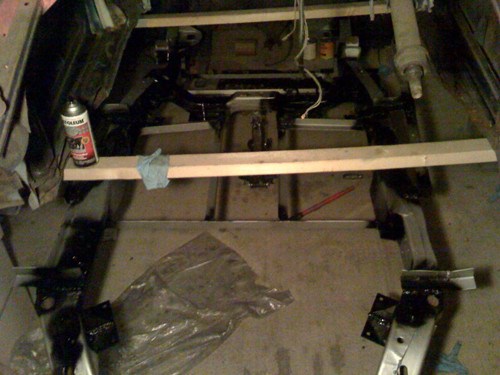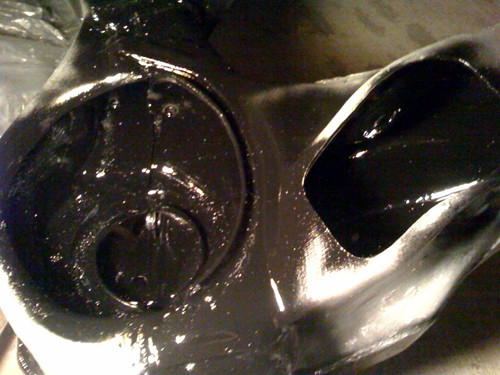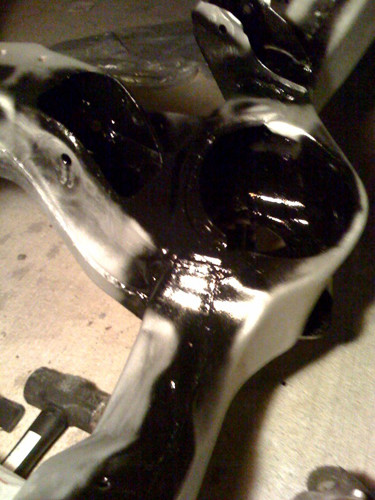 4-13-2009
OK, I've got the frame completely painted in the Master Series glossy chassis black as well as the front suspension. Also, I installed all new bushings, and ball joints in the control arms. Next is to put the front suspension together and begin working on the rear suspension.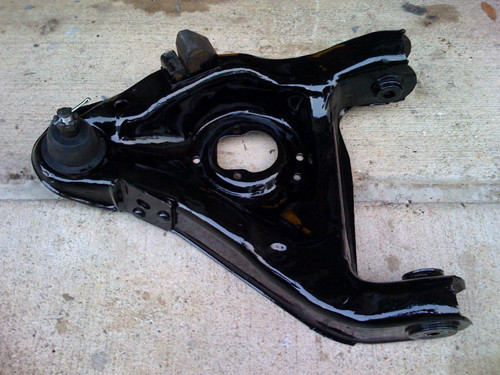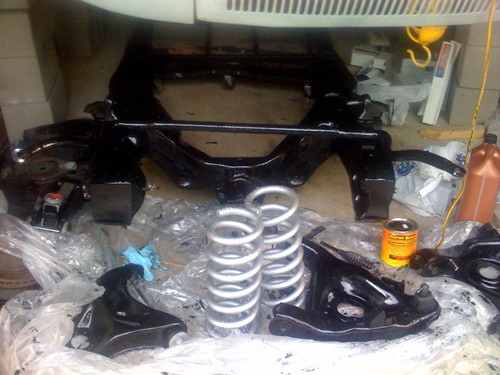 More later...
4-20-2009
Got some work done to the bug. Actually, I put in about 10 hrs time, but it really feels like I didn't get a whole lot done. Getting in the coil springs, even with a compressor, was a real pain without the full weight of an engine or the vehicle to help, but I got it done. That took up most my time.

I sand blasted the front leaf spring mounts.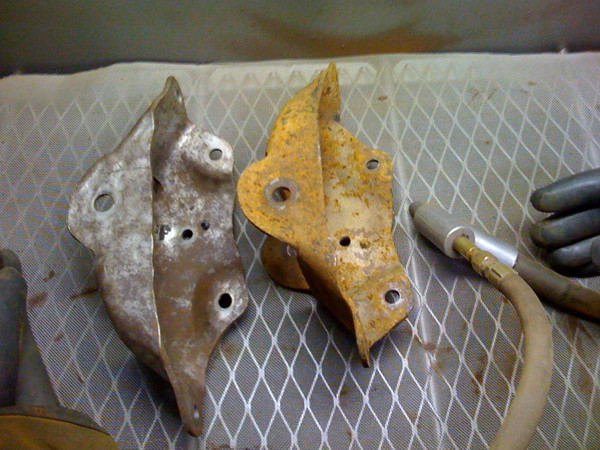 And some misc. parts.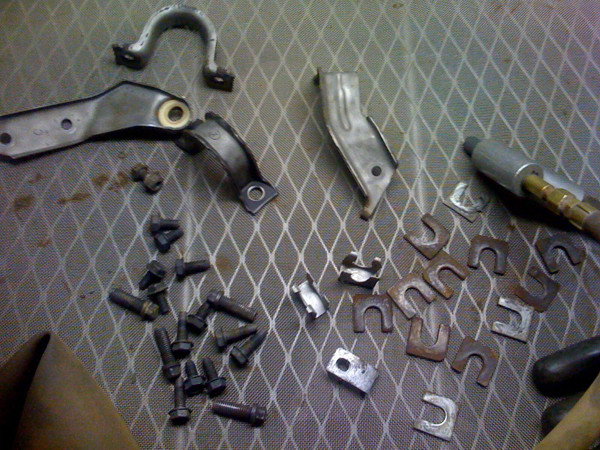 Misc parts painted.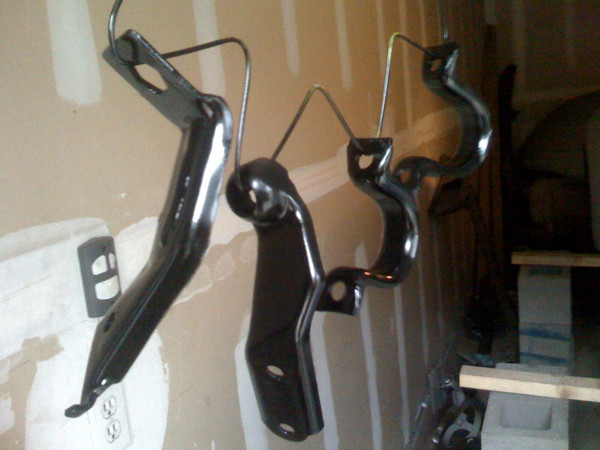 I didn't realize just how bad the cabinet sand blaster at my work was clogged up until our engineer saw just how slow the process was taking. We filtered out the beads, put it back in, and it worked like a champ. I kinda thought it was taking forever and it wasn't really doing a great job of removing all the rust, but what do I know? I don't do this everyday and can't really complain because my work allows me to use some of their equipment. Any who, it works much better.

Here's the steering linkage sandblasted.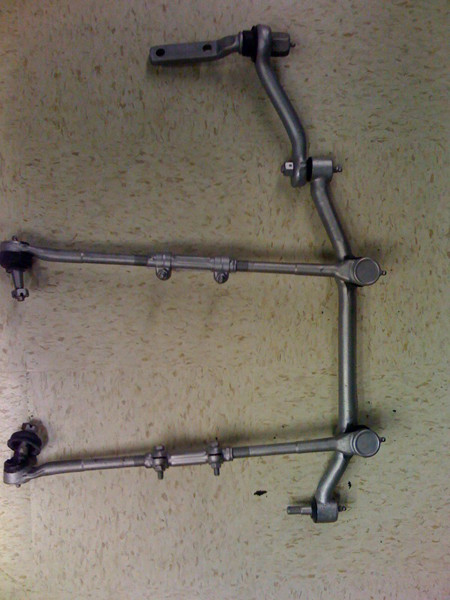 Linkage with new tie rods installed and painted.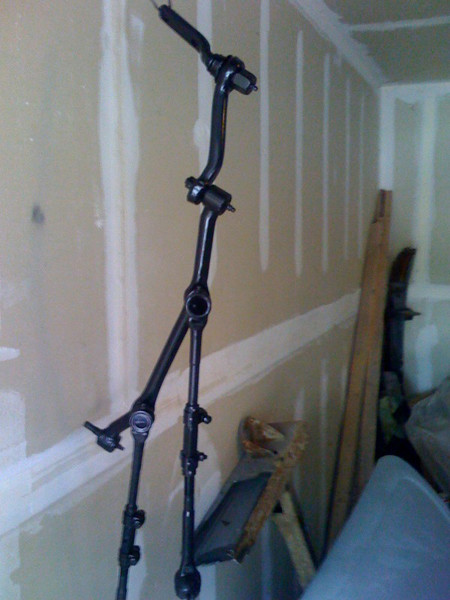 Leaf mounts painted. You can see in this picture just how much I had to cut out of the heater channels. Quite a bit. Welding rods work great for hanging parts so you can paint them.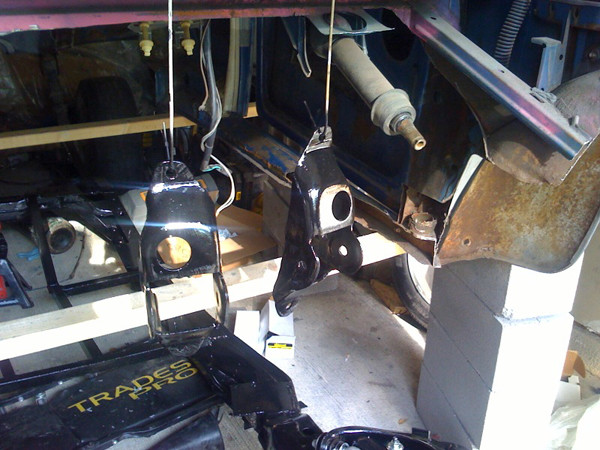 And here's the frame as of this weekend. Control arms installed with new bushings and ball joints. Coil springs painted and installed. New shocks installed. Lowered 2" spindles. Sway bar painted and installed with new bushings and new sway linkage.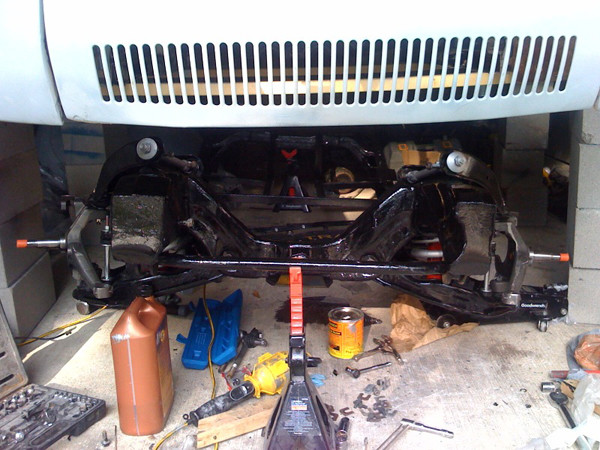 Thats about as far as I got. More later.
4-27-2009
Got some more work done this week and weekend. This will be kinda short because I smashed my finger working on the car this weekend. Leaf spring fell on it. Good thing it's my ring finger that I use to play guitar with and it's a good thing I DOn't have a couple shows to play this coming friday and sat. It's all good though. That's why we have four fingers.

Here's a pic of the wheels Ray lent me so I can compare to see if I'll like my wheels black. These are the same wheels and these are for the rear. 18" x 9.5 Thanks Ray!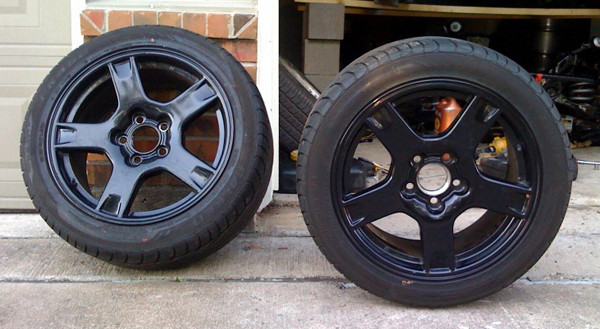 I thoroughly cleaned the wheel bearings, thrust washer and castle nut to later find out I had bought new bearings. : Well, the bearings were in really good shape so I'll hang onto them, put new ones in, for future maintenance.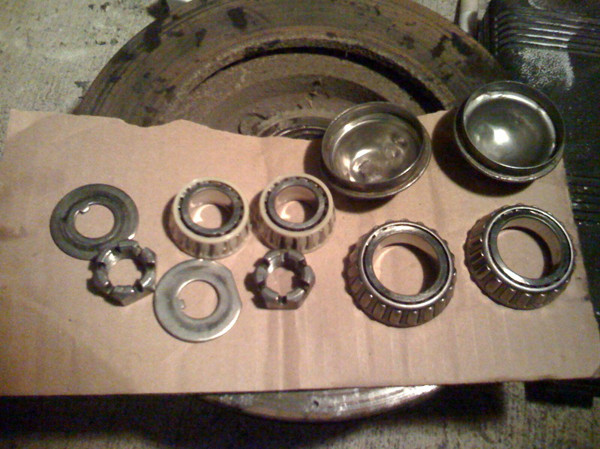 Painted the spindle and dust cover and installed.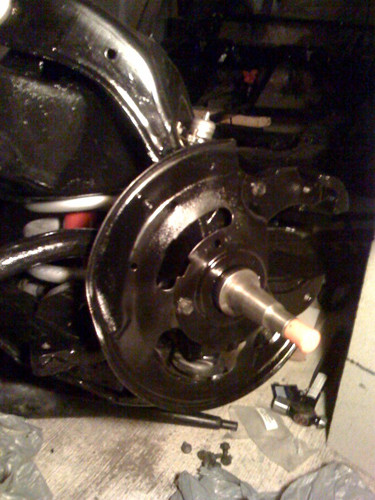 Sand blasted the calipers.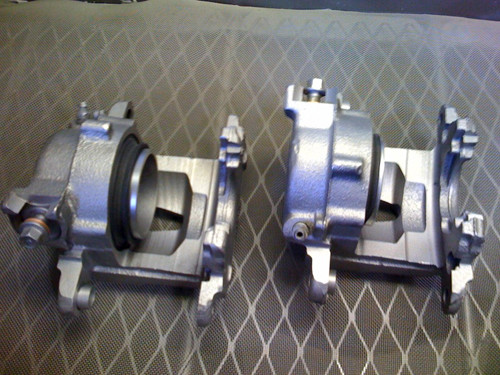 Took them apart to clean them and found a good bit of corrosion. Notice the rust on the dust boot.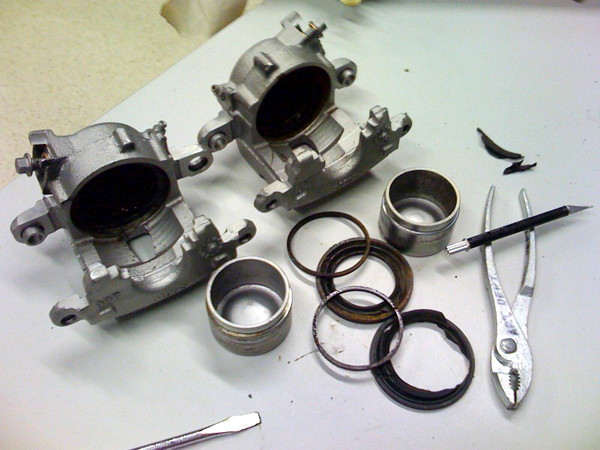 I cleaned them and then blasted the inners to find out that one of the pistons had some corrosion which gave me doubts about using for rebuild. So I just bought a new caliper for $10 from the Zone.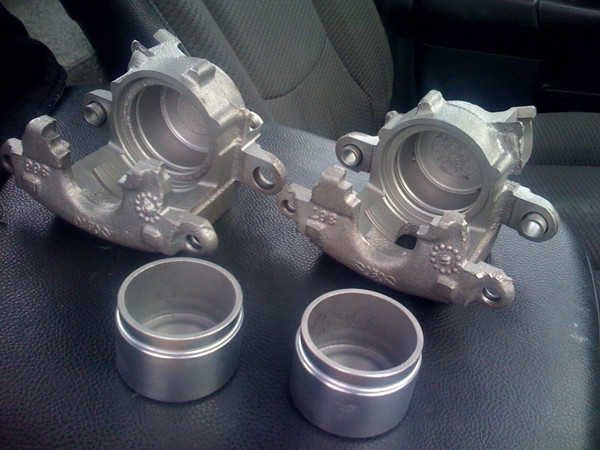 Bearings packed, new seal, and rotor assembly installed with the good ol 2" spacers. Tire rod / steering linkage installed too. Front susp. finished.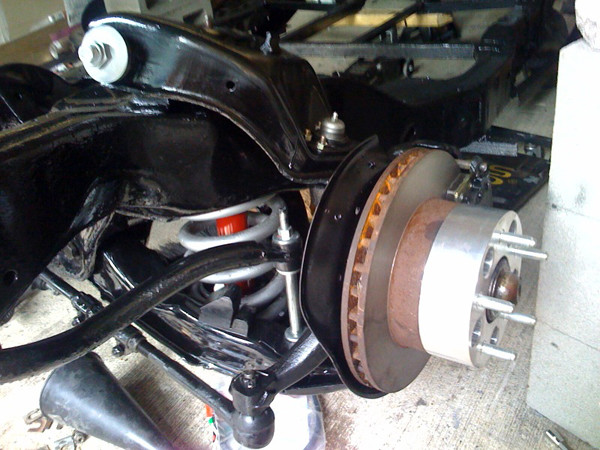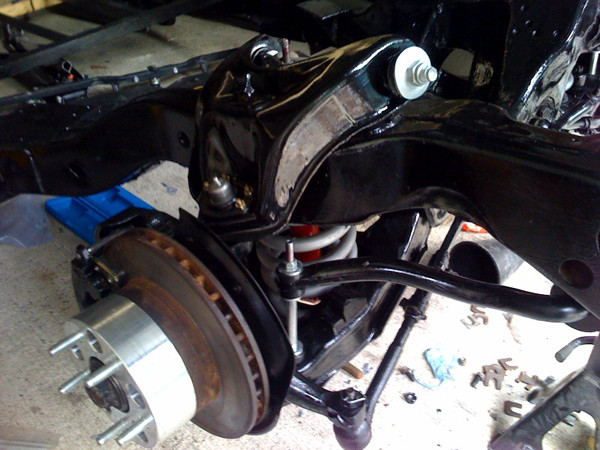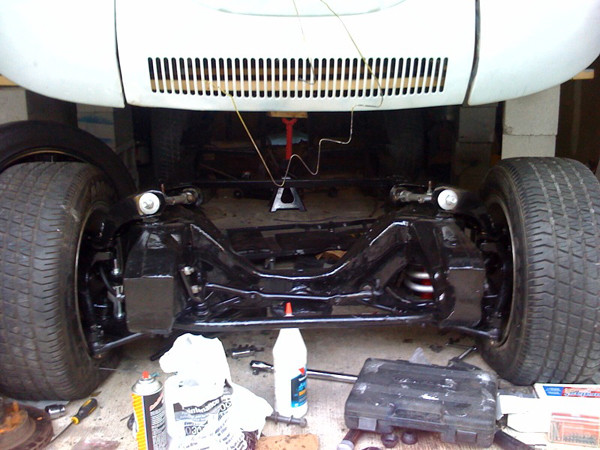 5-4-2009
Alright, alright...(in my best Matthew Maconha voice) Progress.

Sandblasted the diff cover inside / out and the shock / u-bolt mount.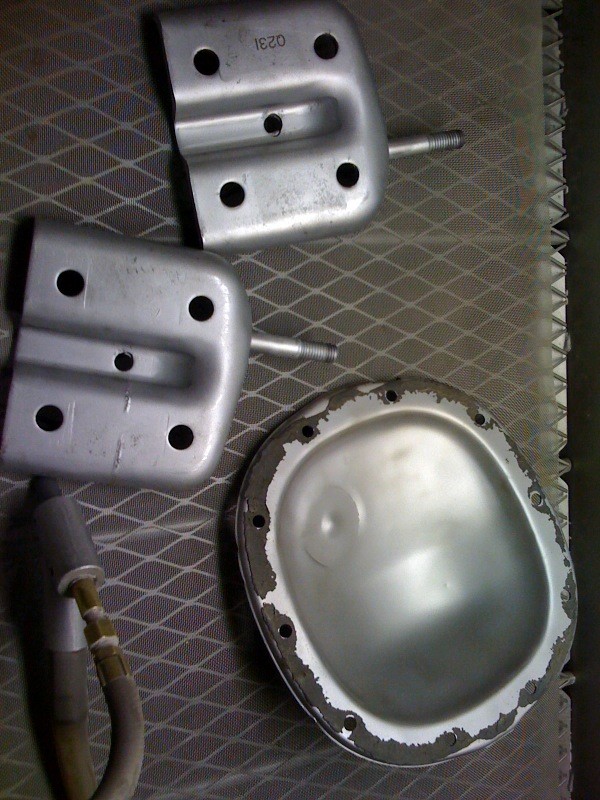 Drained the gear oil, which didn't look too bad, and added the new stuff after scraping away all the old gasket, on the diff cover and matting surface, with a gasket scraper.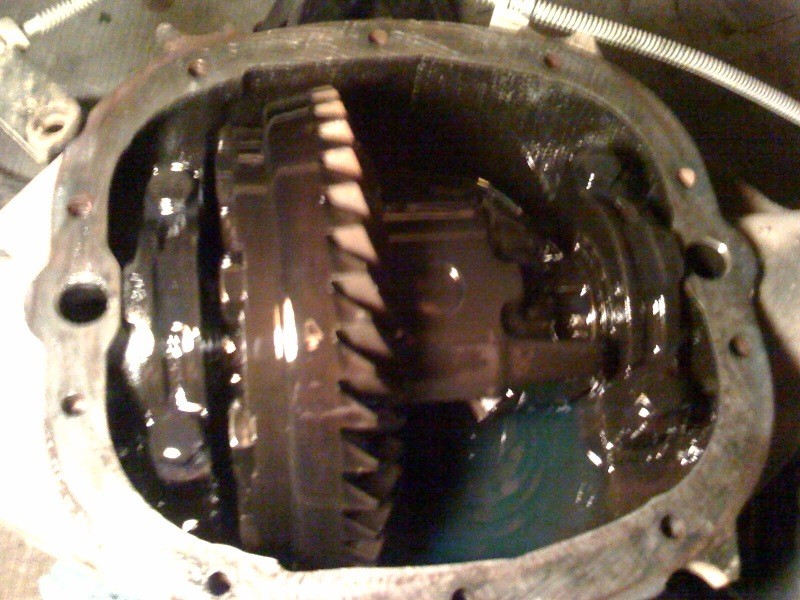 I sand blasted the diff cover at work. Here it is installed. I used some of edelbrock's gasket sealer on both mating surfaces to ensure it seals up nicely.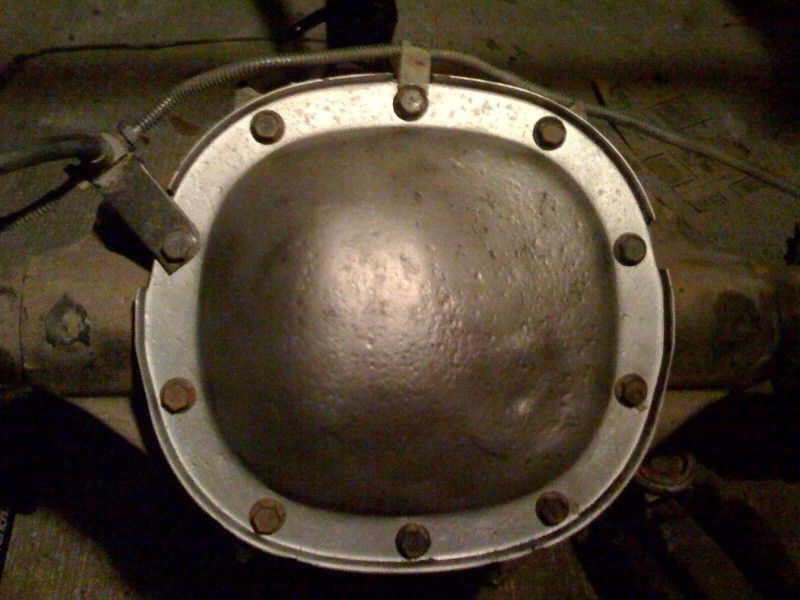 Here the rear is after a good wire brushing and painting with some Master Series. It came out decent even though there still was some build up I couldn't remove. Seals still must be good cause there was no leakage after it staying like that for days.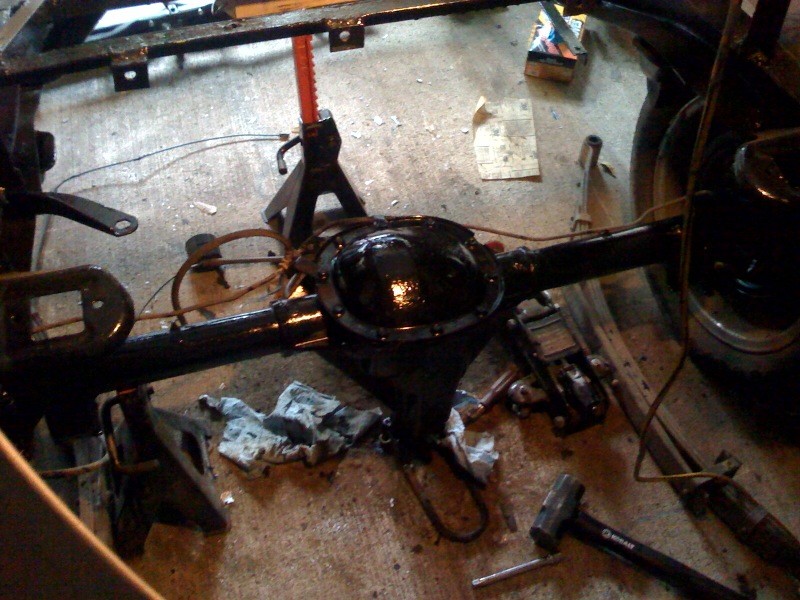 Painted the shock mounts, leaf springs, and shackles.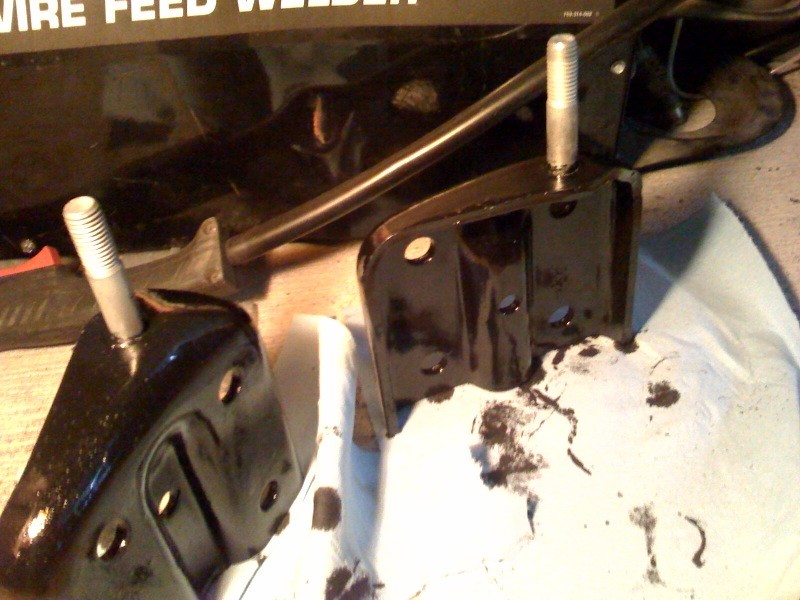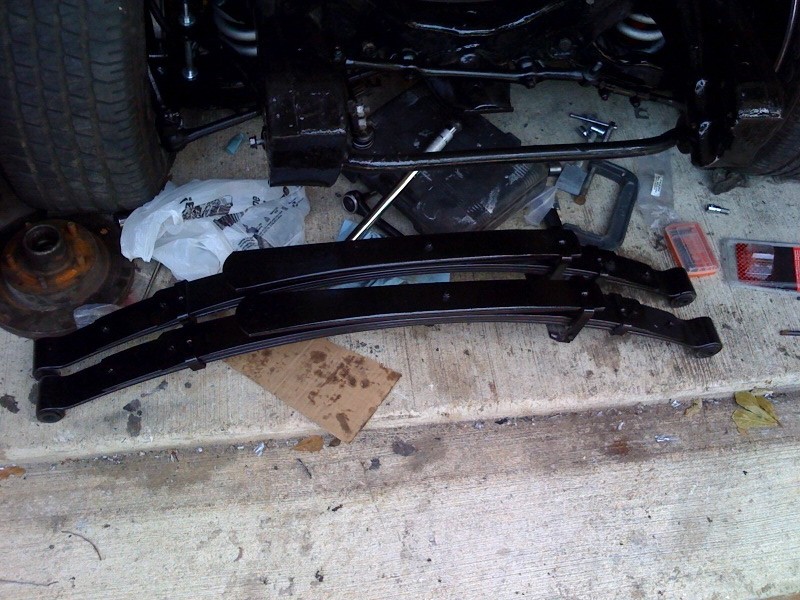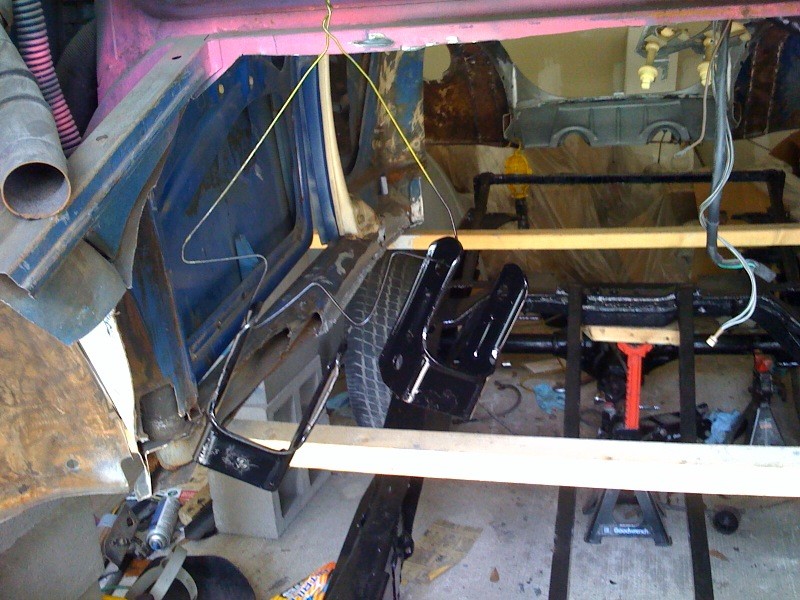 Here's a picture of the completed rear. Well, minus the shock tower bolts which I later added. Everything is hand tight for now cause the rear will need washers or something to make up for the extra space left by the .5" narrower leaf springs. Once the body is secured and I have the 18"s on I'll do a final setup of the rear diff.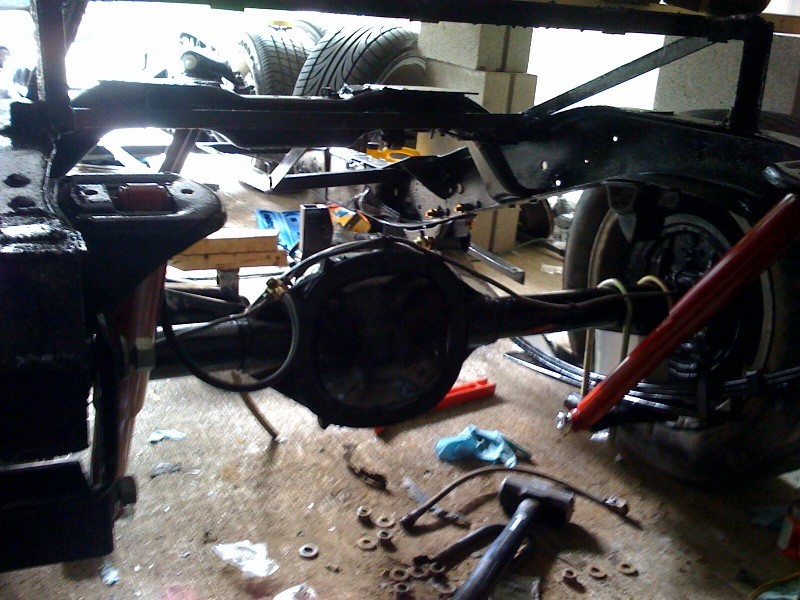 I had decide that I would move the front leaf mounts forward and move the rear back on the leaf springs to make up for it. I did this to help keep the shackles away from the fenders. They were an inch away from the fenders with the way it was previously setup. Well, that didn't work out so well. Here's the front mount moved forward 2". I drilled 1/2" holes to secure the mounts and drill an over size hole so I could mount the Isuzu leafs. The 3/4" were not cheap. They look manly though.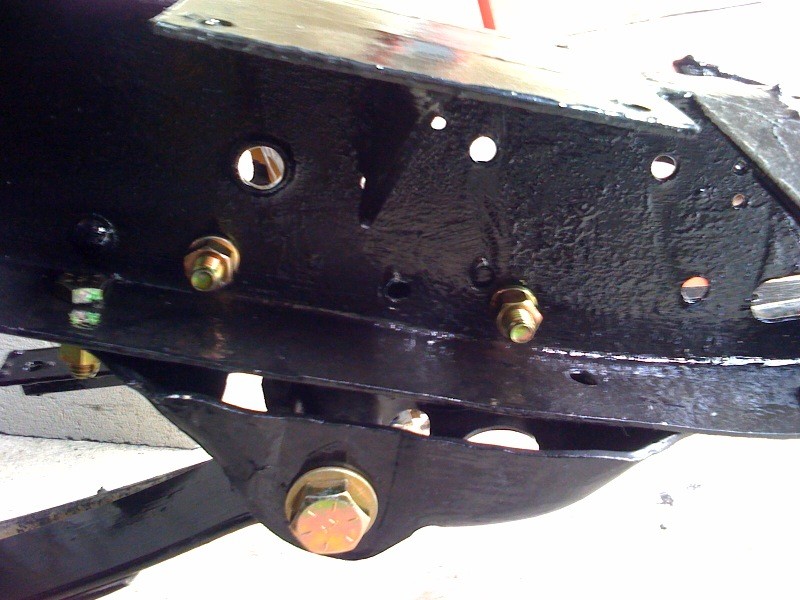 You can see that the is now further away from the inner fender. The problem I ran into is moving the rear diff back 2" started having a weird effect cause I'm moving further up the arch of the spring. I planed to secure the rear by making something similar to these.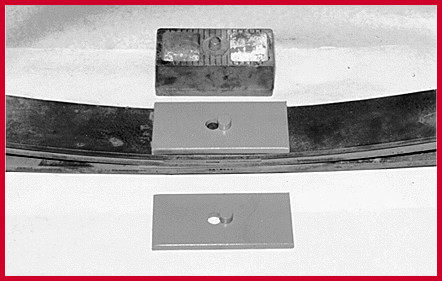 Maybe I'll try just an inch instead of 2". Or perhaps I'll make some shackles so that they're not so close to the fenders.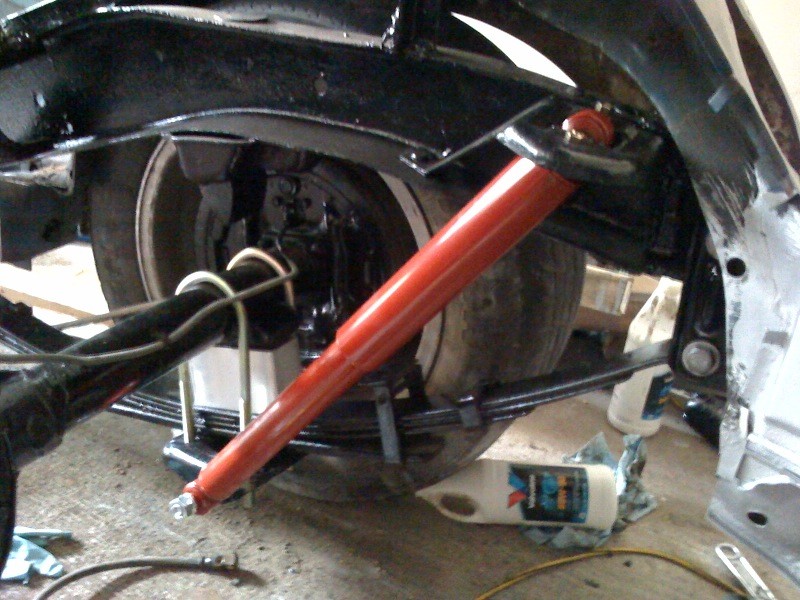 Here you see the rear it reassembled with and the body it back on. I tried rolling the chassis out so I could take pictures of it 95% finished and so I can clean up my garage but it was bumping into the boards that support the body. So I figured I'd put the body back on. It's been sitting up on them blocks a little to long for comfort. ;D That and I wanted to see the new stance with the 2" lowering spindles and the 3" block in back.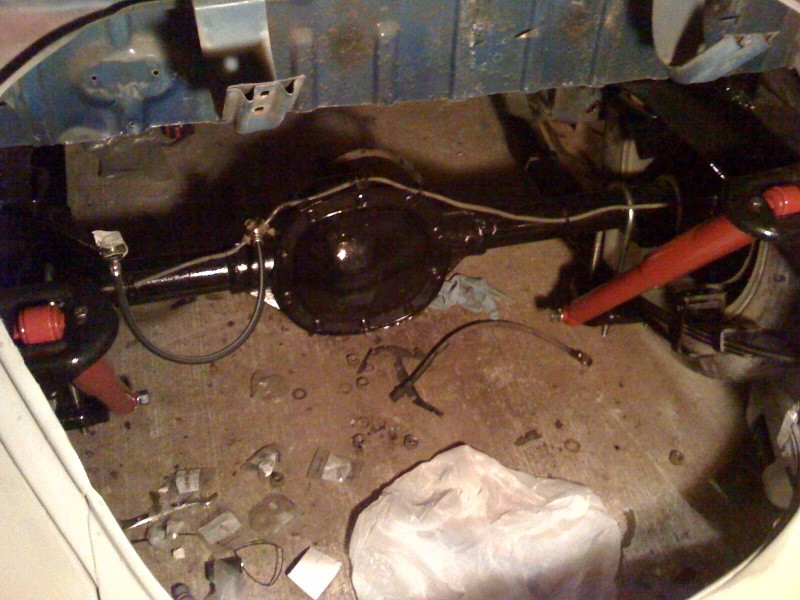 From this angle you can see how the 18" wheels will be very close to the wheel leaving very little of a gap, which is what I wanted. The tires will tuck into the fenders. I was just wanting to see how things looked.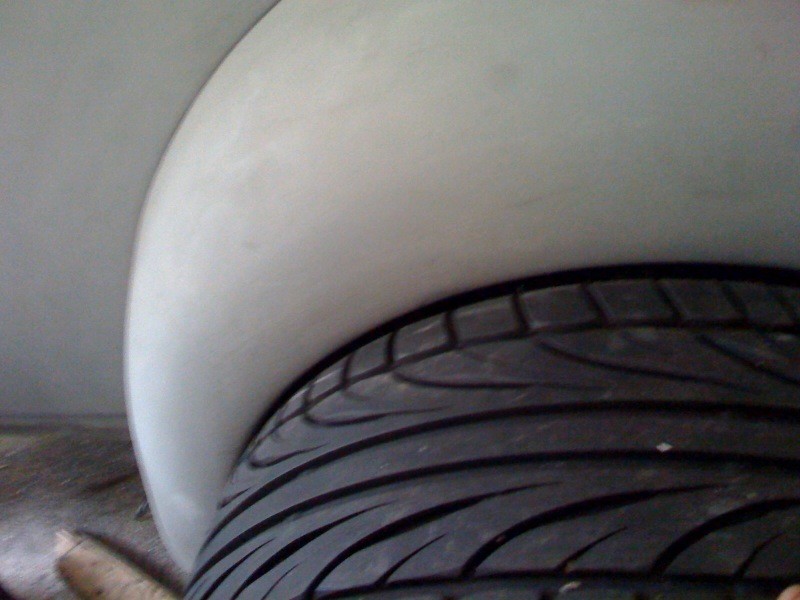 These are going to look nice. I'll have them on next progress post.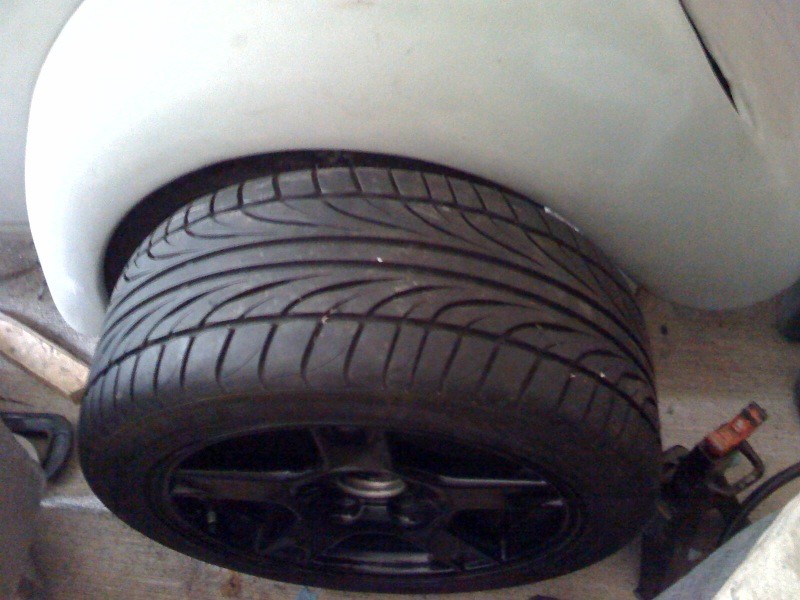 She sits fairly low. Even though a only did a 2/3 drop it seems almost slammed when I stand next to it. I'm really loving the stance and I'm sure it'll go down another 1-1.5" once everything is in and settles.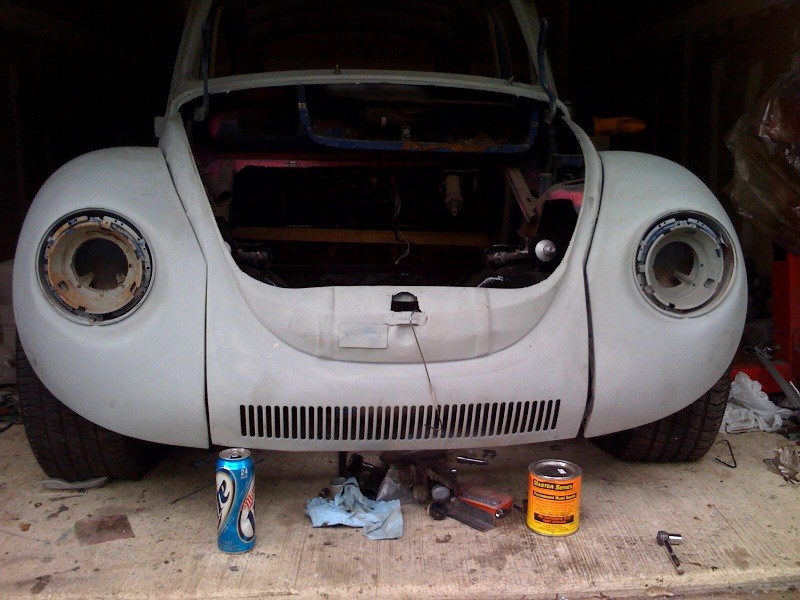 The front end aligned up nicely. The passenger wheel was 2" further inside the fender and make the car look off. Now, they're even and have the same wheel gap.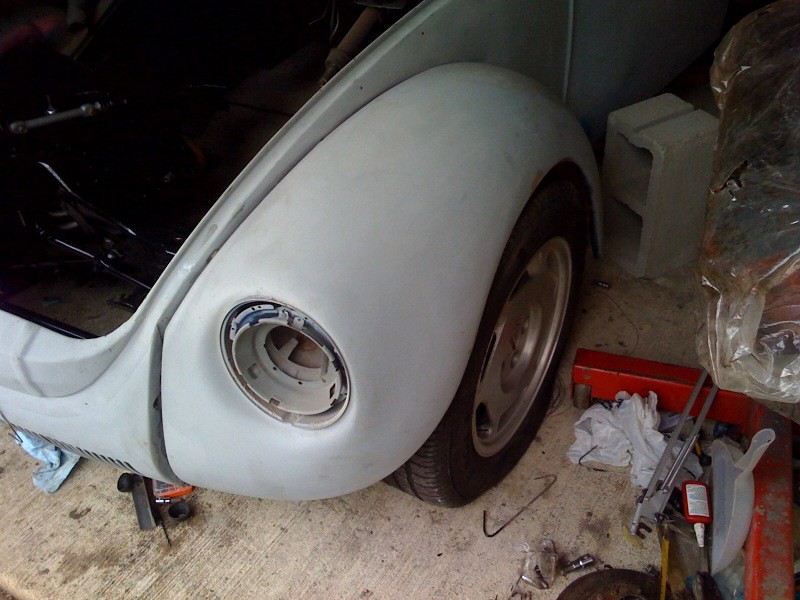 Here's the problem I was running into. The arch of the leaf spring combined with the lowering blocks pushed the wheels forward. I can move the axle back that would just amplify the effect.

I'll get her sitting right again. Next time. If it ain't one thing it's another.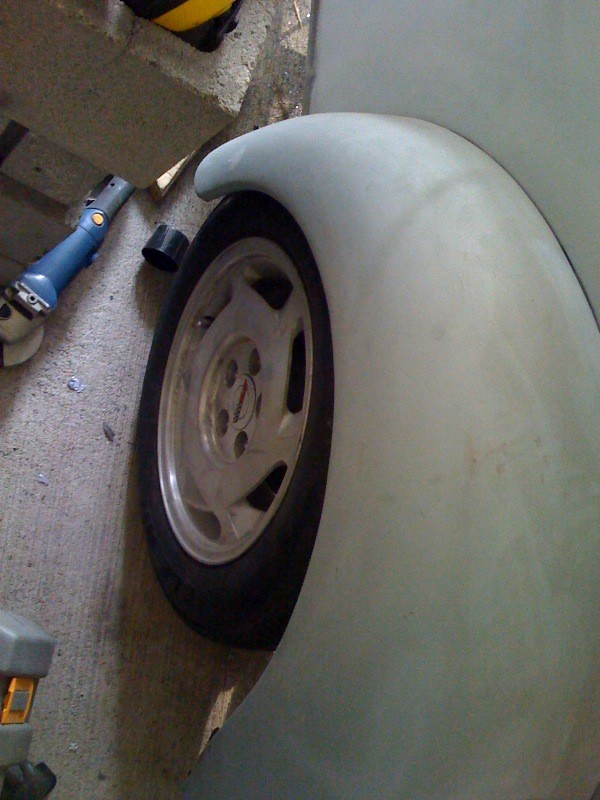 5-7-2009
Well, I got the rear mocked up and hand tightened. The wheels fit nicely and look cool. I've got a bout 1/2" on each side from the fender hitting the side wall. I'm sure I could get more by slightly opening the bottom of the body since it's not permanently mounted just yet.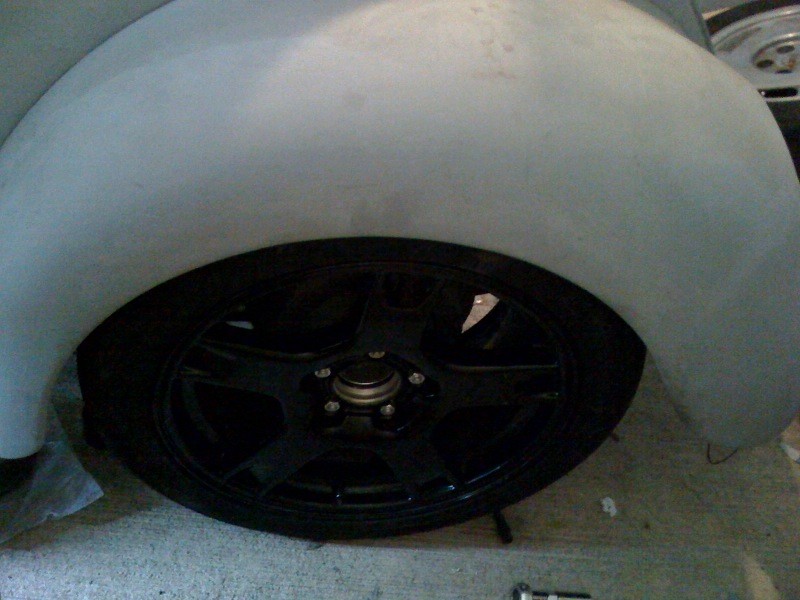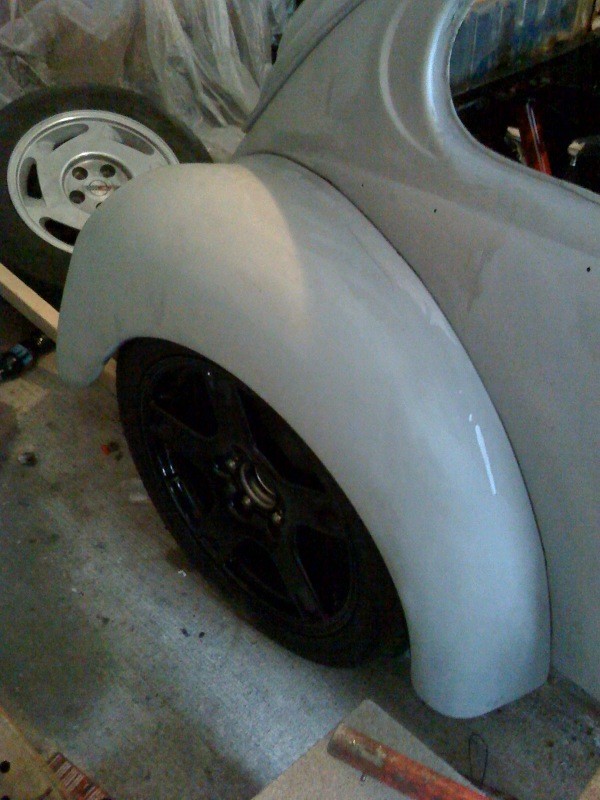 Today when I get home from work I'm going to roll the chassis out and get some pictures. Then clean up the garage and organize my engine parts and tools so I can start build the motor. Finally.
5-11-2009
A little bit of Bad and Good News...kinda. Lemonade out of lemons.

So I started taking the short block apart this weekend. I got far enough that I noticed some play in the #1 piston rod. I knew right away what it was and I didn't even bother to check cause I trusted the guy I traded motors with. Lesson learned.


The BAD:

So the rod bearings spun on the #1 and #2 rod journals. It seems as though the engine wasn't ran long which is good cause there's minimal wear. The crank looks like it'll clean up with a .020 or .030 grind.

To get the 355 rotating assembly back to spec it'll take grinding and polishing the crank, having the assembly balanced, and either new connecting rods or machining to get them back to spec. After all those costs it'll probably be cheaper just to get a new rotating assembly balanced and ready to drop in from the manufacturer.


The Good...

I'm thinking about just bumping up my motor to a 383 ci. The cost of new parts and or machine work will be well within the range of a new 383 bottom end balanced.

I've also been looking into just getting new set of Speed Pro dished 4.030" hypereutectic pistons with a 1.425" wrist pin height, a new 3.75" Eagle internal balance crankshaft, and buying two replacement connecting rods. I found a whole set of 8 for $20 (stock set). I'll just upgrade the connecting rod bolts to APR. Then have the whole assembly balanced. I already have new piston rings bearings, flexplate and damper that'll fit an internal balance 383 crank. The cost will be less as well.

I did the math and with 12cc dish pistons, the .015 shim head gasket, 64cc heads, and a .021 deck height I'll be right at 10.27:1 CR. Which will be fine with the vortec heads cause you can get away with .5 more CR and still run pump gas.


I've got some thinking to do, more saving and selling of parts. So the building of my engine has been put on hold for another month at least until I save the cash and have decided which direction to go.

I should pick up about another 40-50 hp and tq though so that's good.
5-14-2009
Well, some good news. I ordered an Eagle Specialty Products internal balance stroker crankshaft for my 350.

http://store.summitracing.com/partde...P-10350375057I


And I bought some (383) Speed Pro dish pistons.

http://store.summitracing.com/partde...t=STL-H859CP30


Both parts will work well with my stock 5.7" rods. So I'll save some $$$ there. Coolest part is I did some shopping around and found the crank for $231 here...

https://www.horsepowerparts.com/inde...oduct_id=21684


and a set of 8 pistons here...

http://www.kmjent.com/cart/product.p...9&bestseller=Y


...I called summit up and said, "I'd like to buy these parts (I listed stock #s and he gave me the pricing) but I found them cheaper here (I then gave him the website URLs)". They beat their competitors prices by $1 for each product. Summit has a beat-a-price guarantee so I thought I'd see if it was baloney. It wasn't. I got the parts for $407 with shipping. At Summit's pricing it would've been $522 total with shipping. So I saved over $100 smackers.

So I have all my parts, or they're being shipped, and the motor can go together soon. That is after hot tanking, decking, and balancing. I might not have the assembly balanced if the bob weight of my pistons, pins, rings, bearings, cap screws and rods are fairly close to the neutral bob weight of 1825 +/- 2% from Eagle. Maybe balancing will be cheap enough if I give the machine shop the bob weight and they only have to balance the crank? We'll see...
5-18-2009
Received my new pistons and crankshaft for the 383 build. I have to send the crank back though cause there's a scratch on the one of the rod journals from shipping. It's from one of the shipping staples poking up into the box. You would think it's from the box the luxury treatment. LOL, look at that box. Oh well...

Match set is always good.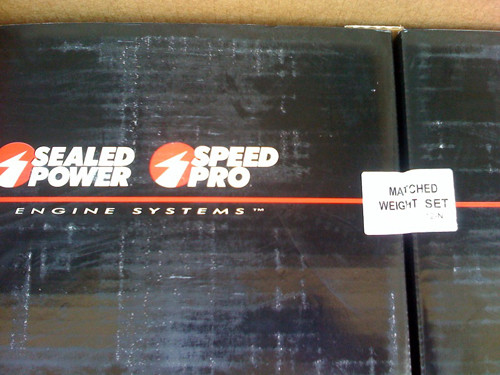 Made in India, that's good too right? LOL...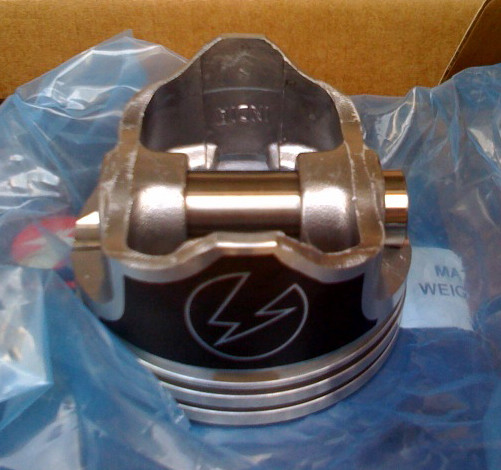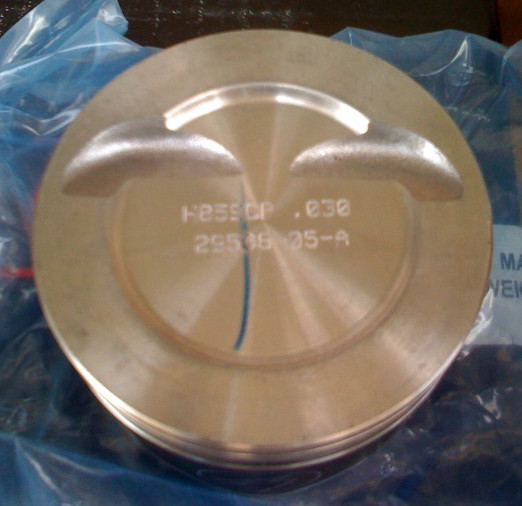 This is exactly how I received it...great job UPS and FedEx!!!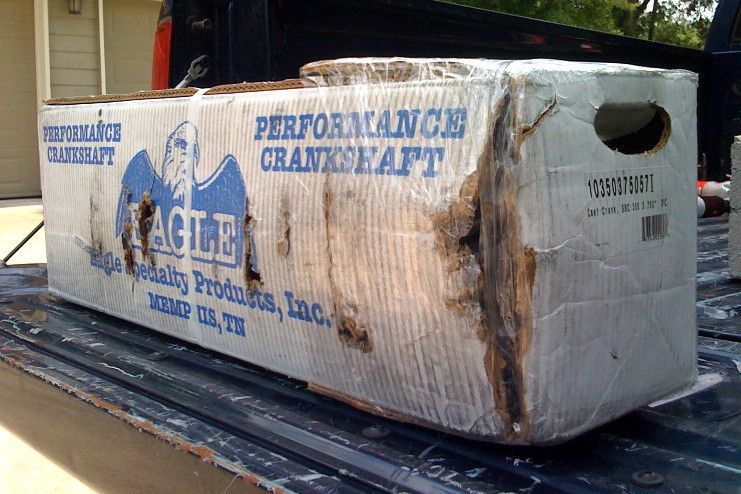 It looked OK. There was a little rust on of of the bob weights, but then I found an unacceptable scratch...back it goes.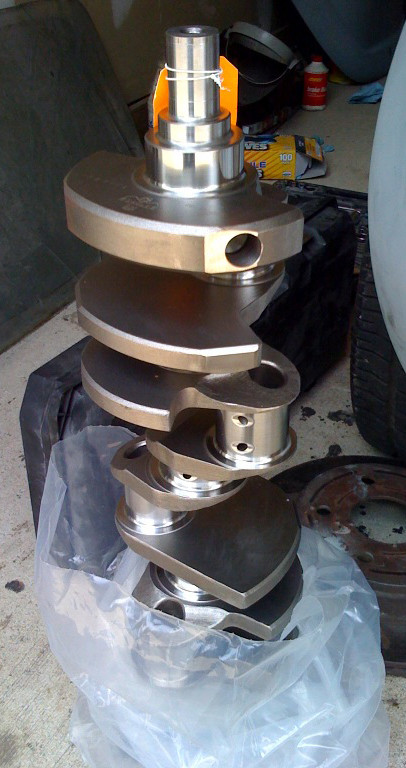 A plastic bag of this weight really shouldn't have tears in it like it does. Wouldn't you think?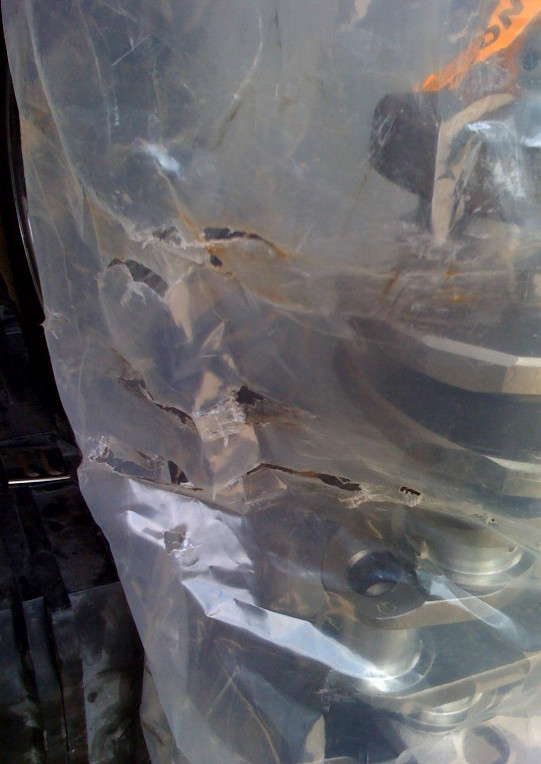 5-21-2009
The replacement 3.75" crank came in and it was in much better shape.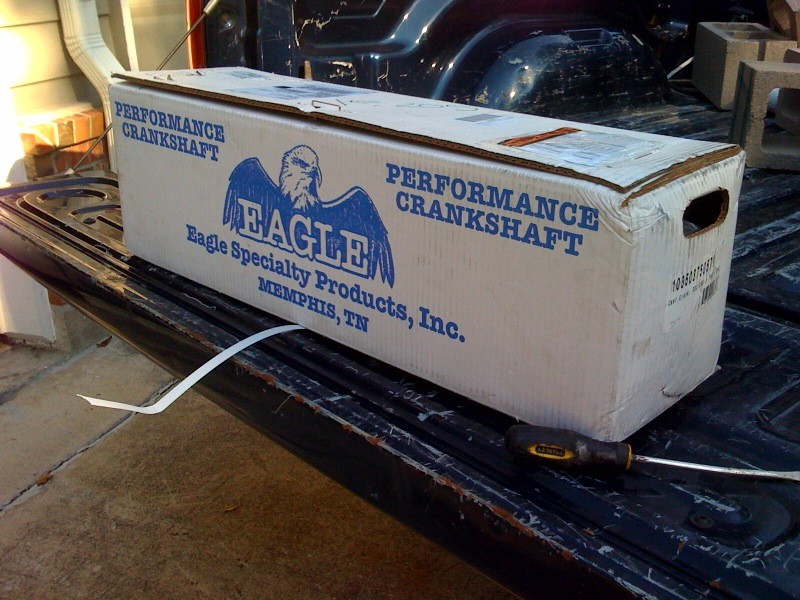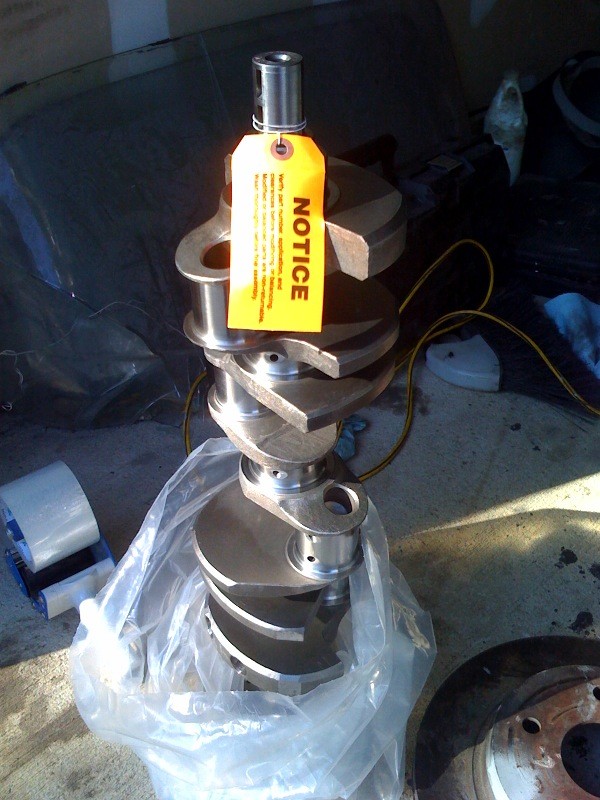 5-29-2009
Update...

I started disassembling the engine. I plan to even remove the freeze plugs, oil gallery plugs and cam bearings myself as well as install them to cut down on costs and to get some experience doing so.

Used some bolts and an arc welding rod (with the flux coating knocked off) to catch the piston.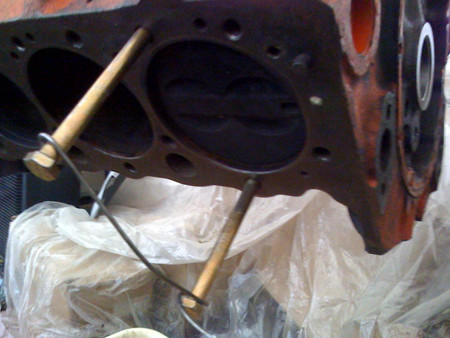 And some fuel hose press on the rod bolts to protect the cylinder walls.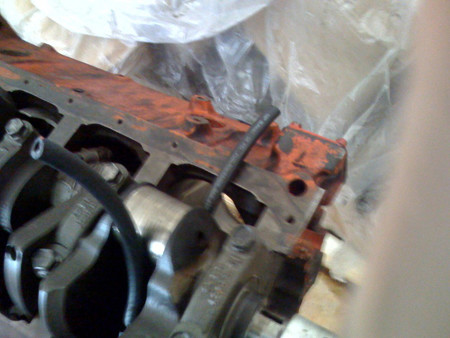 Works pretty nice. I don't have to worry about them falling on the floor without help. These will be up for sale. They're forged 4.030.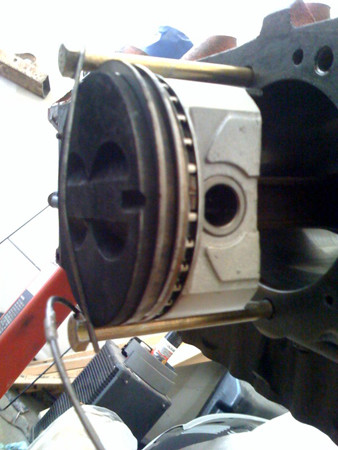 Cylinder bores are pretty much flawless by looking. No scratches or groves worn in from the pistons. Hone marks are still visible.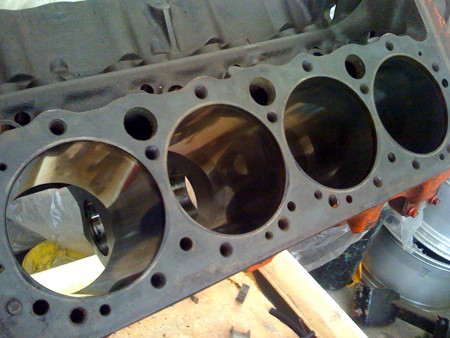 I rebuilt the carb. Here it is before.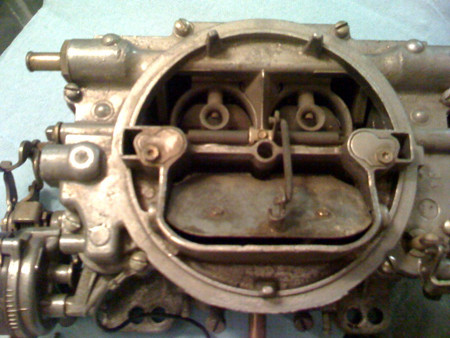 Disassembled.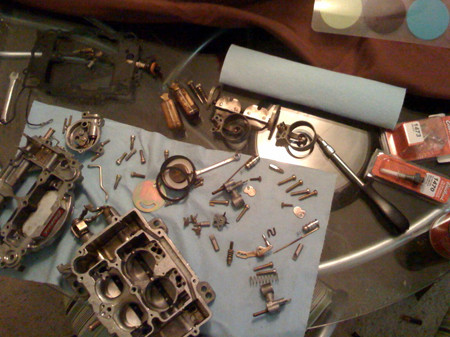 I sandblast the body and other parts that didn't have any jets. Cleaned it with a can of carb cleaner. Then I scrubbed it with warm water and light soap. Then blew the water out with compressed air and used a blow drier to completely dry it out before reassembly.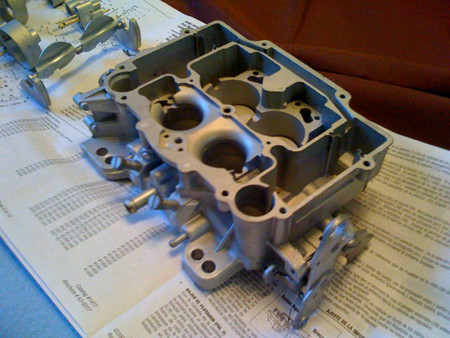 Cleaned up parts...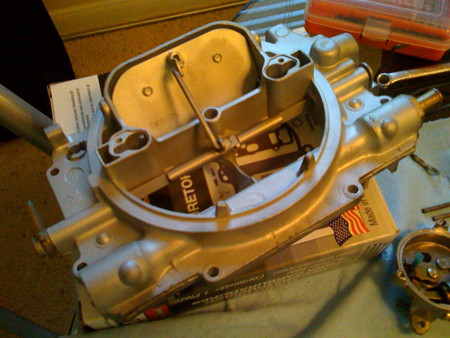 Cleaned up parts...the floats look really nice and new. ;D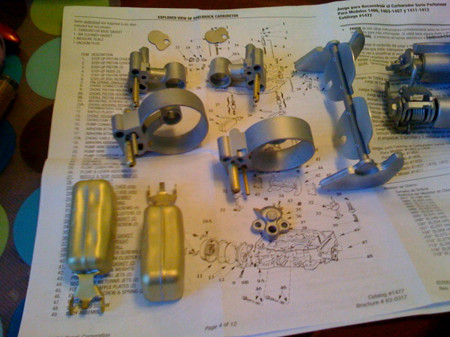 And the rebuilt car. All new gaskets, seals, pump, linkage kit added, etc. Ready to rock!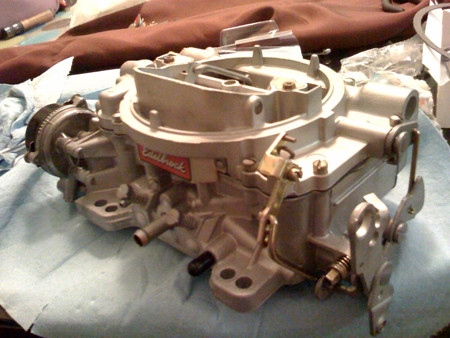 6-15-2009
Thanks for the comments guys. I will definitely let you know once I get the beast running and what car shows I'll attend so you can come check it out if you're in the Houston area.

Progress this month has been a little slow. I've been waiting for some funding to come in so I can take my block and rotating assembly to the machine shop. Good news, the funding came in and I'll be taking everything to the machine shop. Now I just got to get a couple friends help me load the block into my truck. Also, hopefully, I'll be getting my transmission from my Dad. He hasn't dug it out of the garage cause it's been pretty hot here in the Houston area.

So I should have some engine and tranny progress coming soon. I'm sure I'll have some questions along the way.

Last but not least, I've figured out how I will mount my radiator in the back and will be making the mount / support soon. Maybe even start on it tonight since I've finally got some free time.
6-22-2009
Dropped the block off for hot tanking, magna flux, honing, rods resized and ARP 383 bolts install, decking to 9.020 and balancing of the rotating assembly.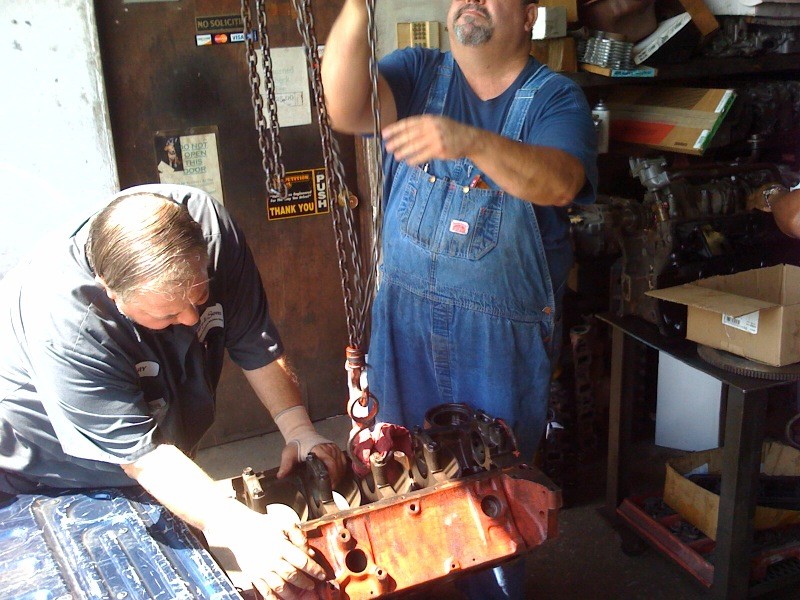 Will be done Friday, if nothing comes up, and will start putting it together this weekend. Hopefully...
6-23-2009
Had a chance to upgrade the springs on my vortec heads last night.

Removed the inner dampers (too much seat pressure).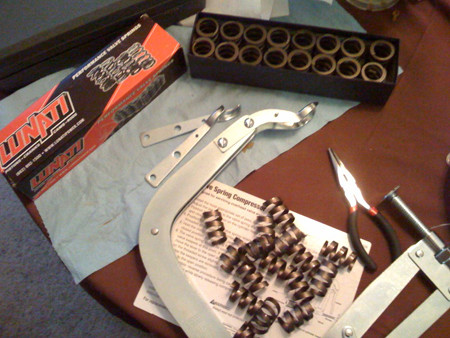 The stock spring (right) compared to the beefy upgrade spring (left) which are Lunati.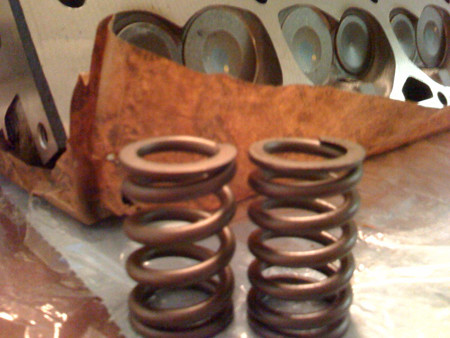 Good ole spring compressor. Compress, remove keepers, decompress, remove retainer, spring, install need spring, the retainer, compress, install keepers with even spacers between gaps, and decompress.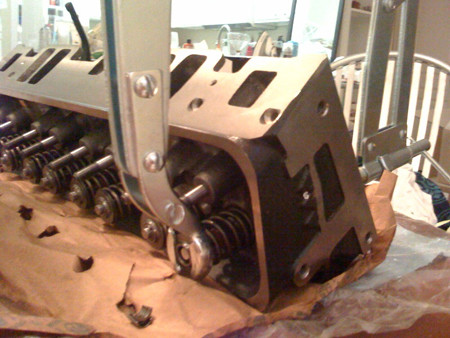 Heads ready to rock!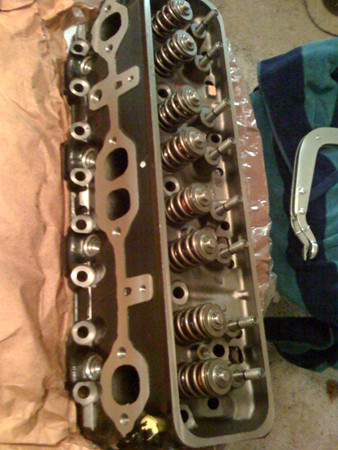 7-6-2009
Finally, got my engine block and rotating assembly back from the machine shop. Had it hot tanked, magnafluxed, decks set to 9.020, hone, new pistons pressed, 383 ARP rod bolts pressed in, rods resized, and the rotating assembly balanced. Total cost was $590. Looks like they did a great job.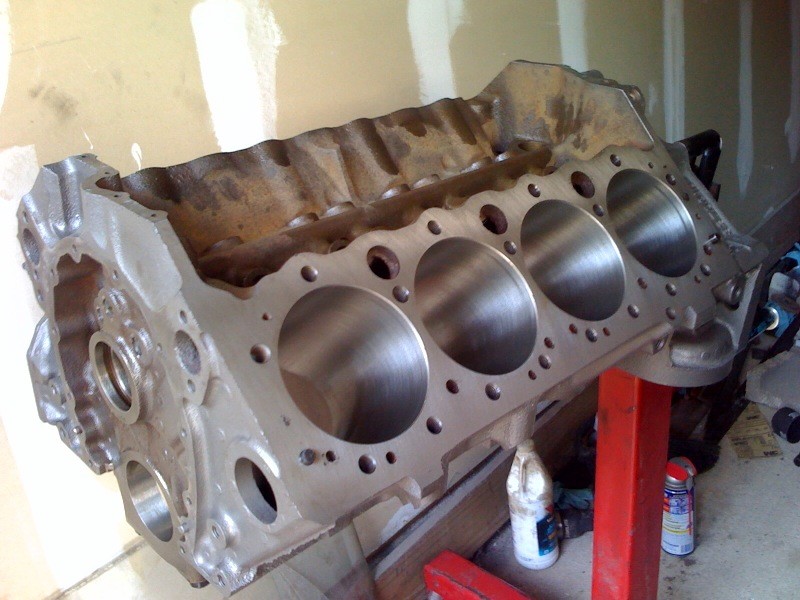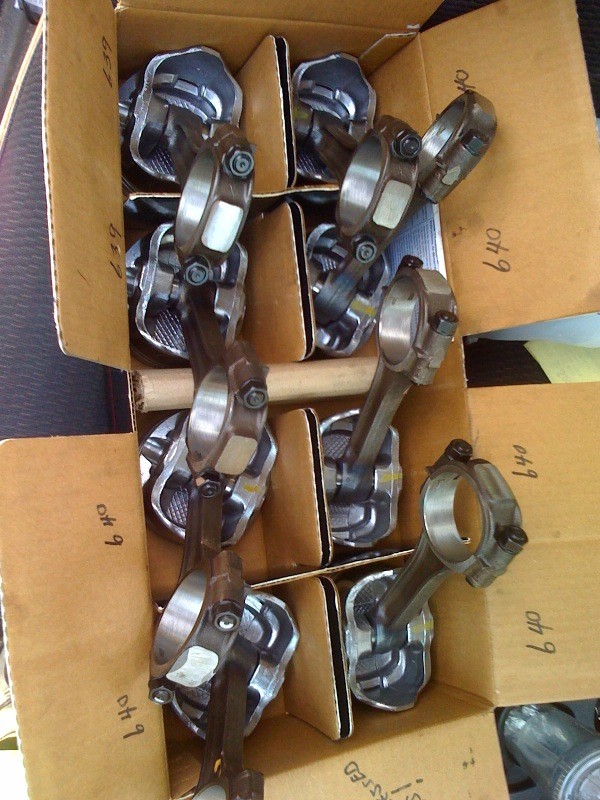 I started the pre-assembly process. I had enough time to plastigage the main bearings and I'm working on plastigaging the rod bearings. So far the mains have come out to a hair under .002 clearance. Once I get all the rod bearings checked I'll then clearance the block for the larger stroke crank and check cam clearance. So far it looks the rods are clearing just fine. I'll check with a feeler gauge to make sure I have at least .050 clearance.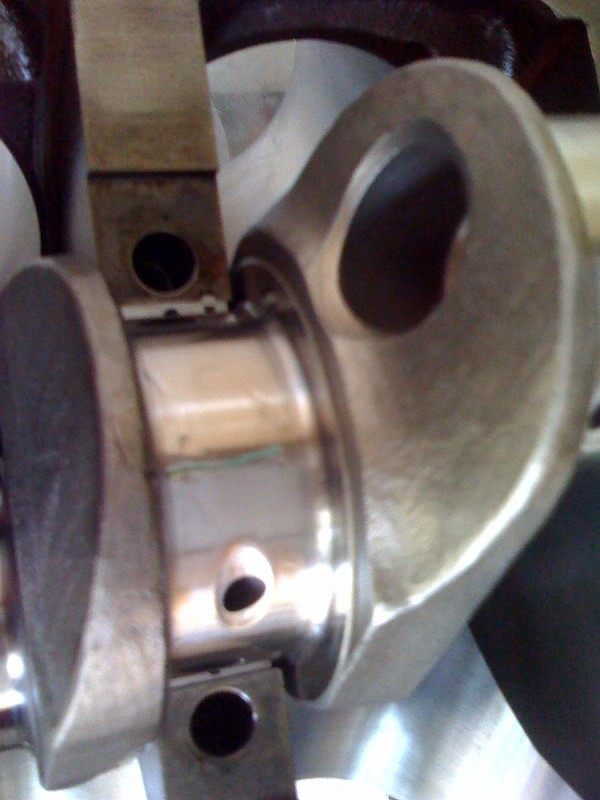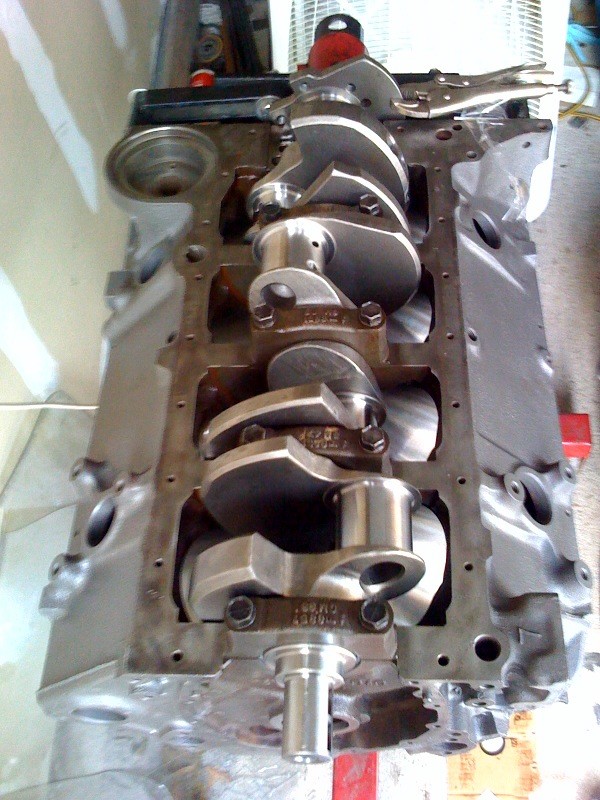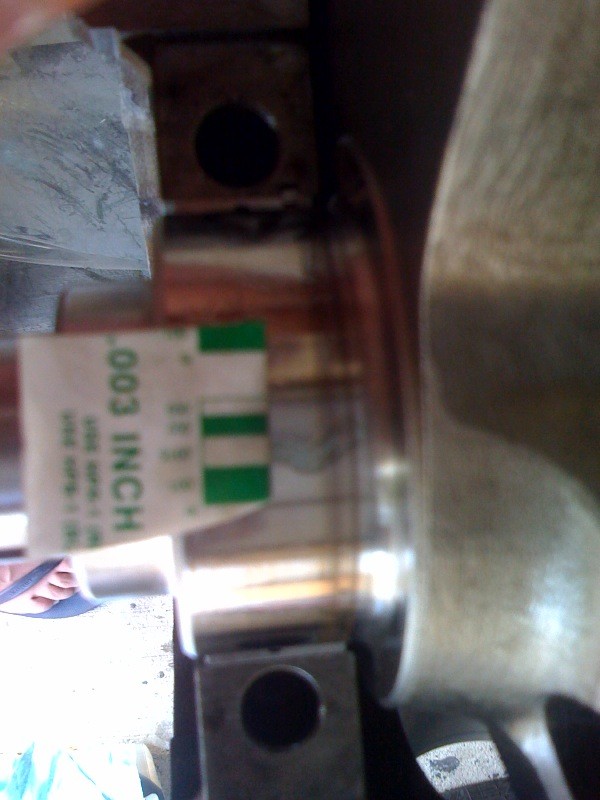 More later...
7-24-2009
Quick update...

I got all my parts back from the machine shop, again. I had them check to make sure I didn't knock any of big rod ends out of round by using the brass hammer. They checked out fine. I had to order a new piston because one got away from me and hit the ground. :o So it then didn't want to go back into the bore smoothly. Seems it was out of round. I had the new piston pressed on the rod. I also managed to buger up the rod journal during pre-assembly because the rod caps were hard to get off. So I had it polish and it pretty much got rid of the scratch. Last but not least, the machine shop figured out why I couldn't get the #3&4 pistons on the rod journals. I had the wrong bearings. Apparently you have to have narrowed bearings because of the extra fillet machined on the journals that give it extra strength. I wasn't too upset I had to buy another set of bearings because I now have some Clevite 77 high performance mains / rod bearings now rather than the cheap Summit bearings.
This thing is now going from a cheap project to an expensive one. LOL!

So all those problems were taken care of. This past week I took the engine block to the car wash to give it a good bath. I wanted to make sure I got it super clean just to be sure there's no left over metal in the block from machining. I had some help from my fiancé's brother.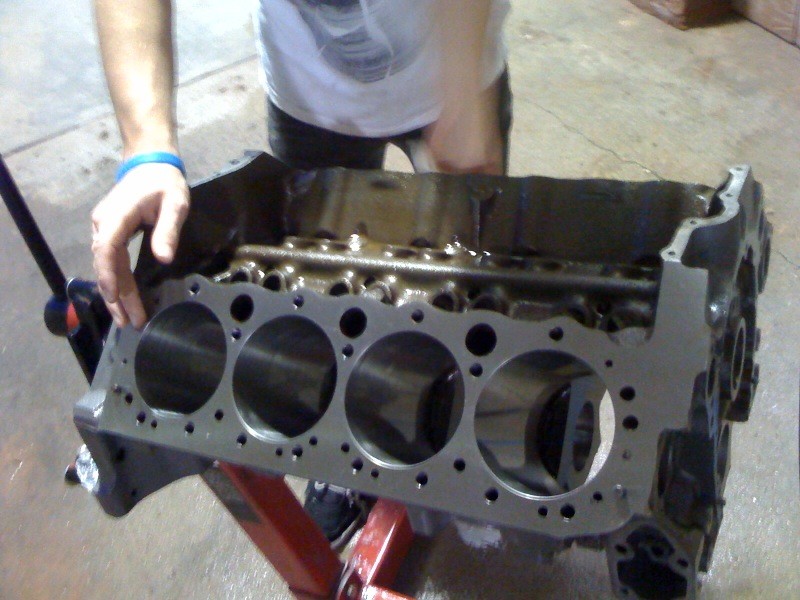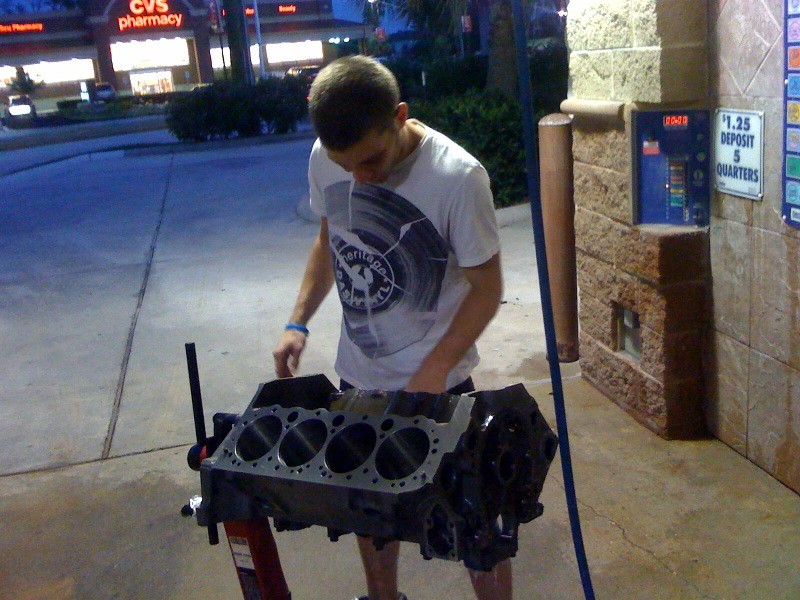 Austin wiping the bores down, after hosing it with a can of WD-40, giving it the "paper towel test". I cleaned the block with an engine cleaning brush kit.


When I got the block back from the machine shop I had them leave it bare. No plugs, cam bearings, nothing, because I wanted to install everything myself so I can learn. Months ago I bought a cheap cam tool from summit (summit brand tool). So I gave installing the bearings a try. Well, I managed to ruin a set of bearings and had to remove them because I was using the tool wrong, I think? To remove one of the stubborn bearings I had to put a screw driver through the oil hole and bang out the bearing that way which bent the bearing into itself. Needless to say, I got some bearing shavings in the block. So I had to the load the block back up for another wash. I then had to buy a new set of bearings, which is fine cause I bought a better brand / set (I had a summit bearing set), and I then modified the cam tool. It worked a lot better and thought it should've came the way I made it work. ;D I'll take some pics and show you the mods.

Any who, cam bearings are in, I masked off the engine and painted the block black, knocked in the freeze plugs, and trial fitted the cam. So far everything is going smoothly, for now. ;D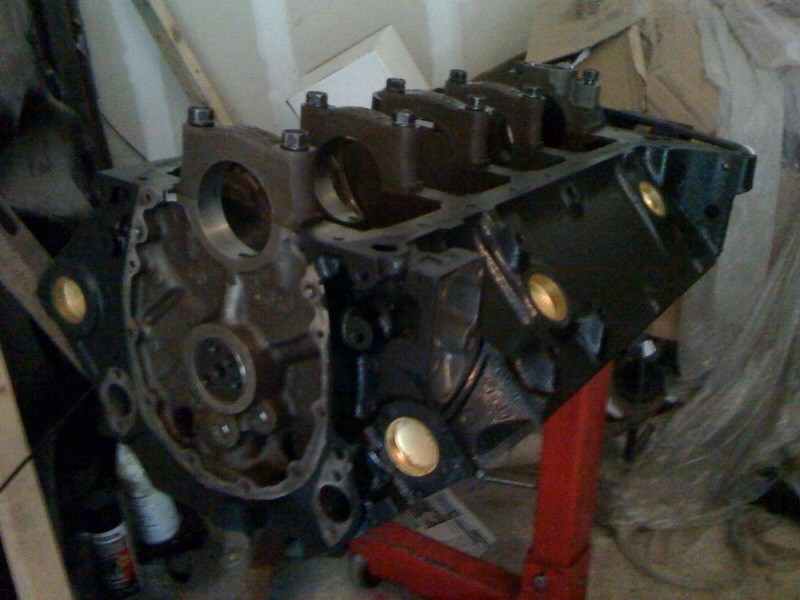 This weekend I'm going to try and have the short block assembled and sealed up. Just like the machinist told me, "You might accidentally get this thing together after all!"
8-4-2009
Here we go. Here's some pictures of the build.

Here's what the crank looked like when I got it back from getting it polished after I boogered up the crank (small scratch). When I got to the machine shop I thought, "Wow, what kind of crank is that with the gold journals?" Haha.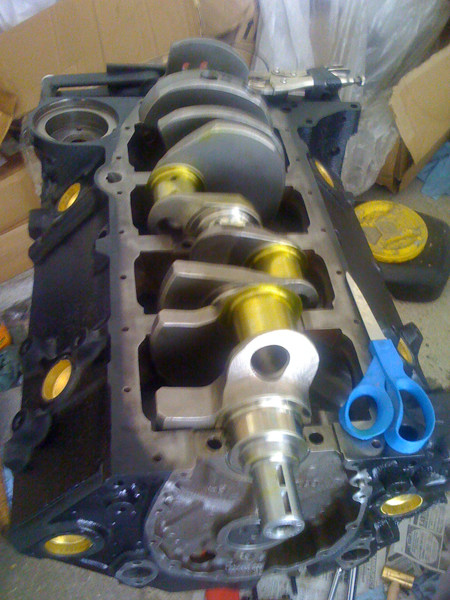 I wish I would've take a few more pictures while we were building, but I was so into the build the last thing on my mind was taking pictures. The day flew by fast.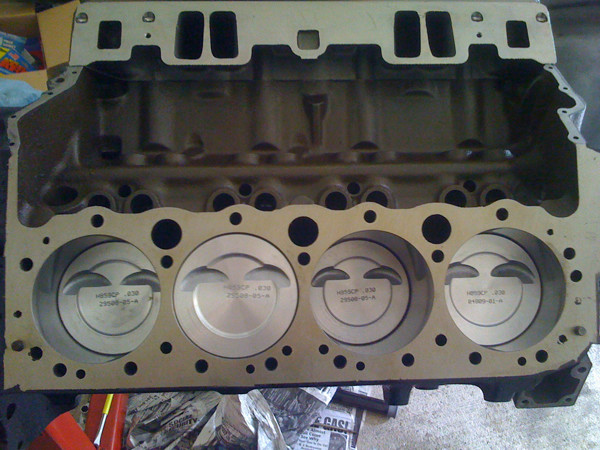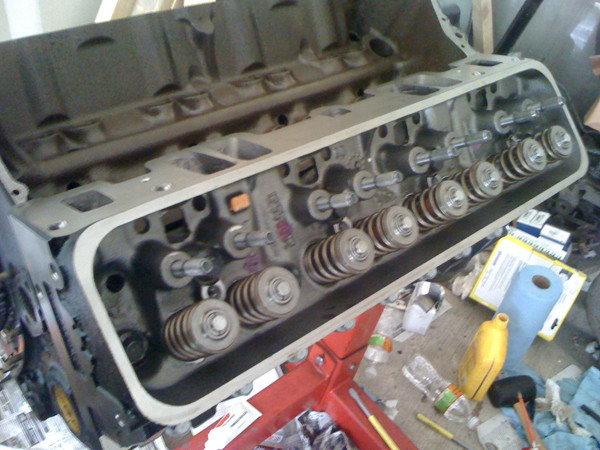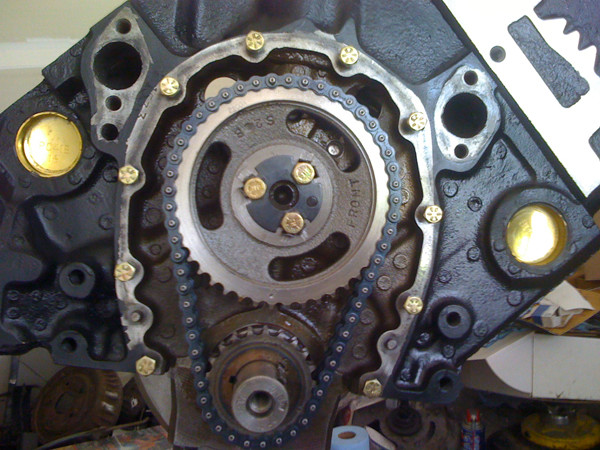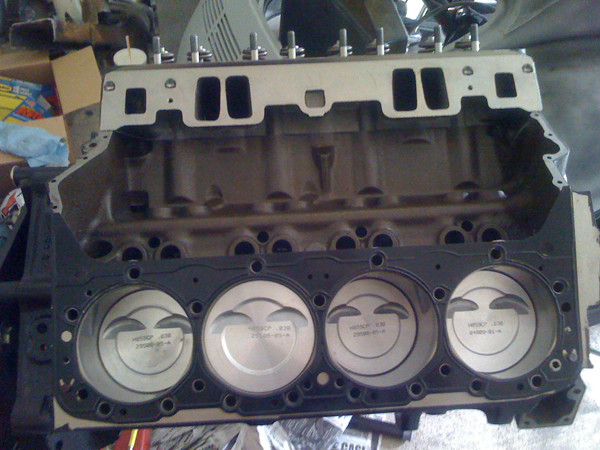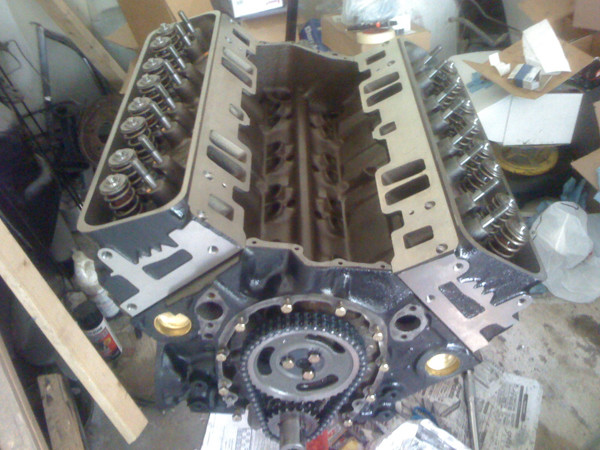 This last picture the intake, valve covers, carb, and air cleaner are all just sitting there. I was anxious to see how it would look.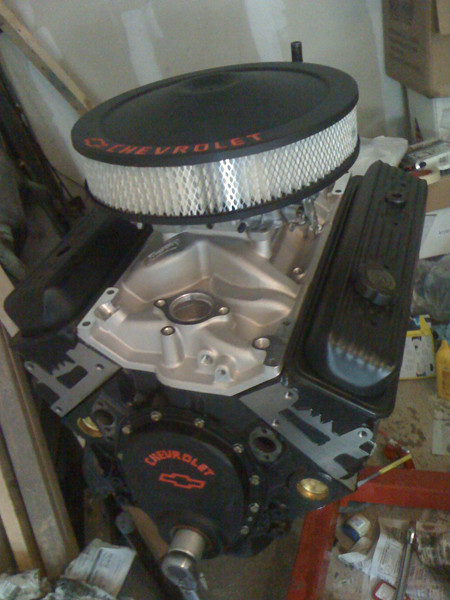 I'm going to work on it some more throughout the week and I'll hopefully have it finished by the weekend. Putting an engine together takes much longer than I thought.
8-10-2009
Just about finished. All that's left to do is add the cam break in oil suppliment and Rotella T oil, prime the oil system, install the distributor, install carb / air cleaner, press on the damper, install lower pulley, and setup the alternator.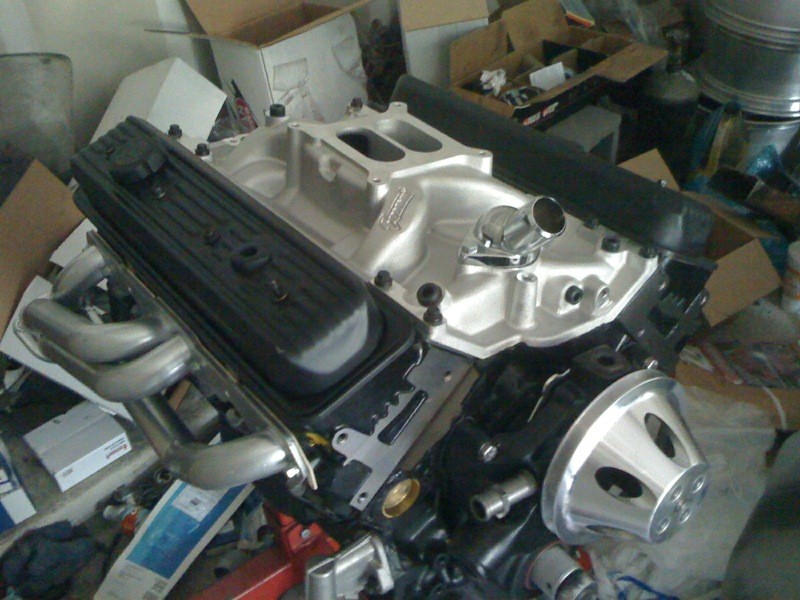 The plan is to get these things done during this week.
8-20-2009
Almost there. I'm so close to finishing I can here it start.
This past weekend I moved into my new house so I really didn't have too much time to work on it. Also, part of the hold up is I'm having to search for a 7/16-20 4" grade 8 bolt to hold on the harmonic damper, also so I can rotate the engine while priming it and so I can set the #1 piston to TDC so I can drop in dizzy and set the initial timing . Other than that it's about 98% complete.

This weekend, hopefully Saturday, I'm going to drop the engine in the bug for the first time. Mainly cause I have to get it out of the complex by the end of the month. So my goal is to get it home this weekend which is right down the street. I've installed the motor mounts and frame pads, not pictured, and the engine is just about ready to be dropped in.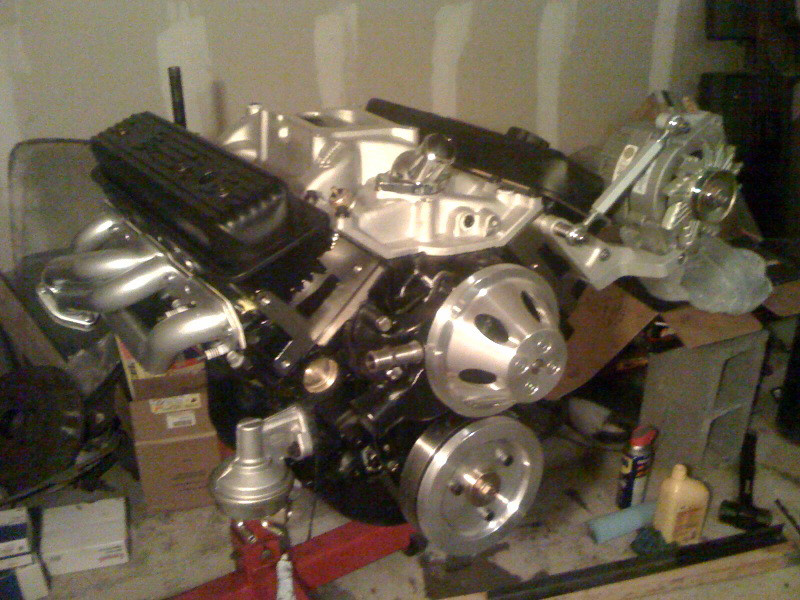 8-24-2009
Well, the plan was to get it in this weekend. If it isn't one thing it's another. I didn't get the motor in this weekend much less did I get the car home. My old man and I couldn't get a hold of my uncle whom has the engine hoist we need to borrow. So the move was put off until next weekend. I'm going to try and borrow one from my mechanic. So hopefully I'll get it home sooner than this weekend.

Some pics of the engine 98% complete. Just need to install small stuff like vacuum hose for the dist., pcv valve, put the oil sender unit back in (manual one installed for pre-oil which is pictured).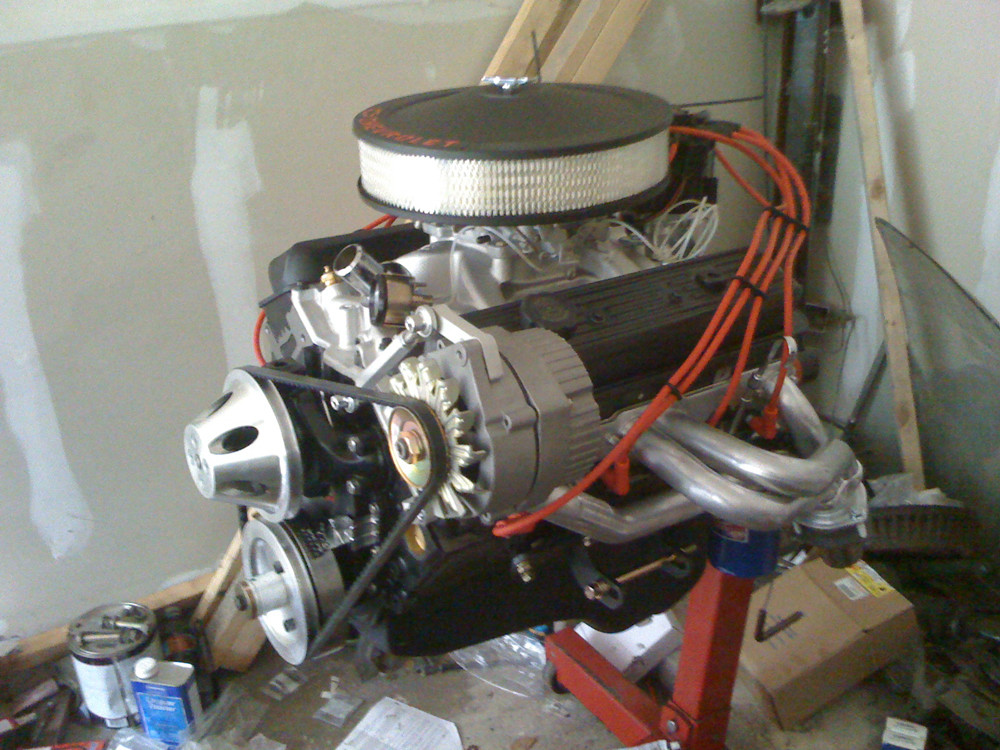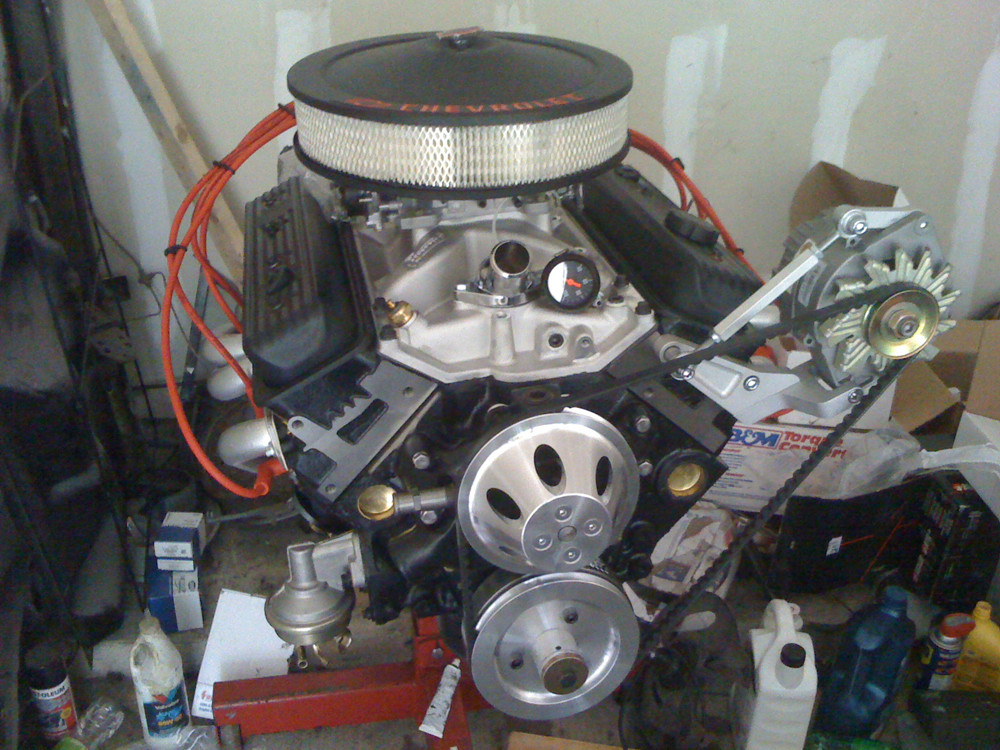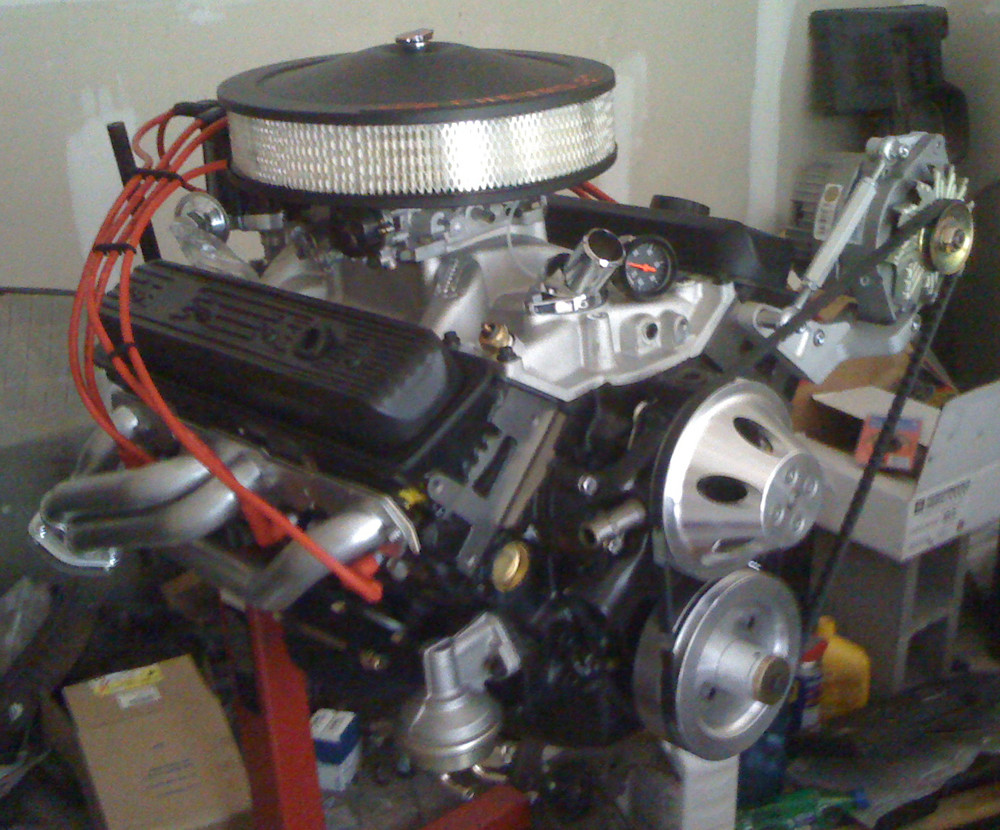 8-27-2009
So I got the engine in last night. It's finally a V8 bug. Haha.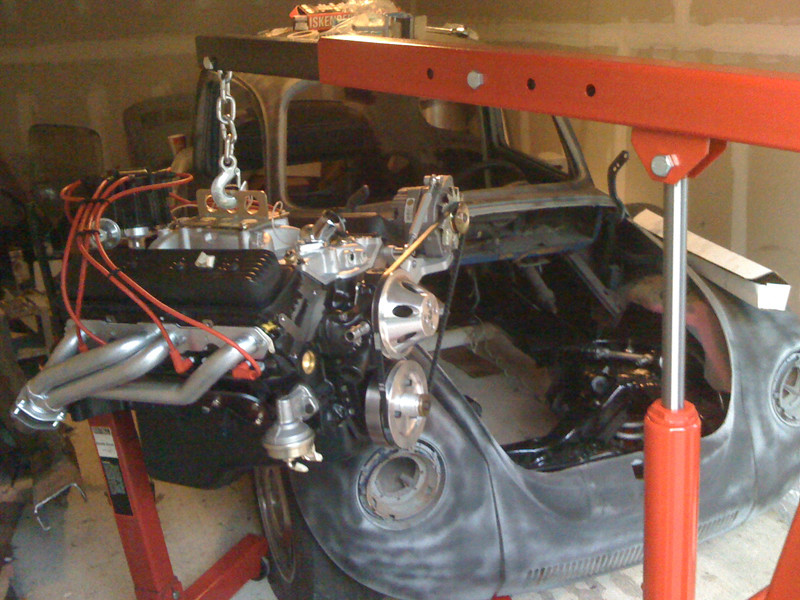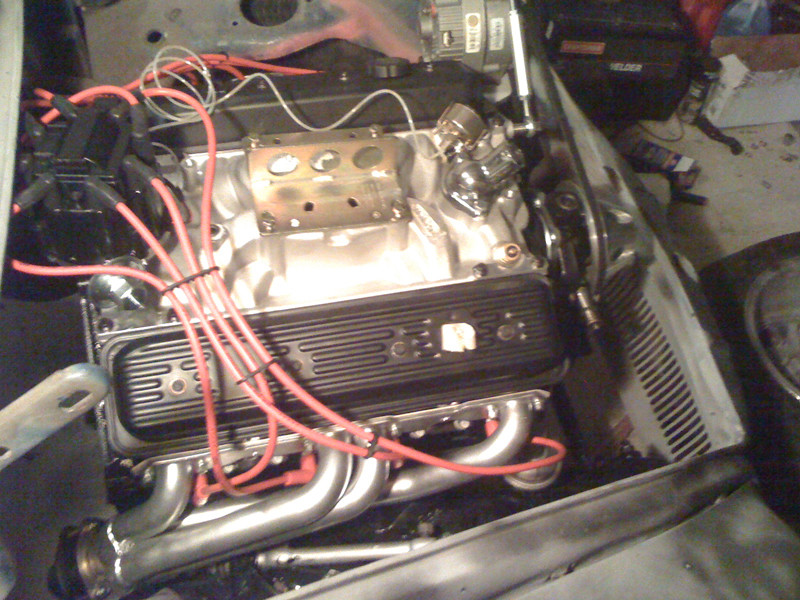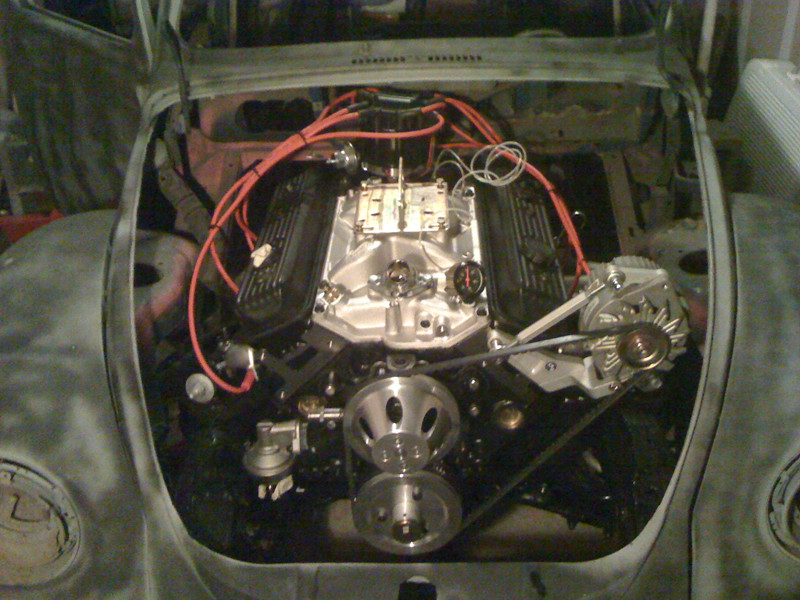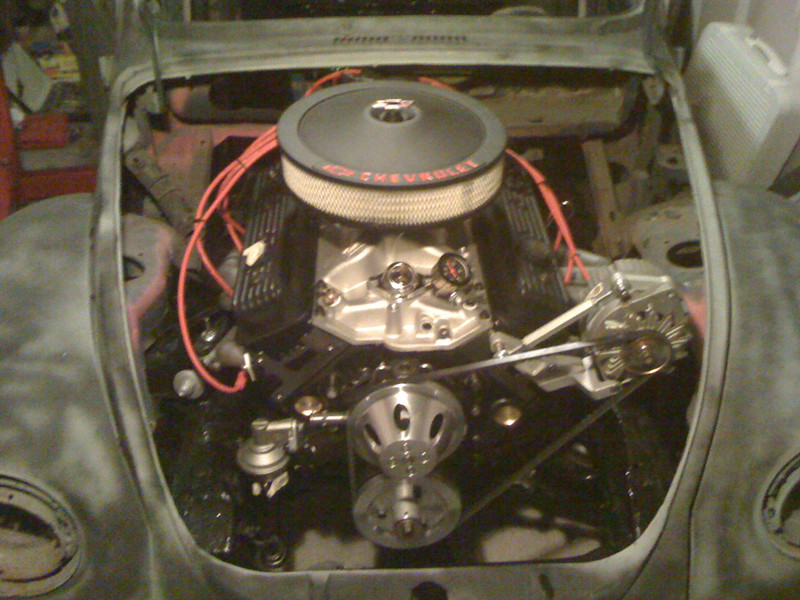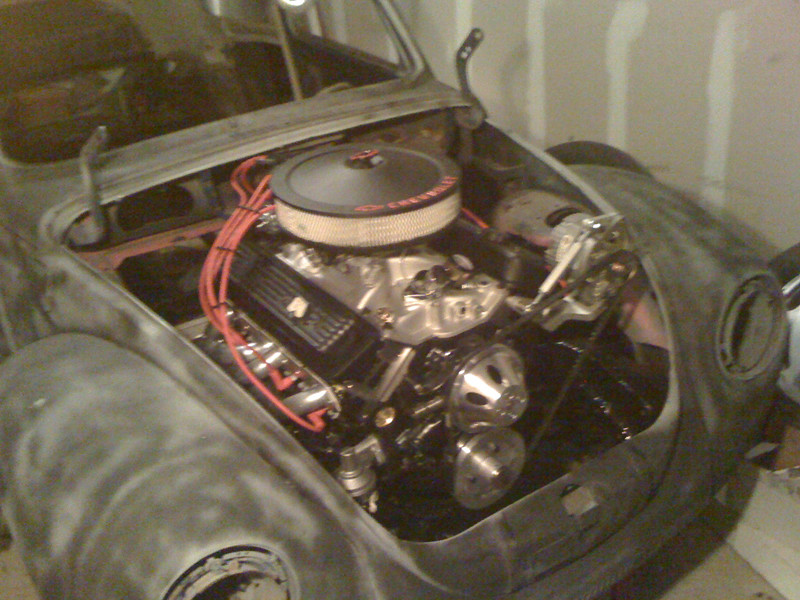 I've managed to get one bolt completely through the mount and the other is in but not through the back of the metal mount plate. I've got to move the rear of the engine about an inch towards the passenger side so it can go all the way through.

On another note, the engine fits great but I'll have to raise the body about 3" to clear the breather and the alternator. Seems dropping the body 6" around the frame was a tad too much. I might have to buy me a lower mounting alternator bracket for a short water pump. Maybe the one I have will fit after I raise the body, but we'll see.

One great thing is the dist. clears the wiper motor compartment by about 2". That's with the motor all the way forward in the mounts so I've got a little wiggle room to move the engine back slightly if needed.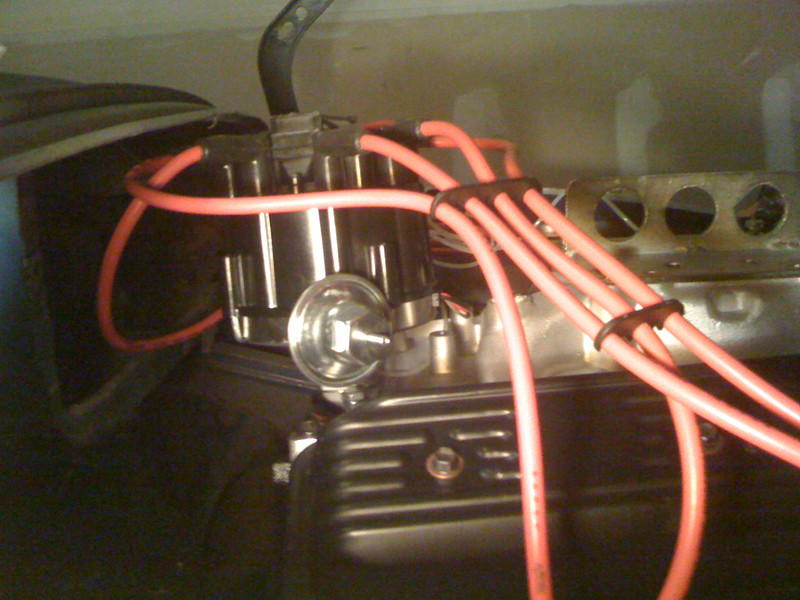 9-1-2009
Well, I got the bug home and finally got everything out of the garage. I'm finally out of the apt complex. I threw away quite a bit of stuff (vent windows, spare rotors / spindles, s10 steering linkage, power steering box, etc.) because I ran out of time and space even though I have a two car garage. The fiancé likes to park her car in the garage.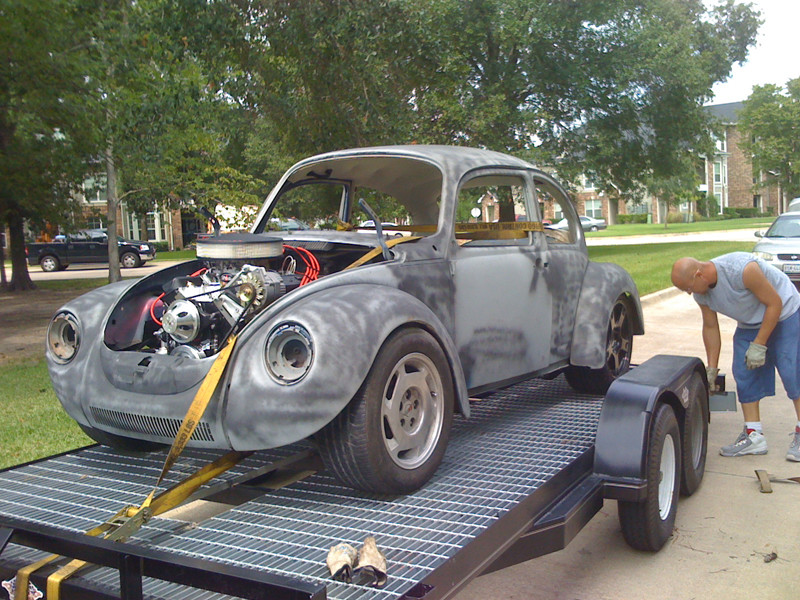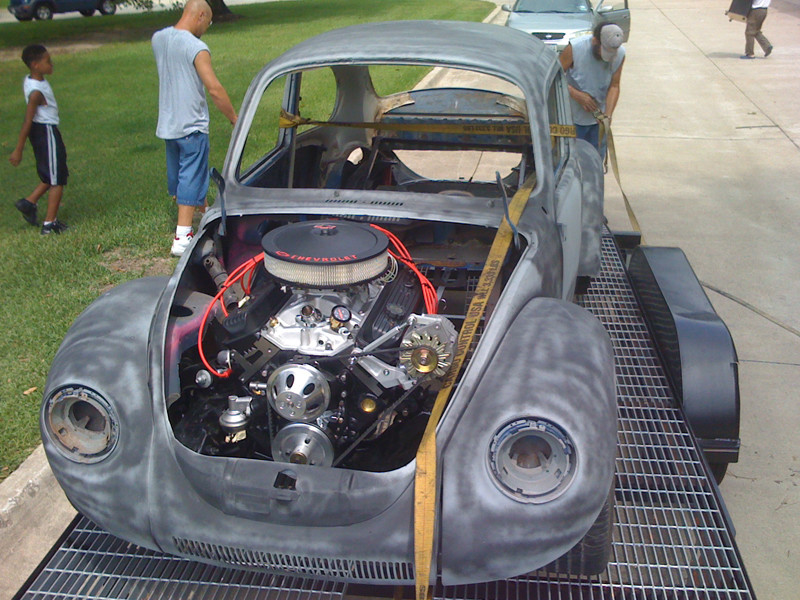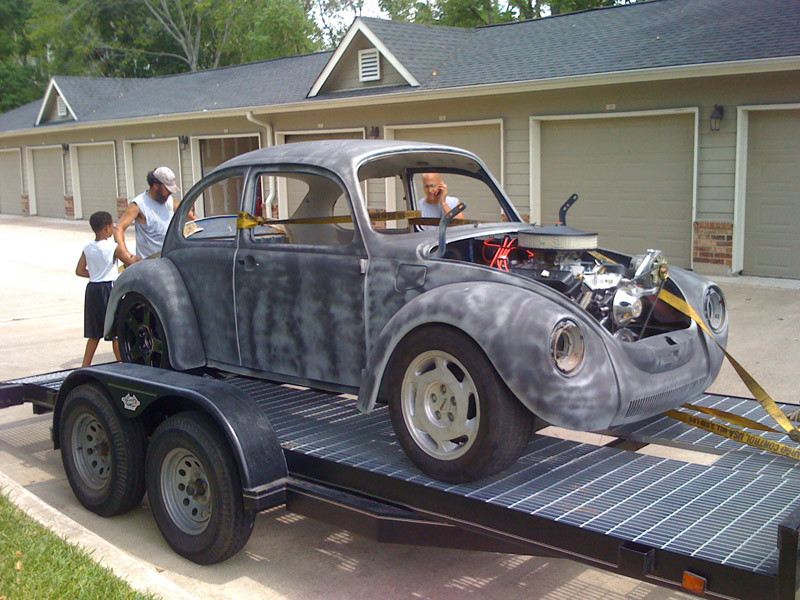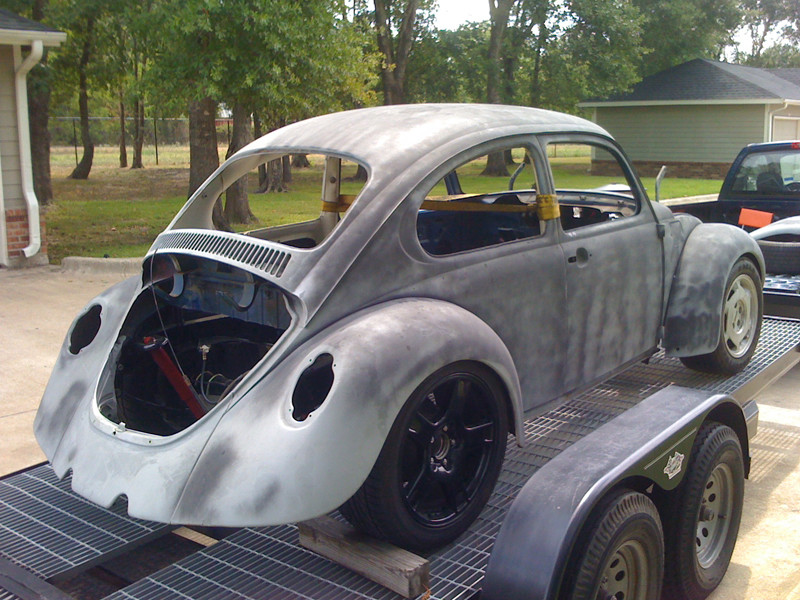 Here's a couple pics of us moving it and securing her down. That's my old man, the bald guy is my half uncle, and the boy is his son.
9-10-2009
Thanks for the links Polara426. I've found a alt mount that'll work out great.

The project is coming along well but a little slow at the moment until I can get my hands on a transmission. I'm searching for a th350. I've found some that I'm going to take a look at this weekend. Hopefully I wont come back empty handed. Once I get the tranny I'm going to rebuild it. So that should keep me busy for a few weekends.

I'm thinking about buying a roll cage once I get paid tomorrow as well. So that will keep me busy for a couple weekends too.

I bought a new set of motor mounts. I had some 4x4 s10 v8 mounts (because I originally was going to get a 4x4 frame, was a good deal) and the 4x4 mounts worked but they offset the engine to the passenger side making the fuel pump sit on the frame rail. So I pulled the motor, installed the 2wd mounts, and put her back in.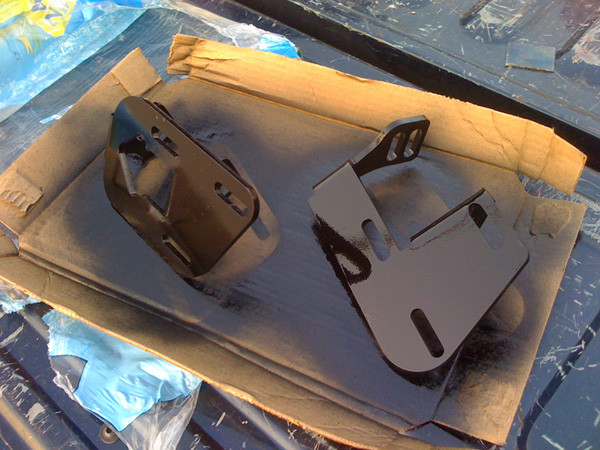 The engine sits a little lower than it did with the 4x4 mounts. Not much lower though.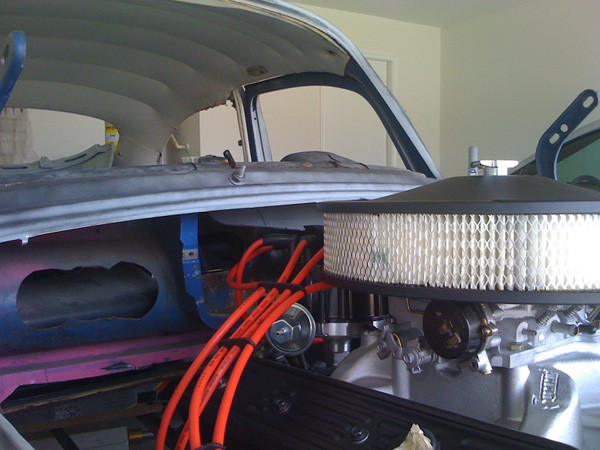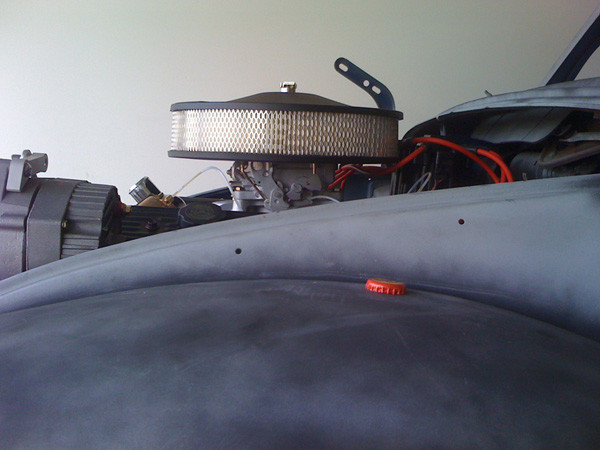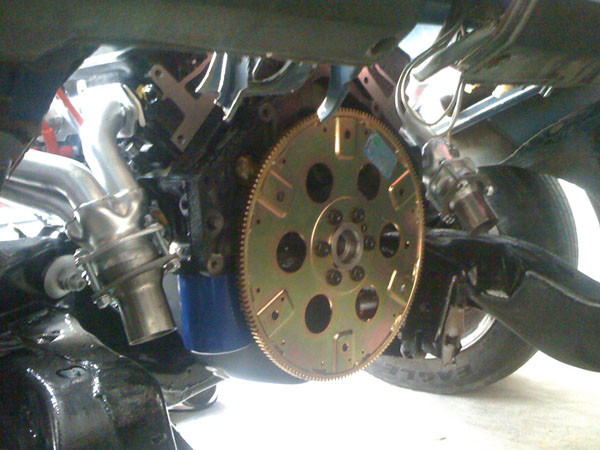 Also, this past weekend I went to Pick A Part, because they had a 50% off labor day sale, and picked up a tranny crossmember. I looked for a tranny but they were all pulled and gone. I sanded blasted the crossmember here at work and it's ready for some paint.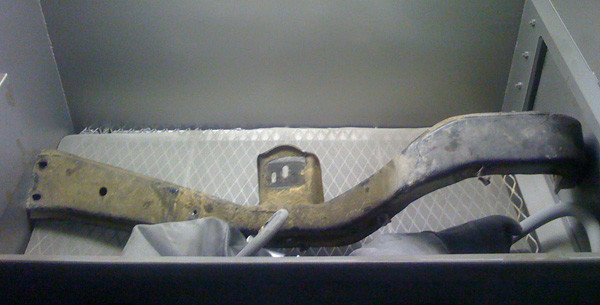 That's about it for now. Hopefully I'll have a cage and tranny to keep me busy the next few weeks. I'll keep you posted.
9-14-2009
Well, I got some things done over this weekend.

I went to Pick A Part, because they had a 50% off labor day sale, and picked up a tranny crossmember. I looked for a tranny but they were all pulled and gone. I sanded blasted the crossmember here at work and it's ready for some paint.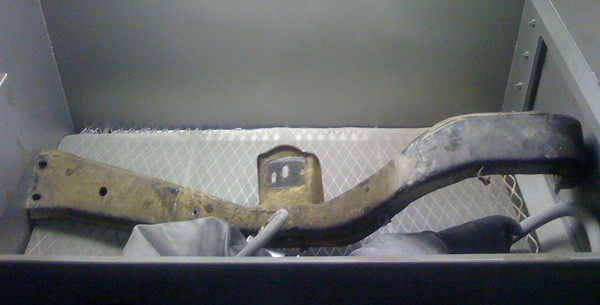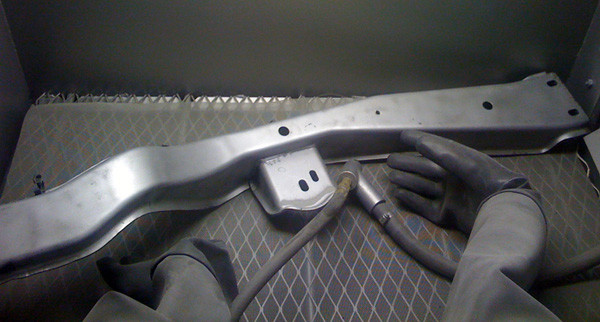 Painted the transmission crossmember.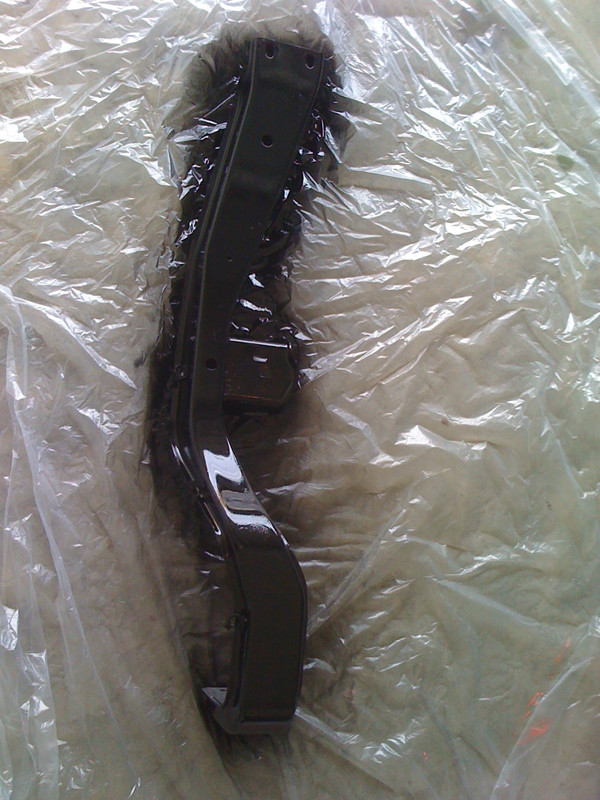 Flushed and washed the radiator. Then I gave it a light coat of black engine enamel. I was going to polish the brass but the way I plan to mount it and set up my fan shroud my efforts wouldn't have been worth it cause it would be hidden.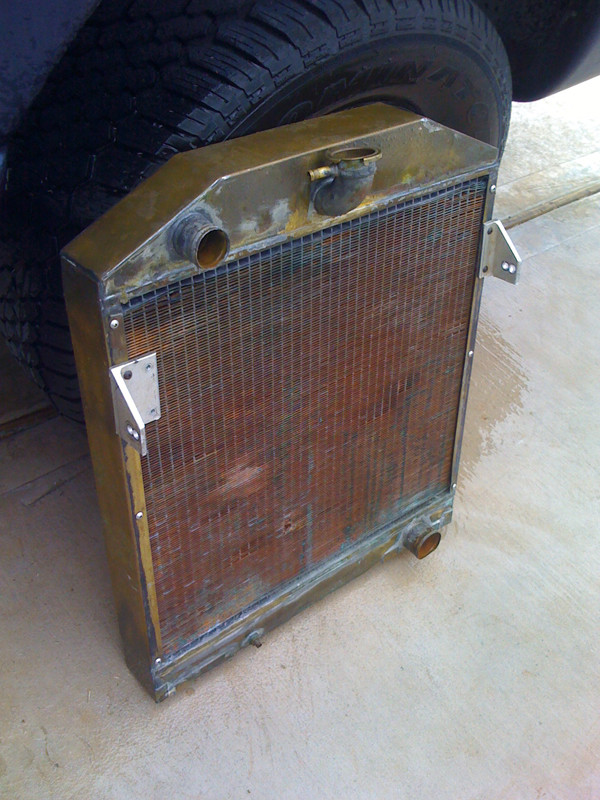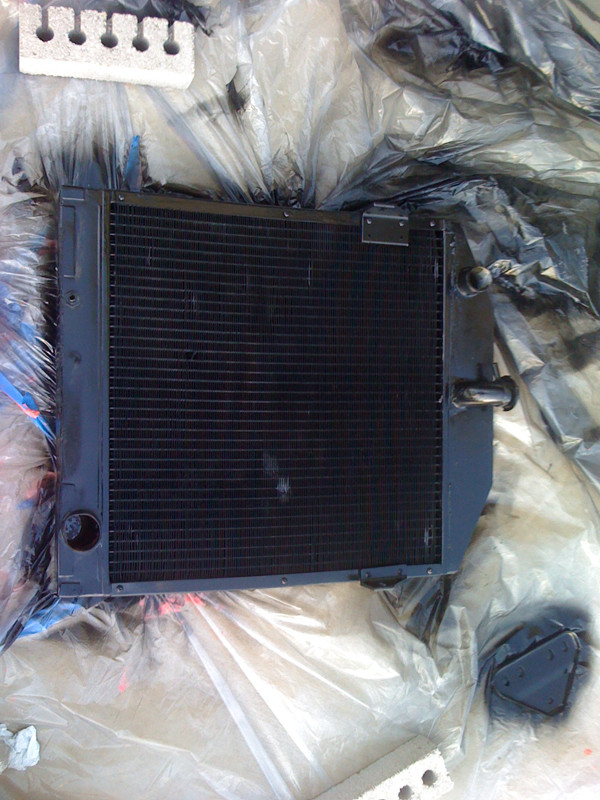 I used almost a full quart of Master Series in my gas tank to seal off all the garbage in the tank. Seems to have worked cause I don't hear crap rolling around in there anymore.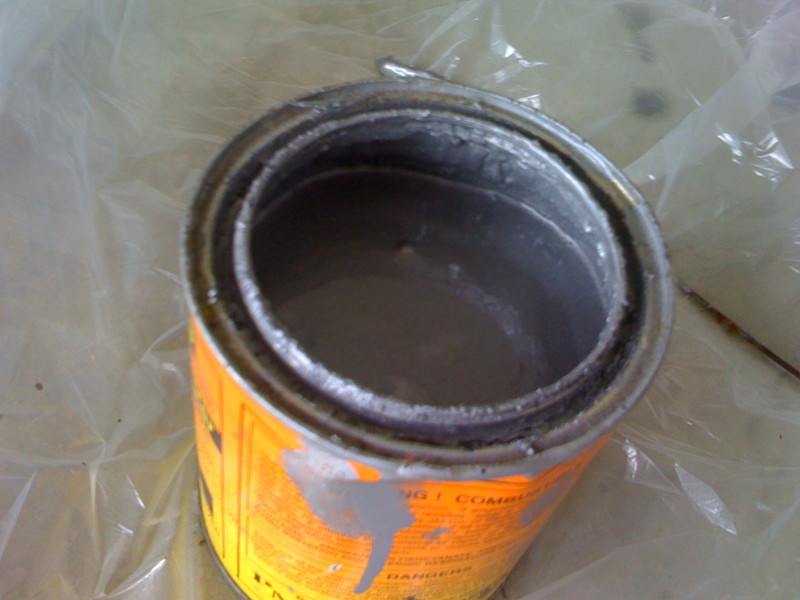 I also painted and put the gas tank in place. I just need to get some bolts to permanently hold her down.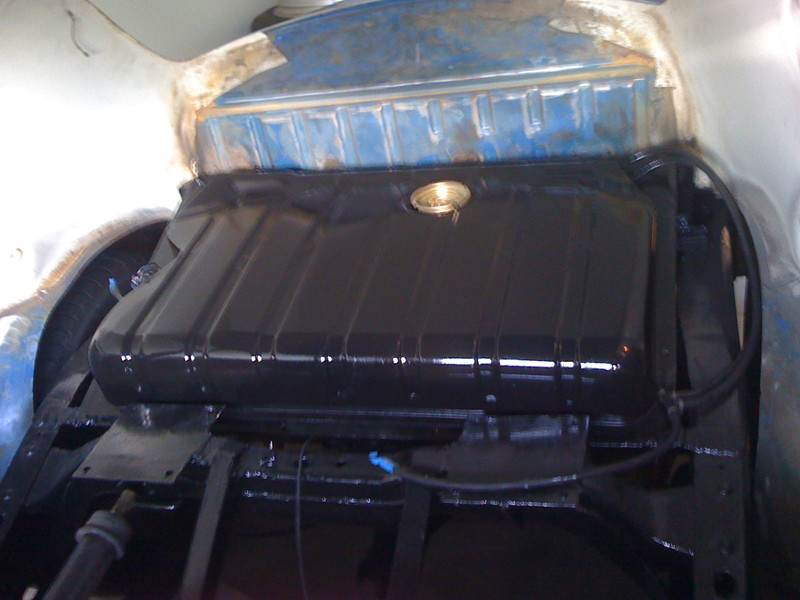 Last but not least, I picked up a used good th350 for $100. Getting her ready for a rebuild which I'll attempt myself. What little fluid I poured out looked really clean.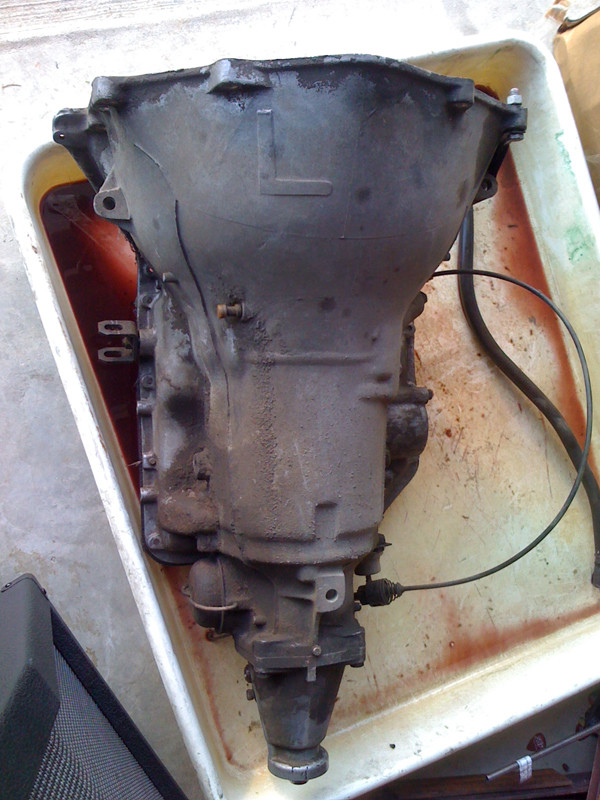 Almost forgot, I'm ordering my roll cage today so I'll have tranny rebuild and roll cage pics coming in the next few weeks.
9-16-2009
I started the rebuild of my th350 tranny by starting disassembling it last night. I almost got it completely tore down but I'm lacking a couple of tools to do so. One of which I ordered, a clutch spring compressor, and the other is snap ring pliers which I'll just buy.

I've never rebuilt a transmission before but this thing is a piece of cake to take a part with the help of a Ron Sessions book. Shouldn't be too bad to put back together either. On another note, this tranny is really clean inside and has very little signs of wear on the clutches, bushings, and trust washers. I had thought about just buttoning it back up with new seals and gaskets, and a good case cleaning but I want to make it more durable by adding an extra clutch and a hardened sprag as well as give it stiffer shift with a shift kit and adjustable modulator.


Pan off. See, clean.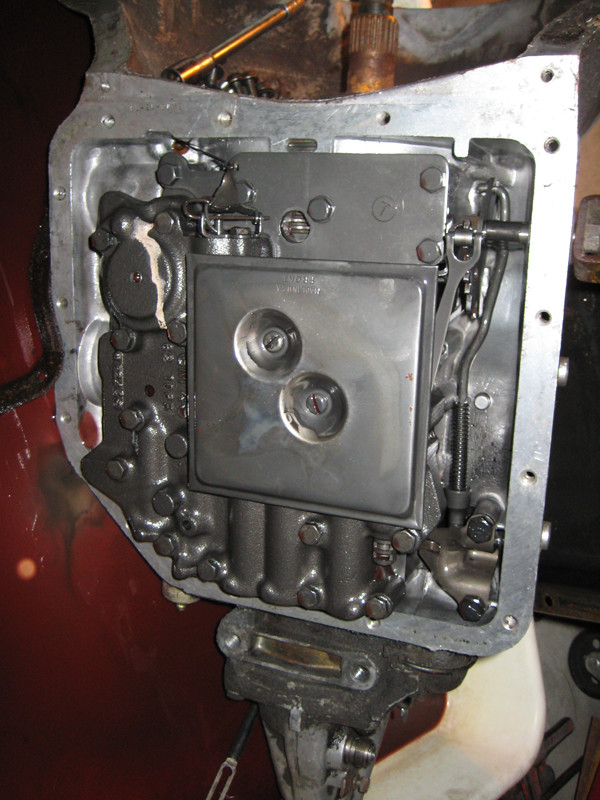 My low buck oil pump puller. A $7 pry bar and two 3/8"x16 bolts threaded in 4 complete turns. Worked like a charm.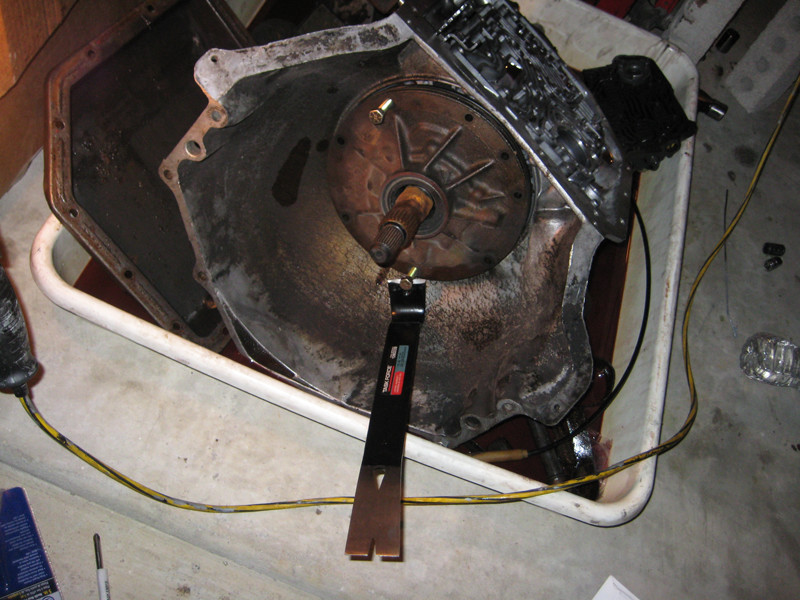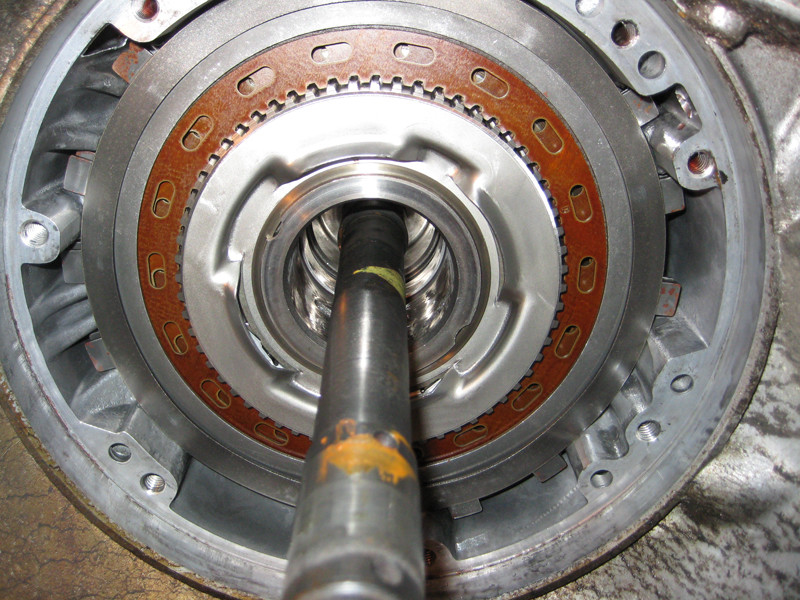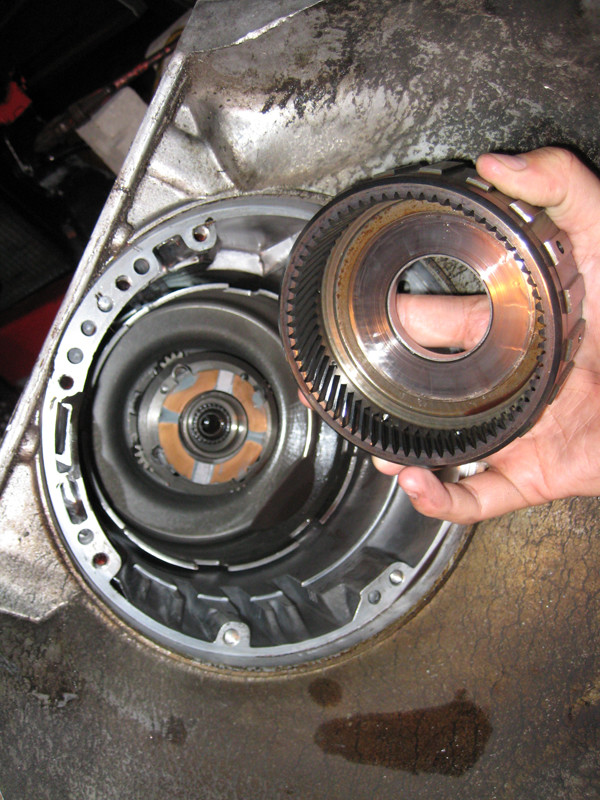 This is about as far as I got. I couldn't remove the nickel sized snap ring that holds in the gear / shell and you can see in the next picture the valve body is disassembled.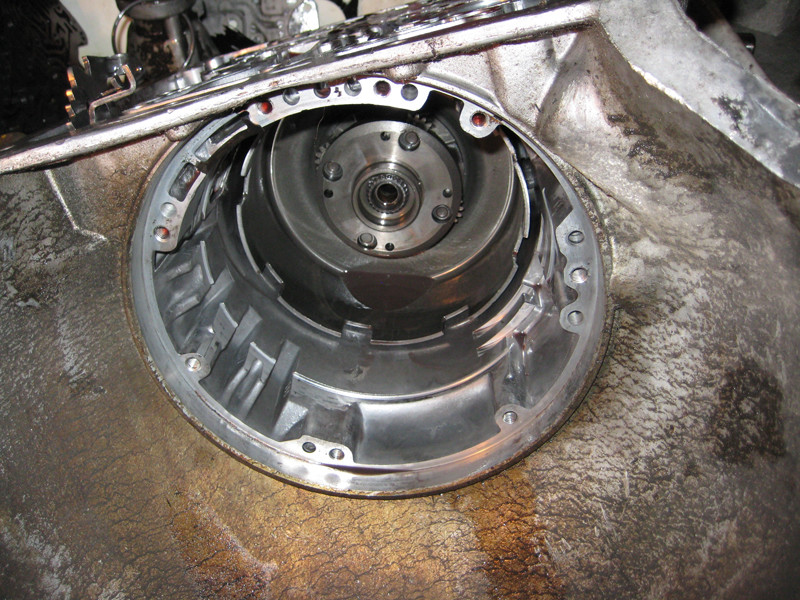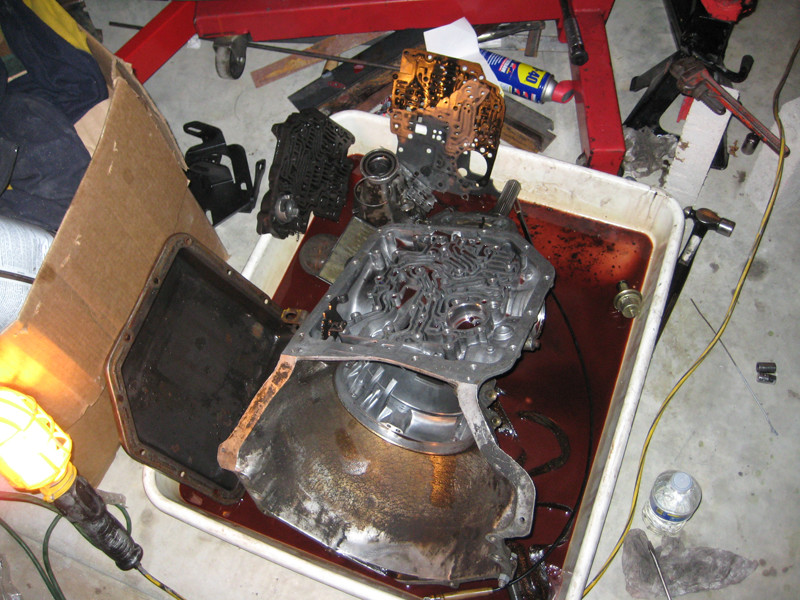 9-21-2009
I spent most of all Sunday trying to get my cage assembled. It's going to take longer than I thought, but It's getting there.

I trimmed and notched about half of the bars. I did quite a bit of thinking and just figuring out exactly how I want this thing to fit. Now it's just making it happen.

The main hoop didn't exactly go where I originally wanted it to so I'll be welding it into the body and the rest will be welded to the frame. I plan to gusset the cage to the body in various places just to stiffen the body up and so the cage and body become one unit that bolts to the frame.

It doesn't look like I got much done, but It's kinda tough do this solo.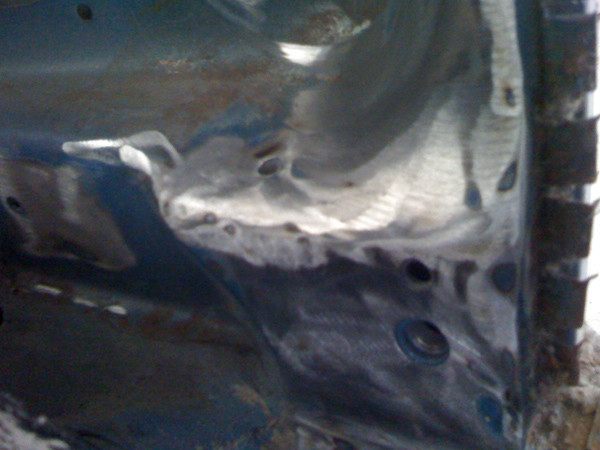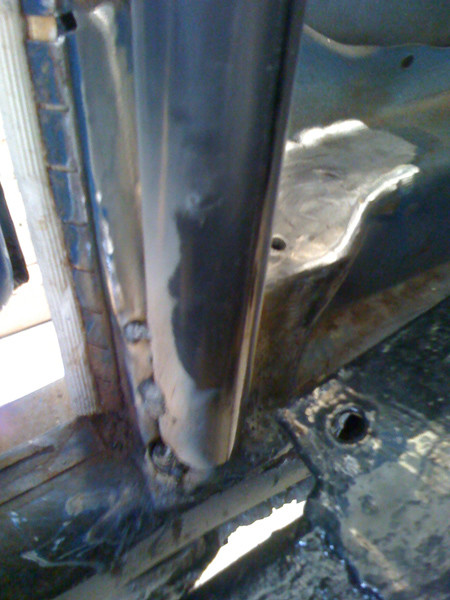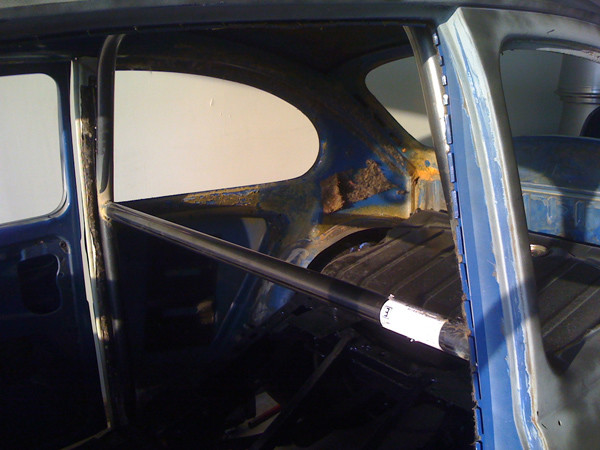 The die grinder worked great using the edge of disk to cut. So I got the main hoop and bar tacked.
9-28-2009
Quick update.

I have been working on the cage all week. Everyday for a couple hours at a time and I'm almost finished. I just have to cut and fit the side / door bars.

I've had a slight change of heart. I decided to just go ahead and weld the cage and body to the frame and to do away with the idea of being able to unbolt the body and cage so I can lift it off, whenever.

Although I'm sure this cage is for a standard beetle, the cage fit pretty well. I wish I could have the dash bar closer to the dash / further away from the steering wheel, but there is plenty of clearance although it doesn't appear to be that way in the pic.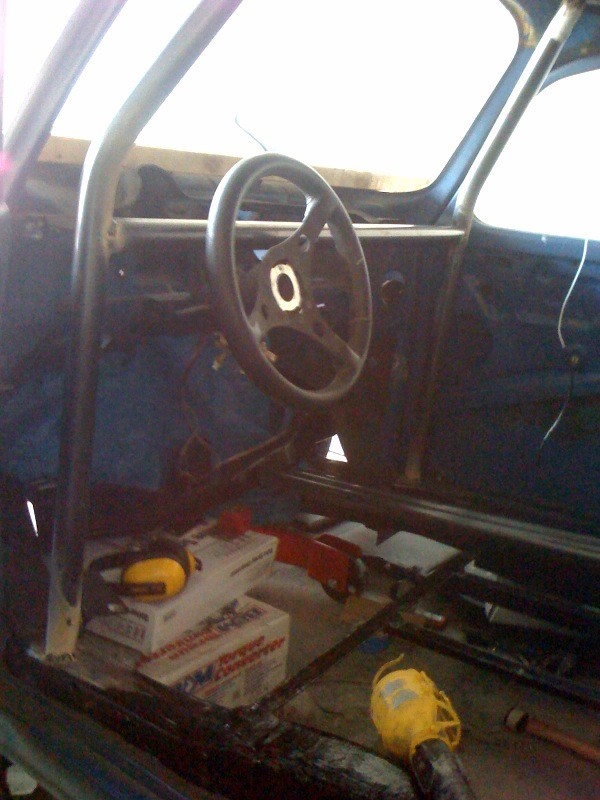 The roof hoop fit up pretty snug to the roof.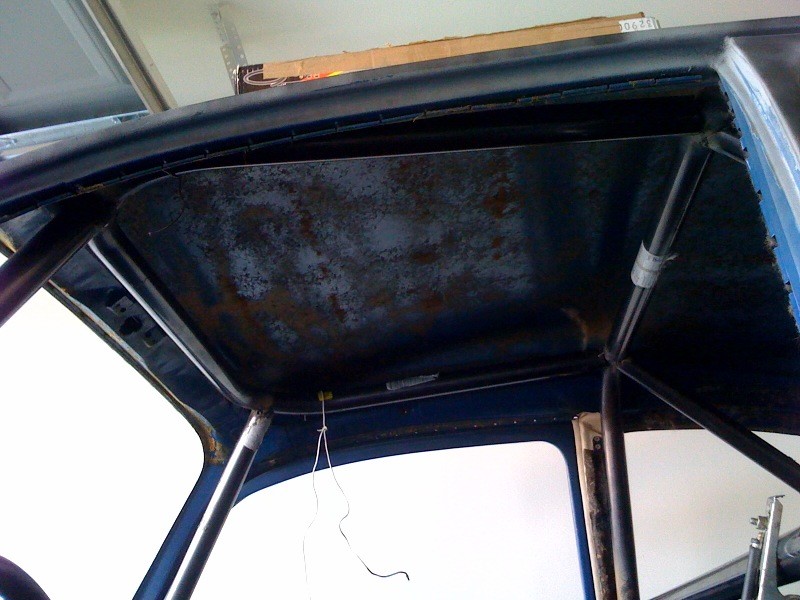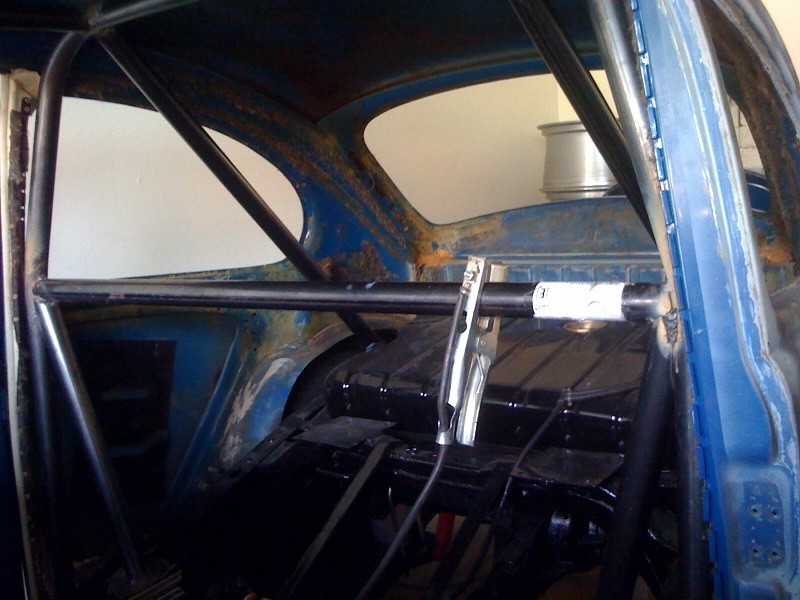 The plates did come in handy though. I was able to weld the lateral bar a little further out. Right about a 3/16 gusset I had welded in for strength.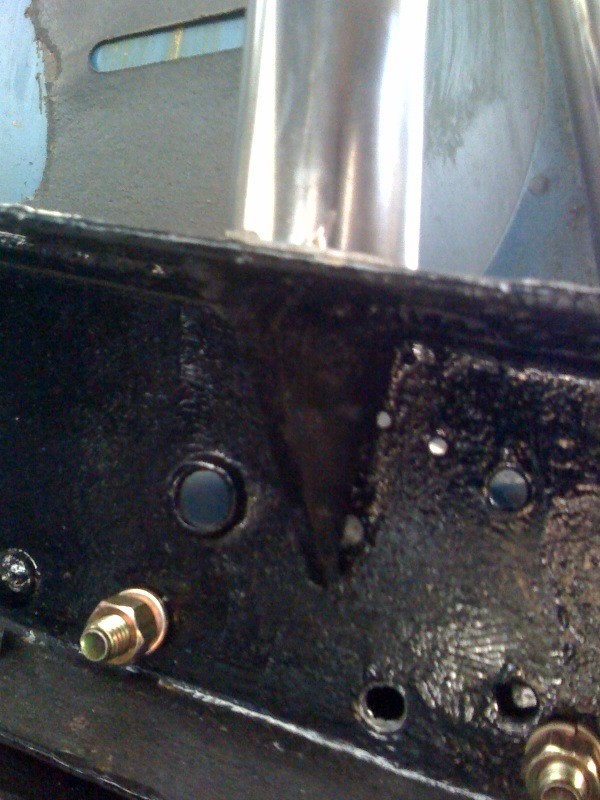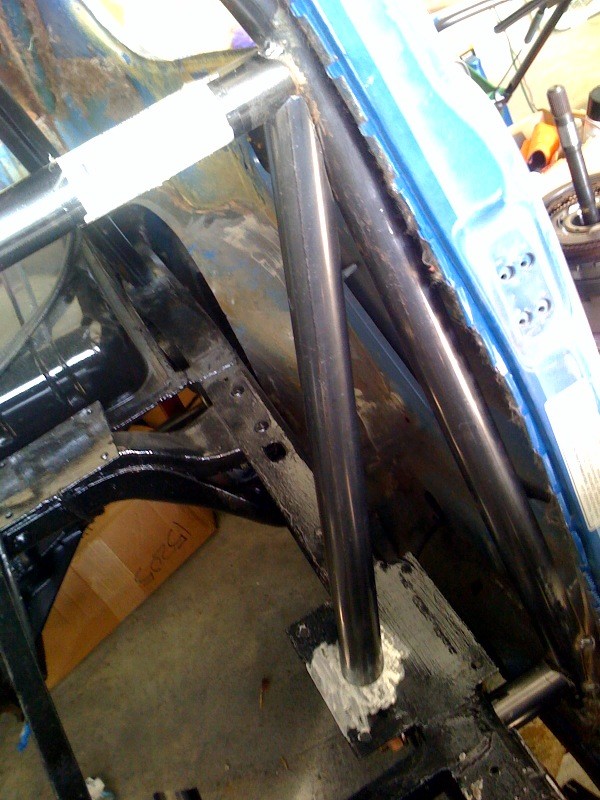 I should have the cage finished and all welded up by the end of the week.

On a side note, my hardened sprag and spring compressor tool came in. I'll finish tearing down the transmission after I'm finished with the cage so I'm not getting junk in it.

More to come soon.
10-5-2009
I finished the cage this weekend. I still need to weld in the seat belt tabs but that'll have to come later. I might do a couple gussets too for strength. Still debating that one.

I did have to cut out a section of the b-pillar and the roof to fully weld up the cage. So I'll have to weld those sections back in. Work, work, work, but fun nonetheless.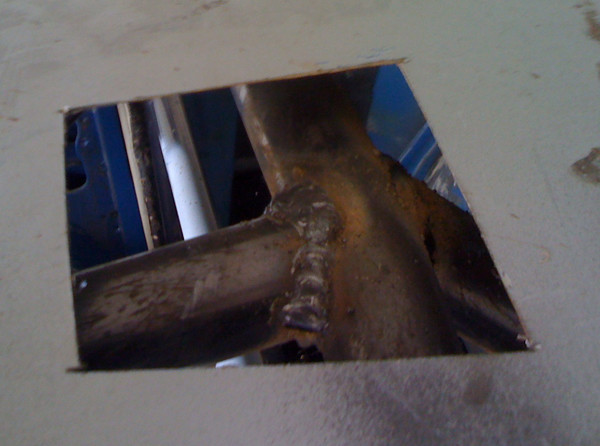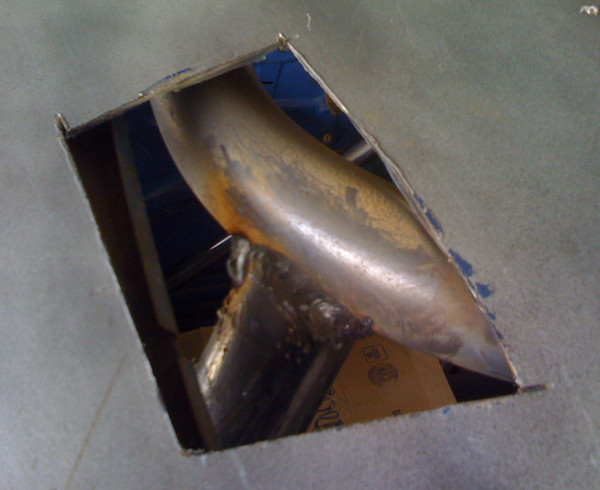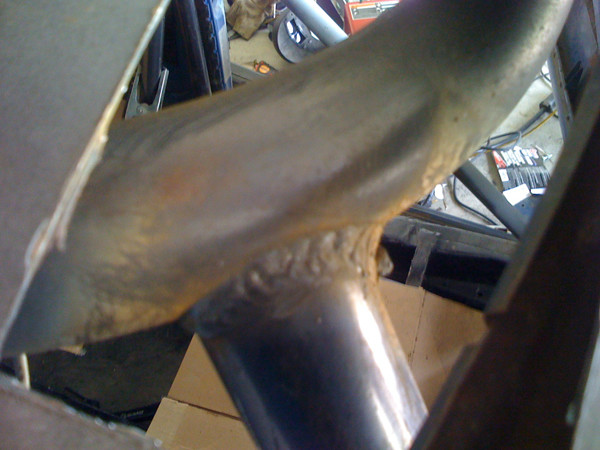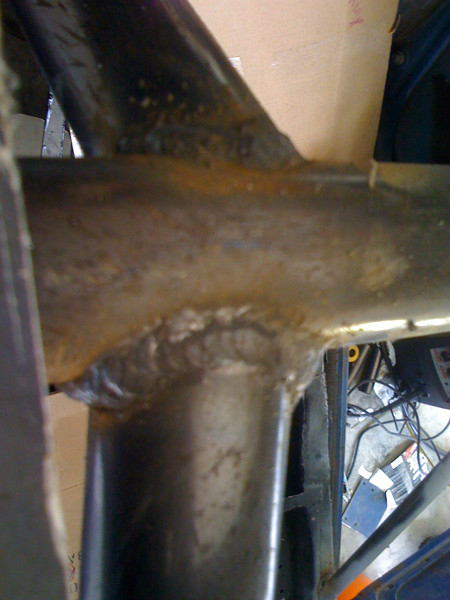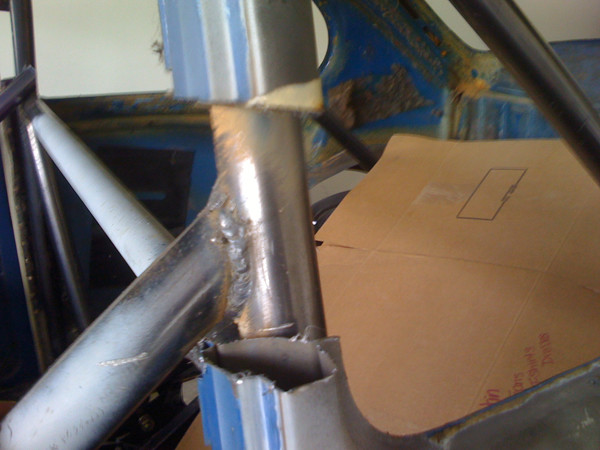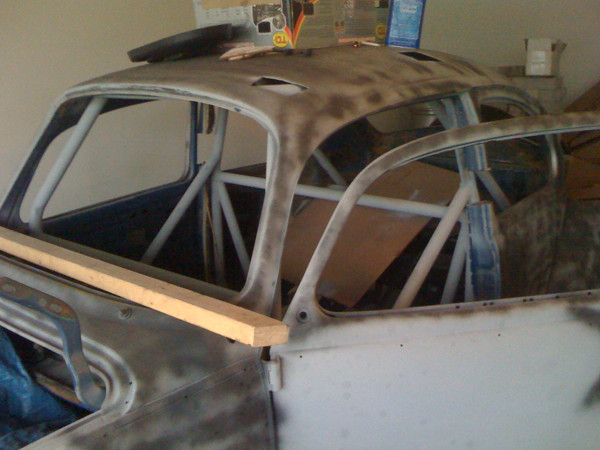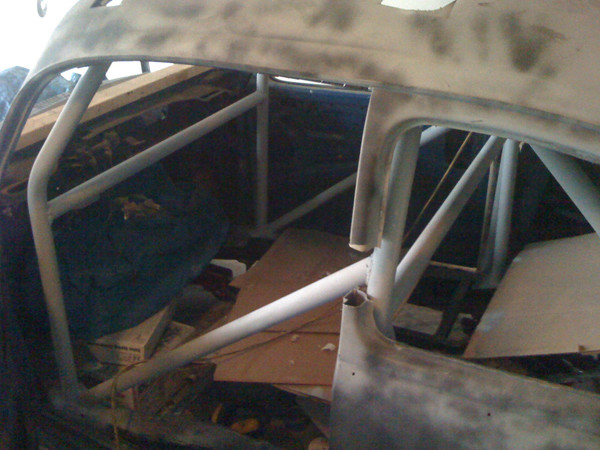 I'm working on tearing the tranny down and I'm hoping to have it rebuilt within the next two weeks. Also, I need to work on making mounts for the radiator.
10-13-2009
Not a whole lot of progress was made this weekend, but some.

I got the tranny completely taken apart and then found that the direct clutch piston spring, in the valve body, was broken. Probably the reason why the tranny was taken out of the car. It is a 5 clutch, heavy duty, th350, so that's good.

I decided just to go ahead and take the tranny to a professional shop because they could get it put together quicker, I don't have much "clean room" where I can assemble the tranny, and I get a 6 month warranty with the guys who did the work, that is if I can get it all going with six months time. Haha.


They did a really nice job and they were very informative about the parts I had and what to look out for. Basically the kit I had was a stock rebuilder kit repacked. Which is ok for my purposes. I dropped off the tranny Sat morning and they had it ready Monday after work.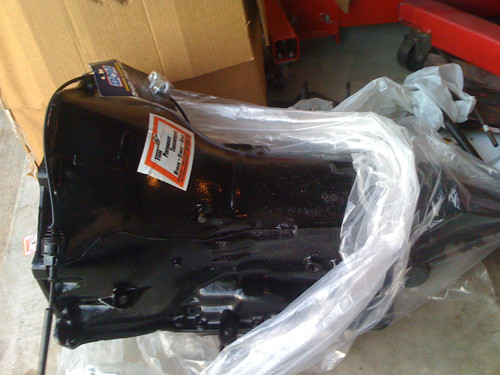 I installed the tranny crossmember.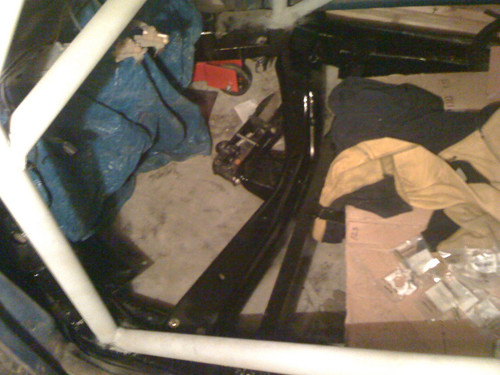 The tranny is ready to go in. I'm thinking I'll put the motor, hook the tranny up, and then install it as a unit...? I could just have someone help me pull it through the door rather than remove the engine. Hmmm...dunno which was would be easiest. Either way it wont be as bad as installing it in a car with a firewall and floor.

Also, I have a new radiator, fan, mounting hardware, etc. on their way. I bought a 22"w x 19"h aluminum radiator. I'm pretty sure I figured out a way to put my radiator up front. It'll be mounted low but wont be sticking out of the bottom of the body. Hopefully. The only way I see this working is I'll have to use a rack and pinion setup, which I'll have to buy.

Any advice on which rack to use for the S10 frame?
10-14-2009
Another quicky update. I got the transmission installed last night. Torque converter seated all the way down and it spins freely with the bell housing completely bolted up. Now I just need to crawl under the car and bolt the converter to the flex plate.

Believe it or not, I got the tranny in all by myself. I lifted it and sat it on my floor supports, got out a jack with a block of wood, raised the jack, instead the converter (after a quart of ATF), slid the tranny forward until it sat down on the jack / wood, then roll the tranny forward and mated them up. Easier said than done, but it worked.


Sorry, the night shots on my camera phone suck.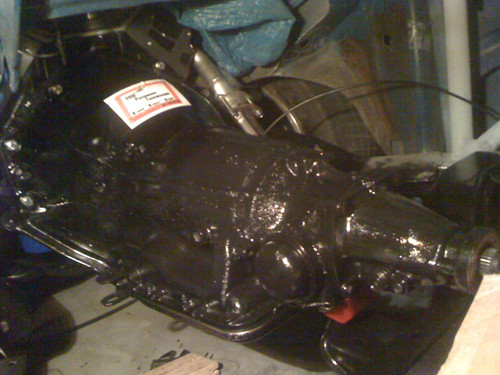 I still need to adjust the crossmember. It needs to go in the most forward mount holes so it'll bolt up.
10-20-2009
Small update. I didn't get as much time to work on the bug as I thought I would this weekend.

My low mount alternator bracket came in and seems it wont work either. The steering box is in the way. I'm not sure what my options are now for an alt bracket. I might just have to make one.

My radiator and fan came in so I started mocking it up to see if I can get it up front. I trimmed more of the front clip sheet metal away and squeezed it in, so to speak.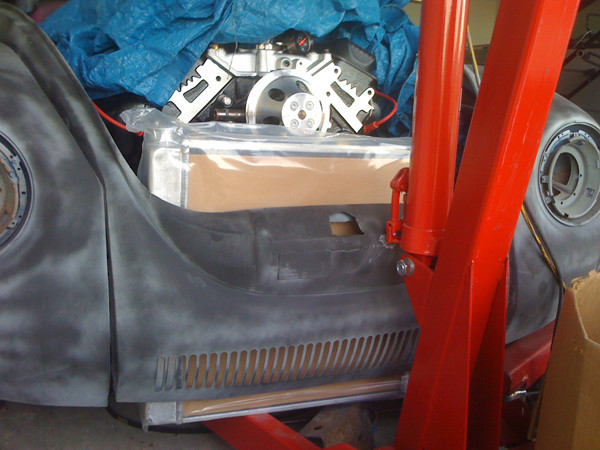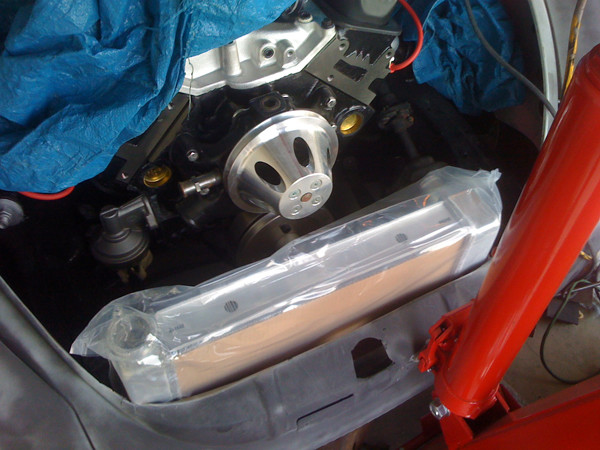 As you can see it goes in, but I don't think I'll have room to close the hood unless the radiator is sticking out the bottom by about 3". Even a little more so than in the picture. Also, from the looks of it, another problem is there's not enough room to squeeze in the electric fan. I'm going to see what I can do the make it work, but it's looking like it would be best and easier to set up the radiator in the back.

Any thoughts, suggestions?
10-21-2009
Did a little work last night. Mainly mocking up trying to figure things out which hopefully you guys can help.

I mounted the fan to the radiator. Do you think I'll need a shroud if I'll have a duct drawing air from under the car? See duct explanation below.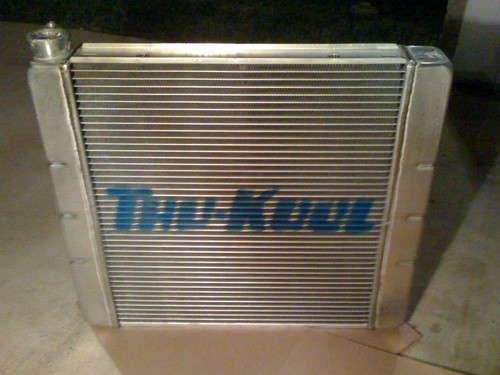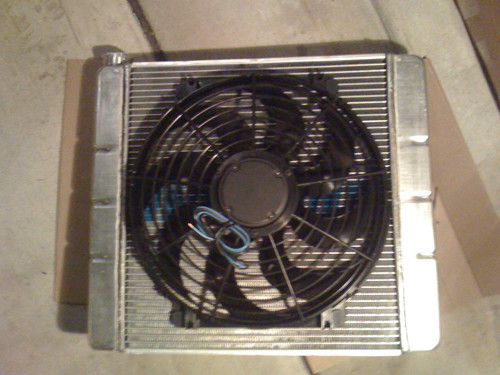 I picked up a manual rack from Matt, whom is building a V8 bug out of a S10 chassis believe it or not, and I'm going to see if I can't make it work. Seems like it might. Cross your fingers. Thanks, Matt!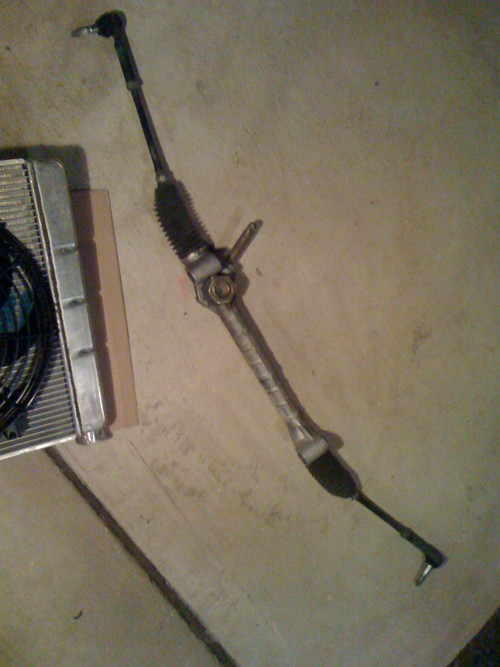 With the steering box out of the way, in hopes the rack works out, I had enough room to mount my alternator with the low mount bracket I recently bought. High five!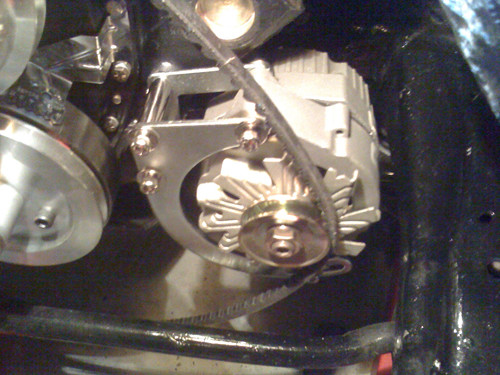 Next, I mocked up the placement of the radiator out back. I'd like to mount it like the last picture, on an incline, so I can make the duct work better, I think. Also, what do you guys think about mounting it inclined and having an inline radiator filler neck in the engine compartment close by the top water neck that comes from the intake? Like the one pictured below. Do you think that would create any problems just keeping the rear cap on and filling the radiator using the inline neck? If I mount it at angle it'll be hard to access the radiator filler neck.

If worse comes to worse I'll mount it like the other picture.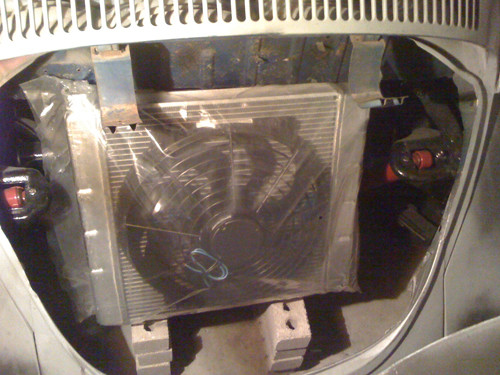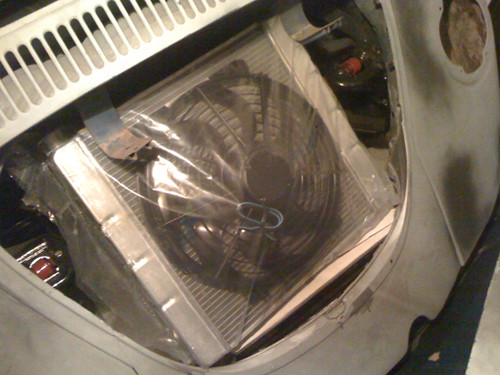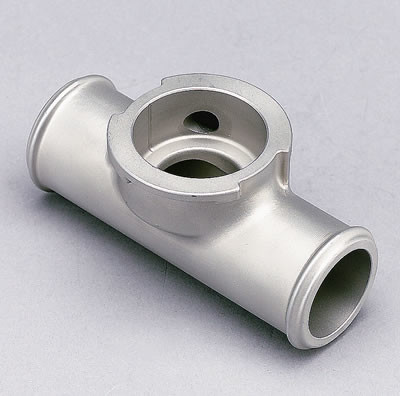 The duct work will look like this, somewhat. Less boxy looking though.
10-22-2009
Hey Tomi, thanks for your feedback. I think that the air would flow like the picture and here's my thinking as to why it would.

Here are some pictures below of the original air cooled setup.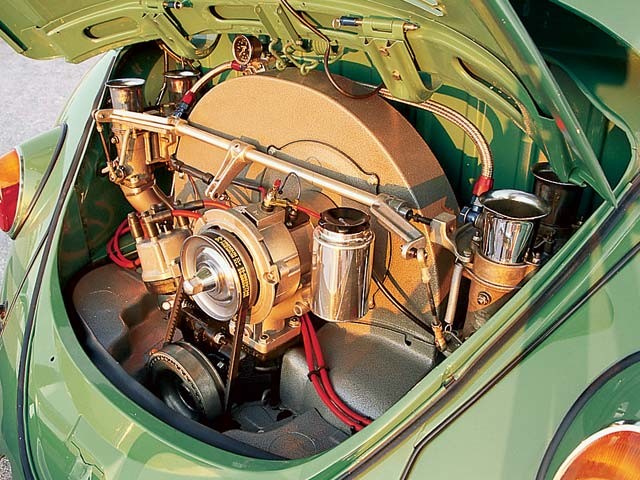 You'll notice a dog house which has a fan inside that's connected to the back of the alternator. The engine has tin that completely seals the upper portion of the engine off from the hot lower portion. At the back of the dog house is the fan that sucks in cool air. The tin work is made so it blows the cool air down on the heads and the hot air exits out from under the car. So basically I'll be creating the same effect but with a radiator in place of the engine.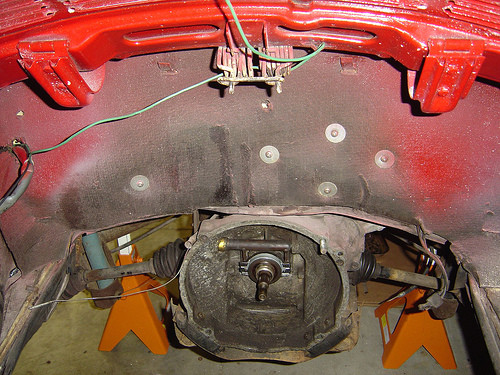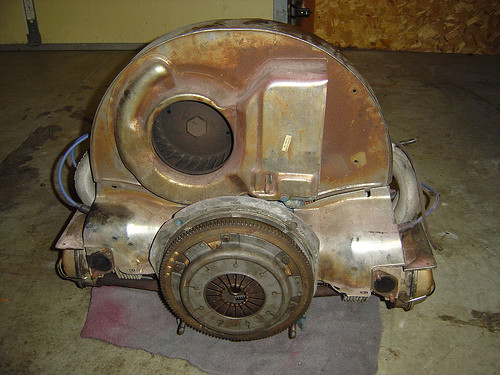 That's why the deck lid stand offs help pull more cool air into the compartment. Right?
10-26-2009
Thanks for all the help guys!

I got some progress done this weekend. Not as much as I would've liked. I had my 10 year high school reunion on Friday night and I had a gig the following night. I was nursing a hangover most of the weekend. Ugh...good fun though.

Any who, here were are. Got the subframe for the radiator made.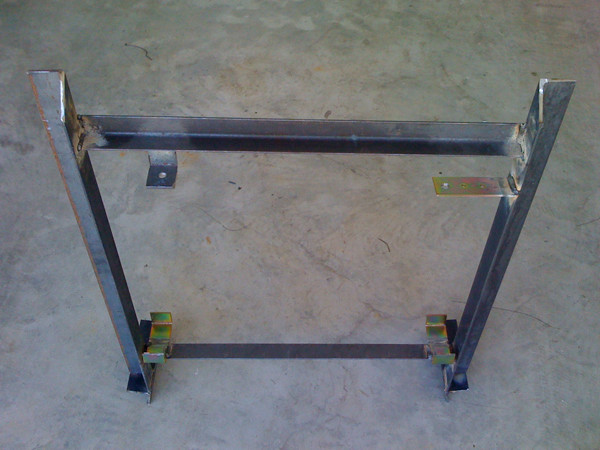 Here you can see how the rad bolts in. Fairly simple.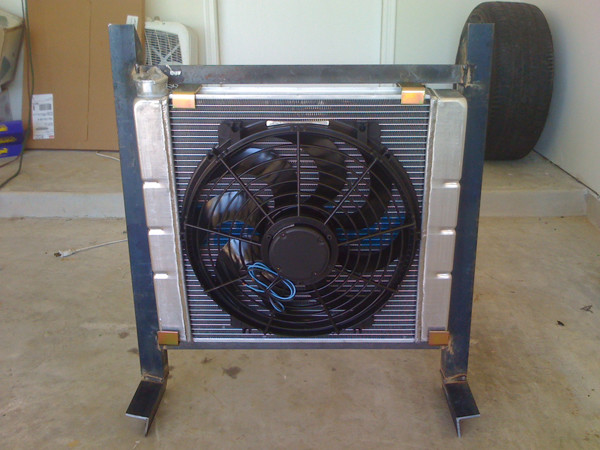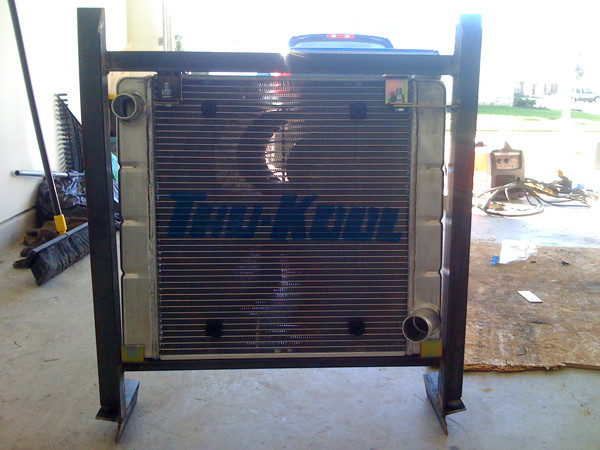 I then welded it into the body. Notice the penetration on the rear clip.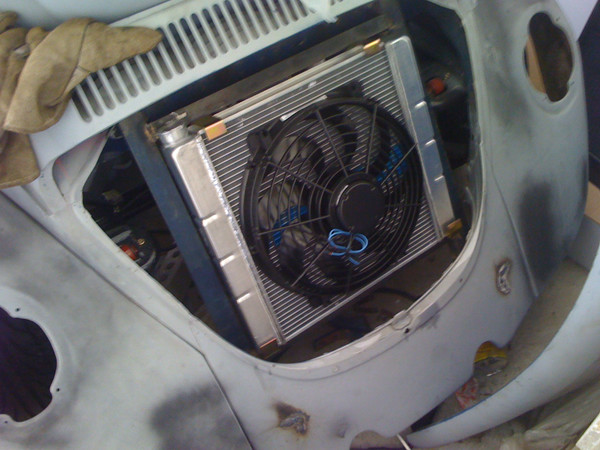 I then made a template for the ductwork? Basically it'll keep the hot air from recirculating with the cold air. Next I just need to make a duct to direct the air out the back of the car and which will also help to keep hot engine air from reaching the rad.

Setting up the radiator leaned back rather than flat filled the area better and will be less sheet metal work that I have to do.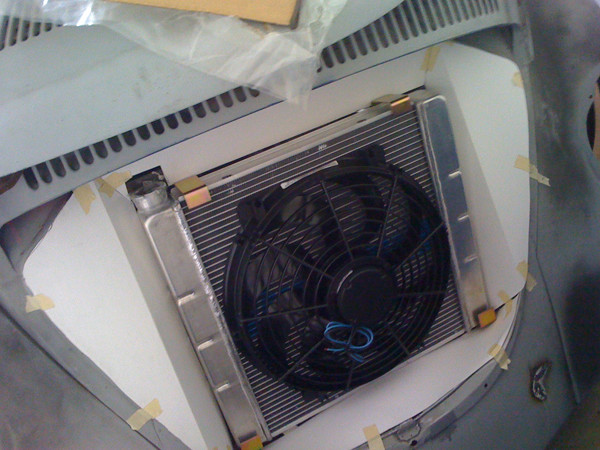 11-16-2009
Some updates.

Well, it's been a nice long week off. Saturday, Nov. 7th I got married and I took the week off following the wedding. So I really didn't do too much to the bug, but I did manage to get some work done.



Some of the small things I did that weren't worth photographing are things like moving the tranny crossmember forward and torquing the tranny mount bolts, the crossmember bolts, bell housing, bolts, etc.


Few things I ordered came in. FlowMaster 40 series 2.5" mufflers, flexplate / tranny dust cover, inline water filler neck, and an overflow plug for the radiator. I plan to have the overflow come from the inline neck rather than from the radiator.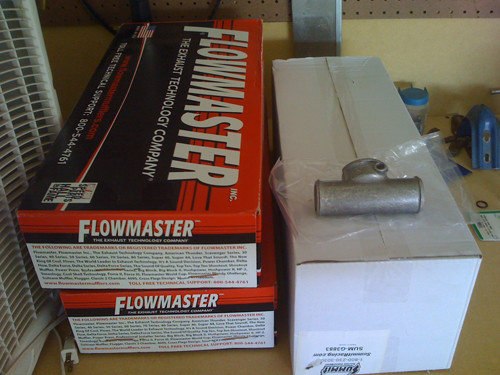 The garage was getting a little out of control so I felt the need to get it organized. That and I got tired of working off of the floor. So I built a table, a tool organizer and cleaned up the garage.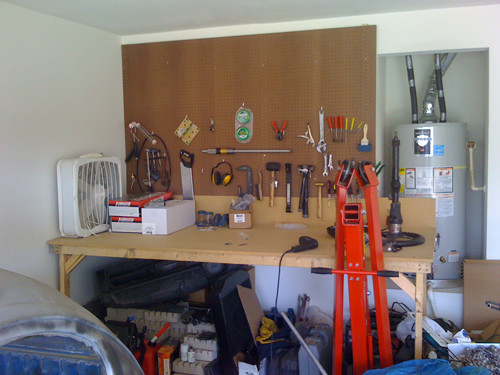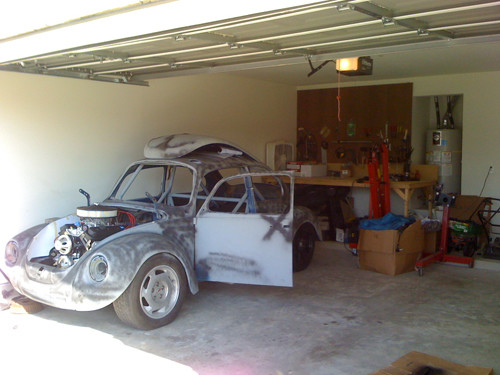 Painted and installed the tranny dipstick, as mentioned.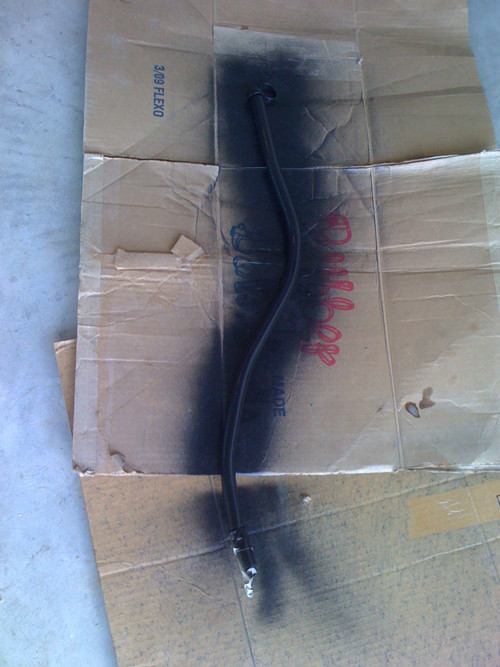 I started making the firewall, engine bay, and floor patterns. I'm almost finished with the patterns. All that's left is the section that'll go behind me. There's a few 4' x 8' sheets of 14 gauge steel I plan to use because it's free and it should be plenty strong for the flooring.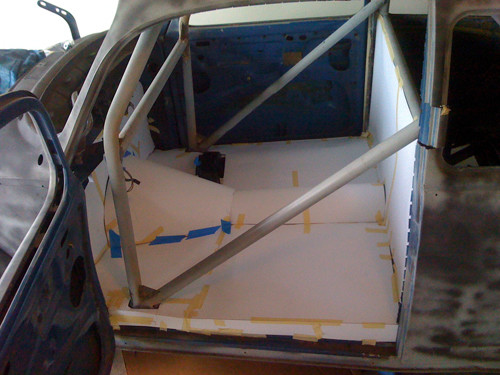 Last but not least, I cut out some 2" reinforcement triangles out of the 1/8" plates that came with my cage and welded them into the top of the cage, the dash bar, the lateral bars, and the main hoop outriggers. The pics look like crap and the flux doesn't help, but they came out really well. I also redid a couple of the cage welds so they would nicer. I'm getting better at this overhead welding business.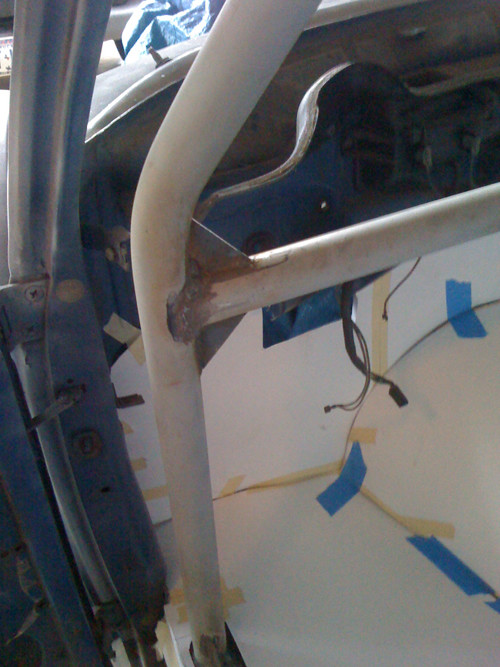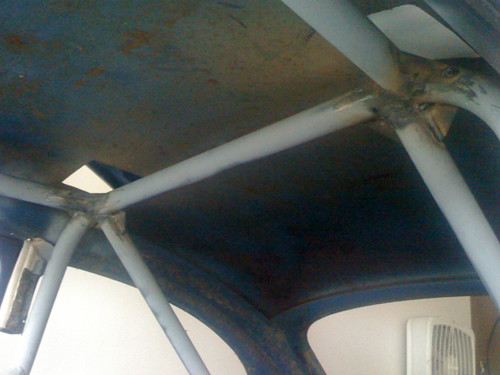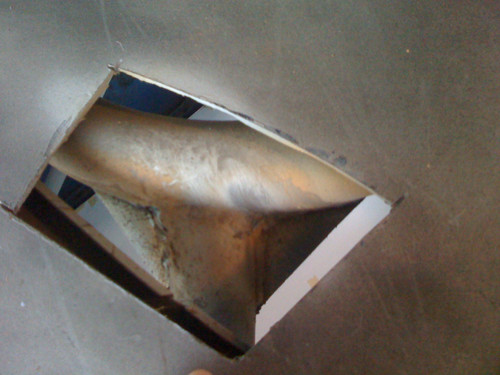 By the end of this week I hope to at least have the flooring on it's way to being finished. Once that's done I'll take it to the muffler shop and have the exhaustand plumbing work done.

More soon...
12-21-2009
Hey guys, got an update. I borrowed the wifey's camera for this set of photos.

Before I begin, I just wanted to let everyone know I found out last weekend that my wife is pregnant!!! We're both very excited and now I need to really kick this project into overdrive. I want to have it finished before the baby comes, because quite frankly, my project funds will be reduced to just about nothing. I can finish it in 8 months. No problem. I did joke with my wife, after making sure she knew I was happy and all about the baby, and I said, "OK, who's baby is it?" Comments like that is why she married me.

OK, I've finished welding up the firewall, floor, rear firewall, the floor support under the tail of the tranny and the steering mount. Also, I welded up and ground down the welds to one side of the roof / b-pillar. I also patched all the holes that were behind the dash in which the A/C / fresh air came through. There were about 5 good sized holes I had to patch.

It might not look like much but it was a ton of work.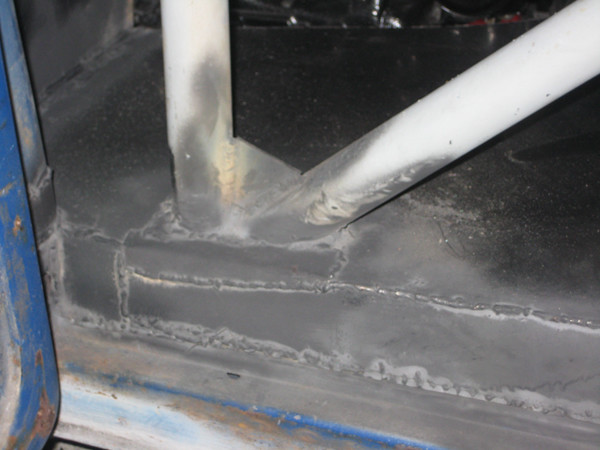 The dash bar is kinda in the way, but you can see some of the patches. I plan to grind them smooth and I'll use some bondo to give it a clean appearance. I don't plan to put the dash back in. I'll mount my gauges to the dash bar for that racey look.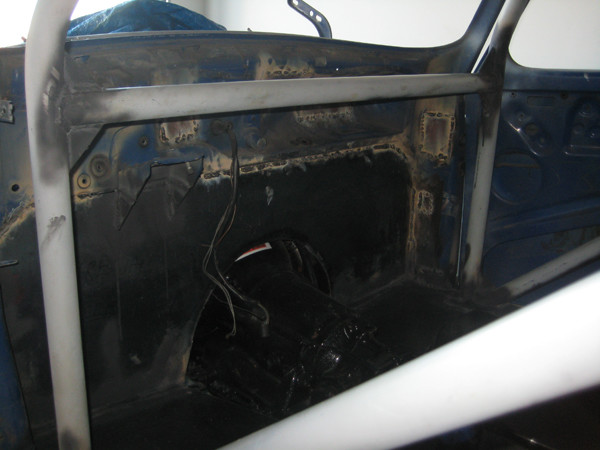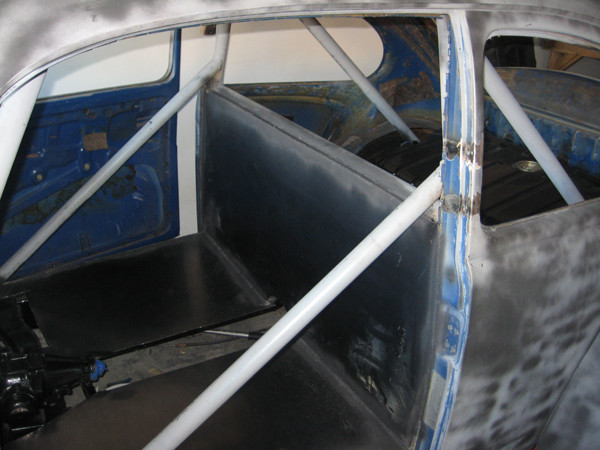 Here's part of the floor support that I had to cut out so the tail of the tranny would have room. A lot of this project I've kinda guestimated how things will fit and have prayed it works out once I go to put the part in. So far I've done a decent job at guessing. Here I had to make a small adjustment. I basically cut it out and exstentded it down. Obviously...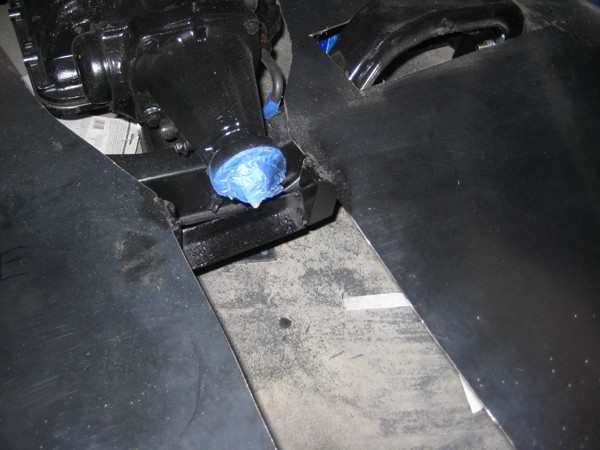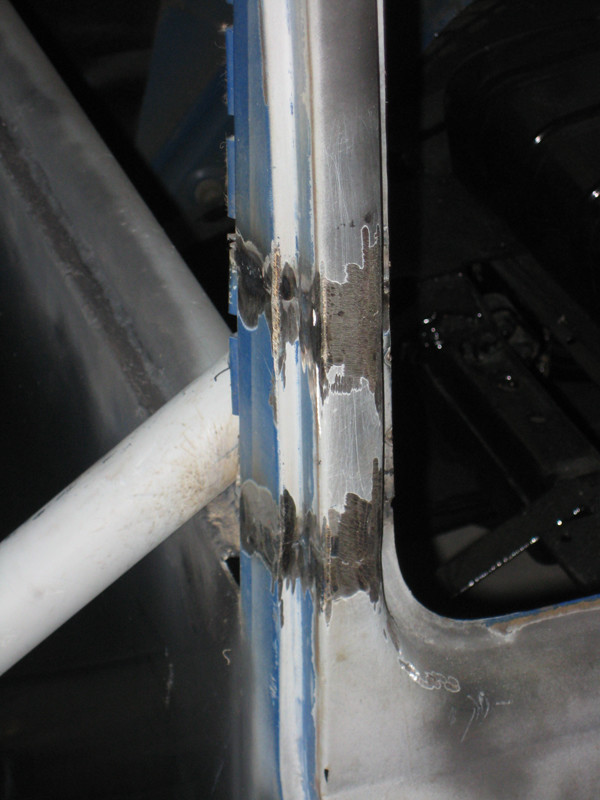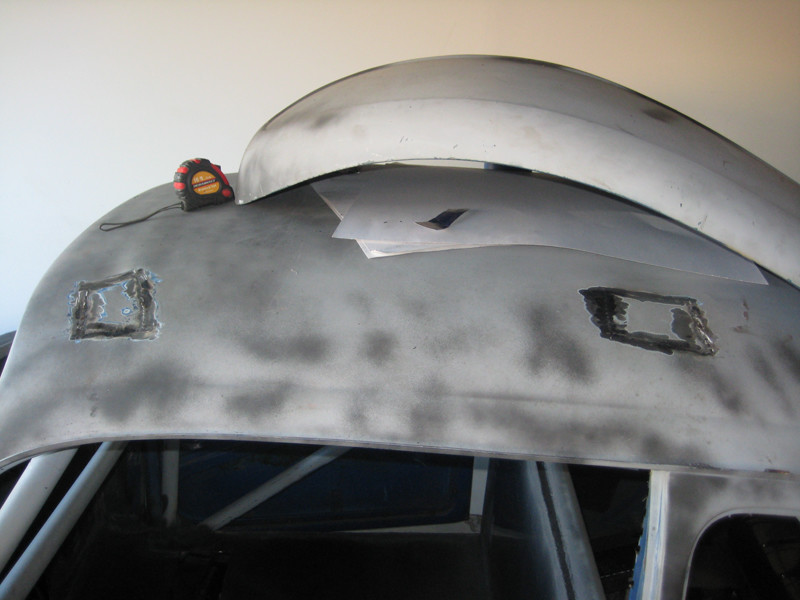 I also got a good used balanced drive shaft. I'm going to see if our engineer / machinist can put it on his lath and help me shorten it in exchange for some graphics. He likes fooling with remote controled airplanes so he always needs some sort of decals made up.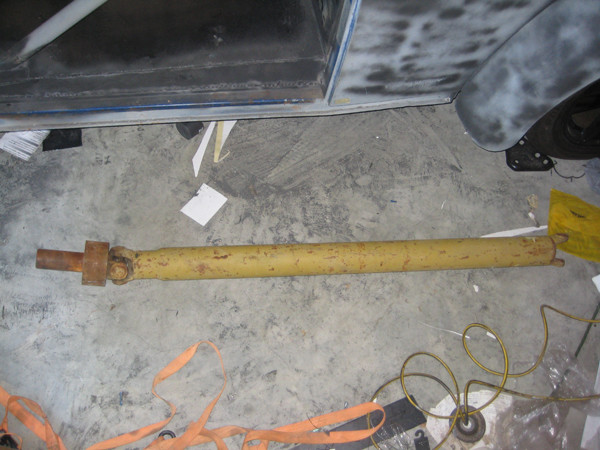 I got a some extra spending money, after paying all those lovely property and homeowner association taxes, and bought a few things. I bought some starter bolts so I can finally put in my starter, a new fuel pump because I got the wrong one (I need one that doesn't have the fuel return line just to simply things), and last but not least I bought a new 750 cfm carb to replace the rebuilt 600 cfm edelbrock carb. The 600 cfm I originally got when I thought I was going to run the 283. Well, with an extra 100 ci I needed more carb. I did opt to buy a Summit Racing brand carb because I've read some good reviews about it and I like how it has black accented parts instead of chrome / gold.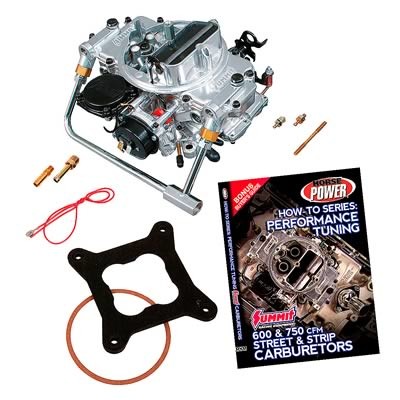 Also, I have the funding to take the car to get the exhaust and radiator plumbing done. So hopefully I have time to do it this coming up weekend. That means I'll be able to finally start her up really soon. I still need to run the fuel and brake lines but that's not too big a task or expense.

Last but not least, Santa is bringing me some goodies.

A gas pedal, cable, carb brackets, wilwood brake pedal and master cylinder, a shifter and a racing harness...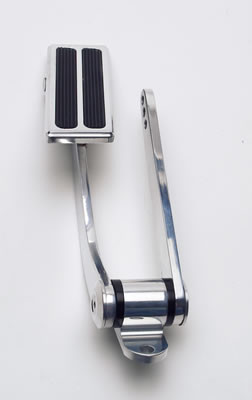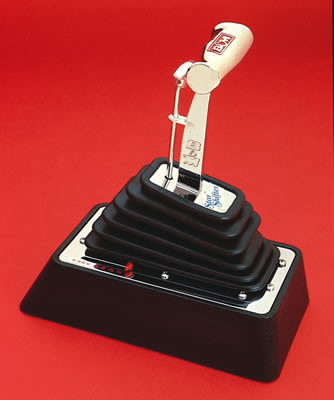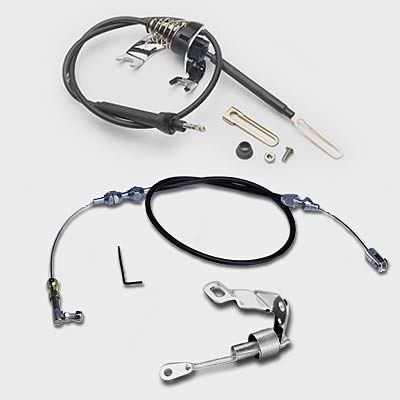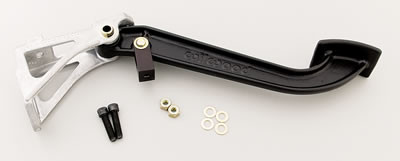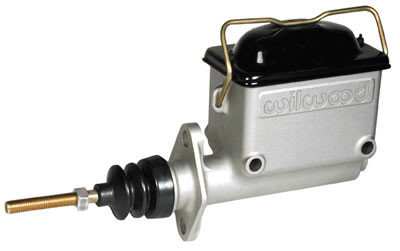 After the holidays I'll be in a pretty good spot. The car will be pretty close to driveable. Here's a brake down of what will be left to be done with the 8 months time.

Things to get:
a sheet of 16 gauge metal $35
Seats $320
Another racing harness $60
tach $125
3 gauges (temp, volt, oil) $25
u-joint for steering $50
u-joint for drive shaft $15
seals for windows and doors $150
wiring harness $150
head lights $15
in light turn signal kit $15
new tail light lens $65
once piece window kit $125
new (to me) front glass $40-$50
brake line $15
fuel line $5
radiator hoses $15
gas tank hose to filler neck $5
tires $700
alignment $75
carpet $50
paint for the car body and wheels $400


Total to finish = $2435

Things to do:
run gas line
run brake lines
finish trans and drive shaft tunnel
finish radiator duct work
finish engine bay
finish back / gas tank firewall / flooring
make and weld in seatbelt tabs
mount seats
body work
paint
wire up the car
lay carpet
inspect / register
DRIVE!!!....


There's still a lot to do but I'm pretty sure I can get it all done in time. If you guys have any advice on inexpensive paint for the car body or find any deals feel free to let me know what you find. With the baby on the way I'm going to have to watching my spending. So I can't exactly get PPG or HOK paint. The pricing above is all for new stuff, but some of these parts used wont hurt either.

More soon...hopefully after the weekend...
12-28-2009
Well, it was a great Christmas and I hope everyone's was a great one too! I got my parts from Santa, haha, and I spent all day Saturday going back and forth to get the exhaust work and plumbing done on the car.

These guys did a really good job. The son of the owner did the work. He's been doing custom exhaust work since he was 8 or so, seriously. I think he's around 19 now. They charged me $300 for everything. I provided the FlowMasters. Here are some pictures of the exhaust and plumbing.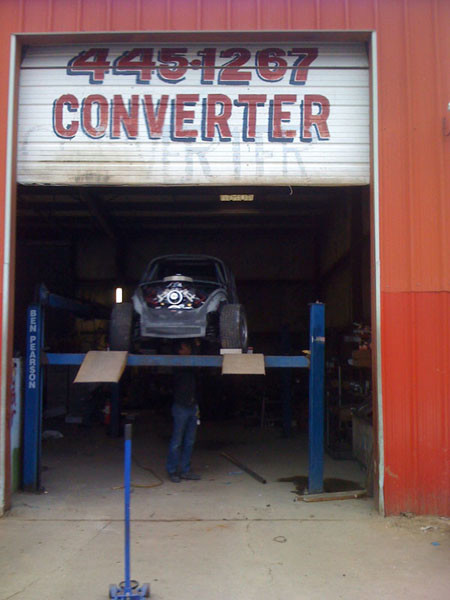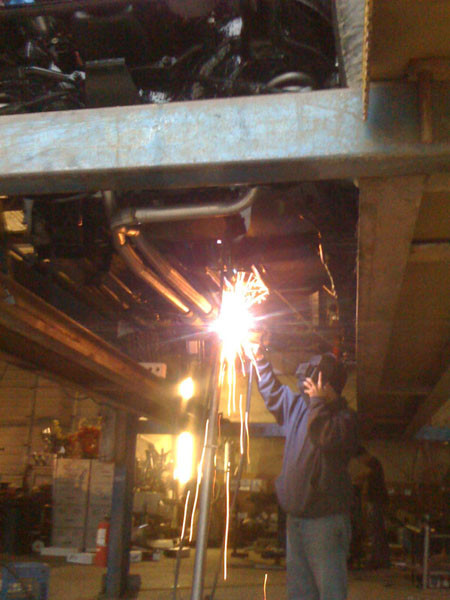 He brought the plumbing right up to the pump. You can also see the replacement fuel pump (I changed out the one with the fuel return to simply things).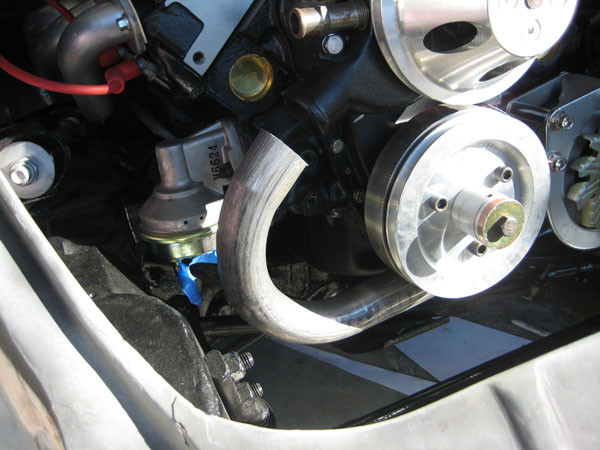 As you can see there is some pretty tight clearances. This guy worked wonders getting the plumbing around the engine and even around the oil filter. The only thing I'm bummed about is there's not enough room to add my stall dust cover. I completely forgot about that. Oh well.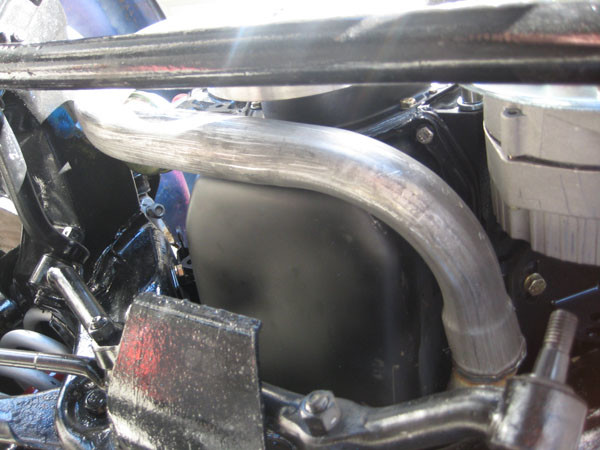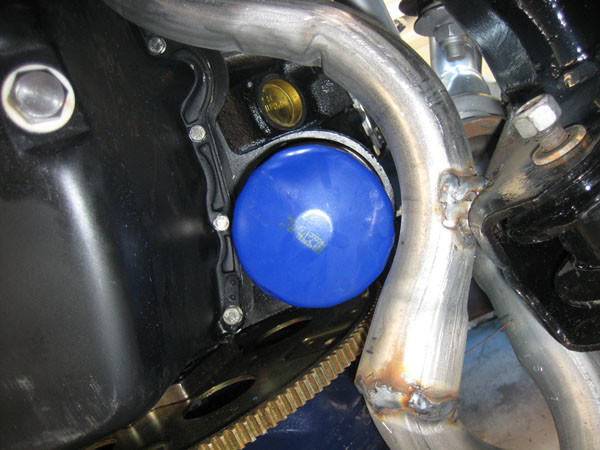 Plumbing all the way back to the radiator.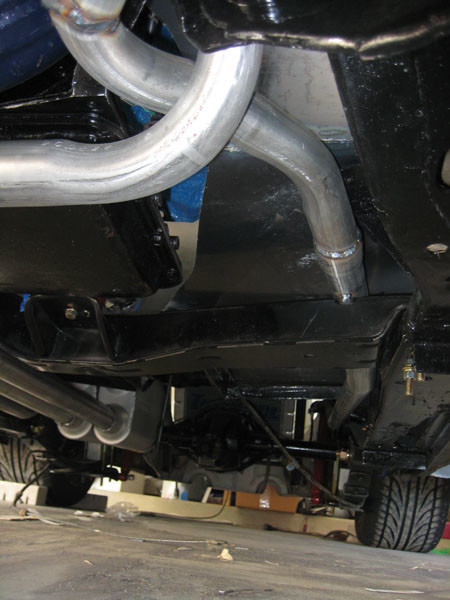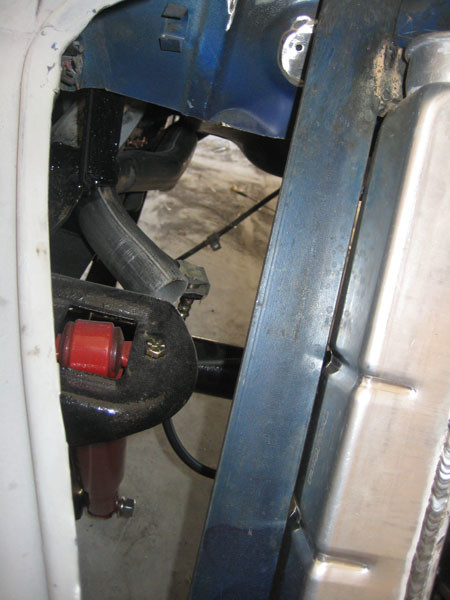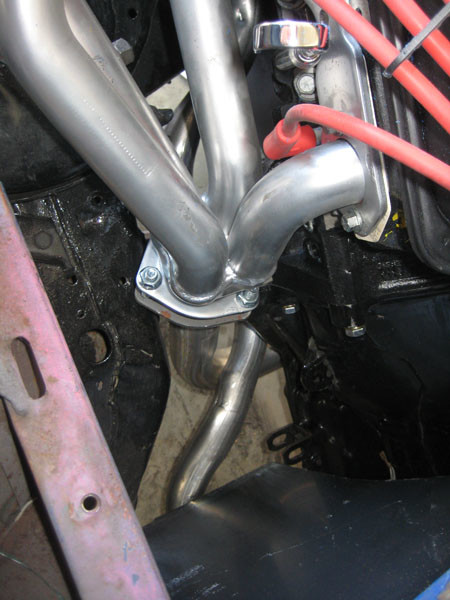 Here's the start of the other side of the plumbing.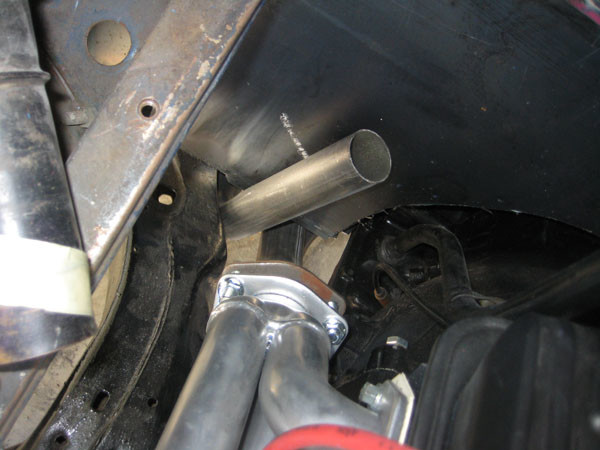 The exhaust was hung how a typical V8 S10 dual exhaust would be done, but instead of having him run the exhaust all the way back out the rear I had him dump it for simplicity sake.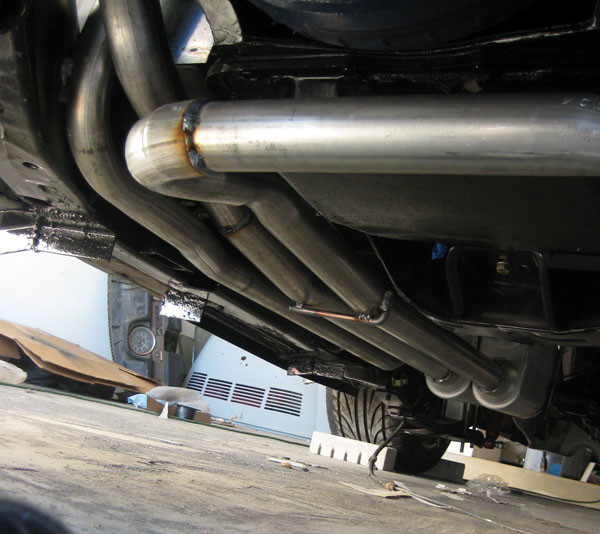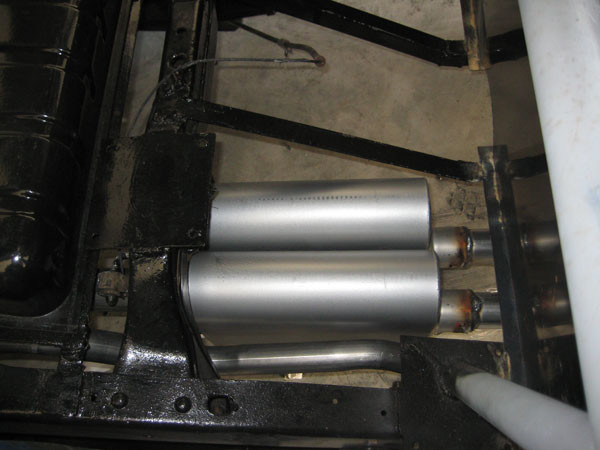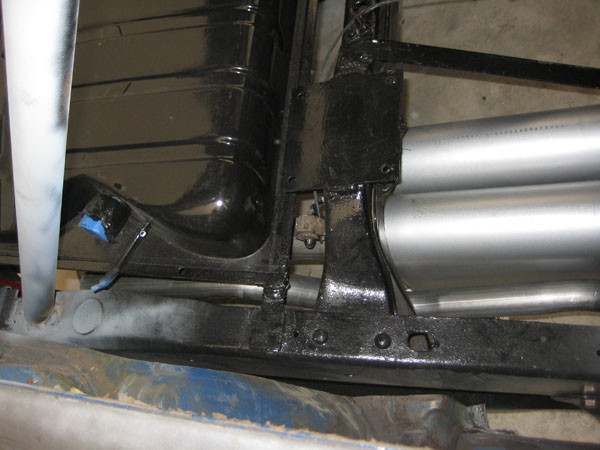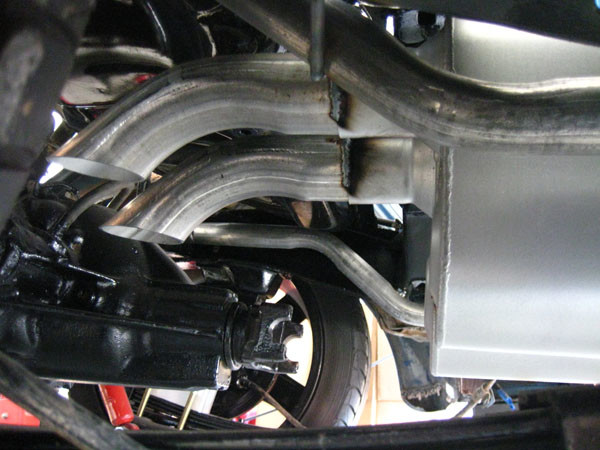 And here's where the other side of the plumbing ends. Right up to the radiator.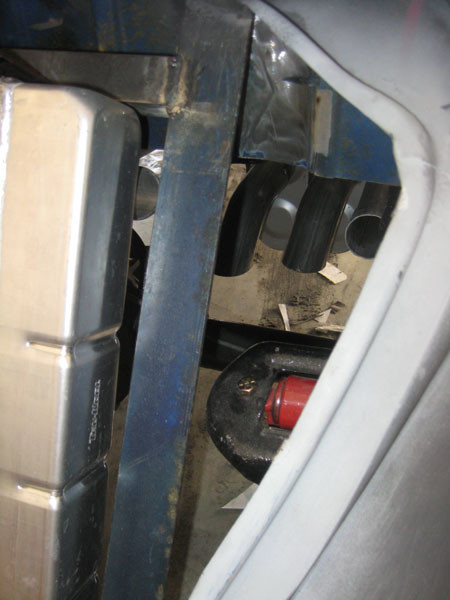 Here's a pic with the new 750 carb installed. Looks great.


More to come soon. Hopefully a video of it running!!!
1-4-2010
I got some more work done this weekend.

I spent I good amount of time searching for the right radiator hoses to button up the plumbing on the car. I also got all the PCV, vacuum and rubber fuel line ready to go. I still need to run a gas line from the tank to the pump though. I also installed the steering box, the steering column (to see how things line up once again), and I mocked up my master cylinder, brake pedal and gas pedal (forgot to take pictures of that. I'll get some up soon). Last but not least, I got the starter installed.

Here are some pics with the hoses tightened and ready for the first start up which is yet to come.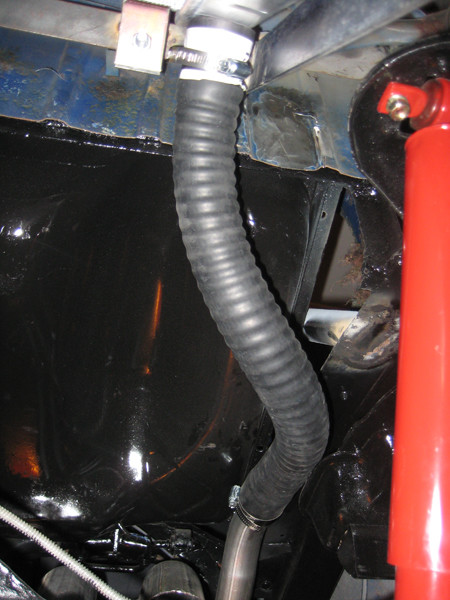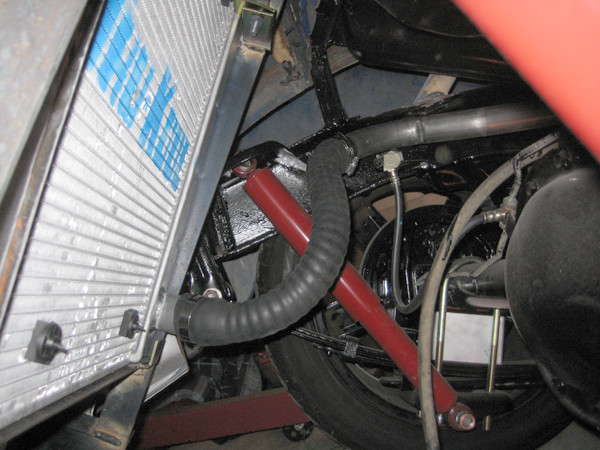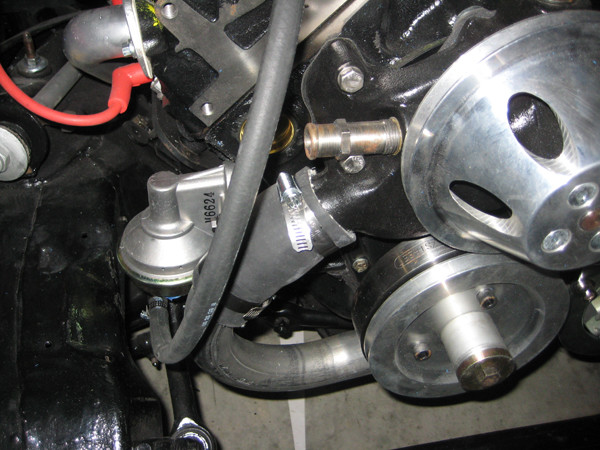 Here you can see I need to get a different water neck because it makes it want to stick up. I found a 360º water neck from Summit I'm going to order. That way I can angle the hose further away from the engine and so it'll tuck under the hook nicely. I'll have to think of a way to secure it which wont be much of a problem.

Here's the 360º neck.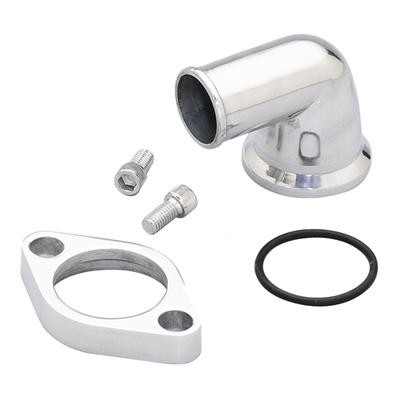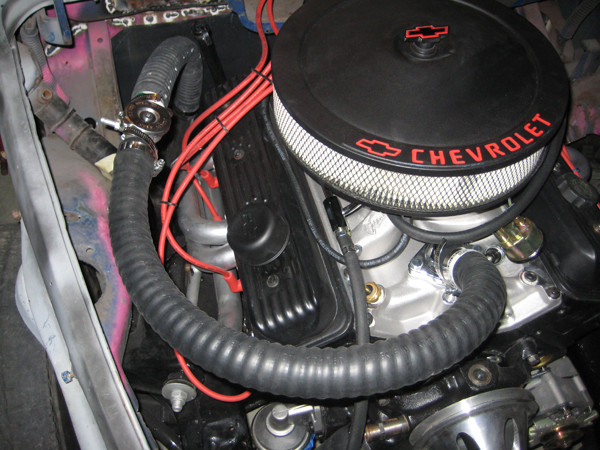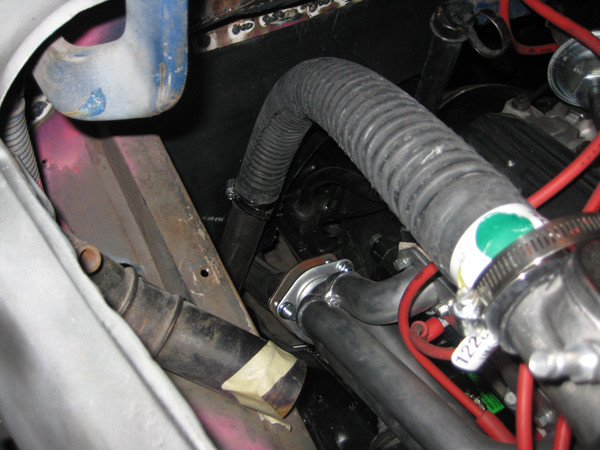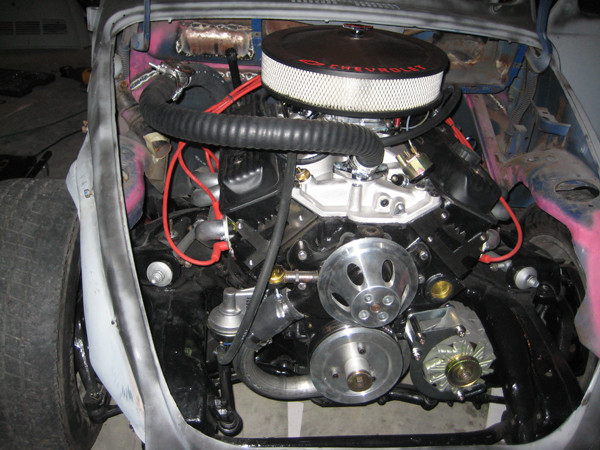 I installed the steering box and drilled a hole so the steering shaft came go through the firewall. The steering wheel mounts in the stock location.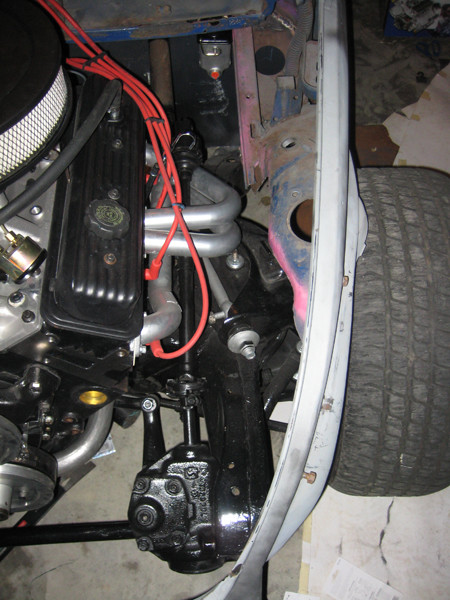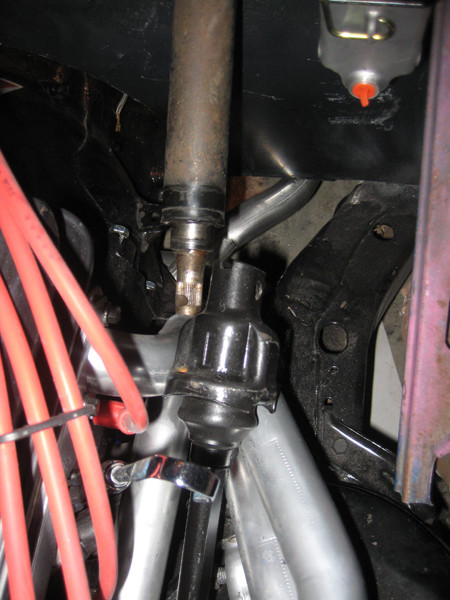 Here you can see where the master cylinder will be. I was mocking up the pedal placement and found that because the foot space is so tight I'll have to gas with the right foot and brake with the left foot. That's how you power brake it anyways.
I also plan to just completely cut out the wiper engine compartment. It's really not needed.

More soon.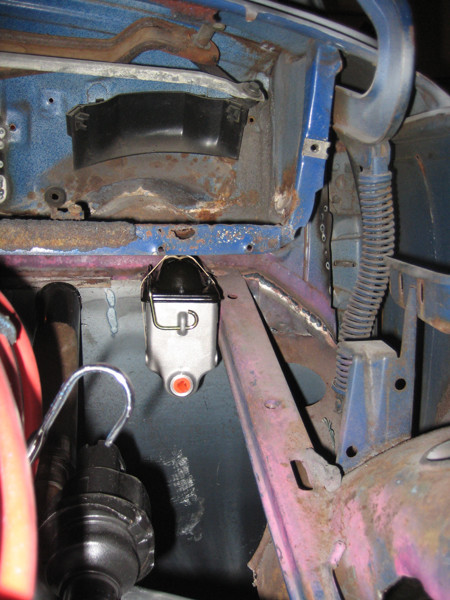 2-9-2010
I got the engine started! Here's a video. It's dark, but you can hear it. Sounds nice.


2-13-2010
I should've posted some of these updates as I went along but I've been busy with work and trying to finish this thing before the baby comes.

Today, I took the driveshaft to the shop and they're shortening and balancing it. I should have it Monday.

Lately, it's been a bunch of little things that have been keeping me busy and getting the engine going. That in itself has brought up some problems. The rear radiator setup wasn't getting water to the engine so the engine ran hot, 205º-230º, a couple of times during break-in. Not having any success using the rear radiator setup, I temporarily set the radiator up front on a bucket just so I could get the engine broken in at a normal operating temperature, 160º-180º.

Here are some of things that have been keeping me busy. These photos are in a random order. Some are self-explanatory.

I finished welding up the other side of the roof and b-pillar.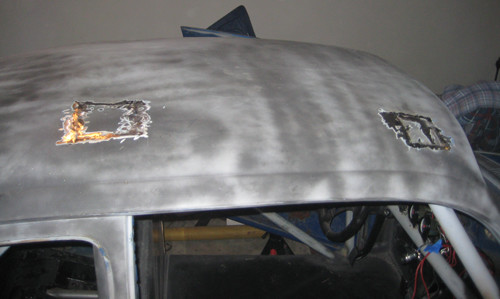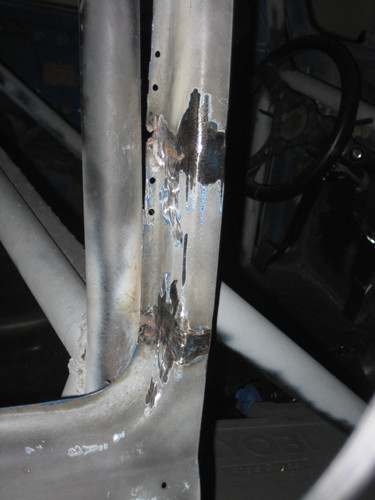 I had to buy another fuel rail because the one that came with the carb poured gas on the engine. My own fault. I cracked the line tightening it while on the carb.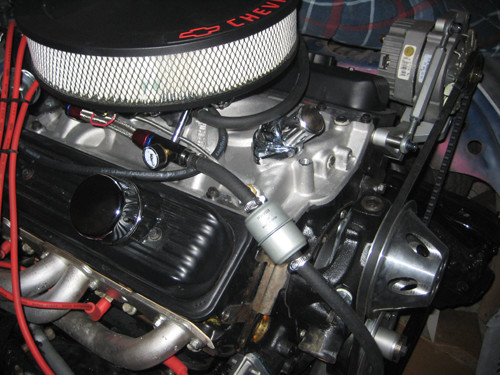 Got the gas tank filler hose hooked up. If you haven't notice, I also relocated the door to the back.
I also got rid of the 3" lowering blocks in the back because; a, I don't want to take the chance of the auto zone blocks breaking under the torque of the 383, and b, the rear of the car was about an 1" - 1 1/2" lower than the front. Now the car looks a little more balance and I have a little breathing room if I were ever to corner hard I wouldn't have to worry about the tires rubbing.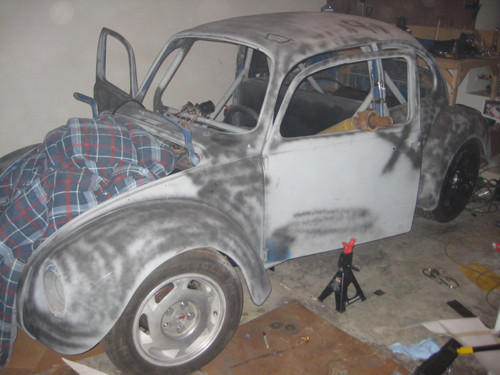 One of the welded seems in the system was leaking up at the top. Seems they blew through the tubing. I tried welding up the hole, but the water from the tubing, what was left after it all leaked out, was steaming out the hole preventing me from making a good sealing weld. So I had to cut it out and use some radiator hose to fix it. When I was cutting out the section I just so happened to poke a hole in the oil filter. Needless to say I drained all the oil, put in a new filter and filled her up with fresh oil. Which was OK cause I planned to change the oil after the break-in, which is when this happened.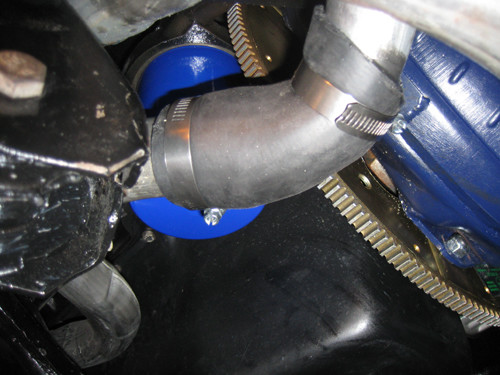 Here's the relocated fuel door all welded up and ground.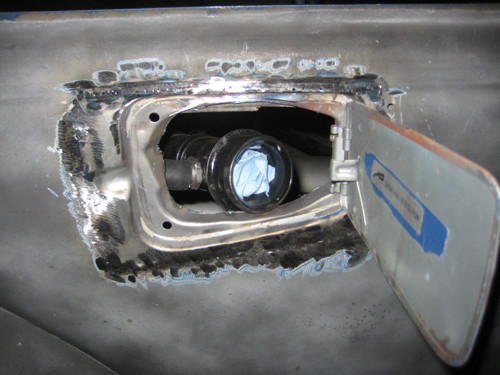 Here's my bare bones gauge setup, which I'll keep as is until I finish the car. Later once everything is done I'll upgrade them. Gotta cut back on certain areas. The manual cheap-o gauges will do. I have a tach, oil, and water temp. All I need. I welded the gauges to the dash bar. When I go to paint the car they'll be painted with the interior. You'll also notice a couple switches hanging and a push button starter. I plan to make a simple small panel, which will be below the gauges, to install those in.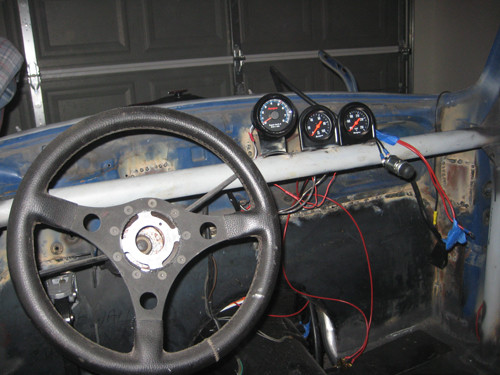 I still need to make a support for the filler neck. The original setup point it the other direction.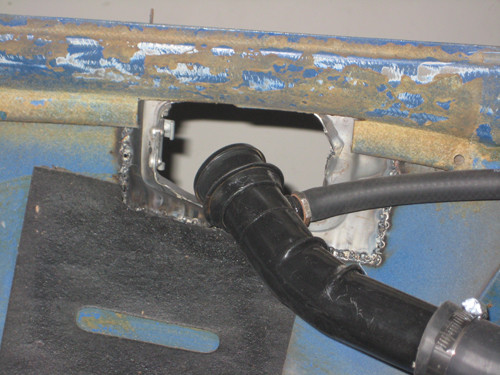 2-13-2010
Here's the gas pedal and brake mocked up. I have plenty of room, but I should've gave myself more leg room by moving the main hope about 6" back. Oh well, it's a race car and not a cross country cruiser.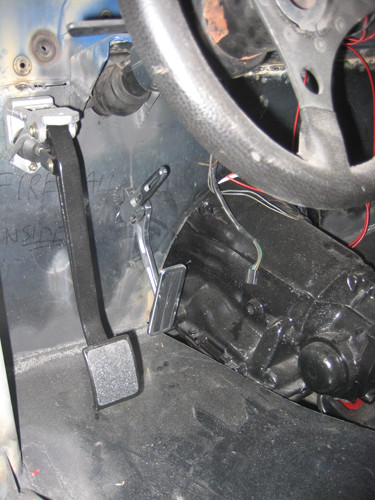 You can see I cut out part of the metal tubing to fit in a radiator hose so I could put the radiator up front. So I had to buy another radiator hose to reconnect the rear radiator system. Still attempting to get it to work. IT'S GOT TO...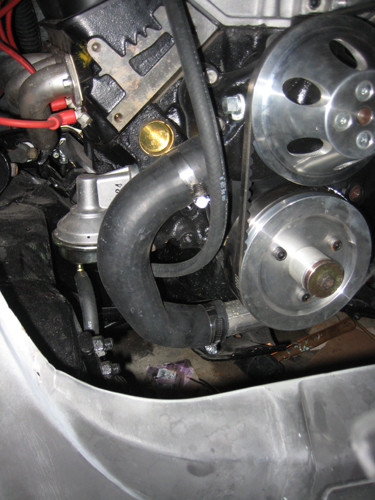 Primed the bare metal surfaces after grinding to keep from rusting.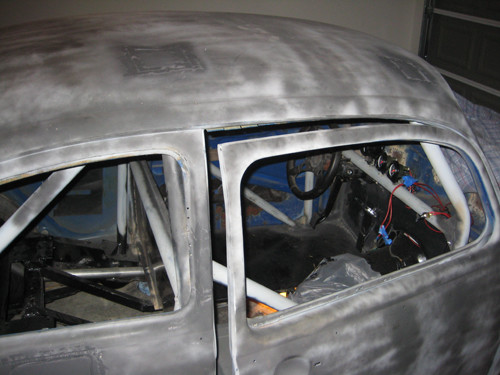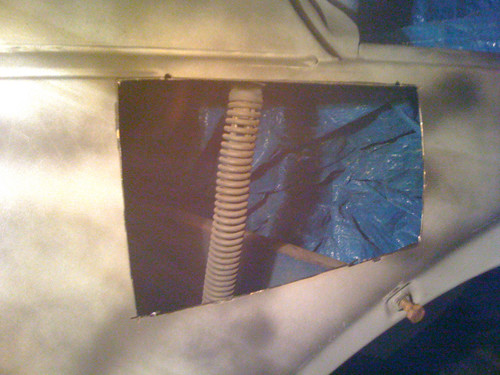 Drill a hole and welded in a larger 3/8" fuel outlet. I welded up the stock outlet.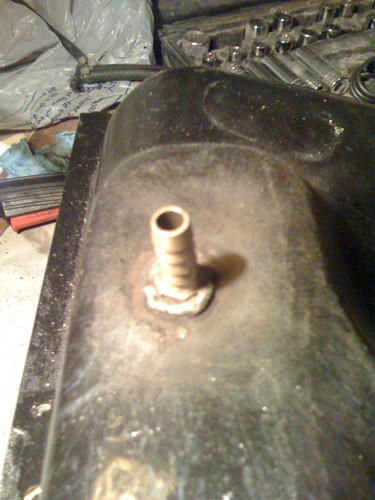 I decided to weld on the front shackle mounts. That was a pain reaching now that the body doesn't come off. Here you can see the paint ground away to bare metal and the mounts tacked in.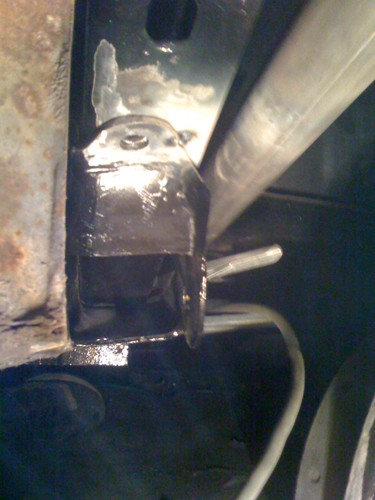 This is a picture of how I shimmed the leaf springs. The springs I have are a 1/4" narrower than the S10 springs, so I had to shim the front and the back of each side with three grade 8 washers. Worked like a champ.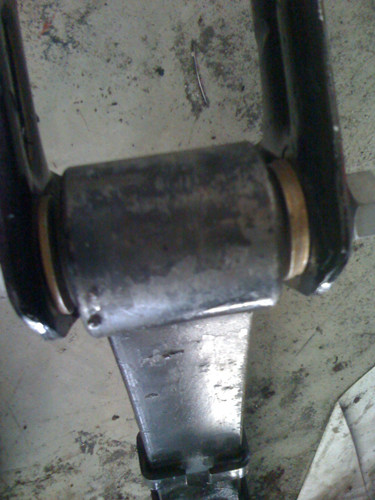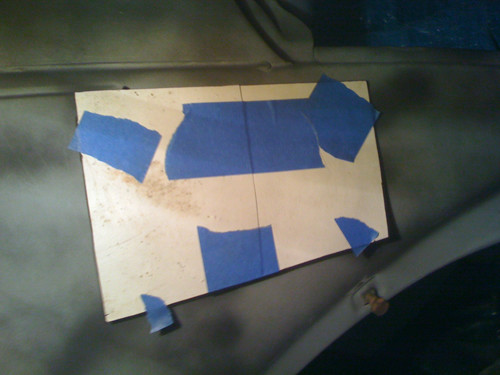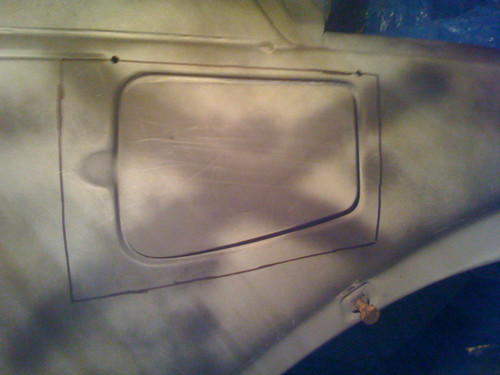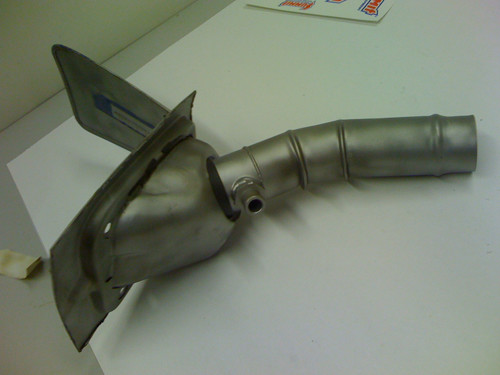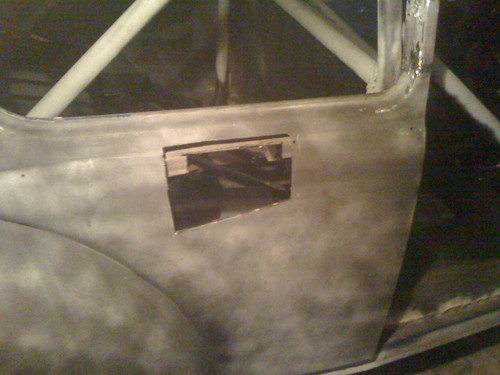 Here you can see the front leaf spring mount welded up. I welded up the front, back and the sides. Not to mention I filled in the holes too. So they should be in there nice and strong.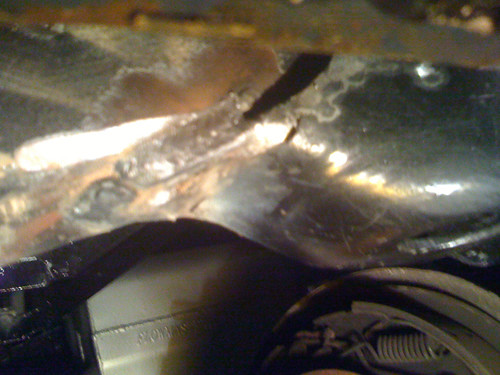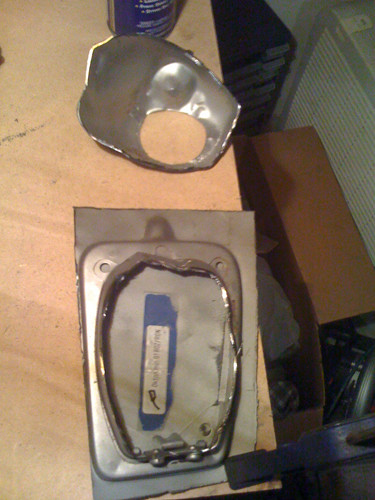 I'll have more soon. Hopefully this thing will be driving by next update.
2-15-2010
Got the driveshaft shortened and balanced at a place called Northwest Drive Train Service. A nice group of guys, quick turn around, and fairly low pricing (plug, over). Now I can finally finish the flooring. I'm going to get the brake lines ran and hook up the steering so I can move this thing around under it's own power.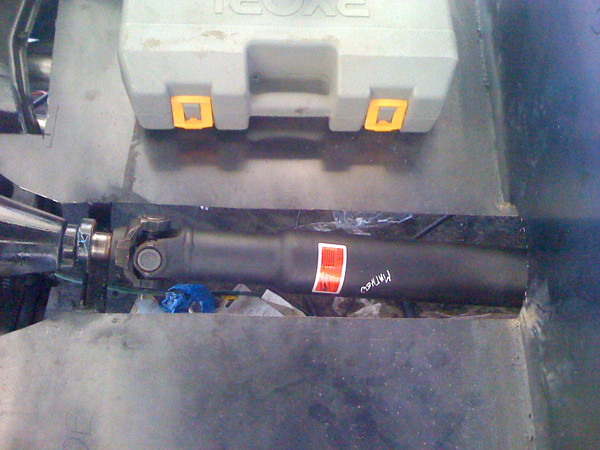 More soon...hopefully of this thing driving.
2-23-2010
Not necessarily the most exciting update, but another thing checked off the TTD list.

Rebuilt the drum brakes. Sandblasted the small parts, installed new spring kit, wheel cylinders, and shoes. The drums were turned long ago by the guy I bought my frame from. Look at that mess the passenger side made.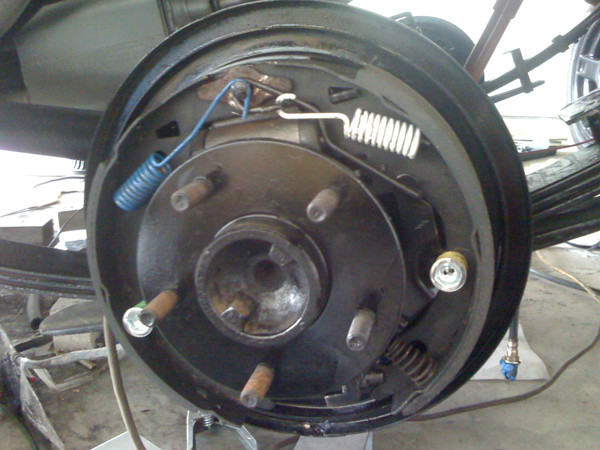 2-24-2010
Man, it was brought to my attention I put the shoes on backwards on the passenger rear wheel. Haha. Oh well, gotta redo it.

The other night I welded in my 5-point harness mounting tabs. They're 1/4" thick and I used the 6"x 6"x 1/8" plates supplied with my roll cage, that I didn't use because it's welded to the frame, to reinforce where I mounted them. Should be plenty strong considering the flooring is 14 gauge and everything is all welded into one another (body, flooring, cage, frame, etc.).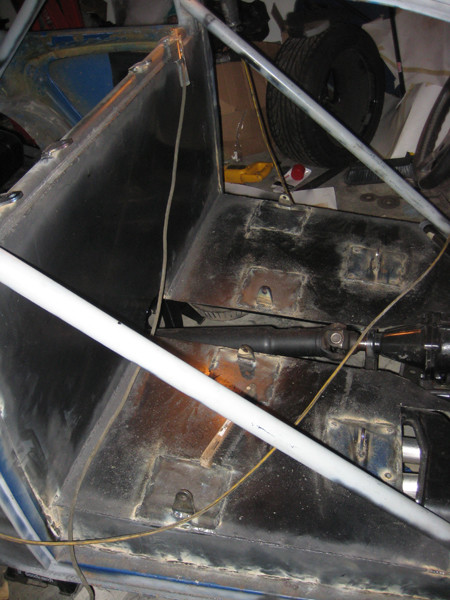 3-8-2010
Still pluggin' away! Got a few things accomplished this weekend.

Got the transmission tunnel and driveshaft tunnel made. I got some 18 gauge galvanized steel, cause that's all they had in 18 gauge, and a 3' section of 6" pipe. I needed something thin enough that I could bend on my own. I did take precautions to make sure I didn't get sick from welding galvanized steel. I had the garage wide open and a fan in front of my face the whole time. It also helped that it was windy out yesterday. So I cut out the steel using my patterns. For the driveshaft tunnel, I tacked the steel to the pipe and rolled the steel over it. For the tunnel, I just hand formed it over the pipe.

It can out really well. My pattern was a little off after doing some additional trimming cause the floor warped slightly from all the welding. So I had to make so relief cuts to the passenger side of the tunnel to get it to fit right. It's all fully welded up and very strong.

The car is a little cluttered inside at the moment cause I'm in the middle of hooking up my shifter. Just a few more things and the shifter will be finished.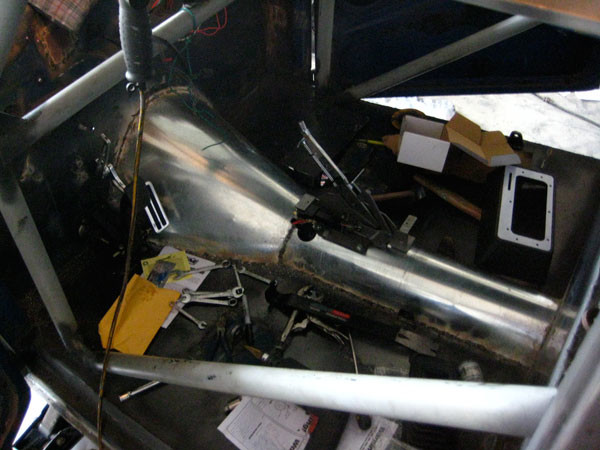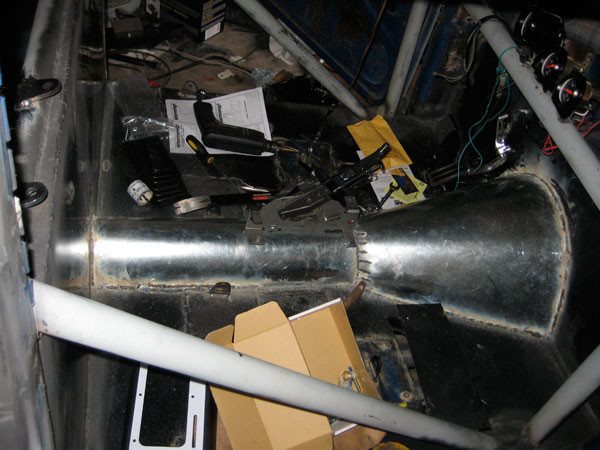 I also got the throttle cable and pedal hooked up. It works very well, but as you can see, it's a tight fit.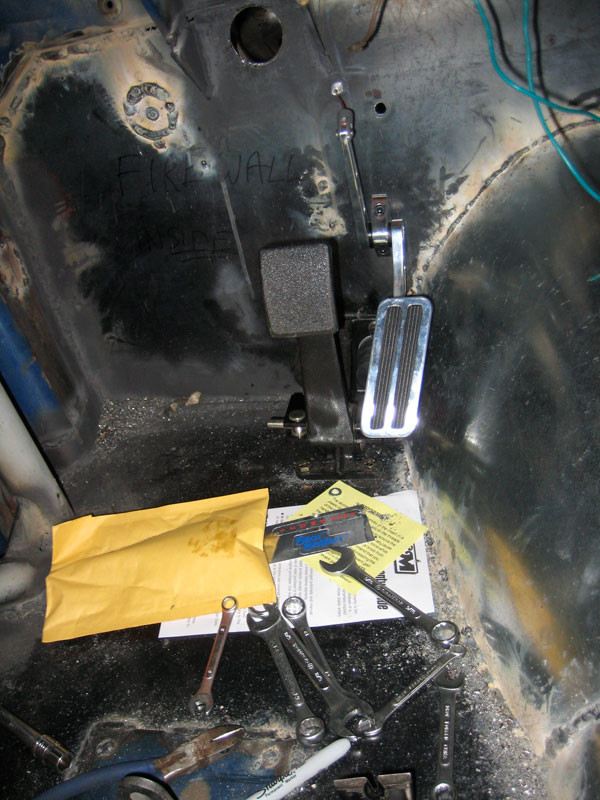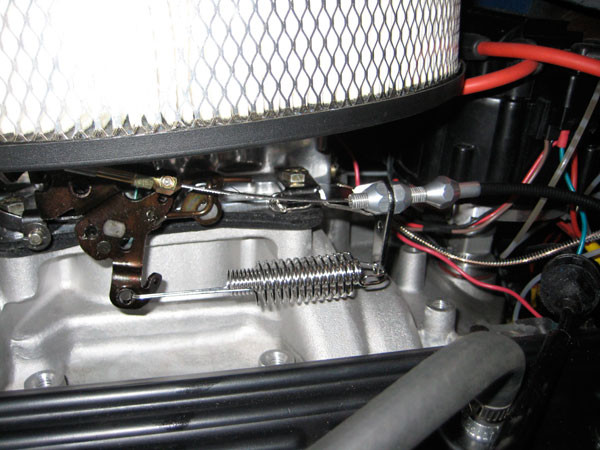 The brakes are also hooked up and ready to rock! My brother came over after I got all new lines ran and hooked up, and we bled the system. It took forever to completely bleed the new system and to fix little leaks. The brake pedal is very firm and works great though. The rear brakes are stiffer than the front though. I got the pedal setup so the front brakes some in hard first, then the drums.

My only concern is the rear brakes line that goes to the master comes close to the exhaust manifold. Everything is so cramped in the engine bay with this S10 frame. I'll more than likely have to wrap the exhaust by the brake line.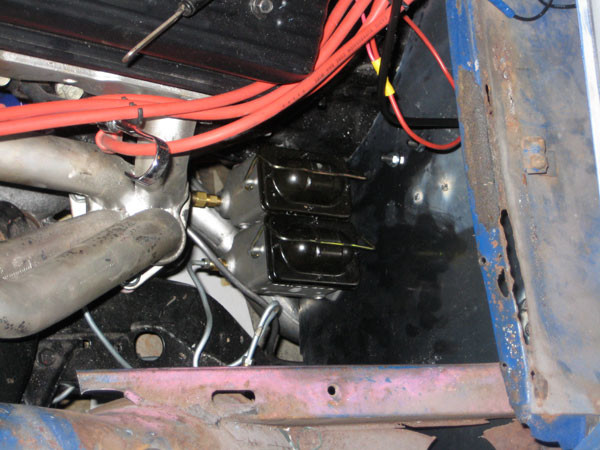 Last but not least, I started working on the steering. I extended the shaft that goes to the steering box so the steering wheel will be closer to me and away from my knees. I just need to relocated the steering mount from the firewall to the dash bar and it'll be ready to rock.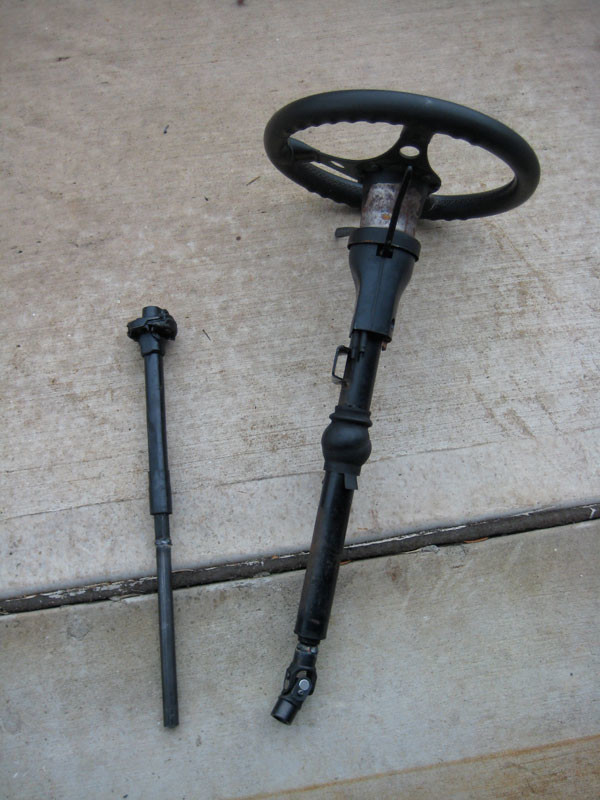 Once the steering is done and the shifter is hooked up, all there is to do to drive her around the block is to run the gas line and to make a battery box! I hoping to have video up of the first drive this coming up weekend. Then I can finally move this thing out of the garage so I can clean up without having to need 3-4 people to push it back in. LOL!
3-10-2010
Slowly checking off the To Do List. Trying to get this thing ready for a test drive this weekend.

Shifter...installed.



Things left to do.

1. Relocate steering column mount to dash bar.
2. Mount trans cooler.
3. Run fuel line.
4. Make battery tray.
5. Mount seat and harness.
3-11-2010
I appreciate the advice and help guys. See, I listen.
For the 10-15 minutes time it took to sleeve it I'd say it's cheap insurance.

I ground down the existing weld, I cut out a 2" section out of some scrap steel I had laying around (the original fender support tubes that bolted to the S10 frame / fenders), slid on the sleeve and welded away at about 100 amps using flux core.

Here are the results.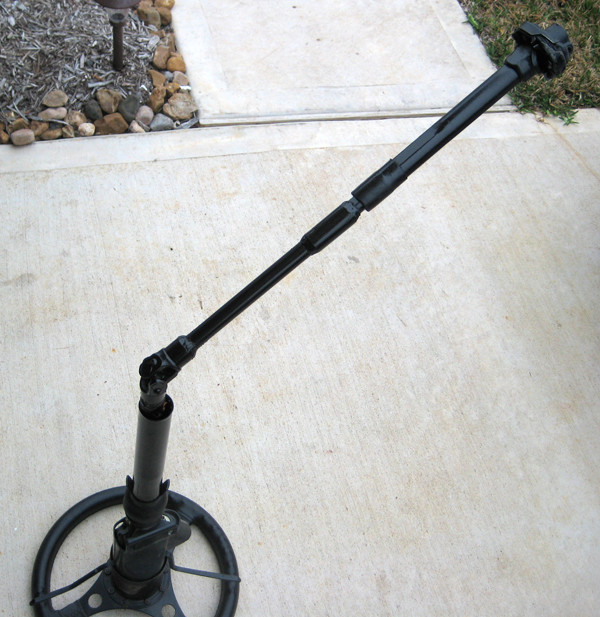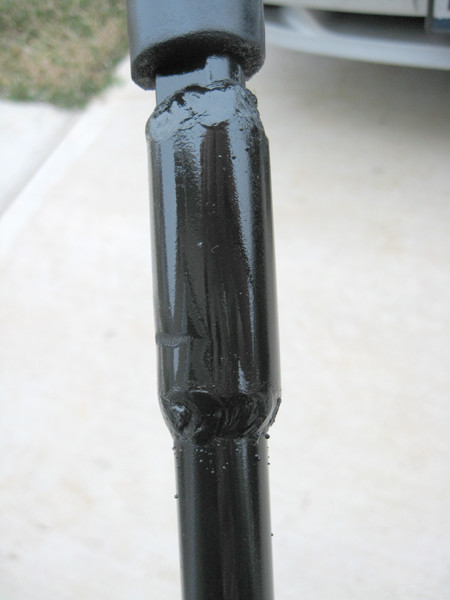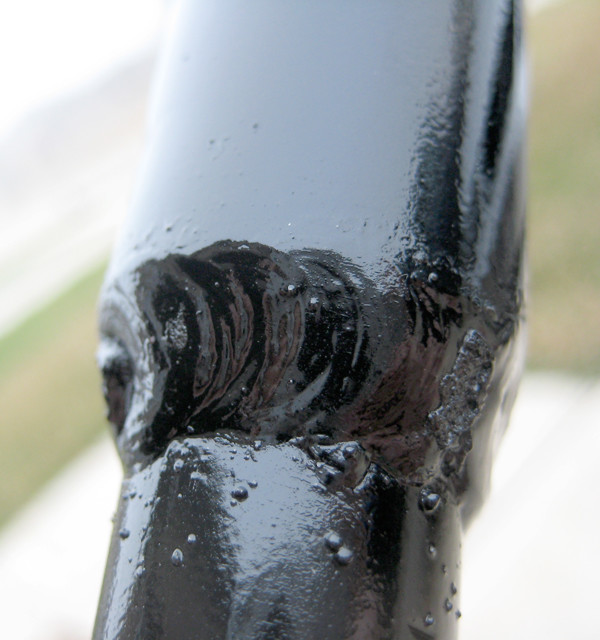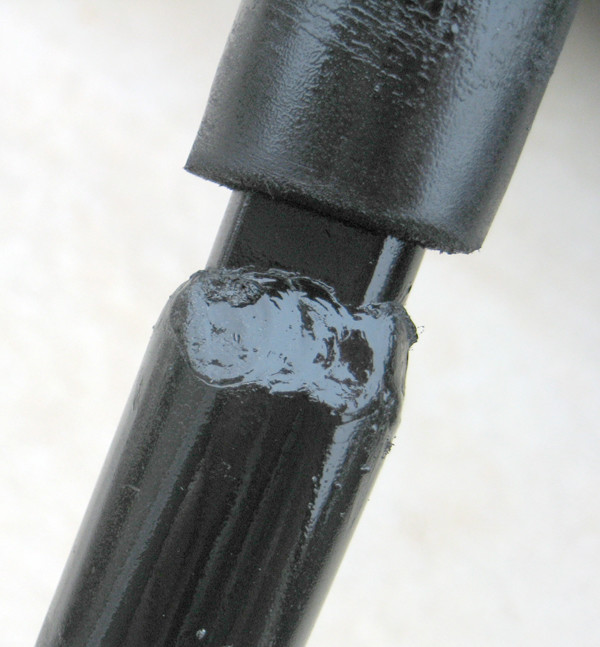 Sleeved and plenty of penetration on the new sleeve. Should be VERY strong.


I also started working on mounting the column, but my grinder finally gave out after putting it to hard work for well over 2 years. Time to another.

I did manage to get the trans cooler mounted. Nope, I didn't weld near the trans cooler.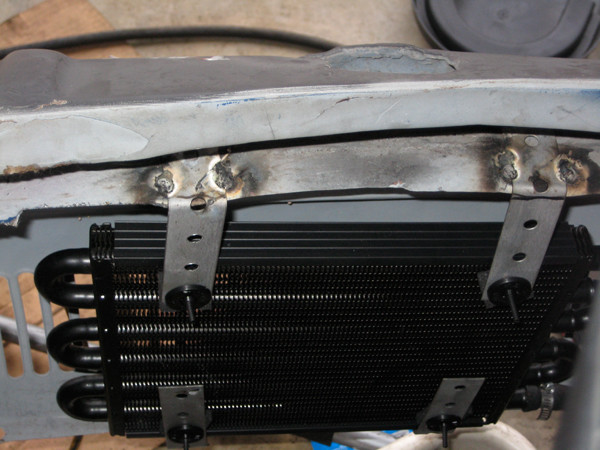 Thanks again for the suggestions guys!
3-15-2010
2 steps forward, one step back. Got some progress made this weekend. Not as much as I wanted to get accomplished due to a last minute gig that came up Friday, but progress nonetheless.

Got the steering hooked up. It turns with ease. Drill and tapped a 3x5x.1875 piece of steel to mount the column on. I had to make a bigger hole in the firewall for the rag joint to slide through. Now I need to make a cover that will bolt on so I can easily take it off when I need to remove the column.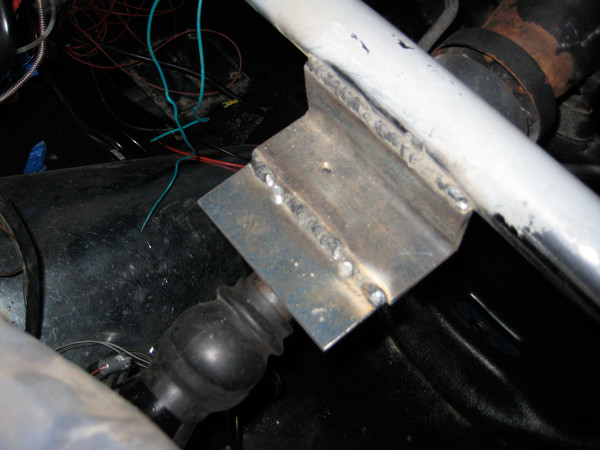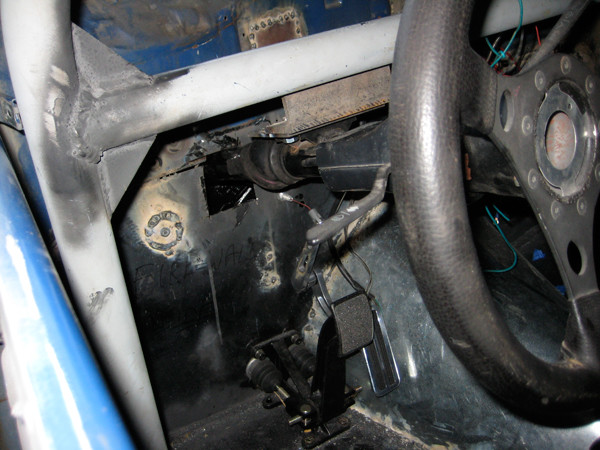 I also ran the fuel line. I was ready for my first test drive, engine warmed up and ready to go. Car was running great and everything. Then I went to put it into gear and the car died. Fired it back up, put it into gear, died again. I upped the idle a little (1,000 rpm), put it into gear and it really bogged down. Turns out I was having carb problems. The carb was overflowing with fuel and fuel was just pouring into the carb. See video link.

http://www.youtube.com/user/cmattdab.../0/vKclUKm4MCU


I'm not sure what went on? Maybe the floats need adjusting. I'm going to call Summit today and see what they say. It was running fine and then this just all of sudden happened.
3-18-2010
Took the bug for it's first spin tonight! There are four very short videos my friend took on his camera phone which cam out decent. Got some bugs worked out of the carb and all the leaks taken care of.

http://www.youtube.com/user/cmattdab.../0/i4Ct4LndyBk

http://www.youtube.com/user/cmattdab.../1/QKK5sYU2pHg

http://www.youtube.com/user/cmattdab.../2/ho0XJjECUns

http://www.youtube.com/user/cmattdab.../3/wKUldF9XIyk
3-29-2010
Got a few more things done off the list.

Made and tacked in some plates to cover the hole where the driveshaft runs through the firewall. I had to do it this way cause the driveshaft and column are all one welded up piece. A little seam sealer and paint and it should look decent. You can also see I filled in the holes where the gas pedal was. I'm moving it over away from the brake pedal to give me more room. It'll be closer to the trans hump, but at least it wont be an inch away from the brake pedal.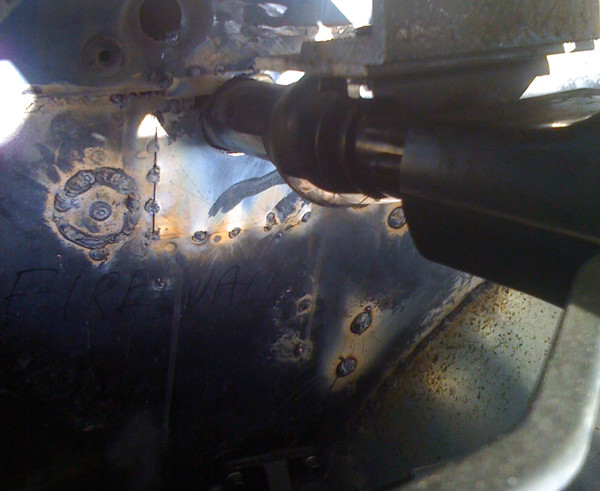 Finished off the flooring on the passenger side. This is where the trans hump comes up into the floor giving the exhaust room to tuck within the chassis.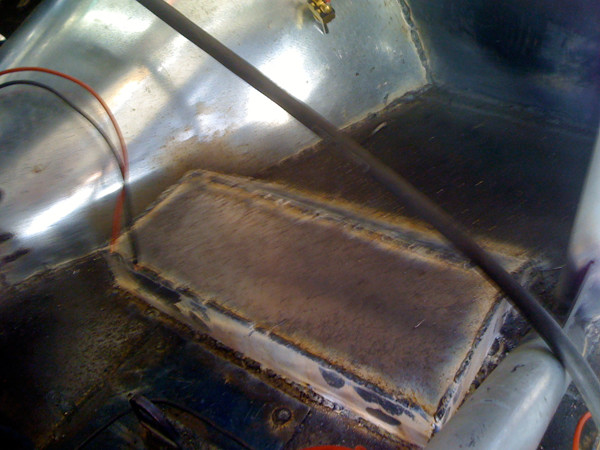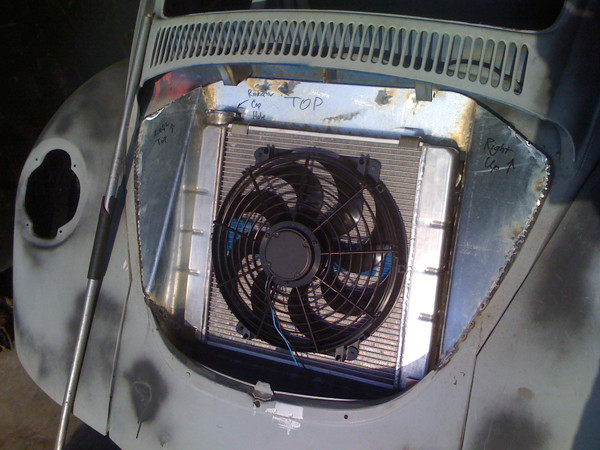 All's left to do is make the back floor that goes above the tank, weld in some front clip supports out of some metal rod, trim some more out of the engine bay to clean the look up, and make a battery box. Then it'll be ready for the body work stages.

High five!
4-8-2010
A few things I've managed to get done.

Here's how the distributor mod looks.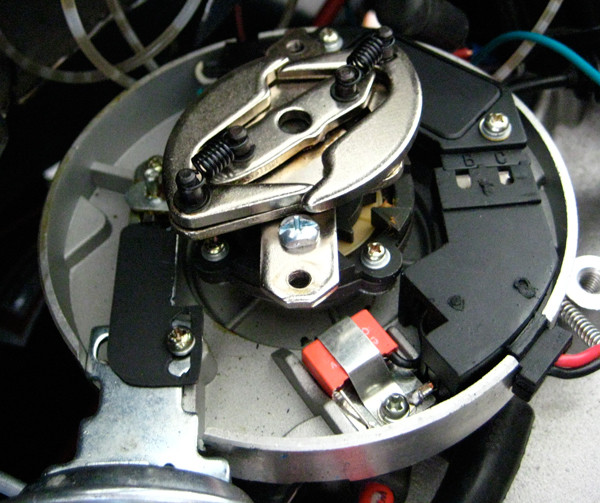 You can see the mechanical advance limiting screw with the side ground for "fine" tuning and the vacuum limiter which is made out of just a piece of 22 gauge steel I had laying around. Next to free modifying this thing.

Had to clearance the rotor cap a little.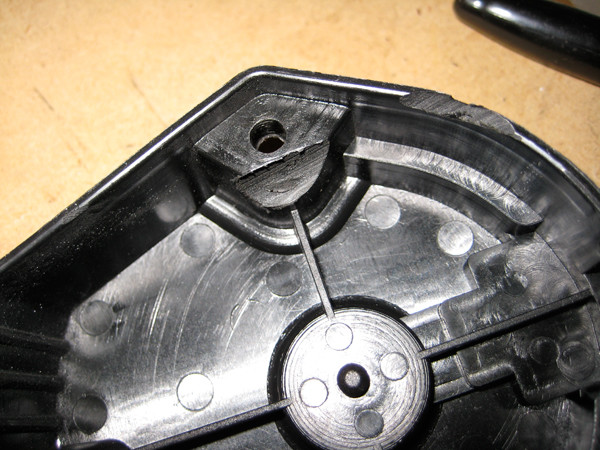 Here you can see it was a great concern to me whether or not I could even remove the distributor cap. Thank god it would come off. I still had to rotate the crank to get to the rotor screws.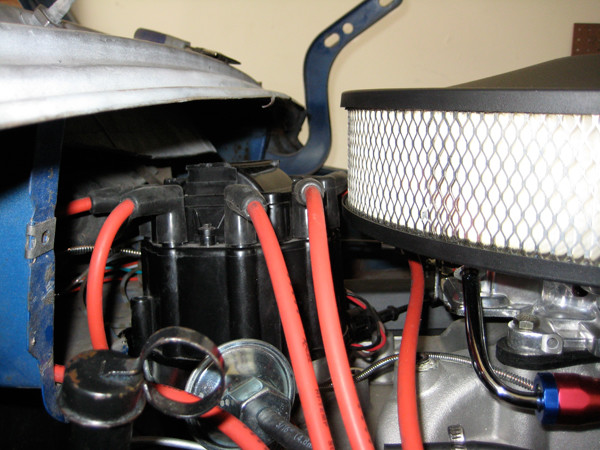 I moved the gas pedal away from the brake pedal some more. This is as far over as I can get it.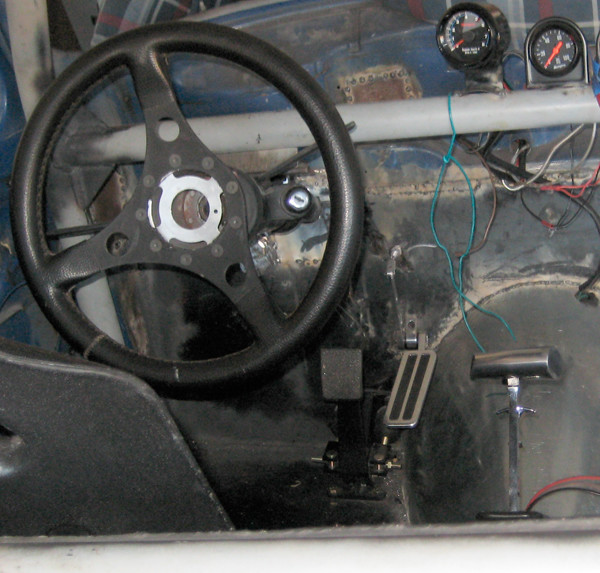 And, last but not least, last night I made templates (night before), cut them out and welded the rear wheel wells in.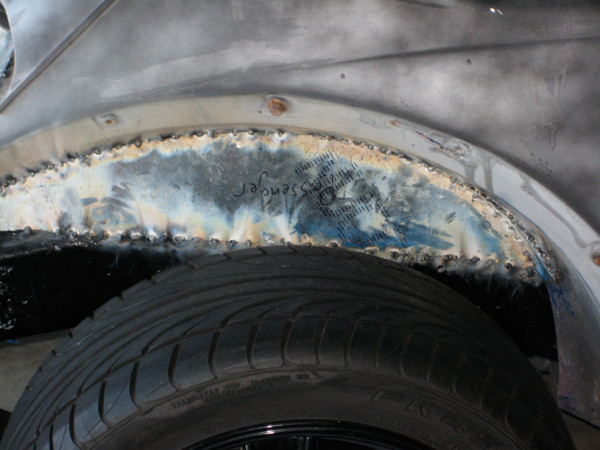 Having a couple gallons (everything is sealed...but) of gas in the tank and the fact the paint kept catching fire on the bug body when I was welding the wheel well pieces up kept me from wanting to fully weld these things up. Some MasterSeries and sealer will finish the job here.

Next thing I'm going to tackle is the "engine bay". I want to trim out all the excess sheet and reinforce the front clip with some 7/16" rod. What do you guys think? Will I have problems with the whole front end shaking or will it be strong enough with some reinforcement and the fenders bolted up?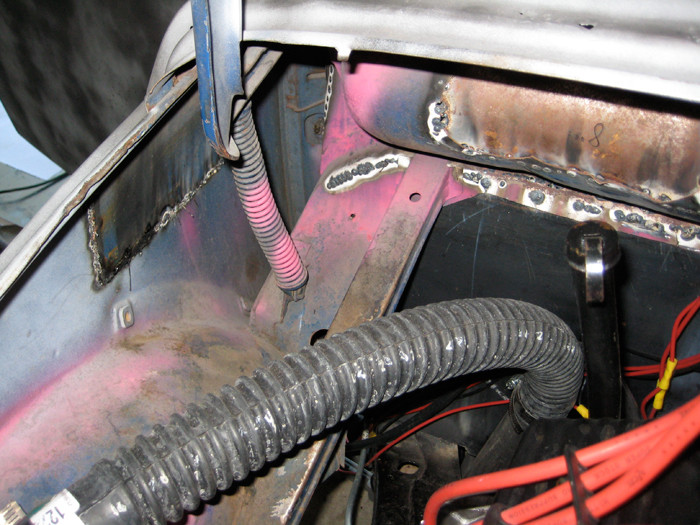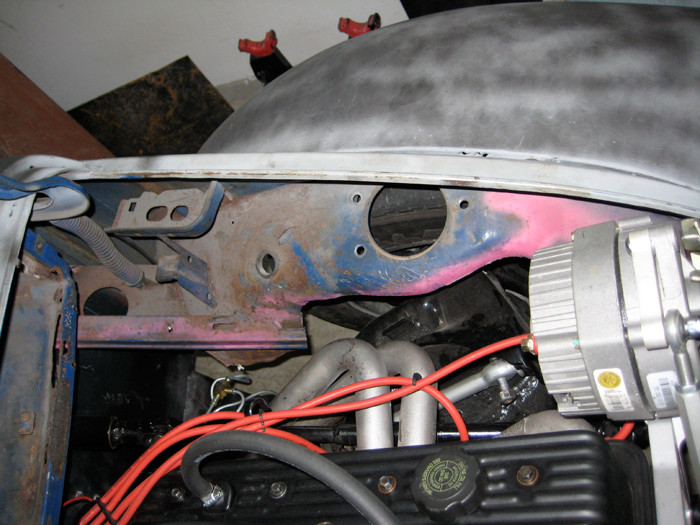 Here you can see a guideline I drew where I want to cut it.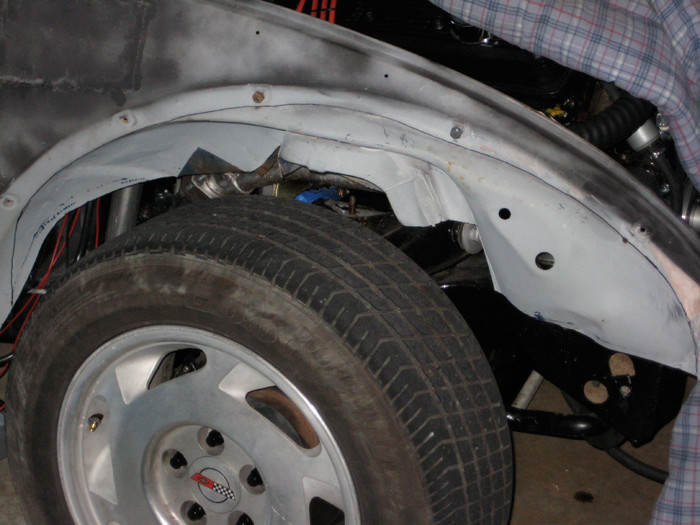 I'm trying to make the engine bay as simple as possible. No wheel wells and the wiper compartment will go so I'll have easier access to the dizzy. Also, it'll allow me to use the cowl vent to allow how air to escape. I just plan to make a mount for the wiper motor.

Things to do before body work / paint stages.

1. Rear, above gas tank, sheet metal.

2. Finish engine bay.

3. Finish filler neck sheet metal.

4. Seam sealer.


Getting there.
4-12-2010
Got some work done.

I decided to just clean up the engine compartment by adding panels to hide the strut tower mounts and gas tank rail. It didn't quite turn out how I wanted, but I'm pleased with the results.

I was aiming for a look like this.



I made patterns, again, cut out the sheet metal and went to install them. Oh, I also made a wiper compartment cover.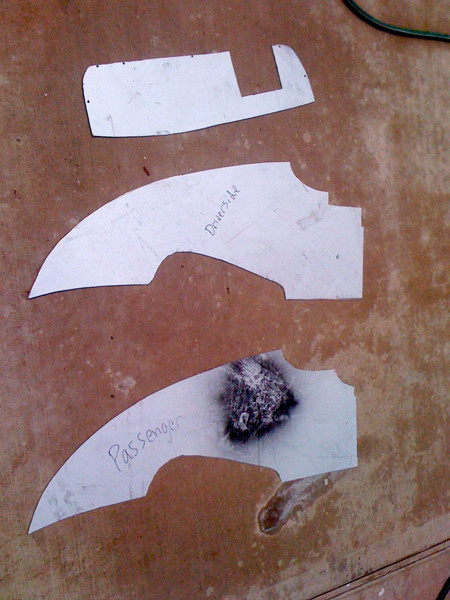 Everything fit well, but I could not for the life of me get the 18 gauge steel I had to bend smoothly. So I just boxed the top off instead. I think it came out pretty decent. The pics aren't great, but I think it'll look decent once It's got some hugger orange or black down.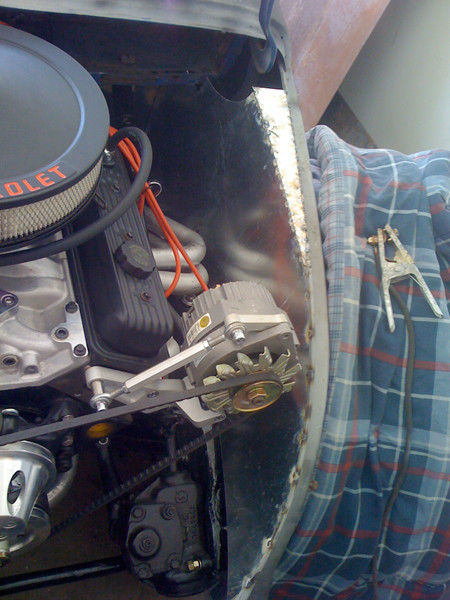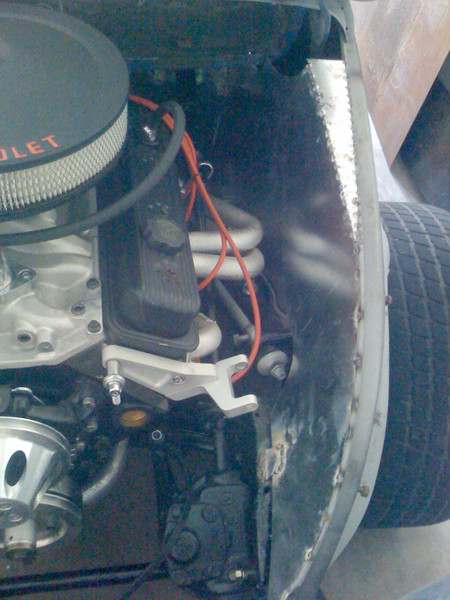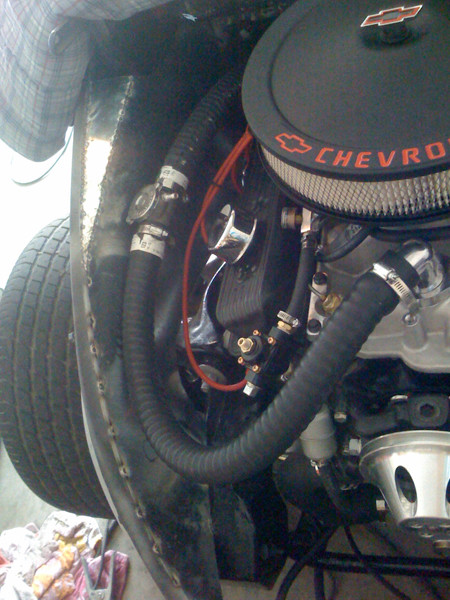 I've also been taking care of buttoning up little things like bolting in the gas tank and hooking up the kickdown cable.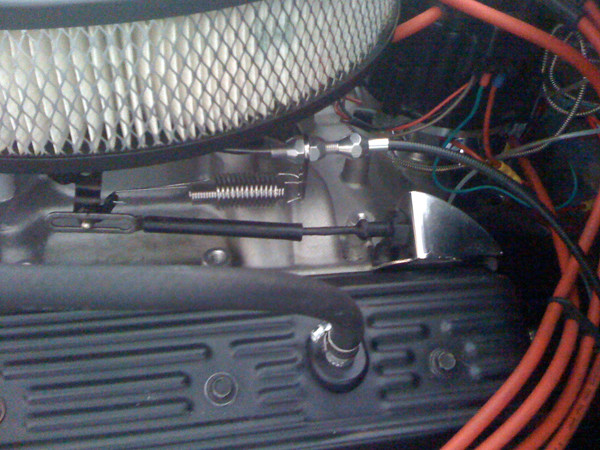 I bought a kickdown cable months ago and it didn't line up with the vortec intake bolt pattern (has 8 instead of 12). So I had to cut and bend this one to make it work right. Works like a champ now.

I also think I have my alternator situation figured out. I'm going to have to make an insert in the sheetmetal panel I just made, but I think it'll work. I'm basically just going to turn it upside down on the alternator mount I have now.

More soon.
4-16-2010
I did a little mocking up last night which has me still trying to figure out my alternator situation and I change my mind on my wheel direction.

The great news is the engine pulleys and radiator hose clear the hood by a few inches actually. I was worried they wouldn't. There's more room under the hood than it really looks. I did take the carb off and the breather (wait for it), but the hood closes great. I haven't seen my car with the hood on in quite some time. Here's how the hood closes minus carb, breather, and alternator. Wait for it...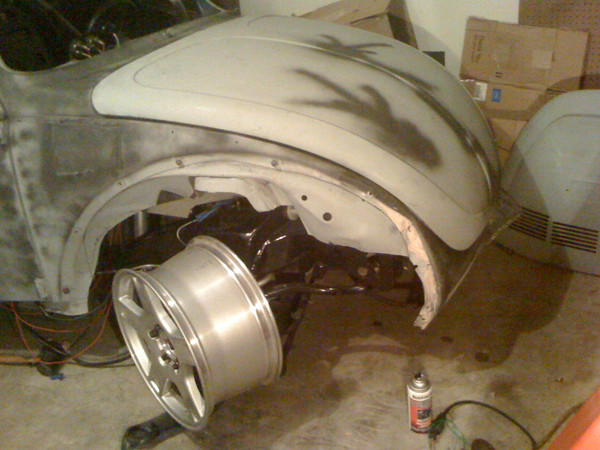 The other problem, as some of you may know, is I have never put the 17" vette wheels on upfront. I've always have had the 16" upfront so I figured they'd fit, no problem, right? WRONG. The tie rod rides on the wheel. I would need 2.5 spacers to clear. I have 2" spacers on there now.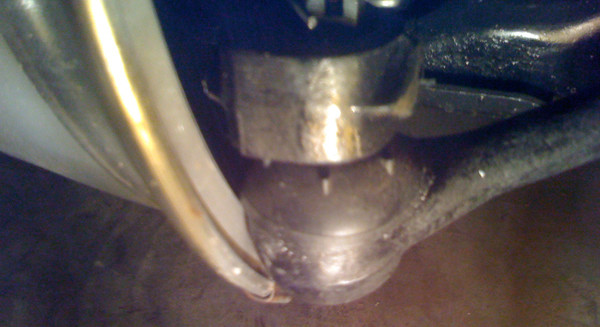 This is a repost for some, but I'm going with Weld wheels and this is how the car will look.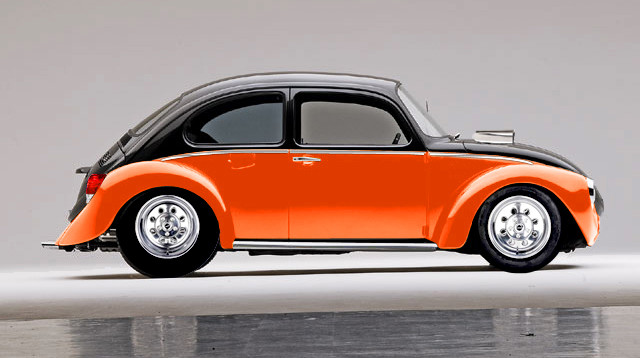 It'll be safer cause I'll be getting ride of the spacers AND I'm lovin' the old school drag car look.

I played with the alternator a little. I installed it as it would normally be. I was surprised it closed as much as it did. The hood is about 2" away from being completely shut.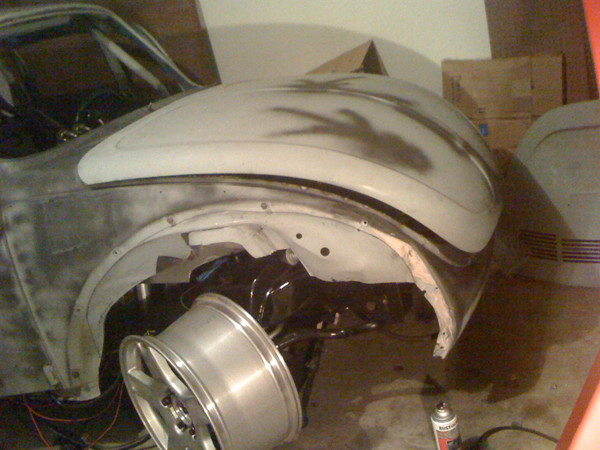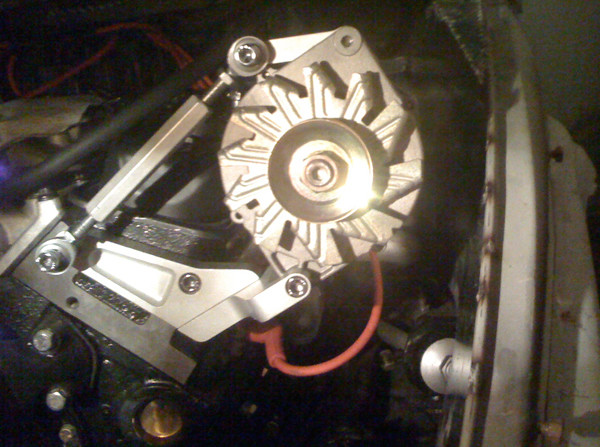 I then disconnected the alternator and turned it as far outboard as I could. That gave me another 1/2" - 3/4" closer on the hood. It's so close to being closed. Ughh...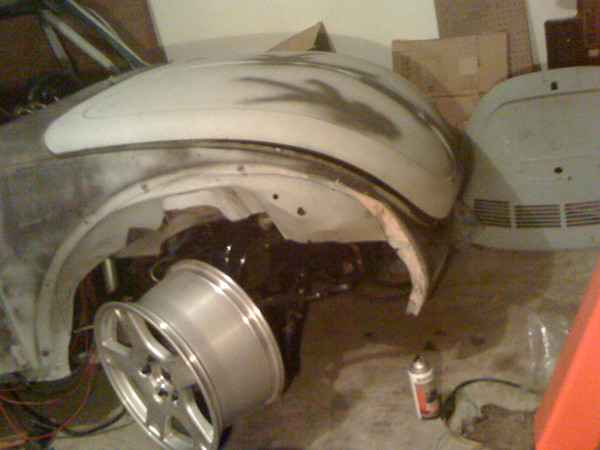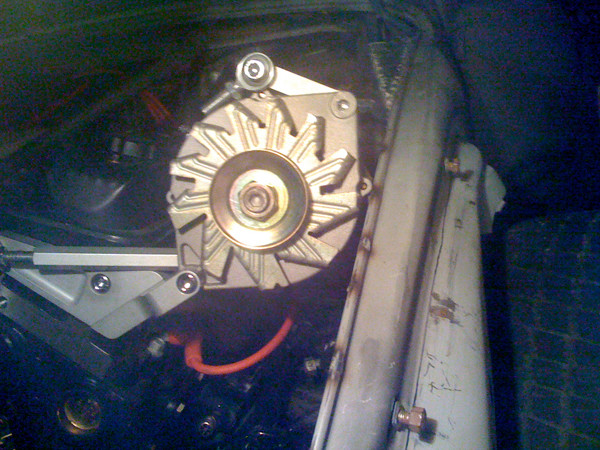 If only I could get the alternator to sit another 1 1/2" lower I would have it made. I'm looking into other alternator brackets.

Last but not least, my carb scoop came in, tubes of seam sealer and all my paints for the car (MasterSeries, epoxy primer, high build primer, hugger orange, black, clear coat, HVLP gun, etc). Here's a mock up pic of the car scoop. Should look ******in'!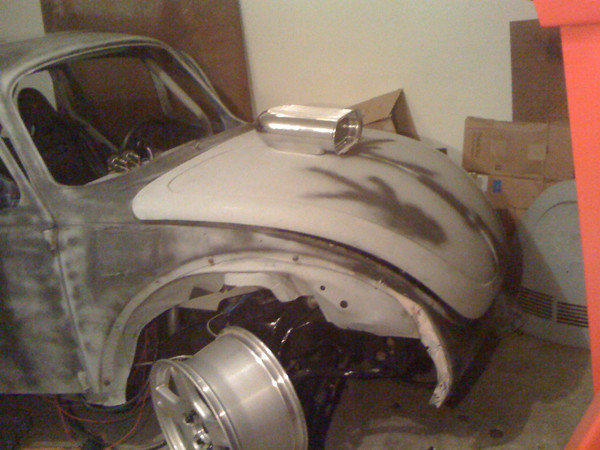 This weekend I'm going to try and get the rear sheet metal finished and get the hood cut for the carb scoop. That should just about get me ready for the body work stages.
4-19-2010
Got some work done. Not as much as I would've like, but something.

Mounted my carb spacer and carb scoop mounted and I cut out the hood too. Mmmm, polished aluminum. I think it added another 50 hp, lol, jk. Maybe 5-10 hp on the top end.

Got some work done. Not as much as I would've like, but something.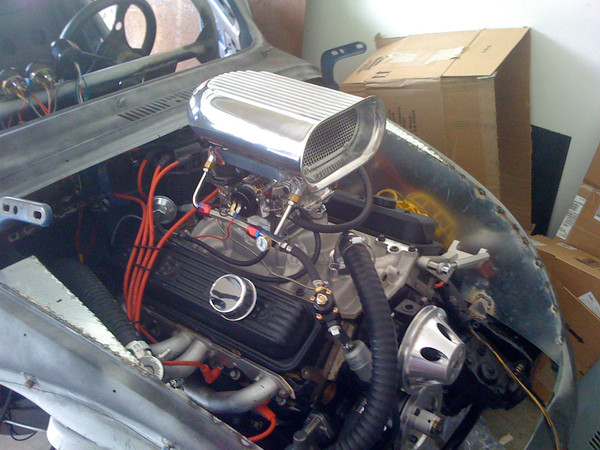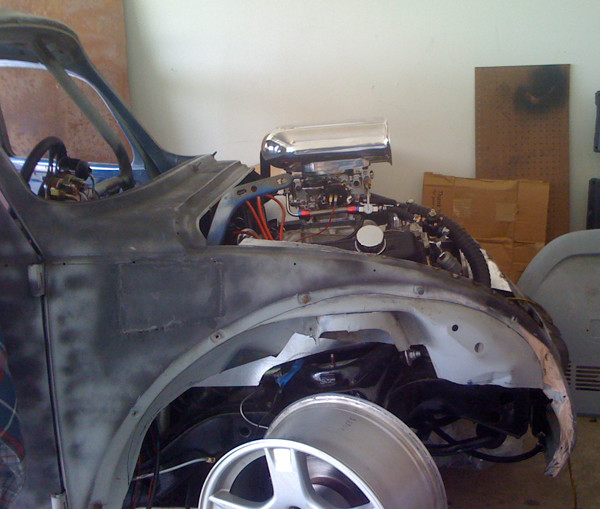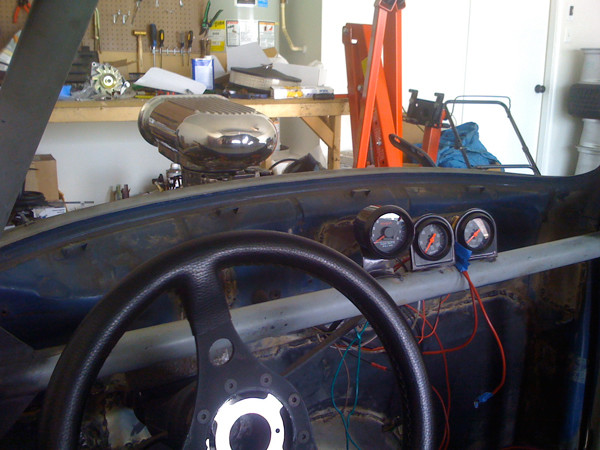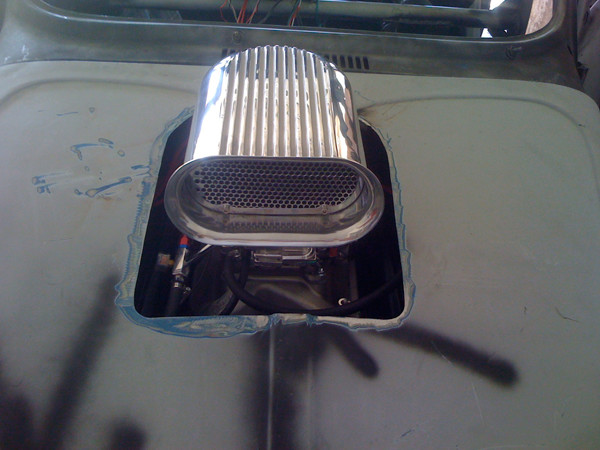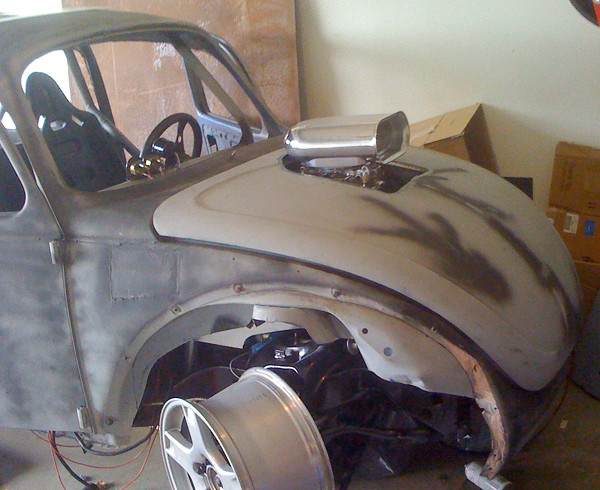 I think I may have my alternator situation figured out. It'll mount like this, but it'll take a little fabrication to make this work.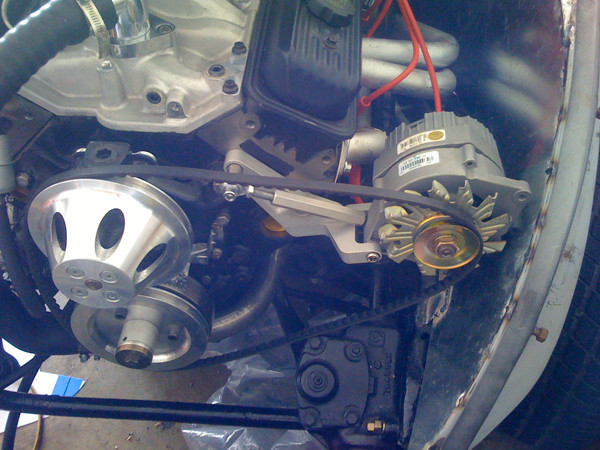 Did a little grinding to clean up the sheet metal in the engine bay.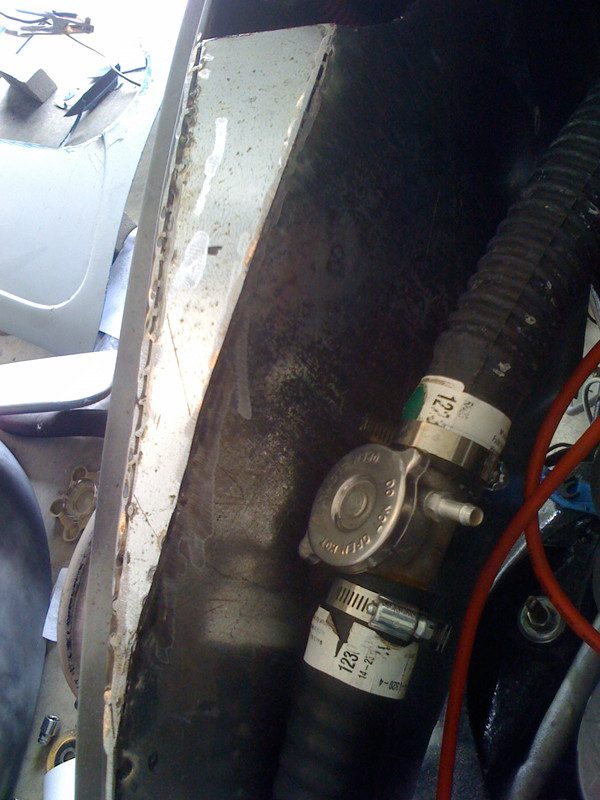 I starting doing some seam work. I put down a coat of Master Series on the seams to keep then from ever rusting. Next it'll get another coat and them some 3M seam sealer.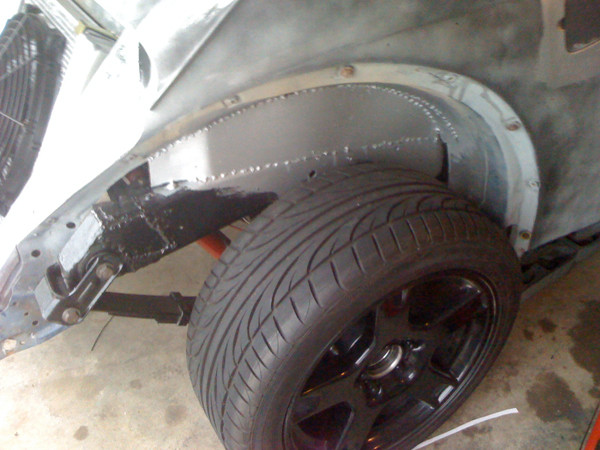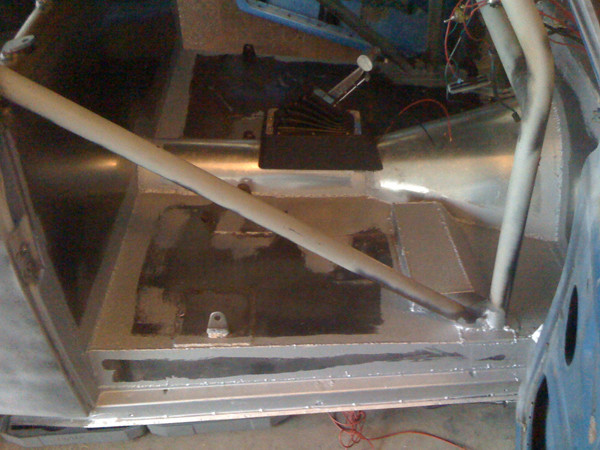 I ordered my wheels so they should be here Wednesday. I should have some pics by the weekend with them mounted. Maybe even a little cruising video with some of the new toys on.
4-22-2010
Been painting with MasterSeries rust sealer and sealing seams this week. I've finished the sealing the floor, the firewall, the rear wheel wells, and the radiator metal work in the back (which I forgot to take pictures of). I've applied a coat underneth the backside of the car and I'm working my way to the front.

Used 3M sealer. Stuff reminds me of heavy duty Elmer's glue. Haha...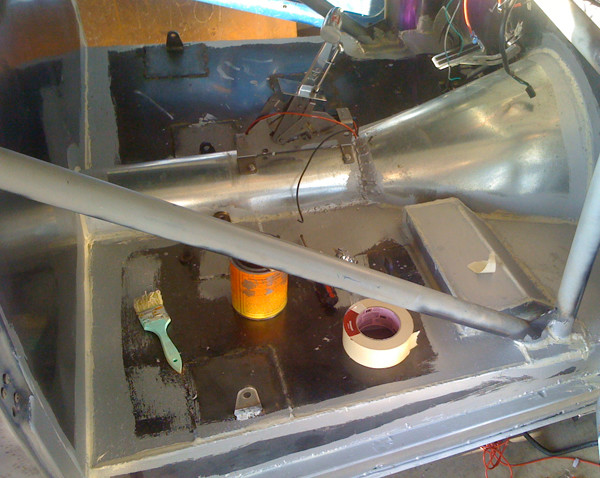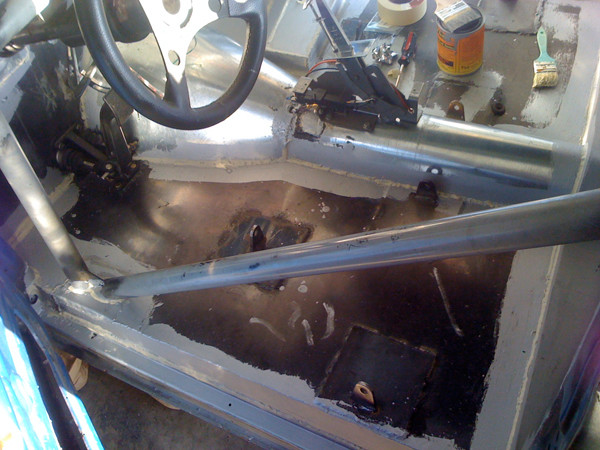 My wheels came in. I ordered Jeg's Weld knock-offs instead of Summit's cause Summit didn't offer the offset I need. I'm sure they're the EXACT same thing, just different center caps.

I forget how small 15" wheels are after having the 16, 17, and 18 wheels floating around this whole time. The sizes I got are...

15"x4" front w/ 1.75" back space
15"x10" back w/ 5.5" back space

Tires will be...

165/80/15 front
275/60/15 back

I'm going to Discount tonight to new get tires. Tires are going to be $300. Can you believe that? $50 each for the front's and $100 each for the backs. The wheels are pretty nice knock offs for the price. They'll make for great street wheels. Gotta be even more budget minded that the kiddo is on it's way and the wife will be a stay at home Mom.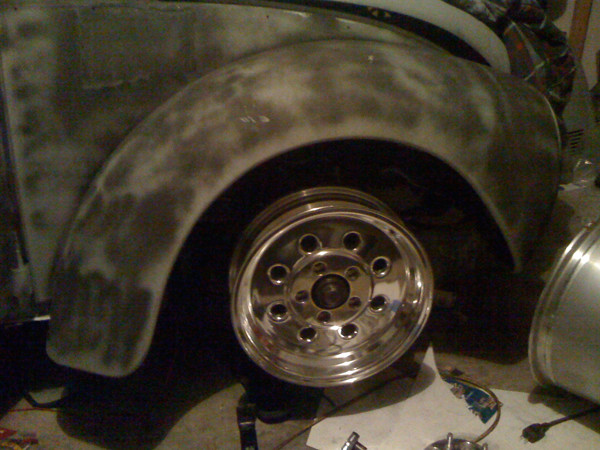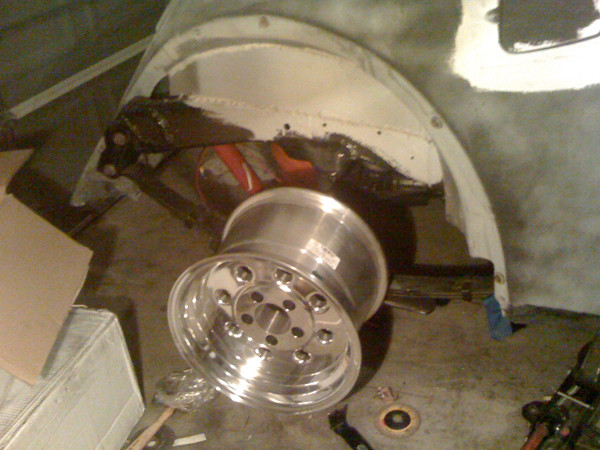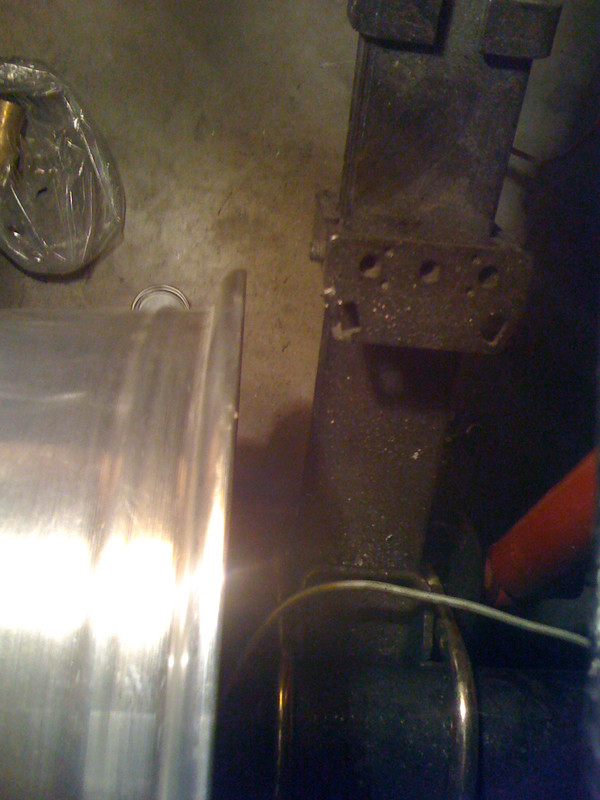 4-26-2010
Pics of the new wheels.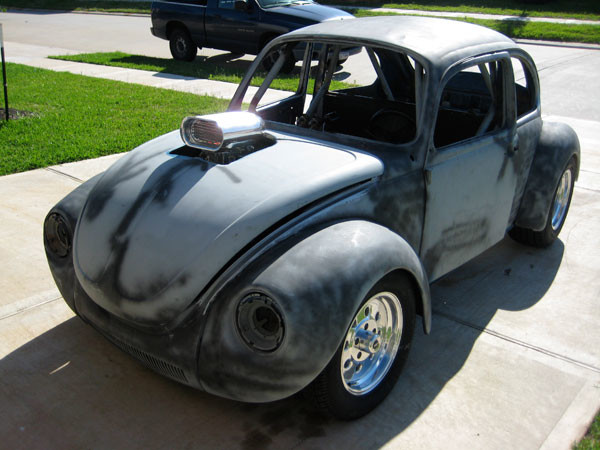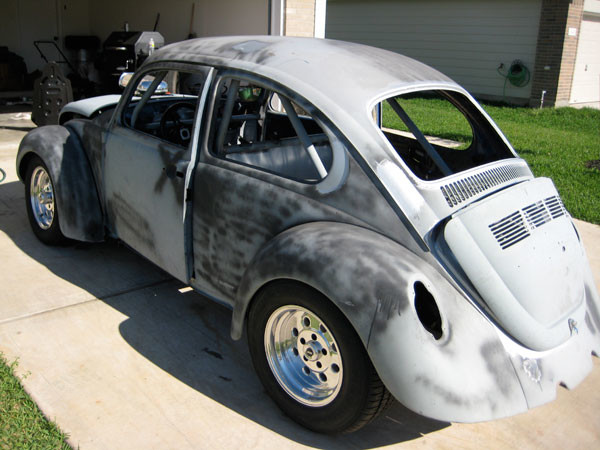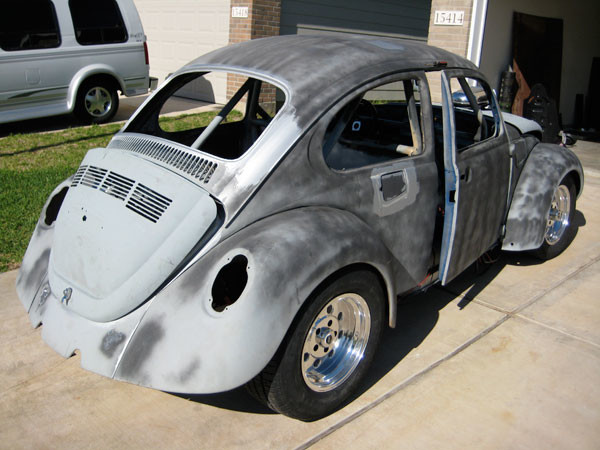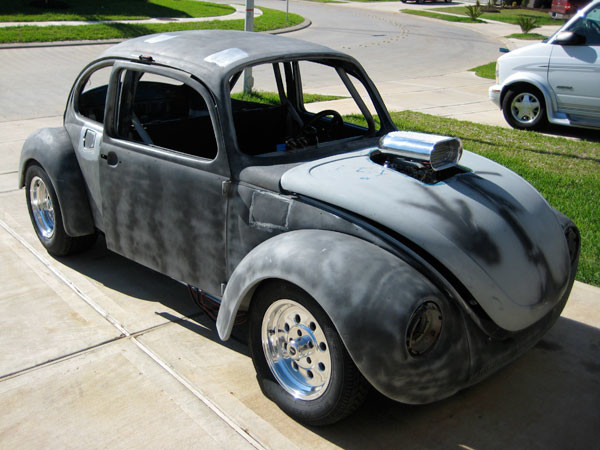 It was beautiful out today so I did a walk around video.




I got lots done. Doesn't feel like it cause I had to run back and forth and there's really not a lot to show for the time I put in.

Got the new wheels rockin', obviously, did a quick eye ball alignment cause it was more obvious it was our with the new wheels, sealed seams in engine bay, sealed seams under car, inside wheel wells, ground out and redid a couple weld on the cage just to be sure, bolted in the gas tank, got some deck lid stand off's to see how they'd fit and work, fabricated and sealed up the tank filler neck holder, and test drove the car.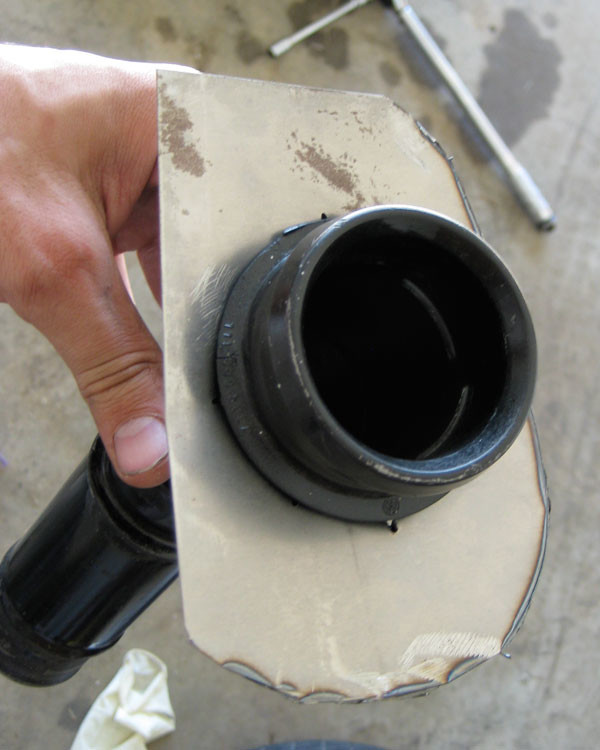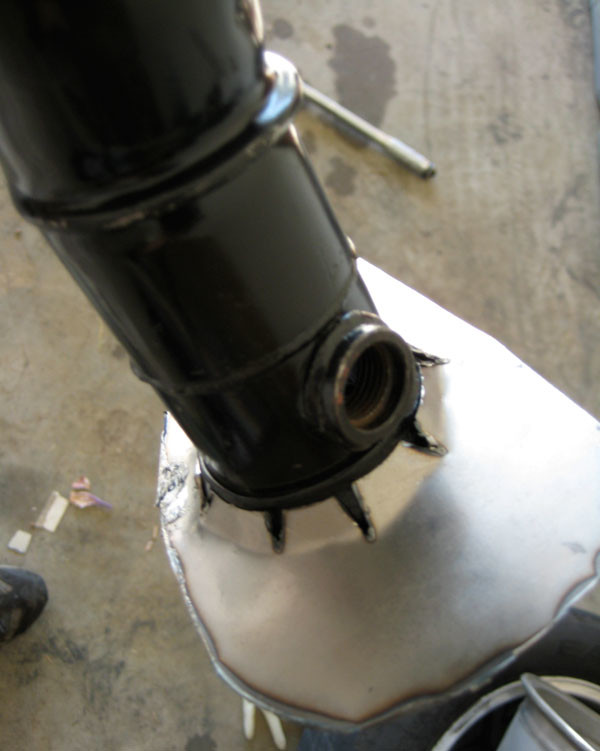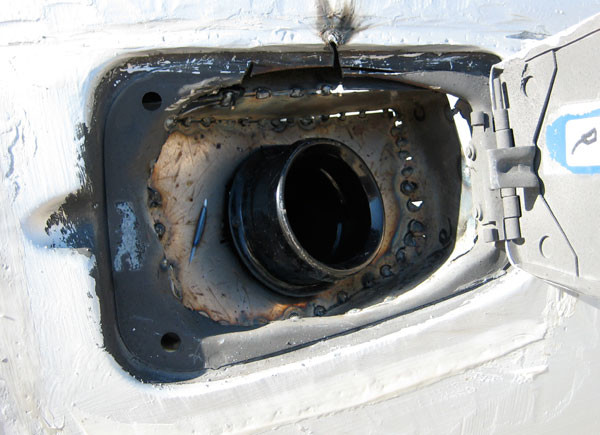 I couldn't resist test driving the car some with the new wheels and having the stand-offs. Great day for that. I made a little video.




Was still lots of fun, scary, and I got the chance to break the engine in a little and to try out the 2" carb spacer. Didn't seem to affect the torque a whole lot. Still lights em up easy peasy.
5-4-2010
A shot of the rear "fire wall". Did some more welding last night, but ran out of wire. Gotta slowly weld it up so it doesn't warp to crap.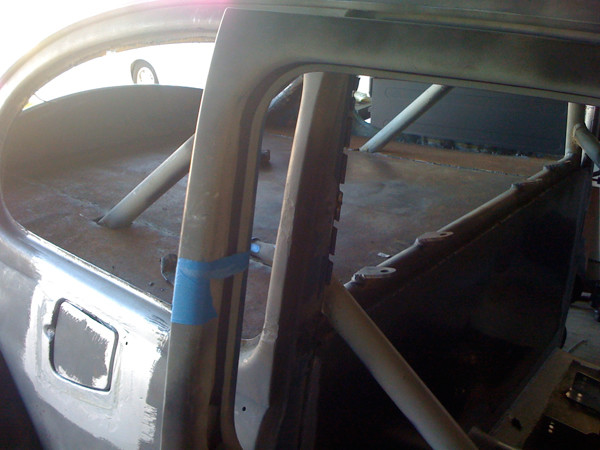 On a side note, here's my collection of "Summit Racing's" line of paint and tools to get the job done. Being I'm on a tight budget, I plan to paint the car myself and having heard good things about it, I decided to give it a try. For $400, what can go wrong painting your first car. ;D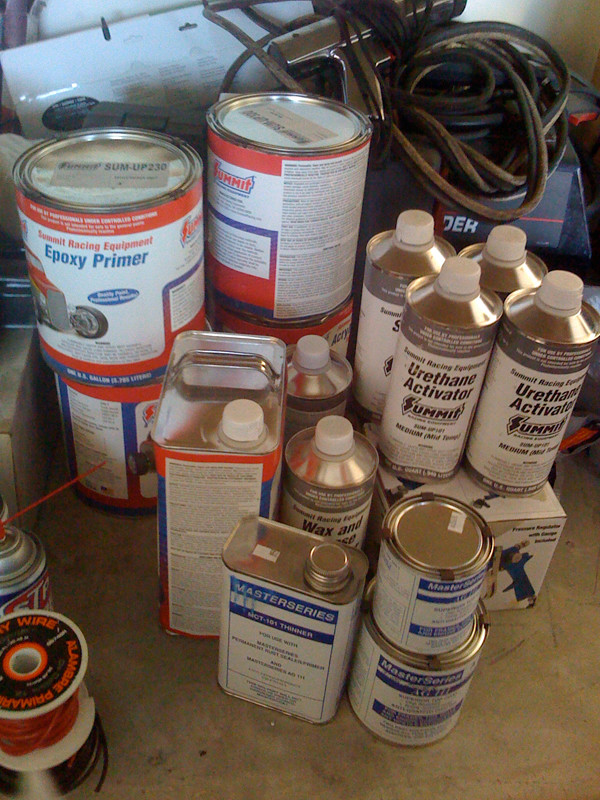 I have...
Sanding blocks
Rolls of various grit of sand paper, some where in there.
HVLP gun
Epoxy primer (galon)
2K high build primer (galon)
Hugger Orange, single stage (galon)
Black, single stage (galon)
High Solids clear coat (galon)
The rest is their activators, hardeners, surface wash, and wax / grease remover.
I also have a quart of Master Series chassis coating for the engine bay and for under the deck lid.
Here's a recent article about the paint. If that chick can do it, I can. And yes, the chick in the picture actually painted the car. Read the article. ;D
http://www.popularhotrodding.com/tec...ing_paint.html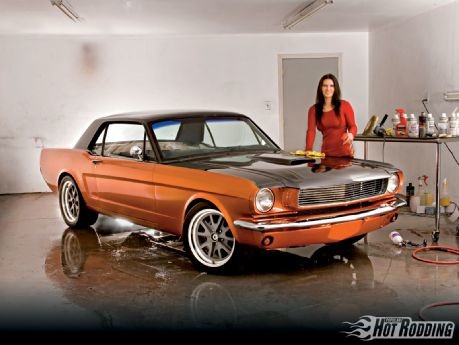 5-5-2010
Finished welding the rear firewall, sealed it up, and put down a coat of Master Series. I just need to put down another coat of Master Series to make sure it's all nice and sealed.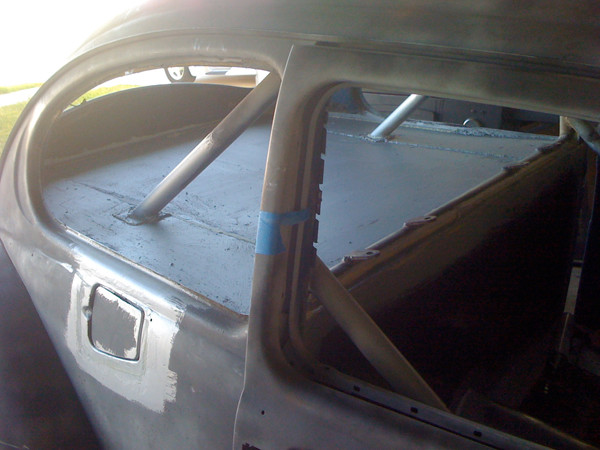 Now I just need to button up little things and it'll be ready for body work and paint!
5-7-2010
LOL, thanks!

Still plugging away trying to get it ready for body work. Guess I kinda already started some of the body work. ;D

Replaced the rust holes in the driver's side fender. The passenger was good to go. They both needed a little hammer and dolly work, which I took care of, to get the "bolt lip" straight.

Cut bad areas out.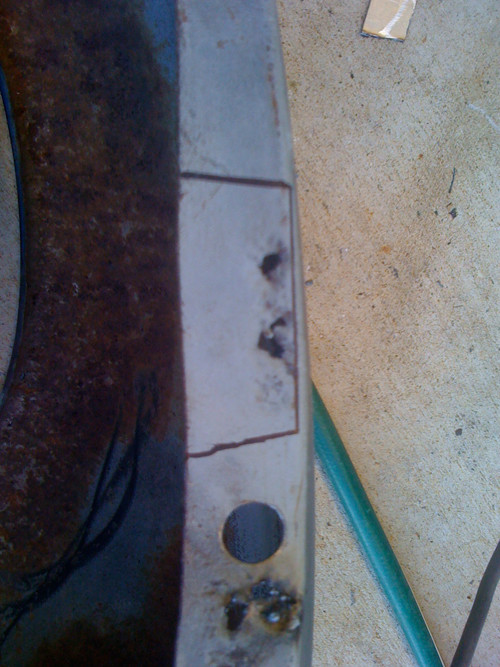 Welded in new steel and ground down the welds.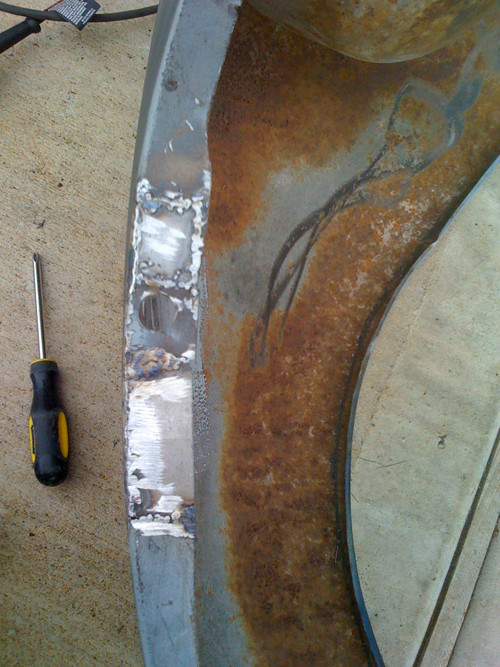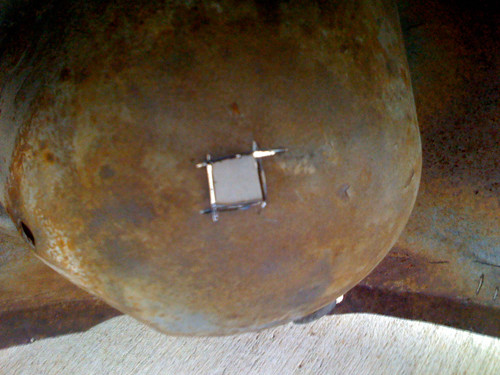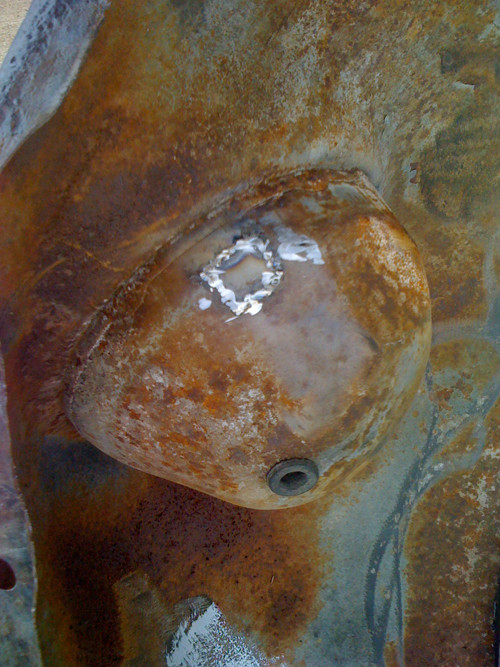 Coated the inner fender with Master Series. Need to get more cause I ran out.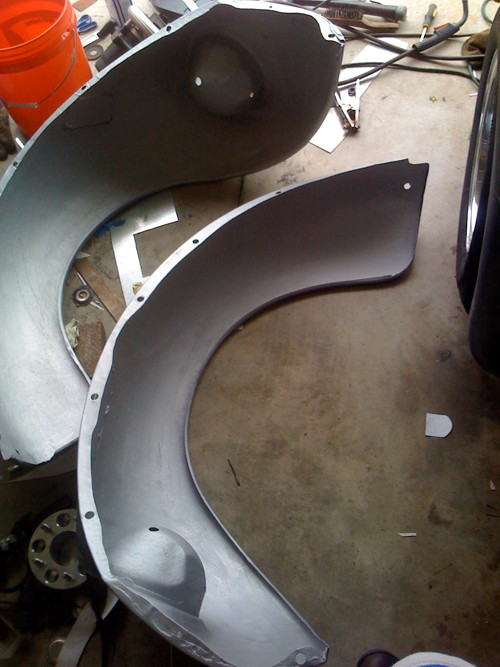 More after the weekend as I...

Finish the hood
Make an alternator bracket
Make a radiator hose hanger
And make a battery tray to relocate it in the back.

Hopefully I can get all that done this weekend.
5-10-2010
Al....most....there...

I got a couple milestone's accomplished. My time was cut short this Saturday when my Husky decided to dig his way out of the backyard. I drove all over the neighborhood looking for him just to come home to a muddy Husky right across from my house. I don't know where the mud was at. All the dirt around is dry. I guess that's what Huskies do best. Find mud...and escape.

Any who, I finally made up my mind and made an alternator bracket which I think came out really well. I basically took the low mount bracket I bought and cut it up and welded it to the frame. Easier said than done. The alternator does have full range of adjustment, so I'm happy. Now I just have to buy another belt.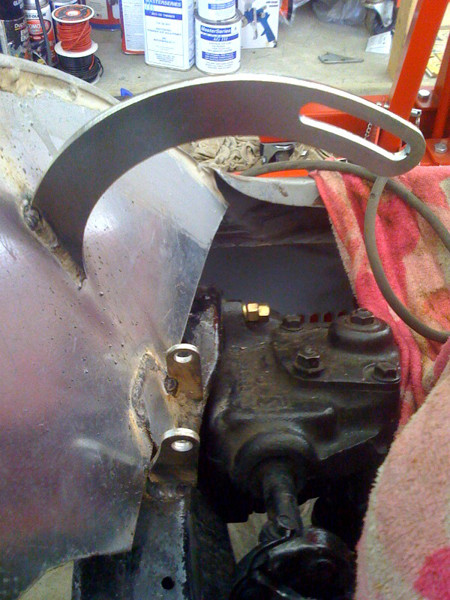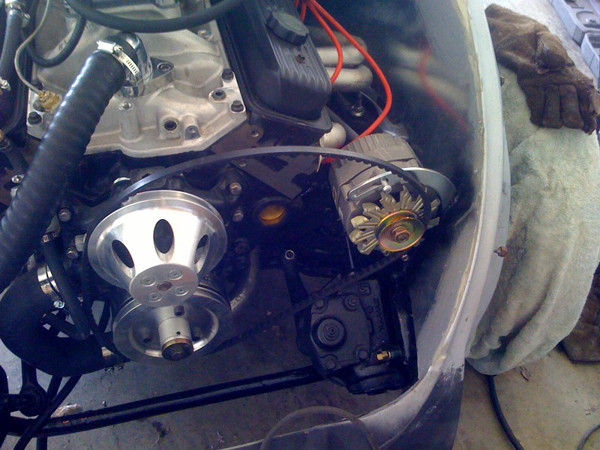 I also bought a new more manageable size battery and relocated it to the back. I made an frame try for it. The plan was to bolt it in above the exhaust on the passenger side to help distribute weight, but that didn't happen. I wound up welding the tray in on the driver's side for ease of access.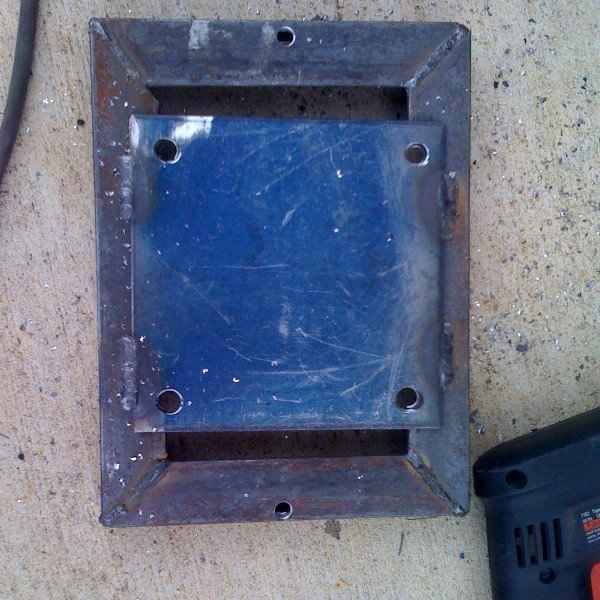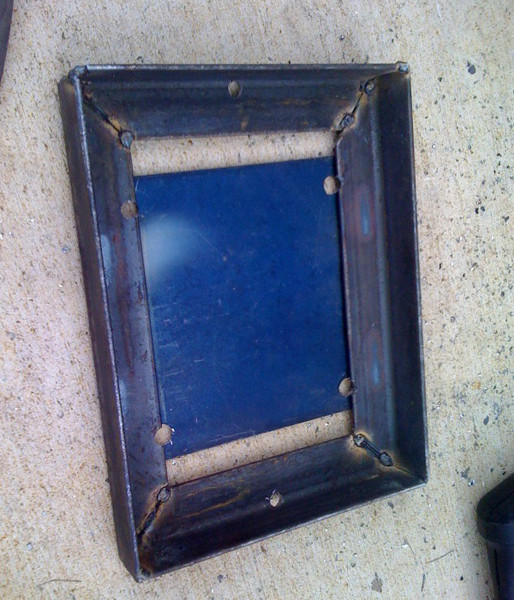 I'm also having to rewire / reroute everything through the interior of the car. No biggie, but just another thing I have to add to my list of TTD before I can get to body work.
Just a couple more things to do before the next stage.
Rewire engine
Finish the hood
I'll post pics of the battery setup soon.
5-17-2010
Got a few things done this weekend. Really just testing things out and tweaking (checking valve lash, snugged up the headers / collectors and played with the fan in push / pull mode) to make sure everything is is running right before I move onto paint. All seems well except the alternator.

I wired up my alternator and took the car for a test drive. After driving around the neighborhood for about an hour, I parked the car in the garage, turned it off, and attempted to start it back up. Well, it was very slow to turn over and it wouldn't fire back up. I did let the car sit and cool for about 15 minutes and it fired back up. ???

So I'm not sure if the battery was drained some and the alternator isn't wired correctly or if there's another reason the engine wouldn't turn over while at operating temp, which has never been a case. I did have my electric fan running the whole time and it draws some amps.

Could someone look over how I wired my alternator and tell me if it's correct or what to do so it is correct?

I have about a 4 gauge wire going from the battery post on the alternator to the battery post on the starter. I have a 2 gauge ground wire going to the frame. On the #2 post, the plug to the right, I have going to the battery post on the alternator, but I have a switch between it to turn it on and off. I have a 12v indicator light, which has yet to work, hooked up to the number 1 post and is ground to the body.

The dummy light has never worked and I'm not quite sure the alternator is charging. Any help would be appreciated.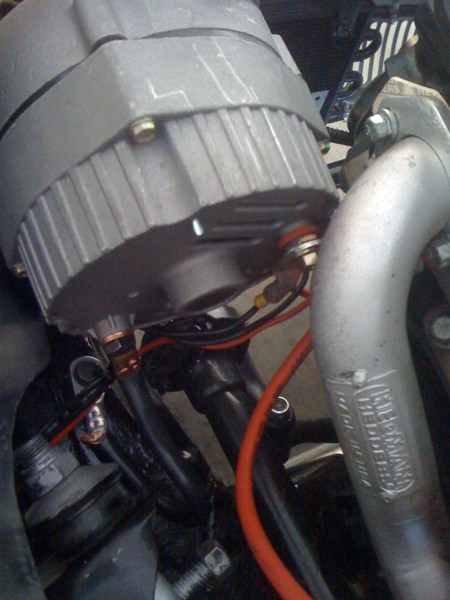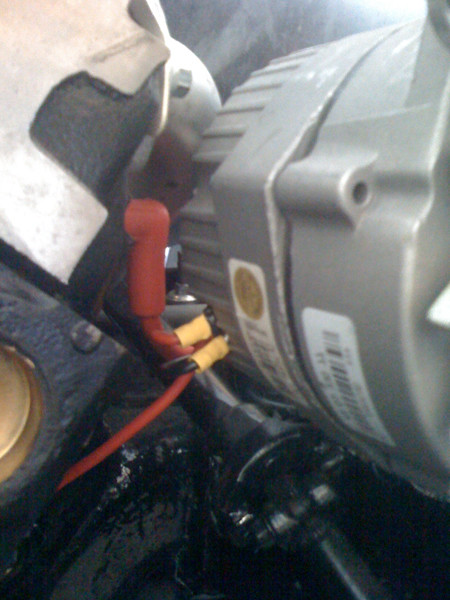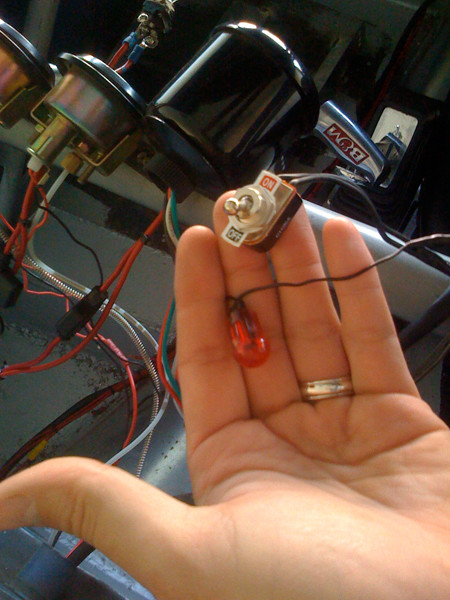 I now have all the parts I need to finish the car, just about. There's a couple small things I'll have to get off a parts car.

Rebel Wiring Harness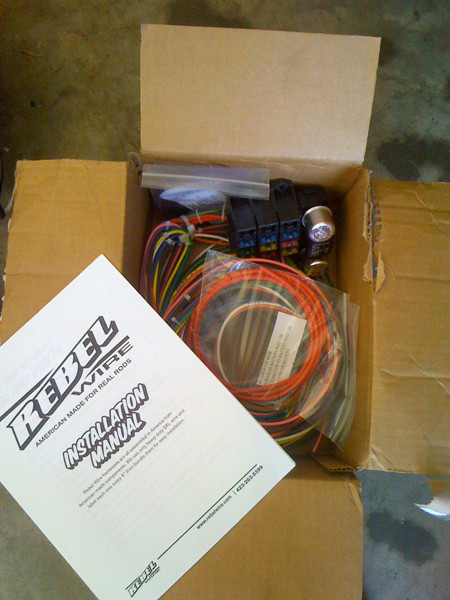 Parts from Bap/Geon.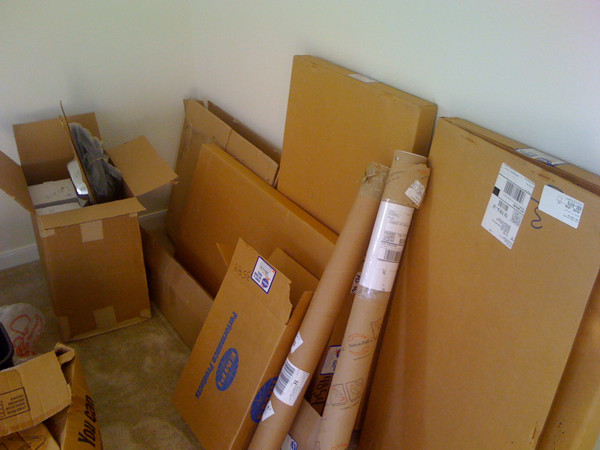 Here's a project that's been taking some time away from the bug, but one I've enjoyed doing. I've been working on finished up painting the nursery and installing chair railing. I just need to touch up the paint. Still got to put together the crib, hang curtains, and whatnot.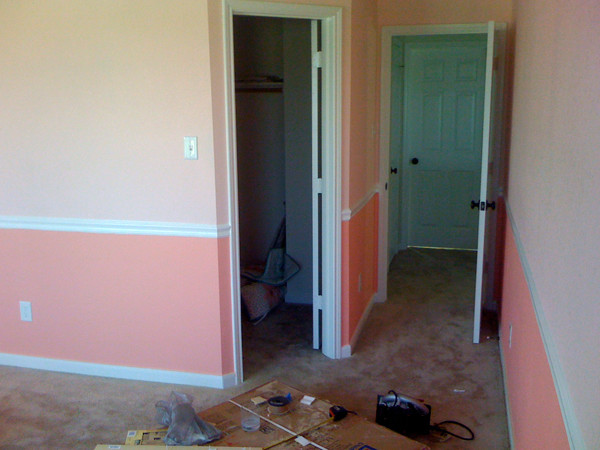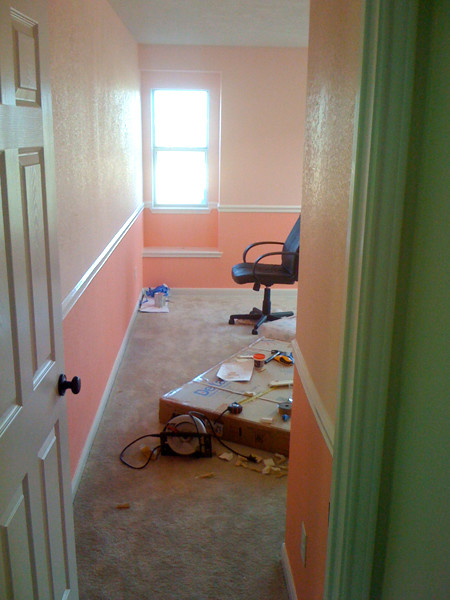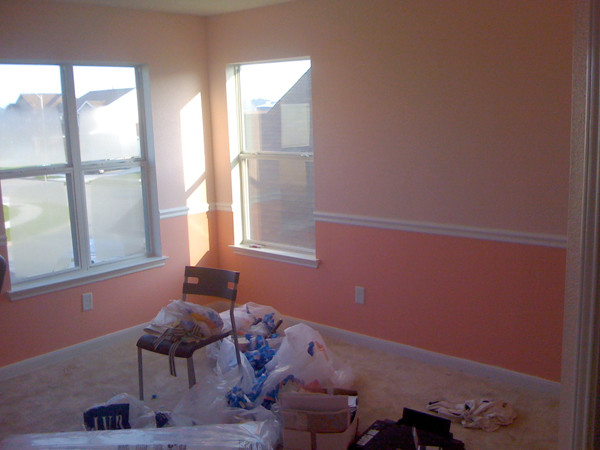 5-24-2010
Finished up fabricating, for the most part, and now it's on to body work.

There were a couple rust holes I took care of. Out with the old and rusty.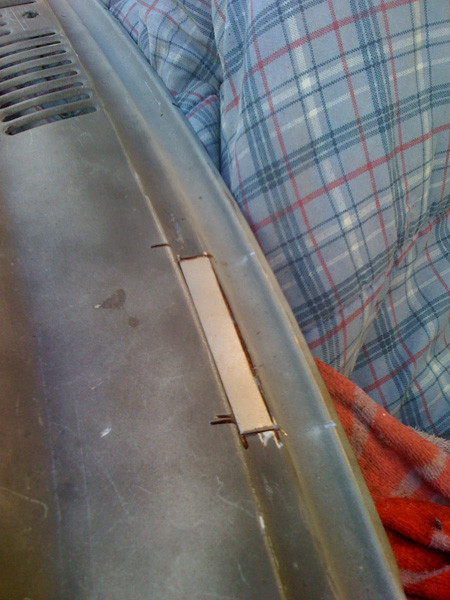 In with the new. Ground and ready for filler.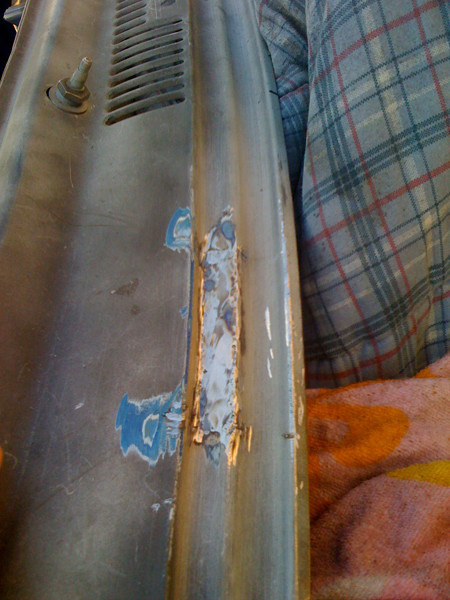 I also reinforced the hood. It wasn't too bad before, but now it's much stronger. I basically cut out 1" strips of 22 gauge and lined the opening. I later sealed the underside of the seam with 3M seam sealer.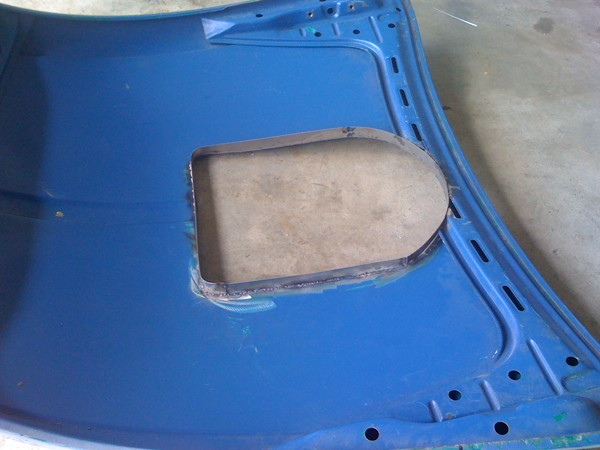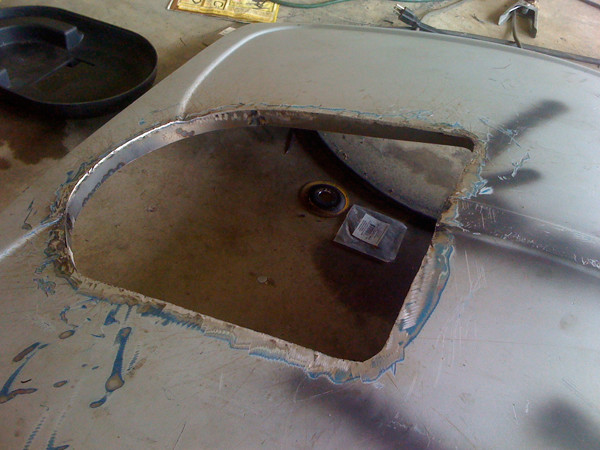 My hood hinges were screwed and I could get to them to fix them after welding in those panels. They worked OK before, but they've just gotten worse. So I just cut out the hinges and extended those panels all the way back.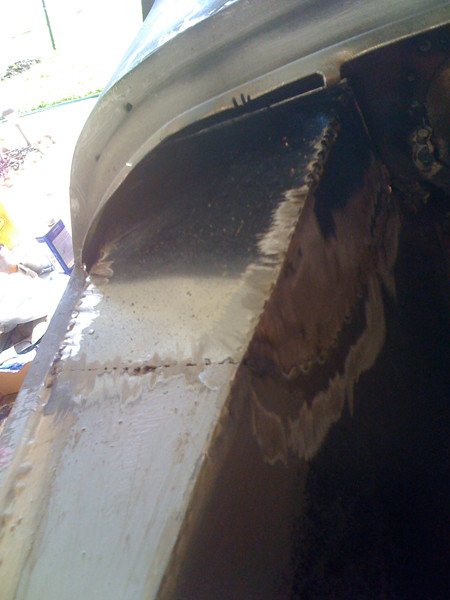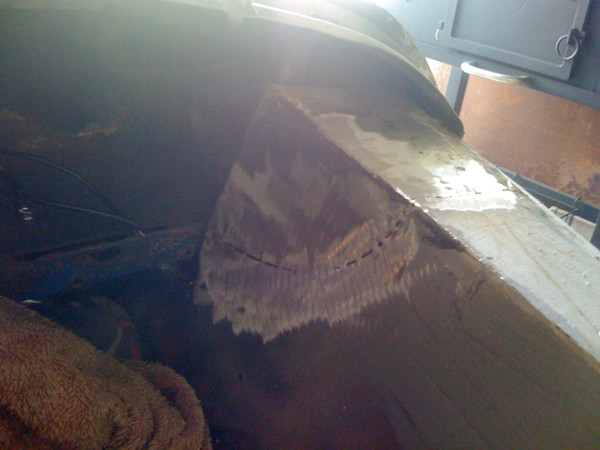 I borrowed my old man's 33 gallon compressor and went and bought a DA sander. After a wipe down with some wax and grease remover, I went to town on the hood, deck lid, and front fenders with a 40 grit disk just to knock most of the primer and original paint off. I got most of it down to the previous body filler and metal.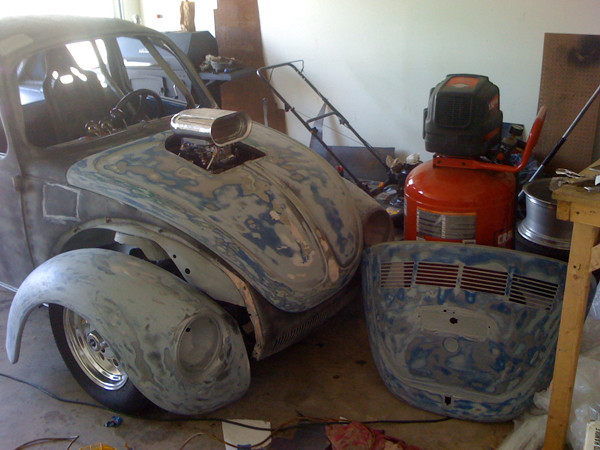 I started to mask the car off to keep the dust from getting where I don't want it.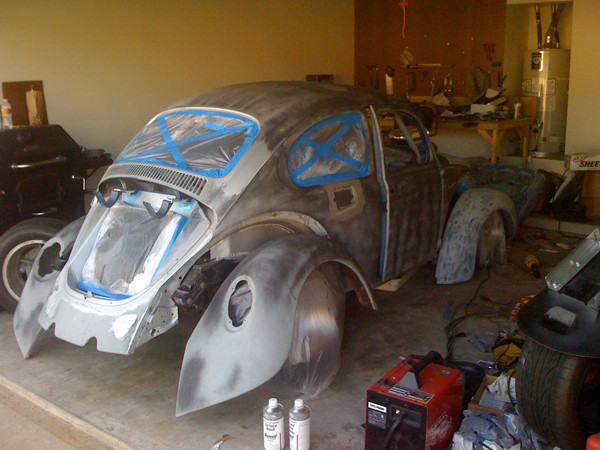 STILL waiting on my 4.5" wide fenders from VW Innovations. A month ago it was going to take 2 weeks. 2 weeks ago it was going to be here in a week. So far, I'm not impressed. I'm going to call and see what's up cause last time we spoke they were "just taken off of the mold". I know how that goes. Probably didn't even have them even made.

This week I'll be working on knocking most of the old paint down, which isn't in too bad a shape, and I'll be filling the low spots in hope to get some high build primer down soon.
6-1-2010
It's been a long week and a short four day weekend, but it was great nonetheless. Me and the wifey went to Galveston island for the four day weekend so I didn't get as much work done as I would've liked. It's also been getting up in the mid 90's so I limit how much work I do to early mornings and late evenings.

Some progress pics.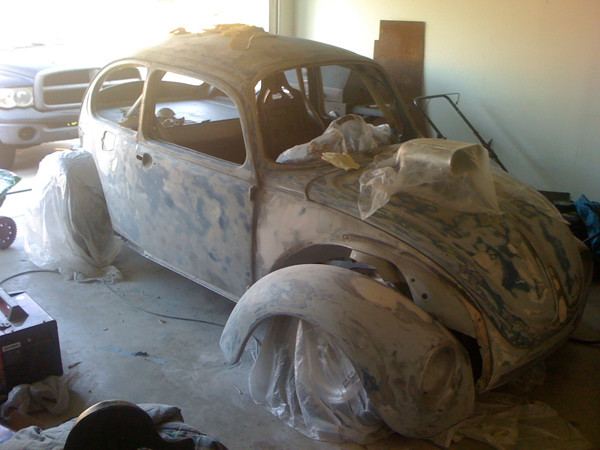 This section has been taking up a lot of time trying to get it nice and straight. It's almost there. I need to do another skim coat of filler around the right side of the gas door and I need to fix the area above the door.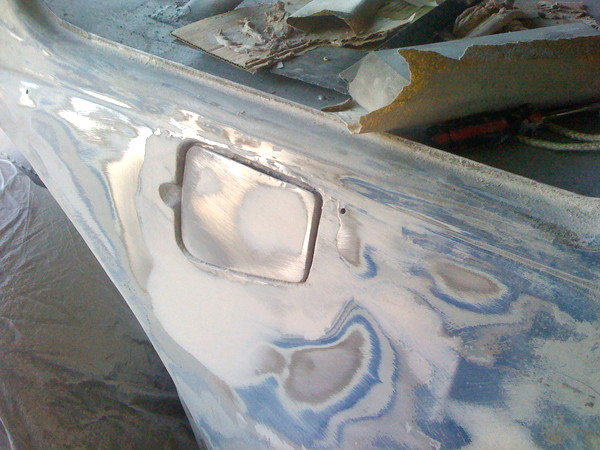 The old fuel door location hasn't been too bad. It needs a skim coat to fill the dark low spot by the rain rail and it'll be ready.
This fender needed a skim coat of filler and some blocking to make perfect. It's ready to go.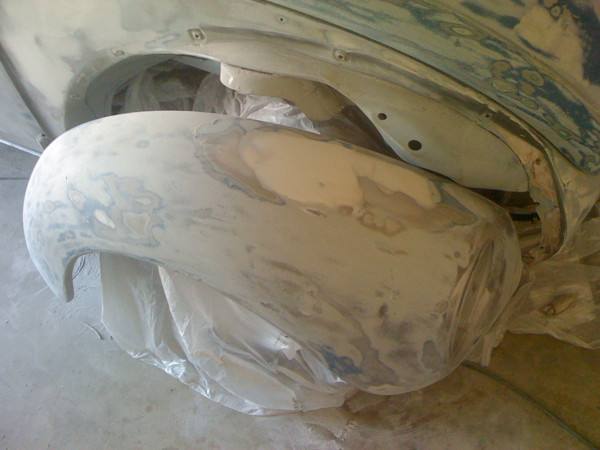 This fender was good as is.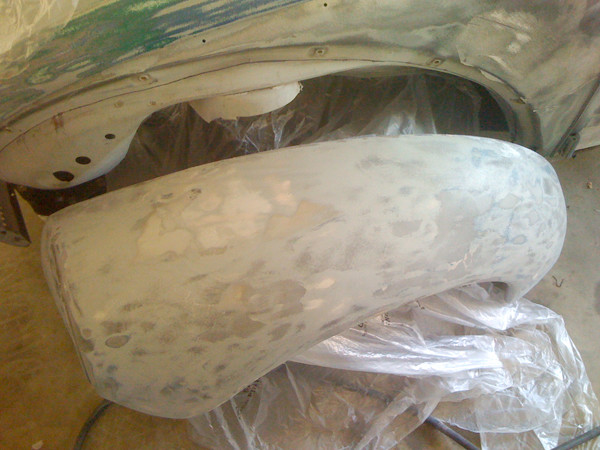 This side of the car is ready other than the b-pillar posts that need filling from me cutting them out and welding them back in.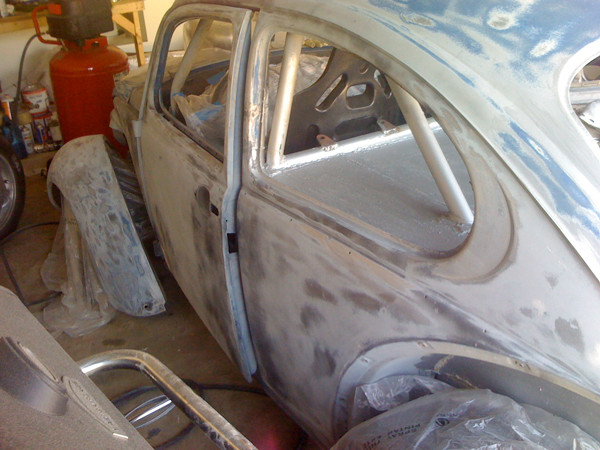 I started filling and blocking the rear apron, but I got tired and hot so I called it a day.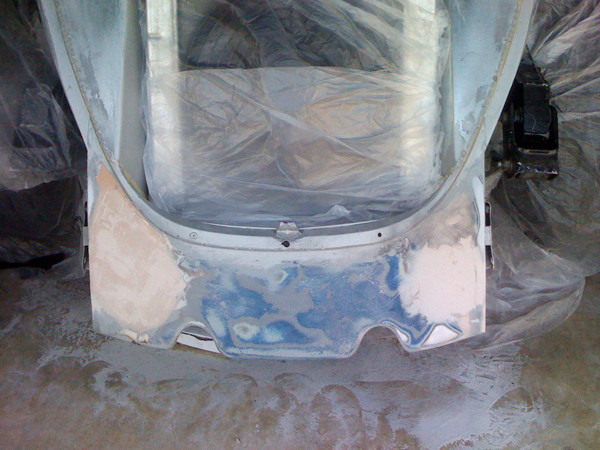 I'm hoping to have the car ready for it's first coat of primer by this weekend. I still have a lot to do but it's moving a long fairly quick.
6-7-2010
Still plugging away on the bodywork. The area around the relocated gas tank door, the front passenger side quarter panel where the gas tank door was, and the roof has taken up quite a bit of time. Basically where ever I had to cut out some metal and weld it back in. Next time I weld on the body sheet metal, which wont be anytime soon, I'll be sure to take more precautions to keep distortion to a minimum.

These areas needed the most attention to get straight. The rest is cakewalk. It seems like just when I thought it was straight, they needed another skim coat to fill in a low spot. These sections are pretty much shaped / flat, but need to be skimmed over with some glaze putty to fill in pin holes, feathered a little more, then sanded with 100 and 150-180 grit to get ready for its first coat of primer.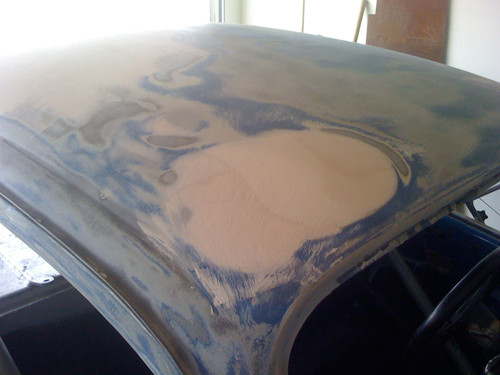 This section here had the most distortion and it had a nice whisky dent next to it which required the bondo to be feather even further. PITA.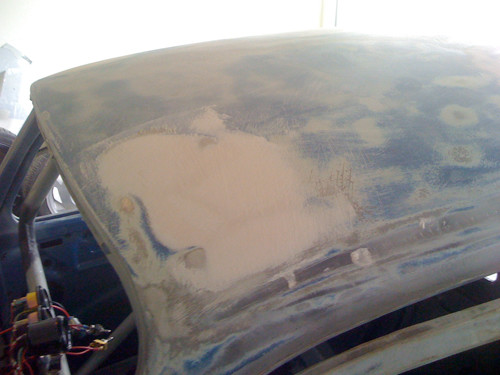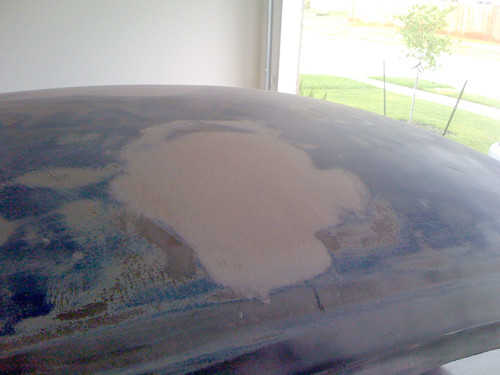 I still need to sand down the little bit of untouched filler you see. Other than that, it'll finally be nice and flat.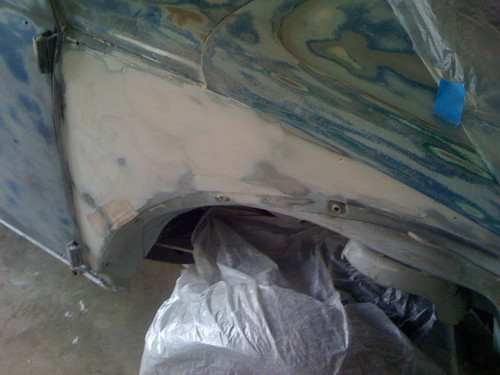 I can say this area has taken the most time. I still need to work on the area above the gas tank and around the door some more. It's almost there.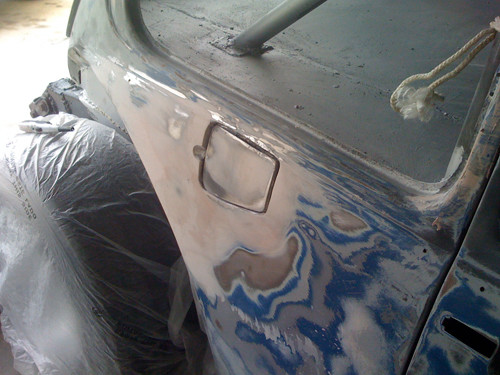 The rear clip is ready to go. Now I just need to smooth out the transition of the sheet metal around the "radiator shroud".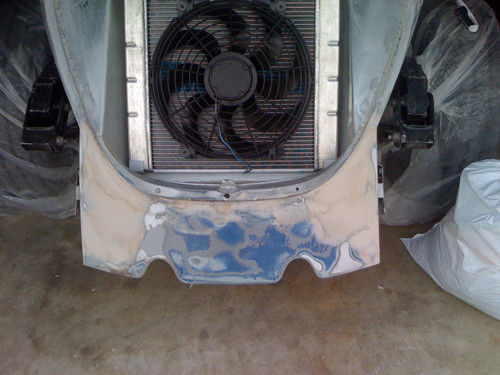 This area just needs to be sanded with finer and finer paper, glazed and repeated.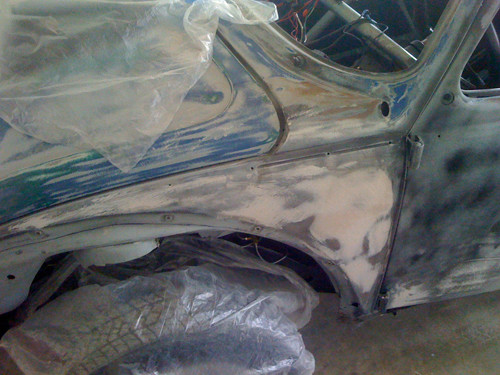 I have definitely missed my mark to get it in paint early this month. It's looking more like the middle to late next month it should be in paint. Body work is taking long then expected and I have to build one of these (the copper tubing which collects the moisture follow by an air filter / trap) to make sure I have no moisture in my lines when I go to put down any paint.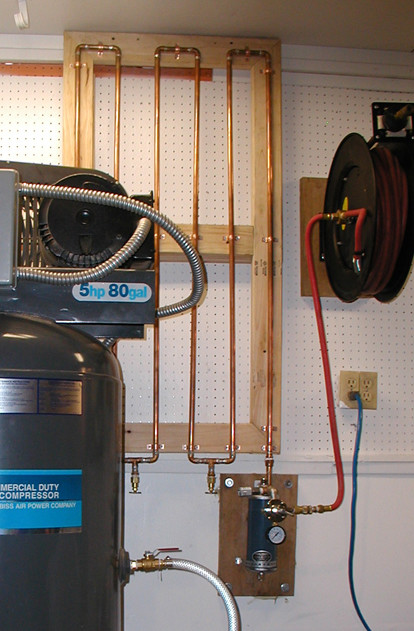 More soon.
6-9-2010
Yesterday I pulled the bug out of the garage to sweep up a little, knock some dust off the car and to drive her around a little cause she's been sitting for a few weeks. I decided to take some pics while the car was out cause I just mounted the new fenders and to take a look at overall progress.

The new fenders are pretty decent. They'll be perfect for when I upgrade my rear with a 8.8 explorer unit which is a direct bolt in upgrade for S10s (the rear is 3" wider). I think the car would look even better if I do about a 1.5-2" drop in the rear. So I'm going to look into some SOLID drop blocks from JTR.

The body and the fenders will need some work to make them fit right, but not too bad. There were some cracks in the center of the fenders and I'm guessing it's cause they flexed during shipping. They were just plastic wrapped / bagged and tagged. They seemed to do fine packaged that way for the most part.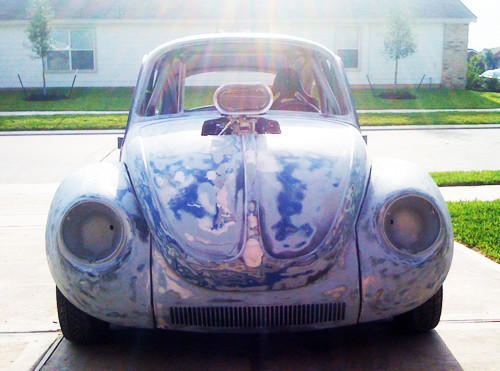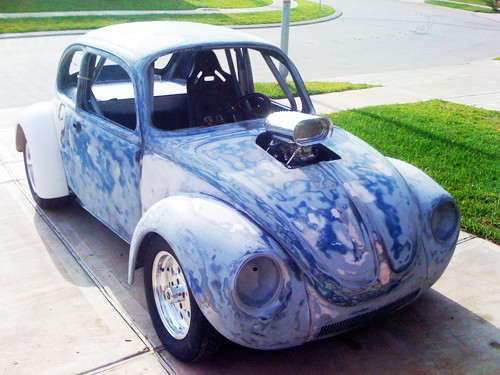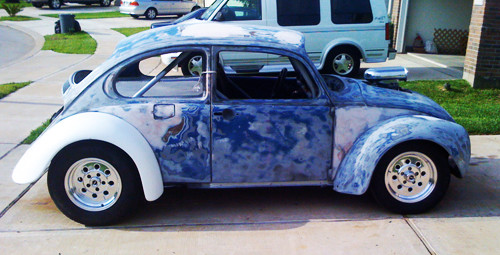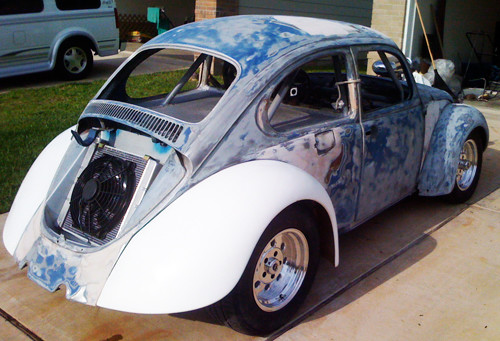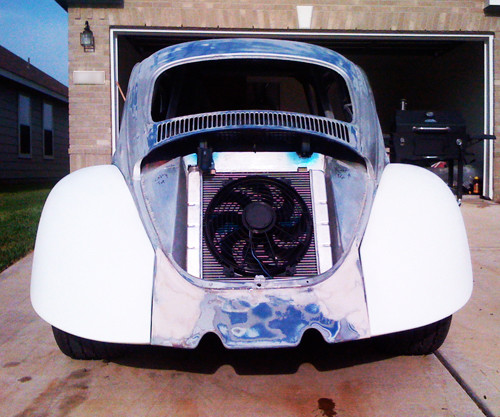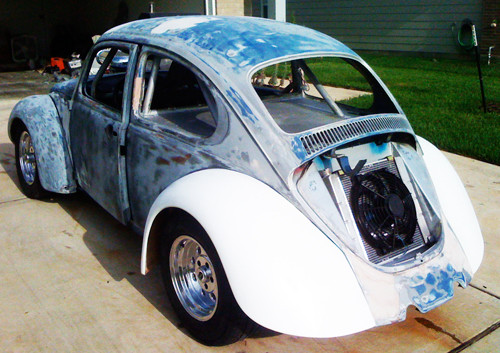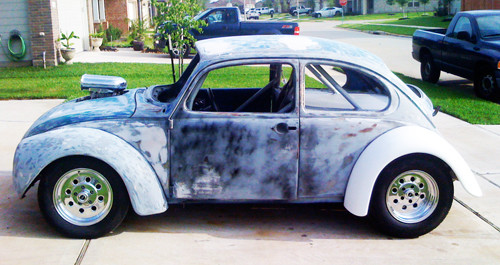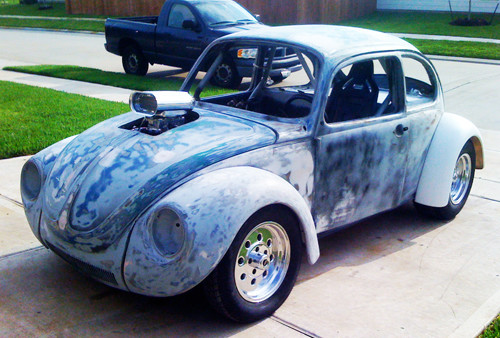 Here are the cracks I was talking about, which I have already filled and blocked sanded after I took these pictures. Below you'll see some gaps that'll need work on both fenders.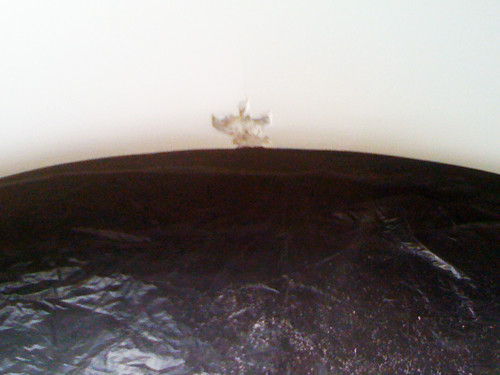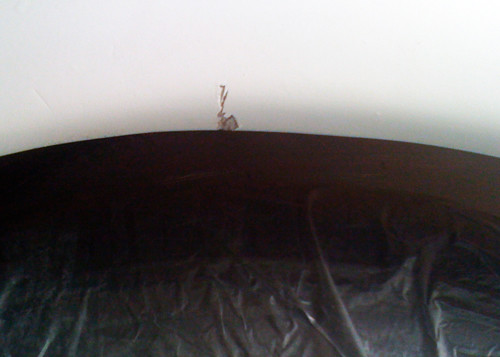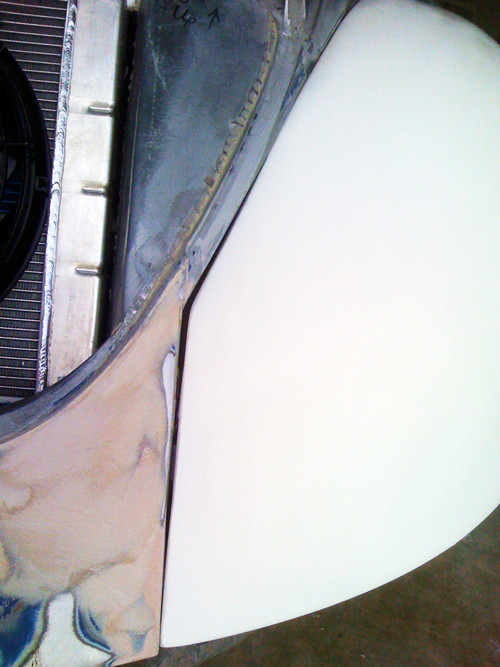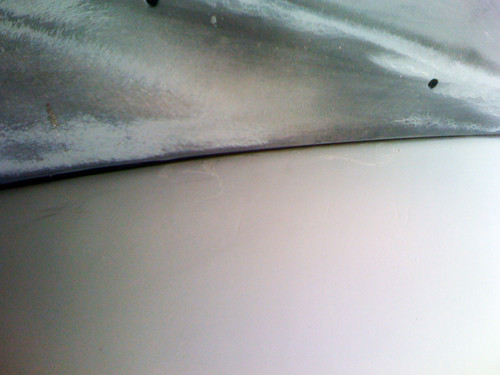 Over all, they're decent fenders. I have nothing to really compare them too, but I would think they're a little on the thin side, but that's probably cause I have no paint on them yet.

Fitment was OK. I guess it could be worse. I drilled where they had dimples molded into the fenders for the bolt holes. They weren't exactly spot on, but close enough. I had to widen about half of the holes so the bolts would line up.

I'll have more after this weekend.
6-21-2010
Still doing body work. It's been tough lately cause of the heat. It's been 95-100º. So I try and do as much work in the morning and the evening as possible.

I have the hood just about ready to rock. There's one small low spot that needs taken care of.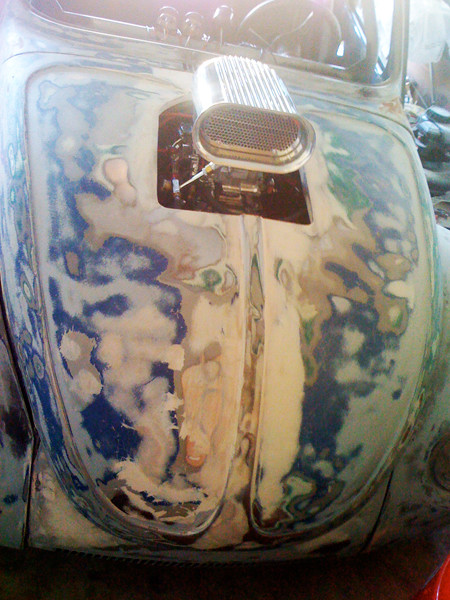 The b-pillars are pretty much ready. Just need to glaze and sand up to 150-180 grit.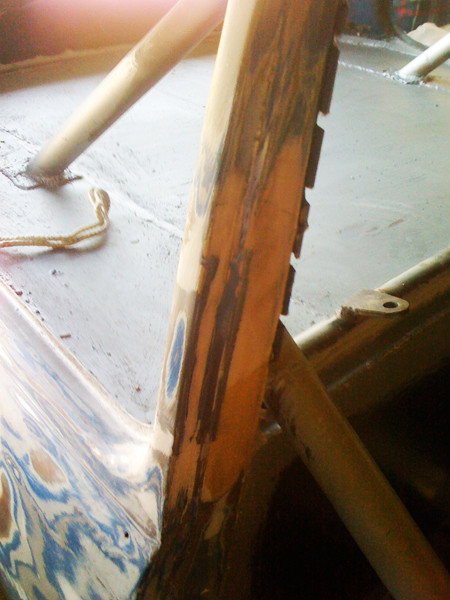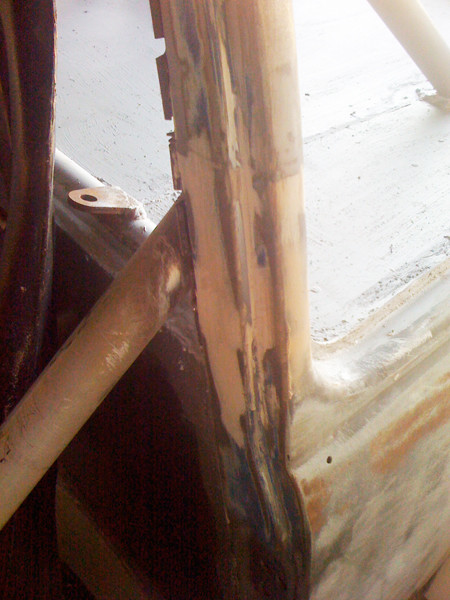 The doors had so holes drilled in them I'm sure for some accessory. Don't quite know what. So i had to weld the holes up, grid, and tap them down.

There was also a rusted corner on the driver's side door that needed fixing. So I cut out the rust, welded in new metal, ground the welds, and filled the low spot with bondo.

The doors are ready other than some glazing and to be sanded with finer paper.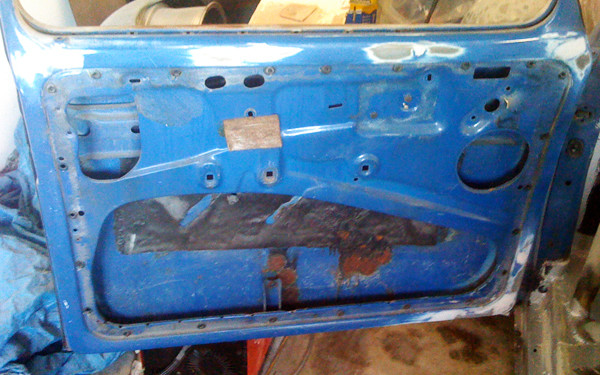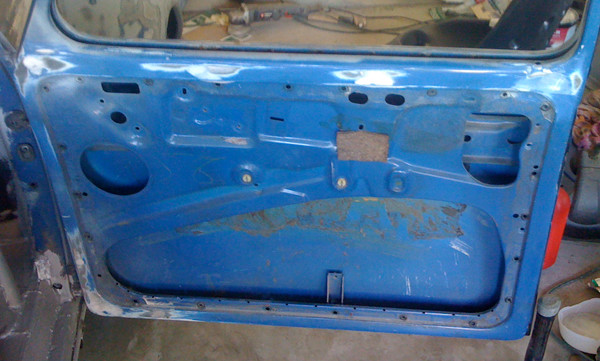 Almost there. Thing left to do are:

1. Radiator area.
2. Engine bay.
3. Front clip.
4. Finish detail work around the gas tank filler door.
5. Finsh driver's side front quarter panel.


The whole, where body work has been done, still needs a paper thin layer of glaze to fill in pin holes. Then I need to sand the entire car with the DA working my way to 150-180 grit.

Then we can paint. That's not too much more to do, right? LOL
6-28-2010
Almost there! I know this stage has seemed to drag on, but I'm trying to make sure it's as perfect as possible so I'm not using filler during the primer stage. It seems just when I have a section done, I run my hand over it and I can feel just the slightest wave or imperfection.

This gas door has been the biggest PITA because of the body line just above the door. Once I get the shape right it'll be on like Donkey Kong.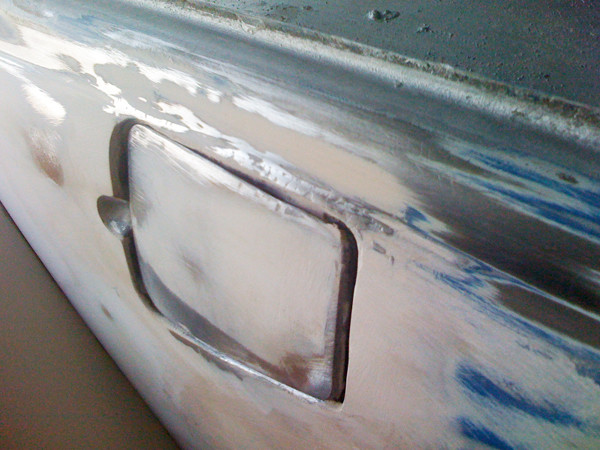 I have the radiator area nice and flat. Just a couple more spots that need work and it'll be good.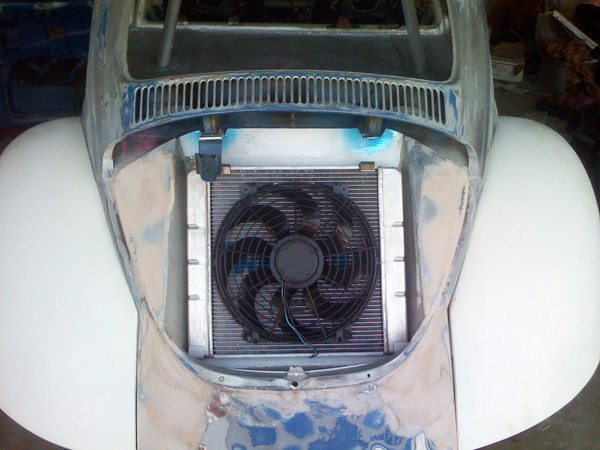 The front clip needed some help. Some high spots and lows.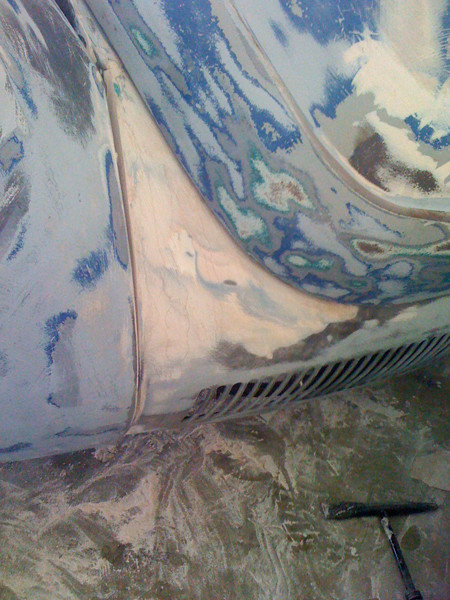 Just about finished with the other front quarter panel. Just a little more blocking. And another skim coat to make sure it's flat.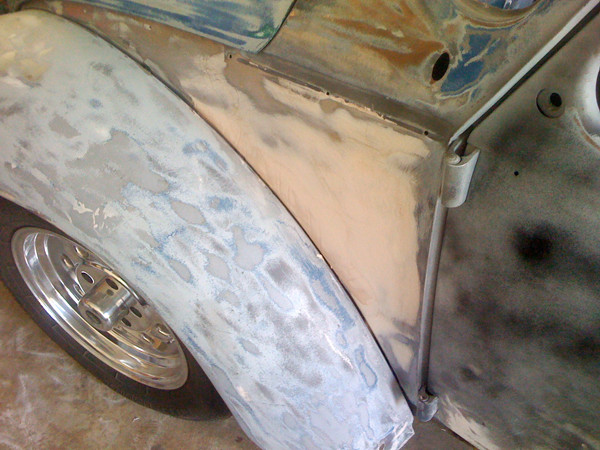 I'm hoping to have the remaining body work done by this weekend and to have some primer down. I have a 3 day weekend and the wife is working late tonight so I should be able to get it done. We'll see.
7-13-2010
Well, I didn't get the body work finished. I kind of needed a break from it so I tackled some other things and cooling issues that needed to be worked out.

I made brackets for my locking hood pins. Everything was lining up great. The passenger side was slightly off after welding up everything. I tried to bend it a little and the pin broke. > I figured, no problem, I can weld it on. Little did I know it's made out of aluminum. Figures why it broke so easily. So I have to buy a whole new kit just so I can redo the passenger side. Oh well.

The locking units mocked up.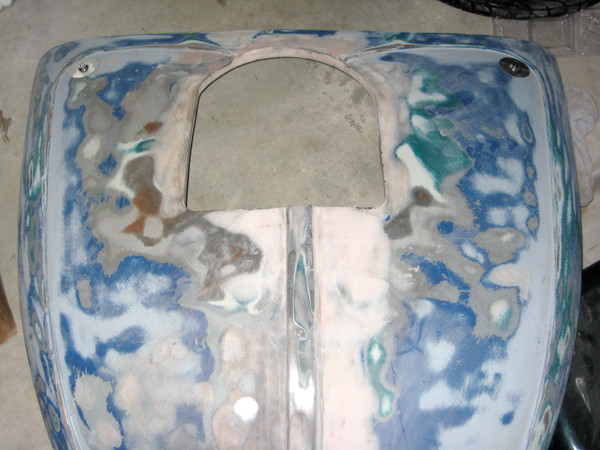 The good pin.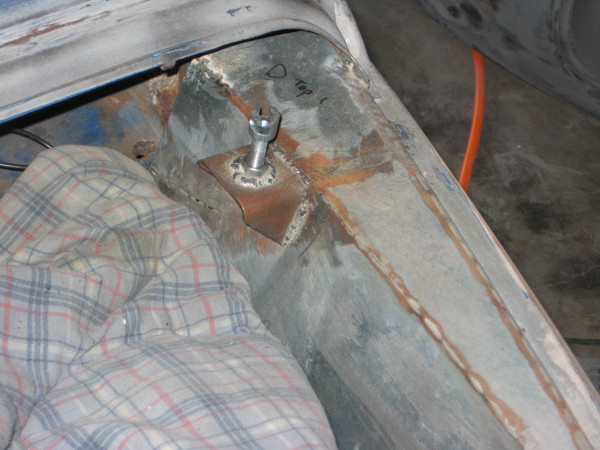 And the jacked up one that'll need redoing.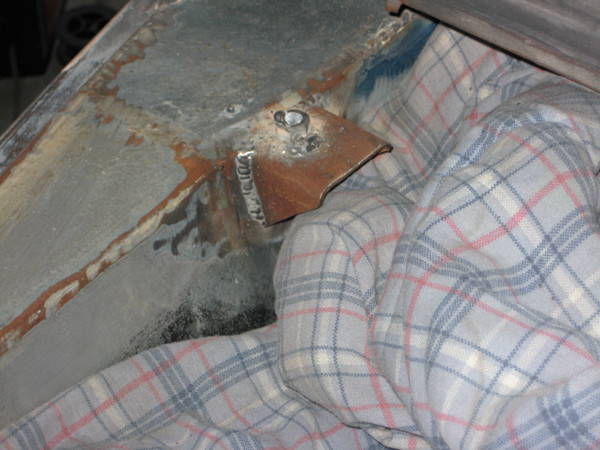 My new replacement radiator. I had to replace it cause when the guys welded up my exhaust / plumbing, some slag put pin holes in it.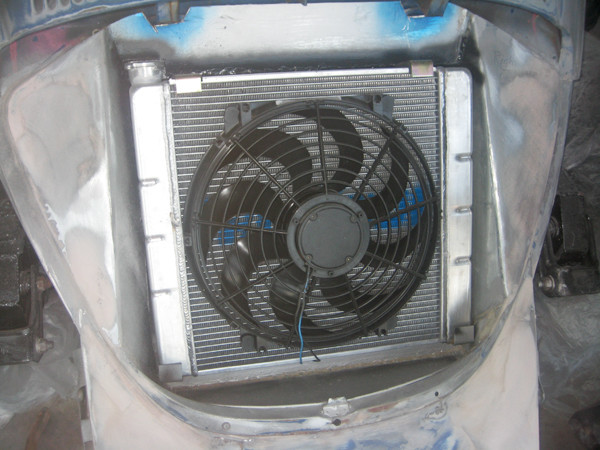 Here you can see where the water was leaking out. See the rust from the leak. If you look at the inlet, you'll see it was leaking there too cause I had the wrong size hose. So I replaced it with the correct size.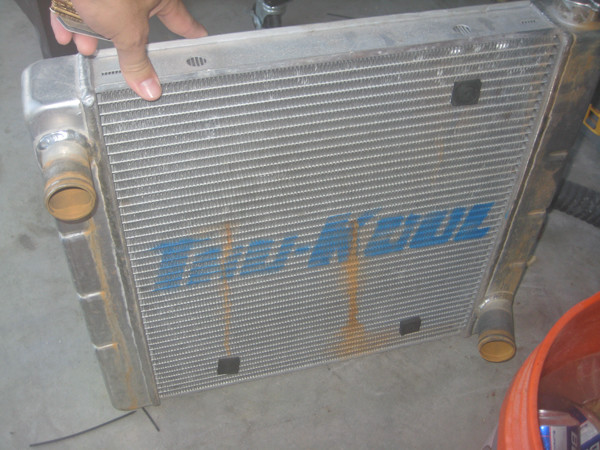 You can see just how much the hose was pinched and it still didn't seal. No more leaks here.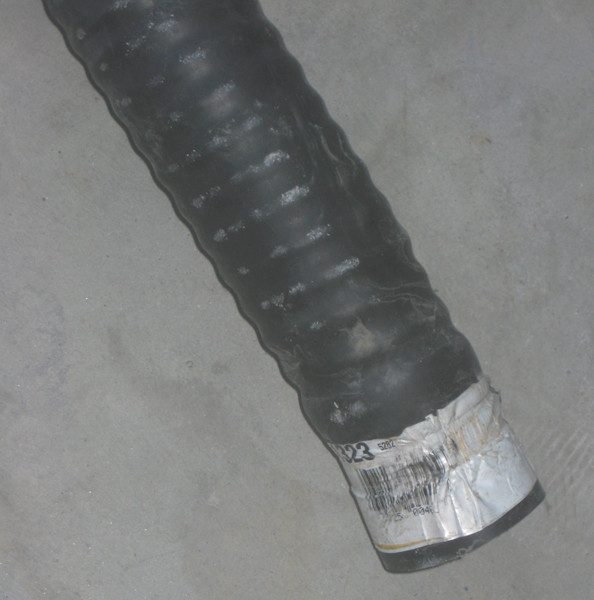 I also moved the overflow outlet to the radiator in the rear and I capped off the inline water neck. Now hot rusty water doesn't spew on my engine. I also installed a 20 psi can on the inline neck. The radiator has 18 psi cap. I might go a little lower, just incase.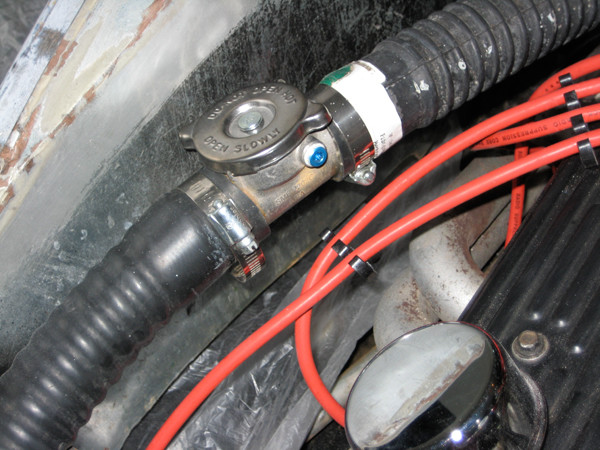 Having replaced the radiator, fixed the hose leak, all the water gets back to the radiator, and not on my engine. I also installed a high flow 160º thermostat and I finally put in a 50/50 mix of coolant / water. The engine runs a constant 160-190º. I'll never have overheating issues again, I hope.


Onto body work. I just need to finished sanding down a few skim coats I put down the make her as flat as I can possibly get at this stage. These are the problem areas I'm still working on.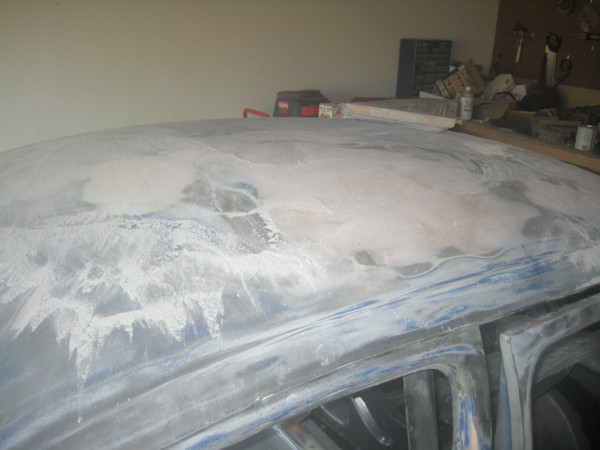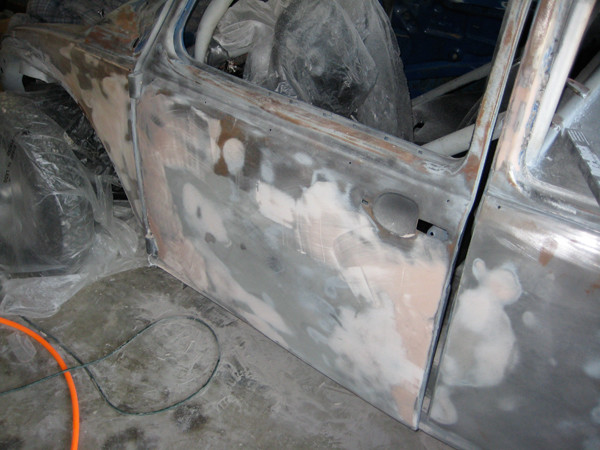 If I'm not too tired from our Saturday night gig I'll get a temporary booth setup and I'll spray some high build primer.

More updates soon.
7-21-2010
Thanks for the advice. As of now my plan is to get the body straight as possible with filler. I'm blocking with 36, 80, then 100. I'll spray a couple coats of epoxy primer, a couple coats of high build 2K primer, and mist a black guide coat. Block sand dry with 180 / wet 220. Fix any imperfections. Spray another coat or two (depending on how straight the body came out) of high build primer to get a uniform color. Possibly another mist coat and wet sand with 400 then 600 all in one direction until guide coat is gone and the body as perfect as I can get it. Then will come two coats of S/S paint and two coats of clear for an extra shine. The I'll sand away the orange peal with 400-600 grit and then lay a wet coat of clear.

I've never done this before, well I've done spot repairs and took cars into Maaco, but never a full job from start to finish myself. This seems like a good plan, to me at least.

If this doesn't get the roof straight I don't know what will. I made a flexible sanding block out of some scrap plexiglass and wood. I glued the pieces on and voila.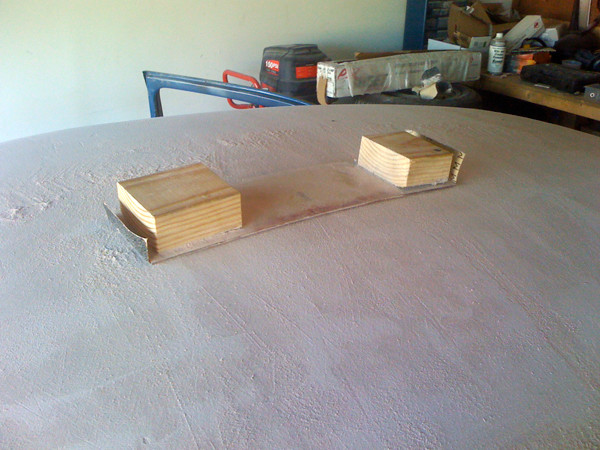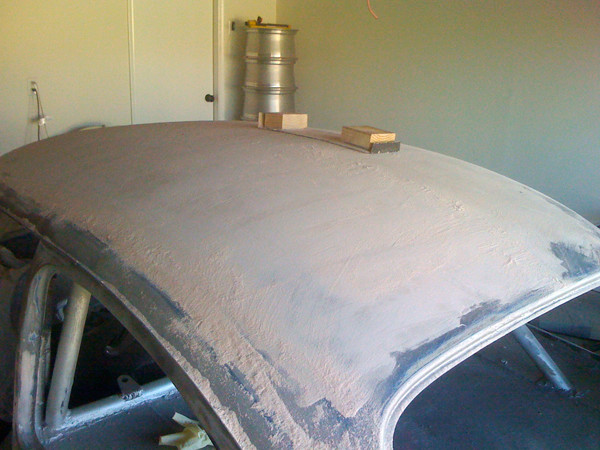 As you can see I put down a skim coat on the entire hood. Im noticing where I was having my problems the filler was sanded flat. It didn't have that nice curve the vw roof has.

The rest of the body is pretty much ready except for sanding down a couple spots the needed a little filler, which you can see as the darker shade of bondo. Pin holes and grooves.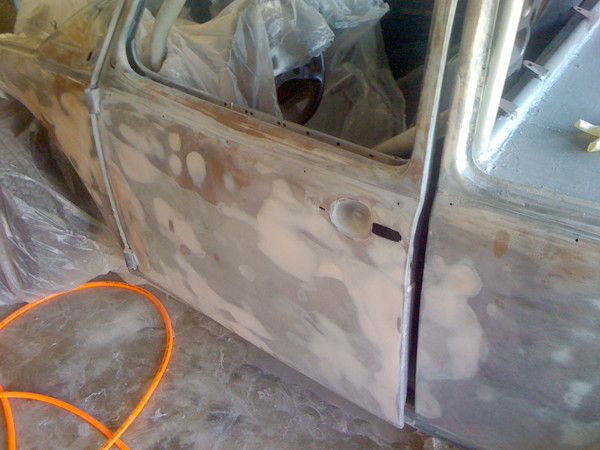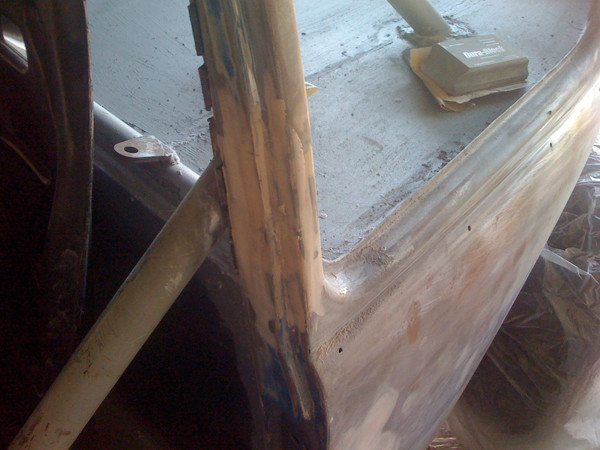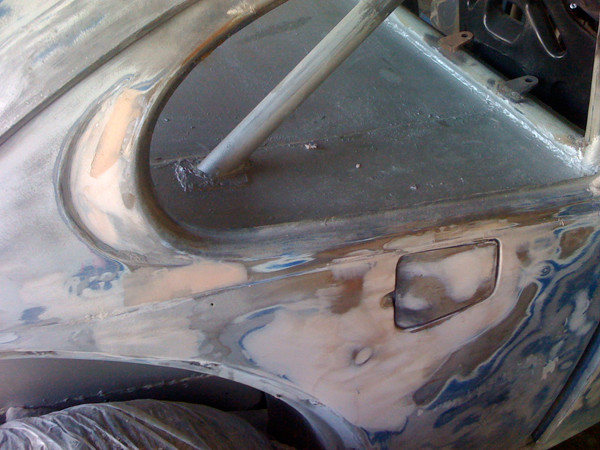 Crossing my fingers and hoping to get the roof ready in time for the weekend.
8-15-2010
It's FINALLY in PRIMER! I swayed away from my original booth design. No explosions, no fumes in the house, minimal overspray and fumes AND I'm alive. ;D

I still need to do the hood and deck lid. I stayed up til 2 am Friday putting paper down on the floor, hanging plastic on the walls and prepping the car. I stayed up until 5 am this morning painting. I was exhausted and too TIRED to finish the hood.

So far it's looking really good. Doesn't look like it'll need too much sanding, but we'll see. I still need to put down a contrasting guide coat.

When I went to paint I just left the garage door wide open. I made a bug guard which also helped catch some over spray. The duct tap didn't stick to the screen material too well. So when I go to do final paint I'll need to figure a better way to hang the "screen door".

The 33 gallon compressor I'm using kept up pretty well with the gun set at 40 psi. ;D When I go to do final paint I'll do smaller sessions. Fenders, then hoods, and then the car body. All in all it would've sufficed spraying the whole car.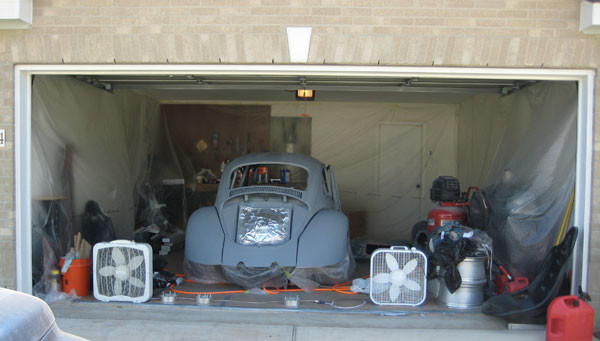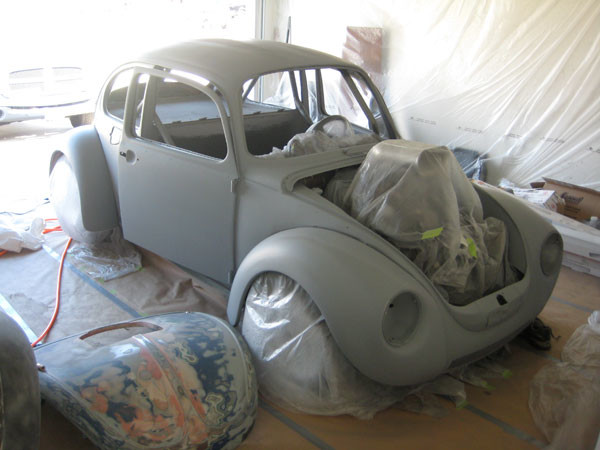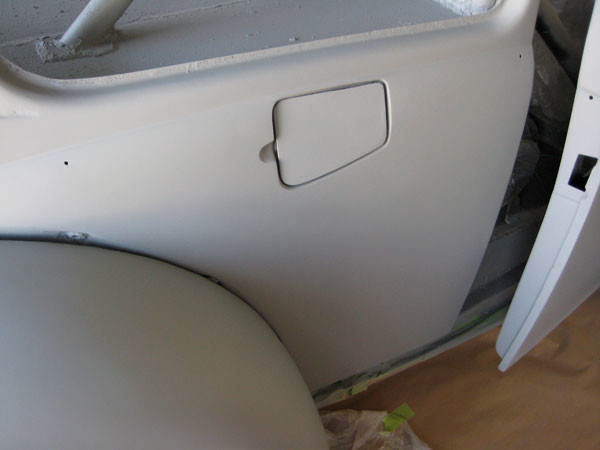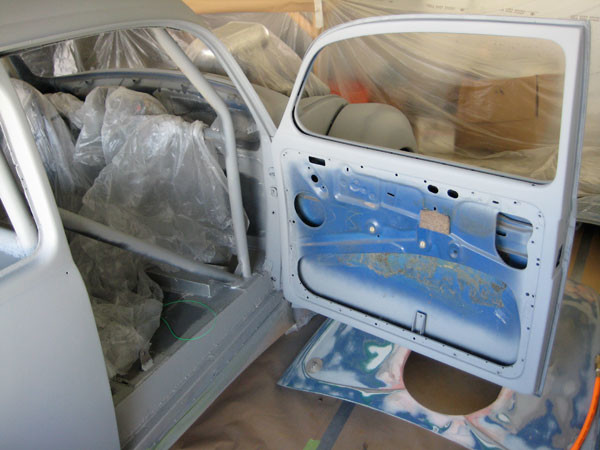 The engine compartment is coming out pretty slick.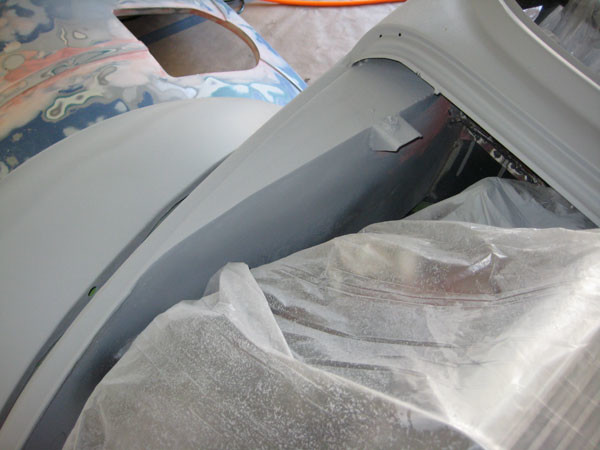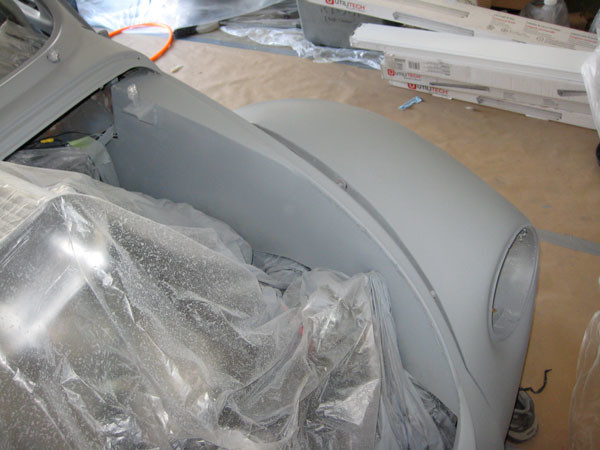 I used some aluminum foil to mask off the radiator. That way I can start it up, move it out of the garage to sand without having to worry about plastic melting to the radiator.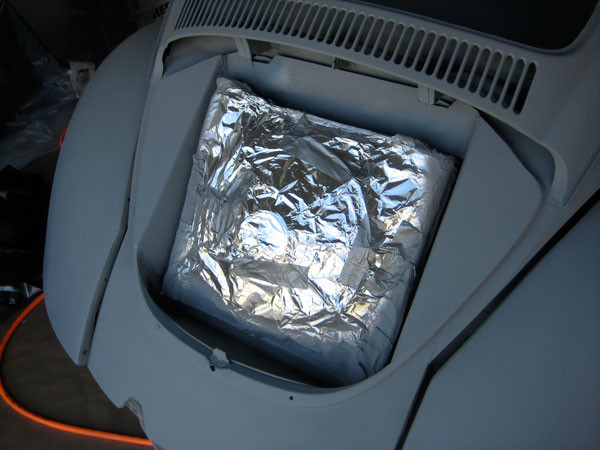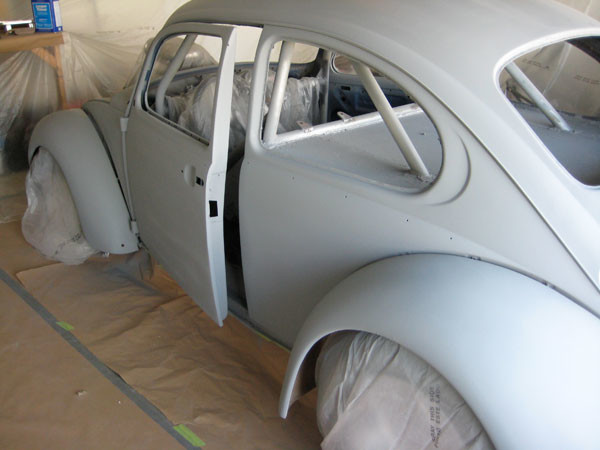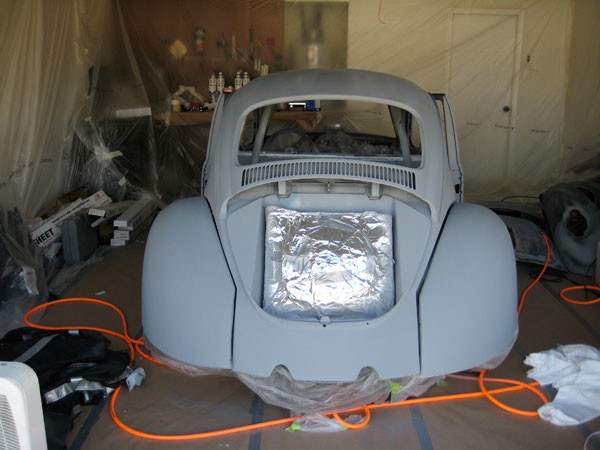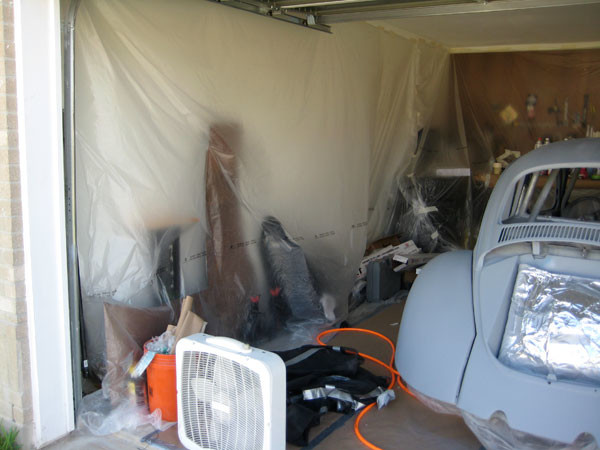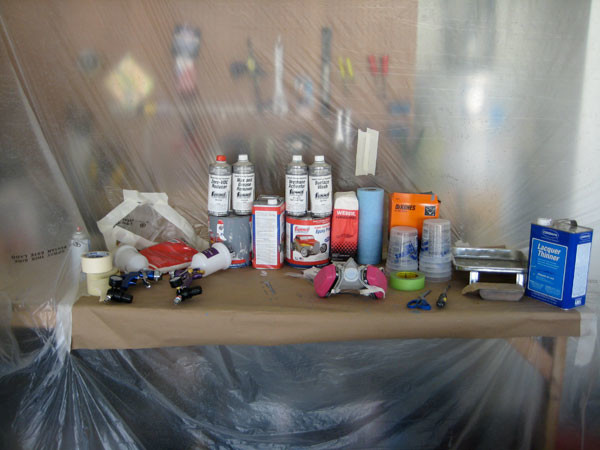 Worked like a champ and there was plenty of ventilation. The garage NEVER filled up with over spray. The was just a light mist, but it never got to the point towards I couldn't see. I wonder how well my other plan would've worked?

I still need to do something about more lighting when it comes time to do final paint. More soon.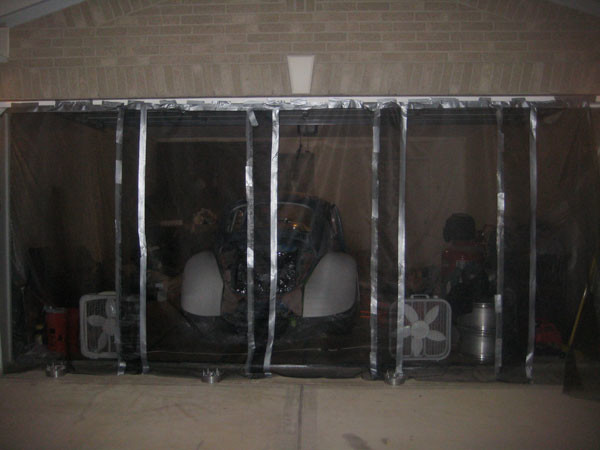 8-24-2010
Not as much progress as I would've like to got done this past weekend. Here's a couple pics of the hood and deck lid primed. Next I need to dust coat it with black and I'll start block sanding with 180-220 wet.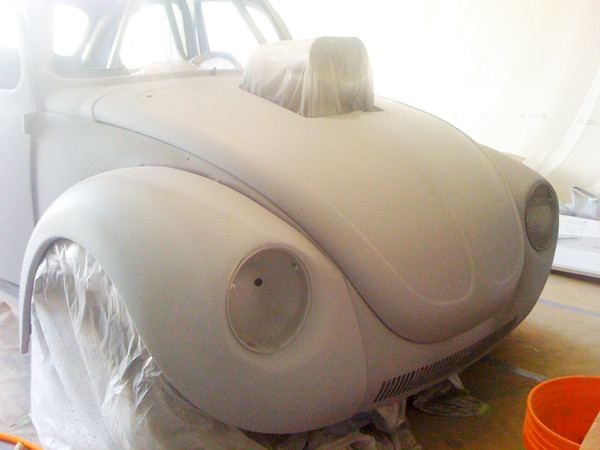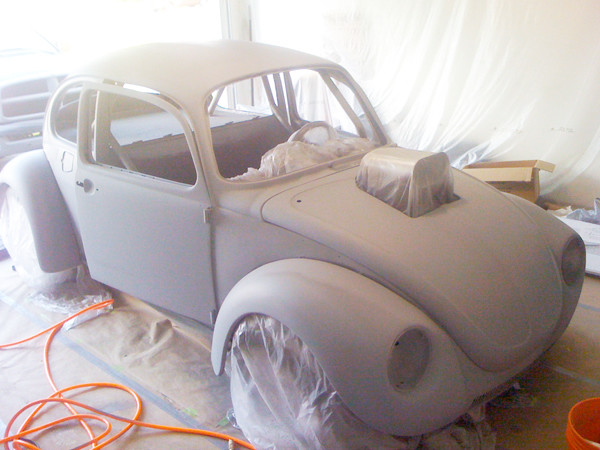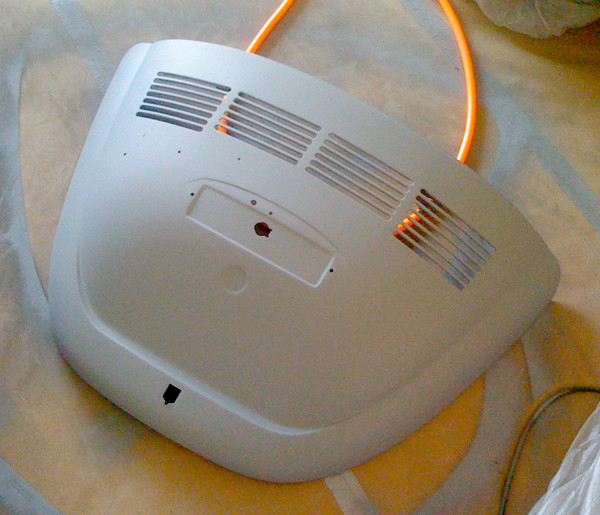 Here's a quick video of me spraying the primer. My camera ran out of memory before I finished the hood. I normally wear latex gloves, but ran out. I figured I was okay only doing a couple panels.


9-13-2010
I'm about finished sanding the first coat of high build primer. There's a hand full of scratches that I glazed that need sanding and I still need to finish sanding the rear fenders. About another 1 or 2 hours and it should be ready to go for it's second coat of high build primer.

It's coming along really well. The roof hardly needed any help. I guess it's all that time I spent doing it over and over.

I'll more than likely spray the second coat of primer this next weekend.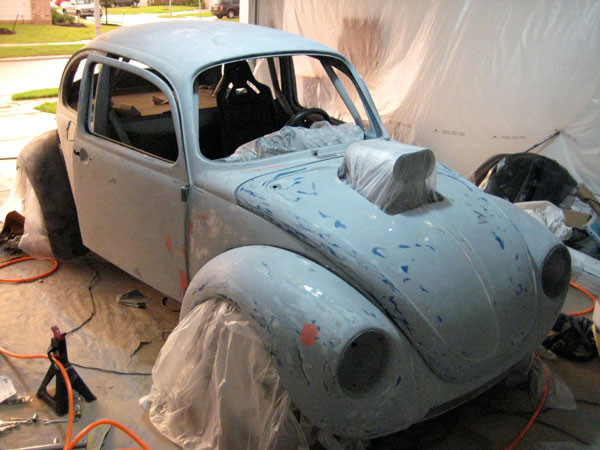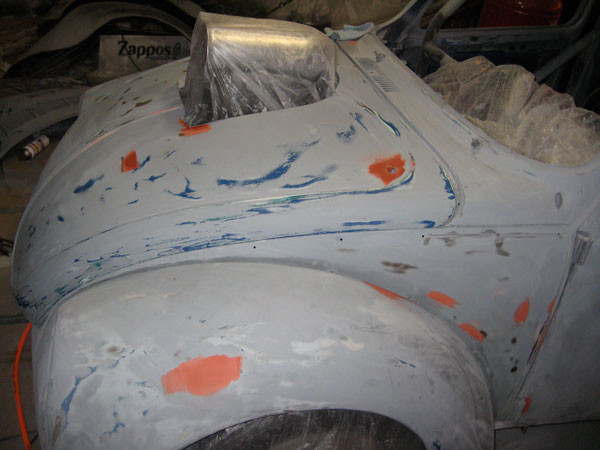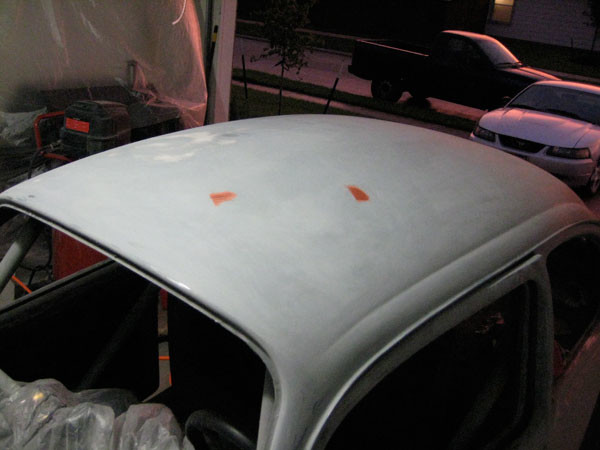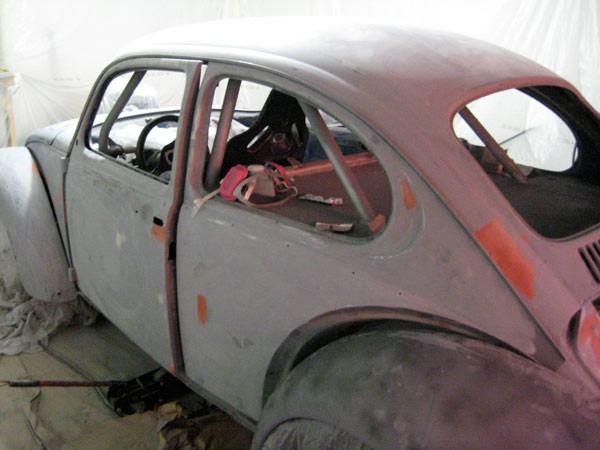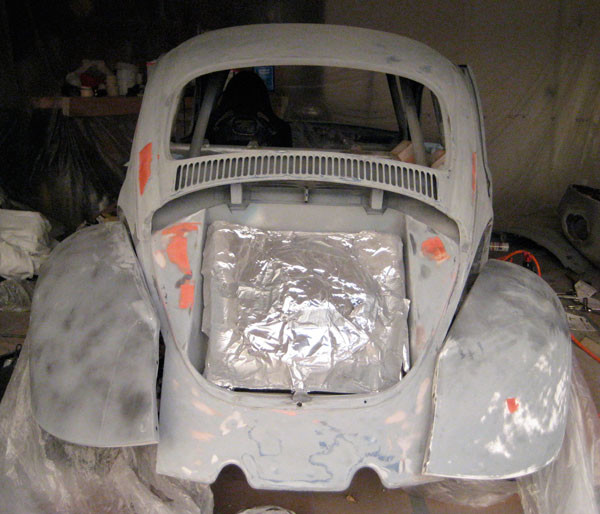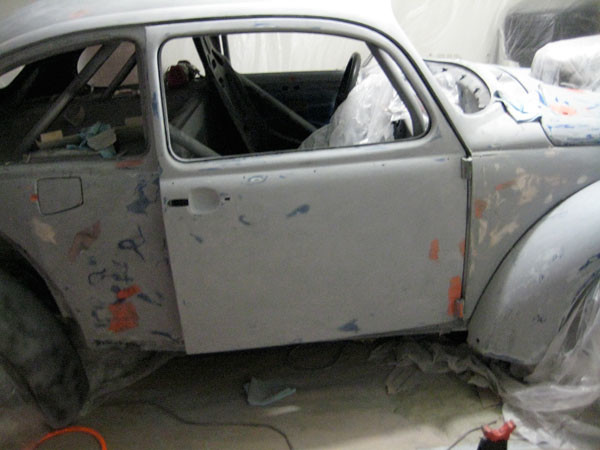 9-27-2010
I made some good progress on the bug this weekend. I sprayed another coat of high build primer. I did a walk around video rather than MORE pics. You can hear my neighbors cammed 2000 or so reg cab short bed pickup firing up and passing by. Encouragement...the guy regularly has shoe polish numbers on his windows from the drag strip.




I wet sanded the fenders, deck lid, hood, and the driver's side of the car, inside and out, with 400 grit. The fenders and deck lid need just a touch more sanding (pin holes) and it'll be ready for sealer, color and clear!

Some pictures of the sanded panels.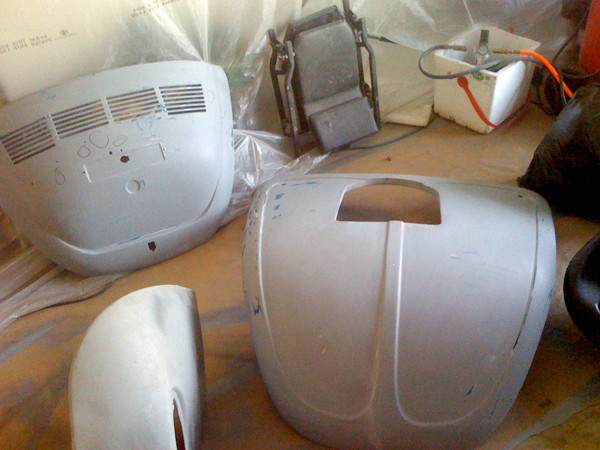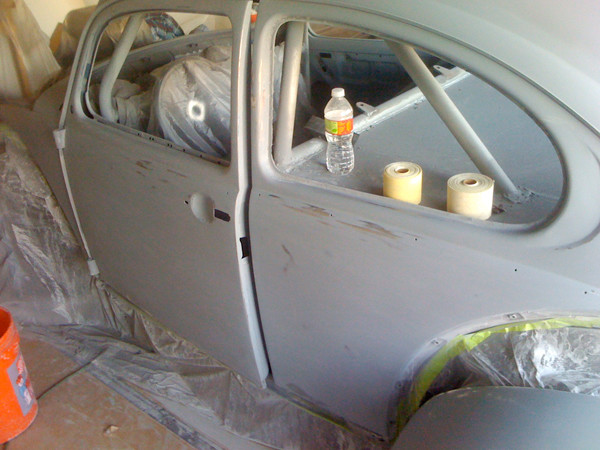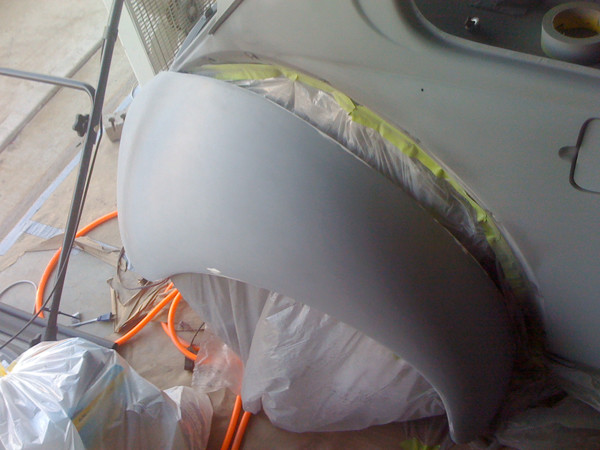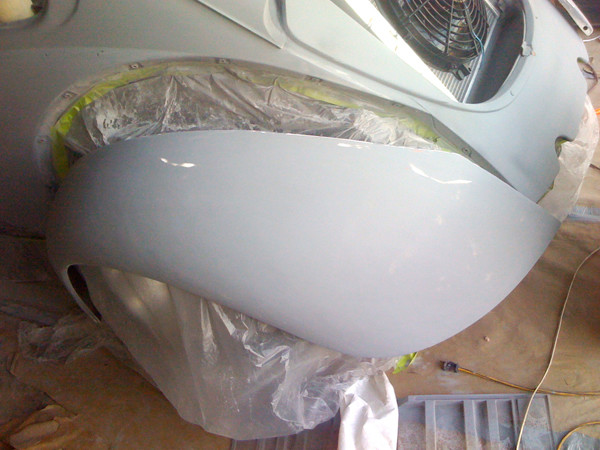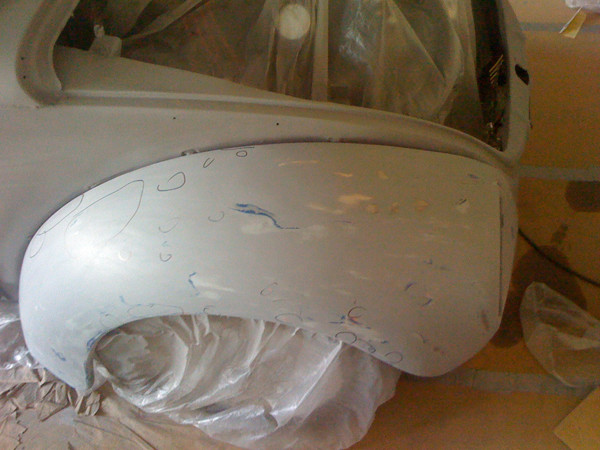 10-2-2010
ere are the results of my paint session. I did one coat of epoxy primer to seal everything and to give a uniform color to paint over. I then sprayed 2 coats of single stag hugger orange and two coats of high solids clear.

I'm pretty happy with the way everything came out, but I did get a little orange peel in some areas, some trash, some solvent pop going on, and a couple of mess ups.

I laid the paint on a little too thick and have some sags and solvent pop going on as mentioned. I do and have planed to sand the panels with 400-600 grit to take care of any orange peel and then spray a wet / over reduced coat so it'll be pretty glassy. Sanding the paint will remove the imperfections.

All in all, it came out decent.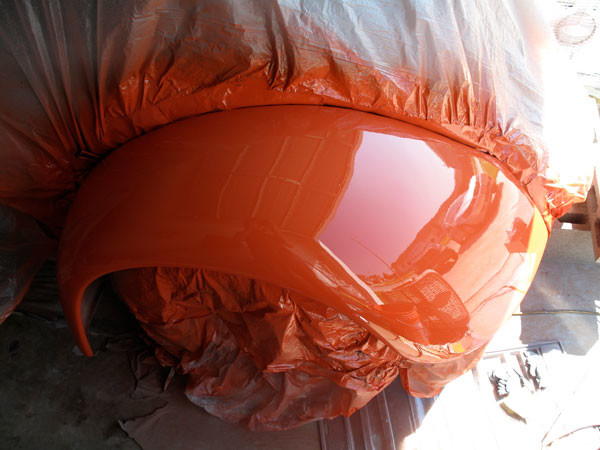 You can see a little bit of the solvent pop. I laid the paint on a little too thick. That's okay, nothing that can't be fixed with a little cutting.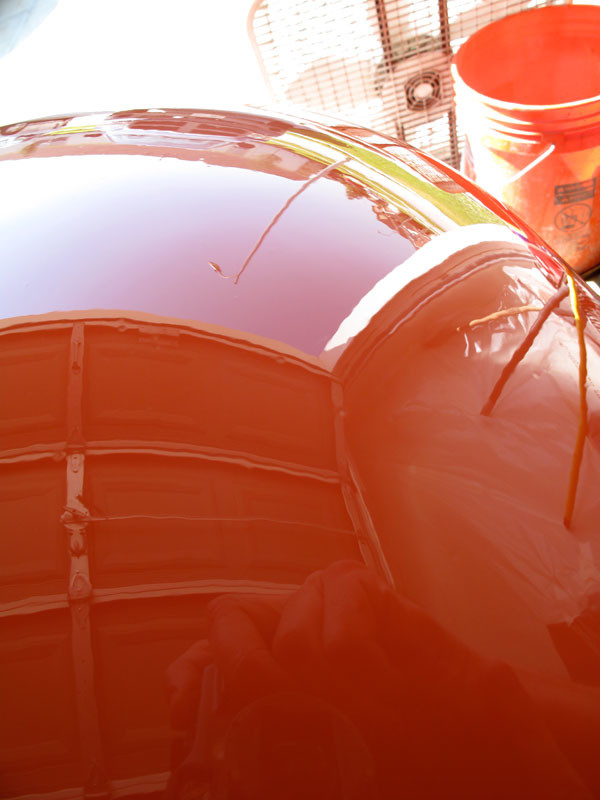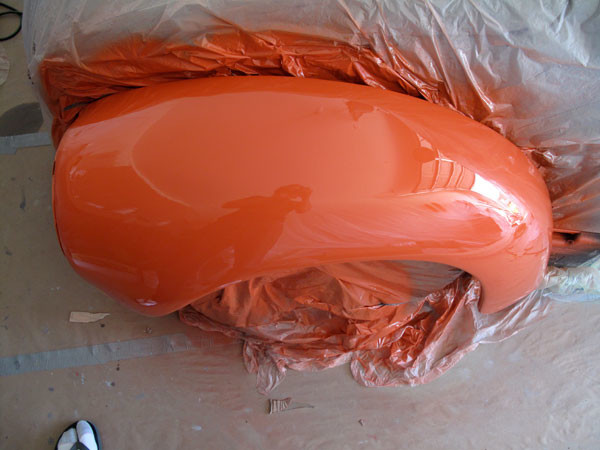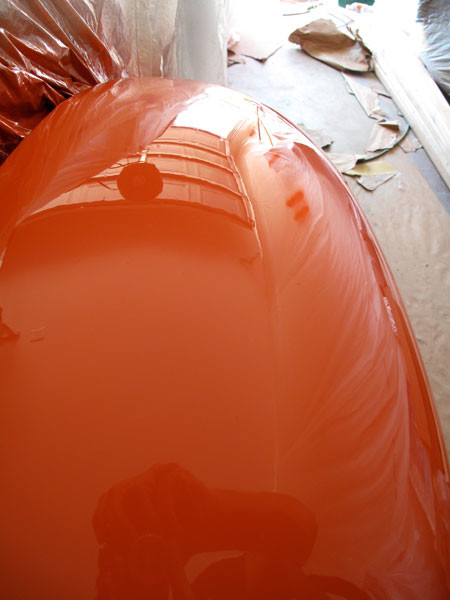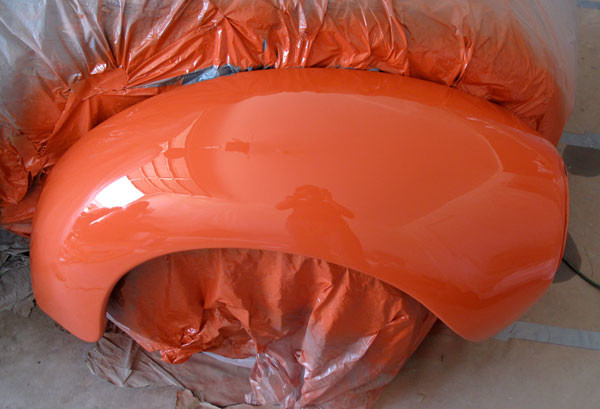 Gotta fix this. It wasn't the best idea the way I hung the fenders with the plastic and all. No biggie. The fender beading will cover most of it, but I still plan to fix it right with a little rubbing and some touch up spraying.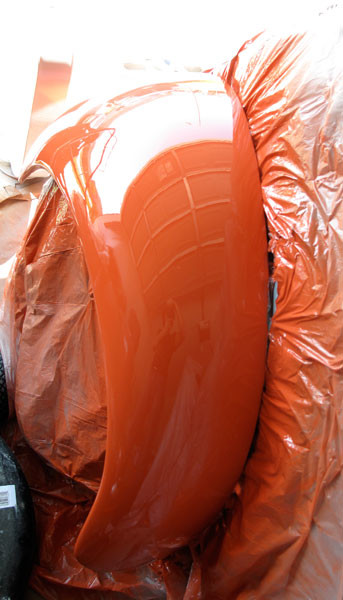 A little more solvent pop. Tis cool. Will be fixed.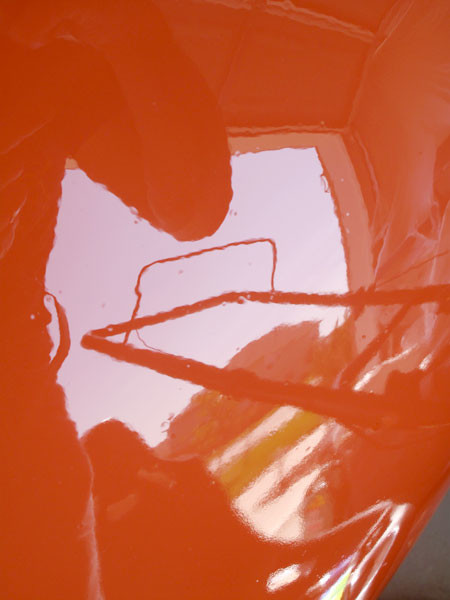 I also did a little video so you could better see the results.


10-12-2010
Got a few things done over the weekend.

I finished sanding the solvent pop out of the fenders. I broke through the clear in a few places on each fender. So I'm going to have to put another coat of orange and two more coats of clear. I also let them sit out in the sun for a full day so they could vent all the solvents out.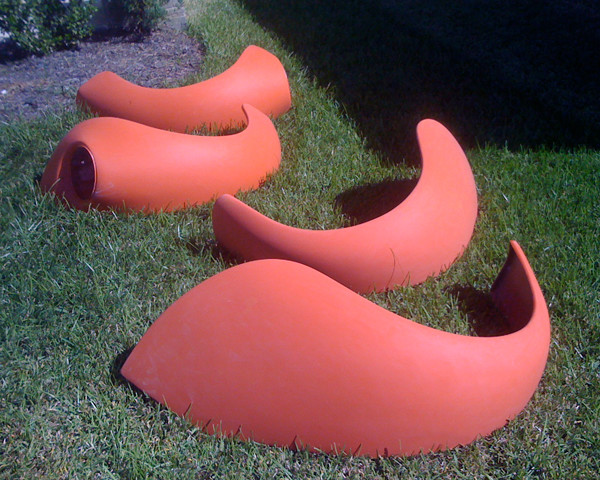 I also sanded on the hood and deck lid a little more and then painted them black. I laid down a coat of sealer and a couple coats of black giving plenty of time between each coat so there's no solvent pop issues. I did however manage to get a run at the nose of the hood and a couple small spots on the deck lid. So I didn't move onto clear. I tend to spray my coats on a little too heavy. I just need to dial back the material a little.

I'm going to sand out the runs and the little bit of orange peel and trash in the paint, then follow up with another coat of black and 2 coats of clear. Other than the runs, it was coming out pretty nice. I couldn't be happier with how the body work come out.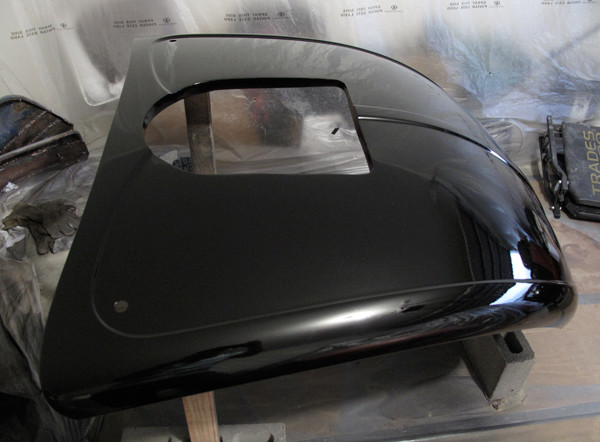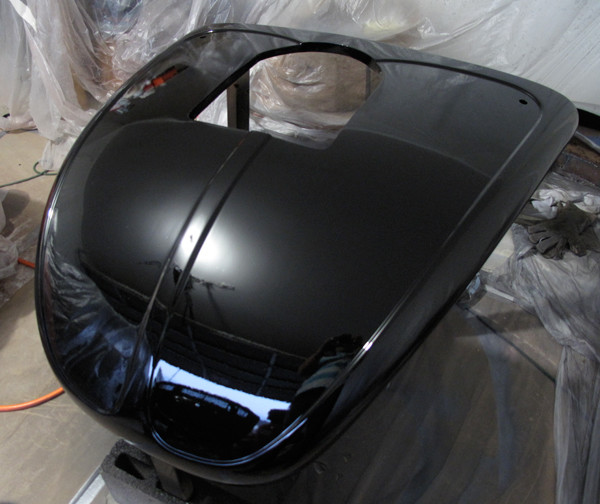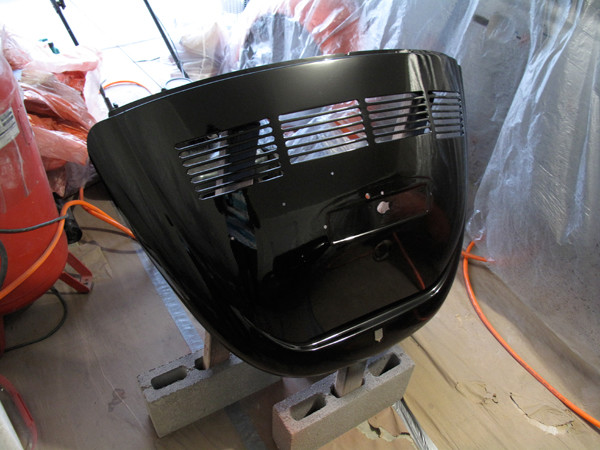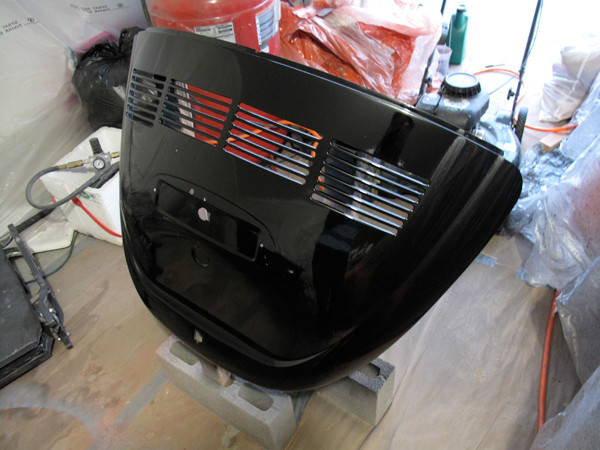 Here's a quick video of how the hood and deck lid look.


10-18-2010
I got some spraying done this weekend. I finished sanding the runs out of the black. I put down two more coats of black and followed up with two coats of clear. It came out pretty well, but I had a bug crash land in my paint, a run on the deck lid, and the usual dust. No problem though. As planned, once the paint cures I'll sand out the imperfections with 600 grit and lay a final wet coat of clear.

I recorded my spraying sessions, well I forgot to record the first one.

Second coat of black.



First coat of clear.




Second coat of clear. My creeper tried to sabotage the paint on my deck lid. LOL. I laid the second coat of clear on wet so I will have some material to sand.




Here are the results.




I should have the hood and deck lid sanded before the end of the week. Maybe I'll get it done before the weekend so I'll have time to work on the fenders some more.
10-25-2010
I finished the deck lid and the hood. I sprayed a final flow coat after sanding with some 600 grit. It came out almost as nice looking as a cut and buffed paint job. I'm very happy with the results. A couple dust nibs here and there, but what can you expect in a garage. ;D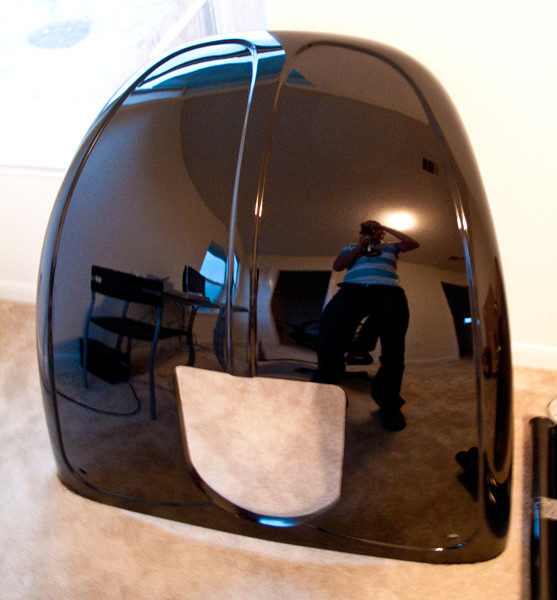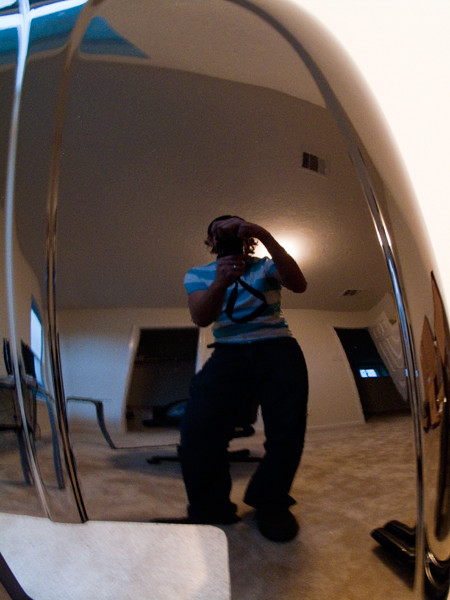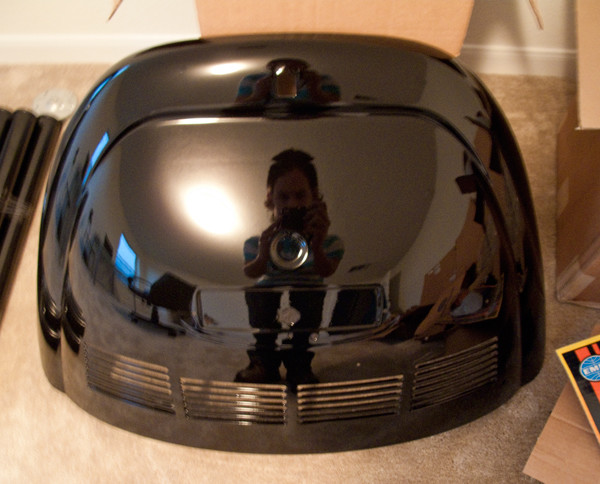 I also resprayed the fenders. I finally figured out what I was doing wrong that I was getting solvent pop. I was just hosing too much paint on. They came out much better. Heck, I could leave them as is, but I'm going to wet sand out the texture and do a flow coat.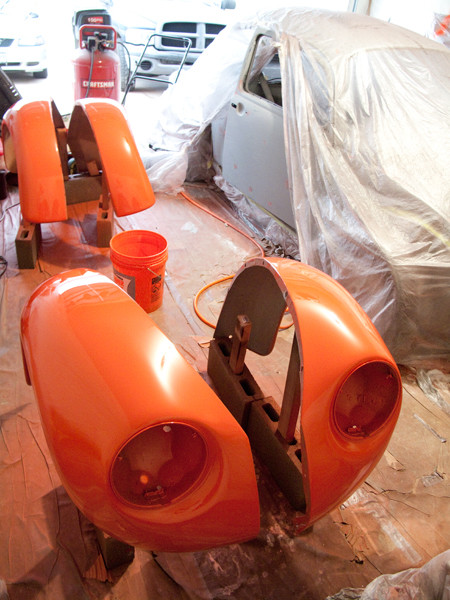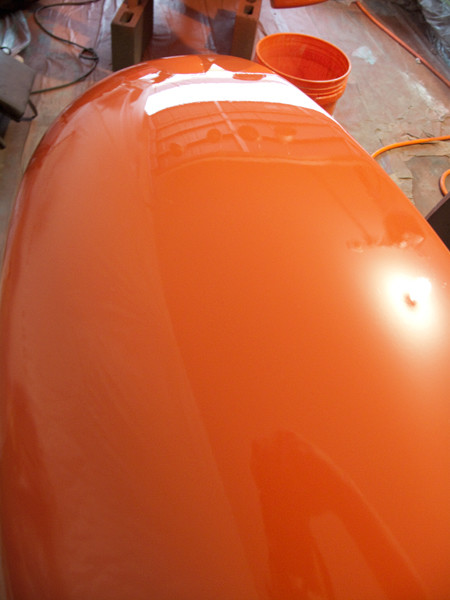 I also recorded some video of me spraying and the results. They're currently uploading so I'll post those soon.
10-26-2010
Here are those videos I was talking about.

Spraying the final flow coat.




The results of the flow coat.




First coat of clear on the fenders after color.




Results of two coats of color and two coats of clear.


11-1-2010
Quick update.

I tore down part of my engine (headers, wires, carb, throttle linkage, dist, alt., etc), so I can paint the engine bay, and I repainted the engine. It had gotten a little nasty looking since having broke the engine in having head a little leak here and there. Looks like new again.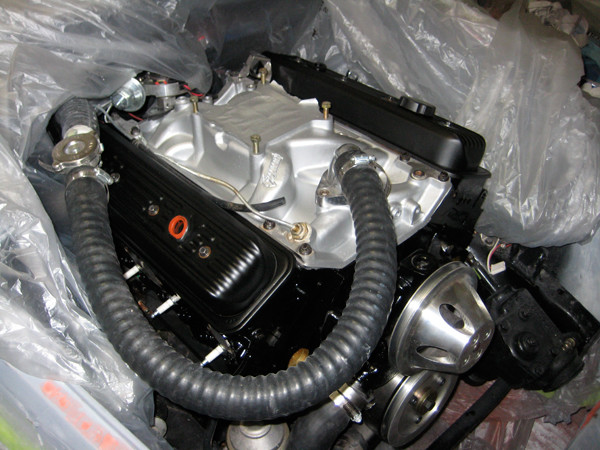 I also repainted the headers. Last time i didn't follow the instructions so the paint flaked off. This time I followed them and baked the ceramic paint on @ 300º for 2 hours. Boy did that stuff stink up the house.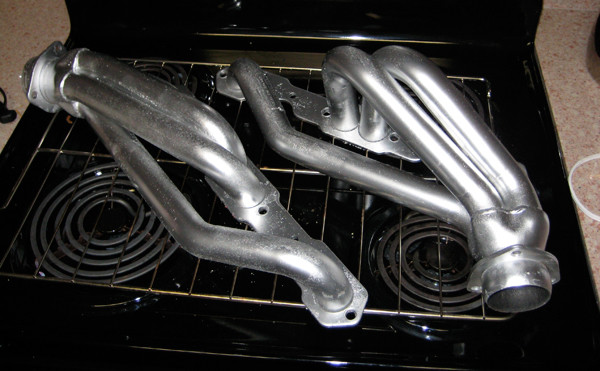 I sprayed the "final" flow coat this weekend but ran into problems. My paint gun was acting up in middle of spraying the first fender so I had to quickly switch to my other paint gun. Well that through me off and it wasn't all that clean. So I managed to get a couple noticeable runs and I have a lot of dust in my paint as well. Needless to say, I'll have to sand them back down, fix the problem with my gun (which I figured out this morning) and repaint. Two steps forward, one step back.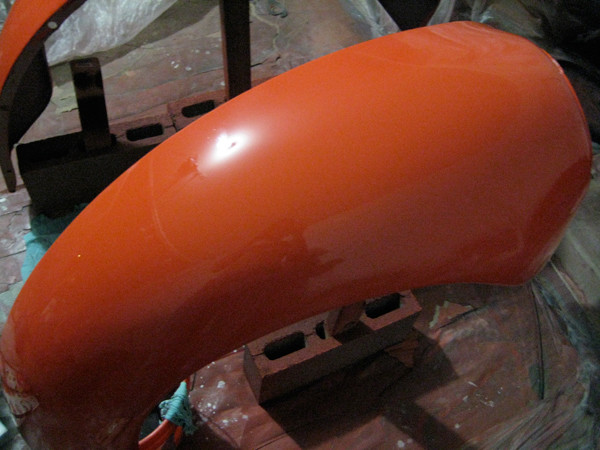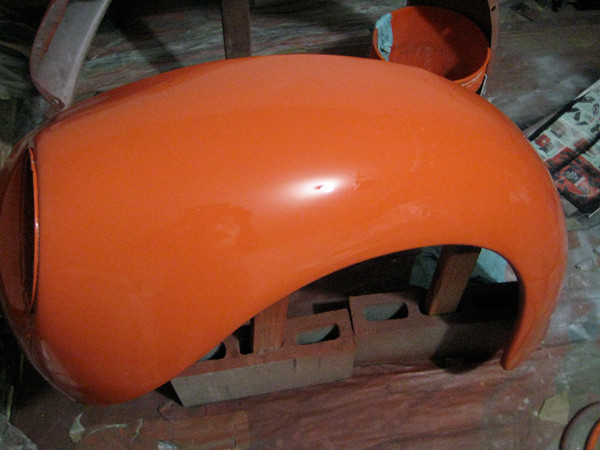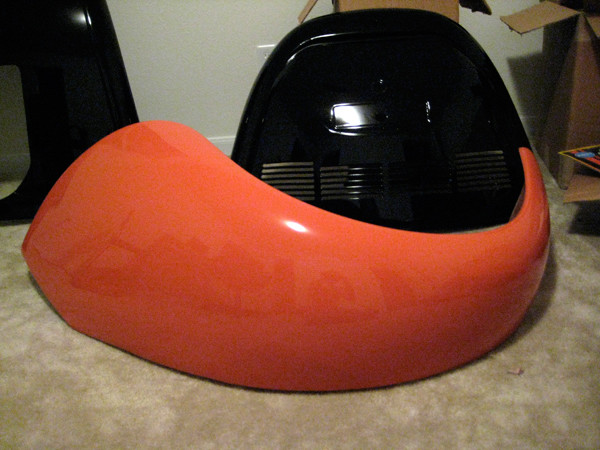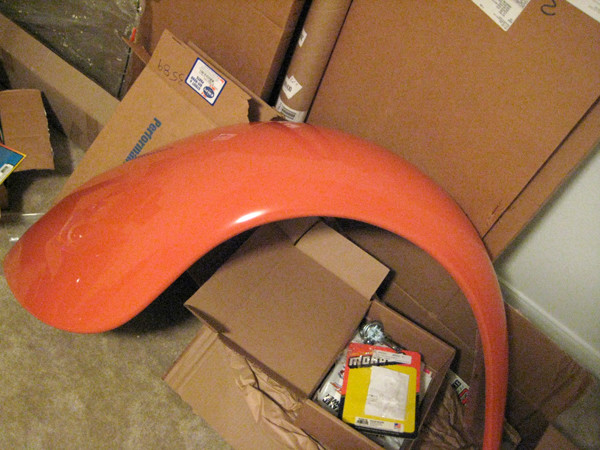 Ughh...if it aint one thing, it's another. It'll get there though, just not quickly. I'm just being picky. My wife says they look good for being painted in a garage, I think I can make it better though.
11-4-2010
I put down the final coat of clear on the fenders. They look great, except for the dust in the paint. I've come to the conclusion that this is the best I'll be able to get them painting in my garage, which isn't bad at all. Don't get me wrong, they have a nice mirror finish, just has a little dust though. There's a dog hair and bug on one fender too. LOL

I think I'm going to bite the bullet and will cut and buff the paint job. I'm thinking I'll hit it with 1200 to level out the dust, bug and hair, then 1500 and finally 2000. Then compound with the wool bonnet and polish with the foam bonnet. I've never buffed out a car before so I don't really know what to expect, other than it should come out like a dust free mirror. LOL

Can't hurt to try / practice it on a fender. If something goes wrong, I still have plenty of clear.

Here are the results. If you look at the light in the reflection you'll see the dust.

Oh yeah, my purple paint gun crapped out on me. That's okay though cause I have my backup that does just as well. I was just really getting used to the purple one though. No biggie. It did it's $35 dollars worth of work. Now to get my $50 out of this one. ;D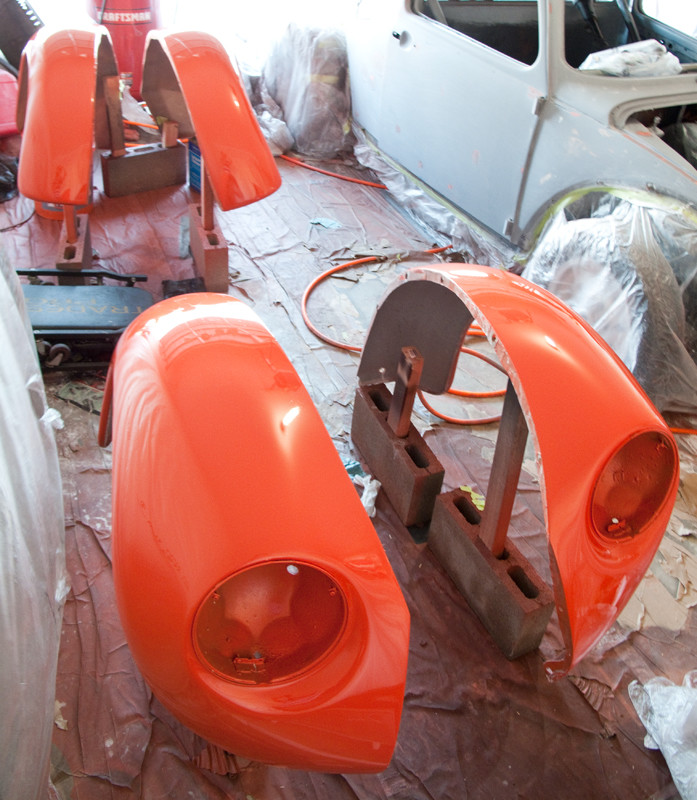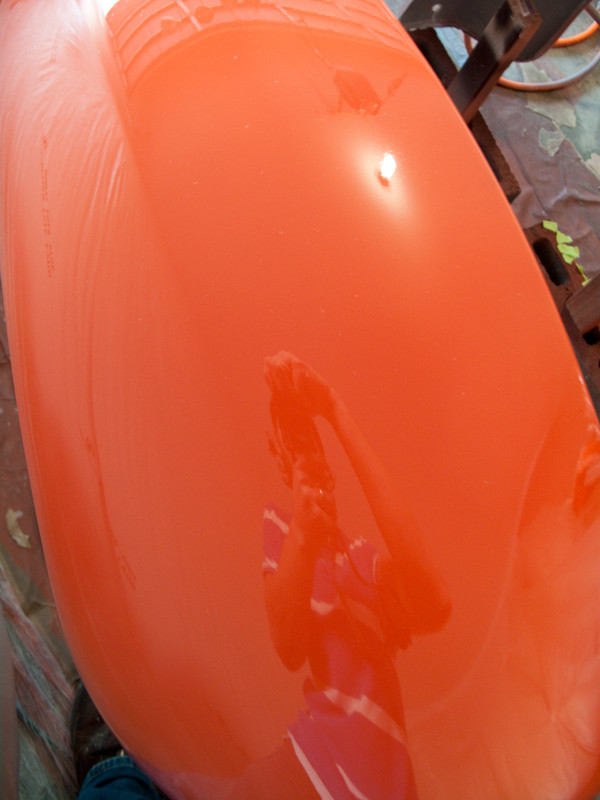 Here are the products I'm THINKING about getting to do the cut and buff job.

Buffer with wool and foam bonnet.
http://www.summitracing.com/parts/MAK-9227CX3/

Buffing compound.
http://www.summitracing.com/parts/MEG-M-8532/

Polishing compound.
http://www.summitracing.com/parts/MEG-M-8232/


Any comments or advice would be much appreciated. I've never buffed before.
11-8-2010
After about 24 hours of masking, painting and waiting between coats, I finally have her in color!

Once it cures I'm going to wet sand and shoot a final float coat for an even smooth finish.

Sealed her up inside and out with a coat of epoxy primer.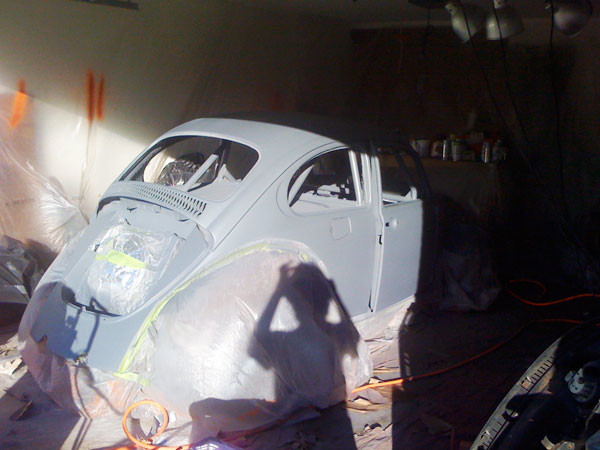 Two coats of color.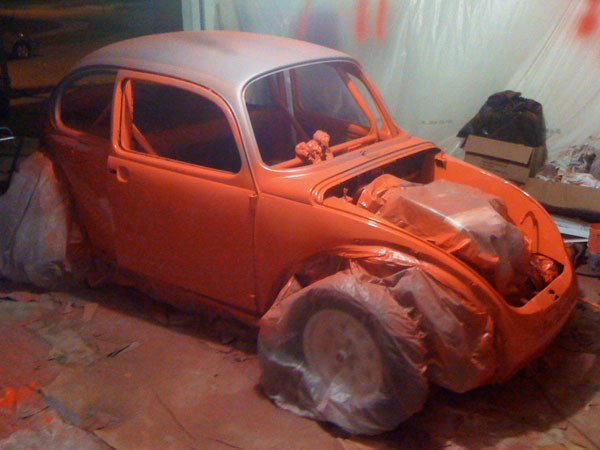 2 coats of black, 3 coats of clear.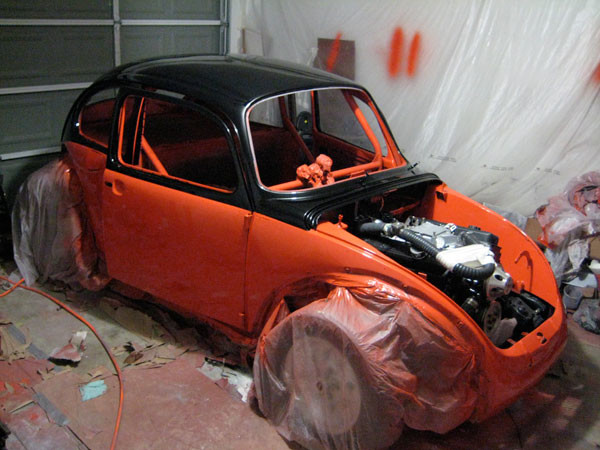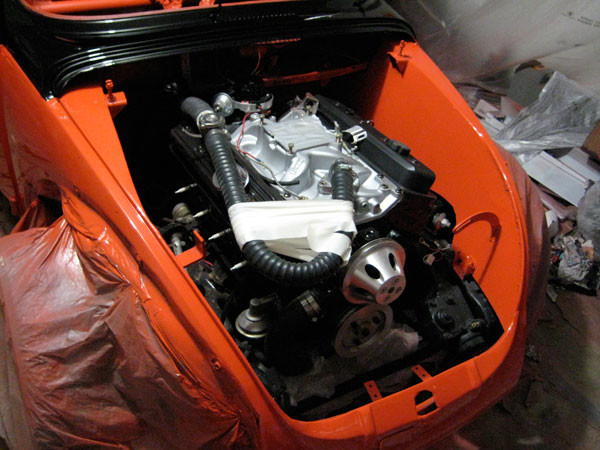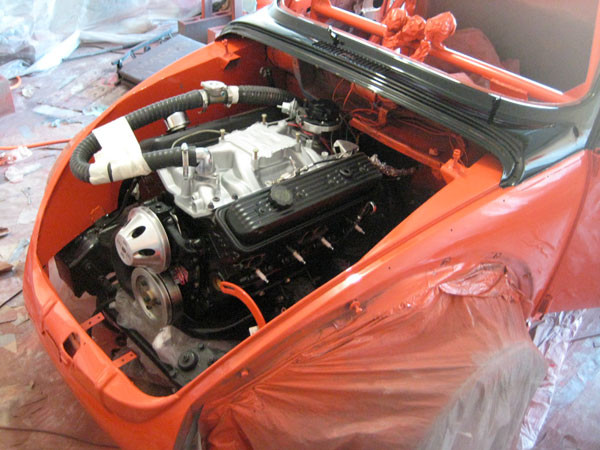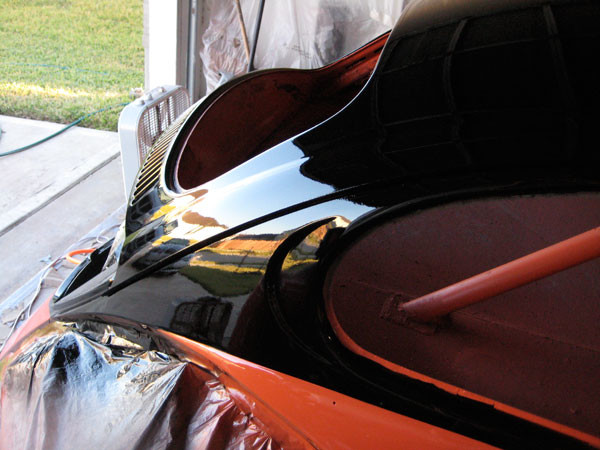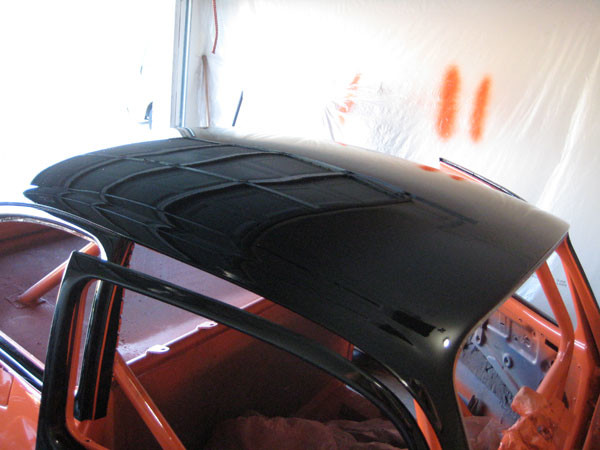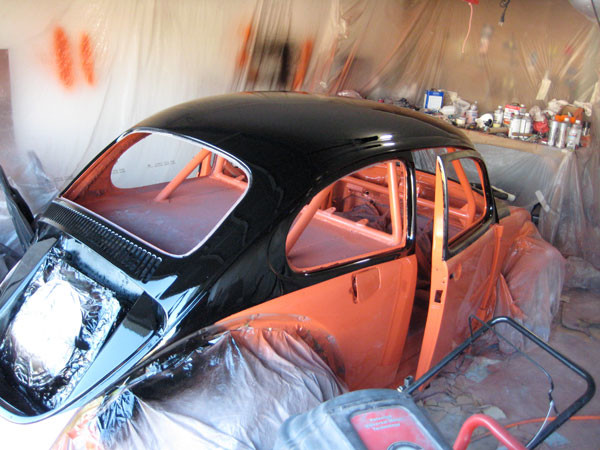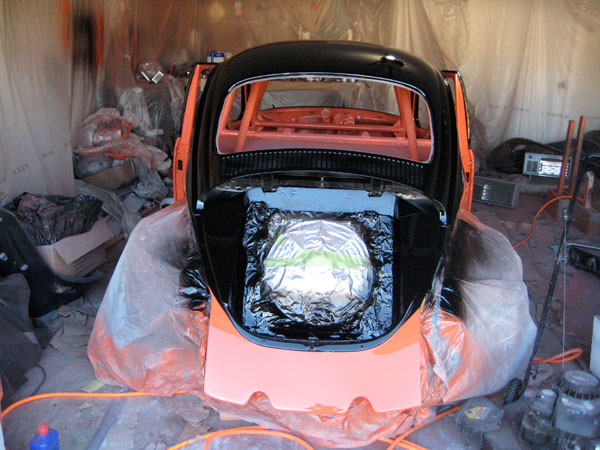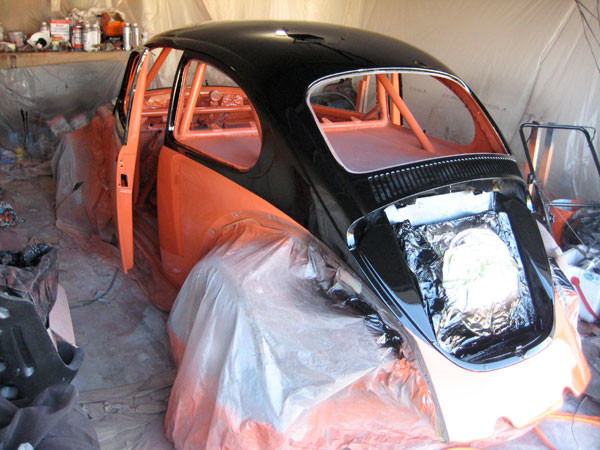 11-11-2010
This picture may scare some of you, but have no fear. The car will come out with a mirror like finish. My mother in law didn't quite understand why I was sanding my nice shiny paint. LOL

I have finished wet sanding with 400 grit and got her nice and flat. I have about half of the car done with 600 grit. After sanding she'll get a good bath and a wipe down with surface wash.

I'm thinking I will have the final flow coat of clear done this coming Saturday morning, or Sunday.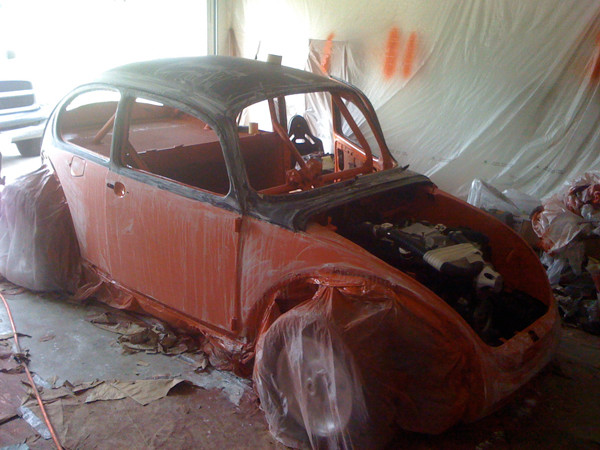 11-12-2010
Got her all sanded down with 600 grit and I gave her a thorough bath. All's left to do is a wipe down with surface wash and spray another coat of clear.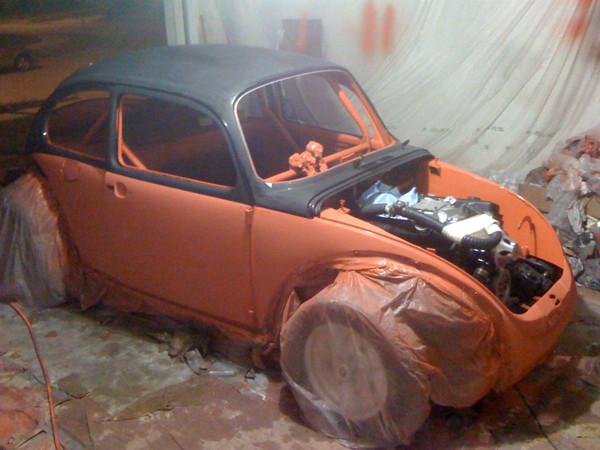 11-15-2010
Got some work done.

I sprayed the final coat of clear Saturday morning. It came out pretty nice. There are a couple runs, but nothing that wont sand and buff out.

Sunday my buddy came over to help me start putting this thing back together. We got the trim on, weather striping, got the door handles functional, and we managed to get a few windows in. We were having quite a hard time getting the front window in, so we called it a day.

Almost there!!! More to come soon.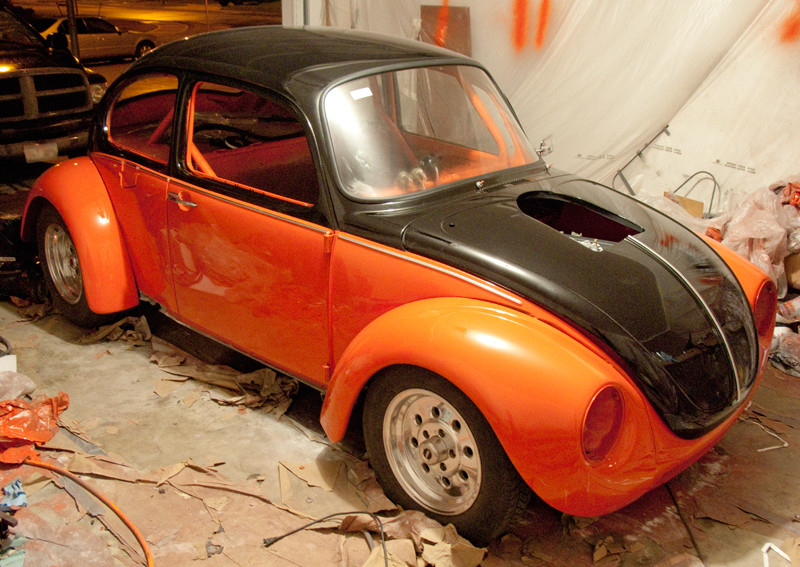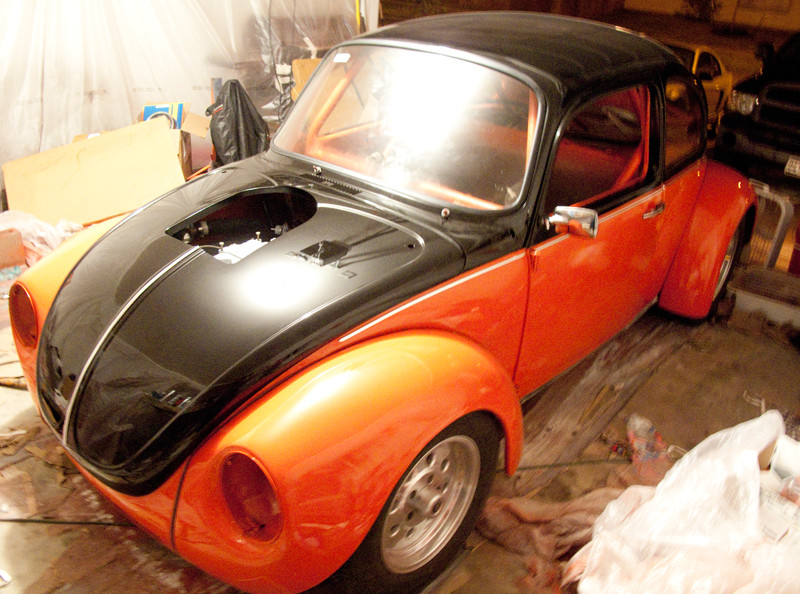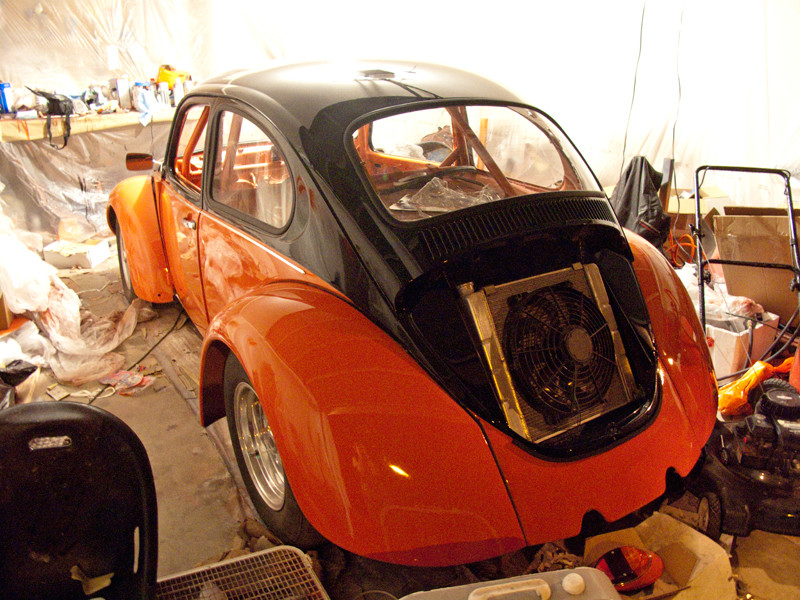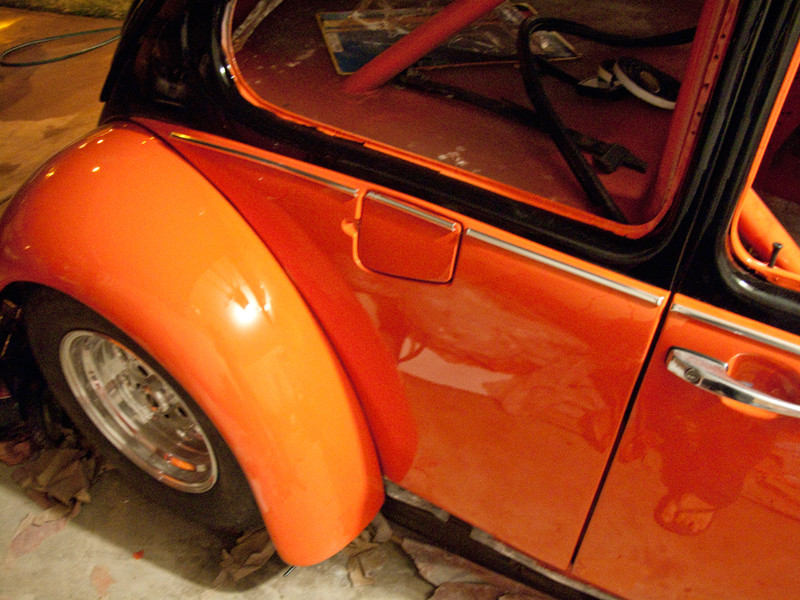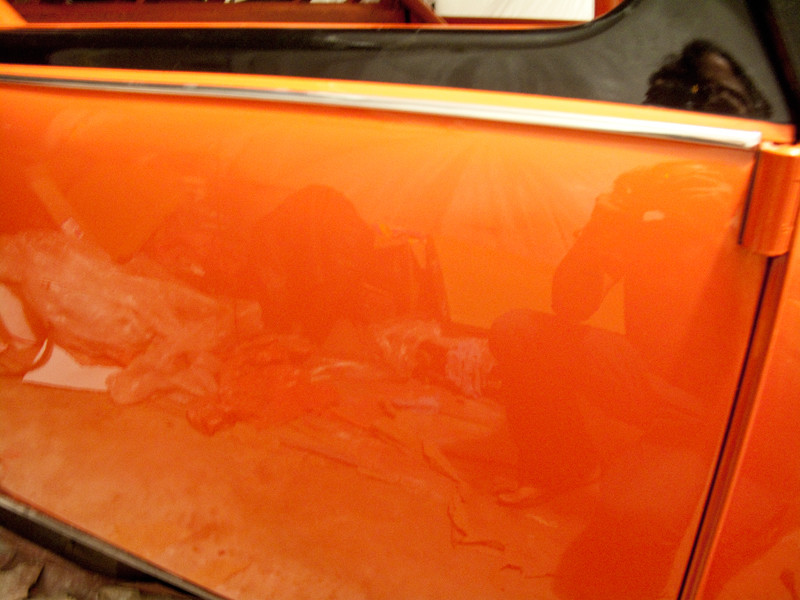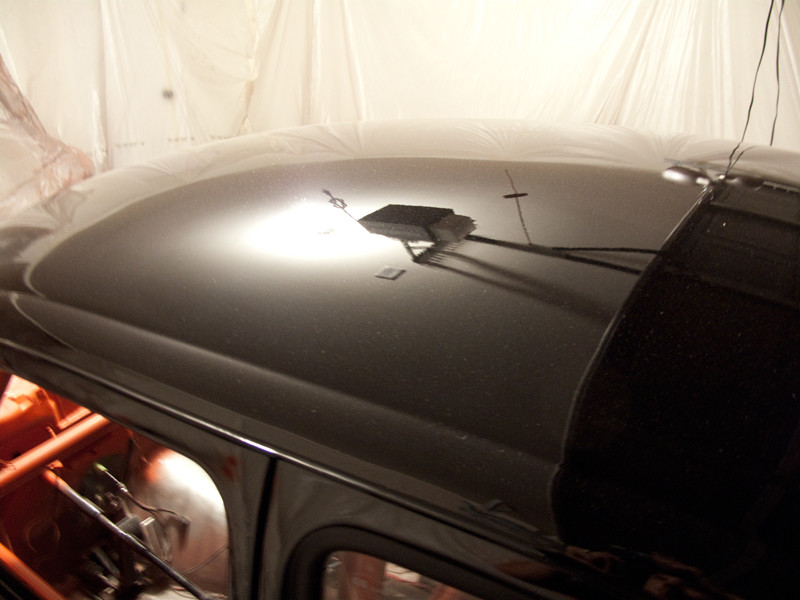 11-22-2010
Thanks! That's a lot of projects. My Dad does the same which is why none are in paint. All are still in primer. I think he just likes working on the engines.


Well, it was a very production weekend.

Friday night, my buddy David, who details cars, came over to look and the amount of work that was needed to be done to the bug. He was quite impressed and it wasn't going to take as much work as he originally thought. So we decide to start color sanding and buffing the car on Sunday.

Saturday morning, my buddy Jason came over and we got the front window and the last quarter window installed. We also did an alignment.

Sunday, Dave came over and went to town on the bug color sanding and buffing. While he was sanding and buffing, it gave me a chance to work on other areas of the car. So I got the engine put back together and buttoned back up.

Here is the car before he worked on it. Looks good / decent. I call it a 5 foot paint job. Shiny and smooth, but it had a couple runs, some dry spray and dust through out the paint job.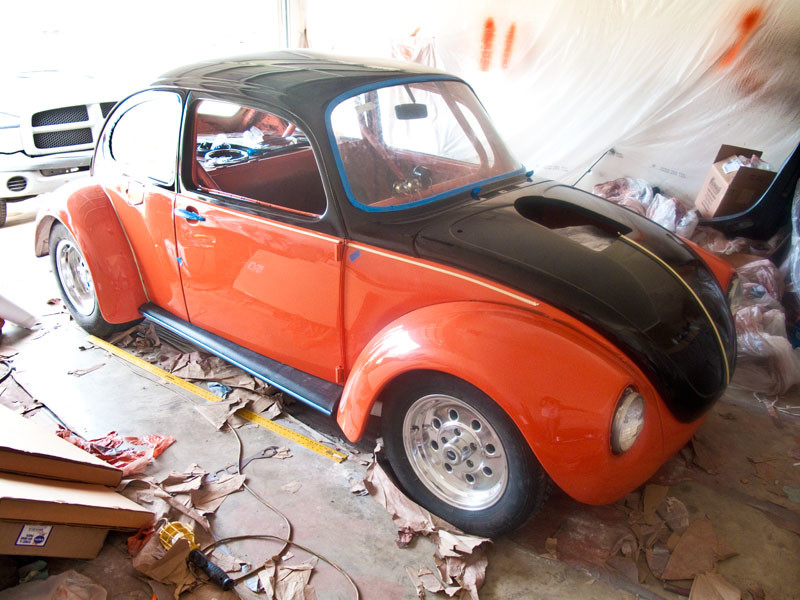 Here you can see the dry spray that was in a few areas.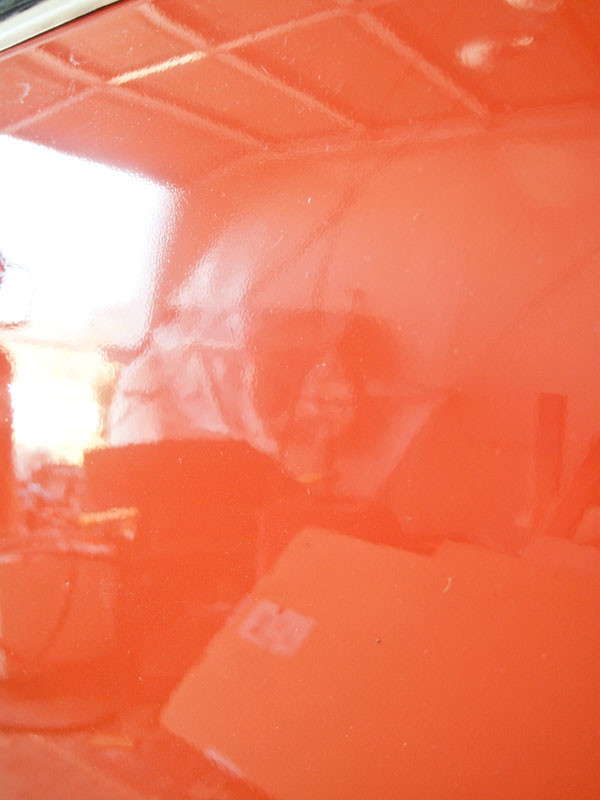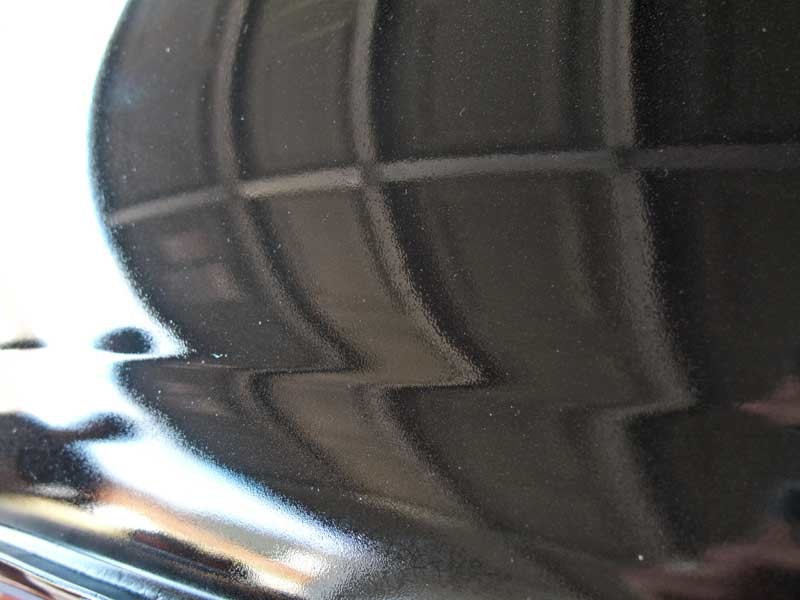 Oh yeah, while I was changing some jets in my carb, my 3 month daughter decided to grab my tools. She normally doesn't really grab and hold onto many things like she did this wrench. It was a proud moment.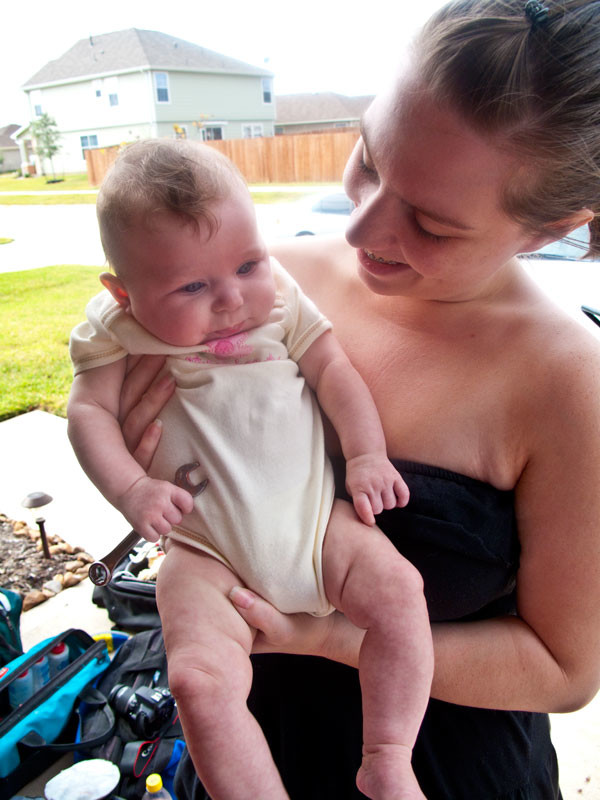 Here's Dave, hard at work. He arrived at the house at about 10 am and worked all day, until about 10 pm perfecting the paint / detail job. Fantastic!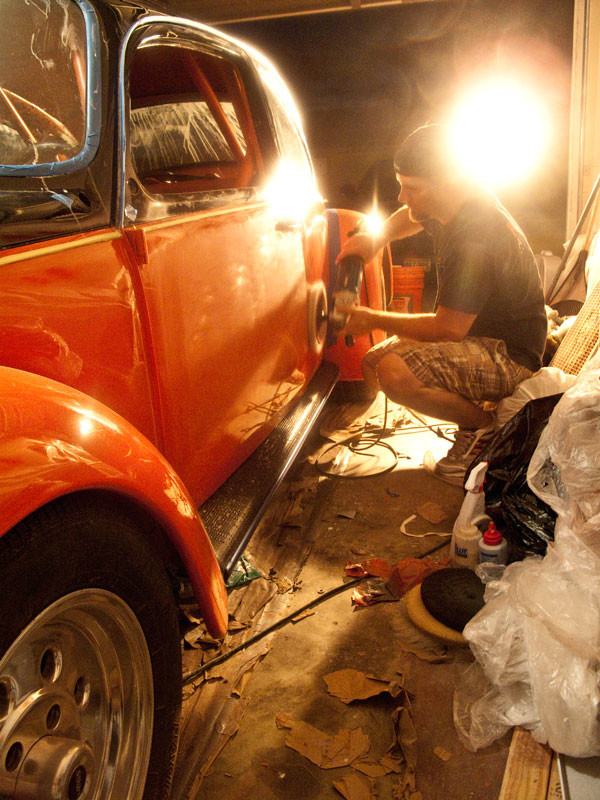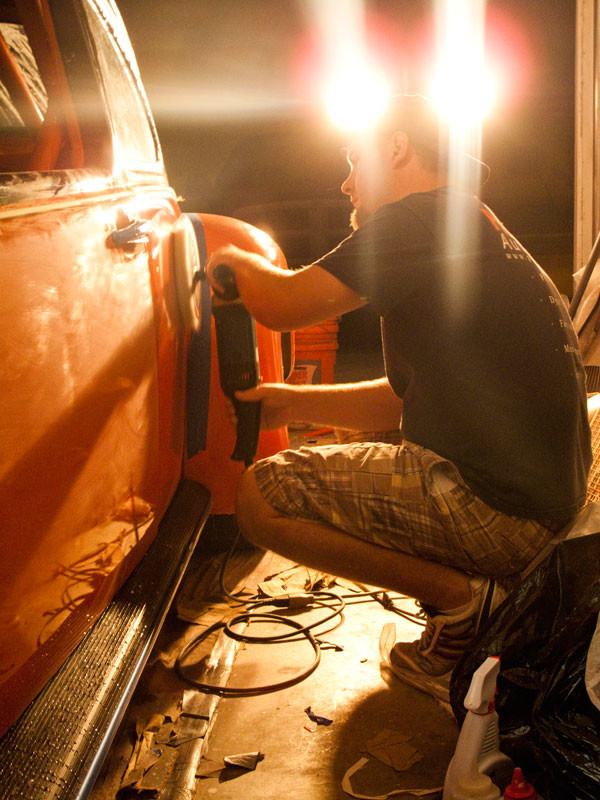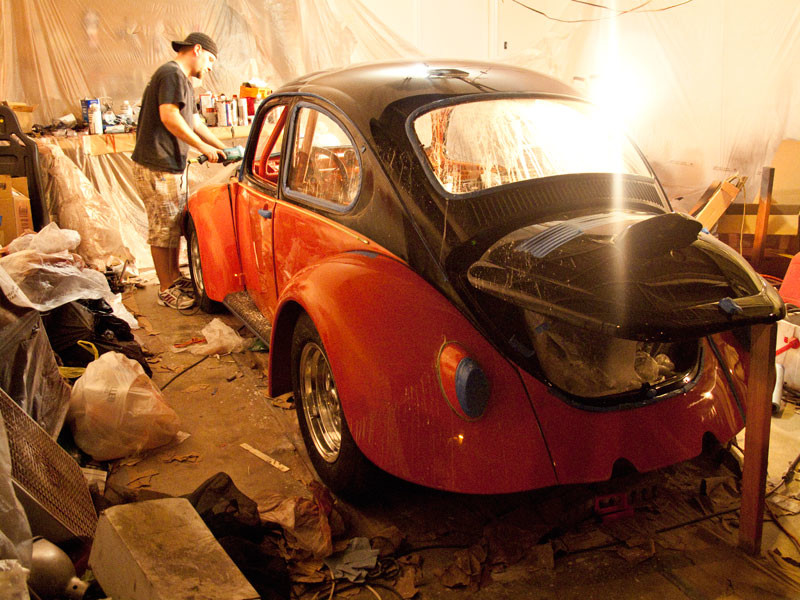 Madison and my wife came to check out the progress and get in on the picture taking. They were having all the fun. Dave was wiping the car down with a protectant that still allows the paint to fully cure.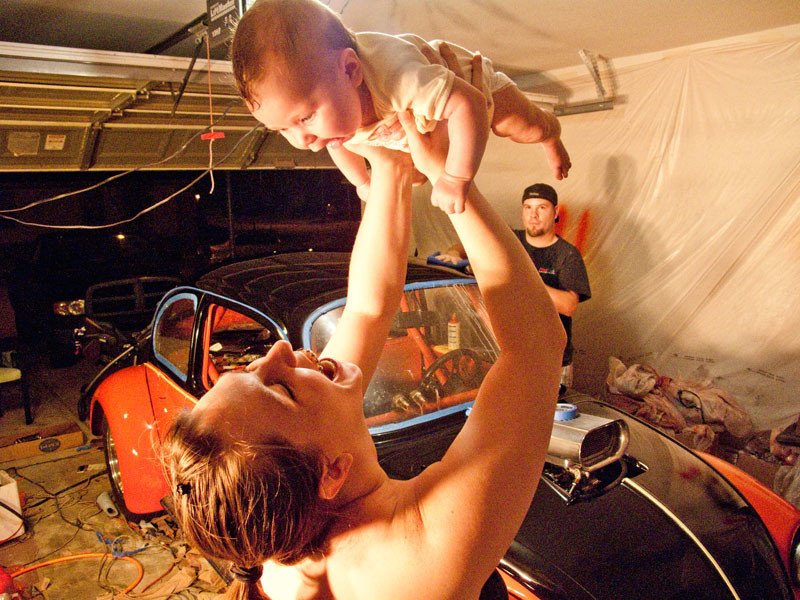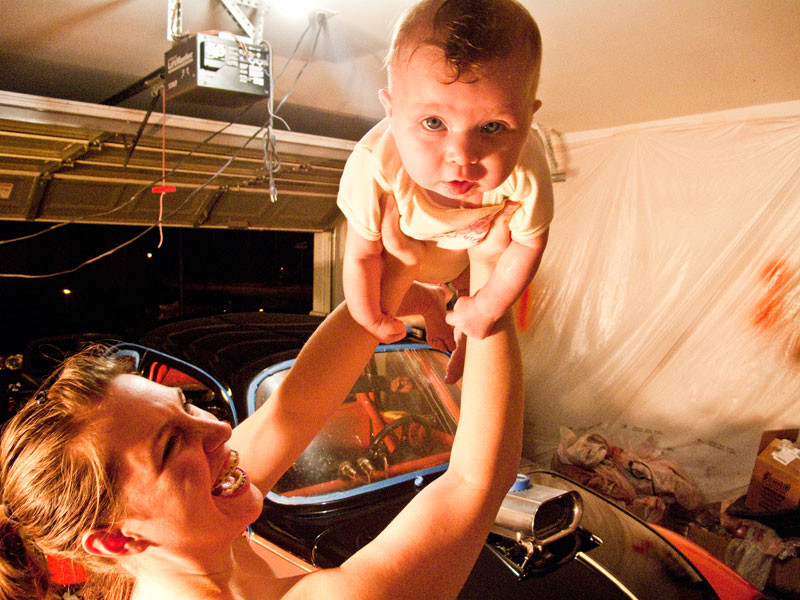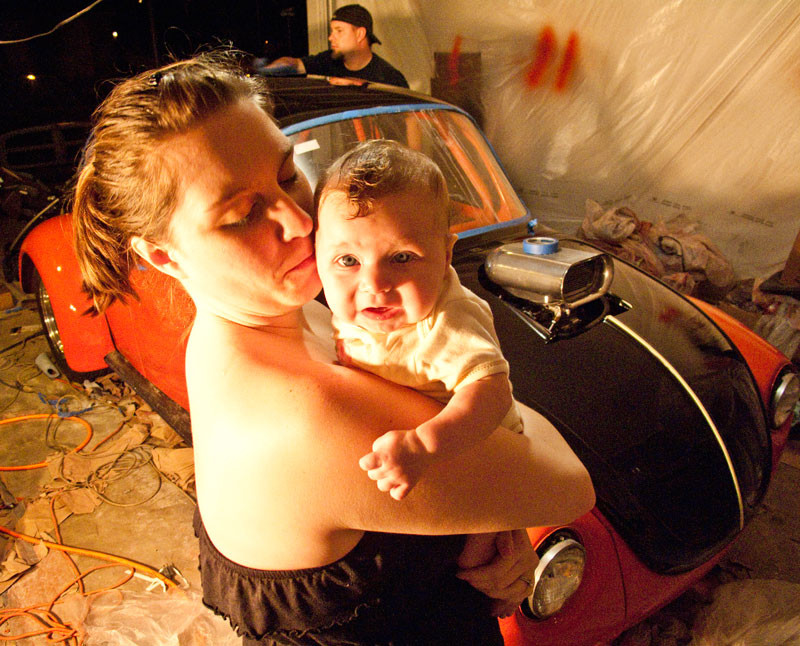 And the drum roll.............................................. ...


I'll let the pictures do the talking.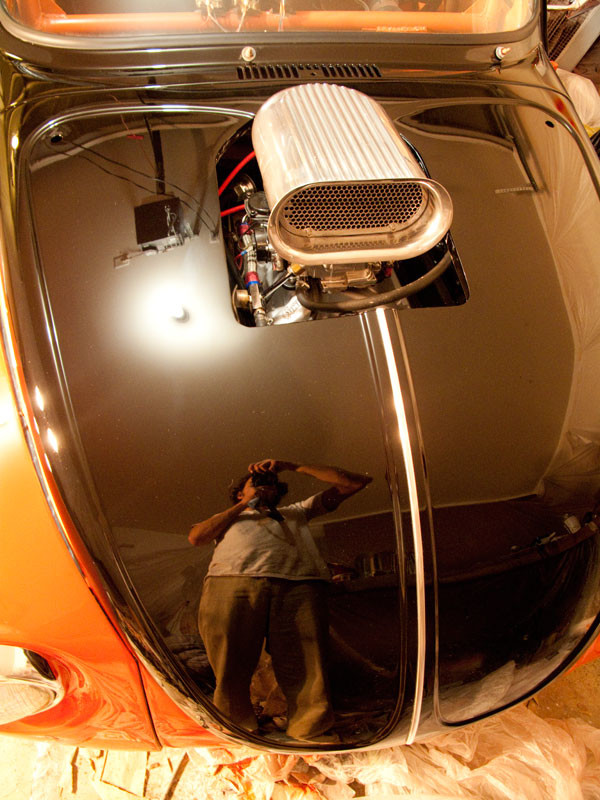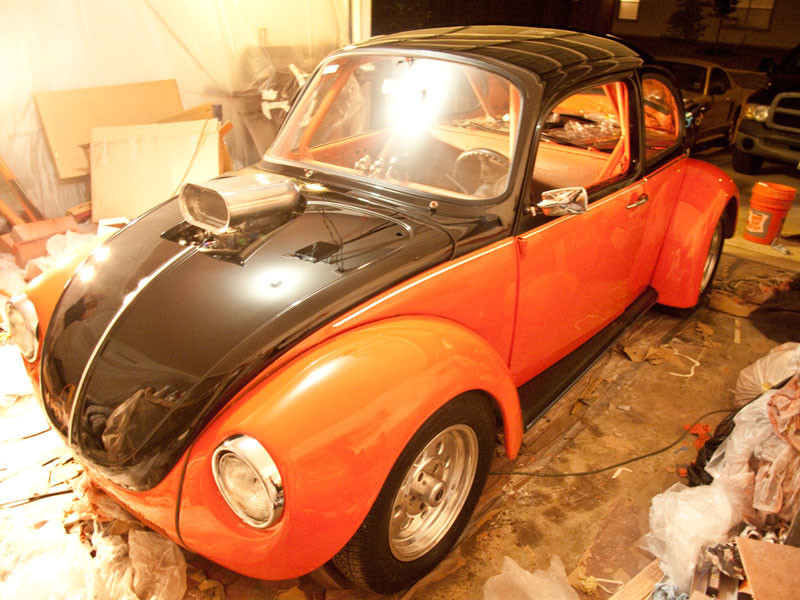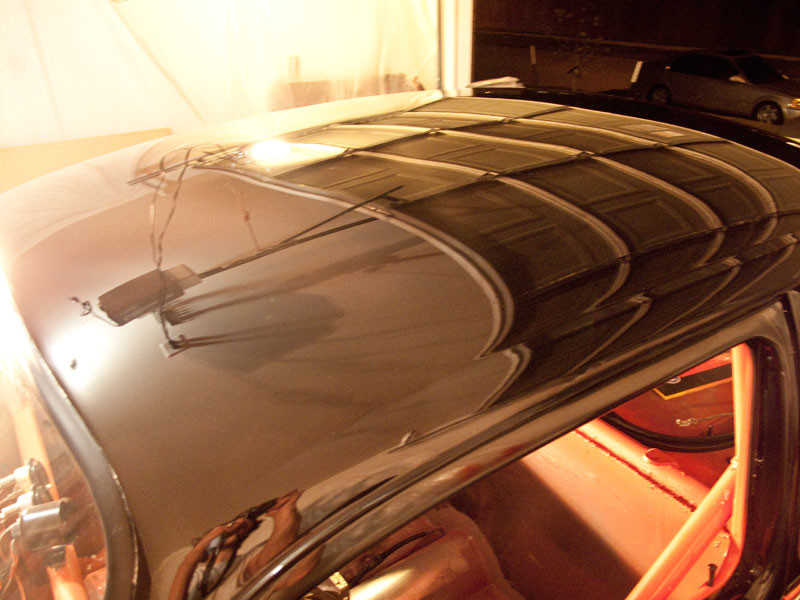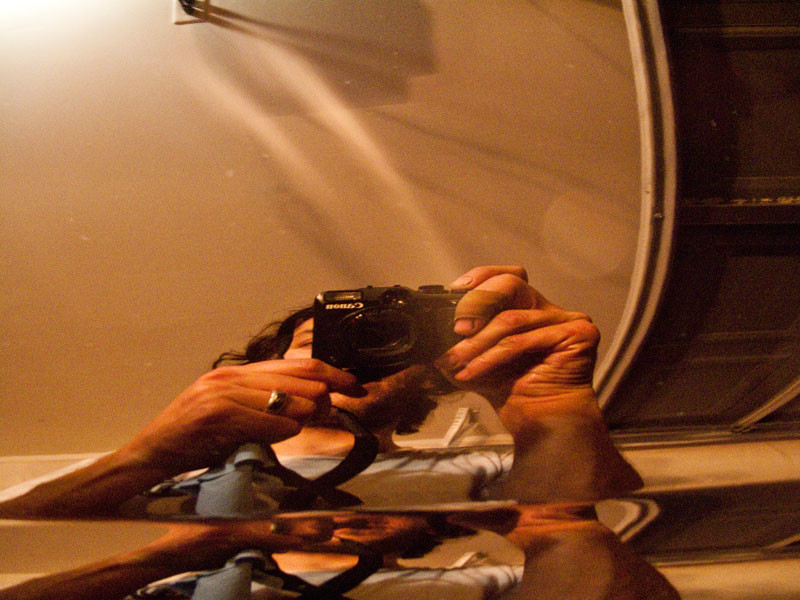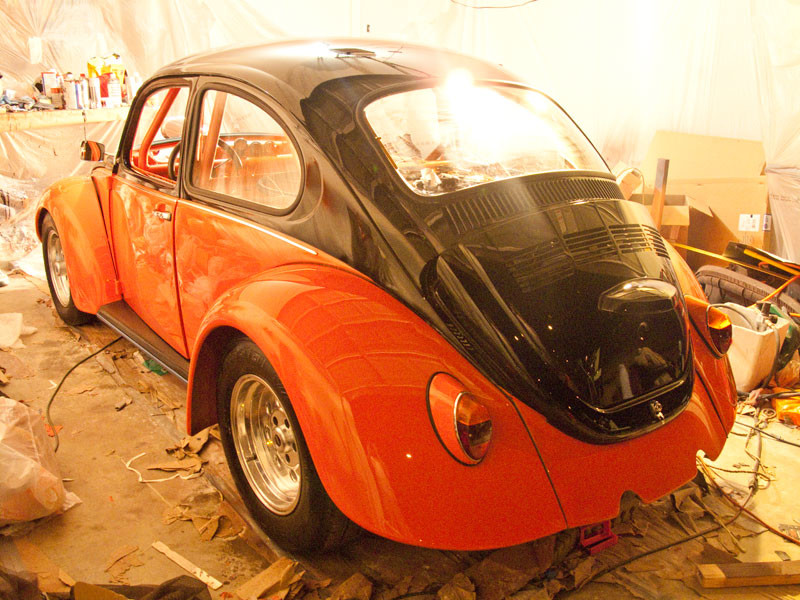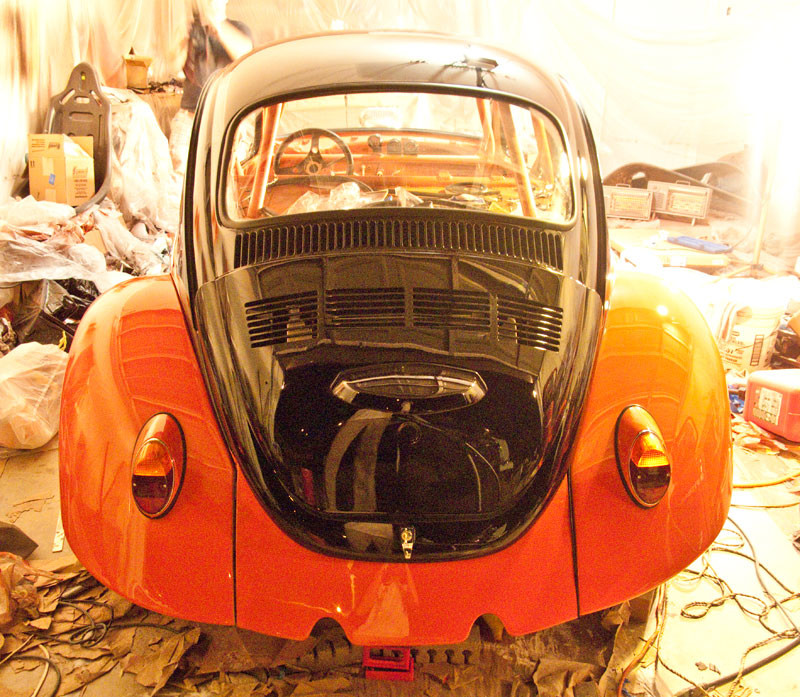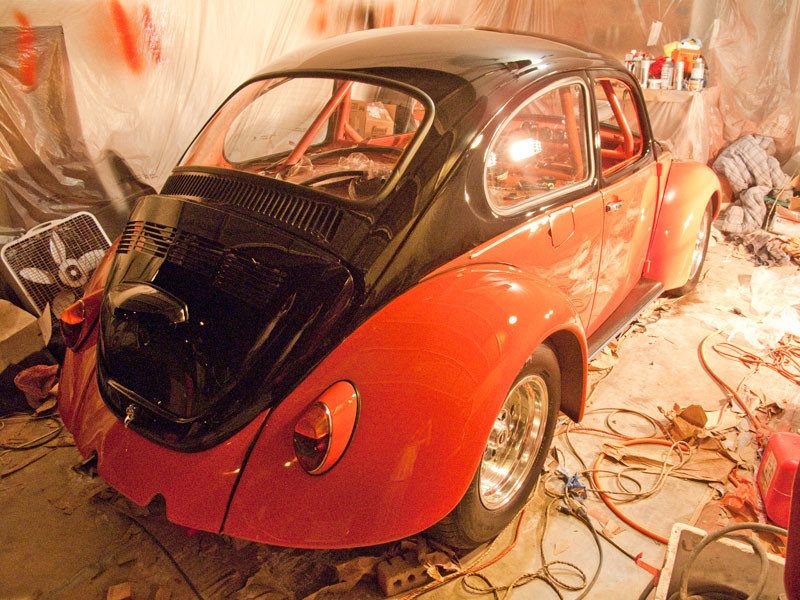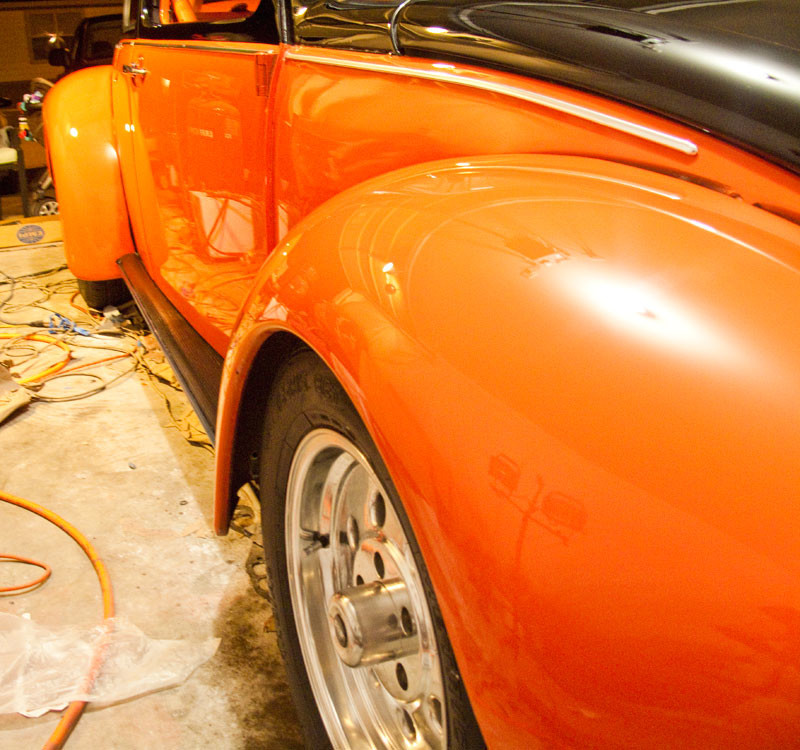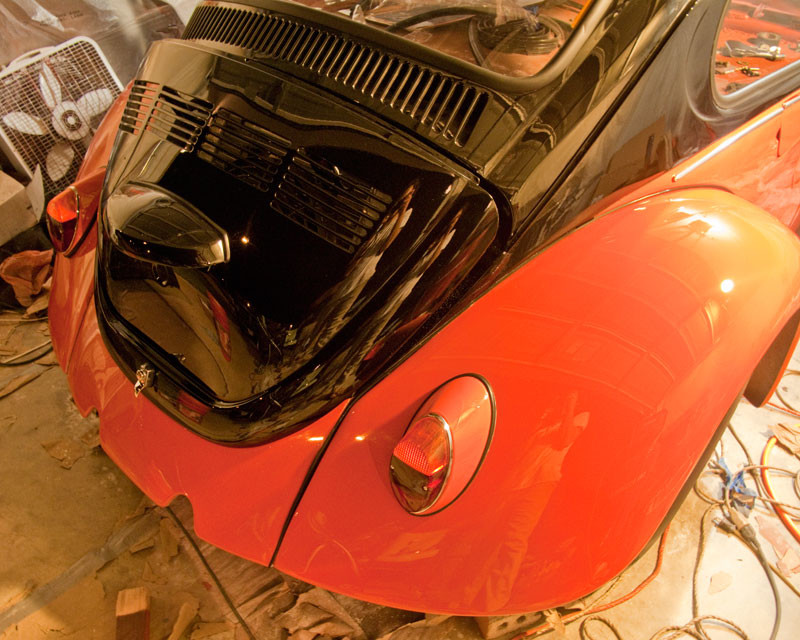 Dave did such a fantastic job!!! My paint went from a 5 foot to I wanna still my face in it. If any of you in the Houston area would like Dave to detail you car I can give you his contact information.

Thanks again, Dave!
Forgot a picture.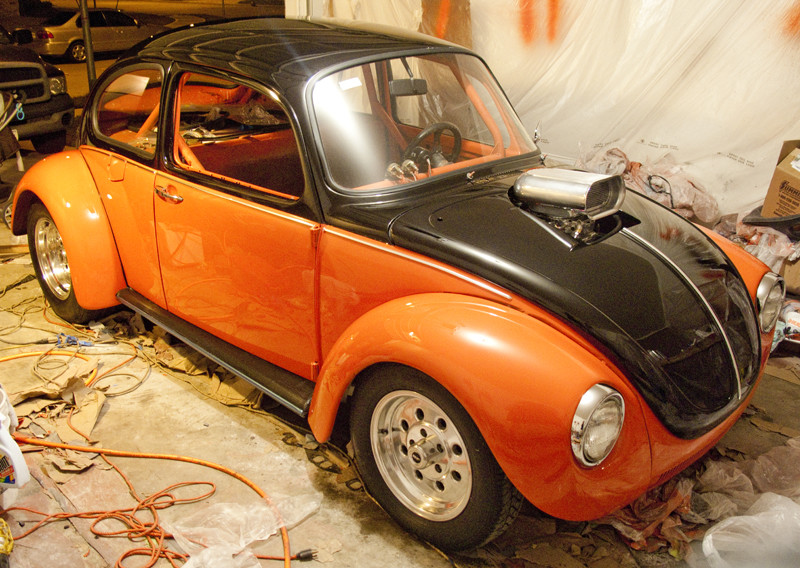 12-6-2010
I haven't got a whole lot done lately cause of life. I did manage to get the wipers on, starting masking the floor for coating, and my bro bought me some carpet for Christmas, which will go in soon.

I also got some pictures and video of the bug outside, finally.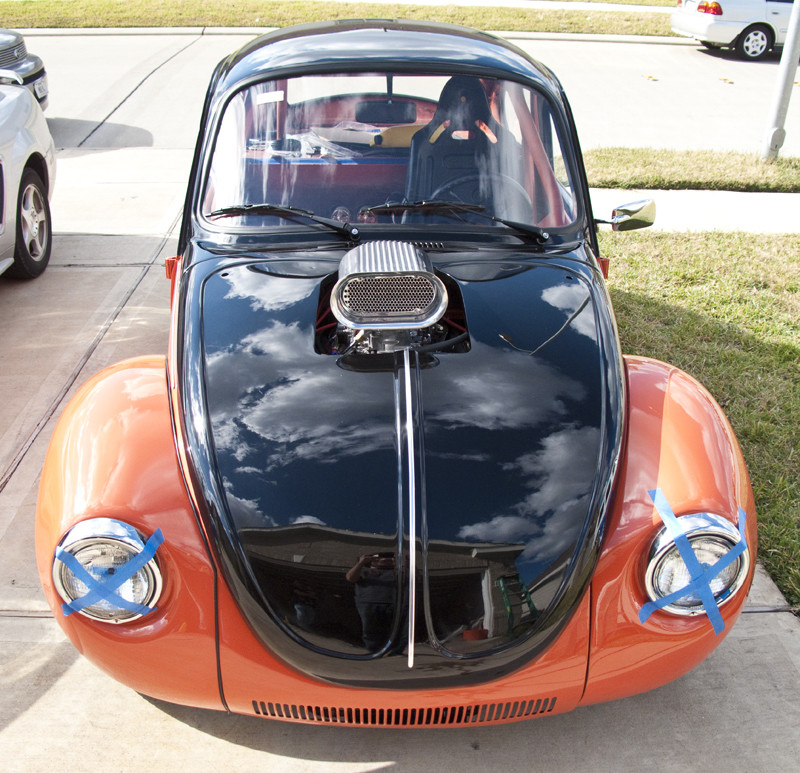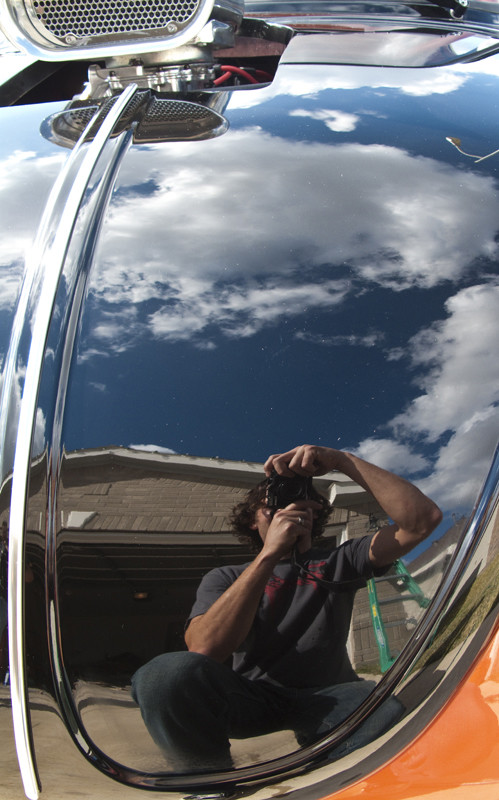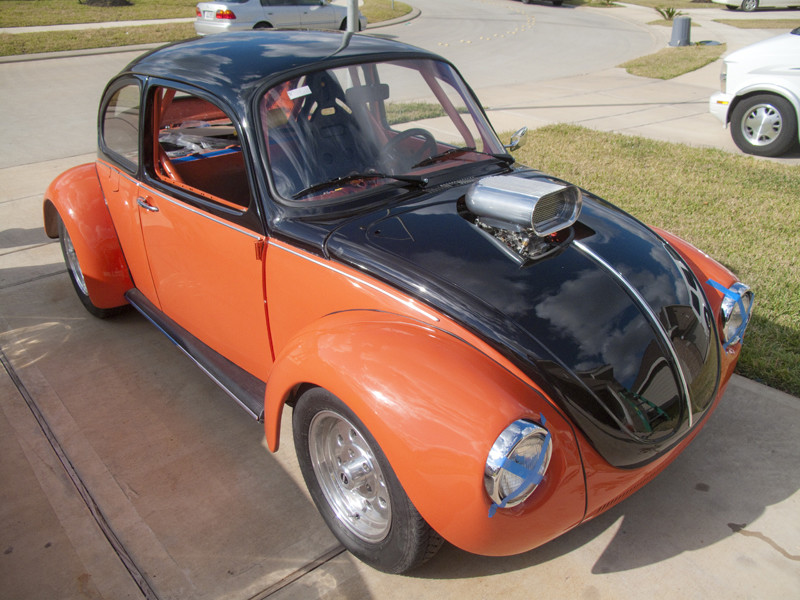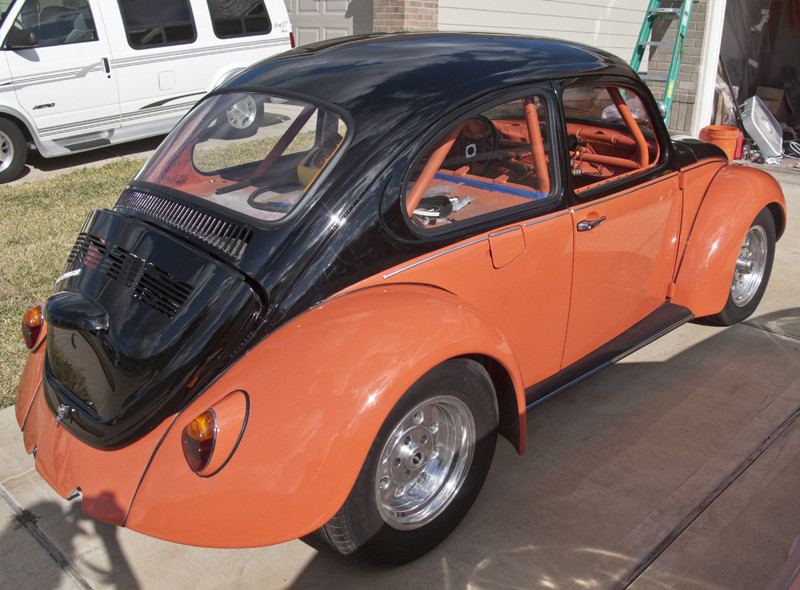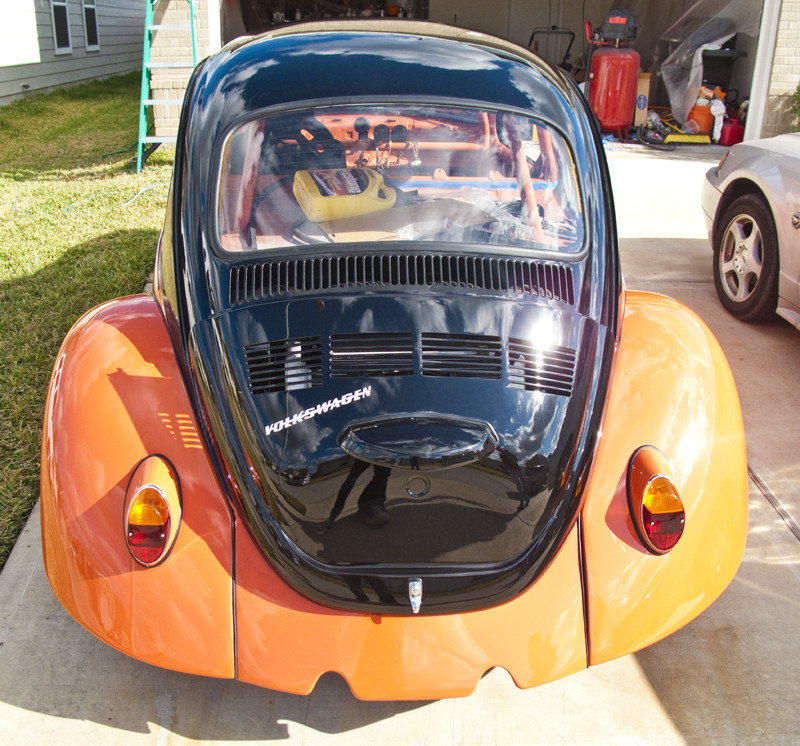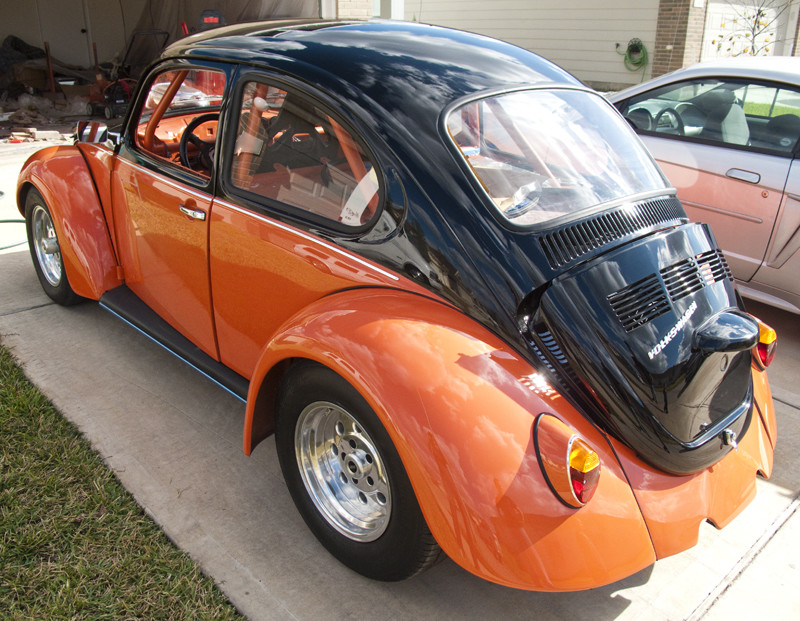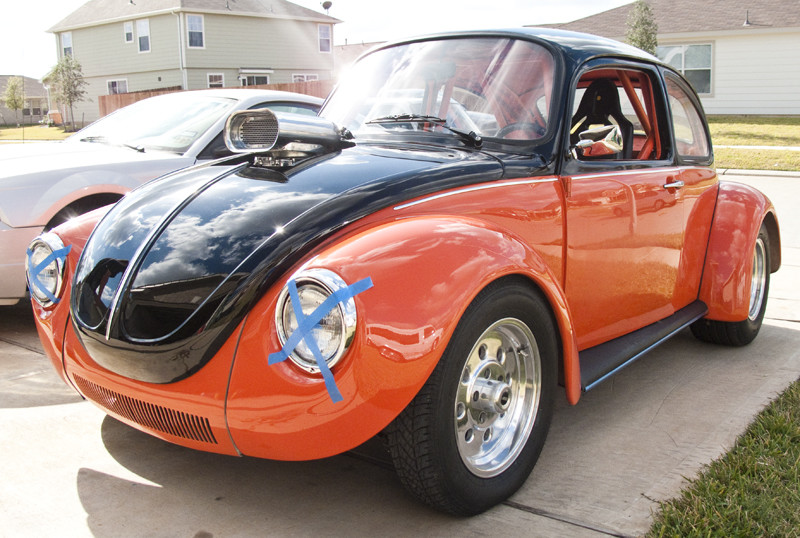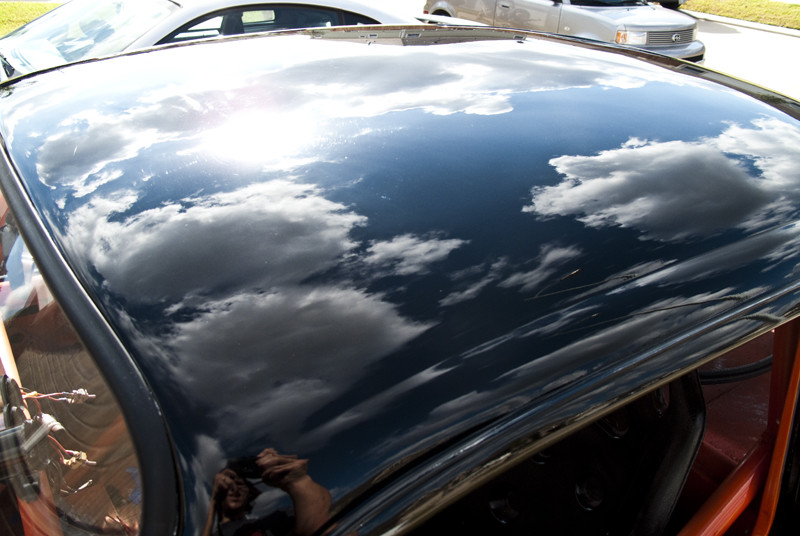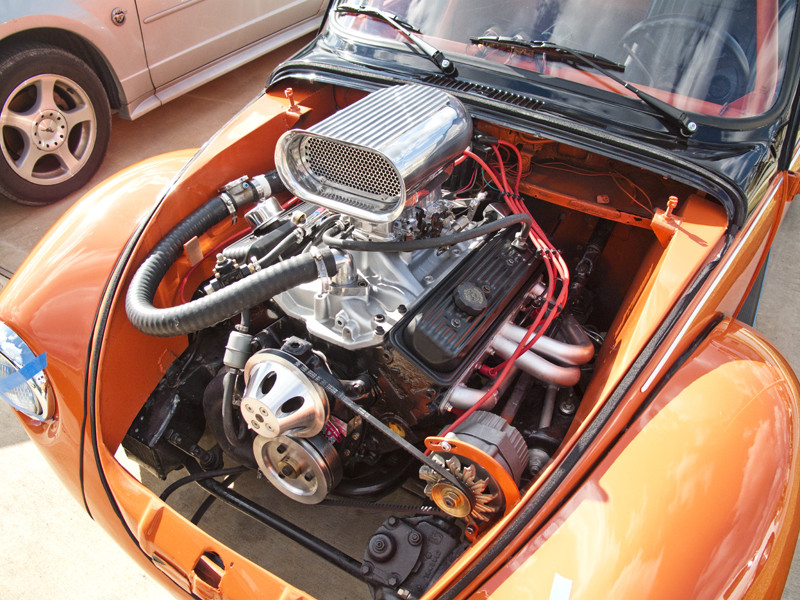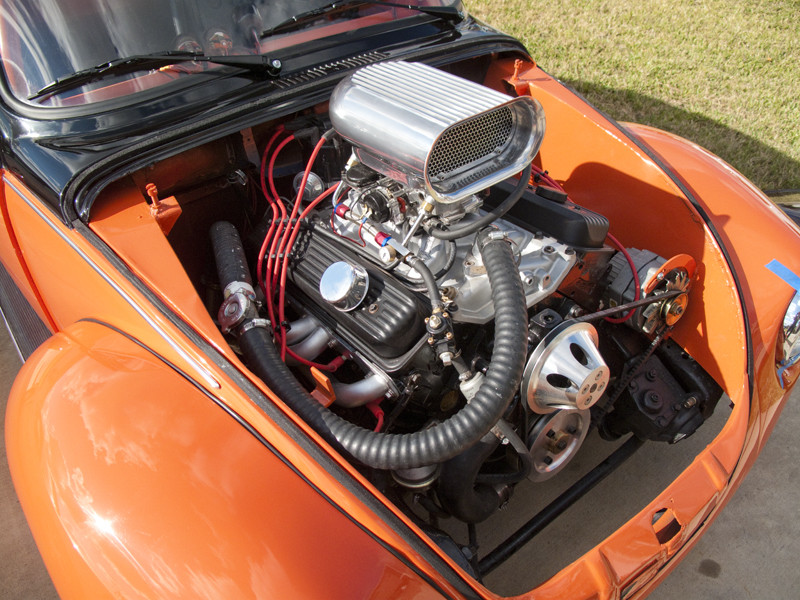 12-7-2010
Here's a comparison of what the car used to look like.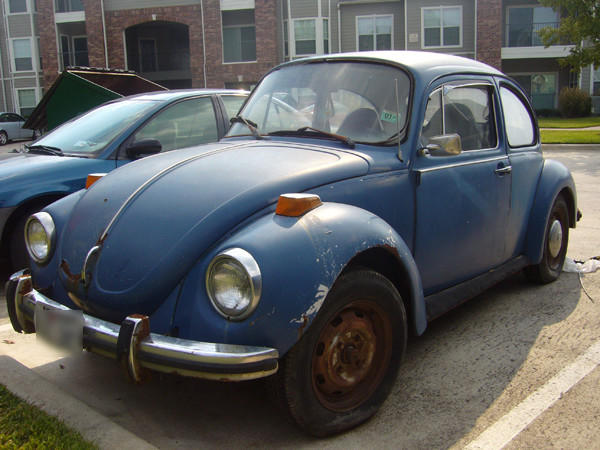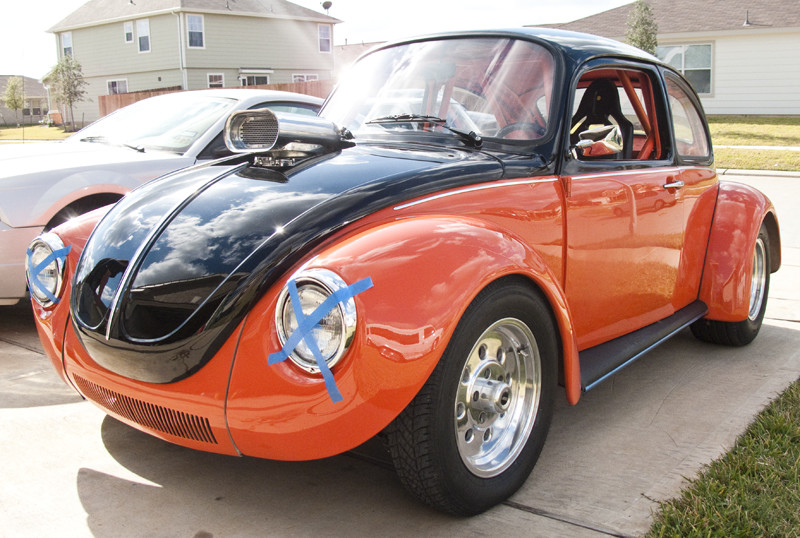 12-20-2010
Thanks OLNOLAN! It'll be fun toying with them that's for sure.

Time for an update.

I coated the interior flooring and the under chassis with some Master Series. I installed my locking hood pins, my 2" solid aluminum lowering blocks and I finished the install of the one piece windows on both doors.

All that's left, other than small item things, is to wire up the car (lights / signals only cause everything else is done) and install the carpet.

Also, I took the car for a test drive last night cause I was curious as to how it sounds inside without a bunch of parts laying around the car and with all the windows in. All I could hear was the sound of the engine and the rumble of the exhaust. It was pretty sweet.

Some pics of the undercoating. I forgot to take pics of the front and undercarriage.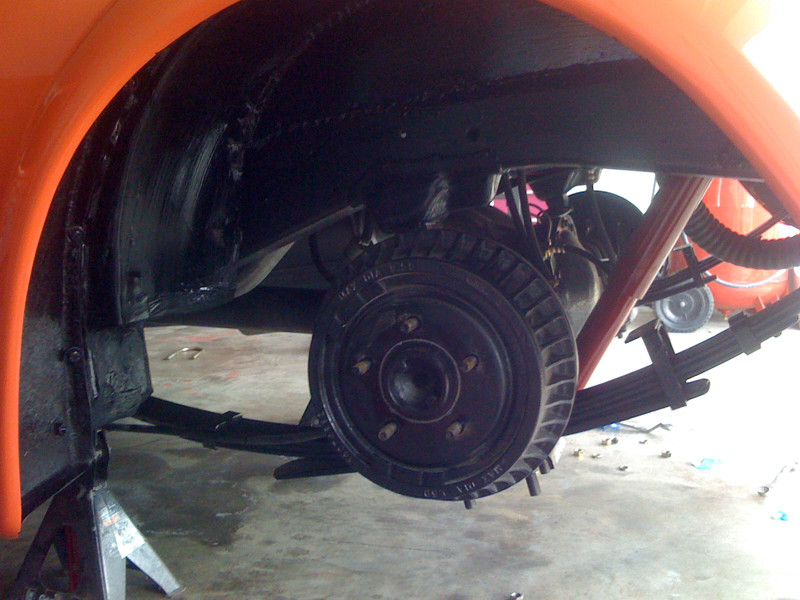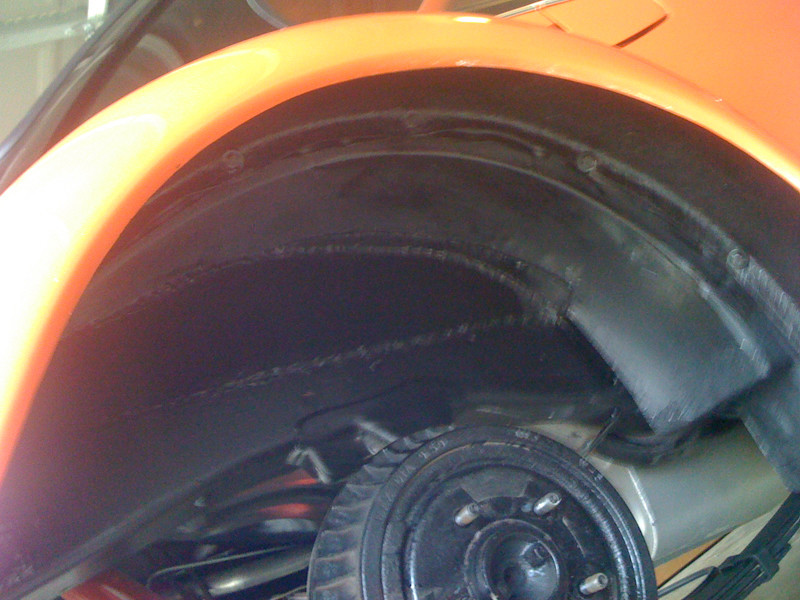 Here are the 2" blocks from JTR.com. Solid aluminum blocks. Not that extruded hollow crap that could break. It's amazing how much difference a 2" drop made in the rear. The rear is still about 3/4" higher which is perfect, to me.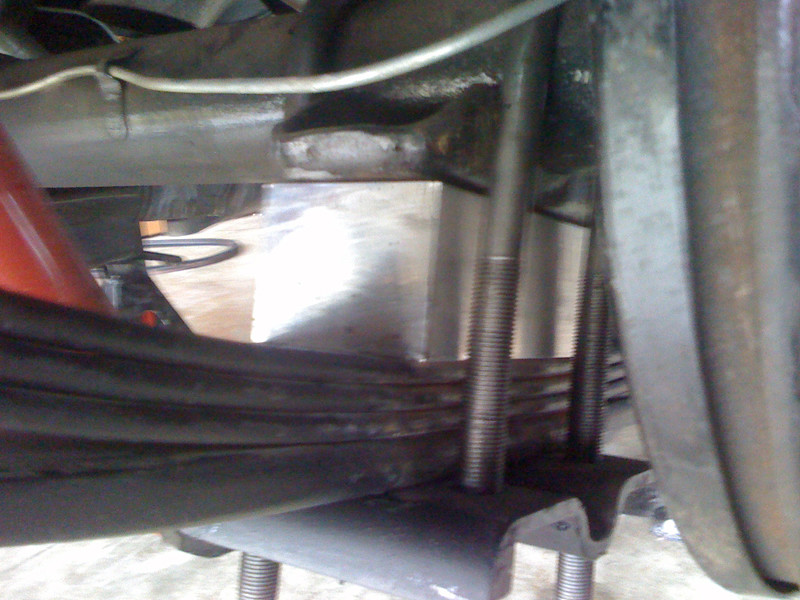 The hardware is heavy duty too. Notice how tall the nuts are.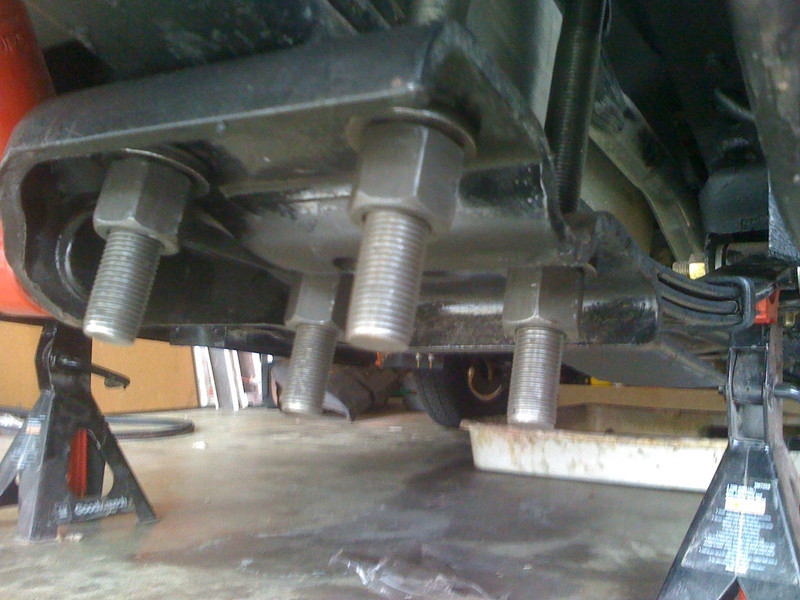 Some pics of the rear with the blocks. Made a big difference IMO.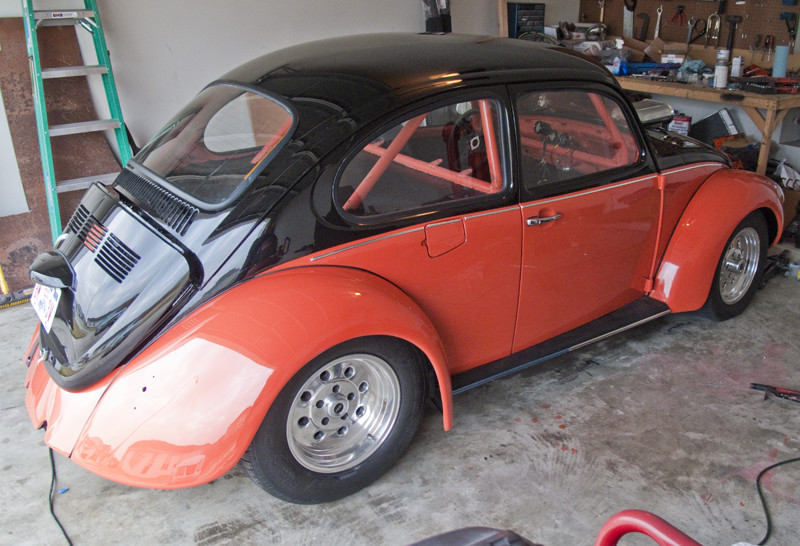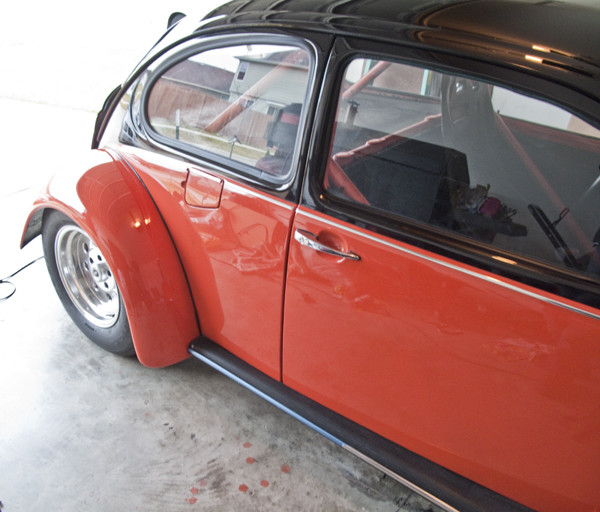 And the one piece windows installed. Doors fully done. The one piece windows are kinda a PITA. I like the look, but I'm not sure I like how they function all that much because they want to pull the rubber inside the door when I roll them down. I hit them with a little WD-40 temporarily, but I'll have to figure something else out so my windows aren't always greasy when I roll them down.

I had some trouble installing them. The guy that sold me my new regulators said I needed 65-67 regulators for the one piece kit. Nope! Well, they wouldn't work cause the glass would hit the regulator on it's way down keeping it from rolling down at all. So I had to reuse the old ones and I modified the window scraper for the one piece windows. Works pretty good now.

The new dual roller regulator I wish would've worked. The window crank mechanism was too long.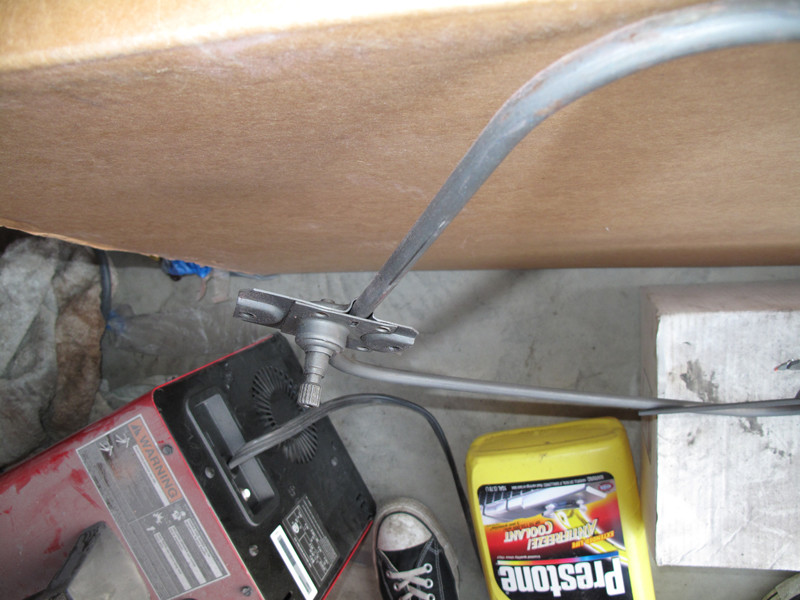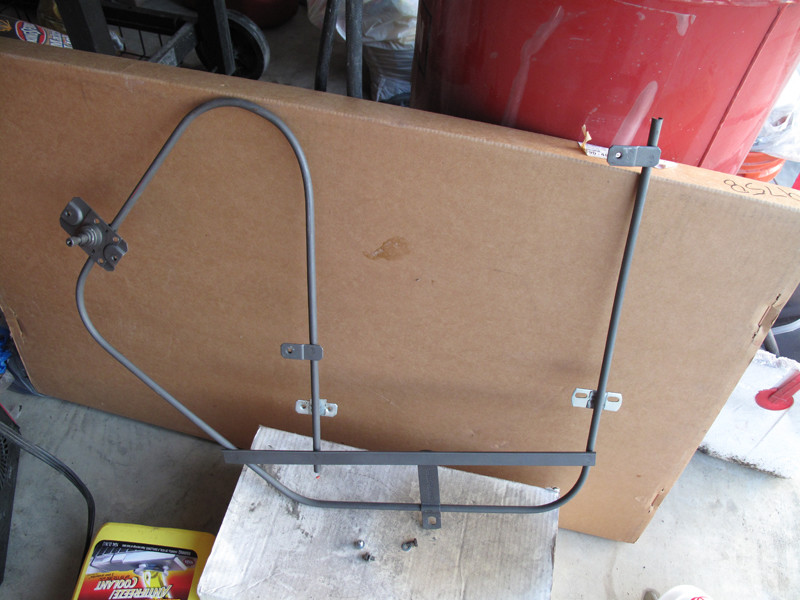 Here's the modified window holder / scraper. I basically had to roll the window all the way up, then install the glass. If you install it while the window is rolled down it wont go up cause the regulator pushes the glass up at an angle.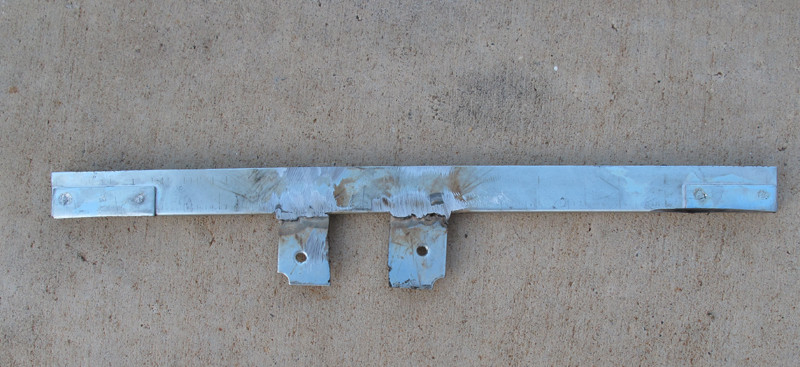 Here's a video.




One piece windows.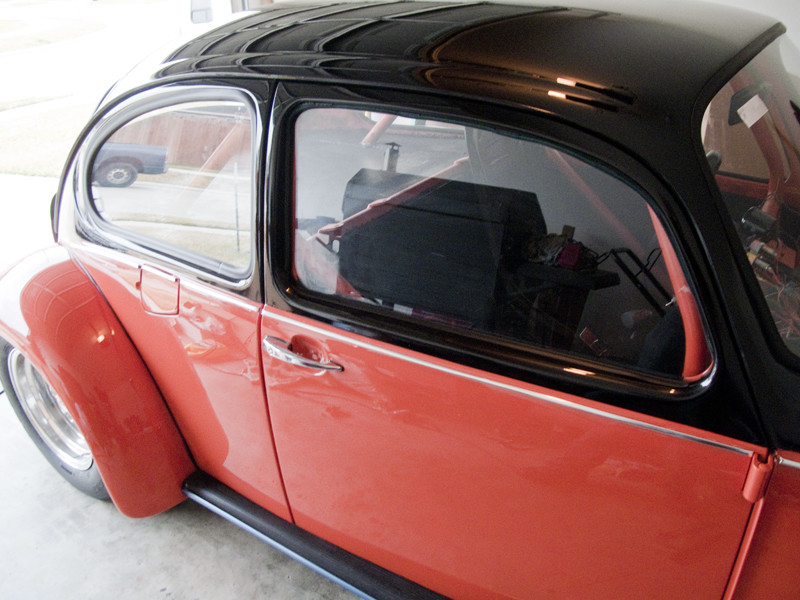 The finished doors. I couldn't install the are rests, well, cause the door bars are in the way. Hind sight is 20/20. I'm going to fabricate some pull straps so it'll be easier to close the doors instead of having to grab the window. Oh yeah, can't roll the windows down unless the doors are open either. LOL. They'll pretty much stay down while I'm rolling any ways.

It's not a garage build unless you got a lawnmower in the pics. LOL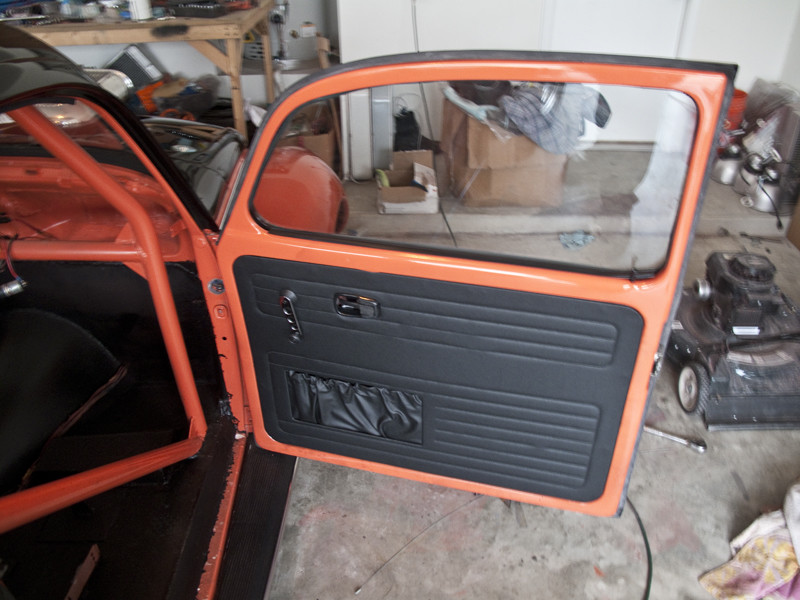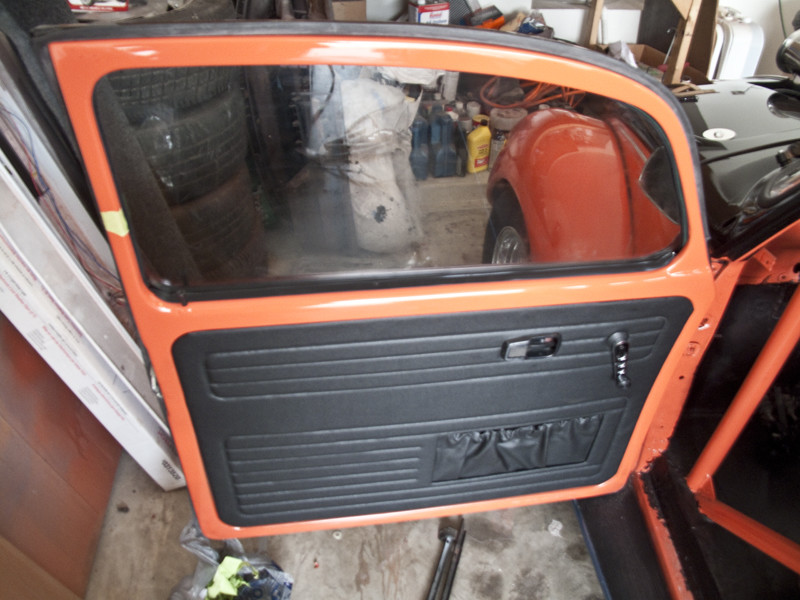 Locking hood pins installed.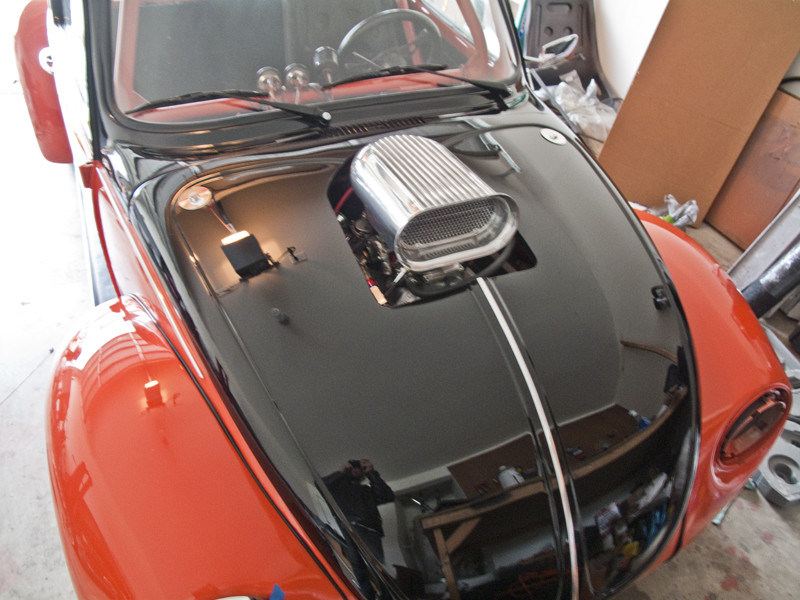 Here you can see the painted flooring.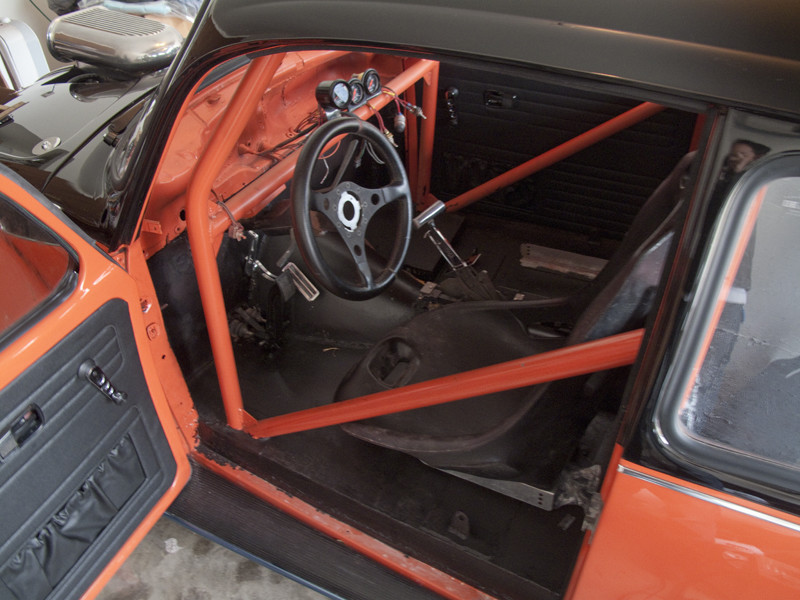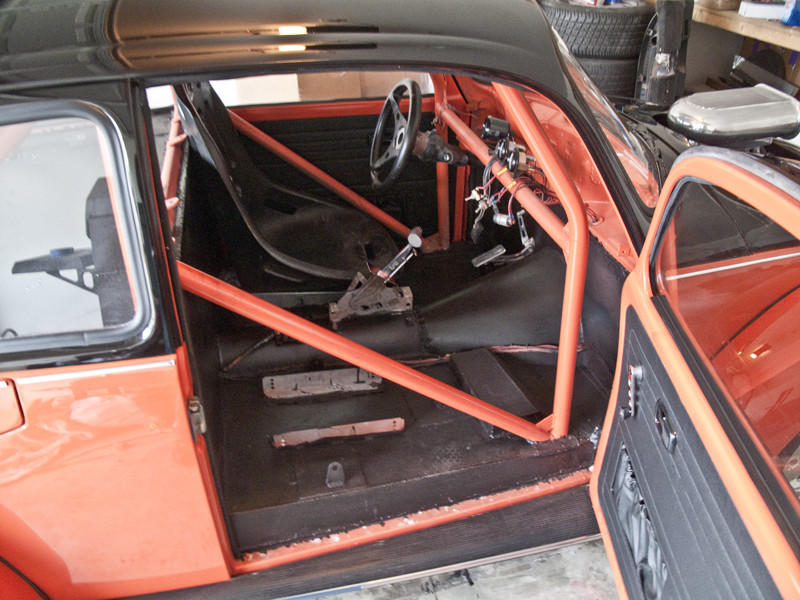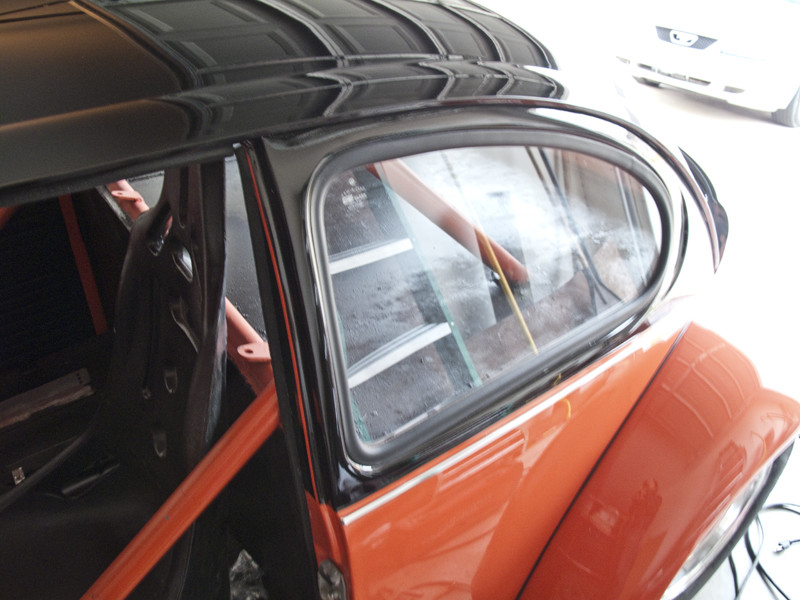 Almost there.
2-2-2011
Hey guys! I hope everyone's builds are going well.

Just poppin' in to update everyone. While I'm taking me a breather from the project I've started an O/T project. The only reason this is able to happen is because I'm selling my current gigging amp to fund the project.

I'm build a 50's era Fender Tweed Deluxe guitar tube amplifier from scratch. This is my first amp build and I'm doing it from scratch. I will be hand building my own cabinet and hand selecting each part that goes into this build. This amp will become my primary gigging amp. I play 2-3 a times month in a cover band and I feel this amp will fit the bill.

My tools and budget is fairly limited so I'll be building the cabinet with hand tools and will be borrowing a couple tools here and there from buddies / work to complete this project.

Here is the start of the cabinet. I'm using solid pine for the cab and birch ply for the baffle boards.
Here's how the finished product will look.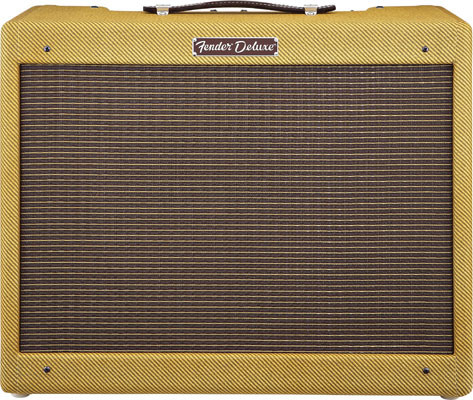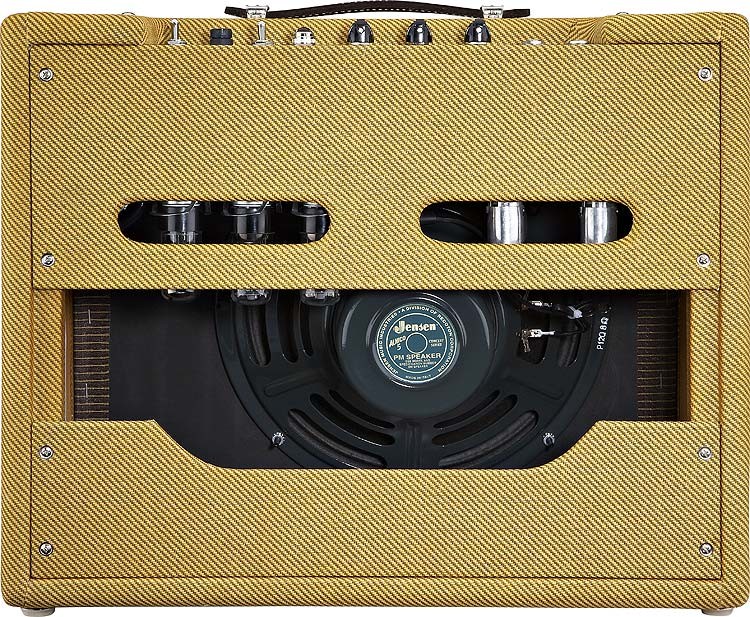 I drafted out all the cuts onto the wood and then cut the pieces on the table saw here at work. I'm currently working on hand cutting the dovetail joints. It's going okay. The joints fit together tightly and make a strong joint, but it's not as pretty as dovetail joints done by someone more experienced or by machine tools. That's okay though. It'll be my creation and I'm enjoying the build so far. I've built a few car sub cabs before and I was always best at covering the cab with carpet. So the end results should come out looking nice. I'll definitely be taking my time with this one.

I'm still mauling over certain mods for the layout of the circuitry and getting advice from more experience people. Whatever route I choose to go, it should be a pretty versatile amp for my needs.
3-12-2011
I did finish! Here's a link to the complete build.

http://music-electronics-forum.com/t23599/


Here are a couple pictures of it finish. I decided to cover it with carbon fiber.
It sounds fantastic, I might ad.


Here's a video of finished amp. I plan to get a video demo of it in the near future.

http://www.youtube.com/watch?feature...&v=I9p3q9CW50Q
5-2-2011
I worked on the wiring this weekend. I routed all the wiring and have all the lights hooked up.

I came to a stopping point here at the dash. I'm using SPST, SPDT, etc. to wiring up the lighting. So things aren't as straight forward as using stock GM equipment and I have a few questions I need to ask the manufacturer before wiring things up wrong.

Here's a picture of the headlights I'm using and the harness installed waiting on the dash to be wired.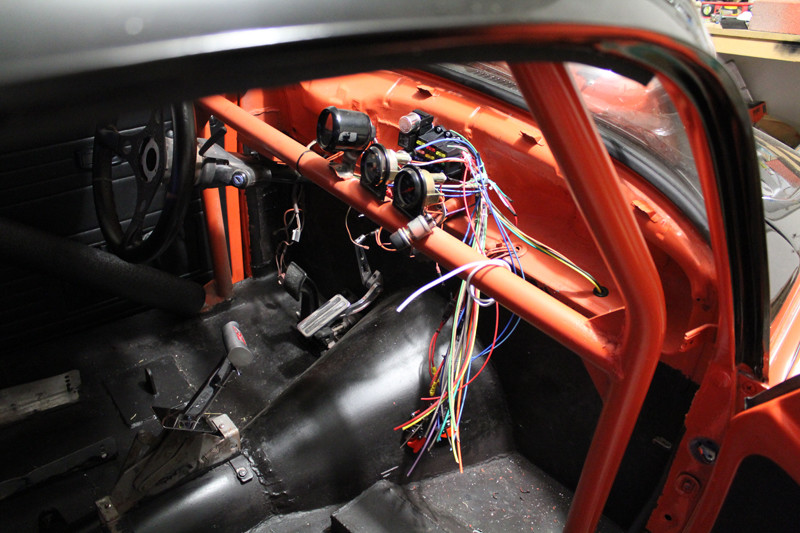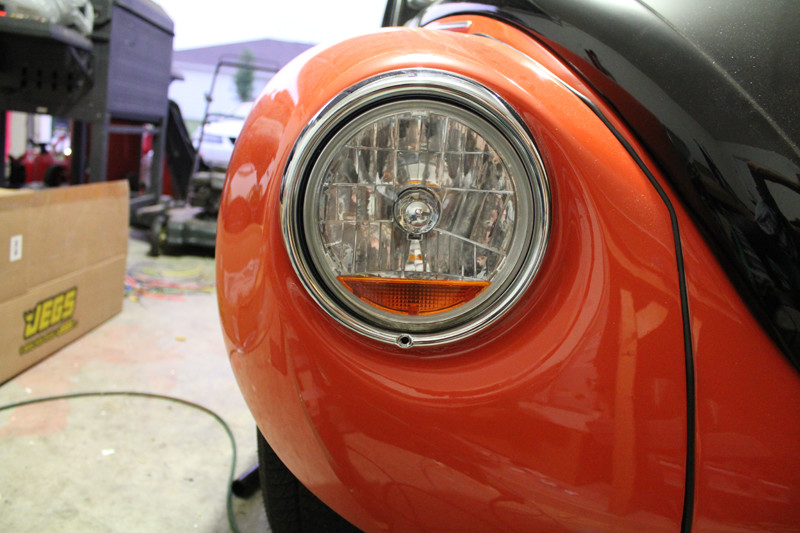 6-6-2011
Well, it's getting there. I've been putting in some time lately. I fixed my starter issue and pulled her out for a much needed wash. I also fixed my tranny leak, hopefully. It was leaking around the speedo and the shifter linkage. I still need to add fluid to find out.

I finished the carpet and I'm almost finished wiring the car. I need to wiring up the tach, gauge lights, and install my brakes switch into the brake lines.

Here are some overdue pictures.

A better shot of the head lights with turn signals. The turn signals light up pretty good with the lights on. I took it for a night testing to see how the lighting does.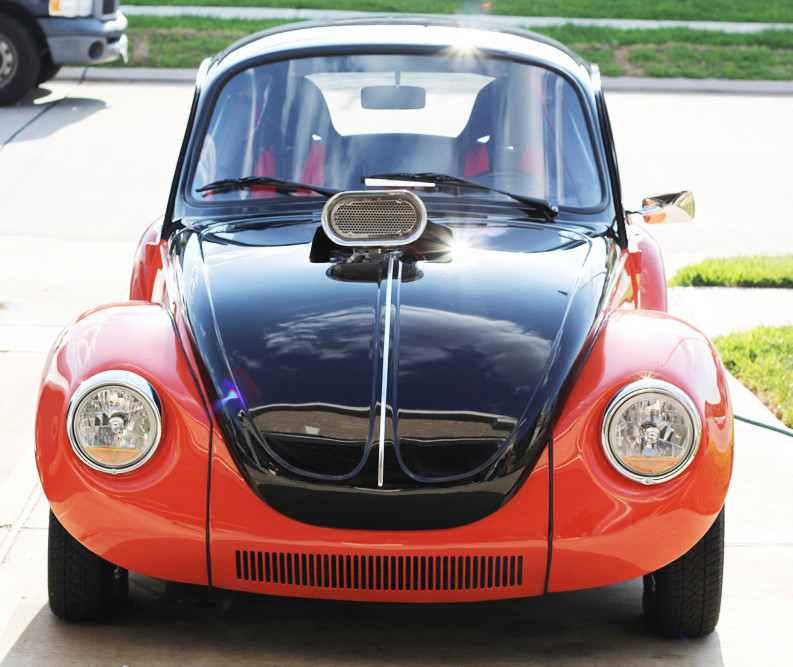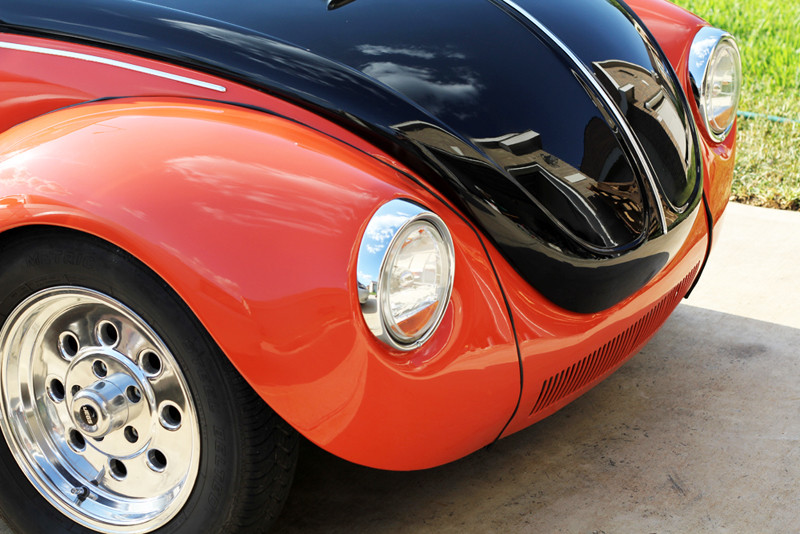 Carpet installed, dash, gauges, seats bolted in, belts bolted in, and roll cage padding.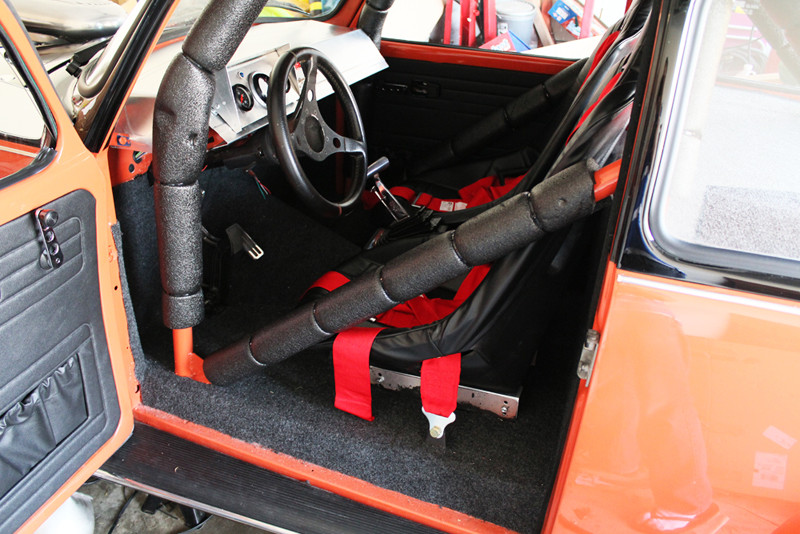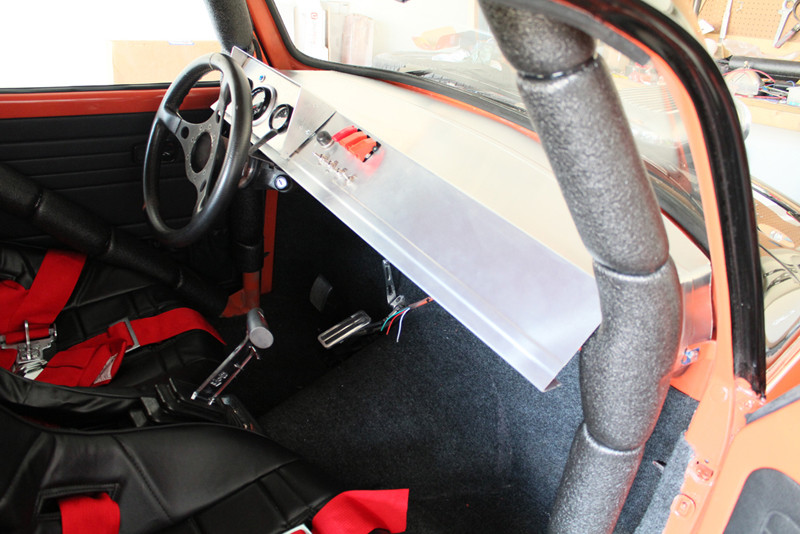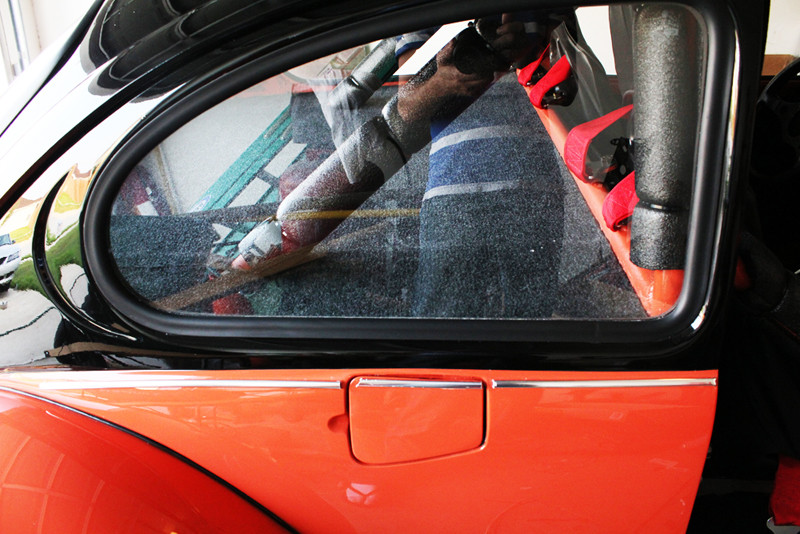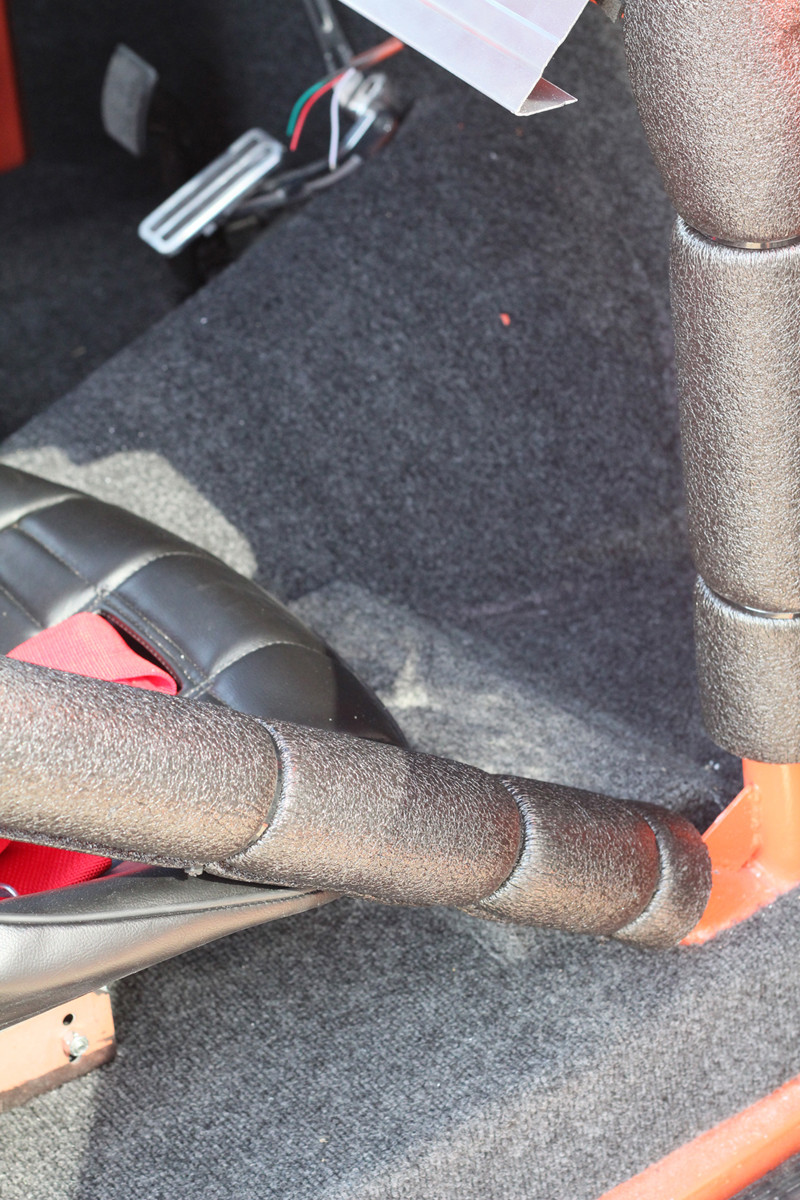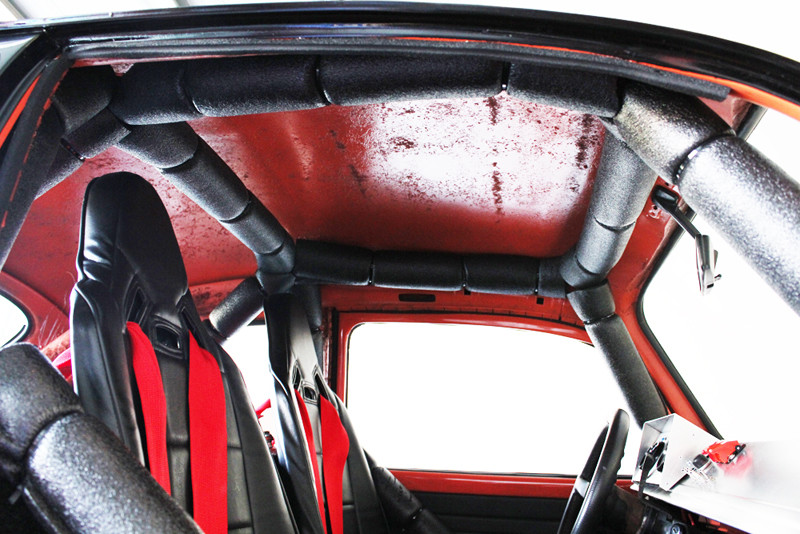 Not a whole lot to do. Just minor things. I still need to put a good tune on it and extend the exhaust out the back. Then I'm going to drive the nuts out of it. Haha
9-26-2011
Very cool. I saw the Newman car before. Very nice.

Awesome, Adantesser! Sounds like what we call a volks rod. Basically a bug without fenders with the top chopped. I would love to do a V8 bug in a similar fashion. Very minimal.

Well, I finally took the bug to a car show, now that it's getting cooler. Lots of people were very curious about it and had lots of questions. I think my car was the only car people got on the ground to look under.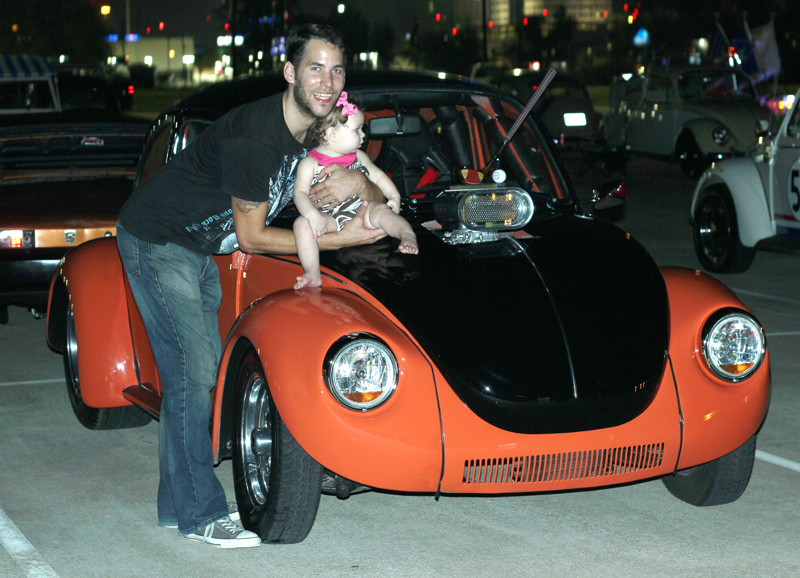 My daughter and I with the people's choice award I won.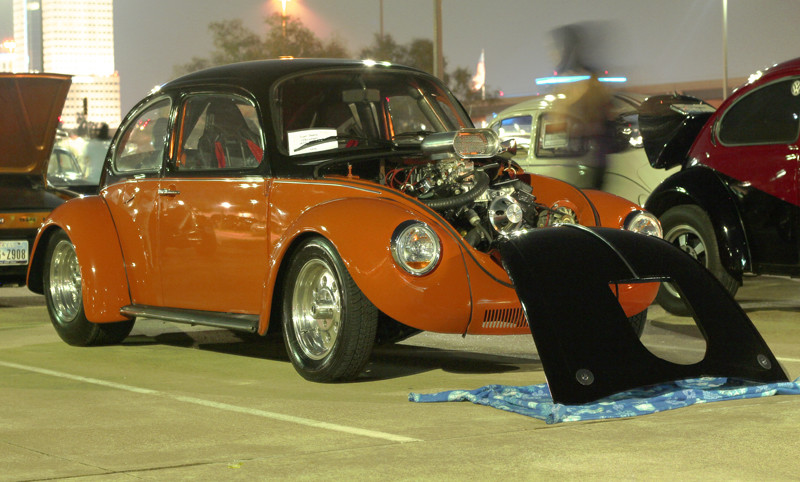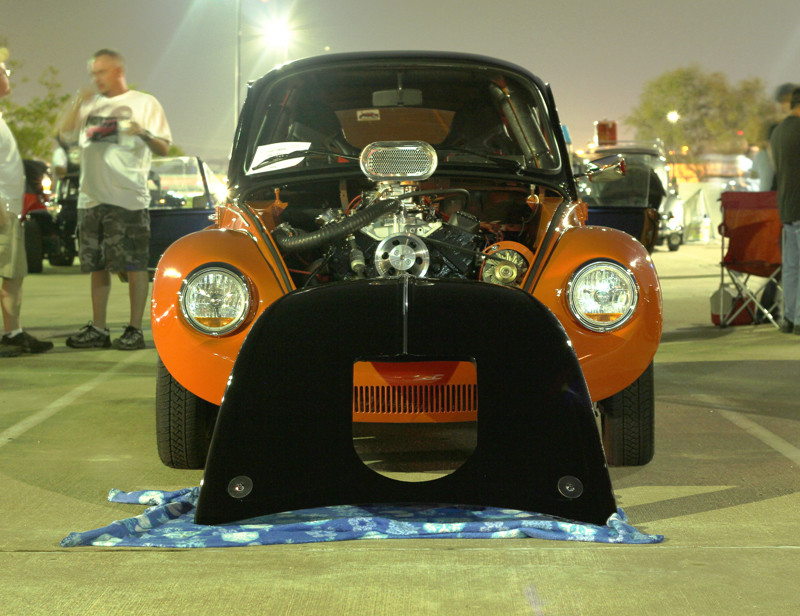 2-14-2014
Been a long while since I posted. Lot's of things have changed in my life. Still a hotrodder at heart, but the projects have taken a back seat to family, kids, starting a new screen printing business and playing music.

I'm getting an itch for a another V8 project. Something that has a V8 in it already. Possibly an 80's or early 90's camaro, el camino, or malibu. Whatever I can find a great deal on.

I unfortunately had to sell my bug. Had to get some bills paid and my garage is tied up with my screen printing equipment now. The goal is to get the business out of the garage, into a shop, and make it my full time income. Hopefully I'll be squeezing into a project sometime soon. Otherwise I'll just be hanging out and dreaming.