Consolidation of Information: Haldex into Corrado. (02m, Syncro) by JamesS
By diyauto
You must be logged in to rate content!
Consolidation of Information: Haldex into Corrado. (02m, Syncro)
Compliments of JamesS @ vwvortex.com
11-20-2010
I will add to this as I figure out more. This thread is here to consolidate the vast amount of (often conflicting) information about putting haldex awd into a Corrado. There are basically two major steps which can be completed separately. Do not pm me about things in this thread, I have written most of what I know and have not yet done the conversion. Also, sorry If I stole your pictures...
Fitting the 02m into a Corrado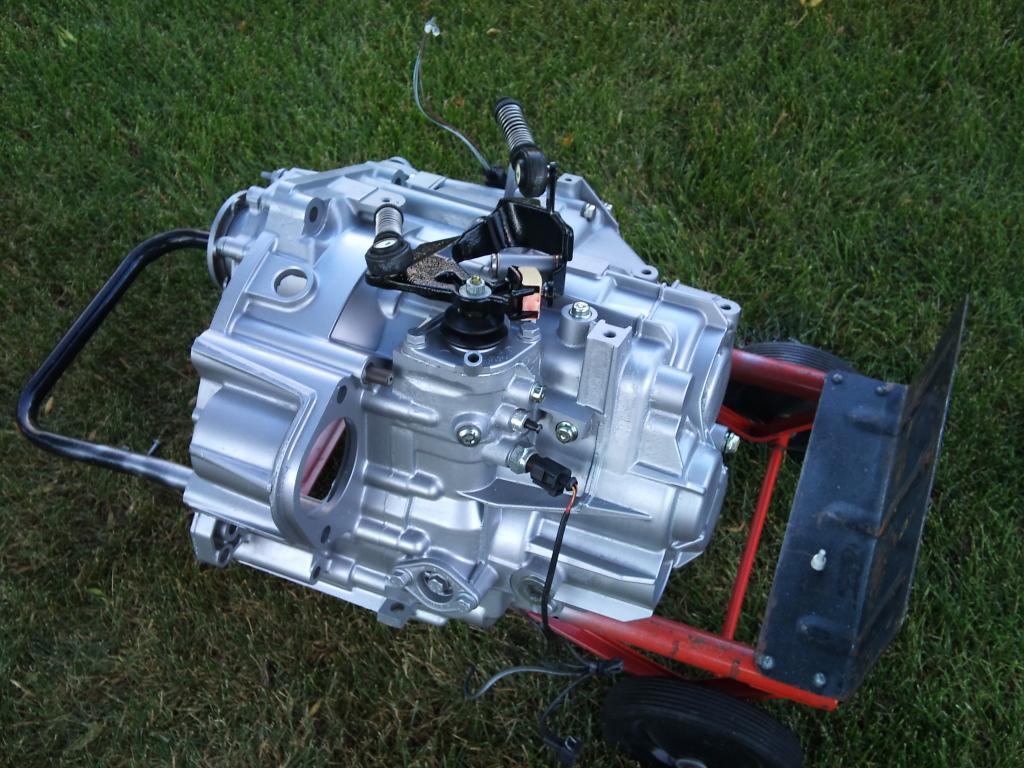 Parts Needed
1.Custom Driveshafts (either shorten stock or buy for ~700 usd from DSS)
-For wide front, subframe from VR6, Gti and Tdi from Golf mk3 the driveshaft length is 327 mm. and 423 mm.
- For stock Mk2 subframe the driveshafts are 7 mm shorter.
- Measurements are taken from flange to flange on the inner side of the CV-joints.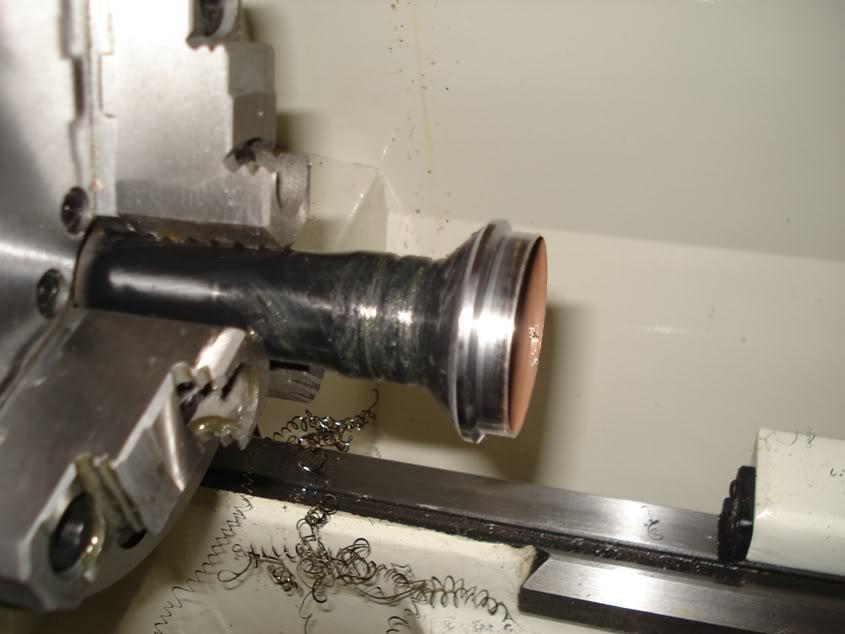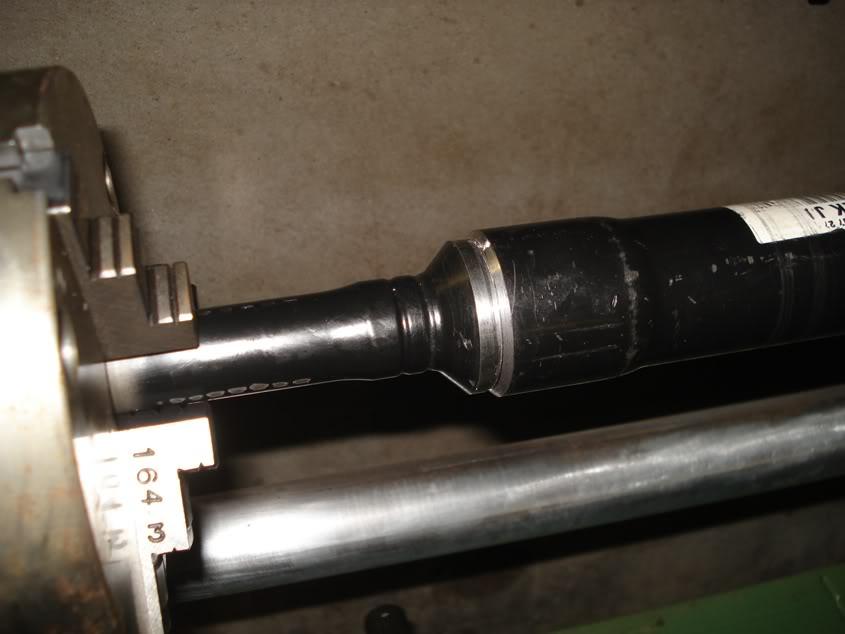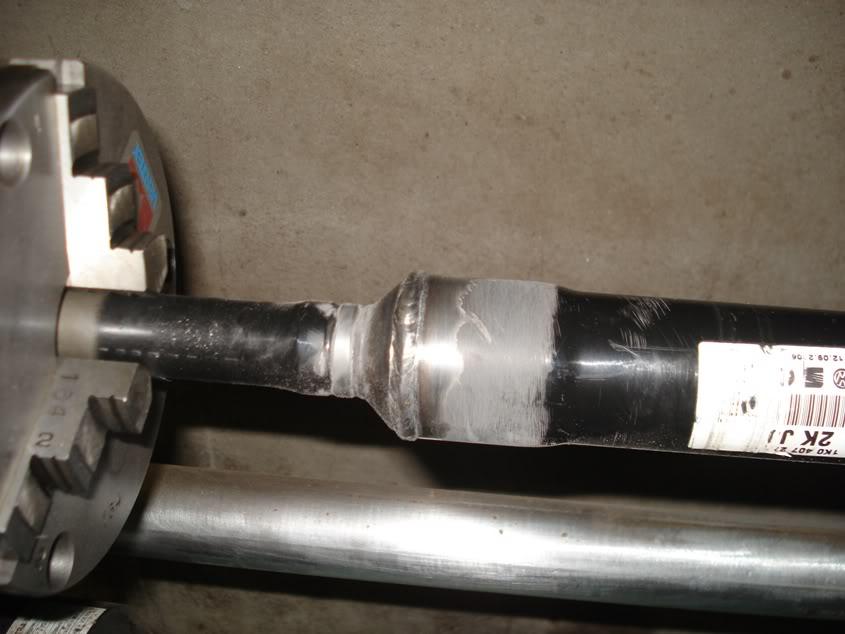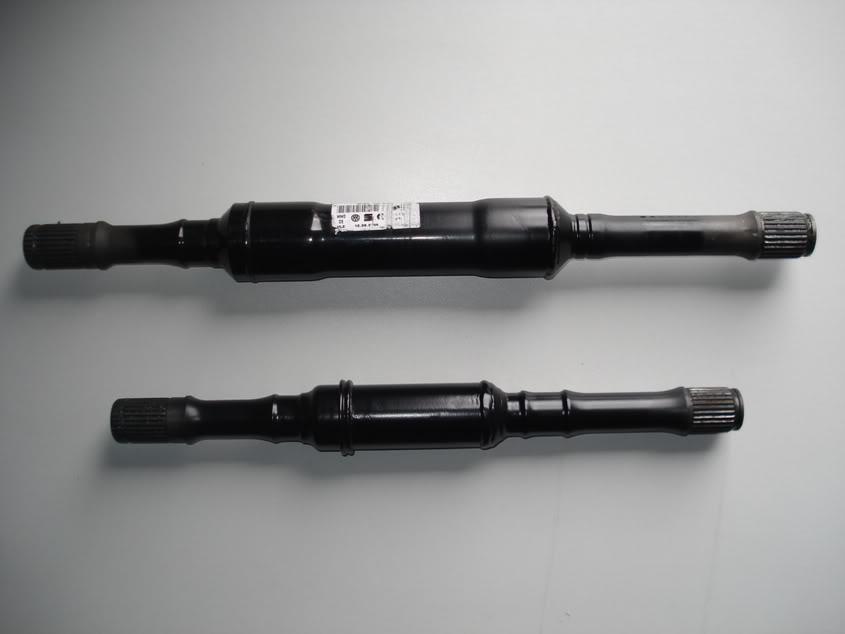 2. Custom Mounts front and rear (available from sdezego http://www.generalprinciple.com/sd/s...ounts?openpage ~300 usd)
3. Modify Tunnel and Shift box or aquire Euro Shift Box from
CA '96-'03 Caddy
LU '99-'03 Lupo / Lupo 3L TDi
LU '04-'06 Lupo / Lupo 3L TDi
PO '95-'00 Polo / Derby
PO '00-'02 Polo / Derby
POC '00-'02 Polo Classic / Variant
Part #:
6N0 711 061 A House
6N0 711 090 A Ground plate
6N0 711 611 C Choise arm
(~70 euros)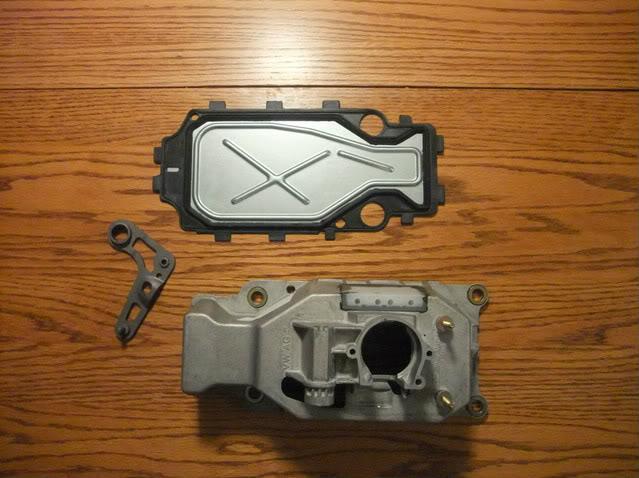 4. Clutch cable for an 02m and mk2/3 master, can be purchased from USP or it can be custom
http://uspmotorsports.com/product_in...roducts_id=574
5. Correct bolt/studs for the 02m Starter
6. Flywheel and Clutch matched to transmission
7. Must have VR6 splined hubs. For 4 bolt non plus suspension you have to fill and drill vr6 hubs or have the 4 bolt hubs resplined. Resplining can be done by RCV performance of Illinois.
- The splines are NOT the same for o2m and o2a axles but the outer CV has the same spline.
Modifications required to car
1.moving the transmission mount cup on the subframe approximately 1/2" to properly clear the larger 02m CV flange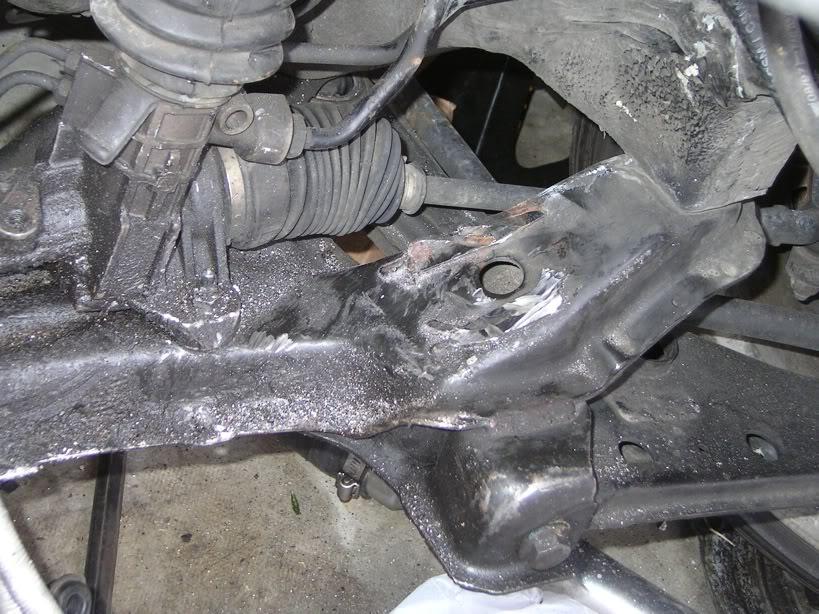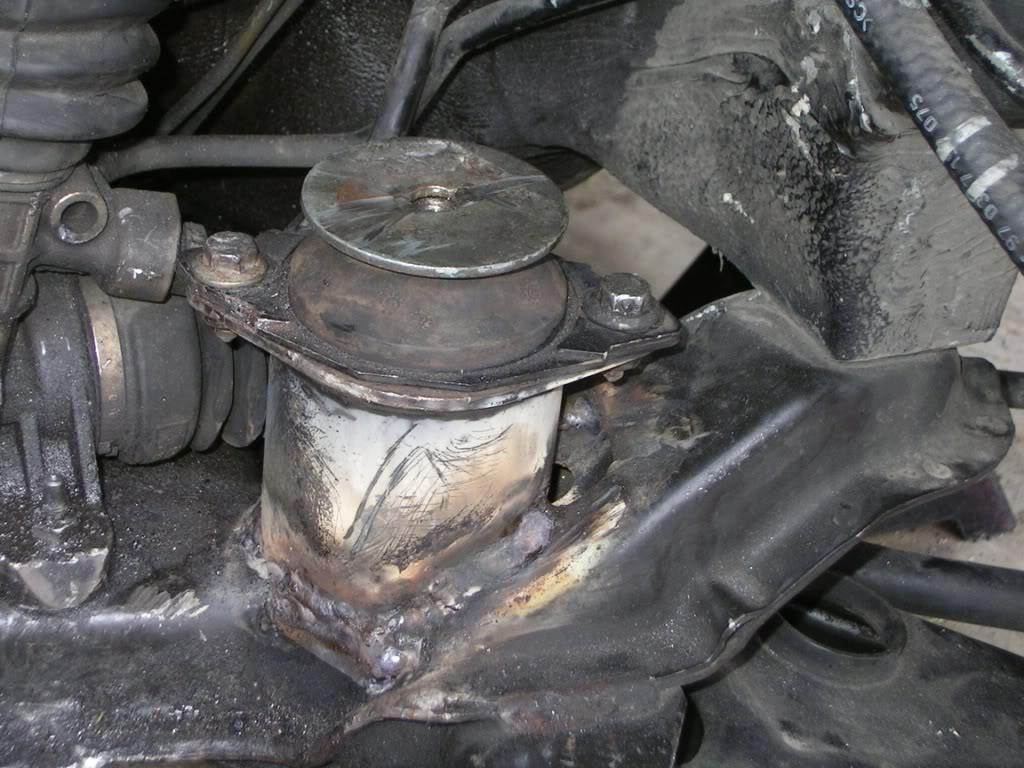 Miscellaneous
Speed Sensor:
02a MK3 VR6 Speed Sensor Harness ---------> 02M harness
Black ----------------------------------> Black/White
Blue/White ------------------------------------> Blue/White
Red/Green ------------------------------------> Brown
Nice part is you can fit the 02m and run fwd while you figure out the next major hurdle, the haldex swap.
Haldex Swap
Parts Needed
1. Syncro rear axle assembly converted to accept haldex dif with dutch build kit (around 400 usd)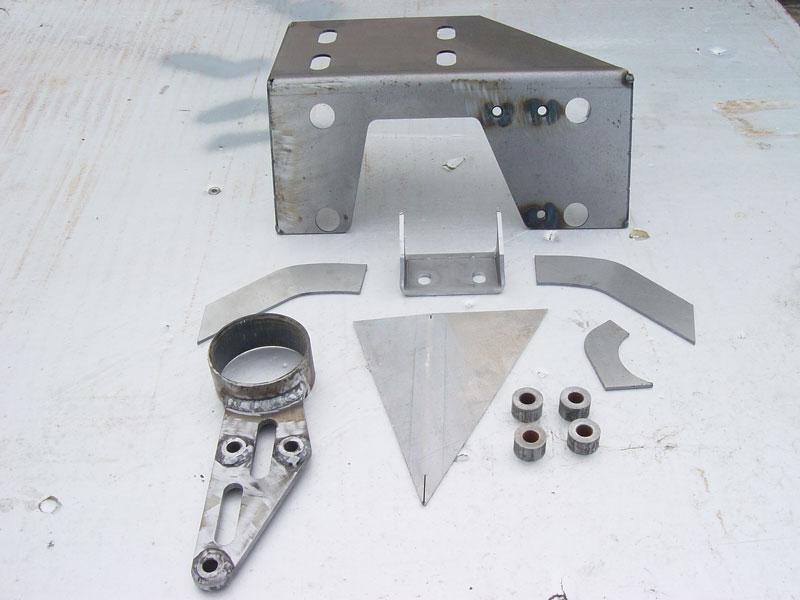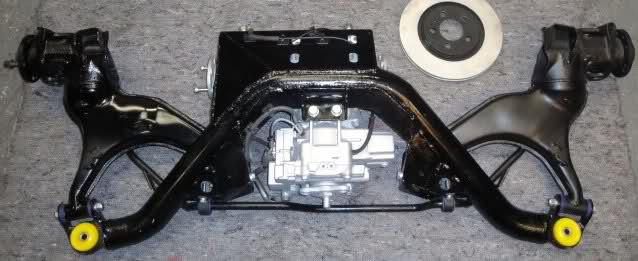 2. Rear end options:
Axle (circled are the 3 bolt axle mounts):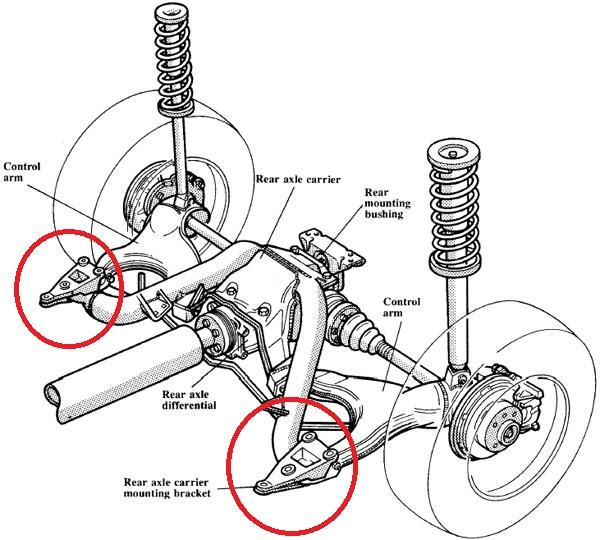 a) 1992 Passat G60 (available in European and Canadian markets)
-A popular option for those in North America due to the relative ease of acquiring parts.
-Requires either modifying the rear of the car to accept 4 bolt axle mounts such as "MrDave" did: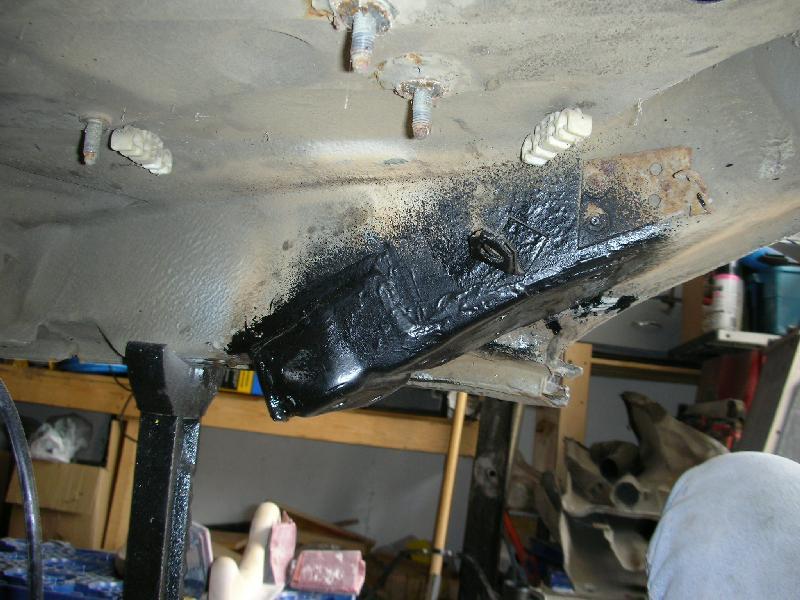 or the purchase of 3 bolt rear axle mounts from overseas which look like this: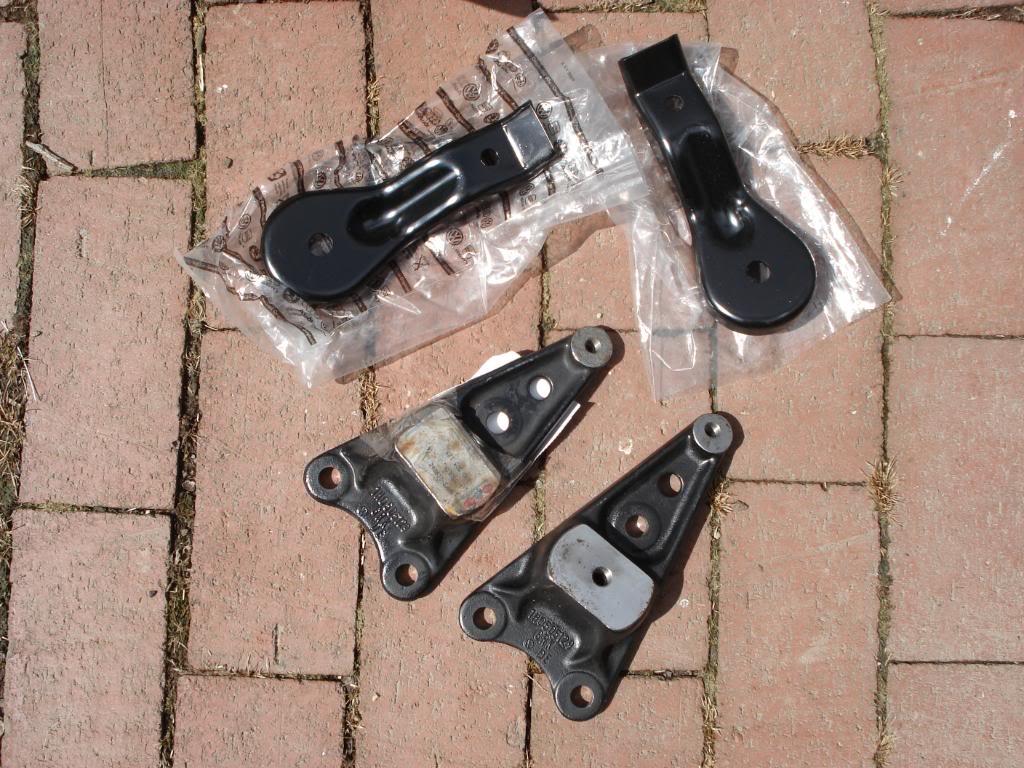 -The floor and rear end must then be grafted in.
-With this setup you can use the stock fuel filler location.
-The downside is that you have a 70l fuel tank which hangs below the rear bumper.
b) Rally/Mk2/Mk3 syncro rear end
-This setup is similar to the passat, but is tailored more to installation into the Corrado.
-Uses a smaller 50l gas tank which does not hang below the vehicle.
-Difficult to source because was never available in North America.
Rallye pan: 191813116 $244
c) The third method is to use a fuel cell.
-To do this you need the mk2 axle mounting brackets, as well as the differential support crossmember.
-Requires removing the spare tire well.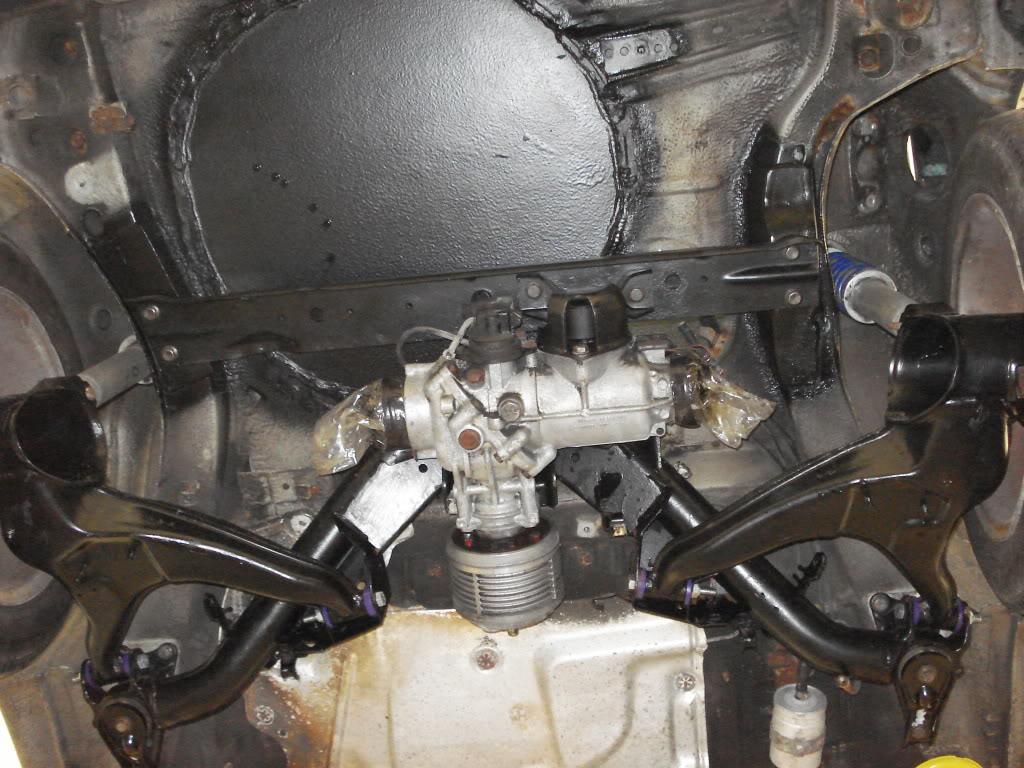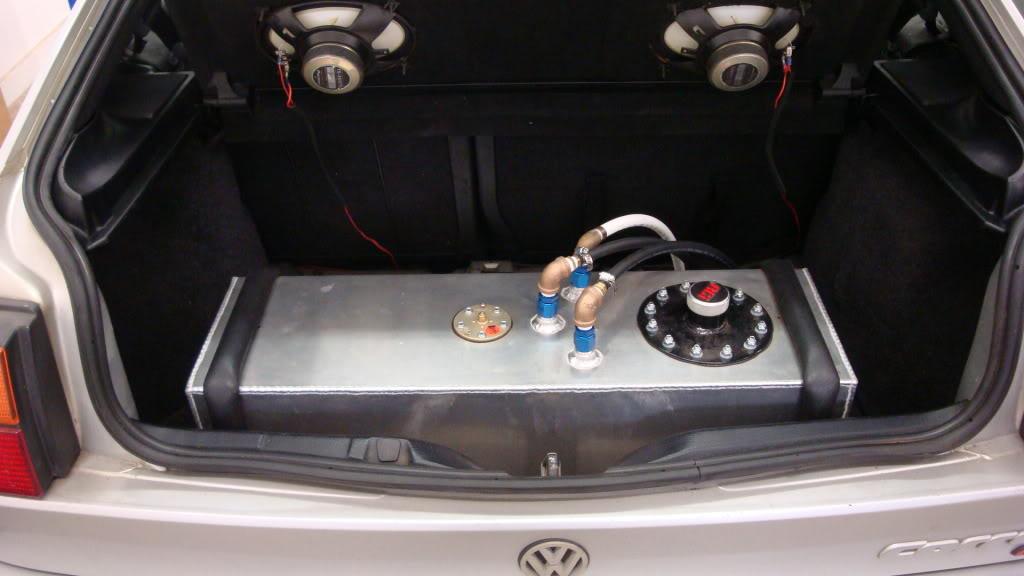 3. Haldex Rear differential. Must be from a generation one haldex car. In North America this is easiest to source from an Audi TT.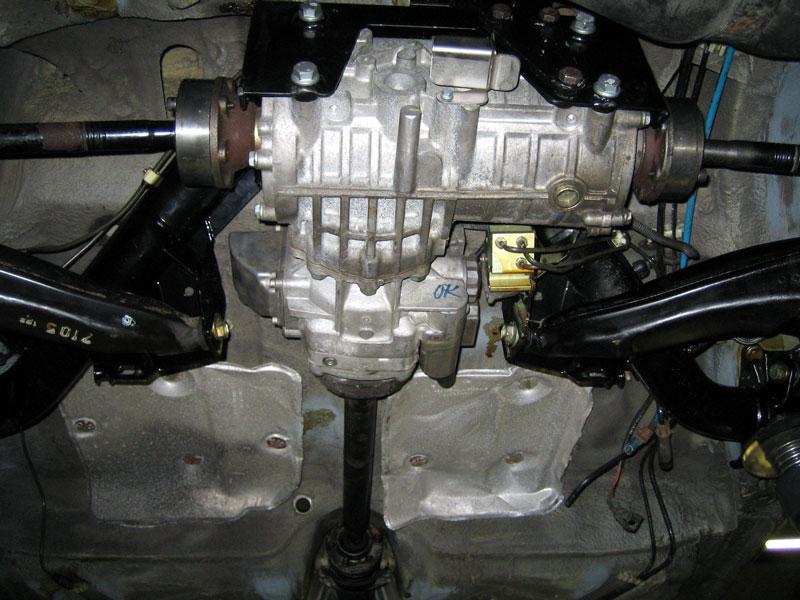 4. Centre propshaft must be shortened, but bolts up without modification. Requires hangers to be welded into the tunnel.
5. Custom haldex to wheel driveshafts. Syncro ones work with some motivation, but shortened ones original to haldex would also work.
6. Standalone Haldex controller, or mechanical screw in controller. Check ebay.de
That is all I have for now. If everyone contributes a little bit of information we should be able to make a definitive parts and information list for those looking to swap. I will update the original post as I get information for ease of access.

11-21-2010
Several hard to decipher setups:
Front 5x100, stock width, 02M gearbox
Front suspension: Golf Mk2, VR6 hubs in G60 spindles
Driveshafts: Left Seat Ibiza TDI, part# 6Q0 407 271 J. Right shortened 4Motion, hollow type.
Front brakes: VR6 288, Audi TT or bigger bolt-on kits, adapter needed. (ESC Tuning.)
Prop shaft: Passat G60 middle section with 100mm CV, shorted TT item front and shorted G60 item rear.
Rear 5x100, stock width
Rear left driveshaft: G60 Syncro shaft, shortened, inner CV joints 4Motion, outer VR6
Rear right driveshaft: G60 Syncro shaft, shortened, inner CV joints 4Motion, outer VR6
Rear trailing arms: G60 Syncro
Rear hubs: VR6 Syncro, optional VR6 front hubs and 4Motion outer CV-joints
Rear brakes: VR6 Syncro
Front 5x100, wide track, 02M gearbox
Front suspension: Golf Mk3 Gti 8v 16v VR6 / Corrado VR6, 5x100
Driveshafts: Custom driveshafts with 4Motion inner CV and Sharan outer CV. http://www.driveshaft.co.uk/index_content.cfm
Front brakes: Audi TT or bigger bolt-on kits
Prop shaft: Passat G60 middle section with 100mm CV and, shorted TT item front and shorted G60 item rear.
Rear 5x100, wide track, 4Motion outer CV joints
Rear left driveshaft: G60 Syncro shaft with CV joints from 4Motion
Rear right driveshaft: G60 Syncro shaft with CV joints from 4Motion
Rear hubs: 5x100 VR6 front hubs
Rear brakes: stock VR6 Syncro
Rear trailing arms: VR6 Syncro
Front 5x100, wide track, 02C / 02J gearbox
Front suspension: Golf Mk3 Gti 8v 16v VR6 / Corrado VR6, 5x100
02J 4Motion (from 2000) or 02C gearbox, optional upgraded internals.
Skoda Angle Drive, part# 02C 409 053M.
Driveshafts: Stock VR6 Syncro with Sharan outer CV
Front brakes: Audi TT or bigger bolt-on kits
Prop shaft: Stock G60 Syncro with optional 100mm CV's from Audi TT
Rear 5x100, wide track
Rear left driveshaft: G60 Syncro shaft with CV joints from 4Motion
Rear right driveshaft: G60 Syncro shaft with CV joints from 4Motion
Rear hubs: 5x100 VR6
Rear brakes: stock VR6 Syncro
Rear trailing arms: VR6 Syncro
Front 4x100, stock width, 02C / 02J gearbox
Front suspension: Golf Mk3, 4x100
02J 4Motion (from 2000) or 02C gearbox, optional upgraded internals.
Skoda Angle Drive, part# 02C 409 053M.
Driveshafts: Stock G60 Syncro
Front brakes: G60 280 mm, optional S2 callipers. 305 mm. Brembo from Seat Ibiza Cupra R
Prop shaft: Stock G60 Syncro, optional 100 mm CV's from Audi TT
Rear 4x100, stock width
Rear left driveshaft: G60 Syncro shaft, shortened, with inner CV joints from 4Motion
Rear right driveshaft: G60 Syncro shaft, shortened, with inner CV joints from 4Motion
Rear trailing arms: G60 Syncro
Rear hubs: G60 Syncro
Rear brakes: G60 Syncro
Front 4x100, wide track, 02C / 02J gearbox
Front suspension: Golf Mk3, 4x100
02J 4Motion (from 2000) or 02C gearbox, optional upgraded internals.
Skoda Angle Drive, part# 02C 409 053M.
Driveshafts: Stock Mk3 Syncro
Front brakes: G60 280 mm. Optional S2 callipers, 305 mm. Brembo from Seat Ibiza Cupra R
Prop shaft: Stock G60 Syncro with optional 100mm CV's from Audi TT
Rear 4x100, wide track
Rear left driveshaft: G60 Syncro shaft, with inner CV joints from 4Motion
Rear right driveshaft: G60 Syncro shaft, with inner CV joints from 4Motion
Rear trailing arms: Golf 3 Syncro
Rear hubs: G60 Syncro
Rear brakes: G60 Syncro
11-22-2010
input needed

. I should have some of these answered soon from searching.
12-6-2010
Updated, I am now hoping to find some information regarding using haldex IV instead of Haldex I. Will update again soon...
2-2-2011
As far as centre driveshaft for haldex would one use the passat syncro one or one from an audi TT? I know the TT one would work, but would the syncro one?
With an o2m and haldex I am guessing the 02m drivshaft would work and the syncro one would not? I think that is what you are getting at.
2-4-2011
I am still wondering about the hubs that I can use. I know g60 ones don't work, but I have heard ecs tuning 5 bolt conversion hubs do work. The adaptec 4x100/5x100 hybrids I am also unsure of. I would like to keep the standard front track and not go to plus suspension.
I thought that the o2m driveshafts would not work on g60 hubs.
2-5-2011
I'm not 100% sure what you are getting at. From everything I have read I think I will need to put vr hubs on my car and drill them to 4x100. I'm not really sure though.
3-4-2011
Vanagon is wrong syncro...
10-4-2011
Bump. Quick question for the pros: If I go the passat syncro rear for haldex and am going to run the big gas tank what other parts do I need to source from Europe? I know there are two brackets, but other then that I think I would be good.
My plan so far is: Passat syncro rear setup with notched spare tire well and hemmeroid gas tank. Although I have a couple ideas for solving the gas tank issue. If it is possible I would section it and plastic weld it so it didn't hang so low, or if that doesn't work I will do a custom aluminum fuel cell that will still go to the factory gas door.
Only parts I have so far are the ones for the o2m box to bolt up like factory

But I have a passat syncro locally that I should be picking up if I can get if for the right price... and more importantly somewhere to store it considering I already have a wrecker Corrado.
2-13-2012
Anyone have any insight into the subframe? I have a stock g60 subframe, but want to convert to the later vr6 style for strength while keeping the non plus suspension. From what I know so far I will need a Vr front crossmember from a Corrado or Passat and a mk3 k frame... I really don't have a great understanding of the differences between suspension. Would appreciate some insight so I can start gathering those parts.
I also added a couple pictures, and should have more to add once I get my syncro axle later in the month.
Finally, I know a couple other guys here are doing this swap as well- anyone want me to try and see if there is any sort of group price for dutchbuild haldex beam conversions, or if packaging them together can save on shipping? There might be jig floating around too, Ive yet to find out. Would be nice to also make a fb group or something to troubleshoot/ trade parts during the process.
3-23-2012
Thanks for the info on the sub frames. On my personal front I just bought an o2m, haldex rear differential, shiftbox, and all driveshafts. They are still in transit, but this arrived today: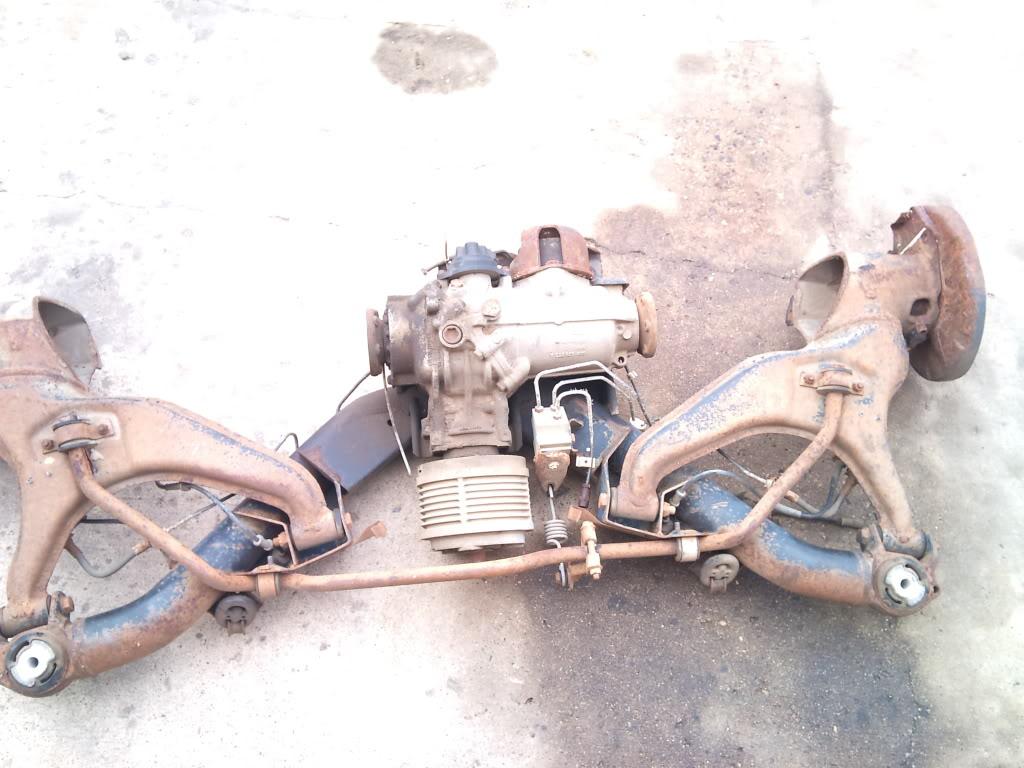 I am pretty pumped! Hopefully I can have the o2m in this fall.
If/ when I notch the tire well I will just use the extra space for a sub enclosure.
Why would I remove the whole tub when I get some usable space even just for tools out of the remainder? You can't even see it as it is covered up by the false floor.
And the rest of my haul: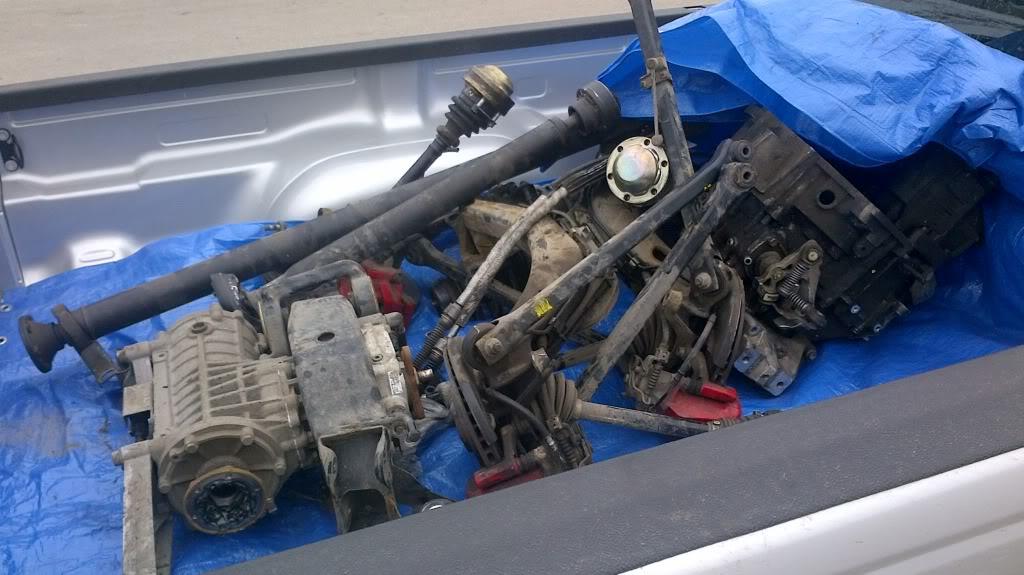 3-27-2012
Just throwing this out there: I know that a bunch of people are considering, in the process of, or done haldex/syncro conversions. Is there any interest in a facebook group so we can do some parts sharing/ general brainstorming? This swap is definitely one where it helps to have some guidance and it seems like each person has something to bring to the table. Might be something to consider if there is enough interest.
3-29-2012
Updated the initial post, if anyone has any other info to add it would be nice.
6-4-2012
Some crunching of numbers for my personal costs just to give an idea to those considering.
So far mine is like this:
O2m, haldex dif, driveshafts, shiftbox, brakes : $1400
Euro retrofit shiftbox parts $90
Syncro rear axle $200
Clutchline $80
-$300 (for TT brakes when I sell them)
-$100 (selling syncro dif)
_________________________
$1370
So, a rough estimate of other parts
Standalone $1100 or $300 if I go cheap
Gas tank, syncro floorpan and support (passat) $400 or approx $1500 for Rallye?
O2m mounts $350
Haldex mount $400
______________________
low: $1450 mid: $2250 high $3350
Plus around $1500 for various things I may encounter/ paint/ sandblasting/ powdercoat/ hardware/ driveshaft shortening.
Based upon my own costs I think I could do rallye for around $6300, and passat for right around $5000. If I skimped on management I could get down to around $4200. Keep in mind this is all not including the countless hours of prep and install but 90% of that can be done by me with help from family/ friends.
7-5-2012
Although this isn't really a build thread I have some updates on my own awd conversion
Have haldex mount and rear o2m mount coming from Europe (couldn't pass up a deal for things I would need eventually).
Also, bought an eastwood powder coater and a ****ton of powdercoat for little brackets (toaster oven or less in size).
Finally, I am still having trouble sourcing a reasonably priced rear pinion carrier casing that is damaged on my o2m. Might go ghetto on it and use JB weld just to stay on budget.
I have three key things left:
1. Front o2m mount ( hoping to order this from sdezego in the next couple weeks)
2. Clutch, flywheel etc
3. Shortening o2m axles (this is going to be impossible to get done reasonably locally, does anyone have any suggestions of where to send them out? I could get tig welding done for me, but I'm clueless on the process of shortening the axles properly.
7-10-2012
Updated the front page with some more up to date info.
In other news- managed to source a rear pinion carrier.
9-16-2012
If I have been reading correctly can't you just use the 4x100 outer cv and not have to change the hub at all? I haven't looked into it too much but it is crunch time for me to figure my **** out.
9-17-2012
I'm not talking about shortening of the driveshafts, Im curious about the hub combinations and interchangeability using the o2m driveshaft. From what I have read so far I am using:
Shortened O2M driveshafts, o2m innter CV, 4x100 spindles/hub, G60 outer CV.
But I haven't looked at the physical pieces to know if it works. All I know is I need narrow track and 4x100 to keep my borbets.
So the easiest thing to do then would be to have my g60 30 tooth splines machined to the o2m 32?
9-19-2012
Damn, never even really thought of that. Sucks that all the machine shops in my area are either incompetent or expensive as ****. I think that welding and redrilling hubs would be a lot easier to get done then resplining. Too bad no one sells blank vr hubs... or that adaptec doesn't make dual pattern big spline hubs.
9-28-2012
Props to shawn and his mounts! They fit perfectly and are well made.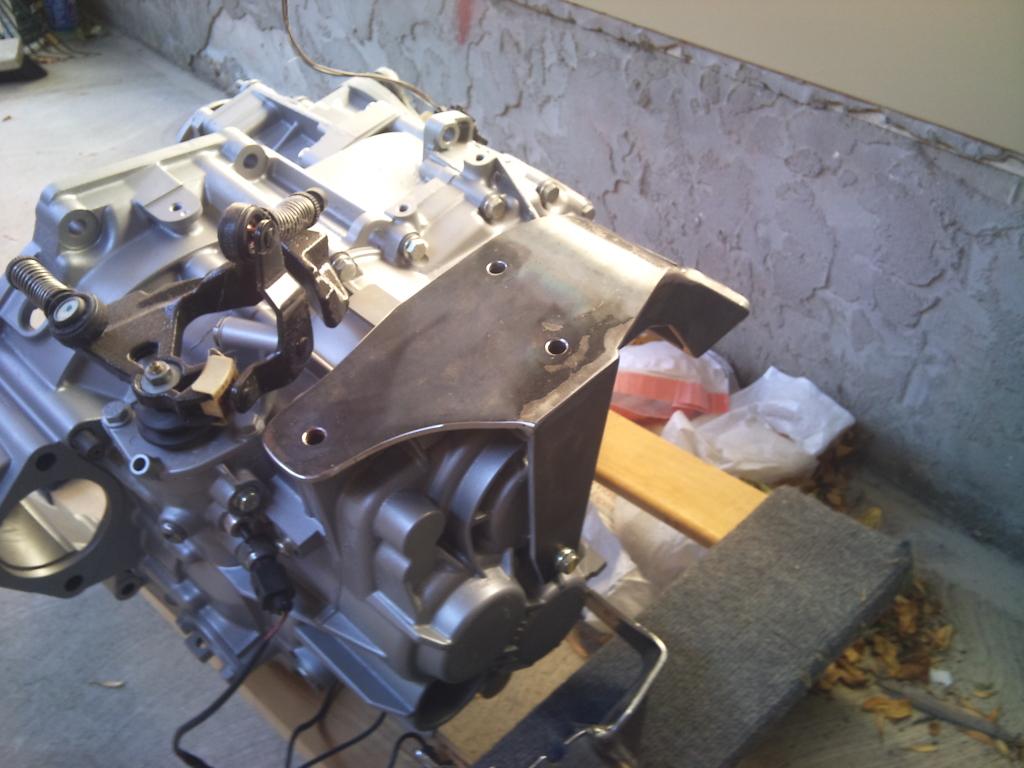 I prefer his style to the dutch dub mount because it also mounts to the side of the transmission casing.
This is why more Corrado owners should consider AWD:
10-3-2012
I really need to do some physical mock ups of the cs/hub/ axle situation.
Some sources say I can use the stock g60 hub and g60 outer cv with the 02m axle, whereas other sources say I need to use the vr6 outer cv and resplined hub.
I haven't personally looked at it yet but it is on my to do list. Seems like the more I read the less I know.
10-4-2012
My main concern is the fuel tank, I want to plan for a low key oem install, so I'd like to source a 45L euro tank for it. But I don't know if it'll for sure bolt up to the Passat floor pan.
Its not the floorpan you have to worry about its the crossmember. The 45l tank will not work with the passat crossmember so its 75l or bust

.
Since you have a vr6 my advice to you would go the route DUBZAK wants to take. Cut out the rear spare tire well, weld in the syncro passat beam and use the larger tank. Sure you will have to deal with the tumor out the back but I am sure it will be worth it.
I was also considering myself doing a passat syncro install and trying to section the tank and plastic weld it back together. I think this would be possible with some creativity.
Finally, on the syncro vs haldex route if I were you I would go haldex. 1st of all the syncro transmission has a 4 cylinder housing to begin with so you cannot use it without sourcing parts. Do what I am doing- an 02m swap first and let the rear shaft spin free til you figure out the rear end. This is the easiest and will allow you to limit down time. As far as haldex management you can cheap out and get a knob that controls power to the rear or go all out and have some cool electronic standalone to manage launches etc.
If you do it in stages you can limit the upfront hit of the conversion and also not get discouraged by parking your car for a couple years.
Im not afraid of a little gas

But in all seriousness I have access to a professional plastic welder and amazing things can be done.
Well eventually I would like to have a mk2 rear crossmember and gas tank... wouldn't we all.
But first I have to finish up this 02m
10-5-2012
If I run vr6 hubs redrilled to 4x100 in g60 spindles I am assuming I would use g60 wheel bearings? From what I can see the wheel bearings themselves are the same but they mount differently- although this would probably be the difference between + suspension and normal suspension.
Just trying to make sure I order the right parts.
Located up in Edmonton, if somebody wants to take a closer look at how the parts don't fit togeather.

-Dave
And if you used the mk2 mounts you wouldnt have to do those modifications to the body... although Im sure you know this. For someone with your fabbing skills it doesnt seem like much to use the 4 bolt axle mounts compared the just bolting in the 3 bolt ones.
Fuel cells are lame and put the weight too high IMO unless they are custom made.
10-14-2012
I have finally finalized in my mind the plan for the rear end. Looking at PSUCorrado's syncro swap again I realized that grafting floor pans and trying to source european parts just isn't worth it when it is so straightforward to just do a custom setup. The passat setup is a compromise and offers no benefit compared to a fuel cell setup. I have decided that I would much rather have a fuel cell to fill up in my trunk then a tumour on the back of my car.
All I am going to do is remove my spare tire well, mount up the axle using the mk2 3 bolt mounts and then weld in the differential support. Then I will put in a 12 gallon or 15 gallon fuel cell but mount it behind the diff and as low as possible. Doing it like this will make it MUCH easier and straightforward. All I need now is a fuel cell, mk2 axle mounts, haldex axle conversion and differential support.
Doesn't mean much to other people, but I am pretty happy I finally have a definitive plan to work towards.

11-2-2012
Quick update of the original post, added some pics and info.
12-23-2012
Quick update with the difference between a 4 cylinder 02a axle and an 02m axle: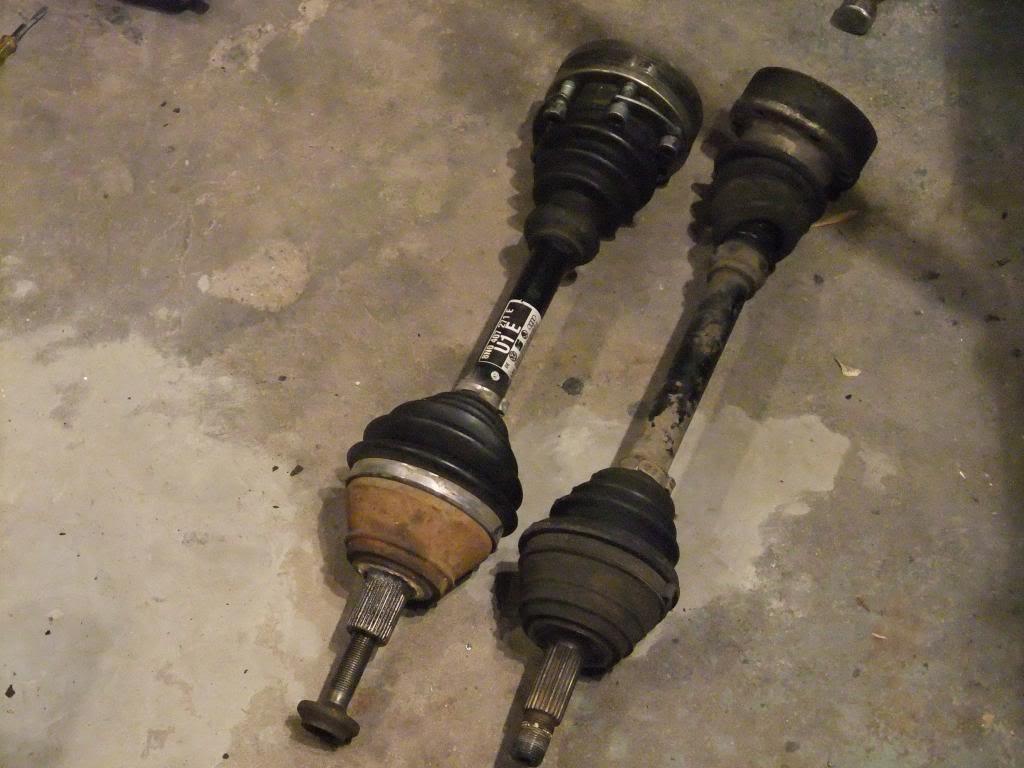 This is why if you are staying with 4 bolt hubs you need to have them machined: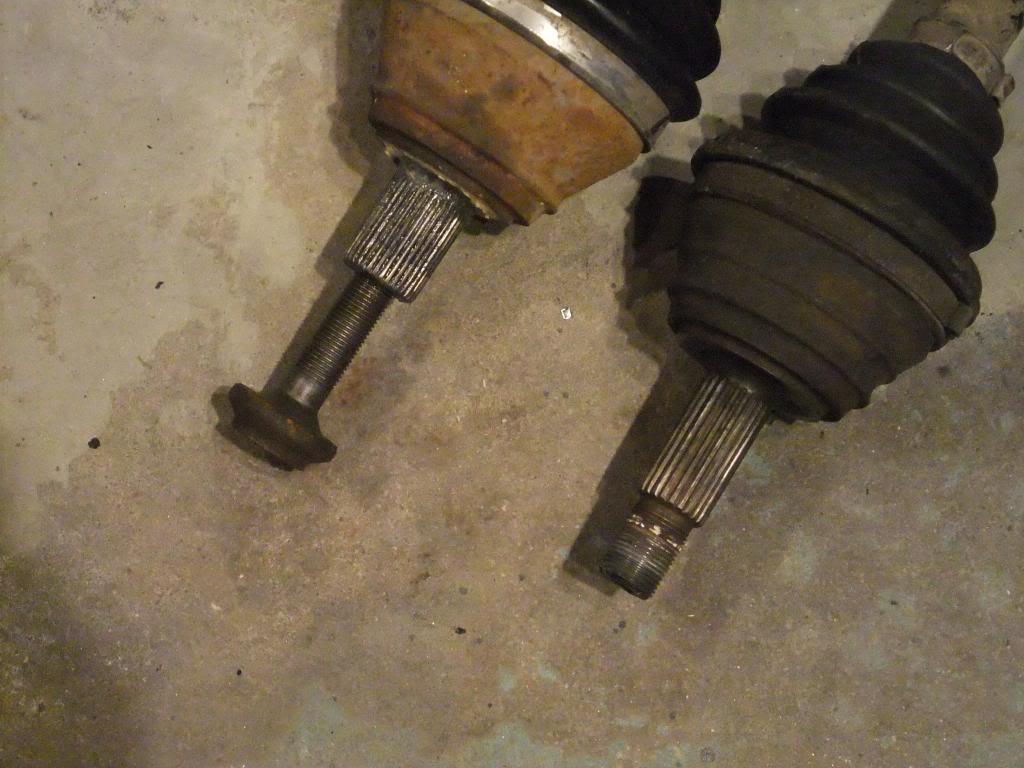 And... should have some more progress in a couple weeks.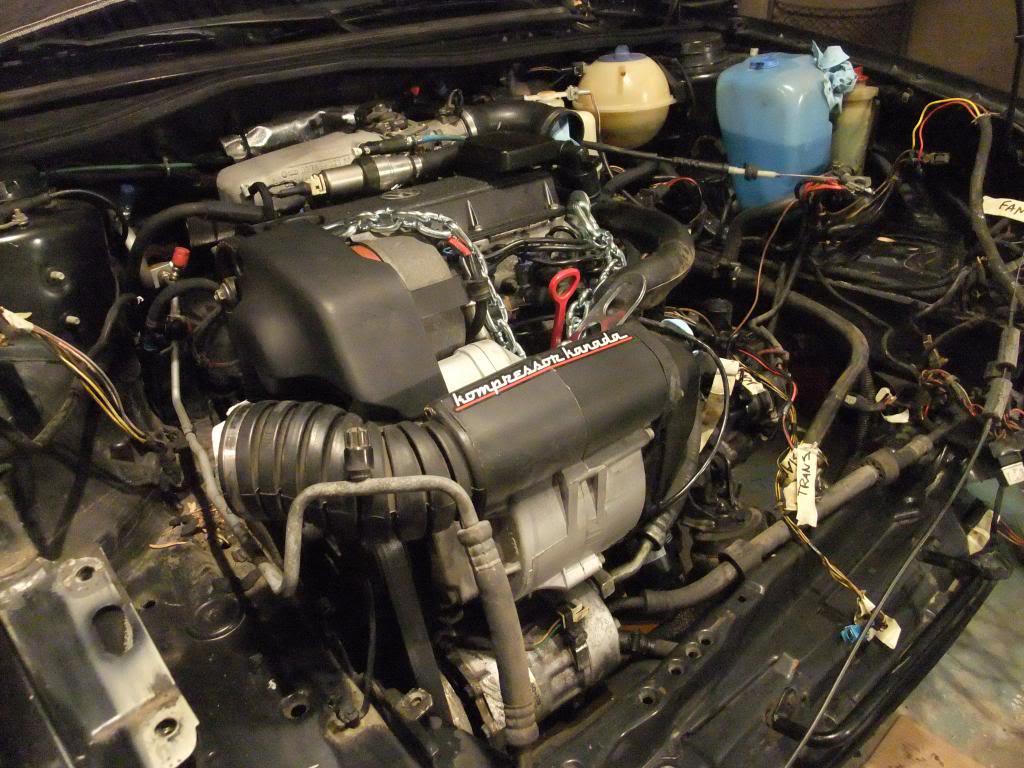 12-27-2012
Looks like the transfer case is going to have clearance issues.
Likely need to source a syncro downpipe... anyone have any insight?
1-10-2013
Have a question if anyone has insight...
First, I am looking at the internal slave cylinder of the 02m and my clutch line from USP. It has one female fitting and one banjo fitting... Im not sure how this is compatible even though it was specified for Corrado to 02m slave. It looks like I need a piece which fits between the 02m male slave and the male line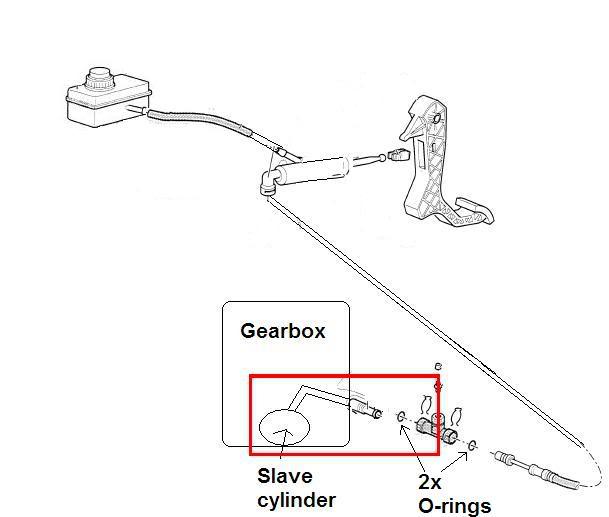 But, as far as I can see the Corrado master does not use a banjo fitting.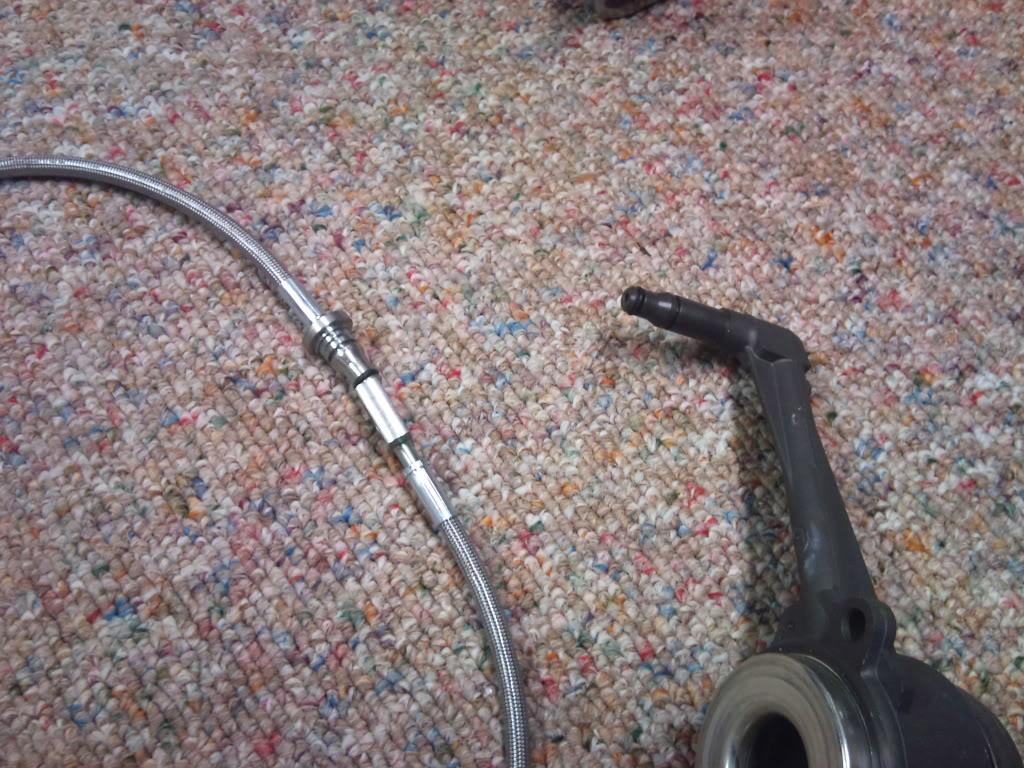 I would look up the part # but my pirated etka has been giving me troubles.
As far as an update I am very happy to get a syncro downpipe! Thanks to Dave for shipping it out to me quickly, really appreciate it.
Blurry pic but shows how it goes around the transfer case.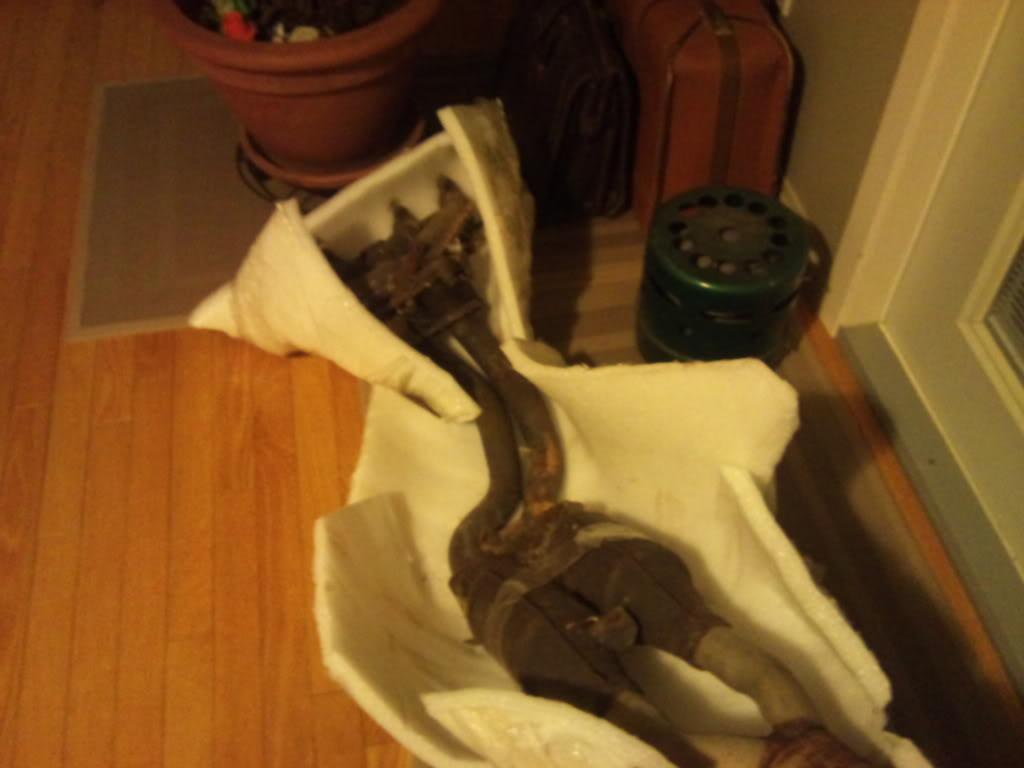 Thanks for the info. I do have the bango bolt, I wonder whether I can thread that into my master....
The bleeder block is PN 1J0 721 468 C if anyone comes across this in the future.

1-13-2013
Did some more work this weekend. Mk3 subframe is in for test fitting.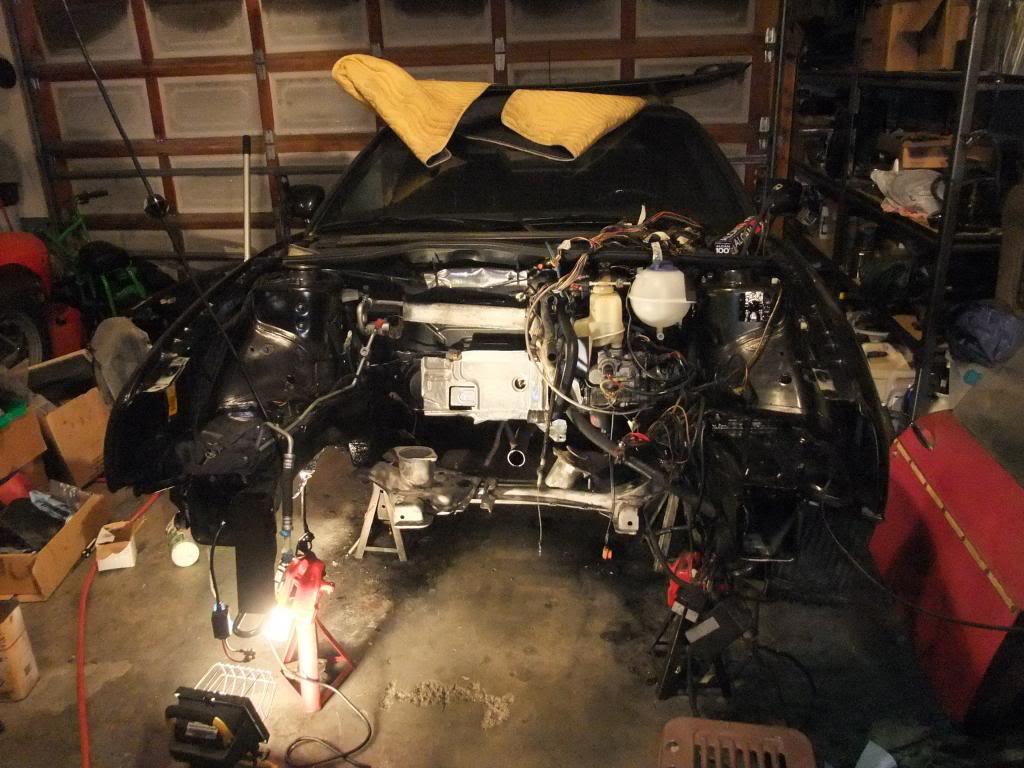 This is where the mk3 subframe has to be modified to match up to the Corrado: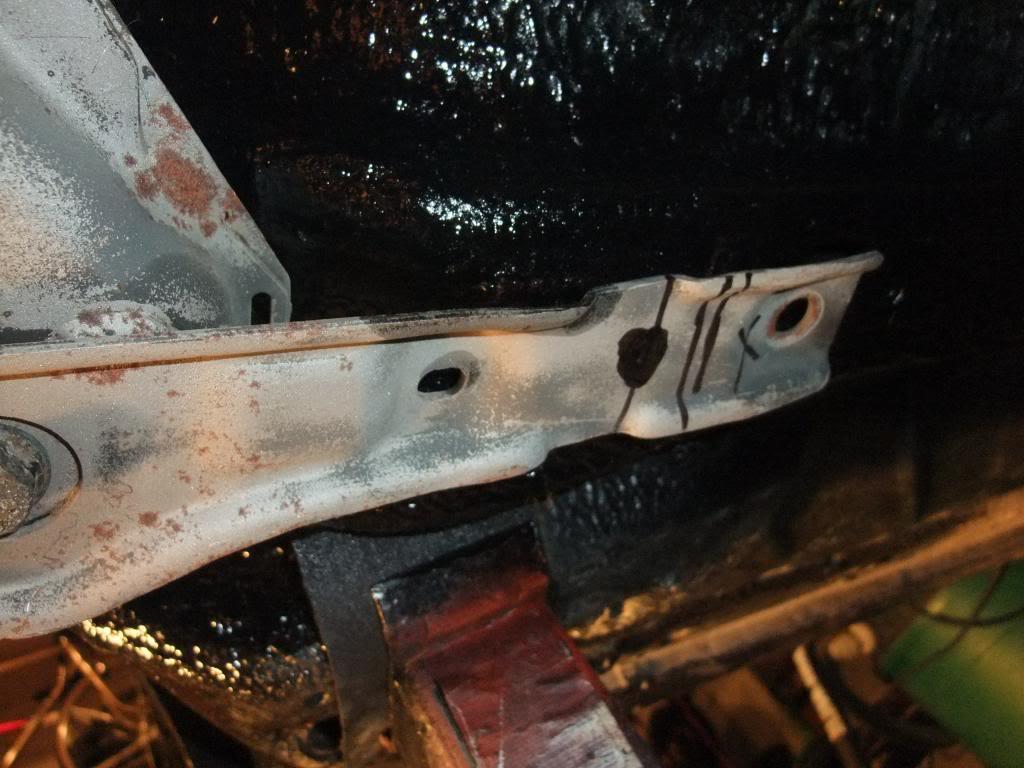 USP conversion line did work... just worried me initially since it uses a banjo bolt compared to the factory threaded hard line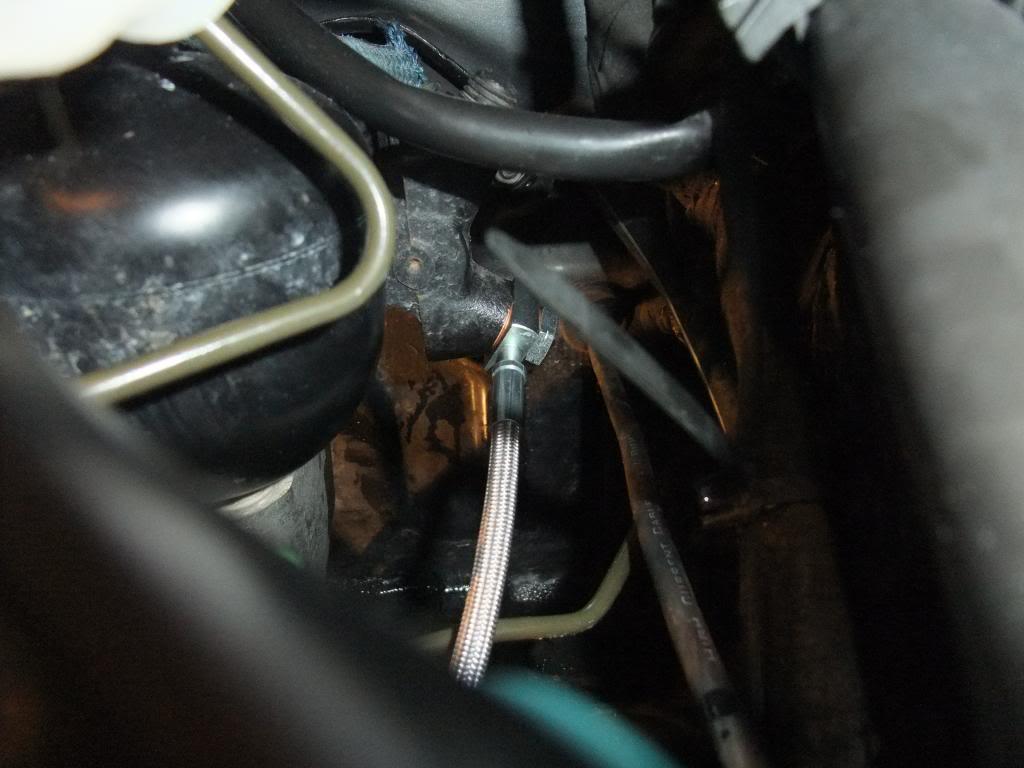 Lottsa room for the driveshaft....eventually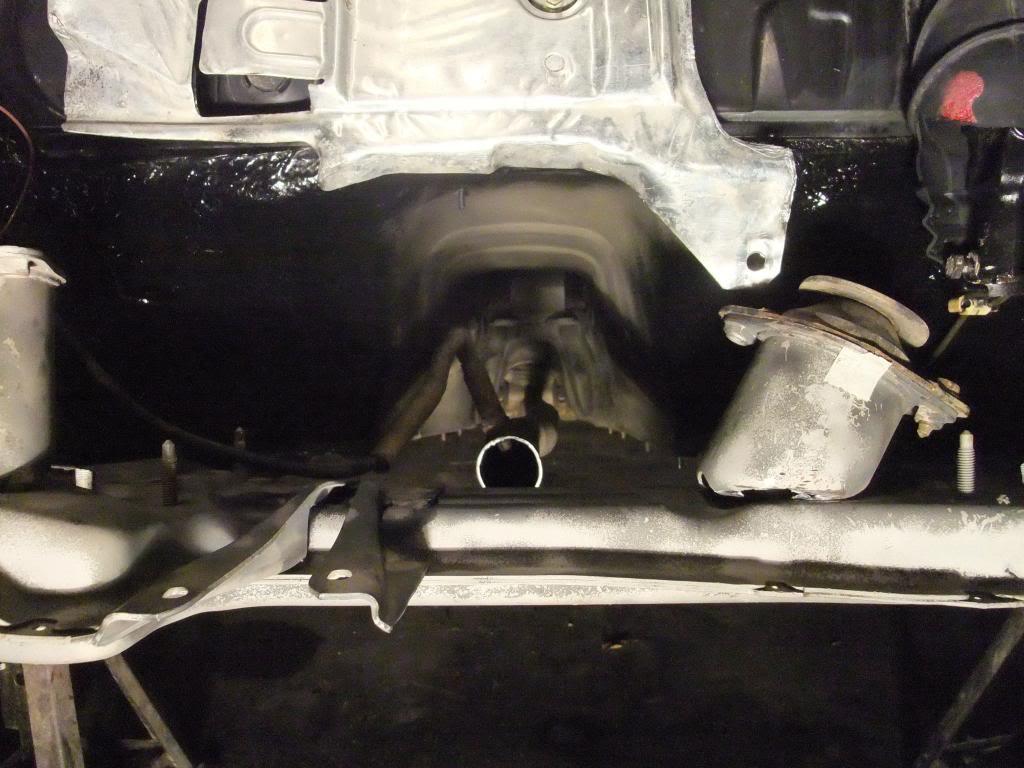 Also began working on the rear output shaft which was damaged when the transmission was removed. I think whoever took it out took an air hammer to it or something

Certainly has caused me some grief.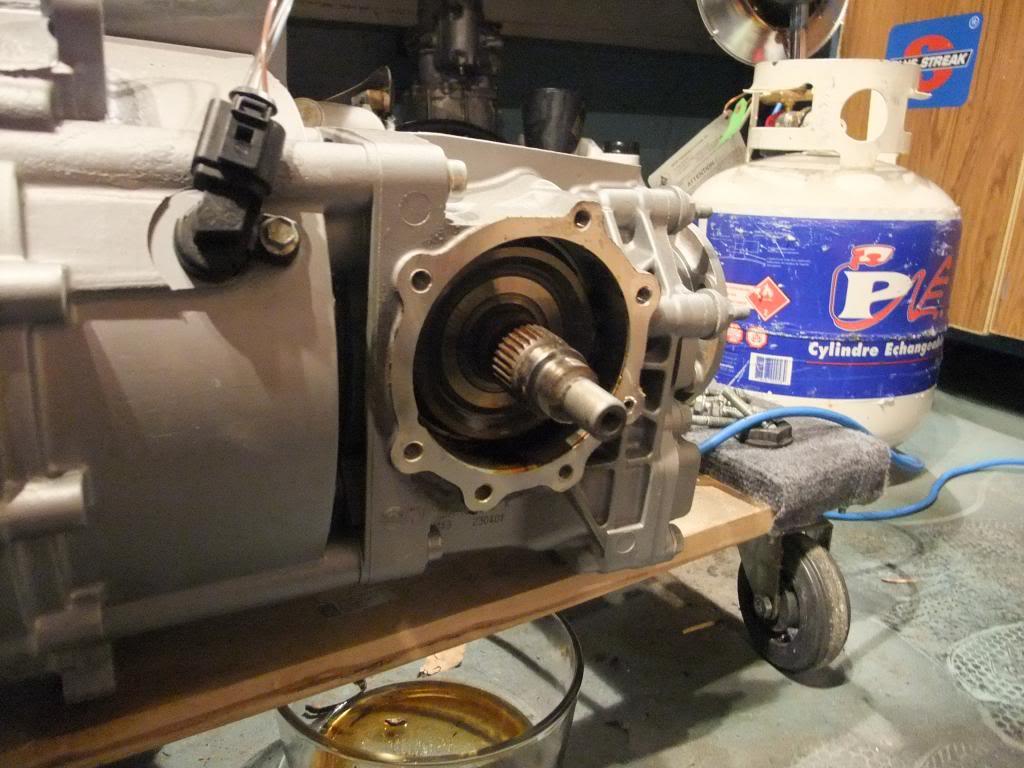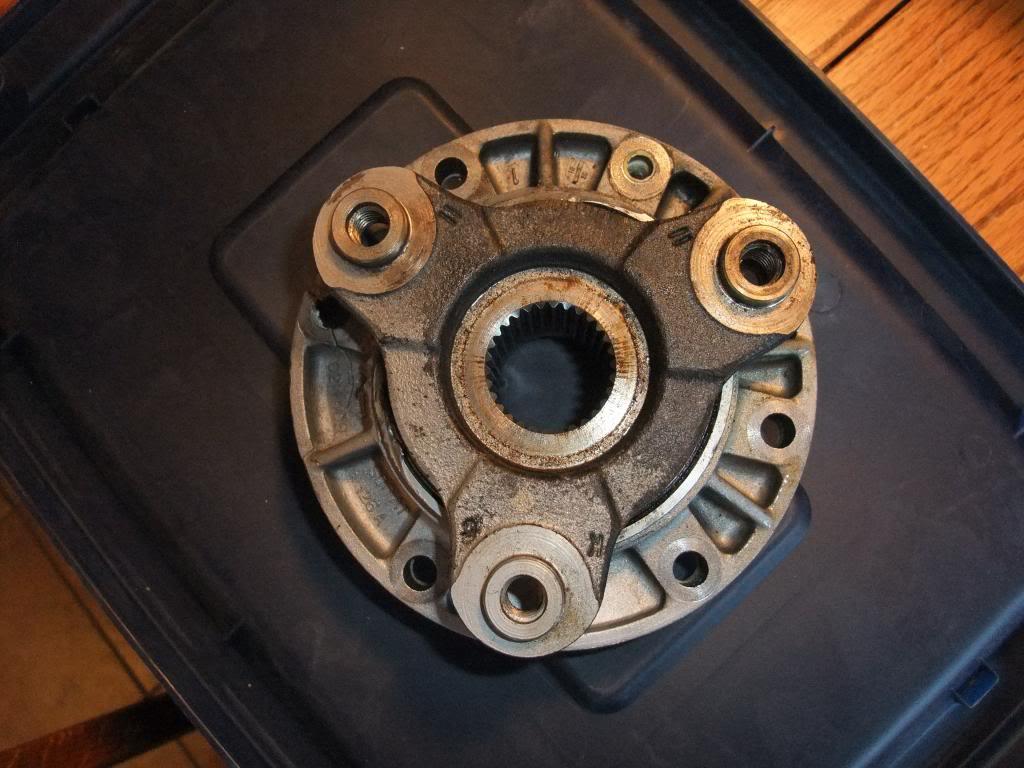 Luckily I was able to source a new cast piece for 70 bucks as opposed to the $500 my local VW dealer wanted for it

But the radial seal is still stupid expensive at $80 for a piece of rubber

Finally, some people might be interested in my powder coating setup. Pretty ghetto but it gets the job done.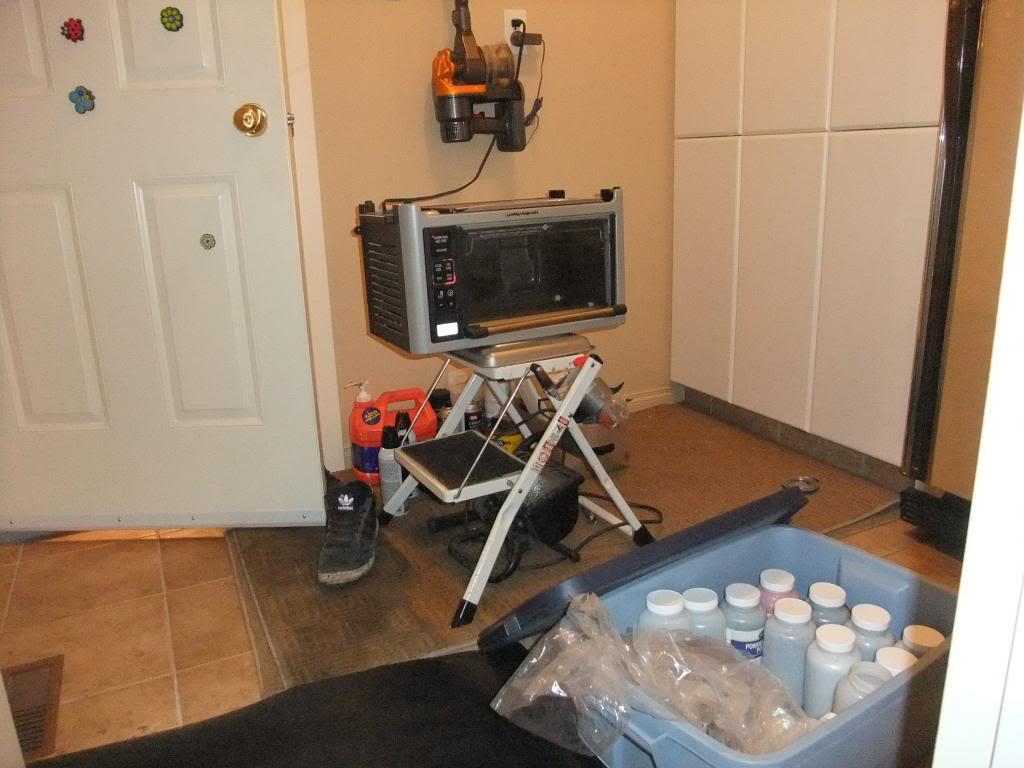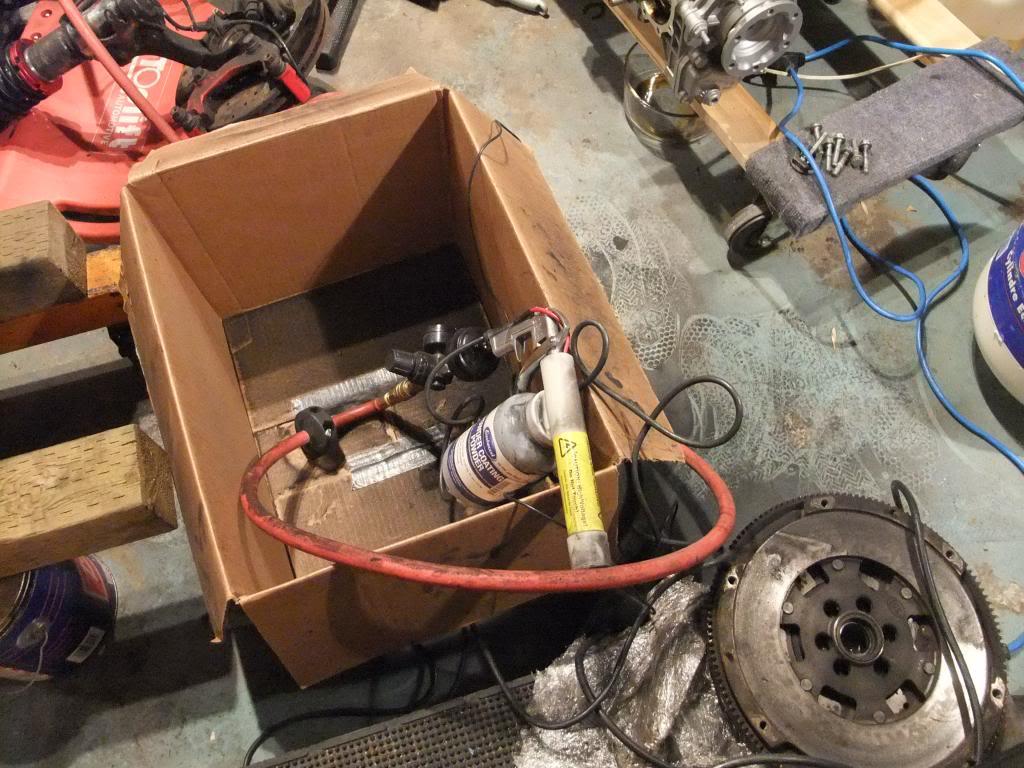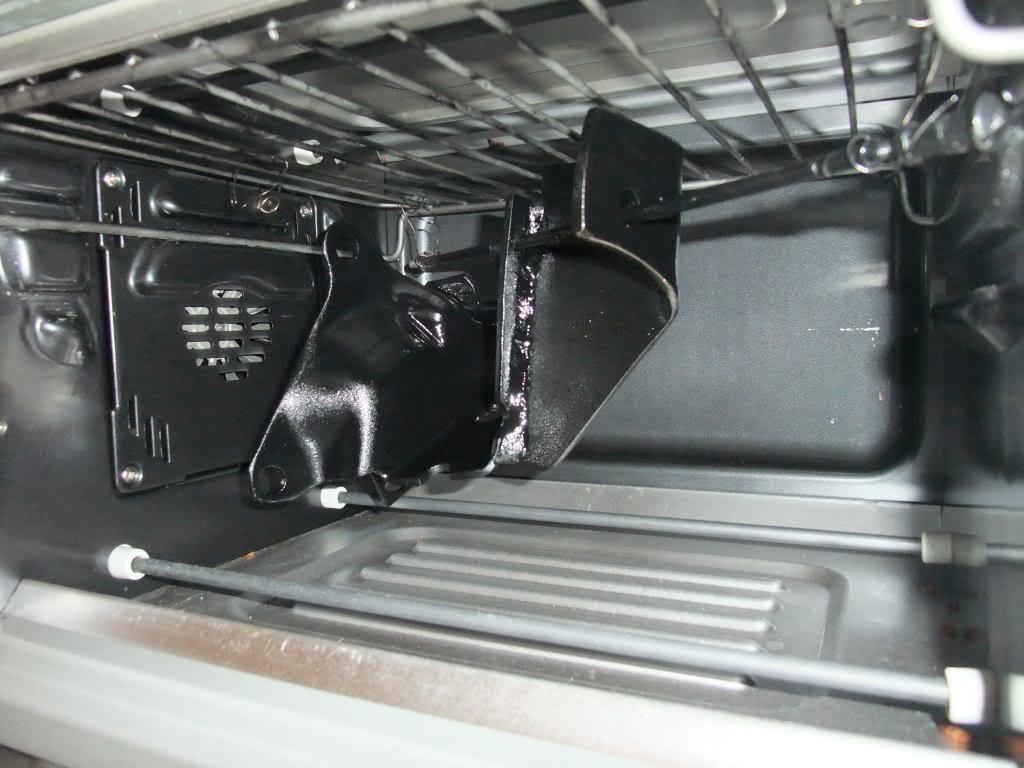 1-14-2013
Unrelated... but more powder coating for anyone who finds it as interesting and fun as I do.
Locking hubs in red and gloss black w/ front engine mount in eastwood chrome effect.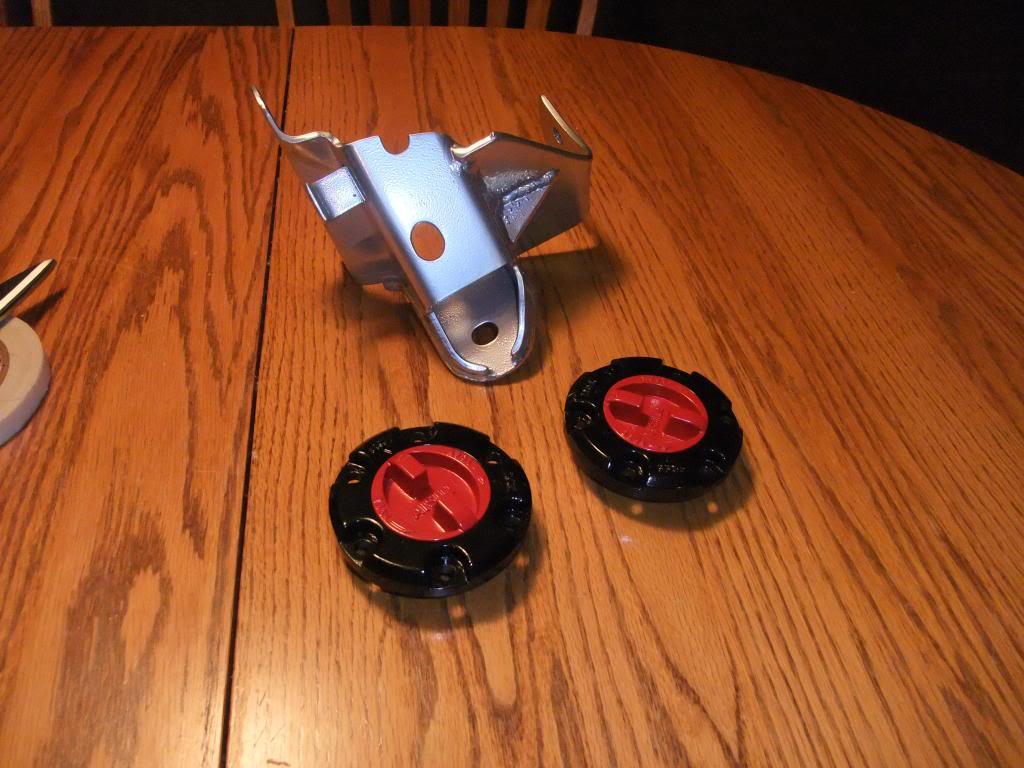 This picture gives a more accurate portrayal of the chrome effect. It is somewhere between high gloss silver and all out chrome... a sort of polished look: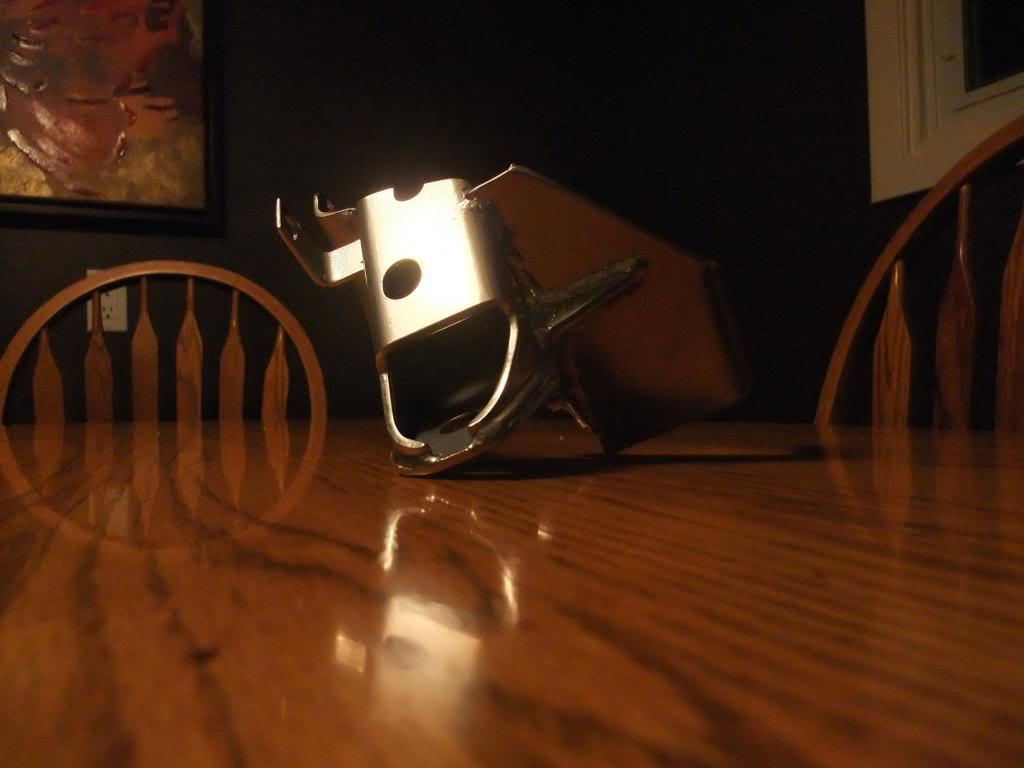 More 02m stuff later this week.
1-16-2013
Lol I just posted them for powdercoating since I was bored and no updates. To clarify: they are for my brothers land cruiser. Wish I had something similar for 100% rwd

The front mount is for the Corrado though, made by sdezego.
3-14-2013
Finally got these in the mail.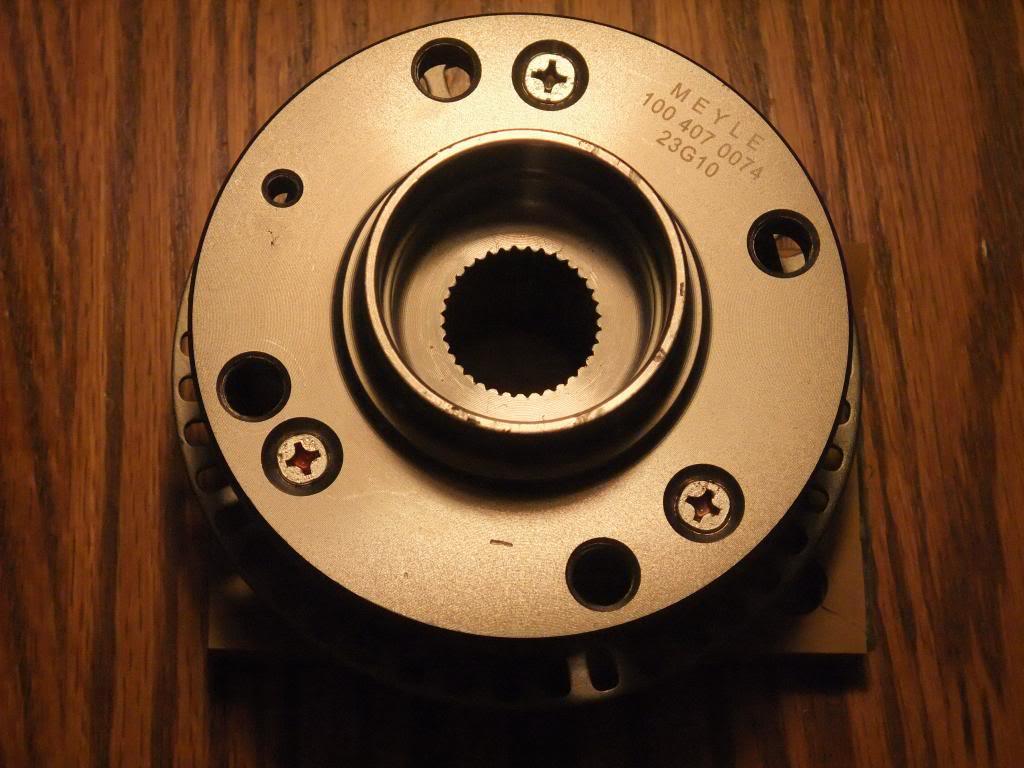 4-29-2013
Thanks for the bump. I have more stuff to update soon.
Question: Anyone who has shortened axles, is there flange on the outer piece from the factory or does it have to be machined to fit in the hollow part?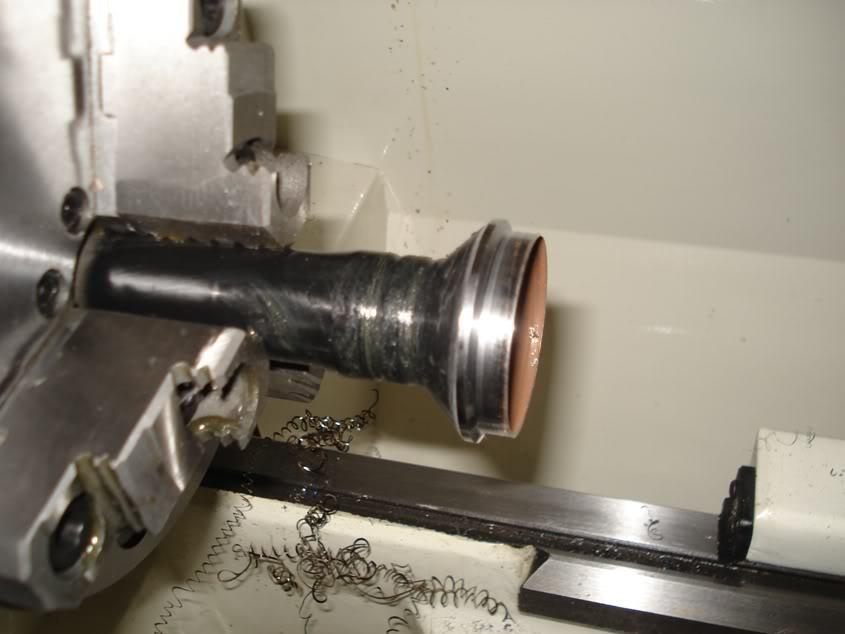 6-16-2013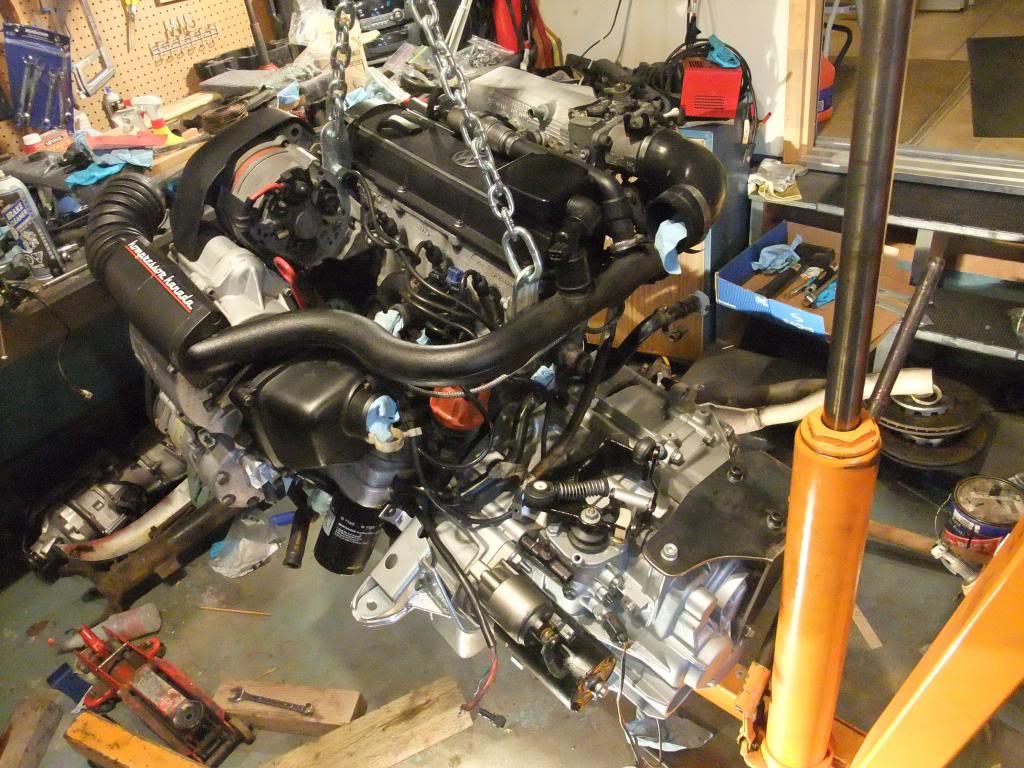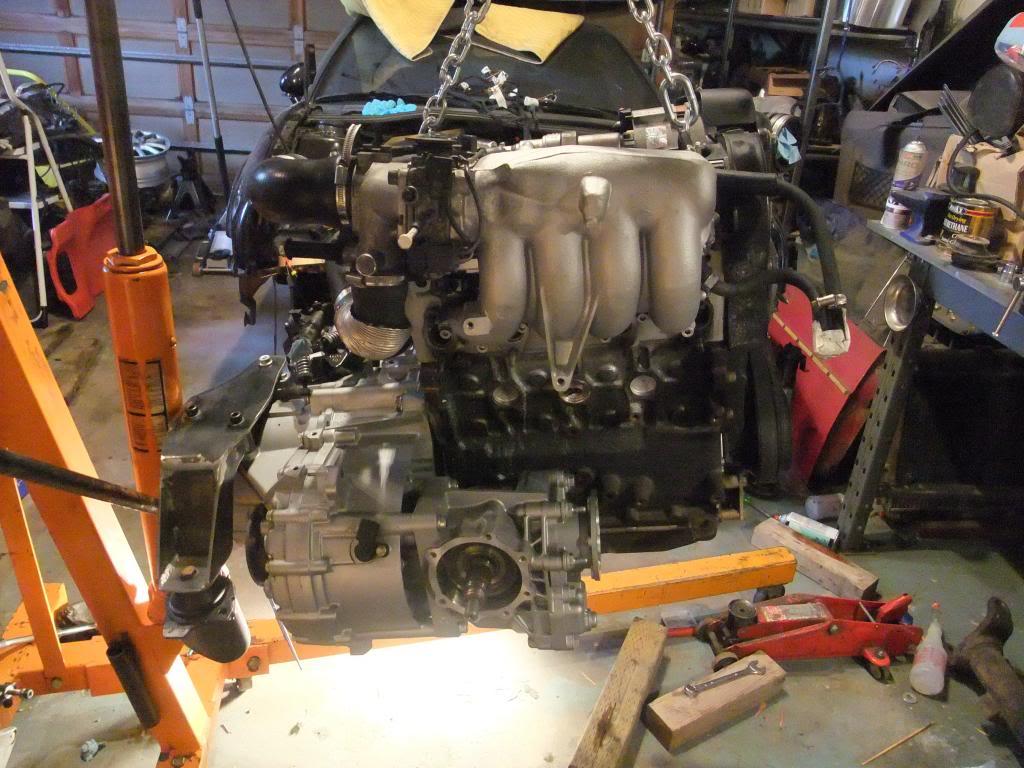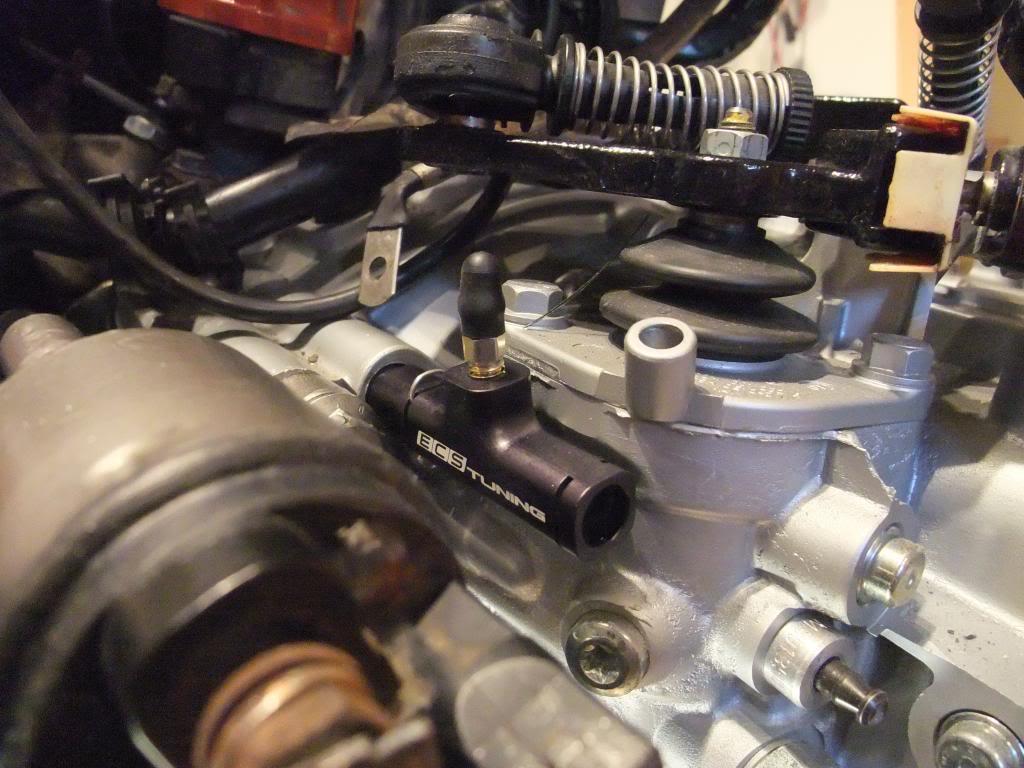 6-28-2013
Thanks... looks like that is the route I will go.
Here are some updates on my 02m swap. Transmission is mocked up for the cup relocation.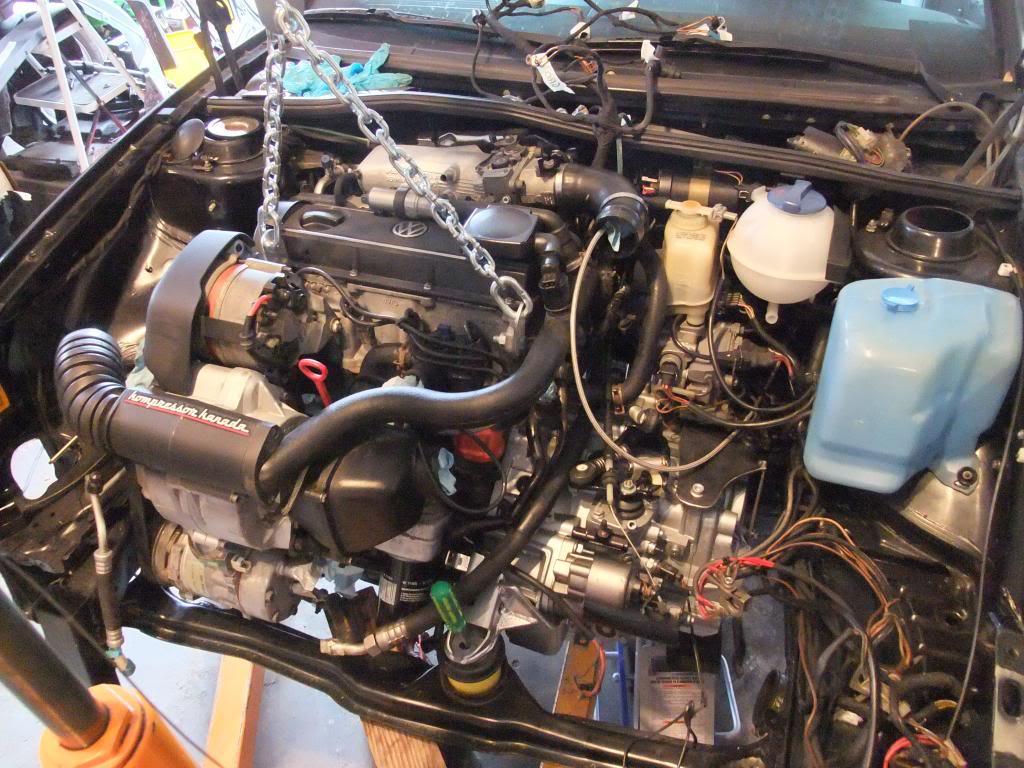 Pass side: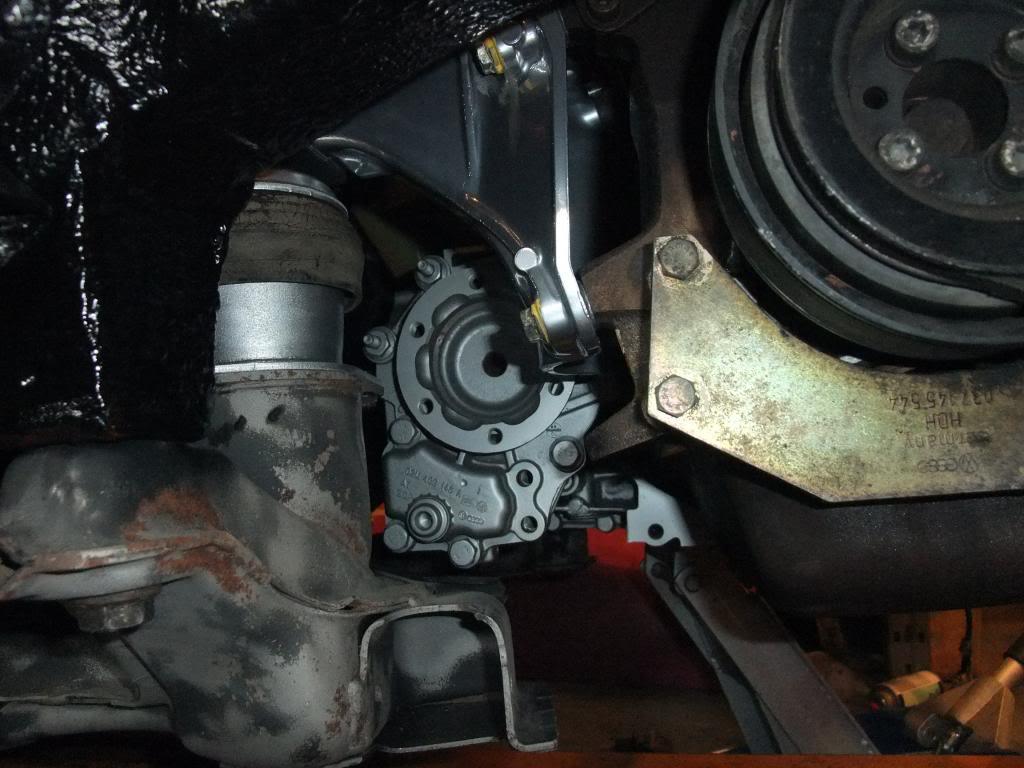 Drivers side: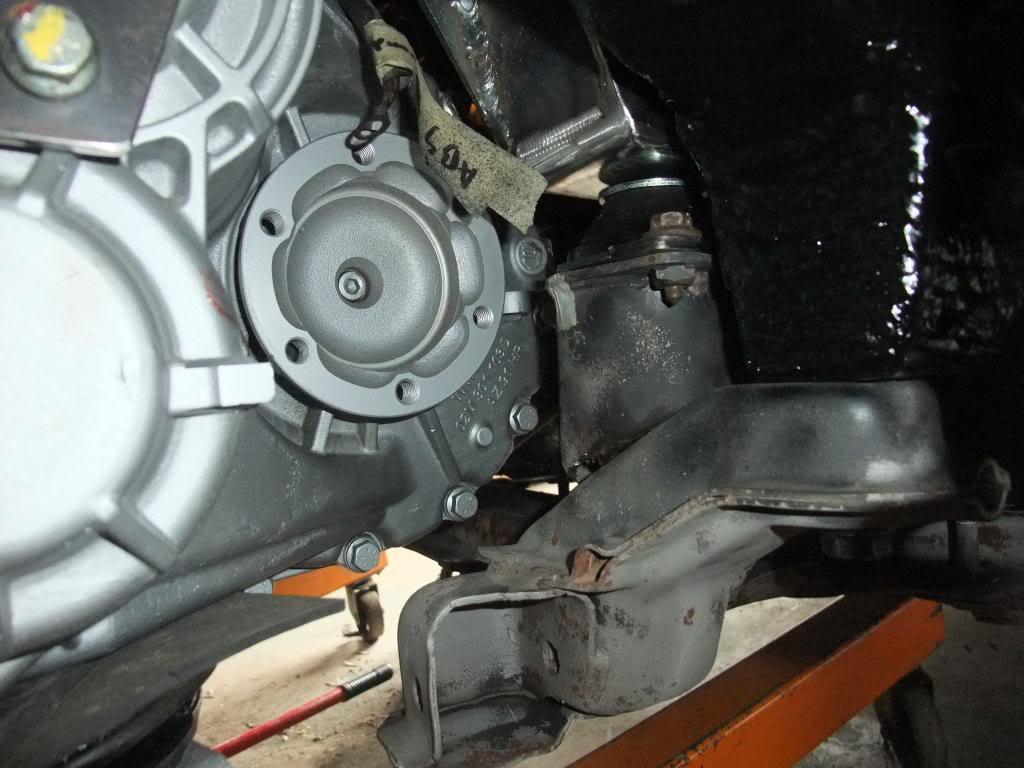 Rear: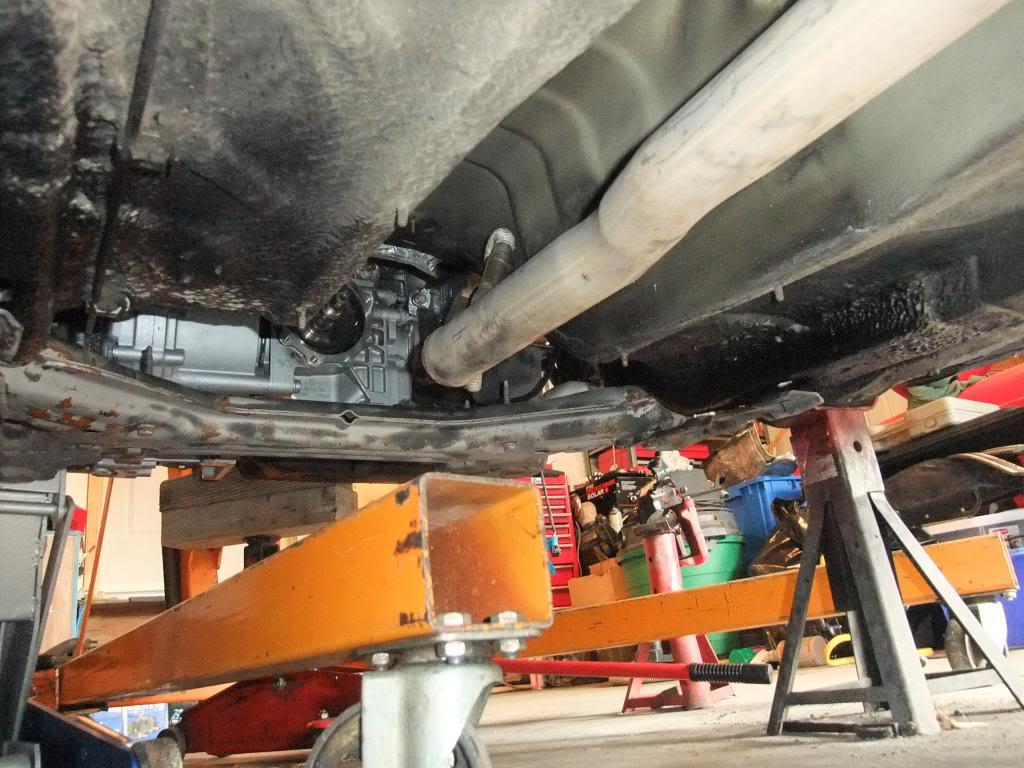 Also got some goodies from Verdict motorsports: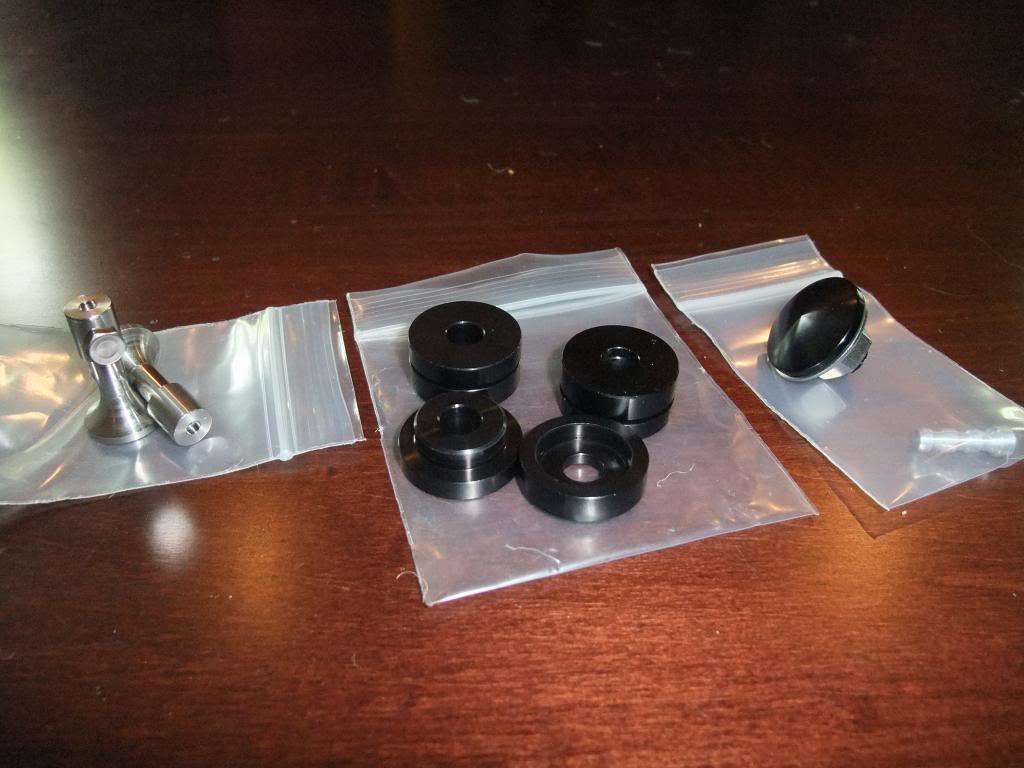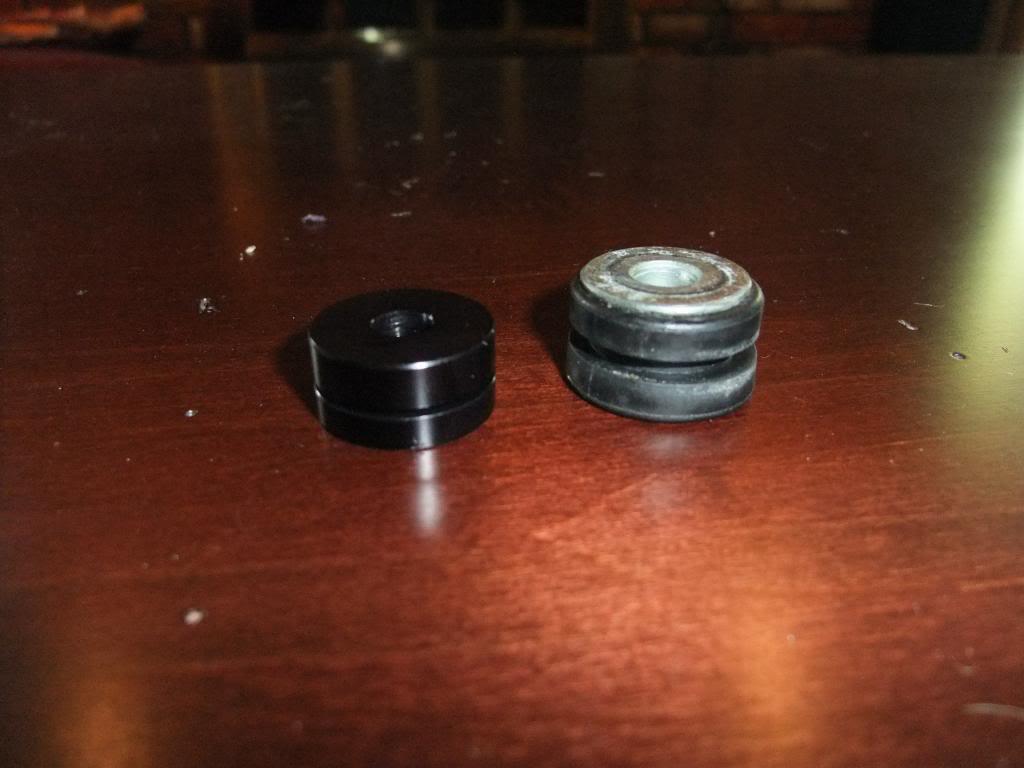 more updates as they come.
7-1-2013
****tily welded on the transmission cup mount until I can get it welded by a pro. Hope I got this part right, it looks slightly further back compared to other pictures I have seen. Might also be on a slight angle, but my clearance for the CV looks good. It can only really fit in one spot since it is located by the mount.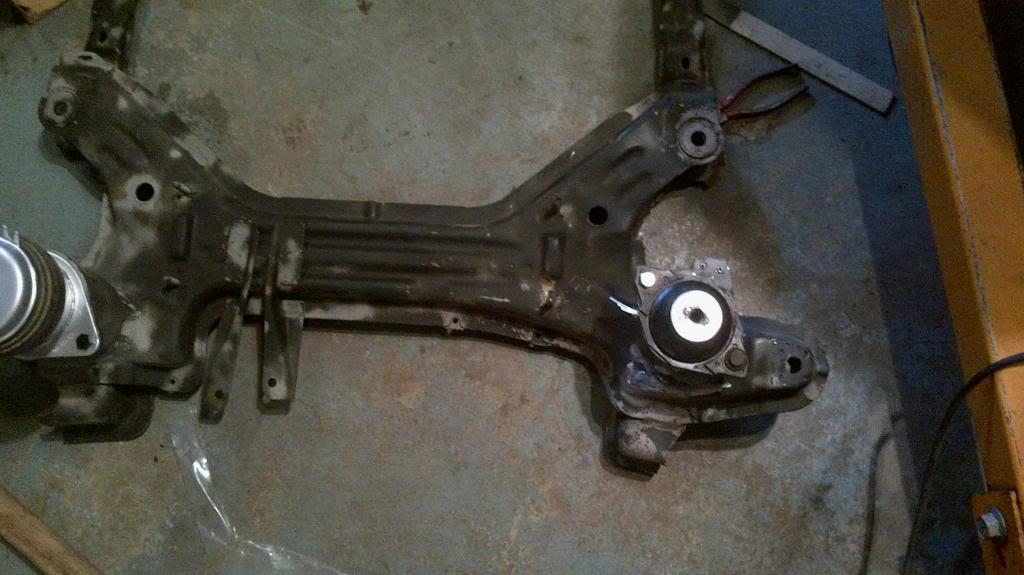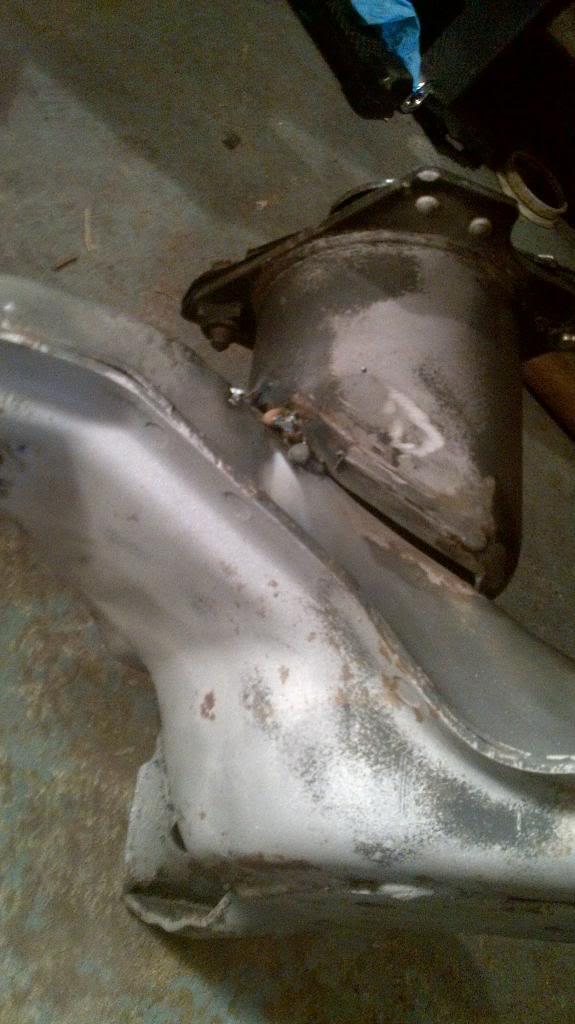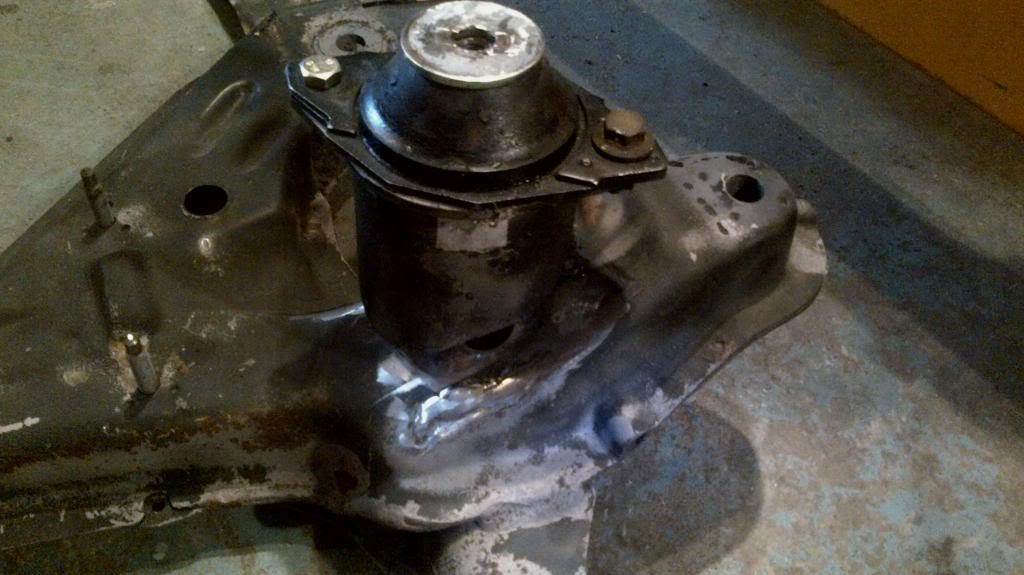 Yeah, I am about 1/4 further back on the one side. Upside of the angle is that it does give me even more cv clearance. As far as I can see there will be no interference with the framerail or steering rack (hardline clears the mount). With the mount in the position I welded it the engine and trans were sitting completely level as well. I don't need to grind the mount, but I likely will to make it have the smallest possible profile.
Clearance appears good. If not I will have some fun stripping off the powdercoat and rewelding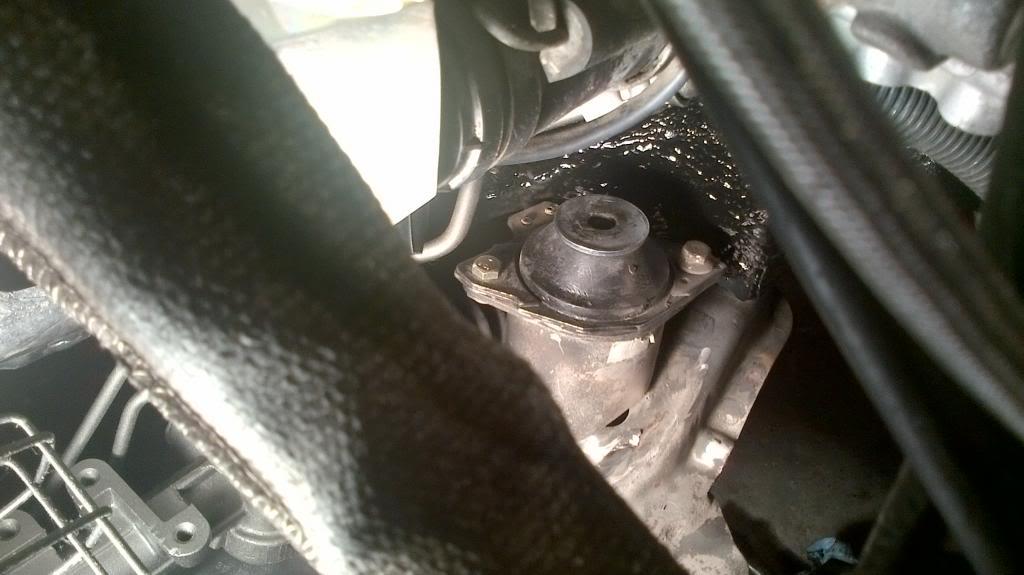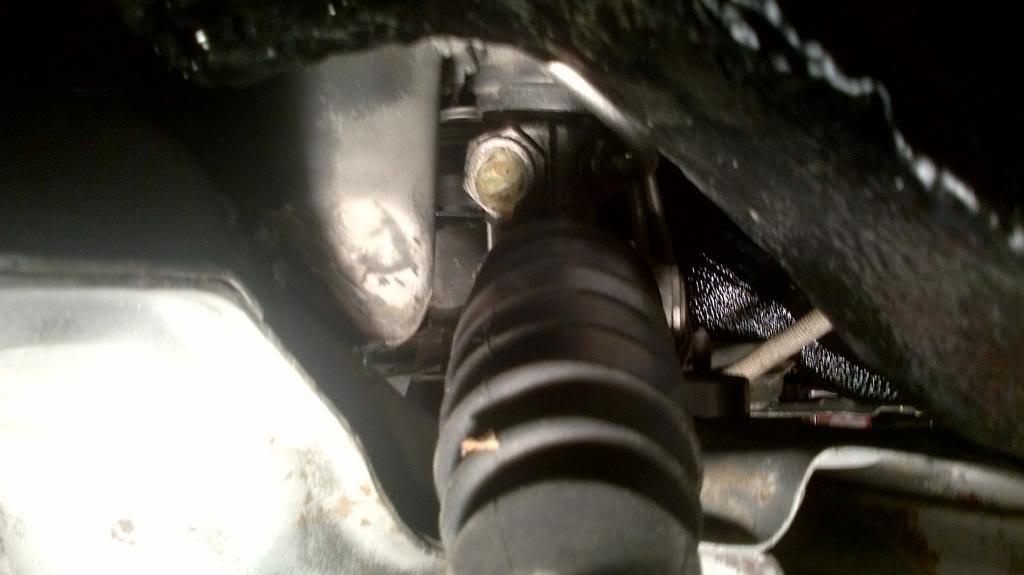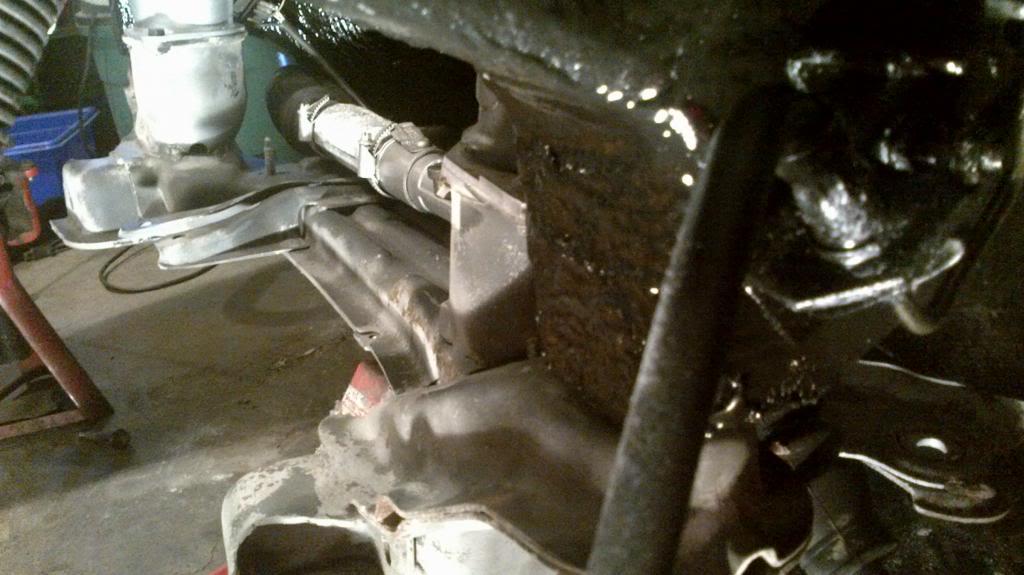 7-10-2013
I didn't like how the mk3 subframe rear arms fit, so I made some pieces tonight that should make it look less like it was meant for something else.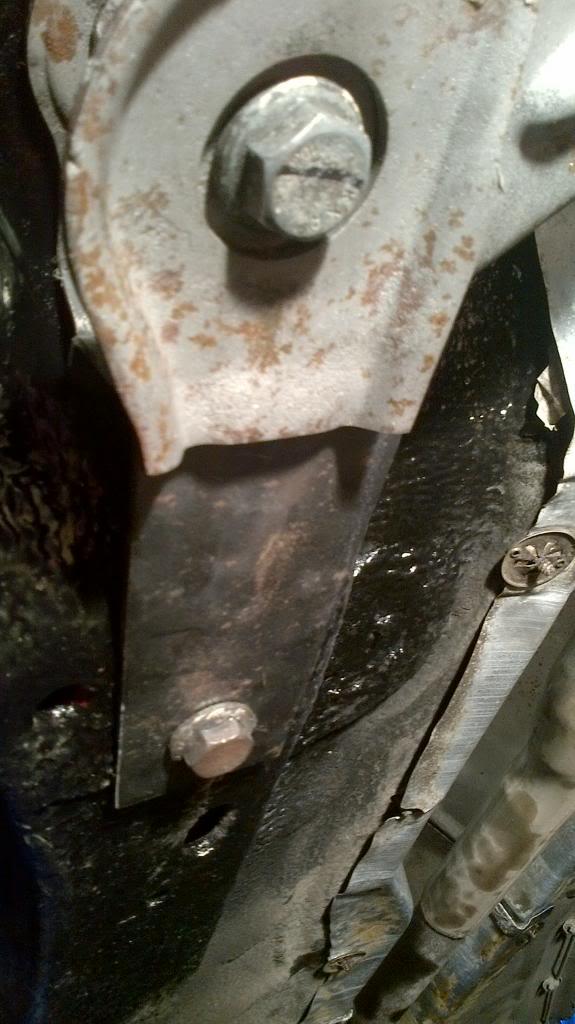 Also put in the 02m shifter. I dont mind the height it sits at so I won't be cutting it down. Made me realize I need a new shift knob

.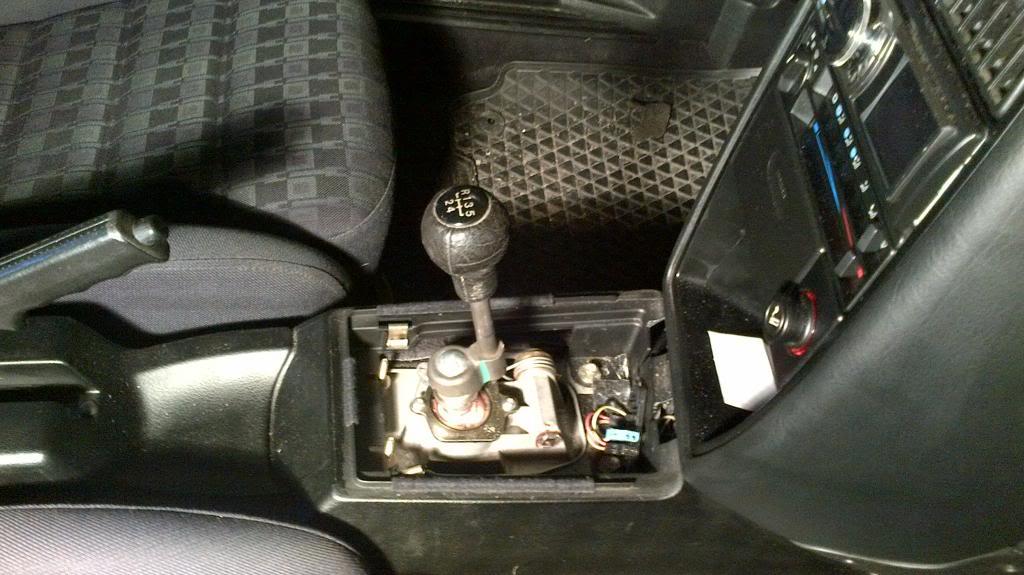 My hope is that next weekend I will be putting the suspension in for good

7-11-2013
Thanks! I am really impressed with the cable horns, solid bushings and wiper delete I bought from you guys.
That is because you must have the TT box (which is the fist I have actually seen a picture of personally). See how it is low and has that offset? 02j and 02m from MkIV is just a straight long shaft which is waay too tall for the corrado (IMO). ....unless of course you have dinosaur arms

For the subframe I was originally going to go the washer route just to save time, but locating the position of the holes was too much hassle. This should be much cleaner, and I needed the cup tigged anyway.
That is interesting about the shiftbox, I had no idea the stalks were slightly different, but its worth noting for anyone doing the shifterbox swap as it will put the knob slightly forward
7-21-2013
Finished up on the subframe. Almost everything is powdercoated and all hardware is new. I am debating whether I should run the vibration dampening weight or not.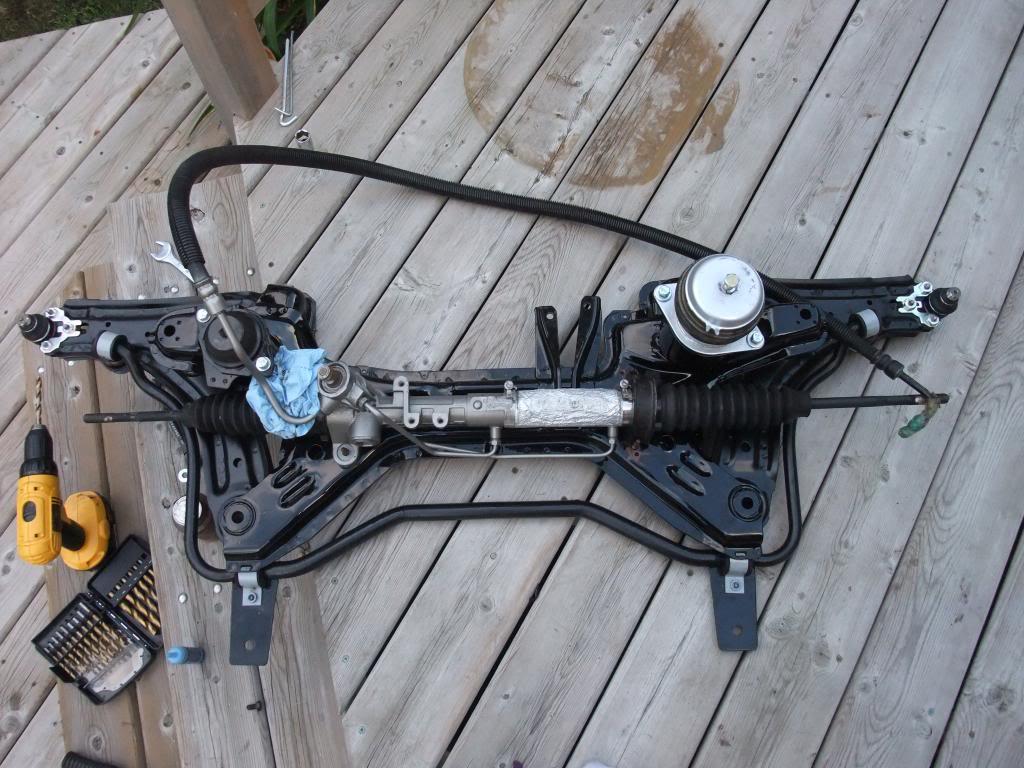 7-28-2013
Thanks, should be useful once I get to the rear end. Managed to get the Audi TT repair manual in pdf which would have helped me a couple months ago

Progress is slow but steady.
Made the debris cover for the bottom of the transmission casing out of aluminum: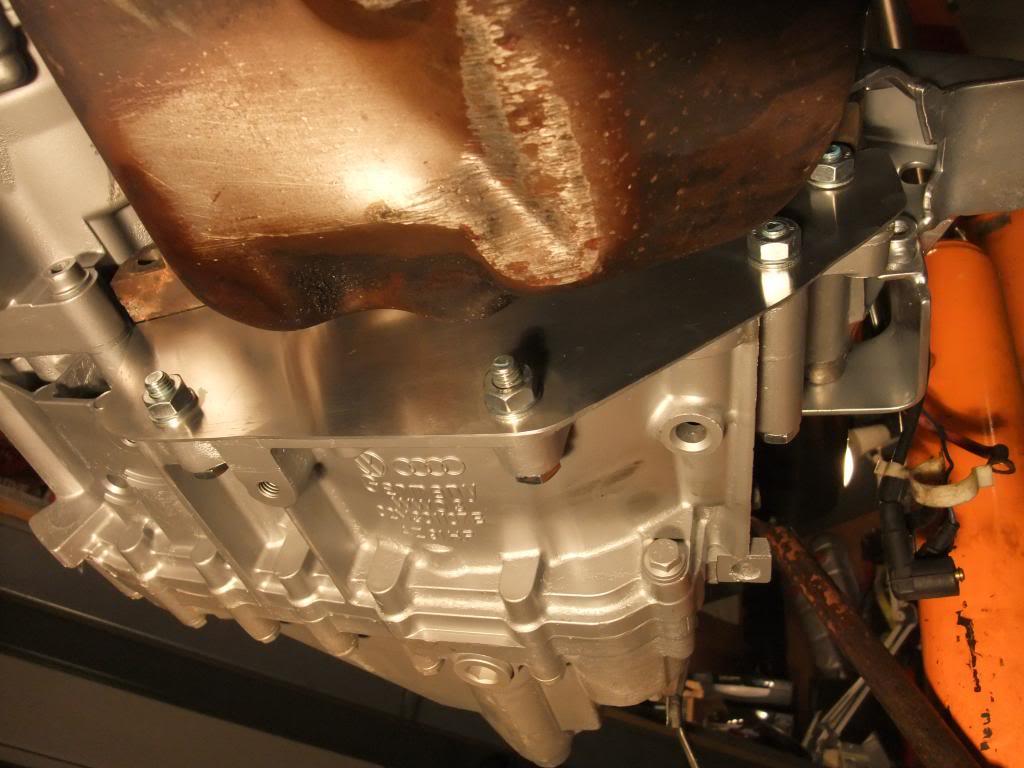 Syncro exhaust mounted: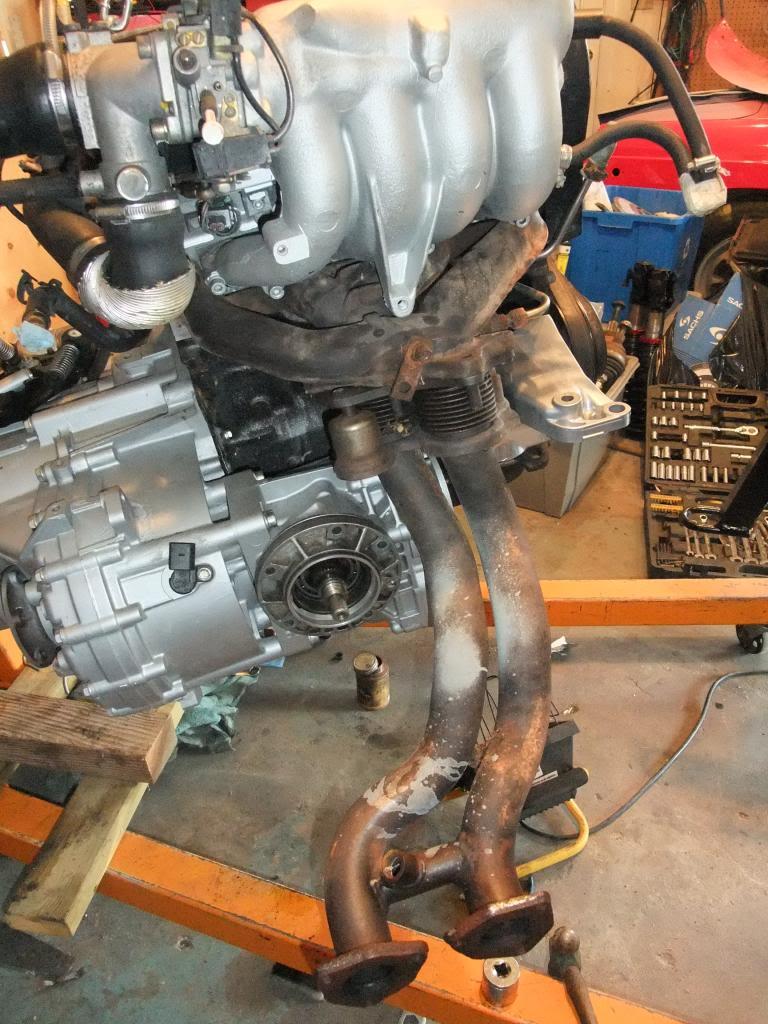 Textured black powder coat for the main trans mount with new hardware: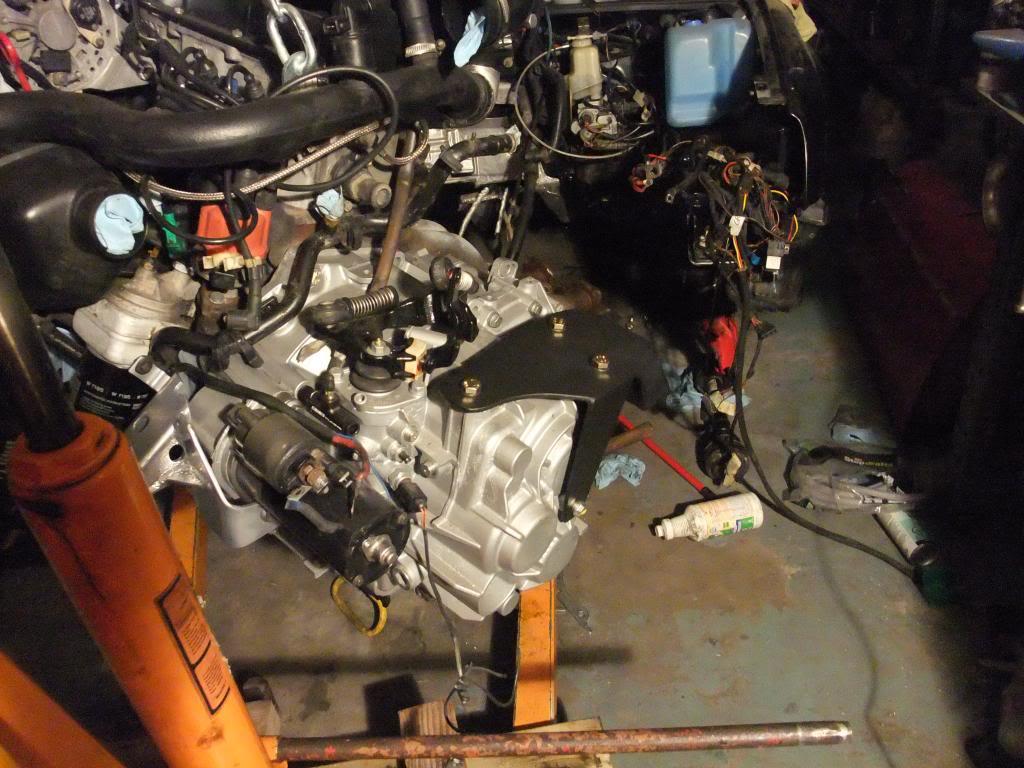 7-29-2013
I might have put too much time into the crossmember

. Gloss black powder coat on the crossmember, semi-gloss powder coat on the mount, new hardware, BFI stage 0.5 mount.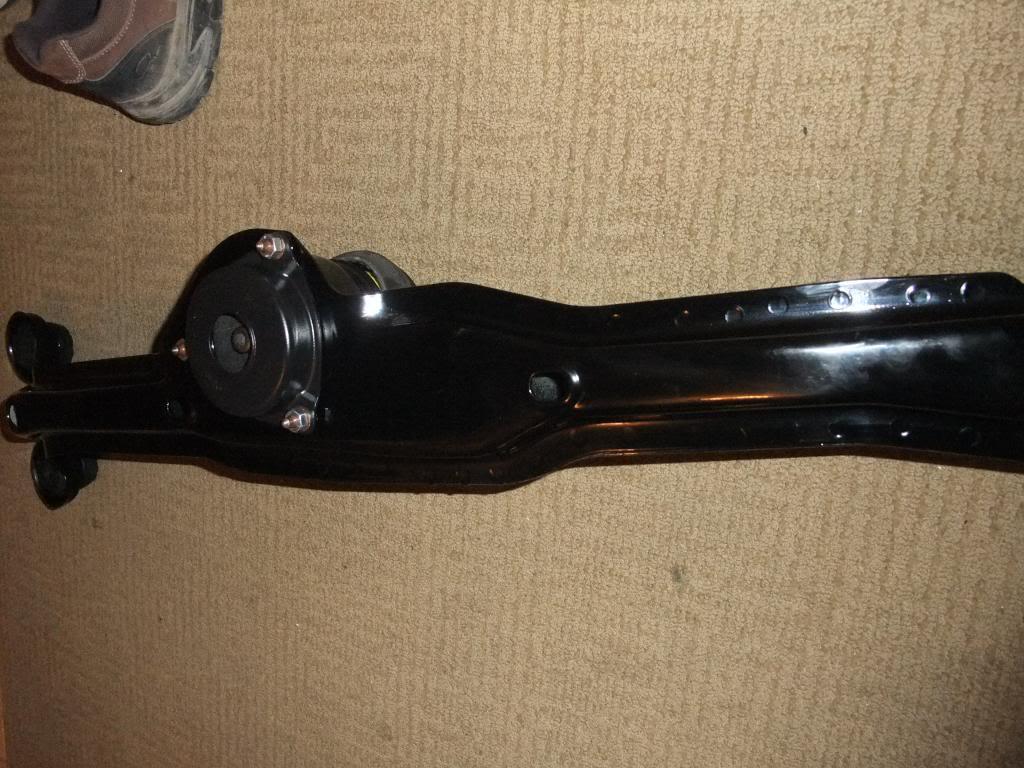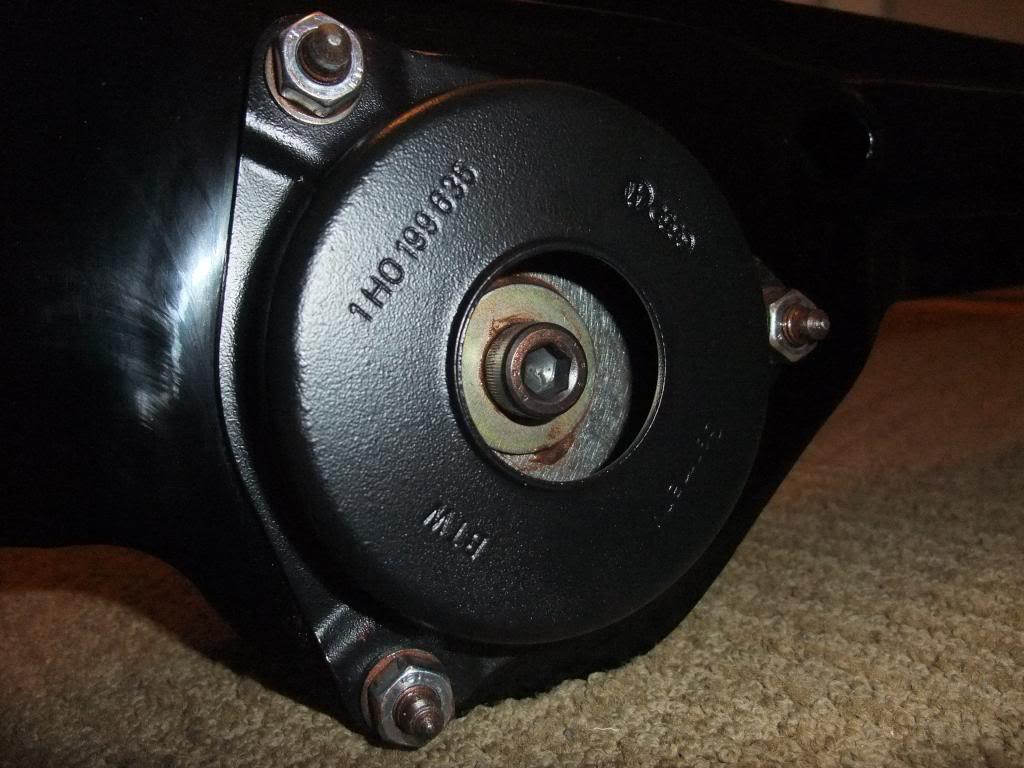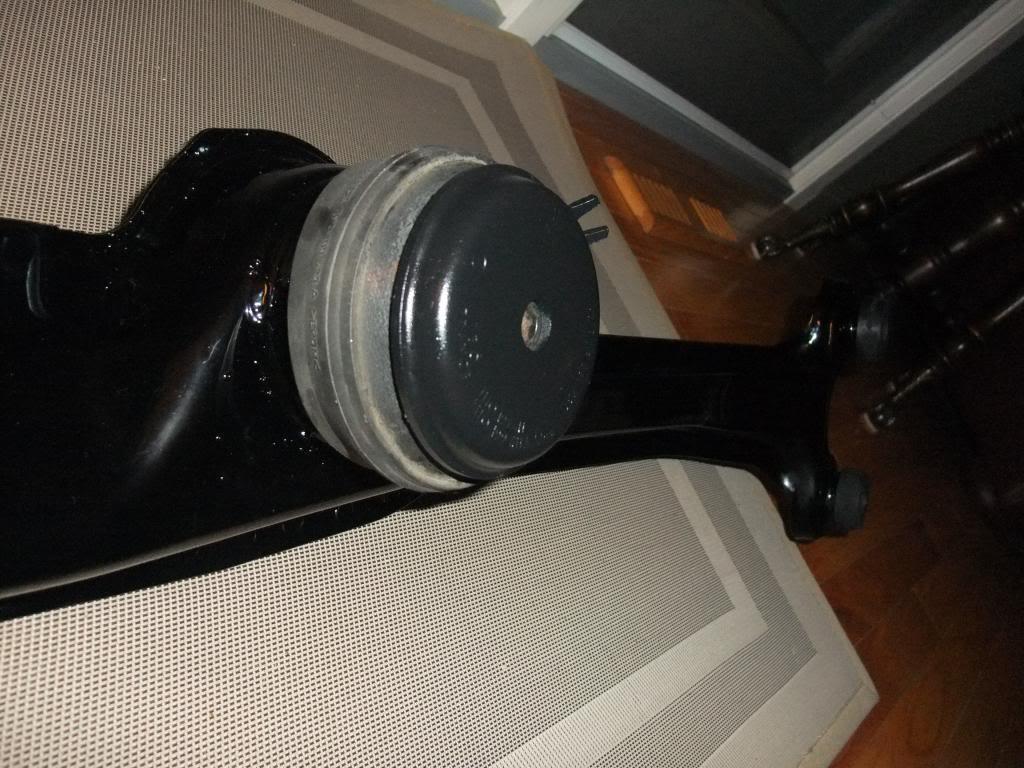 9-17-2013
I am going through some pretty heavy Corrado withdrawal right now. Moved to Edmonton for school and unfortunately it doesn't look like this project will be wrapped up any time soon.
Here is the last progress: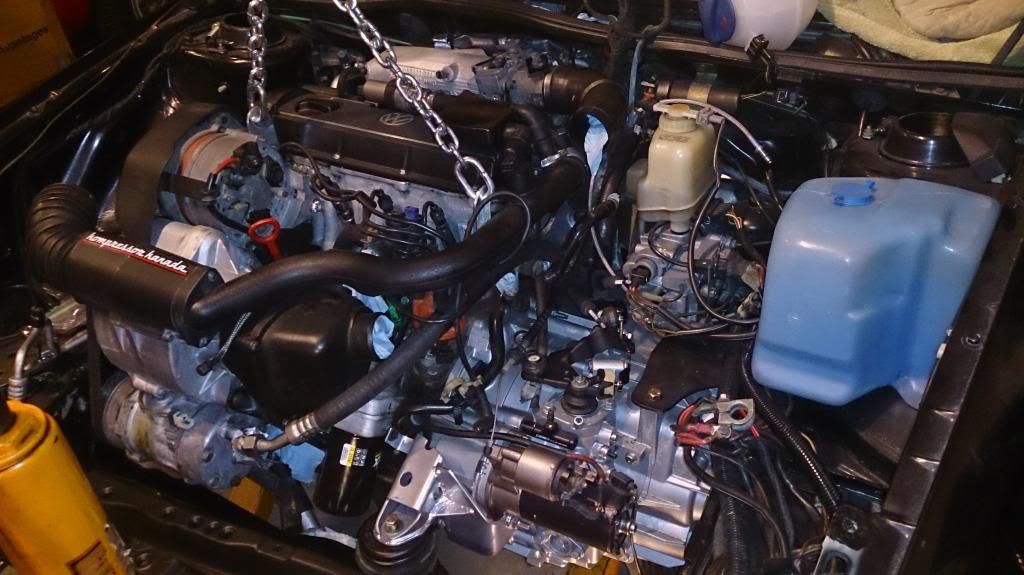 I am hoping to get a bit of work done when I fly home at Christmas. Other than that it depends on where I am employed in the summer.
12-7-2013
Bump... with some ideas for discussion.
I am thinking about ditching the 02m mount I am using right now in favour of welding on a later framerail mount. This would allow for far easier access to the bolt. As it sits the power steering lines make it near impossible to tighten the trans mount bolt.
If I used a framerail mount I could also shift over the entire engine/ transmission in preparation for a 5 cylinder. I don't know if I have the balls to do that yet though- might just make up an altered p/s line right now so I can finish bolting in the engine. Should have a better look at it once I get back home at Christmas.
I think I might start on the rear beam if I am bored over Christmas.

12-15-2013
Just came across some pictures of a 24v vr6 turbo swap with haldex done by HPA:
more pictures here: https://www.facebook.com/media/set/?...9938114&type=3
1-8-2014
How else can the gearbox be shifted to the drivers side for a 5cyl? It is the best way.
I don't have one but it is the engine I will most likely be using.
IMO the 5 cylinder is the best option out there. I could list the reasons but I am too lazy so look here: http://forums.vwvortex.com/showthrea...-Inline-5-swap
1-12-2014
That is a really cool setup, thanks for sharing

Somedays I wish I was in Europe since it is a lot easier to source parts. I am having a hell of a time finding the three bolt syncro rear axle mounts.
Also, I realized at Christmas that my priorities were skewed since I already bought a 6 speed shift knob off of ebay.de. Unfortunately the leather boot is a bit too small but I will rectify that soon.
Too make up for it I might buy a couple major pieces of the puzzle in the near future.
4-4-2014
This thread is about to pick up again, although I might make a separate build thread for my car since I have a lot of non-awd stuff to post.
Just got this the other day. (along with vr6 fenders, wiper motor, and non-abs swap)
1-20-2015
Wow! Thanks for sharing. Your method looks awesome- but also like a lot of work. I don't have the balls to cut up my Corrado like that. I'm looking forward to seeing what you do with the rear end- I am planning on doing a similar setup to you using a fuel cell integrated into the existing fuel filler setup.
2-15-2015
I didn't notice much of a difference- I have a sachs OEM clutch with the OEM dual mass flywheel, USP clutchline and ECS bleeder block. I don't remember engagement being exceptionally high although it has been many months since I drove it.