1976 Swallowtail: Cinnabon by Nashty Rabbit
By diyauto
You must be logged in to rate content!
1976 Swallowtail: Cinnabon
Compliments of Nashty Rabbit @ vwvortex.com
12-31-2011
Plans are simple.

Want to thank BFI for the coilover, mounts, and rear bushings... you guys are swell


Thanks to Ben for the front window seal, mk1 autohaus is the biz...


DAS (dependable auto shippers) for getting the car her cross country QUICK and SAFELY..


Onlinetires for the federal 165/50/15's....


Jason at Image wheels for the help...


And Adam for selling me the car...



So what you guys care about... and don't worry, this one isn't getting the floor cut out....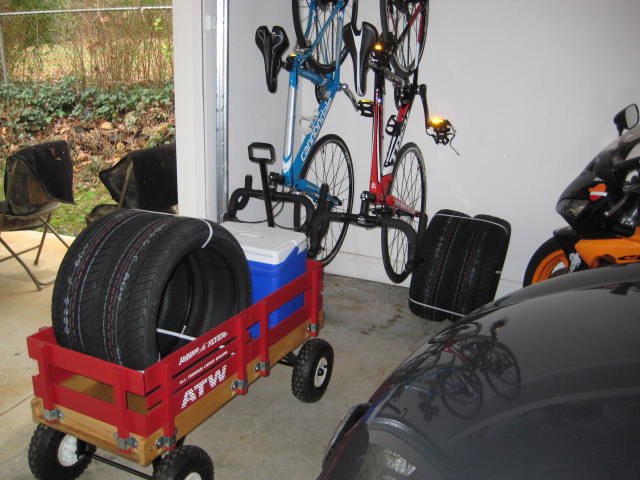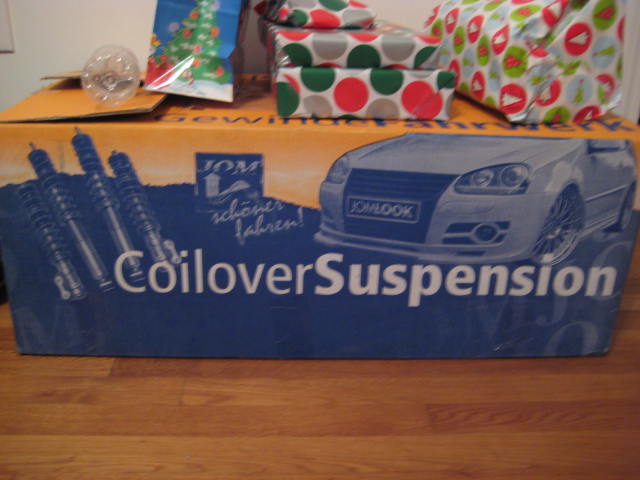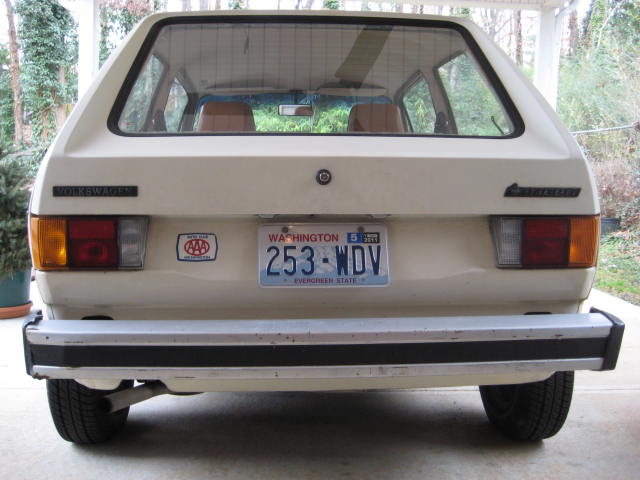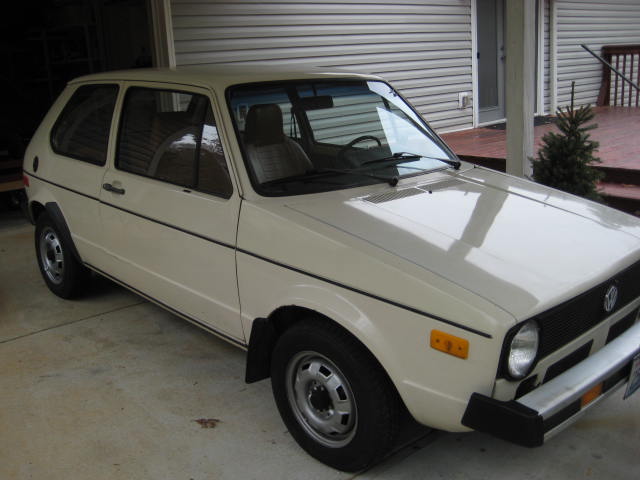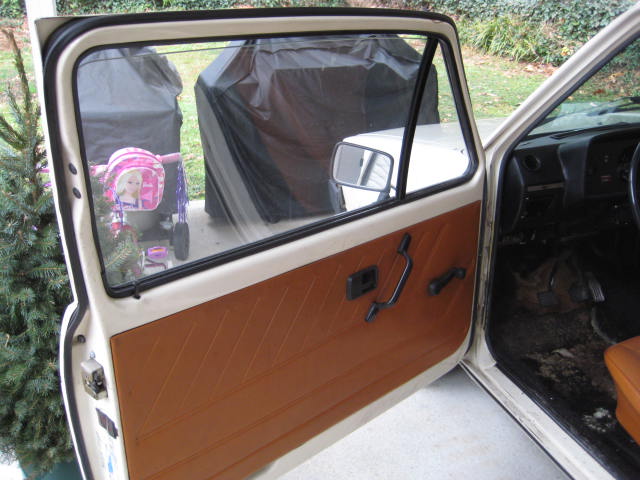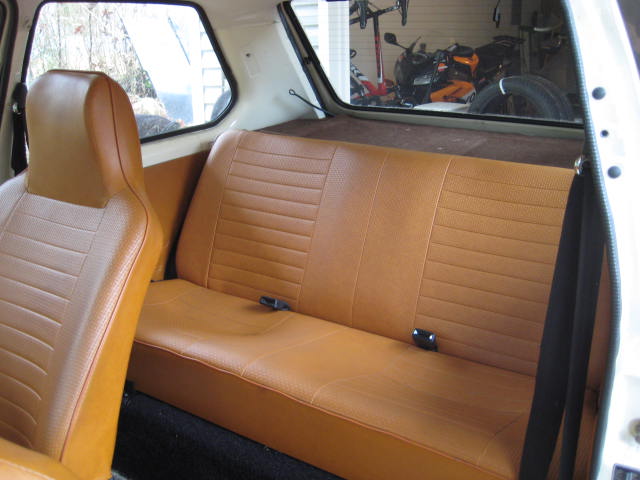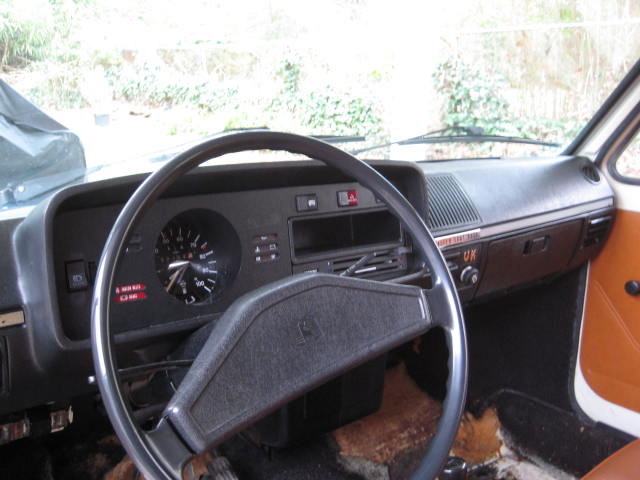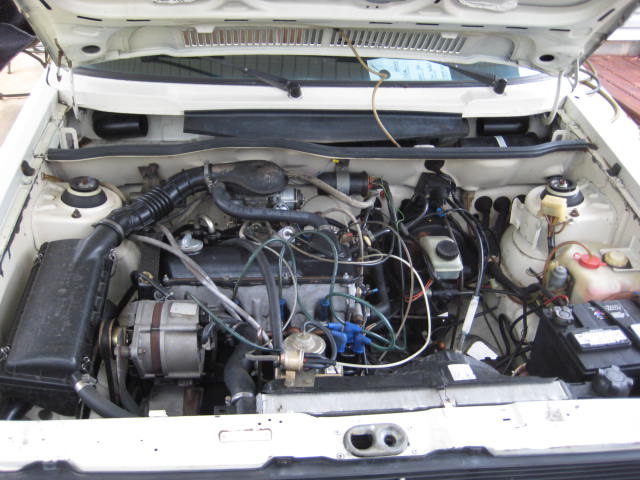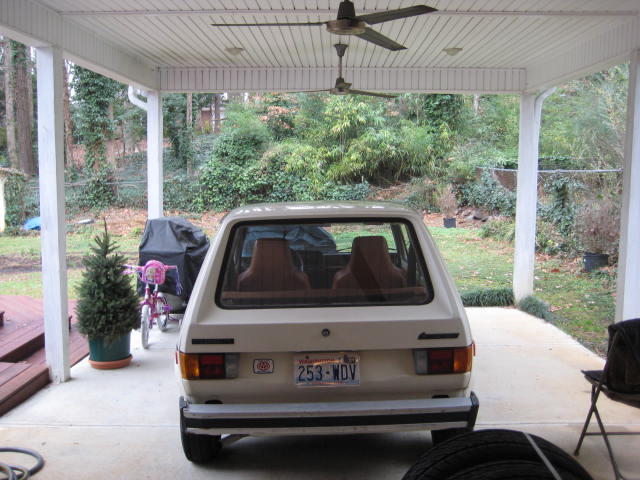 pics don't really show off the color of the interior, but this thing really makes me hungry for a cinnabon....



take care,
nash
1-10-2012
thanks guys for the kind words. i feel fortunate to have been able to purchase this car. having said that, my plans are simple. the car overall is solid and clean. however, it is missing a few things like the smoothie hood, original carb setup, i believe the rear trunk lid is not original, and i had to tear out the padding and carpet... it got disgusting from the water that got into the cabin and it was not salvagable...

so my plans are to collect the few pieces it is missing (have a feeling it's probably easier said than done...

)

in regards to TLC... windshield has a nasty spot so need to replace that and replace the seal as well. the paint overall is decent however there are many more scratches and dings than i had anticipated so eventually it will need a respray. it looked much cleaner in the ad and in my pics so sad it needs a respay, but for now it is fine. i have a dent remover coming over monday, going to buff the paint when i get some time and i plan on sanding down areas with superficial rust and touching them up with the appropriate products to prevent any serious issues....

front drivers seat needs to be redone so going to send seat off to have a professional address the issue. need to order a carpet kit. any suggetions??? from what i've heard, sounds like newton is the way to to go...

once i get it, i hopefully won't have to spend days like i did on my last tmi kit to get it to "fit"....

minus those two things, i'll put in my early non ac console tray i have and call it a day....



mechanically, i plan on putting in a 4k transmission (my favorite 020 of all time, high reving 5th gear and all...
), replacing struts with the jom coilovers, replacing anything that looks warn or unacceptable, replace all the fluids, address mushy brakes, and basicly enjoy getting greasy and dirty....


and finally wheels, i put the order in for a set of image wheels late last week so should have them in 6 weeks time...

thanks again for all the kind words fellas...

2-8-2012
always got your hands in something don't ya... lol... and yes, i'll be driving one and am sure mike will trailer down the other bunny....


so spent the first week of the year in vegas with my girl, mike, and many more friends, next week a good friend from France came and stayed the week, then next week we went to Charlotte, then work got crazy.... point is been to slammed to do anything, but did finally get going two weeks ago and got some stuff done...

as for progress on this car i made a decision to hold off on any major restortation on this car becasue i really miss having an a1 to drive so everything i'm doing for the most part is temporary, unitil my other rabbit is complete.... having said that....

Rust. I know its popular, cool, culture, etc.... but my personal opinion of it is that it is rot! fortunately for the cars i own, i don't like rot and have no reason to start liking it now.... i can understand when a car is on its last leg with the cancer i call rot, but this car is far from that.... in fact the unibody is solid. so i decided to sand down the random superficial spots i found and spray them with primer, paint, and clear. i know the paint doesn't come close to matching the paint of the car, but i'm trying to preserve the car till when i get my other rabbit back and will then take this one down to a complete redo.... I also, got the underside and fender wells pressure washed (dear lord the amount of PNW dirt i cleaned out...), rolled the fenders, and i finally installed the suspension last night....

on with the pics...

before: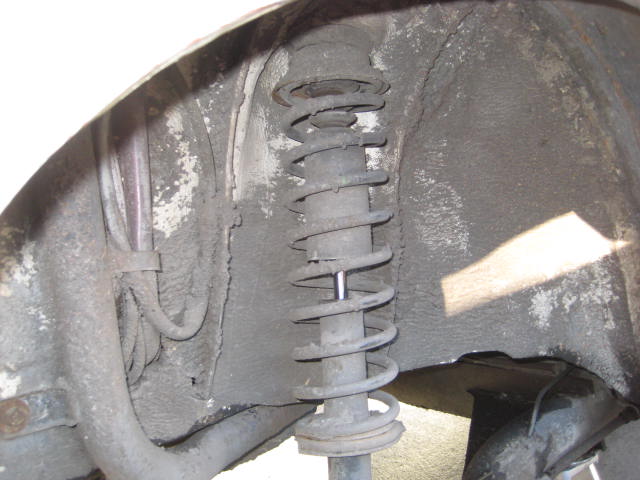 after: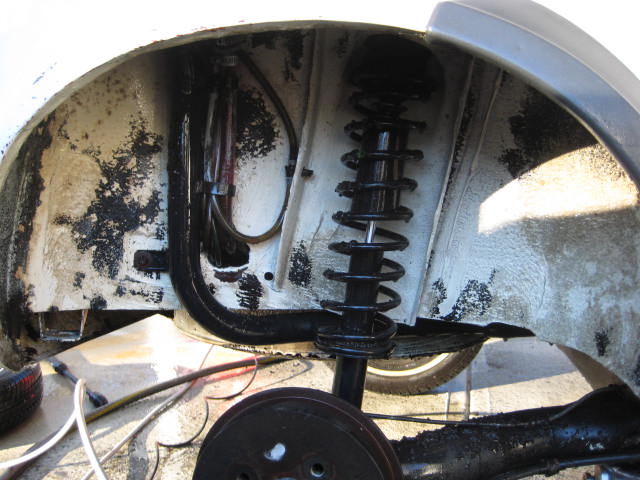 i literally cleaned out about 20lbs of earth from the little bunny. seriously, what do you guys in the PNW drive on??? dirt?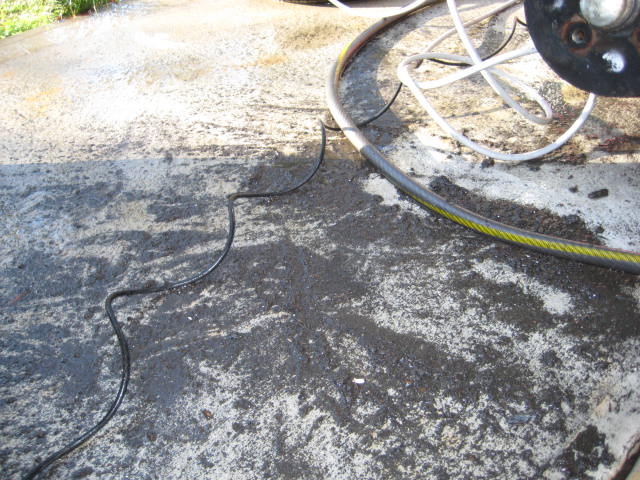 and found this nice "clump" along with much more under driver's side fender where it met the apron...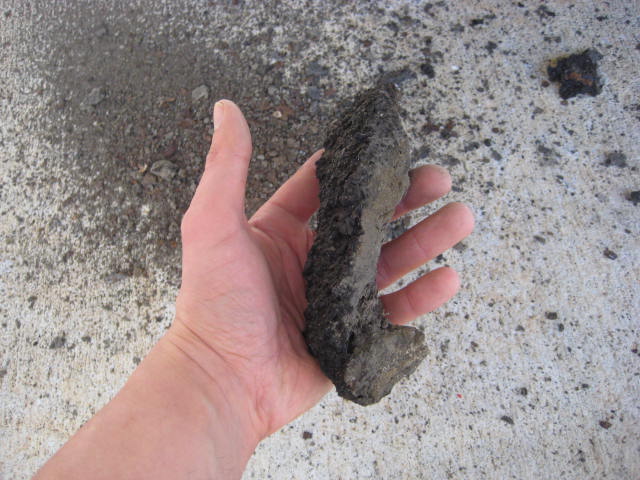 after a half day of cleaning, next call of duty was fender rolling. for anyone thats ever used a roller like the eastwood fender roller, slow and steady. fortunately for me all the fenders had cracks or chips in the paint and two had superficial rust so i didn't go as slow as i should, cuase i was going to sand and paint the spots anyways...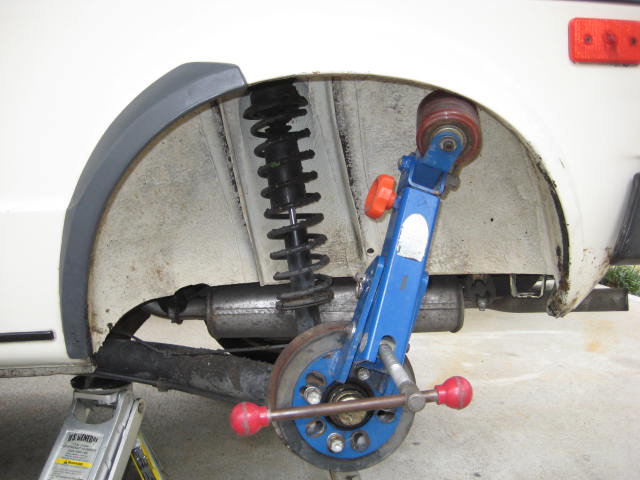 before: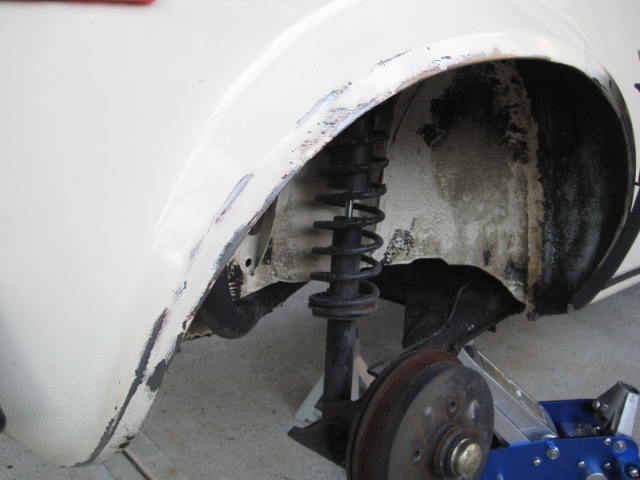 after: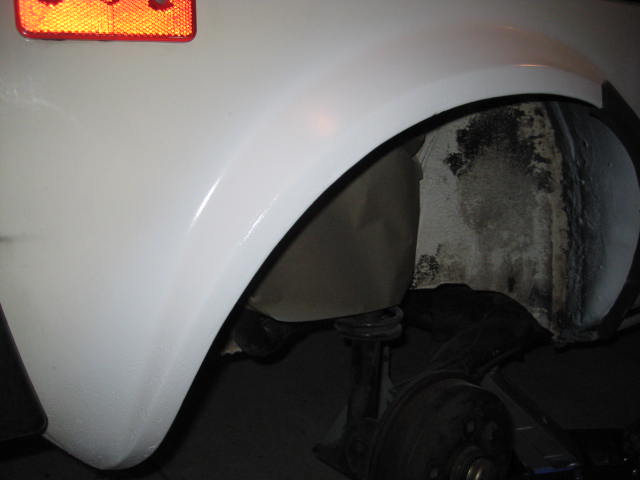 not perfect, but again, stops the rust and gives me a few years to play with the car before i put it down....

the worst and only bad part of the car was the lower front driver apron and fender. the fender IS toast! i'd have to cut out all the rusted spot you see and downwards on the fender so easier to find a cabby front fender..... the lower front apron had some damage as well but can weld new metal there.... only problem was where the fender bolted to the apron went bye-bye when i pressure washed it so i had to drill a hole in the fender and zip tie that bad boy down... lol... i couldn't decide whether to use a white ziptie, black to match other parts of the car, or a cinnabrown color to match the interior so i went with a white...



i also decided to leave the rusted through spots on the fender so we can kick through it at sowo...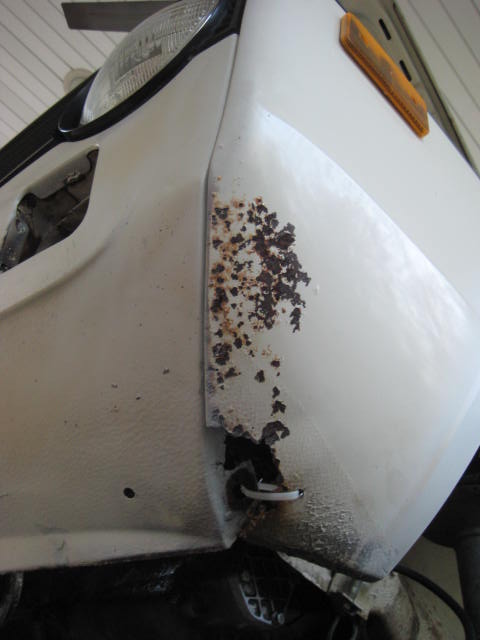 and finally, had time last night to install the bushings, mounts, and coilovers i got from BFI.... thanks guys..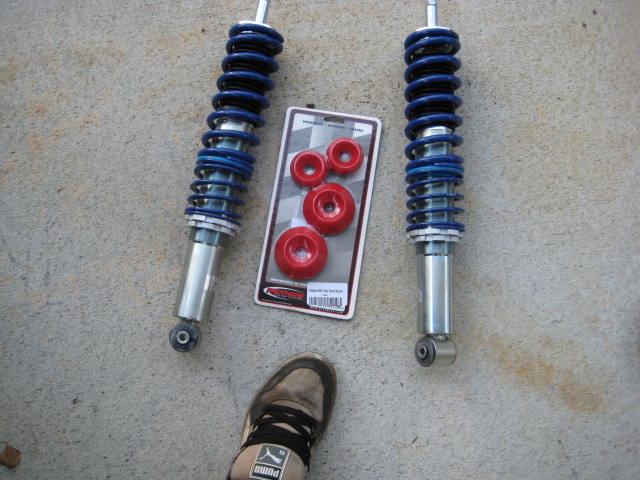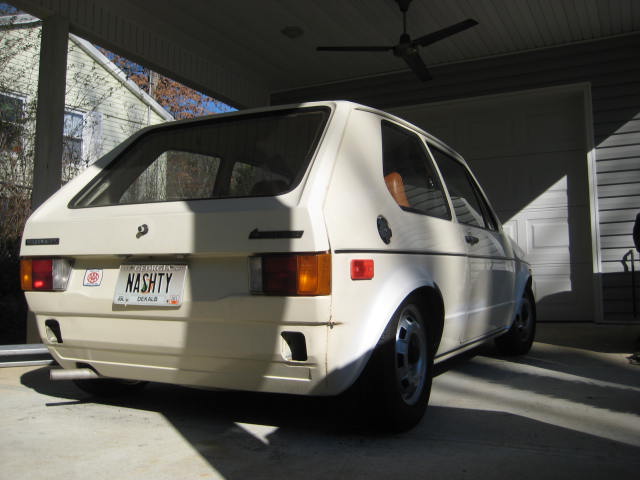 wheels should be here from england soon hopefully. going to get them mounted, adjust ride height, alignment, do some serious cleaning, then enjoy it for what it is....



take care,
nash
2-10-2012
lol.. nothing epic or build about this one.. cleaning a car, putting on suspension and wheels, and preventing it from becoming a pile of rust dust isn't a build.... however, give me about a year and then we can call this a build...




anyway, you guys really could care less about what i say so on with what we all like.. pics of boobies, good times, and car stuff... unfortunately, not going to post any pics of boobies on here...




so after having spoke with a few of you in regards to seeing what setups you guys ran (thanks again homiess...

), speaking with jason up at image wheels (big thanks!

), and doing old fashion measuring..... we have a perfect flush on both ends. closest thing to a double flush i'll experience.... lol...

bacl view: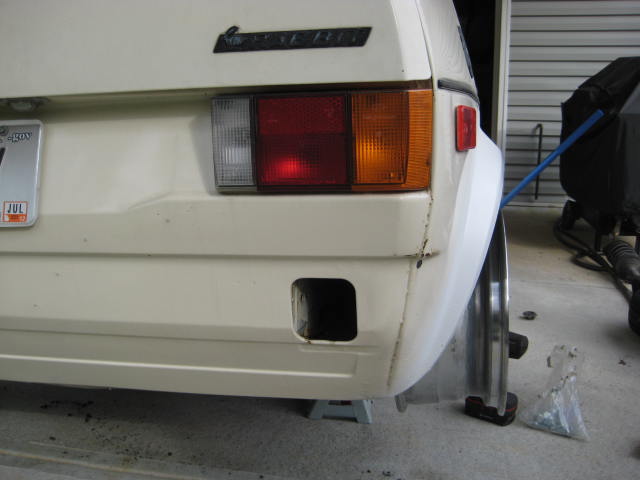 front view: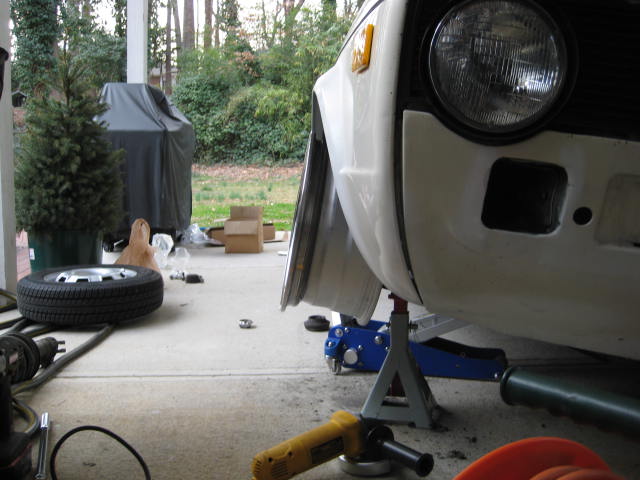 side view: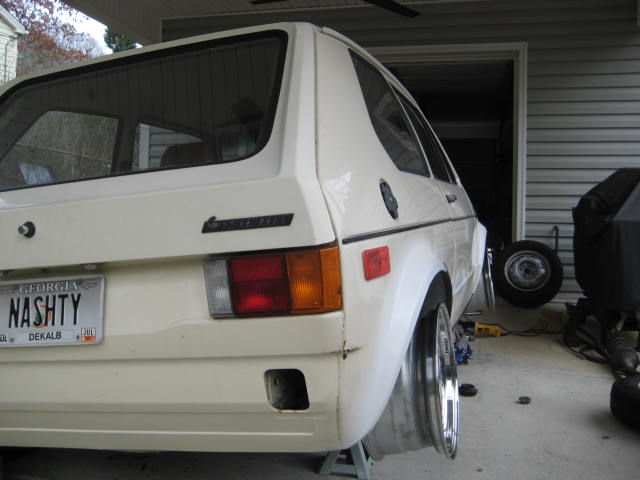 unfortuanately, we were literally a mm off with the front wheel offset, so i decided to take a mm off the front calipers. i got them smoothed out so once they get weathered you'll never tell...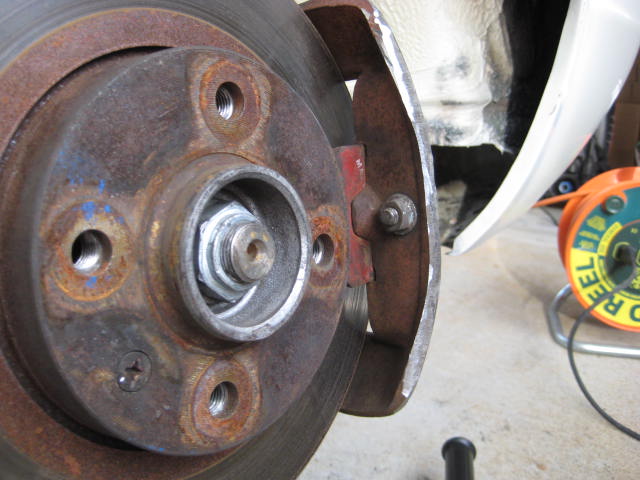 take care,
nash
2-16-2012
thanks again homie!!!!

and what do you mean where did i end up? if you mean specs, look up....

anway, pic of the wheel. facemount f40's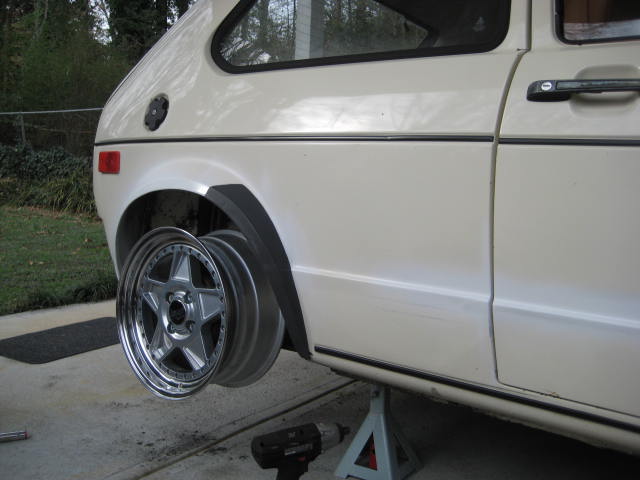 and another angle of how the fronts sit....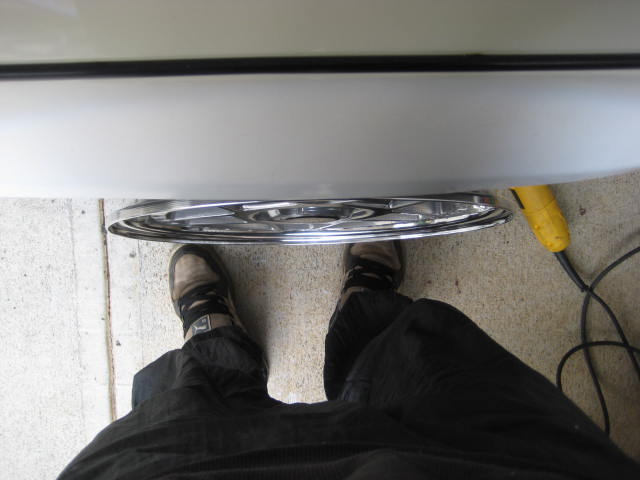 the windshield has a large crack in it and the seal is dry rotted, so i'm going to cut it out and see if there is any damage then have a autoglo install the new seal and glass. once i do so, i'll get the tire mounted, put combo on the car, give cinnabon it's first cleaning and take a few pics...



take care,
nash
2-26-2012
thanks for all the comps guys.. i really wanted to give this car a classy older feel, because it is a classy older car... lol... so nothing to wide or too stretched or too whatever... don't get it wrong, i like the fat wheel look on stretched rubber, but something about this car ooooze's classy, so just kept it simple...



in regards to the different wheel companies. to each there own. i've met brian from rotiform last year at sowo and he was nice enough to come by and check out my other rabbit and give me some thoughts in regards to wheels. obviously the guys at image have been nice enough to build me a set of wheels for this car. i tried to have them build the wheels before i recieved the car from oregon by asking friends what setups they had and pics, but in the end, i had to take the measurements myself and send it to them. they took them, and pretty much nailed it...



in regards to the build, this has been a pefect example of two steps forward, one step back...



1) TJ (aka vwrabbitjunkie) saw i was looking for a smoothie hood and offered to sell me his. As imagined I spent more in shipping than for the acutal hood, and even more aggravating is they had damaged the upper driver corner. TJ did a great job packing the hood, but as many here know, shipper's don't care and judging by the box the hood was in, they really didn't care...

he sent it with insurance, but i seriuosly doubt it will be worth the headache so will have autoglo repair the damage... thanks again TJ for the sale, you were awesome to deal with...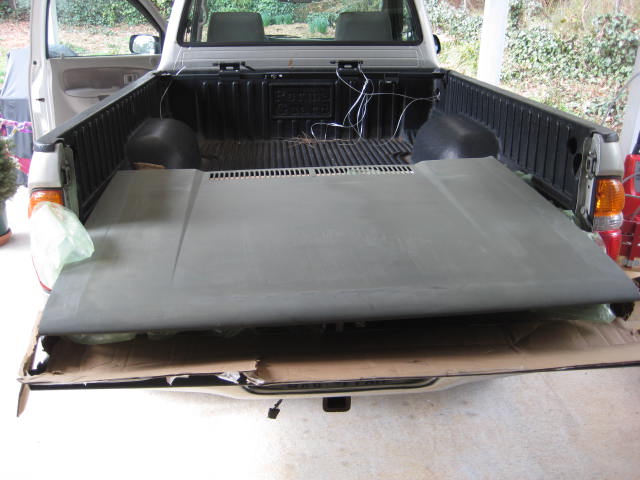 and the damage: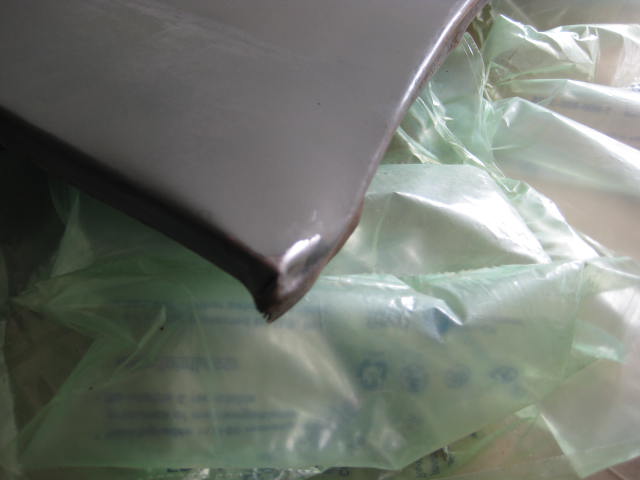 2) so i only recieved 2 of my 4 wheels from TNT shipping. Long story short, i recently recieved the other two after 10 days of waiting for them. for some reason they didn't realize they didn't ship the second container so it sat in the TNT warehouse till i finally got a hold of a competent person on their end and they realized their mistake. i wasn't happy with TNT shipping.... but they got here and i got the tires mounted up at grand turismo (love these guys!!!!) i've used them for years and they decided i should be awarded for my loyality and they gave me a single ronal race actual race wheel. don't know much about it except that it measured 19" across and 8.5" in width, i need to measure the offset to get a better idea of what they might have gone on... but cool garage piece none the less....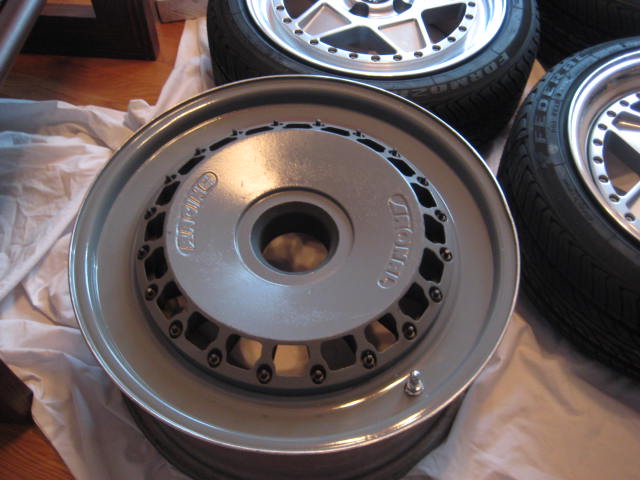 3) the wheels themselves have some superficial issues that have been addressed with Image, and am waiting to hear back from Jason at Image, but so far, he has been more than helpful and am sure he and Image will address these concerns... I did get them on the car and want to clean the car and get some pics of them on the car. I personally feel they look just right... but that's just my opinion...

4) got my wheel locks from BFI and there was a sweet surprise....

not sure when they started this, but brought back memories of all the stuff i use to get from potterman's...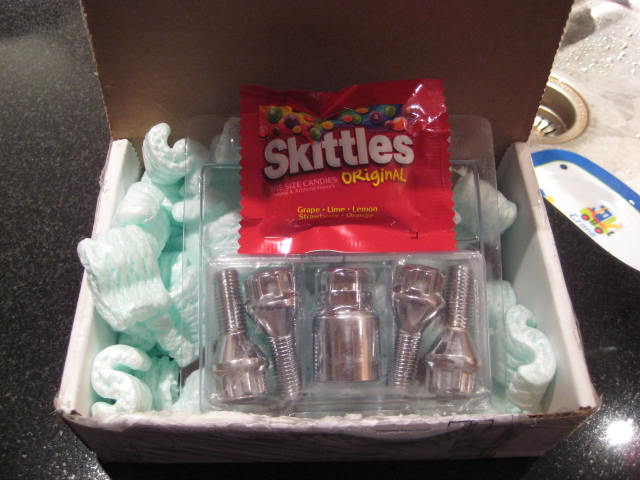 5) took windshield out and to my surprise, very little rust found. the worst spot was on the passenger side and it penetrated through forming a small hole. Autoglo applied rust mort on the few superficial spots, did the same to the bad spot on the passenger side as well. they went back over the passenger side and filled it with kitty hair. however, when they went to install the new seal, they couldn't get it to fit. we tried the second one i had and it didn't work as well. spoke with ben at mk1 autohaus and he informed me that he got a bad batch of front seals and looks like i recieved mine from that batch. ben was very apologetic and all is good, but i didn't want this car sitting for another weeks so i went ahead and had autoglo install the new windshield using urethane. its in and i'll put the new seal in once ben sends over a correct seal.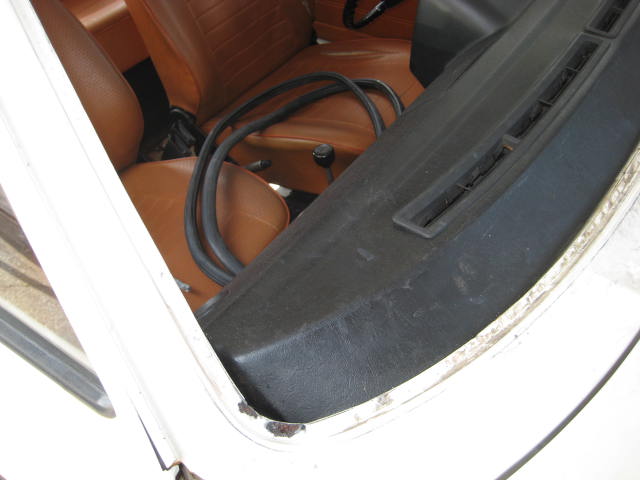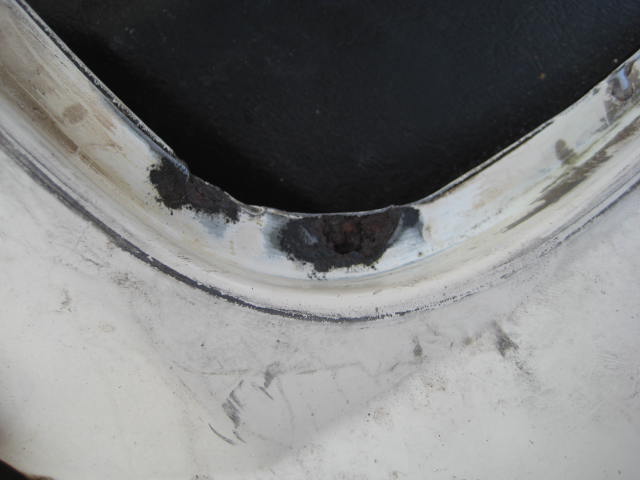 i've always been in love with the 2002's and couldn't resist taking a pic of a complete resto they are doing on this one... these cars or so damn sexy!!!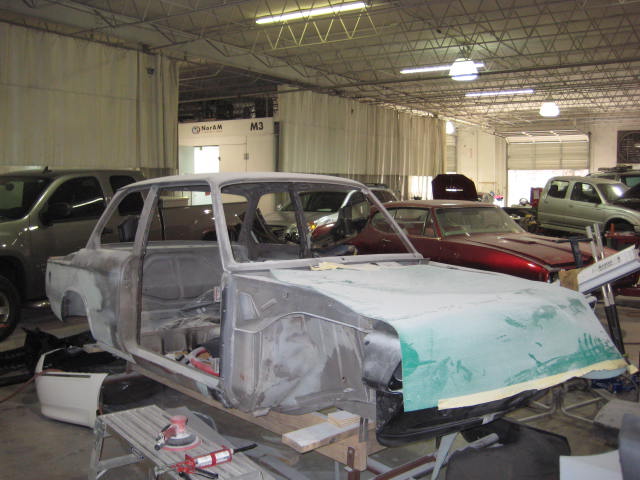 6) suspension went on with ease, however after finally playing with the ride height, with the front's wound all the way down, i'm about half an inch to high up front so the car is sitting a little higher than i wanted, so i will probably end up buying strut spacers....

anyway, thanks again for the kind words and will get some pics of the car tomorrow.

take care,
nash
2-27-2012
hey terry, i'm familiar with the differences between the "rope" style and "glue in" styles.... just to double check that i got the correct glass, we matched up the old windshield with the new and they are identical... i'm pretty sure i just had a little bad luck and got some seals from the bad batch sent to ben. in regards to if it can be done... it was...

as you are aware, urethane is stupid strong, yet flexable enough to allow the glass to do its things without breakage....

also, i just called you, sorry if i sounded beat, i am... lol.. just got home... either way, hit me up and let me know if you have any of the spacers or if they are custom ordered... thanks terry...



anyway, was going to wash the car (it has yet to be cleaned) and take some decent pics, but doesn't look like work will allow for much play this week so i'll just pust up the dirty pics of the car i took...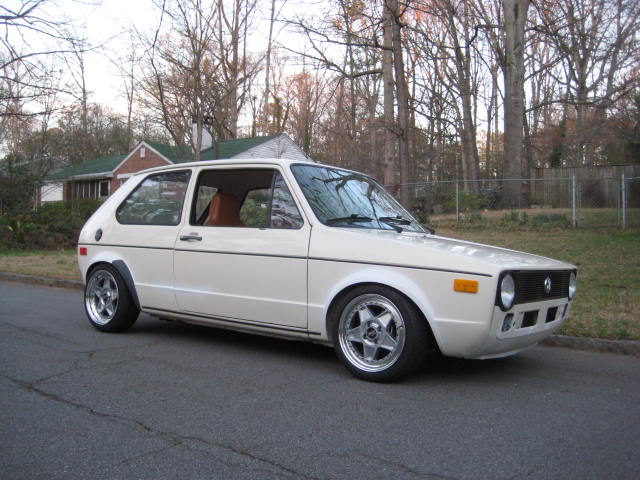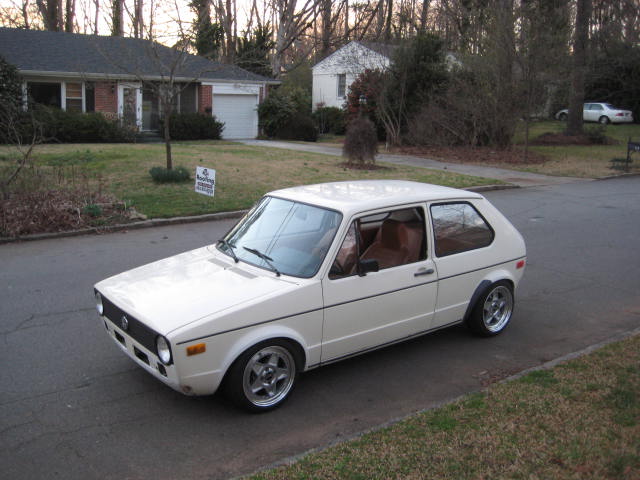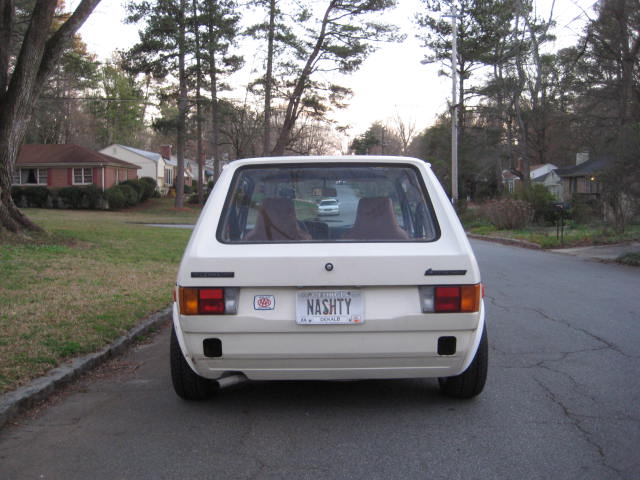 hopefully i'll get a little time this weekend, to address the superficial rust spots in the rear then i can put my early black euro bumpers on...

take care,
nash
3-2-2012
your cc looks great noosh!!!

needs some lowz and some rimz... lol...

anyway, got a little bit of little petty stuff done.... adjusted hood (finally sits flush), adjusted rear hatch (no need to slam the living tar out of it), sanded down more rust spots, primered, painted, and cleared, put mid sized front spoiler on, put rear bumper on, cleaned and put OG carpet back in, gave it its first wash, and made it to its first GTG...

also, a few days ago, i had finally contacted terry of oldskoolvw about purchasing some strut extenders. it was my first time actually talking with him and he definitely is an outstanding person.... good talking with you terry...



my good friend joseph up at Dwight Harrison VW has always gotten my OEM parts for me and noticed a difference in part numbers for a 76 rabbits oil filter and any later oil filter so he had ordered me one just in case there was an actual difference.... and there was... the 70's had much cooler packages... lol.. i had forgotten what the older packages looked like.... going to keep this oil fitler and package for nostalgic reason's and use the "modern" filter... thanks again joseph...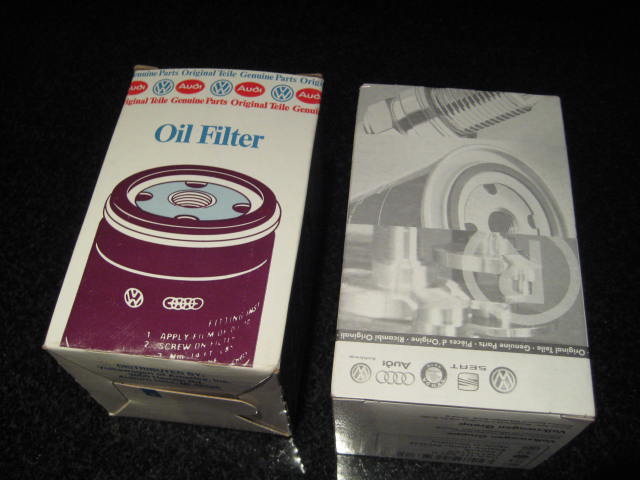 good friend of mine had sourced a ton of old school stuff and noticed he had a bezel that matched the bezel and speedo of my swallowtail so i got it... its very dusty and needs a little TLC, but its mint.... thanks kyle...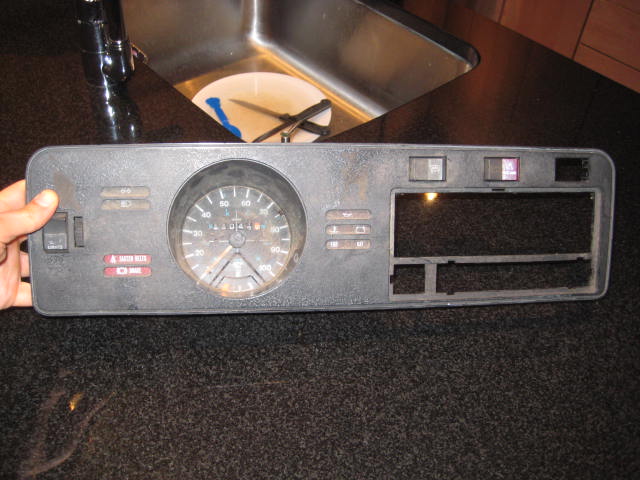 on to more important stuff.....



as i sayed i made my first gtg in the swallowtail last night and realized, being this low and wanting to go lower is going to be tough... roads intown aren't too friendly and i'm getting too old to SCCA my way around town. so called terry and asked if it was too late to cancel the strut spacers order...

having said that, i've decided to do what i said i wouldn't do with this project so stay tuned....



take care,
nash
3-14-2012
lol... looks like every other rabbit on here...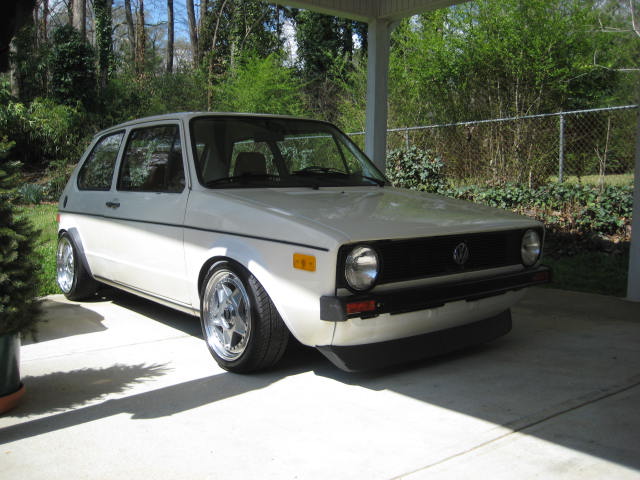 i'll hit you up in a few...



Anyway, I've decided to take a few days off soon and drive up to eurowise. During those few days, i plan on getting everything out the bay, give it a good scrub down, relocate the battery, install the g60 setup and brake system from the old nashty rabbit, and hopefully install the new motor (pending on if it gets done). Once in, eurowise is going to do their thing and finish up the build.

In the meantime, eurowise has begun with the tear down of the new motor to replace the 1.6. The motor will get a complete refresh, along with some performance mods. I've been speaking with chris collier of C2 Motorsports and we've been discussing modifying the obd1 harness to accept the obd2 ecu. we will see which route we take... Along with said product, we'll be running one of C2's spirited tunes....



Again, thank you Chris (aka C2 Motorsports) for the time and effort you have spent with me to this point...



Also, I will have eurowise install a peliquin LSD to help witht the spirited setup to come.

So one of these is going in...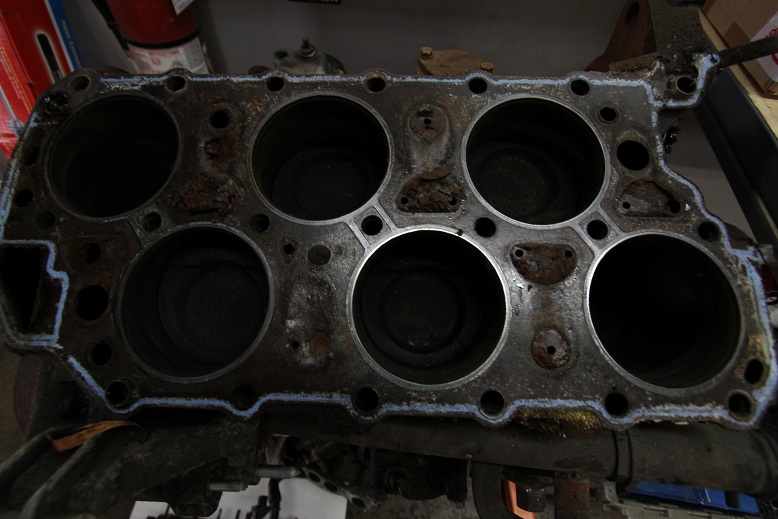 and don't worry all this mess will look much nicer both on the inside and out...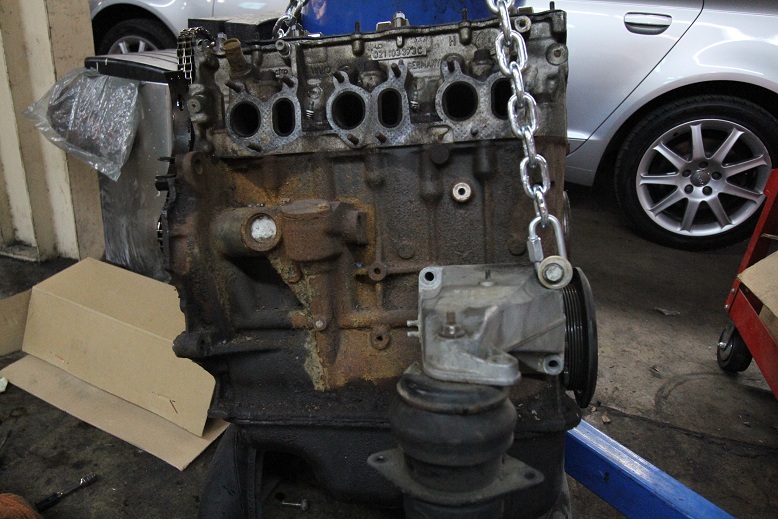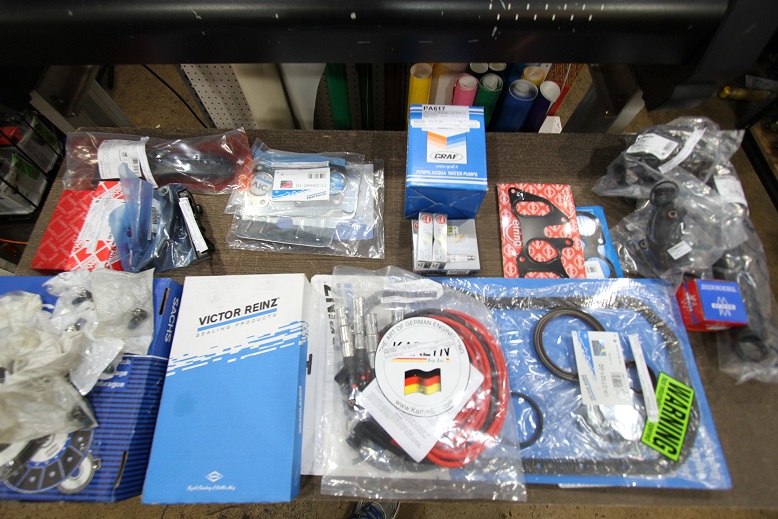 again, thanks to all i've spoken to in the past few days and obviously big



to Mike Ngo and the rest of the wise guys....



take care,
nash
3-15-2012
thanks swed..

the tires are 165/50 and keep this in mind..... its very important to realize that my rear wheel measures 8" from lip to lip and not frome where the tire sits at. So in reality the rear would be more like a 15x7 according to common lingo.... so thats why they aren't as stretched as you would imagine them to be compared to what most call a 15x8".... makes sense?

so block cleaning has begun...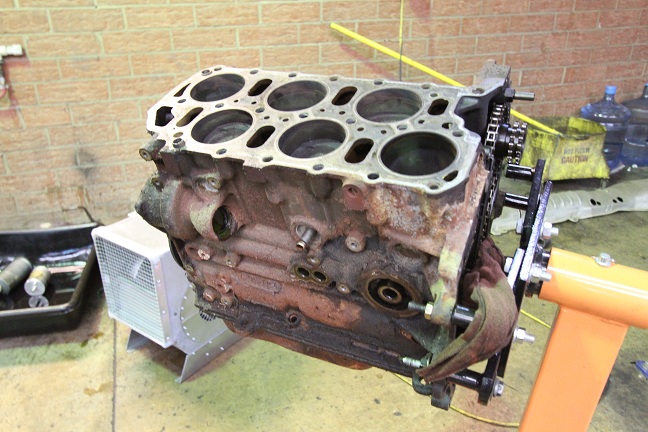 and recieved my NOS early style tails... big thanks to Gary on the samba...

notice the rear metal trays...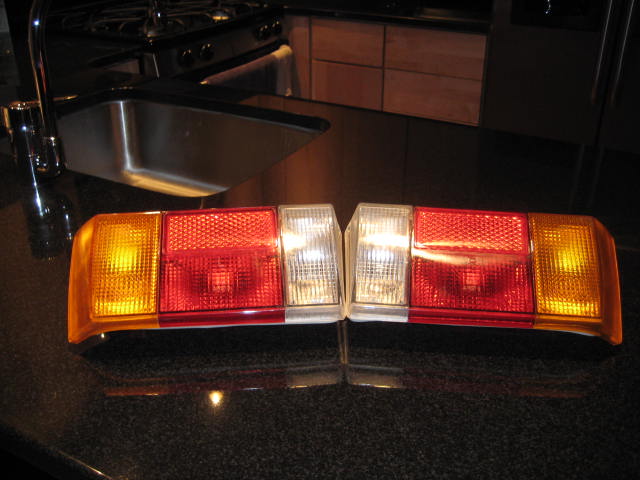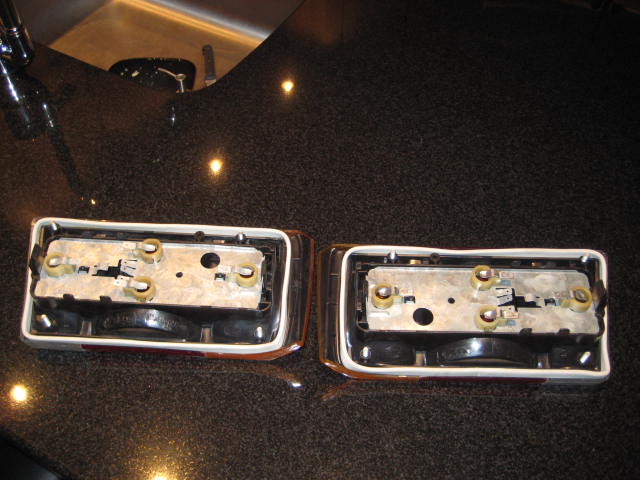 they have plastic covers that snap into place. the passenger side of mine is missing. so i need it.
if anyone has one, i would be happy to purchase it from you.

Also would love a set of NOS side markers both front and back so if anyone has a set they are hording and don't need, let me know...



take care,
nash
3-16-2012
so what little i've driven this car made me realize that i can not tolerate my anal sphincter puckering at the site of every pothole and bump in the road everytime i get in a low car. i'm just getting too old.... so i wouldn't be surprised if bags end up on this one...



anyway, a not so fun day today...

decided to head out to a local gtg last night and the suspension settled more than i had thought it would. having said that, axle rub a dub, dub.... lol...

that wasn't the not so fun part of today. about 3 days ago get a letter from the DMV stating my car will have it's registeration suspended in the next month because i failed to pay insurance...WRONG. long story short, when i transferred the Oregon title over to my name, the clerk at the DMV had put the title number where the VIN number was suppose to go. so the correct VIN i had given my insurance didn't match the VIN on my new GA title. Either way, the DMV had made the mistake and I had to correct their mistake for them. I had to drive the rabbit to the auto theft department and have a officer verify proof of VIN, then I had to head out to the DMV and have them correct the issue and waive the fees associated with it. not the biggest issue in the world, but still annoying especial when i had copy of the Oregon title and that wasn't good enough for them and that it took up half my day....



to do all this i had to remedy the rubbing issue and raising the coils was not an option so since i plan on notching the frame, i temporarily went ahead and took out a little more than an 1/8th of an inch and issue was resolved... kinda looks OEM to me...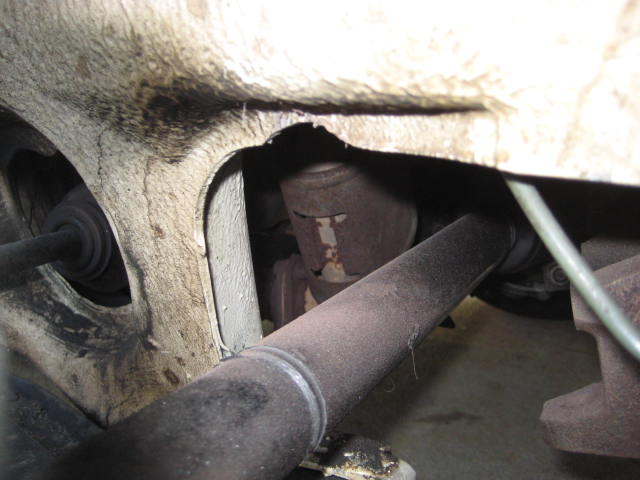 besides that, i think i just ordered a bunch of accessories for the motor... lol...

take care,
nash
3-22-2012
i will be there...

i'll be driving this one up and mike is bringing his vr6 cabby up... look forward to a few






so a lot of part ordering and collecting on my end and motor building on eurowise's end...

stopped by a friends' house i've known for over 10 years. in that time my friend paul started a business many know as www.gruvenparts.com If you don't know what he does check him out.. great products and even a greater guy...


thanks again paul...


a pic of him (just after a workout... lol) and his super clean supercharged corrado...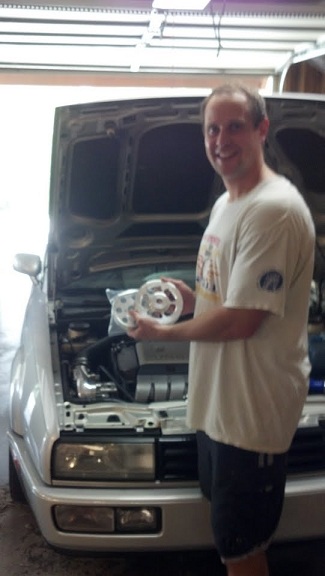 and a pic of what i picked up from him today...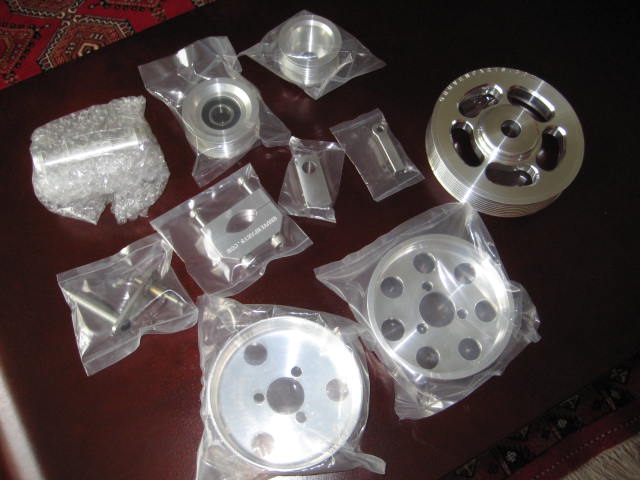 saves over 8lbs of weight and must say it looks damn nice! took one pulley out of its plastic to get an idea of how pretty this stuff really is...




as stated i had mike and crew go completely through the motor...

so.... new main bearings, new rod bearings, new piston rings, clean entire block, polish crank, wire wheel clean the piston grooves. you can see they punch number each piston so they go back in the right hole. they took some pretty cool pics so figured i'd share a few mike sent to me...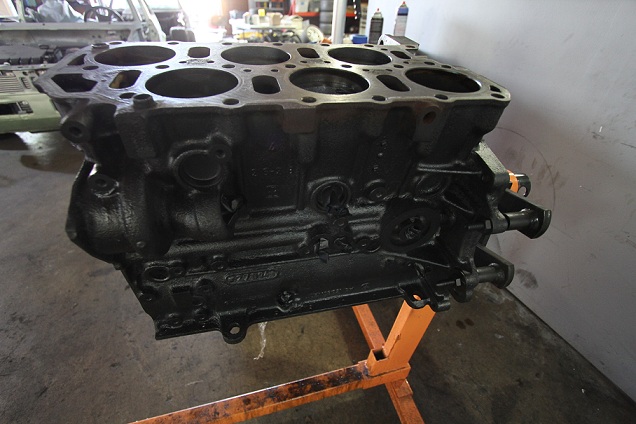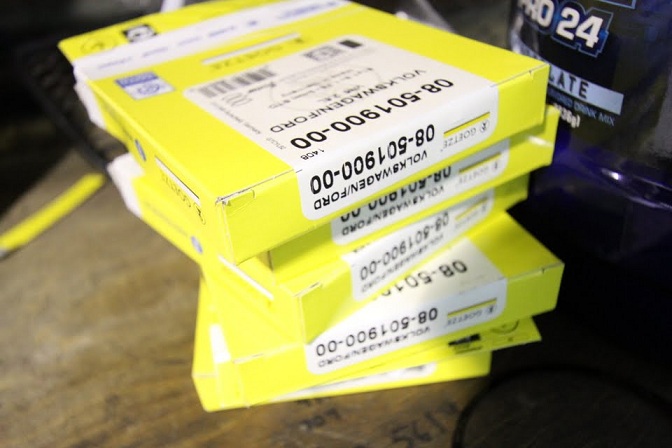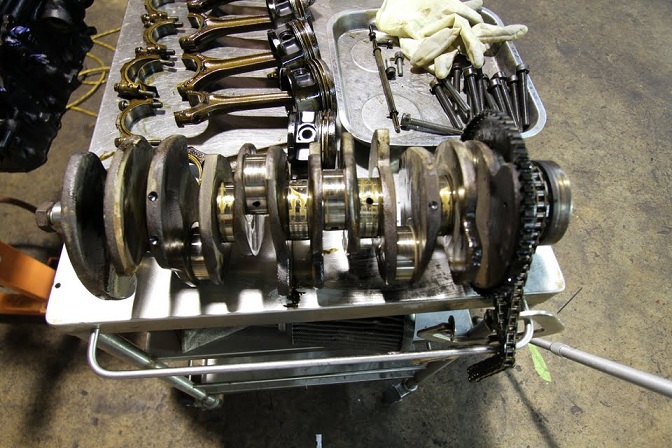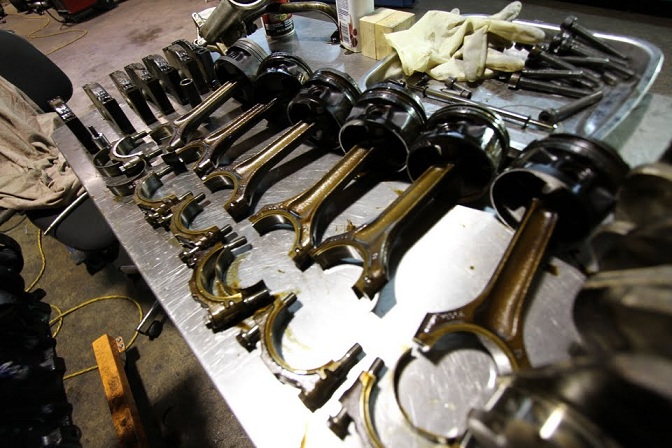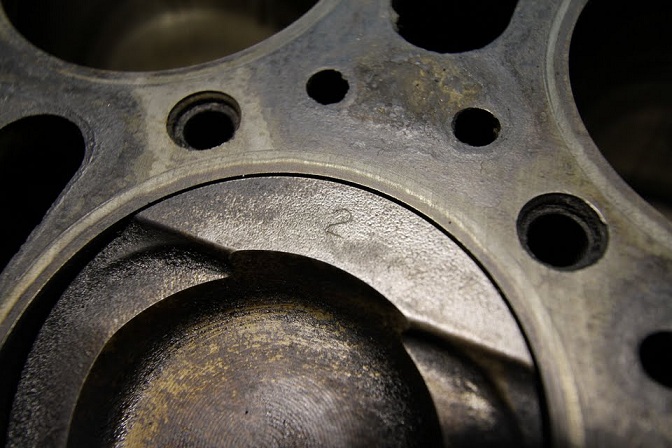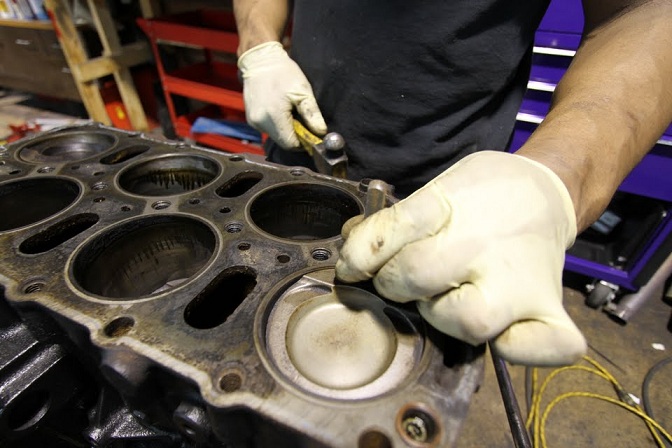 take care,
nash
4-2-2012
lol...

was a fun AND productive weekend...



sorry for the late response. between a crazy work scheduel and vacation with my girl haven't had time to update but much has been done....

i drove the swallowtail up with my sister to eurowise to begin all this. i wasn't able to stay as long as i wanted but i got a good bit done for a days work, thanks to all the help from josh and mike.

so took a bunch of stuff out, cleaned up a bunch of stuff, and got the bay preped for some paint.

i will say that i had never in a million years imagined that i'd have to drill out soooo many spot welds to get the battery tray out... almost as bad as removing the gorilla snot that holds the carpet in place on the later cars...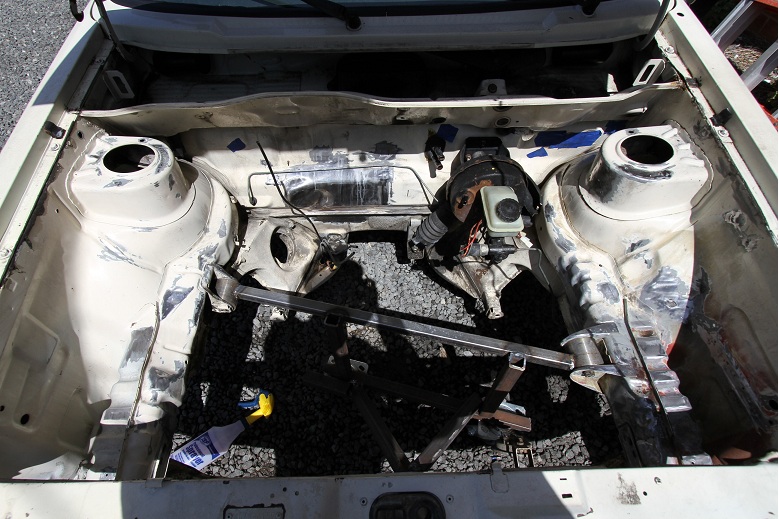 since that trip mike and crew got a bunch done....

out with the old... in with the new.... if "you" weren't upset enough, then this should set "you"over the edge.... lol...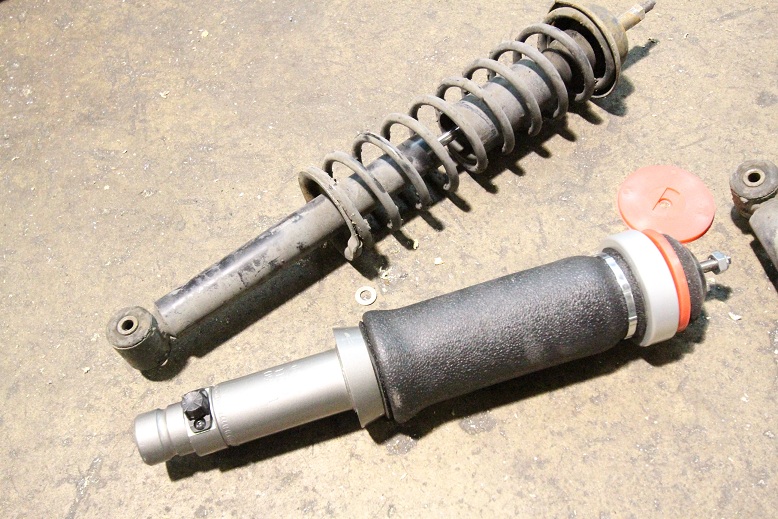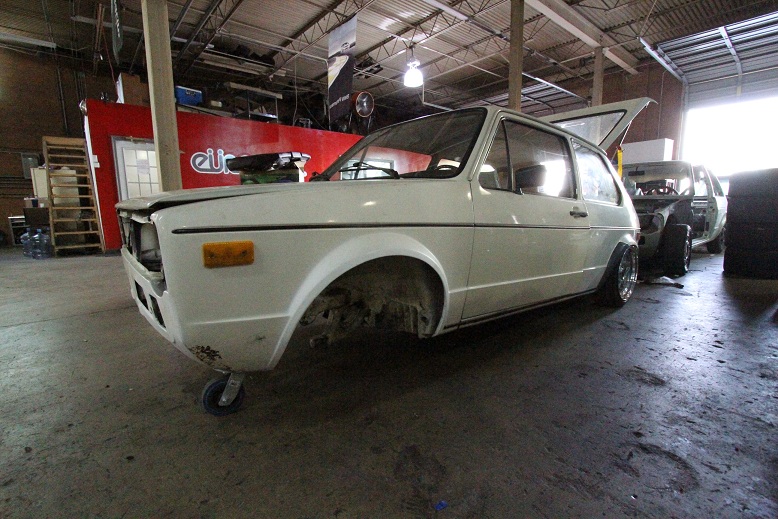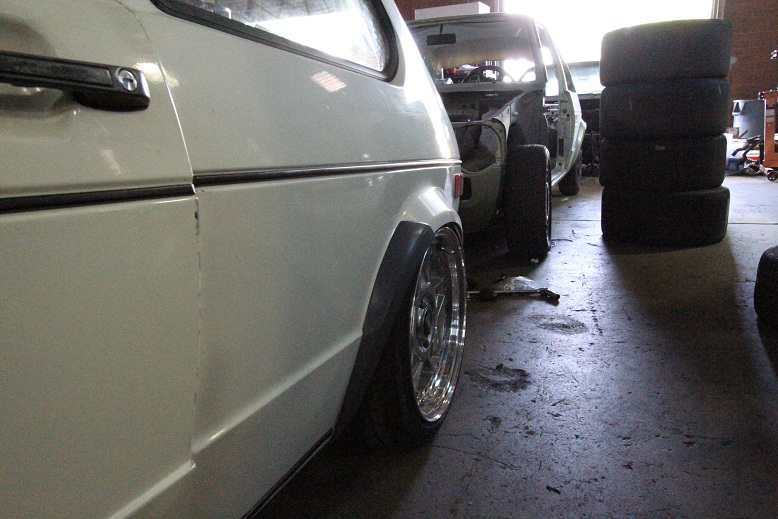 they built something to help the motor breath...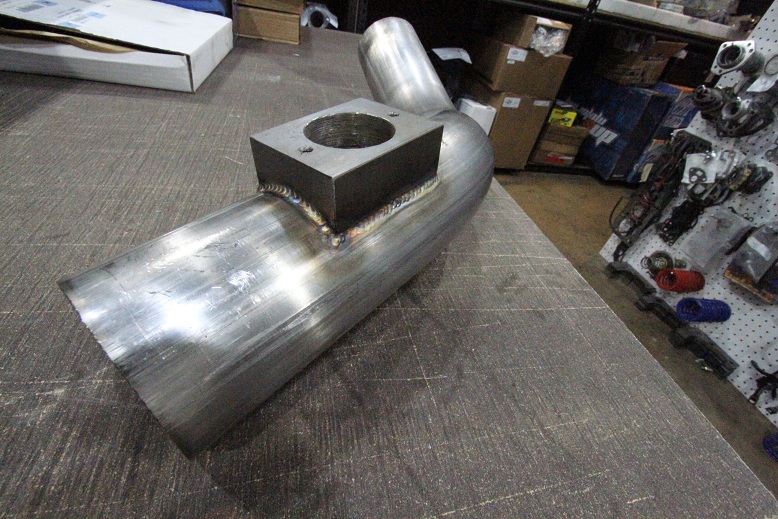 waiting on a bunch of random stuff but getting the motor together....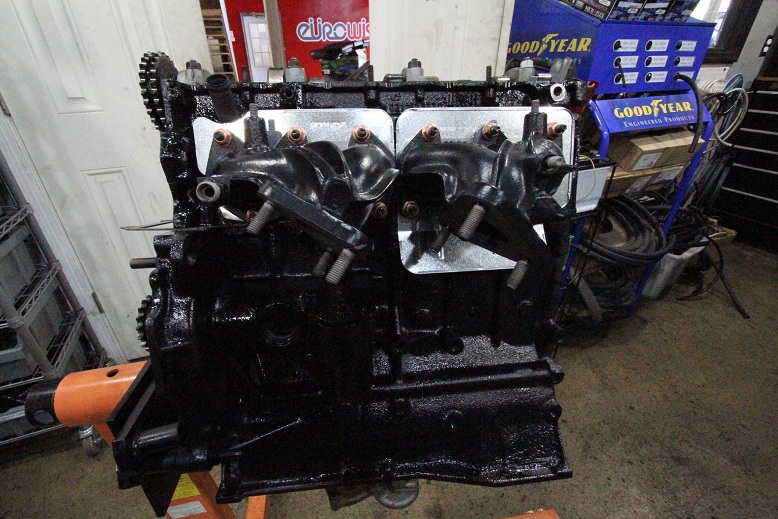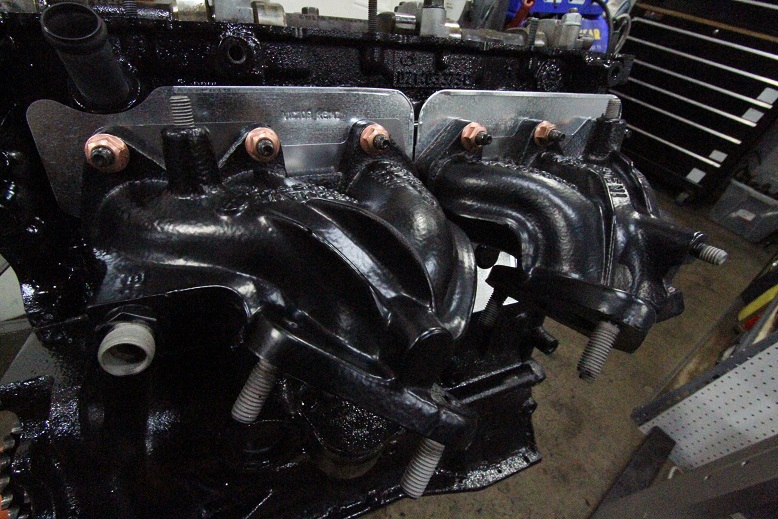 take care,
nash
4-5-2012
enough of that and find me an obd2 ecu and harness like you said you would....




so they got the pullies from gruvenparts on...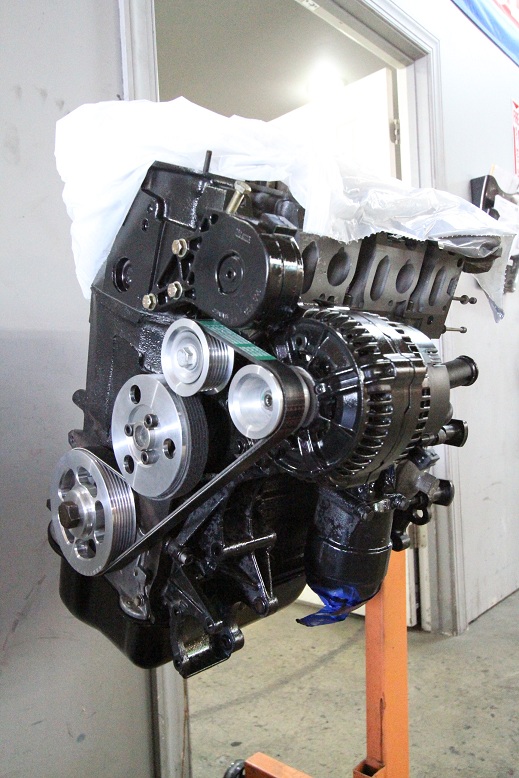 4-6-2012
so as stated earlier, removed excess stuff and filled and relocated holes in the bay, and cleaned. today they sealed and primered the bay. its getting a "quicky" paint job since this car will be getting a complete body overhaul later in the future...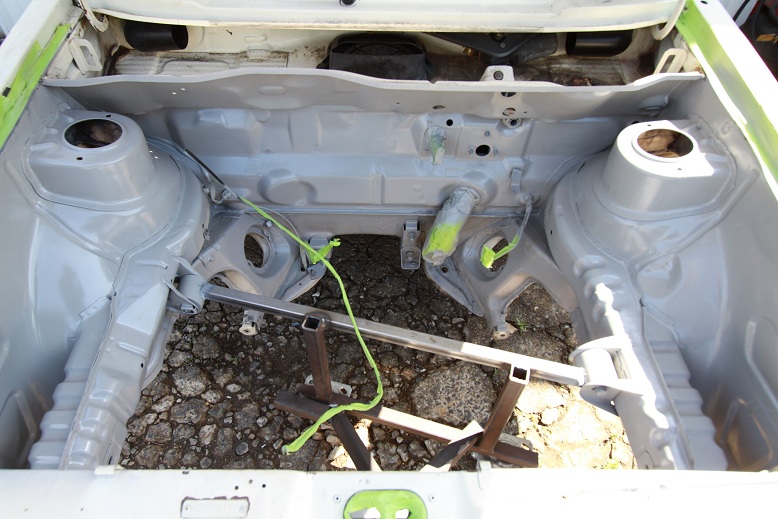 began to setup the air ride. eurowise ran lines, and install nice quality bulkhead fittings for the lines to pass thru the floor. they made a nice wood floor to mount all the management, compressor and tank to, and then carpeted it black...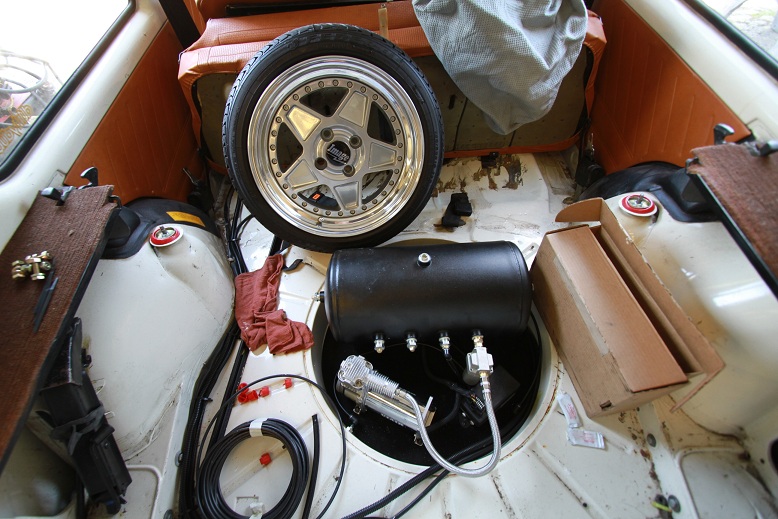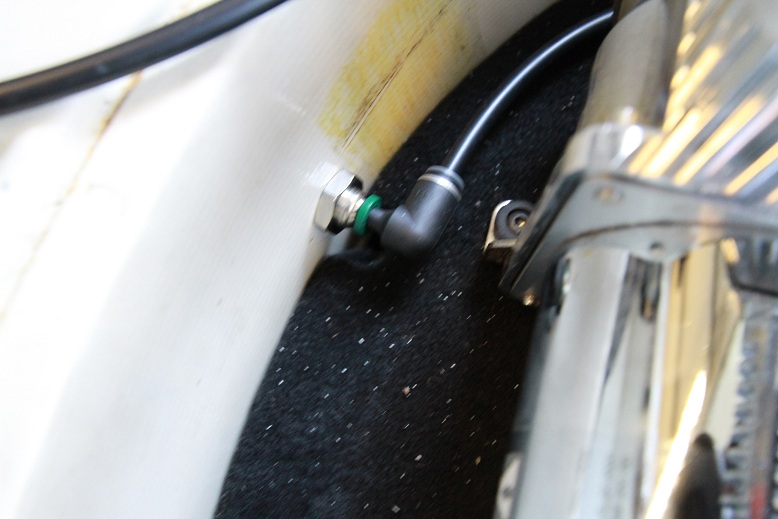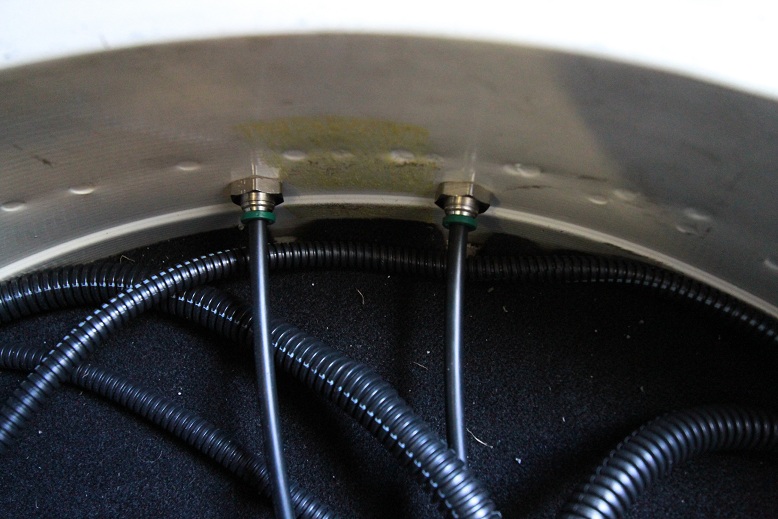 4-7-2012
lol... i seriously doubt you'll have any problems.... i mean all those vr6 a2's ended up on there roofs so guessing the a1 vr6's are next...




anyway, excited to say the bay is sprayed L91Z, also known as atlas white...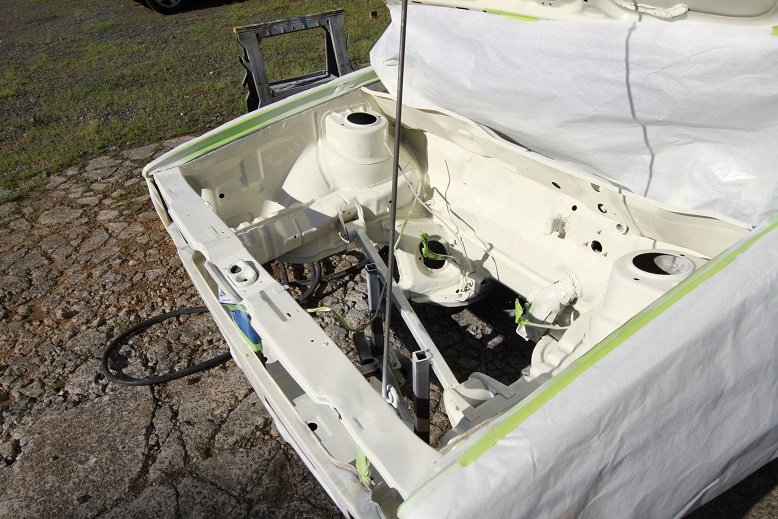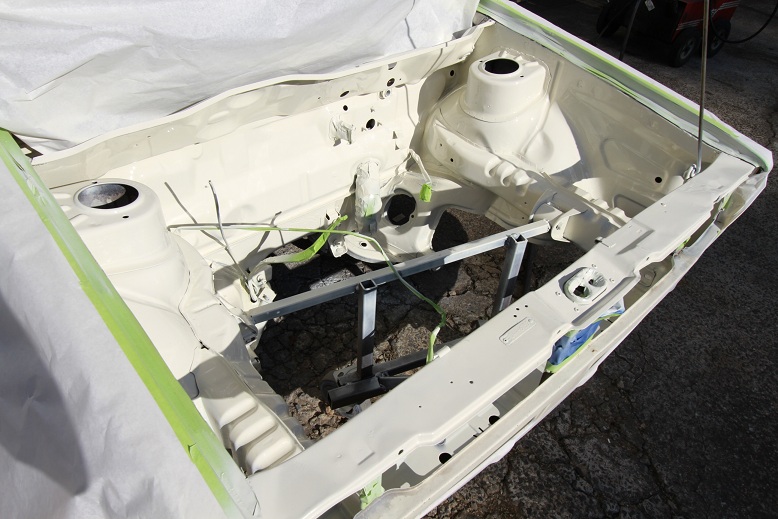 4-11-2012
bingo!

so mike sent some updates the other day of the progress.

it took a few days but they were able to figure out how to remove the fender in order to run an extended harness thru...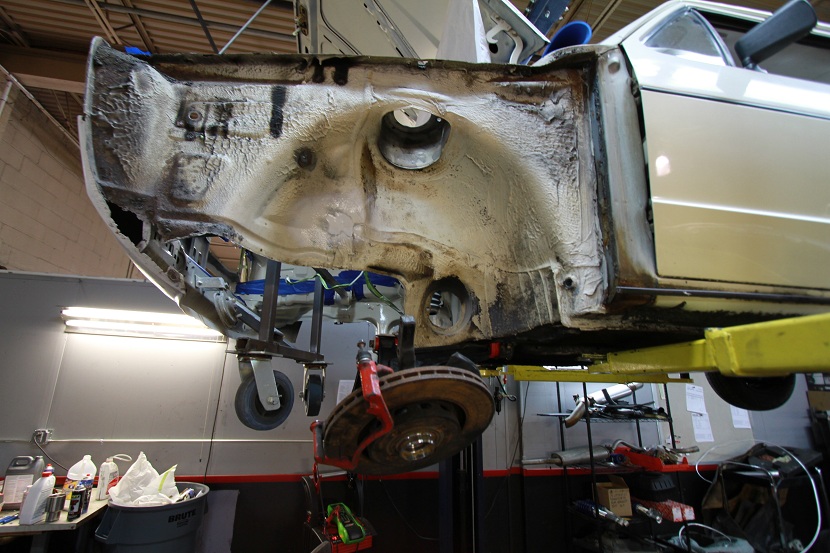 Freshened up the front end with poly bushings, tie rods, ball joints, etc....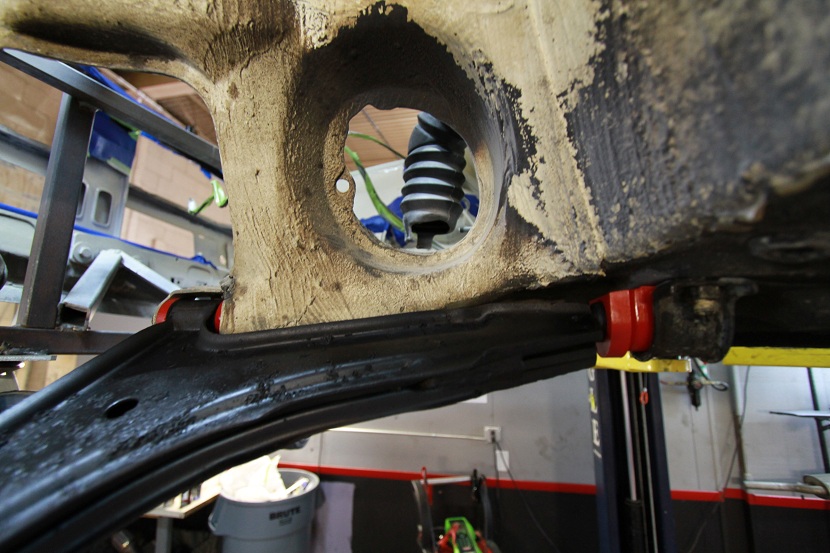 welded -6 an fitting on the fuel rail to run an lines from the front to back. the factory lines were too small for the vr6 motor so the car will get new lines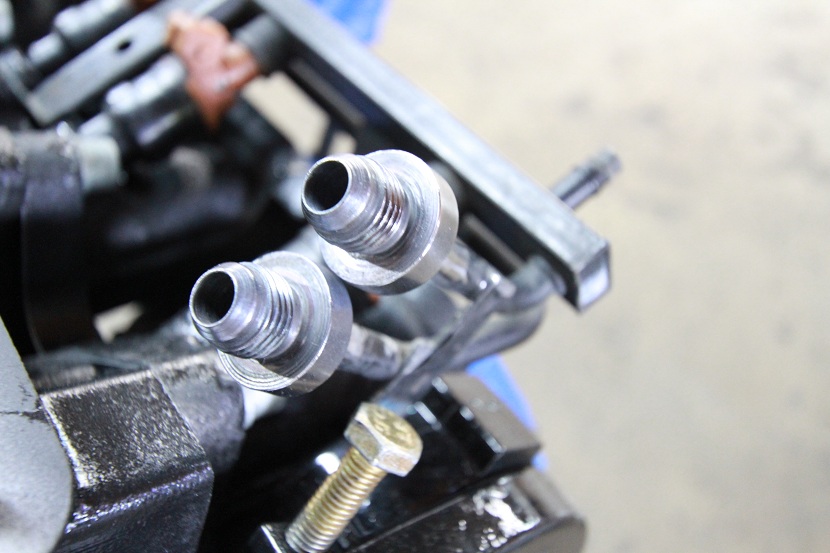 they cut off all the unessesary brackets on the steering rack and grounded back down smooth and painted rack. Looks much cleaner to me now.... they are also developing a new style of rack boot for an oem+ look as seen on the driver side....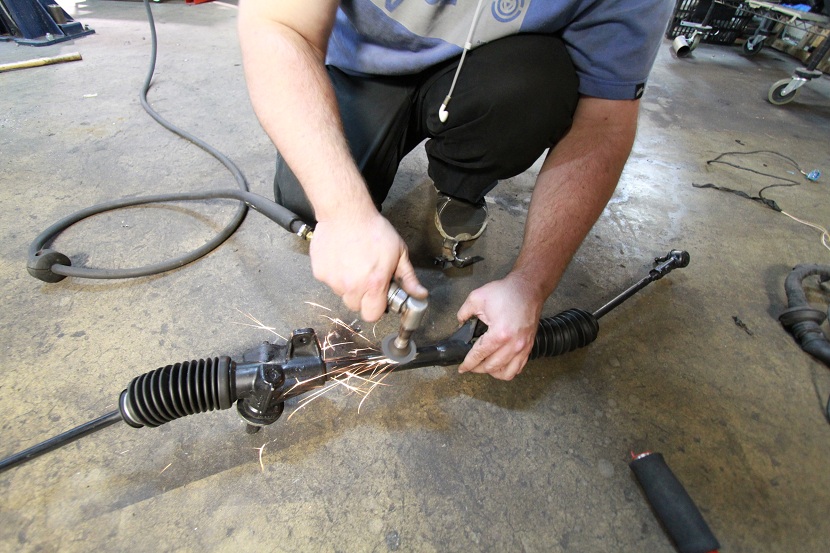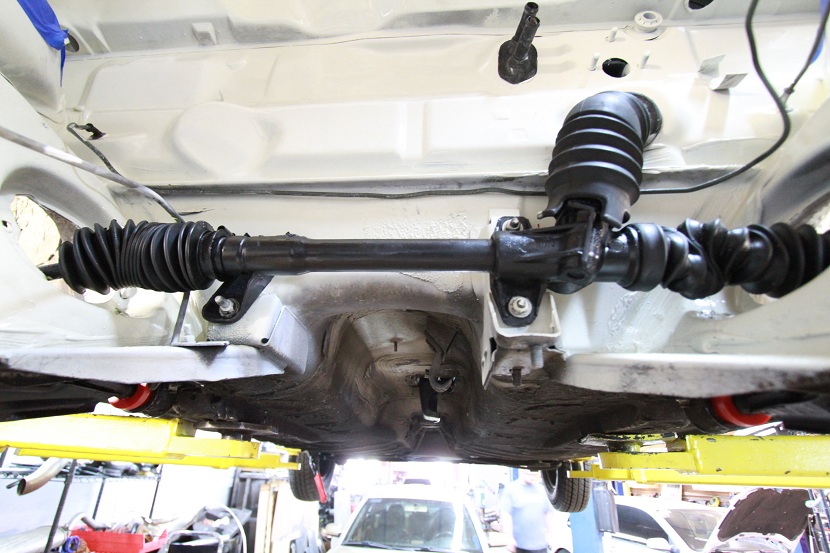 I wanted a little something extra without going crazy so a set of Techtonics 268 cams were ordered and came in... time to install new guides and chains....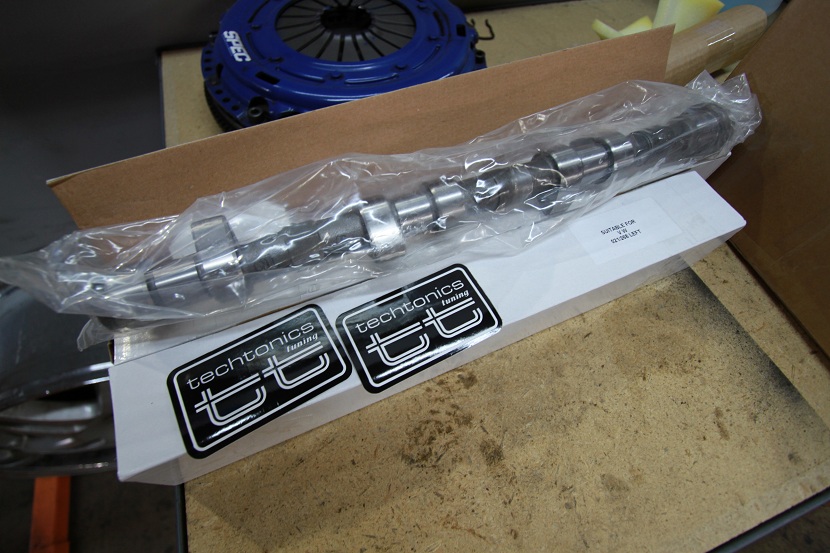 so all and all things moving nicely and much love out to the crew up at eurowise...

4-19-2012
absolutely amazing shop jeremy!!! I plan on doing a cross country road trip in the near future in one of the bunnies and definitely would love to swing by and check your shop out in person one day if that would be ok...

so let's talk tranni's....

called peter of the www.thescirocco.com and put an order in for an 02a peloquin. i had bought one from him years ago when building the first version of the "nashty rabbit" and he was very cool, so figured he'd be the best place to get one for this project. Must say for those without an LSD, you have no clue what you are missing... one of the best mods in my opinion. anyway, put the order in and unfortunately, it came in later than expected. poo happens, but peter was very upfront with the situation and i even got a call from gary peloquin himself.

if that isn't customer service, i don't know what is... i wish more companies were like this...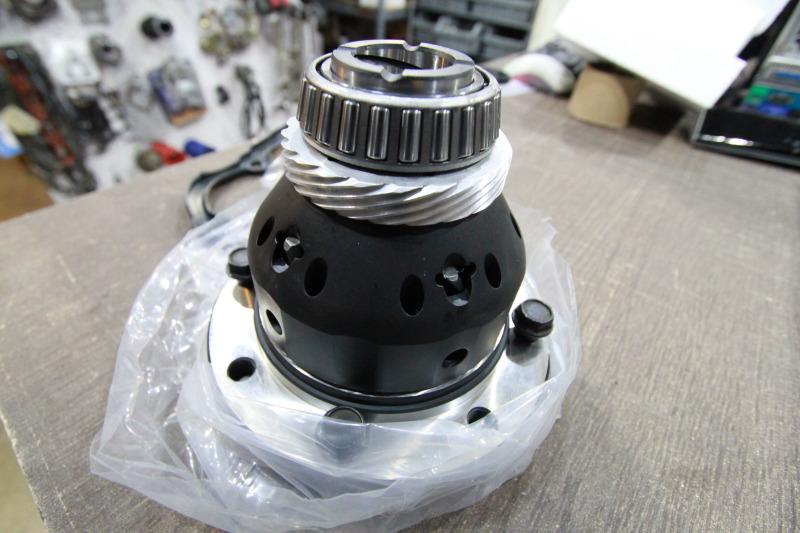 i also hit up the guys up at BFI and i bought there stage 1 clutch/flywheel kit... big thanks guys..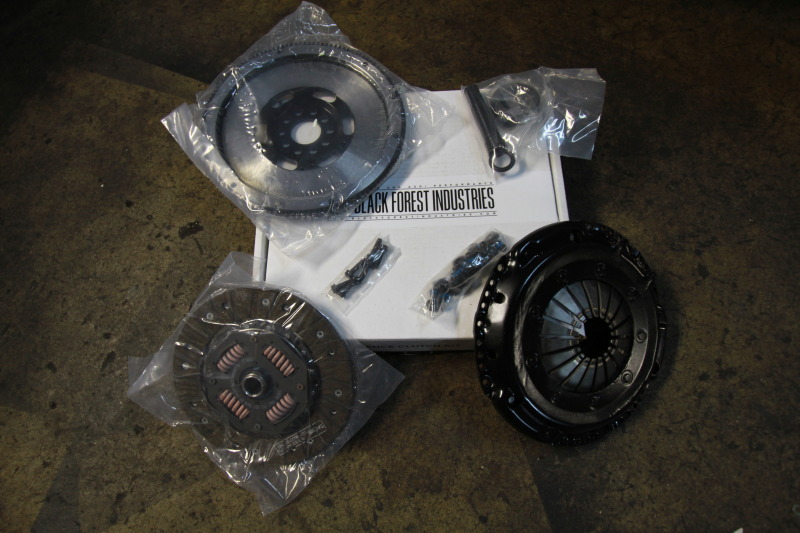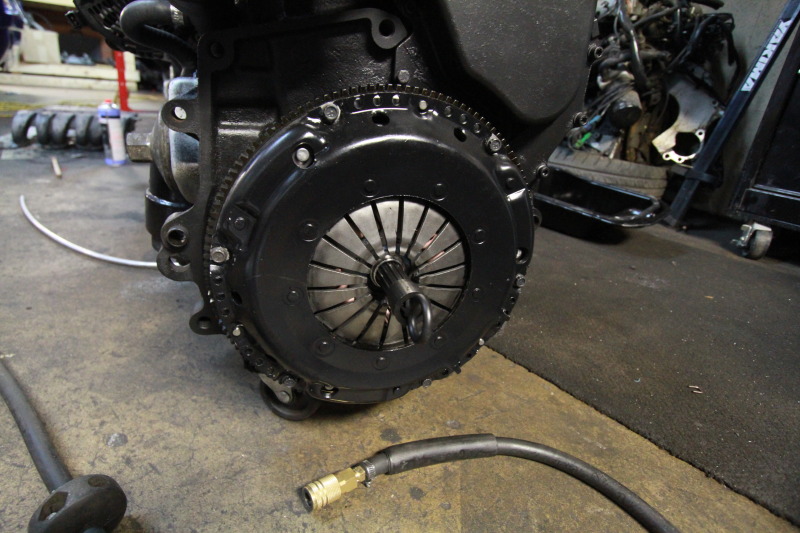 cams went in....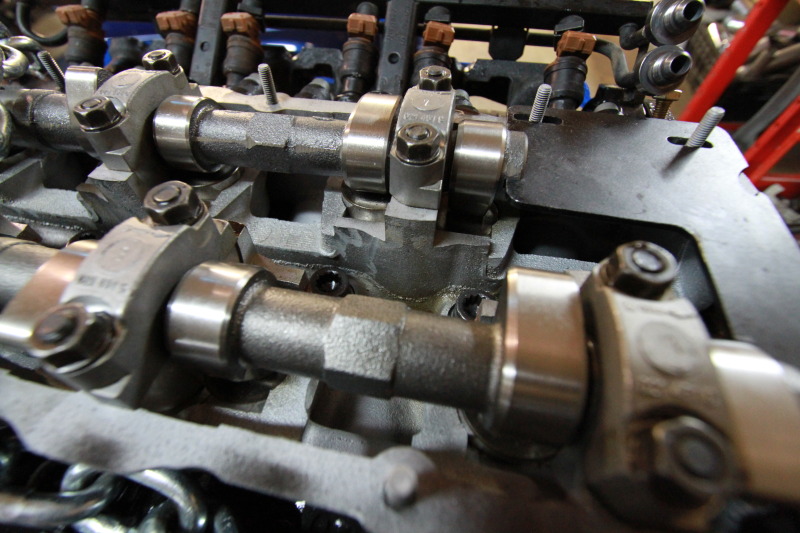 few more odds and ins got done, but will get more updates soon.... dedline is right around the corner...



as usual, thanks mike for putting up with my constant harrassment, you no you're my favorite punk!

and thanks again to all the guys at eurowise...


4-20-2012
jake, I WILL definitely be doing a road trip and I WILL be making it up to the PNW! there are so many people i've spoken with over the years that live up there that i'd love to finally get to meet many of you in person......





so....... when the guys at eurowise get going, they fricken move... getting much done so here goes...

it's officical. the motor is finally in.... they got the peloquin installed, cleaned and painted the trani, and got it all bolted up and the lump is in...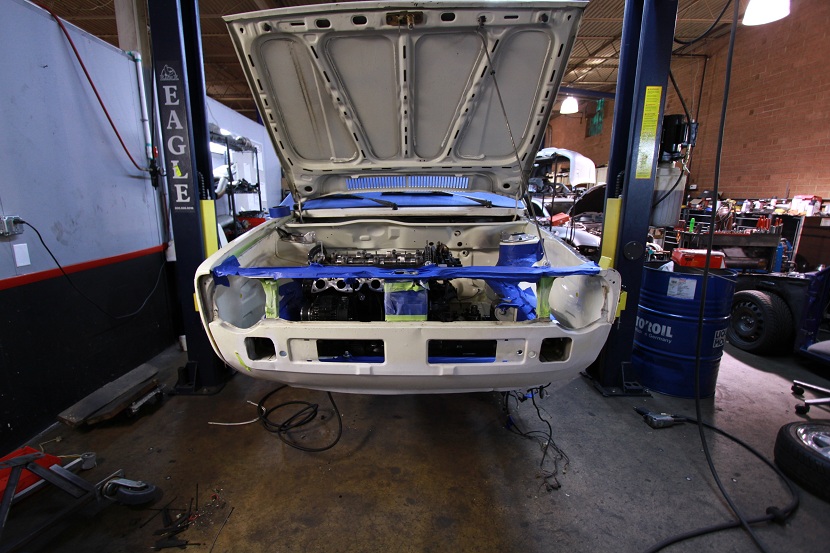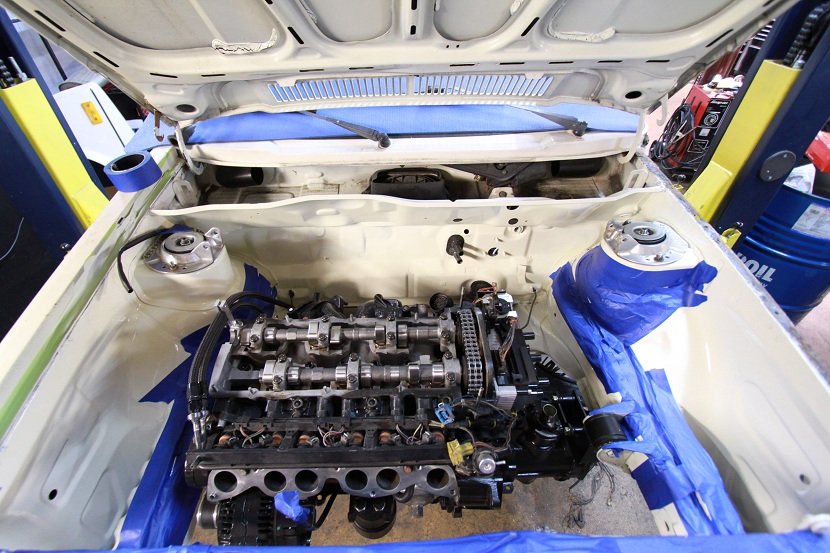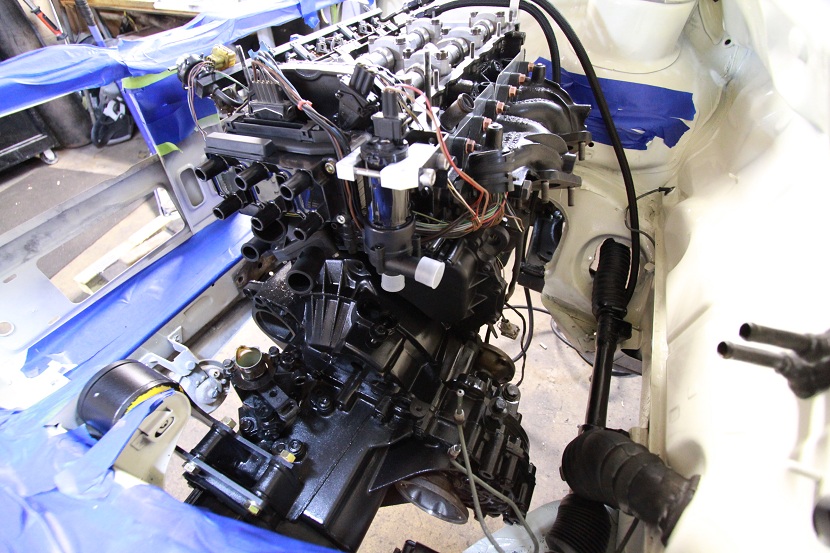 disregard aux water pump, its coming out... not sure what mike was thinking...



next up, fueling....

a walbro 255 inline fuel pump was paired up with a bmw inline filter. mike knows me very well and clean and simple is what i like. i hate unnecessary connections and mike took that into account when designing all this...





so they minimized the amount of clamps as possible for cleaner and more reliable install. you can see they have a fitting on the filter and pump all the way up to the motor. hard lines custom bent from filter to the pump as well. hard lines from from rear to bottom of the car and then braided line from bottom to the motor so you only see black hose up by the motor... here again, clean and simple...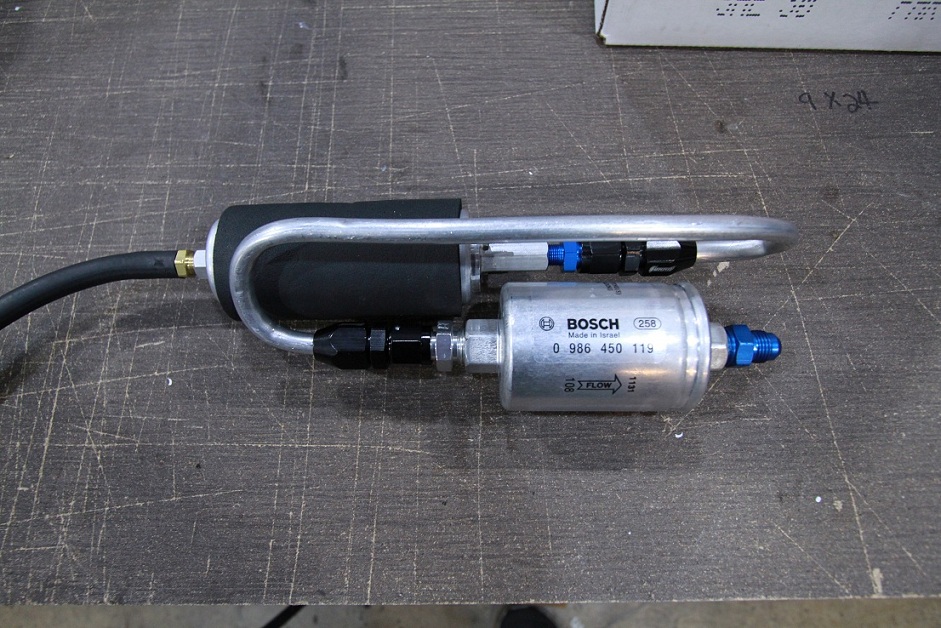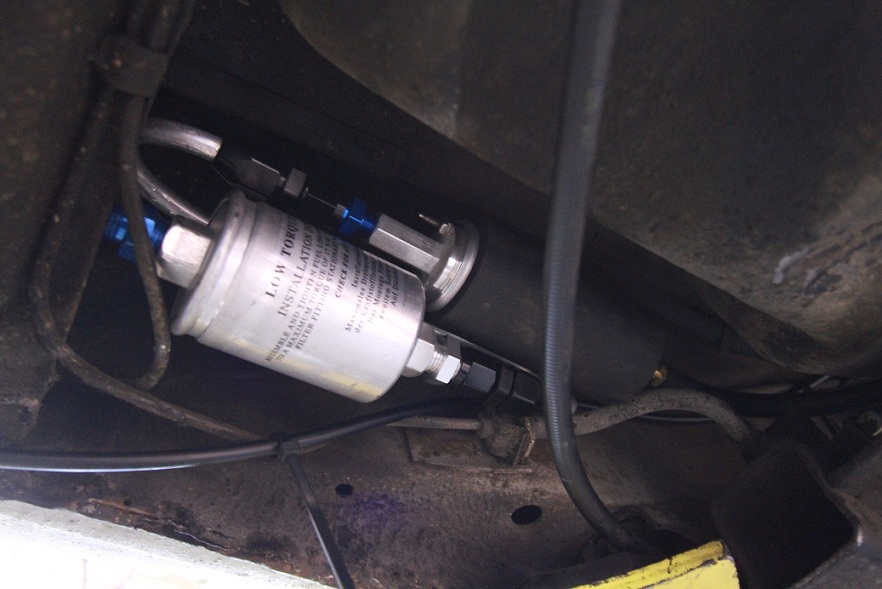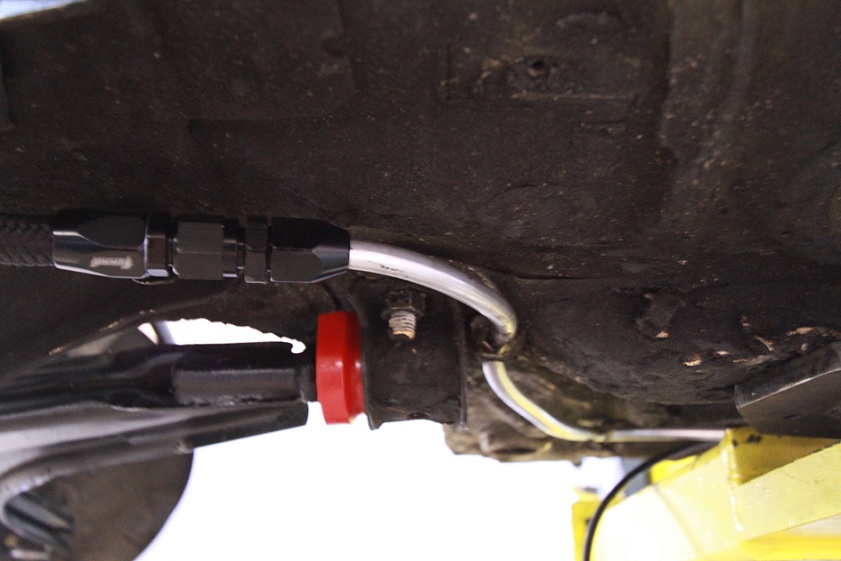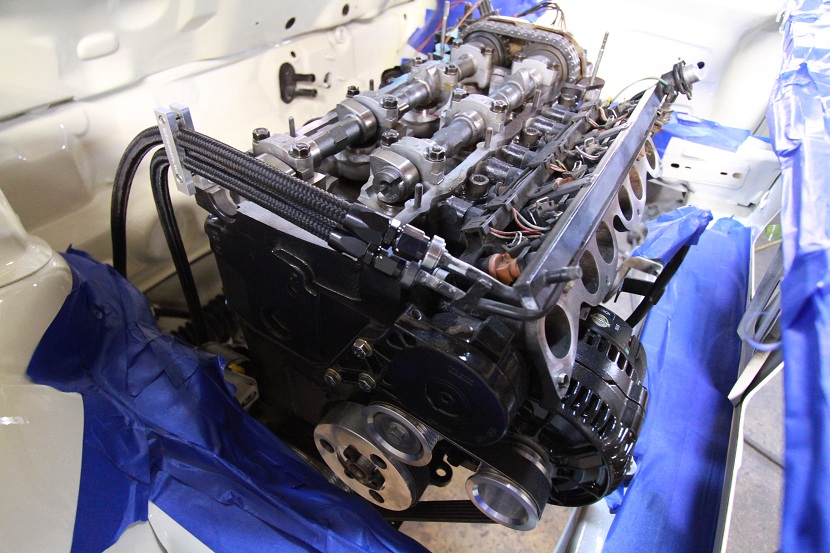 and a pic i liked....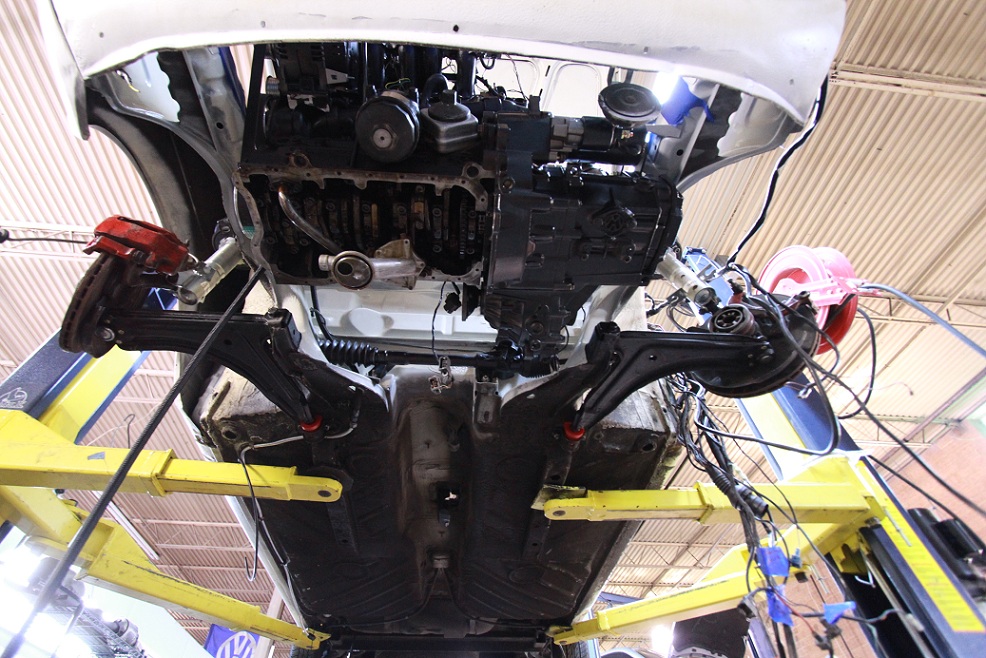 4-25-2012
So on with the updates... mike sent more pics yesterday and progress is being made...

radiator and fan assymbly are in.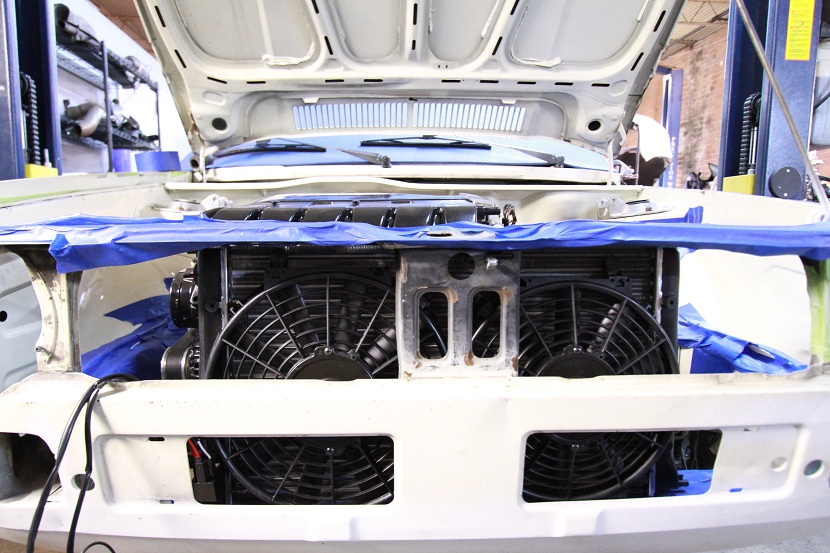 got the coolant hoses in. only issue is they are made of the wrong material so hoping they got time to correct this. if not, no worries....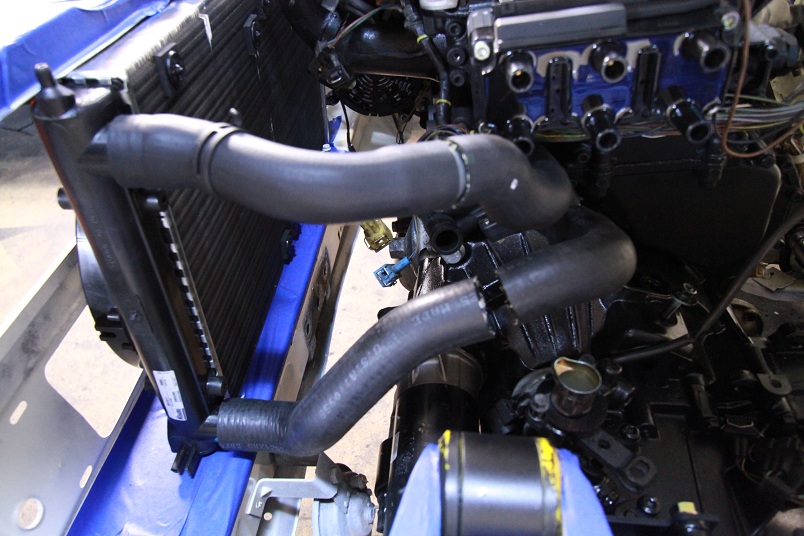 and another pic i want to post cause i like it... let's see what shannon finds wrong in this pic...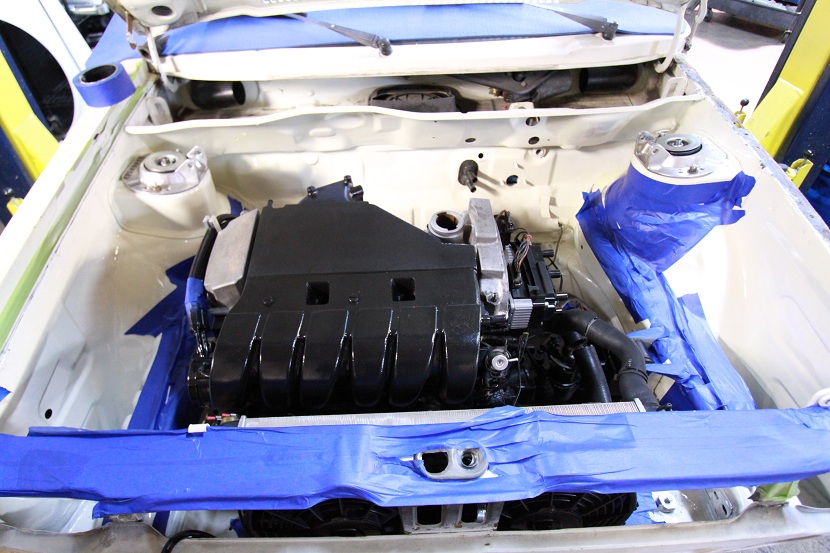 thanks guys for all the comments and as usual, thanks for the stellar work eurowise...

sorry alex, i suck... lol...



so decided to go a different route... i kept teetering between a shaved manifold or not and after seeing the mock up pic mike sent me, decided i'd go that route... so shaved manifold it will be with no covers on the motor.... keep in mind everything is just mocked up and once complete with color theme, should look decent i hope...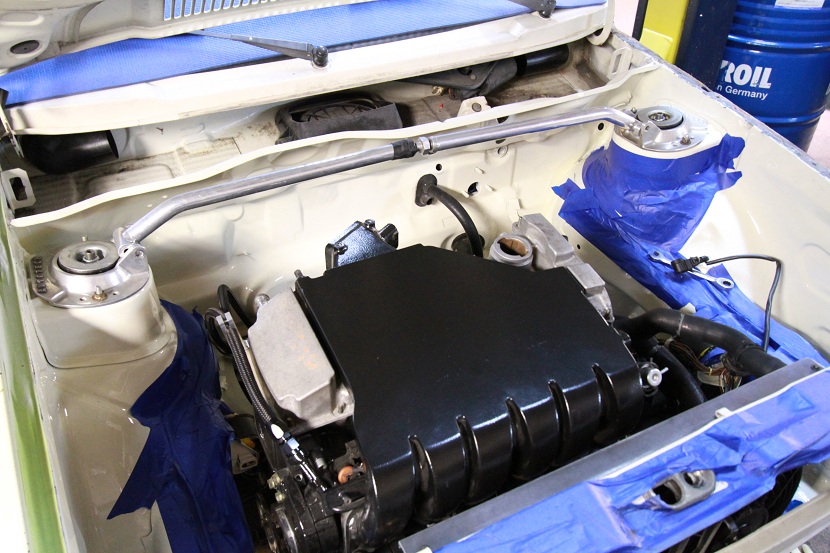 powder coated downpipe was installed...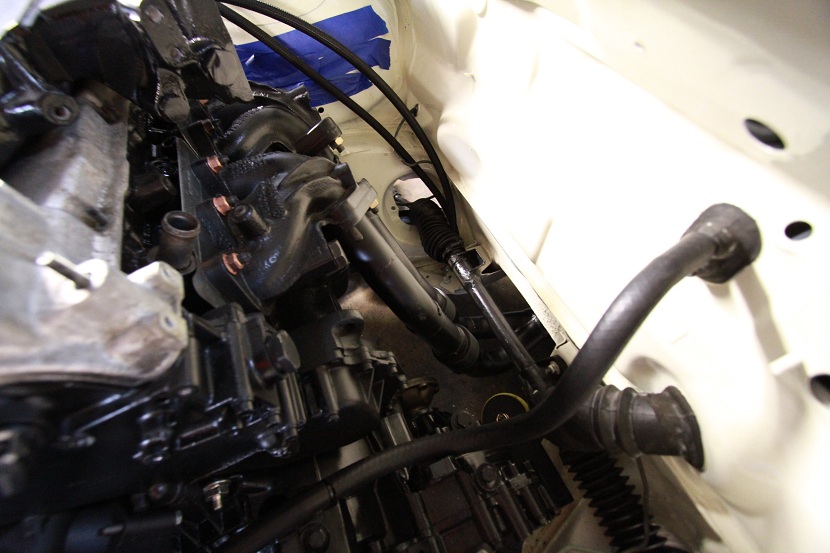 also, decided to run the upper strut bar and the the ignition coil and aux water pump were removed...

on last pic.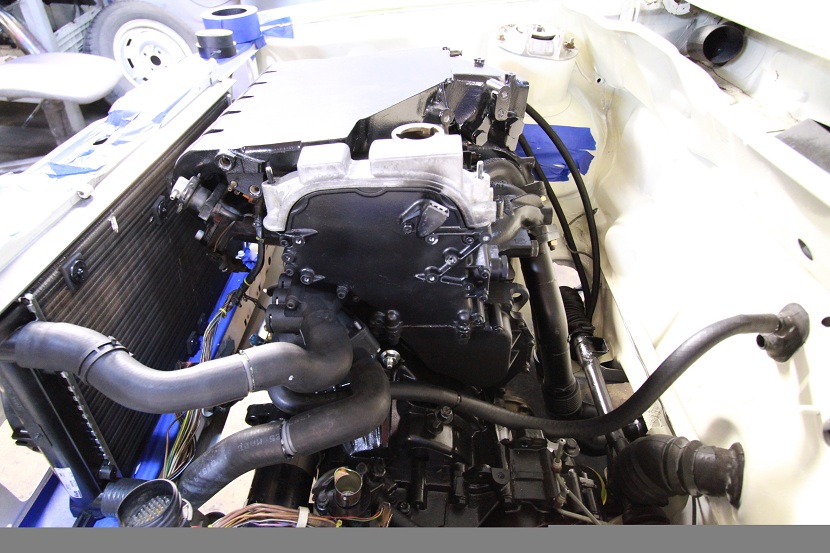 should have much more done soon... like i said, the guys at eurowise got the ball rolling...

4-29-2012
thanks dave!!! can't wait to see you in a few weeks





so got an update from mike the other day. getting that much closer...

relocation bracket made for the coil pack.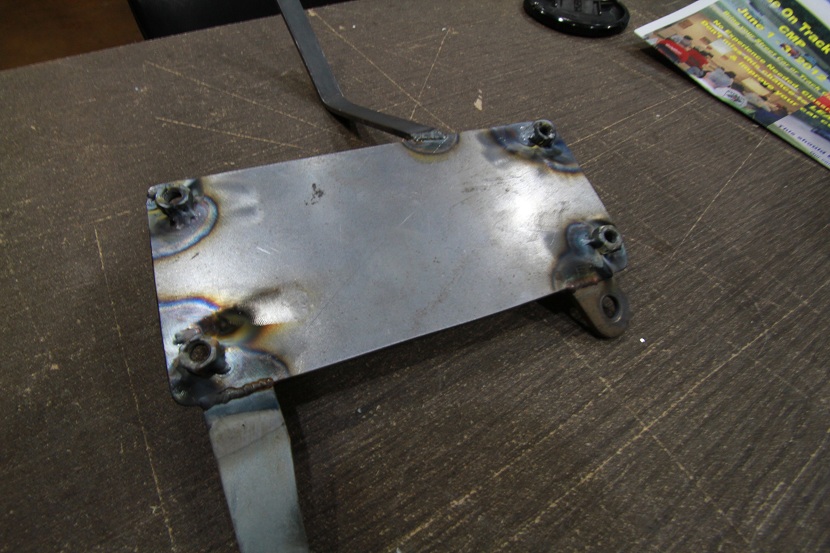 and the coil relocated




rerouted and extended the wires to add to the cleaner feel...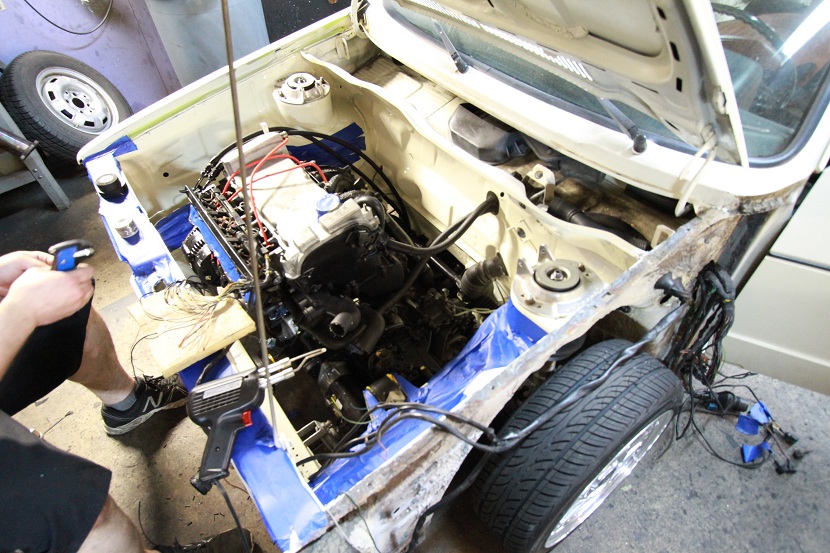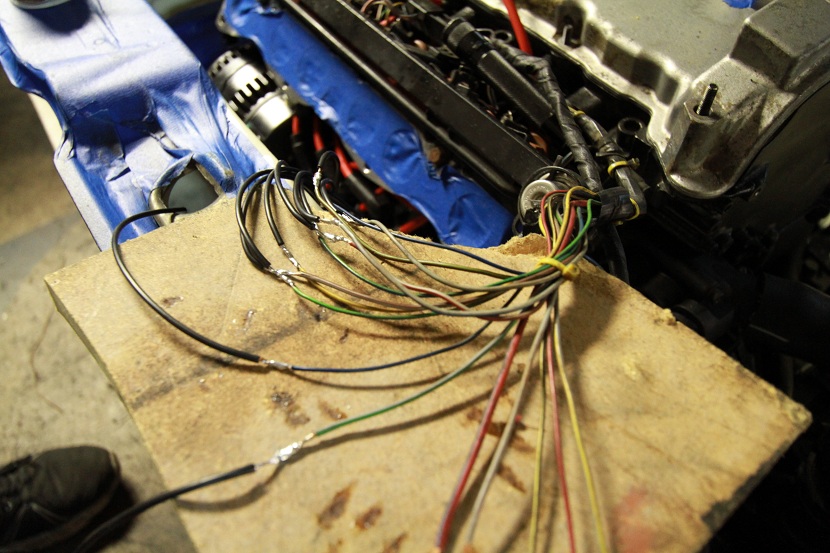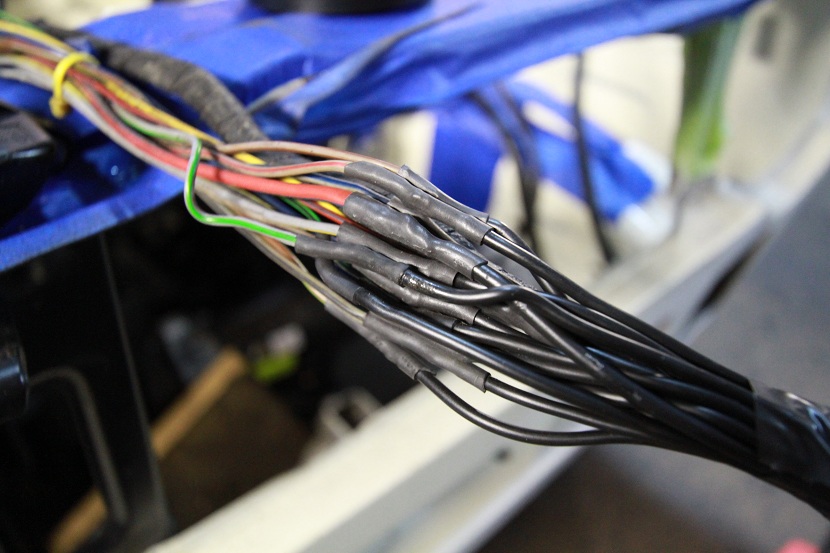 5-2-2012
just for you brian....



so i've officiall got under mike's skin with all my ideas and he has put a stop to what i want out of stage 1...
so car won't really be stage 1 at sowo, but more like stage .75.... lol... in his defense, i get carried away with idea's and obviously they are tight with time given that the show is 2 weeks away.... but he was nice enough to send me a pic and figured i'd share now one of my ideas with trying to tie the interior color (which i absolutely love) into the bay.... one of a few things that will hopefully make the bay stand out a little.....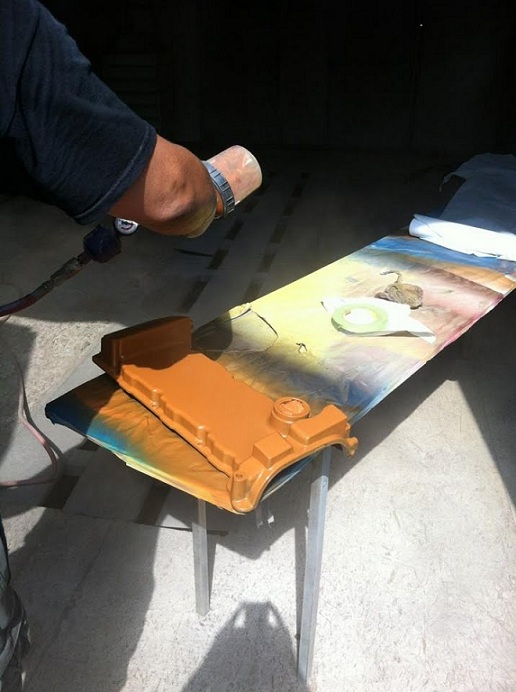 don't be mad mike ngo.... i

you....
5-10-2012
wake up brian, wake up....

nah... i'm not the secretive type. nothing here people haven't seen done many times over, and besides, defeats the purpose of sharing your excitement in a build thread...



so much has been done except for my horrible updating... lol... apologies ...



got the TT chip in to help squeeze a few more aggrasive ponies out this motor. mike got it solder'd in place nice and snug...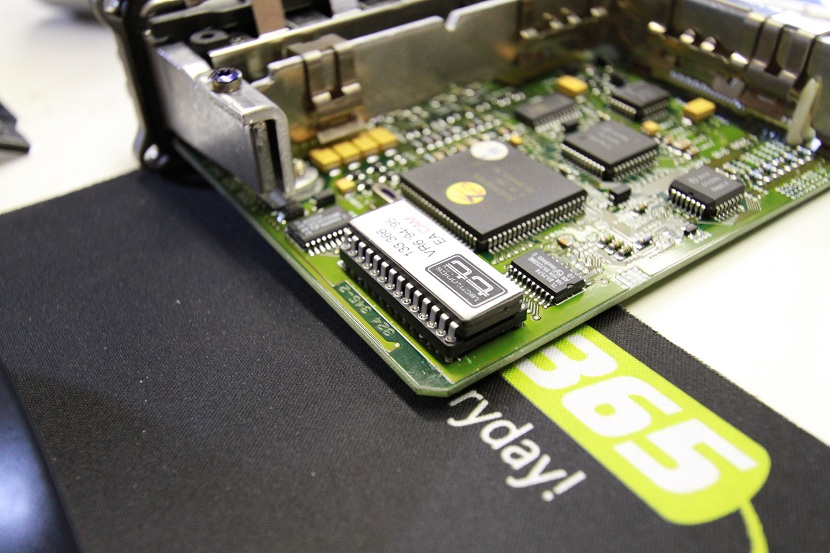 got the gruvenparts pullies and fuel bracket back from the powdercoaters....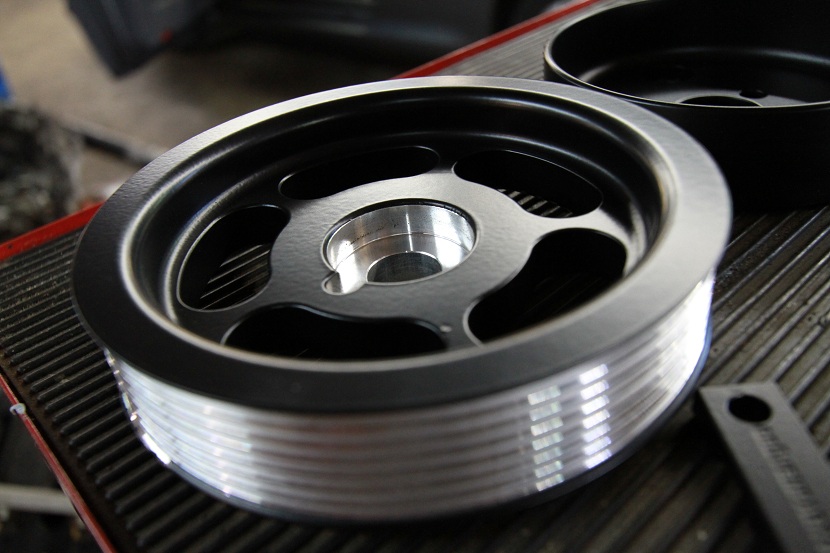 the front end is beginning to look like a front end again....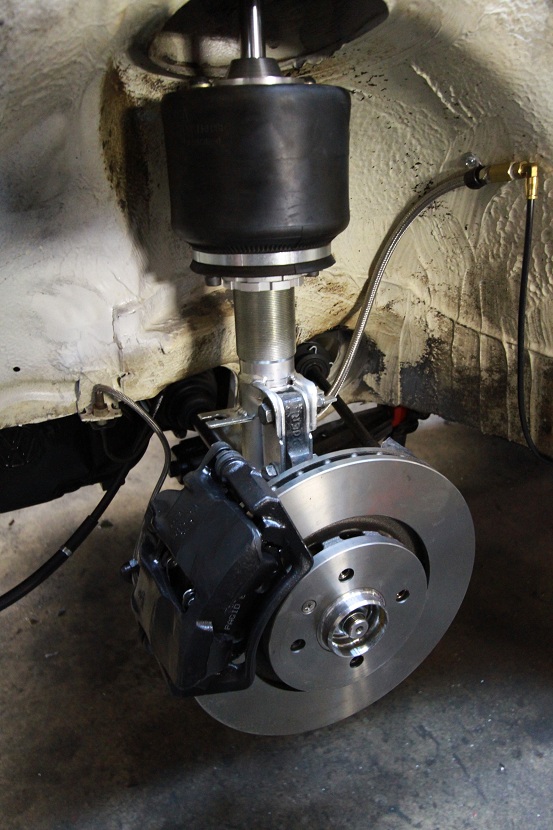 air lines ran to the rear....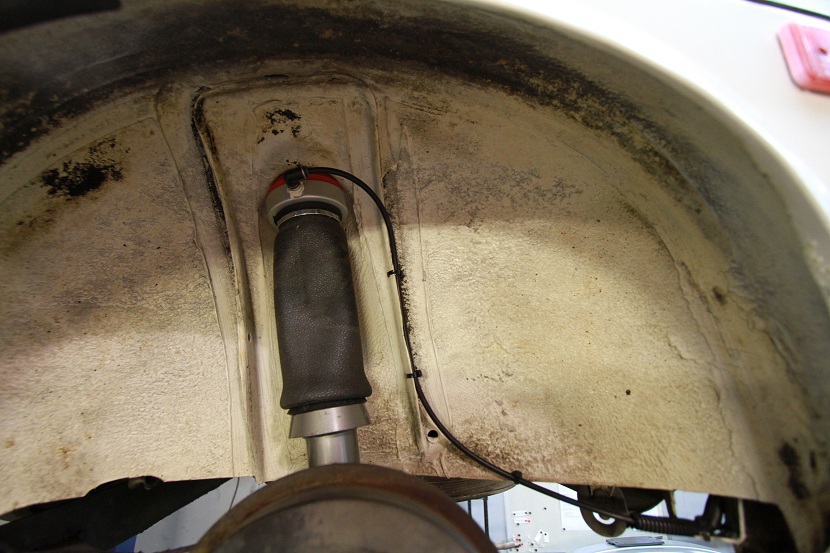 installed shifter parts new shift housing (donor housing bearing bad)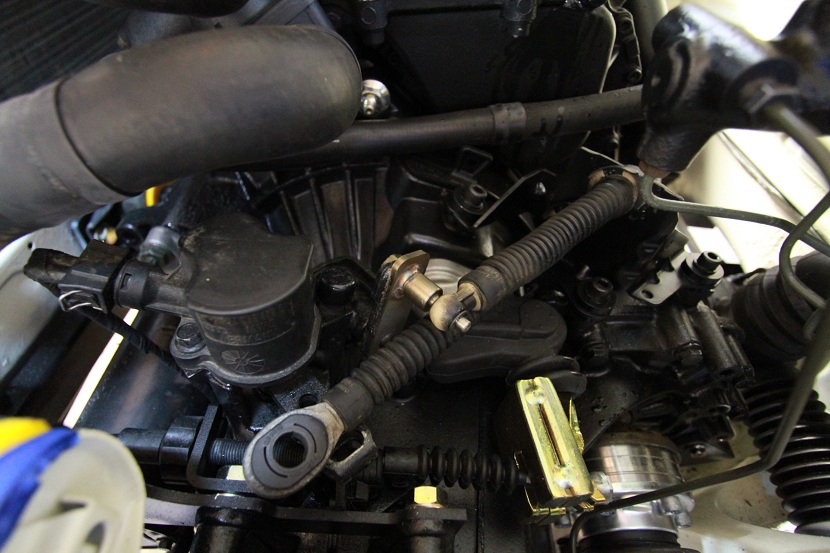 and as mike said "Your convoluted overly complicated dual beam HID system" is getting there...



so as you can see things getting closer and closer to being complete...

mike and the rest of the guys are pushing hard to get all this done so again much

goes out to mike and the crew at eurowise....
6-7-2012
and believe i bought the g60 calipers from vwpat...

was good seeing you at sowo pat...



So car is getting alot of loose ends tied up.... much of which is stuff most wouldn't really care to see..

brakes were an issue so the brake setup used was g60 booster and master cylinder with a a3 reservoir.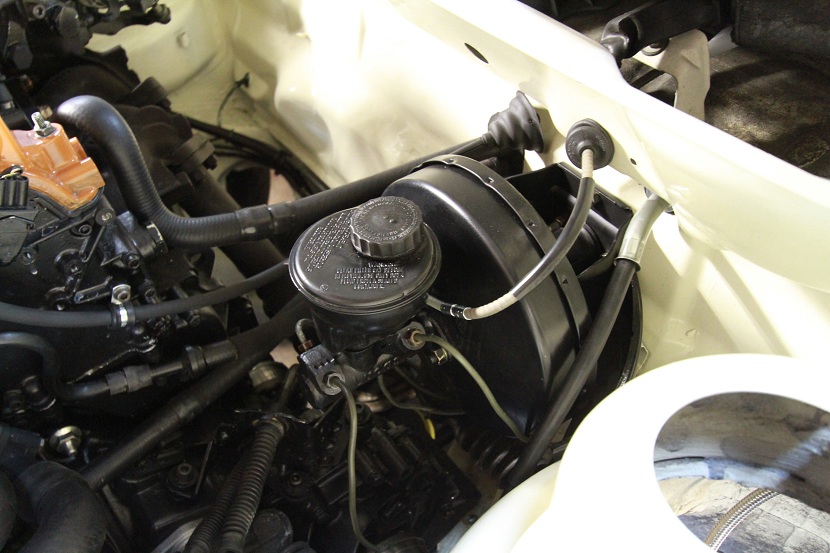 only thing that really bothered me in the bay was the air filter itself, so I had eurowise fabricate a cover for it...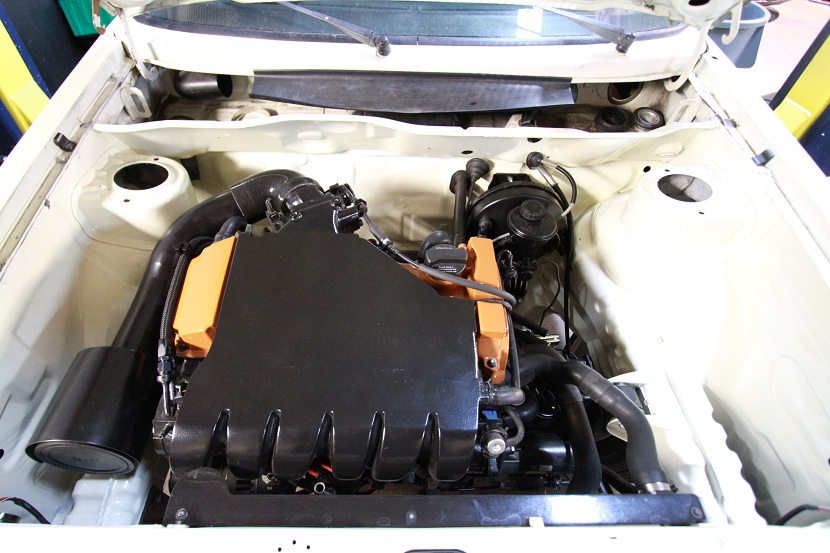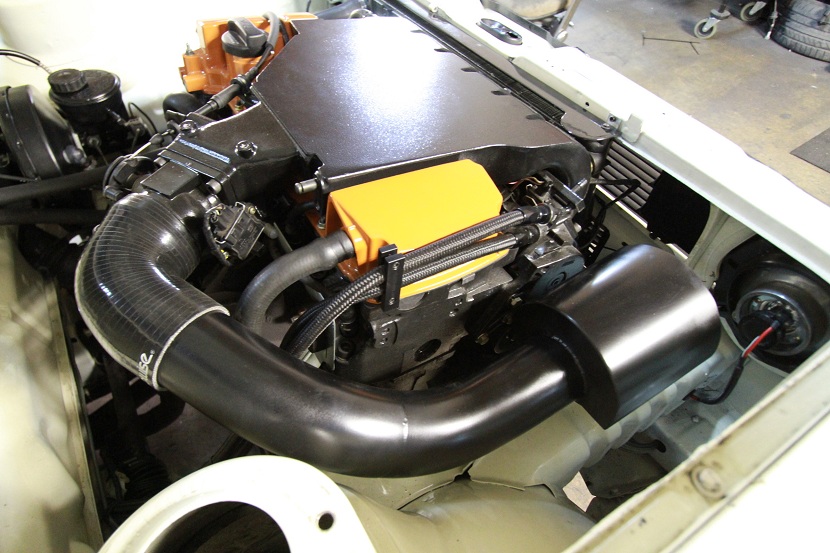 mike is getting the front strut mounts finished up and should have some custom mount covers for the setup to clean the tops of the tower... only thing else added was to the interior, water temp, oil pressure, and voltage gauge to help with peace of mind while driving...


6-8-2012
thanks tim...

a little more "slick" to add to the bay....

at the end of the day, there will only be black, white, or cinabon color on this car so mike picked up more powdercoated pieces...

won't be no bling on this bunny's thing....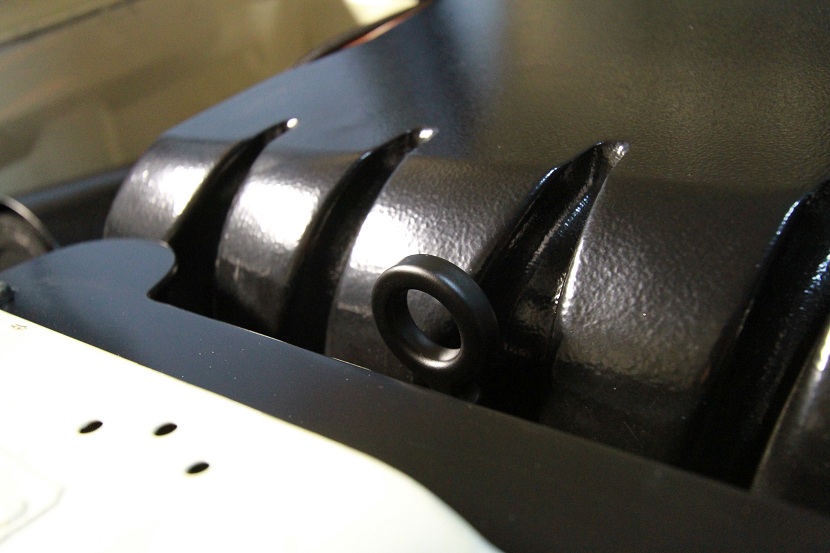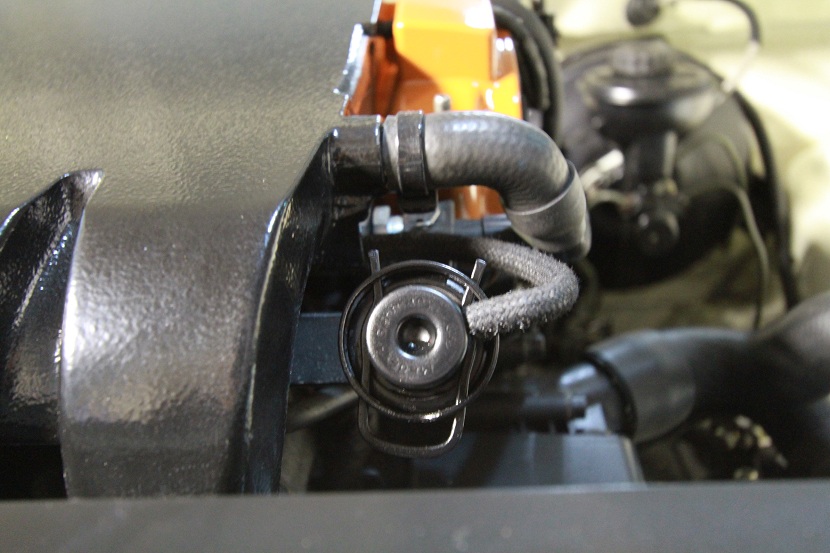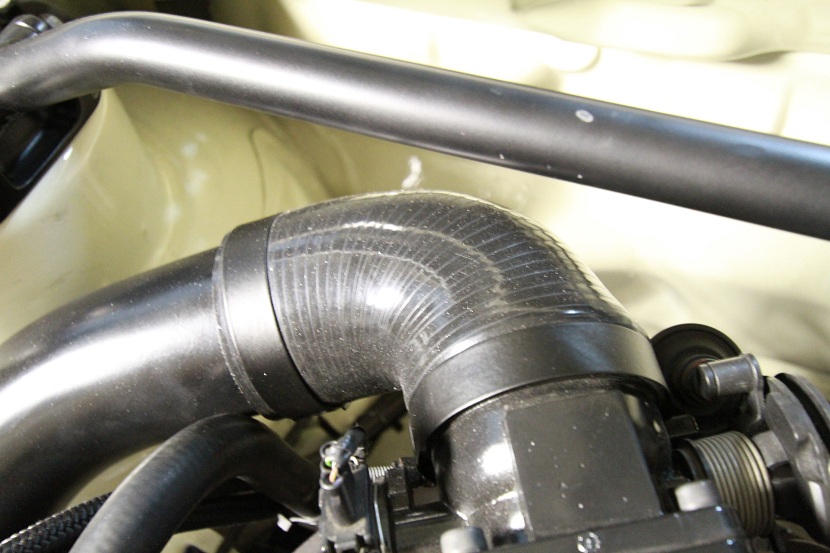 mike also got the "a4 style" strut extenders they fabricated in as well from the coaters... put a cap on it and call it a day...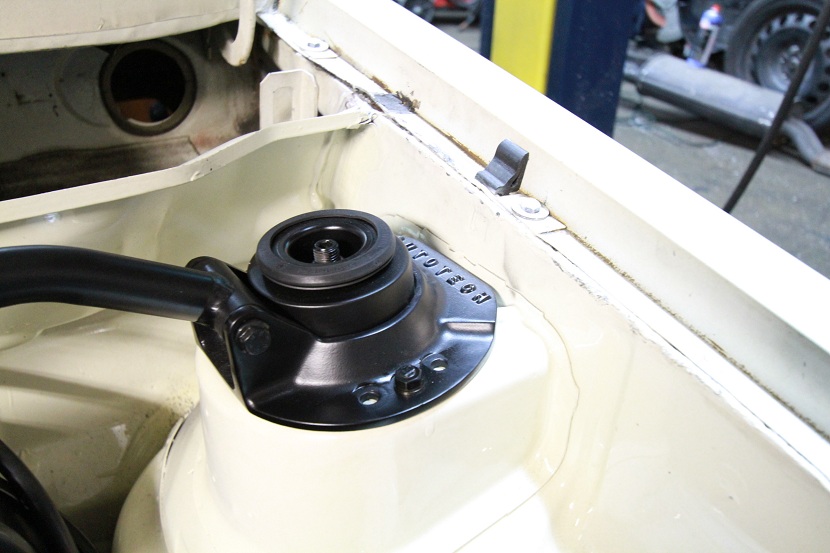 the only interior mod you'll notice (minus fuzzy dice i bought at sowo from kieffer vw

).... again, much needed....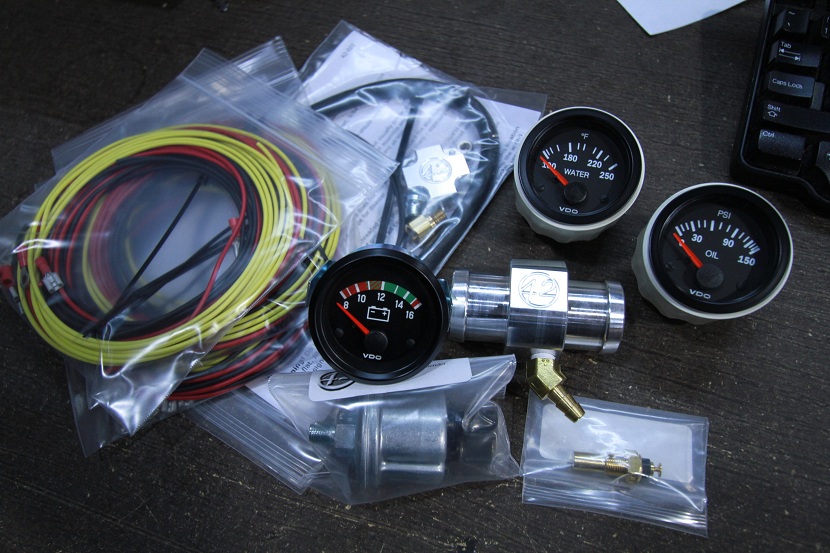 6-16-2012
i initially didn't want it on the dash anywhere. I was thinking somewhere under the dash, but they mocked the guages up on the dash and where able to modify the gauge housing so it would sit fluch and after seeing the pic I was pleasantly surprised.... looks oem'ish to me... but you can decided...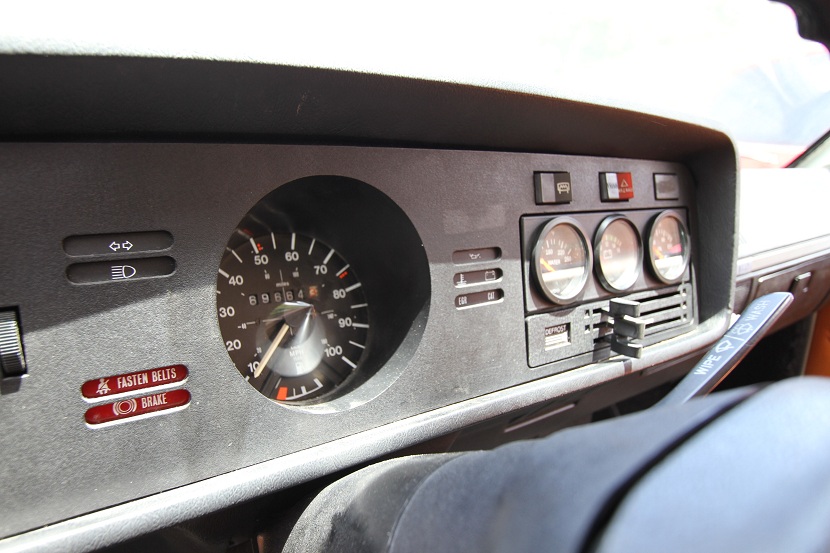 so the car is waiting for the last detail (mkayIV strut caps) to finish off the towers and it's done with stage1. my goal is to drive it around the US and back next year. Almost every single mechanical part on this car is new... i don't want to tell you what i spent in parts but lets say i could have bought a new car....

either way, it's worth it to me and i'm thankful the guys at eurowise did such an amazing job with this build...



a finished pic of the bay. next stage will most likely have ITB's and incorporate a few idea's i'd like to see...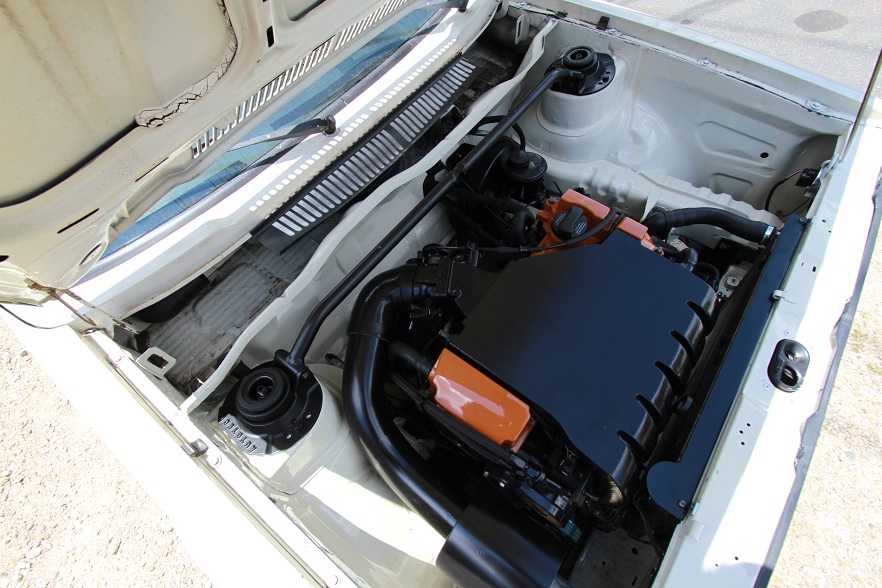 and one last pic of the car chill'n at eurowise...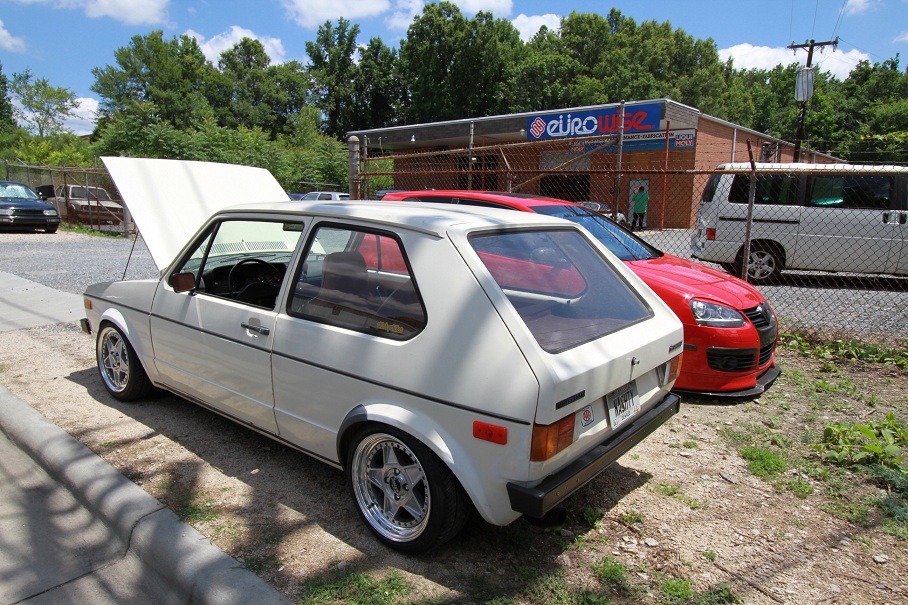 again, big thanks to Mike, Josh, and the rest of the crew at eurowise....

i'm very happy with what they have done and as they have proven with many of the cars they have built in their shop, they got a good thing going...





once everthing breaks in, expect a before and after video...

8-13-2012
Thanks for all the compliments fellas...



So I've decided to go another route with the wheels so here are a few last pics of it with the 15" Image wheels.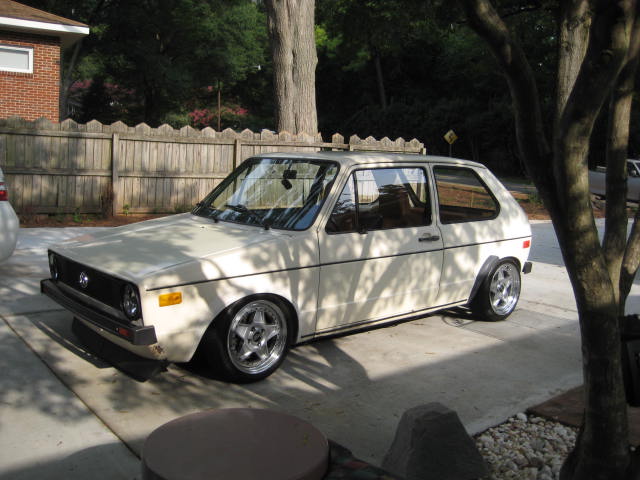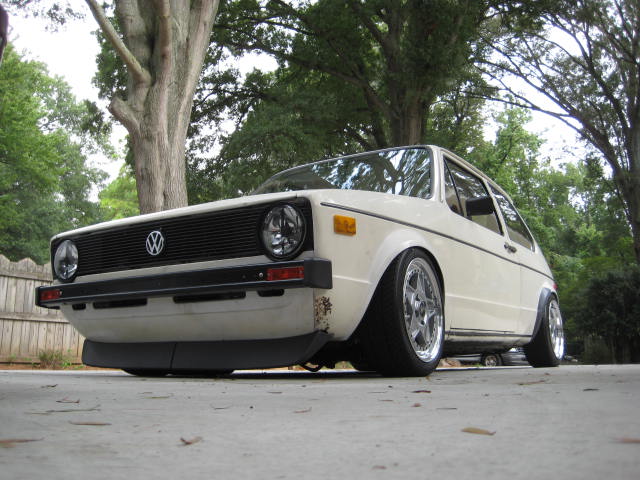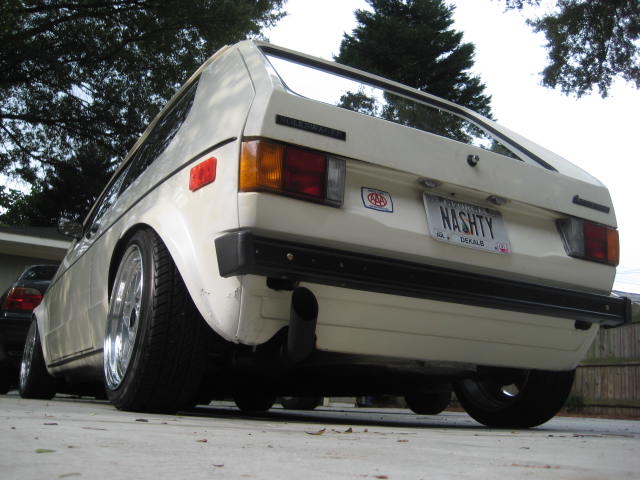 I've got my wheels for sale and below is the for sale thread. I'll be at both h20 and southern mk1 gtg, so I'd be happy to bring these out to ya....




http://forums.vwvortex.com/showthrea...ractically-new
9-20-2012
hope everyone's been doing well....



i've been super busy but a good bit has been going on in regards to this build, i just haven't had much time to hop on vortex.... having said that, i shouldn't be on here now... lol... but was super excited my new wheels came in from England today and I was actually home to take delivery...

i couldn't resist so I went ahead and test fitted them onto my TT quattro wagOn.... They should fill up the fender wells of the swallowtail very nicely in my opinion....

anyways, look forward to seeing many of you up in maryland in a week...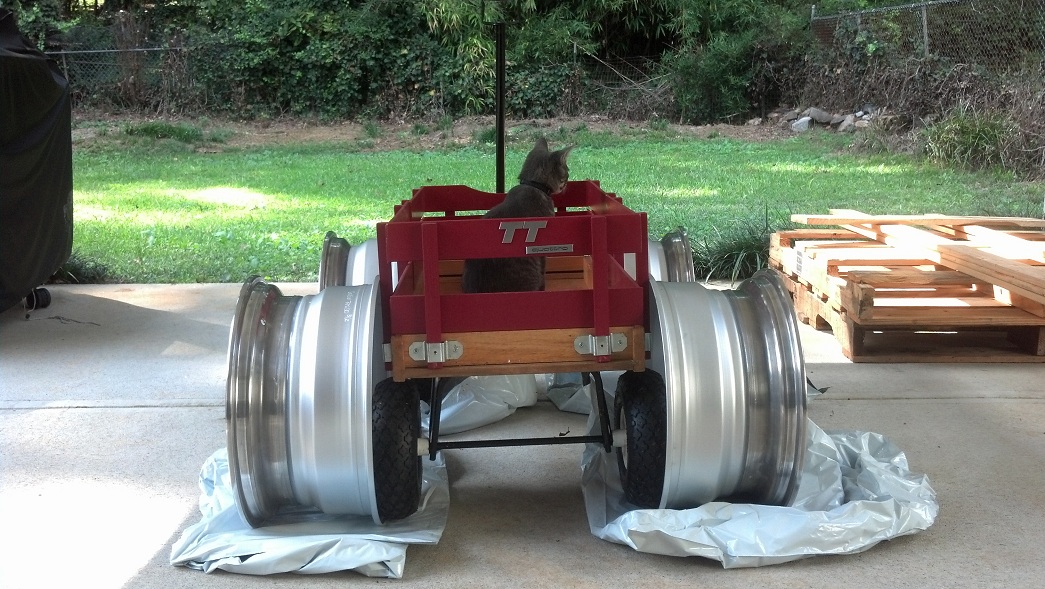 9-25-2012
thanks fellas....



bought the mkVr32 oil pump, so eurowise took a little off the top, or should i say bottom...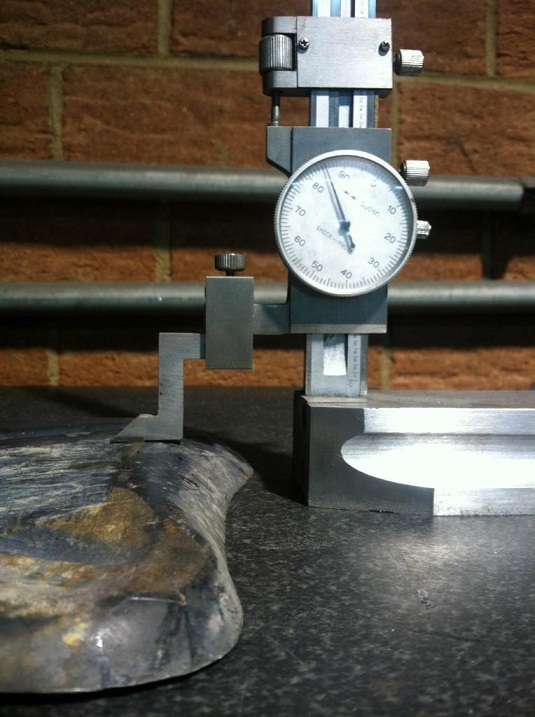 and then added a 12 guage bottom back on....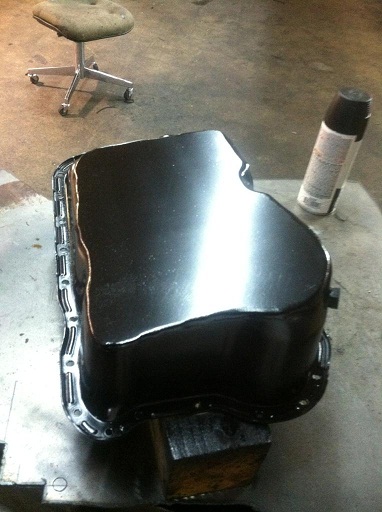 so can go more lowz up front now...
5-14-2013
No, in fact the new owner has got big plans for the car...



Having said this, I had decided to sell the swallowtail and the process couldn't have gone in better. Some of you know the new owner and all I will say is that the car is in great hands and expect to see this car for many years getting better and better....



I was never able to get any great shots of the car but here are two taken from fellow vortexers I really liked from A1 gtg in Florida from last year... thanks guys...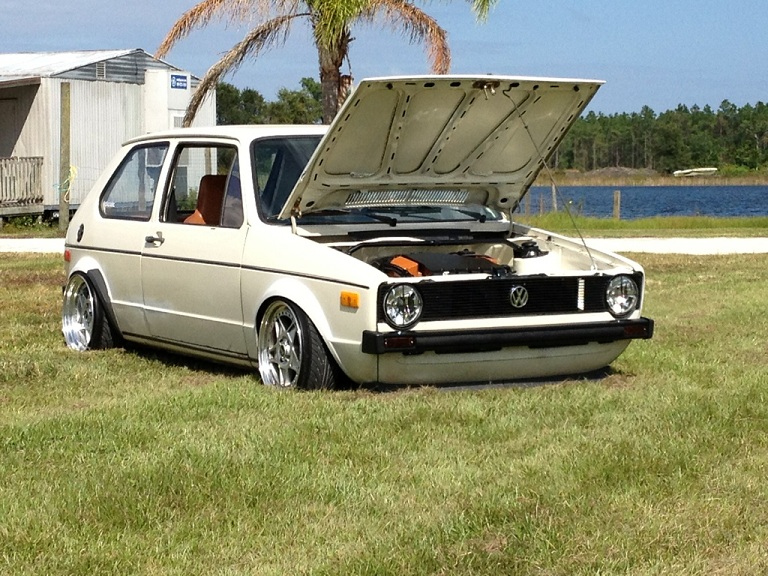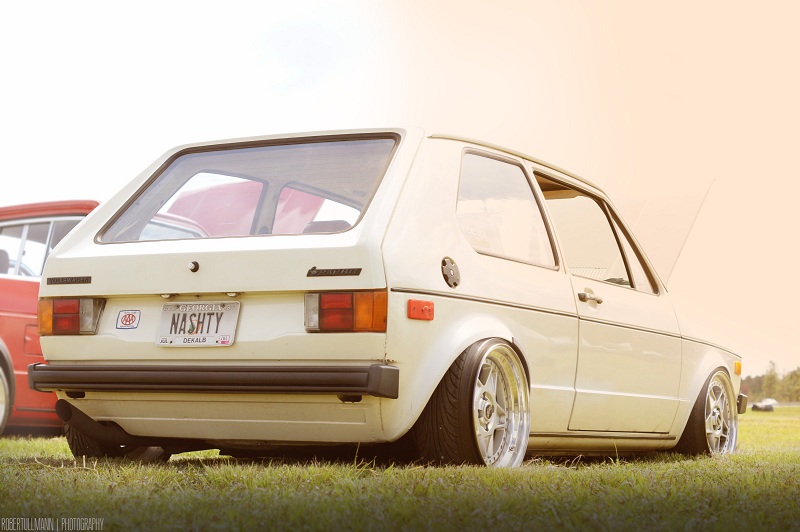 I have the 16" Image wheels still available. Below is the link. Please feel free to share with anyone you might know that might be interested in some wheels... thanks again...



http://forums.vwvortex.com/showthrea...ires-Southeast

One last thing, I just wanted to thank all you (whether individual or company) for being a part of my builds and even my life through the many years I"ve been on here...

So many have done so much for me and know that it was all appreciated...