My 16VT Einser... by VAG_Lowrider
By stevegolf
You must be logged in to rate content!
My 16VT Einser...
Compliments of VAG_Lowrider @ www.vwvortex.com


Hello folks..
I`m a new to this forum,but thought that I could share my mk1 project with you other "einser" freaks...

OK,my english sucks...

I bought this car April 05, it has been through some small modifications since then...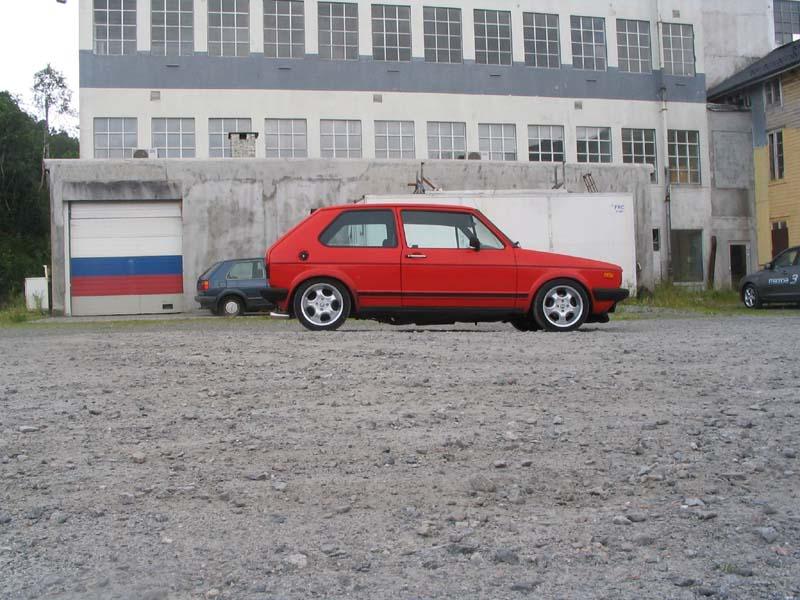 This is from last summer....With FK coilovers and 195/45 on RH Cup 7x15 rims..
Nowadays my car is in the garage for a complete build up...
My following plans are:
Chassis:
- Removing all of the rust.
- Inner- and outer channels(?) and the floor plates on the front is being replaced with new ones..
- FK Highsport coilovers
- Polyurethane bushings all over
- Roll cage
Engine:
- PG engine w/83 mm bore
- Ross Racing forged pistons
- 8v GTI cylinder head w/ mechanical lifters and custom cam
- Digifant 1 w/ SNS chip
- Garret T3 Super60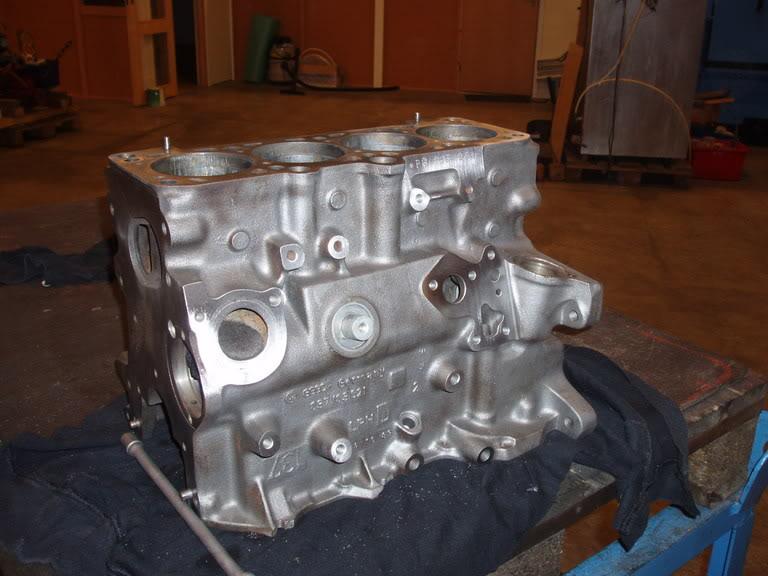 Drivetrain:
- 02A Gear box from Corrado
- drive axles from Golf Cab w/ 100 mm flanges
Here is some pictures of how it's standing right now: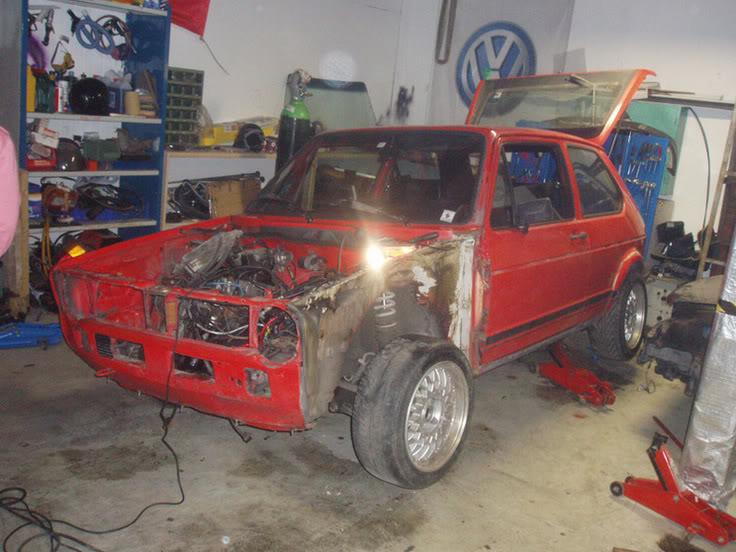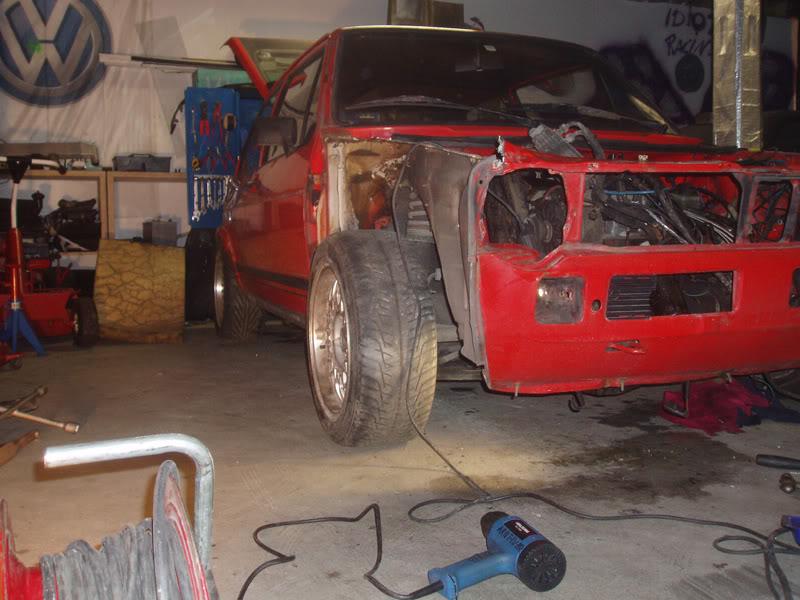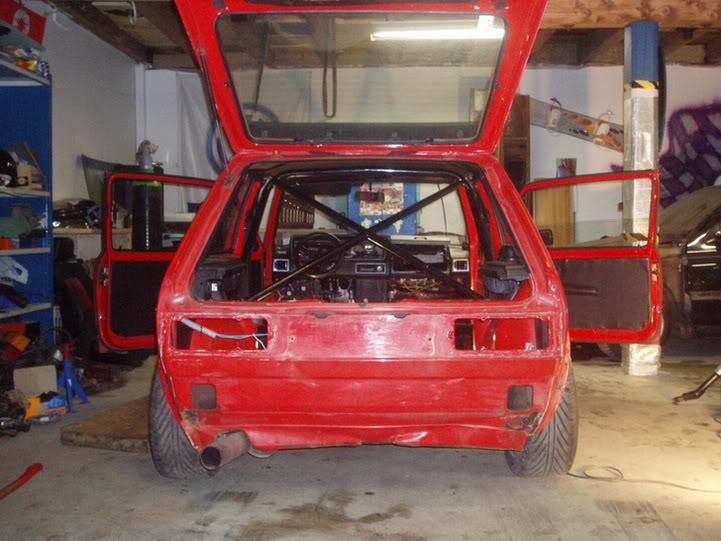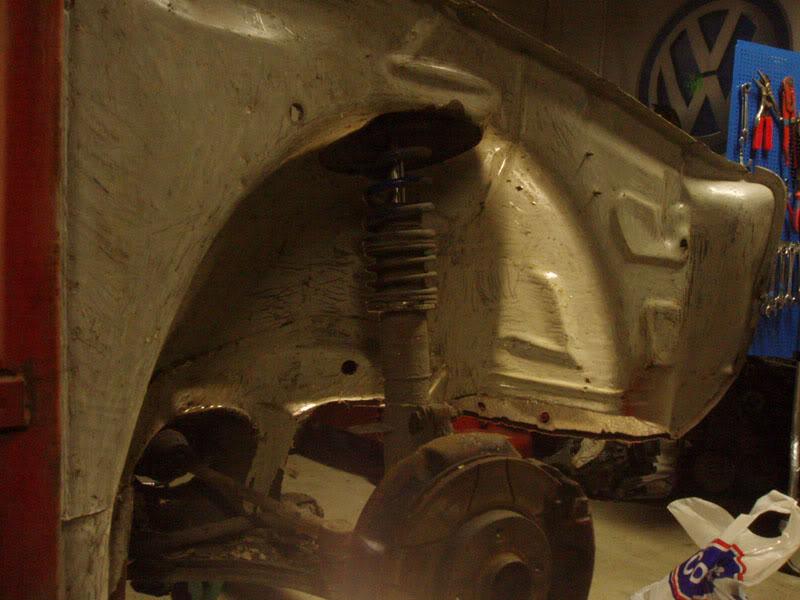 3/10/2006
Here`s some more pics....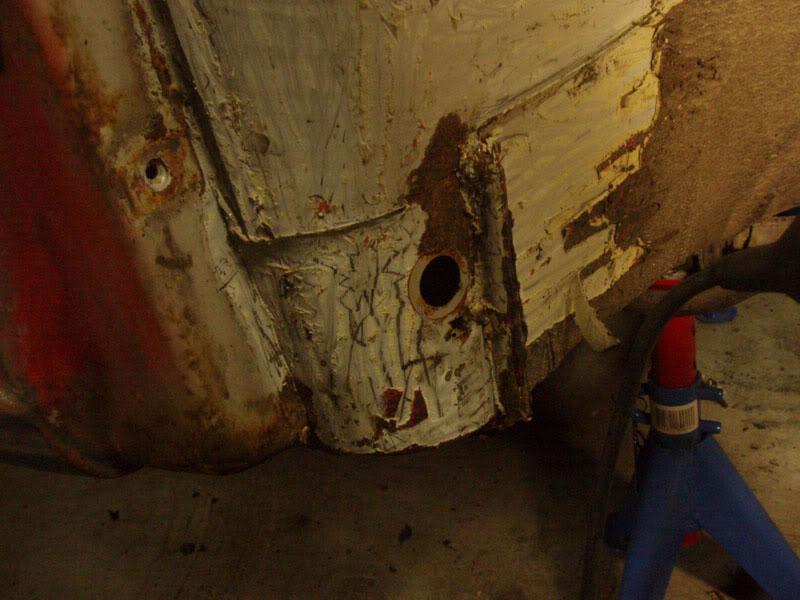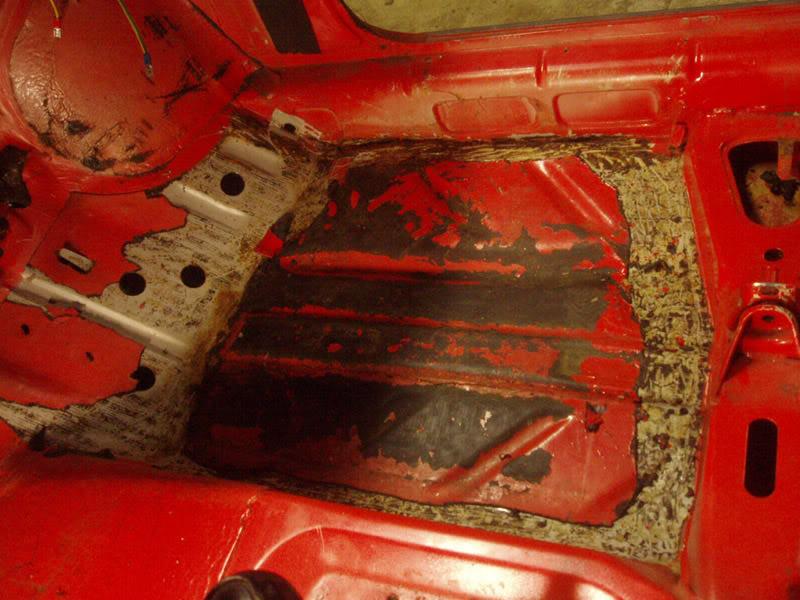 Does this look good?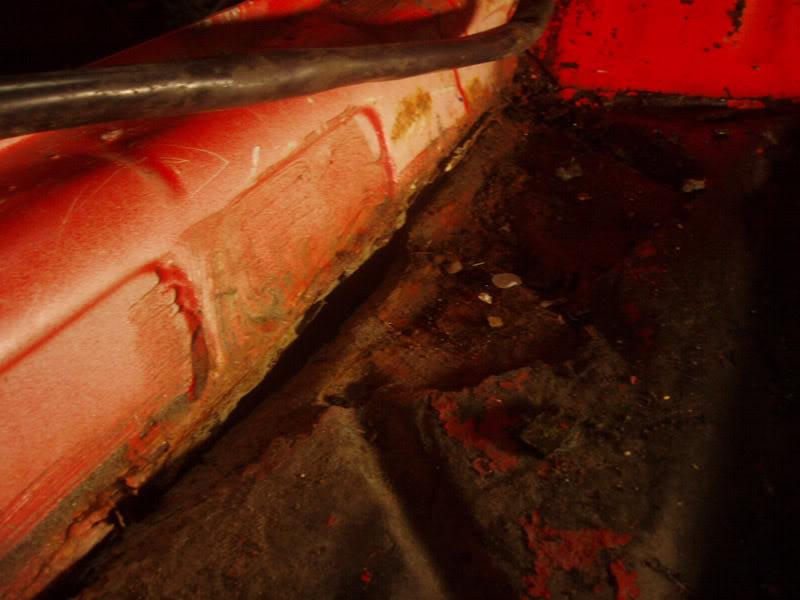 3/11/2006
Here`s some more...
Some of the parts glass-blasted...
I`m not going to use this flywheel since it`s from a 16v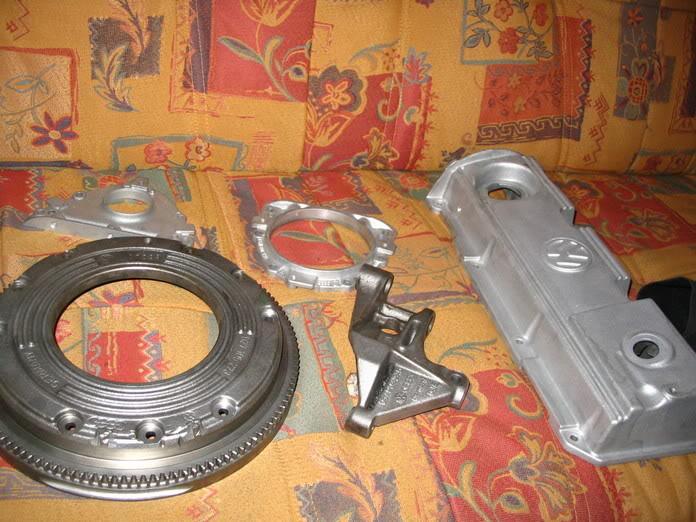 Did some mods to my G60 speedo....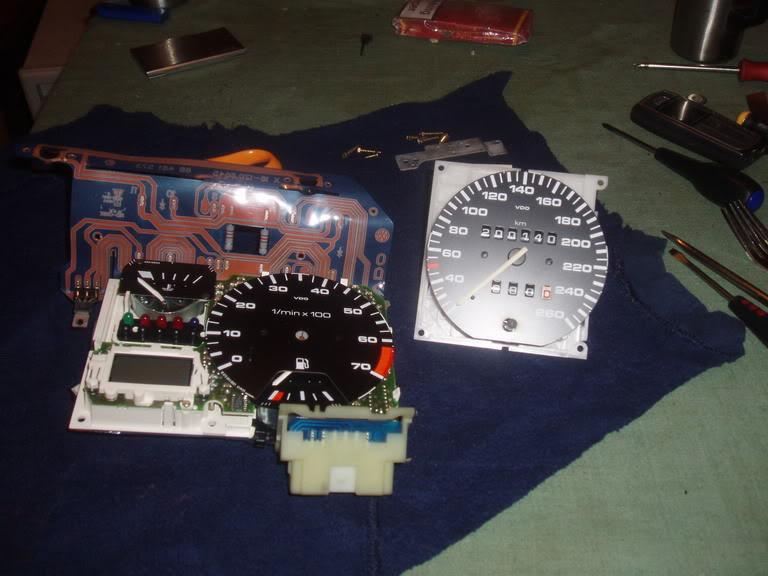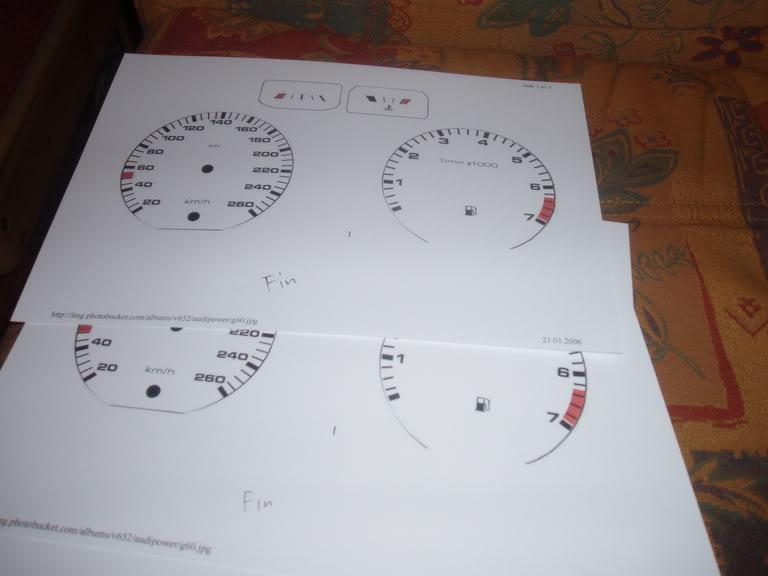 The result: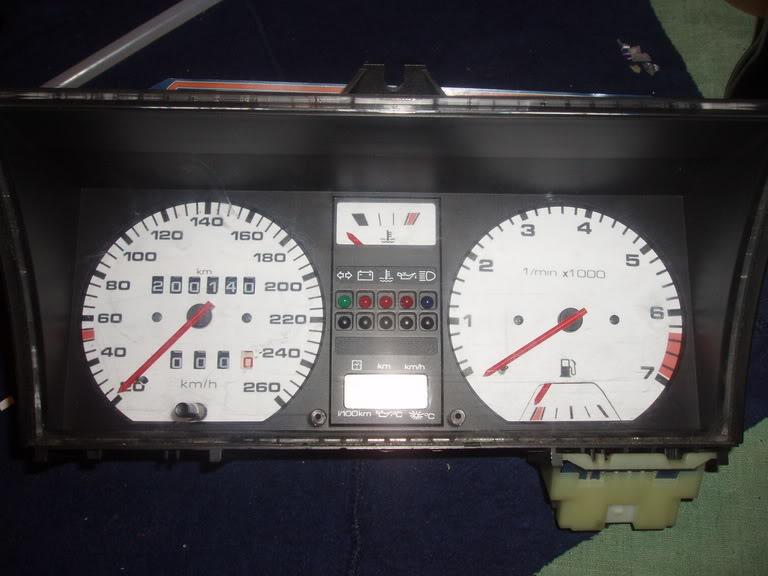 The next mod to this one is the lightning with blue LEDS
I want to use a x-flow head,but its not very easy gettin those heads here in norway...But right now i`m without a cyl.head to fit the engine,so maybe i should go x-flow??
Is it just to put it right on the PG block or do i need other parts for the change?
4/23/2006
Okey...time for a little update now
Now my 02A mounts have arrived,also got my mechanical clutch conversion kit....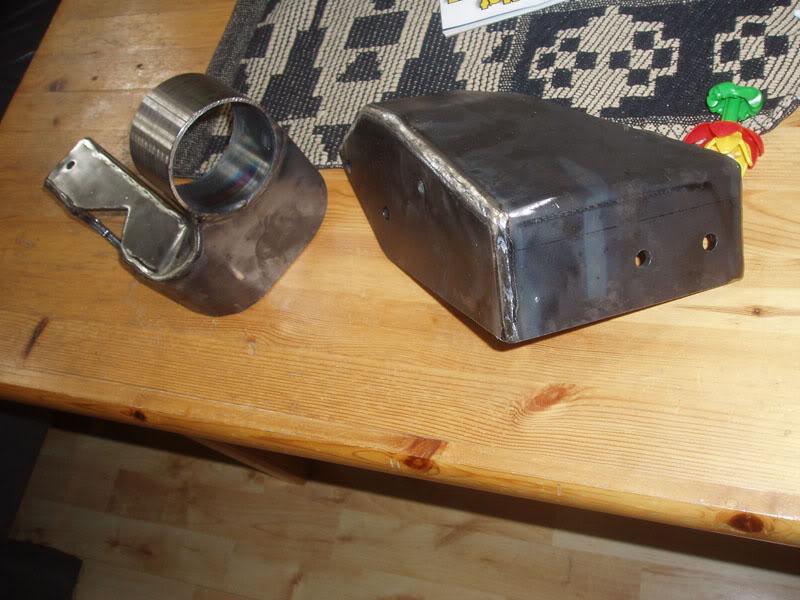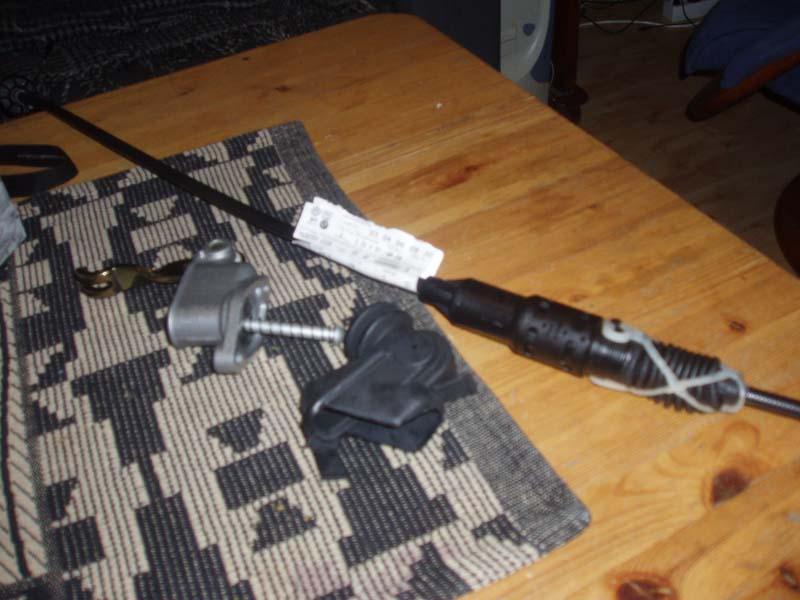 Got me an original GTI grille and some cables for the g60 speedo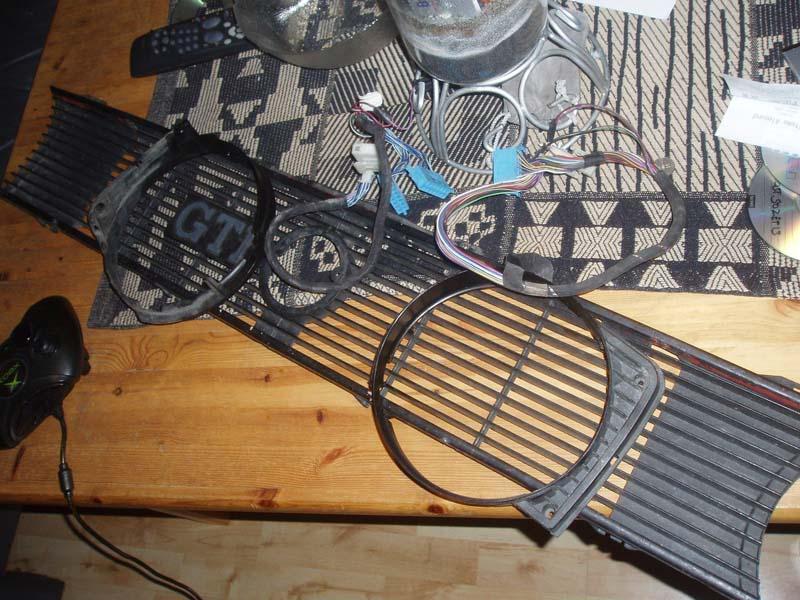 4/28/2006
Not much updates lately,but now i`ve sold my Fk highsport gewinde...
A complete poly kit and H&R coilovers will be ordered as soon as i have got the money...
I am going to rip off the original door panels and the ones in the back,and replace them with custom made carbon fibre plates...
Where can I get a carbon fibre hood?
The clucth cable is from an early Passat with 02A tranny...
1/6/2007
New update...
The 8v engine has been replaced with a 16V PL engine..
Ordered some stuff for the machinery this week:
- Garrett T3/T4E .58 45 trim
- Internal WG w/ 3" V-Band
- 82,50mm JE Forged Pistons
- Forged H-profile rods
Pics will come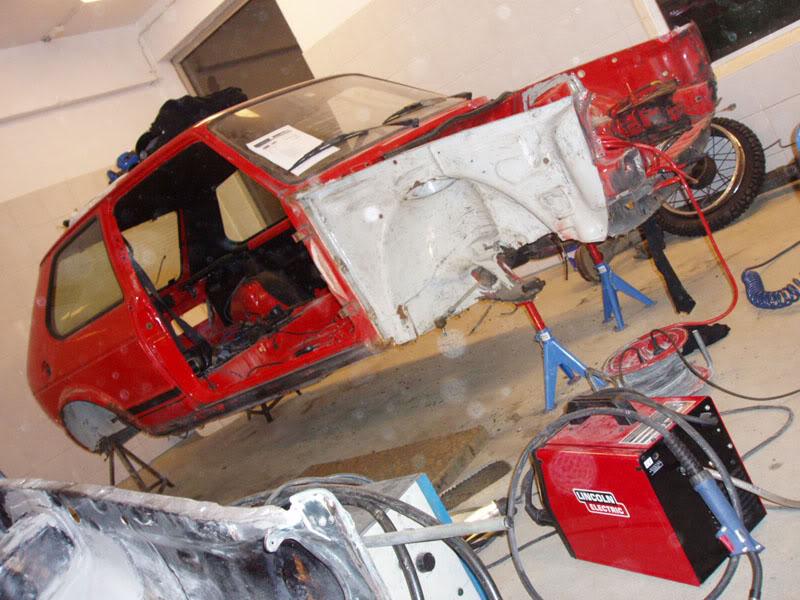 In lack of interest, and need for more power and more space..
Think it has been running about 200tkm`s and looks like its in very good condition, and no leaks..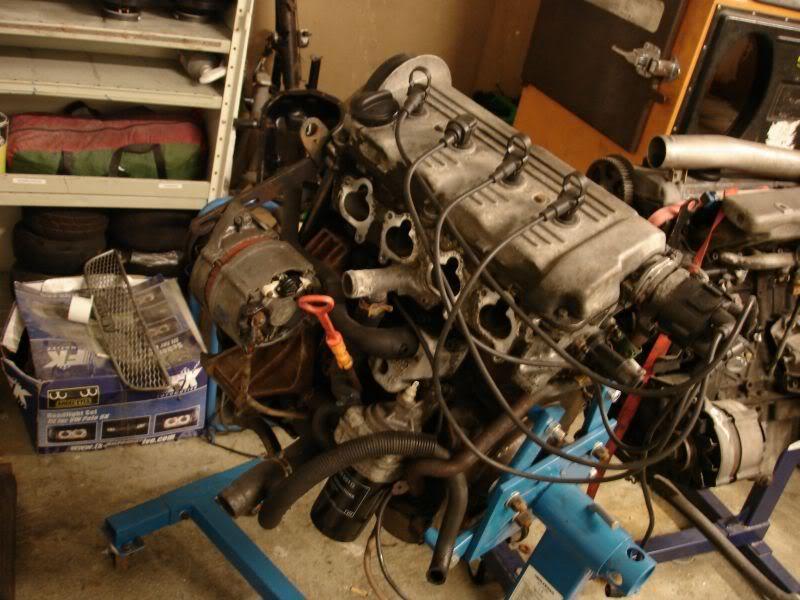 Got me som new/used parts these days:
16V rear disc brakes, a bit rusty but in "good" condition..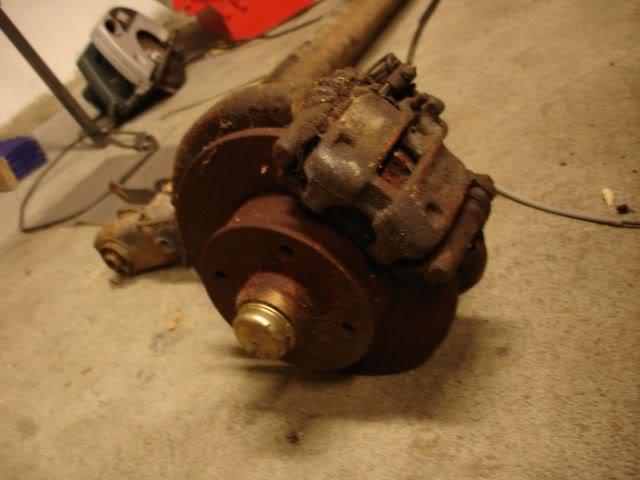 New Inner housing for the 02A tranny: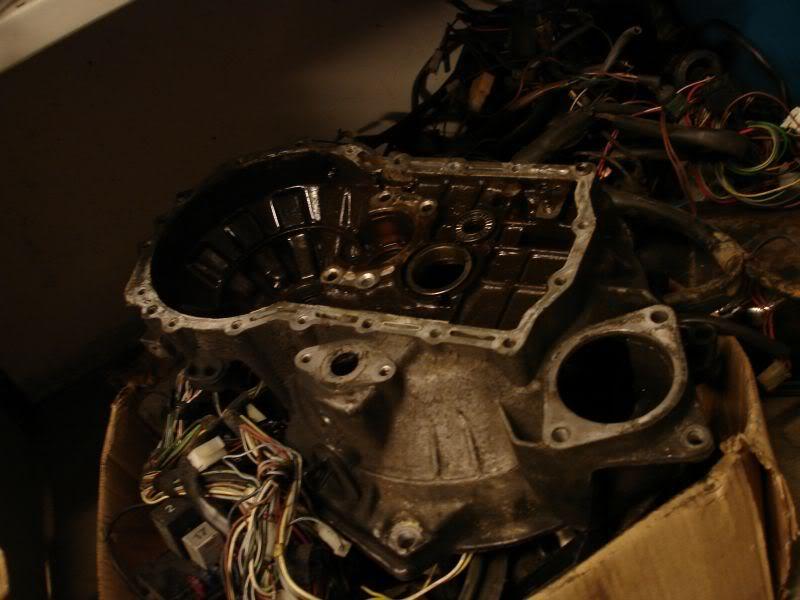 Thats all for now,maybe a new update tomorrow...
1/6/2007

Old pictures,but here`s what i`ve done so far..Got some platework to do here

Adjusting the new one..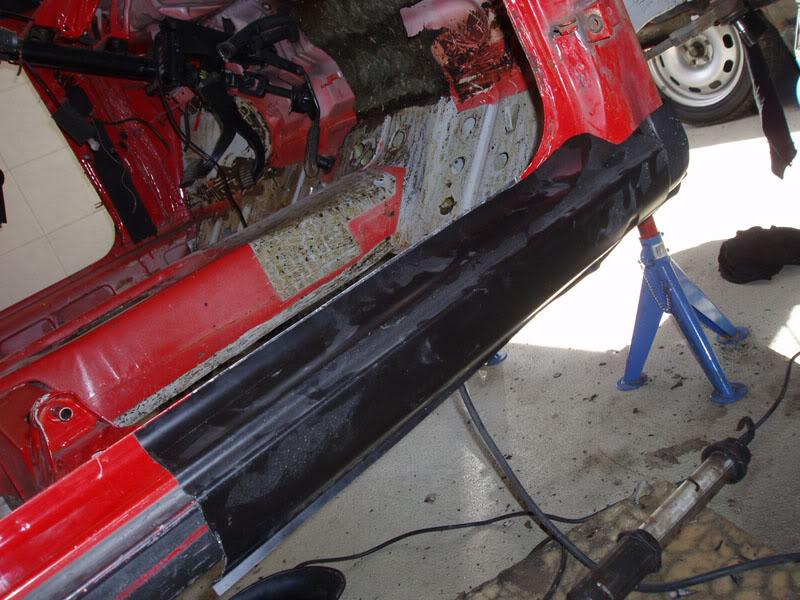 Finished cutting..Time to start with the rusty inner panel...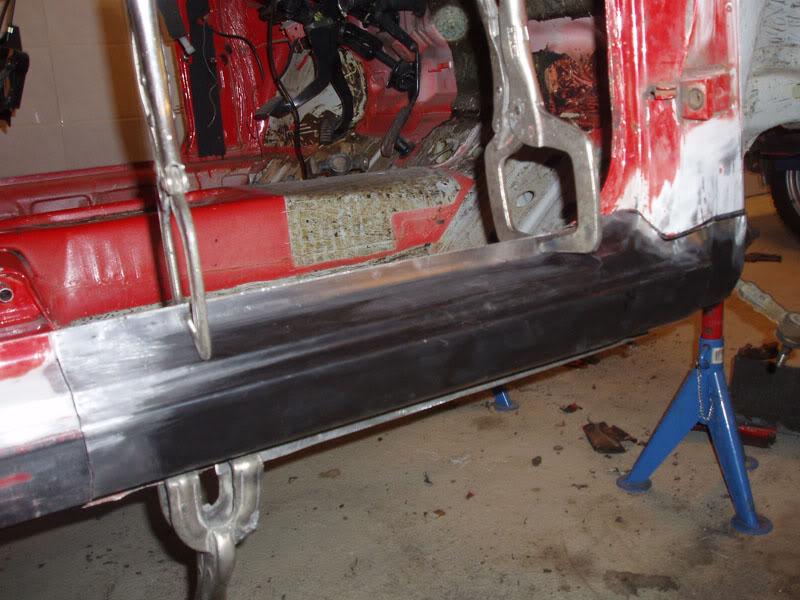 Point welded the inside..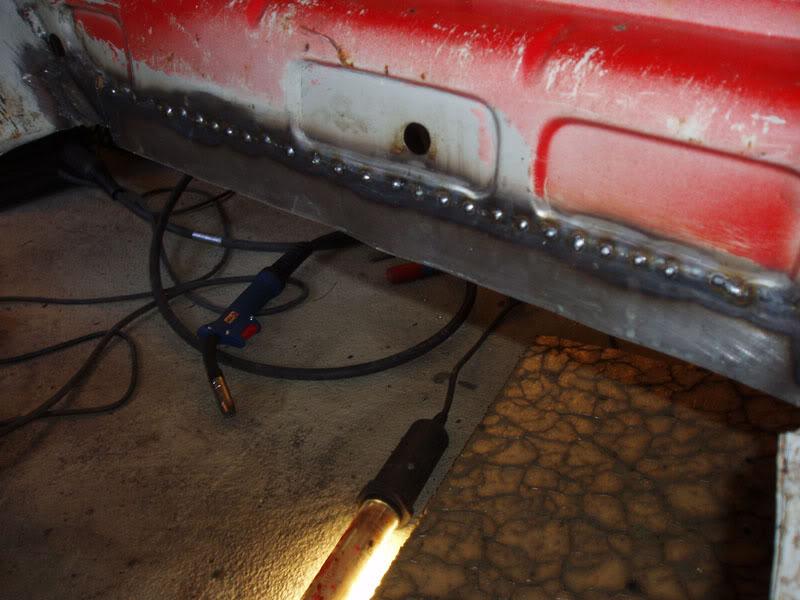 Blablablabla.........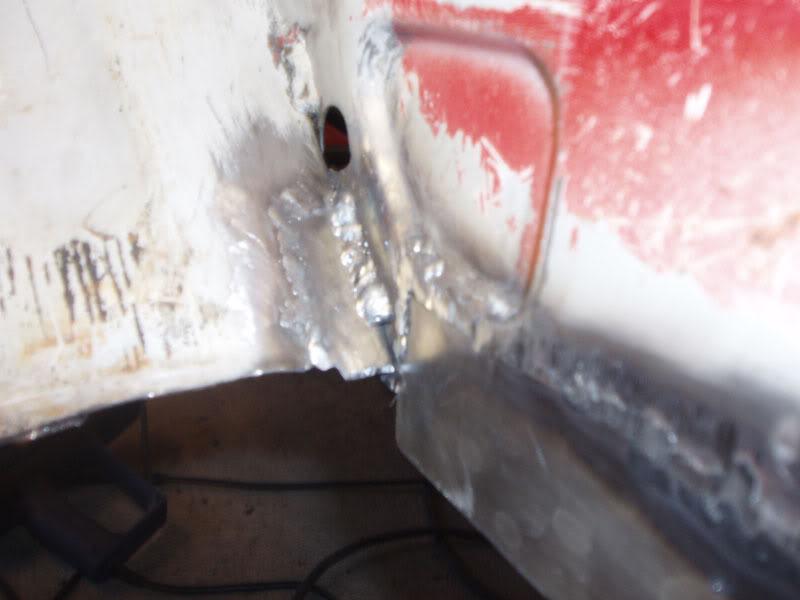 More pics...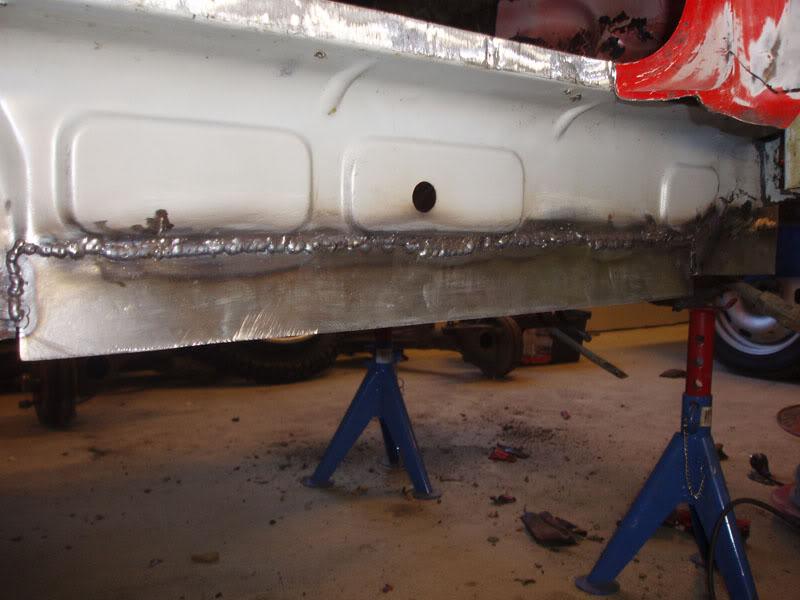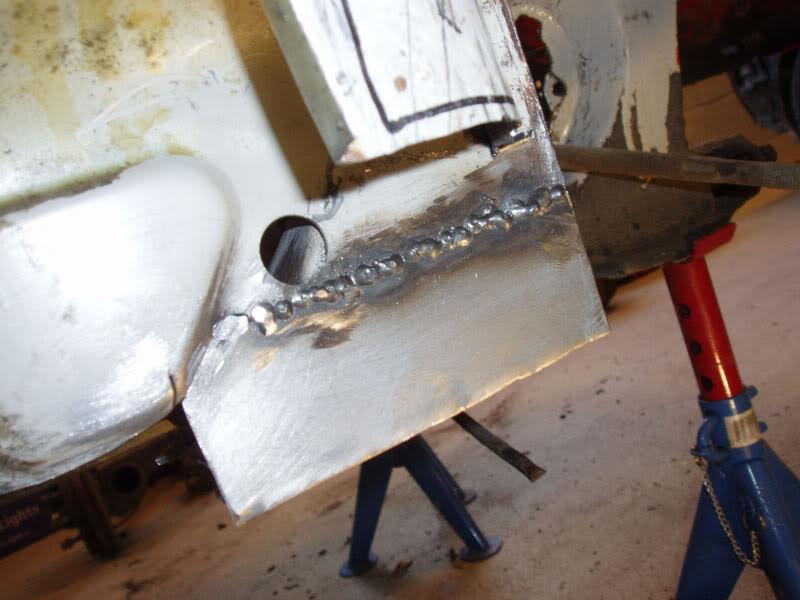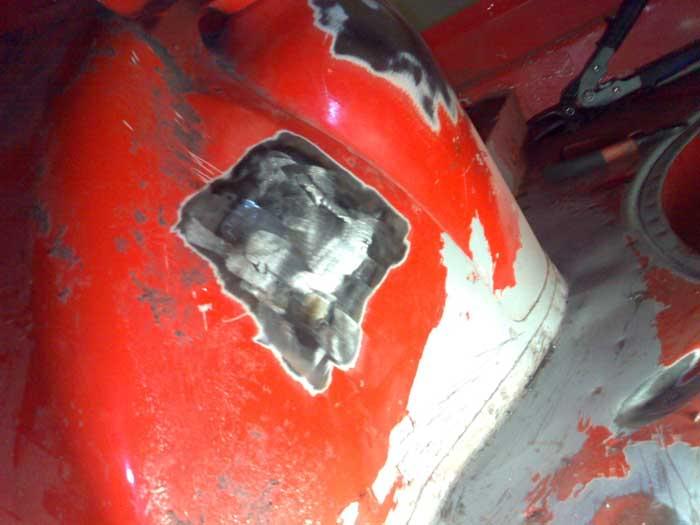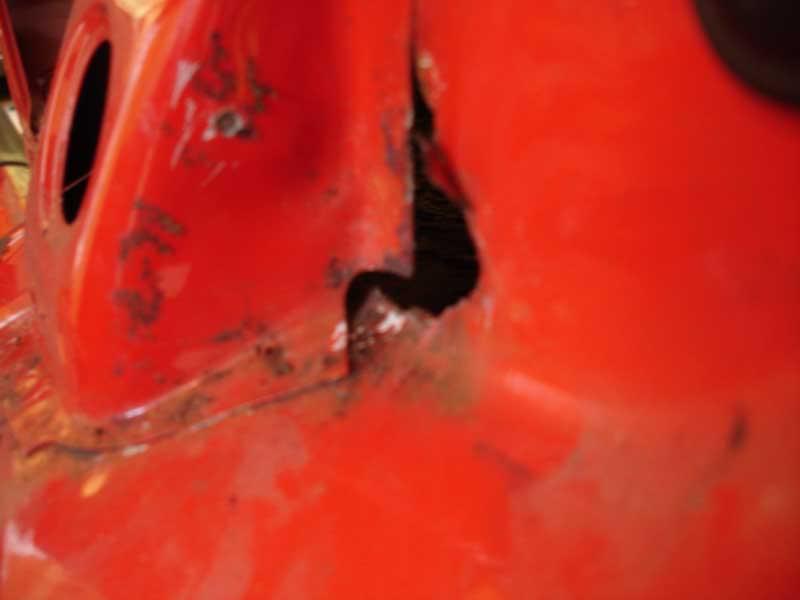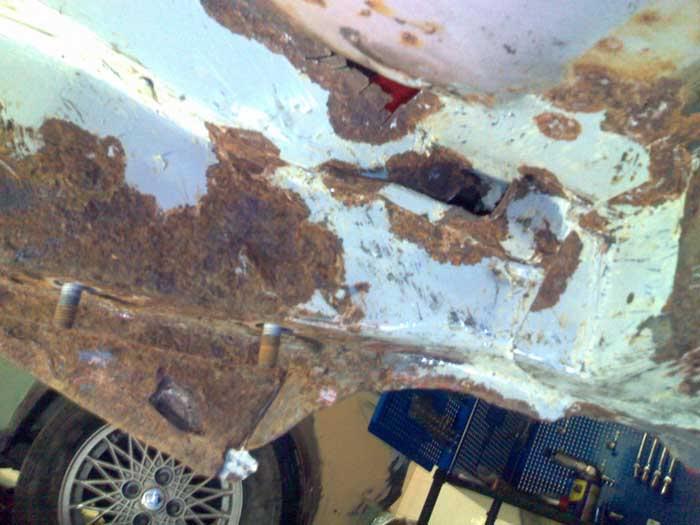 Welding together the ****: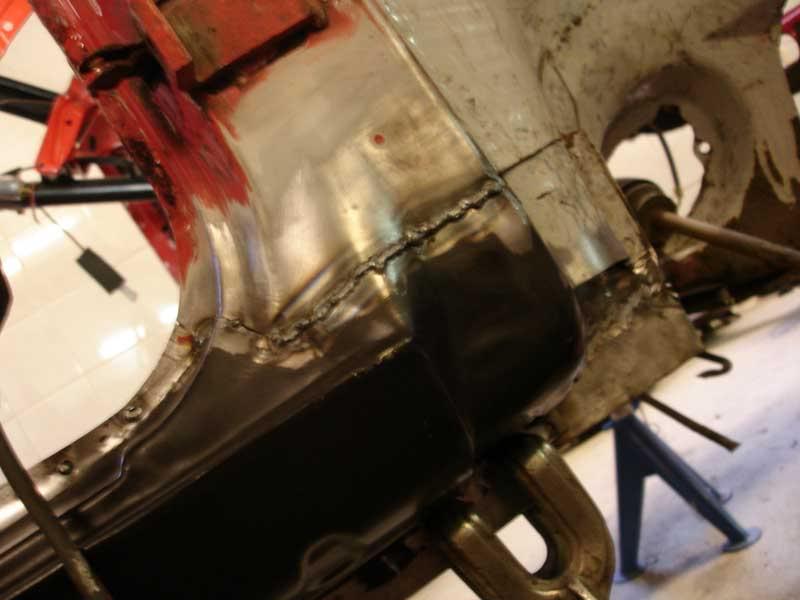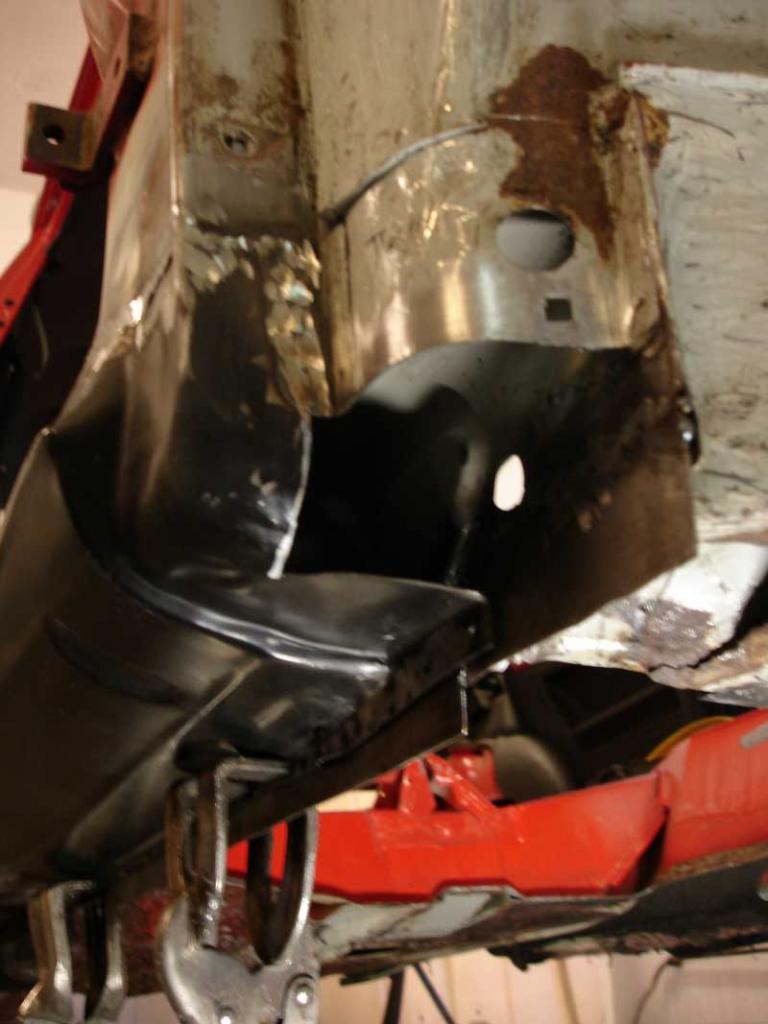 Almost finished with this side,but I want to finish my rotissarie before i start welding the under side...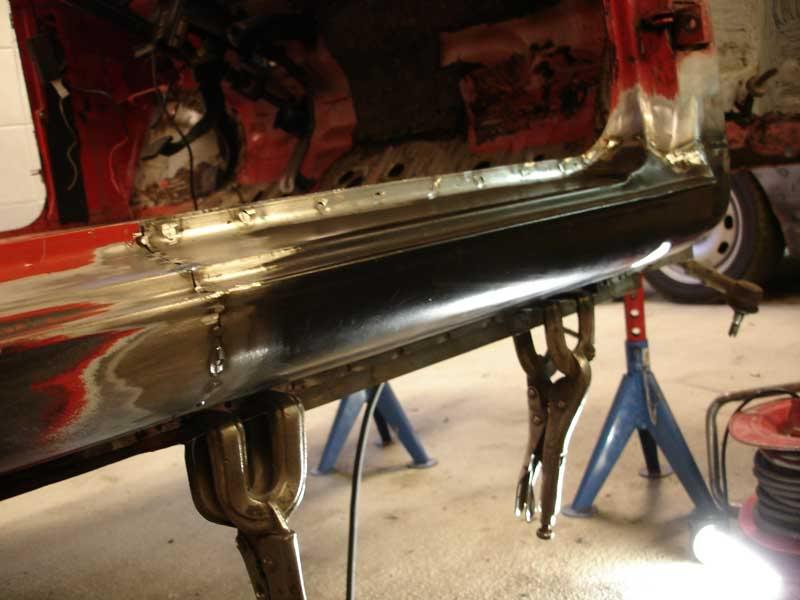 2/22/2007

New update...
New parts have arrived:- Garrett T3/T4E and som other stuff
- JE 82,5mm pistons
- H-profile rods with ARP 2000 bolts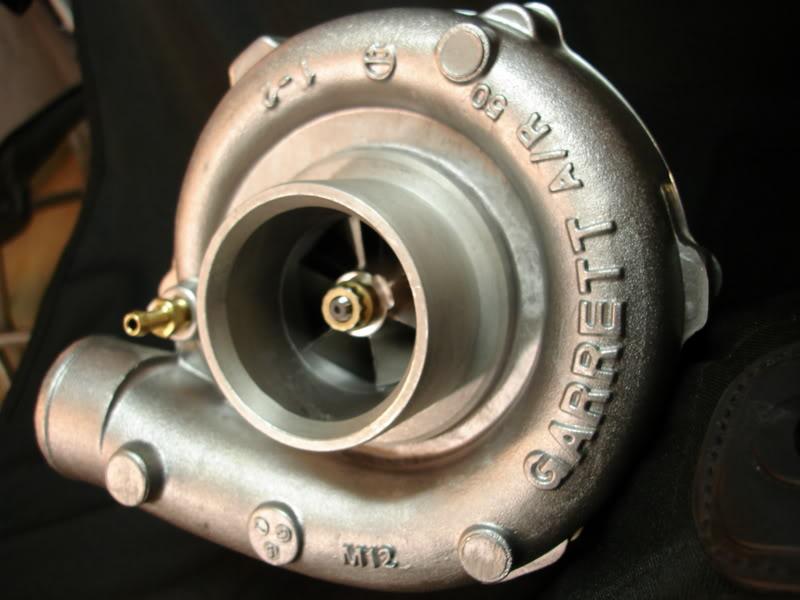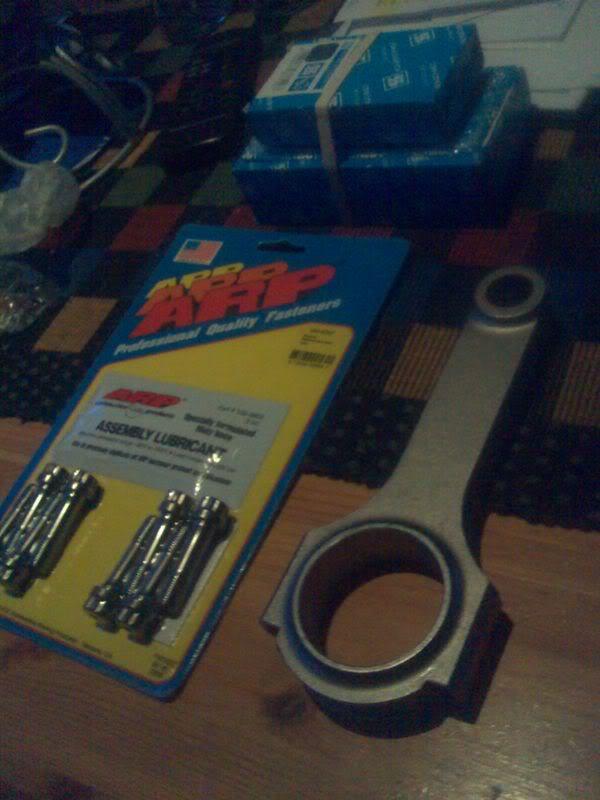 Blasting some parts and adding some paint: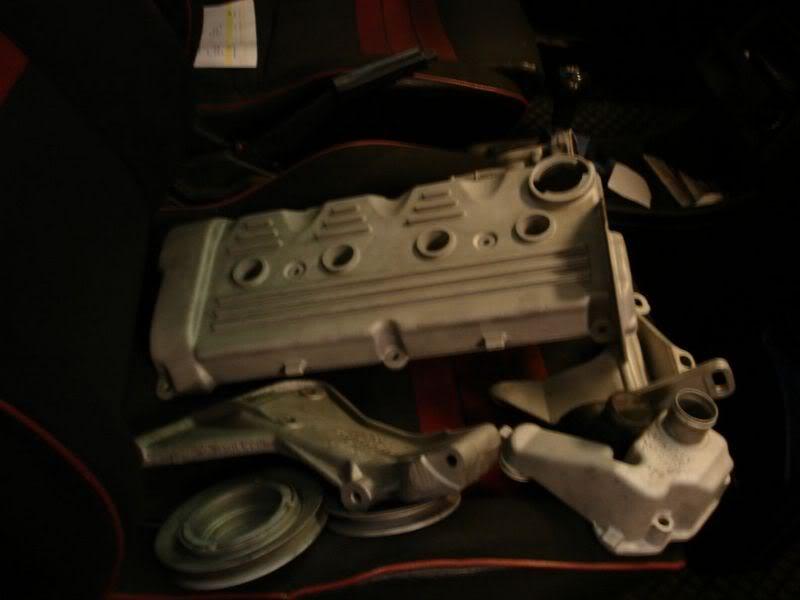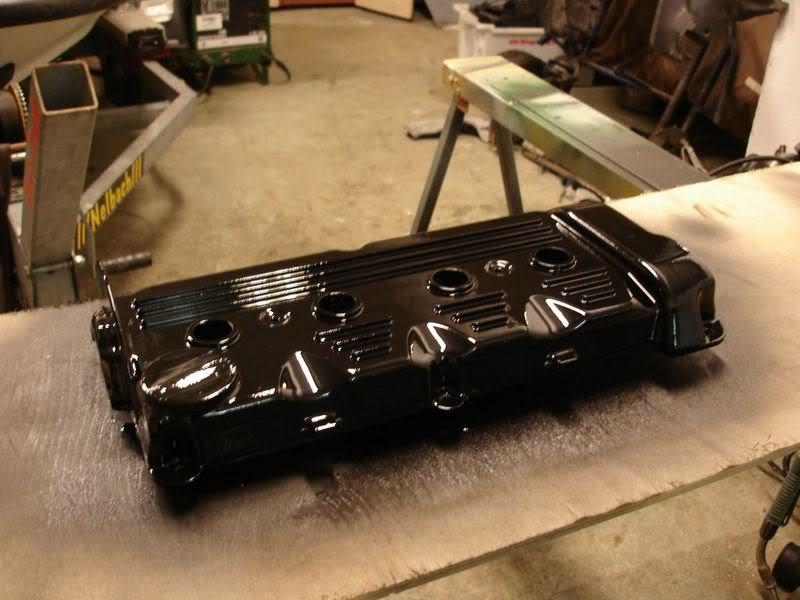 I am also started working with overhauling the cylinder head..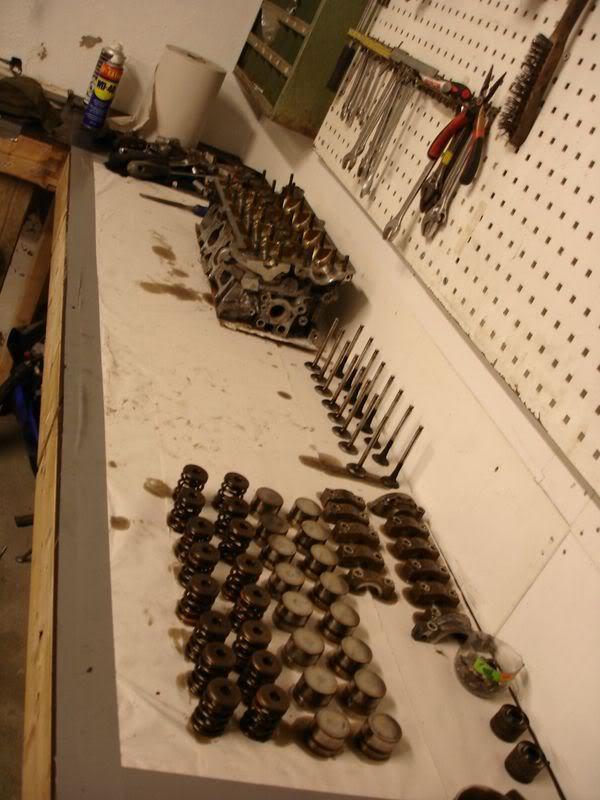 After: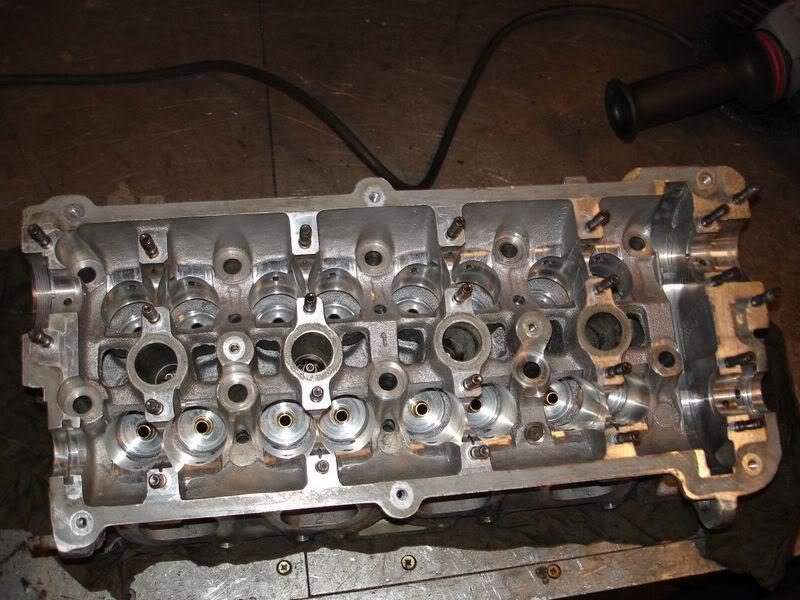 Looks great...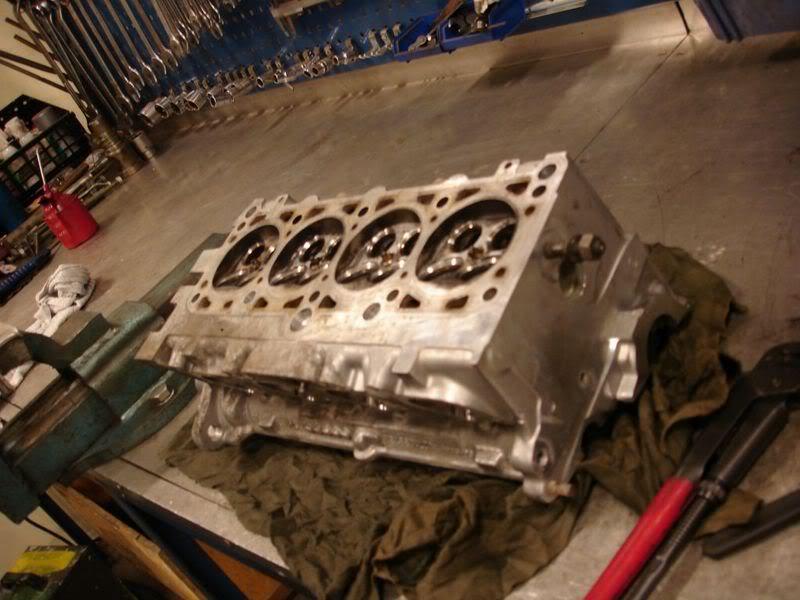 Until this one came up... Corrosion damage

Dunno if we can fix this...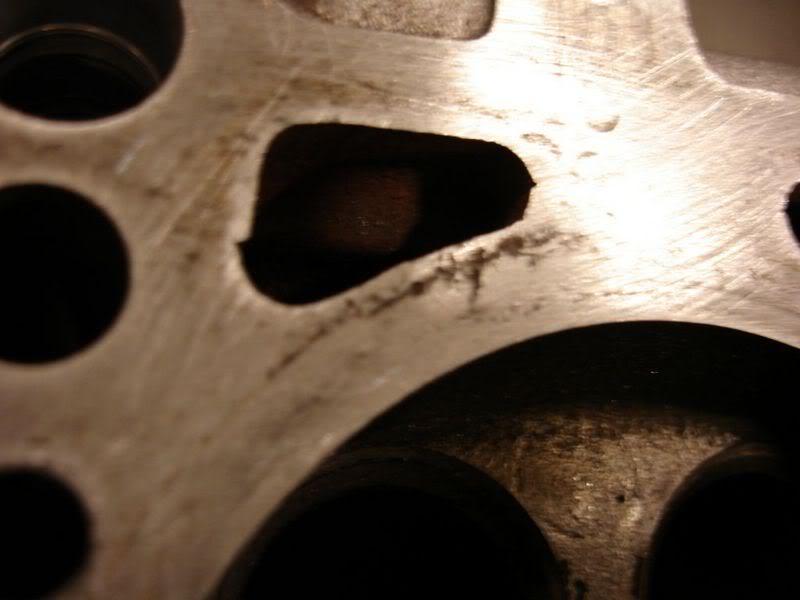 The pistons came finally yesterday...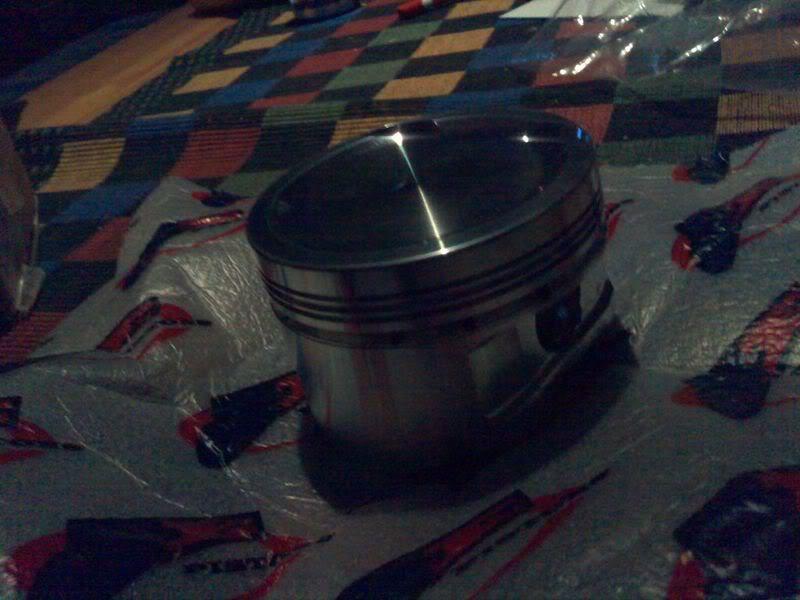 5/31/2007

A little update here..
New parts have arrived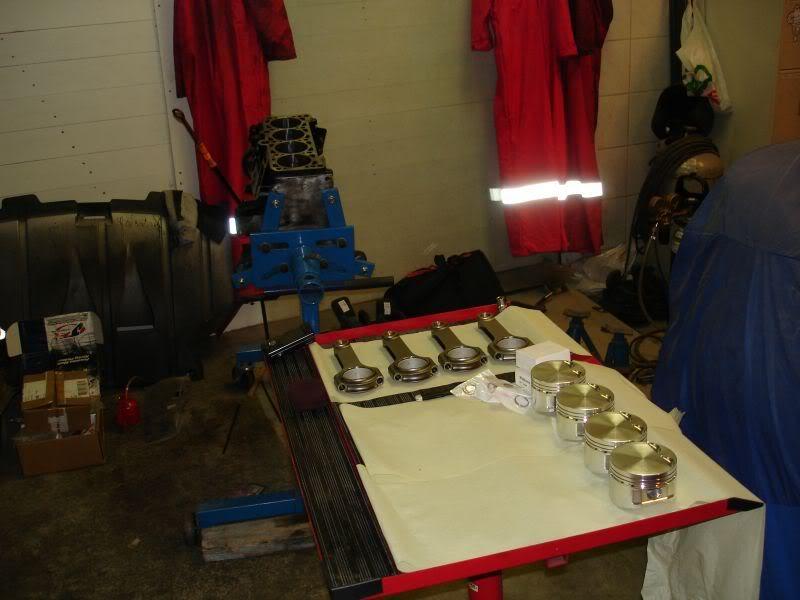 Grinding and measuring the piston rings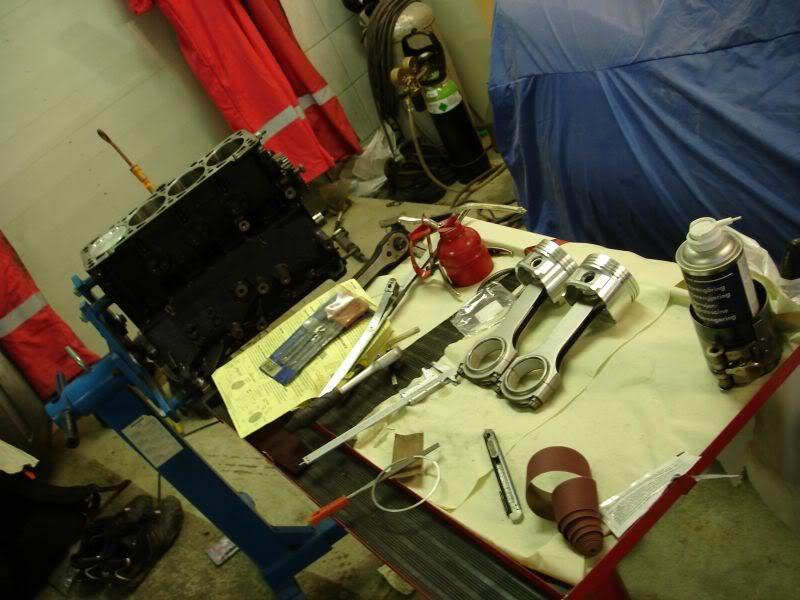 And some mounting of the..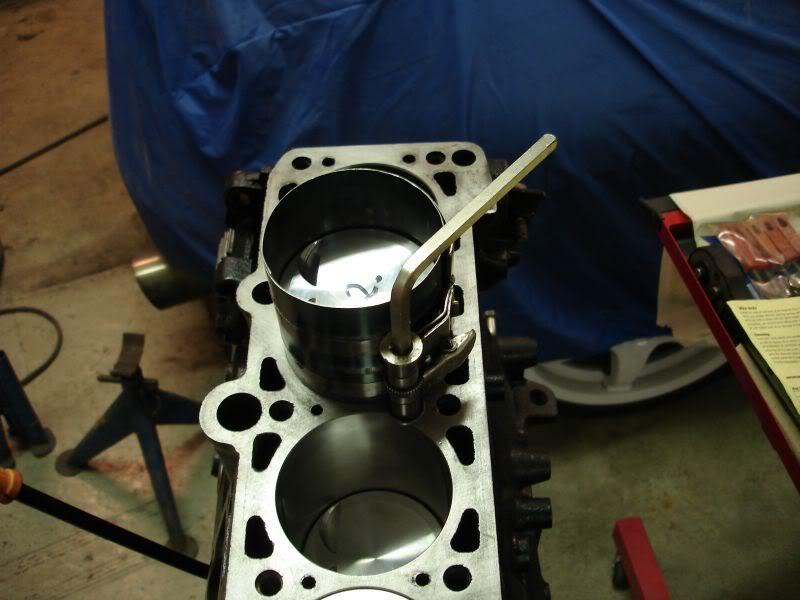 The ARP studs on its place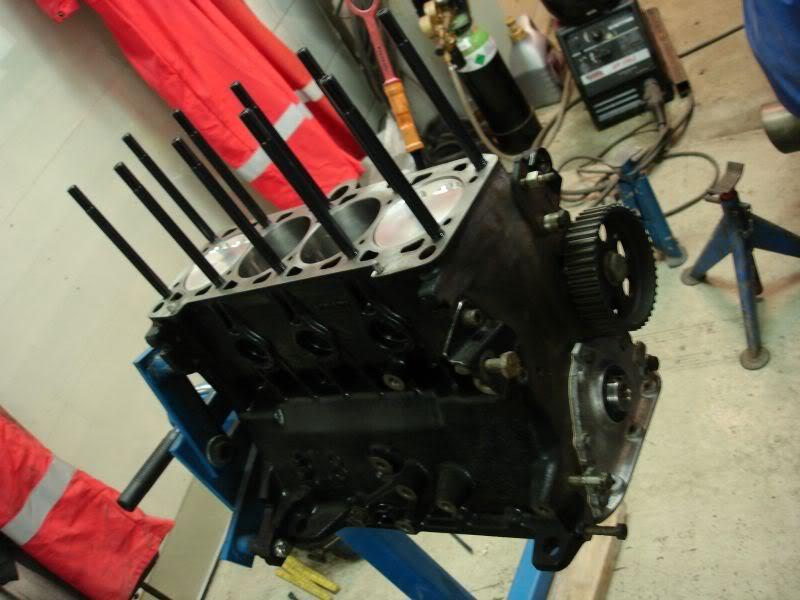 The next step with the engine is porting the head,16 new valve positioners(?),grinding the valves if they are in good condition,grinding the valve seats in 3 different steps(degrees)..
Tomorrow I`m going to glass blast the oil pan an make a hole for the return,and weld a plunger into it..I`m going to use a oilfilter house from a 83 GTI engine,cause of the external cooling..
And the car as it stands for now..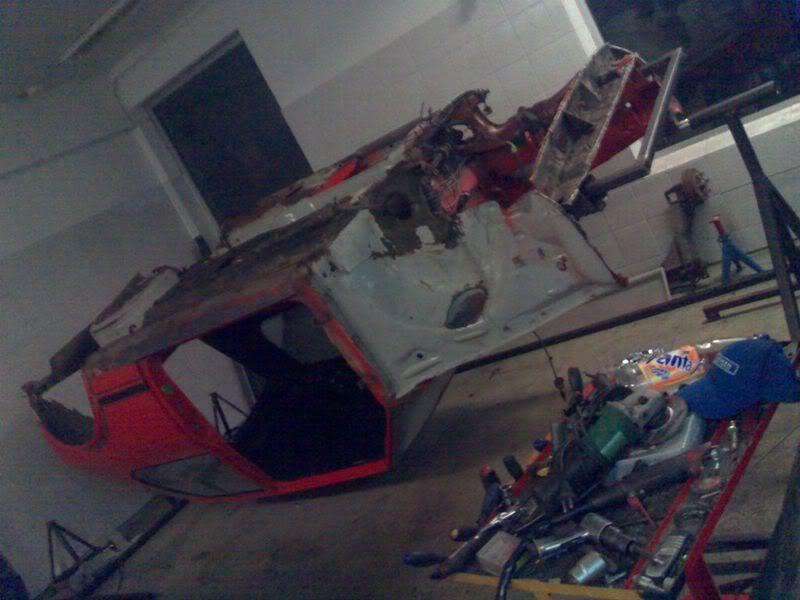 6/6/2007
Today I bought myself a new cylinderhead, its a race ported ABF head,and has gone 10tkm since porting/overhauling..Has also been test pressured..OK
Looking forward to get this one in the mail....


7/30/2007
Bought myself a new Rabbit this summer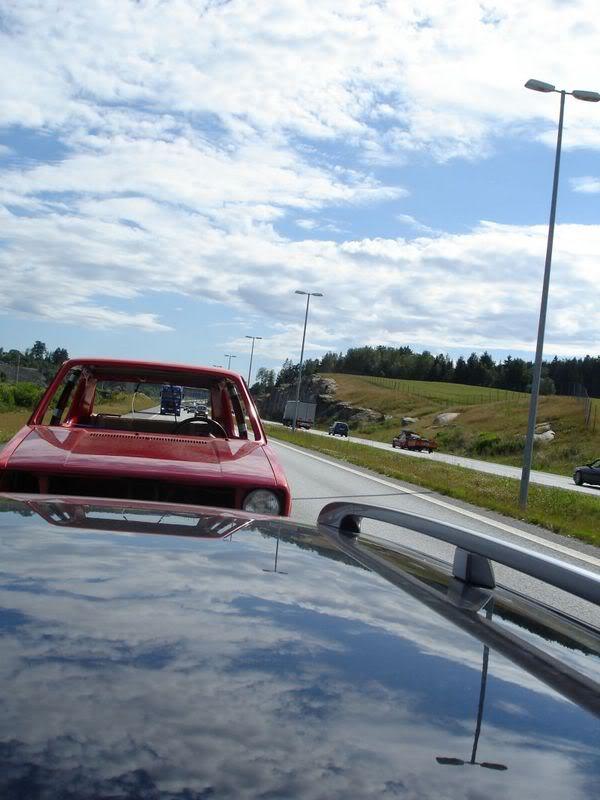 New parts: Haltech E6X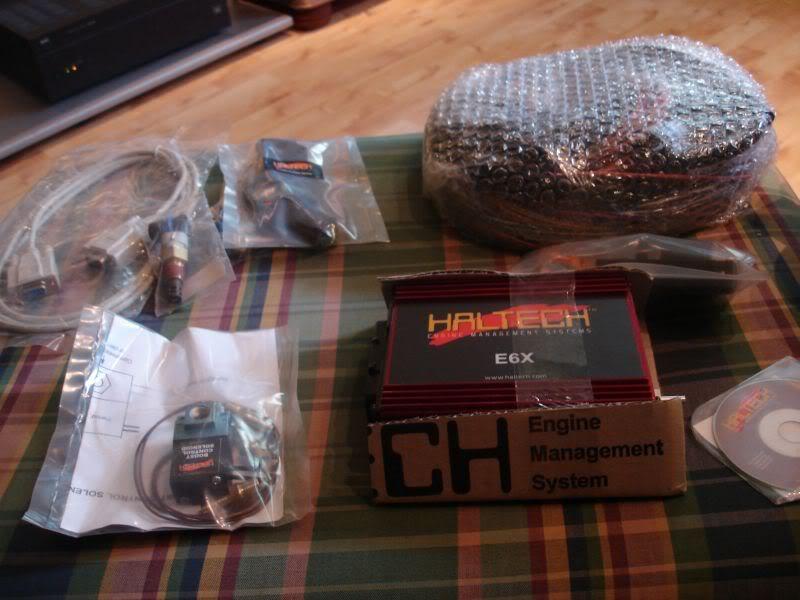 Welded in a new front plate..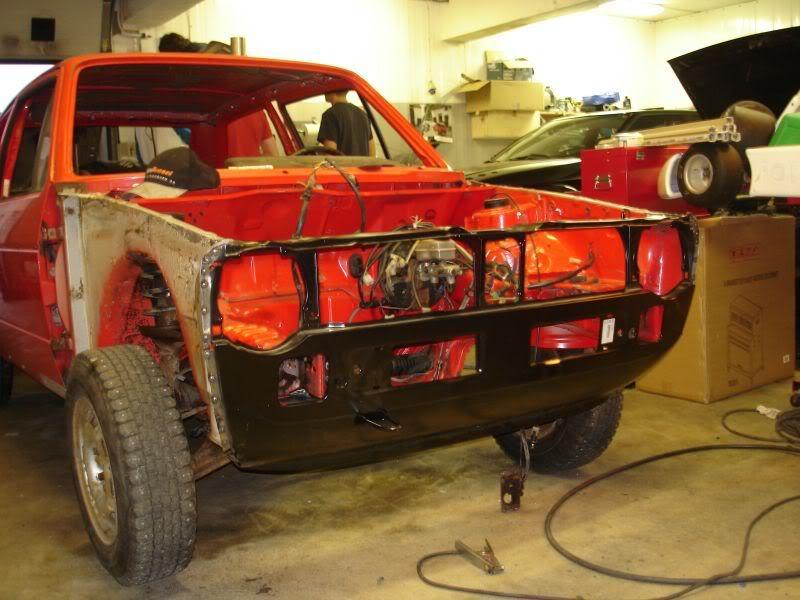 And some sandblasting: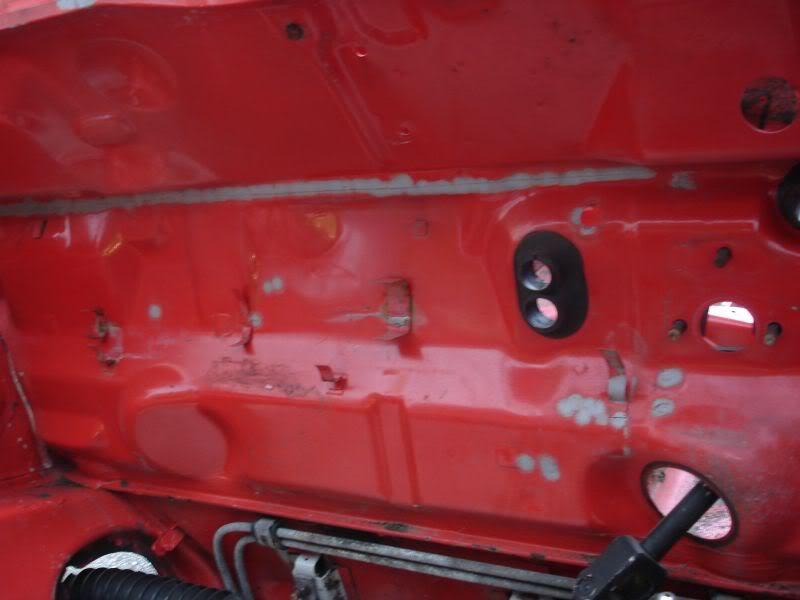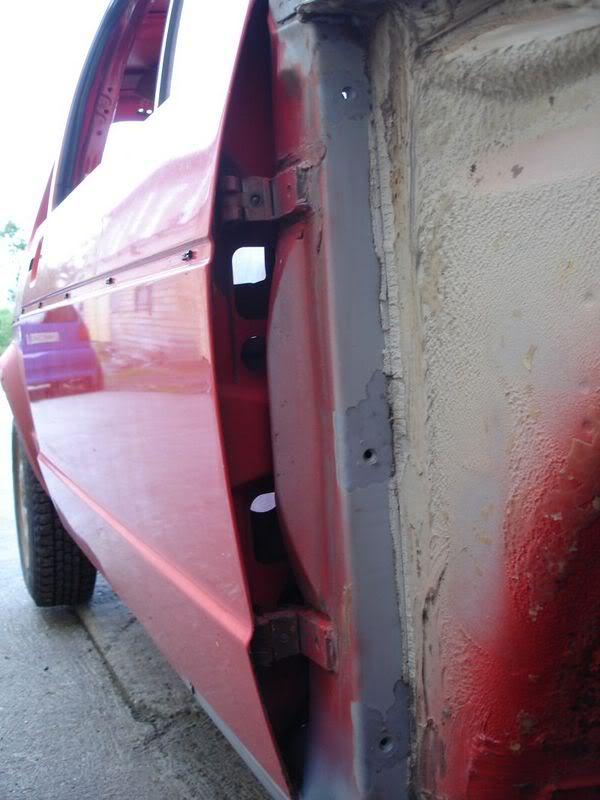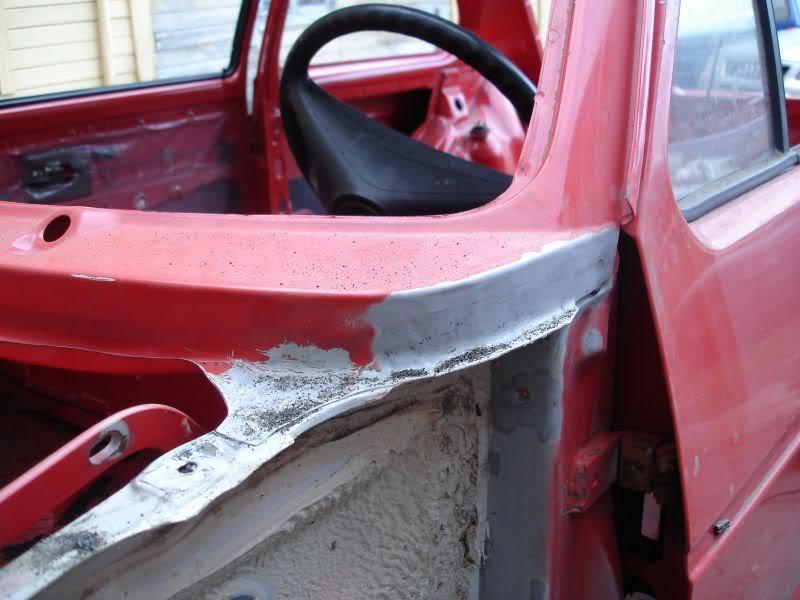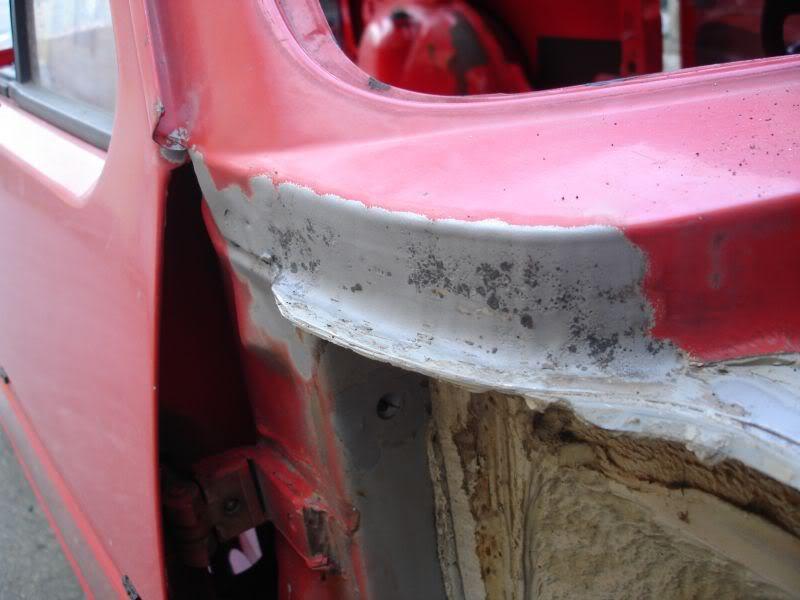 Pics will tell...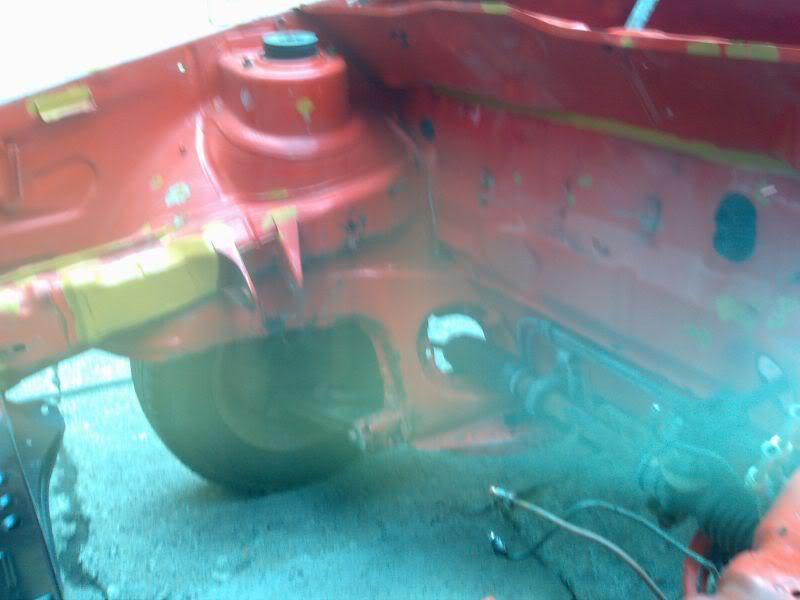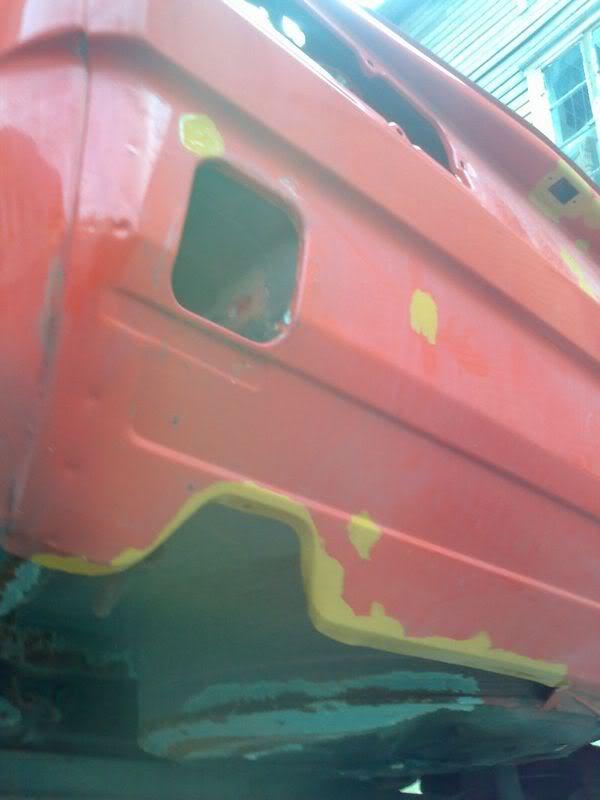 02A gearbox mod..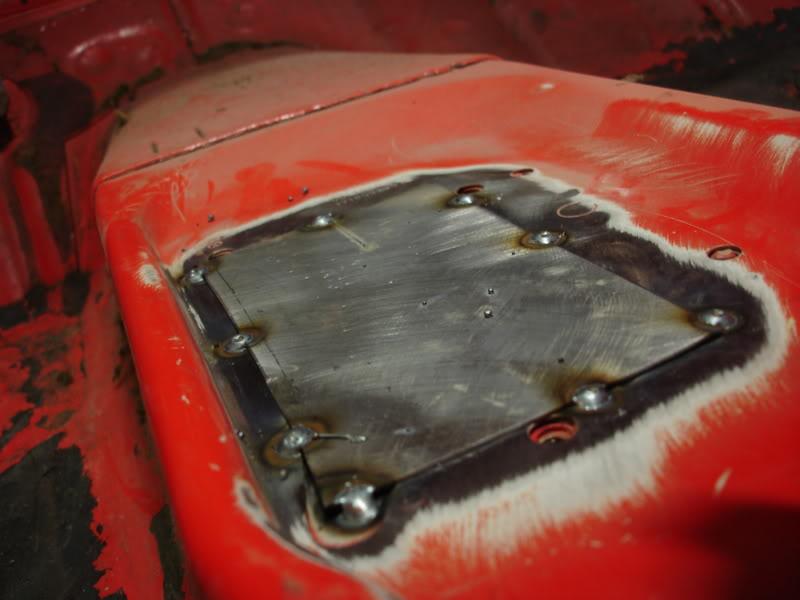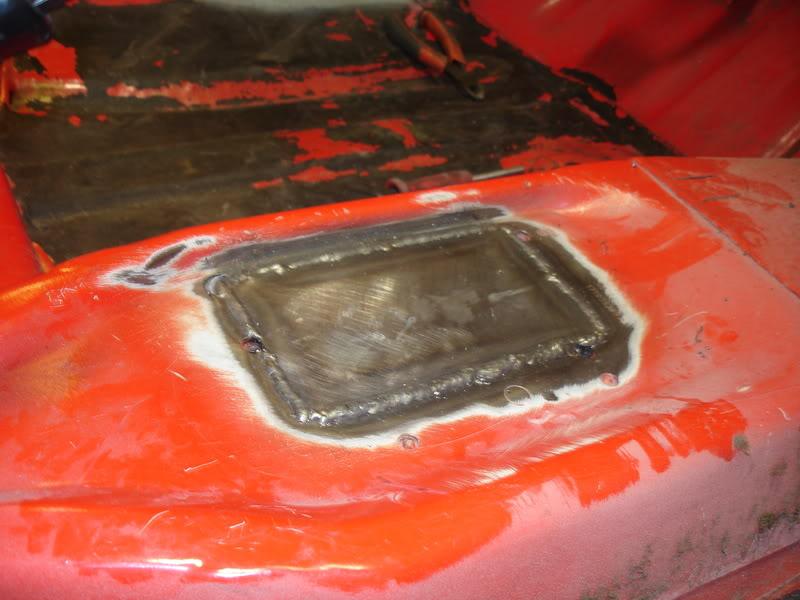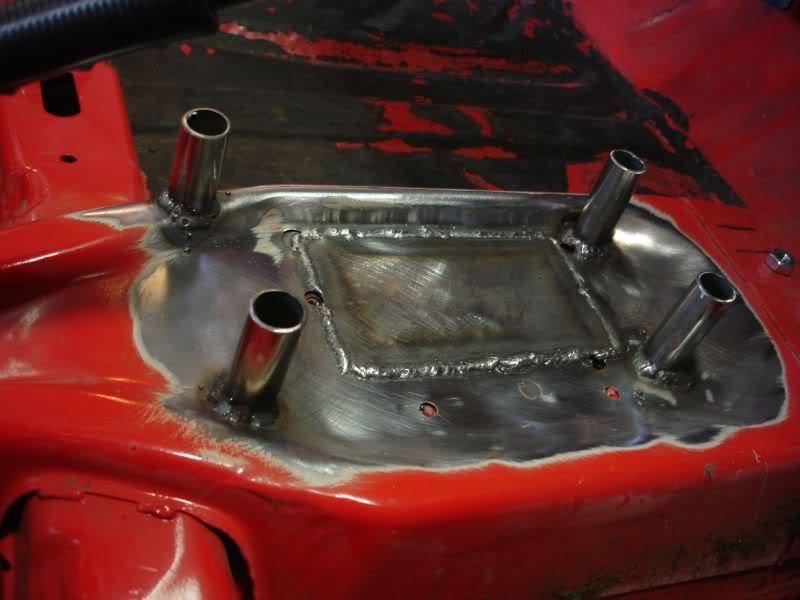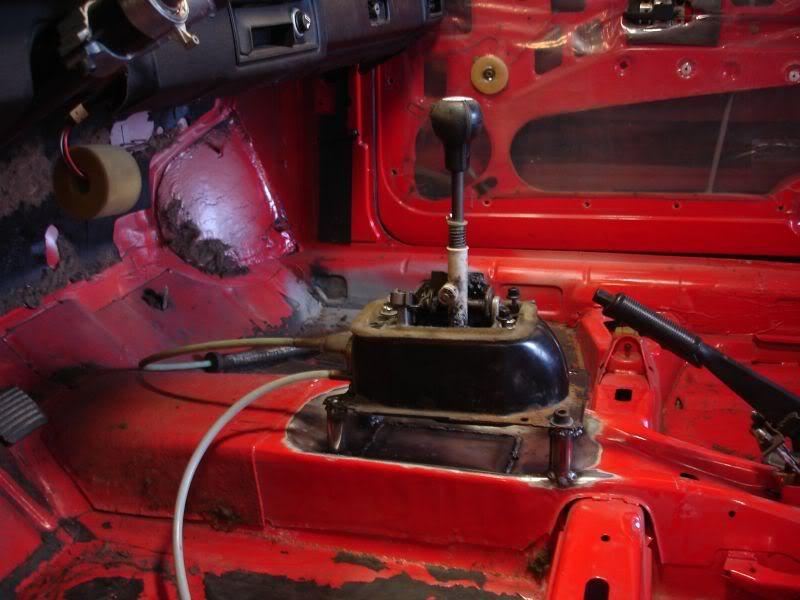 Today the engine went in,will take some more pictures tomorrow!

7/31/2007

Here`s the pic of the plug.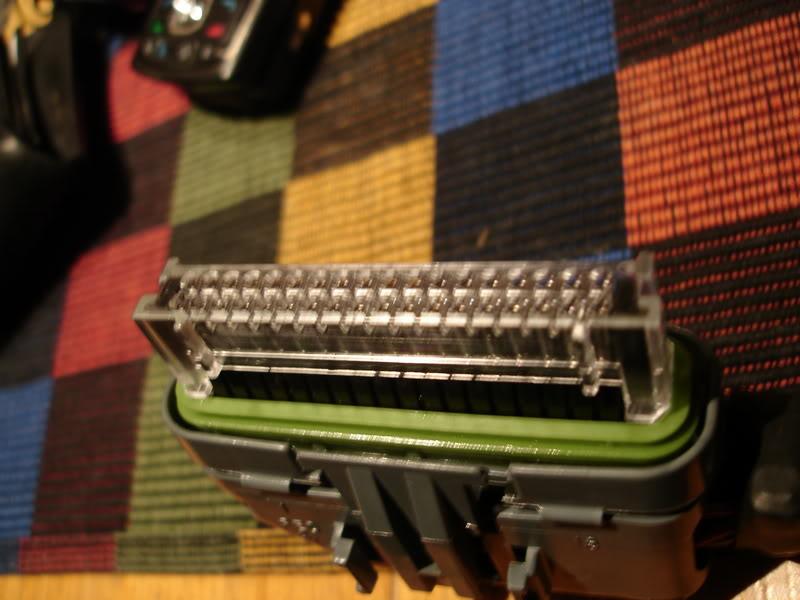 Todays "work"..
Tried a manifold from a GT28Rs today,it seems like there is good enough space..
But I think I will make the manifold a bit lower and move it backwards because I want to have the exhaust output at the right side of the car..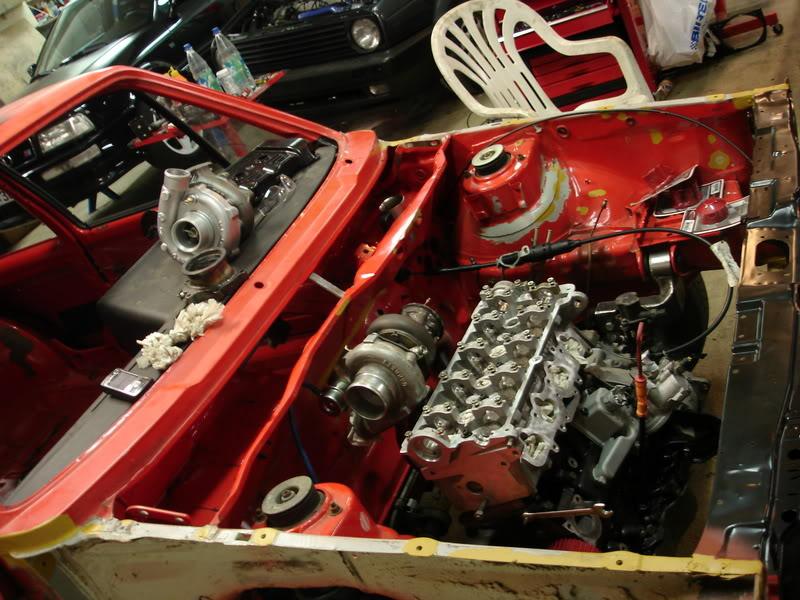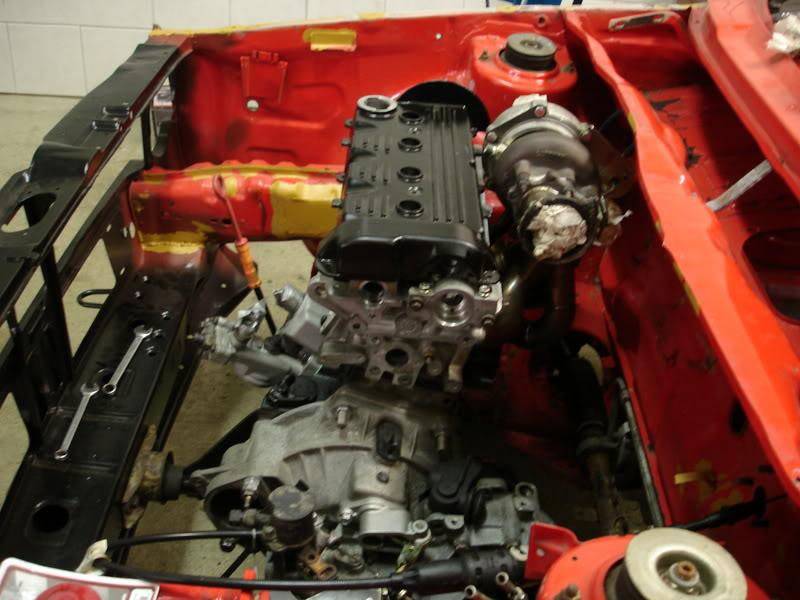 8/26/2007
Only collecting some new parts for the car nowadays..
Got myself a 1.8T fuelrail to use,didnt actually know it would fit the injector "holes",but it just did..heh

The manifold for the intake has been chopped off and glassblasted.Soon ready to be welded on with a new plenum chamber..
Ordered a new gas tank w/pipes and a set of NEW original plastic "fenders"..Eight hundred ****in dolleroes!

Will post some pics tomorrow
9/29/2007

Made myself a "jig"(what we call it), to weld in the exhaust manifold..
It was sent away today to weld together the rest of it...Heres some bad pics..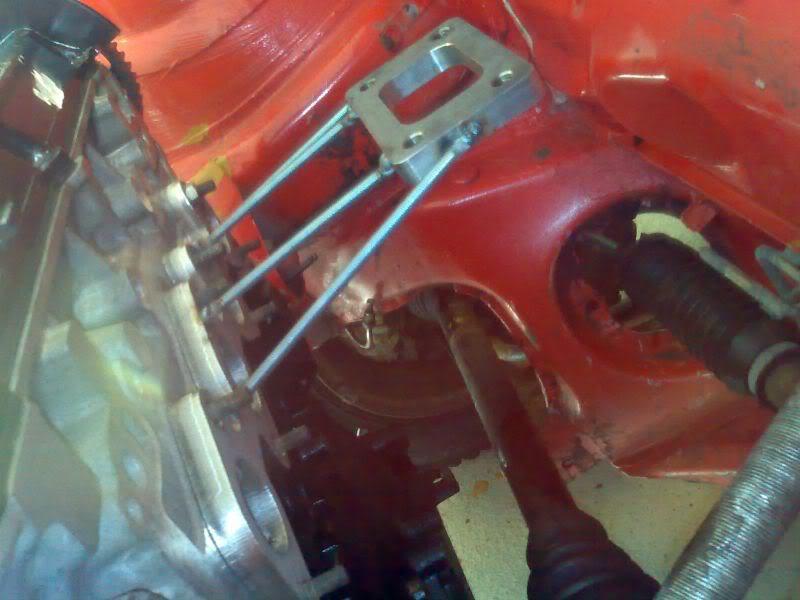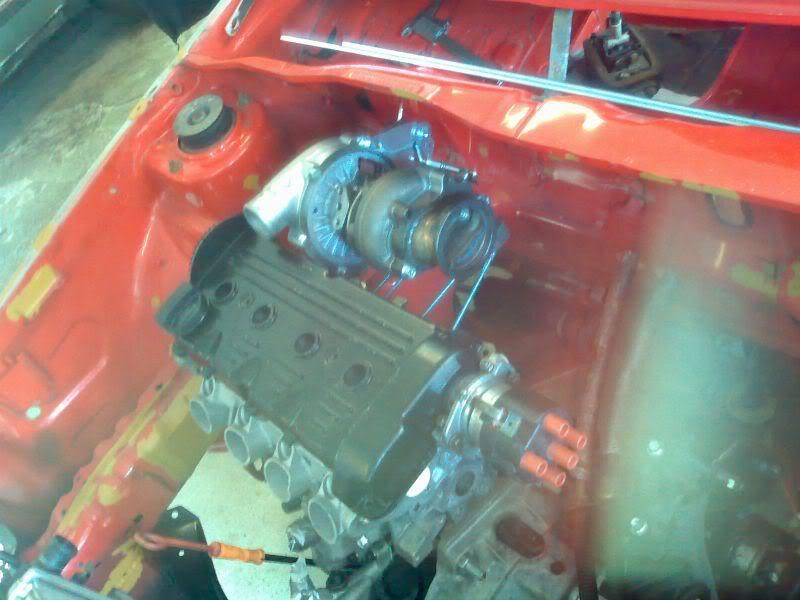 10/8/2007
Hey thanks.. There is many good projects going on in Scandinavia,but only a few of them has reached the Net/Vortex..

I think its nice to see other "neighbors" here on the Vortex..
Today, i got some pics of the process of welding the turbomanifold..
I think it looks great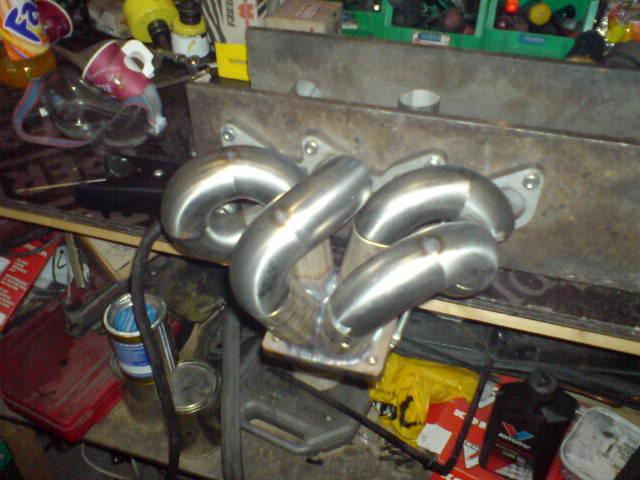 One more..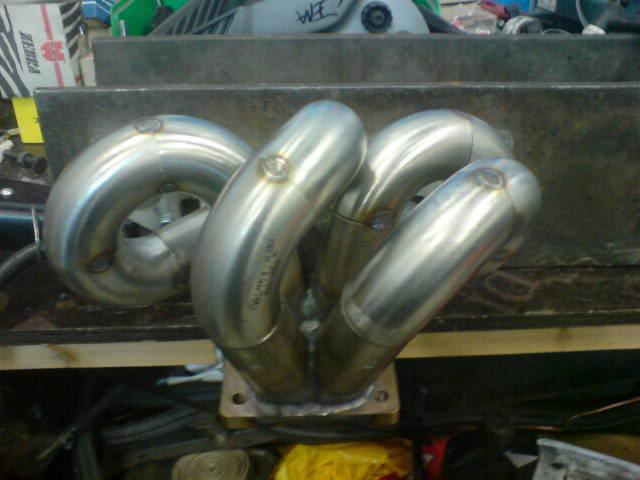 10/28/2007
The manifold finally finished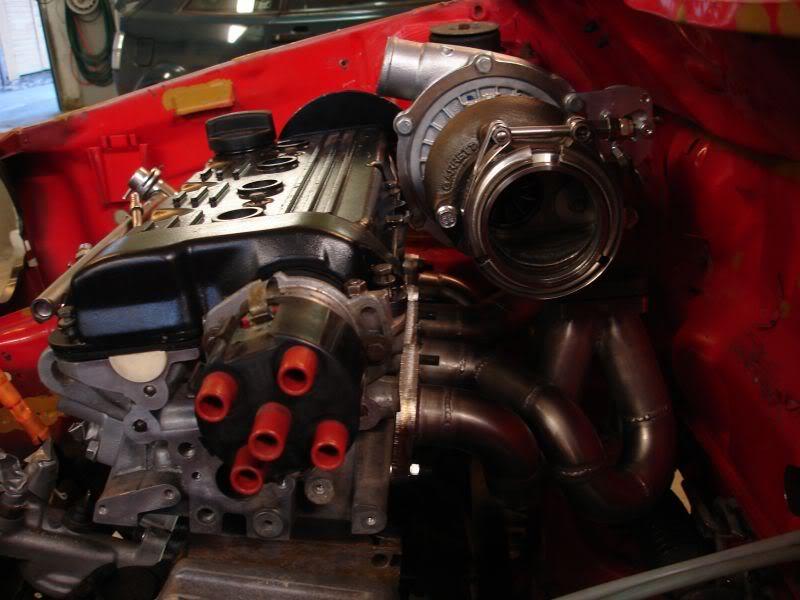 Yesterday I ordered KW variant 3 suspension...
New parts with poly bushings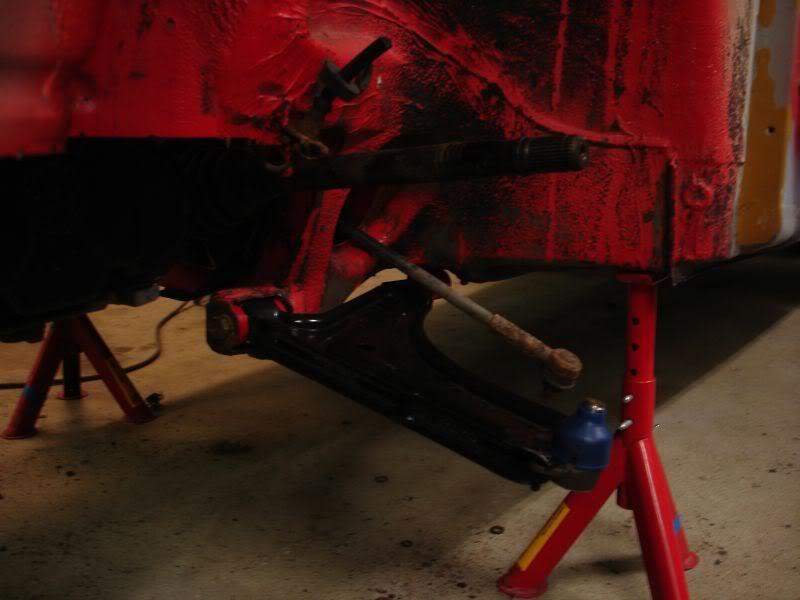 10/29/2007
Progress of the intake manifold..
My english sucks big time,so the pics will tell..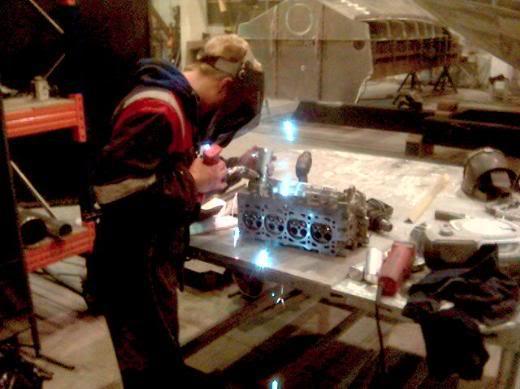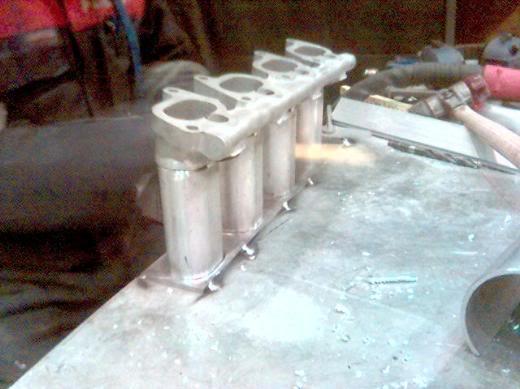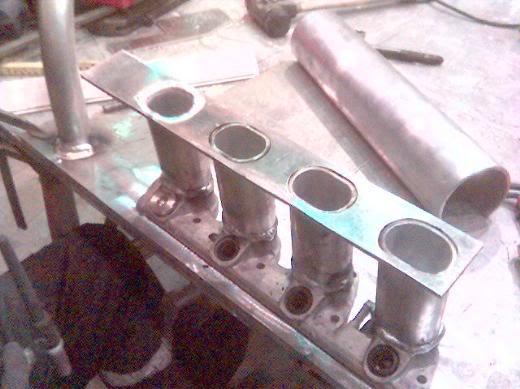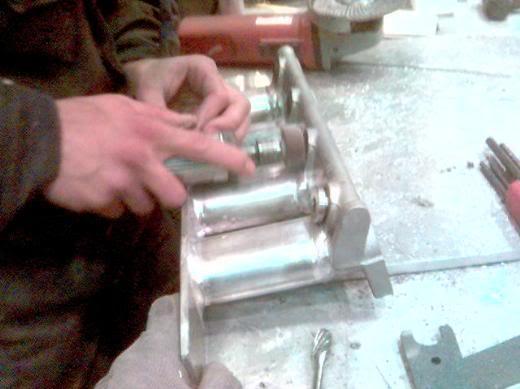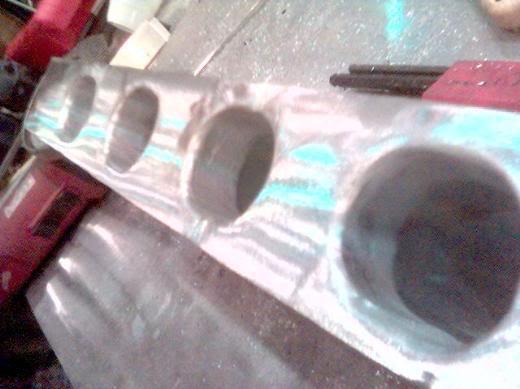 11/26/2007
Finally finished with the intake manifold,the throttle housing flange got a bit out of position,but it doesnt hit the hood so **** it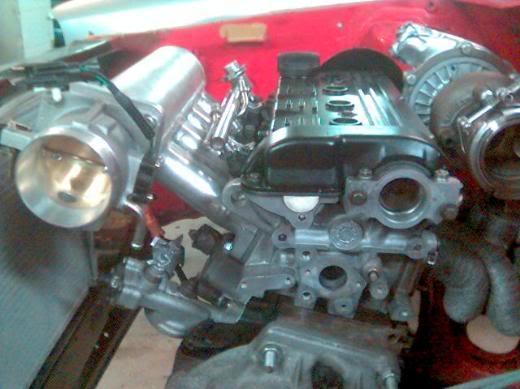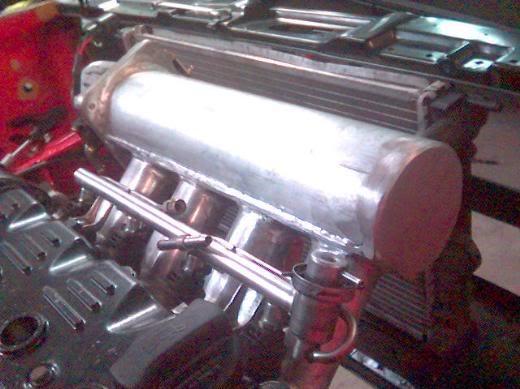 Also got the KW V3 inoxline suspension in the mail some days ago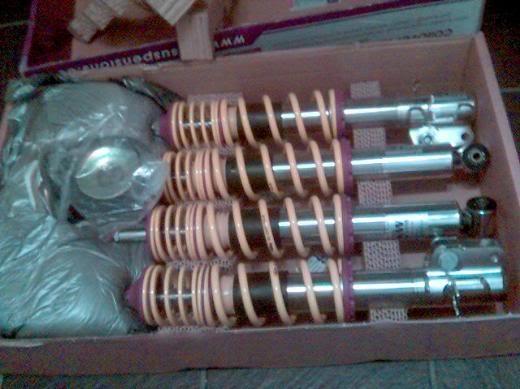 10/1/2008
Finally,the engine is finished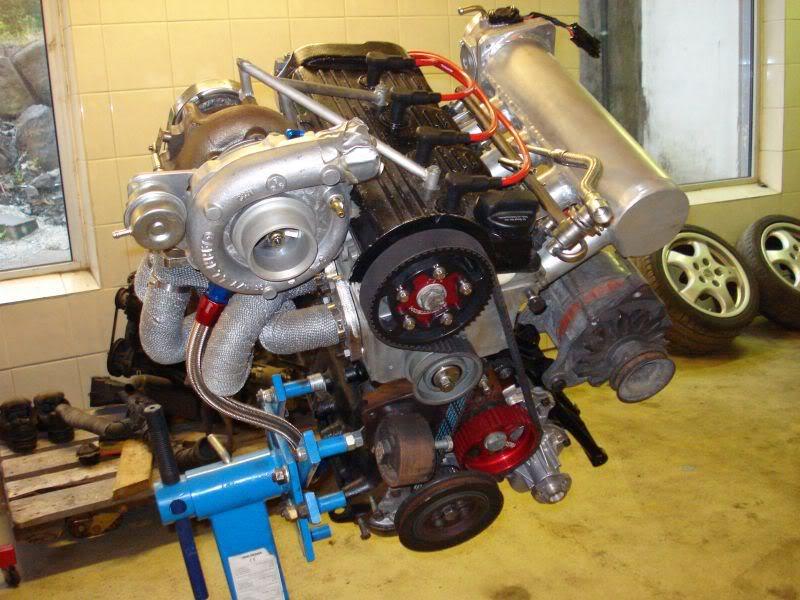 4-pot Brembo with 305x28mm discs from Seat Cupra R.Custom made brackets in CAD..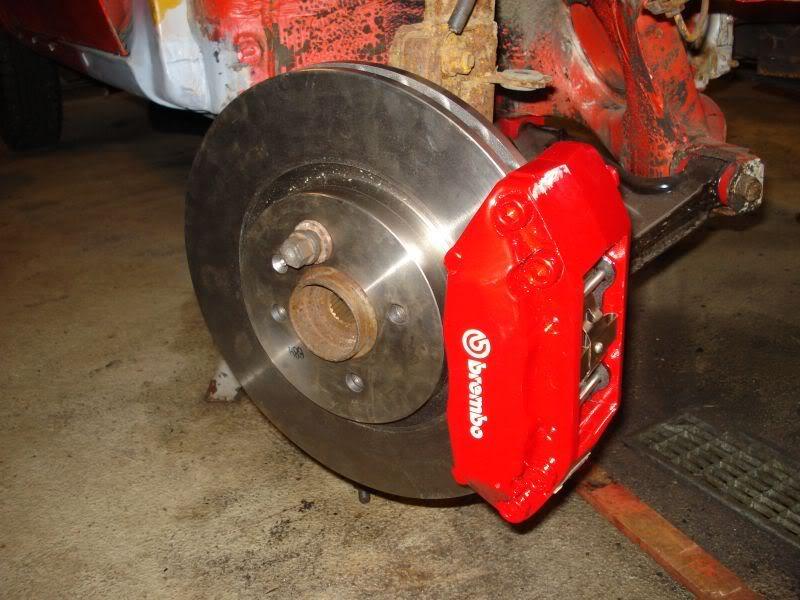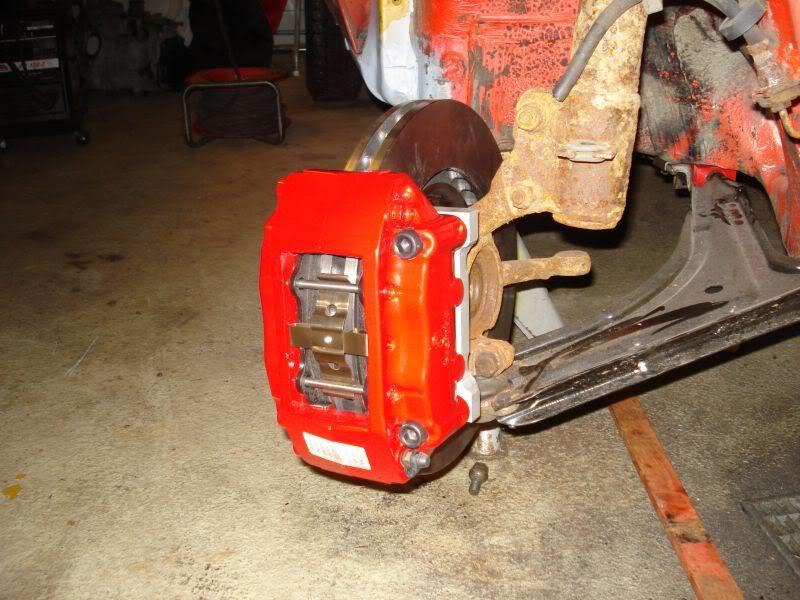 And some more parts: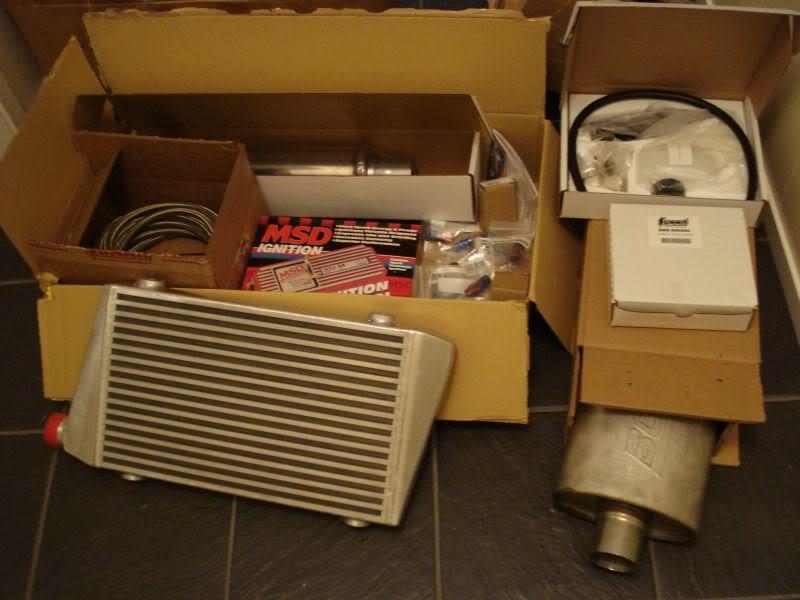 2 new Recaro Speed seats,price almost 4000$ here in Norway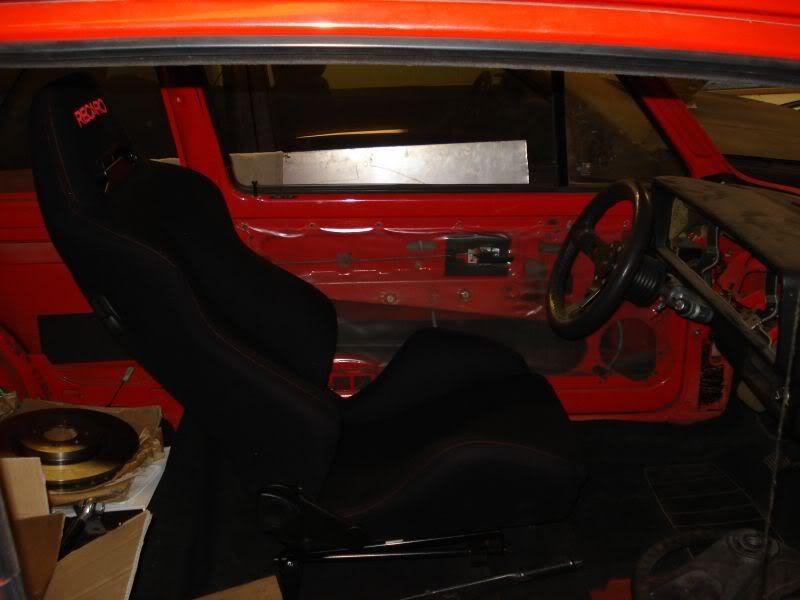 Bosch 044: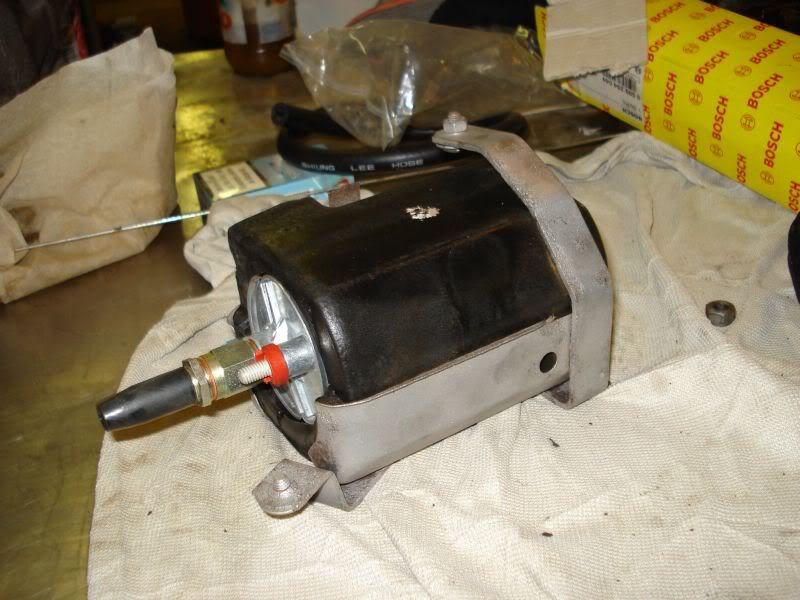 CAE-Racing shifter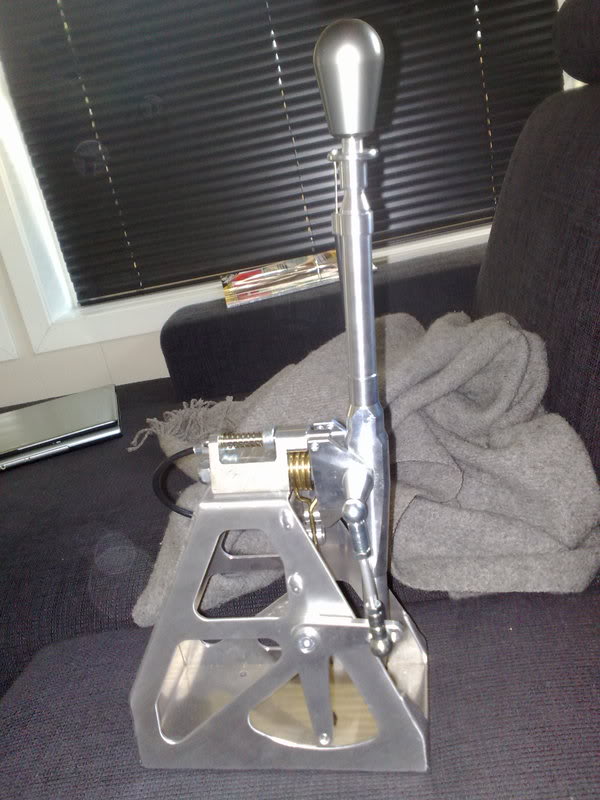 Compomotive MO 8x16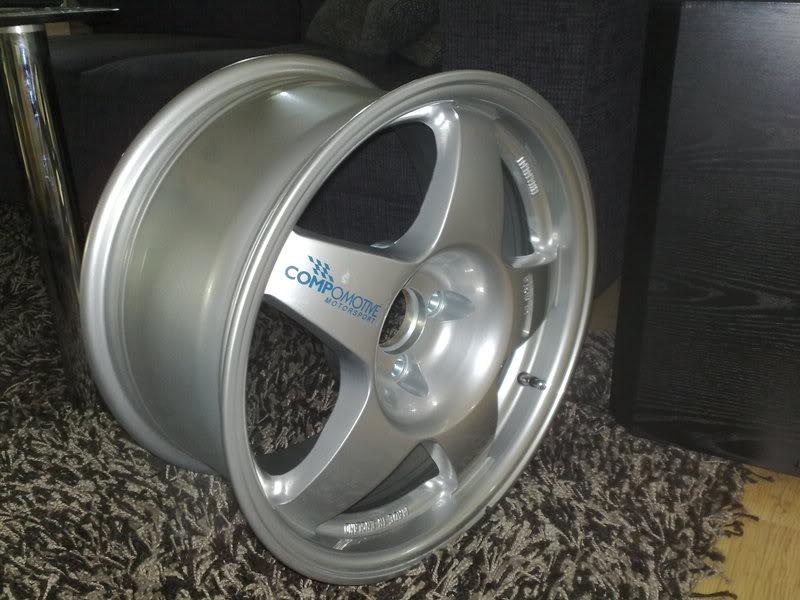 Complete gearbox overhaul + new Peloquin differential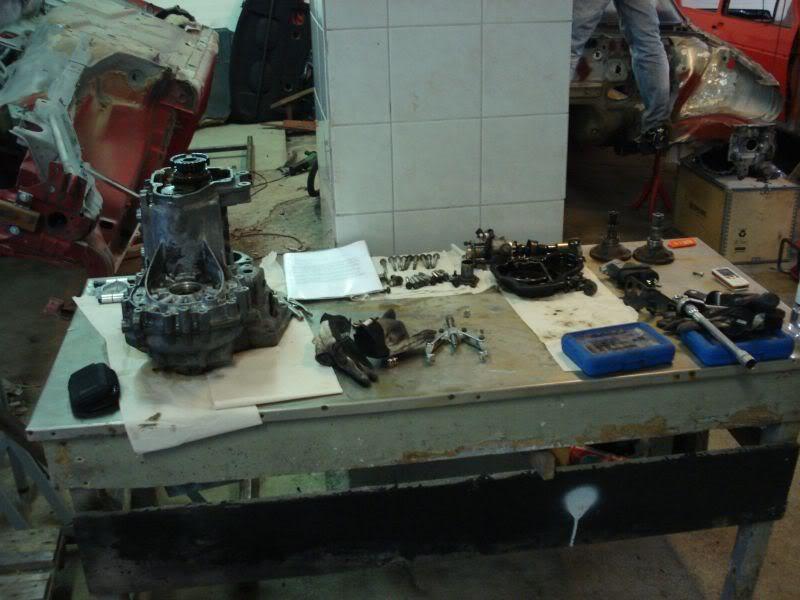 Alu,flywheel with SPEC Stg.3+Carbon plated and strengthened pressure plate 700+NM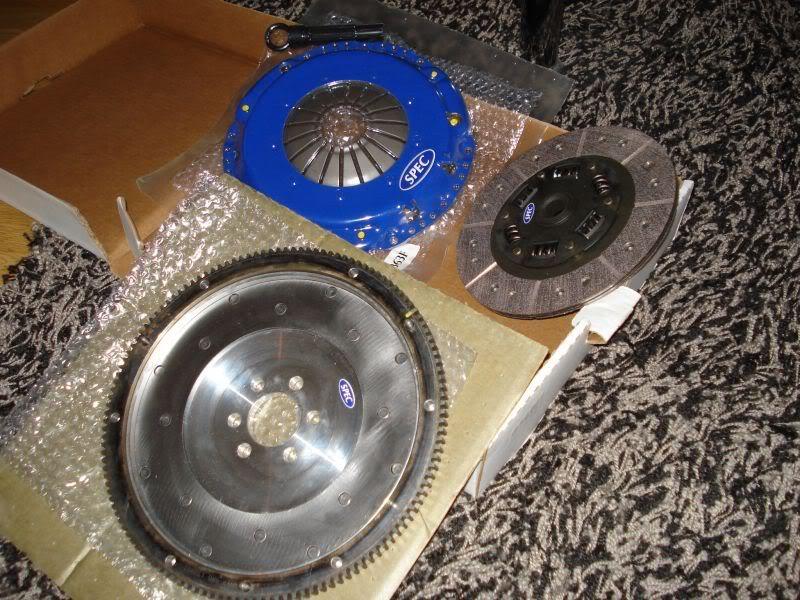 I am using a 02A transmission from an 1990 Passat TD with AFF gearbox code, with CCM VR6 3,39:1 Final ratio..
Got a Peloquin differential for this also..I am using this gearbox cause the 3 first gears are higher geared than the VR6 CCM trans,and will be more useful on trackdays

Here are some pics of the dismantling and the overhauling:
Pretty dirty: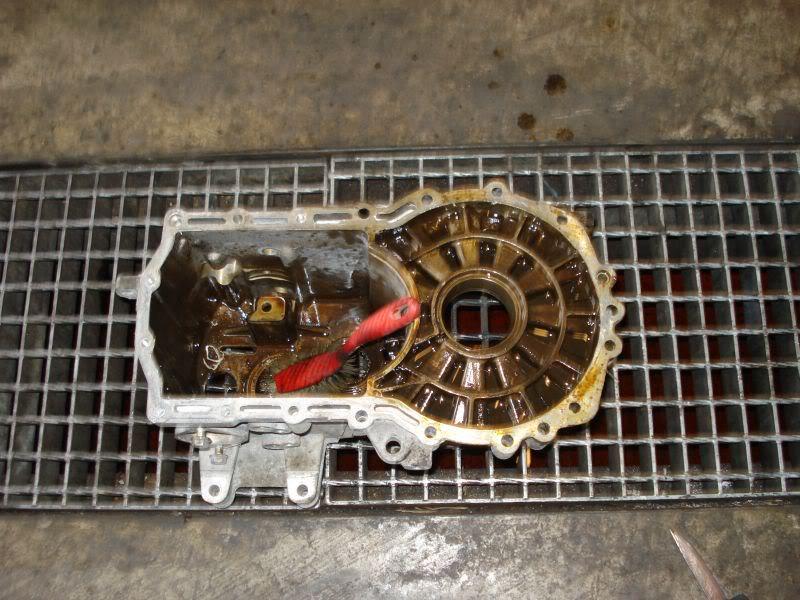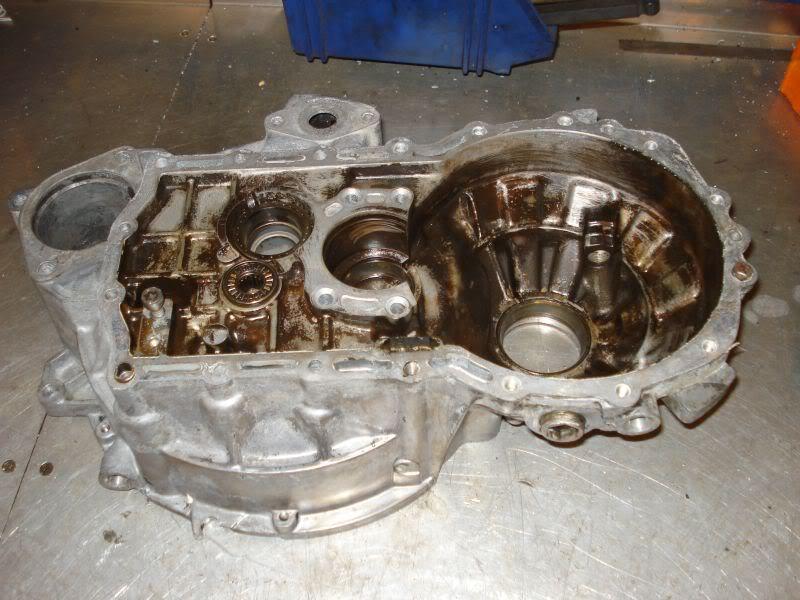 All bearings out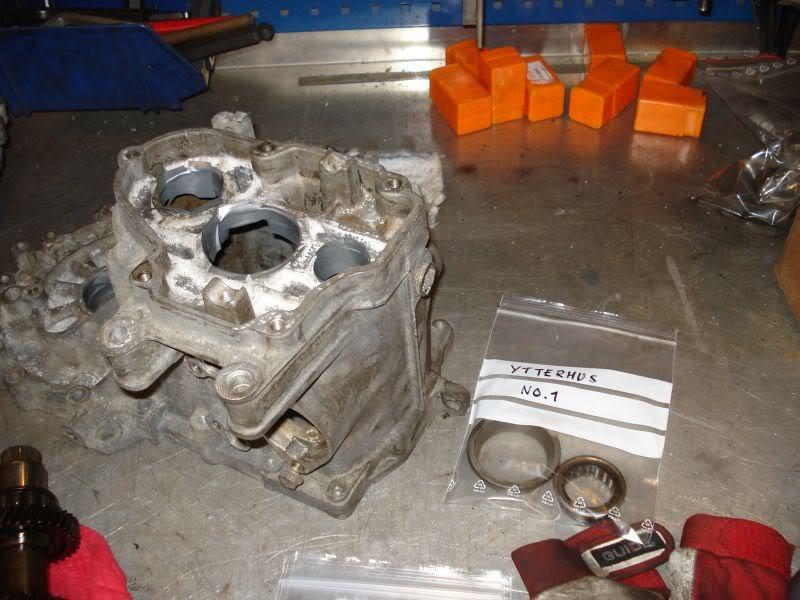 Pretty much corrosion on the housing: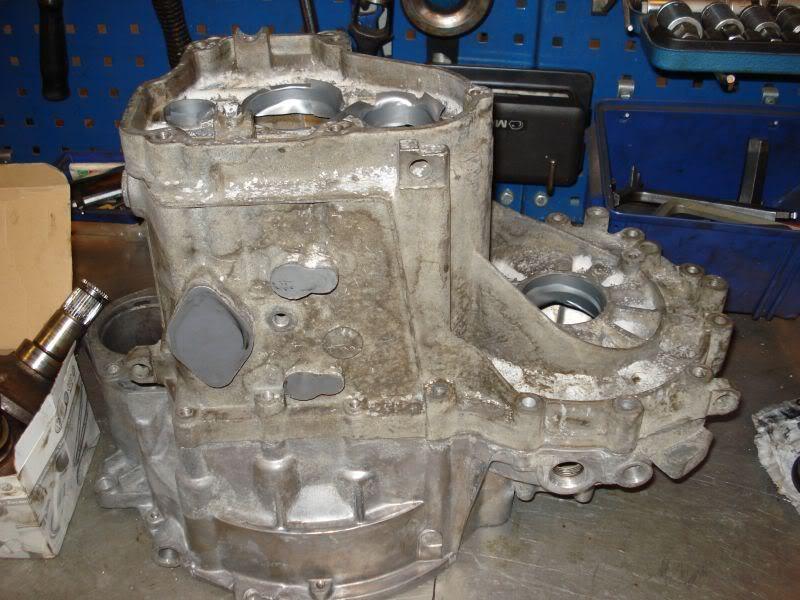 Glassblasted: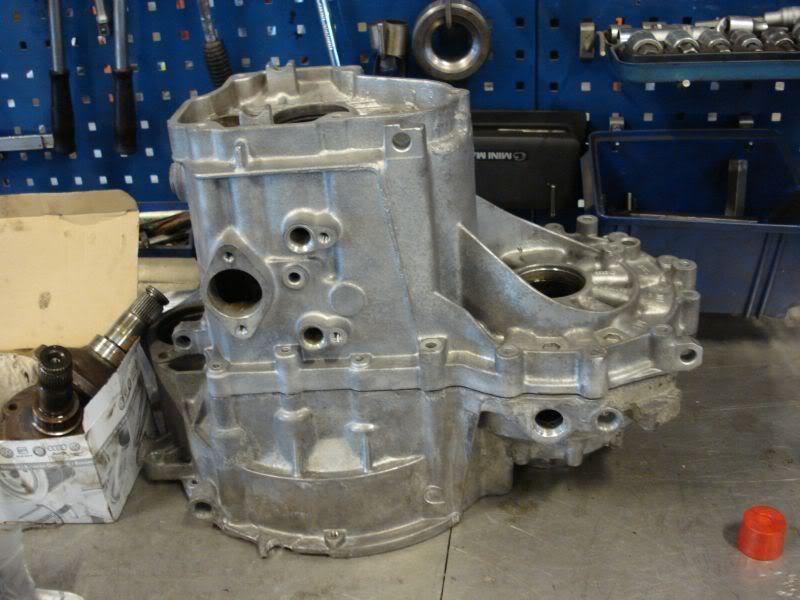 Shifter mechanism: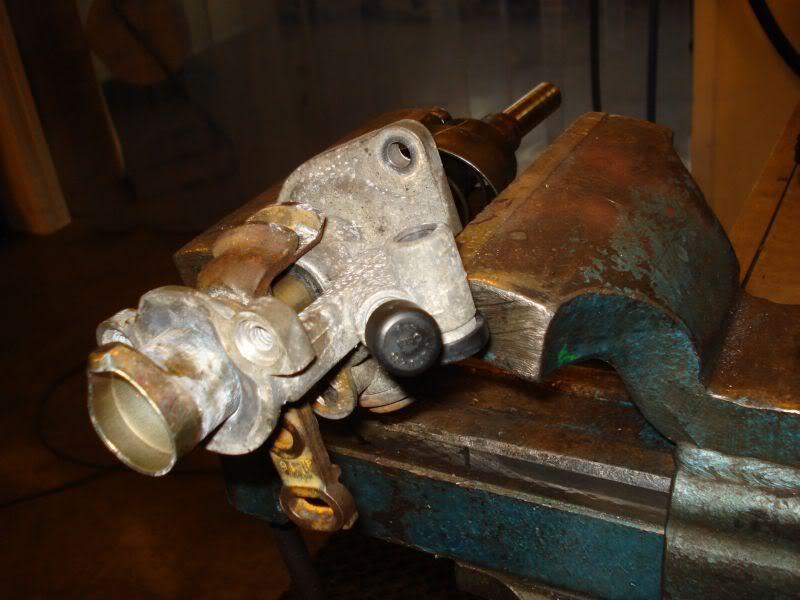 ****ed up plastic bearings...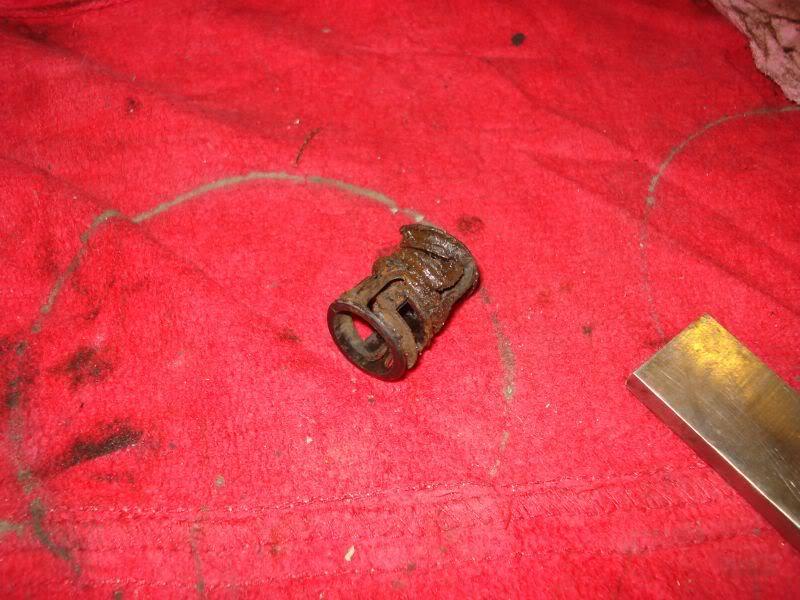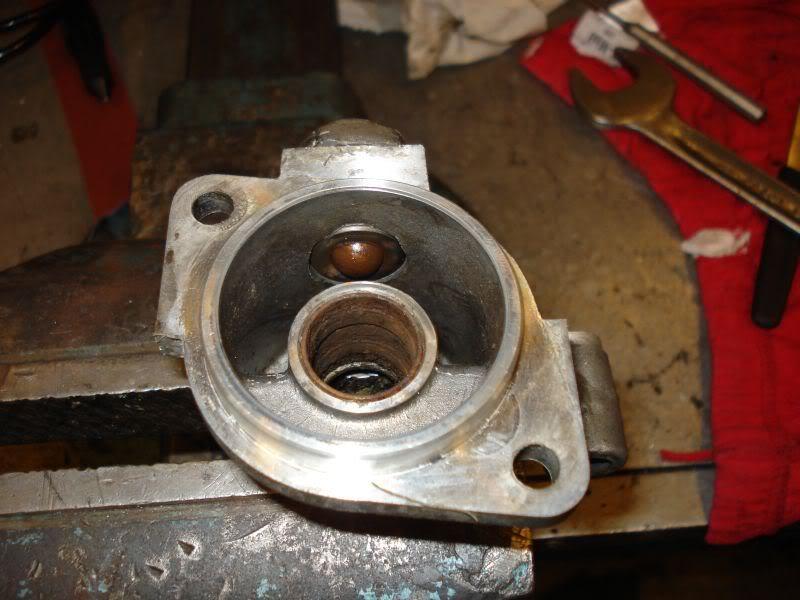 Made new ones in nylon: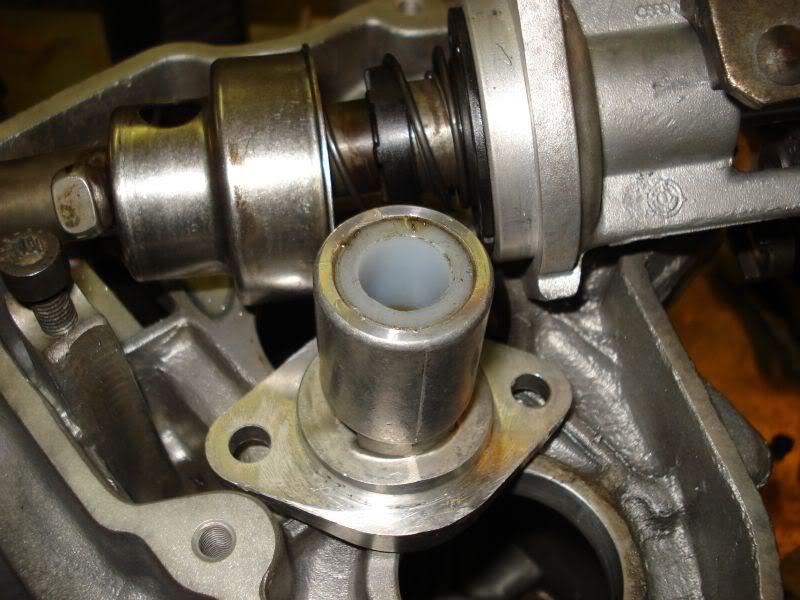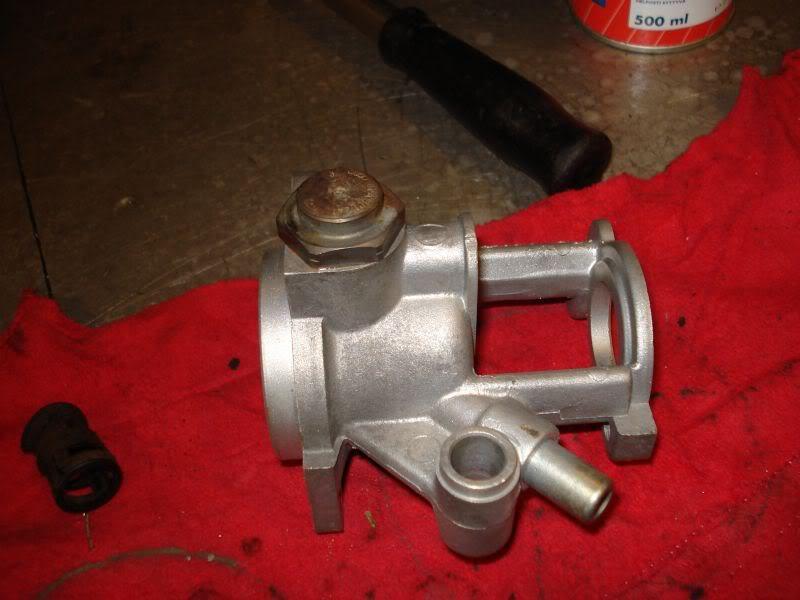 12/3/2008
Been waiting for some parts for the trans to come form Germany,new 5th shift gear, and som other bearings..
Now I got all the parts to get together the transmission,and throw it back on the engine and back to the engine bay for mounting..
Have also removed all the unnessesary wires on the original engine harness,and made it ready for the Haltech ECU.
Today I got hold of a complete 2E 2.0l 8V engine..This is the same as the ABA setup.
Going to use the multi toothbelt sheit from this one on my engine to make it ready for the Dry Sump system that will come when i get the money

Stay tuned for more..Pics will come

1/4/2009

I`ve been on a big down period here,cause the lack of money.That I still have right now..

Will begin this week with mounting up the original wiring,and then the transmission is going back together next week,hopefully..I also think I need a bigger(thicker) radiator,is there a place where i can find radiators with the same measures as the original one?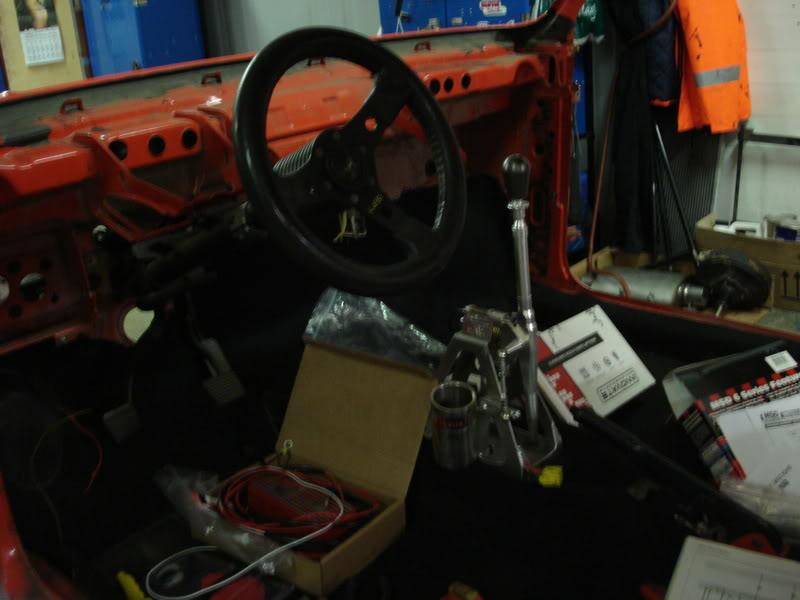 1/12/2009
Now the plan for the car now,is going to Germany for TÃœV approval this summer to get all the modifications that has been done, to be approved and wrote into the car registration.
Ive sold the Garrett turbo, I think i will go for a Turbonetics T3/T04E with bigger exhaust housing for more top effect..Will also use external wastegate for more stable pressure..Maybe I will pass 400?
1/18/2009
Back to work again..
I finally got hold of the last roller bearing for the transmission..
Started yesterday evening with assembling the pinion..
New bearings and gaskets all over..I will continue next weekend cause of work..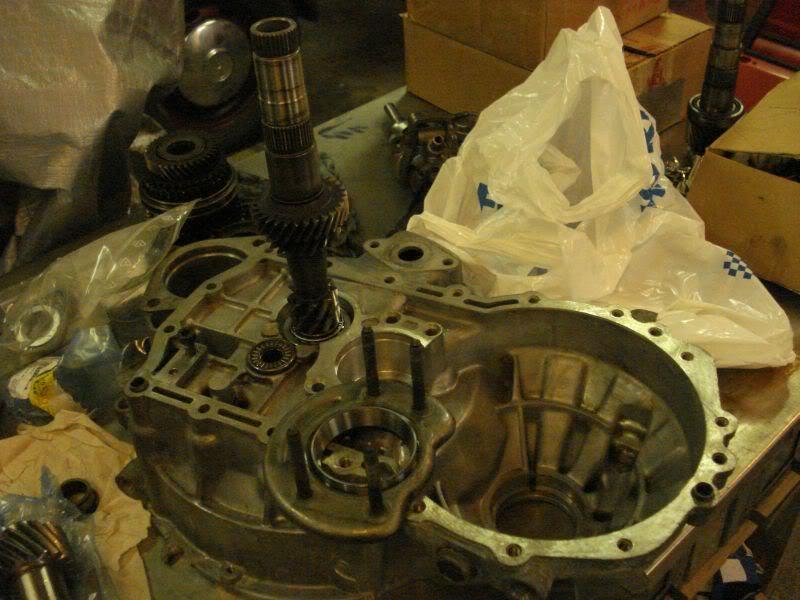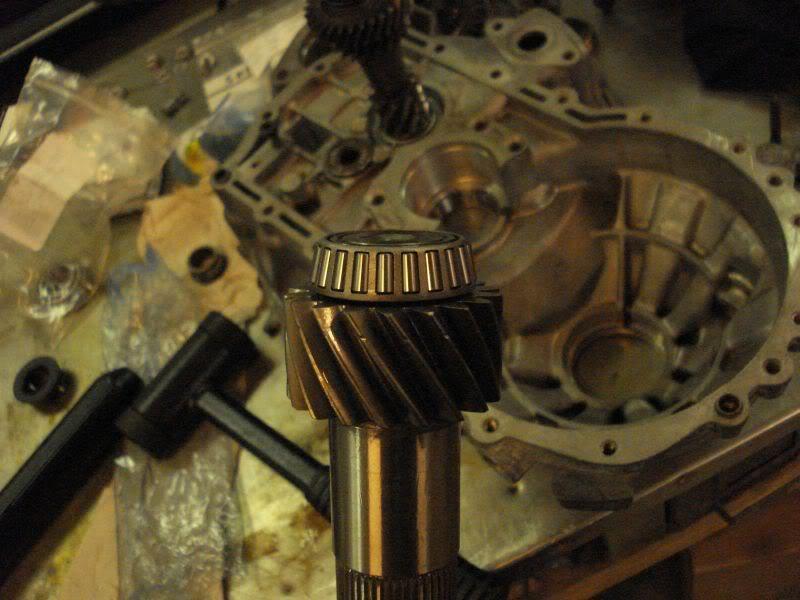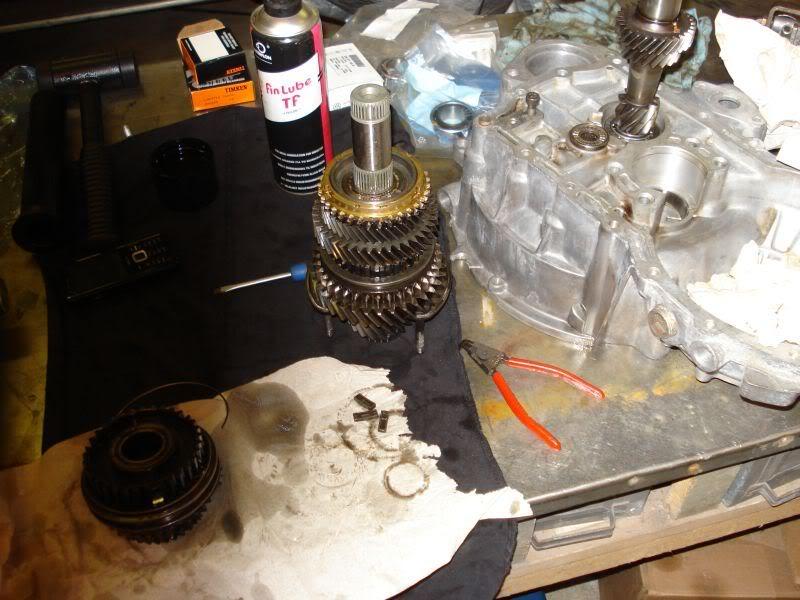 Peloquin with VR6 ring gear..I wonder why I didnt buy ARP bolts for this one. But i think the original bolts who came along will work fine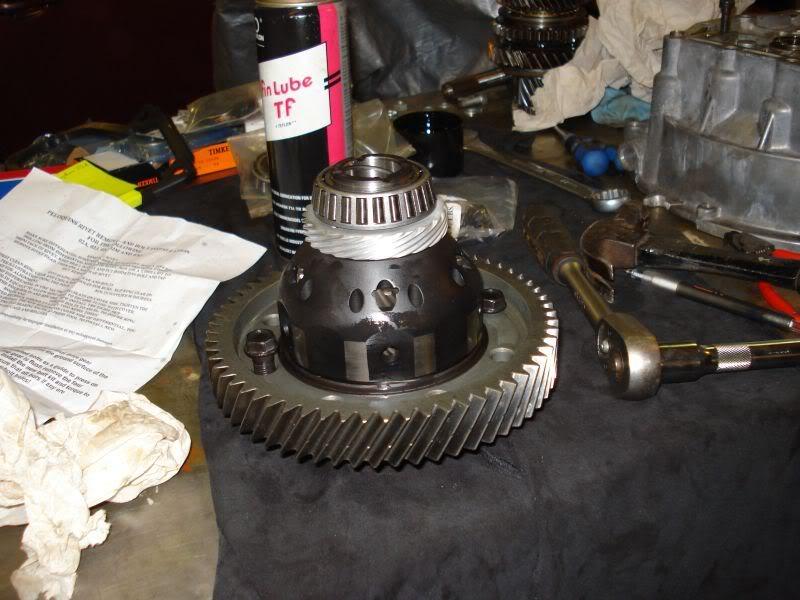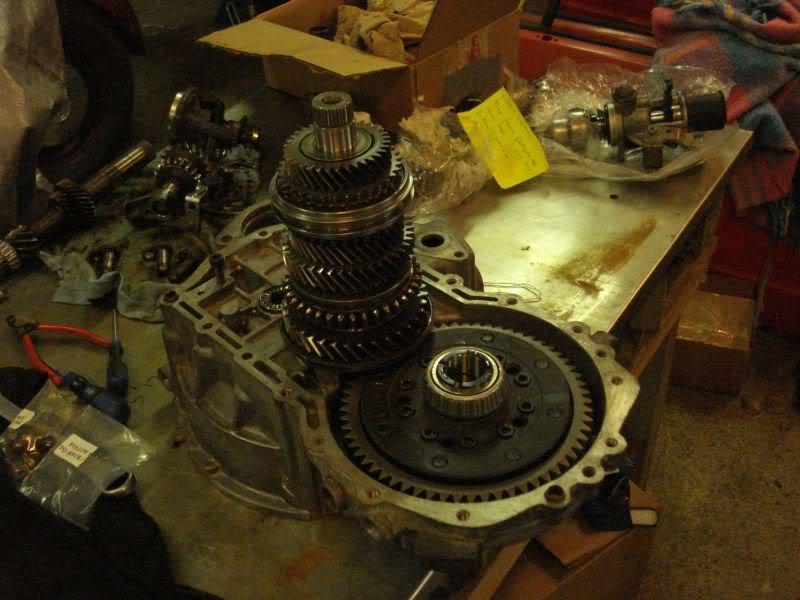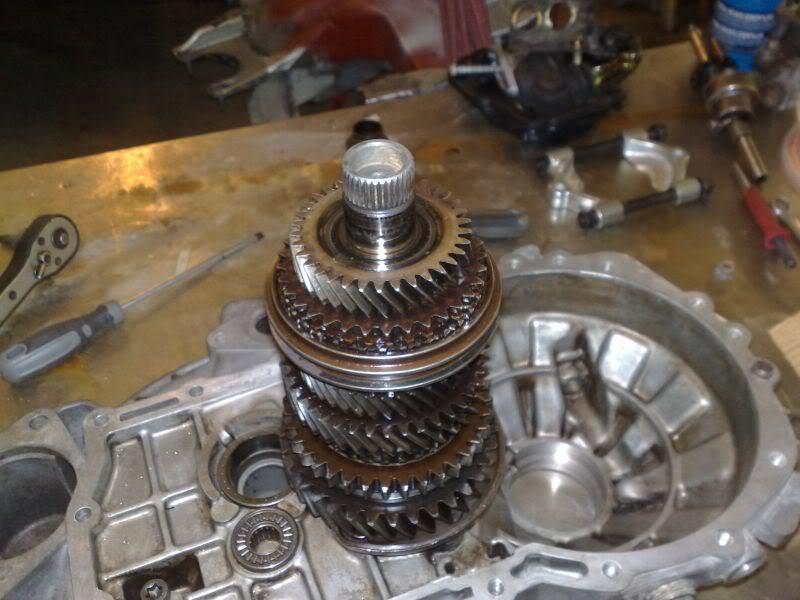 1/29/2009
Trans almost complete..

Not much replies in here,maybe I should stop updating this thread..
Good or bad comments,come with it...I learn everyday

heh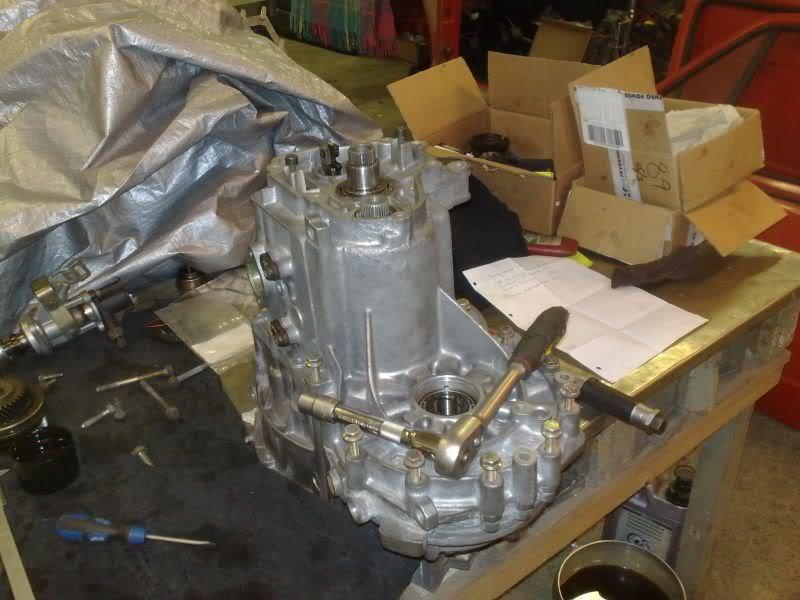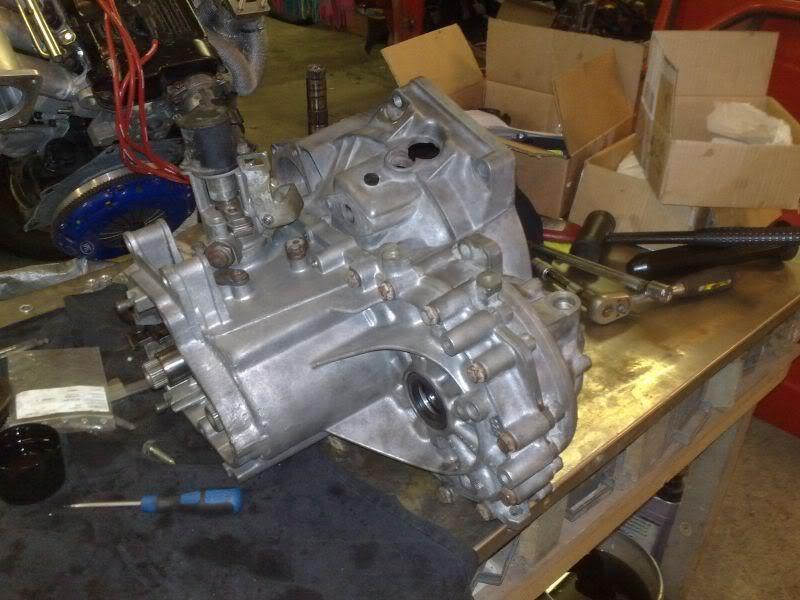 Need to make me a plate so I can mount the magnet-foot so I can measure the thrust on the bearings first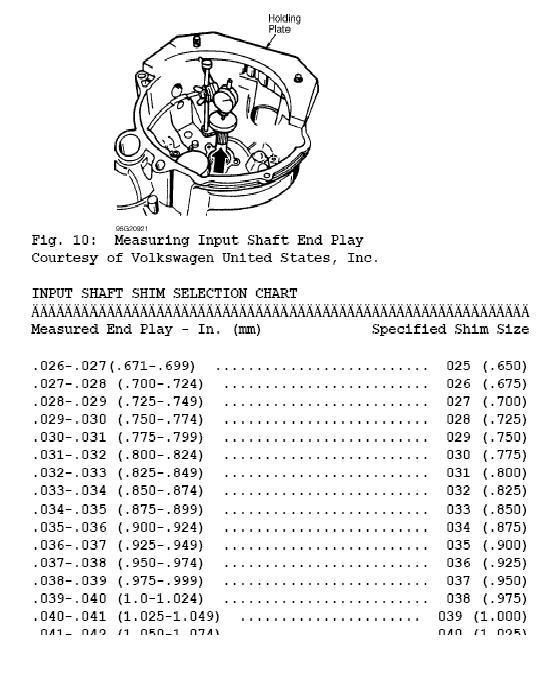 Here is the 02A overhaul manual if anyone wants it

http://rapidshare.com/files/18....html
1/13/2009
Got the engine and transmission in today: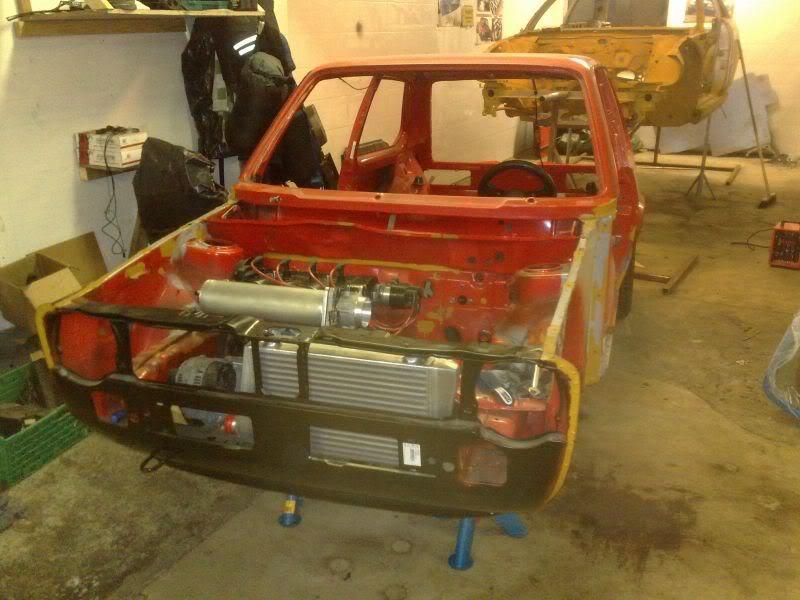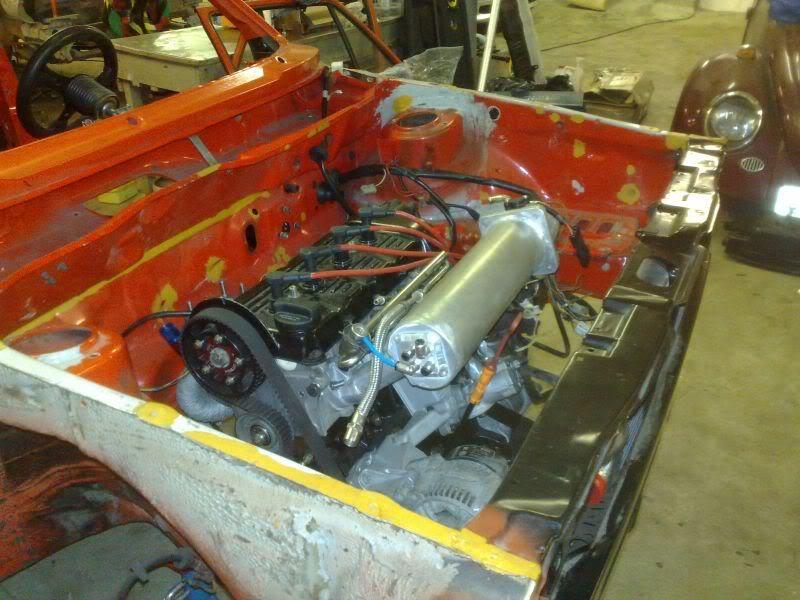 Next will be to weld in some brackets for the intercooler..
I am going to use an 19-row Setrab oil cooler who fits perfect in the left of the IC..

A custom radiator will be bought from Summit or somewhere else...
2/15/2009
Mounted up the CAE shifter and some other parts today..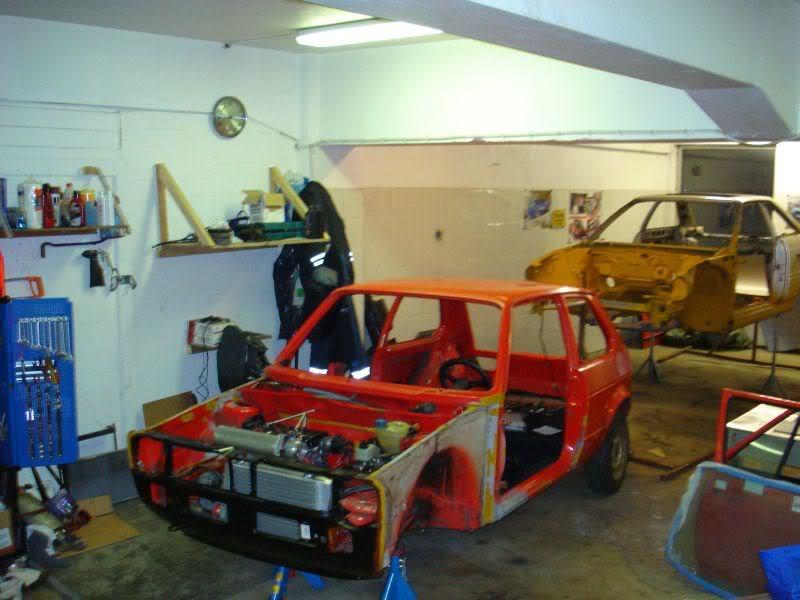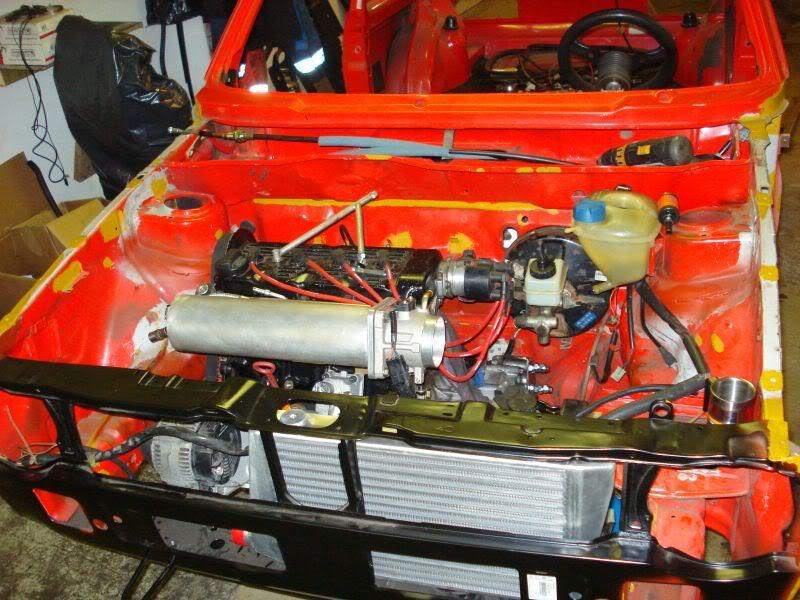 I could hav used the original taped hole for the automatic transmission lever,but then i wont get enough space for the downpipe..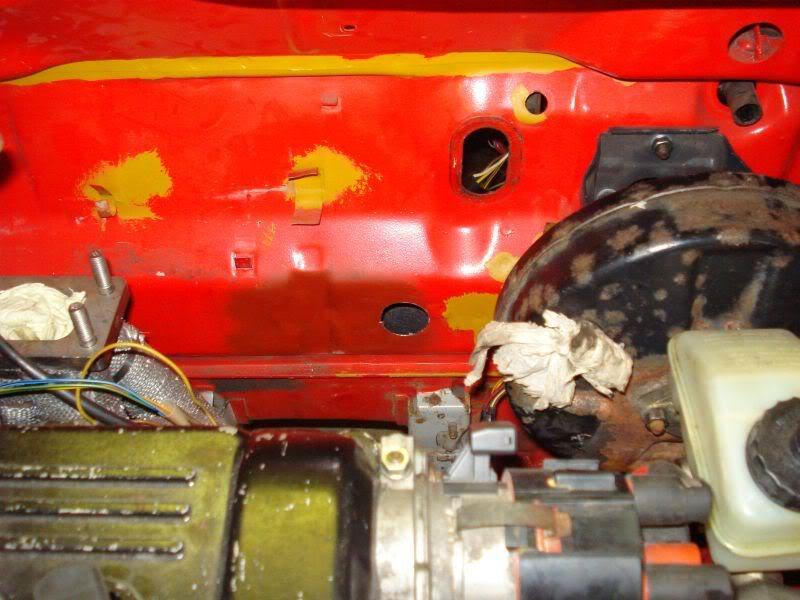 NOT looking forward to adjust the shifter... heh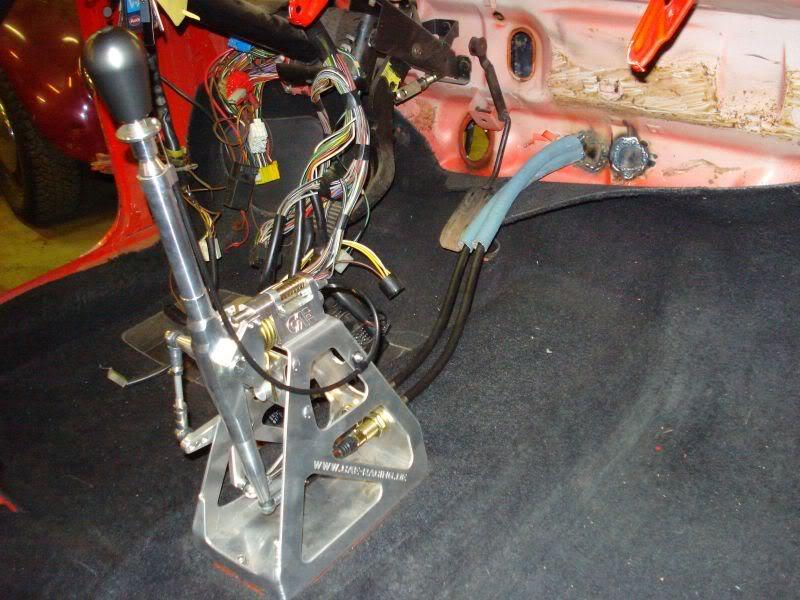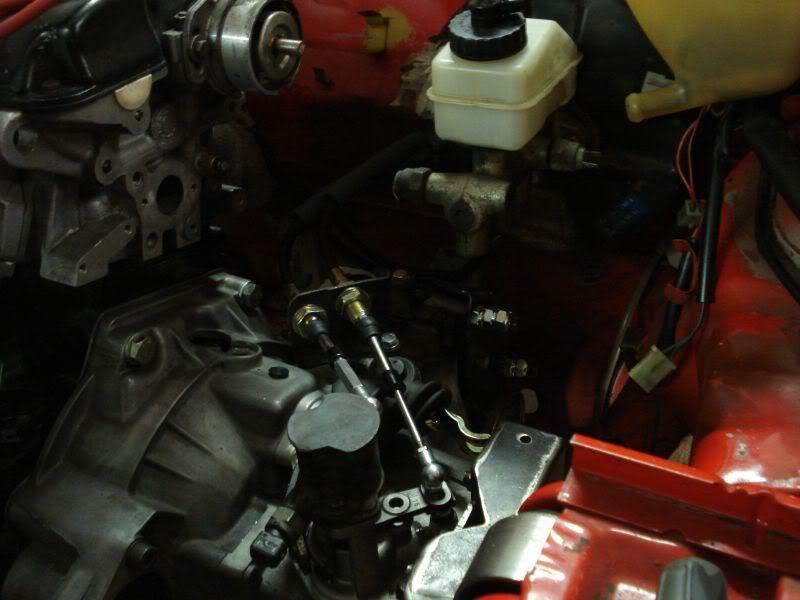 And the 044 pump with some Aeroquip snacks..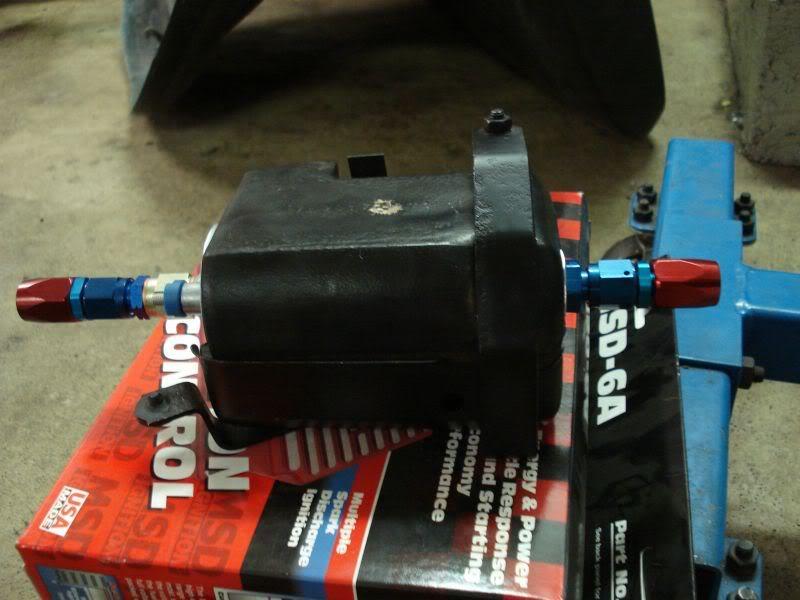 2/22/2009
Lent me a GT3071 yesterday to check if the clearance was good with this one..

I think i will go for external wastegate,any tips where i can buy on the net?
TIAL,Turbonetics?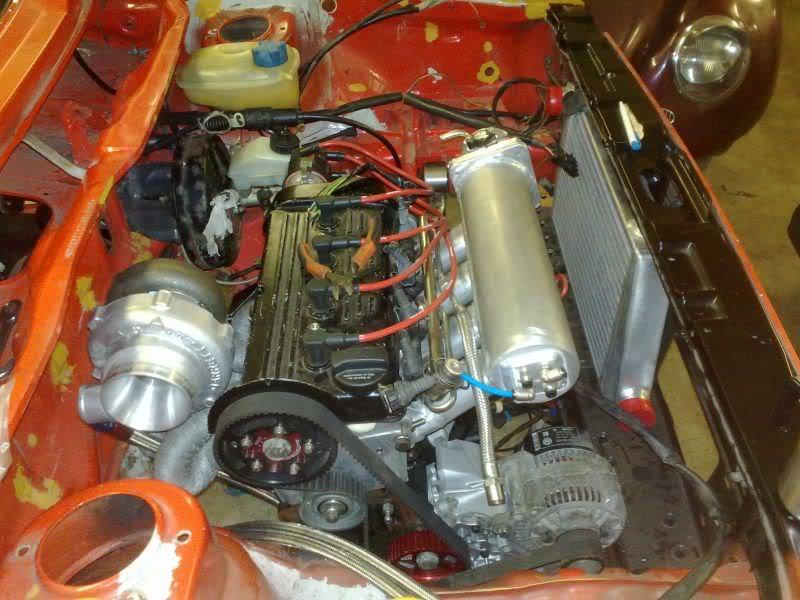 Wiring..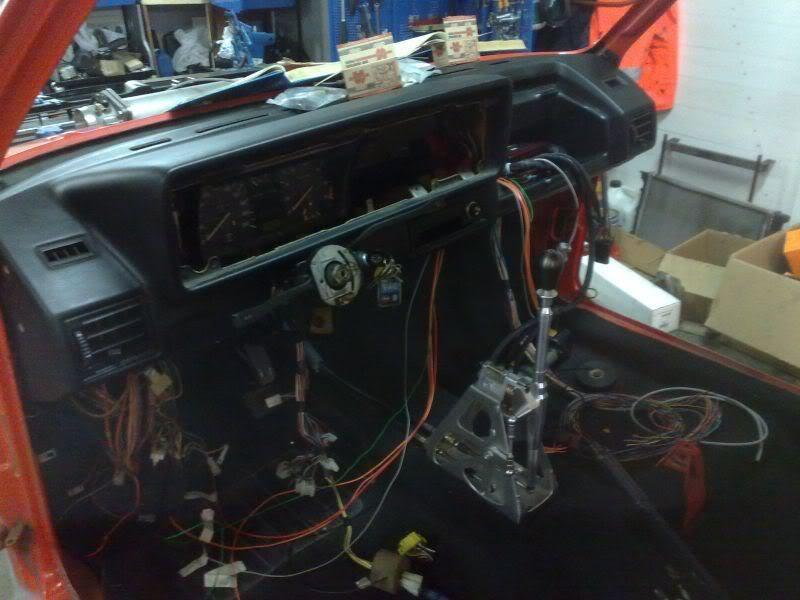 4/10/2009
And then a small update..
Now I am finished with wiring up the power for the Haltech..I met some challenges in the wiring harness diagram,but with some help from some buddys it got in place

I still miss some sensors (water temp,crank sensor,home signal) to finish up the wiring in the engine bay..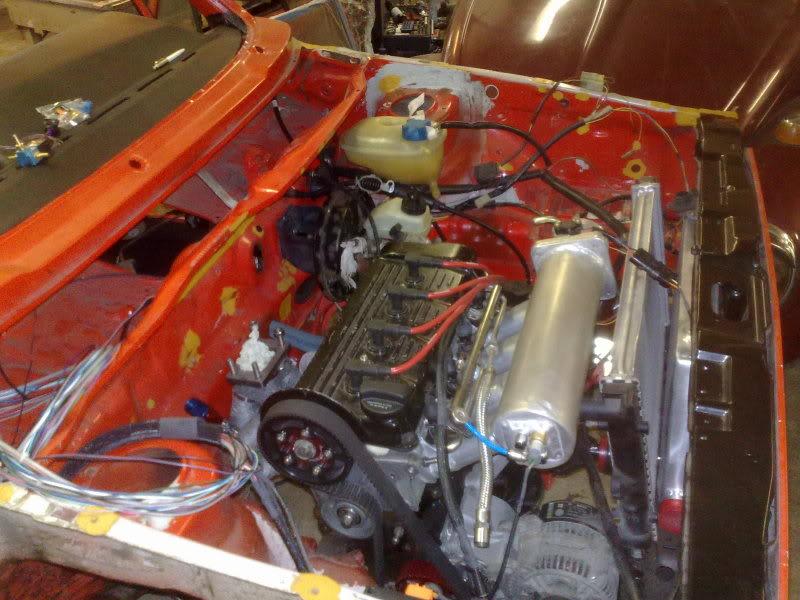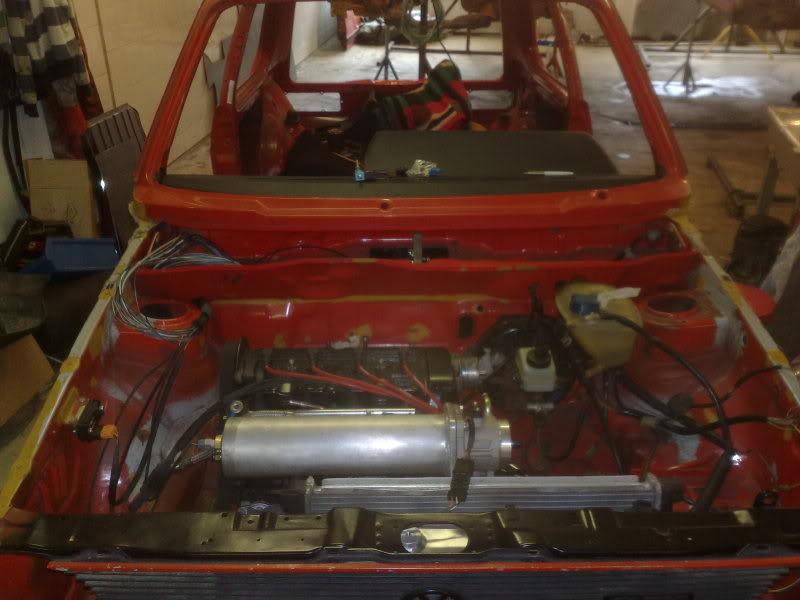 I have also wired up some new 4-quadrat cables in case of powerloss back to the fuel pump.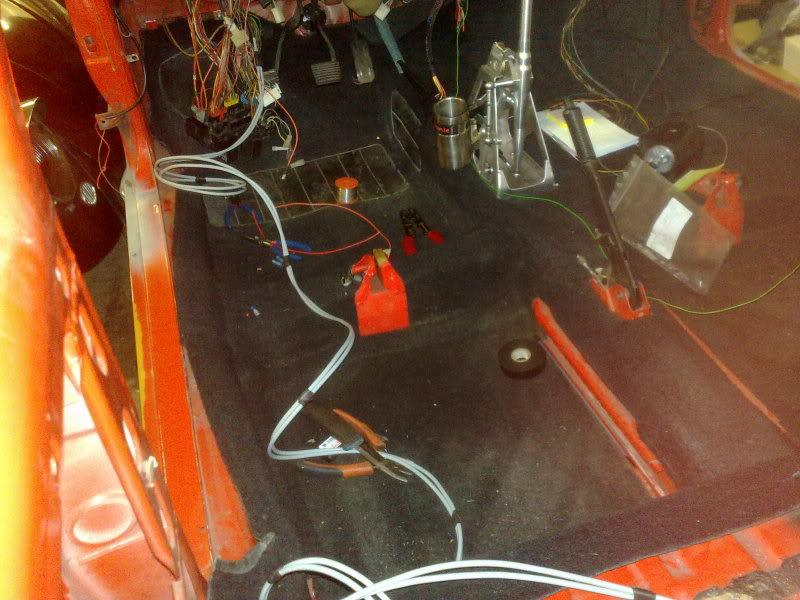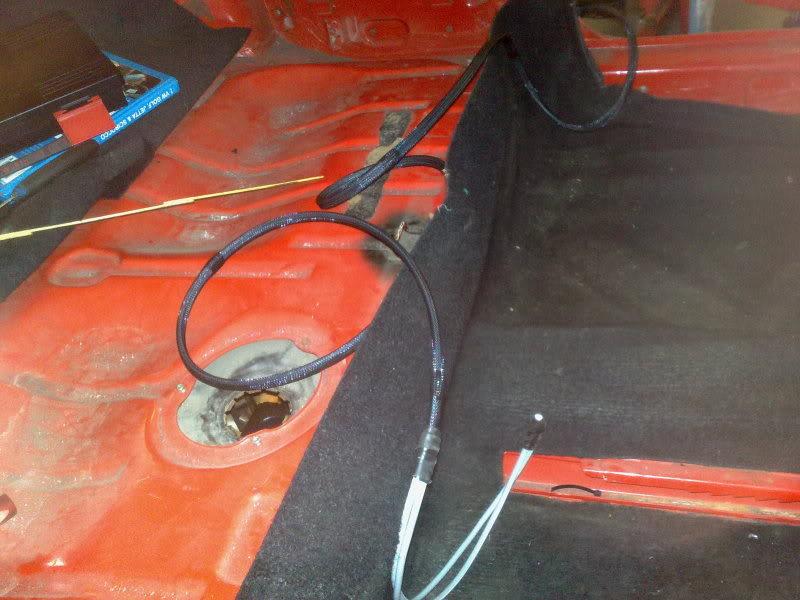 4/30/2009

The project has not stopped

Ordered some more parts today:
- GT3071R with T3 housing(.82AR) with 3" v-band outlet
- Tial 38mm Wastegate w/SS flanges
- Setrab 330mm 19-row oil cooler
I Also have bought in tires for the Compos,Pirelli P-Zero with 195/40 rubber

With some good willing the car will be back on the wheel in a couple of weeks, I hope

5/19/2009
Got the rabbit back on the wheels today,mounted up the front suspension with KW shocks and all the other new parts..

I need to buy new steering linkage for the steering rack,it was pretty f¸kked upp

I hope to get down the rear suspension tomorrow and renovate it also..Maybe some blasting should do it..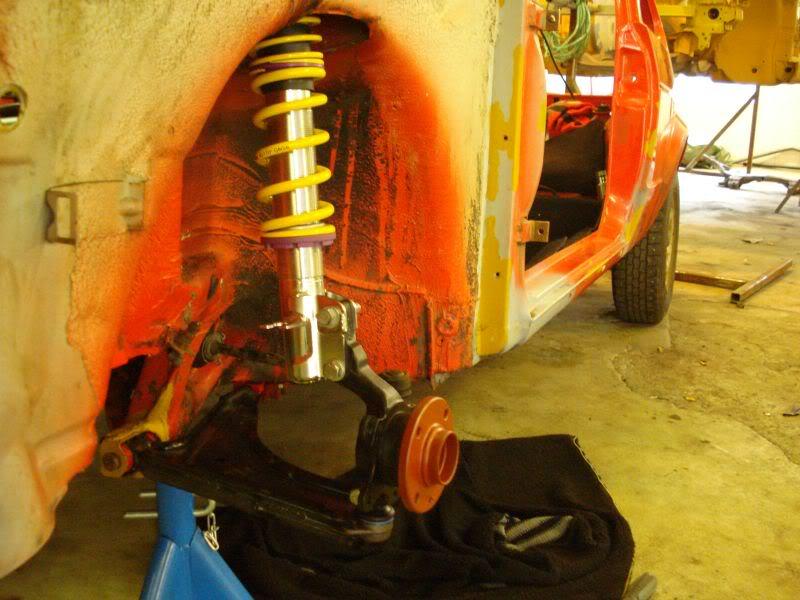 Face down,ass up:p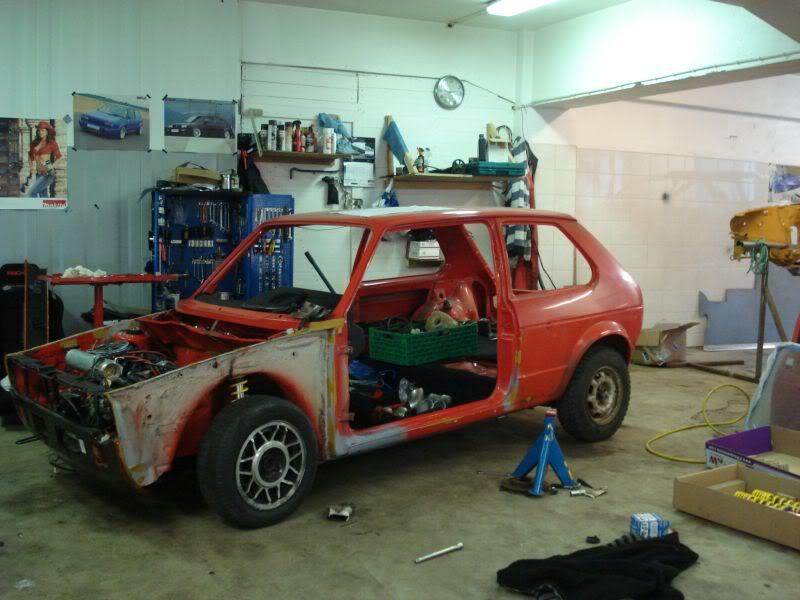 Got my Compmotives back today,with new Pirelli P-Zero 195/40 tires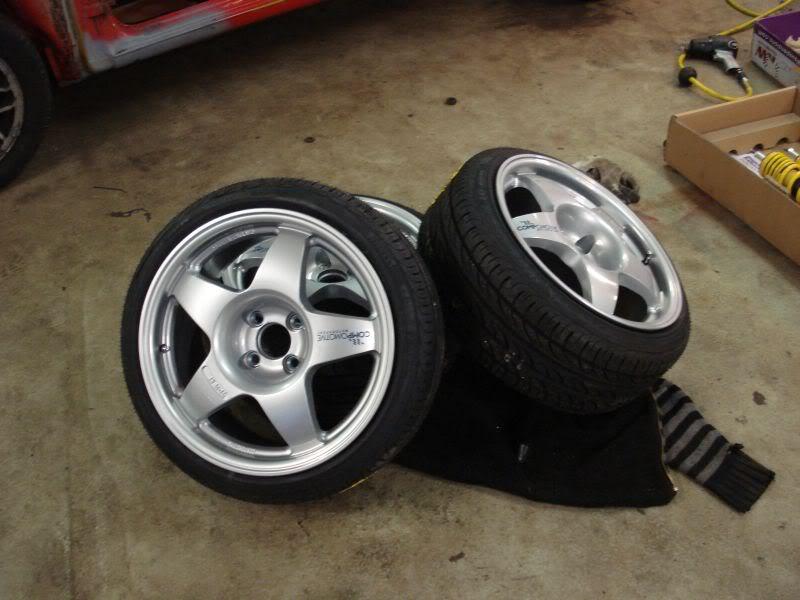 Prasie the lowered!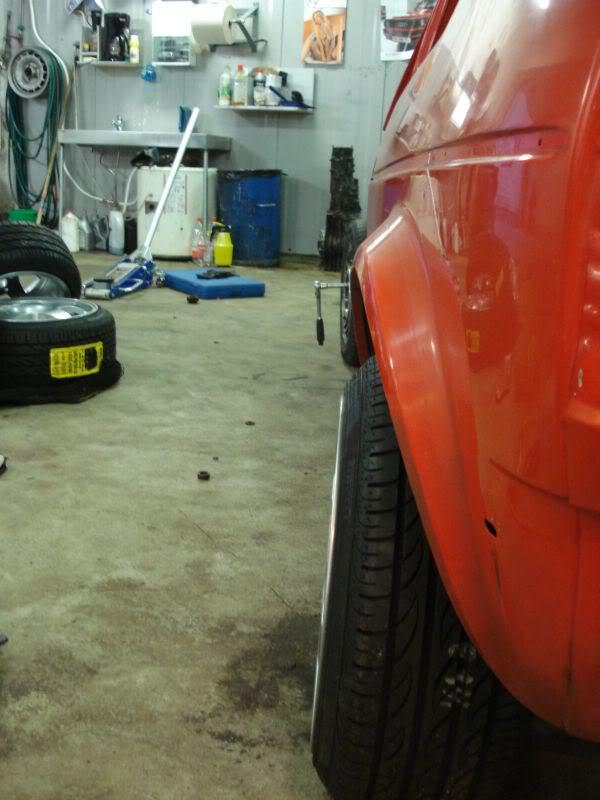 Thats all for now

5/20/2009
Mounted the rear suspension in today..
I need to take it down for blasting at a later time when the car lifter is not occupied

Seems like i neeed some spacing in the back here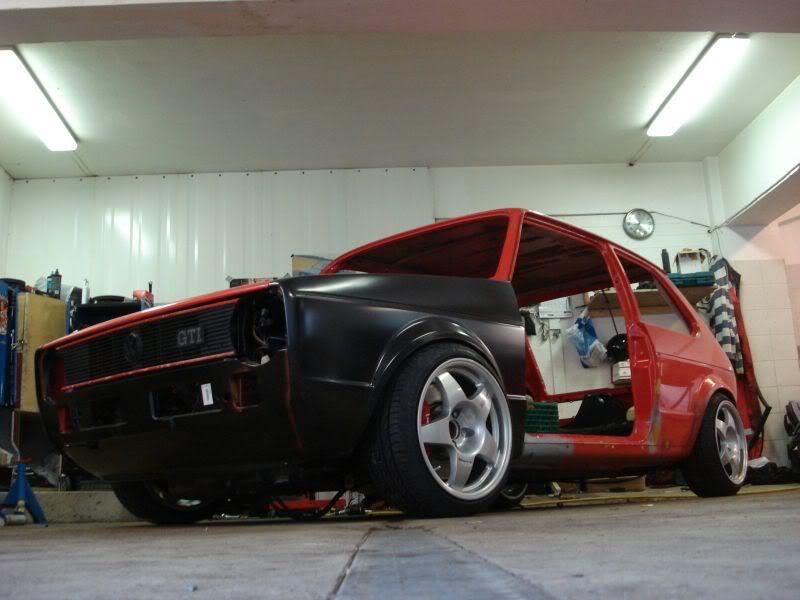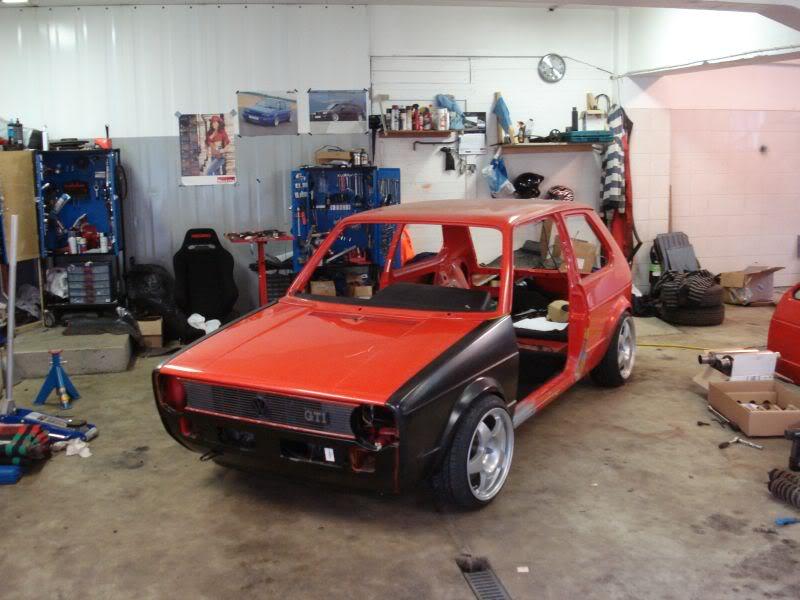 Hummmm..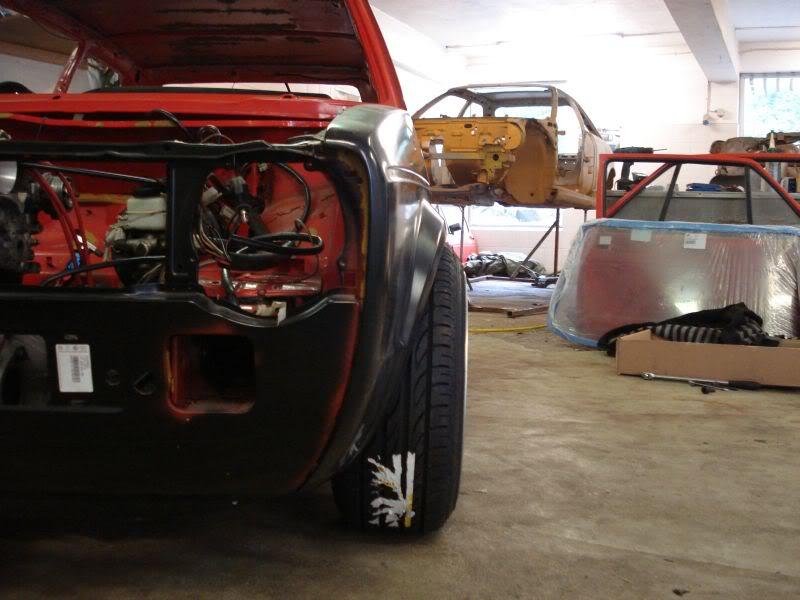 And with the brakes,I have room for some larger discs also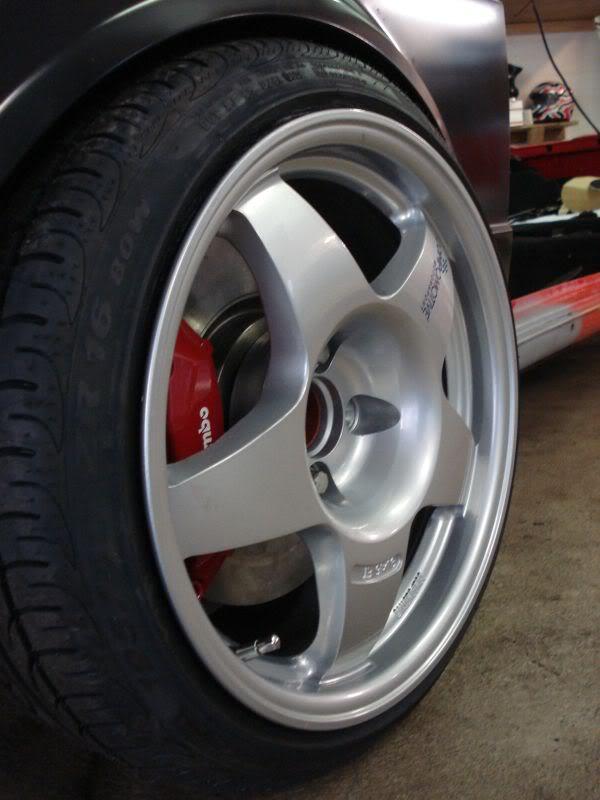 And ready for some new pipelines with 2,5/3" V-bands..I only need the turbo and the WG now,so I can start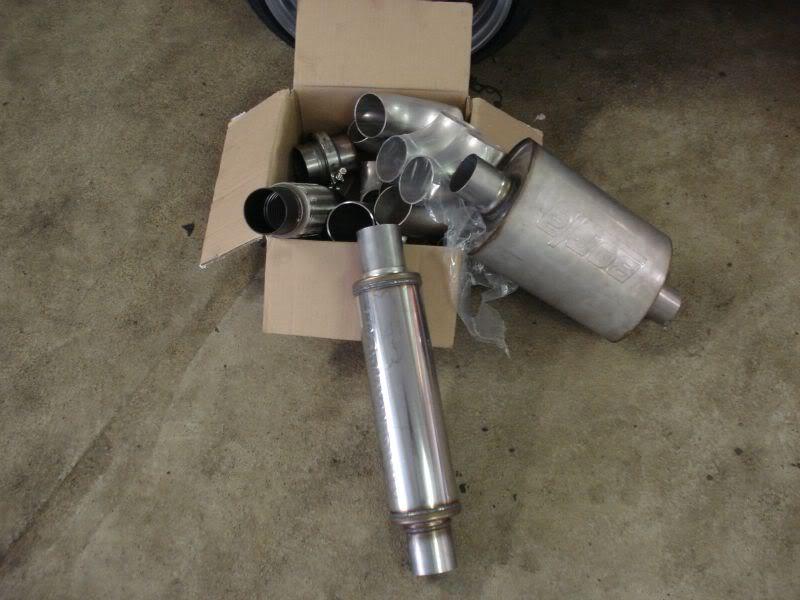 6/9/2009
The turbo and the Wastegate has finally arrived,so new downpipe is on its way..Pre- modified/welded for later TIG weld..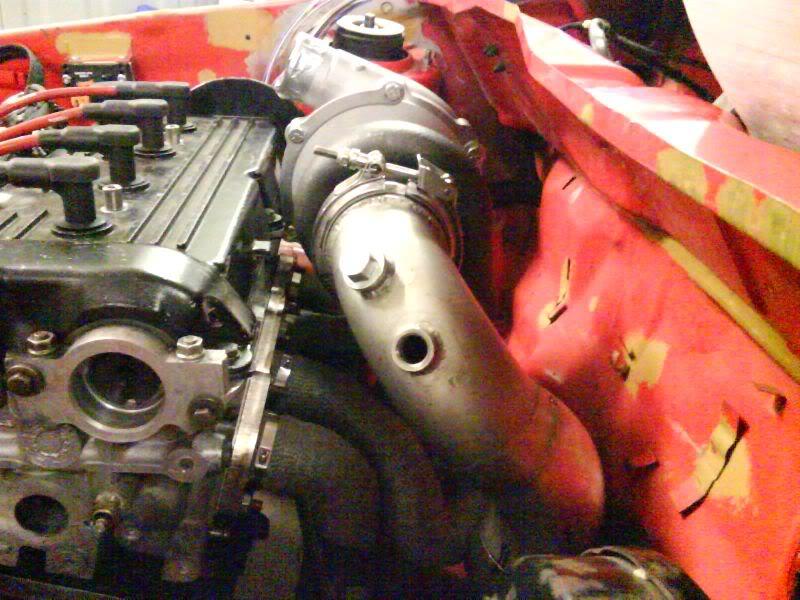 8/9/2009
Update..
Been a while since last update now,but things is happening..
Pics for those who are interested
Side on side with a non-stock S2 with 400+..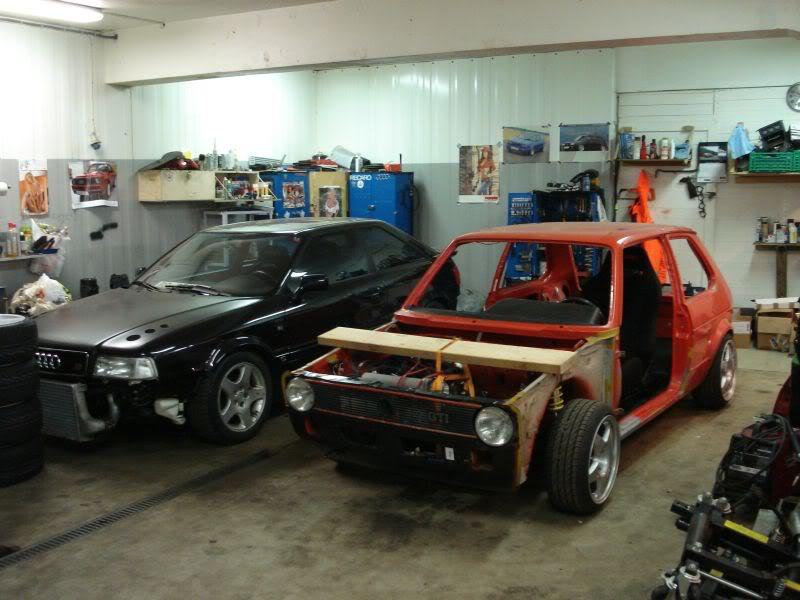 New fuel tank,and the rear beam axle is almost like new with new bushings,16v disc and calipers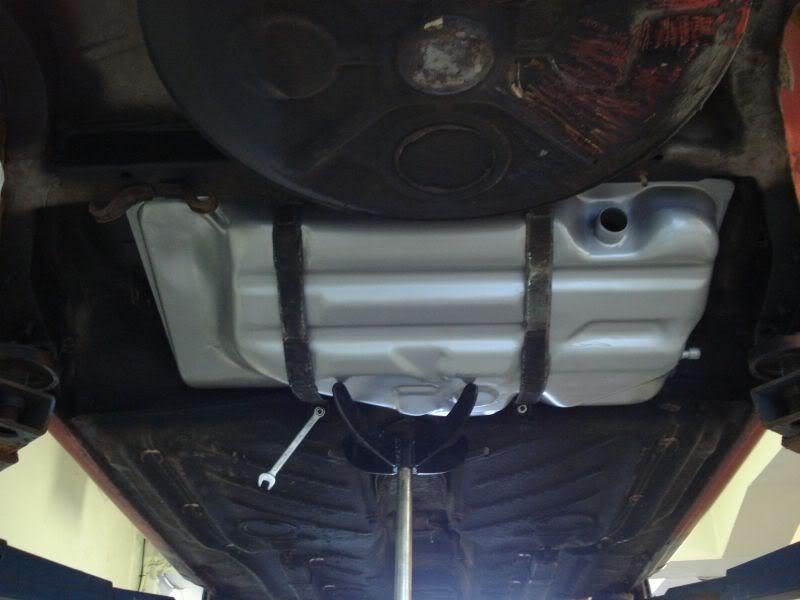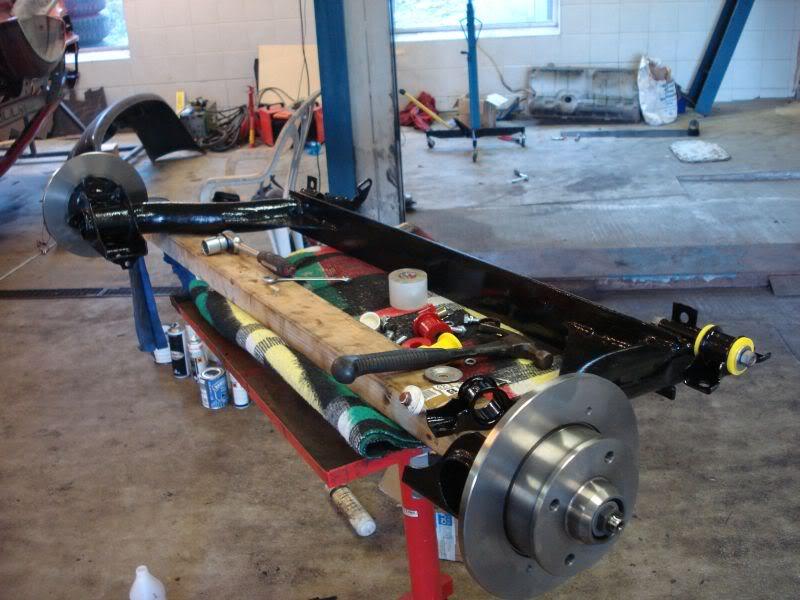 The transmission is "up and running" again,since I had to reassemble it because of a 2.gear who was assembled the wrong way on the pinion axle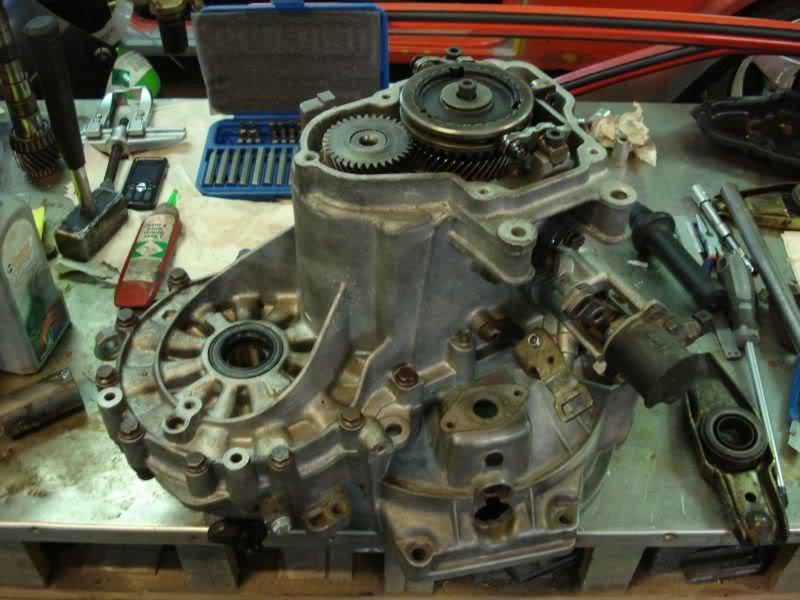 Some modifying is needed on the gearbox cover,to get clear of the 60-2 sensor..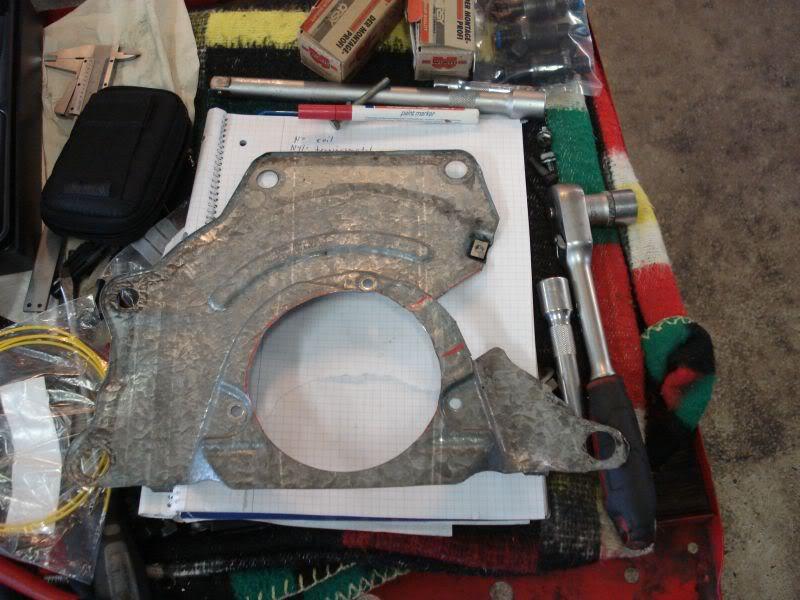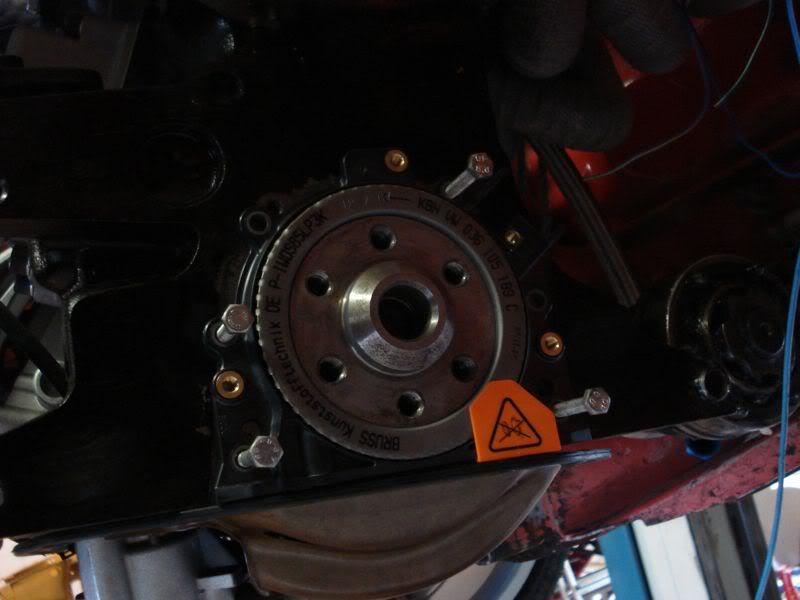 I have upgraded to 'Coil on Top' setup,with coils from the RS4 engine.I dont remember the P/N right now.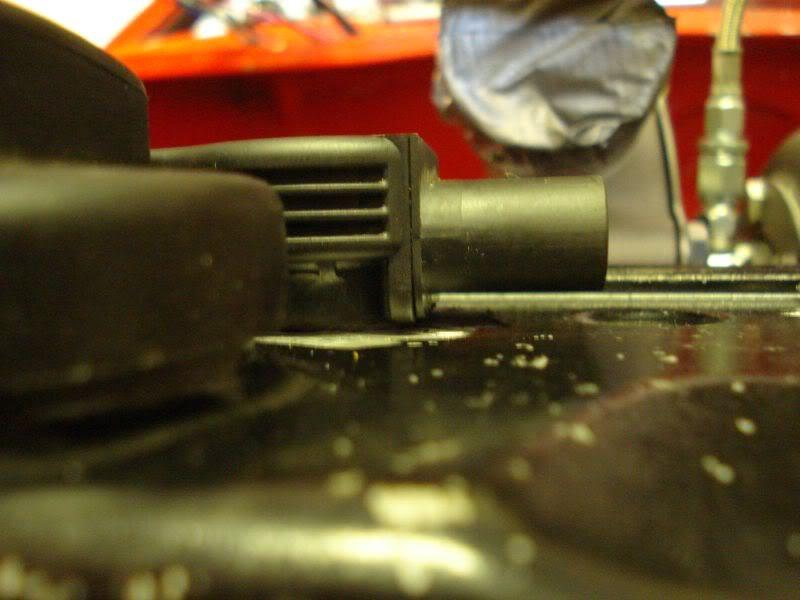 Some slight modifications is needed on the head cover to make it fit.Trim away the lip on top and bore up the holes to about 35mm.Peeled away the rubber sealing on the coils,and grinded the lip to make it slip down on the plugs.....Easy peasy!

More wiring pics...I hate this kind of work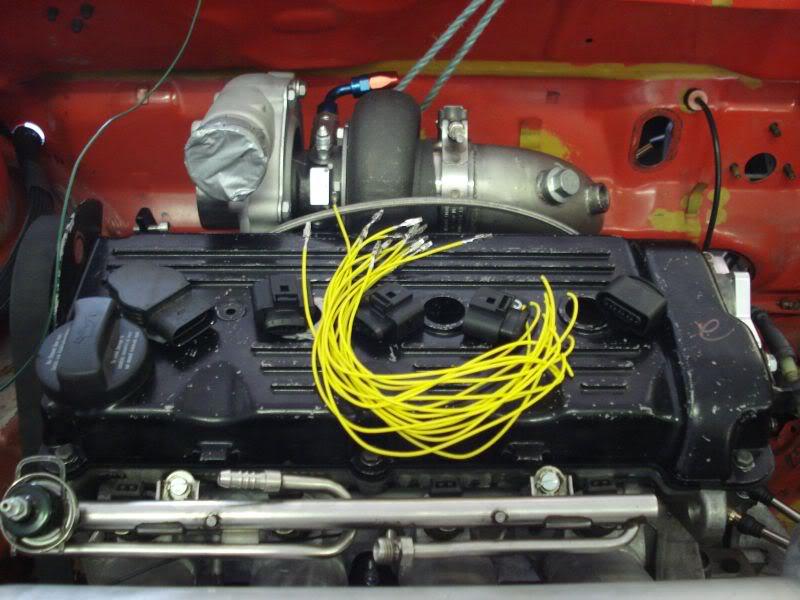 Finally finished with all the wiring in the car..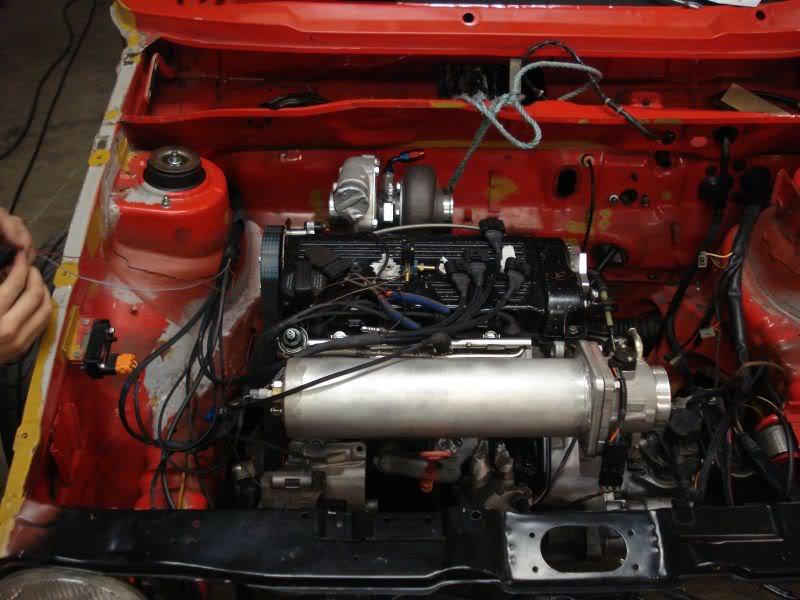 I also had to make a new downpipe..Mr.Knut "The polar bear" is welding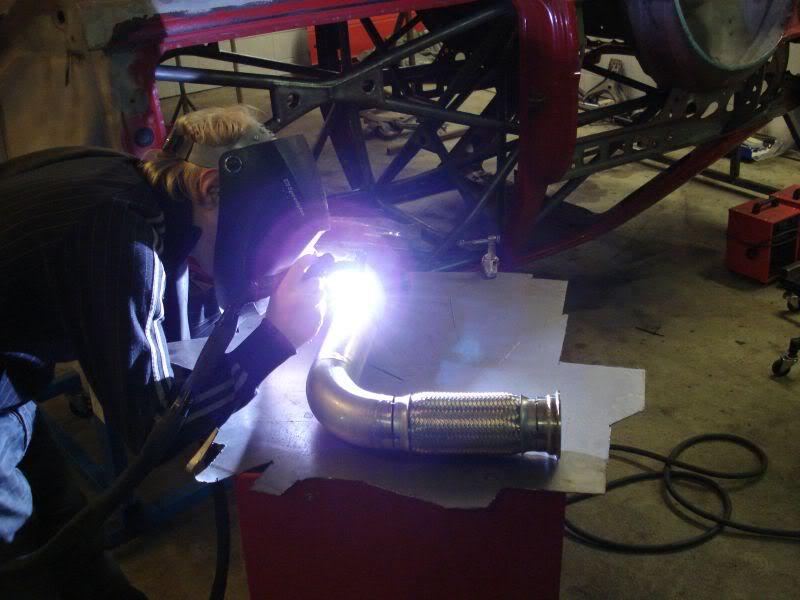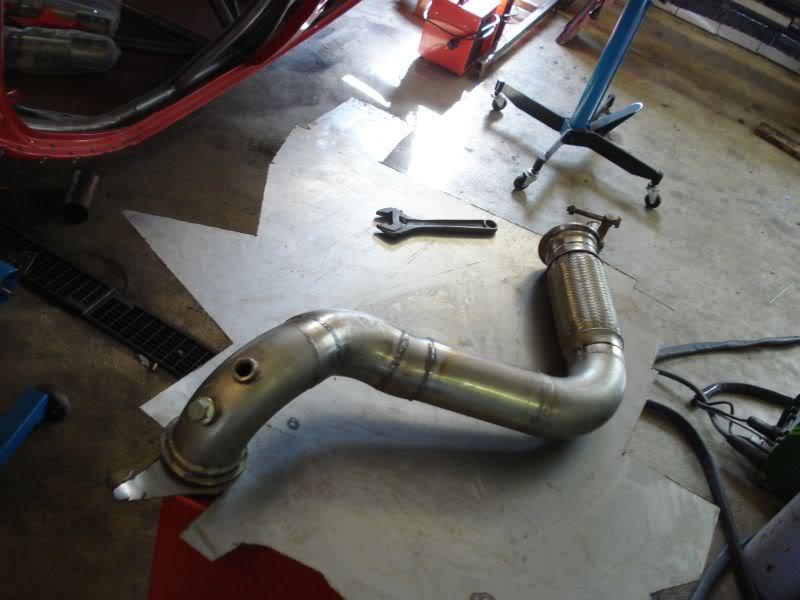 More to come

8/14/2009

Fitted the 19-row Setrab cooler and the Bell cooler yesterday..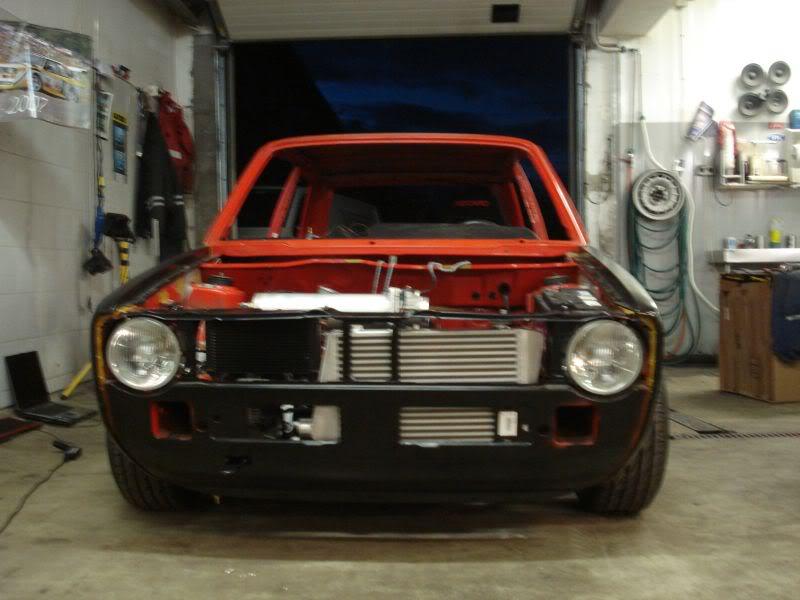 More downpipe work..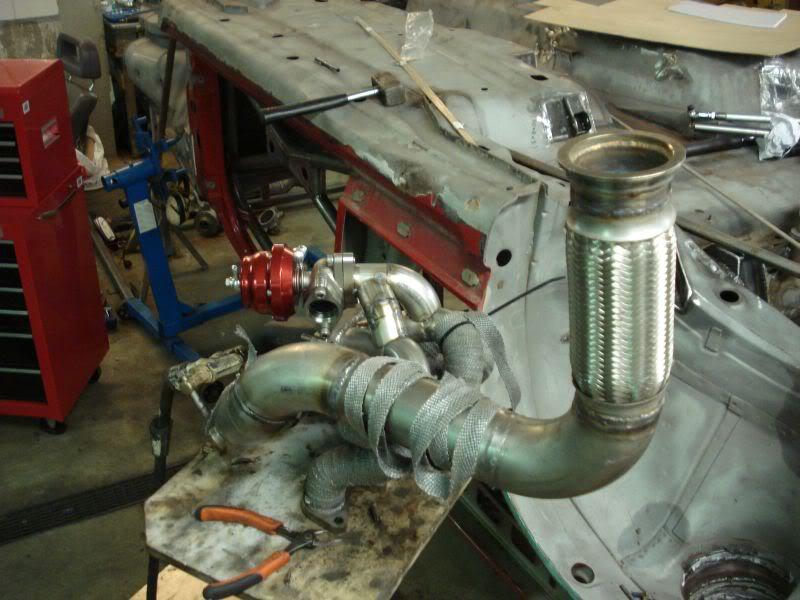 Looks like i need to find me a strut tower bar in front..The Neuspeeds one didnt fit.Any tips here?
9/4/2009
Got the wastegate welded up, and wrapped it in with exhaust band..So now im soon finished with the exhaust piping..Off course stainless all the way back
I am not adding so much text in here cause my english sucks,pics will tell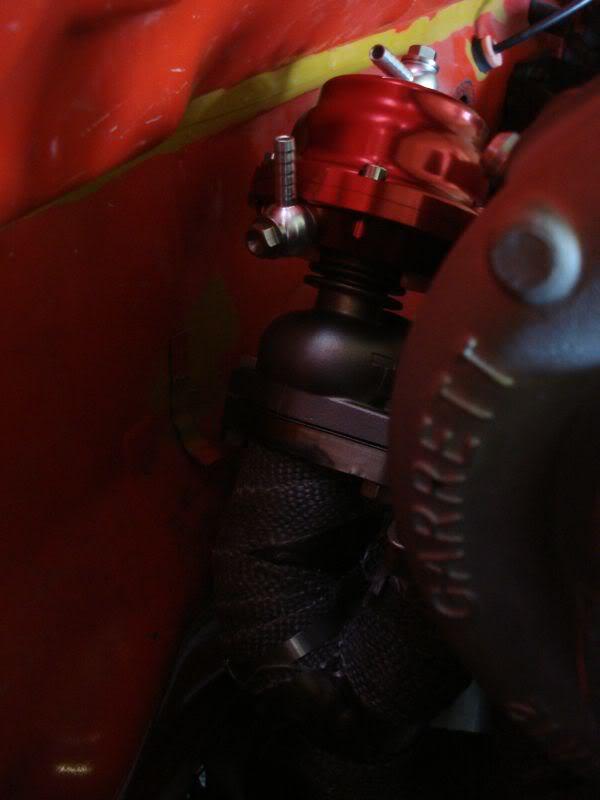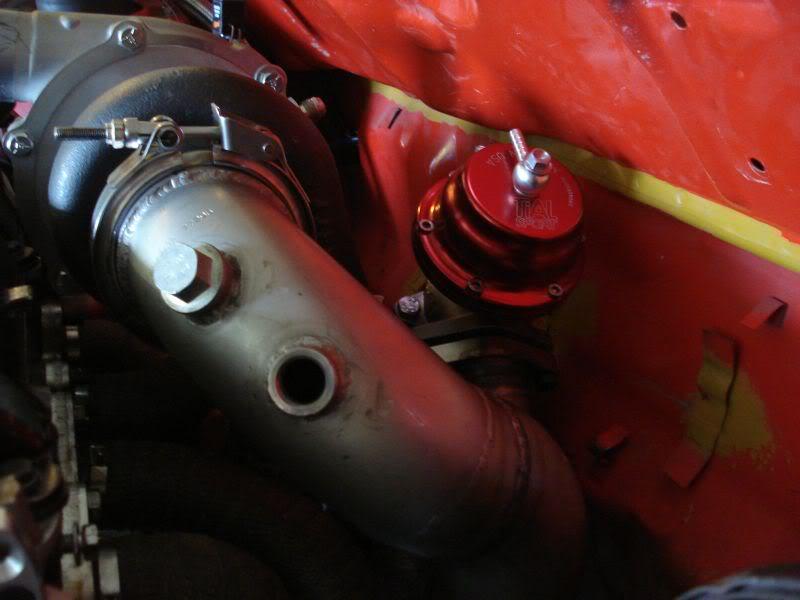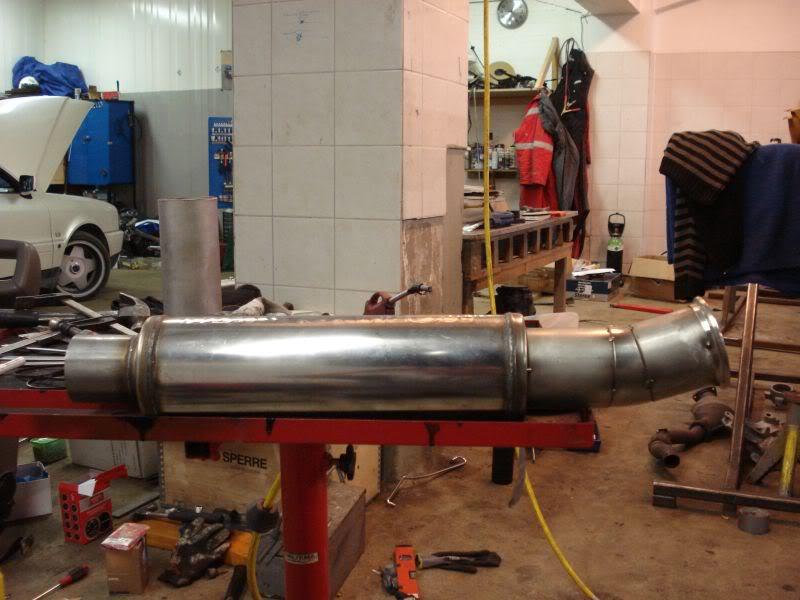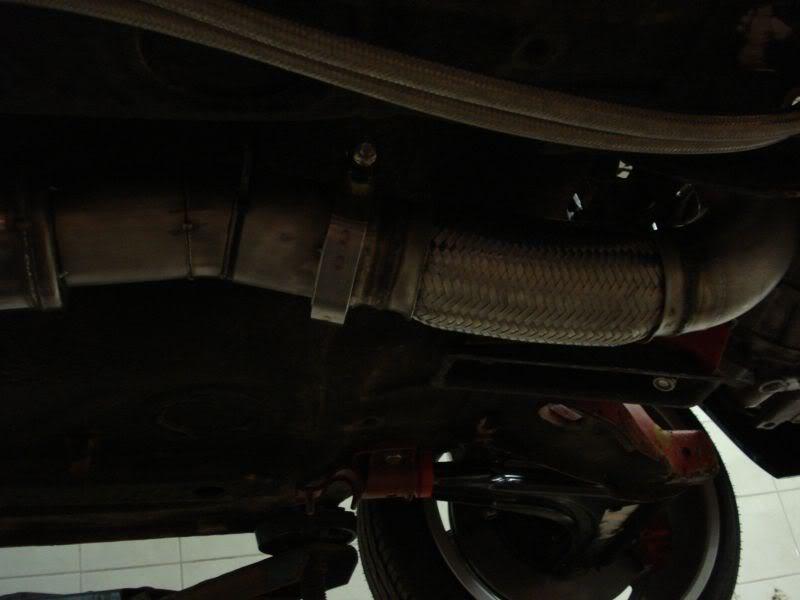 12/7/2009
Exhaust 99% finished,need to weld up some mounts also..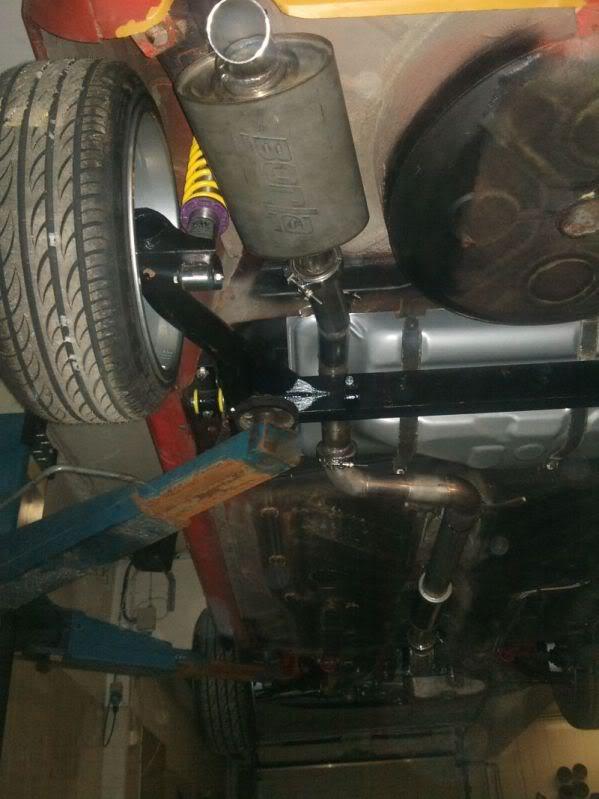 I had to manufacture myself a bung for the water return from the turbo,so I chopped a AN fitting and welded it into a new frost plug.
So lets just hope its not leaking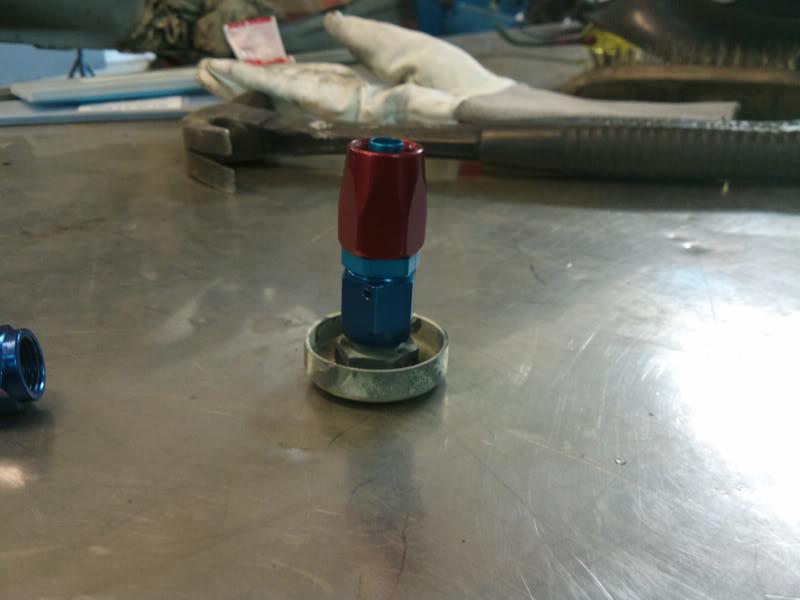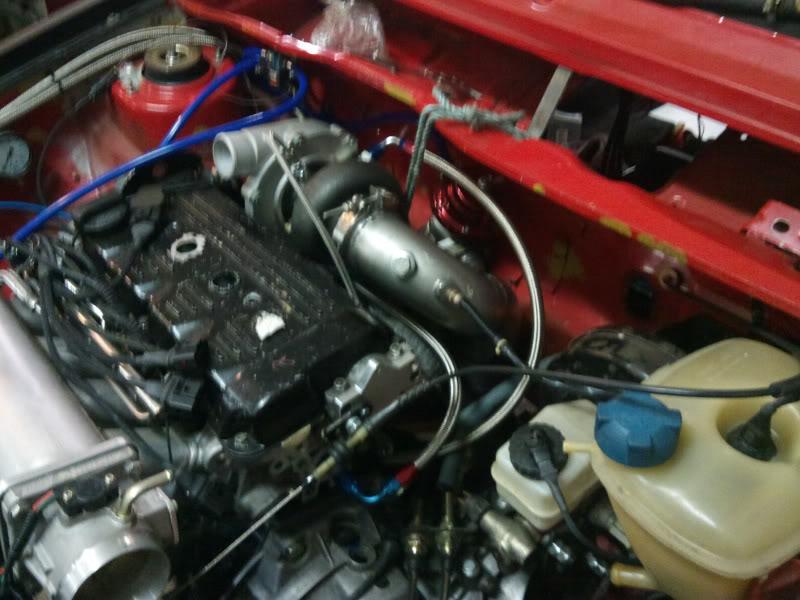 Machined down the surface,and bored up the plug holes to make the coils fit better...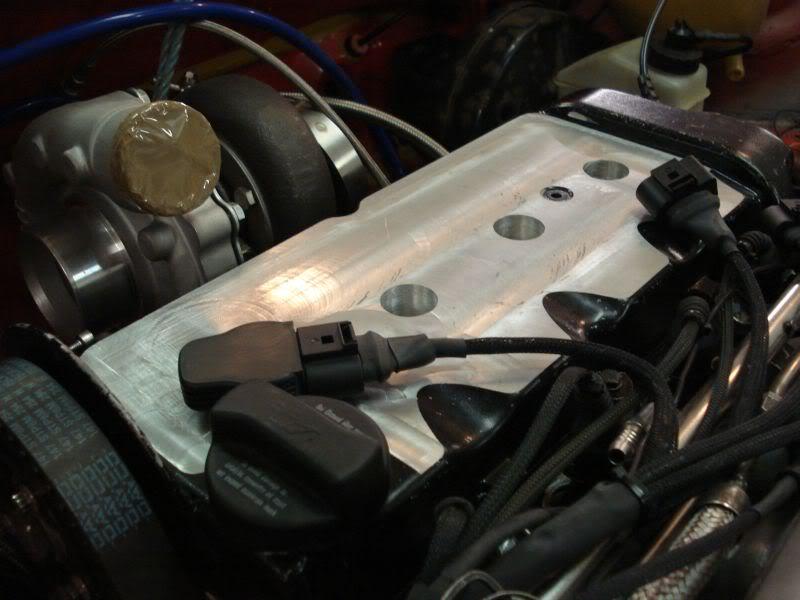 Got some work done with the intake piping last weekend.I am waiting for the silicone hoses to arrive these days,and now I need to fine adjust the pipes to finally weld them up...
CLOSING IN

12/8/2009


Can someone help me with finding the Part numbers for the RED 4.2 FSI V8 coils?One more pic..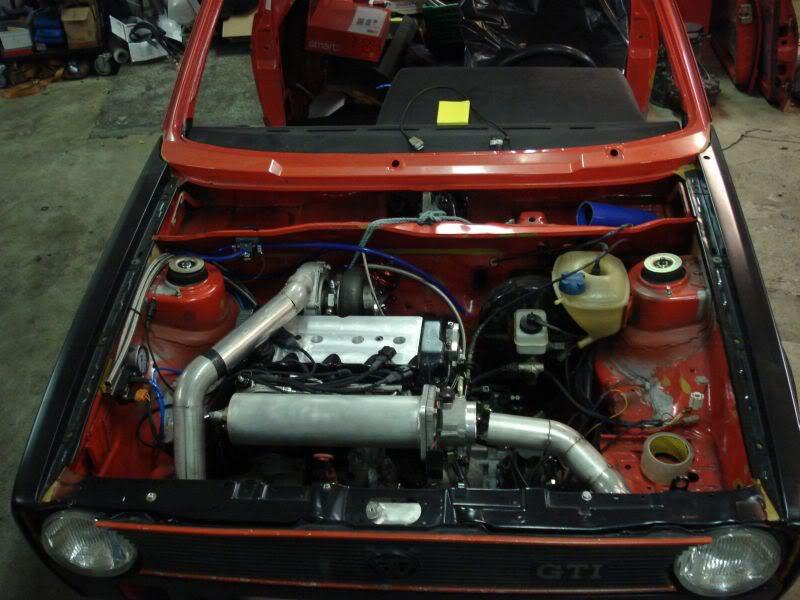 1/22/2010
What do you want to know?

It is "bolt on" with some slight modifications,I can check if I have some pics of the progress on the 60-2 sensor

Finished with the intake pipes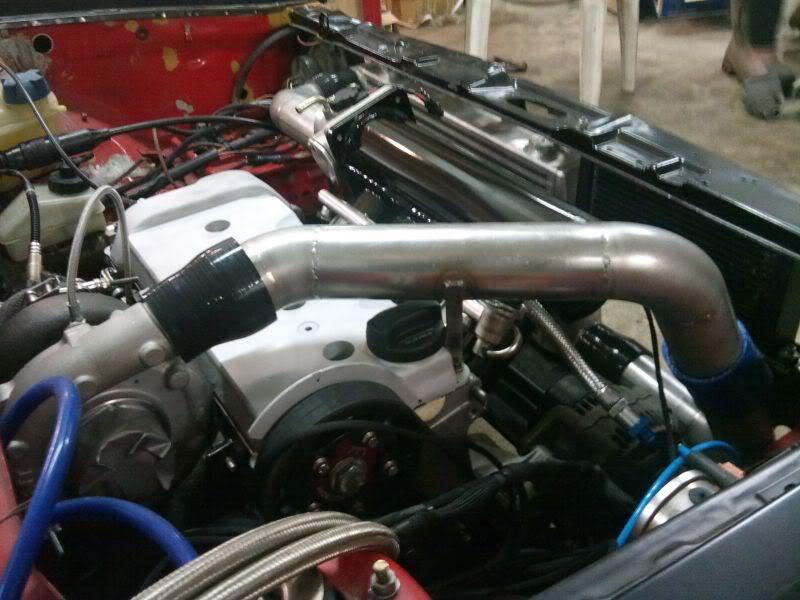 1/26/2010
Been building a rollcage into the S2 track racer lately..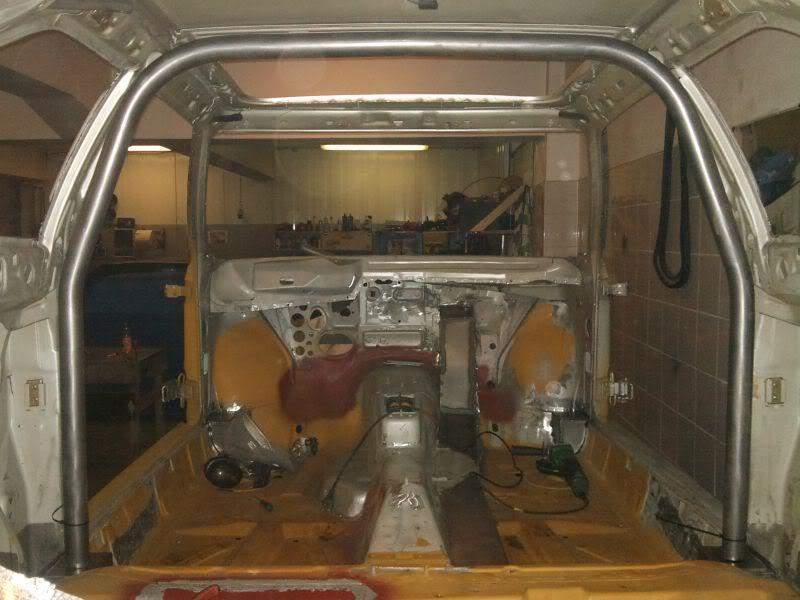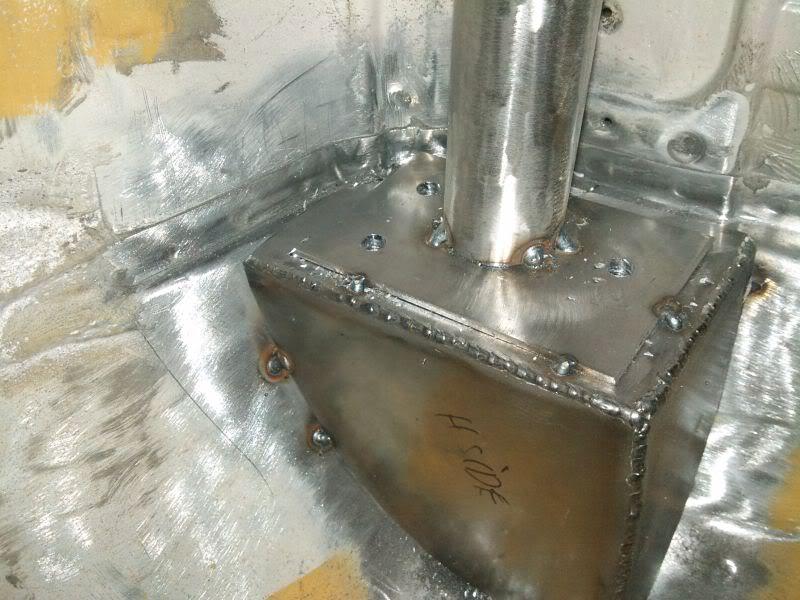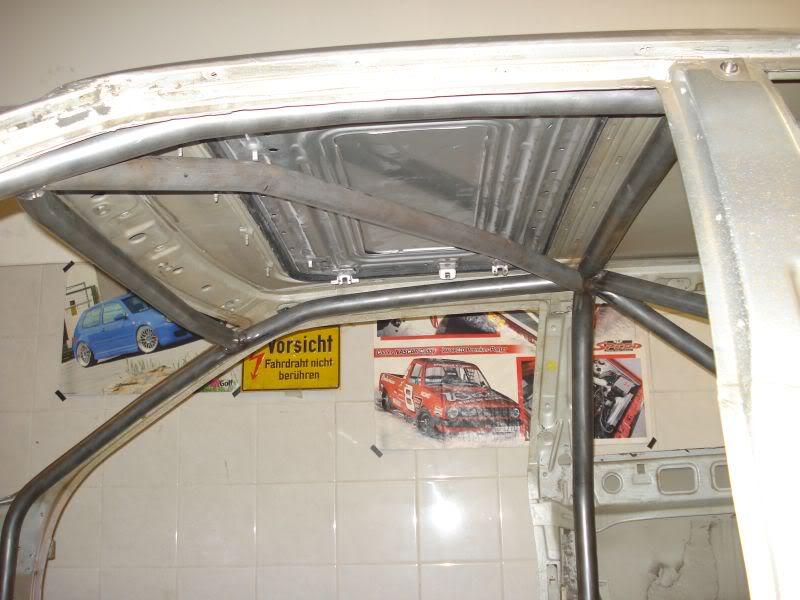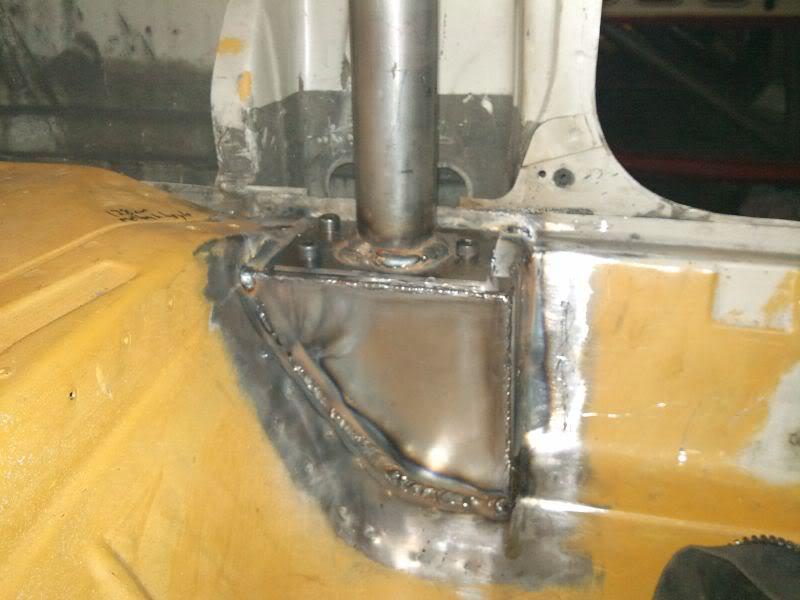 Also tested it with a seat inside,seems like we need to lengthen some steering racks and replace the pedals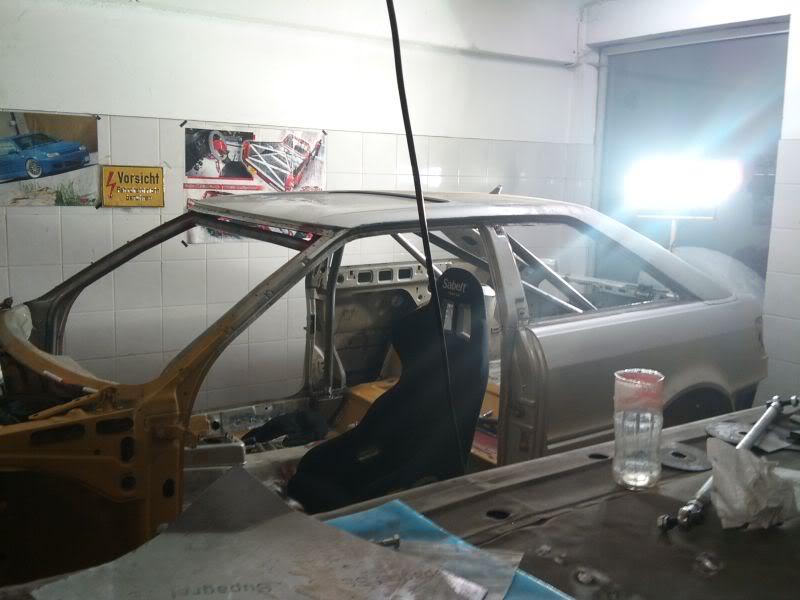 1/31/2010
Heres some older pics..
Had to make a new Exhaust tunnel..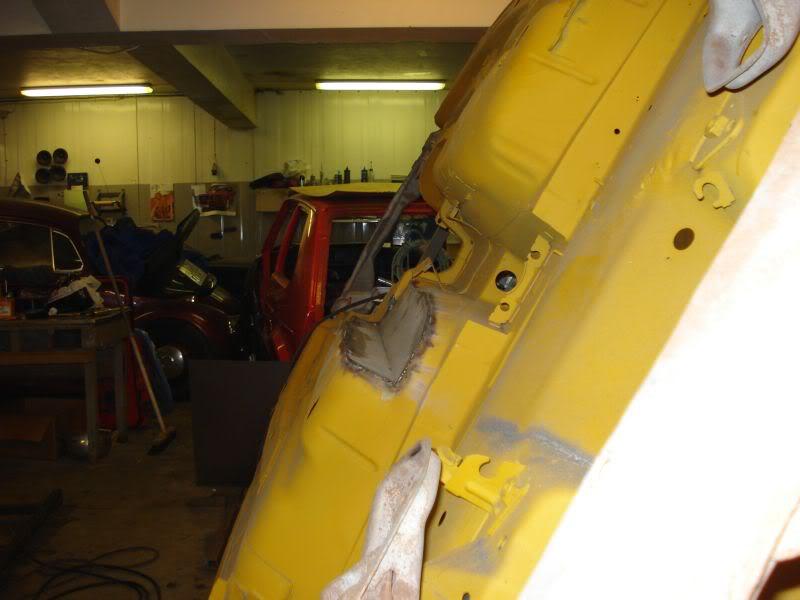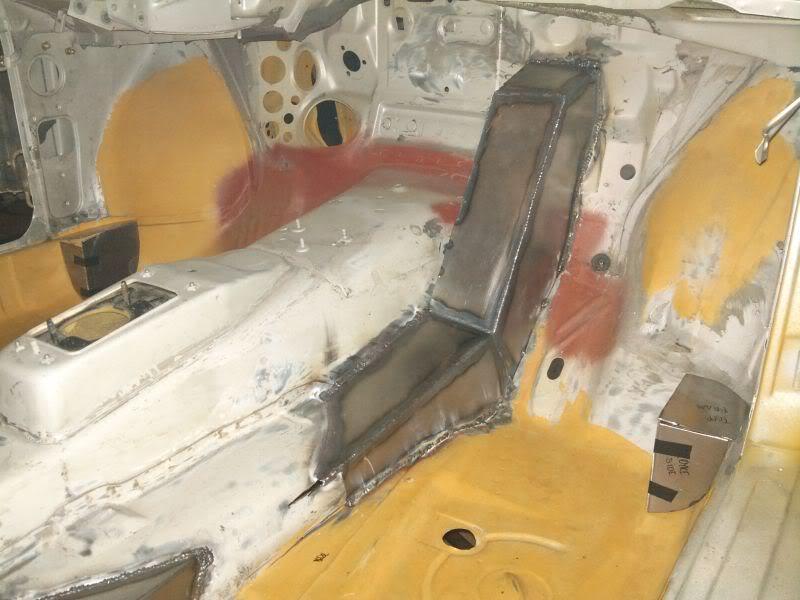 Blasting,what a crap of work! But it gets the job done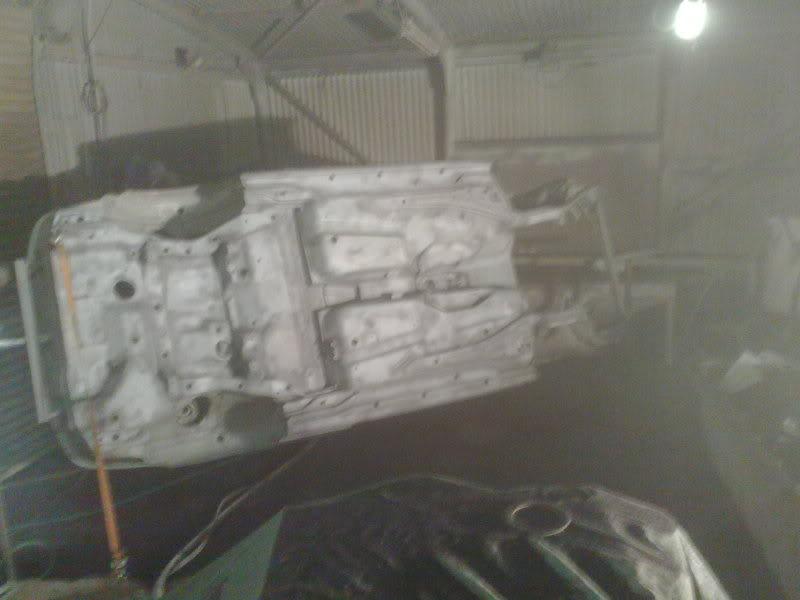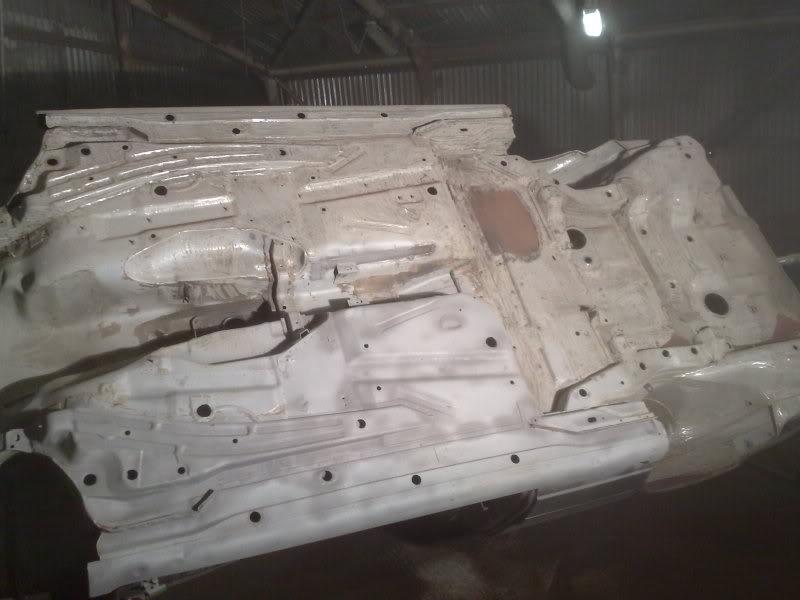 And into the paint box to put on some 2-component primer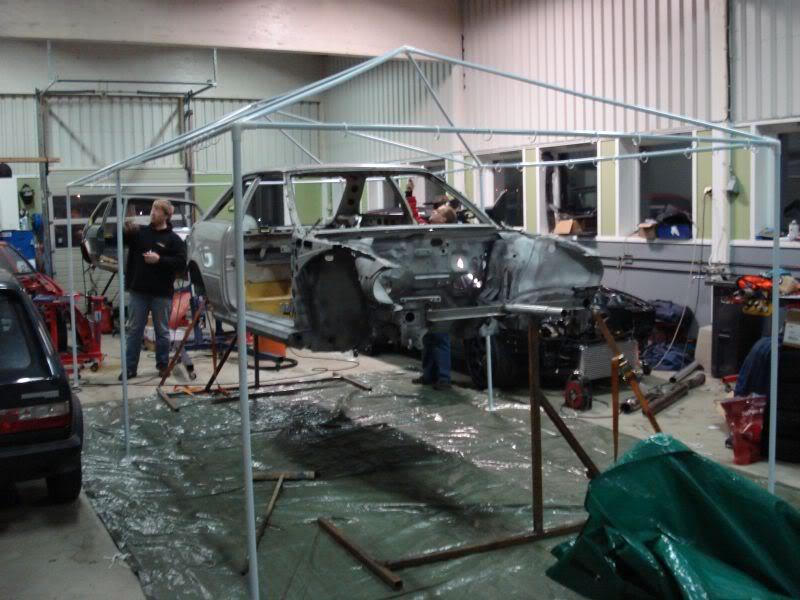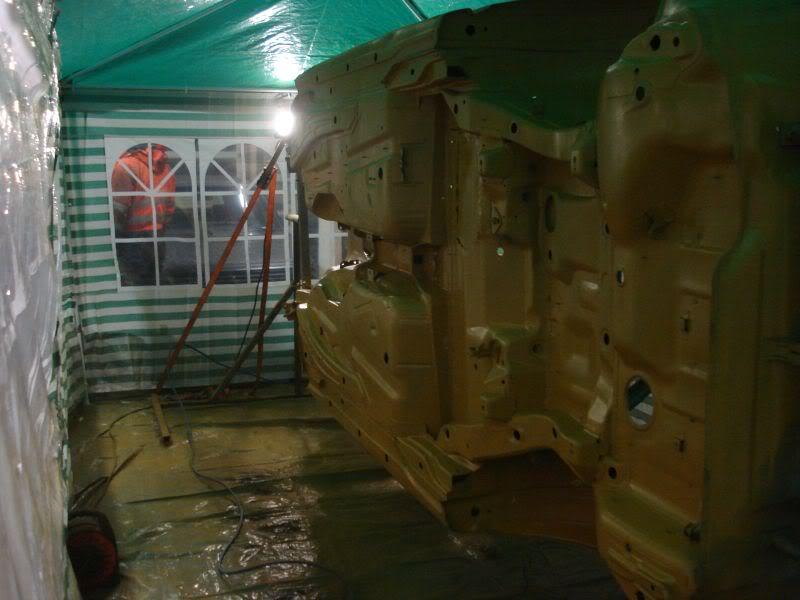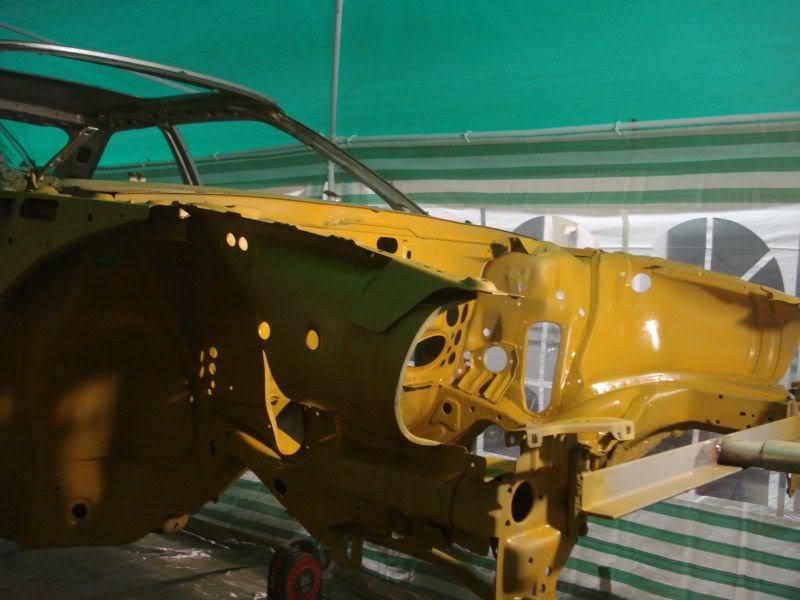 5/1/2012
Thanks for comments

I ahve mounted up the gearbox for the last time (hopefully),and also had to make a support bracket for the mechanical clutch.
The Spec 3+ clutch setup is surprisingly light to engage/disengage,almost easier than the OEM GTI clutch

A lot of parts is awaiting for me at the local VAG dealer now,such as coils,hoses,flanges,and some other small parts.
AN fittings and hoses are also ordered,so I need a oil catch tank in aluminium.
So if I get the rest of the parts I need next week,I hope to start up within a 14 days,i hope

A couple of pics of the bracket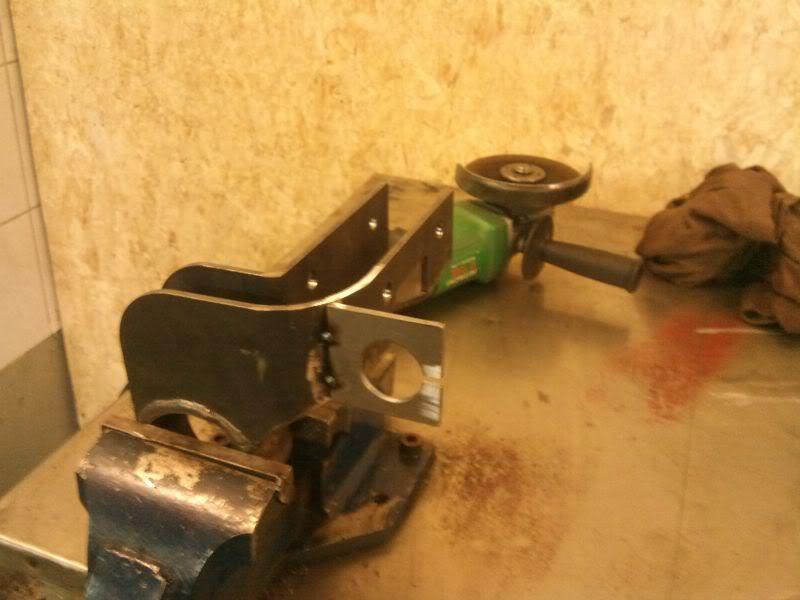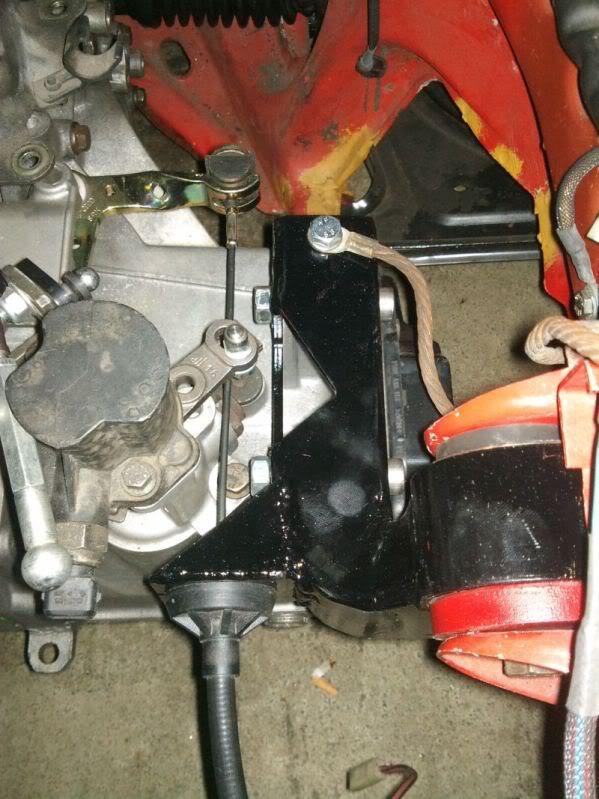 2.0 TFSI coils fitted...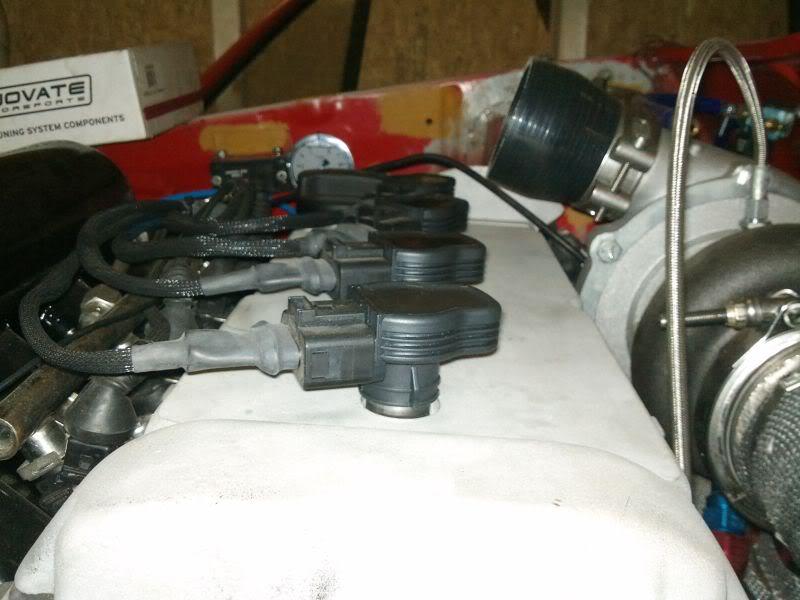 6/18/2010
At first,I was going to use coils from the later 1.8T engines with the short neck.So I had to bore up the holes a bit,and mill down the surface some mm`s to make to coils fit.
But now when I use coils from the TFSI engine,I don`t think the resurfacing is necessary cause they are about 2 inches longer..

Found that I have misplaced the tap on the cam pulley for the home signal.It was placed about 60 degrees ATDC,than 60 deegrees BTDC that it should be.So I must have assembled it in a completely sleepy condition

haha
Hope this will eliminate the ignition problem I`ve had.Wish me luck!
6/19/2010
Home trigger needs to fire just before TDC. Are you using the 4 hall distributor for your trigger? Check your trigger output as well. If it doesnt fire try changing the polarity. Whats your dwell look like? Im running the new platinum sport 1000 on my car so if you have any questions I can help. Im not very familliar with the older haltech but I have installed lots of the new ones.
Now I know that..Now it should be right

I am using a internal reluctor sensor for the cam trigger with a steel tap on the cam pulley to trig on.
I have not tried to change the polarity yet,maybe thats a good idea

The dwell time is 2ms at the time..
I have run the trigger diagnostics,and it looks like this..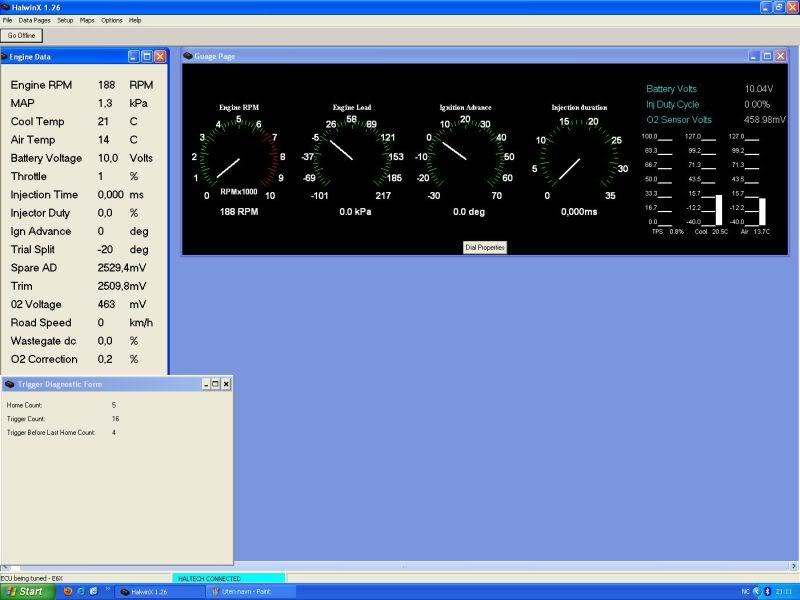 Looks like I get the right crank RPM.
When i start to turn the engine on the starter,the Trigger Before Last Home Count jumps to 4,and the Home Count goes to 1.But when I keep cranking the engine,the Trigger Before Last Home Count stays on 4,and the Home Count keeps counting while cranking as you can see on the picture..
Also found that I had to change the IgnDivideBy to 1(Default is 2),since I am running sequential ignition.
What the heck is wrong here?Could it be the home trigger? Maybe I should find myself a dizzy with 1 window to use that as a home trigger instead?
Here`s the setup on the ign/trigger:
Ignition setup
- Trigger Angle (deg BTDC) : 85
- Tooth Offset : 6
- Direct Fire
- Spark Output: Constant Charge
- Spark Edge: Falling
- Constant Period : 2 ms
Trigger setup
- Trigger Angle(deg BTDC) : 85
- Trig. type : Motronic
- Teeth No: 120 Tooth Offset: 6
- Trigger Input pull up On
- Trigger Input : Hall Effect
- Home Input : Internal Reluctor
I dont have any plans of ditching this trigger setup,BUT im rebuilding the other cam trigger signal that I used before.From a magnetic VR sensor from Audi S2 to standard hall sensor.And yeah its right that it is a Hall sender,and I did not have any problems getting signals from it.I know a guy here in Norway that used this setup on his 16VT,but with VEMS in that case.
Its no problem to get these parts,since my local VAG dealer order the parts direct from VAG Germany.
Not very cheap parts, I think I paid about 2.000 NOK(I think about 400$ in total)
I am using coils from the 2.0TFSI engine from A3(maybe they are similar with the other TFSI engines)
12/31/2010
Here is a picture of the Valve Cover with the 1.8T coils fitted..As you can see there is big difference in the length.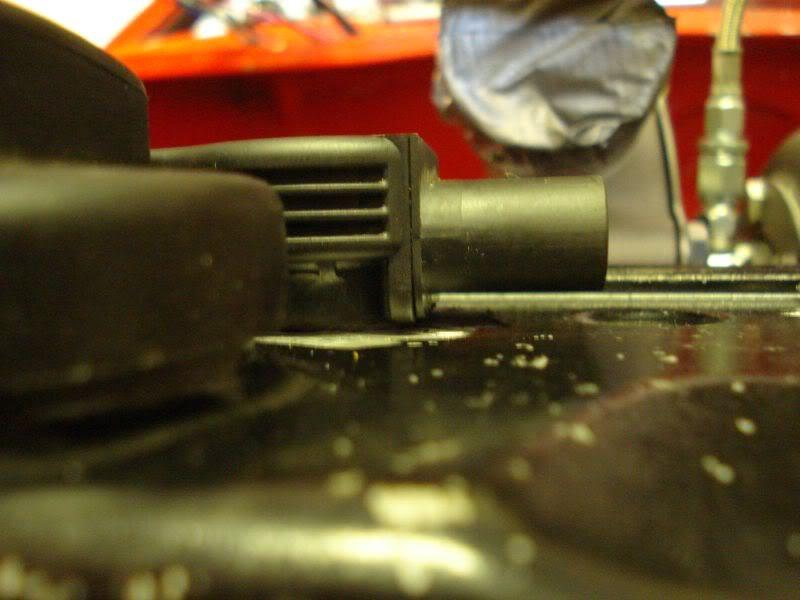 1/2/2011
Here is the part numbers I used when I ordered the parts for the 60-2 trigger setup:
- 030103171L Sealing flange with 60-2 trigger wheel and plastic clip to align wheel with housing:
- 030906433Q Hall sensor with ~15 cm wire:
- 1J0973723 Connector:
- 000979133A 3x crimped wires
- 357972741A 3x rubber seals:
4/14/2011
New year,and time for a small update.
I haven`t started it yet,but it is around the corner.
Been having some problems with fuses blowing up,so the wires were sorted out yesterday.
Fuel pump is up and running with the OEM mount,but there is not plenty of room in there for the hoses.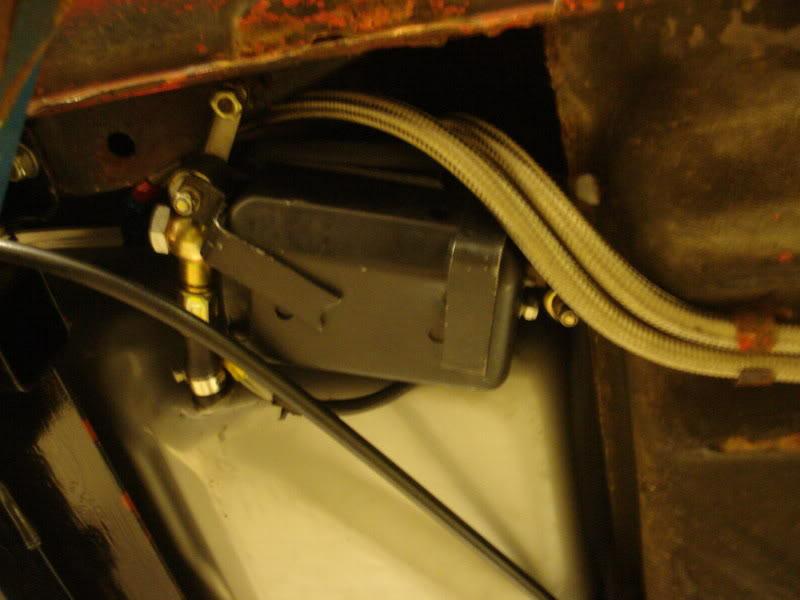 Also had to rebuild for another camshaft signal setup,so I bought a used ABF distributor and overhauled it.Couldnt get hold of an original hall sensor,so had to use the one from a ABA/2E engine.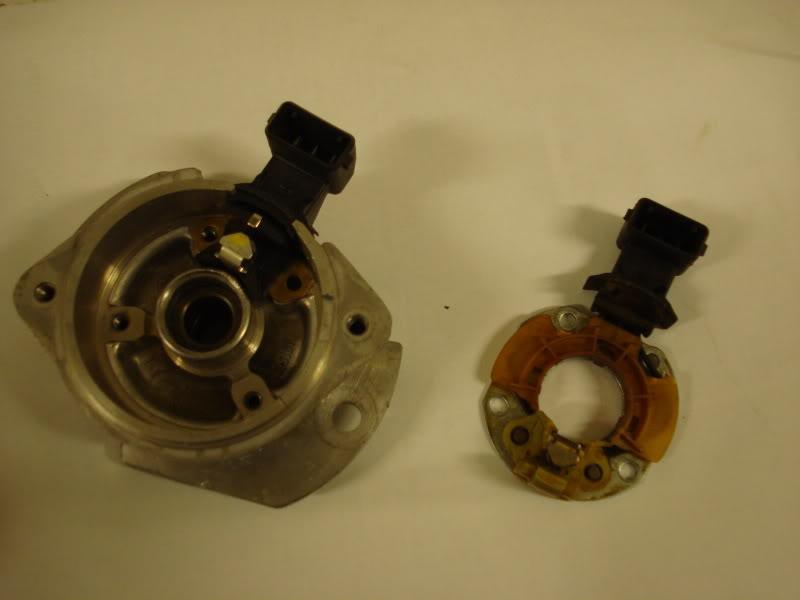 A new radiotor is also in place,water system is filled and ready.AN hoses for the Setrab oil cooler and the crankcase breathing is also ready.
Waiting to get the catchtank I made welded,and mount it up.
Here is a pic of the backing plate for the thermofan(But this is for the old radiator,so have to make a new one)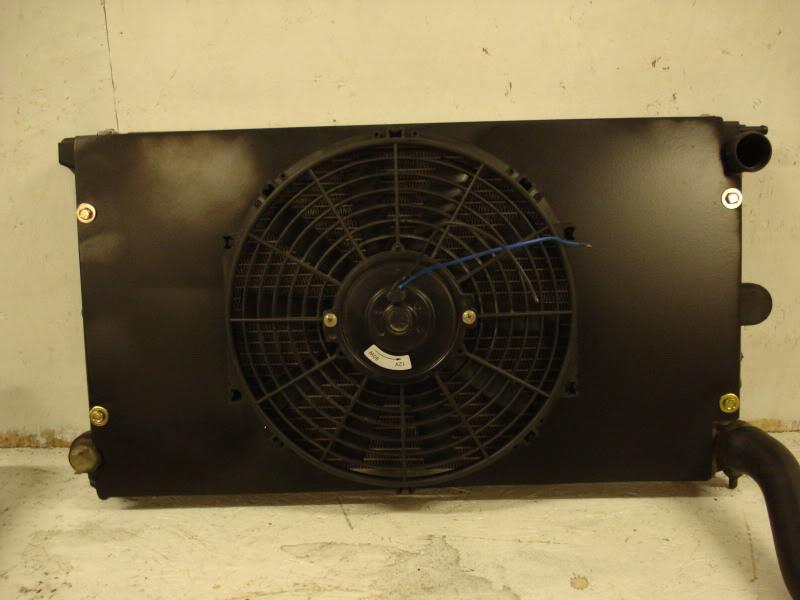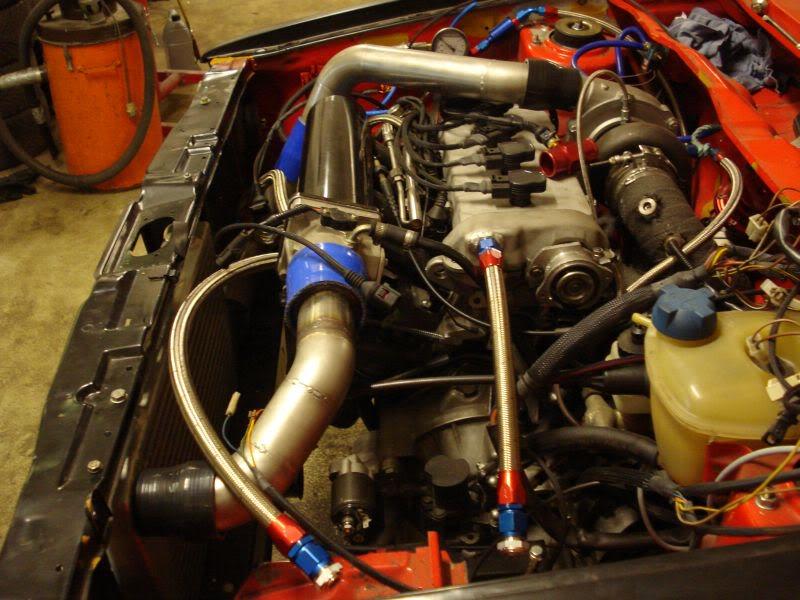 I will also build the air filter intake close to the firewall(as in the upper left corner on the picture),and mount up a wall aside of the coupe fan.
Also think I will move the battery back in the car,not enough space in the front anymore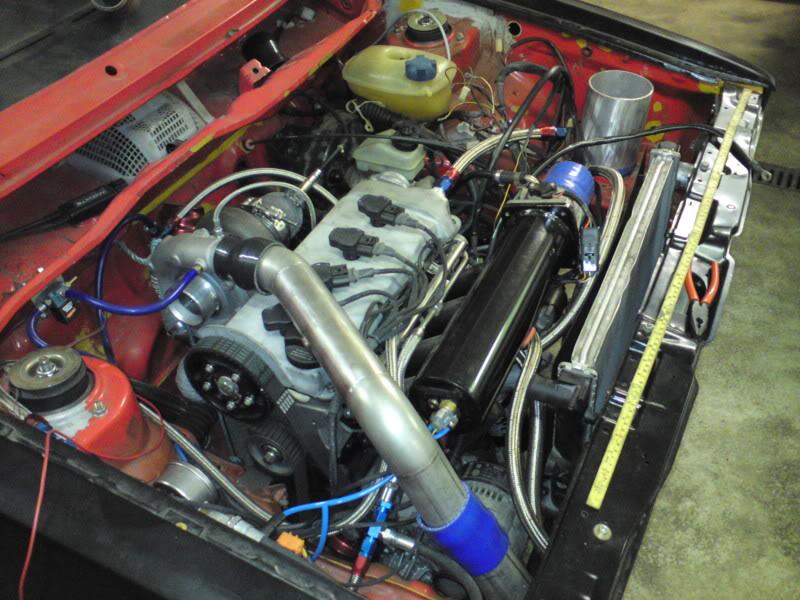 There is enough space for the radiator cause the custom IC,but I am more excited if the hood lock assembly will fit between the IC and the top support on the front plate.
So yes, the decision is made that the battery is thrown in the back.Good idea with that main power switch also,will have a look at this later today.
Finished up the wiring for the thermofan and all the relays for the instruments yesterday.Today I hope to establish contact with the ECU to calibrate all the sensors.

4/20/2011
Cabby driveshafts with one new joint and all new CV boots,as good as new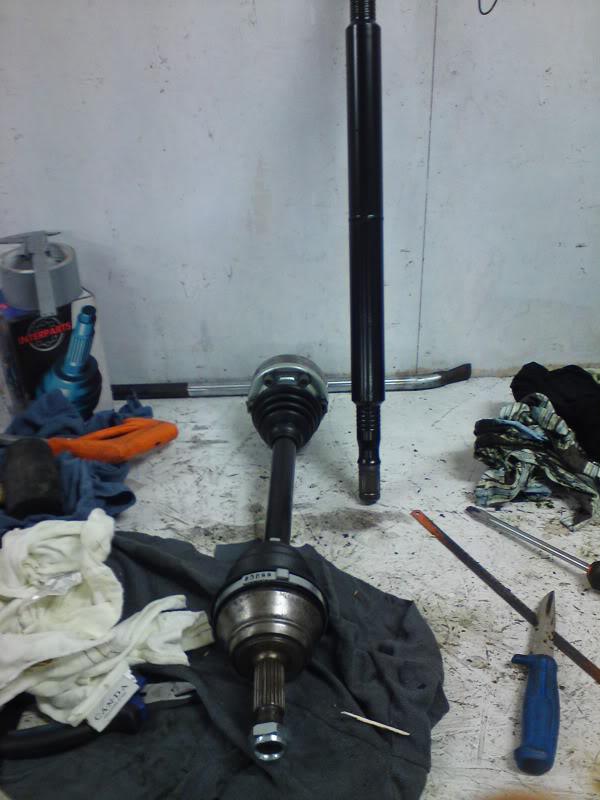 Also made a new oil cathtank..Waiting to get it done,cause I dont weld alu.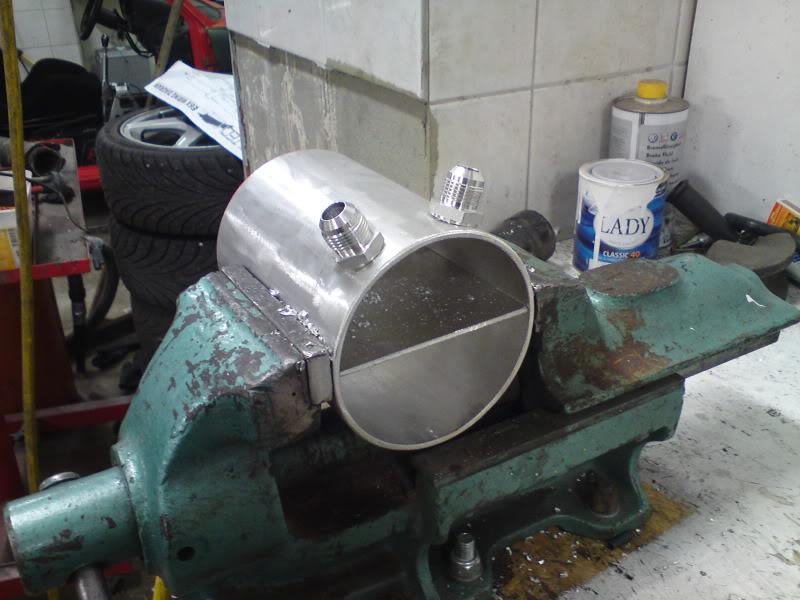 5/9/2011
Time for some tuning now.I have fuel and spark.Seems like its almost kicking in,but I will have a look at the ignition timing one more time to get it right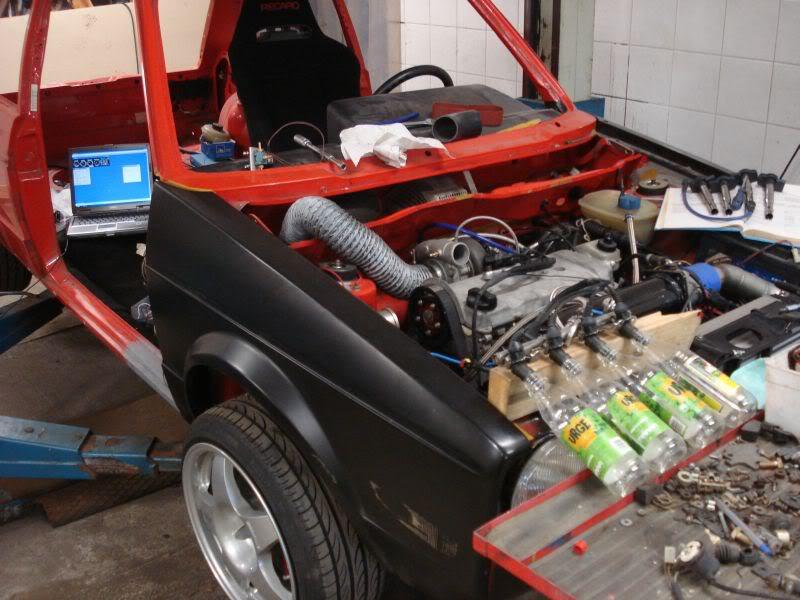 Some more parts also,and new oil for the transmission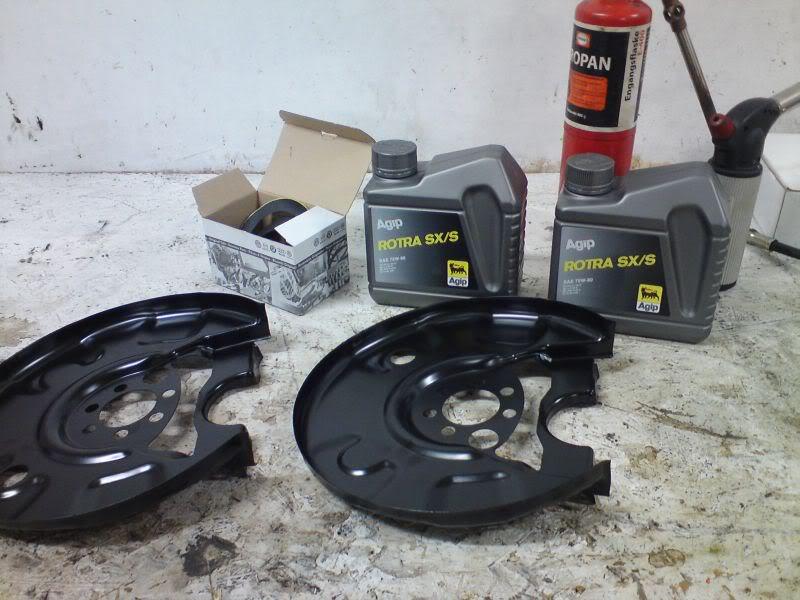 6/29/2011
Engine is not started yet,but now ive sorted out the problems with the Halwin software and Windows 7.Looking forward for BIG progress on the car this summer,tomorrow its 4 weeks vacation

Some more parts have arrived also.
- Audi Sport quattro brake master cylinder
- OMP Corsica steering wheel(also need to buy me some driving gloves now) haha
- Wheel studs/nuts
- Tilton brake proportion valve for the rear calipers
- Goodrigde AN-3 braided brake hoses for the Brembos
I am also awaiting for the H&R wheel spacers to arrive, 5mm front and 20mm at the rear.
As you can see is can re-use the brake reservior from the original master.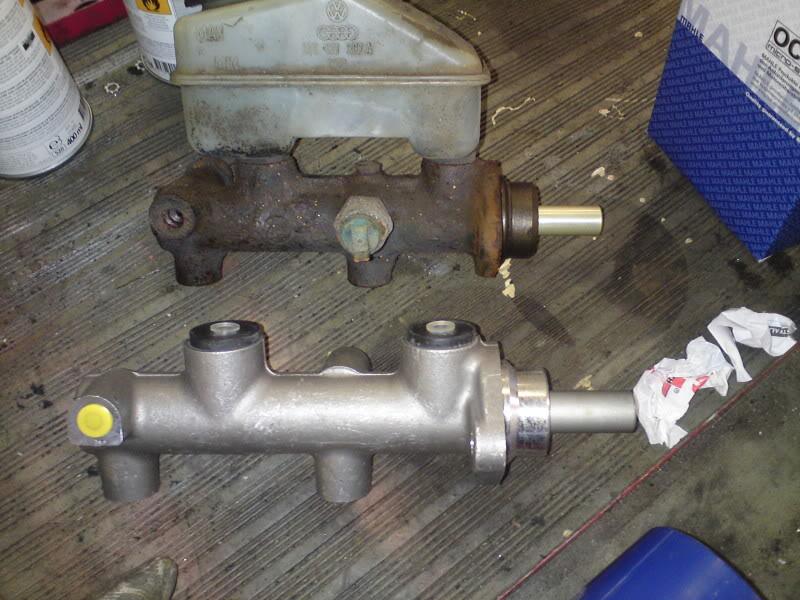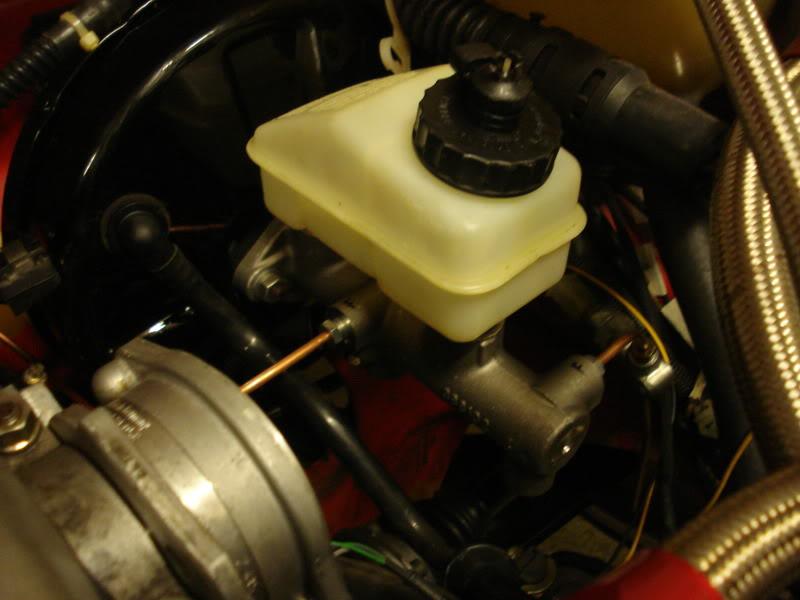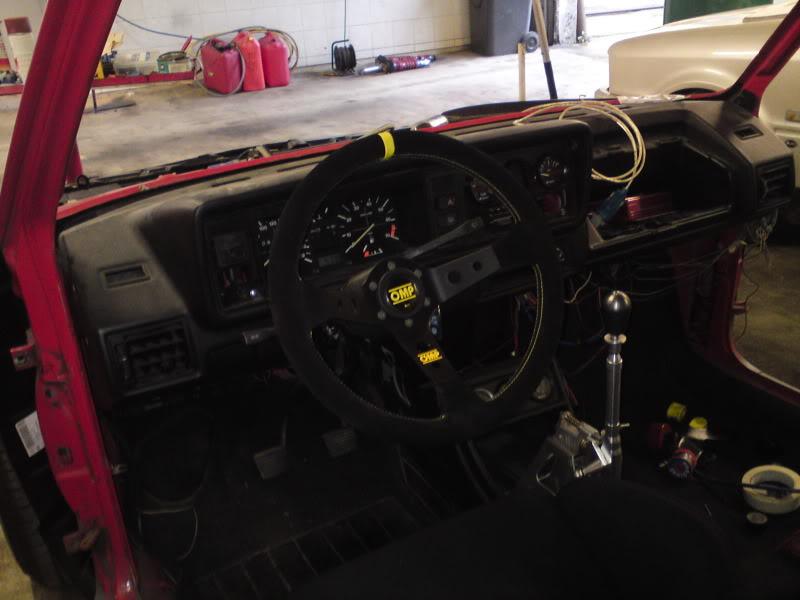 7/20/2011
FINALLY!

8/16/2011
Now that the startup is an factum, its time to get all the other remaining things together.
Found out where the oil catchtank should be placed,but still have to weld in a tube end for the breather filter to be fitted and a tank mount.Will also assemble a transparent PVC hose and Quick-fit couplings for oil level indicating,since I wont be using oil return back into the oil system.
Played with some carbon fibre sheet today,so I hope the result is good so I can install a new back cover for the radiator fan.I dont expect it to be with high gloss finish,but function before fashion

Finished with the thermfan relay wiring yesterday.So now I hope the cooling is good enough to make a Zero Load map before the car is being sent away for the final tuning.
Following with some pics....
Exhaust wrapping is trying to smoke us out after first startup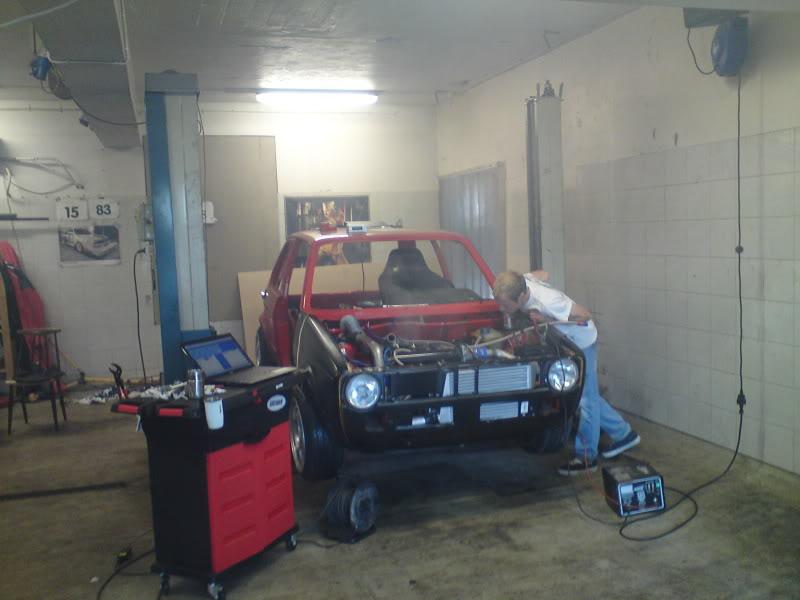 New doorside-trim clips,and clamps for the roll bars bought from ze germans.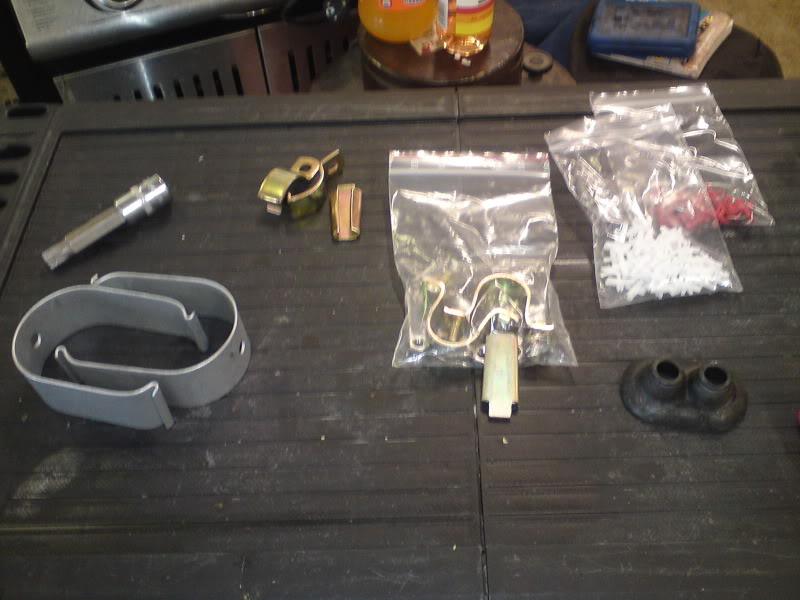 Take one: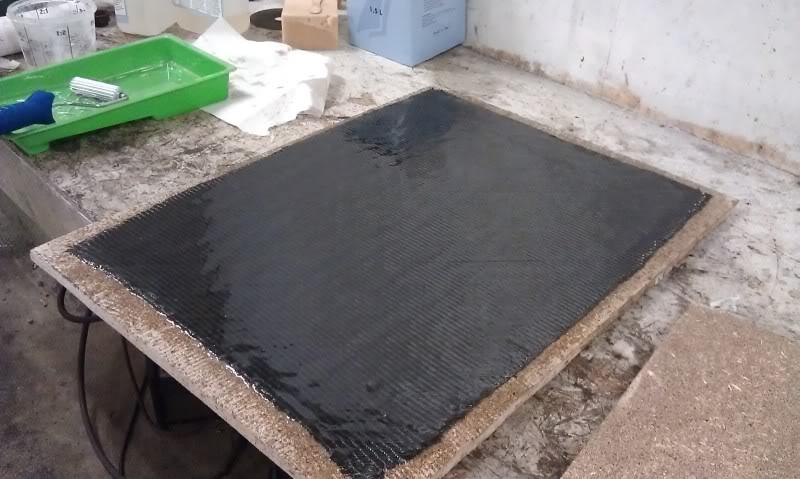 9/3/2011
Car is soon ready for mapping now.The sound of it running is amazing,wonder how it will be if I fit the ACE camshafts.Running KR cams now.I am missing some small bits like oil catch tank,fit the roll bars in front/rear and make some new carriers for the Brembos in aircraft alu.
Gearbox is also adjusted and ready for action,tested it outside our workshops place.Works great.
I am a bit worried if the radiator is big enough for trackdays, and driving it in the Dynapack.
Worst case scenario a custom alu. radiator is an option,there is not much more space there.
As it stands right now.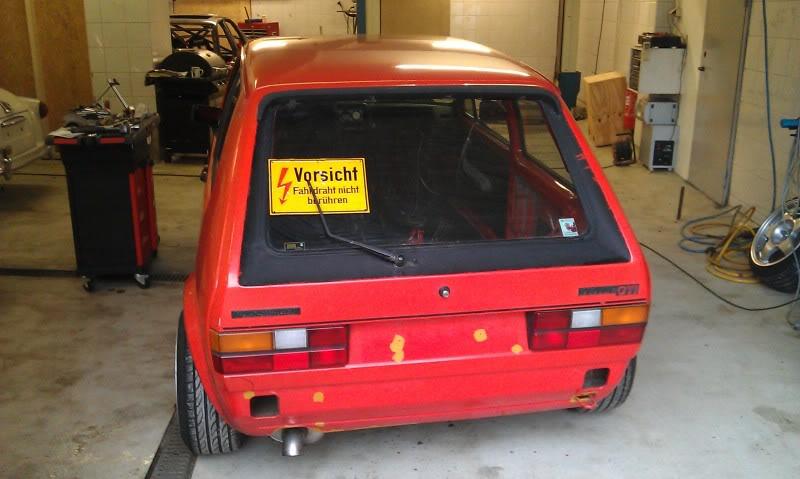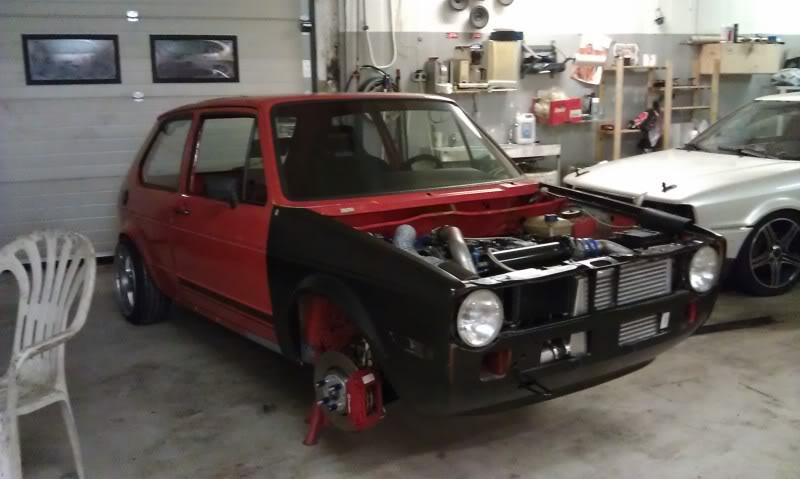 Carriers that need some minor modifications in Solid Edge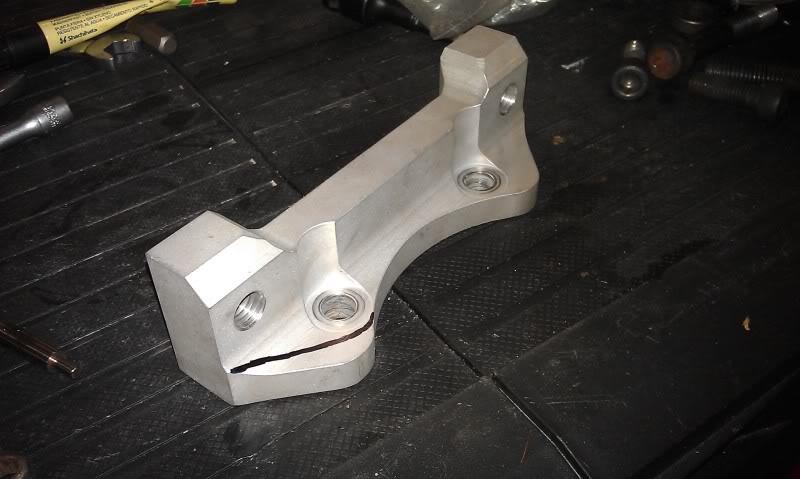 9/9/2011
New caliper carriers is soon being processed in the CNC bench

These are for Brembo 4-pots and 305x28mm discs..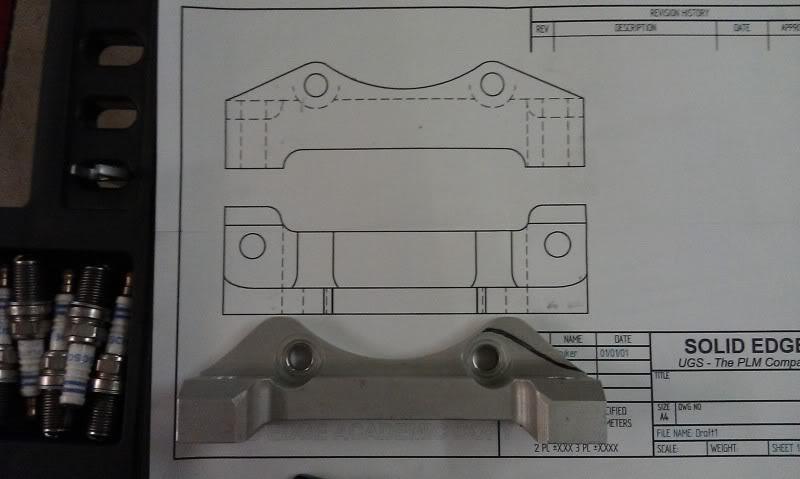 9/13/2011
Interior is "finished",just need to change the door handles to someone in a better shape.
Will wire up the oil temp sensor tomorrow,and start it up to make a test.
Still waiting for the caliper carriers,so when they are finished I will call to make a order on mapping the engine..
I need to lower the drivers seat a bit,to get clear of the helmet and the roof

Will try to weld brackets on a old adj.seat frame.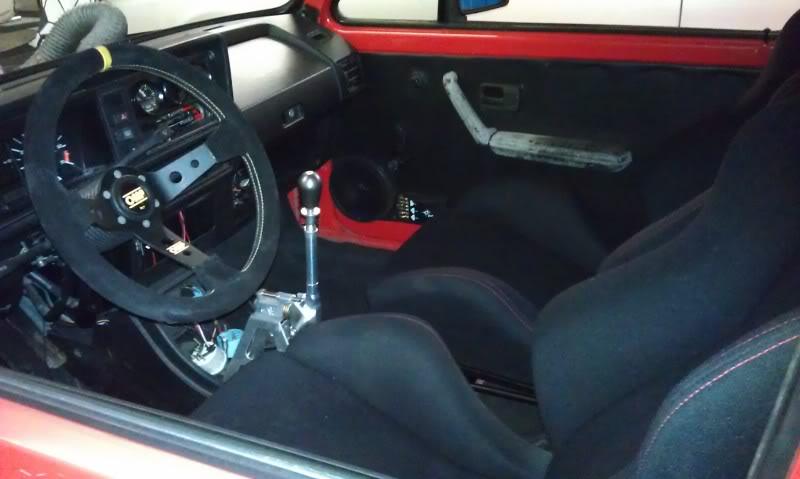 9/26/2011
Been playing with some carbon sheets lately

Bought some epoxy resin,and moulded it up on some glassplates.
This was only 1 layer,but I will make the door-sides at the front with 2-layers.
More updates to come.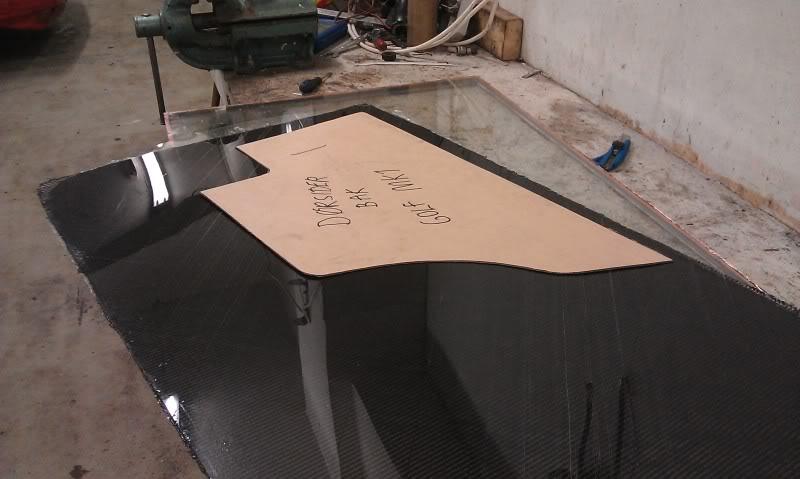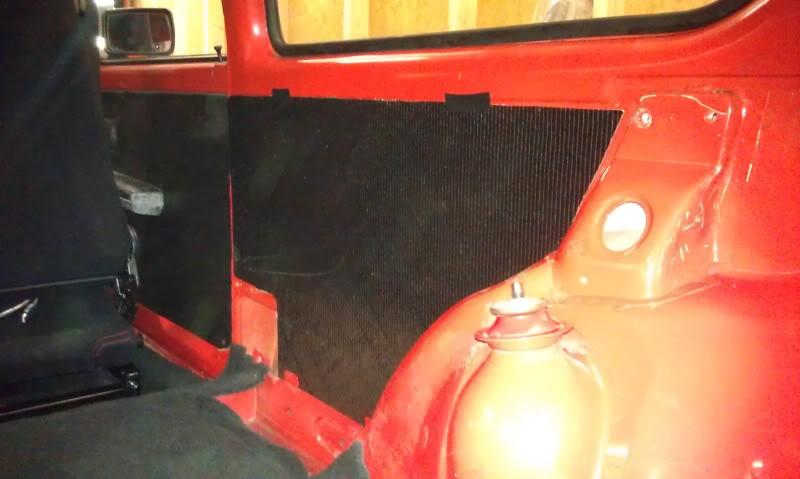 10/7/2011
Ouch! even more than I guessed

This is hp`s measured on the wheels/hubs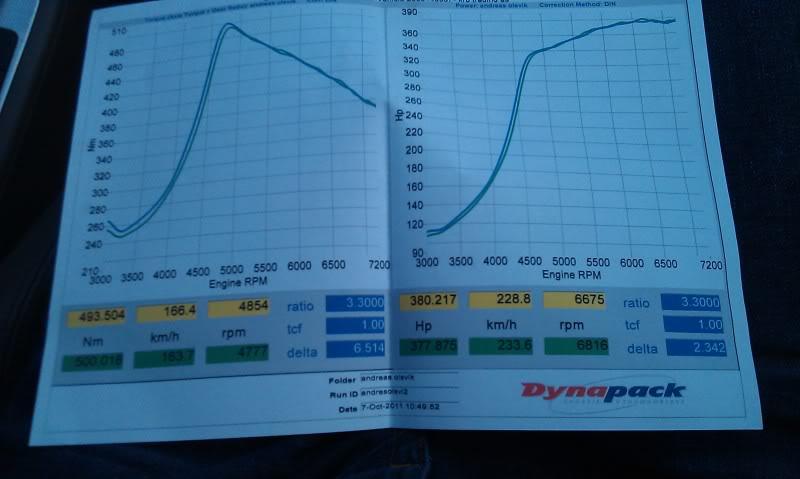 11/25/2011
Not so sharp anymore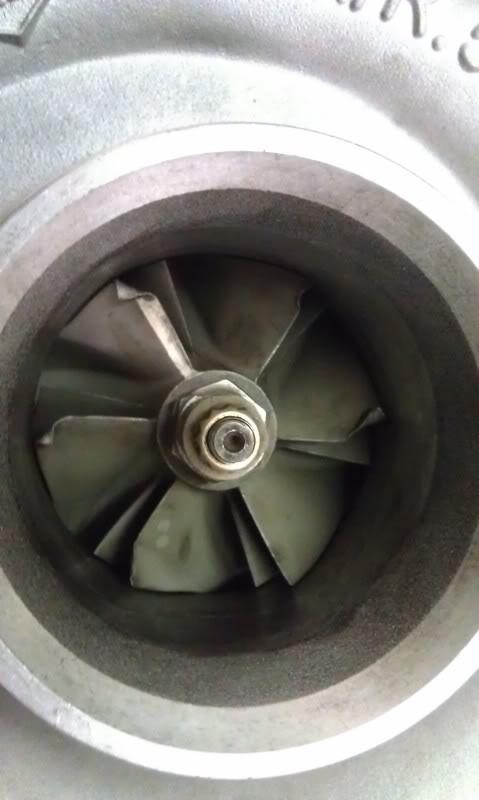 Engine is ready for som small upgrades for the winter.
Just ordered a alum. baffled oil sump from INA. Some parts on the engine needs some blasting and new paint.And I wonder how the cam cover would look like with red wrinkle paint.
Also need to sort out the problem with the oil return hose melting,maybe I will change it with a teflon hose or something.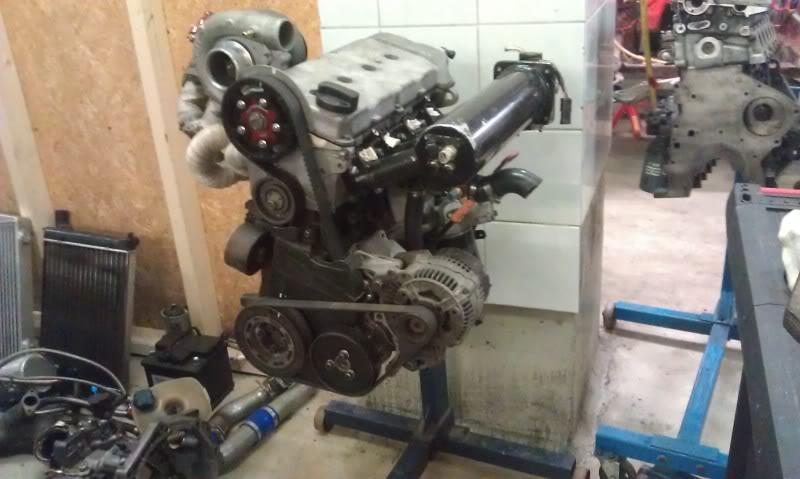 Heh....Well actually were not quite sure.I think this happened in the Dyno bench when we reached 1,3 bar of boost..It had no damages when it was running on 1 bar,so it could be the last 3-4 pulls in the bench it got this bad. That`s the only theory we have,since I`m not running with blow-off valve system...
Any suggestions?
In any case, I will order a new compressor wheel from ATP and balance the axle again and give it a try...
12/31/2011
The engine with new INAs Baffled Oil Sump, and Ferrari inspired valve cover with wrinkle paint.
Intake manifold did also get some layers of black wrinkle paint,will see tomorrow how the result will be

Happy new year!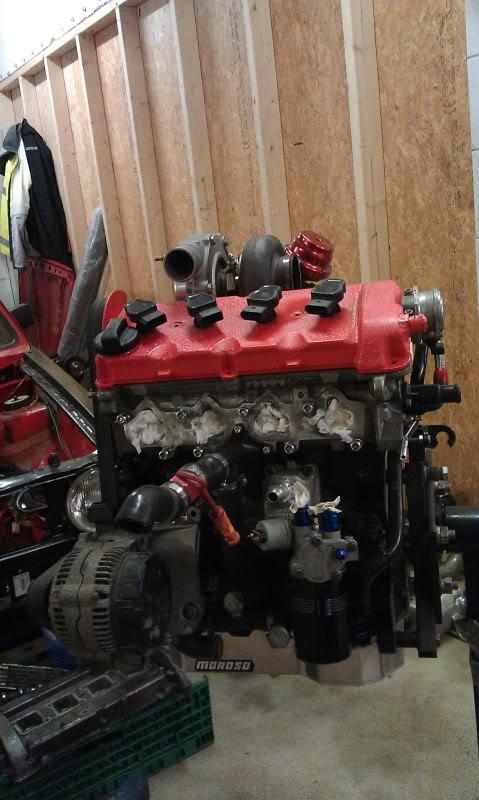 3/18/2012

More parts have arrived

0.25 bar Wastegate spring for approving the car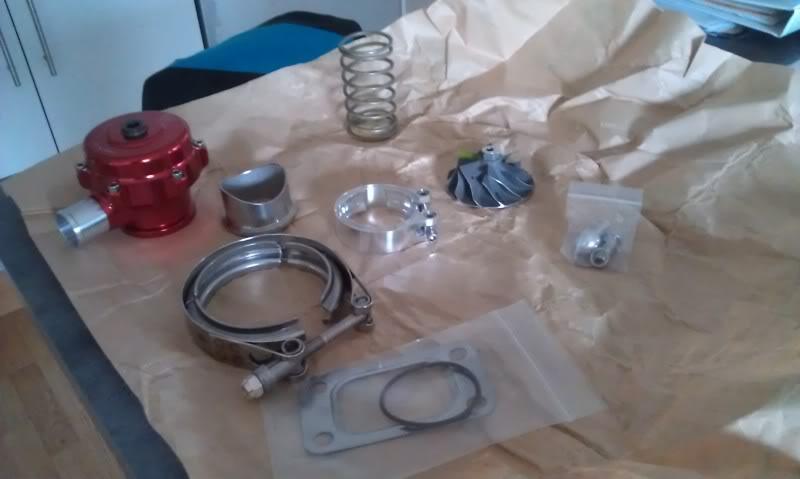 Sent the CHRA away for assembling and balancing with the new compressor wheel last week,so the engine is soon ready for the season.
Working with the car these days to get it ready for the main work before painting.
Dont know if ive posted these,but here are a couple clips from the dyno pulls.
4/1/2012

CHRA is back from balancing,and the engine is now ready for the coming season.
Did some work on the wheel house at the front this weekend,with blasting and coated it with epoxypaint.Finished with bodyspray.

Pics will tell.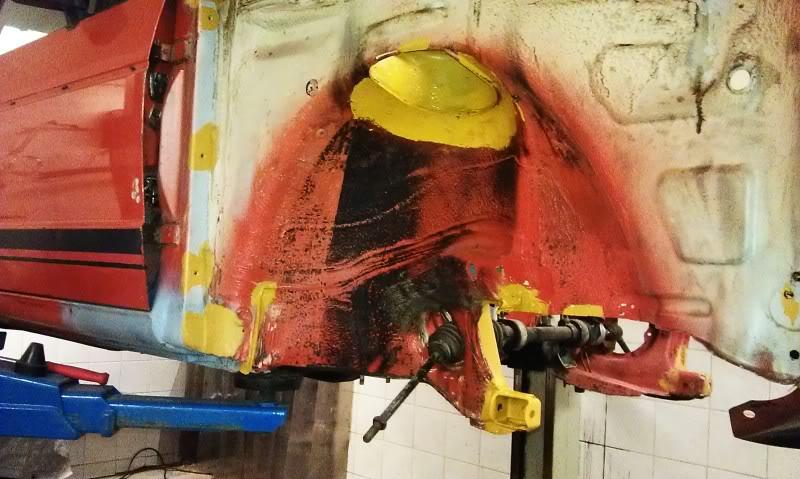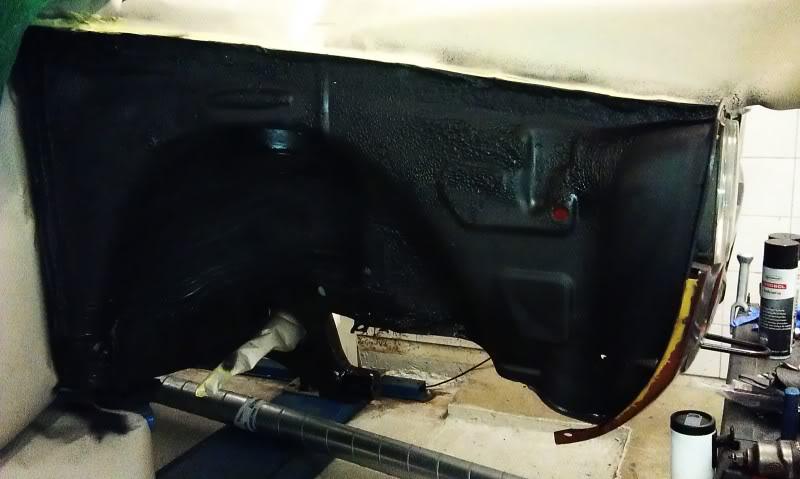 Also did some work at the rear.Had to cut a bit,to get clear of the fender.
First pic is before cutting.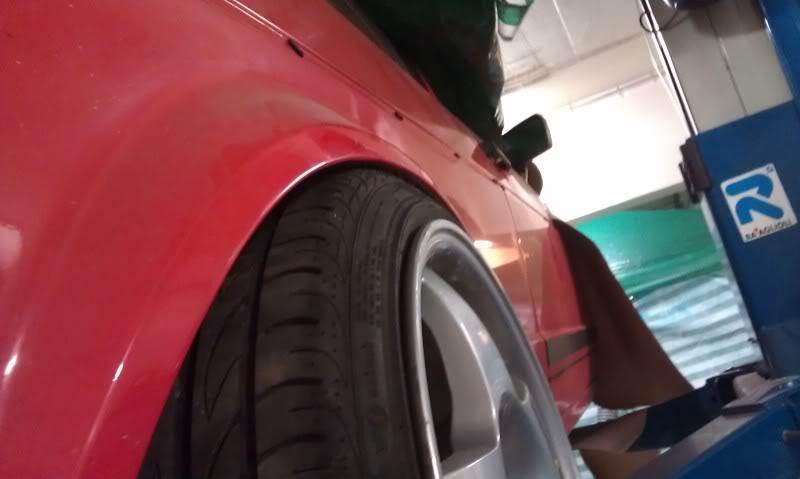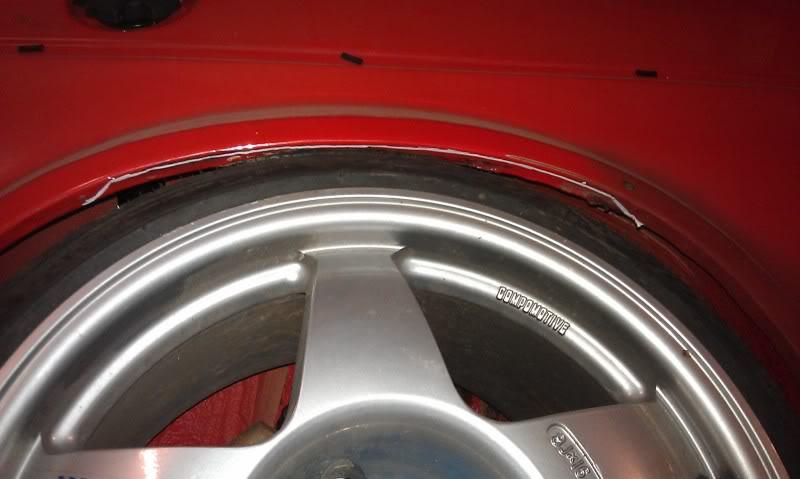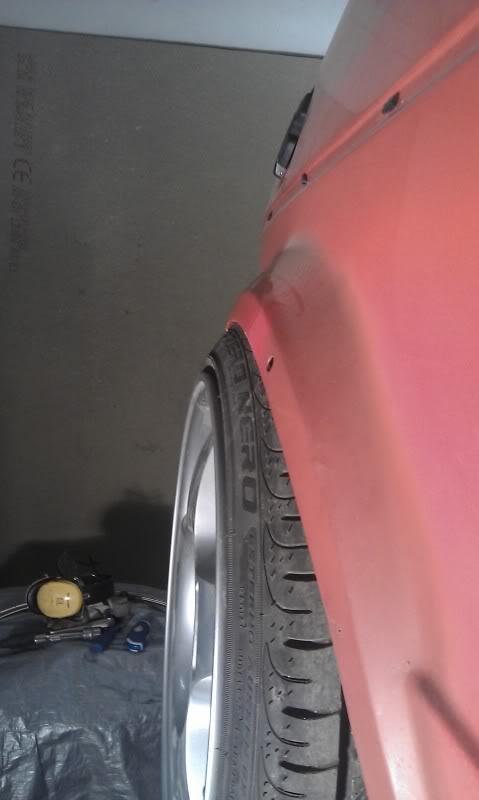 4/10/2012

Yeah, I dont regret that i used this coating.Very good stuff

I still have some blasting left on the underside and engine bay.
Sloooowly getting closer the paint job,and had some wheel housings painted.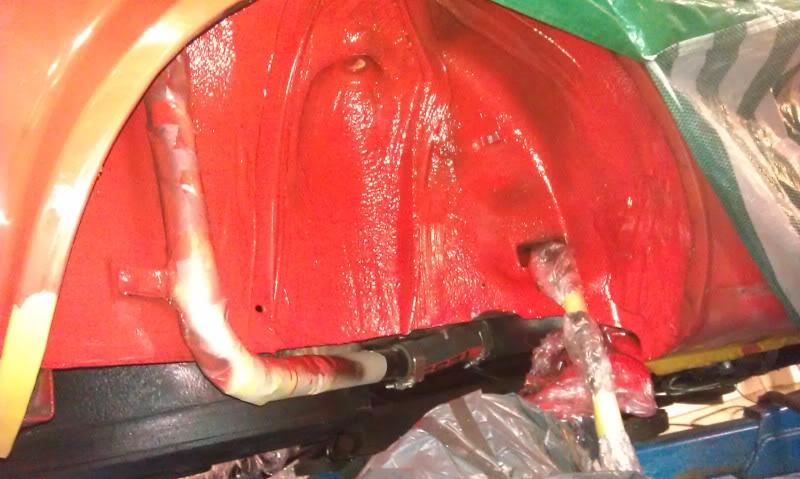 The body colour is now decided..
Rosso Corsa Red 300/12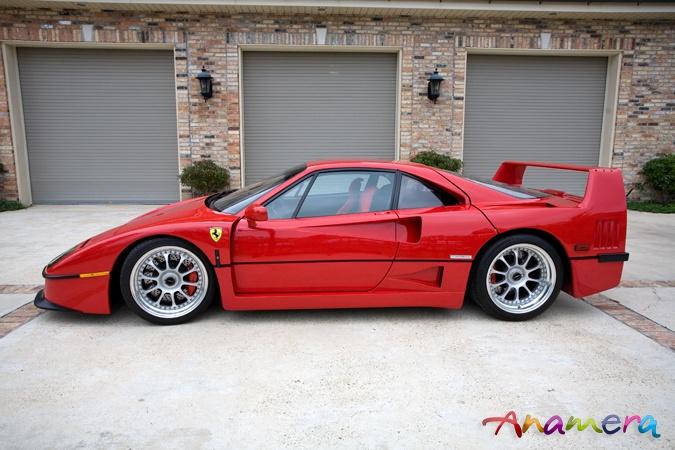 4/18/2012

Now Im finished with the inner fender wells.So now I need to get hold of some inner plastic fenders in good condition.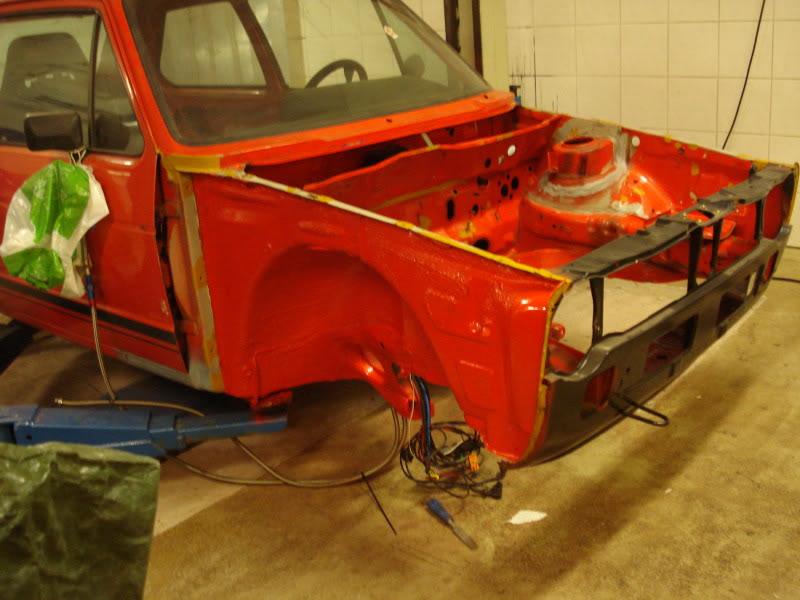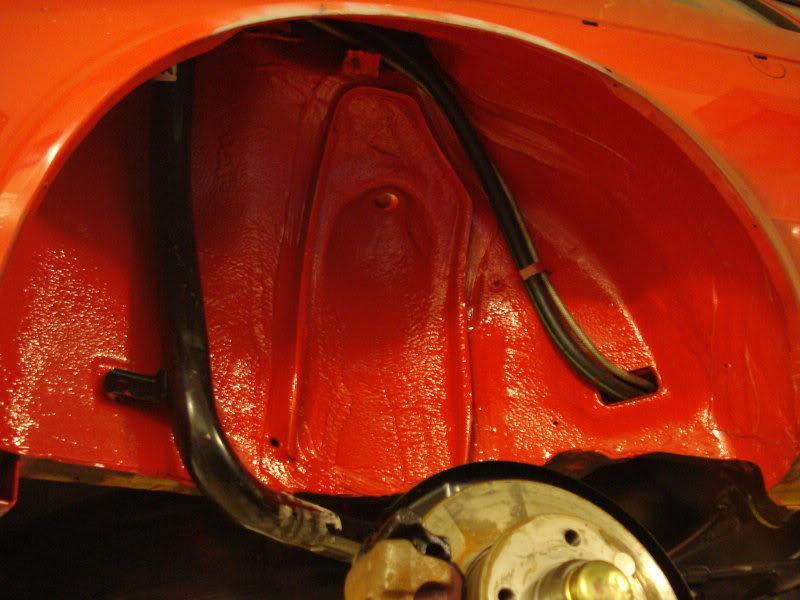 Engine bay,almost ready for the painting tomorrow..Really excited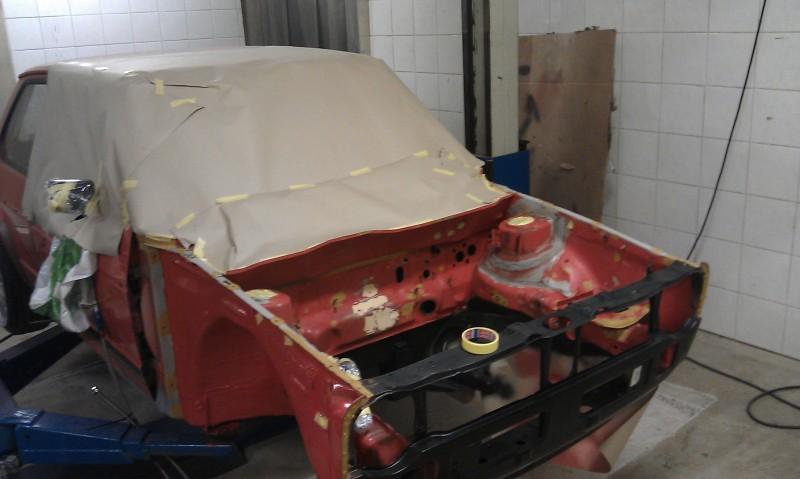 4/21/2012

Engine bay finished today

Sorry for the crappy mobile phone pics,the color is better in real

Will also start to mould up new door sides in carbon fibre,when I get the roll of carbonsheet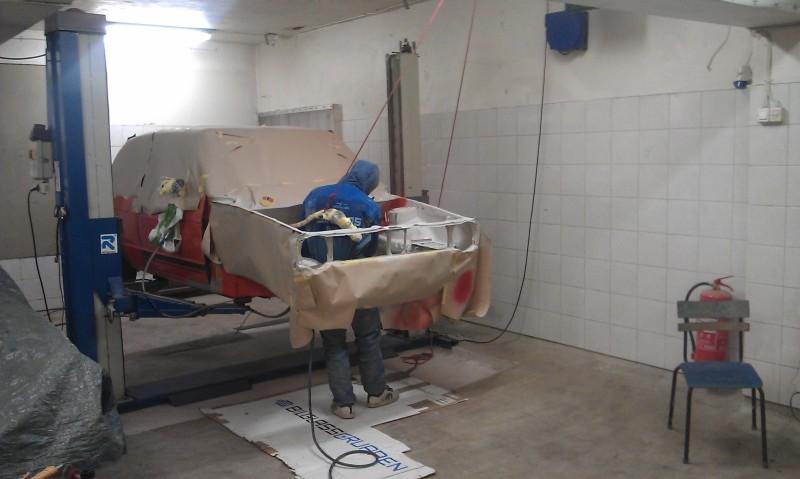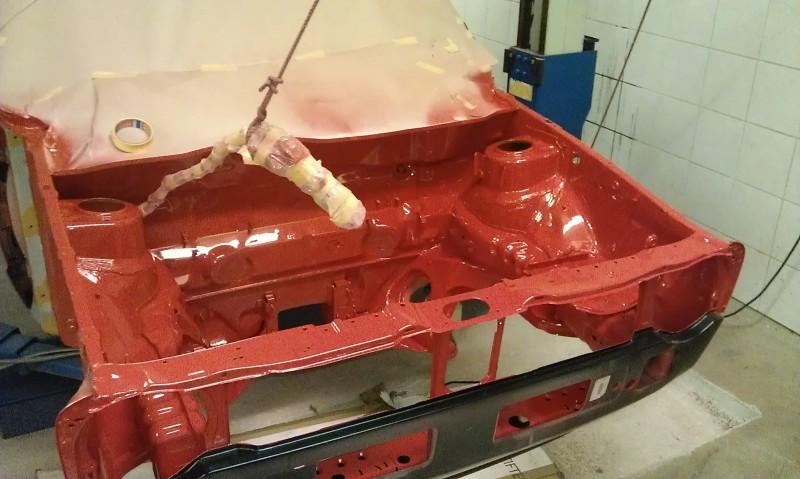 4/29/2012

Started the assembling now,maybe the engine goes in tomorrow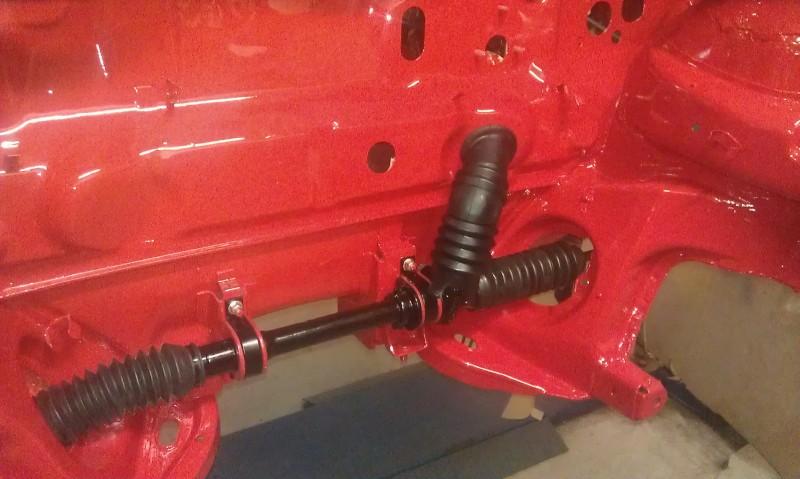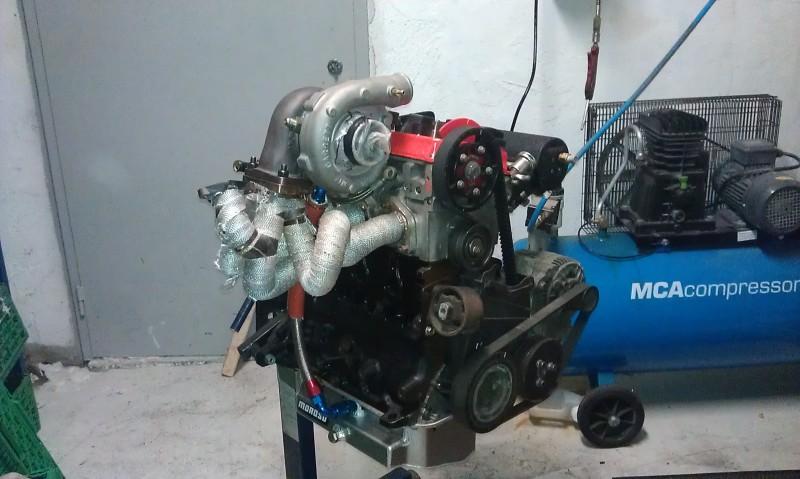 4/30/2012

Startup tomorrow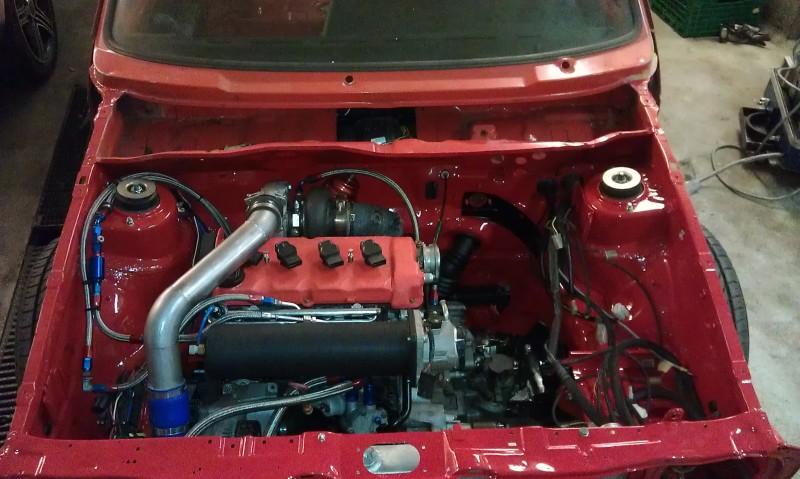 5/1/2012

A bit noisy,only got the downpipe mounted

http://smg.photobucket.com/albums/v6...=VIDEO0021.mp4
5/5/2012

Been having a barbecue party

5/13/2012

Hahah :d
Had some more fabrication work done the last weeks.
Custom CNC fabrication work on new caliper carriers for the Brembos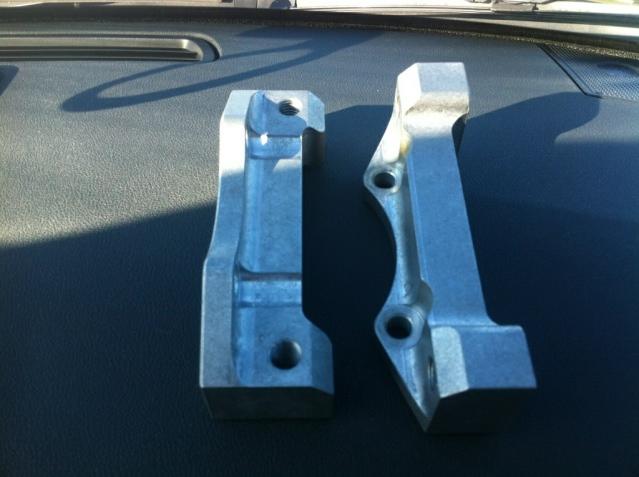 6/17/2012

A video clip from yesterdays Autocross...
And a couple pics from the Autocross.I know the car should be painted,but first of all it works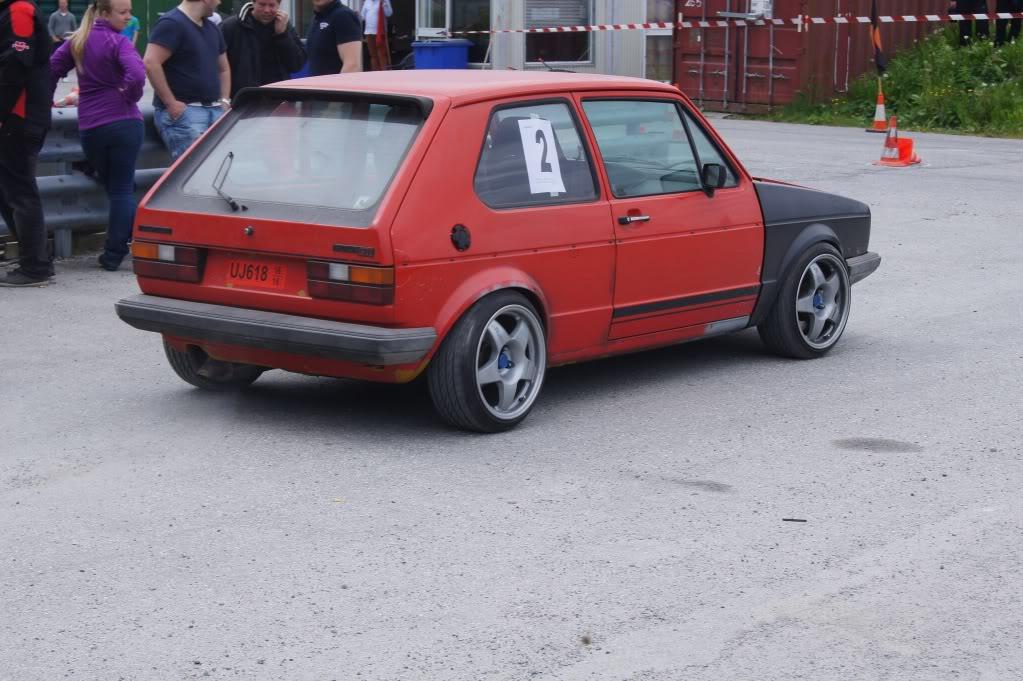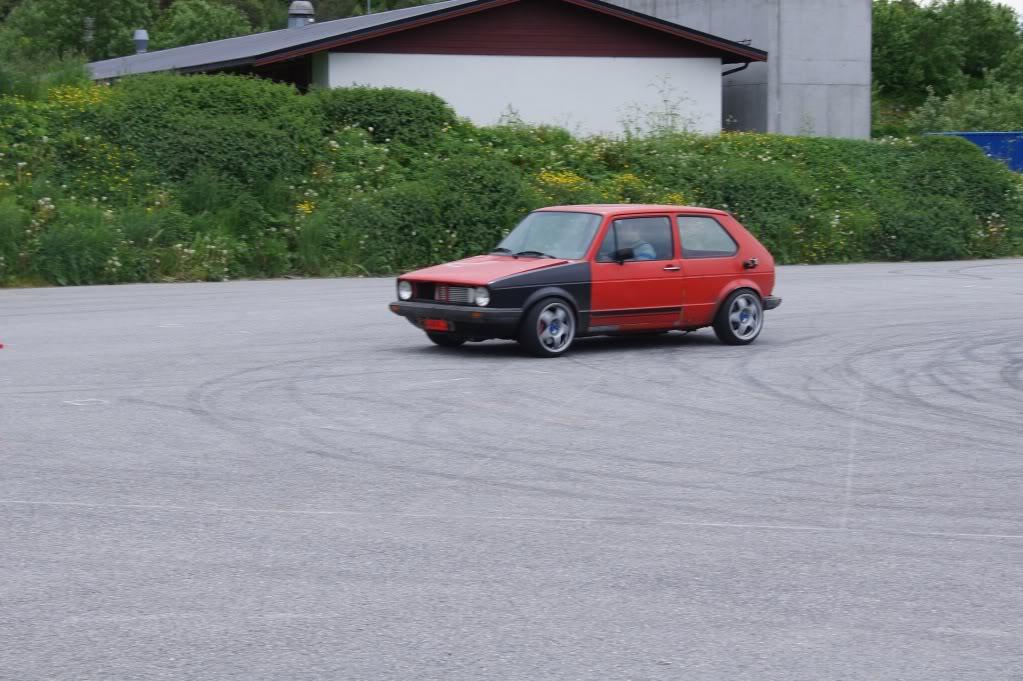 7/3/2012
7/11/2012

Did some paintwork on the intake pipes the last days..Glassblasted and painted over with wrinklepaint like the intake manifold.
I dont like shiny things in my engine bay,so it became black.
Also ordered a bunch of new silicone couplers for the pipes,so the blue ones can be thrown away.
Will also send in the dashboard for some flocking,cant wait to see the result!

7/18/2012

Thrown the battery in the spare wheelhouse now,so the car wont tip over at heavy braking

Also did some work on the fenders. Had to do some cutting to get clear of the semi-slicks ive ordered.These are Federal 595RS-R in the dimension 205/45-16.
Inner plastic fenders fitted with new chassis-bolts.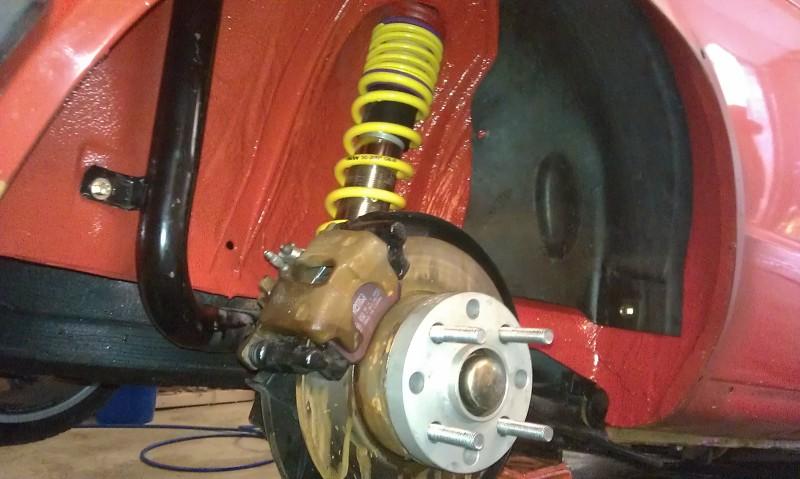 Also did some work in the front.Fitted some tighter rubber bushings on the damper strut,for the brake hoses.Fitting and modifying of the plastic and outer fender.
Luckily this wont be visible when I fit the GTI fender flares.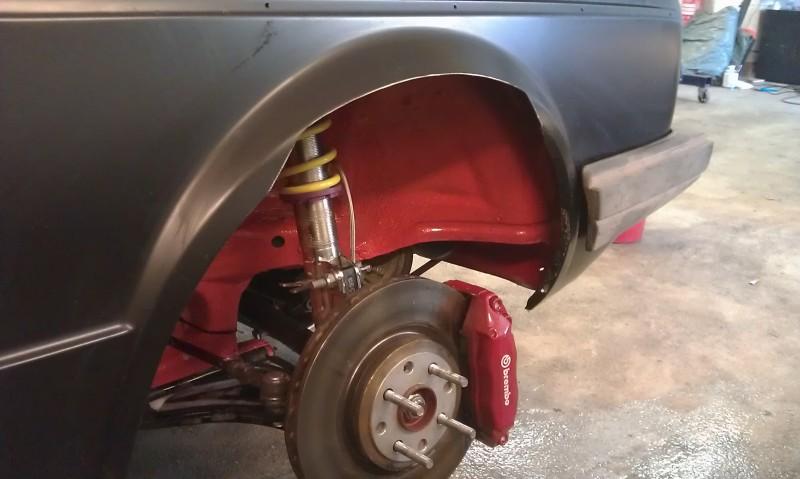 7/25/2012

Hahaha,dont you agree?

Had some time to test out the car yesterday with a bit more boost.
Im up on 1bar now,and this is even better than I had expected

The Brembo brakes are insane,I really start to think this is a bit overkill on a light weight car like this.
I almost cant wait to test out the Federal tires on the trackday

Engine bay almost finished,have to put some wrinklepaint on the last intake pipe.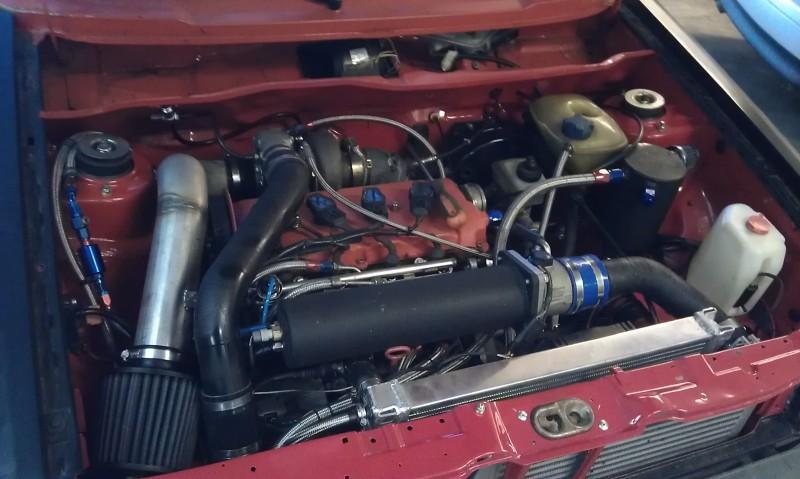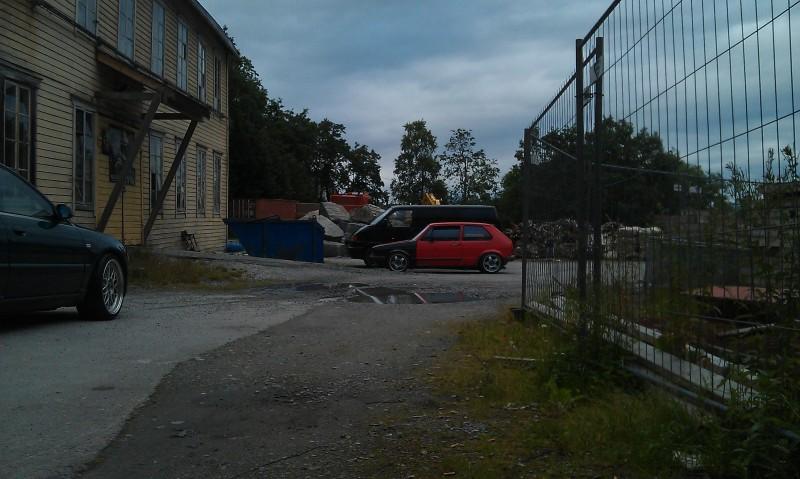 3/27/13
Got hold of a used 6-speed 02S gerabox this month,so the next step is to overhaul this and throw in a new differential in here.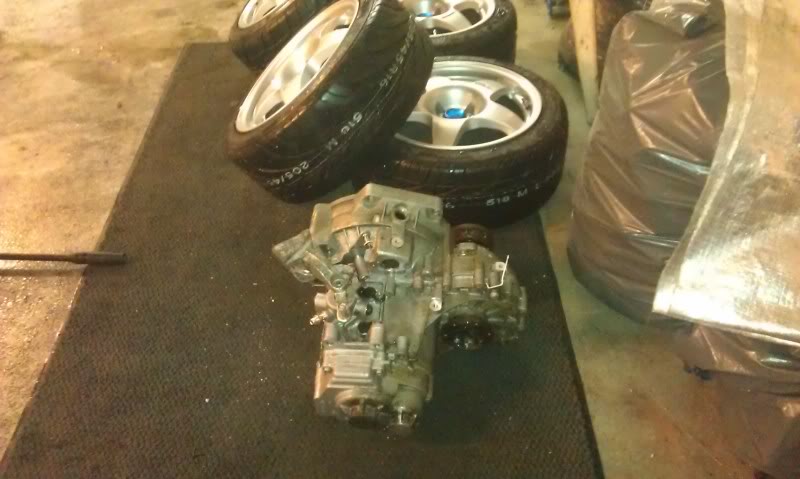 4/2/13
Look what I got hold of this weekend


2000E /16 engine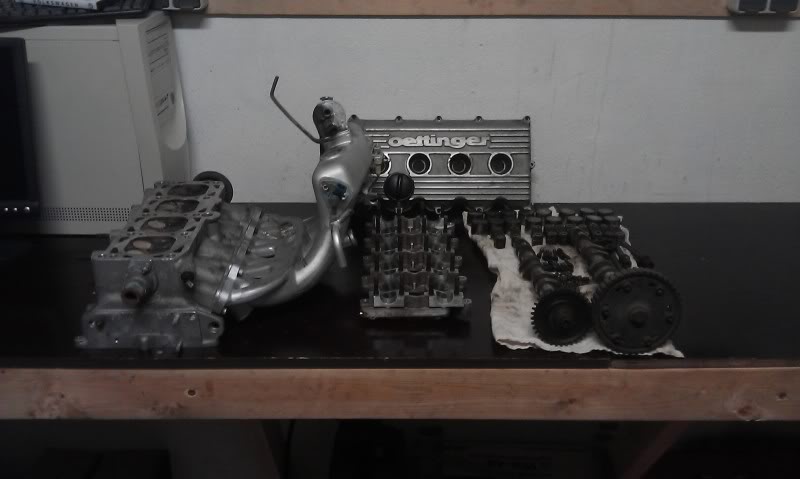 9/25/13
Reaaally slow, I'm sorry.Was a bit tired of working on the car,so had to take some time off the car this year.
But I sold the 16" Compomotives,and got hold of some new ones in 15" with a better chance to fit semi-slicks without cutting away everything of the wheel fenders.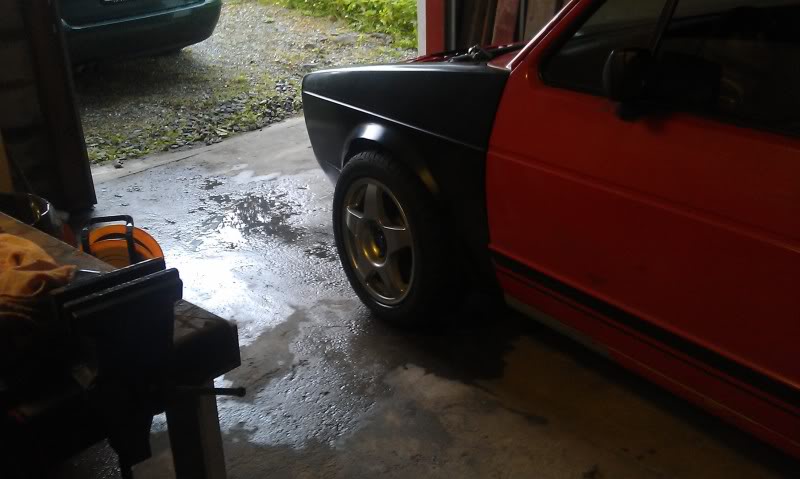 Some mods had to be done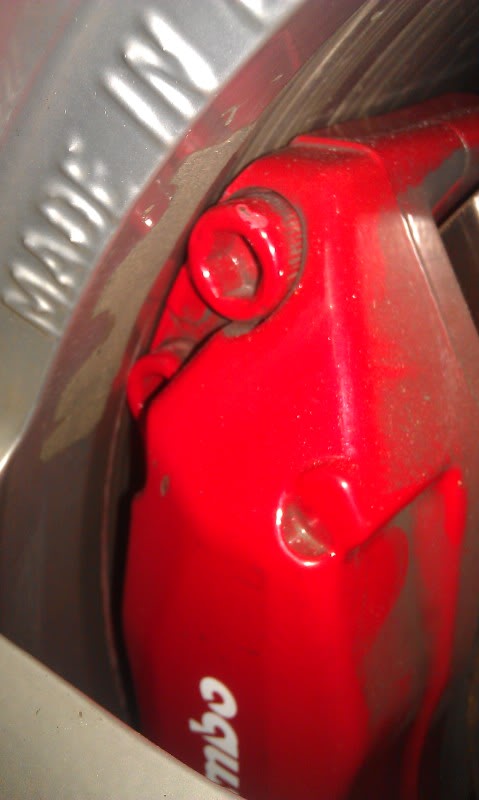 I think it will be ok when I fit the GTI fender flares.Seems like I also needs heavy spacing at the rear wheels to get it right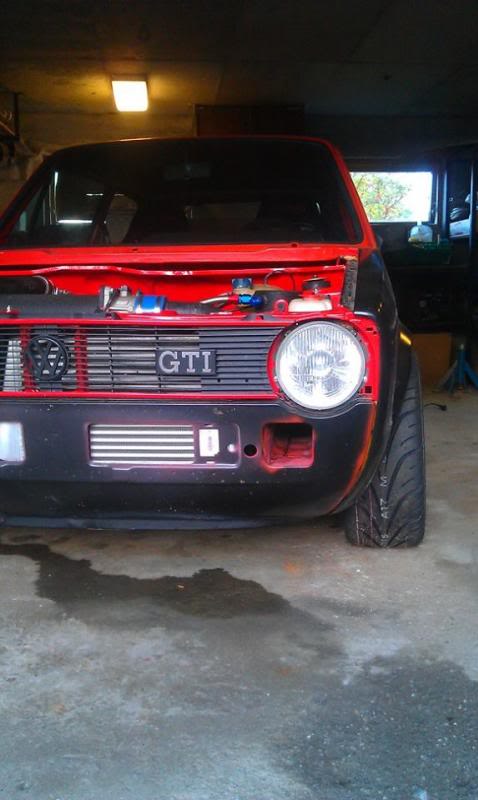 10/17/14
Found a video from 2012 when we had a cruise around the districts with our local Vw-Audi Club.
Its a shame,that was the last time since I drove the car on the road.



2nd to 4th gear, on 0.6 bar



http://vid86.photobucket.com/albums/...pskvhwxumy.mp4
6/13/15
Car is finally back at the workshop,after a couple of years in storage.



Started to clean up the electrical wiring,and have also repositioned the gauges in the center console that I now have removed.
Now stands in like together with an Audi UR 90 Sedan,B5 with an RS6 engine and a B5 with 500hp+ 1.8T