Brand New 47 Year Old 122! by Rave0035
By diyauto
Brand New 47 Year Old 122!
Compliments of Rave0035 @ forums.swedespeed.com
10-11-2013
Wow. I really did it this time. I've always wanted a classic car, and the stars aligned a few weeks ago and I ended up the proud new owner of a '66 122s. I am also the proud new owner of a 2 month old daughter, so I'll be a busy man for the next few months (years?!?)

The car came from CA, so is very rust free and straight - which is a rarity in MN. It was the right price, but needs a little TLC this winter. I've never wrenched on cars, but I'm mechanically inclined and am lucky enough to have a great friend with garage space and tools willing to help me learn (as long as I keep his fridge well stocked with beers).
The interior is passable for now other than the dash pad (anybody got a line on a reasonably priced one?), but I want to make sure the car is uber reliable and safe for driving the wife and kiddo around next spring and summer! Here's what's on the docket for this winter:
- Carb rebuild (in the shop right now)
- Pull the motor and tranny and clean and repaint engine. Replace all gaskets and seals
- Inspect clutch and tranny bits. Shifter gates need to be re-worked, but otherwise the M40 feels bulletproof! Clutch is fairly new, should be OK for now.
- New battery cables, plug wires, replace generator w/ alternator, and possibly replace points with electronic ignition if budget allows.
- Inspect front end and replace all bushings and worn bits
- Same with the driveshaft and rear end. Currently a bit of clunking that I'm guessing is a U-joint. New fluid and crap.
- Check out the brakes and fix any sketchyness.
- Pull gas tank and seal to get rid of that awful gasoline smell.
- Install seat belts in the back seat!
Am I biting off too much? I am absolutely in love with this car and can't wait to drive it again next spring.
-Mike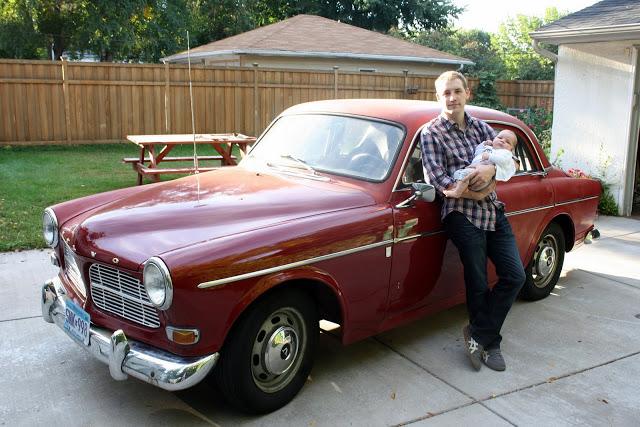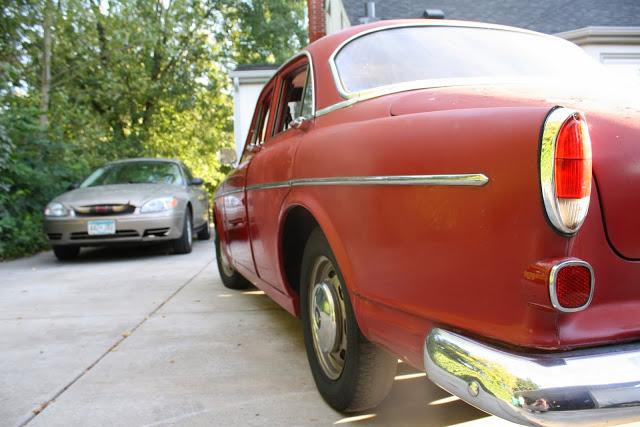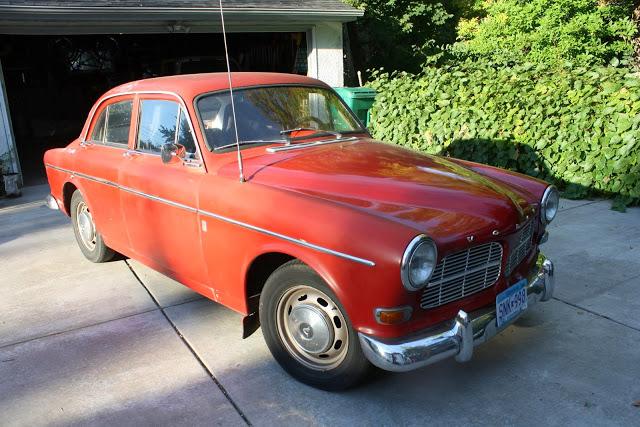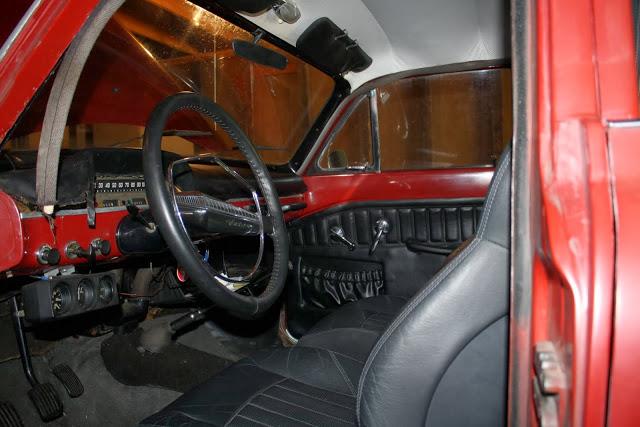 Here she is (sans SUs):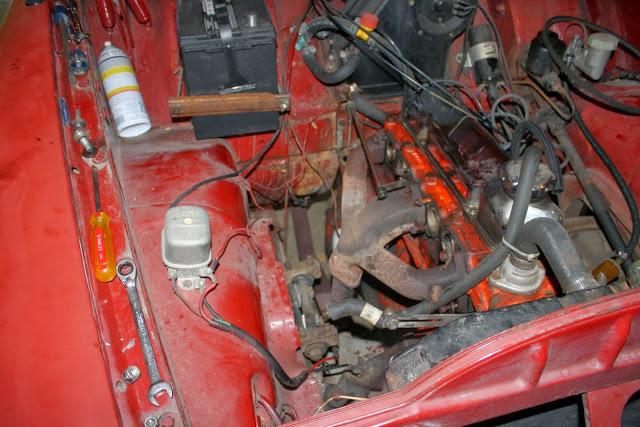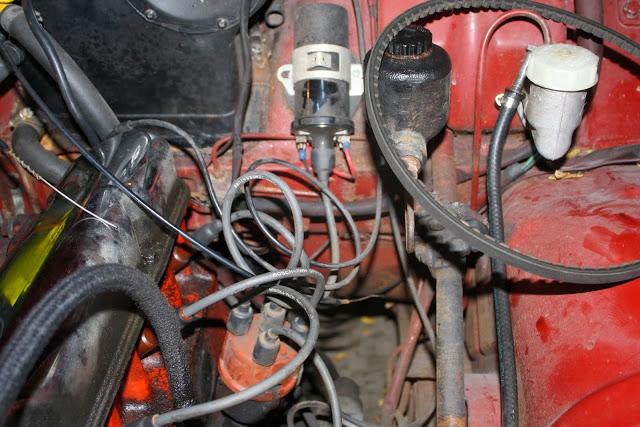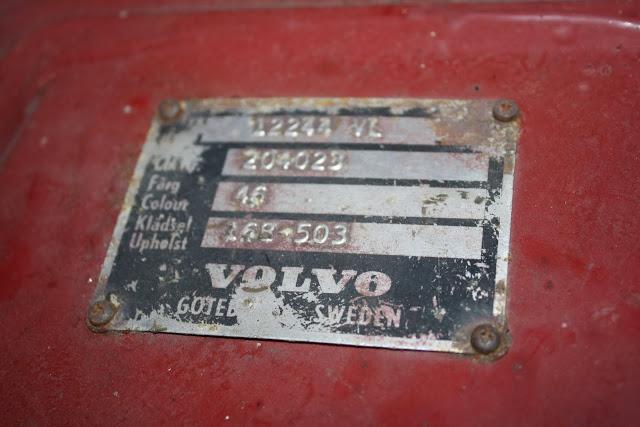 Oooooooooooo baby.
10-12-2013
That's a B18. I had already pulled the generator when I took those photos, but it currently has one. Would like to put in an alternator this winter (bracket is on it's way). It has dual SU's that had not been tuned or serviced in a long time, so I brought them into a local carb shop for a rebuild. I would rather just start from square one on those.
10-13-2013
Thanks for the replies, all. Bobby - the front seatbelts are modern. Someone replaced the front seats at some point with leather power jobs.
George: I only had a few minutes today so I popped the distributor cap off, but couldn't get the ignition switch out in time. I'll fiddle with it this week sometime. What are you looking for in the switch?
I've never owned a car with point-style ignition before.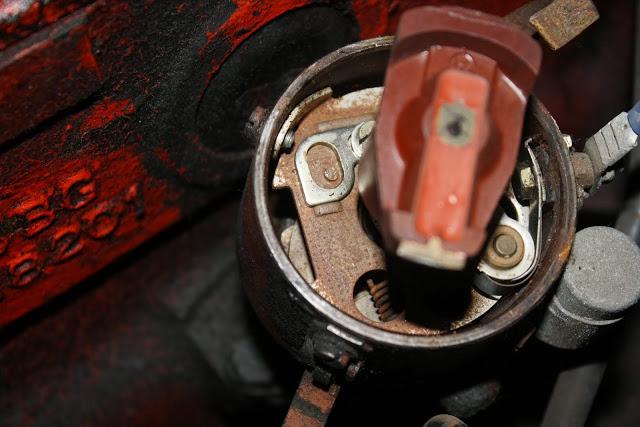 Also, do I need to pull the whole dash to get at the instrument cluster? I'd like to get after the paint on this. Would it have originally been like a battleship gray?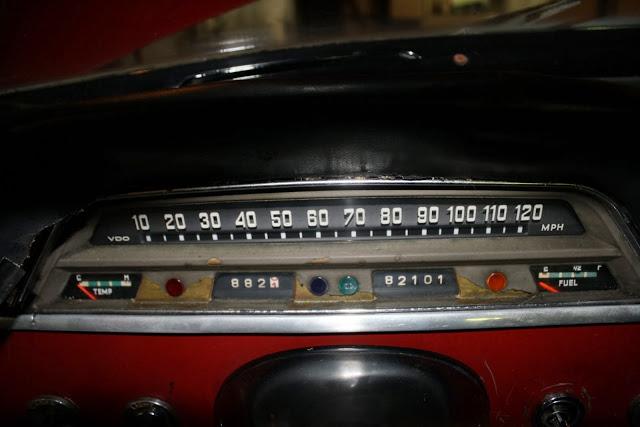 10-30-2013
Sorry I haven't had a chance to update lately. The little one has been keeping me busy.
Progress:
/ Replaced the steering rag joint. Cleaned up the steering column and got the steering box ready for paint. I'll hit the engine bay with satin black this winter while the motor is out.
/ Tore out the aftermarket carpet (really poorly installed and smelled). Suggestions for replacement? The floor is really solid.
/ Re-painted Nike screw jack

/ Found a fuse box cover
Carbs should be back this week and then we can start the real fun.
11-3-2013
I had a few hours to get to work on her this morning so I thought I would share some photos of the progress. I'm waiting for my pal to get parts for his engine hoist, so until that happens I'm working on cleaning up the interior - time consuming stuff.
Here are the front seats. They're power leather jobs from a 90's Mercedes. They're heavy and a little silly, but they'll do for the time being.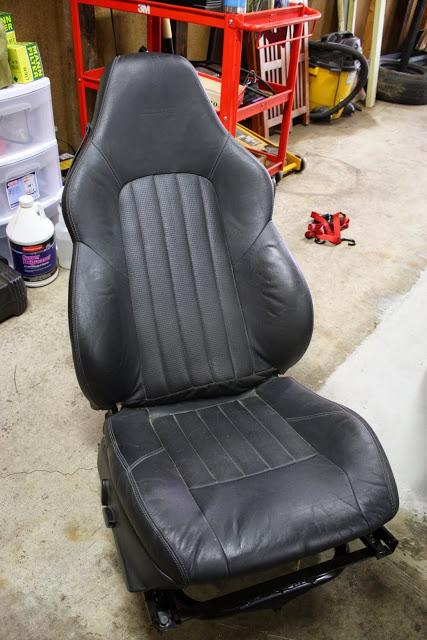 AMG!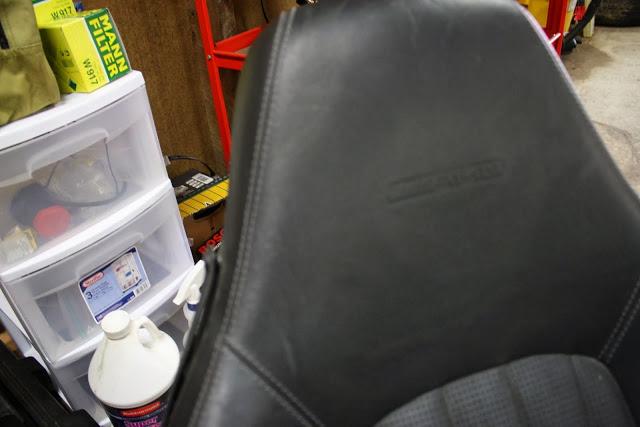 Here is what I'm working with on the floors. I spent this morning scraping the rubber off the floor so I can clean up any surface rust, sand and paint the floors before replacing the carpet. There are a few bits of rust, but the floors are solid.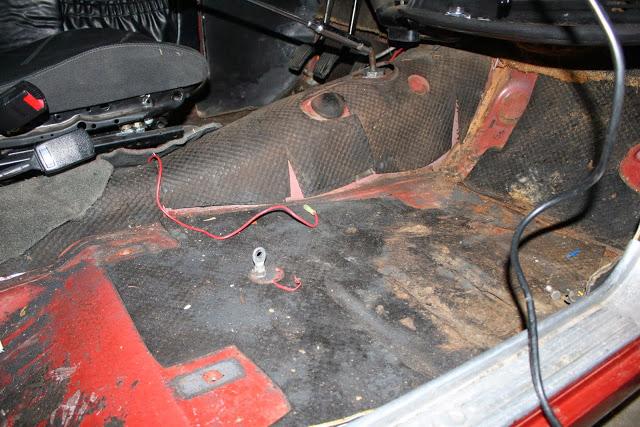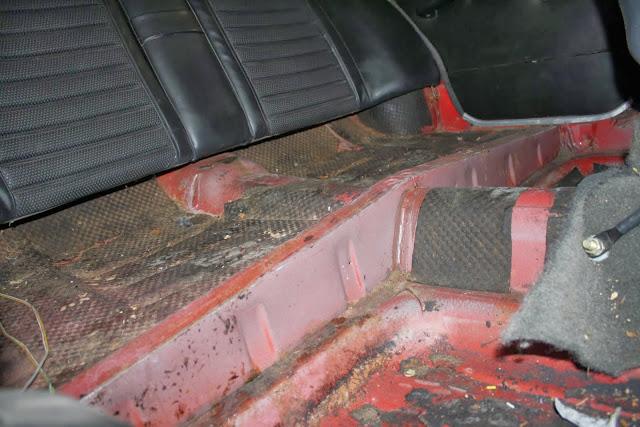 No wonder shifting was a little dicey... look at all the gunk in there!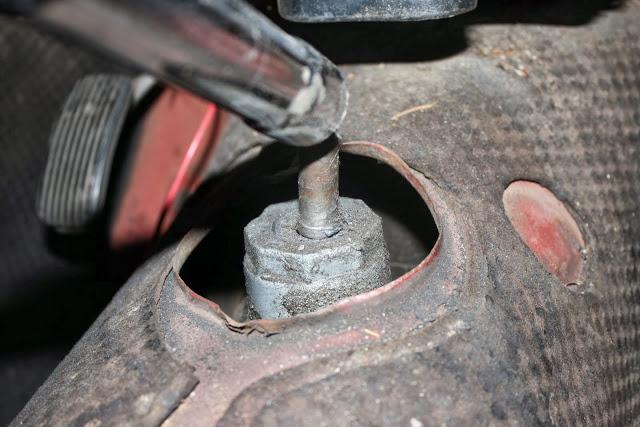 I also found this in the trunk... I promised it to my friend for his '65 as a token of gratitude for helping me out with the car.

I hope to finish with the floor cleanup this week.
12-2-2013
Not a lot of progress lately - got the interior (mostly) cleaned out and ready for paint and carpet. Put it on jack stands tonight where it is going to live this winter.
The underside is cleaner than my '04 Taurus! I'll post pictures when I get a chance. I definitely need a new gas tank though - she's is a'leakin' and the previous owner mentioned some "difficulties" with it... constant smell of gas in the trunk as well. These seem pretty easy to come by though?
I hope to spend some time with it over the next month and figure out what work needs to be done RE: brakes, suspension, etc. and get the driveshaft out. I know the U-Joints are shot at minimum.
I'll do my best to post lots of photos along the way!
1-19-2014
Here's what I've learned about working on this Volvo so far:
- Everything takes twice as long as I've expected it to.
- It's nearly impossible to get anything done in the garage when it's really cold.
- Cleaning (scraping, sanding, scrubbing) is by far the most time consuming and least enjoyable part of the restoration I've encountered.
Got a new gas tank on the way from IPD once the sending unit comes back in stock (I'll have to call tomorrow - it's been back ordered for over a month). Here's the old one after I tore all the gasoline-soaked carpet out of the trunk: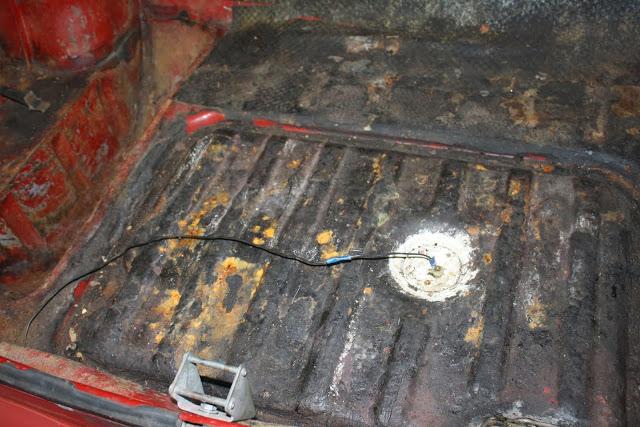 I've also decided to skip the motor rebuild this winter. Given how slow things have been going so far, I'm worried that the mill will be out of the car in one million pieces by the time summer rolls around and I'll miss the opportunity to drive her next year. I'll focus my efforts on making the interior passable, suspension, brakes and the fuel system.
Thursday nights are now Volvo night so more to come soon.
1-27-2014
Got my carbs back from my local shop today. I'm very, very happy with the results. He did a full rebuild,cleaned the manifold, and painted the heat shield. I can't wait to get these guys carburetin'... or whatever.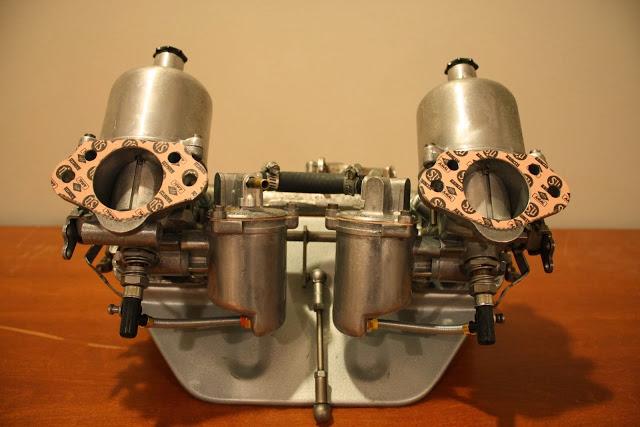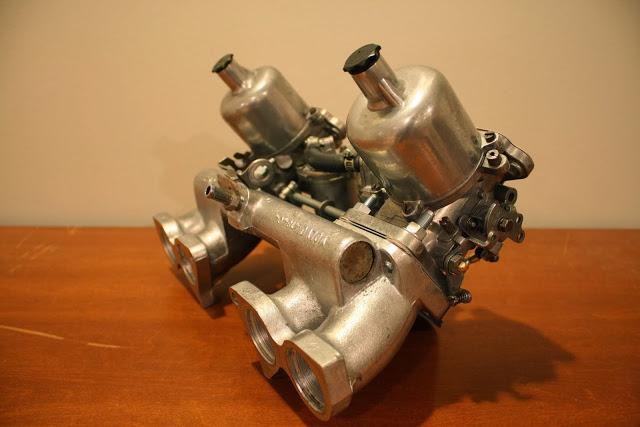 Since it's been about -20,000 degrees the past few weeks, I've been doing some work on the interior in the evenings. The back seat is in pretty good shape, but was a mouse house at some point and needs some repair work on the canvas. My wife is excited about doing some upholstery work so that should be fun. I'll also have to do some woodwork on the seat, which involves removing all the springs from the broken frame - not as much fun.
Vinyl is in good shape: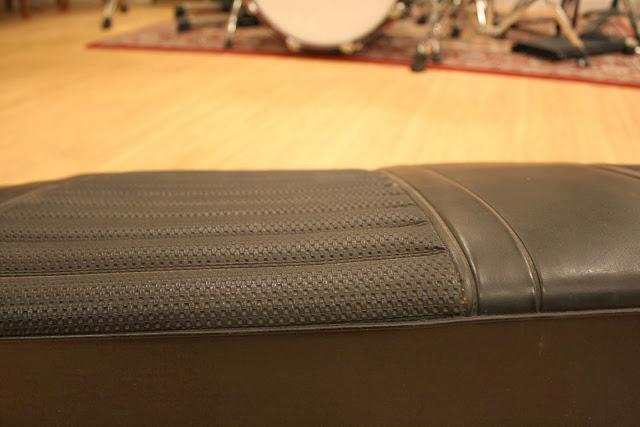 Squeek squeek?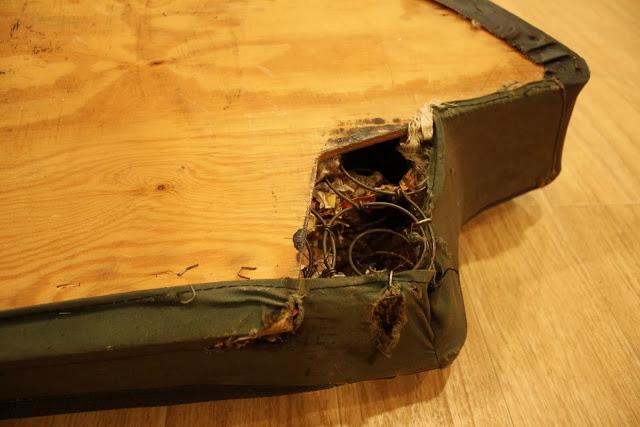 I think I'll splurge for some new foam.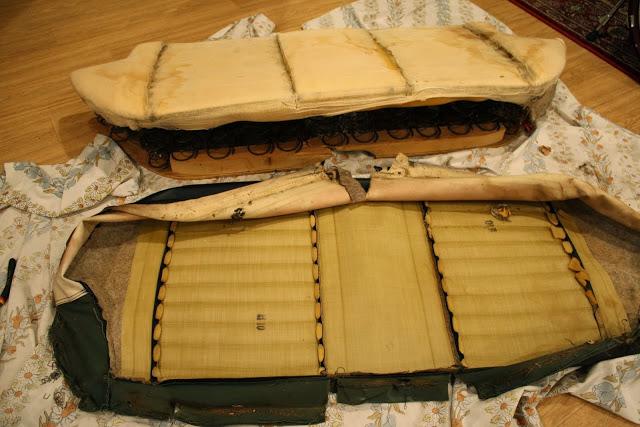 Gothenburg, we have a problem.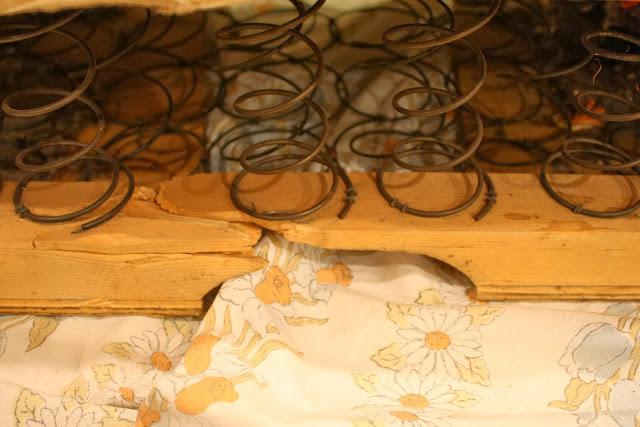 I hope to have this sucker back together soon.
4-22-2014
Updates! Up until this week it's been mostly tearing things apart, so now it's time to start putting everything back together so she can live again. Photos galore below.
The steering wheel had been wrapped in the past, and the adhesive had turned the rubber coating into a permanently sticky mess. Everything had to be scraped/sanded down to bare metal... lots of hours. Very happy with the results. Still need to do a clear coat on the horn ring.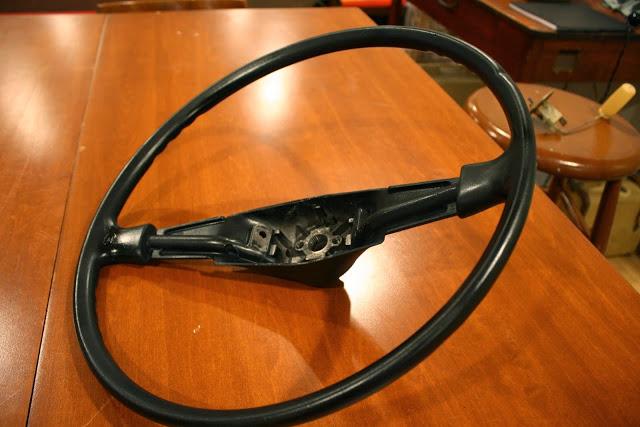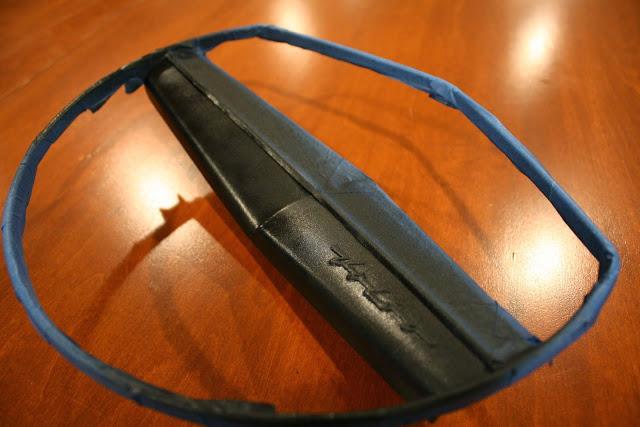 Next - the speedo. Gaudy gold, baby! I'm really happy with how it turned out:
Before: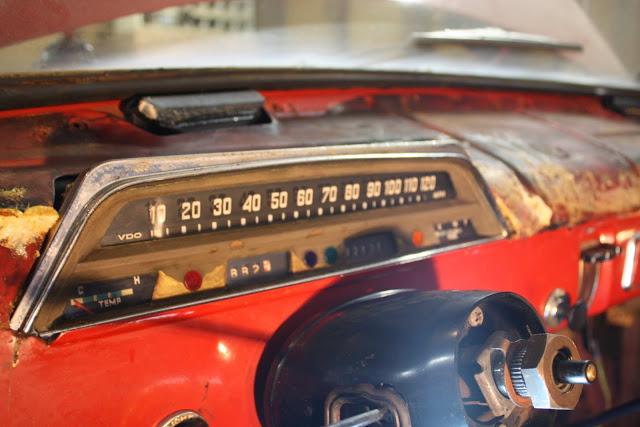 After: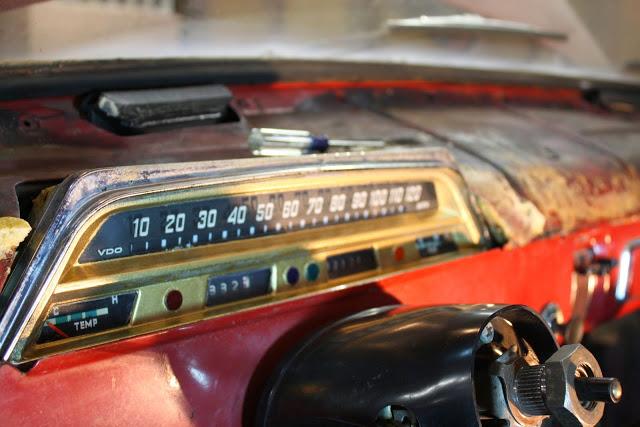 This gold will be used on all misc engine bay components until it's gone

The trunk (new gas tank about will drop in this week - the old was SO leaky and SO full of sediment), Before: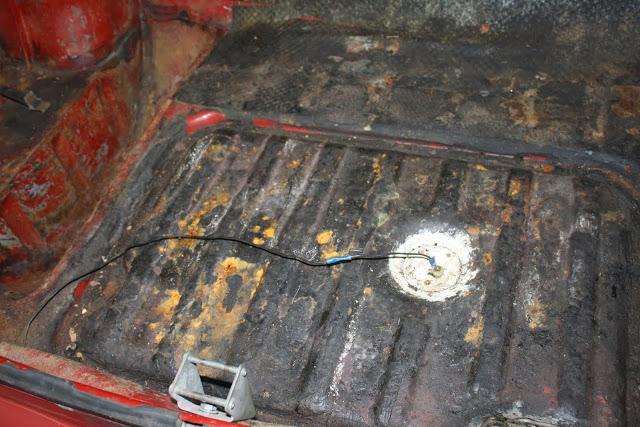 During/After: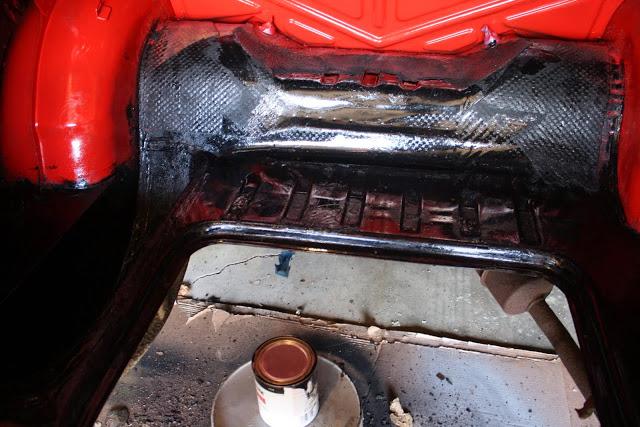 Cleaned up exhaust manifold: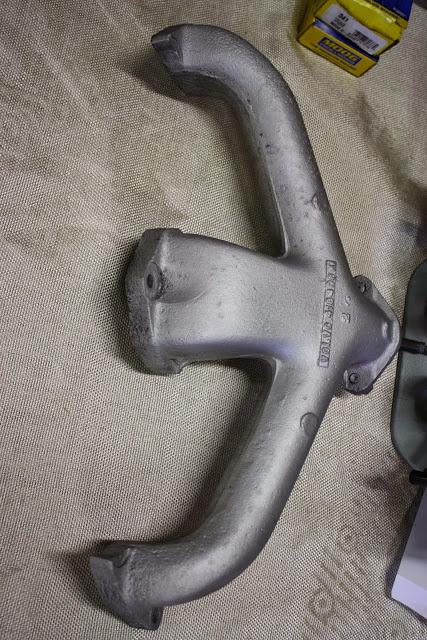 ...and got these great gauges for $10/3 at an antique sale. The bezels are a bit rough... maybe GOLD?!?
I hope to have it running again by the end of the week, and on the road by mid-May. I still love working on it, and am learning so much.
More updates to come,
4-24-2014
More work last night. Photos to come.
-Brakes look good, front and rear. Lots of life left in my rotors and drums.
-Rear drivers side wheel bearing is cooked. I understand replacement is no small feat? My budget winced.
-Lots of filth in the coolant - inside of the head is filthy. The long water pipe that runs along the side of the block is done for. It's half JB Weld and starting to disintegrate where it meets the rubber hose behind the block.
-We opened up this drain (#17 - which I expected to be the block coolant drain) and got NOTHING. What should have come out? Oil? The manuals all just say "drain".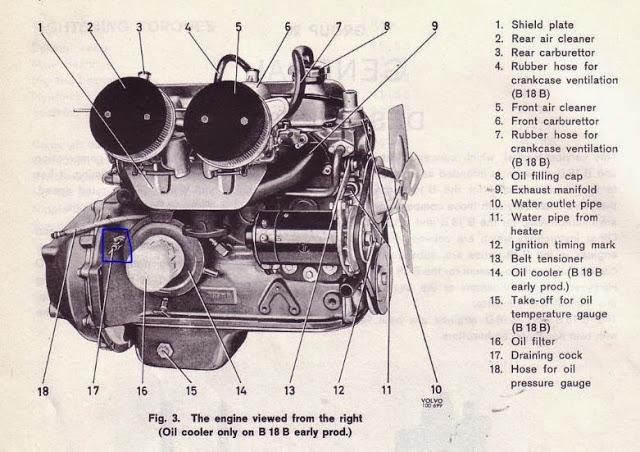 Looking forward to some insight. Back at it again tonight.
4-25-2014
More stuff today. I hope somebody finds these updates interesting... they make me feel like I'm accomplishing something and slowly getting the car closer to being back on the road!
-Wired up the Pertronix kit and a new dist. cap/rotor. Cleaned the rusty breaker plate up.
-Replaced all four shocks - I wish I had a video of my pal compressing the old ones... the front ones never came back!
-Finished the steering rag gear/new horn wire (old one had been spliced 1500 times)
-More coolant system work - put in a new water pump and pulled the radiator to flush it. One of the sides came apart when I pulled it. I'm going to price out having it re-cored... it's not in good shape.
-Painted the wheels. Tried a few different colors before settling on 3/4 gloss black for the steelies - looks really clean with the red.
Also priced out some tire options - 175/80/15's seem pretty available.
Have a good weekend, all!
5-10-2014
It lives!!! Or, at least it did for 10 minutes or so until the fuel pump ate itself while my friend and I were trying to get the carbs dialed in.
Carpets have arrived, tires are mounted (185-65-15's), fuel pump is on order and everything (in the engine bay, anyway) is re-assembled. I'm hoping to have it back on the road by Memorial Day.
Keep your fingers crossed for me. There's a lot to be done to make that happen.
5-18-2014
Fuel pump went in with no problems. My buddy worked his magic on the SU's and it's running better than ever.
Today was electrical day - my first time working on a 12v system. More than a little frustrating given all the hack-job wiring that's been attempted over the past 50 years.
A few trouble spots remain:
- Front running lights and turn signals are acting strange. Drivers side works well, but passengers side turn signal will sometimes pull a faint signal from the drivers side runner (?) and sometimes doesn't work at all. Cleaned up all grounds and sketchy connections for the lights, but still having issues trouble shooting.
- Brake lights. Intermittent at best in the rear, even after cleaning up or replacing all applicable sockets. I think the issue is with the hydraulic switch up front. Is this a hard part to come by?
5-20-2014
The 'Vo and I had a bit of a falling out tonight.
The old brake switch is absolutely welded in place after 50 years. After many frustrating attempts to get it loose, it's spending the night in a PB bath.
On to the back seat belts... I purchased retractable lap belts, and the design is rather silly: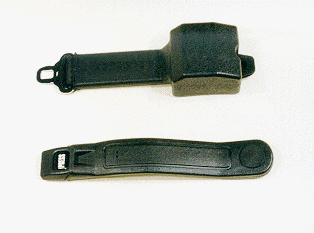 The spooling bit (top) is huge and clunky, and I'm thinking I'm going to have to modify the back bench to get it to slide in around this behemoth. Anybody have any experience with this type of install?
No progress at all tonight - I just laid the carpet in, laid down on the squishy floorboards and wept into by beer. I need to get this thing back on the road soon or I'm going to forget how much fun it is.
It is a LOT of work. I have a ton of new-found respect for anybody who has (or will) resurrect these beautiful machines on a regular basis.
6-19-2014
Ladies and Gentlemen.
The good news:
After 8 months of living in my buddy's garage, and discovering that BOTH of my front calipers were seized, my Amazon is back together and home. And it looks gooooooood - I got 2 waves in the 4 1/2 blocks from my pal's house to mine.
The bad news:
It's running like dog poo. Rough idle (sometimes doesn't run on cylinders 1&2), almost no power on the road, the rear float bowl leaks gas when it's running poorly... it's not good.
I'm extremely unhappy with the job the local carb guy did with these SU's. Lesson learned: don't assume sending something out means it's done right. Shortly after getting the car running, I quickly learned that the carb pistons stuck and one of the floats had a pinhole in it, so it was filling with gas. I got the pistons working and replaced the float with a new-style (no adjustable metal bracket) from IPD, and then figured out that it wasn't running on 1 & 2 at idle, even with the other adjustments. I can get it tuned to run pretty well if I mess with the jet screws, but then if I let it sit and start it again awhile later, it's a mess again. Absolutely no power on the road.
Tomorrow I'm going to check the weights in the distributor and then start fiddling with the carb tune again.
Good news: I found out my dad's neighbor drove P544's daily until the mid-90's, and has given me all his extremely awesome 60's shop manuals, parts catalogs and Unisyn. He is also willing to come help me tune this bad boy if I figure out that's what it needs.
Thoughts from you gurus? I have some time to try some things this weekend.
Does anyone know any SU pros in the Mpls/St Paul area? I might need to call in the big guns for this.
6-21-2014
Well guys, to George's point, try the easy stuff first.
I popped the distributor cap to make sure the advance weights felt OK, and I noticed that the rotor had some wear on it... like it was rubbing. So I pushed it down 1/8" until it seated completely, put the cap back on, and fired it right up. The rotor was dragging against the cap and so it wasn't advancing correctly.
I'll post the end product photos later, but right now I've got a ton of driving to do. I can't wipe this grin off my face.
Thanks to everybody who's offered any advice or guidance over the past few months.
7-4-2014
So here's how I blew my budget to get it back on the road:
- New gas tank
- Rebuilt SUs from a local shop (NOT happy with this. Ended up having to do a lot of work and throw parts at it even after getting it back on the car)
- New carpet kit, dashpad cover and shift knob
- New fuel pump, water pump, and the two metal water pump hoses (mine were rotted).
- Bosch-style 55a Alternator (using IPD bracket)
- Pertronix Ignitor and new Bosch spark plug wires
- New tires (the old guys were falling apart - I was lucky I didn't have a shredder last fall)
- New brake light switch... and NEW CALIPERS AND PADS in the front (argh! The pistons in my old ones were totally seized.)
- Misc fluids, filters, hoses, paint, wire, beer, kleenix (to wipe away the tears of frustration)
All in all, it's running really well, other than plugs 3 and 4 keep bucking the wires, even with a new set. Thoughts on this?
Otherwise, it's just more interior work and a few electrical gremlins with the front turn signals this summer. The front end is basically non-existent, so it's going to remain an around town cruiser until I can do all the bushings and bearings (next winter).
I think the black wheels look good with the new tires:
Temporary air filters (Frams jammed between the husks of the old ones, painted gold):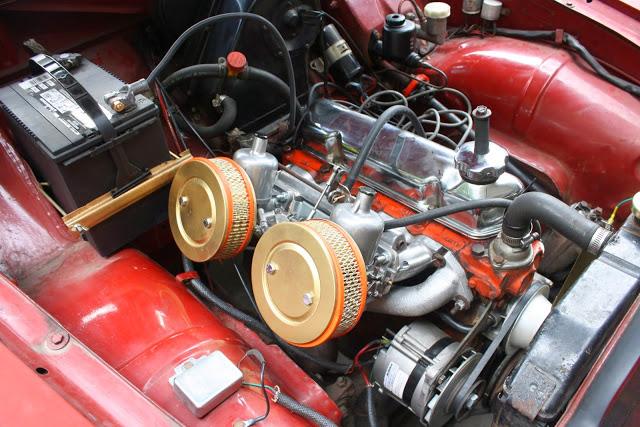 Repainted wheel, gauge cluster, and new dash cover (I'm going to delete those extra gauges and get electric ones at some point... the pressure gauge has a bit of an oil leak):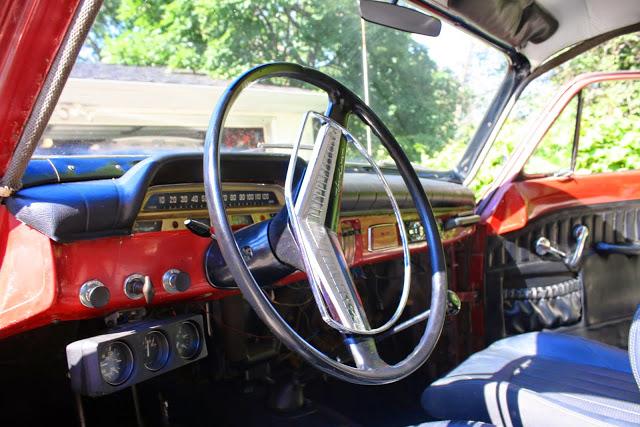 I still smile like a crazy person driving it around.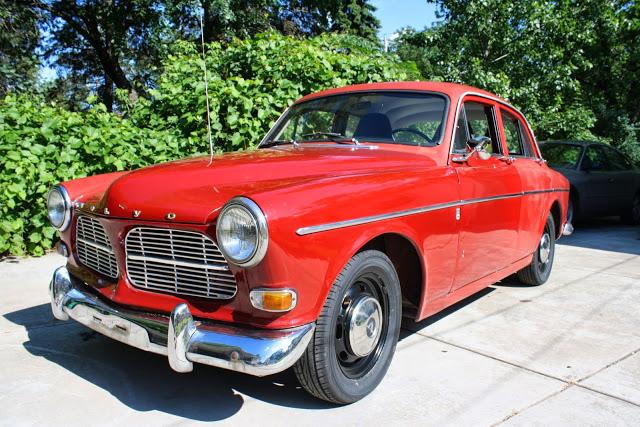 10-24-2014
Feeling pretty good today.
When I got this beast back on the road in May (June?) I never got the carbs dialed in right - idle was WAY too fast, and I've never taken the time to correct it, fearing the voodoo in the SU's (I've got HS6s). I just needed some time behind the wheel before I did anything that could potentially put it out of commission for awhile.
Over the past few days, I've managed to reverse the throttle linkage to it's correct position (damn you, crappy carb shop!), re-centered the jet on the rear carb (piston not fully seating) and went through the whole tuning procedure using an excellent 1971 Chilton manual and sw-em.com. Managed to get a fairly smooth idle somewhere around 800rpm(ish) and a seemingly correct mixture. I have a borrowed unisynch, but didn't end up using it... the old "ear tube" method worked fine.
Waiting for a few parts from VP and then back on the road for another week or two until I put the old girl down for the winter!
4-5-2015
Howdy folks. Getting the beast back on the road later this week. Starting to troll the fprum again and getting excited!
When she went down for her nap last fall, she was leaking oil from a number of places, including the rear main and oil pan. So, I'm pulling the motor this year. I've got a knowledgeable friend willing to help me with a basic tear-down and minor rebuild (all new gaskets, rings, etc.). I won't know what I find until I open it up, but I'm hoping it won't need anything extensive.
I'm planning to send the head out, so I've got to start shopping around. What should I look for in a shop? What questions should I be asking when I call around? I got burned when I sent my SU's out locally, so I'm painfully aware that not all shops are created equal or set up for this type of work. I'm in the Twin Cities (MN, USA) area if anyone has any recommendations.
4-28-2015
Success! Now for the hard part...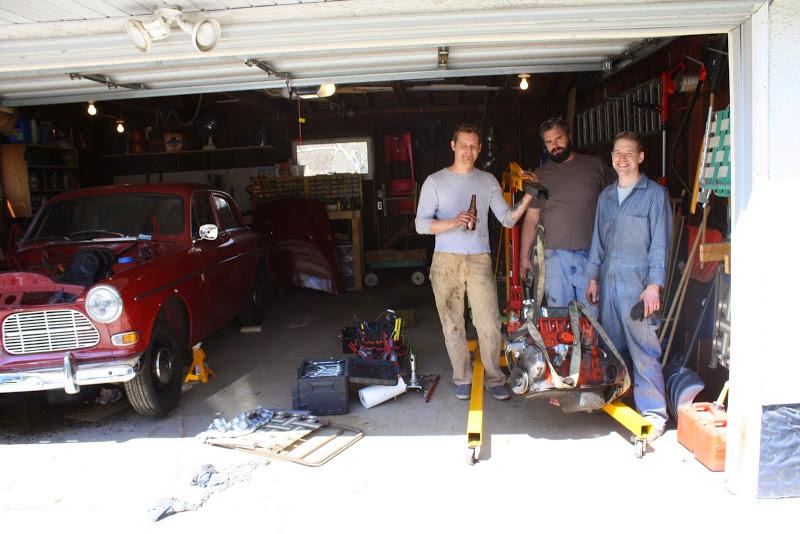 5-5-2015
So the B18 is now happily in 1,000 pieces strewn across my buddy's garage. Here's the lowdown:
- Camshaft is done for. My buddy estimates several hundred thou on this motor, although somebody has been in here before. How easy is it to swap in a "hotter" cam without changing too many other valvetrain parts?
- Pistons look great. No problem.
- Good that I did this... All the rings were garbage. The rings on number one FELL APART as soon as the piston was out of the cylinder.
- Timing gear was perfect... until I put a prybar behind it. Whups.
- Crankshaft journal look mostly good - a few strange scratches. If I've got the block in a shop, I'll have them cleaned up.
- Cylinder head is great. Just needs a refresh and hardened valve seats. My buddy is going to do some mild port work for me.
- There was a mystery lock washer floating around in the oil pan. Goodie.
- Lifters were roached, too.
- Unsurprisingly, the coolant passages in the block are pretty scummed up. Anybody have a block "boiled" before?
Bobby, I think I'm taking my buddy's recommendation and going with Crankshaft Supply in MPLS for the head and rotating assembly work. I have yet to get any numbers from them yet, though.
Woohoo!