66 Volvo P1800 Custom Build ( Pro-Touring Ls1 V8, Body Mods, and Flush Mount Glass) by Iamtheonlyreal1
By diyauto
78 minute read
You must be logged in to rate content!
66 Volvo P1800 Custom Build ( Pro-Touring Ls1 V8, Body Mods, and Flush Mount Glass)
Compliments of Iamtheonlyreal1 @ http://forums.swedespeed.com
3-2-2011
I am currently in the process of build a Pro-Touring style P1800 based off the Renditions of the Vox Volvo. I will be performing body mods and developing Newly Designed glass kits to update the car. I will be moulding the grill shell into the body and extending it a bit forward at the top, installing layed back headlamps with the outer glass lenses, recessing the tail lamps and license plate mount, installing a hood scoop, shaving drip rails, flaring out the quarters and fenders a bit, moulding in the front marker lights, removing the side trim, modifying 63 Corvette rear bumpers.
I am working with a suspension company to see if we can develope a bolt in updated crossmember.. The options will be rack and pinions steering, tubular control arms, adjustable Coil over (height and dampning), up to 13 inch drilled slotted rotors with 6 piston calipers, and the crossmember will accept several motor configerations.. I am also having some nice 4-link adjustable arms made for the existing rear end with coil over shock replacment for the factory Coil spring.
My company designs Flush Mount Glass Kits for the classic cars and they require no body mods. I will be making the flush mount windshield and rear glass, along with the one piece Green House glass roof and rear glass. I am not sure if they will be offered for sale, because I am not sure the demand would be there.. I have always loved these cars, and fell in love with the updated version.
This is what I started with.. I paid 1000 U.S dollars for this car, and it ran just fine. I had installed the wheels and lowered a bit to see what size wheels the body would accept without evasive mods.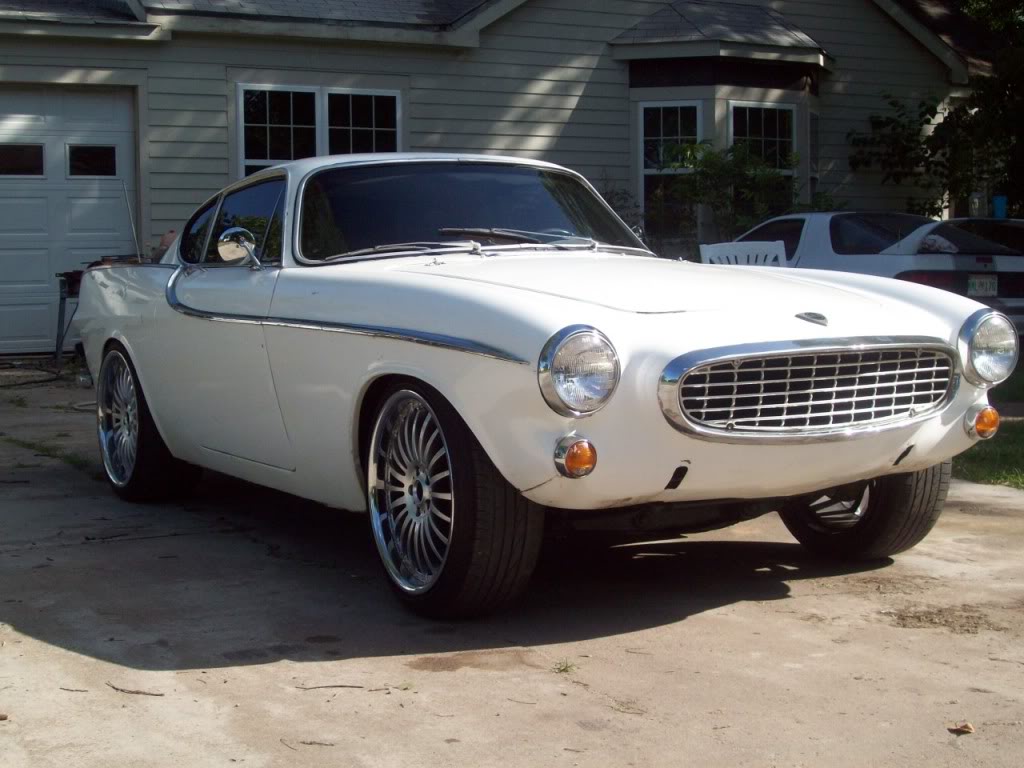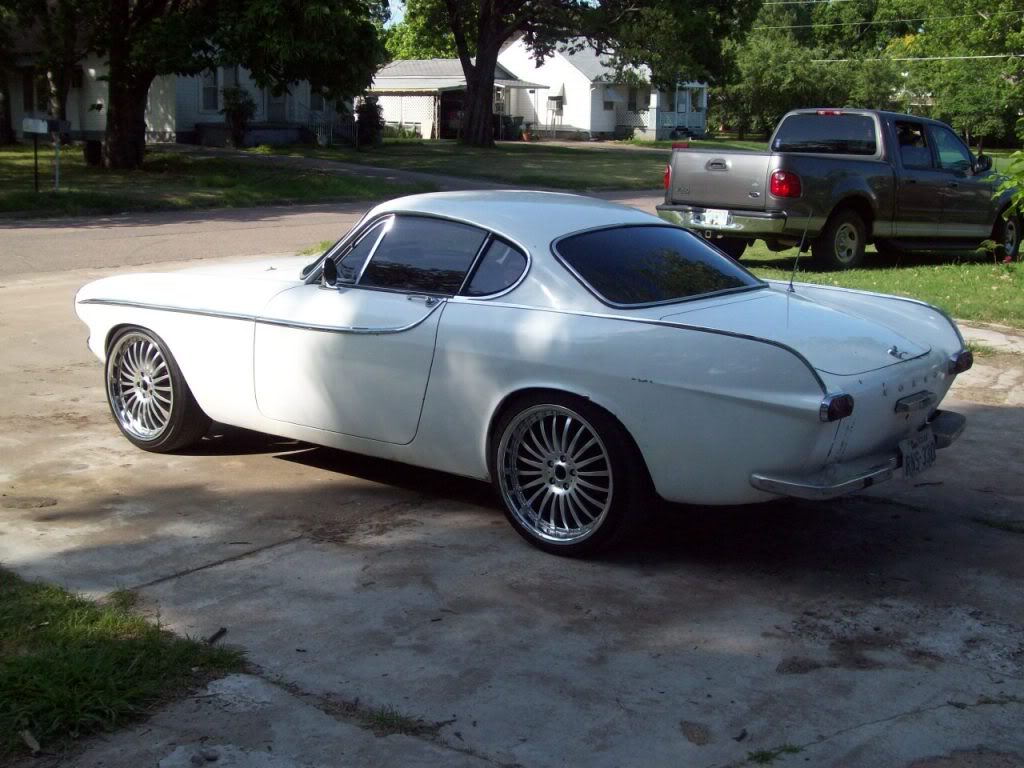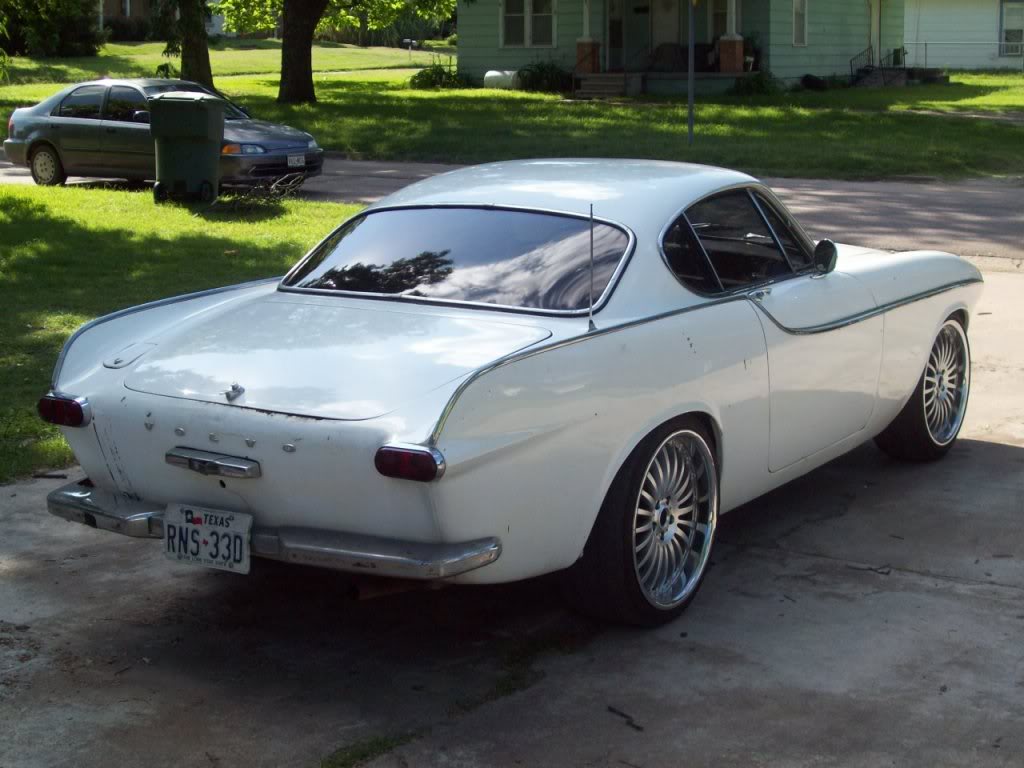 I am sure all you guys are familar with this rendition of the P1800 Volvo done by a designer from Vox.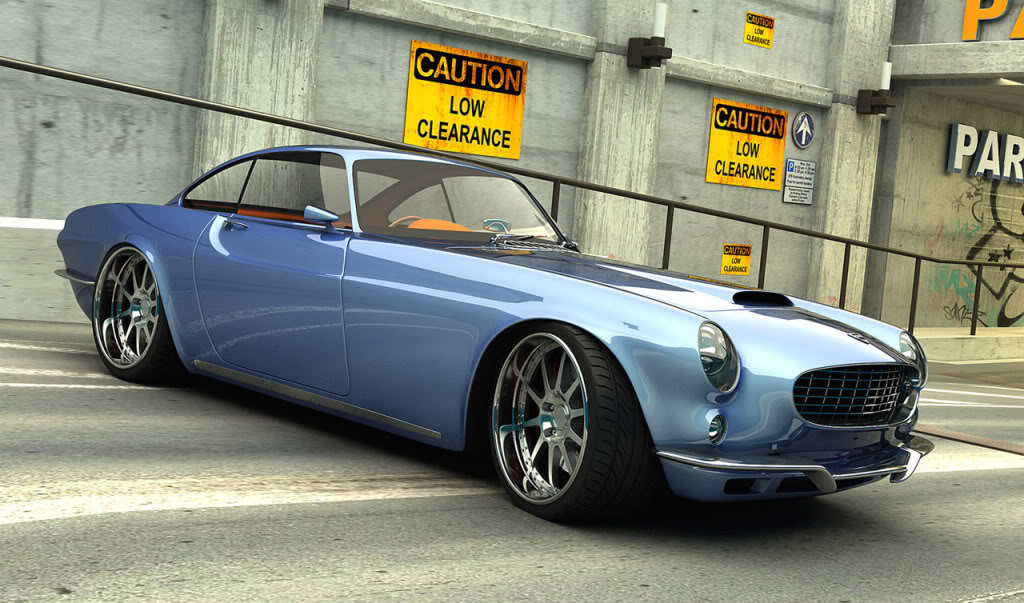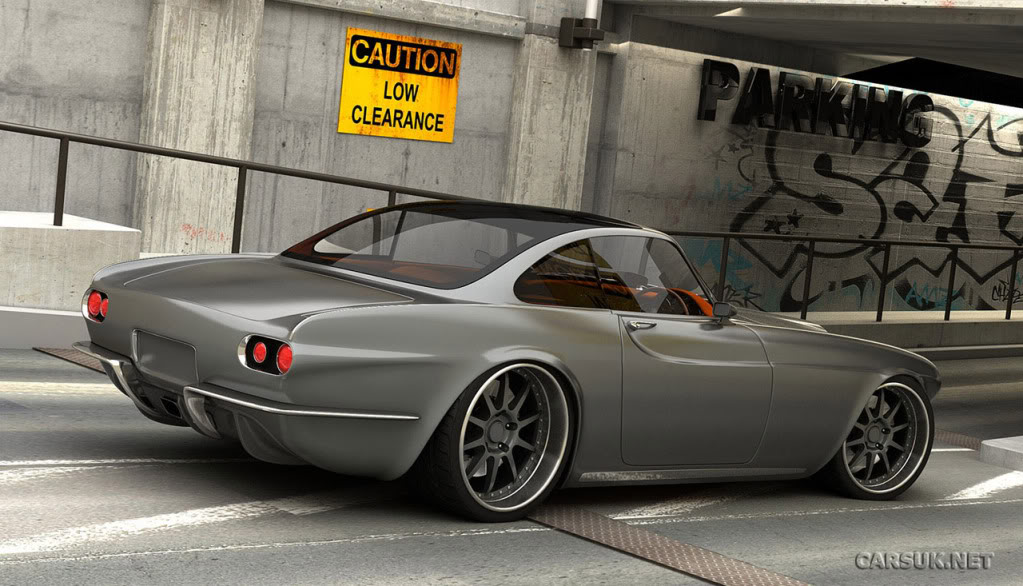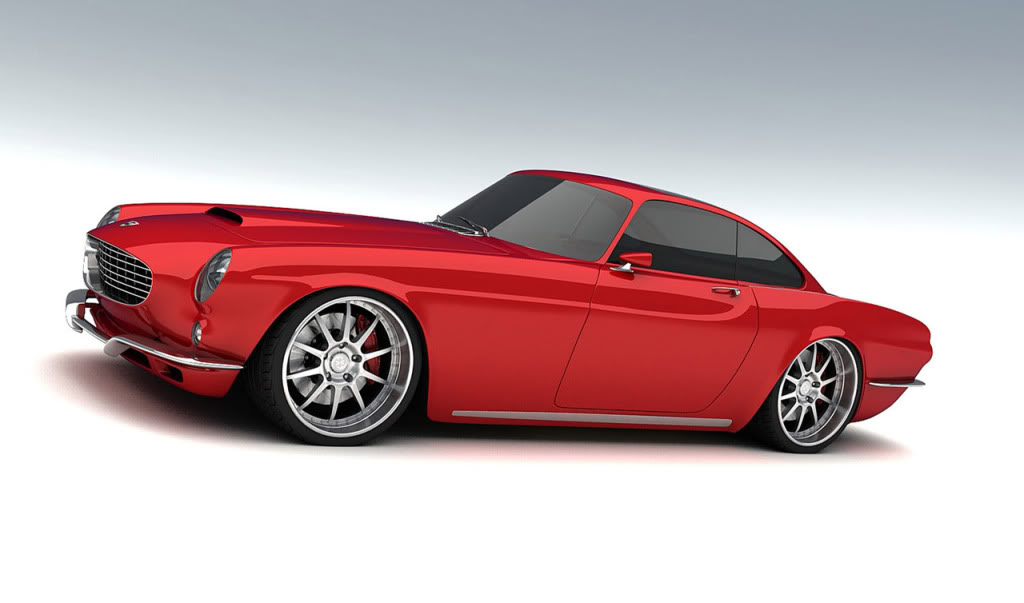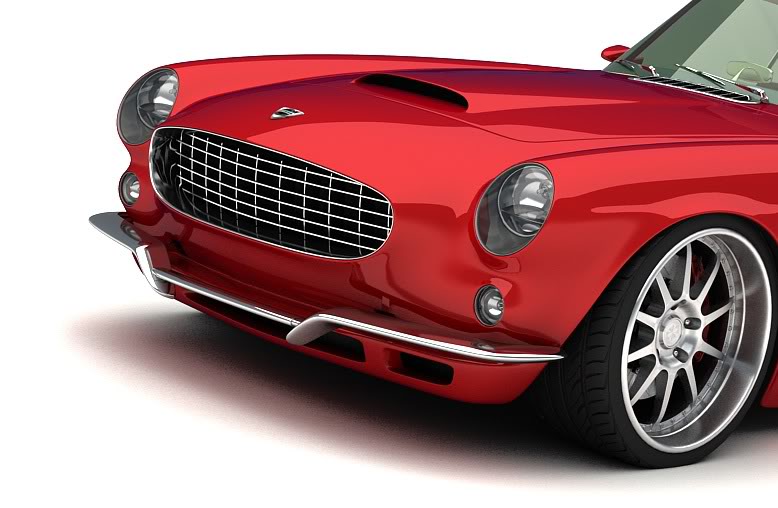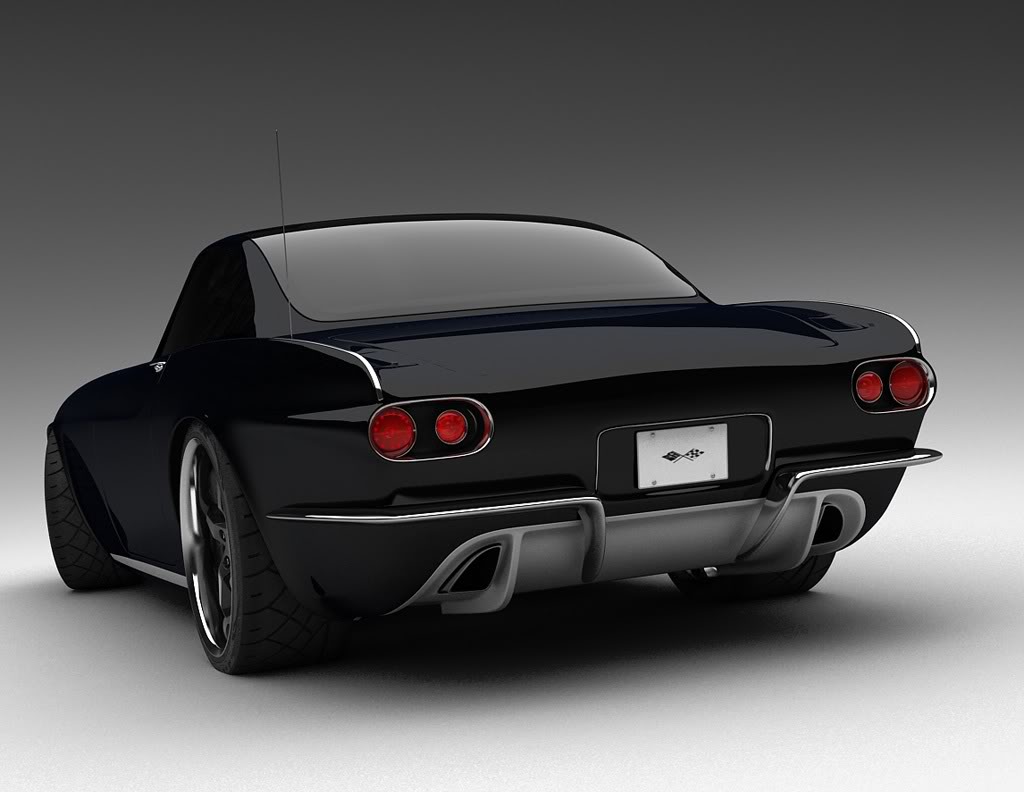 My first engine and drivetrain source, was the Toyota Supra's 2jz twin turbo inline 6 cylinder and 6-speed.. I really wanted to go this route because I felt European car in this style should not have a V8 in it.. The 2jz motor looked beautiful in the car, but it was going to take way too much work to make it happen.. Dont get me wrong, the V8 is work, but it was going to take even more to get the car to drive right with the motor positioning..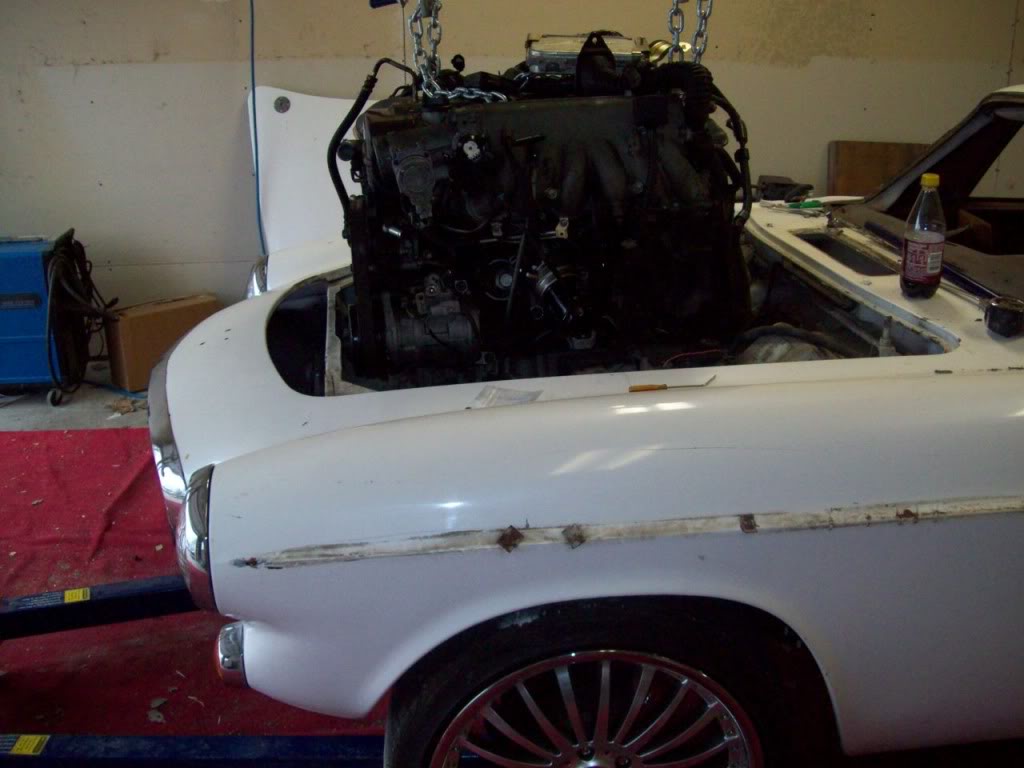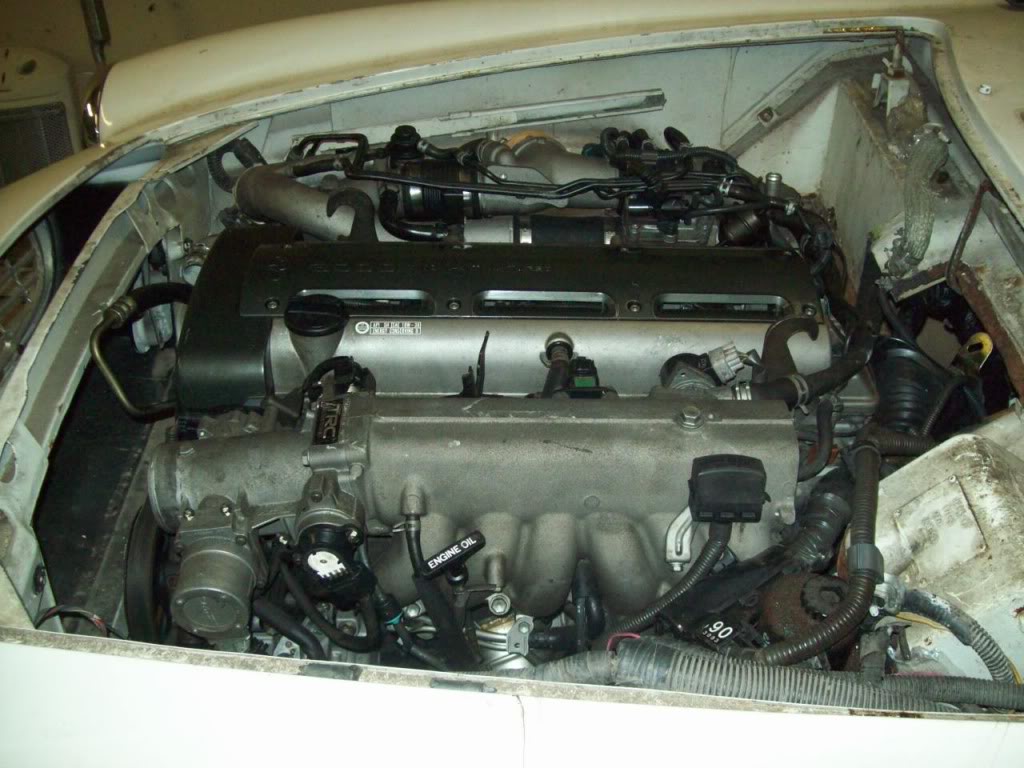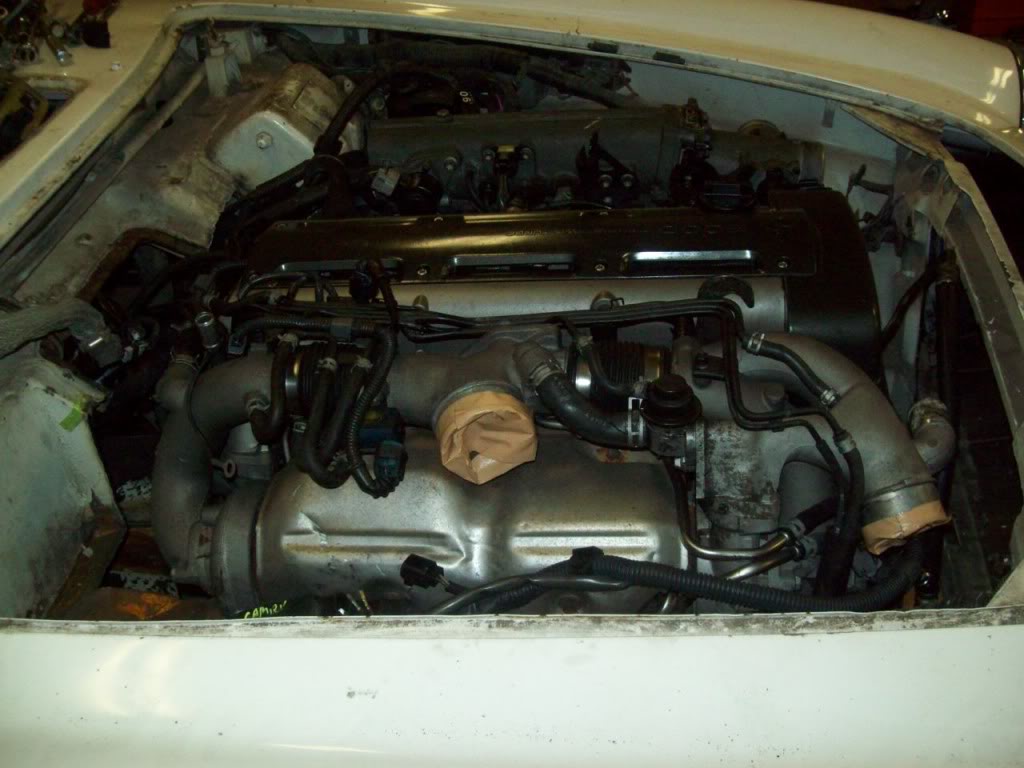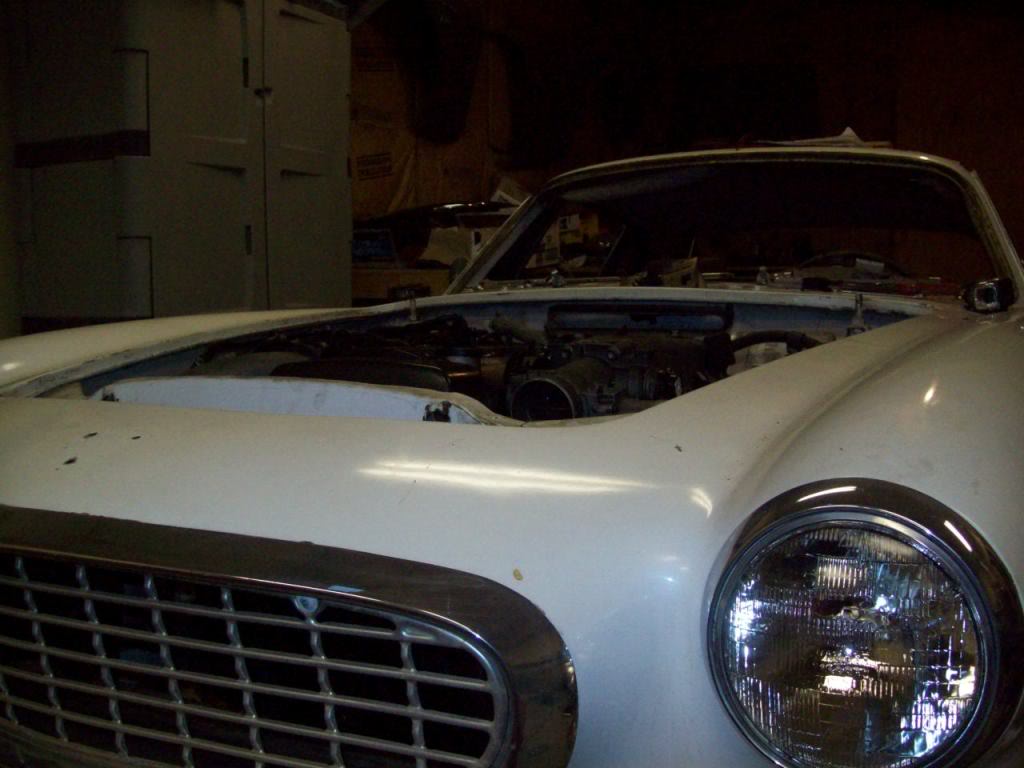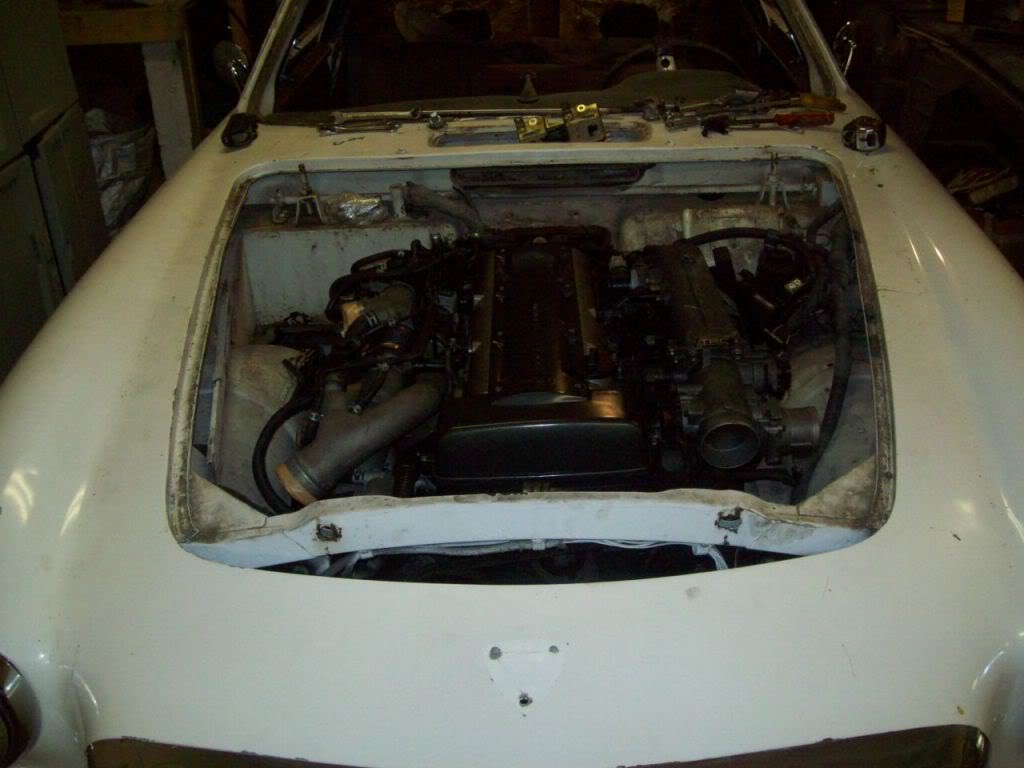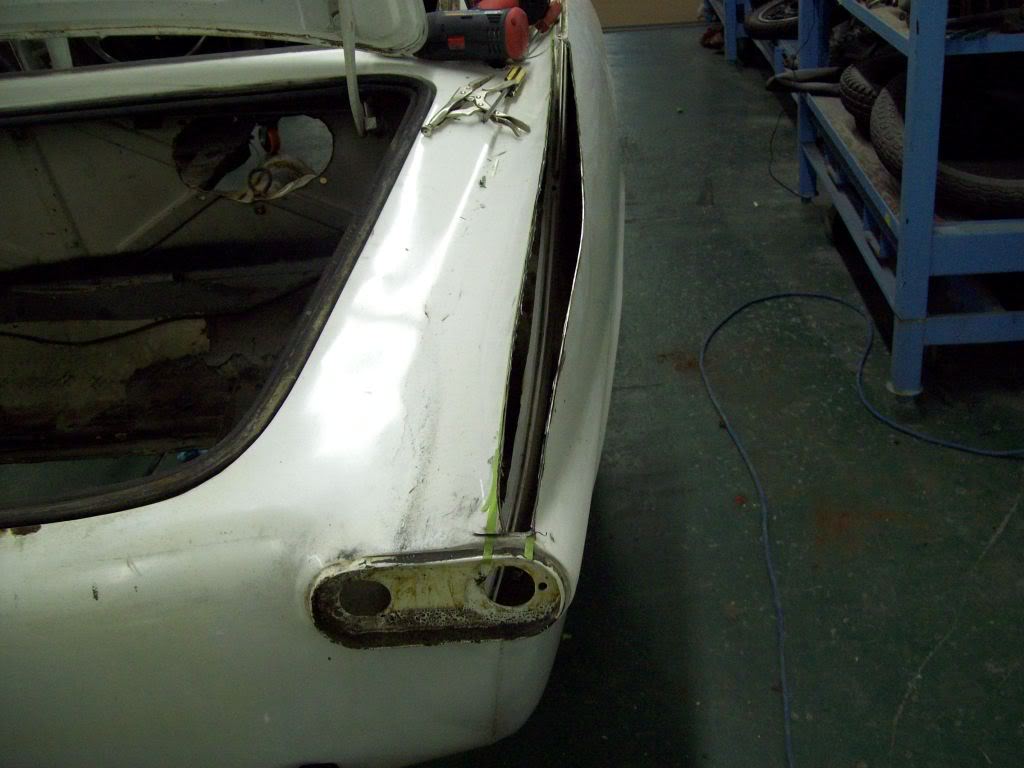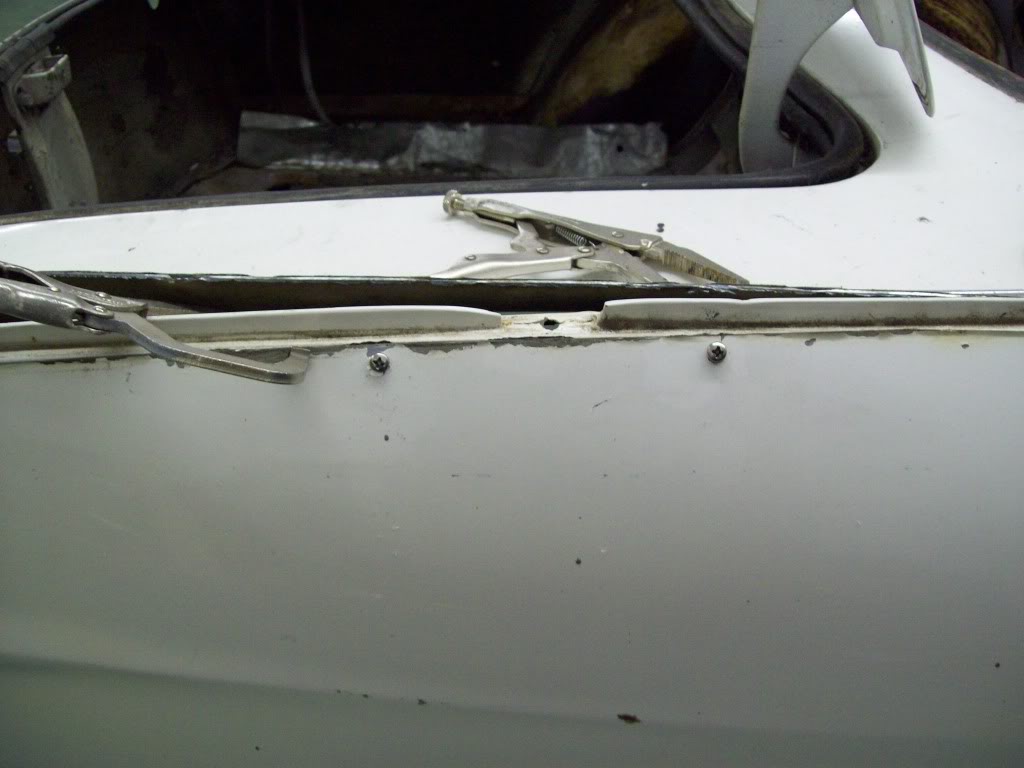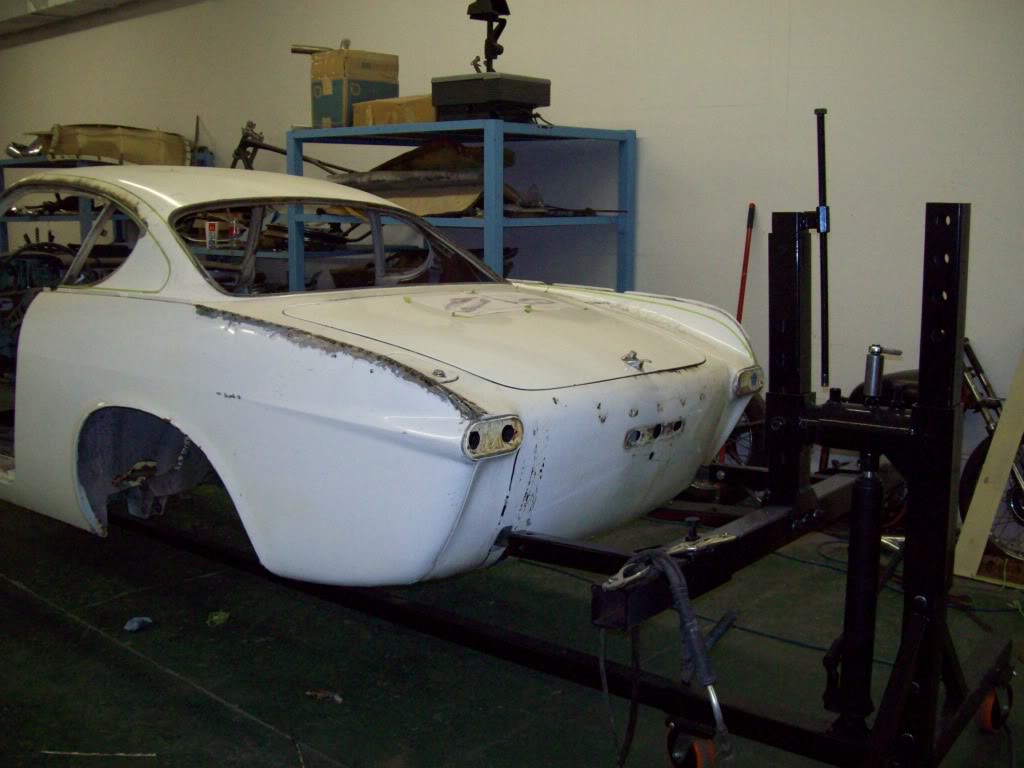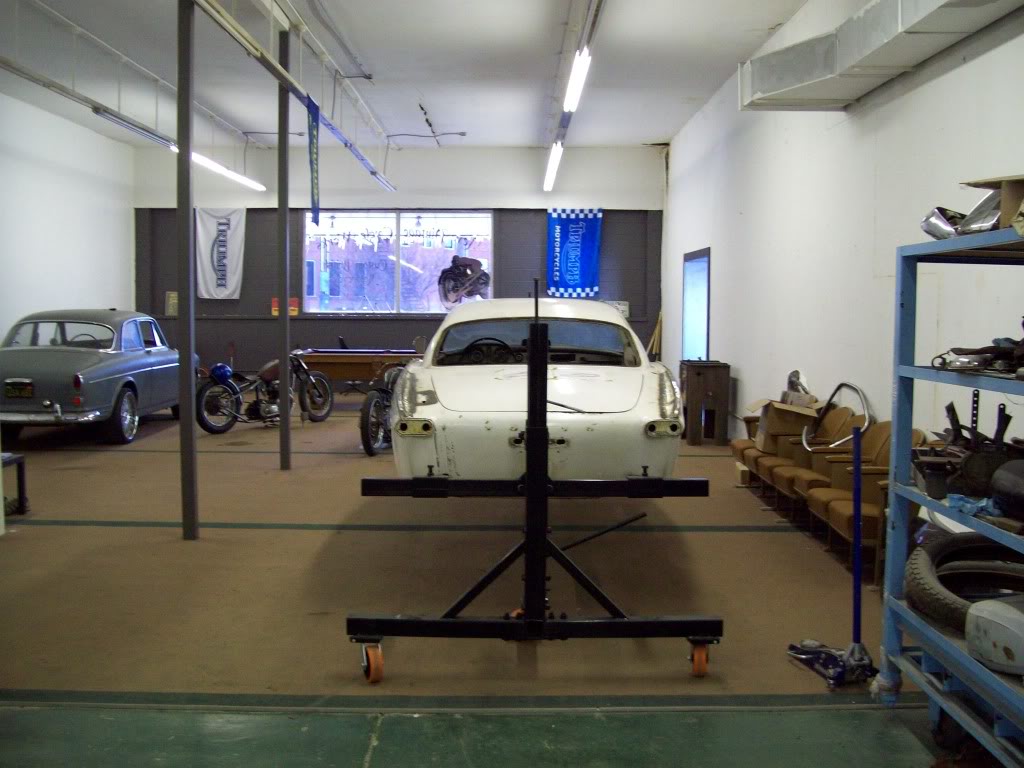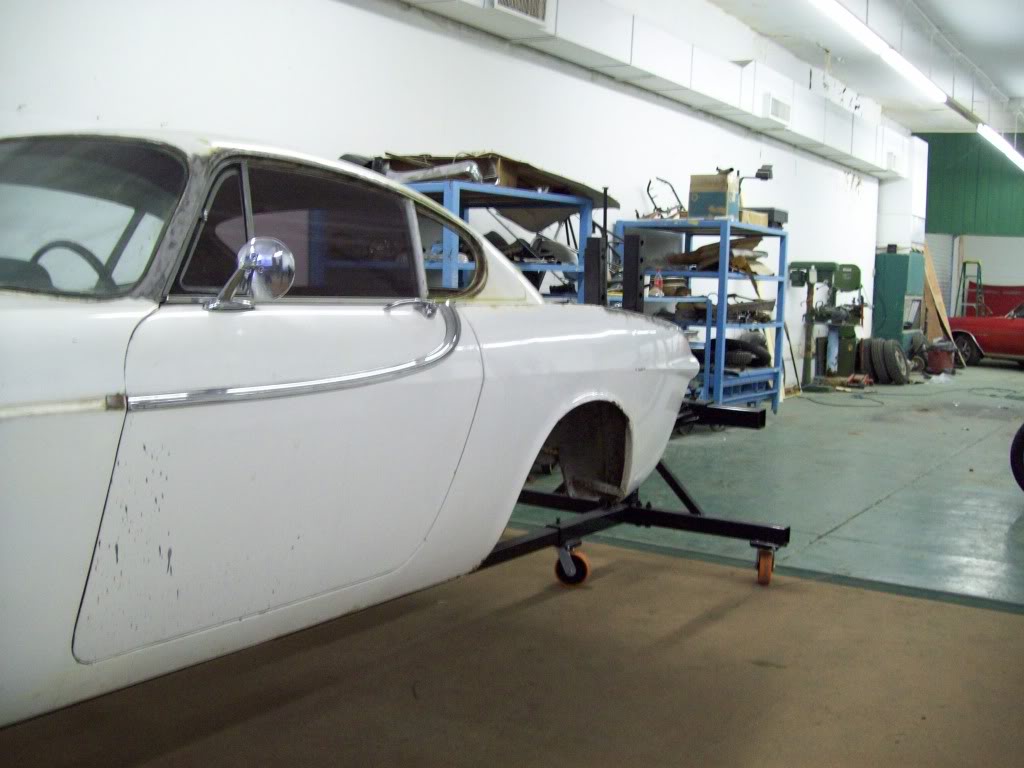 Here are the Drip Rails and the Hood Scoop Install pics..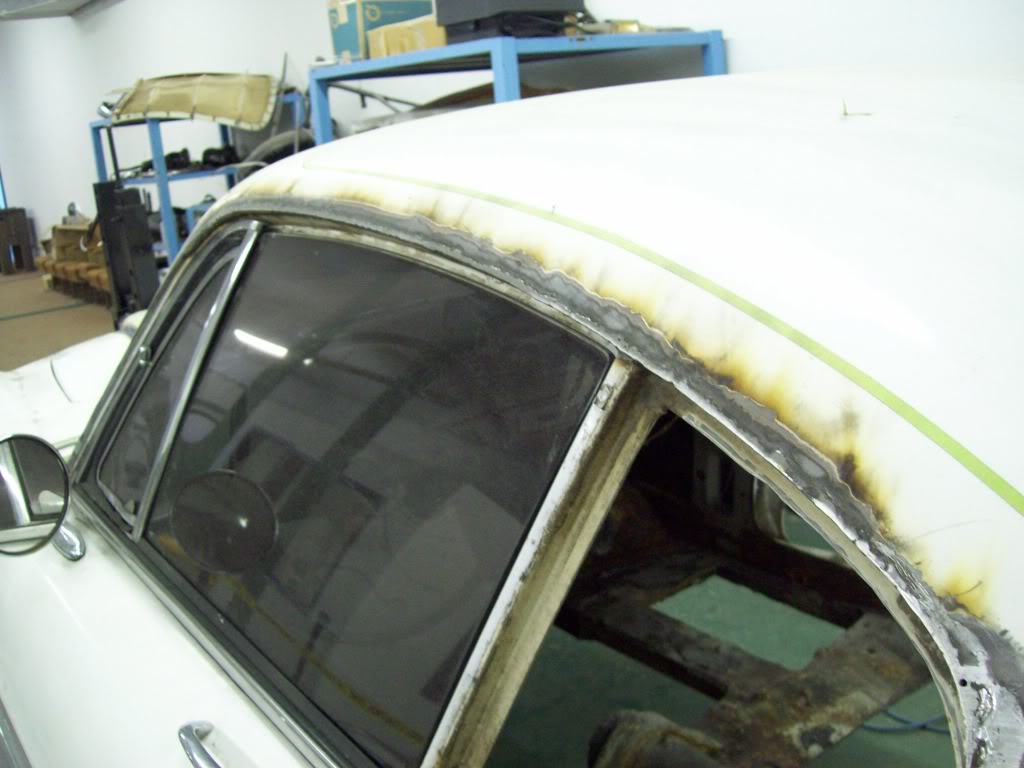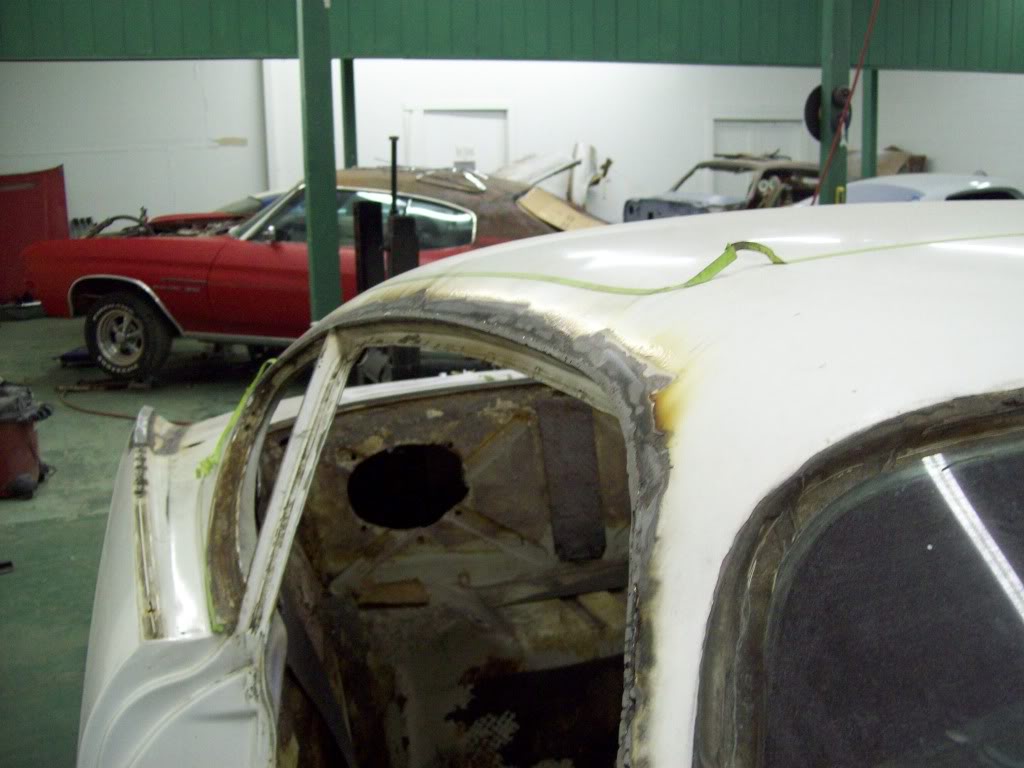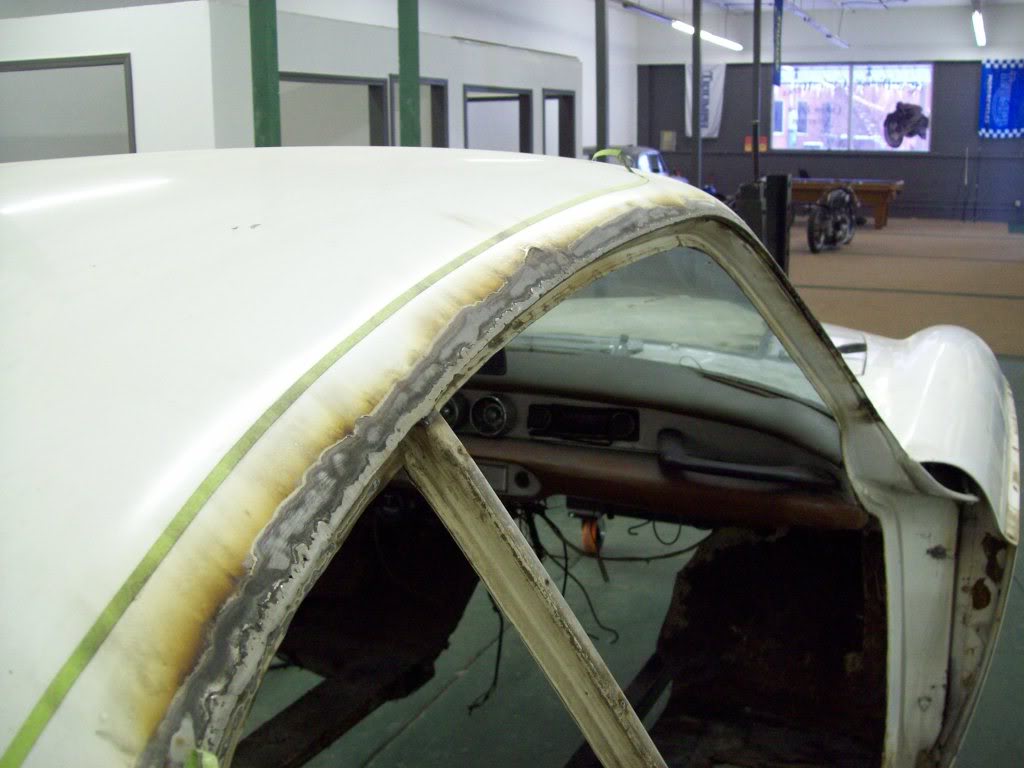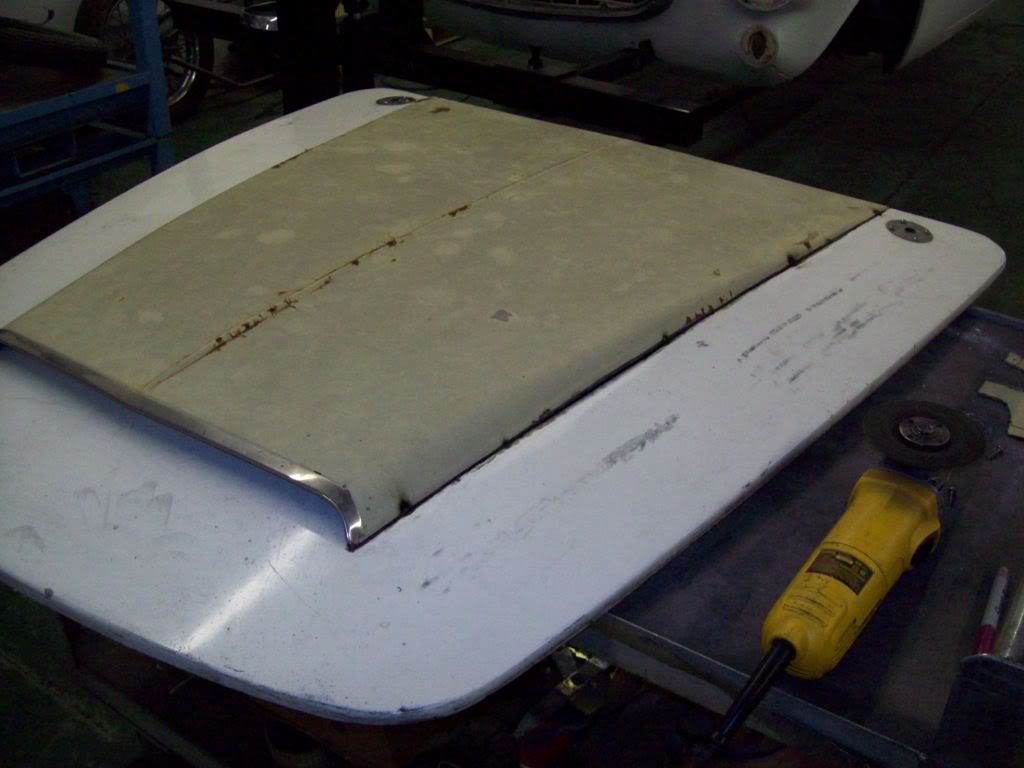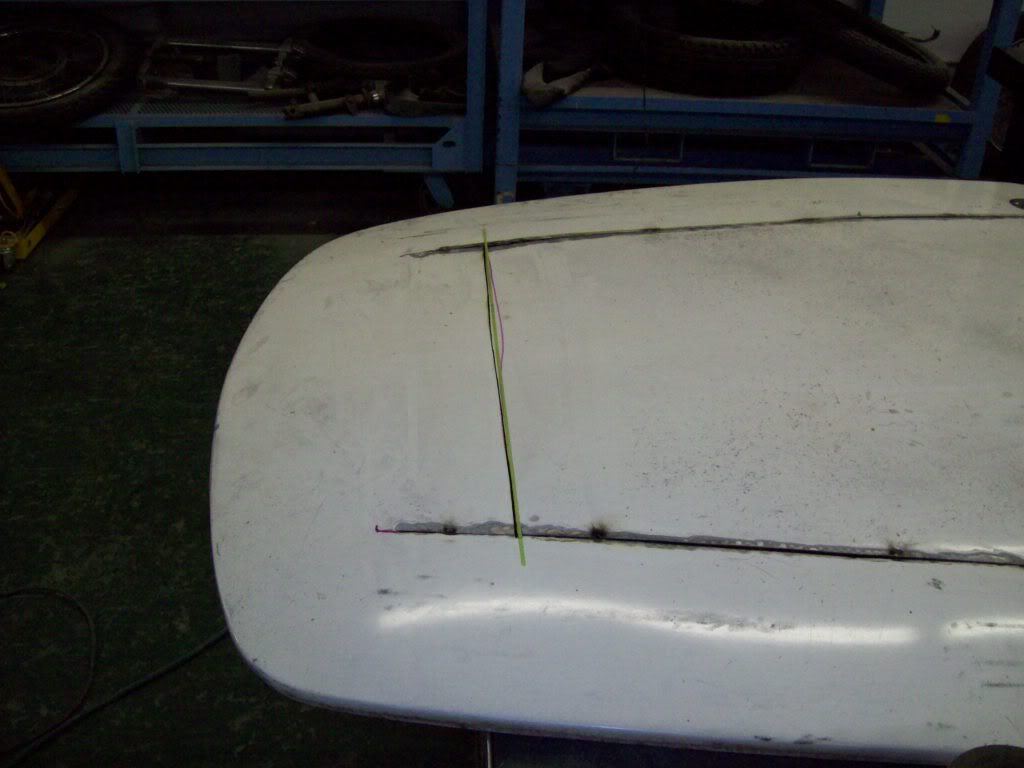 One of my next issues is the Tail lamps.. I cant seem to find a recessed light style that ressembles the P1800 or the Vox rendition, so I am considering other options.. It appears that I may be able to make the bulb sockets snap into the body to get rid of the tail light housing. The lense fits in body where the housing would normally mount, so I am considering a few options to stream line them if I dont actually recess them.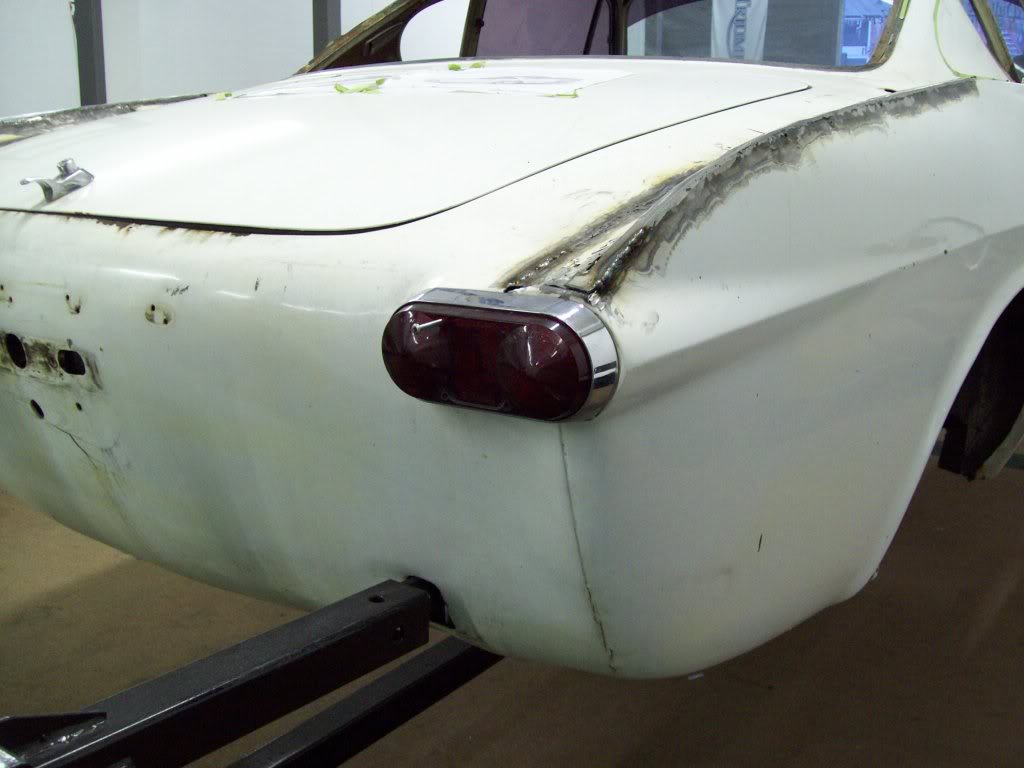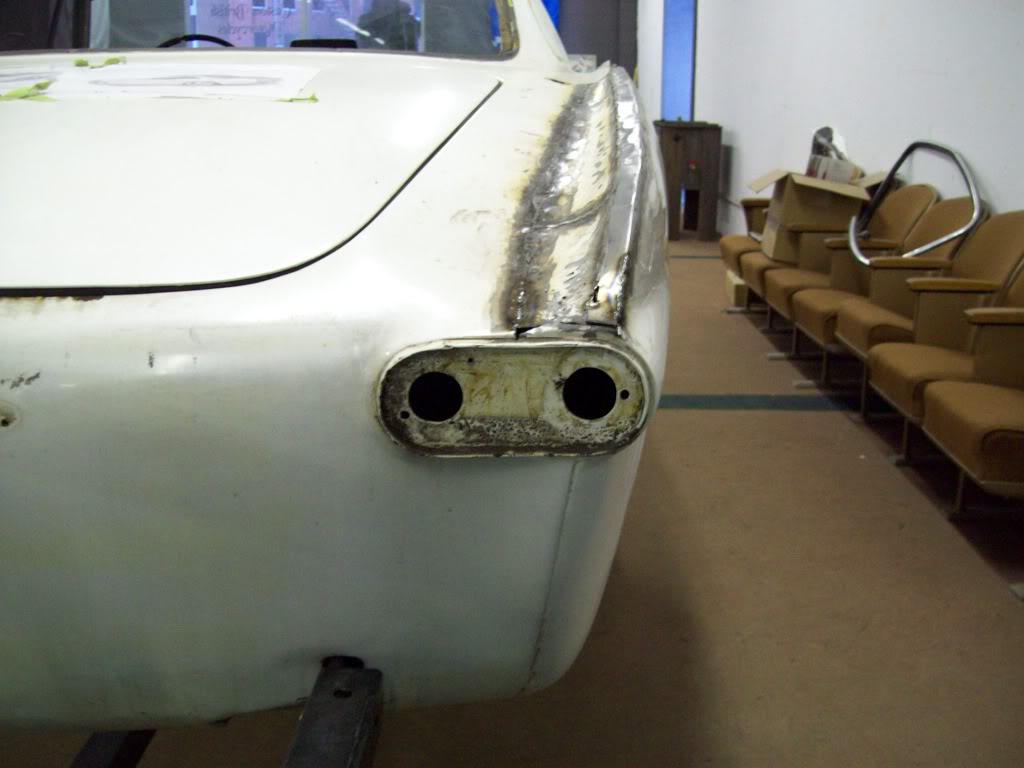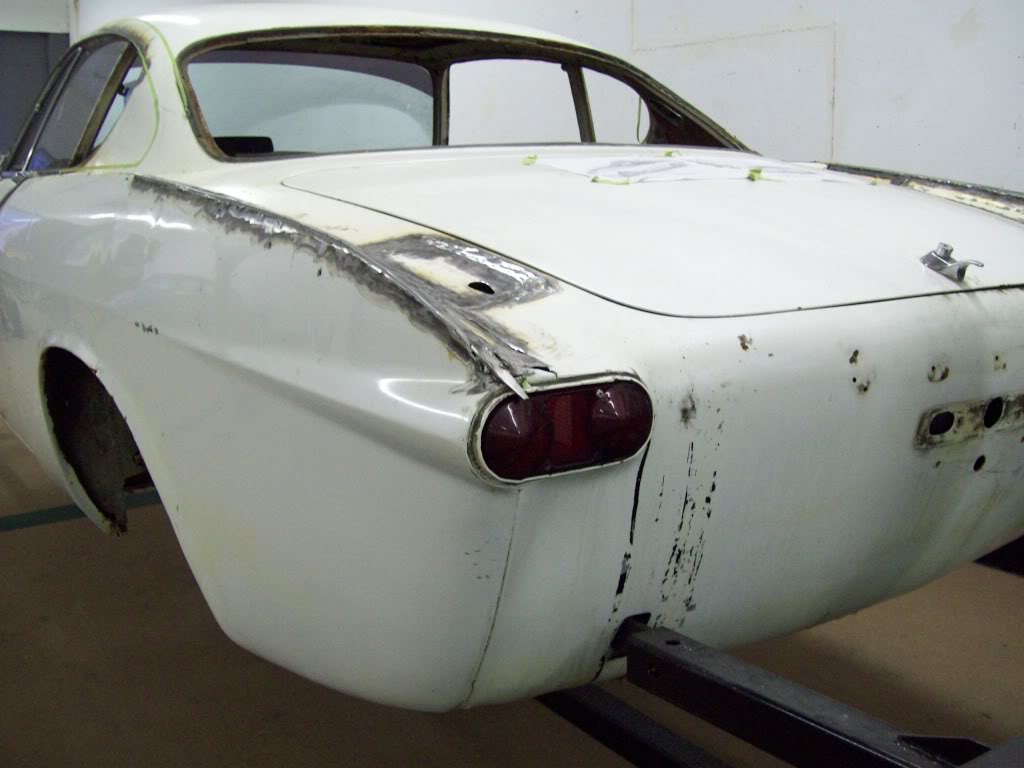 I am testing fitting an LS1 motor that I had laying around.. I really liked the looks of the 2JZ motor, but the LS1 opens it up a bit. I was thinking about turning the intake around and making my fresh air vent in front of the winshield my air intake and filter housing, but there really doest appear to be the room to make it look right.. My other plan is to build a filter tray on top of the radiator support and making the hood scoop an functional Ram Air...

So far, everything looks managable. The shorty style headers are going to be tight, but I believe they will work out with a bit of tweeking. The accessorie clearance is good along with the starter and oil pan height. I can move the motor back a bit more, and I may do that, but I am trying to get all the floor space I can get. The V8 Bellhousings are a bit wider, and I would rather have a bit more width if possible, without sacrificing handling. Overall the motorposition doesnt look bad, and it seems to sit nice and low in the body...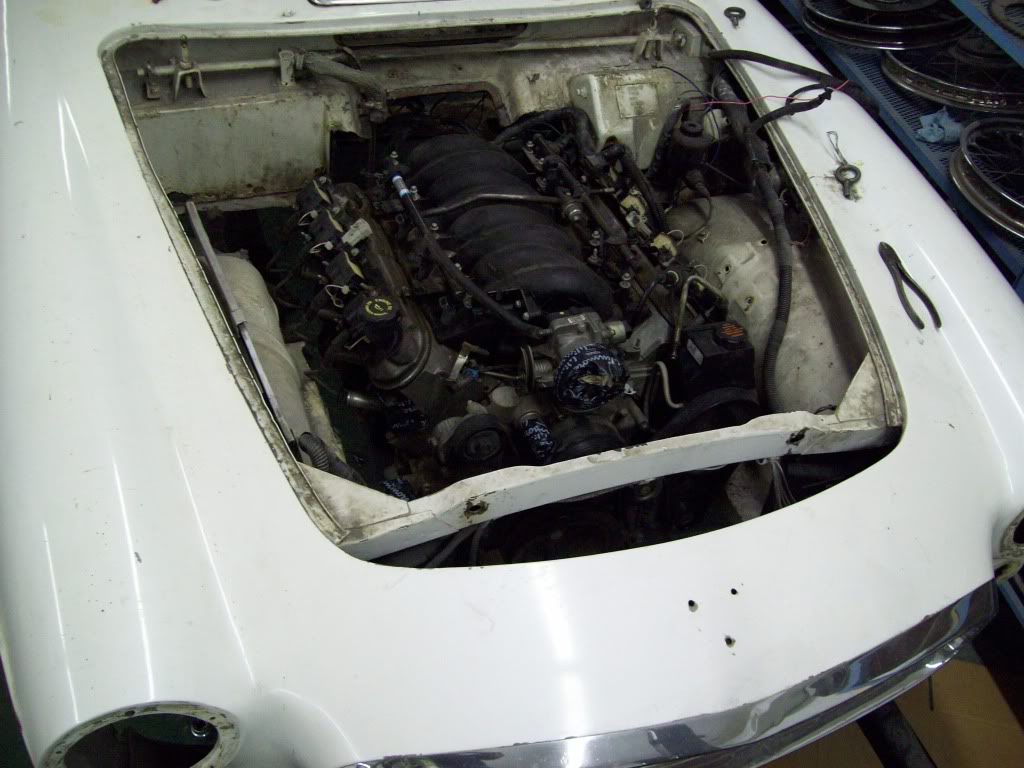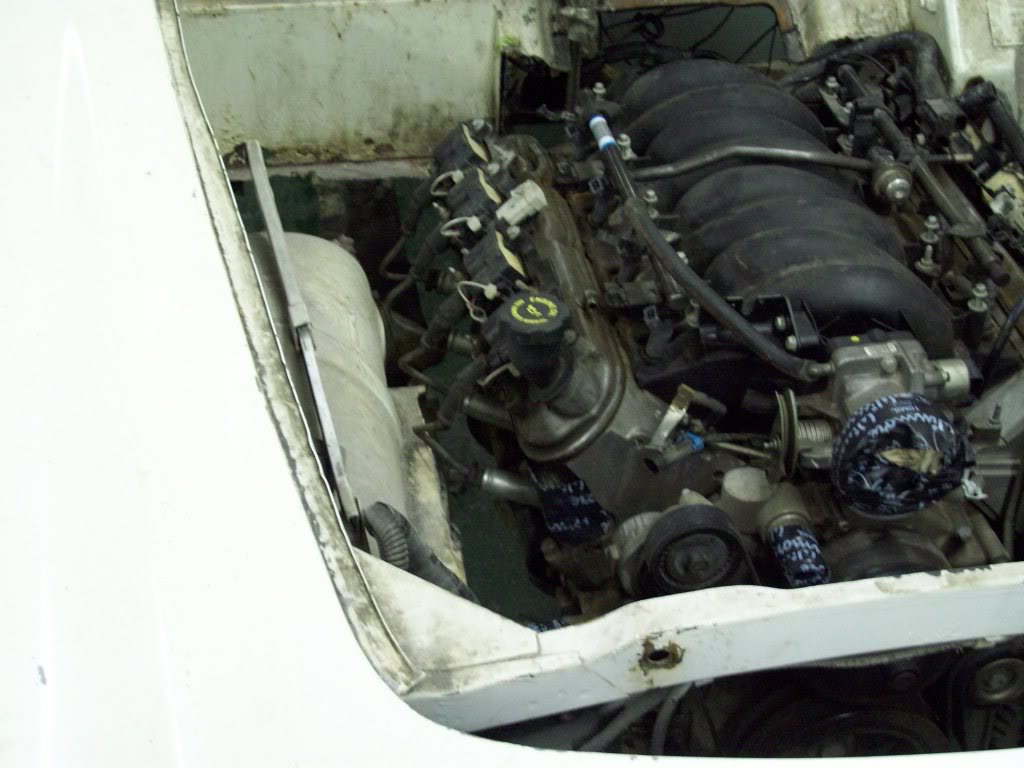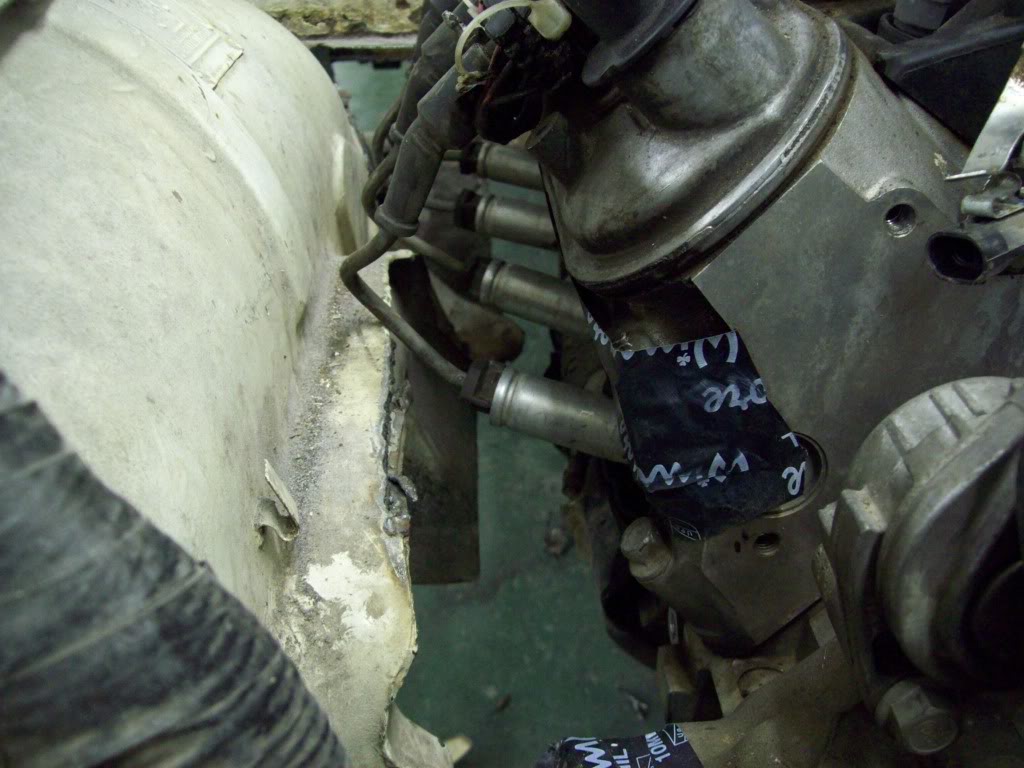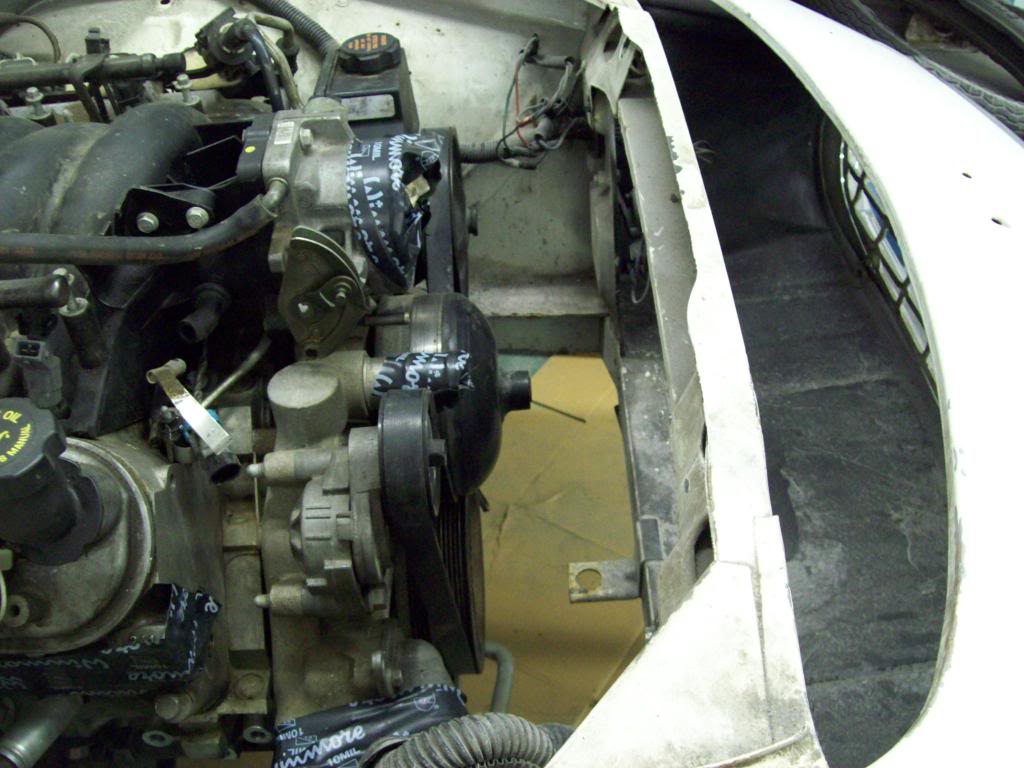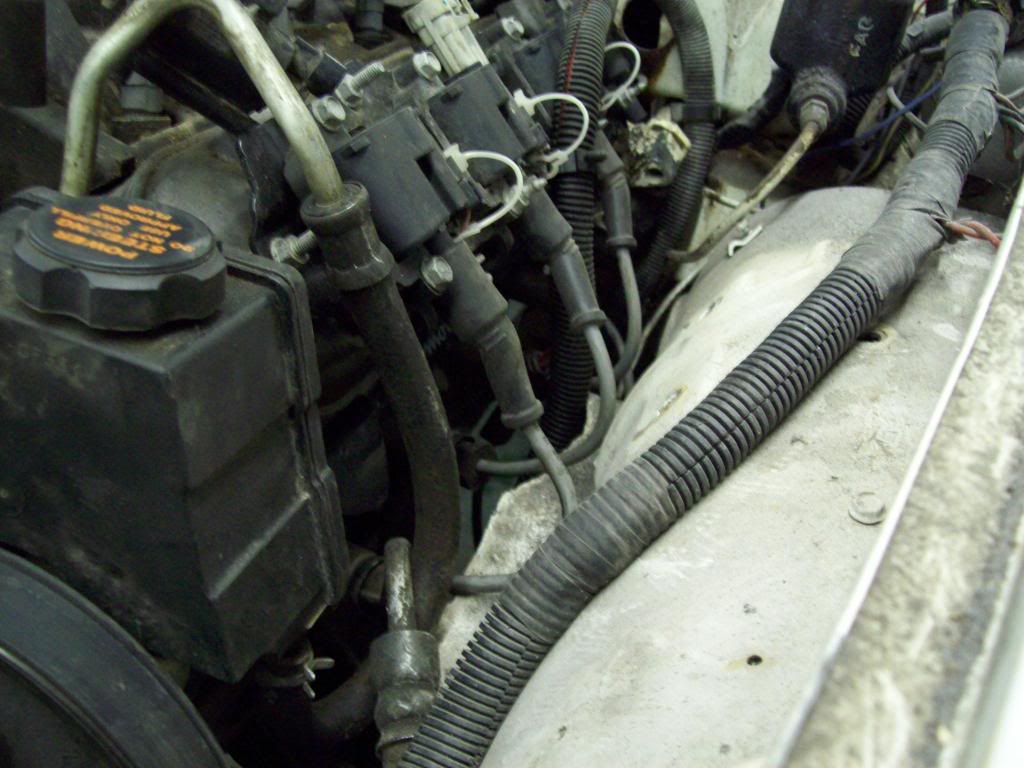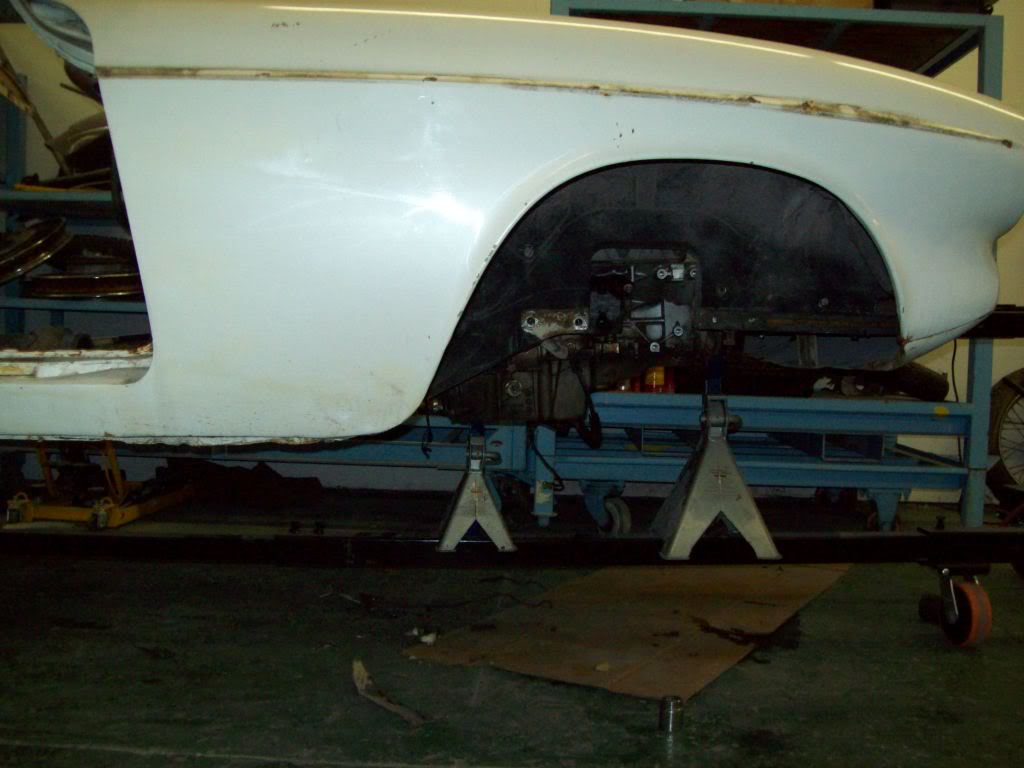 Here are some pics of the rear bumpers I am going to start with and modify.. I think I can use the these 63 Corvette Rears and the Factory Volvo rear bumper to blend something very close to the rendition.. I am going to trim out of the inside edge of the bumper, rather than add material to fill in the gaps between the bumper and body contour. I will be taking about 1/3 to 1/2 the over all bumper bulkiness out of it, to give the streamline fit that appears in the rendition (Atleast I hope that works...ha ha ) The front bumper is an early factory Bull Horn bumper flipped upside down...

The green tape in the last picture shows about how much bulk I will be taking off the Corvette Bumper.. By the time I remove all that surface area, the bumper will make the nice defuser feature in the picture. I am hoping that if done correctly, all the contours of the body will fit nicely to the Rework bumperedges...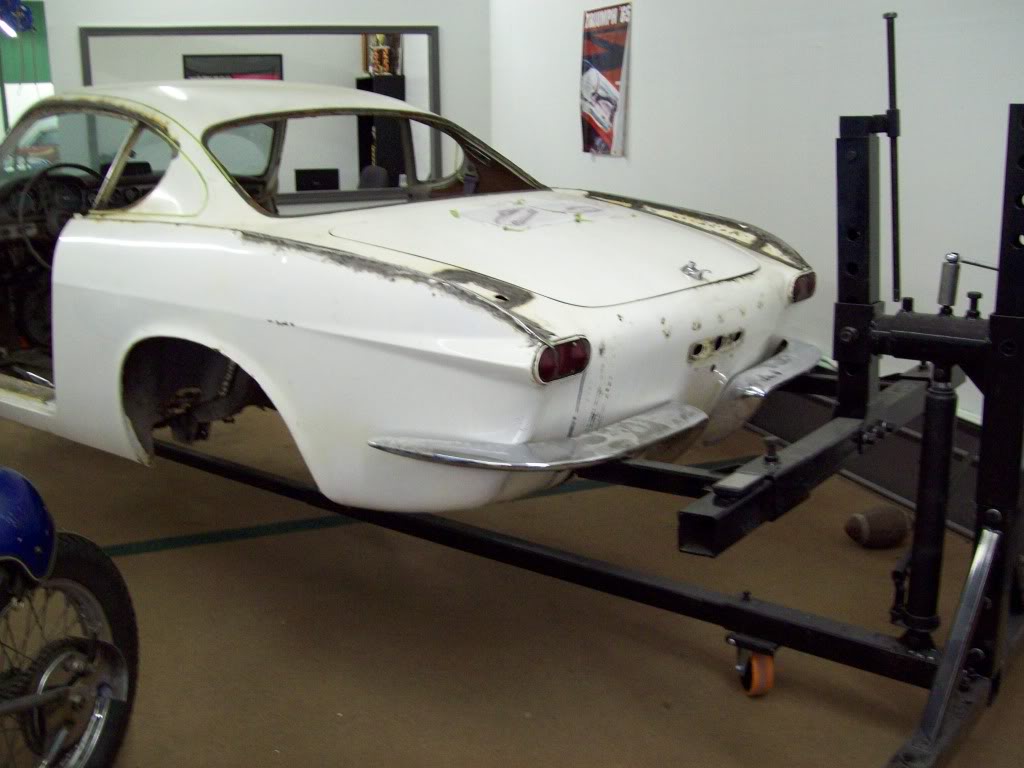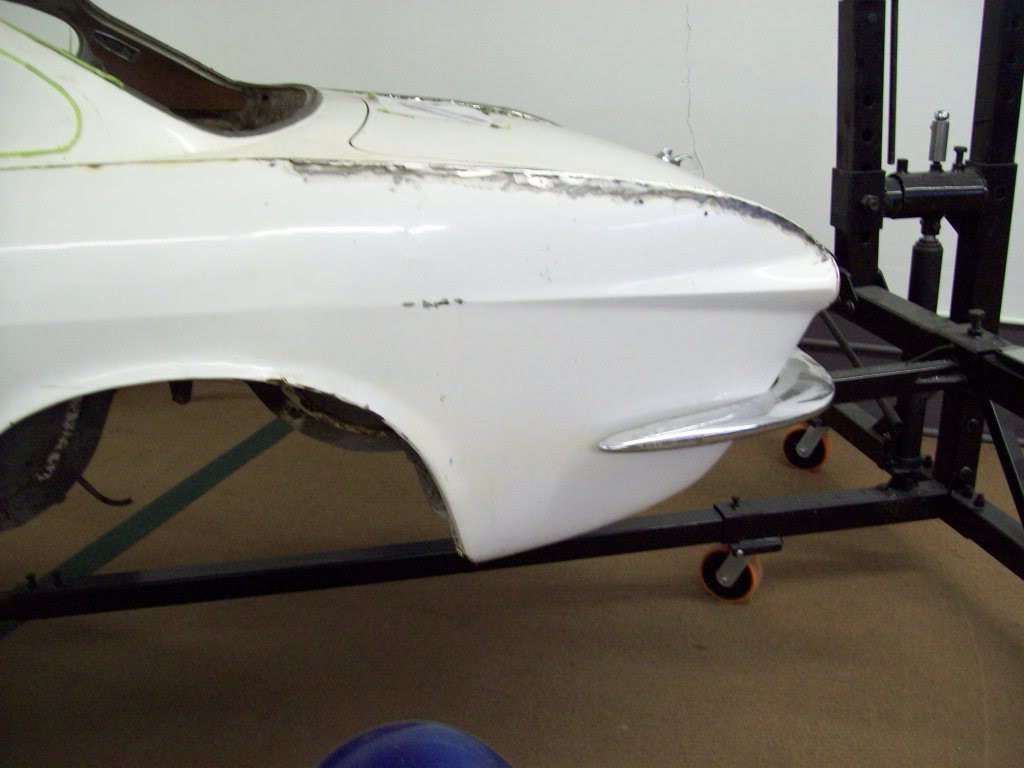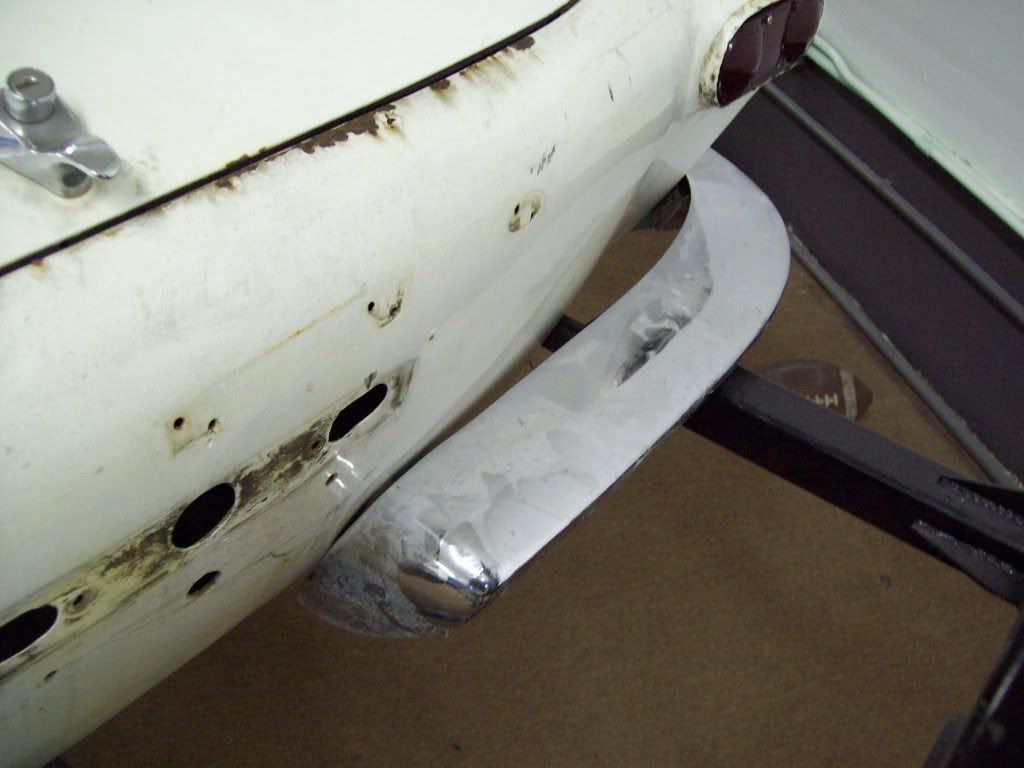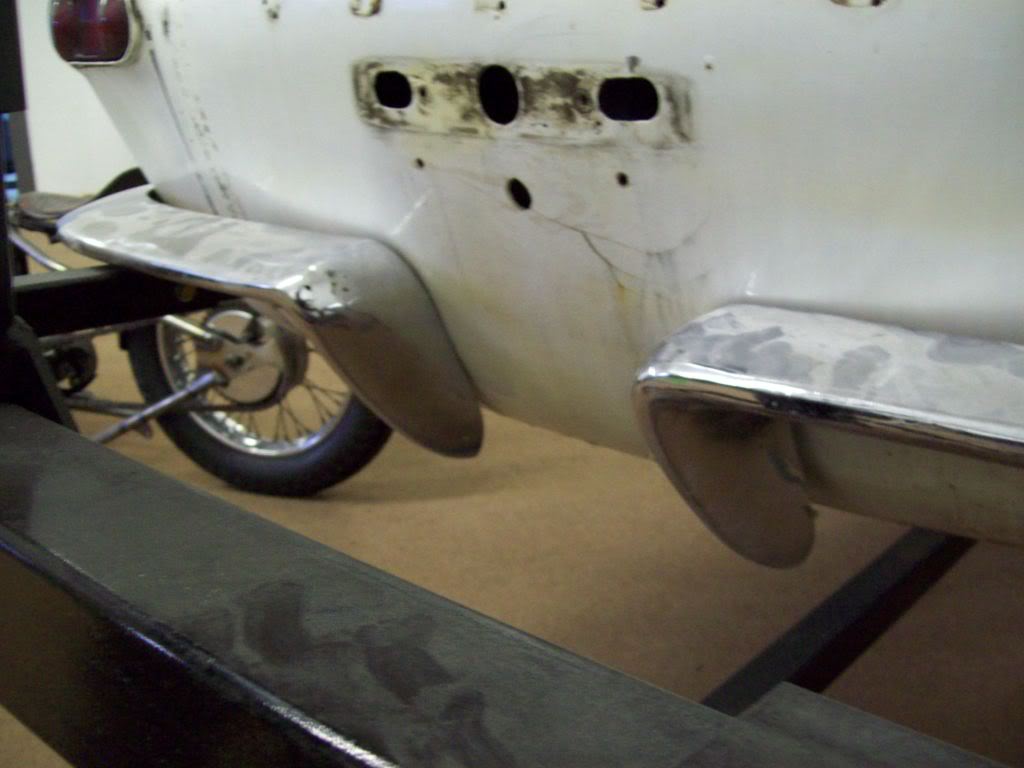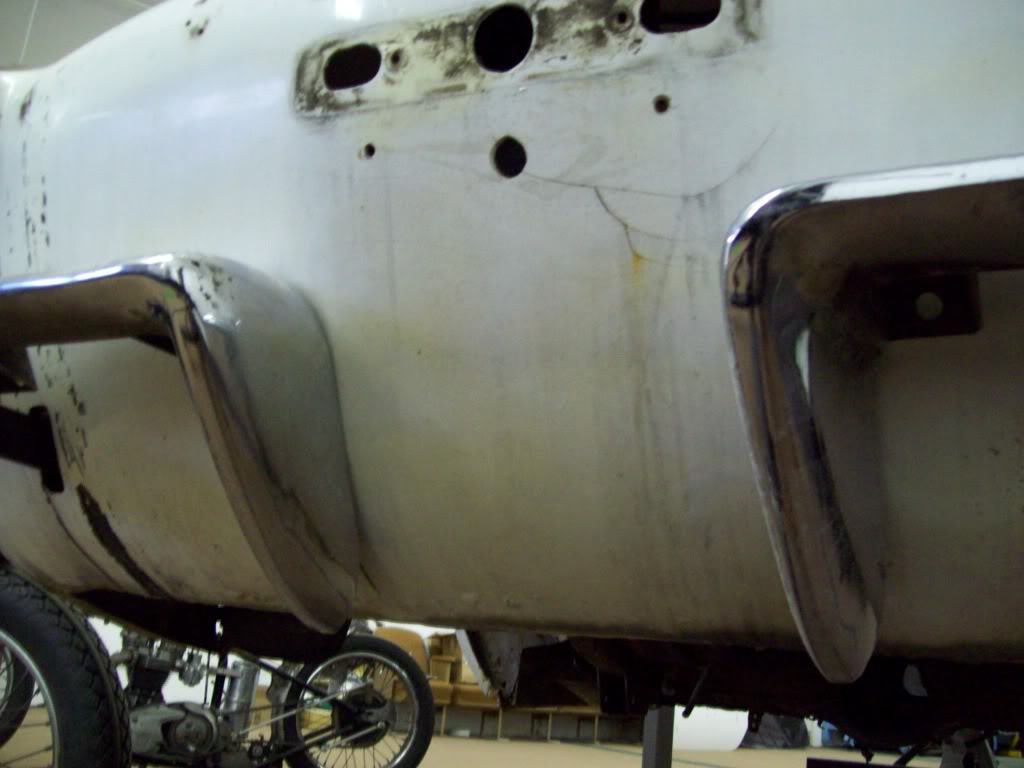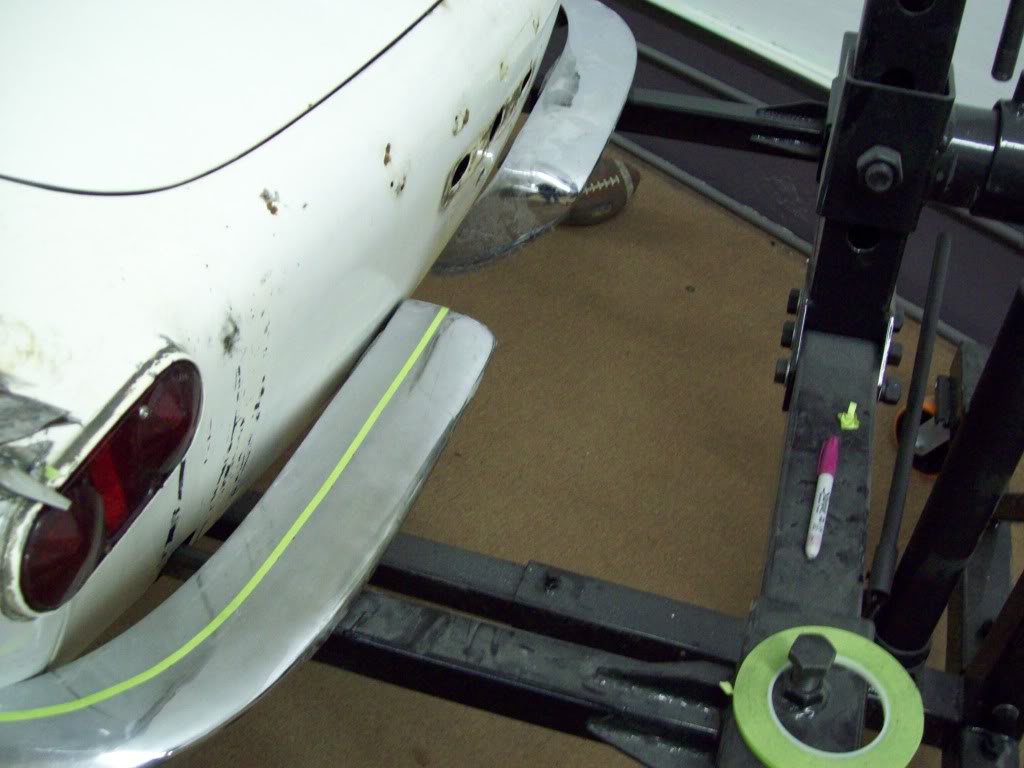 Here are some pictures of one of the Corvette bumpers roughly cut. I tried to contour it to the rear body panel when I was cutting it, but it actually didnt look right.. I think it looks much better acting as a bumper bar rather than a body fixture.. I actually cut alot of material out of the Corvette bumper, and dont think I am going to have to add much, so far no welding. I still have to do a bit of trimming to the verticle bumper bar, but it doesnt look like it is going to take to much to get it there.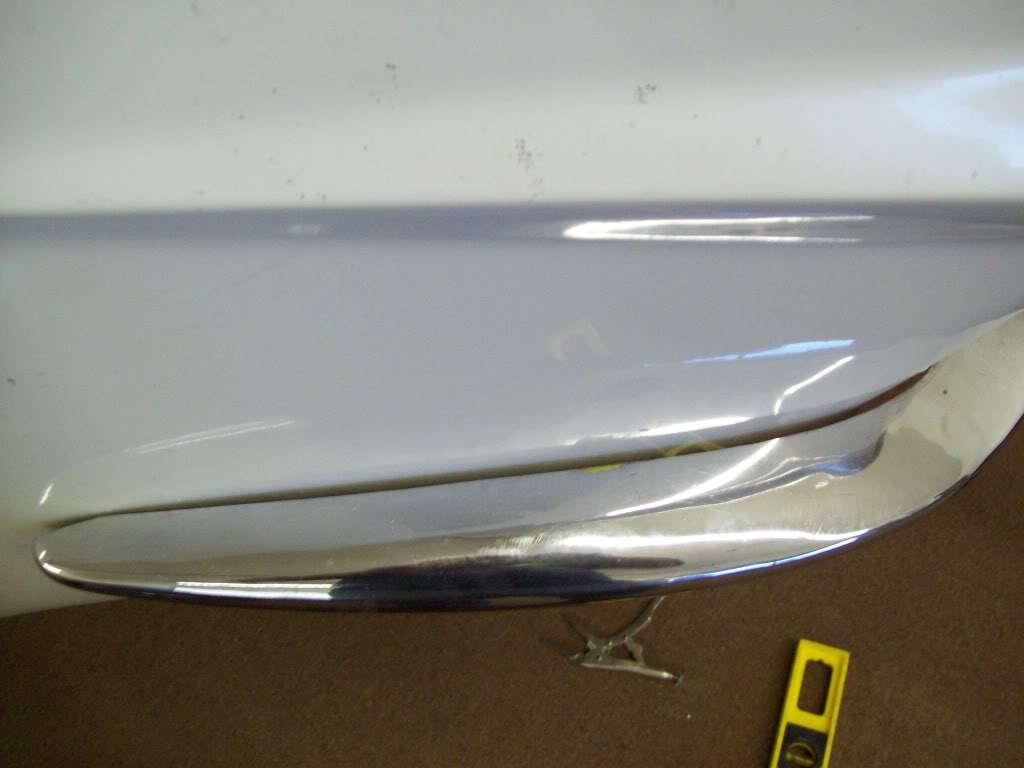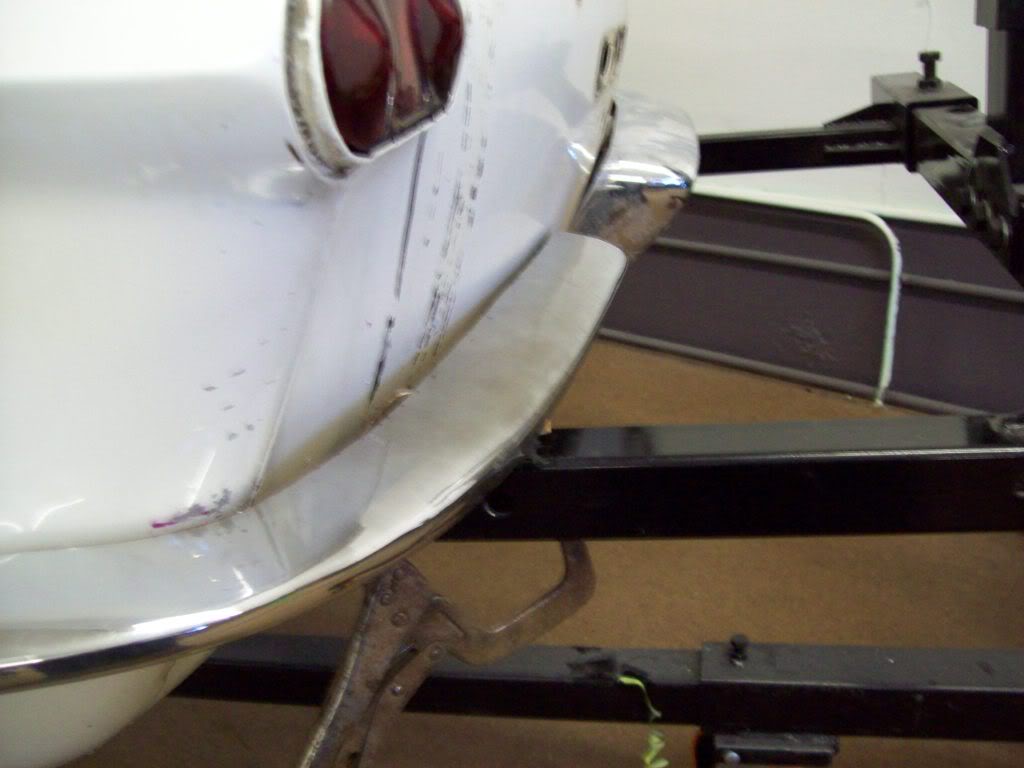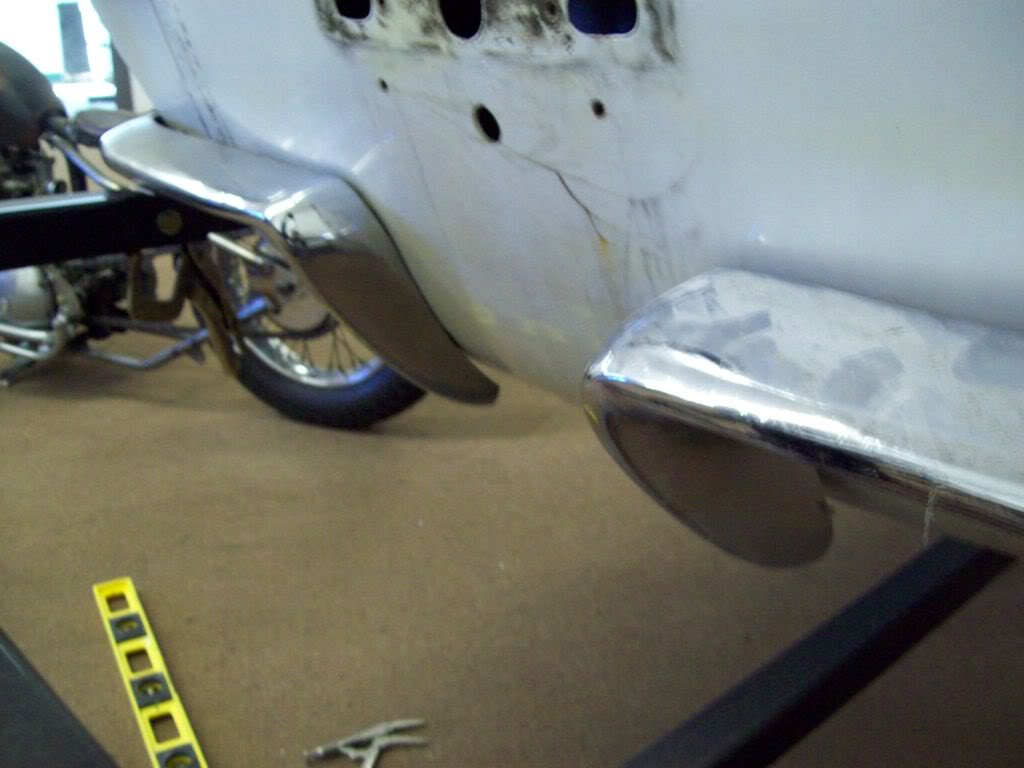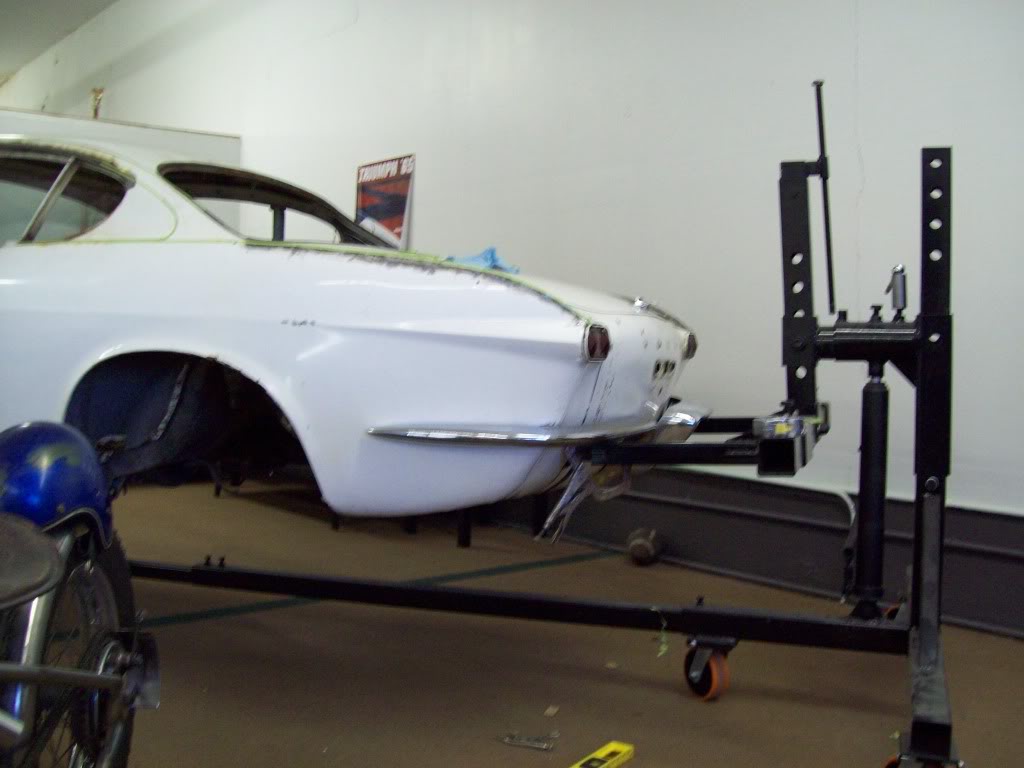 Well I got the passenger side bumper roughly trimmed also, amazingly I got them EVEN, PROPORTIONED, and LEVEL, so it appears it may work out.. I will make some mounting brackets, and then order some new bumpers to re-cut... These bumpers have a bit of rust, and I am thinking it may be better to start all over fresh. I had ordered these from Ebay just to see if they would work.. Nothing like double labor.. ha ha I also put a black out where the exhaust will probably be coming through, the shape is not exactly what I am looking for, because I am going to be looking for an exhaust housing and tips that are hopefully already manufactured. If anyone knows a good source for them, I would appreciate the heads up.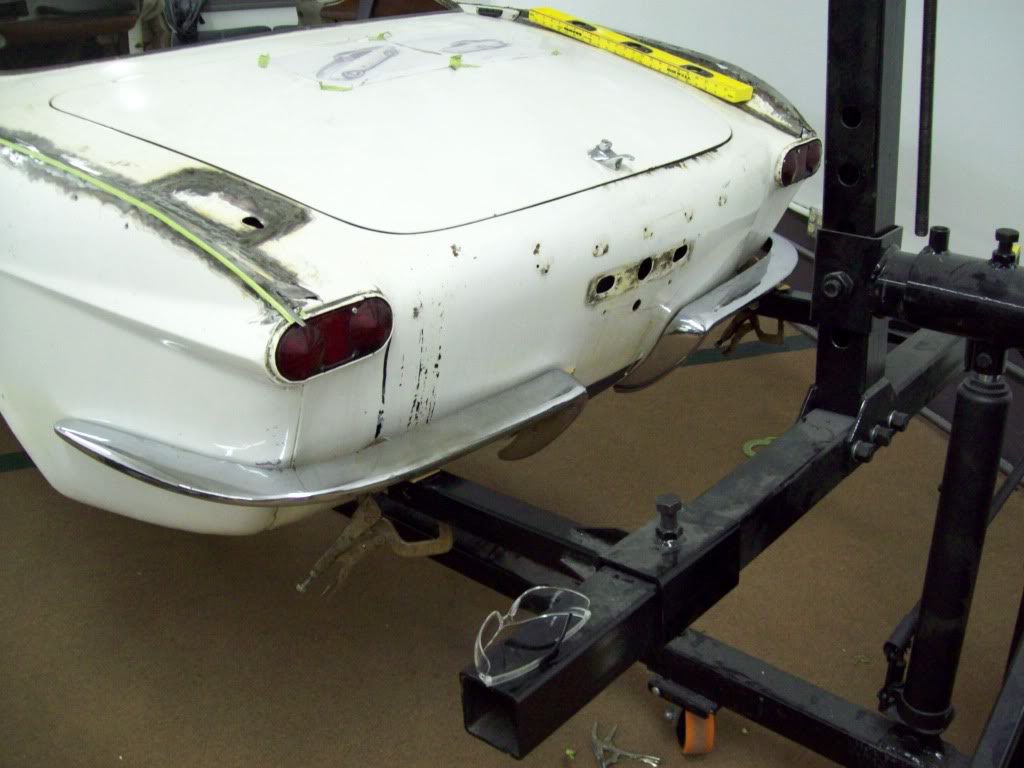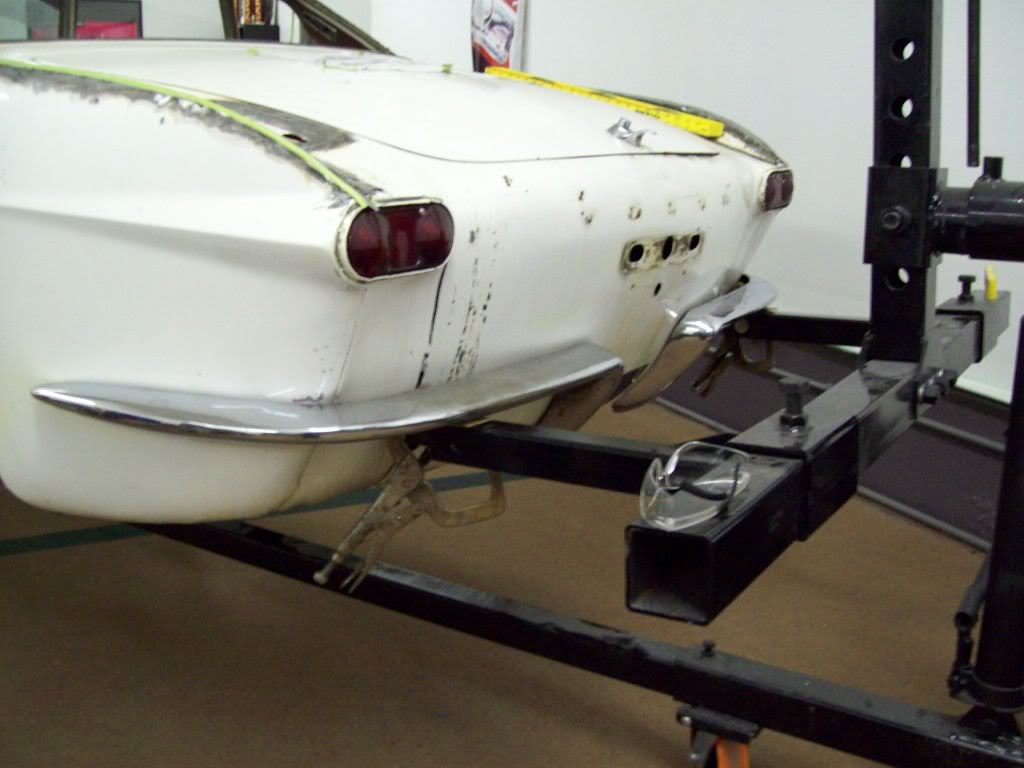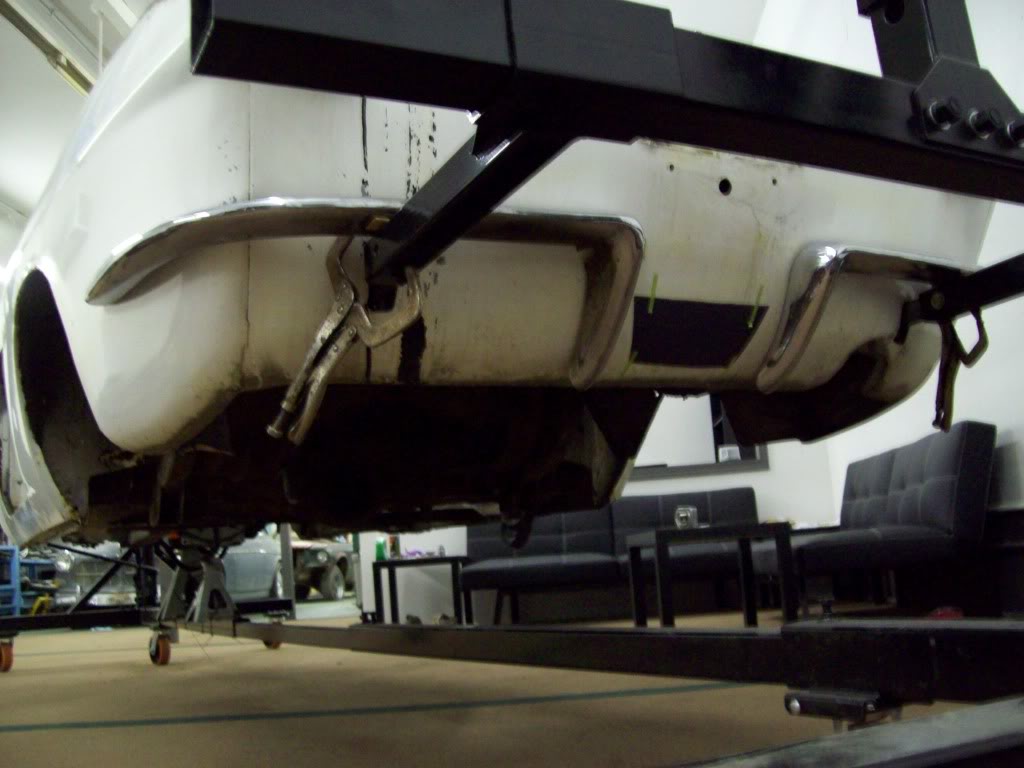 Well I am working on the slanted headlamps, and to have a conventional sized headlamp with a sloped lense, there is alot of added surface area. I have trie to find later model composite headlamps that will work, but they are all mis-shapen to the fenders they are made to fit.

So here is where I am at... I am worried the light is way over-sized for the car right now, but it does appear that way in the rendition.. I am thinking that once I get the metal work completed where the only thing showing is the actual lense, it will dramatically shrink up the oversized appearance. Atleast that is what I am hoping.. ha ha Right now, turning back isnt really an option. It really does give the car that over-sized European Headlamp look from the 60's-70's

The way this headlamp system works, I can actually finish weld the ring to complete the fender, then blend it all in. The ring is the main part of the bucket system, so the mechanics of the light will attach to the back side of the headlamp ring. I believe I will only have to add a couple of support braces to the rear of the bucket for extras support.. Here are some updated pictures.. I will say that the light appears to be much bigger in the pictures for some reason, I guess it is the chrome ring blending into the lense.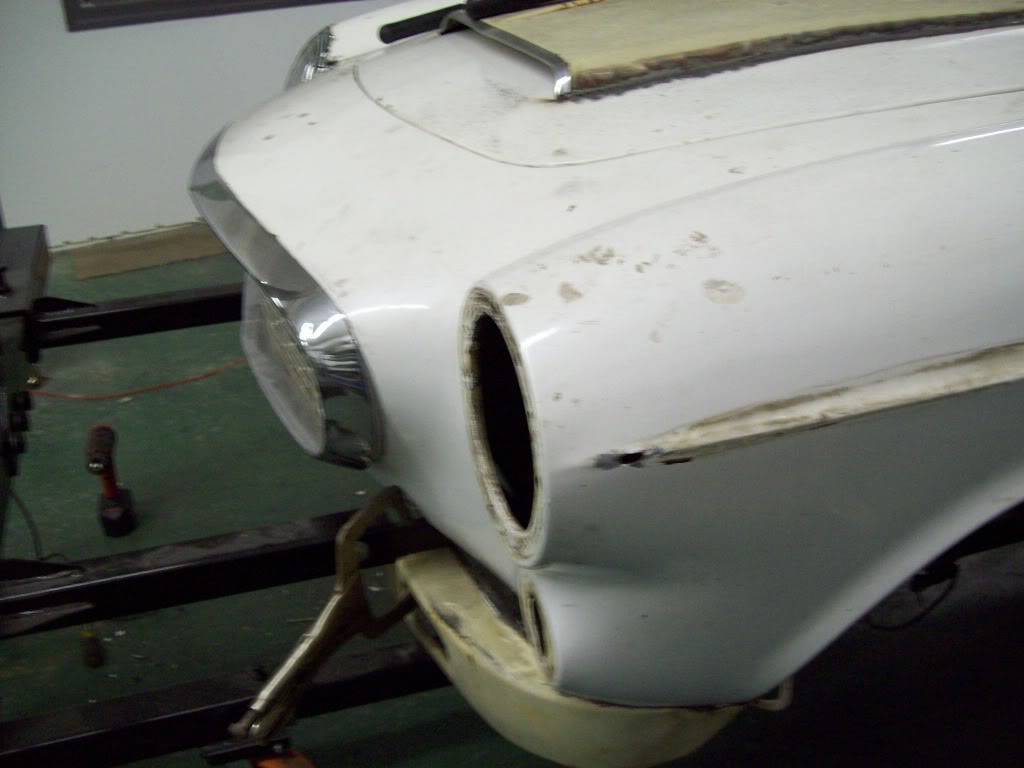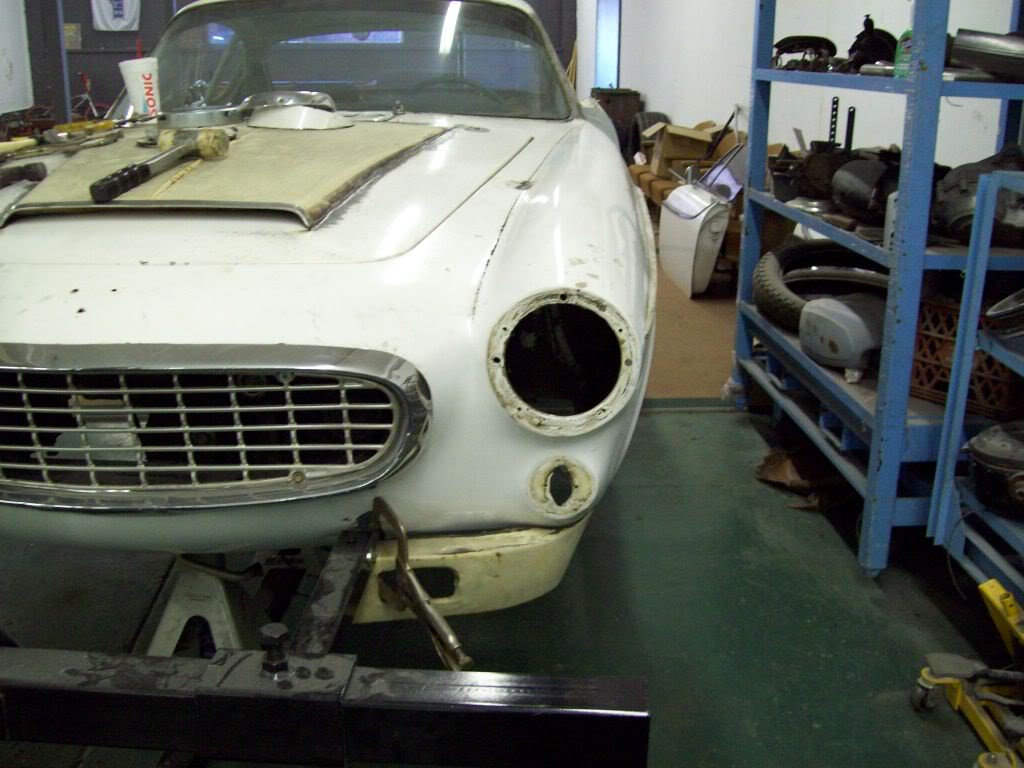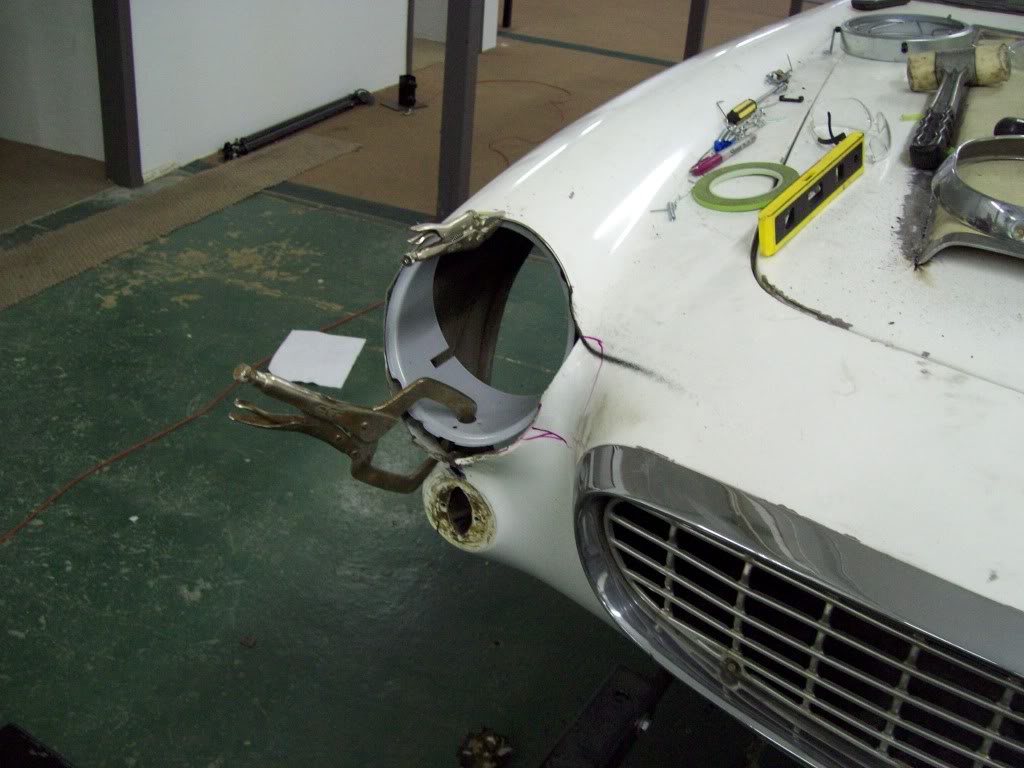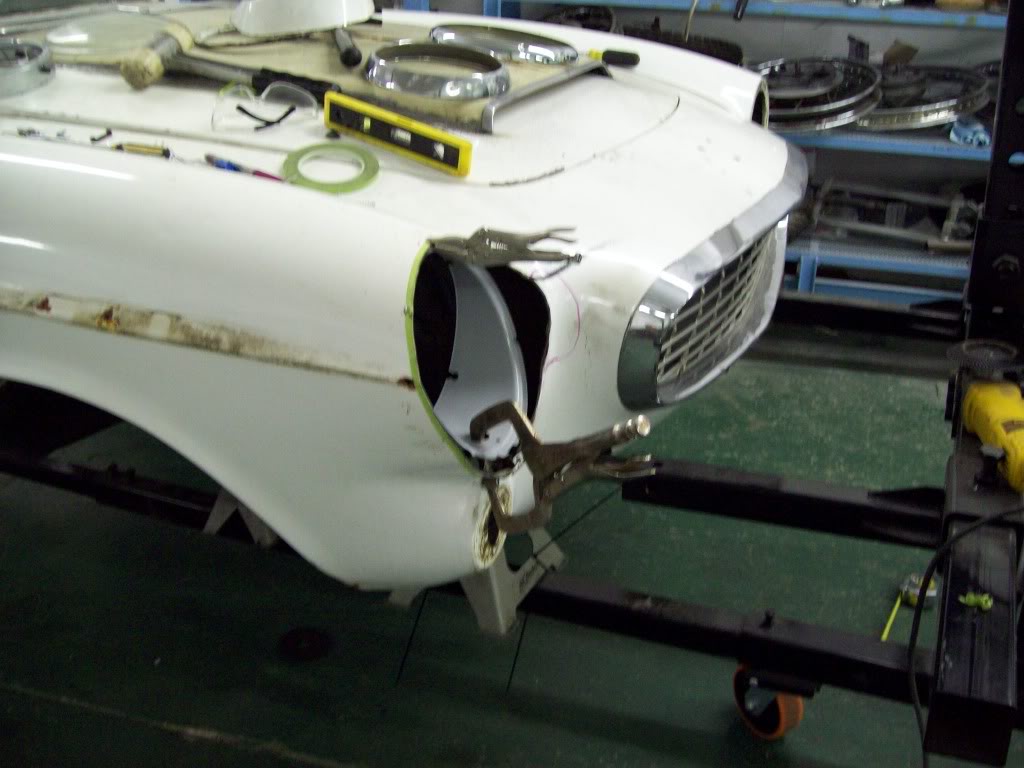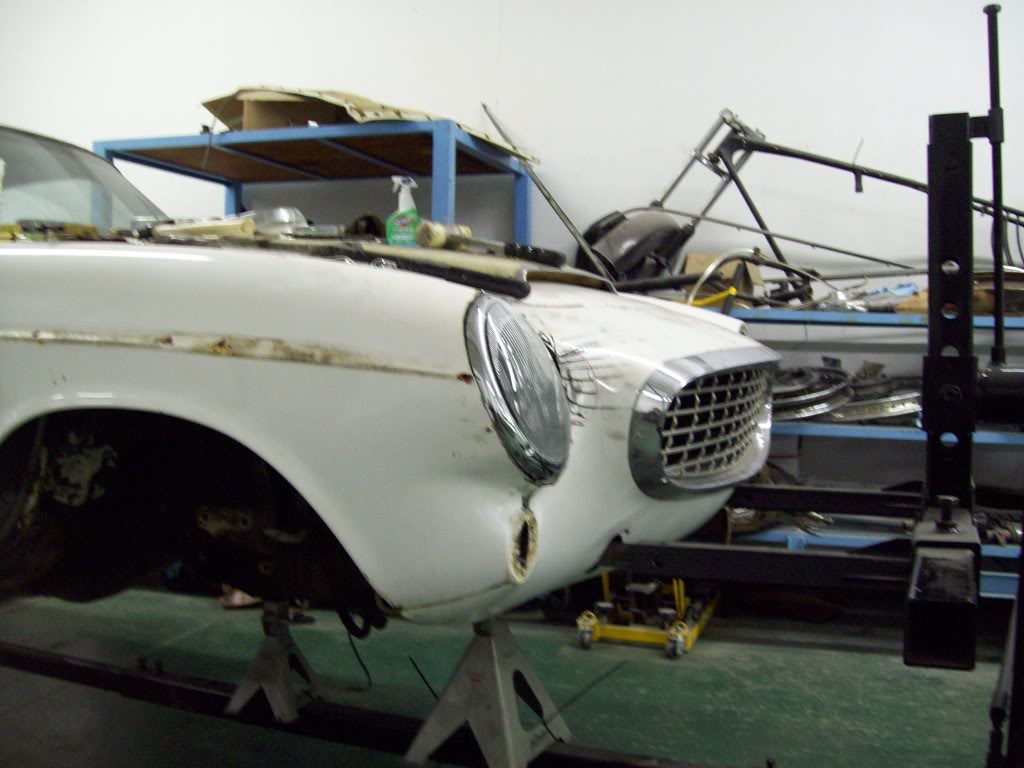 I am feeling kind of unsure about what I think of the parts for this mod, so I am going to assume the critisisms will start flying... ha ha... I really think (Really Hope) the ring being made part of the fender to finish it out, and the lens being the only stand alone part, will shrink the overwhelming appearance...

The new headlight ring is actually only a 1/4 inch wider, and 3/4 inch taller that the factory bezel and headlamp assembly. Once the ring becomes part of the fender work and is painted, the width of the light is actually a 1/2 narrower and a 1/4 inch shorter.... So by the measurement, I am actually installing a smaller assembly, but it sure doesnt look like it...

Here are a few comparisons of Factory and Modded...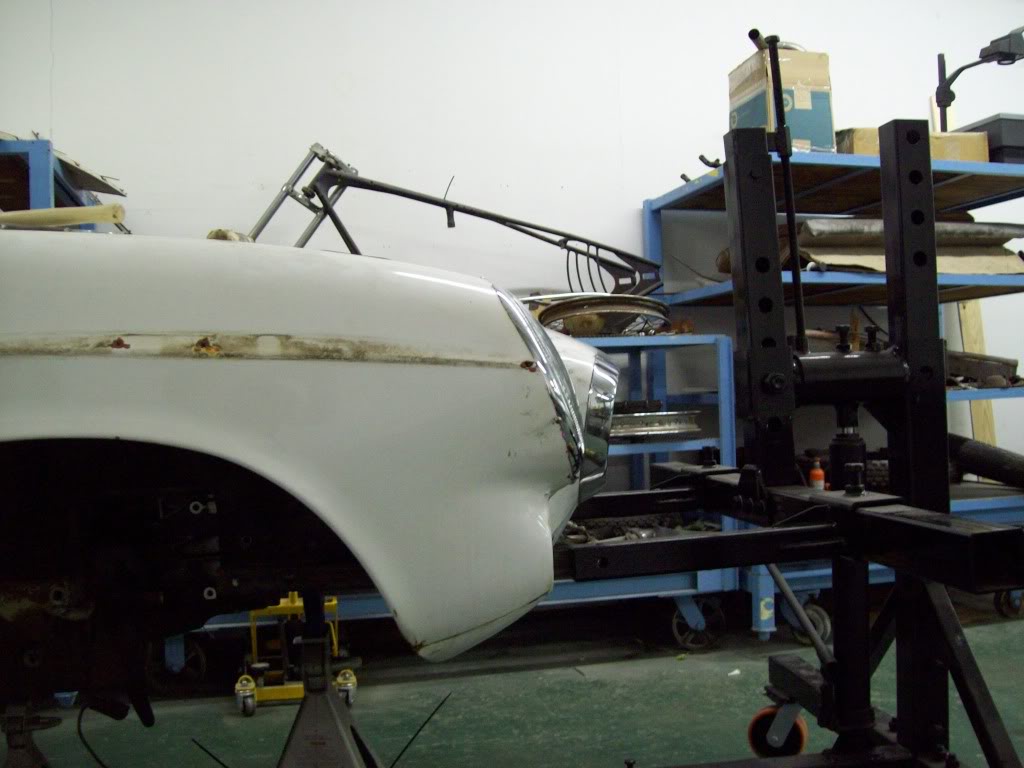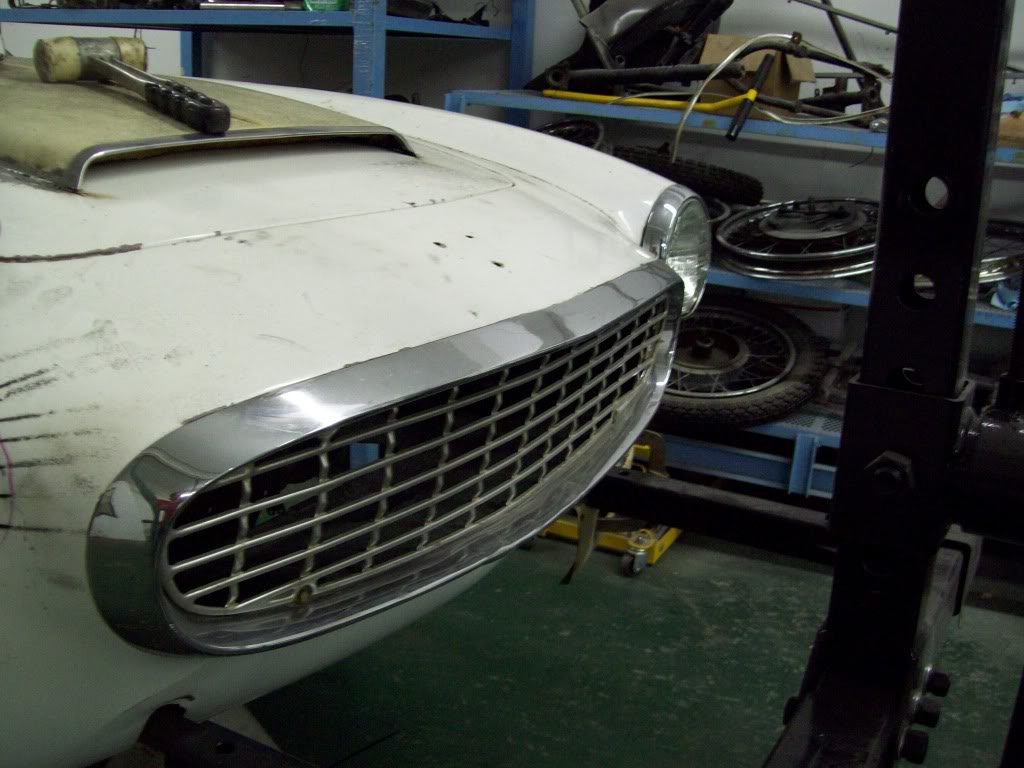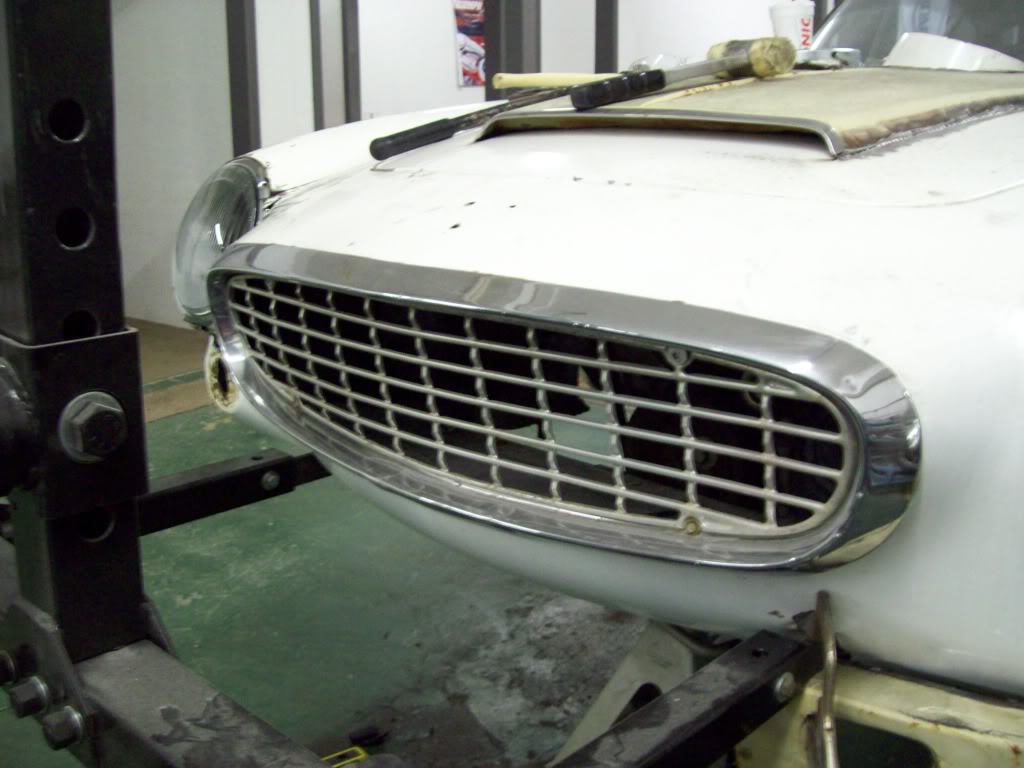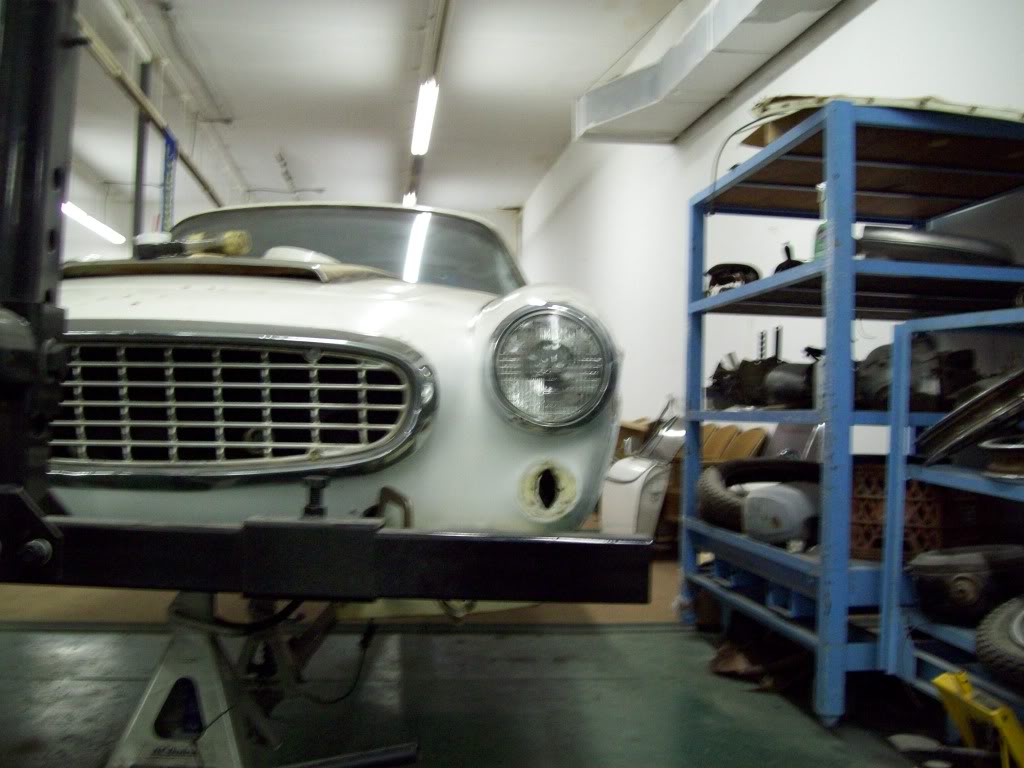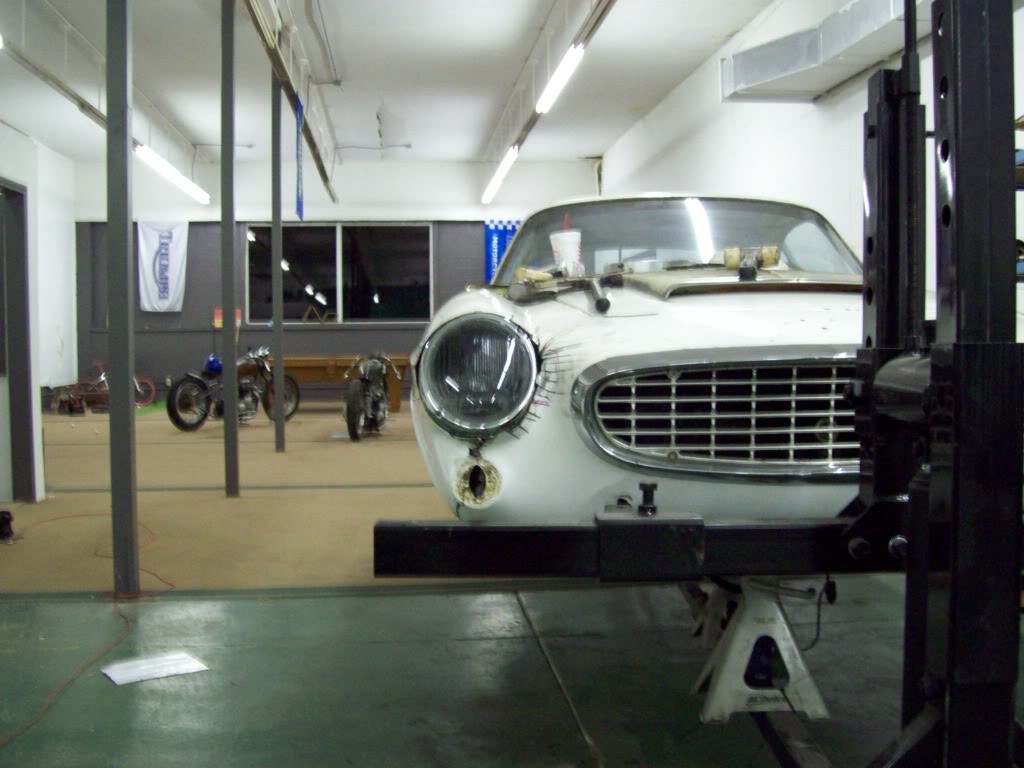 Here are some pictures that I taped out a the chrome that will not be there when the car is done.. I think it really helped with the proprotions here..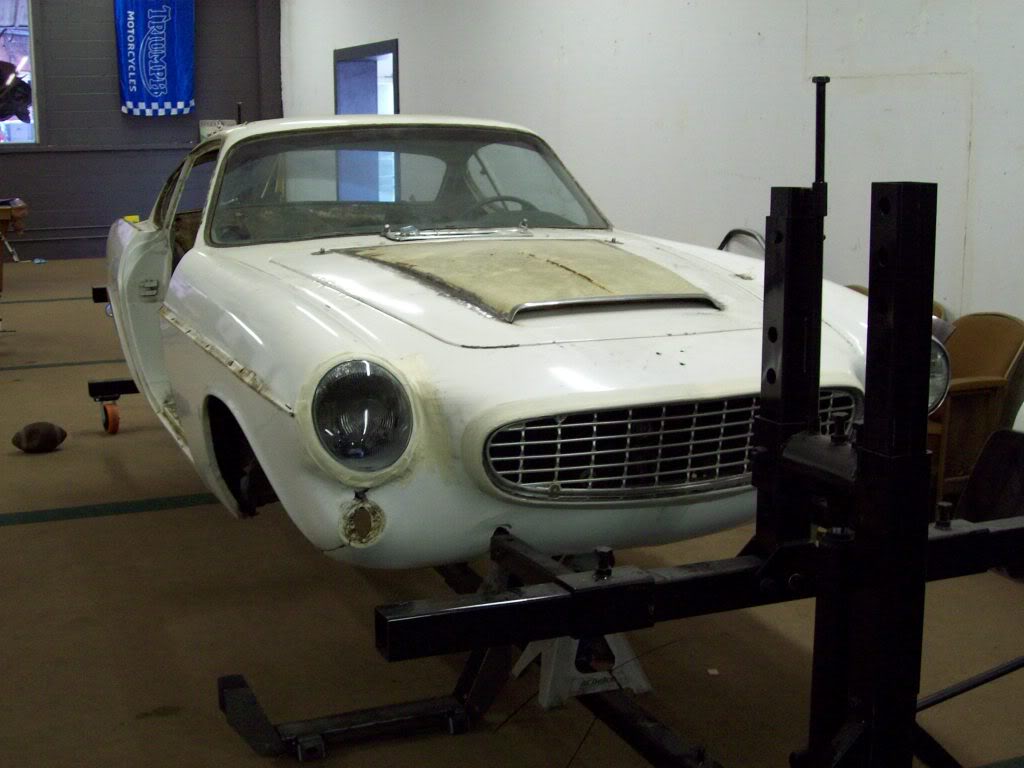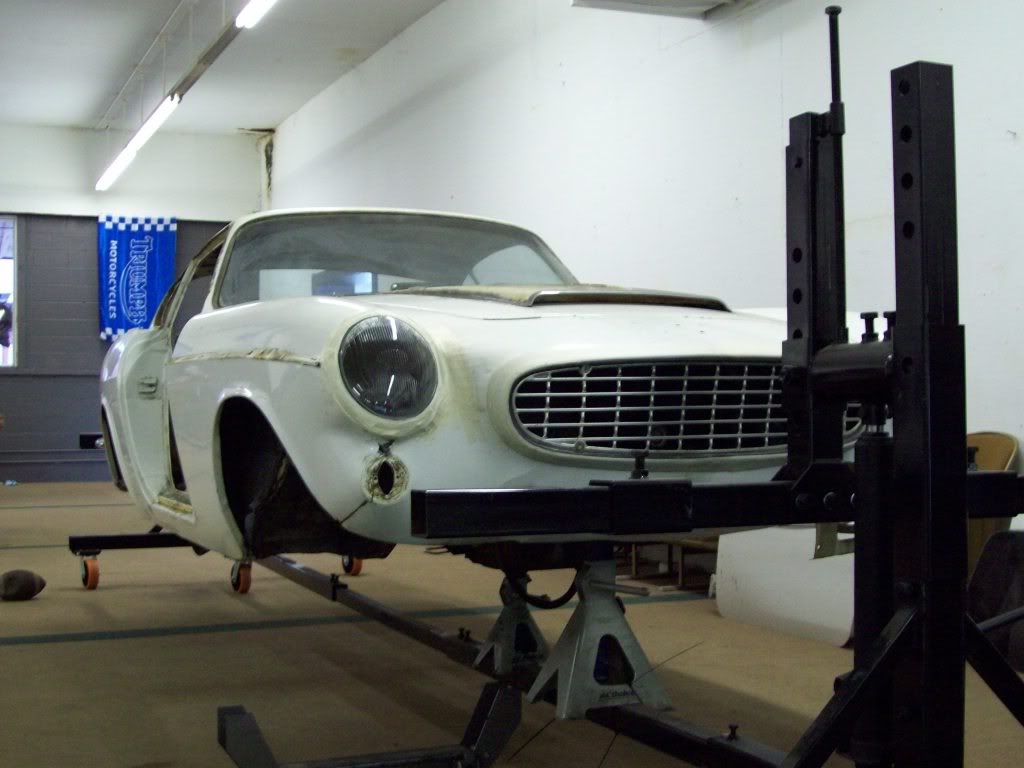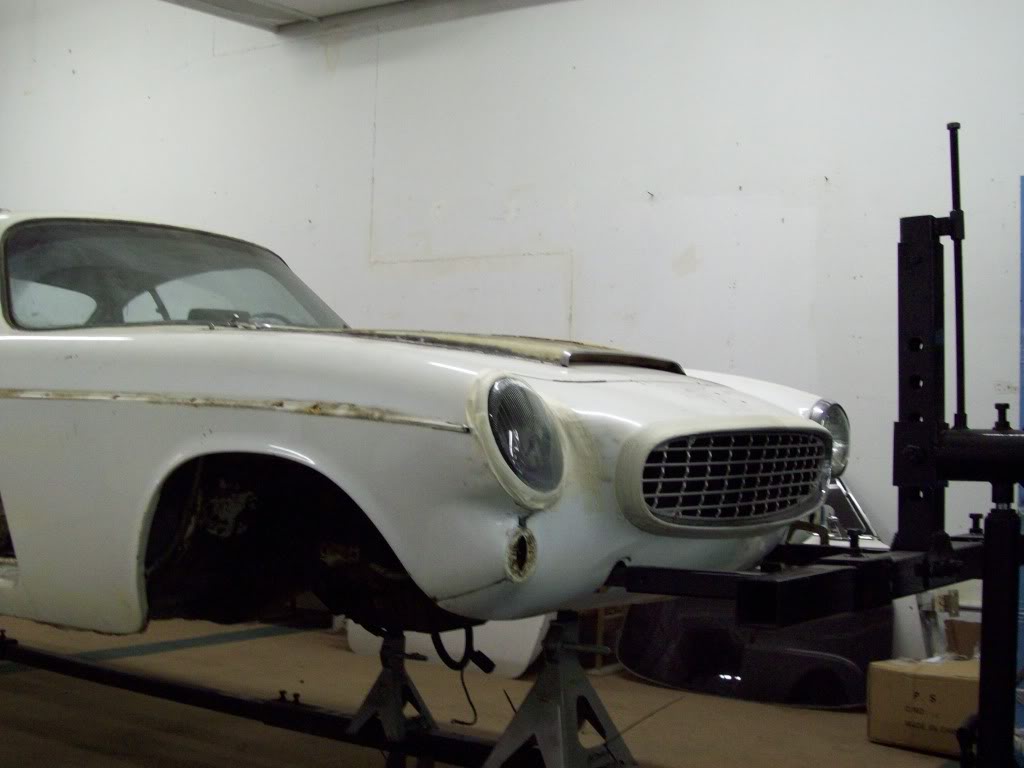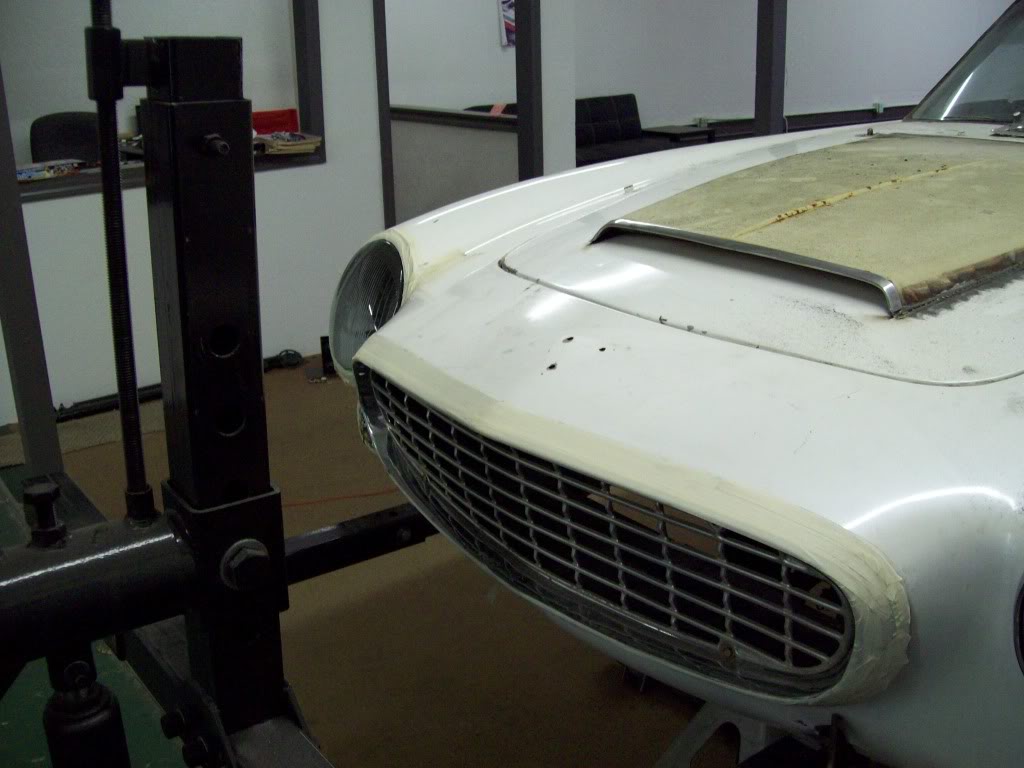 Here are some pictures...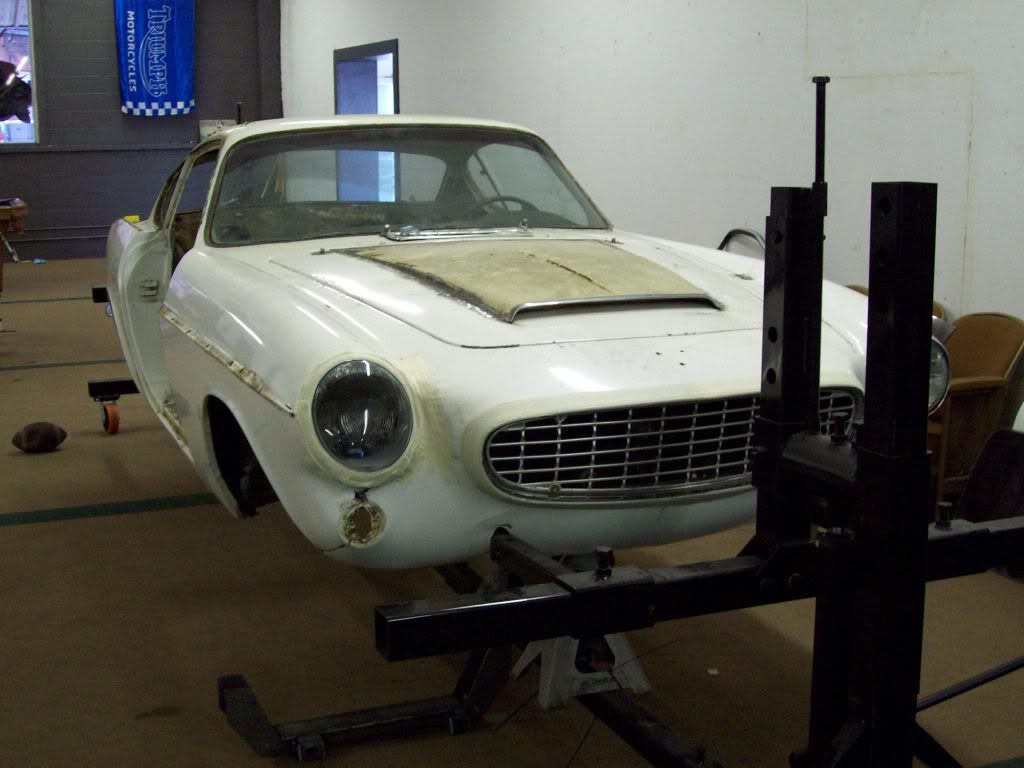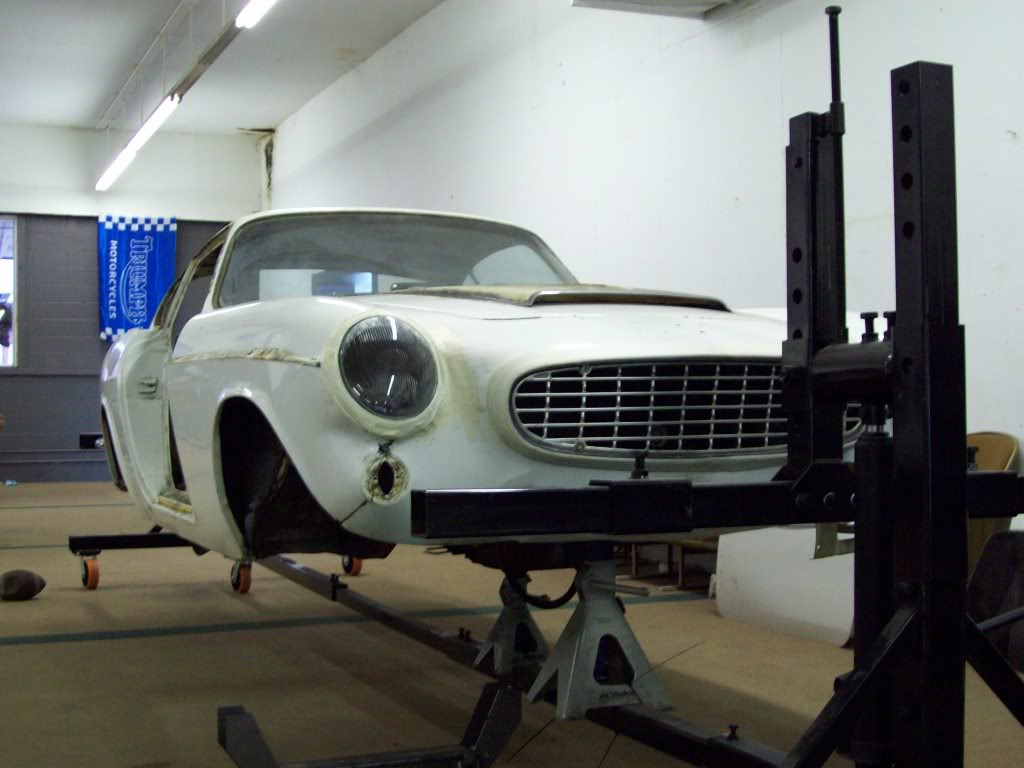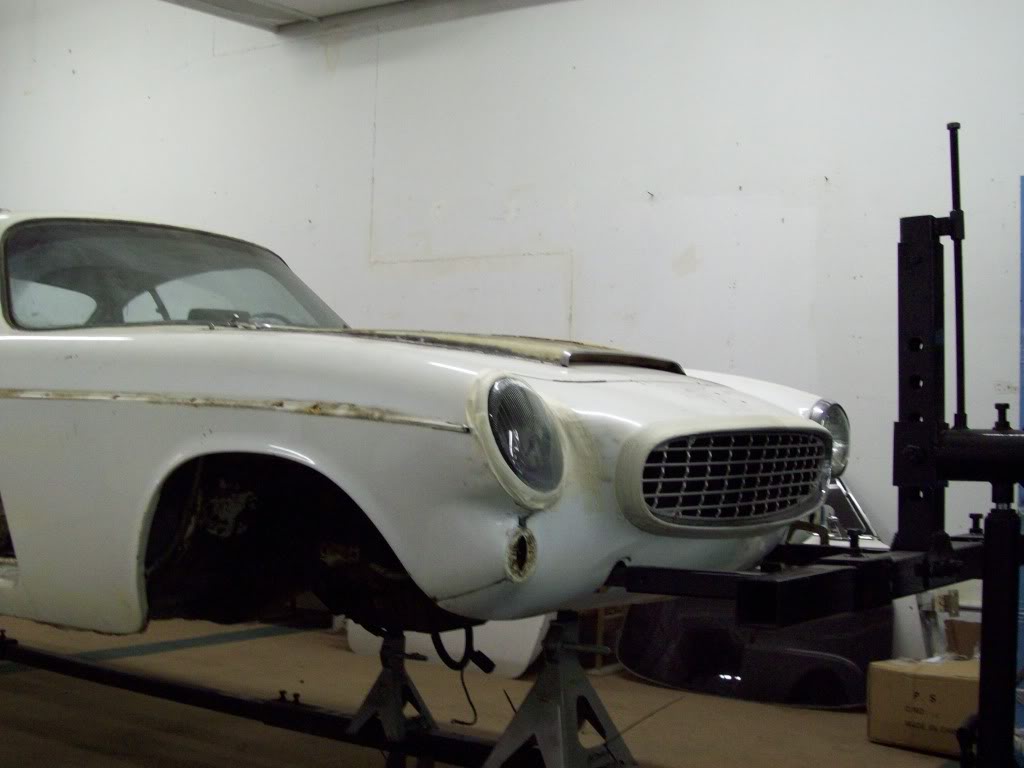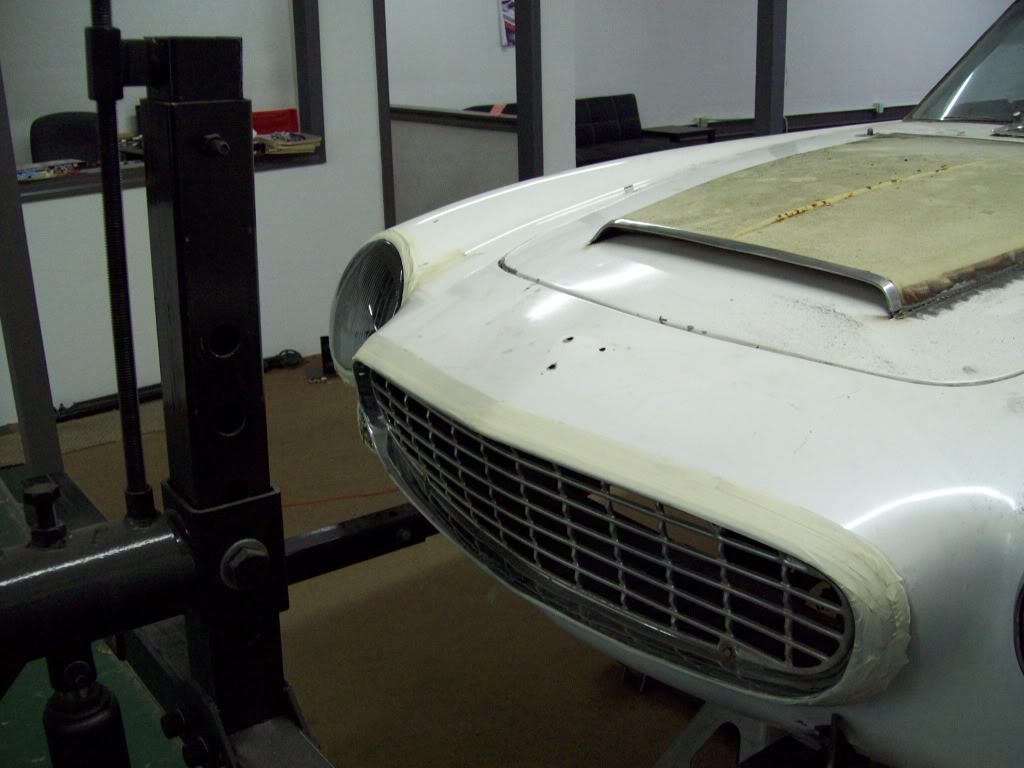 After trying to determine a few things, I think it is very clear that the wheel wells will have to be raised. That is a 19x8.5 rim in the front of the car, and in order to get the ride hieght about where I want it, you see where the wheel is located. It looks more like a drag/funny car, than an actual driver.. The car always sat higher than most, even when I had already lowered, it.. It really sat high in the front nose, it always looked incomplete in the very front end.. Even when the tire is in the position it is in right now, there is adequate room for steering if the actual opening was opened up enough to allow the tire to stick through.. Even if there is some tweeking that needs to be done to the inner fender, there really isnt a issue or to much labor involved.

I am going to have the wheel arches blend into the body line as pictured in the renditions, there seems to be plenty of room.. I really dont understand why the car was built in the fashion it was.. The wheel housing literally look like, if you pulled all the suspensiona and set the body on the ground, you can still stick the 19's in the wheel wells with plenty of travel clearance.. In the pics below, the bottom of the blue tape line is literally the wheel house roof, and it is wide enough to accomadate the tire... Plus, look at the size of the axle bump stop, and with the opening for the axle housing travel.. There is adequate room for the pumpkin to travel to the same level as the axle tubes...

My plan is this.... I am going to find a few donor arches from and maybe tack them in place before I do any cutting to this car.. I should hopefully get an decent image of what it appears to look like, and I am not stuck into anything yet, because nothing has been cut..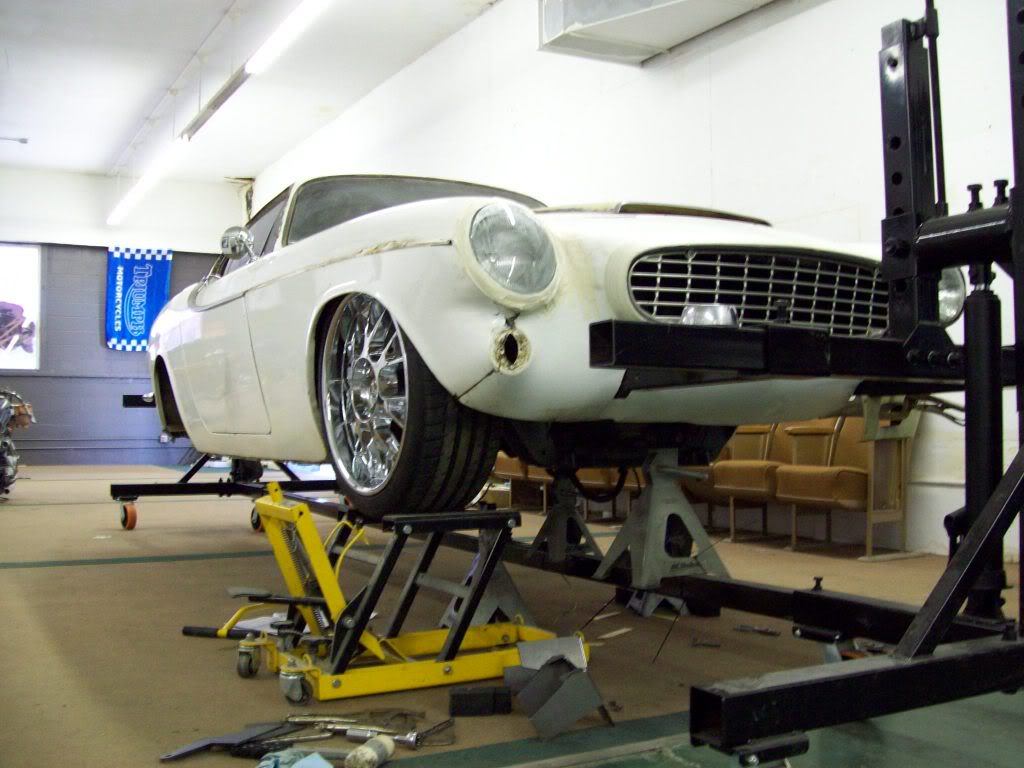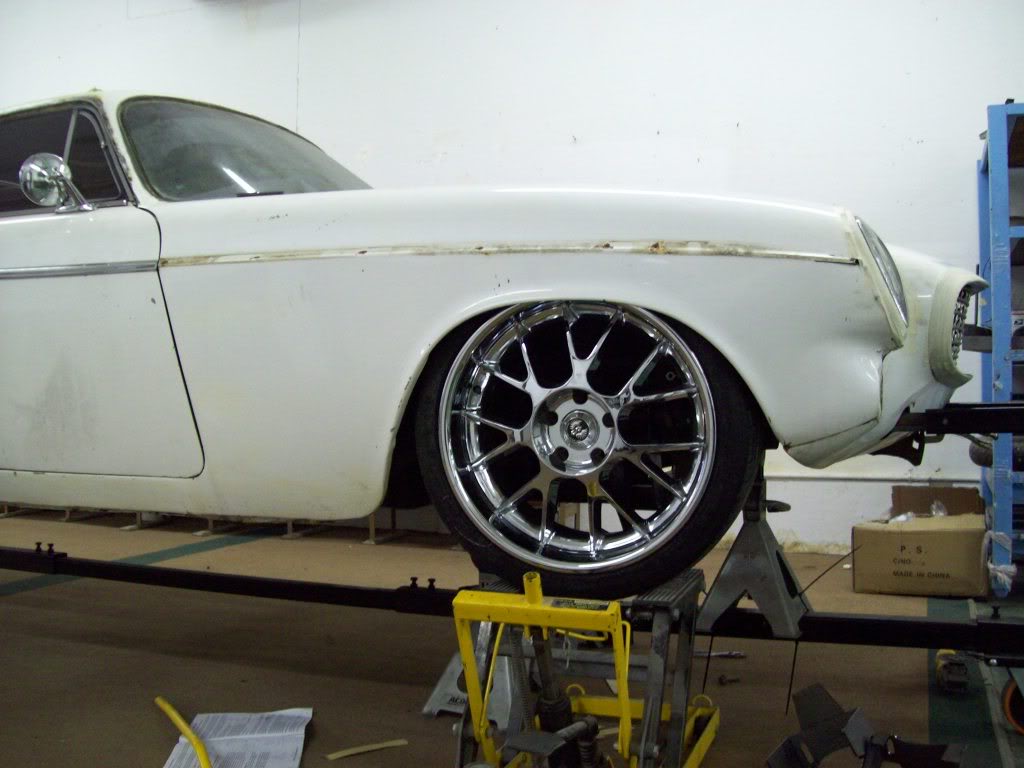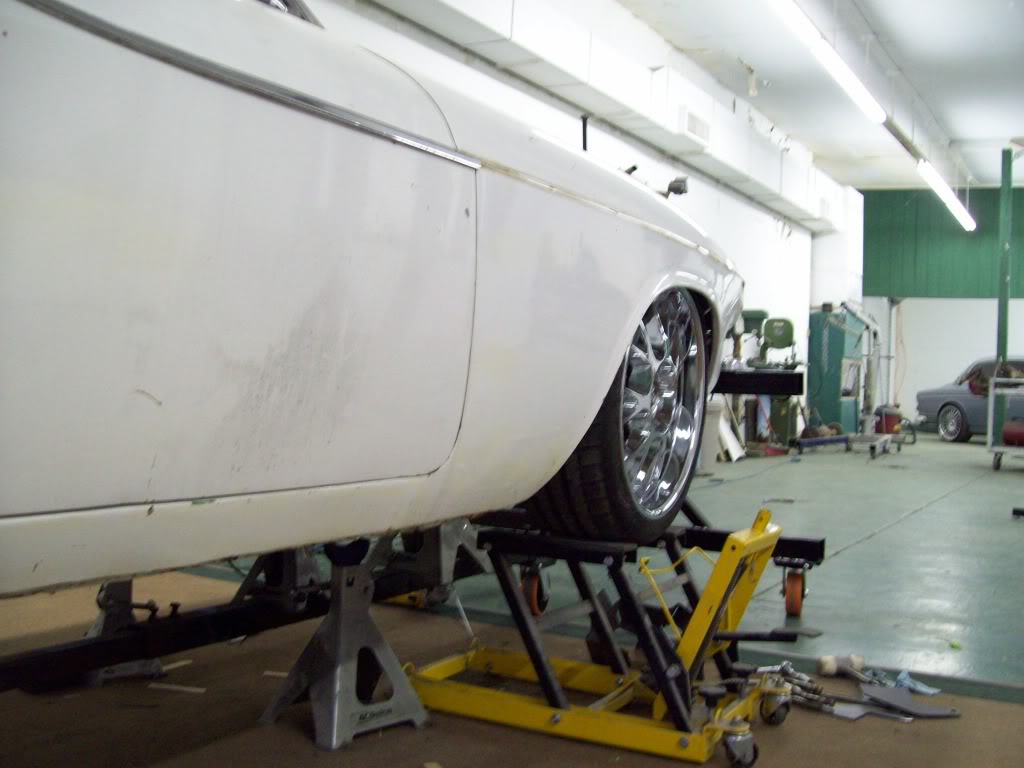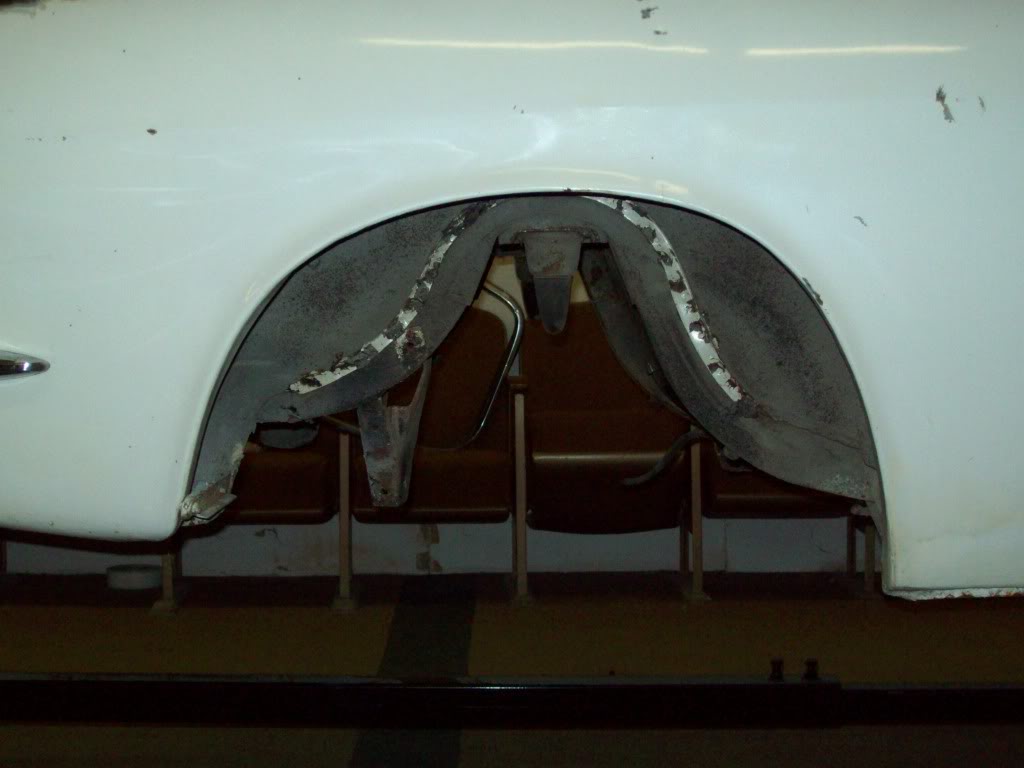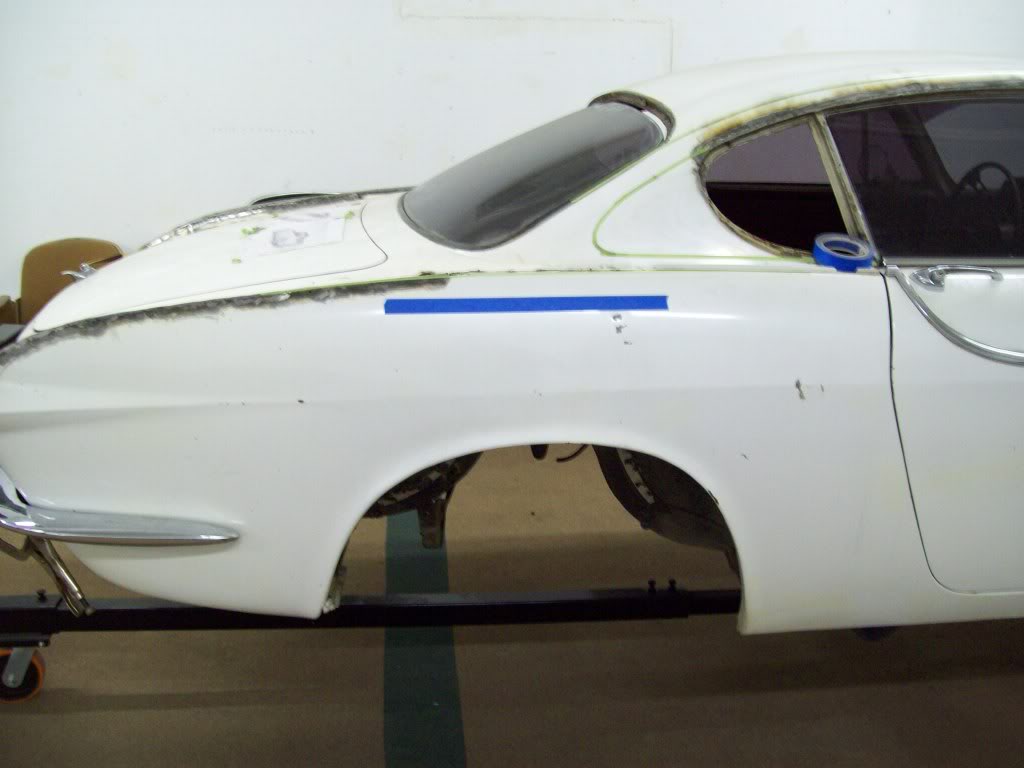 Here are a few pics to the rear clearance area, and some ballpark taped out wheel well lines... That is a 245/35/19 inch tire in the hole there. Once the quarter lip is extended up and out a bit, I am pretty sure I can get a slightly larger tire in there with very little hammering.. ha ha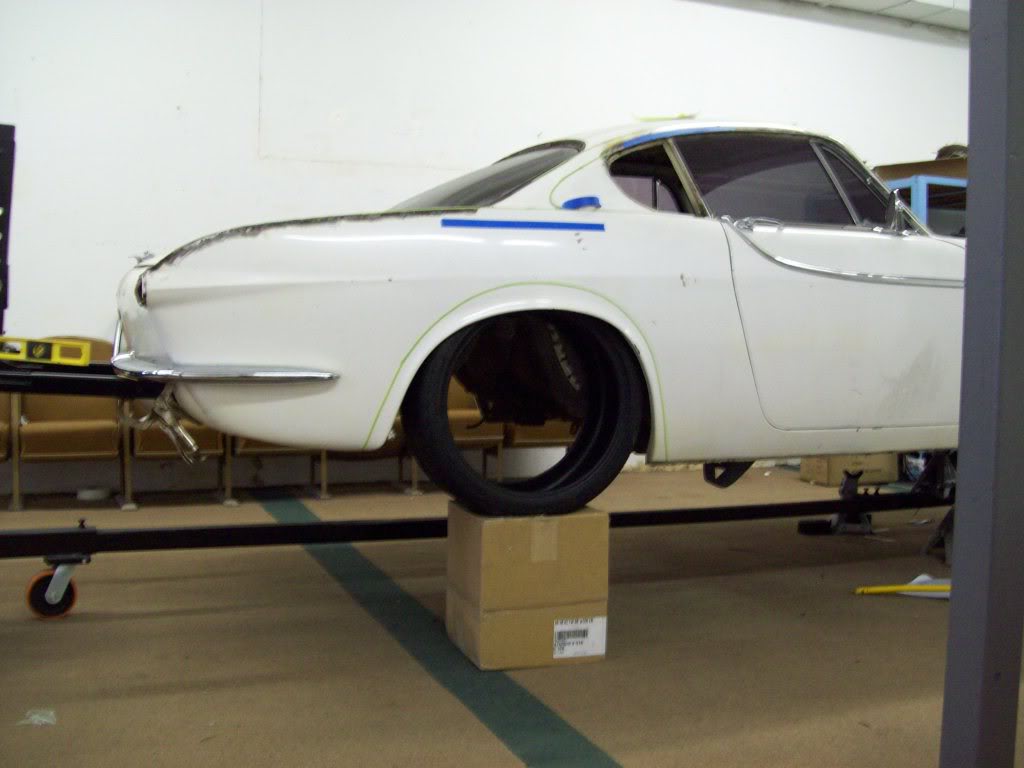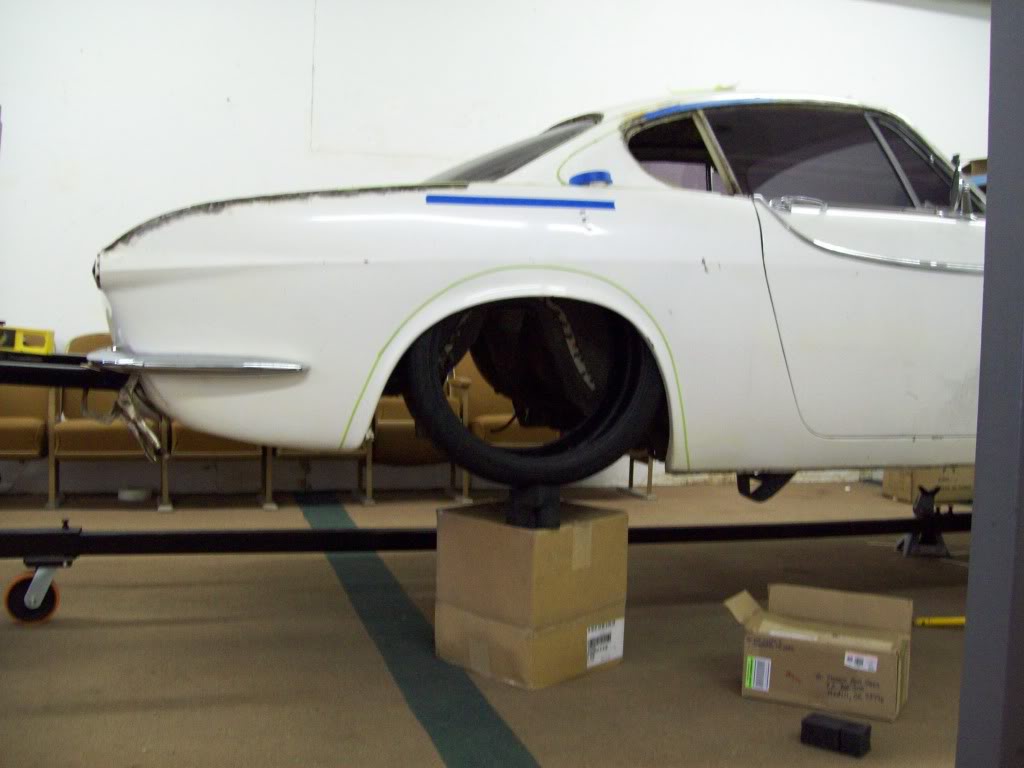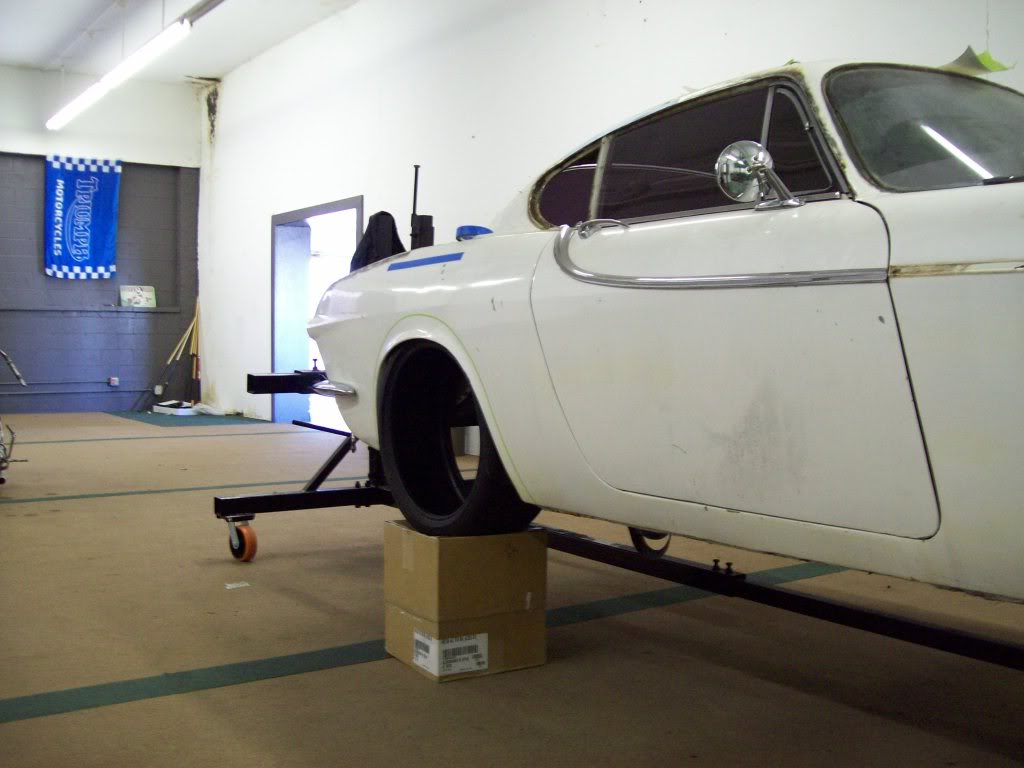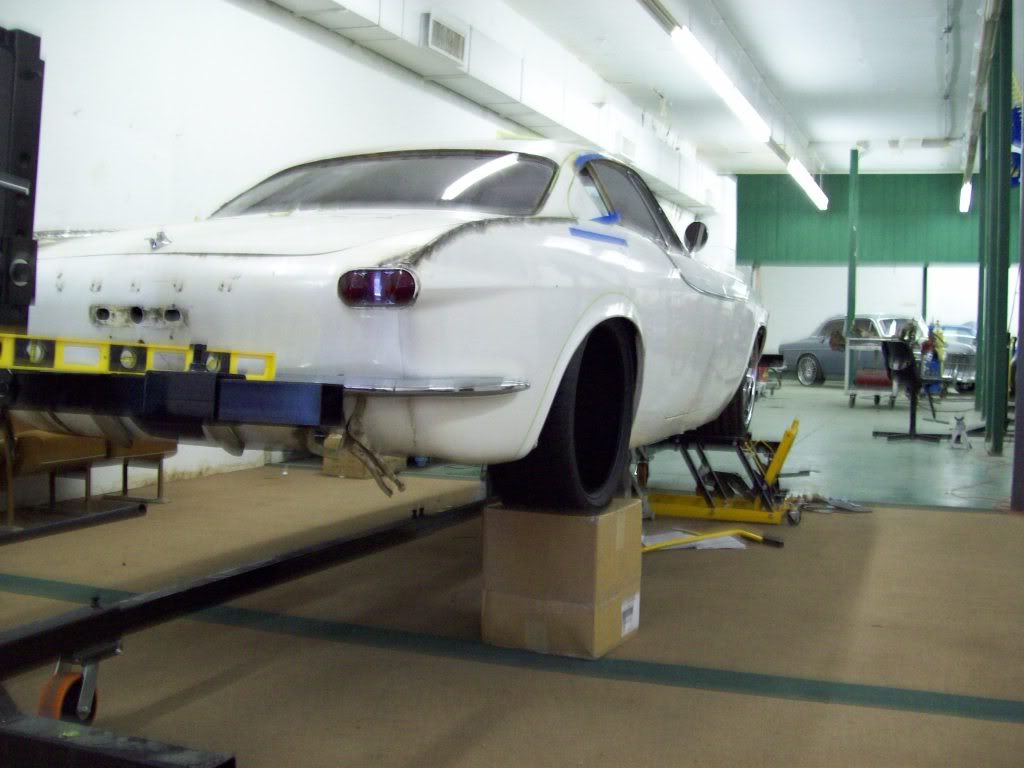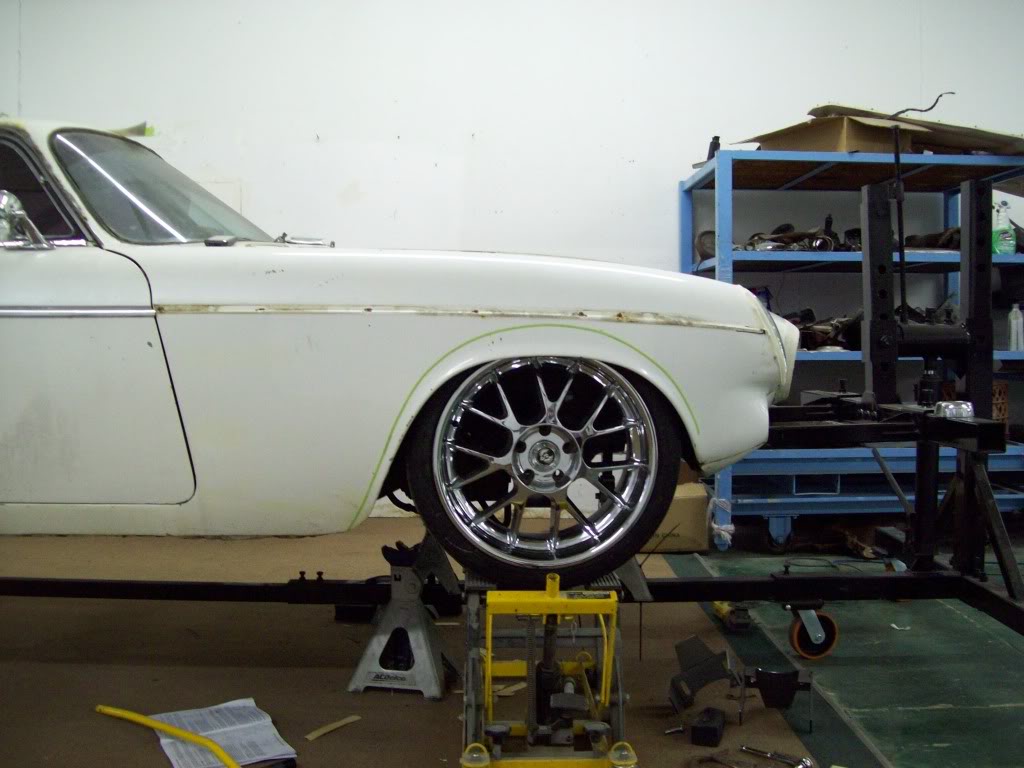 I got my factory Mustang II front end today and robbed some parts off of it.. I have the spindle and rotor in position to where it would have the front wheelin the ride hieght pictured on the other side.. I will have to run a 2 inch drop spindle, and would probably be better running the 7/8" shorter upper and 1" shorter lower to give myself better offset control with my wheels.. Right now, if the wheel was the same bolt pattern, it would bolt on the drivers side and be in the same poistion hieght and offset, so I think things may work out just fine..

Where my dilema falls is this... I need the Upper A Arm to bolt and adjust in the wheel housing, because the factory Volvo opening is not wide enough to accept the Mustang control arm.. It does appear that will definitely be possible with the shorter arms, because it looks possible right now with the exception of the Control arm Over hang on the backside of the pivot point.. I need all this to fit in the wheel housing, because I do not want to cut the car, and I am looking for a complete bolt in system.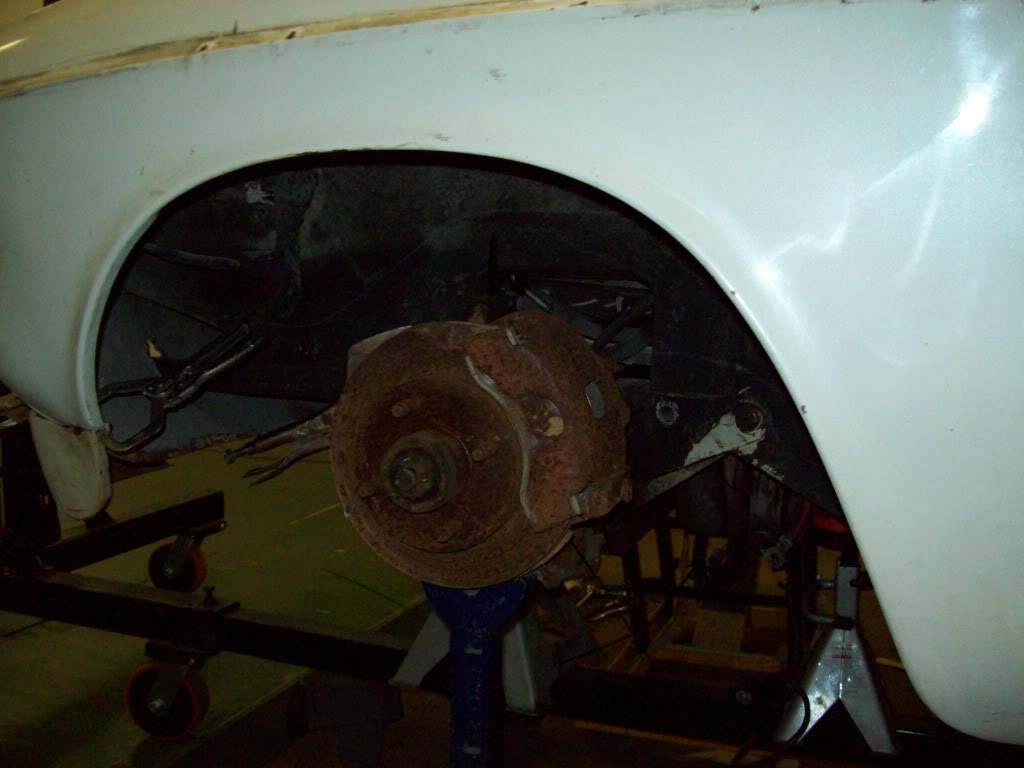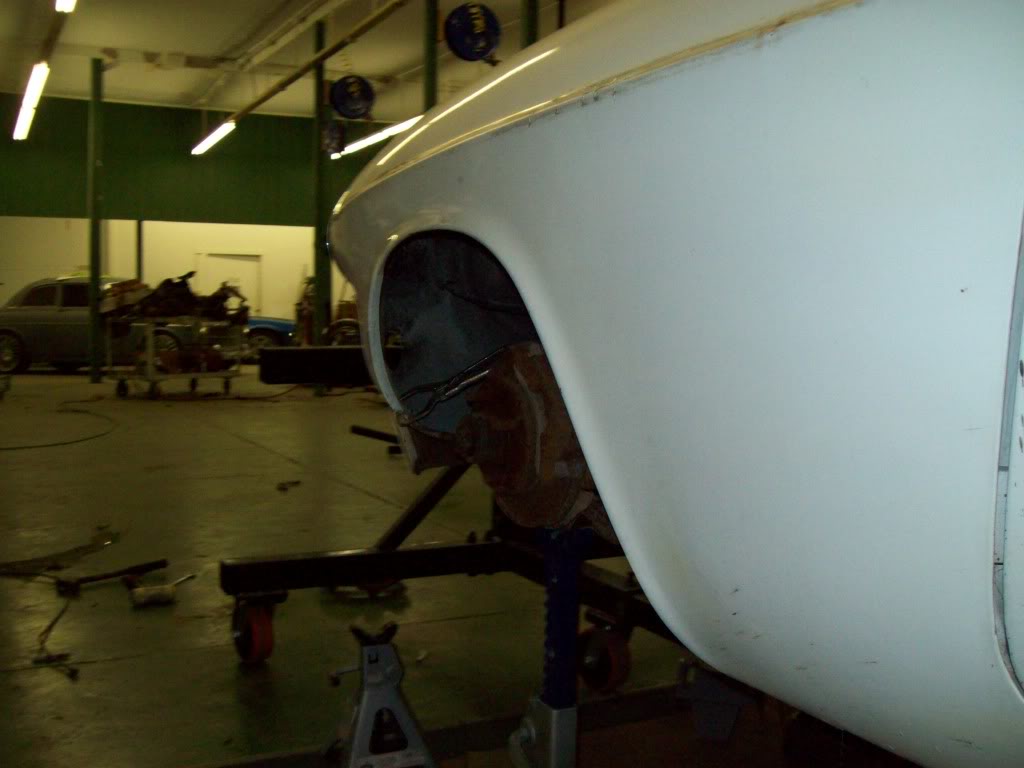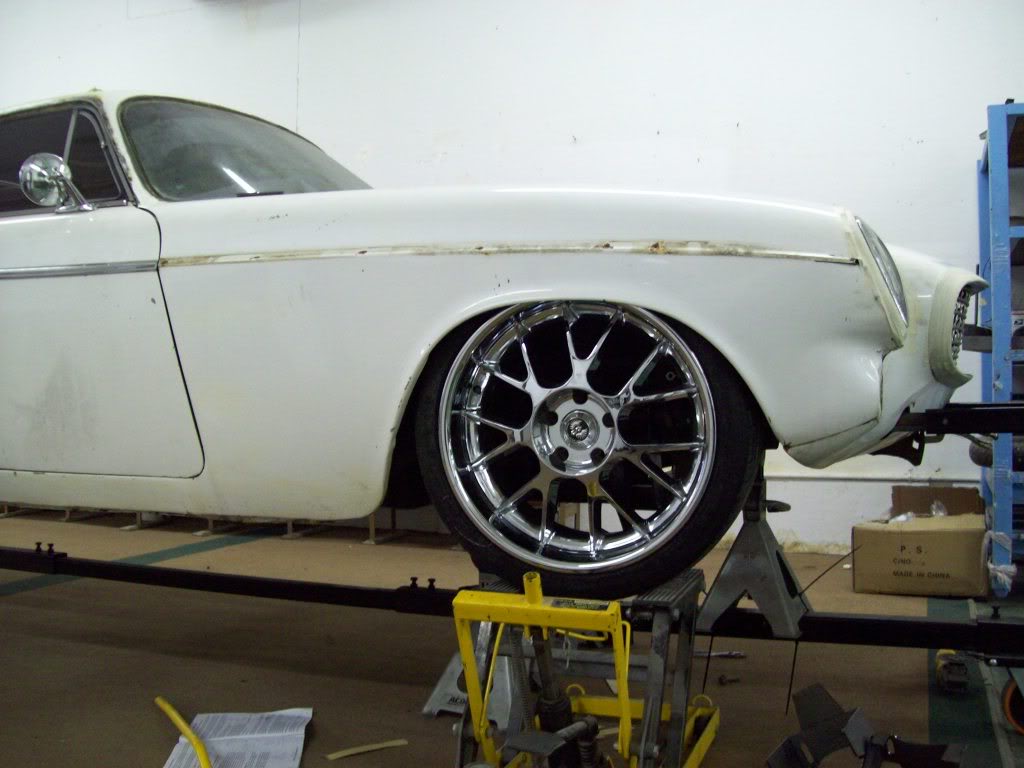 I have been working on a rough (Not smooth with a glossy surface yet) in on the Flush Mount Glass Patterns for the rear glass, I will finish up on the patterns for the Front Windshield and post them later.. This is the basic fit of my glass kits, and is the kit I will be offering if anyone wants some. The patterns really dont do the glass justice, there is nothing like shiny new glass to continue the body contours. Especially when it is un interrupted by the trim or rubber. At this time, I will not be offering the Green House Roof/Back Glass..

I had to make the Flush Mount Rear Glass pattern to fill in the hole, before I can make a pattern of the complete top and back glass for the Green House Roof/Back Glass.

I have also made a stencil for the quarter window, what do you guys think? It seems very close to what is pictured, so I think I will go with it.. Pictured below is a comparison between the lower glass/quarter glass lines on the rendition and the glass patterns I have.. They appear to be very close, but I think I have to sharpen the corner on the rear of the quarter glass stencil....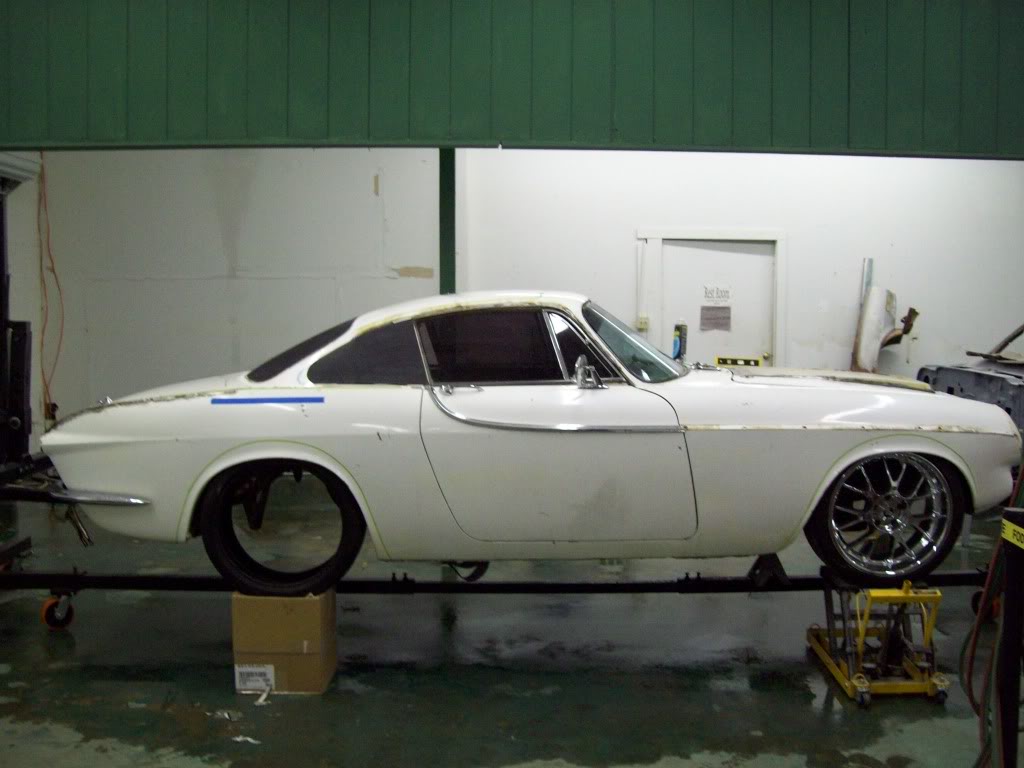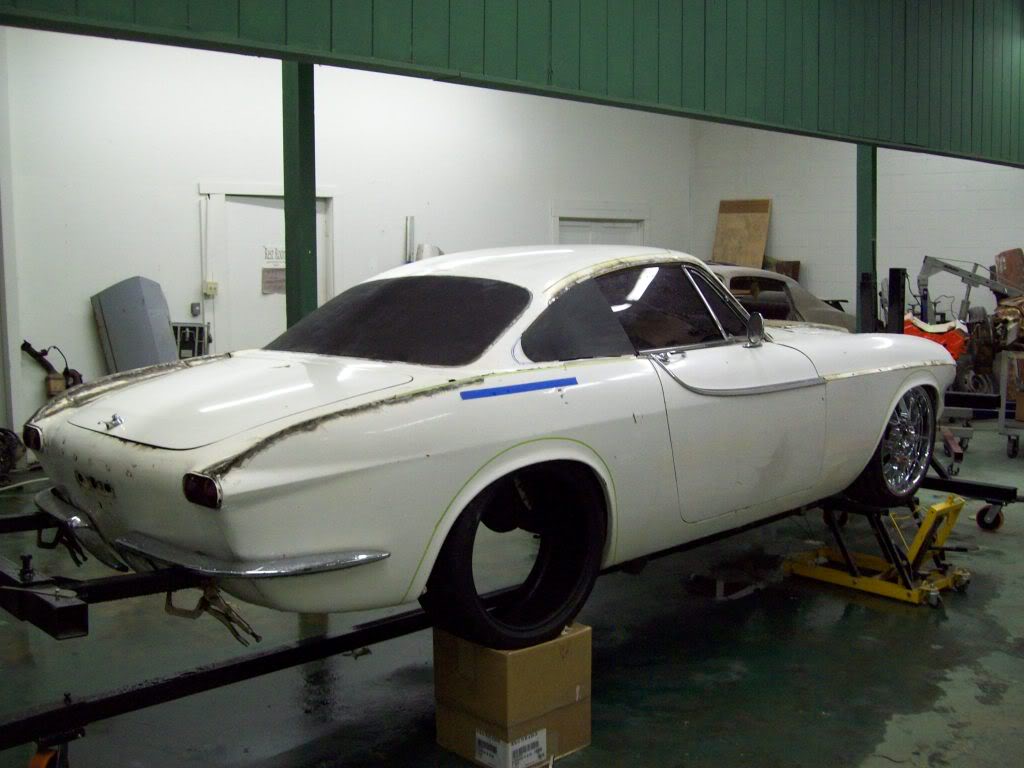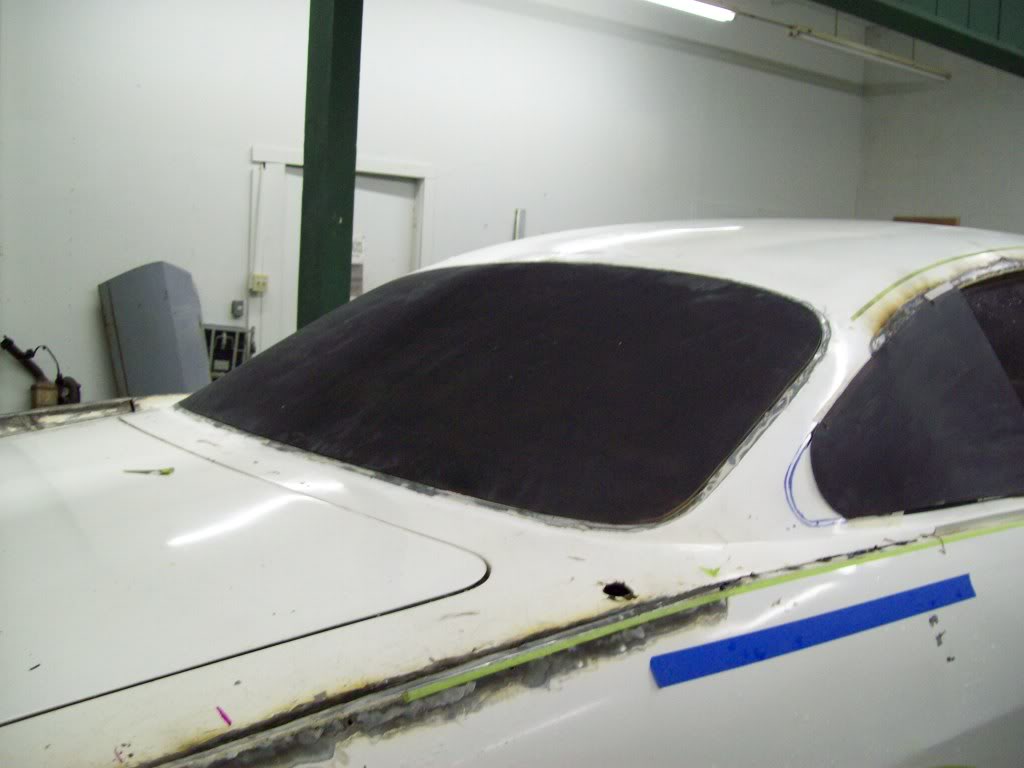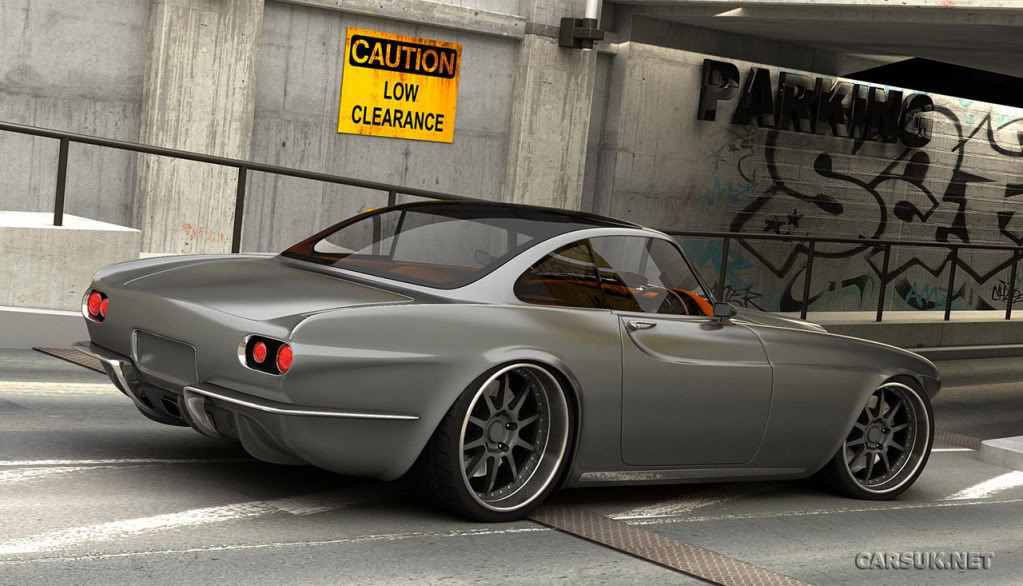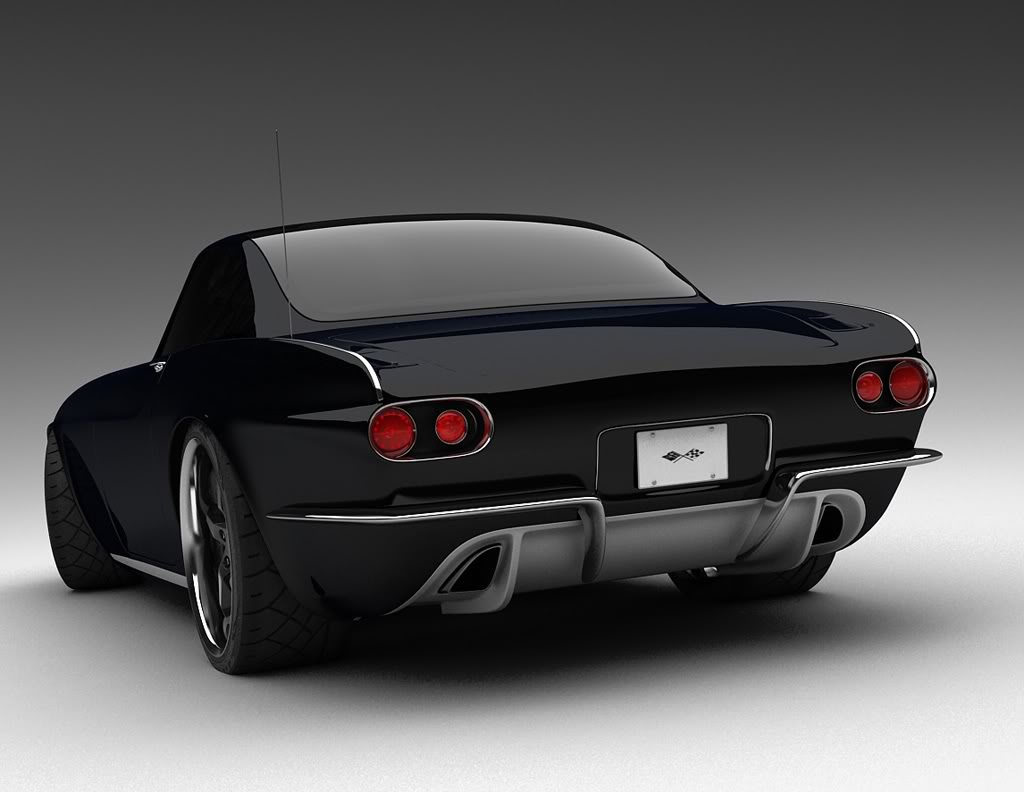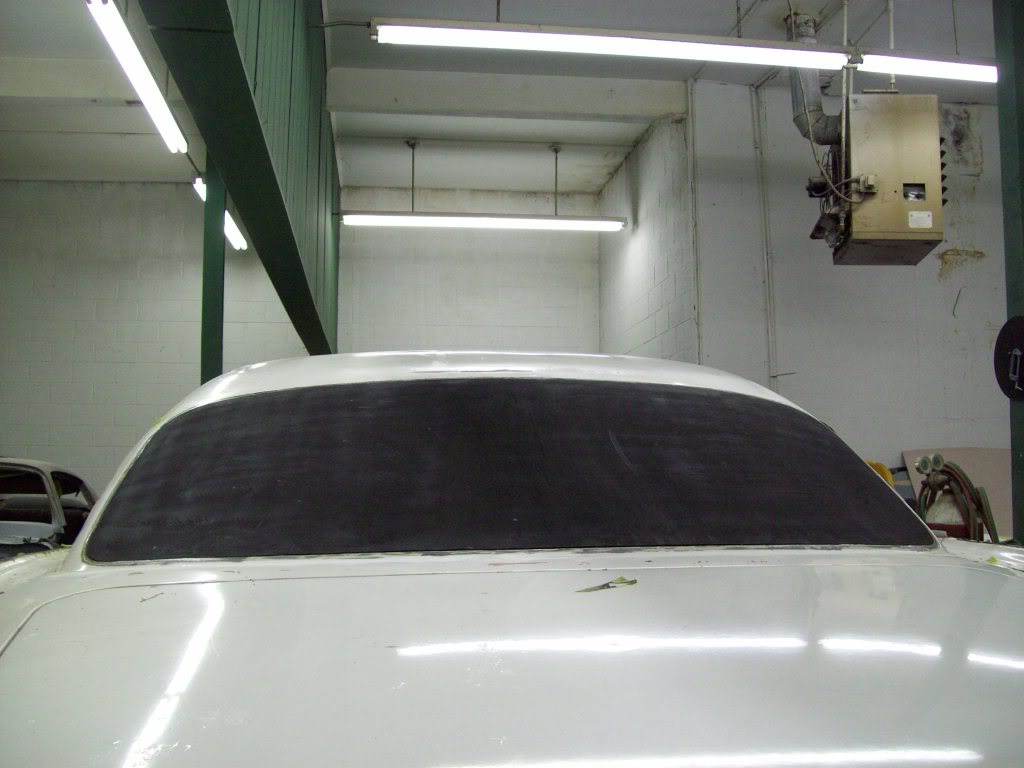 It takes a bit of vision here, but this is the basic outline of the Green House Roof/Back Glass... I will still be tweeking the rear of the quarter glass template a bit, just to tighten and refine the back corner a bit. This looks like the basic outline that will work with the body structure, with minimal metal fab...

I am very visual, so the Tape and Black outs really helps put things in perspective before the cutting.. I have all too often thought something would look right by measuring it out, but for some reason, it just doesnt flow correctly.. So, I have grown very dependant on the extra time to map things out and stare at it for a couple of days before I do anything drastic.. ha ha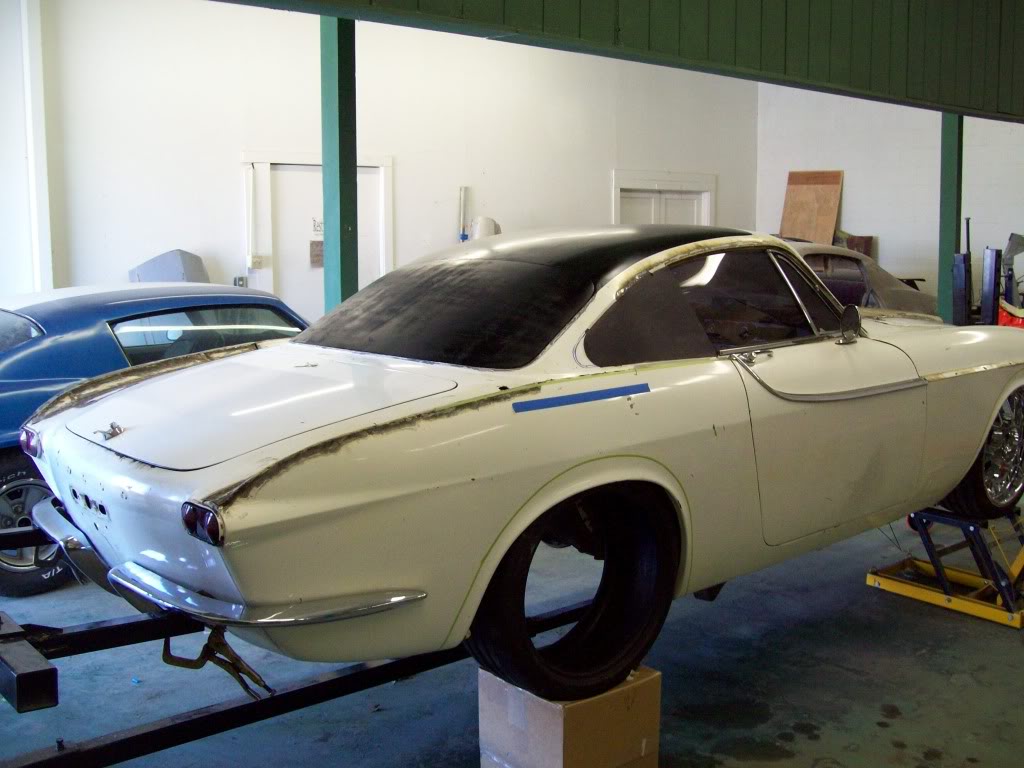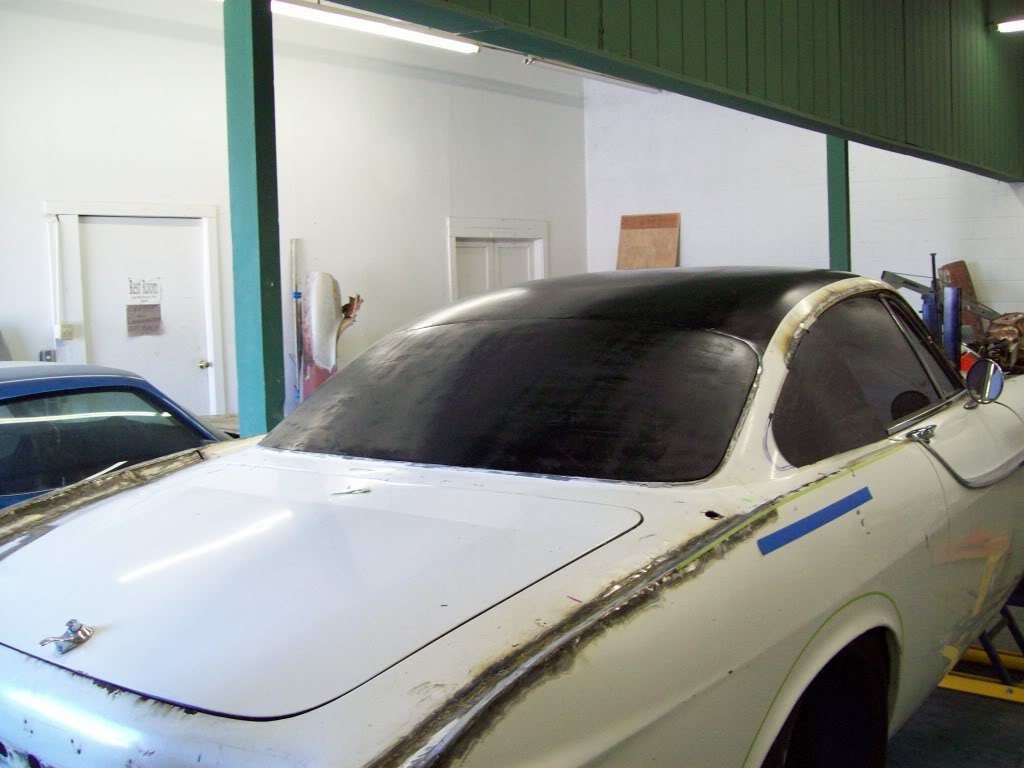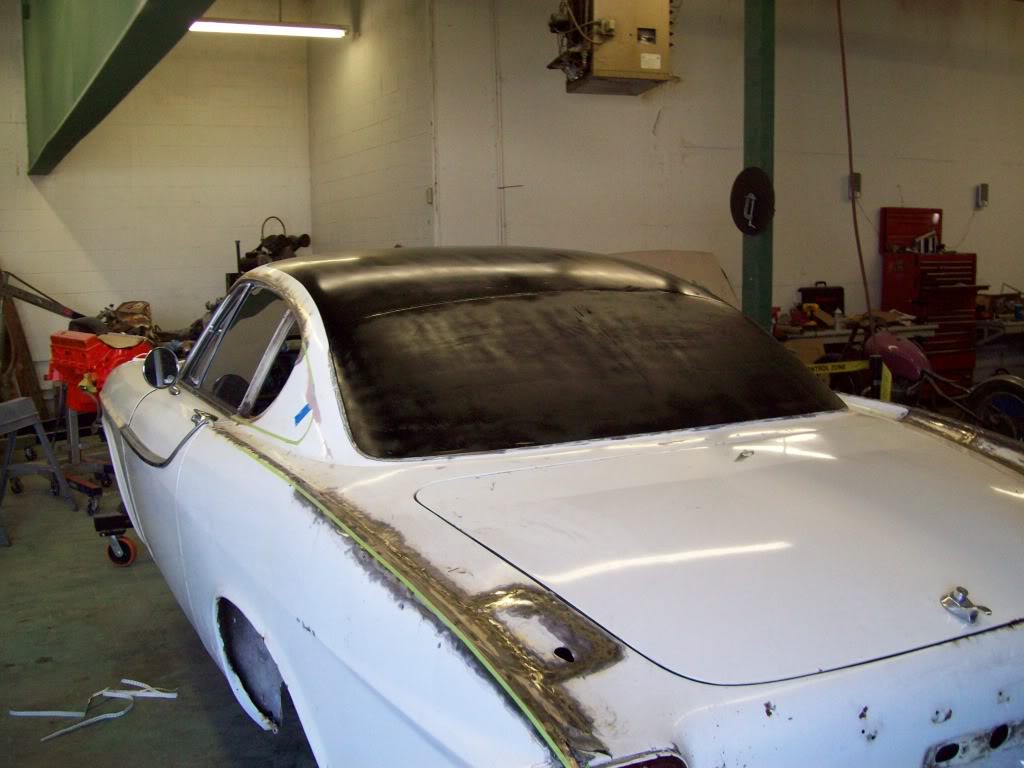 Here is the interior concept I have to work with.. It seems that the P1800 interior style is timeless, with very little tweeking, it right there with the current High End Cars.. I really dont think these cars had as much appreciation for its styling as it deserved.

Just look at the original interior compared to the concept, not much was changed at all, and I personally think it is spot on with the exception of the shape of the front seats.. I personally like the original seats and think there can be a happy medium between Original and Custom when it comes to the seats.. Now all the rest of the interior is beautifully done, and I dont think there is room for improvement there.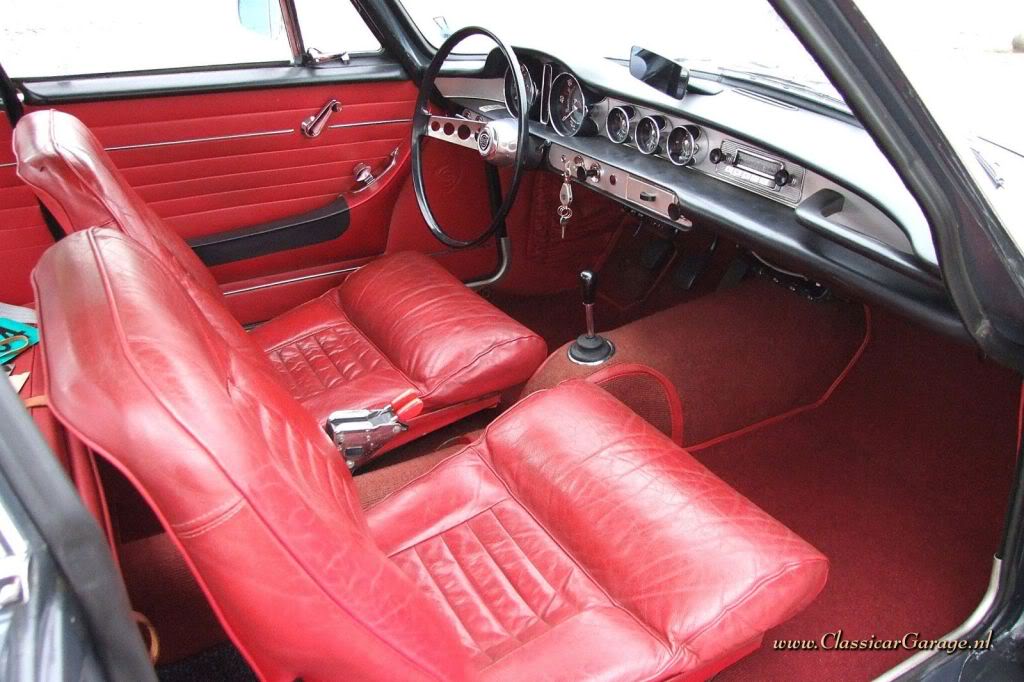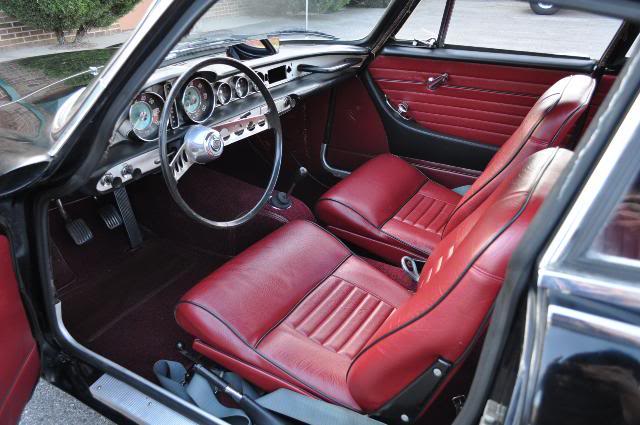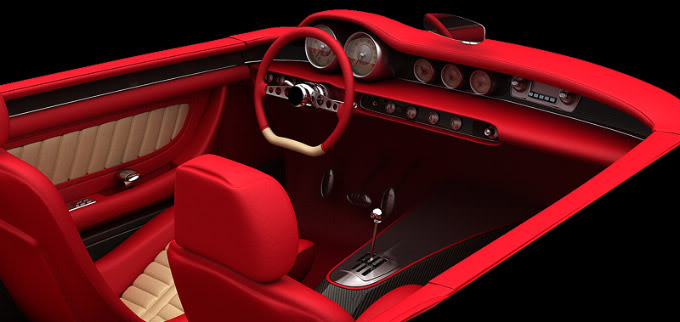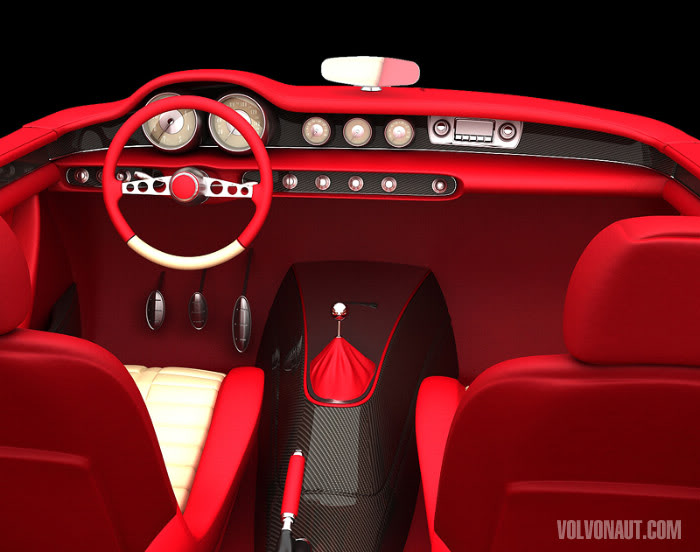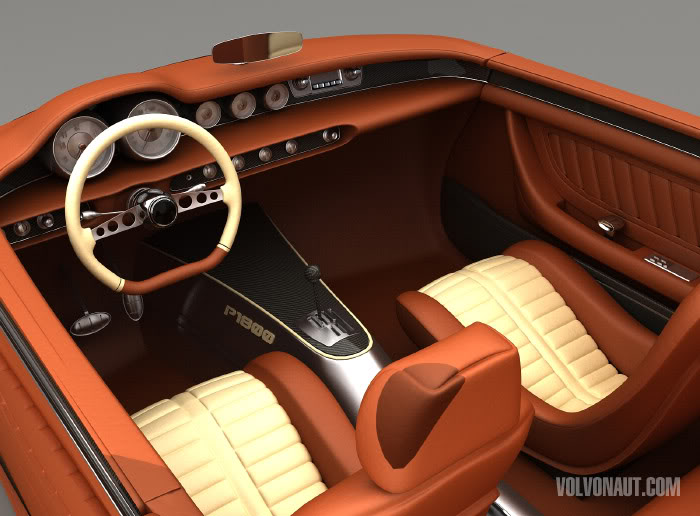 3-3-2011
Here are some better pictures of the glass situation.. I will be tweeking the bottom rear corner of the quarter glass, just havent had time yet.. For these pictures I taped off the bare metal around the windows and drip rails, it gives a much better idea of what is going on.. I also, set in the roughed in flush mount windshield pattern, and I must say, it makes a huge difference in the car.

I would like your opinions on if you think the Flush Mount Glass takes away from the car.. Again, no body mods, they just glue in, so there is nothing bad done to a pristine car. Personally, I think it just refines a car that was built to the standards of its day.. I really think that if this type of install technology was available then, they would have done something similar.. One other thing to consider again, No more water leaks for the gaskets.

When I remove the gaskets in my car, they were crammed with so much epoxy and other harder materials that were obviously put there to help with the leaks.. I had to chisel it all out of the channel and off the outer panels of the car where the weatherstrip over-lapped.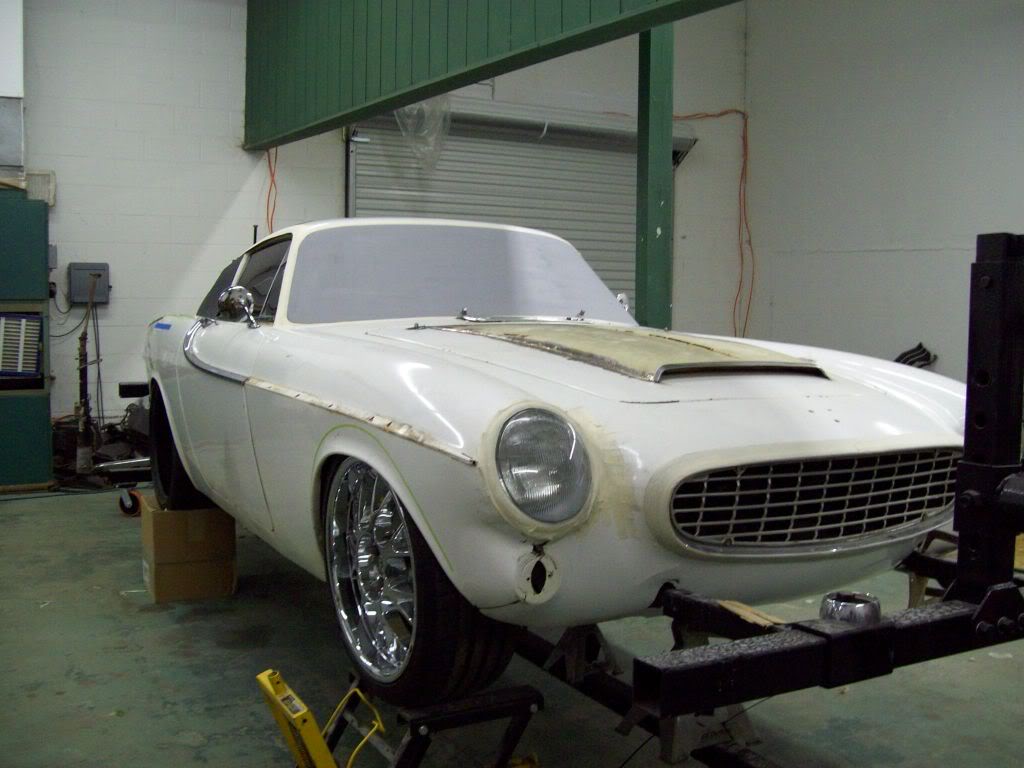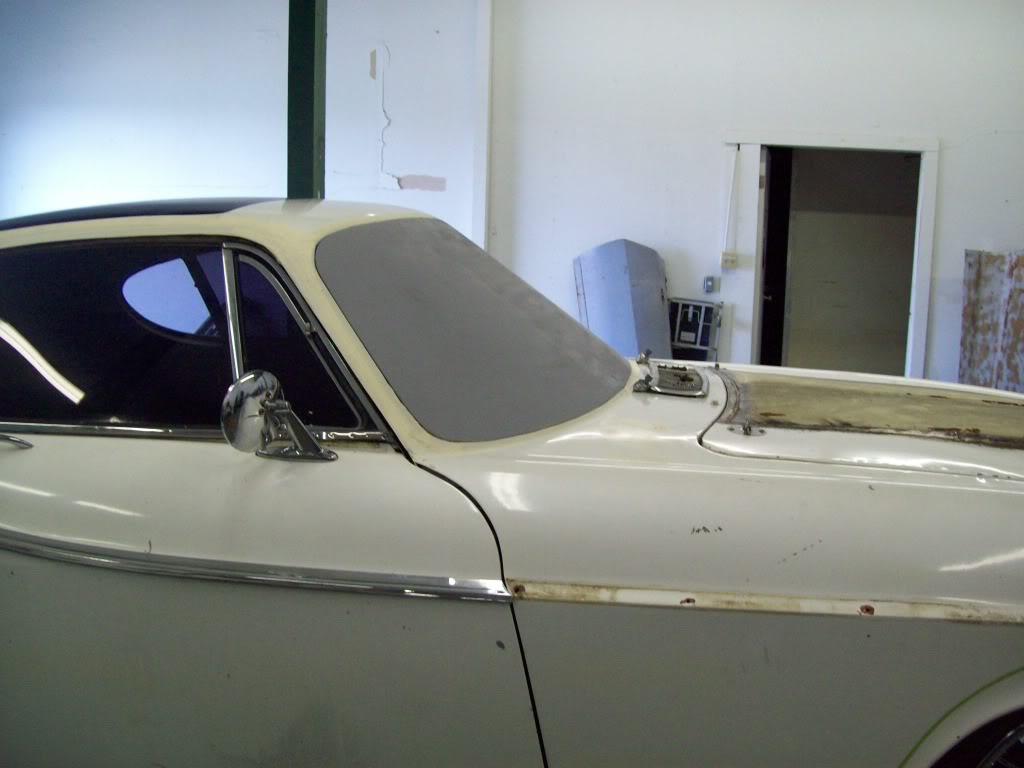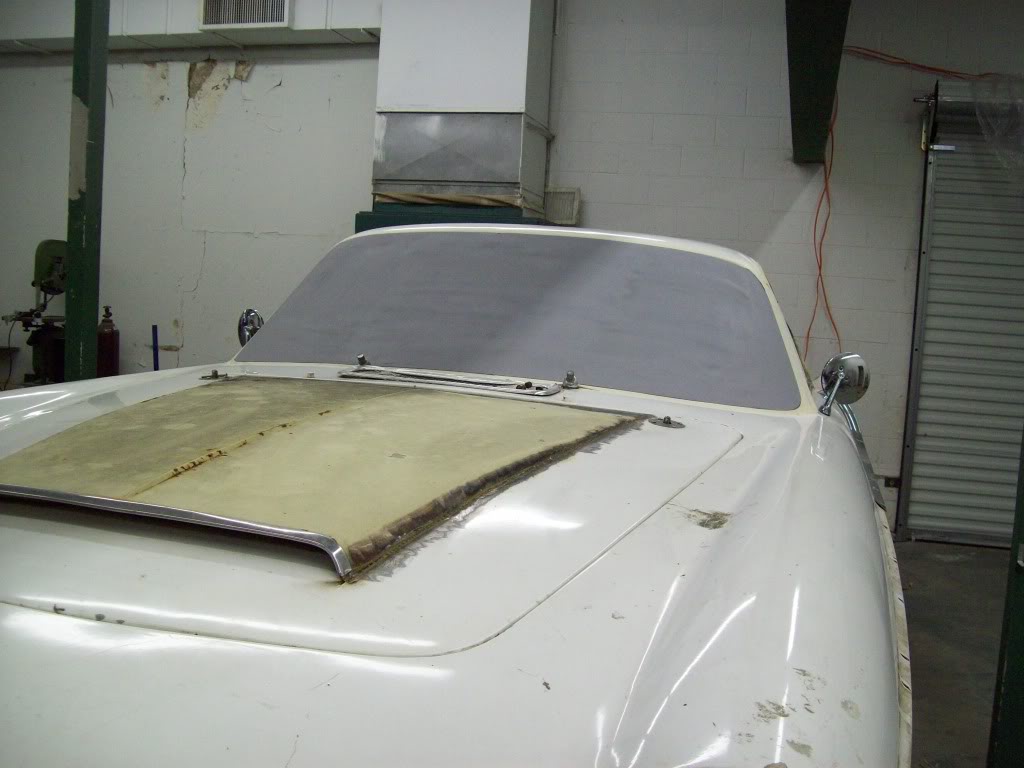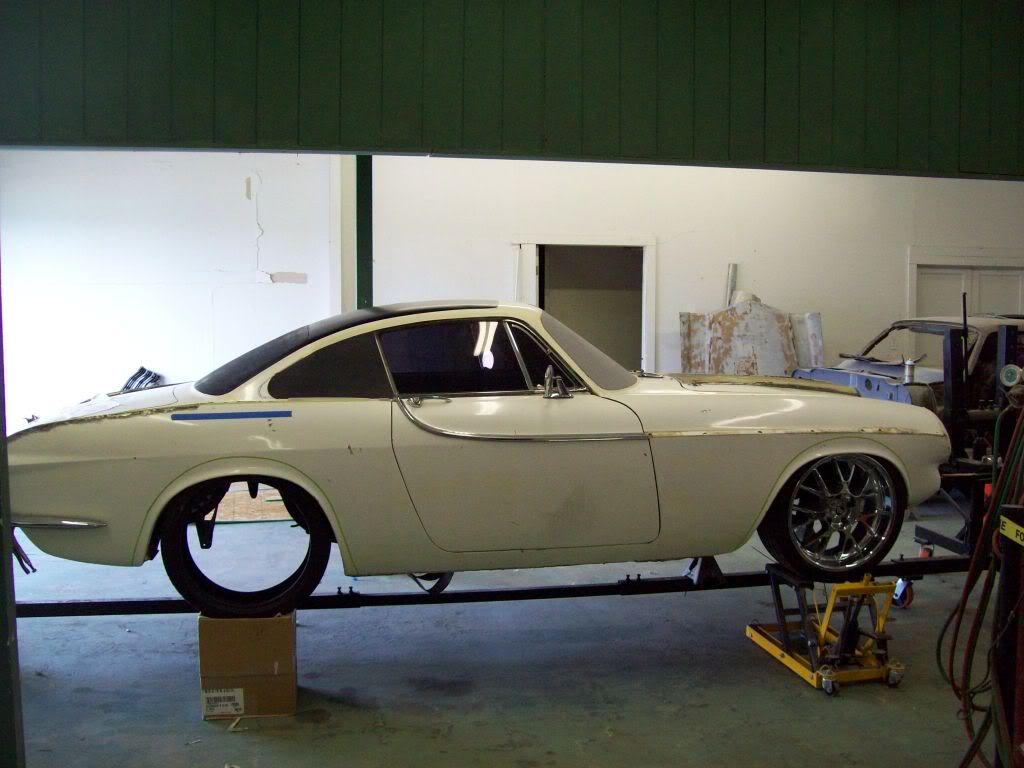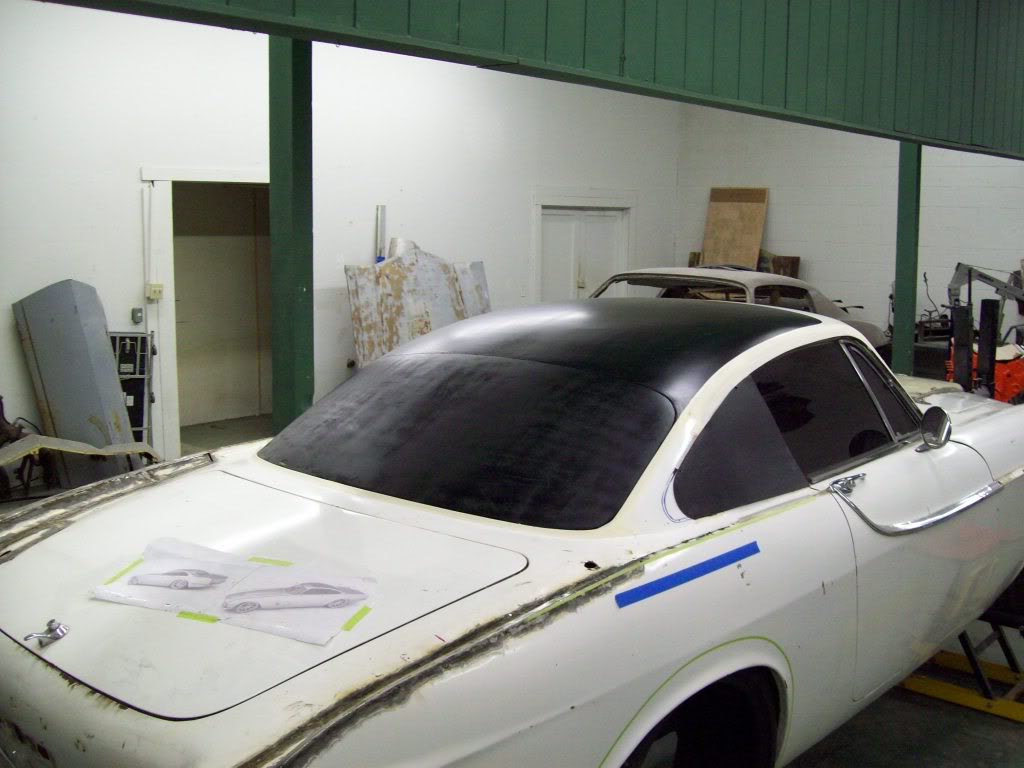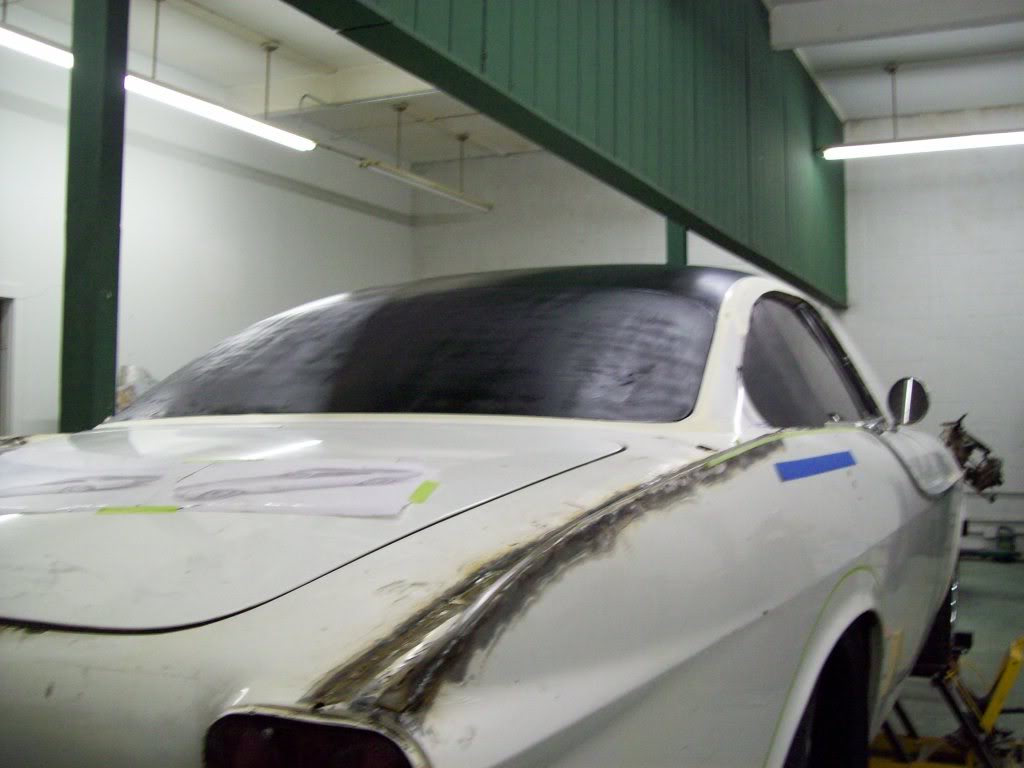 3-4-2011
I have been working on my Recessed License Plate... I ordered a Fancy Tag kit from Sachse's Rod Shop in Dallas, and it made it the next day.. It is a very nice gauge steel, so it is actually going to stiffen up my back panel.. I did a couple of modification to it, so I can reduce the size.. I cut an inch out the the center of it, so I can reduce the width, and make it snuggley fit the license plate.. Then I rolled the lower edge up to make a bit of a box unit, but also reduce the over all height..

I think it is in a very close postion to the rendering, and it was really the only position things were going to work out... Also the side of the recessed panel is not welded in at this time, i am doing to wait till media blasting and the final hammering and dollying.. The Rear Panel had some bondo in it and as a bit wavy, that is why you can see a bit of low spots in the pictures...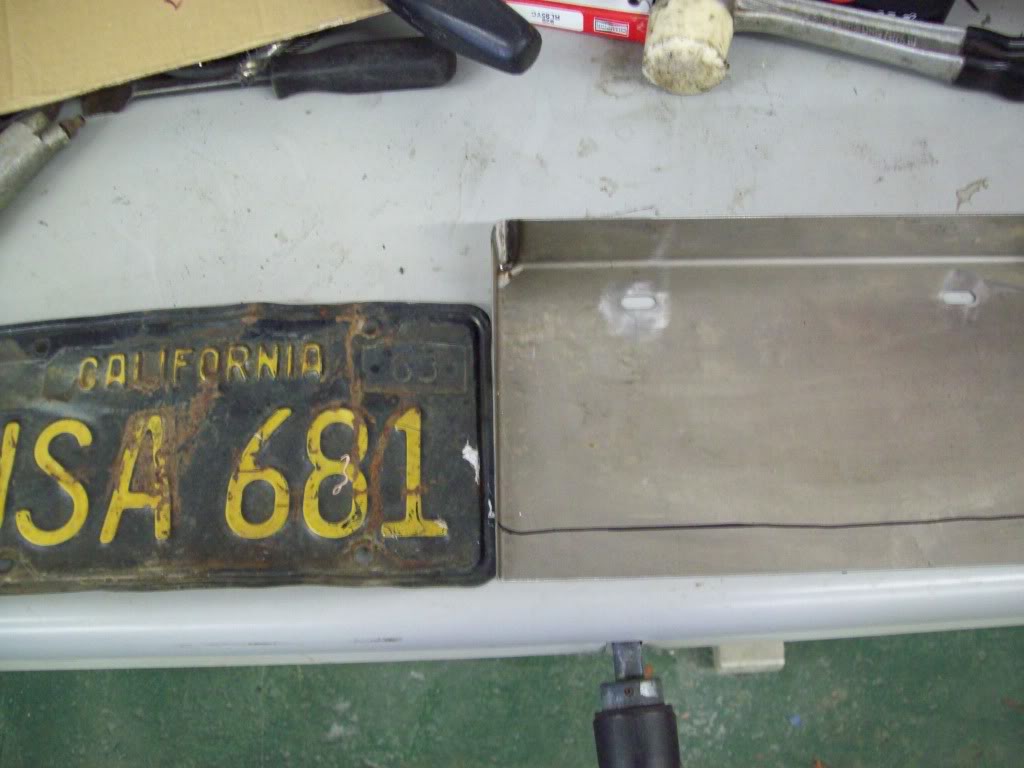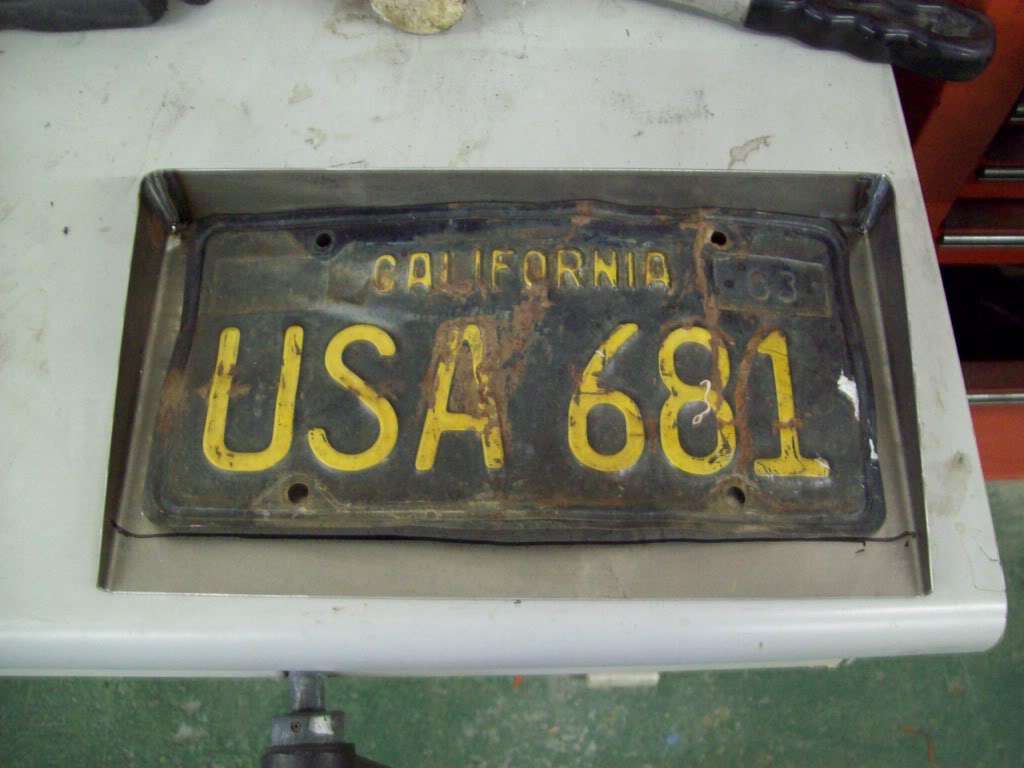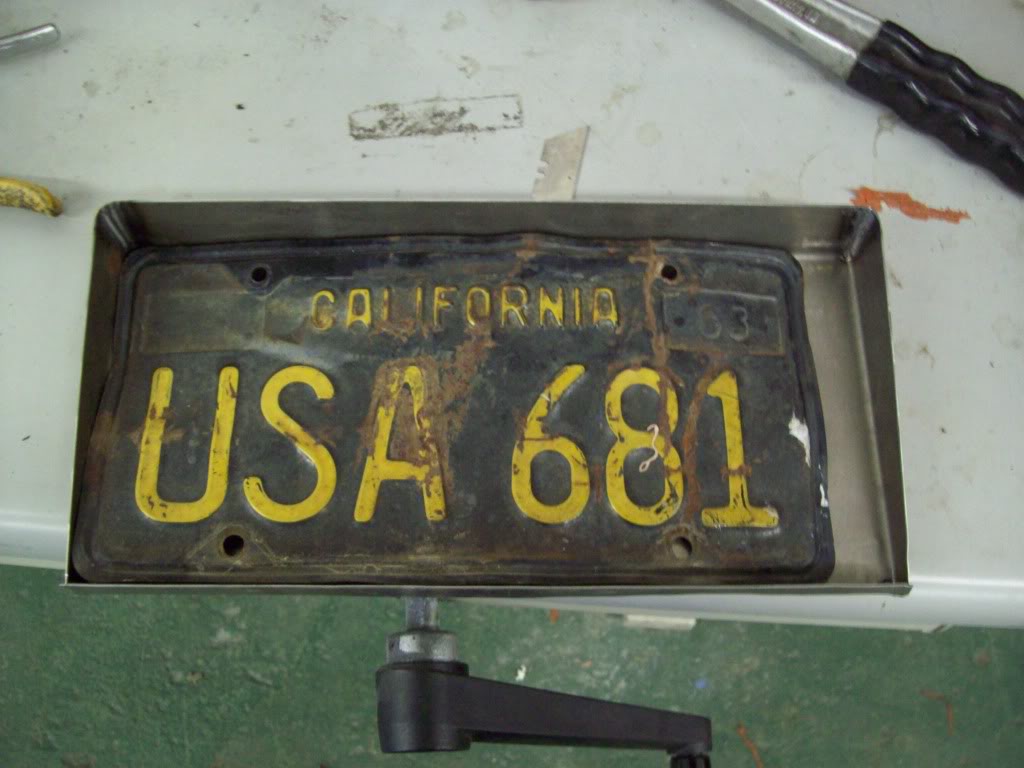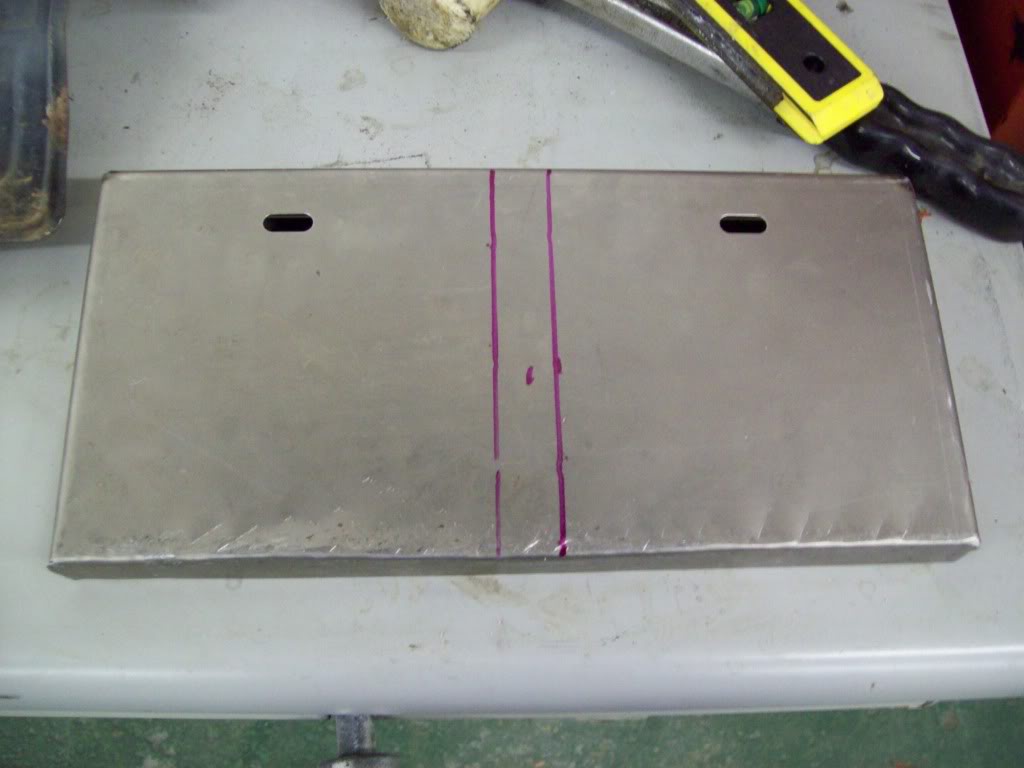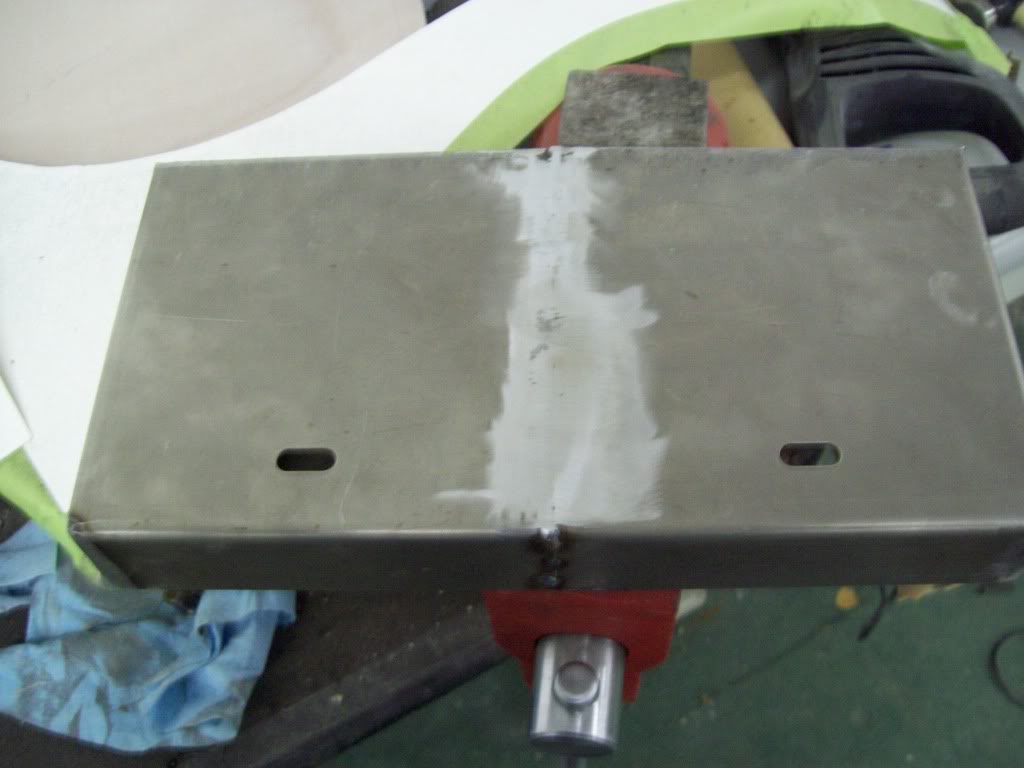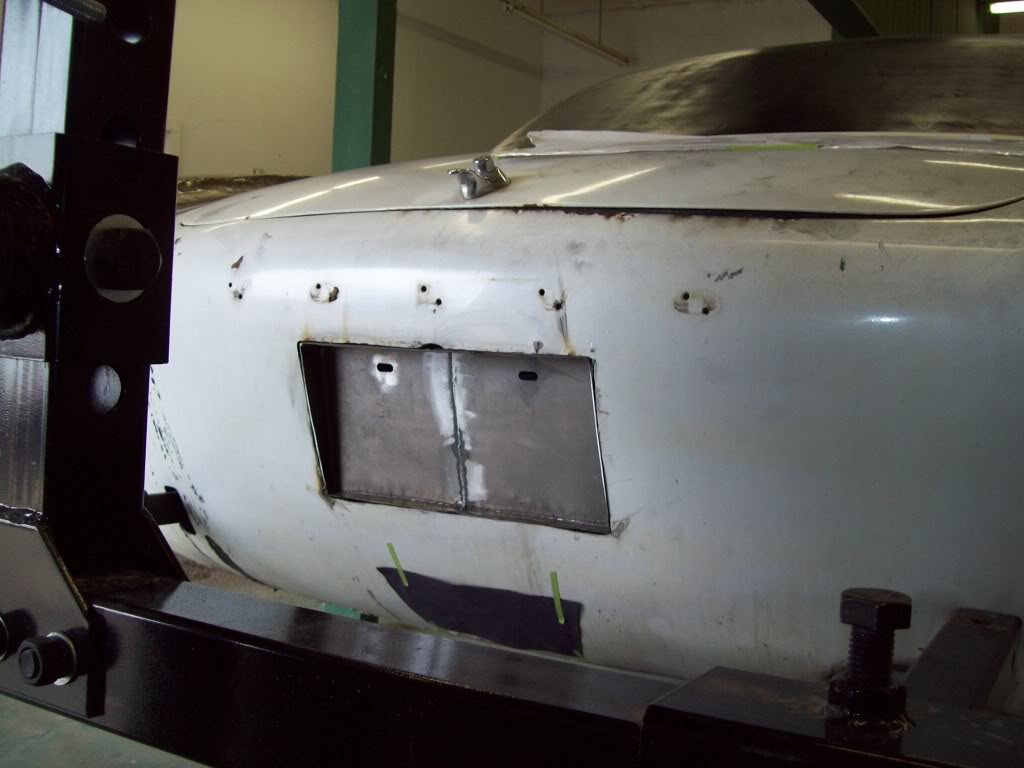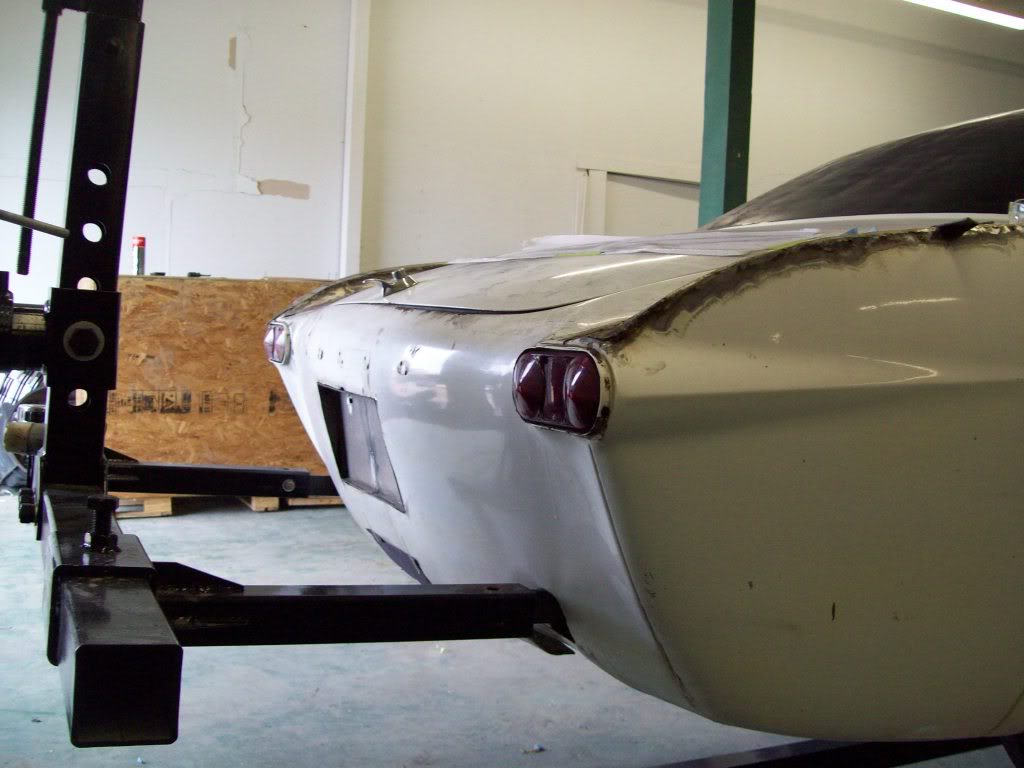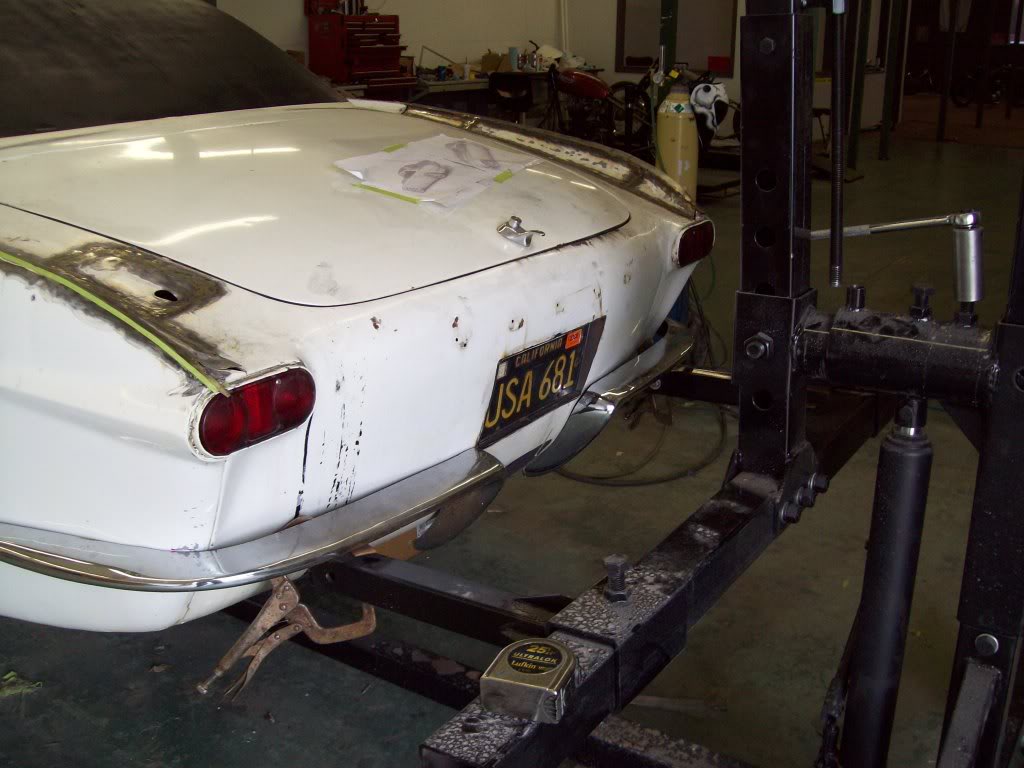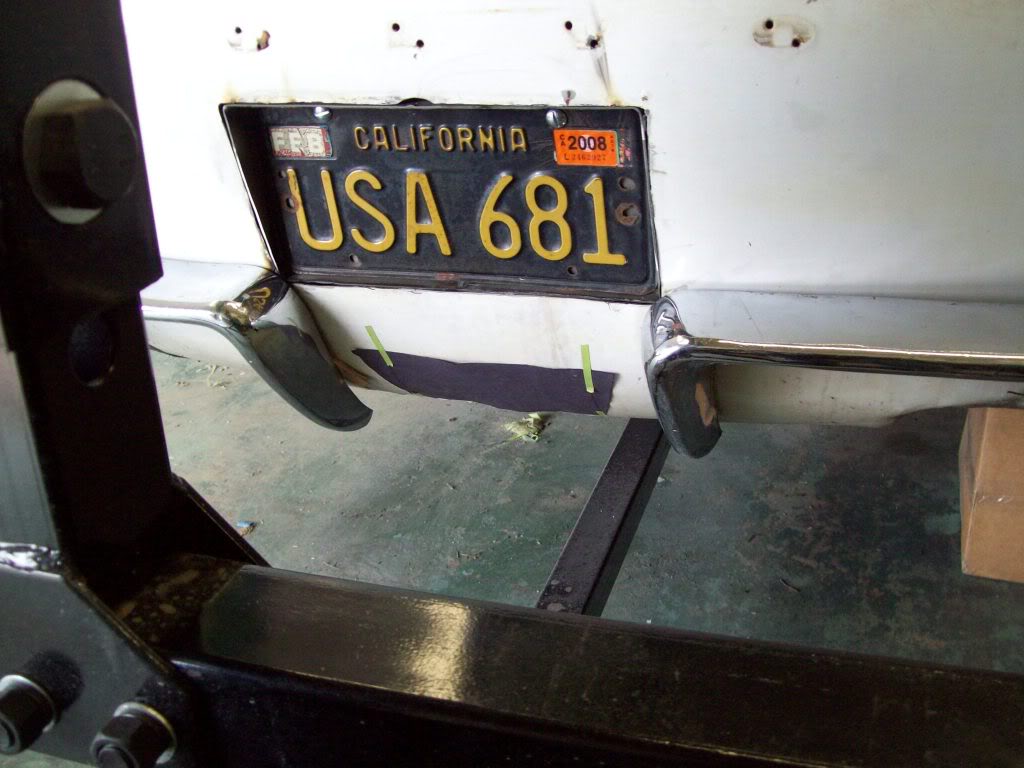 3-5-2011
How to do the Quarter glass has been up for debate on several different forum's, but here is what I have settle on... It works great with the roof structure, and blends well with the door glass. I personally think that the roof structures blending between the quarter glass and back glass is about as good as it is going to get proportionally.. Please let me know what you guys think, and keep in mind that the glass will be at door glass depth in the body.. This is just a black out to represent the actual CUT OUT on the body, the actual glass will be a bit smaller and inset about a 1/4 inch like the door glass..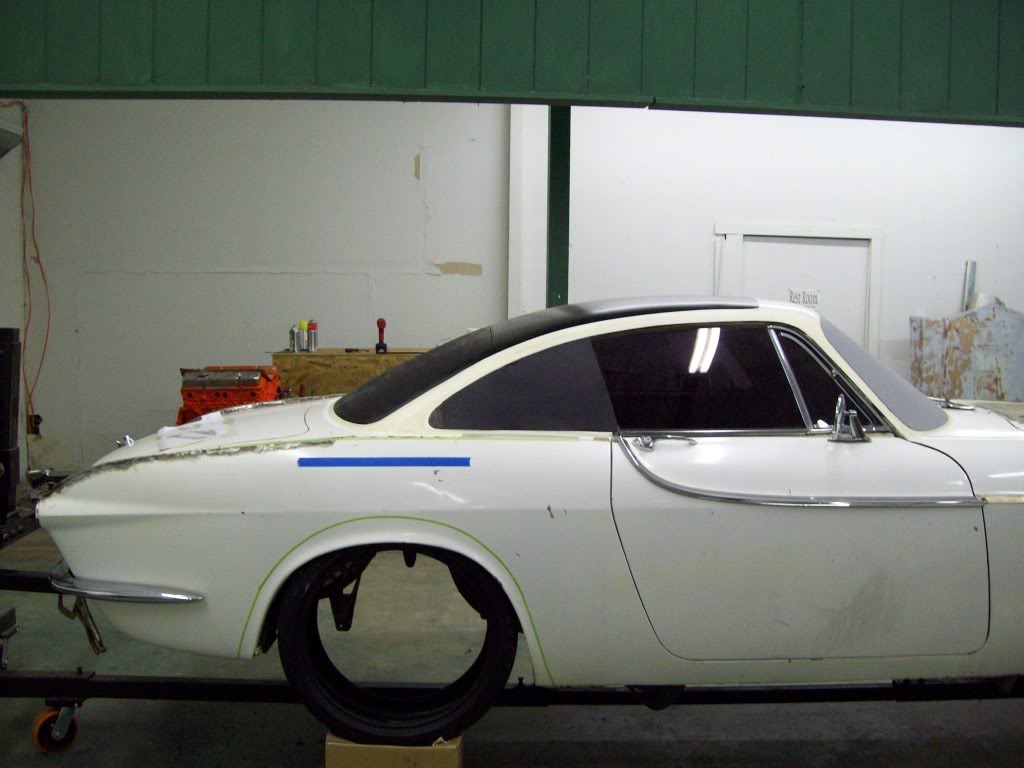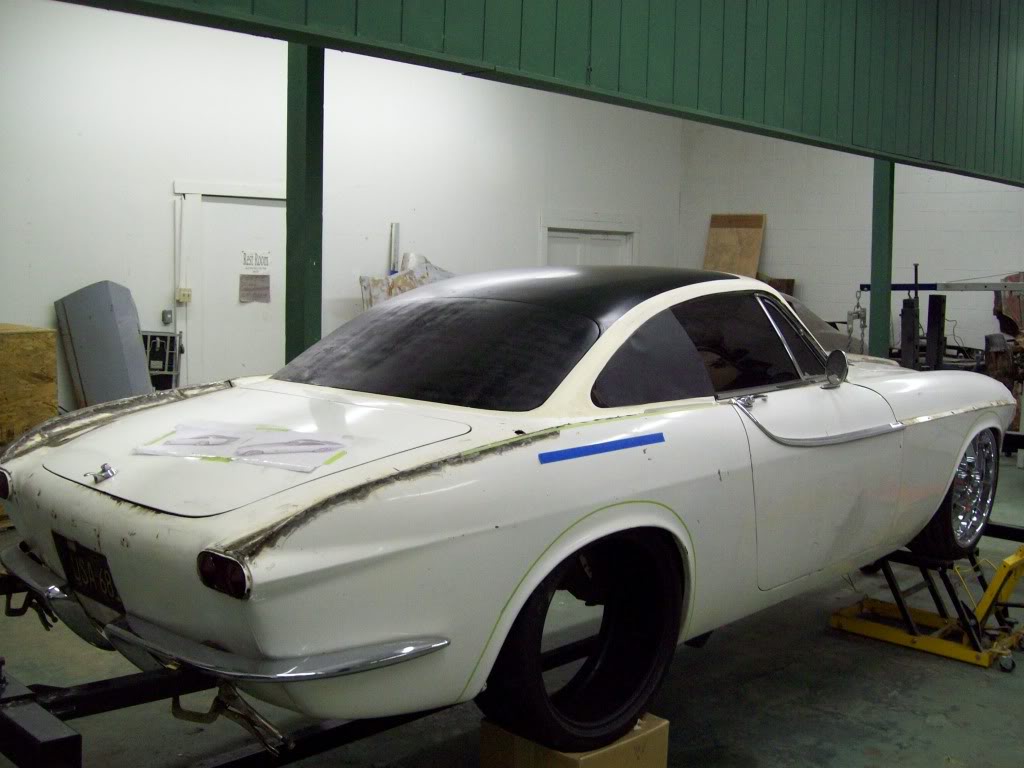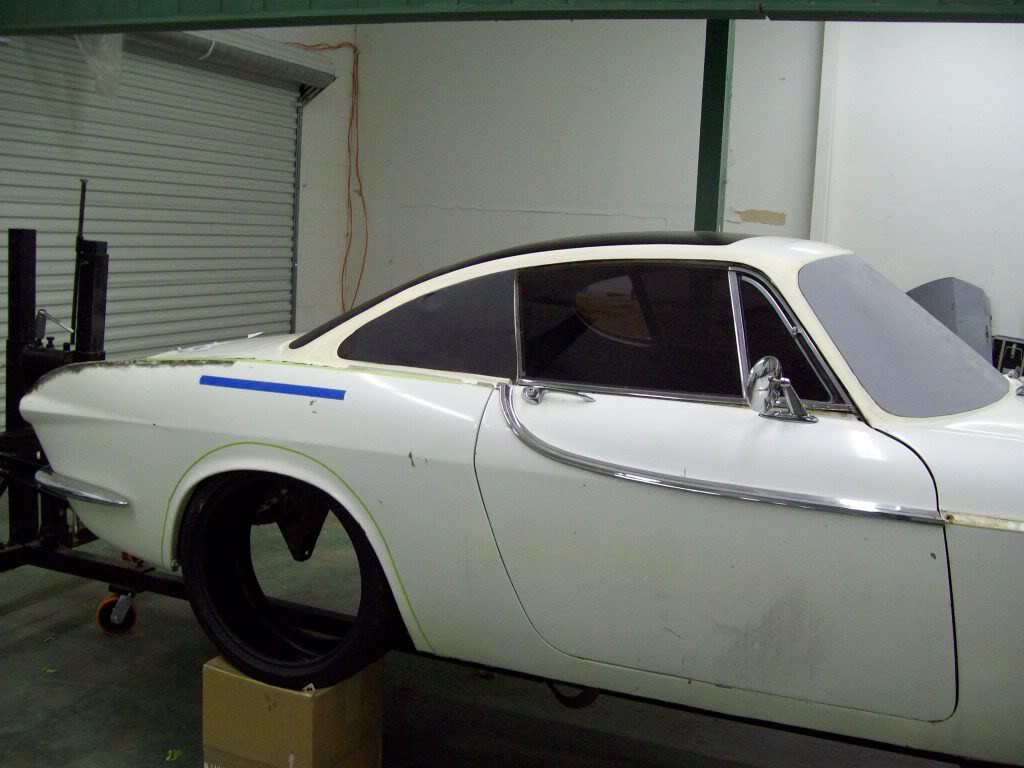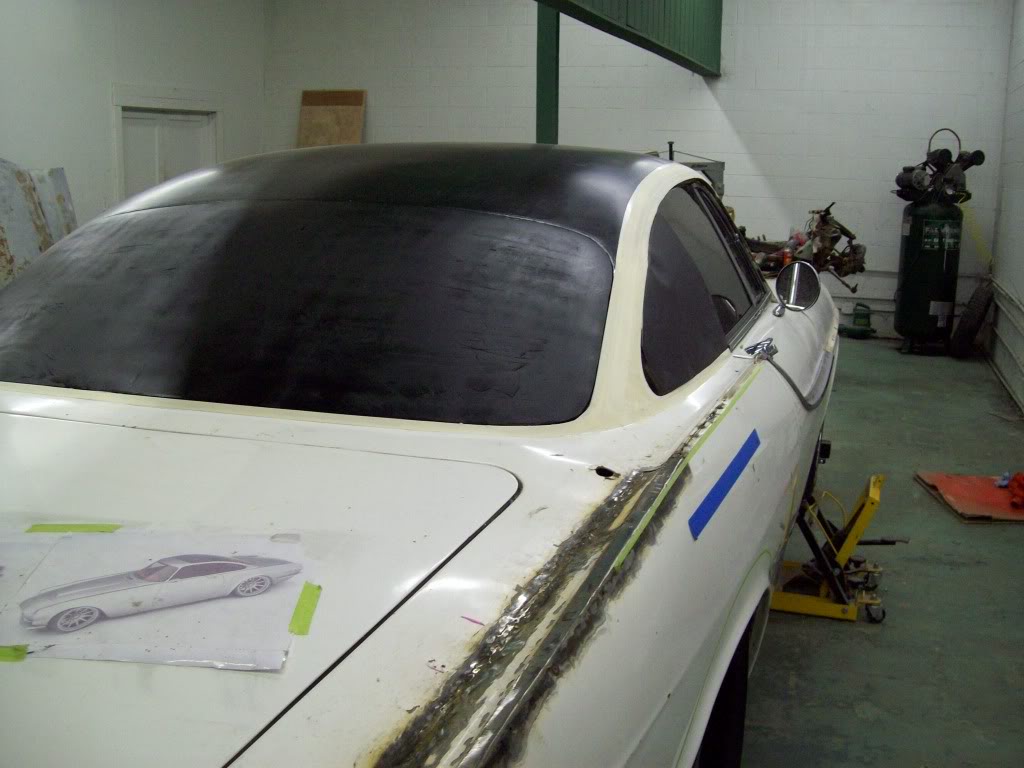 Also consider, I am doing these mods with out all the new and updated tools that most profession build shops have.. ha ha I am using the tools and equipment that most people who would consider themselves to be a Automotive Novice would have in his garage (with the exception of the rotisserie maybe). So some of it doesnt look real professional right now, and some of the techniques may be a bit off, but in the end I believe it will get there. I know that some things would be alot easier with the proper tooling, but I really dont do enough of this type of build to consider the investments..
3-7-2011
I am trying to figure out what to do with the exhaust, while I wait for some other parts to get here. I am running into a bit of a snag, with them, because the rear of the car in the rendition is not accurate to the actual car.. They made the rear panel taller and a bit wider than factory, and that is how they fit everything on the rear.. I dont think I am going to mess with the difuser at this point, because of the surface area I have to work with..
Now, I do like the exhaust ports on the rendition in black.. I was considering a center exhaust, but seems that more and more people are doing that. I want to work on a variation of the dual exhaust pictured in the rendition. So, I am going to have a Exhaust tip and Bezel CNC'd out of aluminum. By doing this , I hope not to look like I just have a different shaped tip coming from a cut out. Pictured below is an idea I am working with.. The outer ring is representing the bezel that will have a finishing lip on it, to cover the cut body.. The Center represents the actual tip, that will also have a lip on the outside to make it look a bit cleaner that just a cut edge.. The tip and Bezel will be about 4 inches deep, and the tip will be centered in the bezel, then welded at the back to a plate that will make it a complet unit.
Again, the is something that was roughly made, so I can get the actual body contour for the CNC shop to work with.. I cut this all out with an angle grinder, so some of it may not be exact... Also, the bumpers are not fixed and centered yet, so there is a bit of tweeking there...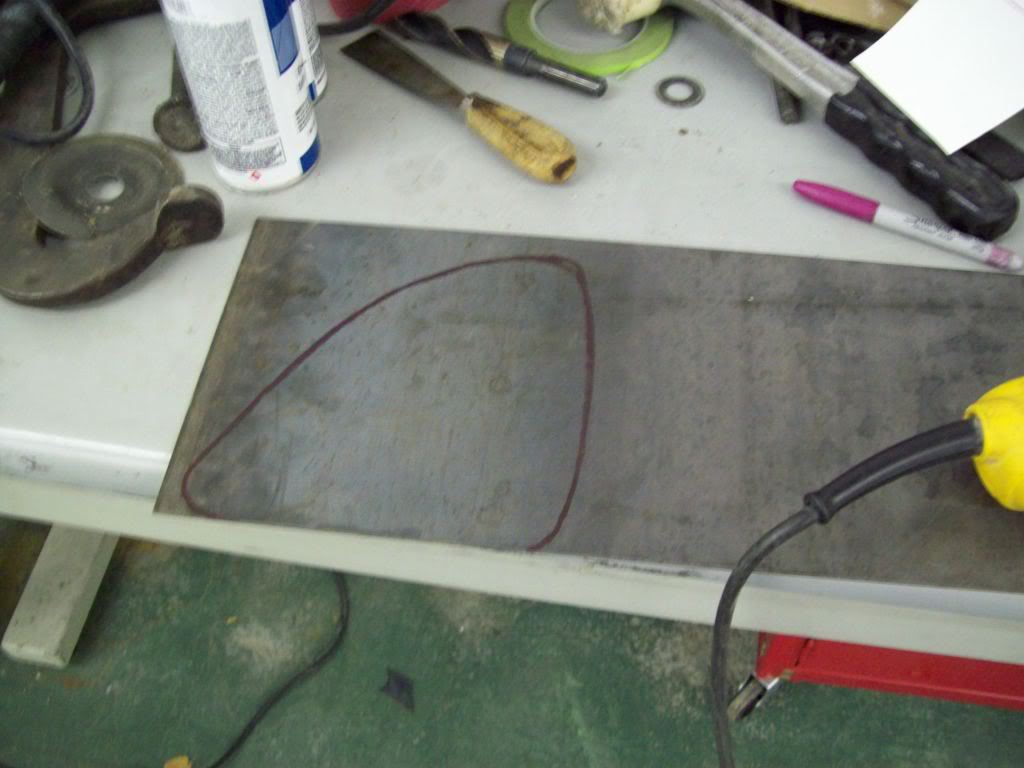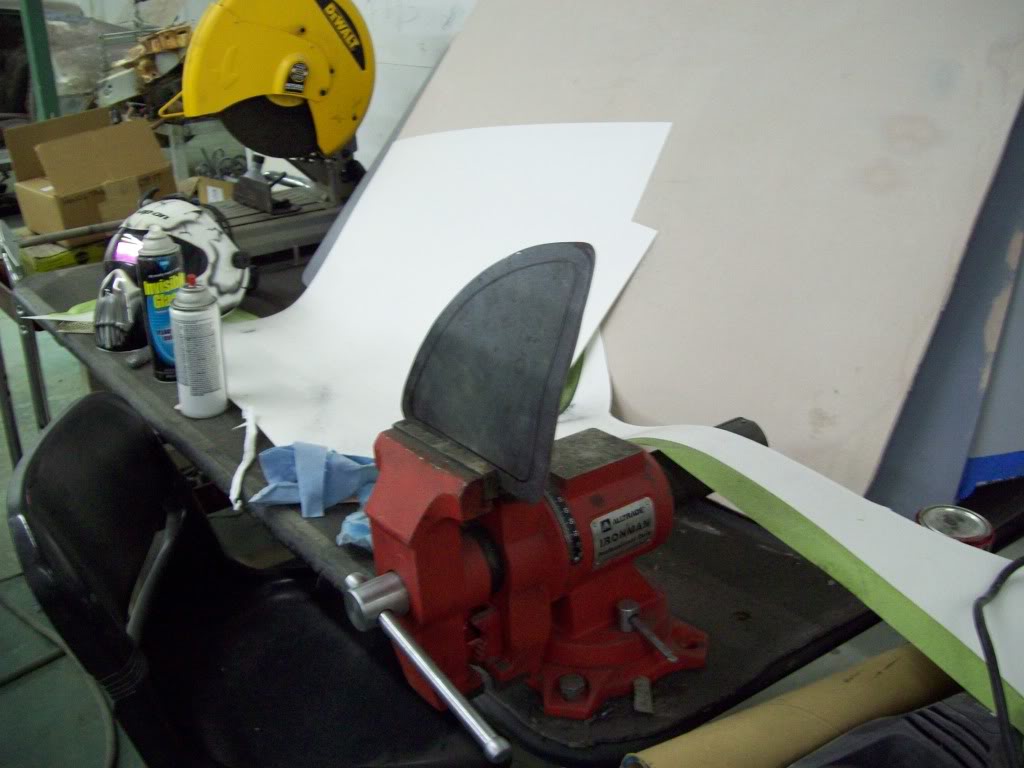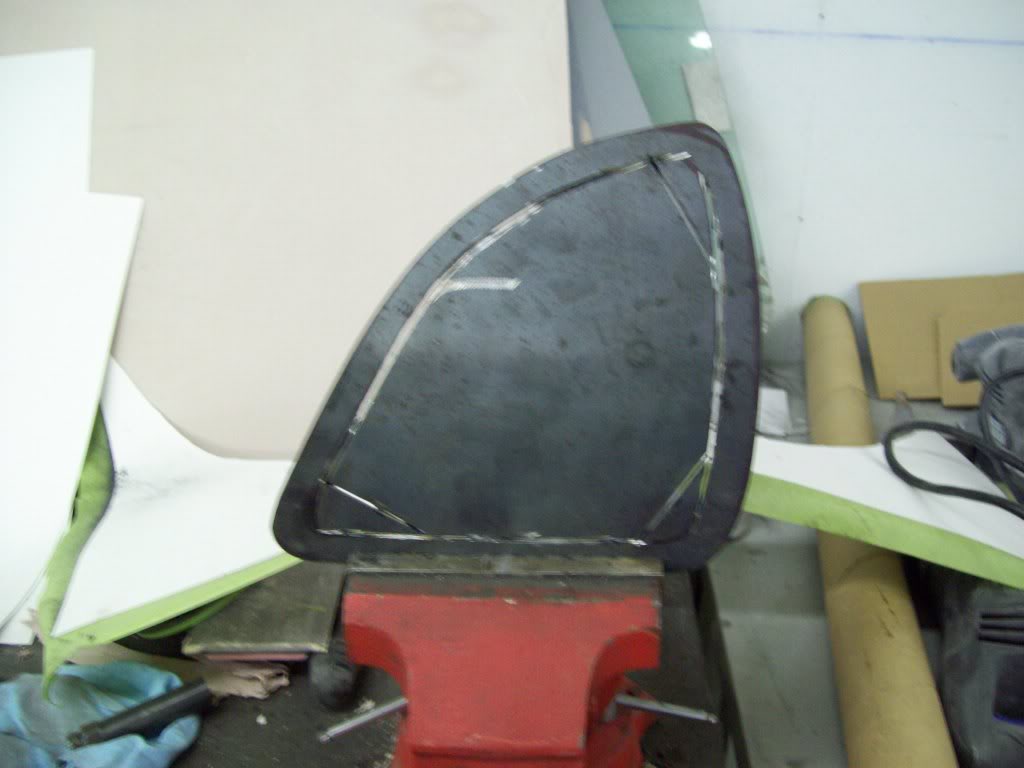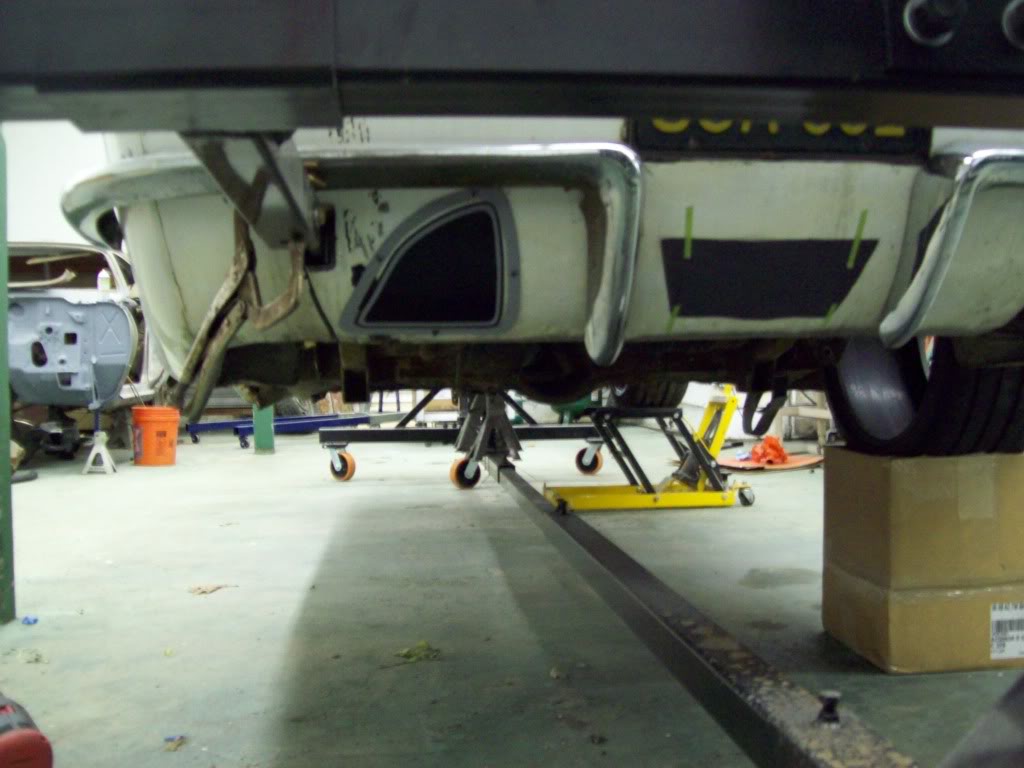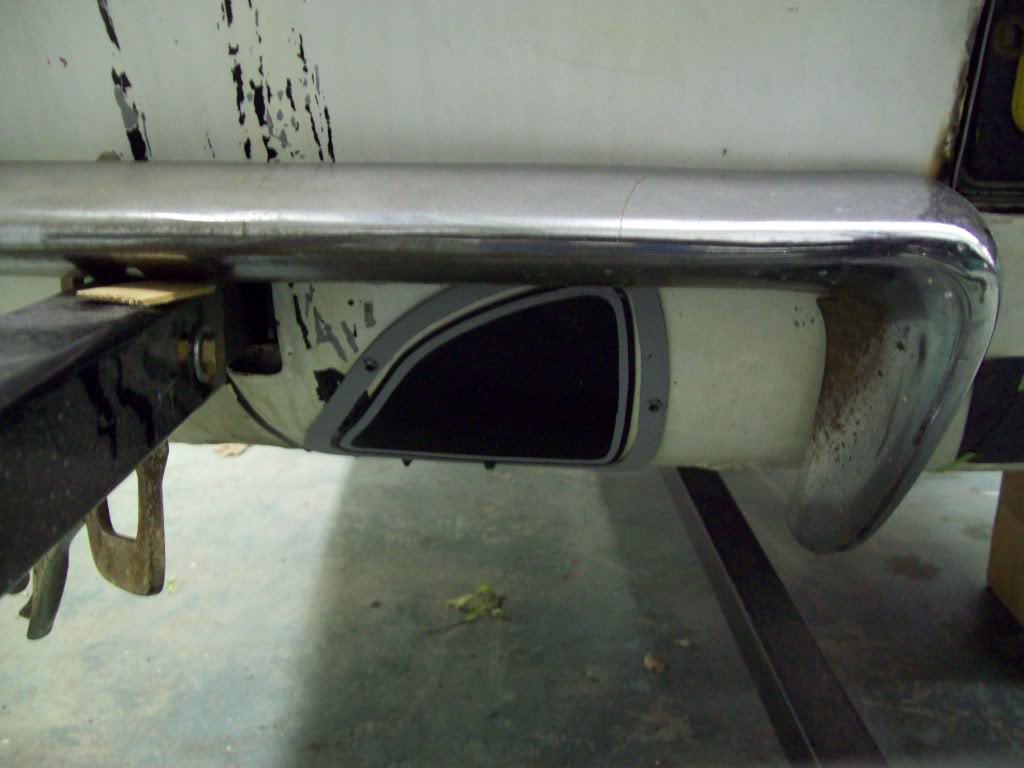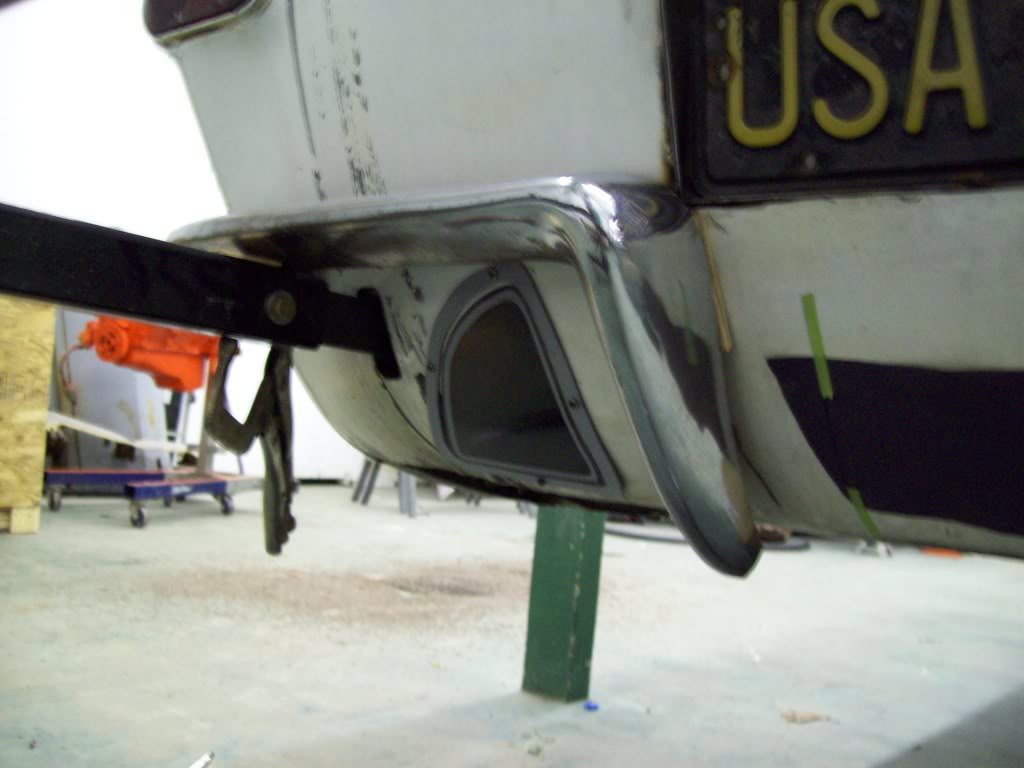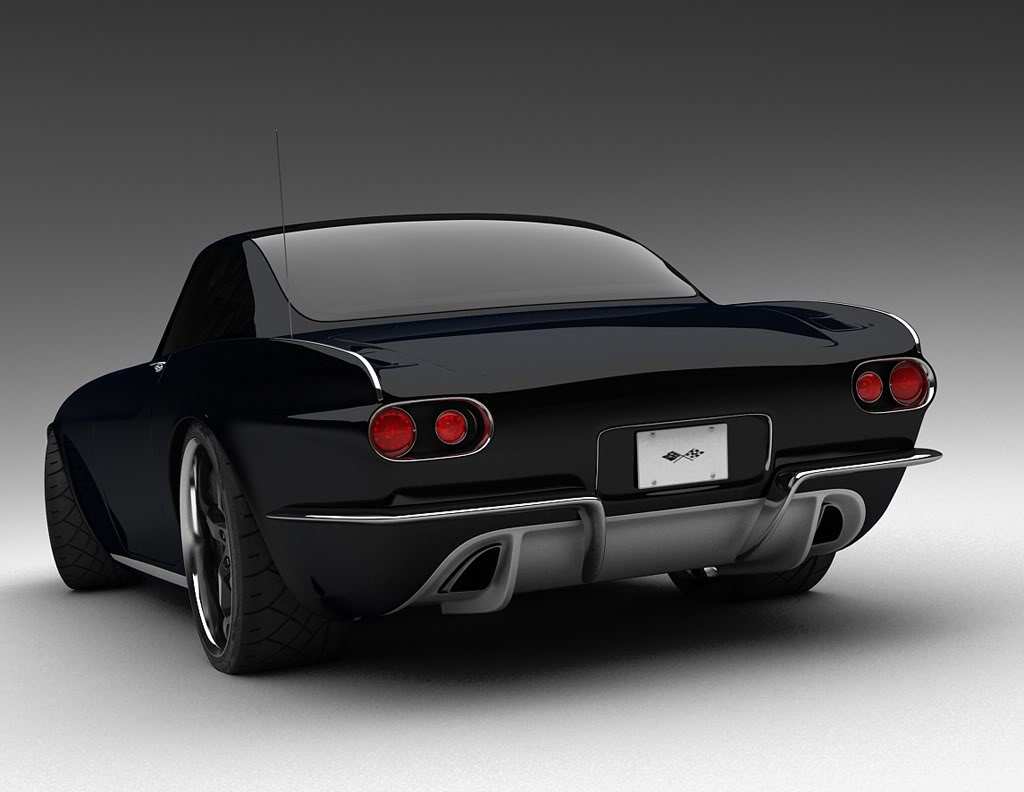 Not a bad idea at all... I will surely try that, and post some pictures... I knew some insight would come from somewhere...LOL

Here are the pictures.. I dont have them completely hammered out to fit the body right, and need a bit of tweeking, but you may be on to something.. There would also be a different perspective once the car is on the ground.. I have found that have to look at some of these things on a step latter to try to gain a bit of that perspective..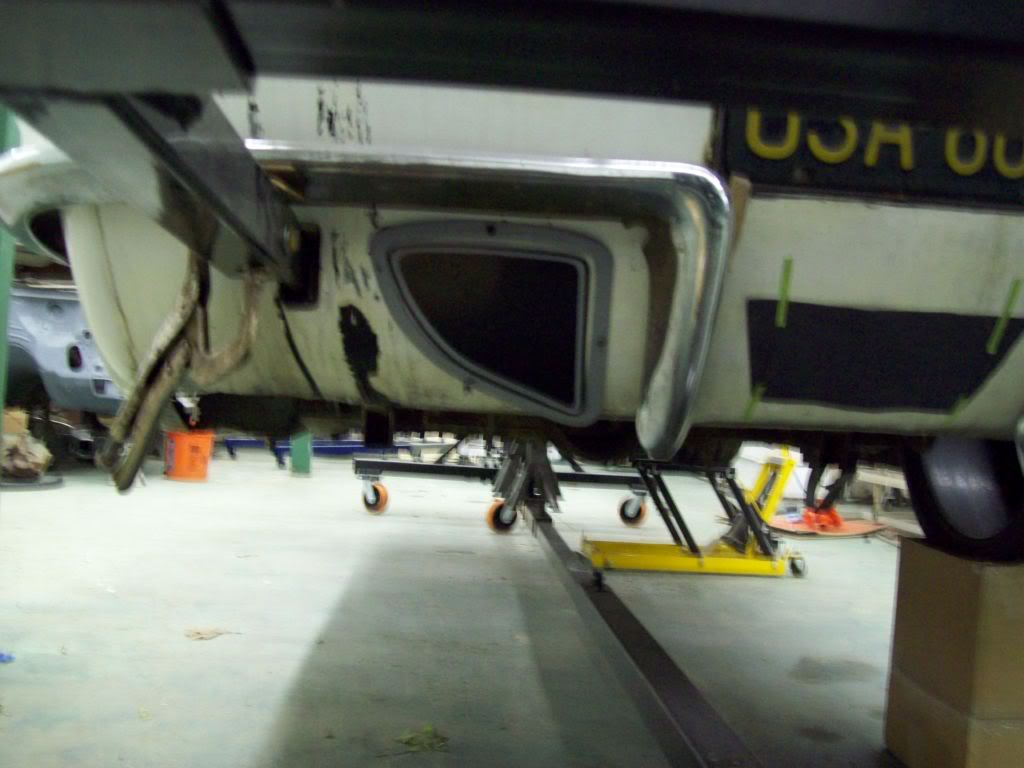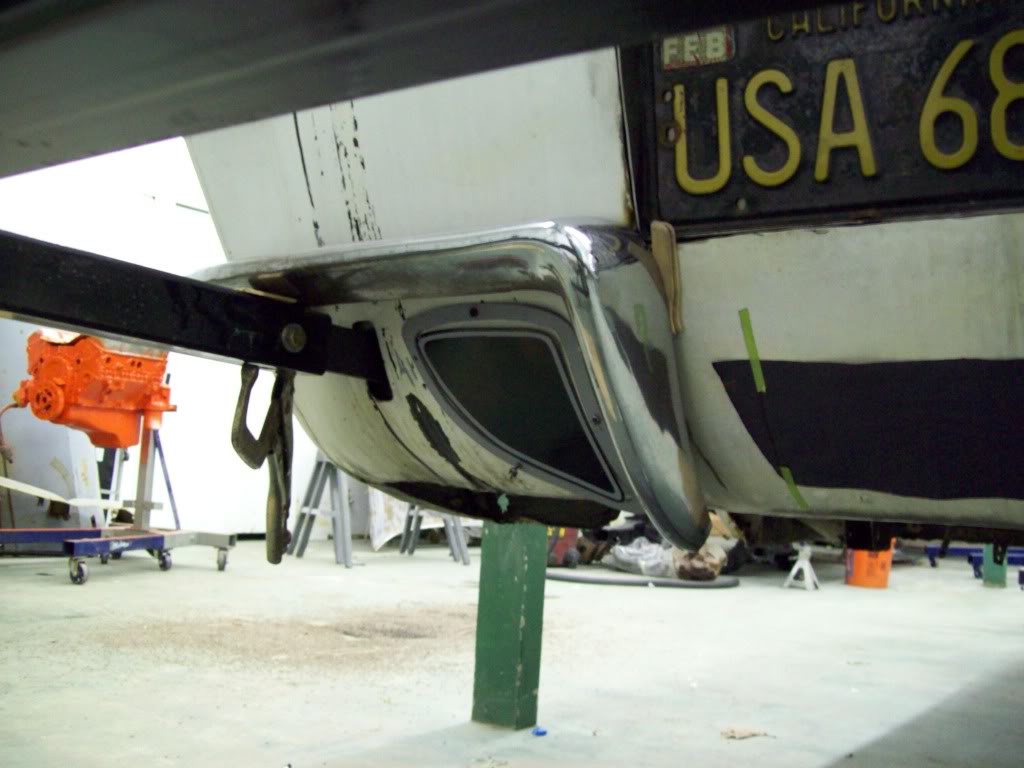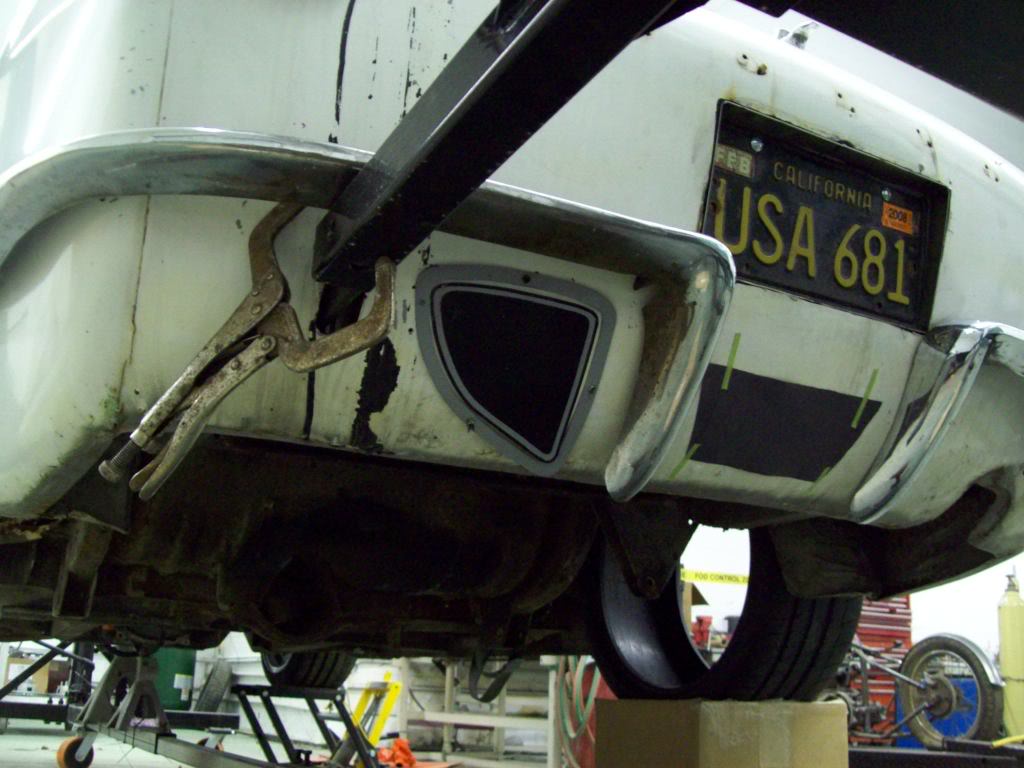 3-8-2011
Ok.... I am going to have so much money wrapped up in masking tape.... ha ha Anyway here are the steps I took to raise the rear wheel arch, I will be doing the other when I get the other arches delivered.. I am using wheel arches from a 60's Volvo 122 Amazon, and they appear to work out with a bit more pitch out and a slightly larger opening.. You can only get the complete rear arch, the fender arches are only available in the front and rear sections of the arch.. So I am planning on using 4 rear arches. I think I can get do this by using the left rear arch on the right front fender, then a bit of tweeking.

I will do all the finish welding as soon as I have all of the arches in place, and I can measure them all out to the millimeter... But for now, I have the trusty masking tape to do the job.. The funny thing is, by stretching the masking tape fairly tight, you can kind of see what is needed to be done.. I have never tried this before, but seems to save alot of time from bad cuts.

I cut the wheel arches out, and trimmed the inner fender to where it would be able to re-attach very easily.. I had to remove the lower parts of the original wheel arch and re-pitch them a bit to match the new flare pitch on the new style arch. It all went relatively easy, and I think the rest of them should be a breeze.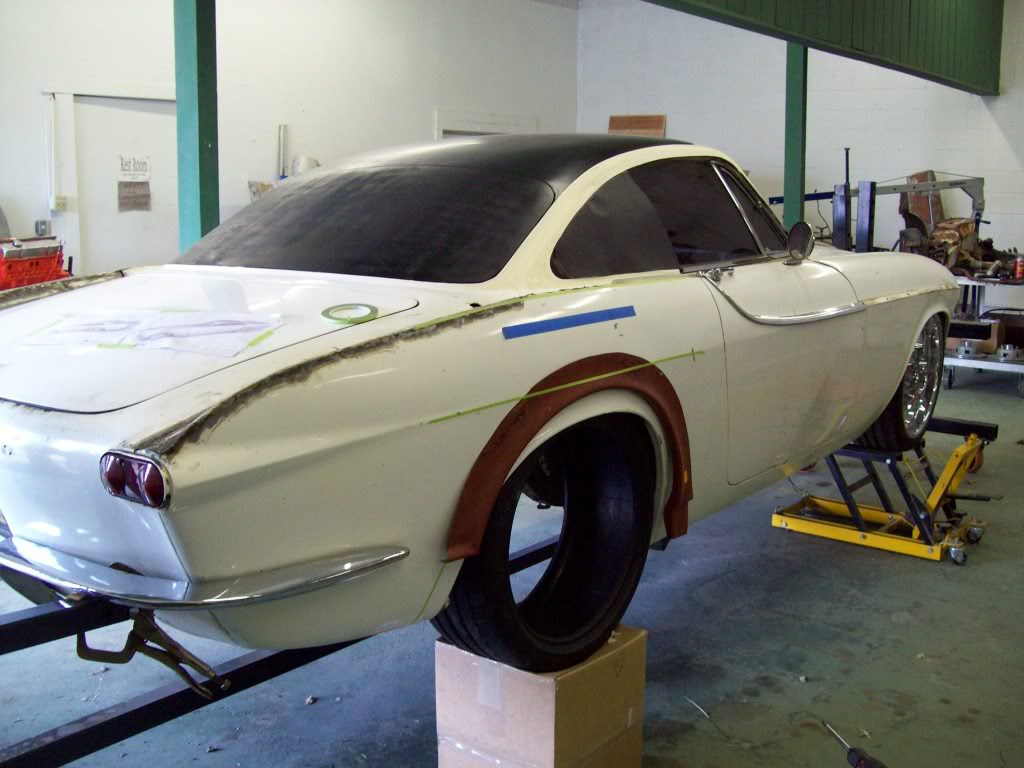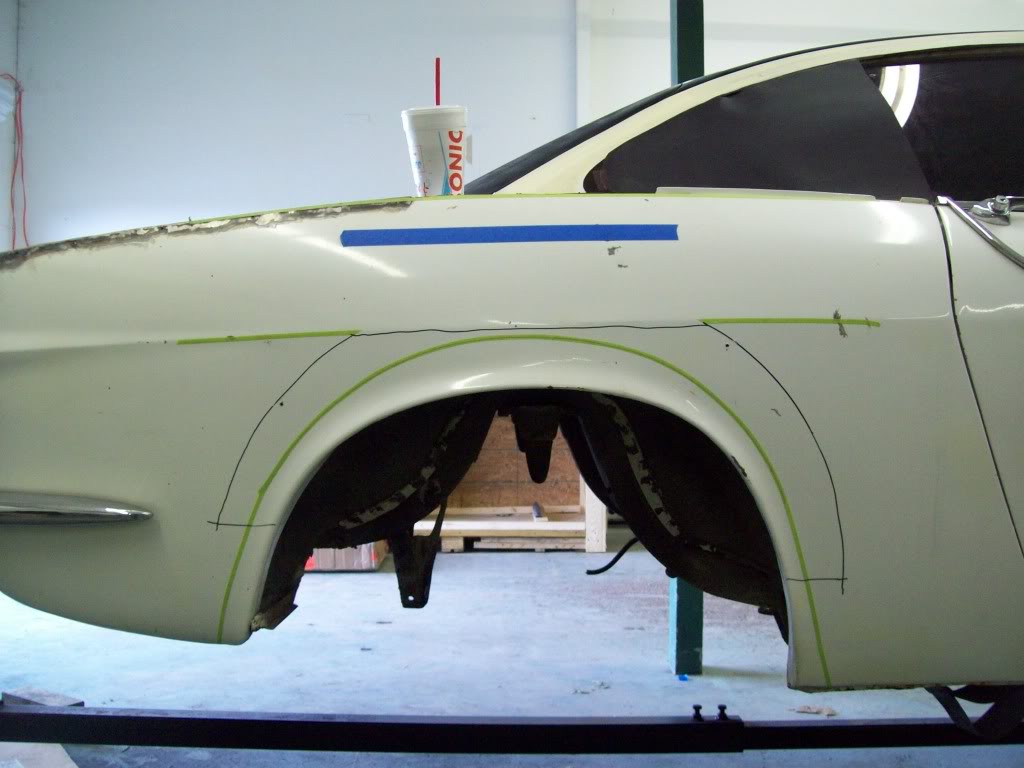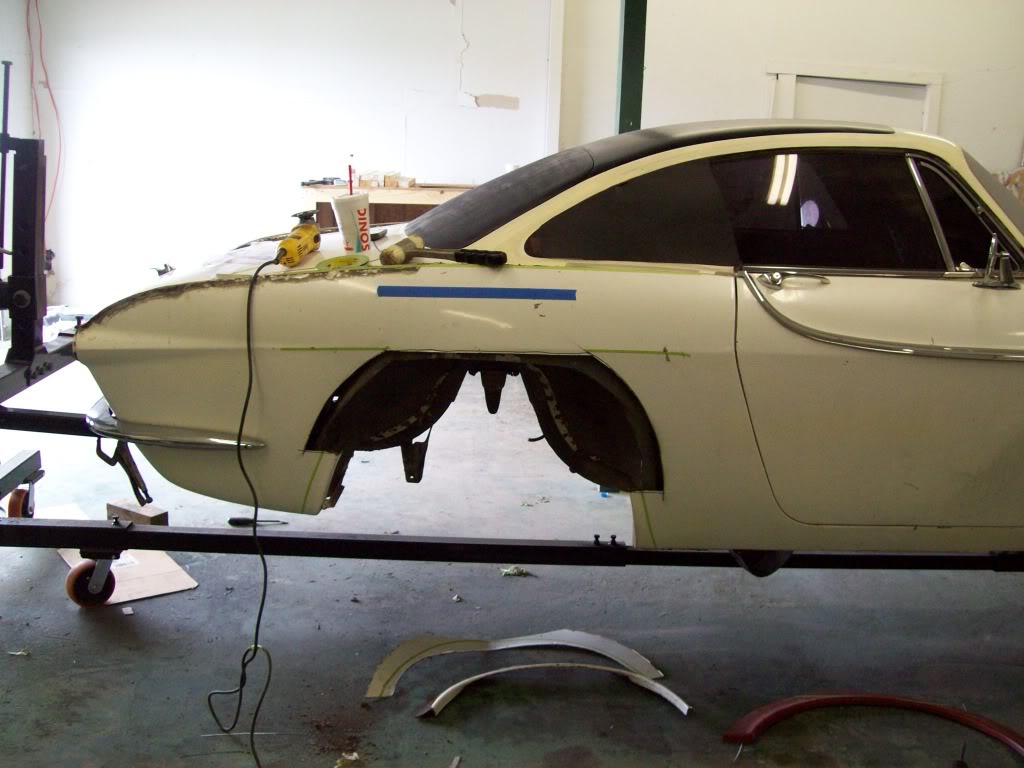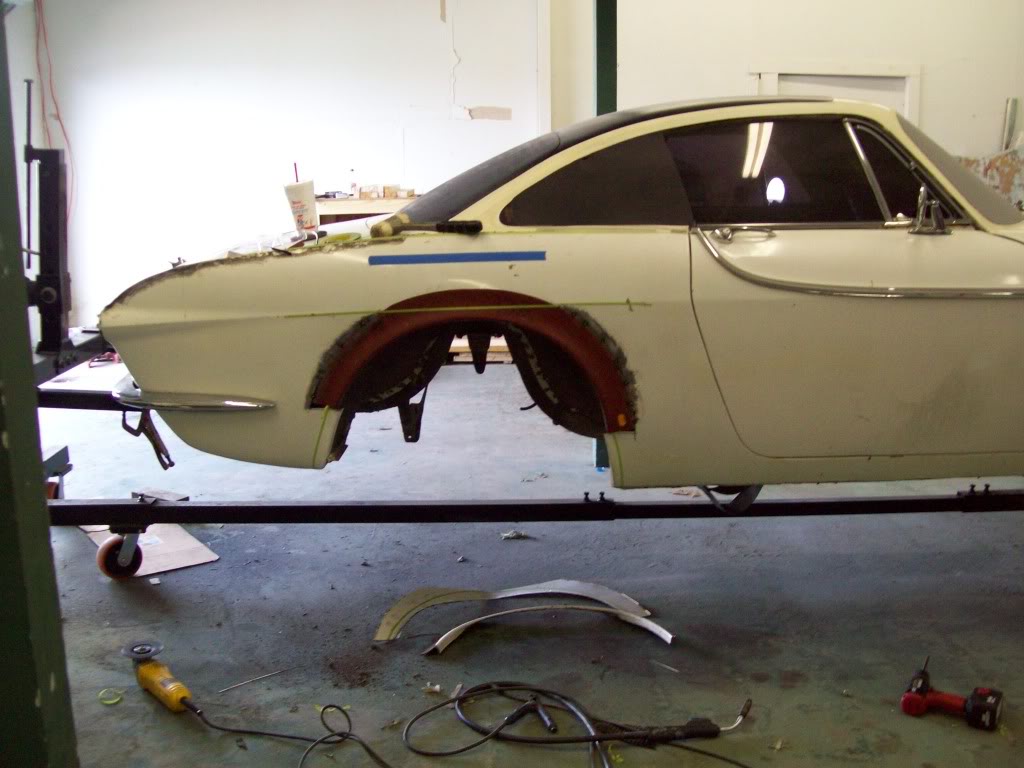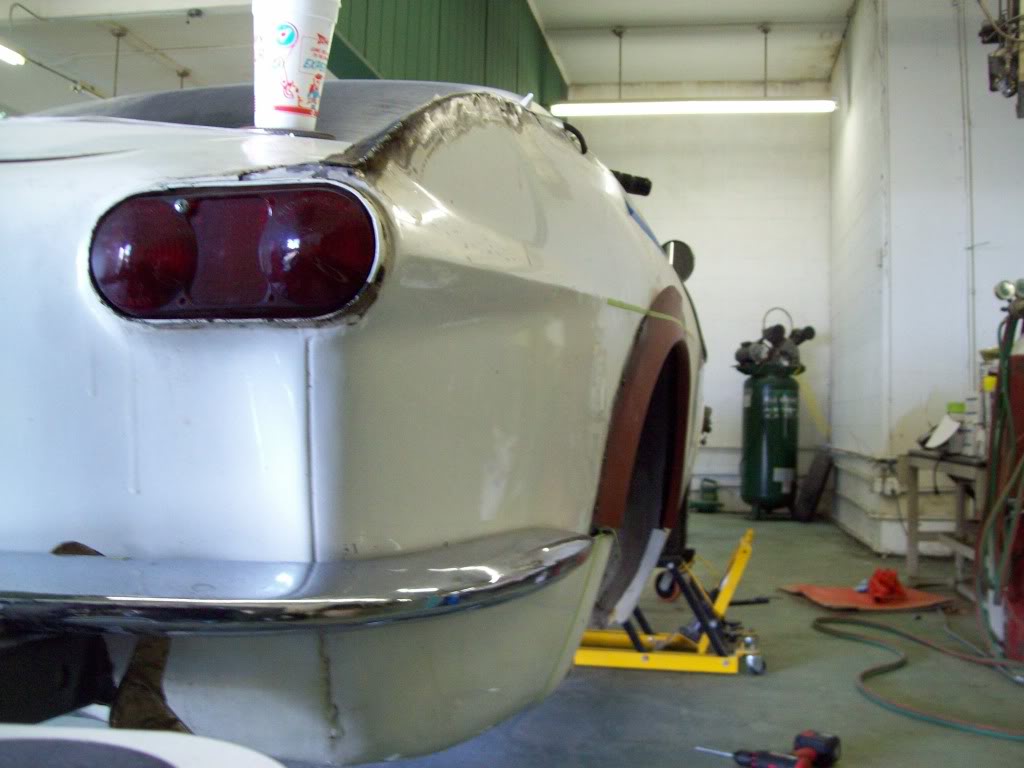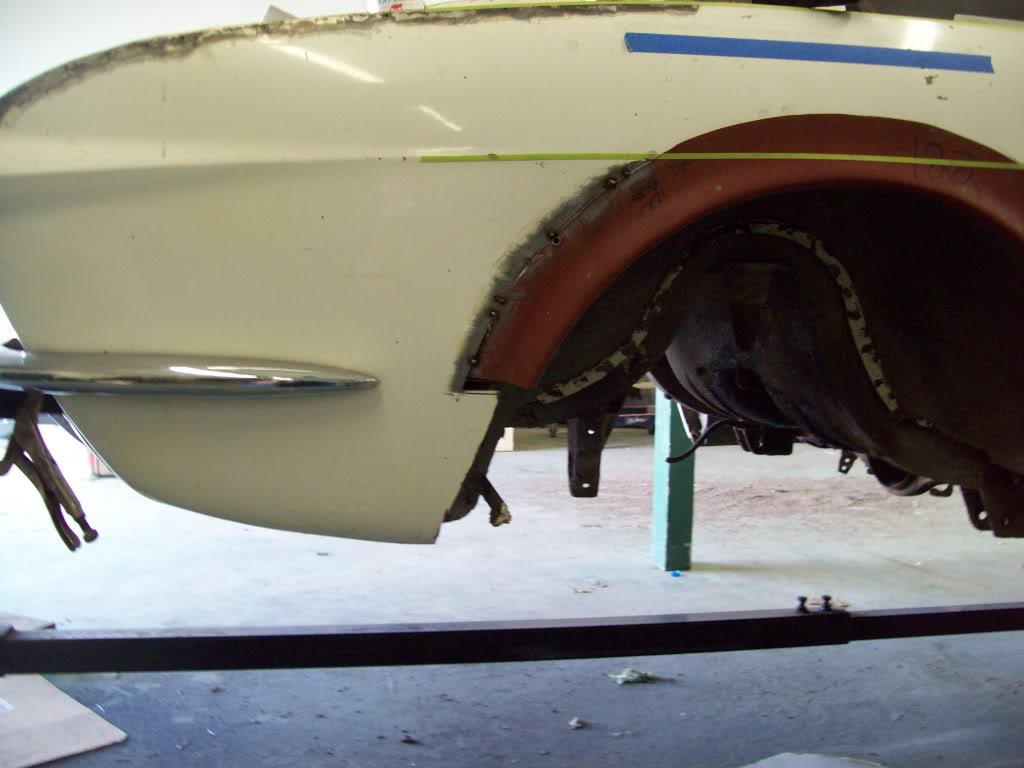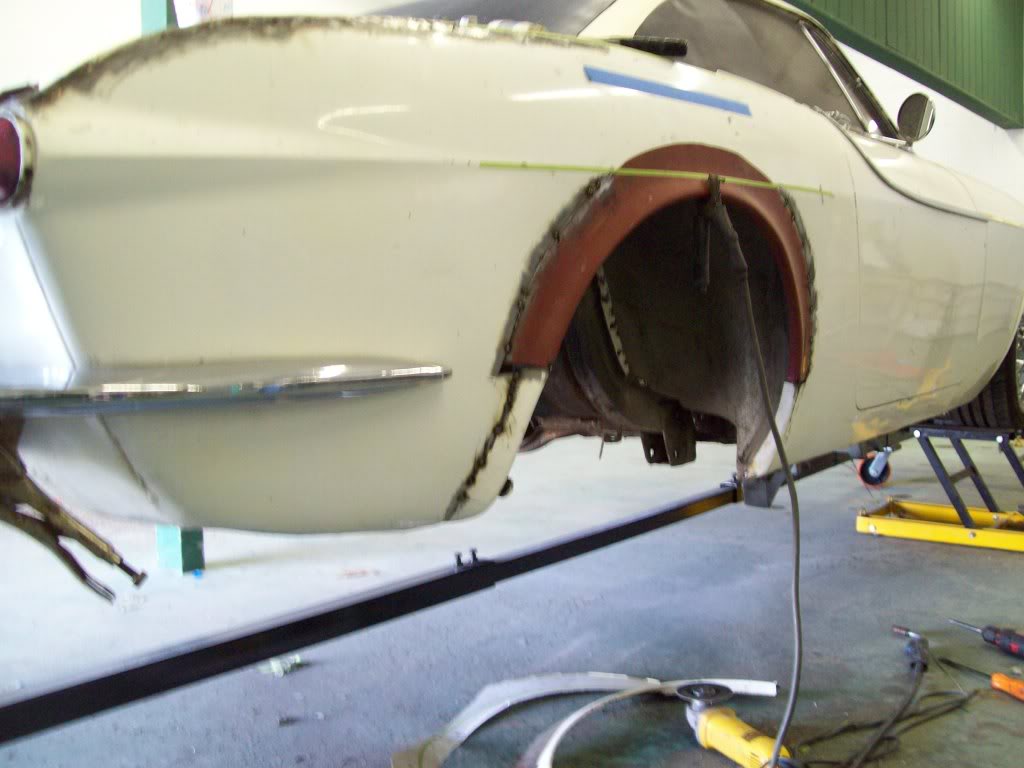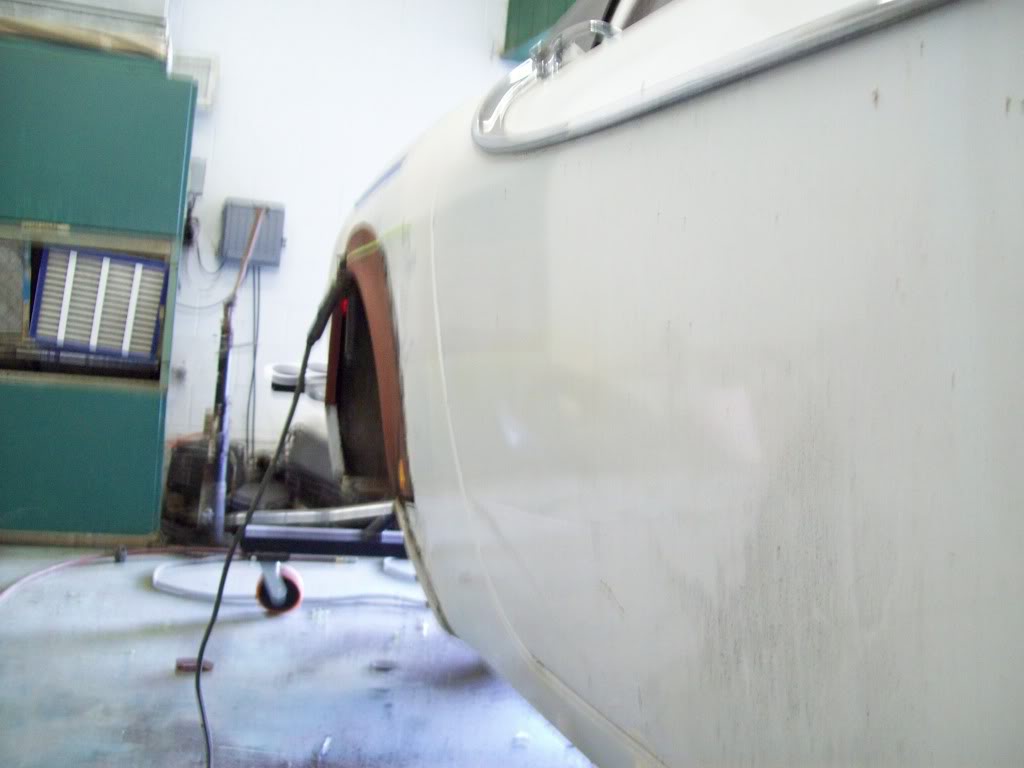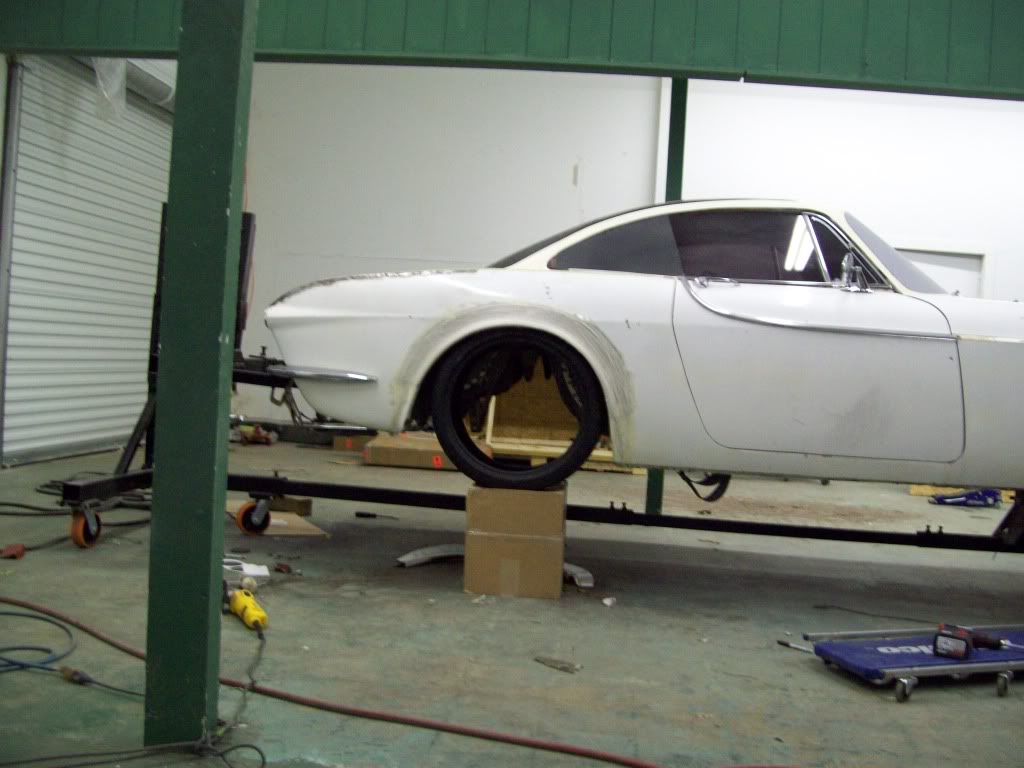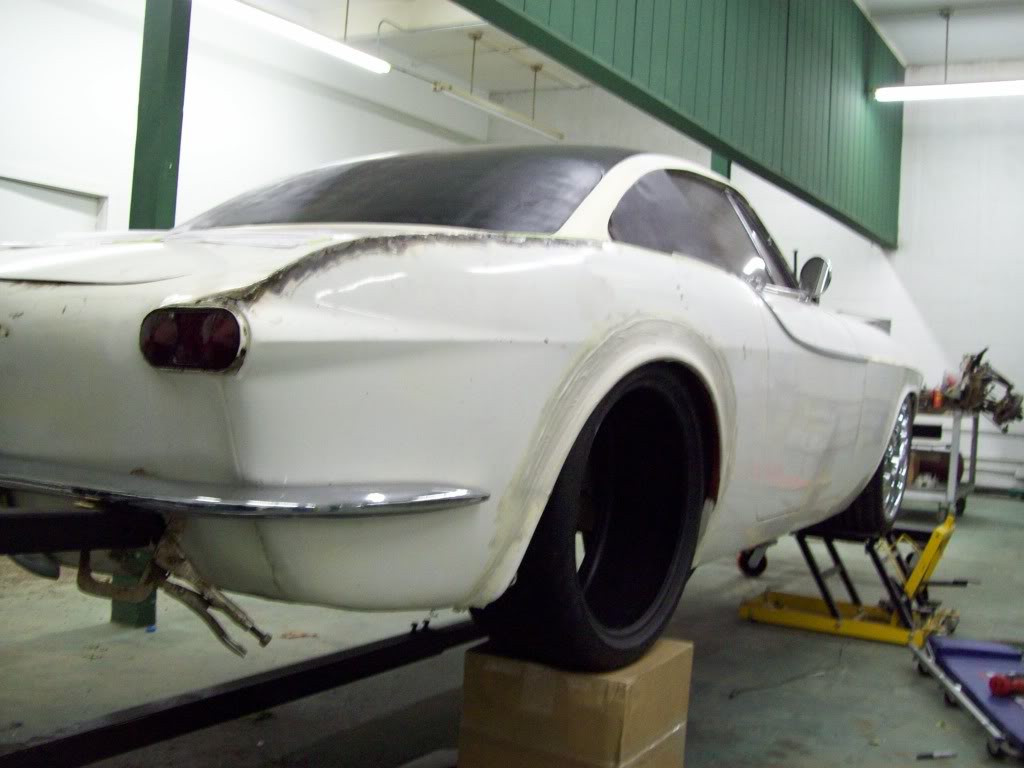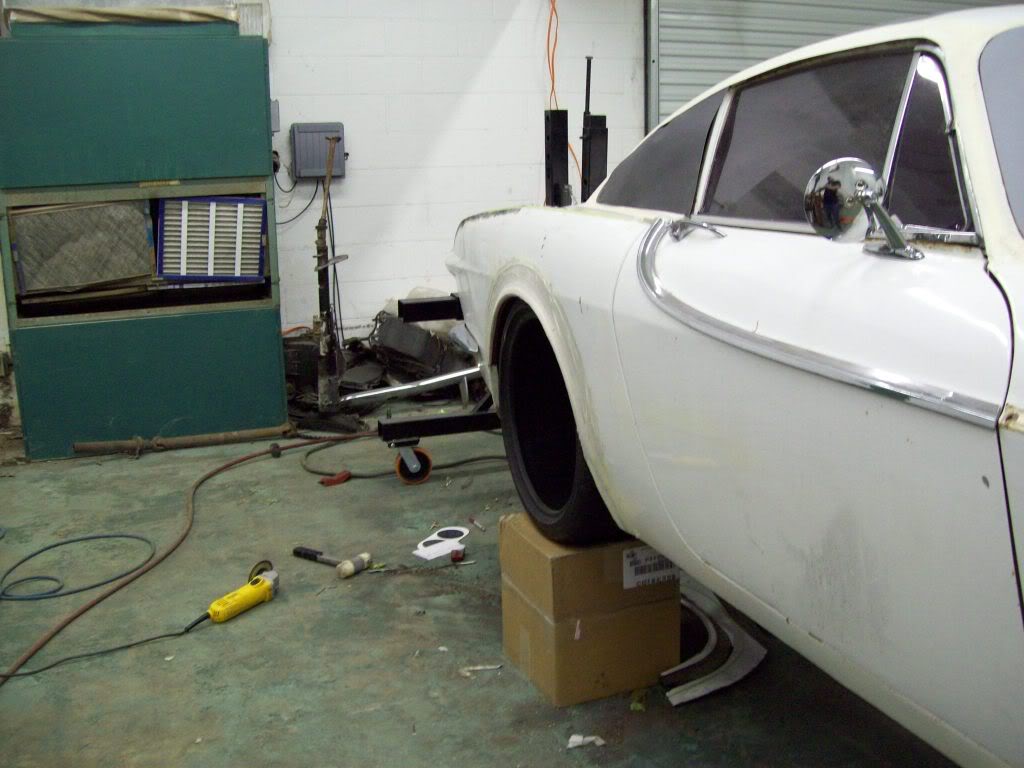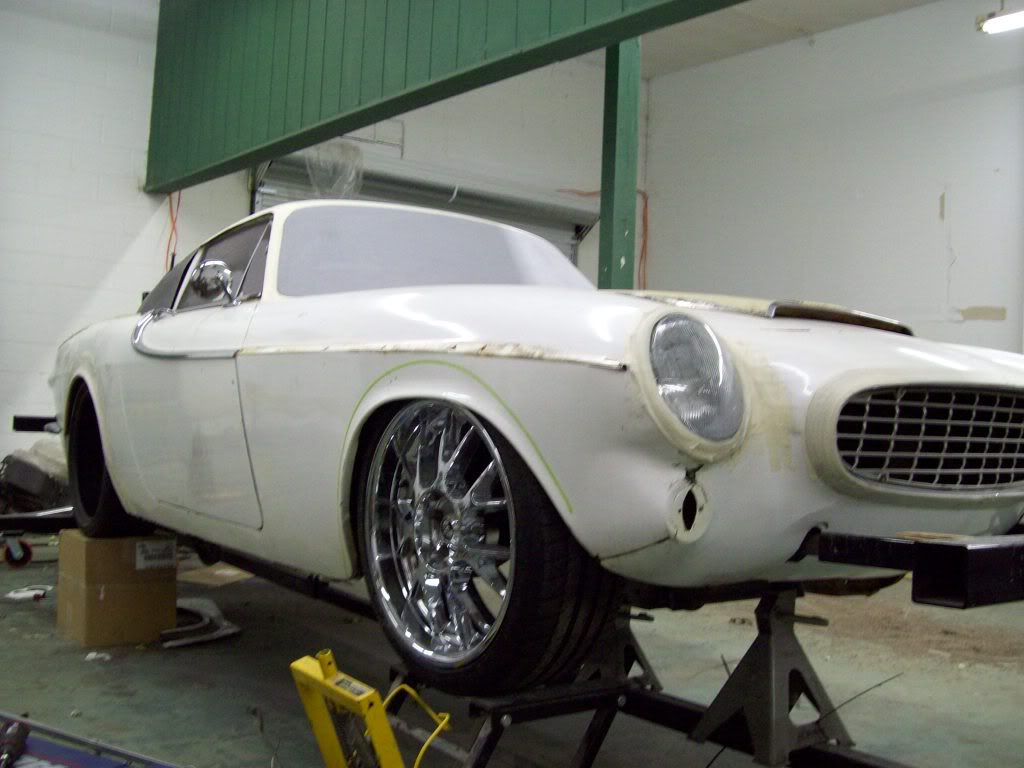 Here are some before and after pics, along with comparison from the rendition.. I think I got very close, I may be a bit lower with my arches than the rendition, but it was the best possible fit there.

The factory size and position..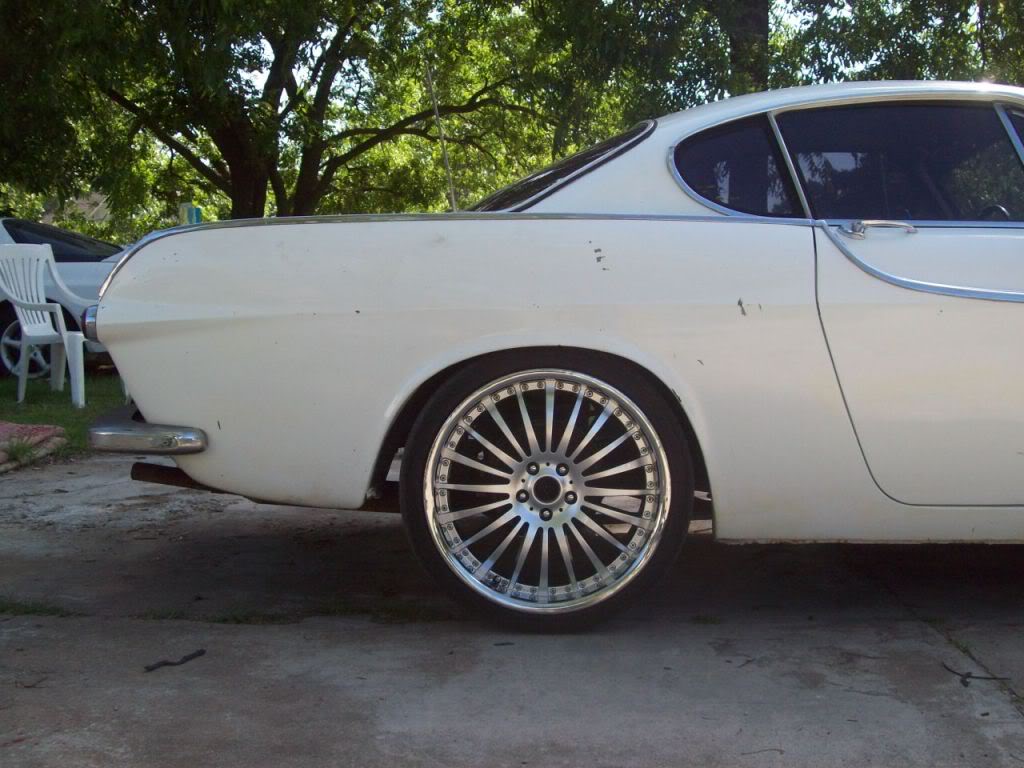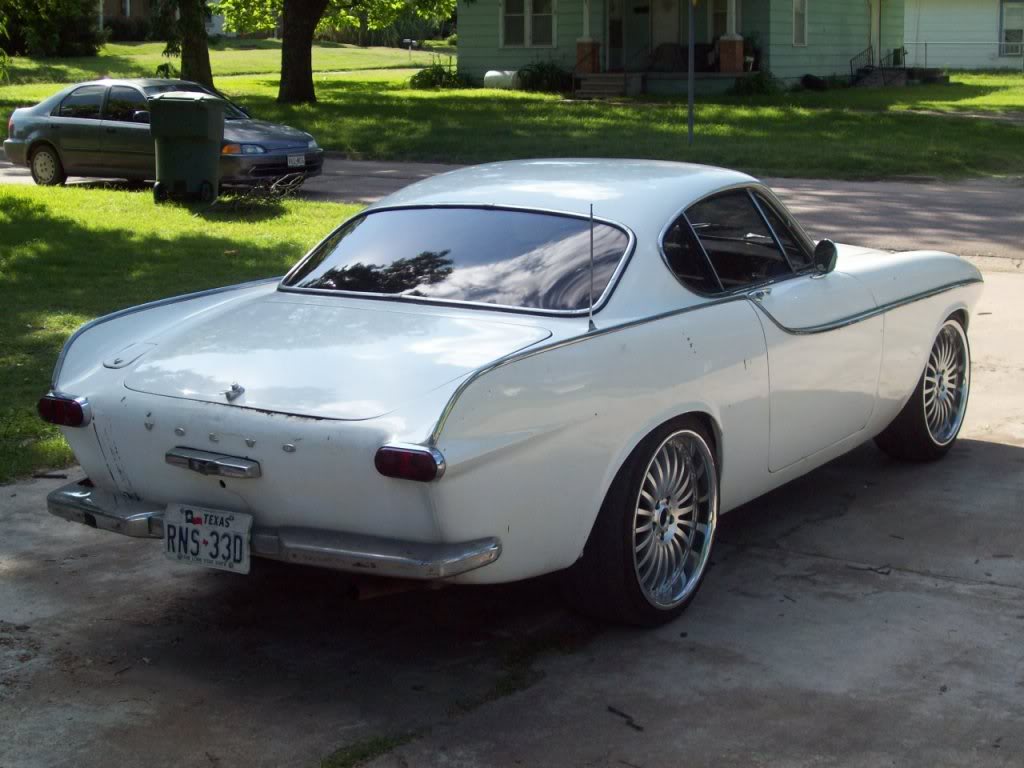 Here is what that is has been changed to at this point..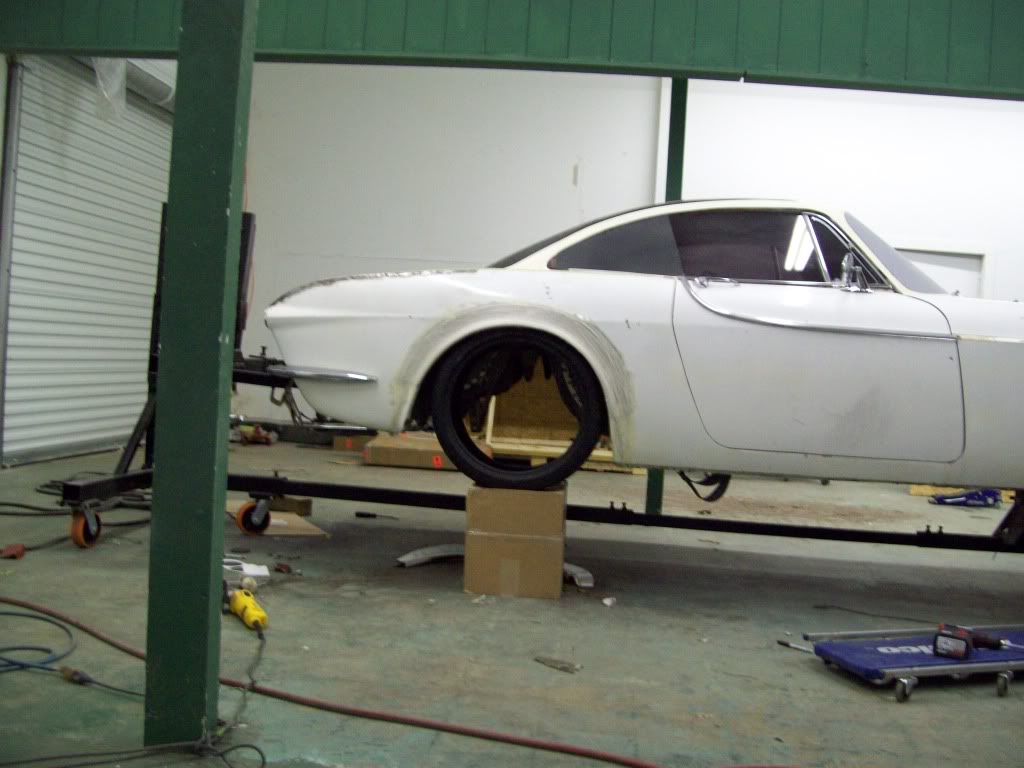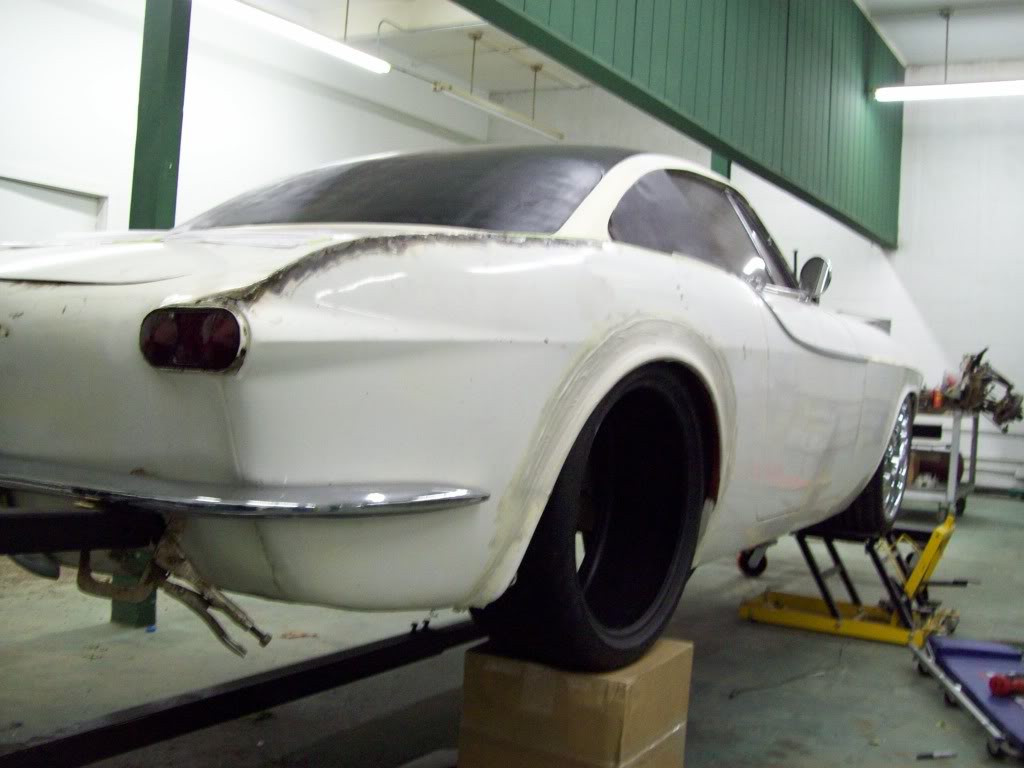 Here are the rendtion pictures.. They may be about a 1/2 inch or less higher, but again, this is where they basically laid in the easiest. I dont think that this subtle difference is really going to stand out too much..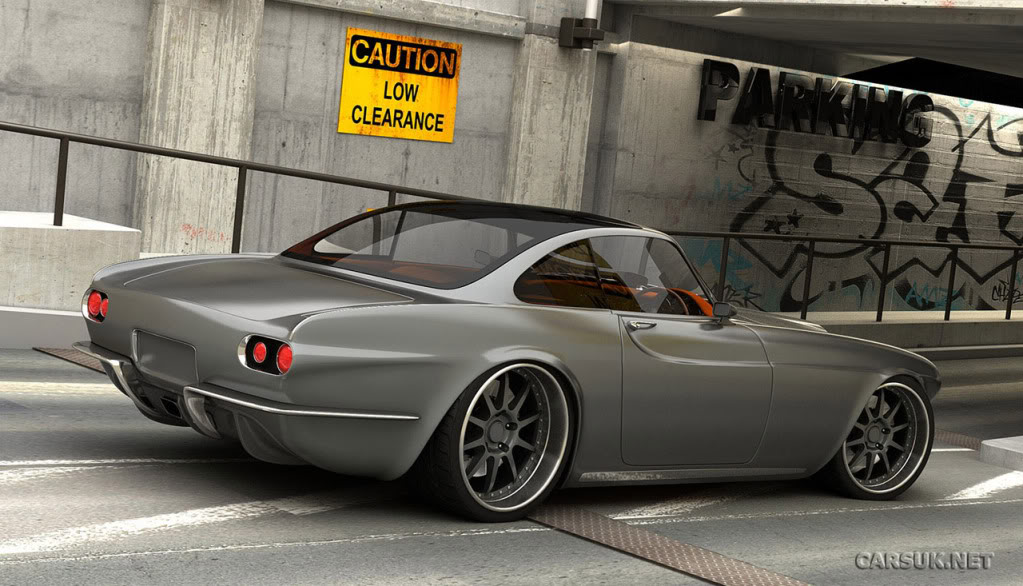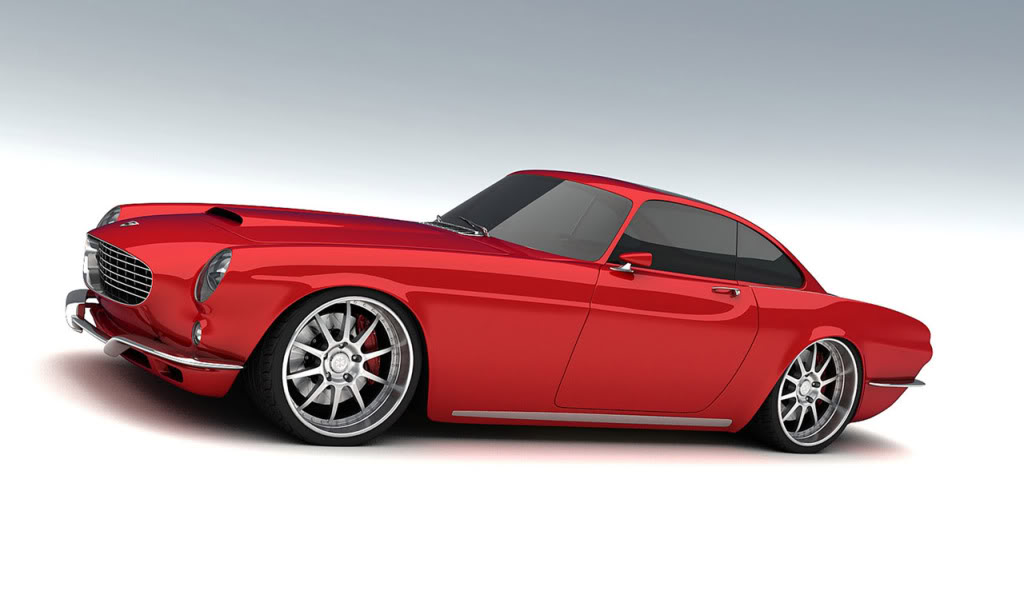 3-9-2011
Well today wasnt quite an eventful day. I did get some parts in, but they are going to take a bit of planning to sort out.. The bumper in the rendition is a bit harder to do than photoshop'ing it in. The shape of the bumper, along with relief cuts, are going to make it alot more difficult than flipping them upside down and trimming them. I knew my luck had to change some where. LOL

I did get my early series cal vent in, and it is going to fit the build perfectly... I did get lucky and found a quality piece that needs very little to be a perfect piece.. It looks so much better than the hokey aluminum framed screen.

Original to the 66 Volvo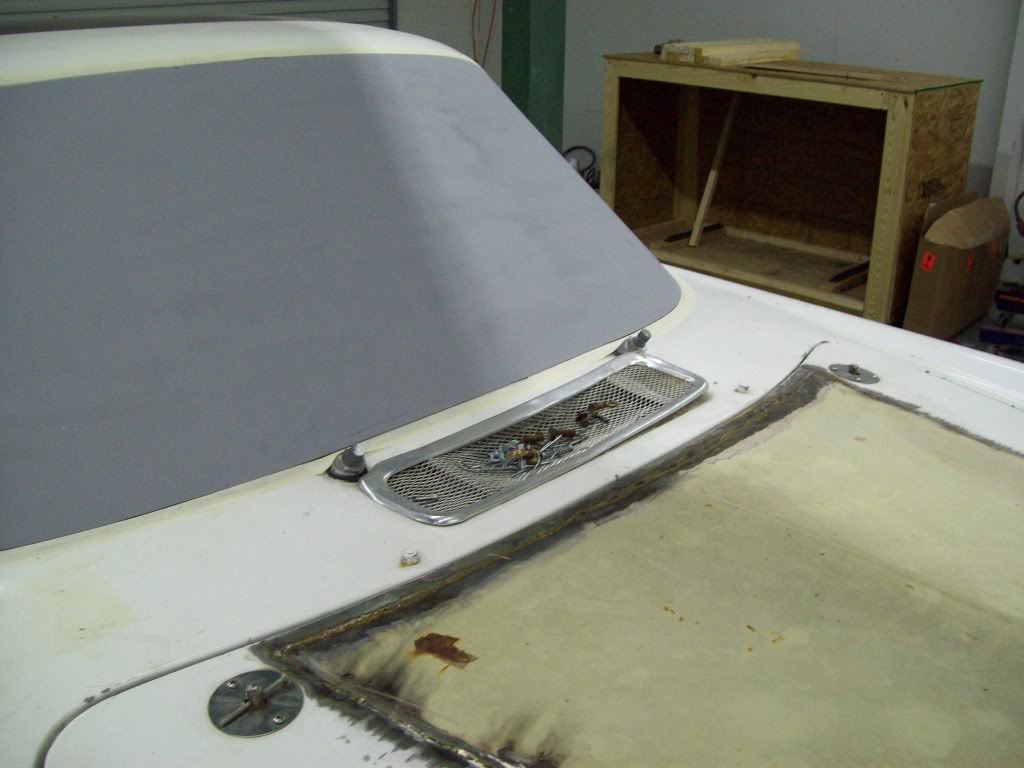 The earlier much more stylish Cal Vent. I have a nice hood pin set coming from HoodPins here, and think they will look alot better.. I need to run hood pins, due the the latching procedure on this car.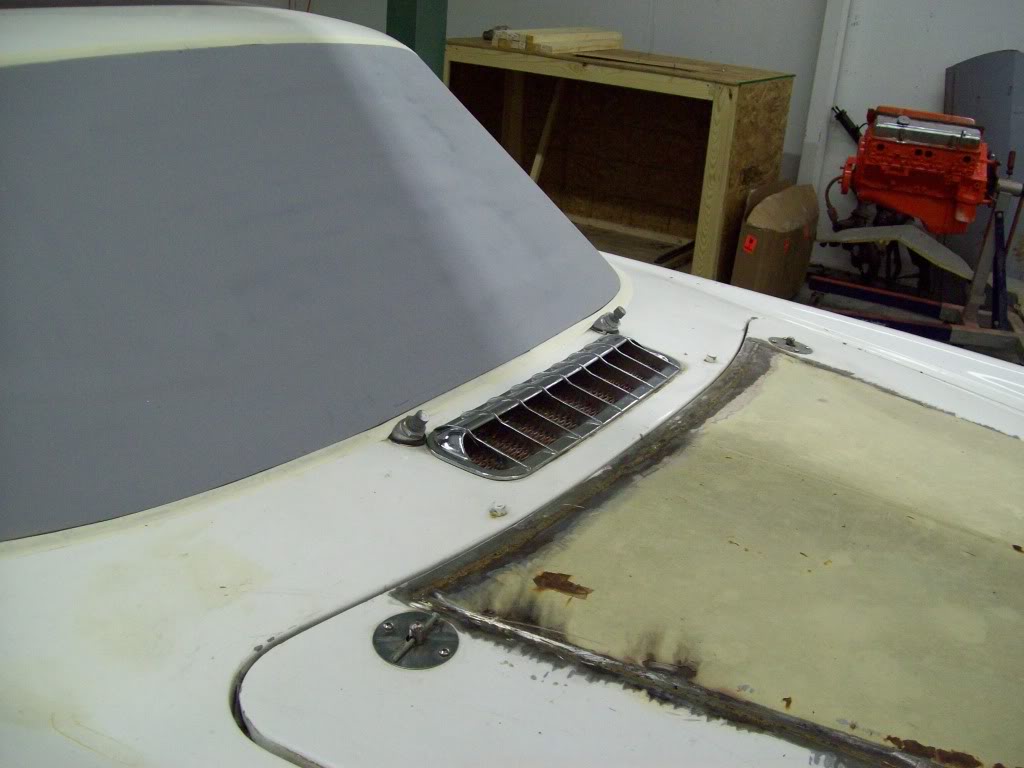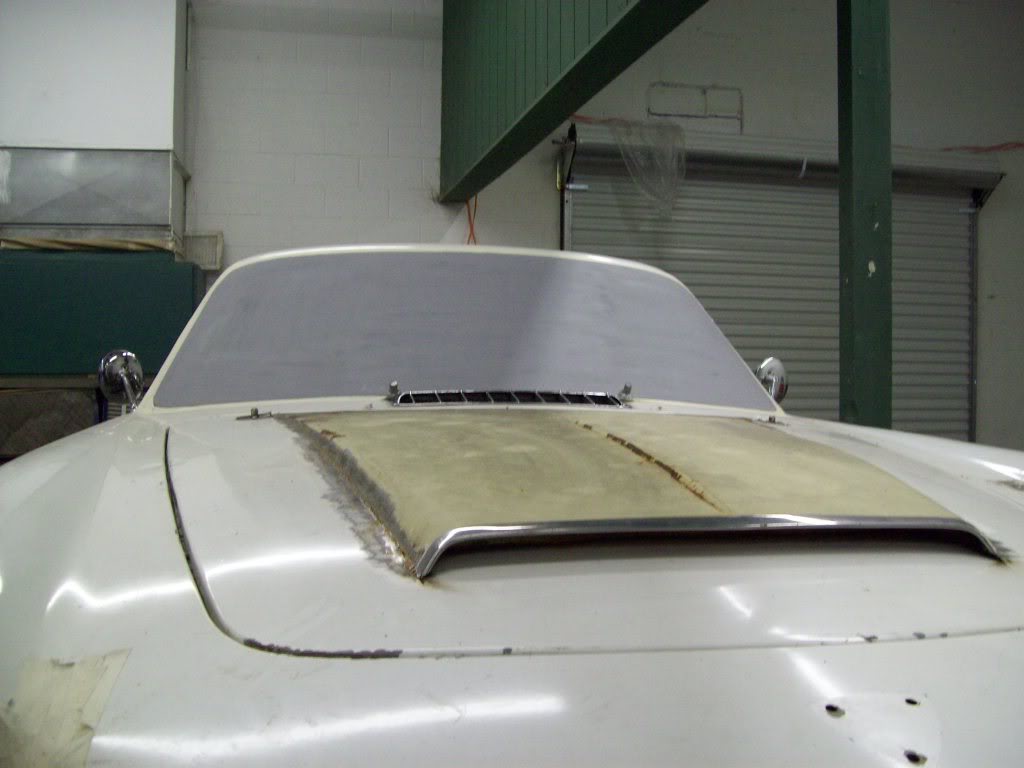 Here are the bumpers I had recieved today.. These are original early style bull horn bumpers, that appear in the rendition flipped upside down. It seems easy, but in the pictures below you will see what is going on.. I dont have the horizontal bar yet, so I cant go too much further with the alterations. I hope the chroming shop can take care of my handy work.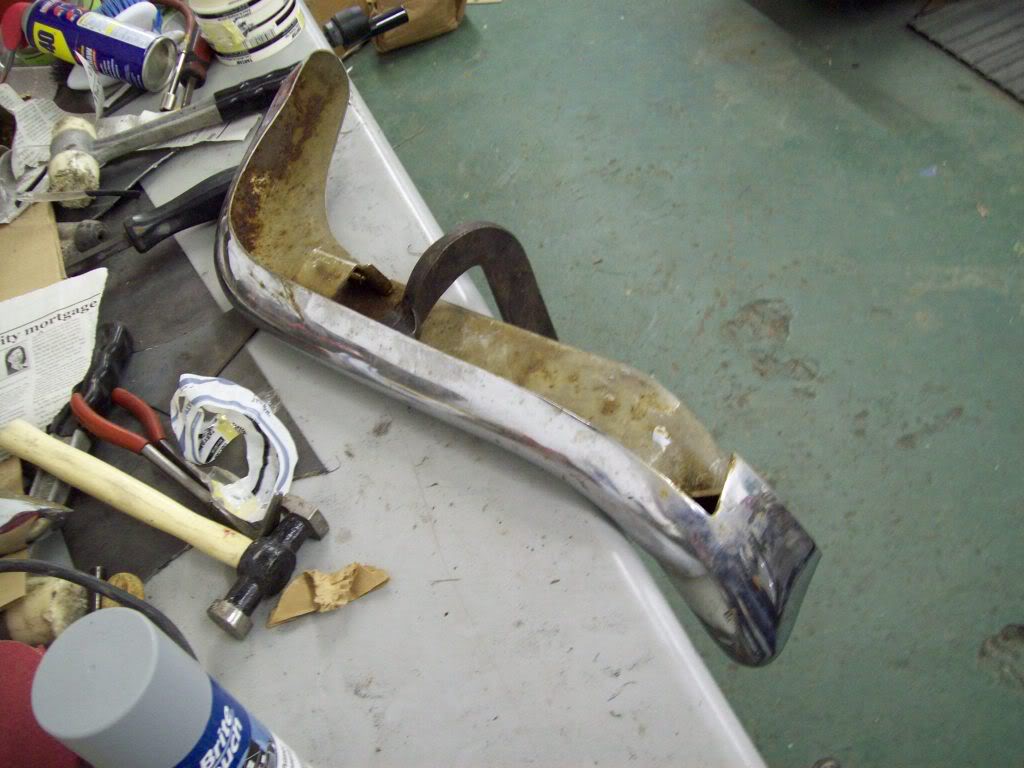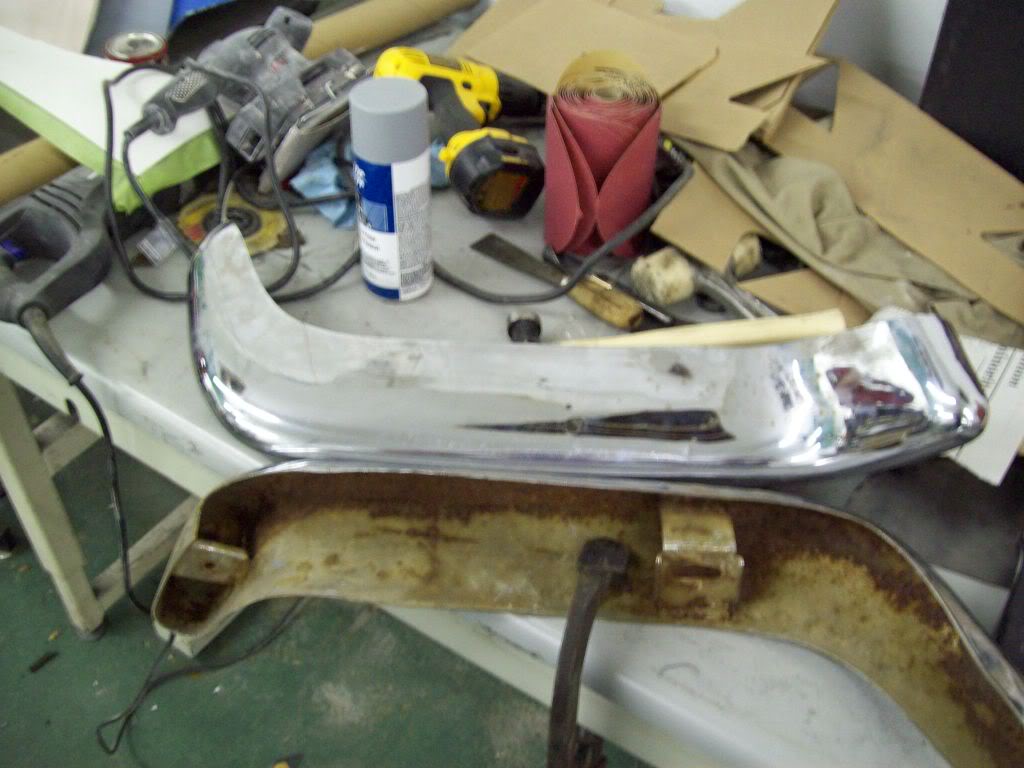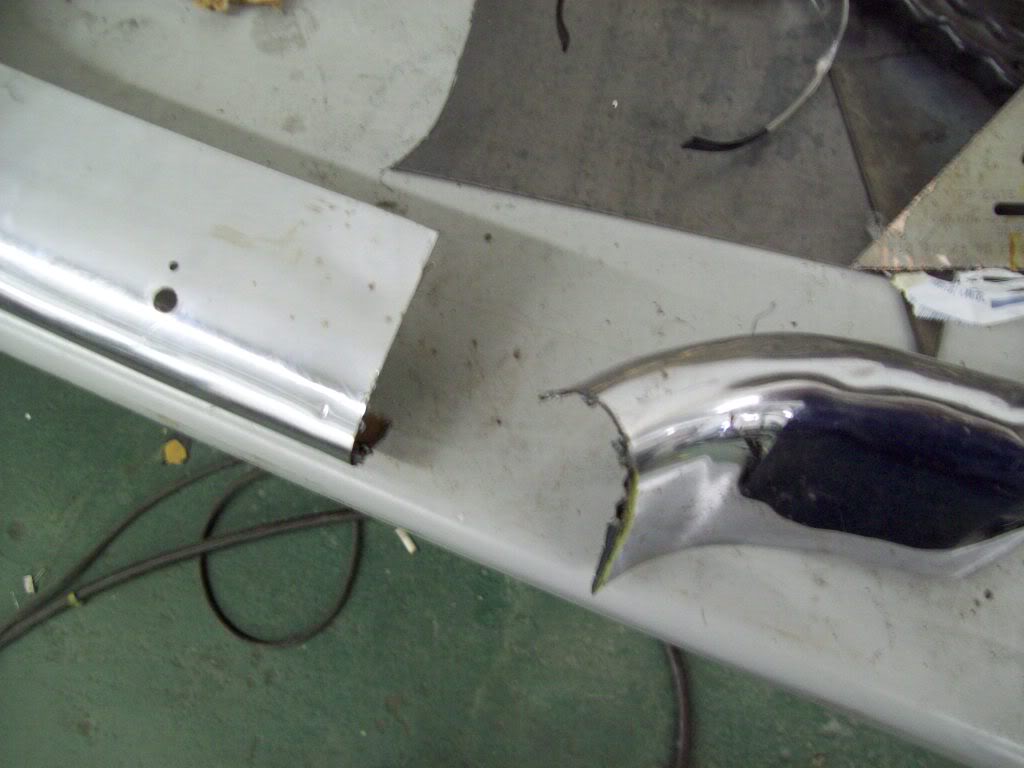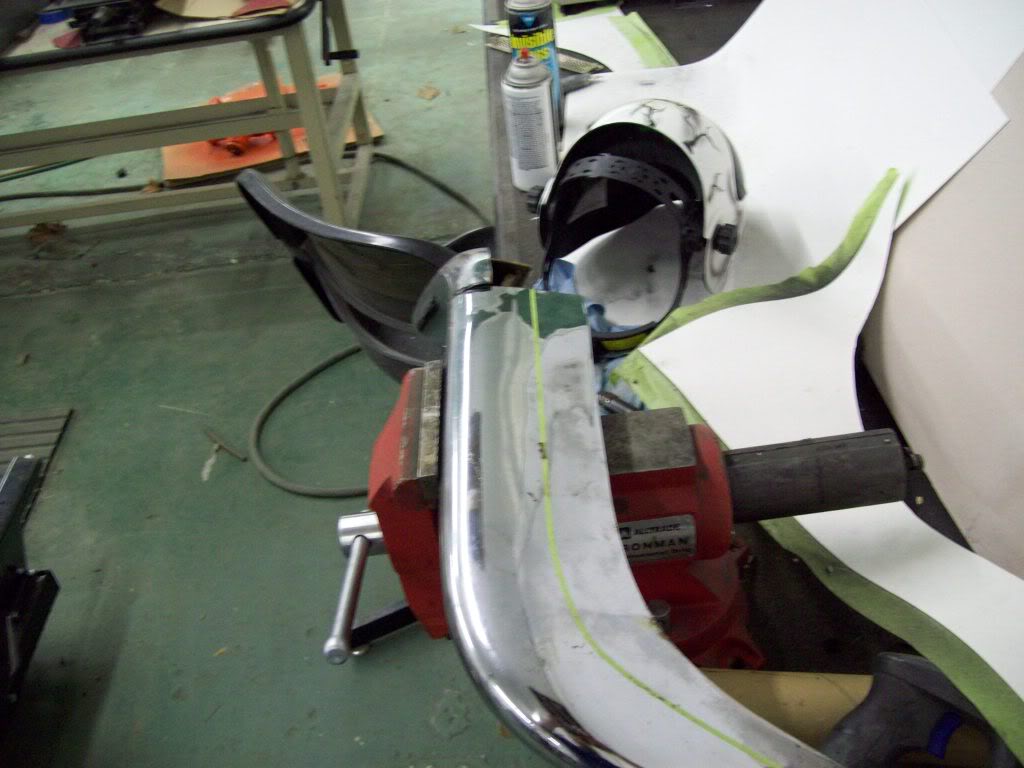 3-14-2011
Ok.. Time for a suspension update.. I had recieved my upper control arm and 2" drop spindles, these were guesses, but they appear they may work.. I still have to order the lower tubular control arm, but for now, this should help me get things dialed in.. I am hoping to be able to set the car back on the ground and get it at the ride hieght I am seeking..

By measuring tape, it appears I will be about a 5" rocker to ground clearance at this suspension setting.. The factory wheel and tire is the same diameter overall as the 19 inch wheel and tires I plan on running. I am not sure about the final track width working for me, it is hard to tell with the original wheel what will happen for sure. The wheels that have been picture for mock up are a chevy bolt pattern, and I am running the ford pattern at this tim. I still have the make the larger opening on this side, but the tape represenst the wheel arch hieght. I am guessing I need to do a bit research about wheel offsets to ensure I have a good track width for this car.. I am really liking the wider wheel lips in the rendition and would prefer to stick with...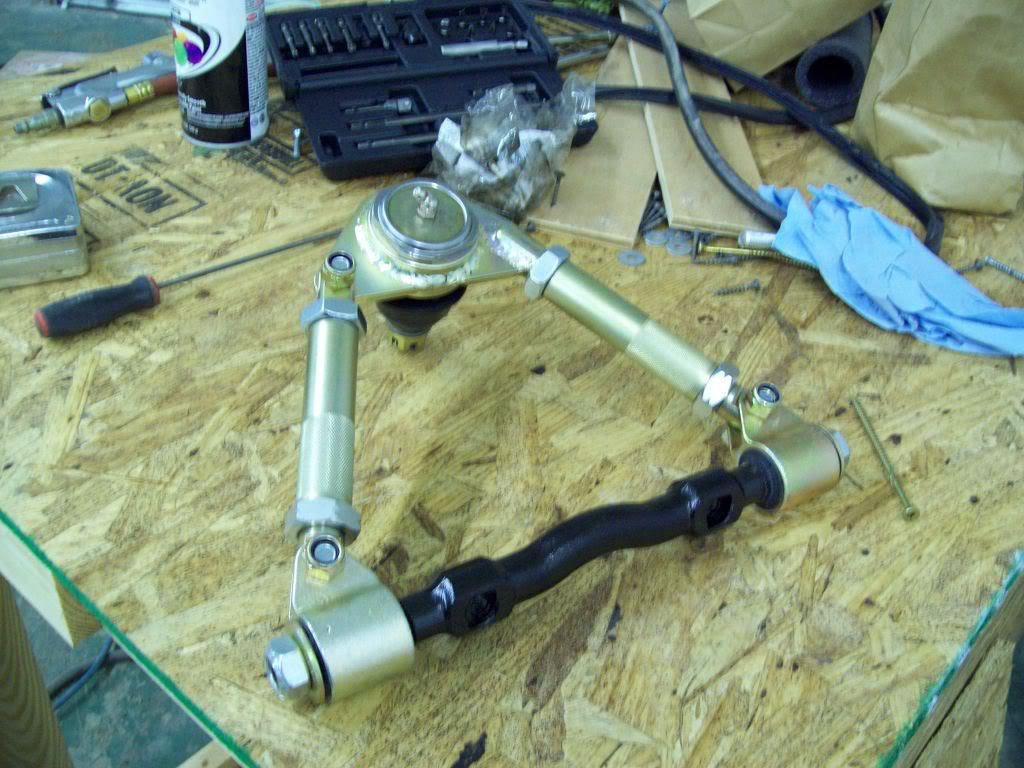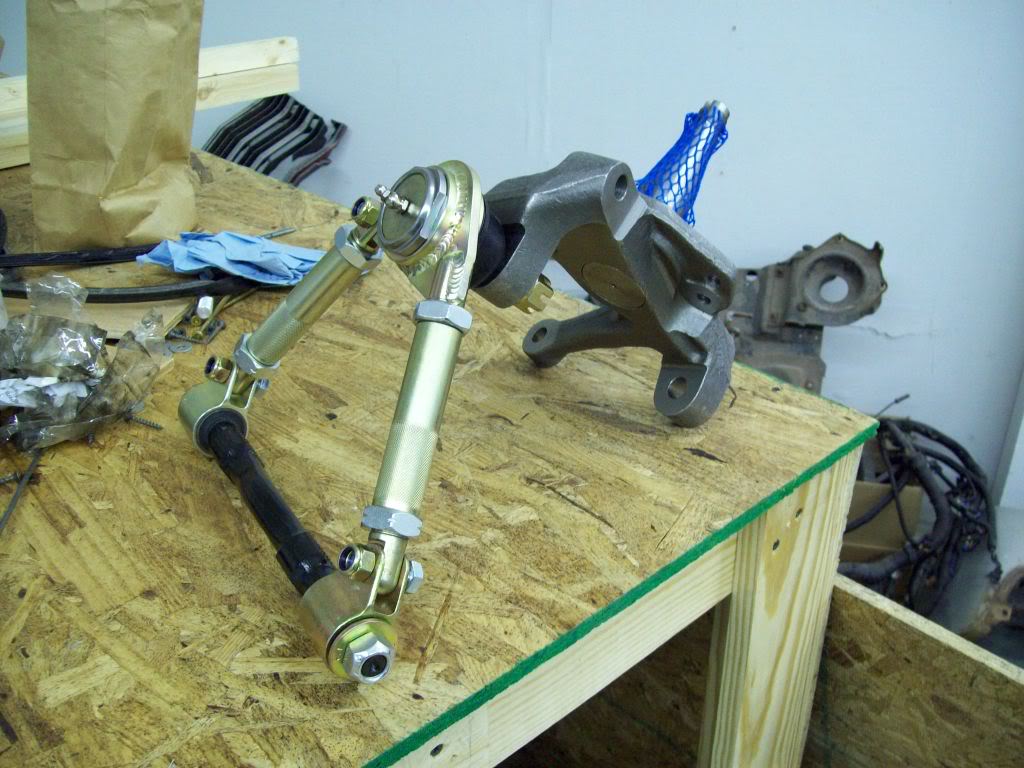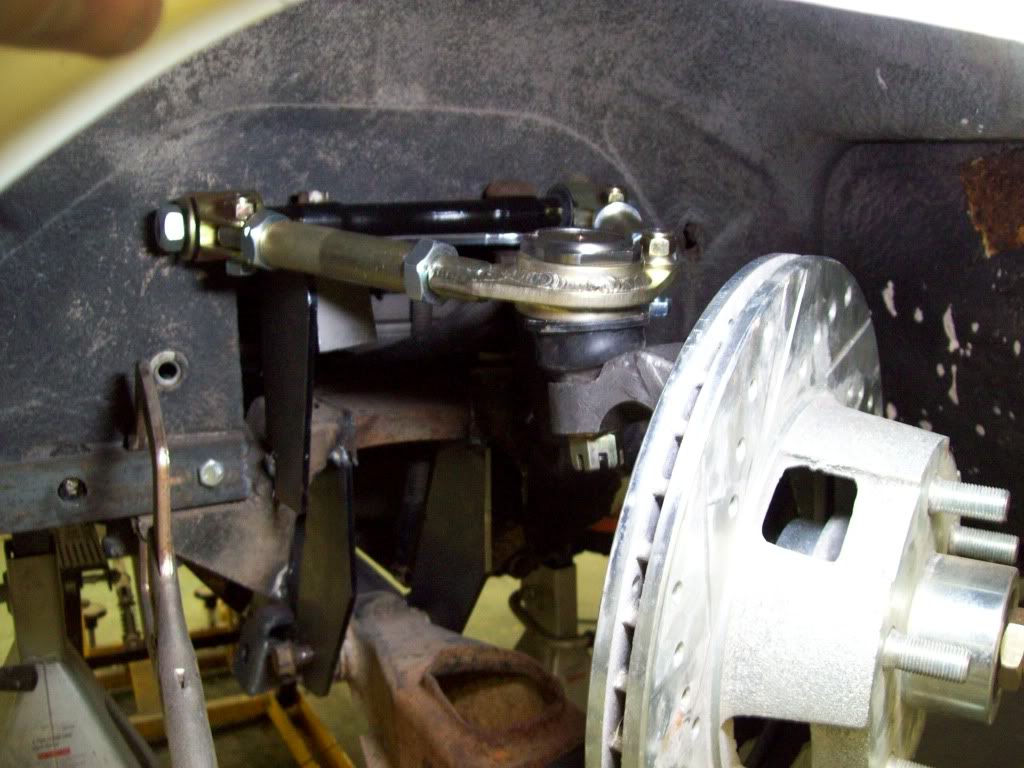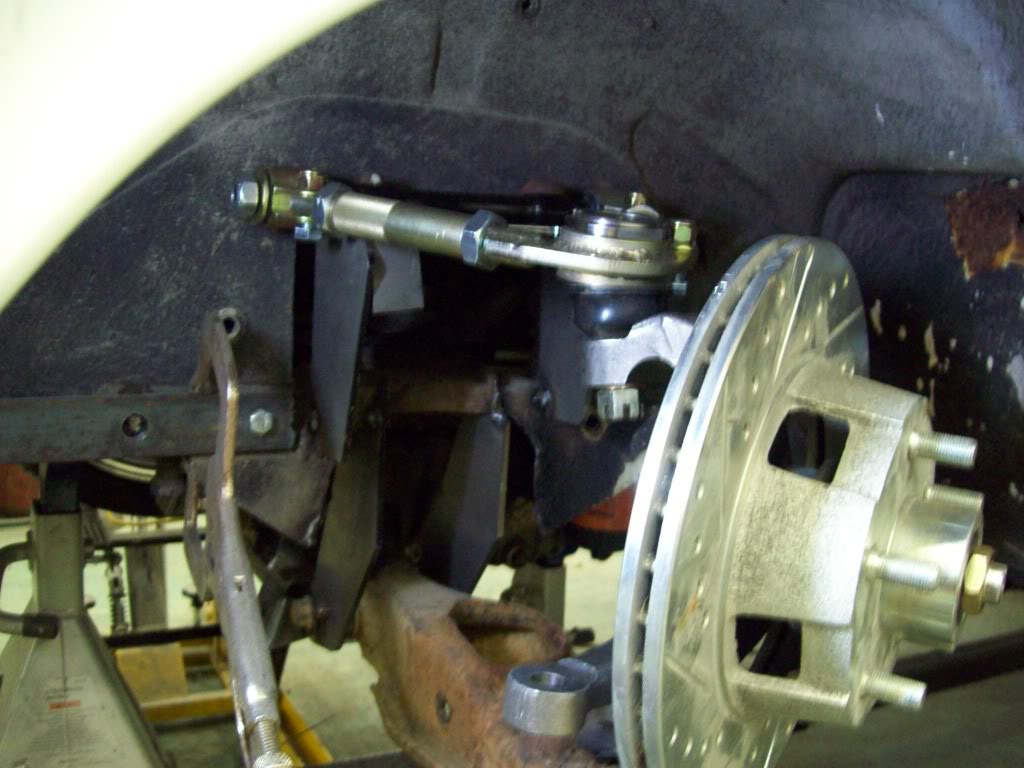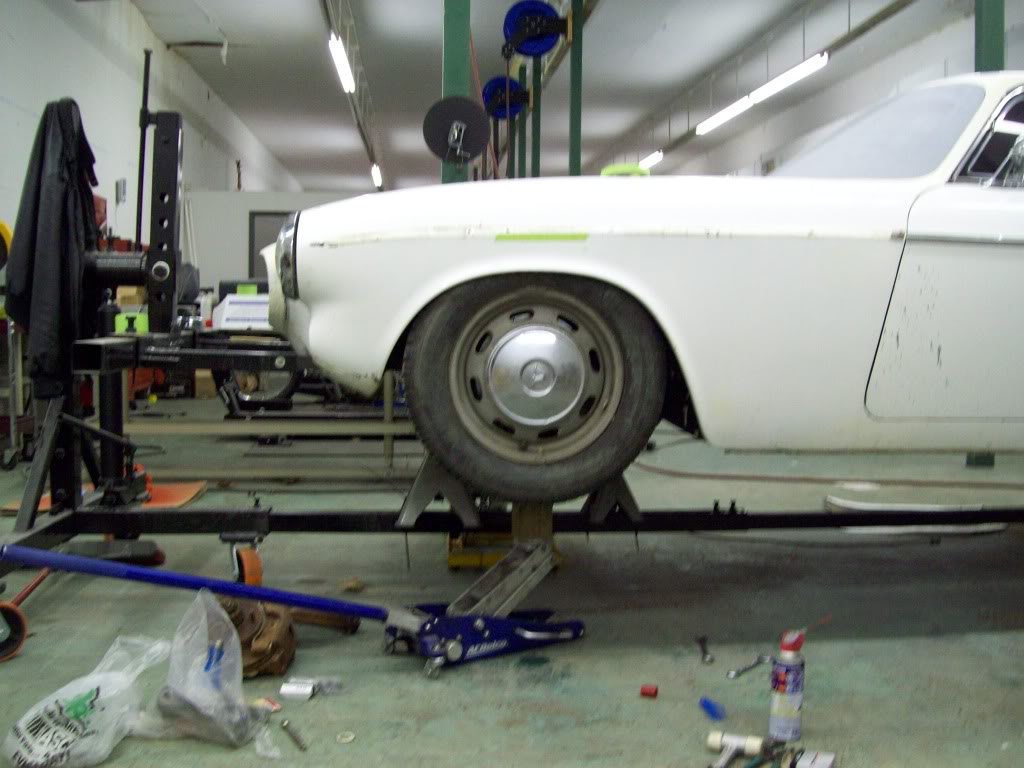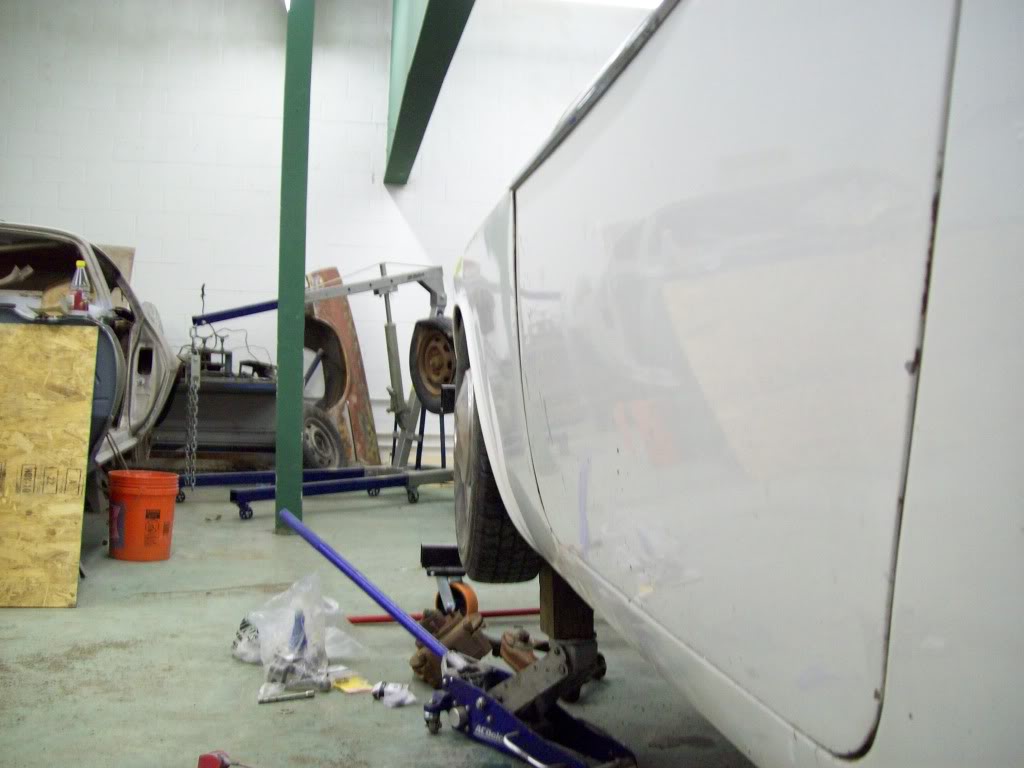 3-16-2011
I got the other wheel arch's in today, so I am going to start cutting on the front.. I am actually using the Volvo 122 Rear archse for the front, but the opposing side. They dont offer the front 122 arch's complete, they only offer the lower front and rear section. I am attaching the front a bit differently than the rear, so I can keep alot of the p1800 fenderwork. So, I have trimmed most of the excess off the repair panels, that way I only have what I absolutely need and still blend into the rest of the original P1800 arch.

The fact the car is on the routisserie is killing me, it is very hard to get the perspectives I am looking for in order to get proportions.. I have tried several things, to help me visually in this area, but none are working.. I am working with about a 6 inch ride clearance fromt th bottom of the Rocker Panels to the ground.. I am thinking 5-7 inches is what I am looking for, and should hopefully give enough clearance for exhaust. I will be running shorty headers and enlarging the factory crossmember notching for the exhaust pips, so I hopefully will not have any issues.

Again, I am not using these wheels, and they are not the correct bolt pattern, so I cannot mount them to get the car on the ground.. The offset of the front is Way off also, but they do give me a starting point.. I hope to have a tool here shortly that will pinpoint the exact size wheel and tire I can use... In the renditions, the wheels are a major part of the body and stance, I would like to keep with that theme and dont plan on running anything smaller than an 18 inch wheel.. I plan on trying to dial in 19 inch all the way around, the with lowest profile tire I can possibley get.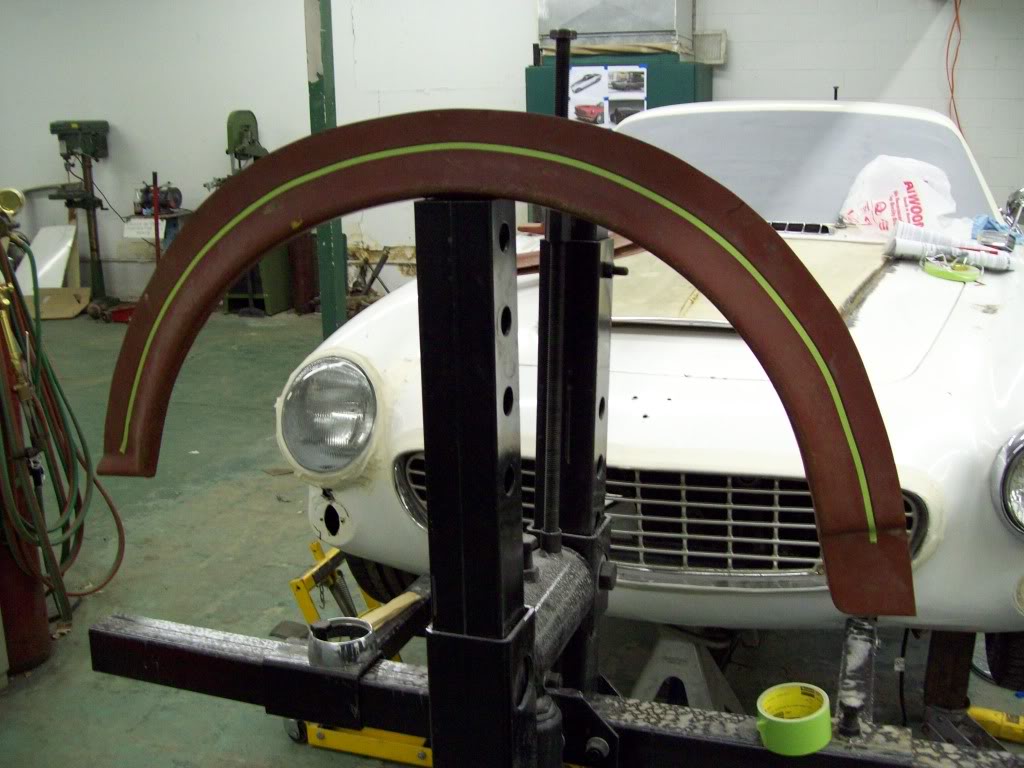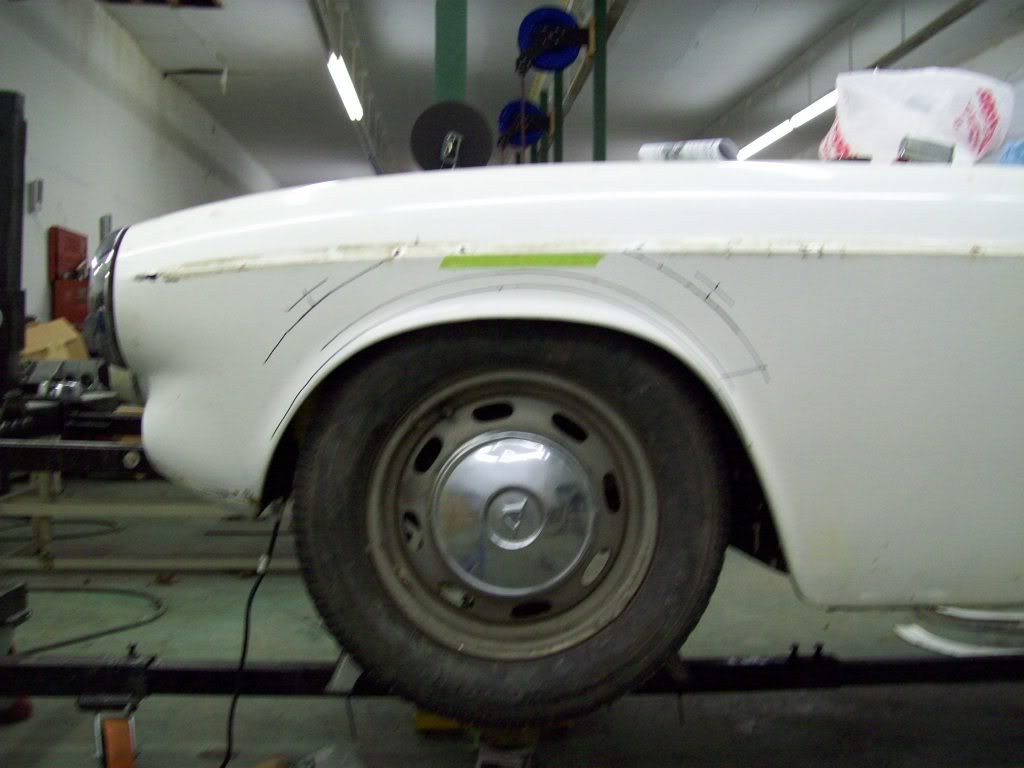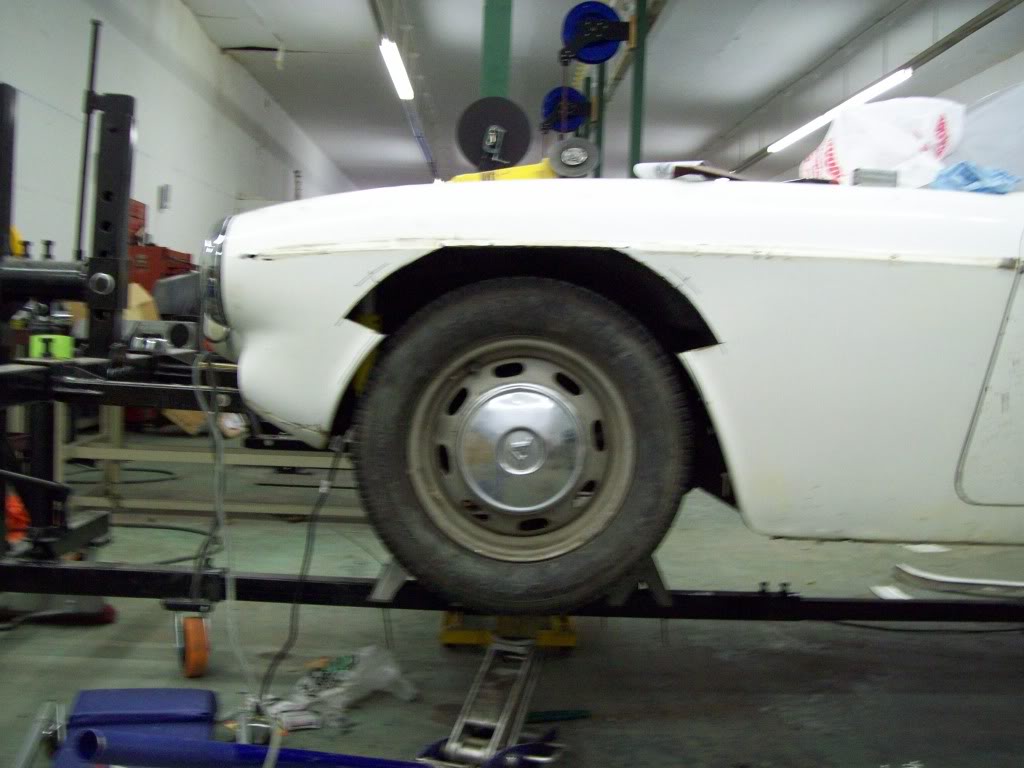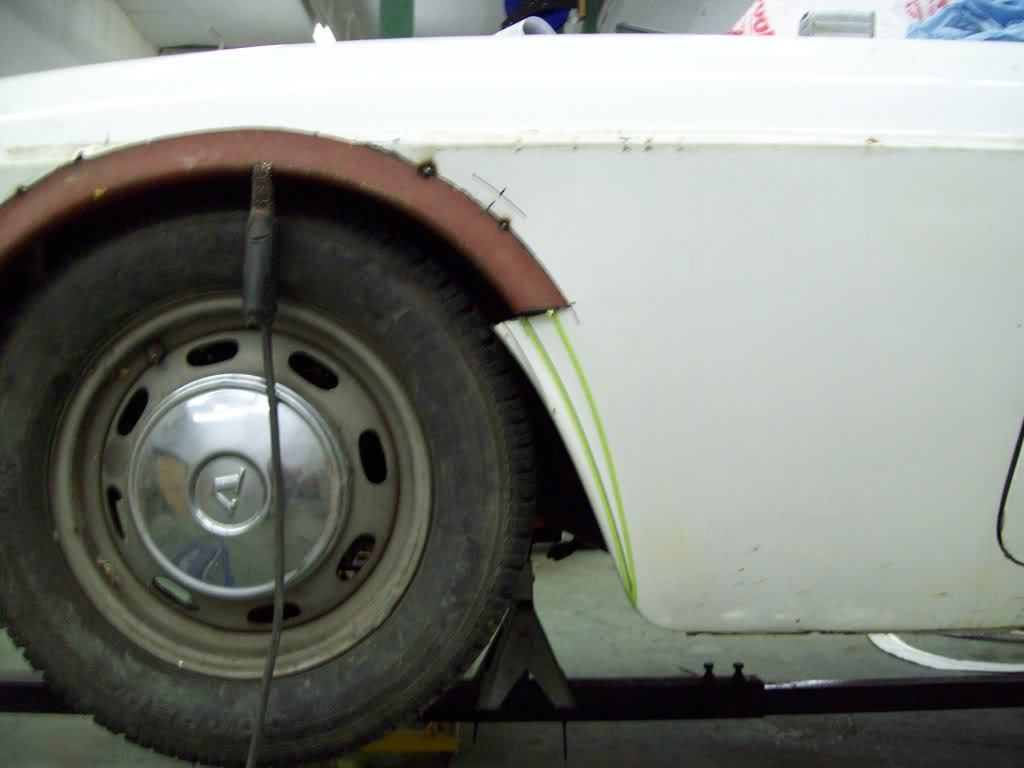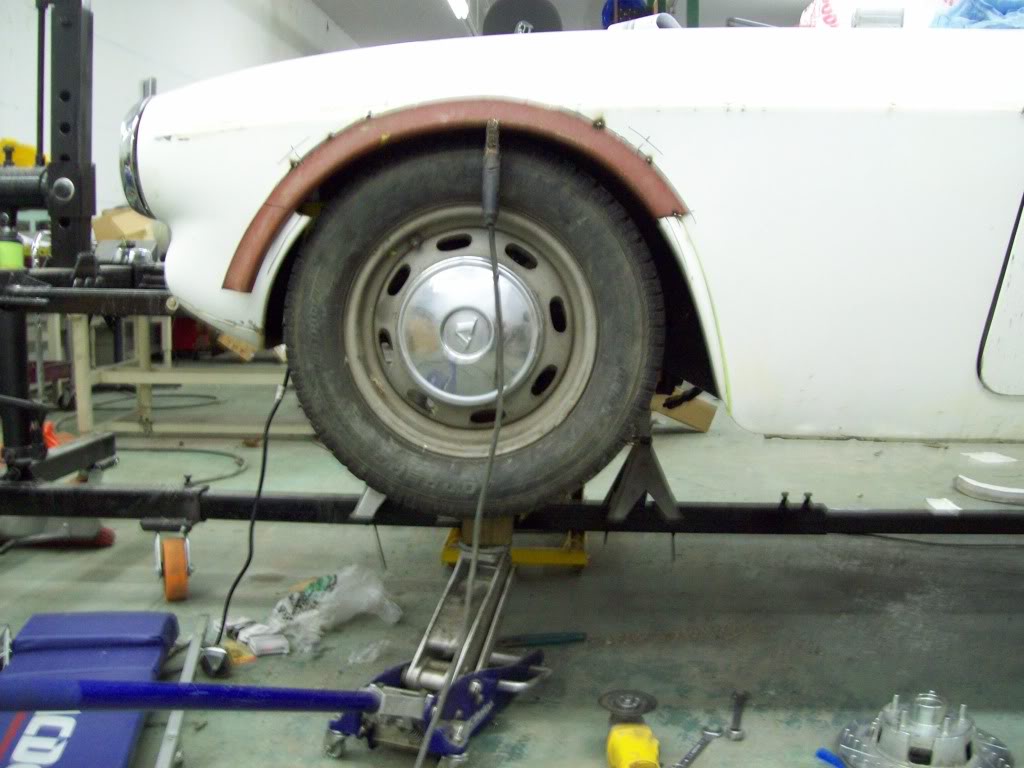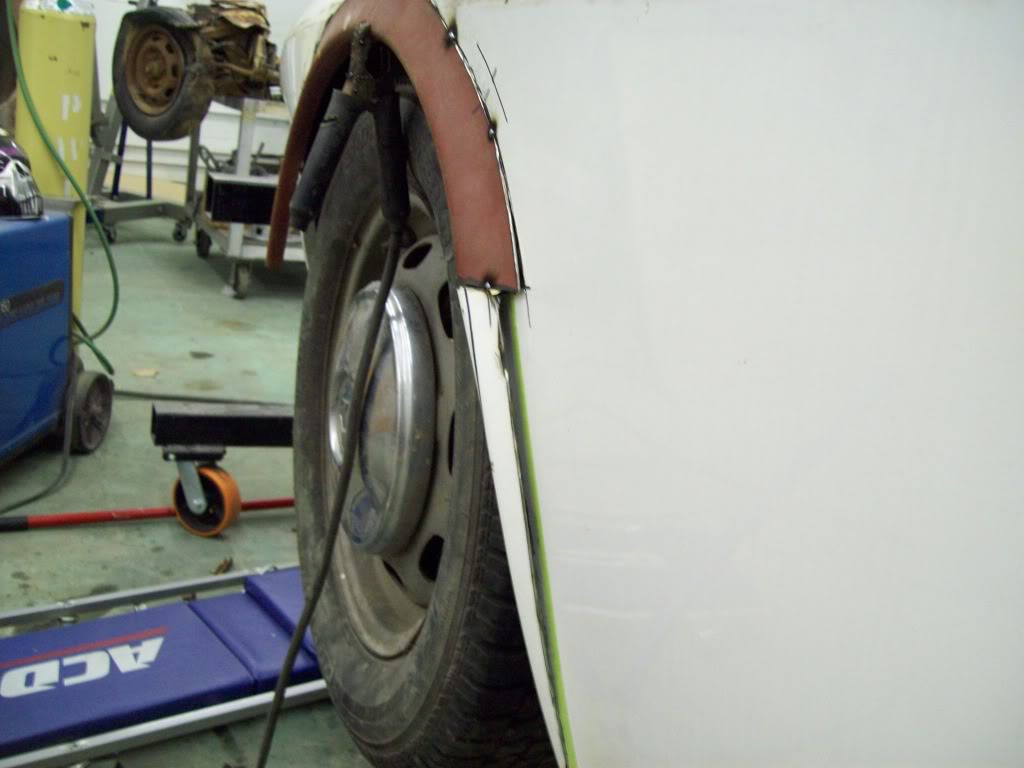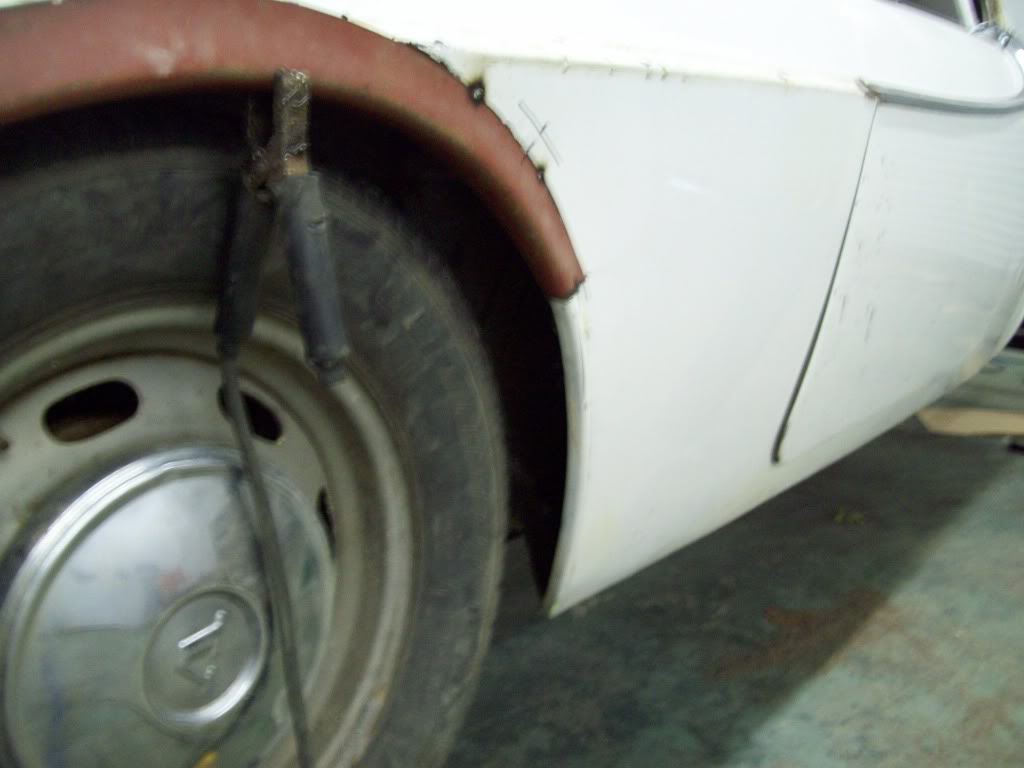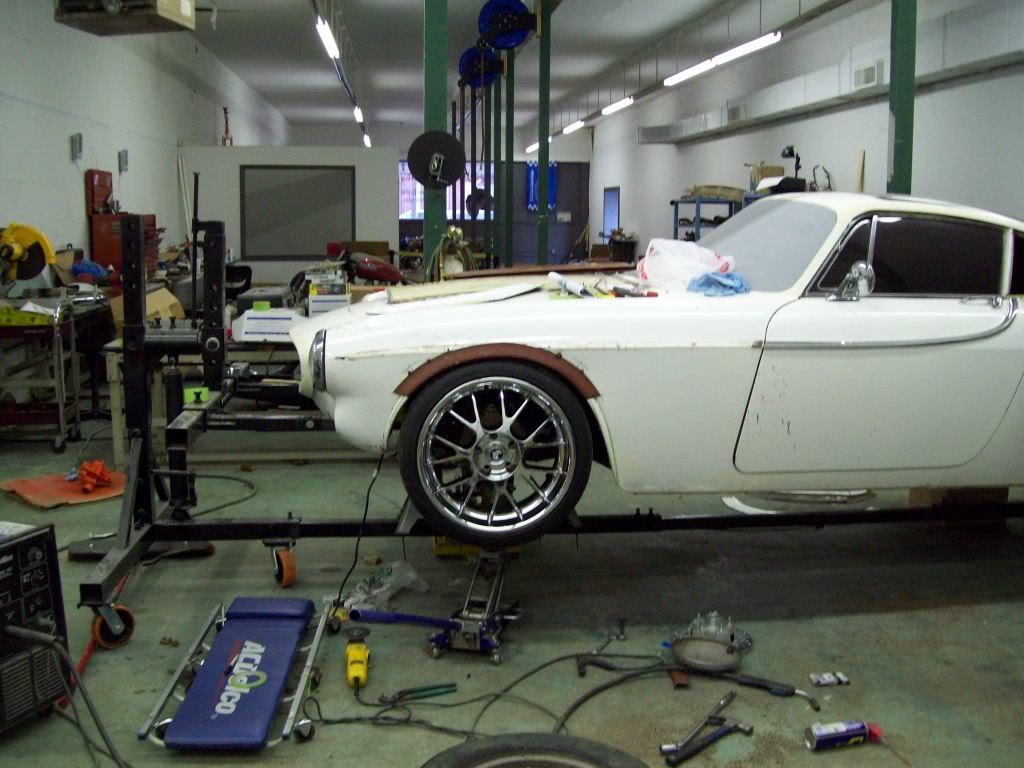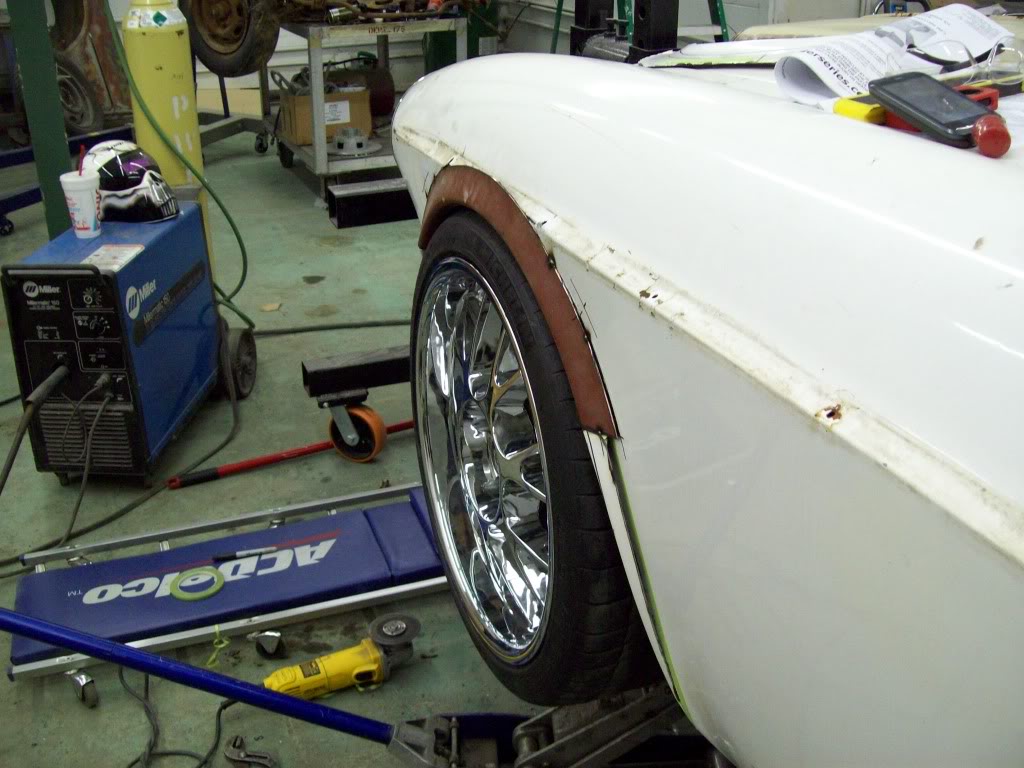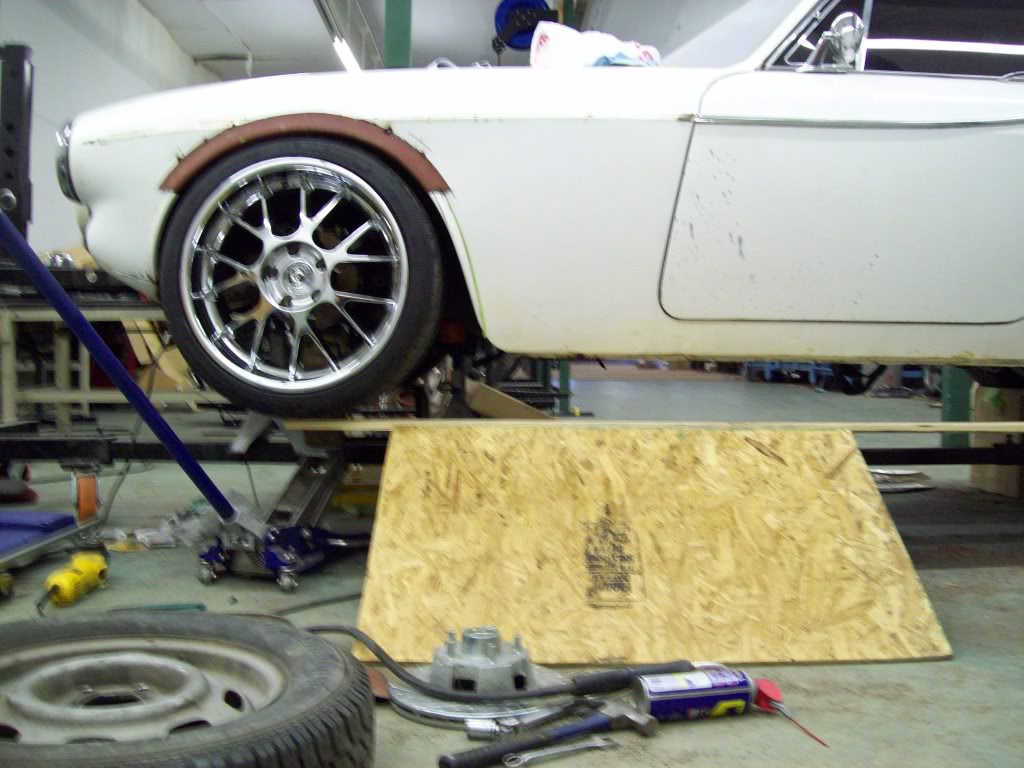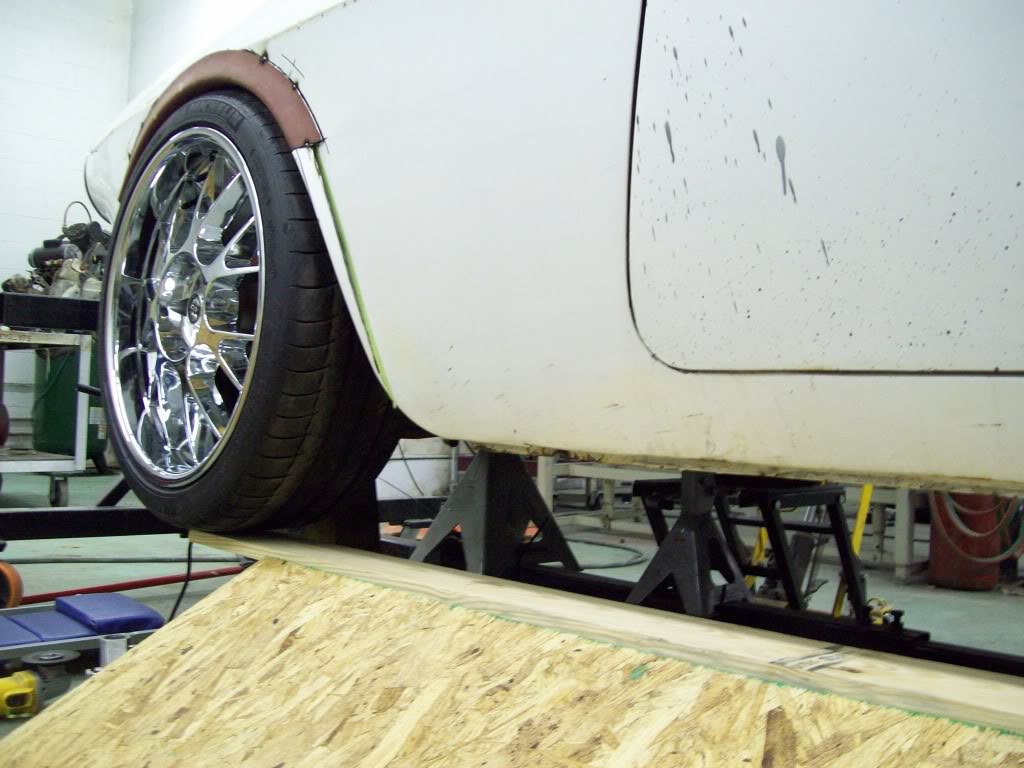 3-17-2011
Time for the Masking tape update... I have worked in the top of the arch's transition to the fender.. I think it is pretty close, and it was a complete pain in the ass.. The hard body line has to transition into the arch, while the roll of the fender had to blend into the arch radius.. Lets just say it wasnt done in one piece, as I had hoped.. There will be some final jacking and tweeking to the actual fender opening when the car is on the ground with wheels installed.. Right now, it is damn near impossible to get any symmetry from this view position.

Here are the before pictures with the wheel set at ride hieght.. Please remember the offset of this wheel is not correct, and has it pushed too far out.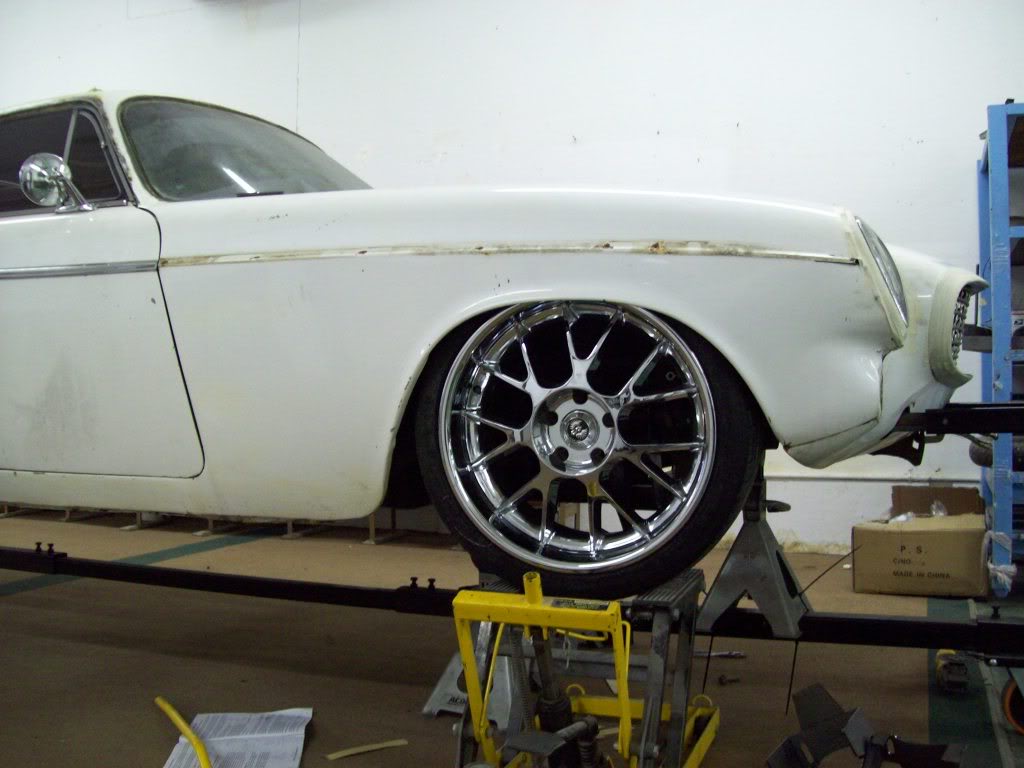 Here are the after pictures..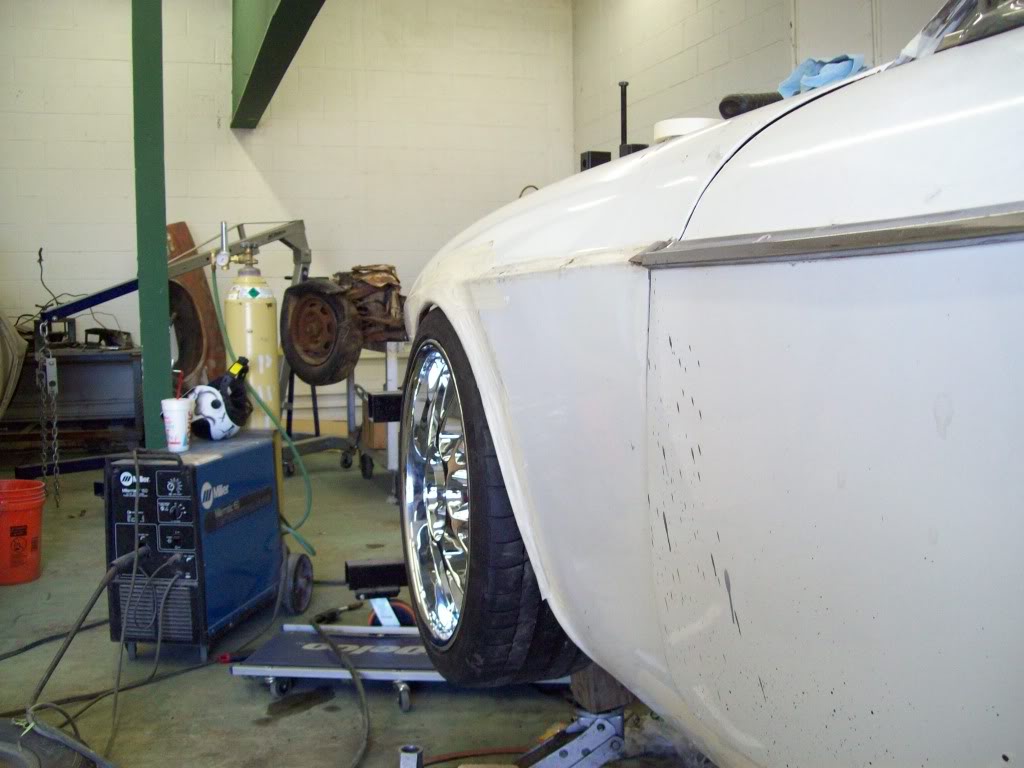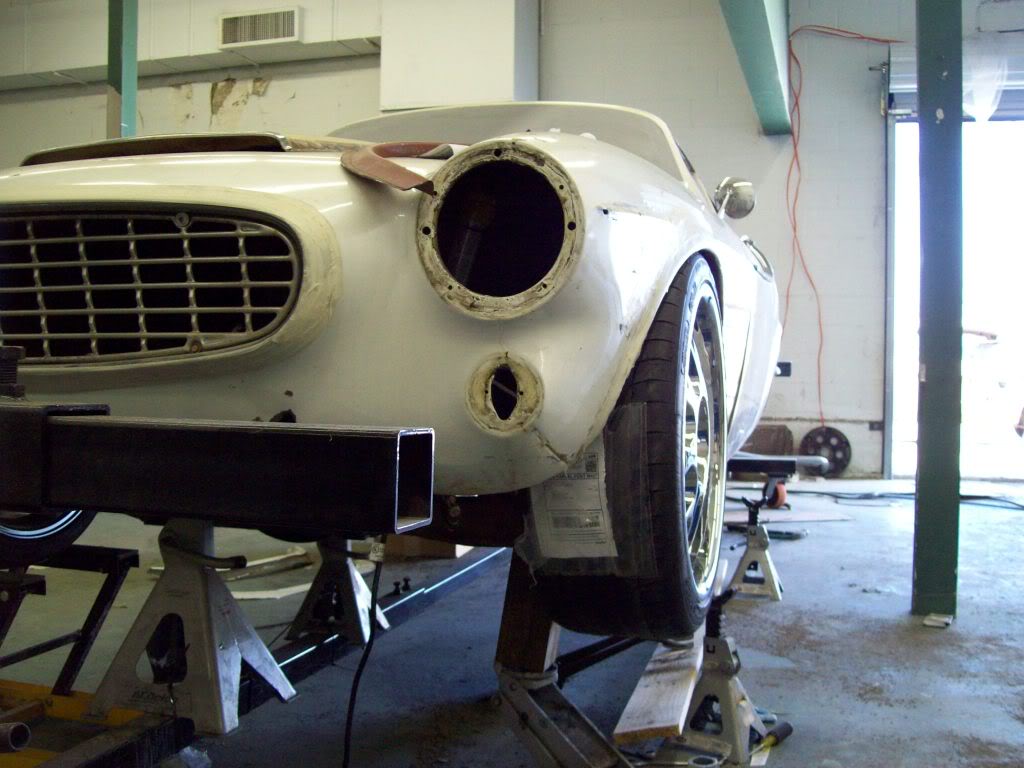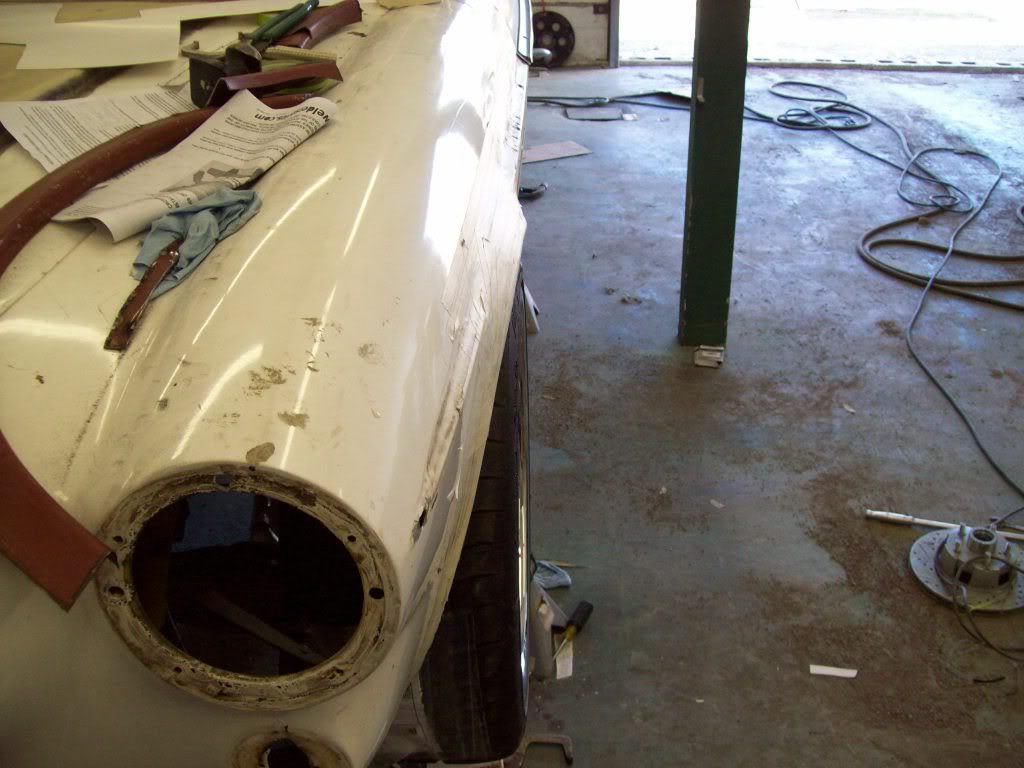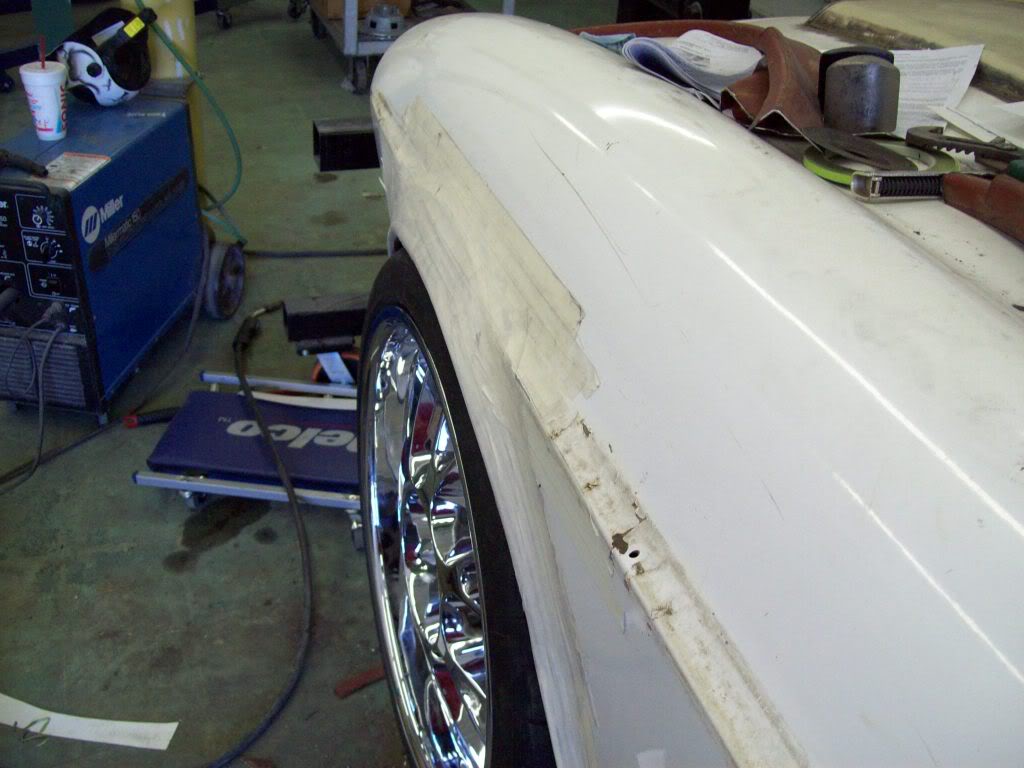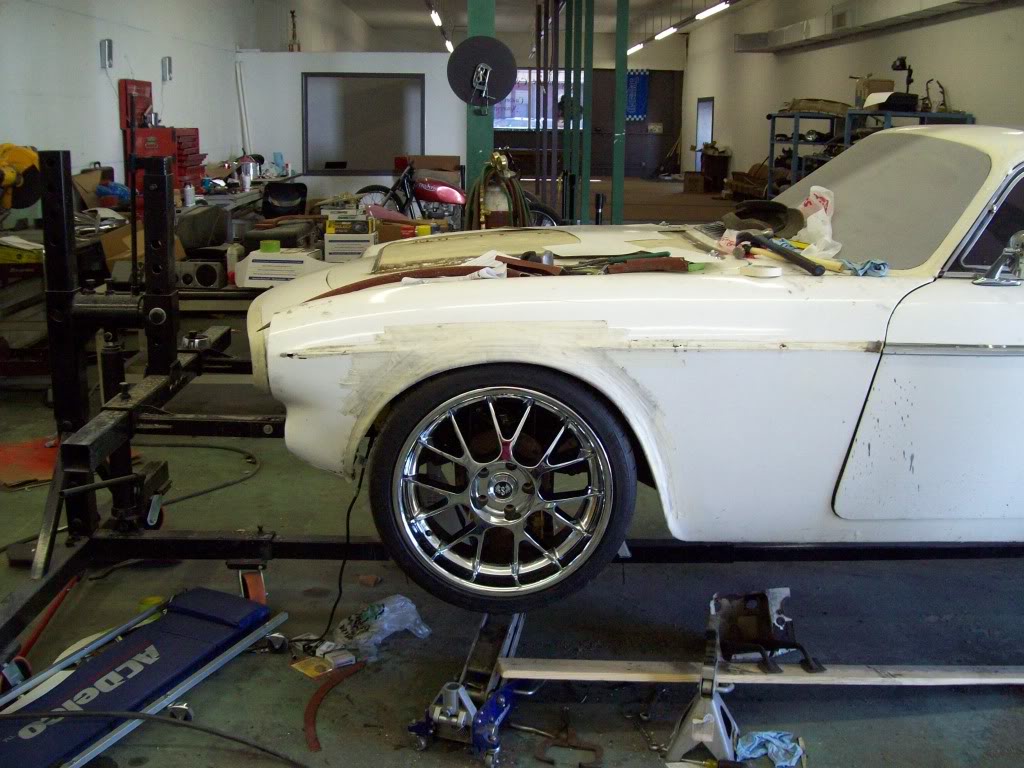 3-19-2011
Thanks Lee... I am hoping that I can help with some direction and parts to help bring these cars into the mainstream view of classic cars. I will be happy to answer any questions your members may have, because this has been a learning experience for me also. I am doing things on this car I or others have never done before, so I will be happy to share info. I am a one man show, and have to perform everythning your see with tools that most car people have in their garages, so some of the work may appear to be a bit crude.. So far, it is looking some hammer and dolley work will blend everything fine.

I am working on getting this crossmember system to be offered for sale by a reputable parts company. I am sending them my unit, once it is done, so they can set up for prduction if the interest is there. I have a few guys talking to me about building some more of these cars for them, so I would like to have certain parts available off the shelf. Since mid-feburary of this year, I have had over 800,000 views of the build pics, and you couldnt believe how many people didnt realize this car existed in factory form or custom form.
Well I got the other front and rear wheel arch put in place today, and it actually seems like they came out pretty even. I will have some final hammer and dollying out, but they are within a 1/16th inch, so that should work out great..

Just noticing in this post how much the Fins and rear Arch has really changed the car.. I have gotten used to the difference now, and it just seems that is the way it always was.. ha ha I guess I need to purchase an original car to keep around and maybe take to shows with me, since we dont have too many of theses at our local car shows and events..

Before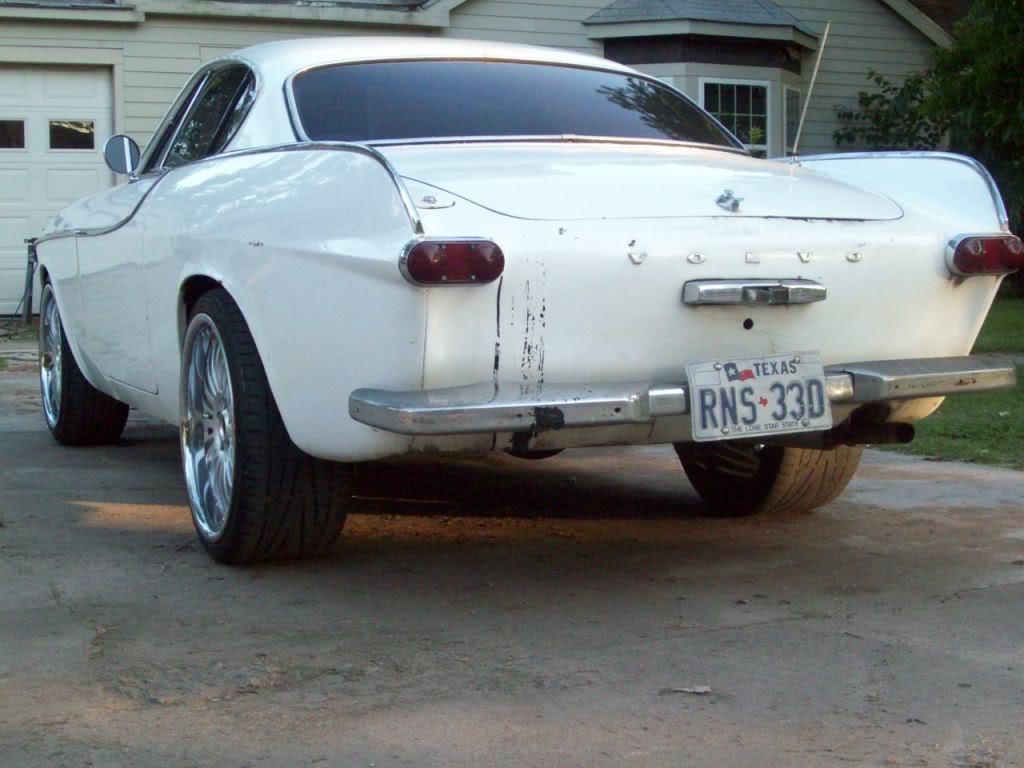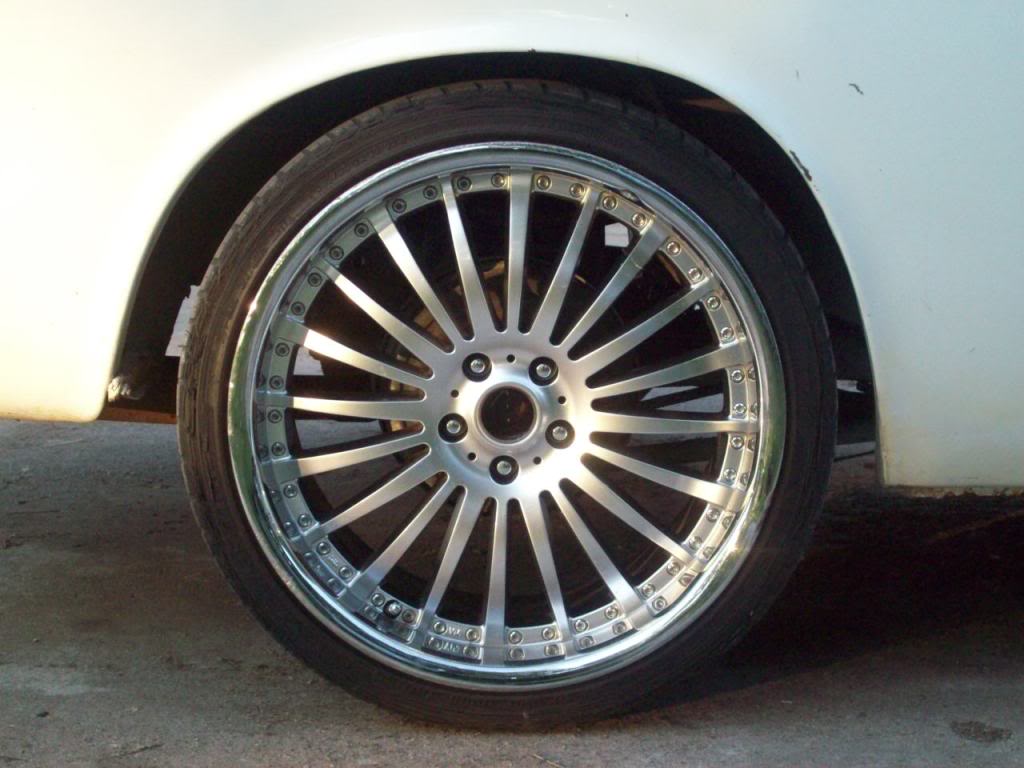 After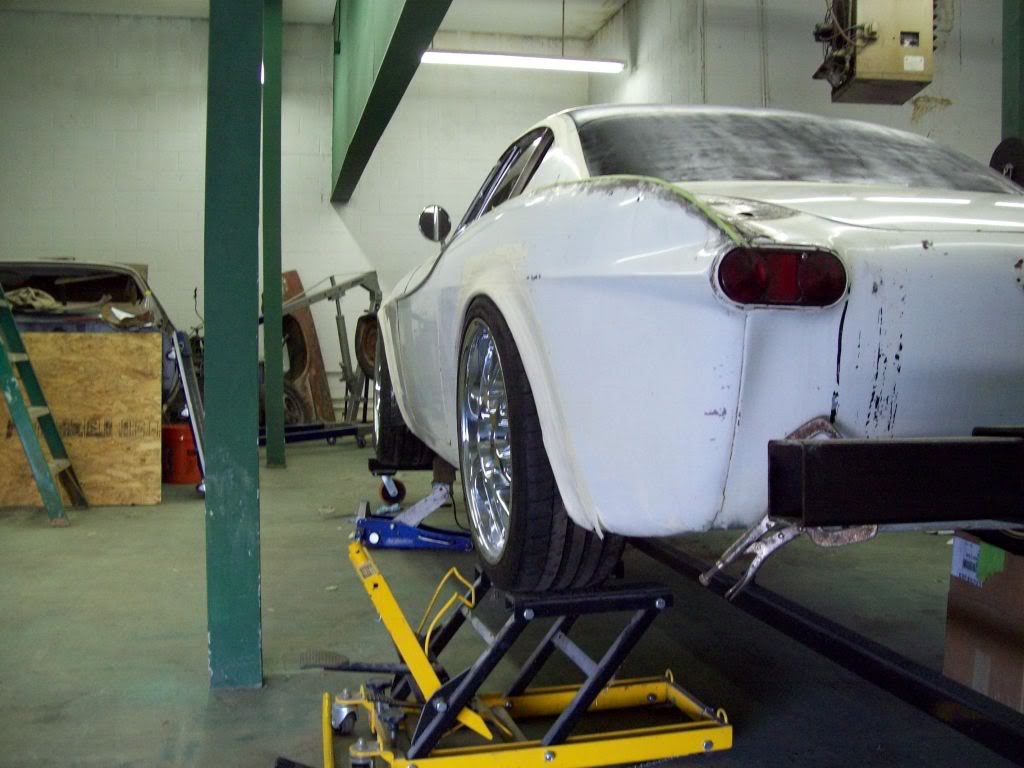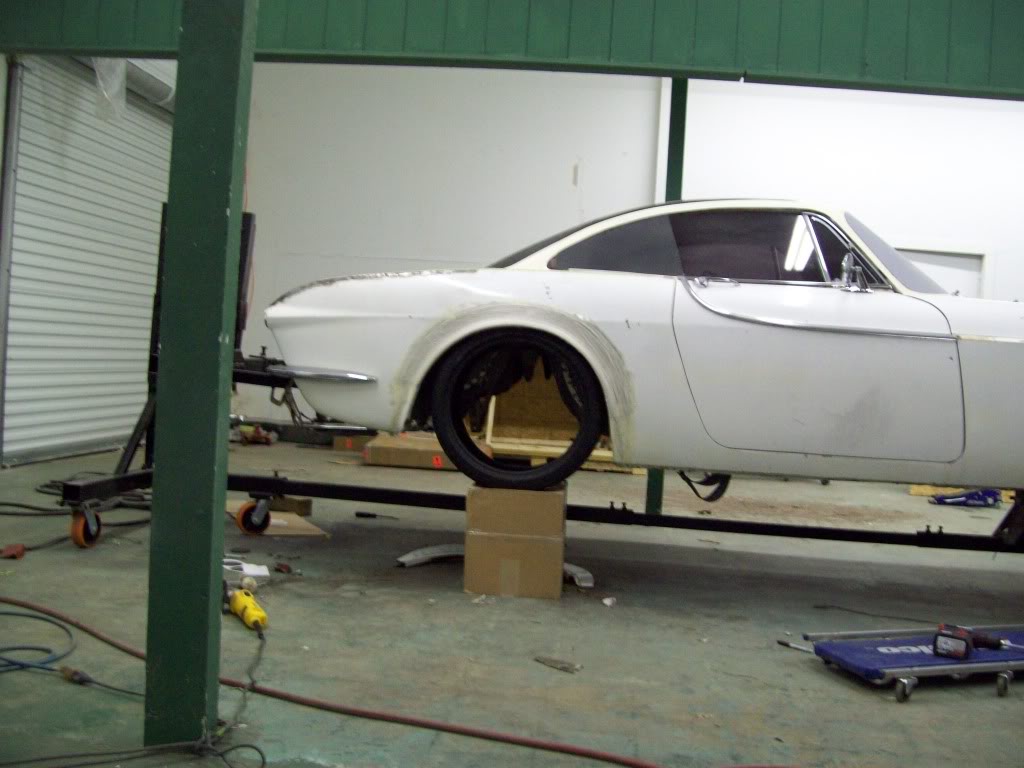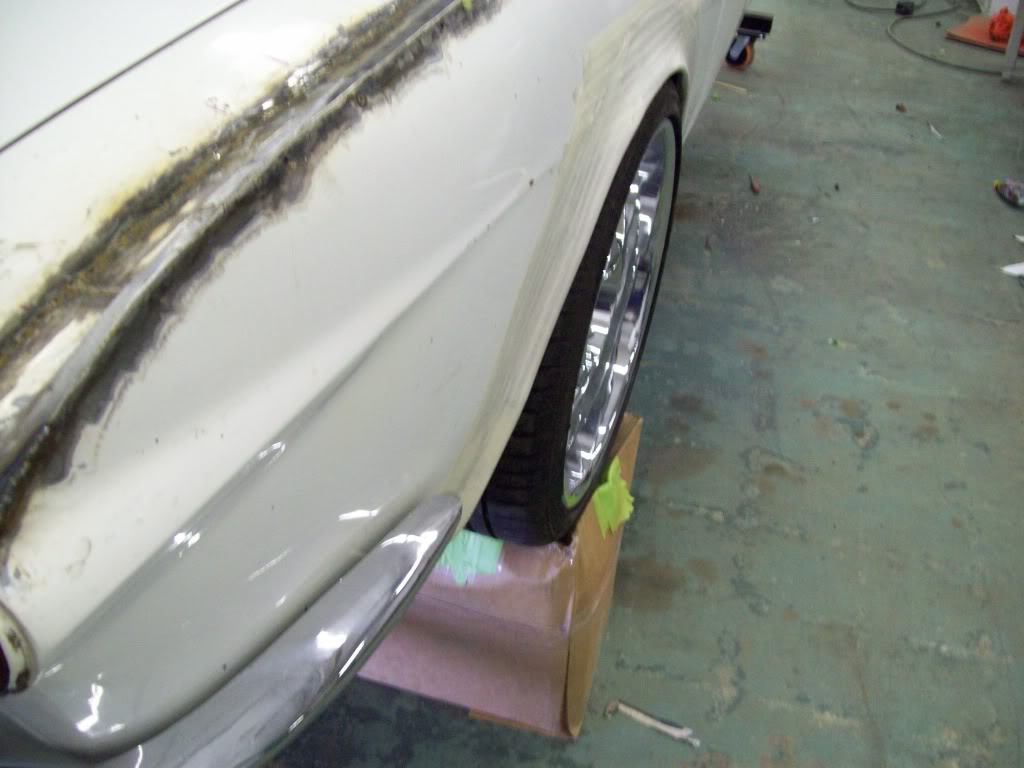 Front Before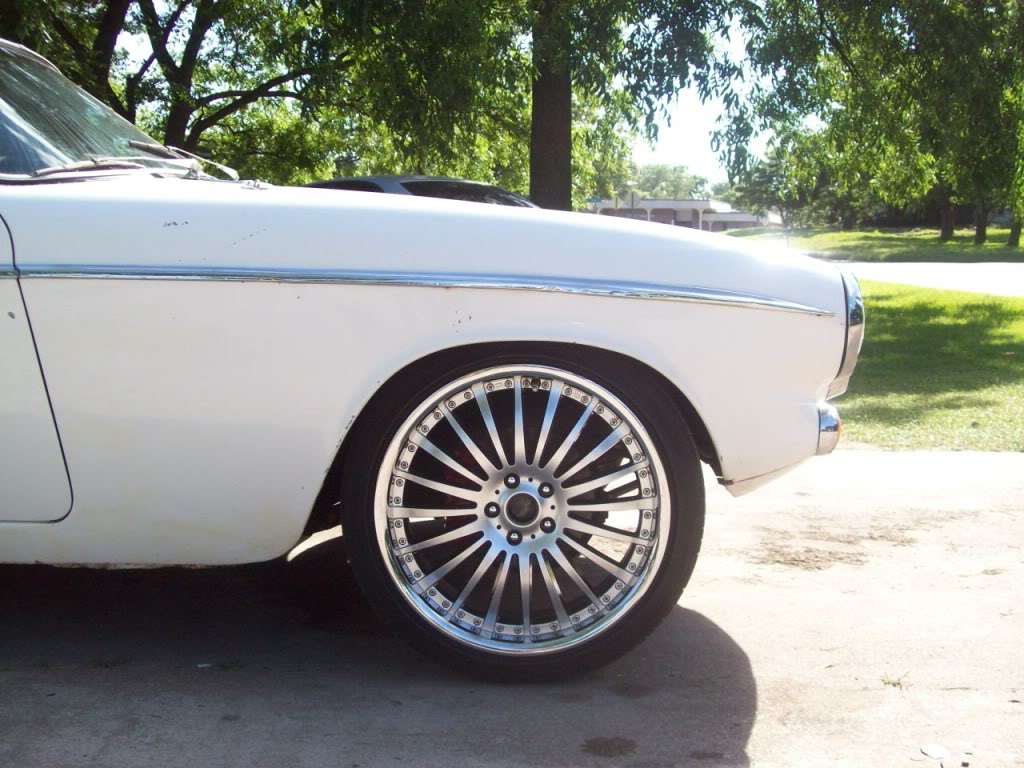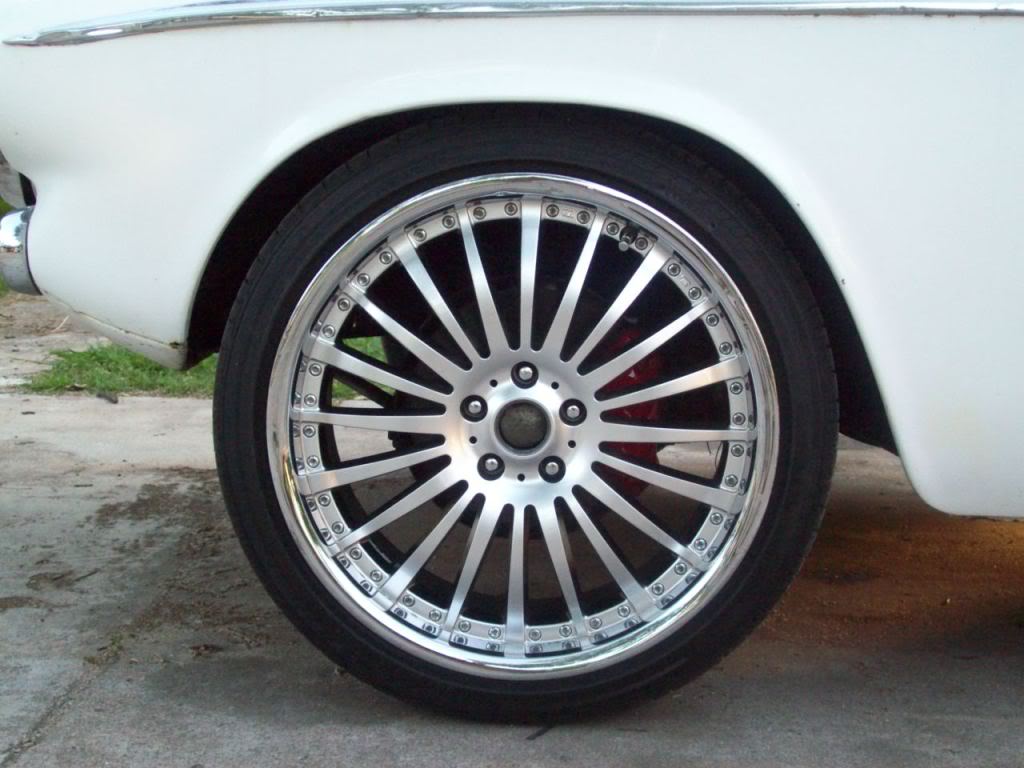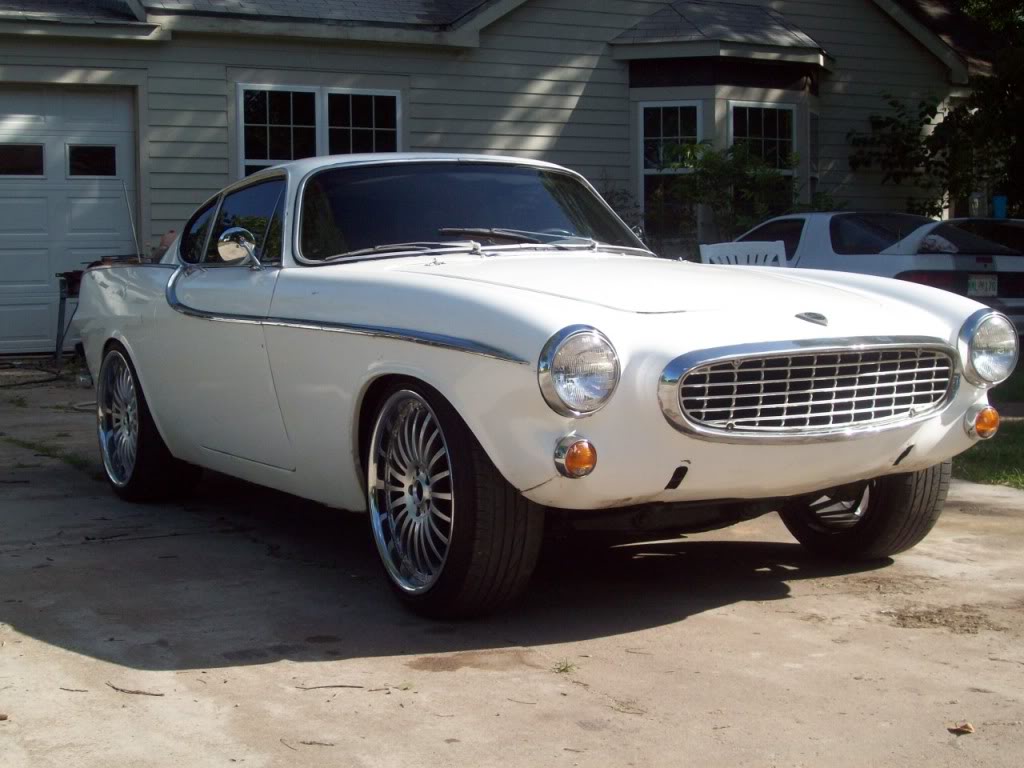 Front After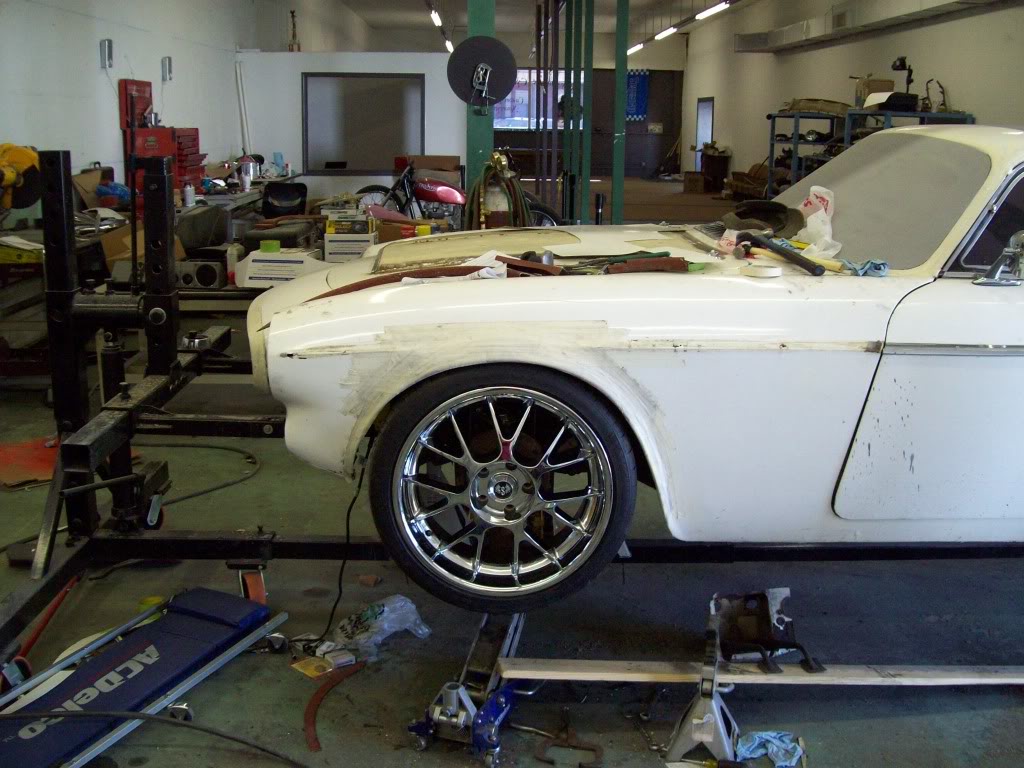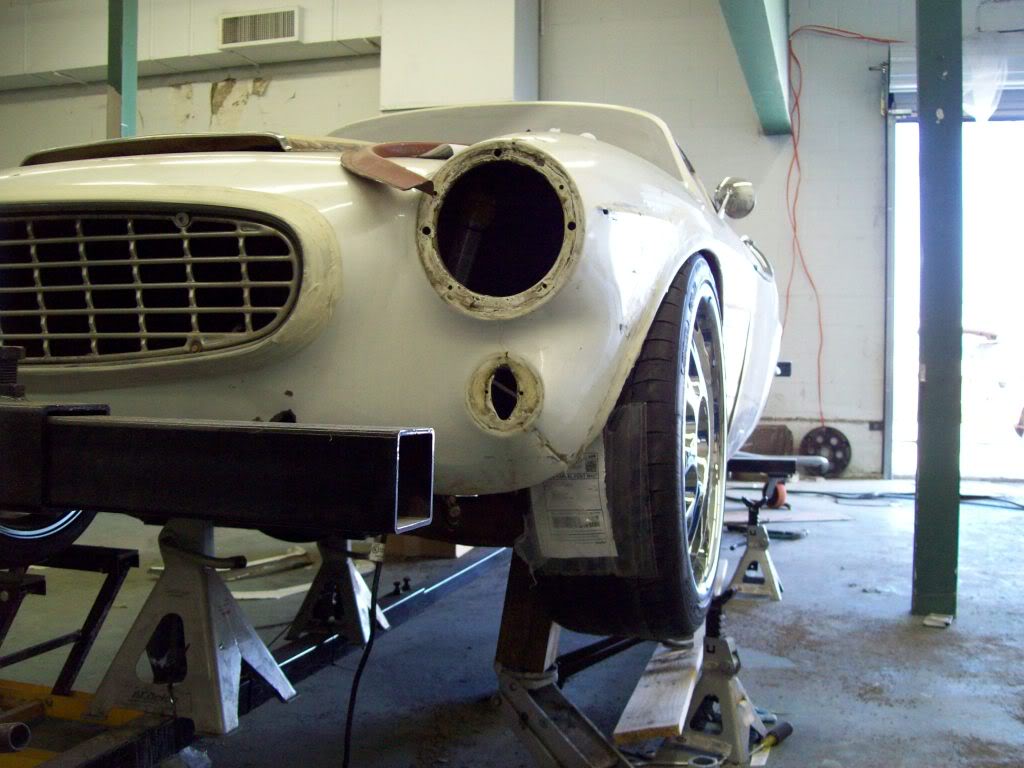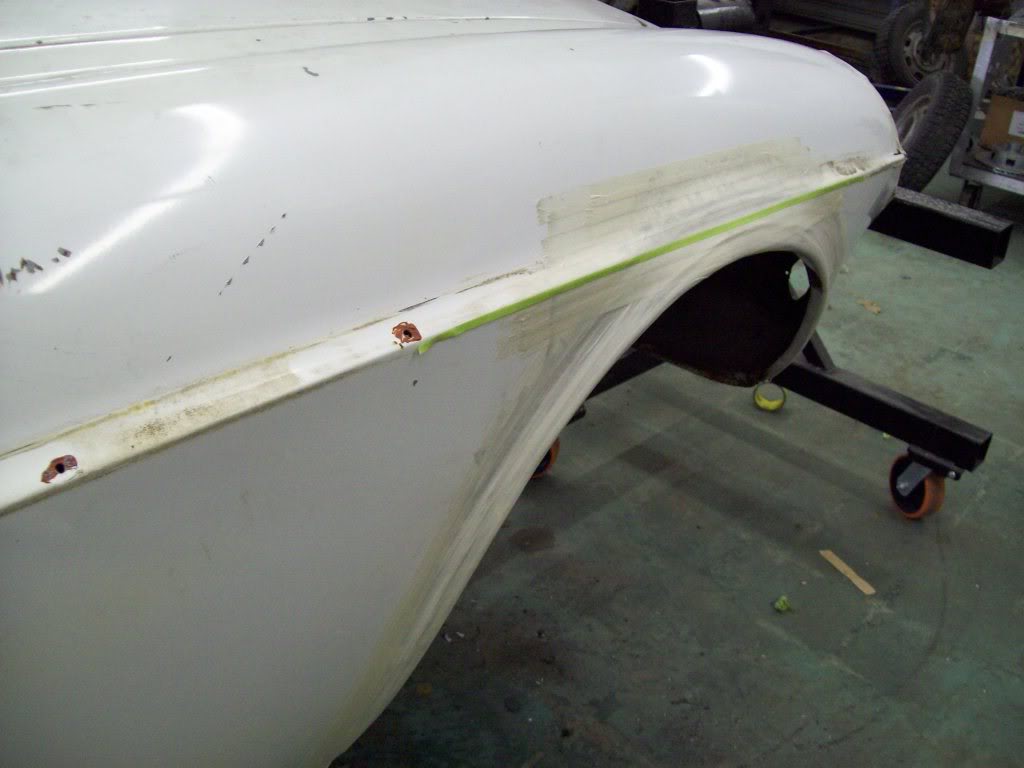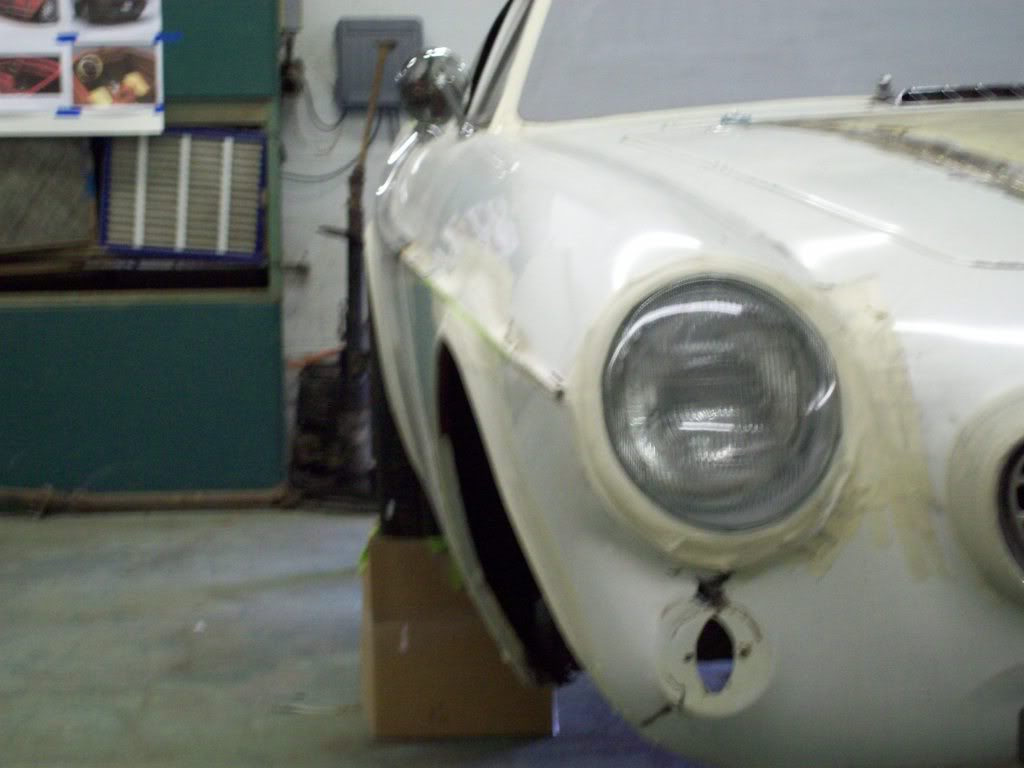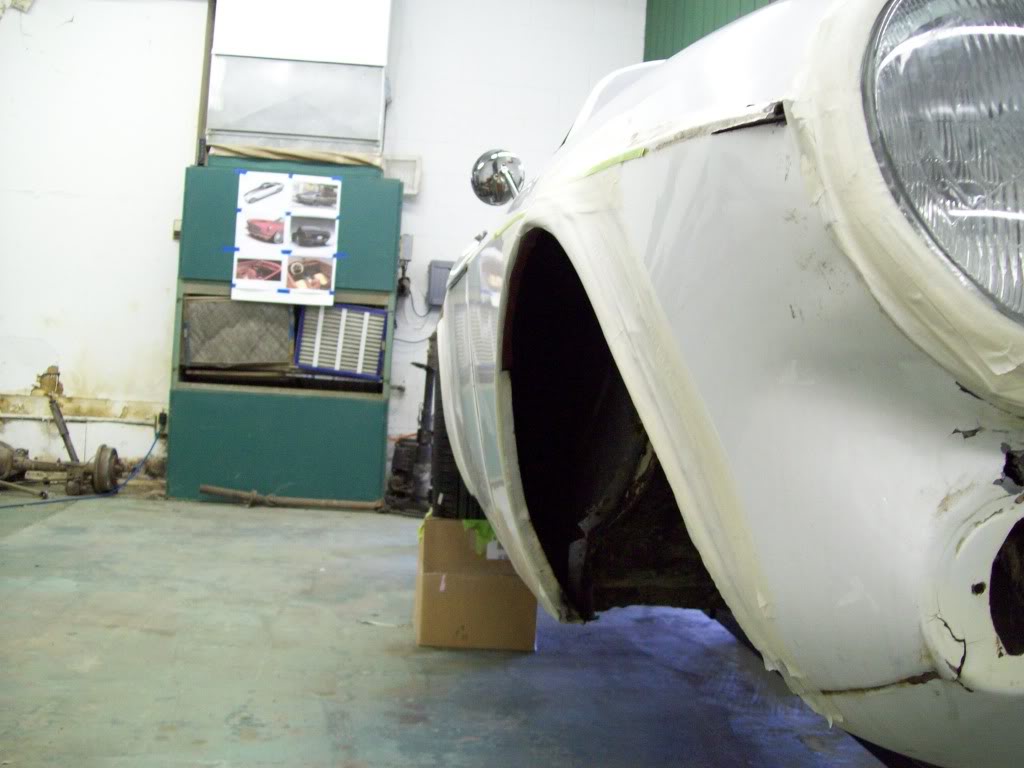 3-20-2011
I have some Masking Tape updates.... I have removed the bumps that were in the middle of the fin tops, they were caused by the factory fins flat run, and where I started changing it to a more slope down direction. I I have a bit more tweeking to do on the inside of the fins transition to the trunk lid plane, but that will have to be when the final hammering and dollying begins.

As you can see by the last pictures, this car is full of Curves and Arcs in all direction. Just by reducing the fins, you can really see the slope and arc of the top rear panel and trunk lid. Most of that was hidden by the excessively large fins, which ran at a flat upward plane. All curves, slopes, and arcs, has made it very difficult to blend things in and get things work proportionally. It is way more than just adding new flat cut metal section or just relocating features, everything had to be bent with bends at would make dishing affects, compound curves, ect.

Hopefully the Black Tape show the top flat edge of the fin, and also shows the arch that it is running.. It is completely in the theme of the original fins, just a bit shorter.

Before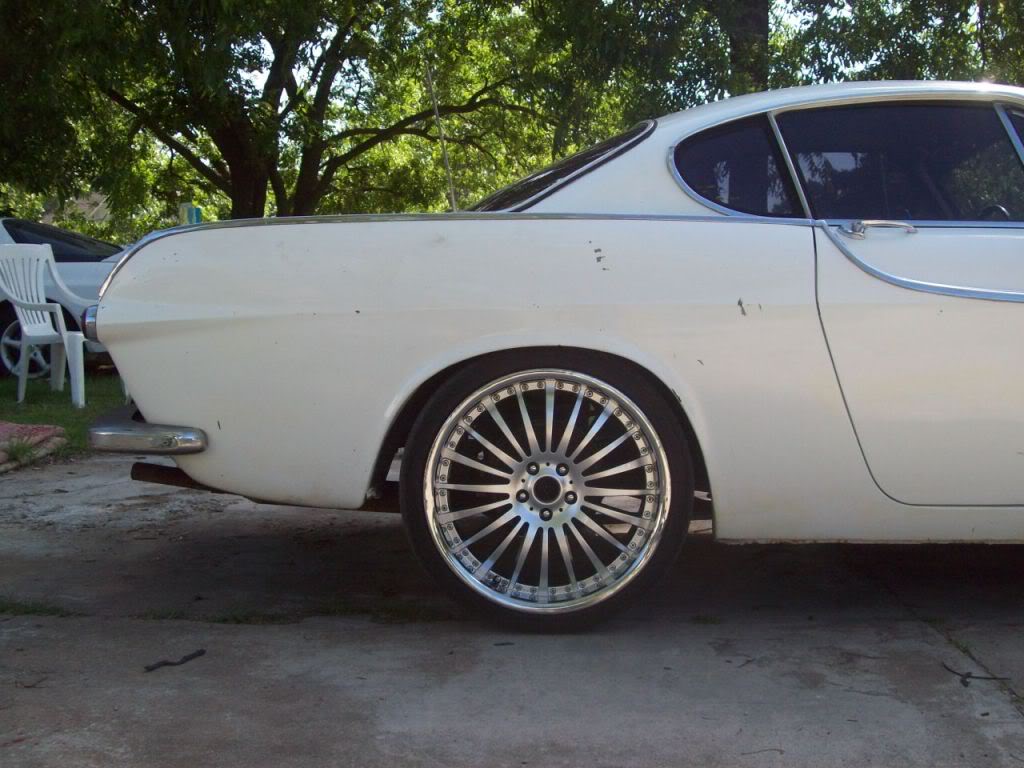 After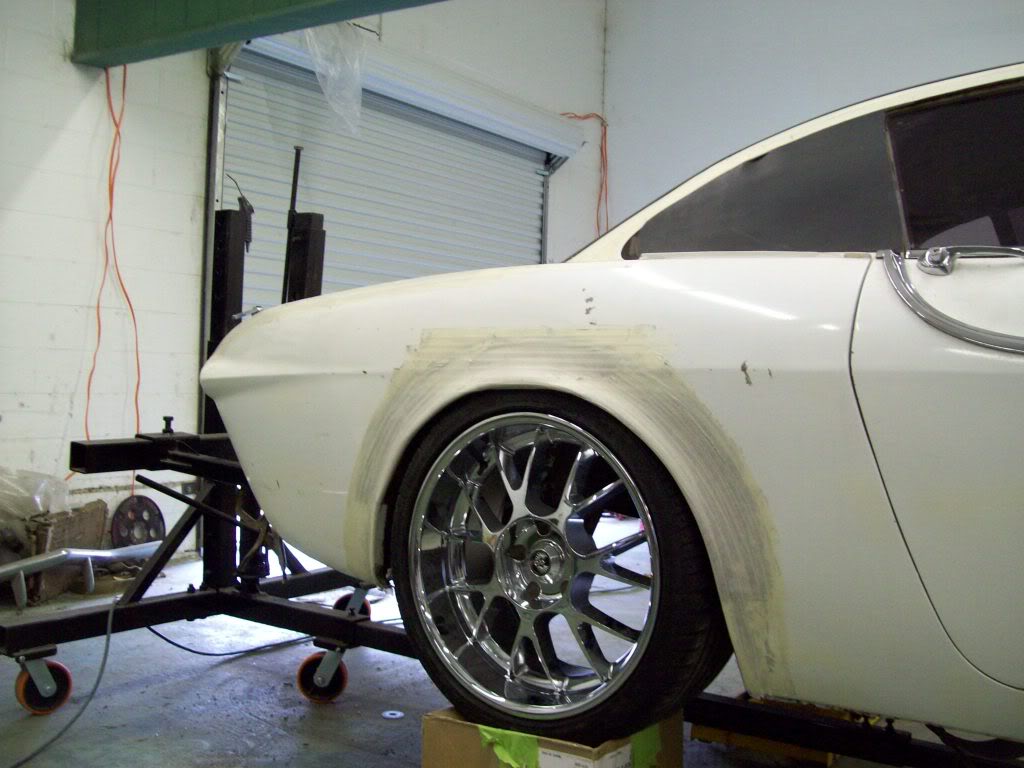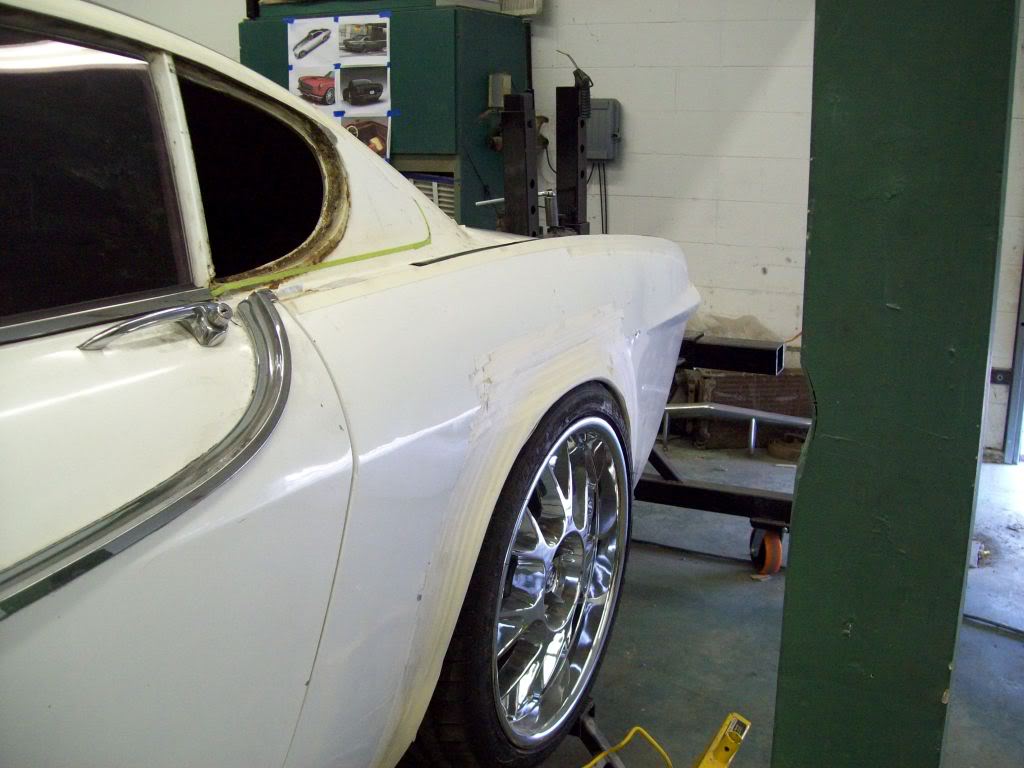 Before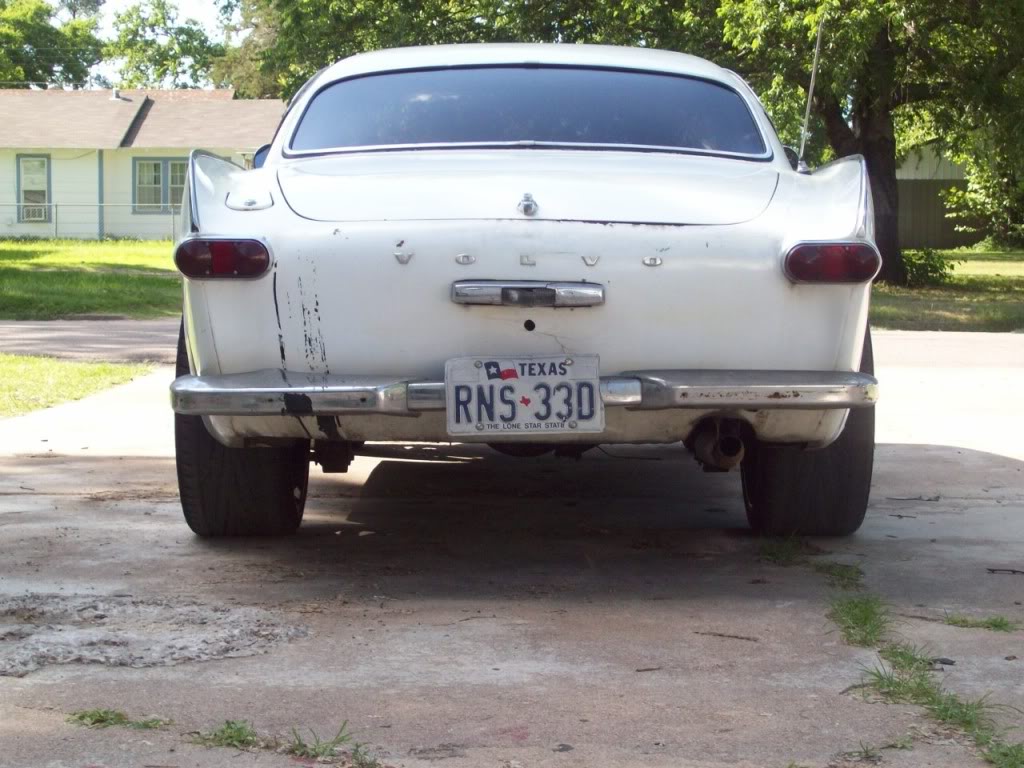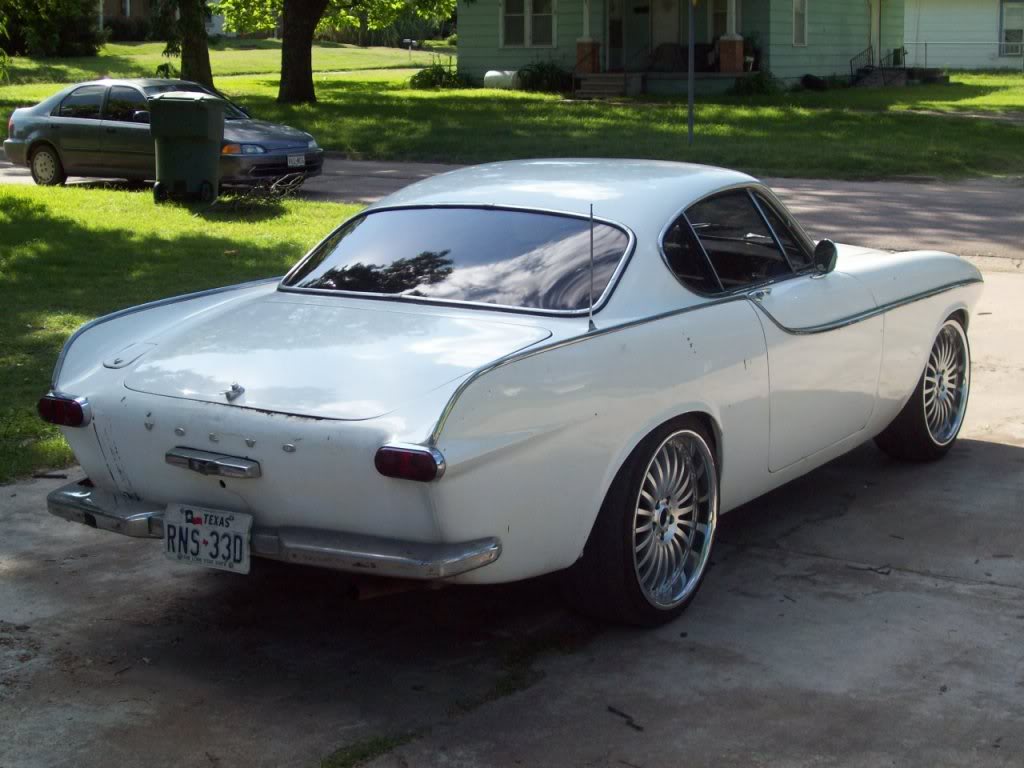 After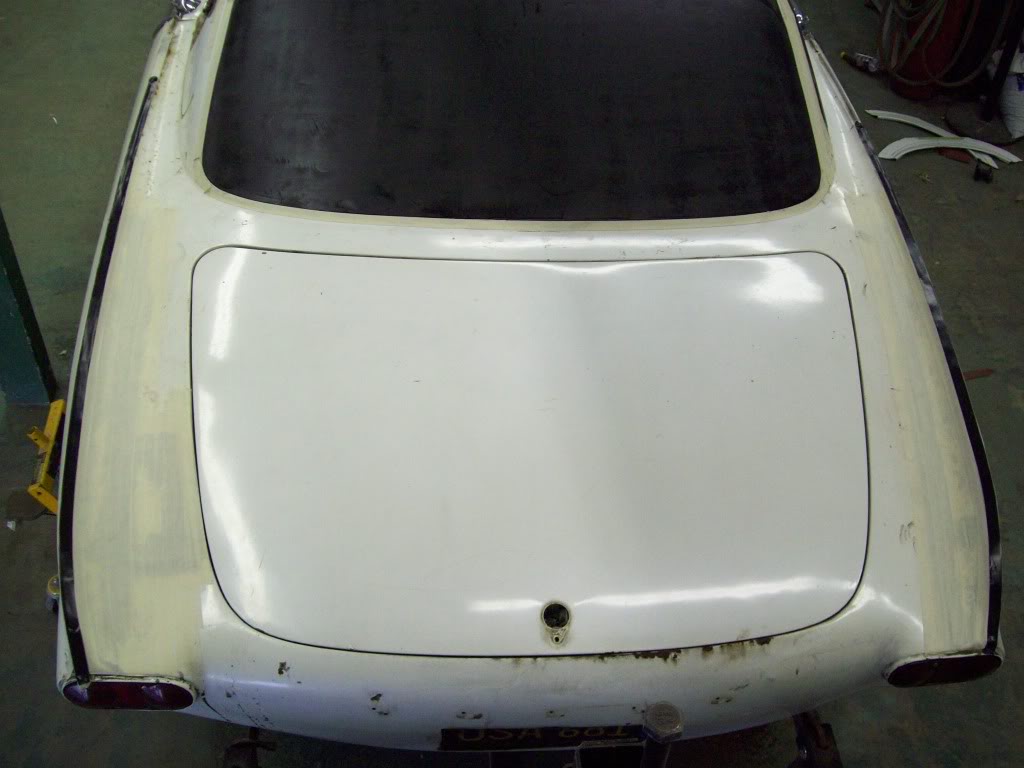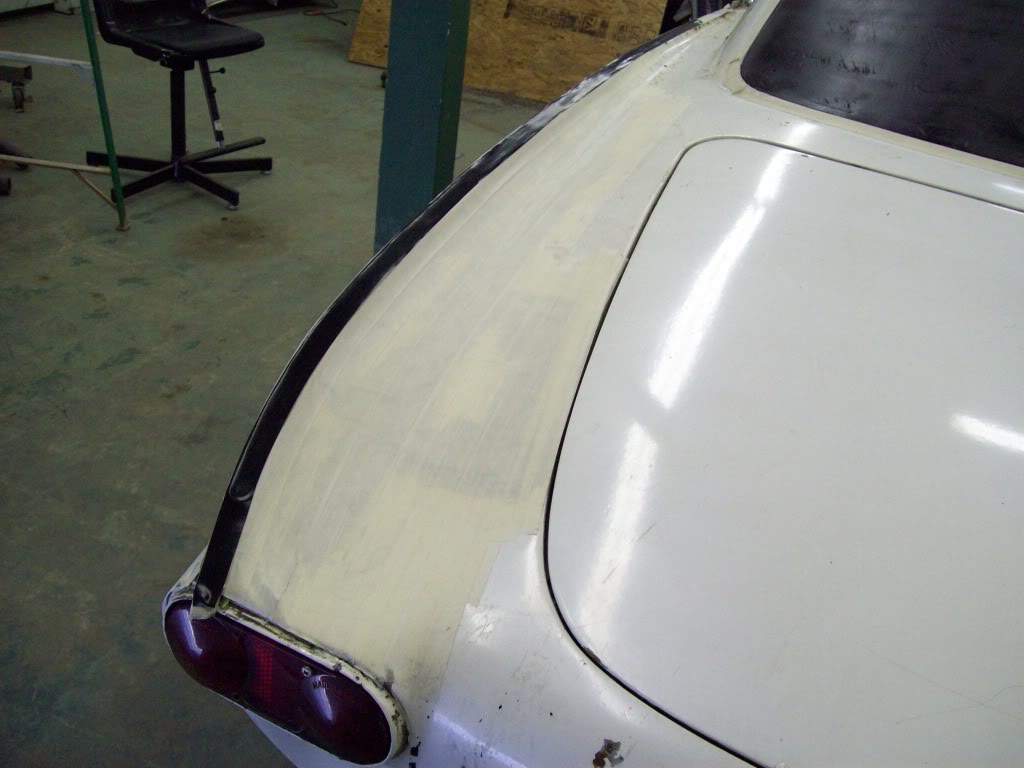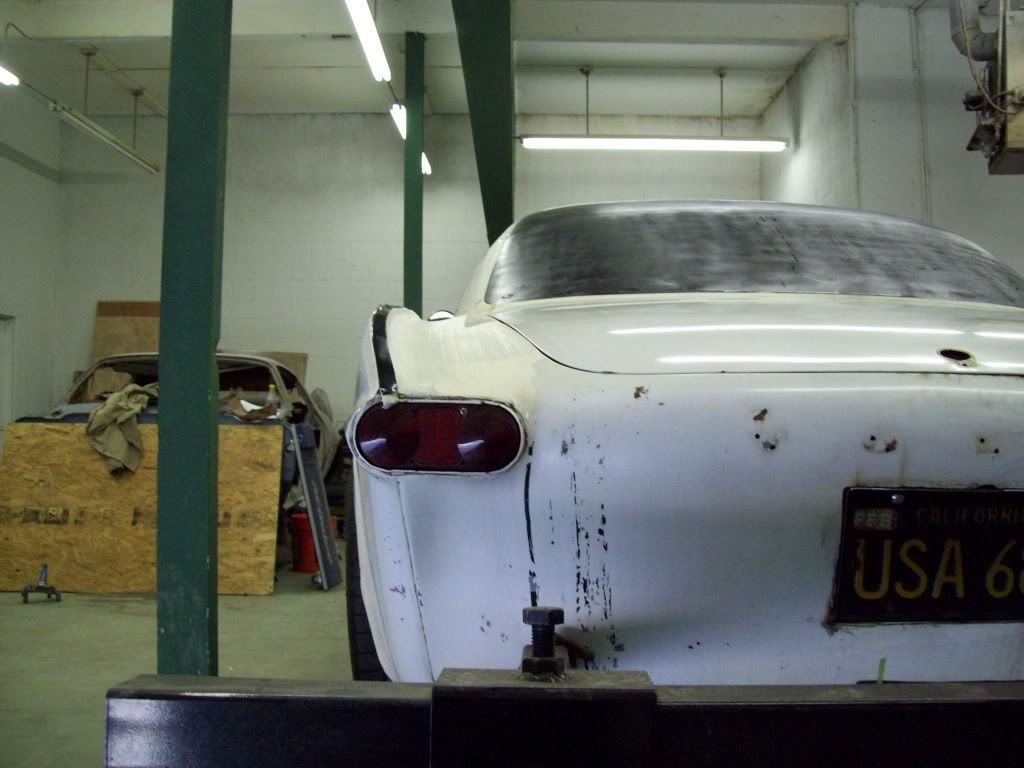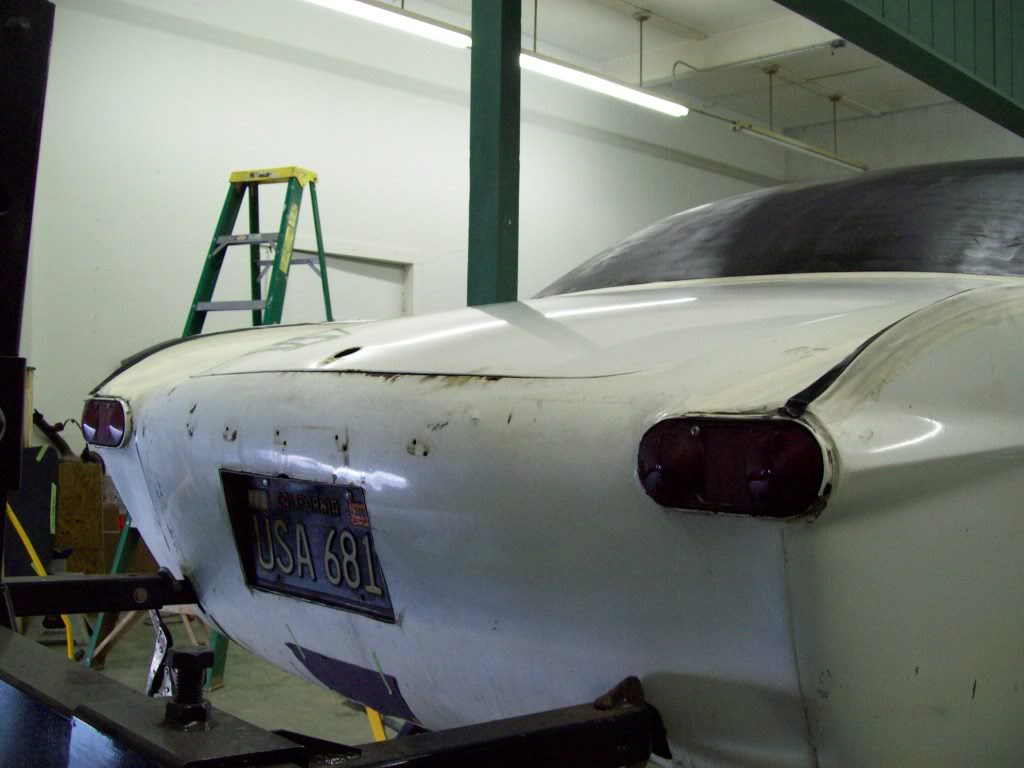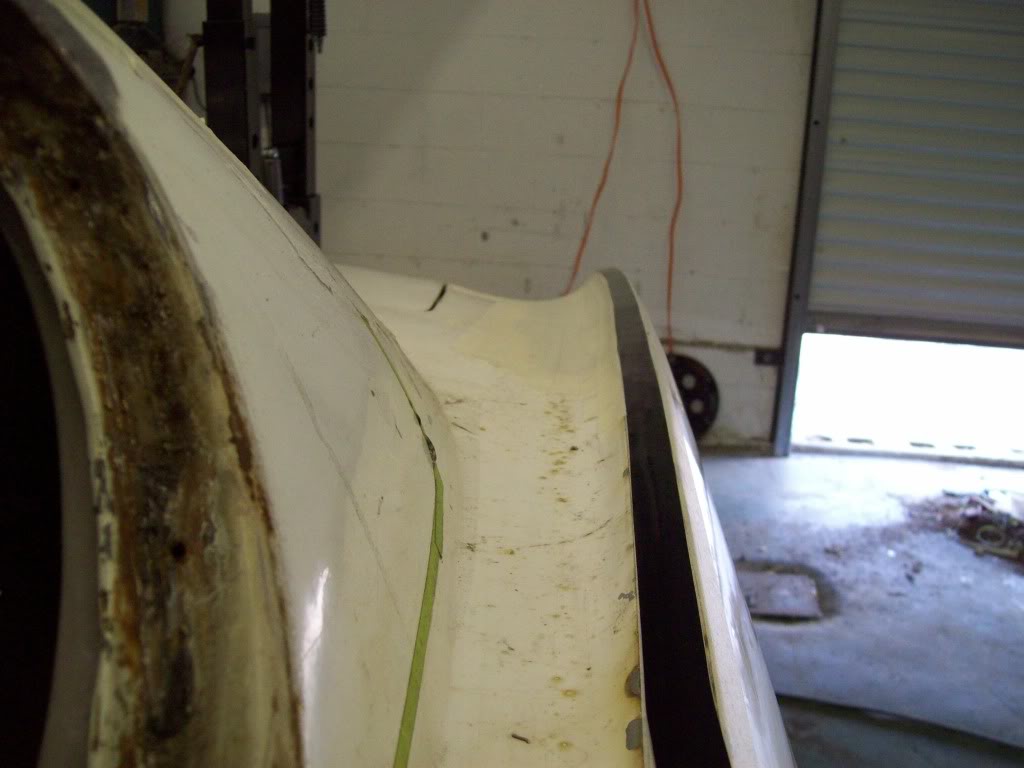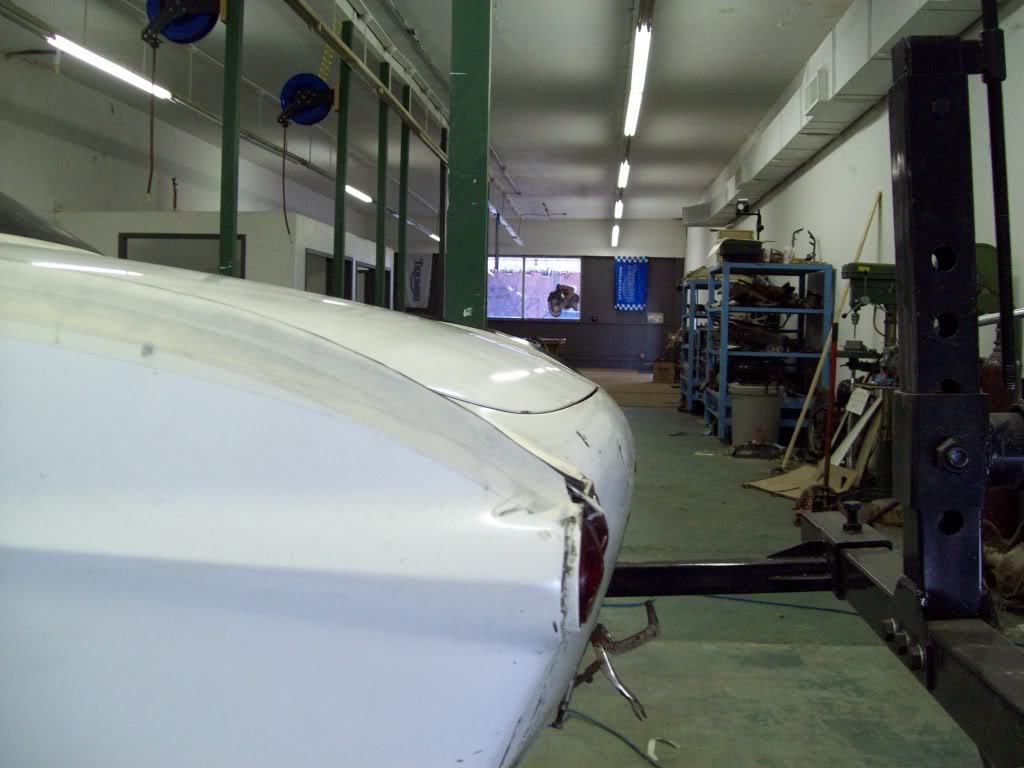 3-22-2011
Ok guys.. I couldnt take it anymore... Trying to see how this car was coming out proportionally on the routisserie was killing me.. Standing on ladders or off the distance wasnt working at all, it still looked too tall. Now I can work on the Air Dam and bumpers for the front, the routisseries was getting in the way, and the mounting brackets ran right through the plane for the air dam.
I have the car at ride height, and I think the wheel arch's are going to work perfectly. Infact, I think I may need to run a 20 inch rear wheel to fill in a bit more wheel well along with adding the appearance of more meat.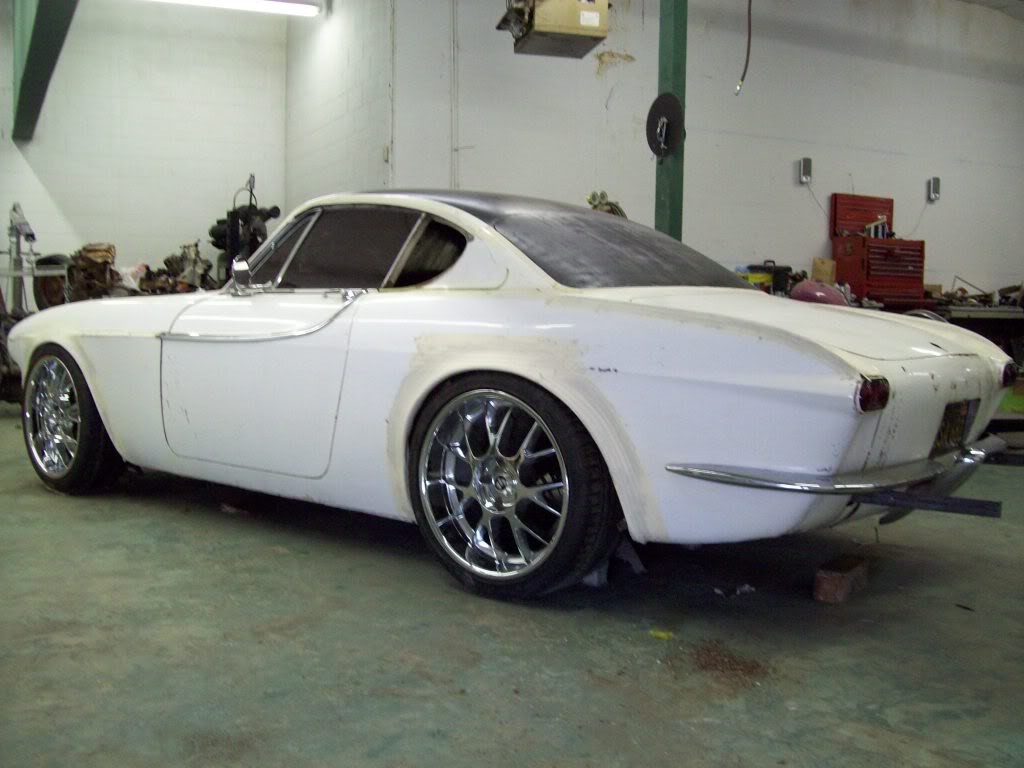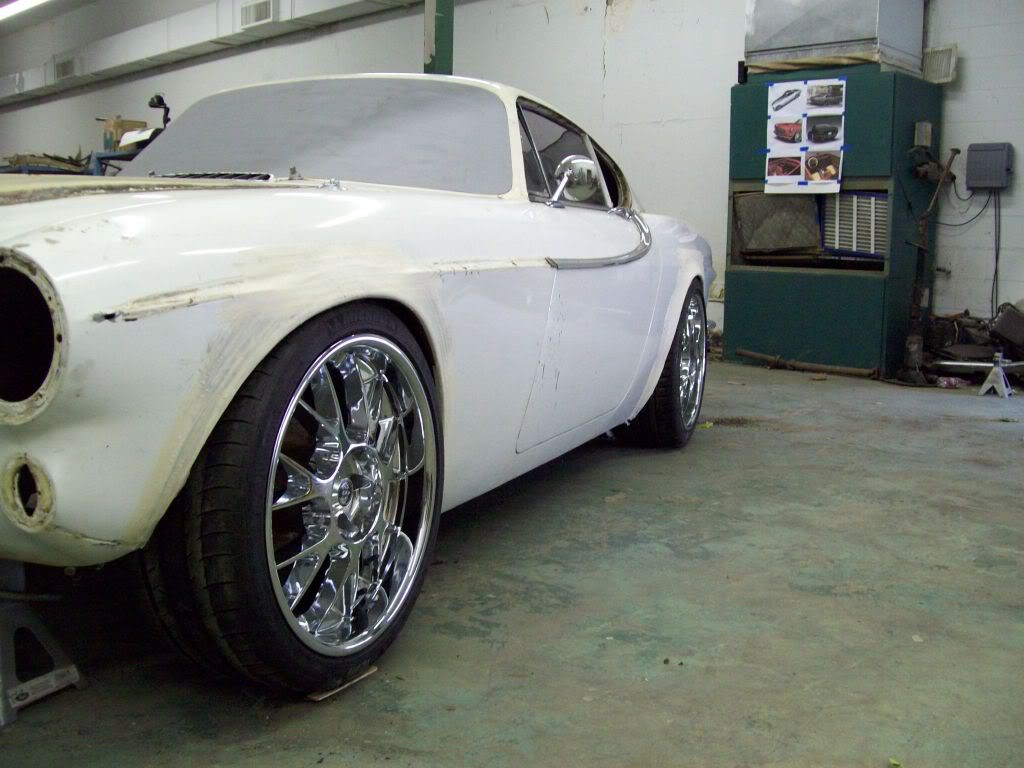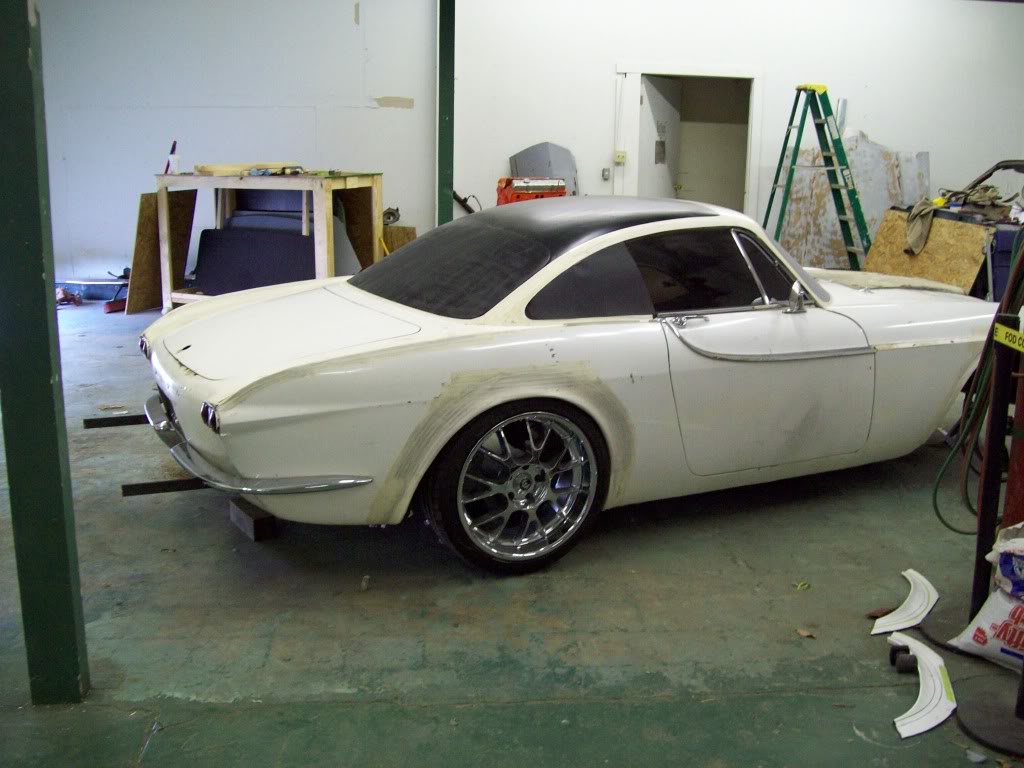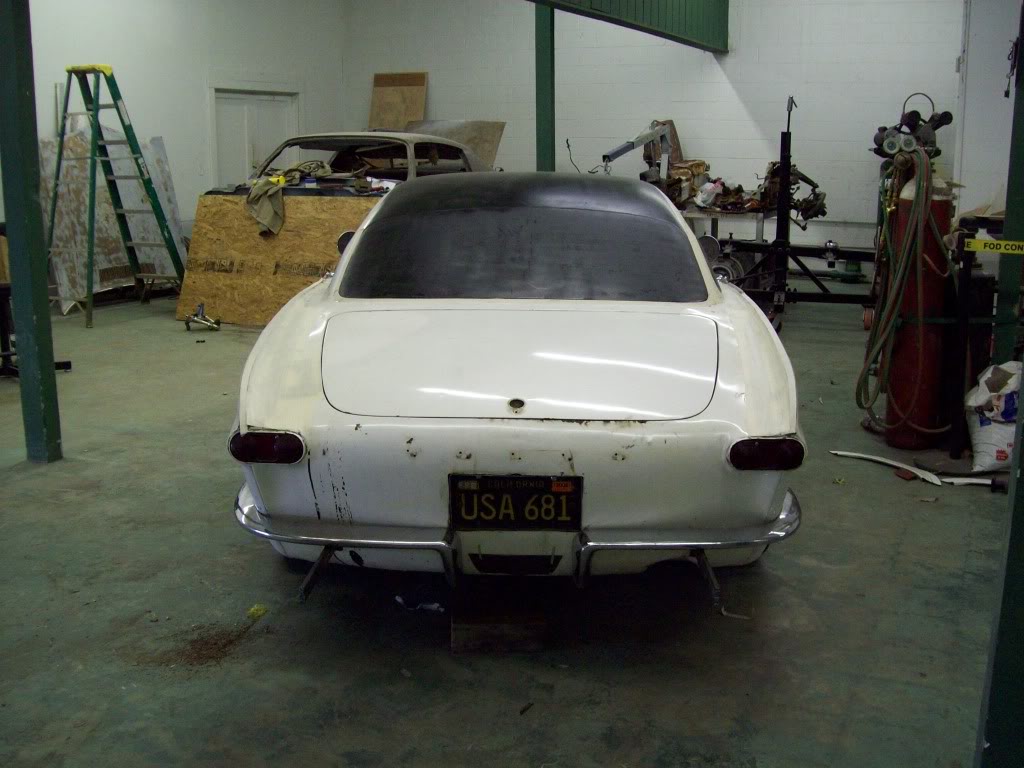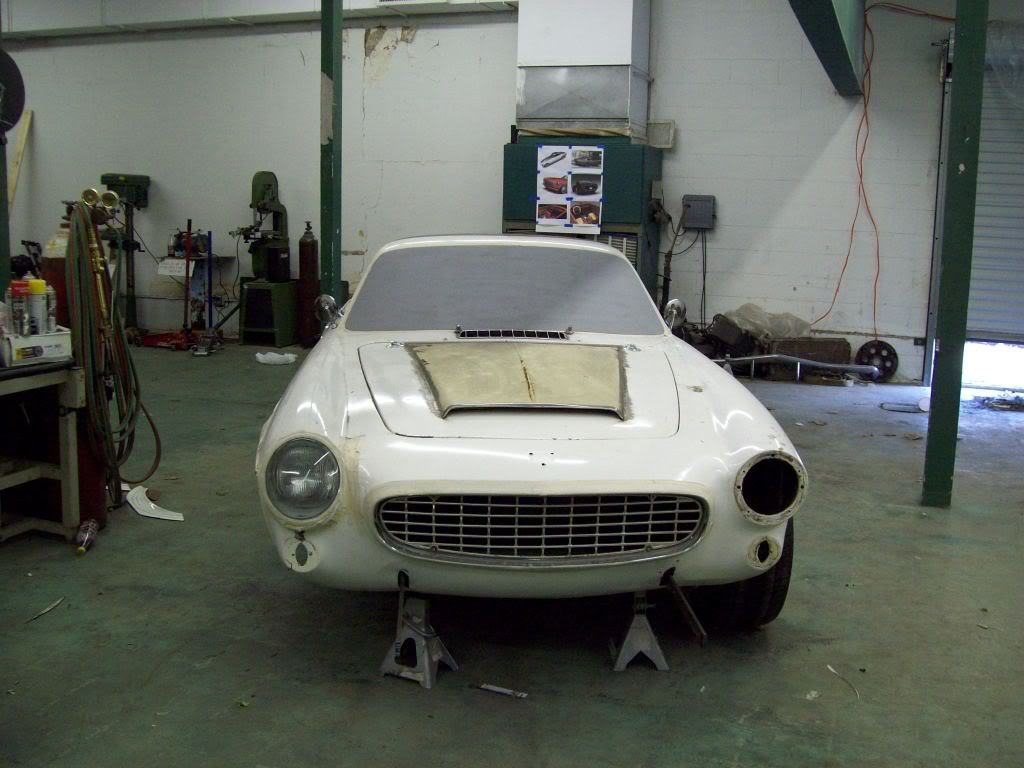 3-23-2011
I have been working on the grille shell today, and I was wanting something a bit more aggressive like the 60's Ferrari.. Just a slight pitch out on the top, nothing Too Dramatic. I ordered another grille shell before I even started cutting because i wanted to make sure I could get another if this went bad.. I do like it, but I am not absolutely sold on it yet...

Another problem I ran into, is my Chrome Grille is actually Solid Brass.. I started cutting and WTF, I really thought I was in trouble now.. I think I worked out a solution that will work just fine.

Here is what I did..

The Factory mounting before blending and pitching.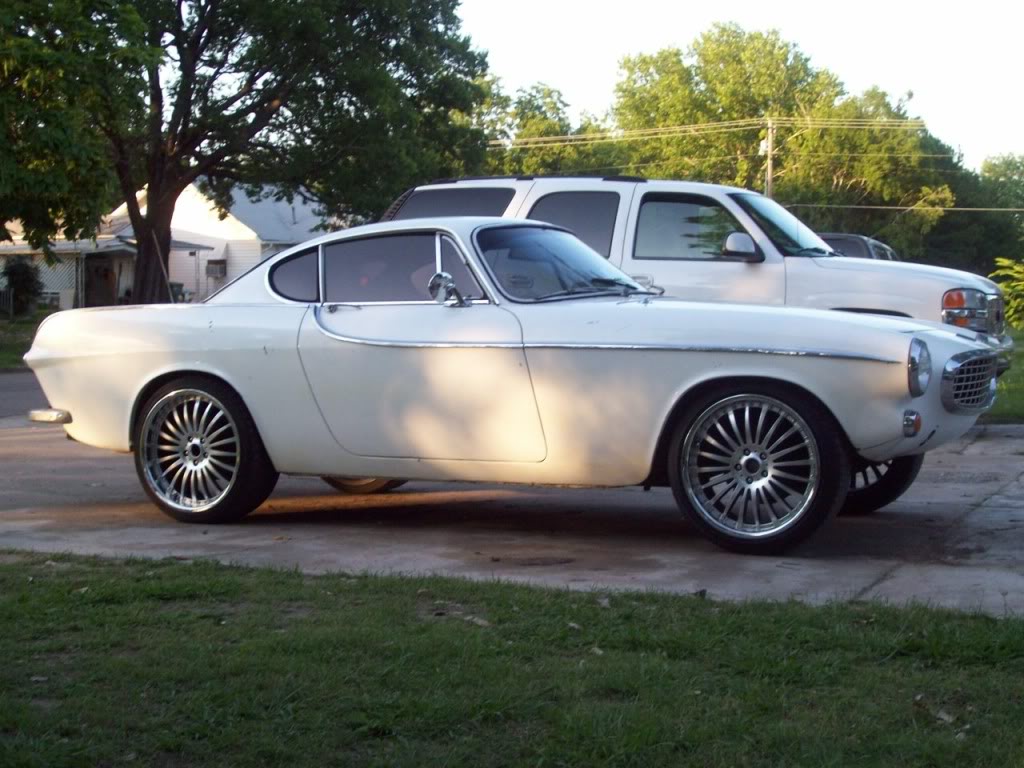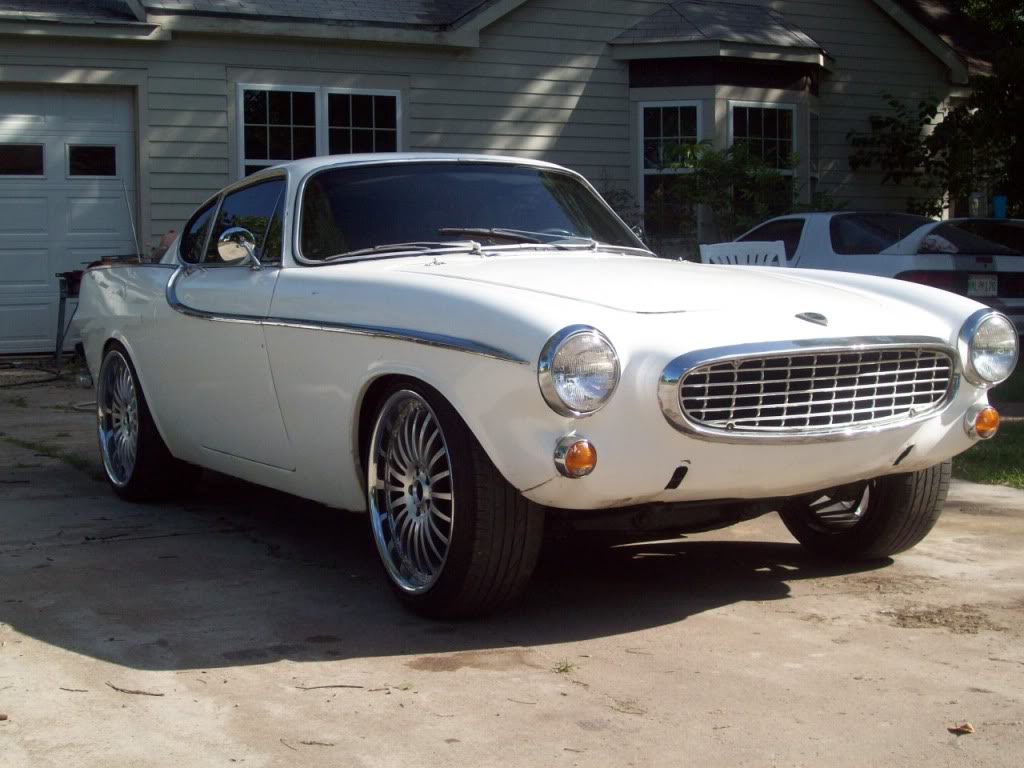 After the Pitching and the Masking Tape Blending.. ha ha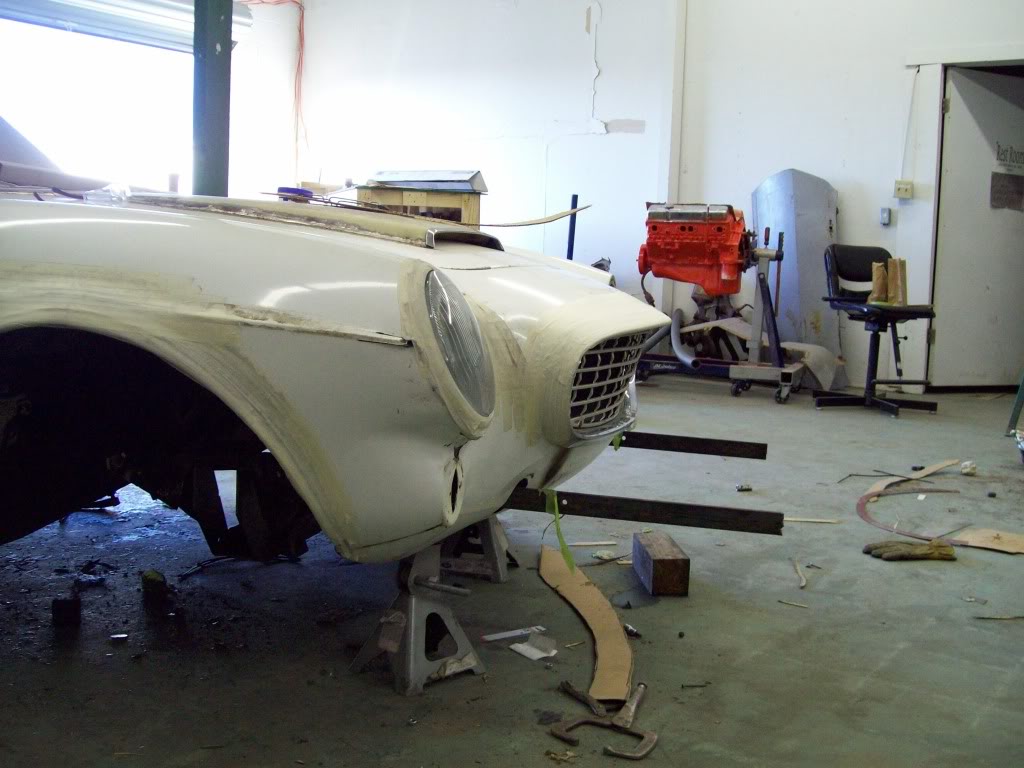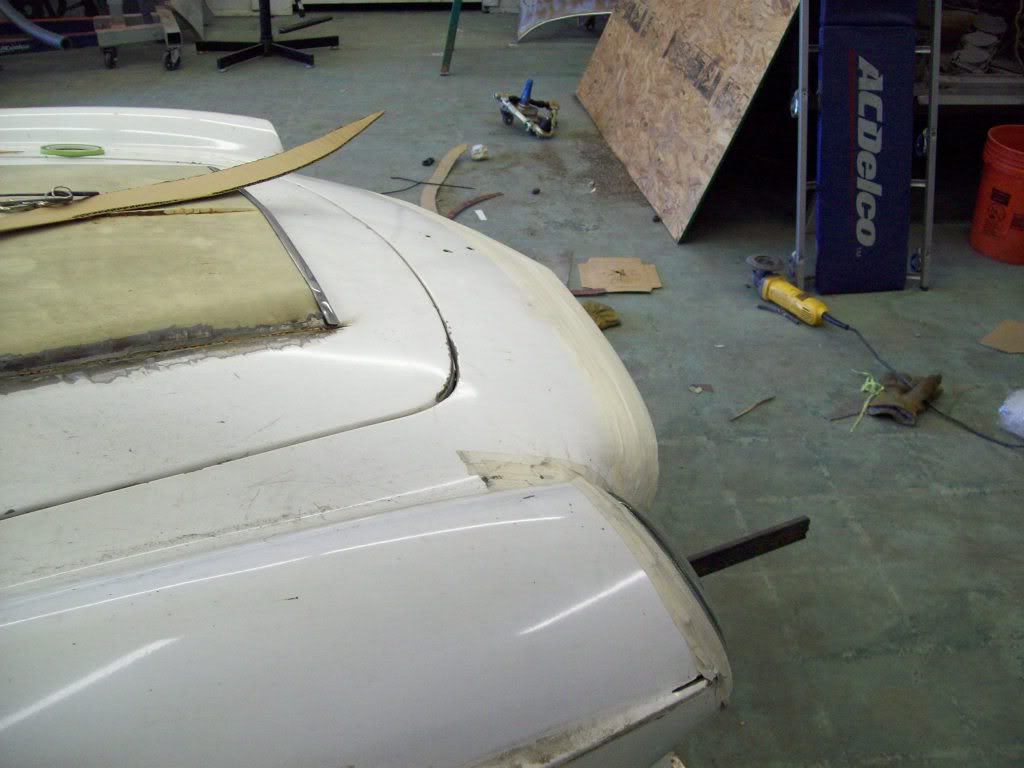 The process (which is not done yet, incase I dont like it Tomorrow) You can see how much was added and what exactly has changed.. I am still running the factory grille, so the over all shell didnt change that much.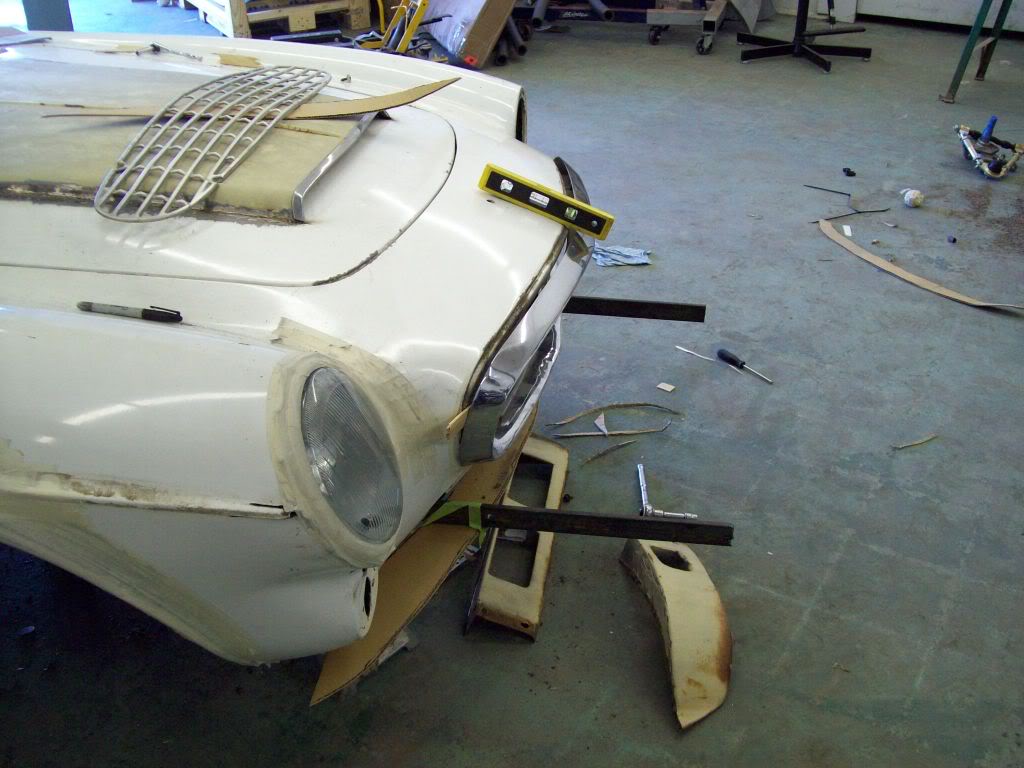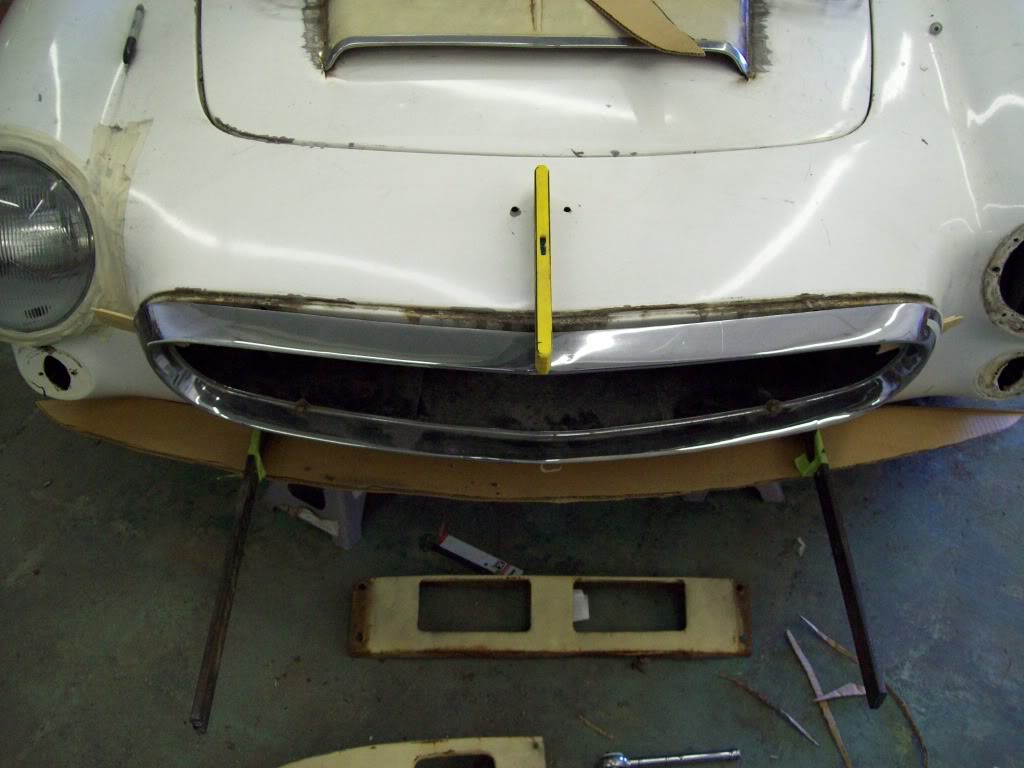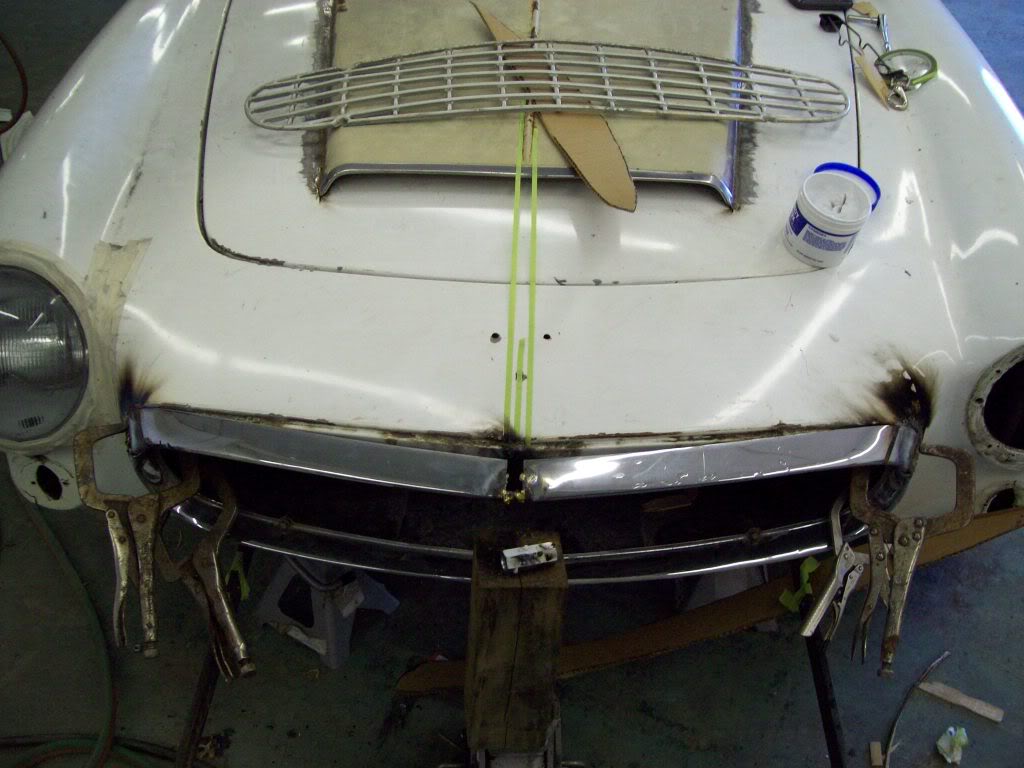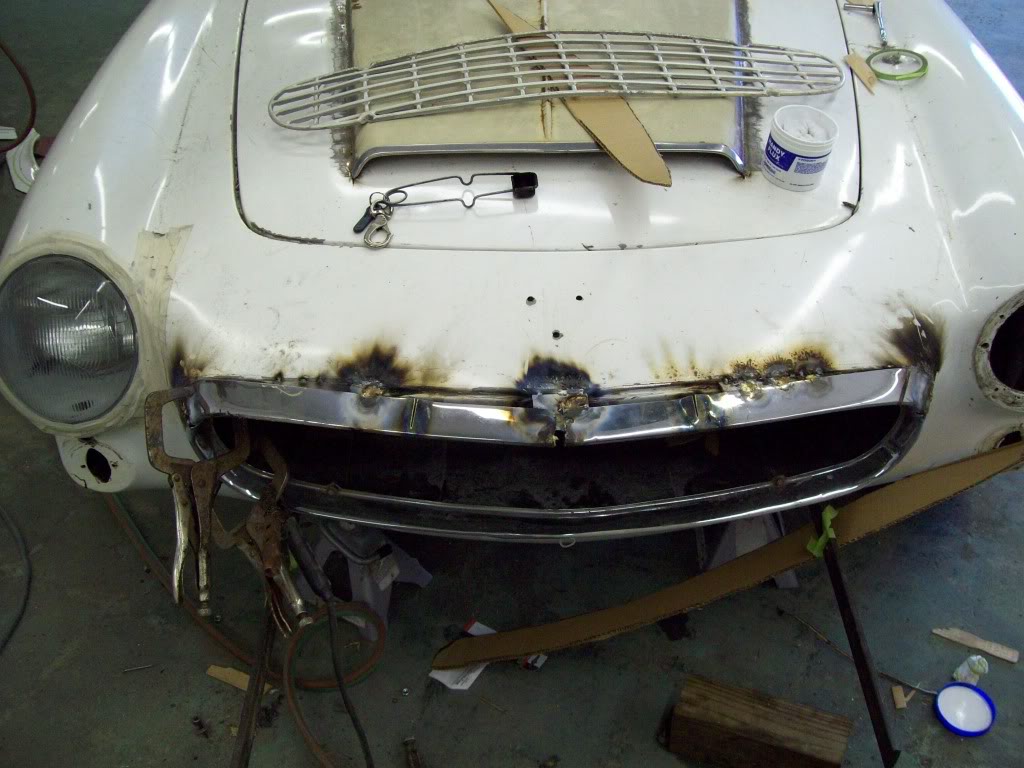 3-24-2011
Here is a typical flushed in grille shell, it looks good, but I think it falls a bit flat. This is a very nice car, but there seems to be too much left UNDONE. As you can see also, it is impossible to get a good stance unless you do remove the wheel archs.. And I have had people all over suggest Frenched Headlamps, and it looks like they did a good job, but they dont really do anything for me.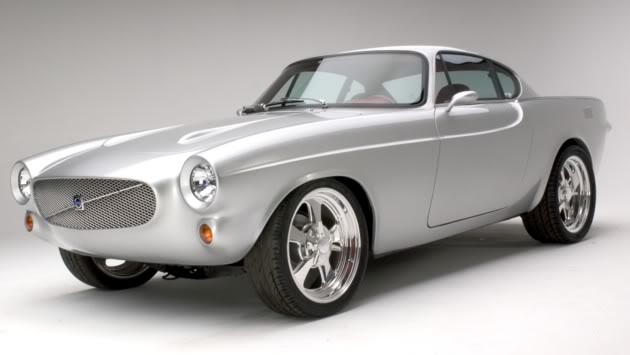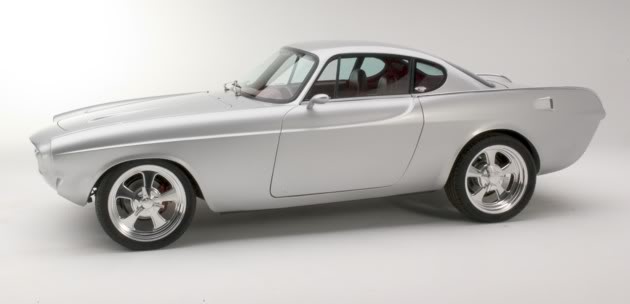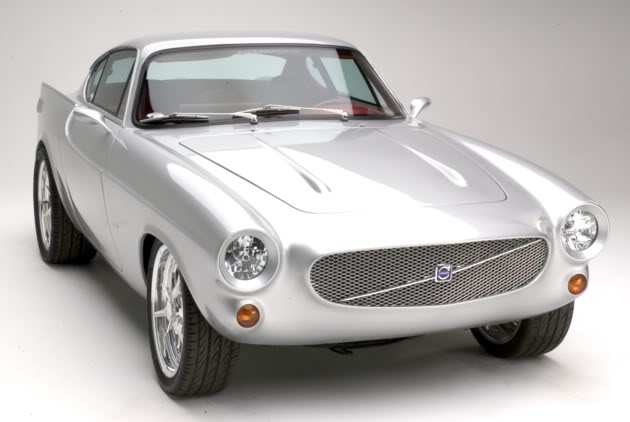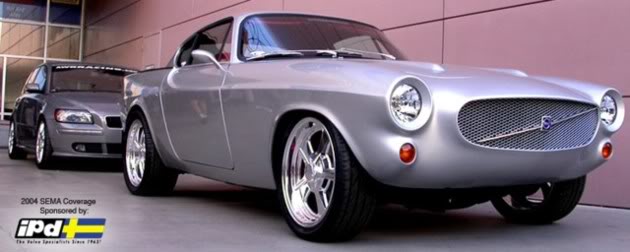 I have been working on a lower valance today, and cant seem to quite get it to where I want.. Here is a rough in piece, I think it may be proportionally correct, but need to finish the ends where they round into the fenders.. All the opening will be boxed out, so they will look deeper and not as cheap.

With the compound curves on the front end, straighter arc wasnt really going to work, so I have to do some thing a bit differently.. The face of the valance is a an angle that mimics the grille so I think it will play nicely once it is finished out and the bumper is installed..

I really think the bumper will be key here, and it will remove alot of the bulk look.

Please dont be too critical yet, I havent got it roughed in and quite to the curvature yet. All this was cut of with an Angle grinder and a cut off wheel, so it is still very free handed... I just wanted to make sure it look proportional size wise, any insight would be apprectiated. If it looks good after a couple of days, I will then smooth it out and to the boxing of the vent holes.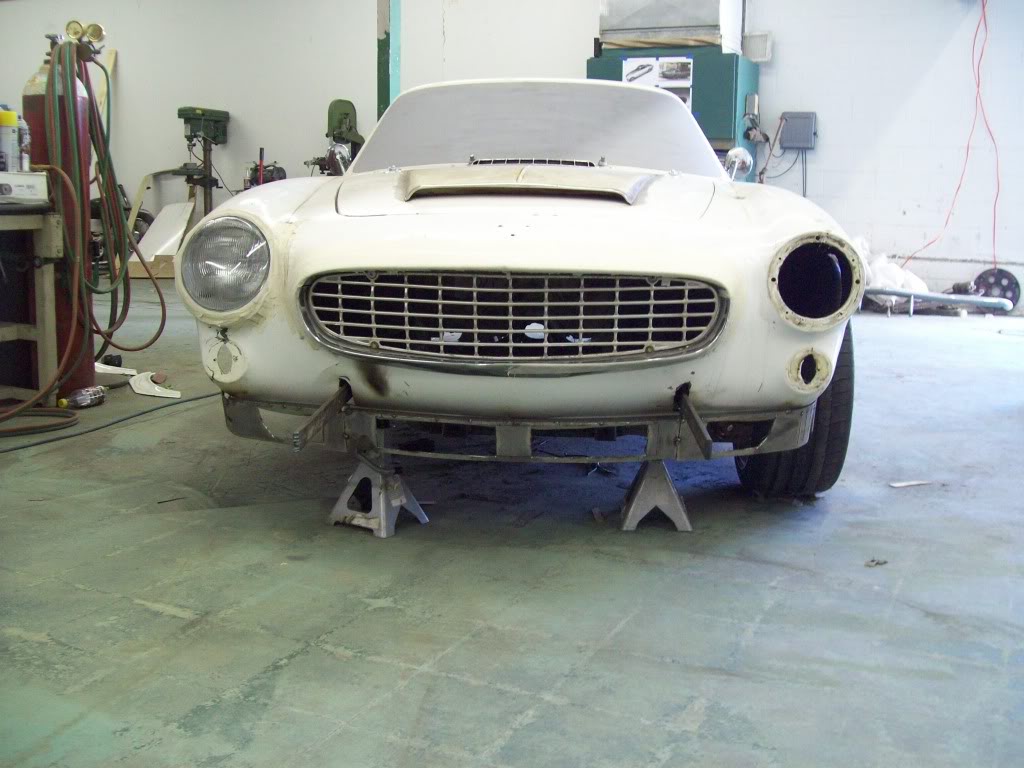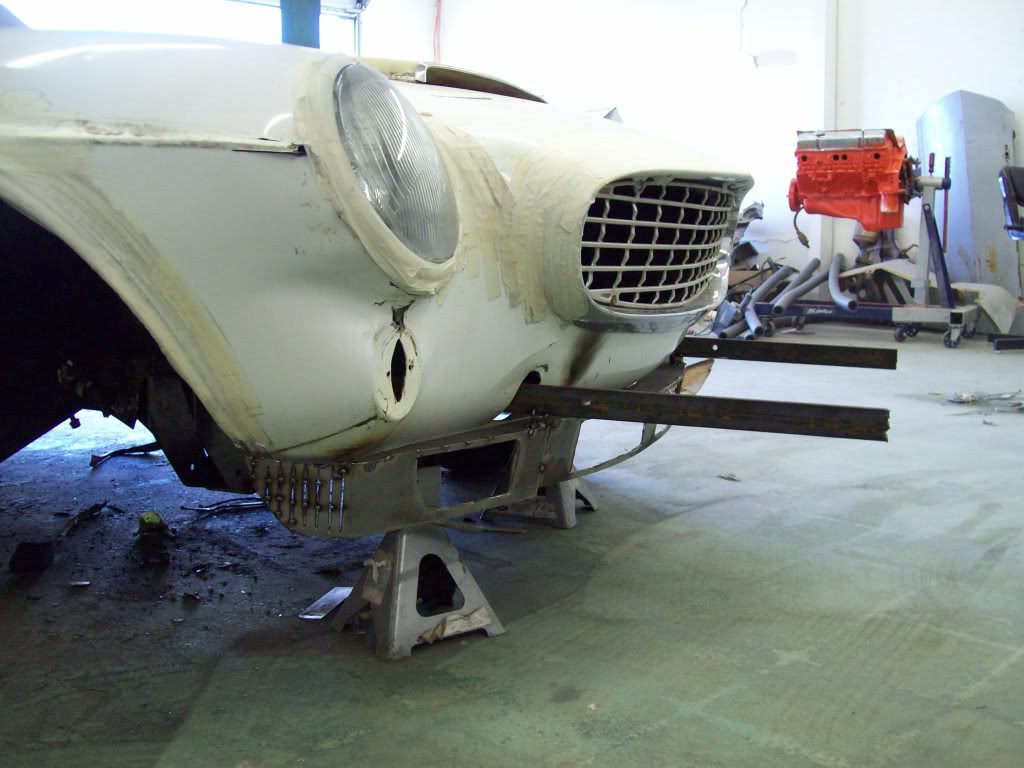 This is what it took to get here, hopefully all I will have to do is refine it a bit and get the bumpers built next.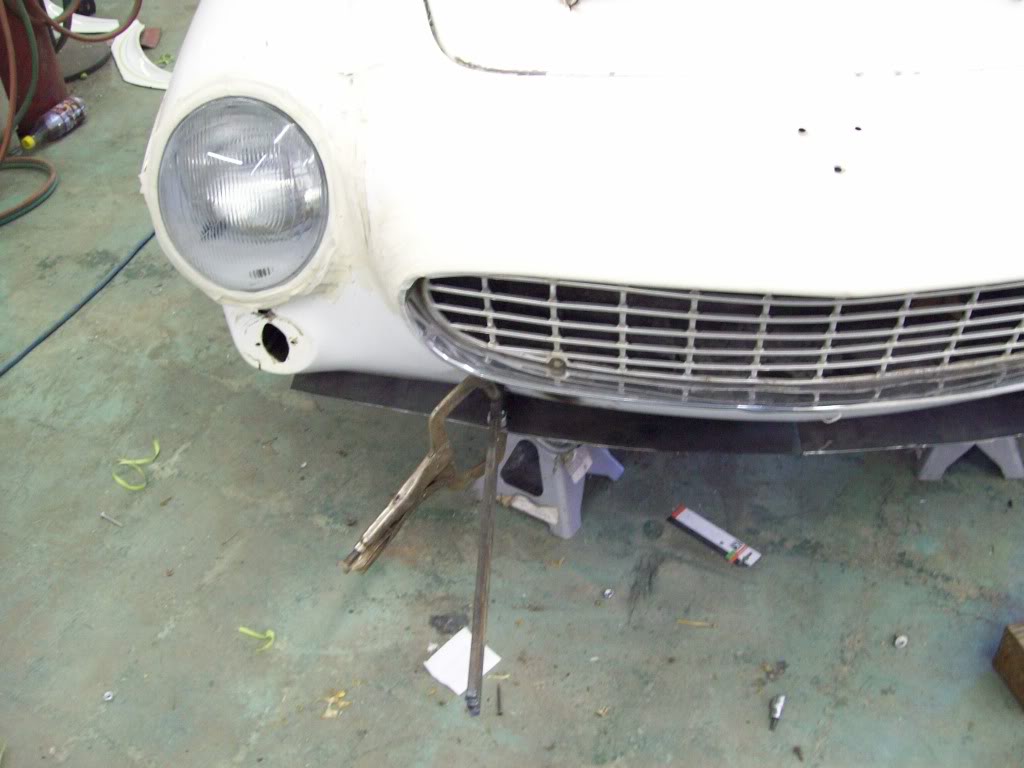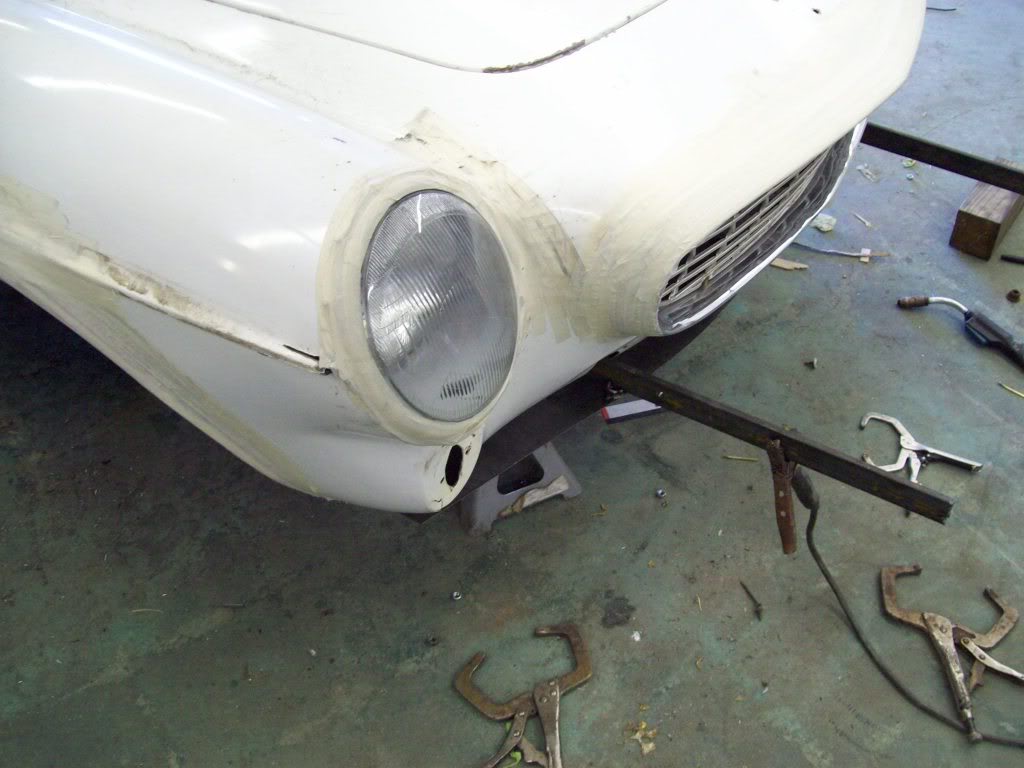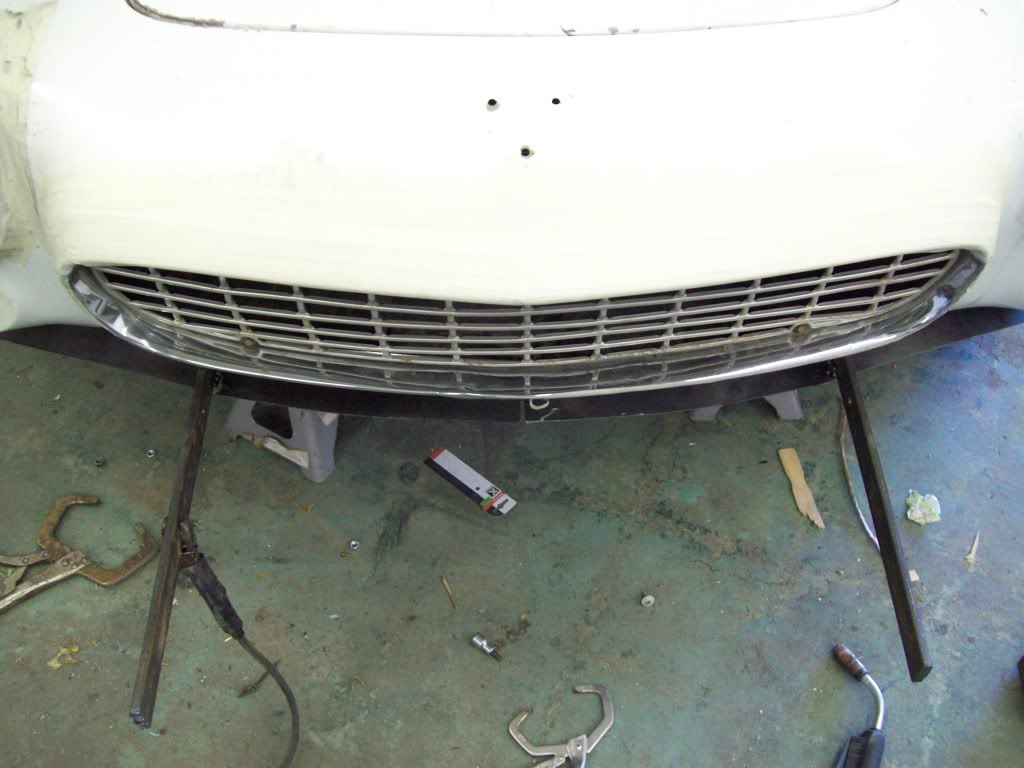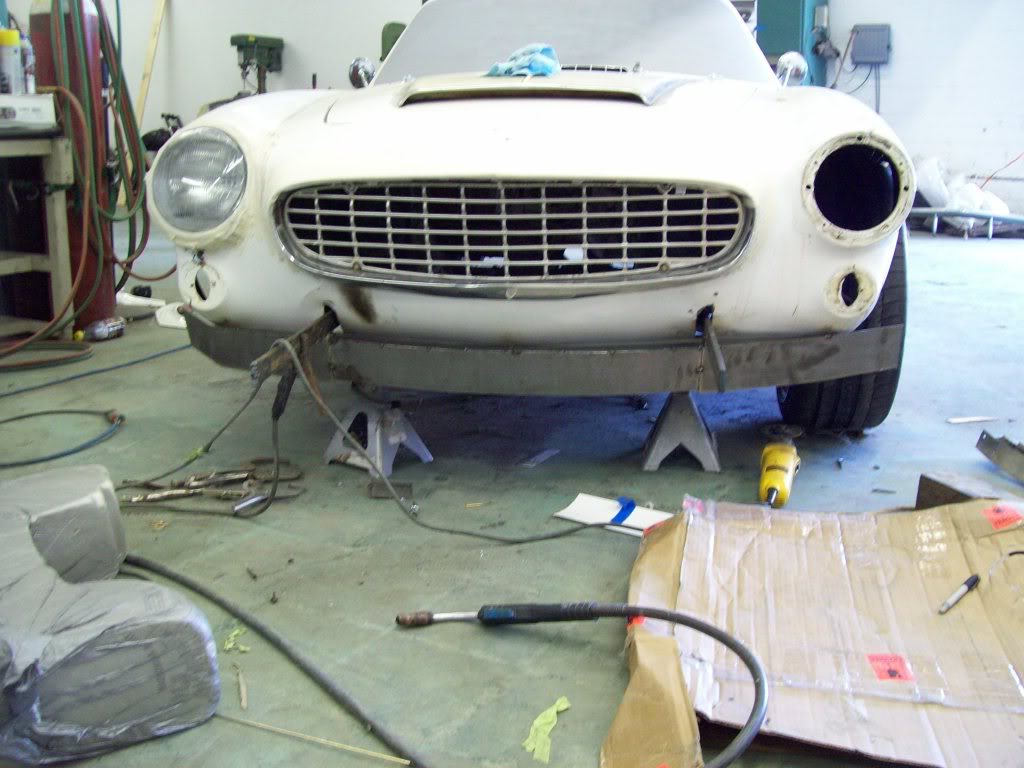 3-25-2011
I guess I am going to have to invest in a metal break. Ha ha.. Right now, I am only using and angle grinder with a cut off wheel, so each piece is individually cut by hand.. After boxing the holes in, it looks like a bit more of what I am looking for.. I will be addressing the flow of the corners and the overall positon (front to back) of the valance, but I need it a bit more sturdy to work with it. It is running the curvature the bumpers will actually run from side to side, so it should blend in.

It may look a bit bulky in the pictures, but it is actually on 3 and 3/4 inch tall, but photographs larger for sure.. I will be cutting a bit more of a curve on the ends to fit under the fender work better, which should slim the width appearace down for sure.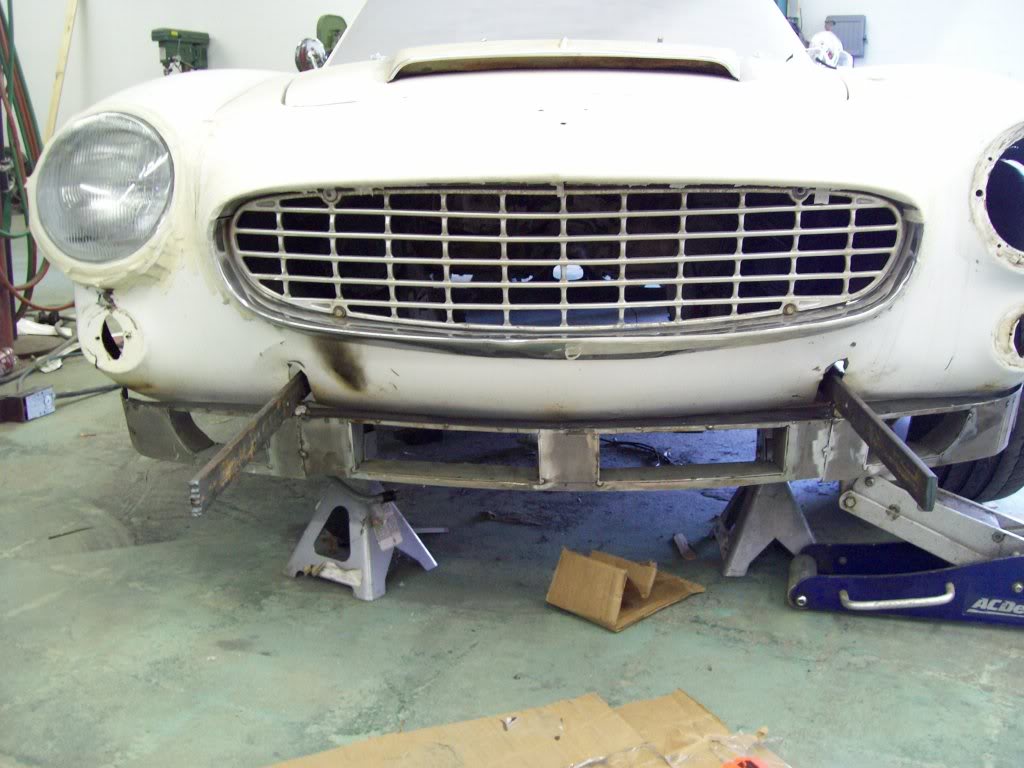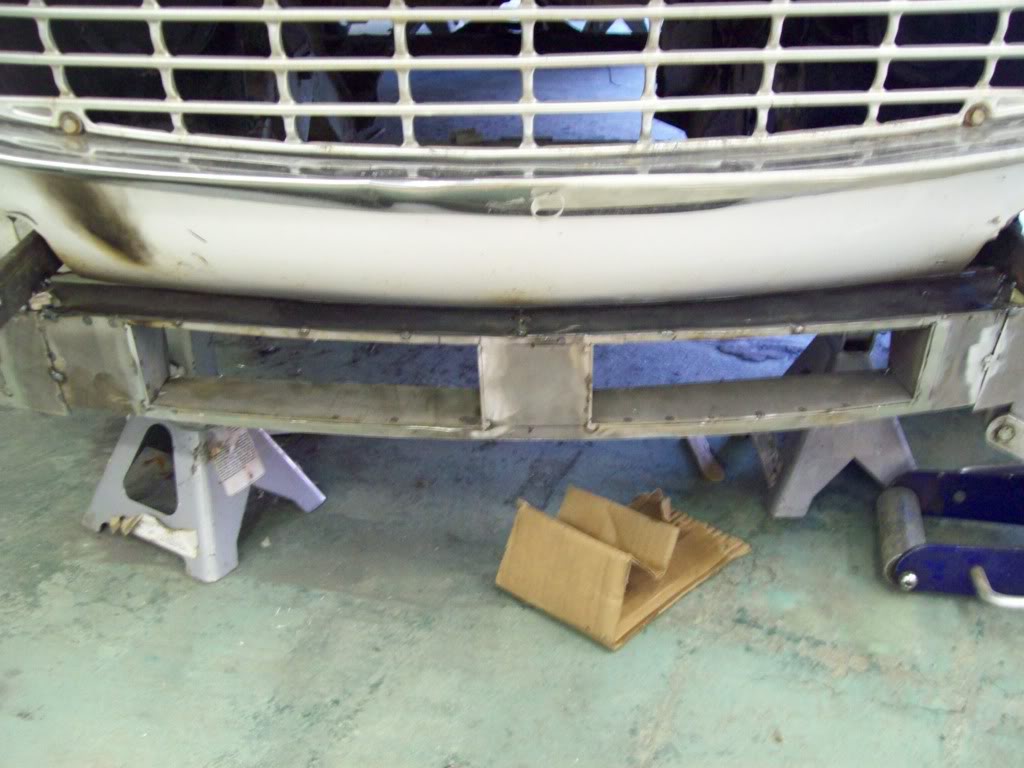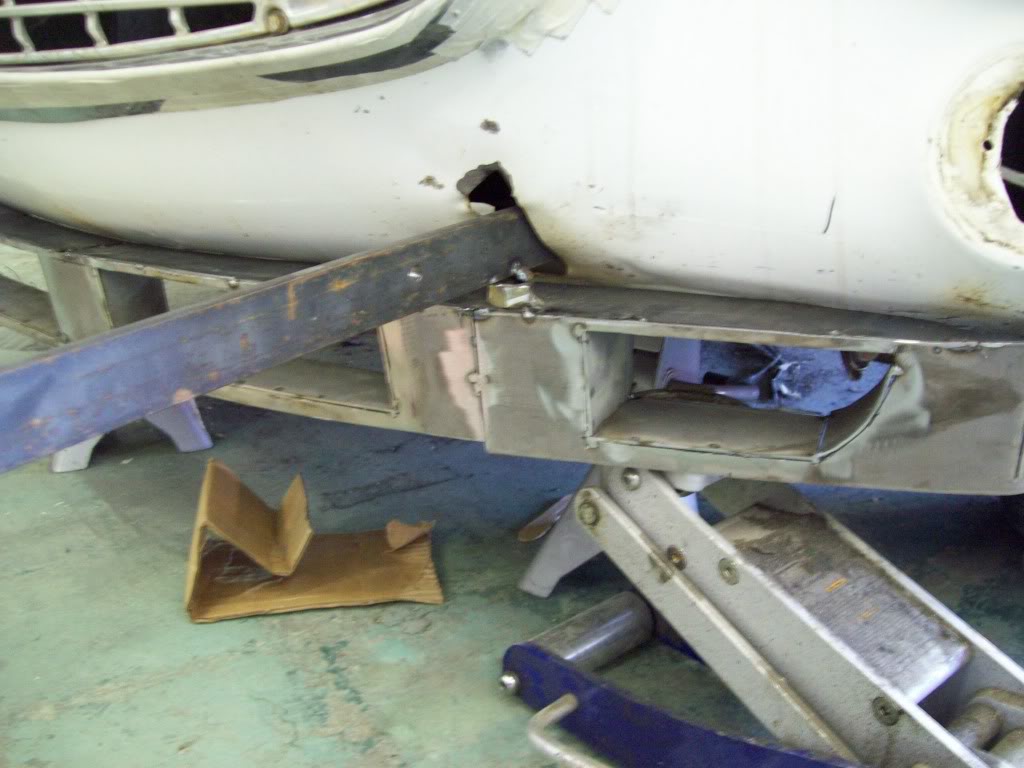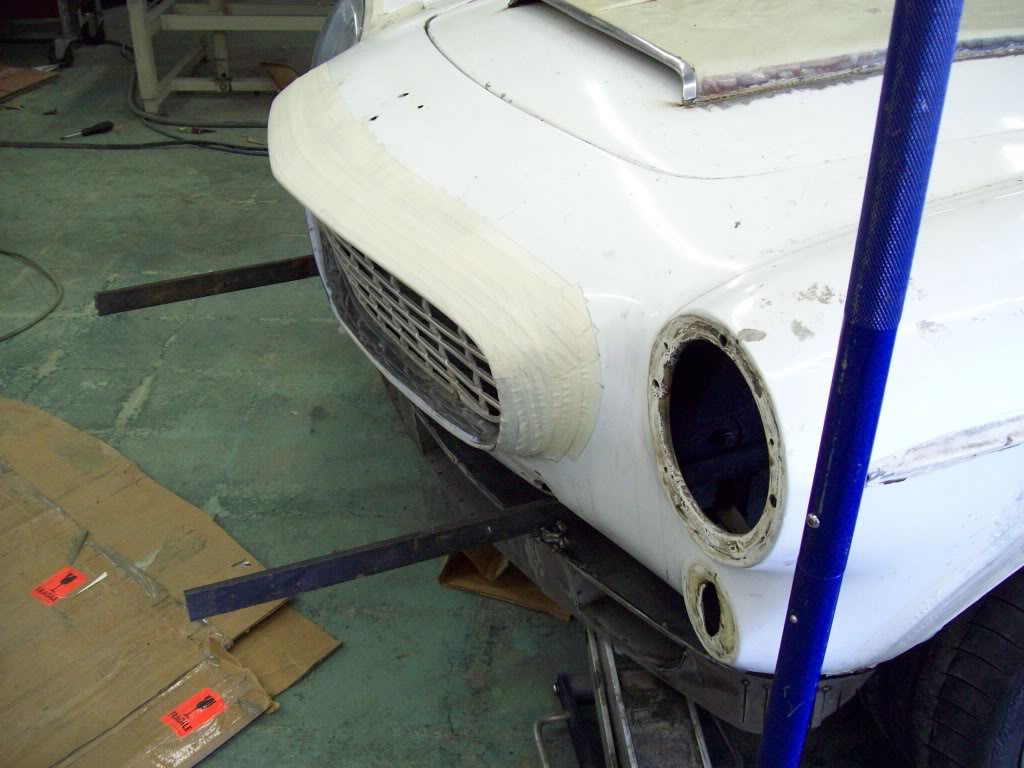 Had a nice guy by the name of Charlie from the Yahoo 1800 list send me a quick photoshop picture that eliminates all the tape.. LOL He tweeked the front on photoshop and installed the side chrome I am not using, so it is a bit off, but very cool... I wish I was any good at photoshop.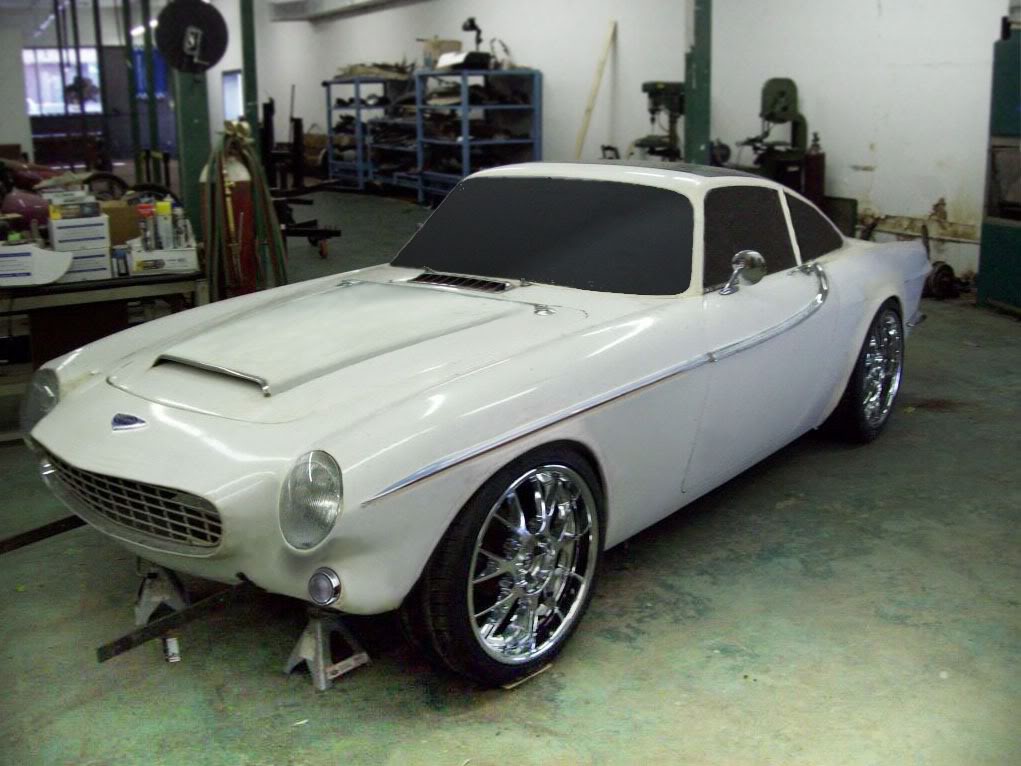 3-31-2011
I have been tweeking the lower air dam a bit, and have set it further under the car, which is eliminating alot of the bulky look... I will be refining the corner, so they dont look just angle cut. And I still have to work with the outer corners to get the fender blend correct.. This car is making it extremely difficult to add an air dam, because there are so many compound curves and it is very noticable when you add something that is traditional a bit flat and boxy.

I got my other headlight assembly in on wednsday, and I have been working on getting it installed today. They shorted me one of my clear lenses, so I have to wait till I get it go get the full affect.. To make matters worse, I dropped the 1 clear lense they sent me before I even installed it, so I didnt even get to see the difference..

I will be making new buckets, so i can get the headlamps deeper into the fender.. I think by adding additional depth to the bucket, and running a updated Clear HID Headlamp, I should get the affect I am looking for.. If any of you guys know a good source for a Clear headlamp, without the diamond cut reflector wall, please let me know.. I cant find a Clear lense with the straight mirror reflector wall, and that is really what I am wanting. The others seem a bit cheap looking for some reason, and I think it will take away some depth.

It was a chore to get the lights even, angle wise and right to left pointing direction... The angle really wasnt that hard, just an adjustable level that measured three points on each headlight ring took care of that.. The right to left pitch was a trick.. The best solution I could come up with the tools on hand was STRING.. ha ha The grille shell got in the way of any type of spanning straight edge, so the string had to do.. I found some measuring points on in inner body structure to ensure both headlamps were in the same forward position over all.

A couple of more finish installations, and I will be ready for final welding and Medial Blasting. I am going to go ahead and start getting the body roughed in, so I can double check that all the mods are correct.. It is a bit backwards, but I would rather know now.. I will not be doing the final blocking stage, but I would like to get it pretty straight and in epoxy primer. At that Point, I will work on the engine and trans installation, along with the constructing of the new Firewall and Trans Tunnel. Welder Series is suppose to be mass producing my New Bolt in Crossmember, so it will be available for sale shortly.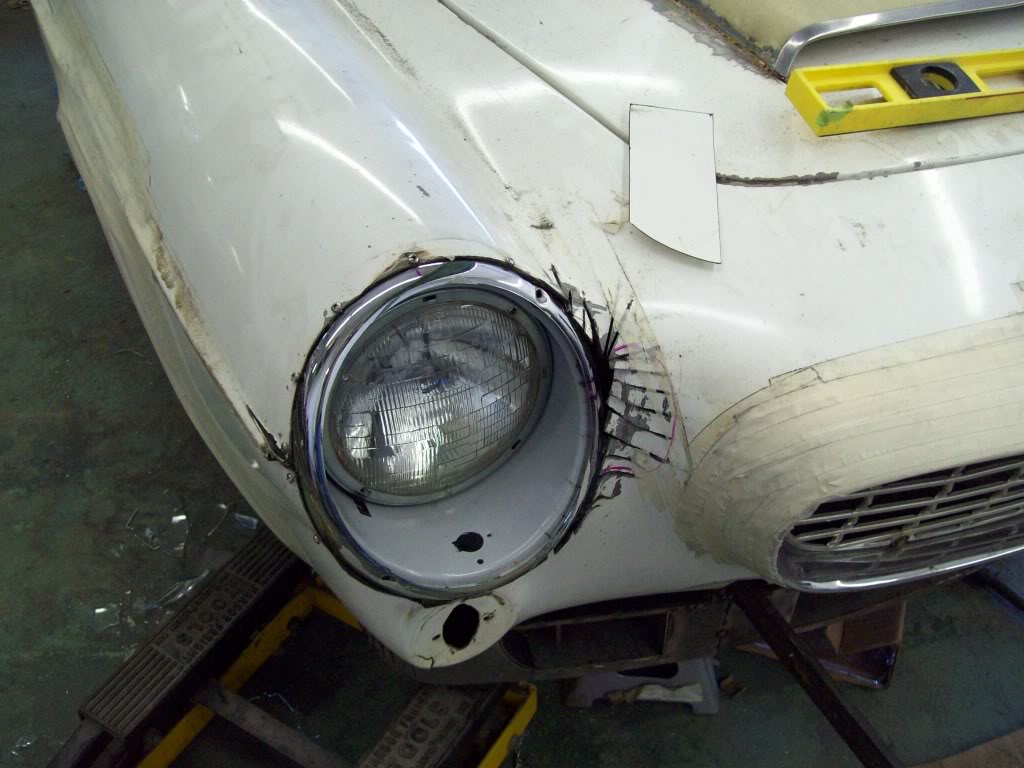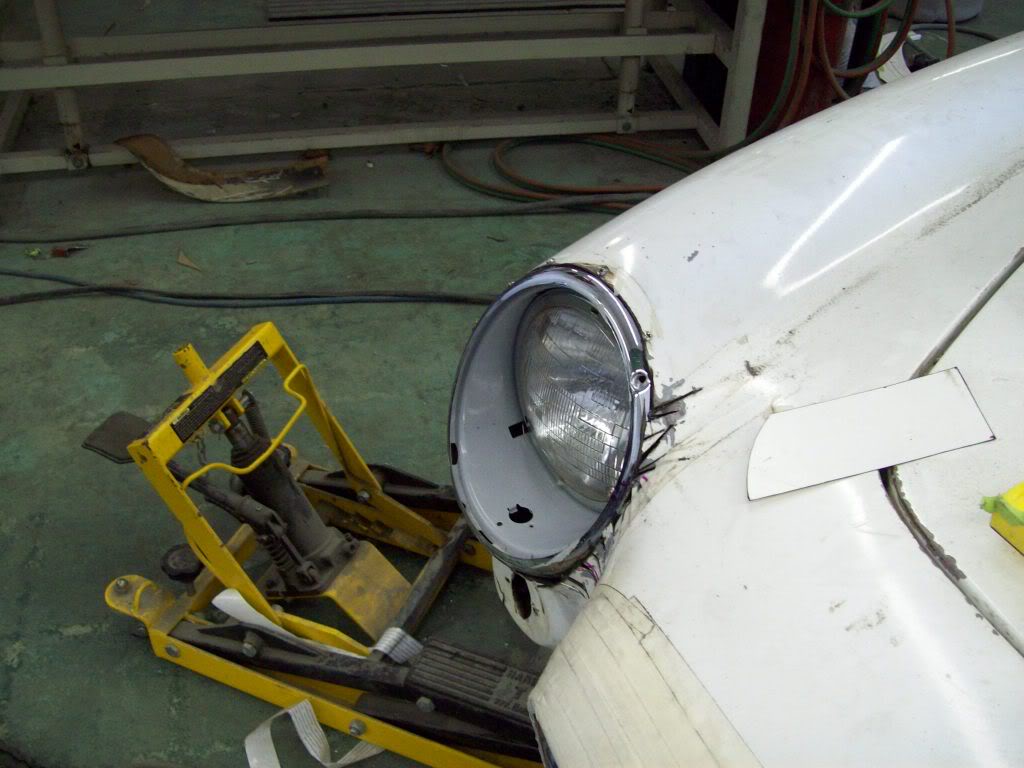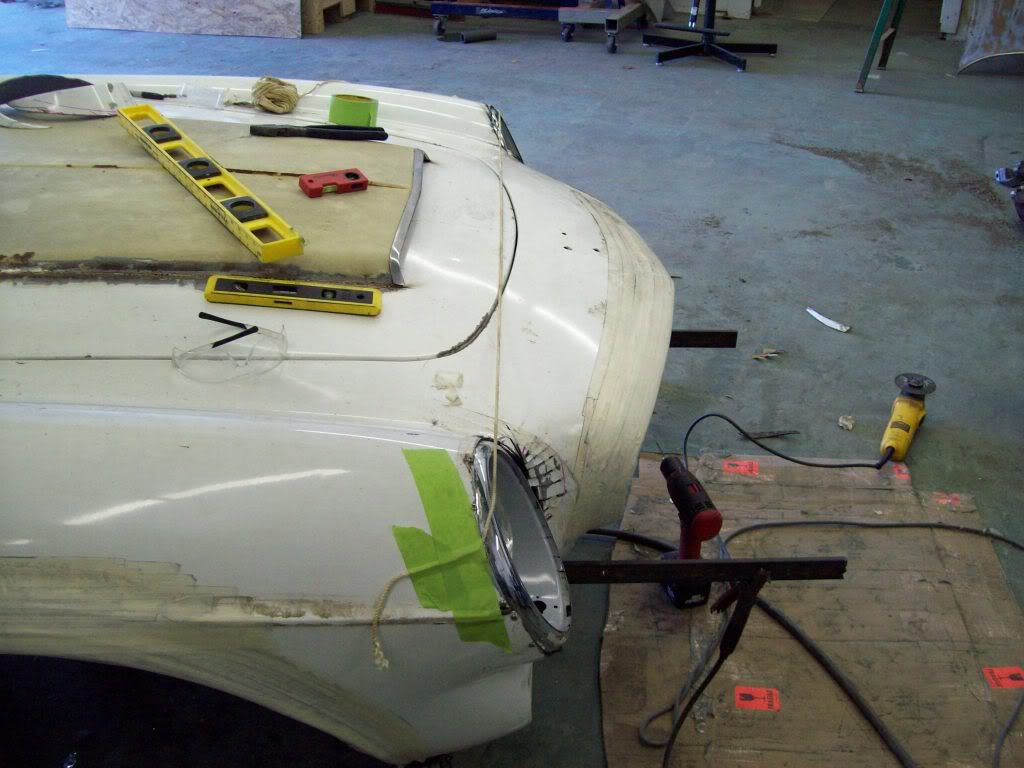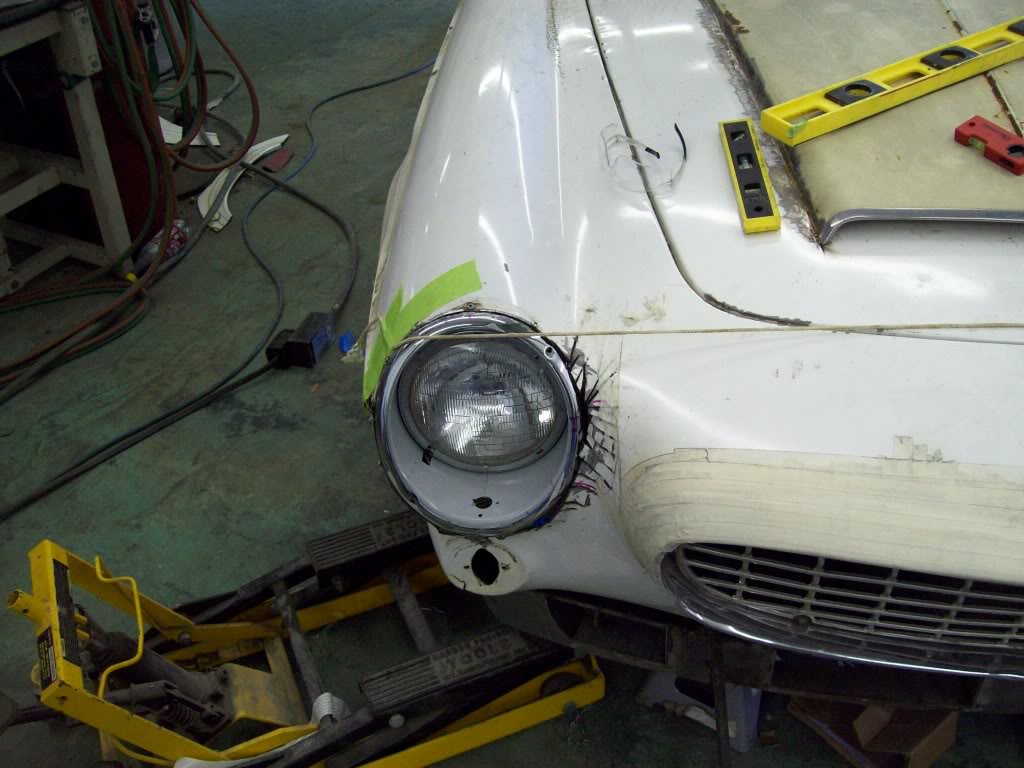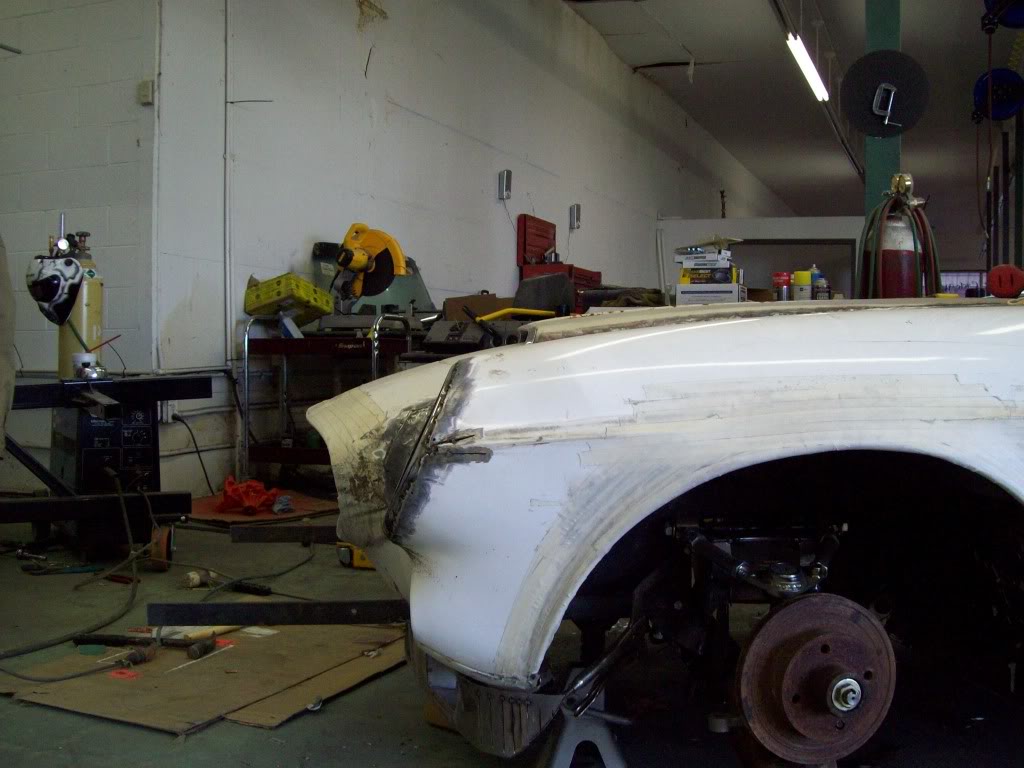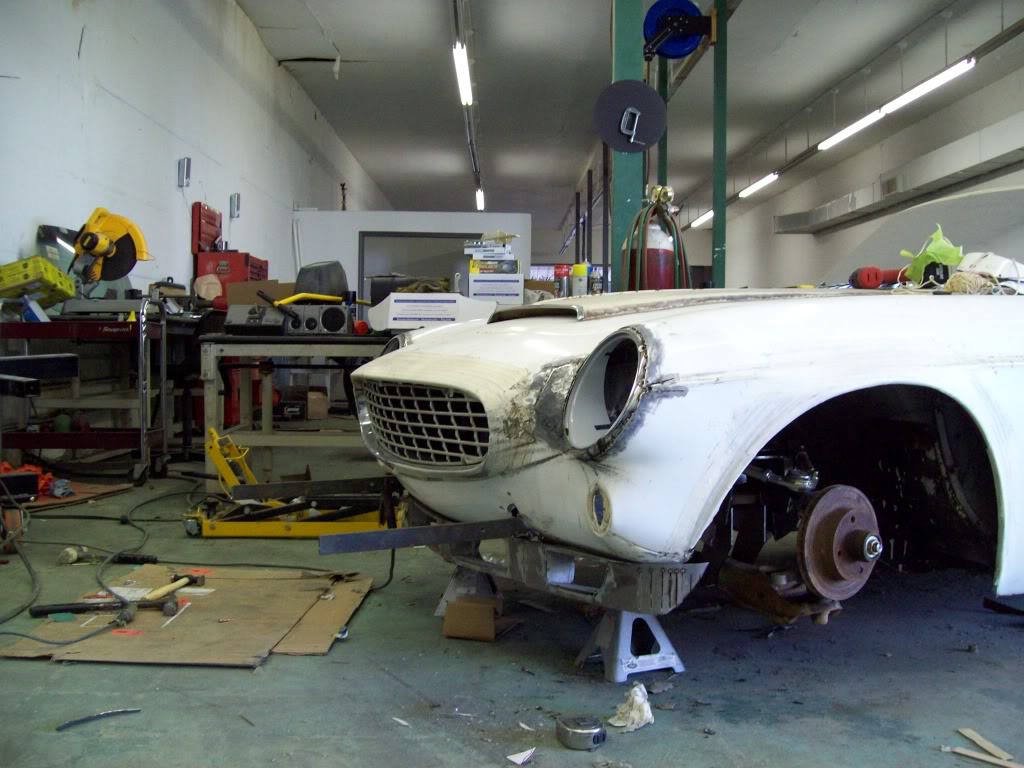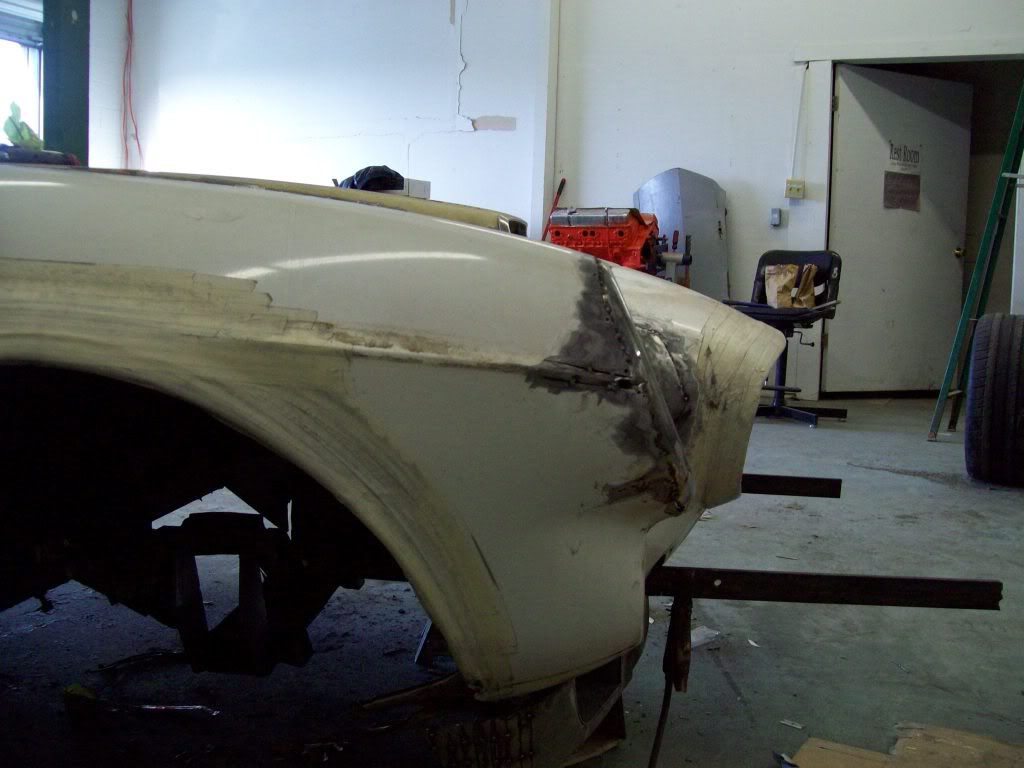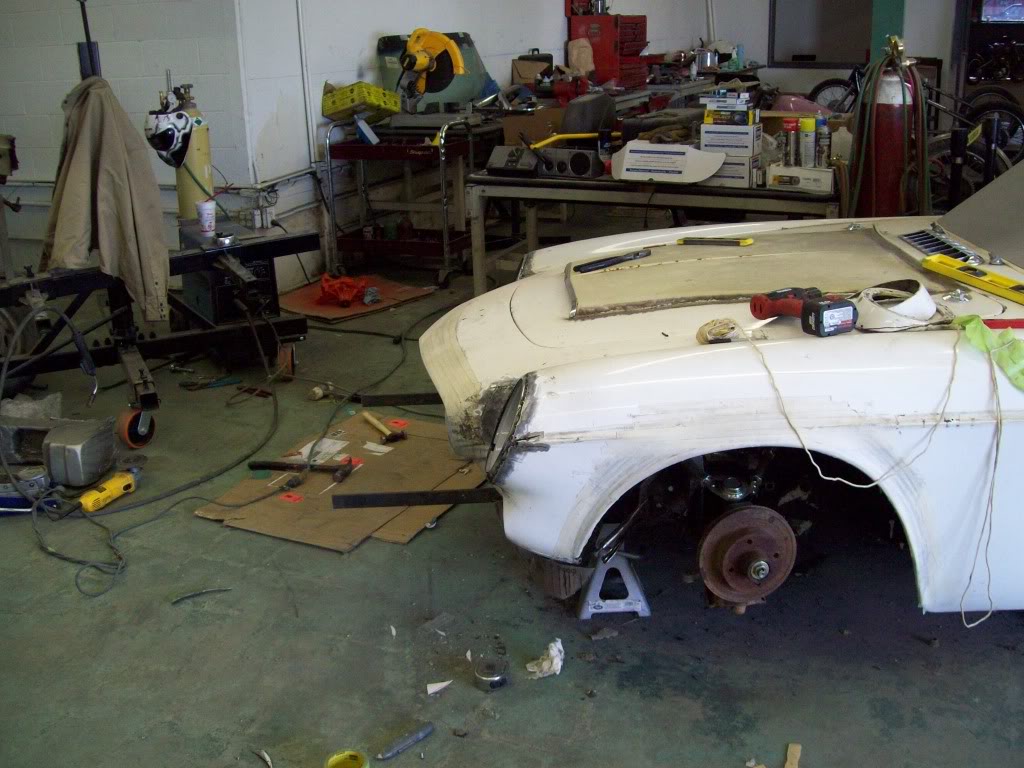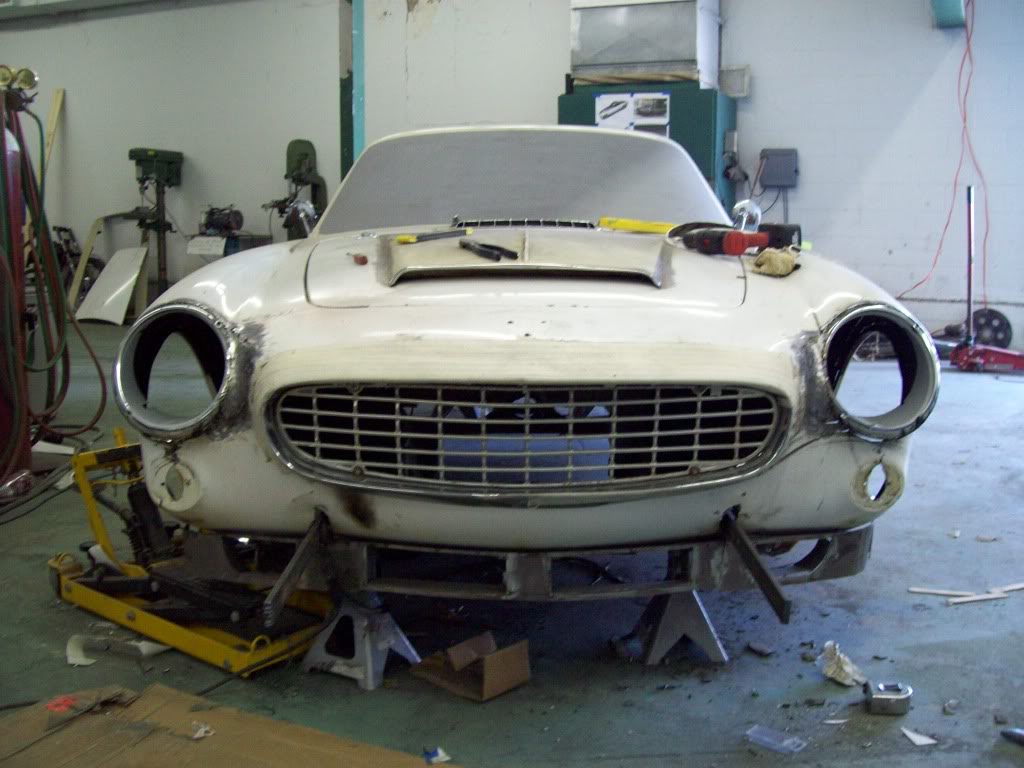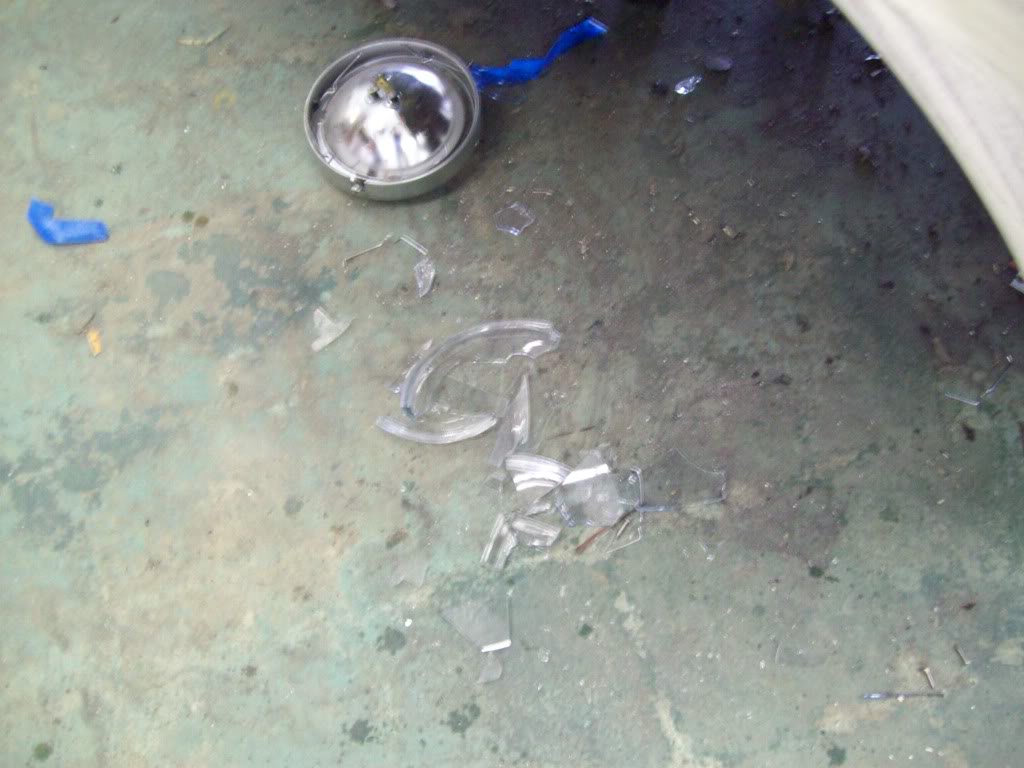 4-1-2011
Here is my 2nd attempt at and air dam/valance.. This is a completely different style, and I used the body lines of the car against itself, so it has to match up better.. I am not sure what to do out the out solid edges of the air dam, I may just leave it alone, but I think it needs some kind of hole there...

What do you guys think..? Is this the one? The over all hieght of can be adjusted a bit, but what about everything else.?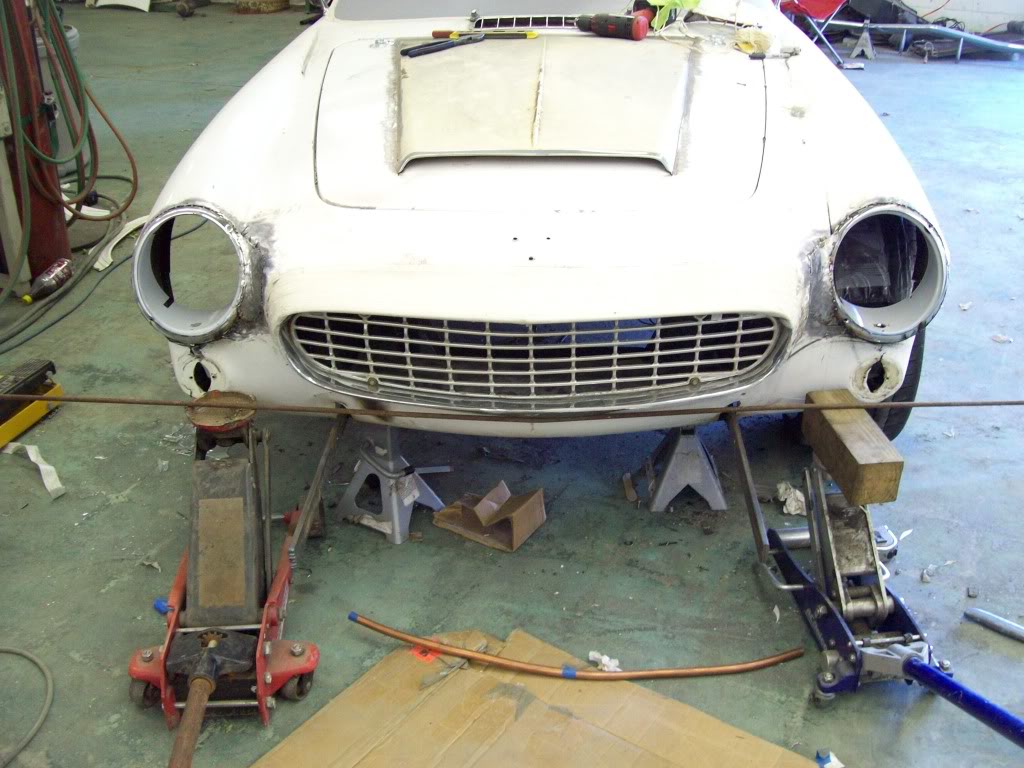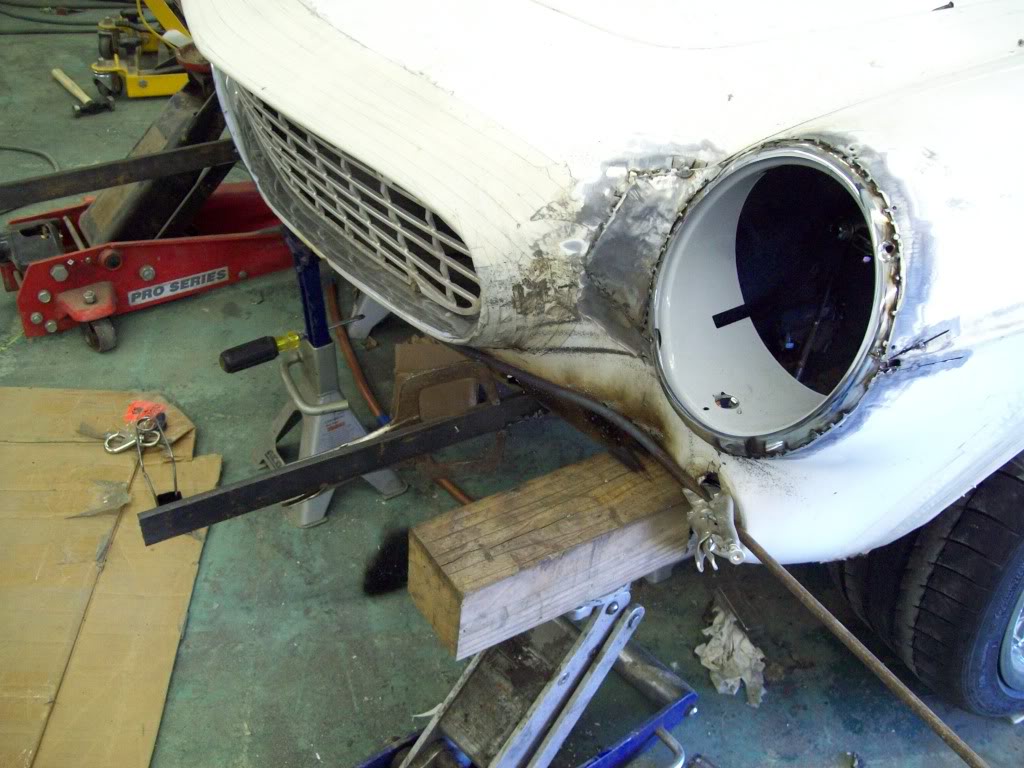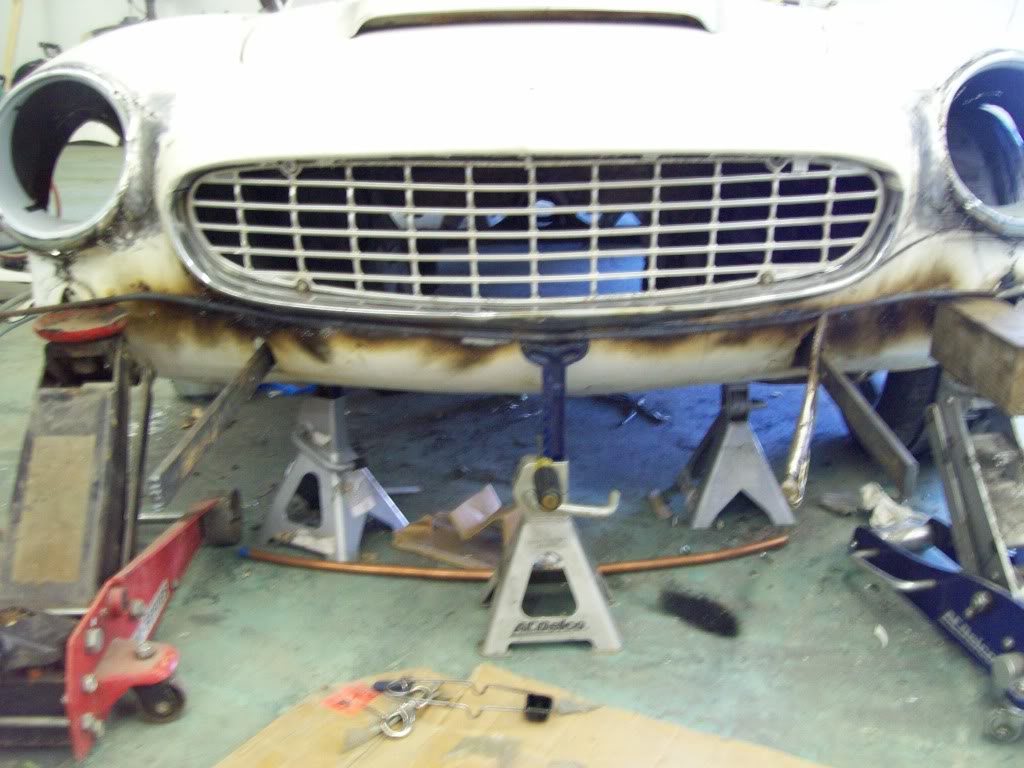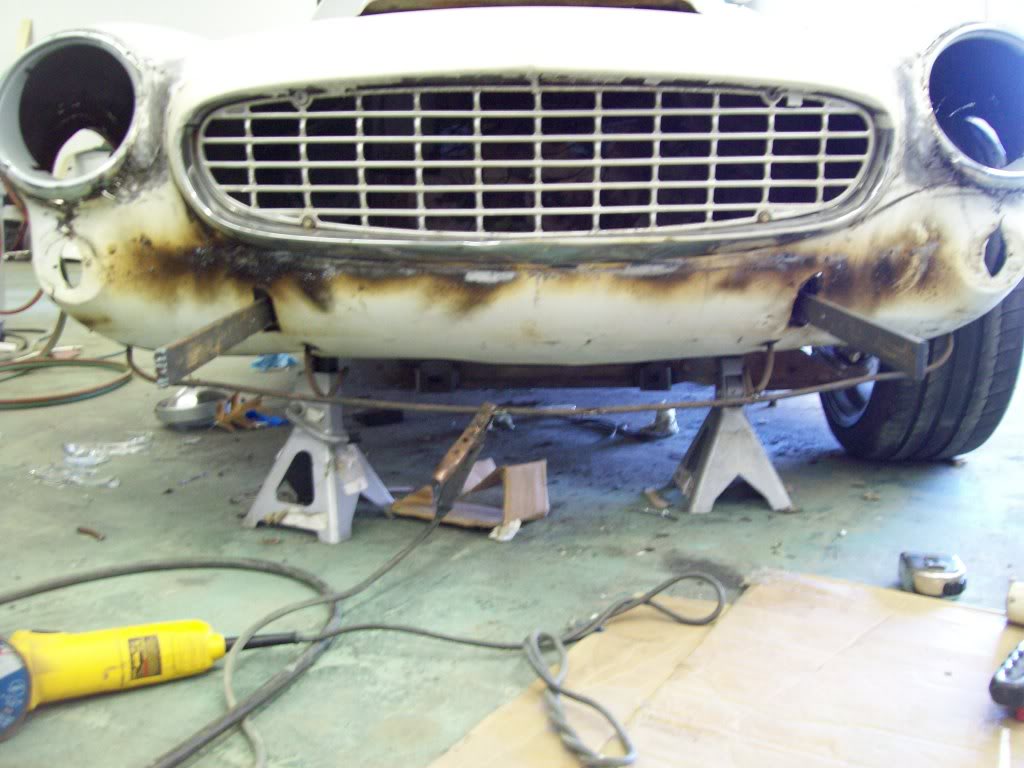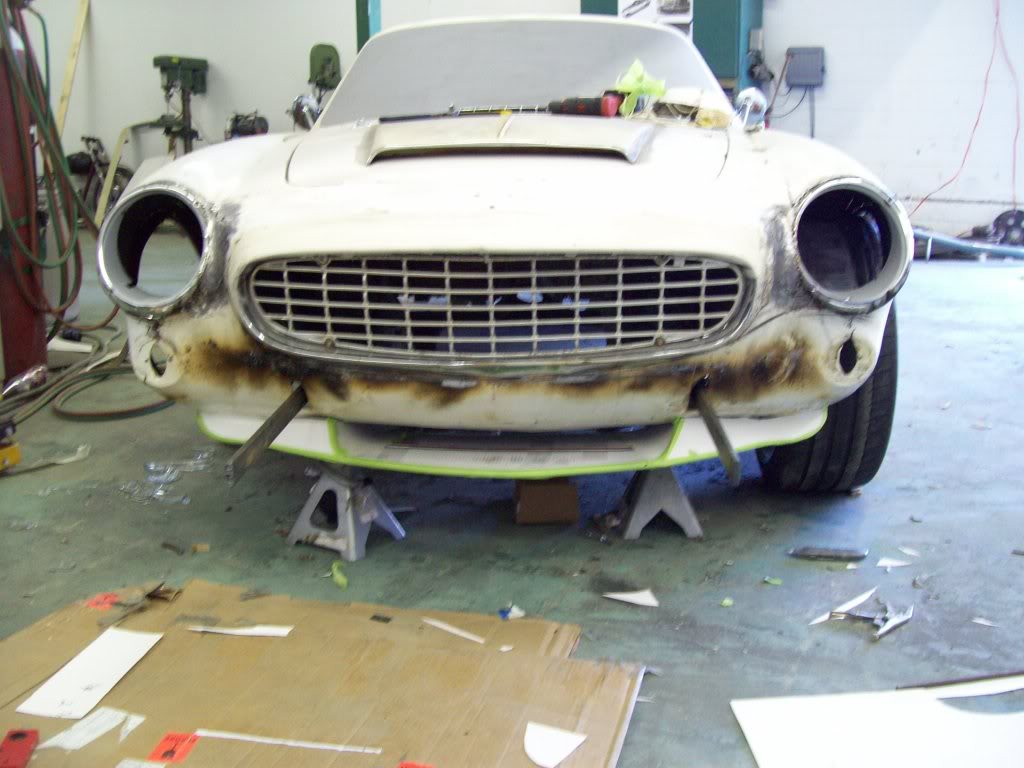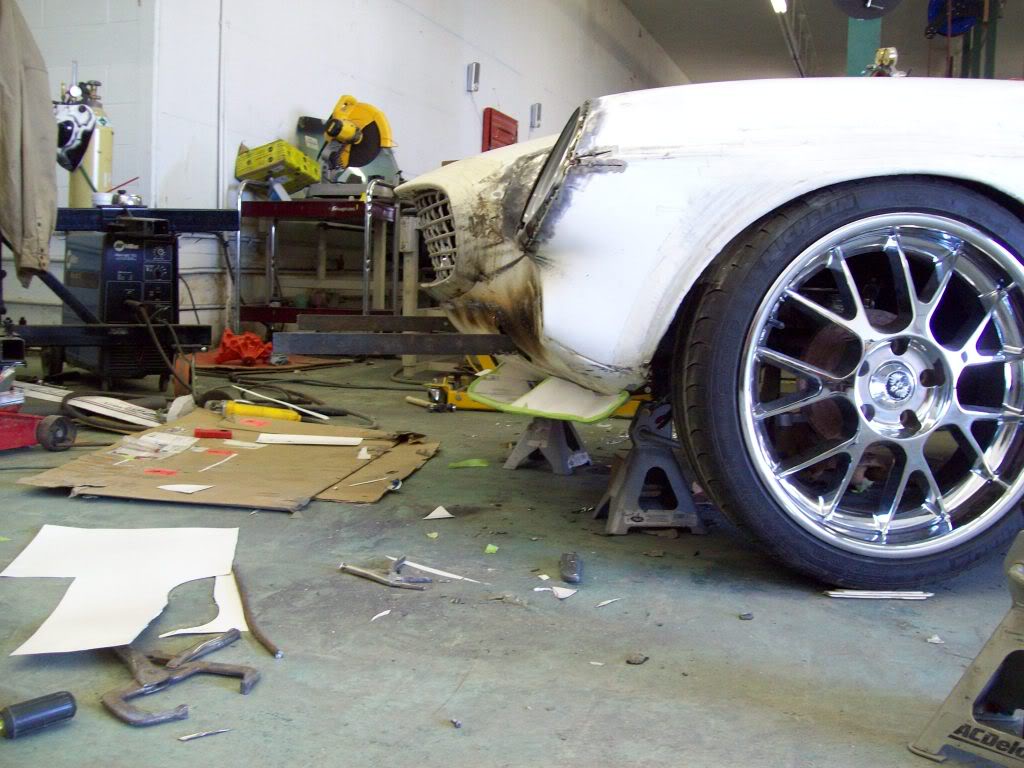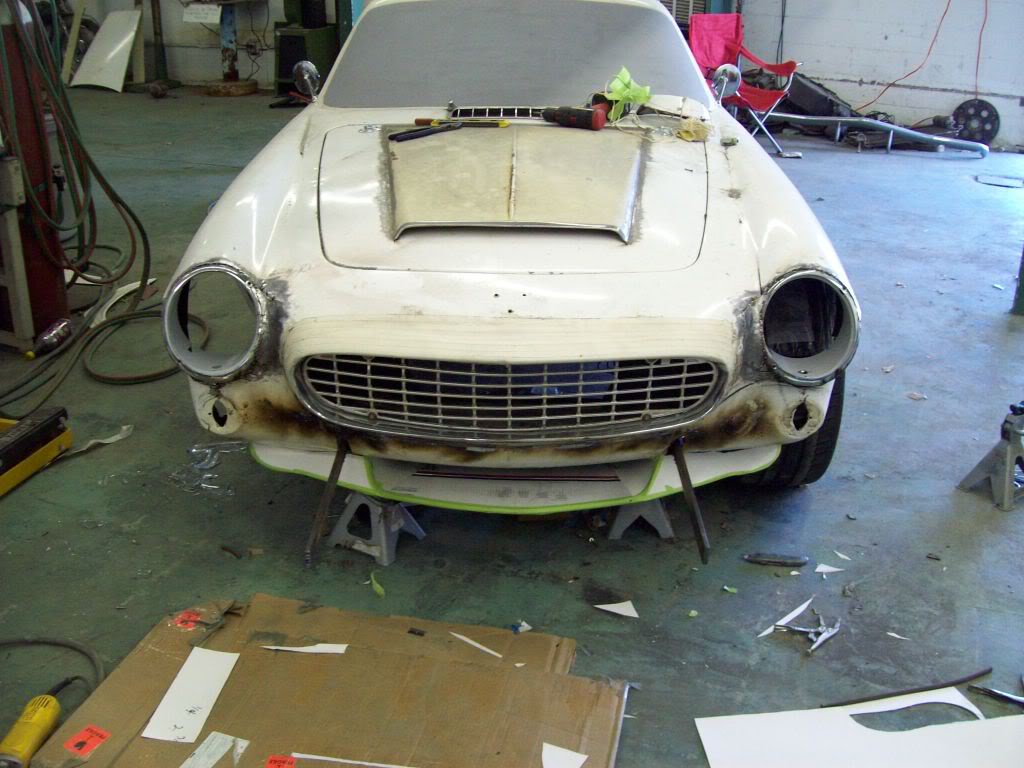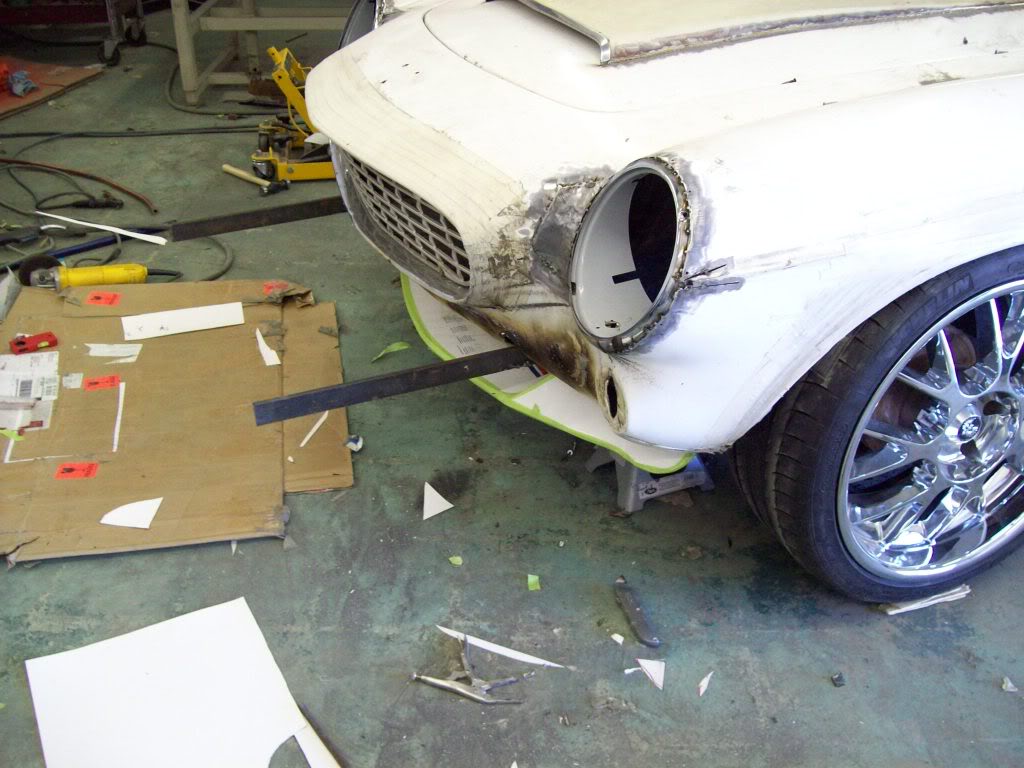 I am trying something with a bumper I had laying around the shop.. See if you guys can figure out what it is off of, it shouldnt be hard to guess.. I have been trying to work with some mods to the original Volvo Bull Horn bumpers, but it just doesnt seem like I can get where the rendition is.. They are not made in a fashion that they can be tweeked like they were in photoshop.. Damn, I wish it was that easy...

I had this bumper laying around and I have been staring at it for awhile.. I seems like it almost there, and maybe with a bit of tweeking, it could be there.. My idea is this, If I can get the contour of the bumper correct, because the size is perfect to match the rear bumpers, I can make the lower bumper guards part of the Air dam.. By bringing the air dam down just a bit, it would interrupt that opening in a Classy way, and would tie in the whole air dam to the front end... Now to see if I can make it look right proportionally..

Here is where I am at so far.. I think I may quit for the night and think about where to go from here. I think it is very close to working.. I need to take some more from the main body of the bumper to the bumper end will come in tighter, but that is easy (I have take 4 inches out already). I still need to trim the cut end, near the bumper guard, in a fashion I can hammer out a nice closing cap.. Other than that, if the proportions work out, it just may be the way to go.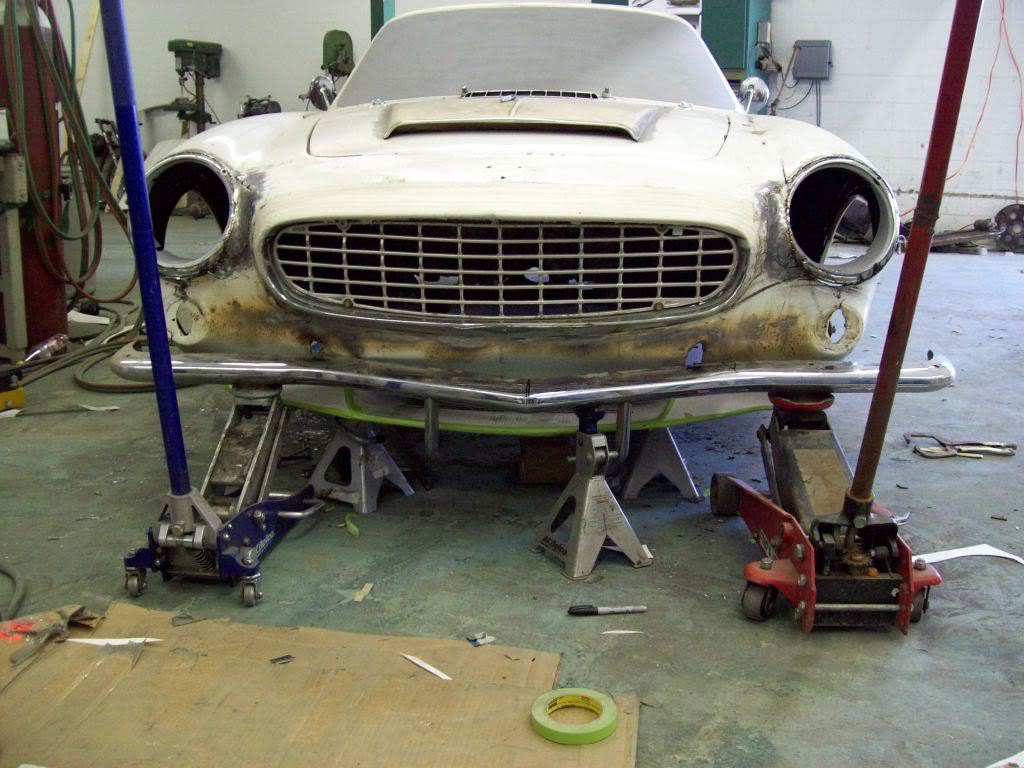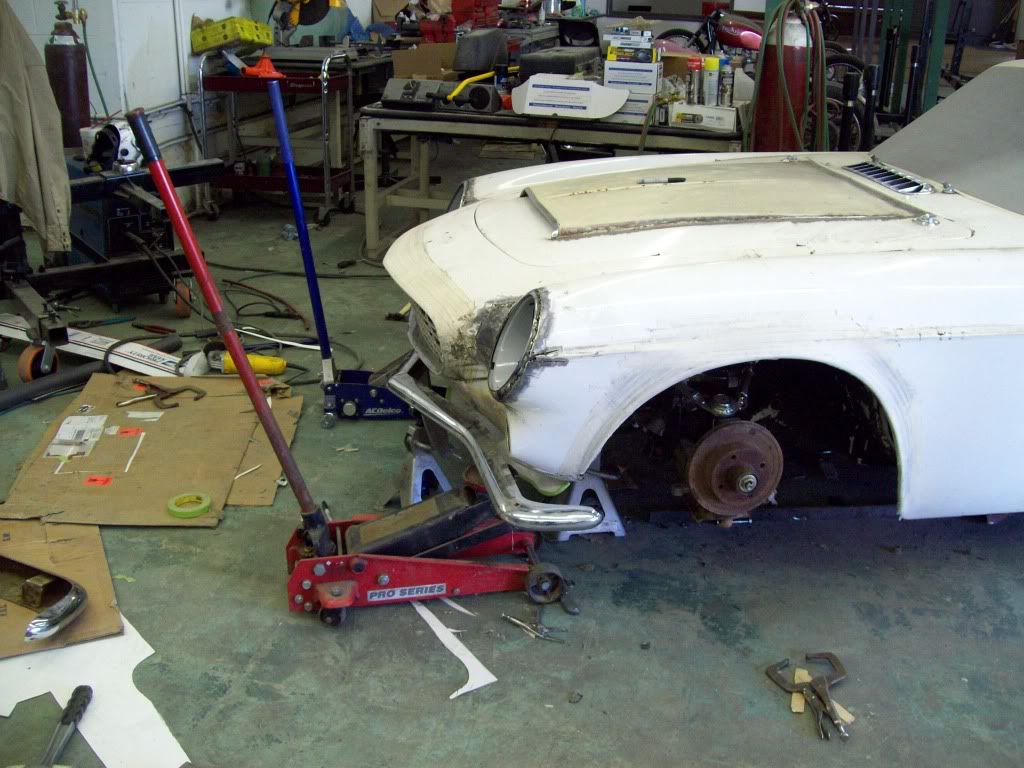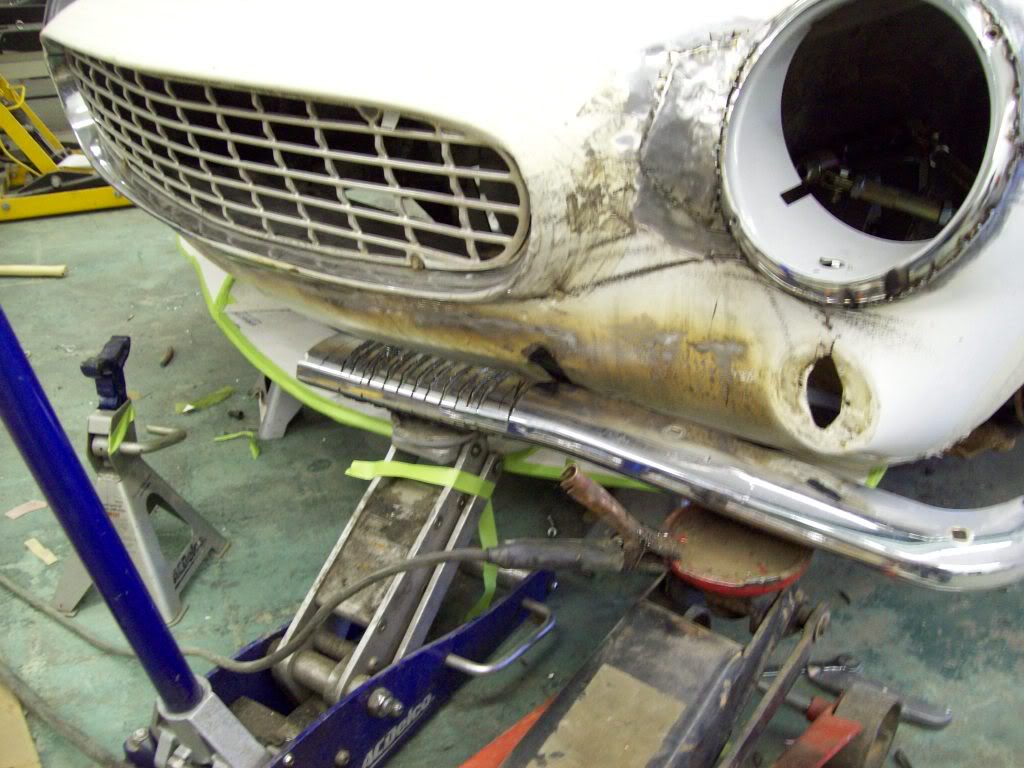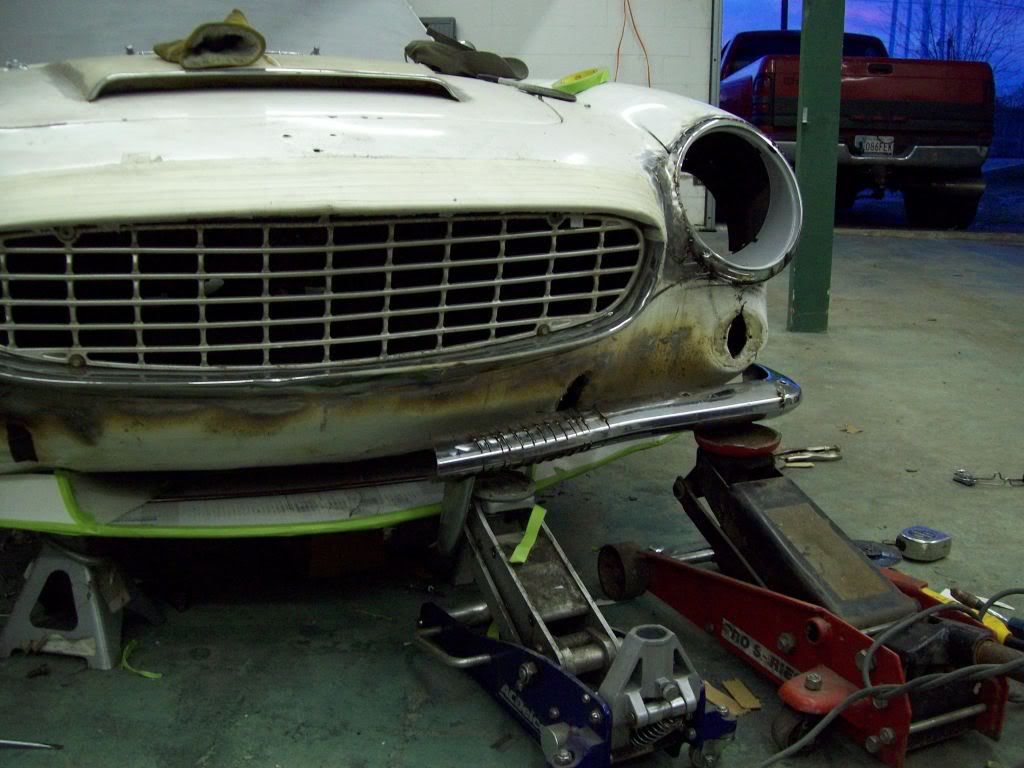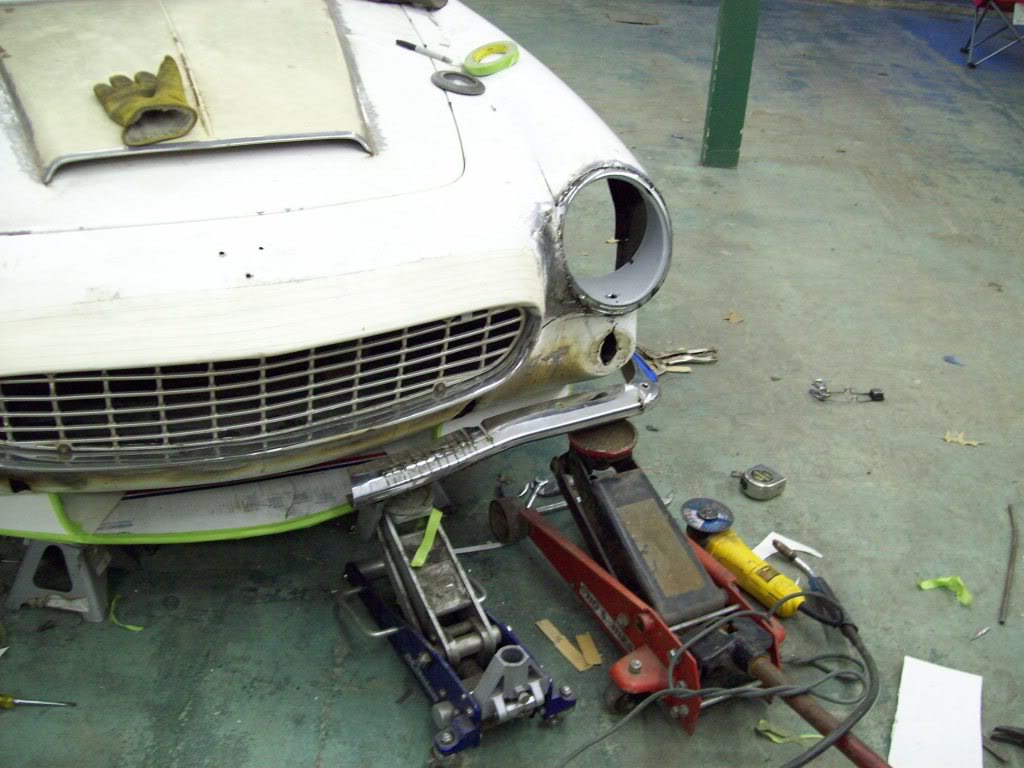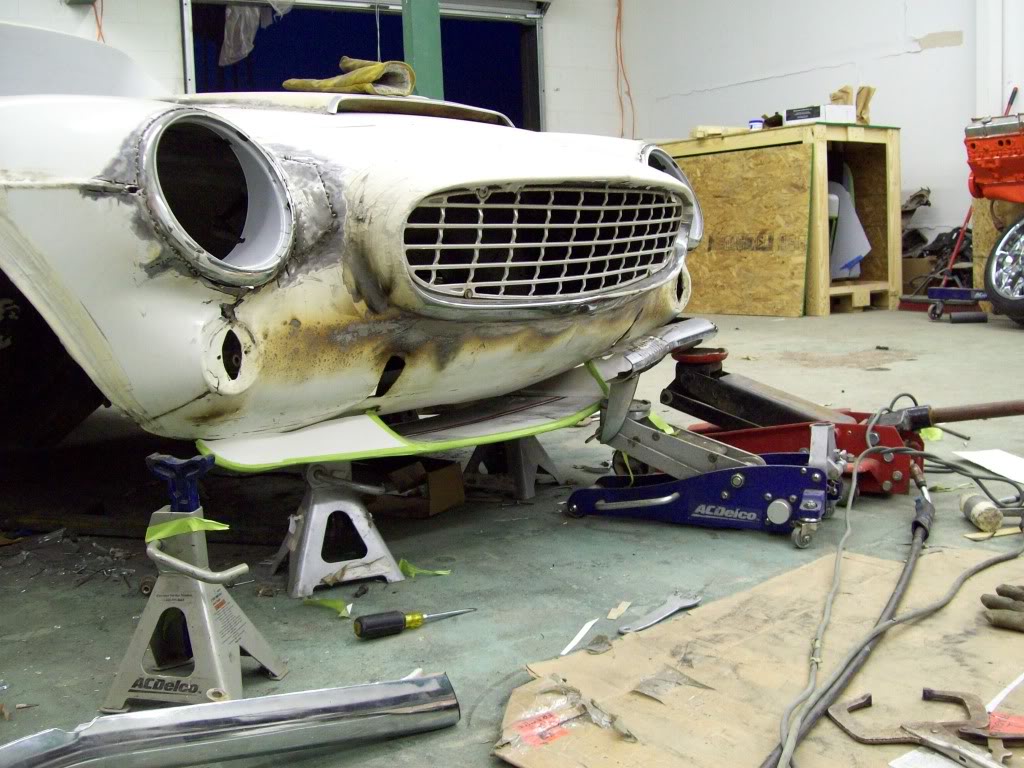 4-2-2011
I changed up the corners a bit, but I cant seem to get it where I want.. I seem to be close, but just havent reached the Ah Ha point... I still have a bit of tweeking with the bumper, but I think I can make it work. I have the bumper loosely mounted, so it isnt quite level yet...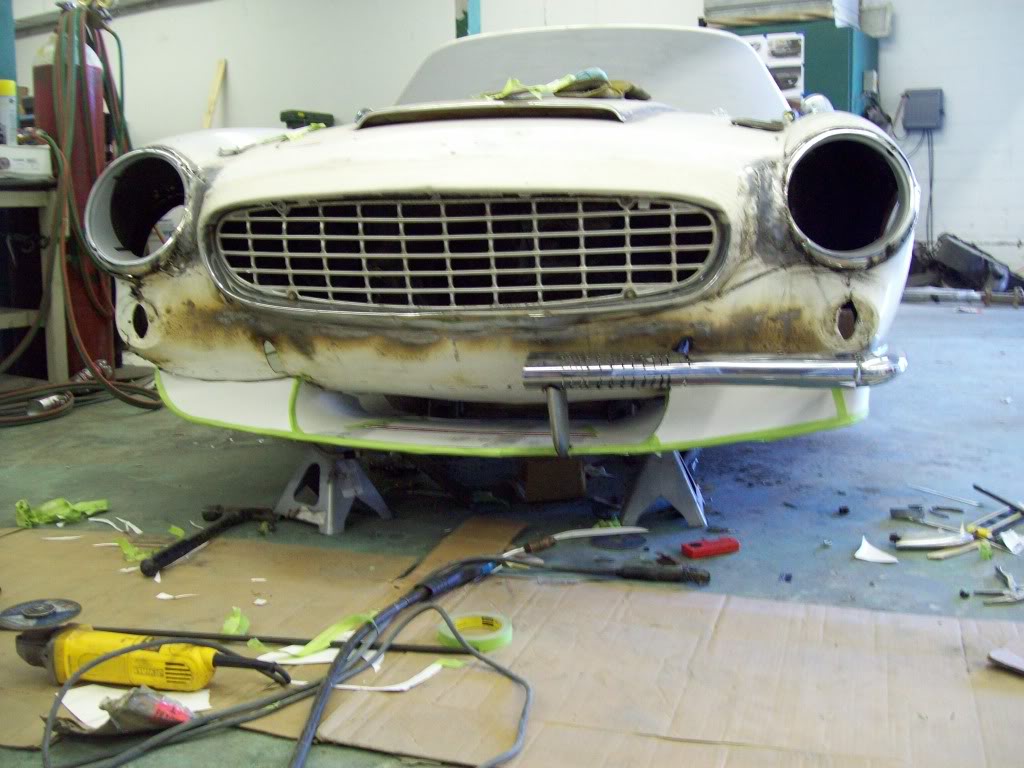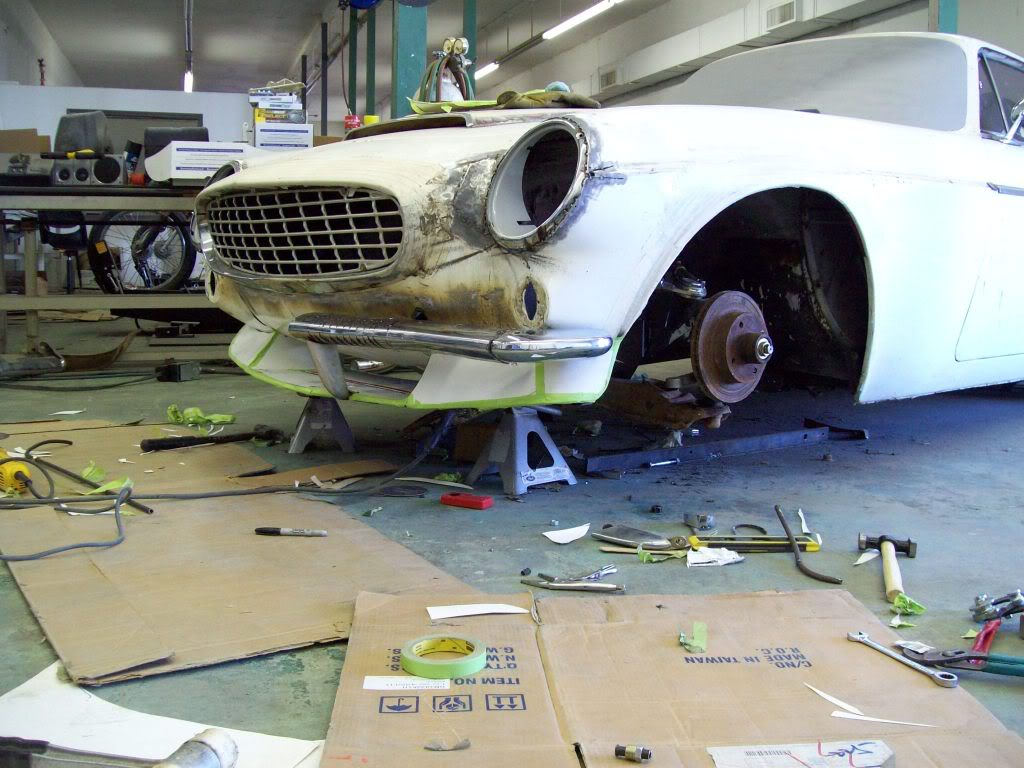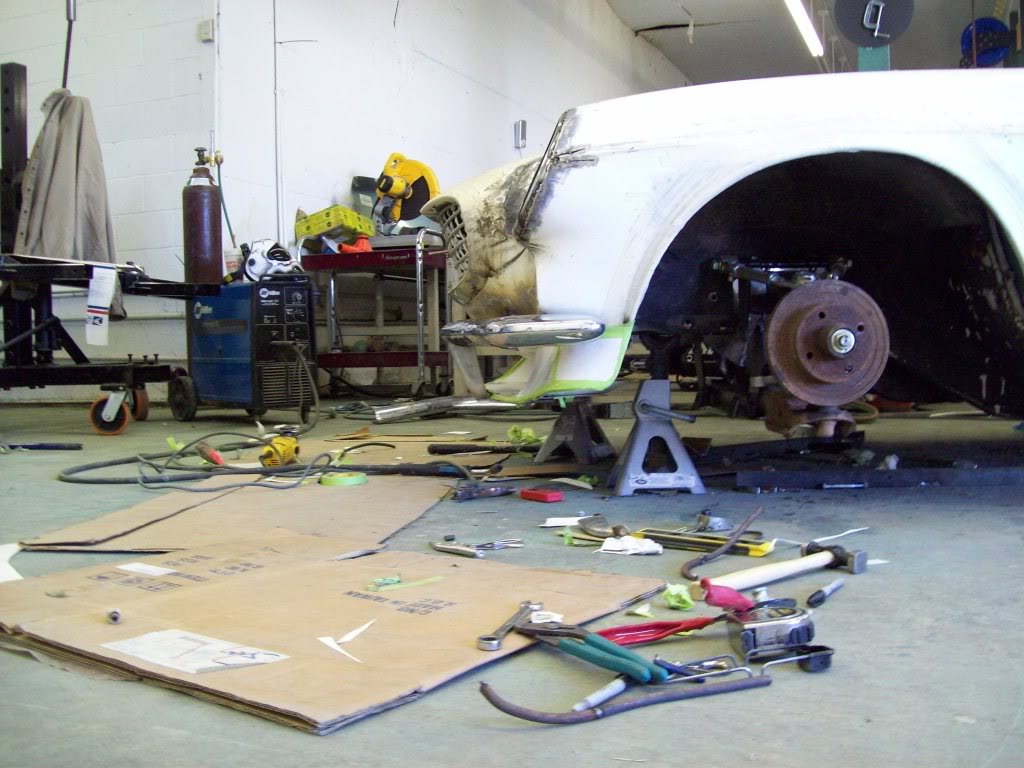 I have to finish tweeking both bumper to get them to match perfectly.. I am using the factory Volvo Bumperbrackets (modified of course), so mounting will be a breeze. This gives an idea of what it is going to look like with both bumpers installed.. I have to come up with a close out soluting for the cut ends on the bumper or perhaps work with the left over material and make it one solid bumper. I can also move the Bumper Guards around a bit to a better location to make the opening look correct.. I am just trying to see if this is the direction I need to go.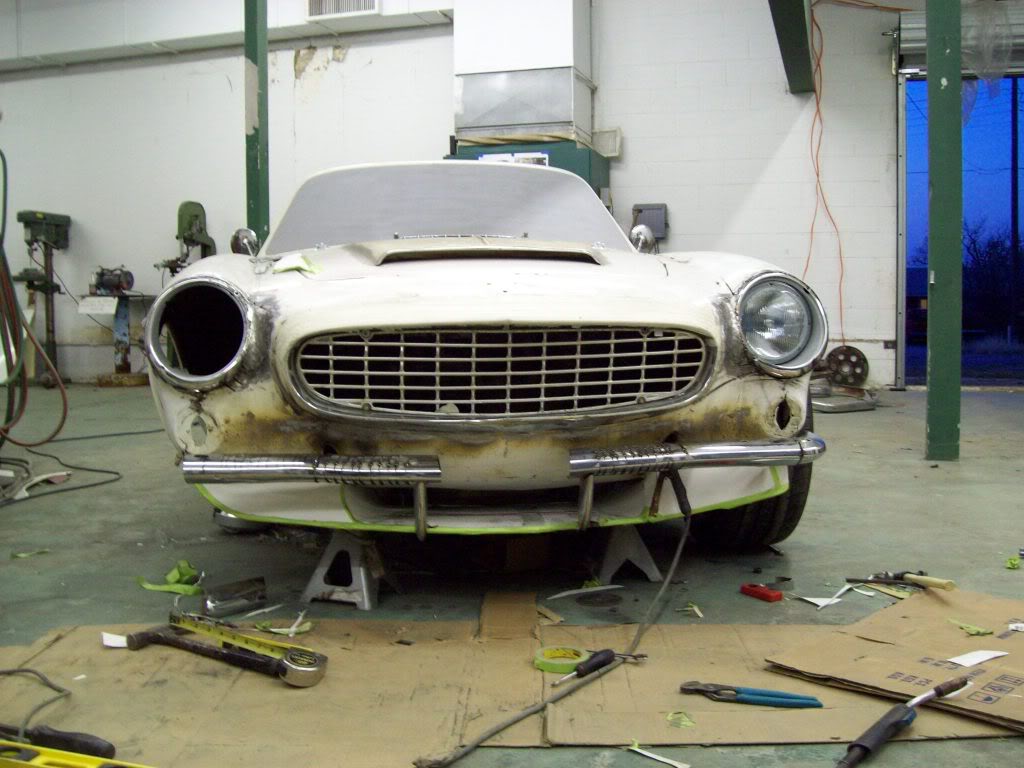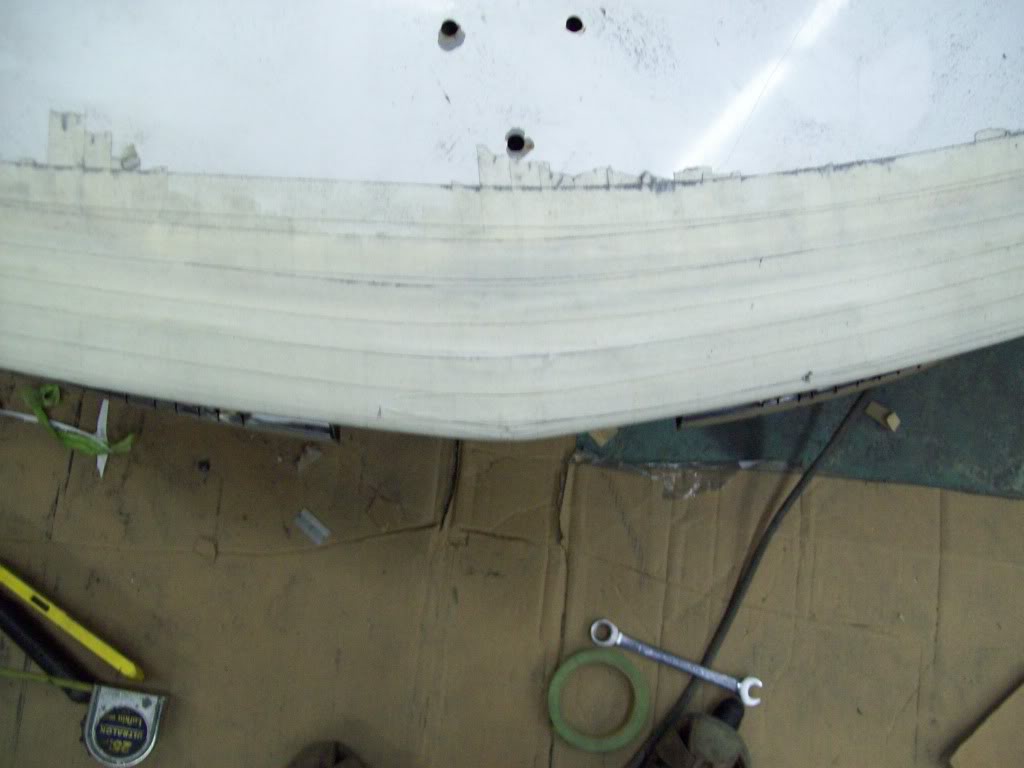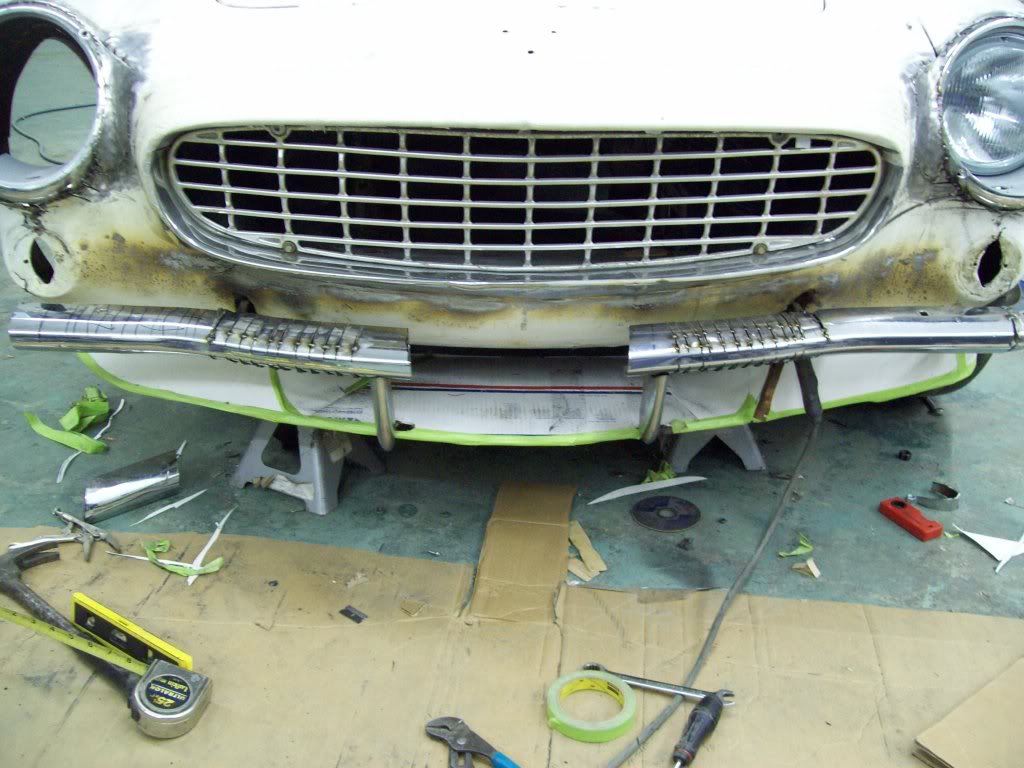 4-3-2011
I think I have settled on this bumpers solution.. Now I will have to look at it for a couple of days to see if I will scrap this direction, and do something else.. I really like it, it seems to fit the style of car and also look a bit retro. I will have to do a bit of tweeking, but it is very straight and seems to fit correctly. What do you guys think.. I was really wanting to run a split bumper, but when lookin at it, it just didnt work.. This full bumper will add extra support of the the air dam also.

Before anyone comments too loudly about the drivers side of the bumper being a bit lower, I already know it.. LOL I have to re adjust my bumper mounting braket a bit, so I can lift that side up.. Once up, it blends nicely into the rest of the bumpers plane.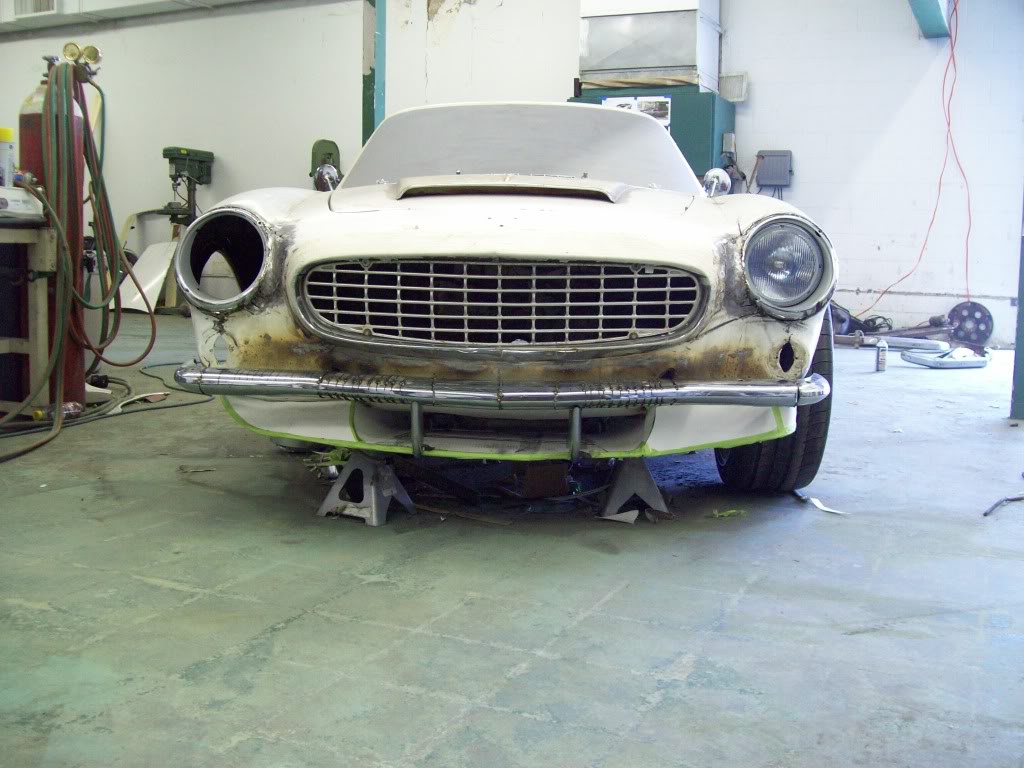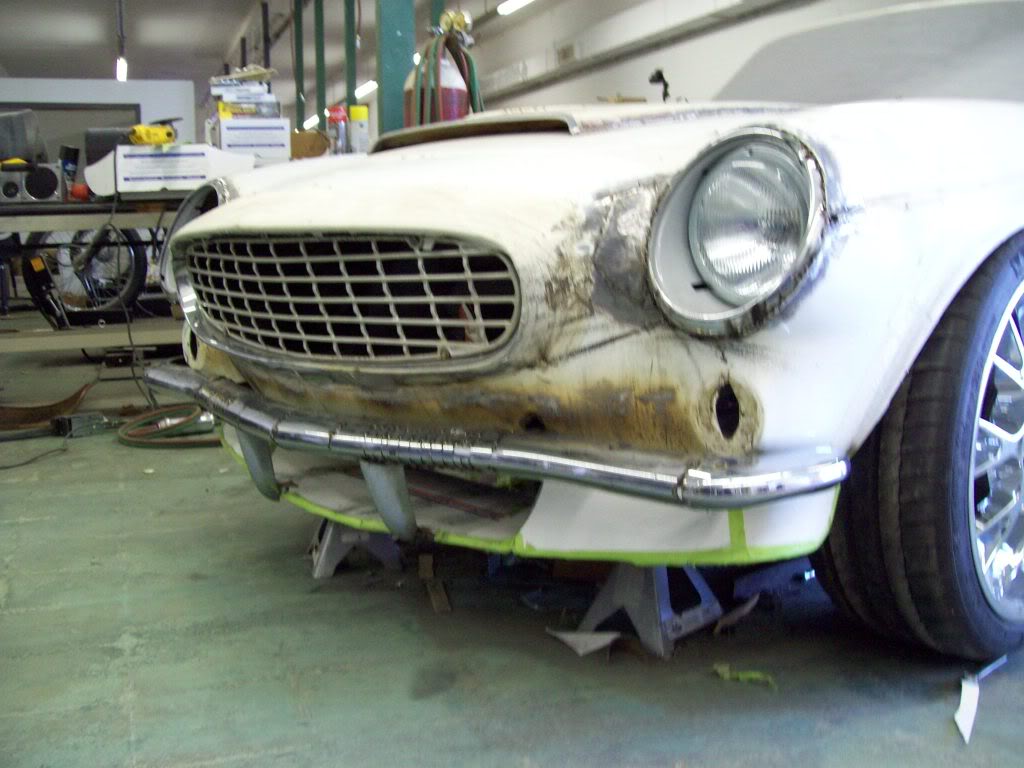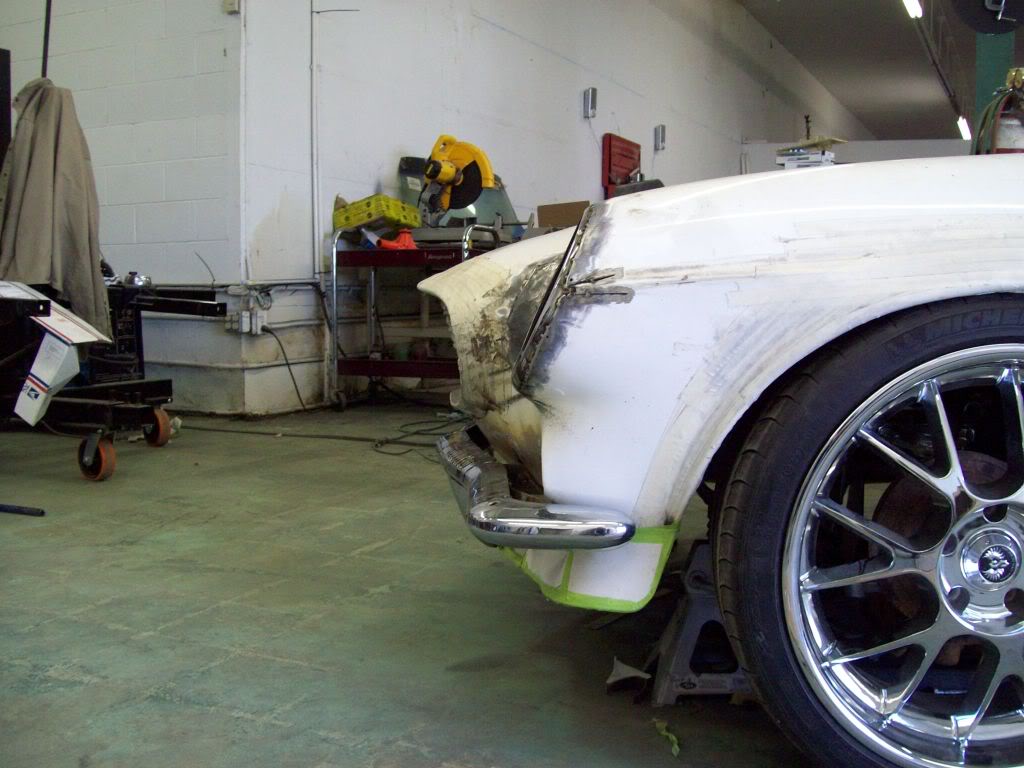 This is the Downward pic from the upper grille shell, so you can see the blend in to the bumper.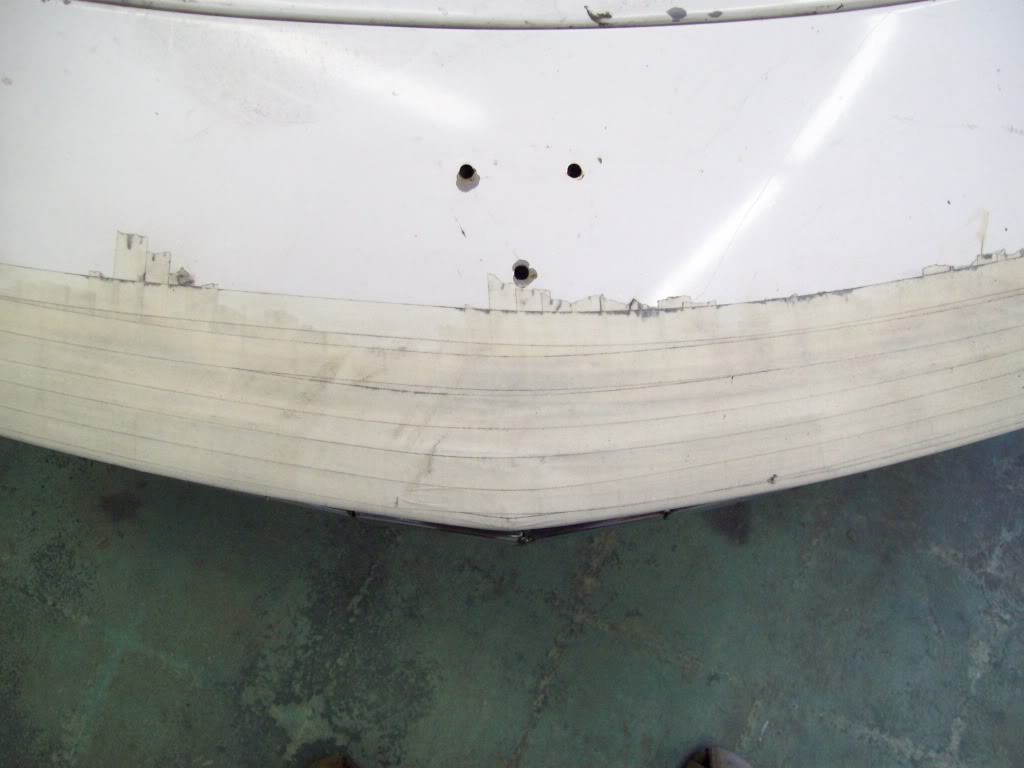 This is sad to say.. But I really wanted the Reverse Bull Horn Bumpers, but dont think I have the equipement to achieve them. You cant just switch sides with the factory bumper and you are there.. The angles are all off at that time, and the bumper is actually way to bulky. I bought a set, and have been trying to work with them.. When you flip them upside down, they didnt leave enough metal to complete the now new top surface of the bumper.. Then you have to cut the horn off of the bumpers and weld them on to the opposite bumpers, but when you do that, the front surface of the bumpers dont line up at all.. The angles are way off all the way around, and they didnt leave enough material on key parts of the bumpers to even come close to making it work.. Can it be done, probably, but it is beyond the resources I have here now.

If you notice, everything done to this car is basically done with what a normal car guy would have in his garage.. All the cuts I have made are done with a Dewalt Angle grinder.. Everything is hand bent or hammered, and everything is put together with what I can find around here or on Ebay.. Like this Camaro Bumper I have altered, I am trying to find pieces that I can see the potential finished prodcut in.. By looking at it and measuring it out, you can determine if there is enough of what you need in the beginning piece, so if cut it here, remove something there, bend up or down, ect, you might be able to get what are you are looking for out of it.

Short of the rotisserie and maybe the Mig Welder, I have not used anything that is extra ordinary.. I have used a basic tool set, hammers, bench vise, vice grips (Various types), measuring tape, string, levels, Marking Pens, and lots and lots of masking tape to show what the result is.. Everything is hand cut and hand welded by me alone, there is alot of times I really could use a third hand. LOL Alot of time is wasted trying to figure out how to hold something, that is oddly shaped, so it can be measured or tacked...LOL
4-4-2011
I have had alot of feedback on this bumper situation from other Build threads, it seems that it is very divided slanting toward the dislike. Here are some real line of sight pictures, rather than shots that are pin pointing particular parts.. It is easy to pick out faults in individual pieces, that sometimes works well as a package.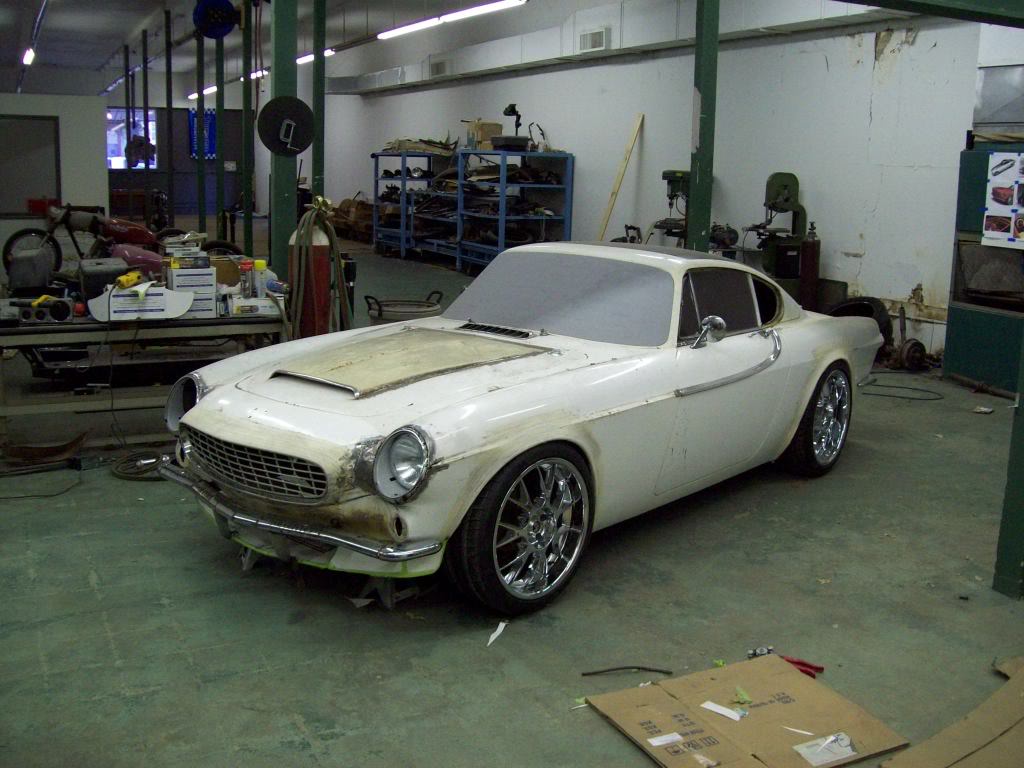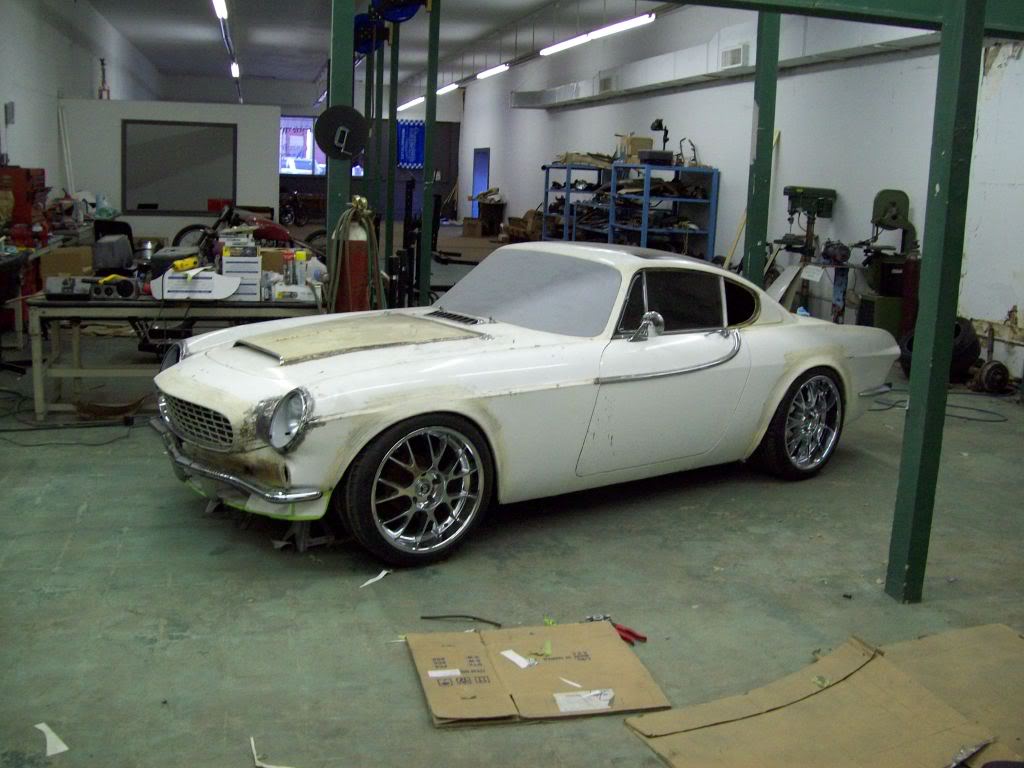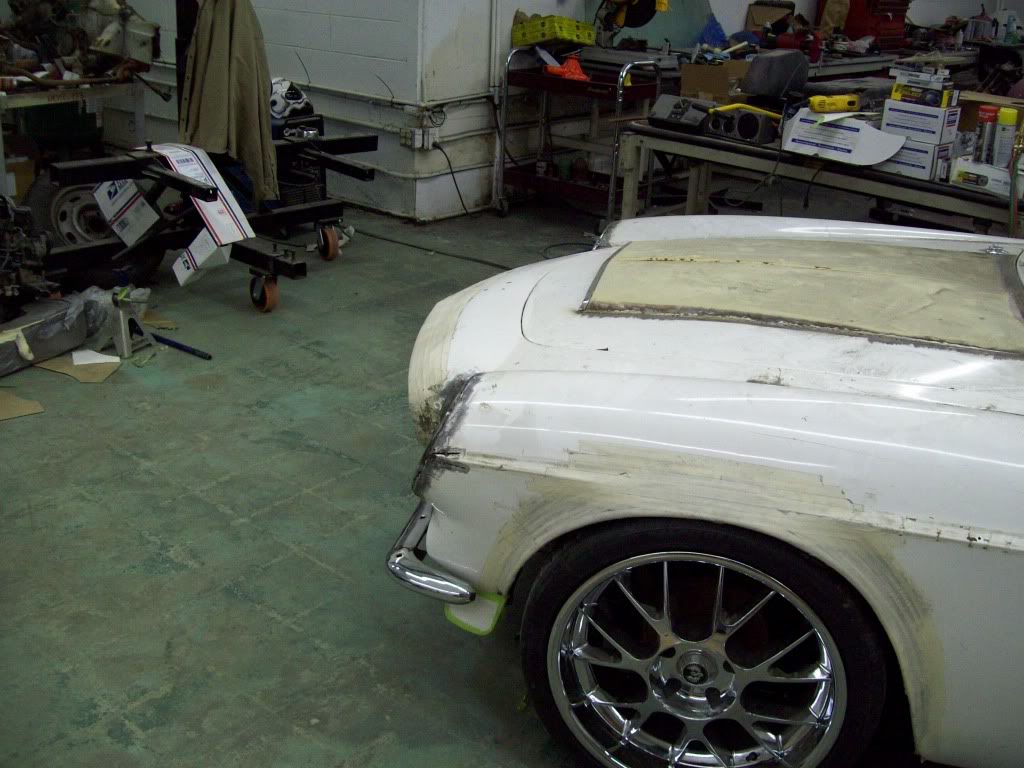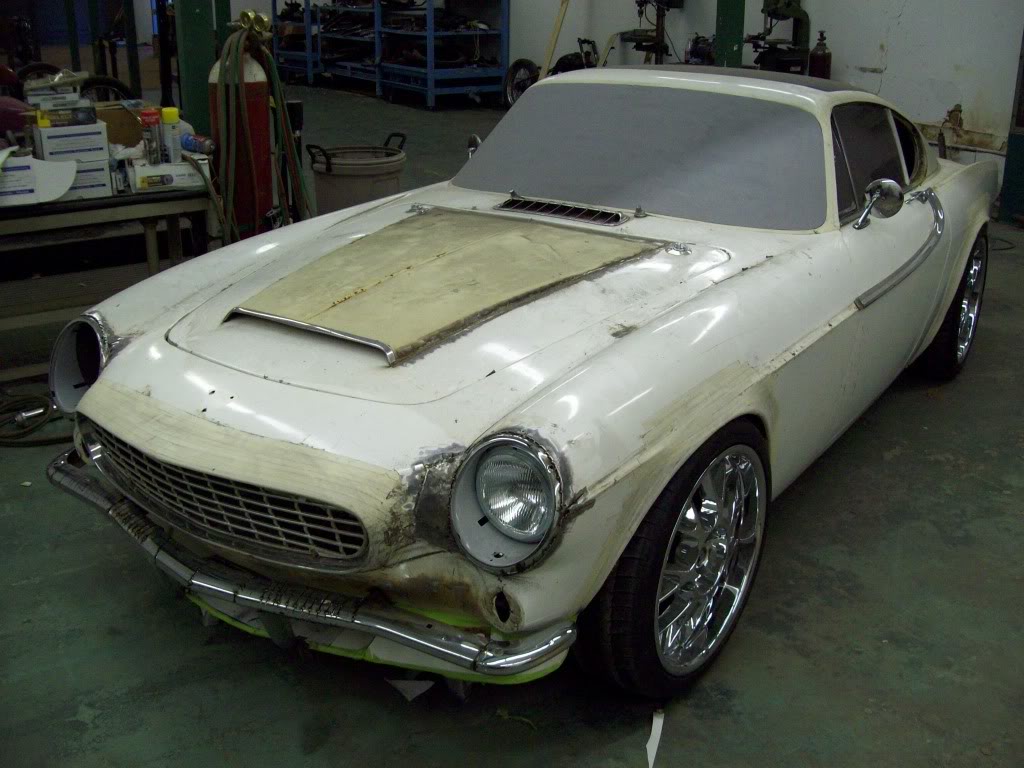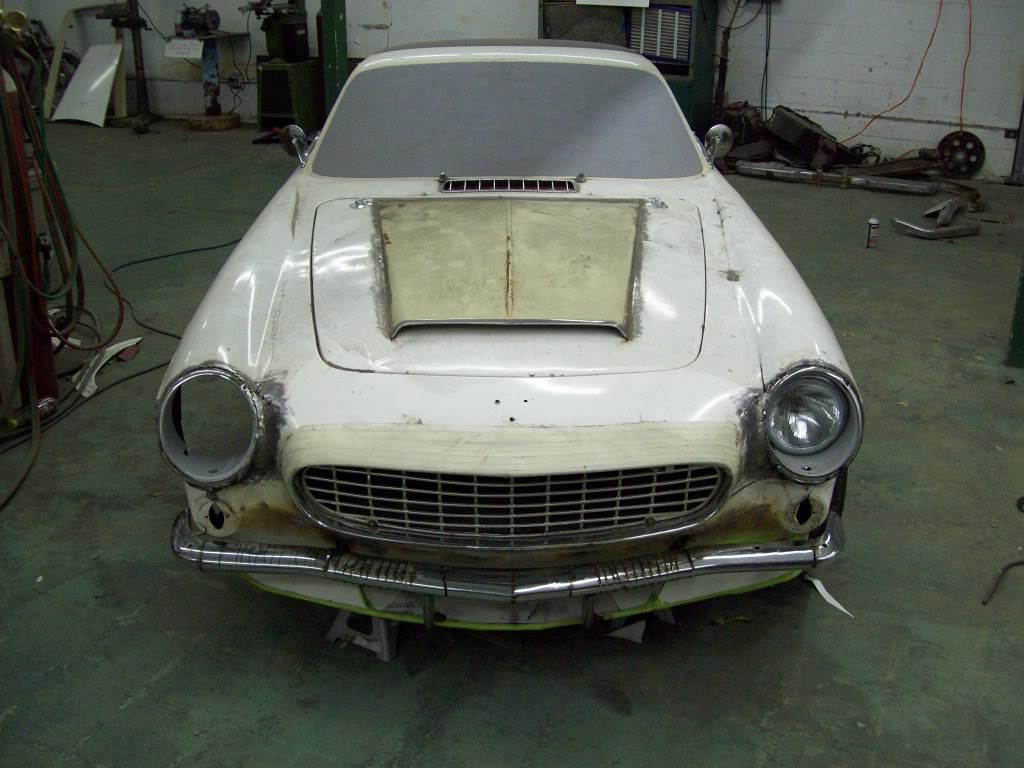 4-4-2011
Yes, I have some clear glass covers coming for the headlight buckets, that continue the fender lines. I can lower the car a bit more, and will dial the exact ride hieght in when I get the rest of the components.. Right now, I have a 6 inch ground clearance with the 19" wheels in the position they are in now.. The raising of the arhces really help the cars over-all appearance.

The headlight situation was starting to be a problem, but I didnt want the bucket system I have to look cheap like most of them do. I was looking for an updated headlight with a CLEAR LENSE and a SMOOTH BACK REFLECTOR, only to find out it couldnt be had.. Everywhere I looked, you could get a fluted lense and a smooth reflector, or a Clear lense and a diamond cut patter reflector, and that isnt what I was looking for..

I am running a Clear Fender Lense, and if I run the headlights pictured, it just looked like I had the crappy light almost pressed against the outer fender glass.. I can do that, and will not do that.. Even if I run my Clear Fender Glass, and a Clear Headlight Glass with the Diamond Cut pattern reflector, it still took away over all depth and make things look cheap.

The solution is this.. I found a guy that is making me a custom 7 inch headlamp that fits the existing bucket. I know you have to have either the fluted lense or the Diamond cut reflector to spread the light out, and that is the reason I cant find my option, but that isnt going to work.. So he is putting me together a Clear Headlamp Lense with a Smooth and Deeper Reflector panel, HID Projector HID Head, which should give me the clean depth I am looking for.. He can also add HALO LED lighting if I would like, sort of like your Audi's and other Euro Cars, just not sure I want that yet.. He can put it around the perimeter or the light or around the projector head in the center.. He can do it is clear or several colors, just not sure if that would be too busy. They can act as parking lamps or daytime running lamps.. He also has the option of Amber turn signals and Park lamps that can be placed at the bottom portion of the headlight if desired..

I will post more info on this, once I recieve them.. He custom makes these lights to your specifications, and has so many options to personalize them to your car, it is awsome. It beats the hell out of those Cheap Ebay options out there, and come complete with plug and play wiring and ballast.
4-5-2011
Here is a video from a headlamp company that is custom making my Headlamps.. Seems like a really good guy to work with, and you couldnt believe the options available to personalize your headlights, I had no idea..

I am running a Clear lense with a smooth reflector, which is impossible to buy in the real world. I am also running a HALO around the projector portion of my light, but he does offer an Outer Perimeter HALO also. He has different light color and intensity ranges available (whitish, blueish, yellowish, redish,ect)

Here is his link http://www.sickhids.com/
4-6-2011
I found a bumper shop that can finish my bumper to Show Quality from the stage pictured below.. From what I have seen of this company's previous jobs, these will be a piece of cake. LOL I got the factory bumper brackets to work with the new bumper by adding the Volvo Mounting tabs to the inside of the Camaro Bumper.. So it will install just as the factory Volvo did, and it is very sturdy..

I also got my Clear Headlight lenses in, you can see why I ordered the custom headlamps.. I dont want it too look I have lenses place over a standard headlamp, so I really needed the custom headlamps with the clear lense and smooth reflector back. The actually fender lense will fit a bit more flush to the fender, I dont have the custom seals installed.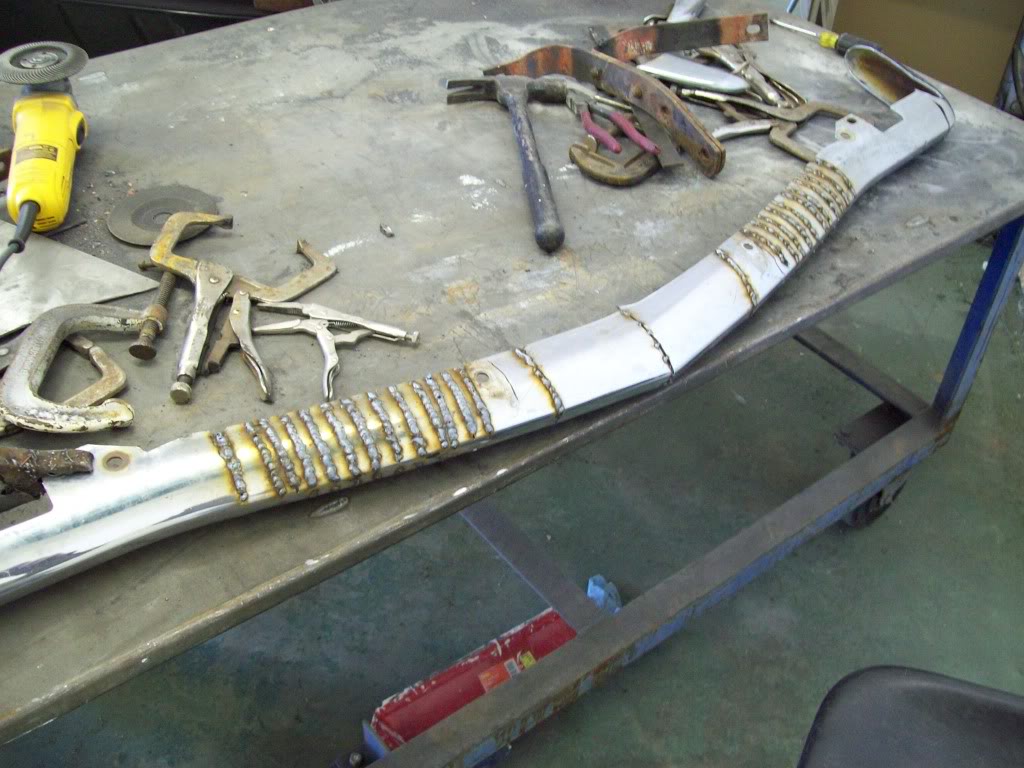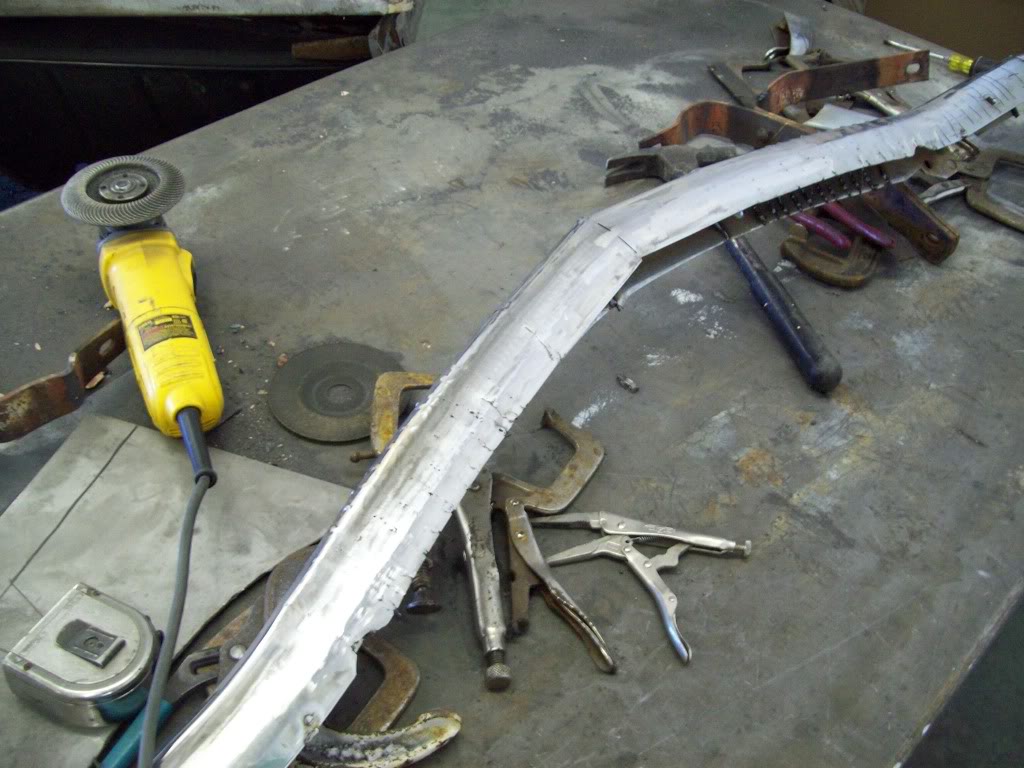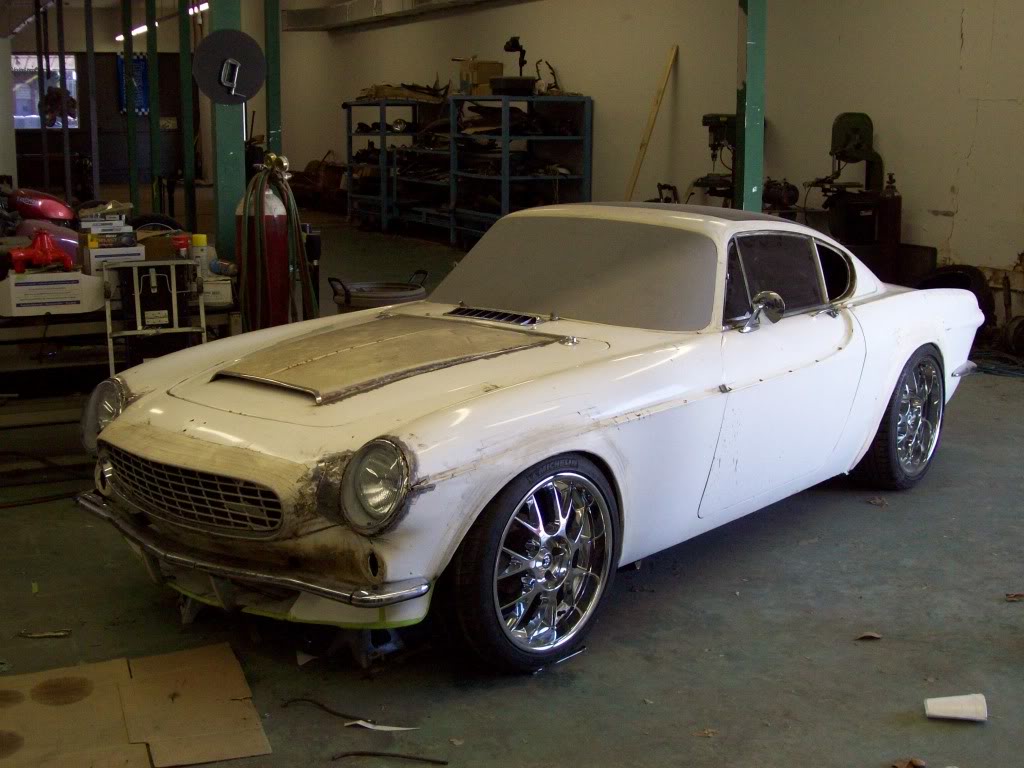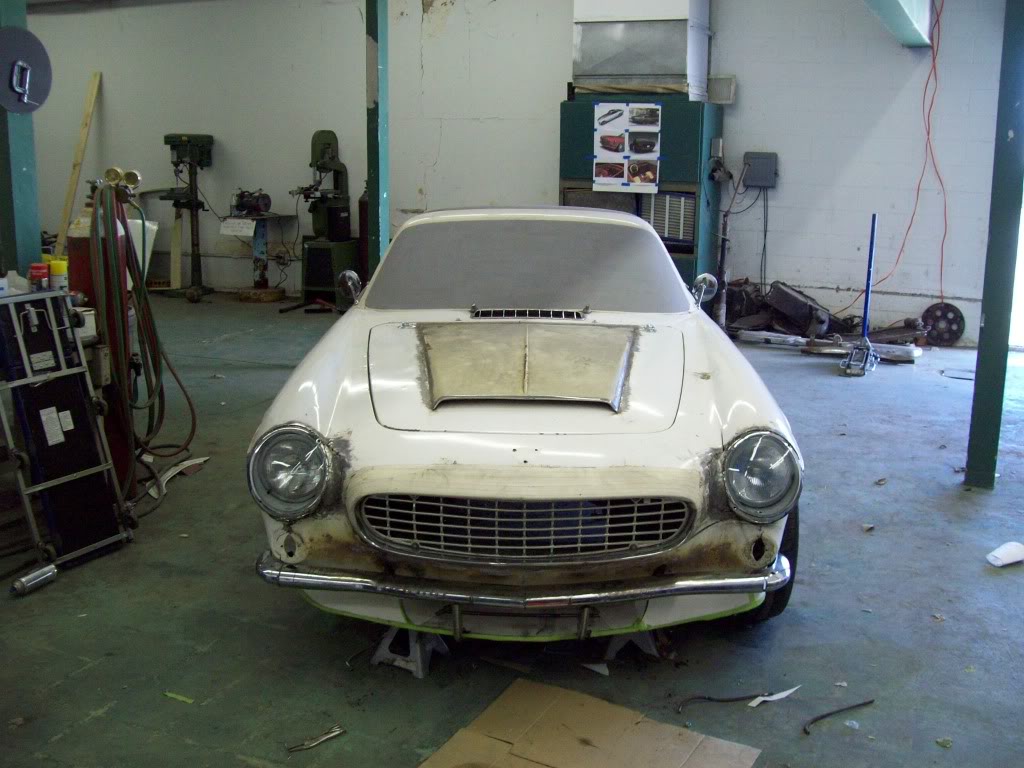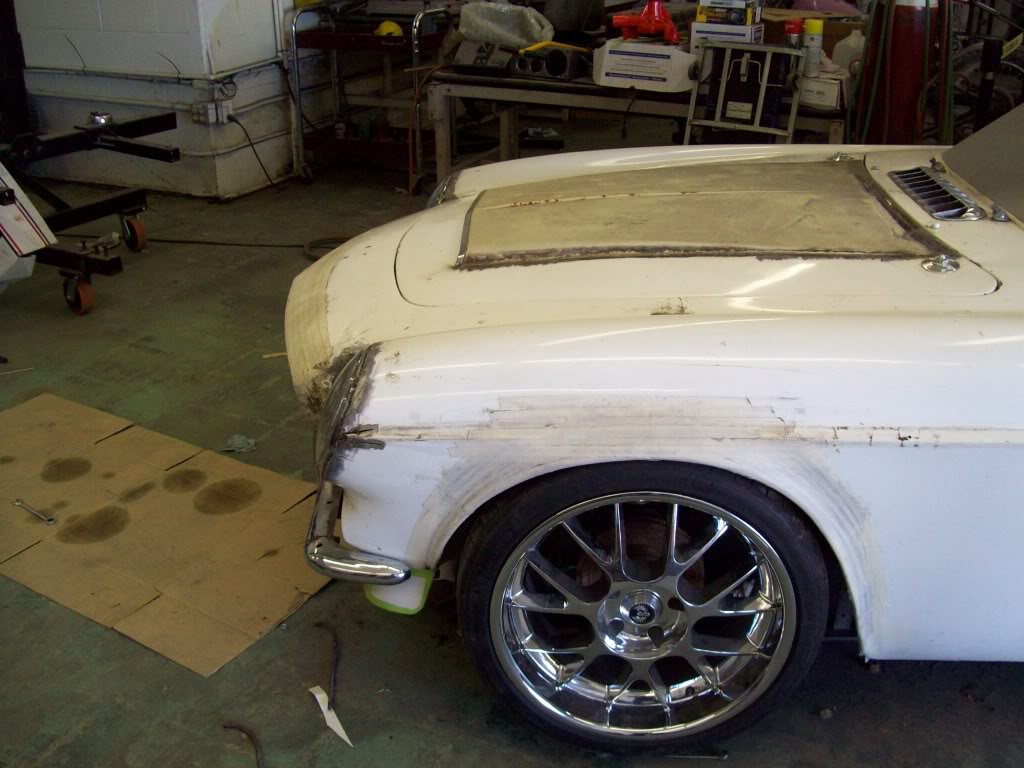 Here are some pics of the factory bumpers that were on this car, I actually have them tighter to the body than they are from the factory.. If my bumper is bulky, as others have stated, I am not sure what you call this... LOL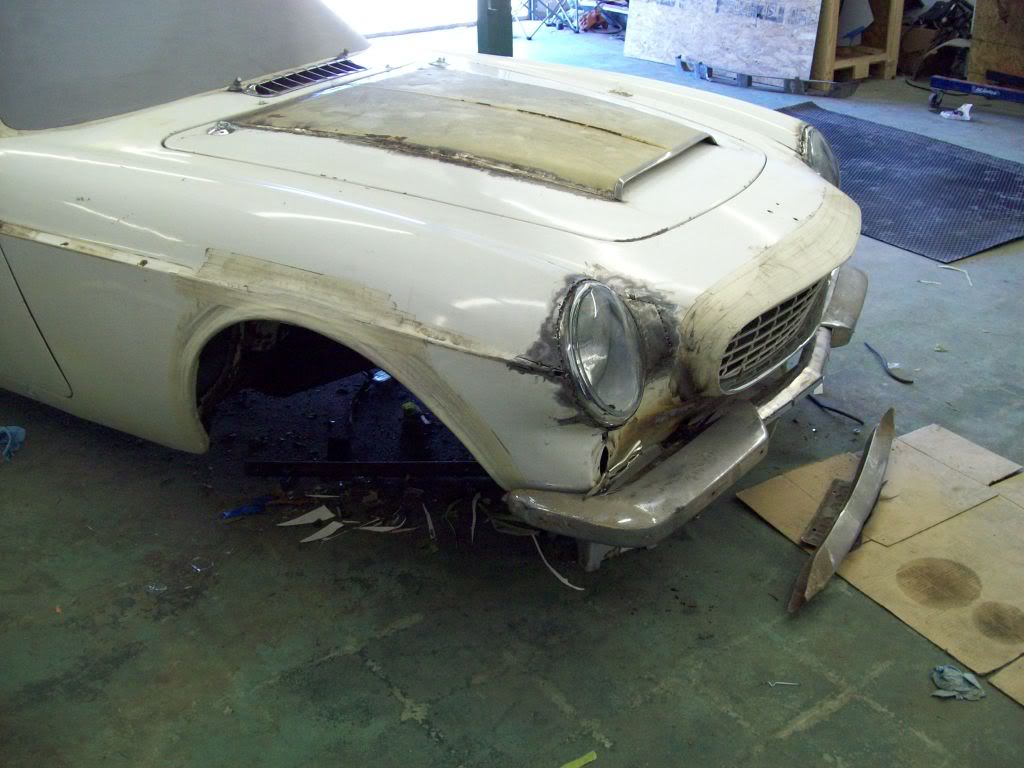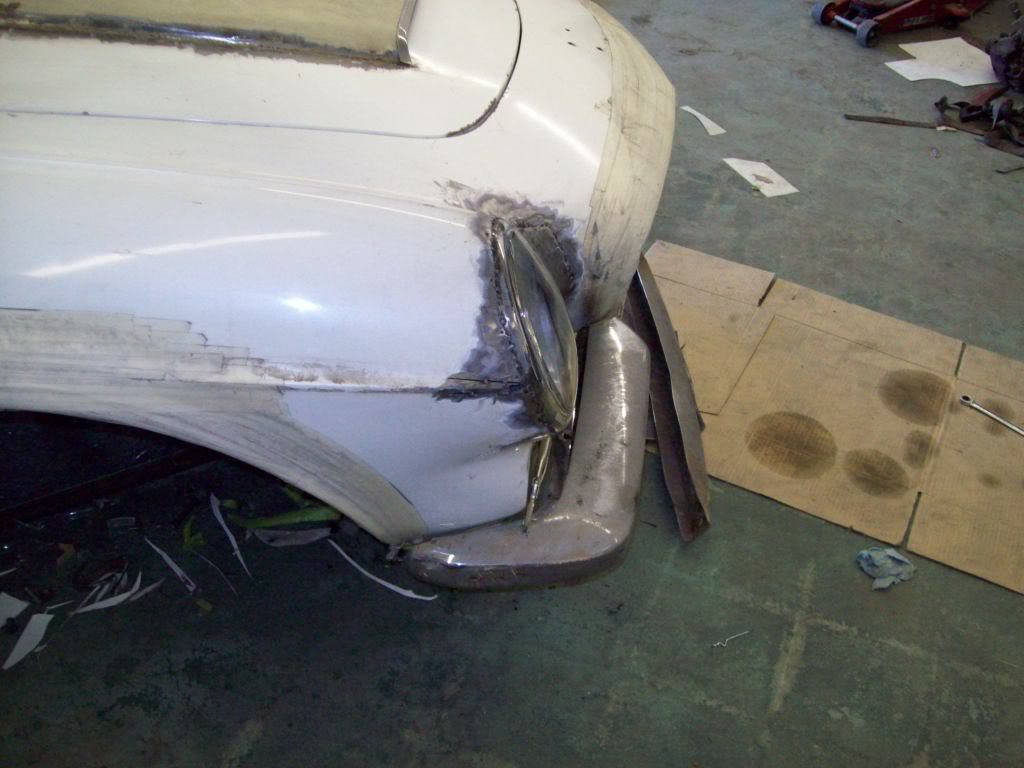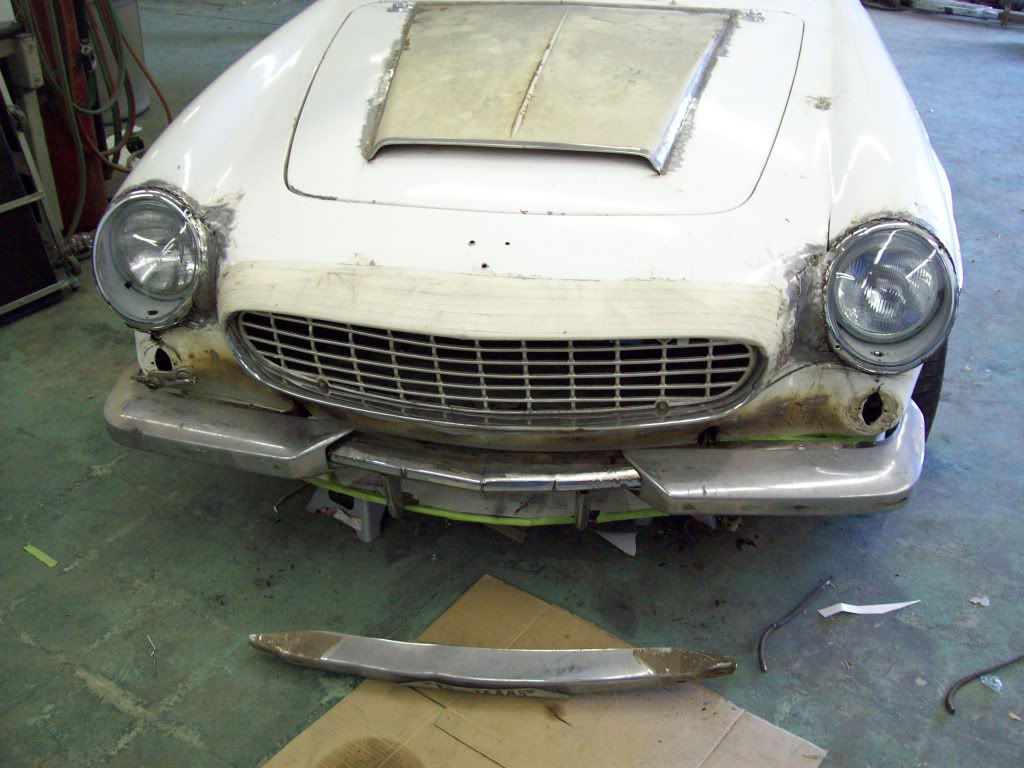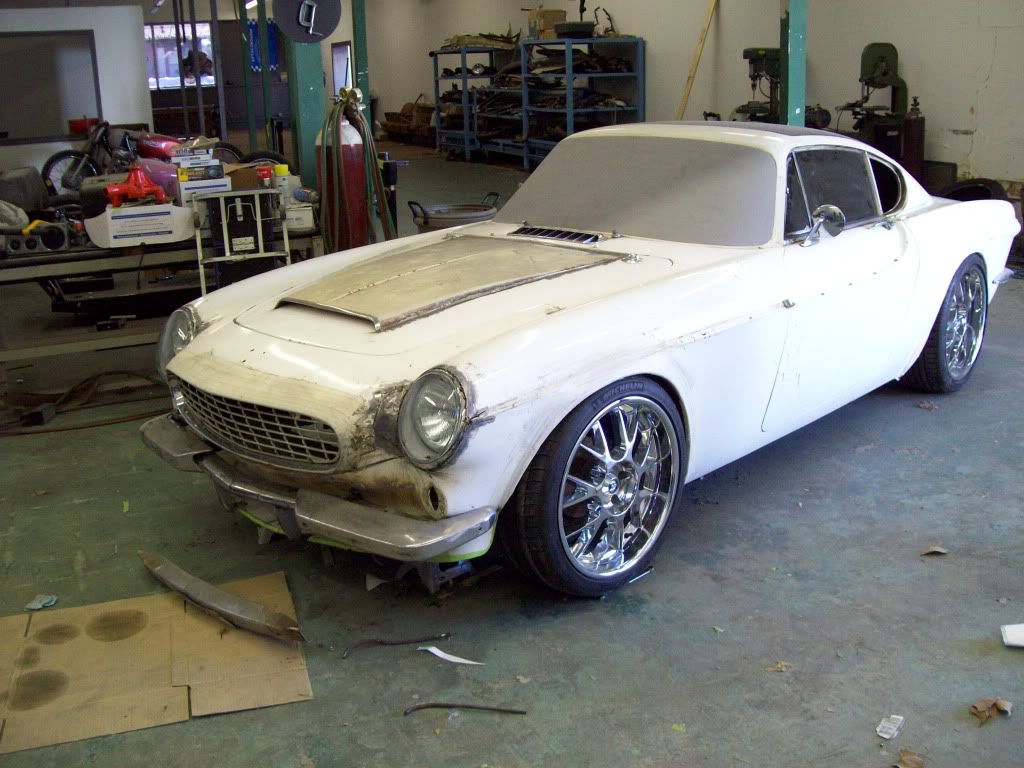 4-7-2011
I am making another attempt at the reverse Bull Horn bumpers, so let me know if you guys think it is working.. These look simple, but they are very complicated, and I am not sure that even if I do get them work fit the car, the bumper shop will be able to true them up. I figure, I will just send both bumpers to get done, and if they both come out great, I will make a judgement call from there...

These bumpers have to sit a bit further out than the camaro bumper, and if you notice, the horn actually has a kick forward to match the angle of the headlights. I am not sure if that is a good thing or not, but there is no way to really change the angle of the bull horn to make it run toward the back at the bottom. There may be too many apposing angles, but there again, it could add and compliment the rest of the body complexity.. ha ha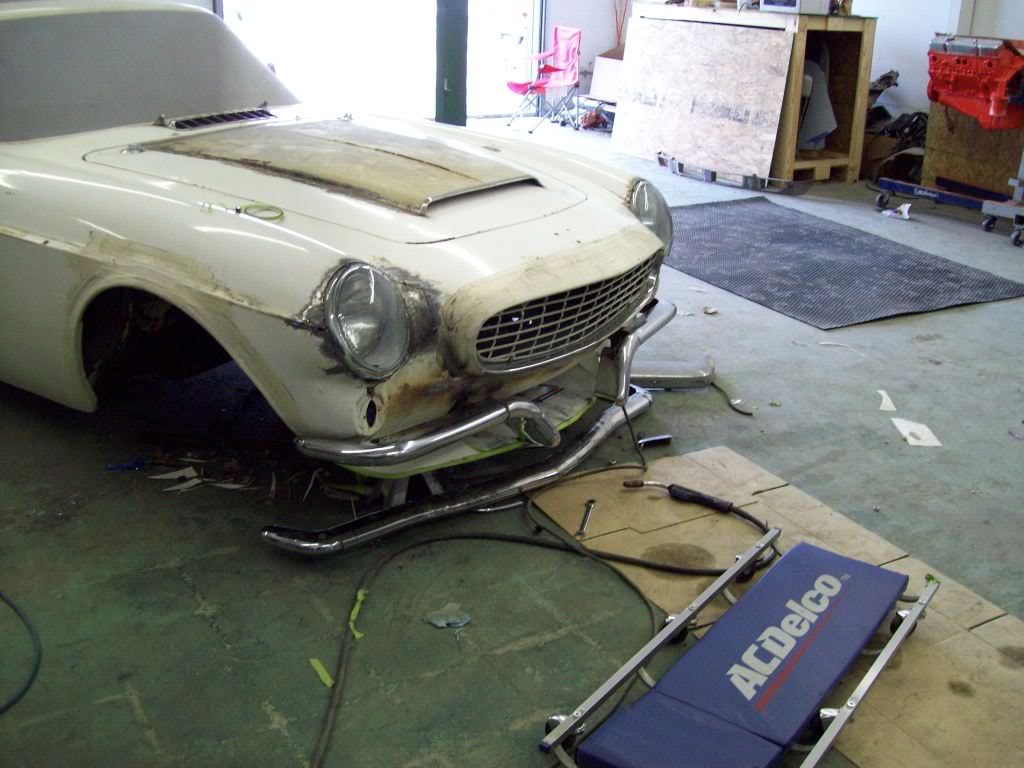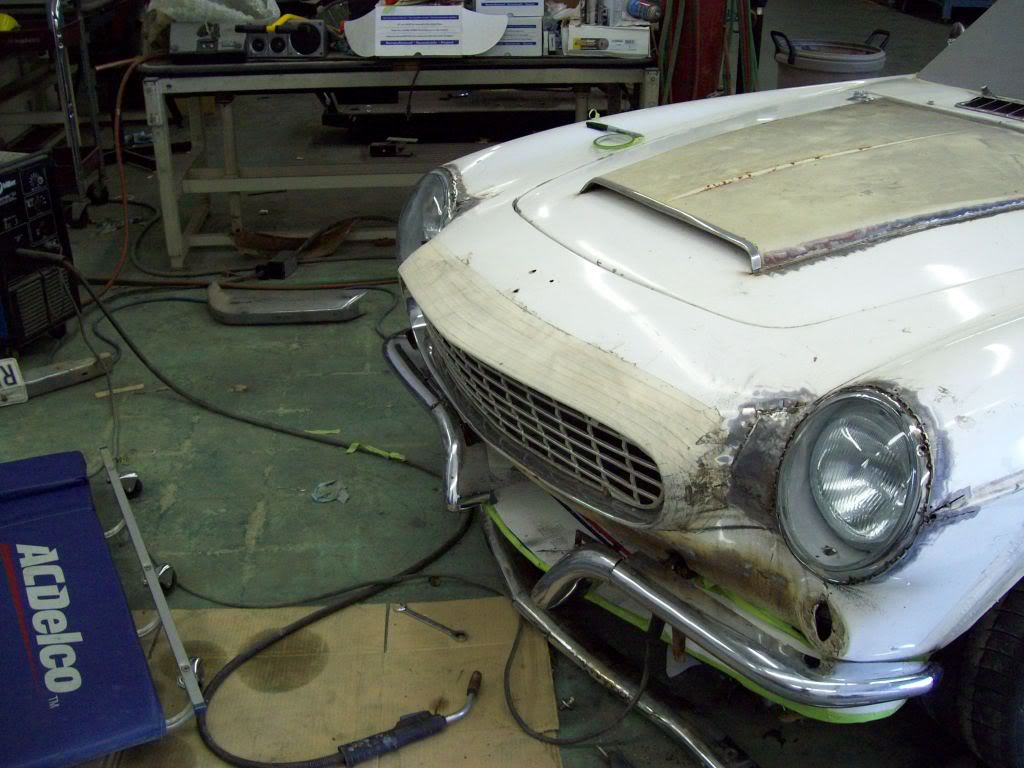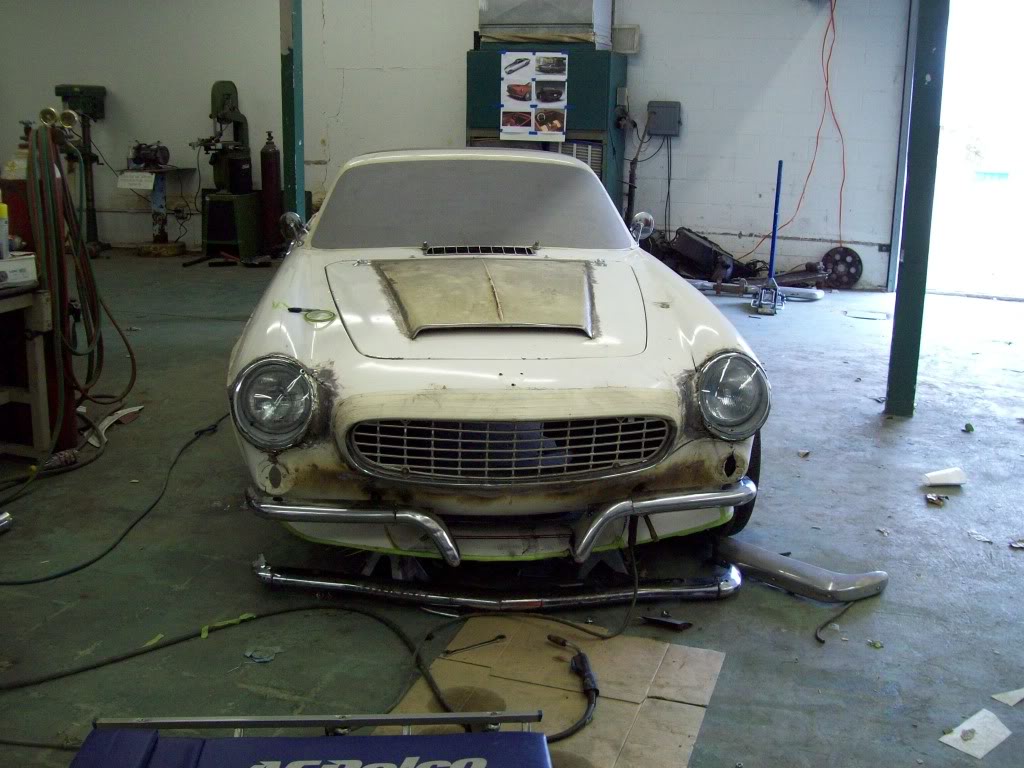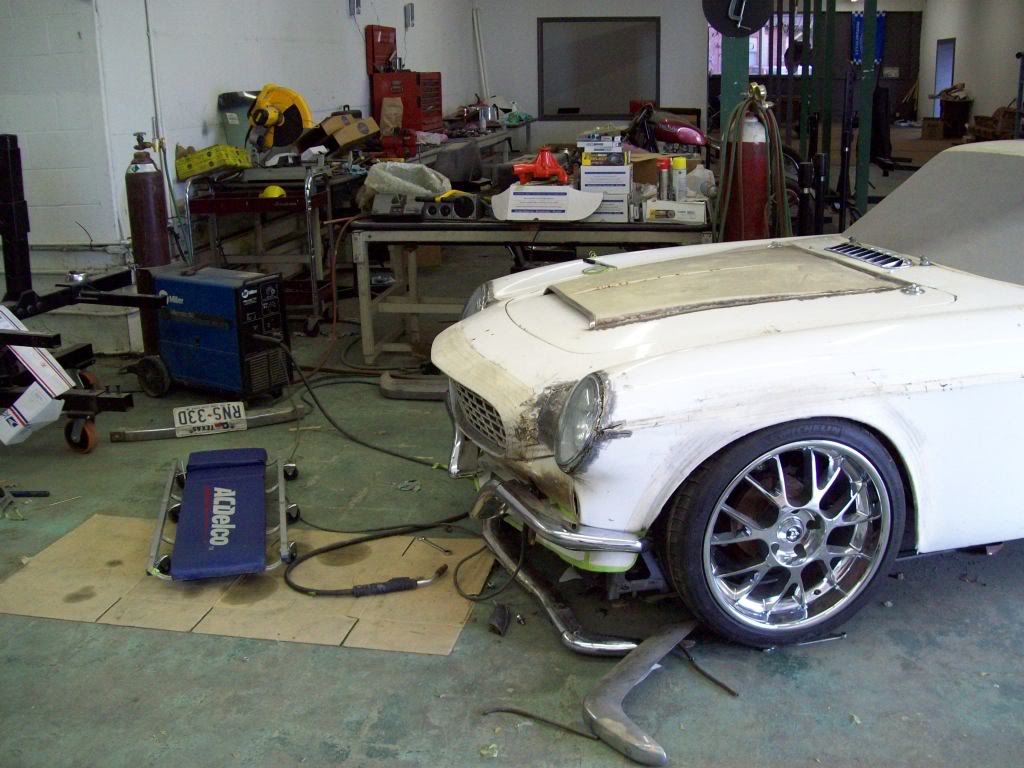 I havent given up yet.. LOL I am thinking maybe I can add this connecting bar to the Bull Horn Bumpers, and it will tie everything in and blend it to the grill shell and the air dam... Here is a rough in, it looks like it may have possibilities... I want this front end to work out to be the best possible blend in the Vintage/Updated category.. The profile of the bumper is starting to grow on me a bit, I know it is odd, but it bumper horns have the same slope as the headlighs, tie into the sloping windsheild, ect.. It also really makes the grill shell look agressive and stand out.. I may fine tune this a bit and send them both off for chroming, and see which looks best after paint.

I dont give up easy, because I dont want things to look like after thoughts.. I try to go out of my way to have things make a bit of sense, because nothing will piss me off more, than to be looking at the thing completed and say WTF was I thinking. I am never really satisfied with anything, it seems there can always be better, but you have to draw the line somewhere or it will never be completed... LOL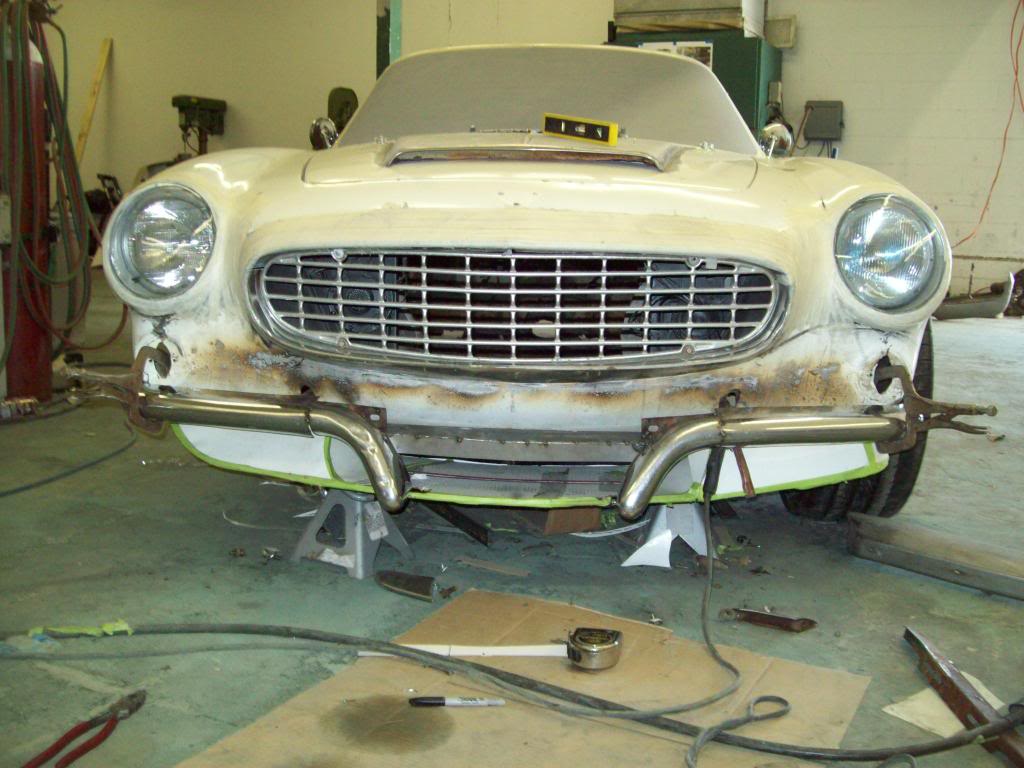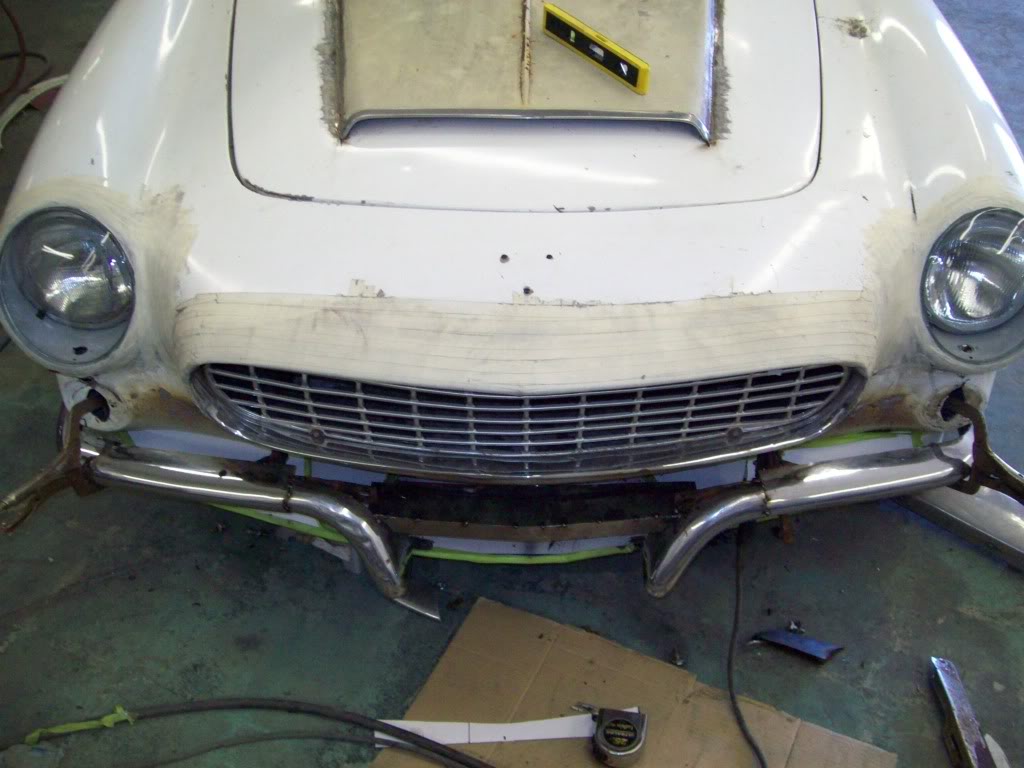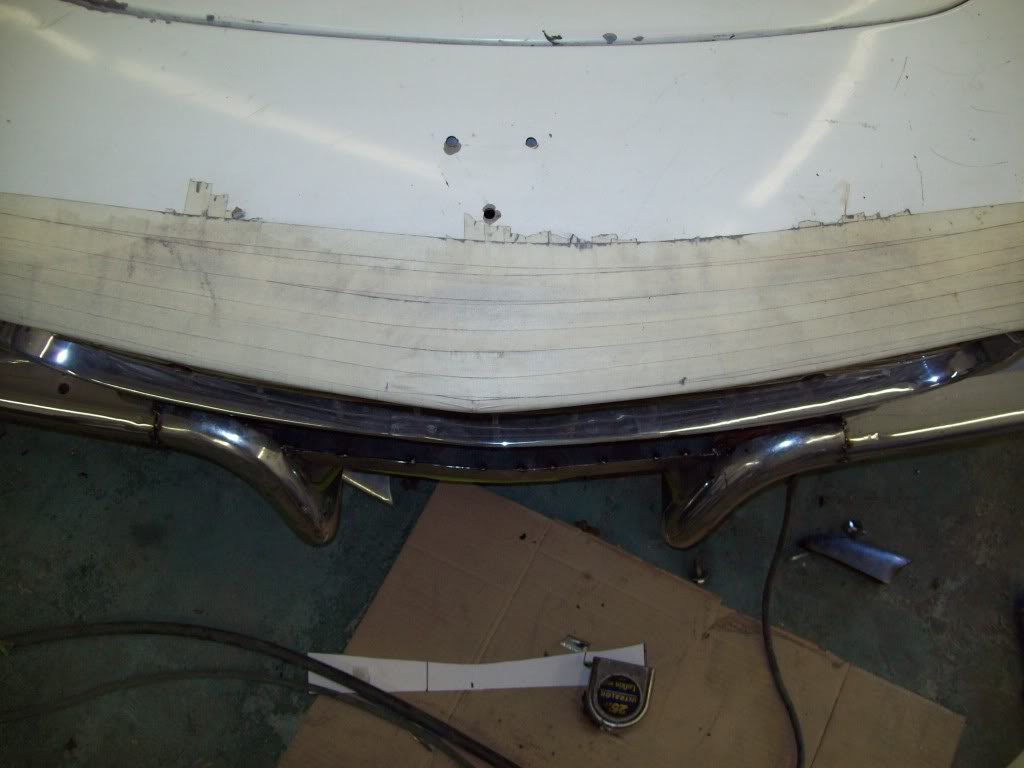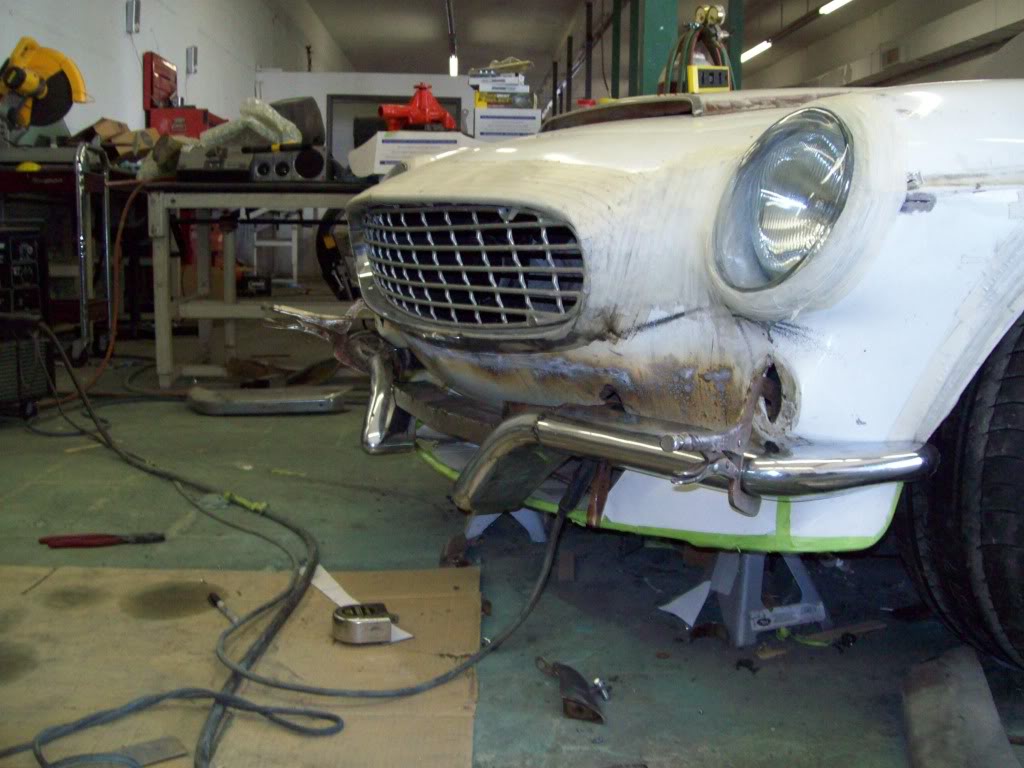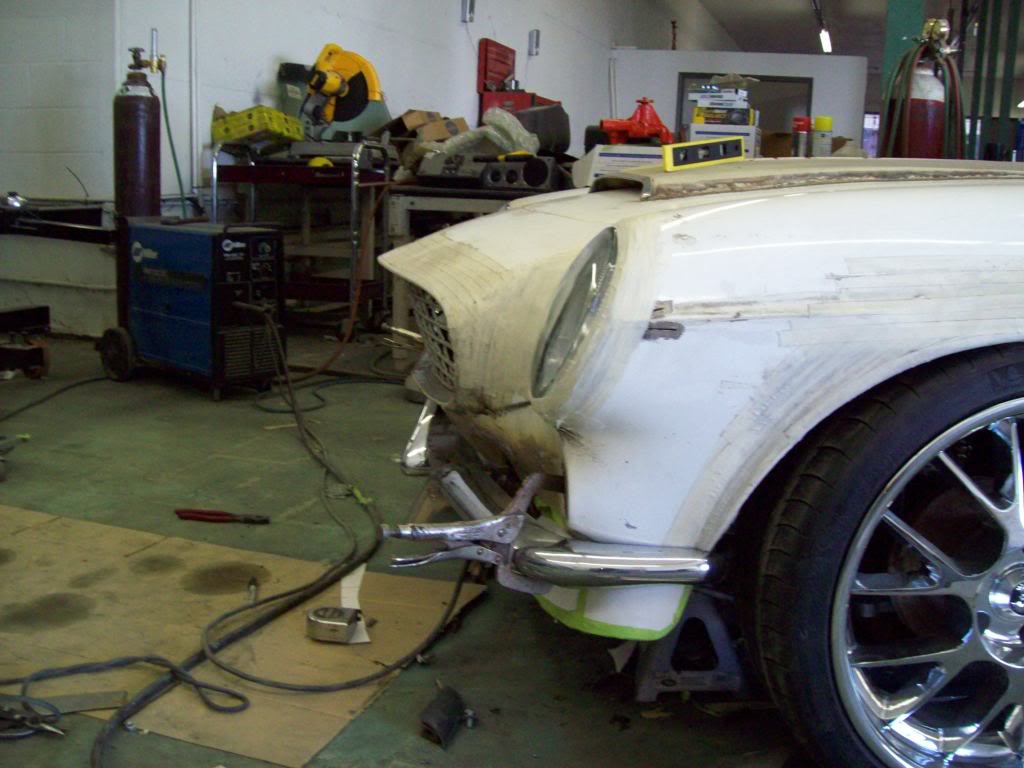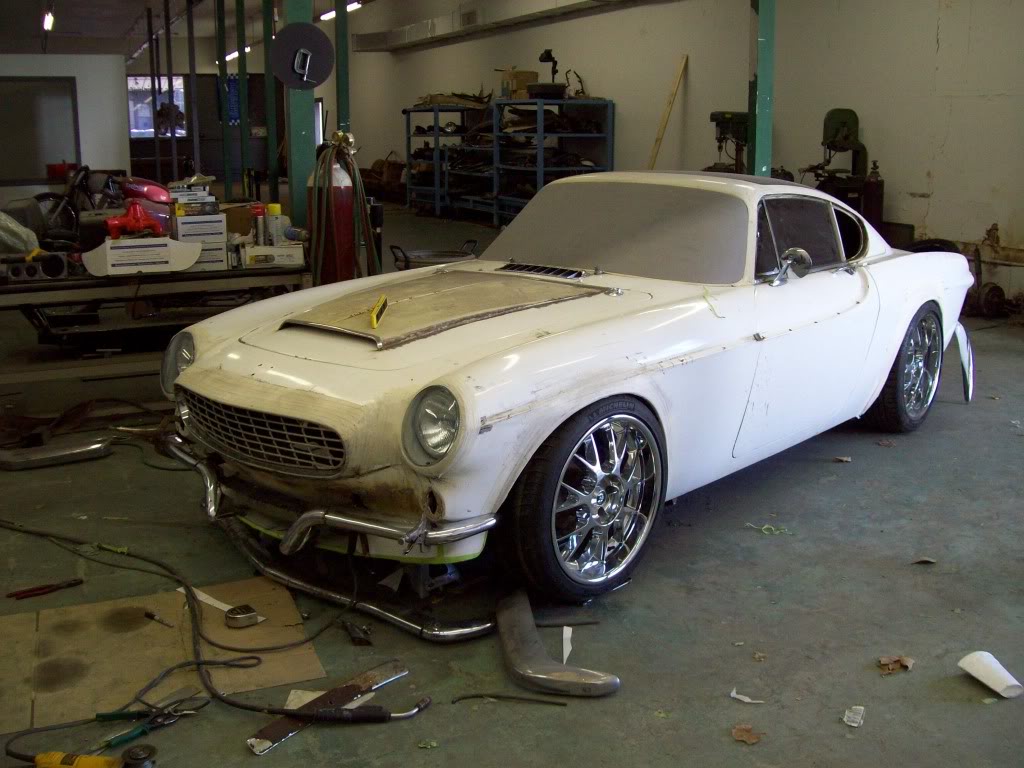 4-11-2011
I cant believe how hard it is to make an Air Dam/Valance for the car.. Now I see why there are so many of these cars not running anything, or something that is just plain hideous.. I have decided I am going to move toward the Bull Horn Bumpers, so I am trying to blend the bumper and air dam correctly.. I know guys have been suggesting all kinds of bumper styles (split bumpers, bumperettes, full bumper, ect) along with raising the actual bumper hieght.. I have included a few pictures of various bumpers and bumper heights, so maybe you can see the dilema.. This car is much more difficult in person, because you cant really see all the compound curves this body takes.

This has to be the hardest thing to figure out so far, who would have thought. I still have to do a bit of evening up and add a lip on the bottom, but I want to see it it will work first. If you notice, you can see the curving action of the airdam to match the body and bumper.. I am going to open the center of the air dam like I had mocked up earlier, but it will be a bit smaller to work with the bumper horns. Hopefully this will be my last attempt, let me know what you guys think proportionally and shape.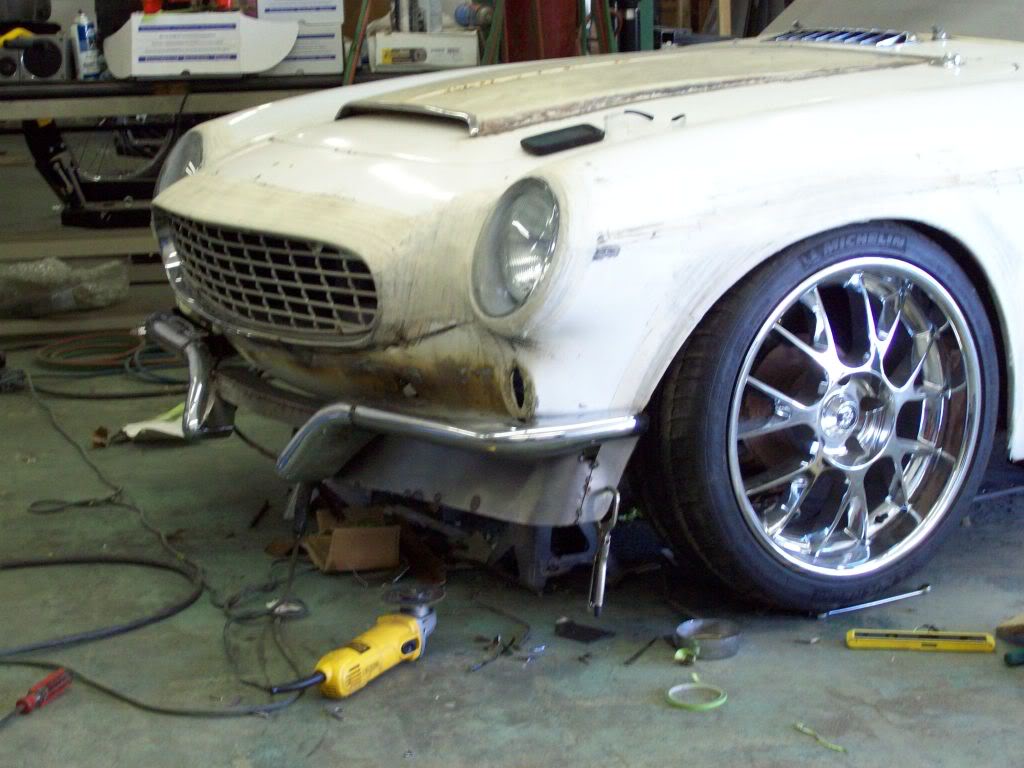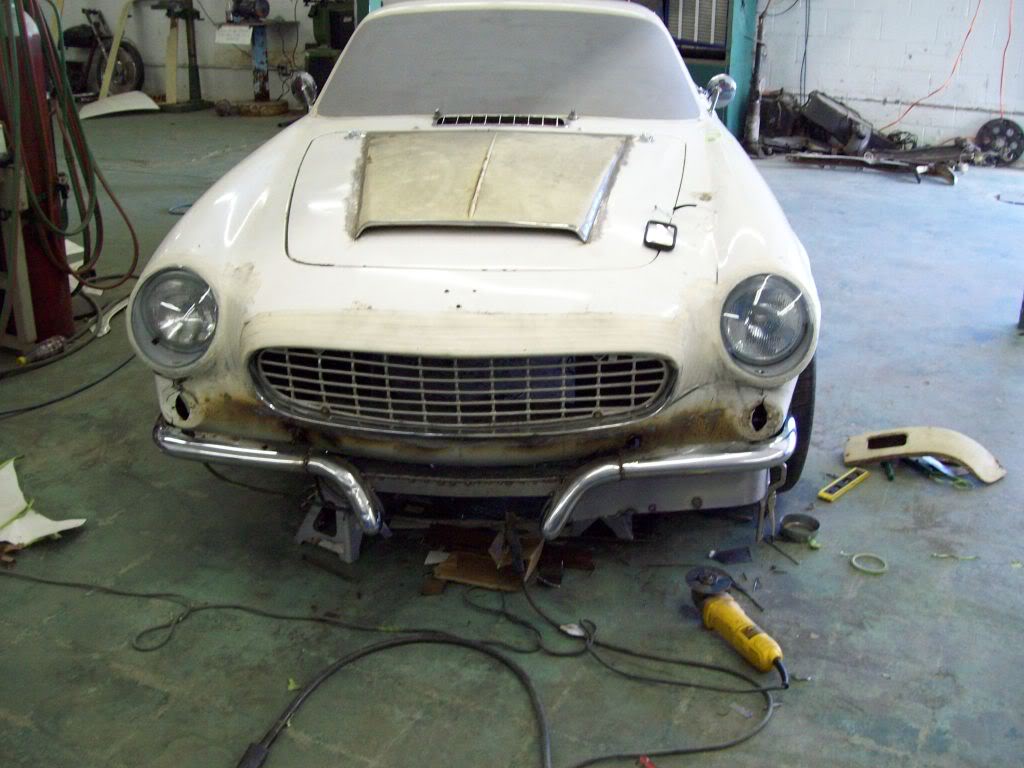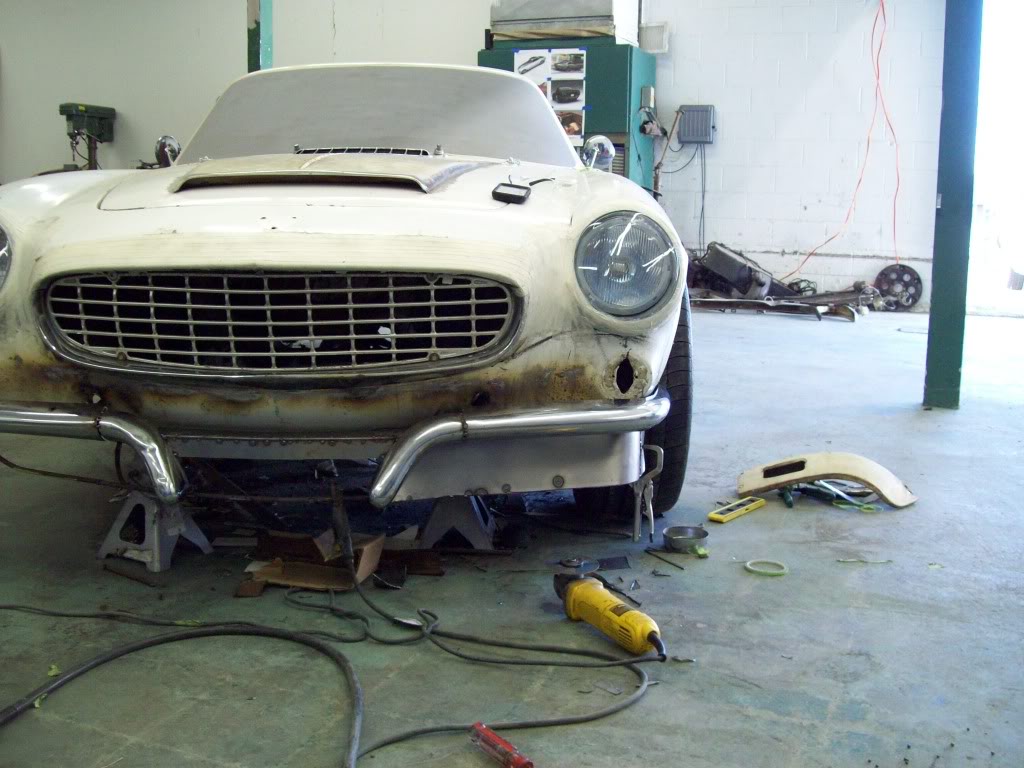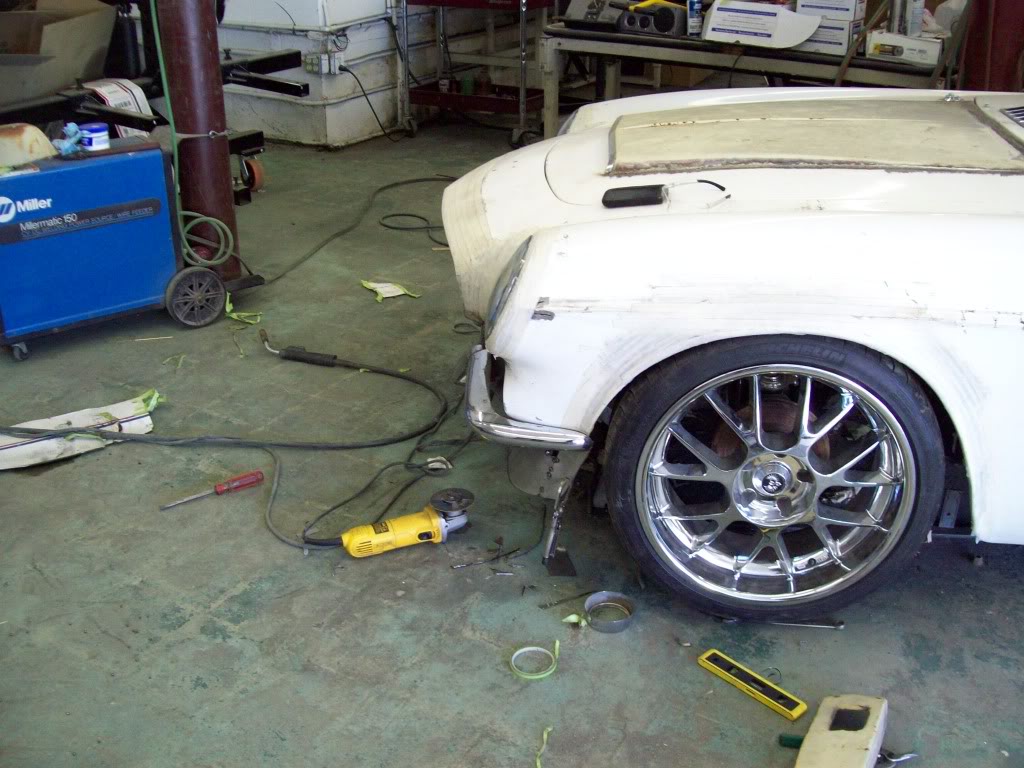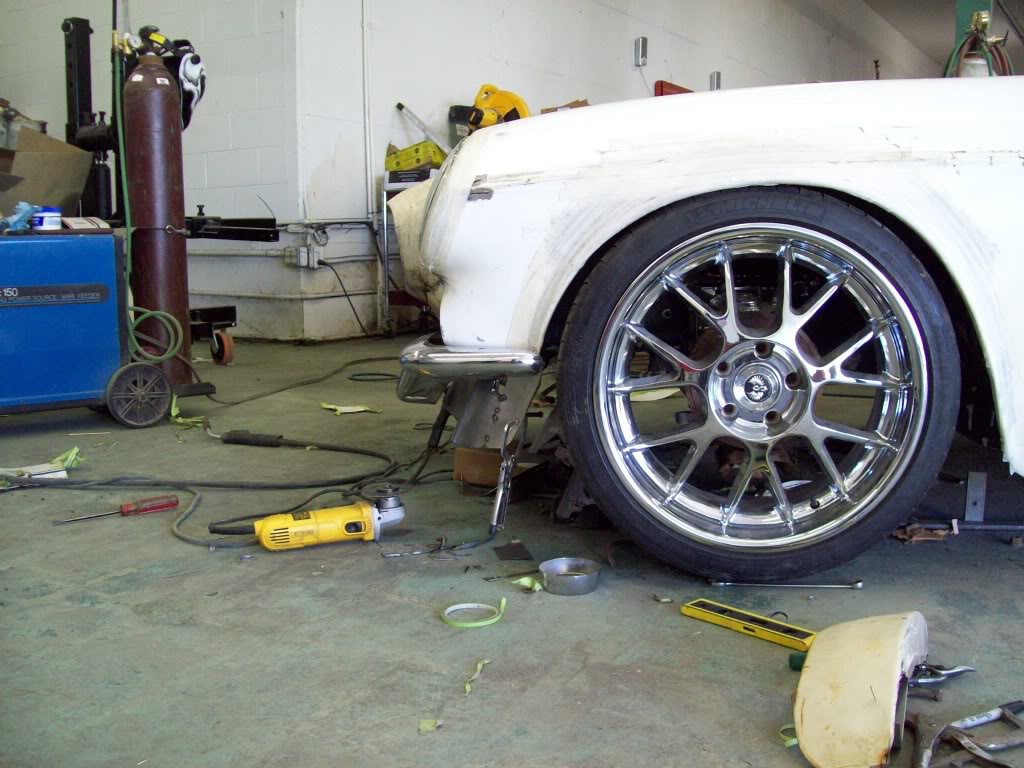 Here are some various bumpers and postions.. It dont really think any of these will work with the style car I am building. Alot of these styles have been suggested, and would look fine on track cars or racers, but I am trying to class this thing up a bit.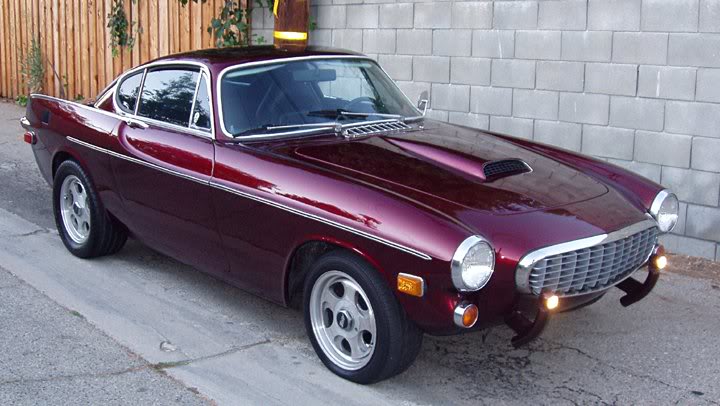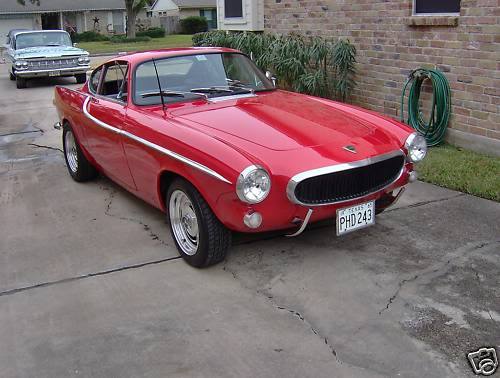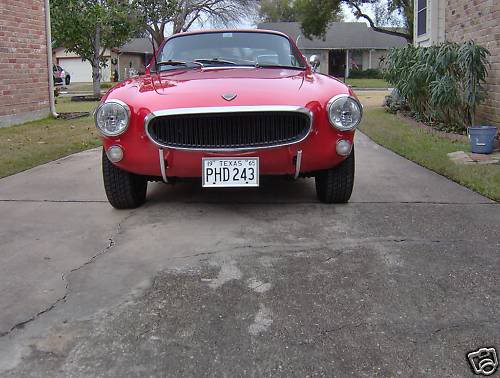 4-12-2011
Here is an attempt at making the Valance/Airdam work with the bumper and the nose.. It is just roughed in, and will need a bit of tweeking and centering.. I am thinking that it may also need a gradual upward plane as it goes out to the fenders, starting from the outer walls of the Air Intake. I am also trying to map out a cut out for a brake cooler on the outer part of the valance, and this should also eliminate some of the bulk and also bring it closer to blending with the Rendition theme. Hope this works, because I am really running out of options here.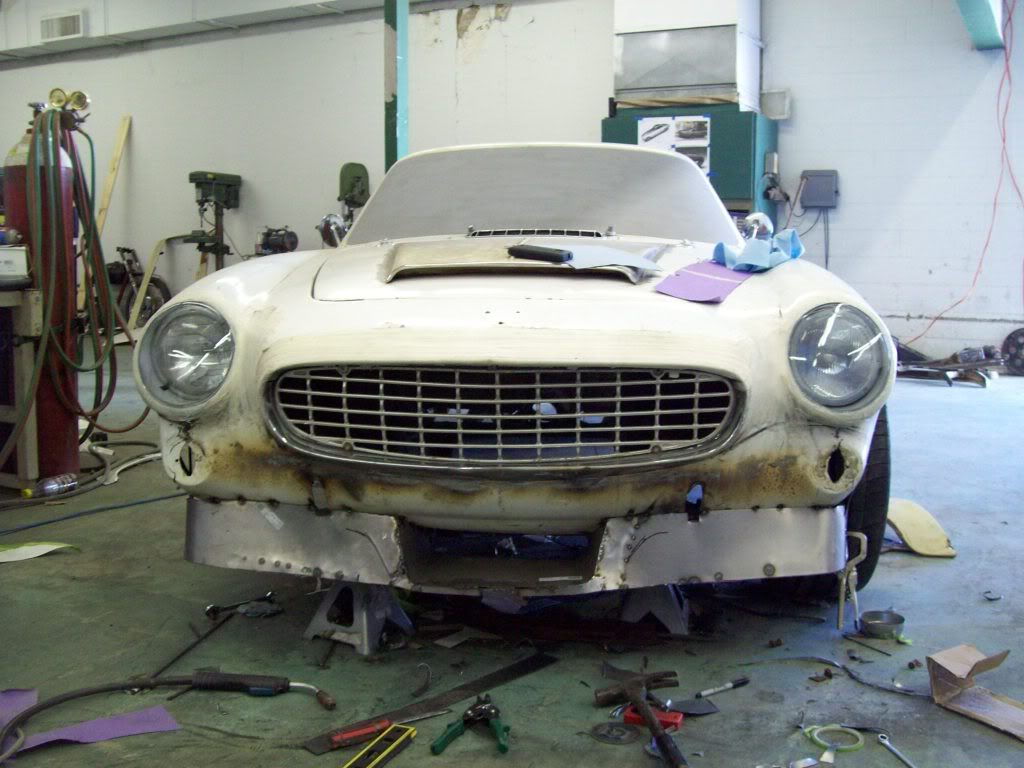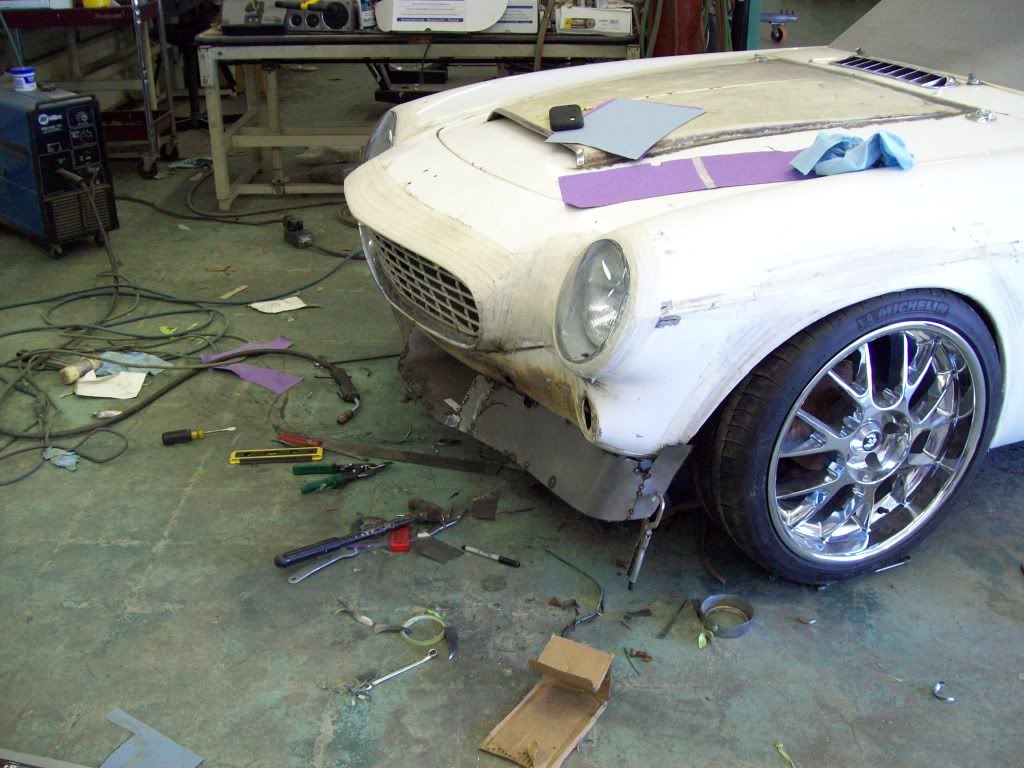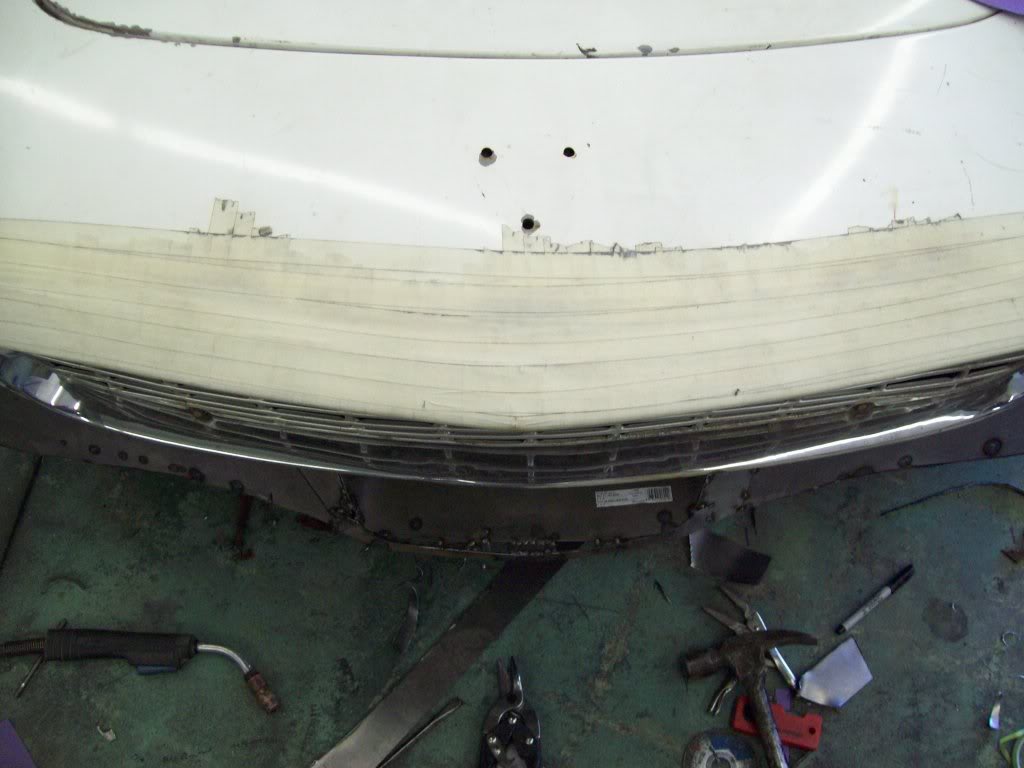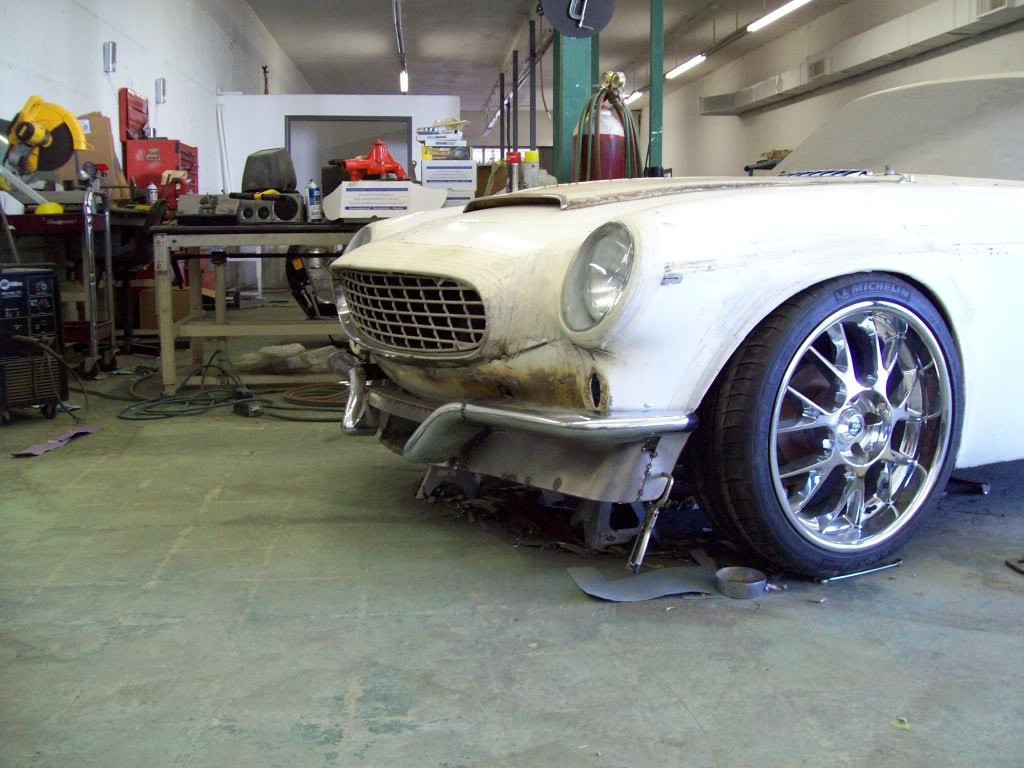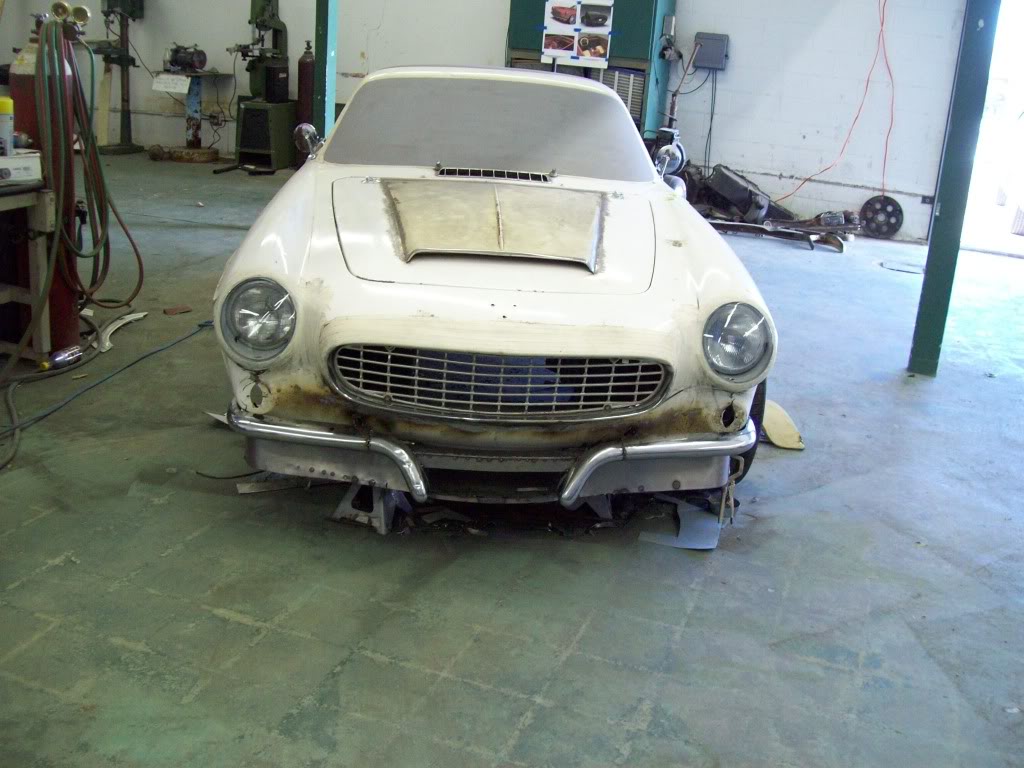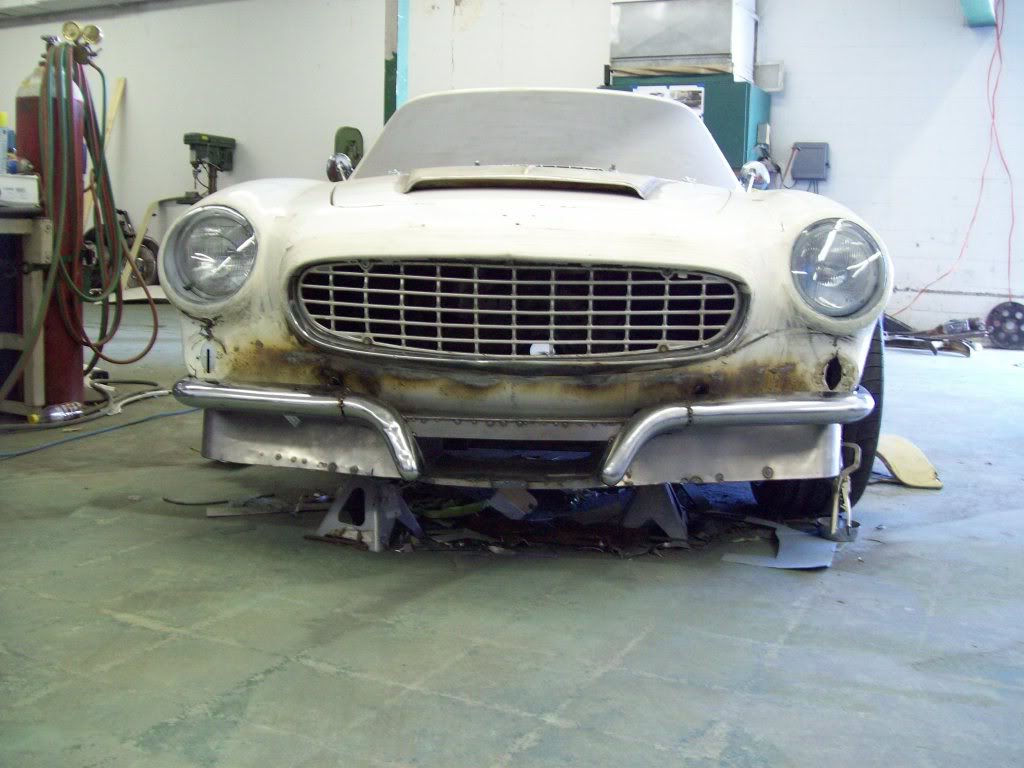 4-13-2011
I would lke to keep it simple, believe me, but that Ferrari has totally different lines.. Plus the grille position is way off, so the bumper options are totally different.. Unless you have this car in front of you, it is hard to imagine how complex it really is. Obviously the P1800 was not meant to have bumpers in the design phase, and they were after thoughts during the actually manufacturing. It is such a beautiful body with complex compound curves, but there are some severe design flaws with the accesories to the body. The wheel arch position doesnt make any sense at all, the fact that the inner wheel wells are so tall but they let the actual wheel arches affect the ride hieght, doesnt make any sense at all. Take a look at the wheel arch postion right now, along with the ride hieght, and tell me that the factory arches arent in the wrong position and doesnt affect proper wheel clearance and ride height.

I guess what I am trying to explain is, until you actually break this car down and compare it to others out there, you dont really see how far out some of this stuff affects the overall flow of this car. Dont get me wrong, this car is beautiful and unique from the factory, but that doesnt make it perfect in every way. LOL
Here is the MASKING TAPE UPDATE. I have to do a bit of centering and finishing edges, but I want to make sure the concept looks right before I go through all the trouble. I am considering bringing the bottom to a slight upward plane as it moves toward the outside. I figure is should start on the outside of the air scoop, then move outward and upward from there. I will also be adding a bottom lip of some sort, and this should give a final finishing flat outline. And the side profile will be a continuation of the wheel arch lip and flare, which should give it nice transition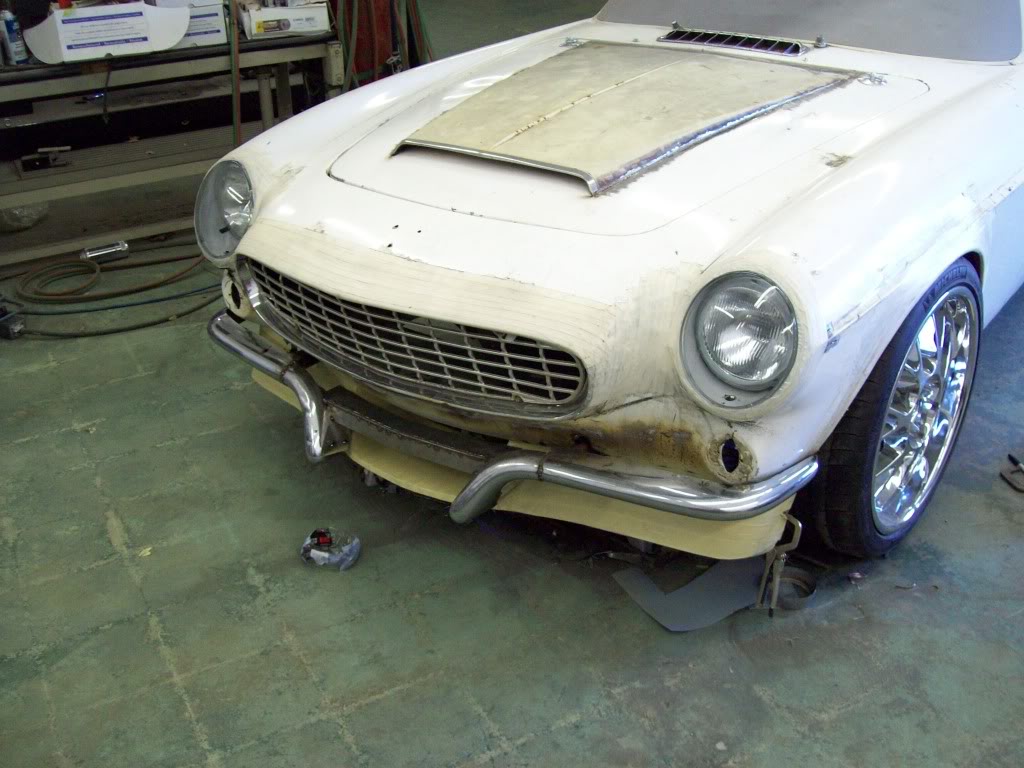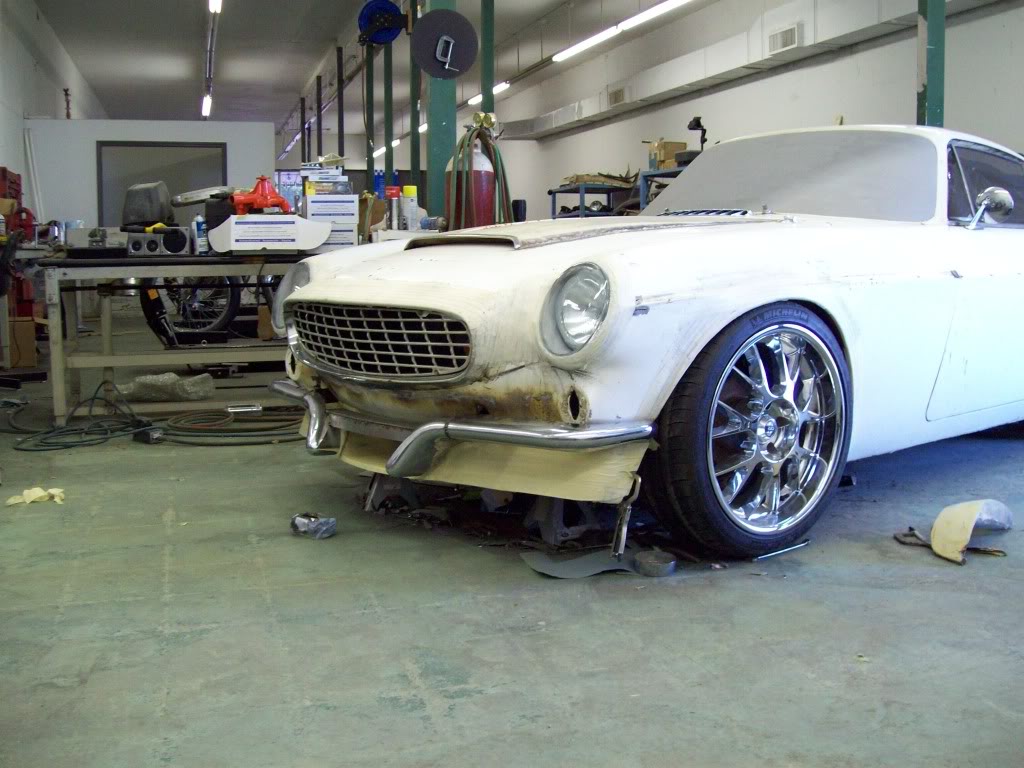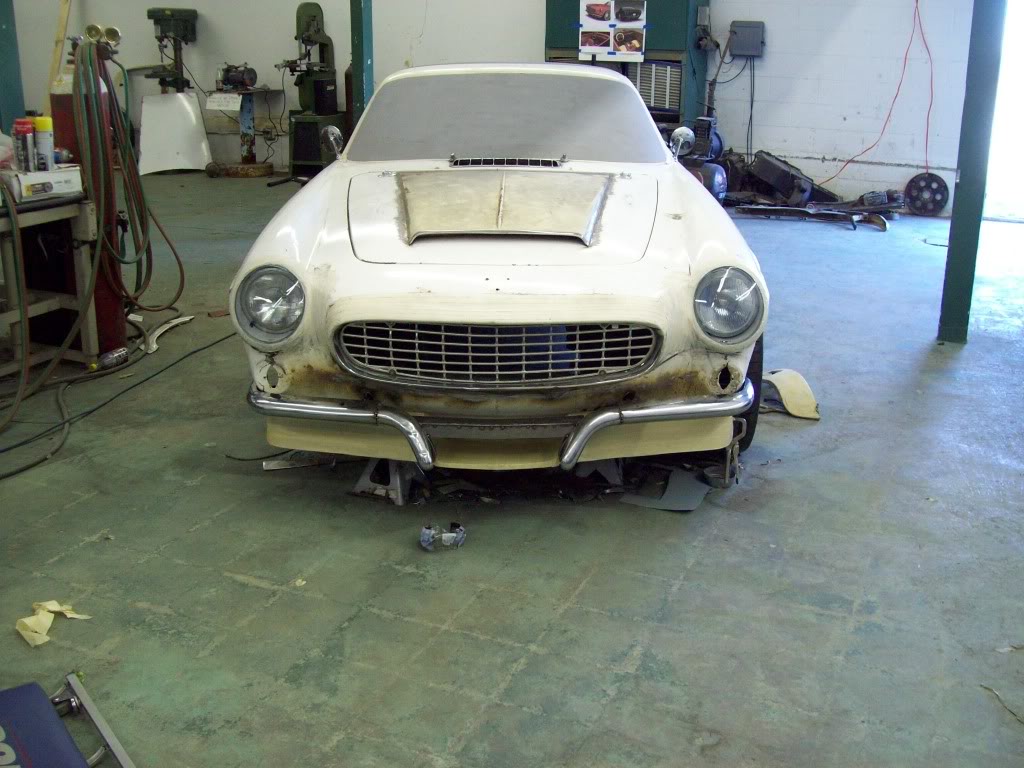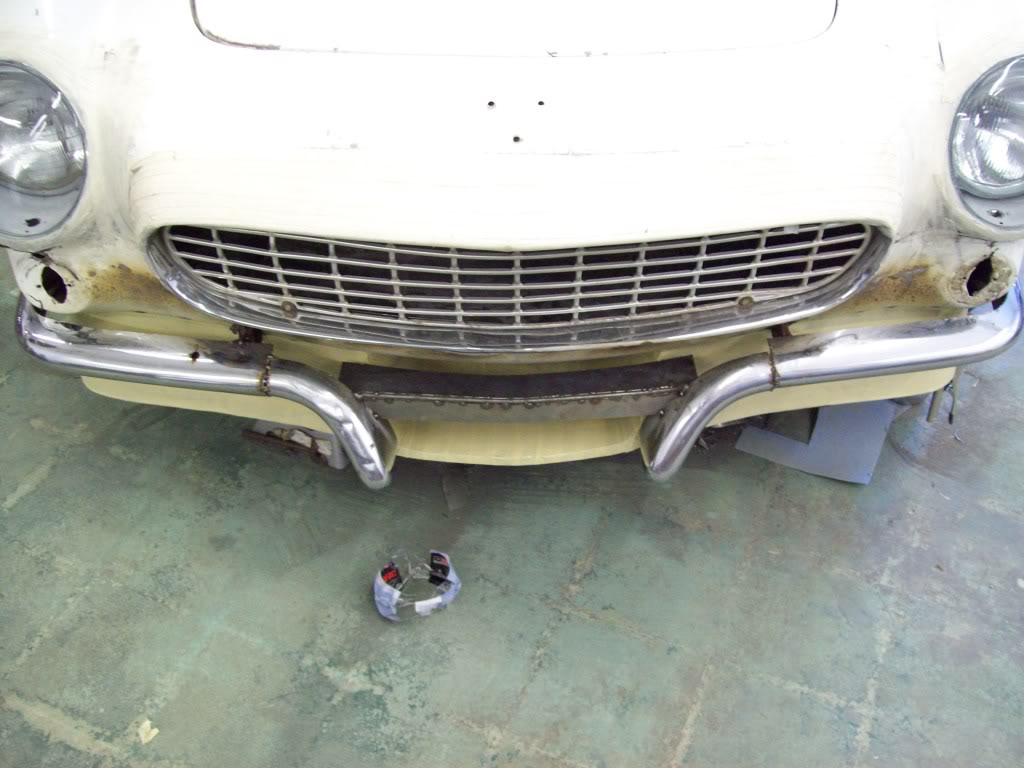 4-15-2011
Here are a few pictures of my first fender to air dam blend... Kind of curvy, but I think it fits the car.. I will be working with a couple of other variations, and I hope it isnt as difficult as the actual airdam was.. Dont pay a whole of attention to the purple stencils, I am trying to use them as reference points for the brake vent holes.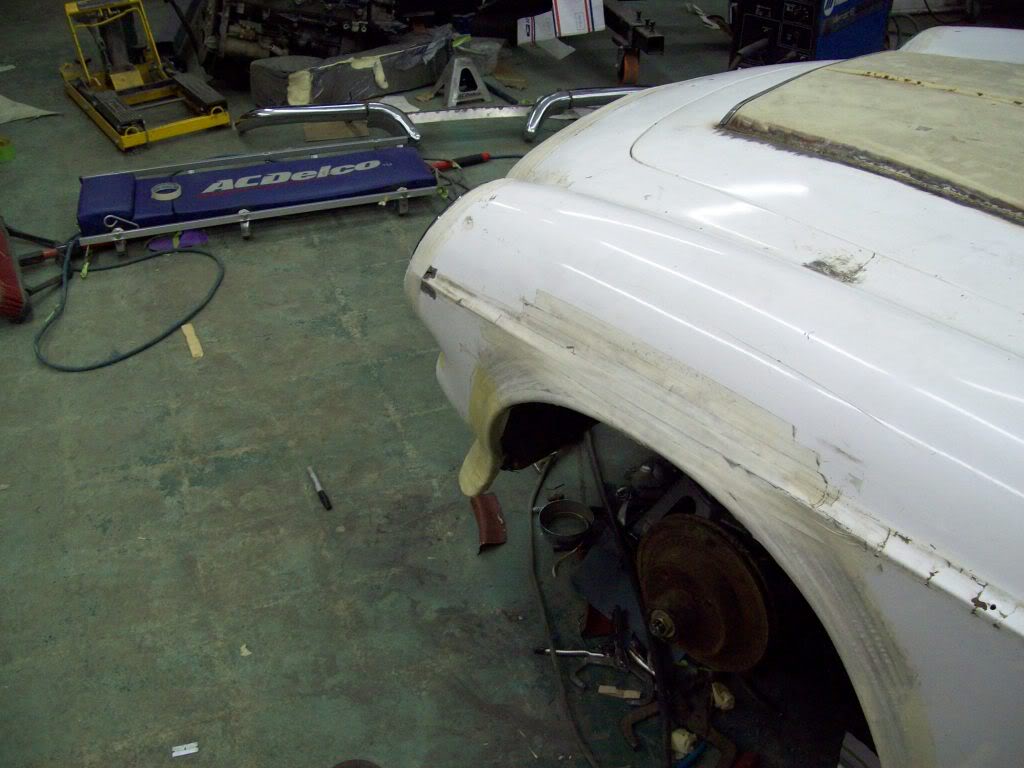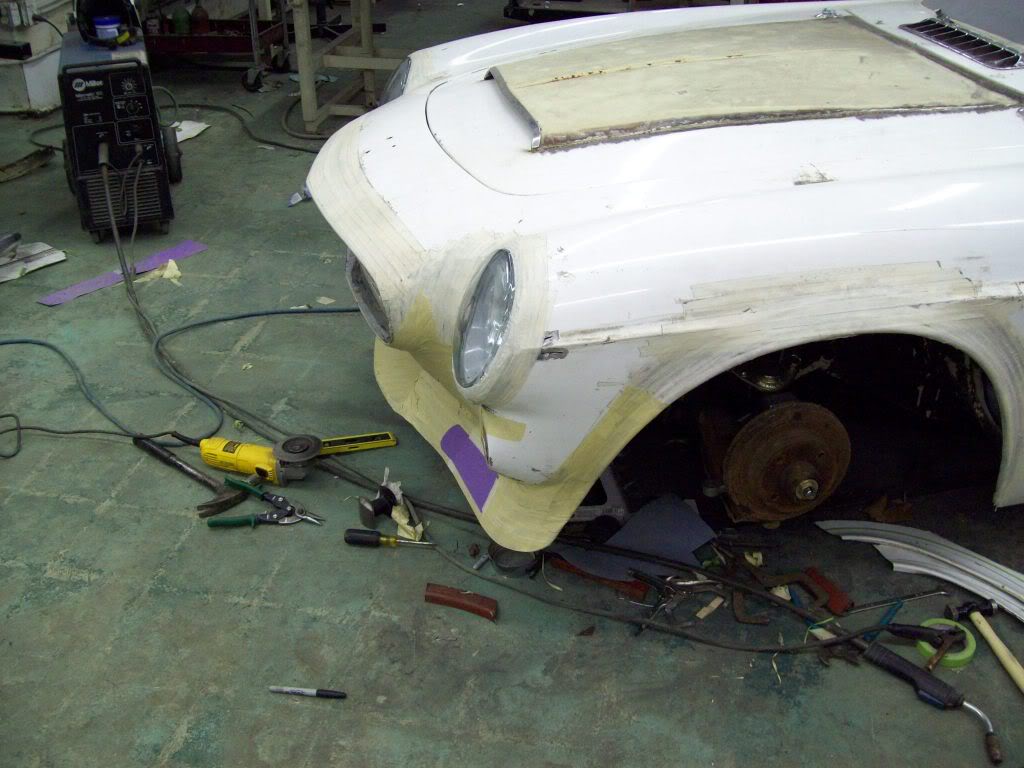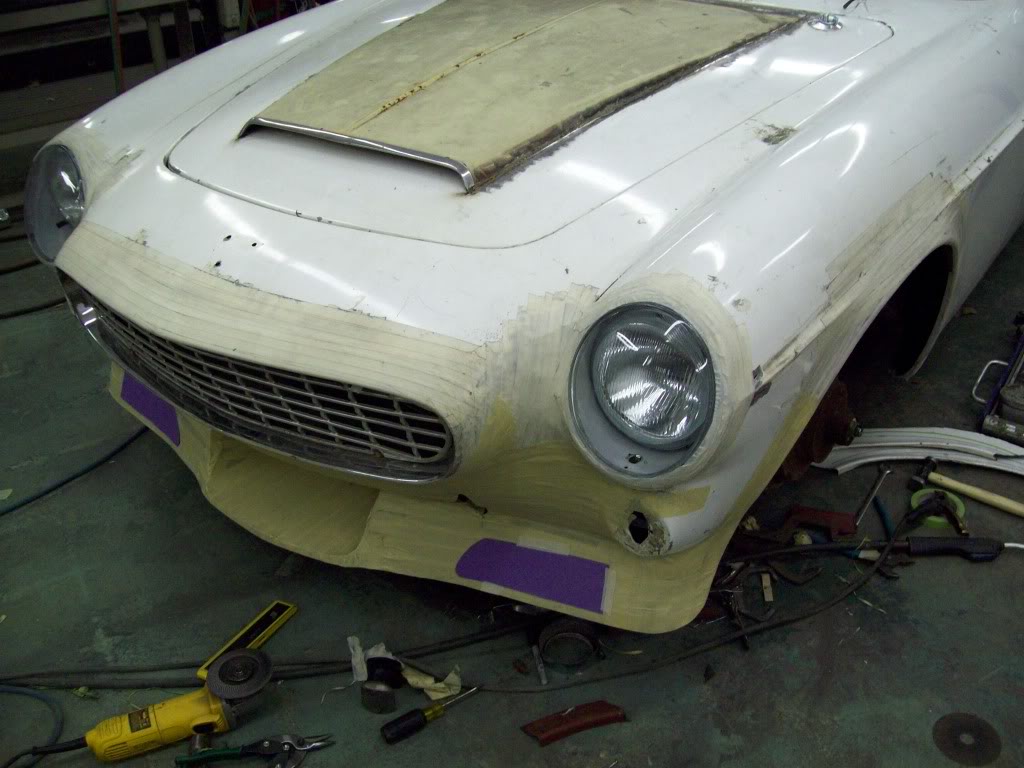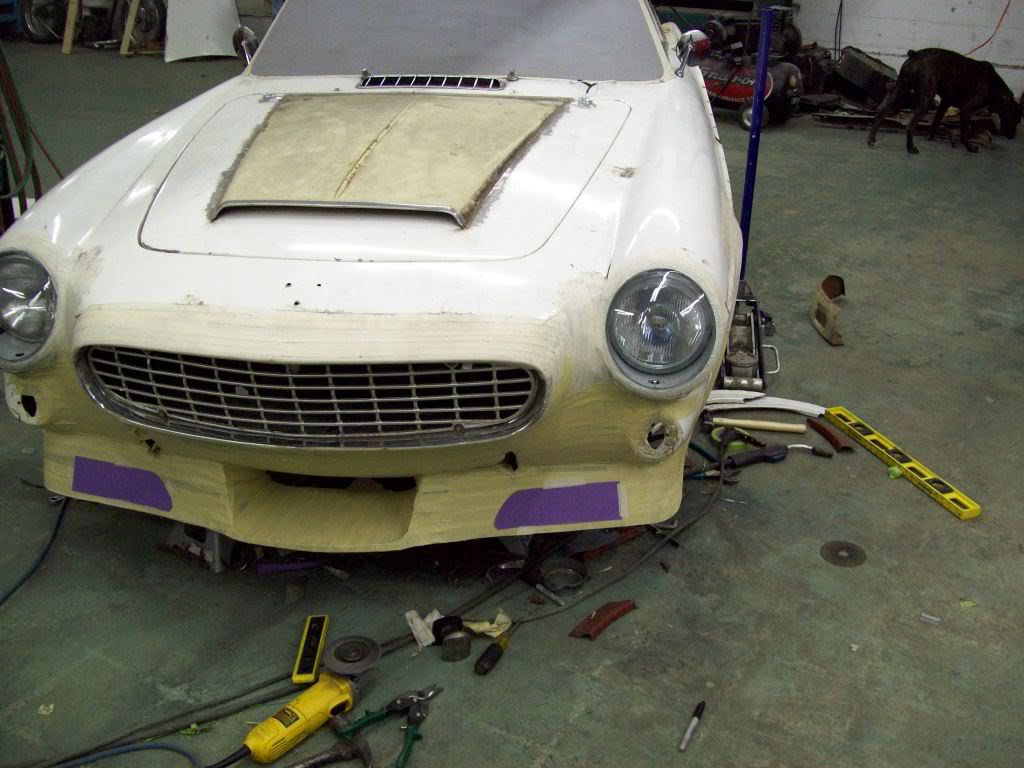 Here are some pics with the bumper installed.. I also tried Narrowing the bumpers a bit, I think the bumper shop can take it from here.. I really just collapsed with with a bench vise to the smallest thickness I can go, it did make a difference.. You may see a bit of difference between the drivers and passenger side, because I pushed the drivers side a bit more than I did the passenger.. The passenger has about an inch less overall thickness than factory, so the drivers is a bit more.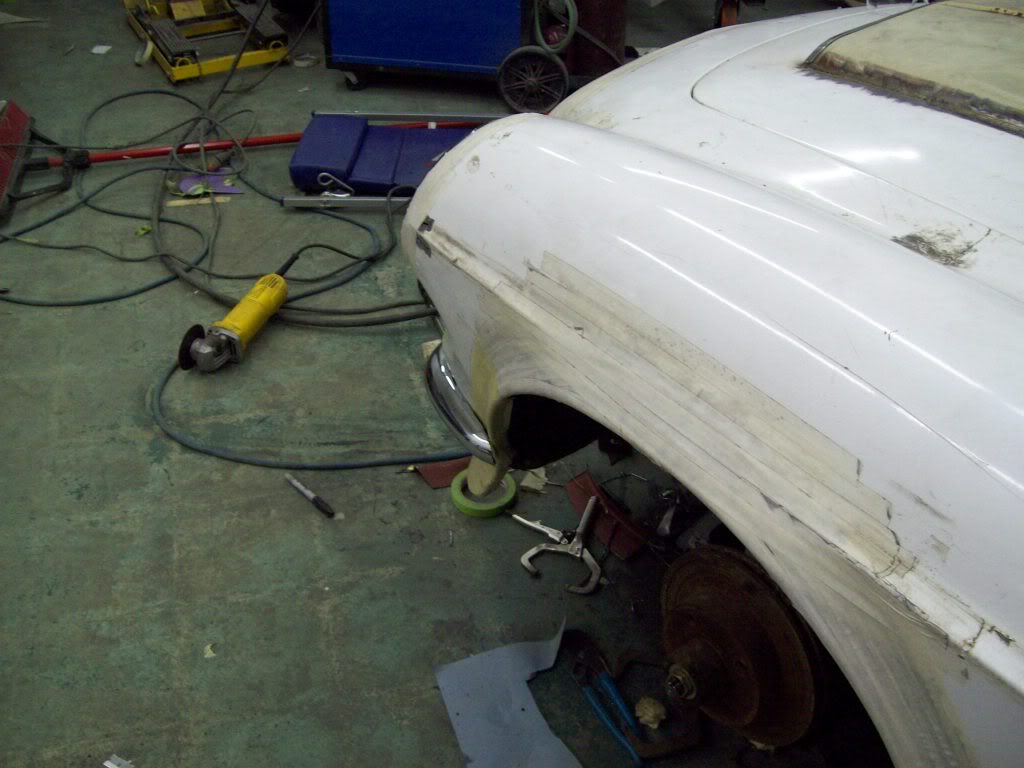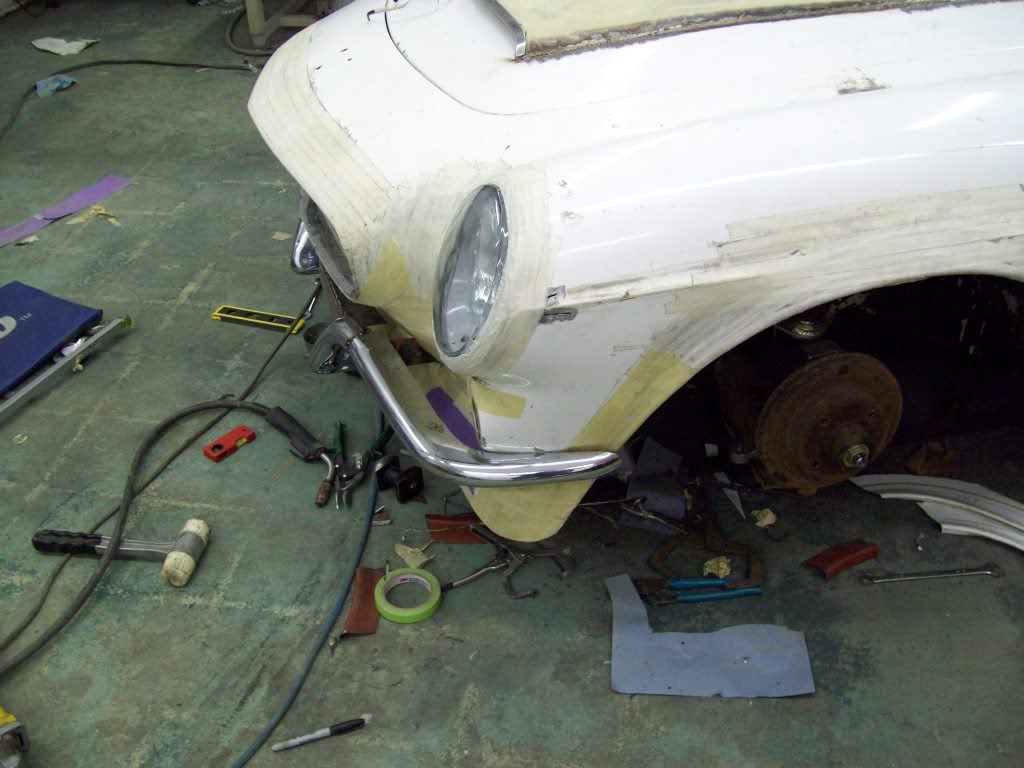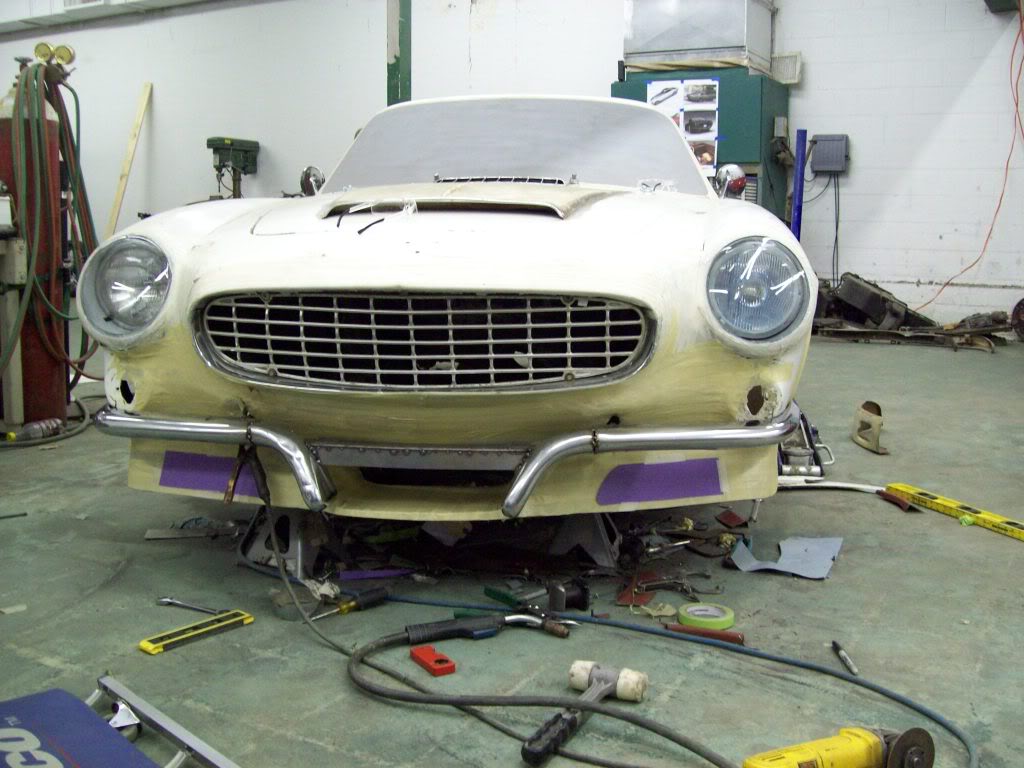 I am sure you guys are getting tired of the Front End updates, so here is a bit of suspension. I got my lower control arms in today, so we are back to trying to get things where they will work out.. Once I get everything where it fits the car, We will start all over and have a clean and workable product that supports readily available Mustang II components.

We trying to make a crossmember kit that is a direct bolt in, there will be no Welding or cutting involved to any of the body or unibody frame work. This should make a nice kit for the Novice builder that would like better handling and more engine options if wanted. These kits will support the original Volvo drivetrain also, but will allow it to sit in a lower postion if desired. My Ls1 V8 actually sits lower and further back than the original Volvo 4cylinder motor, and this is with No ground clearance issues.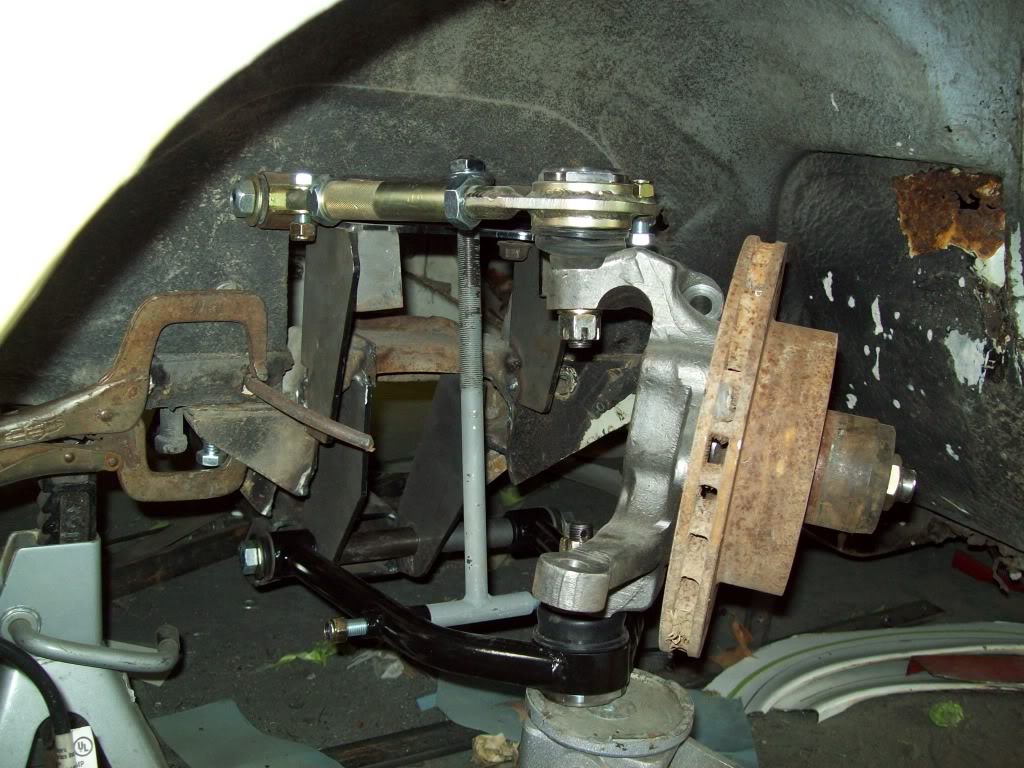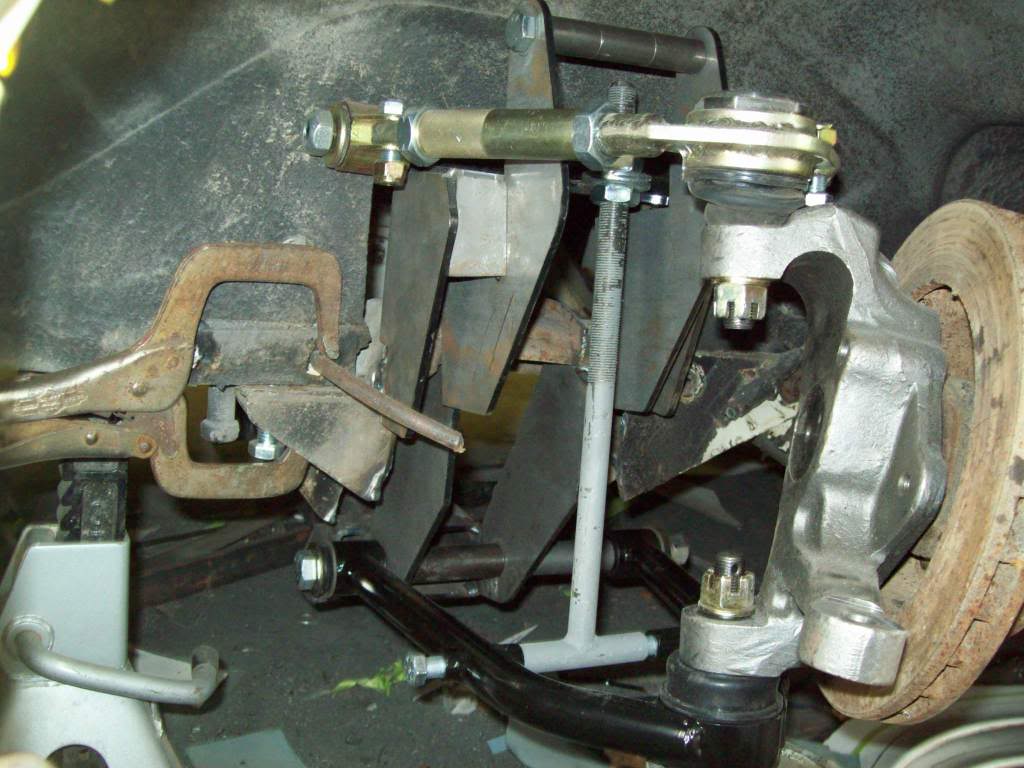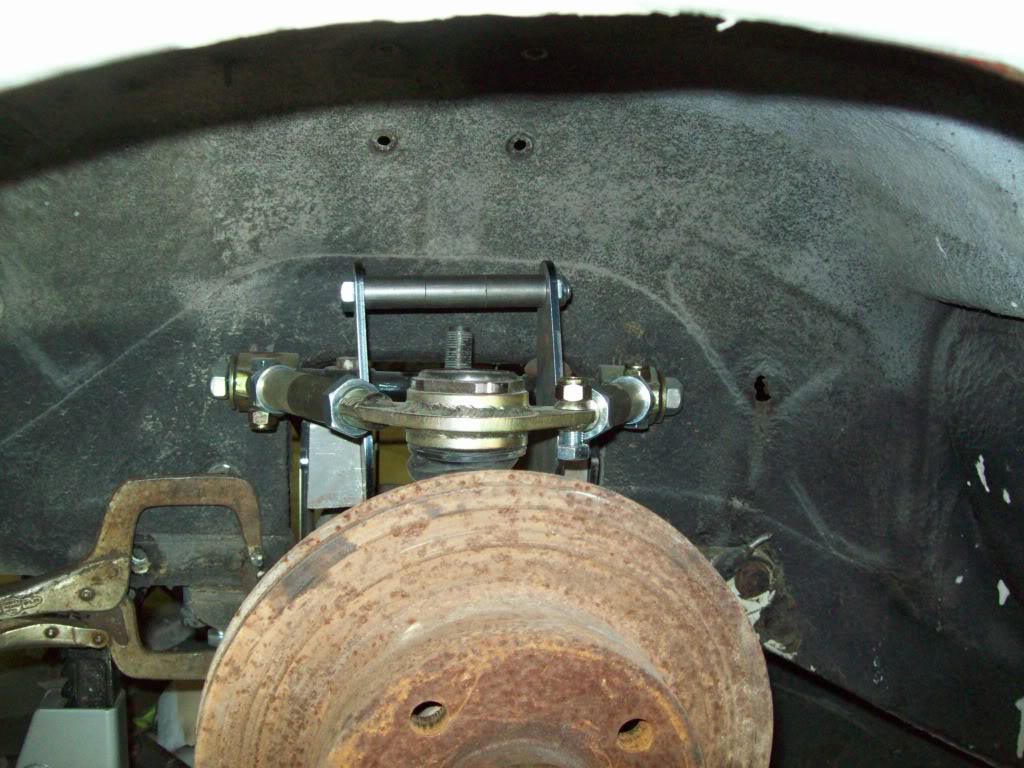 4-16-2011
I can promise you, the Geometry will be better than the factory Volvo... LOL Paul Horton Welder Series offers quality products and these kits will be engineered to be best that can fit under the factory chassis without butchering. We will also be working on New Adjustable 4-link arms and coil over mounting bar attachment, which will allow proper rear adjustment and bigger tires due to the elimination of the coil springs.

Another project that I am working on with a reputable company, and will be announced later, are custom gauges that will fit in the existing gauge pods.. The gauges will probably be offered in the orignal face and a tasteful custom retro pattern. They will also be easy to hook up electronic models.. The Speedometer will be operated by Acutal GPS, and or mechanical/electronic conversion, which will eliminate the speedo cable problem and innaccuracy's.

If any of you guys in the in P1800 Community would need any parts of this build, let me know, and I will see if I can get it produced for you.. These products so far, with the exception of my glass kit, are being handed off to the seperate manufactures for production, and the level of production and risk is based off what they feel comfortable with. This is the time to get something done if any of you see the need, so please discuss it and give me some feedback that I can encourage them with. The P1800 lacks so much in parts support, aftermarket or factory, that it affects the value and interest in the car.. I am not personally producing any of them with the exception of the glass kits, it would considerable expense, so I would rather convince the individual manufactures there is an untapped market.
4-20-2011
Ok, we finally have a bit of an update.. I remove the pieces of the front end and starting putting together the mock up unit for the manufacturer.. Please keep in mind, I will not be using this unit, this is just being used to get the mounting of all the components and get the geometry right.. It will be completely made from scratch after this, so I havent taken alot of care to fill in the blanks.... ha ha

After the actual piece is made it should bolt right into the body using the existing holes, and be totally self contained all the way to the Coil over Perch's.. I still have to add them, but I need to bolt it back up to the car, so I can determine the perch location at ride hieght.. There appears to be plenty of room for a Conventional Coil Over sitting at about 12-13 inches neutral position in the ride height position. I am guessing that will allow more than enough suspension travel.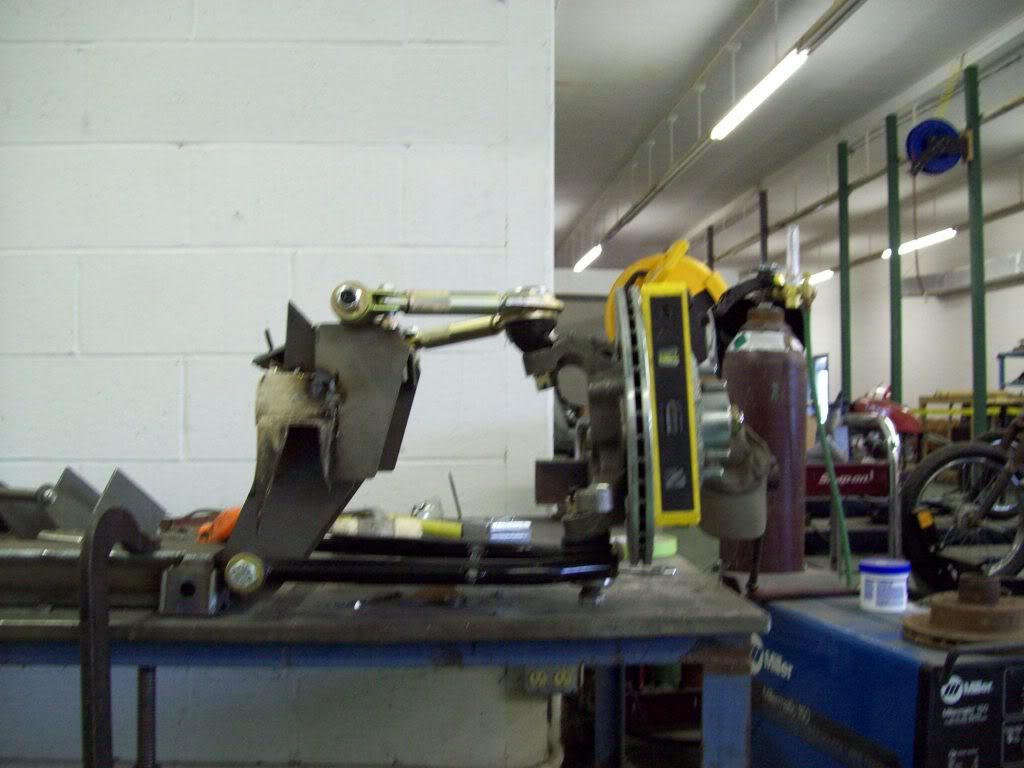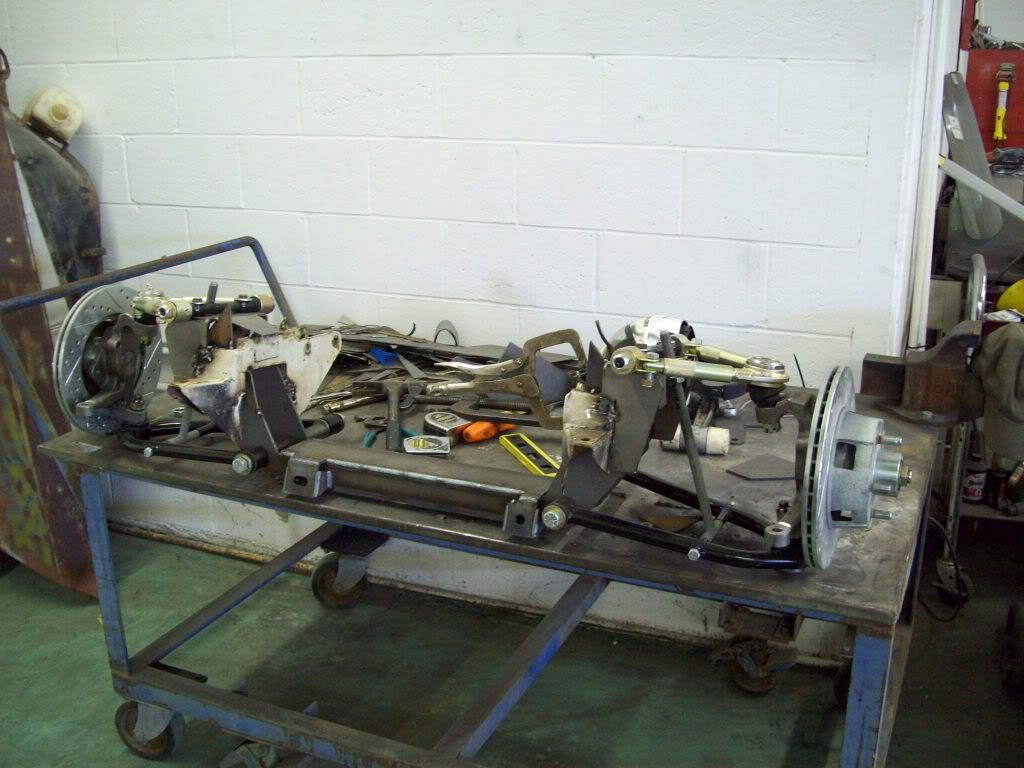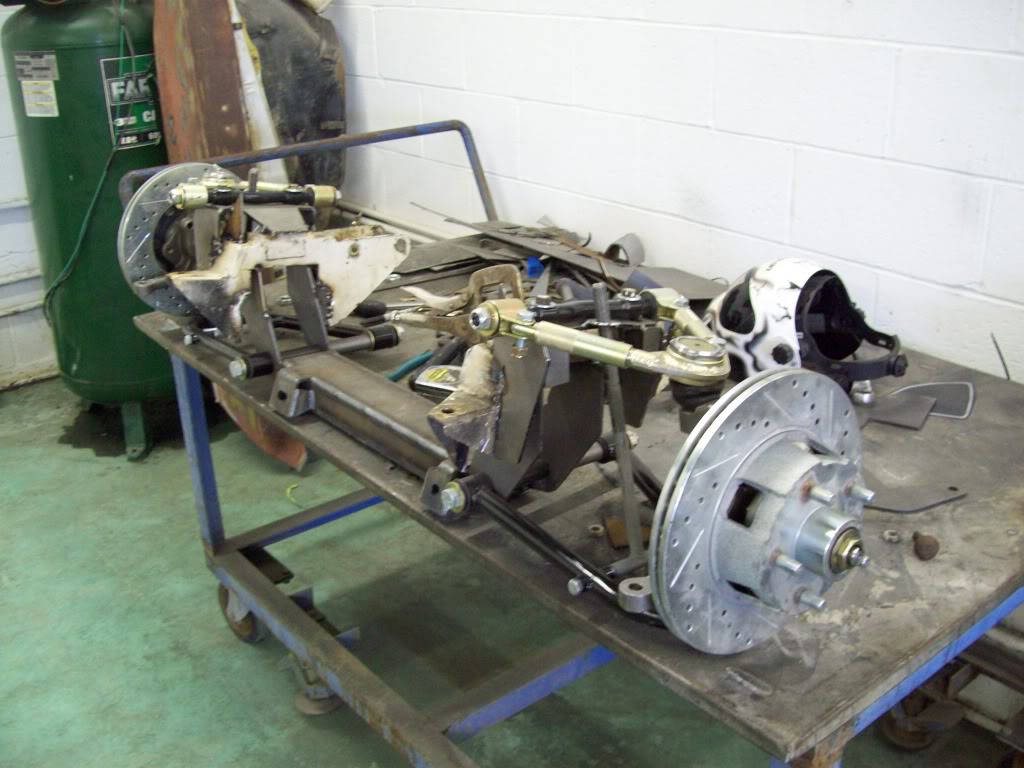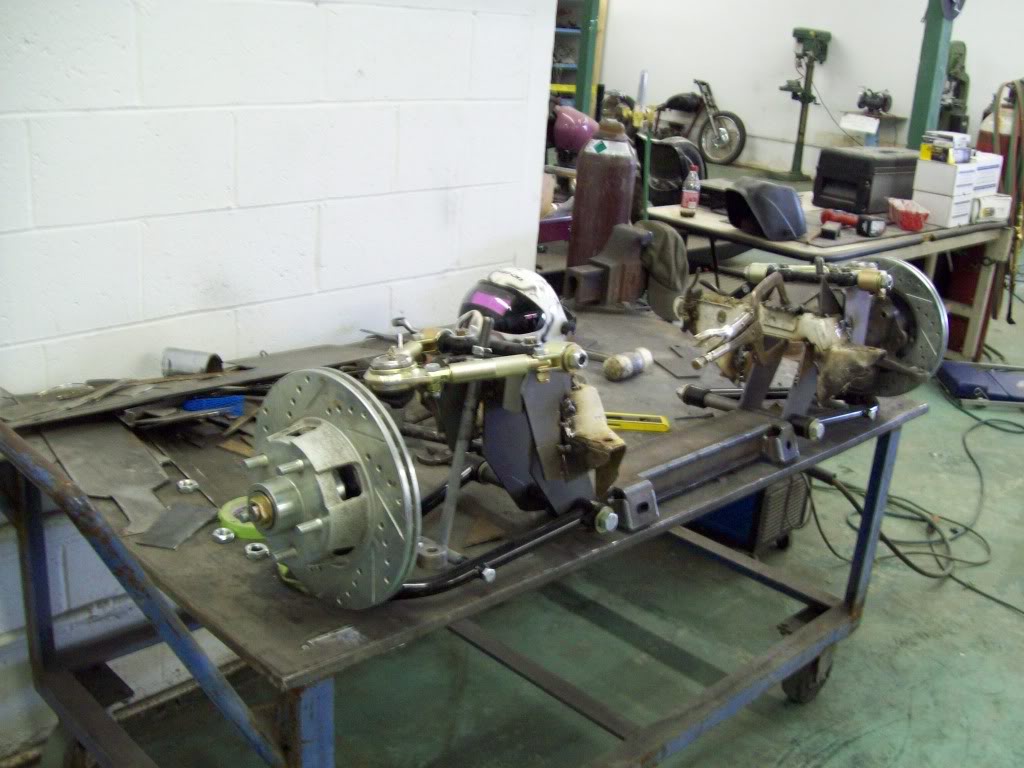 4-21-2011
Well, I finally got the Volvo set on the ground, it got dark, so I couldnt roll it out in the parking lot for pictures. The front end looks like it is going to work awsome, and it really opened up the engine bay.. It literally just slides under the car with ease, so I think it will be something a novice can do without a whole lot of issue, once the kits are offered.

My firewall is cut, but it isnt necessary.. I had to cut it for the 2jz Supra motor, that is why I am going with the LS1. We will have some engine stand that will support the factory Volvo motor in the crossmember.

I also see the Air Dam is going to have to be dialed in a bit, that is why I really want to roll it outside for a real world perspective.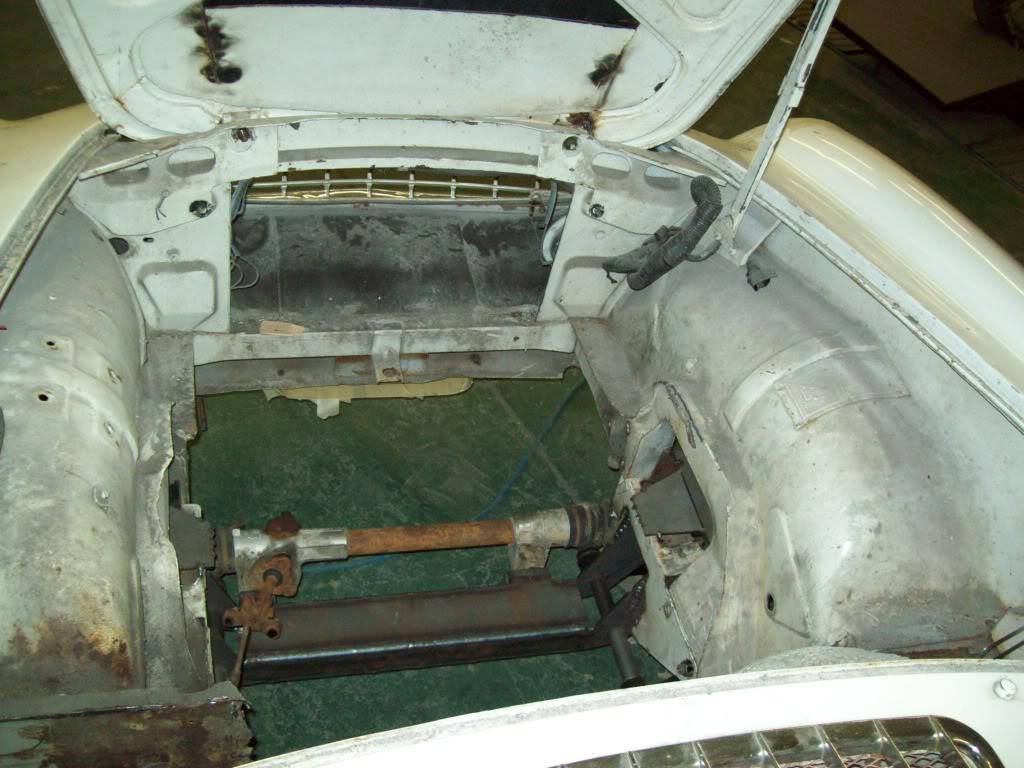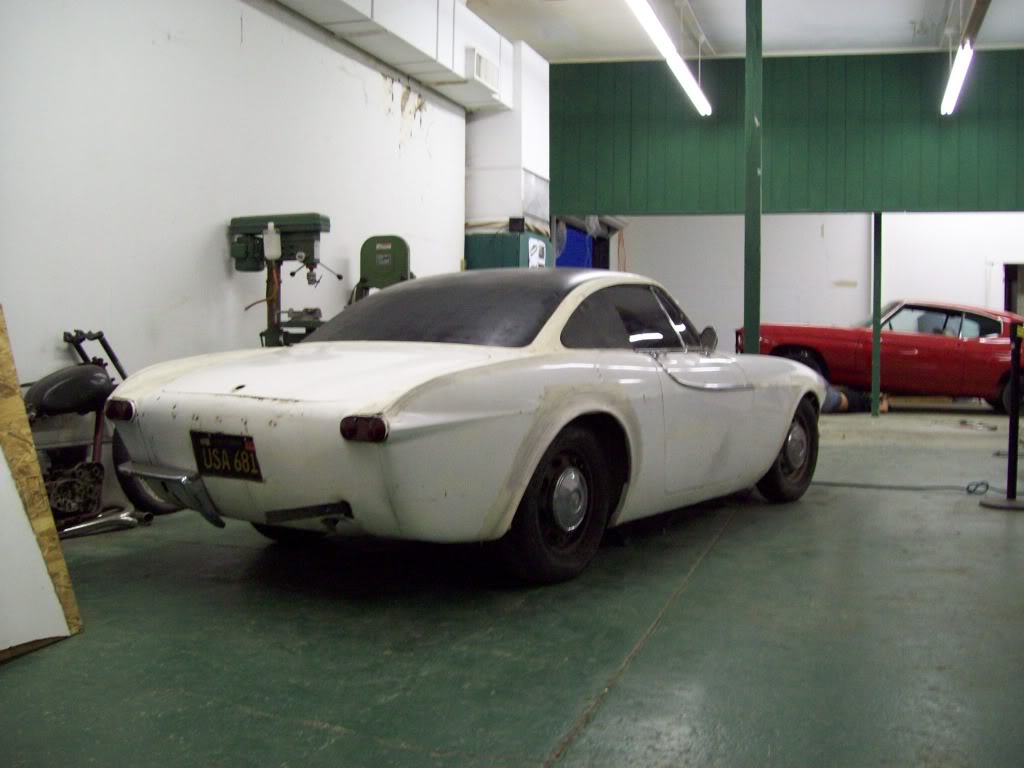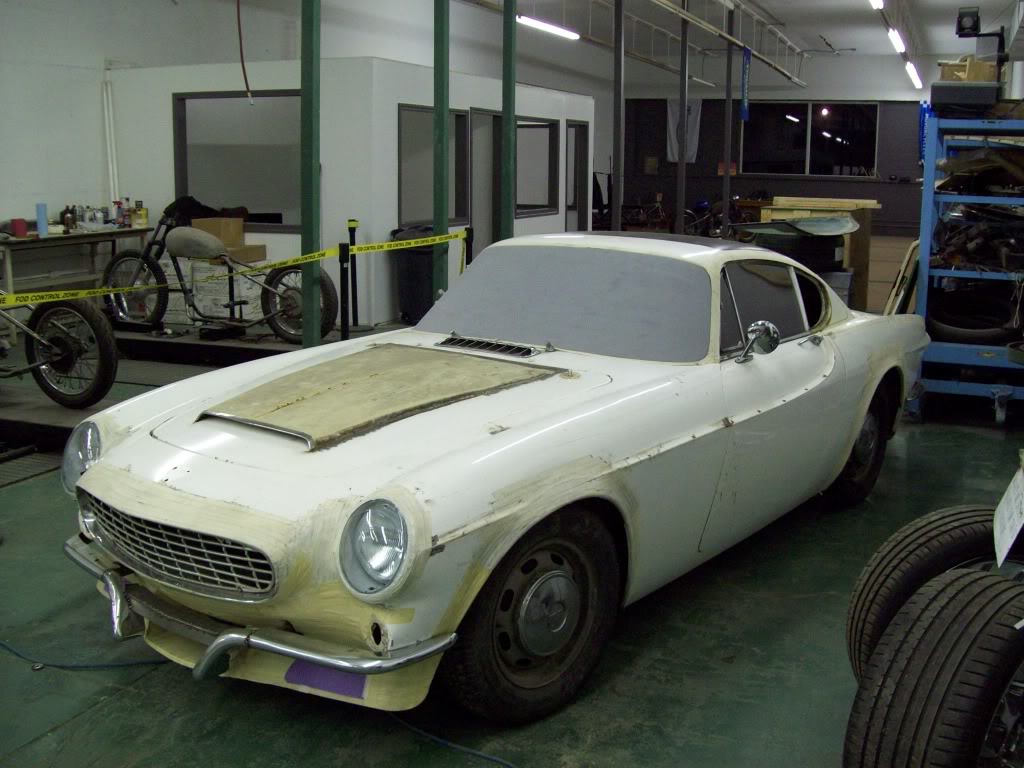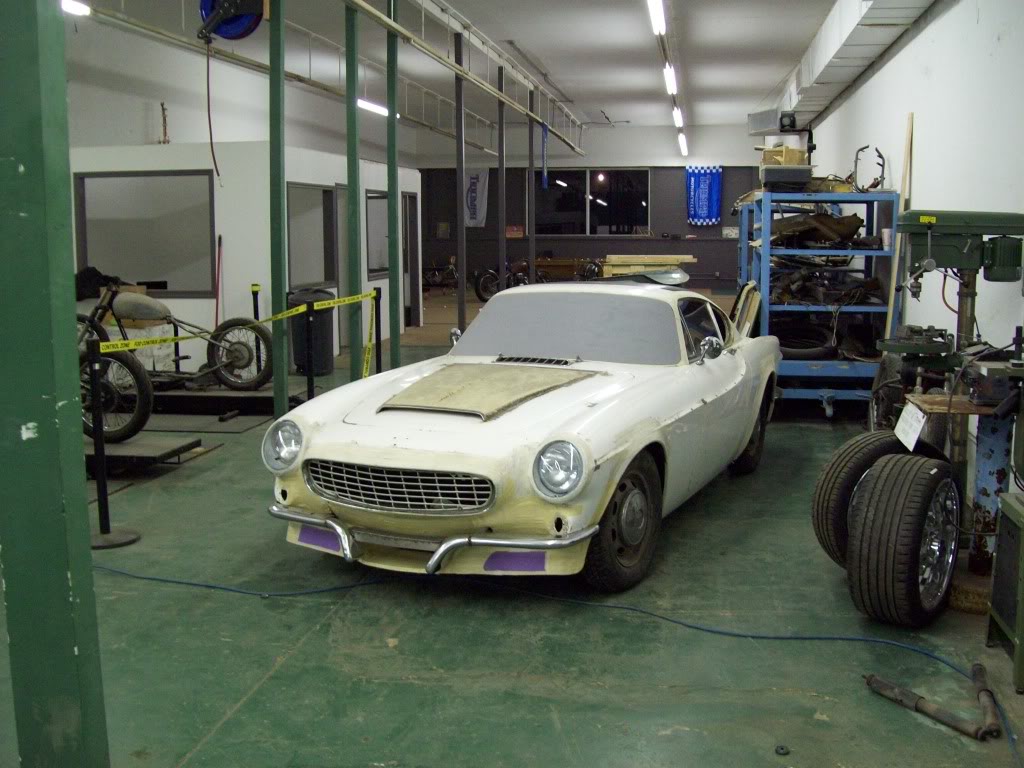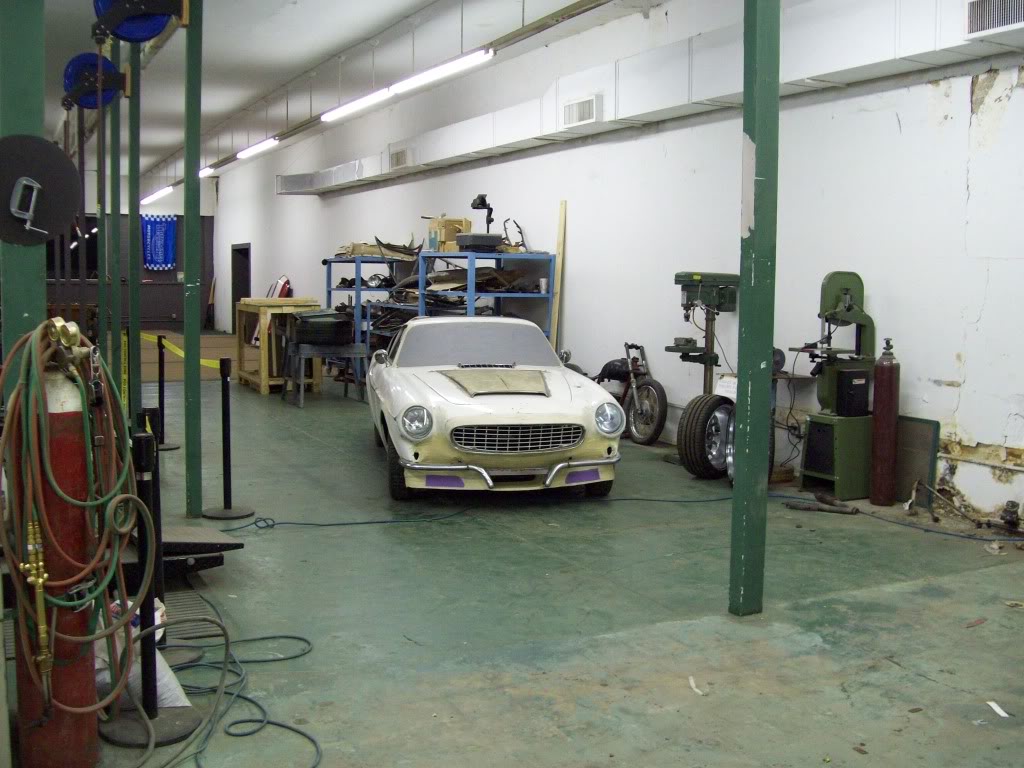 4-22-2011
I got to roll the car outside, and see what it is going to look like.. I need to make a decision about the air dam corner transition into the fender and finish the passenger side out and add a lip to the bottom, but I think over all it is going to work. I really like the nose and bumper in the real world, if you look at some of the corner shots, it is going to look pretty good when finish painted. Over all the stance is working, just need to dial it in a bit.

Things seem to look like proportionally, but if you notice something that is off other than the air dam, please let me know.. Also, keep it to proportions, because this is the styling this car is going to go, and the styling has been debated WAY too much on other forums.. LOL

Here is a couple of before..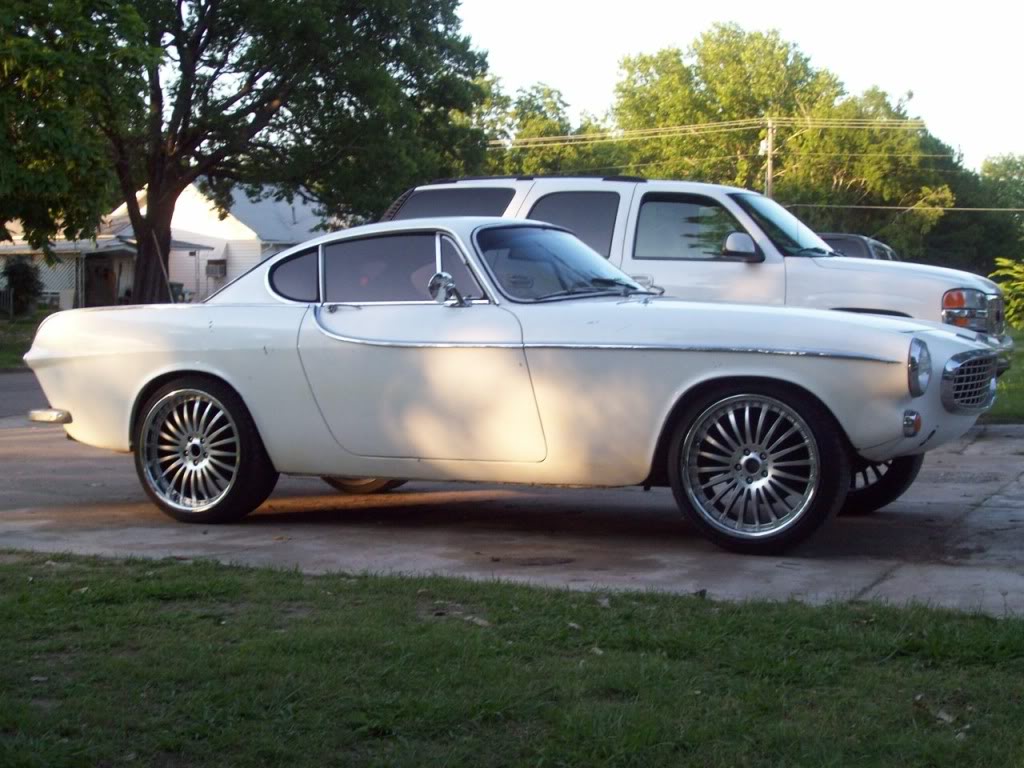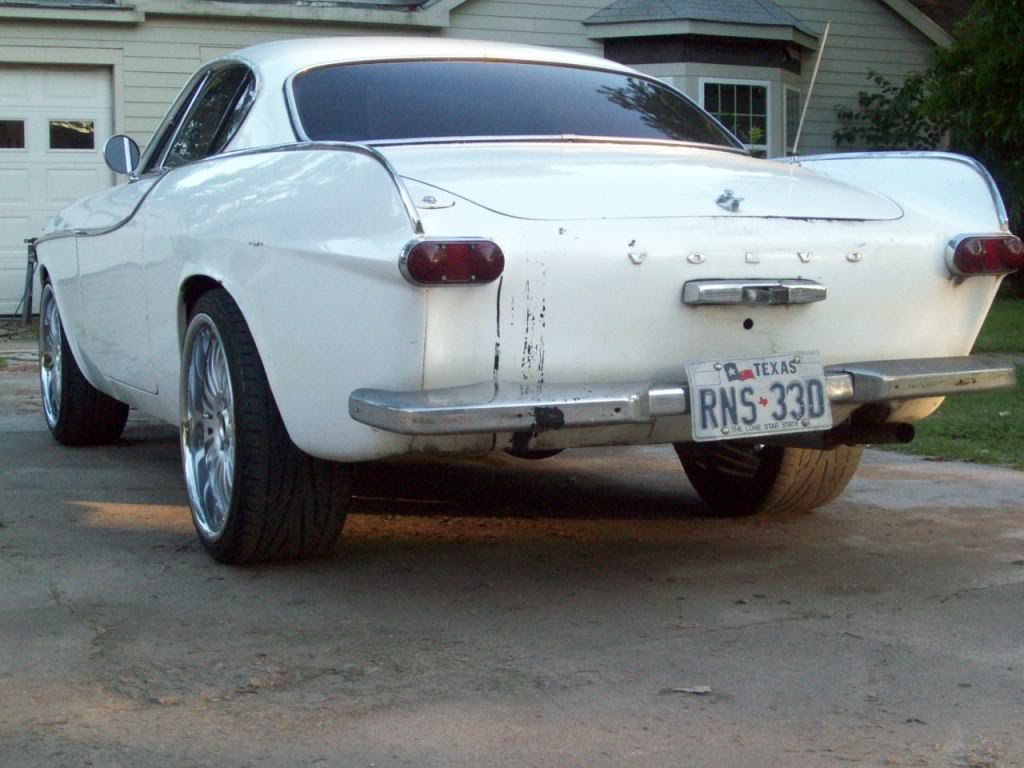 Now the new Outside Pics..There seems to be a huge difference to me now.. After so long of working on every part of it, the differences tend to fade away the more it is being worked with.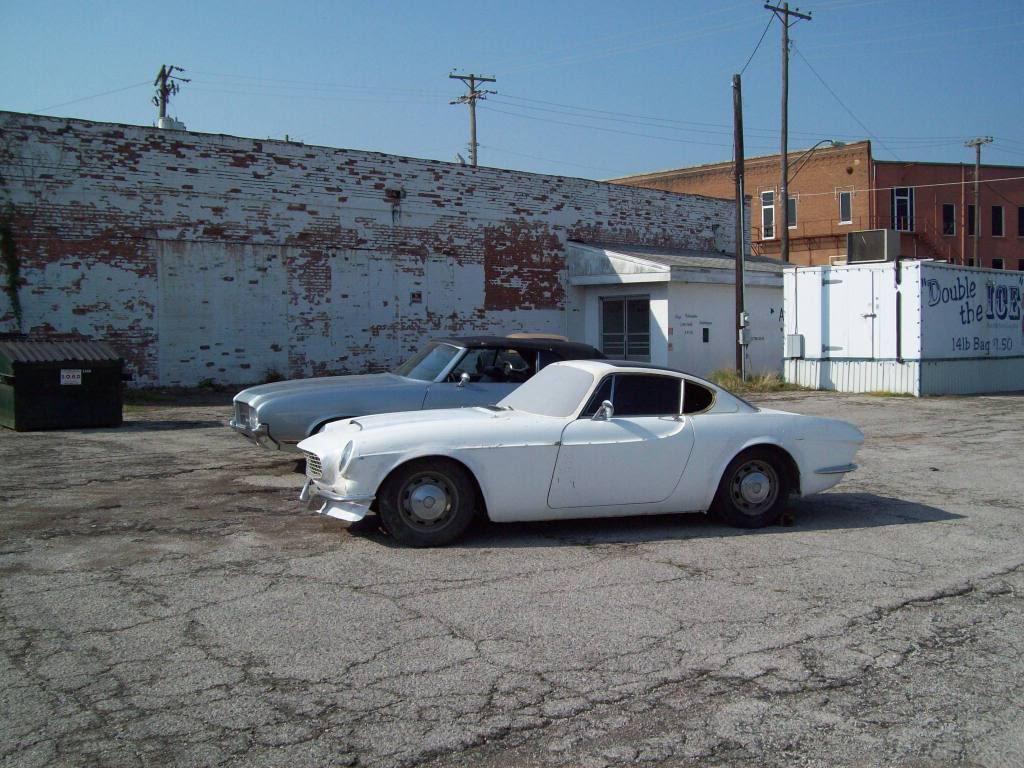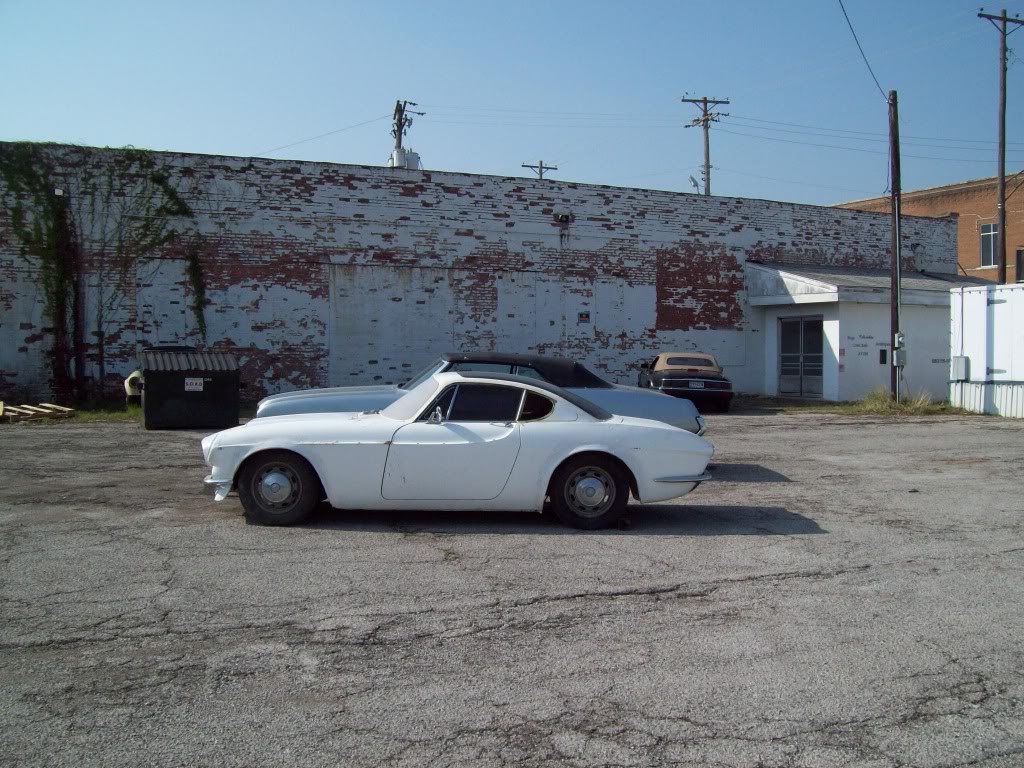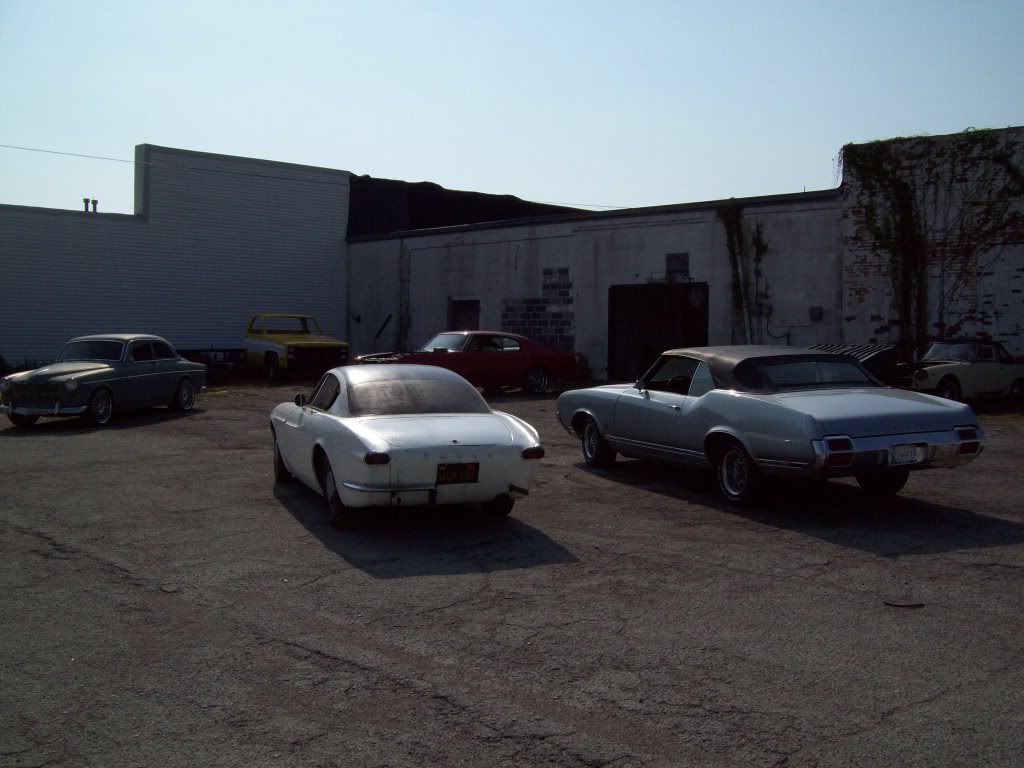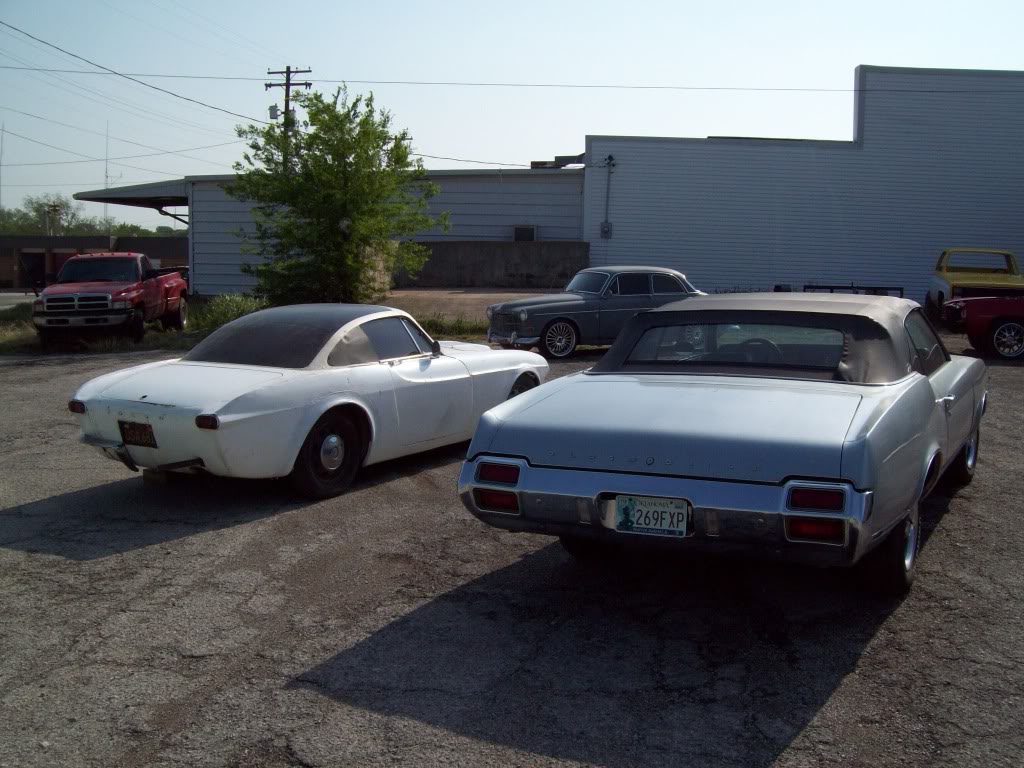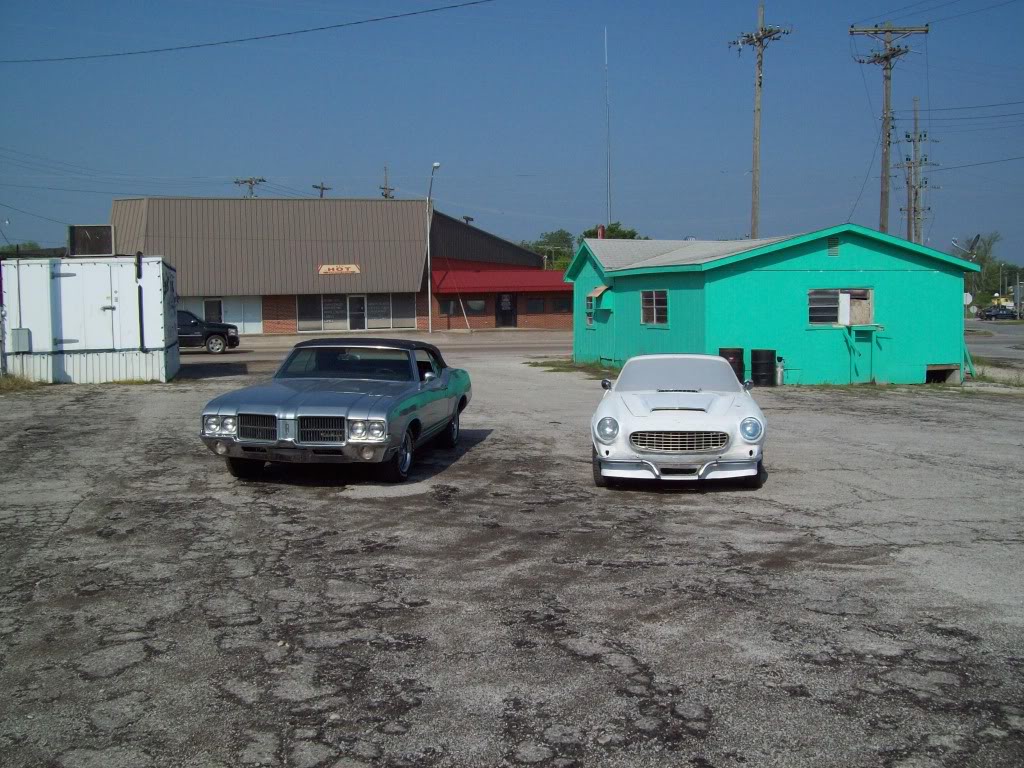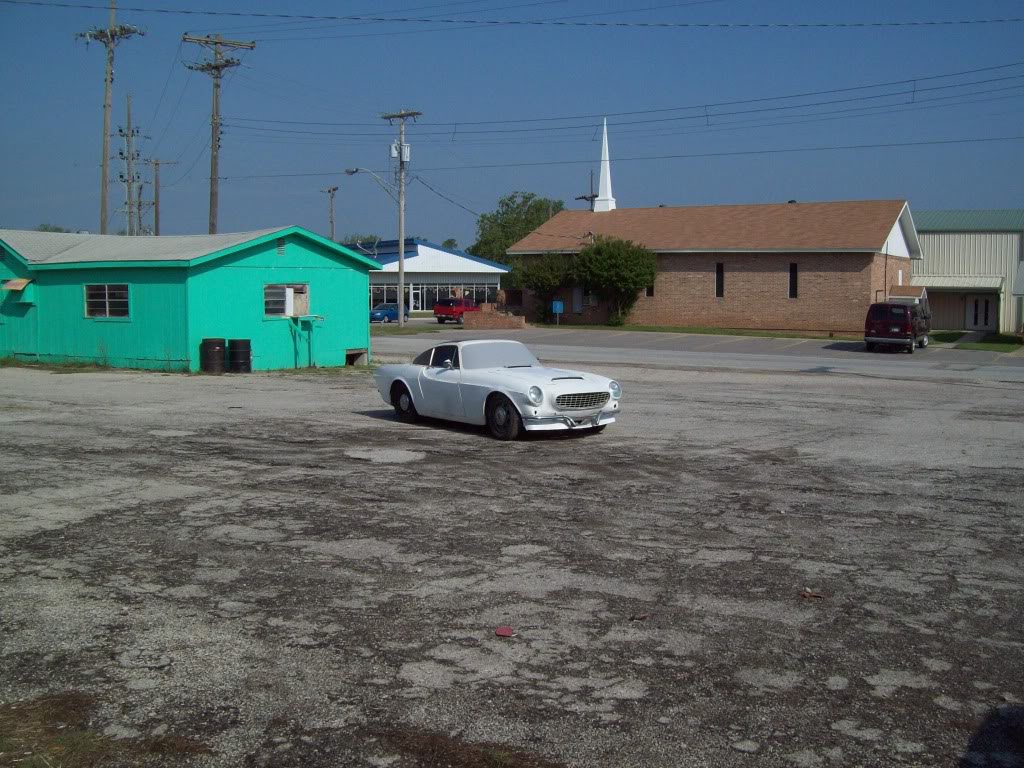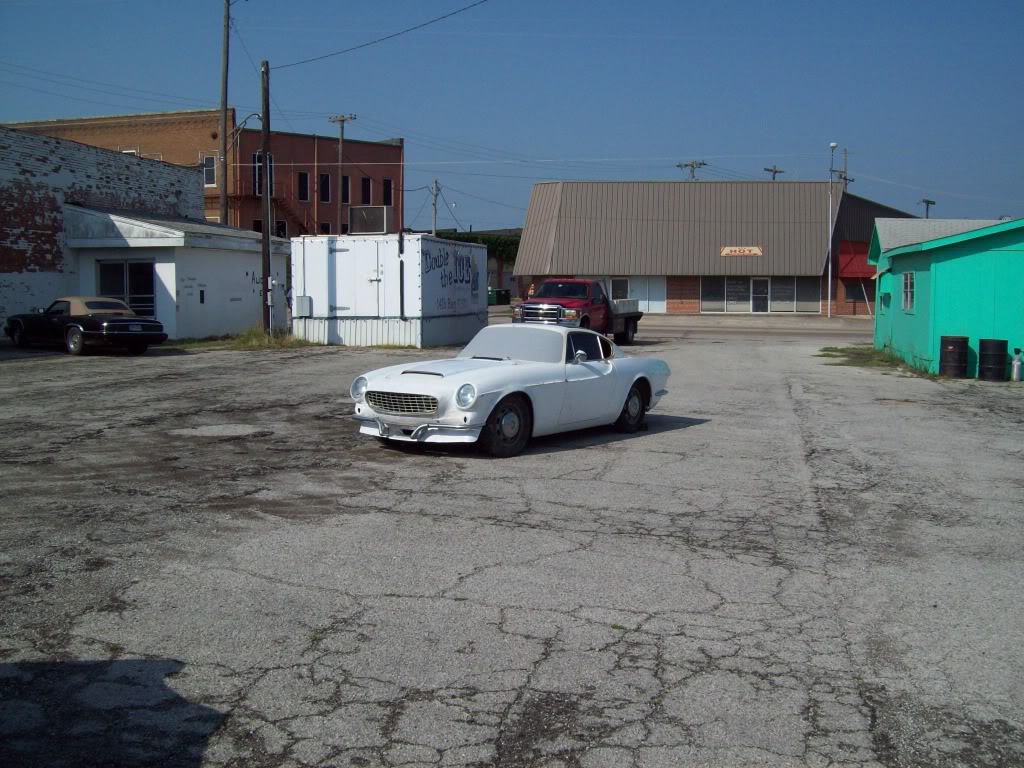 4-23-2011
I have been working on the differences between the P1800 and the 122
Crossmembers, and it is taken care of.. The Crossmember and Suspension System
work in both application, while actually improving the 122's rigidity...

The p1800 uses brackets at the rear of the Crossmember that Cup the frame, then
has two pin bolts that run horizontally through the frame for attachment, which
causes the subframe to squeeze the side rails of the unibody frame work. But the
122 only have a tab mount that fits on the bottom of the unibody frame, with two
bolts that run vertically into threaded holes at the bottom of the unibody frame
rail.. The P1800 designed crossmember will fit the 122, and all I have to do is
add the rear mouting tab. The rear mounting tab will not affect the P1800
mounting system for the rear at all, so the frames will work in both cars..
Infact, the extra mounting for the 122, will help stiffen the suspension if you
wanted to drill out holes to run the Horizontal Pin Bolts that the P1800 uses.
You then would have a more rigid mount, because of more mounting points, and the
P1800 mounting plates extend further back and squeeze the outer unibody frame
rails.. The Unibody Frame work is the same between the P1800 and 122, so there
are no issues at all...


I will be installing this system in my 67 Amazon, so there will be pictures to
show how easy it is. I will also have an original motor installed on the
crossmember, because there will be motor mount stands available for the Factory
engine mounting.

The pictures above are of the mock up unit, it will be cleaned up and finished
out by a Suspension/Crossmember manufacturer.. But these give you an idea of
what it is, how much it opens the underhood area, and the stance possible.
There will be a supplimental kit for rear coil spring removal, and an Adjustable
Coil Over Retro-fit
4-24-2011
I have had guys who are unfamilar with the P1800 asking for pictures that give size compared to other vehicles.. Here is the best that I can do, a couple with a 72 Olds Cutlass Convertible, and a couple of others with one of my motorcycle projects..

The Drivers Side Air Dam blend looks good in these pictures, but others it doesnt.. These wheels are out a bit too far in the front, because I have 1.5 inch adapter that change the bolt pattern for these wheels. I think the 19x8.5 will work great for the front and the 19 or 20x10 for the rear.. I need to get some wheel company too hook me up, that is for sure. LOL Too many choices out there to choose from, and I really need to make a choice for final set up before paint.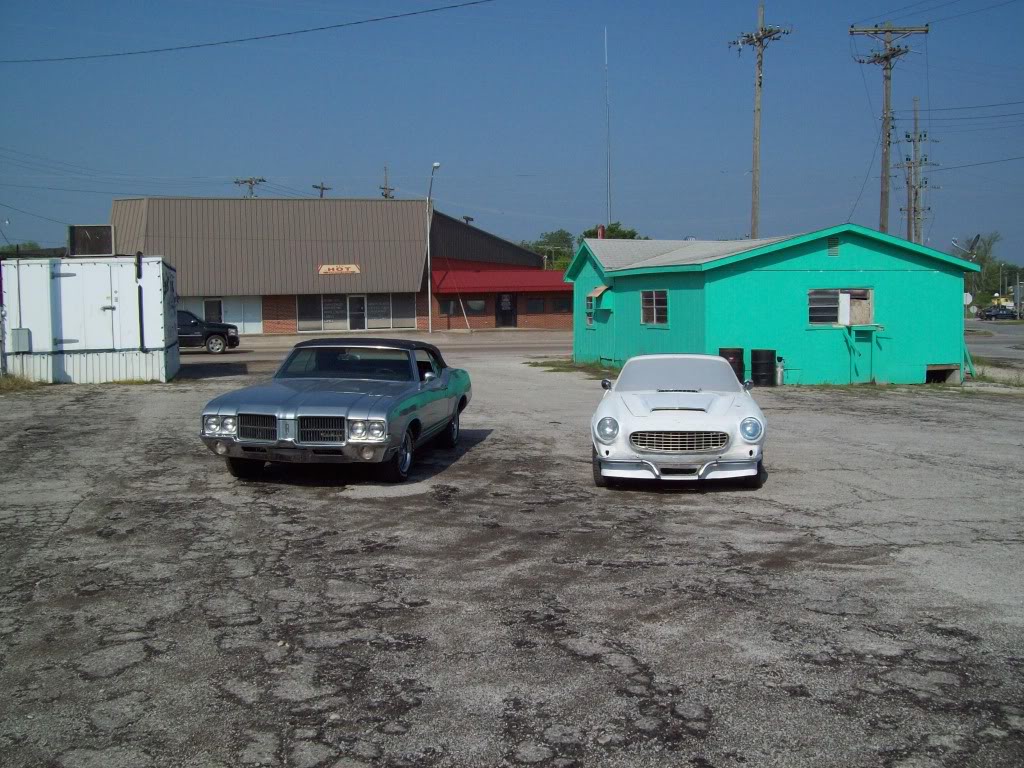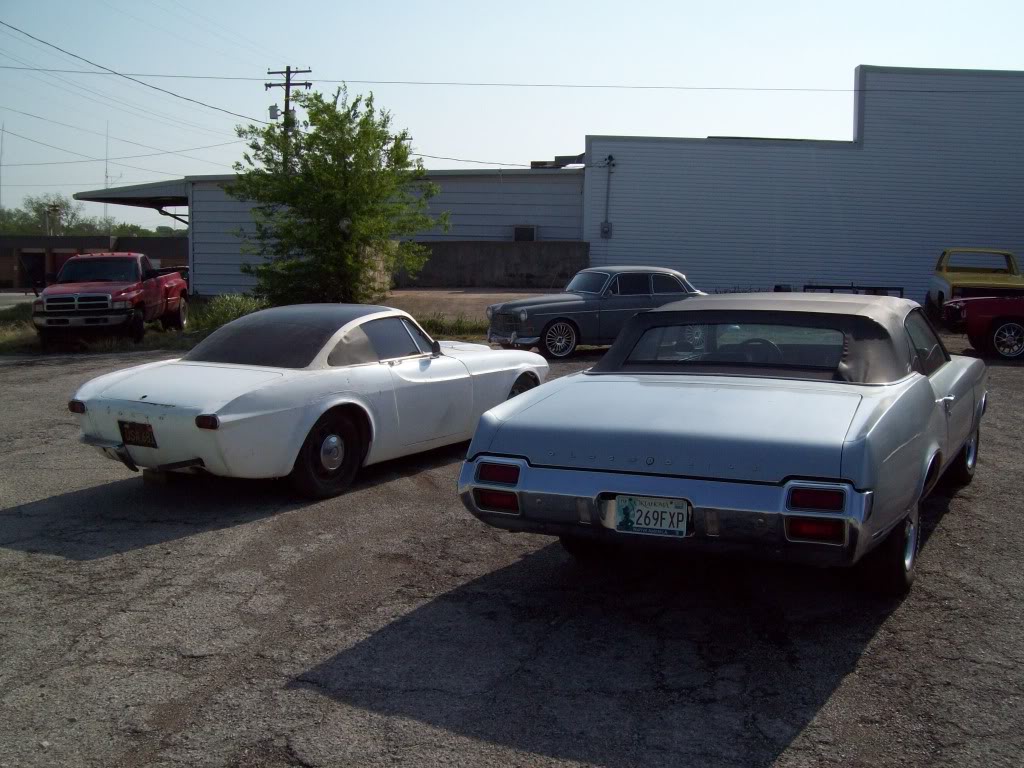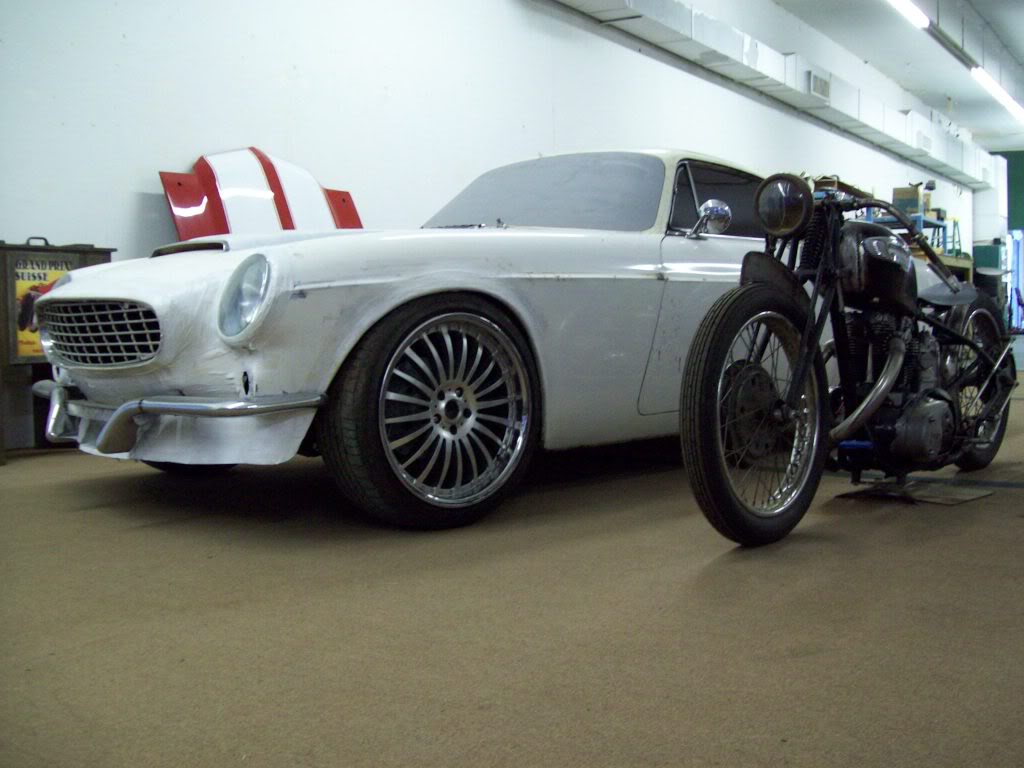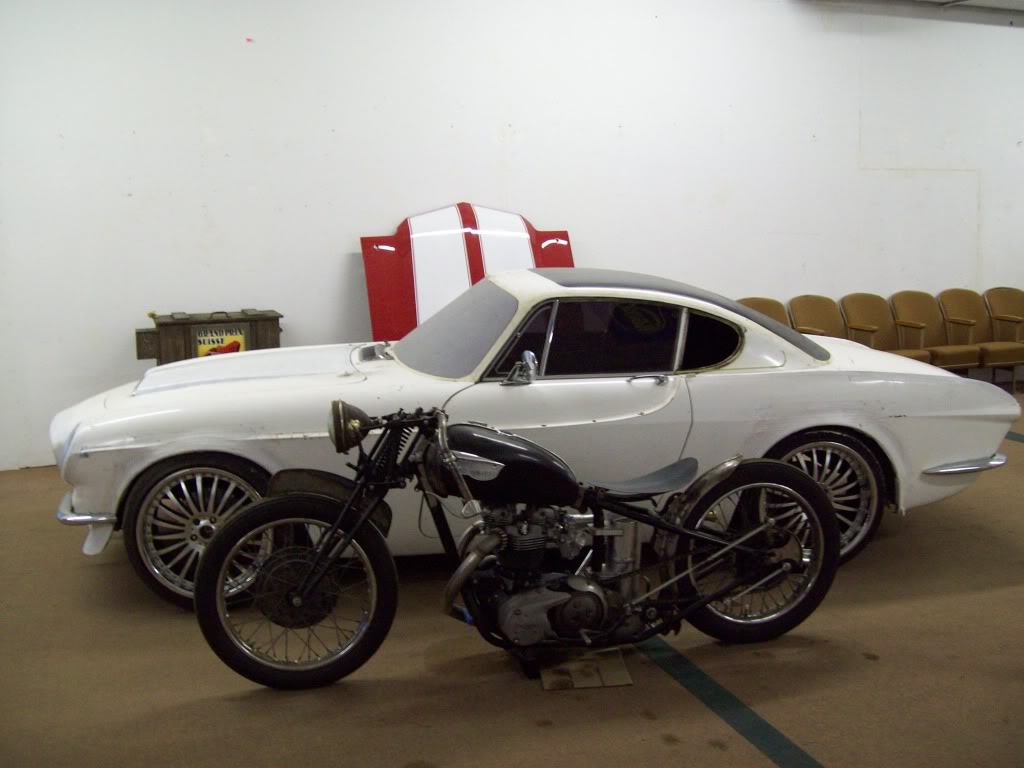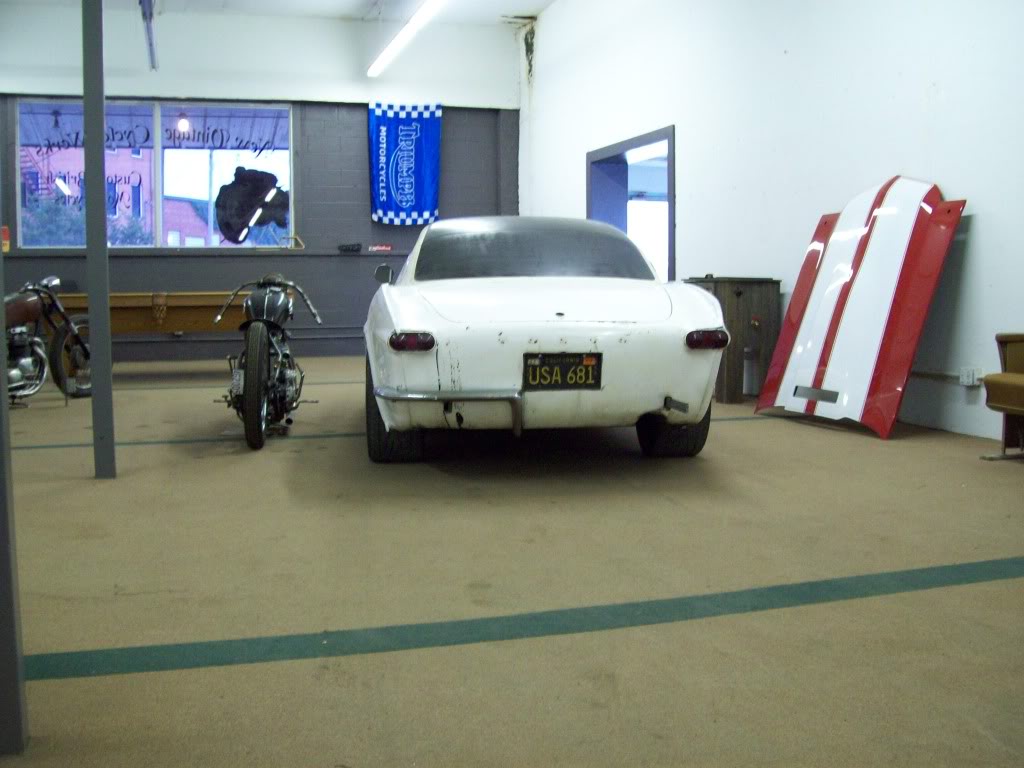 5-4-2011
No, she is lowered in the rear and sitting on my new custom front suspension.. The wheel arches Make a HUGE DIFFERENCE in the appearance of the car. If you lowered a car with factory wheel arches, the wheels disappear into the fender works. I am not sure of the part number of the arches I had used.. They were Complete rear arches all the way around. I used the opposite rear arch for the front.. Left rear arch, on the right front fender. You need the complete arches to make this work, and they are not layed in postion in what would be the factroy Amazon Position. You have to roll them forward or back, so they fit the P1800 body correctly, and make sure you have complete archs and not any of the patch kits.

I have not updated this build in the last little bit, because I have been working on Making the Front Suspension/Crossmember kit available to the public.. It goes in the production next week, and I will have some updates on its progress once I get a couple of units back.. Should be a couple of weeks after that point, so I will update the thread and contact everyone on my Waiting list.. This kits fits the P1800 and the Amazon, eventhough they are slightly different.. The overall crossmember and suspension is the same, but the rear mounting was really the only difference.. Now that I had figured out how to make one unit fit both applications, the are full speed ahead.

Again, what this crossmember kit gives you is.. Rack and Pinion Steering (Close Ratio) Non or Power rack available, along with Right hand drive option. Tubular control arms with very servicable and available maintenance parts, Adjustable Coil Over's, to eliminate the standard coil spring, so it allows ride stiffness and ride height to be adjusted in minutes, lighter weight componentes, standard spindle position or 2 inch drop spindles available, Readily Available and Reasonable Brake Rotors with factory Volvo Bolt Patterns(Early and Later models)HUGE BREAK OPTIONS, from standard 9 inch brake rotors all the way up to 14 inch brake rotors (with alot of Caliper configuration options), the crossmember works with the factory drive train and bolts directly to the factory motor mounts, but leaves alot of engine options due to underhood clearances (No more upper control arm and Steering components intrusion into the engine bay.)

The list goes on with the differences and options this kit will offer, but we will also be offering a supplimental Coil Spring elimination kit for the Rear Axle. This will be a bolt in kit, that will attach Adjustable Coil Over's to the rear axle, so the same ride height and suspension performance adjustments can be made to compliment the front end and the overall performance and stance of the car.

If you would like to be added to the contact list, just email me, and I will add you to the list.. There will be a bit of discounting on the first order, due to lack of retailers at this point.. Once I find retailers, I will be under contract to sell for the full retail price as they are...
6-3-2011
Guys. I will have some update before too long... I am still working on it, but I am doing some to the behind the scenes leg work for product development. I have had way too much interest and demand for items I am making for this build and my other Amzon Build (Project Volvo X). I am doing my best to make these items available to who ever wants them, and think you will be surprised about what is coming up for parts and performance for the P1800/Amazon.

Right now, The front Suspension kit is scheduleed for release before too long.. I am doing the final details on parts sourcing and pricing, so I can make it worth the money to everyone. I am also releasing a direct bolt in Rear end Assembly, it will allow braking, gear ratio, and traction options to be setup according to your particular needs. This rear end kit will hook directly to your factory 4-link arms, and use the existing pins, shocks, coil springs. But, it will support my Rear Coil Over conversion kit and support an upgraded rear sway bar. These will be available very shortly after the front end kit.

My company plans on offering a completely re-designed and re-badged Amazon to sell on the market. We will have cars for sale, and will complete a conversion on cars sent to us by customers. Fully adjustable suspension (Quick Ride Height adj, Ride Dampening and rebound control), Power Rack and pinion, 14 inch Rotors and 6 piston Calipers, 13 inch rear Rotors and 6 piston Calipers, 500 horsepower LS Series General Motors V8m(20+ Mpg), Completely new and updated Air Conditioning, All New Wiring and Conveniences, Custom and User Friendly interior (Family or Race), unique paint colors and wheels, etc, etc.
6-8-2011
Here are some pictures of the 14 inch Wilwood Drilled/Slotted Rotor and 6 Piston Caliper kit.. The other 11 inch Drilled/Slotted Rotor is an upgrade also, which will be considerably less. The kit comes standard with the 11 Smooth Rotors.
I will have some updated pictures of the complete Front end kit later this weekd.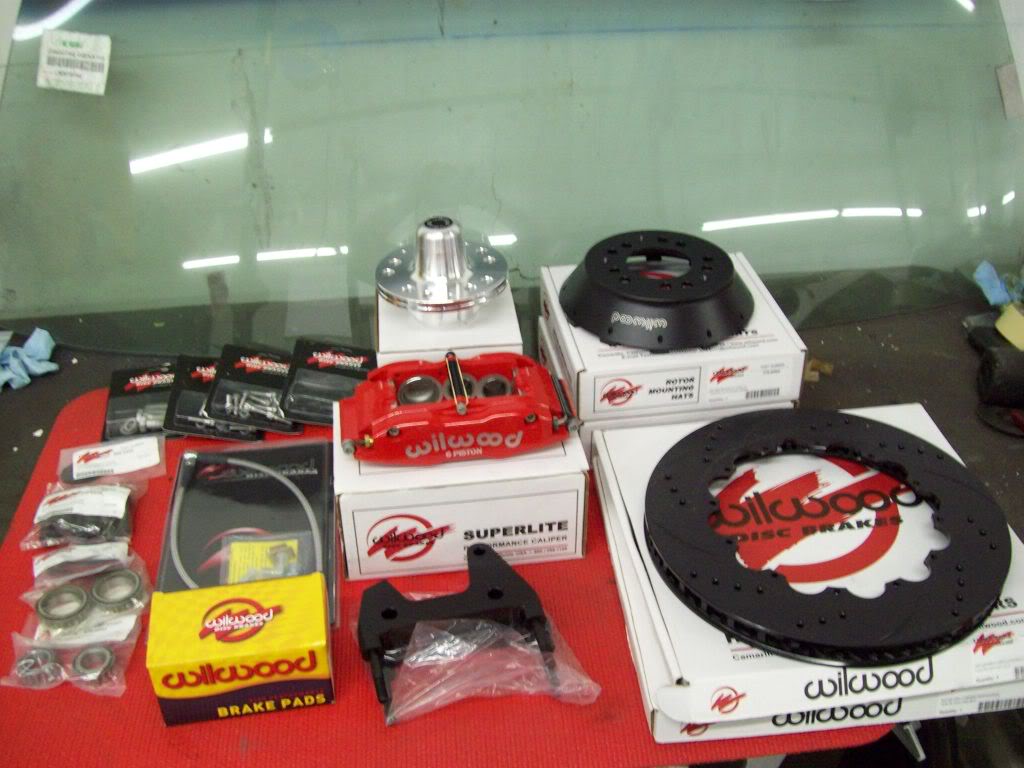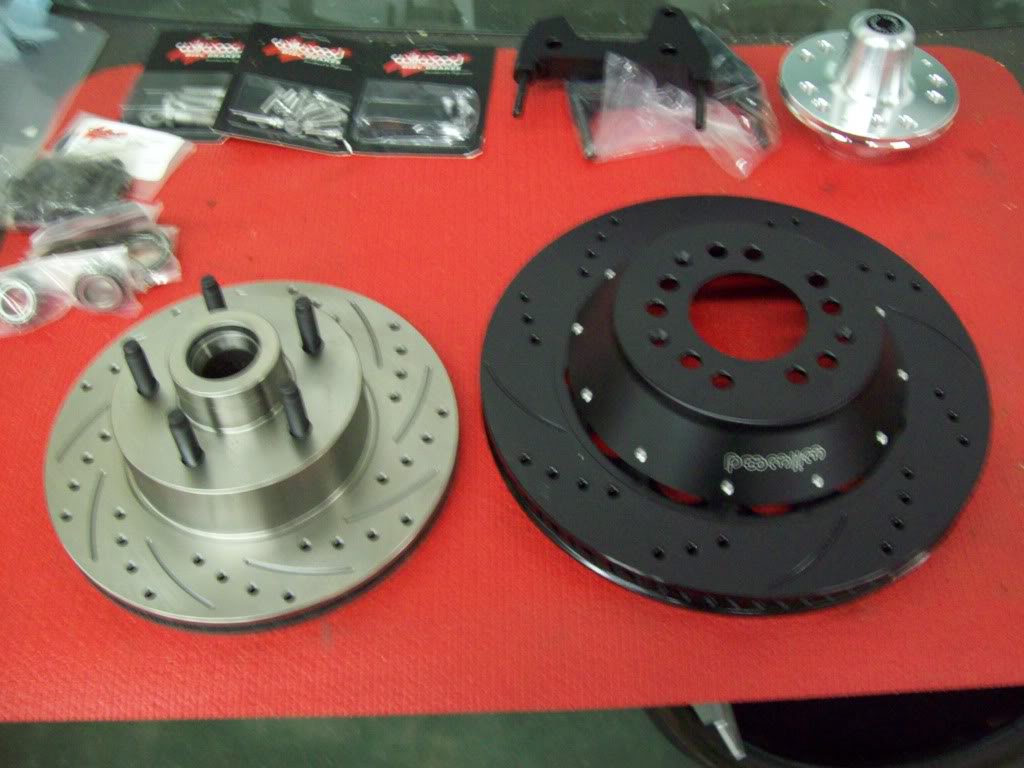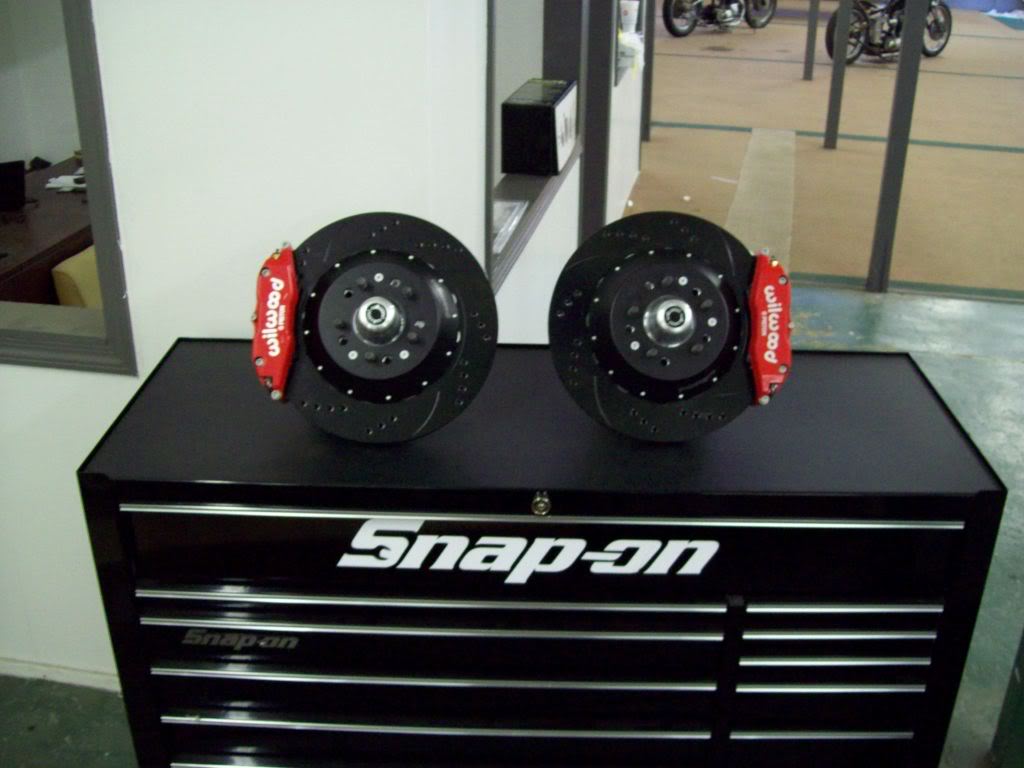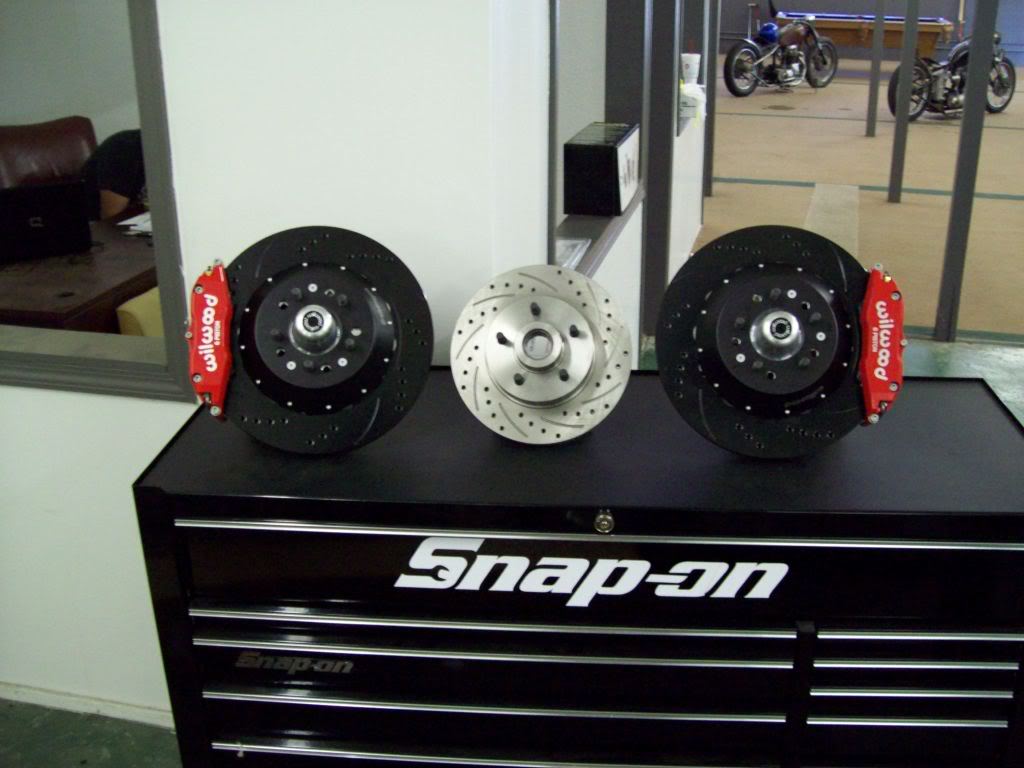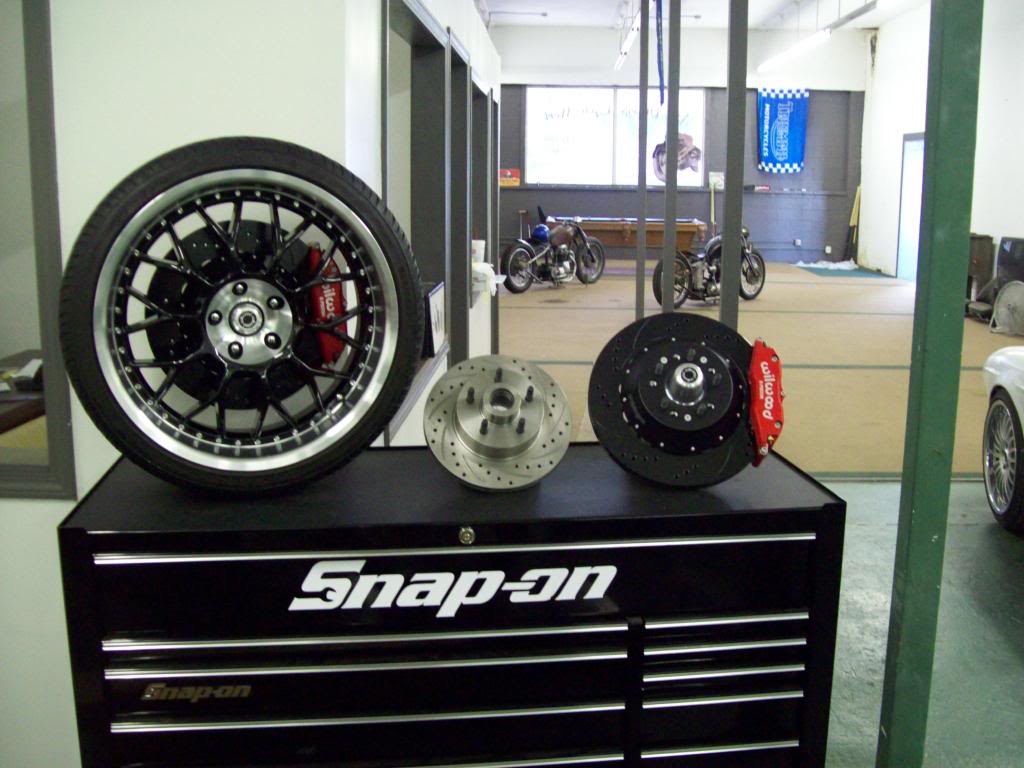 Here are some pictures of the Crossmember/Suspension components.. I will Post some more pictures when it if fully assembled.

This is a DIRECT BOLT IN KIT....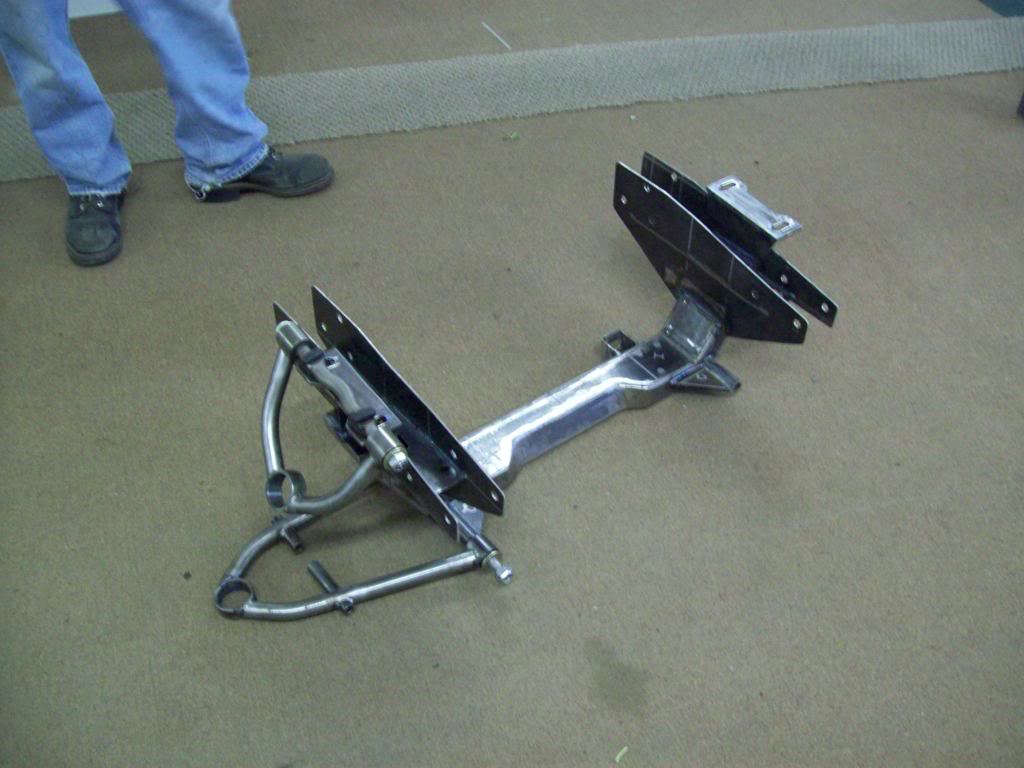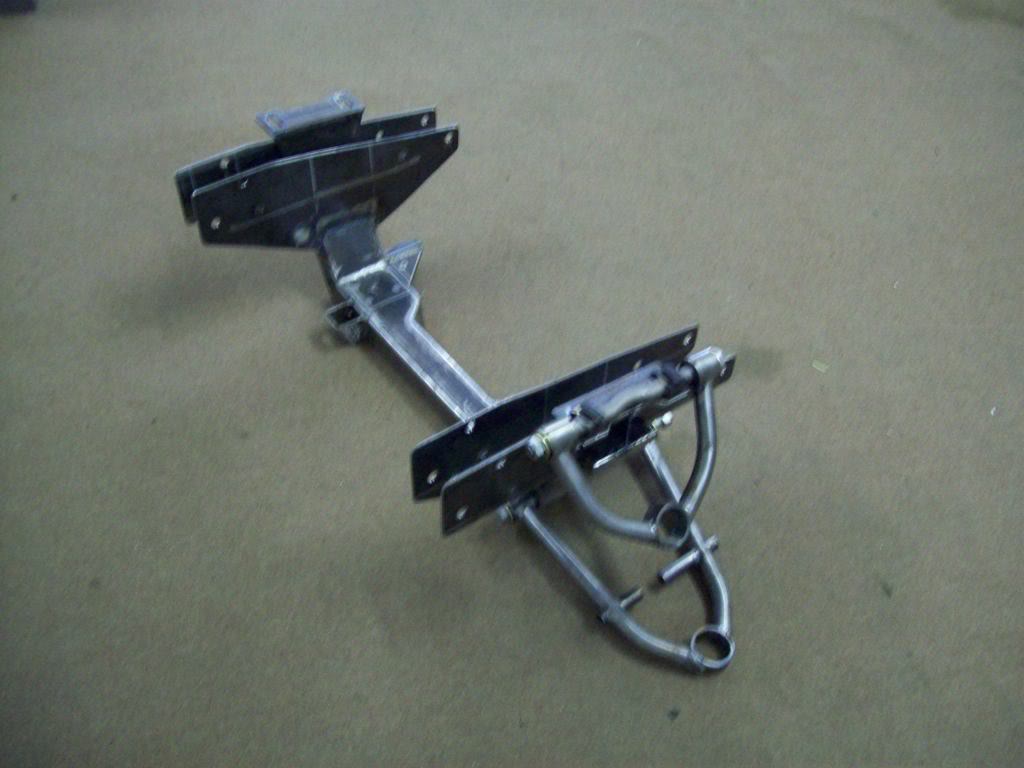 I have been getting emails about some more pics of the Crossmember, here are a few more.. I am waiting on the tie rod ends and another ball joint for the bottom, so I can complete the other side.

Before I get comments on ball joint and geometry questions, keep in mind there is no LOAD on the suspension.. Once the load is on, there geometry and ball joint position is just right..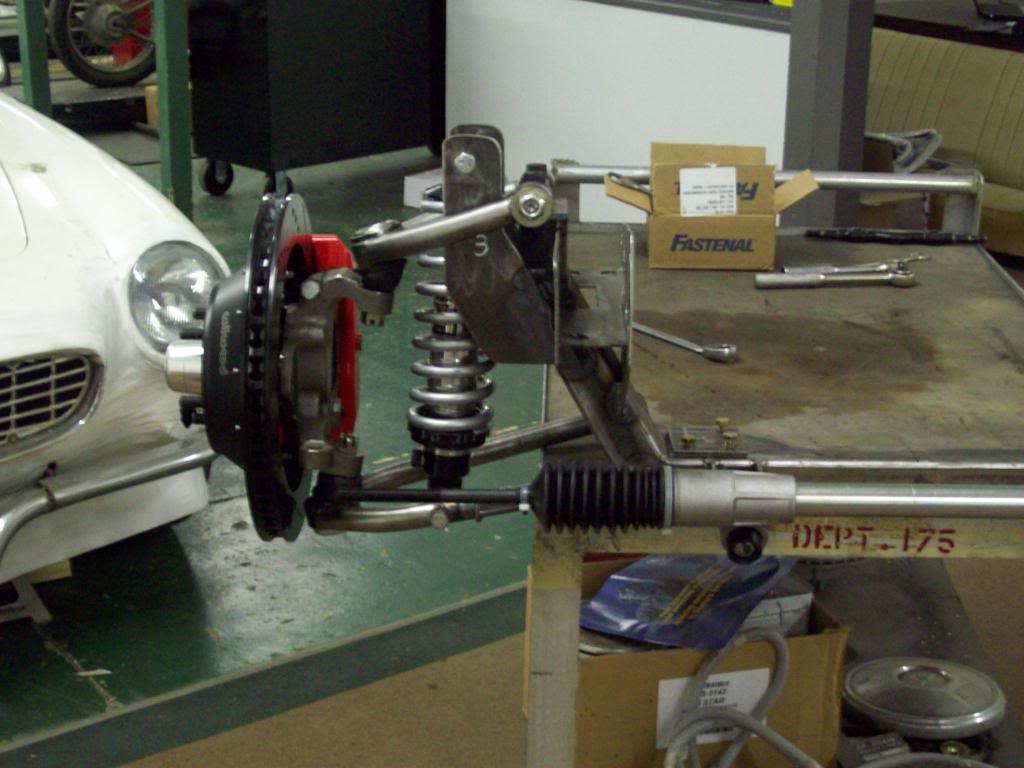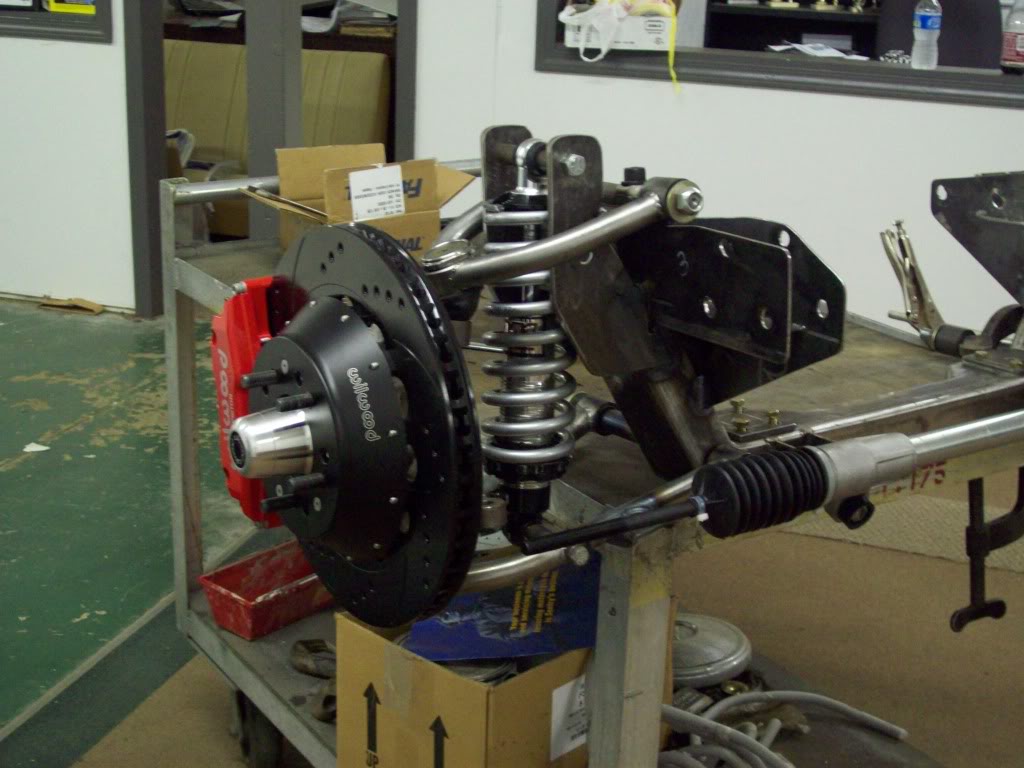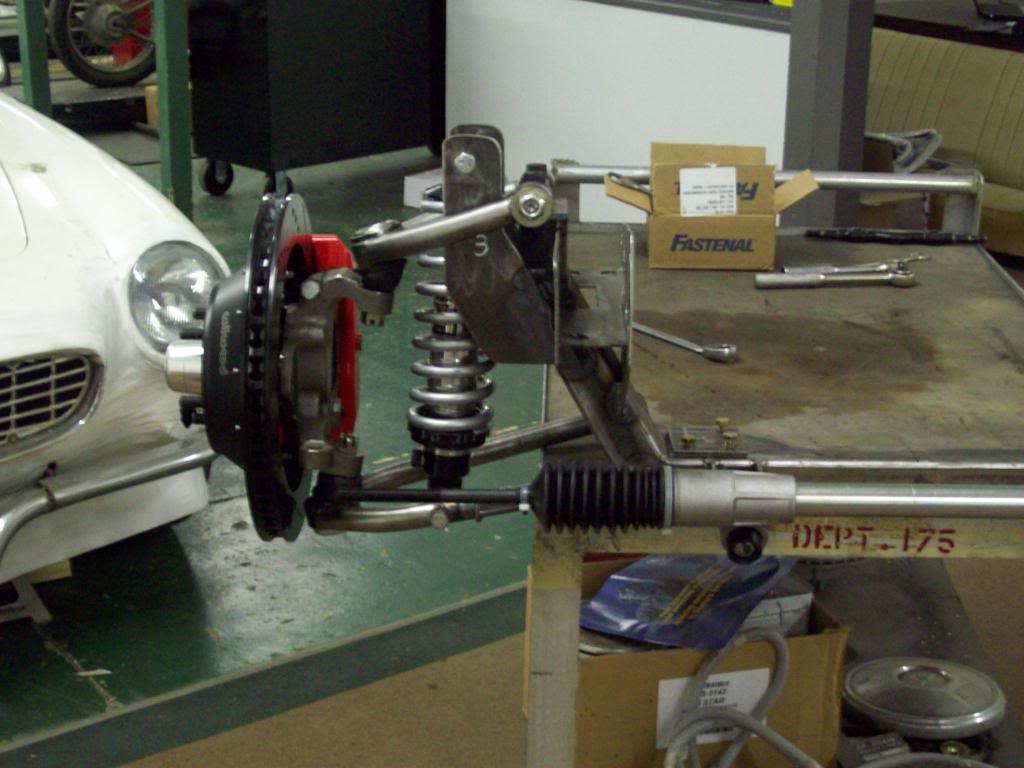 6-9-2011
Here are a few pictures with both sides together and a wheel installed.. I am getting ready to put it in place today, and double check the motor mounts..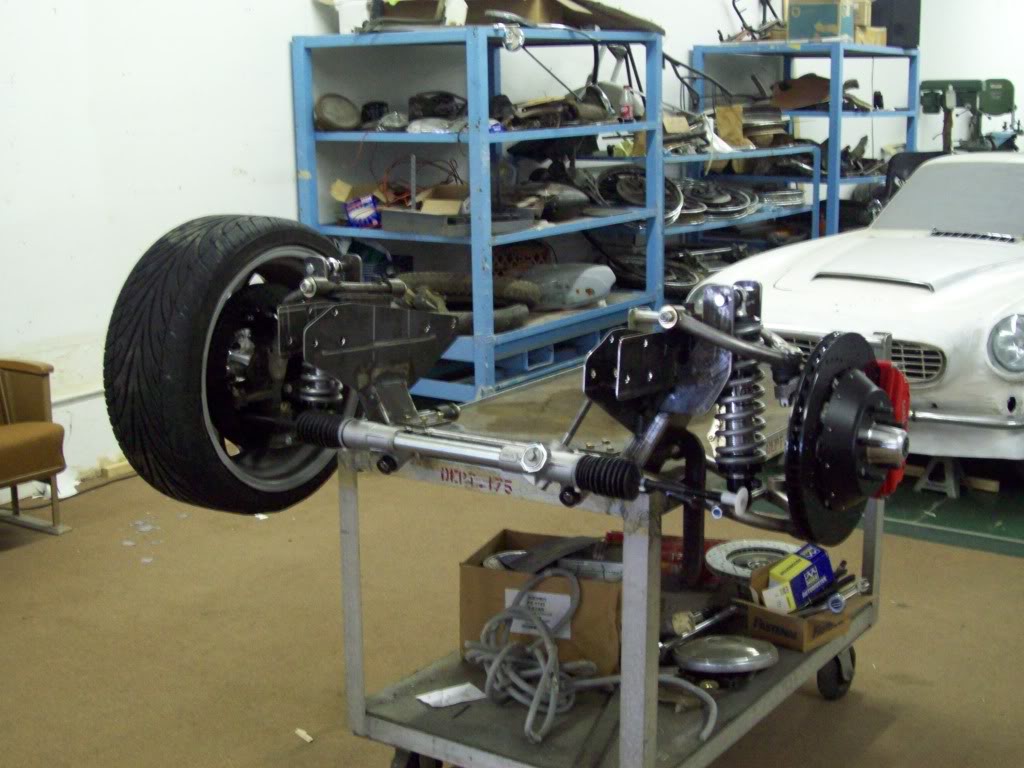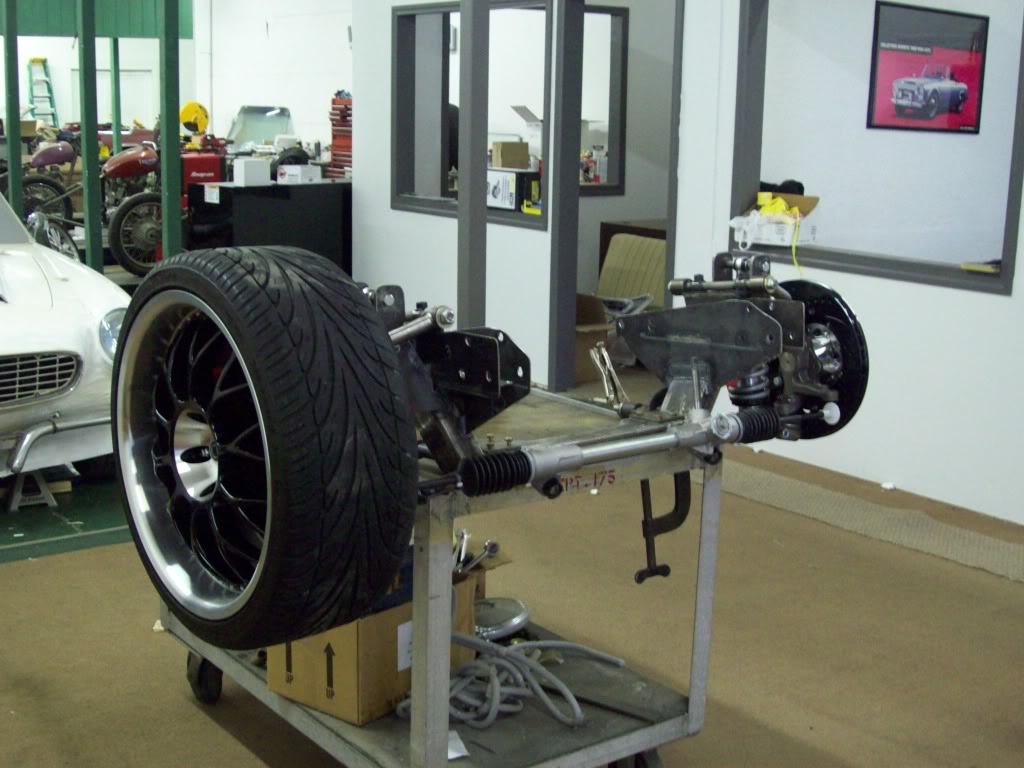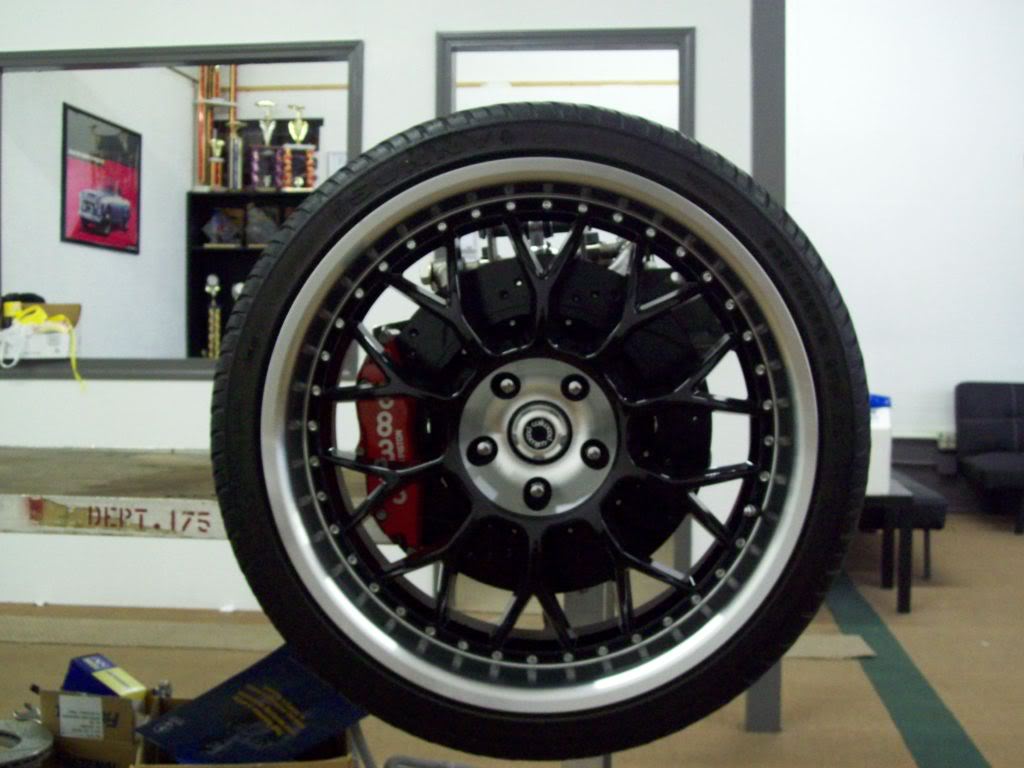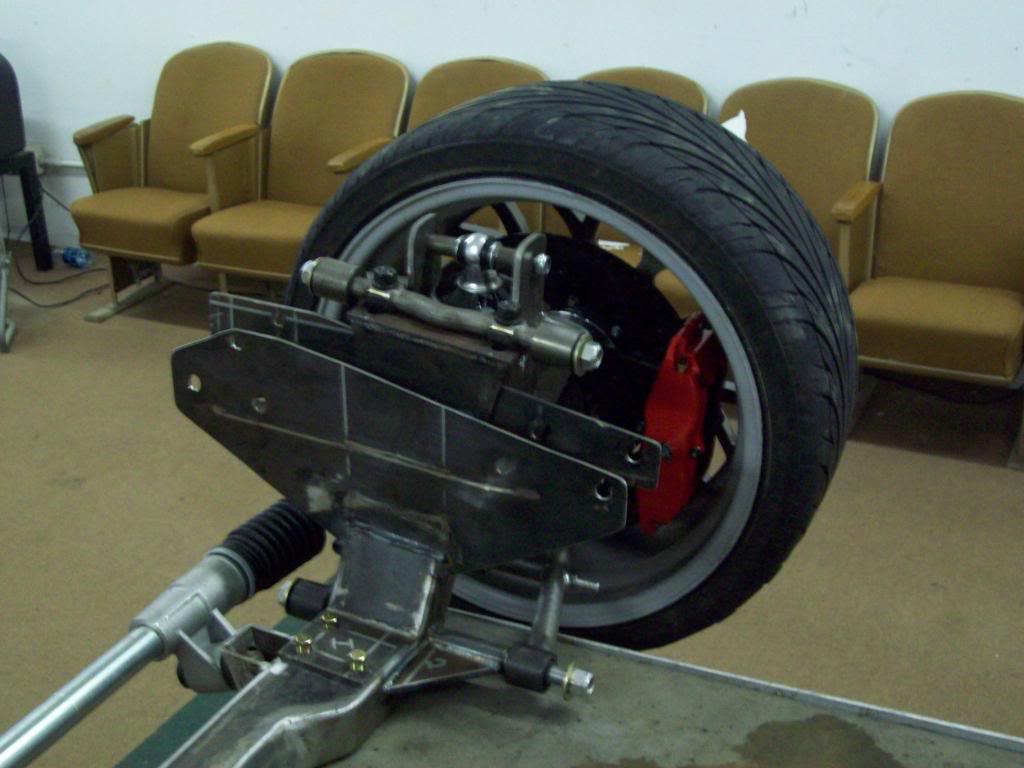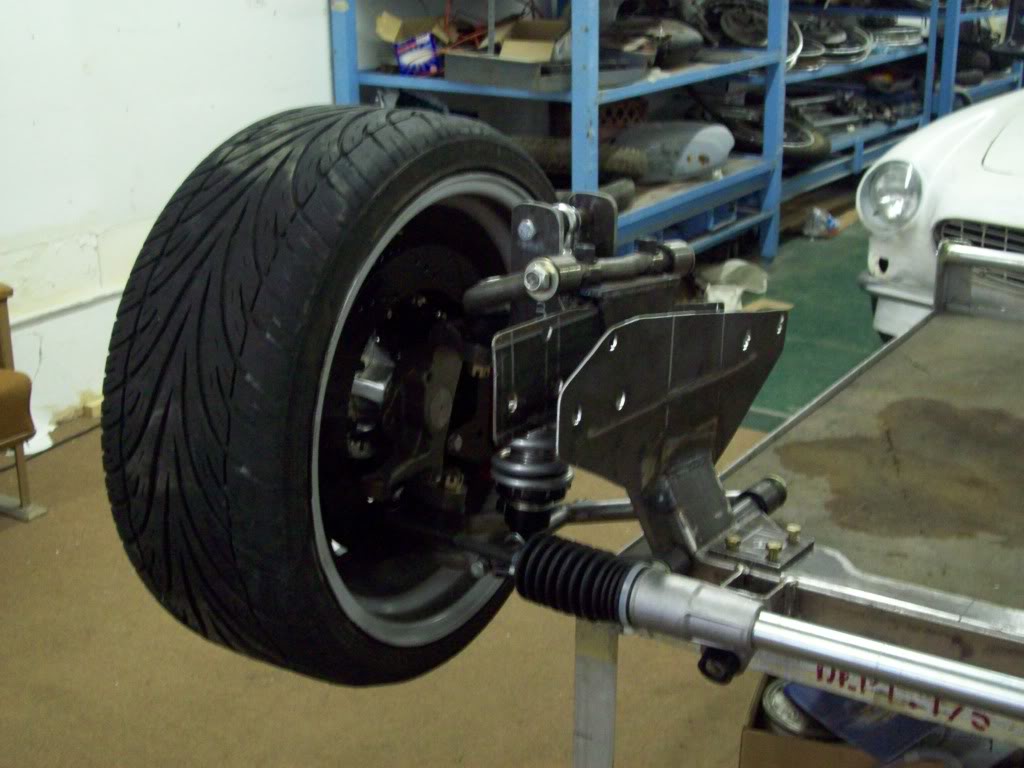 Here are some pictures of the crossmember installed.. I am taking for alignment tomorrow.... The used wheels I got a deal on, arent quite the correct offset.. Damn it.. I am thinking I am going to drop to 18's...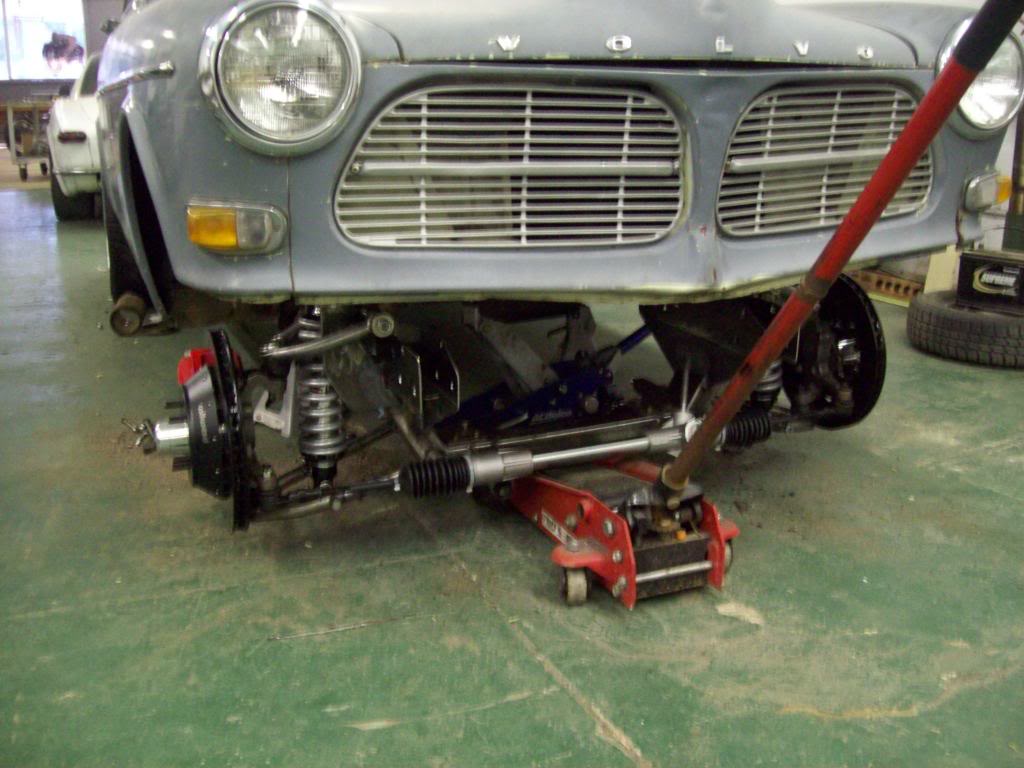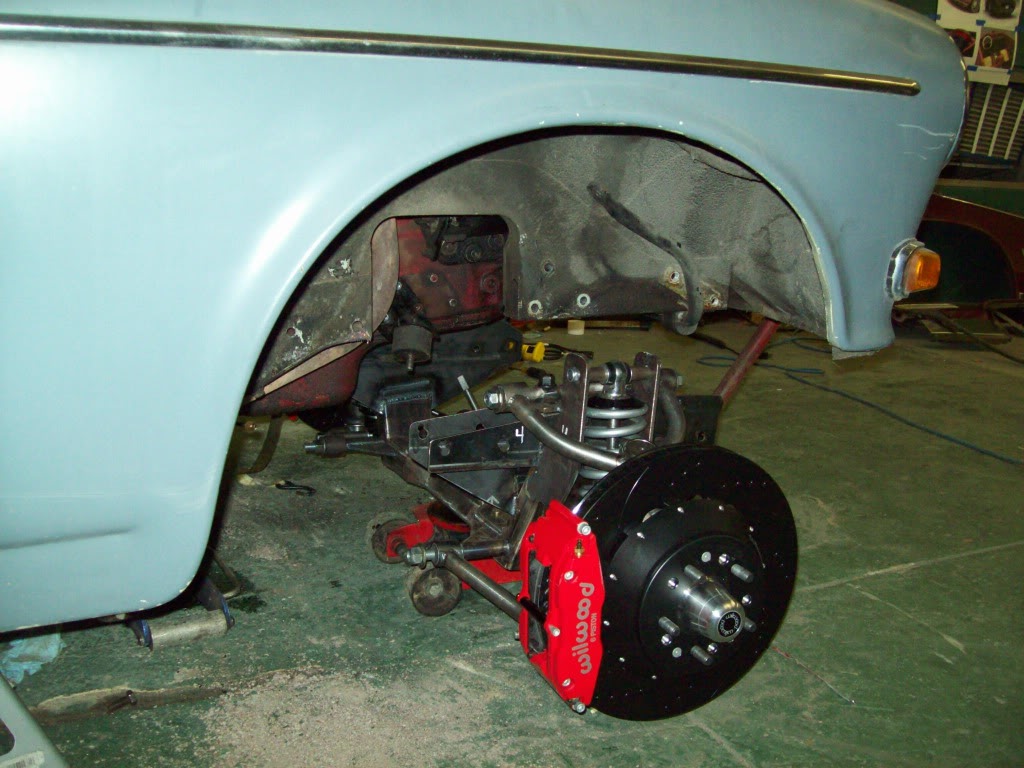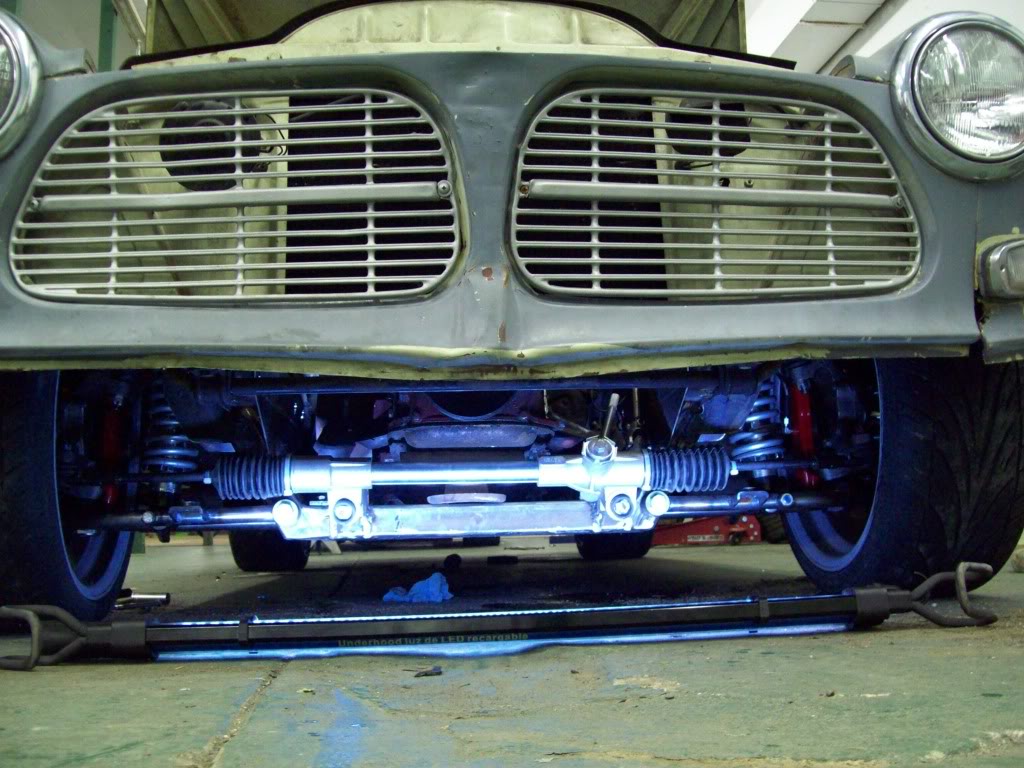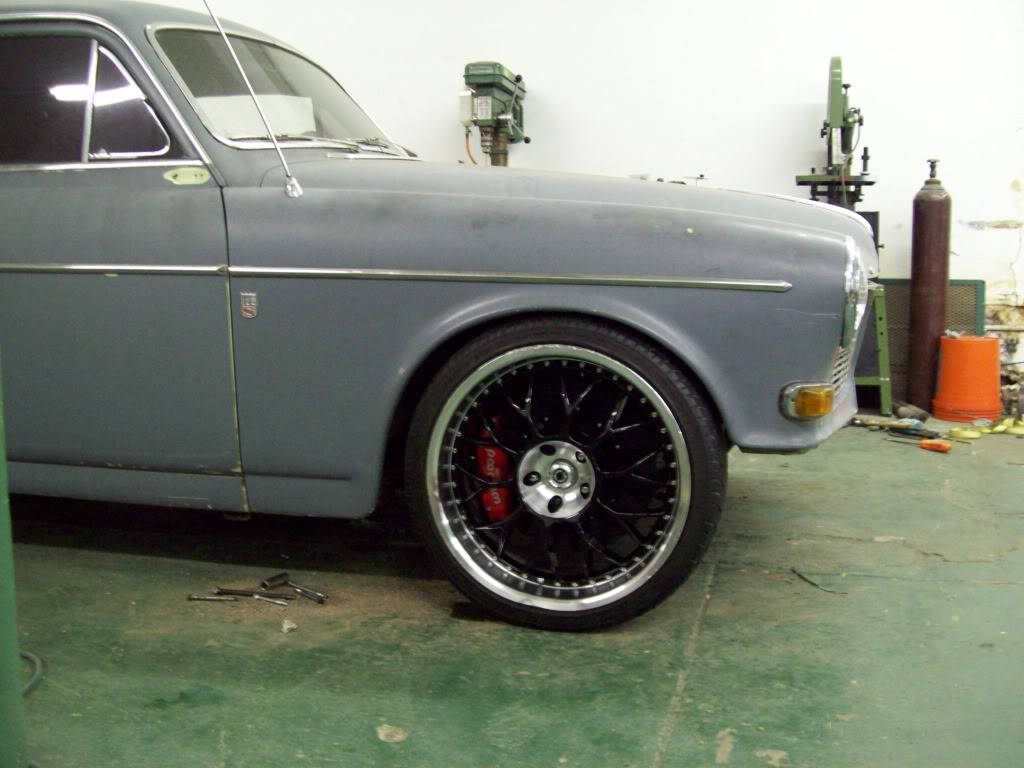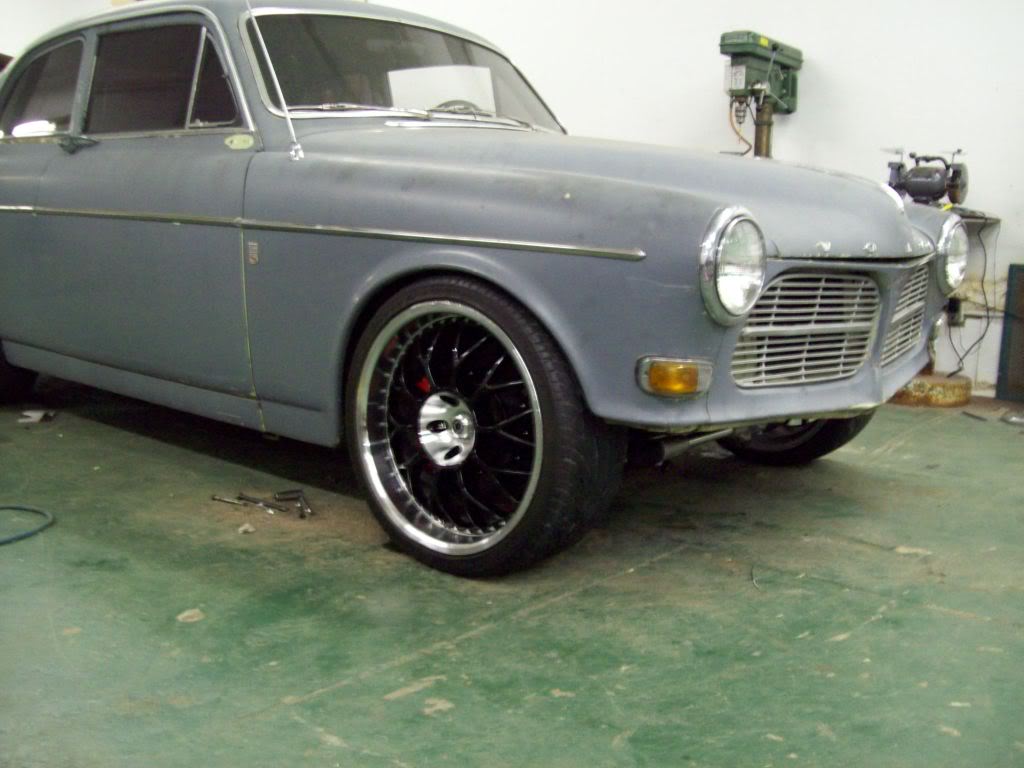 6-10-2011
The car pictured above has the 2 inch drop spindles, which shows the extreme it can be set up at.. There is enough suspension travel and alignment capability to set the car on the ground.. With the Standard Spindles, you can get back to factory ride height...
6-25-2011
Ok here is an announcement.. I have had too many people asking me what is going on, and why I am working on these Early Model Volvo Components, so here it is.. This is the reason for the components I am working on...

As you all know I have moved forward with the front suspension kits, and they
are on the Market now.. The interest has been high, and the interested have
stepped up for purchase. We have a few Major Volvo Parts Dealer's (You may be
Surprised Who) that have picked up the suspension lines. The rear kits will be
available in about the next 30-60 days, I will post info and picks later.

There has been alot of interest in other products that we are working on, and if
the same interest is there, I will put them on the market also. I would also
like to know what else you guys may like to have available.. I am not looking to
do reproduction parts, I am looking for updated parts or features.

Here is what we are working on at this time.


UNIQUE SUSPENSION SOLUTIONS Will Offer...


Front Suspension kit: is done, and on the Market

Rear Suspension kit: will be on the market shortly, and will include 3
variations.

First: A rear Coil over conversion kit, that will bolt to the Volvo Body and
rear end, and it remove the original Coil Springs and shocks.. This kit will
give you more ride dampening control, along with ride height control. It will
also eliminate the typical rear suspension sag.

Second: A complete new Rear End Assembly.. This is a Mod Light Ford 9in rear
end that is a direct bolt in.. It can use the factory coil spring and shocks,
but will give Gear Ratio Options, Traction Options, Brake Options, and be alot
more durable with plenty of parts support.

Third: A bundle of both packages for the best of durability and Adjustability.
The coil over kit is made to work with both the Original Volvo Rear end and the
New Design rear end we will offer.


CLASSIC AUTO GLASS INNOVATIONS Will Offer....

This company will be offering Flush Mount Windshields and Back Glass's. These
kits will remove the need for the Rubber seal that leaks and causes rust out.
Plus it gives the car alot cleaner look, with less bulk from the rubber.


SWEDISH SKUNK WERKS Will Offer....

This is a new company that is working on new products on several fronts..
Swedish Skunk Werks will be offering Restorations and Restored Vehicles for
sale. These vehicles are not Original, they will only be built with the
products stated above and below. We will have two levels of car:

A Resto-Mod version.. This car will appear original in appearance parked or
going down the road. However, it will not be original in
drivetrain/Suspension/Comforts. They will be a General Motors LS Series Based 350 Fuel Injected Horsepower with a Performanced Based and Durable 5-Speed,
and higher fuel economy than the original Volvo Platform.

A Pro-Touring Version.. This car will appear to be a bit different, with some
slight body mod's and clean ups. Flush Mount Glass Kits, A General Motors LS6 Series Engine at 500+ Managable (Daily Driver and Economic)
Horsepower, A performance Based and Durable 5-Speed, the best of the Adjustable Suspension and Large 14 inch brakes all
the way around. They will only come in certain colors with certain badgework.
They will have some Unique Options in Performance and Comfort, that the
Resto-Mod version will not offer.

SWEDISH SKUNK WERKS is working on these items as we speak..

A working direct bolt in AC/Heat unit.. Swedish Skunk Werks has joined with
Vintage Air to offer a quality package. This unit will be compact and more
efficient than the original add on.. If you are running the original motor, it
will take less effort to operate it.

New Updated Gauges. These guages will now be electronic, but they will be a
direct replacement to the original. The speedo will use a GPS signal, so there
will be no need for calibrations for tires, gears, ect. They will be original
in appearance, but we will also offer some classic Resto-Mod look guages as an
alternative.

Direct Bolt Power Windows.. These kits will eliminate the cable regulators that
the cars currently have, and replace it with a quality power window regulator.

New Interior Panels... We will have direct replacement door panels and other
interior panels.. These will be retro, but they will be updated in materials and
appearance. They will also offer the Power Window option and the standard crank
option. Also working on direct replacment seats with Headrest.

So there is what is in the works, and just like the Suspension Kits and other
products I have done for other vehicles, these products will happen for my
builds.. Now the only thing is, is there enough interest in these products to
set them up for Mass Production? Let me know if you are interested, and do let
me know if there is something out there you would like me to see if we can get
it done..

Thanks

Robert Jackson
DIVERSIFIED AUTO GROUP
Unique Suspension Solutions
Swedish Skunk Werks
Classic Auto Glass Innovations
580-263-0454
Classicautoglassinnovations.com
7-5-2011
Here are some pictures of the first round of the Rear End works.. It is a very
solid and heavy duty housing, but weighs less than 80 pounds minus the gear
set.. It looks larger, but the actual pumpkin housing is about an inch bigger,
which translates to a 1/2 lower clearance position...

I am still working on the final mounting plates, but this will give you the idea
of the quality that is going into it... It will accept the General motors
Calipers with the Emergency Brake feature with a 11 inch brake rotor...

These rears are also the largeer 31 spline quick change axles, and the gear set
will offer any gear ratio and traction option you could need.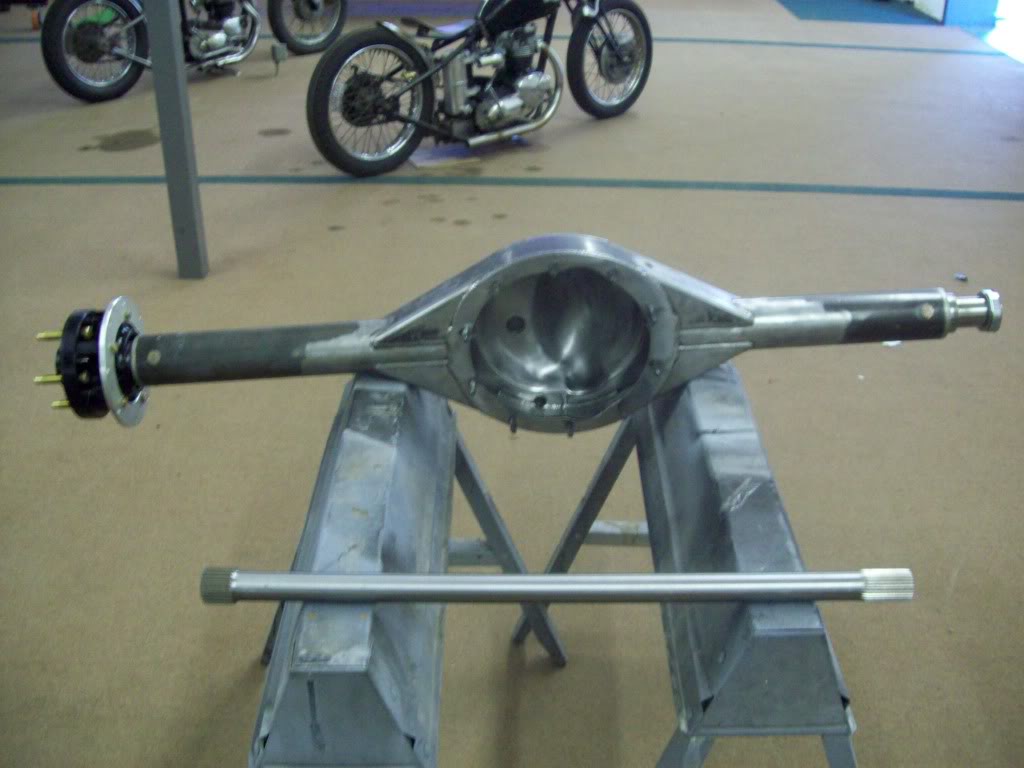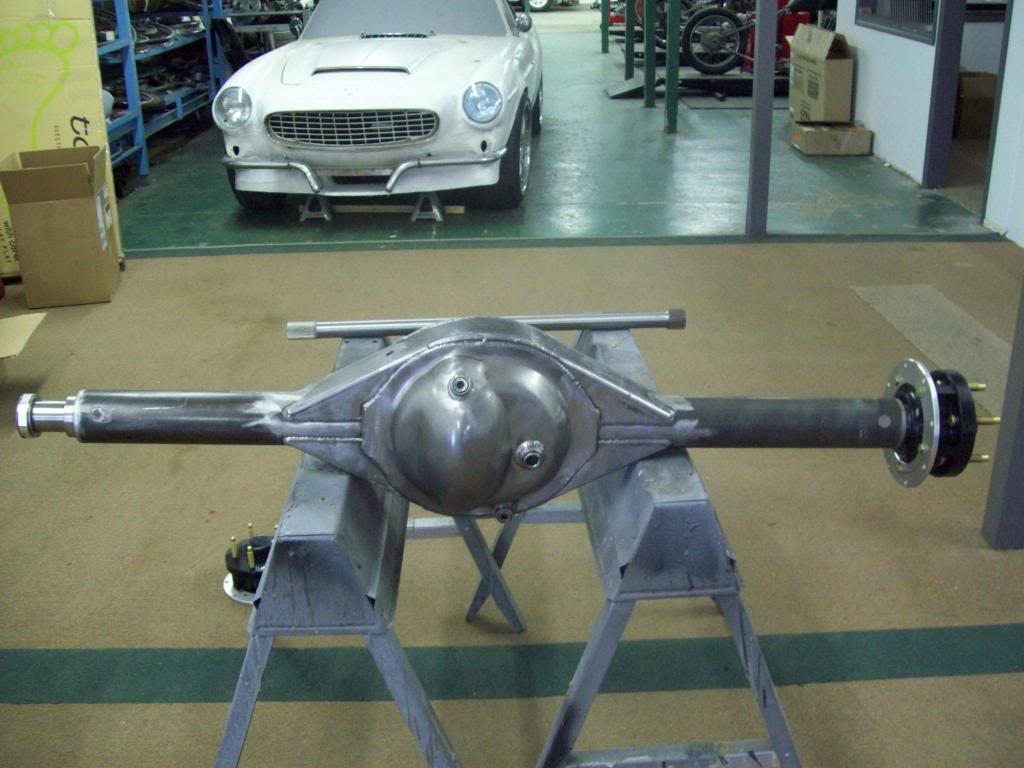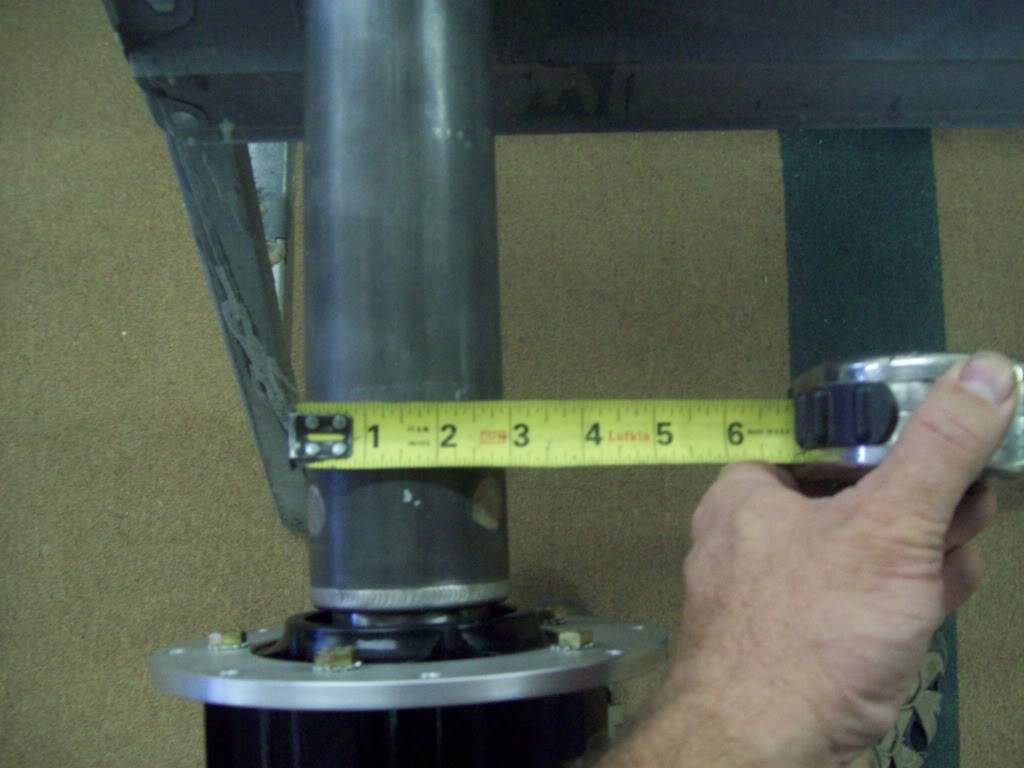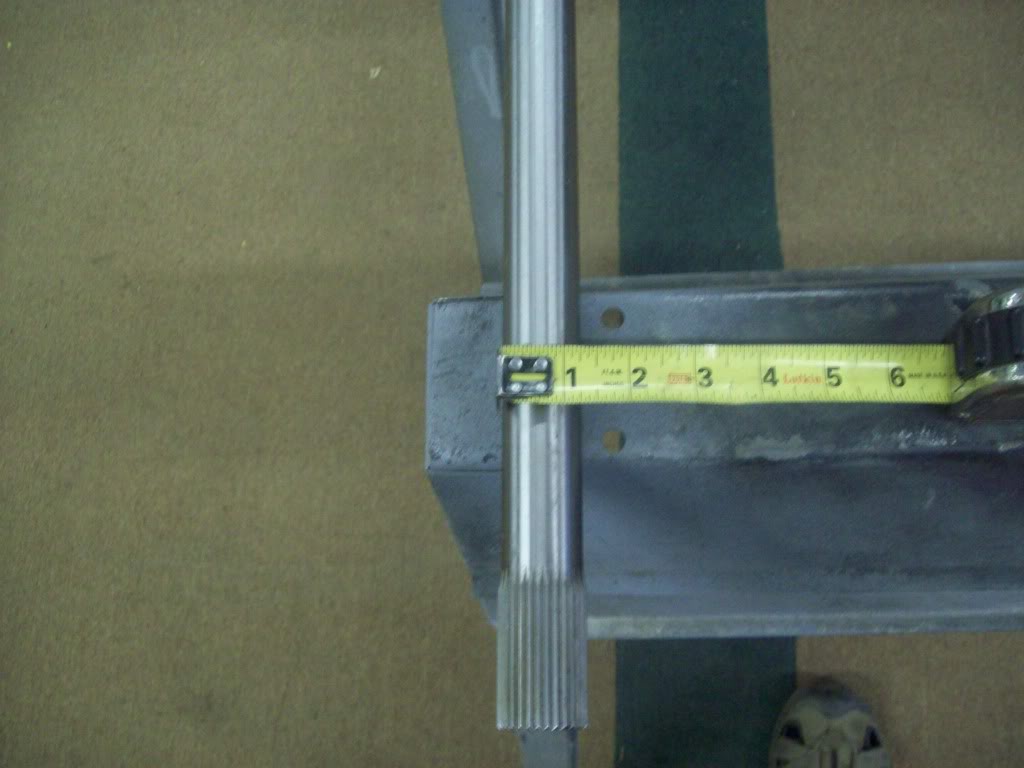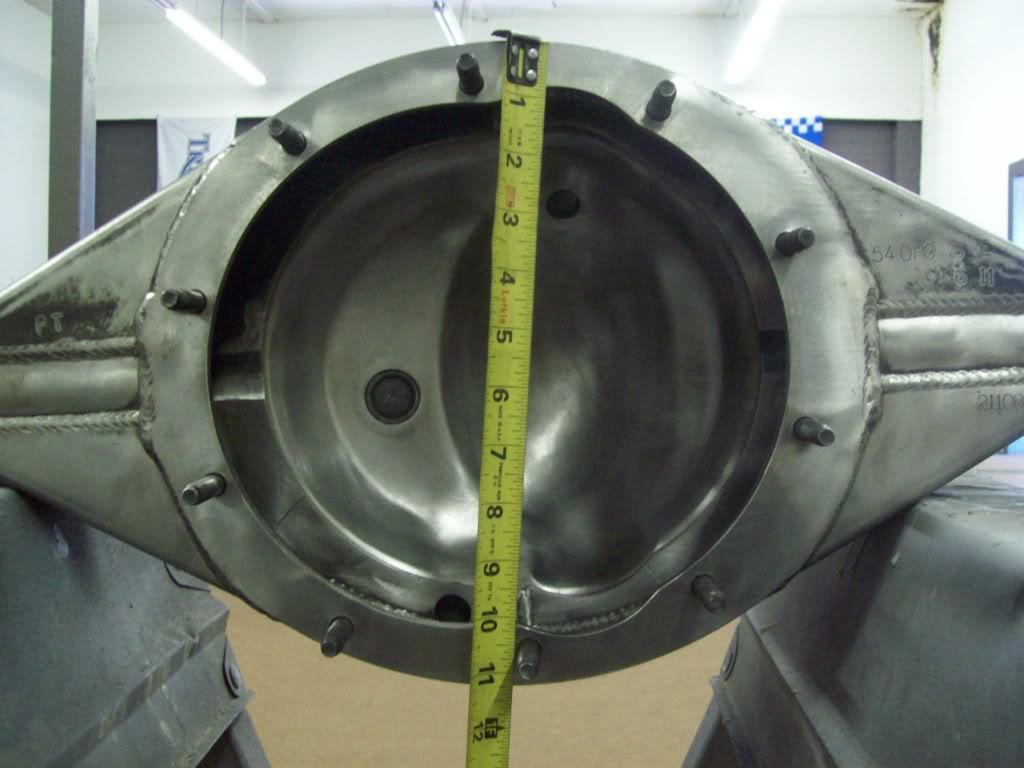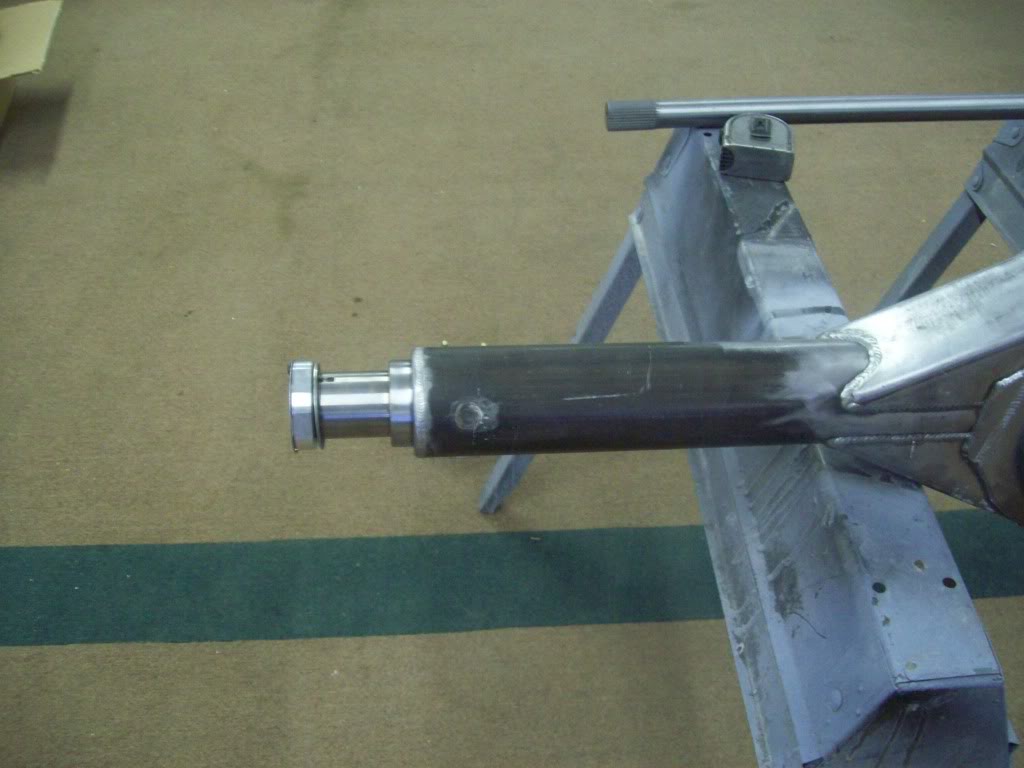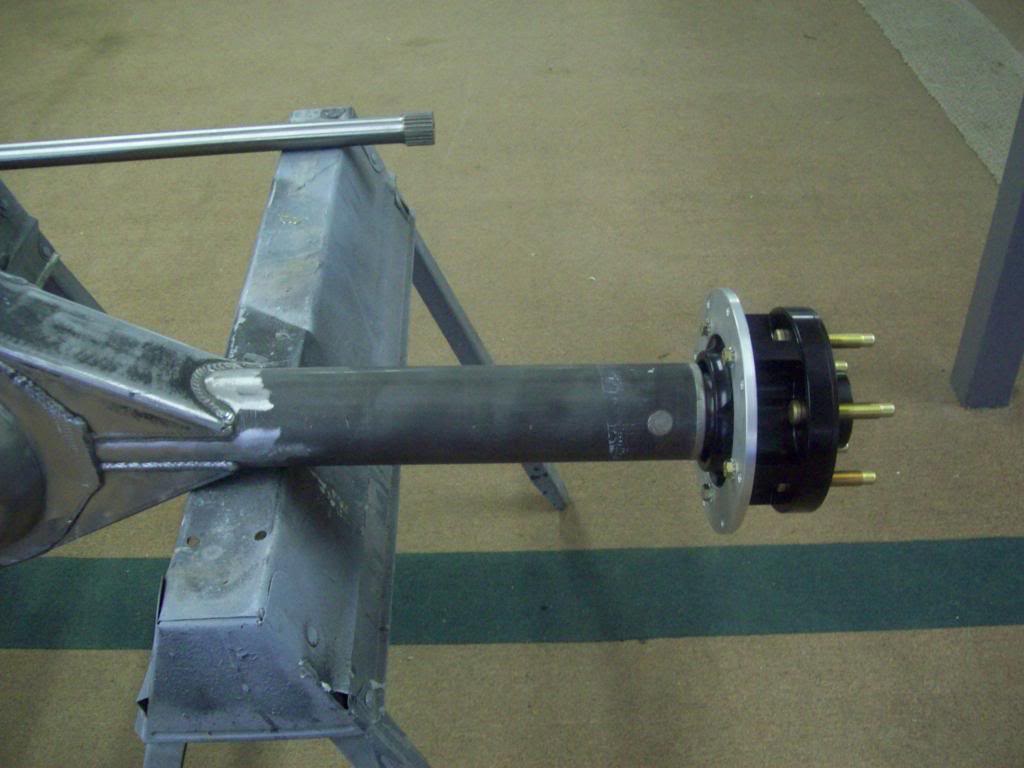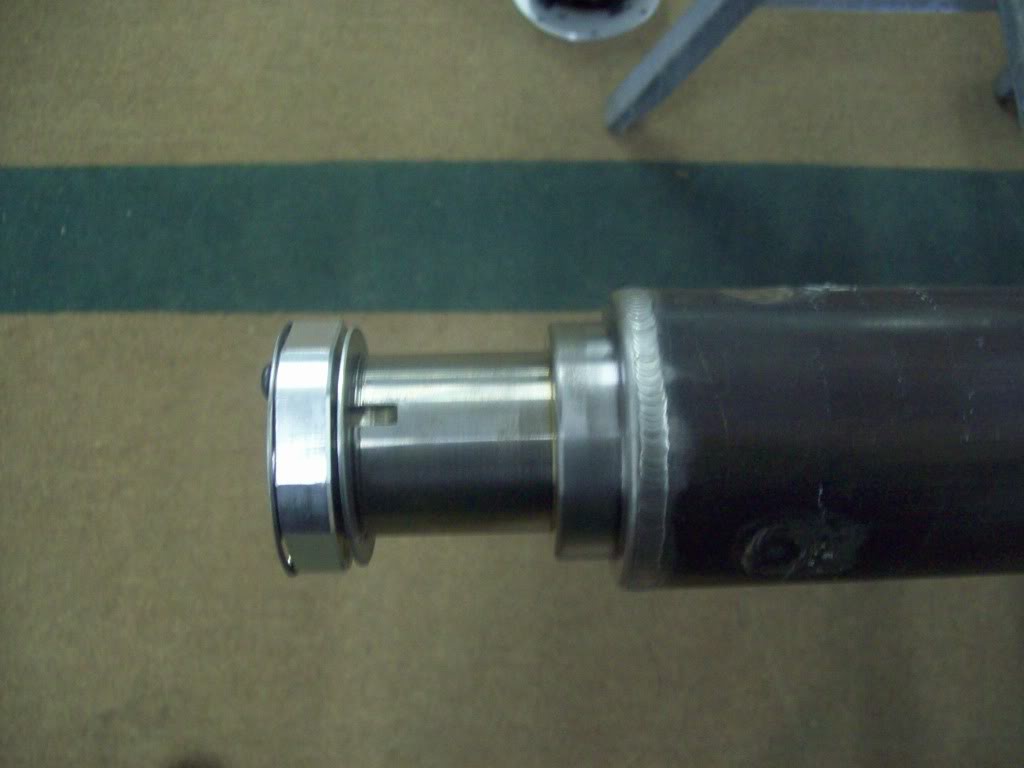 7-17-2011
Here is an update of the rear end mocked up in the Amazon body.. I have some New Design Adjustable Aluminum Rear End Links and Panhard Bar being manufactured for this application, and for a stock arm replacement package. The custom link kit will directly bolt to the body and factory rear end assemblies also, which will help with replacement bushing issues for the factory links. This will also allow for all the possible adjustment I need, and allow this rear end assembly to go in all the models of Amazons and P1800's. This is mock up mountint is with the factory springs and shocks, to show that it is a direct replacement for the factory rear, but we also have a Coil Over Spring Conversion kit to eliminate the original coil springs and shocks. This will allow for better vehicle set up, and will also eliminate the pesky suspension sag these cars are plagued with.

These rear end assemblies will be offered in several packages.. Just the Floater rear end assembly that you can install any 9in ford carrier you may have.. A complete unit with carrier assembly already installed, and with your gear ratio and traction specs. With or with out the Coil over conversion. The links will be offered seperately for people that want to use them with the factory rear ends, but will have to be purchased with the New Design rear end assembly for ease of install.

Along with the gear ratio and traction options, these assemblie have numerous brake options up to 14 inch brakes. The pictures below, show the base level kit with general motor calipers. These calipers do have an emergency brake application, so nothing is lost there.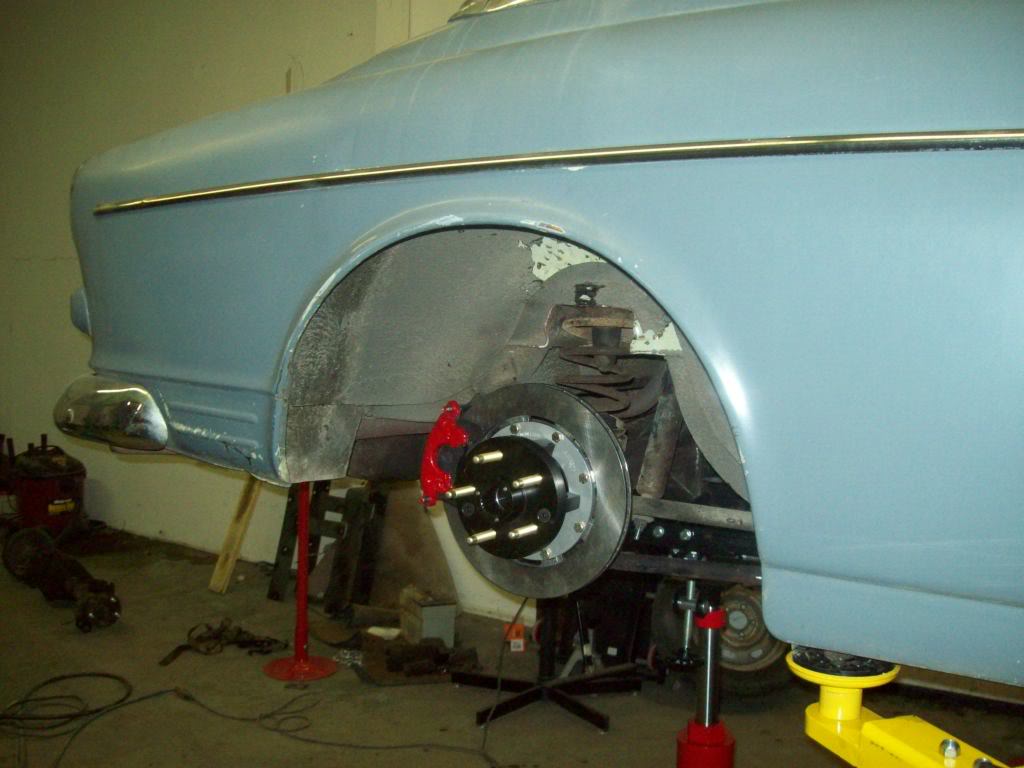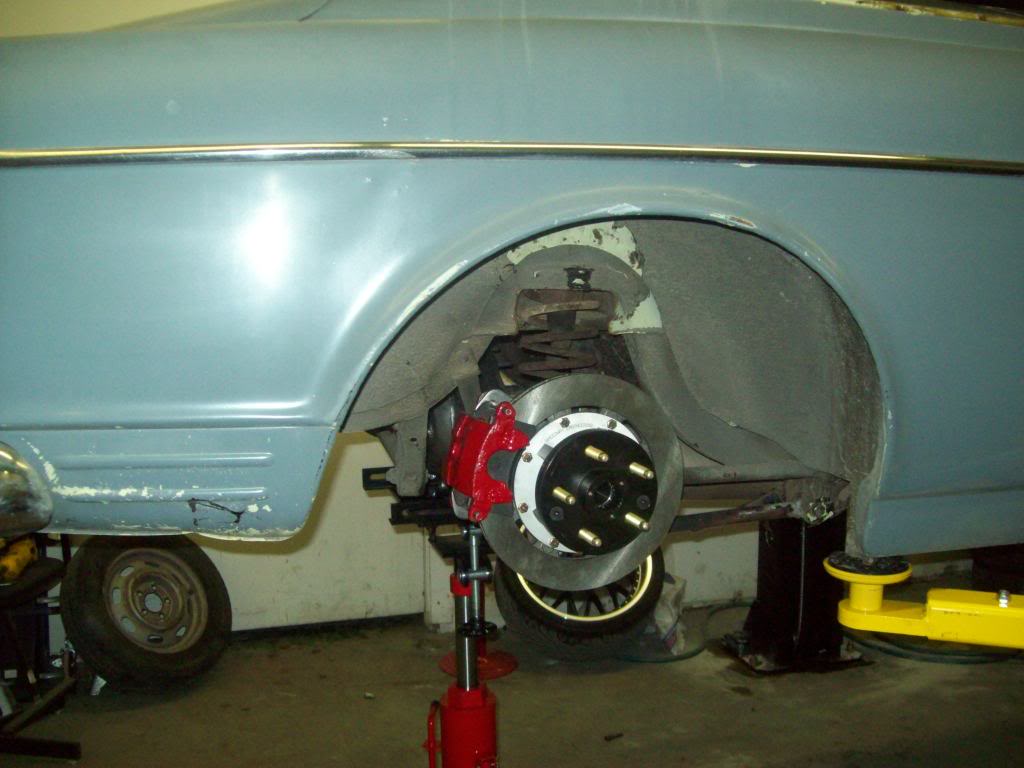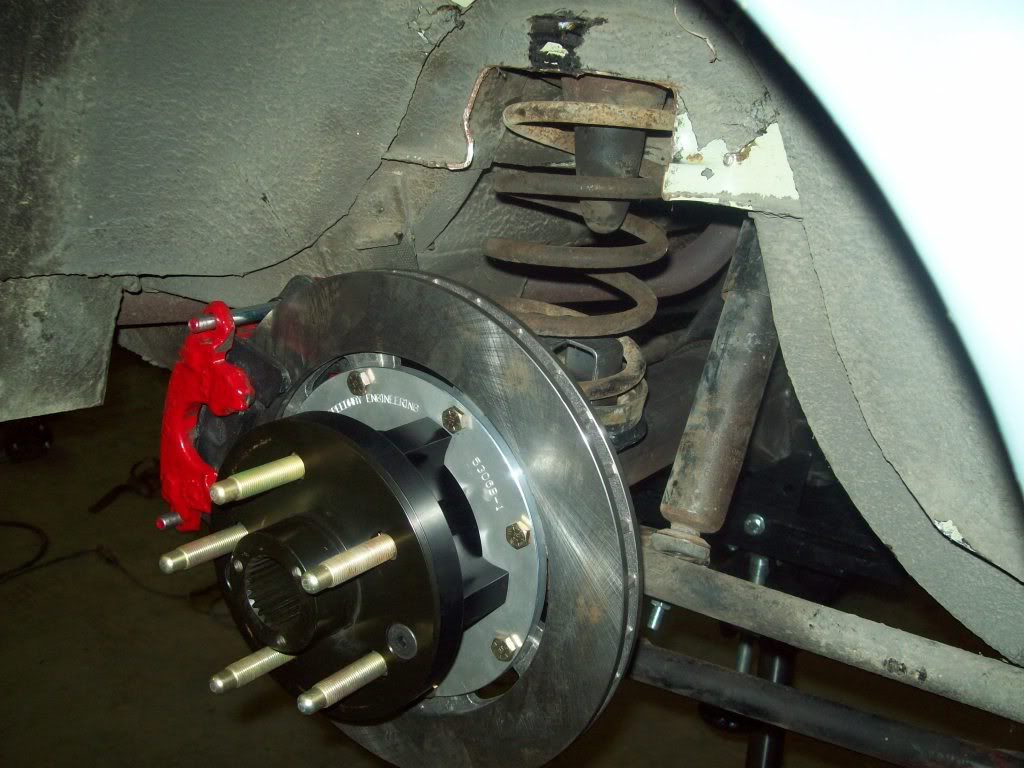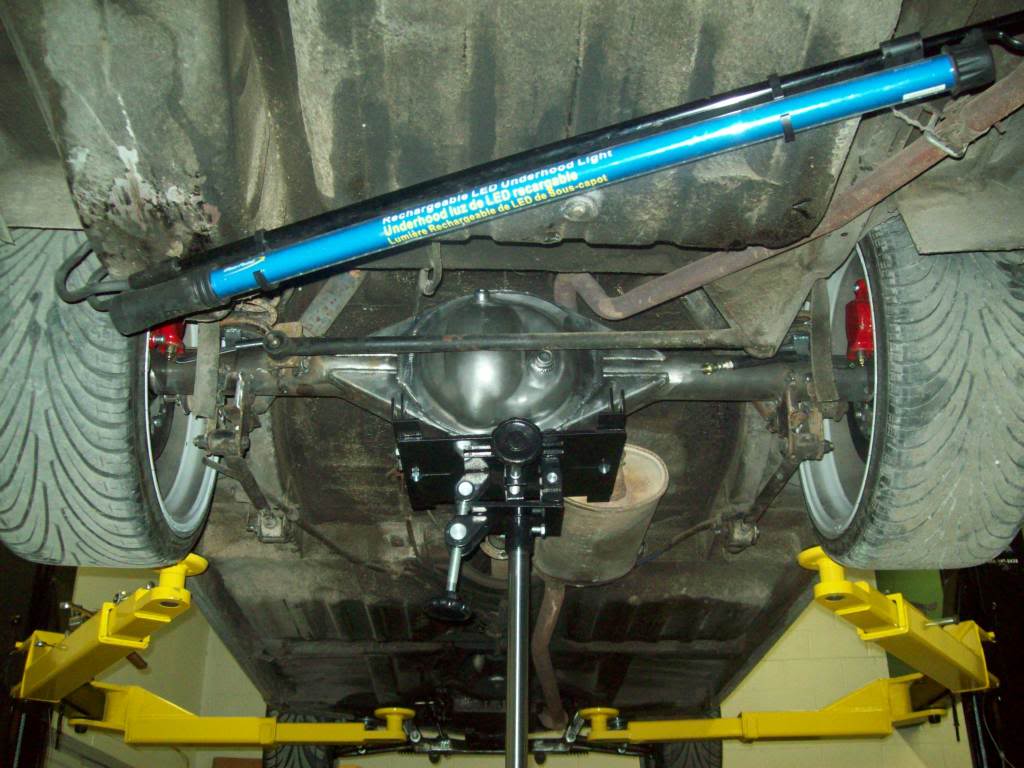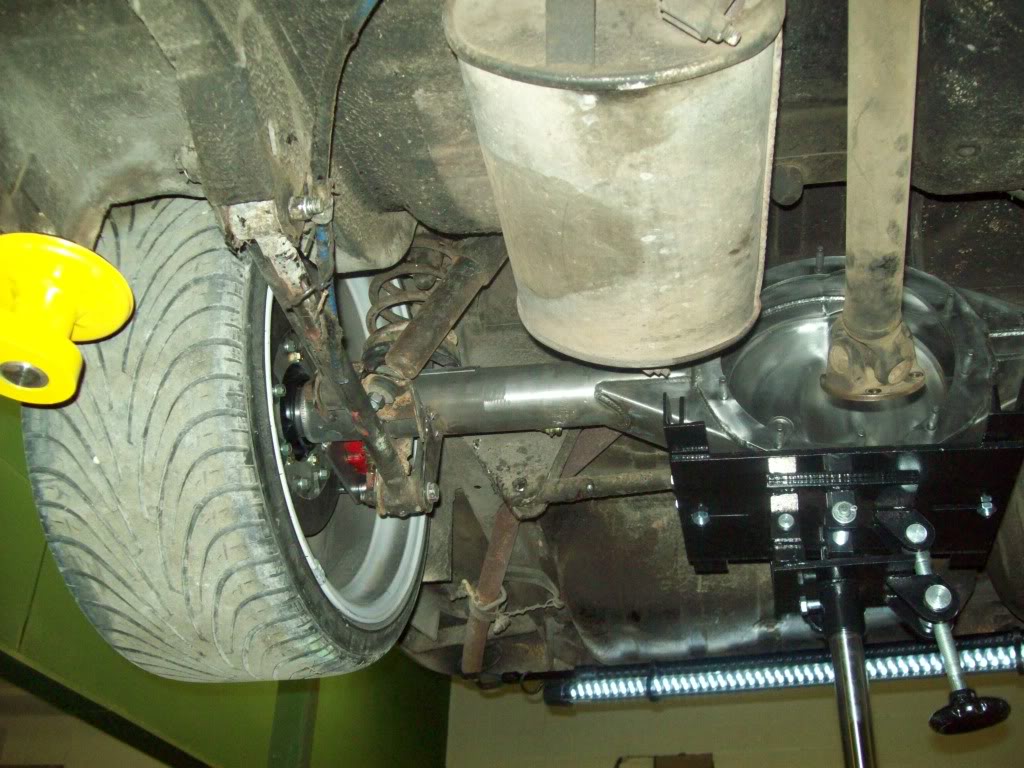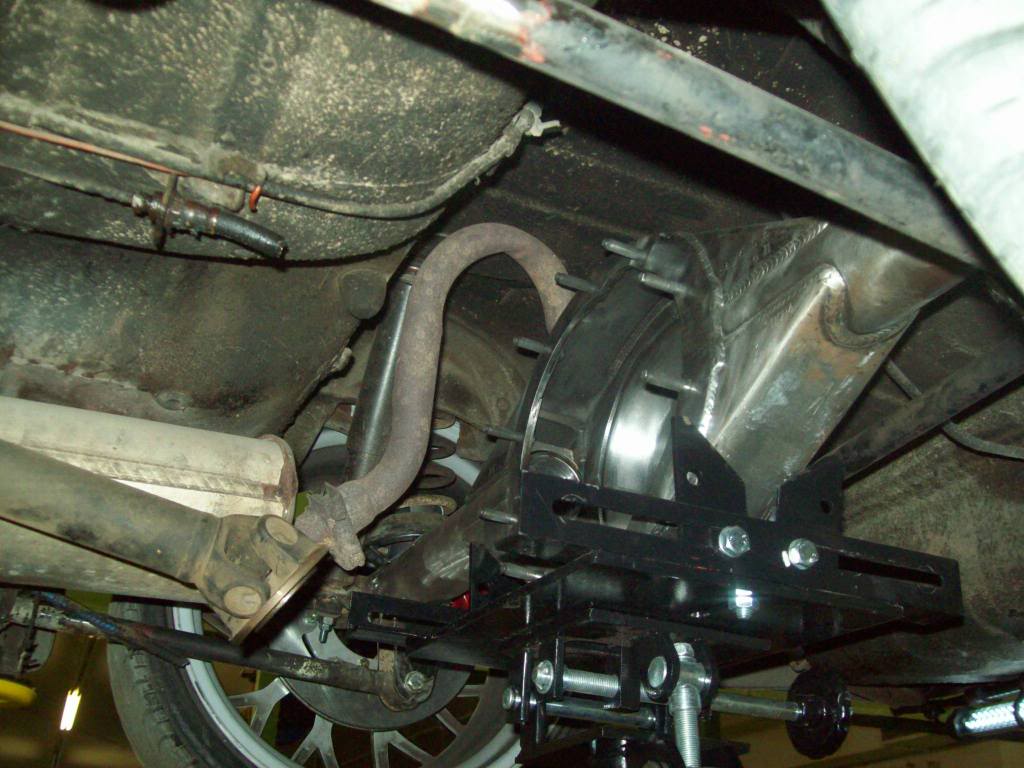 1-5-2012
Here are some preliminary pics of the Swedish Ops rear coil over conversion kit we will be using on this build and others we have going on also.. We are adding a Punch Hole finish plate to the bottom opening near the spring pockets, and few other asthetic features, along with finish grinding and full powder coating. This is a bolt in bar that transfers ALL the LOAD back to the original spring pockets.. It is self centering, and will bolt in with out removing the rear axle. We have the Bolt On adapter brackets to convert your original Volvo rear end coil over to accept the coil over mounting..
This bar give your P1800/Amazon up to 5 inches of incremental ride height settings, from stock to an extreme lowered position. You also have quick adjust ride sensitivity and stiffness settings, with a twist of a knob. We have about unlimited spring load and rate options, so no more settling on what you are looking for in ride height or ride quality. You have the same ride potential at any ride height you choose.
The rear end pictured, is the Swedish Ops Universal Direct Bolt In rear end. It comes with all the gear ratio and traction options you can ever need, along with a disc brake range of 11in to 14 inch rotors and up to 6 piston Calipers. The aluminum adjustable trailing arms/panhard bar allows you to keep your proper rear end alignment and and pinion angles, no matter the ride height setting.. Another unique feature to this rear end is, it comes in a 54in, 55in, and 56in track width, which will allow you to use a wider variety of common wheels and offsets with out spacers.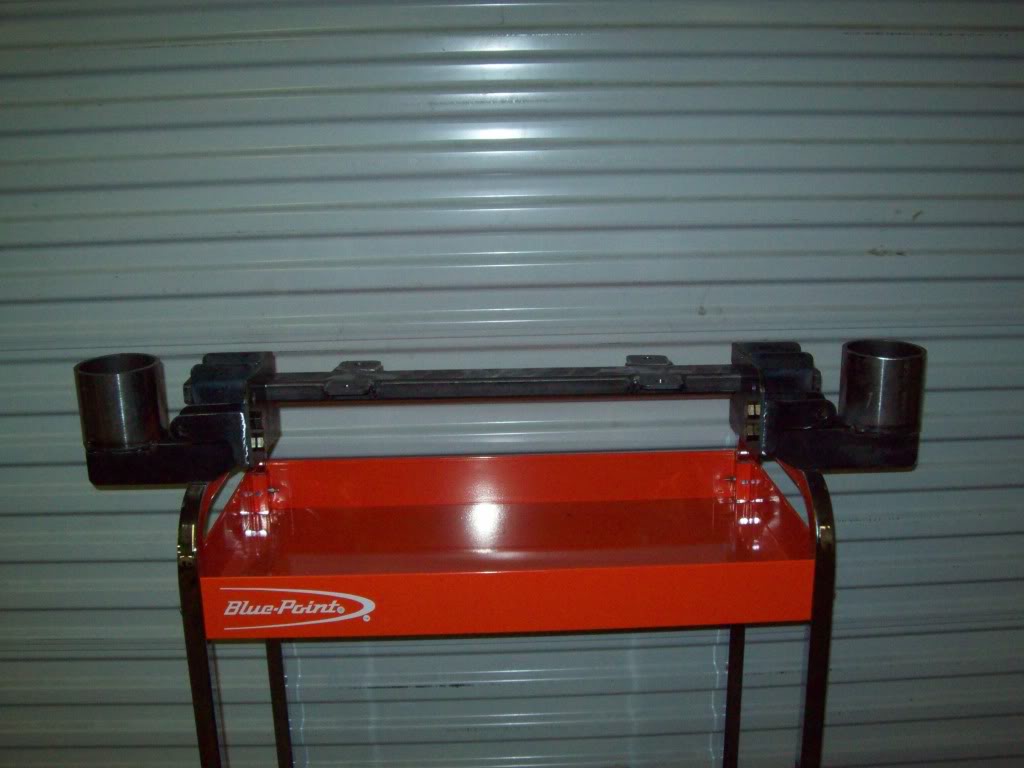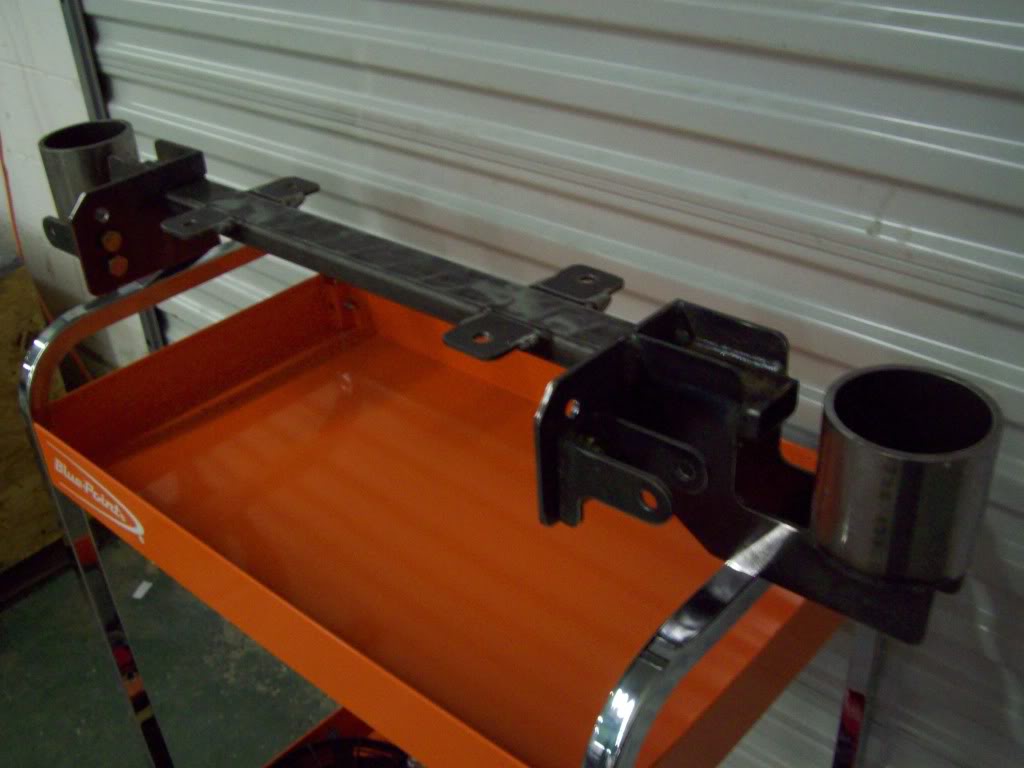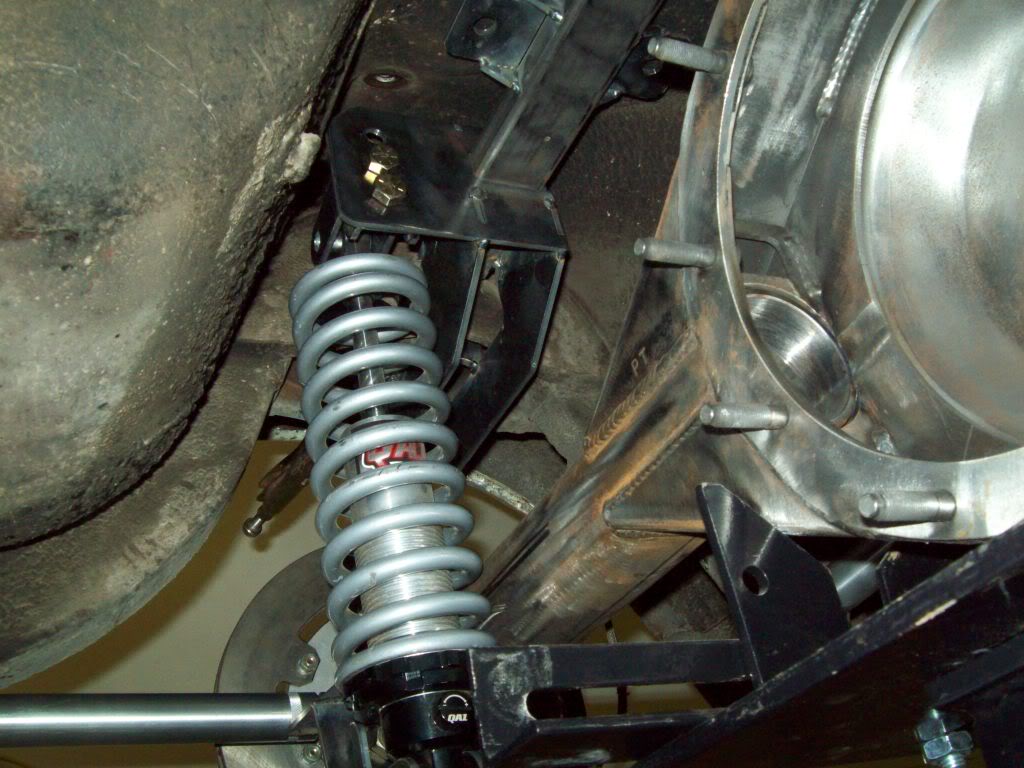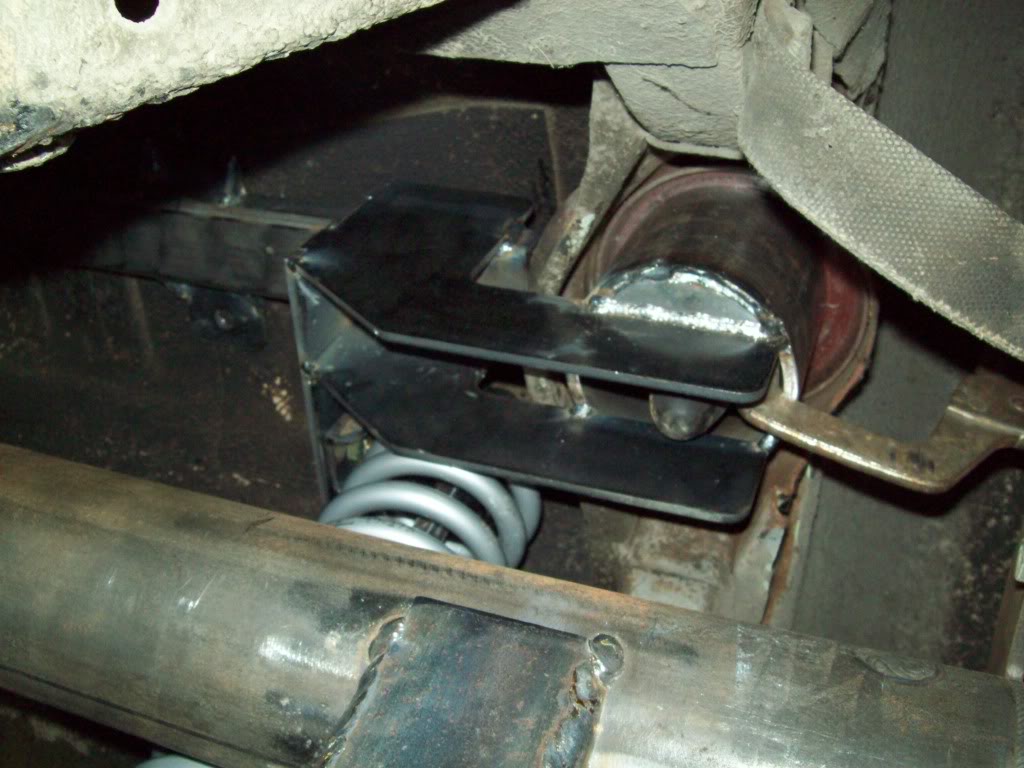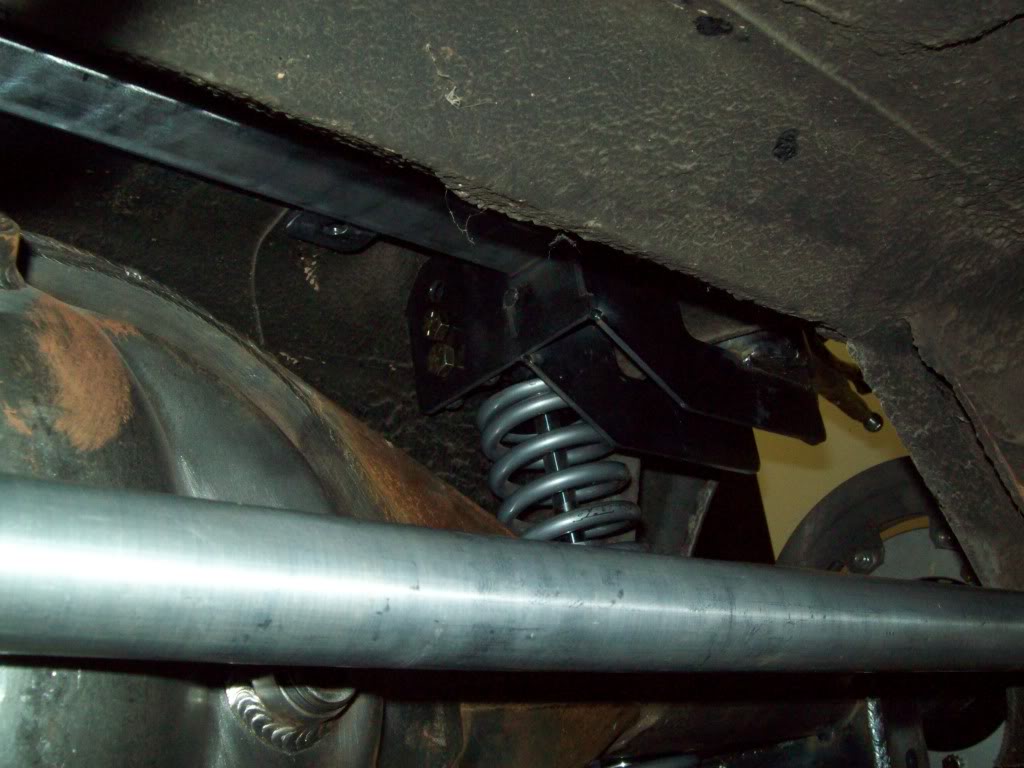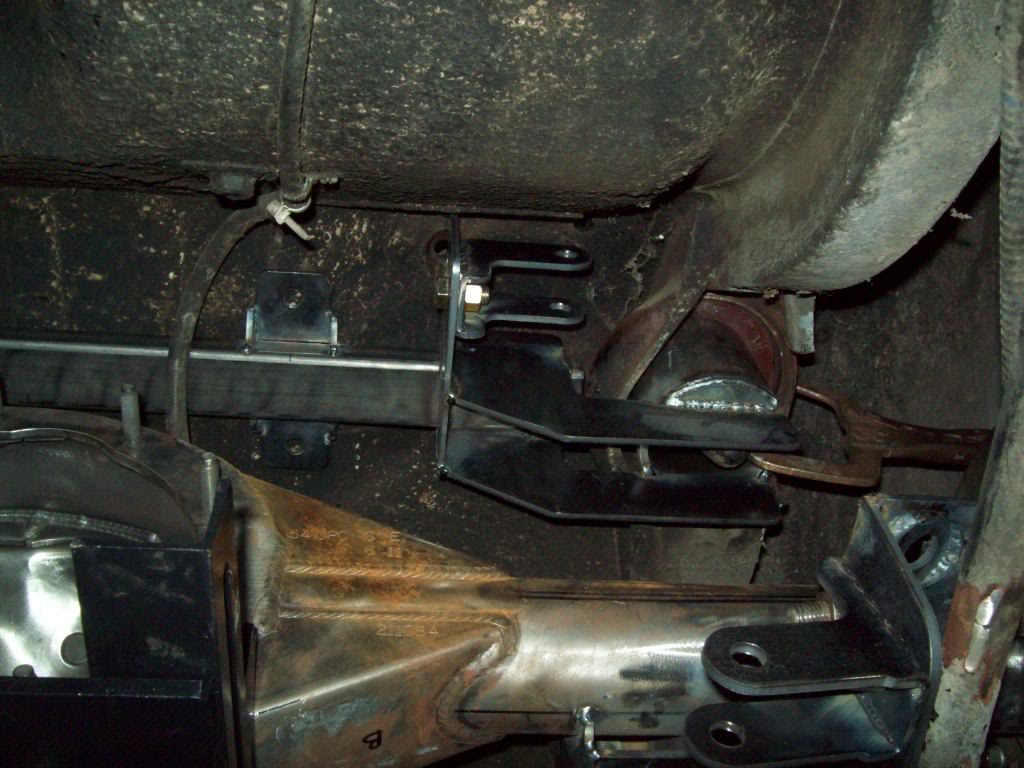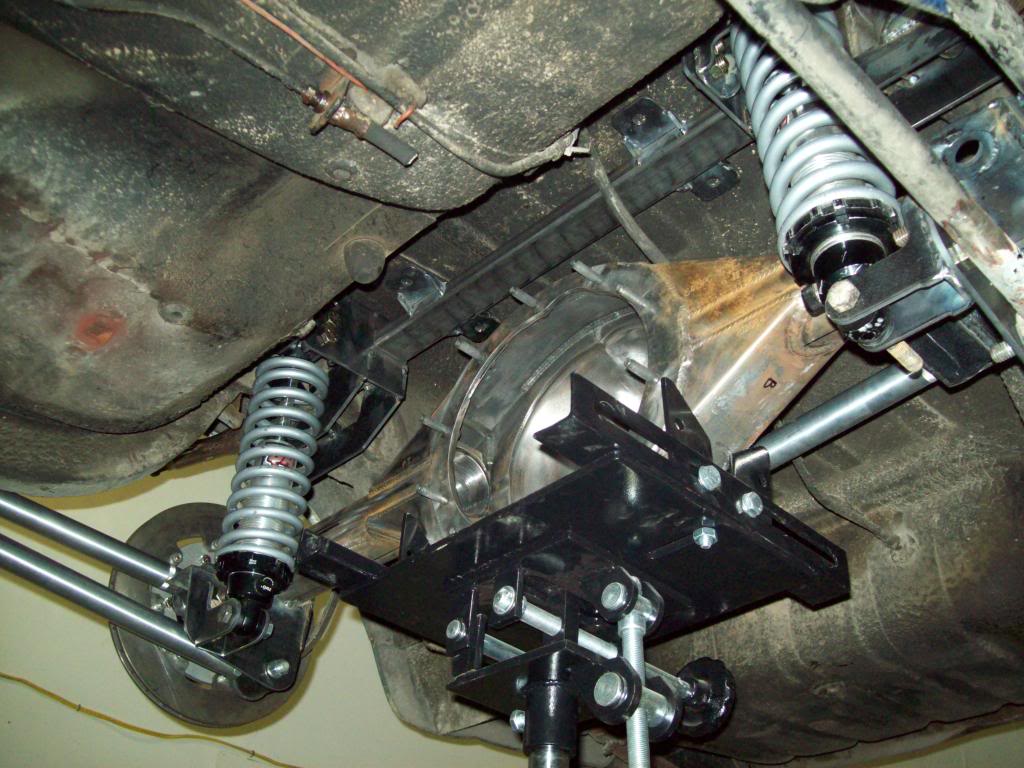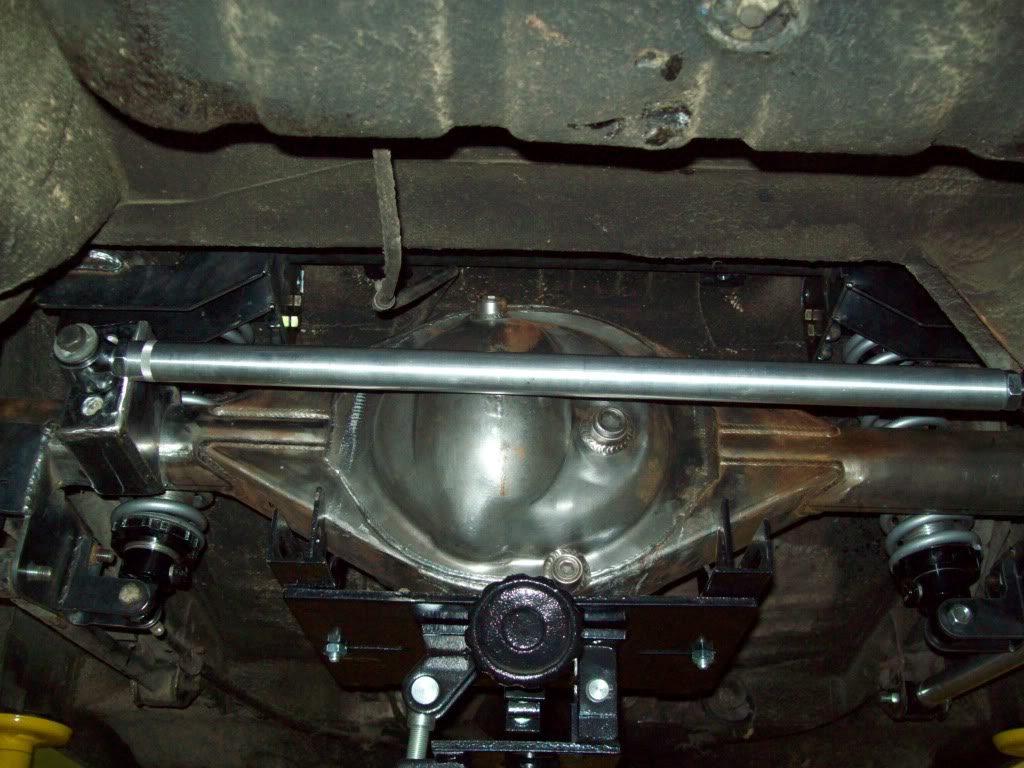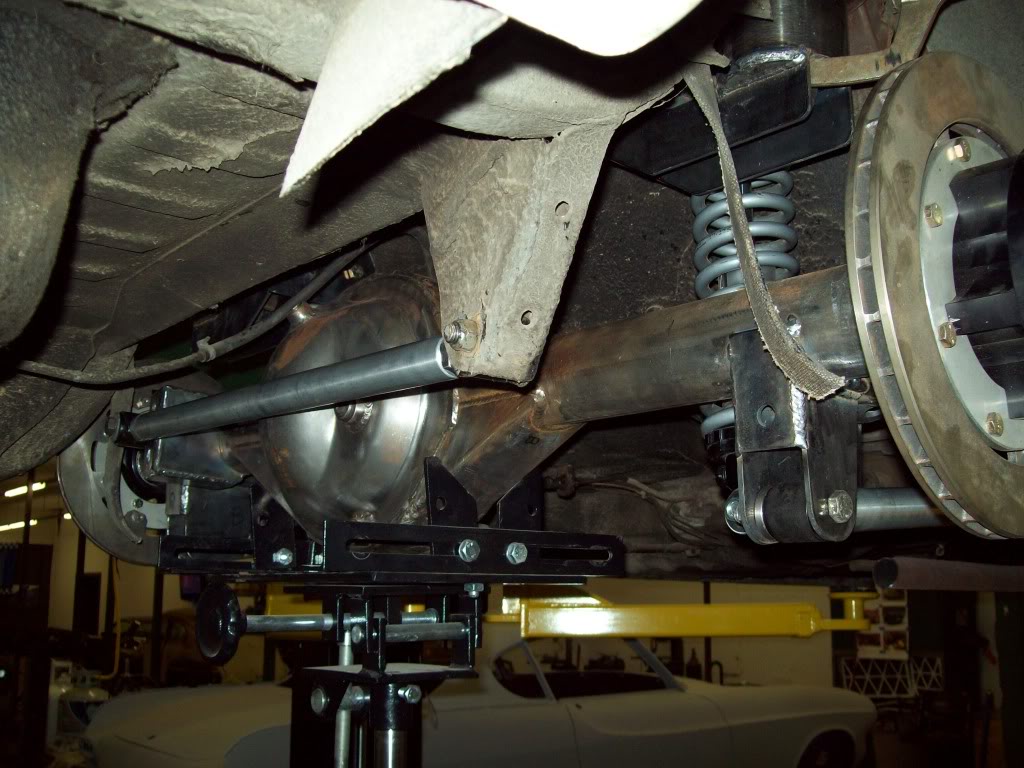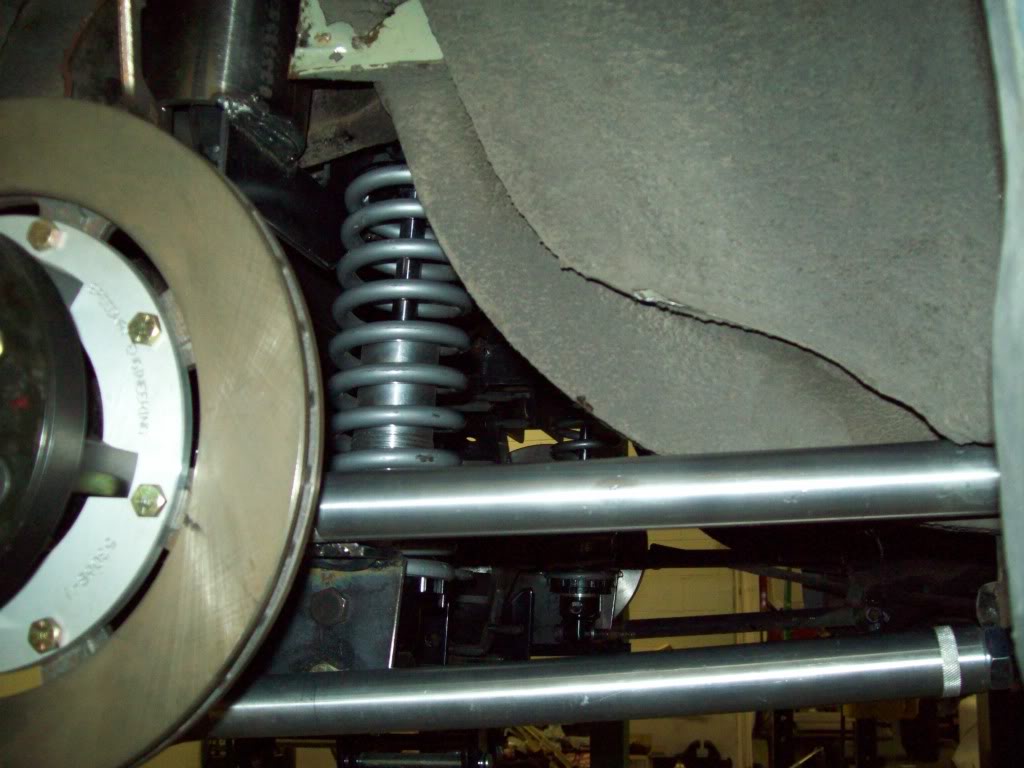 1-6-2012
Here are a few pics with the unit out of the car, you should be able to see how it works.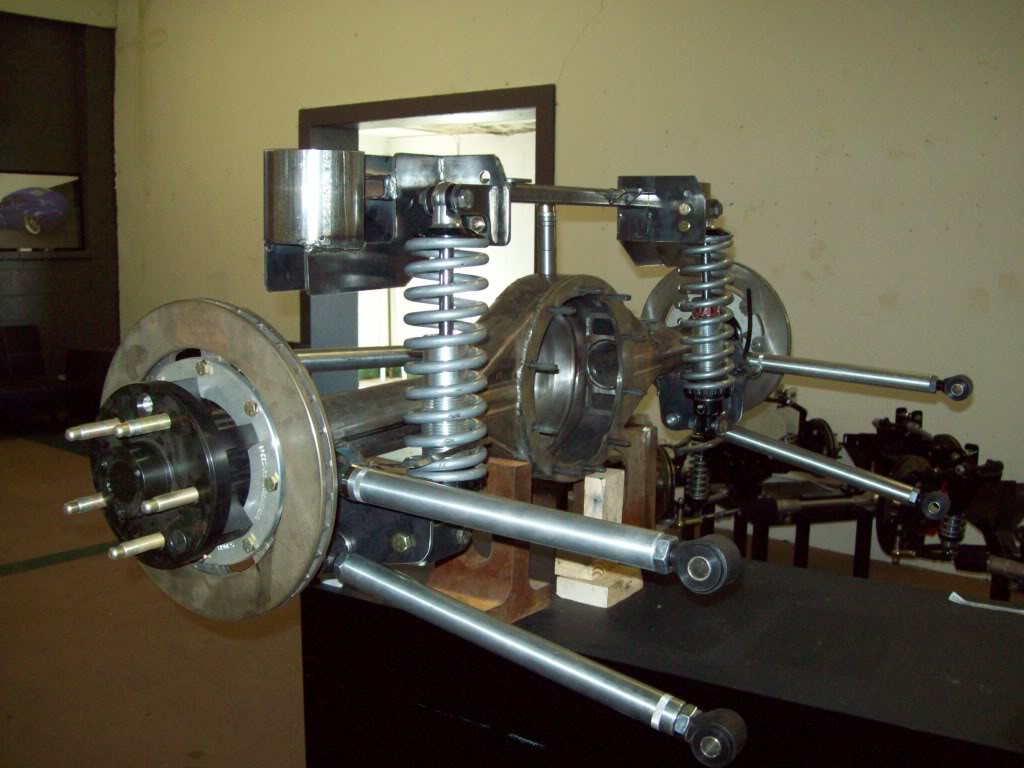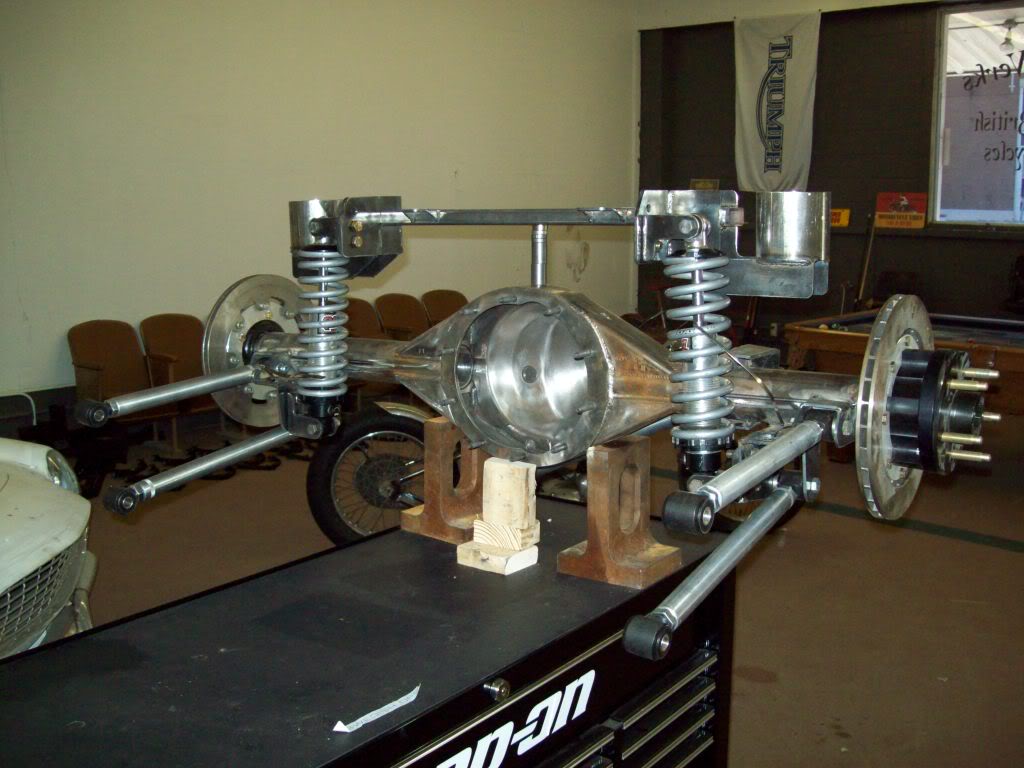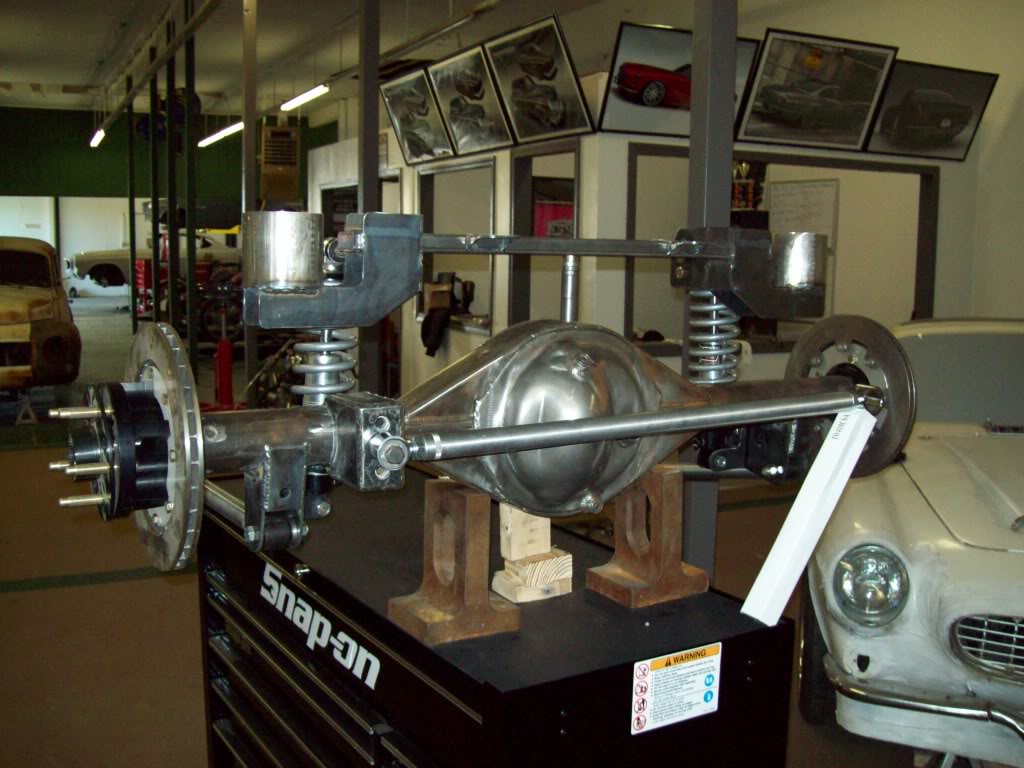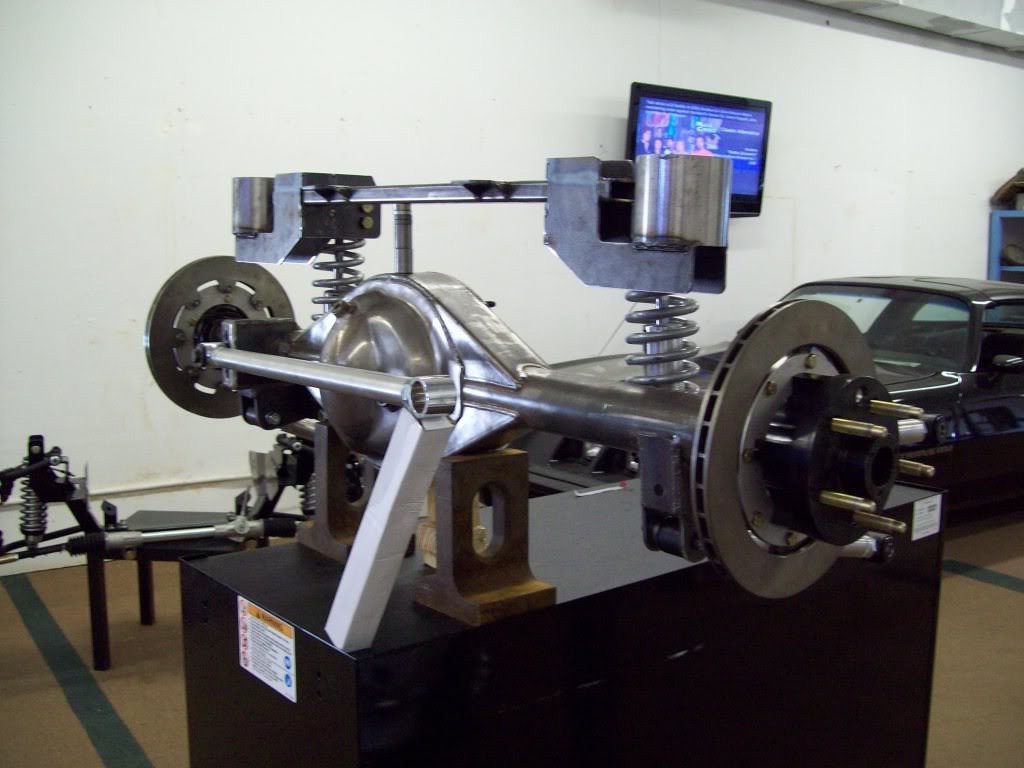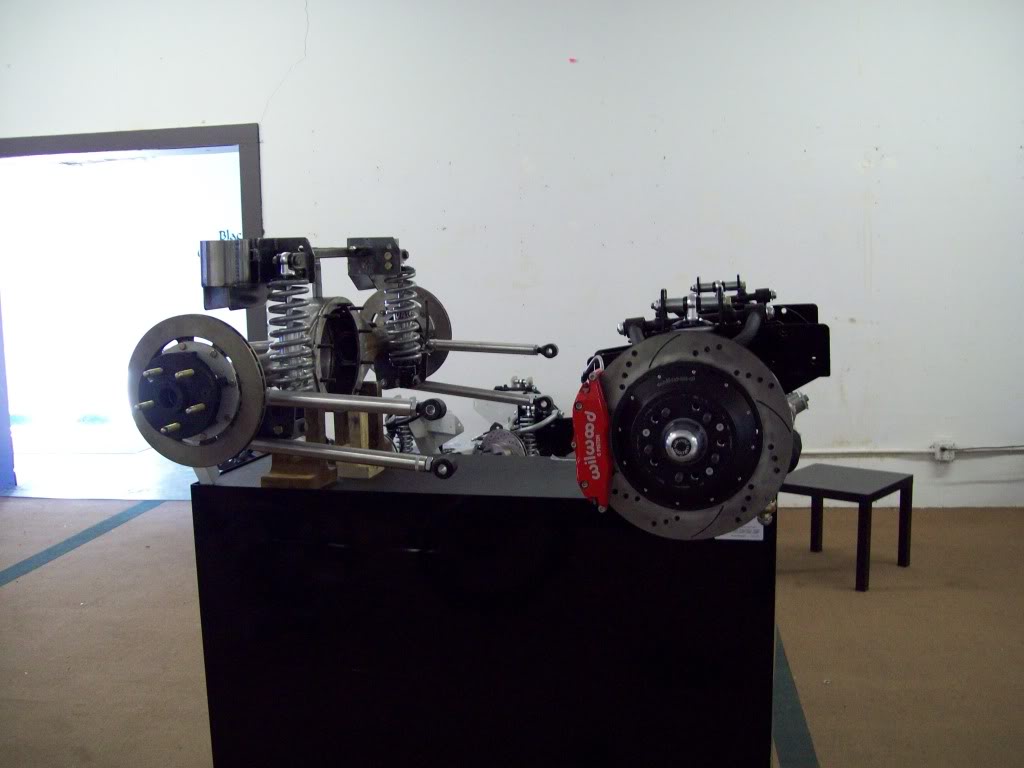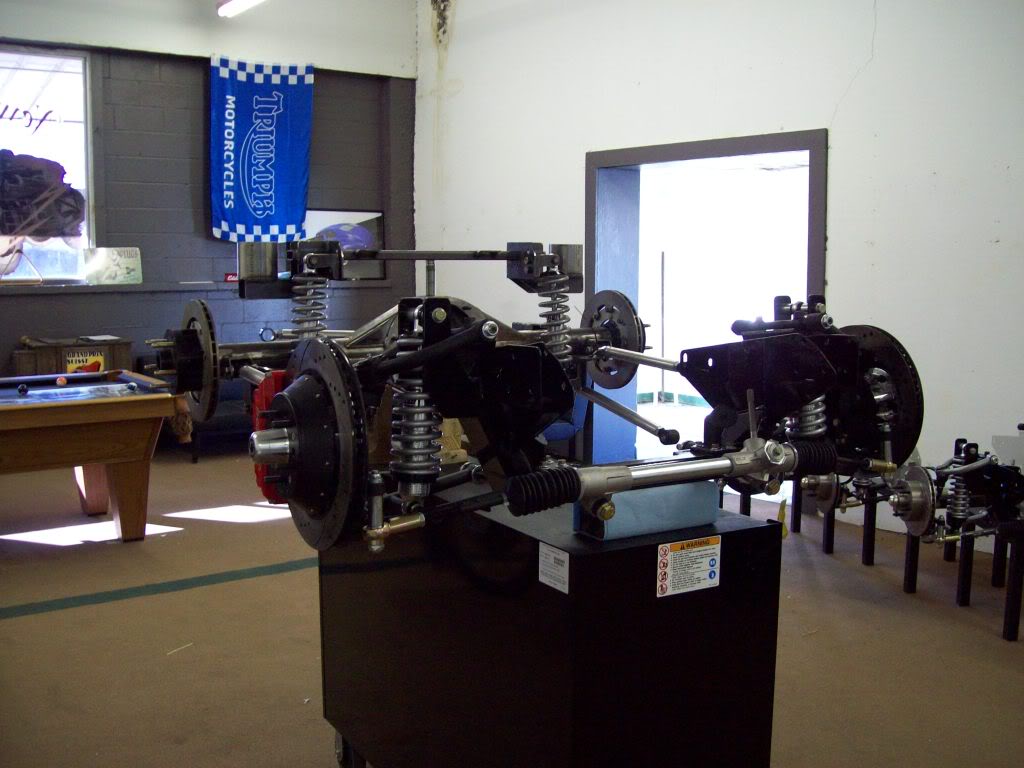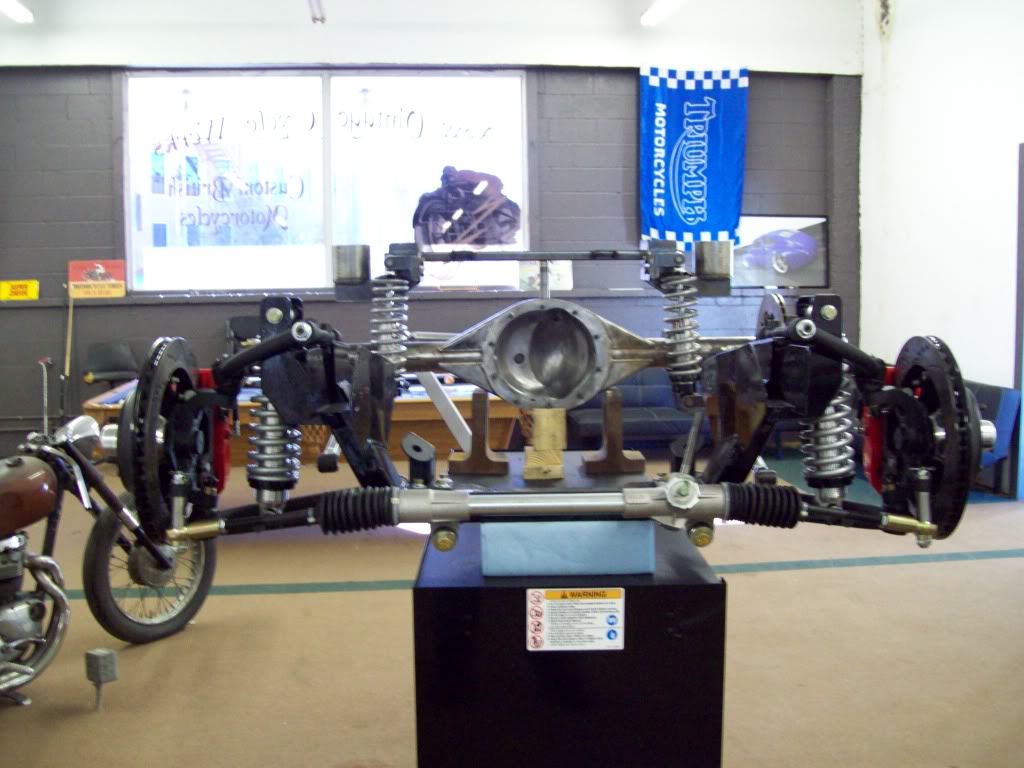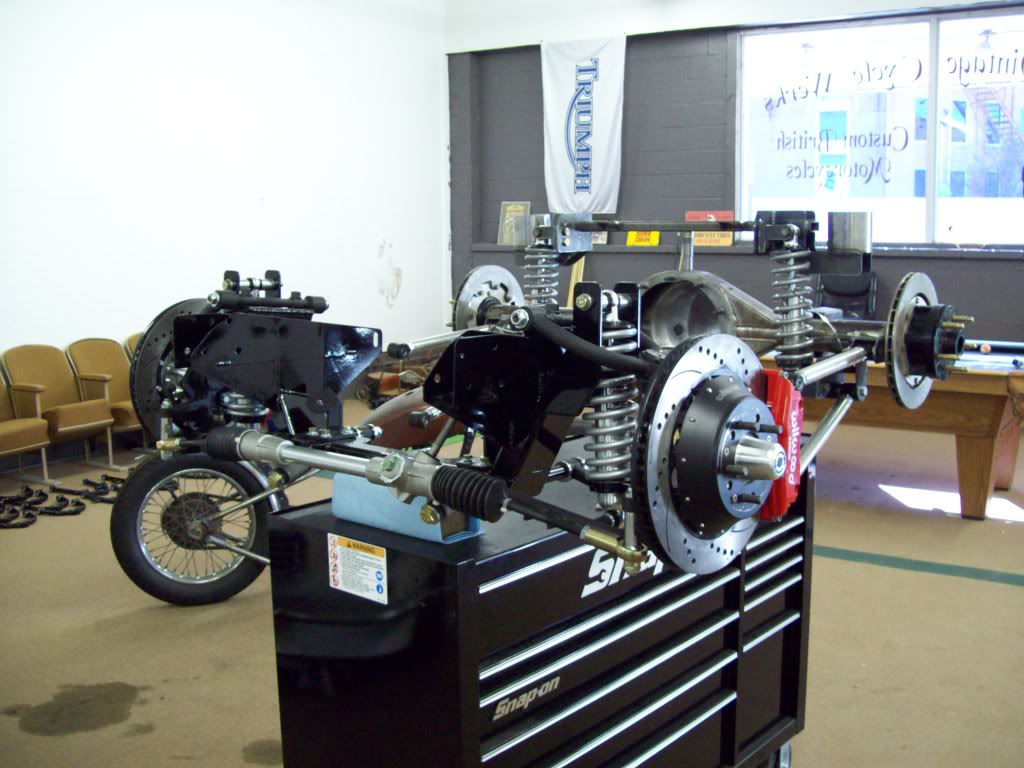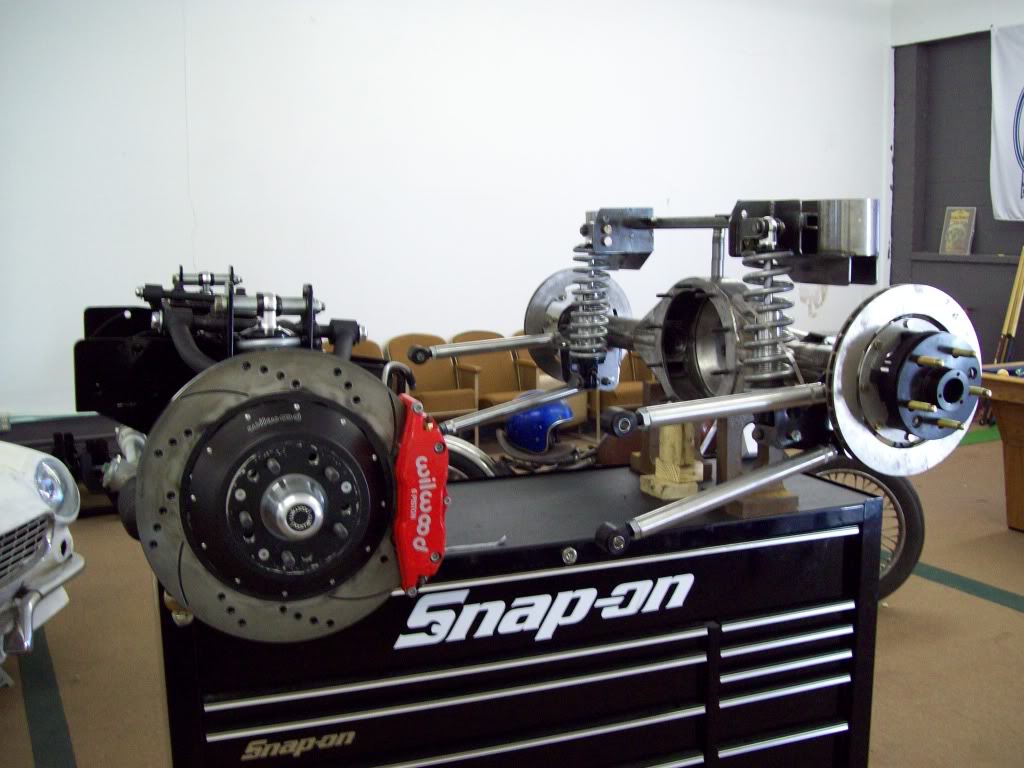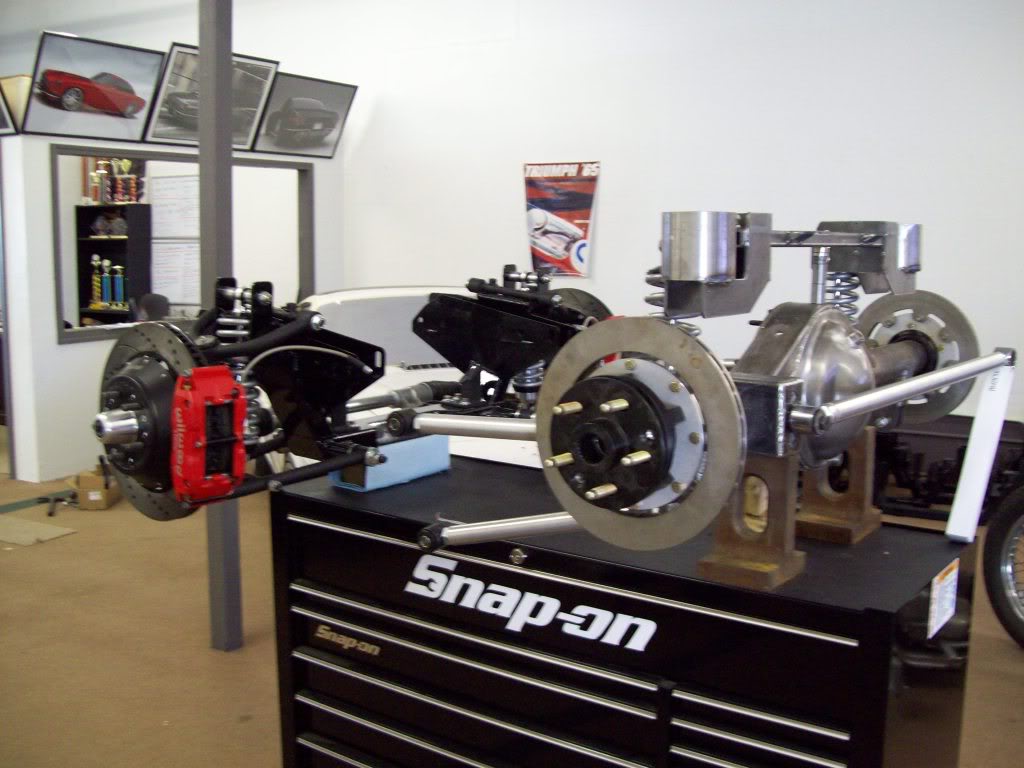 1-8-2012
Here are some pics of different views of the front and rear kits together.. Keep in mind, this is our base kit with base brakes, but this what you see is the minimum of what you get... All the front end kits come fully assembled and ready to install, no welding, no cutting, so once you have your factory components removed, it literally slide right in and matches up with all the existing Volvo bolt holes.. You can also see the front end kit actually has longer braces forward of the OEM. And we do this, because after you remove the factor steering components, the extra reienforced holes are there to utilize for extra support and bracing of the new front crossmember.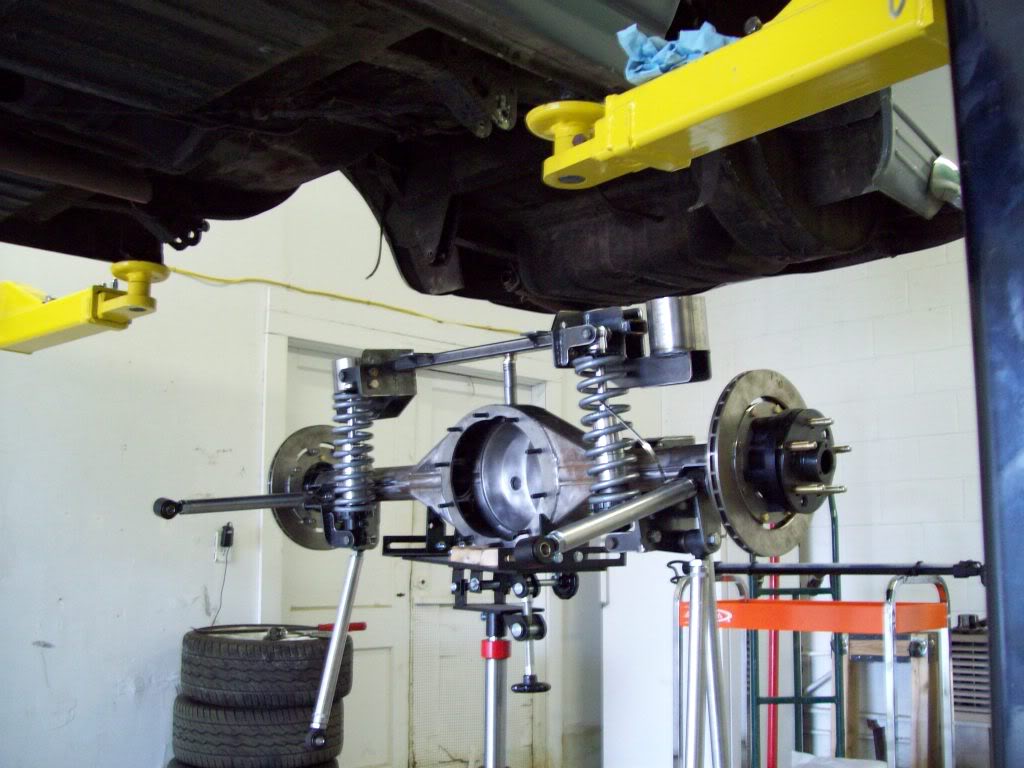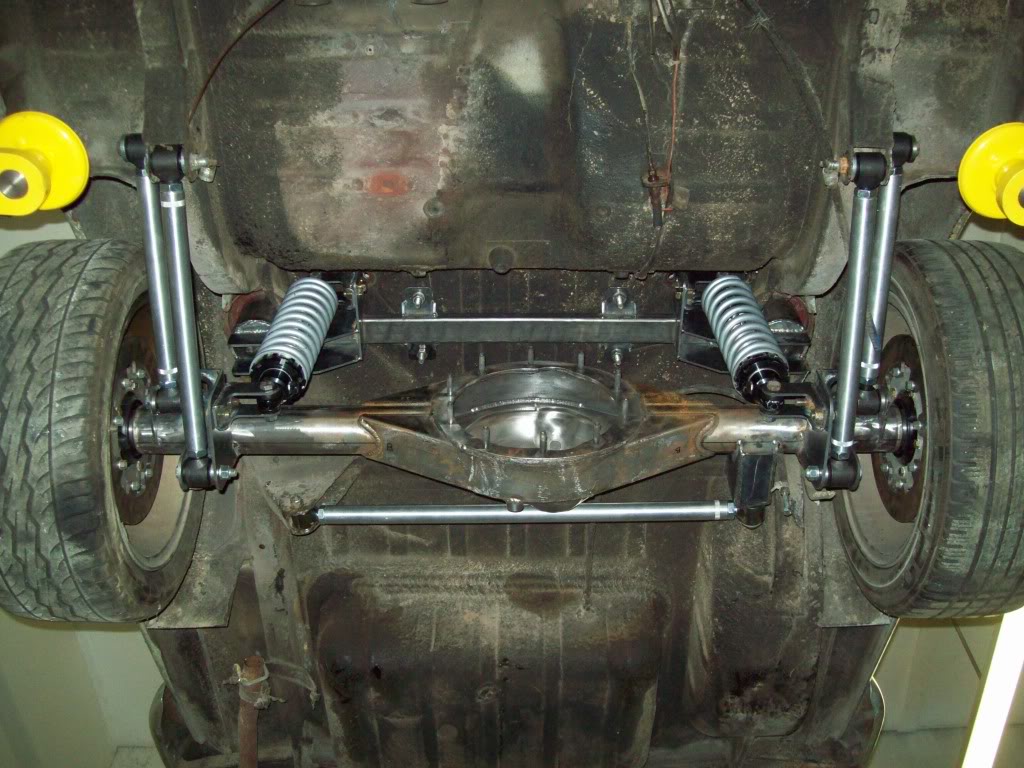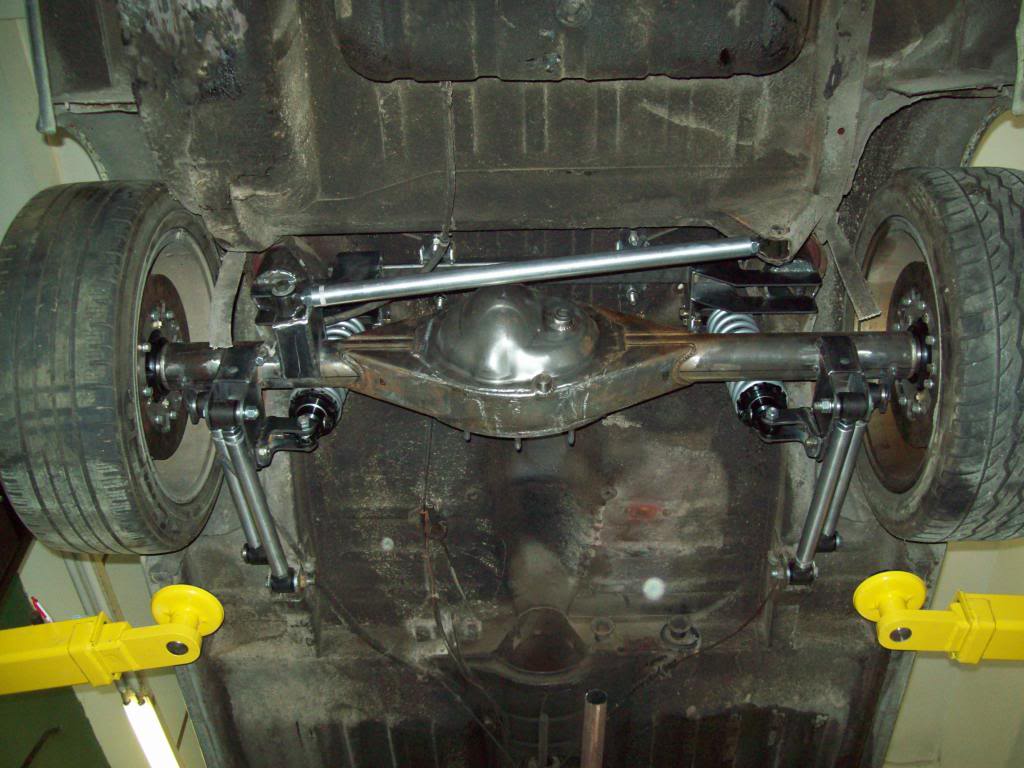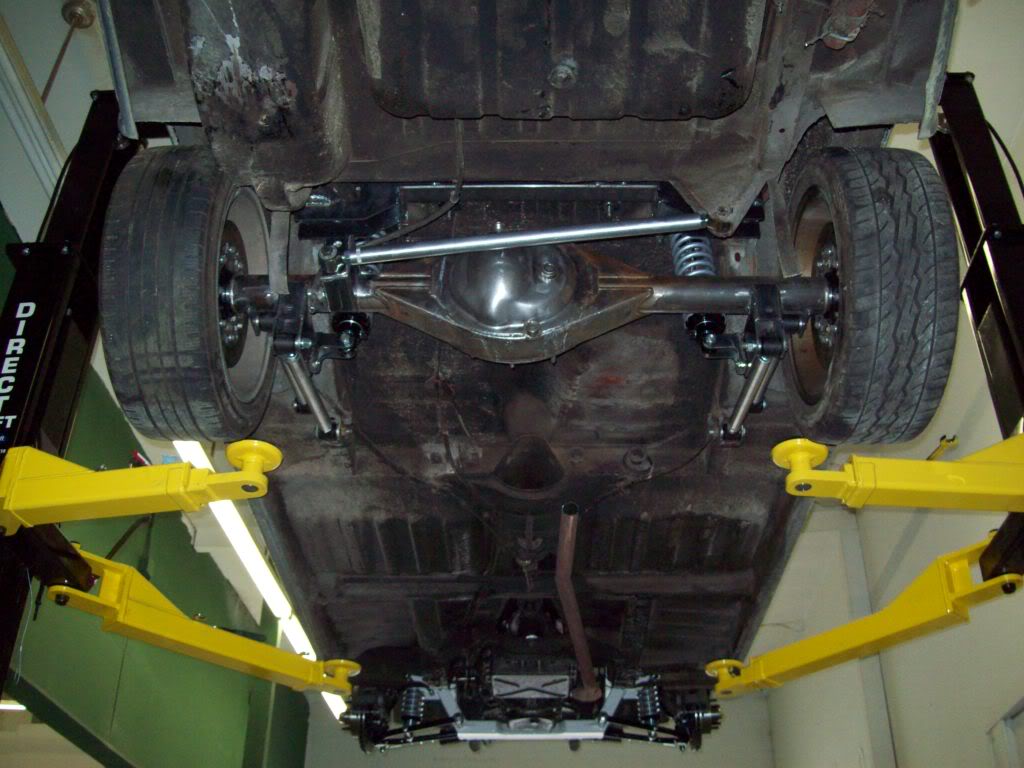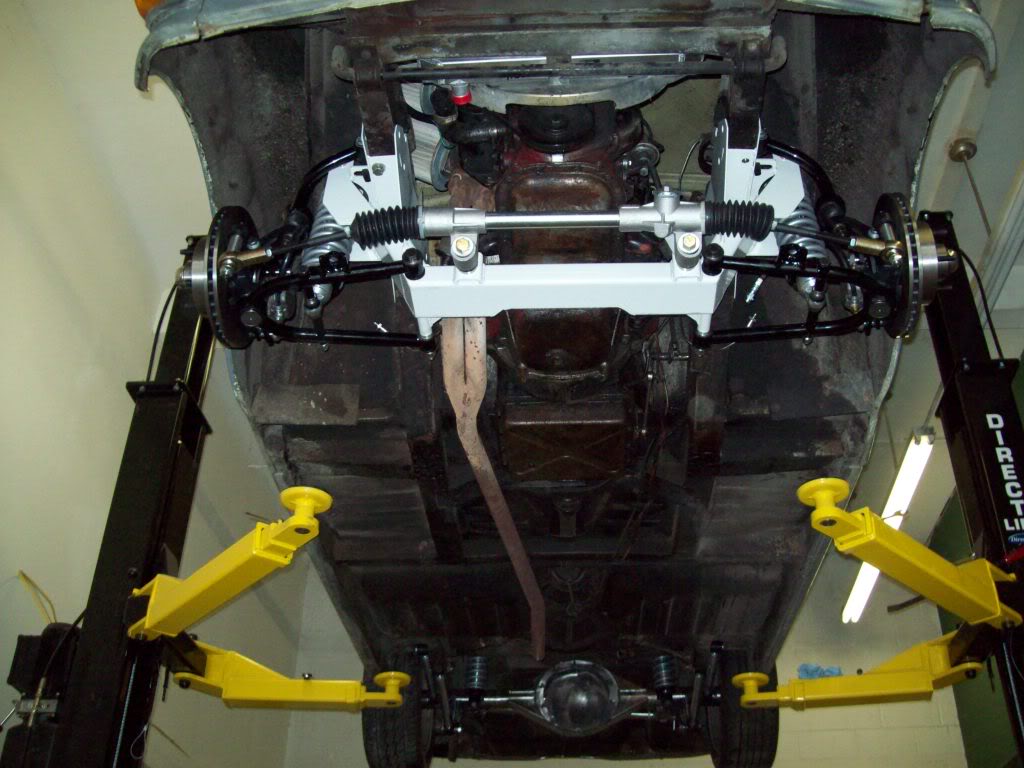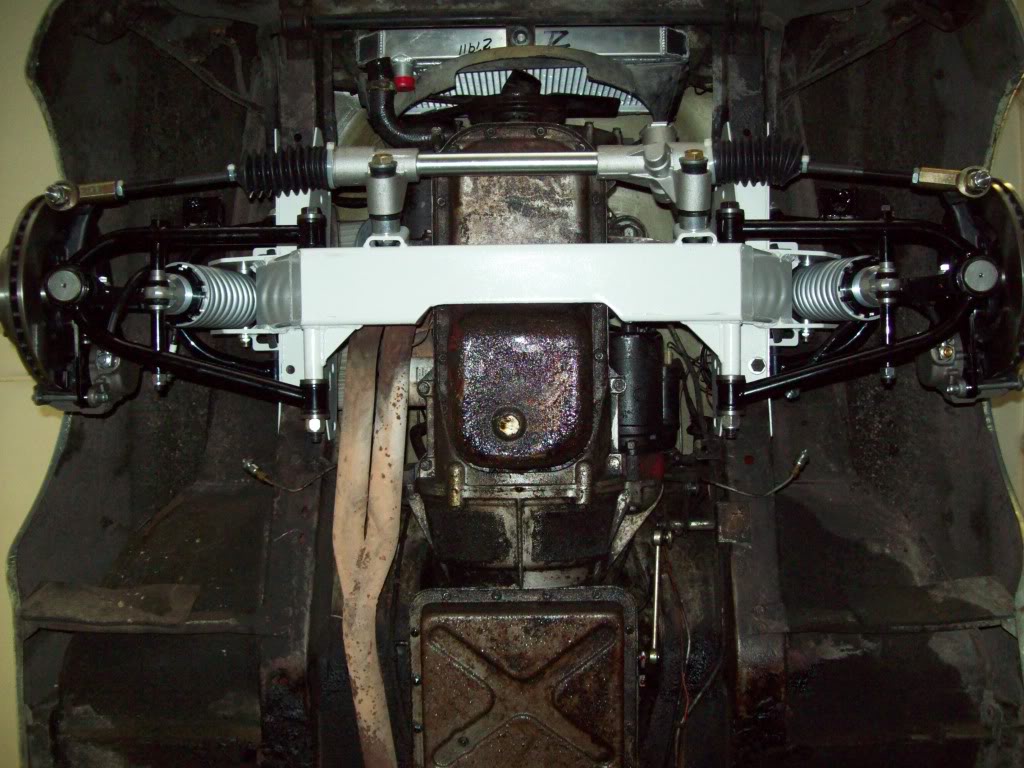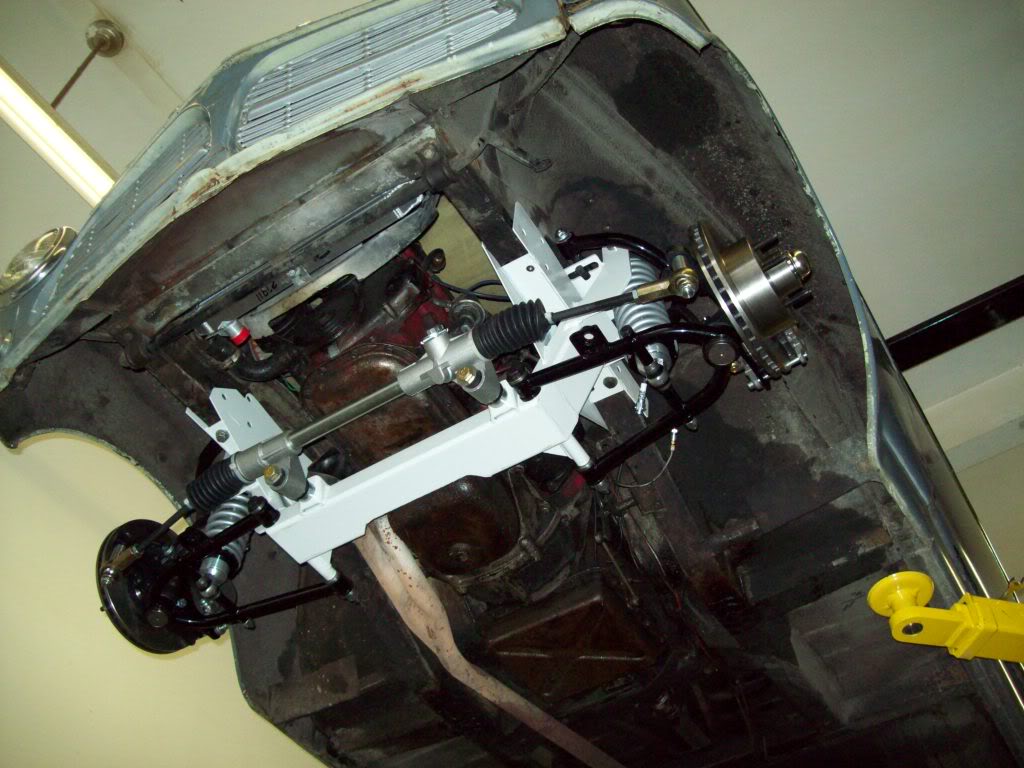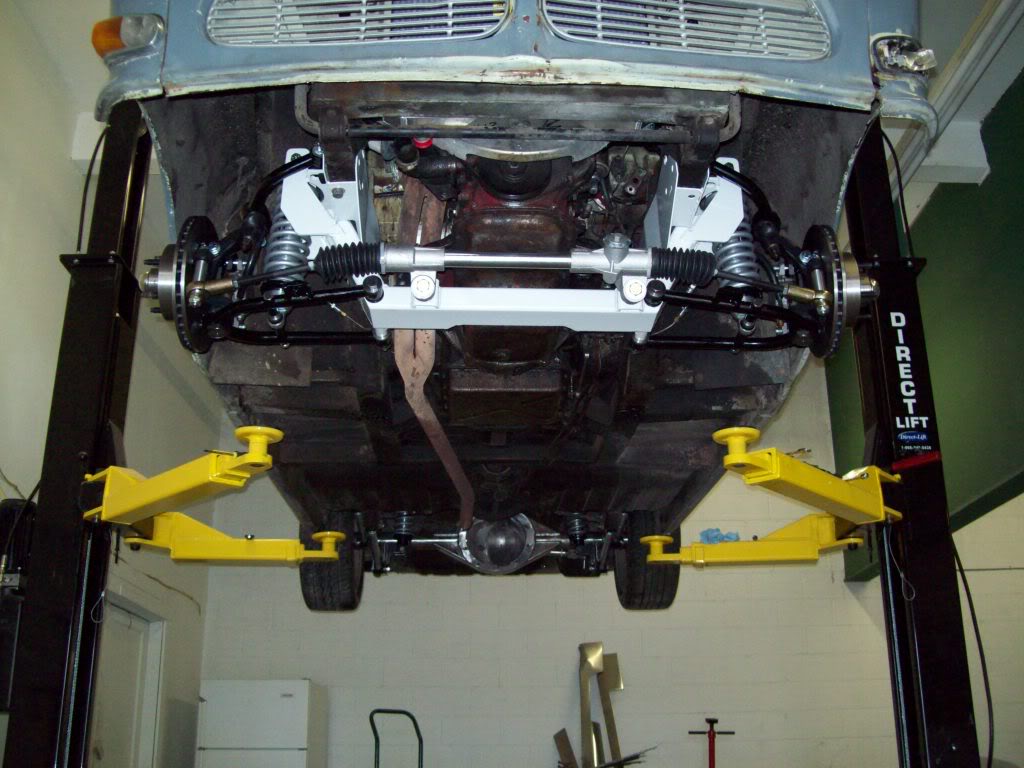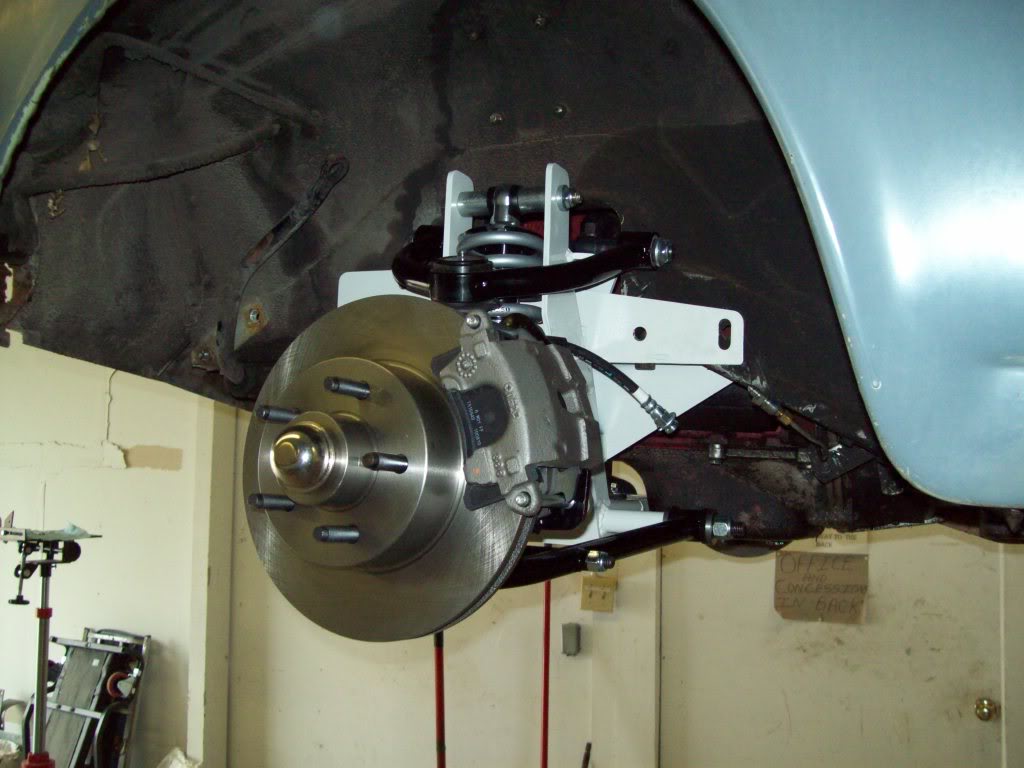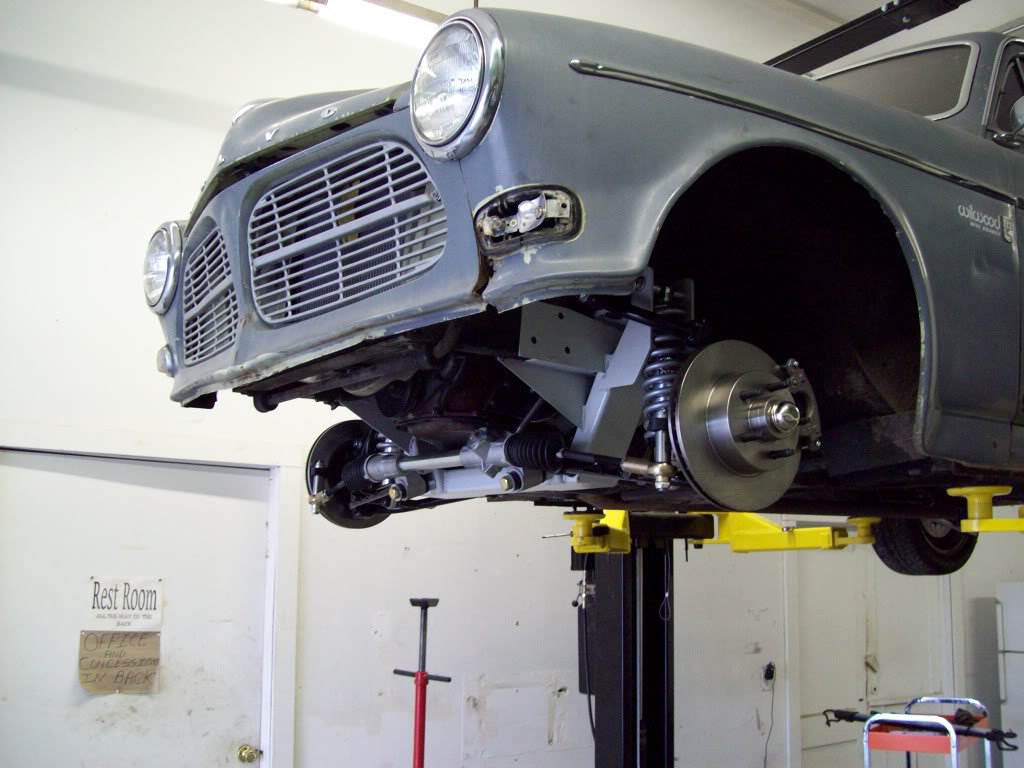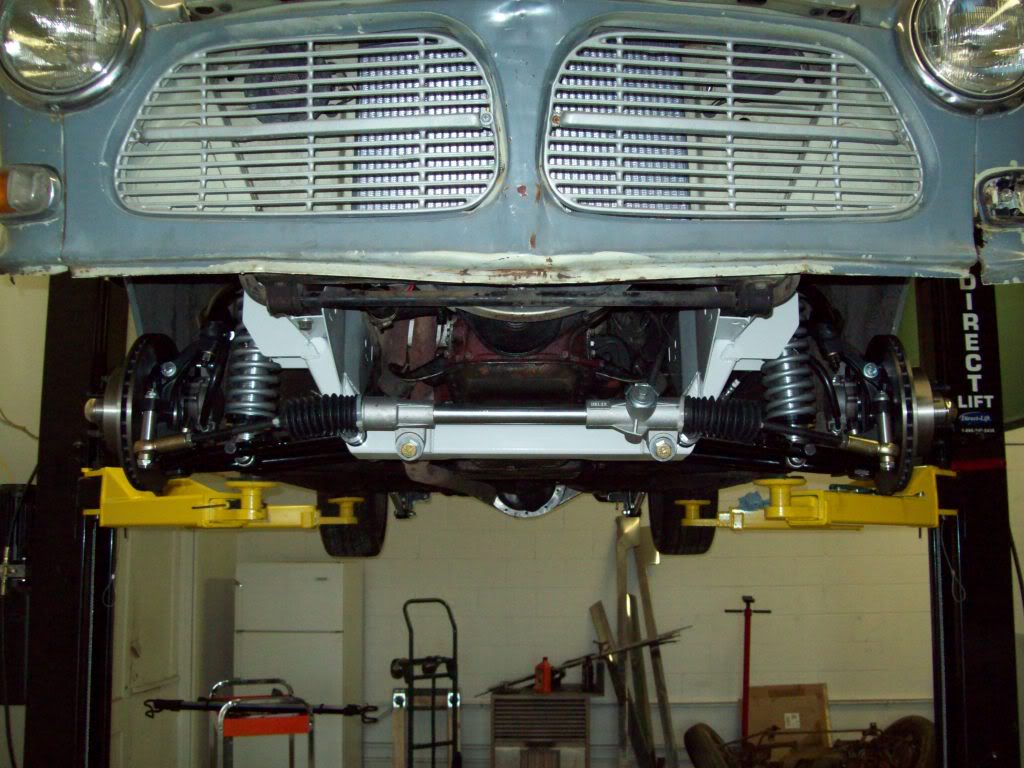 8-24-2013
I figured I would share some updates on the Greenhouse Roof Modification, because I have been recieving more and more questions about the process procedcures along with the likelyhood of the glass moving forward.. I have been working on a template system that will allow you go mod the roof very easliy, along with ensuring that the opening will accept the production greenhouse glass with ease.. If I or any potential customers had to rough cut each car being done without any sort of a template, I could not be sure that the glass would work with any consistancy, and that could cause alot of headaches that could have been avoided with a sorted out system..
It is a fairly easy procedure because the structure of the car is already setup for this style roof, so it is really just isolating the proper cut, and then adding the new structure kit that will box out the channels and add the attachment flange for the glass.. In the pictures I show two ways that the roof could have been cut in the front, and I think the final cut design looks the best and will allow me to add more body structure to the front windshield frame.. Keep in mind that the only thing really being removed is the actual roof skin, so the front windshield frame and side roof rails are not altered at all, and are actually beefed up with additional bracing and boxing from the roof modification kit. I debated about removing the rear cross brace for the back glass attachment, and thought about just having a black out section of the glass to hide it, but I think it looks much better with out it. The tempered roof glass will actually add body rigidity to the car, and with the extra boxing and bracing, I still think there will be added strength to the body integrity with that cross brace removed.
Here are some pics.. The first pics are of the roof skin being cut while using the inner roof structure as template. I wasnt very happy with this, because it actually made the front roof to windshield perspective look off and cheap.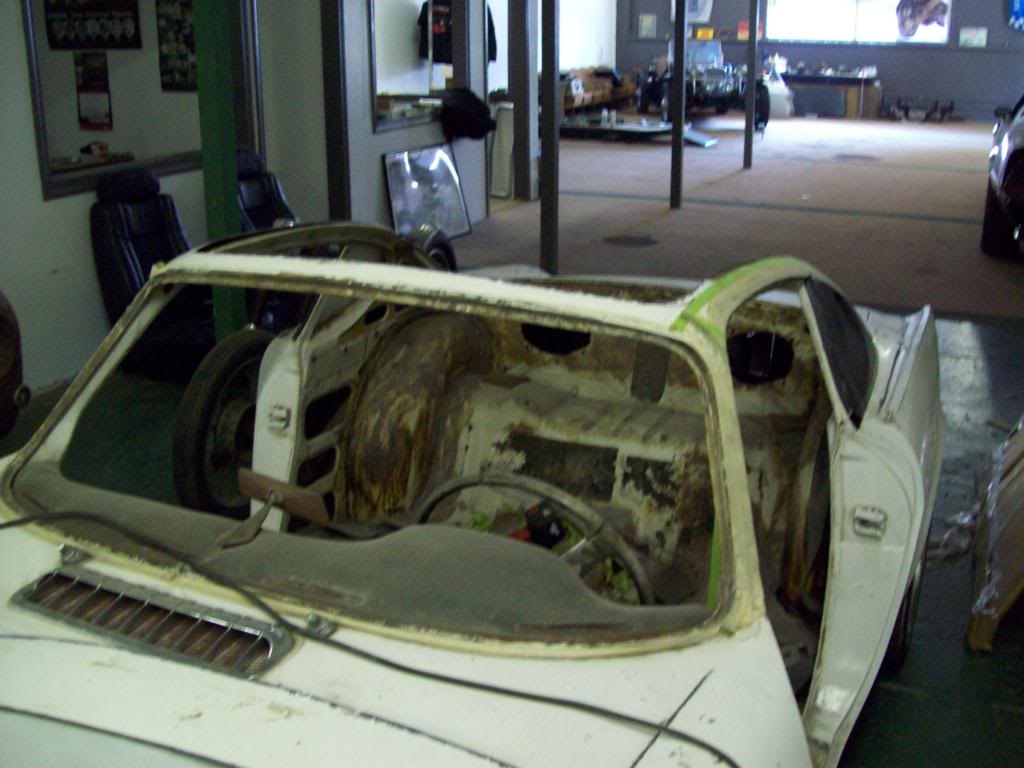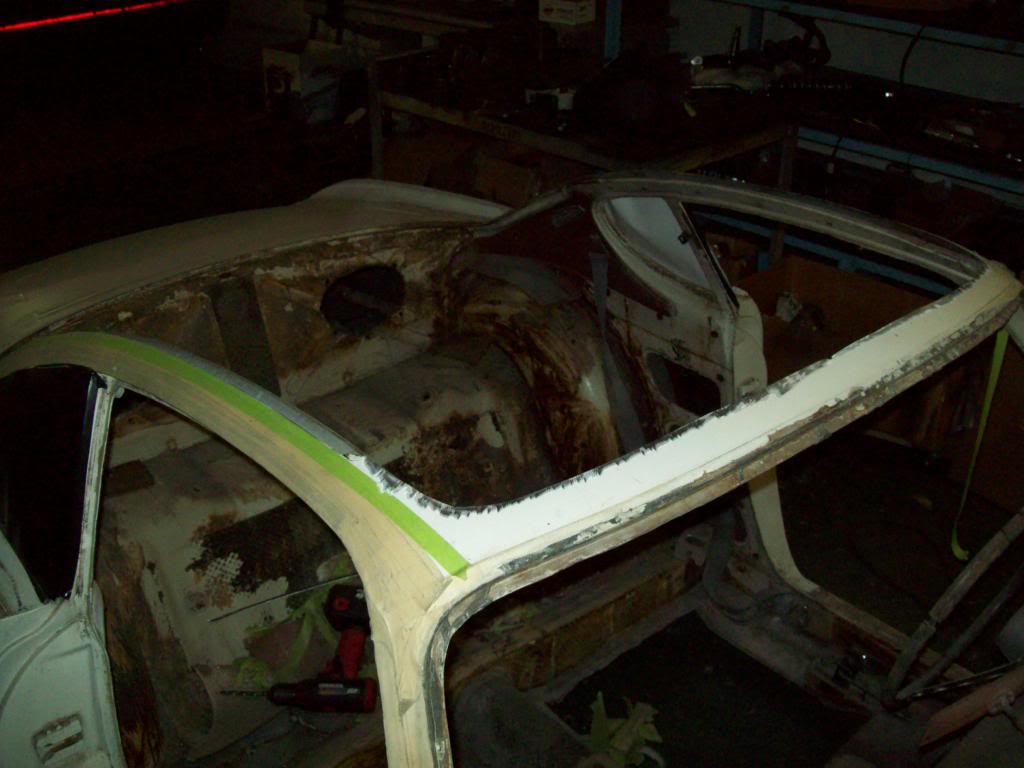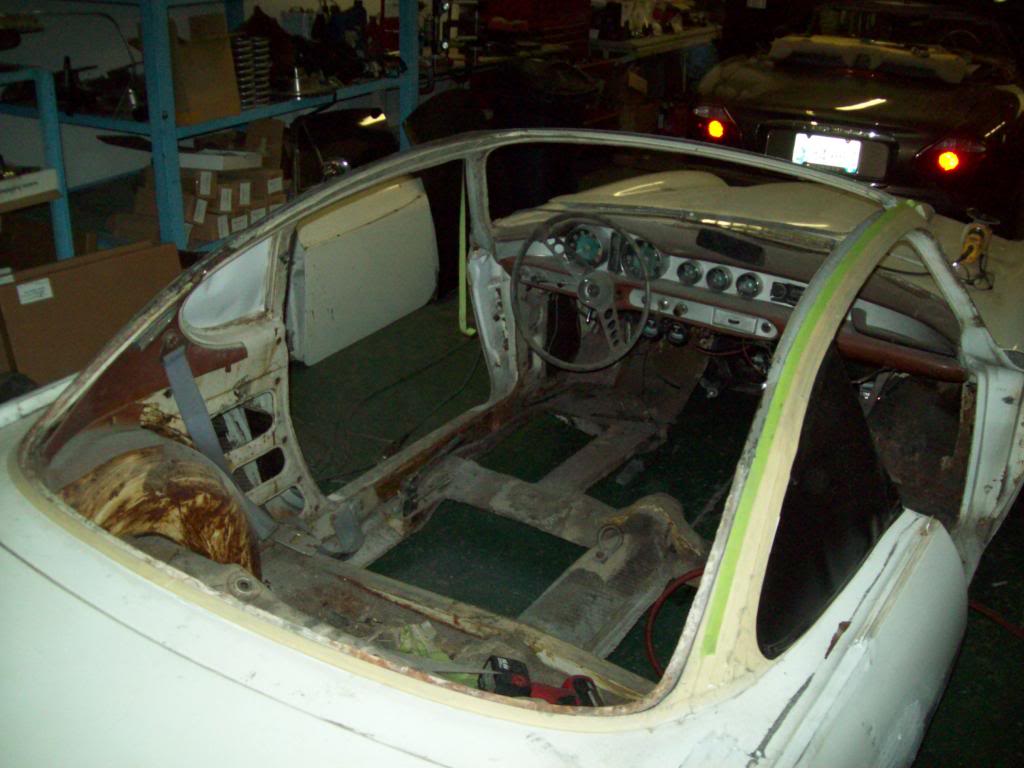 Here are some pics of the oem inner roof rails with the skin removed, and as you can see the body structure is actually capable of this sort of modification. You should also be able to see in the pics of the driver side rail, where just by hammering and dollying down the inner rail pinch weld, you then have the bonding surface for the Tempered Greenhouse Roof Glass. After that, it is really just matter of boxing out the roof rails and outer roof skin and then blending it into the oem back glass opening, and this cut and system will emilinate alot of unecessary work.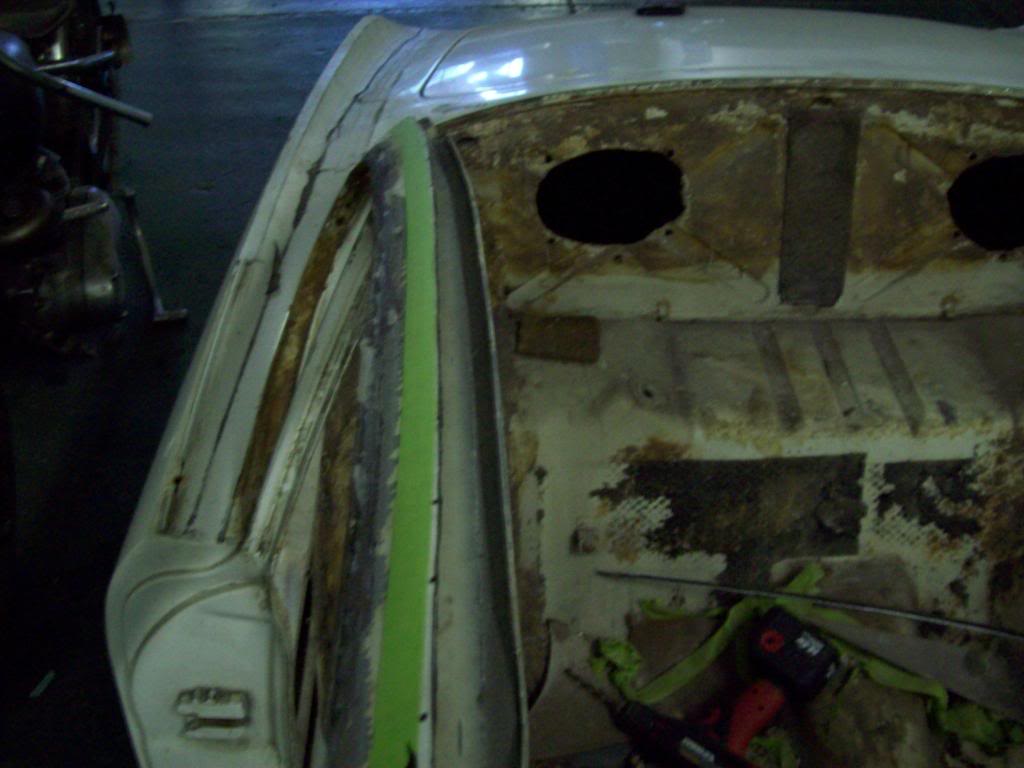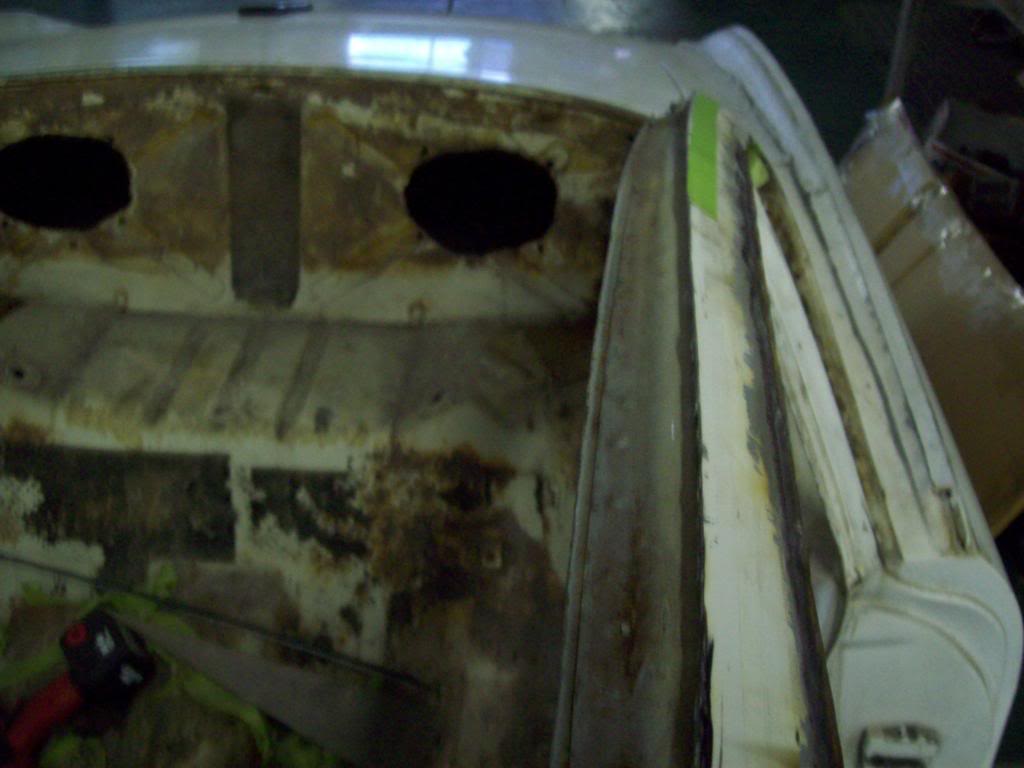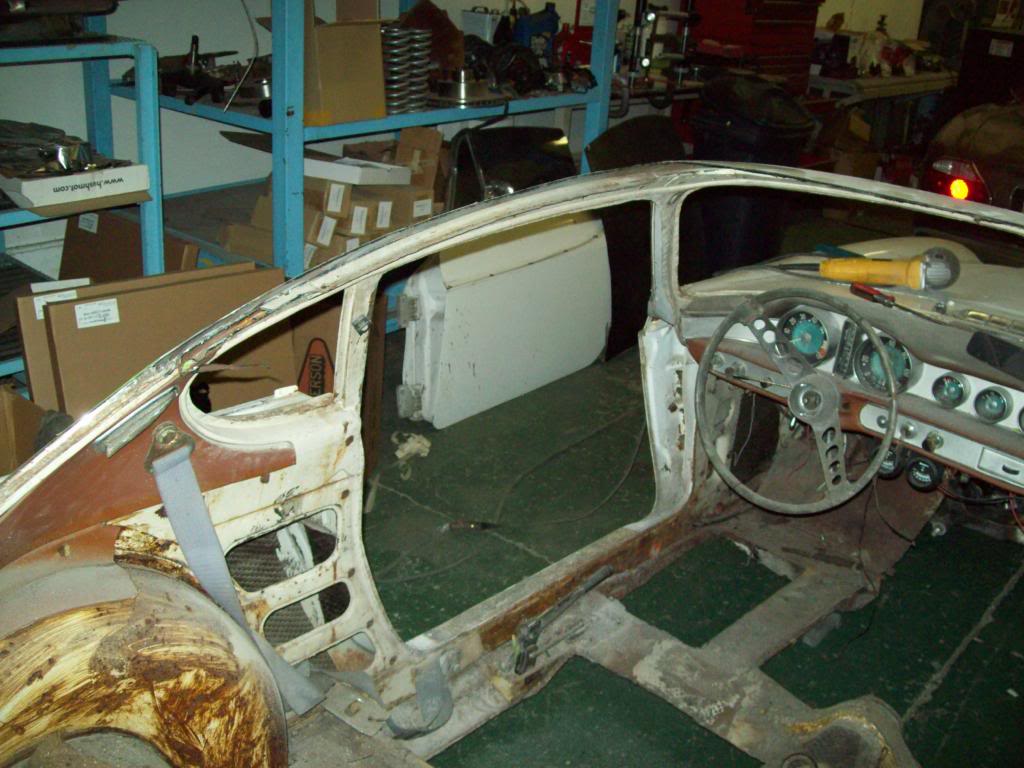 Here are some pics of the best cut layout I was able to come up with, and it was done this way to best tie in the oem back glass opening to eliminate additional modification needs, along with offering a smooth and consistant body seam line. The cut follows the oem roof arching and leaves a consistent side rail width appearance, and this was done by using the factory side window and door openings as a cutting guide.. As you can also see, I added some of the front roof skin material back to the car, because the opening in the first pictures really didnt look right at all, along with looking very weak in appearance. I thing the extended back roof skin looks better, and will also allow the use of functional sun visors and accessories.

When this kit is completed, I will have a metal template that can be used as a cutting guide to ensure proper alignment and fitment for the Greenhouse Roof Glasses I am having made, and that will allow me to complete more of these modifications for inhouse customer builds. The kit will also have automated pre-cut pieces that will make up the boxing structure for the roof skin and oem rails, along with the necessary inner front roof structure and attachment flange for the extended front roof cut. I am not sure if demand will justify production on any of this, so I will only be making a few kits for in house use and a few do it yourselfer customers that are already building this version of the P1800. The kit will consist of the Green House roof and metal kit, front flush mount windshield, new door glasses to eliminate the vent window, new larger quarter glasses and metal cutting guide and insert kit. The side glasses are Curved, and in order to make the new quarter glass look right, it will have to be made in a tempered glass with compound curves, because the larger quarter glasses will then reach into the body curvature of the roof.. Even with the smaller factory quarter glass opening, there is a and interruption/bump made into the roof raile to compensate, and that would only be worse if the flat glass was made larger. Sure you could cut some flat glass and fit them into a larger opening, but it will look completely out of place and cheap, because they would be a huge interruption of the sexy body curvature of the car.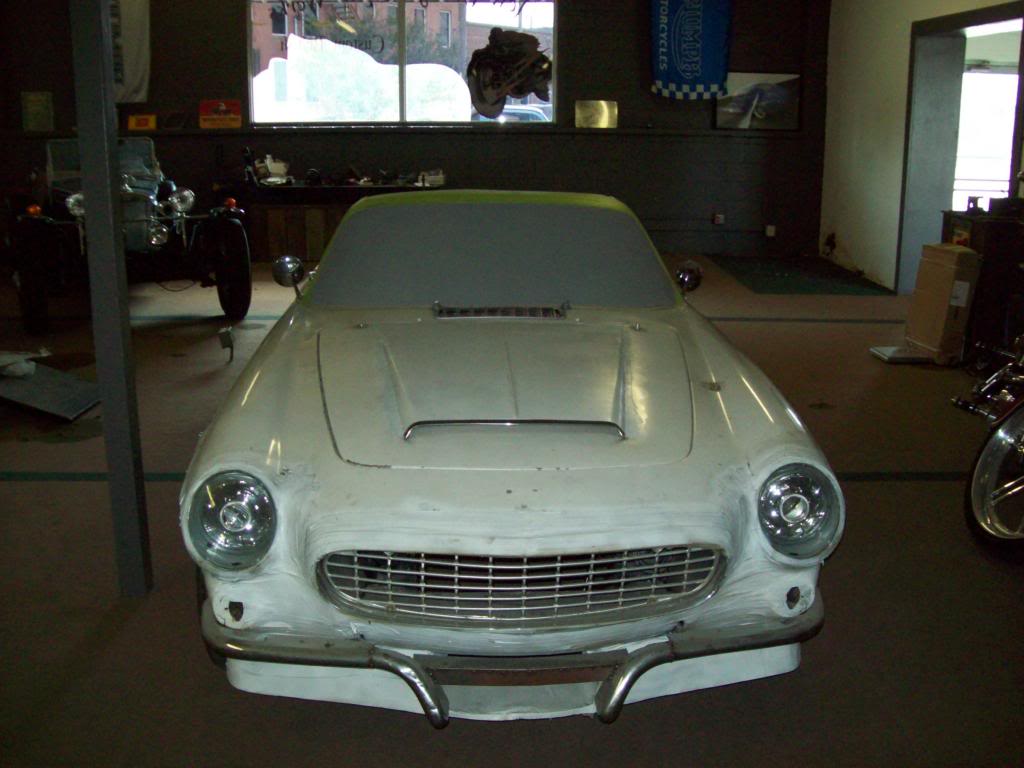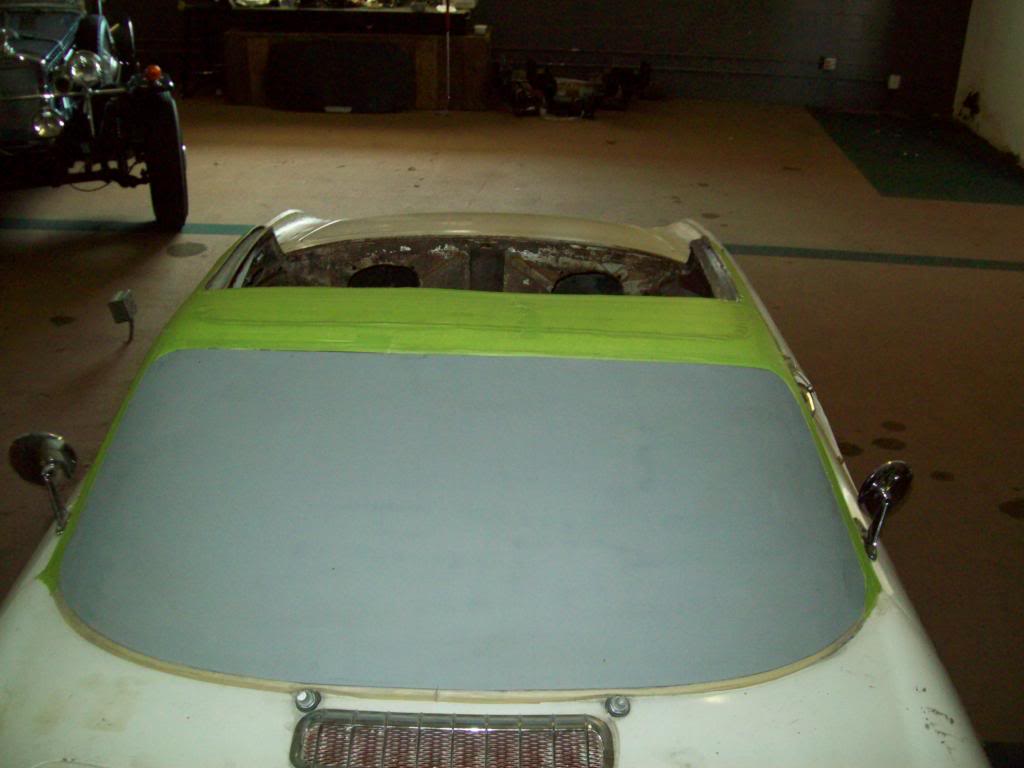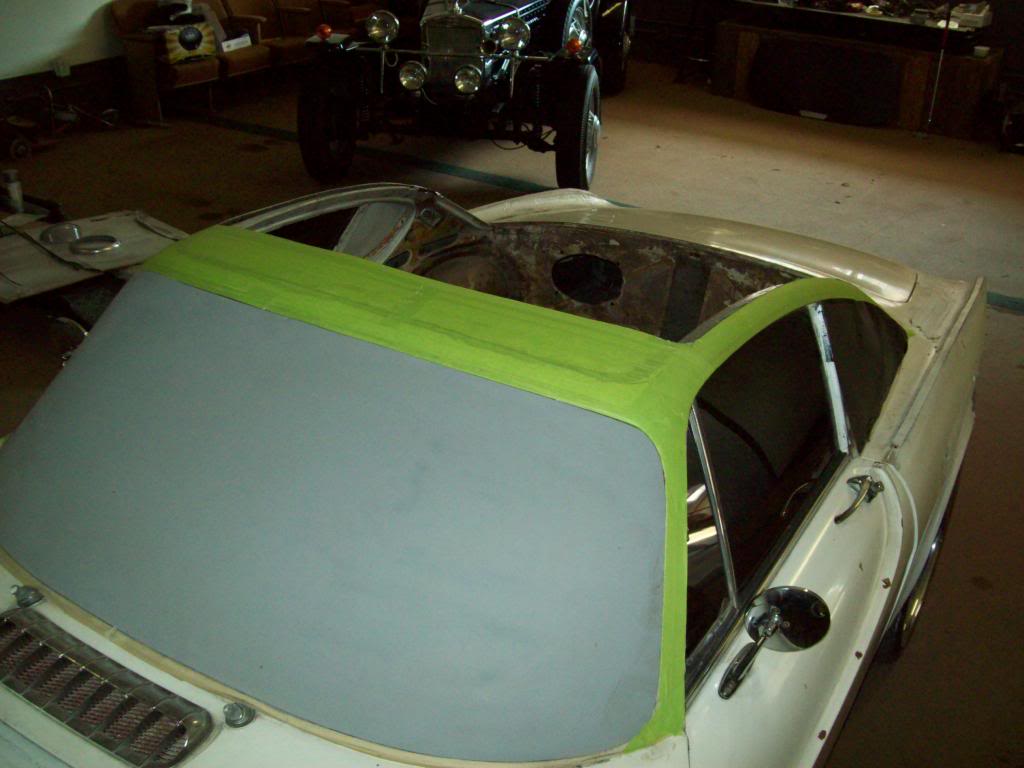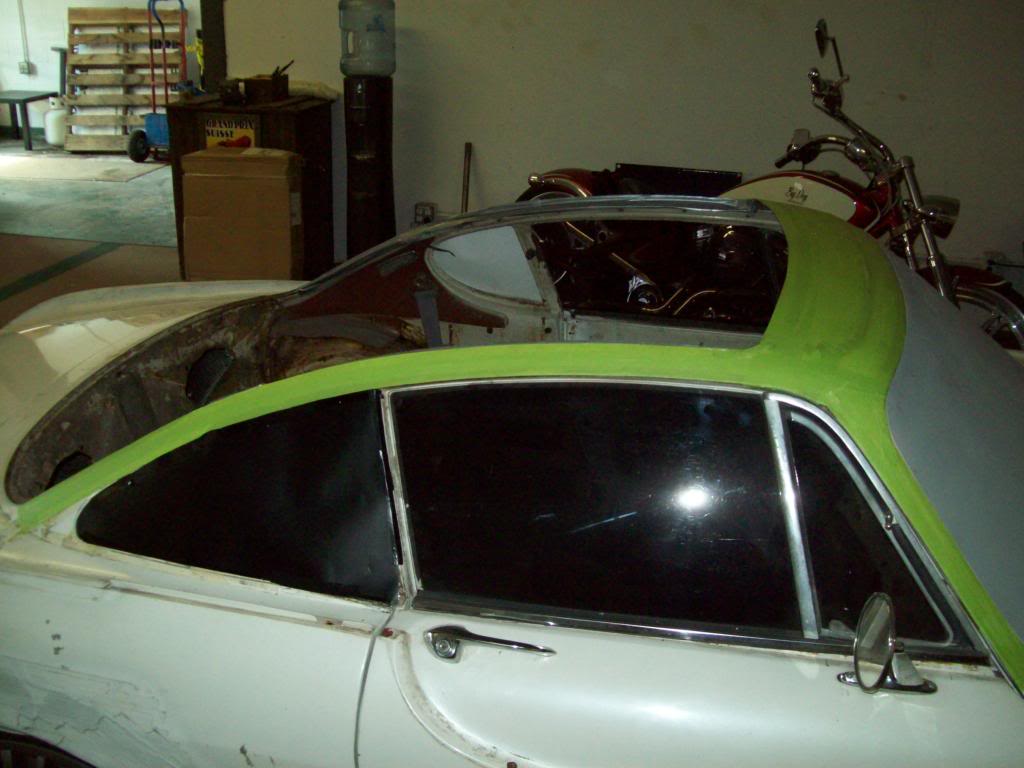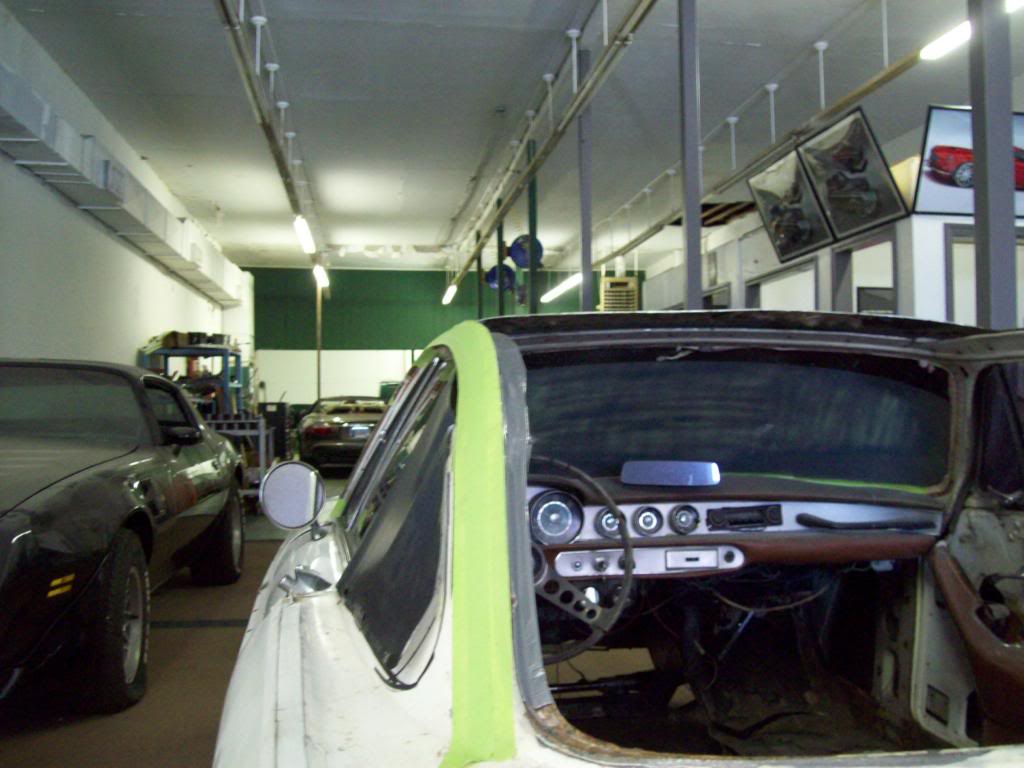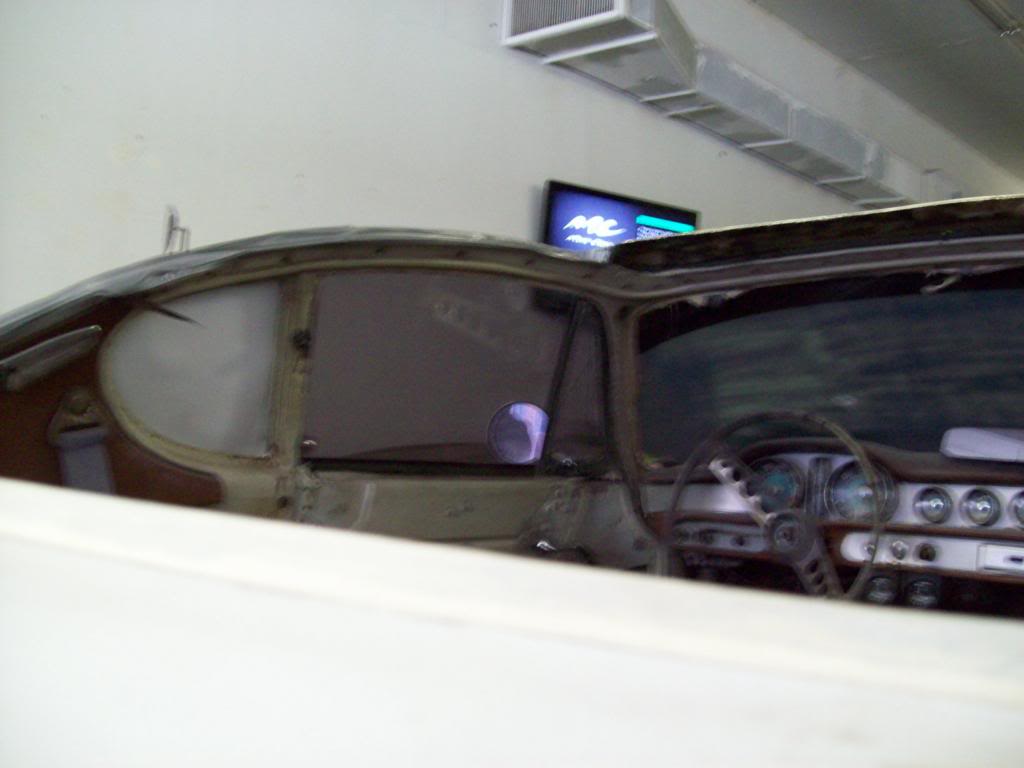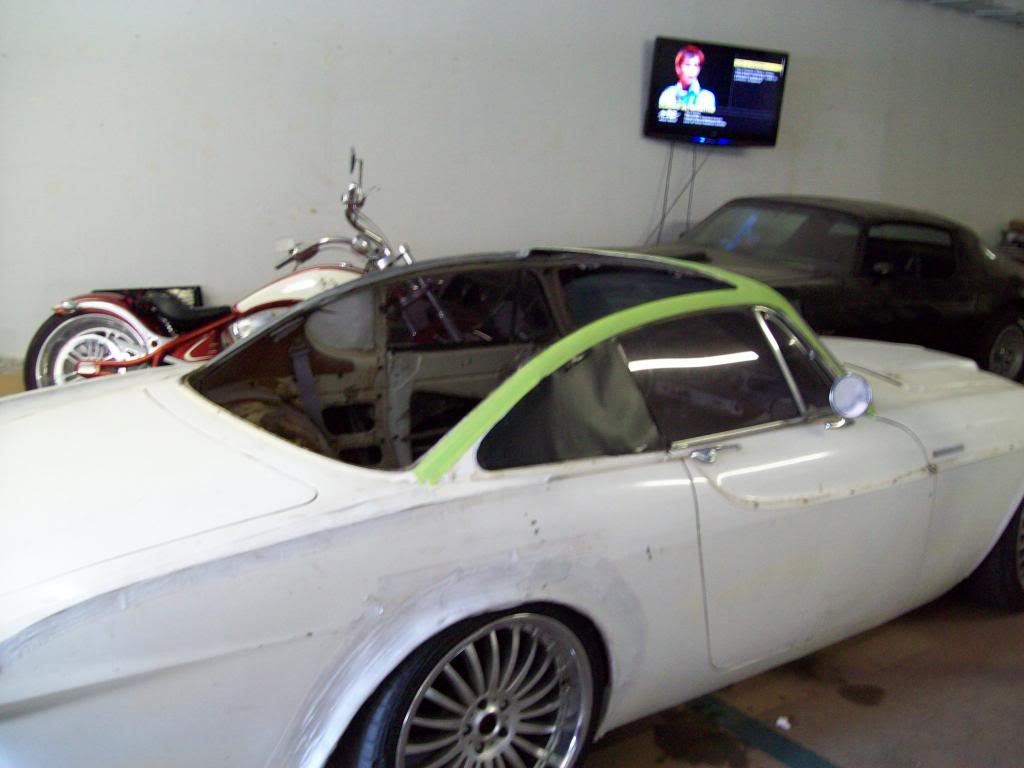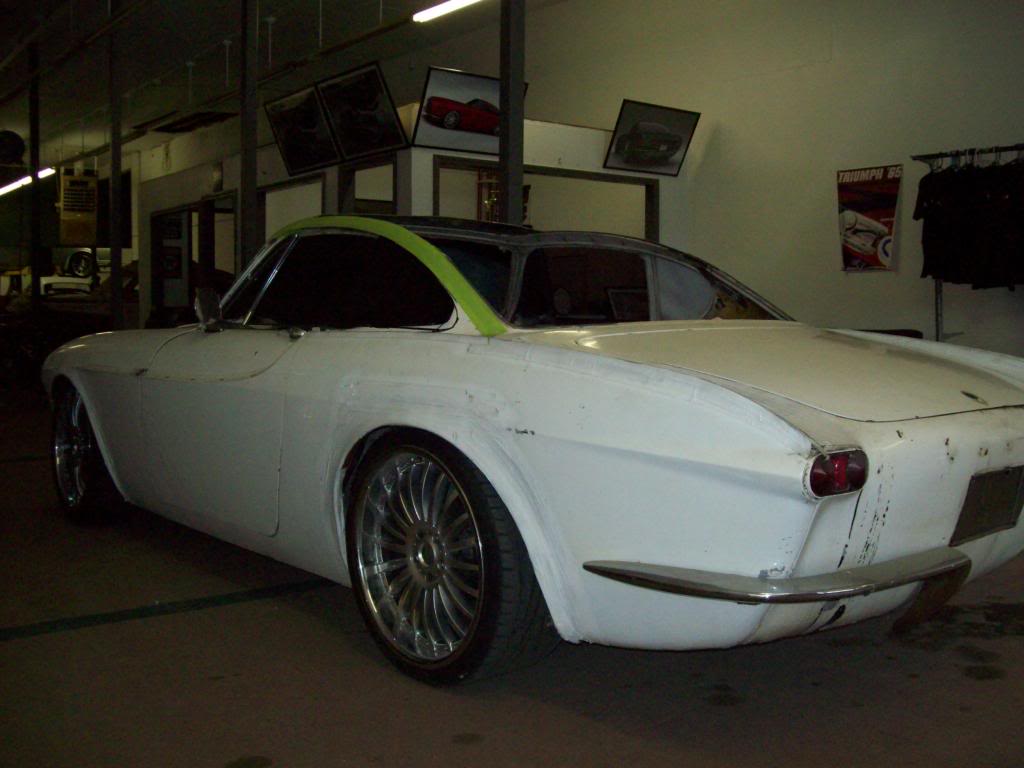 8-25-2013
I have had some emails with some additional questions about the greenhouse roof mod, so here are a few more pictures of the process, and you will see it is pretty easy once you have a template for the cut. I have taken pictures of the the factory roof rail on the passenger side, and the modified roof rail on the drivers side. As you can see, it is really just a matter of hammering the oem pinch weld flange down to a flat position so it can be used as the bonding surface for the glass. After that, it is really only a matter of using a filler strip from the roof rail structure to the outer roof skin, and that ties the roof skin in, and in turn does a double boxing of the roof rail assembly.

I had to take it this far so I could get my programmer started on the automated cut programs for the templates and filler pieces. When all of that is done, I hope to have a basic horseshoe template that will line everything up for the cutting and new glass, but it will also have all the filler strips as break away pieces in the body of template. I hope that makes sense, because it sure does in my head.. LOL

Oem Passenger side roof rail.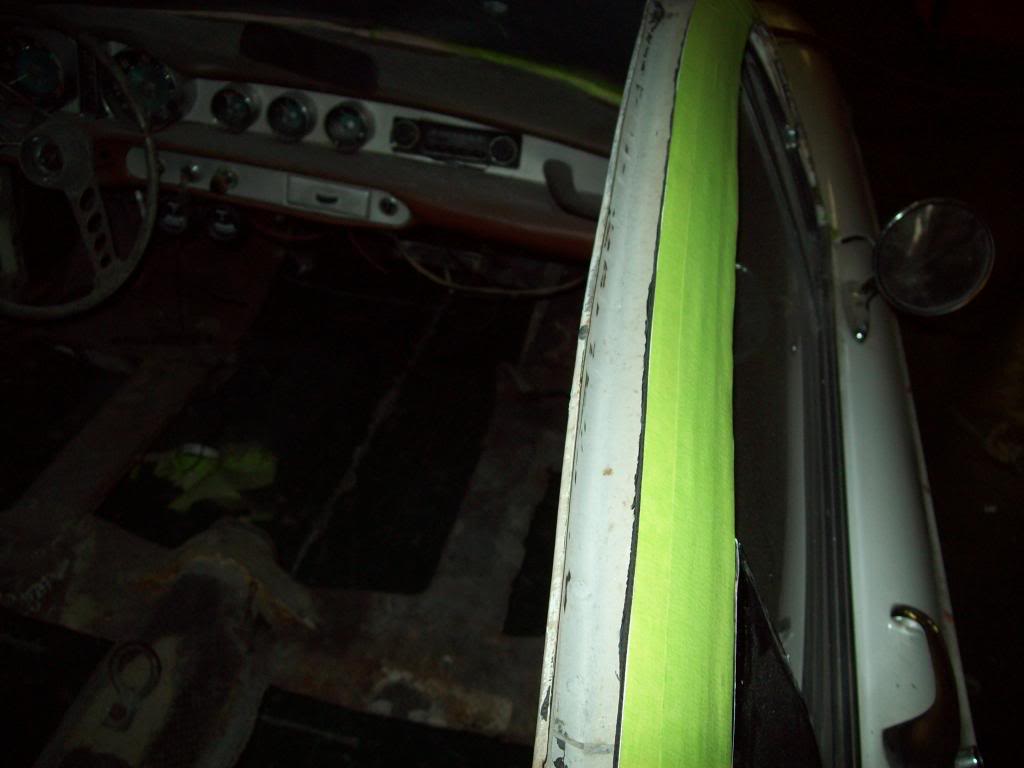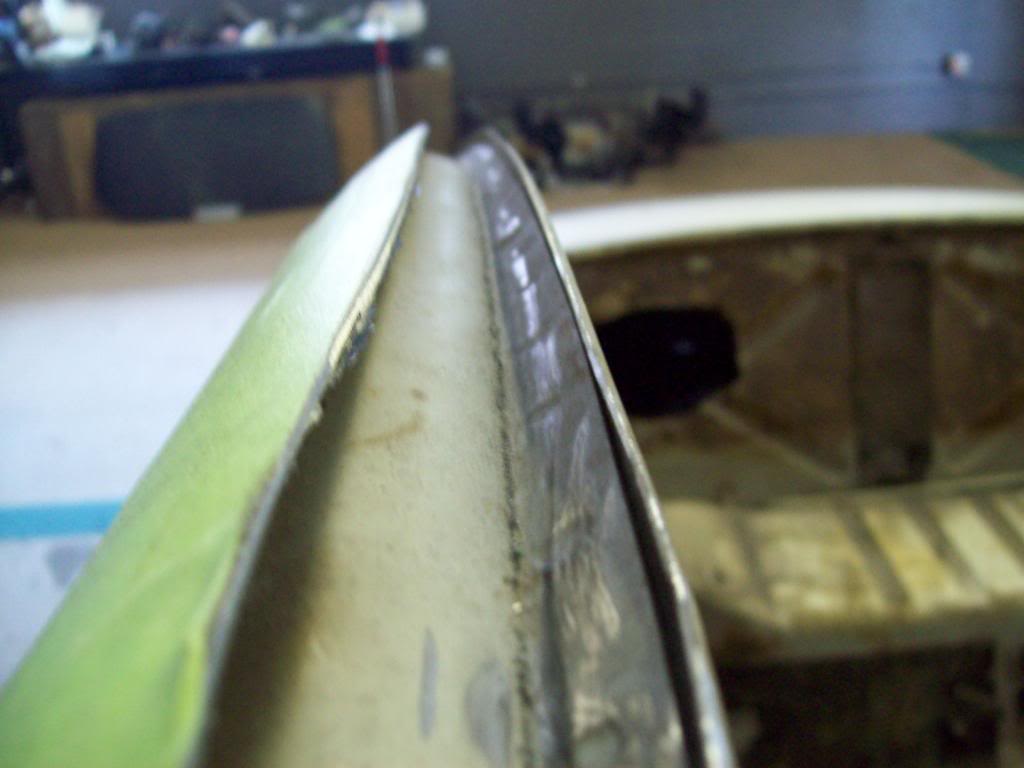 Modfied Drivers Side roof rail. Pinch weld flange hammered down for a glass adheasion point, and the filler strip to box the roof outer skin and roof rail pocket. I also added a strip down the side of where the back glass would attach normally, that way there is a uniform flange for glass adheasion. Keep in mind that the template assembled car will be much cleaner than the hand cut pieces I have here, and the finish welding and grinding hasnt been done, but this will give you an idea of how it works. Once all of the welding and additional boxing is done, along with the heavy tempered glass being installed, the body integrity should actually be stronger.