p1800s- Project Black Widow build thread by Toomanytoys
By diyauto
p1800s- Project Black Widow build thread
Compliments of Toomanytoys @ www.forums.swedespeed.com
11-1-2013
Hello. I've been working on a total "bare metal" restoration of my 1968 p1800 for about a year and a half now. The info from the members of SS has been invaluable. Thanks! After encouragement from a couple of my friends, I decided to start this build thread to document my progress and get further insight from the experts on the forum. However, i would rather be working on the car than posting on the web so bare with me if i dont update often...
I have always tinkered around with my cars and can do basic mechanic work and body repair but i wanted to learn what it takes to do a full restoration. The p1800 fit my criteria perfectly for my first project. Relatively rare car but with available parts, good looking & relatively inexpensive (compared to other european cars).
I started off by getting a "barn find" volvo which was located in Malibu, CA. Unfortunately, the car was next to the barn, not in the barn. It was rather weather beaten and hadnt been driven in 20yrs but all the parts seemed to be there and it didnt appear that rusty overall. After draging it out of the field (brakes were locked up), and loading it on the trailer, I took her home. After initial inspection she was christened "Project BLACK WIDOW". Why? Because after getting it in my garage, we discovered that she was infested with black widow spiders! Needless to say, fumigation was the first order of business!
My plan is to do a "mostly stock" rebuild with modern upgrades where it makes sense. The engine is being rebuilt with "street performance" upgrades. More on this latter. Also, as the front suspension had endured some sketchy fixes in the past, i decided to upgrade with one of Swedish Ops front ends. Waiting on Robert to deliver this, then on to wheel and tire selection... Thats really about all the major non-stock items planned.
Im going to try and upload a lot of photos over the next few weeks showing how things have progressed. Hope you find it interesting, i've learned a lot so far...
Diamond in the rough...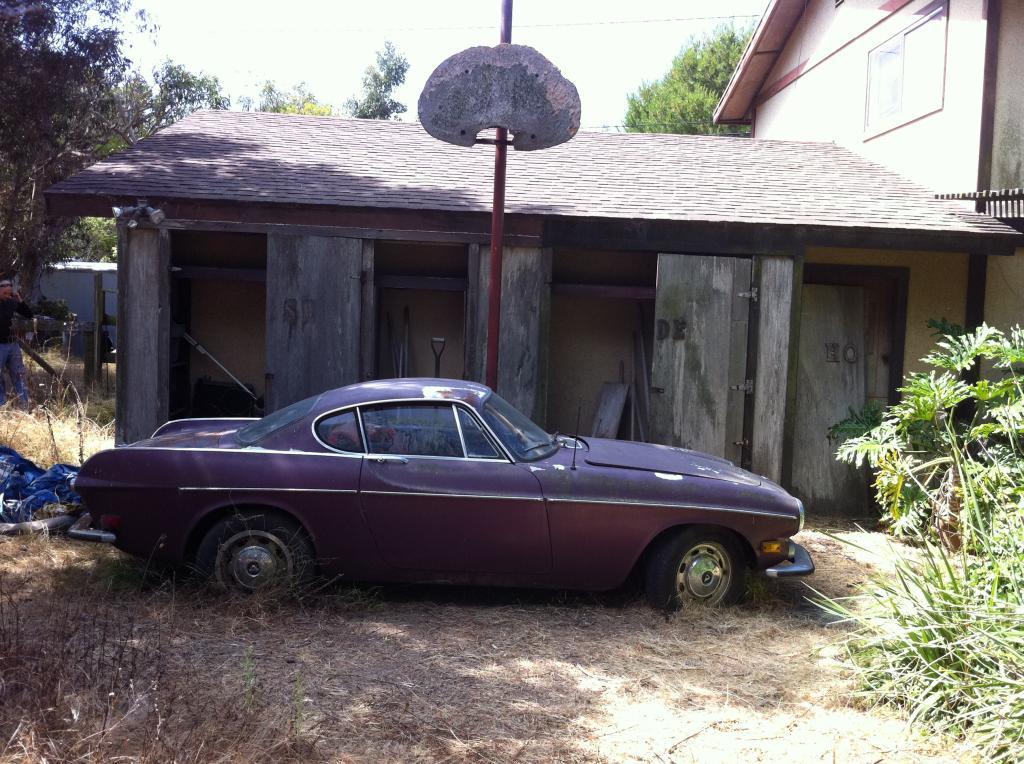 Spider spray in trunk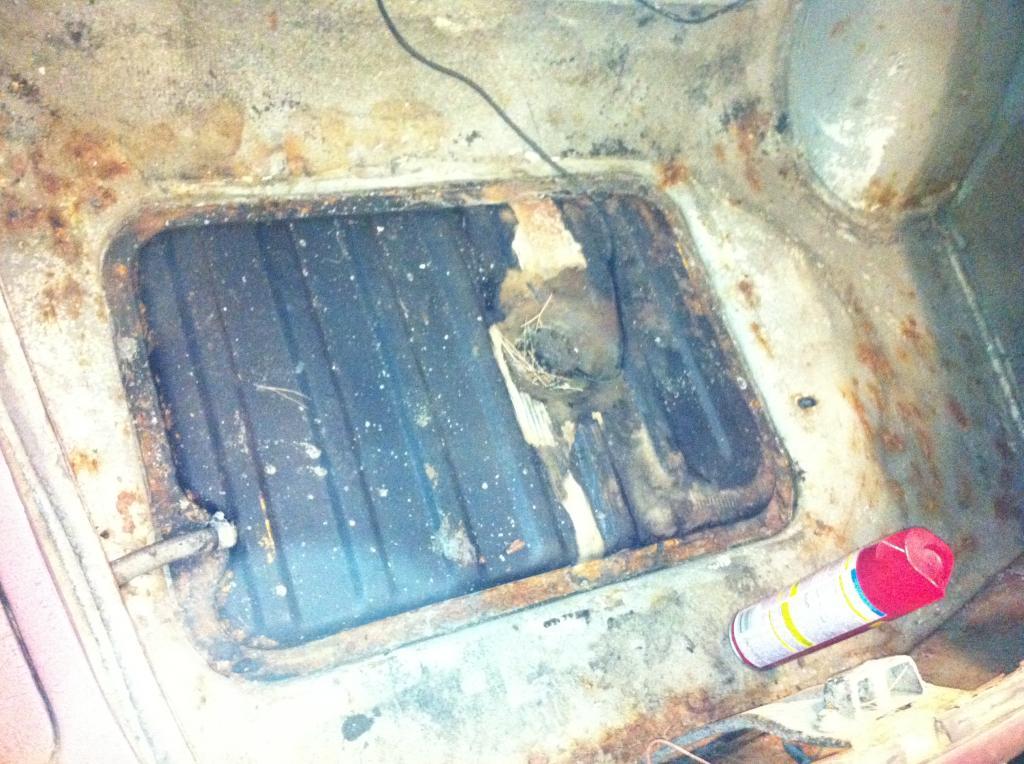 Work begins!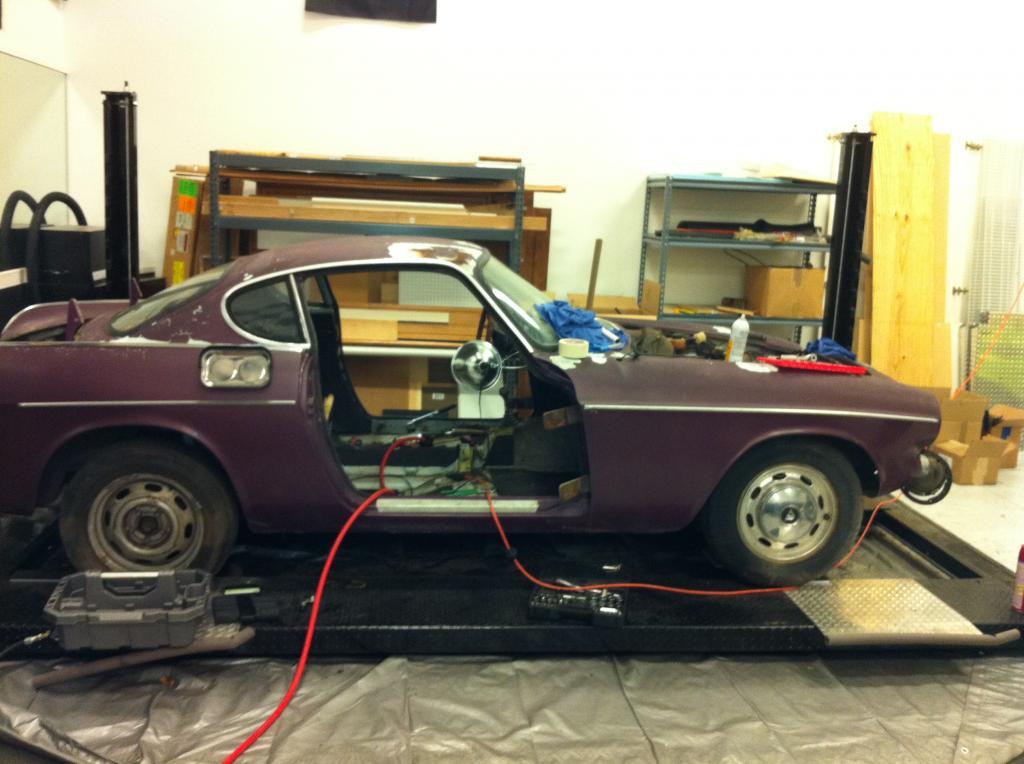 Engine bay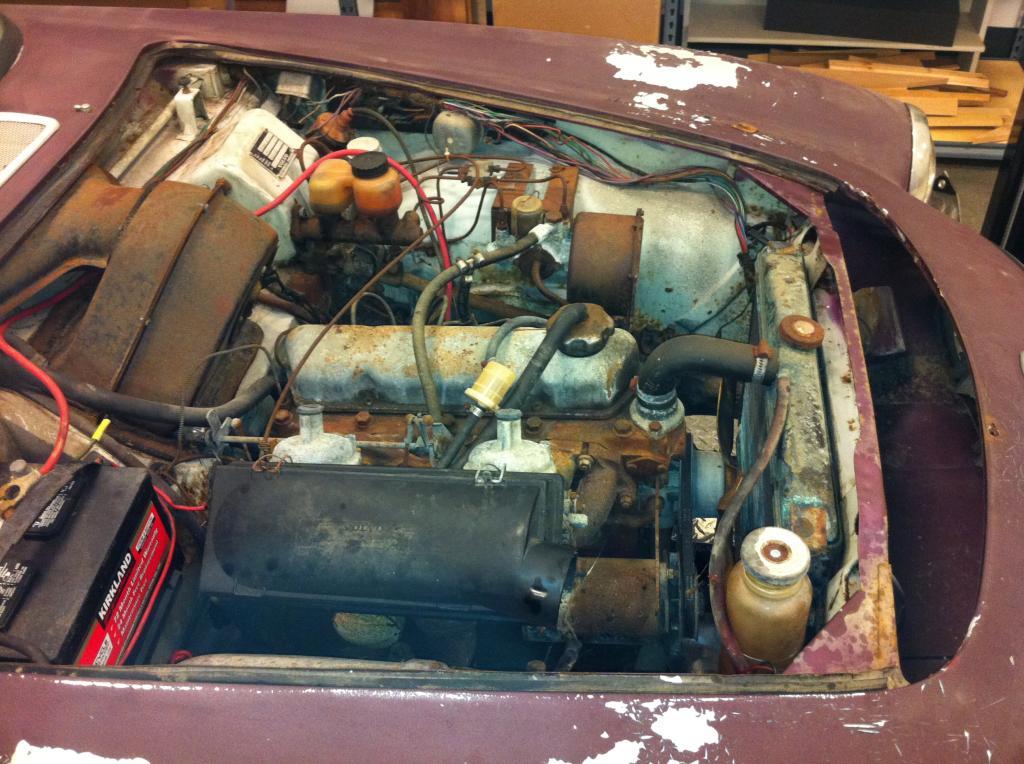 Striping her down: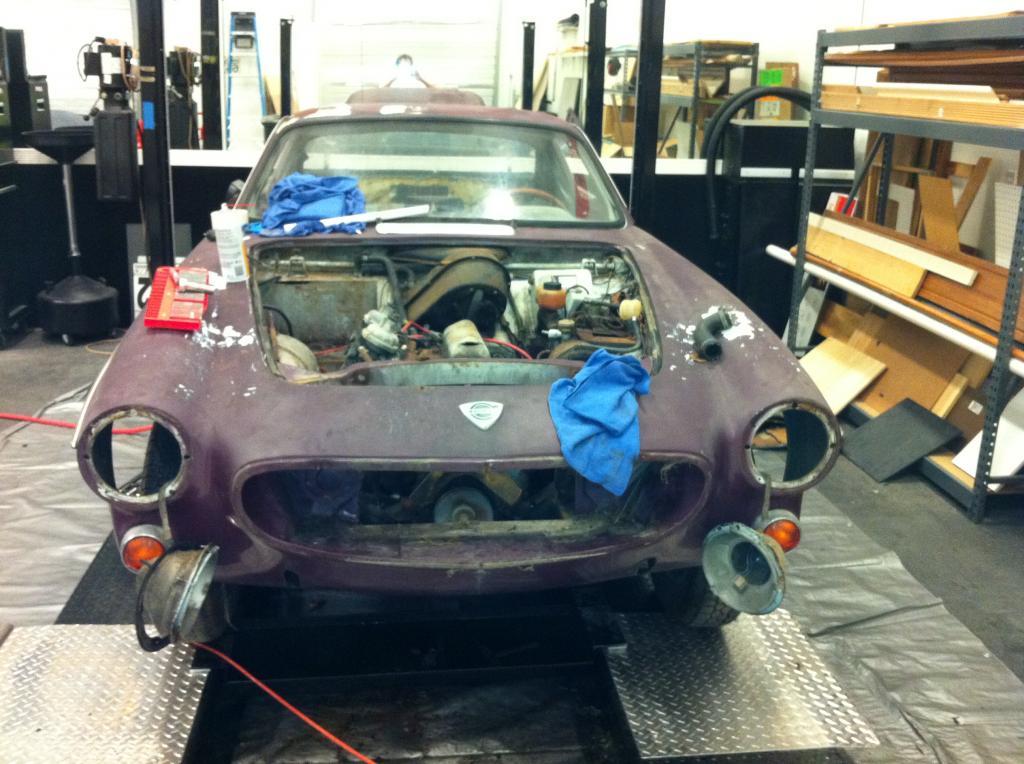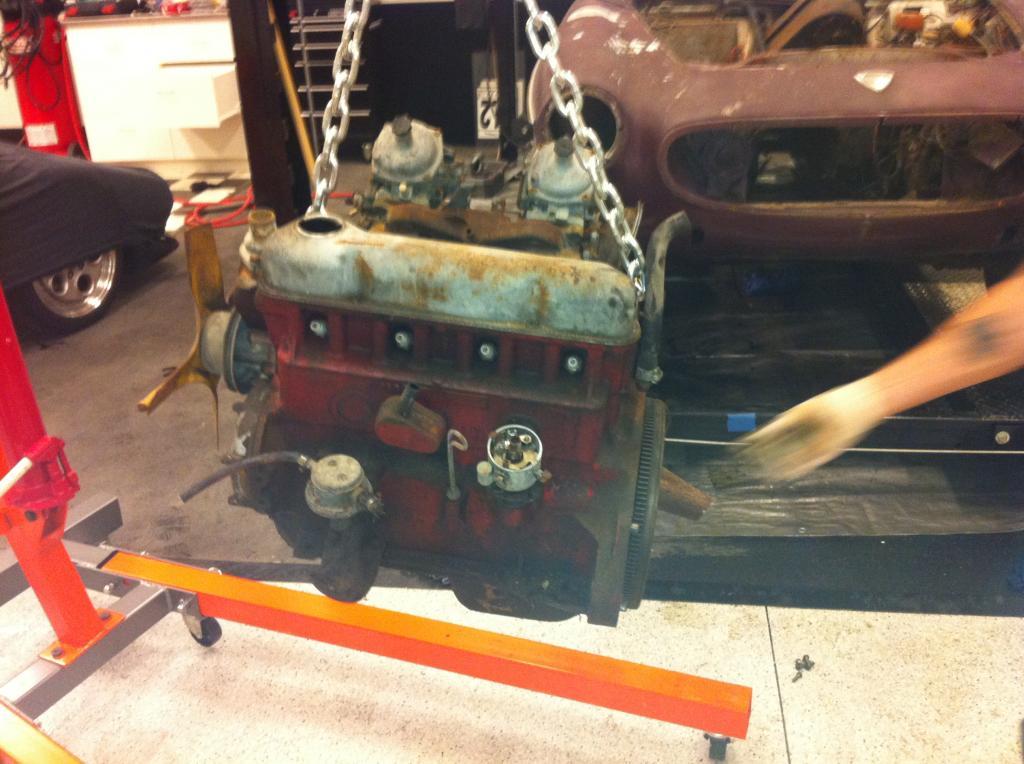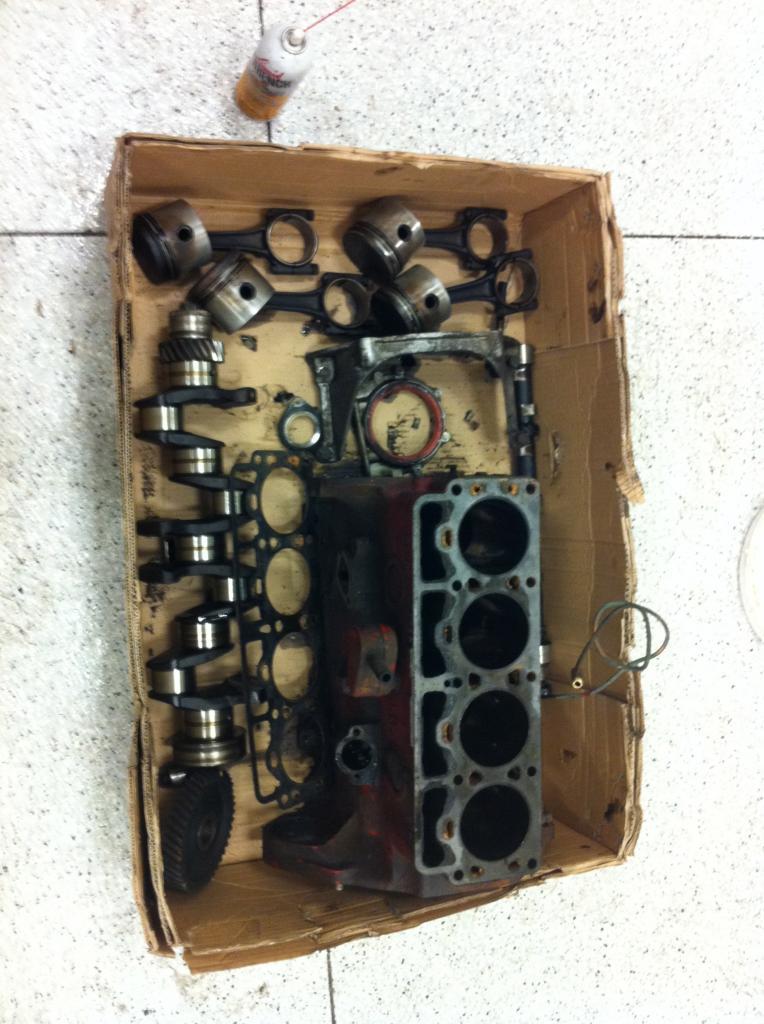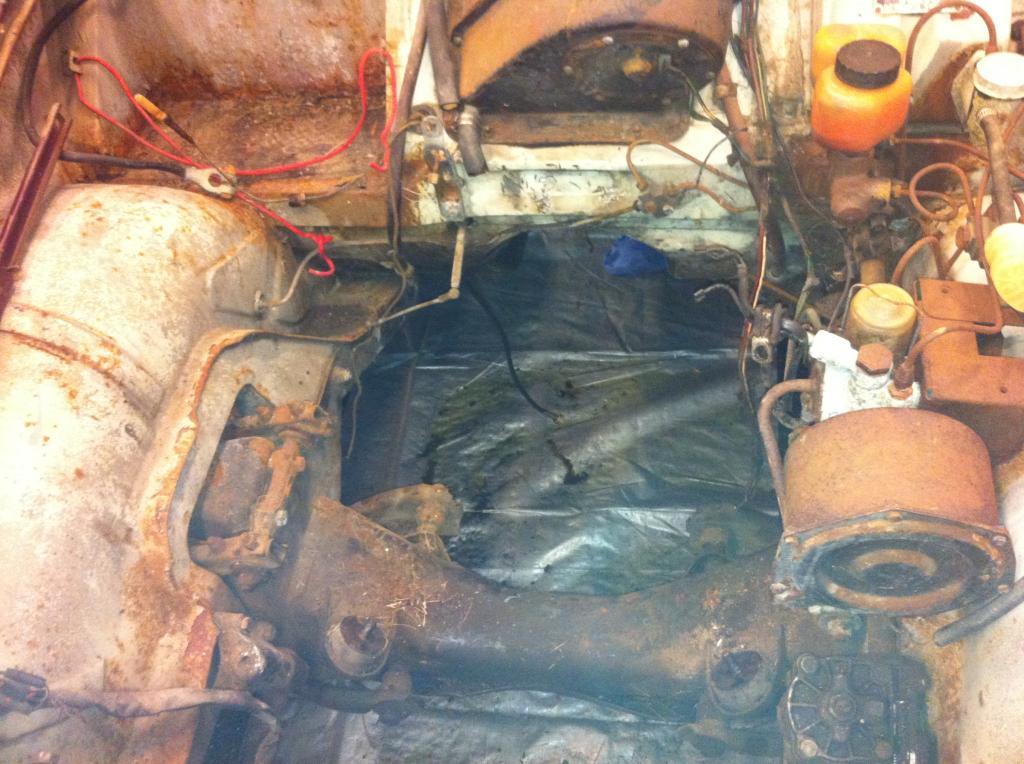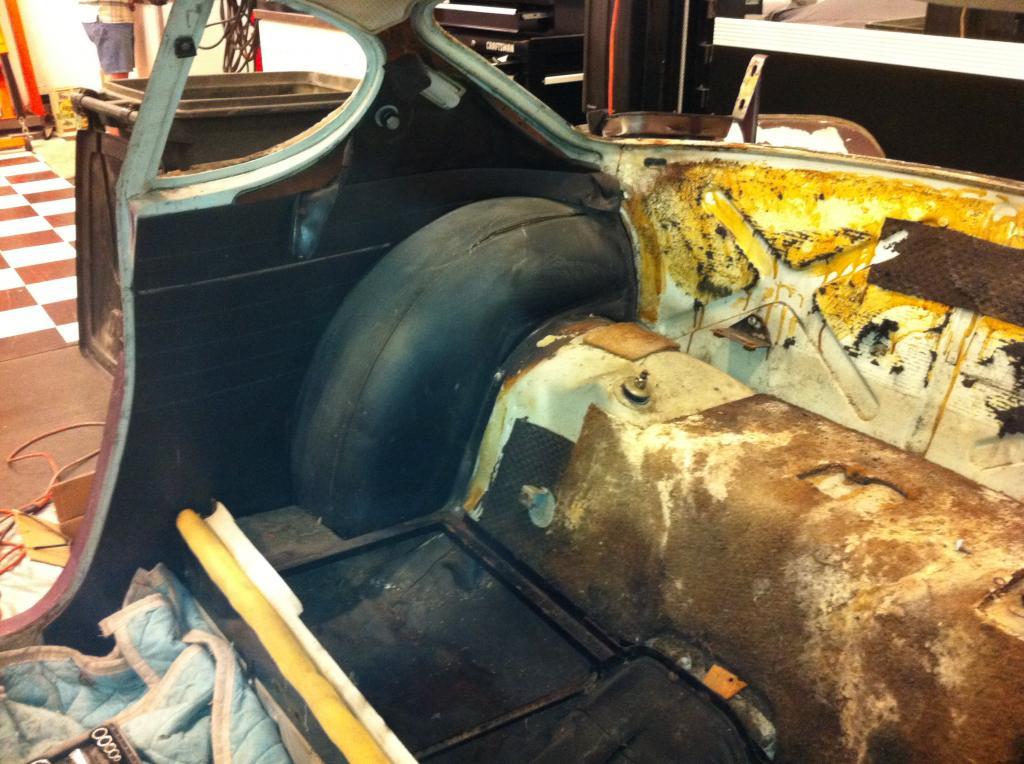 All ready for media blasting:
11-3-2013
The media blasting of the body went well. It did reveal several hidden but luckily small rust problems. Also, the tail if the car looks to have been in an accident and crudely repaired and fixed with a lot of body filler. Overall, not that bad of a starting point. Let the repairs begin...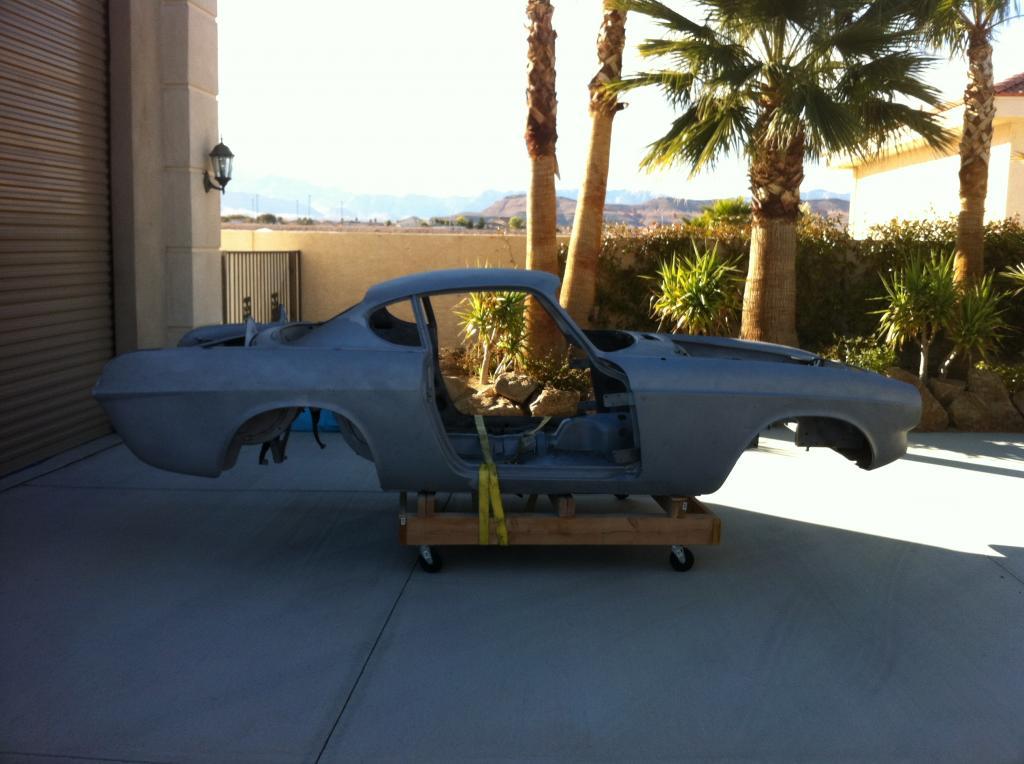 rust worm in trunk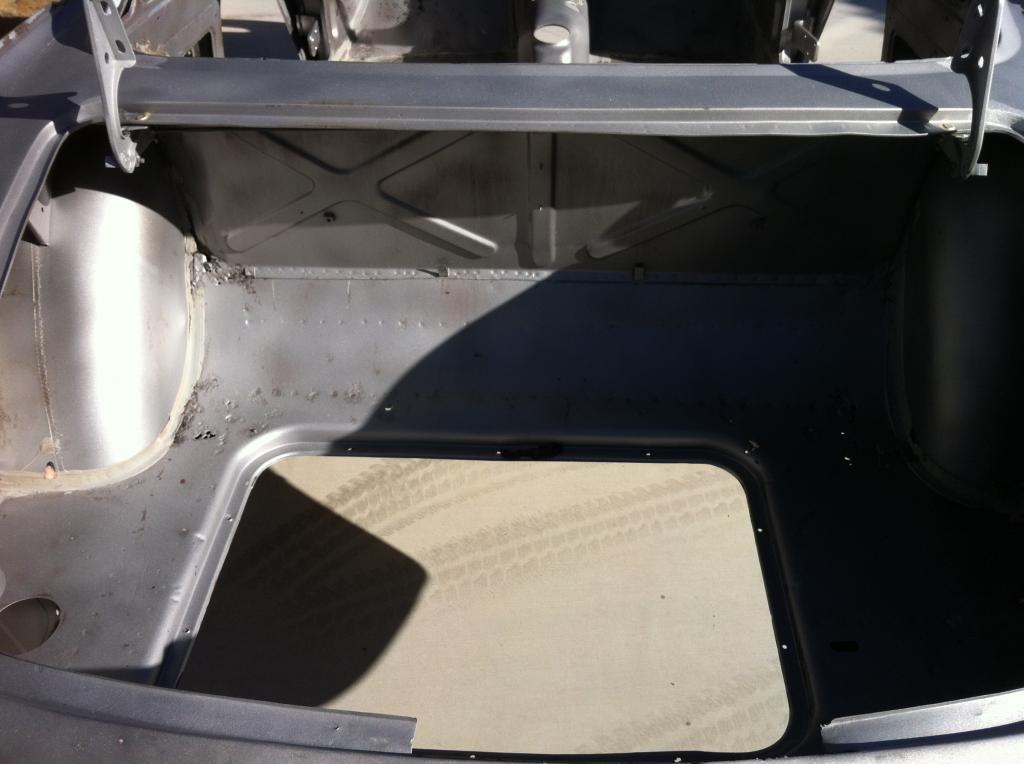 rough rear end
repair work on rear. The grinder is my best friend...lol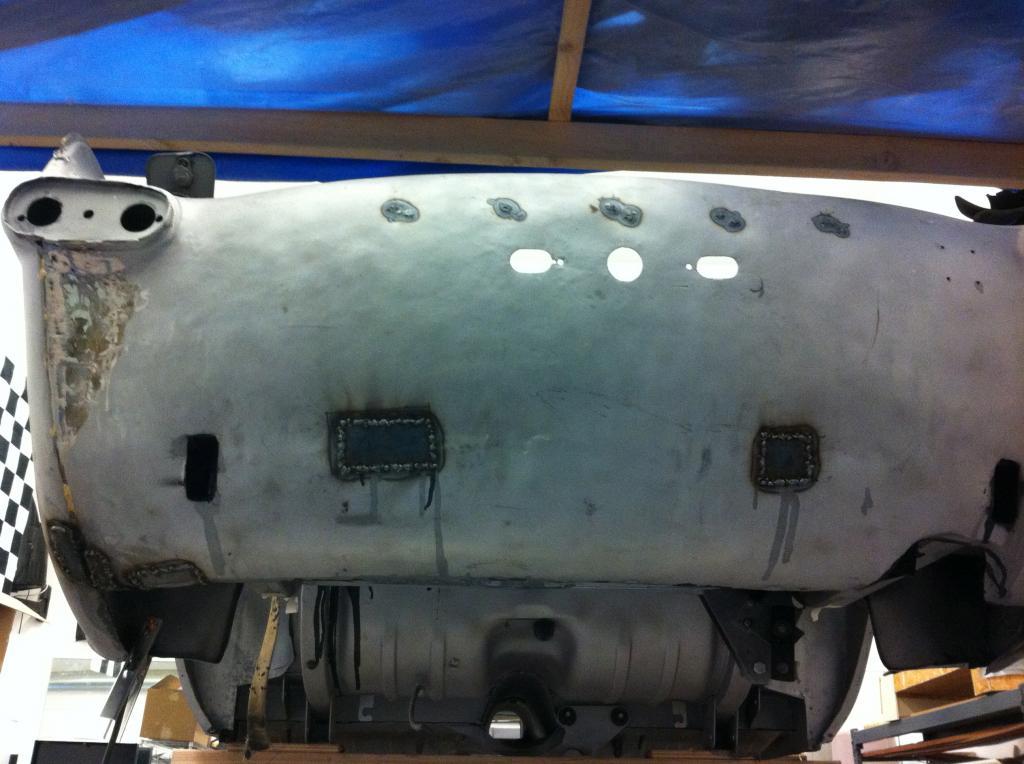 replaced totally rusted out battery box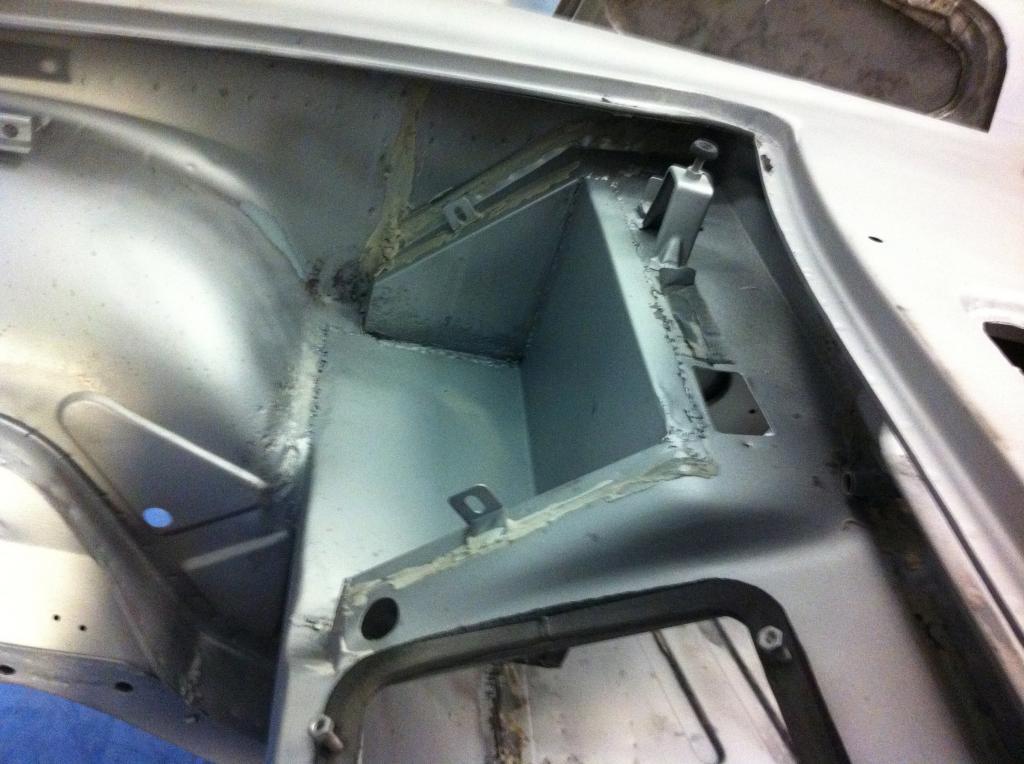 My daughter and friend seem sealing interior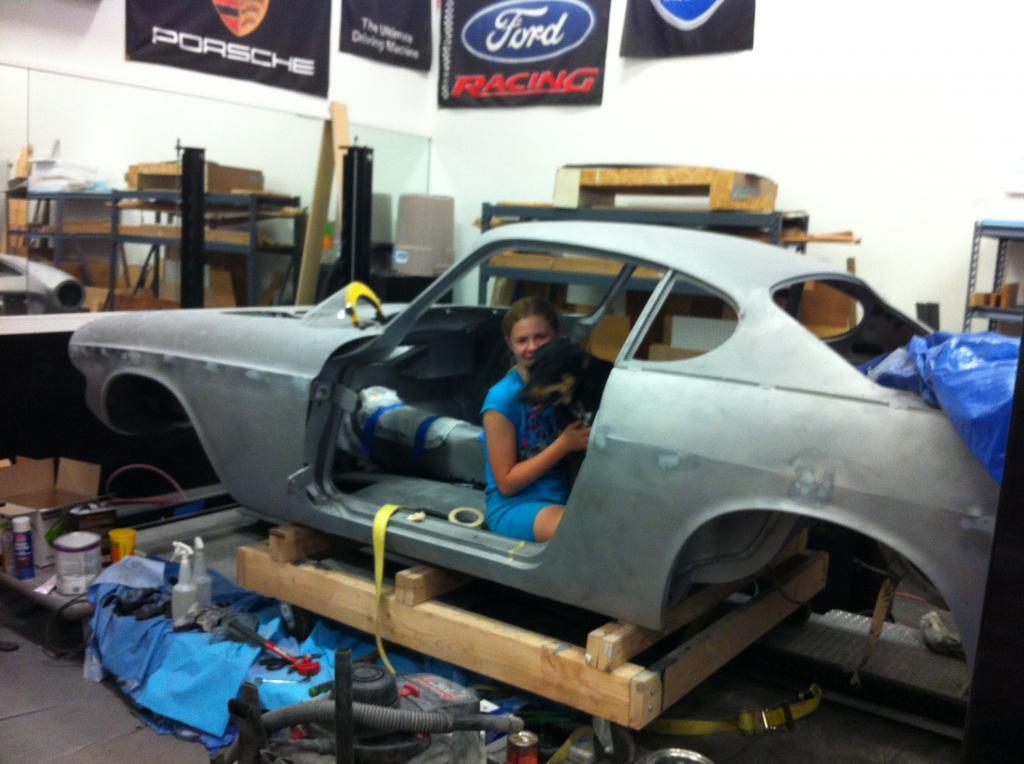 Fast FWD: After many months of metal work, i was able to smooth out the lumps and bumps with a lot less body filler than was on the car before.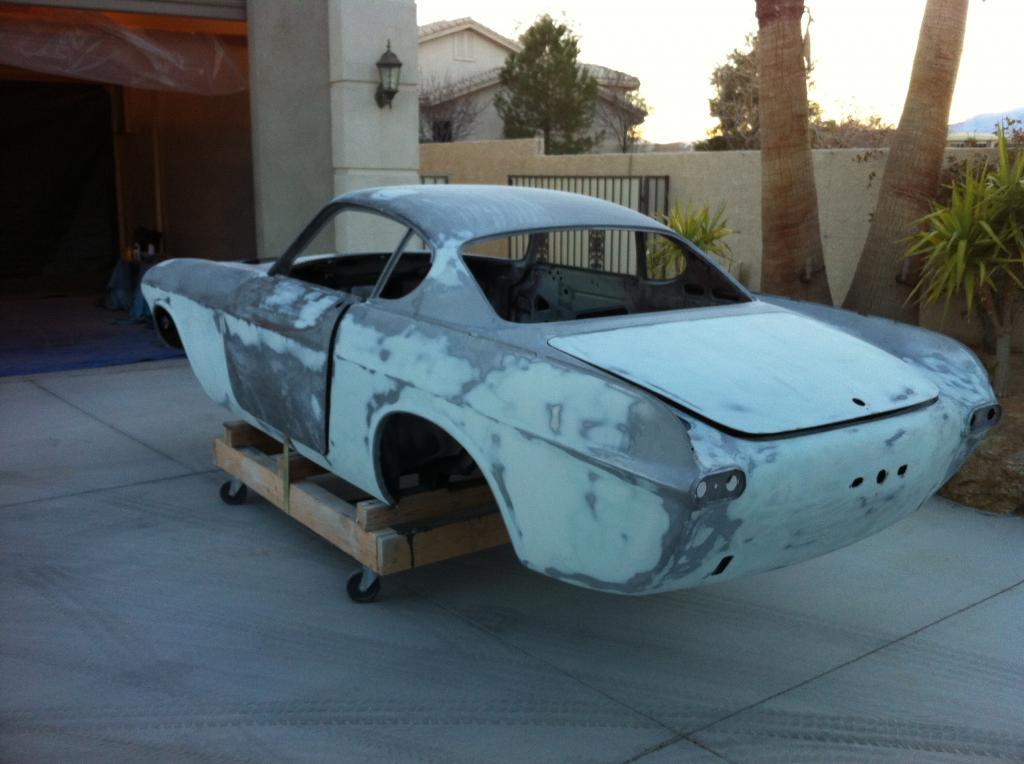 Time for epoxy primer...
The car sure looks a lot nicer with a coat of primer. Hard part was sanding this stuff down. It really gums up the sandpaper.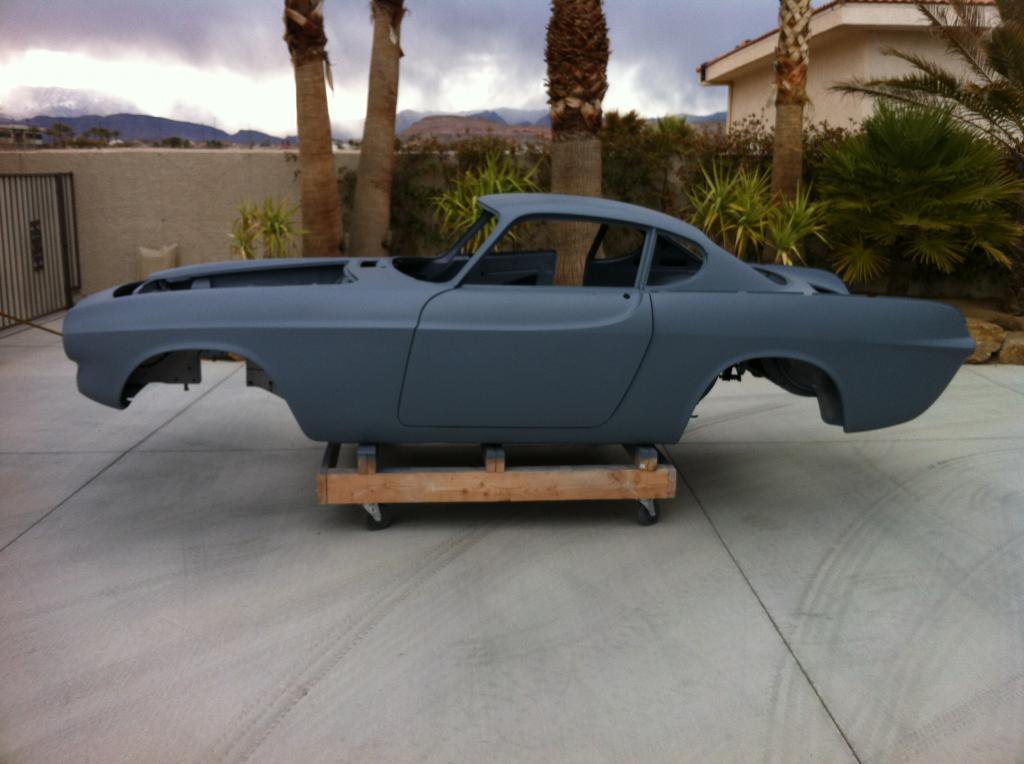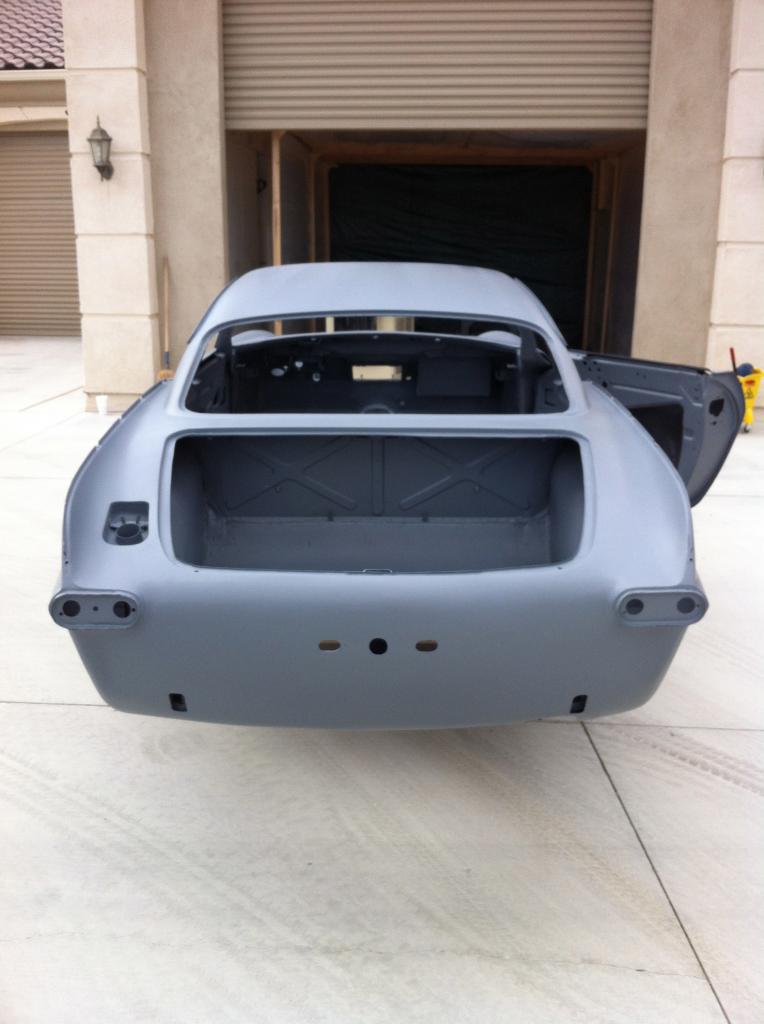 After sanding down the epoxy primer and fixing more flaws, several coats of high build primer were applied and sanded. Hoping for a laser straight car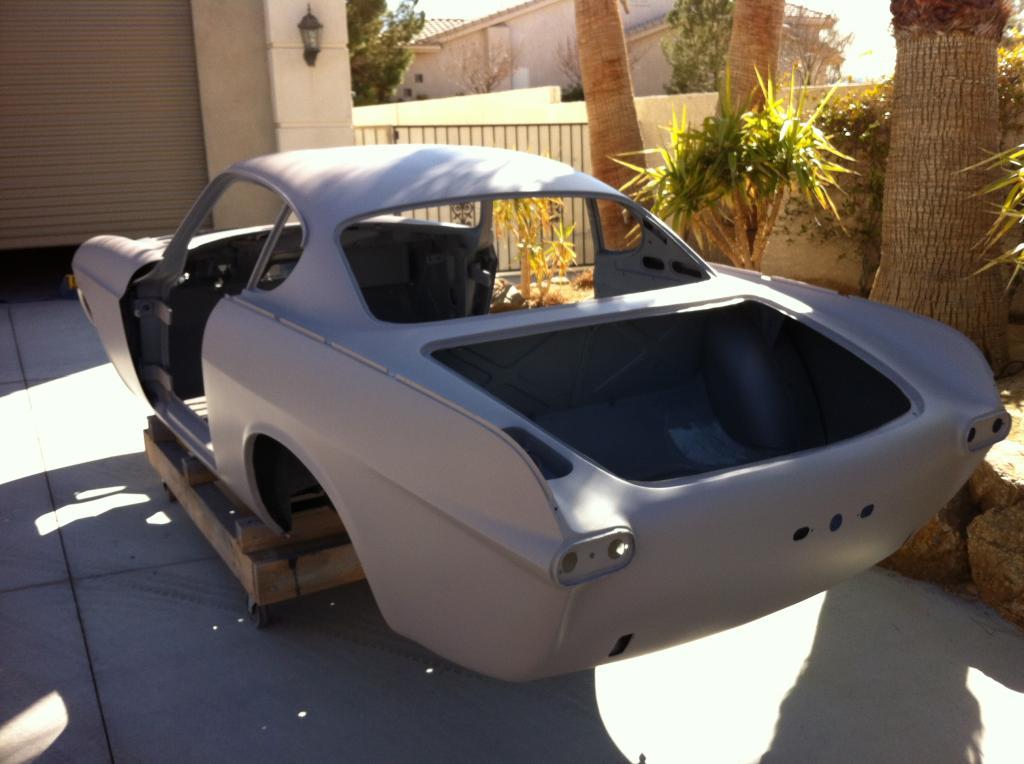 Car goes off to the professional painters. Luckily, the painter is a friend of mine and gave me a few lessons in painting cars. I can say I painted the car as I did the first coat, LOL, but i left the top coats and clear coat to him.
I went with Aston Martin Steal Blue Metallic as the color. What do you think? Pictures look a little darker than it actually is. As you can see from the first post, the car was purple when I got it, but it was originally light blue.
Sealer coat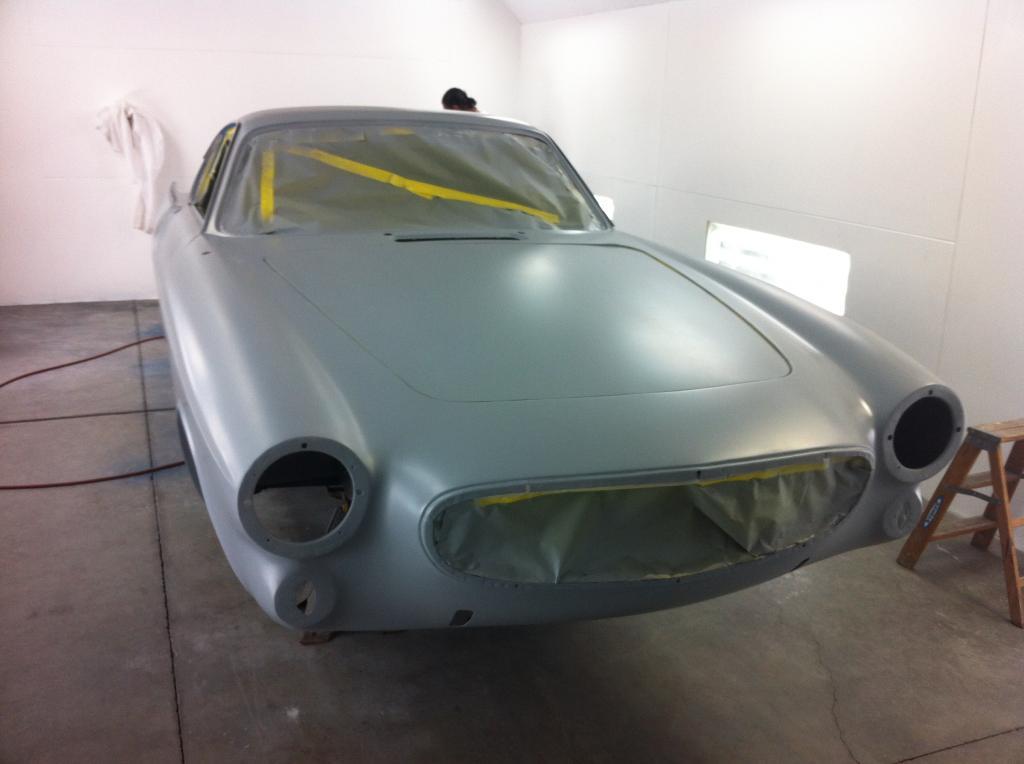 Color!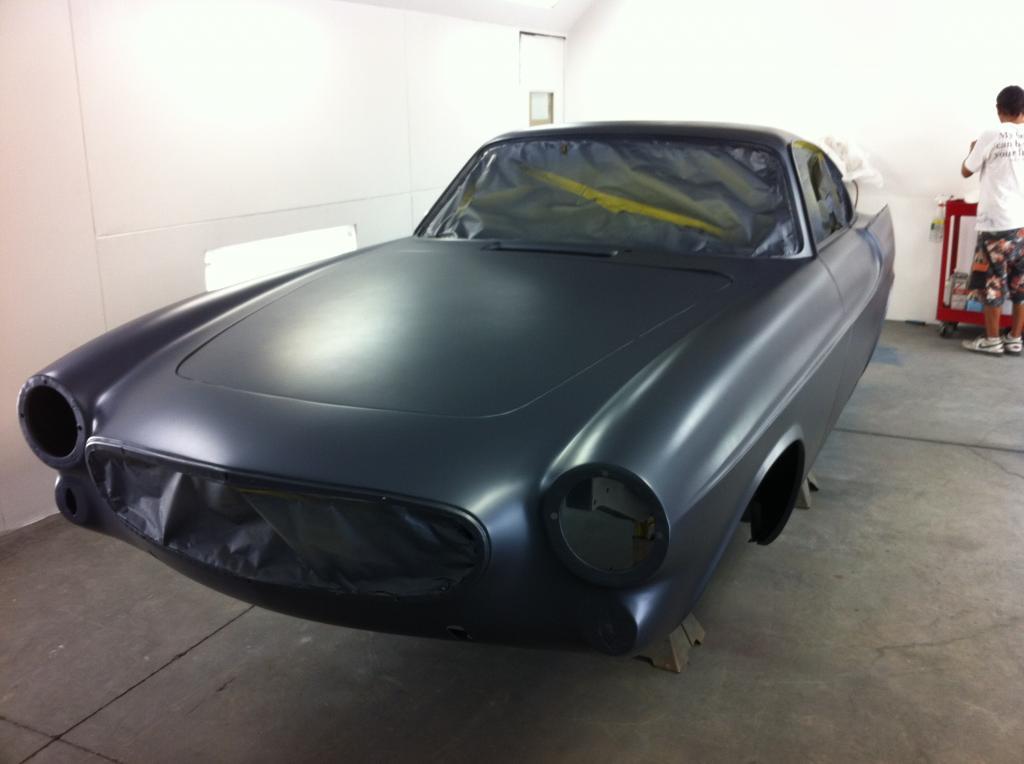 Clear coat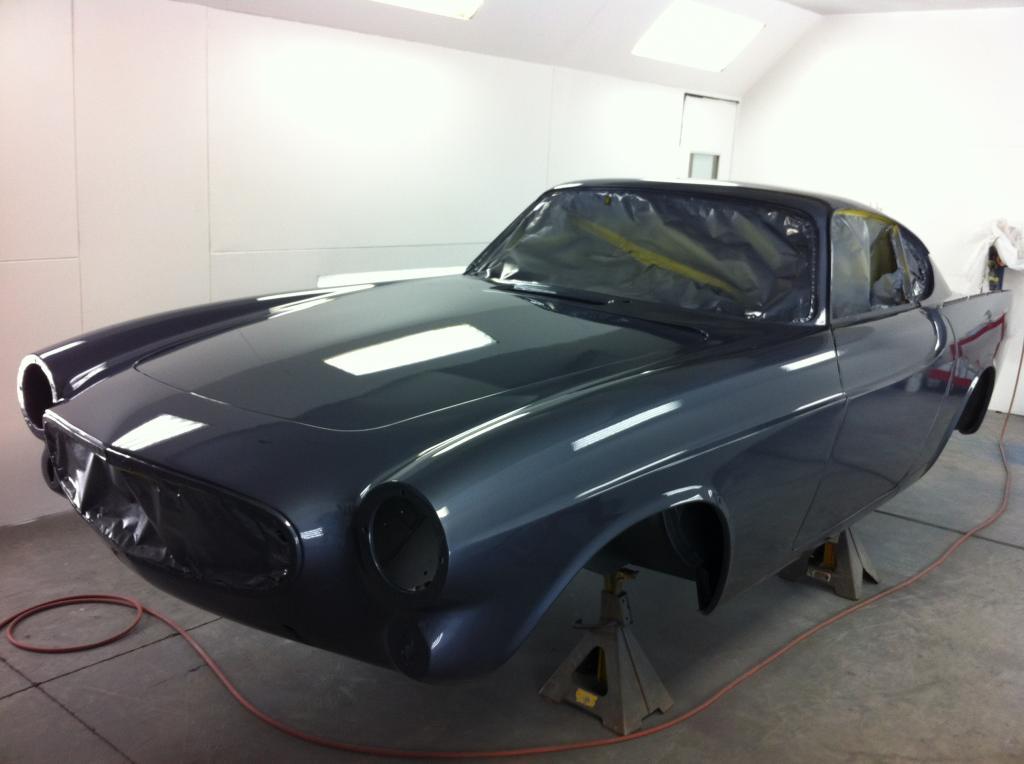 Home again, now to buff it out...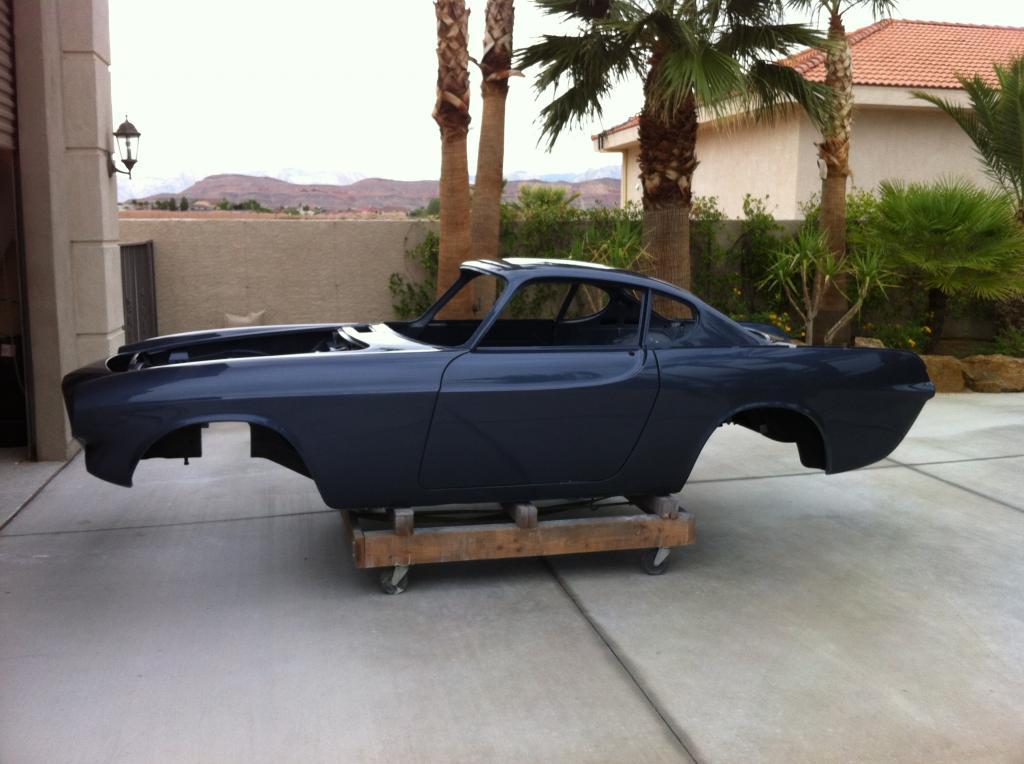 11-8-2013
Because the car had been sitting out side for so long, most of the chrome parts where very pitted and rusted. Some I'm having to replace, others I was able to buff out. I'm still searching for a good, close by chromer to do some pieces that are either impossible to find or too expensive to replace.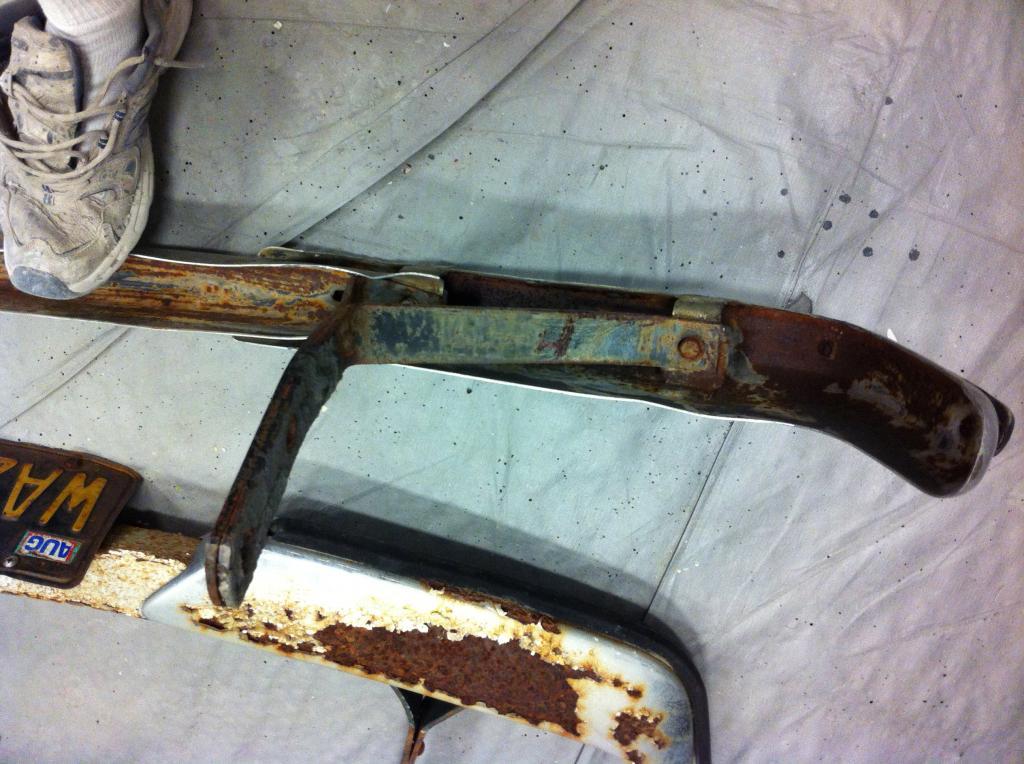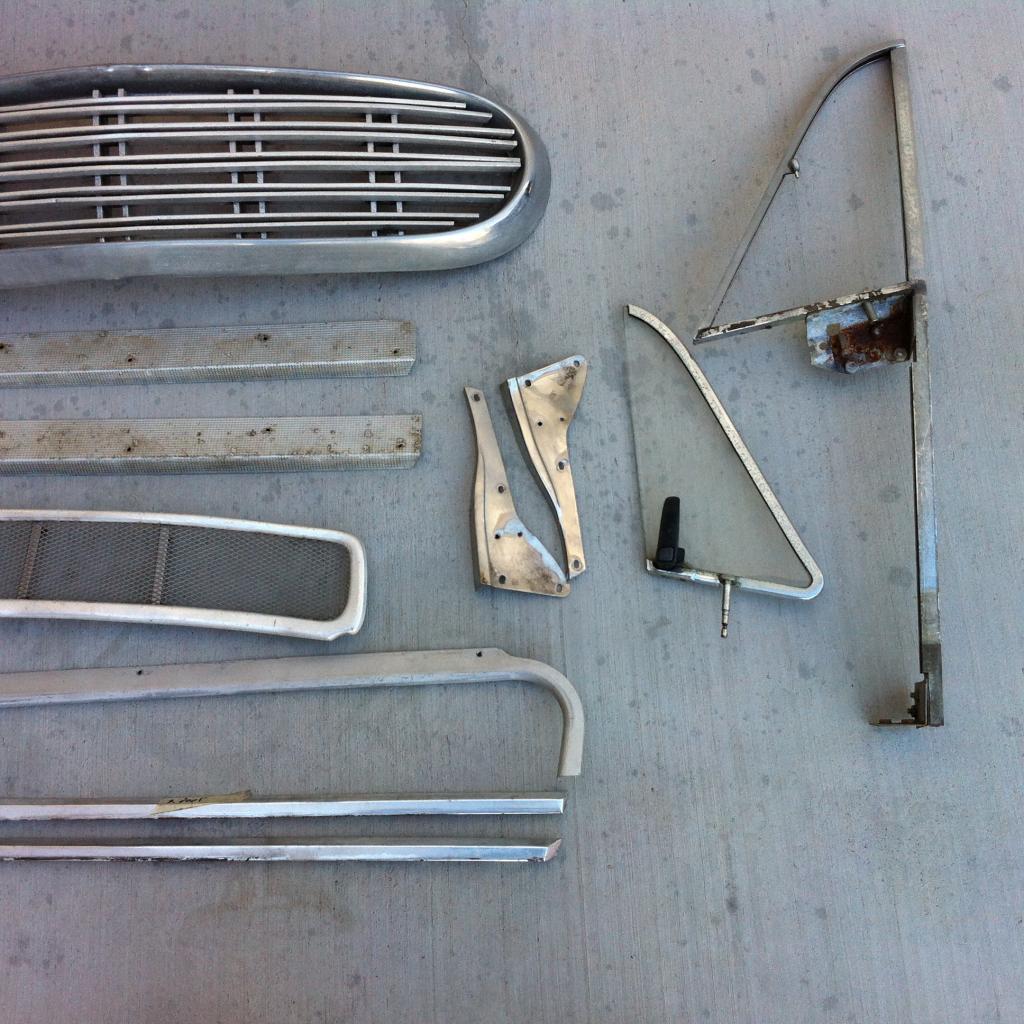 New bumper: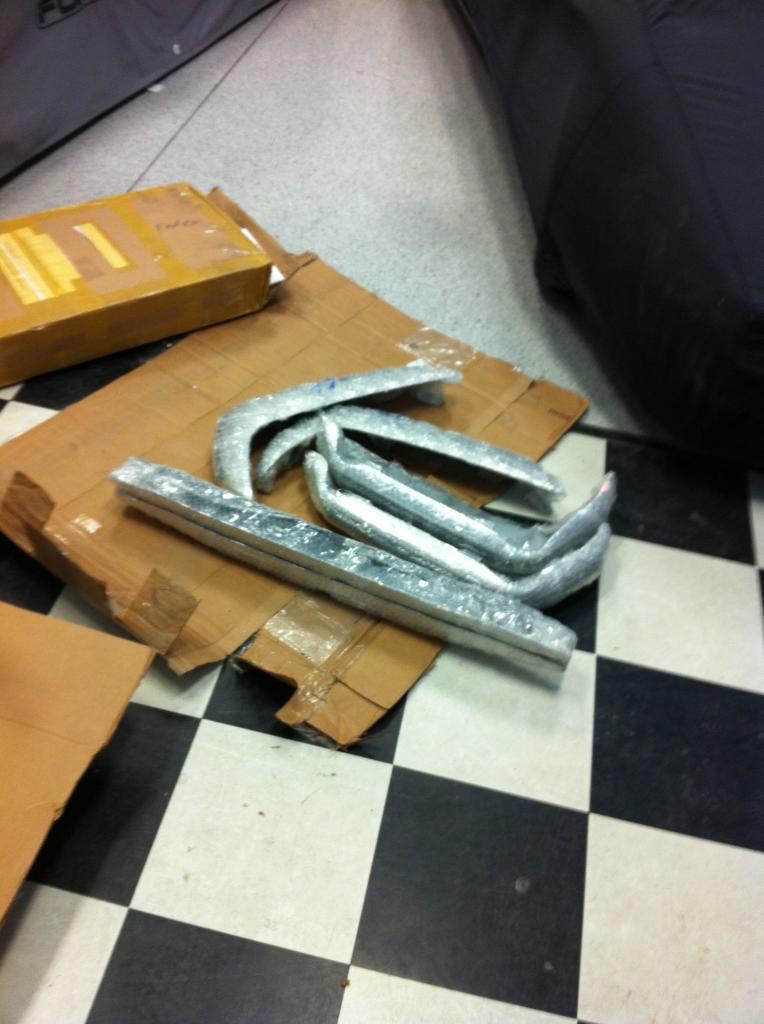 Saving old locks for the doors and latches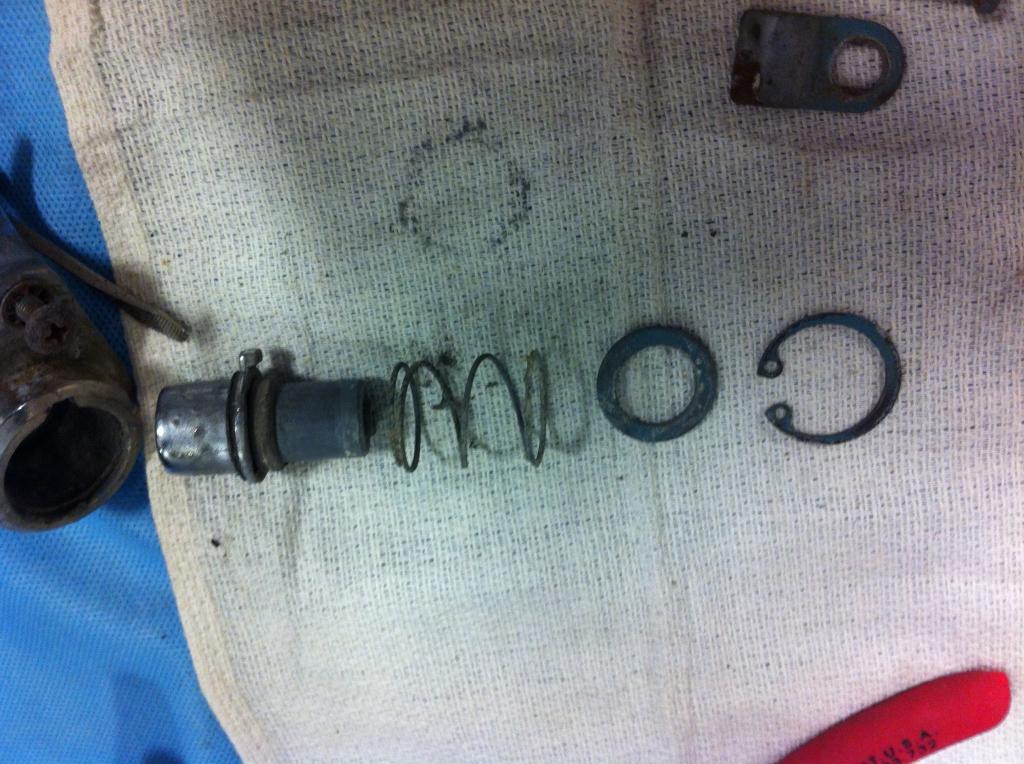 New shiny bits on car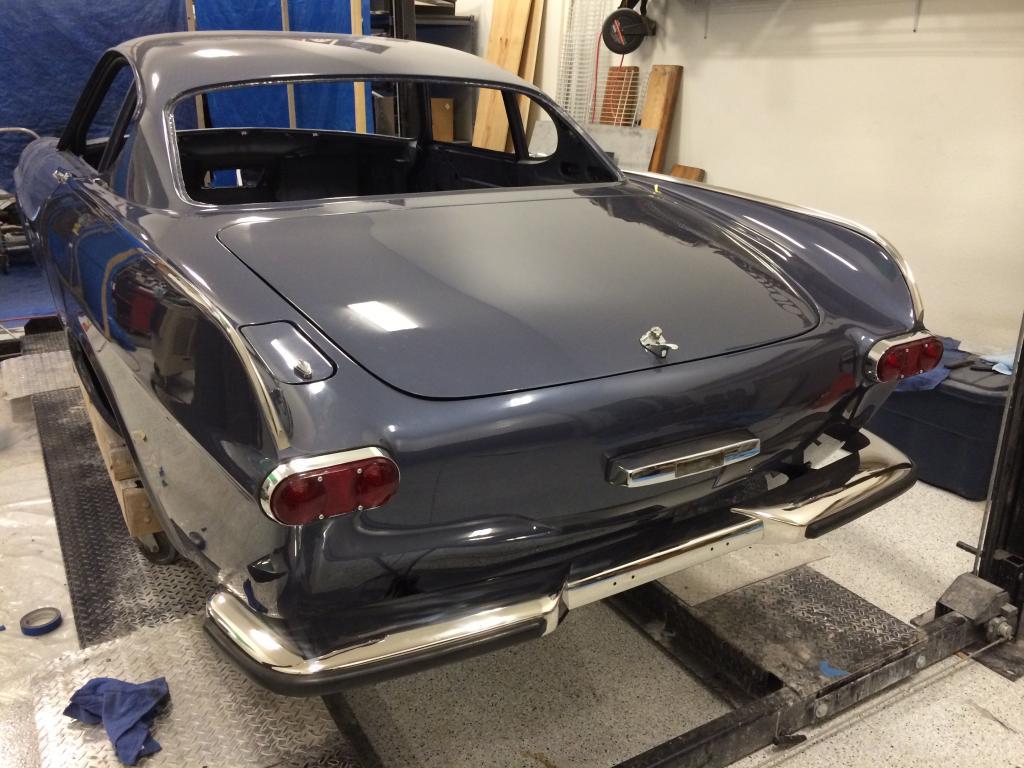 What to do with the rear running gear? My options were to keep the original and rebuild it, get a newer one with disc brakes or go with a ford 8.5. After talking to a lot of guys and debating what would be best with my intentions for the car, I decided to rebuild the stock one. This meant new polyurethane bushings, rebuilding drum brakes, cleaning and repainting, and going through the differential (which still looked good).
Starting point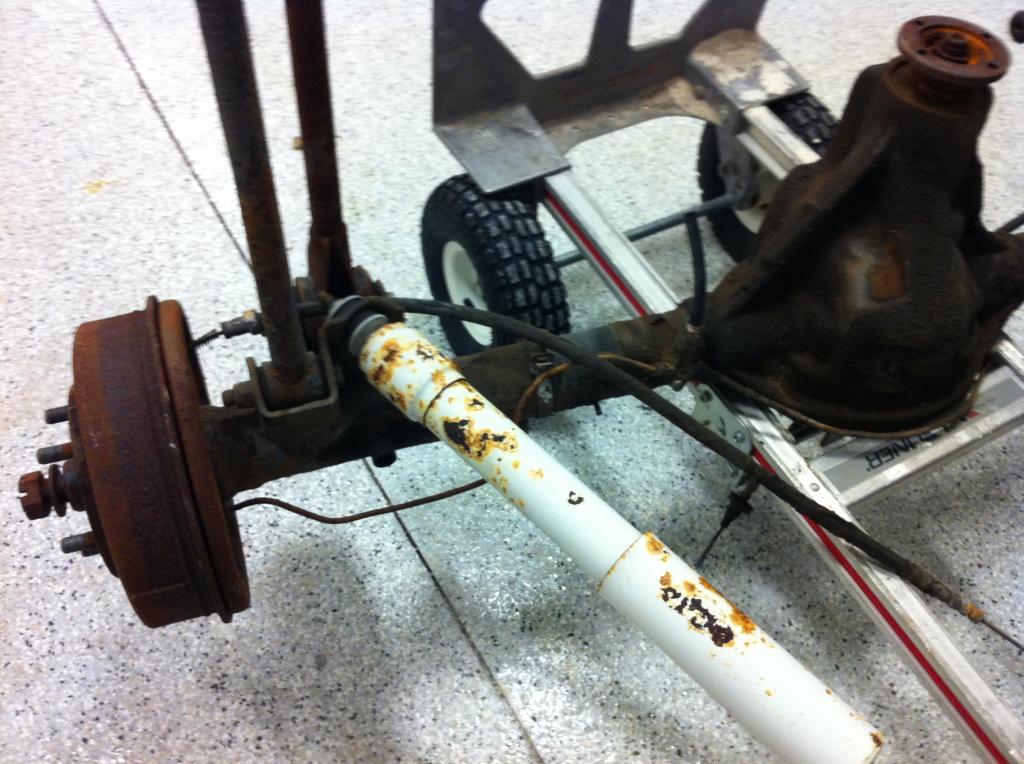 Blasted and cleaned up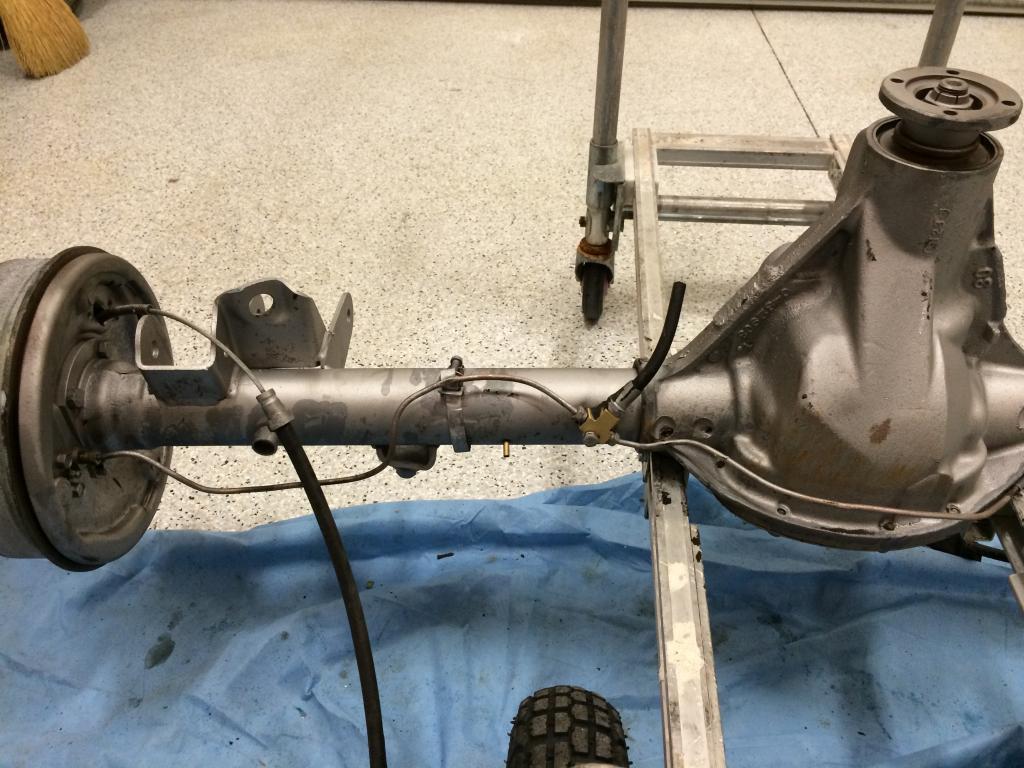 I had the usual problem removing the drums. Had to brake down and get the Volvo specific brake puller. That actually worked well.
The cylinders were shot but an easy fix. New shoes and clean up and it hopefully will provide good stopping power.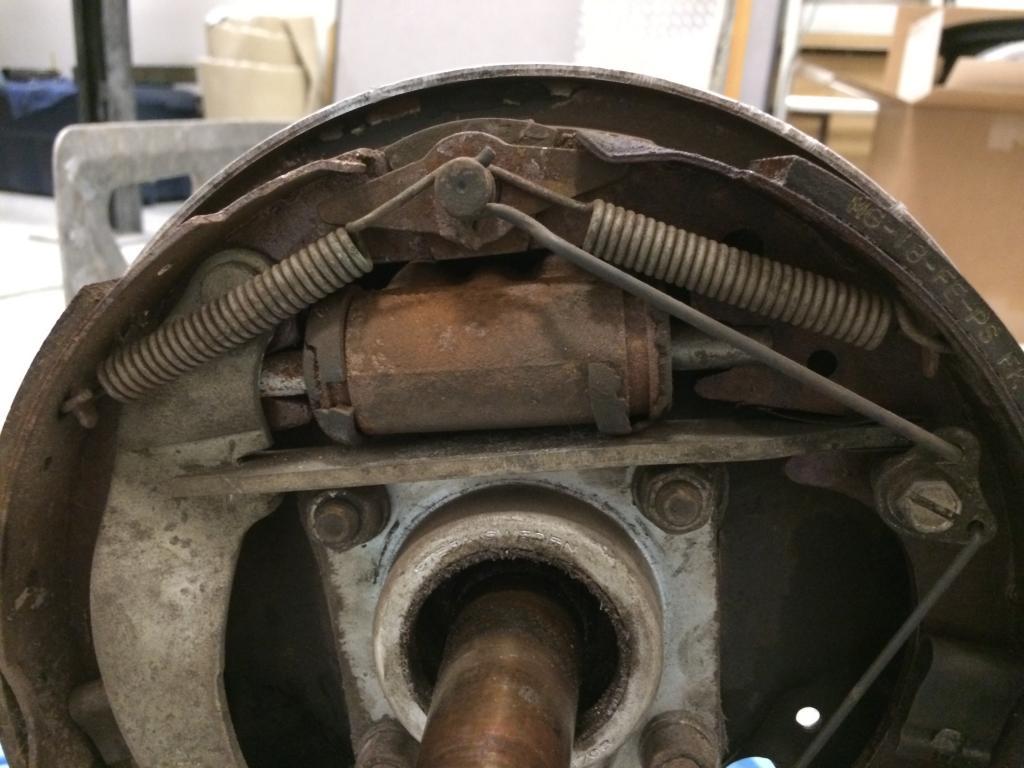 Rebuilt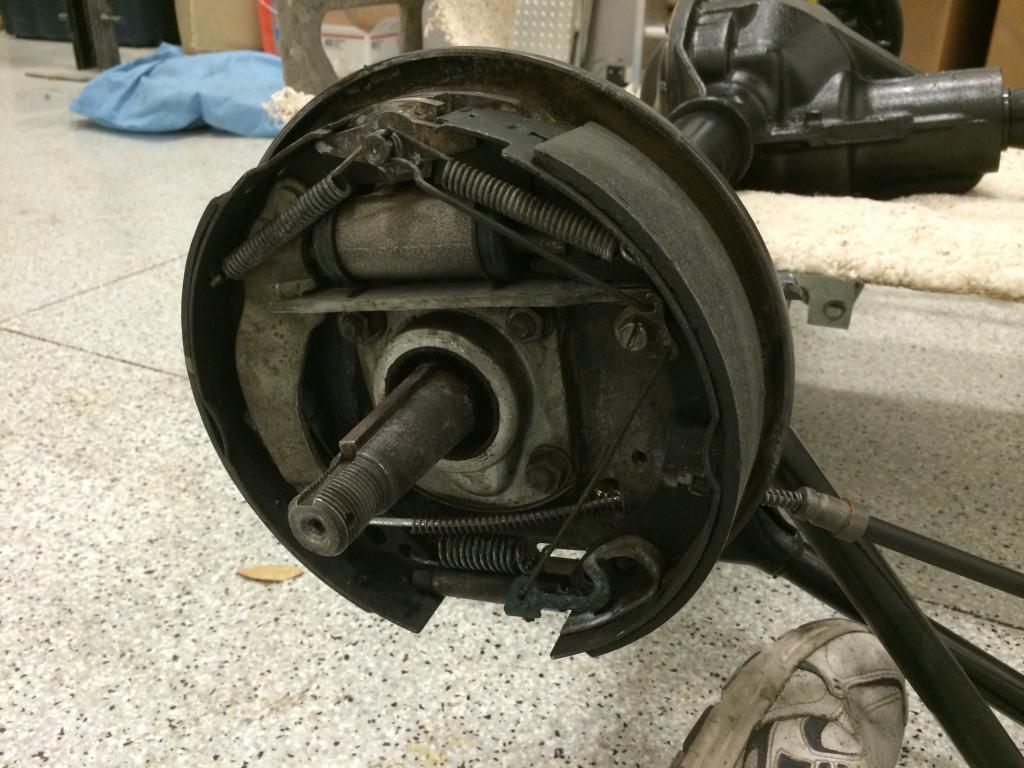 Freshly painted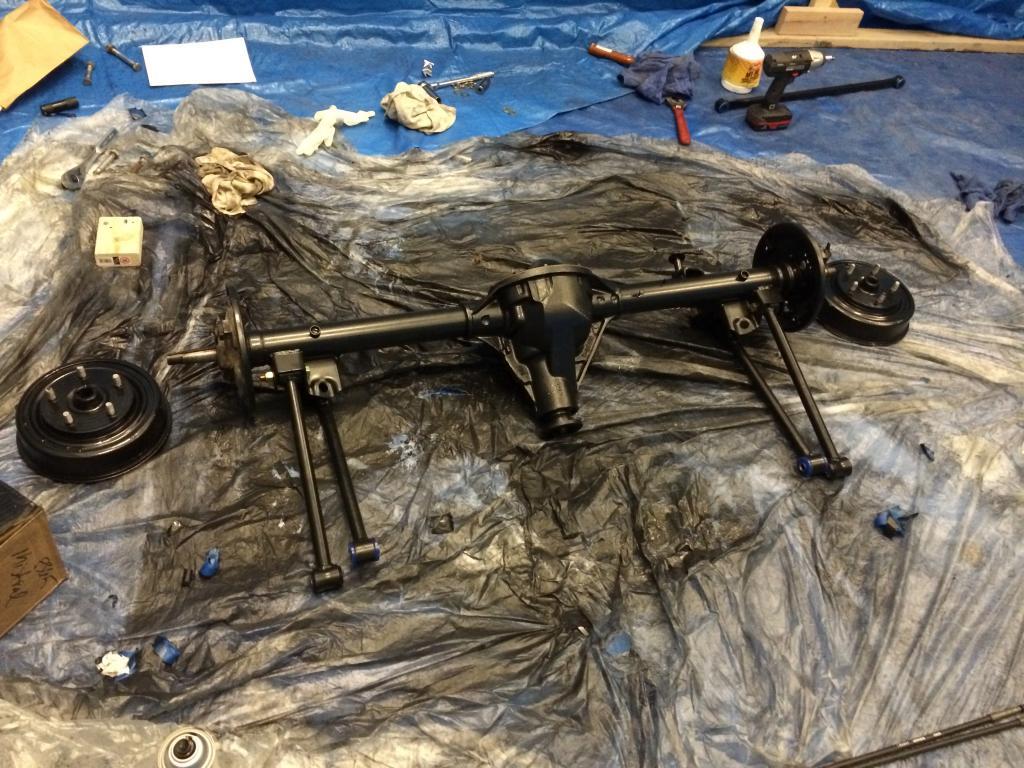 Installed in car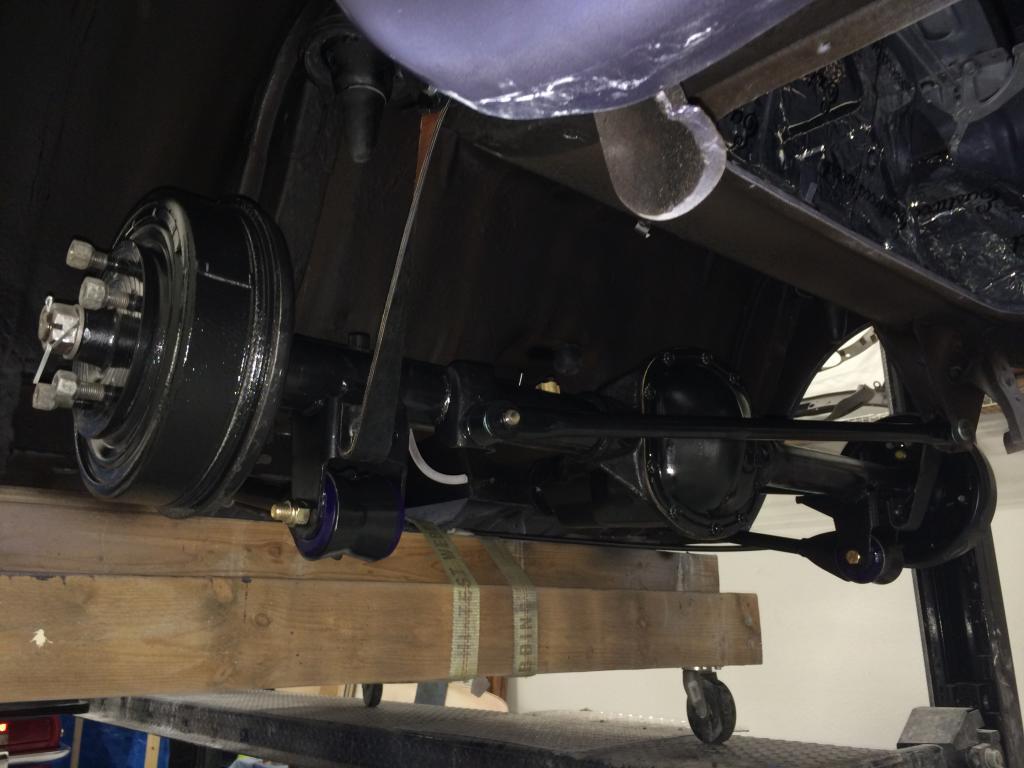 Getting revalved Bilsteins for the rear. I want to lower the car about an inch. Waiting on the front end and engine install to see how the car sits. Then I'll decide what springs to go with.
11-18-2013
Got in the new wiring harness. Matching it up to the old one. Unfortunately some of my labels fell off the old one so I've ordered a color wiring diagram. I also discovered I took way too few photos of how the wiring harness actually runs through the car

if anyone has some pics of where the harness goes through the side wall, firewall, engine bay etc that would be great!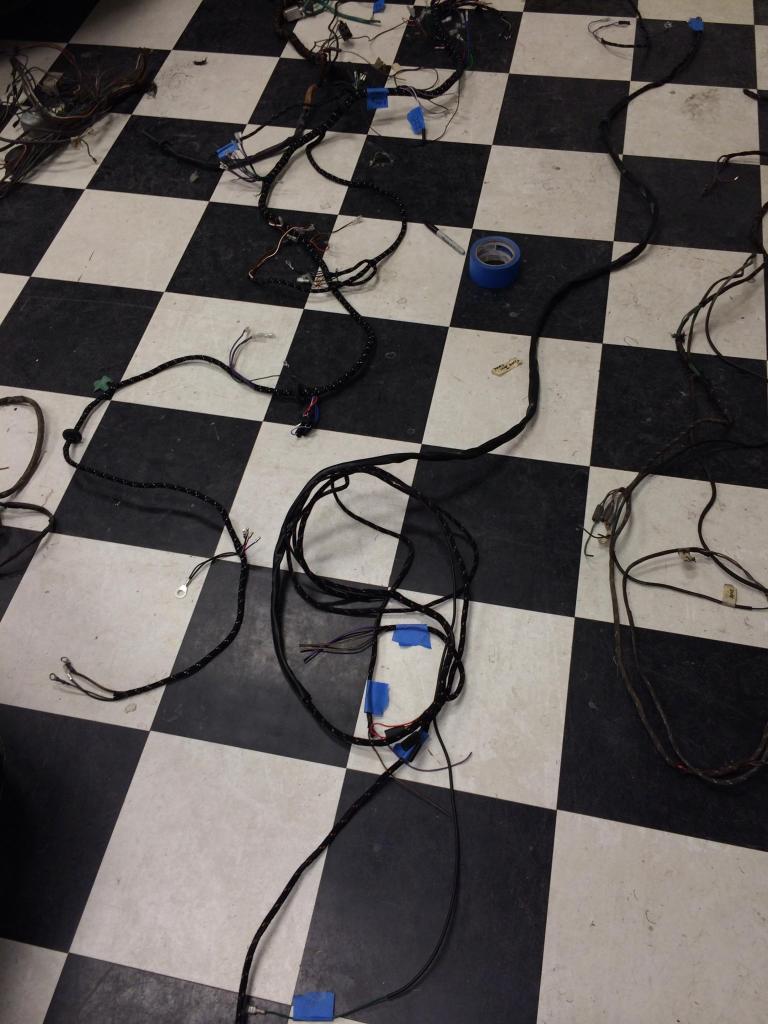 1-19-2014
Got the new wiring harness in the car and most of the wires matched up to the old one. Only have a couple stray wires I can't figure out with the help of the wiring diagram

Hopefully when I start putting it all back together I will be able to figure it out...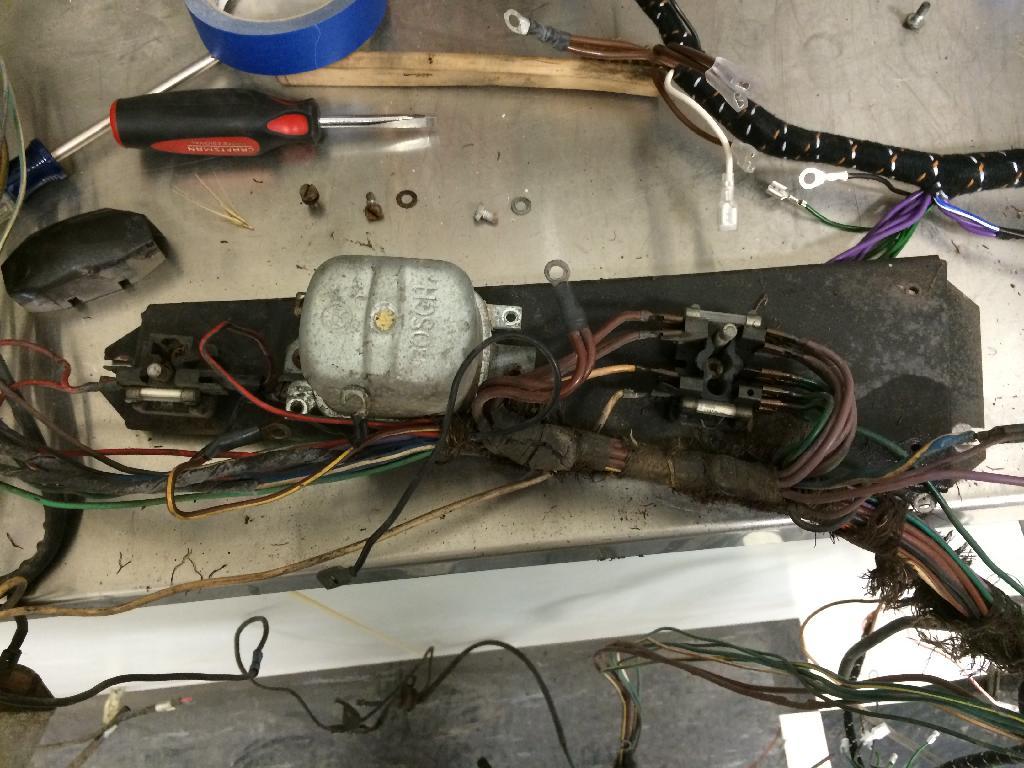 Since my front end isn't done yet and the engine is still being worked on, I decided to start in the back and work my way forward. I finished up the rear end, installed the gas tank and plumbing, and put in a custom trunk. Not quite stock, but I think it turned out pretty good... I have a new appreciation for upholsterers.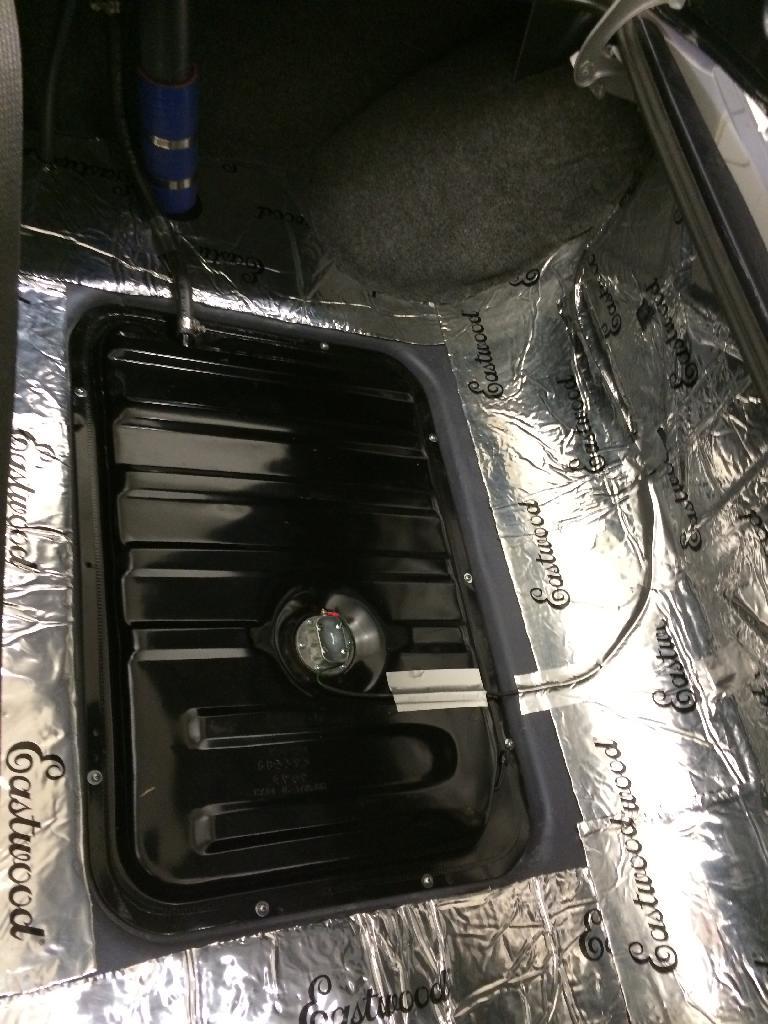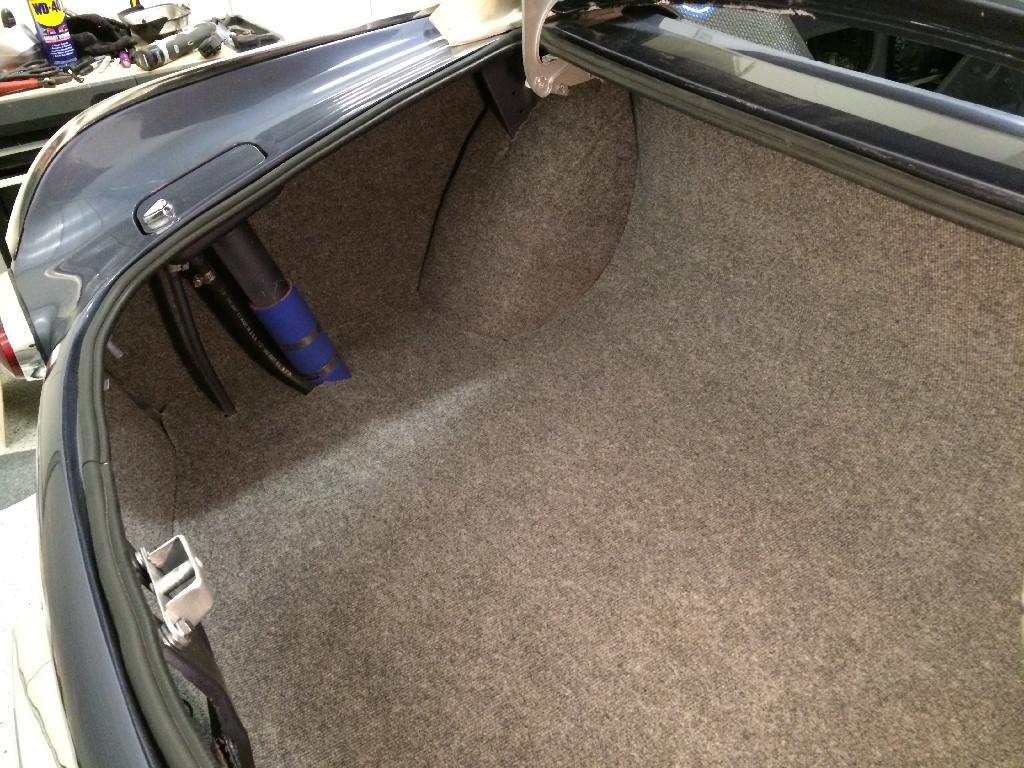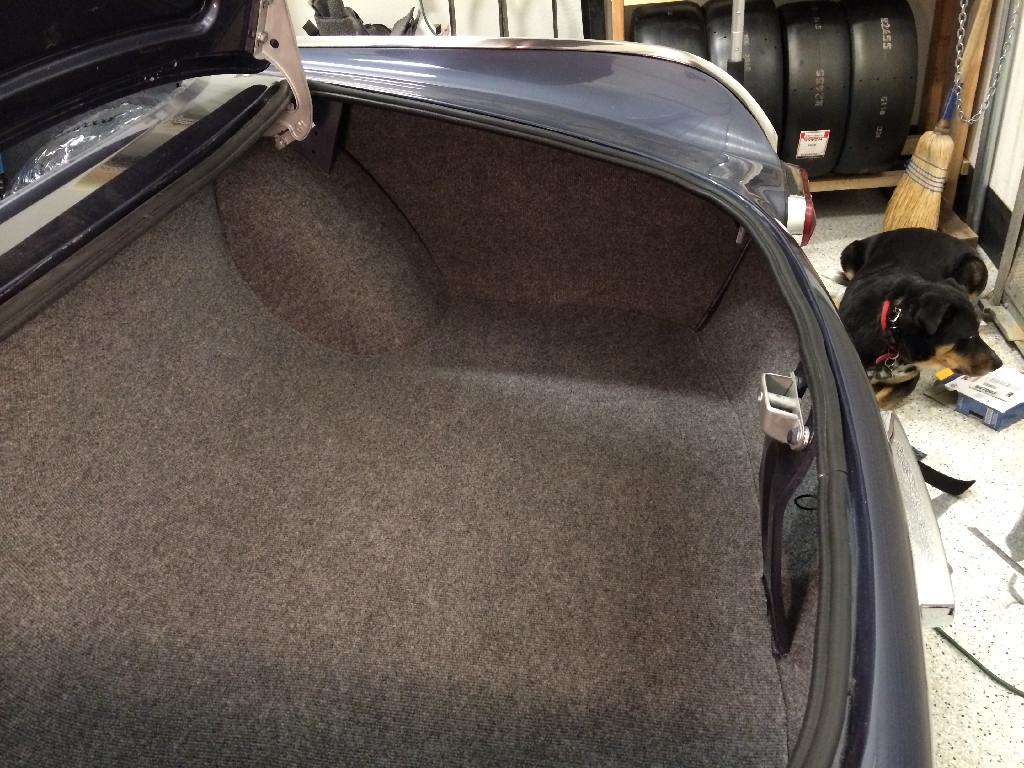 Yeah, sometimes I feel like a used tire dealer. I race in the Lotus cup series, so I always seem to have a lot of tires laying around...lol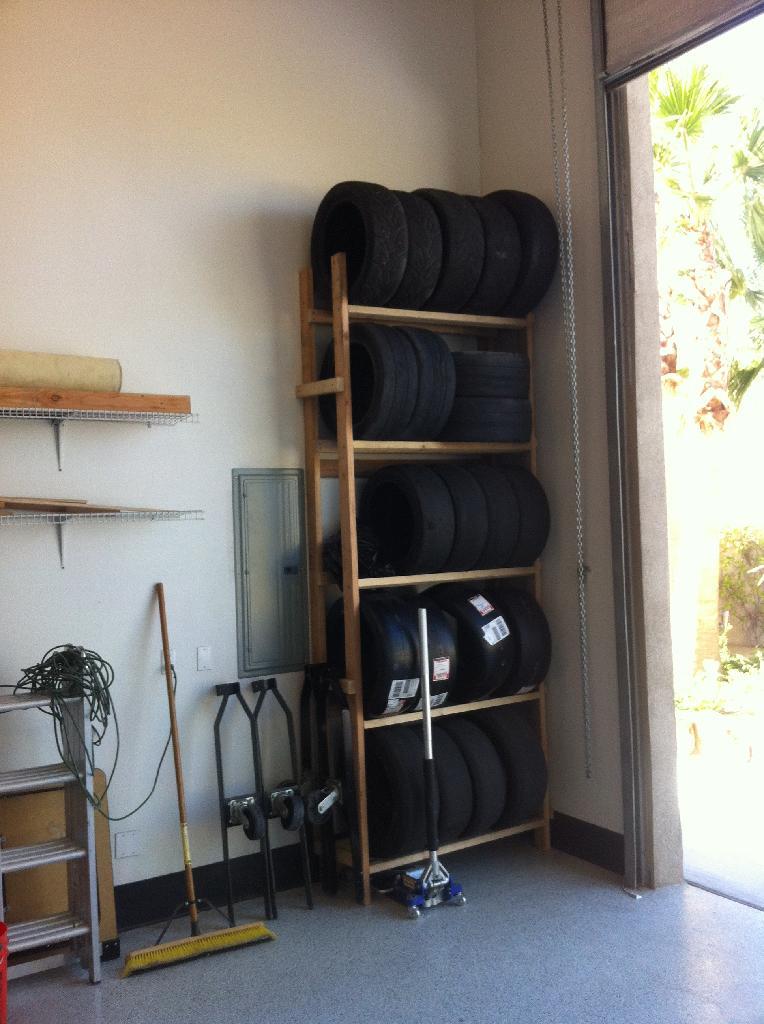 3-11-2014
Project Update:
Since I STILL don't have a front end (hello Robert??...) and can't move forward with the mechanicals, I decided to start working on the interior. First order was to apply copious amounts of sound deadener. Then I started redoing the back seat/ parcel shelf. The wood was totally dry rotted and someone had covered it with shag carpet and cut holes in the seat for speakers. Needless to say, I had to remake the whole thing and recover it...
Old seat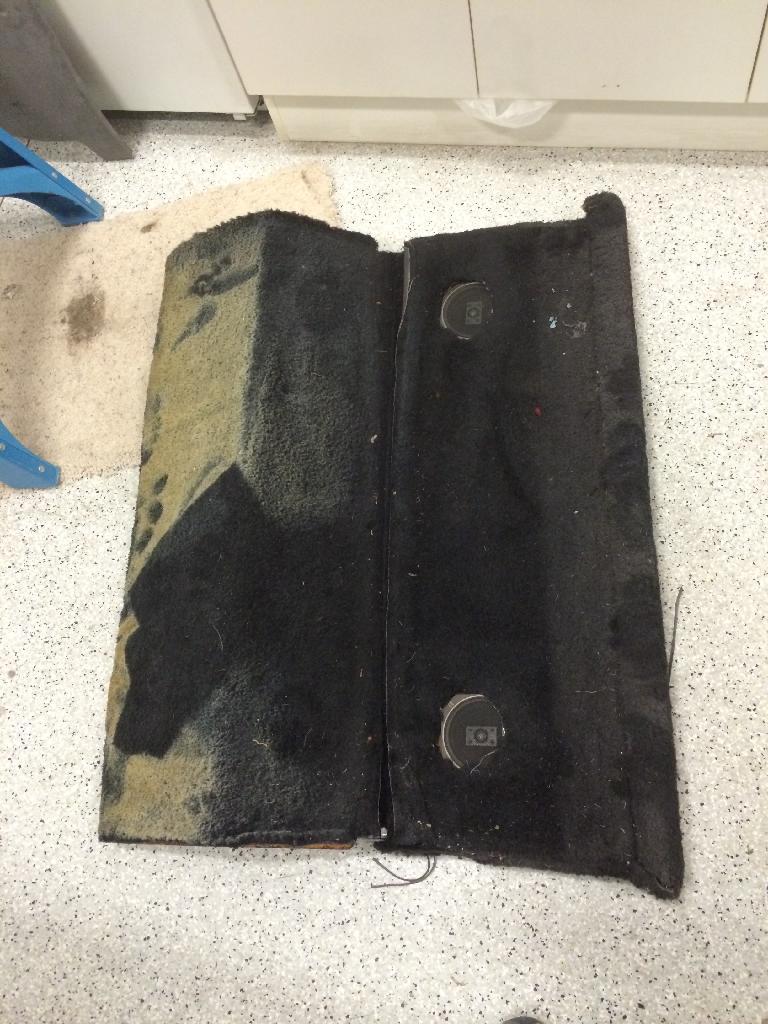 New wood: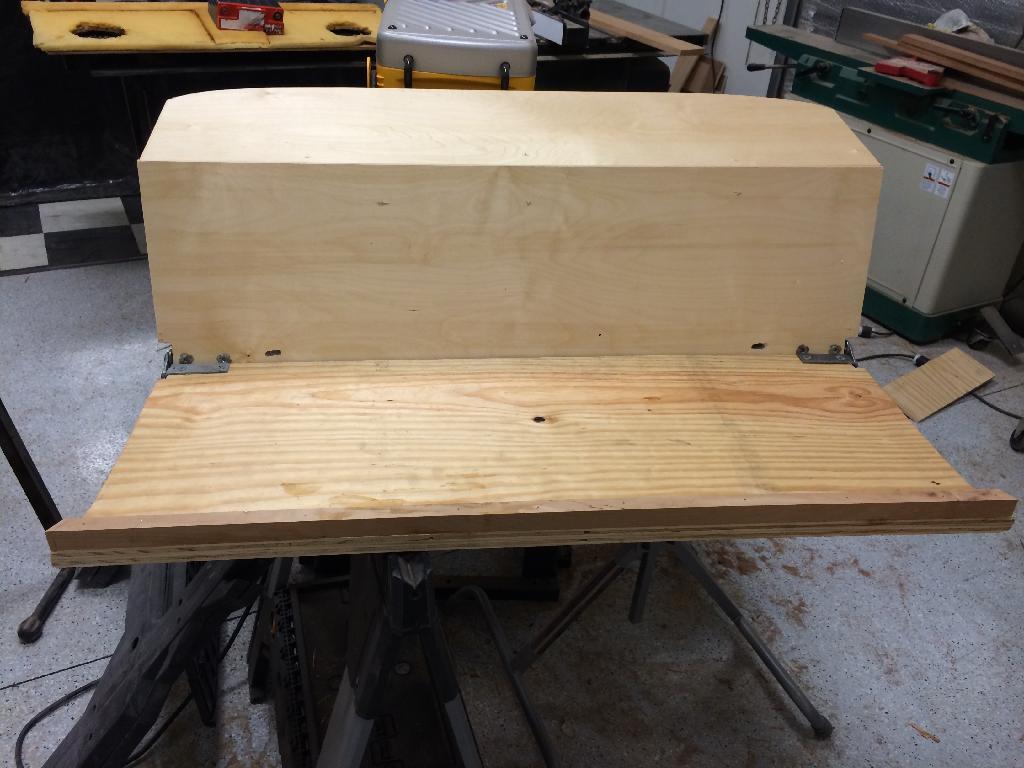 Seat recovered, had to redo the bottom webbing as well: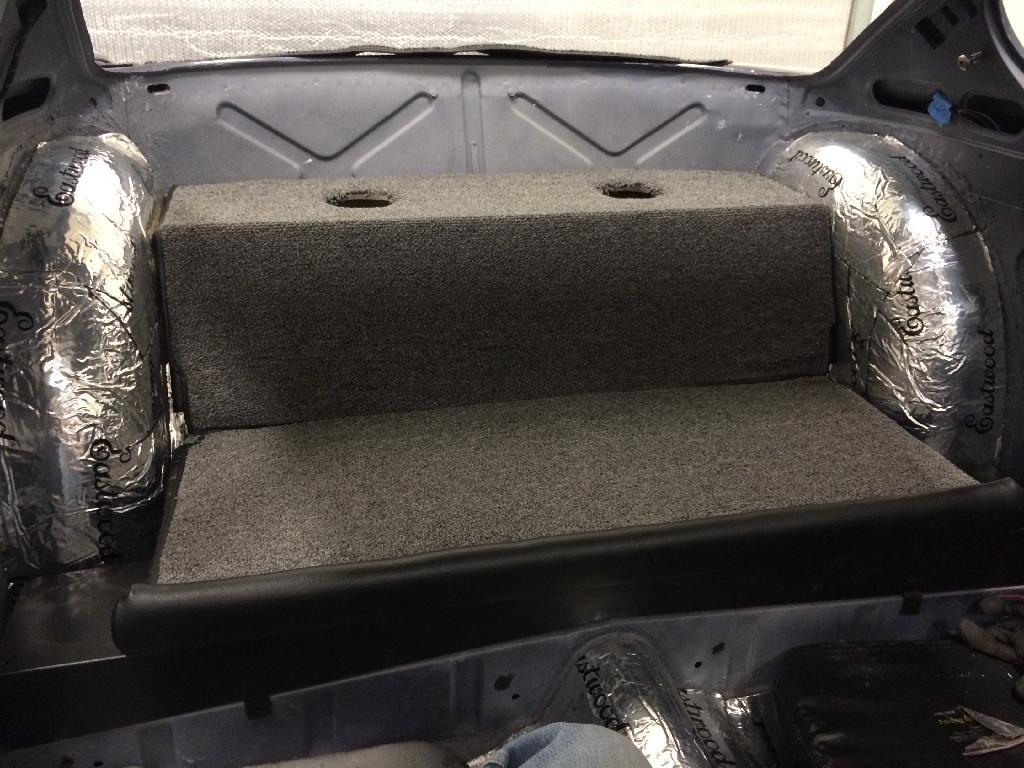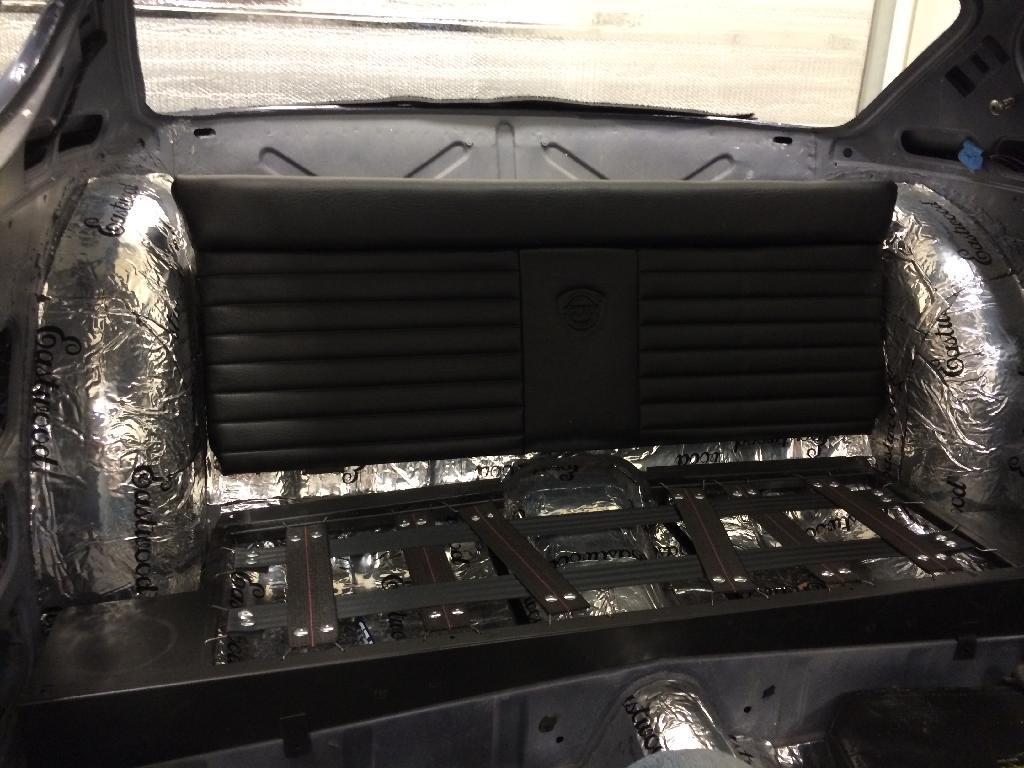 I decided to retro fit retractable seat belts. Luckily there is a gap between the upholstery panels that allows the belt to go through. I mounted the retractor in the body wall.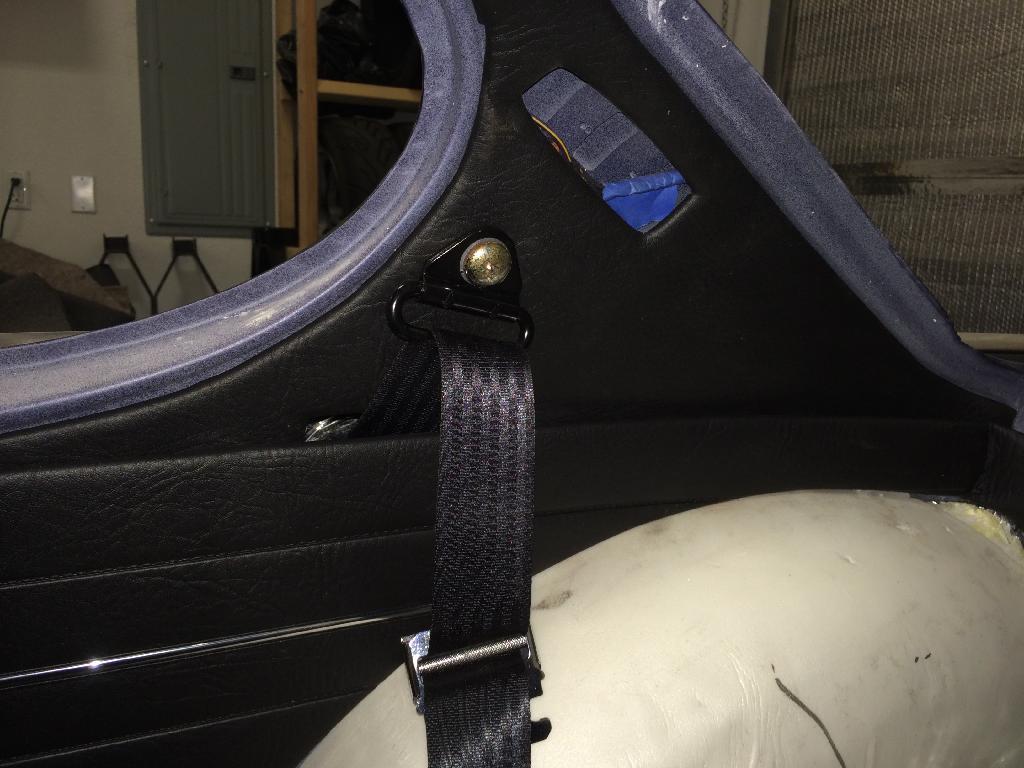 When I painted the car, I didn't realize how much of the interior isn't covered by upholstery. Now I have to paint the A pillars, and window trim areas that will show before I can move on with upholstering.

On the advice by others on the forum, I've sent my gauges off to North Hollywood Speedo to be reconditioned. Still waiting on an estimate. Seriously considering having the faces painted to match body color, like Porsche does. Still would be "blue".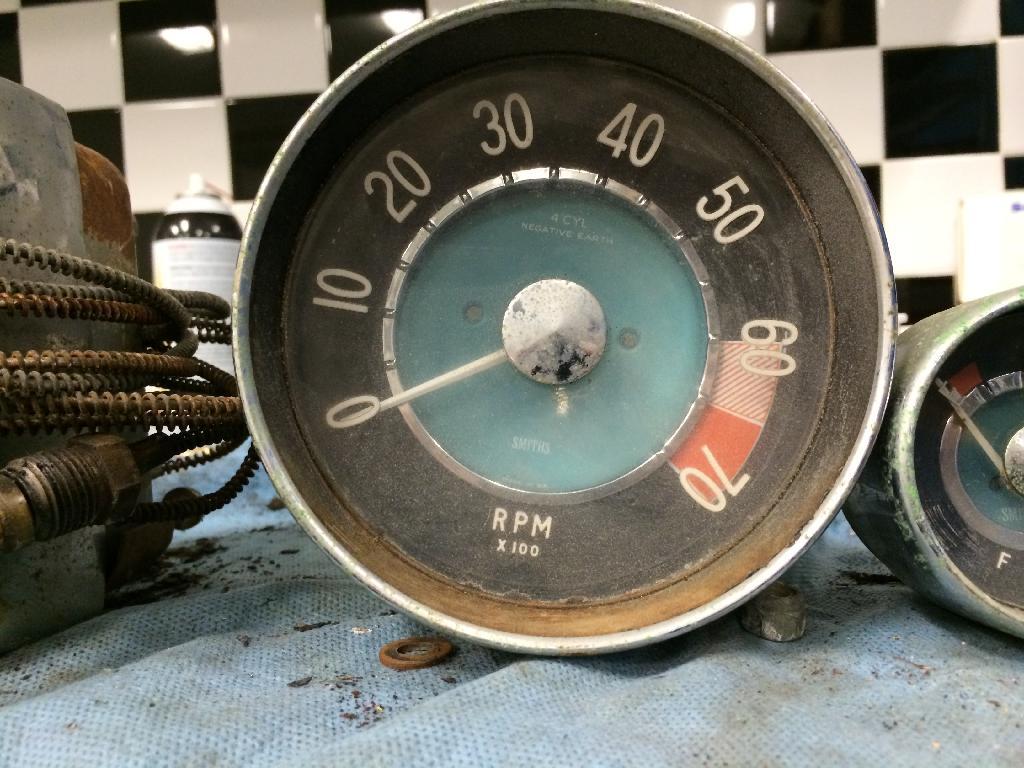 Living in Las Vegas, I definitely need AC. I decided to go with a self contained Vintage Air system. This makes installation much easier and will eliminate the large blower in the engine compartment.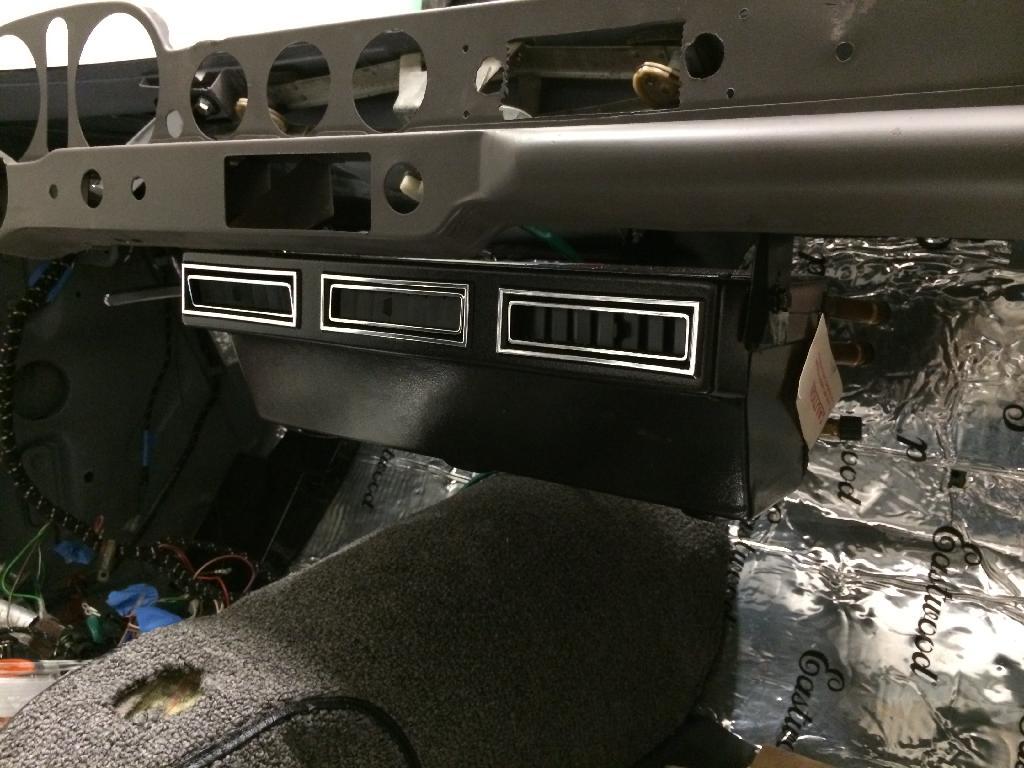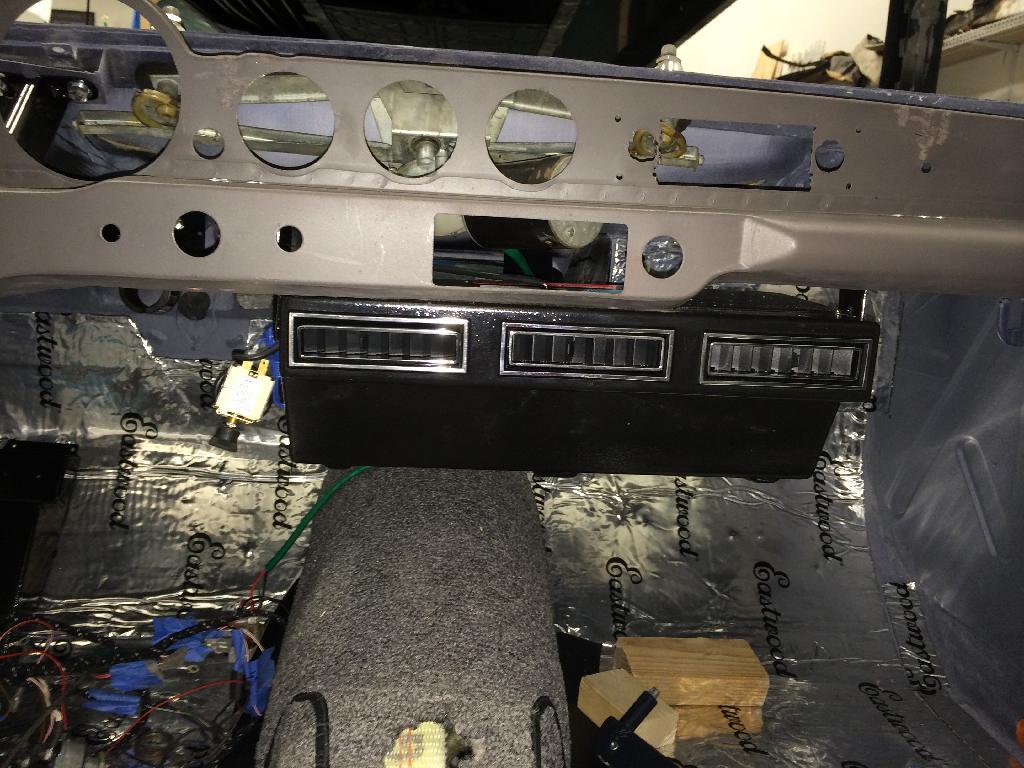 Once the engine is in, I can run the lines through the bulkhead to the condenser, compressor.
3-12-2014
Rebuild of the seats. Had to redo all the webbing. Got replacement leather & cushions from p1800.com.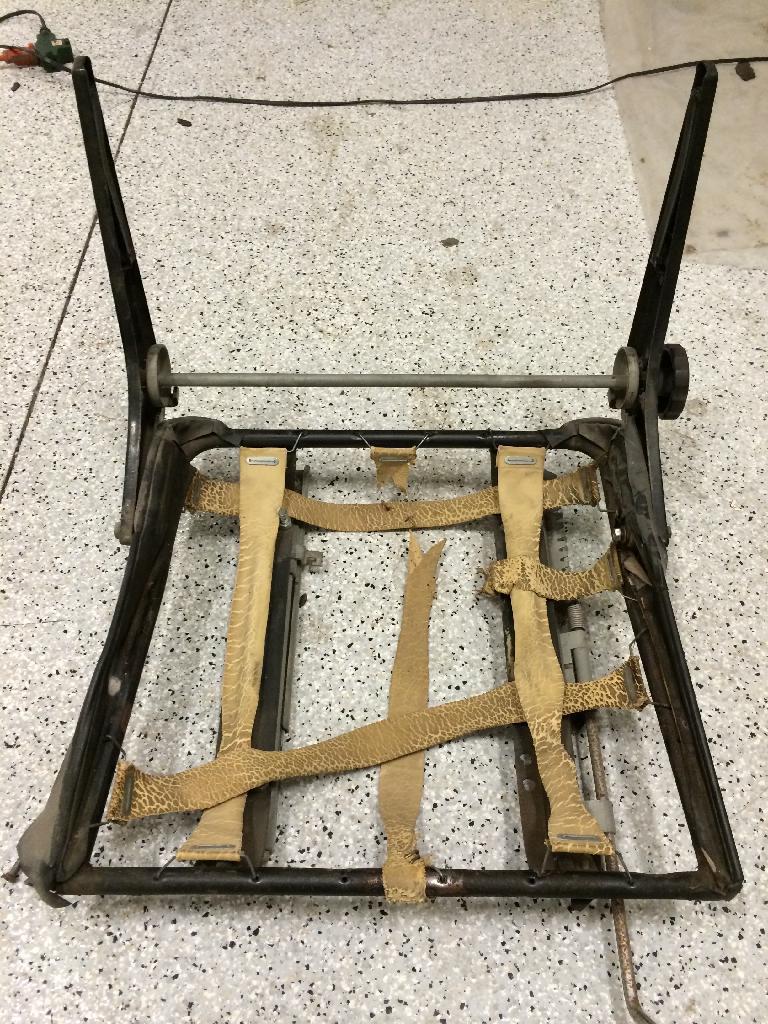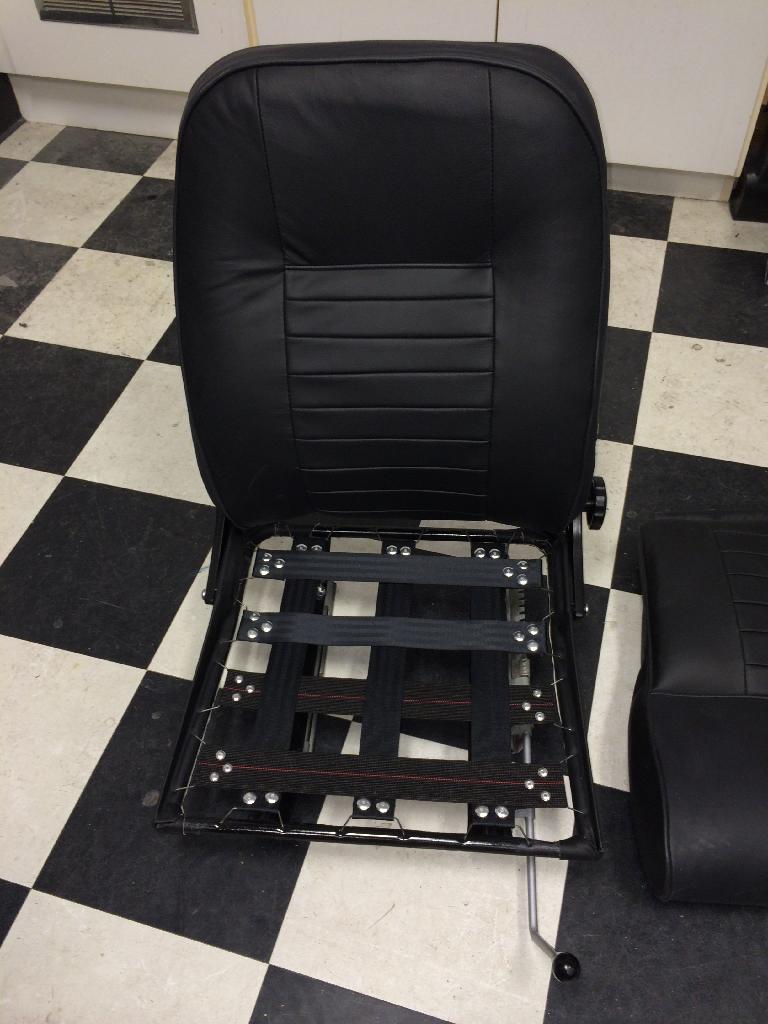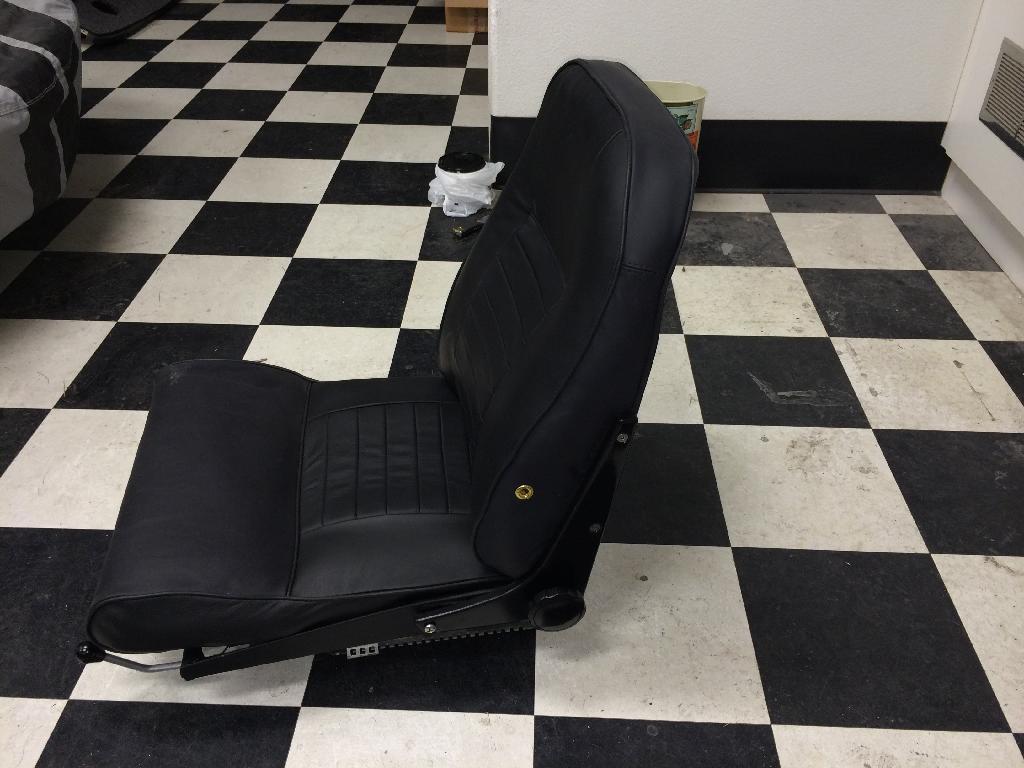 Headliner redo. Had to reinforce the corners with some fiberglass since the old wood was cracking.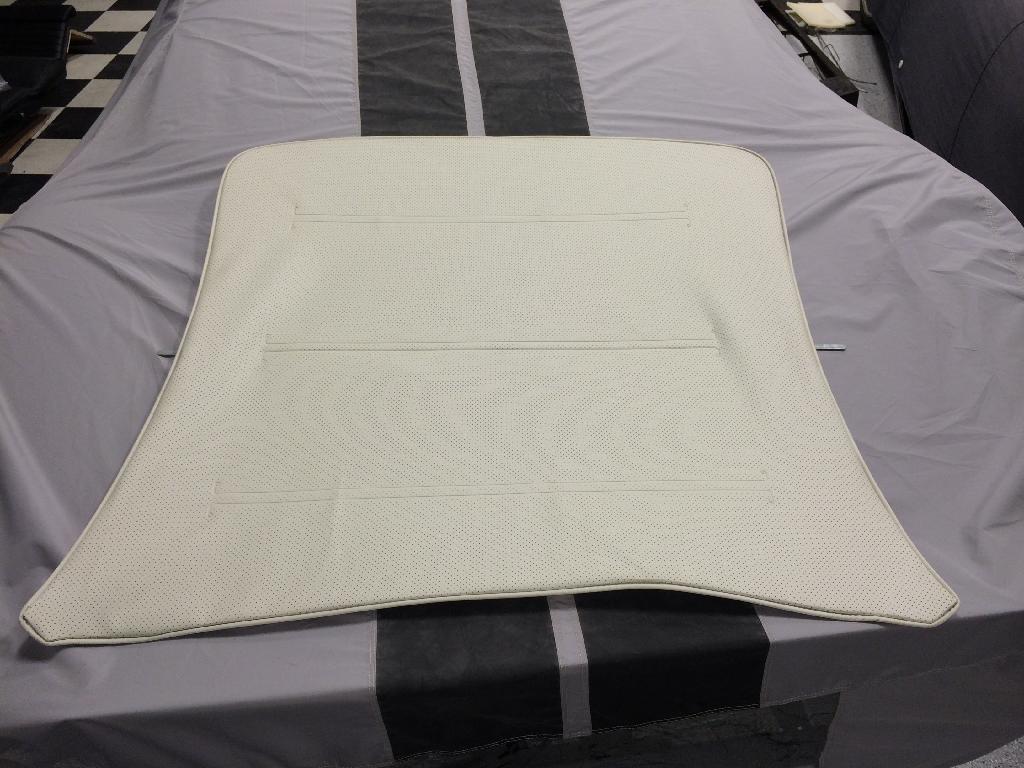 5-27-2014
Ok. I've gotten behind on my updates. I've done a lot of work on the interior since my last post. Here are some of the things I got accomplished...
Installed retractable seat belts. There is just enough room between the outer and inner walls to put in a retractor. I then cut out a little notch in the side upholstery panel so the belt comes up between the upper and lower panels. Works great. (Thanks Don K. For the idea).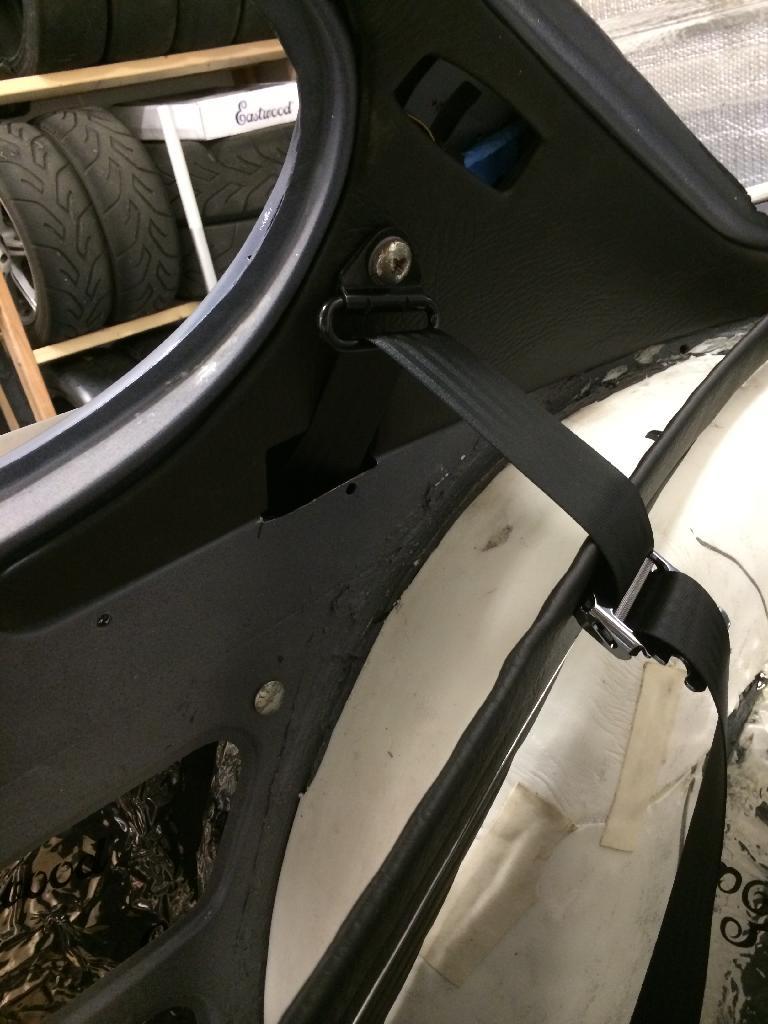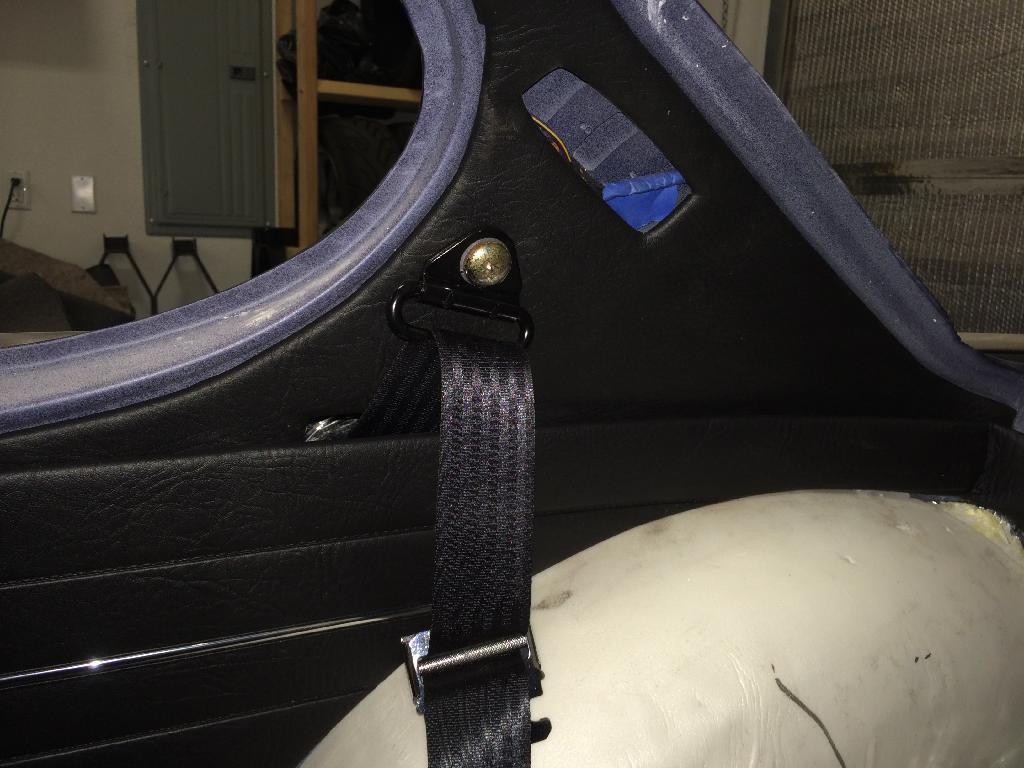 I got all the aluminum cut for the dash. Turned out really nice I think. It was a pain to install though. Still waiting on the instruments to be refurbished. Got most of the switch gear in. The purists may notice different positions on the switch gear. I'm adding an AC unit so most of the knobs in the middle are to control that. Also added an aux port where the cigarette lighter was. Radio from Vintage Audio. Looks period, but can use Bluetooth and control iPhone.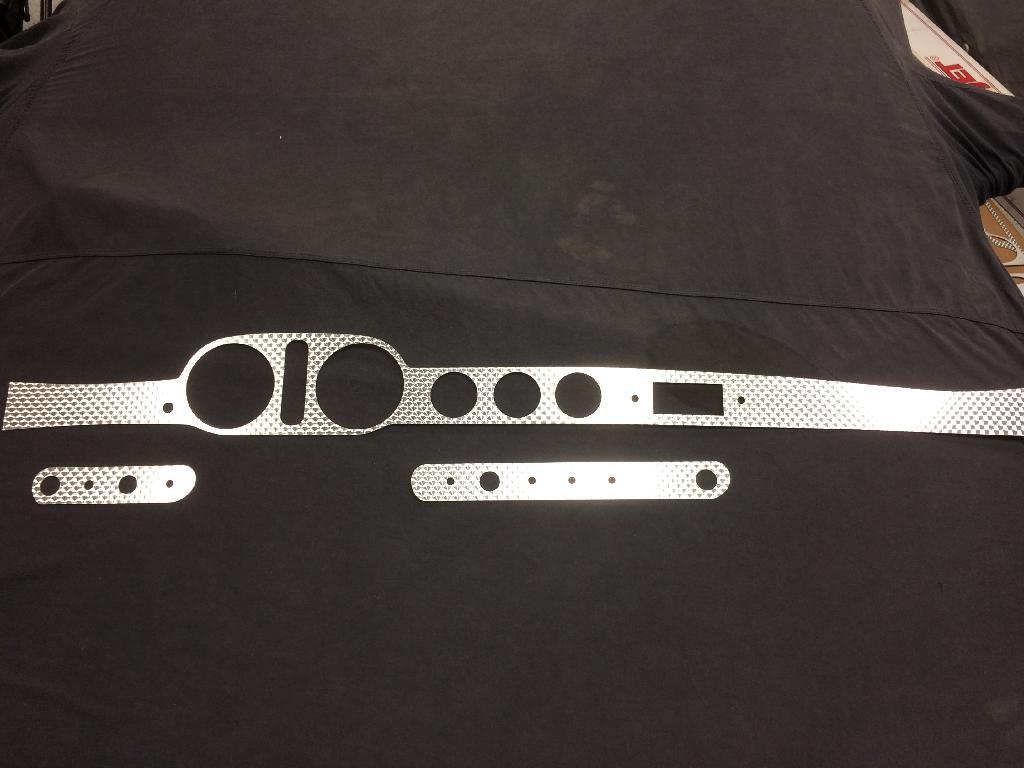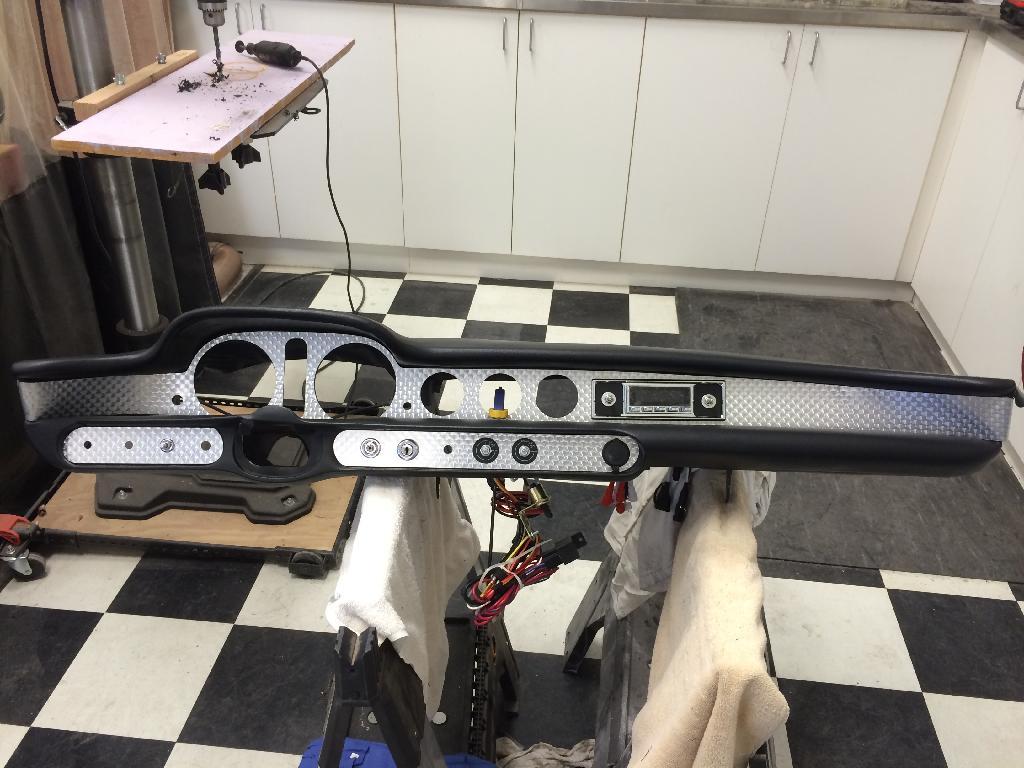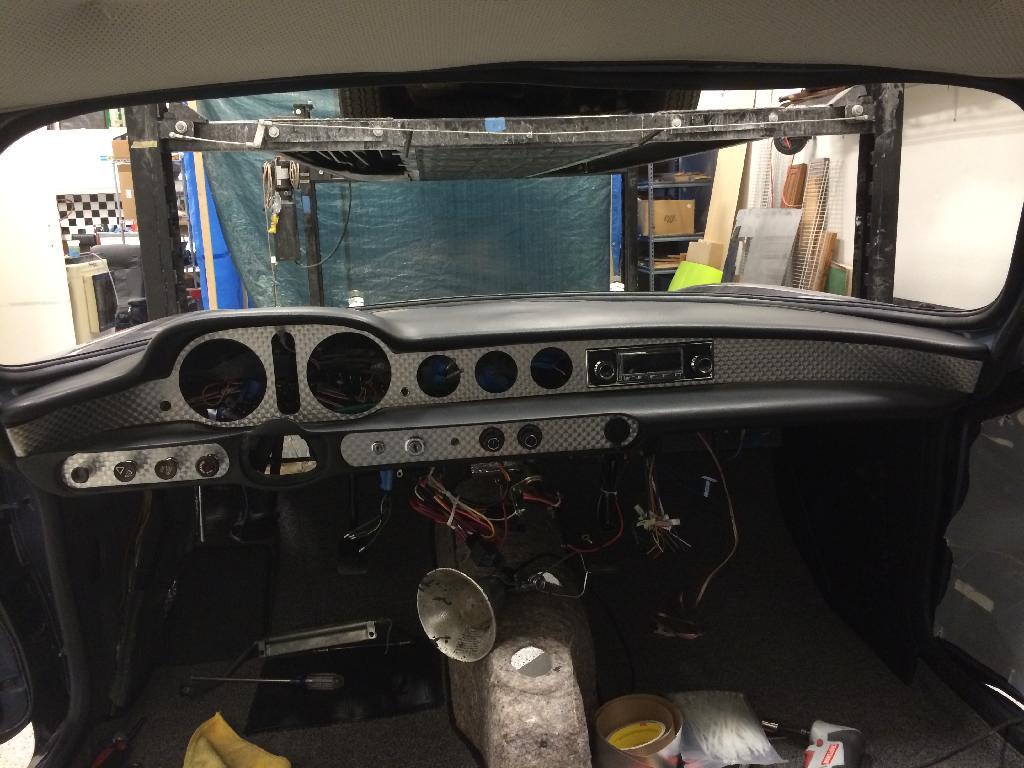 Most of the interior panels are in, as well as the carpet. A couple pieces are still "loose" because I can't tack them down until the transmission is in and the cover over the tunnel is bolted down...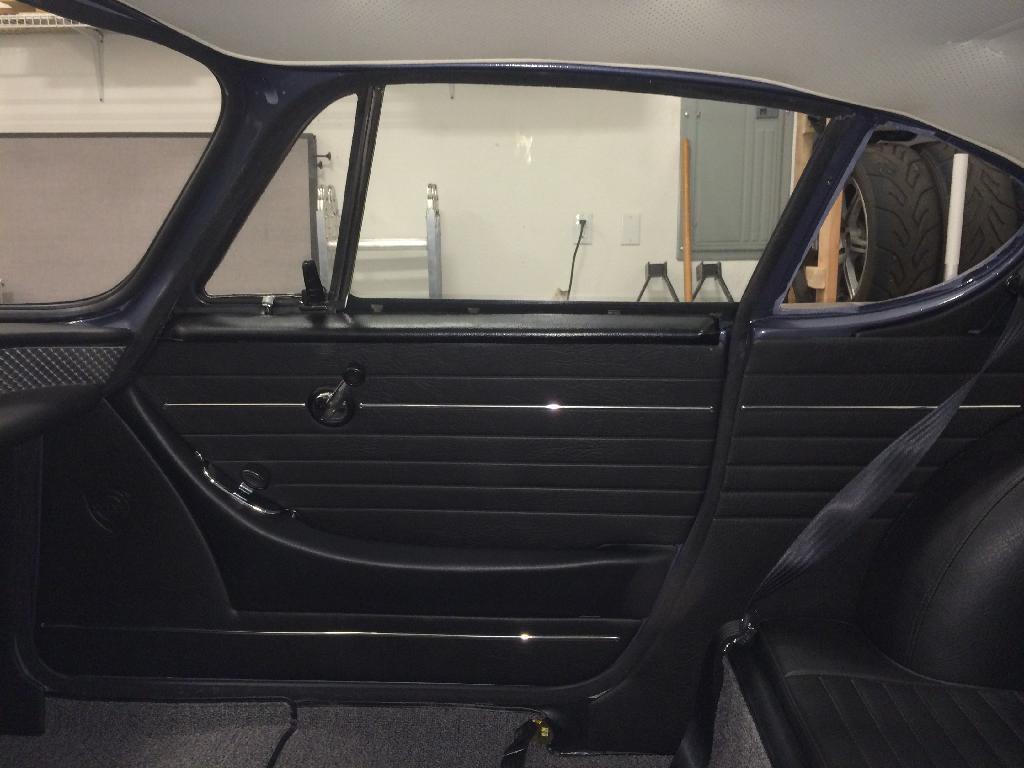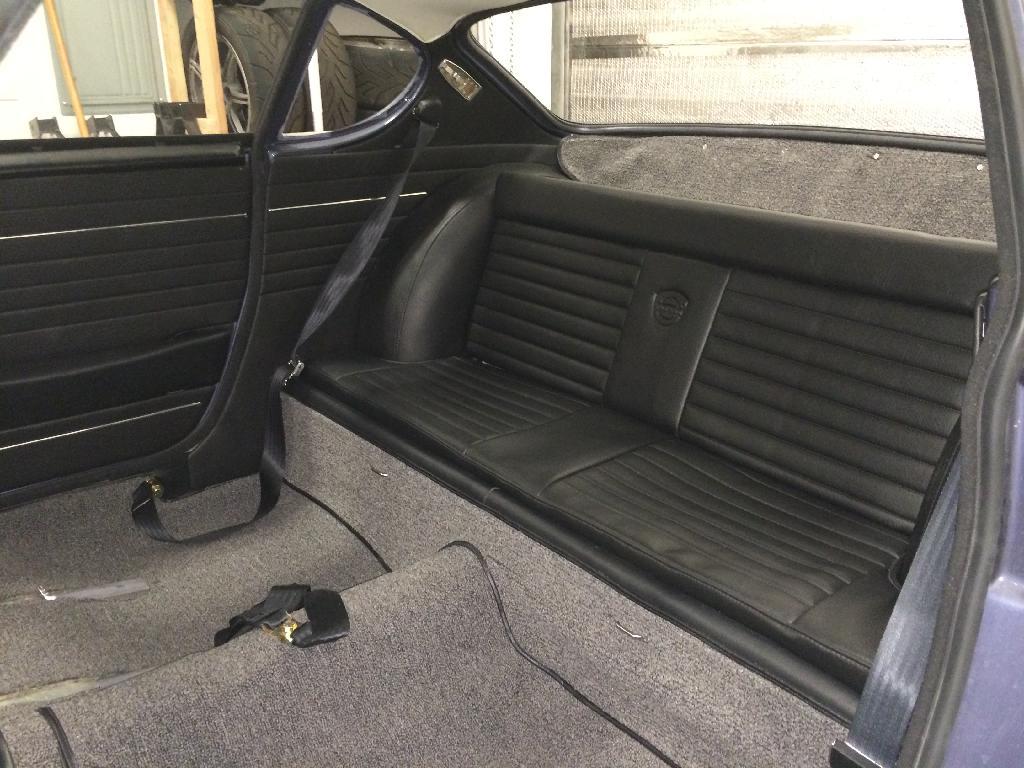 Headliner. Another tricky to install item...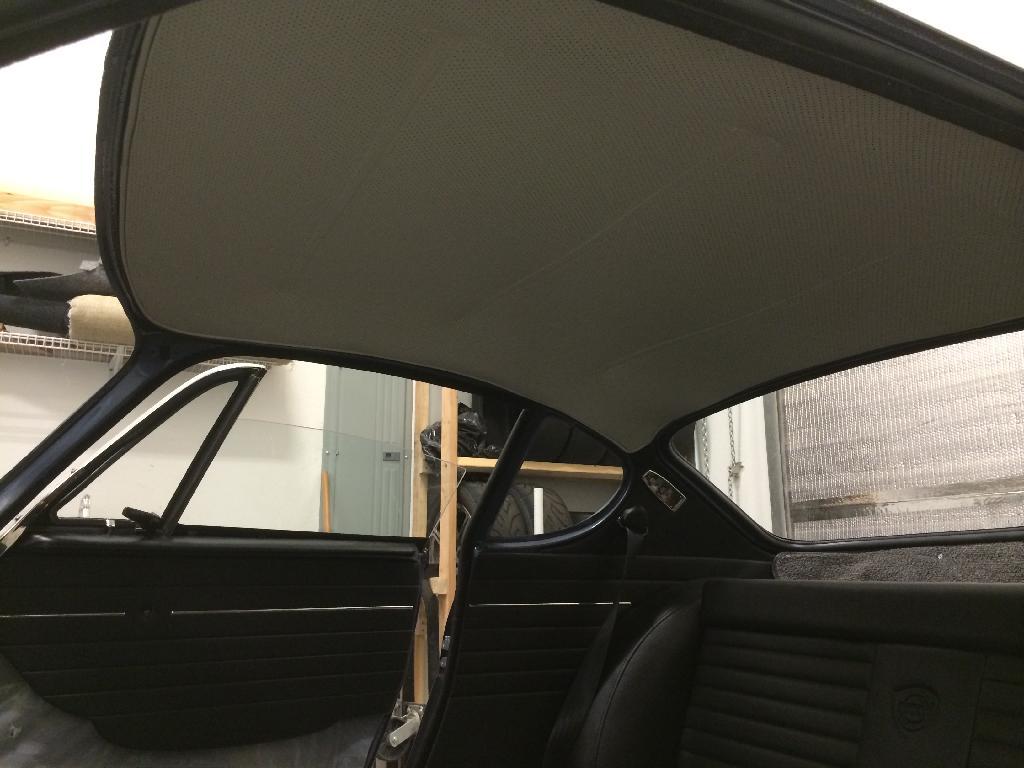 7-14-2014
I have made a lot of progress lately. Got the instruments back from North Hollywood speedo. They turned out very nice cosmetically. Won't be able to test them until car is further along though but they repaired all the temp lines and put a quartz movement in the clock as well.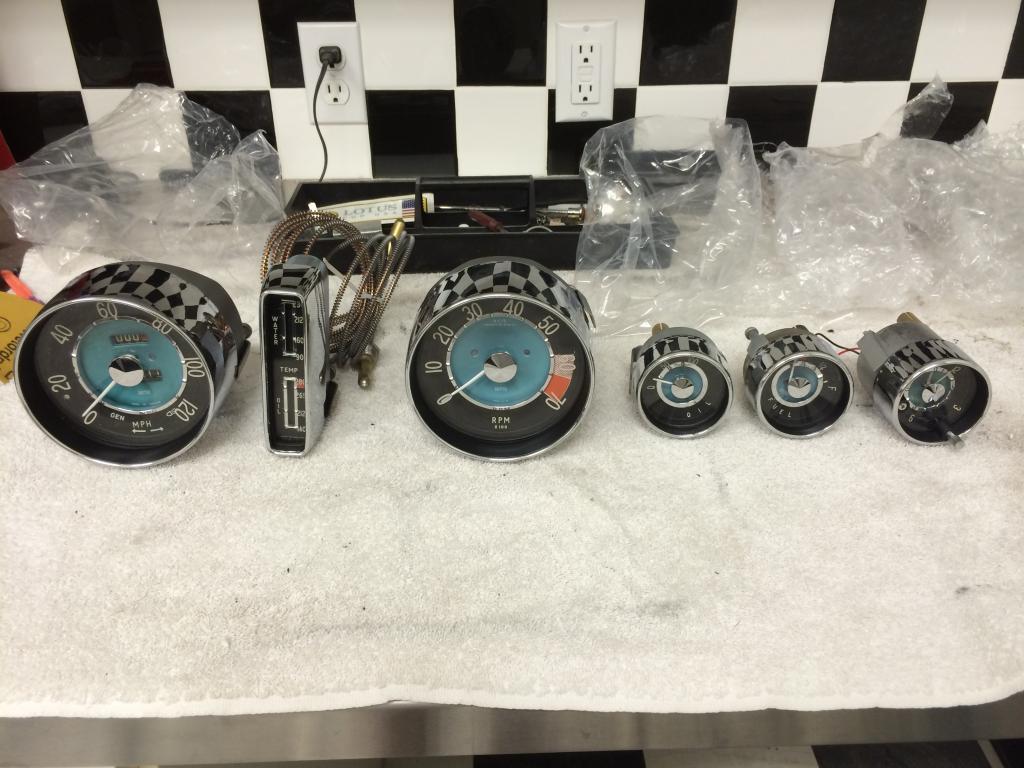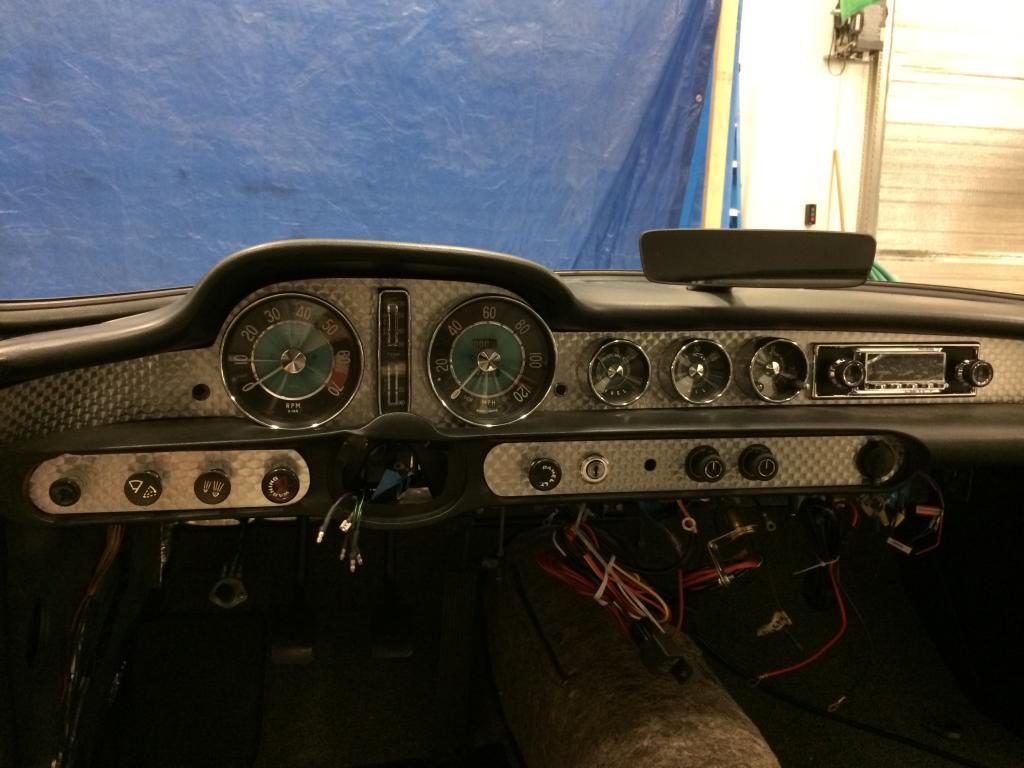 I also got the engine back from my builder...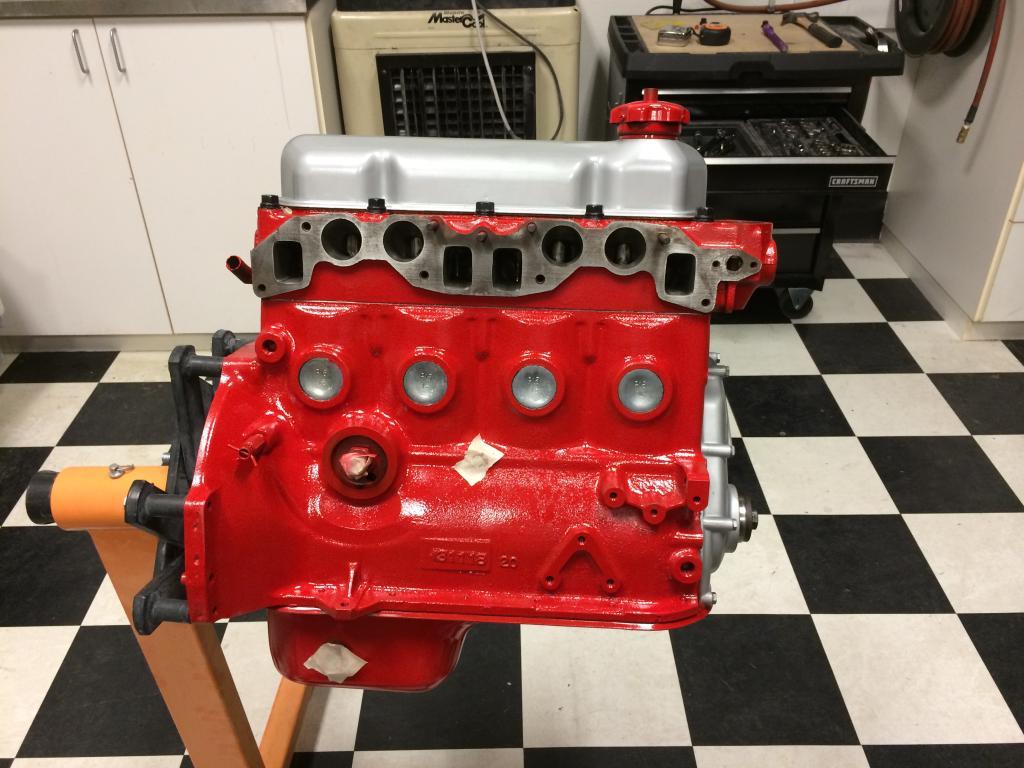 Added the AC pump, new fuel pump, new water pump, various pulley brackets, reconditioned valve cover, awaiting alternator for the alternator conversion, converted to electronic ignition.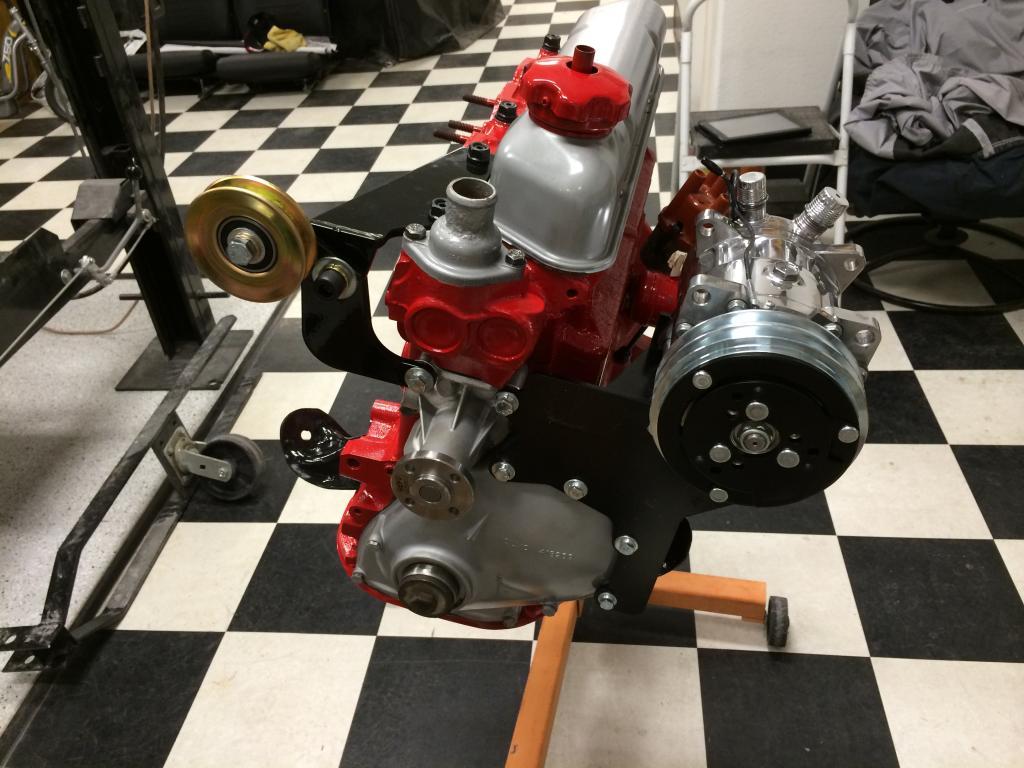 I also went with dual Makunis carbs and a 4-1 header. This required finding the "old style" single intake manifold.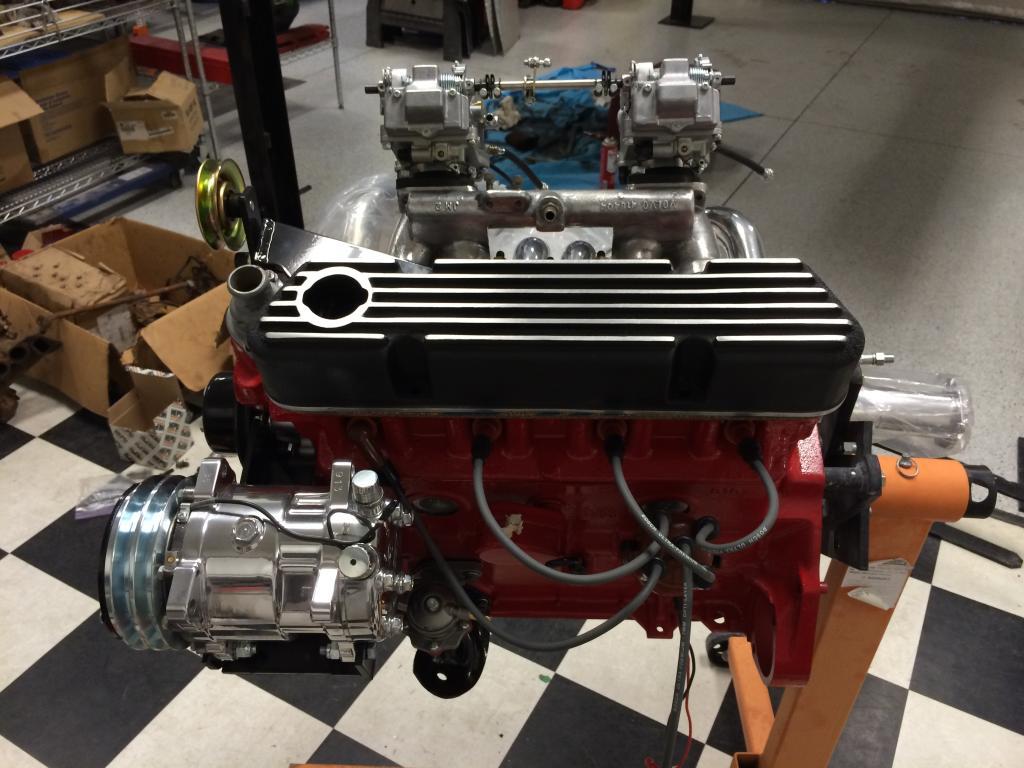 I was able to reuse the old brake lines, so I got those cleaned up and put in. Awaiting a new master cylinder. Decided to go with a larger 1inch bore dual master and not put the booster back on. Hopefully it won't take Scwarzenager legs to stop the thing.
Got in a new fuel line as well. Multiple little things here and there...
7-16-2014
I decided to go with an all in one Vintage AC/ heater system. My car didn't have AC and the heater core was shot so a new stand alone system seemed best. It fits well under the dash with all the original system removed. I'm going to run the hoses through a bulkhead fitting attached to a plate I made to cover the original heater hole. Should look clean. Only downside is I won't have defrost since I'm not using original vents. Don't need it in Vegas anyway

(You can get a system that uses existing vents but it looked a little bulky to me). I can look up the model # and $$ if you need it.
Good luck.
9-13-2014
It's been a while since I updated my thread so here are some of the latest projects: I was able to get most of the wiring completed and bugs worked out. I upgraded to a 12v alternator system and on the advice of one of the other members, I installed a circuit breaker.
Sorting out engine bay wires...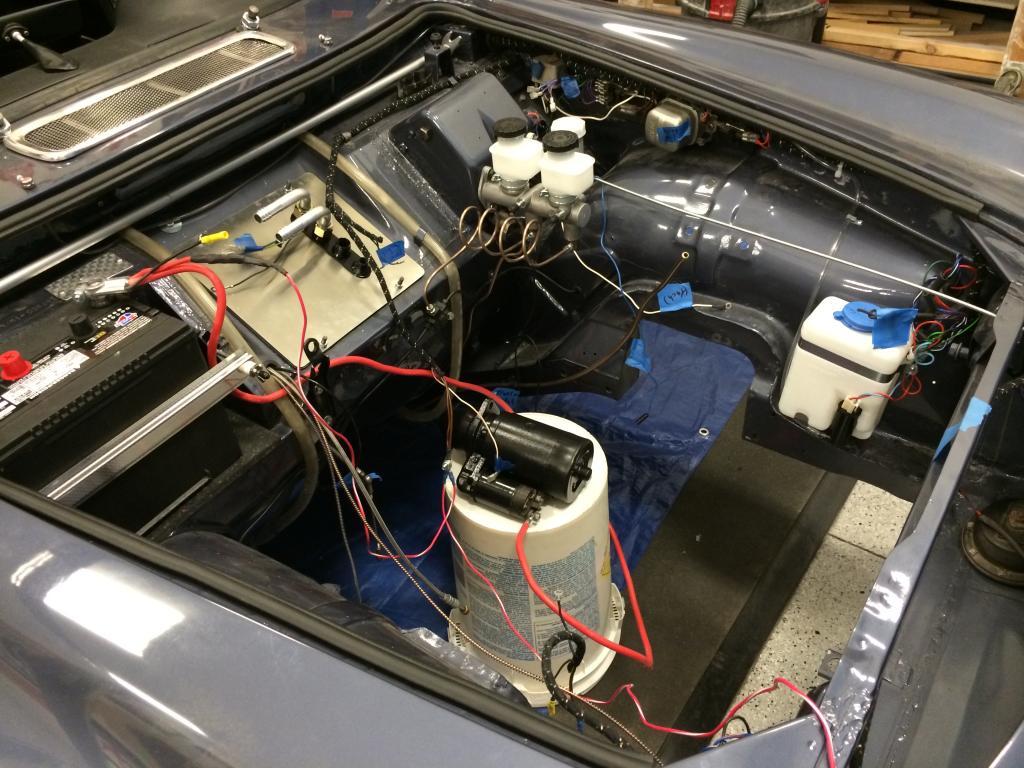 Lights work!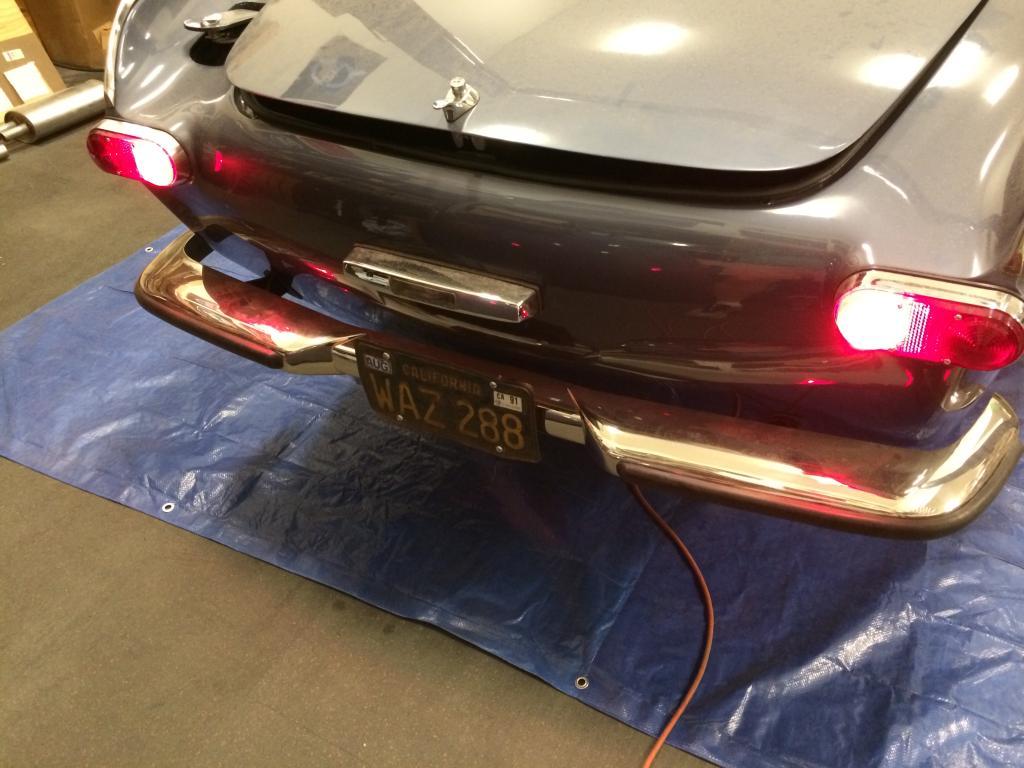 Circuit breaker for added protection from frying wires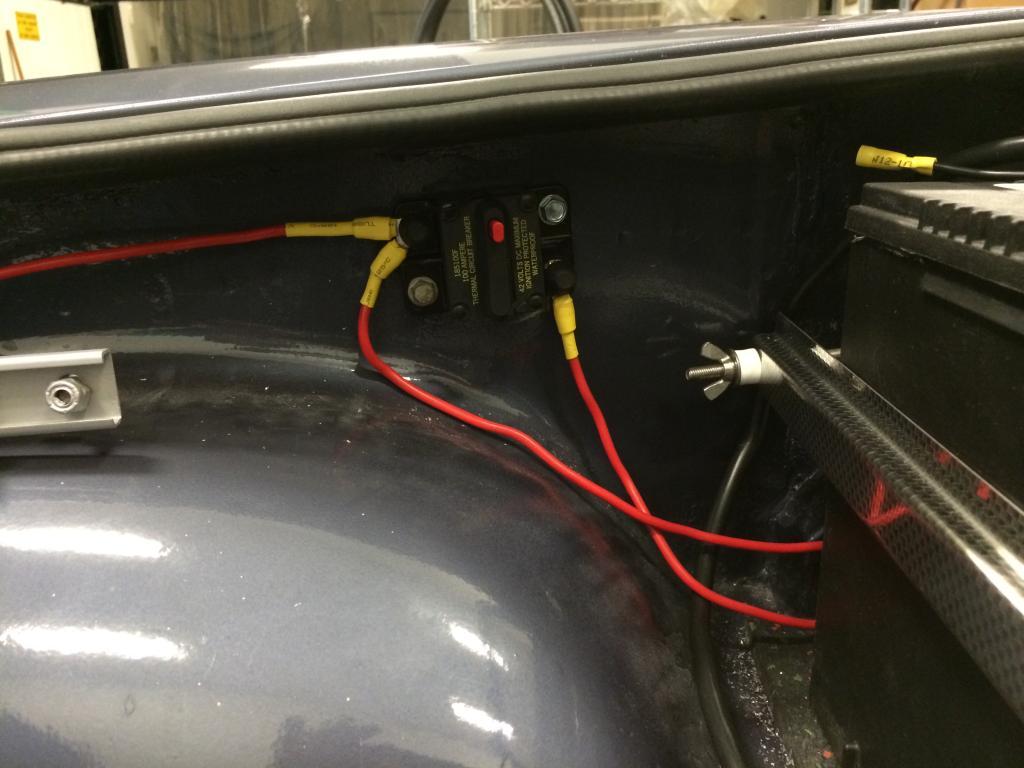 After getting the radio working, I decided that just two speakers in the rear weren't going to cut it. So I made a couple of speaker boxes and mounted 5 inch two ways under the dash. Sounds MUCH better. I wired rear quater panels as well but I don't think I will need to add any more speakers just yet.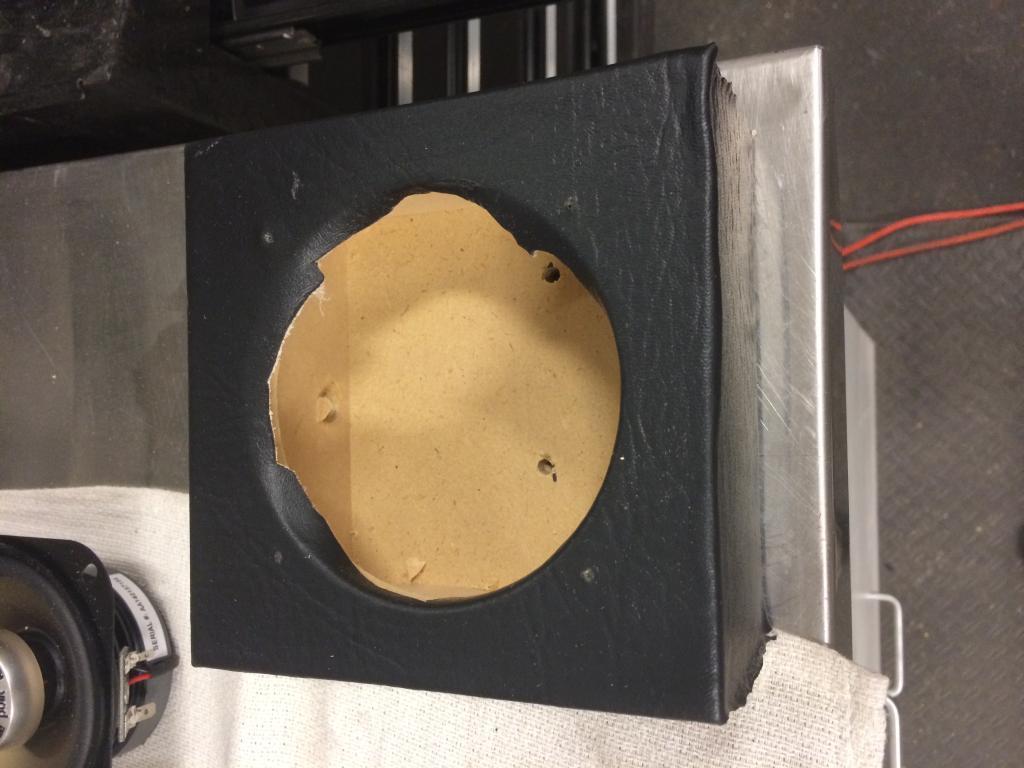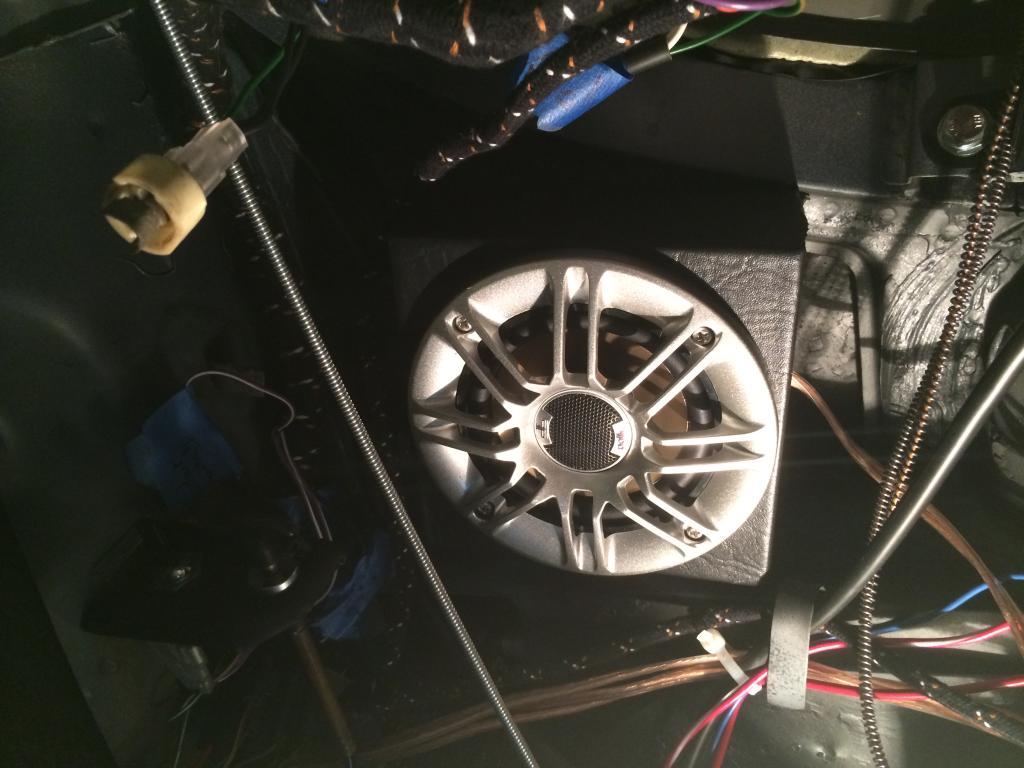 New exhaust awaiting installation...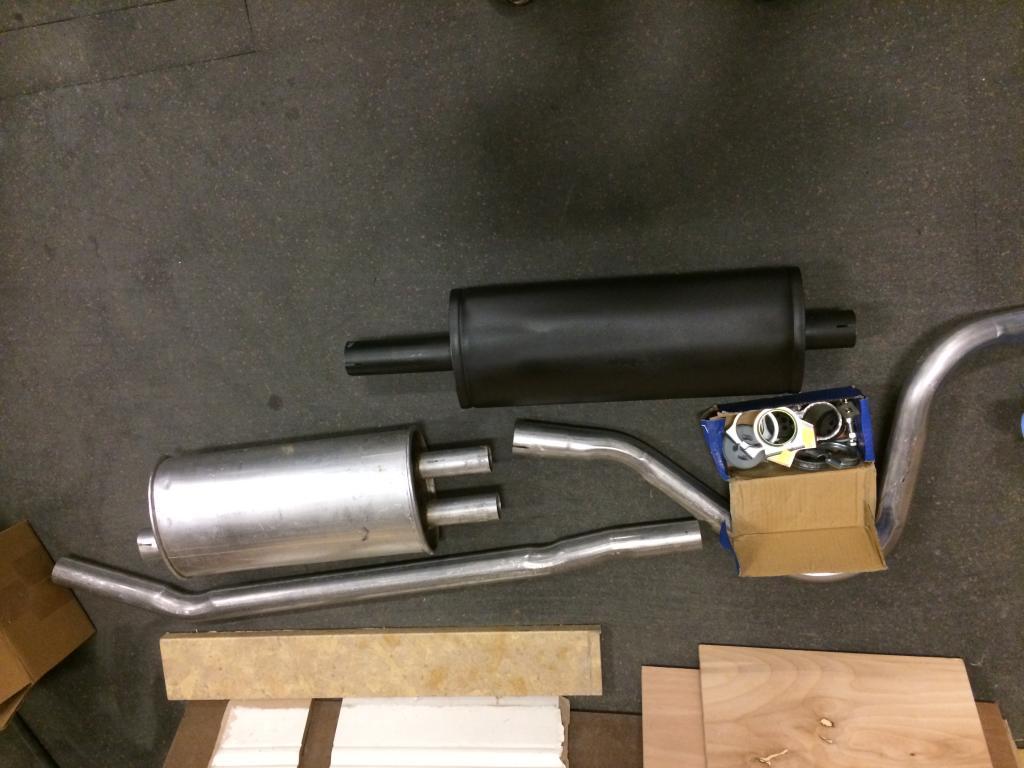 Unfortunatly I've gone about as far as I can without installing the engine. STILL waiting on the front end so I can get it done...anyone have a new front crossmember they want to get rid of?

:
2-2-2015
Long overdue update...
Well, after putting my project on hold long enough due to parts issues

, I decided to rebuild my old front end. First I had to cut out and reenforce the shock mount, a common rust out area (someone had been there before) and then replaced all of the bushings with new polyurethane ones. Replaced all the old rubber bits as well...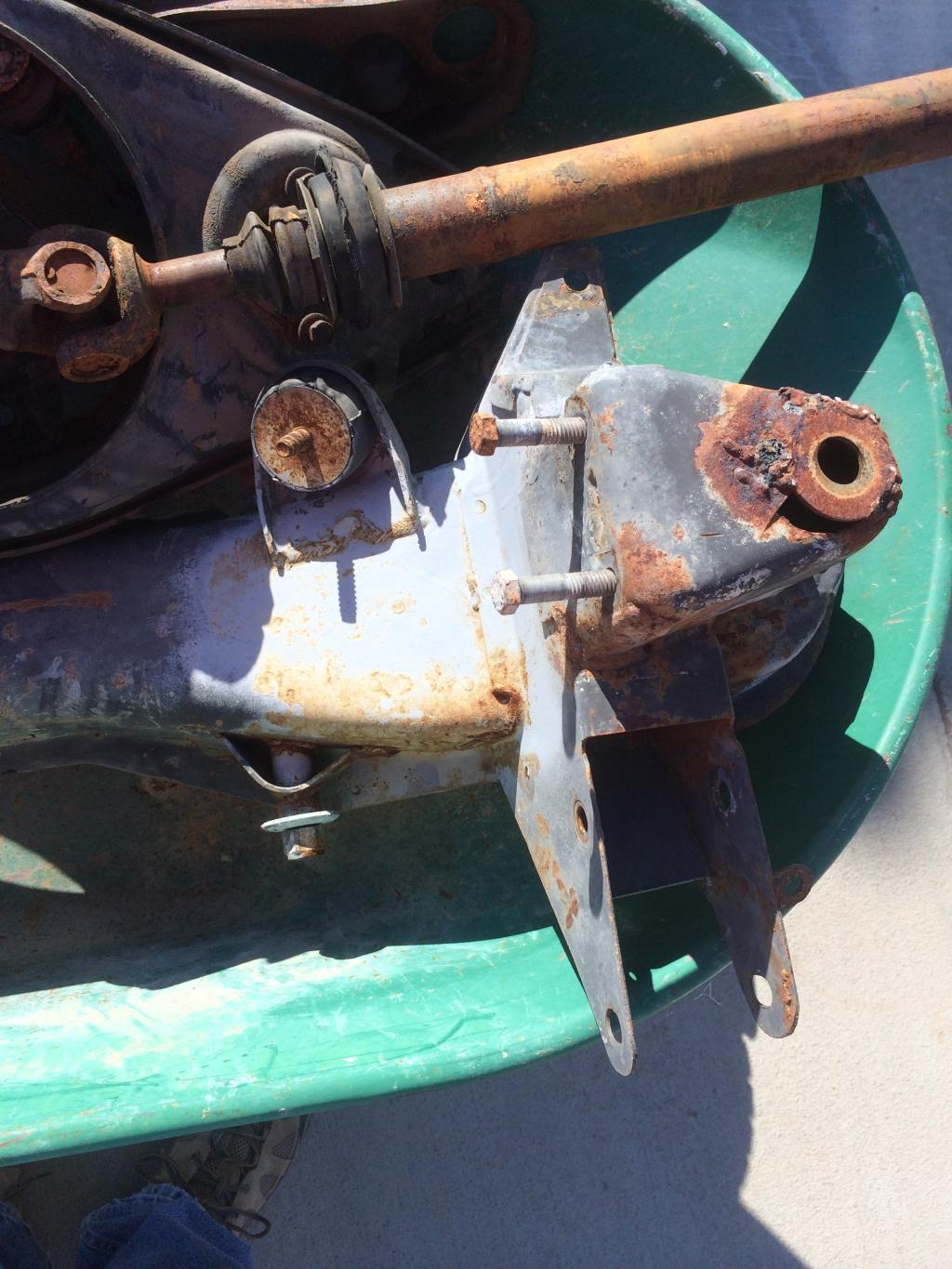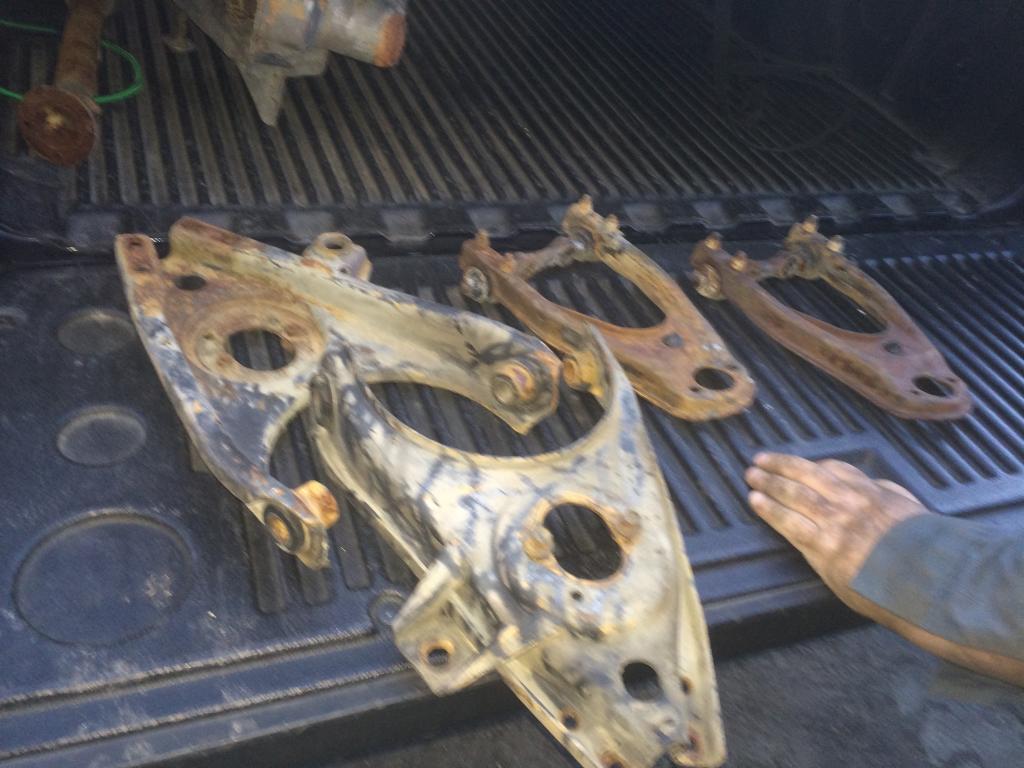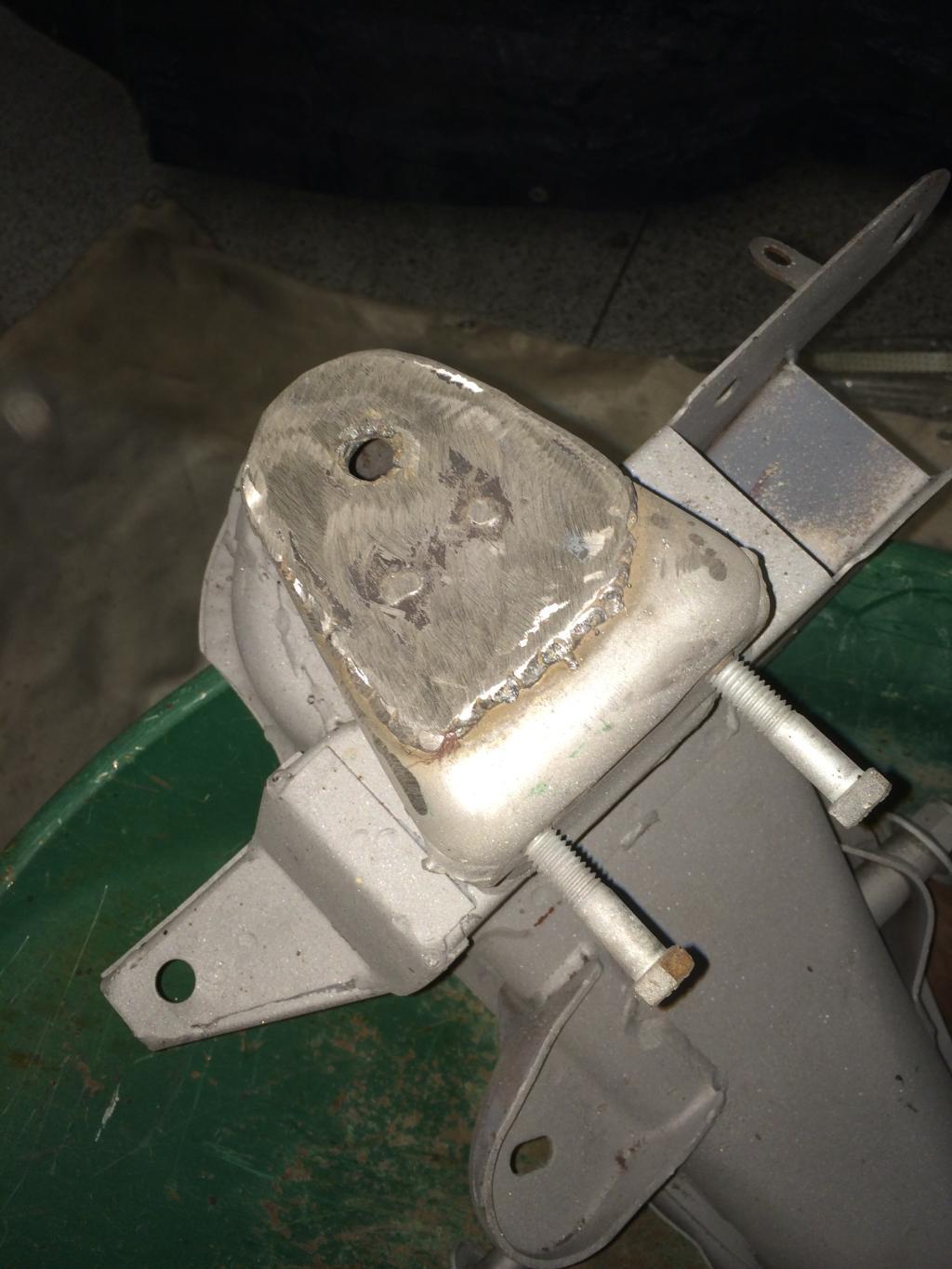 Back from the powder coater, aren't they pretty?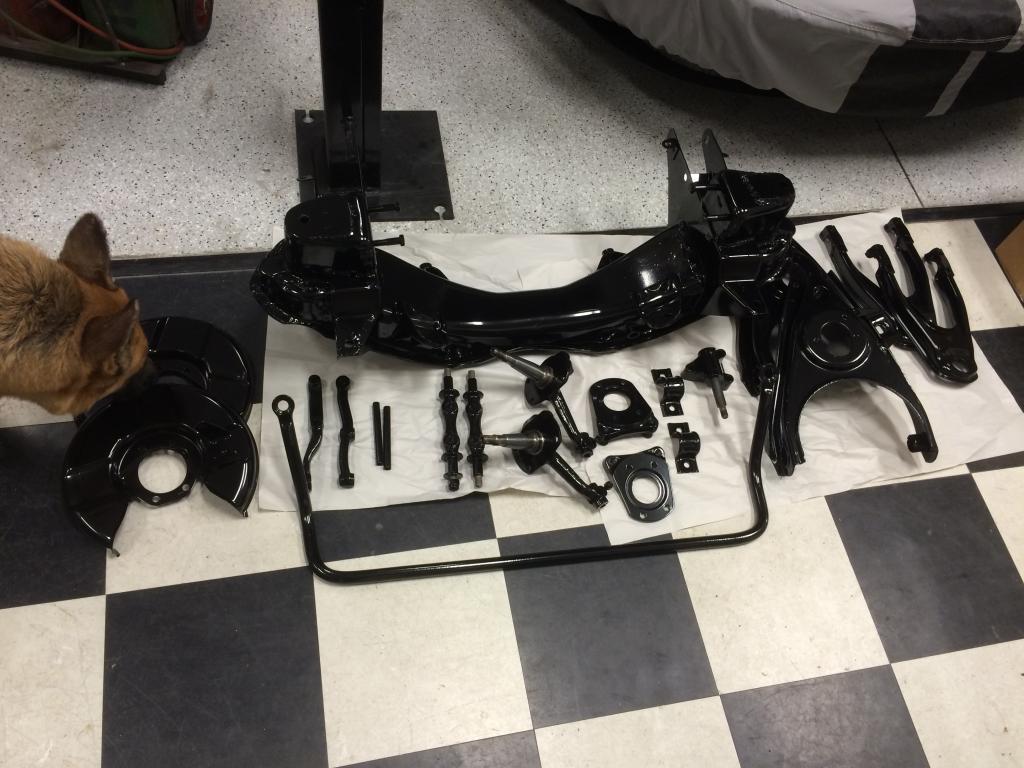 2-3-2015
After getting front end back together, it was time to mount the engine!! They have been separated for over two years...a reunion that was long overdue.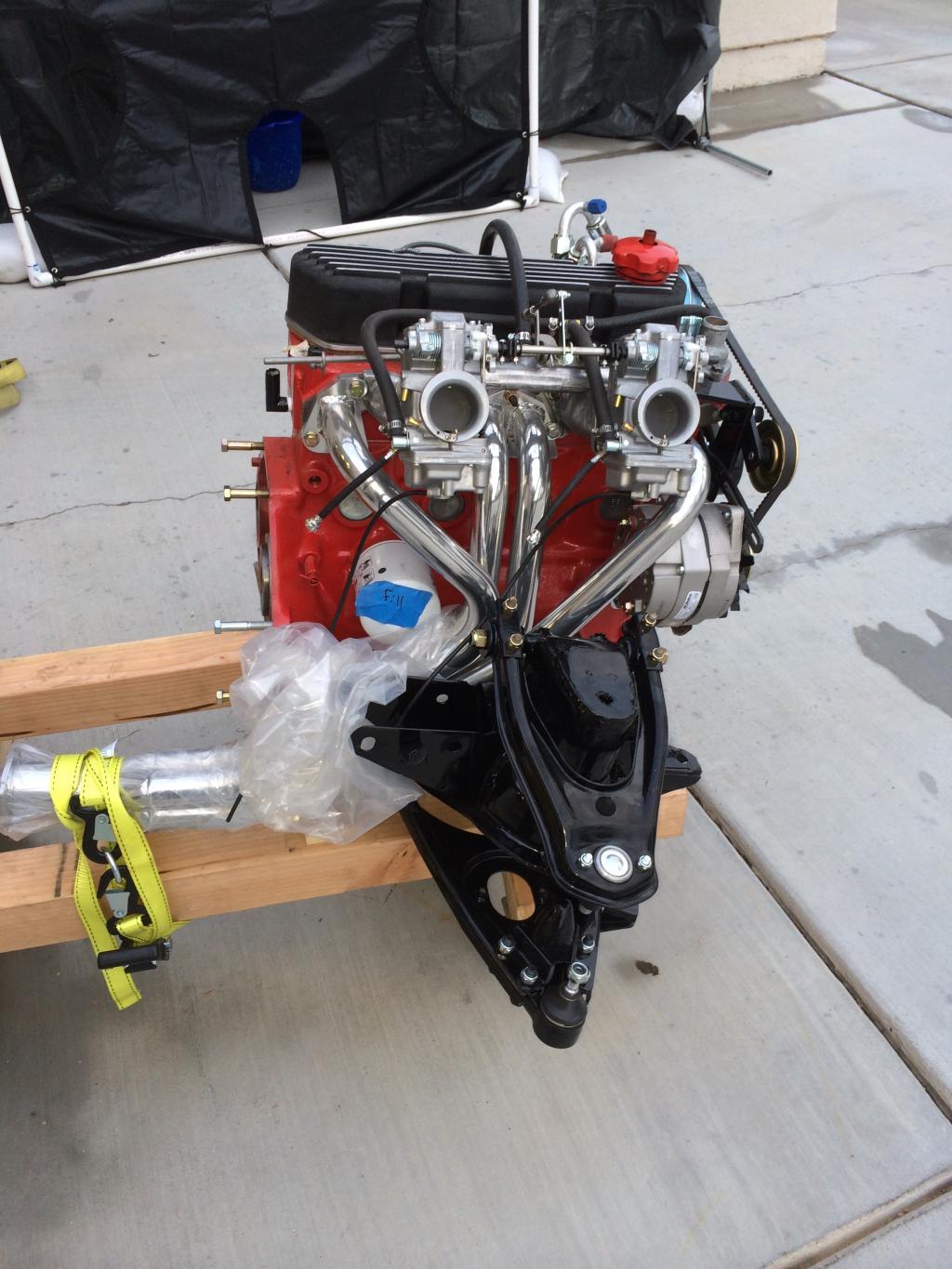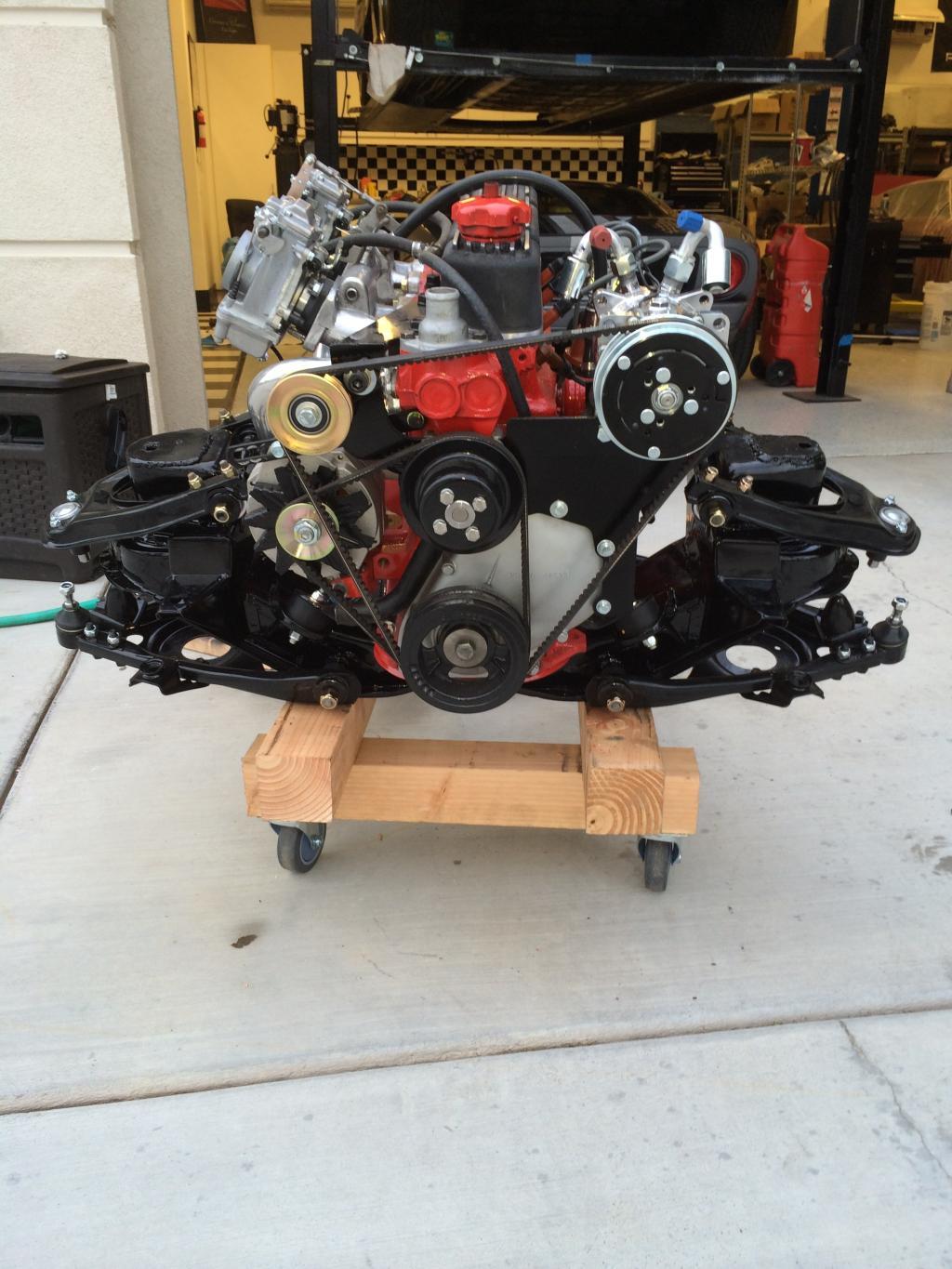 New clutch...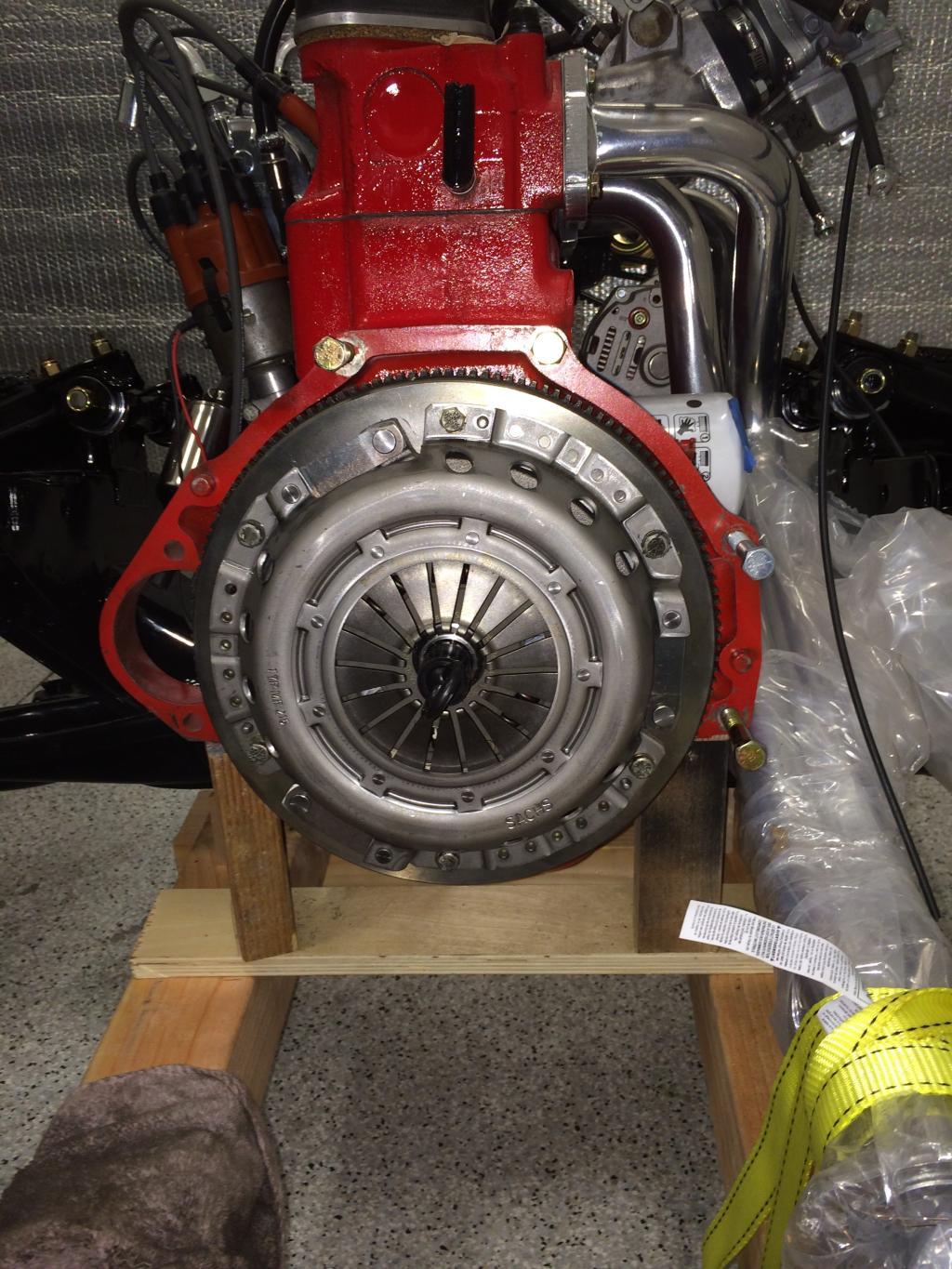 Add the transmission...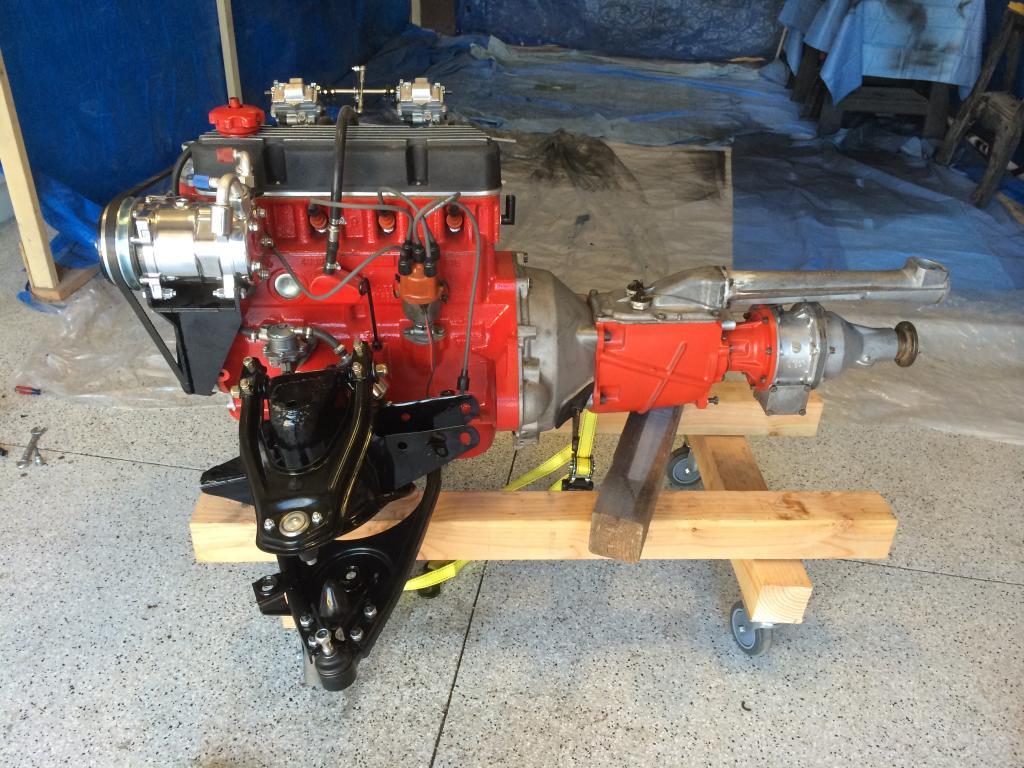 Drop car onto engine...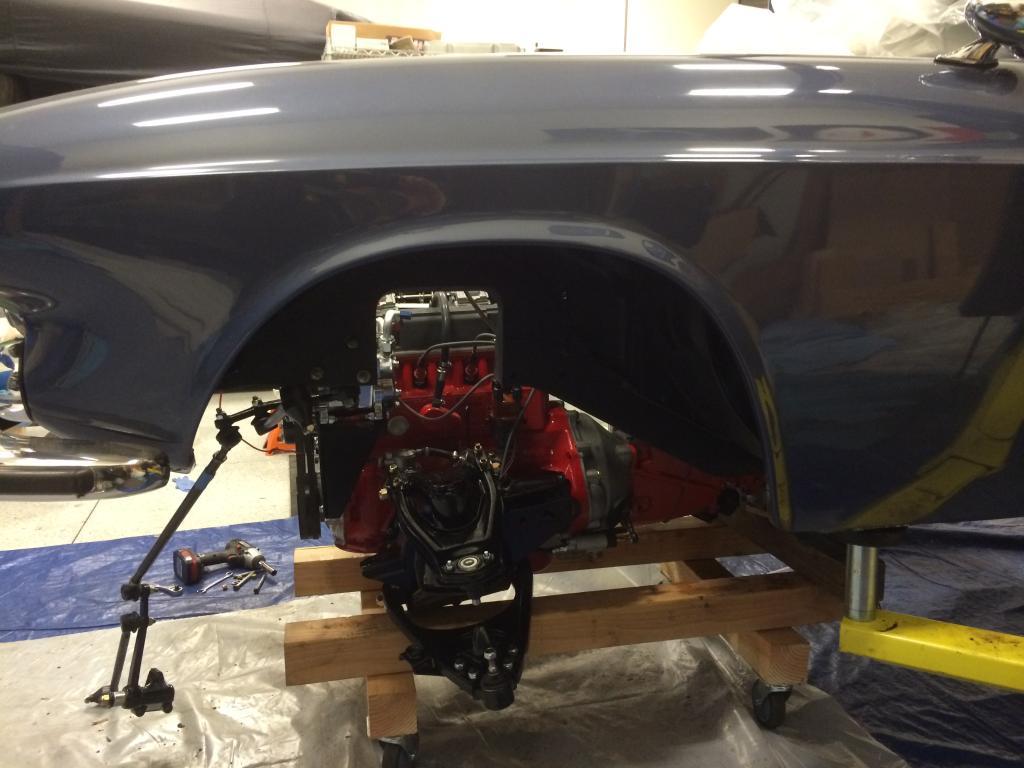 Success...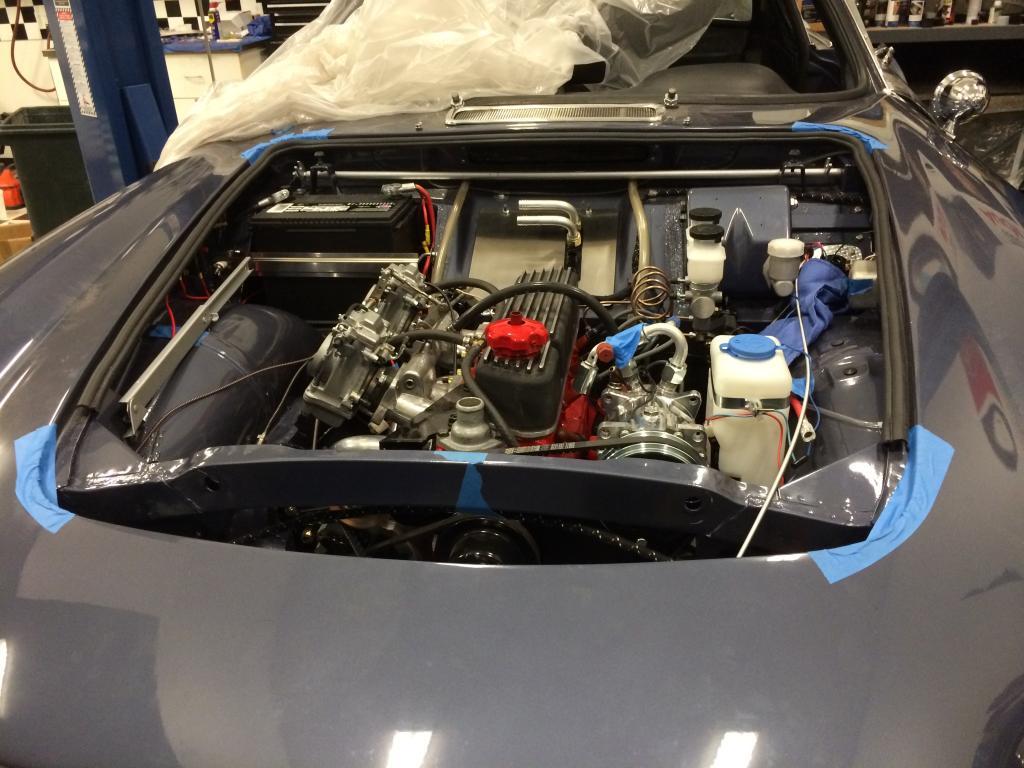 Actually, all that took several days with a lot of expletives thrown around, readjustment, more cursing, unbolting, more cursing, repeat.
Along the way, leaking steering box had to be rebuilt...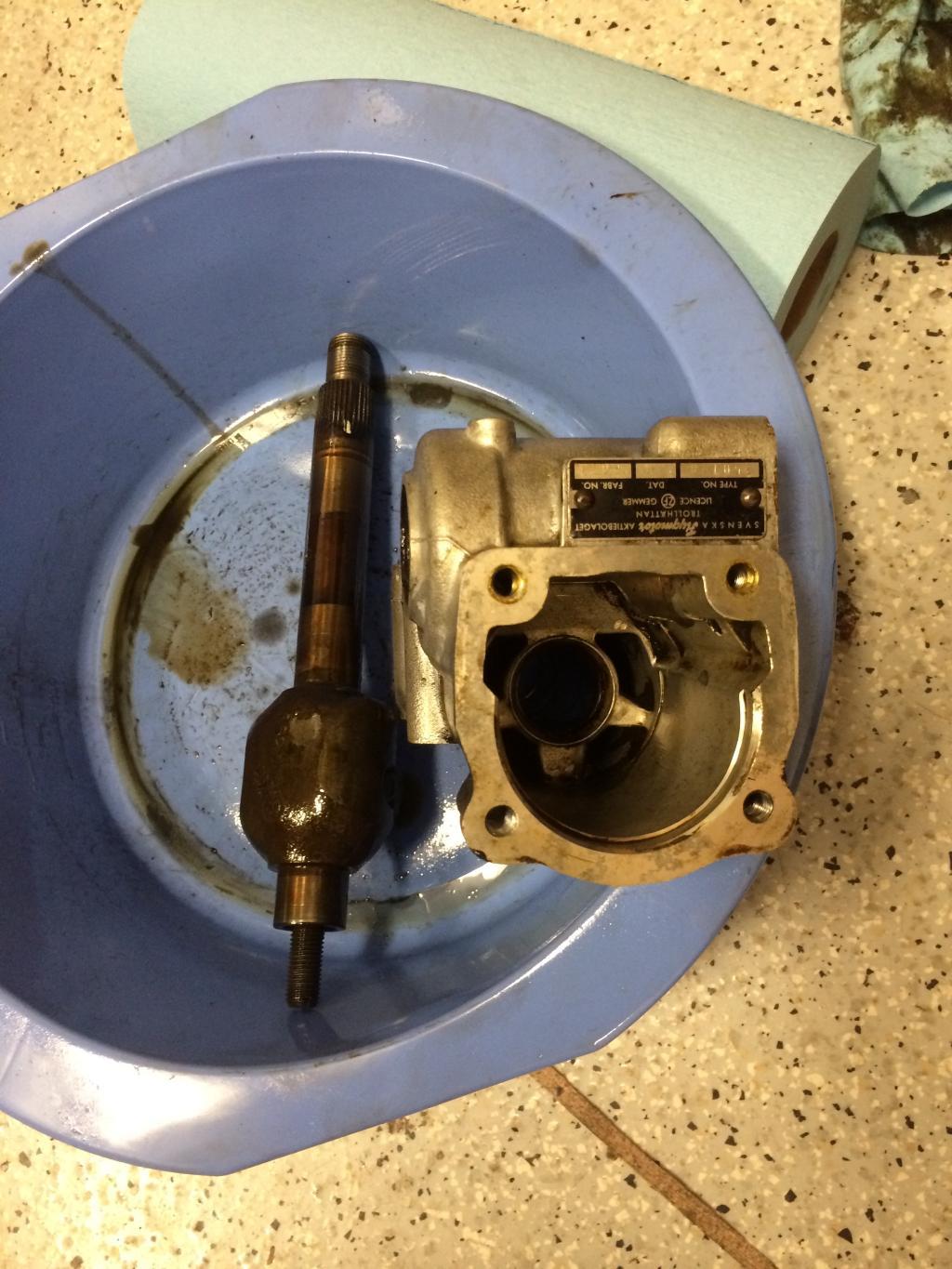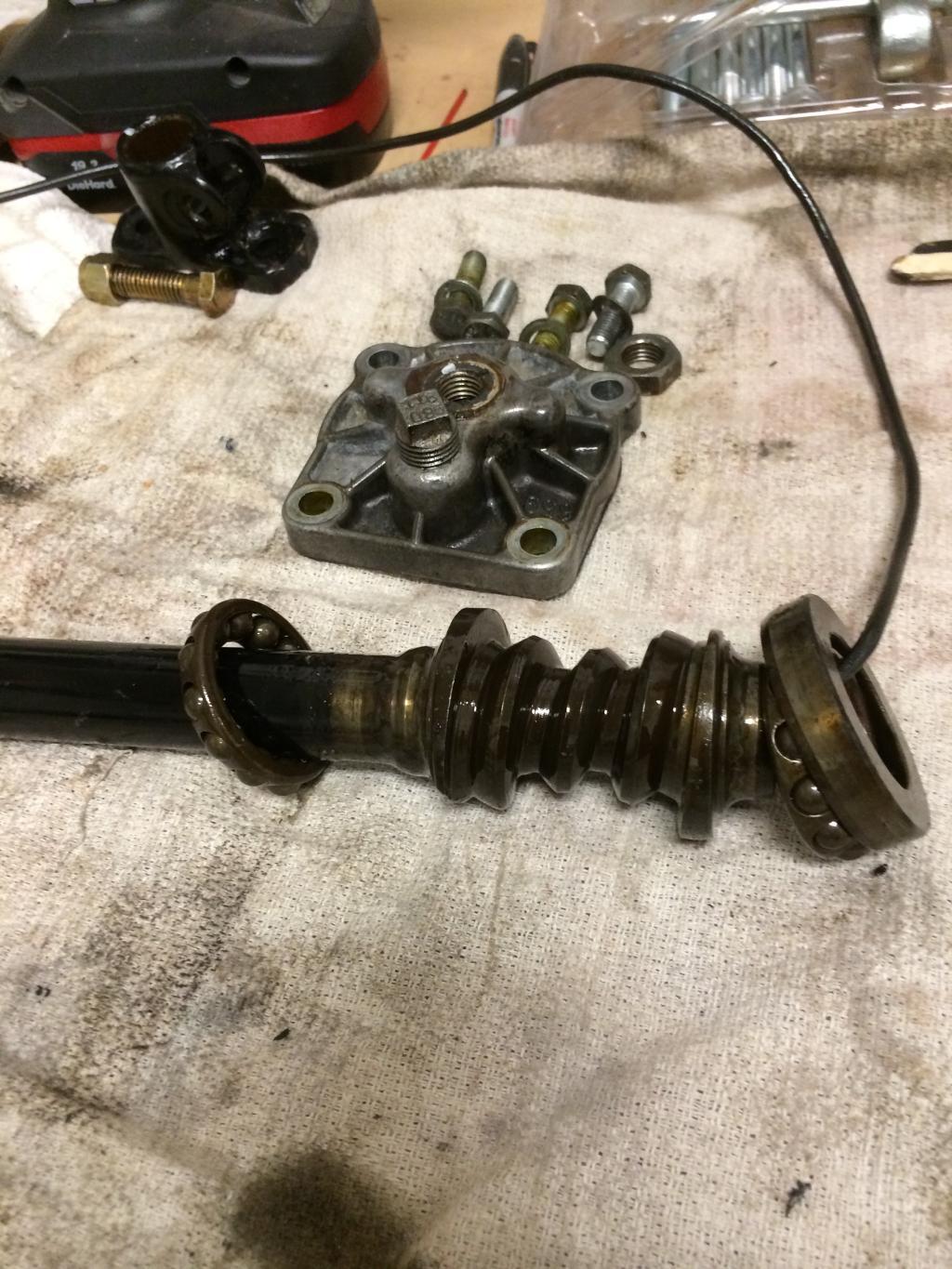 Just got the new exhaust and heat shielding in: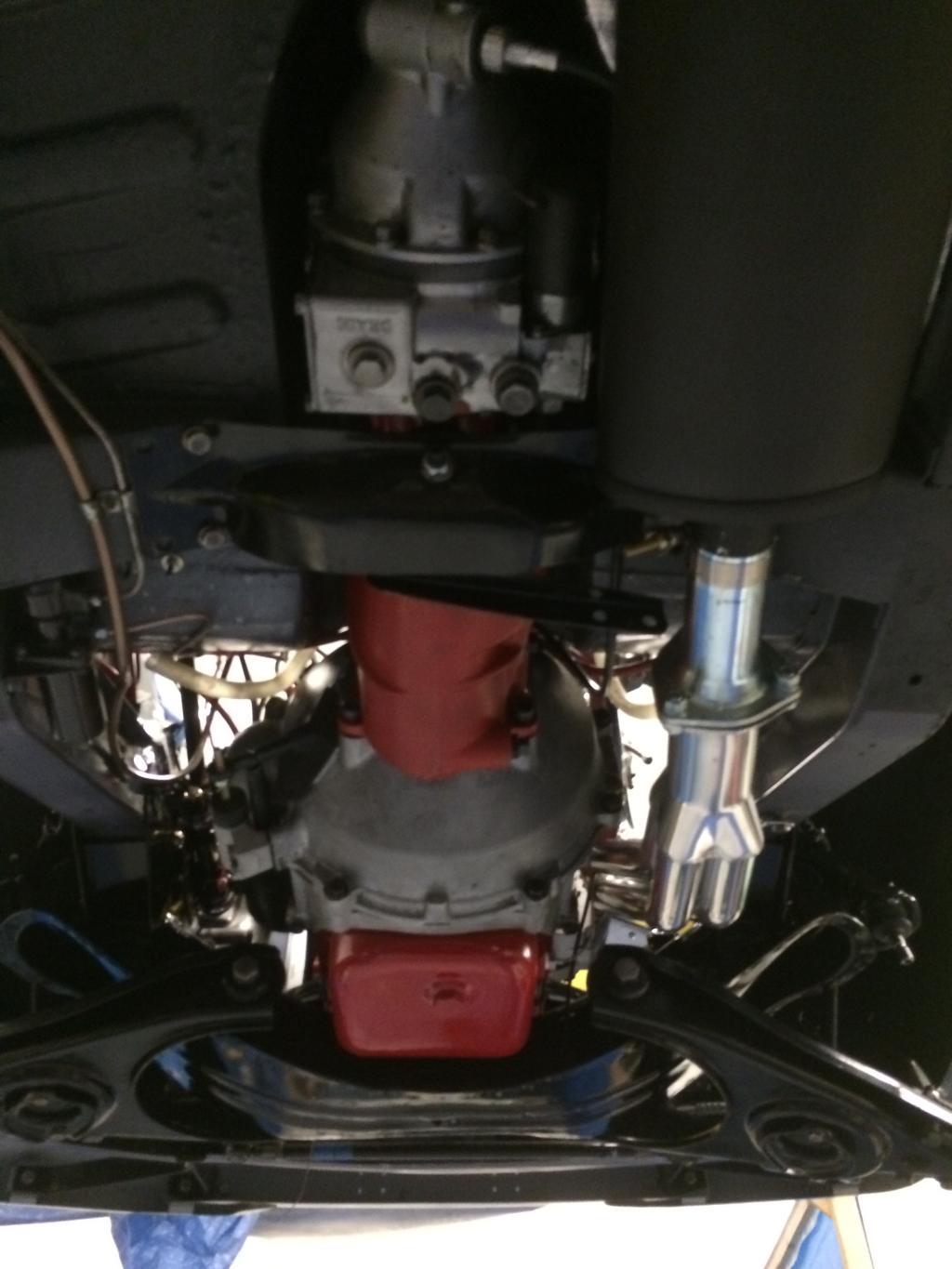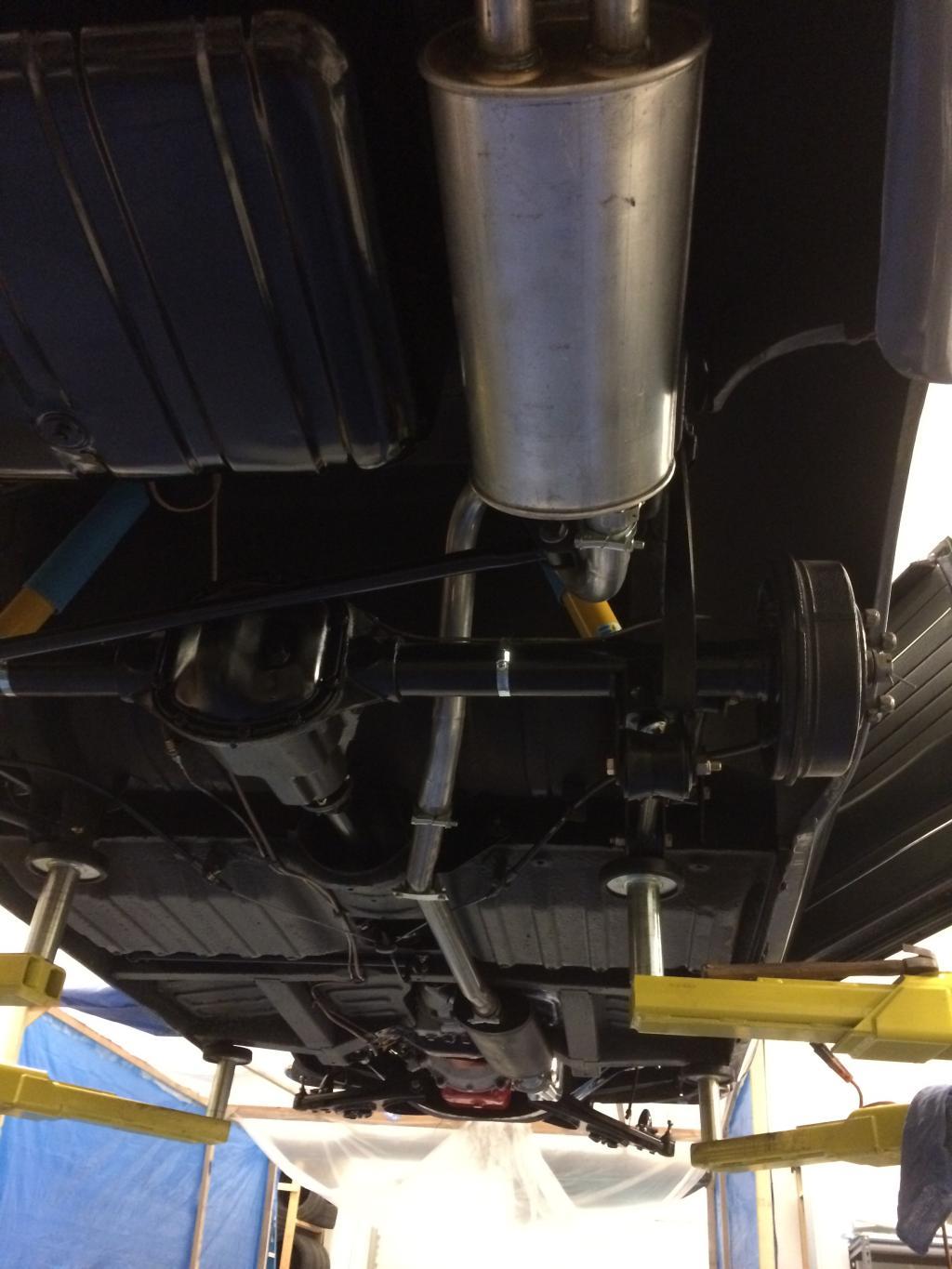 I like the look of straight pipes on this car.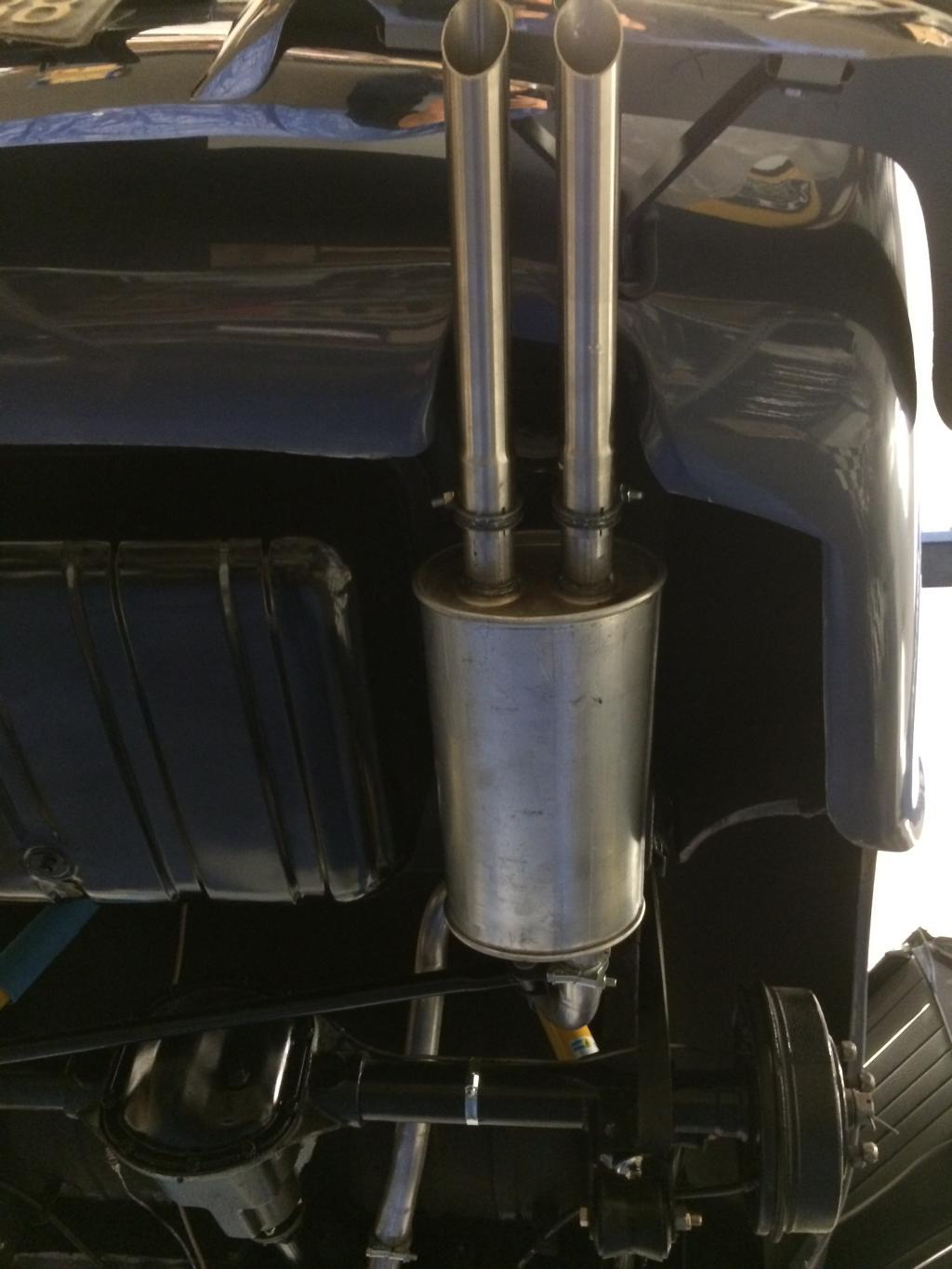 Only snag was that a friend pointed out the new header was resting on the oil filter. Great way to cook some oil. Very tight fit, had to readjust header and add some exhaust heat shield wrap. Hopefully that will keep it cool enough.
4-13-2015
Long overdue update!
After stalling out on the project waiting for various parts to arrive, I have finally been able to make a lot of headway.
The first thing was the arrival of lowering springs. These are the 1.5 inch lowering springs with progressive fronts and standard rears. Should give the car the stance I want.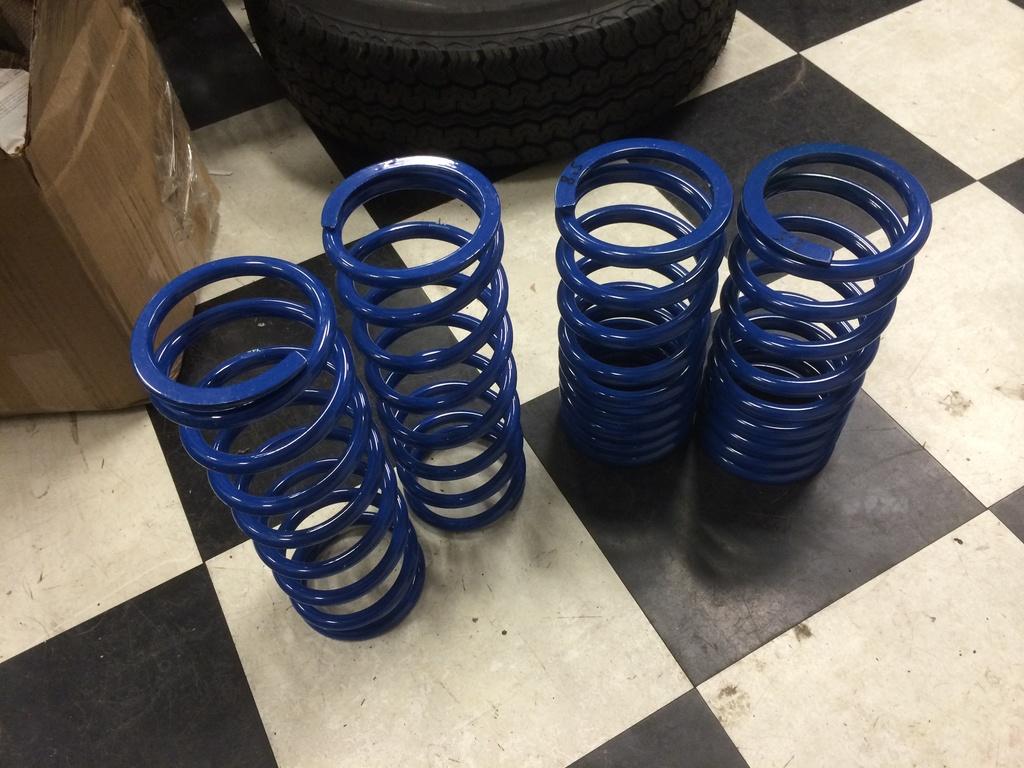 It's alway a momentous occasion putting new wheels on the car! These are Dayton knock offs. 15 x 6 with Verdestein Sprint Classic tires : 185 front, 205 rear.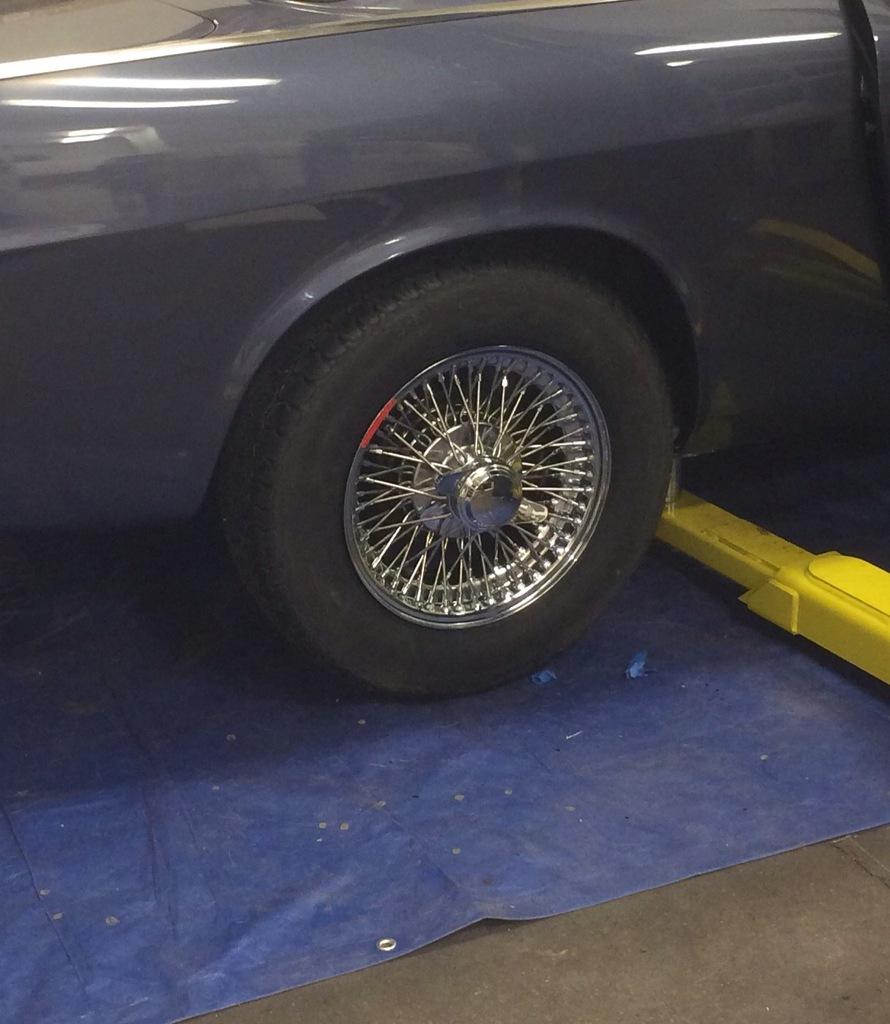 I found an AC condenser that fit in front of radiator in the nose of car. Also put in two pusher electric fans since my clearance for a puller fan was limited.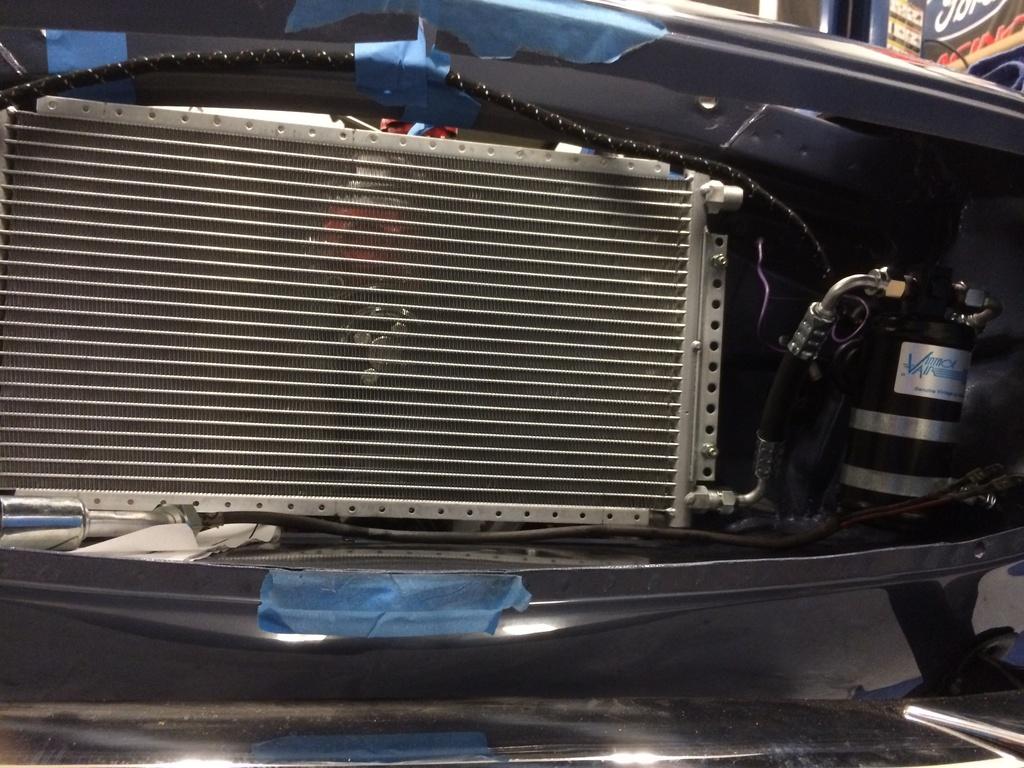 Wiring for fans next to a electric breaker I put in line for all the wiring for extra safety.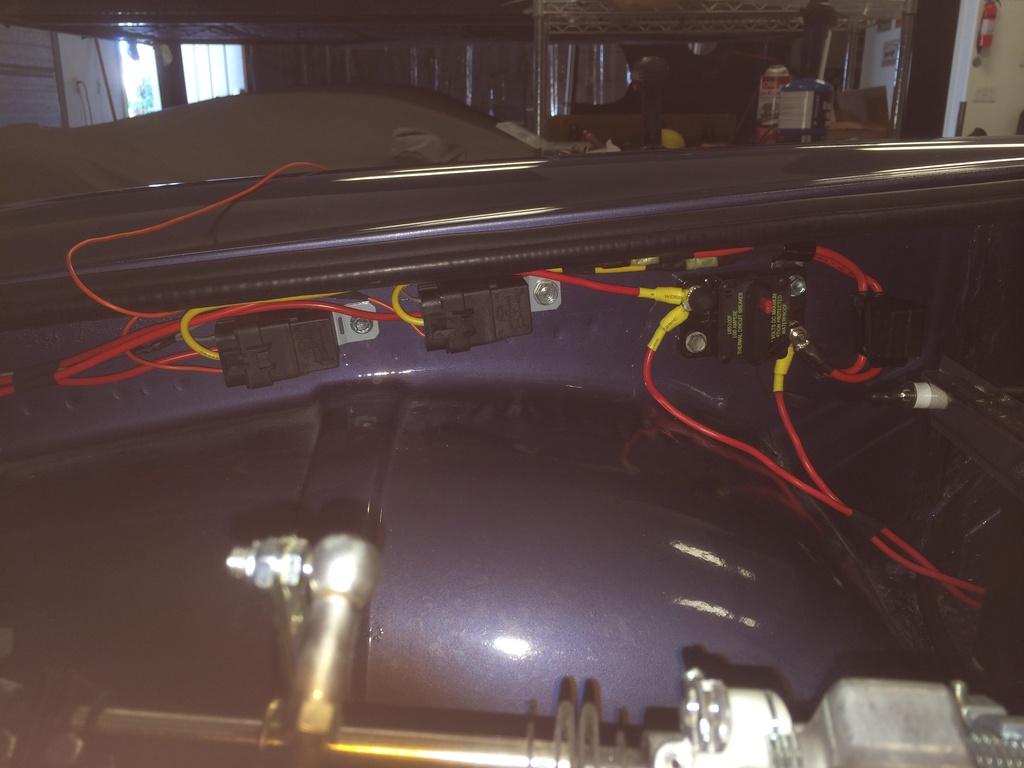 I finished installing the rest of the carpet. Got the shifter in with a leather boot and chrome surround.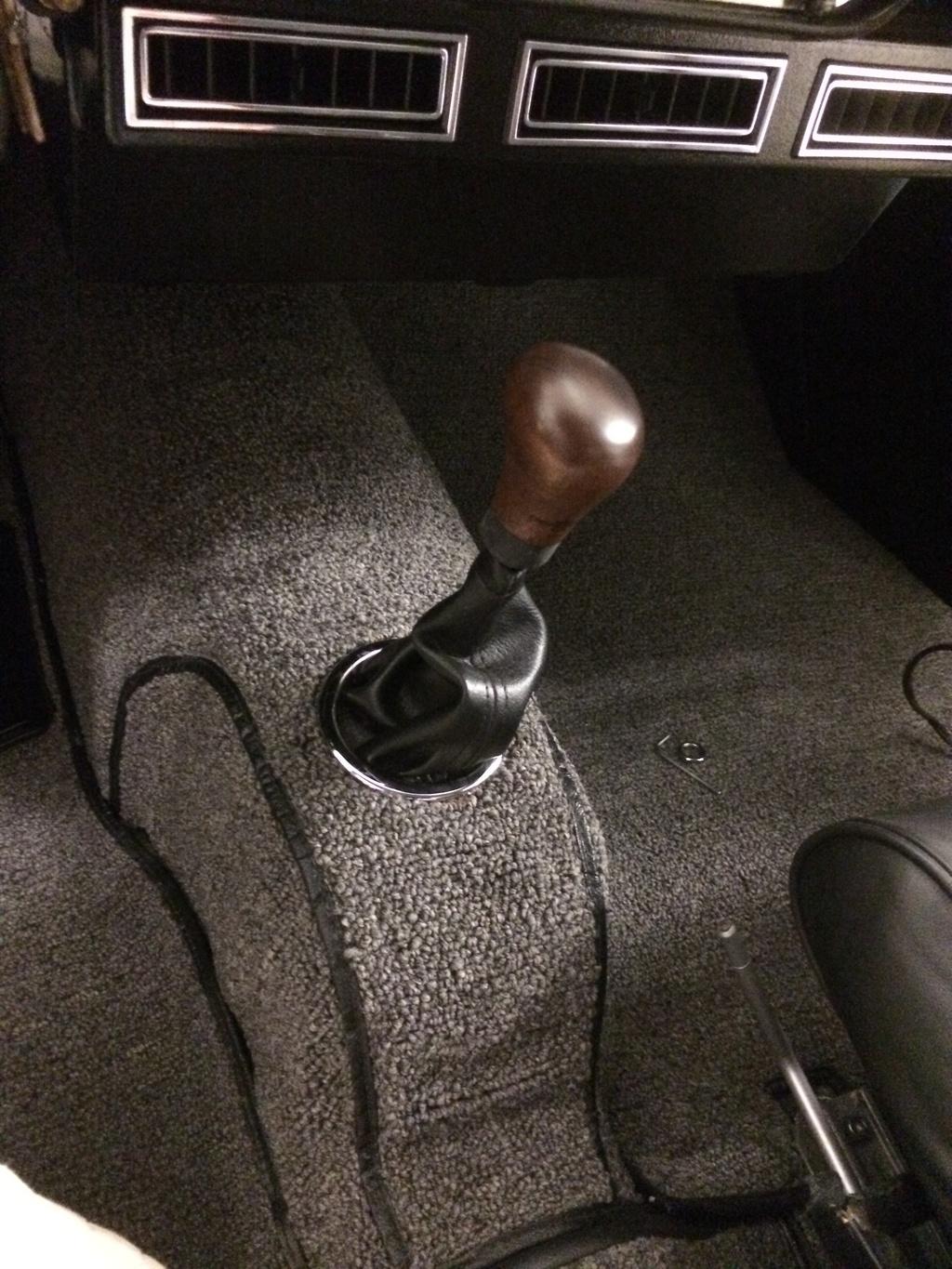 Finally! After 2 and 1/2 years, she's back on her own four feet! I was able to take a quick test drive around the block. Not too bad for a first go... I do have several little things to sort out though, as expected. Probably will never be "completely" finished...
Now to add up all the receipts

. But as they say, the experience and education has been priceless!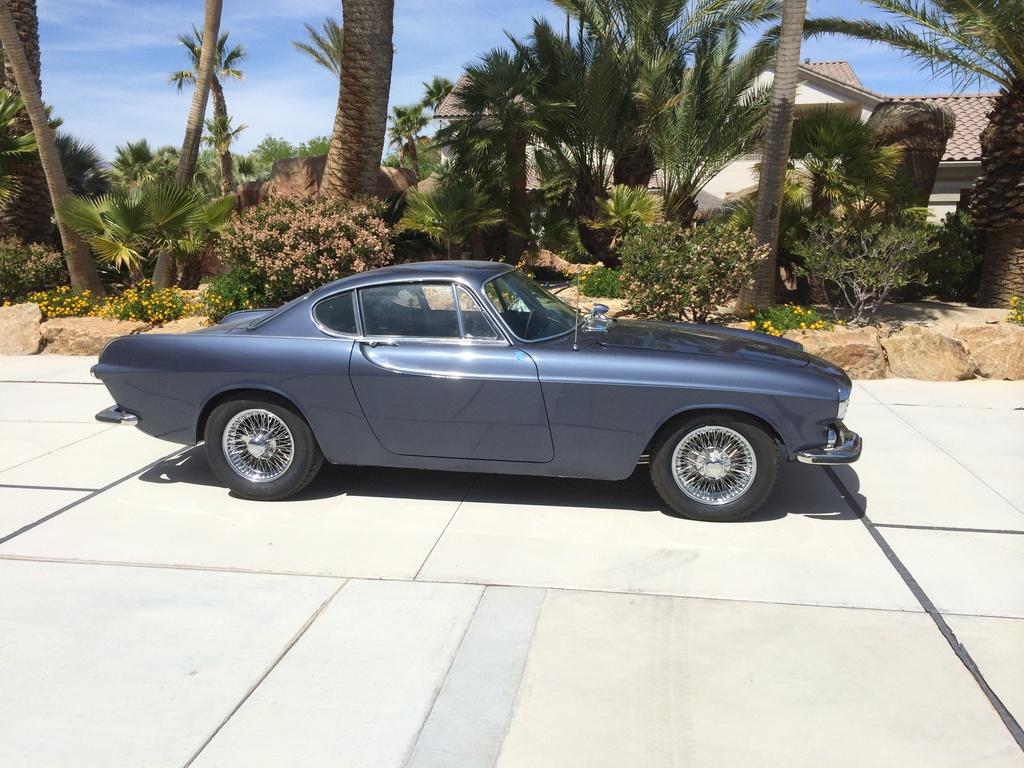 4-19-2015
Got the dust washed off and took a few more pics...