Posts
Women in Automotive
By Diggymart
You must be logged in to rate content!
104 minute read
#womeninautomotive #womeninspiringwomen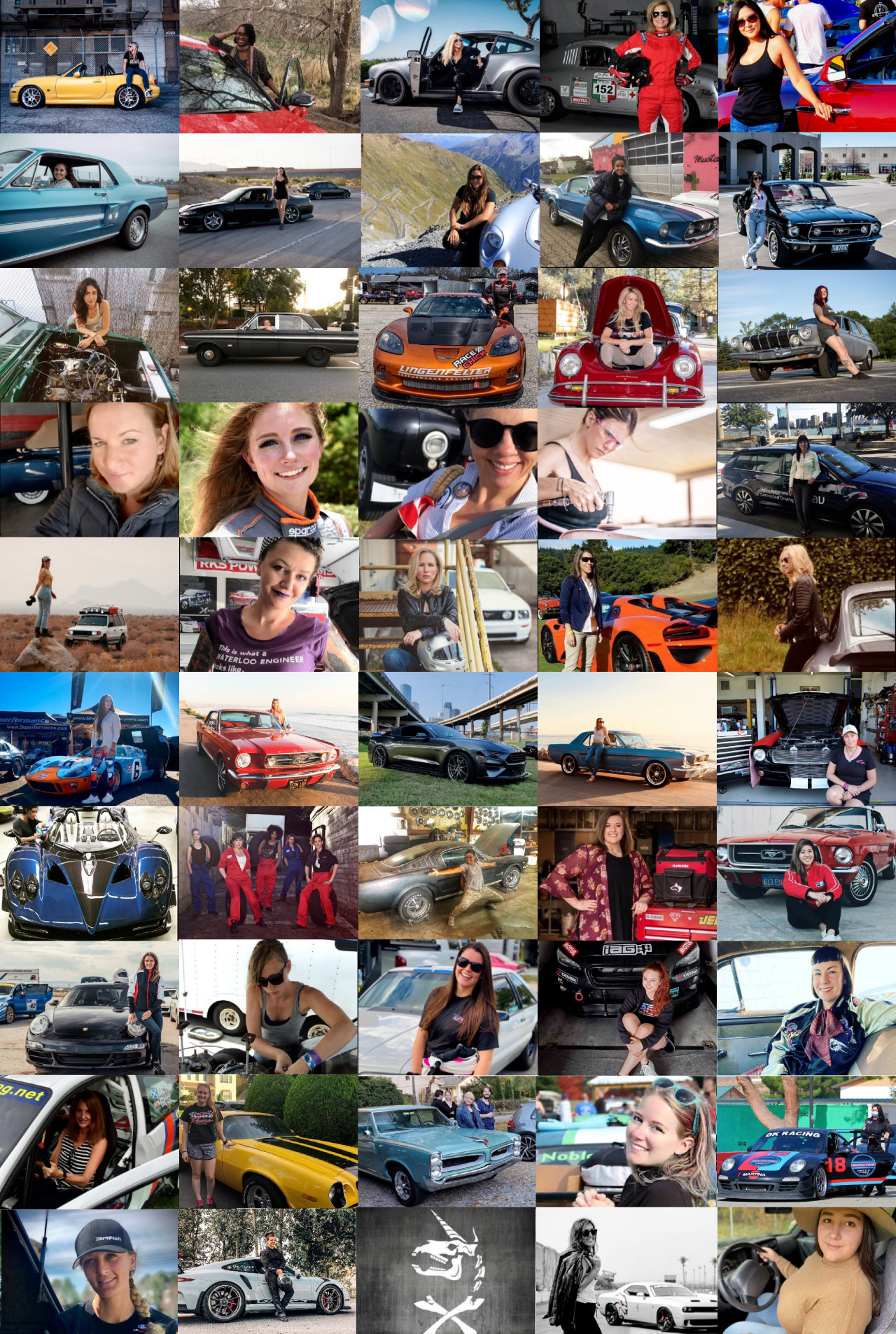 Car enthusiasts are a diverse group that come from all walks of life, however the car hobby for women hasn't always been in the spotlight. That is why we are highlighting the stories of incredible women in automotive. The stories in this feature are as multi-faceted as the cars we all love. Some win trophies on the race track or the rally stage, restore old Mustangs or Porsches, are writers or photographers, and some run companies big and small. We'll keep adding stories and thank you to the women sharing their inspiration! We are honored to host such a great group who make an impact on the car culture we love.
Thank you for participating!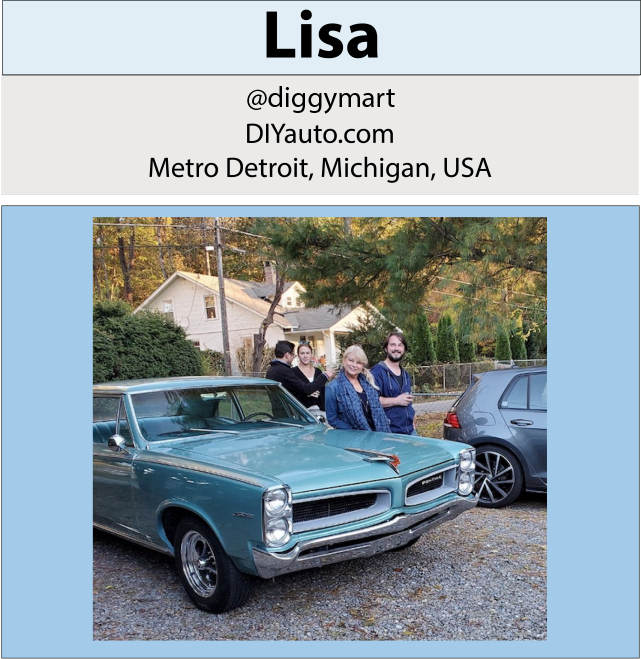 -Click photo for Instagram link-
As a teenager, many of my friends were into cars and one group modified muscle cars and raced them at Great Lakes Dragaway in Union Grove, WI. From the garage to the track, it was a great experience! When I was 20, I parked in Corvette Corral at Road America in Elkhart Lake, WI. We drove the track and got to know other Vette owners. Every summer I went to the races at Road America. A great track and fun times!
Both of my sons are REALLY into cars and started DIYauto.com . It was a hobby at first for Steven (a mechanical engineer), but after years of positive feedback and developing the website himself, it was time to take it to a new level. Website developers were hired and Nick came on board. It's a labor of love… a huge idea for gearheads and auto enthusiasts and it keeps growing!
While working on social media, I've come across amazing #womeninautomotive. Mechanics, designers, engineers, photographers, race car drivers, shop owners, enthusiasts, those integral to the automotive industry. As women recognize the 100 year anniversary of the 19th amendment, let's go forward with a positive message and our passion for cars. I'm excited to bring us together. Thank you for your story!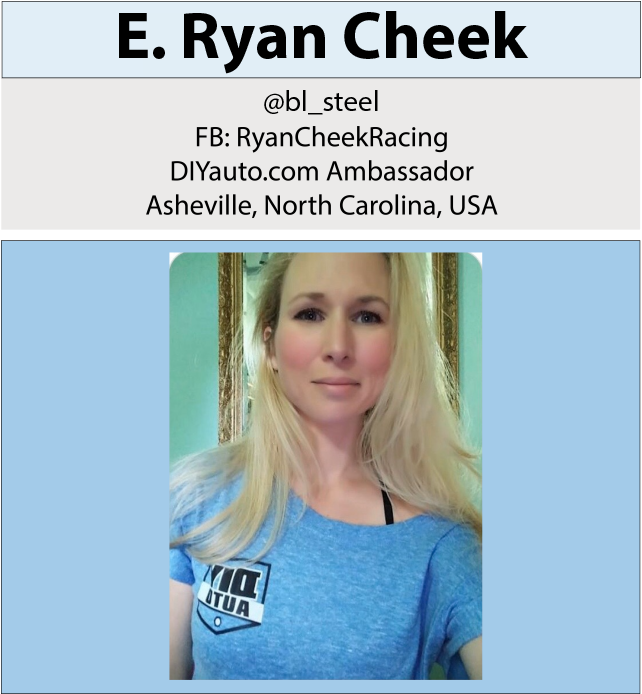 -Click photo to visit build-
I think I've always had an interest in cars. My first car was an e30 BMW and I really enjoyed driving it around Western North Carolina's curvy backroads. Since then, I have owned a handful of other cars, but it wasn't until my first Mustang that I fully realized I wanted to be more involved in competitive driving.
In 2016, I picked up a 2017 Mustang GT Premium Performance Package that I affectionately call "Hank". I began to race my new Mustang at local autocrosses and documenting my experiences on social media. I have been progressively exploring my passion of driving through different motorsports. Even started the hashtag #PlayAllTheMotorsports to help keep track of it all. With my '17 Mustang I have driven Autocross,Track-X, Drag Racing, Drifting/Wet Skidpad, HPDE (High Performance Driving Event) and SCDE (Short Course Driving Event- an emerging motorsport division from M4theM). Through all of this I have been fortunate to connect with many within the car community and to meet a lot of awesome car girls!
Wanting to get a bit more ambitious, I purchased an older Mustang GT. "Emma" is her name but I just caller her "Racecar." She is a 2006 GT premium that I have since installed a few performance parts, and a lot of safety upgrades. I am a mother of two and it is very important to me that I am as safe as possible on track. Racecar has racing seats, harnesses, fire suppressant, and a 4-point rollbar. With this new car, I recently competed in the Chasing The Dragon Hillclimb, coming first in class and setting a new class record. I am really looking forward to continuing building the car and exploring more areas of motorsports together.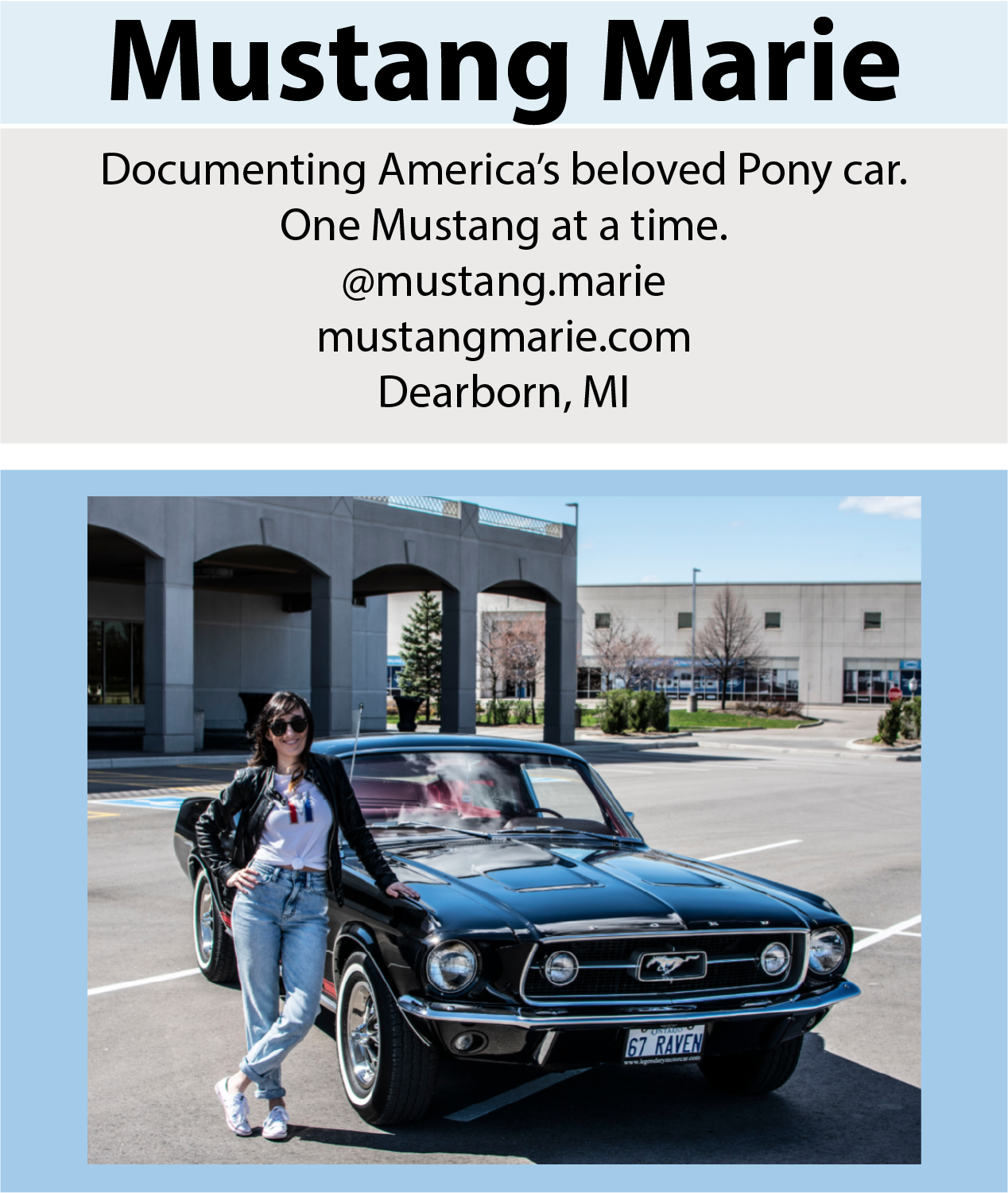 -Click photo to visit website-
My name is Natasha De Melis, but I'm more commonly known as "Mustang Marie."
This is my story. It's quite simple really... I'm pretty sure I was a car in a previous life (it's the only explanation I have for my fascination of classic cars). Even at a young age, I established a preference for classic cars: imports and exotics didn't really tickle my fancy. There was something about the history and stories that classic cars possess—their look, their smell, their sound—qualities, in my opinion, beat anything on the road today.
But, why the Mustang? What is it about this car that overshadows everything else? Not only is the Ford Mustang one of the greatest all-American muscle cars the world has ever seen, but the 55+ year legacy this car possesses and the community of car lovers it has single-handedly brought together, is absolutely mind-blowing. Back in 1964, this car was made for the people, and we have never forgotten about that.
I fueled my passion for Mustangs into Mustang Marie. I went to every single car show I could think of and put my networking skills to the test. I'd take photos and videos about my experiences along the way and educated the community about this amazing car. By December of the same year, Ford reached out to me on Instagram and the rest is history. I am the lead Senior Social Publisher for Mustang social content at GTB, one of Ford's marketing agencies, and I'm also the Social Content Manager for the GT500 Track Tour Program. I am blessed to sit on Team Mustang officially and work on something that I love every single day.
But, what inspires me the most? I'm not sure if it's "what inspires me" but more of a "who inspires me" — my father. He built a company practically from nothing. He works hard every single day. He doesn't let anyone or anything ever get in his way. That determination and strength shaped me as a woman.
In the automotive industry, women are faced with many challenges. There are those who don't believe a woman can be smart enough to work in this industry. They believe a woman can't be fast around a track. They'll attribute a woman's success to other factors. Women have to work twice as hard to break the glass ceiling and prove that we can be just as passionate as others around us. Having my father instill his determination and strength onto me gave me what I needed to take the bull by the horn. I love automotive and I'm not going to let anyone or anything stop me from pursuing my passion.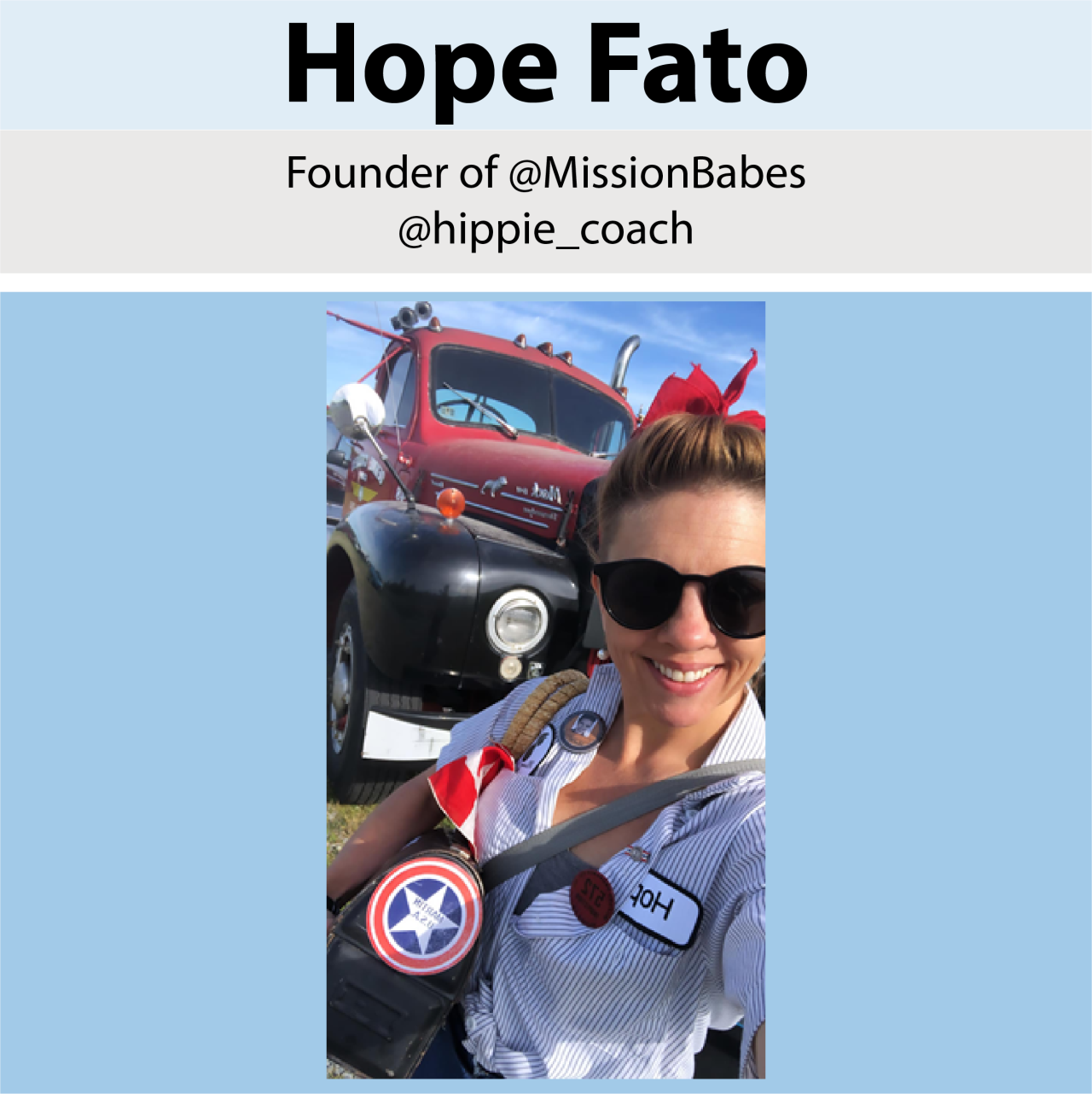 -Click photo to visit Instagram link-
Growing up, my dad owned a towing company and repair shop, I spent a lot of time in tow trucks and hanging out at his shop. I also spent countless hours at car shows and drag strips, racing cars in high school. Unfortunately my dad never taught me how to work on cars but its where I grew an appreciation for everything related. I've done a few repairs on my 2003 Chevy Avalanche (she has over 222,000) myself but usually need to call in friends to help for things like replacing the brakes or call in a trusted shop for something bigger.
Mission B.A.B.E. (Be a Beautiful (or Badass) Example) grew out of my love of WWII Women's history and truly Women's history in general. Women who did things that were not expected and overcame barriers have always inspired me. During the war women answered the call and stepped in to work in industry becoming skilled became riveters, mechanics, drivers and heavy equipment operators. Women entered these jobs and excelled! Women made airplanes and warships.
I have so much respect for the women who continue to make advancements and show up in these industries today!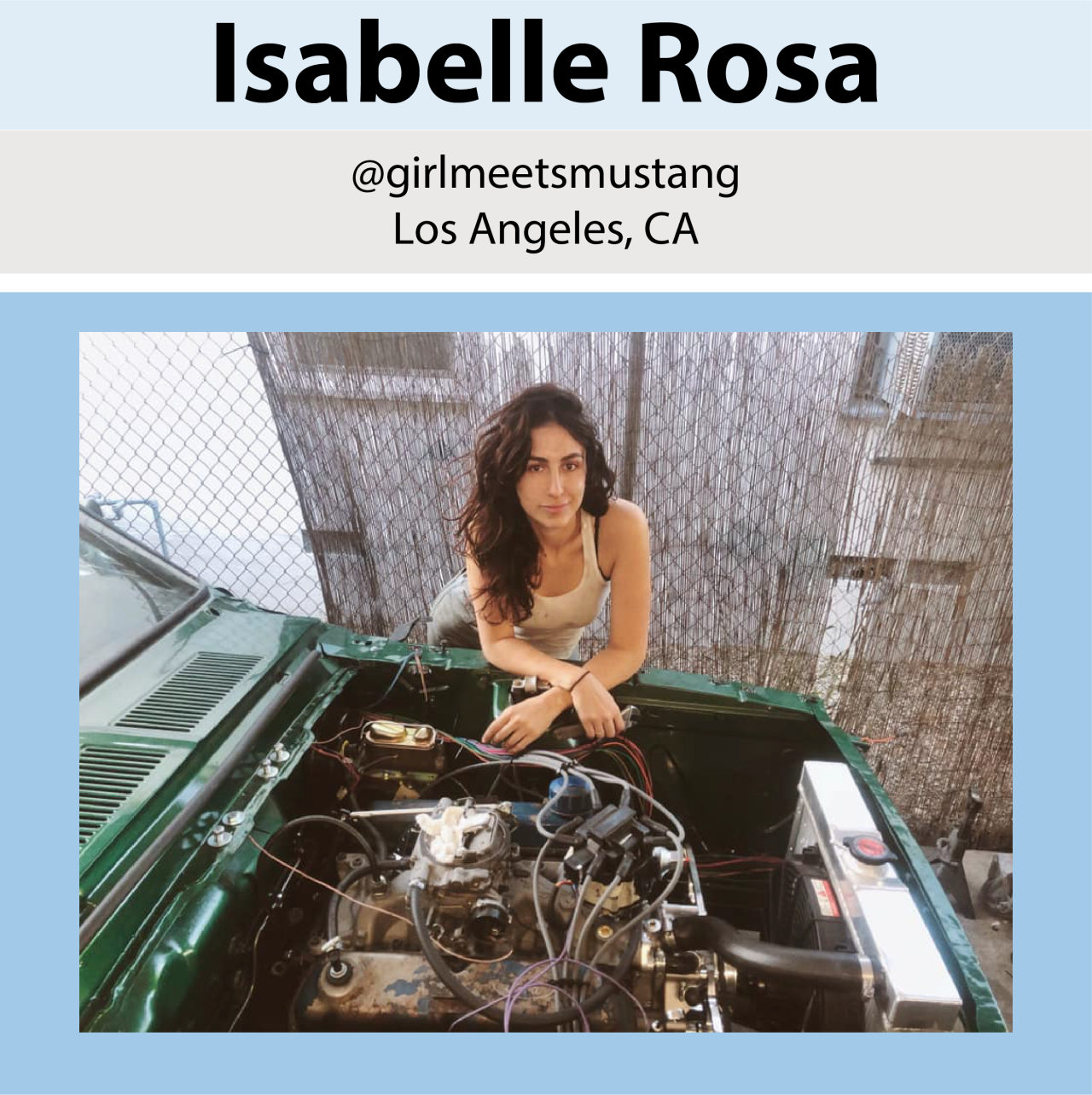 -Click photo to visit Instagram link-
-Click to Read Isabelle's Build Thread-
My name is Isabelle and I'm a 28 year old woman, residing in los Angeles, California. Prior to this year I had only done some things on my cars, namely"; oil changes, motor mount replacements, tire changes, and replacing an air filter.
In the beginning of this year I found my dream car, a '67 mustang at a fair price and decided to go for it. Initially, I thought of this as running a marathon - it would take alot of time, consistency, and effort to finish it and achieve my goal, but I was determined. I spent every day researching how to DIY auto restore a car. And then I did it! It was the scariest thing I've ever done, but also the most rewarding. I tried not to take my failures too seriously and to learn to take each problem as a challenge and opportunity to grow and increase my skill set.
I was nervous initially to post my progress and car restoration because I didn't think anyone would take a young girl seriously. And some doubted me! Many questioned if I was doing the work myself or said I was "pretty good for a girl." I paid no mind and continued to work on my own DIY auto restoration.
Today I am proud to say it's taken me 7 months to nearly finish my entire car, and I have done everything myself. There are so many wonderful women in this field, and whenever I see a girl working on a car I get so happy - we are a community, and it's our personal duty to work towards uplifting this community, and inspiring others to join without feeling the same insecurities many of us, like I, once had about entering.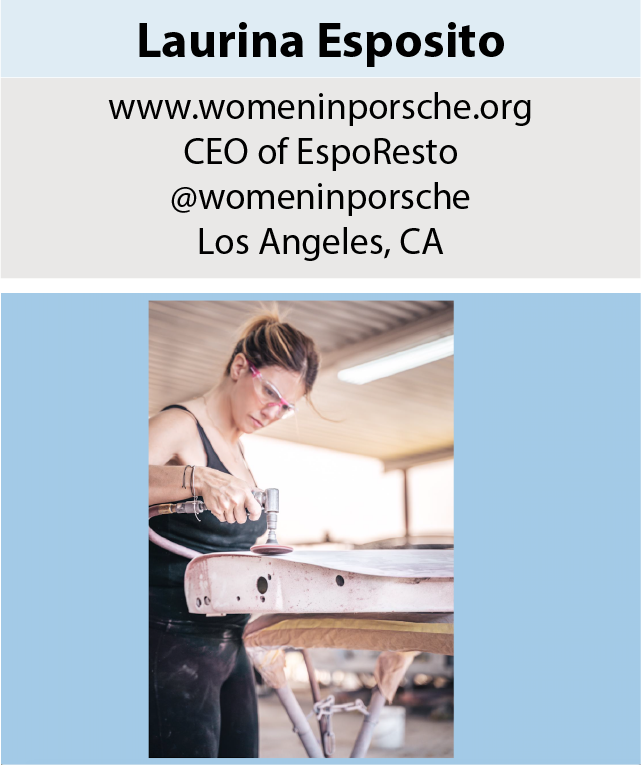 -Click photo to visit website-
Laurina Esposito, is the CEO of EspoResto, and the founder of Women in Porsche. Laurina has a background is in the fashion world, as well as in music performance- living a jet-setting life and career in the high end fashion industry prior to working with Porsche Cars, and also spent six years as a professional singer on the Las Vegas Strip. About five years ago she decided to return home to work with her dad in his business, Espo Resto, choosing to leave behind the hectic life of retail management to apply her skills in business in a more personal way. Laurina's father is the renowned Porsche restoration expert John Esposito, so despite a career that led elsewhere initially, she grew up learning all about automobiles and specifically everything Porsche. Early memories include riding in classic speedsters/356s for trips to Taco Bell while her dad told her all the ins and outs, ups and downs about this amazing vehicle. In 2016, when she returned to work with her father, she found herself unexpectedly having to take over and run their restoration business on her own due to her father's sudden illness (and near death!). Laurina is now the CEO of EspoResto, and has also started the organization Women in Porsche, Inc. which has nearly 30 independent chapters nationwide and internationally! Women in Porsche seeks to serve the underrepresented community of women in the Motorsport world, sharing the stories and connecting the women who Love, Work With and/or Drive Porsche. Her quest in this endeavor has led to connections with men and women in the Porsche family, worldwide, and proudly- has opened up doors for women to be more readily accepted and included in what is often seen as a male only pastime. Laurina is currently working on restoring a 1968 912 Targa with one of her fellow WIPs, as well as a 1973 911 T with her partner. When not working with Porsche, she is likely at home with her dogs, baking or cooking- working on a new production/performance, or spending time with her family.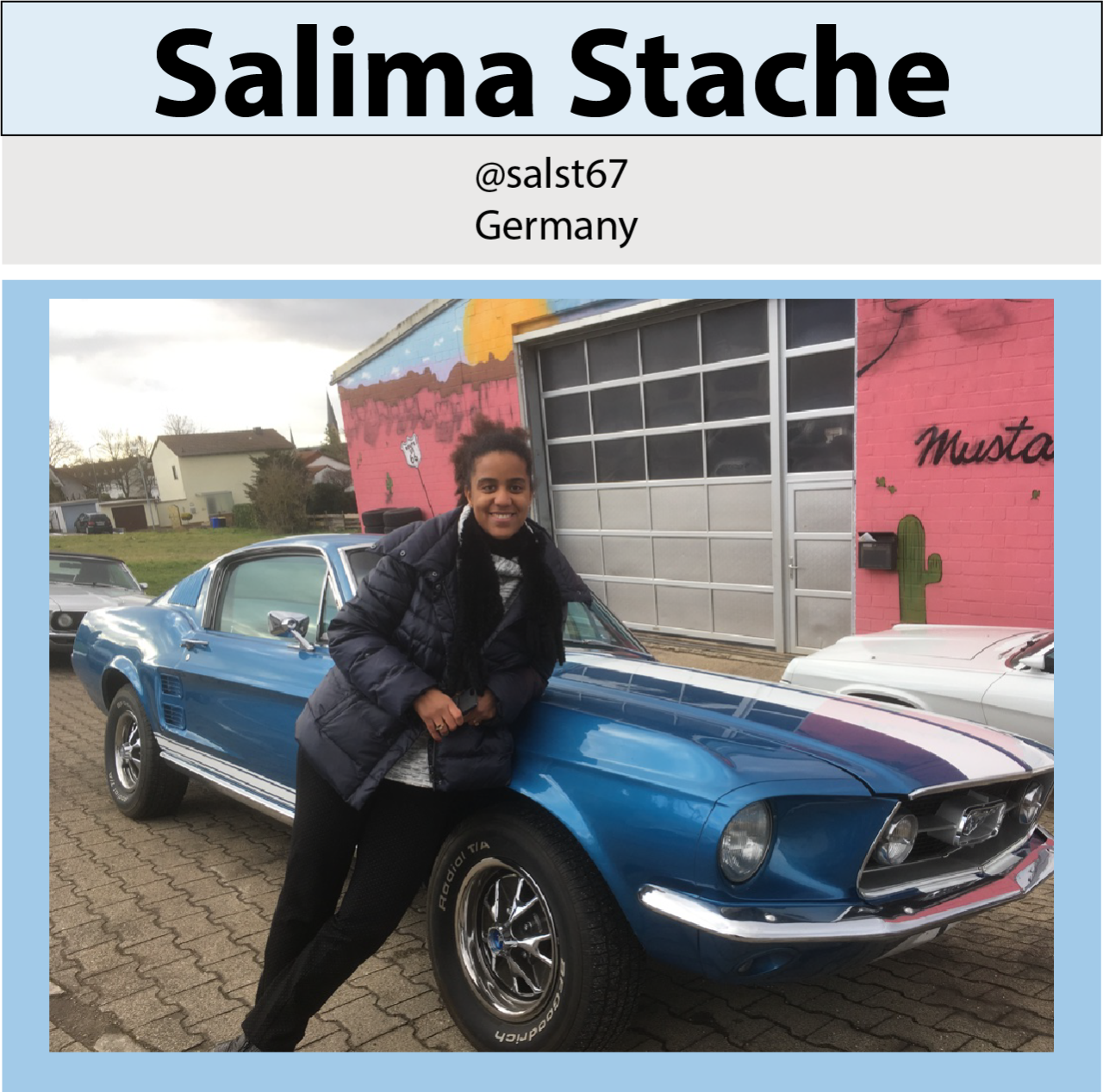 -Click photo to visit Instagram link-
My family has always been car crazy, which might explain why I turned out even more crazy like this.
My great-great-grandfather was send in 1900 by Daimler to the first car race in Nice in the South of France, my great-grandfather owned the first driving school in Berlin and teached so many people over the years how to drive and operate a car, back in the good old times when you were able to know more about your car then just where the gas and break pedals are and how loud the sound system can get.
My grandfather had a knack for driving Mercedes-Benz and always wanted the newest, but my father loved old Jaguar's. My great uncle ownes a lot of British classic cars so he was the influence on my father and he is very connected in the classic car scene. Often I heard that when the people looked for something special or a hard to get part for their car they came to him.
My father bought a 1971 Jaguar E-Type with a V12 engine in 1978 for his graduation and restored it completely.
He dated my mother in that car and drove it for his wedding, so this is definitely the family car. I remember as a kid I always asked if we could take the Jaguar out on the weekends and I absolutely delighted in the drives and when we washed the car in the driveway.
As much as I love the Jaguar, I always had my love for the Mustang, I can't even remember when it started exactly, it was just always there. My first model car was a 1964 Mustang Convertible in red with the black interior, which I of course still have. I bought books about Mustangs and some more models and when the time came I always knew I wanted a classic Mustang.
When I was 20 years old I was able to let this dream become a reality, I had the funds and went actively looking for a 1967 Mustang Convertible. I wanted it to be black or nightmist blue with black interior, but it became something completely different by being silver frost with two-tone blue interior and I couldn't be happier with this outcome. Not only was the car in the best possible shape, it is a true stopper with this color combination. I love to take the top off and go for long drives, after work, in my lunch break or on holiday. You can actually say if I am not in bed or at work I am in the garage with my car or driving my car or trying to find out the history of my Convertible. When I got my car I had no leads except the Title I got which dated back to 2001. By going back from each owner to the one before I can now trace my cars story back to 1980ish and am still in contact with most of the previous owners. I love hearing the stories they have to share on their time with the car, so many history that connects the people to one car.
In 2017 I got wind of another Mustang which was owned by a friend of a friend and standing in his garage for the last 7 years without driving much. I always knew if I get another Mustang it had to be a 1967 Mustang Fastback S-Code, so I told my father who sent the mail to me, that this has to be the criteria. Fortunately, but unfortunately for my bank account, it was an original 1967 Fastback GT S-Code with almost a completely known history. So I called some friends who definitely are better at spotting problems with the car than me and we checked the car out. There was no deal breaker so I already excused myself to my bank account in my head. But the best part about the Fastback is it was originally Acapulco Blue and still wears this color. I always wanted a blue Mustang and finally I had one with coincidentally the same two-tone blue interior my Convertible has. I was in heaven and so thrilled on my first drive as the proud new owner of the Fastback that I forgot to check the gas gauge. When I finally did I got the shock of the year because it was nearly empty. I got on my last leg to the gas station but we made it.
The funny thing is I got both of my Mustangs in January only days apart but with 7 years in between, so January for me is my Mustang celebratory month.
I have met so many wonderful people through this hobby, and the friends I made are as close to me as family, I couldn't imagine my life without them anymore.
I am also a member of the First Mustang Club of Germany e.V., the biggest classic Mustang club outside of America with about 960 members. And for about 3 years I am also a part of the Board of directors of the club and in charge of the club magazine. I have learnt a lot about the history of the Mustang by being in charge of the magazine and my other passion connected to the Mustang, collecting Memorabilia of the car. The garage is called the Museum already by some friends, and I love cataloging my finds and getting to know more and more about the history of this amazing car that brings so many different people together. What can I say, I am just the crazy Mustang lady. ;-)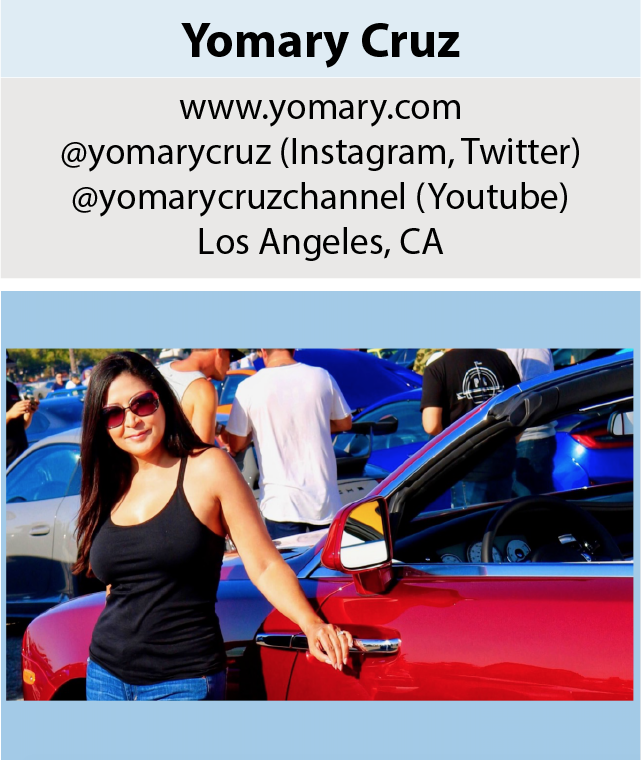 -Click photo to visit Instagram link-
I still laugh when people are surprised by my car knowledge. They clearly haven't met my older brother who graciously bestowed his young electrical engineering genius upon me, even when all I really wanted to do, was get my electric car back on the track to race again. Years later, when I became a Product Specialist/Spokesperson for the Auto Show Circuit, and trained with Automotive engineers, I realized how much I enjoyed knowing how technology works & sharing that knowledge with others. I've presented some of the most innovative technology to people in all walks of life, from stay at home moms to engineers. I loved traveling, presenting cars, & meeting car lovers...even the ones that needed a man to confirm the information I gave them.? They inspired me to really know my stuff & be my best! I felt right at home when I was invited to be a Correspondent on ESPN's Road Trip to the Auto Shows Series.
This little girl who grew up loving racing, was more than excited to say, "Ladies & Gentleman start your engines," for the first time, as Irwindale Speedway's Emcee & On-Track Reporter. It was such a thrill to be there, live in the midst of all of the action & the burning rubber! I jumped at the chance to Co-Host the longest running single-make racing championship in North America: The Ferrari Challenge.
My love of cars has brought me endless thrills and adventures. Some of my most fun adrenaline- packed moments at work include interviewing celebrity drivers at the Grand Prix of Long Beach, putting my sense of adventure to the test, going 160 mph in a Ferrari race car, & racing Juan Pablo Montoya's Car at Homestead Miami Speedway, although off-roading in a Super Charged Range Rover was pretty exhilarating too! I just love my car adventures!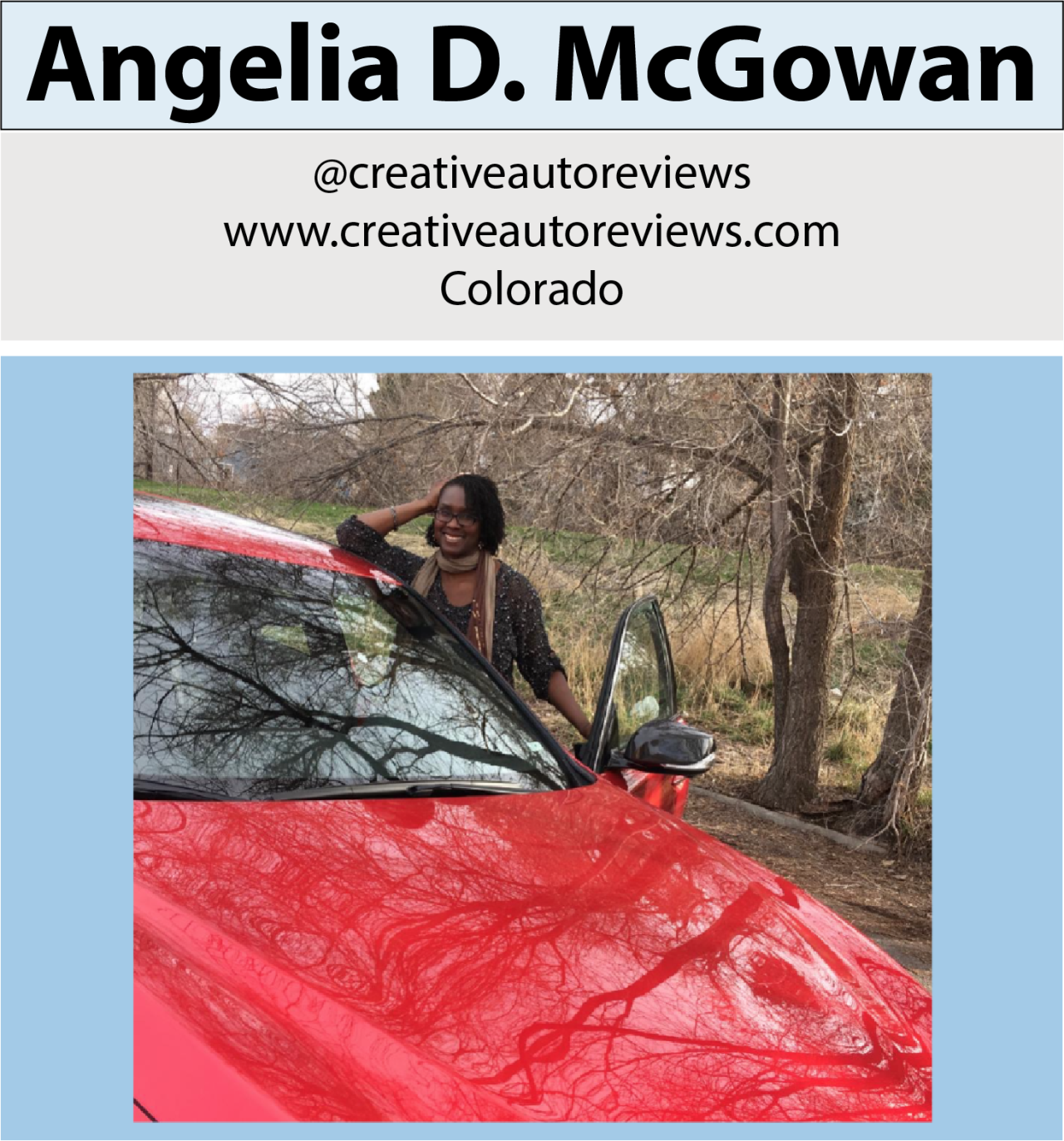 -Click photo to visit website-
As a writer and public relations consultant in Denver, Colorado for nearly two decades, I've worked on a variety of transportation awareness campaigns from child passenger safety, seat belt safety, distracted driver and older driver safety. At one point in my career, this work took me to South Africa to do a poster presentation at an international safety conference. When my plane landed in Johannesburg, to my surprise, my luggage was still in Chicago. I was told everyone's first trip to Africa is unique. Okay, but did the person who told me need to laugh while talking to me?
Jokes aside, I've been circling the transportation industry for some time. In 2013 while serving as managing editor of a monthly newspaper in Denver, Colorado, I began writing auto reviews. It was an opportunity to learn about the driving experience from a different angle.
In 2016 I launched the website, Creative Auto Reviews, where I combined my passion for creative writing with the innovative auto industry. When I'm not working with clients under my consulting service, Canady's Corner, you may find me racing from here to there in the latest models spinning tales to inspire, educate and sometimes laugh. I'm inspired by how the industry is always working to be better, each brand in its own unique way. Recently I self-published my first coffee-table book, "Celebrate! CARs, Women and the Road Less Traveled." The book celebrates women in various industries doing things in their very own unique way.
I'm on the board of the Rocky Mountain Automotive Press association, and enjoy helping to plan activities for fellow auto journalists throughout the year.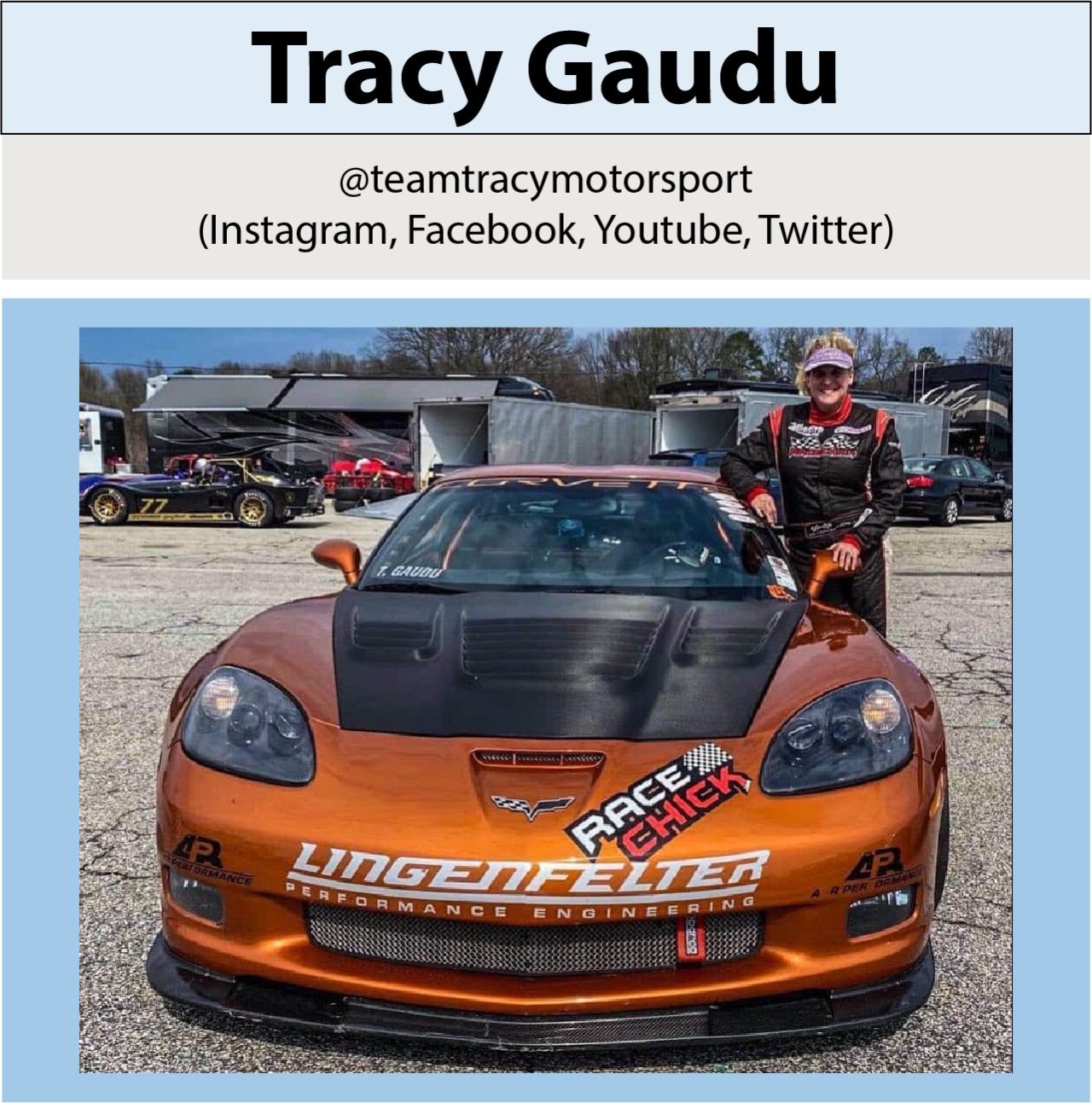 -Click photo to visit Instagram link-
I didn't grow up around racing or motorsports but I have had a love for the Corvette since a very young age. I enlisted in the United States Air Force after high school but didn't own my first corvette until age 37 when I bought a 2005 C6 Precision Red automatic transmission car. After buying this car, I became immersed and joined the Longhorn Corvette Club in Austin, Texas where I lived. I became a member of the National Council of Corvette Clubs (NCCC) and was introduced to low-speed autocross and loved the competition! I also competed in the local SCCA group, Spokes, for added low speed autocross seat time. I feel my beginnings in autocross helped me learn car control which greatly benefited me later on the road courses.
I saw my current car, a 2008 C6ZO6 in a dealership showroom in late 2007 and although I didn't know to drive a manual transmission car, I thought I could indeed learn quickly and win BIG! I went on to compete not only in NCCC national events but my first full year of NASA Time Trials (TT1 class) was in 2019. I am a NASA certified instructor and I enjoy helping drivers learn and improve their times on track and become more confident drivers! I particularly enjoy teaching female drivers as they are so eager to learn and will actually listen in the car to suggestions!
In 2020, Team Tracy Motorsport was born as my team name and branding. I feel like this team branding describes my uniqueness as a championship winning racer who is getting it done completely on my own. TTM is about being a one-woman show as I am the owner, sole-financier, driver and crew. Rain or shine, I load and unload my car and trailer all over the country to NASA events and HPDEs at my favorite tracks. Nothing feels as good as a win and my passion for this sport and the Corvette is what gets me to the checkered flag!
When I am not on the track, I have a career as a physician assistant and I practice in vascular surgery as well as trauma services. This has been my career for 21 years.
Achievements:
NCCC National Points Championship in 2008 as well as the SW Region Champion in that same year
NCCC class track records at multiple tracks all over the country
Overall Top Competitor at NCCC Convention in Topeka in 2012
Overall FTD (men/women) for high speed autocross at NCCC National Convention at Raceway Park of the Midlands in Omaha in 2015
NASA SE TT1 Champion, 2019
Tire Rack Ultimate Track Car Challenge at VIR - made it to the Knockout Finals, 2020
Regularly podium finish at TT1 events not only in my region (NASA SE), but also NASA Texas, NASA Great Lakes and NASA Mid-Atlantic
Partners:
I have the greatest partners in the business supporting Team Tracy Motorsport!
-Lingenfelter Performance Engineering
-Trackday Tire
-Racechick
-GSpeed
-ProAuto
-Redline Ace
-Unique Kar Kare
-Kim's Gold Dust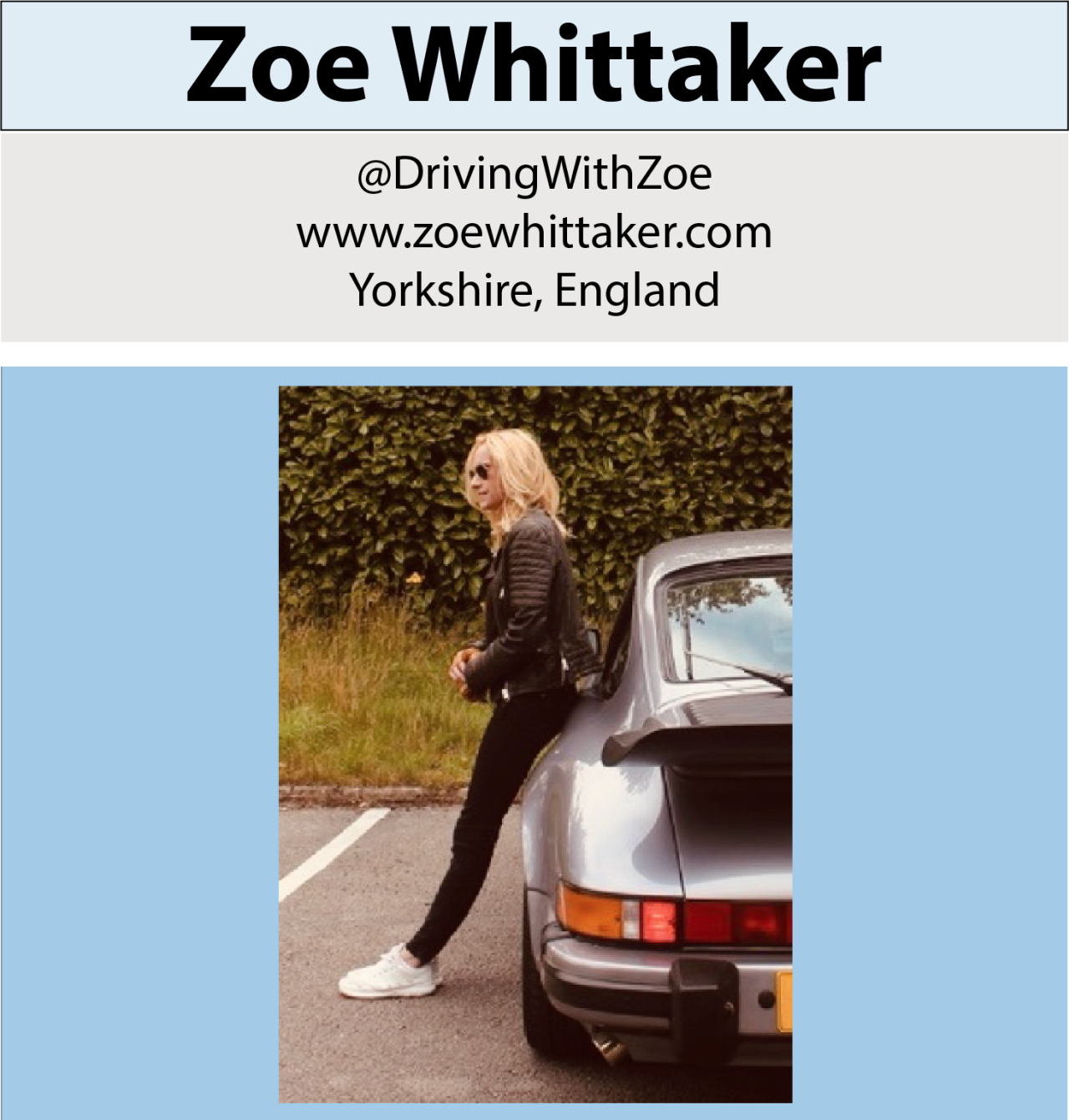 -Click photo to visit website-
Born in the UK, Zoë's father brought home his first classic car when she was 9 years old, a 1966 Corvette Stingray. Her passion for classic cars then began.
Zoë spent a great deal of her teenage years attending classic car rallies with her father where she navigated for him in UK and European rallies such as the Alpine Challenge and Paris to Marrakesh.
From that day forward, Zoë was inspired by her father's zest for cars and racing and decided she too wanted to sit behind the wheel. Zoë achieved this goal as soon as she got her license and took part in classic car rallies by the age of 19.
Though Zoë experienced some track racing, support her father at many race meeting, when he raced single seaters in the Formula Ford series, Zoë realised her true passion was rallying. Zoë found the sound and feel of the vintage engines captivating and the differentiating terrain inspired her to want to participate in as many rallies as possible, not only to quench her thirst for driving classic cars but to also experience and discover new destinations.
Zoë worked in Formula One for 10 seasons, travelling with the team globally, responsible for sponsorship programs and organising associated events.
In 2018, she organised the first classic car rally ever to be held in Georgia. Not only was this a historical event for the country but a great start to Zoё's classic car rally tours with it now becoming an annual event with great media coverage.
I have a huge passion for Porsche's and the older, the better for me. I do have a GT4 which is a wonderful track car, but also a 1966 Porsche 912, 1988 930 and a 1968 Beetle (still an air cooled car!)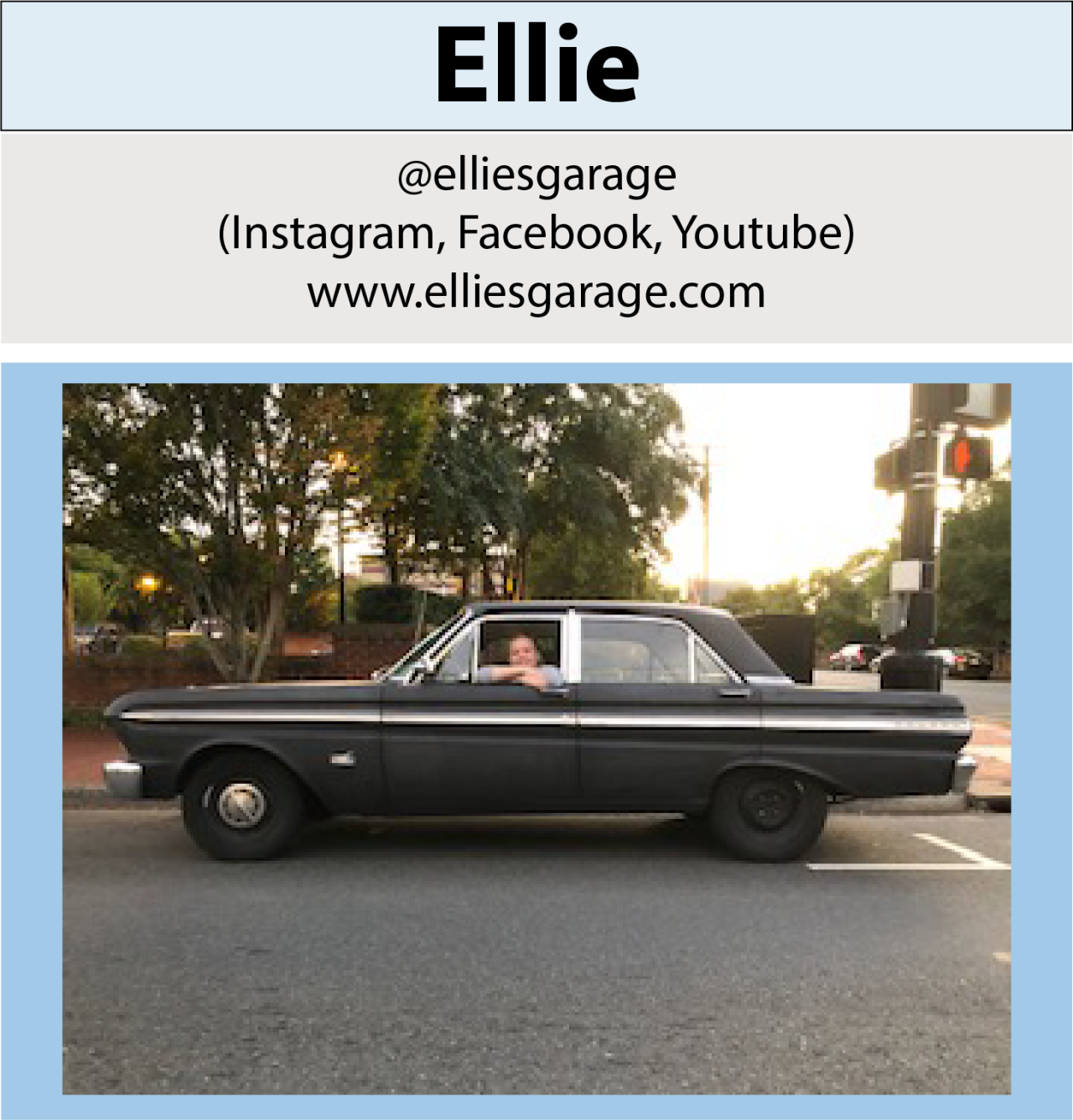 -Click photo to visit website-
I am a 15-year old high school student, refinishing a 1965 Ford Falcon with my dad. My parents bought the car, but the deal we made was that I had to pay for and do all of the work of restoration. I knew nothing about cars when I started in 2019, but together with my dad, I have been learning as I go.
So far, we have completely overhauled the engine, restored the engine bay, and rewired the car. I have learned how to weld, how to bend brake lines, and how to upgrade seatbelts. Hopefully, when I am able to get my driver's license, I will be done with my restoration and have an awesome daily driver.
We have been documenting the whole process and posting weekly episodes on YouTube so that I can share my experience as I learn how to restore this car. Not only has it been exciting to show the process as I figure out how to fix my car, but the response and support has been overwhelming. I have been especially encouraged by the support of other women in the industry who have cheered me on in this amazing journey.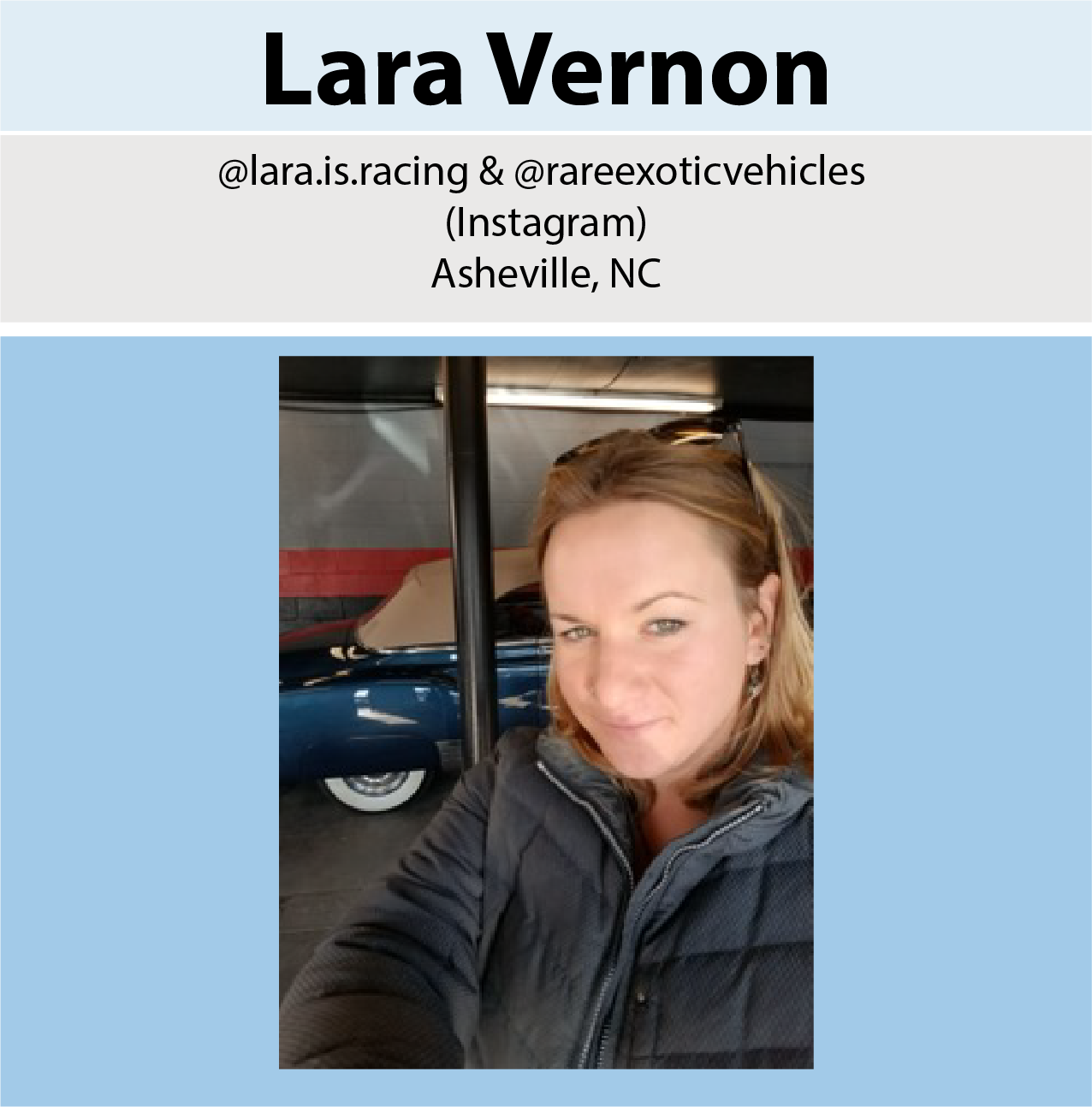 -Click photo to visit Instagram link-
Ever since I can remember, I have had a fascination with cars. It didn't come from my family, because neither of my parents are 'car people'. It's rooted deep in my veins. At the age of two, I spoke my second word -- "wheel". I would lay on the floor and play with my Hot Wheels and my Matchbox cars and fantasize about the way it would feel to drive. It was an obsession. That obsession has stayed with me every second of my life since, and I have now turned my passion into a profession
In 2016 I decided to fulfill my long held belief that I would one day be an entrepreneur and a business owner. I opened a boutique car dealership near Asheville, NC in the quaint town of Weaverville. My business sits at the corner of a busy intersection, and my goal was to stop traffic. I wanted to sell the types of cars that got ME excited, and weren't just viewed as four wheels and a seat. I started out small, selling a few cars at a time. My inventory quickly grew to the point where I ran out of parking spaces for my customers! Four years later and I'm still here, selling the good stuff. I've had inventory dating from 1939 to today, with one motto in mind: "Life's too short for boring cars". It's been a journey filled with lots of hard lessons, exhaustion, uncertainty, and most of all, smiles!
In 2017, I ran my first Autocross race and have been hooked ever since. In 2018 and again in 2019, I was fortunate enough to win my class in Autocross here at the Highlands Sports Car Club, as well as a couple Top PAX trophies. In the winter of 2019, I started participating in amateur endurance road racing with a hilariously awesome team called Racebar. They welcomed me in with open arms (and open beers), and I immediately felt right at home. I have since raced with 2 more teams, and have been very busy! I've competed 5 times in ChampCar, a Lucky Dog event, and just last weekend I did a 24 Hours of LeMons. I'm very happy to say that our team won 1st in class at that LeMons event, and I got to take the checker! This addiction is far from over... I now have my SCCA Competition Racing License, and am looking to buy a track car of my own for Time Trials and Sprint Road Racing.
My love for cars, speed, and burning rubber knows no bounds. It will continue to keep my heart beating for the rest of my life. Thank you for the opportunity to share my story!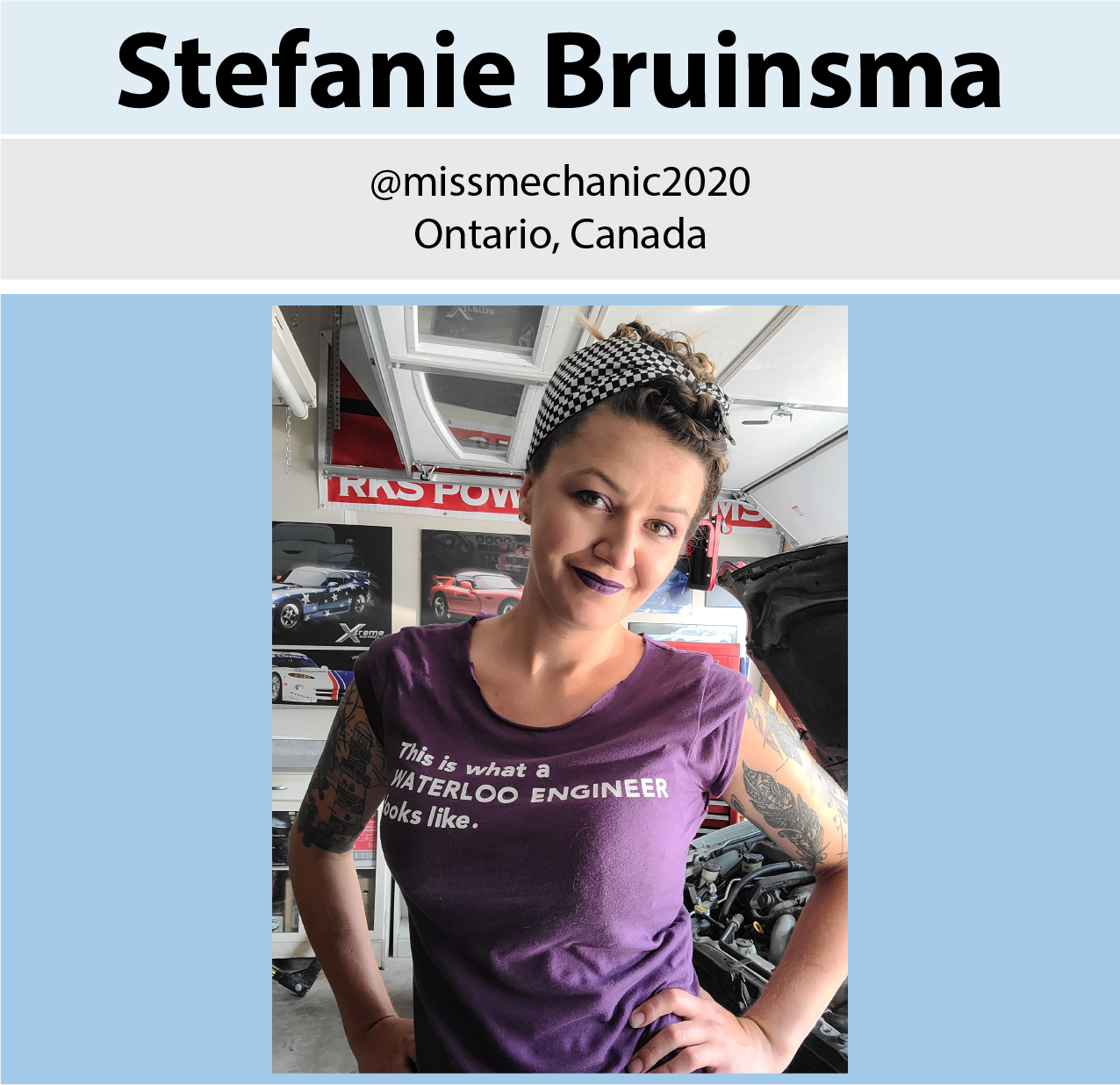 -Click photo to visit Instagram link-
I found my first love when I was 12 years old, a Dodge Viper named RT-10. This love was only later superseded by the 1996 Viper GTS; something about cars just gave me a complete feeling of wonder. A short while later I enrolled in every automotive-related technical class in high-school, I hadn't even worked on a "live" car until my grade 10 co-op placement at the local Chrysler dealer. At the time I couldn't have named 10 different items under the hood of a car, but I was determined to learn them inside and out. I decided then that I wanted to design cars, I also decided that the only way to do that would be to first become an automotive technician; because at the time I thought some of the people who had designed these cars surely had no idea how to fix them, and often why on earth they had done some things in certain ways. Six years, two dealerships, one independent shop, 3 terms at college, and 6500 apprenticeship hours later I wrote my provincial exam and become a Class A Certified Red Seal Tradeswoman as an Automotive Service Technician (a long way of saying I was a licensed mechanic). I owe much of my support and success in my automotive career to my high-school auto teacher; when most of the adults in my life, including my father, tried to steer me away from fixing cars, my teacher was right there to put another wrench back in my hands.
At that time, I worked at the local BMW dealership. One day I walked into work and was told that the Service Manager was now working at the local Mercedes dealer, this was a bit of a blow as he was one of the first managers I had had that was excited about hiring a girl. It was time to go, so I called up the university and asked what it would take to get into Engineering. After a one-year stint of going back to high-school to get credits necessary to apply, I gained admittance into Canada's largest engineering school. My program had a co-op and I worked at a shock absorber manufacturer, an environmental consulting agency and the Student Design Centre where I built and ran an engine dynamometer for 3 years. A total of seven years later with a 5-year-old on my waist and a degree in hand I was offered a job working as a Powertrain Engineer, running a 10-million-dollar facility specializing in research and testing of hybrid and electric vehicles.
I started Miss Mechanic because of how many women I meet that know little to nothing about cars, but who would love the opportunity to know more in a way that made them feel less 'stupid'. It breaks my heart really, I don't understand why folks are so embarrassed to know so little about their cars. There is no adult equivalent for 'Auto Class'; so if you didn't take it in high school, learn from a parent or grow up on a racetrack, how are you supposed to know any better? Throughout my entire career, I can count on one hand how many women I have worked alongside as a Mechanic and as an Engineer. So, Miss Mechanic is all about empowering girls and women to see Trades and Engineering differently, and with any luck learn a thing or two on the way.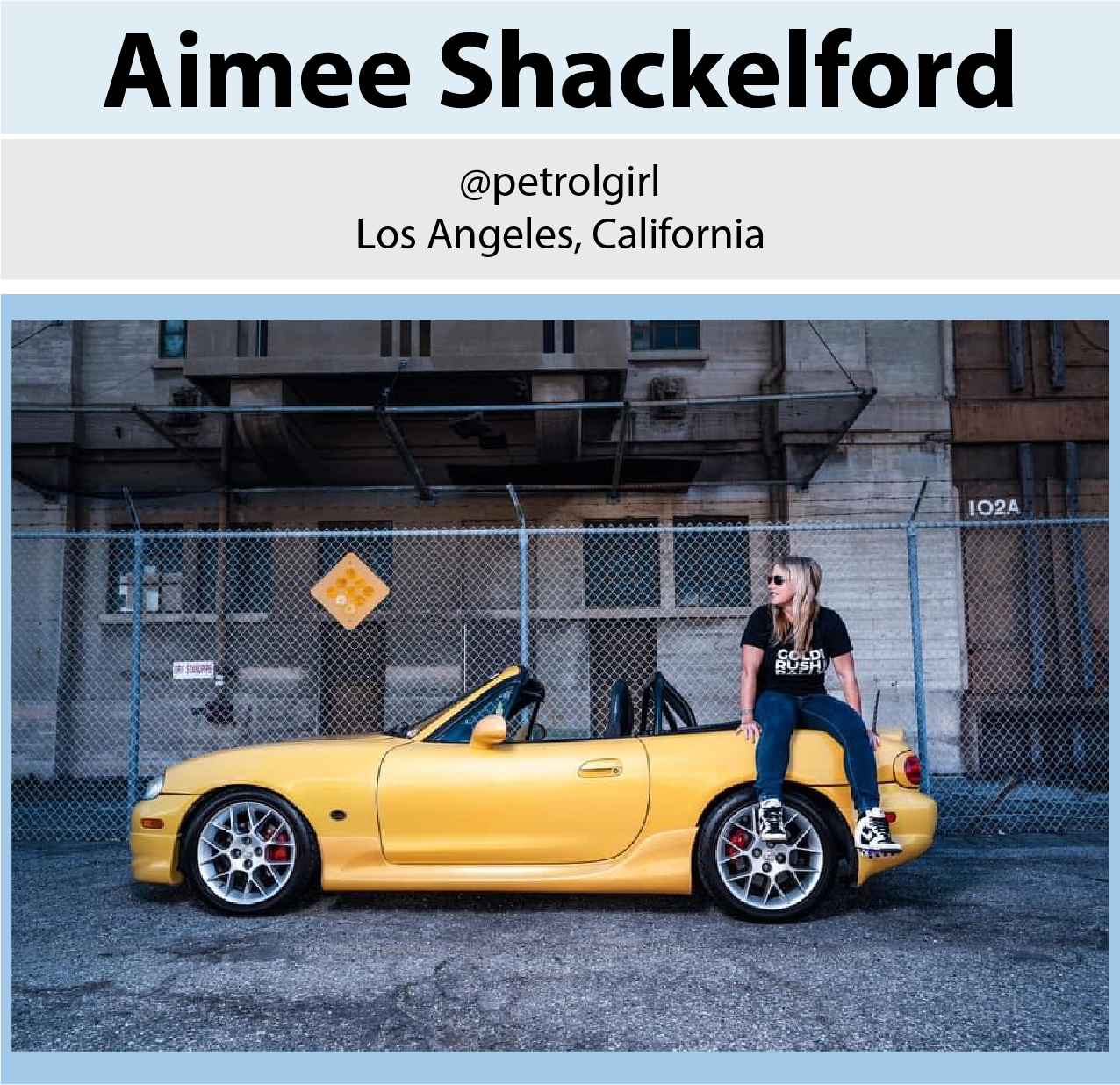 -Click photo to visit Instagram link-
Aimee Shackelford comes from a family that bleeds Motor Oil. Her great uncles, The Famighetti Brothers, built sprint midget race cars in Los Angeles in the 1930s - 1960s. Parnelli Jones, Rajo Jack, Allen Heath and more drove their beautiful race cars.
After a 6 year career as a Human Resources Director, I decided to pursue my passion in 2008. The Automotive World.
Luxury4play.com brought me on board in 2008 as a sales manager. My position was upgraded just months later to VP of Sales & Marketing. The forum's success continued to grow each year with the addition of new sponsors and increasing numbers of members. In 2012, the owners decided to sell the company to Vertical Scope located in Canada. I stayed on contract 6 months until January of 2013.
goldRush rally was in its first year in 2009 and sold out all 50 spots. Exotic Car rallies are no easy task to put on. It takes a year of planning, teamwork, and a positive partnership with the sponsors we bring on board. I have brought on companies such as Pagani, HRE Wheels, Barrett Jackson, Vorsteiner, BRM Chronograph, Renntech, Monster Energy Drink, Bugatti North America, Rock Star Energy Drink, Lamborghini Beverly Hills, Forgiato Wheels and more. We are now in our twelfth year and expect another huge success for the team.
In 2013 the goldRush Rally team started an additional event called Fuel Run. Two drives that cater to one of the most prestigious weeks of car events in America, Monterey Car Week. One begins in Malibu, California, and makes its way up to Monterey, California with 100 luxury, exotic, and supercars. The second event takes place in Monterey and involves a complex two hour drive through the canyons.
I also started my own Social Marketing company in 2012. Social Bolt for all of your Social Media marketing needs. We specialize in Facebook, Instagram, Google+ and Snap Chat.
I started a company in. 2015 with two other individuals that have extensive knowledge of the Automotive world and creative design and programming. Exotics On Broadway is my second to the last venture. A car show unlike any other during Monterey Car Week and all five years were a success!
My latest company is GearOne Agency. A full-blown marketing agency specializing in Automotive. I've partnered with Ramin Arami and Johnny Valencia, both with extensive experience in their fields. Collectively the three of us are a powerhouse!
She is heavily involved in the Automotive Community as an automotive enthusiast and influencer. Her car collection includes a 2012 Audi R8, 2019 Toyota Corolla Hatchback, and a 2002 Mazda Miata SE which was purchased for racing.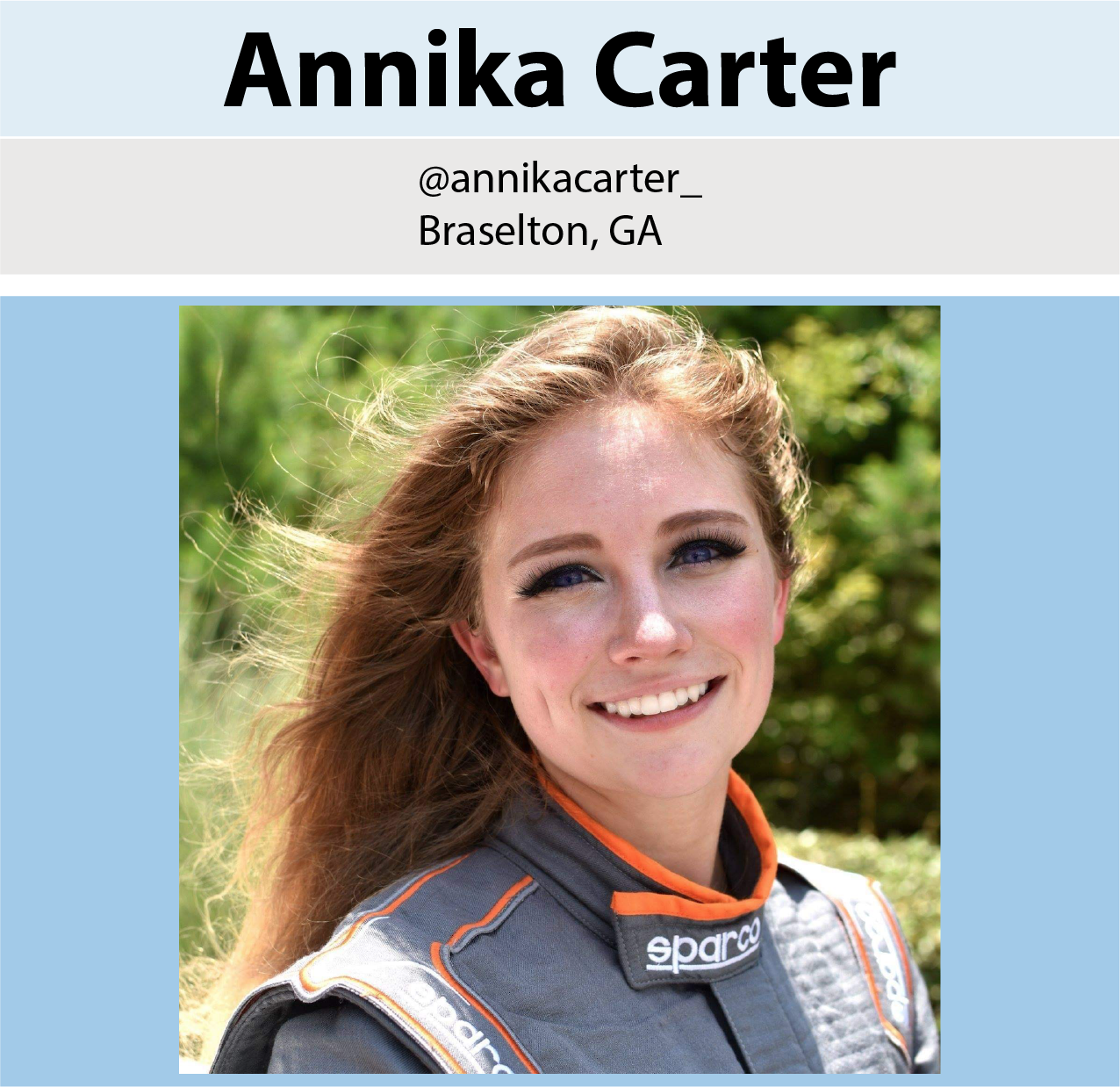 -Click photo to visit Instagram link-
I have not been a car person my whole life. No one else in my family is into cars. I'm not really sure where the obsession came from (and yes, obsession is definitely the right word). My parents offered to buy me a car to convince me to go to college in-state, where I had scholarships. I wanted something unique and initially fell in love with the Scion FR-S. Long story short, my parents thought the Scion was too small and ultimately surprised me with a 2014 V6 Mustang.
Even having a more "unique" car, I couldn't just leave it at that. I wanted to modify my car to make it my own, and I was too cheap to pay anyone to install the parts. So I guess I really first got into cars from a mechanic side! Less than six months after getting the Mustang, I purchased lowering springs and took to YouTube to learn how to install them. I also began attending car meets where I met some of my best friends.
Flash forward about a year, and I buy coilovers for my car. A couple of my friends flagged at Road Atlanta and told me, "You can't buy suspension like that and NOT take your car on track!" ....So I did. December 2016 I did my first track day at Road Atlanta and had a blast! I was " bit by the bug," as they say, and knew racing was what I wanted to do.
After tracking the Mustang during my High Performance Driving Education (HPDE) days, I decided to purchase a Spec Miata to race. In April 2018 I completed competition school and competed in my first wheel-to-wheel race. Since then, I have done a full season of Spec Miata and am currently building the Mustang for the Gridlife Touring Cup series. I have also gained my instructor certification and have instructed with groups like Primal Racing School and the Porsche Experience Center.
While I love driving and racing the Mustang, the Miata is my true passion. I strive to compete in Spec MX5 and eventually Global MX5 as I further my still-young racing career.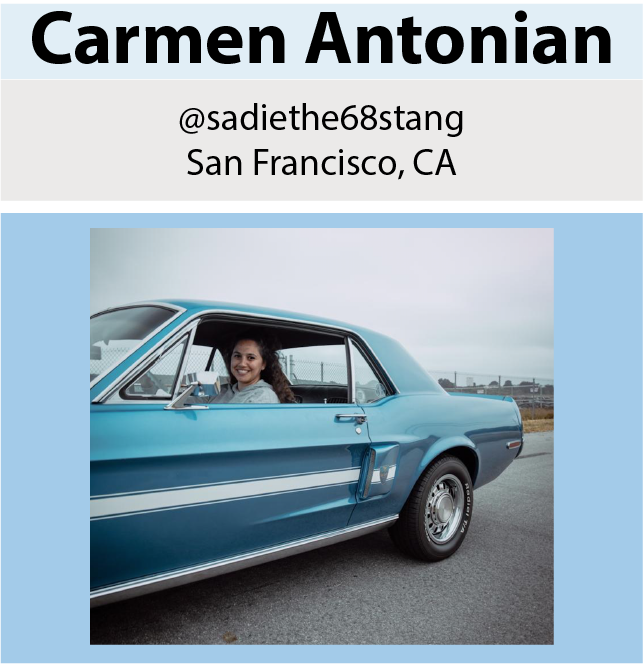 Photo credit: @gelstang
-Click photo to visit Instagram link-
Cars were always something I was attracted to. I grew up playing with Barbies and Hot Wheels! My dad would talk about his 1972 Mustang and how he would drive it around with my mom. I would always ask him angrily why he sold it and his response would be, "How was I supposed to know I would have a daughter who loves Mustangs!" It wasn't until middle school that my attraction to Mustangs began. I loved the lines of the Mustang and how the car carried itself as a true American car. Every year, when the latest model was introduced, I would have my parents drive me to our local Ford dealership so that I can pick up a brochure about the latest colors and features. As if that wasn't enough, I bought diecast models of Mustangs and displayed them in my room along with Mustang posters lining the walls. I was hooked and dreamed of the day that I would have my own Mustang.
Fast forward to a night in 2016, when my husband was doing his daily Craigslist browse of cars, he came across this 1968 High Country Special Mustang in Fairfield. I immediately lit up and wanted to go along for the ride to see the car. When I saw the car in person, I was immediately hooked. She was beautiful. I knew this would be it and the rest is history! After all these years, I can finally say, I own a Mustang!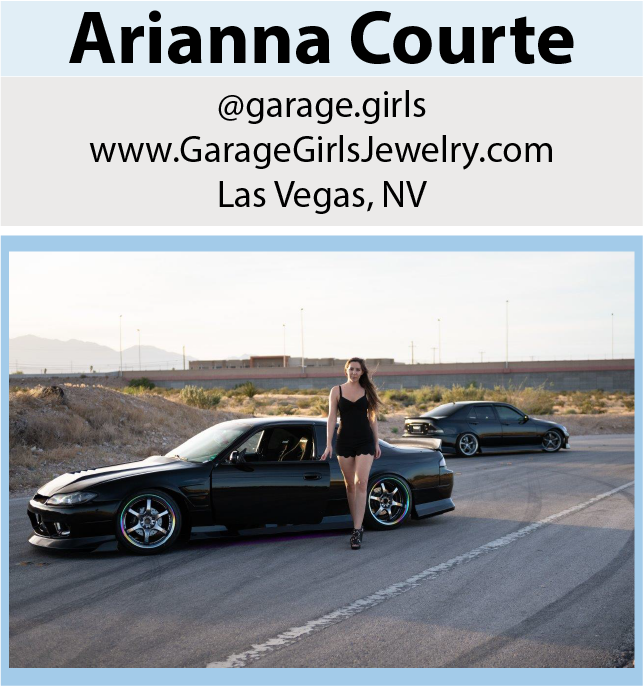 -Click photo to visit Instagram link-
I grew up in Chesterfield, MO at Gateway Motorsports Raceway and started driving at the age of 8. My father had a TVR Tuscan (which was my first inline 6 and manual car I learned to drive on), a Pantera along with other fun cars. I was 13 years old when I took my first pass down the track and was hooked..literally and figuratively. Throughout the years I participated in drag racing, then auto cross and finally drifting. At the age of 21 I made the journey to the West Coast – Las Vegas NV to pursue the automotive world. From 2013-2017 I partially owned/managed a professional Formula Drift team and performance shop. I have since managed another Formula Drift team, SCCA team, pursued the exotic world as a specialist for Ferrari/Maserati, and am now in the world of commercial real estate in retail. Being quite the entrepreneur, I have a marketing and consulting agency for small businesses such as mine.
In my free time I enjoy business, traveling, eating, and playing with cars. I recently took a month long trip to Europe with Adventure Drives. I raced on the Nürburgring, drove the Autobahn, enjoyed Monaco, Switzerland, Italy, France, Germany, Prague, and London. When I returned to the states I flew straight to Car Week, and participated in the Daily Driven Exotics 'Members Only Rally" where we raced up the coastline to Monterey and Carmel of the Sea. The Quail was absolutely incredible to experience as it showcased over $1 Billion in crazy exotic cars. Otherwise you can usually find me at my desk, eating sushi, steak & lobster, or spontaneously traveling around the world. :) I've been called ambitious and driven (get it) a few times ;)
Here's my lineup below..
1. Black on black 5 speed Lexus IS300 (my first born)
2. S14.5 240sx with an SR20 swap that I drift for fun (street car)
3. 350Z
4. TVR Tuscan
5. 300ZX
6. M6
7. Daily driver IS250
How Garage Girls came to be:
I had been searching for years for jewelry & accessories for women. I found close to nothing when it came to rings, necklaces, and things like that. So I decide to take it upon myself to make my own line of jewelry & accessories for women and men! I'm proud to say this business (that started out as a personal hobby) has grown into something I never thought possible. I strive to provide the best quality from my manufacturers and set a fair price point as well. Most of my products are hand made by me. I enjoy promoting a healthy, supporting, and uplifting role as a woman in the motorsports community. Also, I thought it was unfair that guys had all the cool stuff! So here it is, enjoy everyone! Thank you so much for supporting my small business.
In doing so, you're supporting a dream.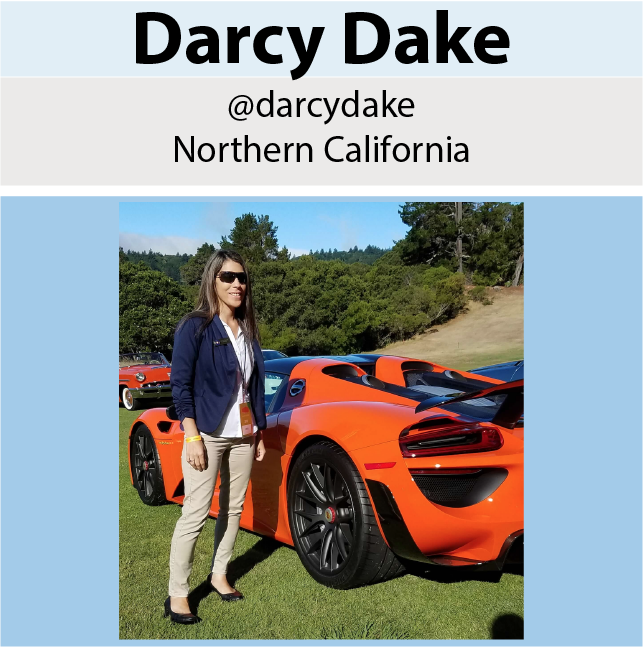 -Click photo to visit Instagram link-
Hello! My name is Darcy, and I'm from a small town in Northern California. My interest in cars started at a young age. I can remember going into my brother's room where he had torn pages from car magazines and taped them on every inch of his bedroom walls. I would stare at them for hours! One of my favorite cars that stood out the most, was of course the beloved Lamborghini Countach. It's still one of my favorite cars!
I didn't actually get involved in the car scene until my twenties. No one in my family was really into cars as much as I was when i was younger, except for my Grandpa. I loved riding with him in his Datsun and his dune buggy. He was quite the speed demon! I'm sure that's who i get it from. ?
I started volunteering at our local Car show in 2007. I joined the Chico Concours d' Elegance board in 2015 to current. I also became an SCCA judge for the Northern California region in 2015 to current. It brings me so much joy to be able to judge these beautiful classic cars. My favorite thing is to hear each participants story about their car. Some people have generations of family members restoring their cars together. How cool is that!? The car community brings so many amazing people together. My goal is to judge at more shows and be more involved when everything calms down. I don't have a special car in my life yet. I'd love to restore my own one day.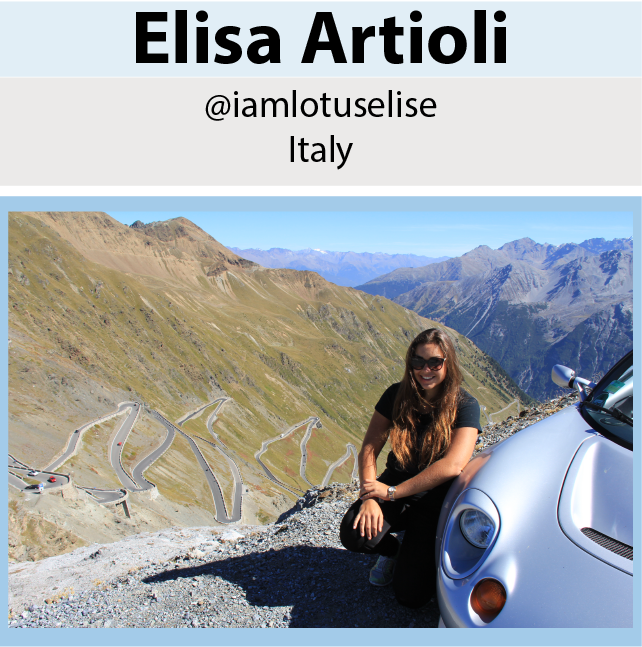 -Click photo to visit Instagram link-
I am Elisa, the namesake of the Lotus Elise.
I got my Elise in 1997, as a present by my grandfather Romano Artioli as a reward for my good job presenting the Lotus Elise at the Frankfurt motorshow in 1995.
I grew up with my Elise, I was only 4 years old when I got it. Of course having such a special car named after me had and still has a big impact in my life.
I travel quite a lot here in central Europe and I organize car meeting and roadtrips that I share on www.delightfuldriving.com
My favorite place to drive are the Dolomites, because it is our home were we grew up and we know all cornes by heart.
I love when ither car enthusiasts join me on my adventures because a shared experience creates the best memories.
If you want to know more about me and my 1997's Elise check out my instagram @iamlotuselise
If you are a delightful driver like me and you want to join some roadtrips in central Europe – stay tuned with upcoming activities on @DelightfulDriving.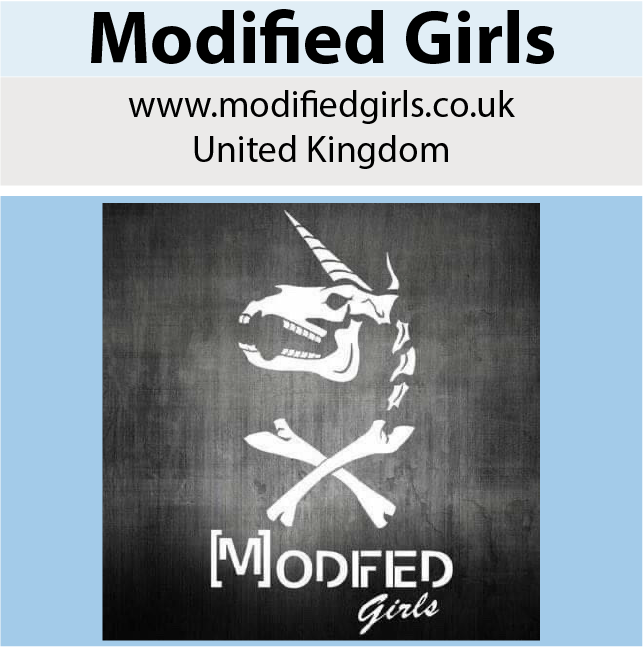 -Click photo to visit Website-
Modified Girls is an international car club, which predominantly shows in the UK. We have 8,000members, a reach of 2million on Facebook and 32k on Instagram. We have been going for 5 years and have created a private forum on Facebook for like minded female car enthusiasts to meet each other and post content/questions. We love to support and bring people together and we have a team of 12 admins based all over the UK who help run the club. We are also a brand and sell clothing, merchandise designed by women for women in the car scene. We have an excellent reputation and always go the extra mile at our shows and for our members. Check us out at www.modifiedgirls.co.uk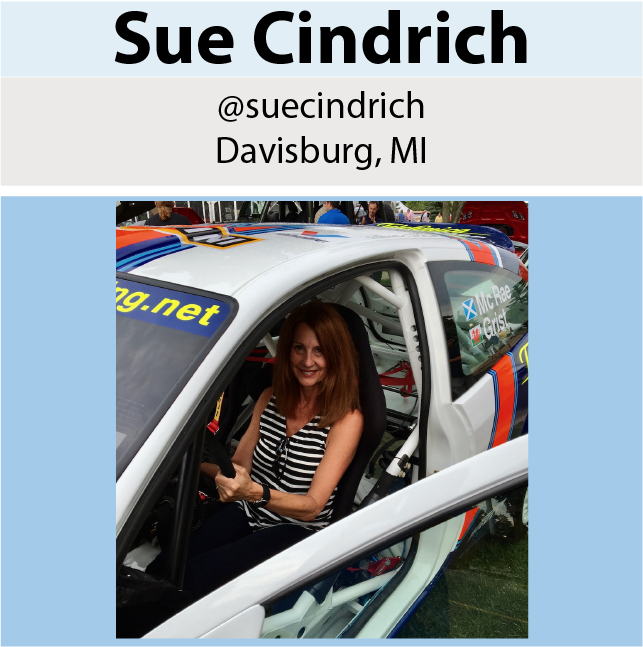 -Click photo to visit Facebook link-
Speaking French, it was fun working for S.E.V. Marchal & CIBIE, St. Clair Shores, MI, as race support. We supported most Pro Rally Group B rally cars providing high-performance lighting. We also supported endurance racing - Baja 1000, Daytona 24 hour, Sebring 12 hour, 24-hour LeMans, and the Pikes Peak Hill Climb the year Michele Mouton won. A very fond and memorable experience was SEV sponsored P.L. Newman Racing in the Trans Am Series. The driver was charismatic and professional. I was busy readying the cars and race teams, I did't realize until after the event it was Paul Newman himself! Now that's a great memory!
My husband and I always had classic cars and motorsports were a part of our life. After he passed away, I got back into rally as a volunteer assisting with timing and scoring. The famous POR Rally, now known as the LSPR Rally (UP of Michigan), SNO*DRIFT (winter and summer), SOFR in Ohio, and the Empire Hill Climb.
I also worked for AUDI 2013-14, and because of the rally scene, I became friends with Paul Eddleston, BRAID Wheels USA and Team Illuminata, and I had the opportunity to work with the Quattro Squad as their photographer. In 2014 and 2015, I was part of the design team for a large aftermarket parts company's booth at SEMA. That was a great two years working the show.
I currently drive an Audi S3 taking it to the track whenever possible. Living in Metro Detroit, it's (except 2020) usually a continual car show and events!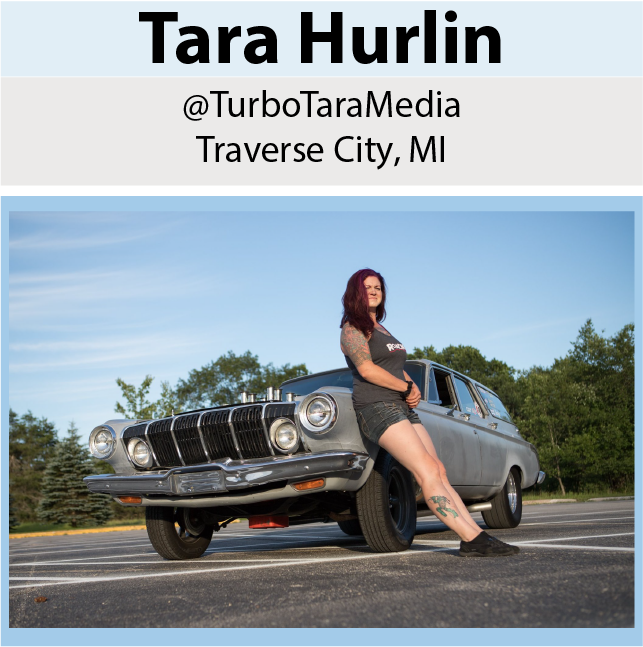 -Click photo to visit Instagram link-
I always appreciated cars from an early age, however my parents were not all that interested in automotive and my dad was somewhat of a car repair hack. He did what he could do to keep things running on a budget. It wasn't until later in life that I really became involved in the hobby and the industry. In 2013, I purchased my first "fun" car, a manual transmission Chevy Cobalt. I had no idea how to drive a manual transmission, but I learned the day I drove it off the lot. However, the car was bright yellow and I got pulled over constantly, even doing the speed limit. I sold it and purchased a 2004 Mazdaspeed Miata. Right around that time I started dating my now-husband, who is a ASE certified mechanic and absolutely thrilled that I am into cars. I dreamt up what I wanted the car to be and together we modified it into a fast little track car. I have a bit of car ADD and sold it after 3 years. Today I have a 1963 Dodge 440 drag car, a custom 1961 Cadillac Series 62, and a 1988 Mazda RX-7. I also have my workhorse 2018 Toyota Tacoma and an off-road camper for staying the night at race tracks, or when I have time off, my overland adventures. My husband has a handsome slammed 1986 Chevy C10, and we share ownership of a jet boat. (Yes, I own the majority of the vehicles because I am rather impulsive in my purchase habits.)
I spend as much time as I can attending motorsports events and car shows to feed my addiction, and also as my side gig as an Automotive Journalist and Photographer. My published work dates back to late-2013 in Throttle Gals Magazine. My work can also be seen in Grassroots Motorsports Magazine, The Shop Magazine, Motortrend/Roadkill/Hot Rod, Driving Line, Hemmings, Hagerty magazine, and Rally-Ezine... I'm certainly forgetting some names. When I'm at home and not writing, I enjoy researching and working on my car projects in our shop (they are never done).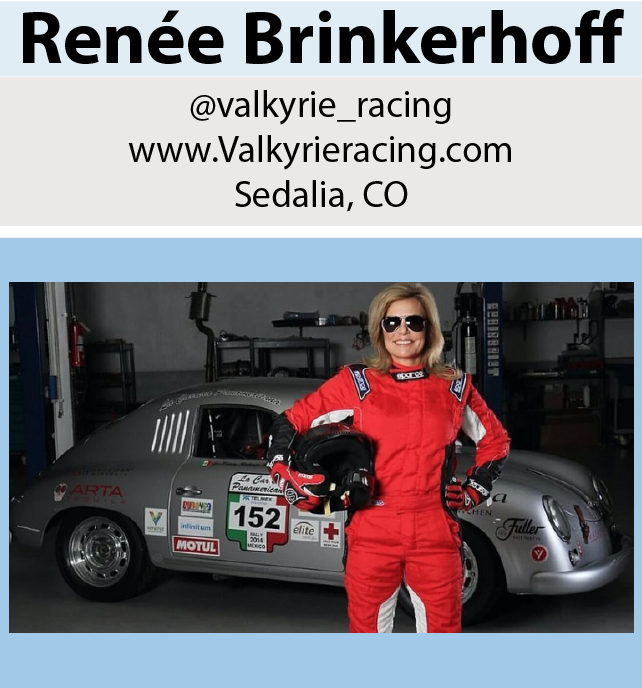 -Click photo to visit Website-
One Driver, One Car, One Mission. Renee Brinkerhoff, a 64 year old mother, has been racing around the world and is now taking her 1956 356a Porsche to Antarctica to help raise awareness about child trafficking.
She turned her hobby into Valkyrie Racing and launched the Project 356 World Rally Tour to raise awareness about child trafficking and money to help fight it, working with aid groups around the world, including Kenya's HAART Foundation in Kenya and The Exodus Road in Colorado.
The next stop on the tour is Antarctica's Union Glacier, where she'll drive the Porsche on a 356-mile route she mapped out with polar adventurer Jason De Carteret. The 356 is being converted with tracks, skis, solar panels and a front crevasse bar to keep it from falling into hidden cracks in the ice. When it's complete in October, it'll be put on a ship and sent to Chile, from where the team will fly with it to Antarctica early next year.
What an inspirational woman and honorable cause! 20,000 miles, 18 countries, 7 continents
Raising awareness and funds to fight child trafficking
Note from diggymart: Click the above website. 100% of every donation goes directly to support frontline organizations working to combat child trafficking.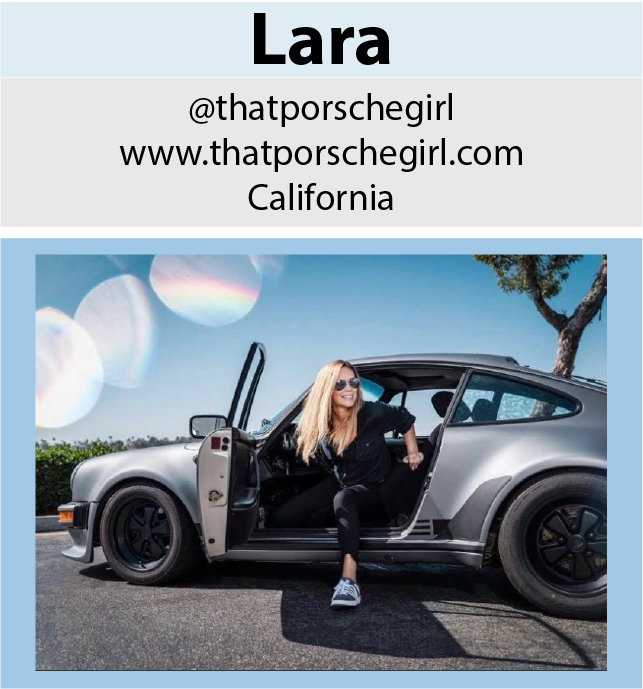 -Click photo to visit Website-
"One evening, my mom took me to her friend's house to check out her new car. It was a brand-new Porsche and she was a single woman. I was 12 years old and this was the first time I had seen a woman driving a sports car that wasn't her husband's. At that moment, I knew I wanted to own a Porsche, too. I thought she was so cool, and I wanted to be just like her. When I was 22, my boyfriend at the time had a red 1990 Carrera 2 Targa (964), and it was the first Porsche I ever drove. From time to time, he would let me take it and it changed me.
The first Porsche I bought was a 2007 Carrera convertible. It was the day before Valentine's Day in 2010 and my boyfriend and I had just broken up. I had been serious about buying a Porsche for a while, so I went to a used dealership in Newport Beach, California, and asked about a silver convertible they had on their lot. The salesman turned out to be a complete jerk and I headed over to Newport Beach Porsche and said, "I want a black-on-black convertible Carrera, do you have one? You have five minutes because I might change my mind." We took it on a test drive, and I walked out with the car that day. I drove it for seven years and loved it.
So far, I've owned a 2007 Carrera Convertible (997), 2008 Cayenne Turbo, and 1984 928S Euro, and currently in my garage are a 1982 Porsche 930 Turbo, 1969 911T, and 2015 Macan S . Porsche cars are reliable and what I like the most about the brand is that they have stayed true to their design aesthetic. I have always loved the 356 Speedsters, but owning two classics, I'm really in the mood for a newer Turbo or Turbo S.
The last time I embarked on a long-distance trip in a Porsche was in the Macan S from Newport Beach to San Francisco. I don't normally go very far in the older cars. The Macan is always very comfortable and roomy for long trips." ………from "Automobile Magazine" interview Oct 2019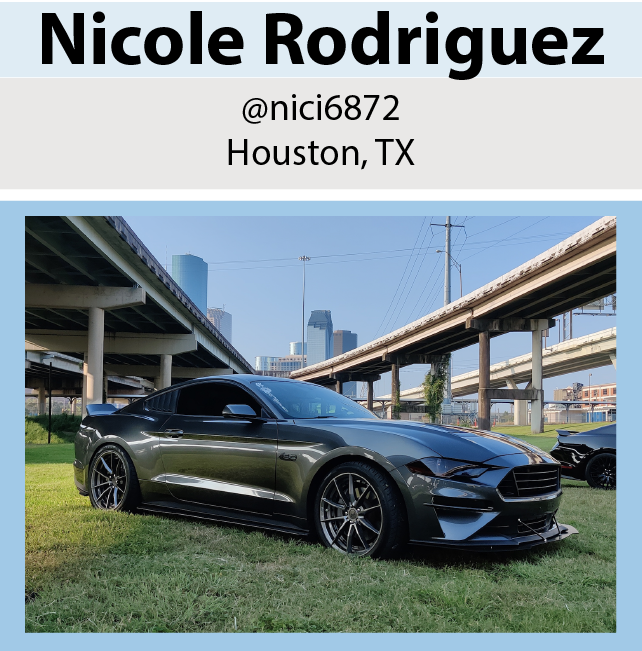 -Click to visit Instagram link-
Storm is my 4th mustang and probably my most ambitious project. I've always been more about power than beauty and she's going to be a combination of the two. My last mustang was boosted with a 2.3l Roush supercharger. I got in an accident back in April and the car was totaled. I was very upset over it and in a lot of ways am overcompensating with my current build but I really started to appreciate her for what she is becoming. I decided to stay n/a with her for now because I'm really having fun with her. I love taking her to the track every time I add something just to see the little improvement and it's been a blast. I live in Houston which has a huge car community and any build imaginable. We have 2 tracks, meets and shows just about every night and I wouldn't want trade it. The car community and the people and cars I have met so far from all over the world hold a special place in my heart forever and truly have become my family.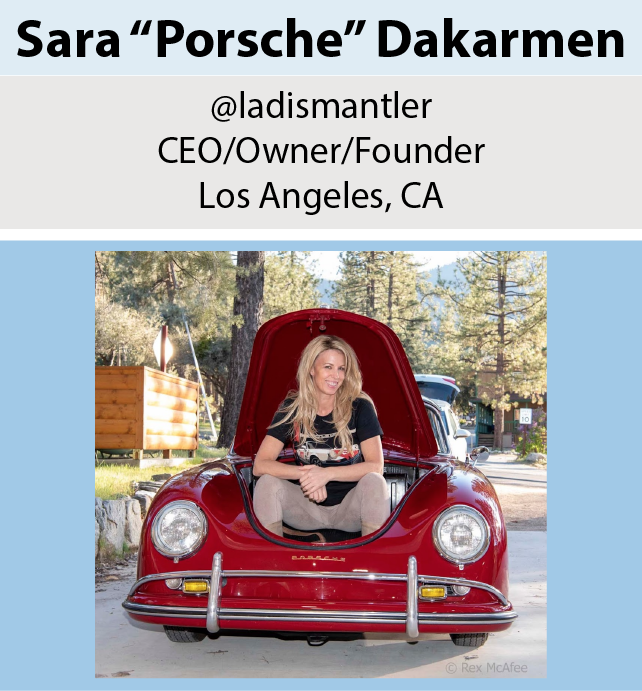 -Click photo to visit Instagram link-
Keeping Porsches on the road globally 22+ years
Board member Porsche of America (PCA LA)
IG: @PorscheWomenGlobal
My dad got a Porsche when I was 10, met my late husband at 20. If I wanted to date him, I had to sit in a cold garage while he tinkered on his Porsches. We started our company LA Dismantler in the 90's and became the most sought-after Porsche parts distributors worldwide. My husband passed 3 years ago, so I had to take back the reins while raising 4 girls homeschooled. The business continues to expand globally, and as a widowed mom and entrepreneur, I have my 4 girls by my side as we grow together.
LA Distmantler has become one of the world's largest late model Porsche salvage brokers and dismantling providers of recycled, second-hand and pre-owned Porsche parts for restoration and project owners, dealerships, mechanics, racing teams, Motorsports technicians, engine builders, body shops and repair facilities. The name has become synonymous with customer service, integrity and reliability.
I've enjoyed many Porsches from Boxster to Carrera GT to Cup to Exotics, Bentley/Luxury to H1 Hummer, Ducati.
I love the community and connecting to people, especially women, who share the same love and passion that I do. Going to events, shows, auctions also my "social media" friends and running my Porsche People Chat Live Series, are opportunities to get to know all the amazing people in the industry.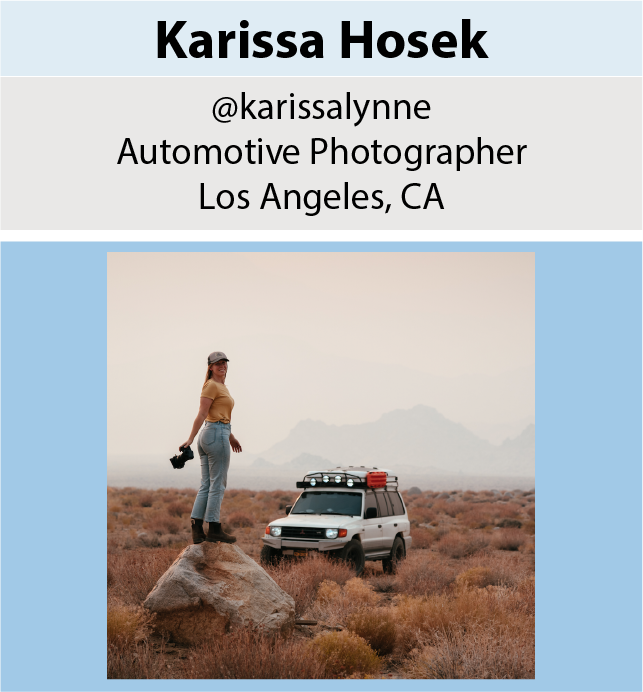 -Click photo to visit Instagram link-
Karissa Hosek is a commercial automotive photographer based in Los Angeles. She's a gearhead who has a passion to create. Karissa merged two hobbies and formed them into her career. Growing up in Texas, she was surrounded by car culture and worked as an installer at her family's car audio shop. She has always been a hands on individual. She would wrench on her 1994 Mazda RX-7 at the end of each work day and turned it into the 450rwhp beast it is today.

Karissa lived and breathed car culture through local meets and at track days. She found photography as her creative outlet. There was no better subject could she have been inspired by than cars and their automotive design. She saw the way light would fall on the body lines of a car, and how it would change its shape and definition. That was something she obsessed over. As the passion for automotive photography grew deeper, she moved out west to pursue it as a profession and studied at the Academy of Art University in San Francisco. After graduating, she made her way to Los Angeles. She is now living the dream she always envisioned. Photographing for clients such as Hyundai, BMW, RM Sotheby's and many others.

The automotive culture in Los Angeles is so diverse, fun and welcoming. One day you are at a Porsche event taking in the passionate atmosphere, that evening while you are shoveling street tacos into your mouth you spot some of the most stunning paint you've ever seen on a lowrider. The next morning, you would be having coffee at an overlanding meet checking out rigs that are built for touring, or crawling.

Karissa's life has changed a lot since she moved from her home state where ¼ mile races and drift events were in regular attendance. Since living in California, she finds herself at Raceways staging a vehicle for pre-production photography. When she's not working on set, the great outdoors are her stomping grounds. She often finds herself down dusty roads in the middle of nowhere to take a break from the hustle and bustle of the city. It's the fresh air, the slow pace that grounds her back to her country-living roots. Inspired by travel, van life, and the minimalist lifestyle, Karissa now lives part time on the road in her Mitsubishi Montero that is fully outfitted to be off grid for weeks at a time.

That is the thing about the automobile and the diversity of that culture. It not only guides you down the road, but also through life's chapters. All while meeting incredible people along the way. The way you use the vehicle may change, but the passion for the four wheels turning, the excitement behind making it yours and the grin it puts on one's face remains the same.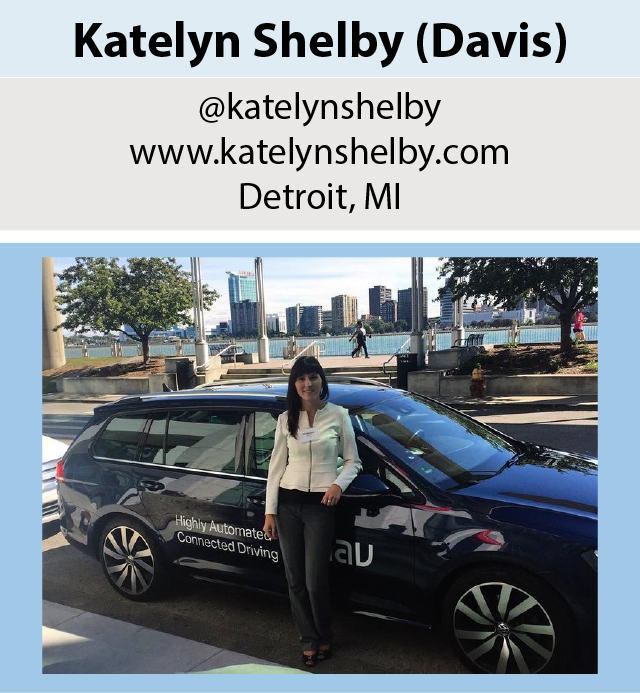 -Click photo to visit Website-
When I was born, I was named after my father's idol—Carroll Shelby who was best known for his collaboration with Ford on the Shelby Mustangs. You see, for my dad, Shelby was the epitome of greatness. Shelby took a car that was already best-in-class and made took it to the next level. A lot of pressure for a newborn—so instead of a first name, it became my middle name.
I ended up growing up surrounded by cars. And with auto in my blood, I have kept my career engrained in the industry having worked on the OEM, Supplier, and Agency sides of the industry in corporate affairs, communications, and marketing. I have overseen award-winning social media campaigns as well as have been an advocate for the industry through communications and marketing strategies. At one point I was the director of Michigan's automobile and mobility industry association. Now, I am at a strategic communications agency where I get to work with automotive and mobility companies who are revolutionizing the transportation industry including the North American International Auto Show. In every role that I have held, I make it my personal mission to take what is already great and amplify it just like Shelby did.
Over the course of my career, my love for auto led me into a much more broader passion for transportation and mobility, an industry that was born out of the union between the automotive and technology sectors—revolutionizing the way the world moves. Both the tech and auto industries are prominent spaces for the legacies of "boys clubs"—something I've grown to know all too well. However despite the patriarchal pedigree, I've been able to witness a growing movement in female leadership in mobility that is incredibly inspiring. I've had the pleasure of working with and hearing from some of these amazing women over the last few years. These women are designing and engineering some of the most innovative technologies and platforms that are driving the future of how goods and people move and the spaces, communities and roads they move along. Seeing and celebrating their successes has been one of the best parts of my journey.
While these women spend their careers doing this work, most of their prodigious stories are still untold. Until now.
Earlier this month I announced that I would be co-authoring a book centered around the accomplishments of these highly successful women and understand the motivations and implications of their developments on society. With input from across the country, this book will feature diverse thinking and insight, as well as case studies, meant to inspire others and give a voice to the untold stories and unrecognized innovations that are changing the way we all live.
I invite you all to be a part of the #WomenDrivenMobility project. Follow me to learn more about the writing project and learn more about how you can support and participate. You can find me on Twitter and Instagram at @katelynshelby or at katelynshelby.com.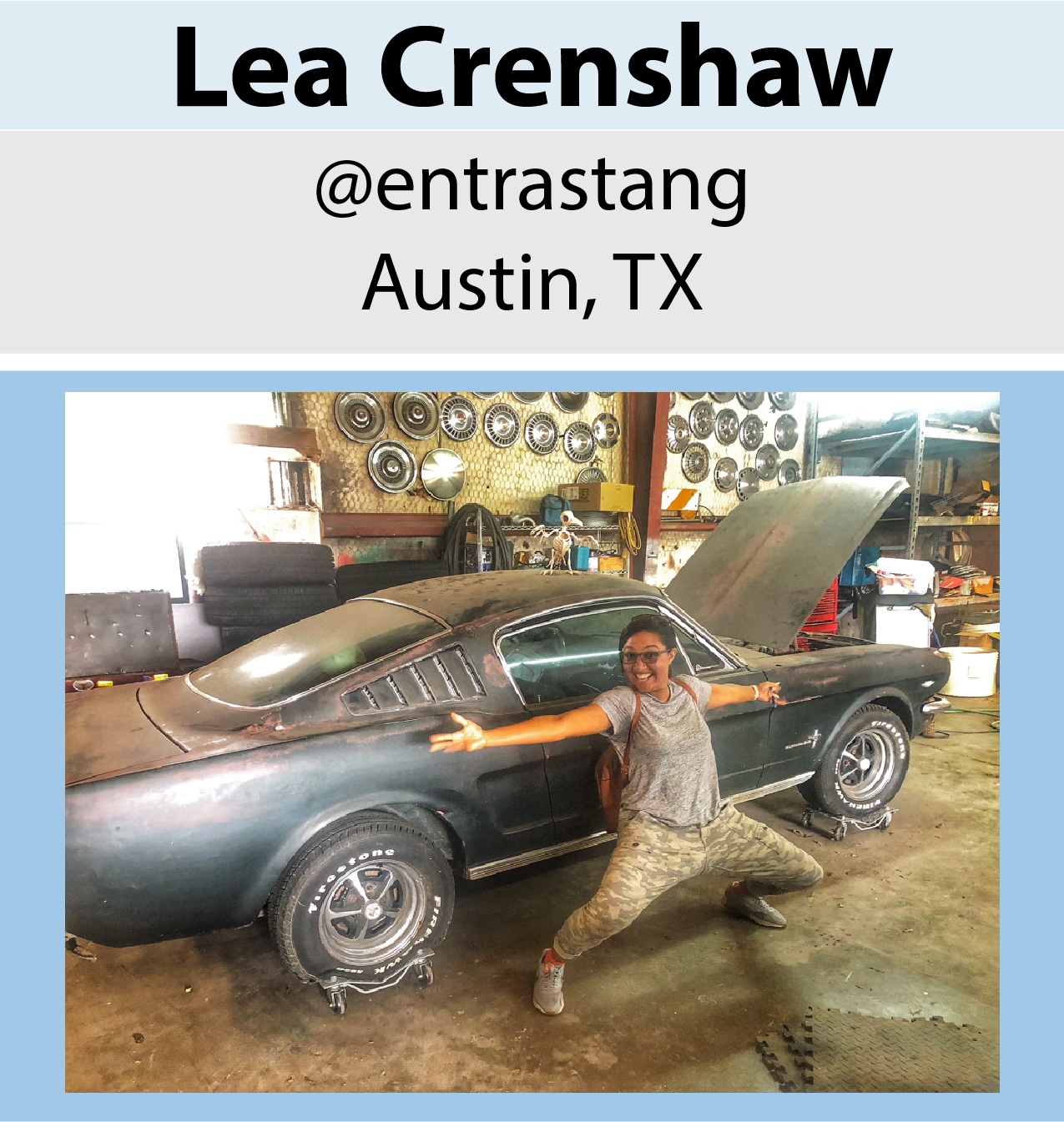 -Click photo to visit Instagram link-
I've grown up around cars. Tomboy at its finest. My dad use to buy, work on & sell classic cars. At the wee age of 13 I was 'given' a 1970 ugly green mustang. My after school activities included sitting in the car pretending to drive, which meant out running the cops. Unfortunately I was unable to keep the car as it really did not belong to me but that was not the last I had of enjoying these beautiful classic cars.
Fast forward to 2017 and I found a 1964 1/2 Mustang Coupe listed on craigslist. This car was being sold by a 17-year-old who had bought it from a professor who hardly drove it. This kid wanted a corvette and I wanted his Mustang. As you can imagine I bought the car, drove the car, spent money on the car, loved the car and then sold the car. I never intended to keep that mustang but it was a segue into finding a fastback locally owned that I could restore to become my own.
And I did just that.
May 16 & a Facebook Marketplace caught my eye. 1966 Mustang Fastback 2+2 in Copperas Cove. Imagine, the car I wanted in my backyard. Best believe, I went & bought it. Cash in hand! Now I'm the proud owner of EntraStang....... let the story begin.
The name.... Interesting Mustang.... Entra-Stang. Get it? (giggles)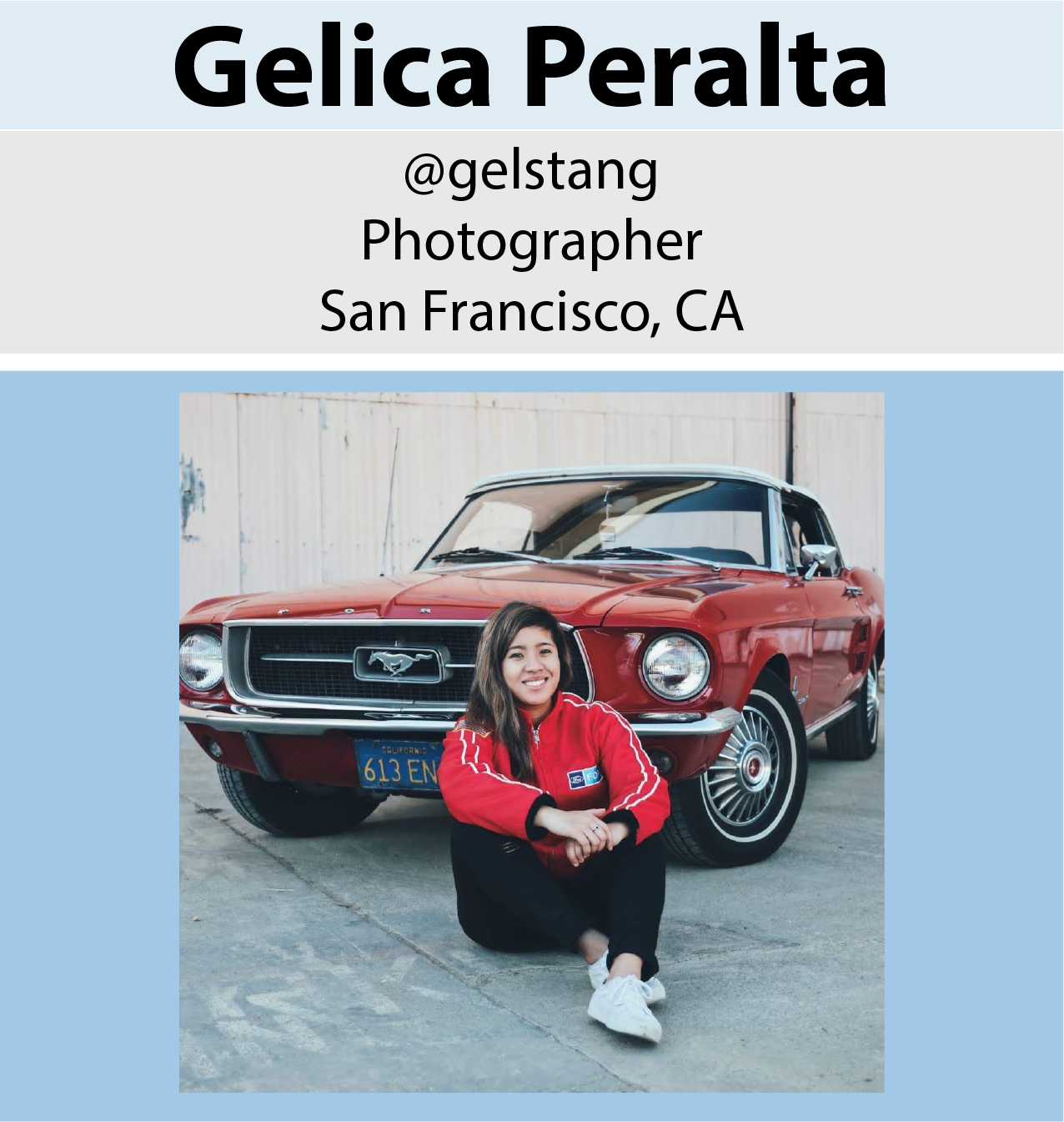 -Click photo to visit Instagram link-
My passion for cars started at a young age where I would play Hot Wheels with my cousin. We would pretend we were race car drivers, racing our Hot Wheels over the living room floor, and it got to a point where we eventually memorized every car we had as far as make and model.
Growing up, I was surrounded by nothing but Chevy's since my dad owns a 1969 Camaro, so my passion for Mustangs was kind of out of the blue. I went to quite a lot of car shows with my dad and at the shows I spent a lot of time taking photos of my favorite cars. When you look at those photos, you can notice almost 80% of them are photos of Mustangs. There was just something about Mustang that drew me in, specifically the first generation. The way the car looked, the body lines, the story of how Mustang came to be, and everything in between. It's simply one of America's most iconic cars!
It wasn't until March 2018, I attended a local car show with my dad and as we were leaving the parking lot I saw my dream car for sale; a 1967 Mustang, red convertible with a white top, and a 289 V8 engine. At the age of 19, it was an opportunity I couldn't pass and I pulled out a good amount of my savings, got a loan from the bank, and the rest is history.
Fast-forwarding to today, I'm now 22 and I've had my car for about 2 1/2 years now. I'm slowly restoring my Mustang, trying to keep it classic, but with modern touches. I've made a lot of friends through the car community whether it's through Instagram or attending local car shows and have taken a ton of photos/videos of other people and their cars. I'm not sure what the future holds, but as of right now I just love taking photos and putting out content through social media in hopes to inspire other people and younger generations to get into classic cars.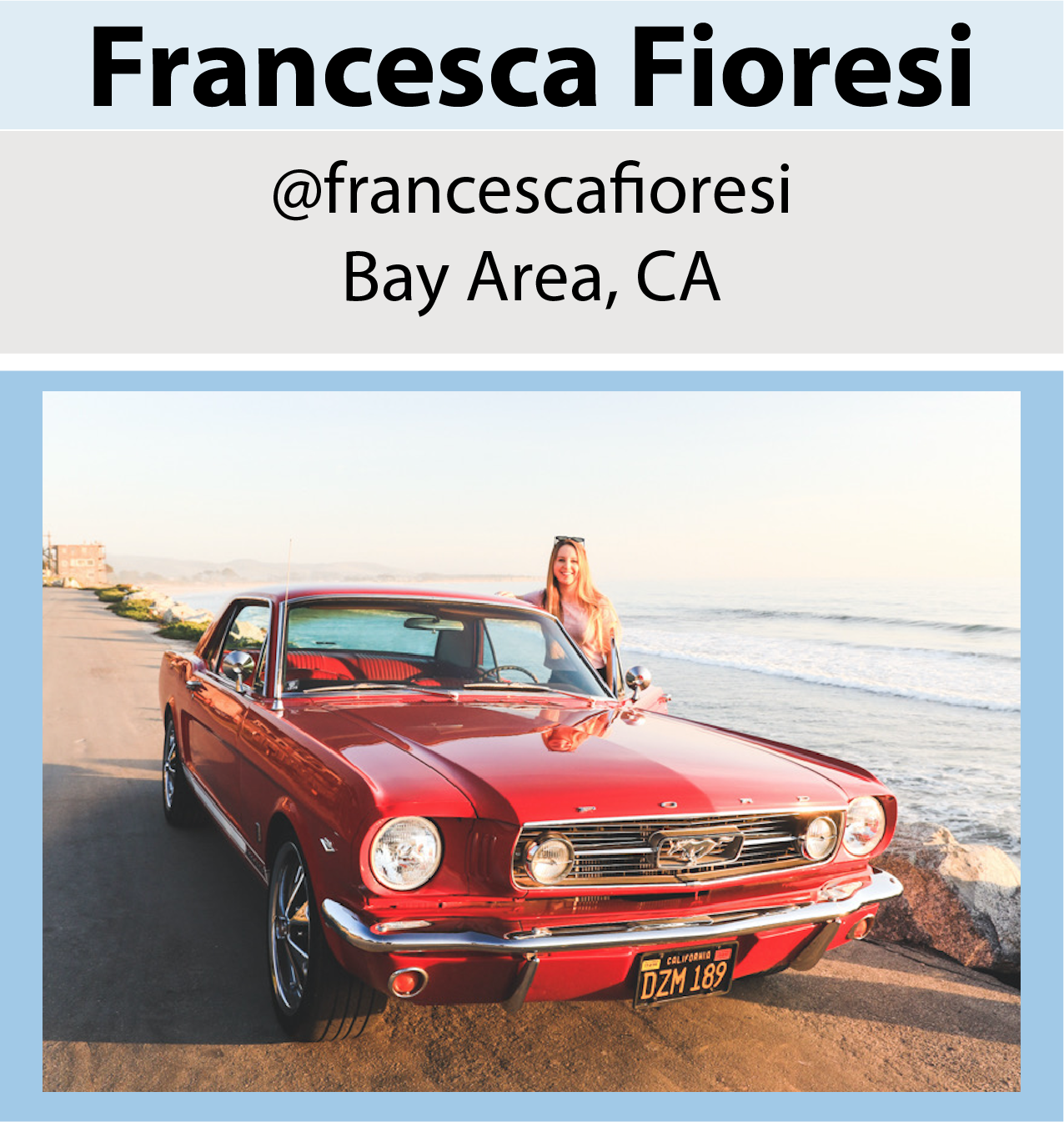 -Click photo to visit Instagram link-
My interest in classic cars started from a young age. My dad would spend hours in the garage working on his Mustang and our weekends were often spent heading to the local car shows. I knew I wanted a Mustang of my own, so as I got closer to the driving age, we began searching. After a few years, we came across the perfect car: a one-owner red on red 1966 Mustang GT. It checked all the boxes and then some. I've had it for nearly a decade now and I still love driving it as much as the first day we brought it home. I've met so many people, visited a bunch of new places, and formed so many relationships because of my car. I'll always be grateful for that.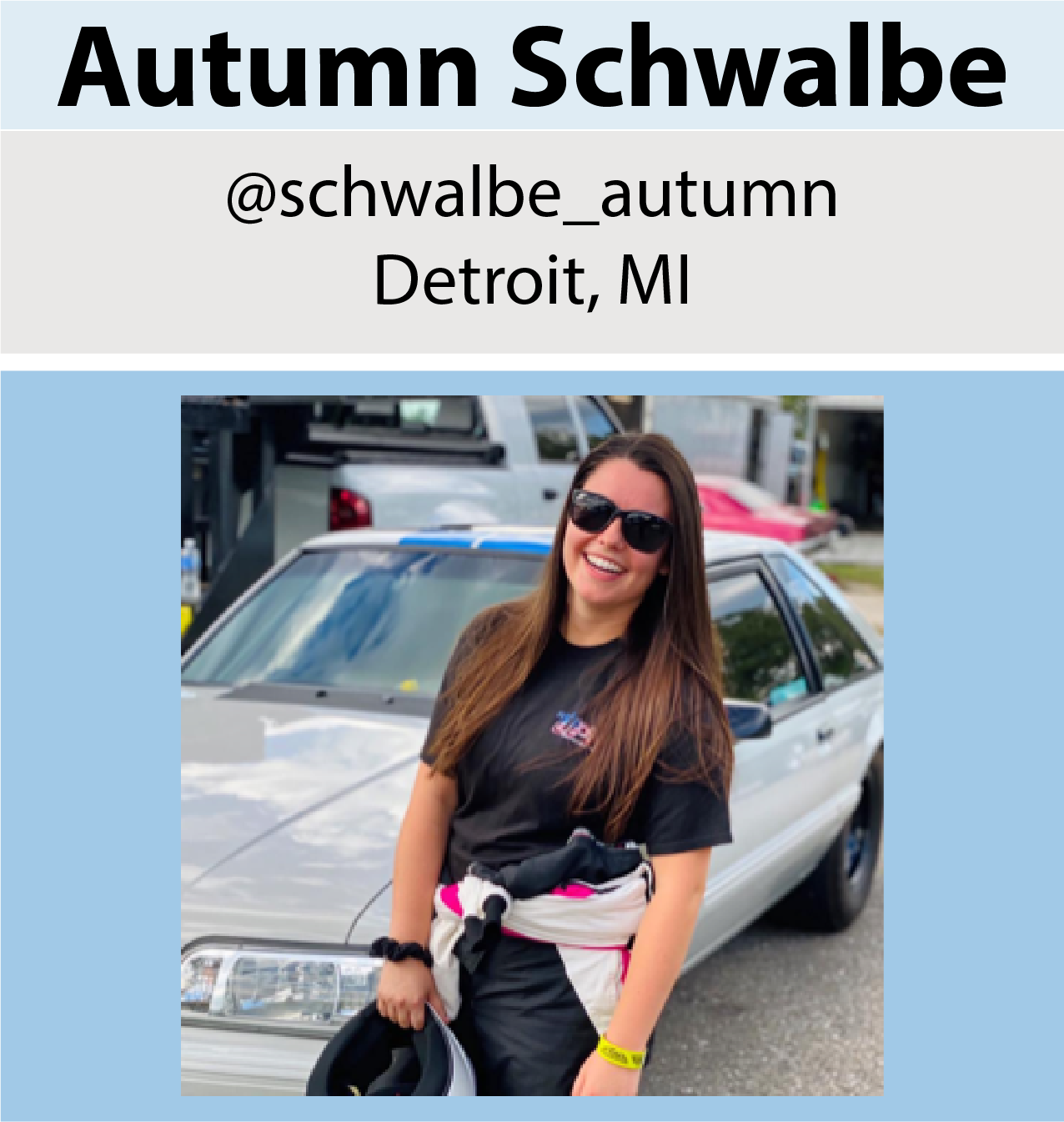 -Click photo to visit Instagram link-
My name is Autumn Schwalbe and my automotive story starts as a baby. I grew up in Metro Detroit also known as the Motor City with parents and grandparents that love cars and trucks. I grew up going to car shows and semi truck shows. I knew from a young age I wanted to race my own car and I did. My first car was a lifted F-150 and then I wanted a mustang to race at age 15. My first mustang was a red 1993 Foxbody mustang 5.0 with a supercharger. I drove it everywhere I could. I started bracket racing it and became pretty good. I went to races around Michigan and Ohio. I did very well in High school and even won the High School Nationals as a senior with my mustang.
After high school, I knew I wanted to make my passion for automotive into a career. I attended Northwood University and majored in Automotive Aftermarket Marketing and Management. There were not many girls in my classes and that didn't stop me. I joined many clubs and organizations in college to help build my resume. Northwood University gave me the connections and resources to be a successful woman in the automotive industry. Today I have recently graduated, I have my dream job because of NU alumni that helped me gain internship experience as a student. I love helping future students with their automotive passions. I have been a public speaker at many recruiting events for Northwood and will always support my school that I love.
While in college, I traded my first car, the lifted f-150 for a Ford Raptor. I plan to do some aftermarket changes but not many. Also while in college, I started a project car with my dad. I bought a 1989 Foxbody mustang roller and had the plans to make it my race car. It is now driving and at tracks in Michigan. I swapped the roller to a gen 2 coyote motor with a c4 trans. I plan to keep it stock as I get used to the set up but in the future I see a supercharger being added. I love going to the track with my friends and family, once my mustang is where I want it to be I will travel the country and go to as many races as possible.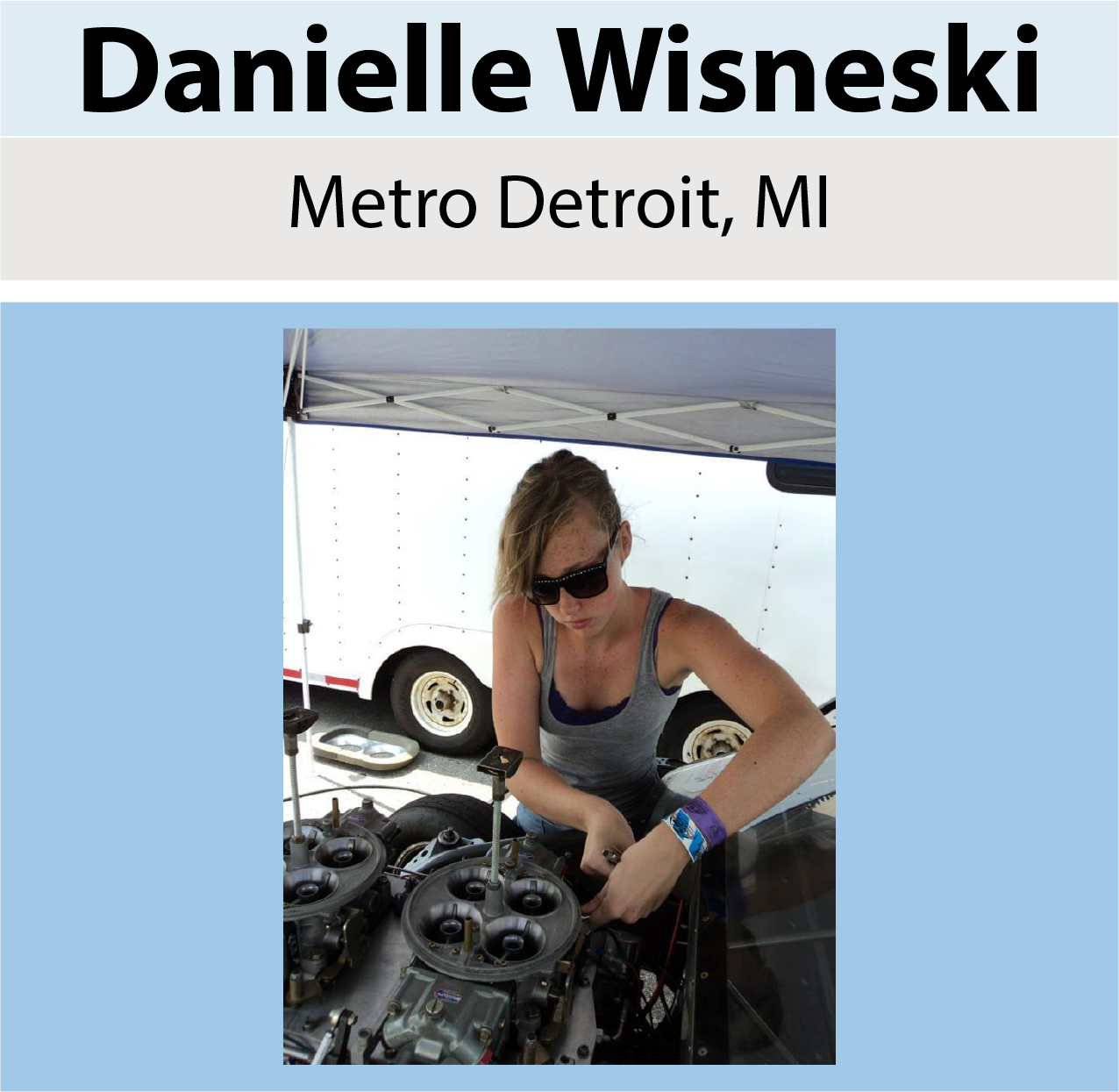 My passion for cars was largely influenced by my Father. Growing up, we spent our summers at the racetrack and winters in the garage working on the racecar, in preparation for the upcoming season. The only early memories I really have of my childhood are all based at the racetrack, car shows, or sitting in the garage watching my Dad work. The entire family was into racing, and still is today. Mom raced an 89' Mustang, and seeing as it was the only street-legal racecar that we owned, some of my fondest memories are being picked up from preschool and taking off out of the parking lot with a tire squeal and a bit of smoke. My Uncle Steve traveled the world racing asphalt snowmobiles, and my Grandfather was known at many racetracks as "Fast Eddy".
Our family had a couple of racecars, the Mustang, a 98' Transam with the 509. However, none were as special to me as the 05' Monte Carlo with a 615 big block and three NOS systems. This car was the first I was allowed to crew on, at the age of 13 years old. I had noticed over the course of my childhood that there were few things that made my Dad light up like he did when he talked about racing, and I observed early on how most of my family's life revolved around the drag racing season. With that being said, I started to take a much deeper interest in becoming apart of the team and being able to contribute while we were at the racetrack. It wasn't long before the passion that was born inside me was fueled no longer in a quest to get closer to my Dad, but by my insatiable need for speed and adrenaline.
My responsibilities on the crew started out extremely small. Priming the engine, marking the wheely bars, warming the NOS bottles. Eventually, I started to keep track of each race data, adding it into a software system called RacePak, which communicated to us the engine RPM, oil pressure, water temperature, etc. All essential components in figuring out what adjustments are needed to make the car just a half of a second faster. It wasn't until my first year in high school auto shop that my Dad really started to show me the intricacies of the engine, how the NOS created power, and how sensitive adjustments to these engines can be.
The car knowledge I acquired came in handy and was expanded upon when I took high school auto shop. I loved my first year so much that I took the CTE class for the remaining two years. Even though I was the only girl in class, my experience with performance engines and racing helped me to gain the respect of my classmates. It was in CTE auto that I filled in all of the holes of my car experience, learning how to do standard maintenance like brake jobs and tire rotations, before moving onto the big items like assembling and disassembling engines. This came in handy when we built the fastest car my family had ever owned, a Pro-Mod 2017 Camaro with a 748 and 4 NOS systems. With almost 2,200 horsepower, our ⅛ time was just over 3.9 seconds. Insanity! With that much power comes that much more responsibility, and managing tire shake in a safe manner became quite the challenge to not end up in the side of the wall.
Moving into adulthood, I took my passion for cars and turned it into the first part of my career. I traveled with RAM Trucks as a promotional model for their auto shows and special events, before eventually advancing into an Assistant Manager position managing the entire auto show staff for all of FCA's brands including RAM, Jeep, Chrysler, Dodge, Fiat, and Alfa Romeo. A dream of mine is to fully restore a 70' Barracuda, and turn it into a racecar. My goal within the next 5 years is to take over the role of driver for my family's racing team, and hopefully bring back our winning reputation. I would also love to start a drag racing team that is driven and crewed entirely by women. Talk about legendary!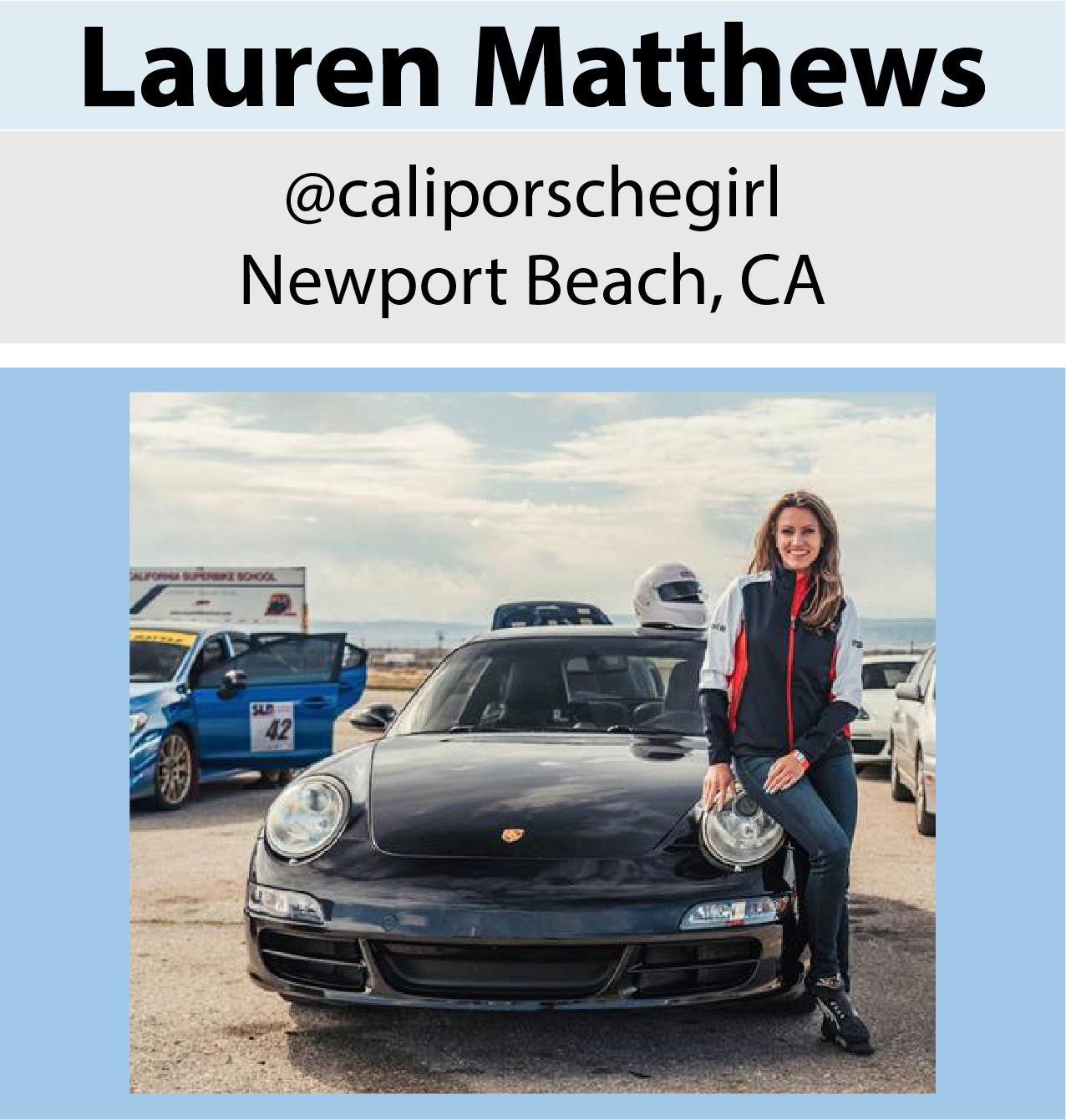 -Click photo to visit Instagram link-
I have always had a passion for speed and fast corners. I grew up alpine ski racing in Colorado's Rocky Mountains. I loved the speed and adrenaline of Downhill events and the technical elements of Slalom turns. I believe that anyone can go fast in a straight line, but it is much more challenging to go fast while cornering.
My first car was a manual Toyota 4-Runner that I learned to drive in pretty much any and every mountain road condition — drifting on snow and ice, climbing dirt trails, and twisting through the canyons.
I got my first opportunity to put speed with my mountain driving skills on a go cart track. I was hooked! It was the perfect blend of technical speed (what I love about skiing) plus the acceleration of an engine. I then earned my SCCA road racing license and joined an endurance racing team. Over the summer we hit several 12-hour events on local and regional tracks as well as to the amazing course at Road America.
That next spring my husband surprised me with my manual Porsche 911 997 S "Stella". The passion for Porsche began. Not only was she beautiful, but I was thrilled with how she handled at speed and in technical corners. Now I live in Southern California and don't get to ski as often as I'd like, but spend my free time driving with my Porsche club and getting out on the track as often as I can.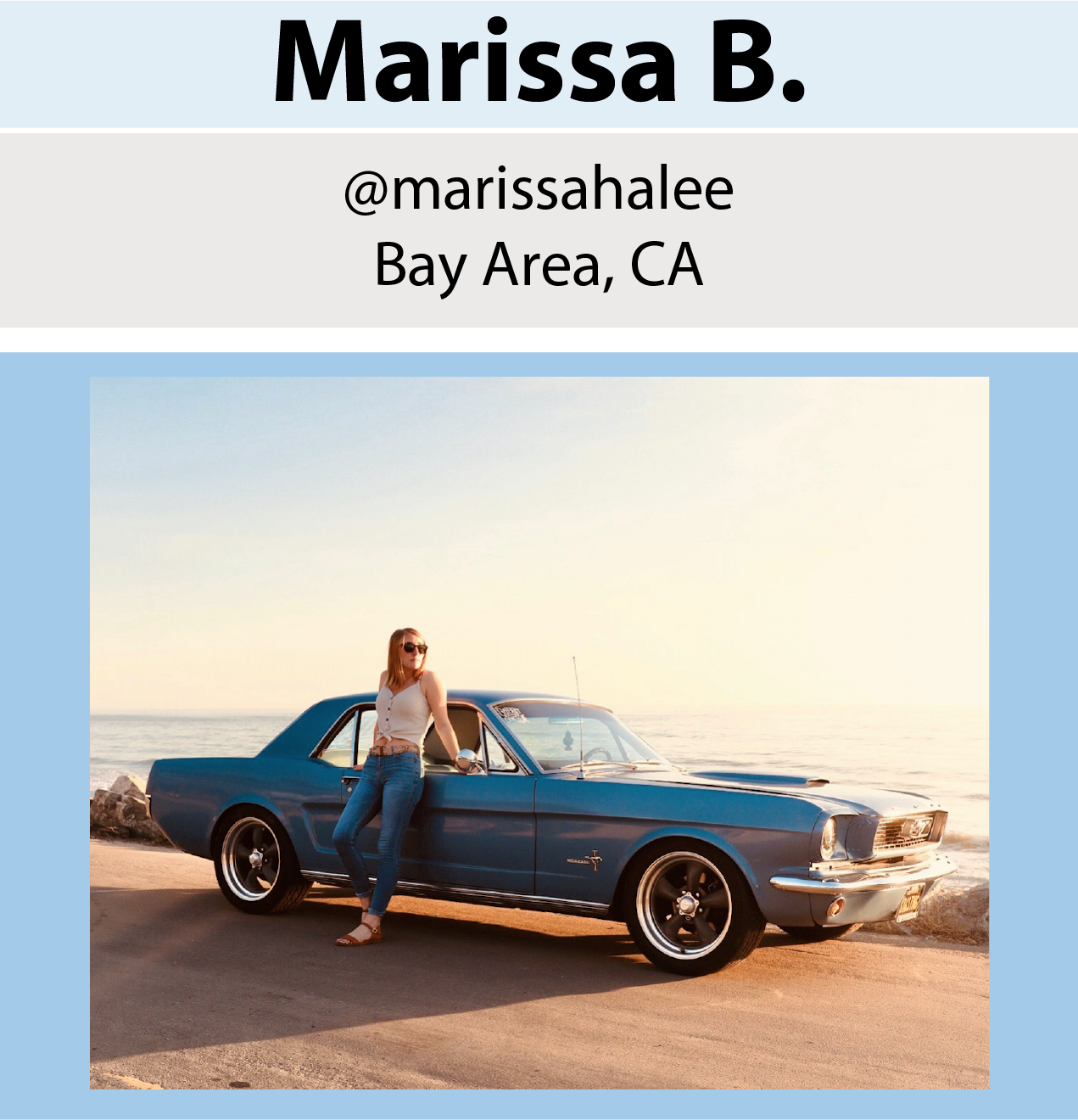 -Click photo to visit Instagram link-
My name is Marissa and I am almost 23, and I live in the sunny Bay Area in California. I got my silver blue 1966 Mustang when I was 17 five years ago, in August of 2015.
I had just graduated from high school and was in search of buying my first car. I had gone to car shows with my dad since I was little, and had always liked Mustangs more than the rest. Never in my wildest dreams did I think that I would own one, let alone this soon, when I found out a family friend was selling this '66 in Washington State. I didn't know anything about cars when I began my adventure with mine.
5 years later, a whole lot has changed. The paint, interior, wheels, tires, and suspension have all been restored or upgraded. I am now just a few weeks away from installing a home built 1991 5.0 in the place of my 200 inline 6.
I don't think this car will ever be "finished," but that's the way I like it!
My life would be so different if I had never bought this car. I have met so many people, experienced so many things, and made so many memories because of it.
-Click photo to visit Instagram link-
My name is Hillary Desneux, but I'm more commonly known as "The GT Girl."
I wouldn't have found my passion for cars if it wasn't for my dad. Growing up, my family didn't have a lot but my dad always worked hard, carrying two or more jobs and he ALWAYS had nice cars. It started out with old Porsches and Corvettes, then Vipers and Shelby's and eventually his first Ford GT. We were never die hard "Ford fans" but when he saw the commercial for Ford's new supercar in 2005, he knew he had to find a way to have one. It wouldn't be until 2010 when he finally would, selling a Viper GTS and a Shelby Super Snake to do so. I still remember driving that night to pick it up, I was on cloud nine. At this point, I was still broke in college and my only involvement in cars was the interest that I had picked up on from my dad, going to car auctions and events, and my sport bike, a 09 Yamaha R6 that I worked on myself to save money and even tracked so I guess you could say I always loved speed and don't mind getting dirty.
In 2013, I graduated and began a corporate job. I didn't love it. My dad and I were speaking and the idea of starting a dealership, where we could share our passion for cars with others began... lo and behold, I left the corporate world and the rest is history. We literally started out with a building, two Ford GTs and a Porsche 911. We intended to grow and sell luxury and exotic cars in general but as time passed, we ended up growing our presence in the small but ever growing Ford GT world. We now handle anywhere from 9 to 15 cars in inventory, still specializing in the Ford GT. On social media and at car events, I'm commonly recognized as "the GT girl." I handle all of our website development, advertising, and social media as well as being involved with sales and delivering cars. Being able to meet so many incredible people and be around awesome cars while getting to work and spend time with my dad has been the biggest blessing. I am constantly encouraged by the strong ladies in the car community every day to continue striving and improving. Huge thanks to Lisa at DIYAuto for being such a positive inspiration and putting this together!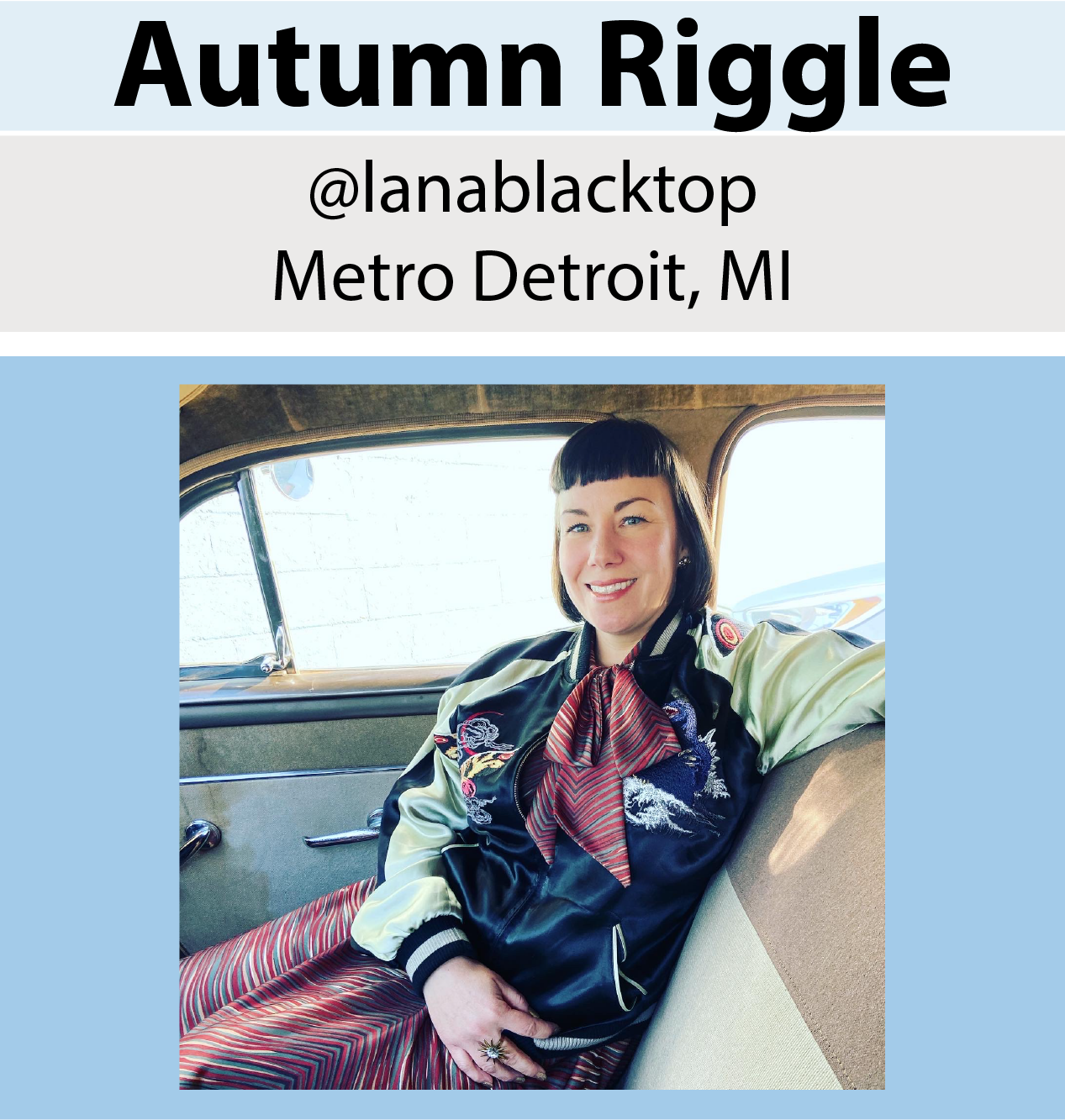 -Click photo to visit Instagram link-
Cars are my life.
I live, breathe, obsess and dream about them. I've always had this sickness. I grew up on the road, so I guess I've always had wheels under me. Some of my earliest memories are of old cars that I was fascinated by, often ones just sitting in yards out west. Model Ts, mid-50's Chevys, an old Lincoln limousine from the 40's... even an AMC Pacer.... I can recall the patina and little details in my mind still 35+ years later! Though I spent my early career in retail and fashion I am now lucky enough to be "all cars all the time."
With my partner Bill, I run Brothers Custom Automotive in Troy, MI. We restore, build, and service vintage cars, hot rods and customs.
As Marcy from HopUp magazine once told a guy:
"She's not the boss's wife, She's the Boss. " ?
Though I've had the pleasure of hiring a few other women over the years, let's face it, it's a man's world! There are challenges being a gal in this business and being taken seriously at times, but for the most part I feel that people respect me and I really enjoy my job. I'd love to find a female mechanic or painter to add to our staff one day- sadly we have not had that chance yet, as we've only had men apply for those jobs.
My personal vintage vehicles have included
1964 Cadillac Hearse
1961 Ford Falcon Bubbletop
1961 Vespa GS150
1962 Chevy Impala Hardtop
1964 Vespa 90
1931 Ford model A Coupe
I'm not a mechanic, but I'm out in the shop daily and I am hands on. I don't mind getting grimy. I'll help tear down an engine, I'm queen of paint chip touch ups, I do hand painted woodgrain and detail work, I help customers design & develop custom builds and more.
If a hard to find car part exists, I'll track it down. I truly love the connections I've made in this industry over the years- with vendors and manufacturers, and with other owners and enthusiasts.
See ya at the next show!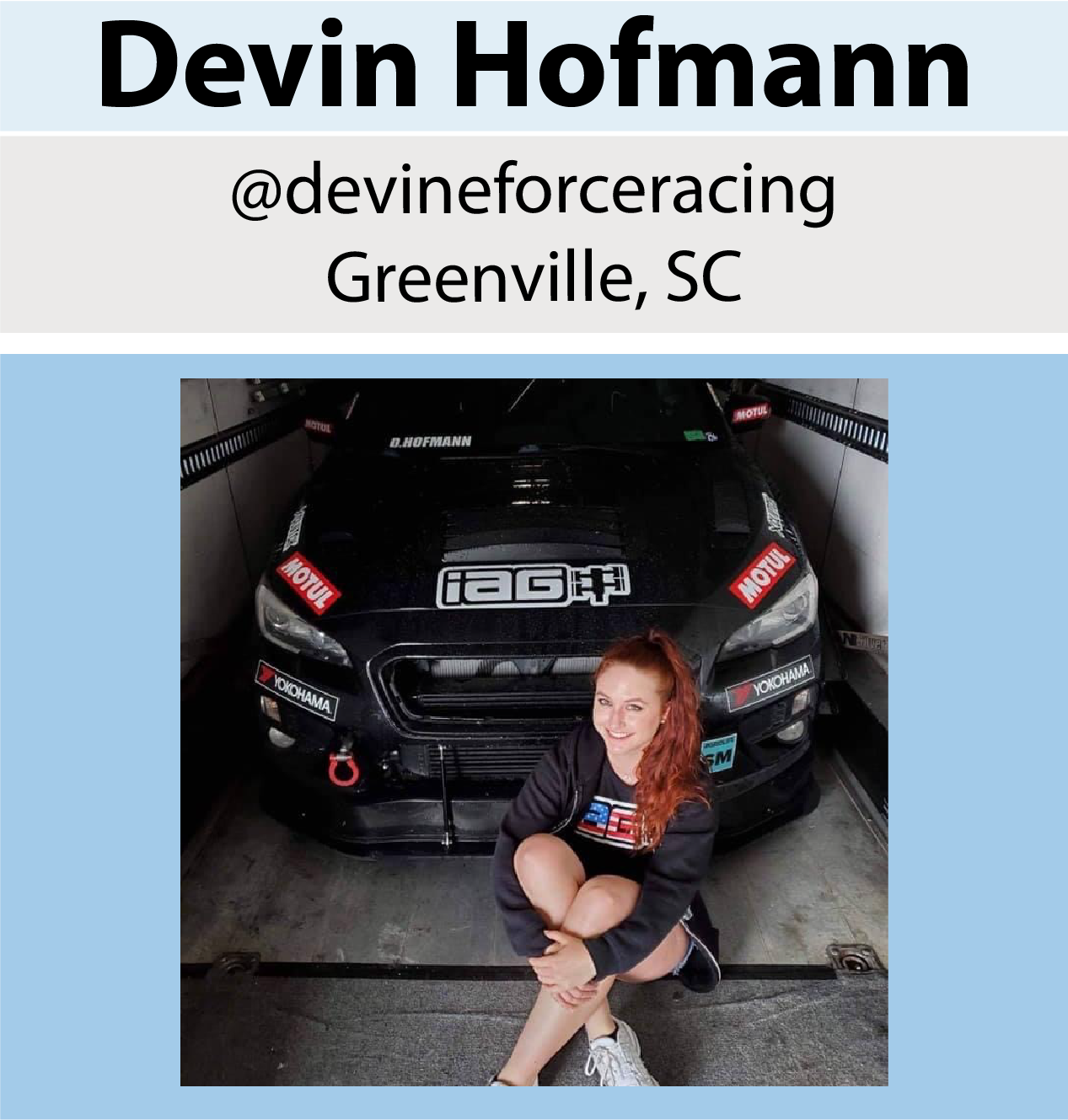 -Click photo to visit Instagram link-
Hi! I'm Devin Alexandria Hofmann from Devine Force Racing and IAG Performance.
Growing up on military bases, I was always infatuated with the muscle cars that the GI's would have, the lop did it for me. The GTO Judge was my first official favorite car and then I had a soft spot for foxbody Mustangs and classic Camaro's as well. Once I heard the Subaru though, it was game over. I fell for the burble and needed to know why that car sounded like that, how turbochargers worked and how I could make cars faster. So I started studying, reading and volunteering at shops to learn all I could about building cars during high school.
While I went for my associates in mechanical engineering technology, I continued to participate in the car scene by helping design and validate car parts as well as help as crew for other racers.
After some personal battles I overcame, I bought my 2015 Subaru STi and spontaneously signed up for a track day with NASA SE in 2018. As I continued to get my bachelor's degree in mechanical engineer, work at BMW Manufacturing as Methods Engineer, AND work at a performance shop I also found a way to navigate my way through the HPDEs with NASA Southeast. I fell in love with Time Attack and I now compete in Gridlife, NASA, SCCA, and Global Time Attack series.
My day job is a now lead manufacturing engineer at GE Gas Turbine as well as a creative writer for MotoIQ. I also work with IAG Performance to test and validate new products they manufacture on the track in the Subaru before they're released to the public. I'd love to see where this journey takes me and continue to progress as a driver and get in to wheel-to-wheel racing!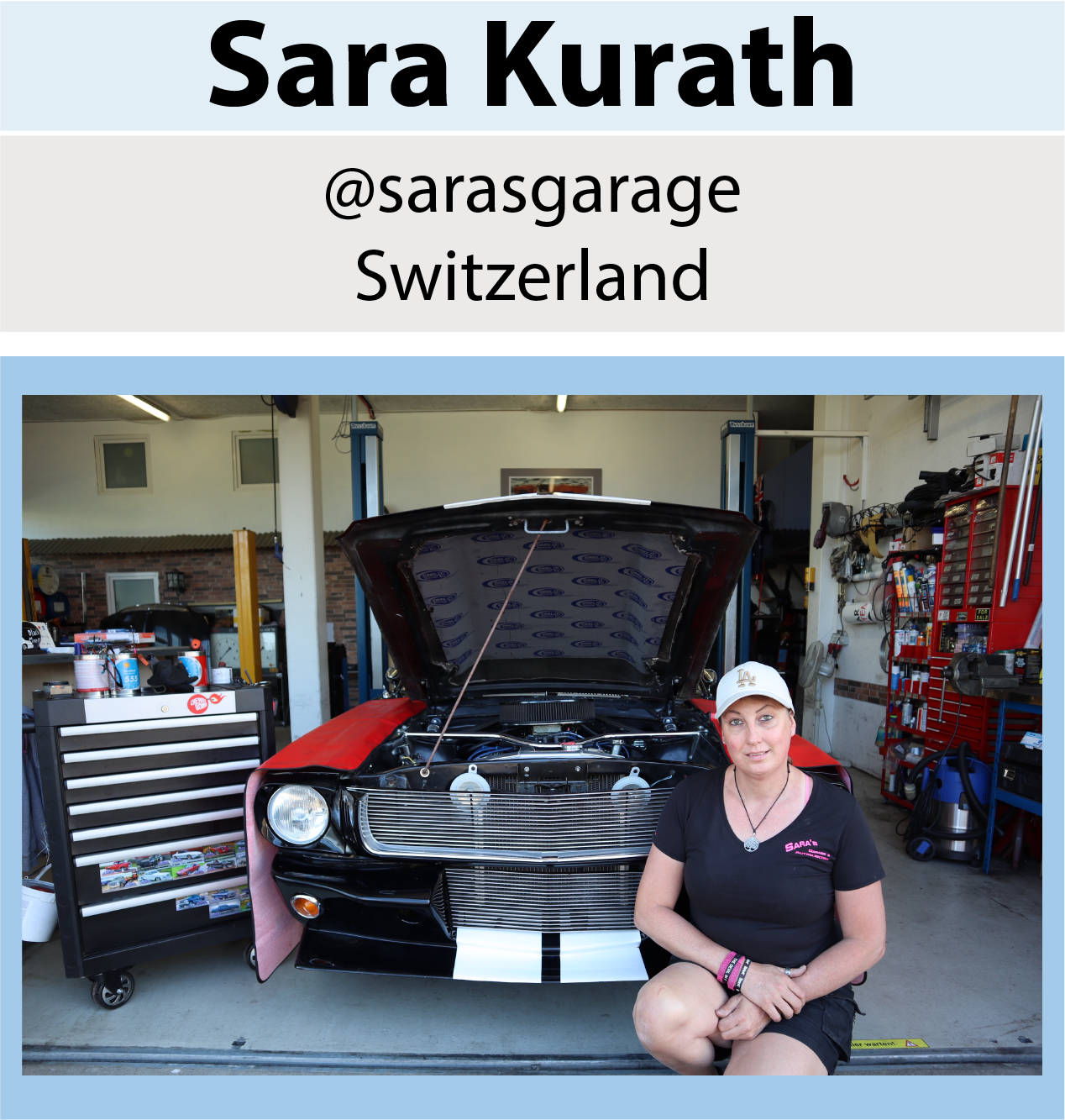 -Click photo to visit Instagram link-
Yes, I`m a Petrolhead and my name is Sara Kurath from Switzerland.
I`m also the owner of Sara's Garage, the only two Girls Garage here in Switzerland.
Since my childhood, I've loved cars and my Dad is a Petrolhead too, but he's not a mechanic he just loves cars. I remember restoring a 1944 Willys Jeep in our driveway and soon it came clear to me, my passion is working on cars.
After graduating school, I went to the Automotive technician School and earned my degree and I`m now a Master Automotive Technician. I worked at Mercedes for several years but my heart was always on Vintage American Cars, so I took a job at a local US Car shop, to restore American Cars and I loved it very much. Of course as a Petrolhead, I was driving a US Car and went to all the Car Shows here.
In 2008, I wanted a change and went to Las Vegas, NV and spent 6 years there. It was a great time and I still miss it. Well, time came and my Visa was up so I had to return to Switzerland. I returned to my old job until one day the owner went out of business, and this led from one thing to another. I think it was a sign! It was the start of my own business!
So I started my company with very little and just by myself. The first year was really hard and I was already looking for another job, but things took a turn for the better. Work started coming in like crazy! So in 2019, I was looking for an employee (most mechanics are men of course), but one day Sandra got notice of my job opening and she came and she stayed and we make one hell of a good and funny team!
We love cars and we love to work on them and we also love challenges, so we get cars from other shops as well who need our expertise. And that's what makes us proud and gives us a smile, because we did it ! Girl Power YES :-) ! I guess this is why we are successful!
This year we are nominated for the Swiss Classic Award and we are very excited about this. We are in the first three and we hope we will WIN this Award, please cross your fingers :-) !!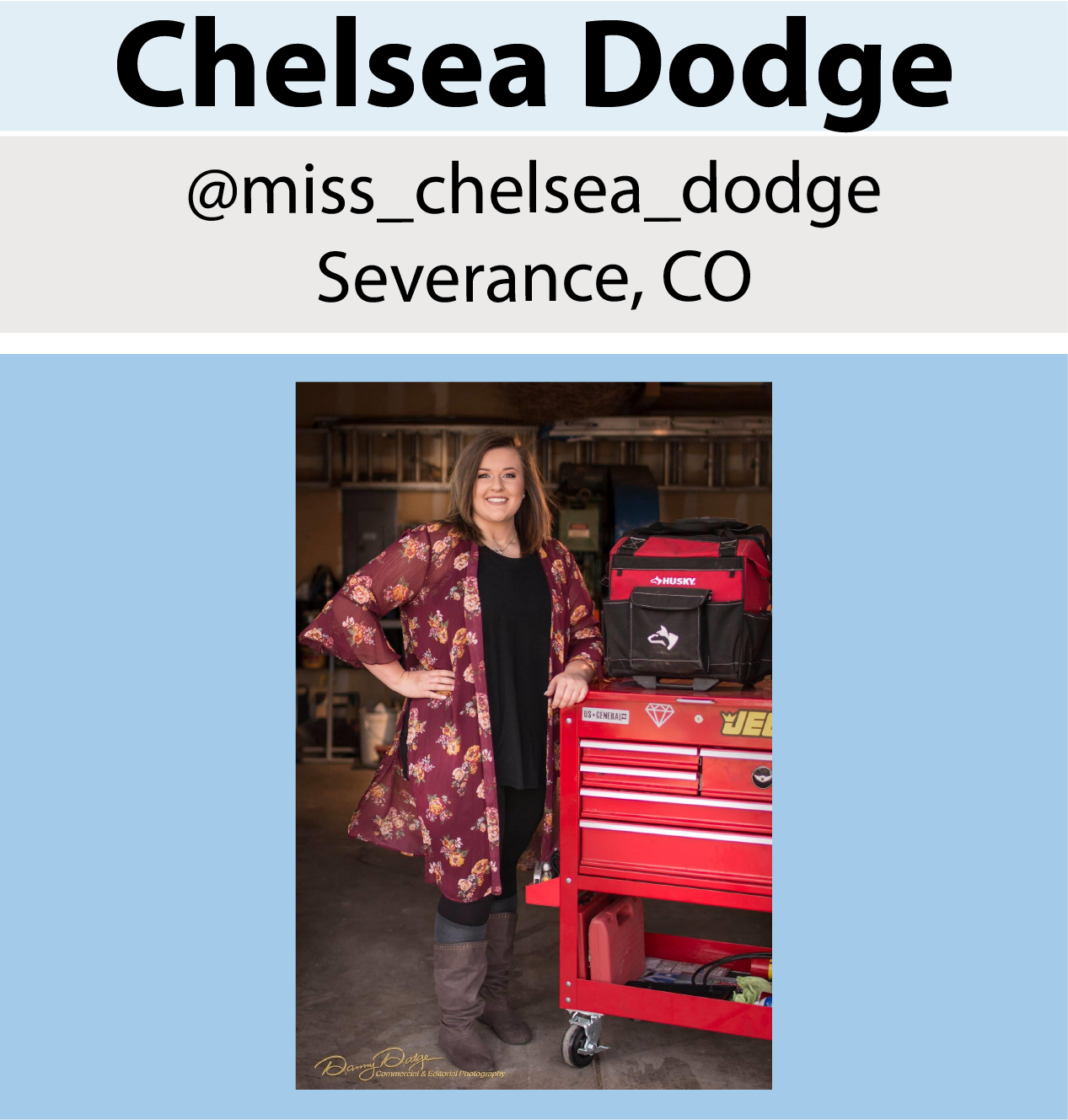 -Click photo to visit Instagram link-
As a youngster, I was always interested in cars. I am the baby of the family and grew up with brothers so naturally, I became a tomboy and always wanted to do what my brothers were doing. From playing with hot wheels to trying BMX to playing car racing video games, the list goes on. I've loved cars since I was a little kid and always wanted to learn more on what made them work. Once my brother was old enough to drive, he purchased a car and started to modify it and completely rebuilt it. I was intrigued and mesmerized to say the least! When I got my second car, I was all for learning new things and modifying it. Turns out I actually loved getting my hands dirty and doing my own thing to my cars! Now, becoming a mechanic was not something I saw myself doing as a kid, I told myself I wanted to be a banker (which is odd because I'm not great with numbers). It took me until I was 20 to realize that being a mechanic is what I'm meant to do. I pondered on going to school for automotive for probably a year or so but never got the "approval" from friends and family, they thought I was supposed to go into marketing (which I love but not as much as cars!). My dad and I were driving back home from Vegas one day and it just all of a sudden just clicked in my head that it was my destiny to become a mechanic and once I get as much experience as I can, I'm opening my own shop. So I went to school and graduated with my certificates but while I was in school, I was also working in the industry already! I can proudly say that I've reached a point in my career that I feel confident in what I'm talking about when it comes to cars and I'm confident that I can diagnose cars effectively to help people get back on the road. I feel that I have a few more years of experience to get under my belt before I can pull the trigger and open my own shop. Thankfully I work for an amazing, family owned shop in Severance, CO, where I'm getting an impeccable amount of experience and not to mention getting to work with an amazing team.
It makes me proud to be a woman in this industry and I strive to help give other women the courage to chase whatever it is they want to be, even if it's in a male dominated industry. Us ladies have to stick together and push each other to reach for the stars!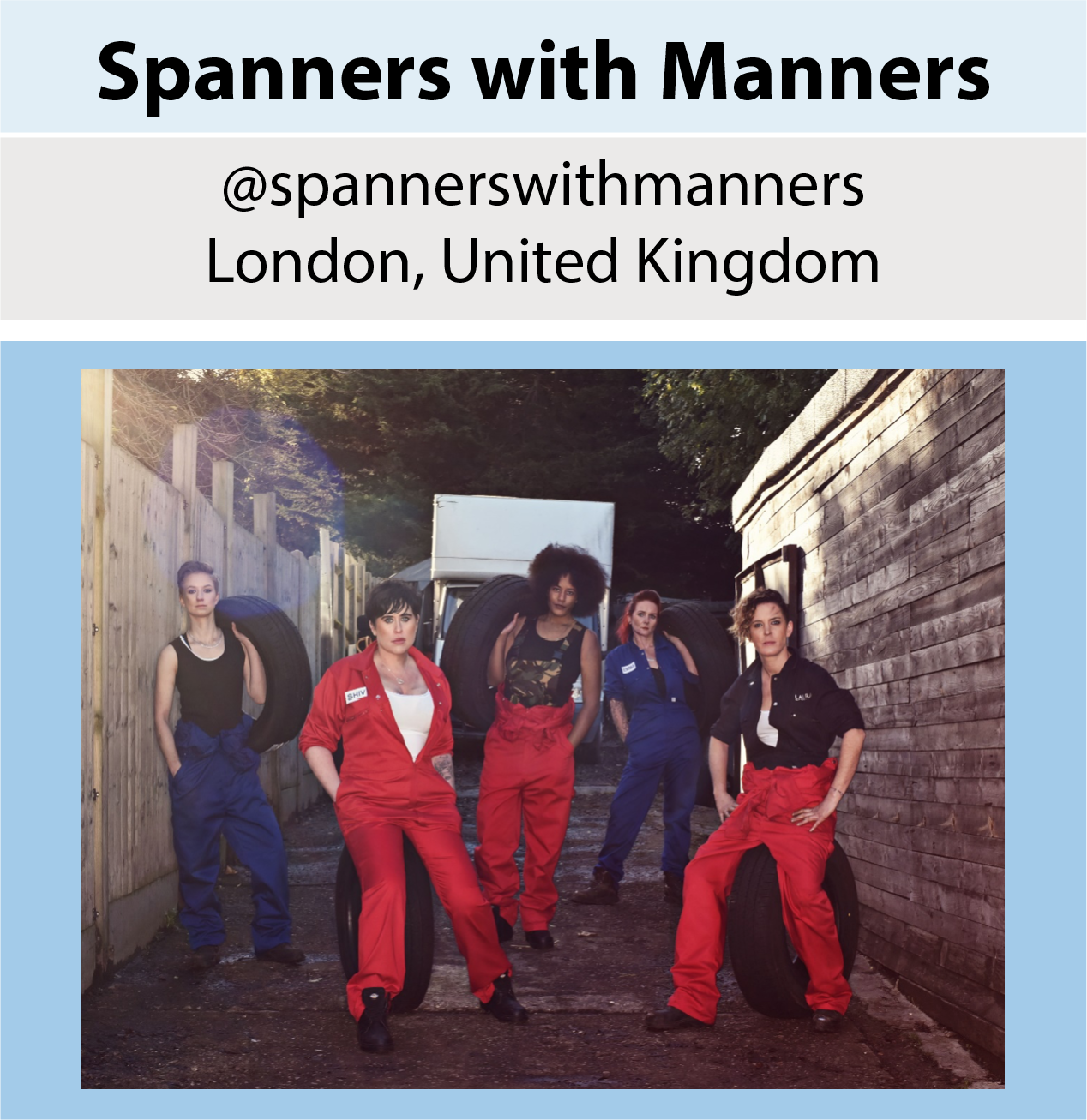 -Click photo to visit Instagram link-
Spanners With Manners is London's first all female garage.
Laura Kennedy – Director.
I wanted to create a safe space for both men and women to bring their car to be repaired where they felt they had complete trust and understanding in a normally intimidating and very male dominated industry.
Most people have very little or no idea about cars, thus leaving the general public feeling vulnerable and powerless.
As a woman working in the industry for over 15 years I had never come across another female mechanic, my customers would always comment how they felt listened to and not afraid to ask any questions, this made me think!
I decided to call around the local colleges and to my surprise the college mentioned that a girl called Megan had just started her apprenticeship. Megan is now in her last year and top of her class.
Over the past year the garage has gone from strength to strength. We moved location, I was given 2 weeks notice to leave the premises I was in. At the time this felt like the end of the world but turned out to be a blessing in disguise. I found a larger garage with a better location and passing trade. We, now have new team members Elizabeth and Natasha, Elizabeth has just taken her final exam and got a distinction. Natasha has just enrolled in level 3 Light Vehicle Maintenance Repair level 1 & 2.
We are now proud to say we are a family run business as my partner also joined the team, organising all bodywork and running the office.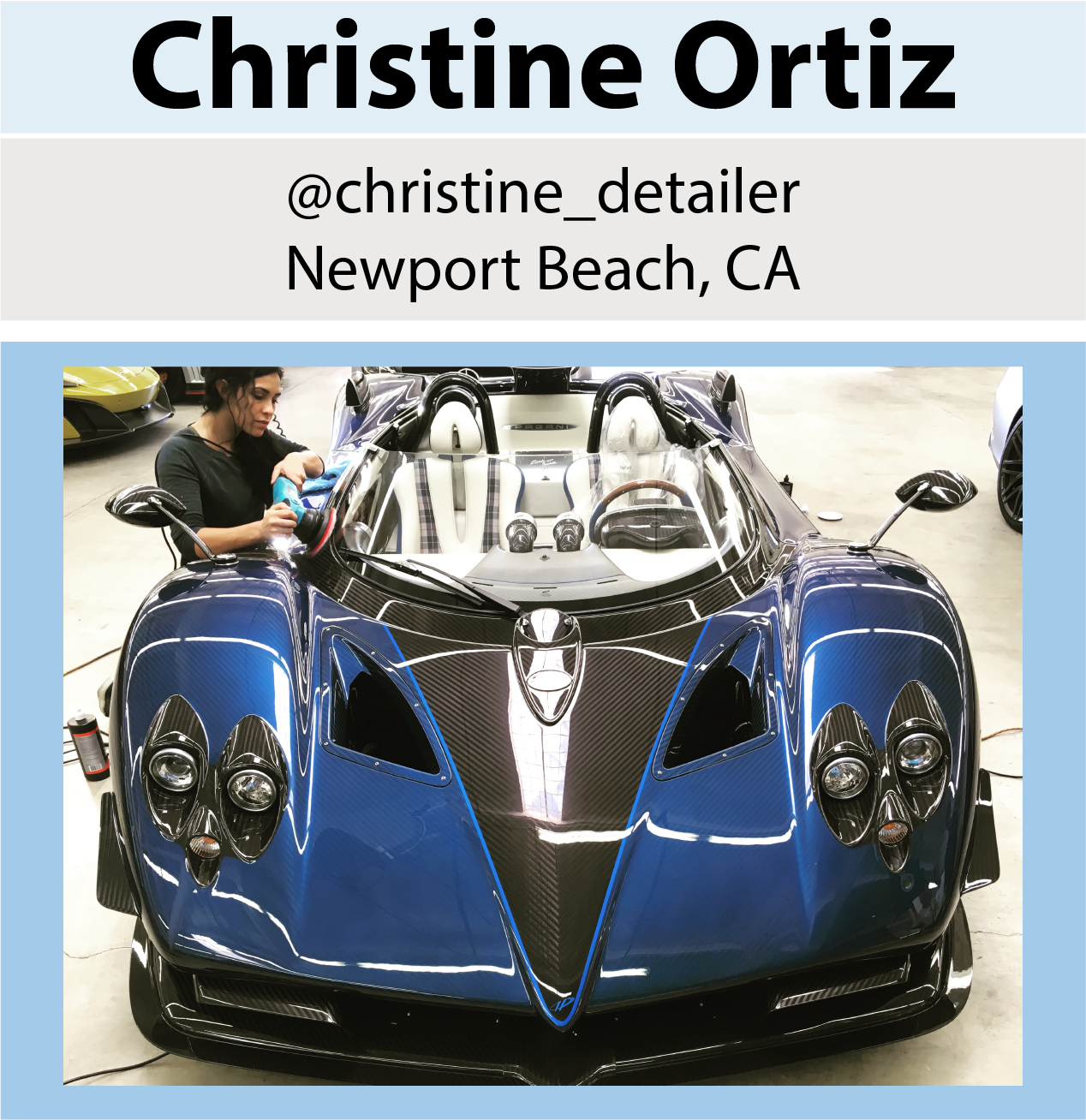 -Click photo to visit Instagram link-
In my early 20's I was cleaning cars on the side to earn some extra money, but the more I dove into the trade the more I wanted to learn and do. Eventually I was doing more than just washing cars- I was mastering corrections, touch up, paint repair blends, and learning clear bra. It took years to learn and perfect my work and I was fortunate enough to have a professional mentor with 25+ years of experience in the detailing industry. I'm continuously testing new products and methods to keep myself skilled and knowledgeable. I've even developed my own methods and tricks of the trade in the 12 years I've been in the business!
I never thought when I was going to school as an art major that I would be where I'm at today, but I wouldn't change it for the world. I come from a family of musicians and growing up I was an art nerd with dreams of one day working in restoration for a historical museum (the Louvre, Smithsonian, Prado). Now I work on preserving a slightly different type of art; I have a portfolio of work with major super and hyper car manufacturers which includes ultra-rare 1 of 1, limited/final editions, priceless classics, and the newest hyper cars. I have done work for Koenigsegg, Bugatti, Mclaren Automotive, and Pagani as well as work for multiple dealerships here in Southern California. As I slowly became involved in the industry I established a name for myself as well as relationships within different networks. I began learning more than just paint and clear coat and now I am now able to offer more specialized care for different hyper/super cars which has led me to evolve my business from strictly detailing to a more tailored concierge-style service for a select set of clientele. If I can't take care of it I've come to know the absolute best in the industry and I can get it taken care of. Through social media and events I've connected with other women in the car scene (from all over the world) and it's exciting to see more and more women pop up who share the love of everything automotive. Women detailers, mechanics, race car drivers, clear bra and vinyl installers, painters, proud car owners and enthusiasts... women covering literally every aspect of auto and I am here for it!!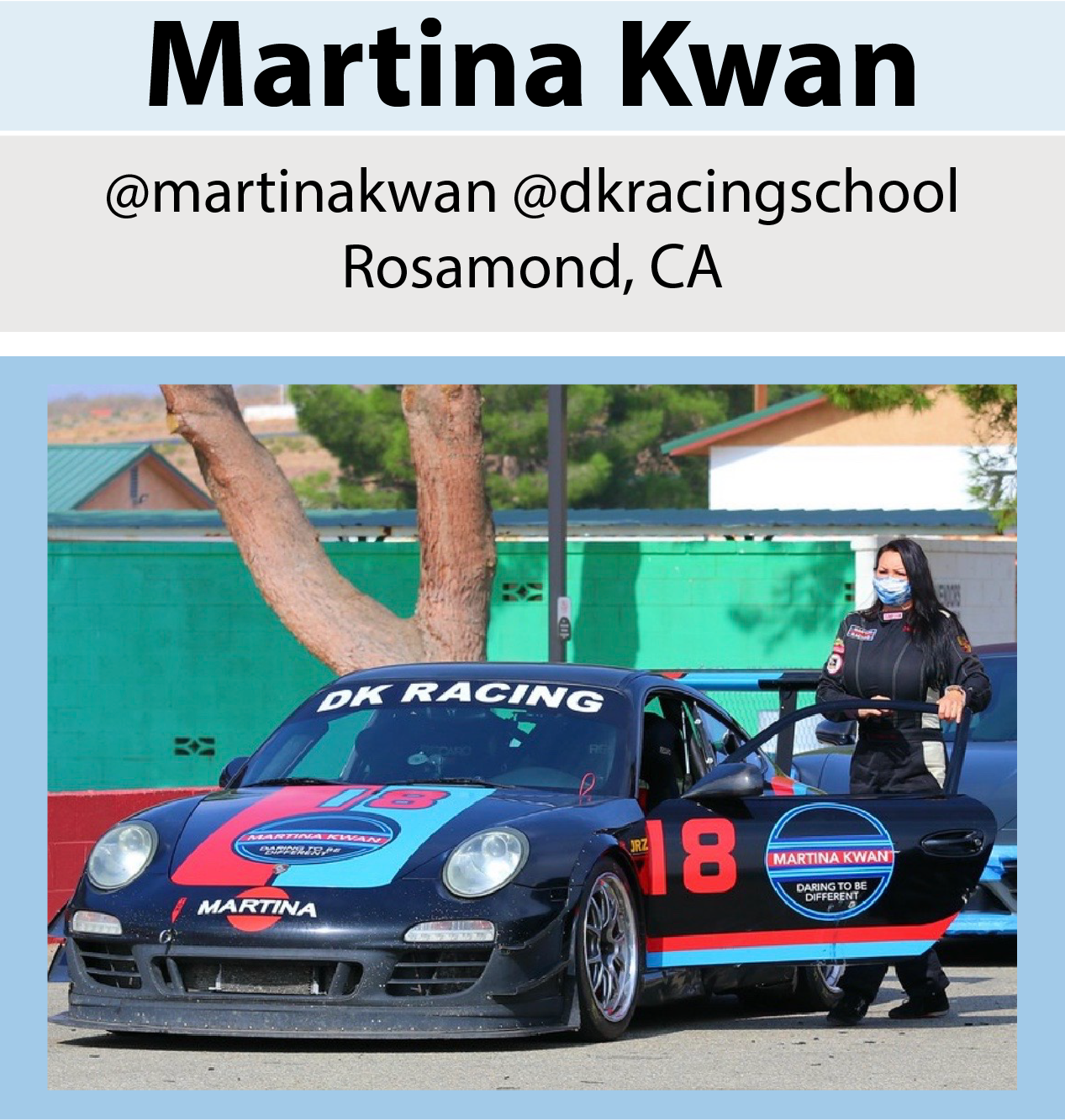 -Click photo to visit Instagram link-
Hi, I'm Martina Kwan. I grew up in cities around the World and lived in New York City for many years so I really didn't take an interest in cars till I was in my 40's in Miami. That's when I was first able to afford my dream car, Porsche 911. My interest in track days was piqued when my old company started sponsoring a track day event at Pikes Peak International Raceway. We were able to try many different cars there. It was so much fun that it became my favorite networking event of the year. I started going sporadically to track days with the Porsche Owners Club here in Southern California and I remember being the only girl when I first walked into the drivers meeting at Streets of Willow in January of 2015. I didn't let that deter me, because the whole experience of driving up to the desert racetracks, watching the sun rise, and feeling like I was leaving my problems behind was life changing. It was a sense of freedom I hadn't felt before. When people mentioned, why don't you become a race car driver, I said, "Don't be ridiculous. I'm a Mom and Business Owner." In early 2016, I did a Vision Board with a friend of mine. And on it, said "Female Racer" At the time, I still thought it was a silly idea. As it turned out, 2016 was a big year for me. I traveled to Dubai and Abu Dhabi on several business trips, and to me, my most important decisions have usually come flying 30,000 feet in the air. There is something calming and wonderful being alone in the sky, finally having time to focus on myself and what I enjoyed. Because I think as Women, we tend to take care of everybody else but ourselves. We lose sight of who we are. We forget what we even enjoyed as girls and young women, before life, family and business obligations took over our lives. Meanwhile, my marriage had not being doing well. But especially with children, I believe it was my obligation to try everything to make it work. At some point, after years of trying, it's time to say Enough is Enough! It was on my trip to Dubai in September 2016 that my life changed. The convention center was not ready for me to set up the booth, and I sat in my hotel room wondering what I should do. I remembered that I used to love riding horses. I remembered especially loving to ride Arabian horses in the desert which I used to do as a 13 year old living in Bahrain. So I decided to take a taxi out to the desert to a riding stable and got on a beautiful Arabian Horse and started riding into the Arabian Desert as the sun was setting and the full moon was rising behind me. A sense of peace and quiet came over me, as I took in the beauty. And it was at that moment I decided it was time to leave my marriage, I named my Porsche 911 Firehorse (the year I was born), and decided to become a race car driver. I am now a 3x Champion Race Car Driver, drove semi-professionally in the fully sponsored Saleen S1 during the Blancpain GT World Challenge last year, and am the Co-Founder of DK Racing School, the first racing school in the US to be co-founded by both a male and a female FIA Licensed Race Car Driver that is open to the general public.
Driving the Saleen was one of the hardest things I've ever done. The sounds of the turbo charged engine brought me to my knees, and for months, I was unable to pinpoint or identify what it was about the car that frightened me so much. In the meantime, I raced in Portland and drove the car in the Olympic Stadium in Beijing in front of 25,000 people, telling myself there's no option. You have to do it. I finally woke up on August 15, 2019 to go do a test day at Buttonwillow in the Saleen that I realized what was paralyzing me. The hissing and popping sounds of the Saleen S1 reminded me of the sounds of machine guns, rockets, bombs and explosions I had heard as an 8-10 year old girl living in Beirut, Lebanon during the war. I confronted my fears by forcing myself to listen to the sounds of real warfare for an hour at full volume. It brought back the old memories of terrifying fear I felt as a little girl, crawling into my older sister's bed every night for comfort, waiting for the air sirens to go off, and moving to the interior corridor of our ground floor apartment that we used as a bomb shelter, as our neighbors and my family would wait to see if we were the next ones to be bombed. It made me cry to think of the little girl, but listening to those sounds for the first time in over 4 decades, really desensitized my fear, and I was able to get into the S1 and podium twice in 7 races.
One of the most beautiful things about going to the racetrack is that I met the Love of my Life, Dwain Dement. He was my race coach and he was the one who transformed Firehorse from streetcar to racecar with his company Vision Motorsports in Laguna Hills. One day, a few years ago, we started talking about horses. And that was it. We fell in love and haven't looked back. We love racing horses and share the same values and outlook on life. It's been an incredible journey and we've now co-founded DK Racing School which is located at his Vision Motorsports Ranch by the gate of Willow Springs. In a few months, we'll have our horses Jeff and Roi there. What could be better than living on a ranch with horses right next to the racetrack???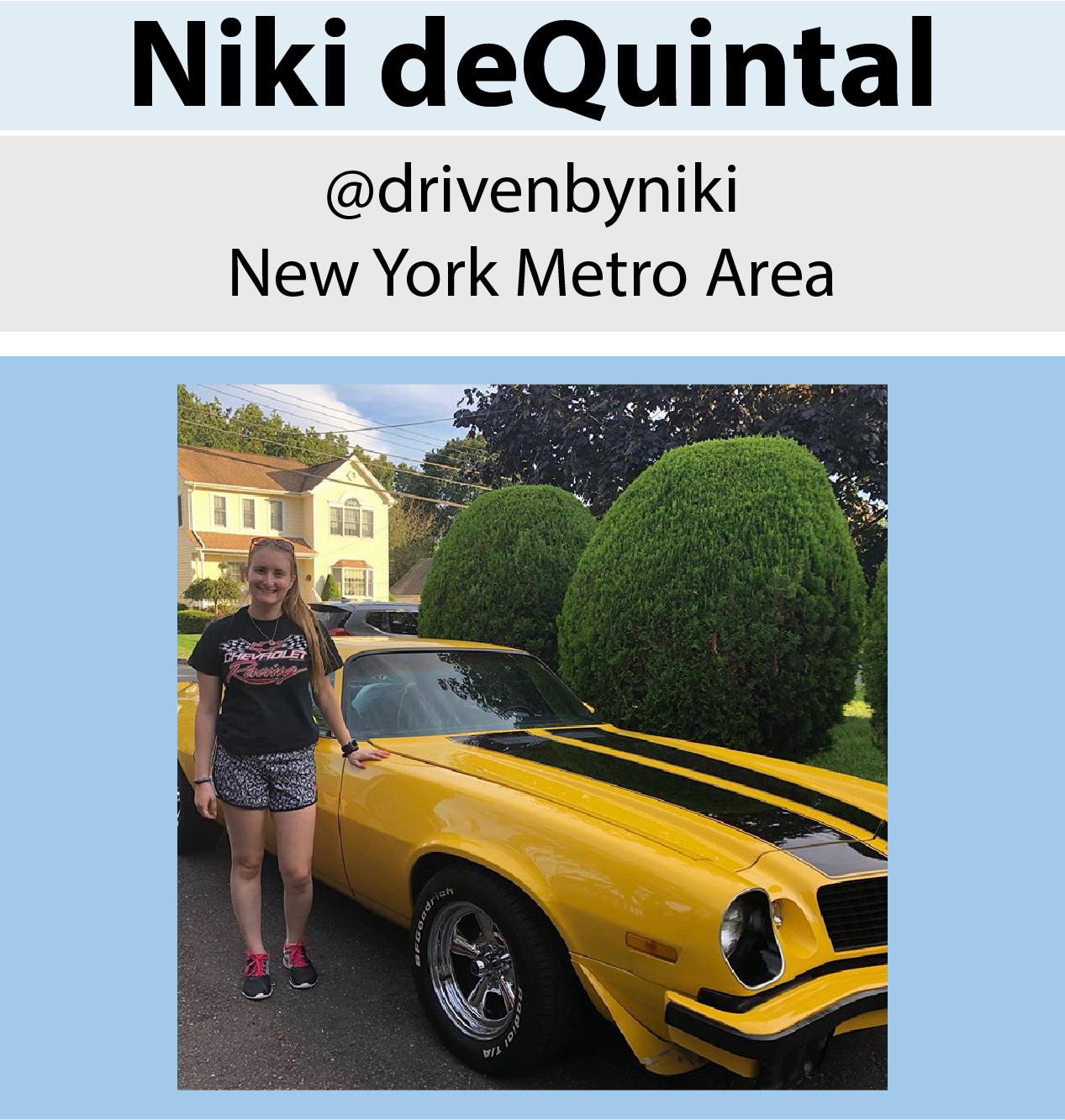 -Click photo to visit Instagram link-
Hi! My name is Niki and I'm 26 years old from a small town in New Jersey, just outside of NYC. As a little girl, I didn't want to play with Barbies and Polly Pocket, instead I had the well-known "racecar rug" in the basement and that's where I'd spend hours with my Hot Wheels. But my dad is who I have to thank for my love of cars, and in elementary school, Jeff Gordon was introduced as my new idol.
My dad worked for DuPont, but he was into muscle cars and mechanics for much of his life. He was self-taught as he went along, before YouTube and Google helped you out, and he began teaching me. He found a 1972 Chevy Chevelle under a tarp on a side street when I was 10 years old….I will never forget it. It was yellow with a black vinyl top and he manually added black vinyl racing stripes. I loved it! It wasn't show car standard but it was a driver and we went to dinner, softball practice, the local cruise nights and just around town. It was the car I learned to drive in the school parking lot, so I was devastated when he eventually sold it. Within two years he found the next best thing he really wanted, a hotrod pickup. He currently has a teal color 1954 Chevy 3100 truck and I always knew I wanted my own classic someday.
After I finished my MBA, I seriously started looking to buy. I wasn't set on a specific car make or model, I felt I would see something and just "know." After contacting a few listings on Craigslist and Facebook, I saw a listing for a 1977 Chevy Camaro with really blurry photographs. I didn't think too much of it but I saved the post just in case. The next week, I saw more photographs that were clearer and I could see the car was yellow and black. I immediately wanted to look at it because I loved the yellow/black combo from my dad's 1972 Chevelle days. We drove over 2 hours to Long Island on a Saturday morning to see the car. Unfortunately, the gentleman selling it wasn't the owner and was helping out a friend listing it, so he knew very little about the car. After convincing him I was indeed the interested buyer (and not my father), we looked over the car on a lift and took photos to verify RPO codes and the VIN number. After doing our homework and scouring the web, we realized it was a true Z28 Camaro and everything checked out with numbers matching except the original car color was white with tan interior. As the story goes, they modified the colors to emulate "Bumblebee." So I made my offer and with a friend and a trailer we hauled over to Long Island and brought her home.
It's been just over a year since I bought "The Bee" and I've been researching more history of 2nd Gen Camaro, learning the "ins and outs" of beginner mechanics. It's an excellent platform to learn on and I'm thankful for the opportunities I've received so far. I continue to meet amazing people with the same hobby and I'm proud when people see me with the car and realize it isn't my dad's car, it's mine! I drive all the time especially during WFH quarantine this year; it's a welcomed escape to the grocery store or car show. I look forward to whatever is to come with this journey and where else it could lead me.
I just purchased a new daily…a blue 2014 Ford Mustang GT Premium with Navigation and the Brembo Brake Package and white vinyl stripes. I'm thrilled to have some modern muscle in the mix and give the Camaro some rest over the winter months. I'm having so much fun learning a new car manufacturer platform and seeing how the basics have evolved with technology and computers. I hope to attend a track day or HDPE event with the Mustang this winter and I have big plans for the Camaro as well.
Feel free to DM and introduce yourself as I love learning more and connecting with other auto enthusiasts!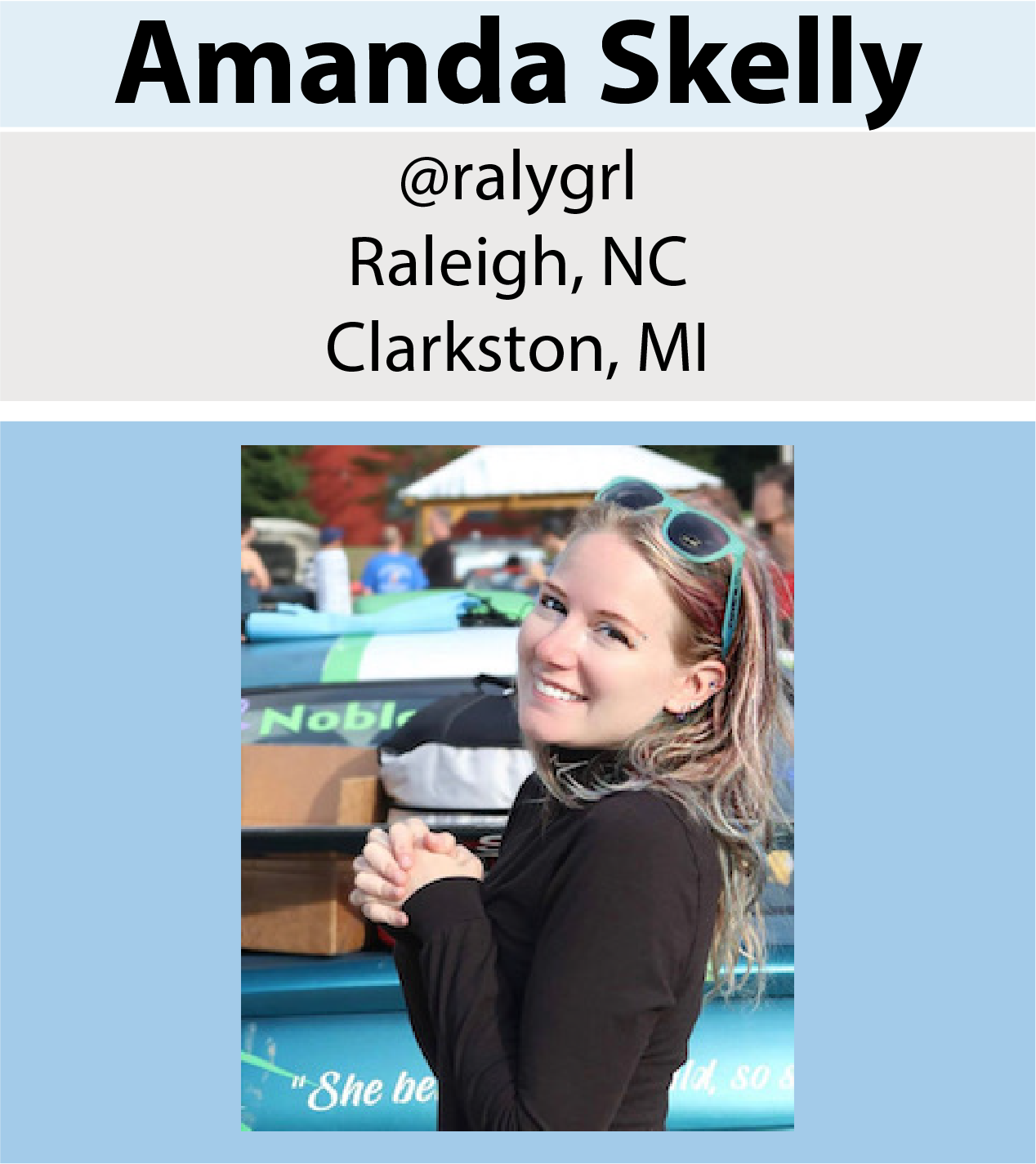 -Click photo to visit Instagram link-
-Picture credit: Lori Lass-
My name is Amanda Skelly, but in the rally community I am known as "RalyGrl" (Rally Girl).
I grew up with a father who was always restoring classic cars and selling them so my family could go on holiday together. As kids, my brothers and I were exposed to go-karting, dirt bikes, snowmobiles, Dune Buggies, even a Honda Odyssey and the like. Every winter we would take these amazing snowmobile trips, and when I was about 12 years old I can remember thinking how awesome it would be to be a female racer. I always loved going fast and had a draw towards racing. One of my first jobs was working at a MotoX track on the weekends in high school. In 2006, I was introduced to my home rally which is the Sno*Drift Rally in Atlanta, MI. I began spectating that year, and was later introduced to the Detroit Region SCCA RallyCross events and was instantly bit by what we call "the rally bug". In December of 2006 I bought my first Subaru, which was a 1998 Impreza 2.5RS Coupe (named Sassy) and I began competing that following February in 2007 in local rallycross events. In 2009, I began competing in SCCA TSD Road Rallies. I attended and spectated the Sno*Drift Rally every year until my own debut as a driver in 2012, in that very same 98 RS that started it all! I've been competing in stage rallies ever since.
Since 2012, I have competed in 30 stage rallies as a driver, and 8 as a co-driver. One of my proudest accomplishments was being named 1st Overall Driver in NA4WD in the 2019 ARA Eastern Regional Championship. In 2017, I debuted my second rally car, aka "Stitch", which is a 1997 Subaru Impreza L. Currently, I compete in the NA4WD class in the ARA series, and AWD Light class in NASA Rally Sport events. My car is a true extension of my personality and has been designed around my personal needs as a driver. I absolutely love Subaru and rally and could not imagine my life without either! It has brought about so many opportunities, adventures and wonderful people into my life. I have a phenomenal rally team, who I consider my family; without them and my racing sponsors, I would not be where I am today!
2020 Sponsors:
Link ECU, TurboTime Subaru Specialists (NC), Tire Streets, The FIRM (Florida International Rally & Motorsports Park), FerComp Samsonas, Whiteline, Restoration Race Works, DCCDPro.com, BRAID Wheels USA, Turtle Gloves, MeLe Design Firm, KillerB Motorsport, Impression Center & Billetworkz.
Website: www.RalyGrl.com
Instagram: @RalyGrl
Facebook: www.facebook.com/RalyGrl
Twitter: @RalyGrl853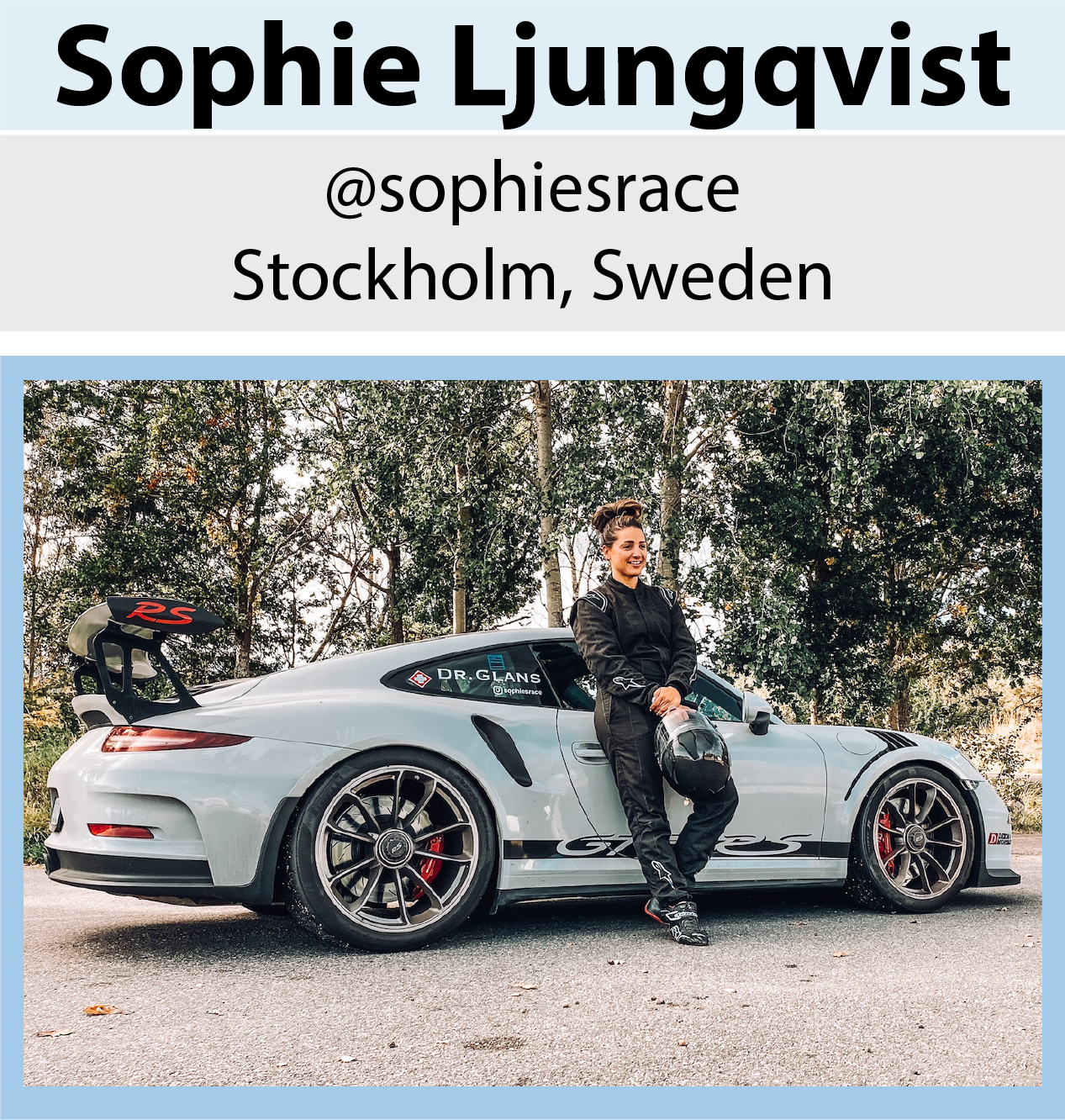 -Click photo to visit Instagram link-
Hi
I'm Sophie from Sweden
I guessed my interest in cars started as a little girl when I hanged out in the garage with my father at his friends workshop, he always had a lot of Maserati's and Ferrari's.. I remember I loved the looks and adored the smell..
My father's passion for cars has somehow reached over to me.
When I was 18 the first thing I did was to take the driver's license.
I Worked all the time to afford my first cars. An Audi A3 1.6.
And then After that it just grown, it just kept rolling. Another Audi, Mercedes, Maserati's, a couple of range rovers, three different Ferrari's and now Porsche.
Now I'm one of the fastest girl in Sweden and enjoying life on racetrack all over Europe for fun! besides that I'm enjoying life with my little family, I have a girl 2 years and a boy 6 month.. we enjoy life both here in Sweden and in our second home in Marbella when we can go there.
I own a Porsche gt3RS and loving the cooperation we have on track!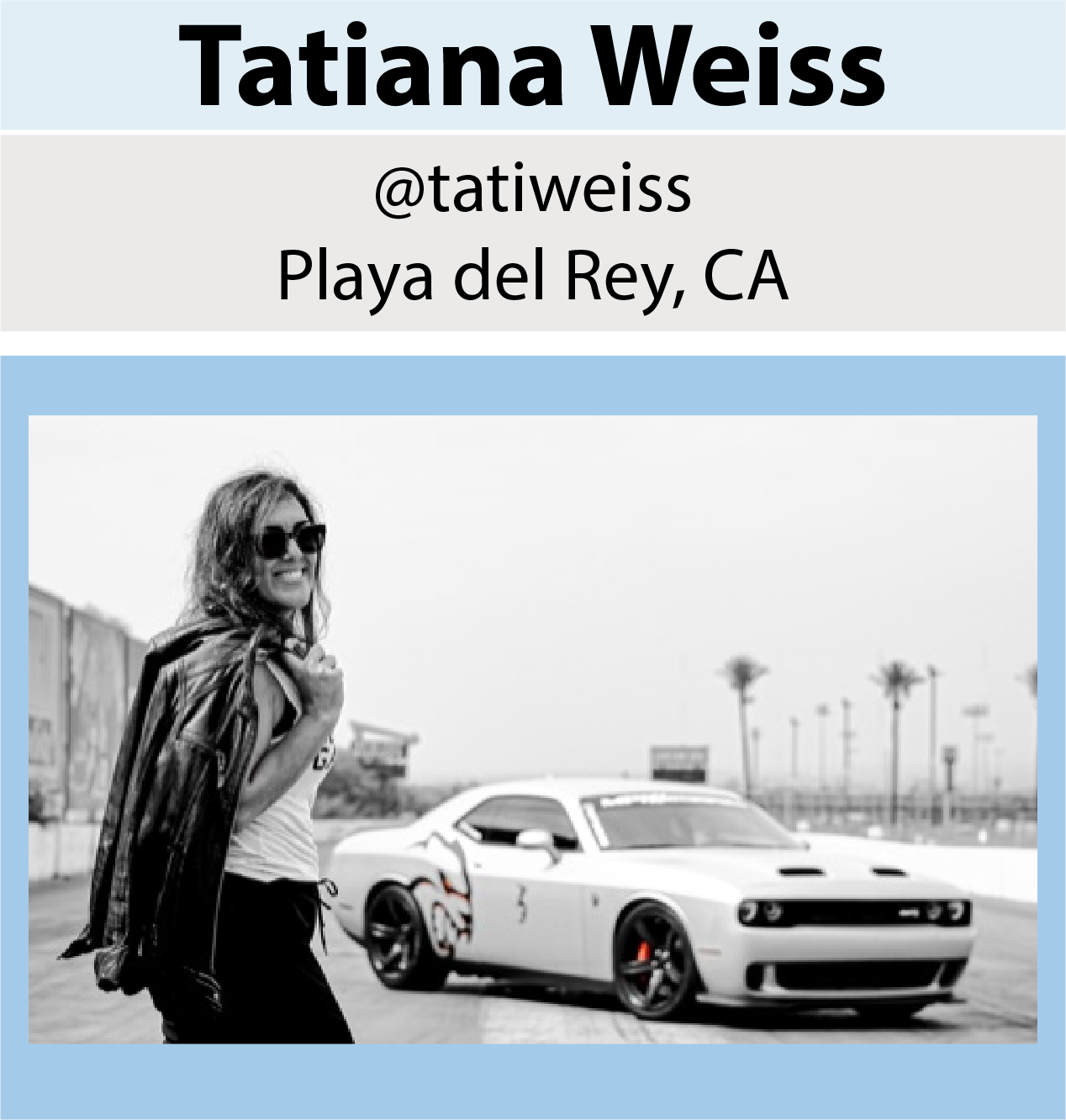 -Click photo to visit Instagram link-
Two things caught our eye, well three actually, the two burgers warming on the blower and the attractive lady changing wheels. I didn't know her husband Andrew Weiss but I remarked that maybe she needed some help but the lady quickly chimed in, "I don't need no help." And so it began.
Tatiana was born in Beirut to a Lebanese mother and Italian father and when she was three the family moved to Belgium and then to Greece for another three years. Then it was back to Lebanon where Tatiana began driving at the age of 14 saying, "I grew up watching the Rallye du Liban (Rally of Lebanon) and Grand Prix de Monaco (Monaco Grand Prix), and I've always liked driving fast in the mountains.
Once in the US she got into the real estate business and while attending law school met husband Andrew, who shares her passion for fast cars and now serves as her manager, support staff, pit crew and errand boy—he's not allowed to change the wheels though.
In 2017, the couple were on a trip and rented a Dodge Challenger Hemi that inspired Tatiana to buy a 2018 Dodge Challenger Scat Pack with 485 hp in the spring of 2019. By the summer she'd discovered her local 1/8-mile track at Irwindale, CA, saying, "I was instantly hooked. It felt like I had finally found my 'happy,' as though my entire life had led me to racing the drag strip… I kid you not."
In February 2020, Tatiana decided to up her race game by purchasing a Dodge Challenger SRT Hellcat Redeye that she aptly named 'GROWLER.' With a supercharged 6.2L Hemi, the Redeye puts out a crazy 797 hp and 707 lb-ft of torque due to a bigger blower with 14.5 psi of boost. An additional dual-stage fuel pump, increased-capacity airbox, improved lubrication system, stronger rods and pistons, and drive train mods all equate to a 6,500-rpm redline. It's a monster of a car that Dodge says has a top speed of 203 mph and quarter-mile potential of 10.8 seconds at 131 mph. To emphasize the point, Tatiana clocked 10.81 on March 8 at Fontana when the car was 100 percent stock. It was her first time on a ¼-mile strip in the Redeye.
According to Tatiana, "The car is a civilized beast; she will let you cruise around town, casually obeying the speed limit while getting stares from those who know, and wonder if you're driving your husband's car. Yet when you find yourself a stretch of open road and mash the throttle, she will not hesitate to push you hard into the back of your seat, struggling to breath and she whines, roars and pounces."
"I'm planning on going all the way to Street Illegal," she joked." The first stage of modifications was performed by Lonnie Bartley of MPR Motorpsorts, Lake Elsinore, CA. I trust Lonnie absolutely and he began by removing the front sway bar and installing HHP Racing Hellcat race springs to improve the launch. He installed an aluminum driveshaft from HHP Racing and added a billet diff brace from Per4mance Development. He also replaced the beloved Brembo rear brakes with a 15-inch Wilwood conversion to accommodate the 15-inch Bogart bead-lock wheels. " MPR Motorsports has also since completed a second phase tuning Tatiana's Hellcat Redeye to a whopping 900hp to the wheel on the dyno, it is currently in the process of having a red NHRA approved cage installed since her last 1/8 mile run yielded an ET of 6.1 (i.e. 9.52 on the 1/4 mile).
A couple weeks ago, Tatiana took the Growler to the Fontana Oval and promptly decided she needed a car dedicated to the roval. She has since added a car to her garage to race road course/ovals--the Porsche 718 Cayman GT4. Let the modding begin!
My goal in all of this is not only to get joy in life but to also hopefully encourage other girls and women to follow their dreams in motorsports.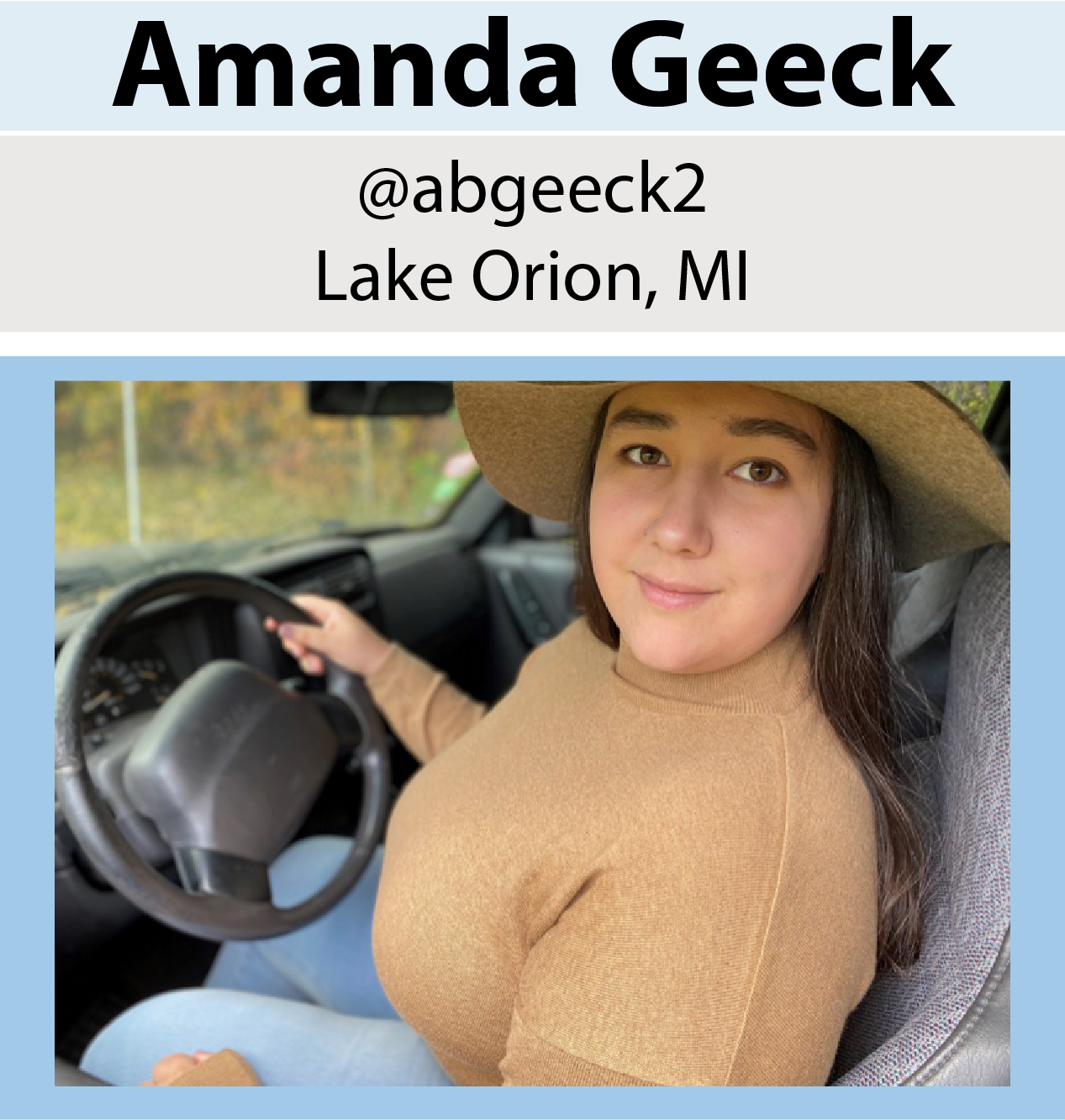 -Click photo to visit Instagram link-
I was interested in cars in high school, to the extent of helping my friends change spare tires and help them diagnose their engine troubles. My dad and grandfather equipped me well with how to take care of my vehicle. I did know that I wanted to be a mechanical engineer.
Once I began my undergrad, my pioneering moment into the auto community was Formula Society of Automotive Engineers (SAE), and my love for Jeeps- of all the possible combinations. I had just got a 2000 2 Door Jeep Cherokee Sport I was fighting to keep alive and running, and I was building a racecar with a great team of mentors that helped me network into the industry as a young professional. I found a passion for motorsports, a drive to succeed, joined the university car club and made a lot of friends, and spent a lot of time trying to keep my Jeep dreams going, even after blowing up an engine… After leaving Formula SAE I got to work with Team Illuminata Motorsports and Braid Wheels USA on a few projects, I interned for several automotive companies including a rotation with SRT's Product Development, got to focus more on my own project car, and of course graduated with a bachelor's degree in mechanical engineering.
Fast forward to post graduation, my Jeep collection gained a 1976 AMC Jeep CJ5 Renegade Project, my Cherokee has gotten a lift and is running smoothly, and I am a powertrain engineer at an OEM. My boyfriend and I try to get to as many track days and autocrosses as our crazy lives permit in his Ford SVT Focus. We enjoy going to motorsport events and car shows and are looking forward to updating our garage for more projects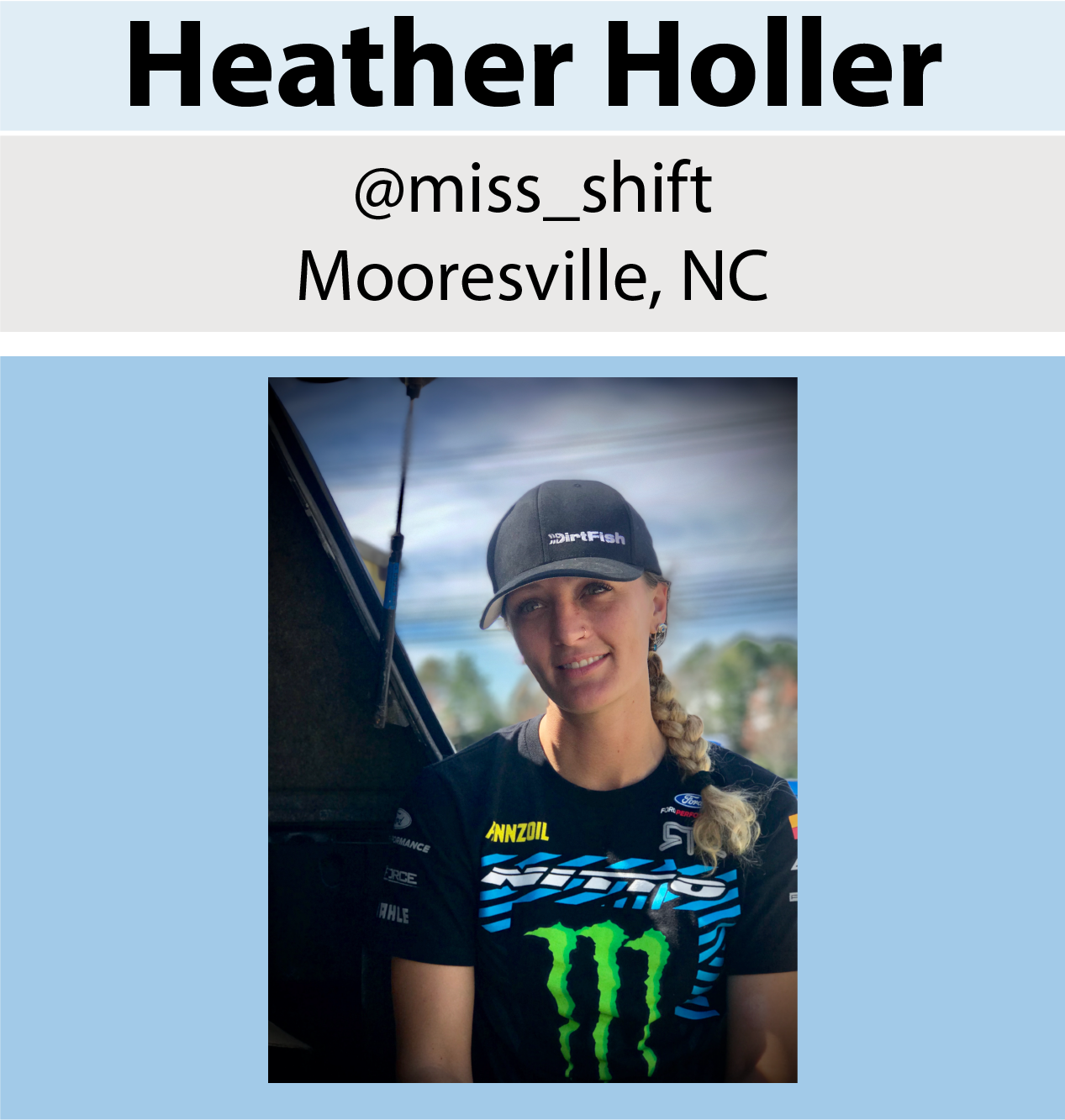 -Click photo to visit Instagram link-
I didn't get in to cars until I was about 20. I thought I was going to be a soccer player. I had a boyfriend who let me race his car at an autocross event where I beat him in his own car. I sold my SUV 2 weeks later and bought my Subaru.
Not knowing even how to change my oil, I had to learn how to swap an engine and do the swap wiring as I unknowingly bought a car with a blown engine. Luckily I had a friend with a full turbo swap for a very reasonable price.
I found myself attending tech school when I was about 22. This was about a year after swapping my car. I used my car as a resumé to get my first job as an apprentice at local Subaru dealership. I graduated from school in 2012 and spent the next 7 years working at Subaru dealerships.
In my first year of working for Subaru, I learned about rally and decided to reach out to the owner of Vermont SportsCar and the manager of the Subaru Rally Team to ask what it takes to have a job like that. Lance actually emailed back, explaining experience was the biggest factor.
After getting experience in the dealerships and with a couple privateer teams, I applied for a mechanic position with the team and actually got a reply back. I found myself in Los Angeles a couple months later having an interview after watching a rally cross event. They said they were interested in hiring me, but couldn't guarantee anything at the moment. They also said it would be a lot easier to hire me if I moved out to Vermont. So I packed up everything and moved me and my dog 3000 miles across the country.
Through the Subaru team, I got connected with DirtFish. After a year with VT Car, I left and free lanced for DirtFish for the next 4 seasons. During that time with DirtFish, I've made some cameo appearances on TV shows like Twin Turbos and was even a Subaru "specialist" for Chip Foose on the TV show OverHaulin'.
After getting married, my husband and I moved to "Race City USA" (Mooresville, NC). I started working for the drift team, Vaughn Gittin Jr. Motorsports and RTR. Recently, I decided to go back to school to get a mechanical engineering degree with a focus in motorsport and JUST found out that I won a scholarship from The Jessi Combs Foundation. Hopefully I will be spending my first year of school online while living in Germany. I accepted a job offer for the Hyundai World Rally Team, but COVID is making that a bit difficult at the moment.
Thank you for your interest in #womeninautomotive.
To participate, please contact: [email protected]