Old Blue, my 1985 Ford F250
By Lootenny
You must be logged in to rate content!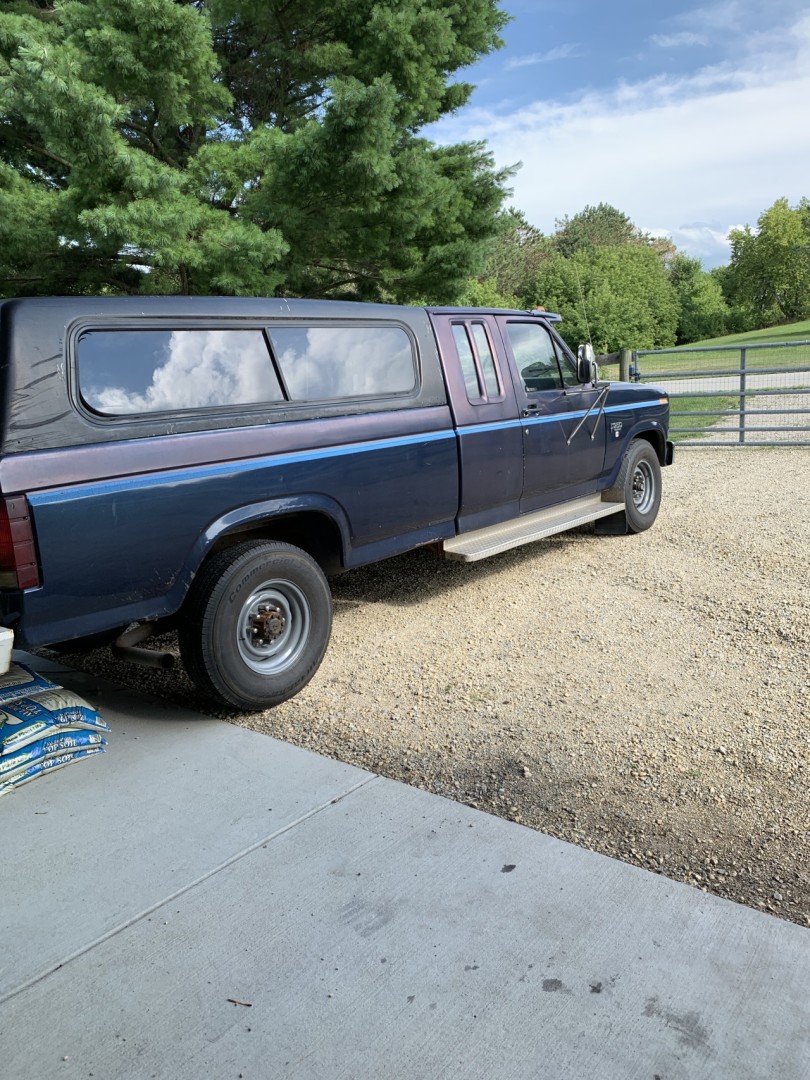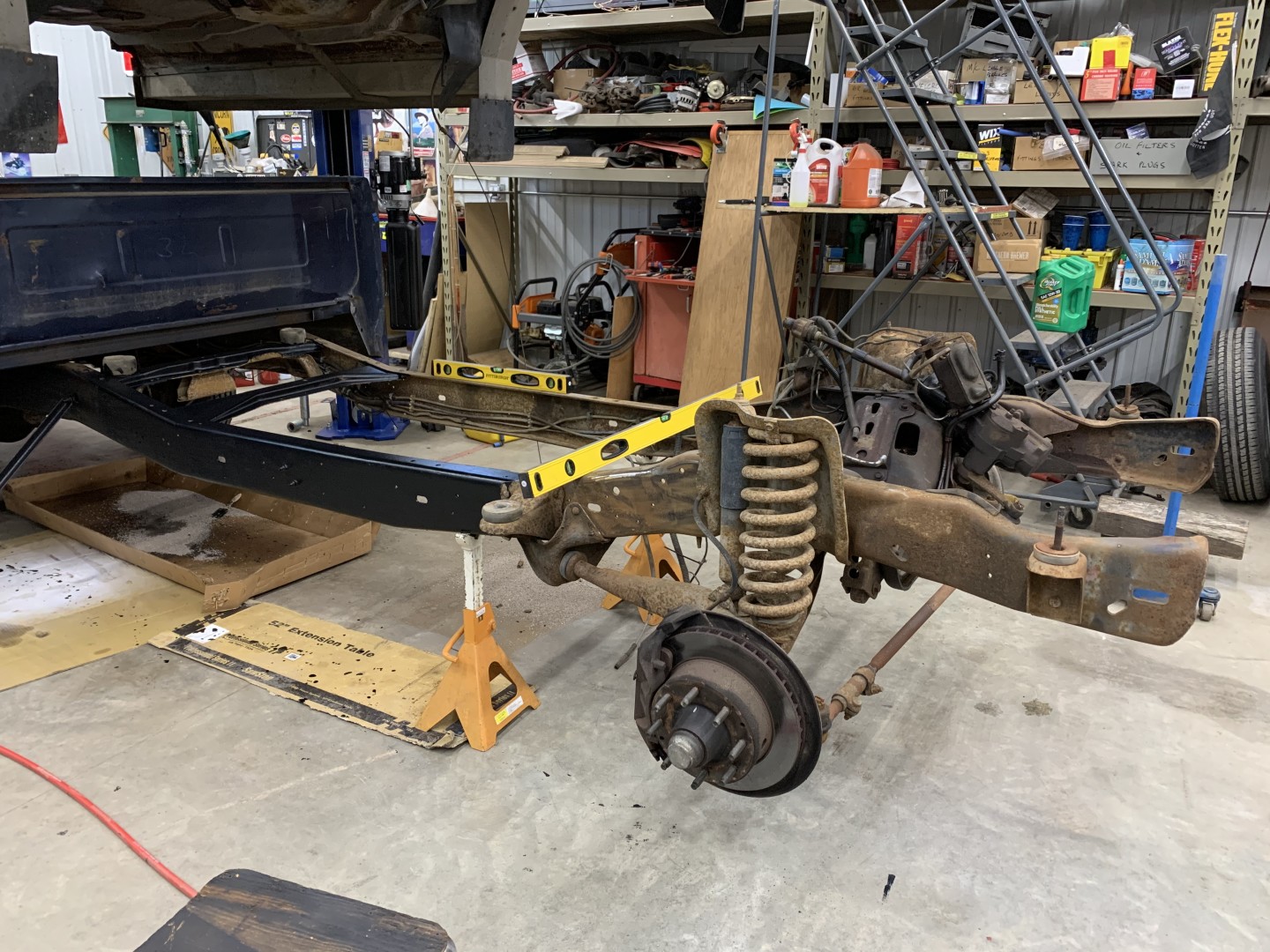 IDI out, about to drop the stock 2WD Twin-I beam and start fabricating.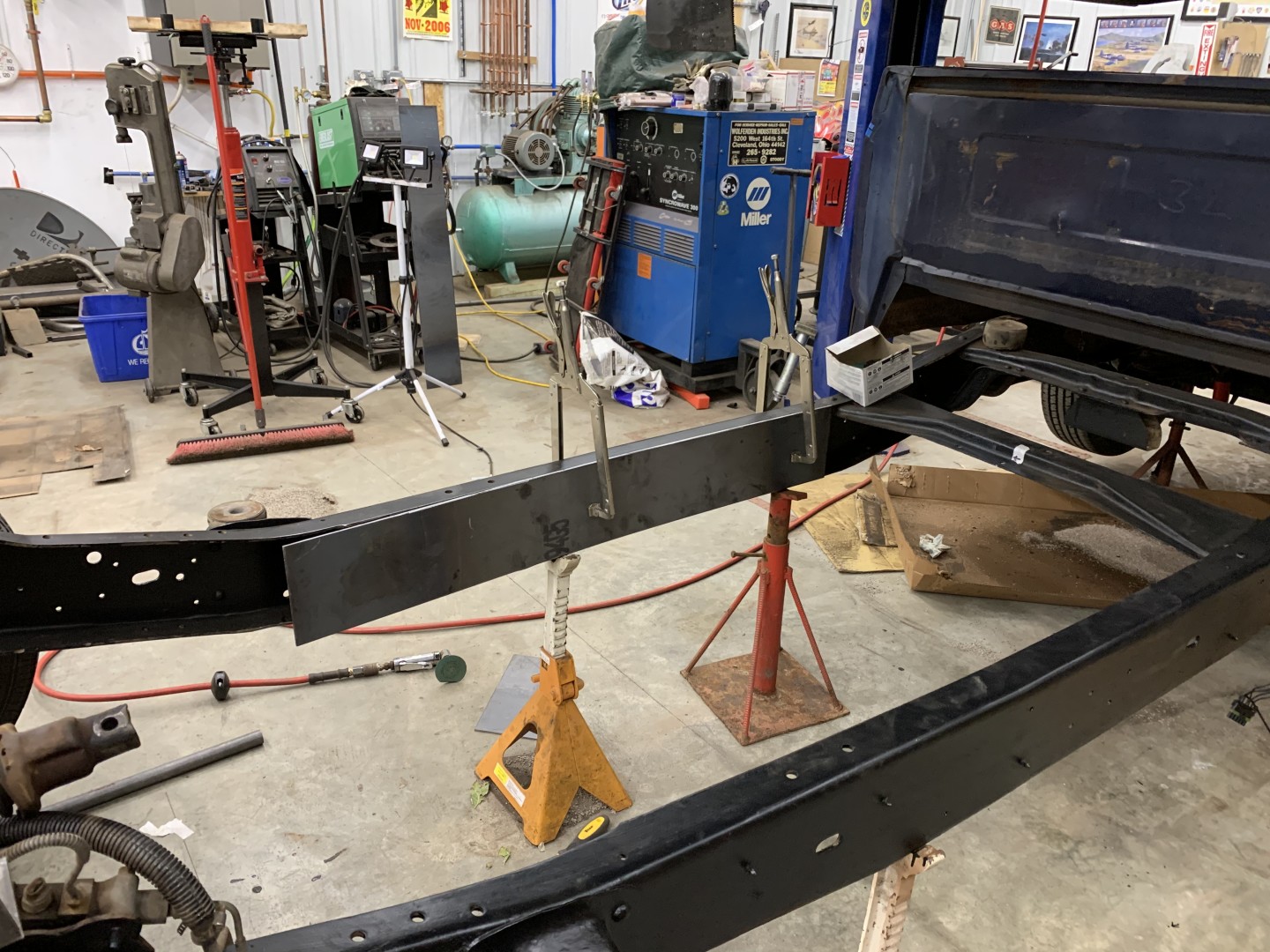 Boxing the frame, because nothing succeeds like excess!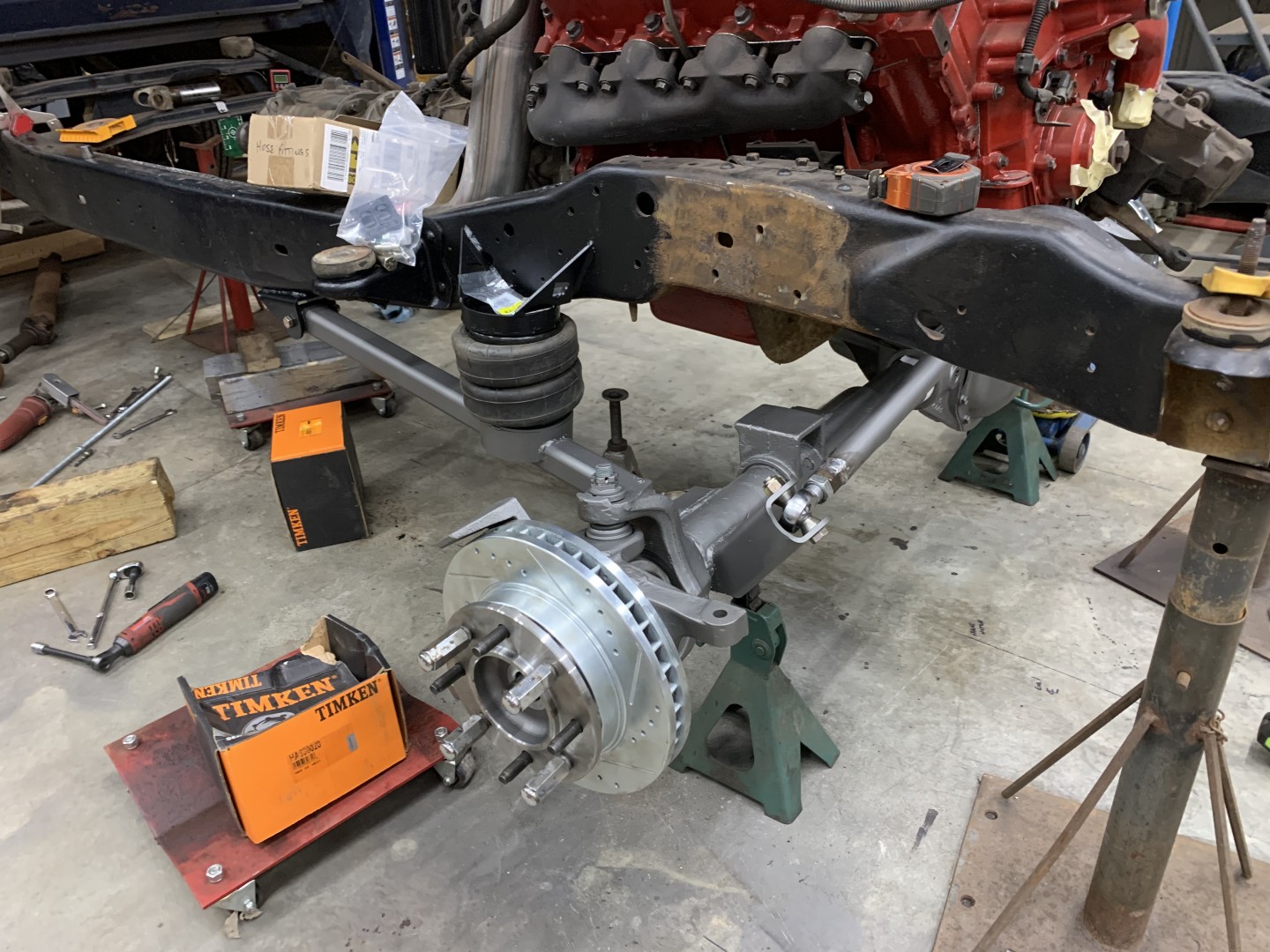 Control arms made and mounted, airbags positioned with a 1.5:1 ratio to both lighten up the spring rate and increase the wheel travel to a total of 14"! I left the stock shock towers on as long as possible to see if they might be used for anything, but no dice, so here I have just taken the rivets out and knocked them off.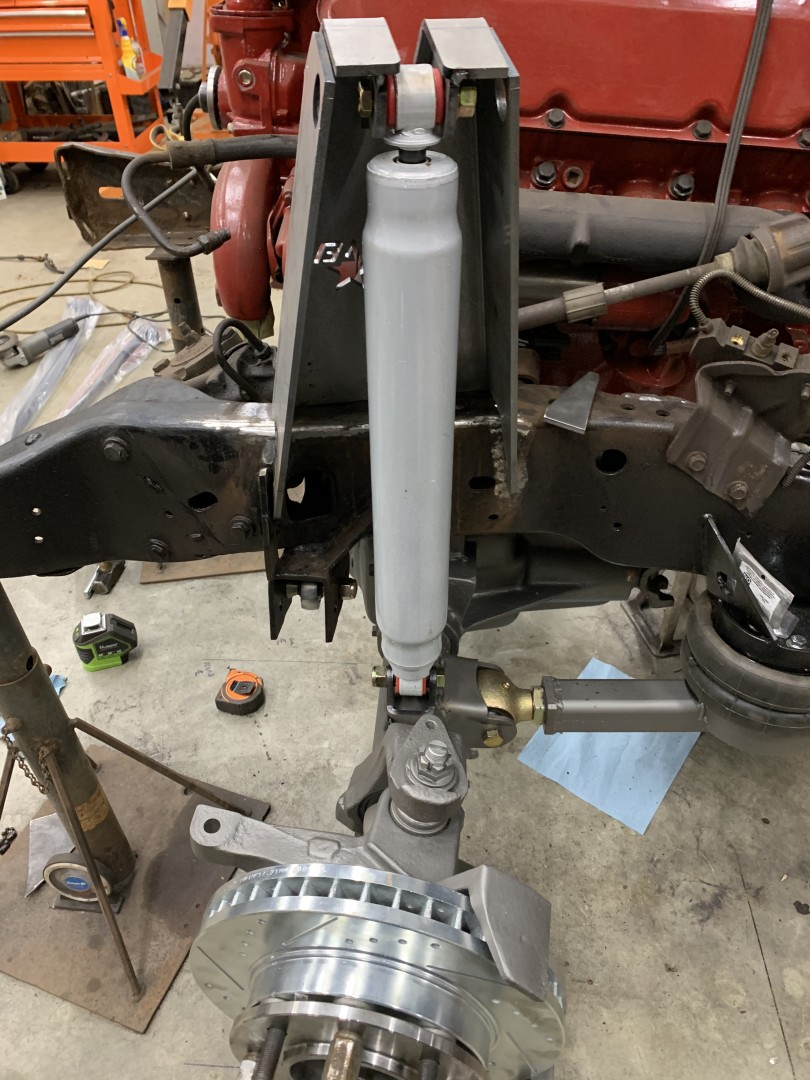 And the Barnes 4WD shock towers mounted. The Rancho shocks are 20" or so at full compression, and 35" fully extended.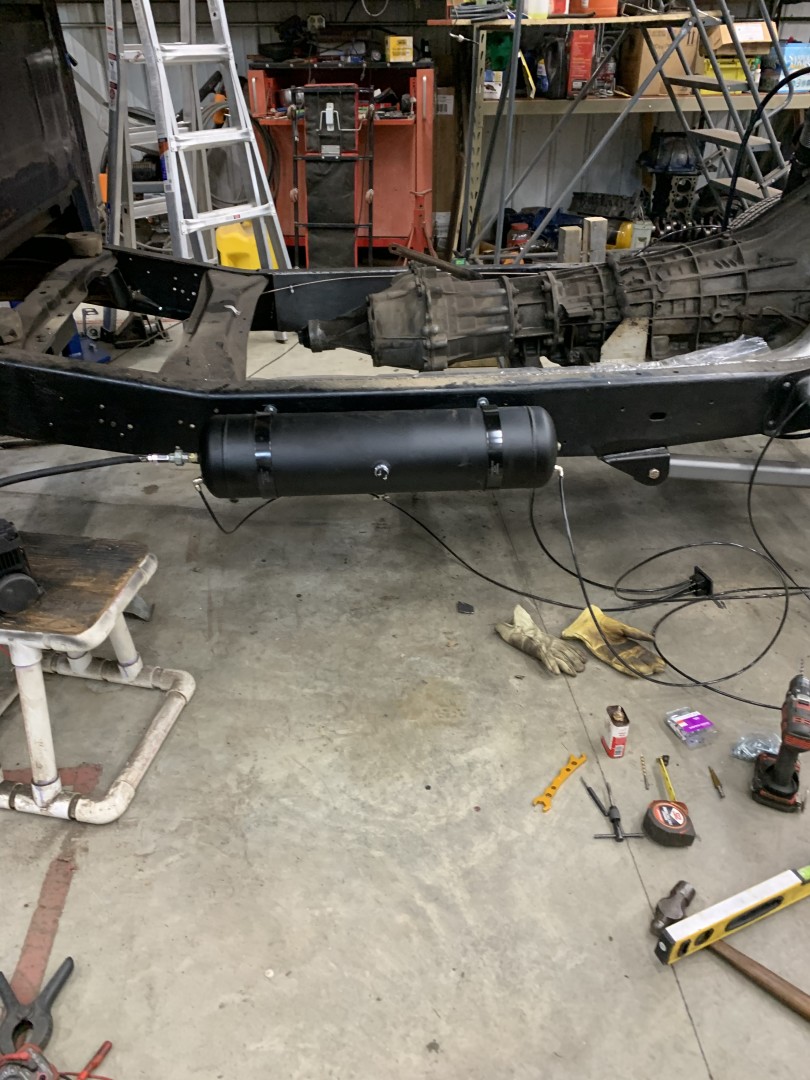 Air tank mounted under the cab, compressor will be inside to protect it from the elements. It shouldn't have to run very often, time will tell. The suspension holds air for days and days without noticeable droop.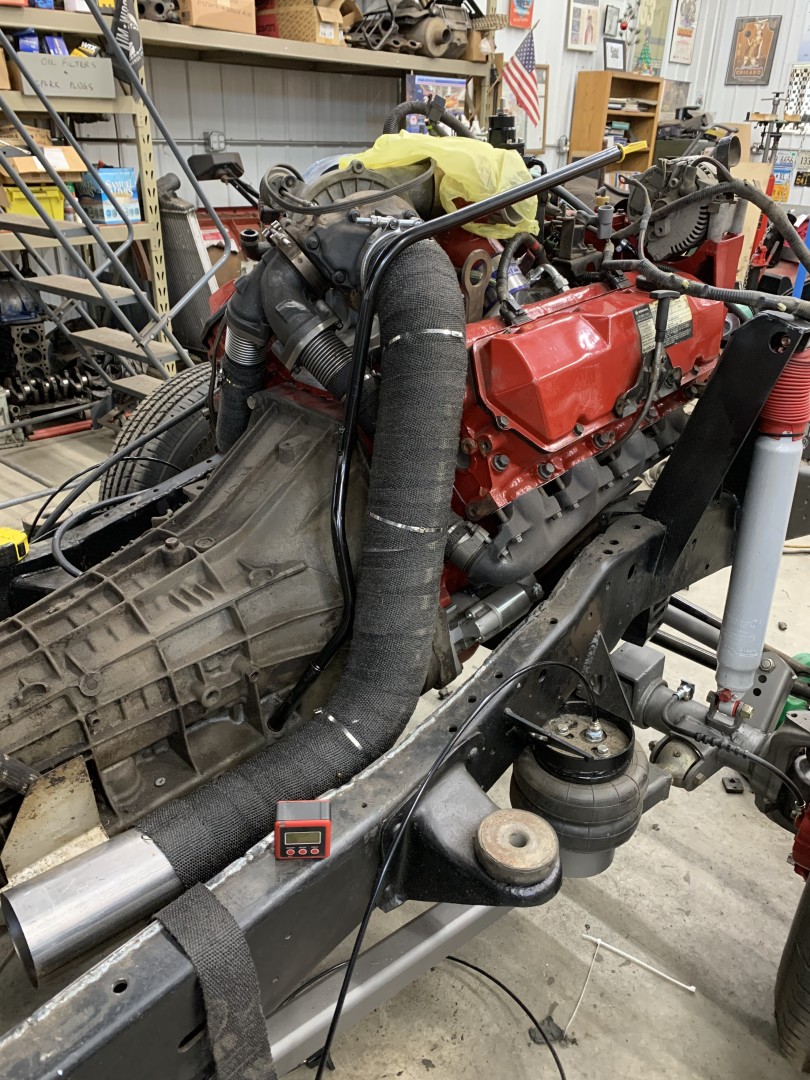 4" downpipe and a Super Duty dipstick for the E4OD meant "massaging" the firewall with an 8# sledge. I was able to clear the exhaust without cutting, but the lower firewall adjacent to the gas pedal stuck out too far to clear the cab when it was coming down, and the wastegate actuator rod was firmly into the firewall seam below the wiper channel. I ended up cutting the firewall and making a box to go around the turbo, and trimming the lower corner to clear the cab. NOT a bolt in deal!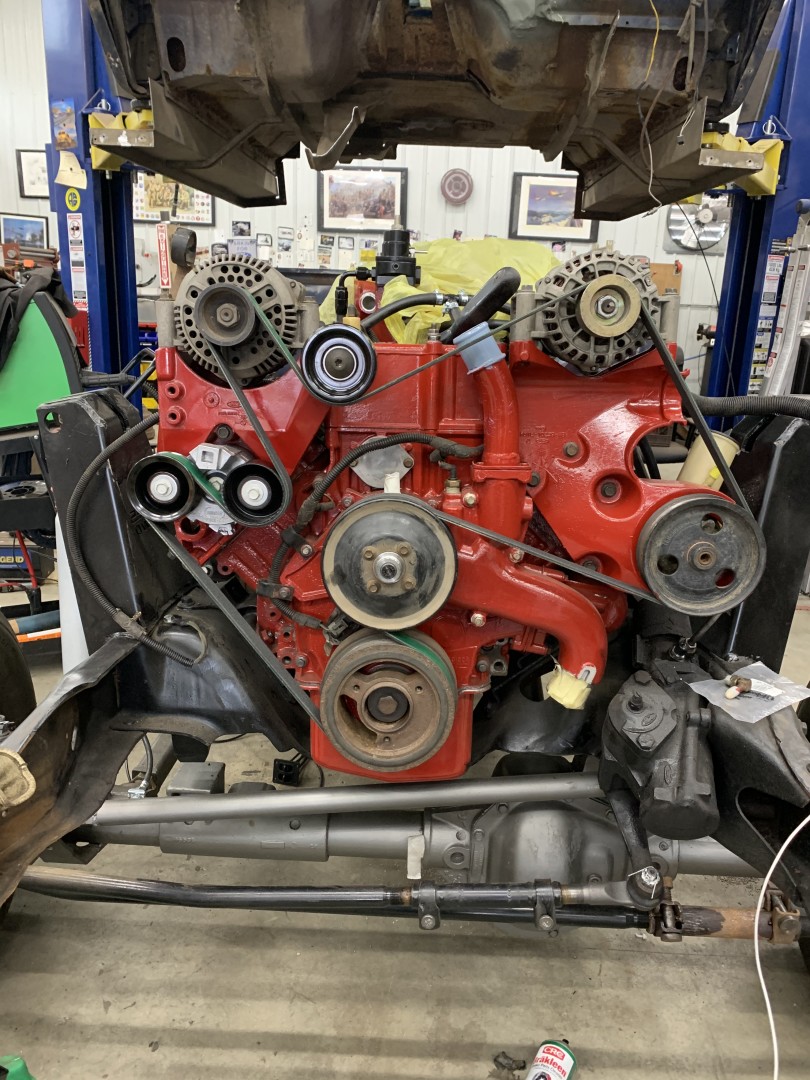 As the 85 doesn't have air conditioning and I didn't feel like I was gonna spend that money now, I did a little research and found that the later model power steering pump bracket from a 99 and up super duty has the alternator on the driver side instead of the air conditioning compressor. Voilà, two alternators!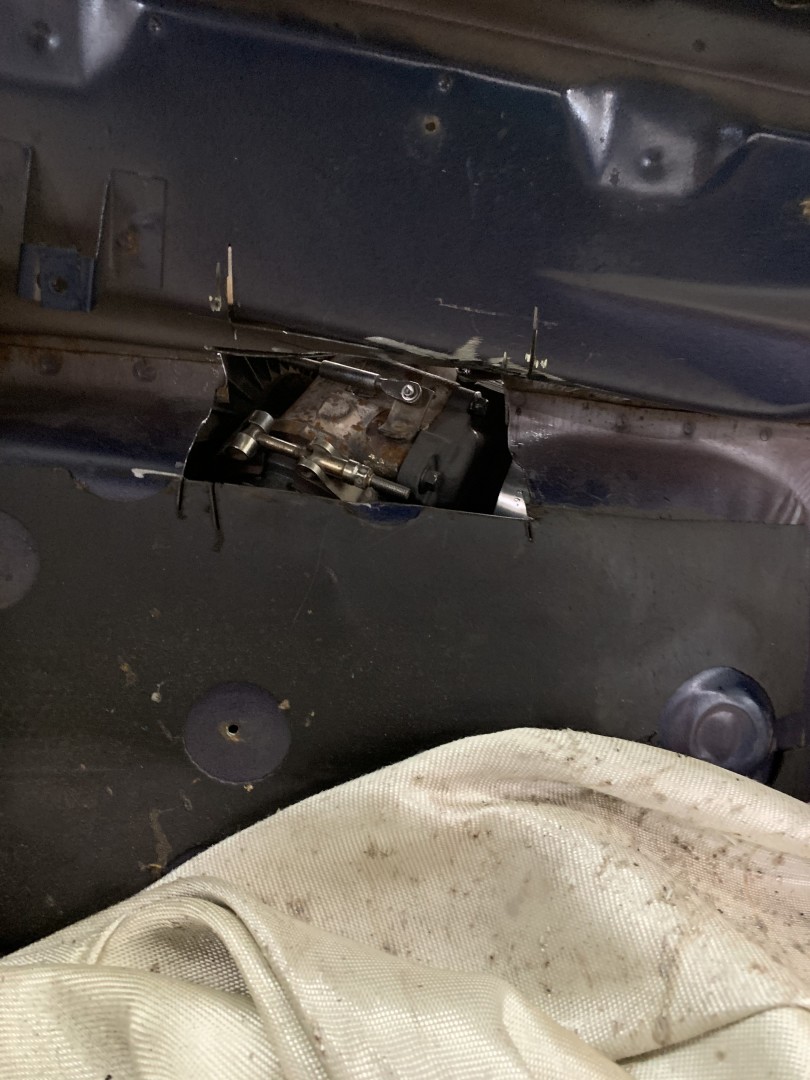 And the turbo, seen from inside the cab!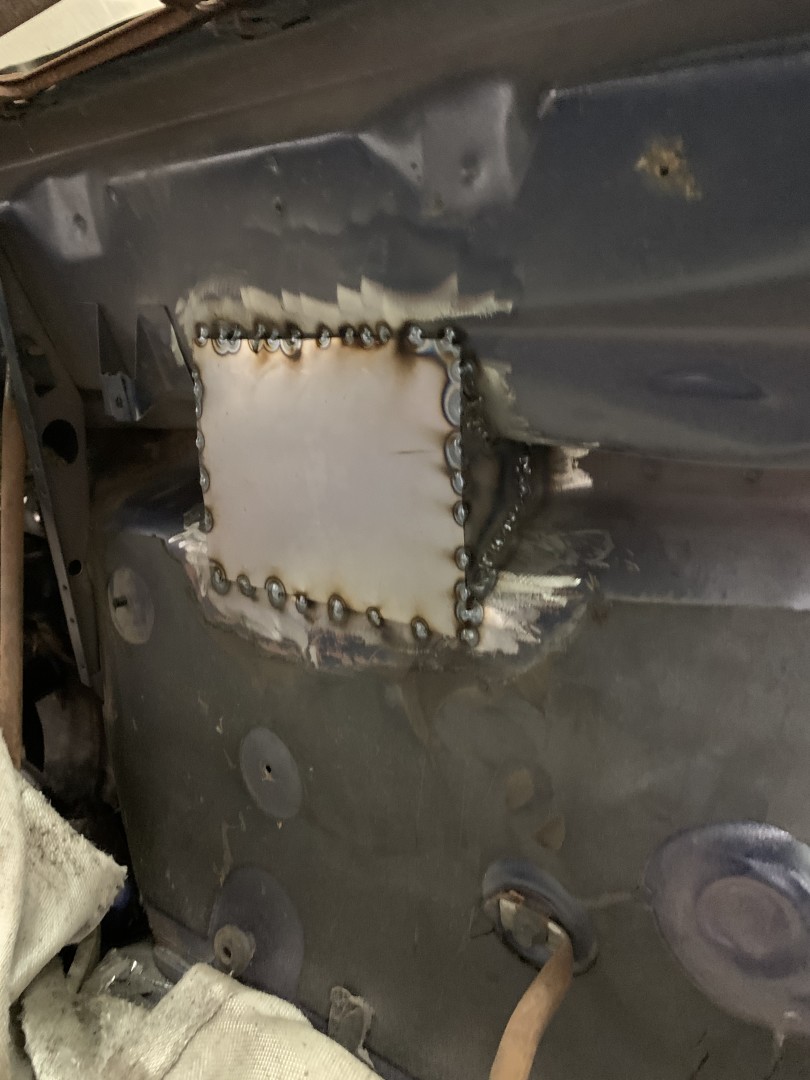 And now you can't see it! Seam sealer, some self-etching primer and we are good to move on to the wiring! Yay!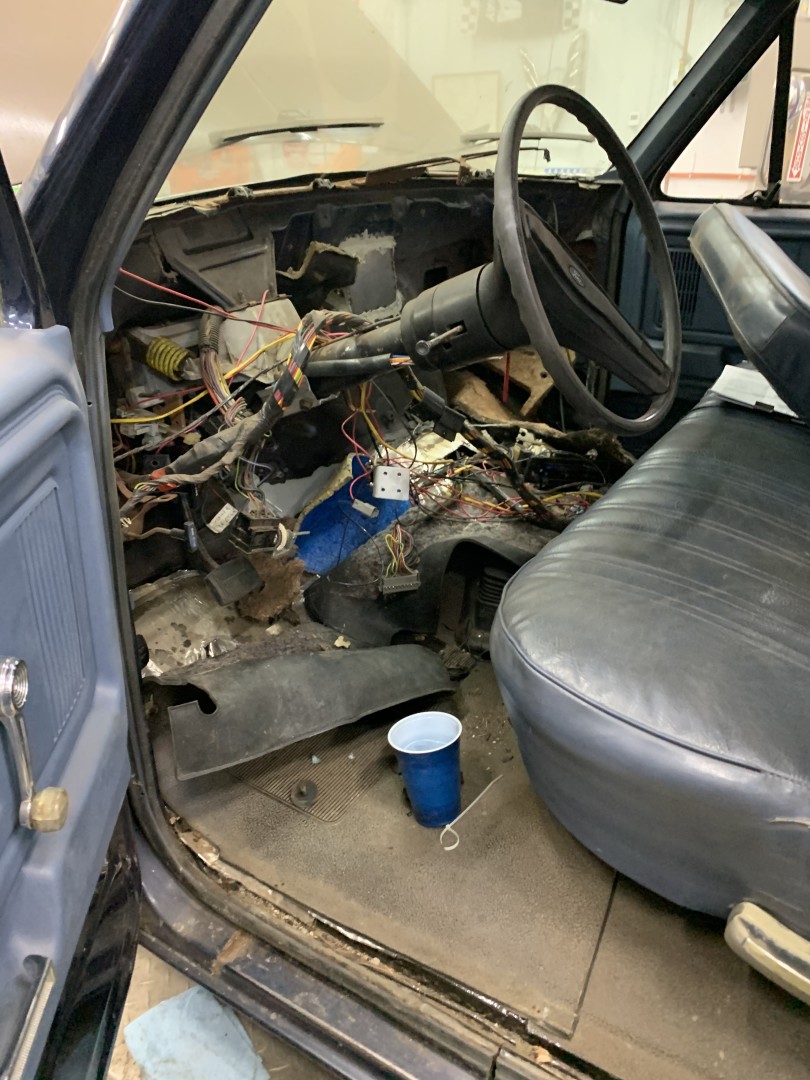 Speaking of wiring...LOL! The plan is to leave the '85 wiring running the lights, wipers, heater and radio, and transplant enough of the '95 harness to run the engine, transmission, and gauge cluster. No, it hasn't driven me to drink (yet), the solo cups are used to sort hardware as they stack nice and are easily labeled.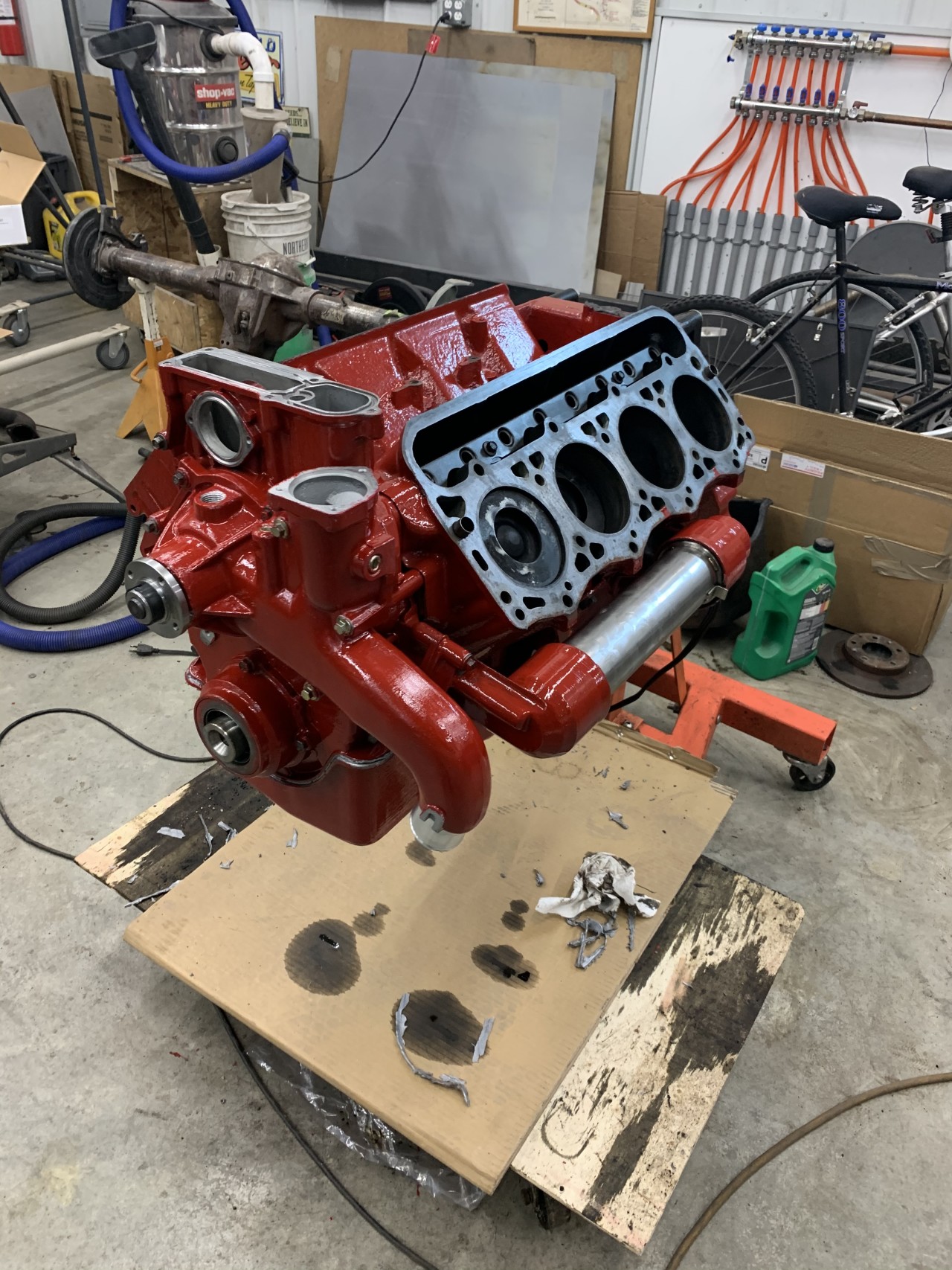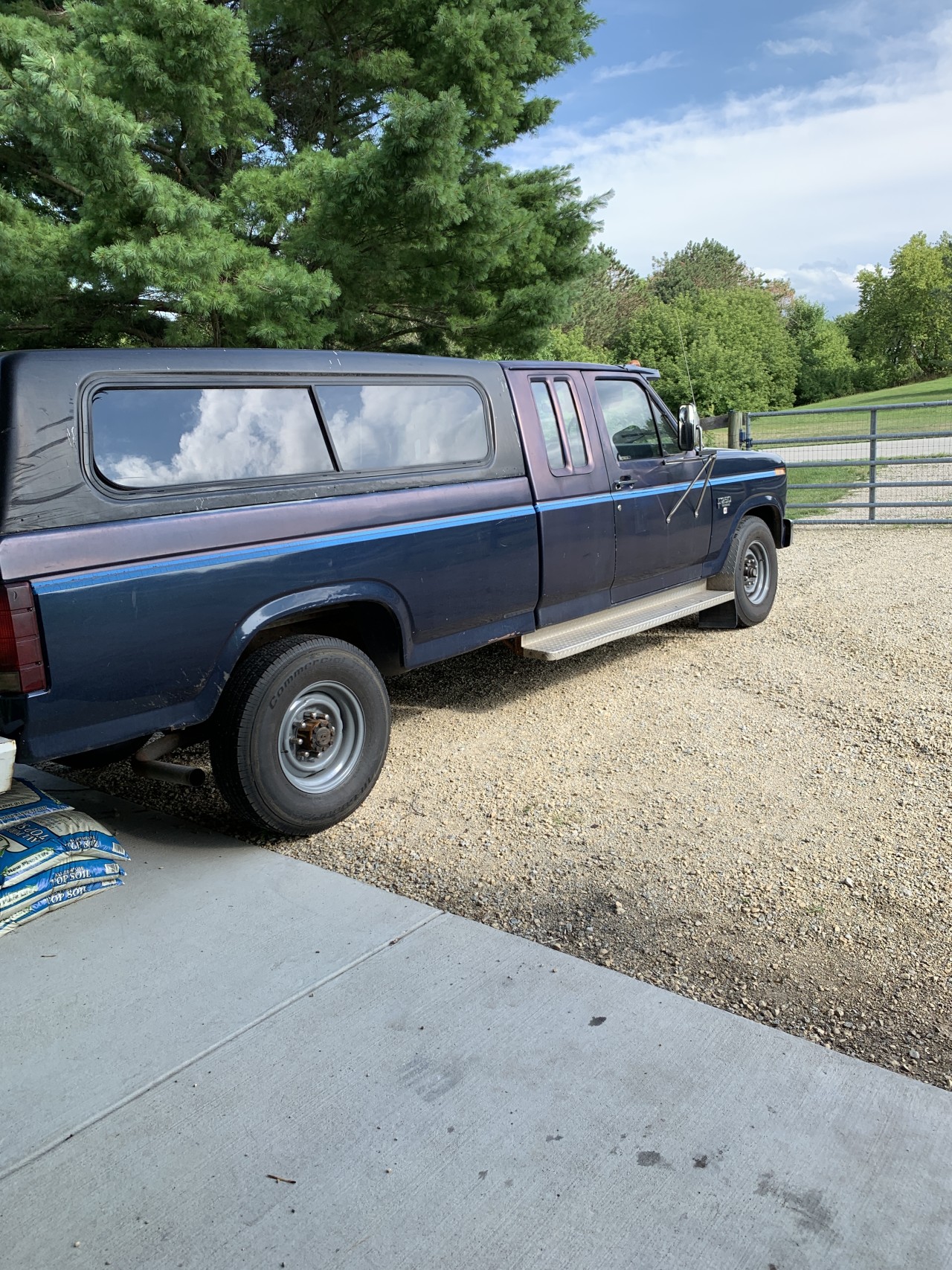 Old Blue was a Minnesota farm truck when I found him on Craigslist. He's a 1985 2WD F250, fairly rust free, and while the five digit odometer read in the 35,000's, I assume it was 135,000 and not 235,000 or 335,000 based on condition. Stock power was a 6.9 IDI normally aspirated diesel with a T-19 four speed manual.
The drive back to Illinois was slow and loud. The first thing I did was source a ZF5-42 five speed OD transmission out of a 1991 F450 Super Duty. This helped drop the highway rpm's, but was not helpful from a noise standpoint at idle. There is a reason the stock flywheel is a dual-mass unit. It helps to calm the internal shaking in the transmission, but these flywheels are prone to failure and are very expensive when they can be found at all. I used the stock 6.9 flywheel and (new) pressure plate, and had a custom friction disc made in the 6.9 outer diameter but with the ZF 1.25" input shaft center. This works perfectly, but the racket! It's called "rollover" due to the design of the ZF, lots of bits and bobs jiggling around at an idle.I took it to a transmission shop and he declared it "the high end of normal, no need for a rebuild." I left off the driveshaft parking brake and installed a transfer case, to take advantage of the low range when backing up trailers. The ZF reverse ratio is ridiculously high, and I was scheming on adding 4WD in the future anyways.
Last year I stumbled across a 1995 F250 on the side of the road with a "for sale" sign on it. I stopped, got the number and called for more info. Nice guy, original owner of the truck, who was using it only to plow the local lake when it froze for racing At this point. It had 225,000 miles, a 7.3 Powerstroke with a rebuilt E4OD automatic, and was a rusted out POS now. It came with the plow, which was in the bed. "Make me an offer" he said. I offered $500, and he said "sold." It took plenty of ether to get it running and had rusted out brake lines, so I paid to have it towed home where I stripped it of everything of value and junked the shell. If it had been a super cab like Old Blue, I would have swapped bodies onto its frame, but it was a single cab frame, so no go.
I have cleaned up the motor, replaced the passenger side head because it rusted through two exhaust ports, lapped the valves, installed Comp Cams 910 valve springs and Smith Bros pushrods. I deleted the mechanical fuel pump and bowl and am adding a 99.5-03 intercooler turbo setup. This winter I plan to swap in motor and trans, then look at how I'm going to mount the Dodge Dana 60 front axle to get 4WD. Why Dodge and not a Ford Super Duty Dana 60? Because the Ford is super popular and hence pricey, while the Dodge axle was $50. I have to fab mounts either way, and I'm not goin* rock crawling so it will work fine.
I'll keep you posted on progress.