Audi UR Quattro Rally Build
By team illuminata
You must be logged in to rate content!
9-15-2016



As our 85 UR quattro is getting to the point of being on the road again I'd like to introduce our latest project which we plan to start almost immediately. A 1983 UR qauttro, currently in such a sorry state that it's only viable future is as a RALLY CAR!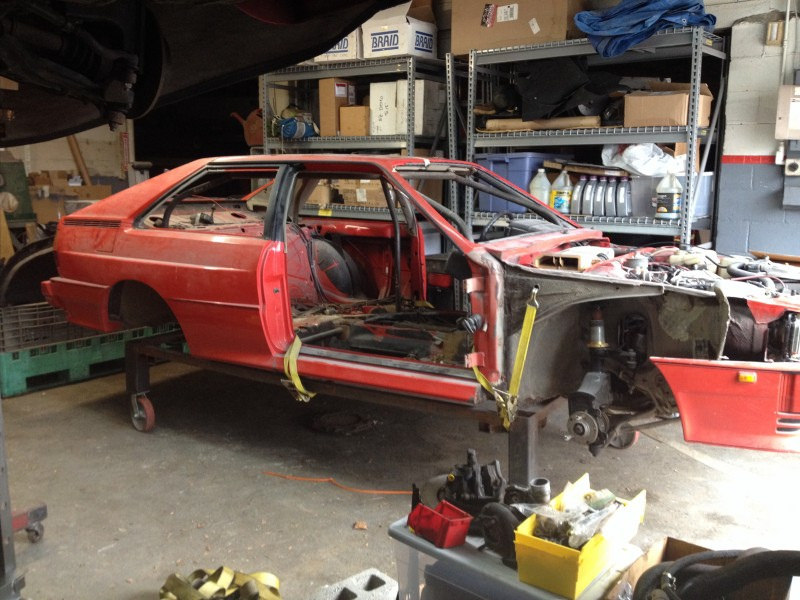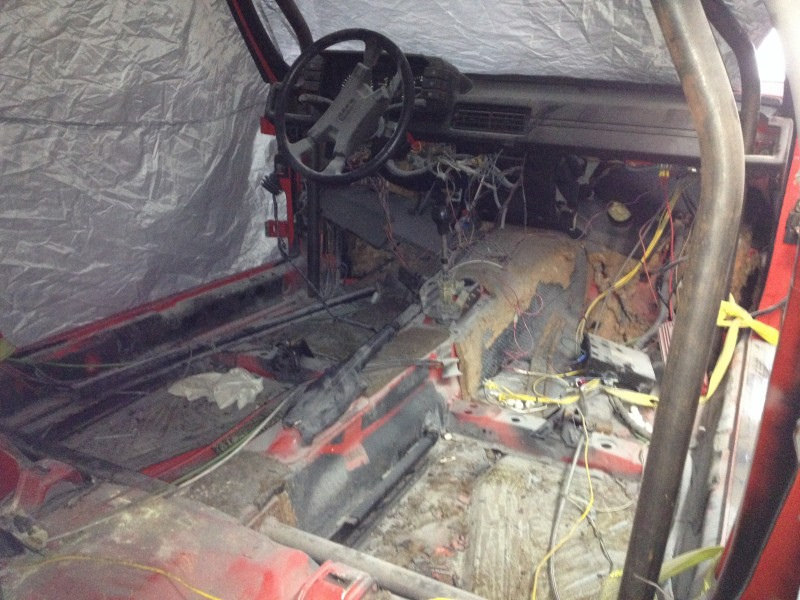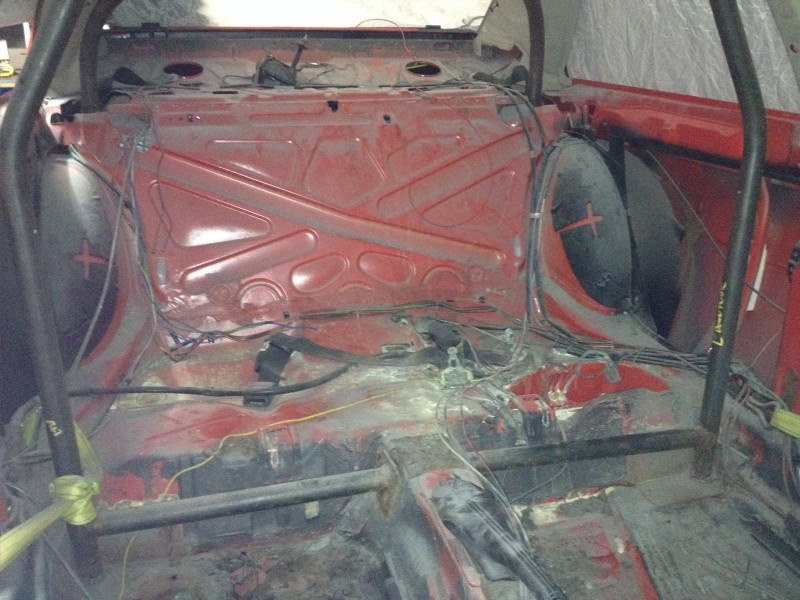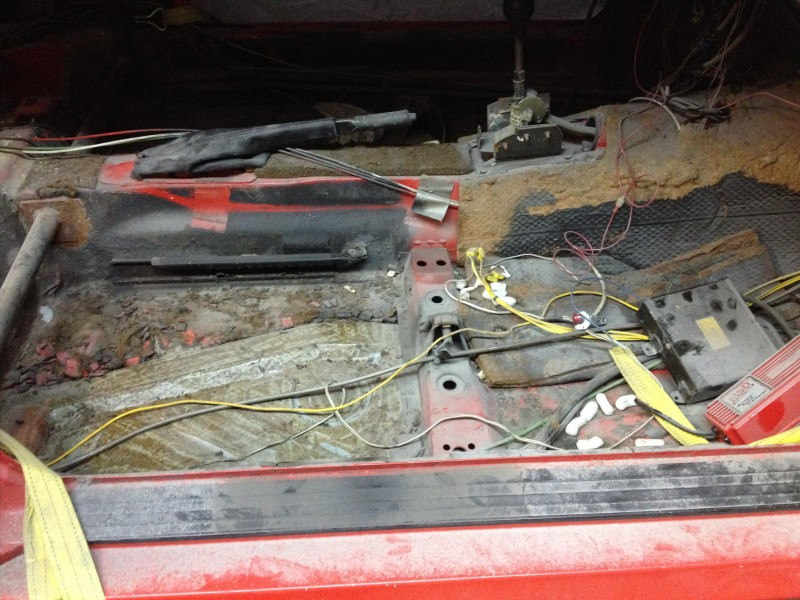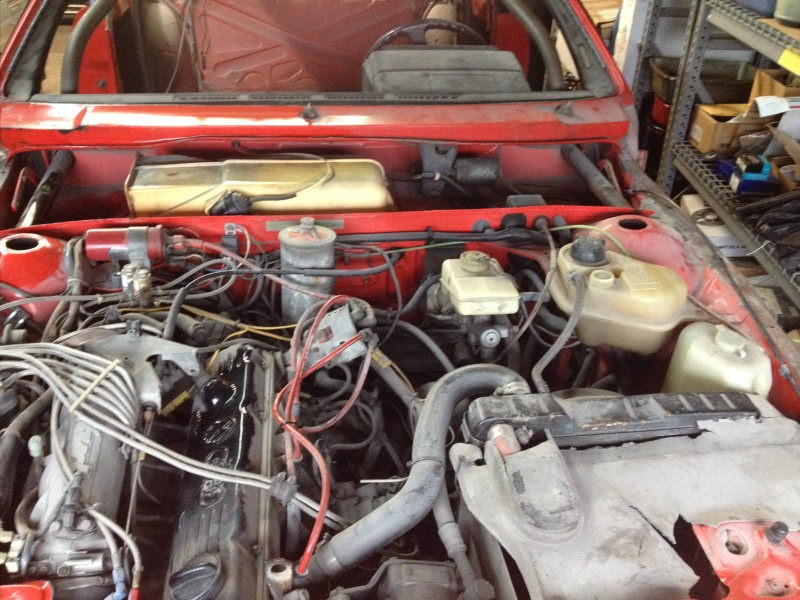 The shell is pretty solid and the car "ran when parked". We will be rebuilding the engine and transmission and it does have this hole in the rocker panel.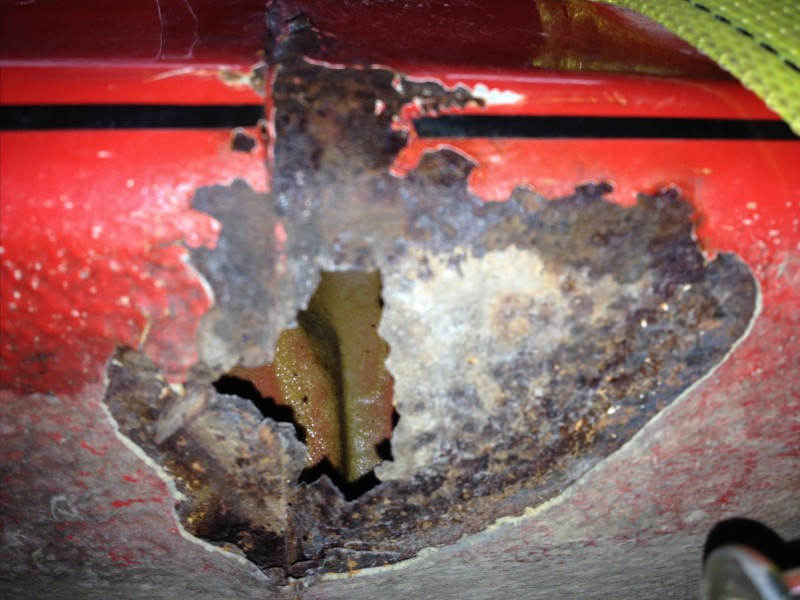 We picked up the car about a year ago quite locally as it happens. The previous owner had driven it for about five years then decided to put a cage in it and use it as a more dedicated track toy. He stripped a lot of the interior out, bought some go fast bits, put a rudimentary cage in it and then got distracted for about twelve years. That's when we cam along and "saved" it.

It came to us in the stripped out condition you see but with some interesting bits; some attached, some not.

Koni based custom coil overs: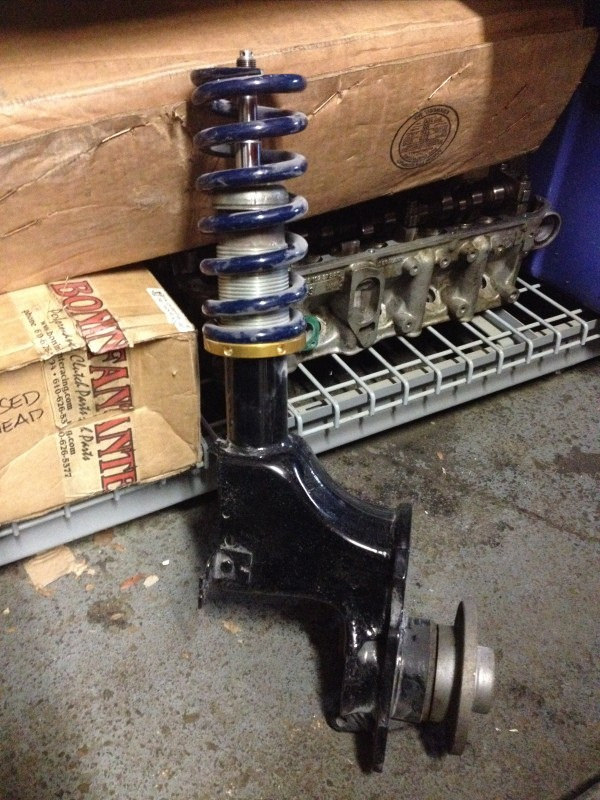 Rally rear spolier.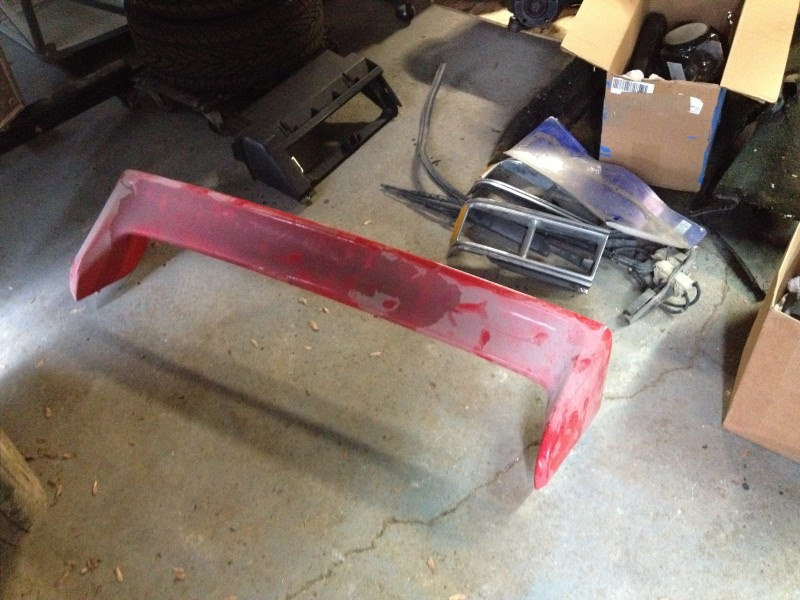 Fiberglass front fenders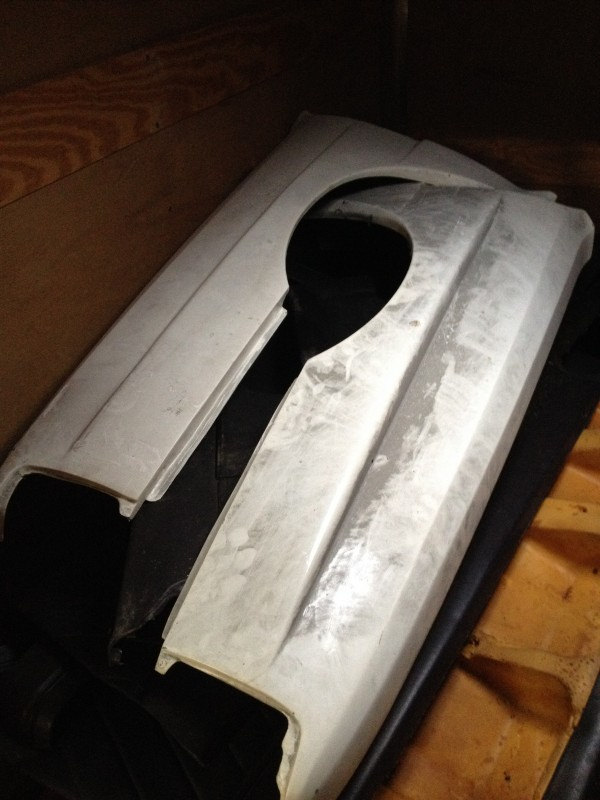 NOS kit!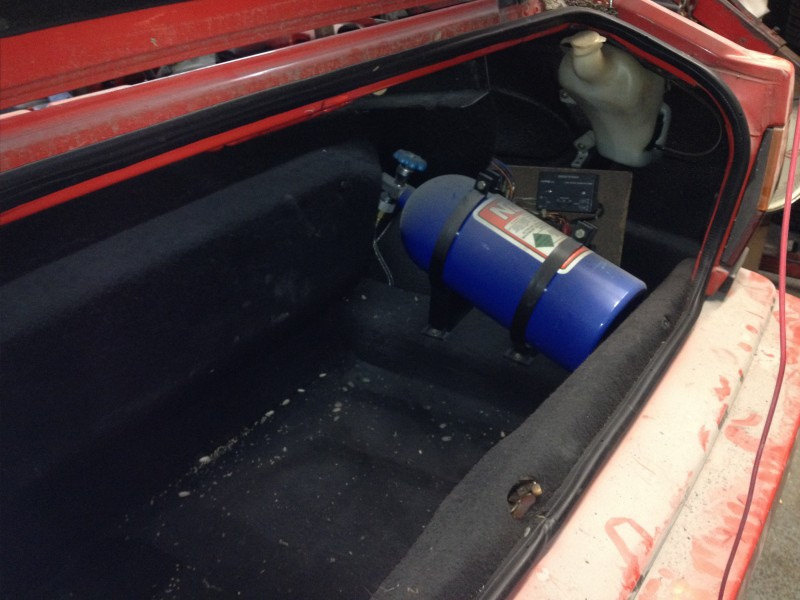 Audio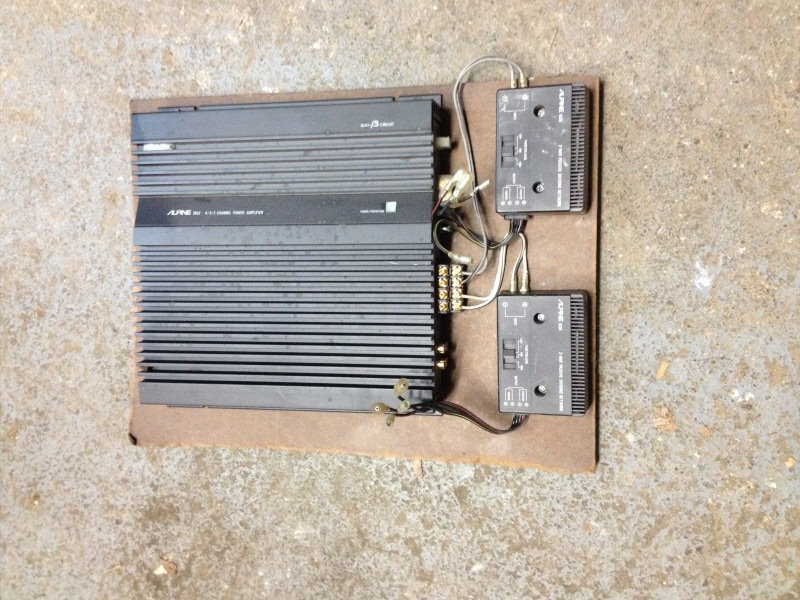 Refurbished brake calipers with new discs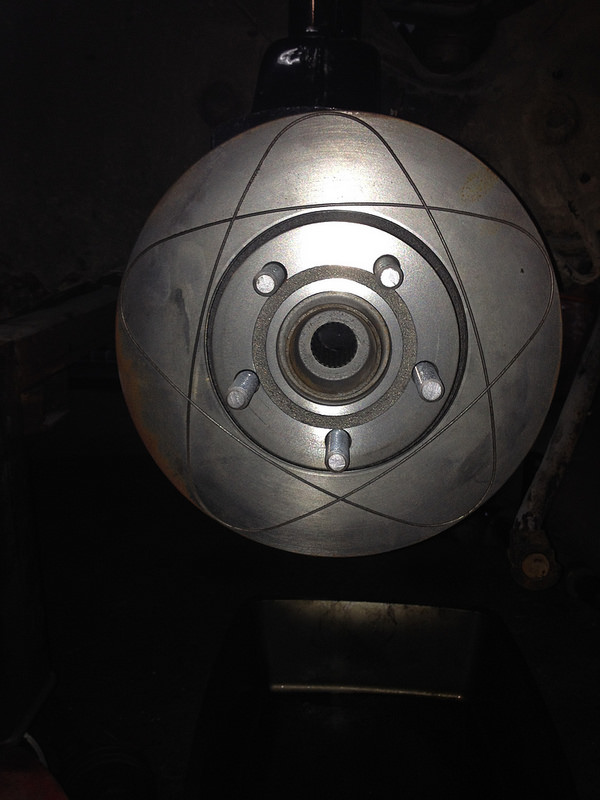 Fiberglass S1 (short wheel base) hood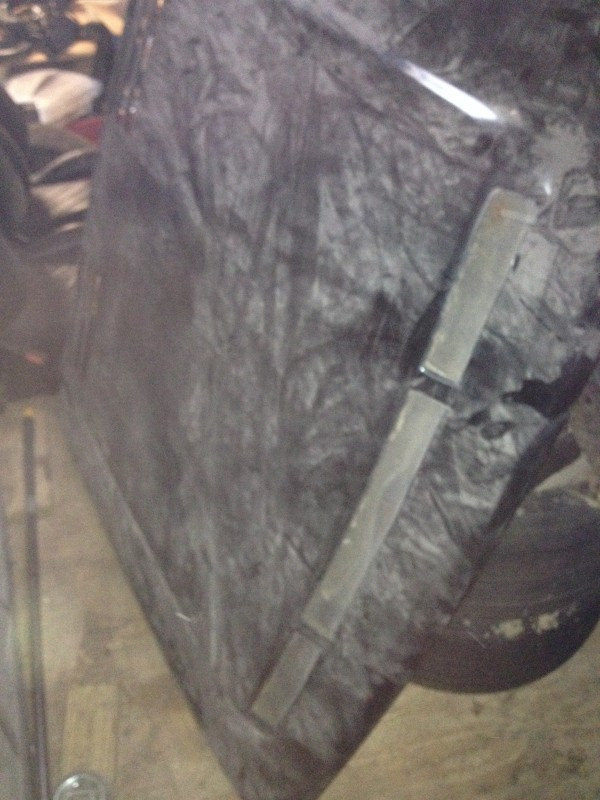 and all the parts that came off it in a trailer!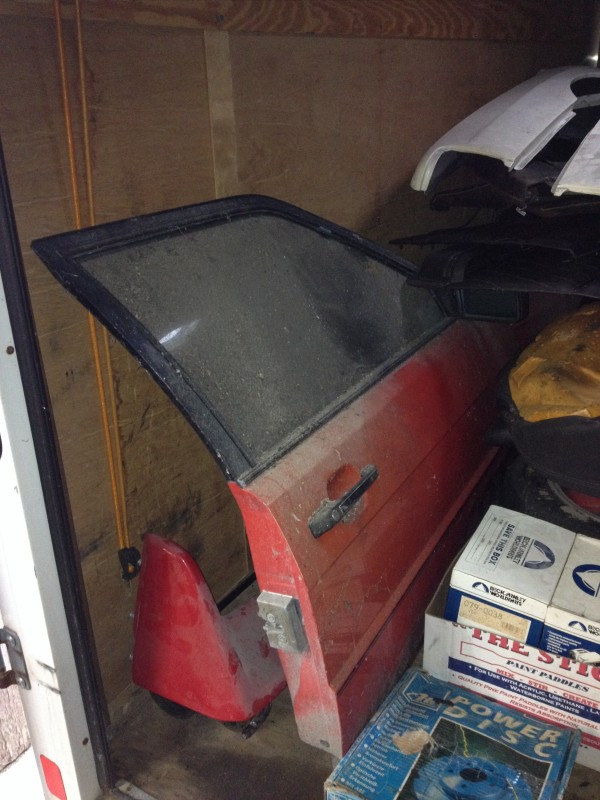 So the plan is to strip the shell, fix the rust, install a cage, install a Group B body kit, and rebuild it as a Rothmans tribute to match our Porsche 911 Carrera RX and Mercedes RALIVAN. Stay tuned.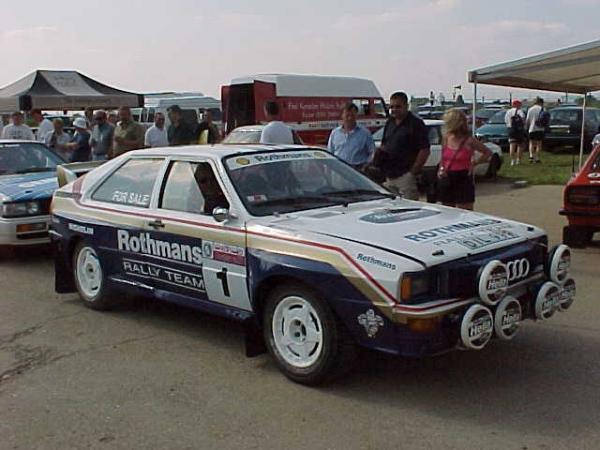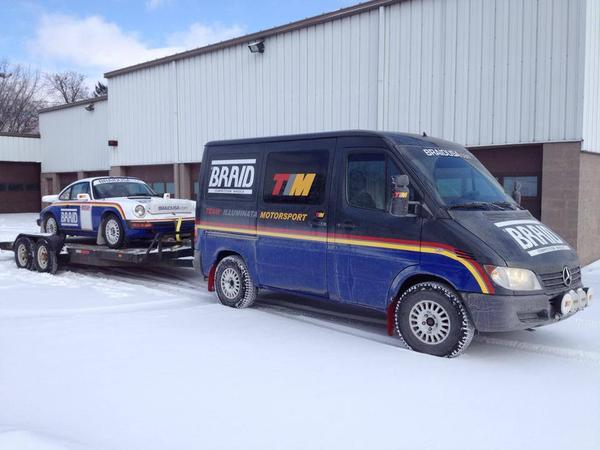 9-18-2016
INTRODUCING THE TEAM

We've teamed up with a small group of Engineering students from Oakland University to assist with the project and contribute to the education of a few future automotive experts in some small way. These guys are so keen they've already given themselves a name. They call themselves the "Qauttro Sqaud".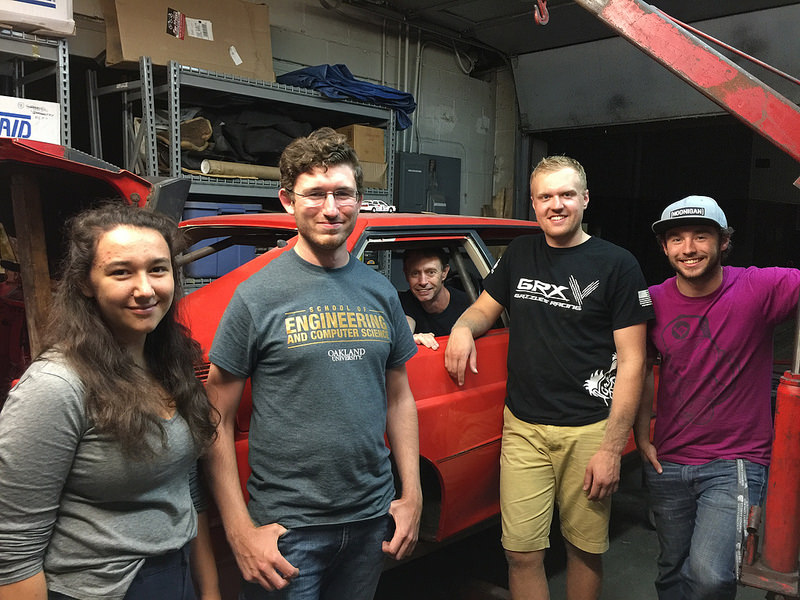 So who are the Quattro Squad? Well we have Amanda, Nathan, Matt and Aaron. All students at Oakland University and all way younger than this car! They vary in age from Sophomore to graduate student and most have worked on OU's Formula SAE car to some degree. They have never worked on restoring a car, building a street based race car or, for the most part worked on modifying any street car, though Nathan did install mud flaps on his Dodge Dart. This is truly going to be a new experience for all of them, as it is for us and we are excited to be able to help broaden their experience as they progress with their engineering careers.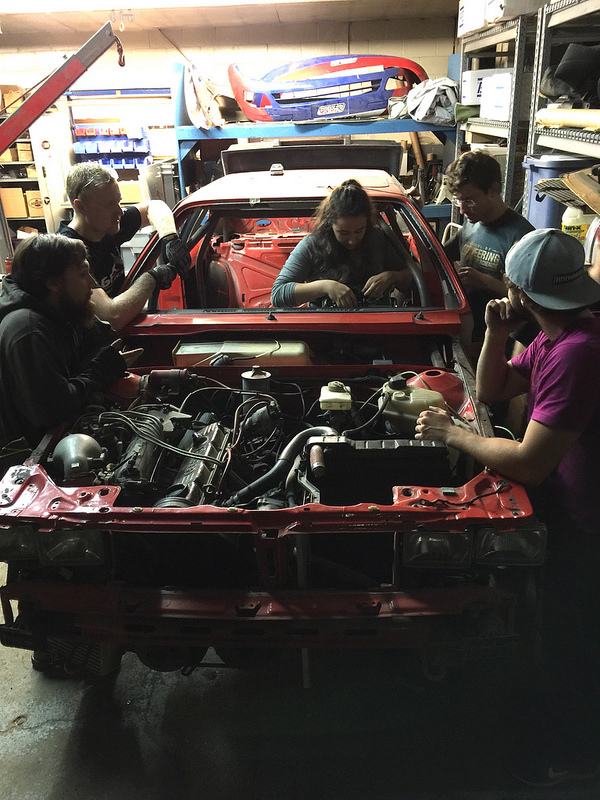 We plan to work on the car as a team one evening a week and maybe some weekends. Last Wednesday was our first such gathering. So what did we accomplish? Well job one is to strip the shell so it can go off to our fabricators: Thompson Racing Fabrication, for a proper shell and then paint. All the team were very eager to jump in and not shy to put wrench to car. Fortunately one of them seem too overly aggressive so much of what comes off should survive the process and as we discussed, most parts should get bagged, labeled, organized and photographed as we disassemble everything in a logical and methodical way. These are engineers and future engineers after all. I myself being a recovering engineer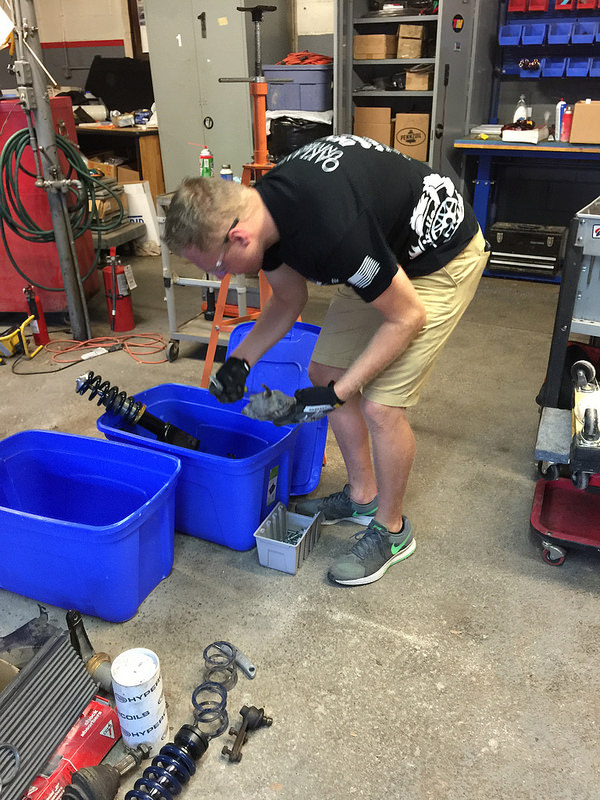 We assigned people to different areas of the car but they spontaneously teamed up when needed. Nathan and Aaron attacked the interior but that soon turned into stripping the trunk as they had to to get the rear belts out. Typical Audi.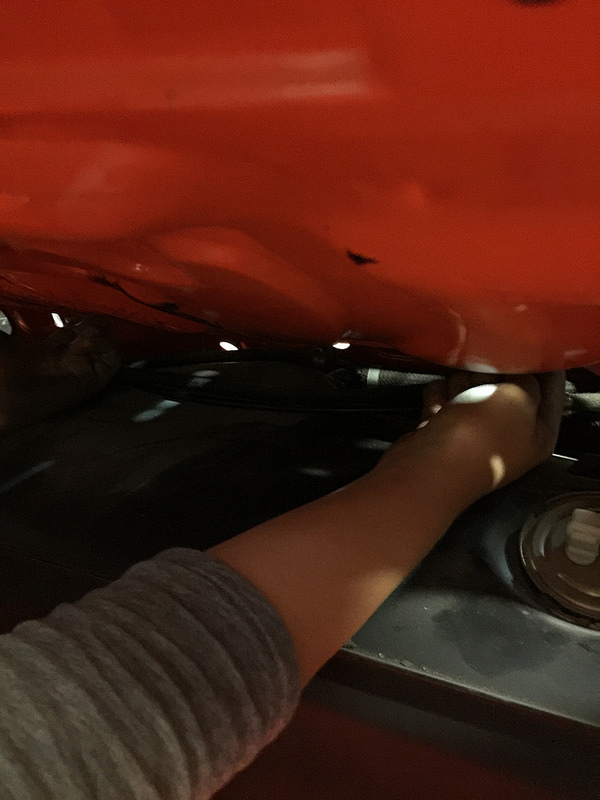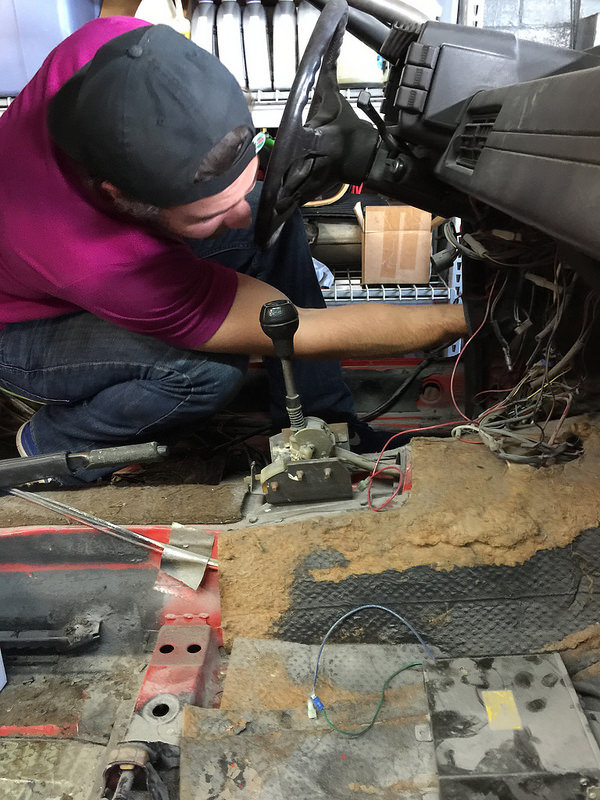 Amanda took over trunk duty as she was also working on interior wiring and much of that terminates in the trunk.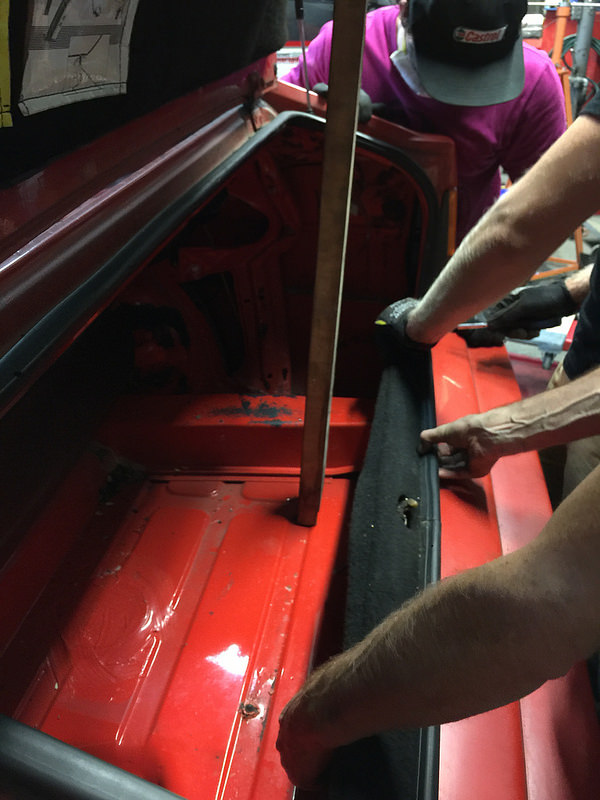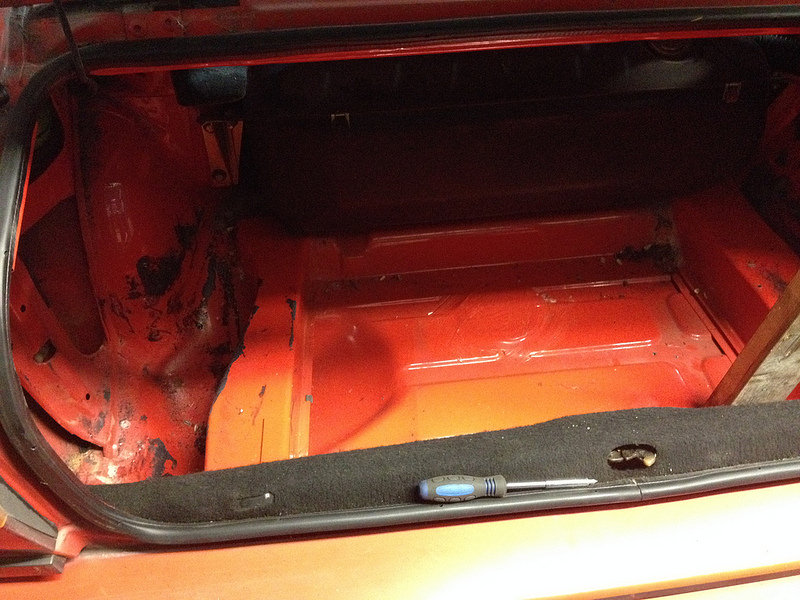 Matt removed what he could from the front suspension then went after the front body work: bumper and spoiler mostly.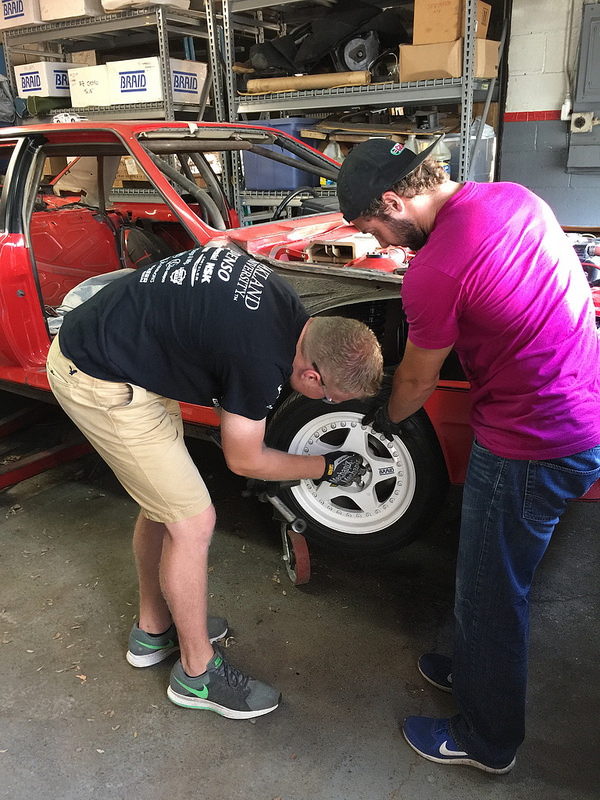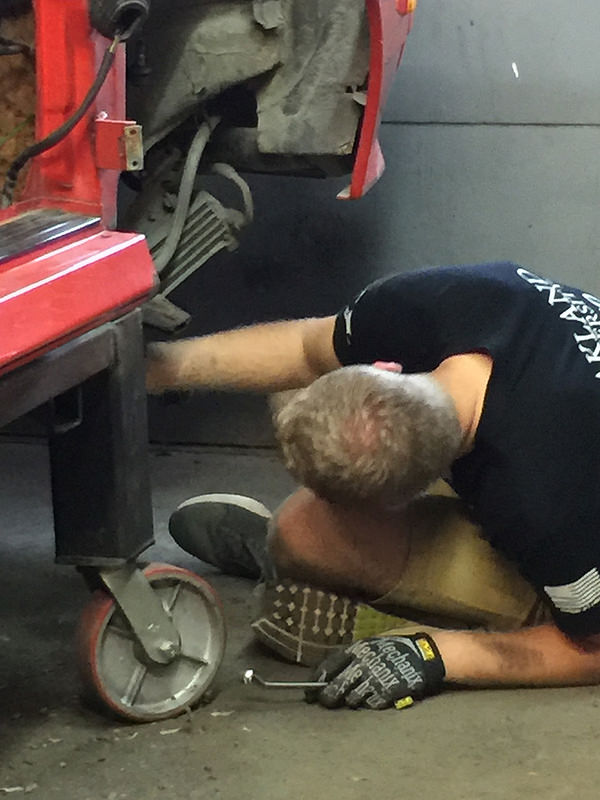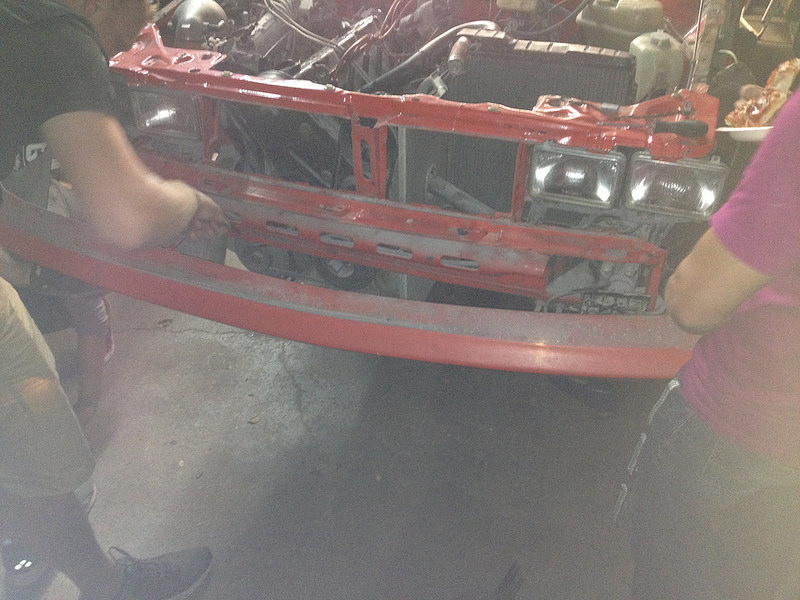 It seemed as if everybody was involved in removing the dash.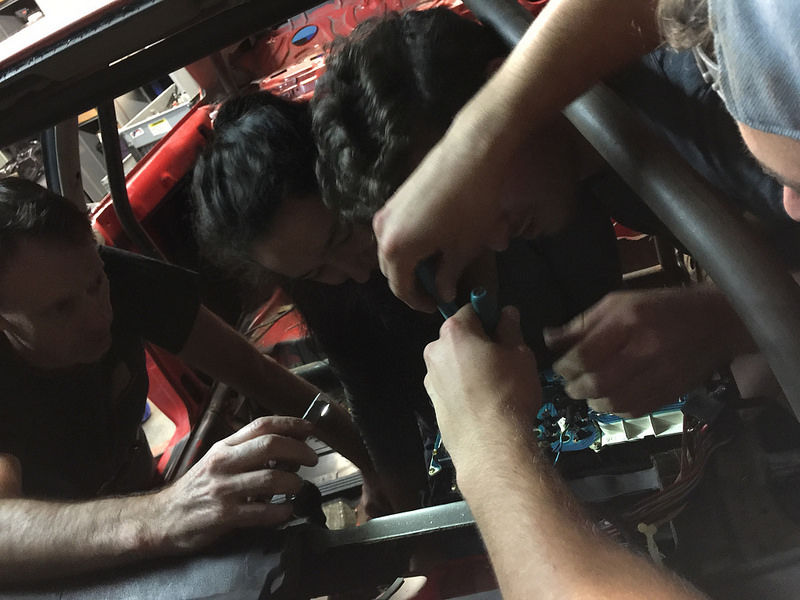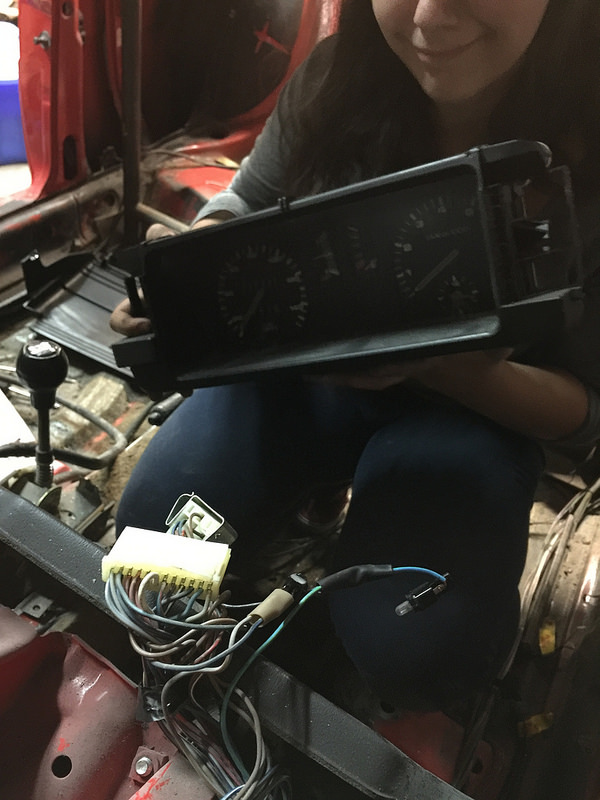 Next time we will continue stripping the shell before we figure out how to get it of the rolling platform so we can drop the rear sub-frame then front sub-frame/engine/transmission. Should really test the engineer's skills that one.
9-22-2016
Second evening for the "Qauttro Squaud". We were a little light on numbers last night due to unforseen testing of the Formula SAE car. Still, we made some progress.

We stripped the trunk lid of its lights, spolier, trimmings and wires.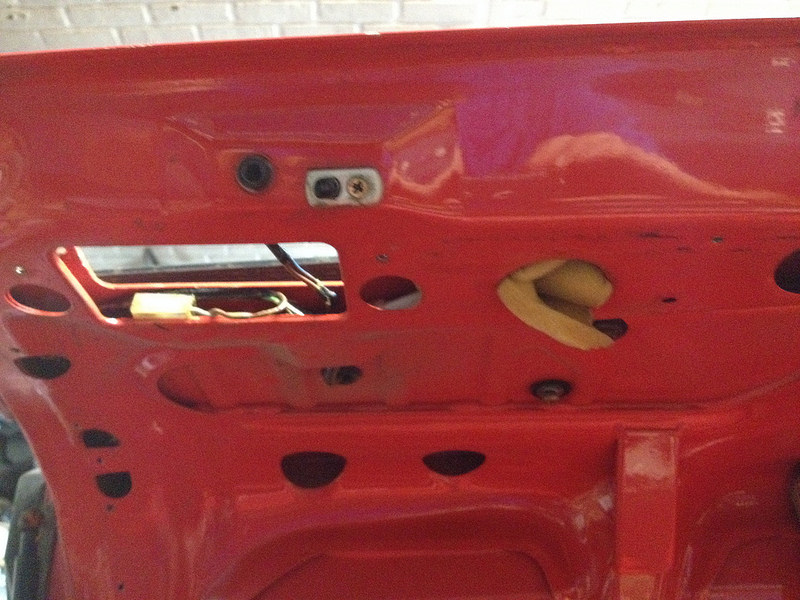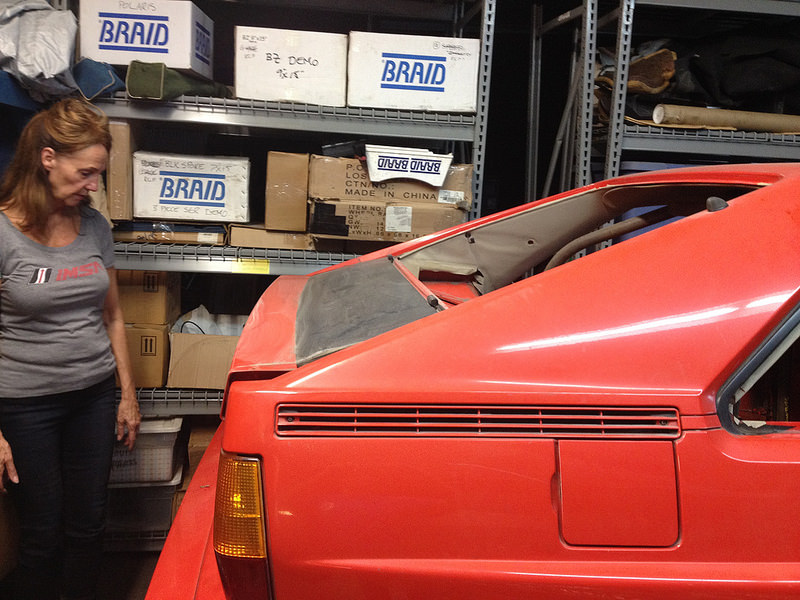 We also got the rear lights out but forgot to photograph that.

Matt continued with the interior and managed to relieve the car of the dash panel and the blower housing though that is hardwired into the harness as far as we can make out. Good one Audi. Sorry, we had to cut the dash as the current cage goes through it. It was already cut up and cracked anyway.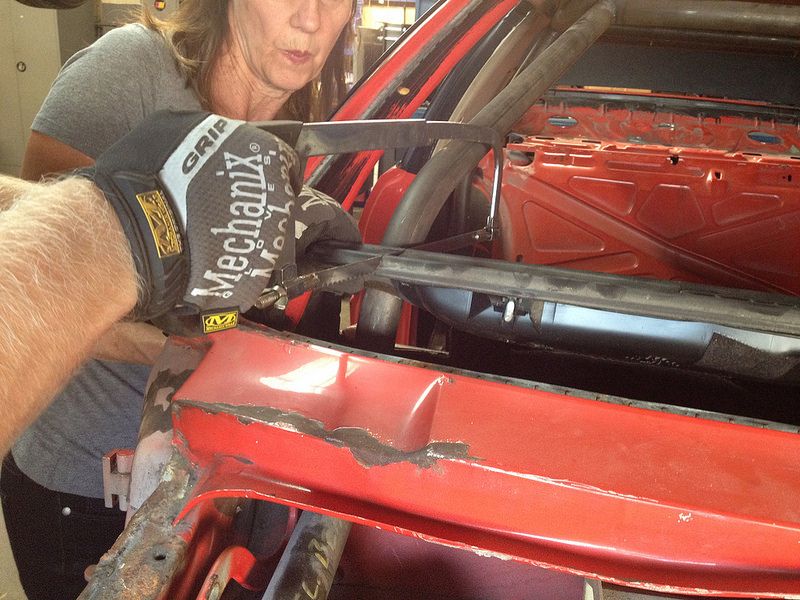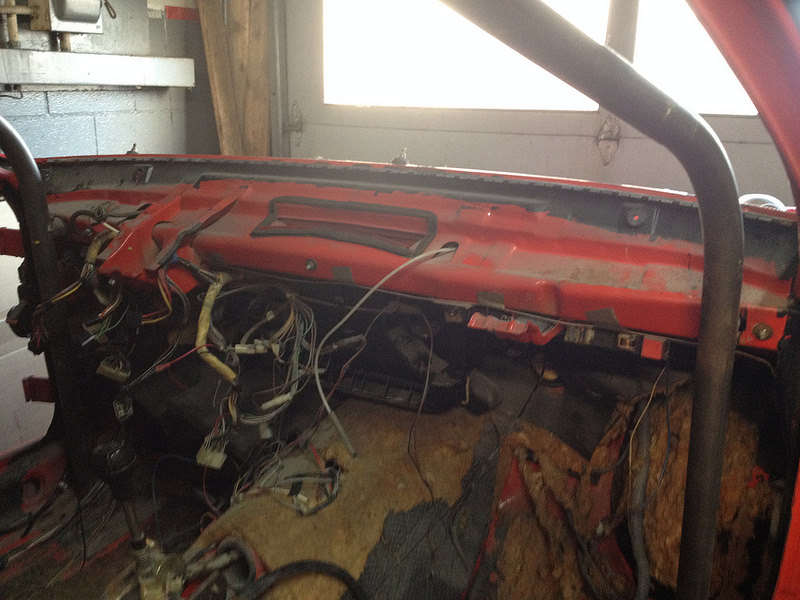 Next week we hope to remove the headlining, pedal box, fuel tank and the rest of the interior wiring harness. And we think we have a plan to get it off the table and onto the lift so we can remove the engine, transmission and sub-frames. Stay tuned.
9-27-2016
So this is an unusual experience for us, being a parts supplier we are often asked for donations to people's projects. Now we are now the recipient of donations ourselves! So we'd like to introduce a couple of project sponsors:

Firstly, Thompson Racing Fabrication (Home) will be doing our cage and other fabrication. We have helped them with a couple of their project cars in the past and almost always use them for any fabrication needs we have such as the custom radiator and exhaust for our Subaru Rally Wagon and the custom harness bar and skid plates they made for our Porsche 911 RX.




Then we have BRAID wheels USA (www.braidusa.com) who are going to provide a set of wheels for the car once we settle on a design. We are currently contemplating their Serie 6 three piece design but with hidden spokes as it looks very reminiscent of the Speedlines the factory used to run in tarmac trim. Probably will be 16x9 with 245/45-16 tires.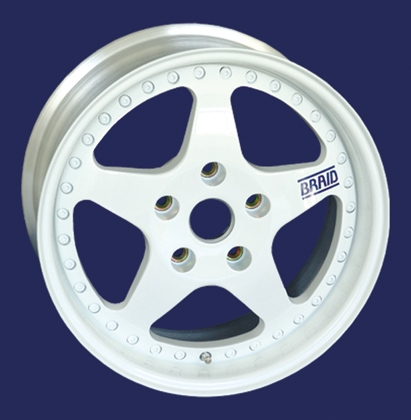 Lastly (for now) Cherry Classic Cars (Cherry Classic Cars | Auto Restoration) will be helping us restore and paint the shell and body panels. These guys do fantastic work and are TRF's primary source for bodywork and paint so we will be in good hands.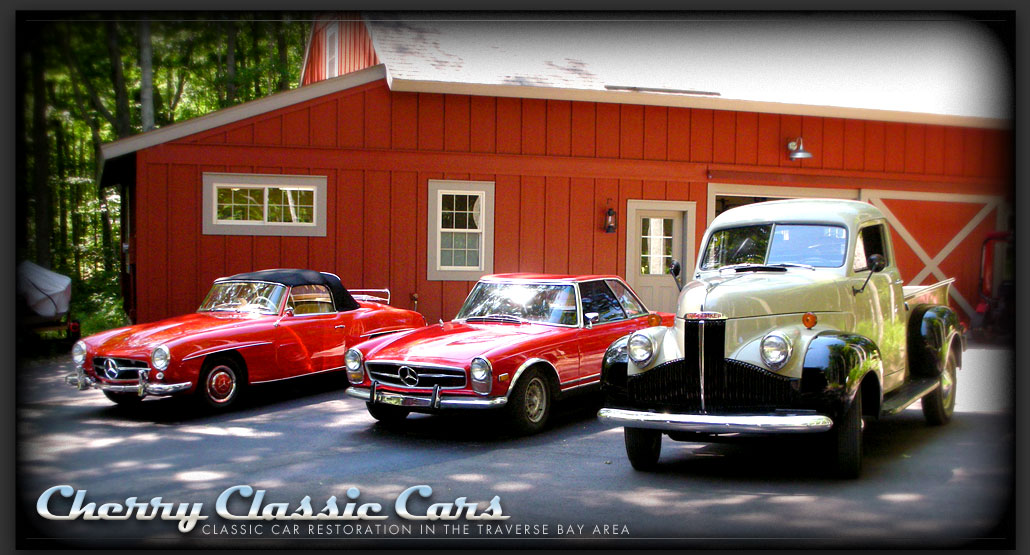 Thanks guys. Now we wonder who else can help...............



9-30-2016
On Wednesday the Quattro Squad continued to turn the 83 quattro inside out.

Matt relieved it of its sunroof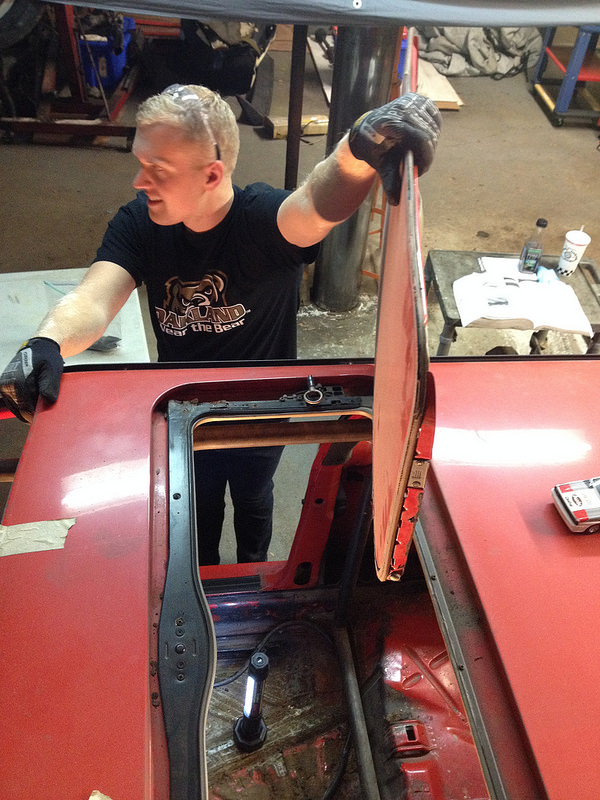 Then we decapitated the halo cage.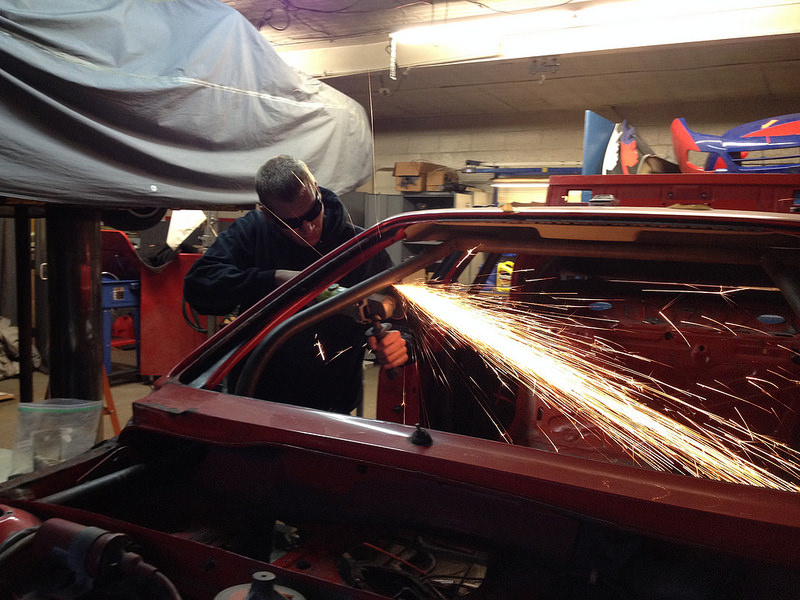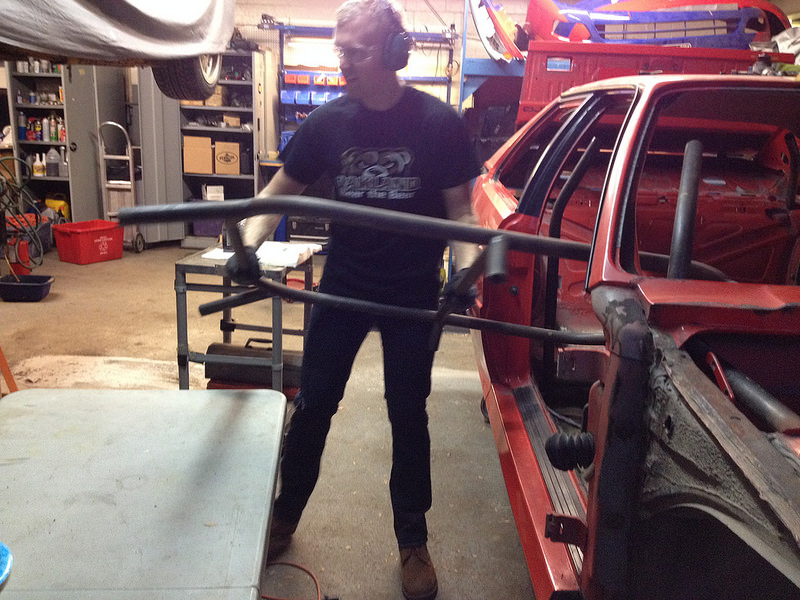 so we could extricate the headliner.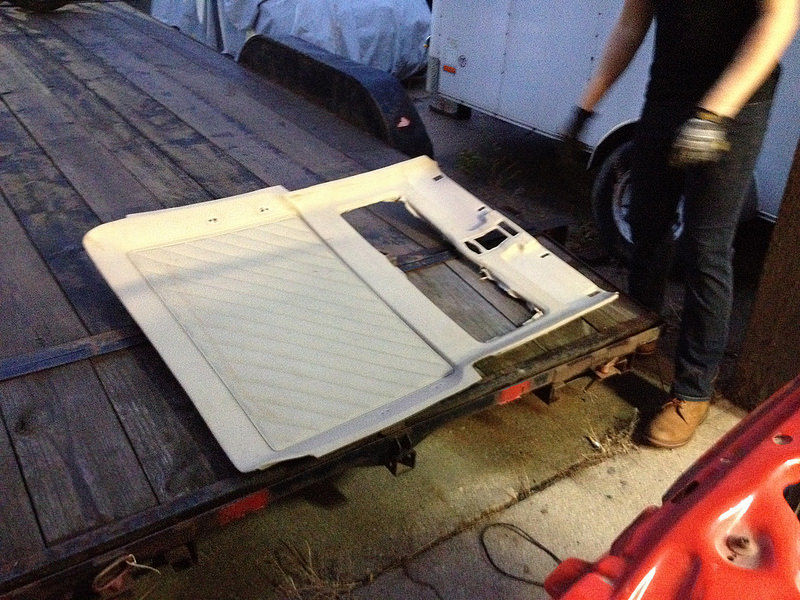 We also removed the trunklid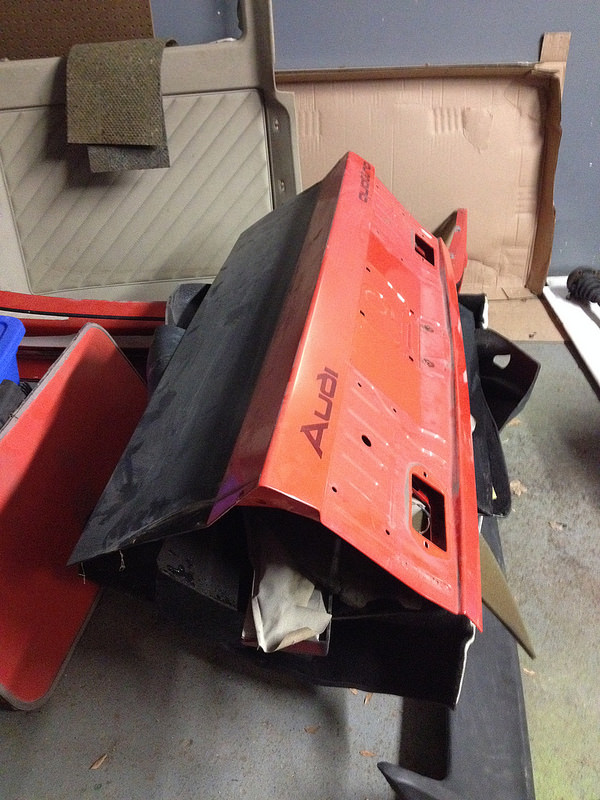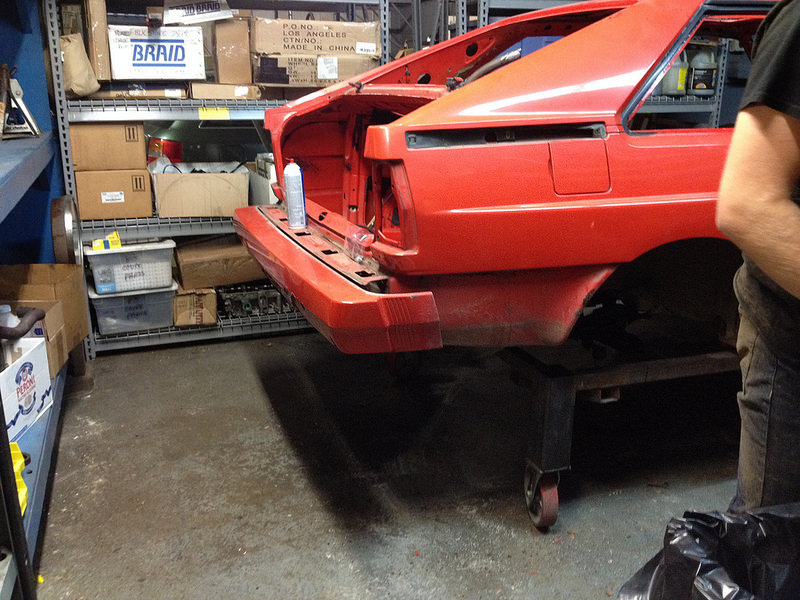 and the gas tank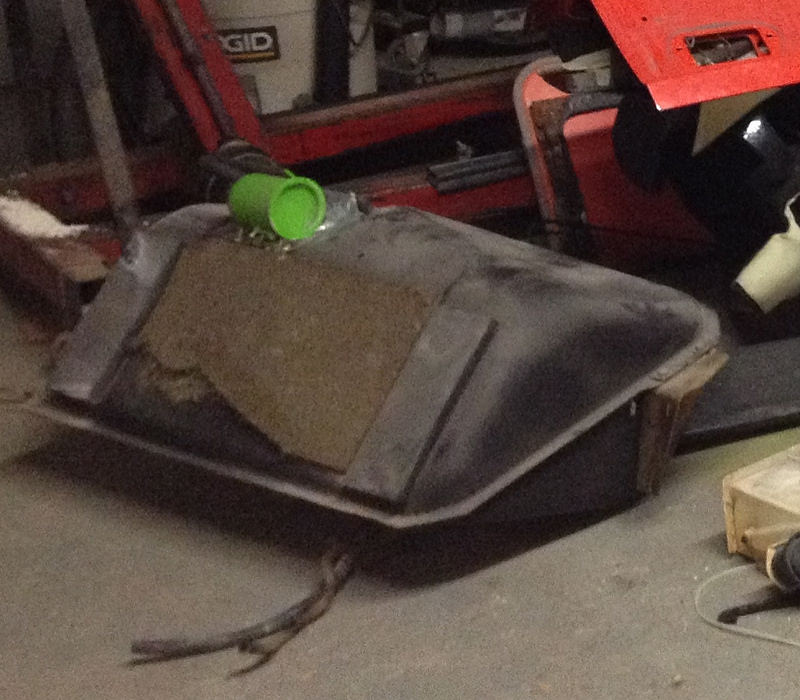 We are producing quite a pile of parts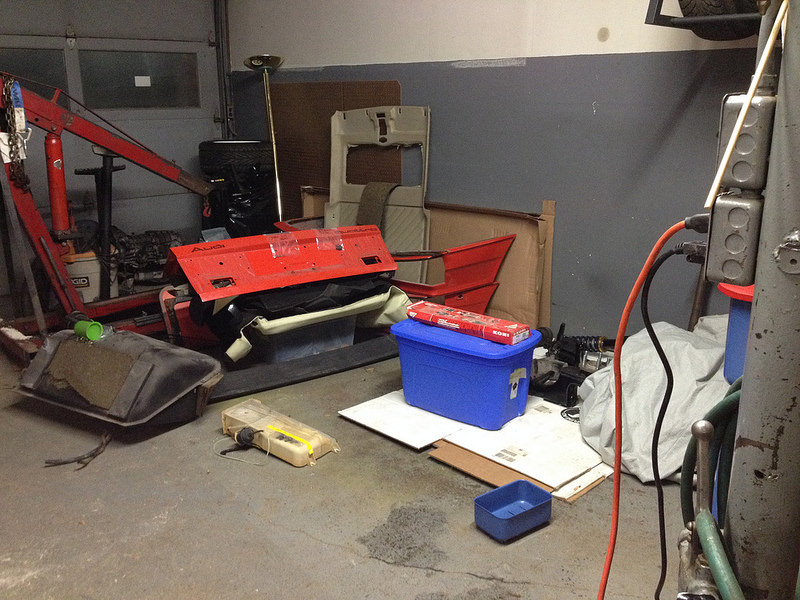 10-9-2016
Not much action to report this week as we took the Quattro Squad on field trip. We managed to get our 85 quattro running again for thew first time in 2.5 years to to celebrate we took three of the students in it to visit a friend's shop and quattro heaven.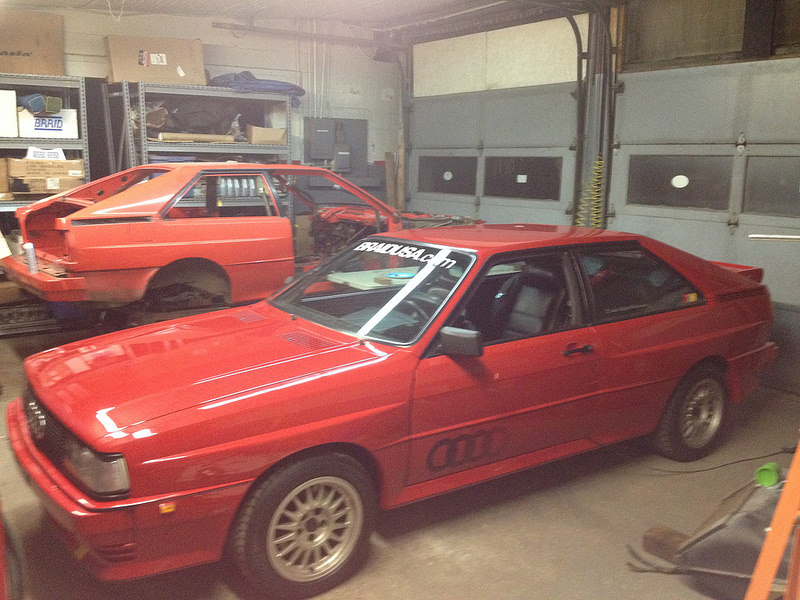 Werner owns a 85 from Switzerland and an 83 that he rescued. His 85 is for all intents and purpose a restored example but, because he is a perfectionist, will undergo a full engine rebuild this winter.His 83 is a rescued project that for now is just sitting. We believe the squad were suitably impressed.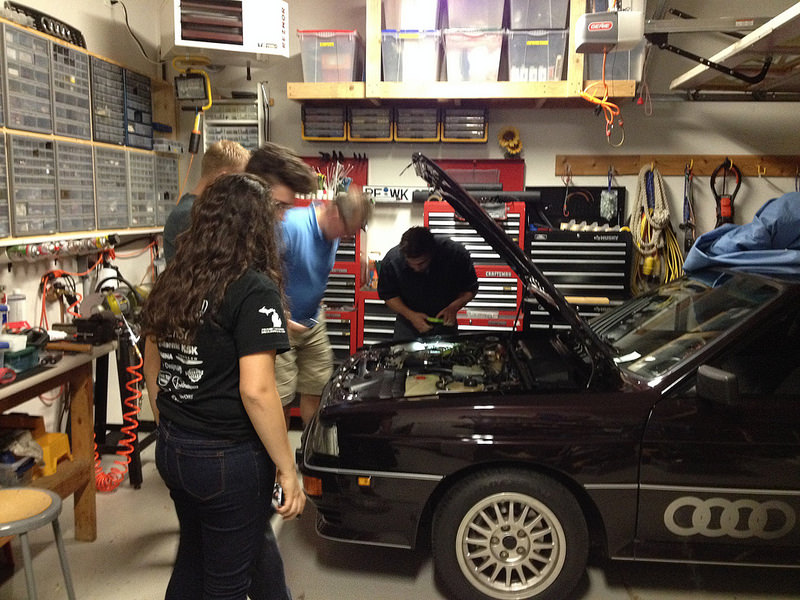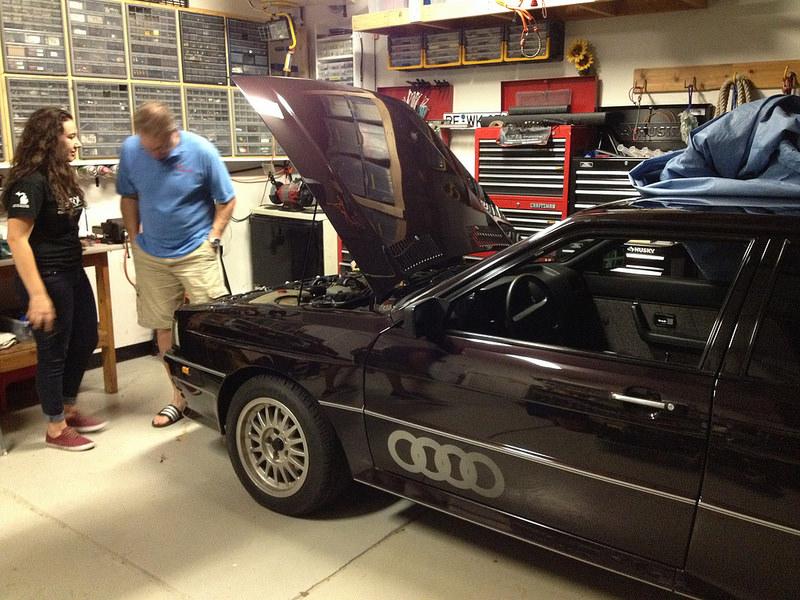 Perhaps inspired by their experience the guys removed the rear bumper when they returned to the shop. Though it put up some resistance.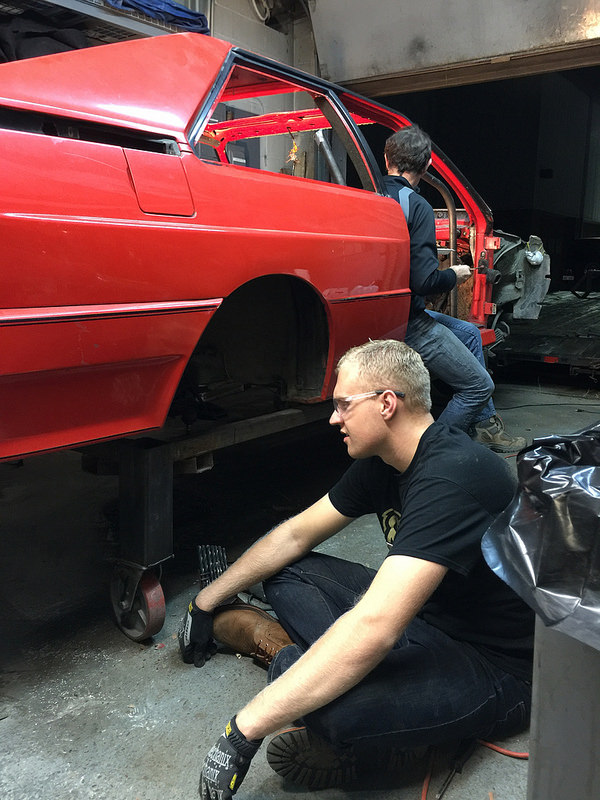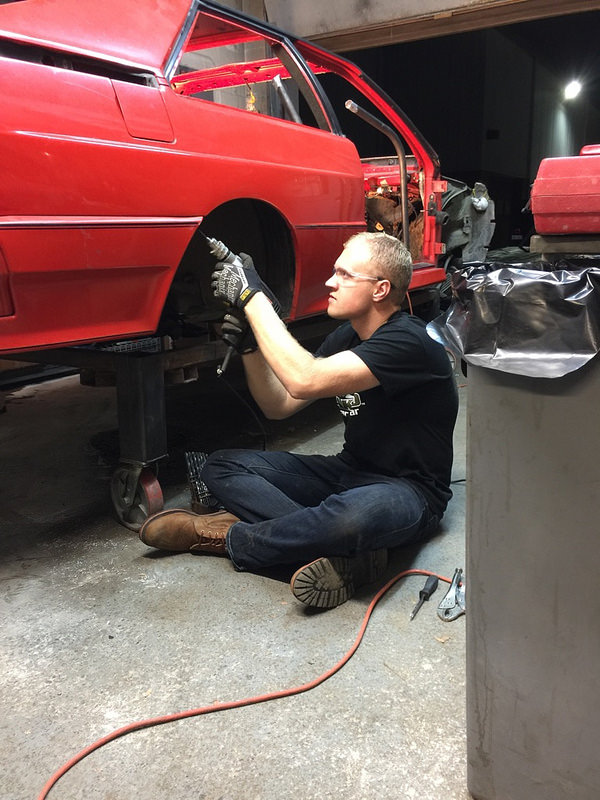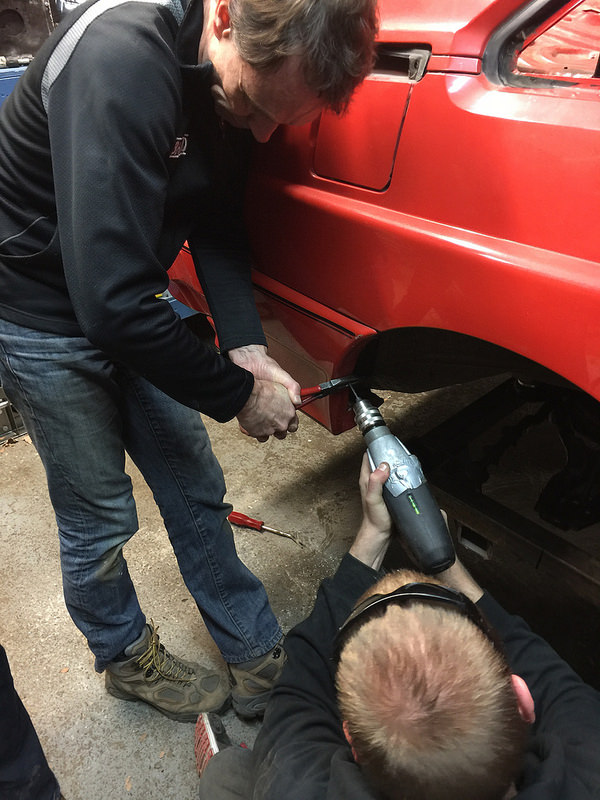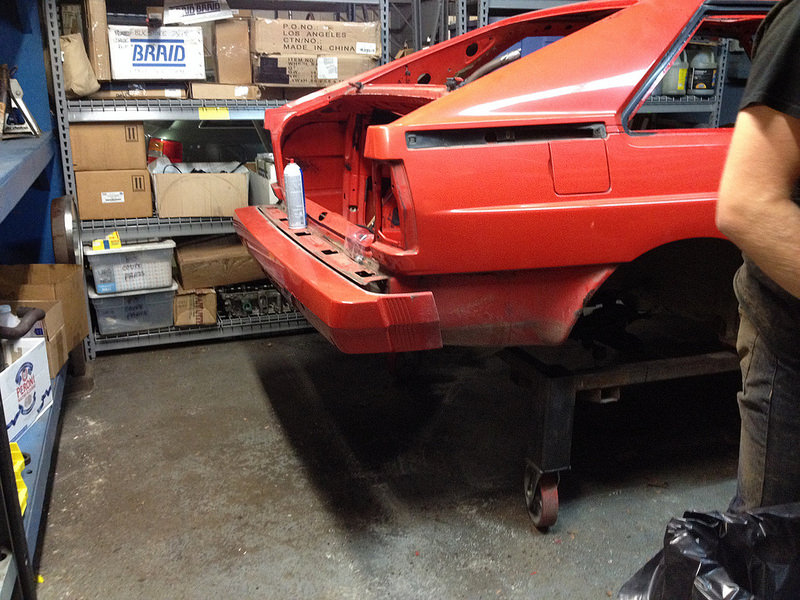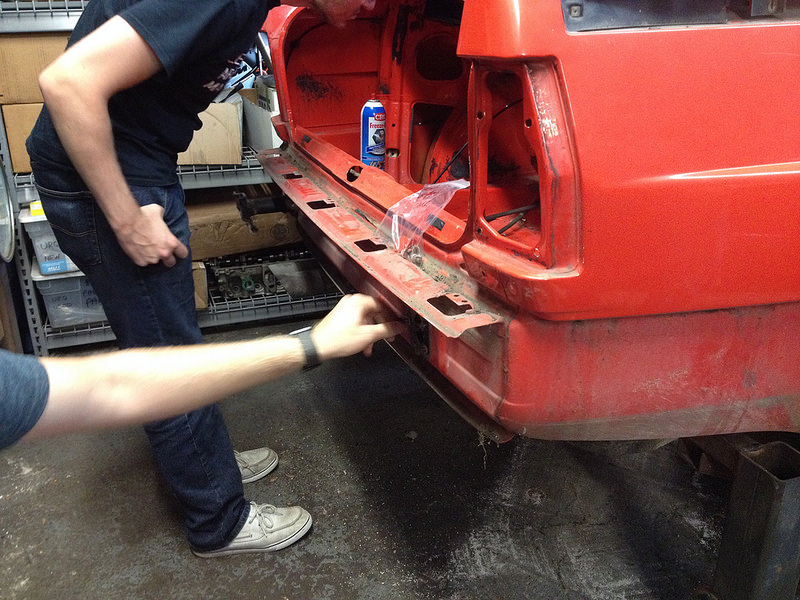 Now the hoist is free perhaps we can take the engine and transmission out.
10-26-2016
Not a lot of progress these last two weeks. We didn't meet last week as we were at Lake Superior Performance Rally posing about with a bunch of other old rally cars.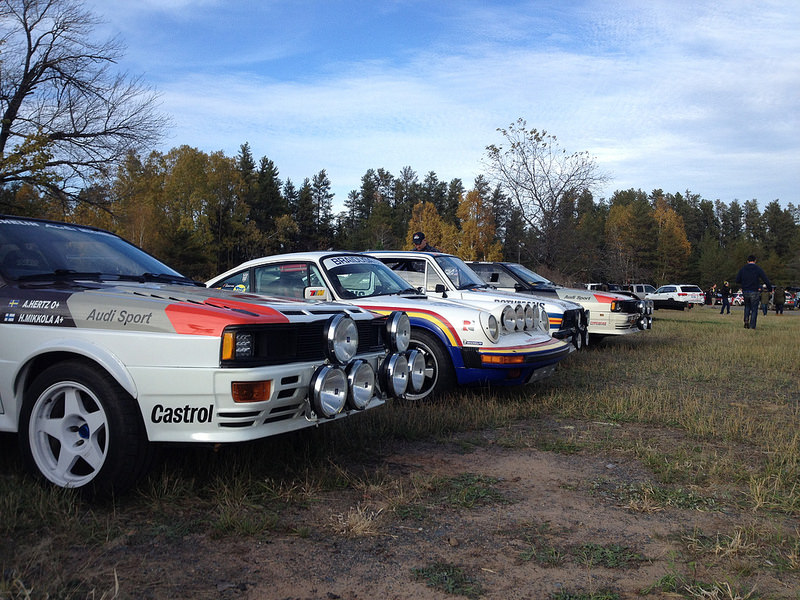 However, progress was made "off" the car while we were away. The Quattro Squad came up with a logo and created a Facebook Page that already has over 140 likes. https://www.facebook.com/QuattroSquad/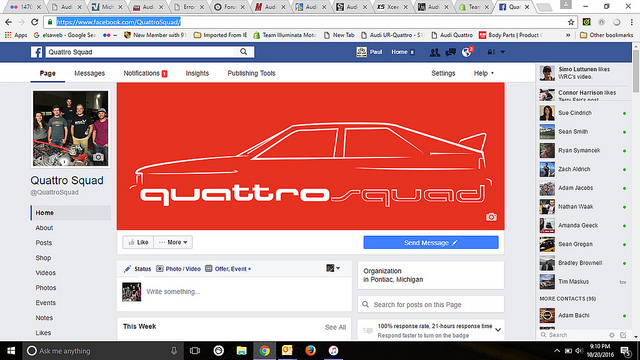 We did accomplish some stuff Wednesday night though, mostly in the engine bay in preparation for removing the engine and transmission.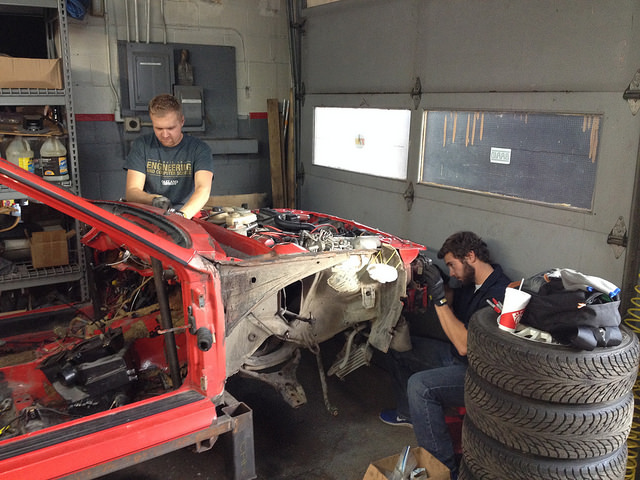 We managed to pull the radiator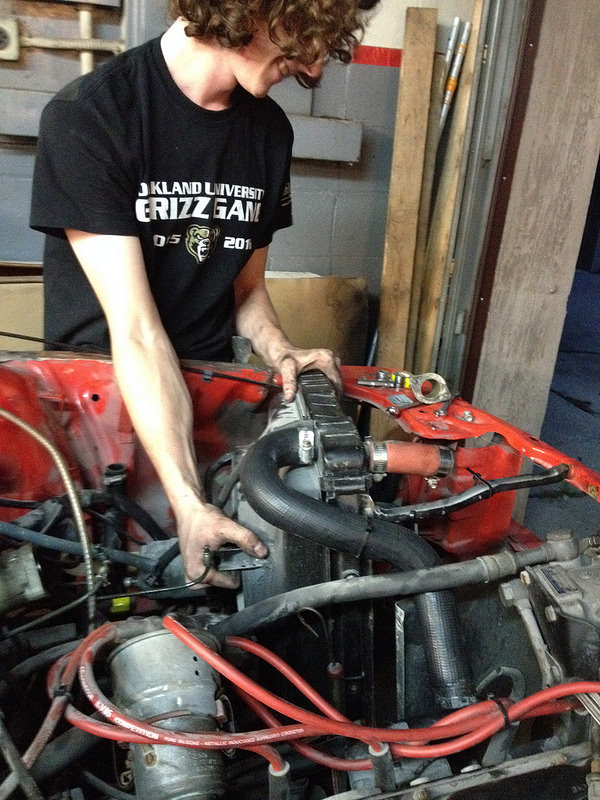 The distributor and hydraulic "bomb".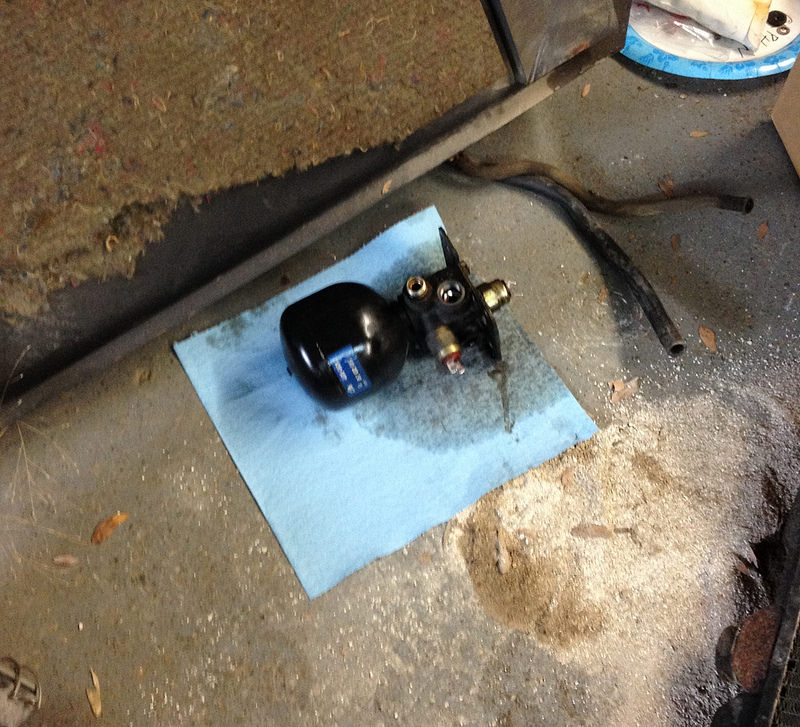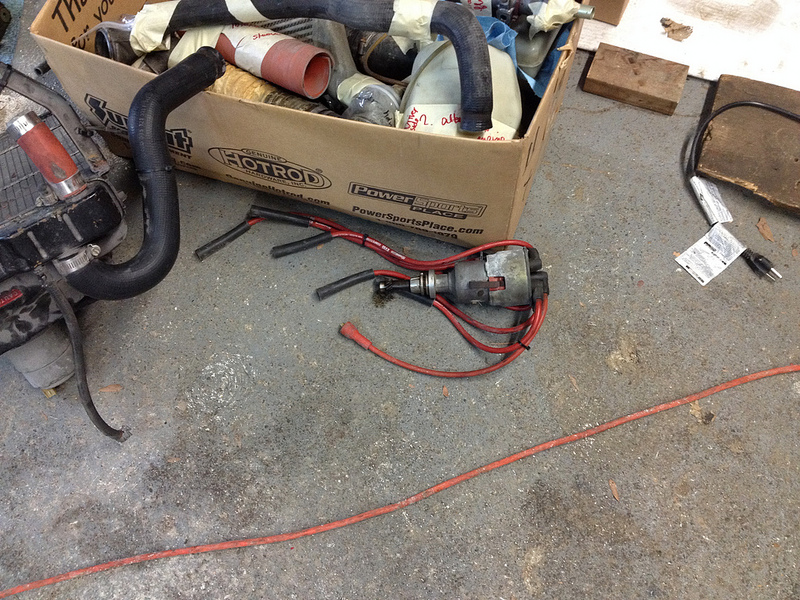 Nathan and Josh struggled almost all night to remove the fuel distributor.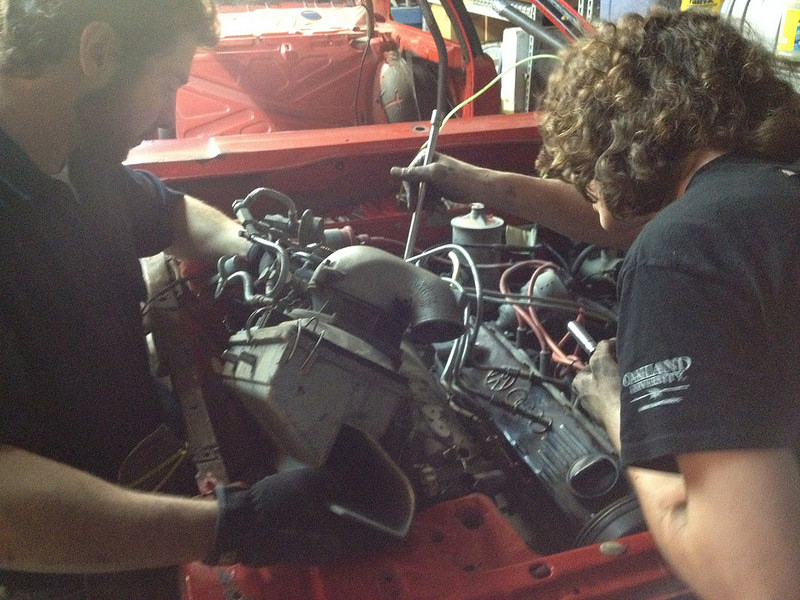 But when they got it free they were very happy; disturbingly so.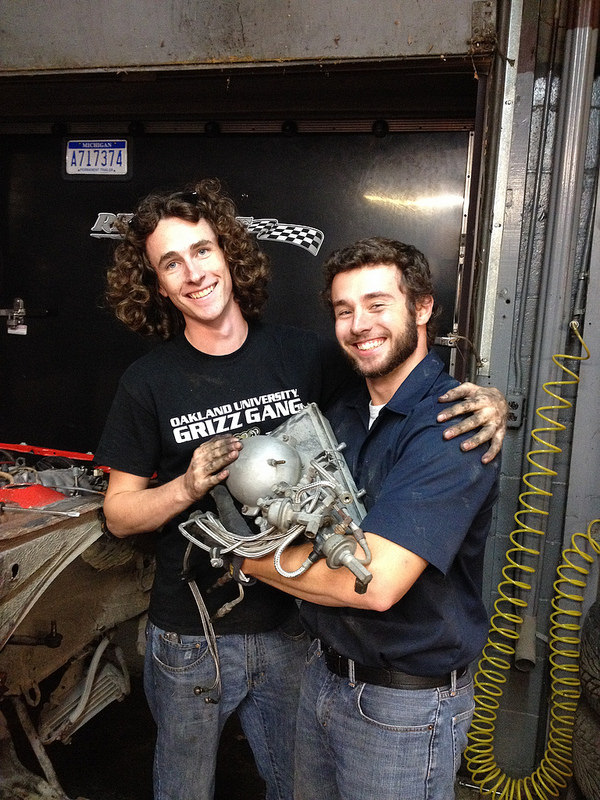 We are a little concerned about how they will react once we drop the actual engine. Stay tuned for that one and like the Quatro Squad on facebook
11-4-2016
Two weeks of progress to report! We didn't get much accomplished last week as we had a very special visitor in the form of Paul Ritchie, former head of Porsche Motorsport and Porsche Engineering. Needless to say there was much conversation and much left over pizza as everyone was too bust talking to chew.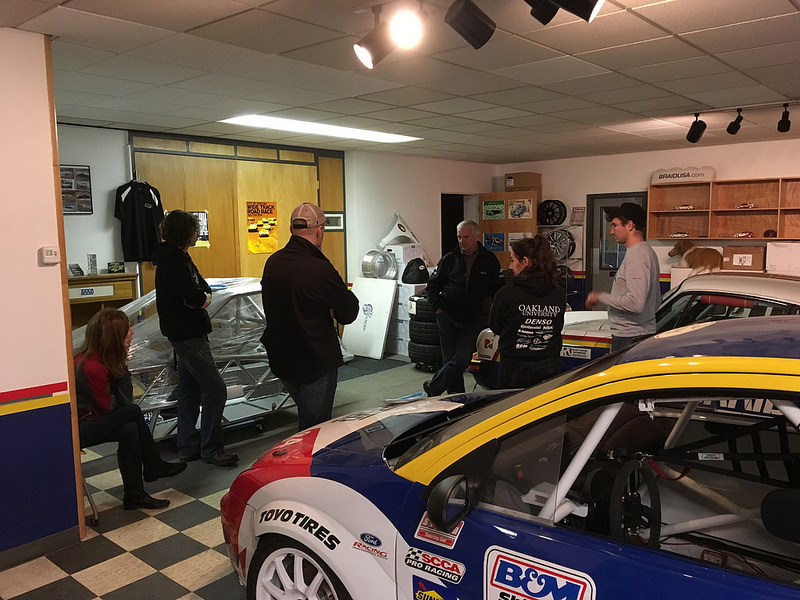 We did discover that 12 year old gasoline will dissolve a plastic cup!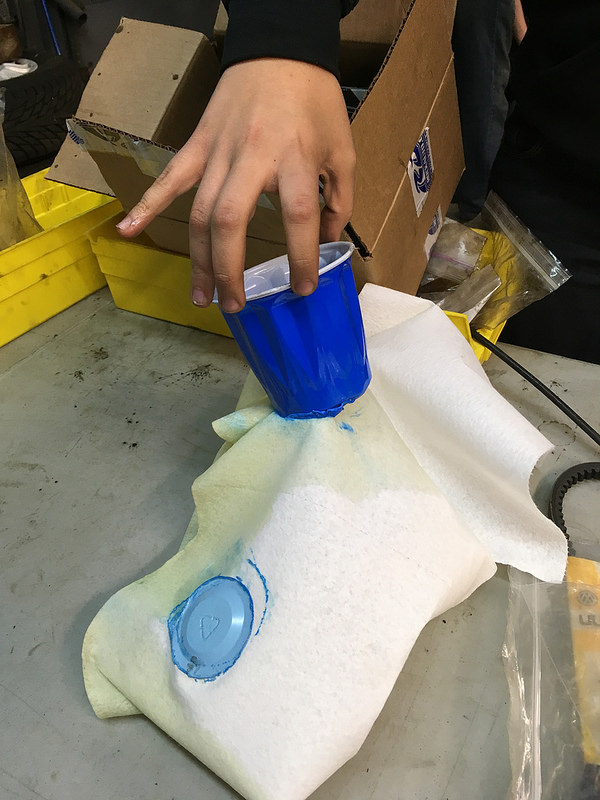 This week we continued to remove as much weight from the front of the car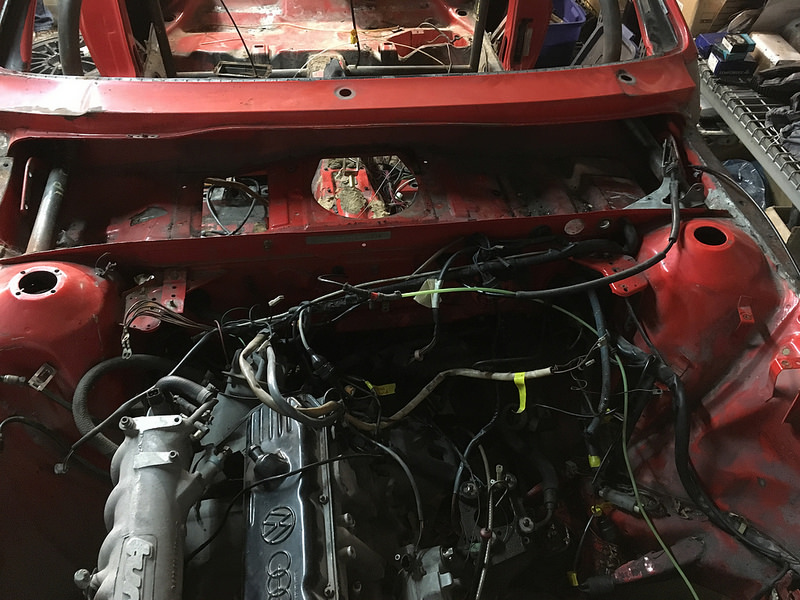 and stuff as much weight in the back of the car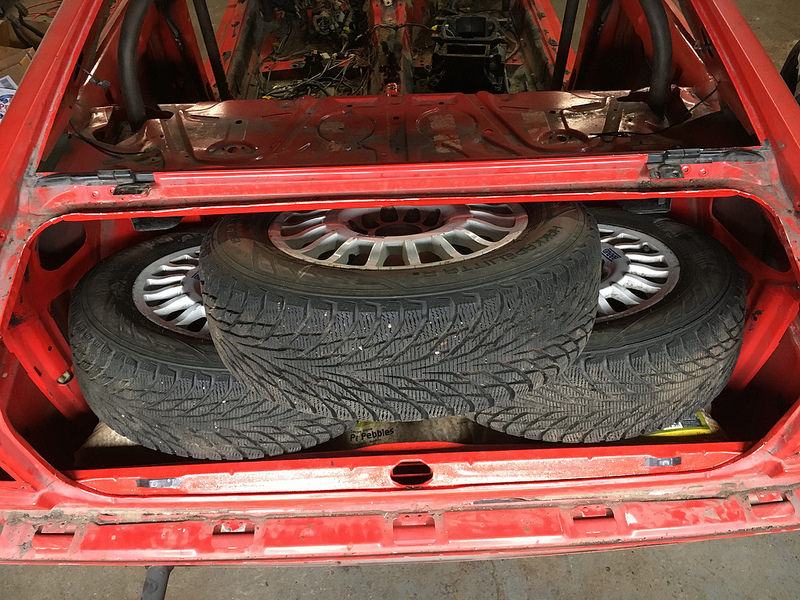 in anticipation of moving the car from the table where it has sat for the last twelve years to the host. I tricky endeavor as the hoist has a center post so we couldn't just wheel it over the hoist and lift it up. We settled on jacking the front just off the table and sitting the subframes on jack stands then moving the jacks to the rear to jack that end off the table.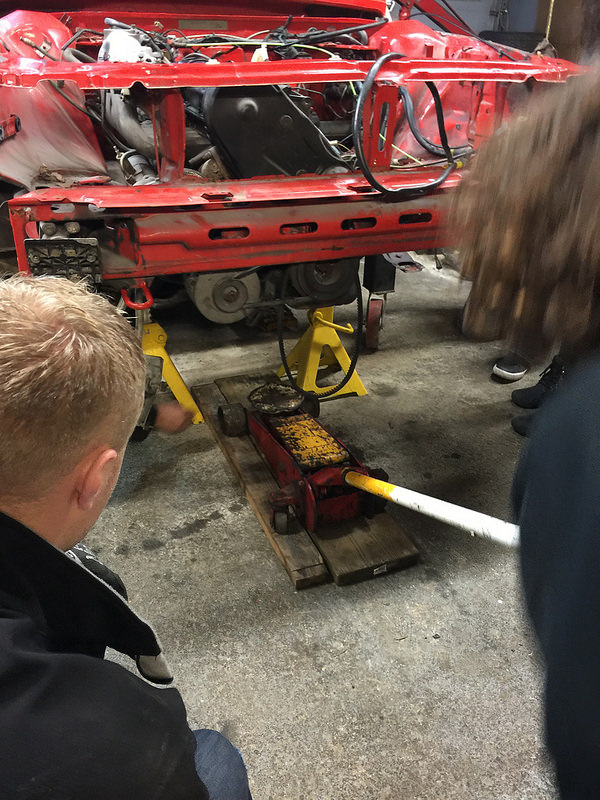 Once it was elevated we carefully rolled the table out from under the car and smartly brought the hoist pads into contact with the jacking points and BOOM! The car was on the hoist!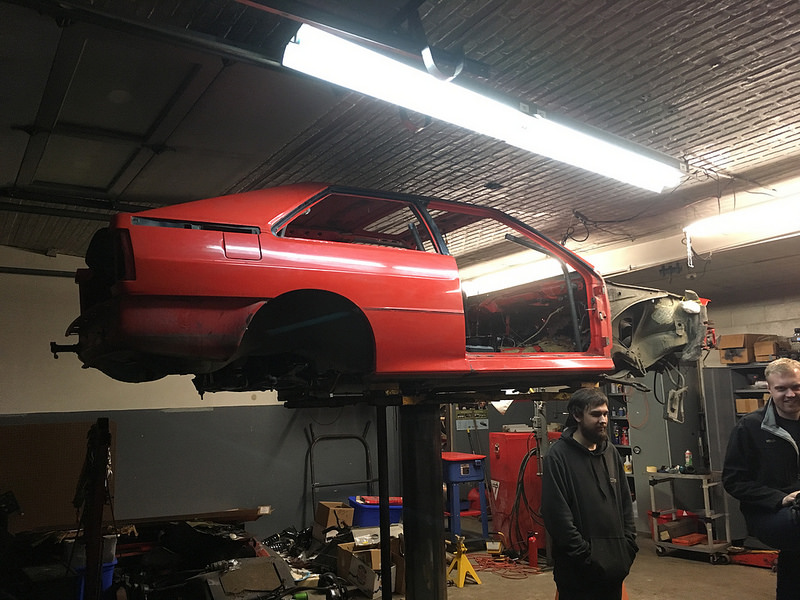 Our goal now is to remove everything from the underside of the car starting with the front subframe, engineand transmission as it is rather nose heavy at the moment. This is the first time we have really been able to get a good look at the underside of the car. The body looks to be remarkabley rust free except for two spots but the fuel supply components have not fared so well. All to be replaced anyway so no concern. Just hope all the fasteners cooperate.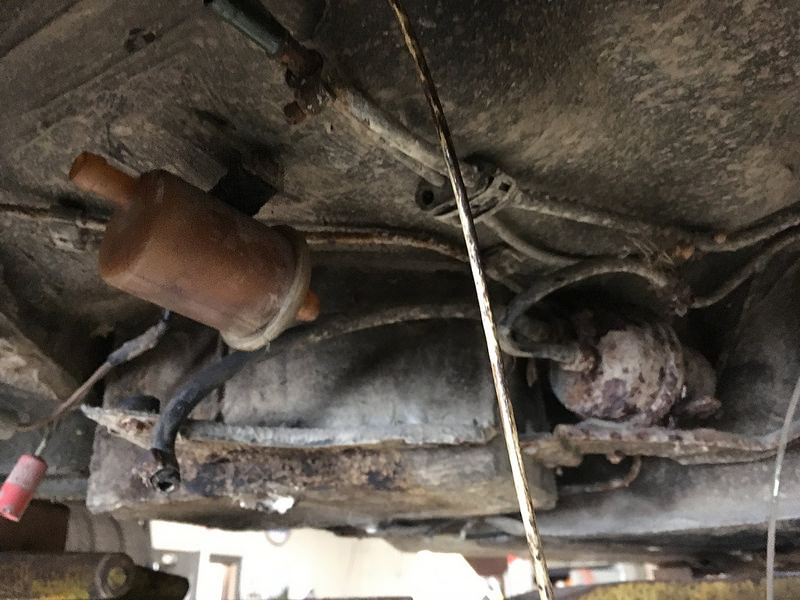 We dont think we should put it back on here. It's just too long and gets in the way of the suspension.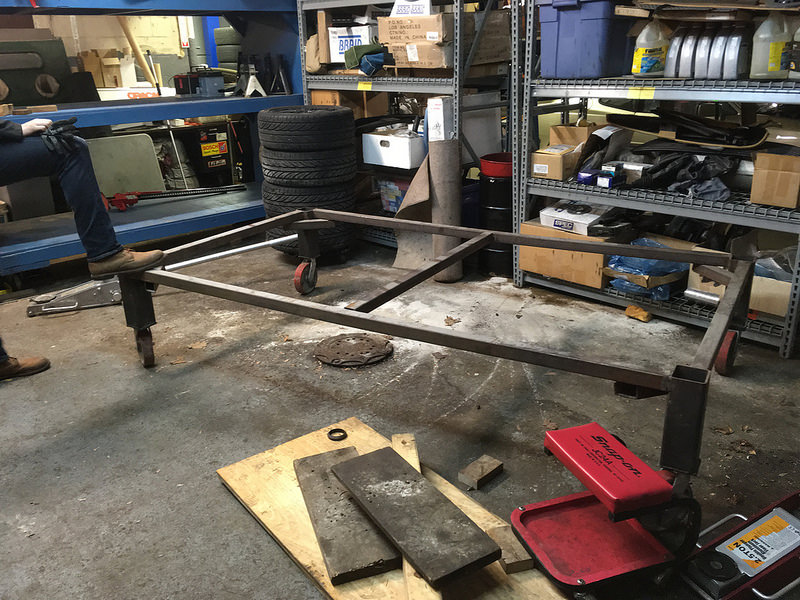 Excited by the leap forward Matt decided he wanted to get a lift too. I think we'll call him Jack.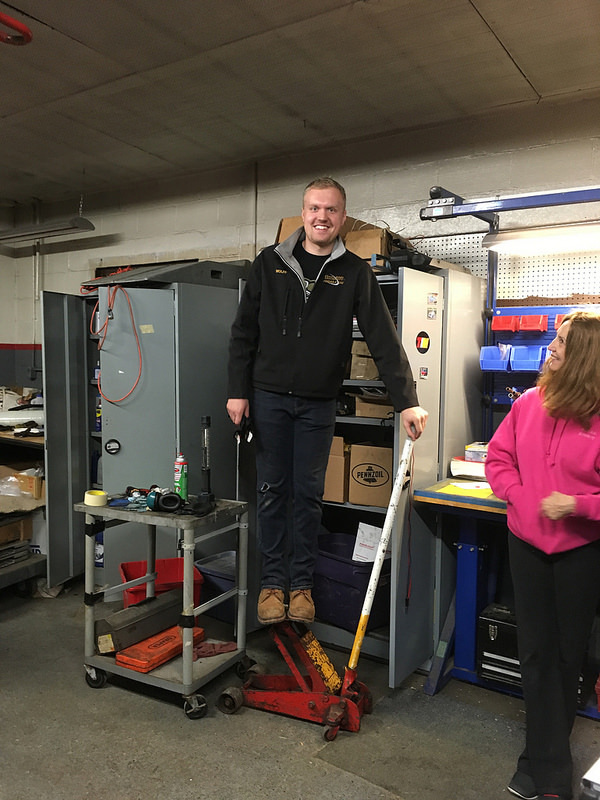 11-10-2016
Yesterday the Quattro Squad accidentally took the engine and transmission out! Well, it wasn't a proper accident; just that it wasn't part of the evening's plan. Being a little light on peeps and wanting to have an early night we only planned to prep for engine removal. Instead it just sorta happened as we were on a roll and we still got out of there by 8:455pm. Not a bad night's work.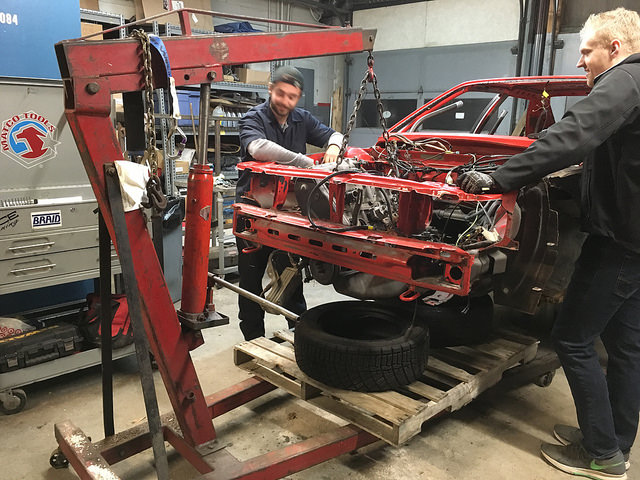 Being a Quattro it comes out of the bottom with the sub-frame and transmission. Being a Quattro it doesn't just drop straight down but instead has to be quided past several obstacles on the way down. This is not a Porsche 911.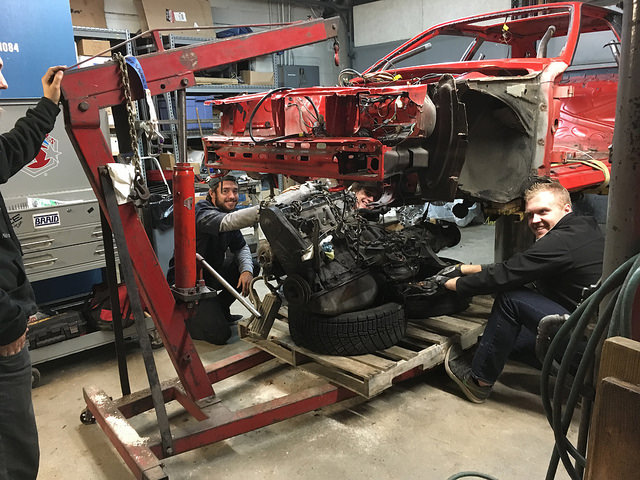 Nice job gentlemen.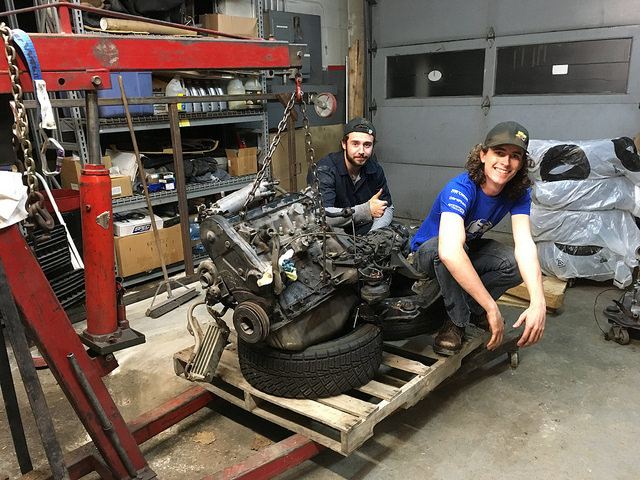 Toothless grin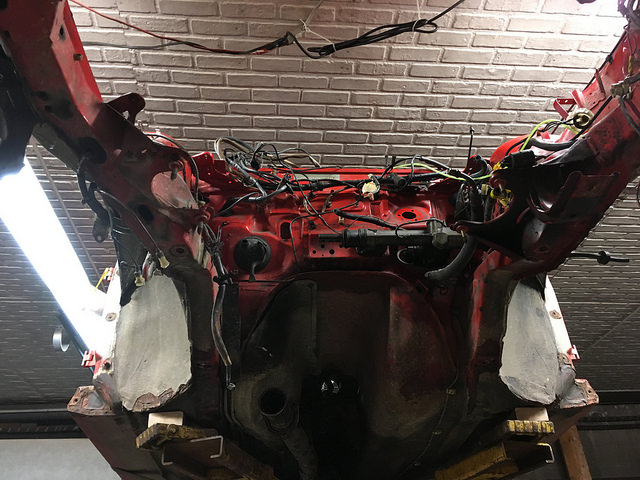 The right side engine mount fell apart; as they do.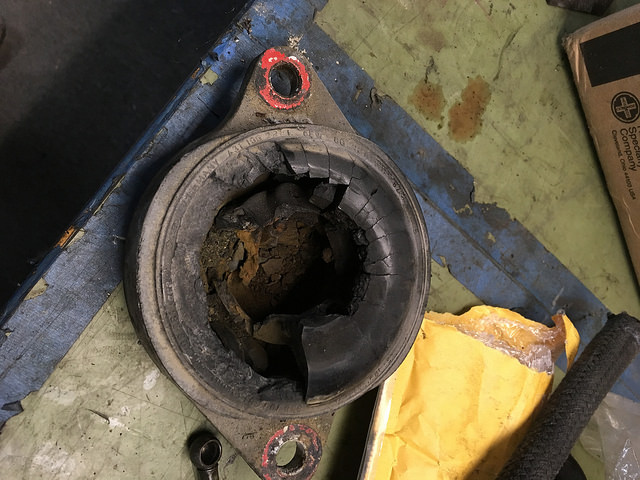 And this doesn't look exactly pristine.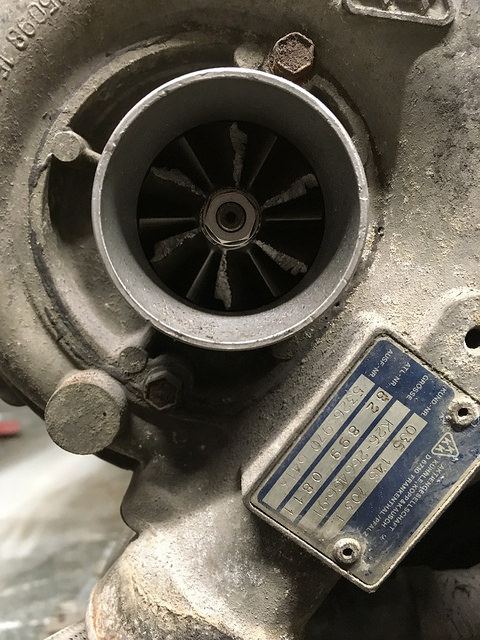 11-19-2016
This past Wednesday we reached a big milestone with this project: we finished stripping the shell! The biggest chunk that came off was the rear sub-frame and diff then the steering rack and drive shaft. We also introduced video to our arsenal so you have been warned.
We also visited a local rally prepped quattro that's up for sale to get some ideas and, in the process acquired a windshield for our car.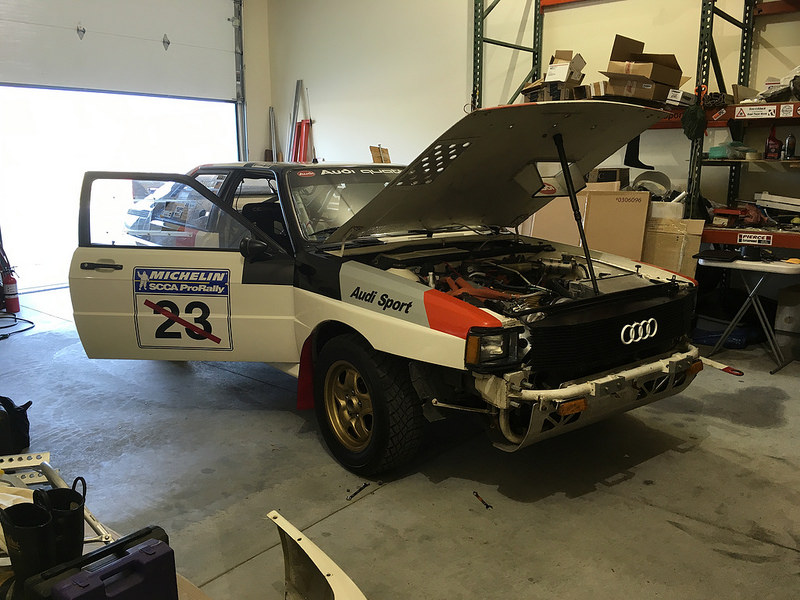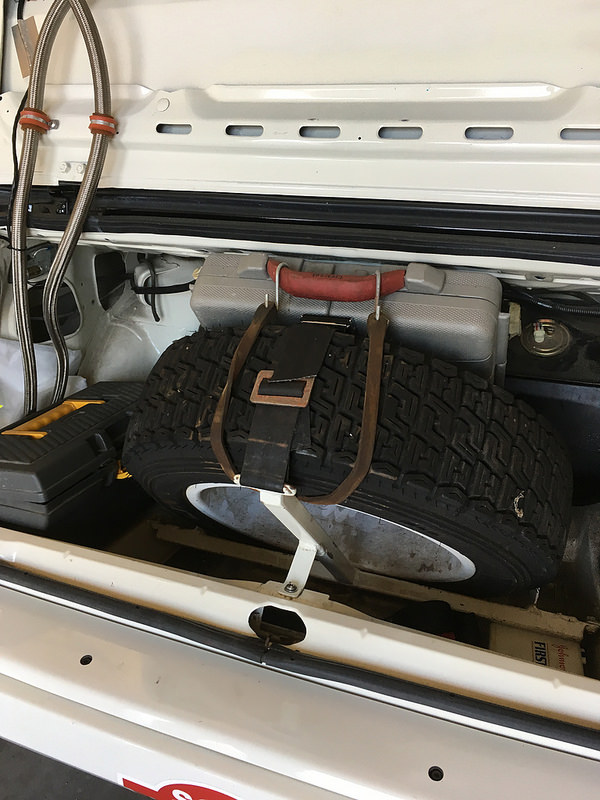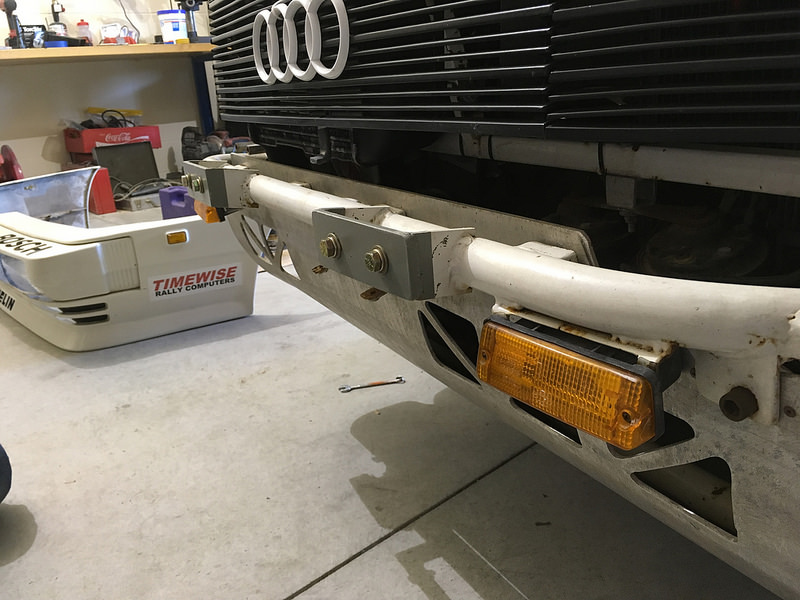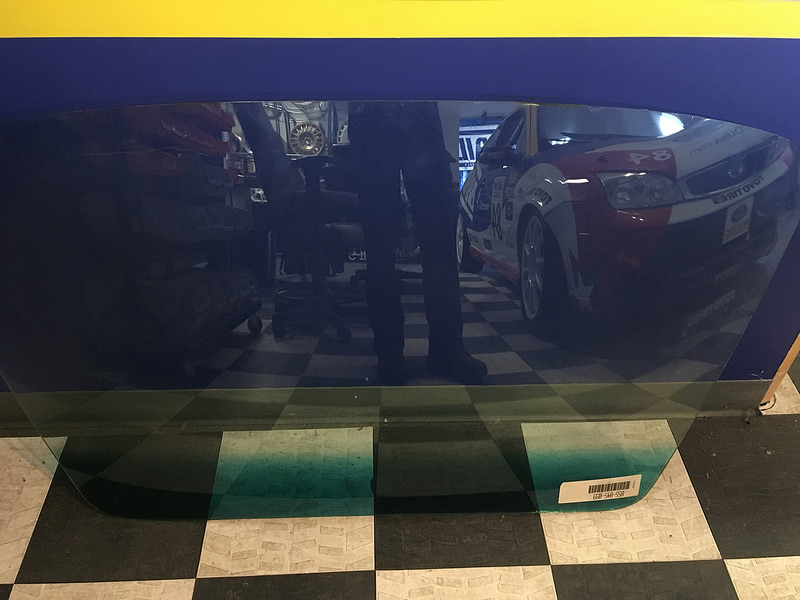 We also took delivery of our tires. Bridgestone Potenza RE11 in 245/45-16. A little ahead of ourselves here but they are hard to find and we already had two. We now need to finish the car before they age out.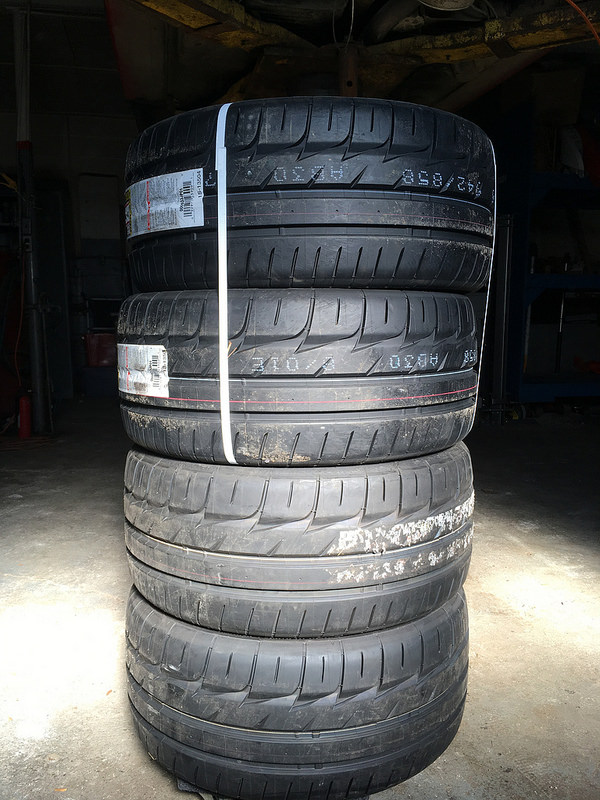 Next task is to get it off the hoist and back onto the table then onto the trailer so we can haul it up to our cage builder Thompson Racing Fabrication . That won't happen till the first full week in December as we are off to Barcelona to see how BRAID wheels are made and then to Stuttgart to visit the Porsche museum.
12-12-2016
Almost a month since the last update. Boy does time fly when your'e having fun. In this case the fun was a visit to the BRAID factory in Barcelona including a few laps around the F1 track there in BRAID's Ligier LMP3 car.

Album here if you're interested. https://flic.kr/s/aHskQ93ZSB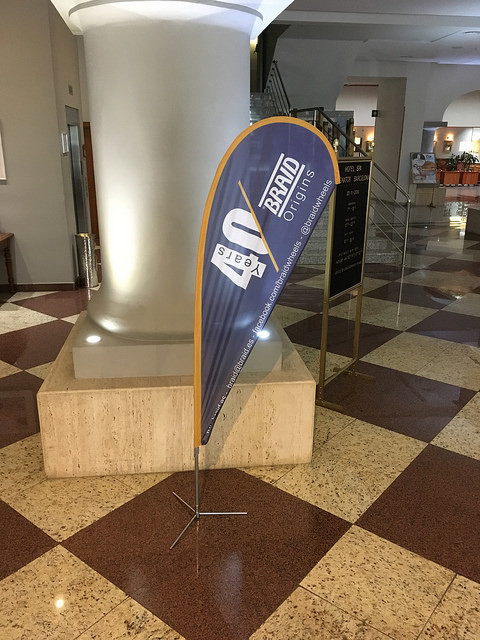 We also went to Germany and visited the Porsche museum in Stuttgart. https://flic.kr/s/aHskQ2wchj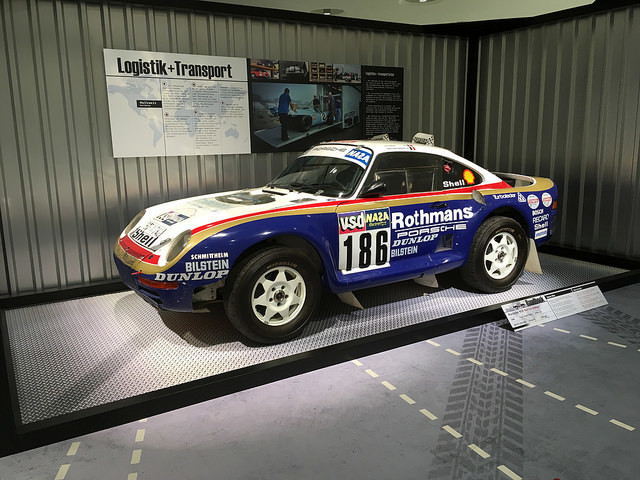 So you see, we have a couple of good excuses. We have been busy on the quattro though. In fact we managed to get it onto the trailer and drag it up to Thompson Racing Fabrication to get caged, restored and painted! It took a bit of engineering to get it off the lift but we managed alright. One more pair of hands and we could have just lifted it but this method worked quite well too.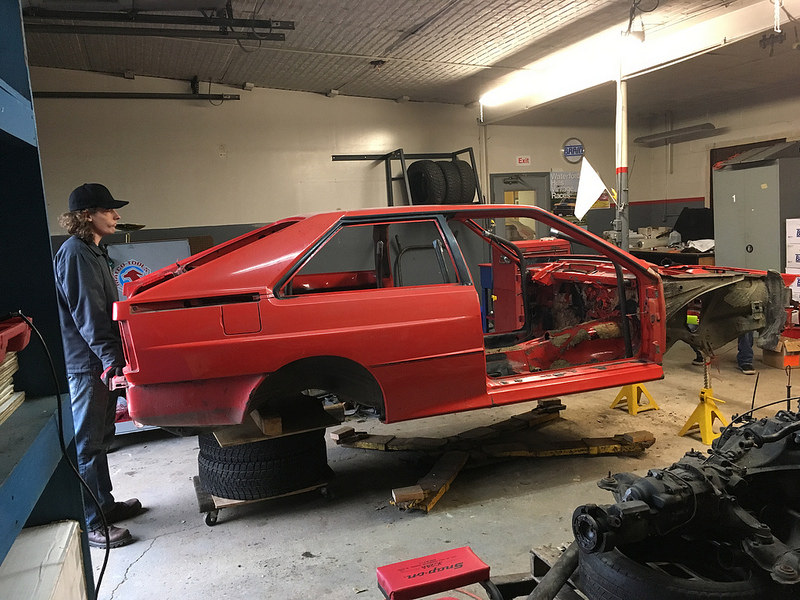 Looks good on the trailer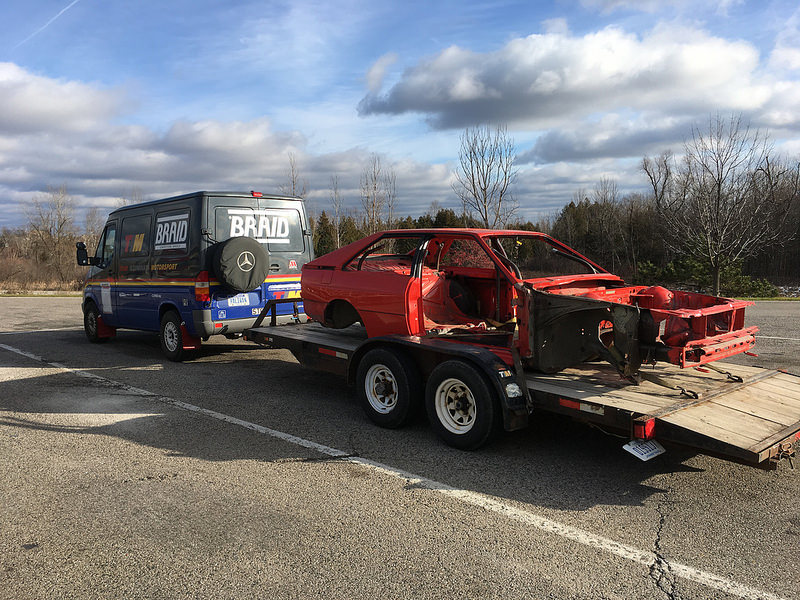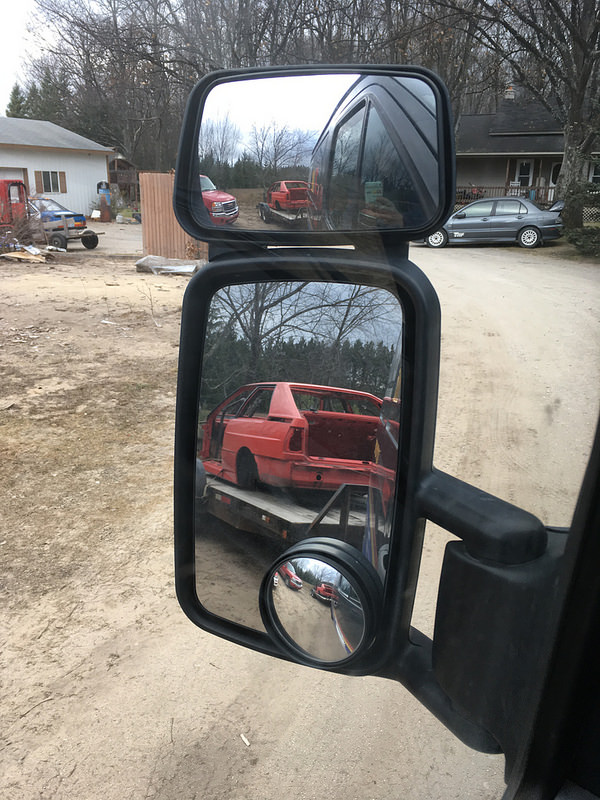 It's going to be in good company up here.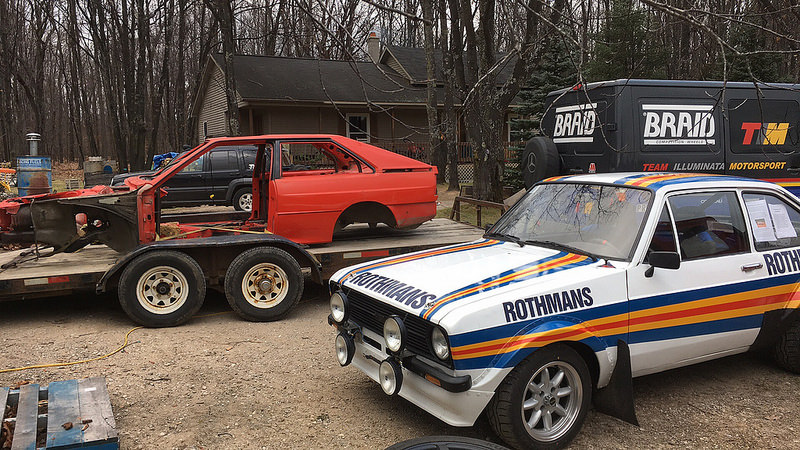 New temporary home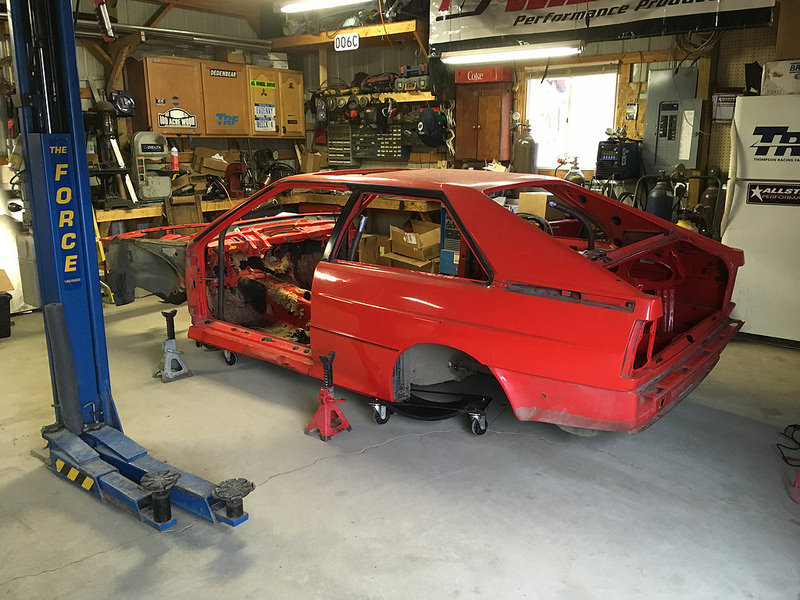 So maybe it will be caged early January then Cherry Classic Cars can work their magic fixing the rust and preping it for paint. There are many other fabrication tasks to take care of, some of which require body panels etc. but we are not ready for those yet so the shell may be up north for some time. Still, there's plenty to do back at the shop, like sorting out all the parts we took off and deciding what to keep and what to sell. Stay tuned.
12-20-2016
Thompson Racing Frabrication have begun work on or quattro shell. They began by removing and patching the old cage then removing all the sound deadening and various bits and bobs that we (hope) we don't need.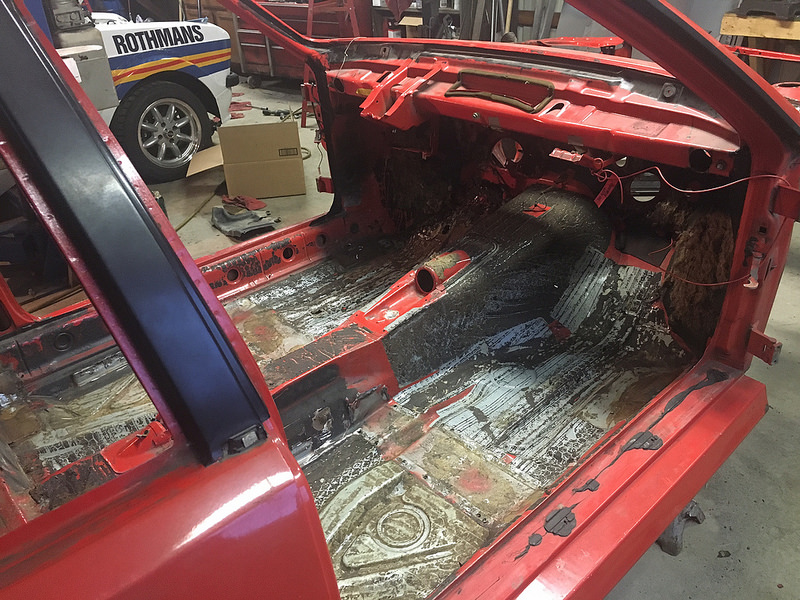 US telescoping bumper mounts; GONE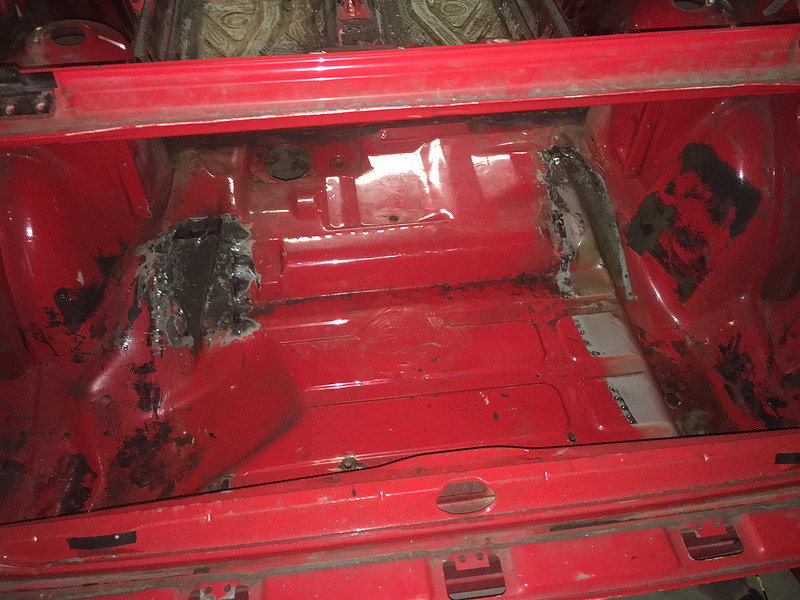 Seat mounts; GONE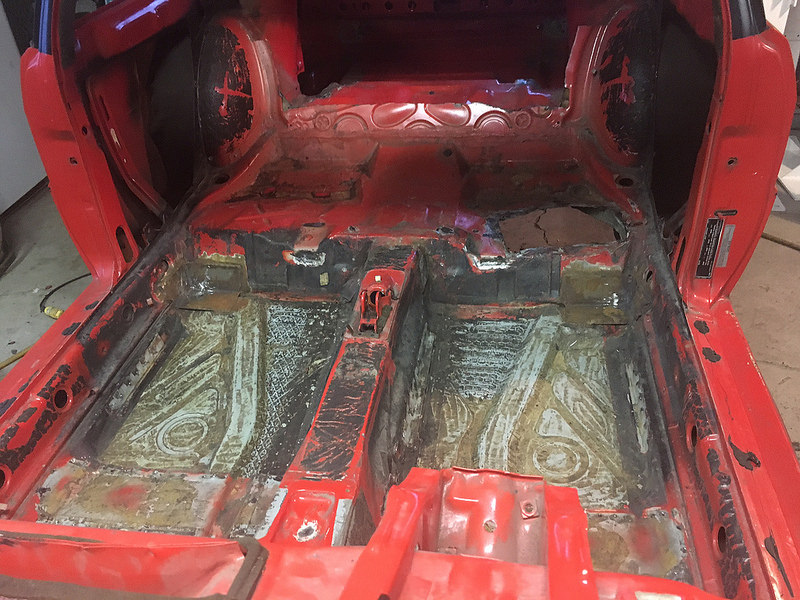 Rear parcel shelf and firewall; GONE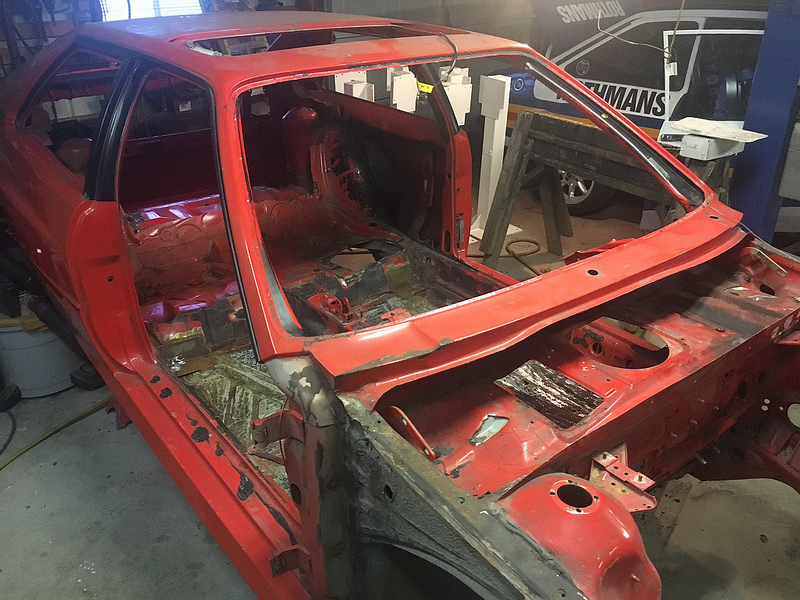 Main cage hoop is now in and it's nice and tight to the roof!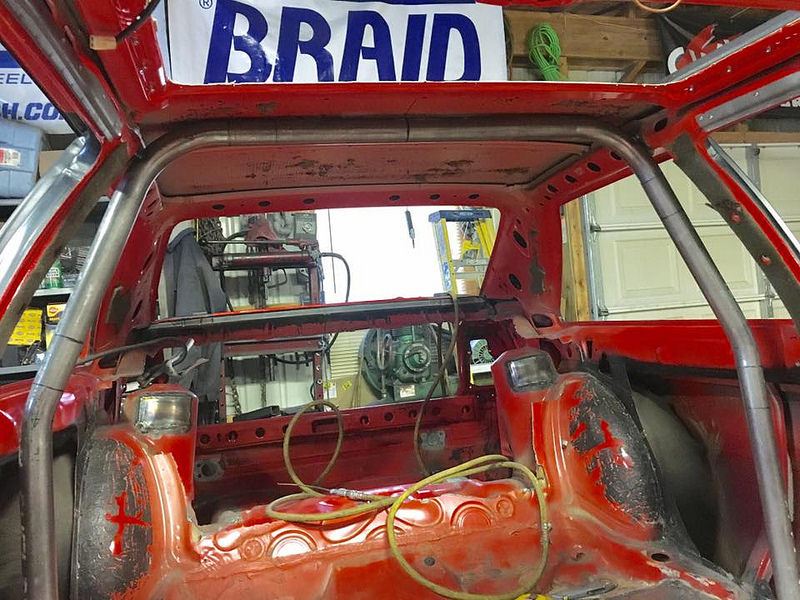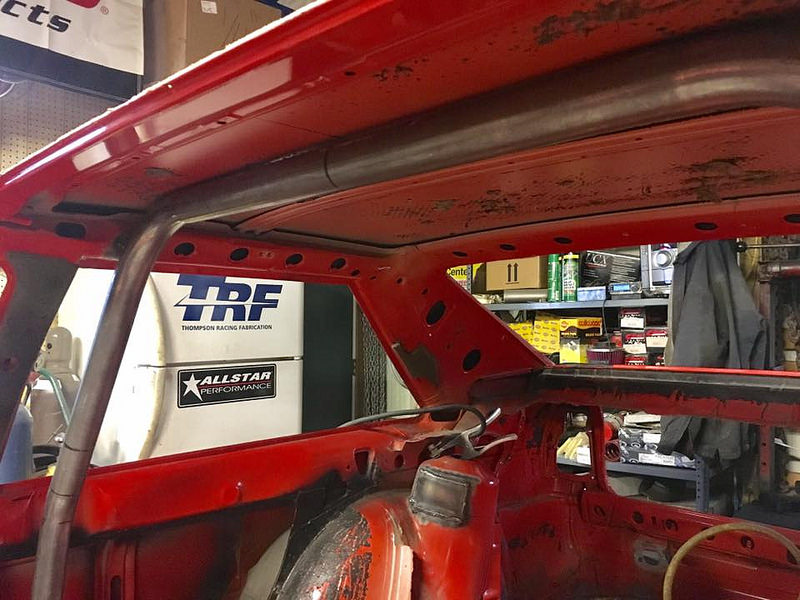 They also received the dash kit frm Bufkin Engineering.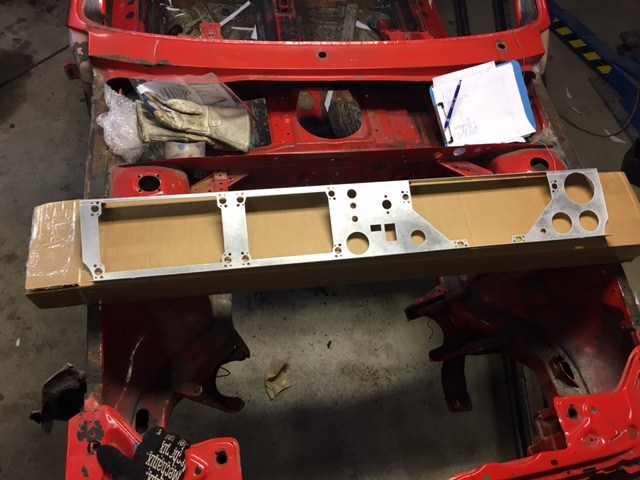 Which they couldn't resist playing with.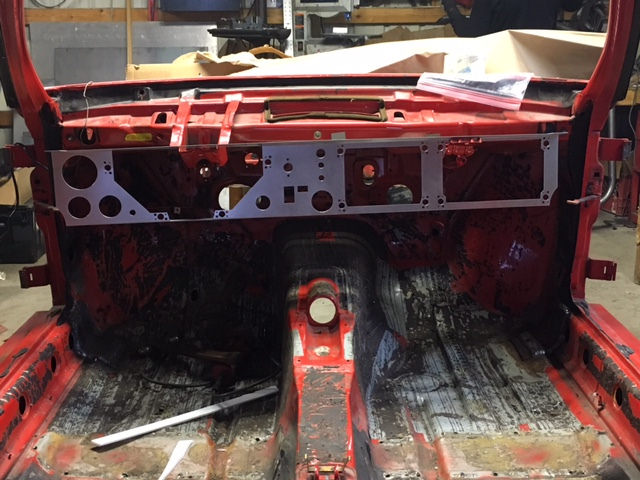 Happy Holidays!!!
12-28-2016
More cage photos from Thompson Racing Fabrication.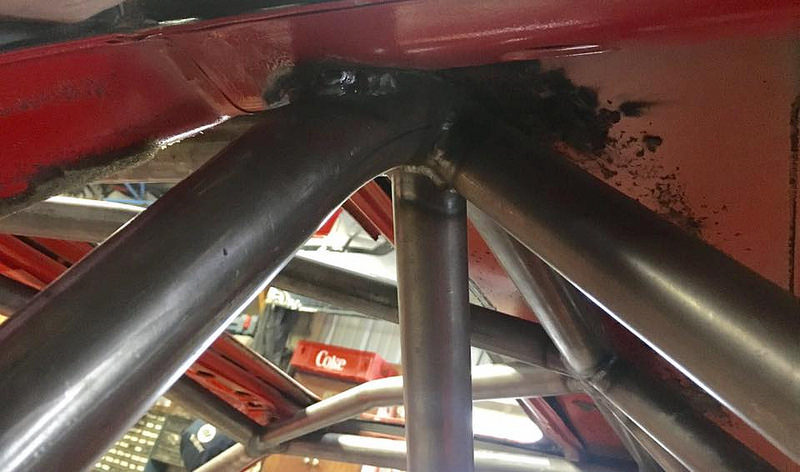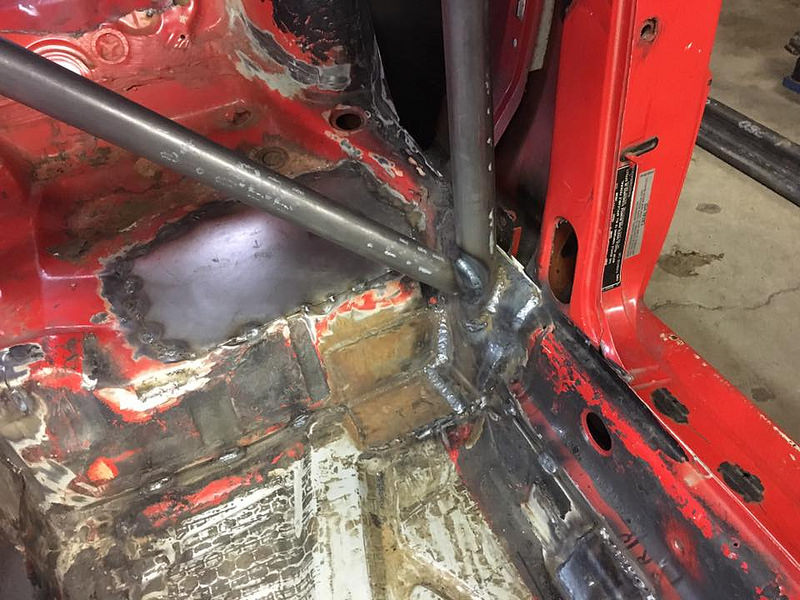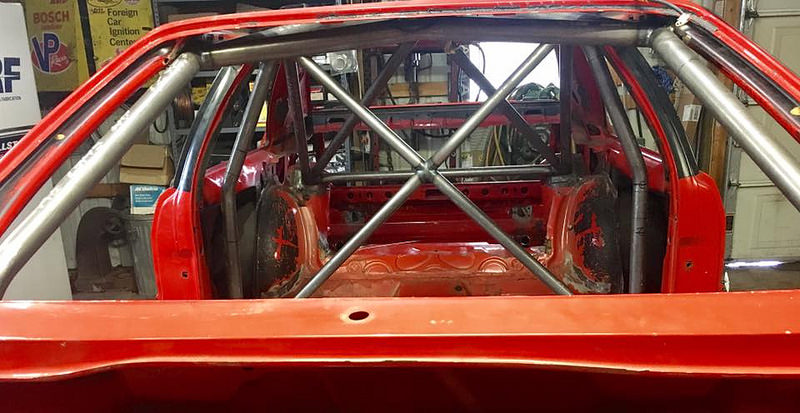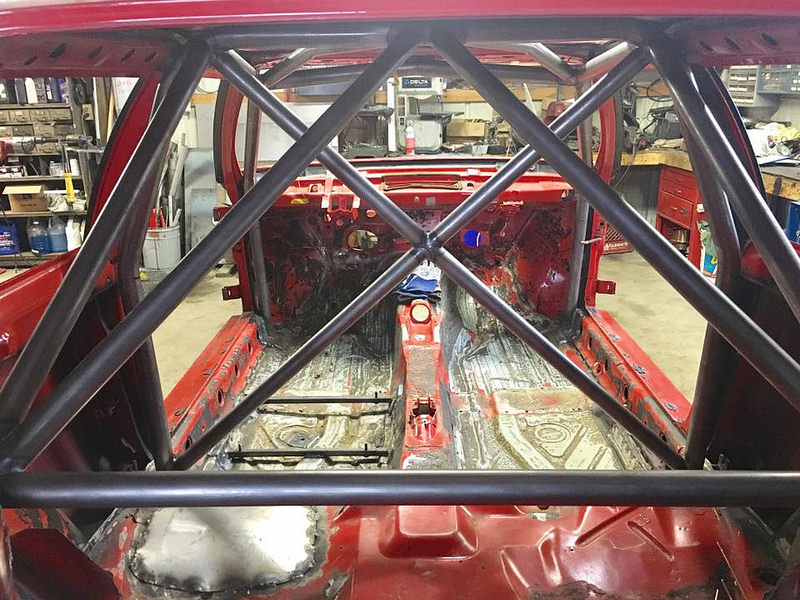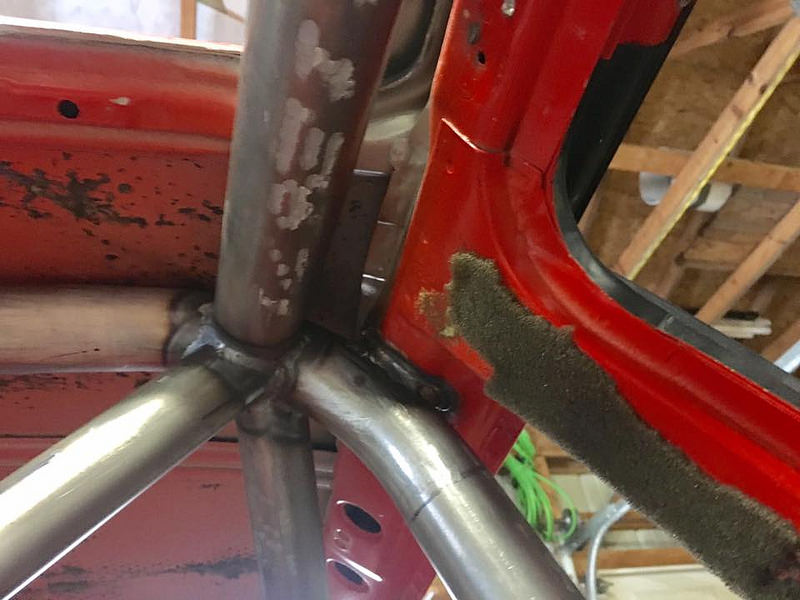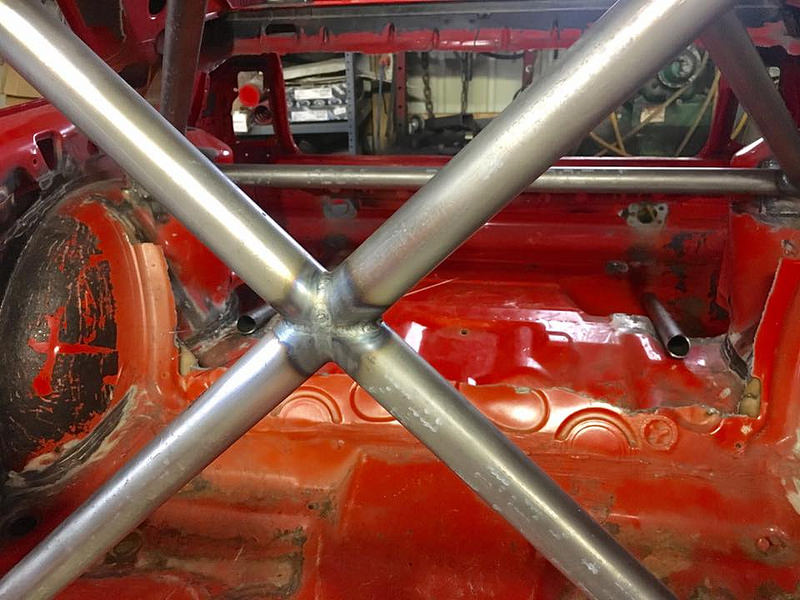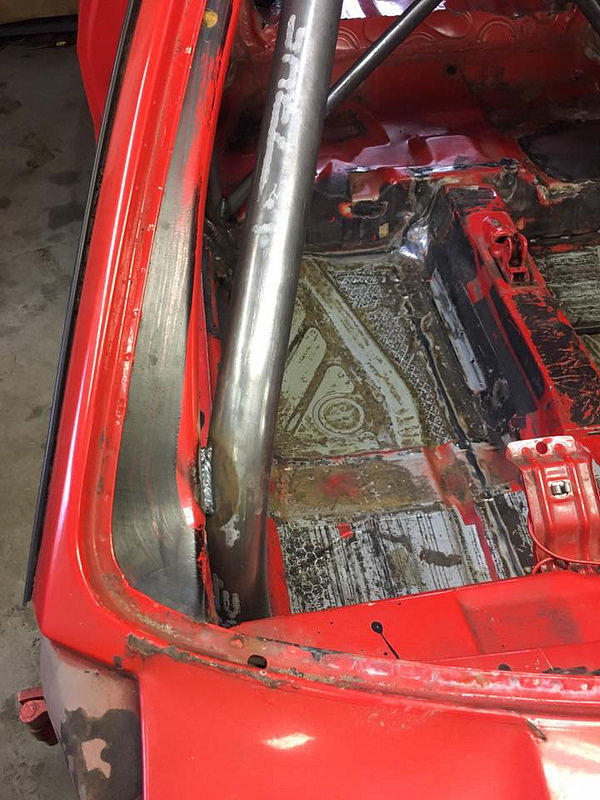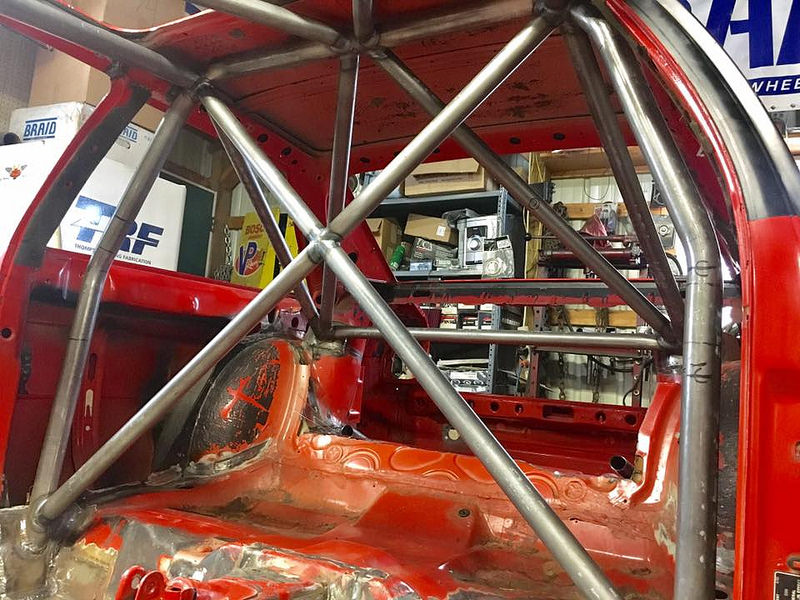 1-13-2017
While Ryan at Thompson Racing Fabrication was busy putting the finishing touches to our cage we were engaged in the less glamorous, but never the less critical task of sorting through all the parts we took off the car. i.e. everything. It doesn't make riveting viewing but here is what we faced:





and here's what's left to deal with: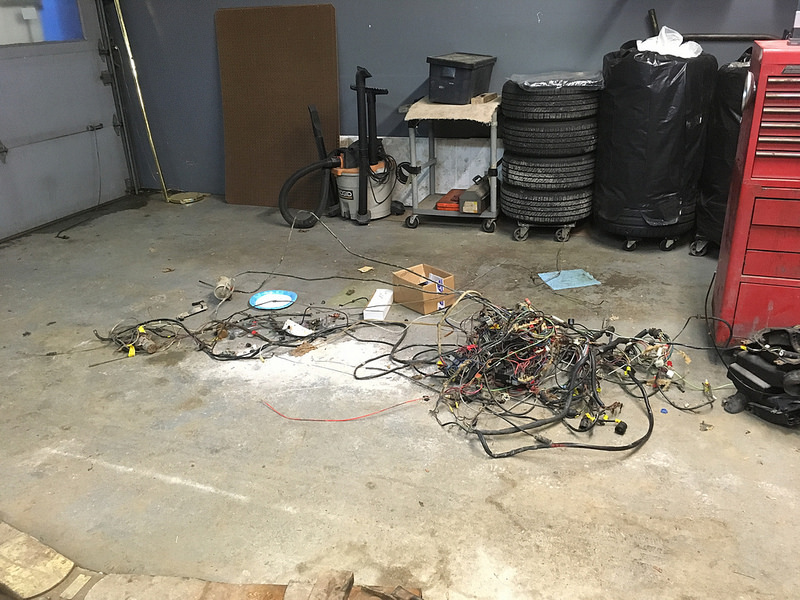 and here's where it all went: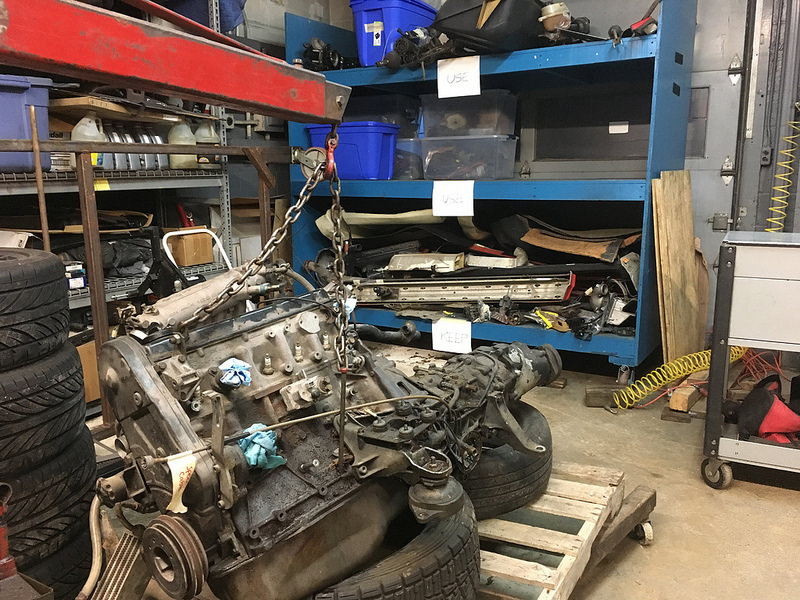 By the way there is an identical shelf behind the camera and a complete interior in the parts trailer. (more on that later)

Our filing philosophy was to retrieve everything we need or might need for the build and then decide what to do with the rest. This all went into one of two piles: if it might serve as a spare part for our 85 quattro it went in the KEEP pile. If not it went in the SELL pile. There is a lot in the KEEP pile; probably way too much but how do you know what you won't need one day? More importantly, how do you know what you have? Well, being super-nerds we created a spreadsheet with all the KEEP and SELL parts listed along with their part numbers and a photograph. I think we are still going to have too much stuff!

Meanwhile, at TRF, Automotive Journalist Tara Turbo-Hurlin was busy documenting Ryan's handy work for a soon to be published article. Check out her photos: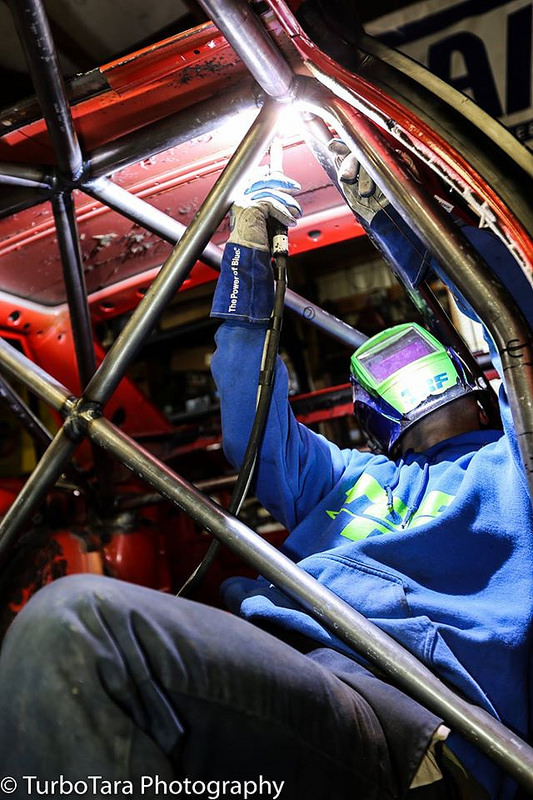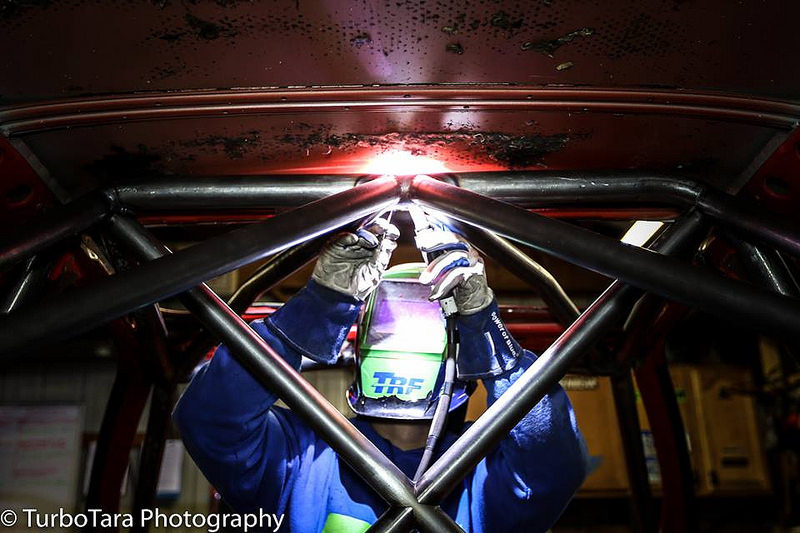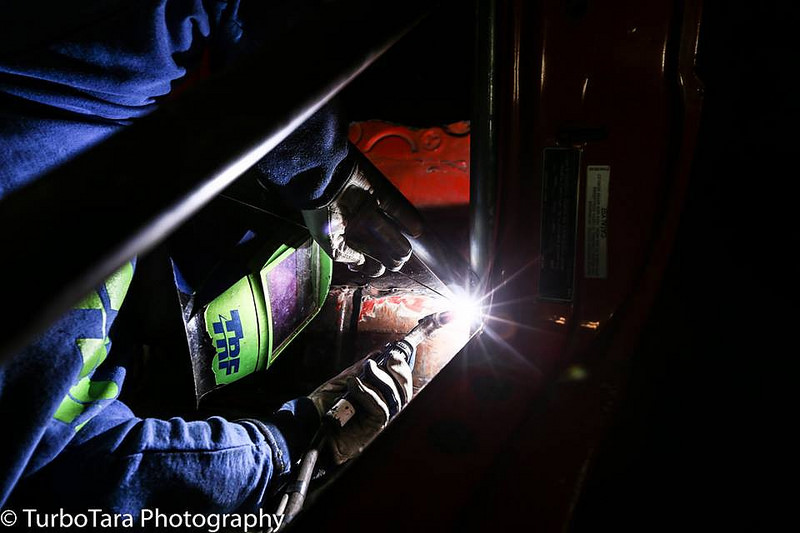 Stay tuned for more spreadsheet action!
1-20-2017
Progress both up and down the state of Michigan this week.

We and the Quattro Squad "filed" the last of the pile of parts "we" took off the car.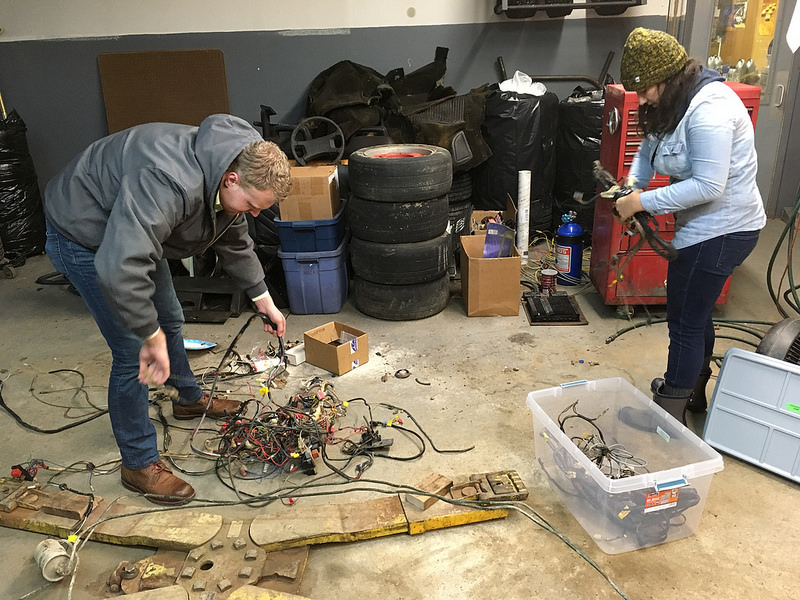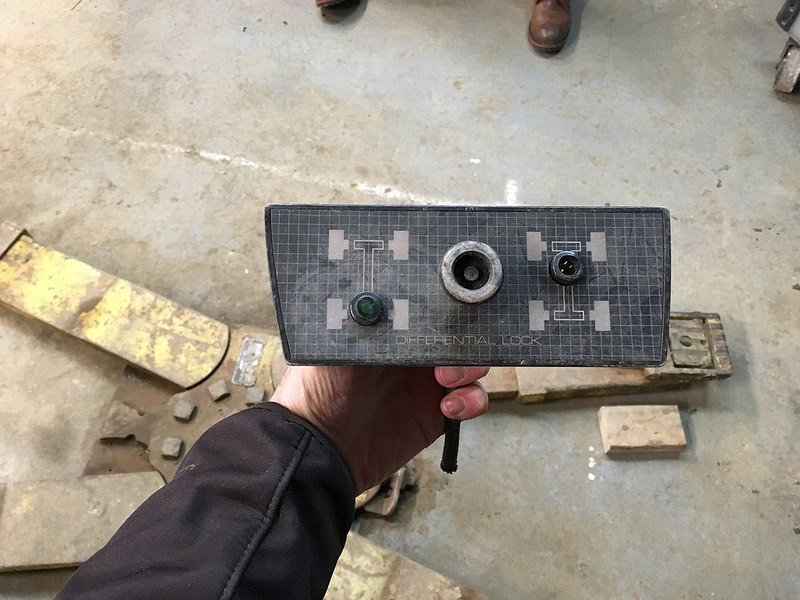 Then proceeded to fill the floor with all the parts the previous owner took off the car that have been resting in the parts trailer for 13 years. Some good stuff in here: two sets of wheel, full interior, all the glass. Some of this we need, some will make good spares for our 85 and some we can get rid of.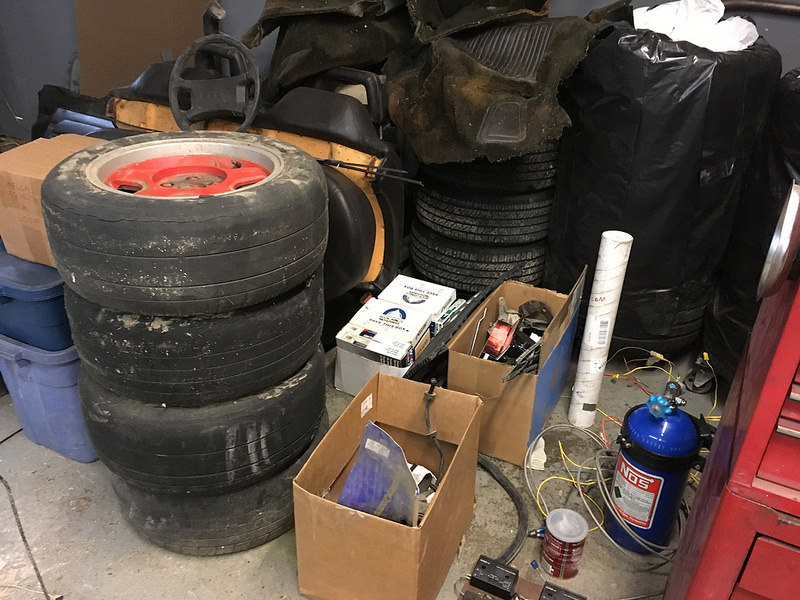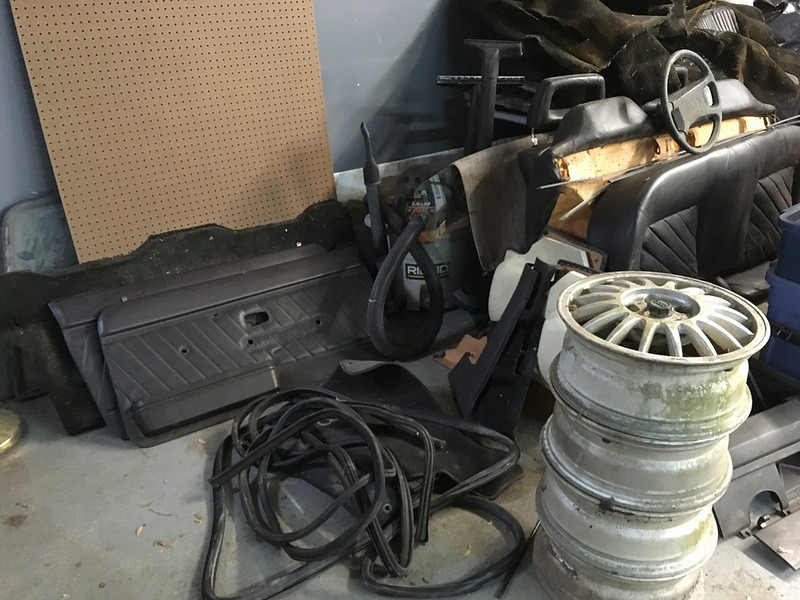 Meanwhile, up north at Thompson Racing Fabrication they wer keeping warm by welding on our cage and installing the new aluminium (it's German) rear bulkhead.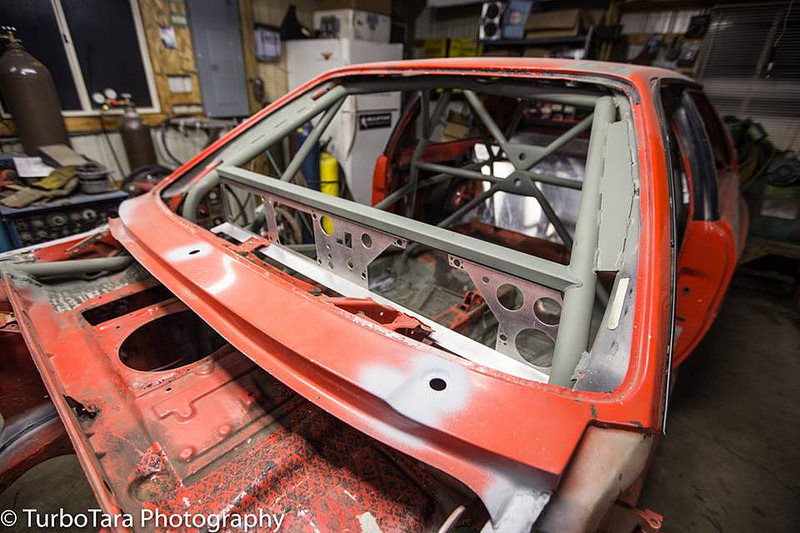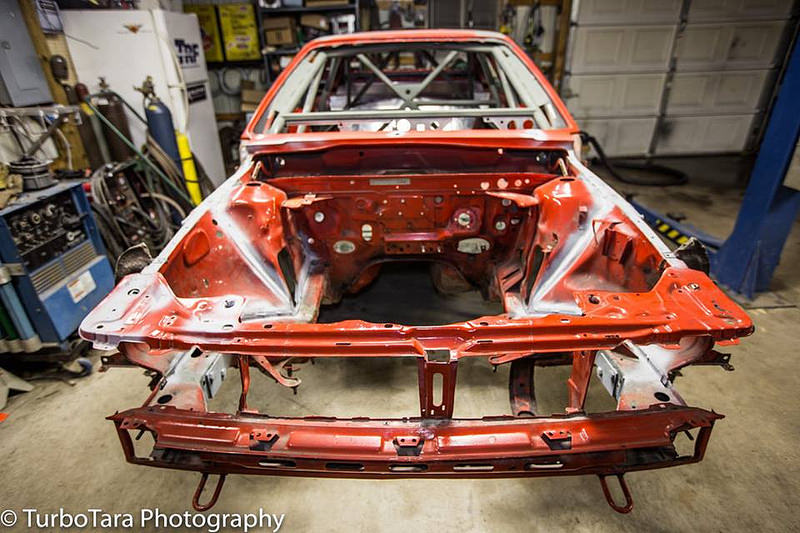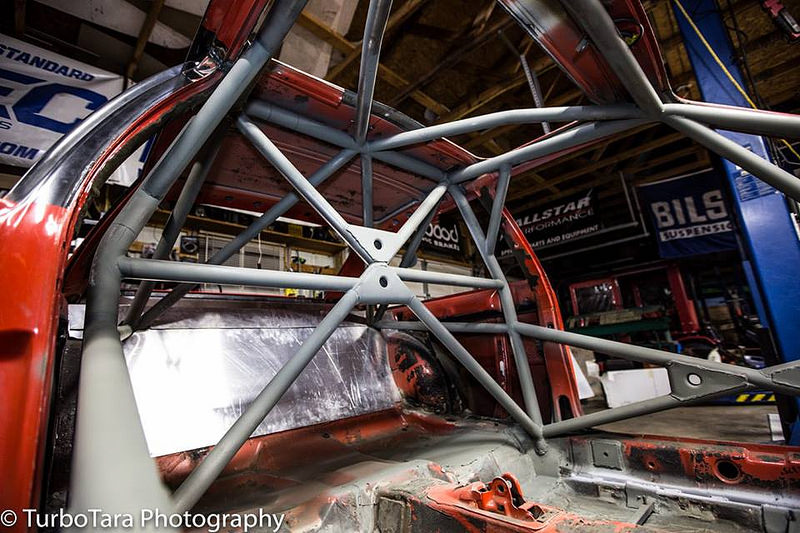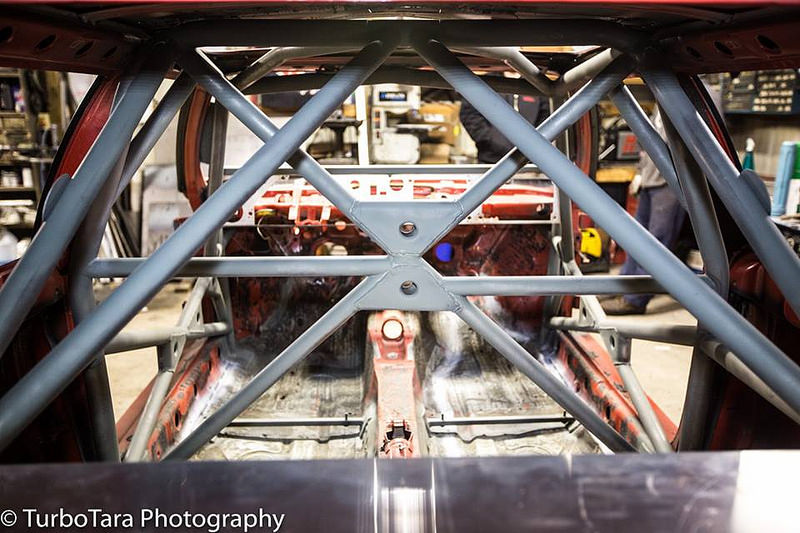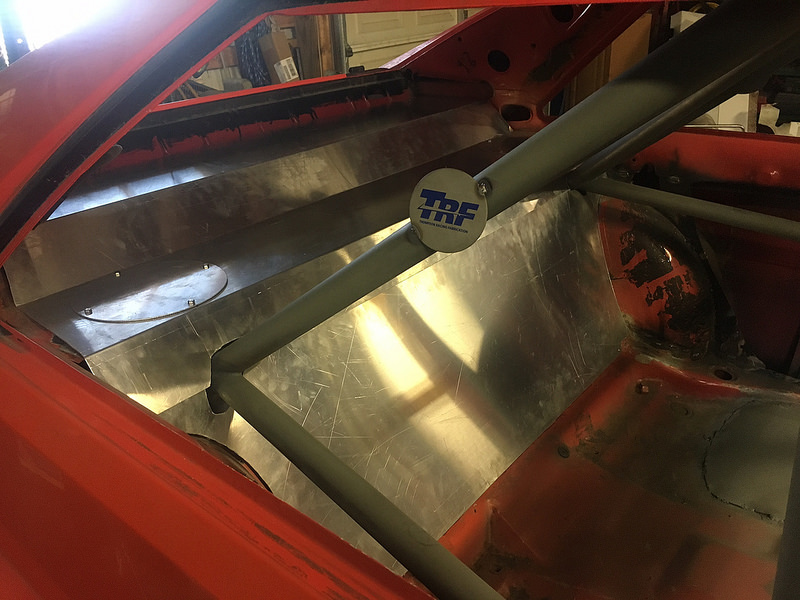 You can see all their handy work here:

https://www.flickr.com/photos/team_i...h/32357568746/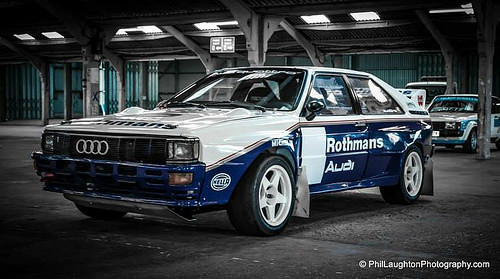 Now the shell rests while we order body panels but work will soon commence on refurbishing all the other parts necessary to reassamble the car as a Grop B monster. Subscribed and stay tuned.
2-9-2017
With the cage complete the shell is now in storage up north awaiting the wide body kit so we thought "what should we do next?" We'll, we ordered a carbon/kevlar wide body kit of course: Should arrive from Europe in 6-8 weeks.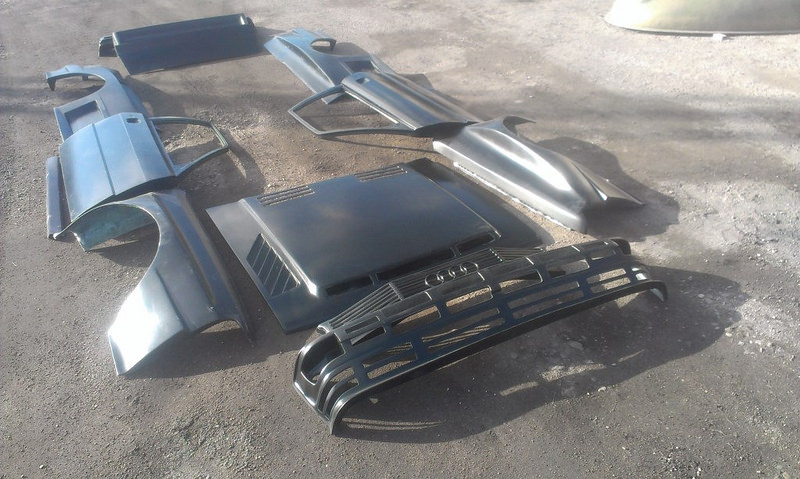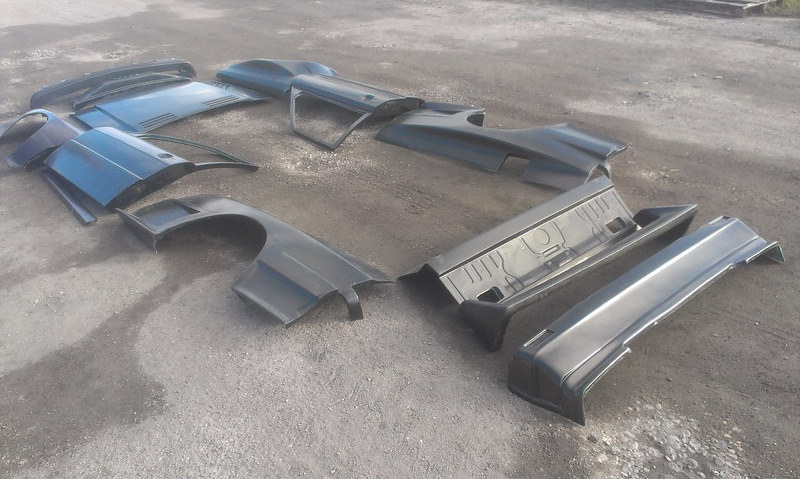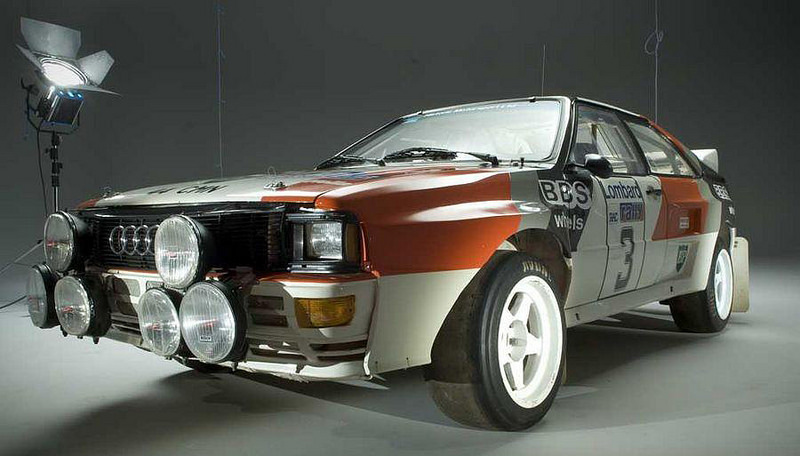 Of course we do have lots of parts to refurbish so we started to look at those and figure out how to go about things. First we pulled out our collection of Hella 2000 lights.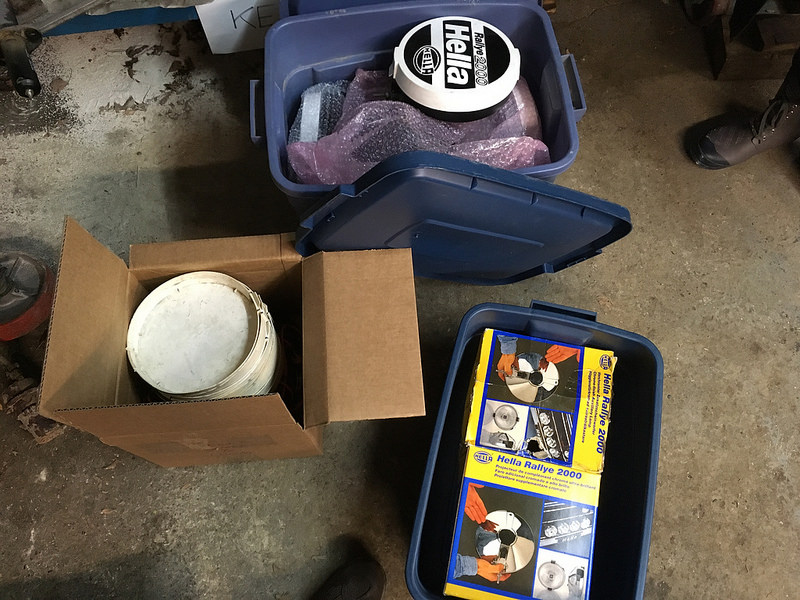 we have about 10 lights in various conditions, beams finishes and levels of completeness and we need 6 pristine black ones, preferabley two spots, two driving and two fogs. Then we'll need some brackets to mount them. Like these ideally: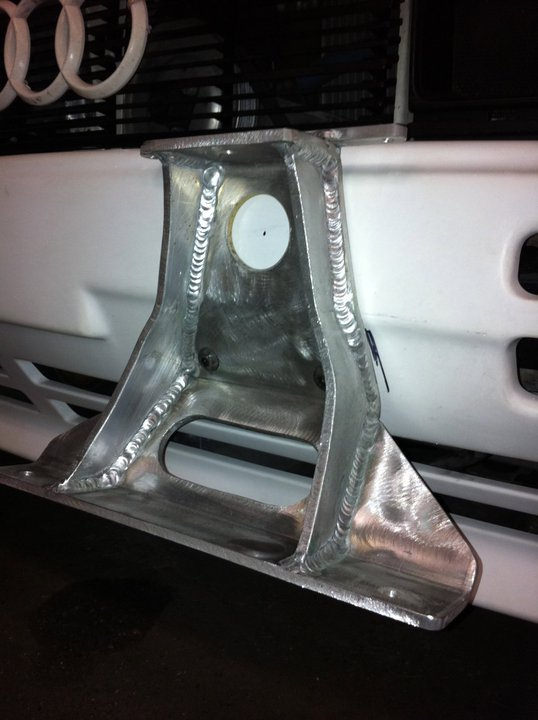 We also pulled out the brake parts we got with the project: Refurbished G60 twin piston calipers. ATE brake discs and refurbished stock rear calipers. We also got new rear rubber lines and front stainless lines. We still need to source front caliper brackets and probably some better pads. There's also a theory that our brake discs might be a little big for the G60 calipers. Once we figure it all out we'll send them off for plating or powder coating.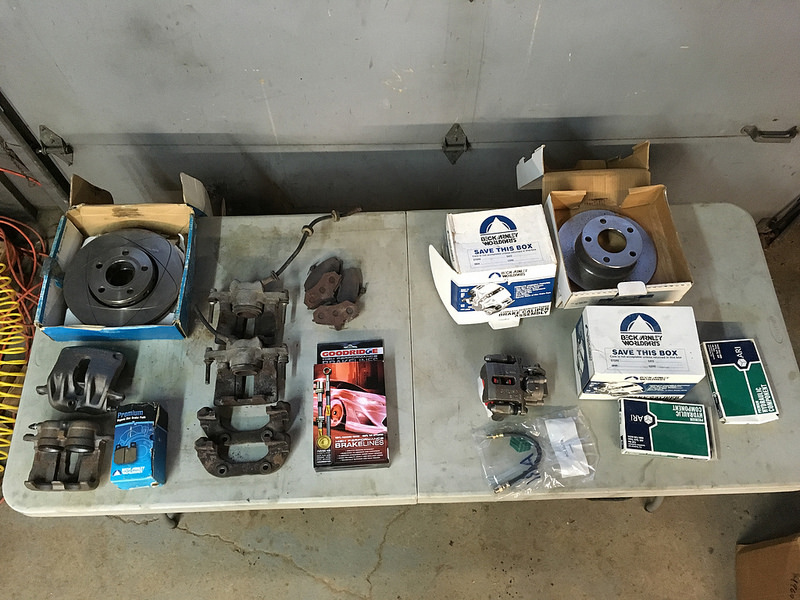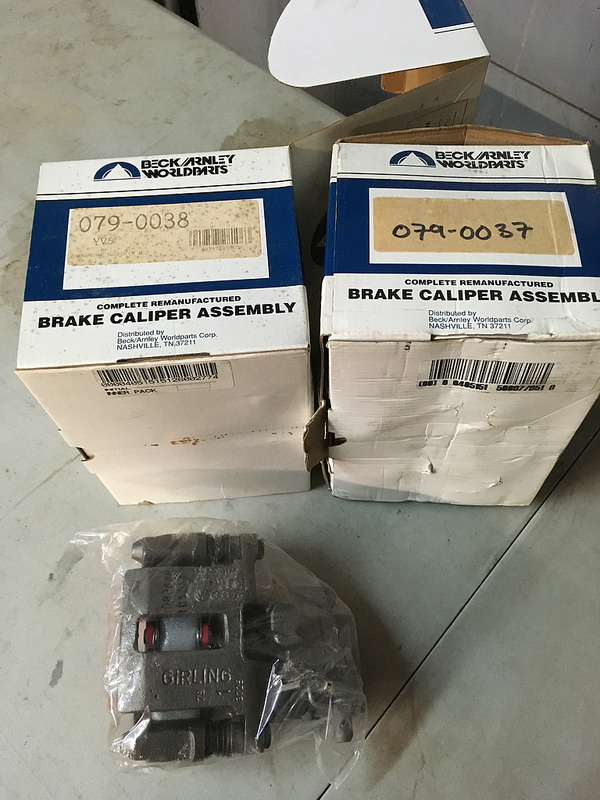 Still trying to inventory all the left over parts for USE, SELL or SAPRES: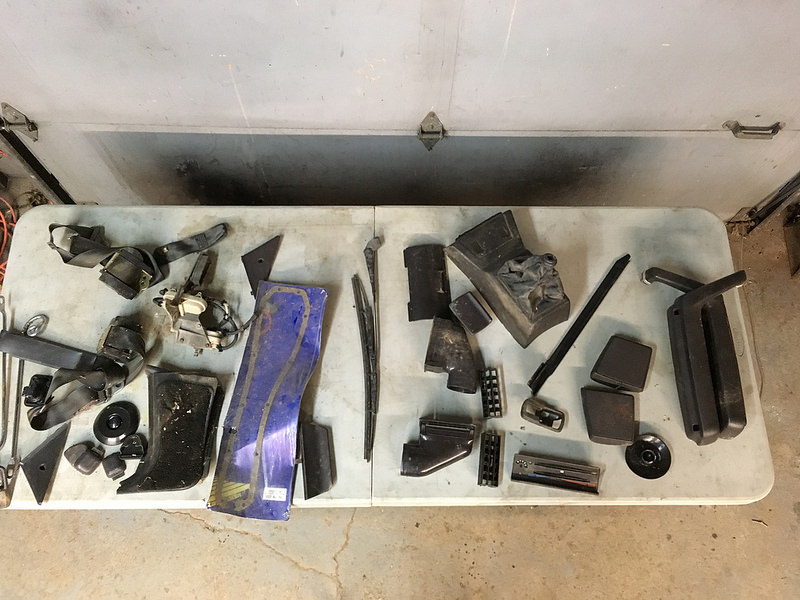 Stay tuned
2-19-2017
This week at Quattro Squad we started to get our head around the refurbishment projects and alocated some to a couple of the students. Matt took on the struts and brake calipers. The struts are almost complete as the previous owner installed new bearings and Koni dampers, had them powder coated and sourced a coilover kit. More on that later. He also provided varoius remanufactured brake calipers as noted earlier. We are missing caliper calipers for the front twin piston calipers so our friend Werner lent us a set he has in his parts stash to test fit. Now we know what we need and that our pads and dicss will all work together.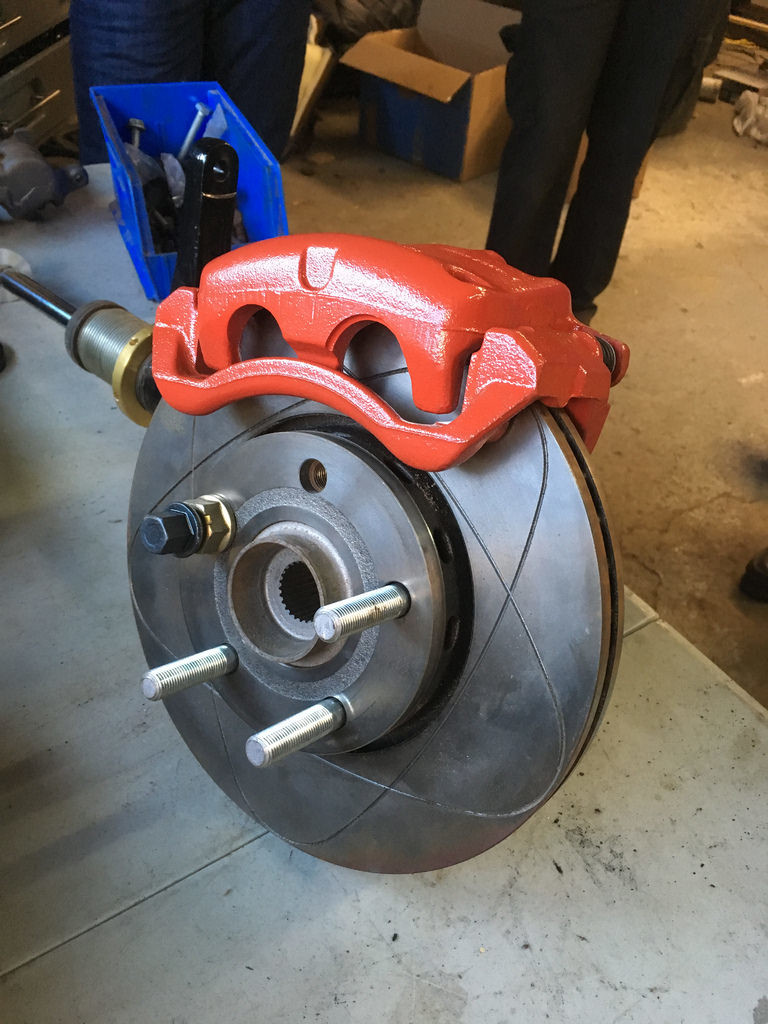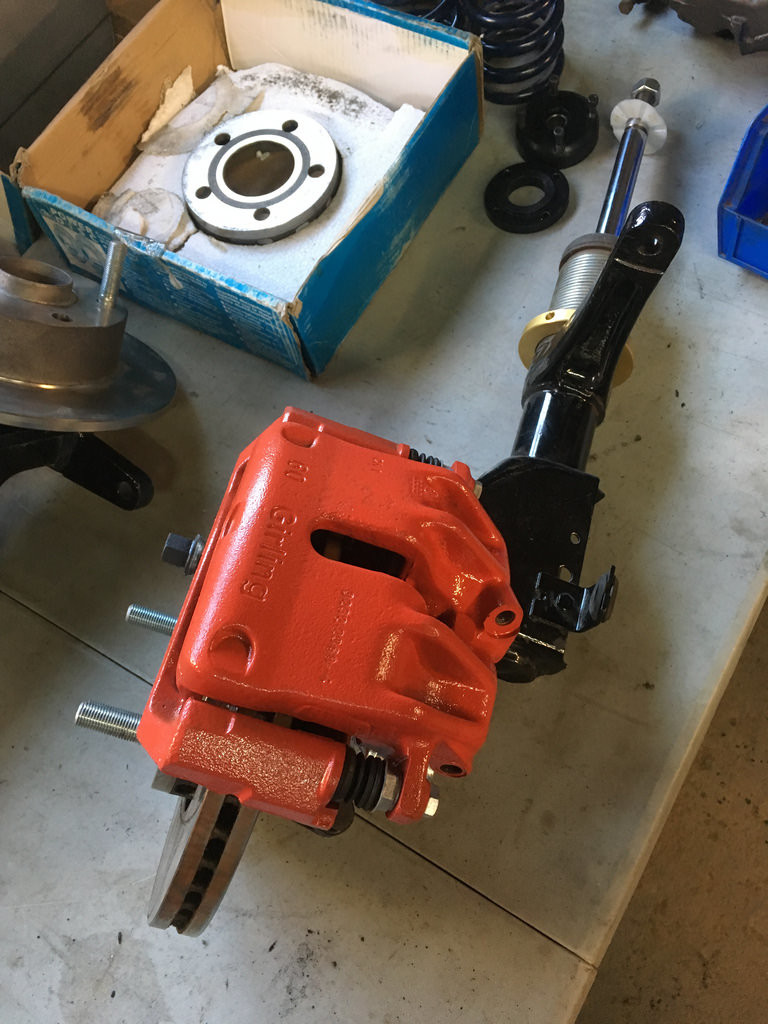 Unfortunately it seems our remanufactured rear calipers are not correct as the handbrake cable and brake line connection will both interfere with the axle. We think they are off a 4000 or similar but fortunately remanufacturd Quattro calipers seem to be still available.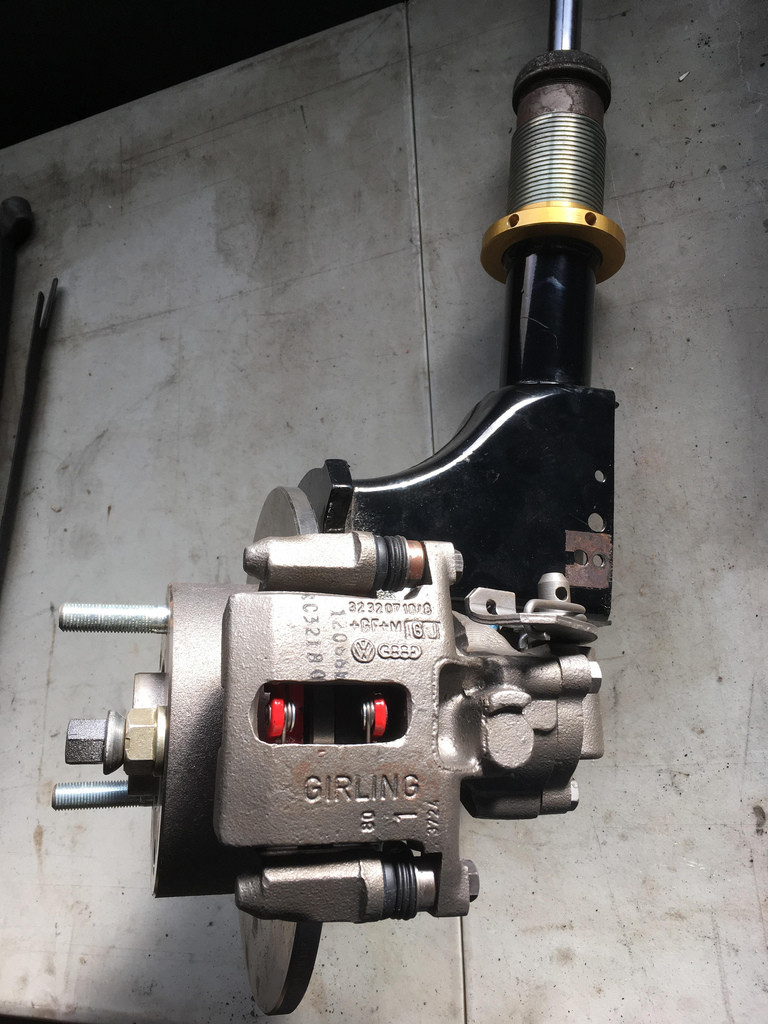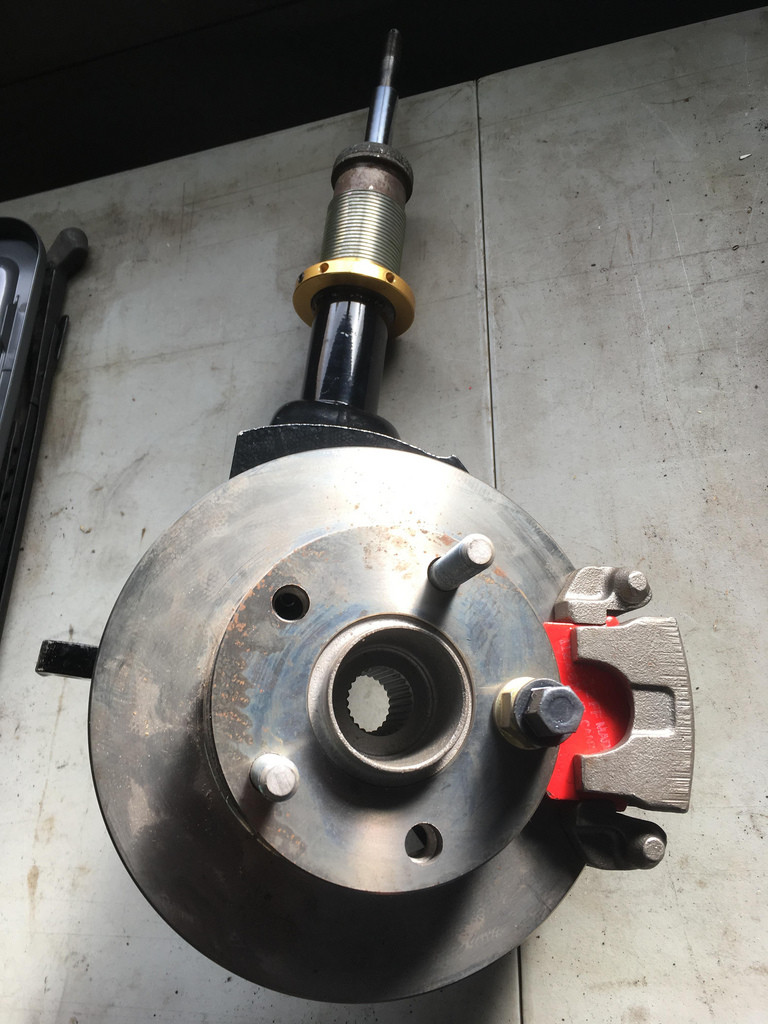 Josh started pulling the various OE parts we need to retain some sort of ventilation and heating system in the car. Apparantyl we need the patr of the dash pad adjacent to the windscreen and the heater box to do this. We spent a good 2 hours of time trying to figure out what part was missing that would connect the defrost air outlet in the heater to the defrost air inlet in the bottom of the dash pad.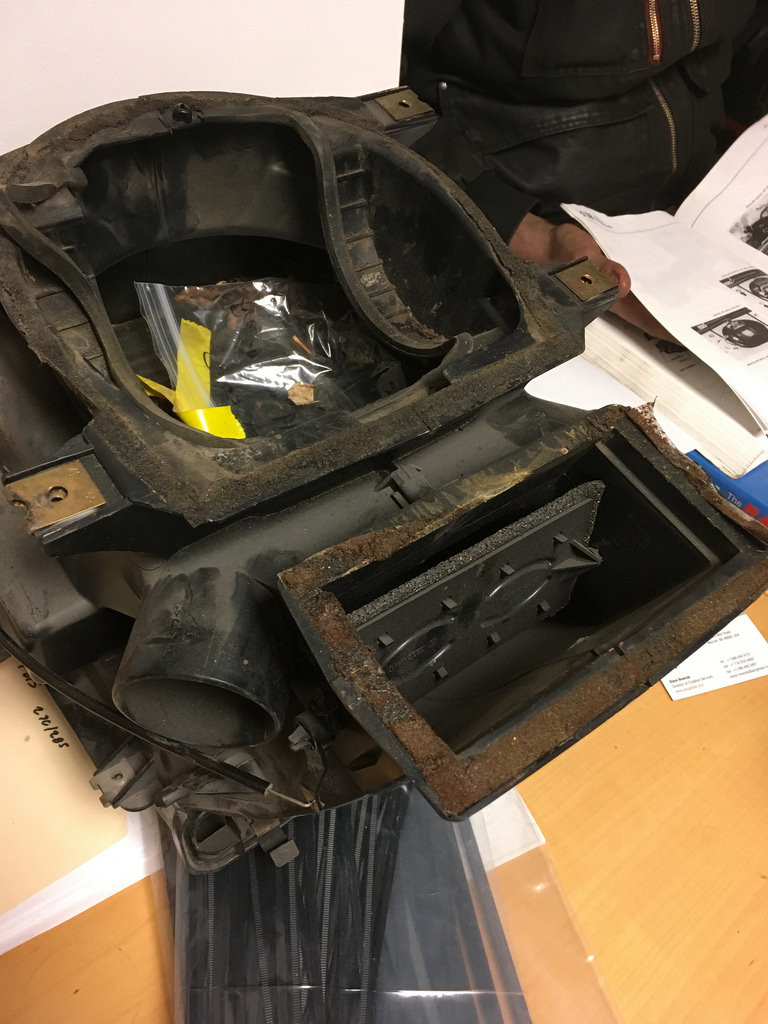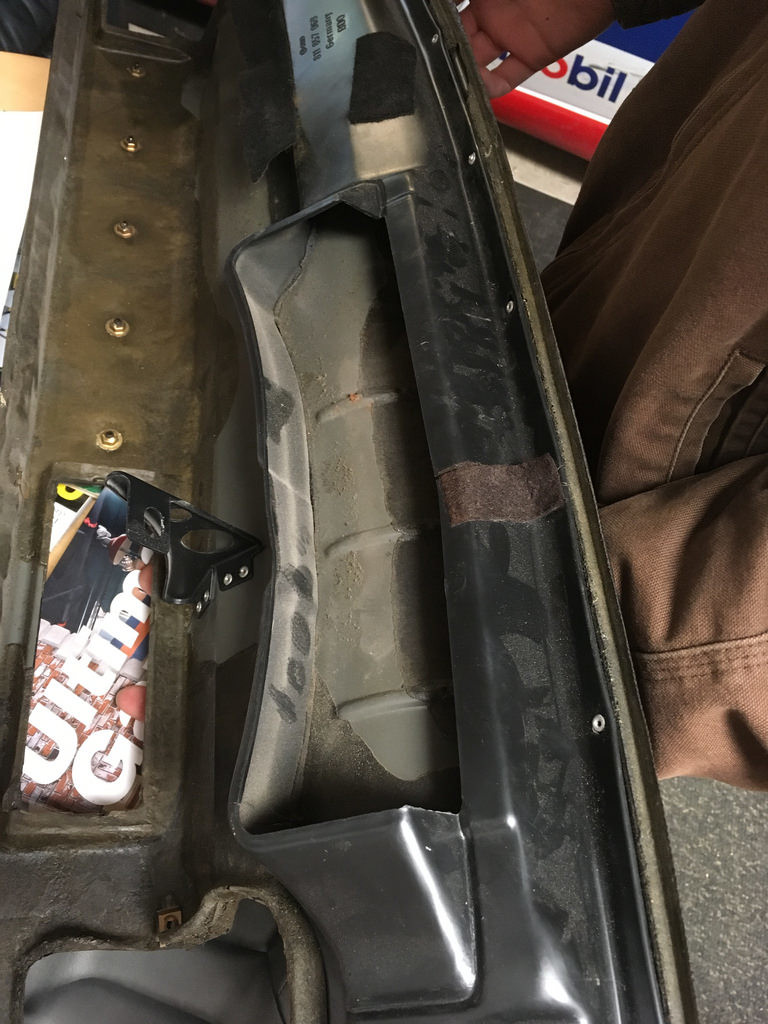 We couldn't find anything in any parts diagrams nor a stray bit of plastic in our parts bins that seemd to do the job. We were stumped until we stumbled upon this picture from earlier in the build: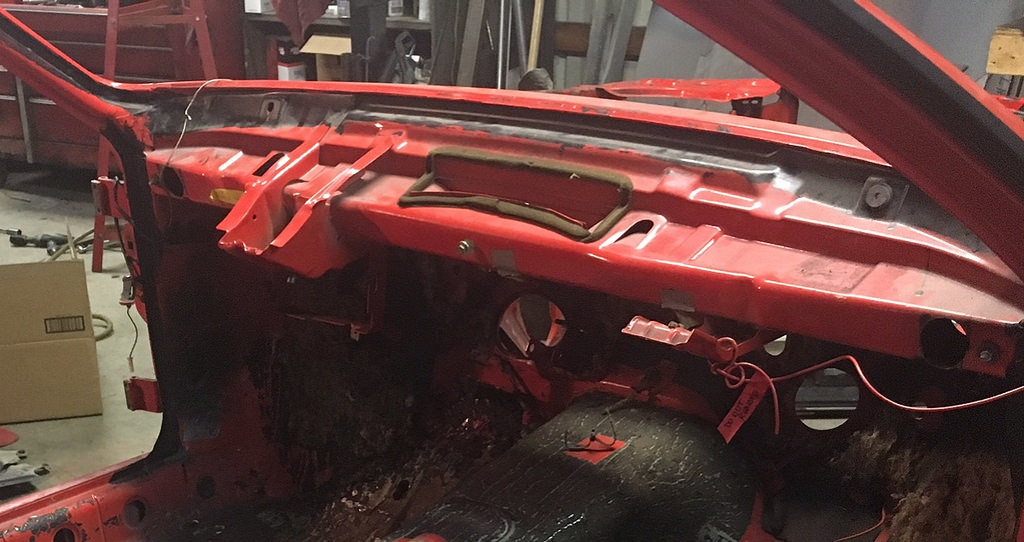 in it you can clearly see that the dash pad mates to the hole in the body work and the heater box mounts below. e couldn't find a missing piece because we weren't missing a piece. DOH!


and then today our seats arrived form Corbeau USA. FIA carbon/kevlar SPRINT model in regular and wide sizes.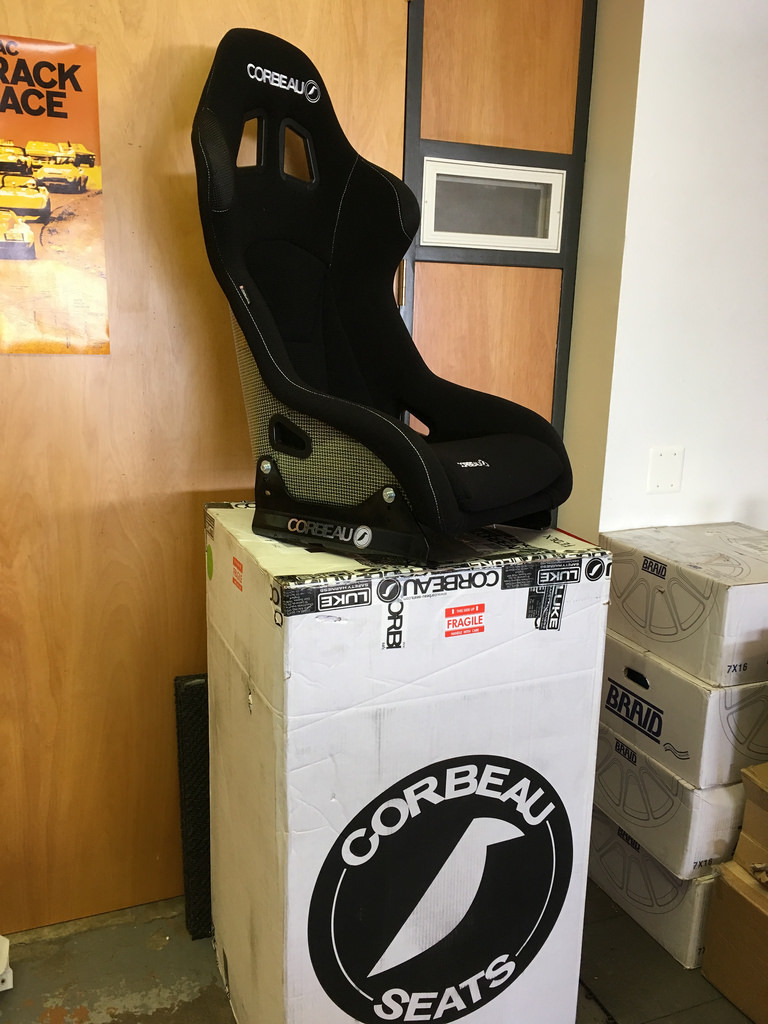 3-9-2017
Recent Quattro Squad gatherings have looked more like meetings of the Mono Squad what with exams and scheduling conflicts. Still, we have made some progress.
We got the bushings pressed out of the front subframe. We had to burn them first as the bolts were seized in place. Fortunately the front subframe was prepped and powder coated by the previous owner and already has solid bushings.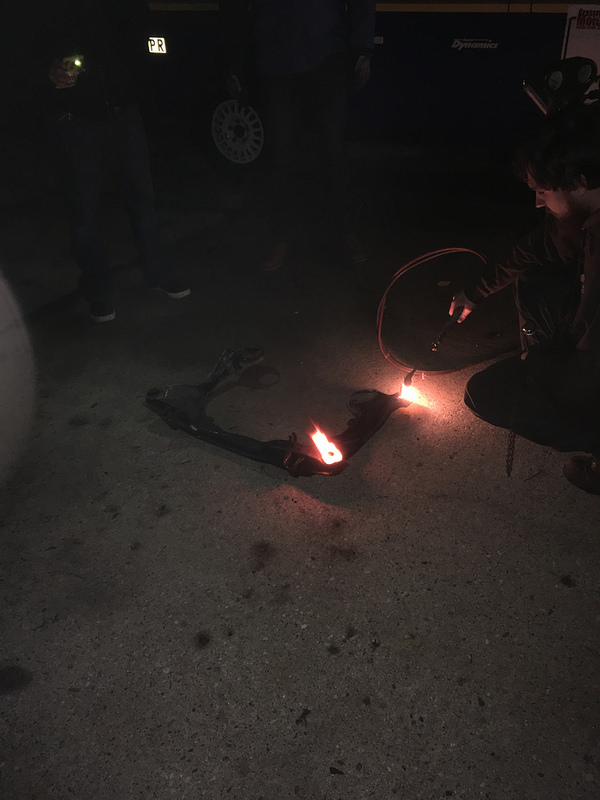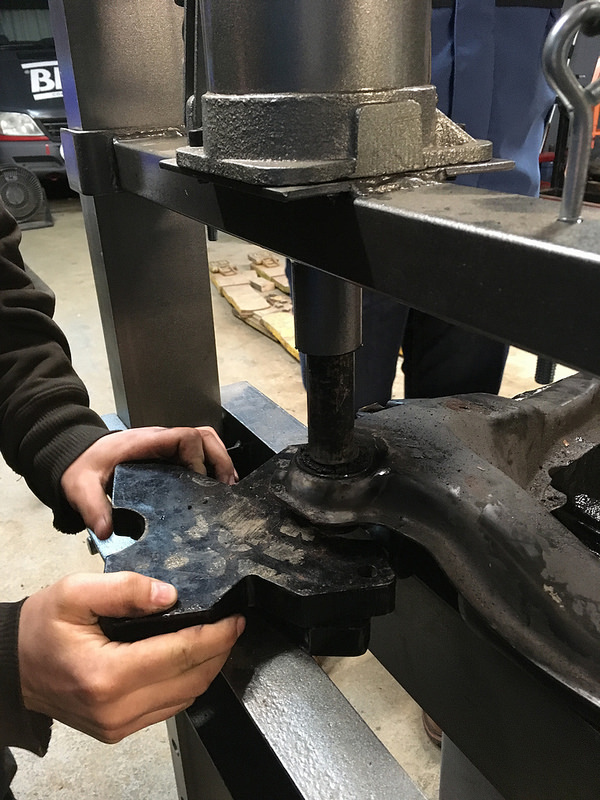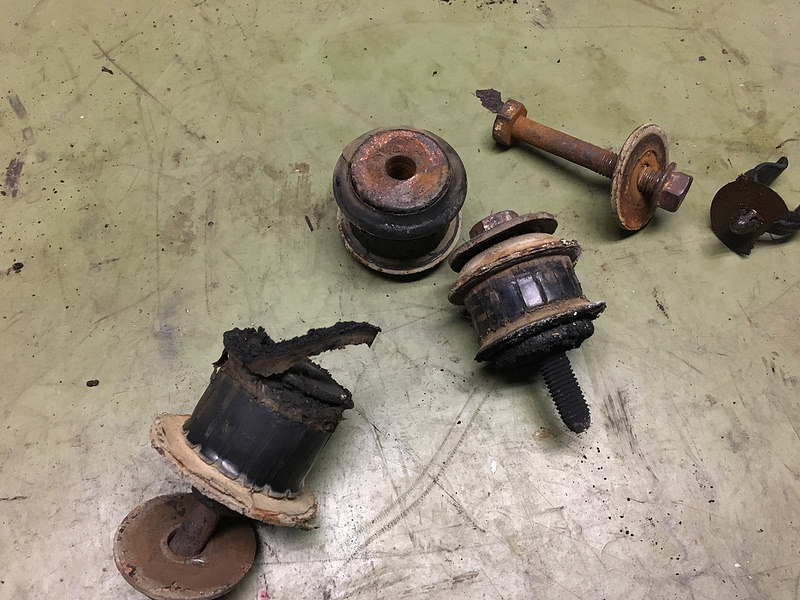 Our aircraft grade top mount bearings arrived too and with the help of the Epicenter Design adapter pieces we managed to assemble a strut.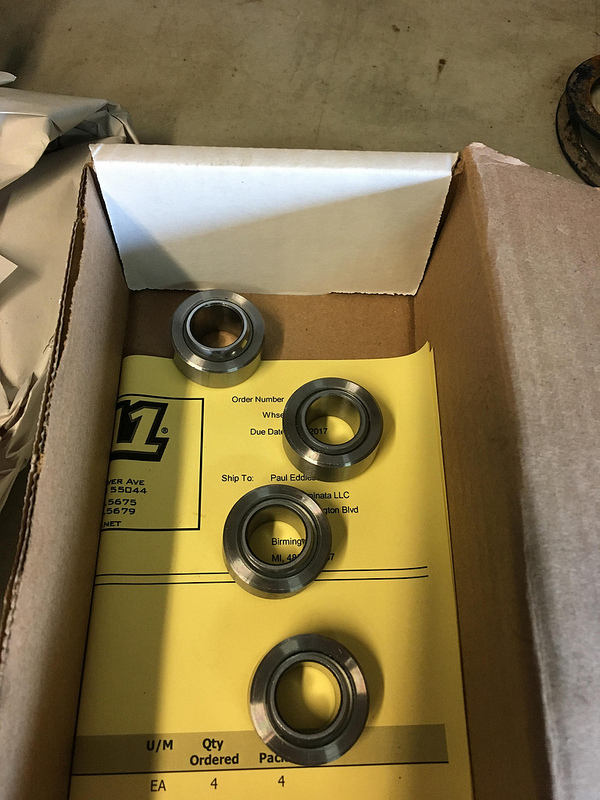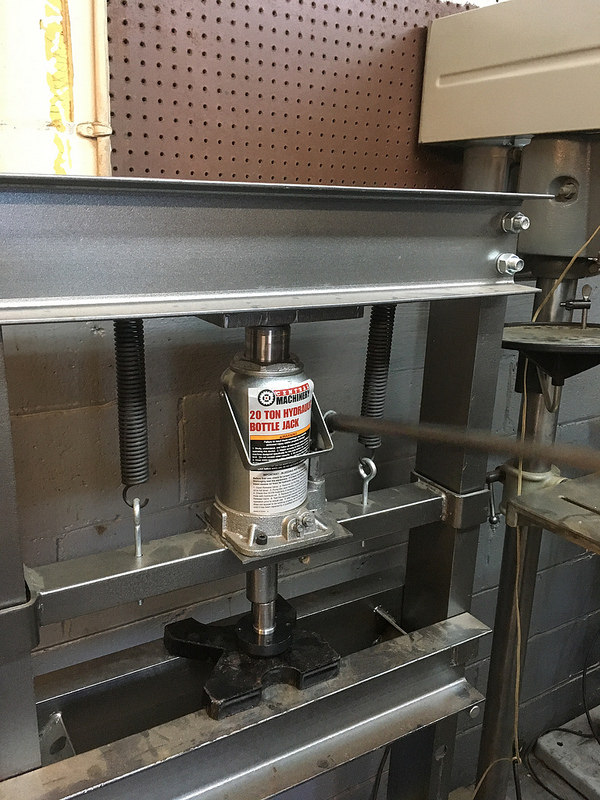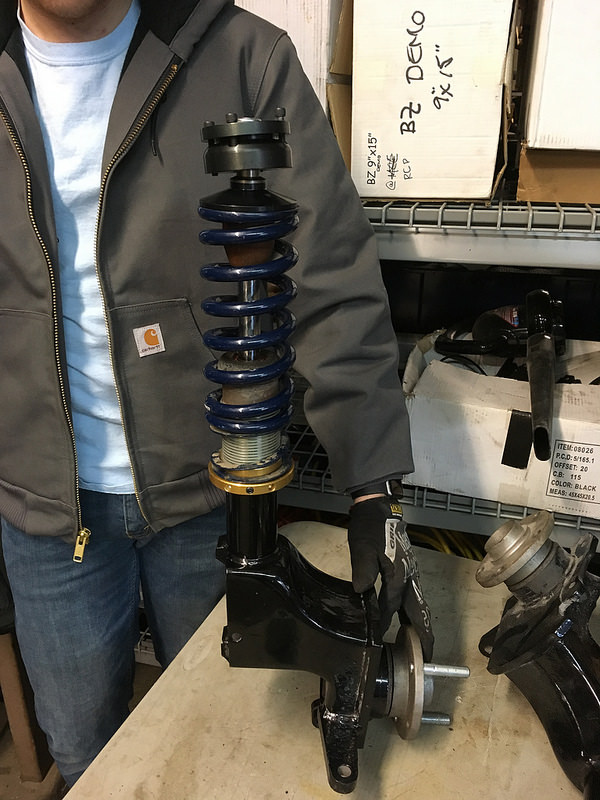 and we received a picture of our completed grill from Cool Wheels this week so that's quite exciting.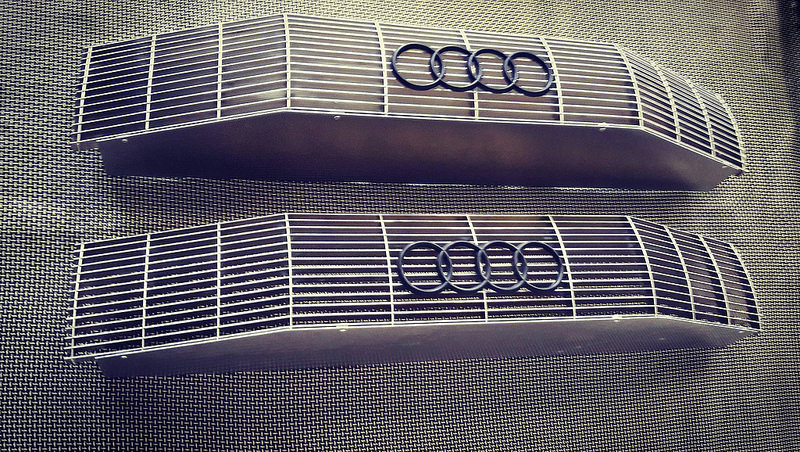 Next time we update we hope to have four fully assembled struts complete with brakes and maybe a resealed diff!
3-17-2017
The 83 quattro squad rally build keeps inching forward. A few days ago we received these beautiful G60 brake caliper brackets from a very generous chap on the Motorgeek forum. Thanks Dave, they will be put to good use.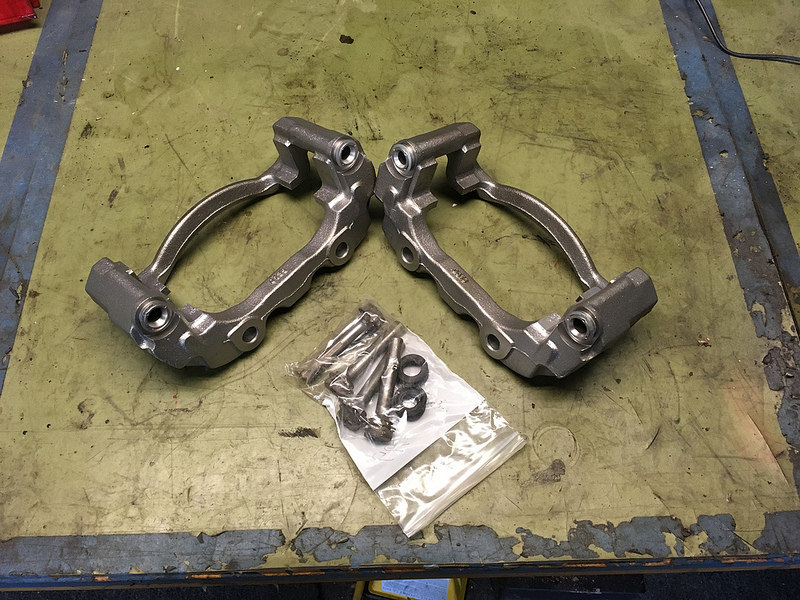 We offered them up to our struts and calipers and they fit perfectly.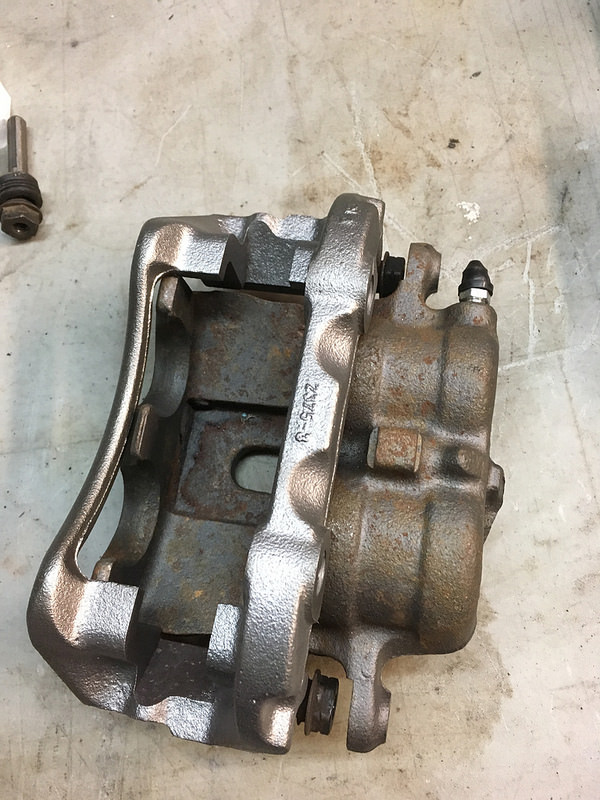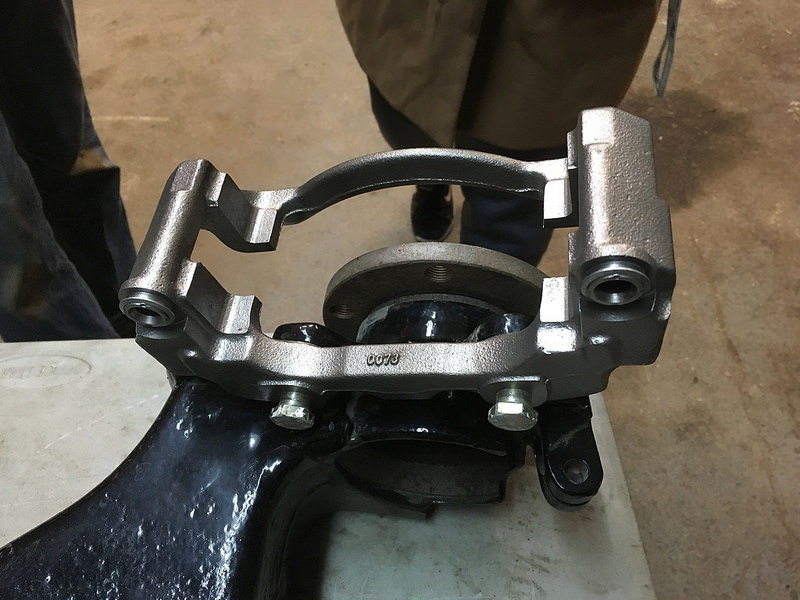 Only question now is how to finish these and the calipers for best effect. Options are:
1. Red powder coat
2. Black powder coat
3. Yellow dichromate like OE (gold)
Feel free to weigh in.
Here's an interesting aspect to the project. We found this 1:18 die-cast model on eBay. Quite cheap; probably because it is quite plain.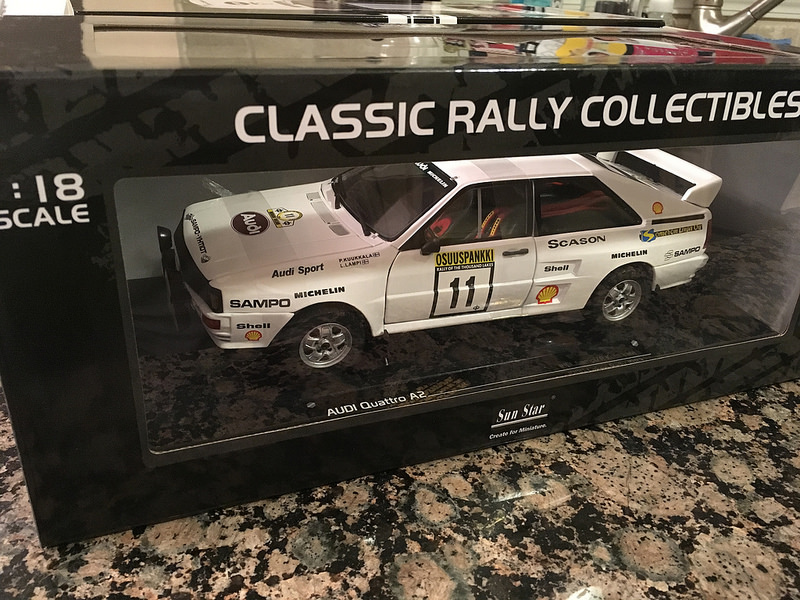 We thought it would be a good idea to refinish it in the same livery we are planning to finish the car in. That is, our version of Rothmans with BRAID and TIM logos.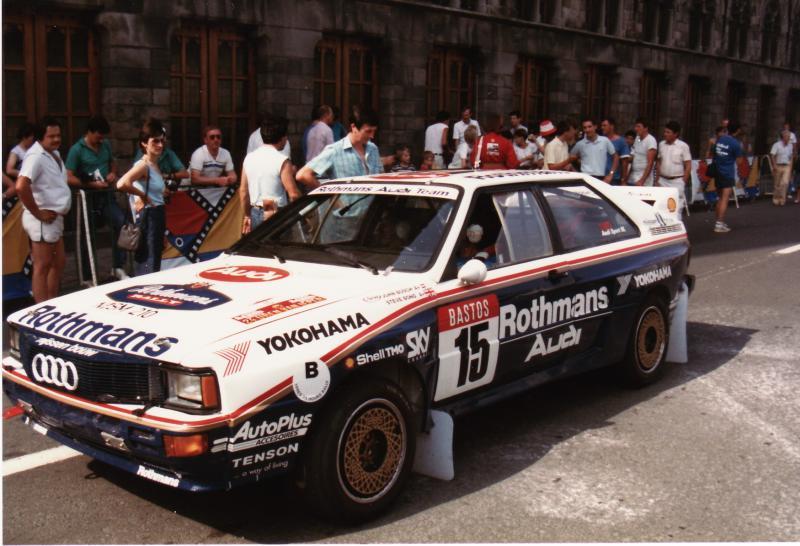 So first we had to strip it: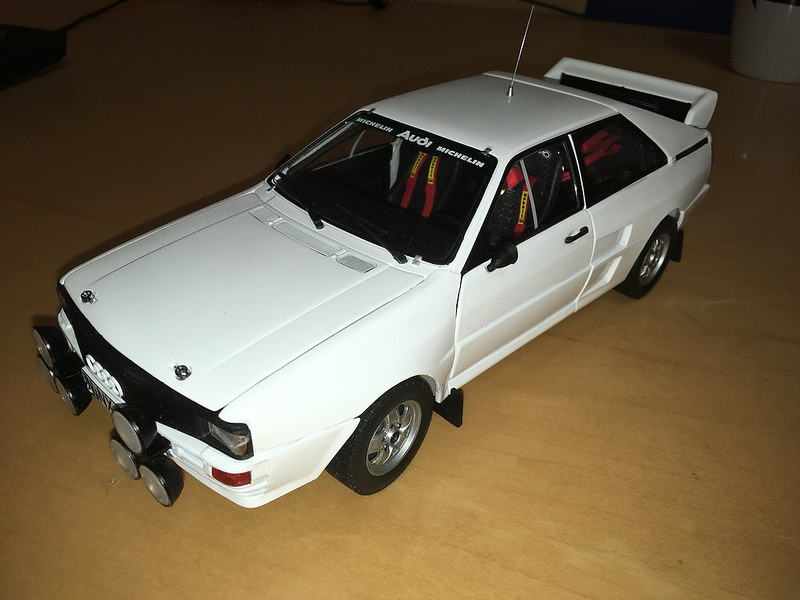 We are not sure how to proceed from here however. Damn, another bloody Quattro project! Stay tuned.
4-5-2017
With the caliper brackets fitting well we took the opportunity to muck up a front strut before sending the calipers off to be refinished. We are still not sure what color to refinish them. Options include black or red powder coating or gold zinc dichromate like they were from the factory.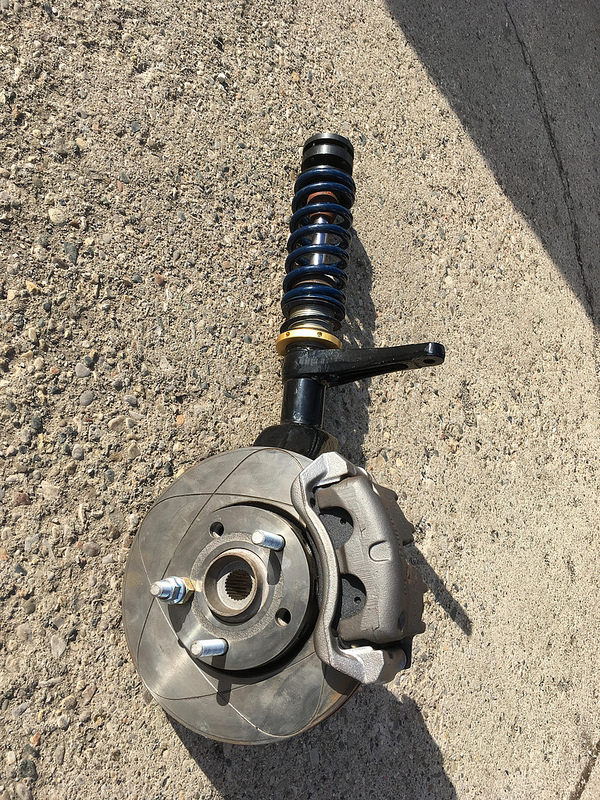 We started in on the model's livery. Tried some blue vinyl but we are not sure it is really suited to cars this small as it won't mold into the crevices well.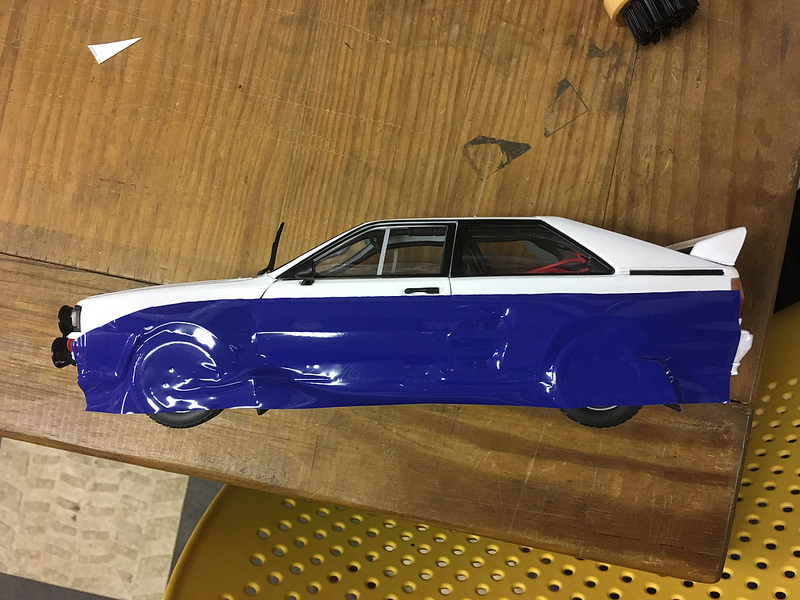 We did one side with the factory droop to the front bumper, which we have never liked, and the other with a full straight line to the back of the headlight. Which do you prefer?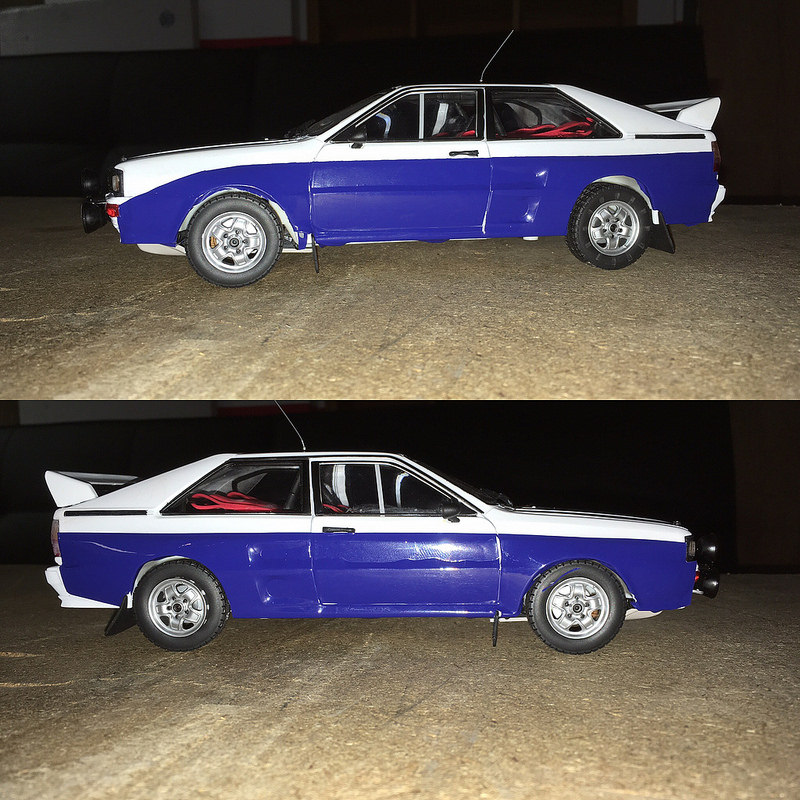 We then added some BRAID decals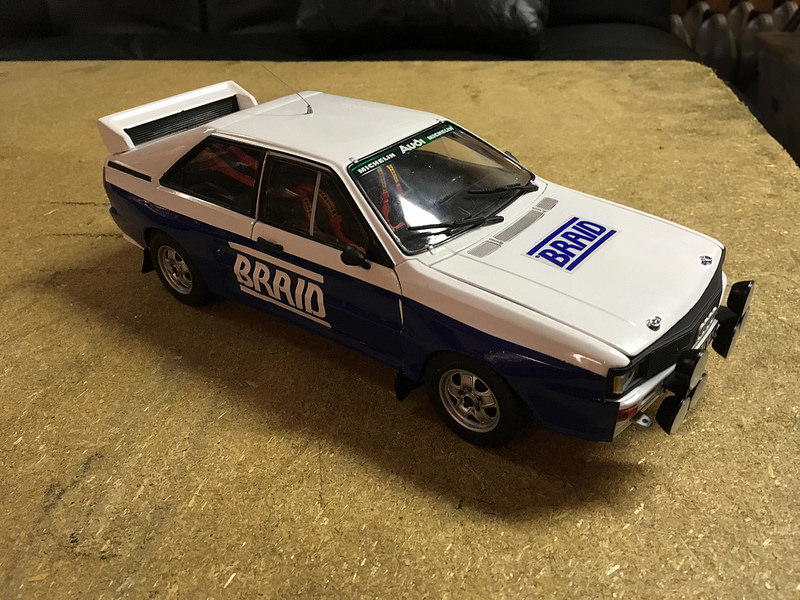 Our BRAID wheels came in from Europe. We love 'em.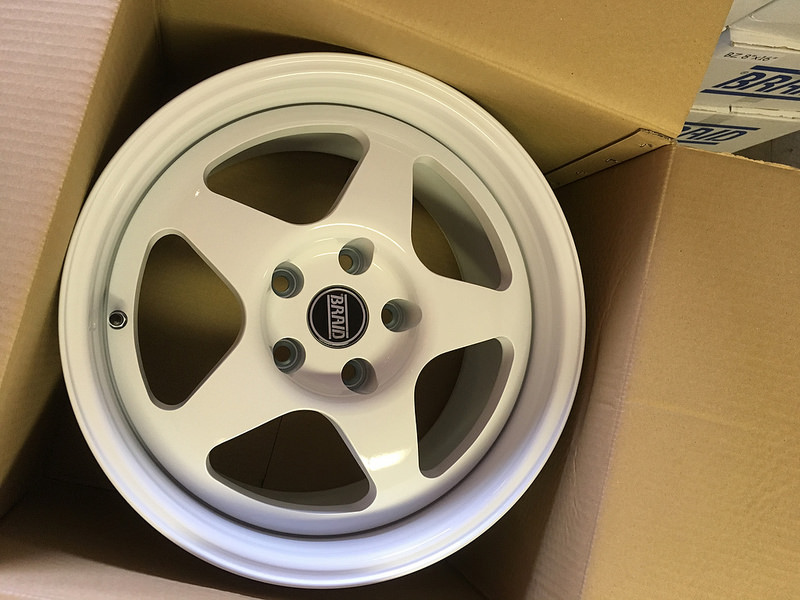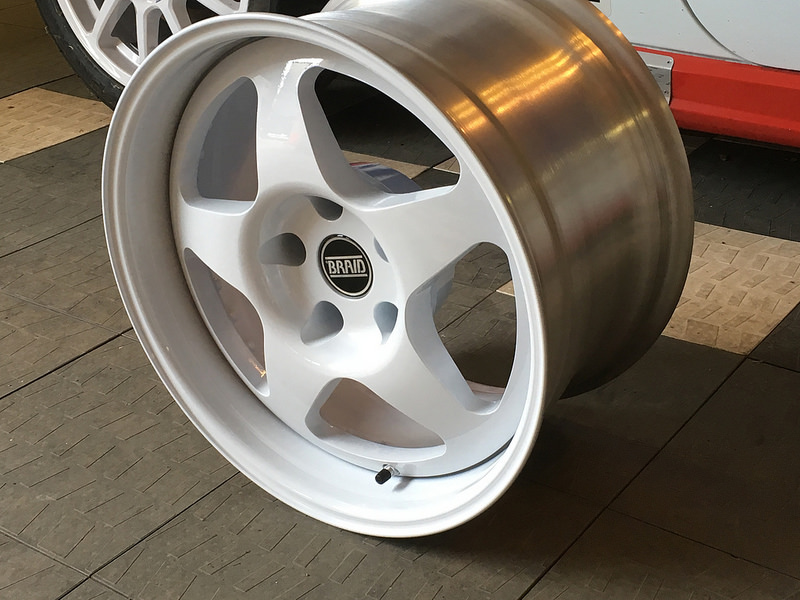 They are three piece with hidden screws and reminiscent of the factory Speedlines. Specs are 16x9, et12. We could resist throwing one on our 85 but, of course, they are way too wide for this car.
As part of our quest to prep as many parts that are going to need refinishing as possible we pressed out the bushings from the lower control arms.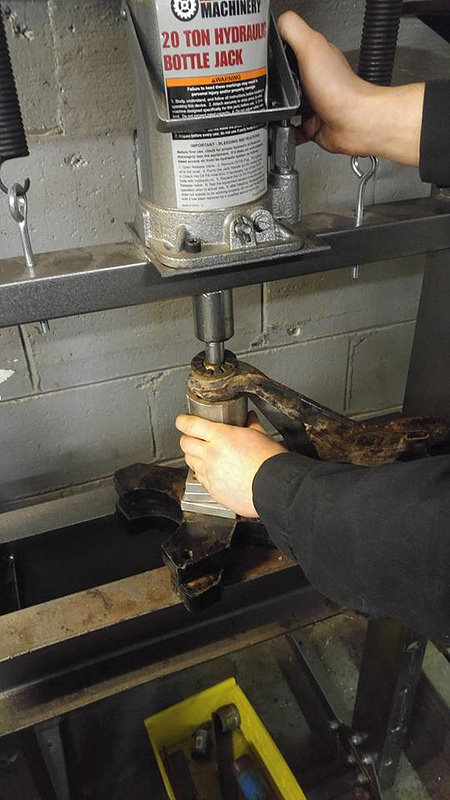 and disassembled some Hella 2000 lights as we have some chrome ones that need to be black.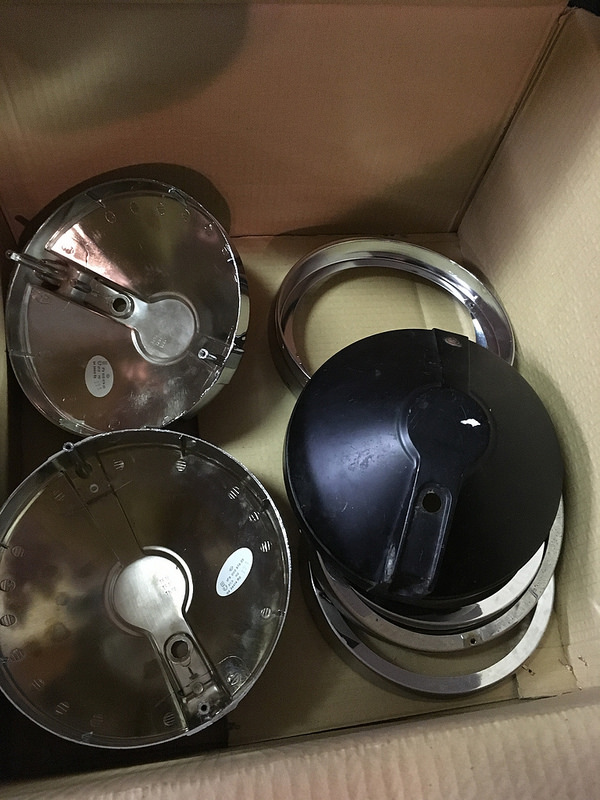 This is the pile so far. The parts in front still need disassembling.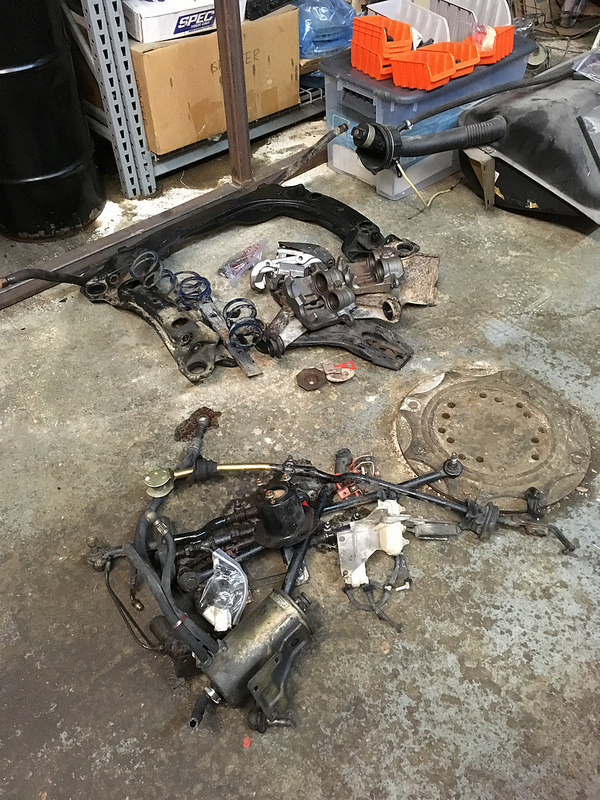 5-2-2017
Scattered progress since our last update but progress non-the-less.

We started to attack the drive shaft last week. The CV joints seem a bit stiff so we are going to clean them out and see if we can save them. If not we think we can replace them. The universal joint in the center seems fine but we might have to destroy it removing the center support bearing which is also fine but whose rubber bushing is decidedly squishy.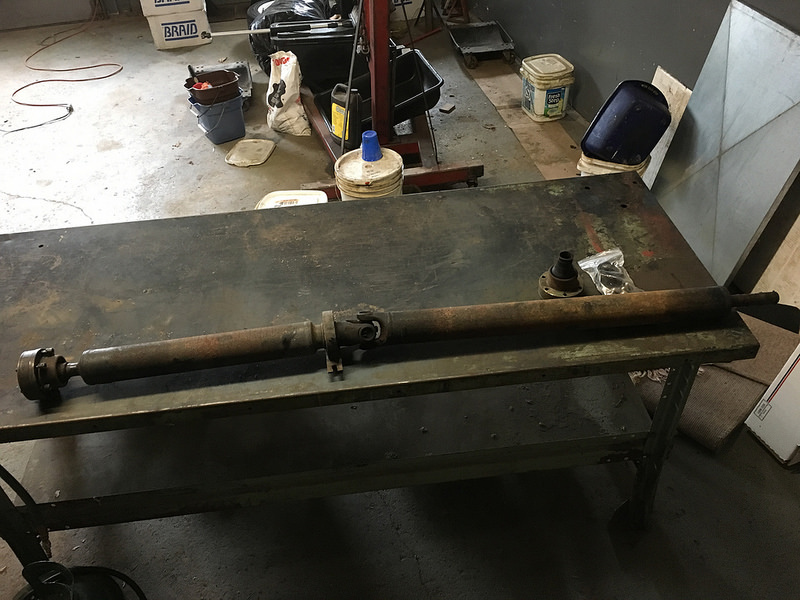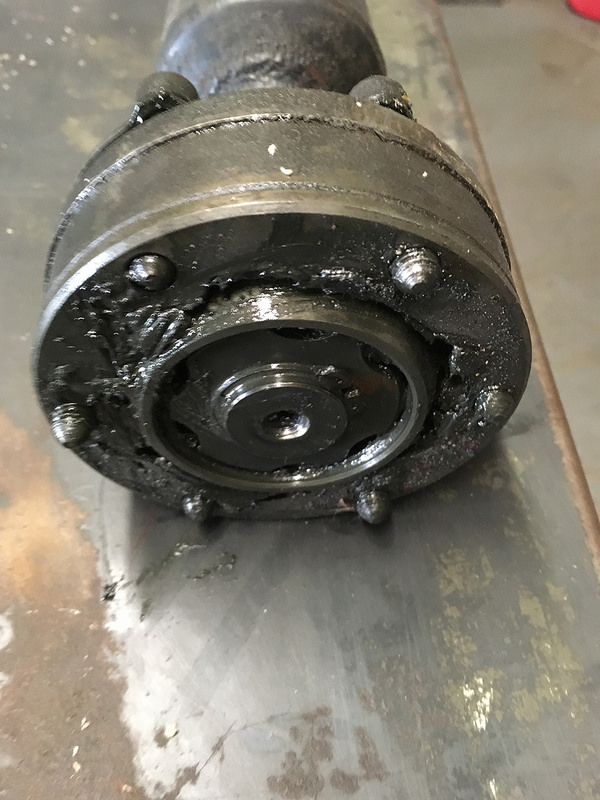 We also started refurbishing the fuel tanks. Initial inspection revealed only surface rust so we cleaned it out with some dish washer detergent.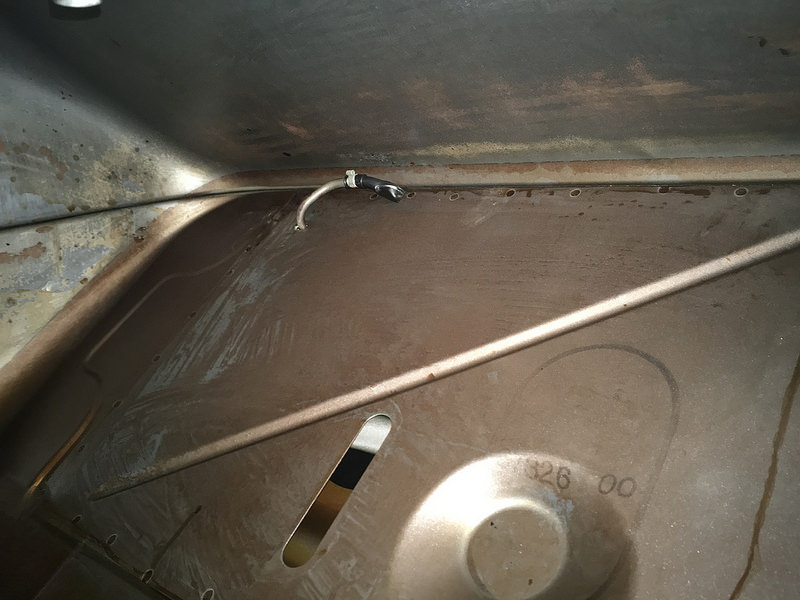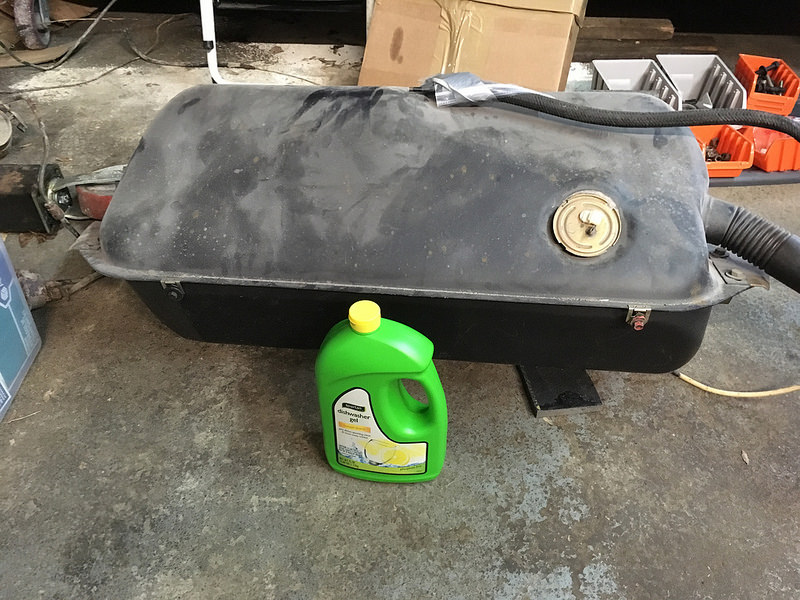 We had a visit from the guys who run DIYAUTO.com https://www.diyauto.com/ last week, Nick and Steve Balistreri. DIYAUTO.com's goal is to collate all the cool information in the various forum build threads on the web so the information is easy to search and the knowledge is not lost to us auto enthusiasts. We are proud they have both our quattro builds and our 911 build on their site.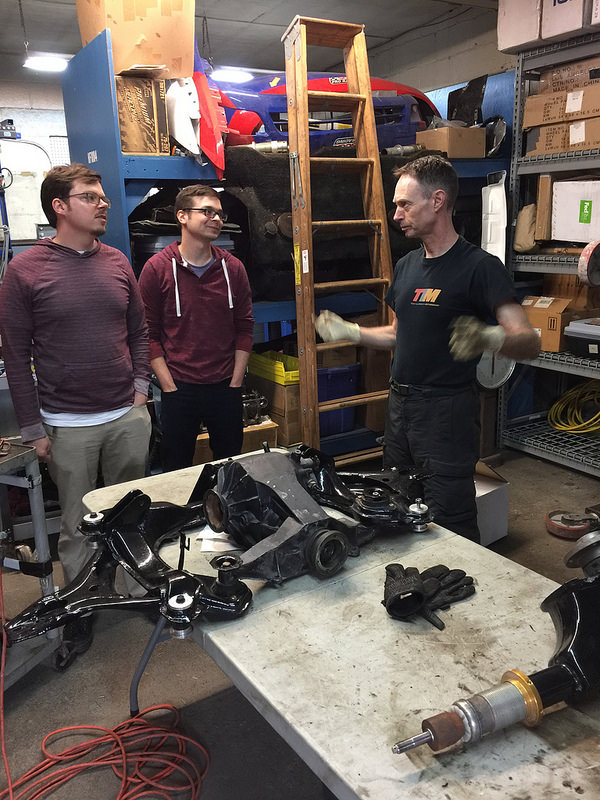 We continued to dismantle parts that are being sent out for refinishing. This week it was the turn of the suspension components. These did not want to come apart and the students learnt a great deal about persistence and the use of heat wrenches.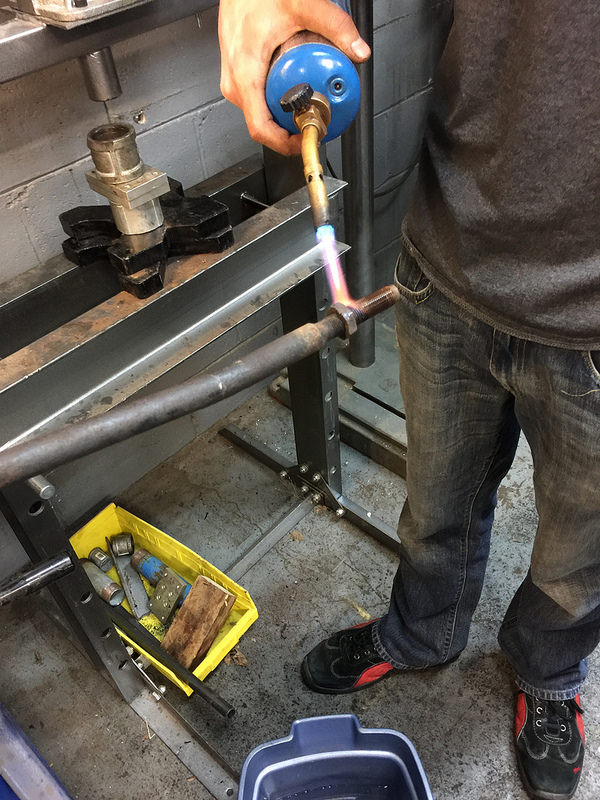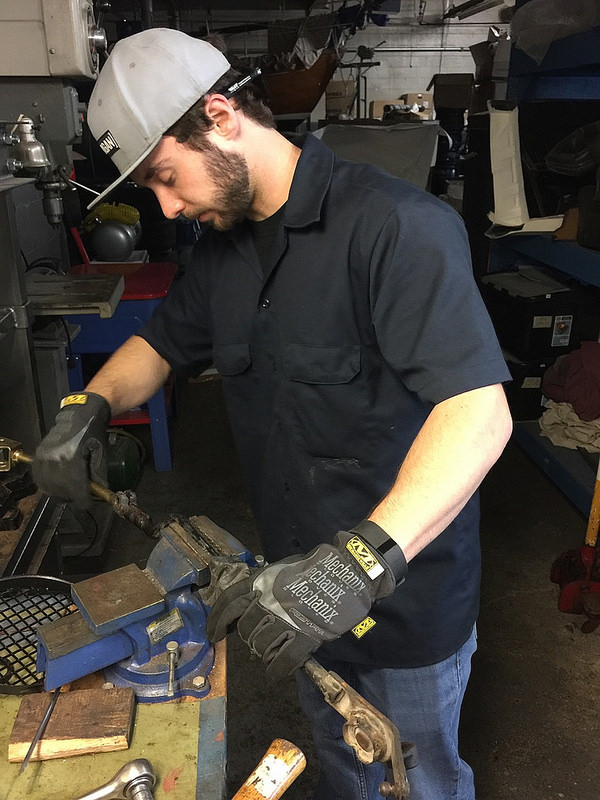 We're not even sure we can get replacement ball joints and bushings for this stuff and may have to fabricate our own.



We optimistically mocked up the rear calipers again to see if we can make them work. Both the handbrake cable and the brake fluid line want to go through the rear axles but as we intend using a hydraulic handbrake we wanted to see if we could make a banjo fitting attach. Think not: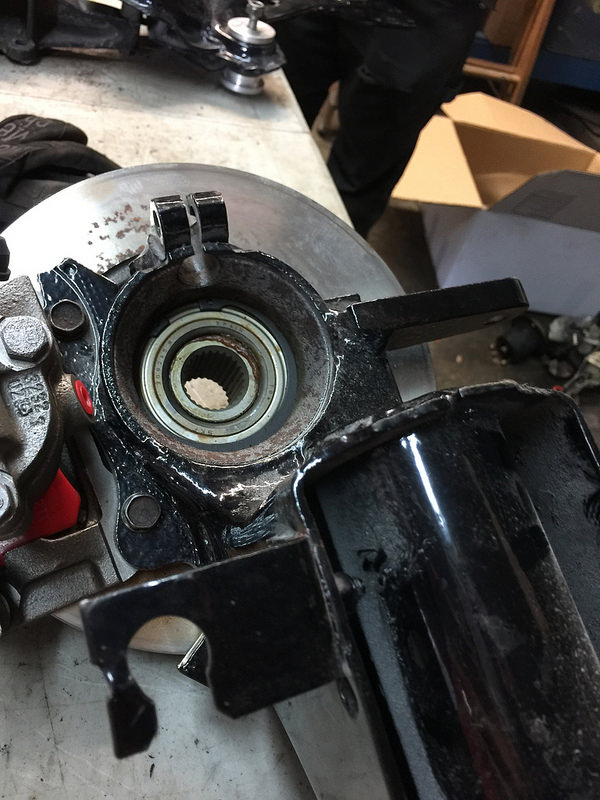 Next update we hope to share some news about the shell. Stay tuned.
5-27-2017
Been working on a few things but nothing too exciting. we finally found some proper UR quattro rear brake calipers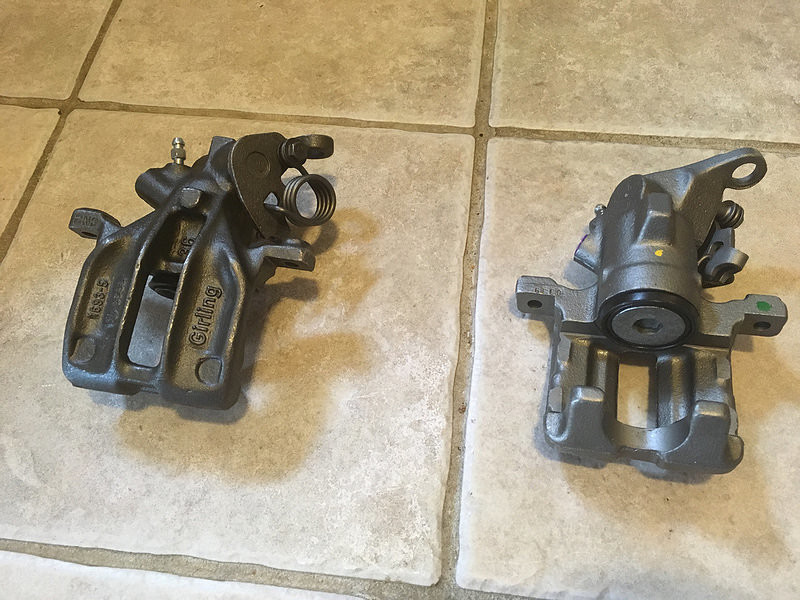 You can see how the handbrake cable and brake line come in from the back instead of the side therefor avoiding the axle.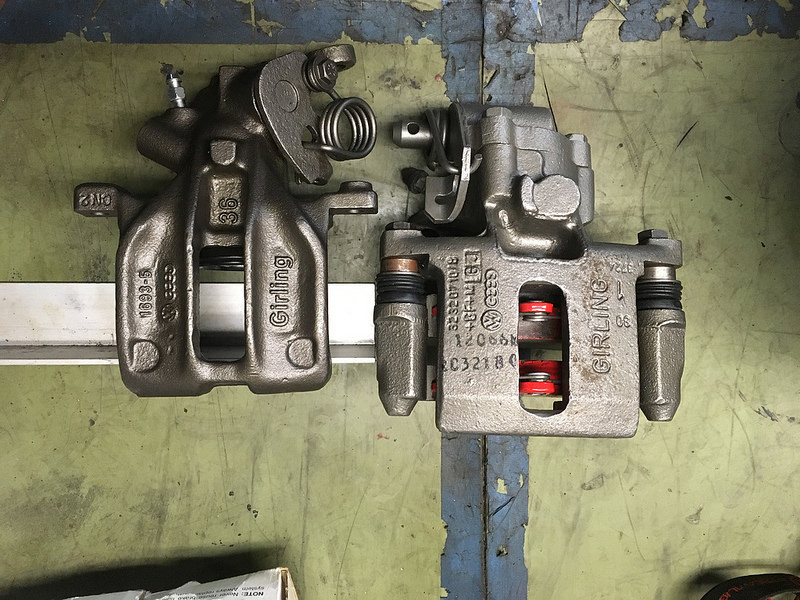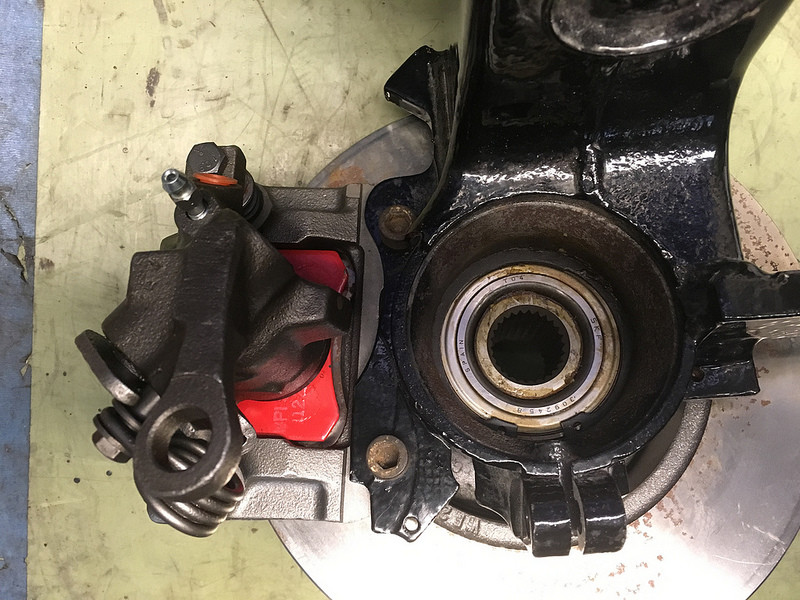 Amanda made some more incremental progress on the model. She says she's going to paint the stripes next.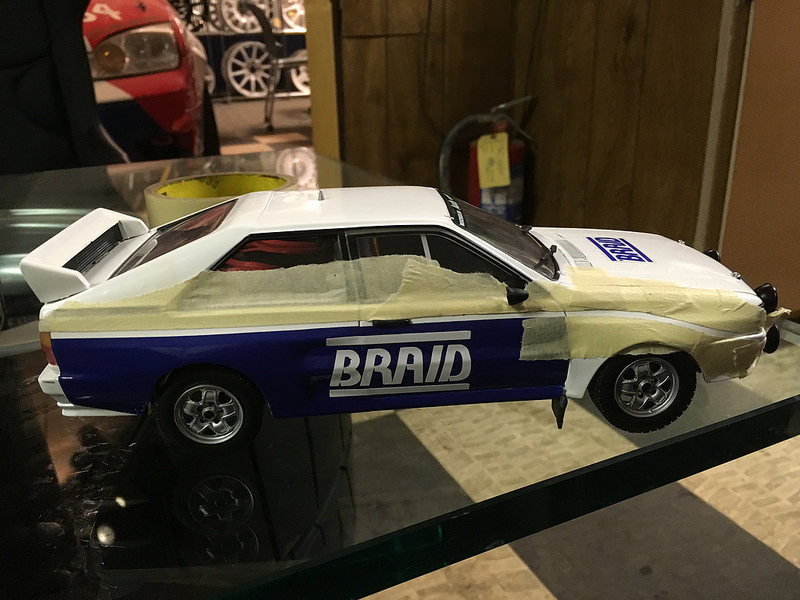 Then we started on resealing the rear differential.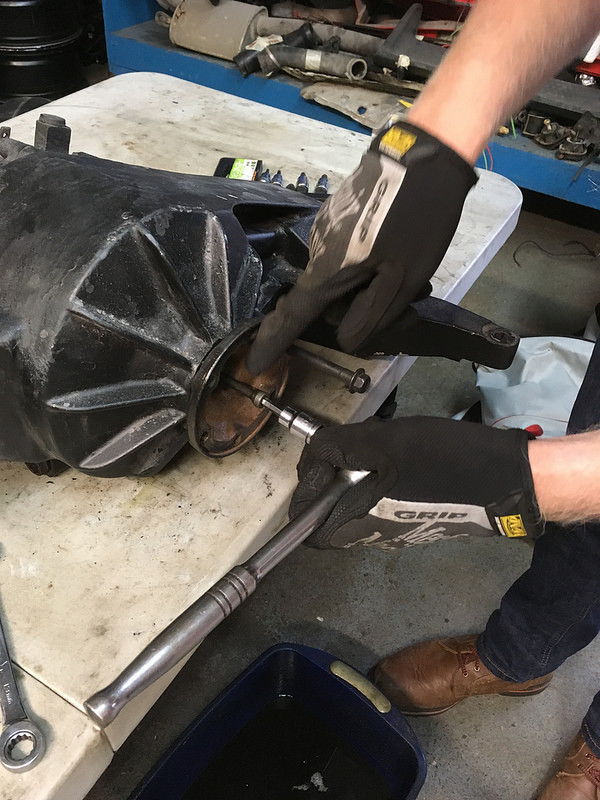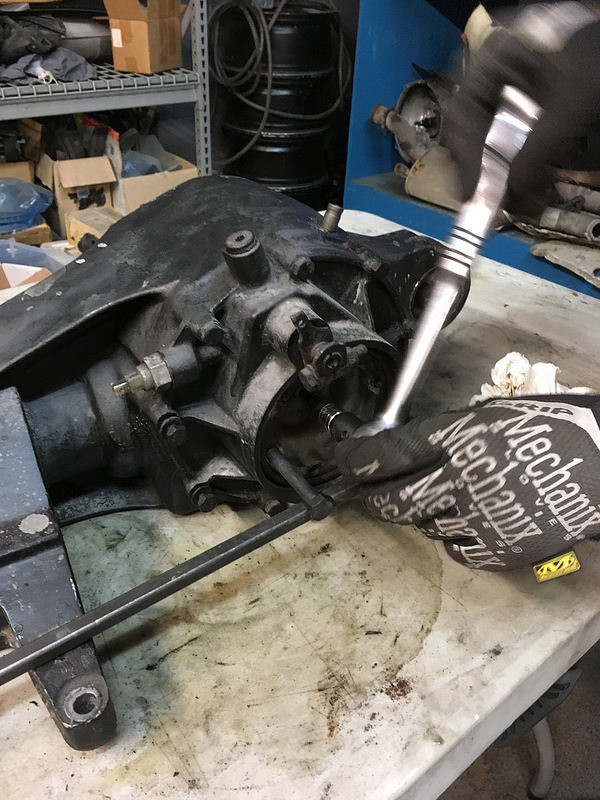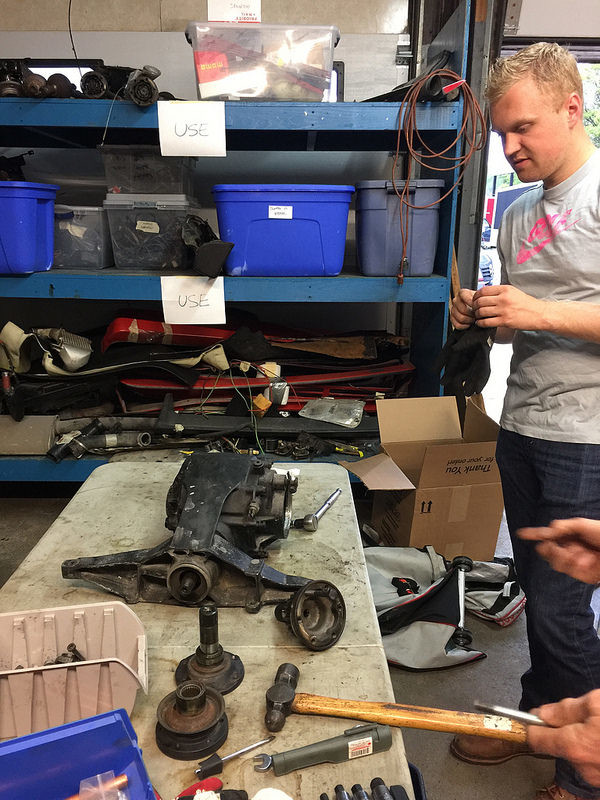 No wear groove on the input flange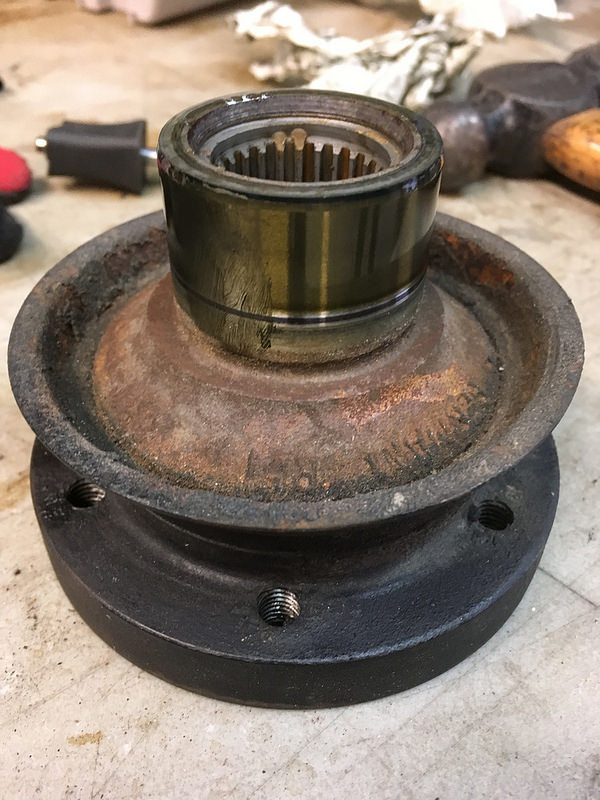 6-29-2017
Rear diff is back together with new seals. Now we need to decide what color to paint it.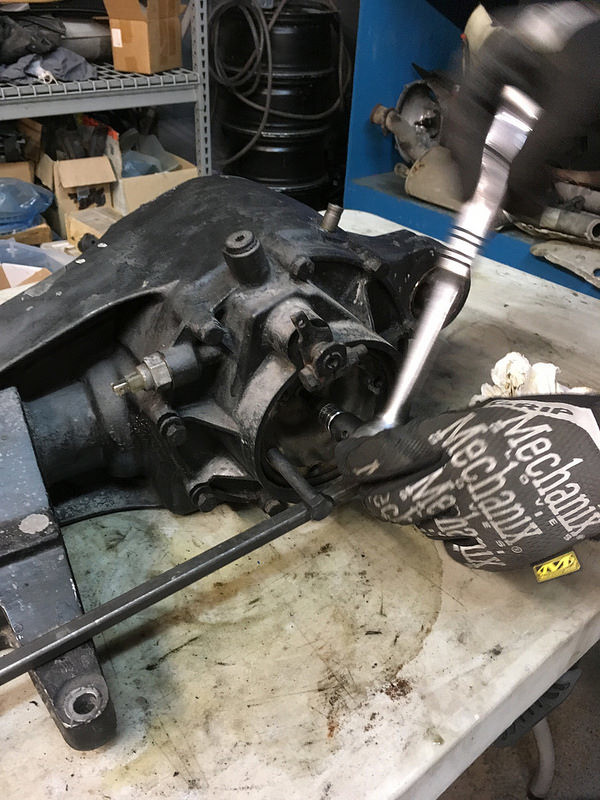 Amanda has started painting stripes on the model.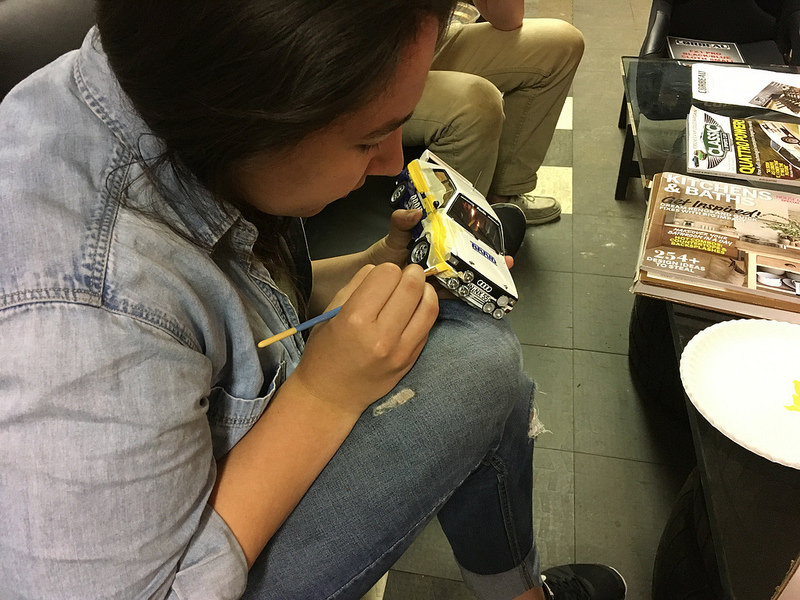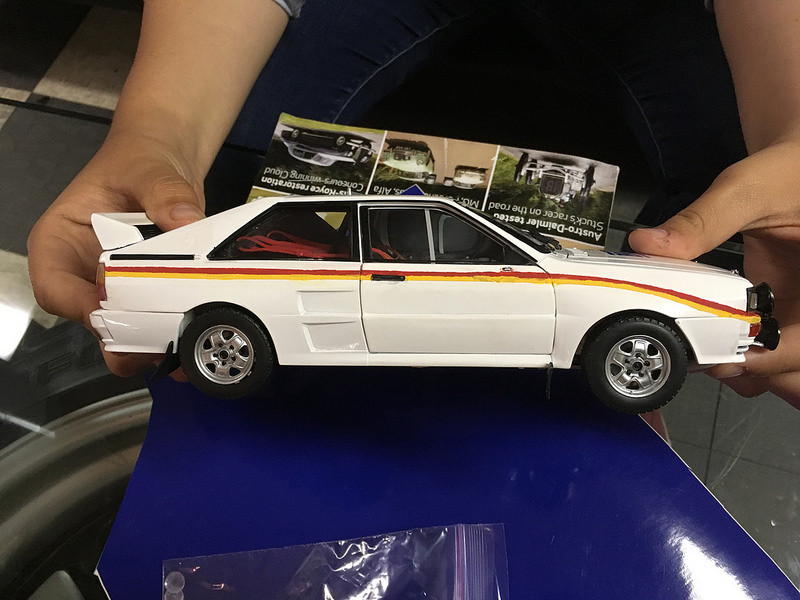 We borrowed an OE refinished rear caliper and decided this is the way to go with ours.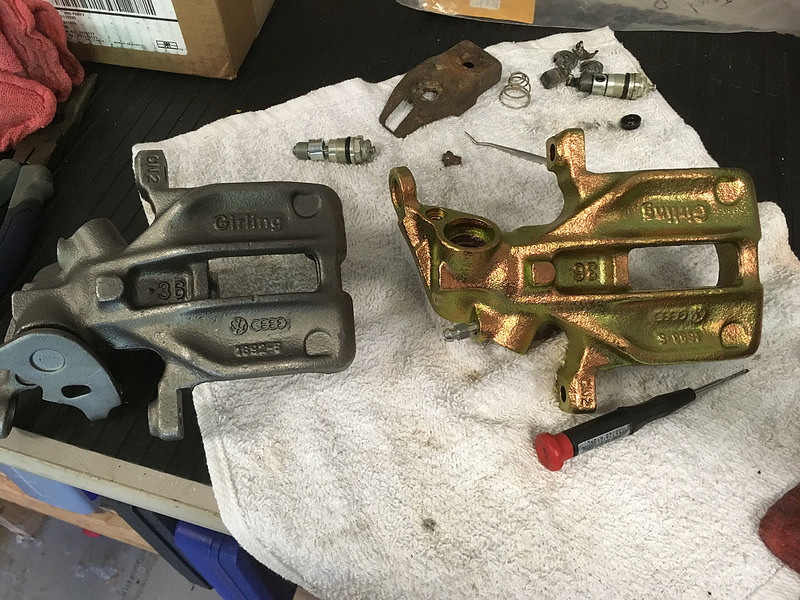 In anticipation of panels showing up Thompson Racing Fabrication took the car out of storage and delivered it to Cherry Classic Cars. We must admit it's nice to get re-acquainted.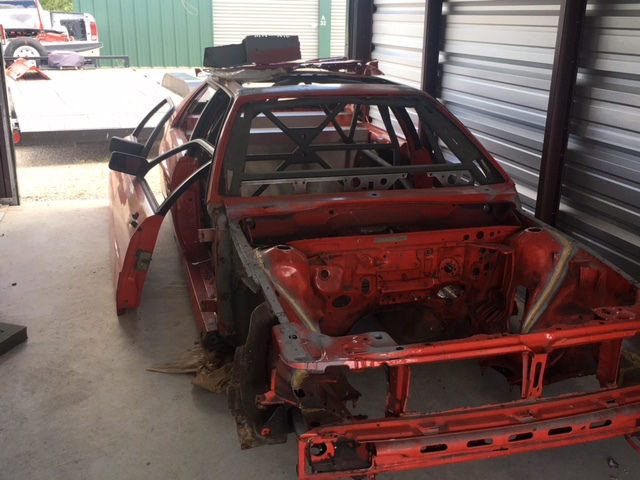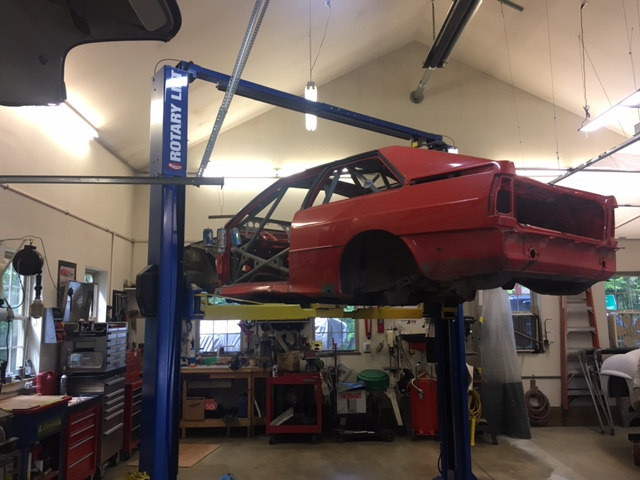 Now we just need our wide body kit.
7-16-2017
Panels did indeed show up from Europe from Cool Wheels in Latvia. Cherry Classic Cars wasted no time in offering them up to the body. As expected with composite reproduction panels it's going to take quite a bit if fettling to get a good fit.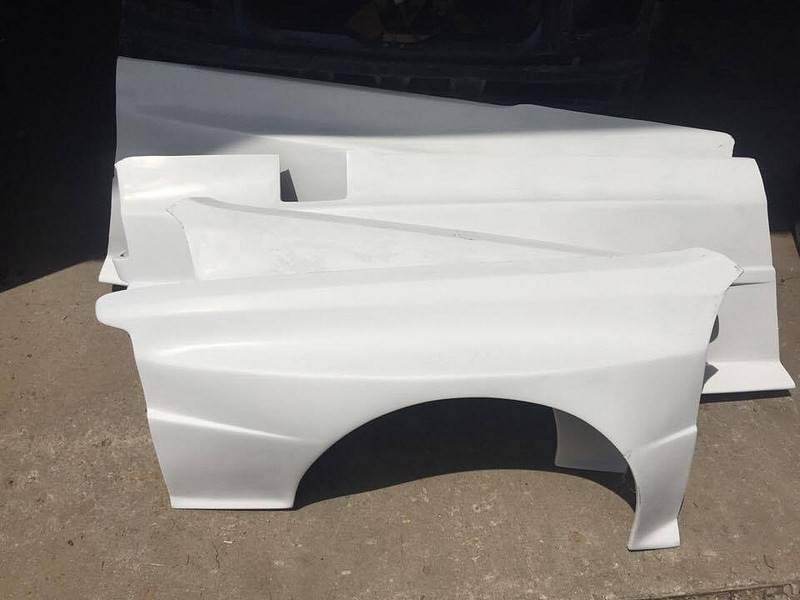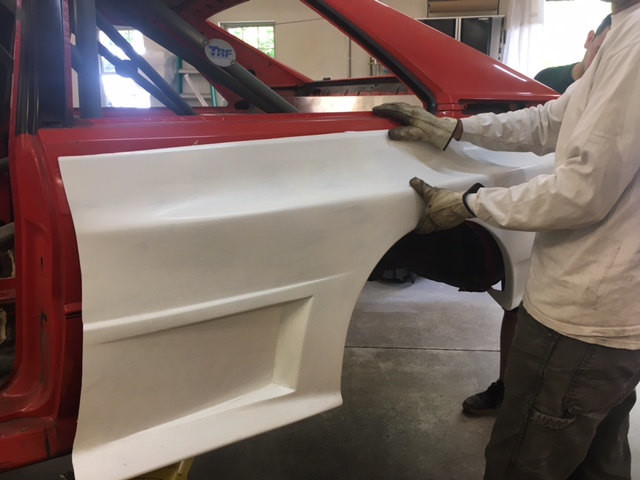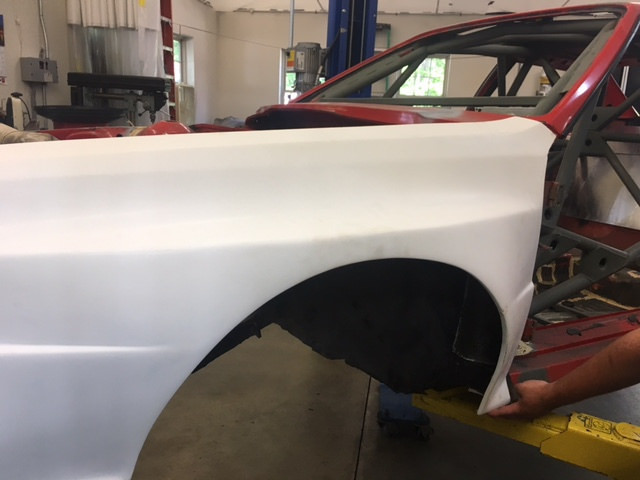 They also set about fixing the rust on the shell and other minor repairs.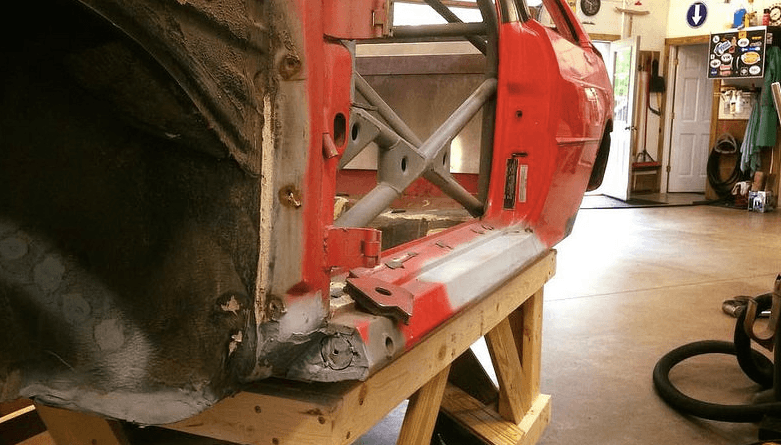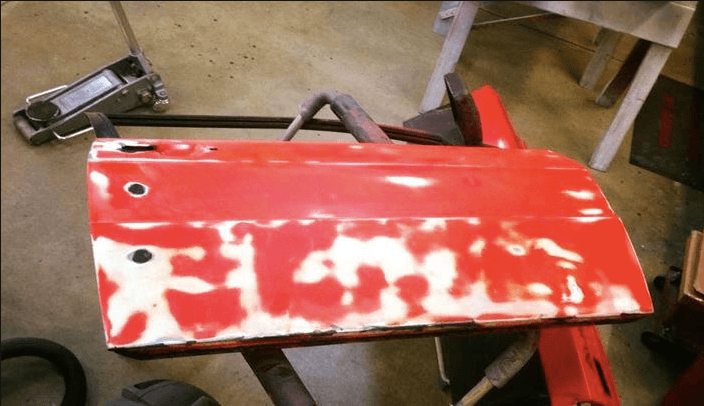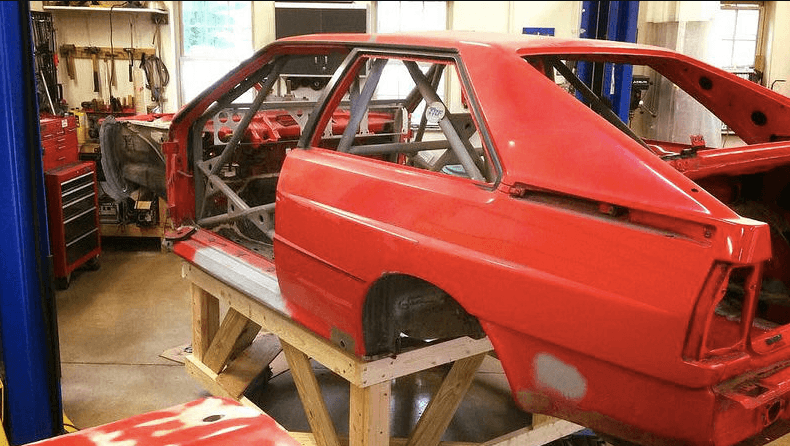 Before applying primer.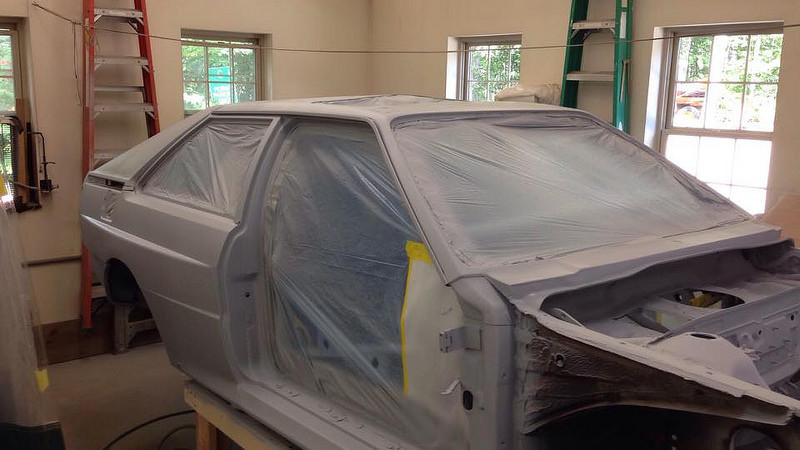 8-18-2017
The shell is still at the body shop: Cherry Classic Cars in Michigan but we recently went to visit it and to make some decisions about how to put it together.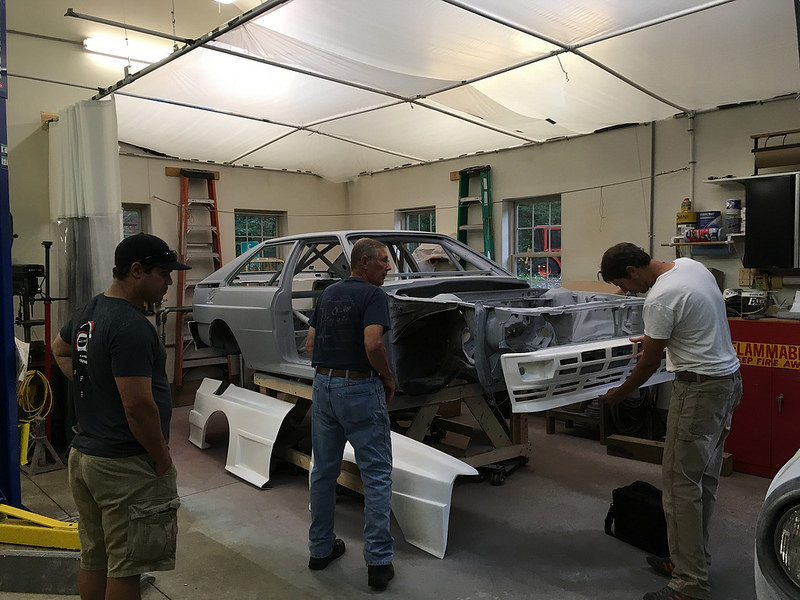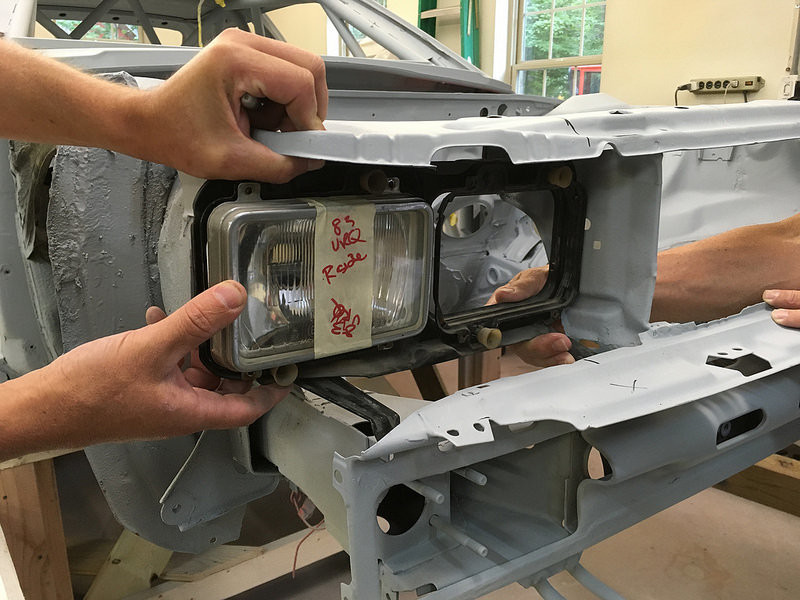 We also found a kevlar composite trunk lid in Canada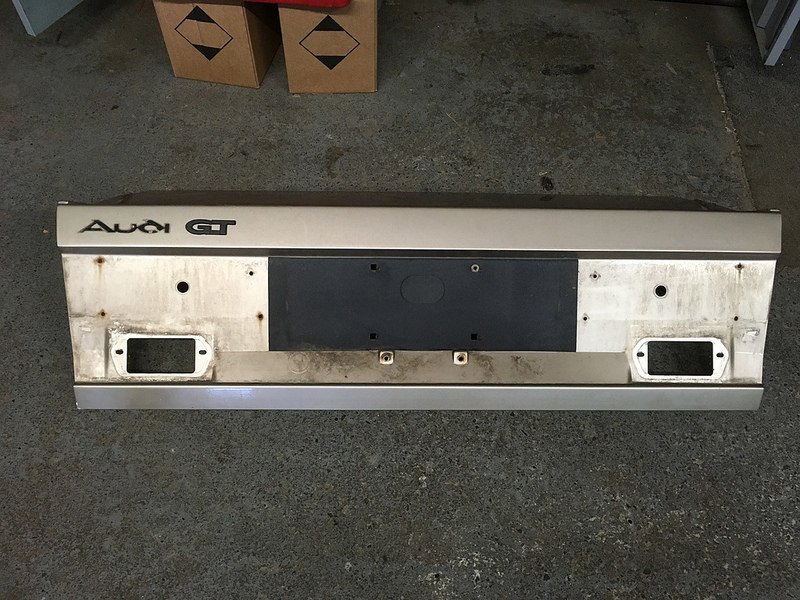 and received some vintage gauges and switches from another quattro aficionado.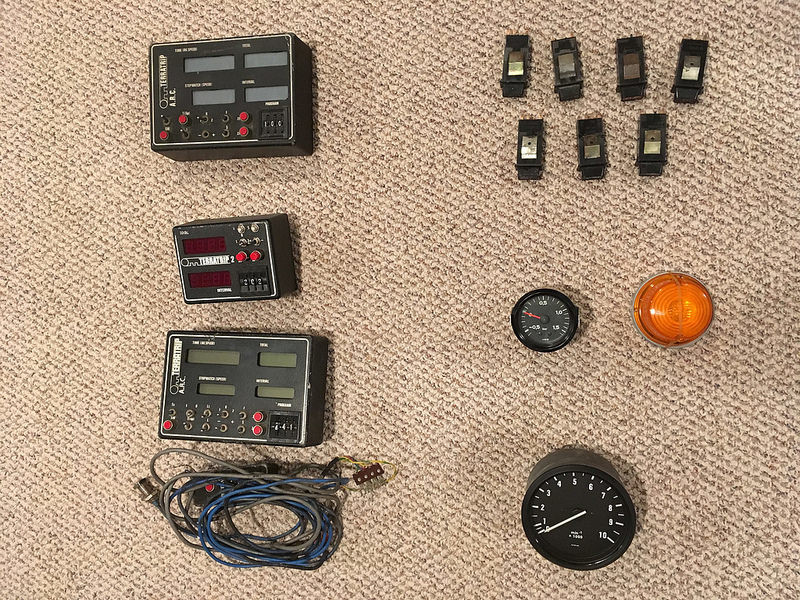 9-5-2017
More wide body progress on the rally build. Front and rear fenders are being wrestled into place by the guys at Cherry Classic Cars: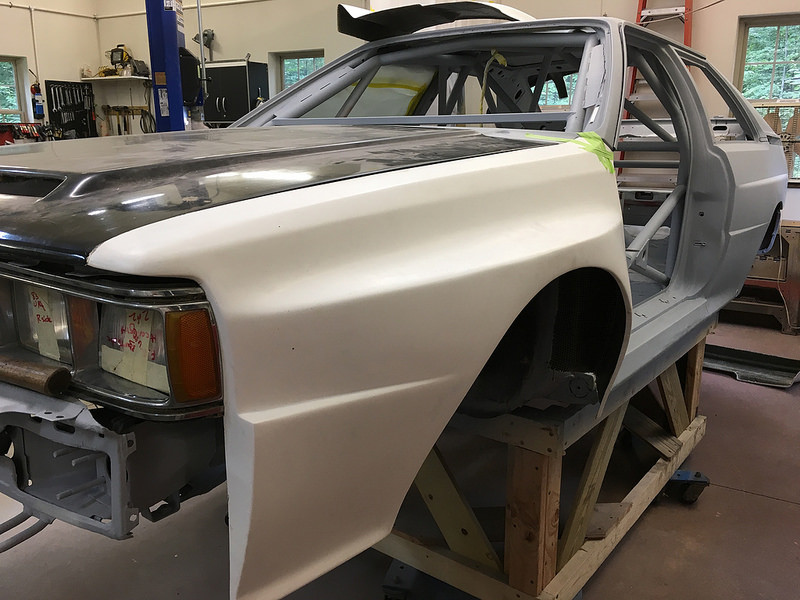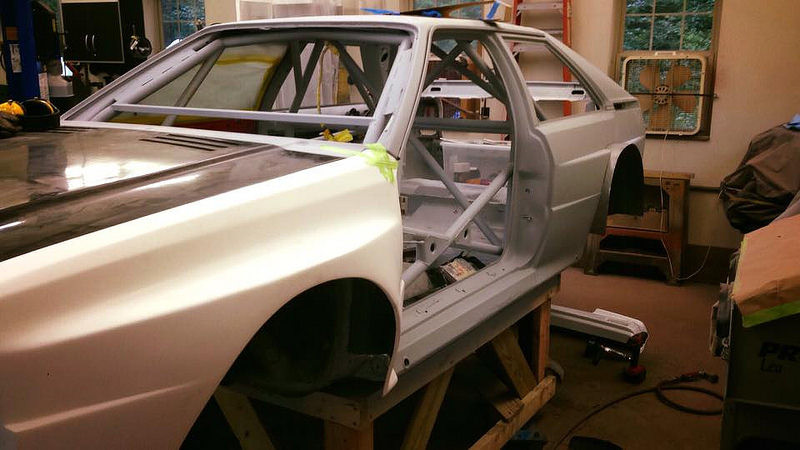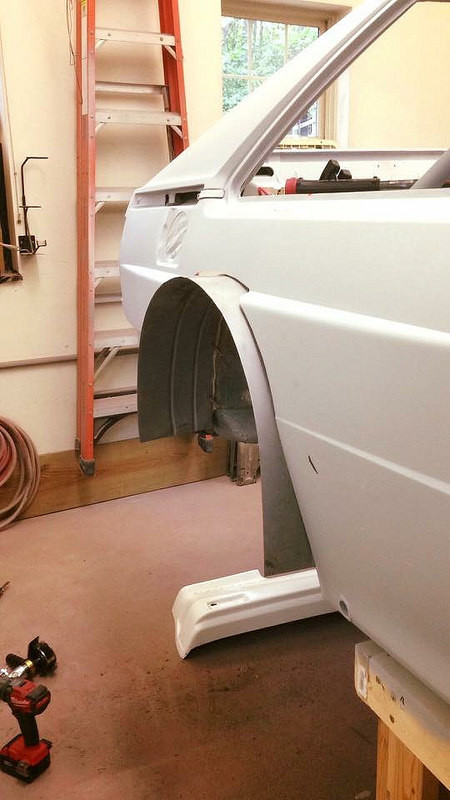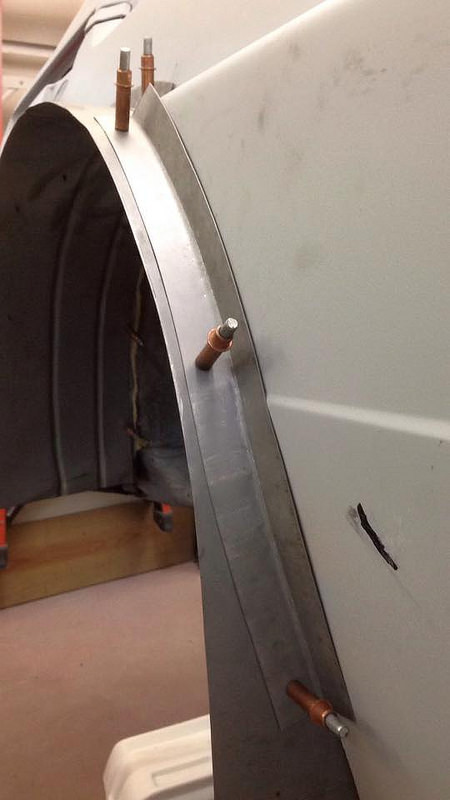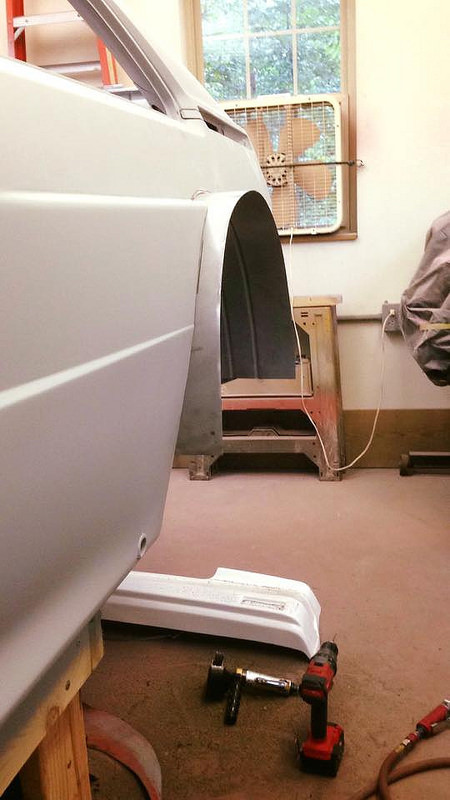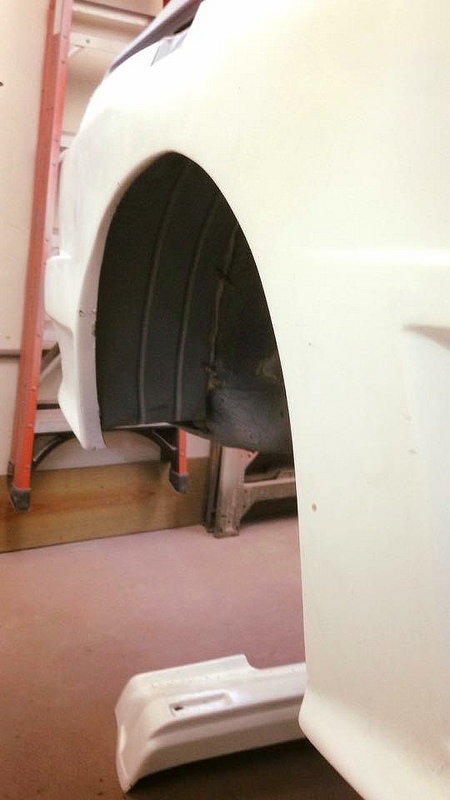 Starting to look like a car again.
10-6-2017
Quick photo update of progress on the wide body build by Cherry Classic Cars.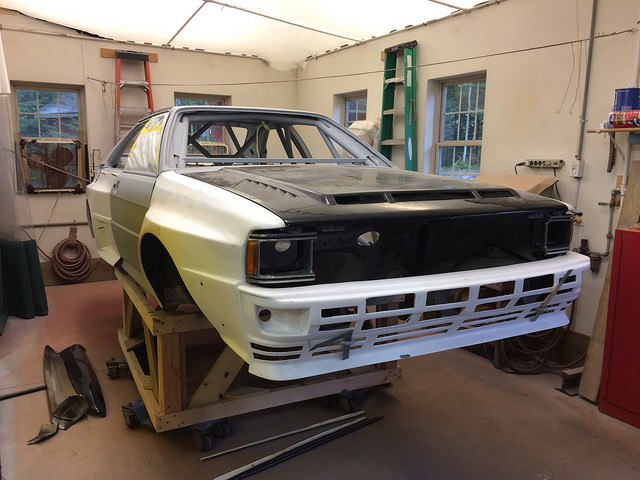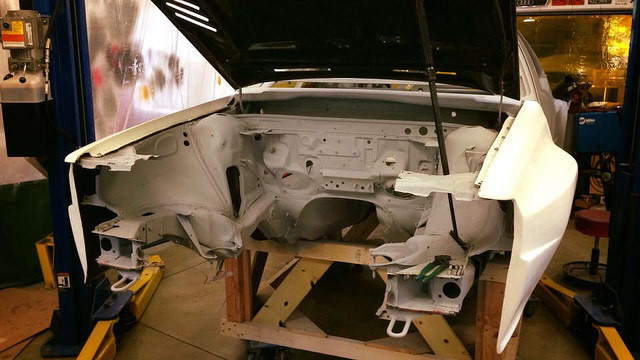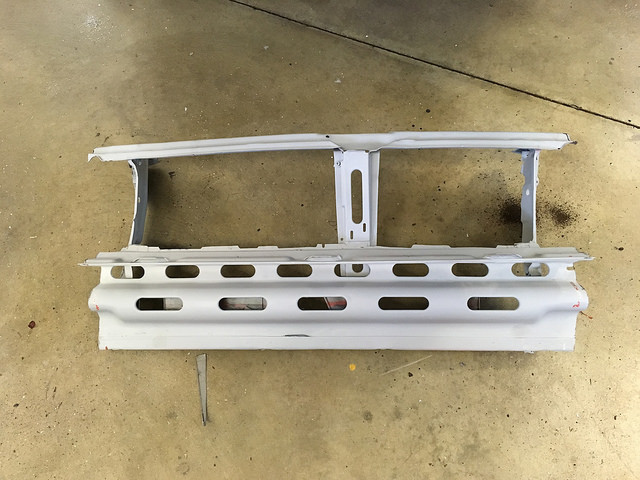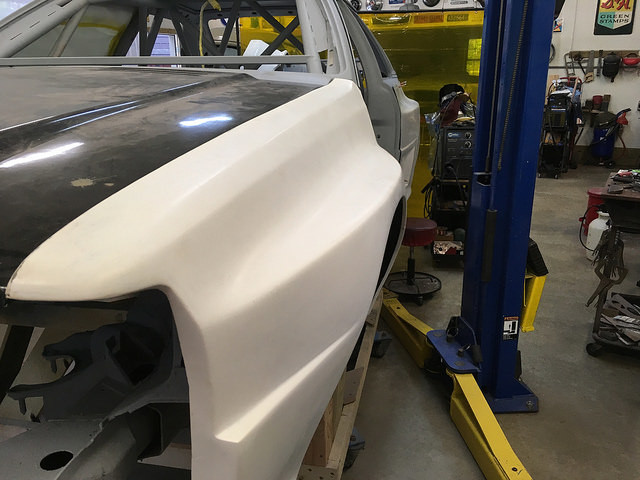 1-7-2018
The rally Quattro is still up north at Cherry Classic Cars but it's coming along nicely. We might get it back as early as this month! Meanwhile here are some more updates.

A few weeks ago we were summoned up to CCC to help figure out how to deal with this poor bumper fitment issue: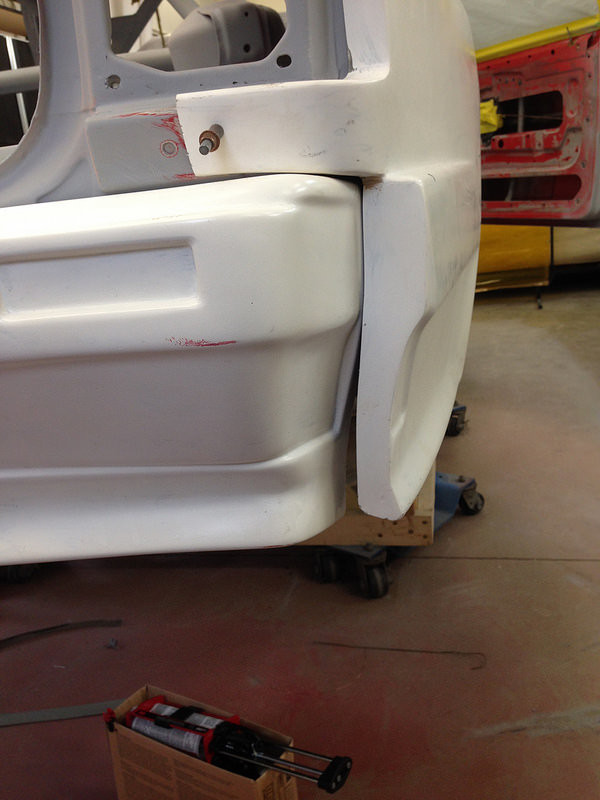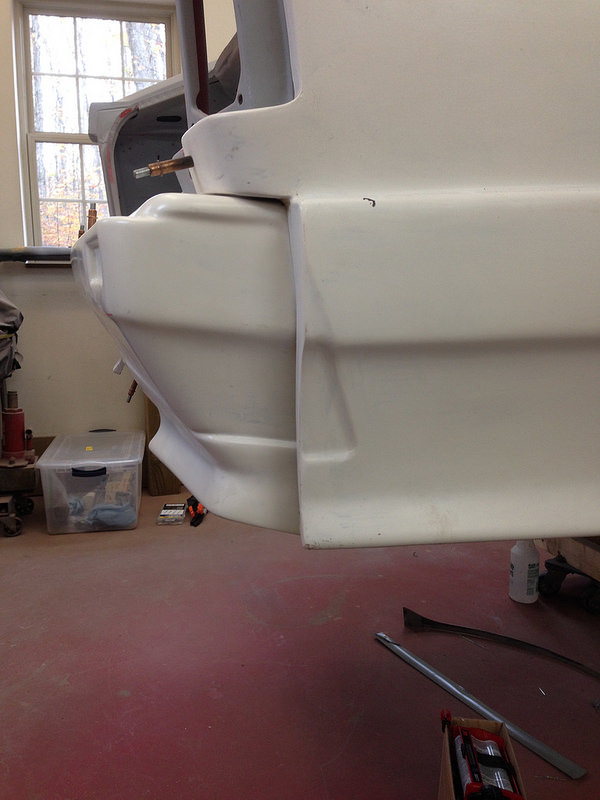 Should the bumper go behind the quarter panel or should it butt up and why is the quarter panel so far out or the bumper so not wide enough? We feel we have a solution. More later.

While we were up there we discovered that our car has manual, wind up windows! These must have been changed by a previous owner as no Quattros had these from the factory. Gues we don't have to find a spot for the window switches now but, because of the cage, we may only be able to wind down the windows with the doors open!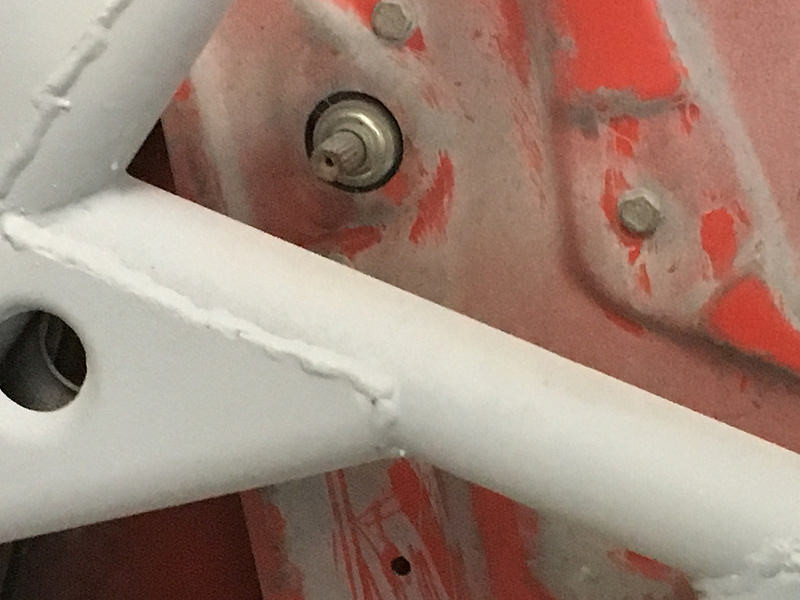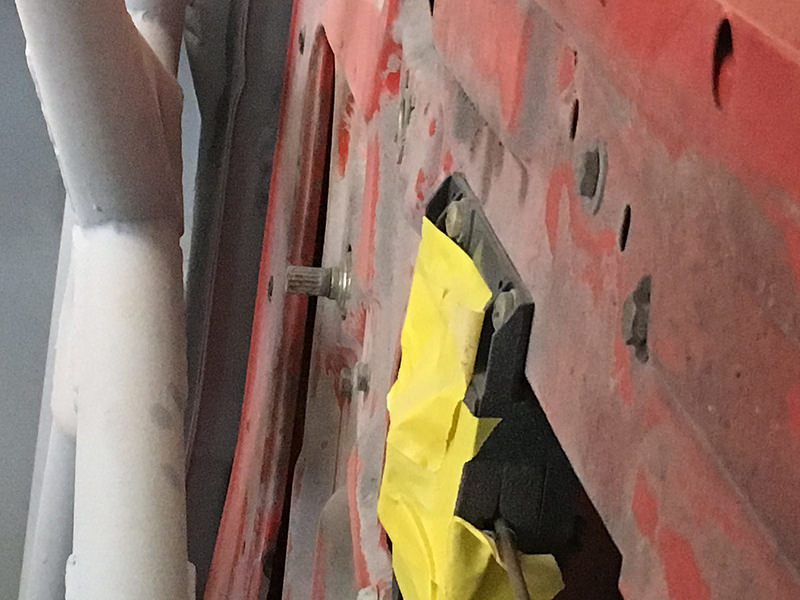 While we away in the frozen north our fab guy got a little creative with our engine. As a result we now have the world's only five cyclinder, turbo charged shopping cart!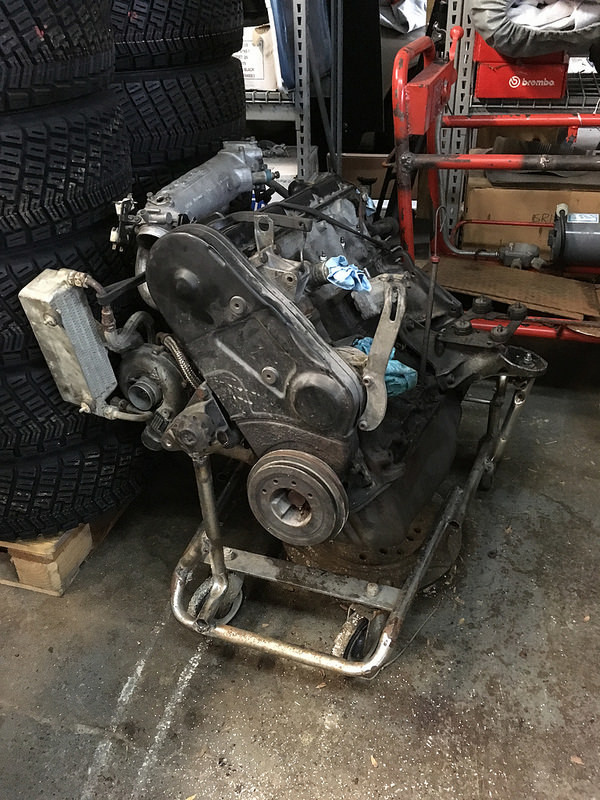 The catalyst for this creativity was the Quattro Squad separating the transmission and giving it a good clean in preparation for either a rebuild or, hopefully, just a reseal.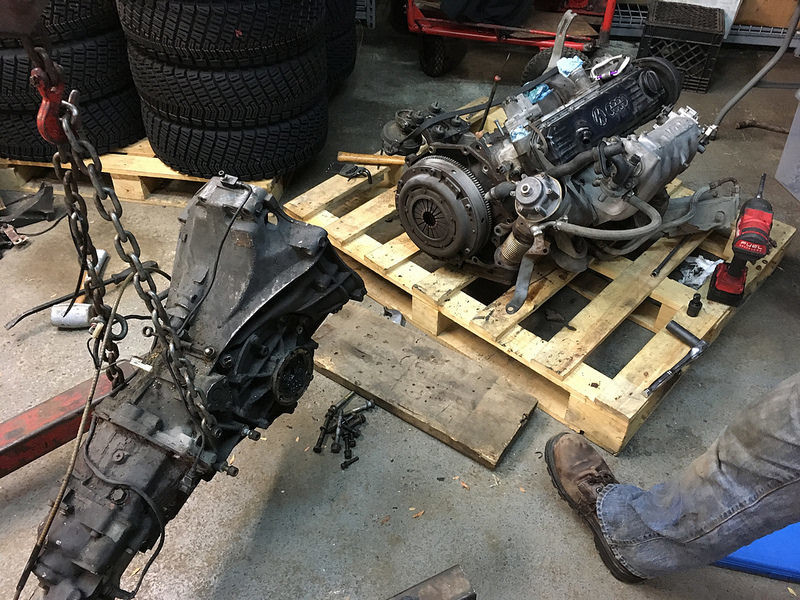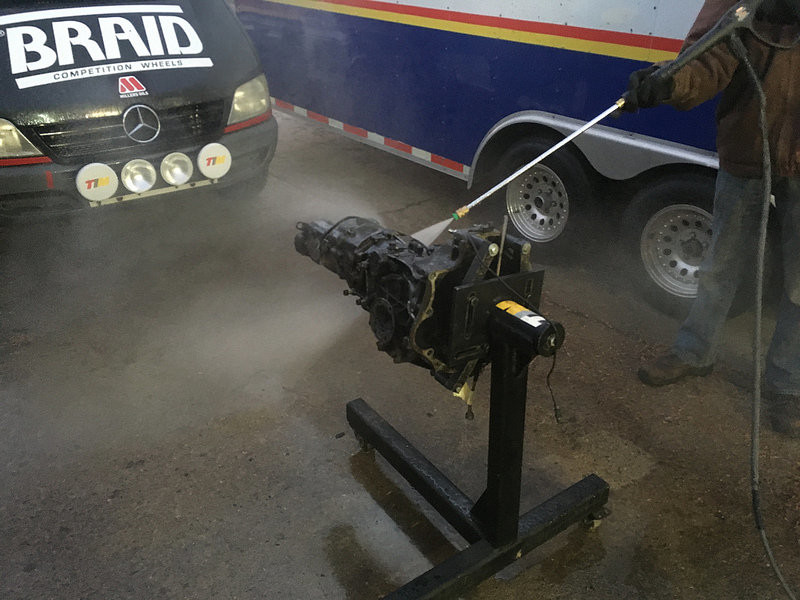 We also pulled the seats down from the parts shelf and cleaned them up in preparation for selling them. Not so much to generate funds but to create some space. They cleaned up very nicely and are in excellent shape. No tears at all; just a little wear on the driver's seat. I think they would restore quite well but we want to sell them as they are rather than cover things up. We think we could reasonably ask $1000 for them.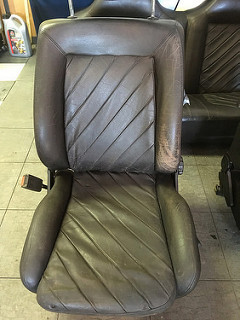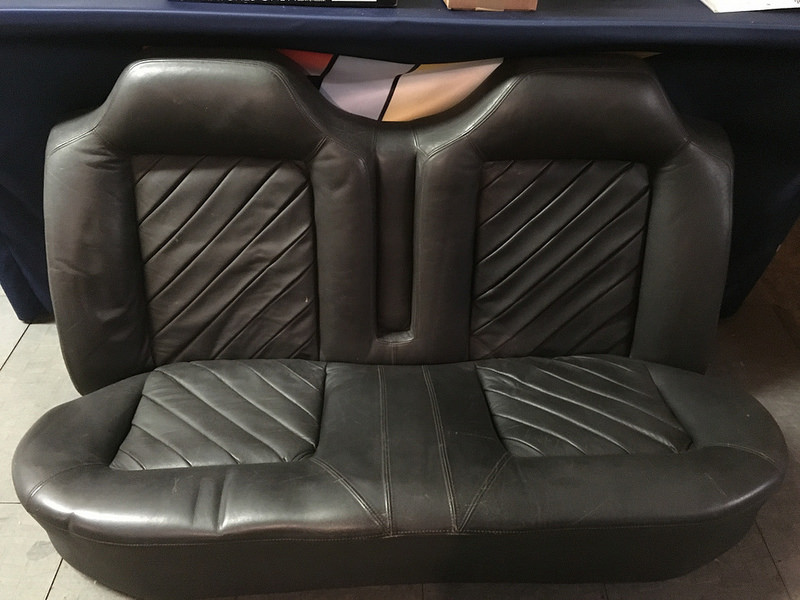 Subscribe for more updates soon and to see if the car makes it back here this month.
2-11-2018
Well, the seats are sold. That has freed up some space on the parts shelf at least.

The shell is still up north at Cherry Classic Cars but we are expecting the call any day now. It's basically just waiting for the primer to dry then it will be ready to drag back down state and start bolting parts on. It was decided to do this in primer as there is probably quite a bit of cutting and grinding and welding to still be done as we basically do not know what we are doing. Once we have it essentially together we'll strip it down again for paint. It's going to look grand in the works shop regardless and will inspire us to refurbish all the dirty parts we have been ignoring. It may even get it's very own space for the build up. Here are some pictures as it sits now courtesy of Scott at Cherry Classic Cars.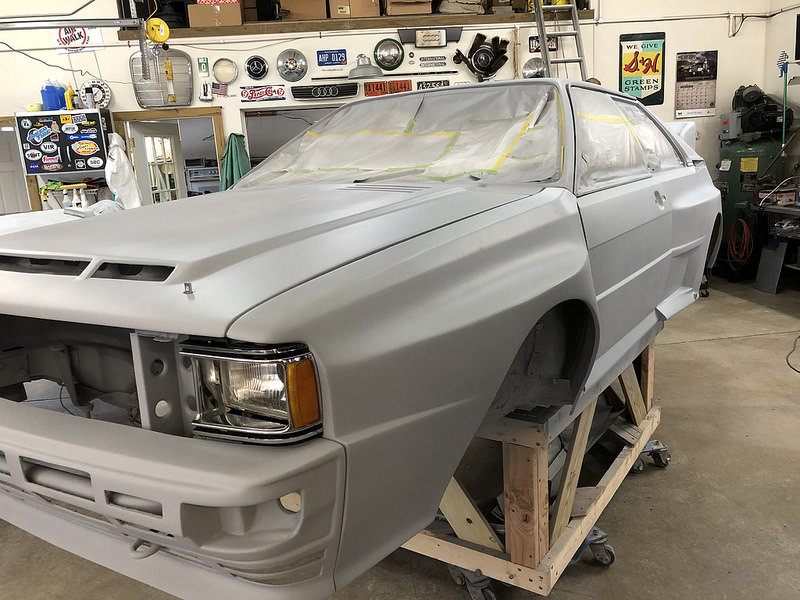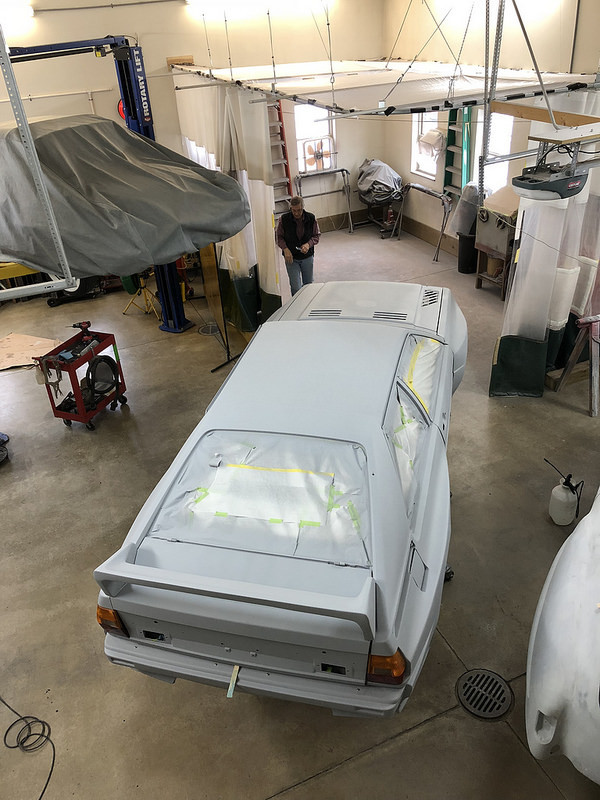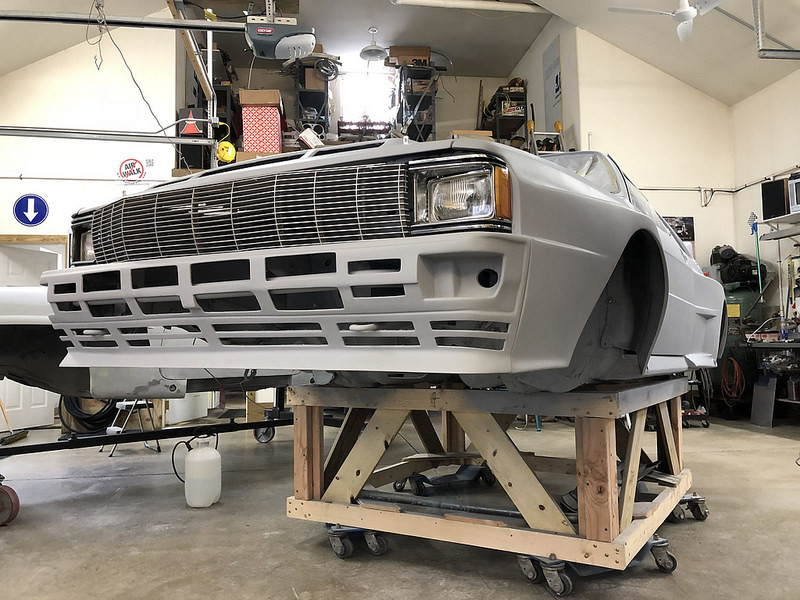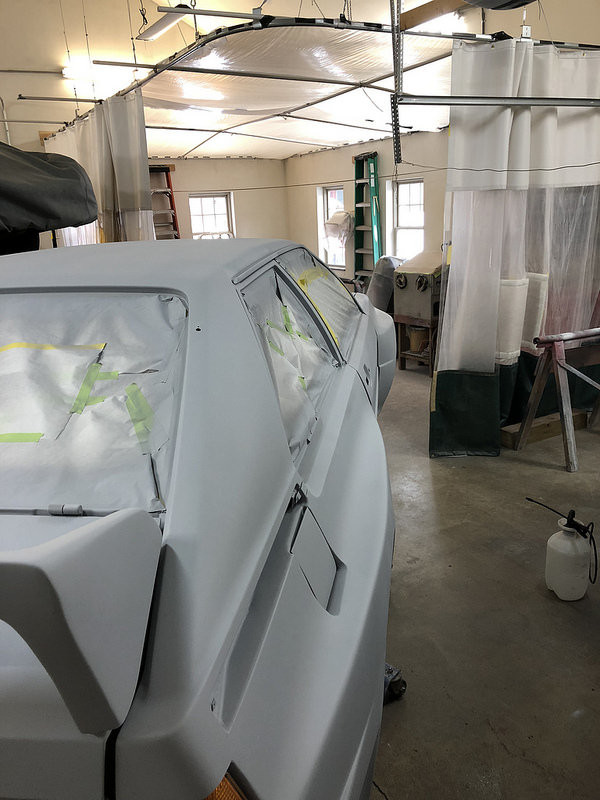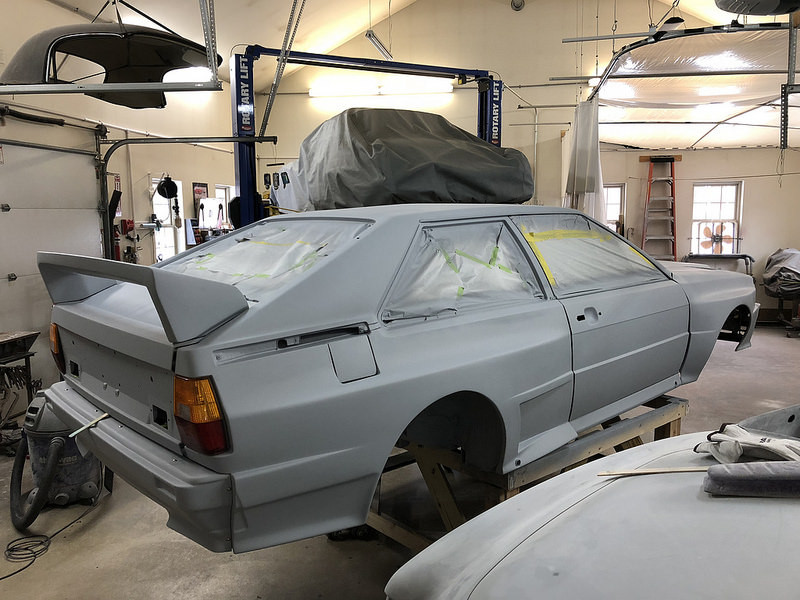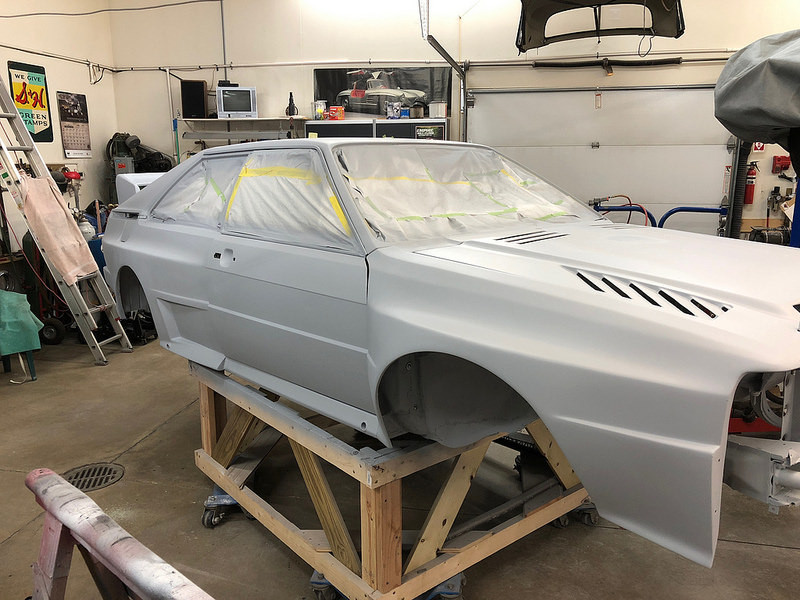 Next time you see it it might be in a trailer.
3-9-2018
QUATTRO RALLY HOMECOMING

It was a big day last Saturday. We dragged the car home from Cherry Classic Cars where it has lived for the last twelve months. It was almost 15 months to the day that we dragged it up there with its first layover being at Thompson Racing Fabrication where it received its ARA legal cage and other modifications.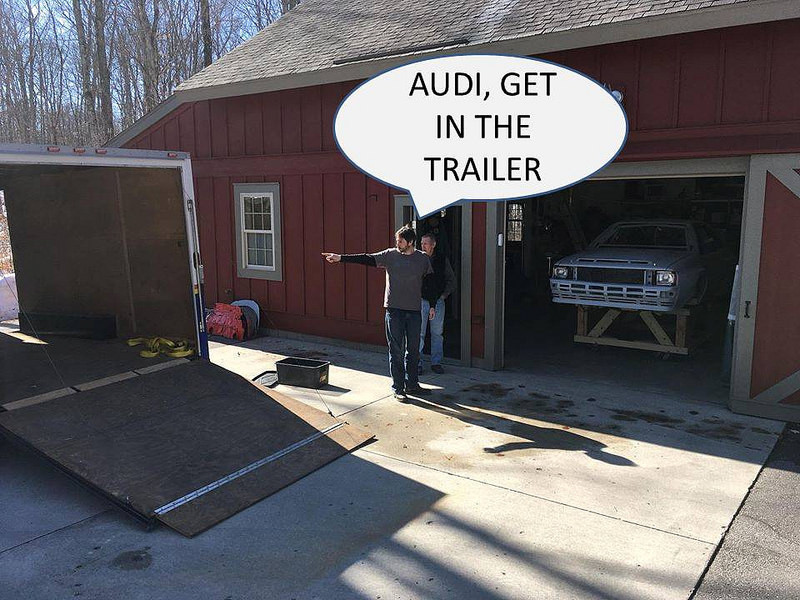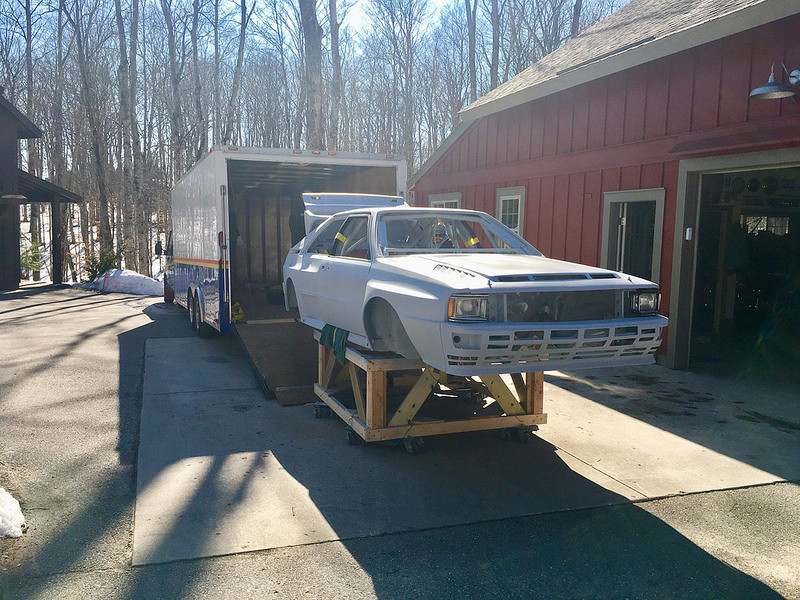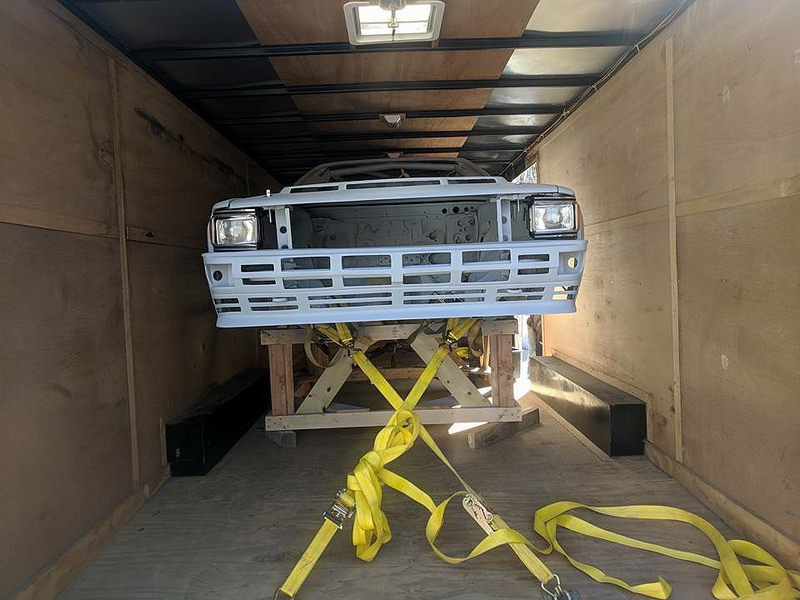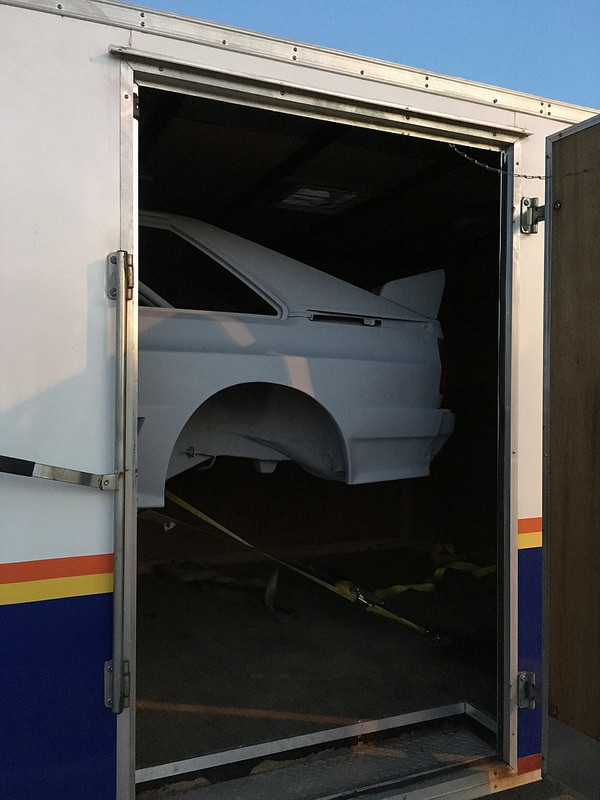 Finally home. We think this is where we'll build it; in the showroom!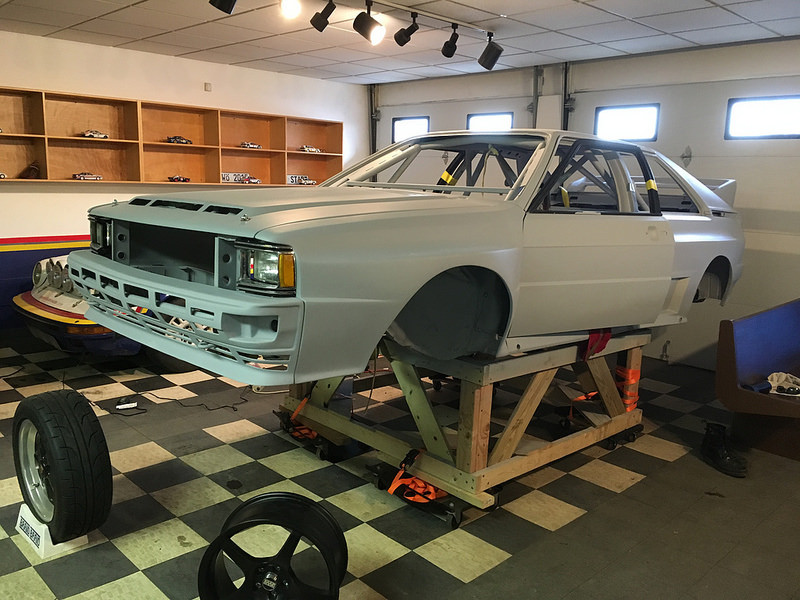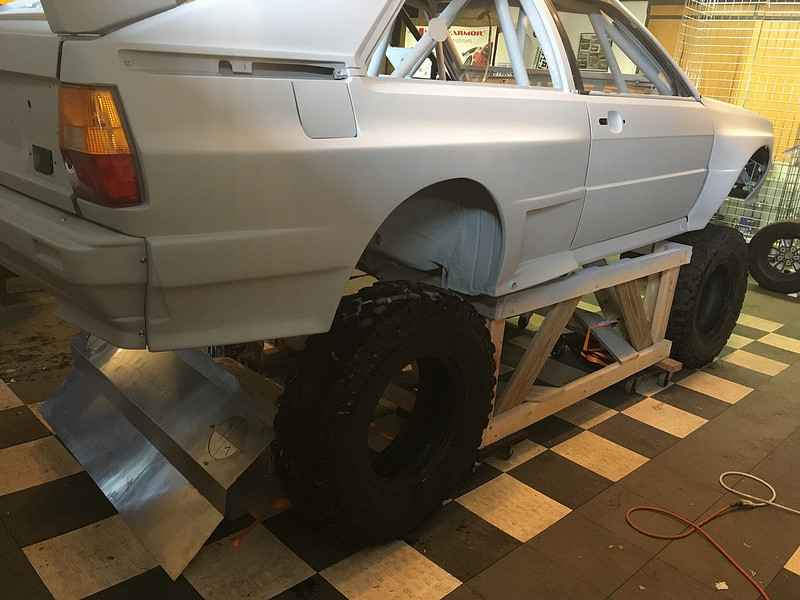 So yes, the car is in primer. This is because we still have quite a bit of cutting, welding and grinding to do. The front bumper bar needs various tabs welding to it and there are lots of brackets and tabs we probably wont use so to protect the shny paint we left it in the can for now. The plan is to almost completely build the car before striping it again and finally painting the shell. This will allow us to make any required modifications as we go and not ruin the paint. As the primer will get dirty easily one rule we are implementing is that nothing gets bolted to the car that is in its final refurbished condition especially anything containing oil. We will see how long that lasts.

There's lots to do and lot's to buy. Mostly an engine. More on that later but for now we are on the quest for one of these 1/18 models that Sunstar just released.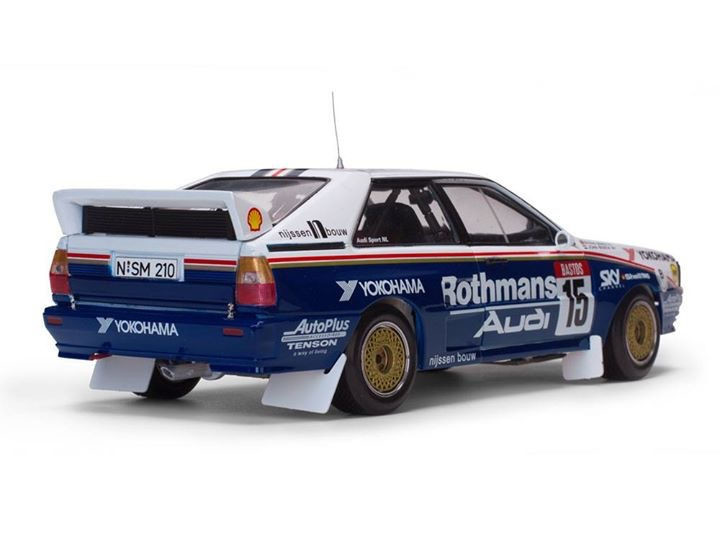 Brace yourselves for an onslaught of updates.
3-22-2018
So we have had the car back a couple of weeks and there has been plenty of buzz though not, seemingly, much progress. That, of course is not the case with much of the action taking place in online shopping carts as we start to buy the parts we will need.

Most importnatly, an engine. We have the 10V that came with the car and that "ran when parked" as they say. But it's only good for 2-300 horspower max and then you have to ditch the CIS injection and spend gobs of money on it, jst to get 300hp. A slightly more modern 20V engine can easily manage 3-400 horsepower apparently with much more availble if you want to go bankrupt. We think 350 hp will be fine for our purposes so have decided to go that route. We have orderd a stock but tested engine from a quattro guru that is coming with a chipped ecu and a few other niceties that should give us a plu and play 300-350 hp. More on that when it gets here.

So what else: well, we started assembling the iconic Group B dash by pulling out all the gauges and switches we had previously purchased. Then went to eGauges.com for the ones we are missing. VDO Vision Black; in Metric when available.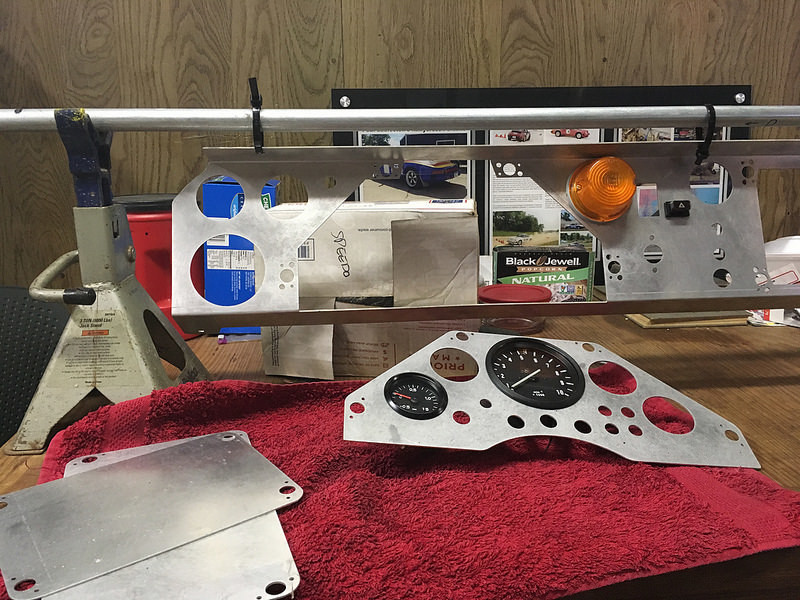 Before we could order the fuel level gauge we needed to figure out what ohms range the stock sender puts out. The interweb didn't seem to know so we showed it our FLUKE multi-meter. That must hace sacred it because it didn't work. After careful disassembly and cleaning of all the electrical paths we finally determined that it went from 40ohms to 285 ohms so ordered a 33-240 ohm gauge.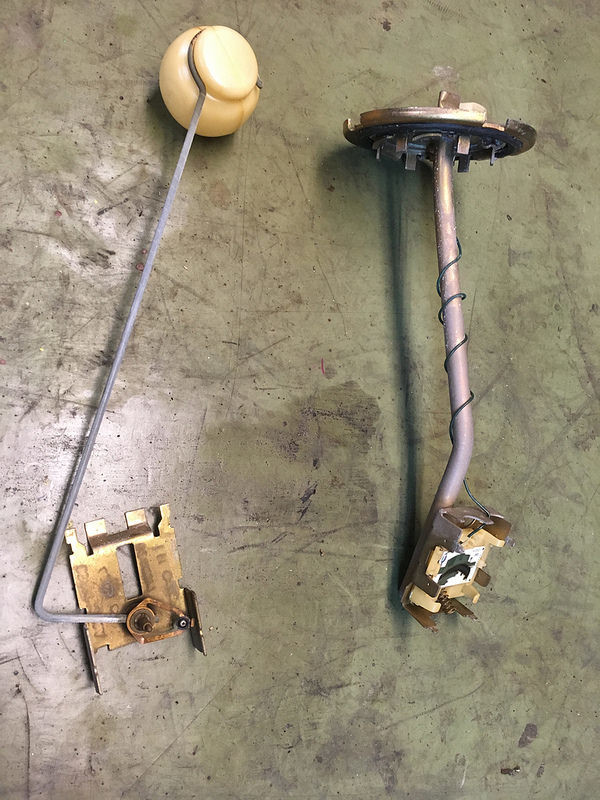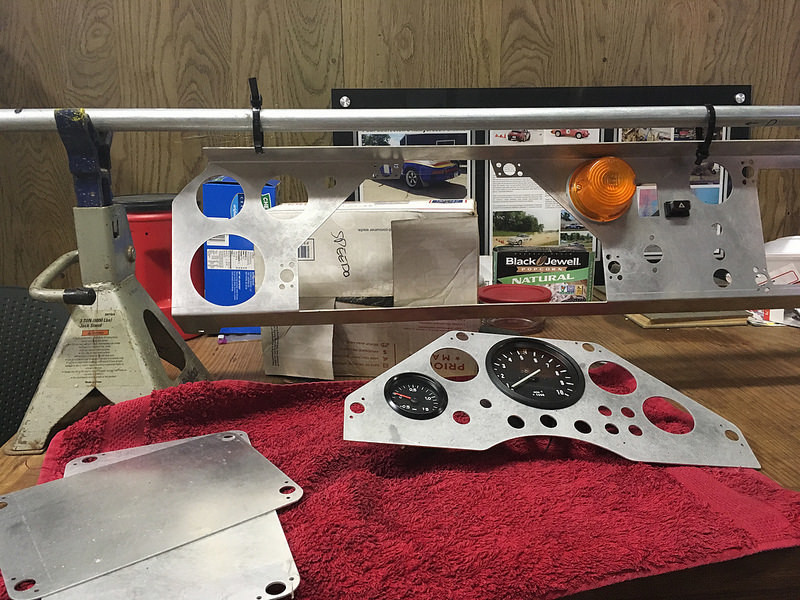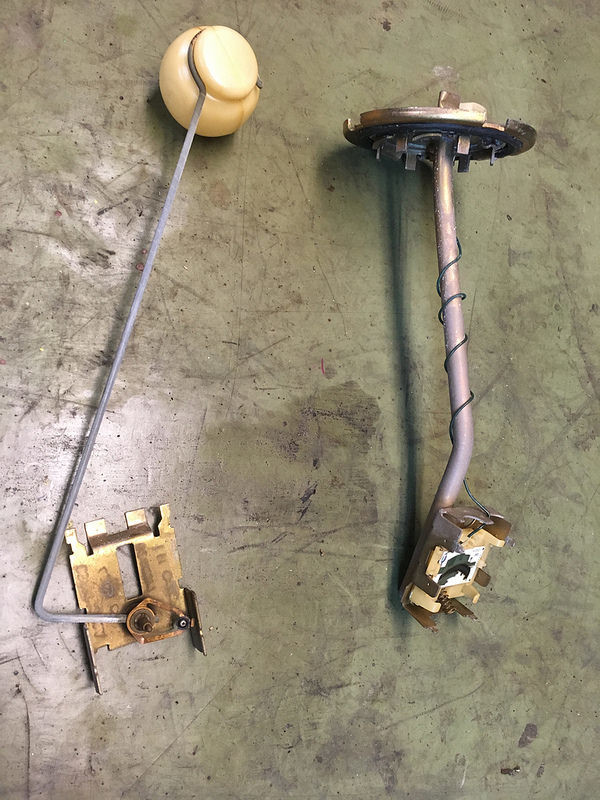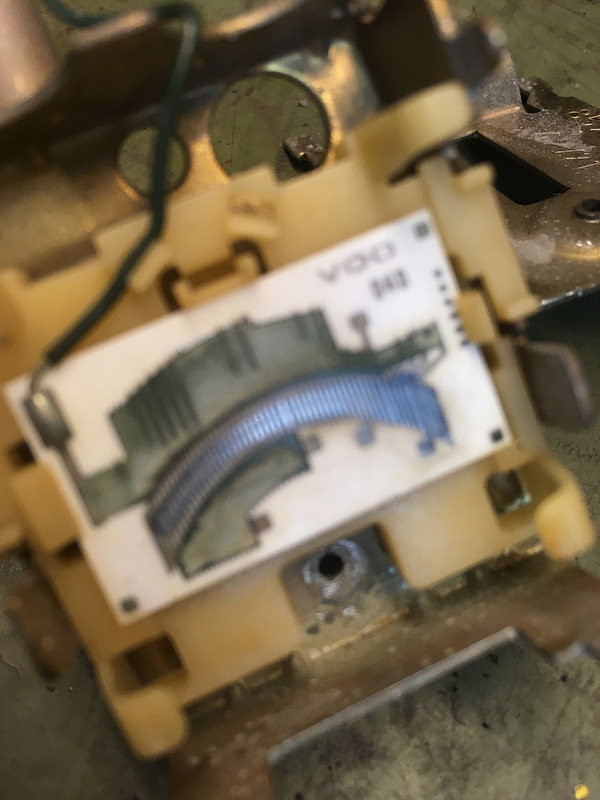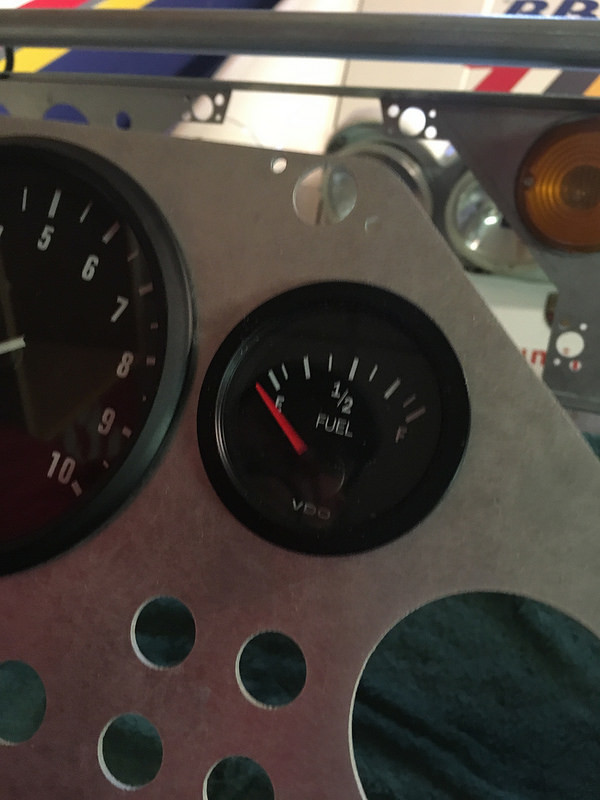 We also test fitted our Sparco seat bracket, both in the car and on one of our Corbeau FIA seats but resisted the temptation to test the both in the car, for now.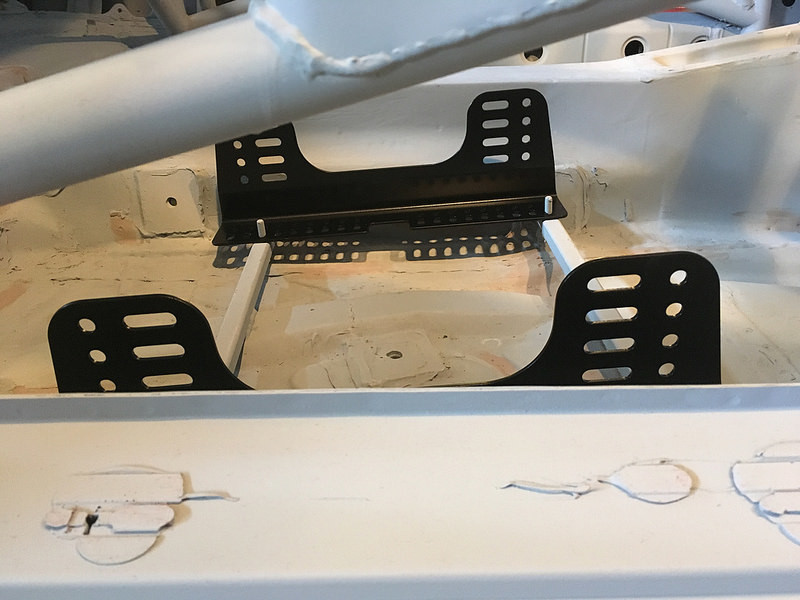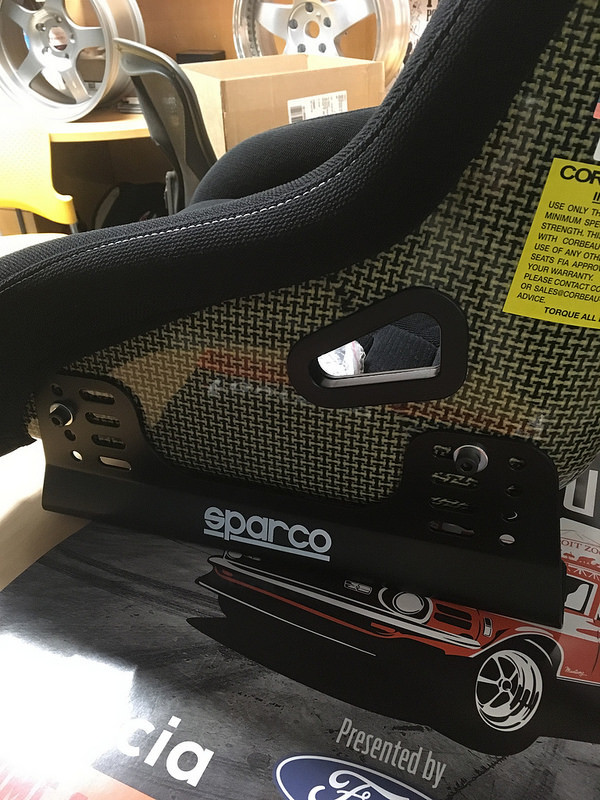 Then, with a little help from some MRF rally tires we installed the rear diff and subframe.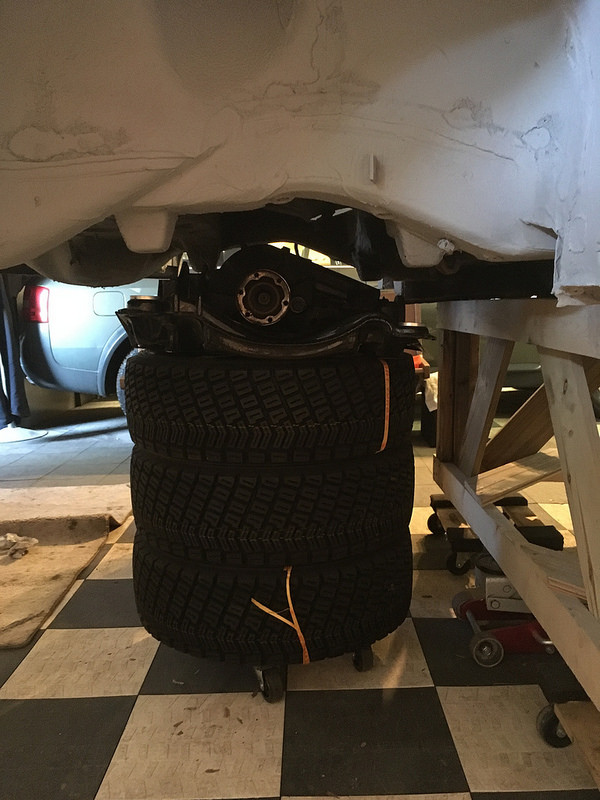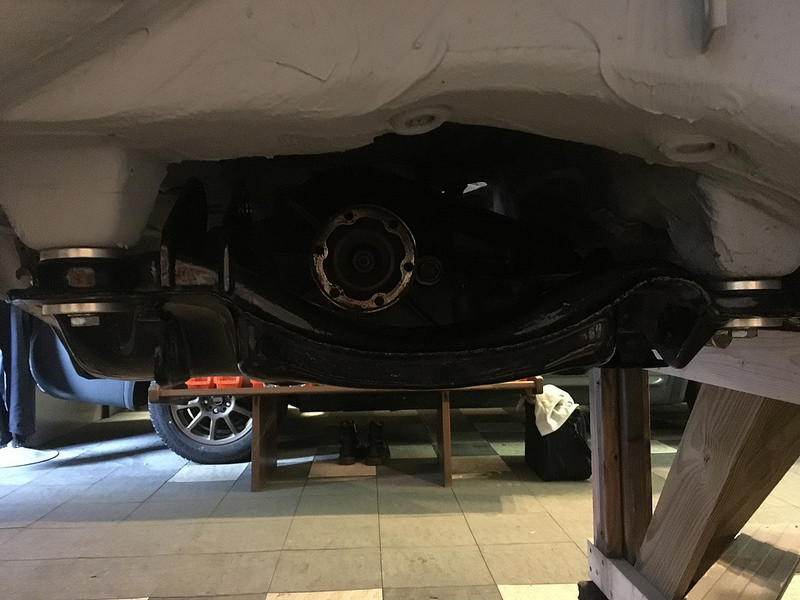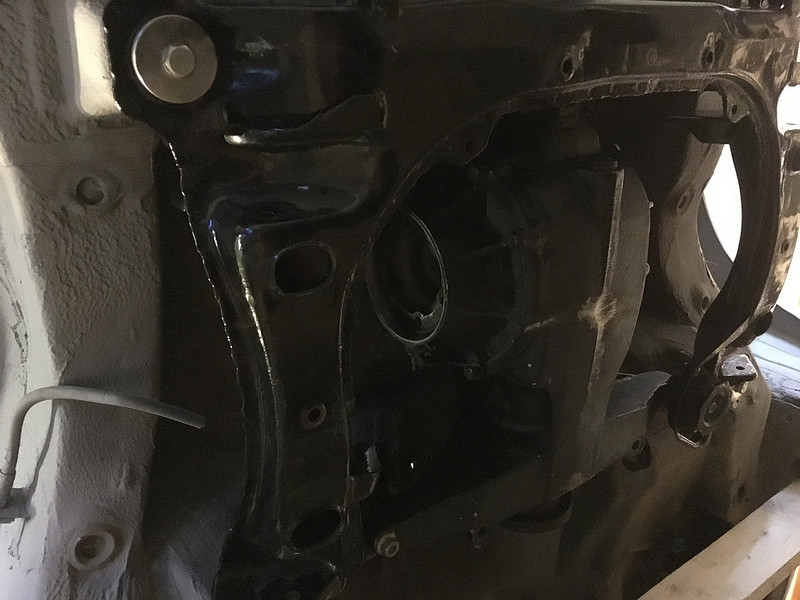 And yesterday our refurbished rack arrived from Jorgen Automotive so we threw that at the car too.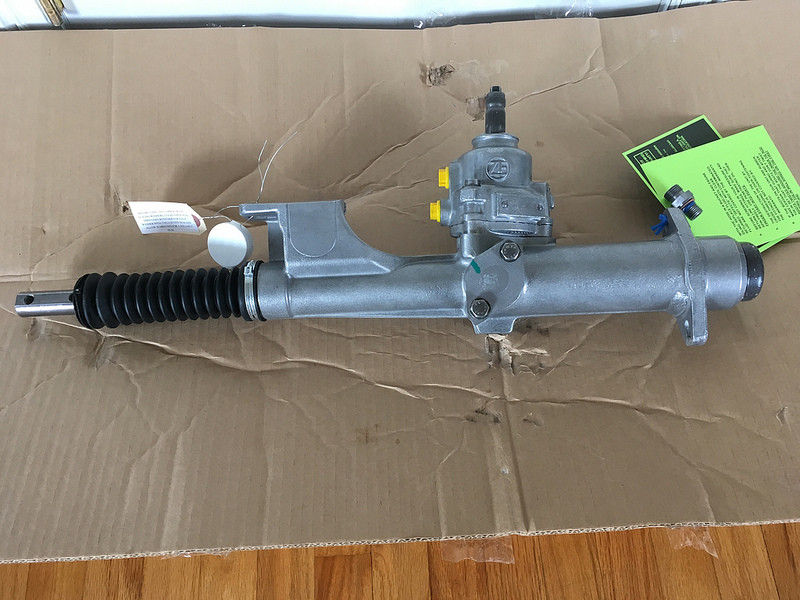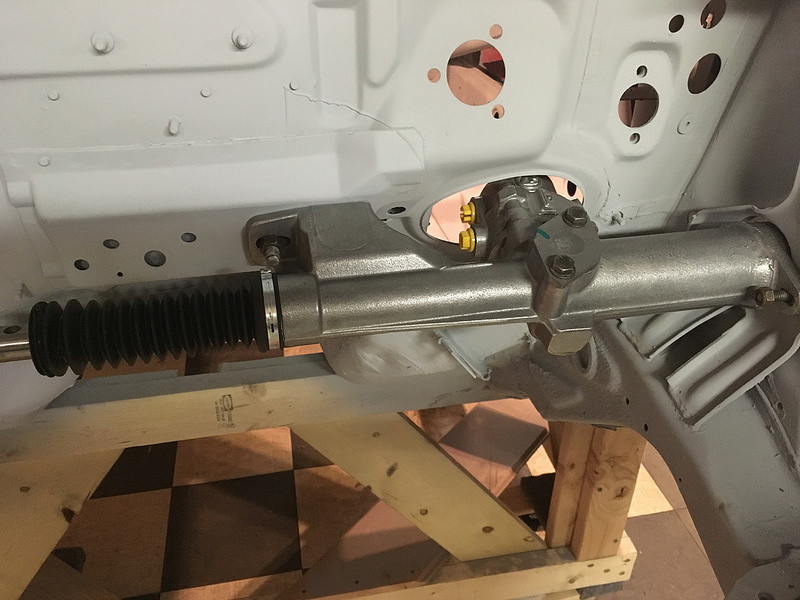 Next on the list is to refurbish and install the steering column, pedals and shifter. Me should have the front subframe back from powder coating so don't be surprised to see that on the car too soon.
4-1-2018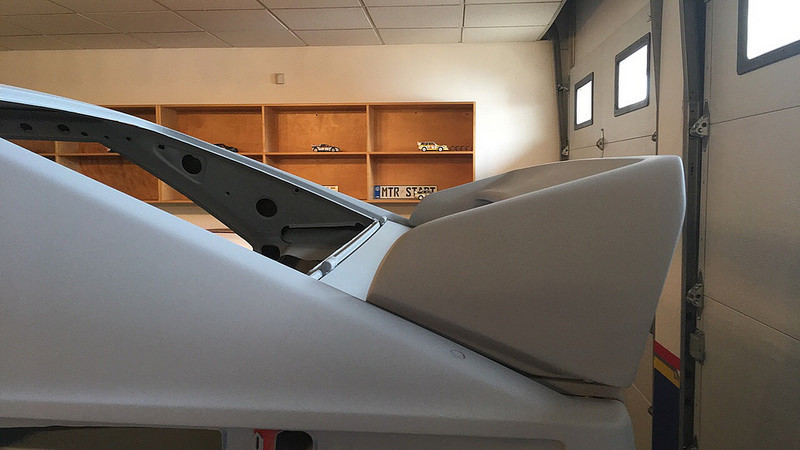 This concept of refurbishing parts then bolting them to the unpainted shell is working out well as we have already discovered a few things we need to mod and are accumulating quite a parts list too.

We got our first batch of parts back from powder coating: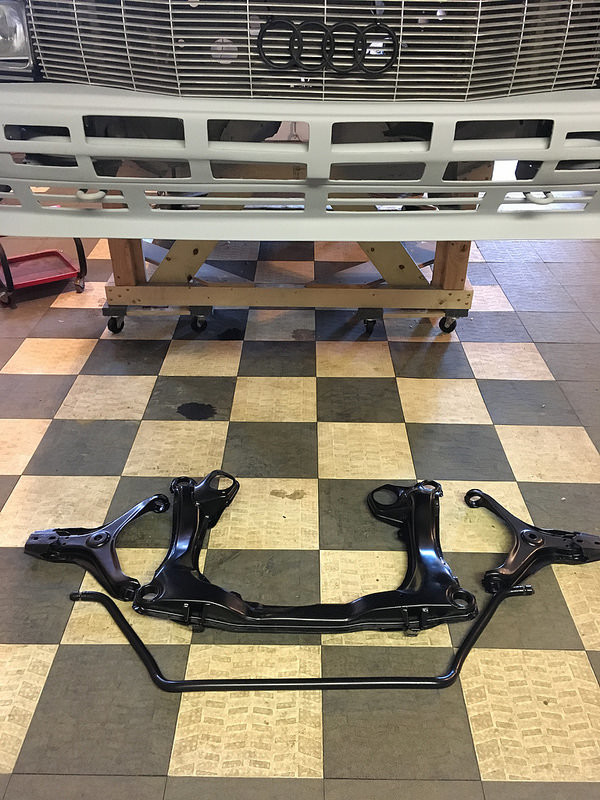 And wasted no time attaching some of them to the car. Front sub=frame for instance: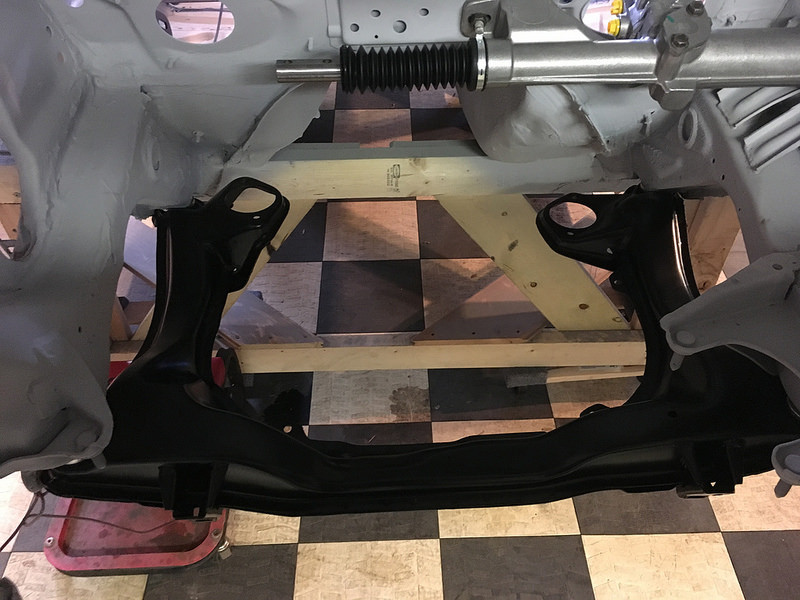 We also received a Sparco battery cut-off for the dash: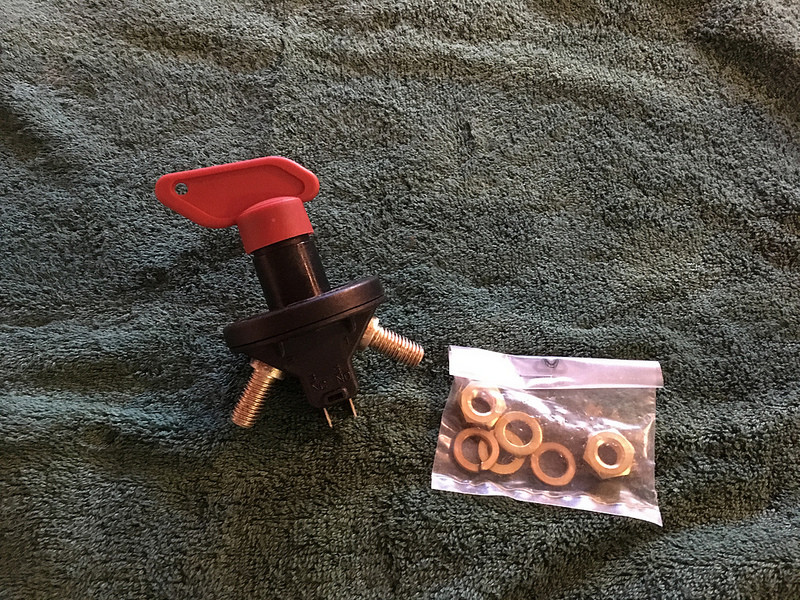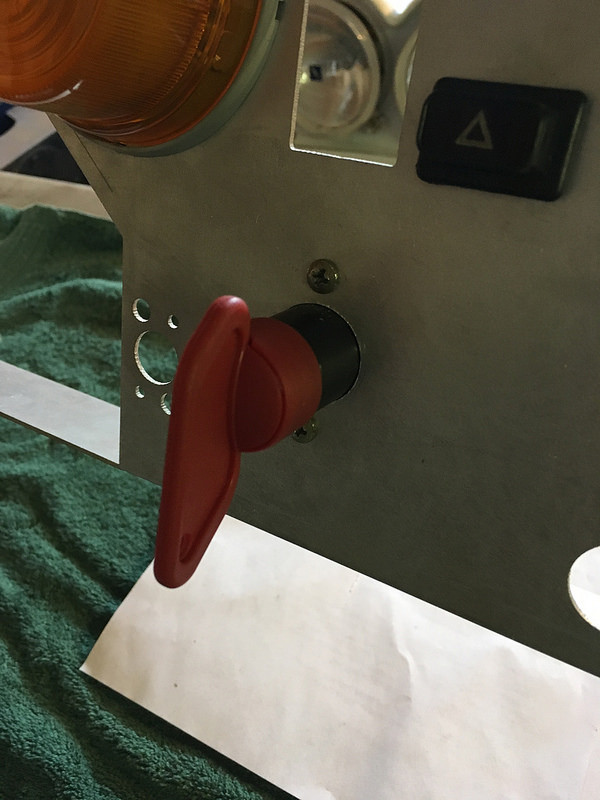 Our friend Paull is concurrently building an RS200 replica with a Focus RS crate engine. He brought over his superfluous factory intercooler to see if it might work for our application. Maybe: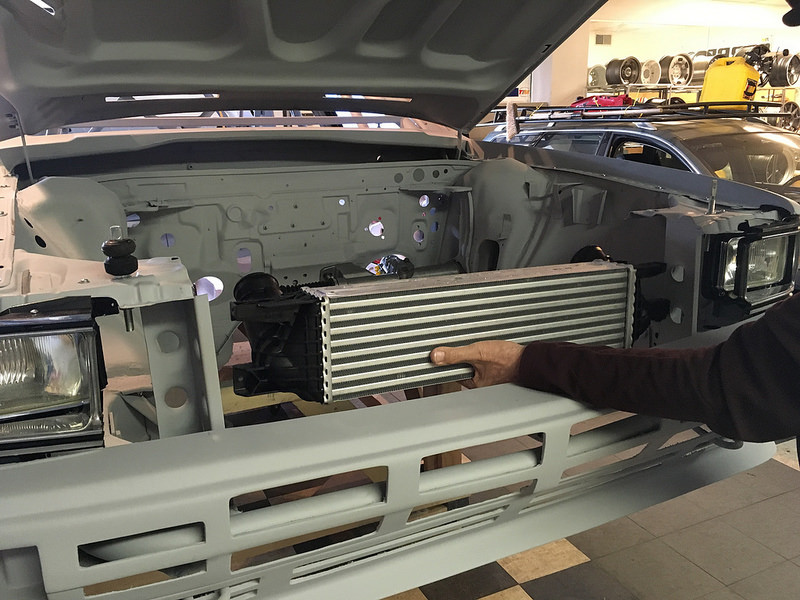 We finished the refurb on the steering column but it is going to need a bushing sleeve replaced before being put into actual service. However, this didn't stop us bolting it up along with the refurbished pedal assembly: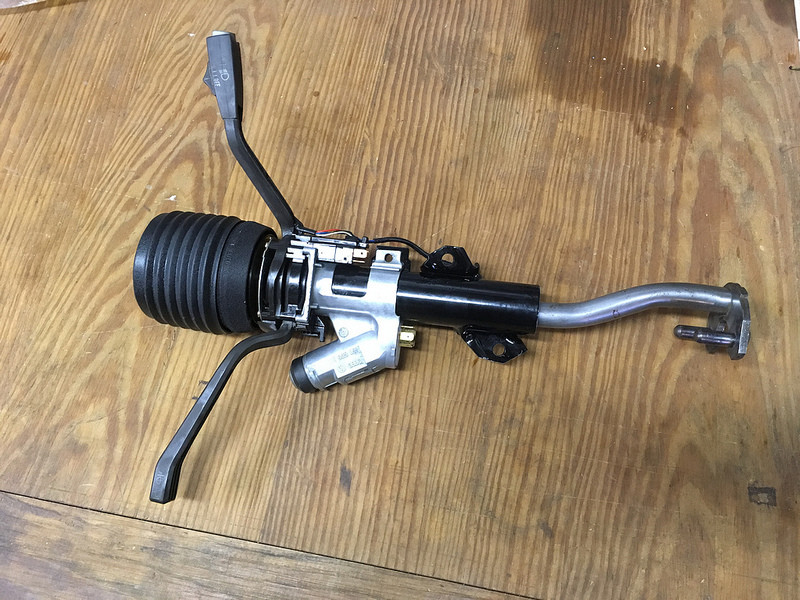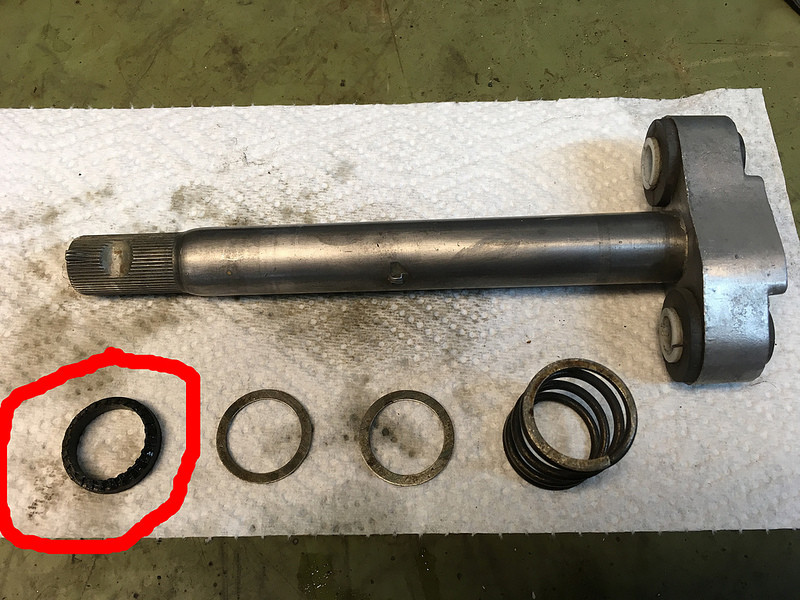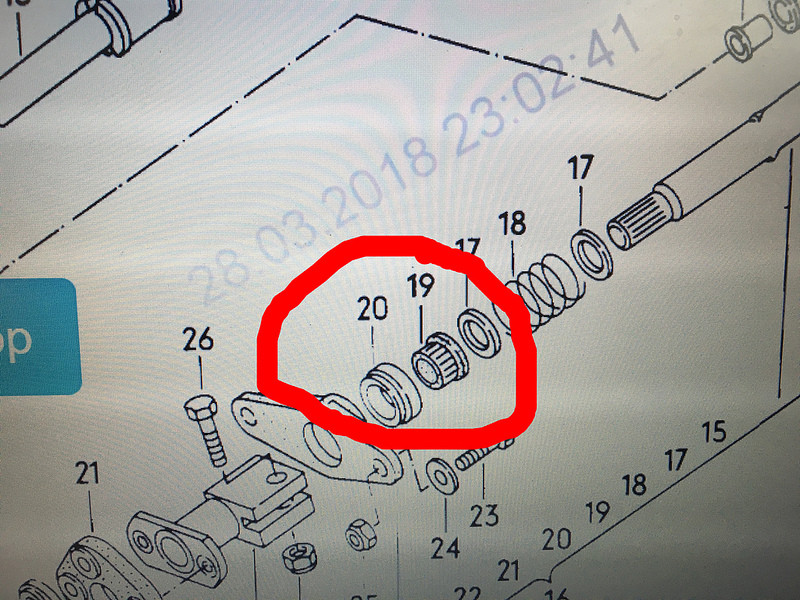 We thought our pedal assembly was in pretty good shape, until we took the over-center spring apart to clean it: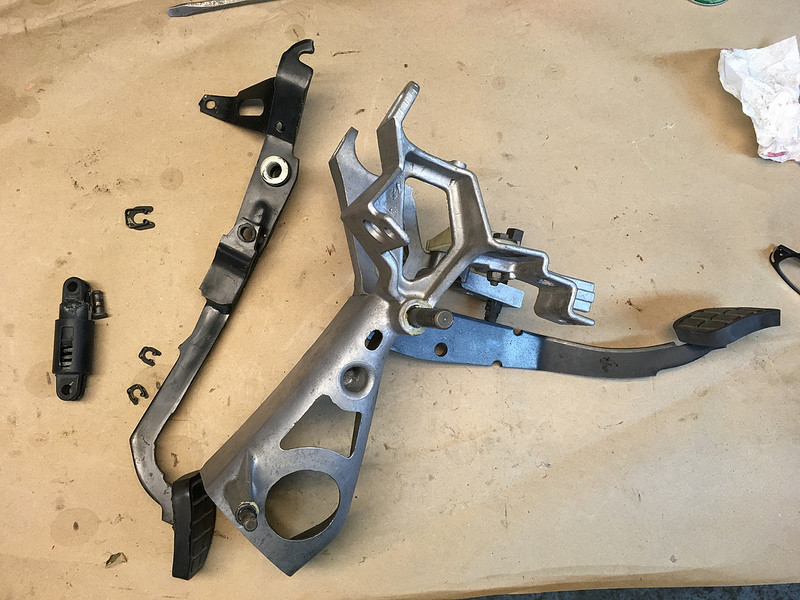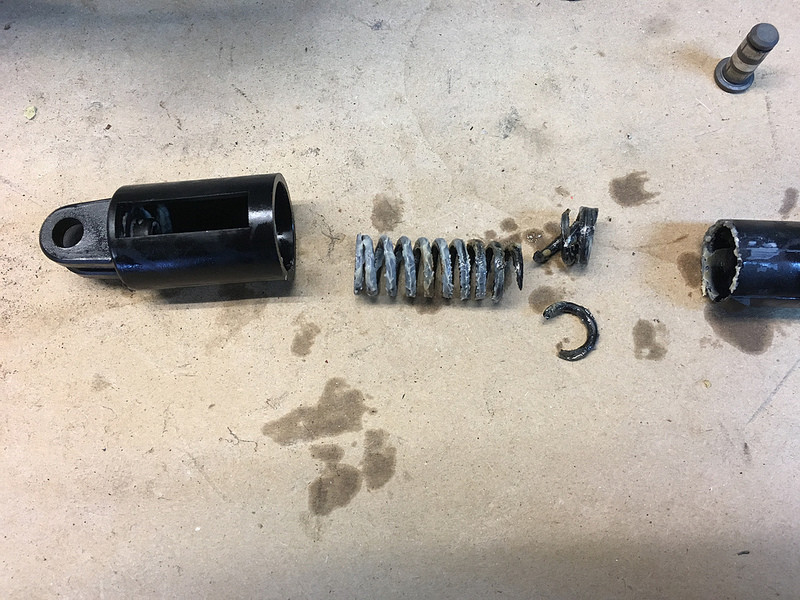 Add that to the parts list. Stll, it didn't stop us bolting it to the car: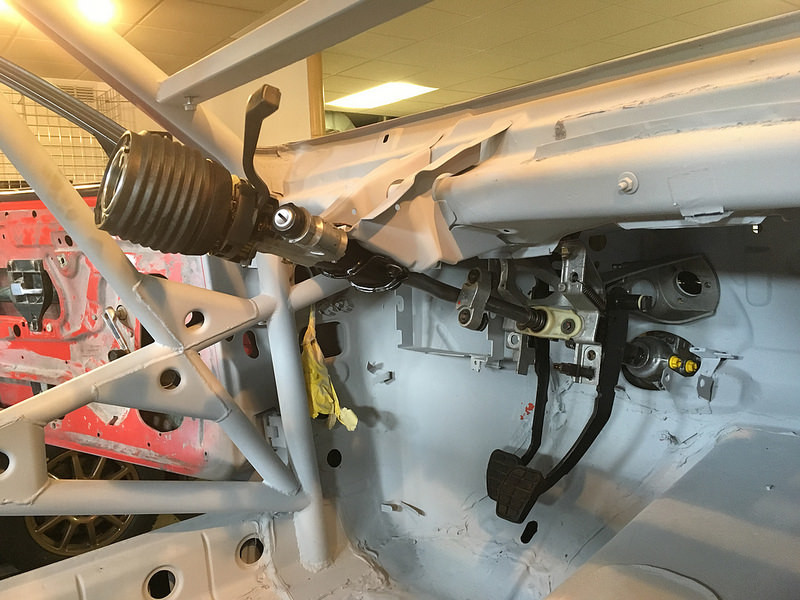 We also spent a bit of time prepping some parts for plating. We are having this lot zinc dichromated so they need sand blasting first. It was suggested filling the cylinder bores with hot glue so they wouldn't get sand blasted so we gave it a try.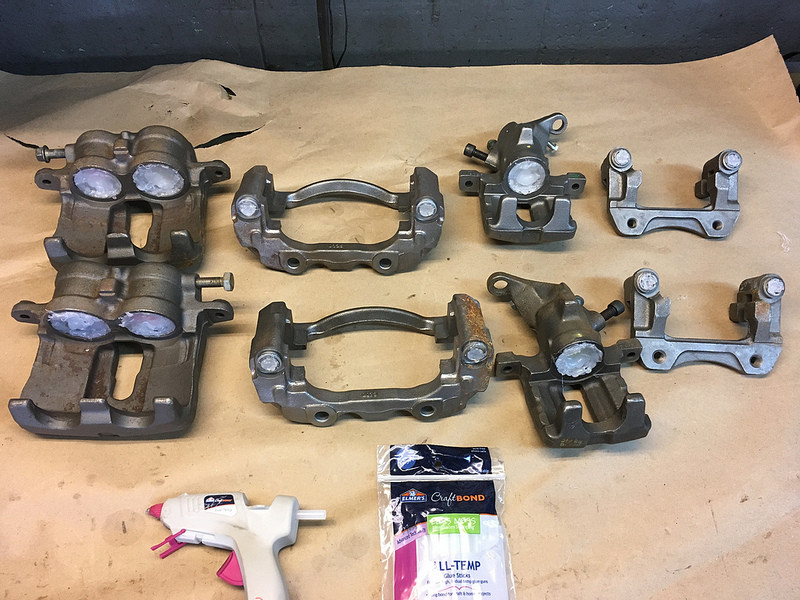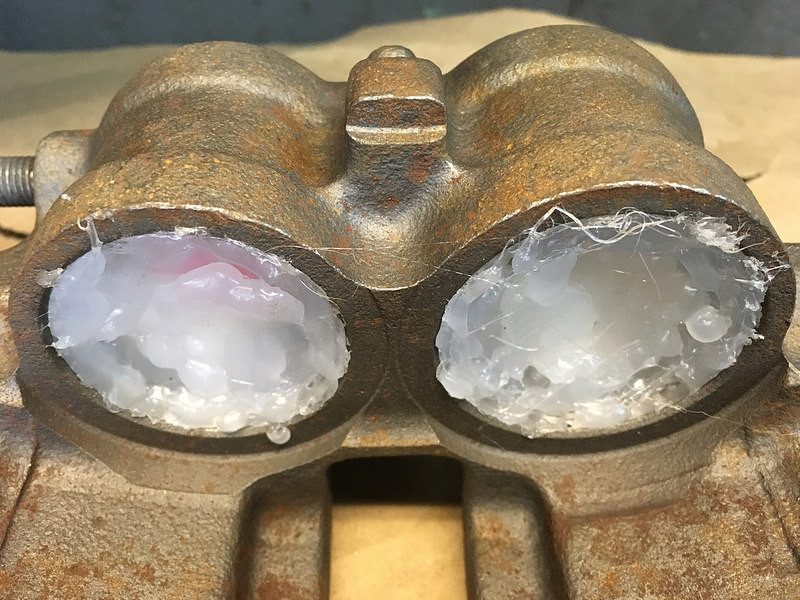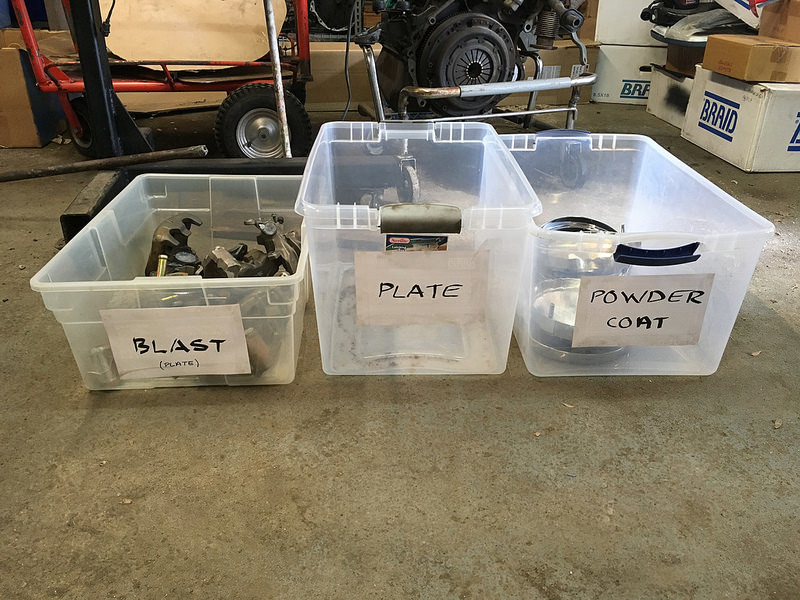 We took the opportunity to test fit the dash as we suspected it would interfere with the steering column. We were not wrong. There's a reason for that cutout after all: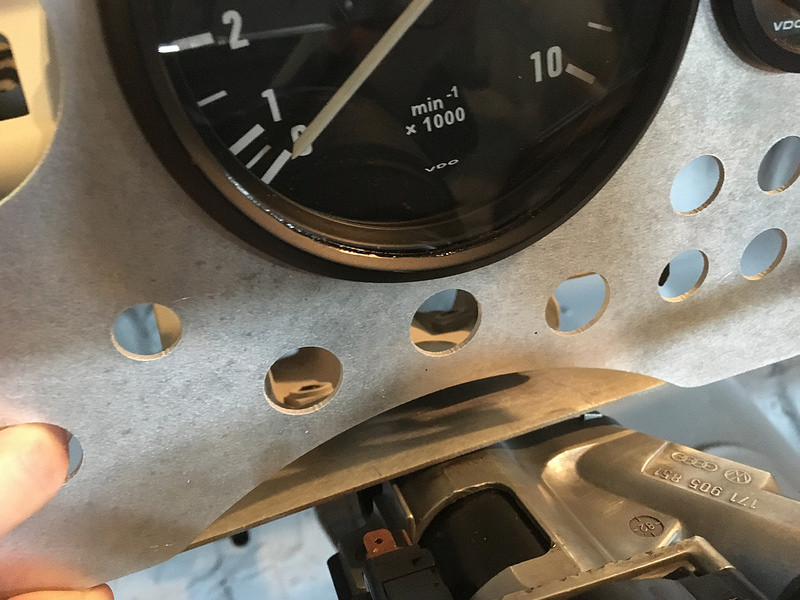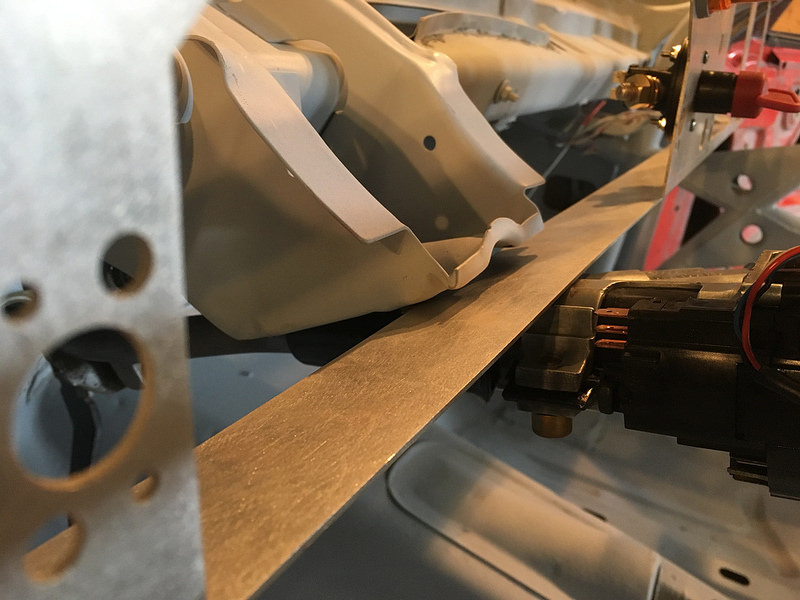 We plan to continue to assemble the car this coming week so look for an update soon.
4-13-2018
We made quite a lot of progress this week but it doesn't feel like it. Perhaps because we didn't get to actually bolt anything to the car. What we did do was finish prepping the transmission. We replaced the rear coupling and seals with a non-broken version, cleaned and painted the case, installed new drain and fill plugs, replaced the input shaft seal and installed the mounts and brackets. Mounts are 034 Motorsport in Delrin.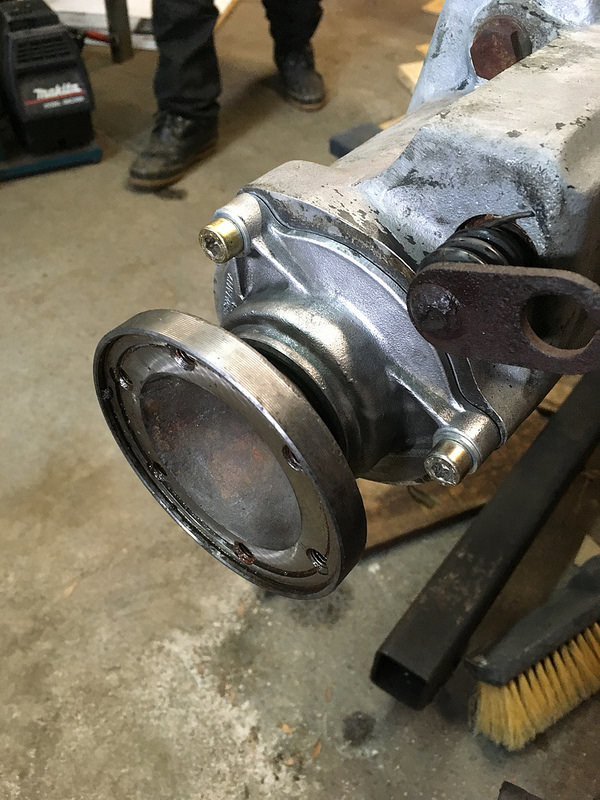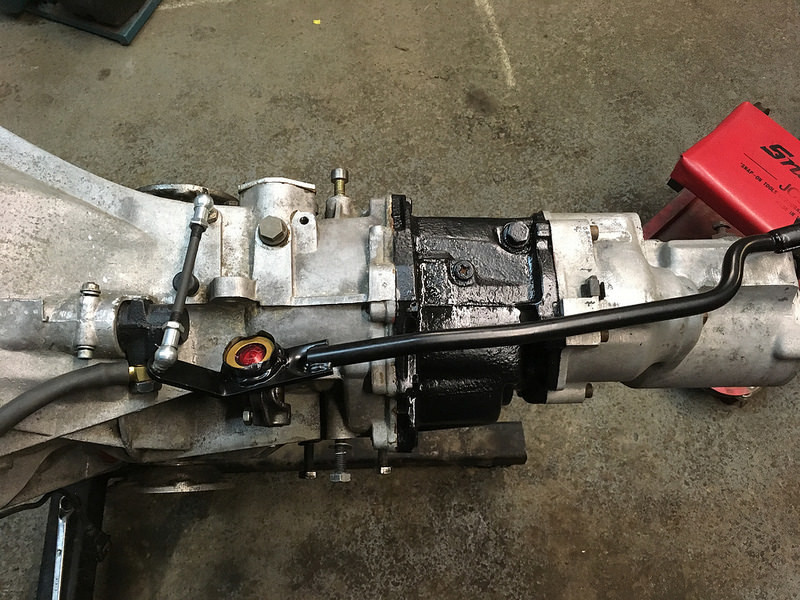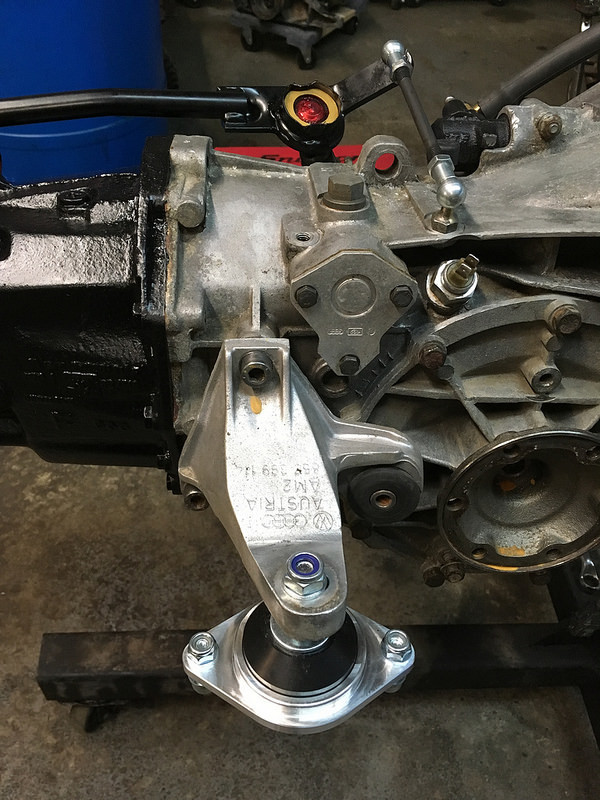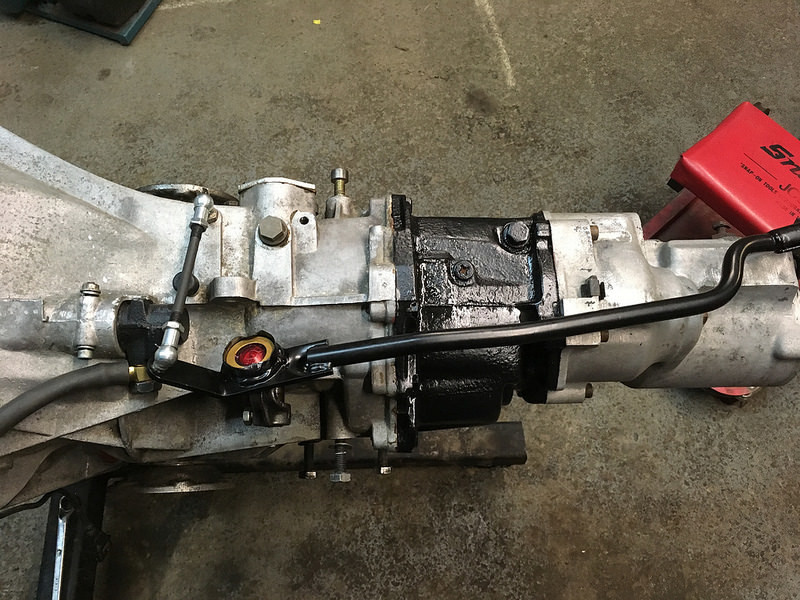 People keep telling us we really need to run with the big, heavy rubber damper mounted to the back of the transmission as Audi intended but we'd really rather leave it off. Are we nuts?


We also managed to recommission our ancient, homebuilt sand blaster and put it to work on some rusty components. Unfortunately, in our excited state, we forgot to take the "before" pictures.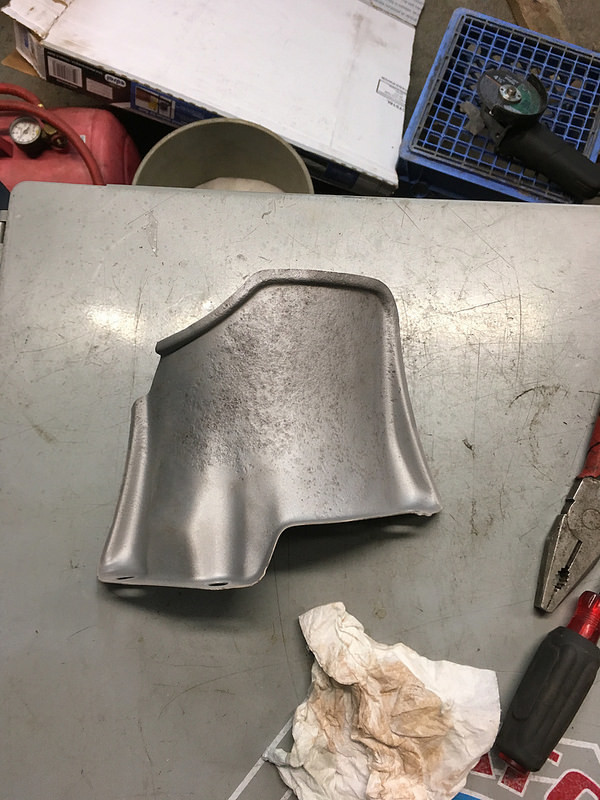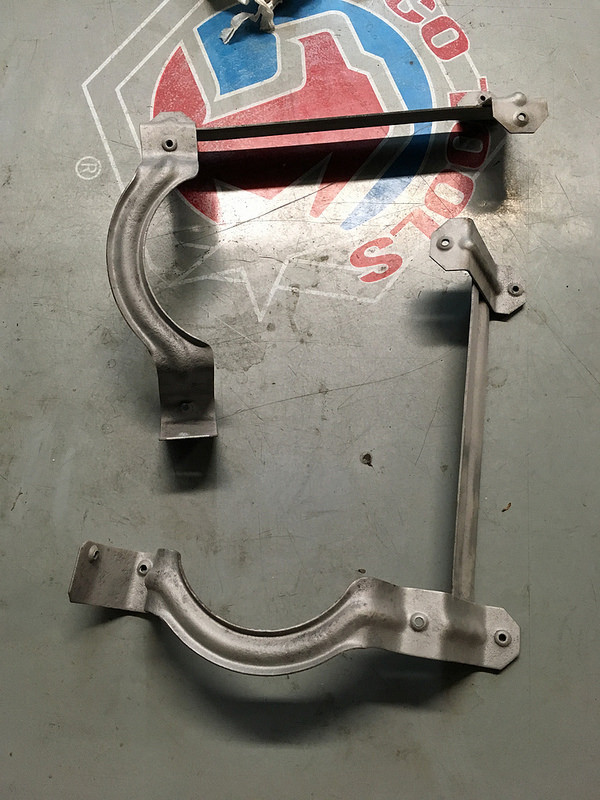 Next week we hope to modify the dash to fit over the steering column and get some parts plated. We will also look for something to bolt to the car. Exciting!!!!!!!
4-25-2018
Like most car nuts we are easily distracted by shiny things that come in the mail. This week was particularly distracting in that regard:

Clutch bulkhead brace from 034 Motorsports: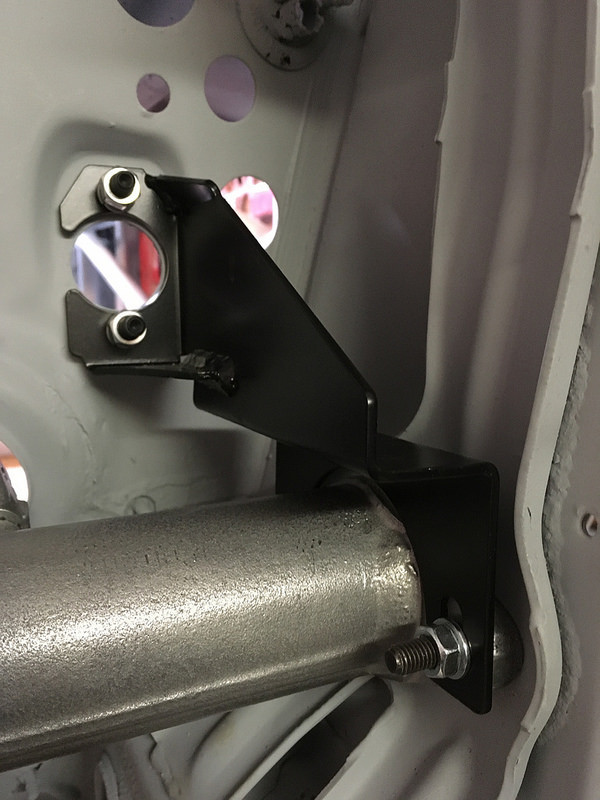 Solid Delrin engine mounts from 034 Motorsports: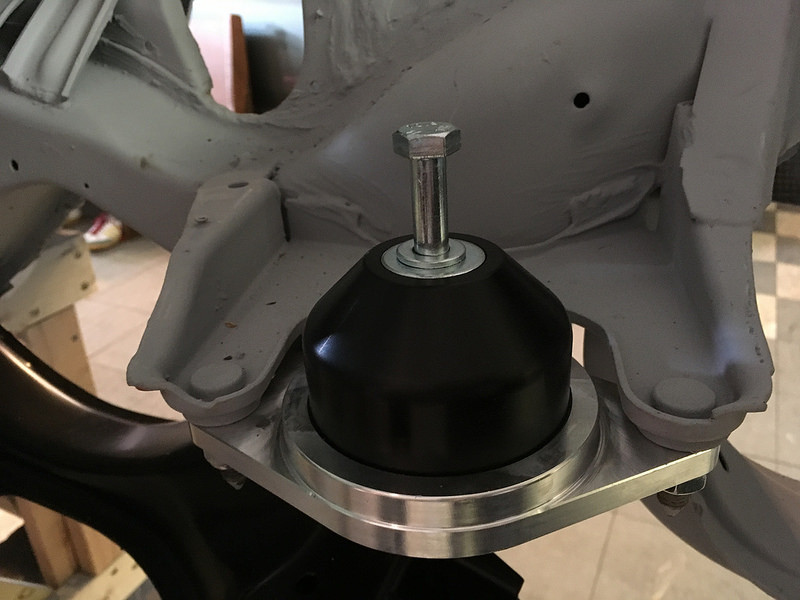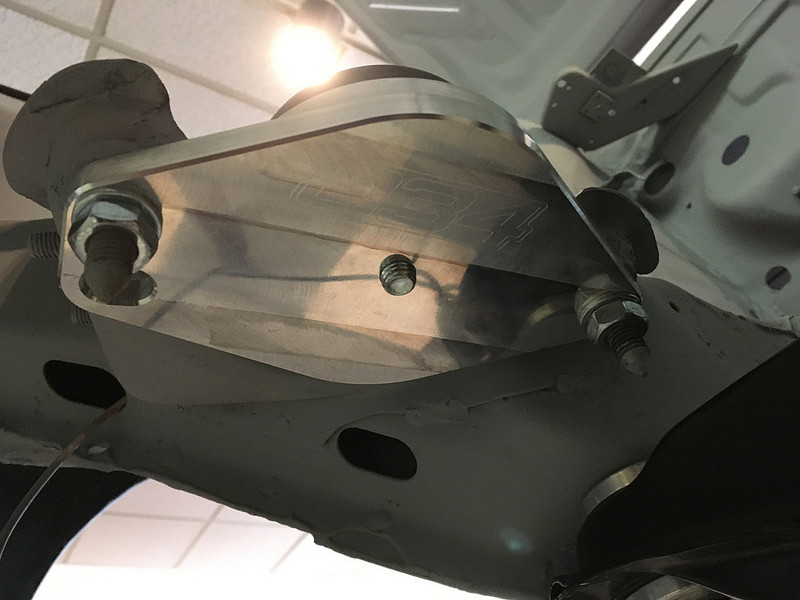 Transmission mounts from 034 Motorsports: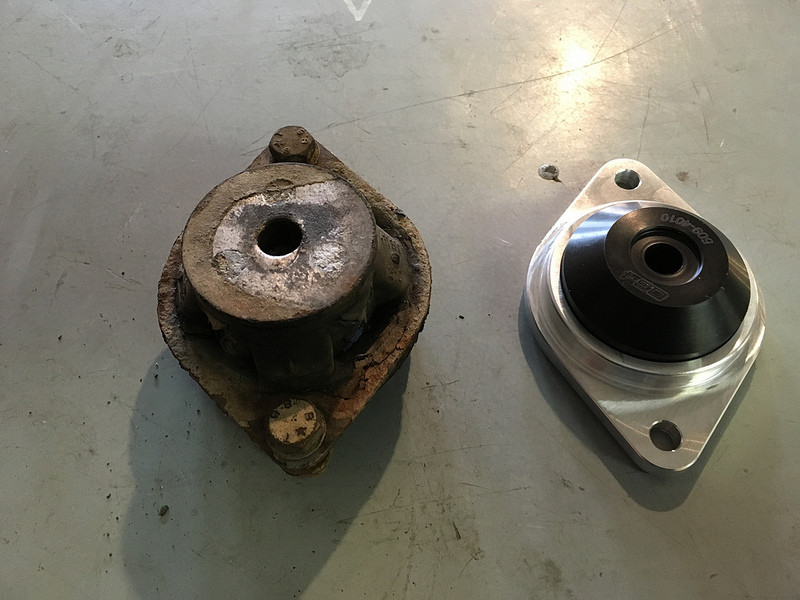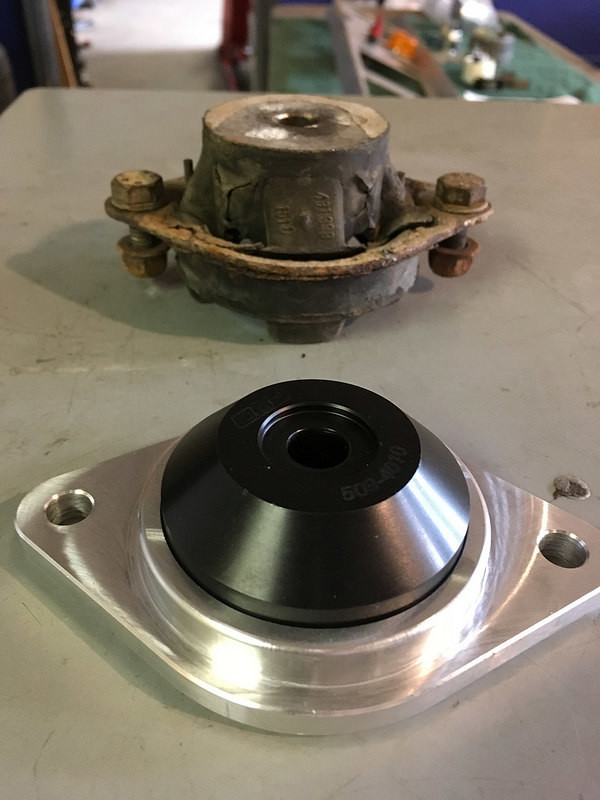 Short shift kit from 034 Motorsport (of course):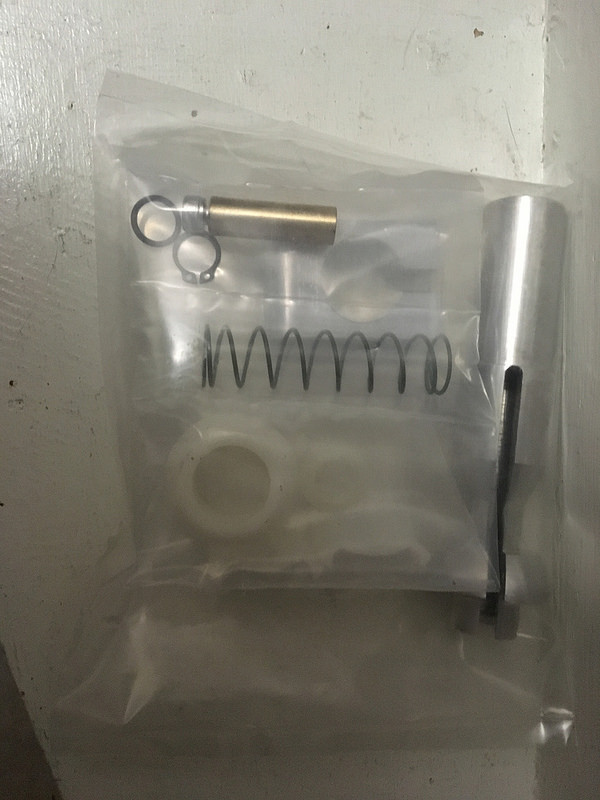 We also gave the car its own "woom" to gestate in. Do you think it will be ready in nine months?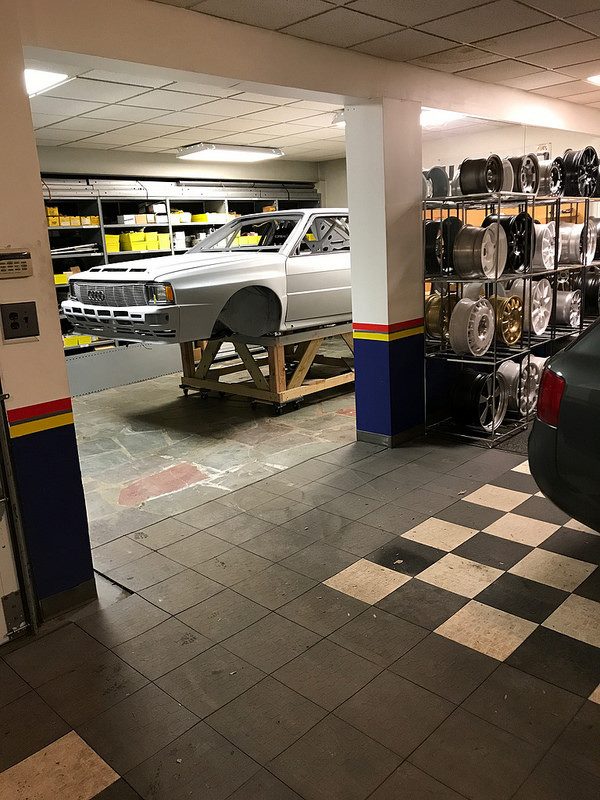 Next up. Hacking up the dash to make it fit.
5-1-2018
It's time to make the Group B rally dash actually fit in the car. This is a reproduction panel modelled on an original by a member of the US Quattro community and is beautifully crafted. Unfortutunately they have to be "relieved" to fit round the steering column as the lower return is supplied straight. You can't just cut it as it would then be too flimsy. An added complication is that we intend to still use the ignition key so we have to make room for the barrel housing too. You can see the interference here: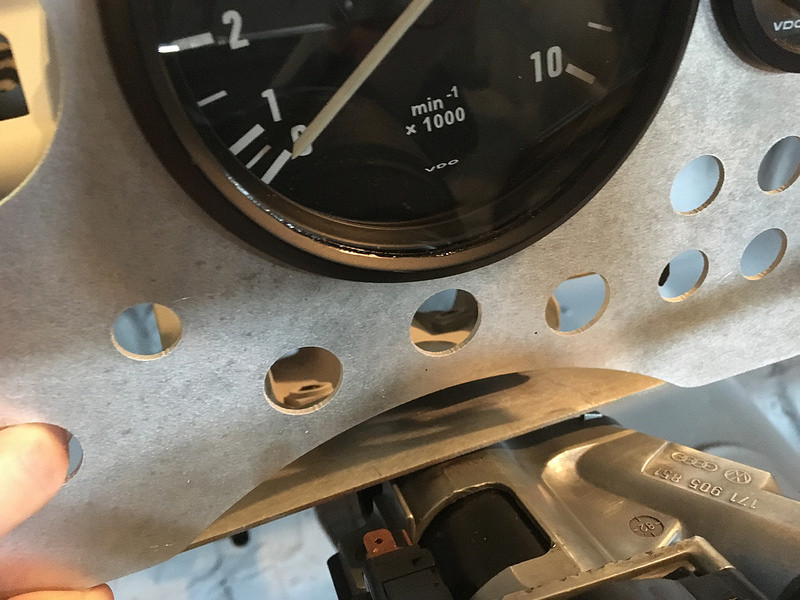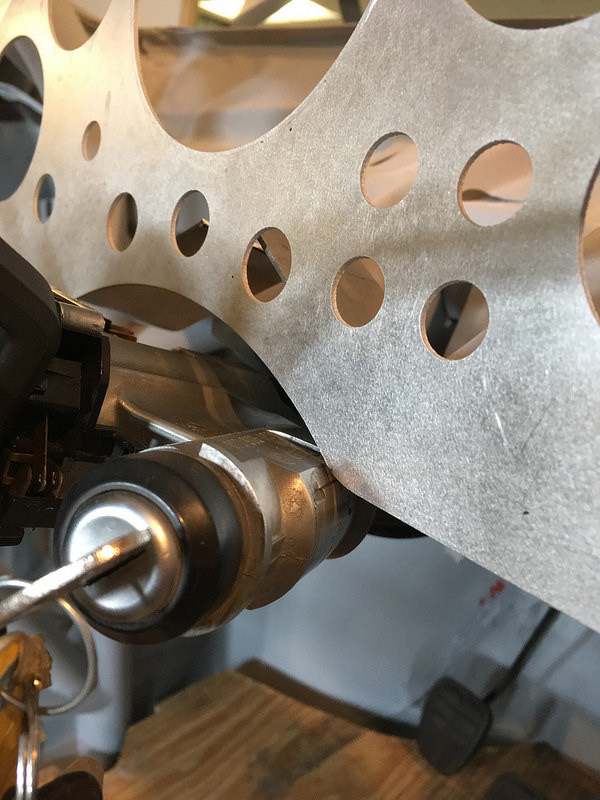 That bottom flange needs to follow the curvature of the panel. To do so it needs to be cut, formed and then a bridge piece added to maintain its rigidity. Then we will need to remove some material to clear the lock. We will have to do all this with the gauge panel in place or it will easily distort.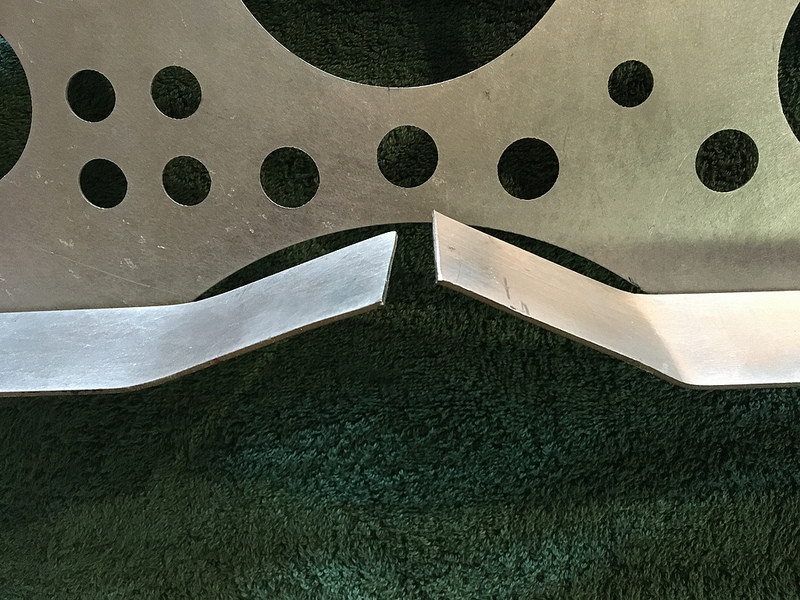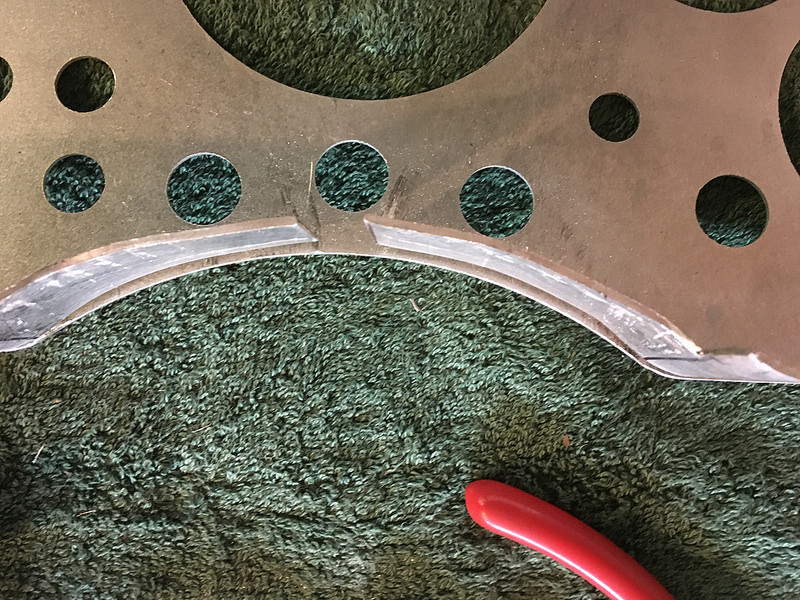 These fasteners will be replaced with rivets once we are confident everything fits.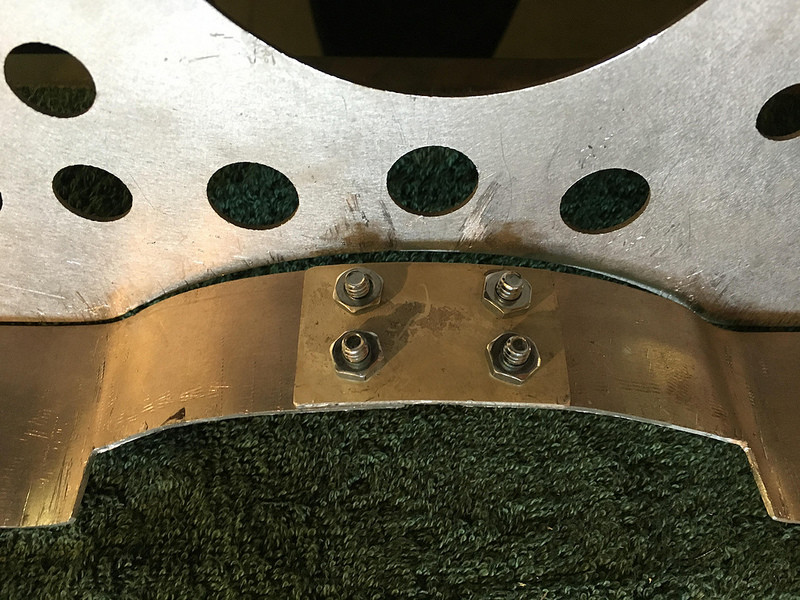 Then we needed to clear the ignition key housing: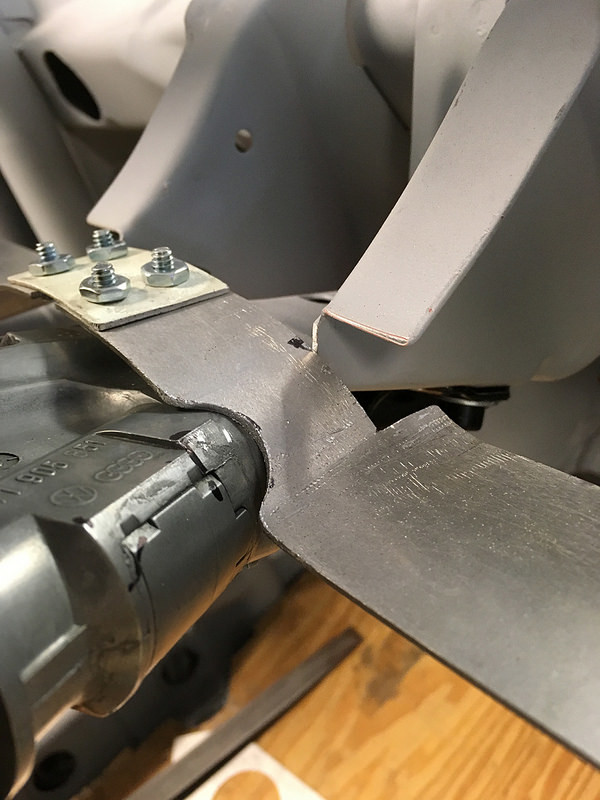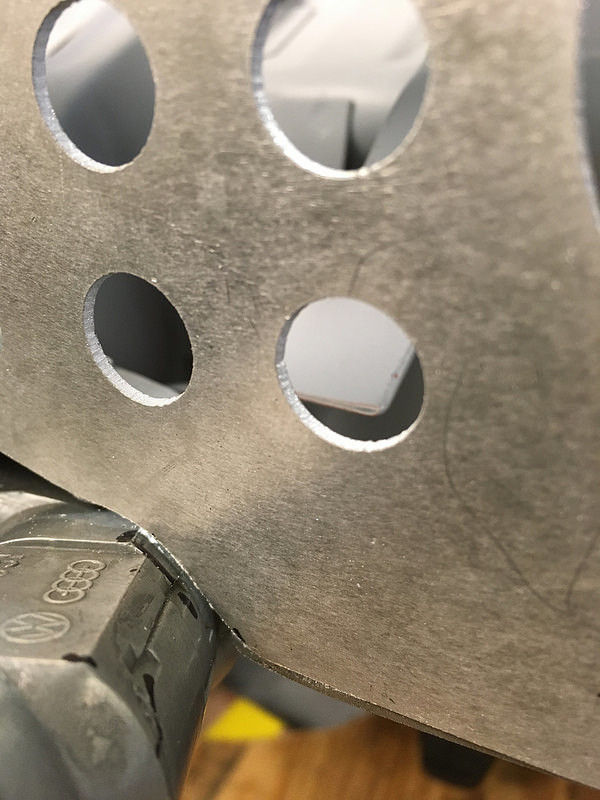 The dash panel is suspended from the dash bar welded between the cage A pillar bars but will need some bracing beneath to stop it swinging back and forth. We fabricated these brackets and used the holes from the old cage to help mount them.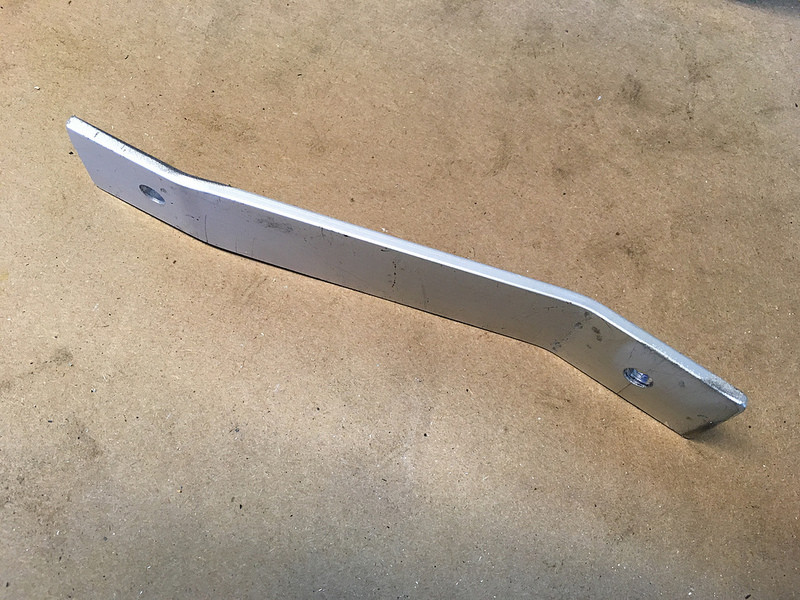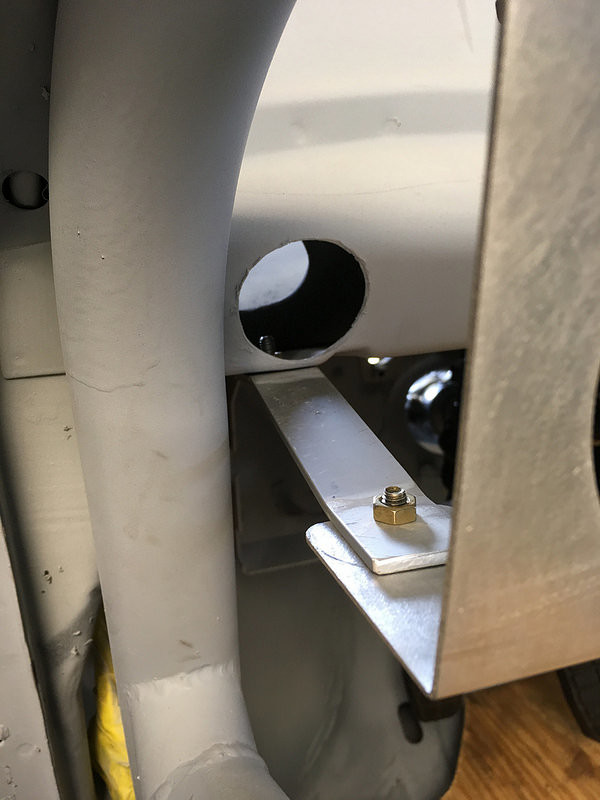 Done!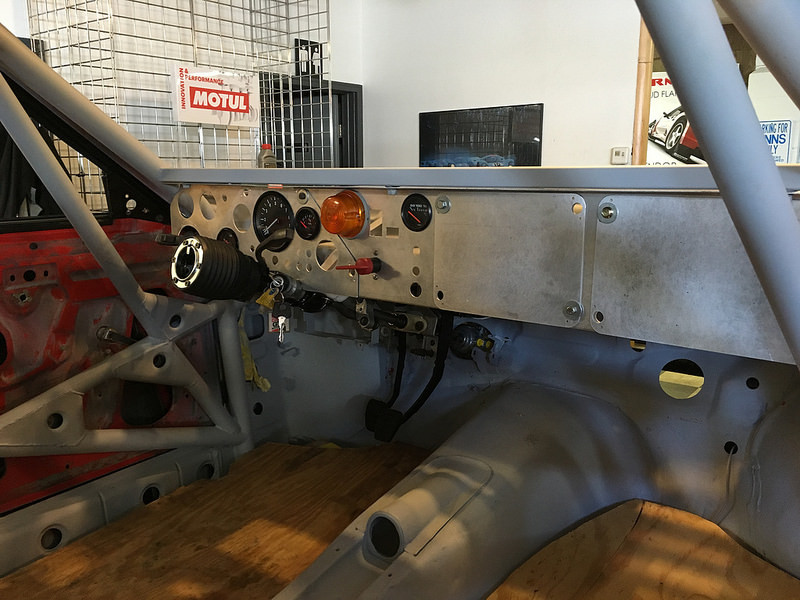 Now to mount some more gauges, fuses and a computer!
5-31-2018
The dash on the Group B Quattros is somewhat iconic especially the big orange oil light in the middle. For this reason we have been very keen to progress work in this area.

Our large tachometer came without any mounting hardware. It looks like it was designed to mount into a rubber grommet like the Porsche 911 gauges. That was never going to work with the 2mm thick aluminium dash we are working with so we had to get creative. First we tried a large hose clamp but of course it rattled around.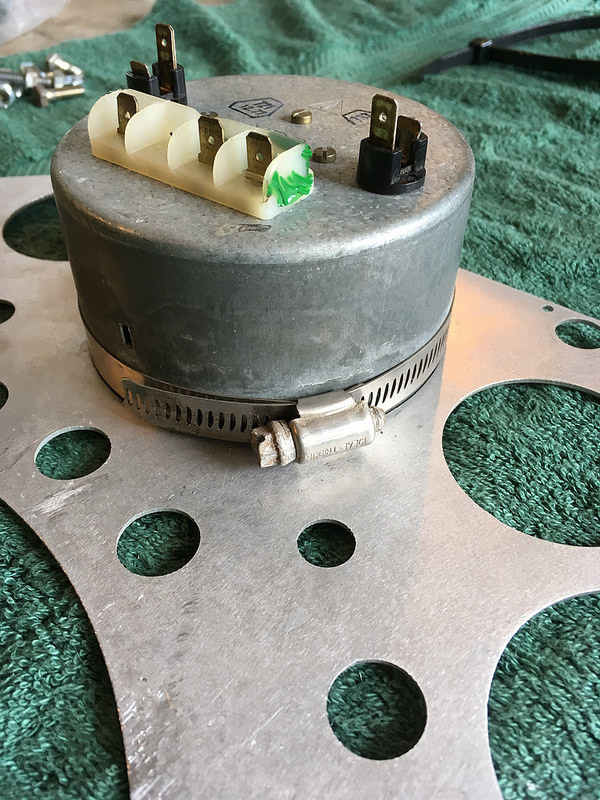 Then we butchered some garage door seal for its rubber and tried that under the hose clamp.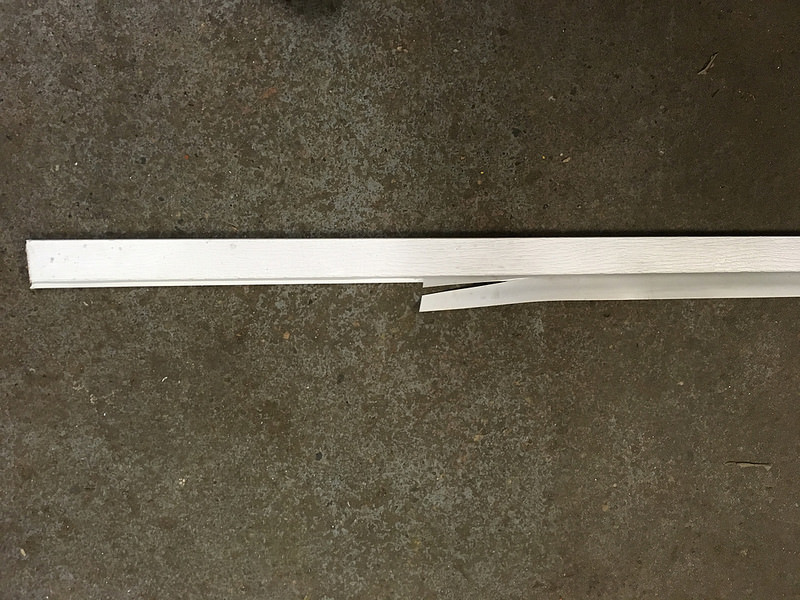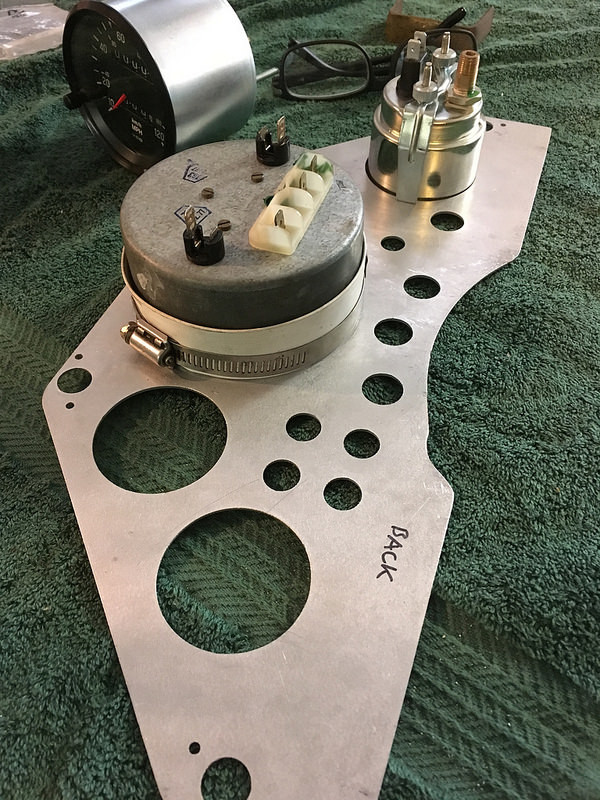 This worked as the clamp squeezed itself up against the back of the dash but didn't really look the part. We found a roll of thicker black seal in the back of the shop and sliced that up instead. Success!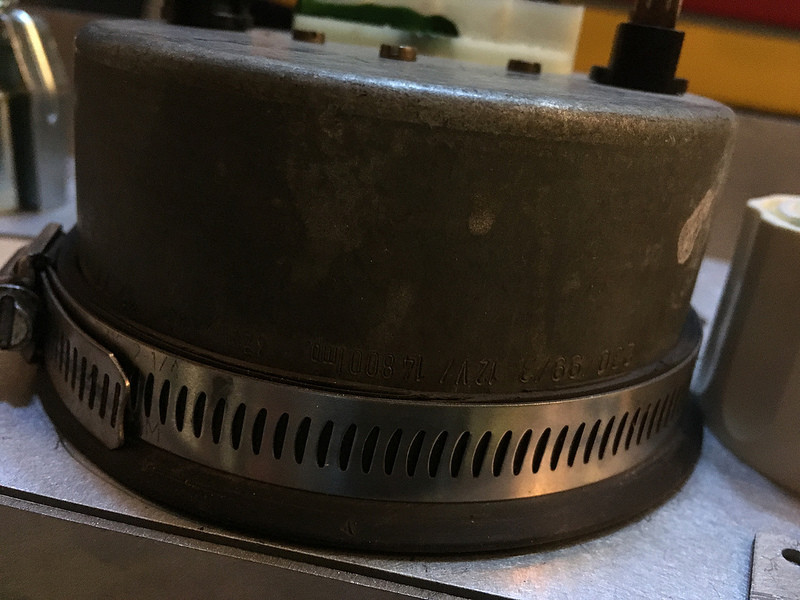 Then our missing VDO gauges came in from egauges.com so we mounted them up. The threaded sleeve on these makes installation so much easier than the yoke and thumb nuts of old.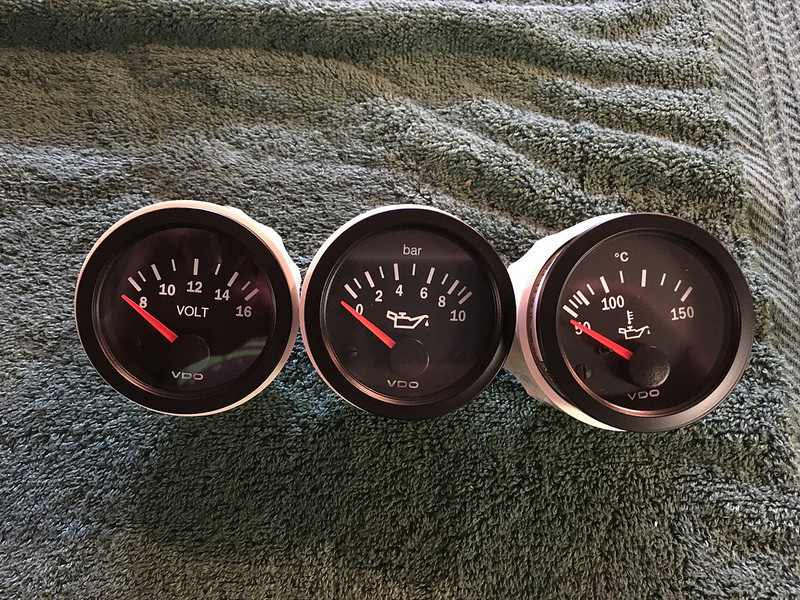 Our tachometer came without mounting studs but no yoke so we made one.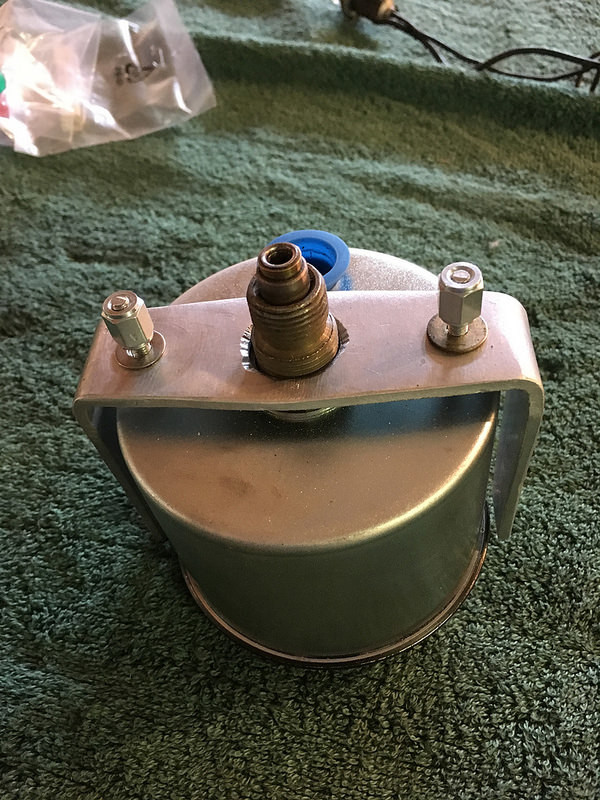 Then we just had to put it into the car.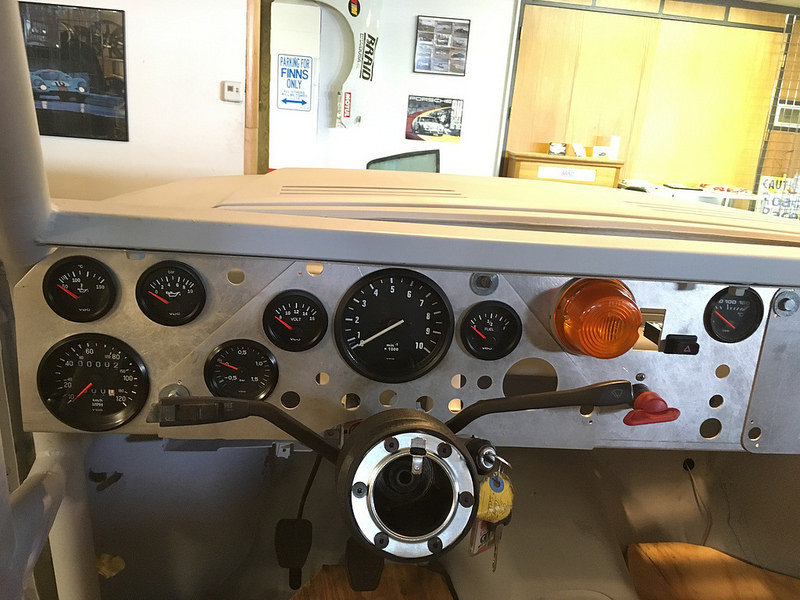 All it needs now is warning lights and switches, mostly.


We were also very excited to receive a box of metric flange nuts and bolts we found on eBay. These will be very useful.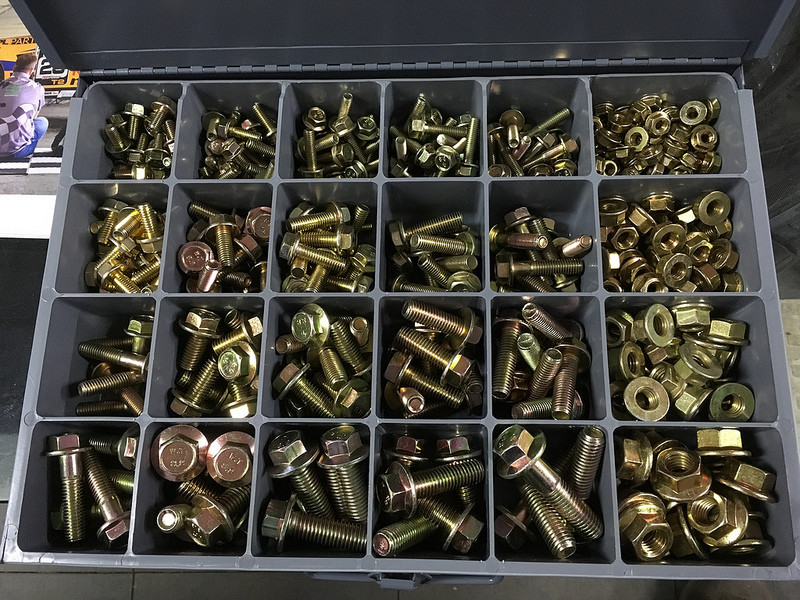 Yes, we know, we're nuts!
6-6-2018
We took our first foray into replating components recently. Many steel components on 80s German cars have a gold finish which was at the time probably cadmium plating. These days, due to EPA regulations, zinc dichromate plating seems to be a better option. You can do it in-house quite easily but the dichromate part is really toxic so we prefer to have it done as far away from our shop as practicable. We have also resisted the temptation to lick the newly finished parts.

First step in the process is to degrease the components and then to remove all the rust by blasting. As we mentioned earlier, we recently recommissioned our home-made sand blaster so used that to blast a bunch of accumulated parts.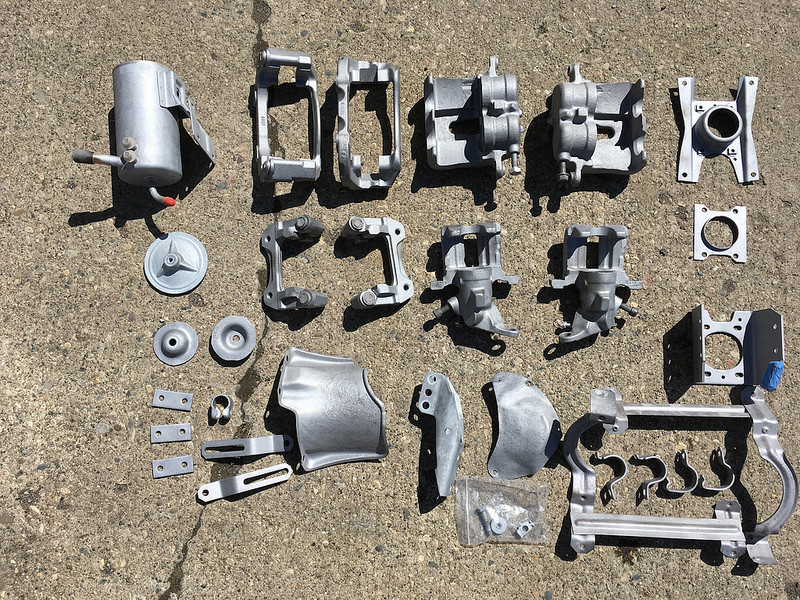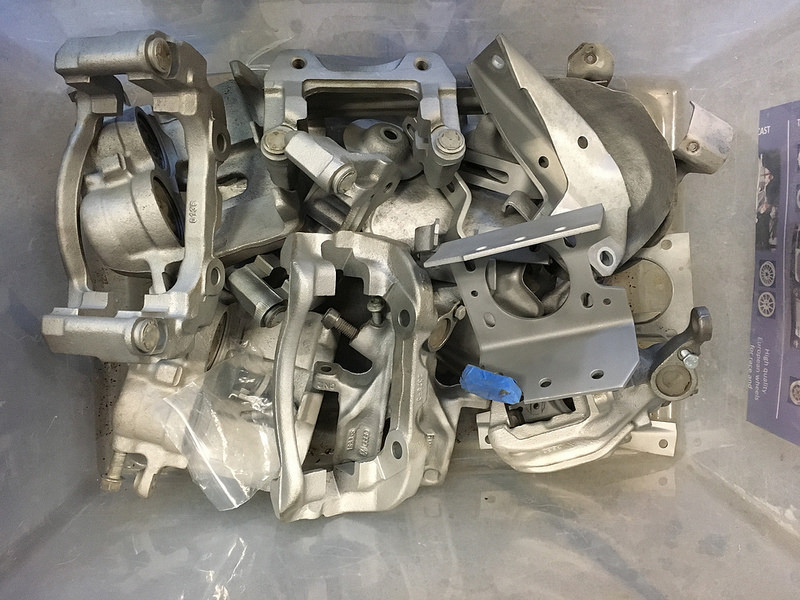 We boxed them up and ran them over to Plating Specialists Inc. in Madison Heights. A safe 15 miles from our shop. Two weeks and $240 later WOW: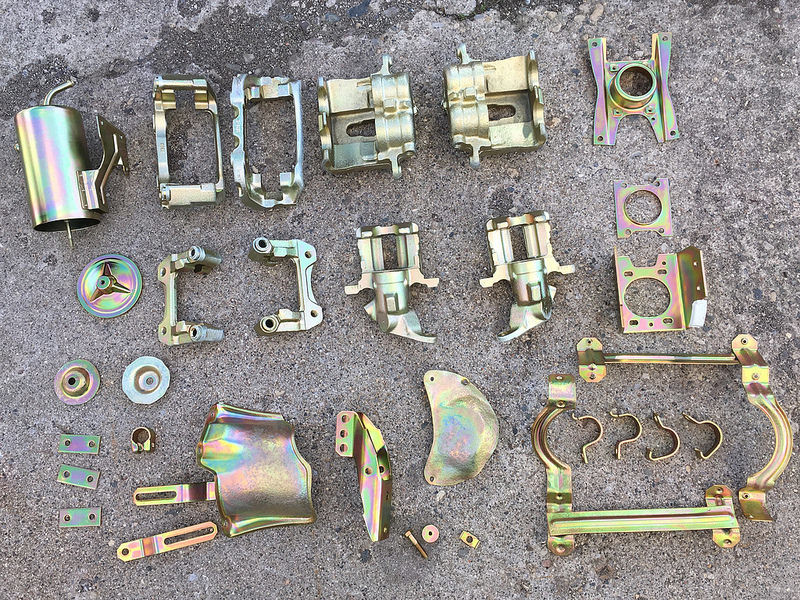 We couldn't help but bolt a few components to the car: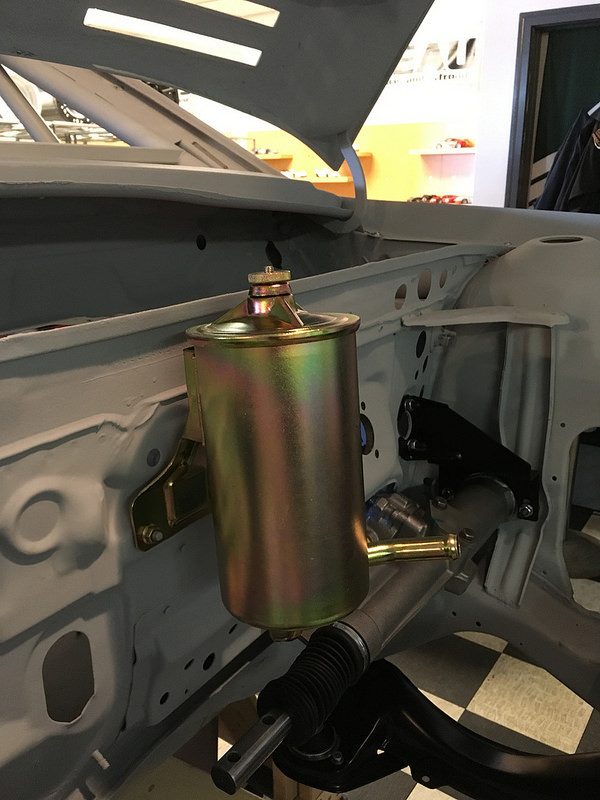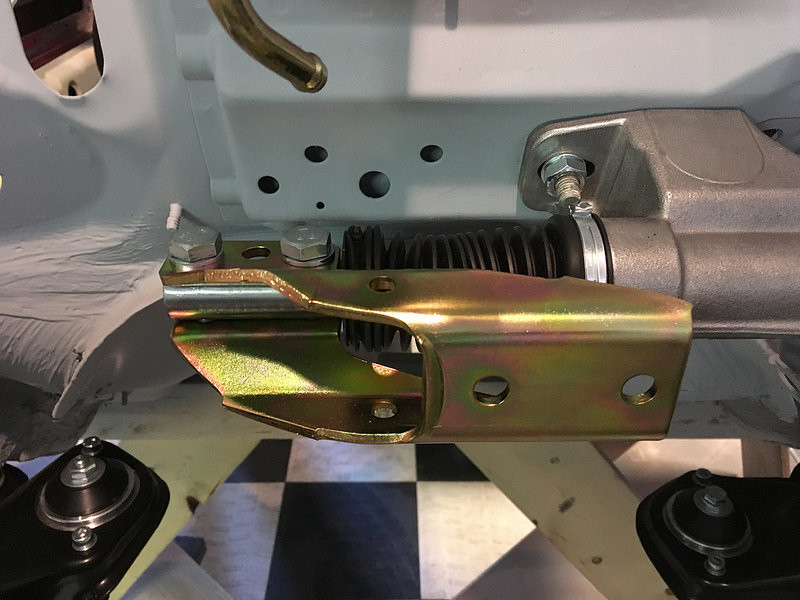 We think we might be addicted to zinc dichromate plating now.
6-19-2018
SHORT SHIFTER
We mentioned earlier that we had purchased a short shift kit from 034 Motorsports. Well, with our freshly plated shifter components back at the shop we wasted no time in assembling it and bolting it in. This is the stock shifter: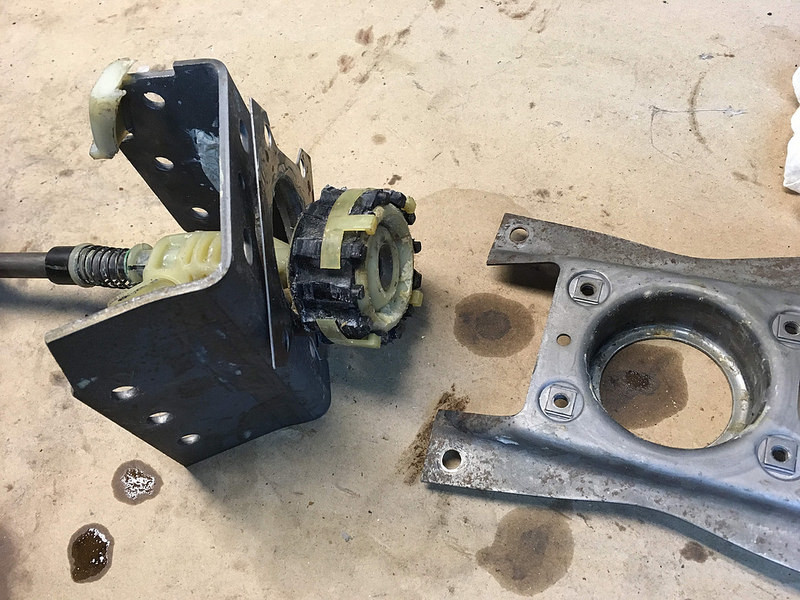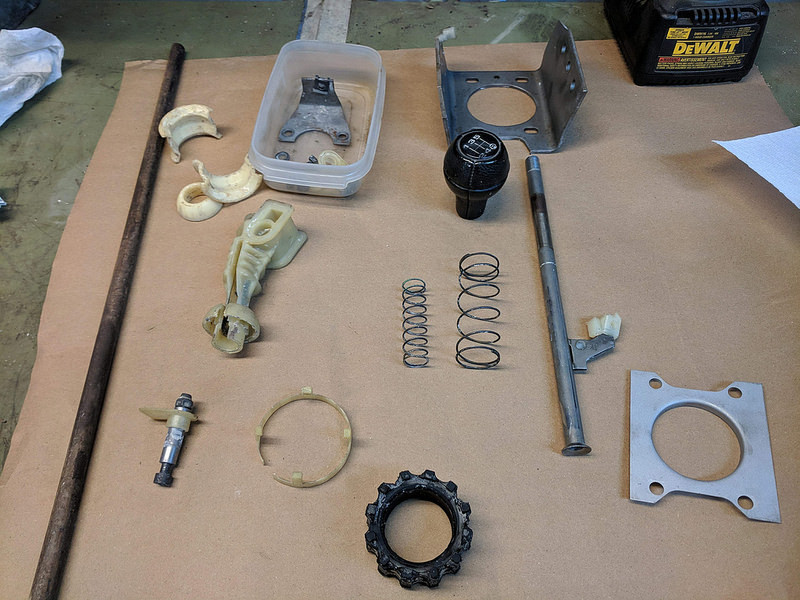 And the freshly plated components and short shift kit jigsaw puzzle: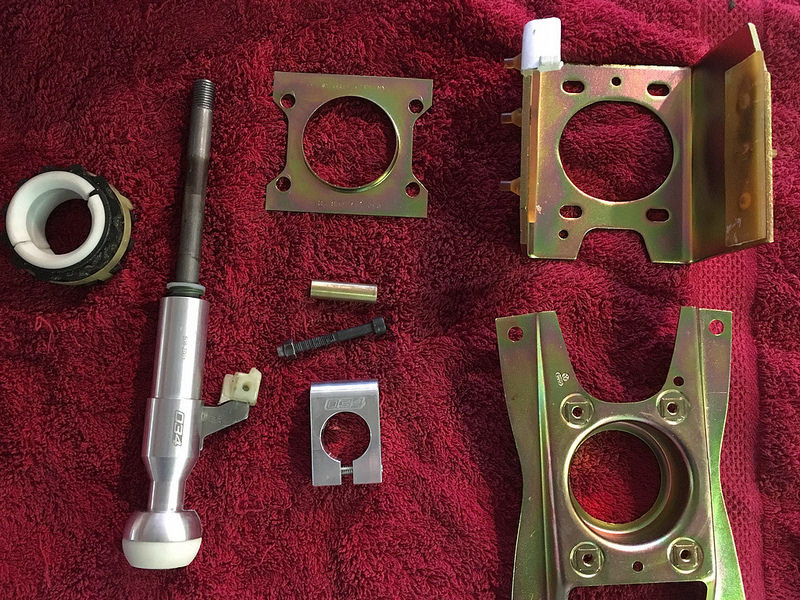 We soon had it together: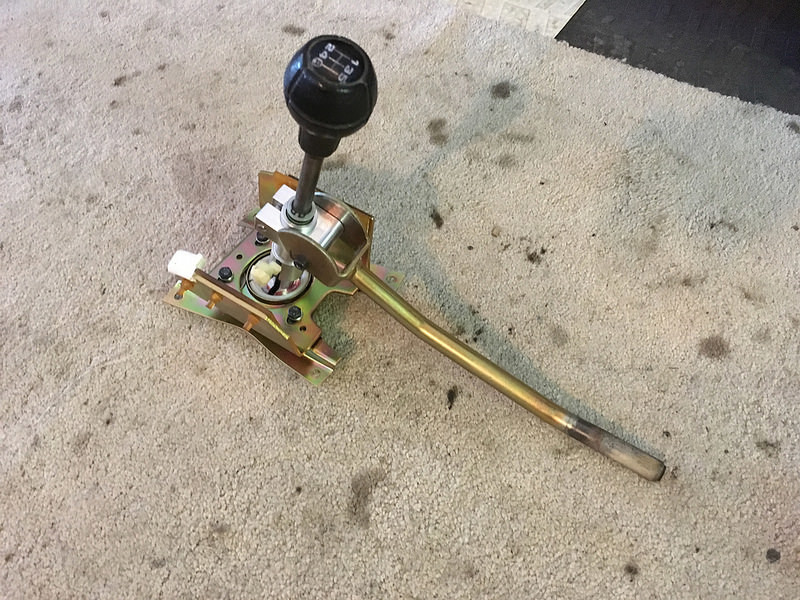 And bolted in the car: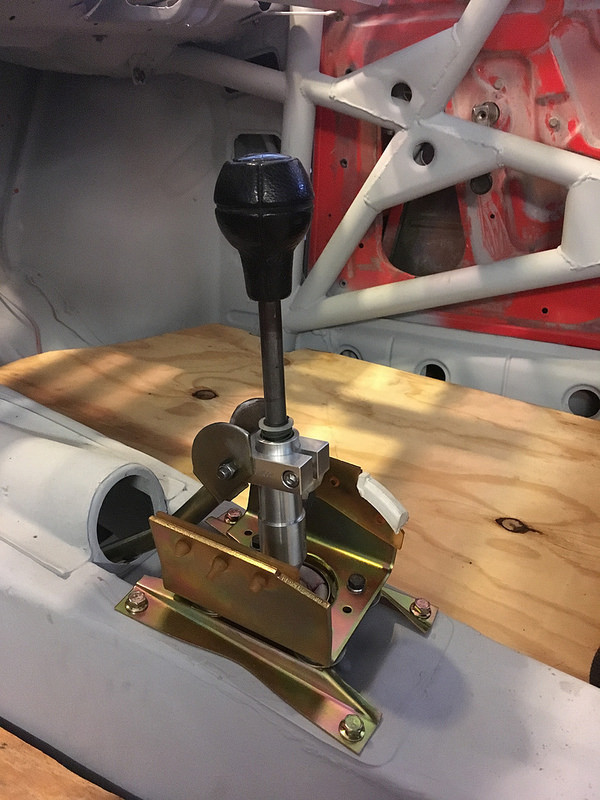 Of course the transmission is not in so the shift rod is just hanging in space for now.



GAS PEDAL
During or shifter assembling we stumbled upon the gas pedal. We knew it couldn't evade us forever. The pivot bushings seemed fine so we quickly slapped it in the car and made VROOM - VROOM noises.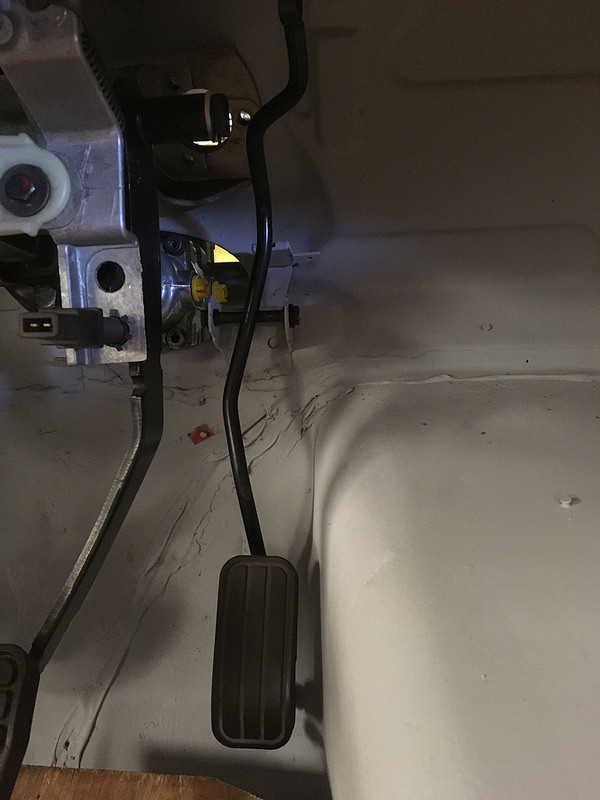 We are not sure if we are going to employ the original method of connecting the accelerator cable though. Seems a bit weird.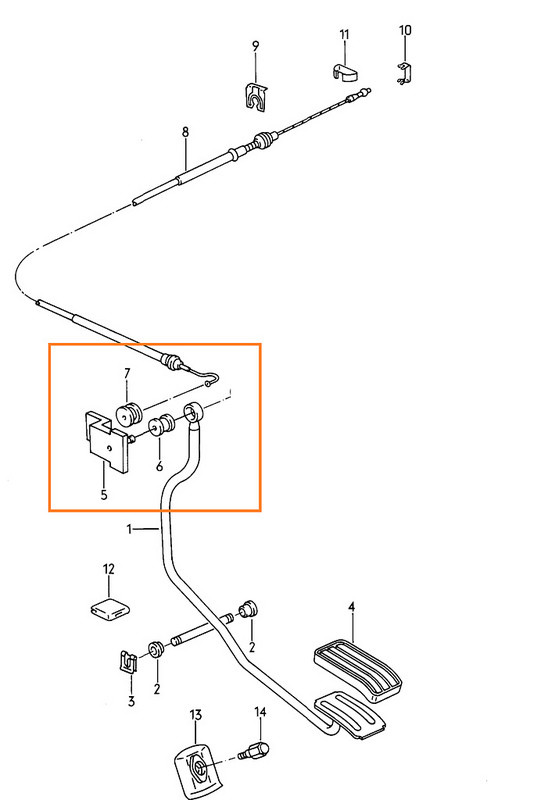 After all that hard work we felt we deserved a sit down and a nice cup of tea: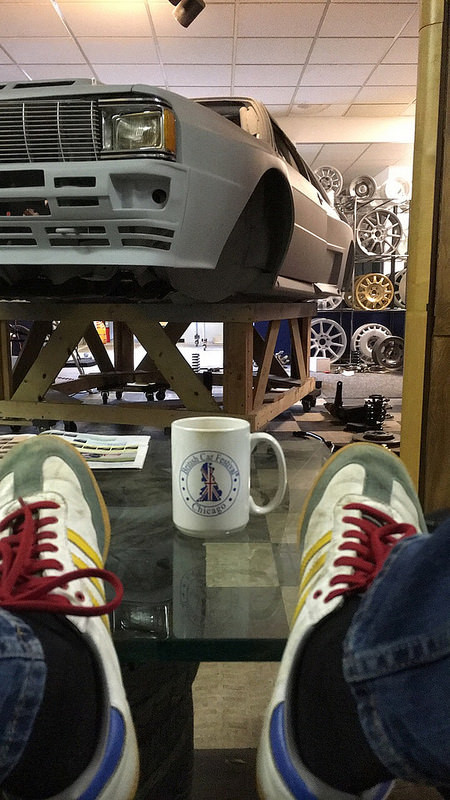 9-10-2018
It's been a while since we got to work on the rally Quattro project so also a while since any updates. We have been distracted by other projects such as getting our 85 Quattro ready for the Concours D'elegance of America towards the end of July. Happily the car won an award so it was worth the effort.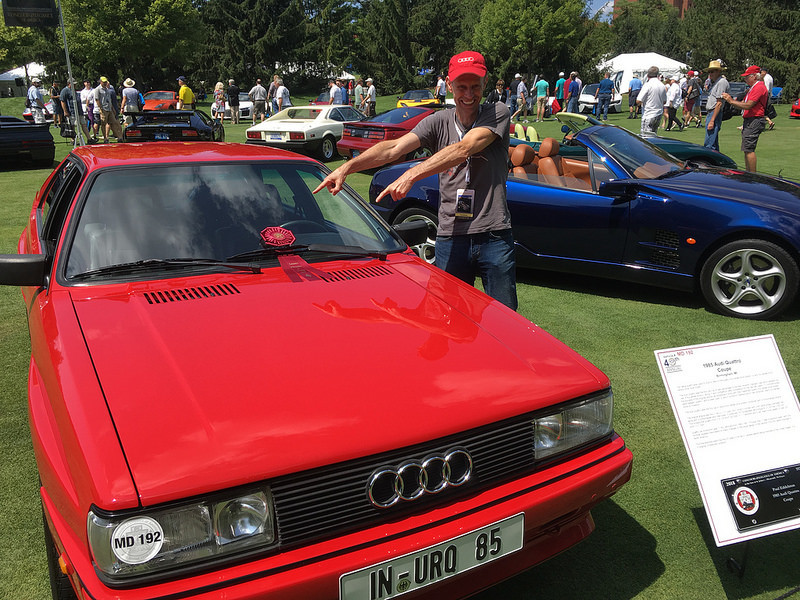 As you may recall the car came with some suspension parts, the origin of which we could not determine. Namely: delrin control arm bushings, coil-over conversion kit and spherical bearing top mounts.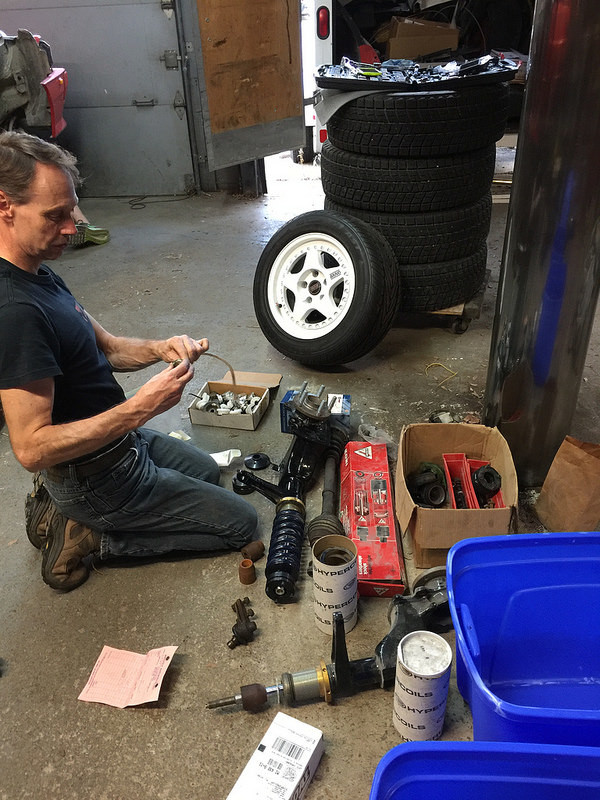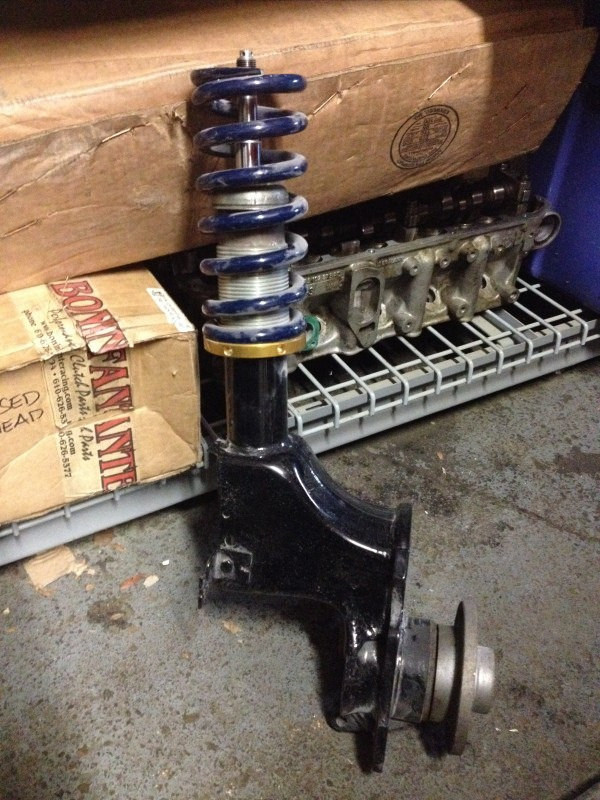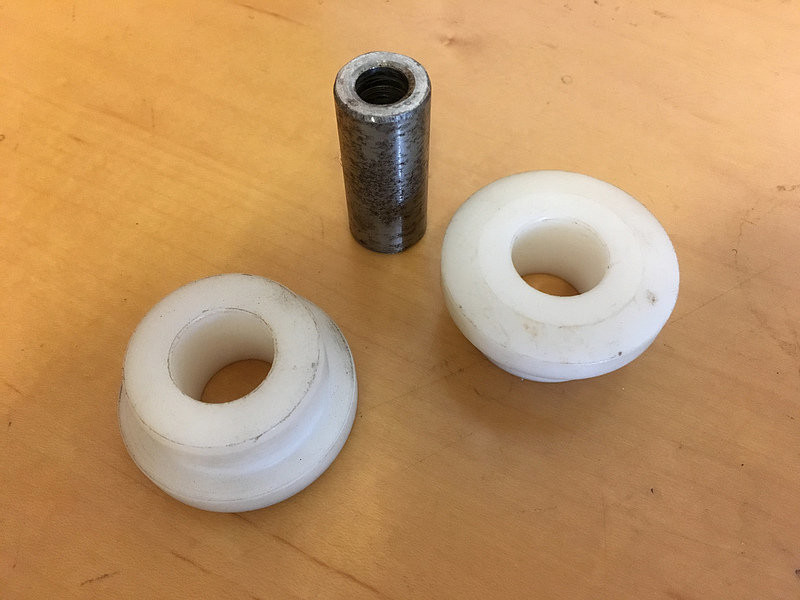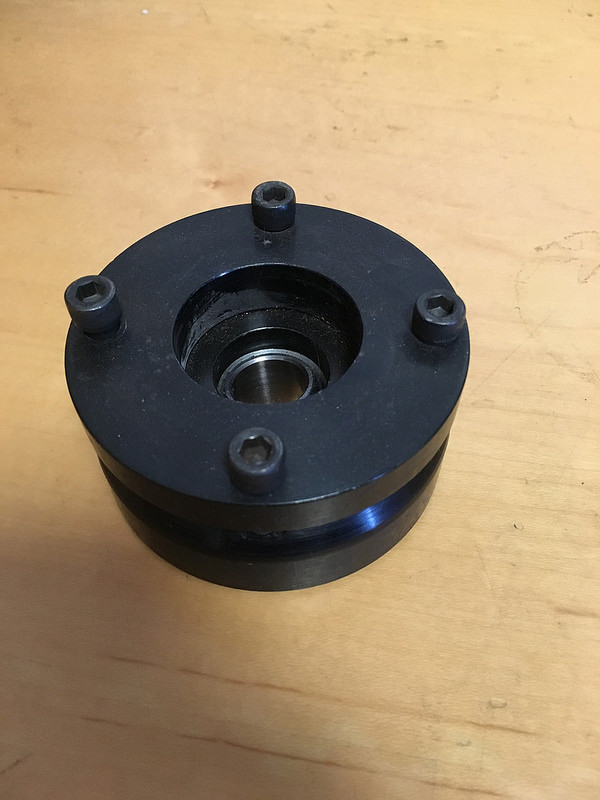 We have had an interesting time trying to get all this kit to work. Firstly the delrin bushings are wider than the sleeve that goes through them. This sleeve needs to end up slightly proud of the bushings so that it get clamped in the mounting slots and does not move. Then the bushings can rotate on the sleeve. Fortunately the sleeves appear to be the correct length.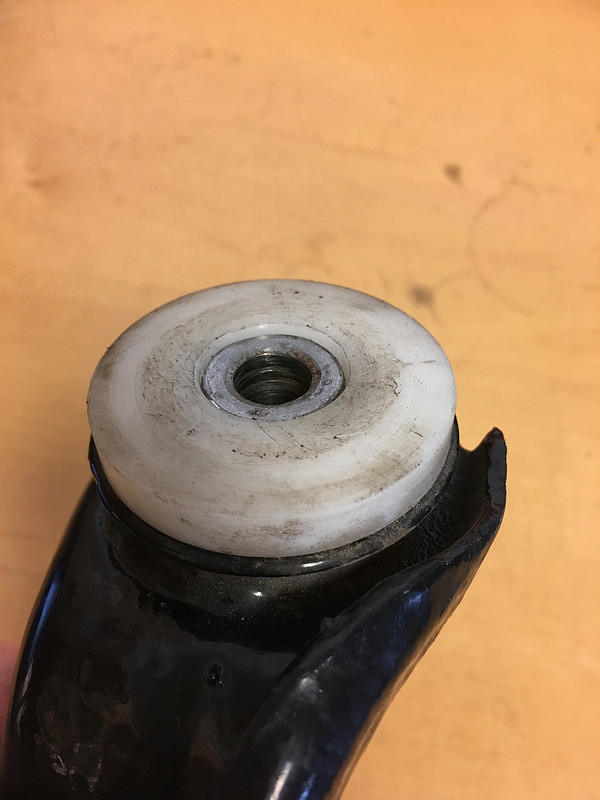 It's a good thing the bushings are also too thick as we need to remove some material to make them shorter than the sleeves. However, the sleeves are too tight in the bushings so we will also need to relieve them a little so they will actually rotate.

The top mounts don't work either. Early on we had some spacers made to locate the upper spring perch and get some articulation in the mount but we won't know how much articulation we need until we can mock-up a front and rear strut and control arm, but it's definitely going to require more than we have now.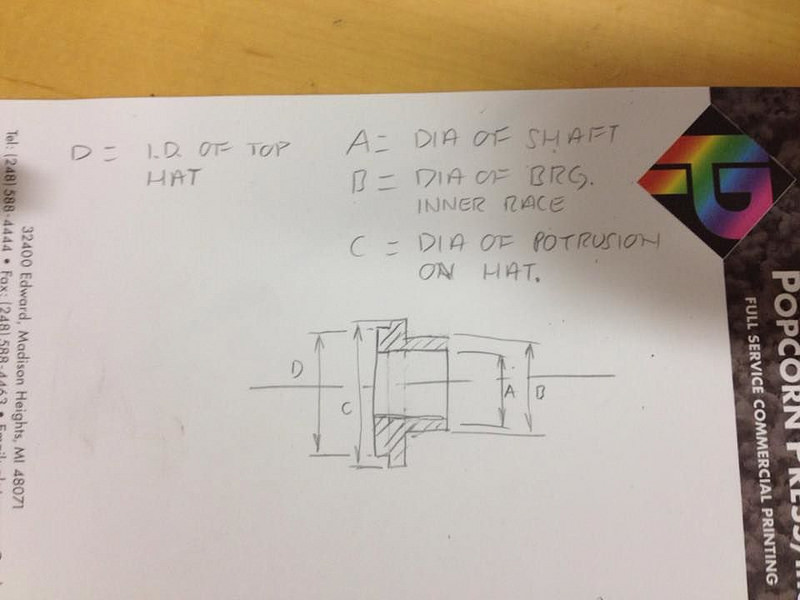 Unfortunately, due to the amount of hardware we are introducing to allow articulation we are also using up all of the threaded portion of the strut shaft and, although we can get a nut on we can't access the hole in the top which will allow us to stop the shaft turning so we can torque it down.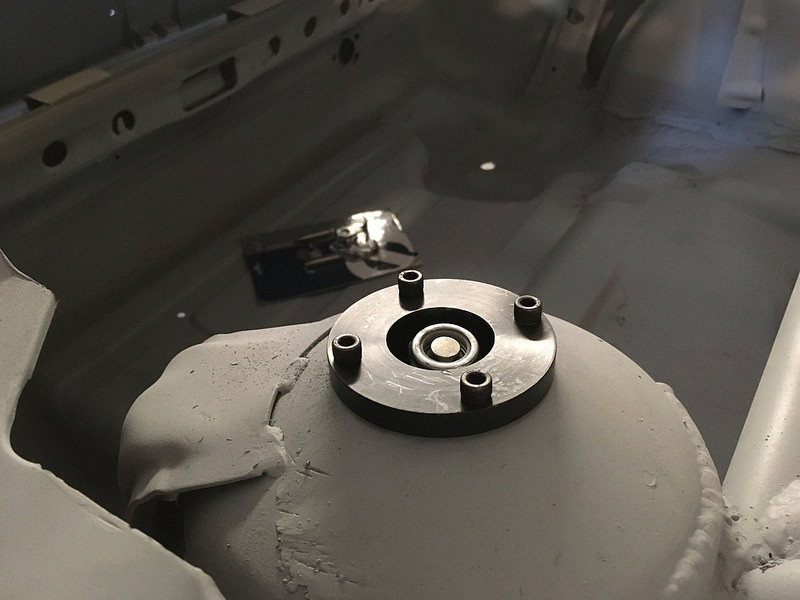 correct dimensions to use as spacers so it will all have to be made.

The tops of the struts are also unfinished. We are concerned that these may corrode, especially the threaded sleeves. We are hoping our plating shop can zinc dichromate just the top portion as paint would be too thick.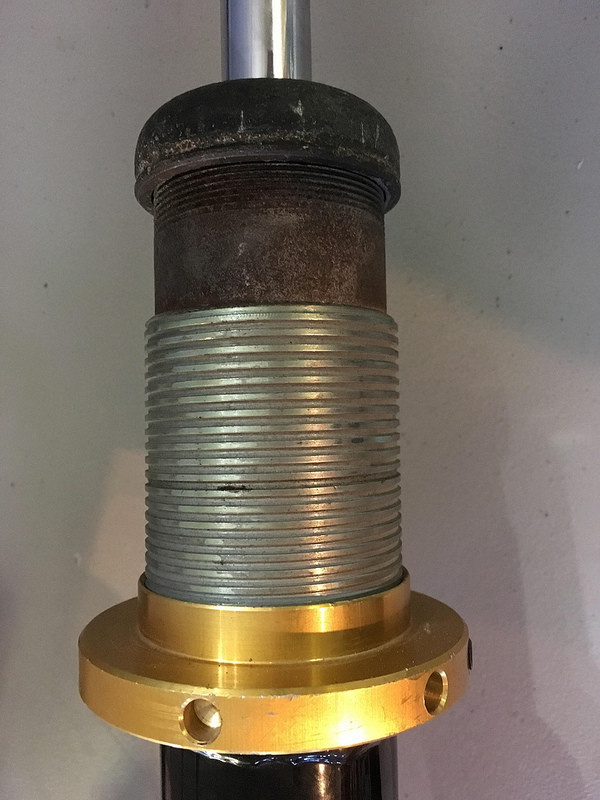 And we thought not having to stick to OE parts would make this project fun!

On a brighter note we did have some small victories with the dash. We found and mounted a VW Beetle headlight switch: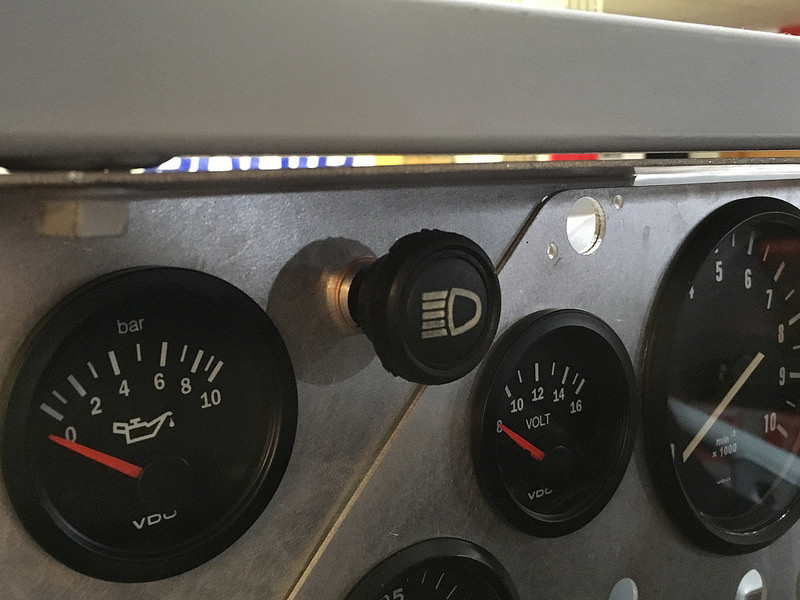 And the period correct heated rear window switch: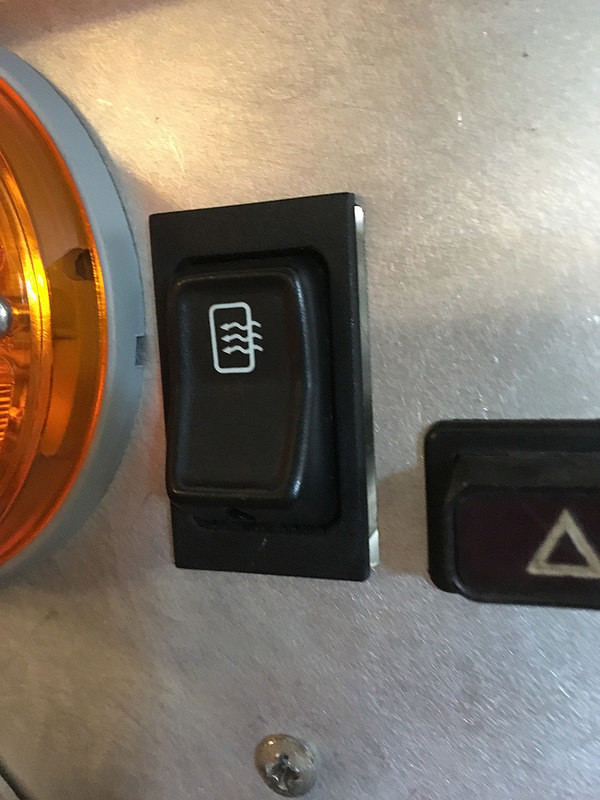 Next update should include how we solve all the suspension issues, hopefully.
10-8-2018
Like the suave, sophisticated gentleman in this video says "The car has legs now"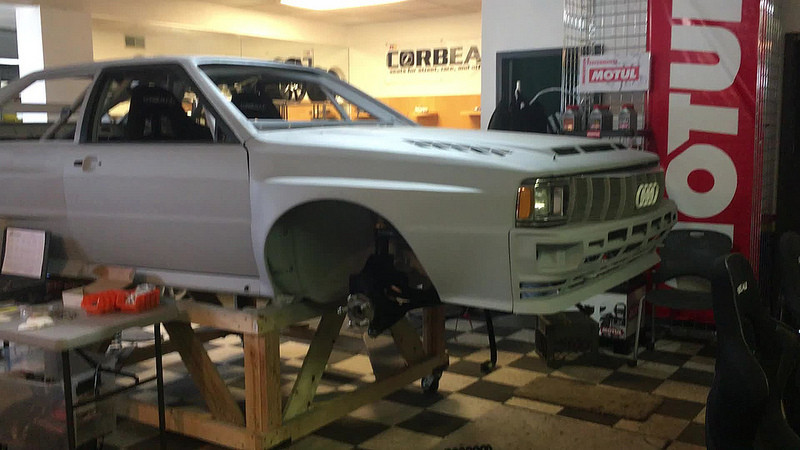 How did we get to this point? Well, as we discussed in our last post the delrin bushings are wider than the sleeve that goes through them. This sleeve needs to end up slightly proud of the bushings so that it gets clamped in the mounting slots on the subframe and does not move. Then the bushings can rotate on the sleeves. Fortunately the sleeves appear to be the correct length but they were also too tight in the bushings so we relieved them a little: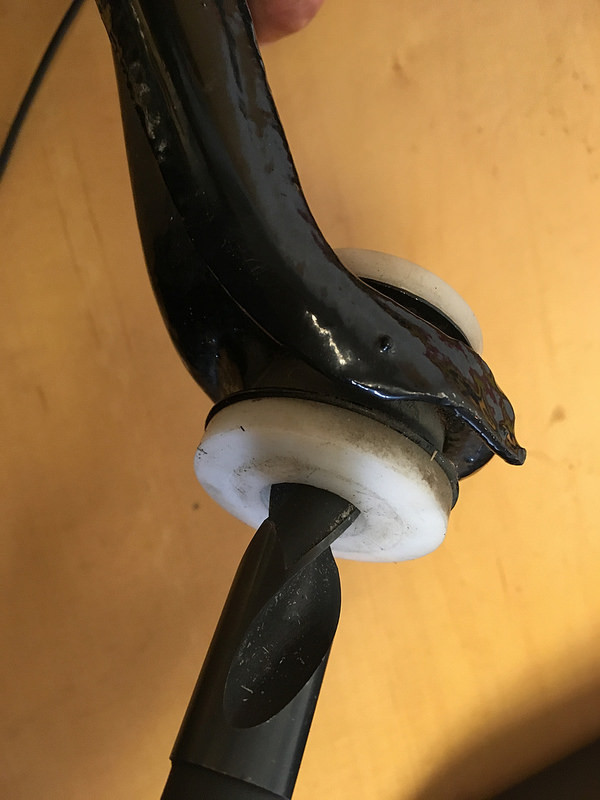 The bushings are also too thick so we removed some material to make them shorter than the sleeves and also added a chamfer so they would fit in the subframe slots: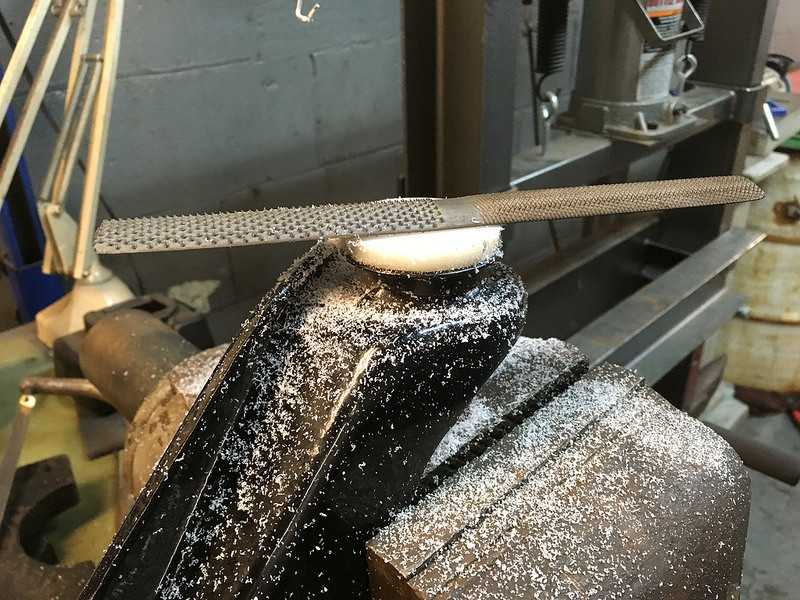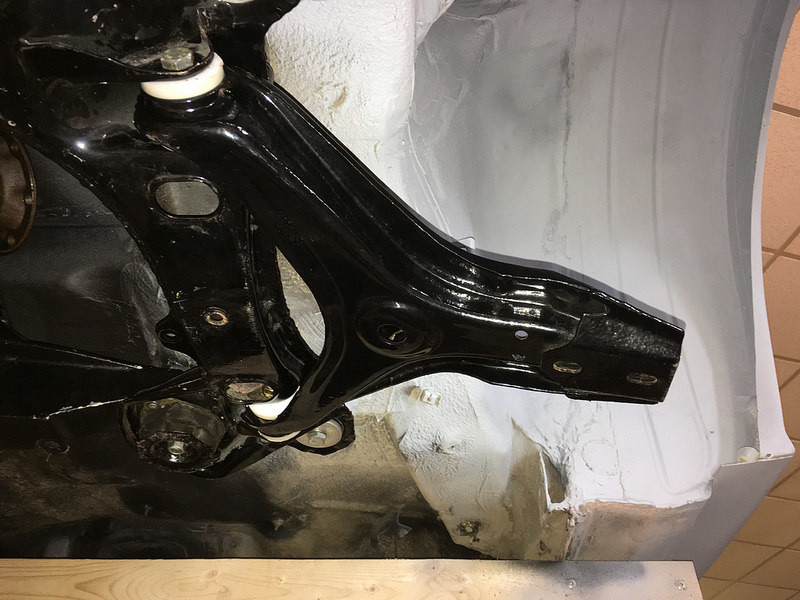 Then we had to scour the globe to find ball joints: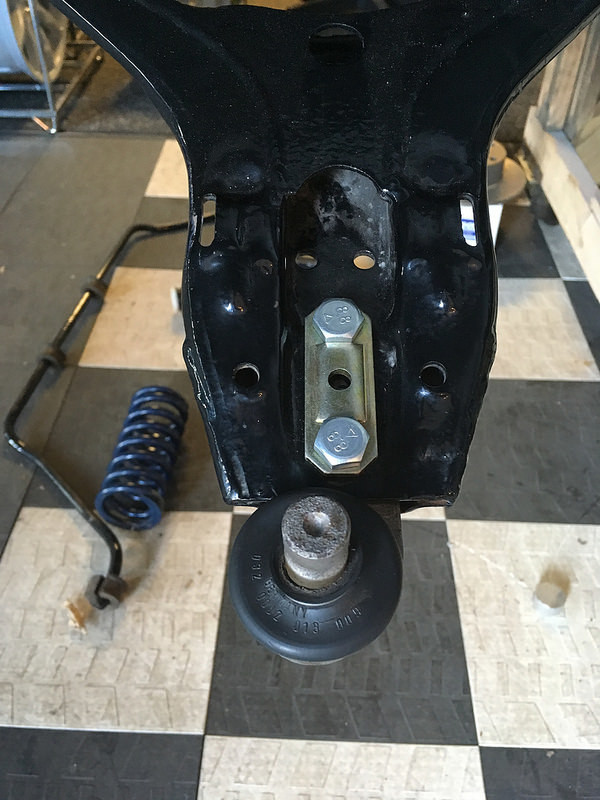 Our top mounts that came with the car are held in place by four set screws so we had to get the drill out again: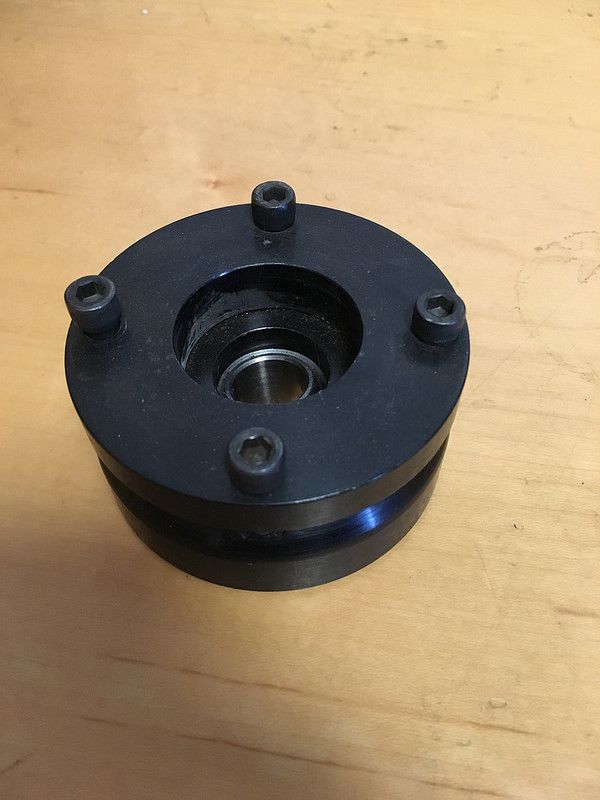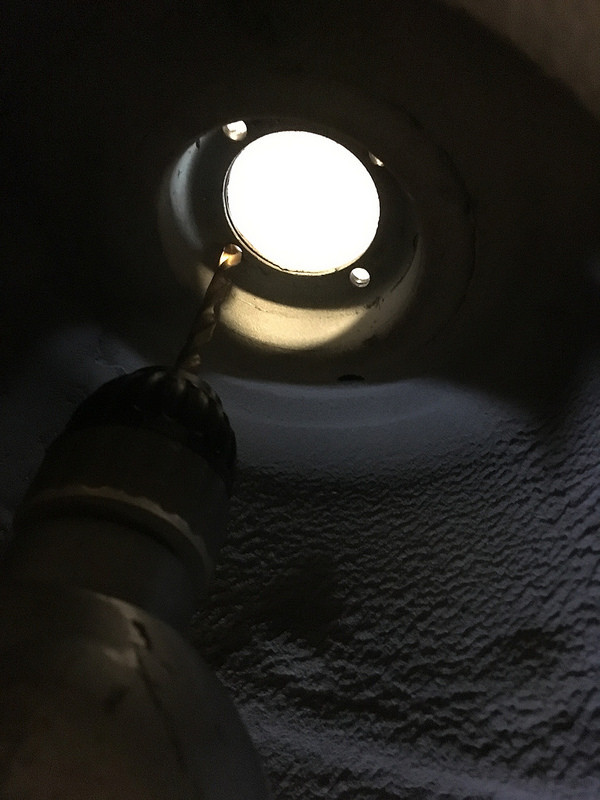 We were worried that our bearing, spacer and nut combination wouldn't have enough articulation so we assembled a front strut and put it through its entire range to see if it would be enough. It was, thankfully: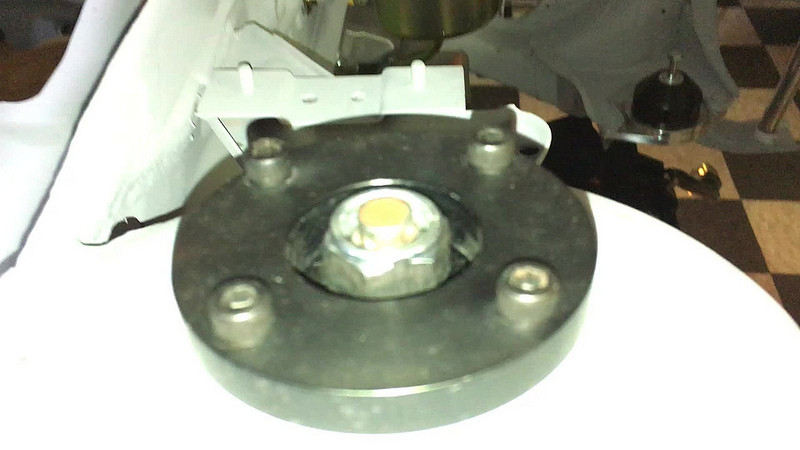 To celebrate this small milestone we threw on a wheel off our 85.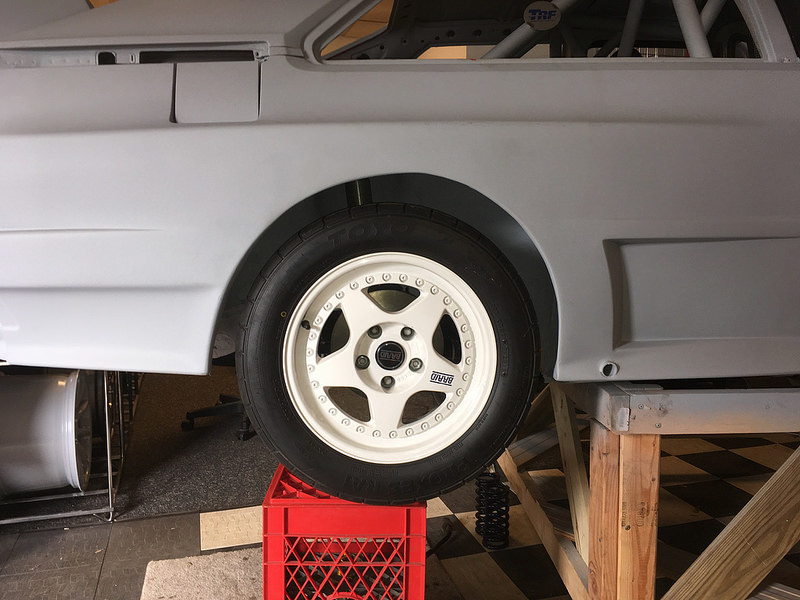 Maybe next update we'll have figured the actual wheels and tires we will use. Maybe you can help by suggesting a wheel from the BRAID range. https://braidusa.com/collections/wheels
10-17-2018
TIRES

It's time to start thinking about wheels and tires. Well, it's a bit early but a) we are obsessed about wheels and tires and b) this project is as much about showing off our BRAID wheels as anything. At least that's how we justify it.

You may recall we previously purchased a set of BRAID Serie 6 in 16x9 and mounted some 245/45-16 Bridgestones on them.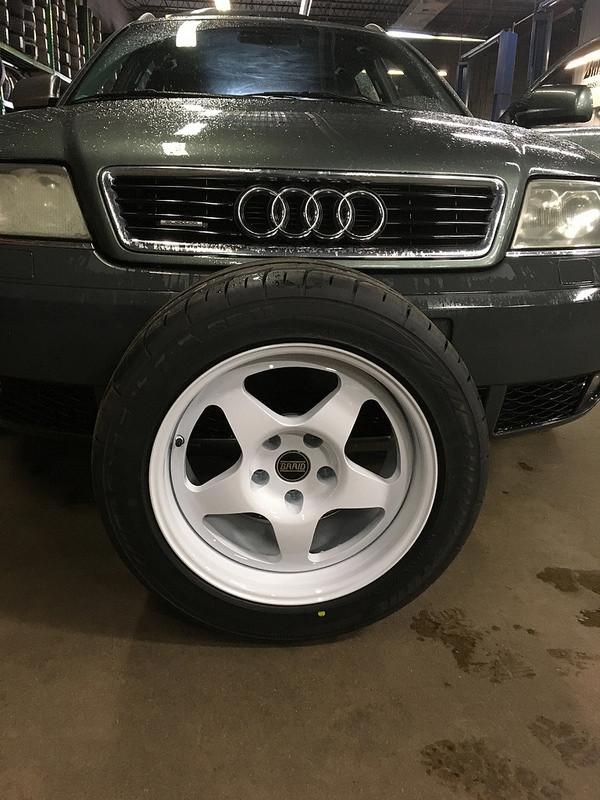 This size combination seems to be typical of what people run on these tribute cars but we ordered them way too soon (obsessed remember) and another build needed them for their project so we let them go. We always thought we would order up the exact same thing again at a more sensible phase of the project. Then we saw this: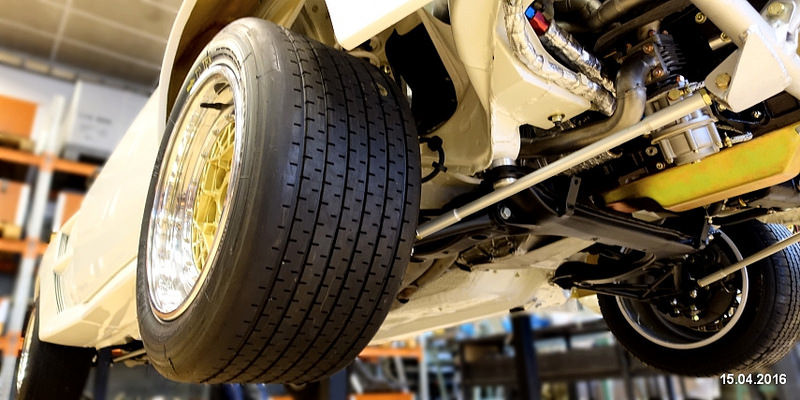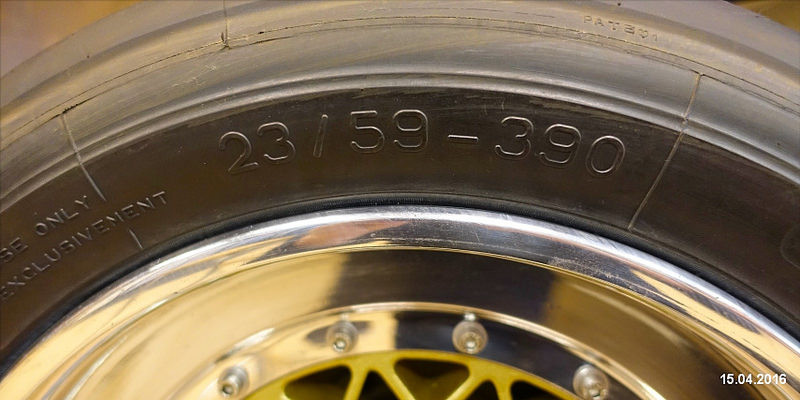 And we knew what we had to do.

We have always loved the Michelin TB15s as we sell hundreds of 911 wheels for them and they look just perfect on those RSR recreations, but we never thought we'd have a car suitable for them as the sizes they come in are either too narrow or too wide for anything we have. Or so we thought. It turns out that back in the day at least some Quattros were running the 23/59 - 15 TB15s (about a 270/40R15) so we knew they should fit on our car too. Unknown though is at what offset and rim width. Michelin only make the 23/59 – 15 in a TB5 now so we ordered up a TB15 in 23/62 – 15 from Coker tire on the condition that we could return it if we didn't mount it. Specs for the tire are:

Section width: 10.6"/270mm
Tread width: 9"/229mm
Diameter: 24.6"/625mm
Rim width: 8.5"-10.5"
Measured rim: 9"

Unfortunately we had nothing similar in the shop to test with; or so we thought. One of our customers keeps his 944 Turbo race car in the building and it runs Hoosiers in 275/35R17. The specs on those: are

Section width: 11"/279mm
Tread width: 10.3"/261mm
Diameter: 24.7"/627mm

So just slightly larger than the TB15, apart from tread width which is quite a bit larger. We had us a surrogate.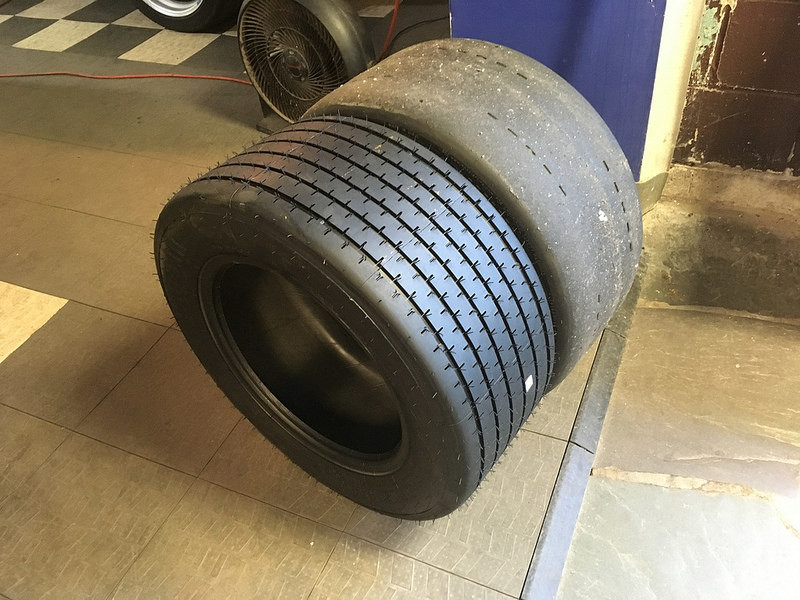 Now some of you might point out that a Porsche 944 is not going to bolt up to a Quattro. Well normally that's right but we have some hub adapters that allow us to bolt a set of 911 Safari wheels to our Audi Allroad so we employed one of those in our test fit. The 944 wheel, which coincidentally is a BRAID Serie 6, has an offset of 55. Our hub adapter is 27 and we also have some 18mm spacers. That makes the resultant offset of the test setup et11, right about where we anticipate our new wheels need to be. Time to find out.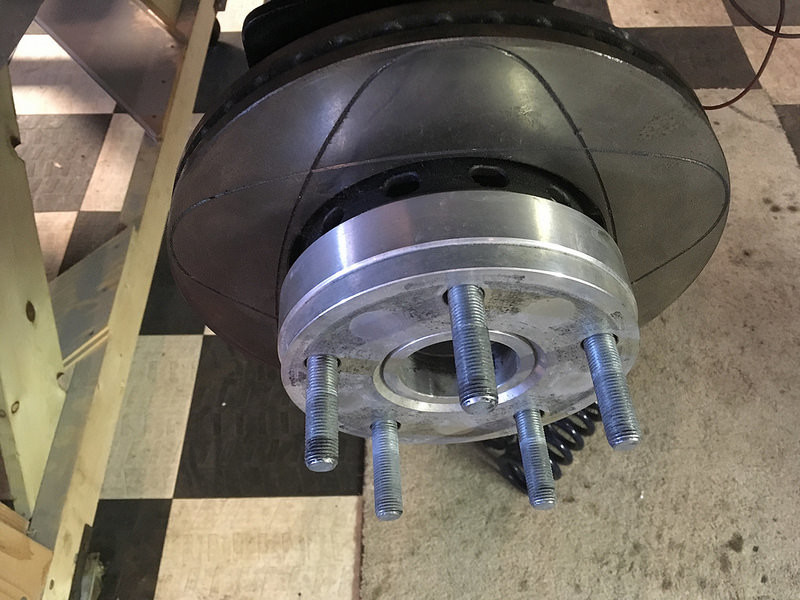 The Hoosier cleared the strut but kissed the tie rod ball joint. Not to worry, The TB15 is not as wide at that point so should clear.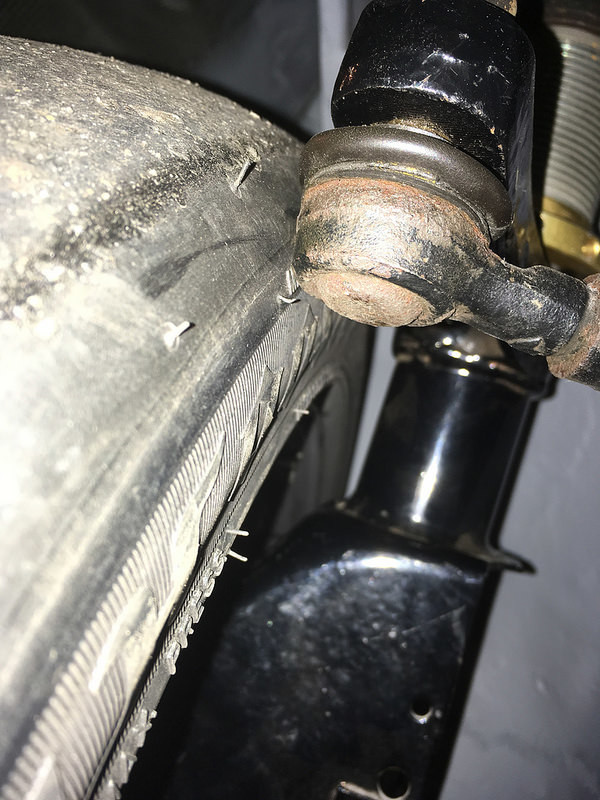 On full lock and full compression the Hoosier barley kissed the rear inner fender. OK, same as above, the TB15 should clear.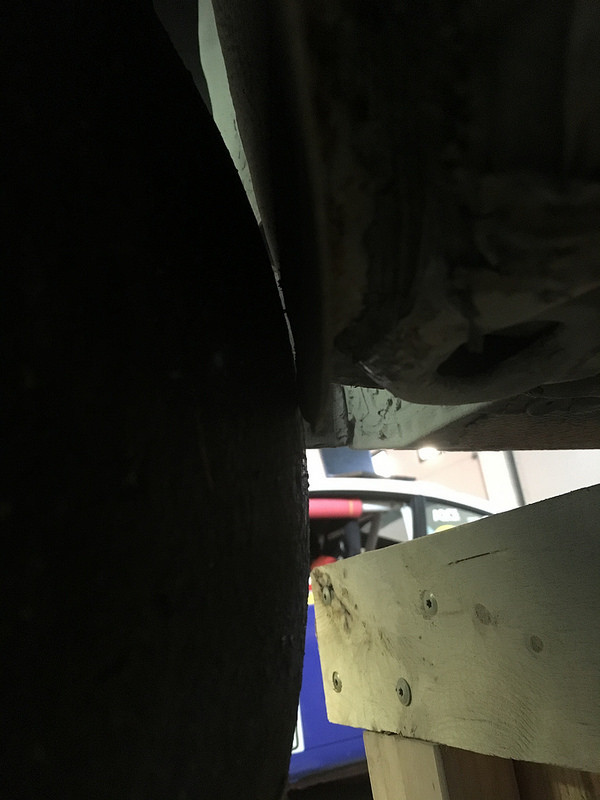 Lots of room under the front fender too: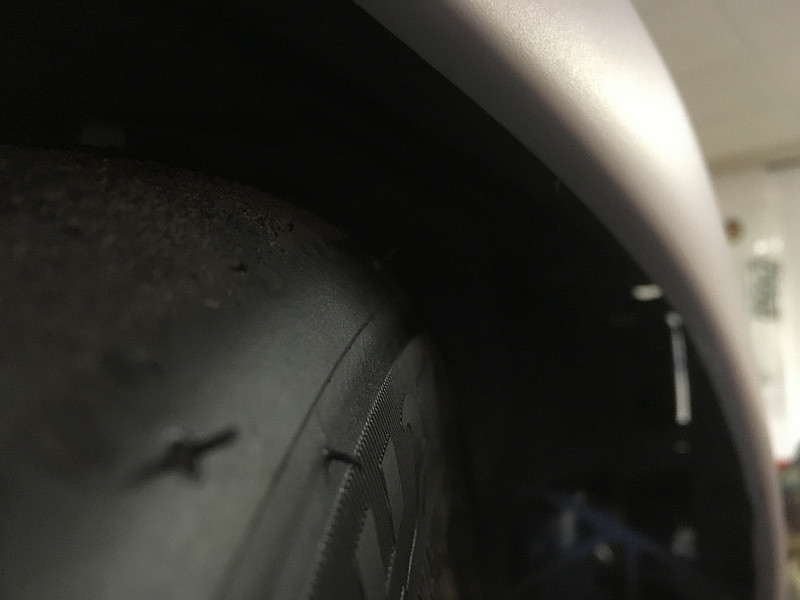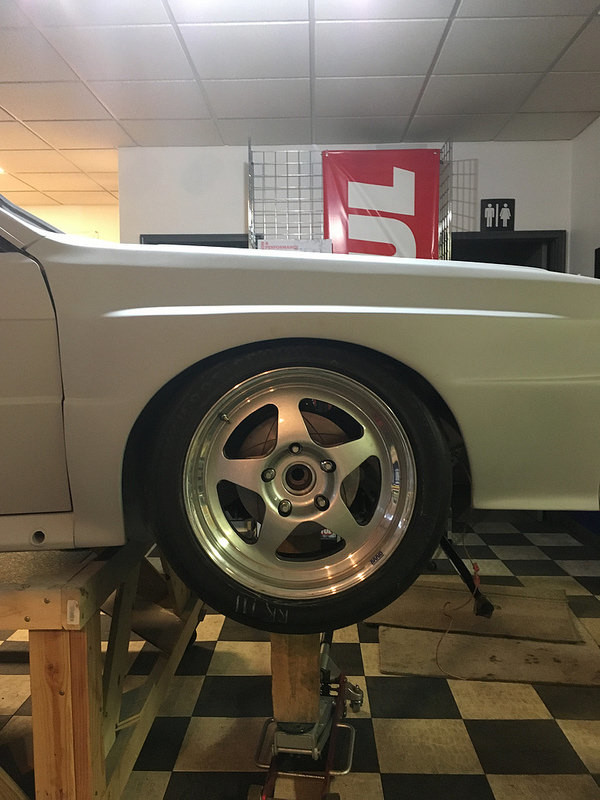 So with the front suspension in its worst orientation (full lock and full compression) the big Hoosier almost fit. We were so happy as we came away very confident that the smaller TB15 would have no issues. Still, we best throw it on the rear just for fun right? Uh oh! What's this?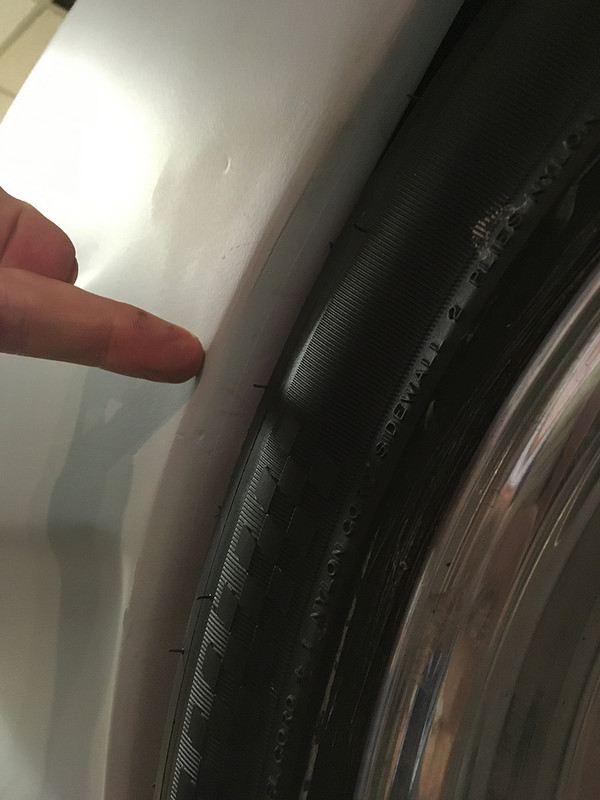 Lots of interference with the rear arch. Who would have thought? It only has to go up and down. It might fit if we tucked it in a chunk and hacked the arches up but then it might rub on the front inside and look odd. We concluded the overall diameter of the Hoosier and the TB15 precluded us from using the TB15 on this car. What to do? Well, remember the picture we found showed a much smaller diameter 23/59 -15? That size is available in a TB15 which might even be a better tread pattern for us anyway. So we returned the TB15 and ordered up Coker's last set.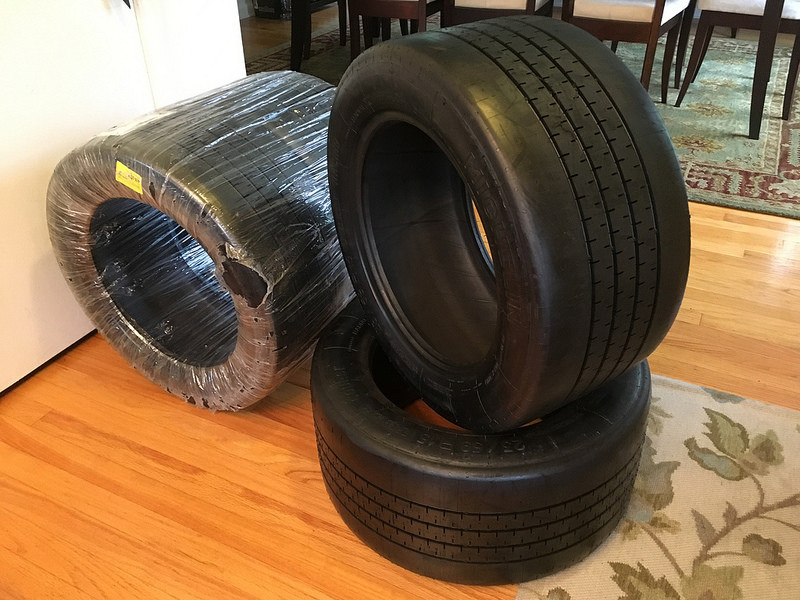 And mounted one on a 15x9 Porsche Serie 1 we had on display to see if that width would fit it well.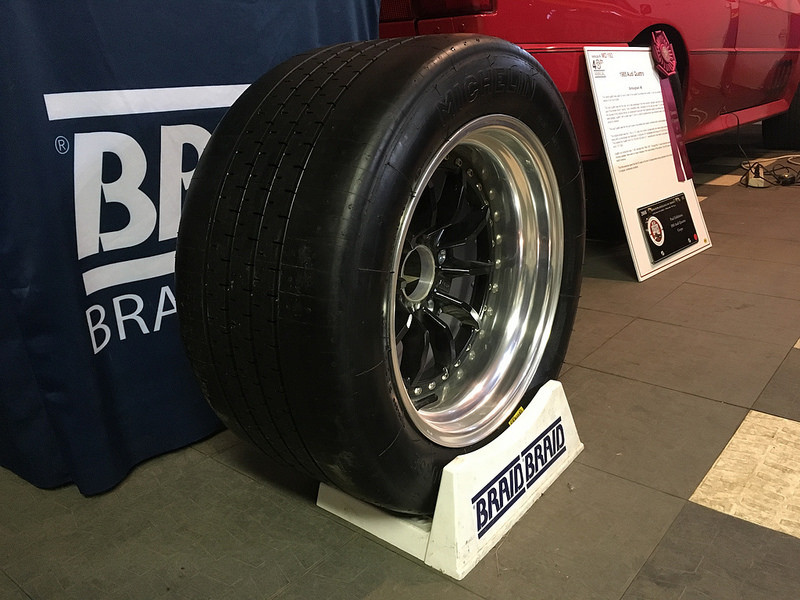 It would probably be happier on a 15x9.5 or even a 15x10 but by going with 15" we have somewhat painted ourselves into a corner, in that there aren't any other 15" tires this wide available and who knows how long the TB5 will be around. By restricting ourselves to a 9" wide rim we have at least left the door open to some currently available and suitable 245 or even 225 tires. Hopefully we never need to go through that door.

So the next big issue to resolve: what 15x9 BRAID wheels to order to mount these on? Her are the candidates:

https://braidusa.com/collections/whe...5-x-112+15-x-9

What would you choose?
12-18-18
-----------------
Installation was relatively simple as we kept all the hardware.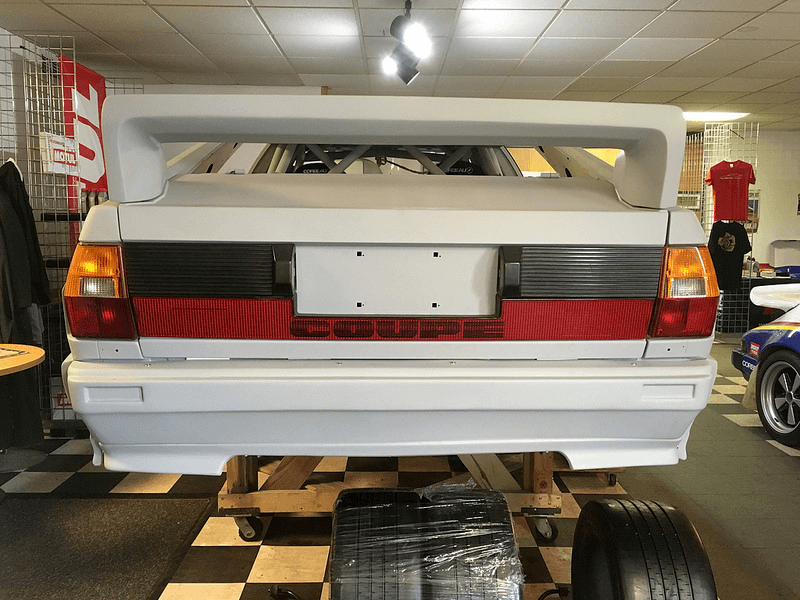 Then we remembered that we also have a broken reflector which we thought would be better used on this car rather than the pristine one that came off it as we are going to be wrapping it anyway a la Rothmans livery: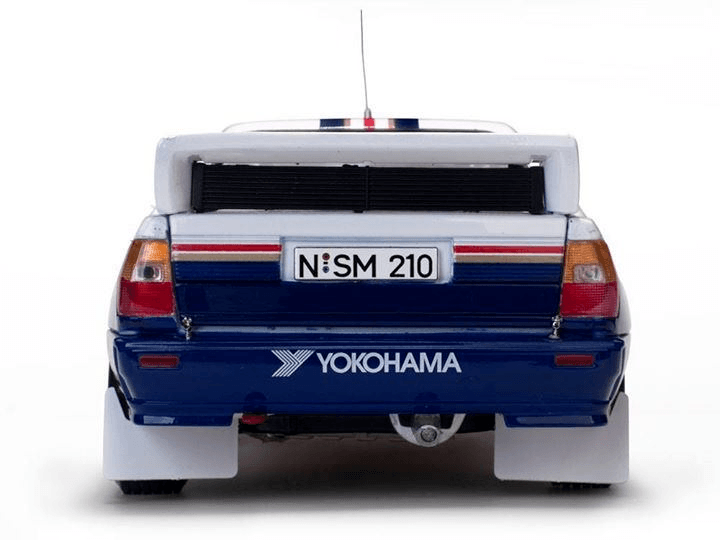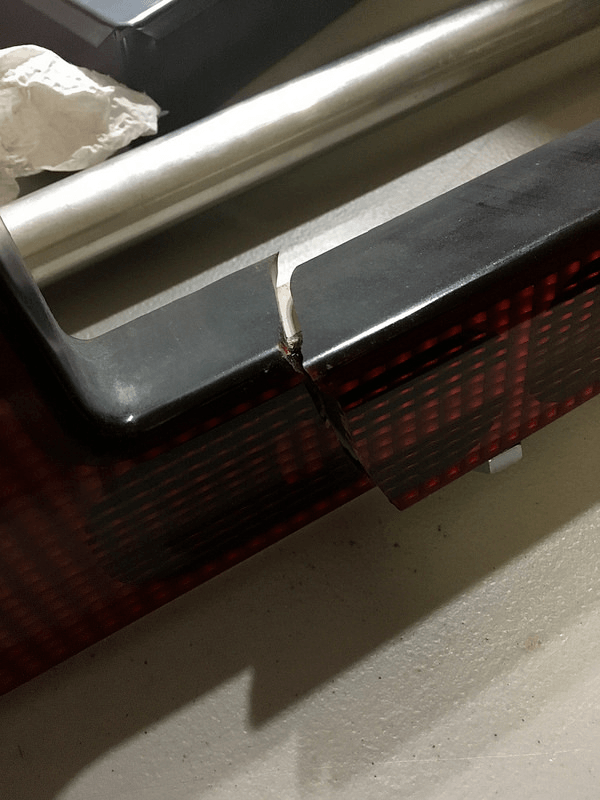 But how to fix the crack? It can be unsightly but has to be smooth as any hint of a crack will show up through the vinyl film. Fortunately one of our guys has a lot of experience with plastic adhesive and managed a nearly invisible repair.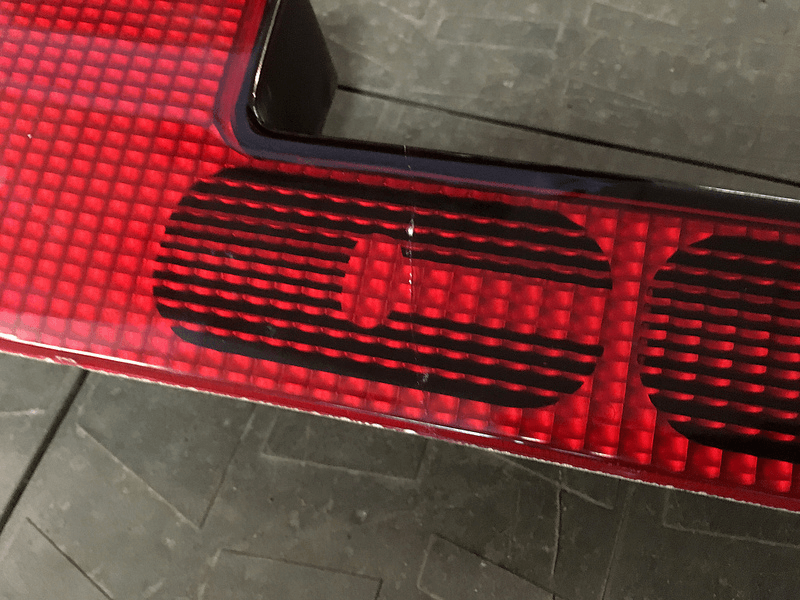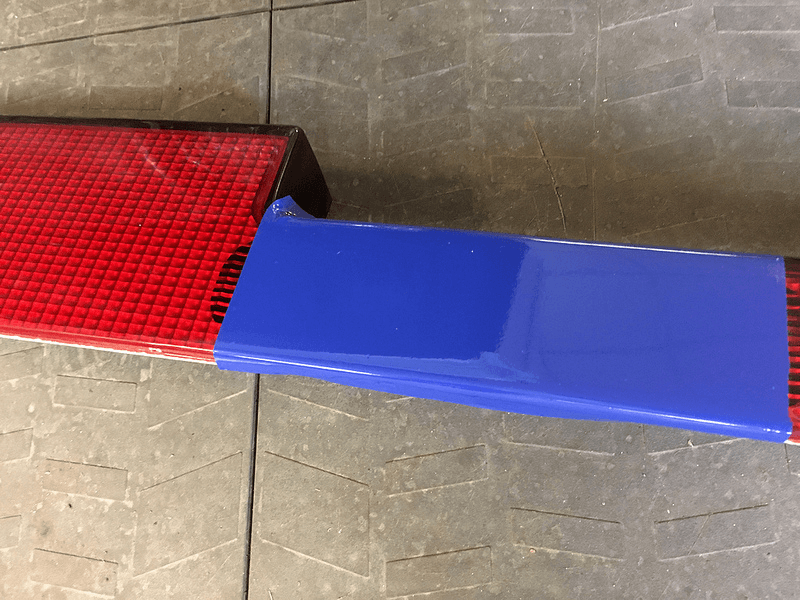 Now we have to figure out how to wrap the black side pieces. As they have horizontal grooves running along their lengths they won't take vinyl very well. We could try to paint them but it might not match the vinyl and we'd be ruining a set. We have considered filling the grooves with body filler and sanding them flat. That would wrap easily but we'd still be ruining a set. Currently considering making new filler panels. Fortunately we don't have to decide for a while though.

(BULKHEAD)
More rear of the car projects. Another piece (two actually) that would be better stored in the car is the rear bulkhead. It comes in two parts: a lower and an upper. The upper part is essentially a parcel shelf as it is mostly horizontal but is definitely not flat. No parcels will be stored here. We think this will be just a test fit as it may be in and out a lot in the course of the build, though it will be going to paint with it fully installed. It will definitely need to come out to allow us to clean up the aperture edges. Looks like that was cut with a torch.

Both pieces clearly needed to go through the side window openings. The lower panel fell into place without much trouble.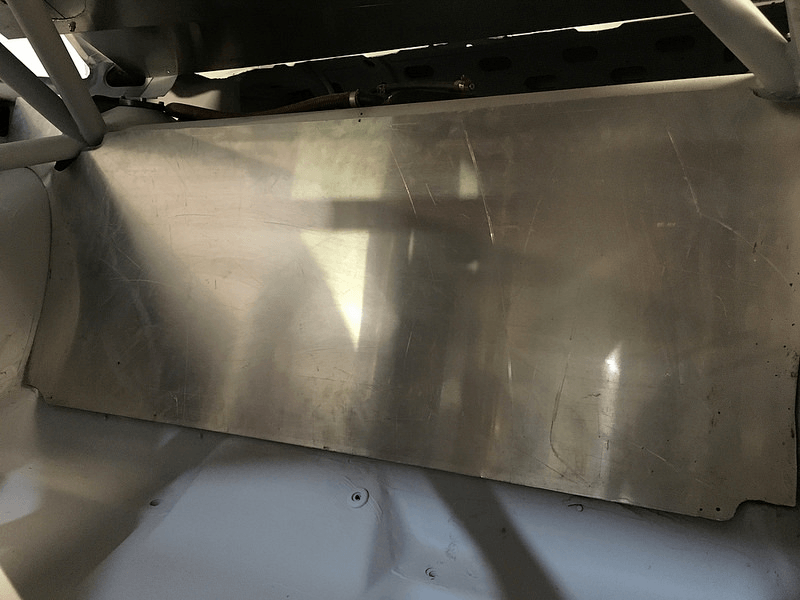 But the upper one fought us hard. We even called the cage builder and the body shop; the last people to mess with it but they couldn't remember how they did it. At least we now had the confidence to know that it does fit so we continued to jiggle it around and look for a way in. This seemed like the way it wanted to go but it wouldn't slide any further back.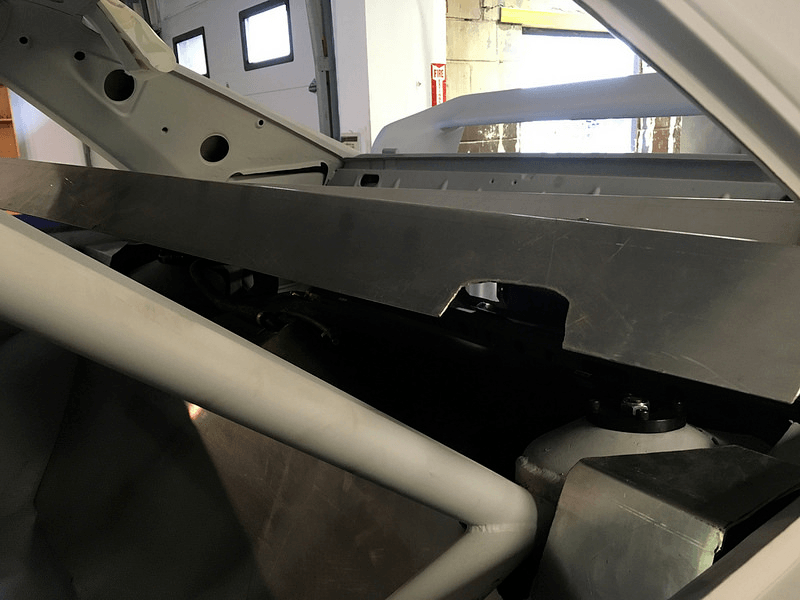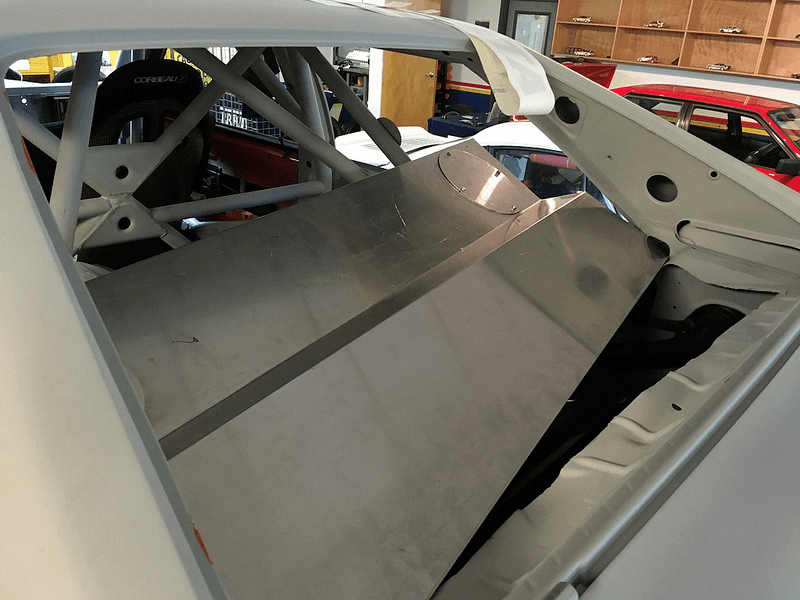 Eventually we sort of curved it as we slid it down the cage bars and then it fit nice and snug.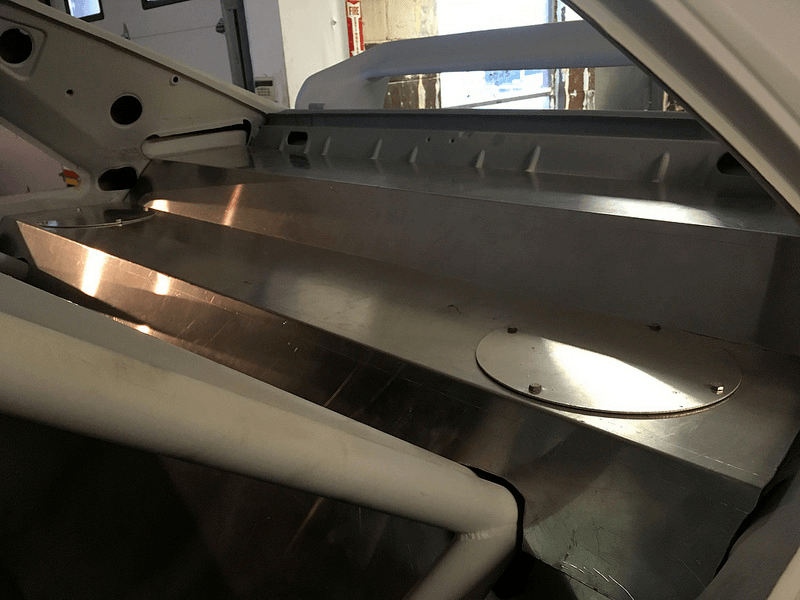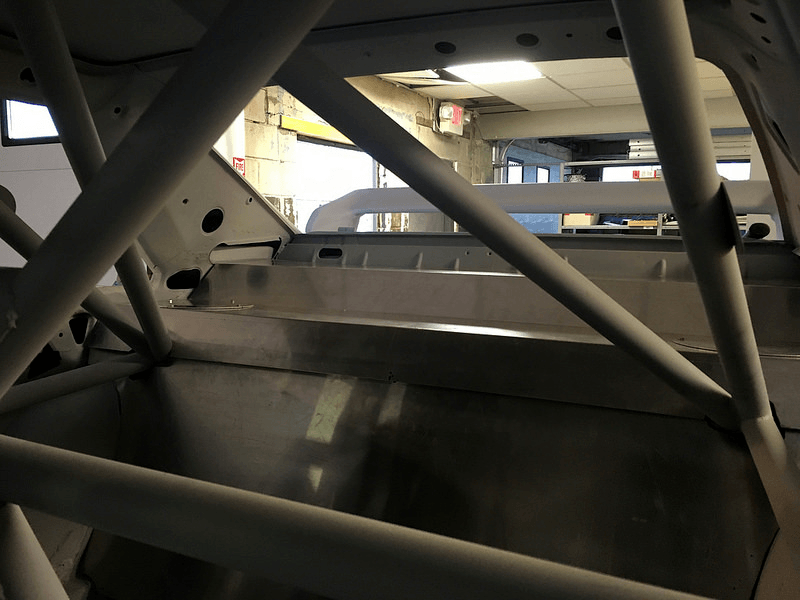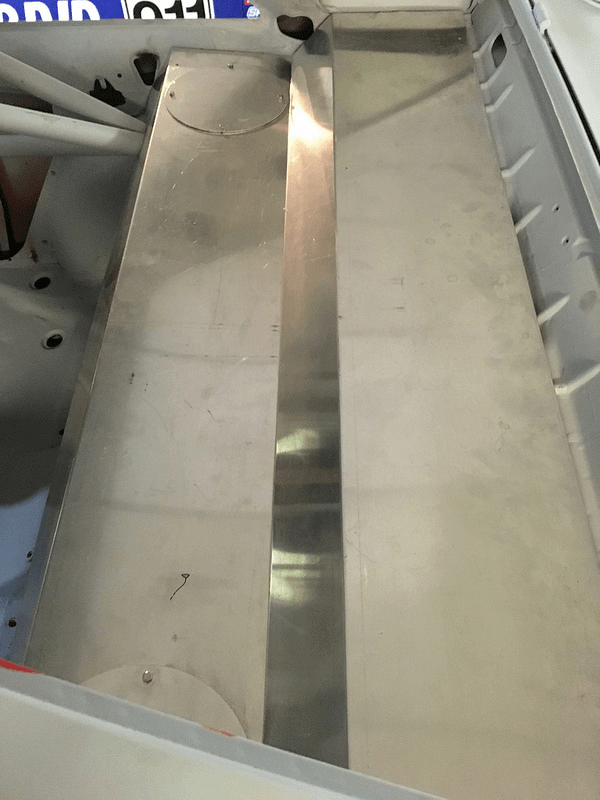 Now we have to get it out again!

(DASH)
Work continues on the dash, bit by bit. We bought an old rally computer that came off a Rothmans car in the middle east. It has no internal parts but we have another one that does and that may find its way into the car eventually. For now this one is easier to install.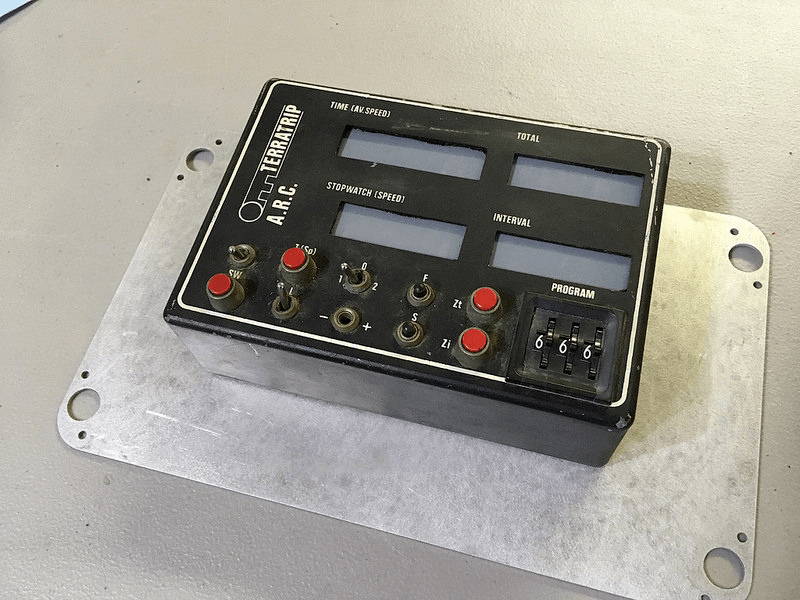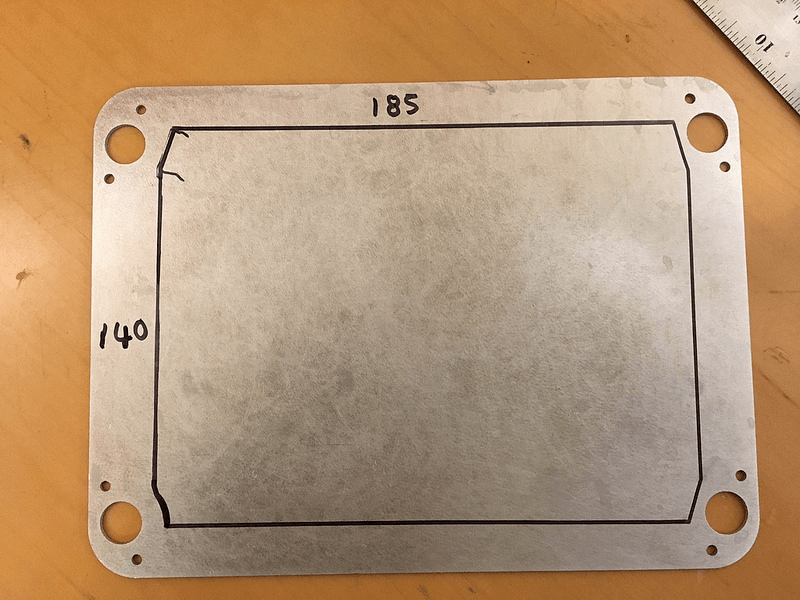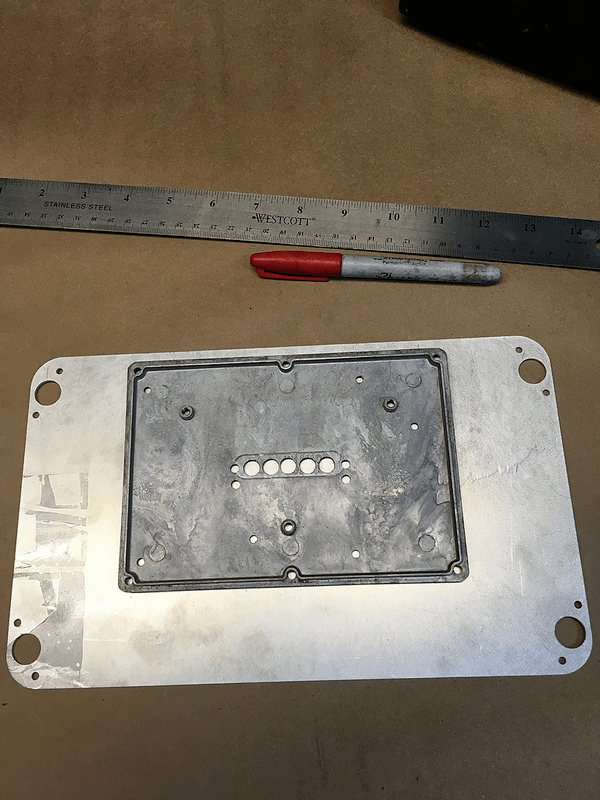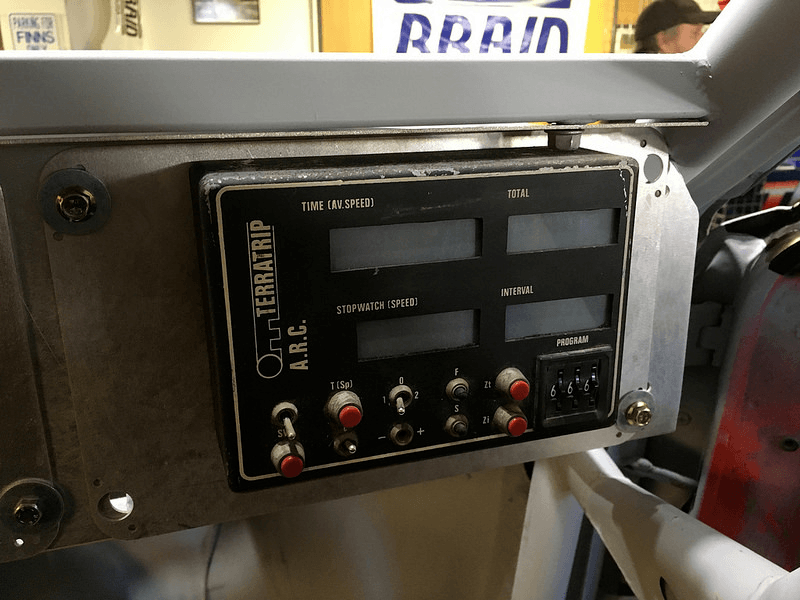 Then we thought we'd have some fun.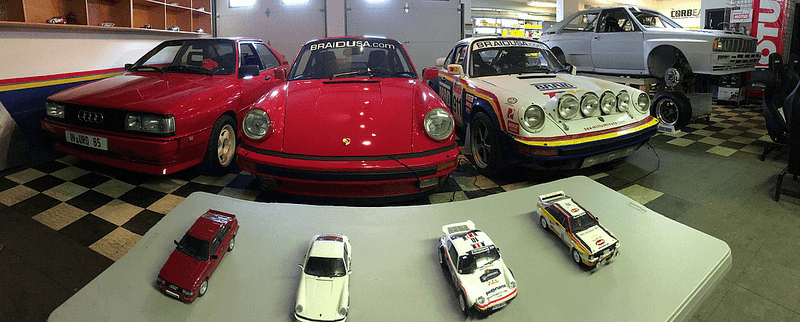 We just need to repaint one of the 911s and get a Rothmans Quattro model (on order) and we'll have a perfect set!

FUEL TANK
While we seem to be working on the rear of the car we thought we'd throw in the fuel tank. It's big and takes up a lot of space on the parts shelf. What more rationalization do you need. Oh, we also want to see where the fuels lines exit the trunk area so we can figure out where to locate lines, pumps and filters etc.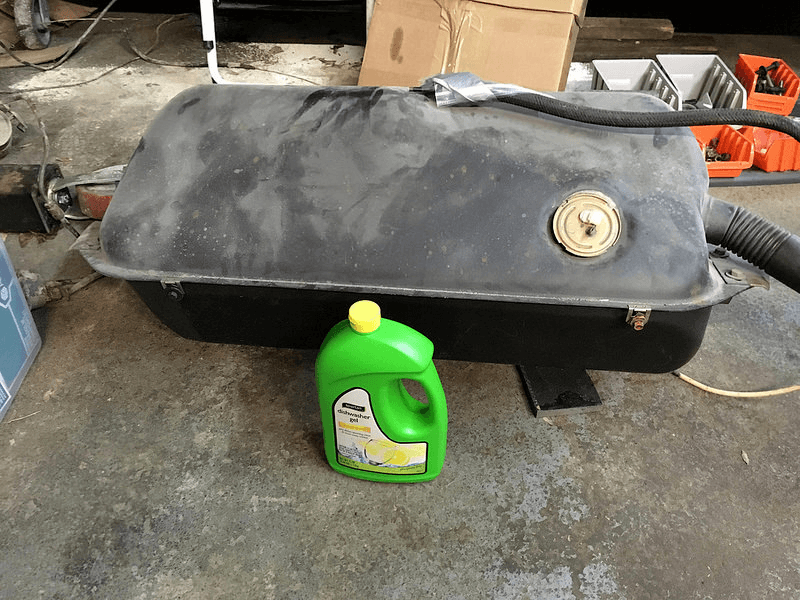 It was a bit awkward to wrestle into location, but soon cooperated.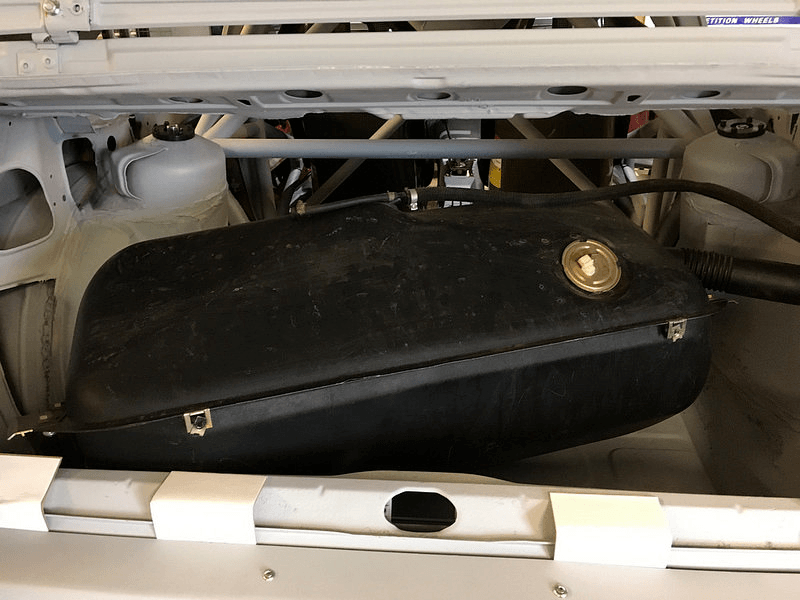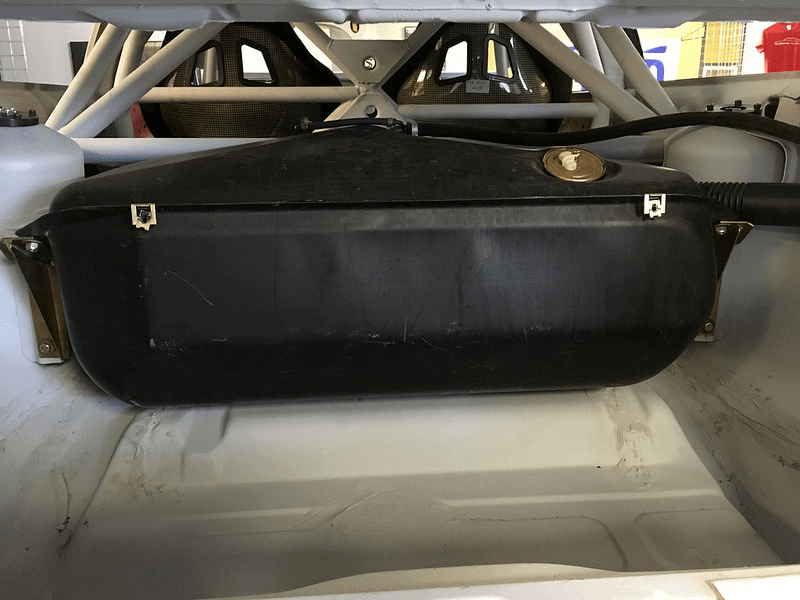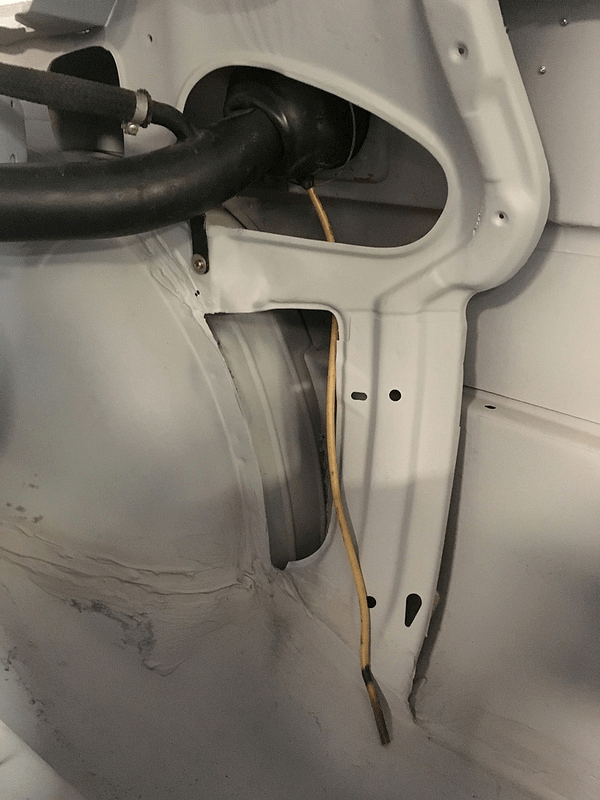 The fuel lines protrude through the trunk floor. Perhaps we can extended them through the lower rear bulkhead and mount the fuel pump/s in the cabin.
1-16-19
-----------------
Acquisitions and (no) Mergers

Another long gap between updates, sorry. We have been traveling and working a lot and then there was the holidays to contend with. Still, we did manage quite a few parts acquisitions but we didn't get to merge much of them with the car.

Our long awaited 20V engine arrived late last year. Thanks to Marc of EFI Express for assembling it for us. It's a AAN engine out of an S4 or something like that. Marc tested and resealed it, replaced the head gasket, water pump, timing belt etc. Chipped the ECU, stripped the wiring harness and included an S4 down pipe. Then packed it in this amazing box.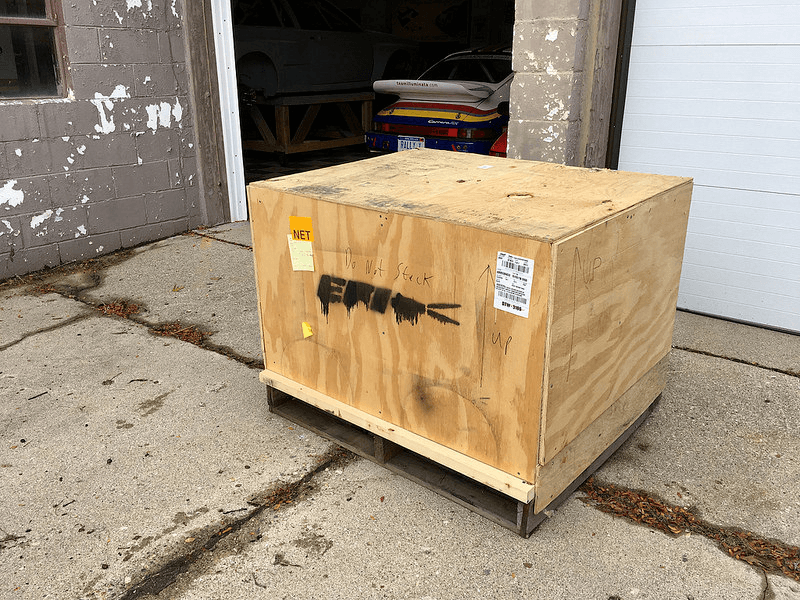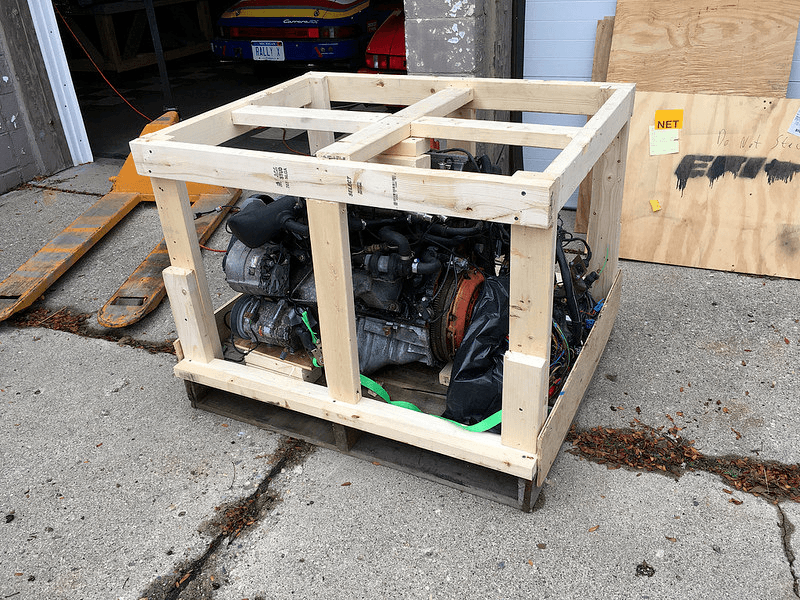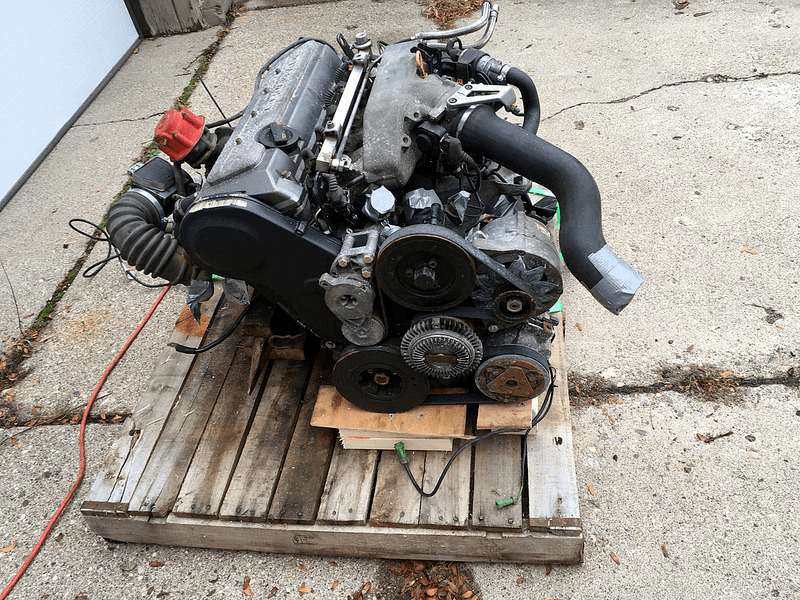 We feel we can have a more reliable 350hp out of this 20V than trying to make the 10V do the same.

We had an oversized grill badge 3D printed by our friend Brandon Horsch.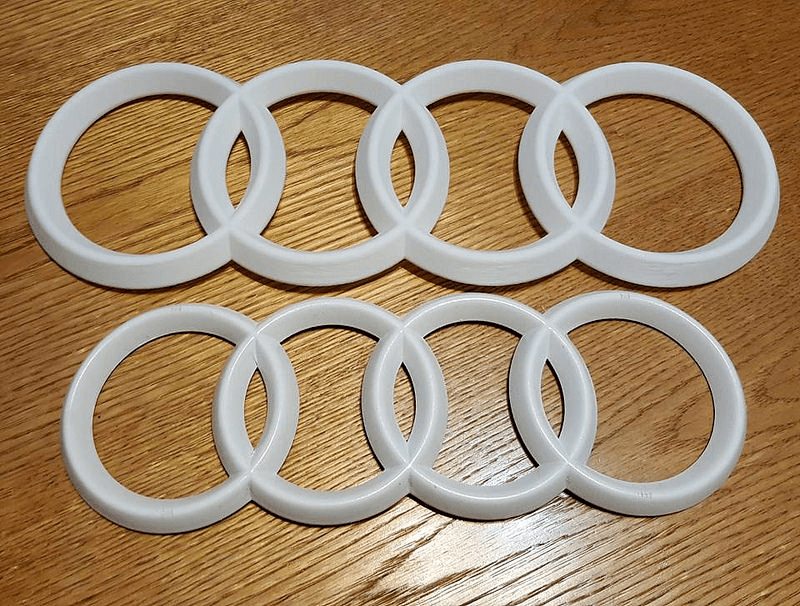 During our travels we picked up some warning lights and switches from England. We did get to "merge these with the dash.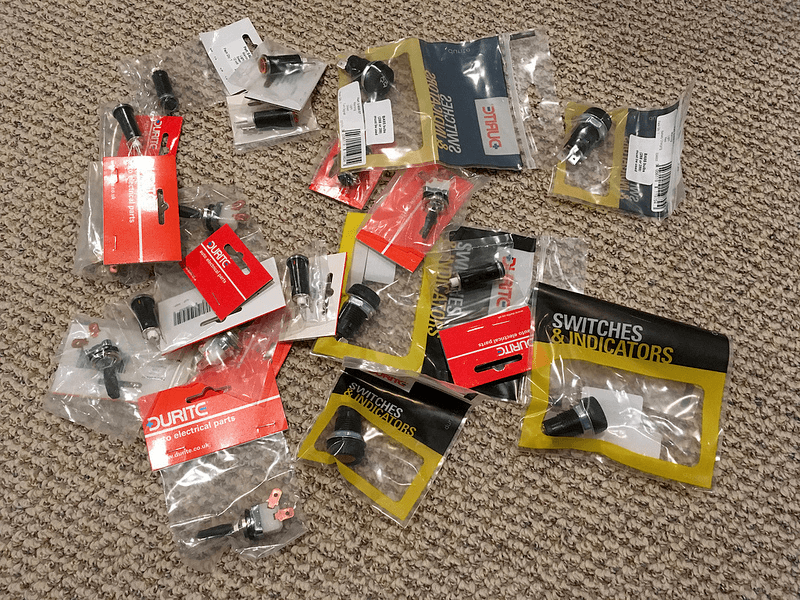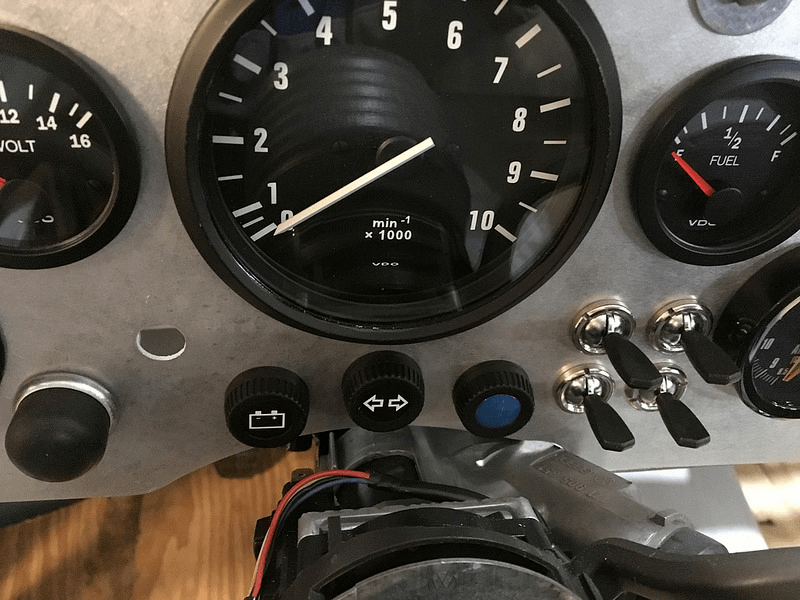 The dash just needs fuse panels and Dzus fasteners now..

Blower cover from Europe.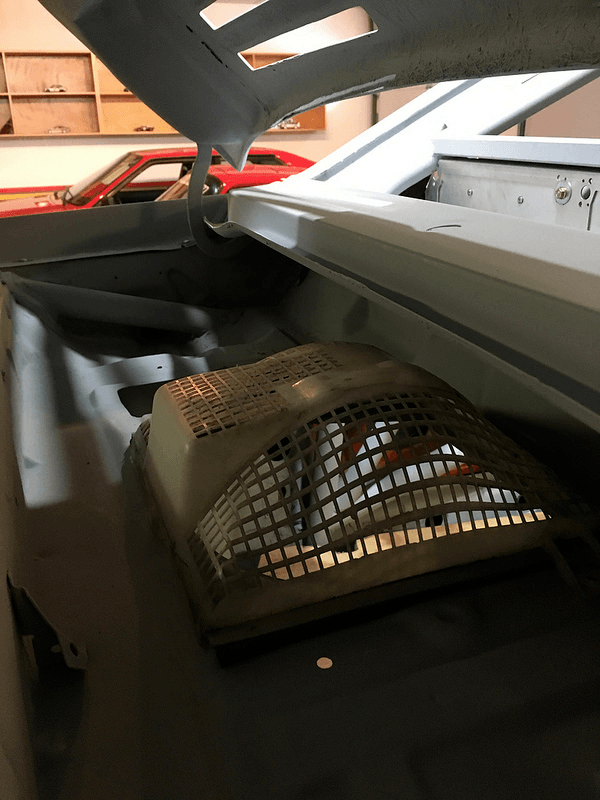 We also acquired some works of art from a fellow Audi rally enthusiast in England and couldn't resist mocking one up.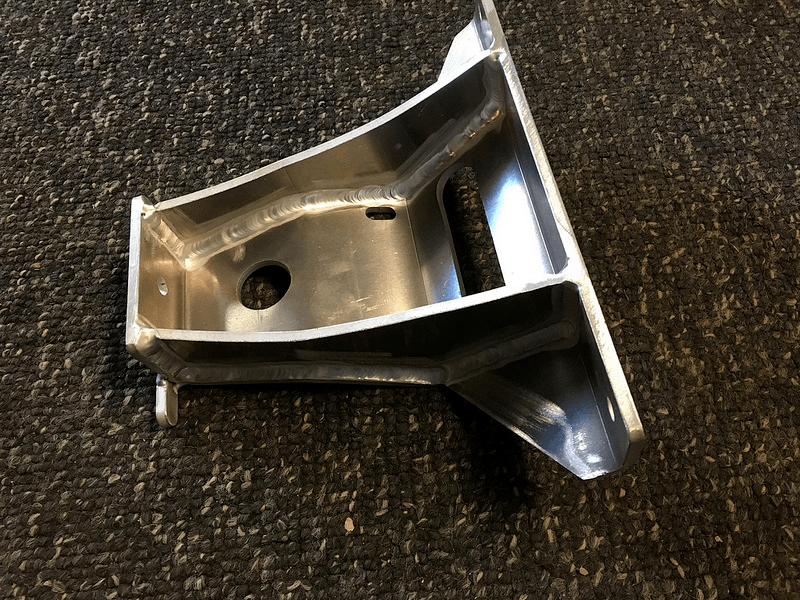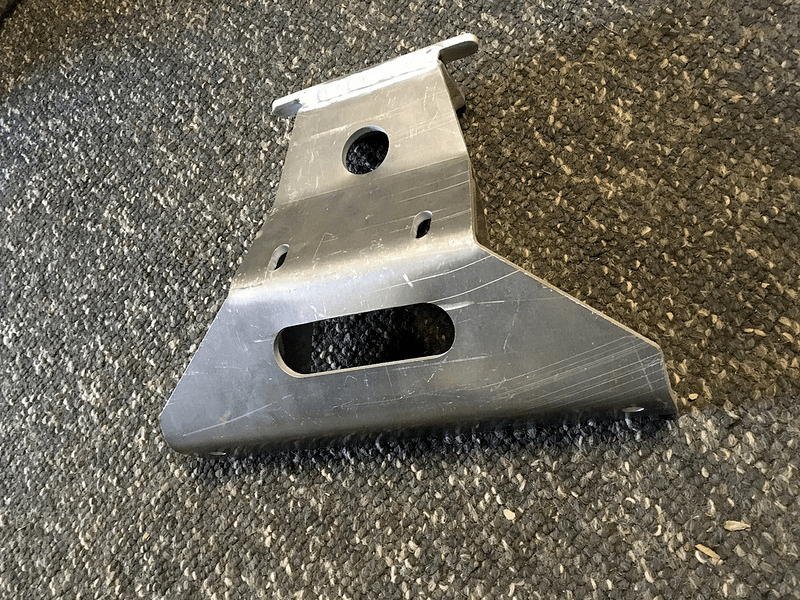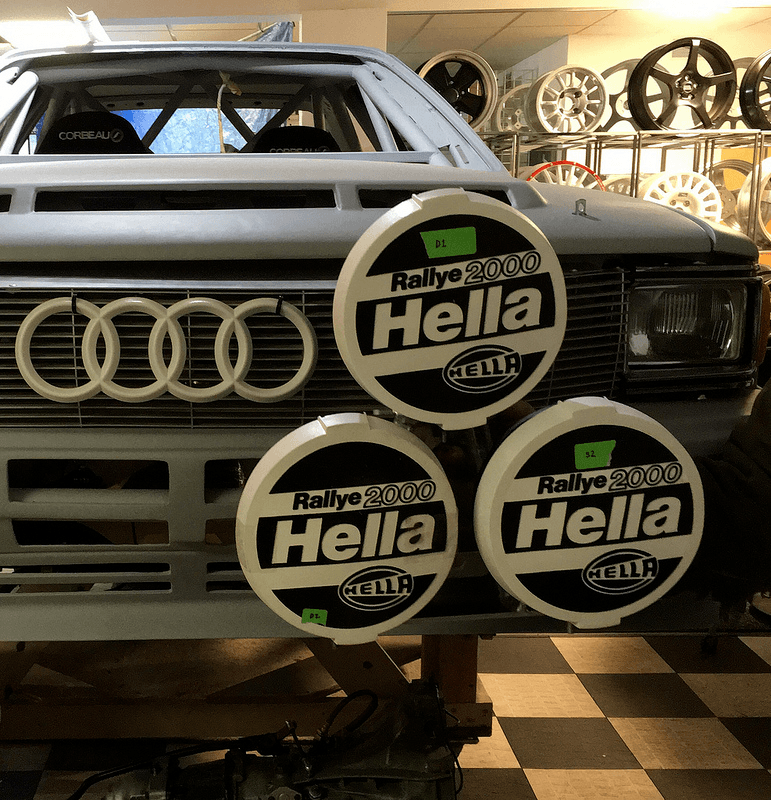 We have now made it back into the workshop and have been busy refurbishing various parts. Hopefully our next update will be more about mergers than acquisitions. Stay tuned.
2-6-19
-----------------
Rally Cars Need Heaters Too

We could have just wiped the dust of the heater box a bolted back in place but we are glad we took it apart as we found the heater core had been weeping or leaking. Besides, all the seals needed replacing and it was full of leaves inside.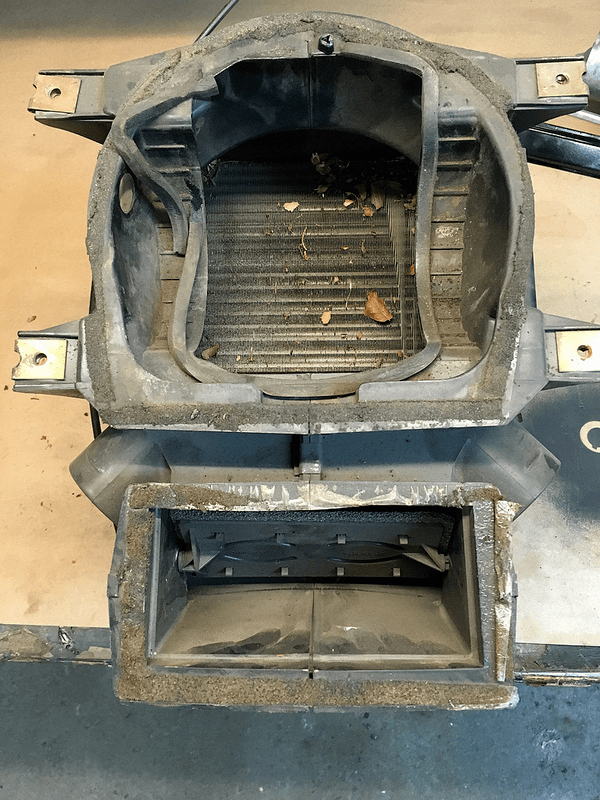 We had also broken off a tab from the blower while removing it from the heater box so that needed to be glued back together.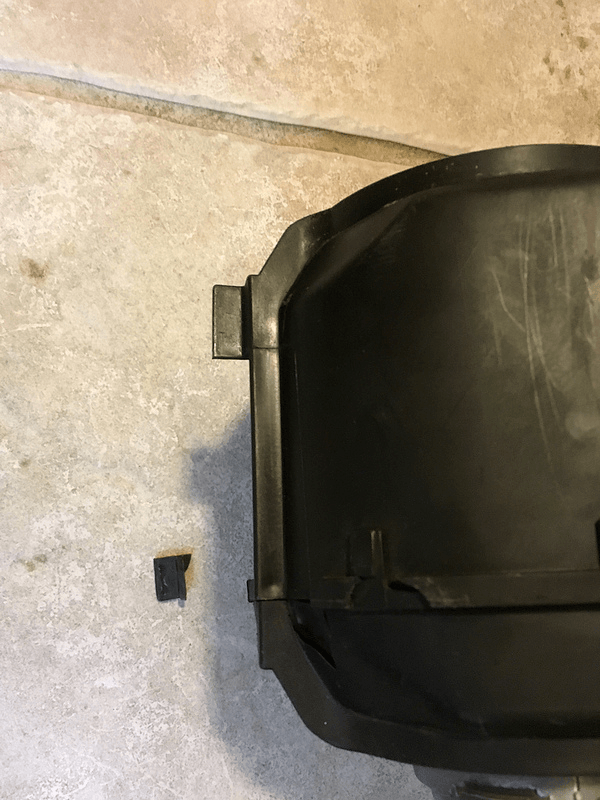 The heater box consists of two halves held together by spring clips. It didn't take long to split it.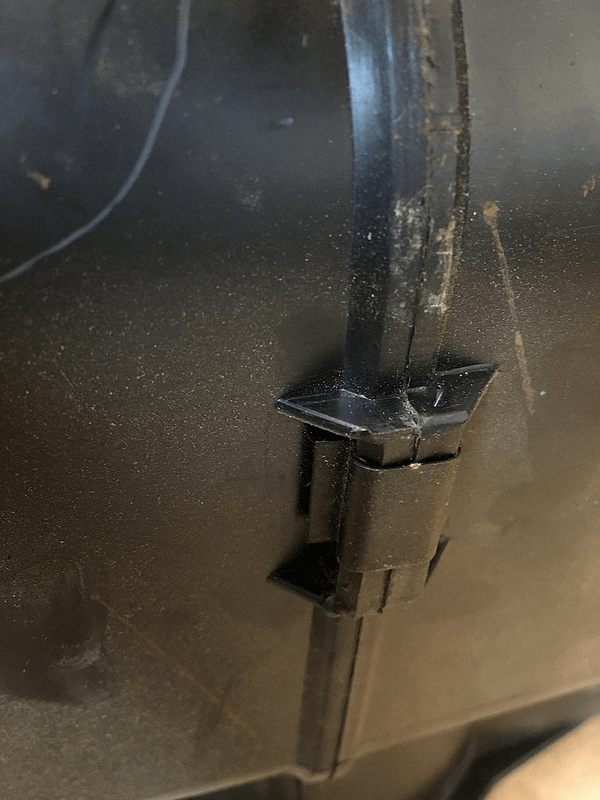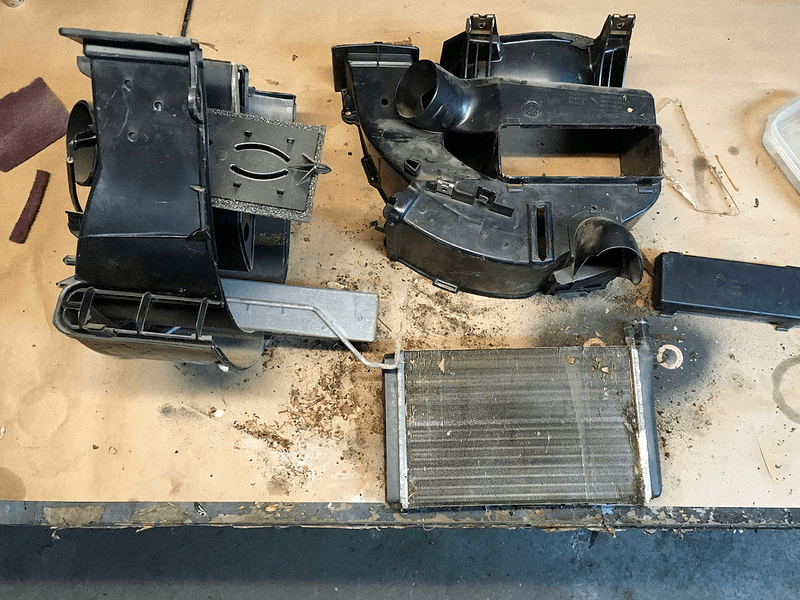 The leaky heater core and its replacement. These seem to have been used in every Audi, VW and Porsche made in the 80s so finding one was quite easy.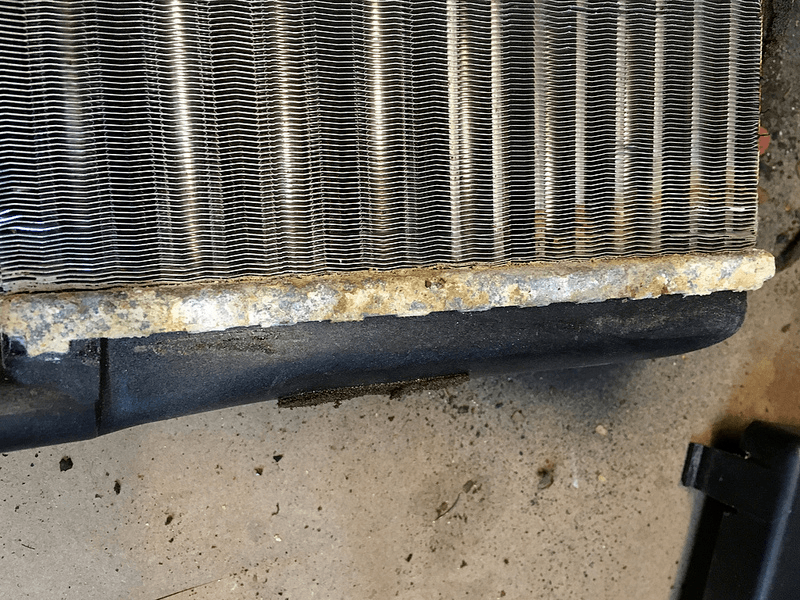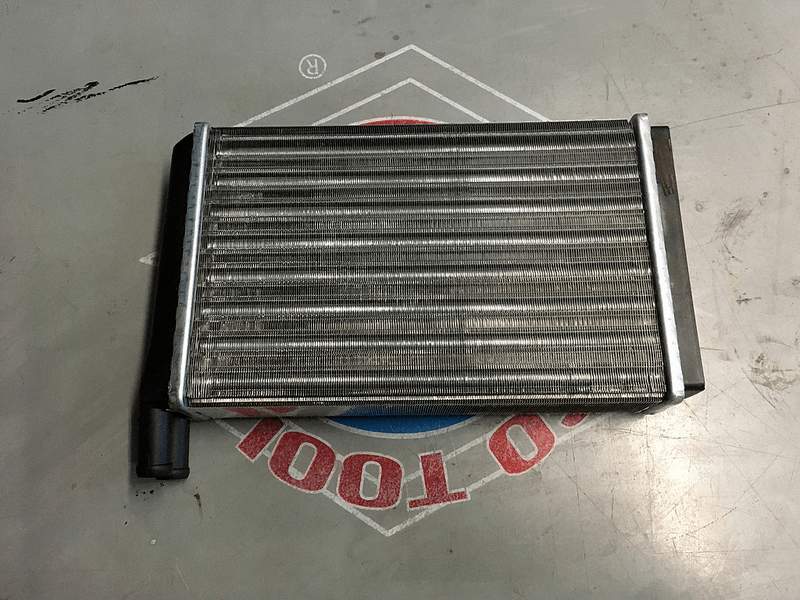 We broke a clip off the heater core lid but have already found a replacement on eBay. We'll pop that on after the dry build.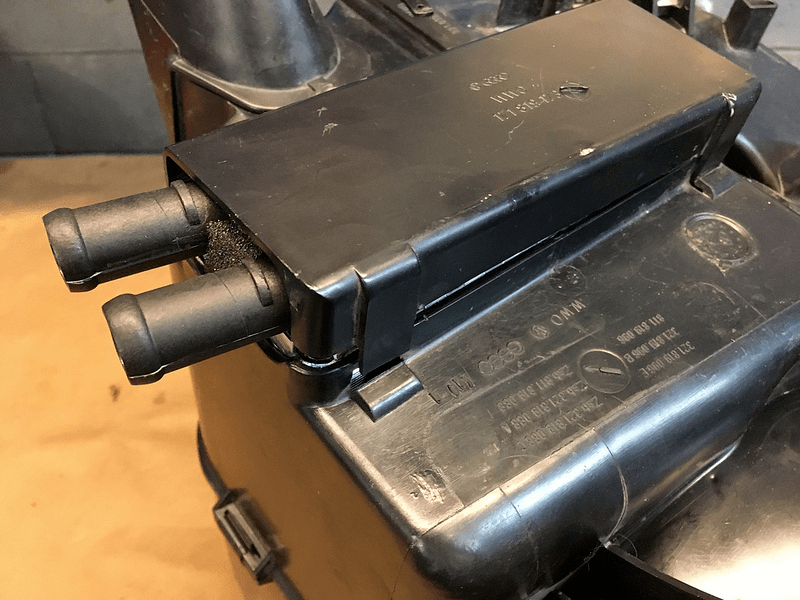 New seals and into the car with it and the cover we got from a fellow Quattro enthusiast.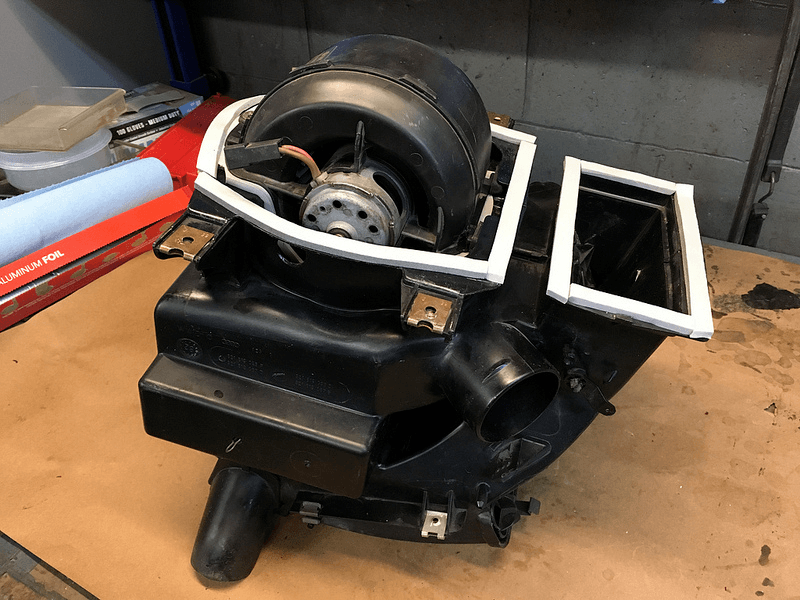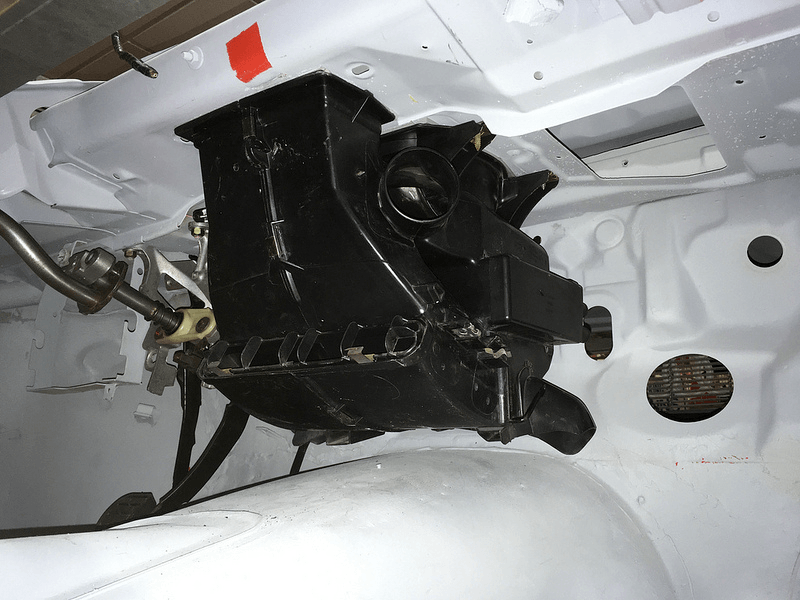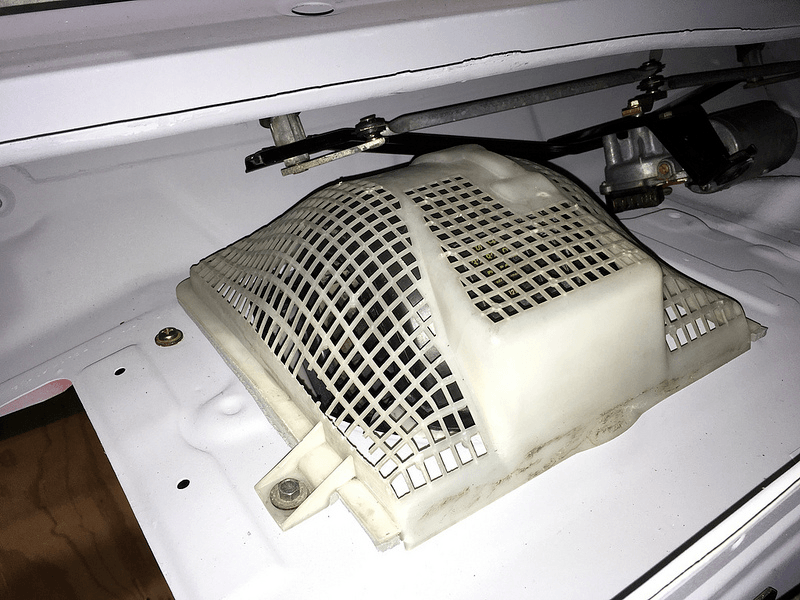 It's nice to bolt things to the car. We get all warm and fuzzy inside, plus we'll be warm inside the car too.

We also took the opportunity to refinish our helper springs for the coilovers. Even though these have never been used most of the powder coating had already deteriorated. We decided to try Plasti-dip rather than re powder coating as this is way more flexible and will not crack. We will see how well that works one day in the future.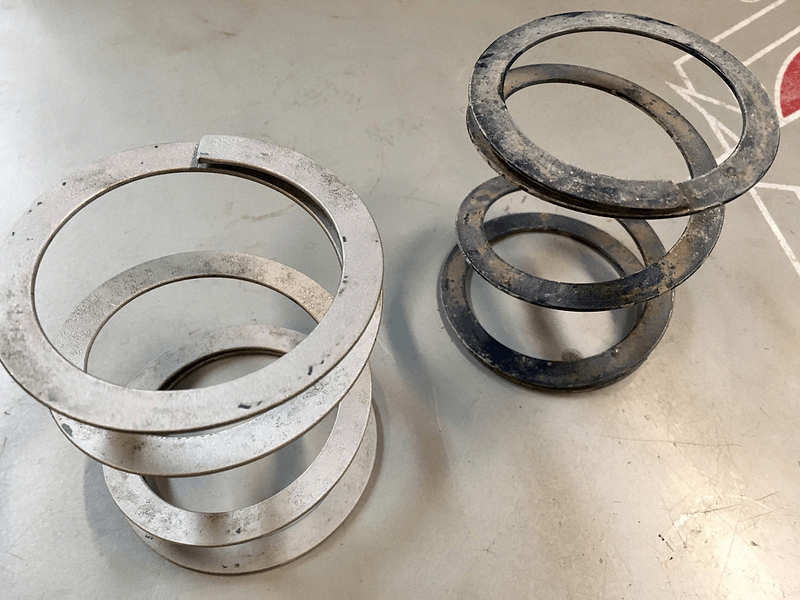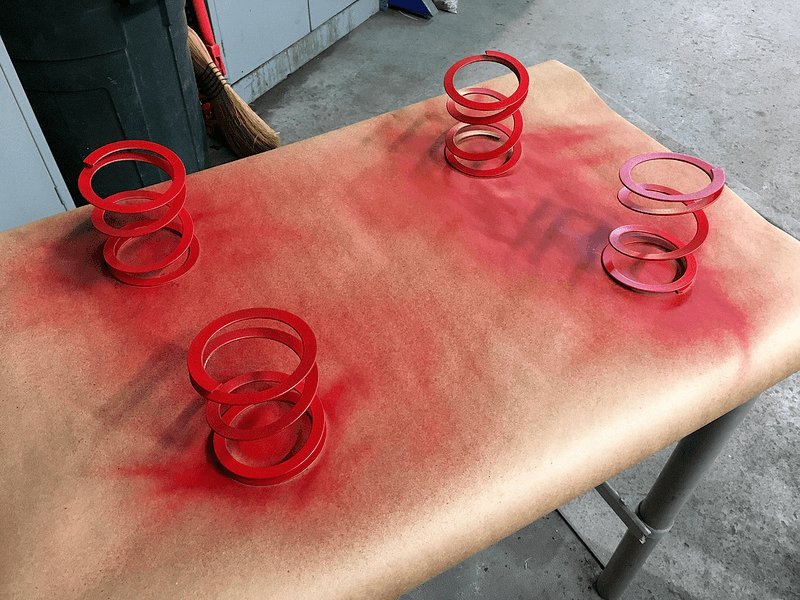 Wipers, tie rods and heater are next up. Don't miss it.



2-28-19
-----------------
DEFROST MANIFOLD

Now we had the heater in we thought it a good idea to install some of the ducting to spread that heat where it might be needed. The foot wells heat comes right out of the side of the heater box so we don't have to deal with that, and the center and side vents are fed from flexible pipes so we can figure those out later. But the windshield defrost blows through the firewall bulkhead and into a distribution manifold that used to be part of the molded dash pad. Fortunately we hadn't managed to throw the dash pad away.

This is the plastic distribution manifold on the underside of the dash pad.



From what we gleaned looking at hundreds of restoration pictures is that you cut the dash pad to leave just this front area containing the manifold and vents then remove all the molded on dash pad foam from the top and bolt it back into place. Of course our manifold was cracked so we had to disassemble the thing.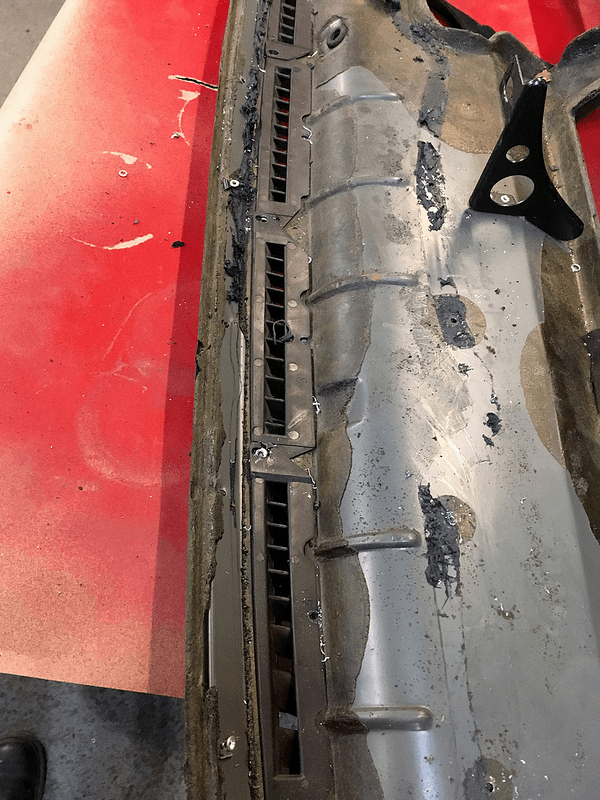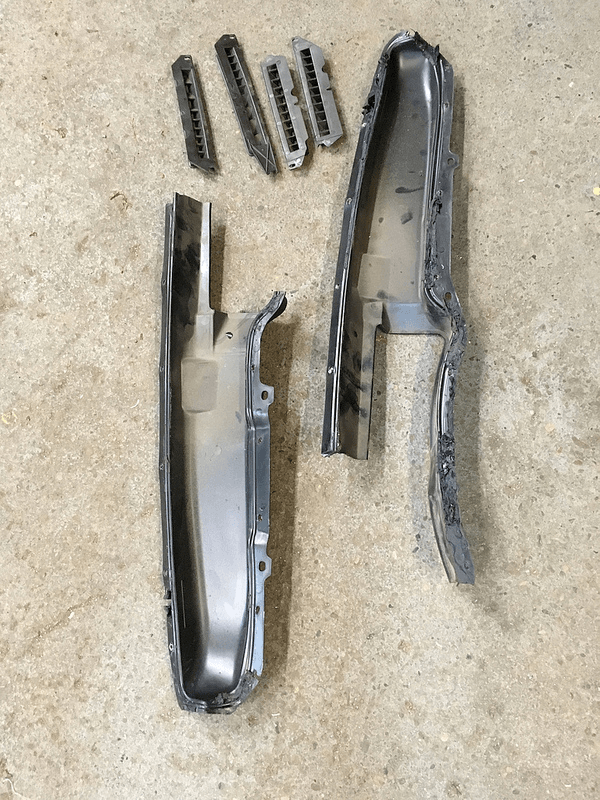 This is how the manifold interfaces with the bulkhead/dash tube once it's all put back together. You can see the central feed from the heater box below the dash tube.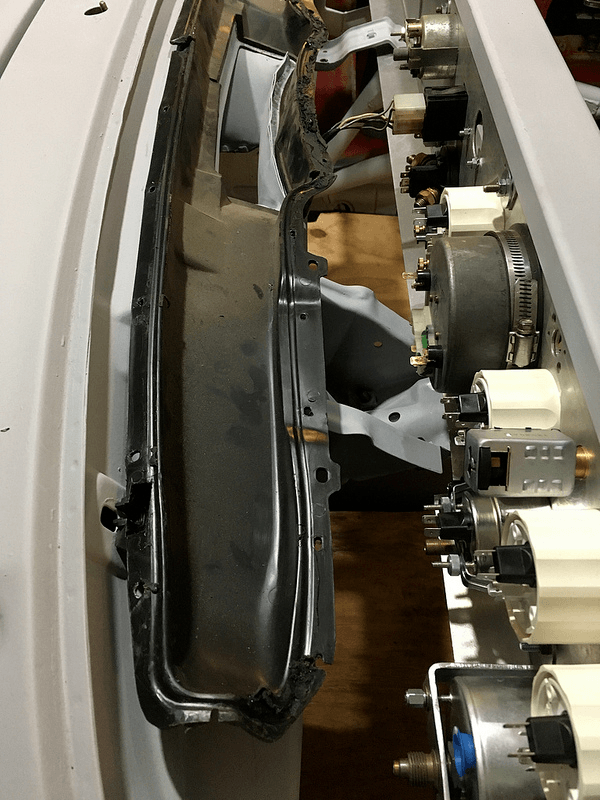 Next we removed the excess dash pad material with a cutoff wheel and set about cleaning it up.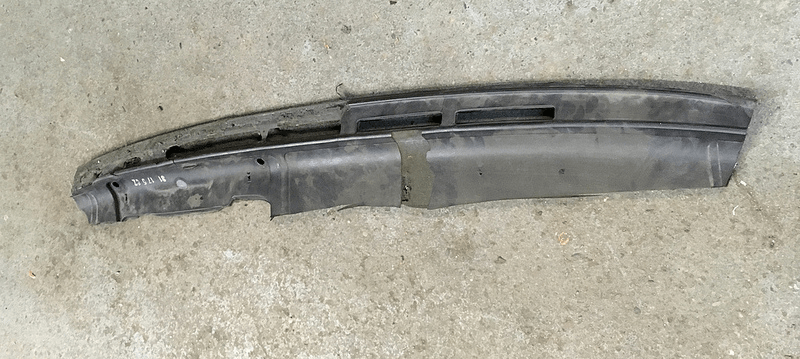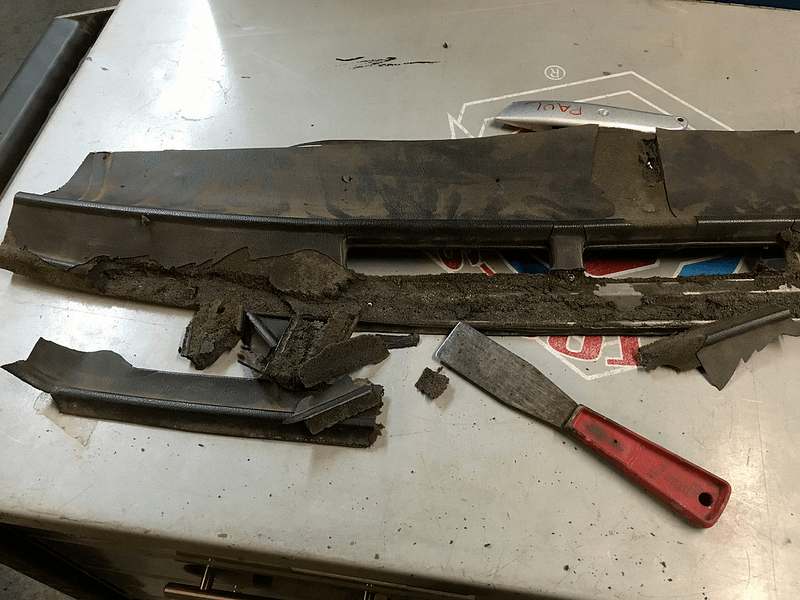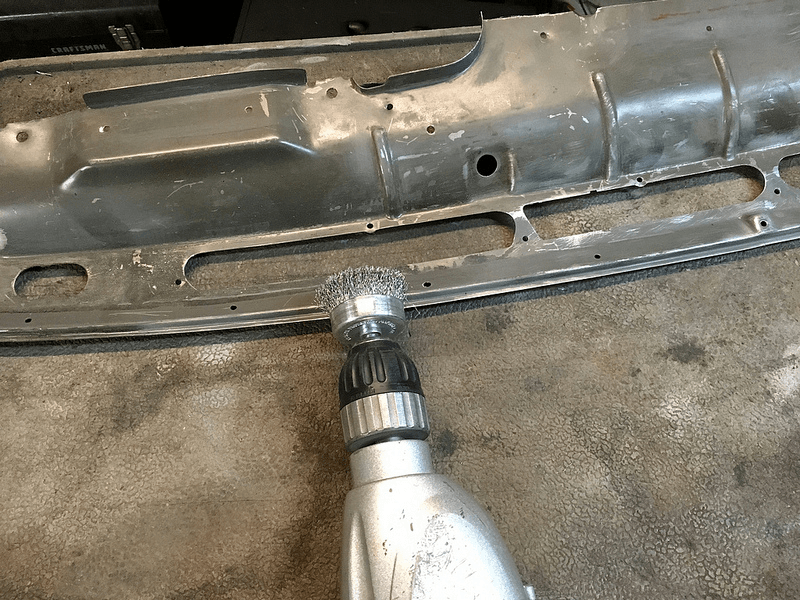 We covered up some excess holes that were previously blocked and painted it and the vents satin black.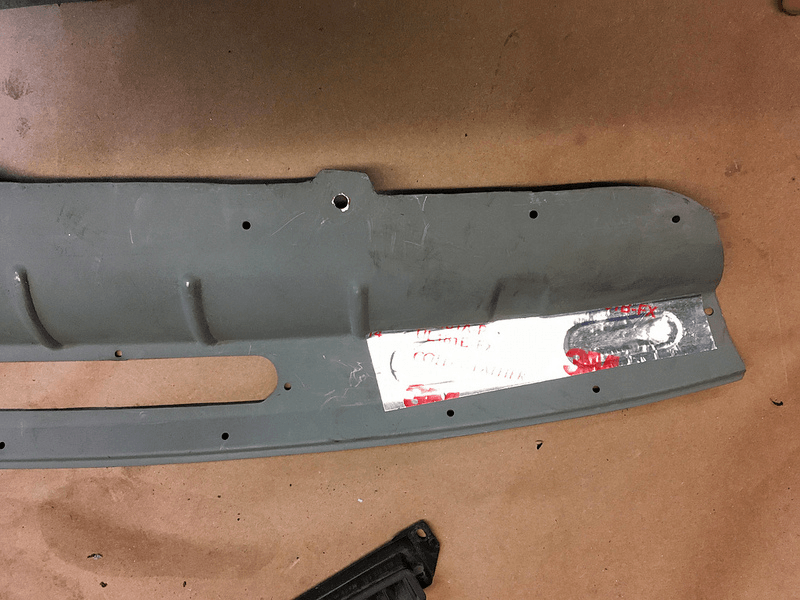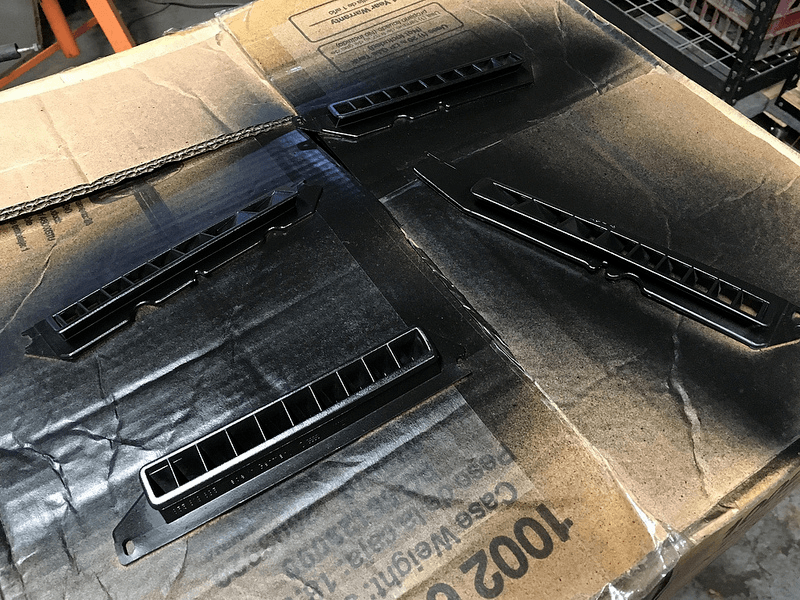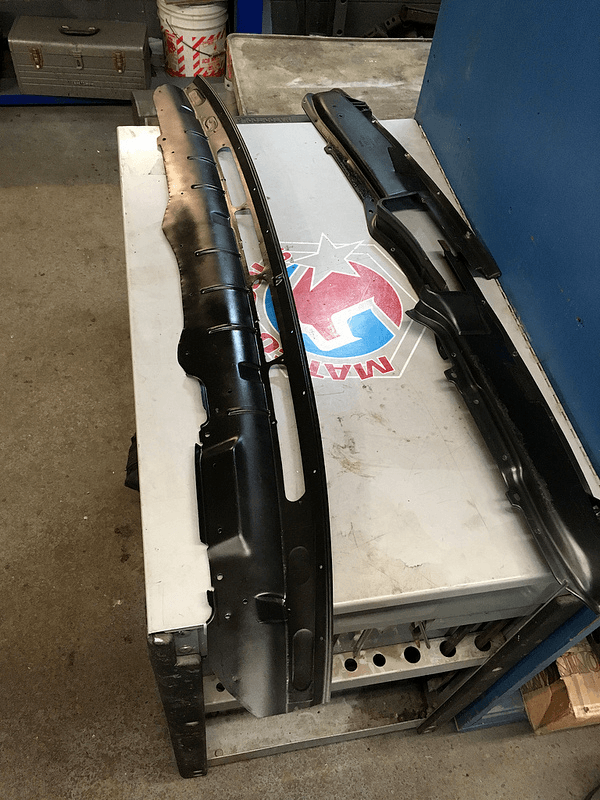 Then we set about fixing the plastic manifold.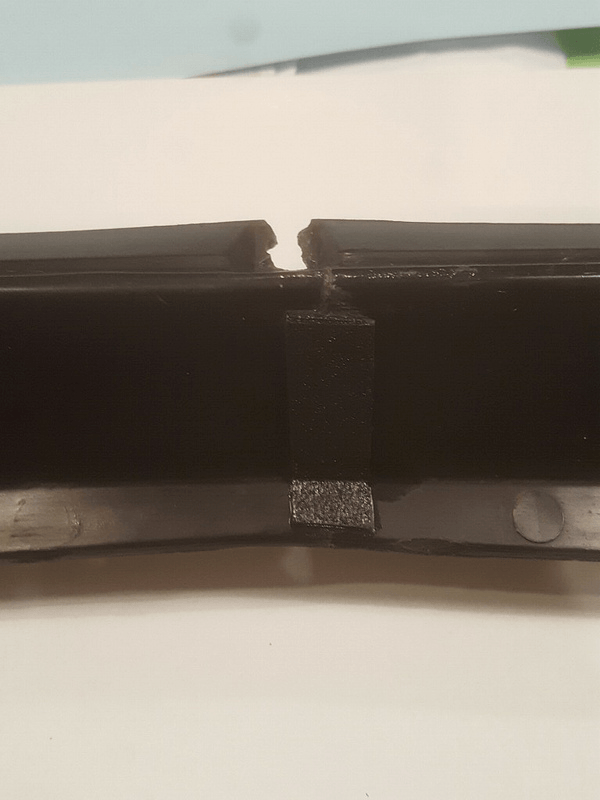 While the glue was setting up we riveted the vents back into place.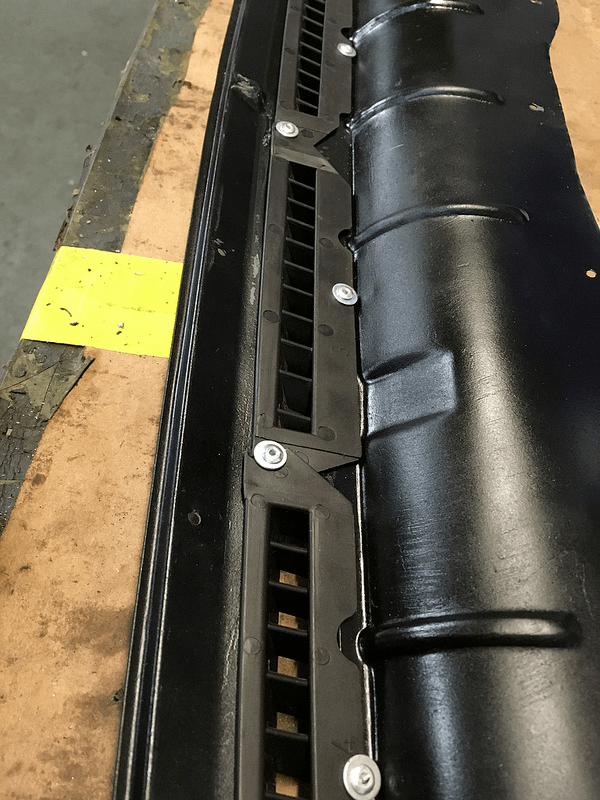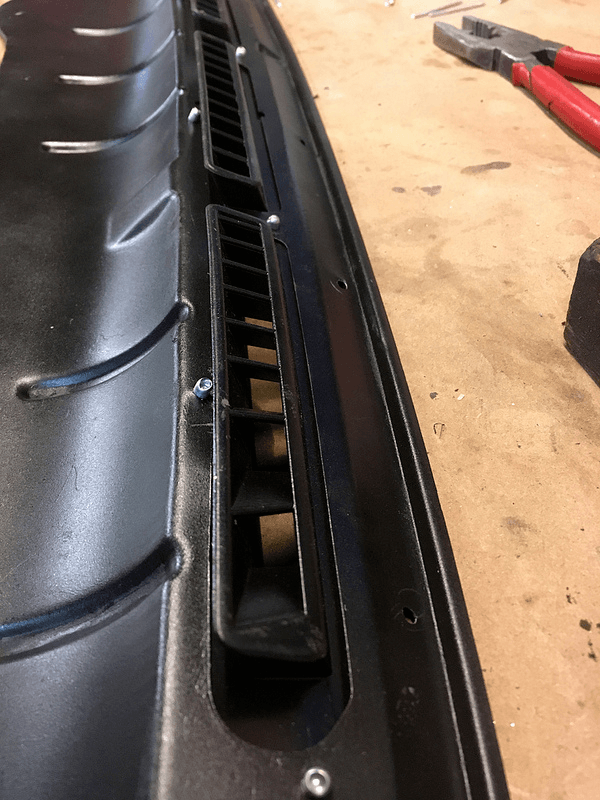 Then we applied some sealant before riveting the two parts back together.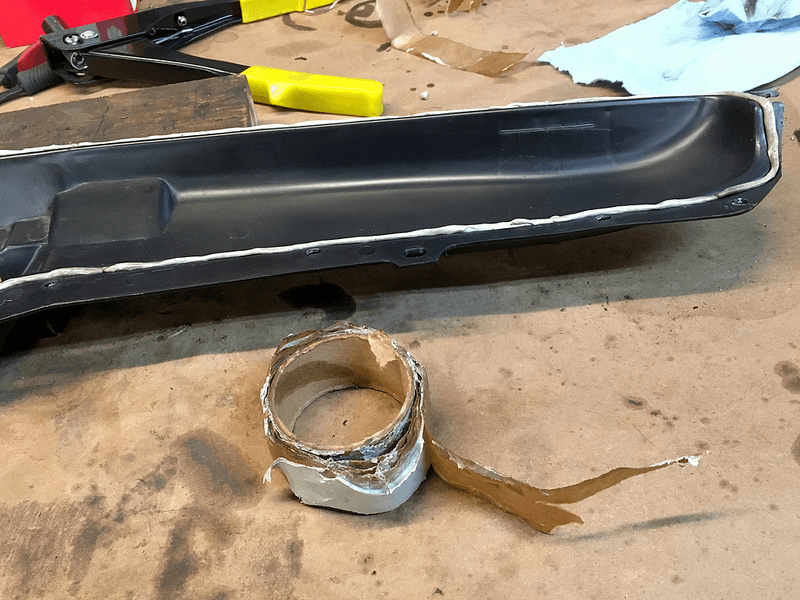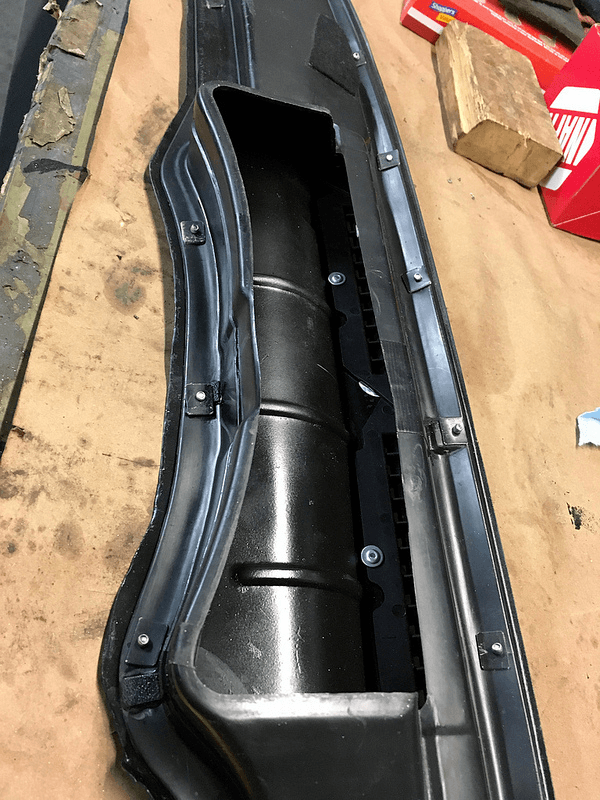 And then popped it into place.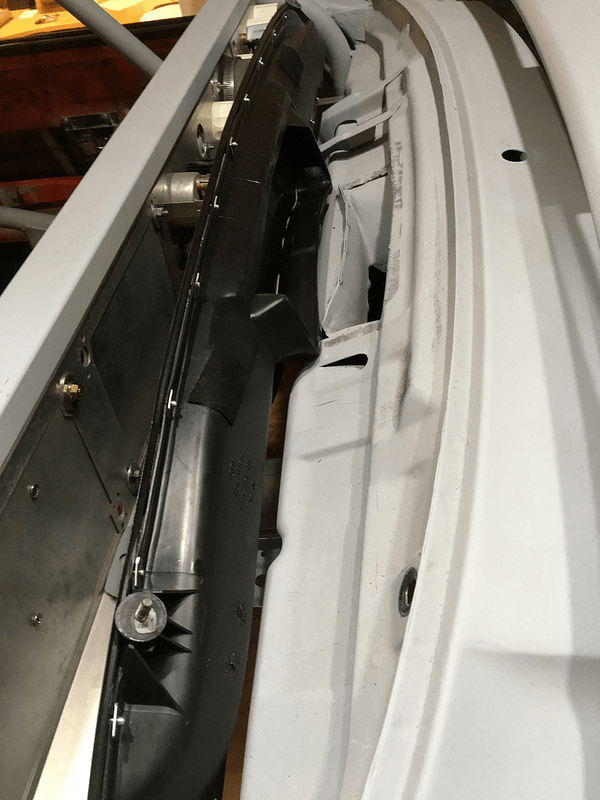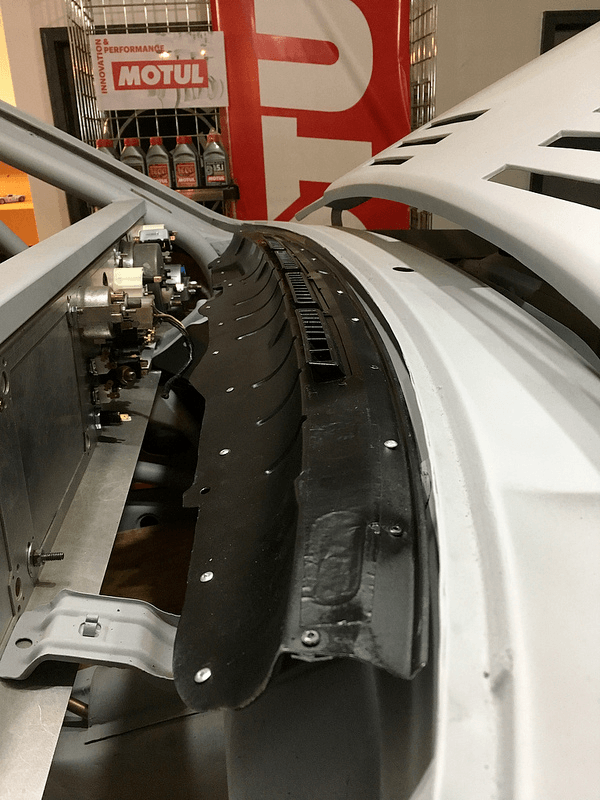 For some reason this was one of the most satisfying projects we have tackled so far. Next time we'll restore and install the washer bottle and coolant reservoir. Maybe not so satisfying.

3-6-19
-----------------
Cracking on with engine bay stuff we installed the clutch master cylinder. Remember, we have an 20V AAN engine just itching to try on this engine bay for size so we want to get as much engine bay stuff figured out before it crawls in there.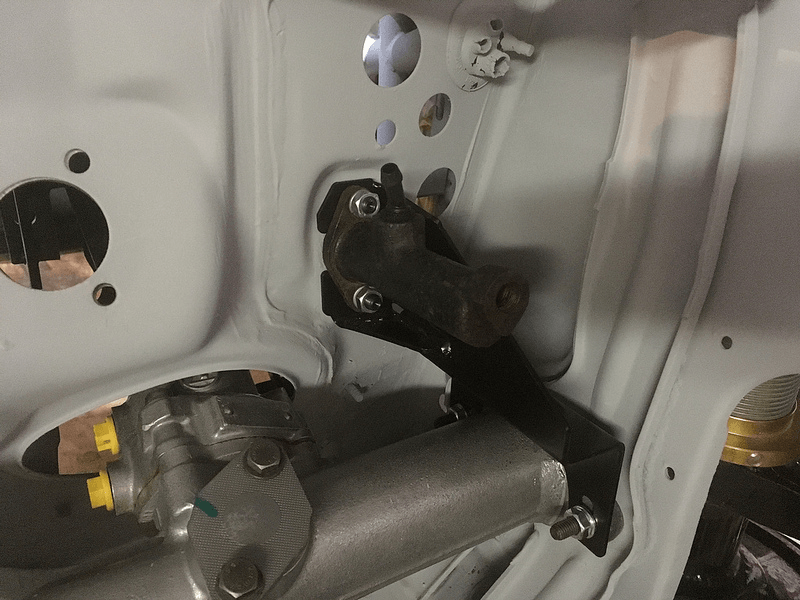 Not wanting to lose our bottle before the engine fit we also tested and installed the coolant reservoir. We rigged up this pressure test to see if it would hold 1.35 bar: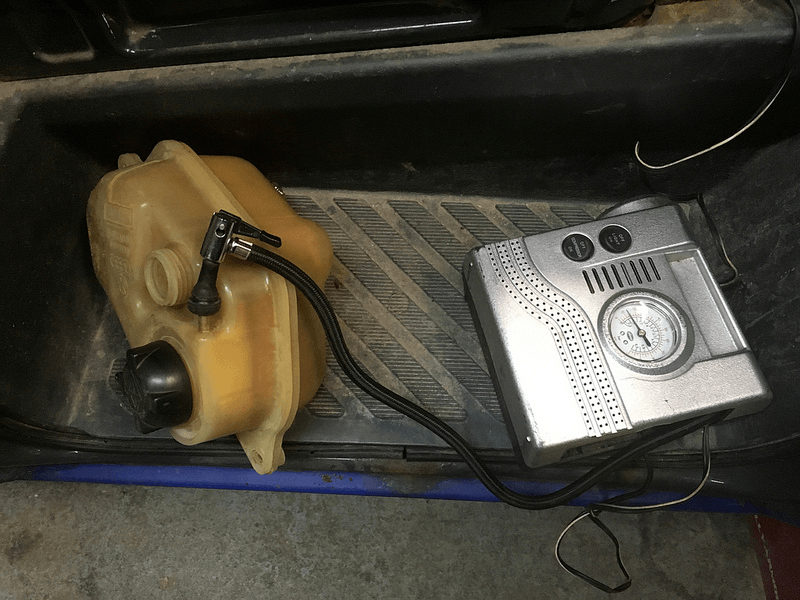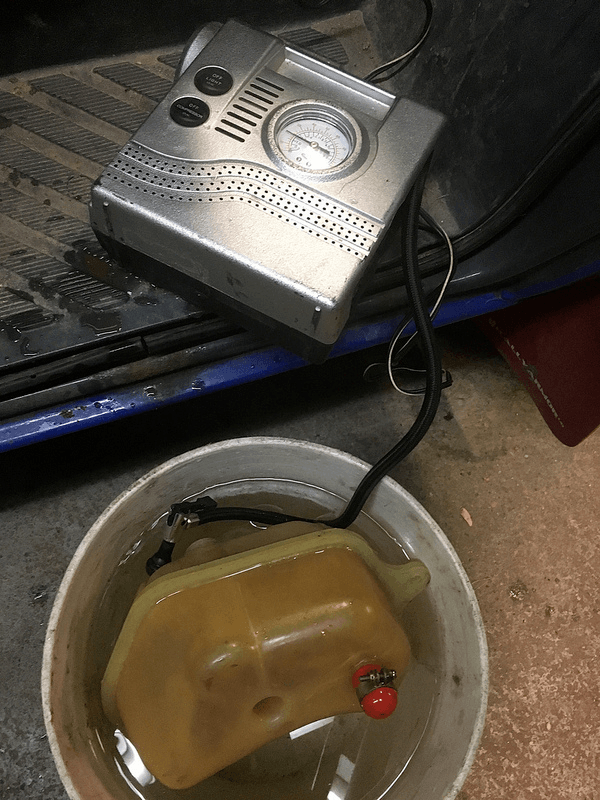 The reservoir didn't leak but the cap let go at about 1.2 bar. We tried our cap from the 85 URQ and it held. We are going to need a new cap.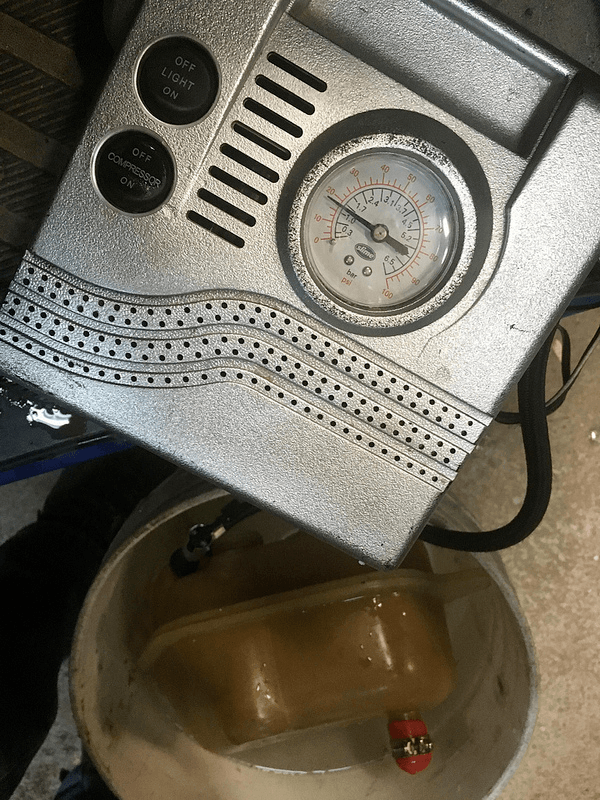 We cleaned it as best as we could and bolted it in place along with the washer bottle.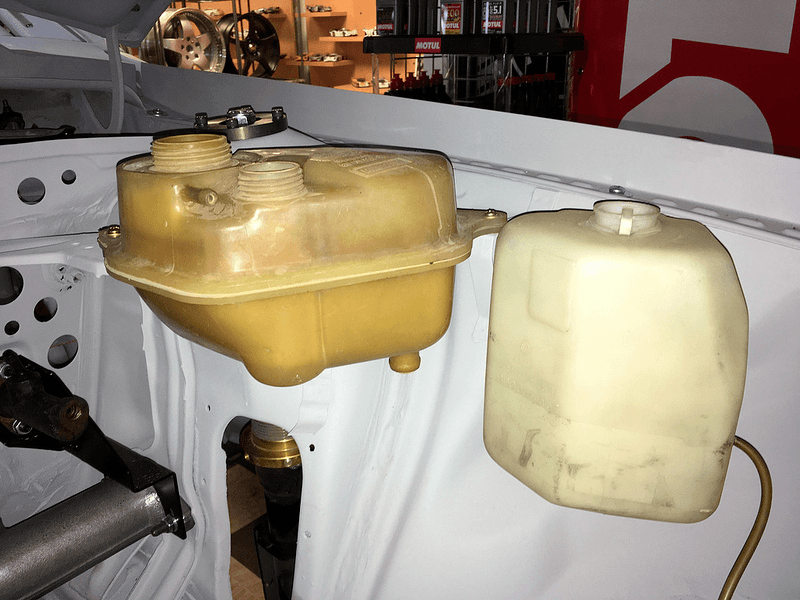 We should've thought about this earlier but after crawling under the front bumper all afternoon we decide it was time to take the front bumper and bumper bar off the car. Duh!



We now have a walk-in Quattro.



We know, not very exciting stuff but next we are going to work on the very trick twin master brake system with bias bar that we got from England! Riveting stuff! No, actually it bolts in.

3-29-19
-----------------
BRAKE MASTER CYLINDERS

We decided some time back that this car would dispense with the hydraulically powered brakes and employ dual master cylinders with a bias bar adjuster but were never quite sure how we'd accomplish that. Then a friend turned us on to Compbrake in England who have a bolt-in kit for the Quattro. How could we say "no"?

So we ordered one up and it arrived in just a few days. Seems to be very comprehensive. It even has a bracket and lines for remote reservoirs.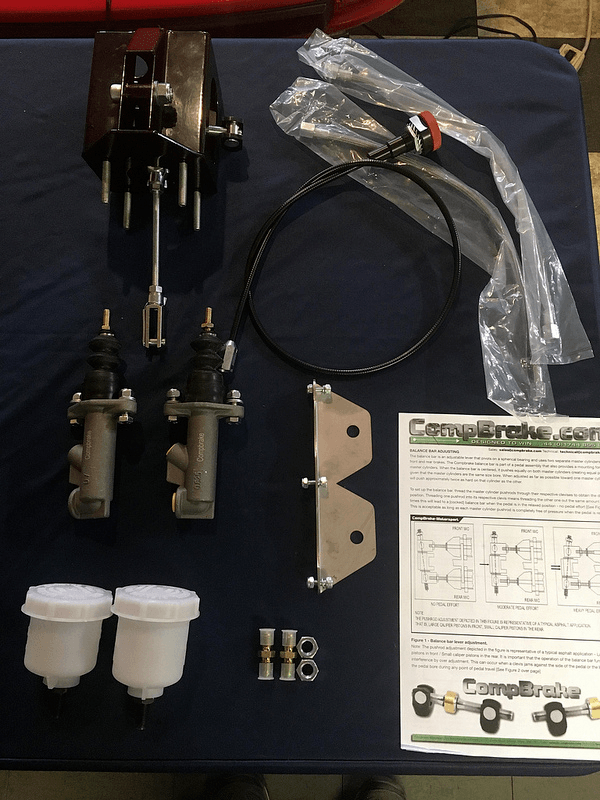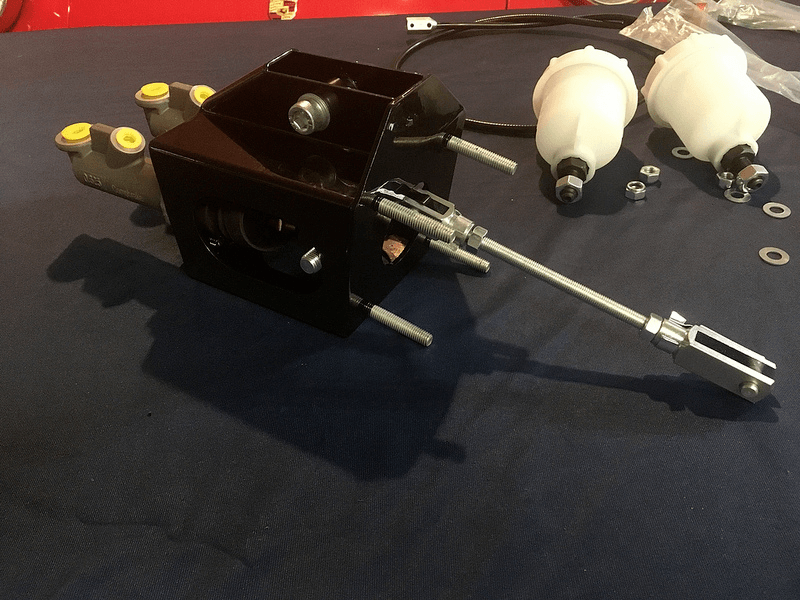 The first job was to figure out how to mate up its four bolts with three on the bulkhead. It was seemingly not as "bolt-in" as we'd hoped. We made a template and transferred it to the car and immediately discovered that the four required holes would interfere with the pedal mounts. Something did not seem quite right.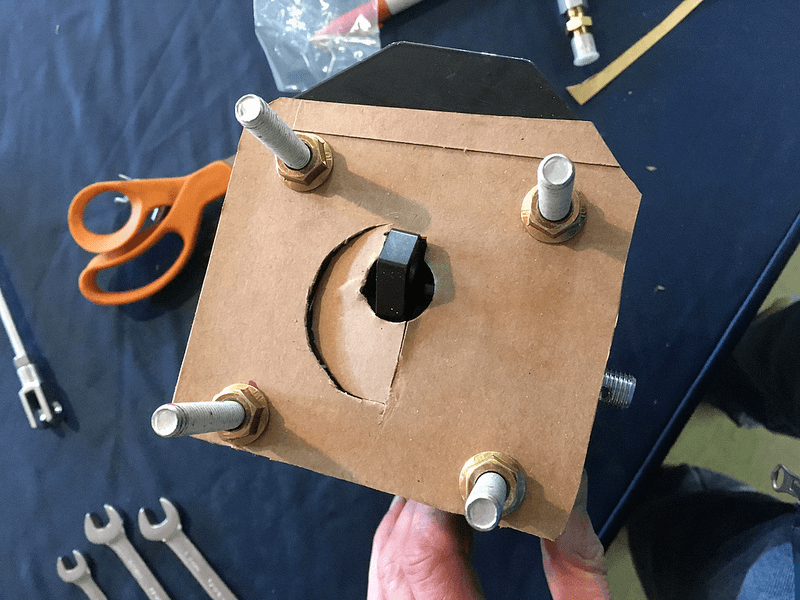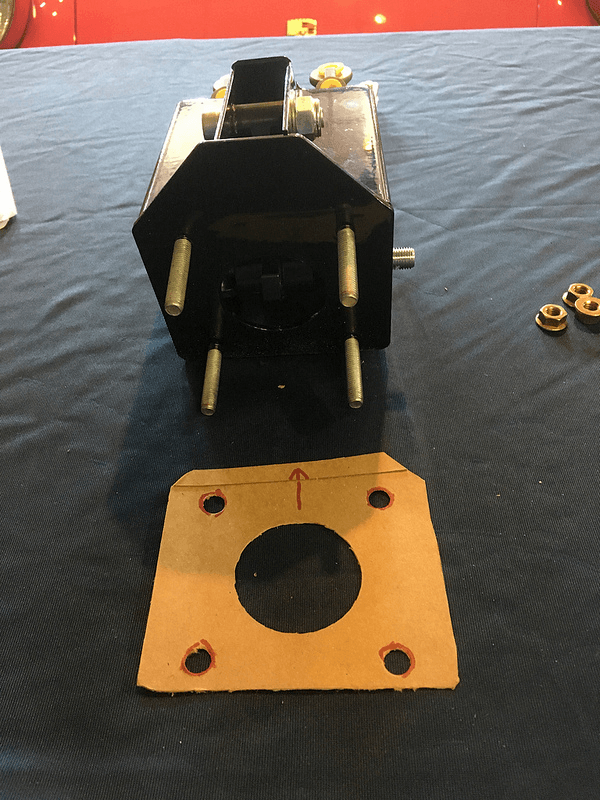 Then a gentleman and fellow Quattro rally car builder called Frank pointed out that the kit is designed to bolt to the OE brake booster not the firewall. He also highlighted how far into the engine bay this would make the assembly protrude because he had installed one himself. However, he had engineered a solution by way of an interface ring that was only about an inch thick rather than the 5"-6" of the booster. A few more emails and some PayPal and one showed up at our shop.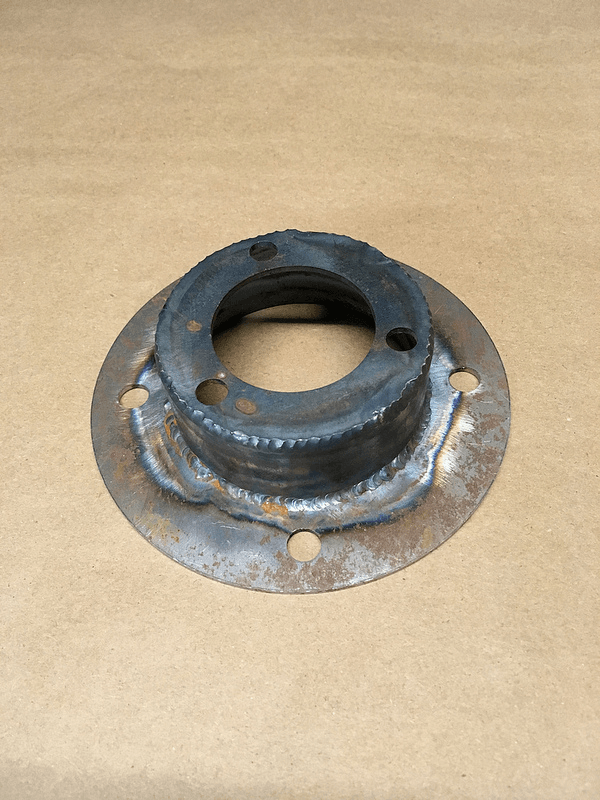 This made all the difference and we were able to mock it all up in short order: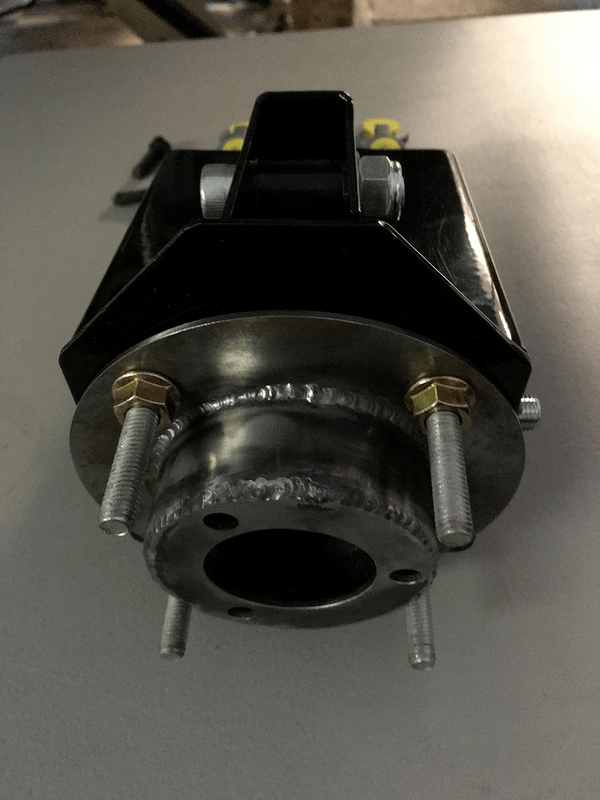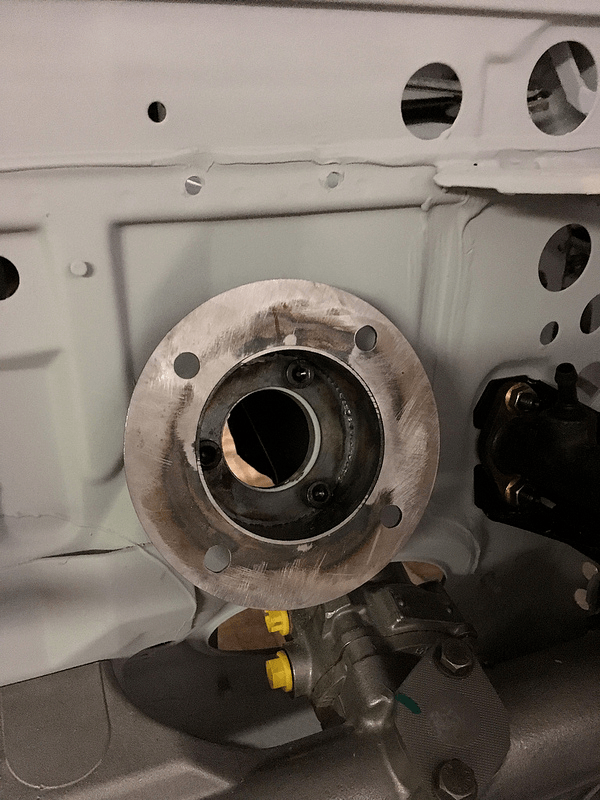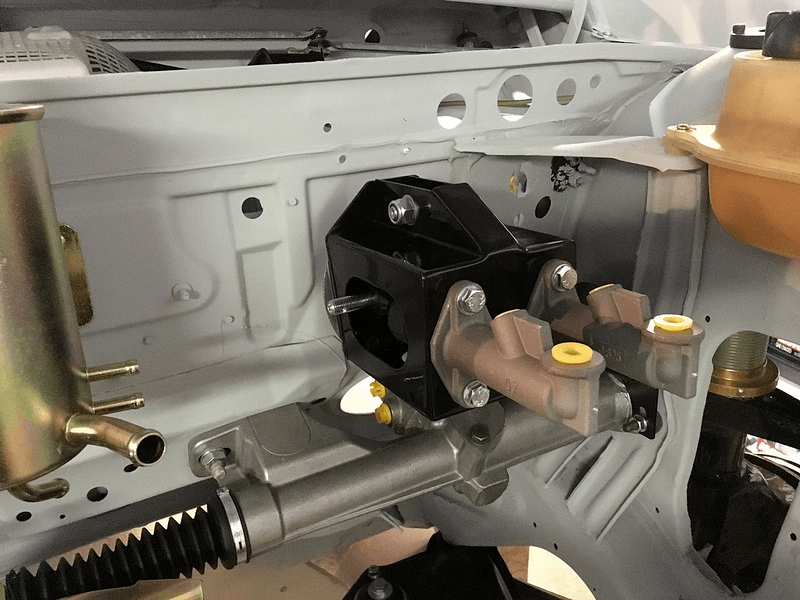 We then set about making it look nice by trimming it and painting it: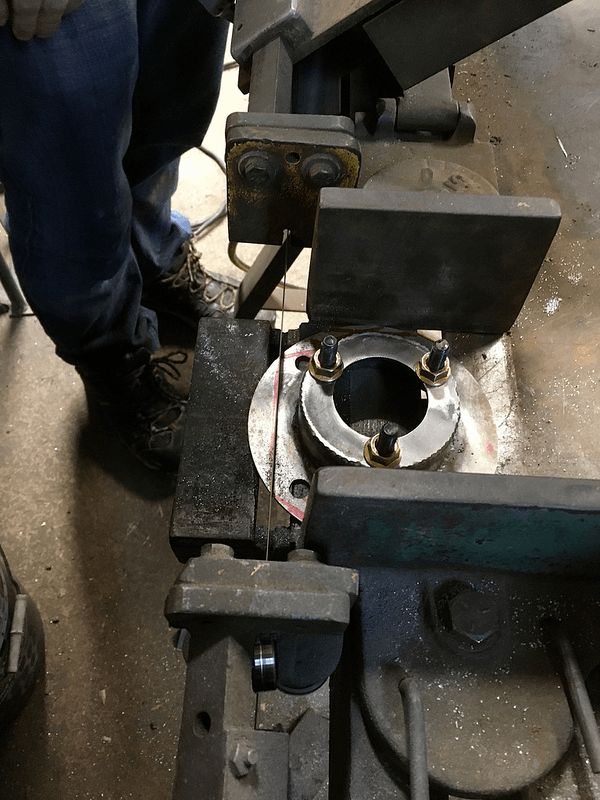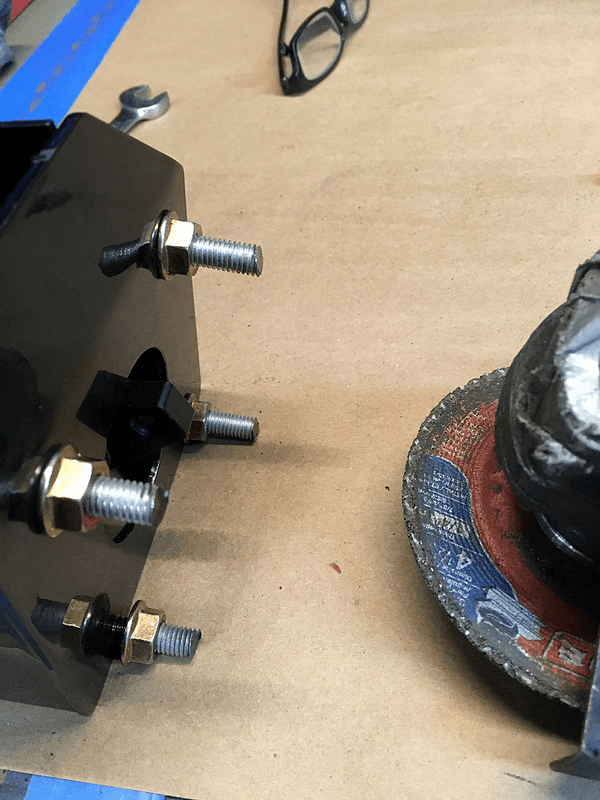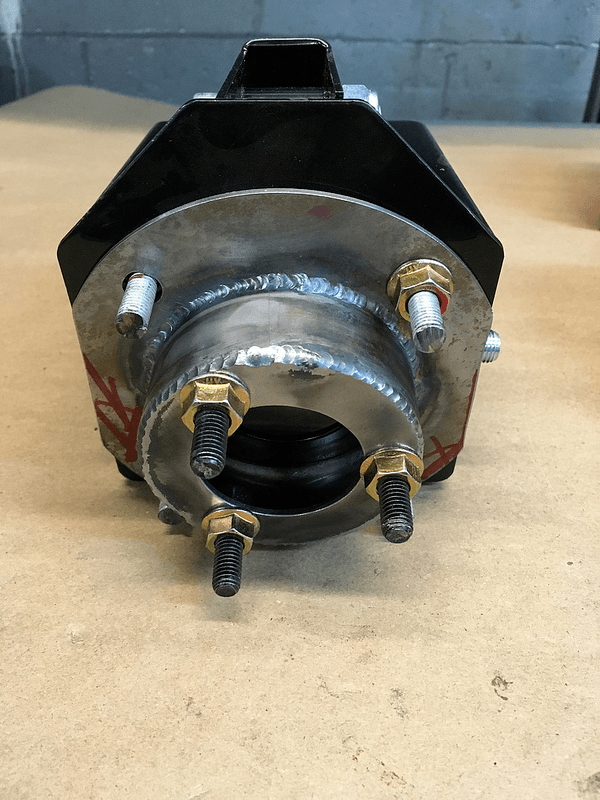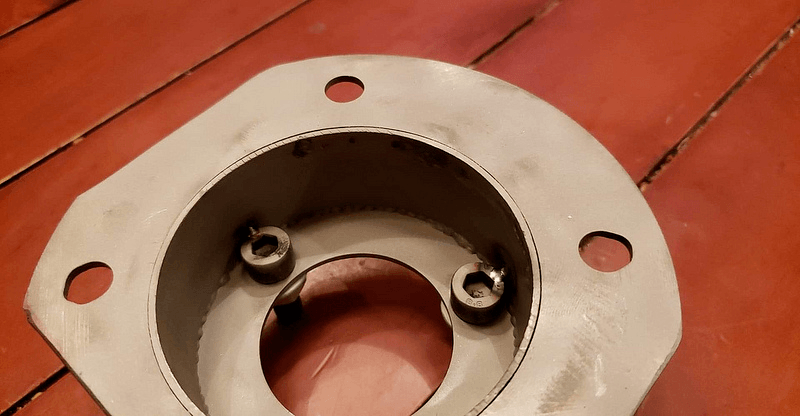 Frank also included some DOM tubing to replace the 5/16" threaded rod that came with the kit as this linkage was going to end up quite long. The DOM would be much stiffer and didn't take much work to cut it to the correct length, thread it and attach a couple of short, threaded rods to each end. We will probably have this assembly plated before the too long.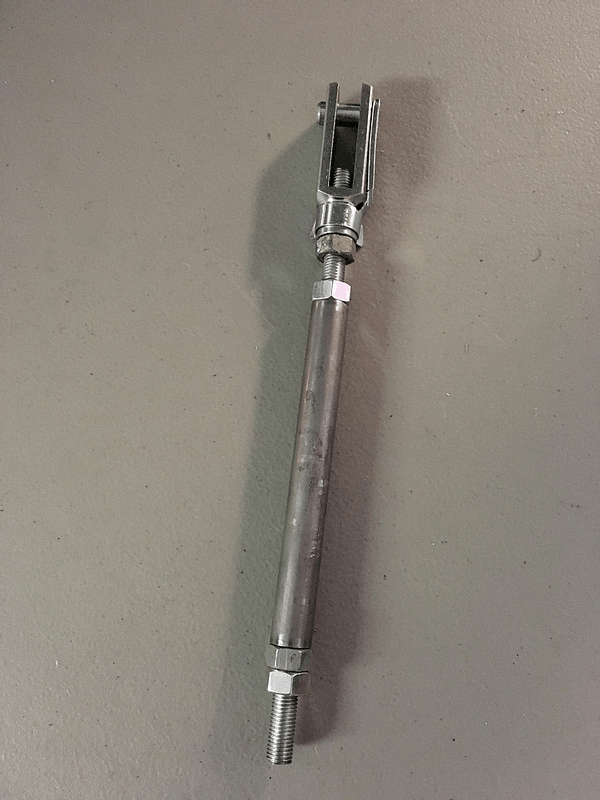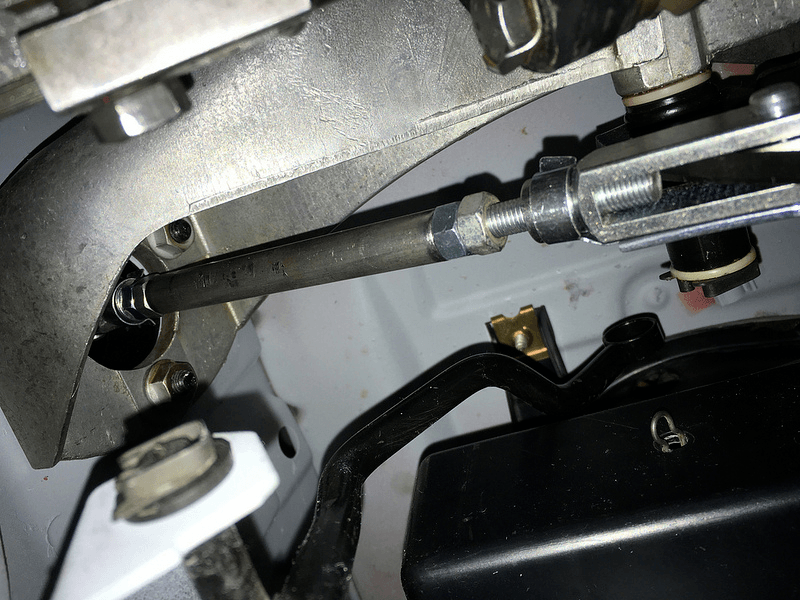 And here it all is installed. We attached the reservoirs directly to the cylinders for now as we don't yet know where everything else is going. The Group B cars had them mounted to the strut bar but we are not that particular. We'll see what seems the best location later in the build.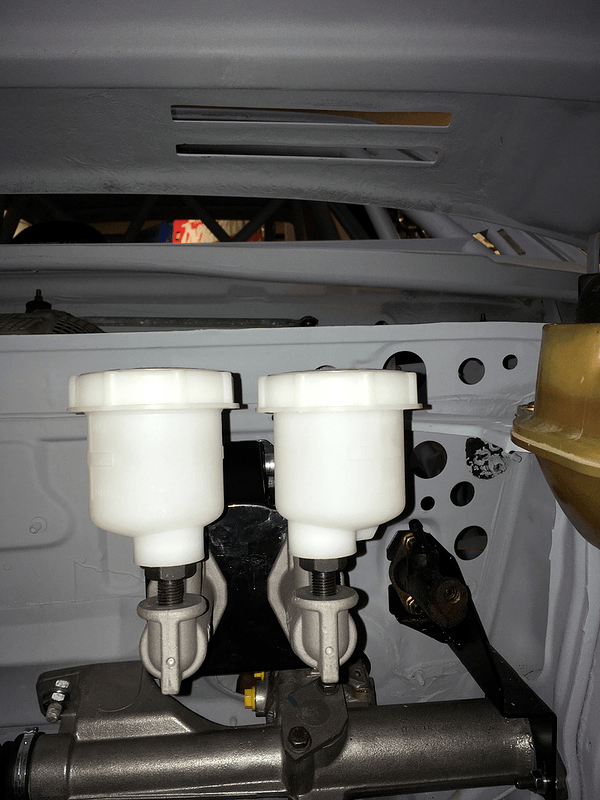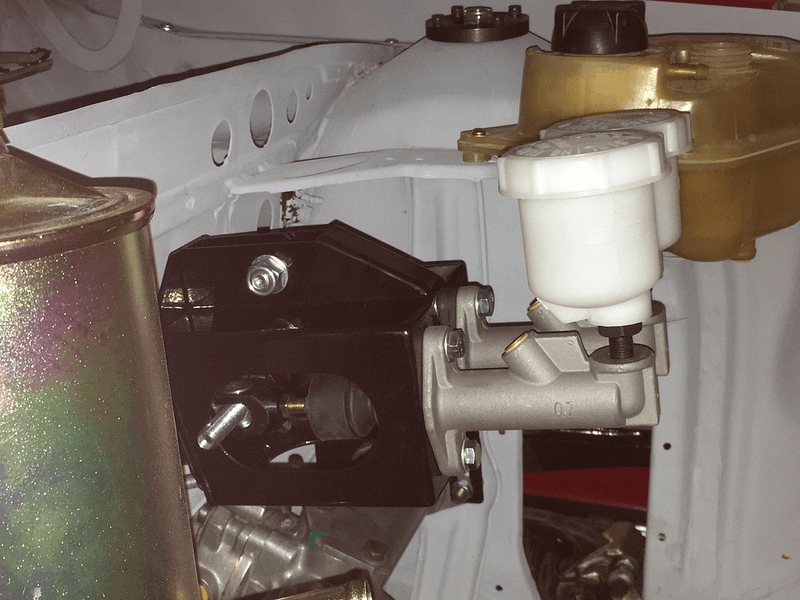 Next on the list is engine prep. Look out for that one soon.
4-9-19
-----------------
ENGINE Teardown

Well, this is a big step forward for the project. It's time to take the engine off its pallet and get it into the car. Of course it is not that simple. We have lots of ways to make it complicated.




As we've previously discussed, we decided to go with a fairly stock later AAN 20 valve engine rather than try to wring extra power from the original 10 valve that came with the car. We should be able to see 300hp from this without creating a stressed out monster nor breaking the bank. Purists may scoff but they aren't paying the bills.

We sourced this one from Marc over at EFI Express. They are huge Audi fans and know a lot about these engines. This is a tested and resealed, good engine, basically ready to bolt in. Marc chipped the ECU and stripped the harness of all unnecessary body wiring.

However, our aesthetic bar has been raised somewhat over the course of the build so now we feel we need to strip it down externally and clean, paint a re-plate every last nut and washer. We will try to restrain ourselves however. It's just an engine and this is supposed to be a rally car. Let's see how this goes.

First step was to get the thing in the air and on to our engine stand but before we could do that we wanted to remove the clutch and flywheel. This revealed a new crankshaft seal as expected but a bonus stage 3 CenterForce clutch that looked like it might even be serviceable. Thanks Marc.




We were always going to have to replace or modify the intake manifold as the stock location of the throttle body will interfere with our side mounted radiator, so we started dismantling the intake side of the engine first. Getting at the ten Allen bolts that held it on was a big PITA. It would have been easier if we'd realised there are access holes going through the manifold before we started rather than after we'd finished DOH!




We also needed to delete the AC compressor so the belt and all the ancillaries came off.




Unfortunately we decided the idler and belt tensioner pulley bearings were both near the end of their useful life so we'll add those to the list of refurbishments.

We also discovered our engine came without the front engine mount; the one that stops it moving up and down when you get on the gas, so we'll have to source or make one of these.




We are also going to need some different senders and sensors to drive our non-stock VDO gauges. At least they'll be clean and shiny.




We believe the turbo is good and are reluctant to open up this rabbit hole so we think we will just clean up the exhaust side in situ. Let's see how that goes.




So check back later to see if we manage to not replace, repaint or re-plate every last piece of this engine.




SIGNATURE

4-24-19
-----------------
WHEELS

Halfway through our engine tear down our new wheels showed up. Yes, they did distract us.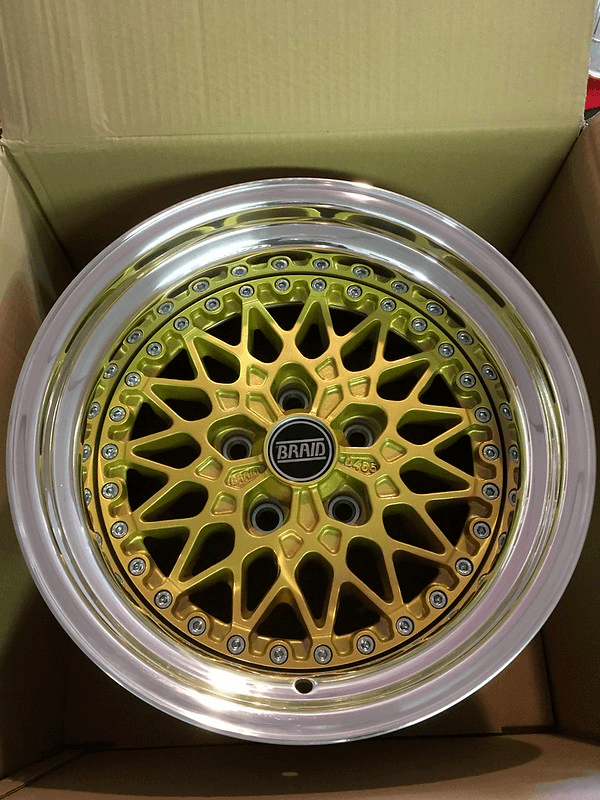 We chose these from BRAID's catalogue because they look very similar to the BBS wheels the Rothmans (and some others) rally Quattros ran back in the day. Look:


Specs are:
- BRAID Serie 4 RC
- 15x10
- Et0
- 5x112
- 57.1 center bore

As far as our research suggests, the same as the originals.

Of course we took lots of pictures.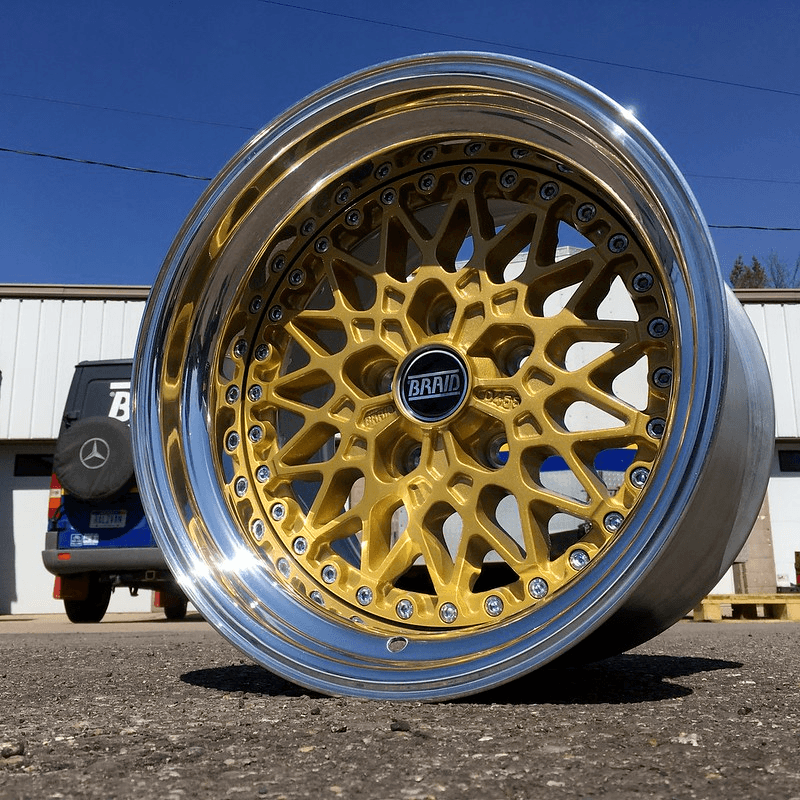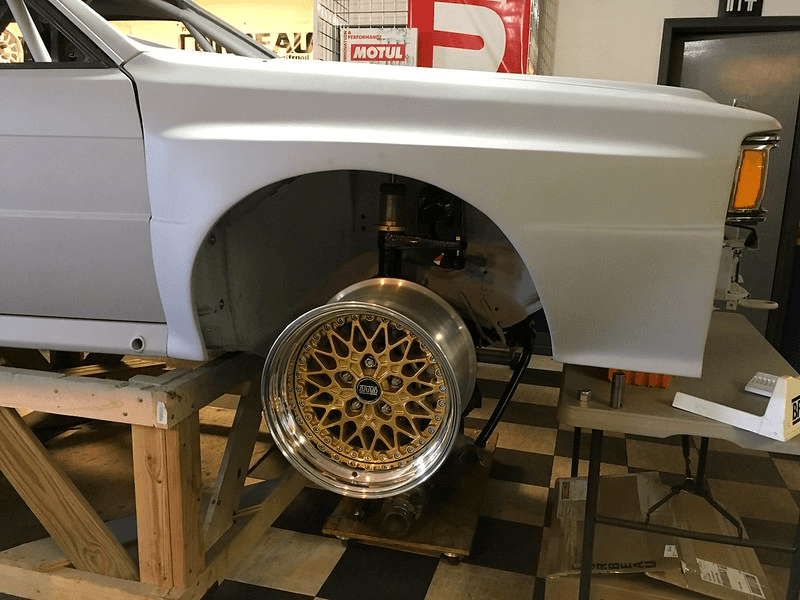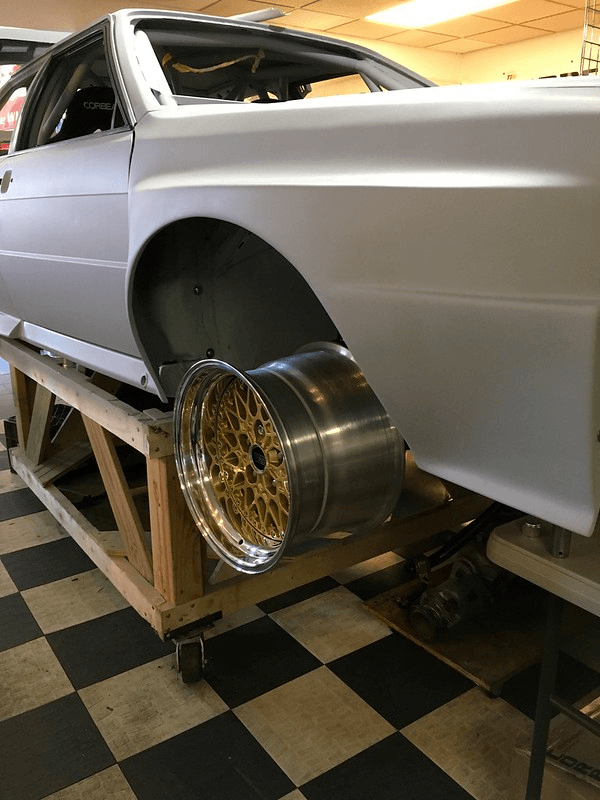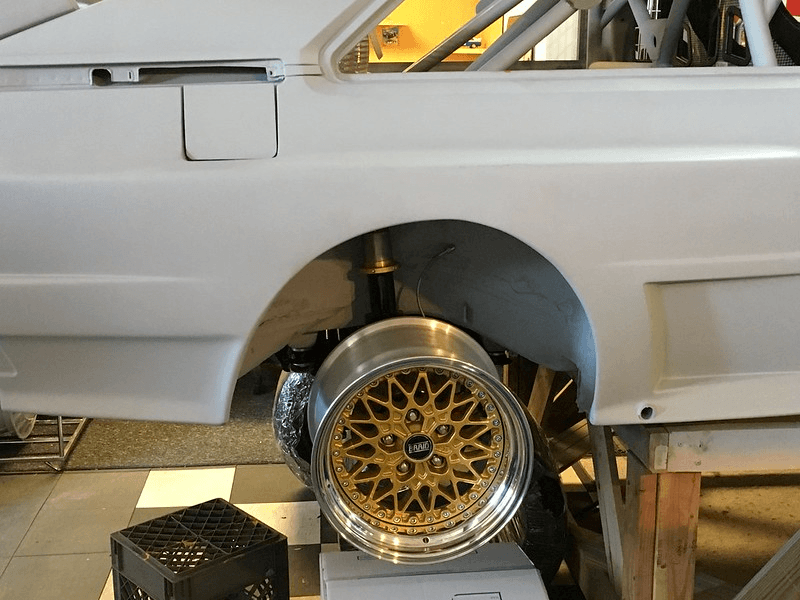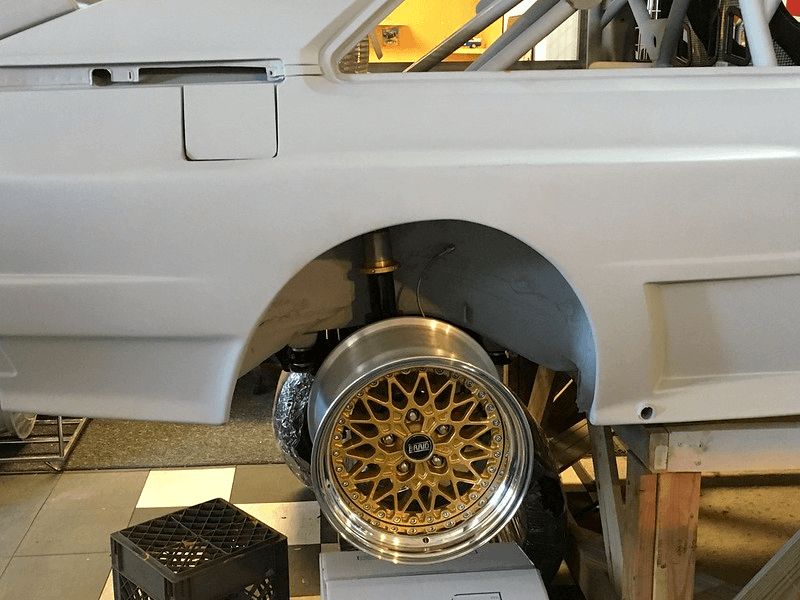 Then, we installed a couple of our TB5 tires to make sure the wheel and tire package would actually work.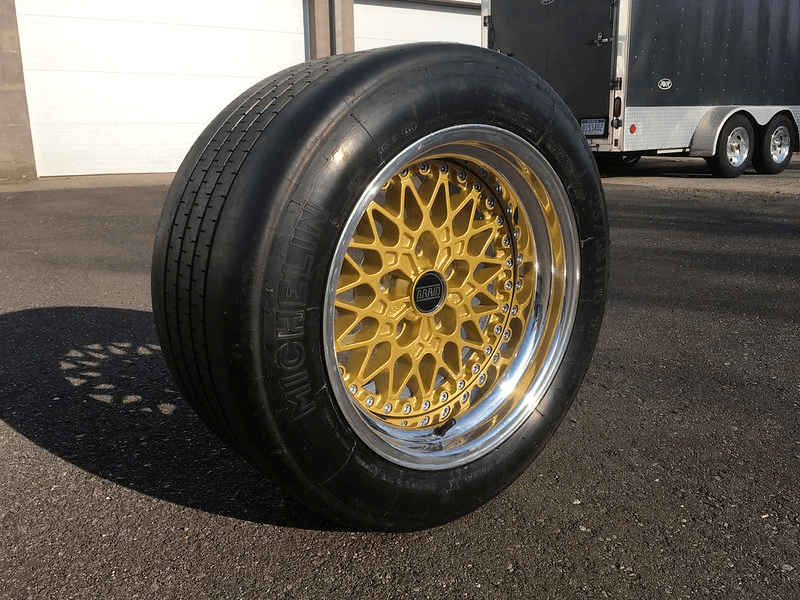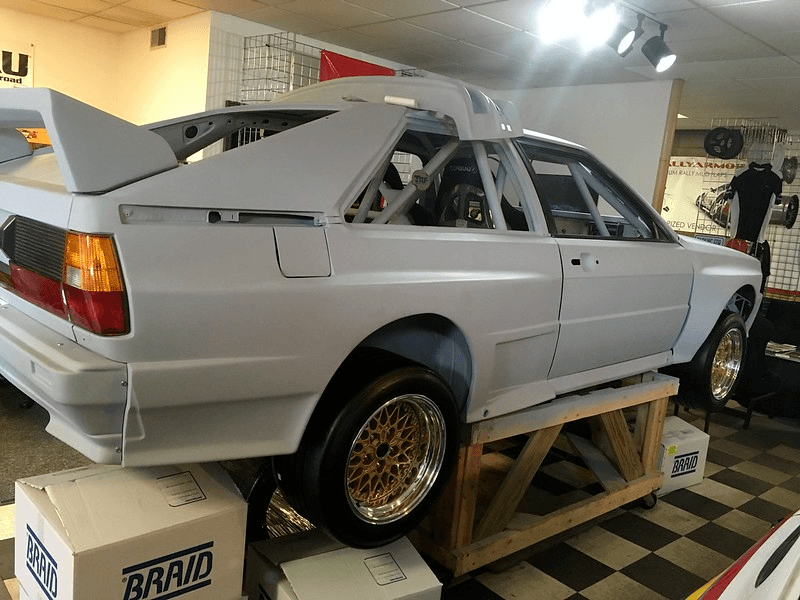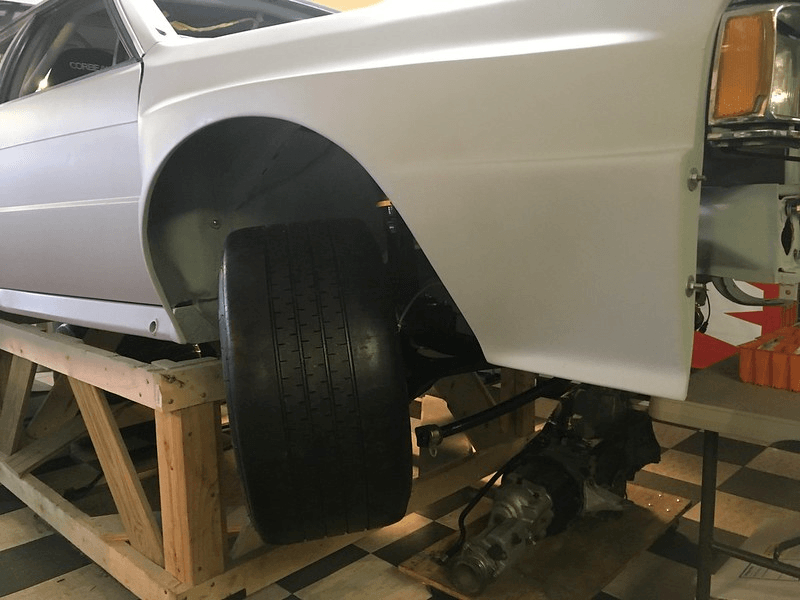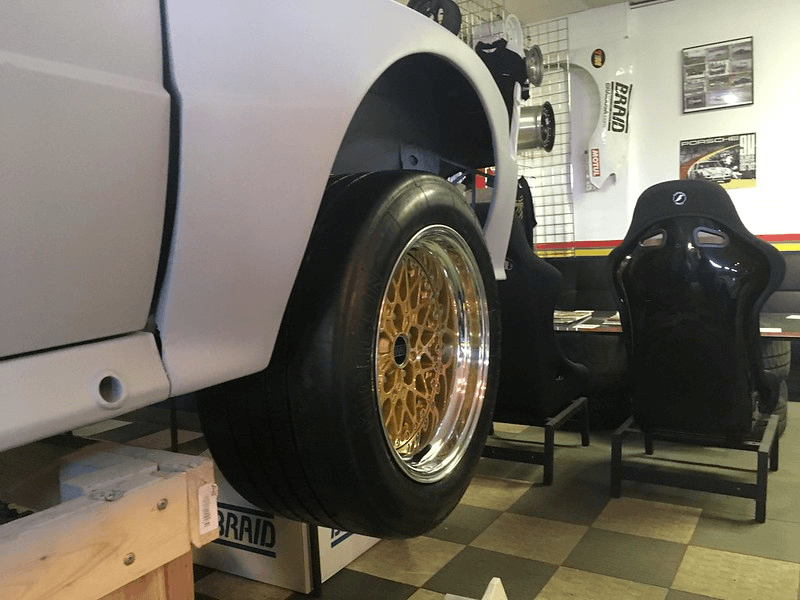 Nailed it!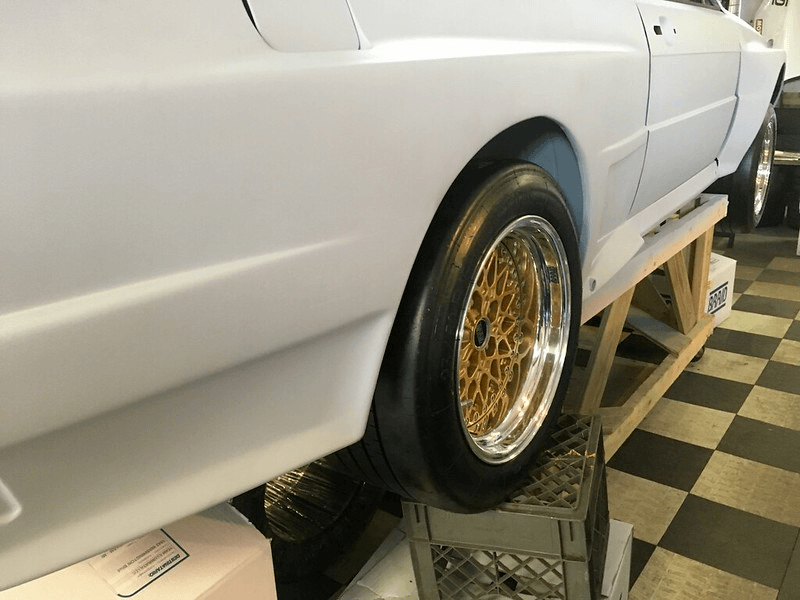 In case you weren't paying attention earlier these tires are Michelin TB5 historic tarmac rally tires in size 265/40-15 and are just 23.3" overall diameter. Again, the same size these cars ran in period, at least in tarmac trim.

Next week back to the engine, we promise.



5-15-19
-----------------
We promised you an engine-based post this week so here you are.

As we mentioned in an earlier post we were supposed to just bolt this in but have recently gotten carried away with cleaning and polishing everything on this car so let's see how nuts we can go with an engine. Is there therapy available for this stuff? We need help.

So we started by painting the block, even though nobody will ever see it once it's in the car. It's not like it didn't have paint on before. Jeez!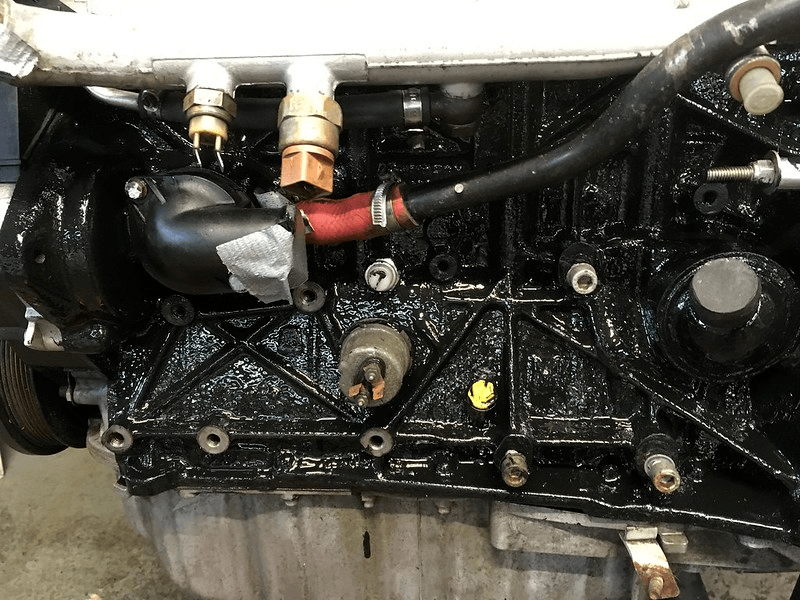 Then we turned our attention to refurbishing the cluster of accessories we previously took off.

We decided to reduce the size of the AC and alternator bracket as we are deleting the AC. We could have just found a non-AC bracket but they were expemsive and all in Europe because Americans can't drive without the windows up (electric) and the AC on.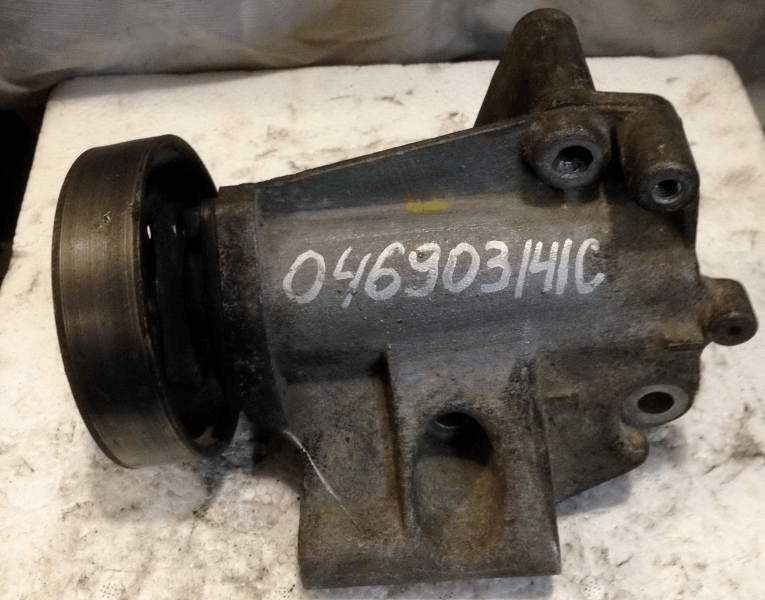 We couldn't make ours quite the same shape but we did cut a sizable chunk off the rear: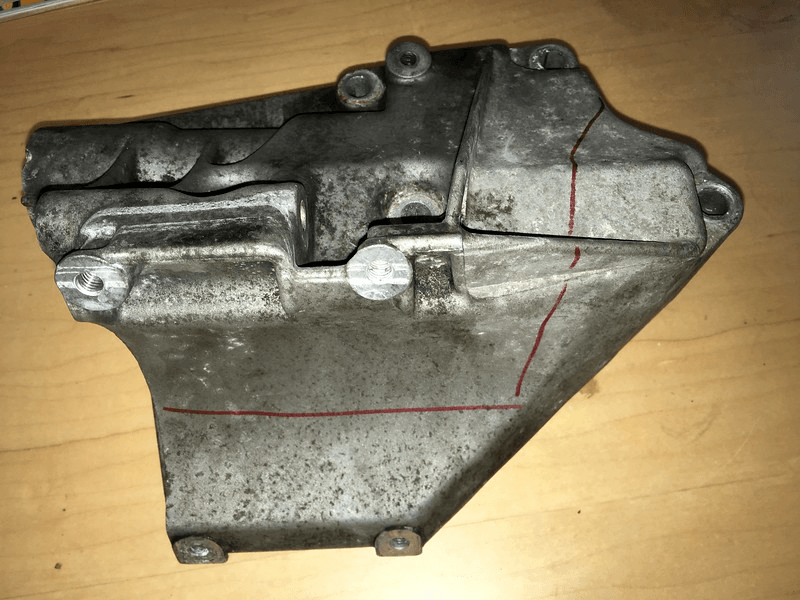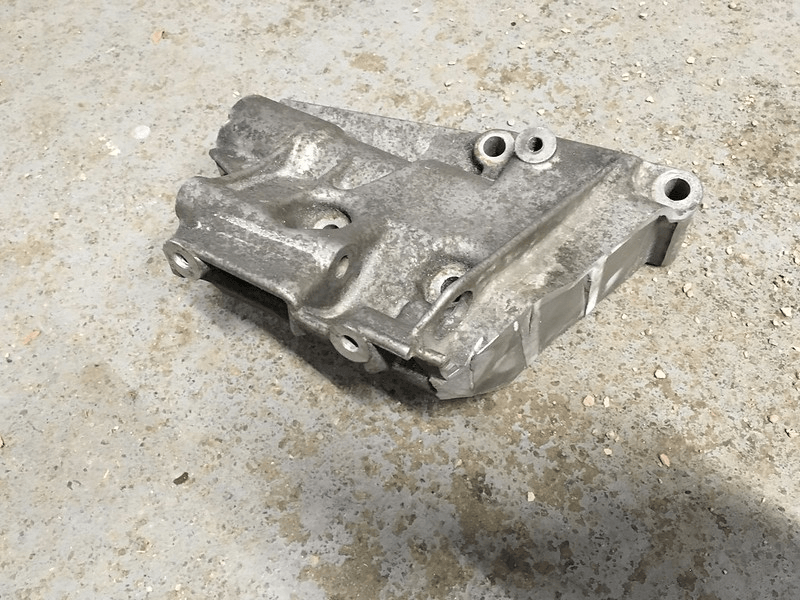 The idler pulley bearing was noisy and NLA so we just replaced the pulley with a GM something or other.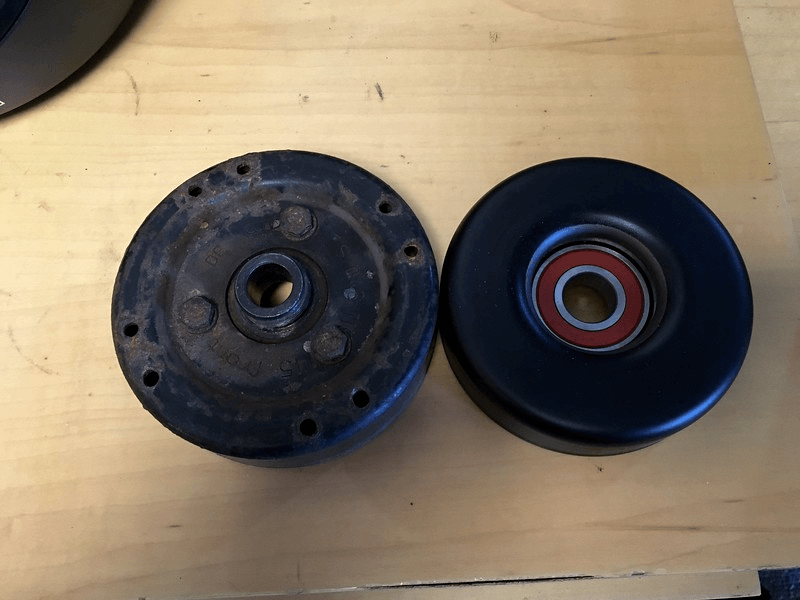 About the same size but has the bearing in the pulley like a normal one not inside the bracket like an Audi one. Consequently some re-engineering was required.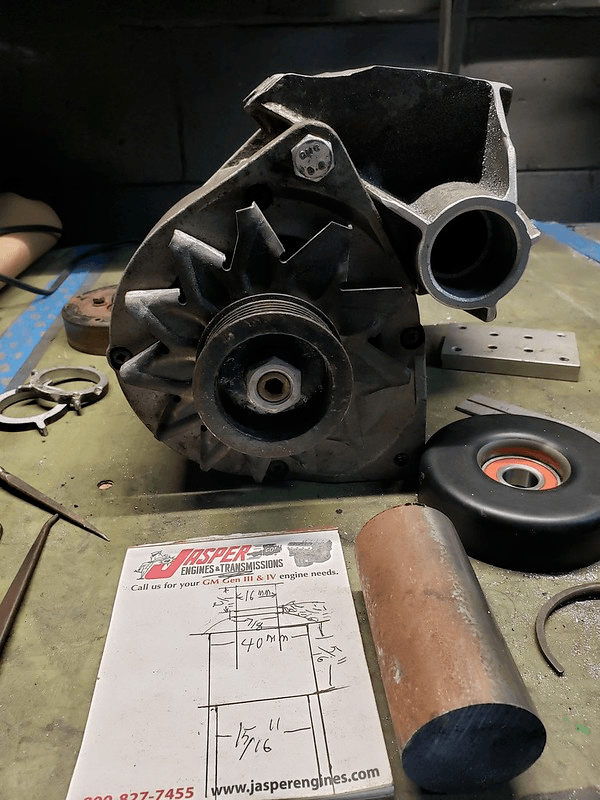 It turned out pretty nice, if that's not a pun.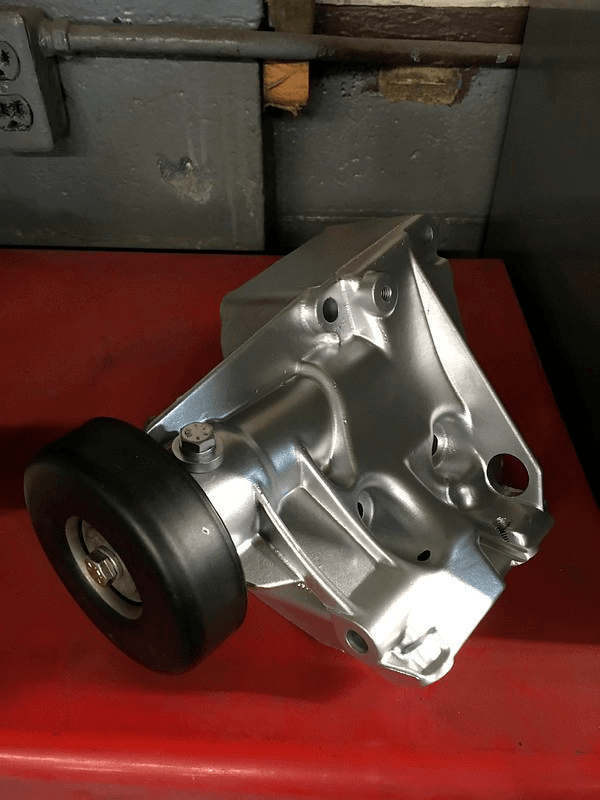 We also blasted and painted the engine mount brackets because, well, we're sick. Next week we'l probably paint something else; maybe gold! Stay tuned.



6-13-19
-----------------
ENGINE REFURB 2

We know, engine stuff. (Focus TIM). But look what arrived this week!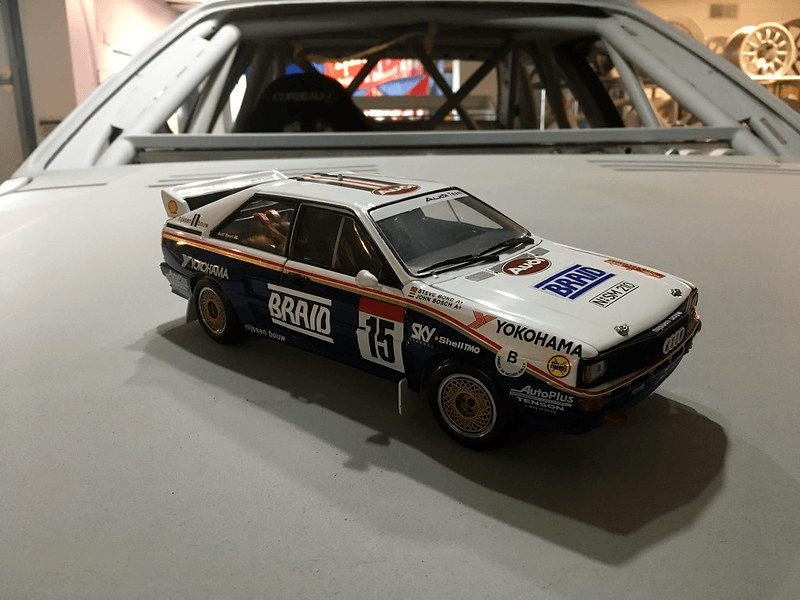 We could have just tried to convince you that we had a surge of enthusiasm and finished the car but that wouldn't be right.

We did paint something though, as promised: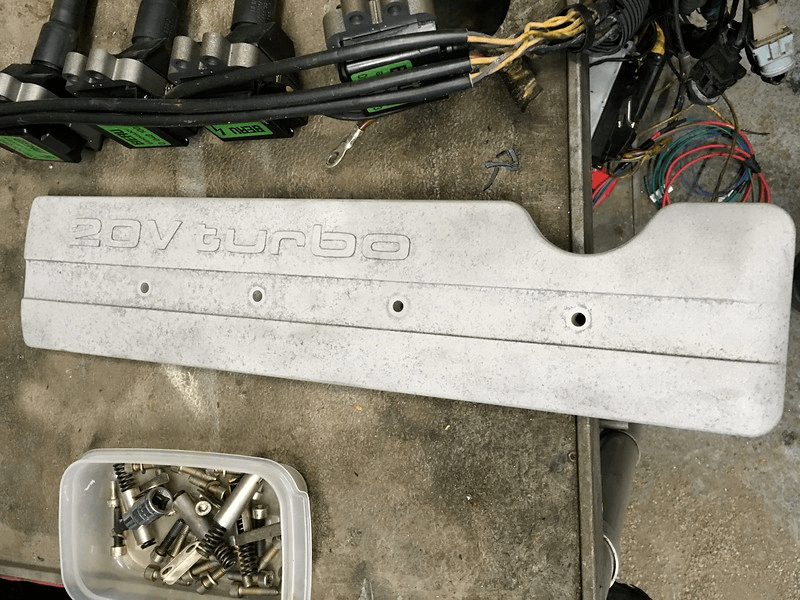 Gold too!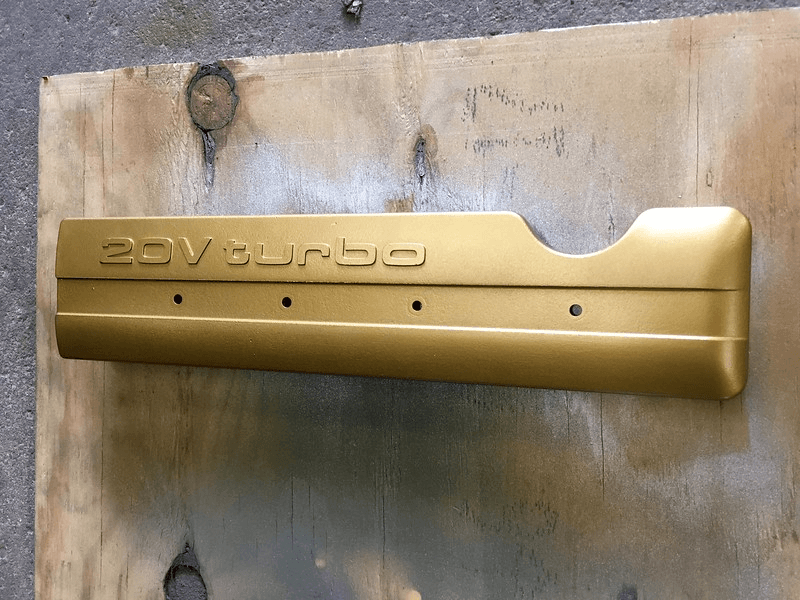 and red!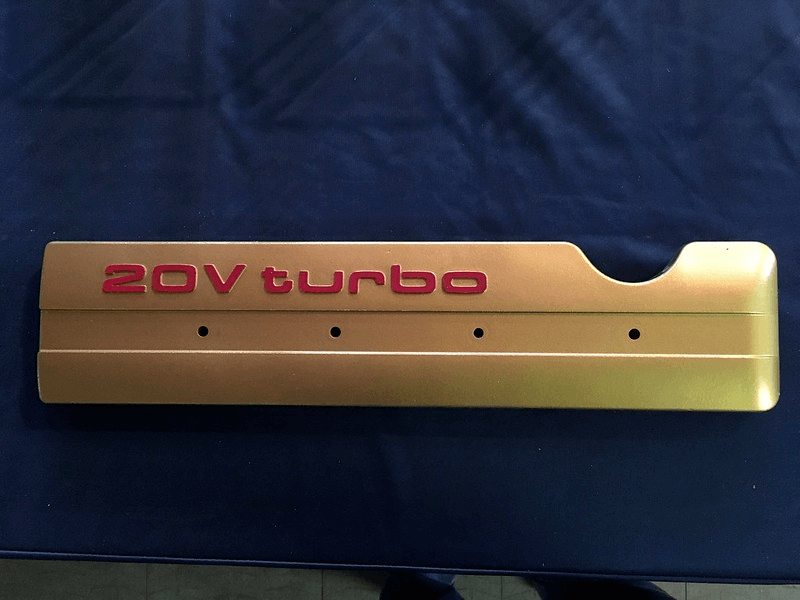 We also had a go at cleaning up the oil pan. It's not obvious in the pictures but it did make quite a bit of difference.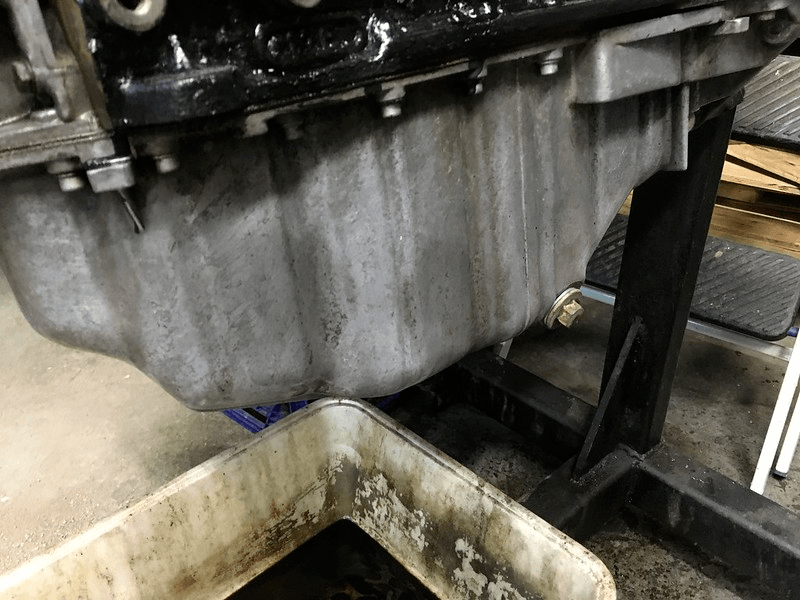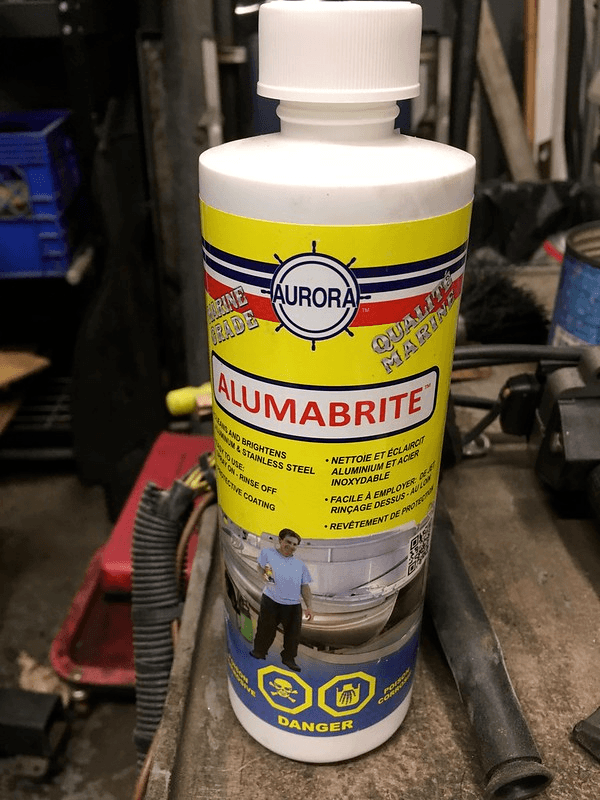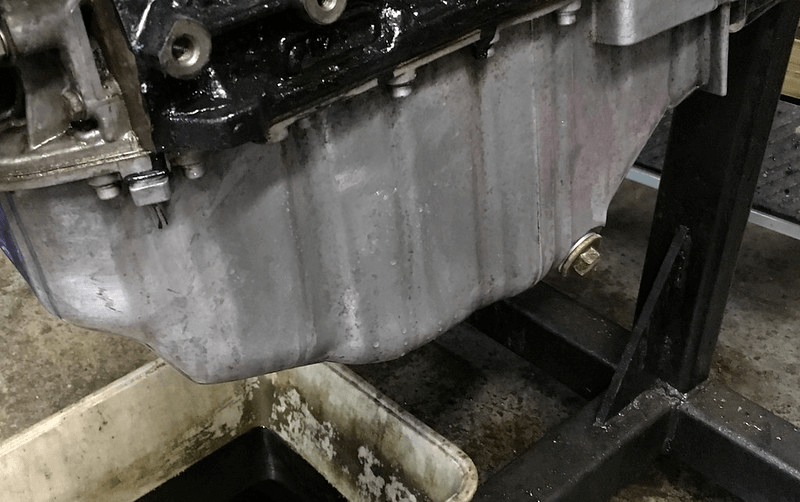 Enough that we think we might want to have another go at the transmission case with this stuff.

The last thing we worked on this week is only peripherally related to the engine but, as we were about to send a load of parts to the platers we wanted to include the power steering lines fittings. This is the 83 URQ's lines and oil tank along with the AAN's pump. The gap on the lower run is where the accumulator would go for the power brakes but as we are not using power brakes we can dispense with that. That means we need to come up with one continuous high pressure line and also some fittings for the pump end.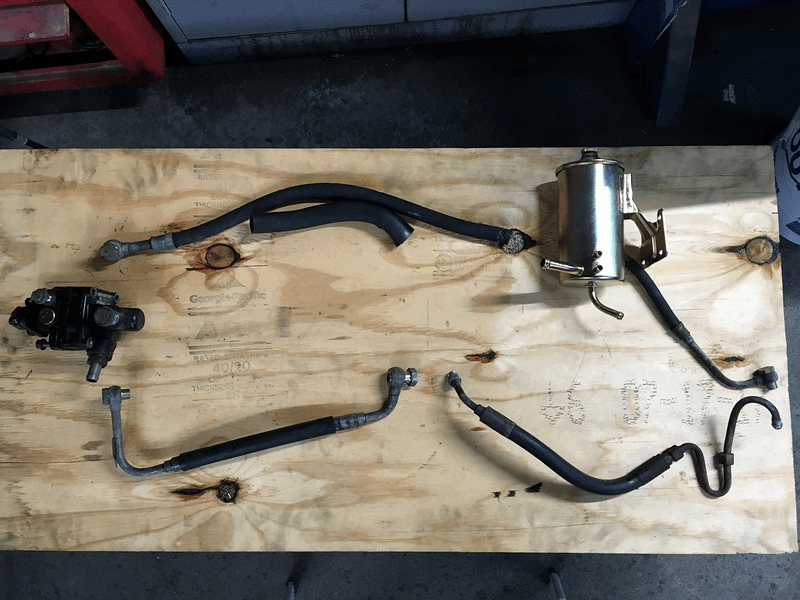 We sourced a high pressure line from a servo boosted car as it's fitting routes better around the steering rack because it does not have to go first to the accumulator. Then we cut out all the fittings and sand blasted them ready for plating.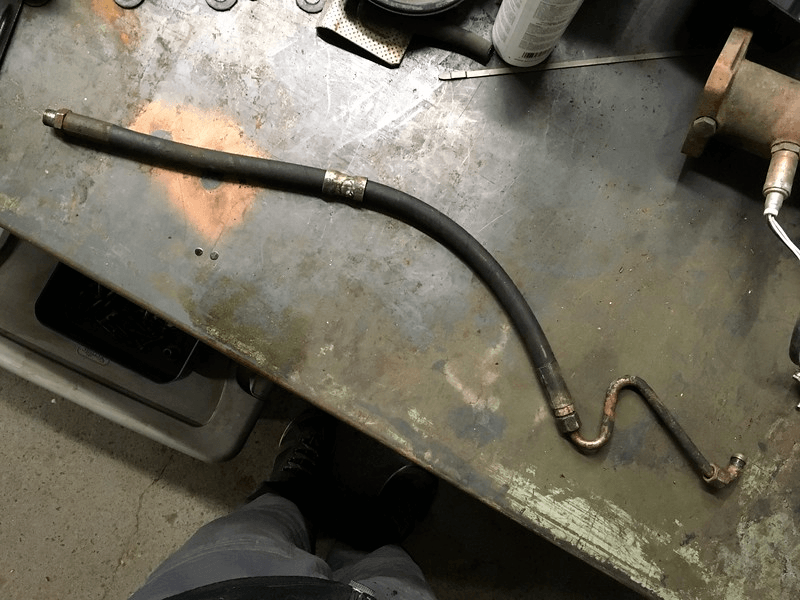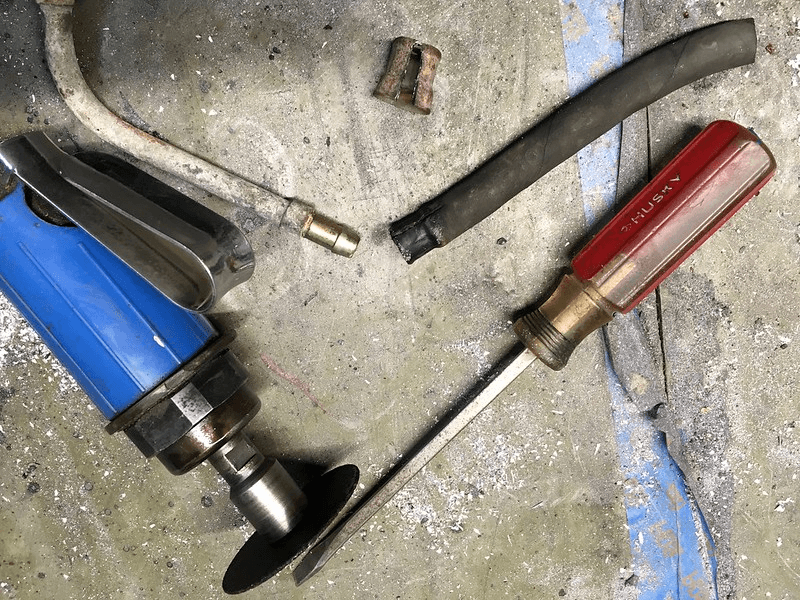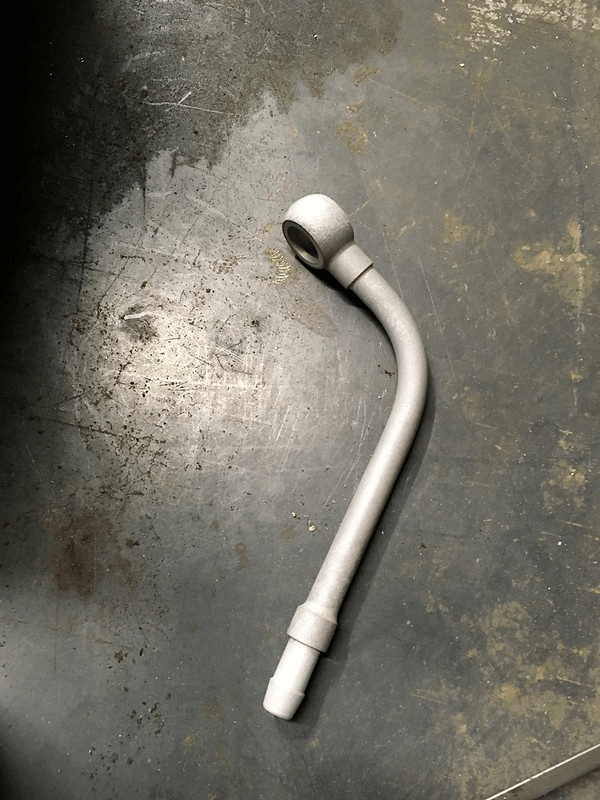 6-20-19
-----------------
Quattro Rally Project - Hot Side Engine Refurb

This week we turned our attention to the hot side of the engine and removed the turbo, exhaust manifold and waste gate. The turbo will be sent out to be refurbished, the exhaust manifold will be replaced with a slightly better one and the waste gate will be, well, we are not sure. We know we are not keen on the red cover however.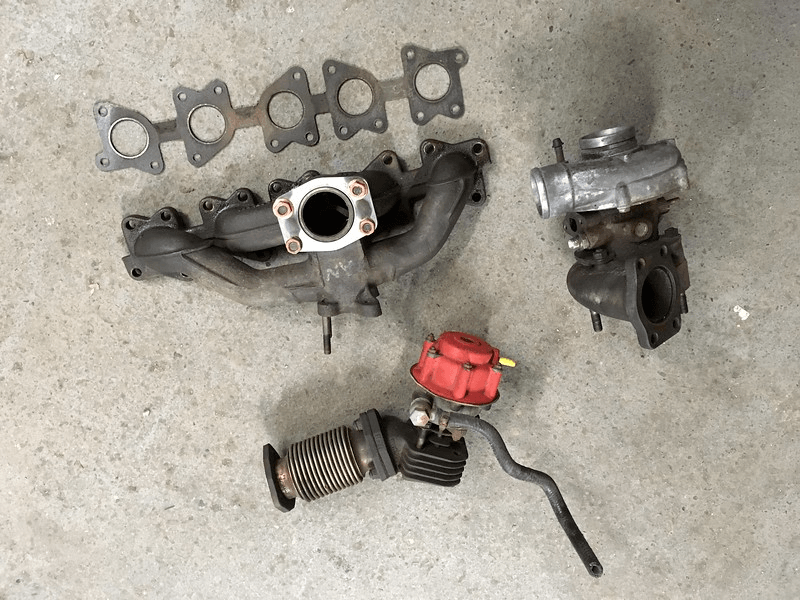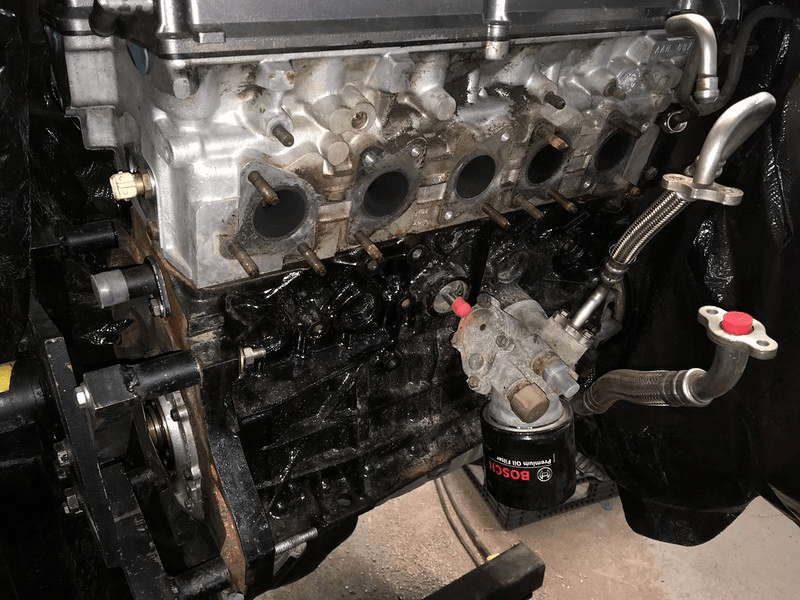 This is the eBay special $85 exhaust manifold we got. If nothing else it doesn't need sand blasting! When the turbo comes back we will have to decide whether and how to refinish it.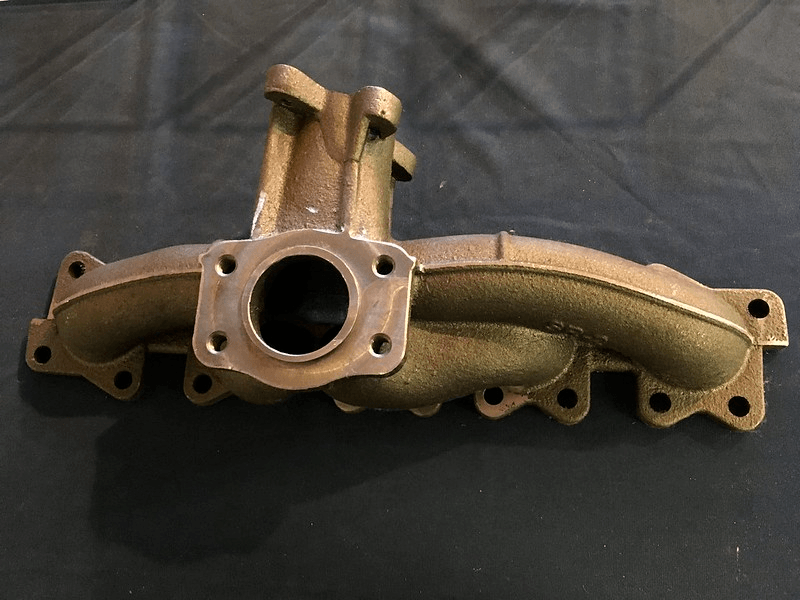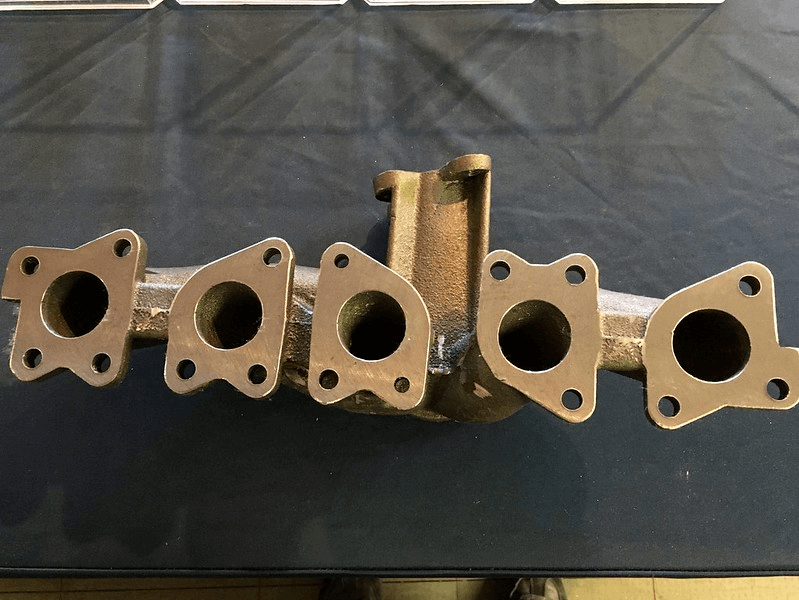 Inspired by our gold coil cover we finished the rest of the valve cover. We know, it's a bit flash but it is rather reminiscent of the Group B 10 valve engines so we feel good about it.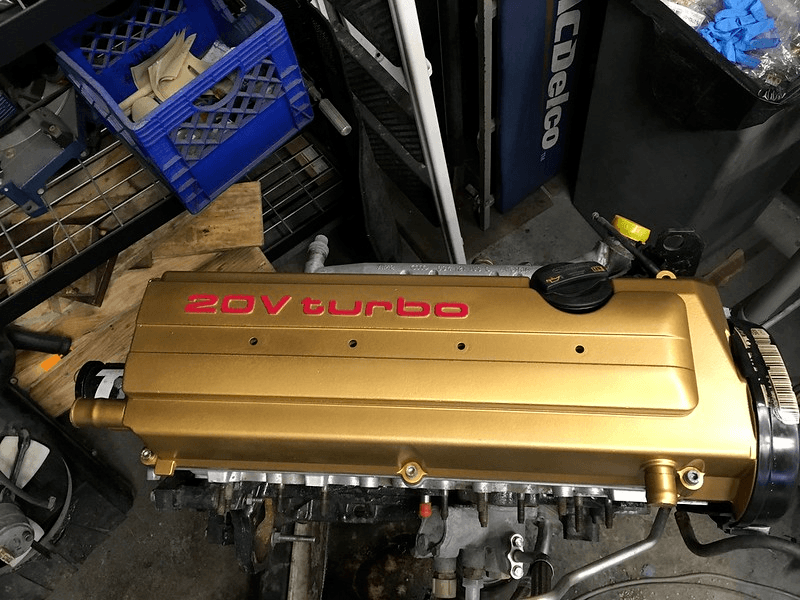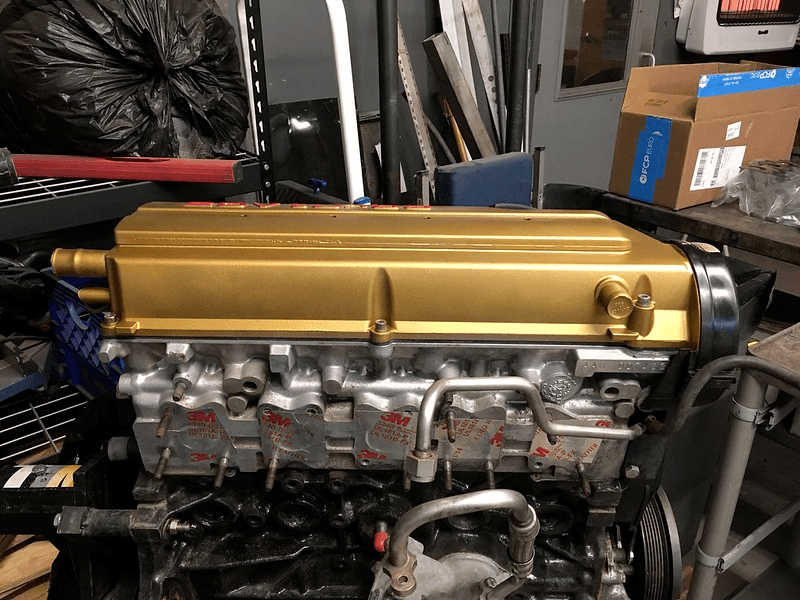 Then we got distracted again and made a fake license plate. It's the little things...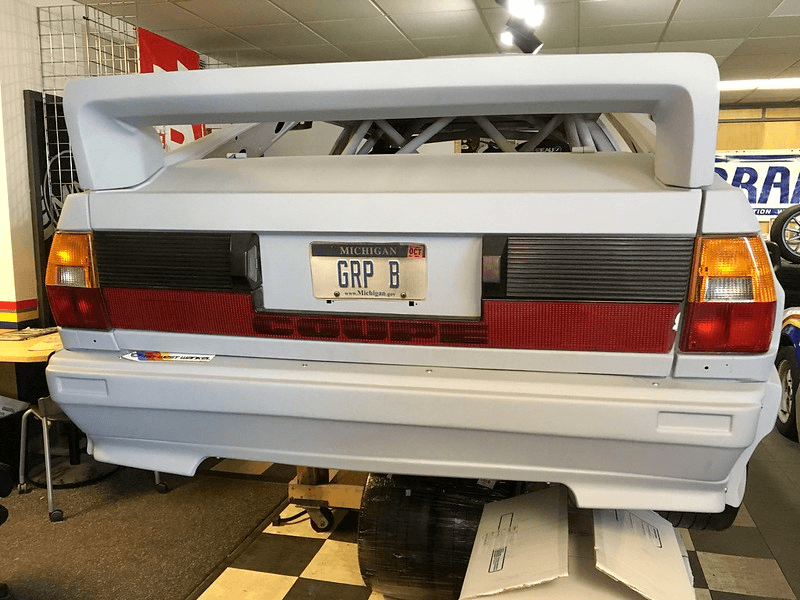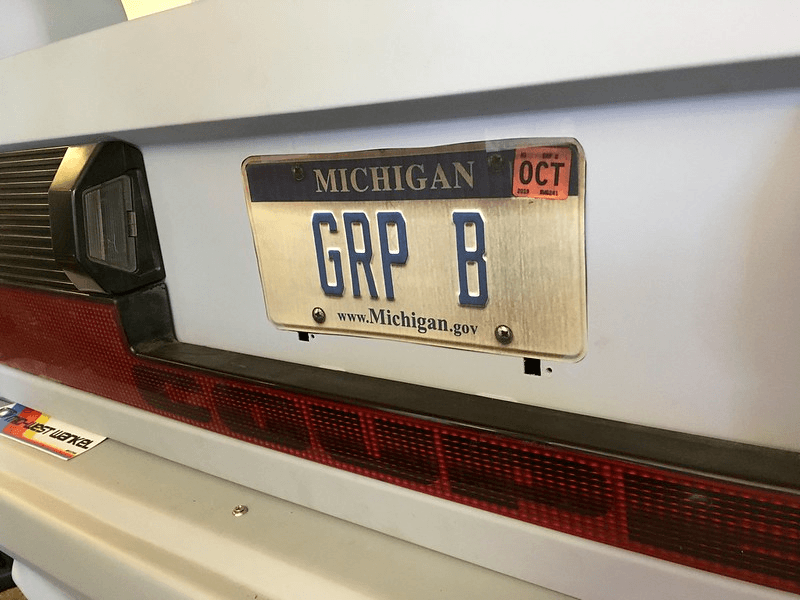 6-27-19
-----------------
Turbo Trouble & Fuse Dash Panel

We received some bad news from our turbo shop, G-Pop Shop this week. Our turbo is bad. Exhaust turbine ate something that didn't agree with it.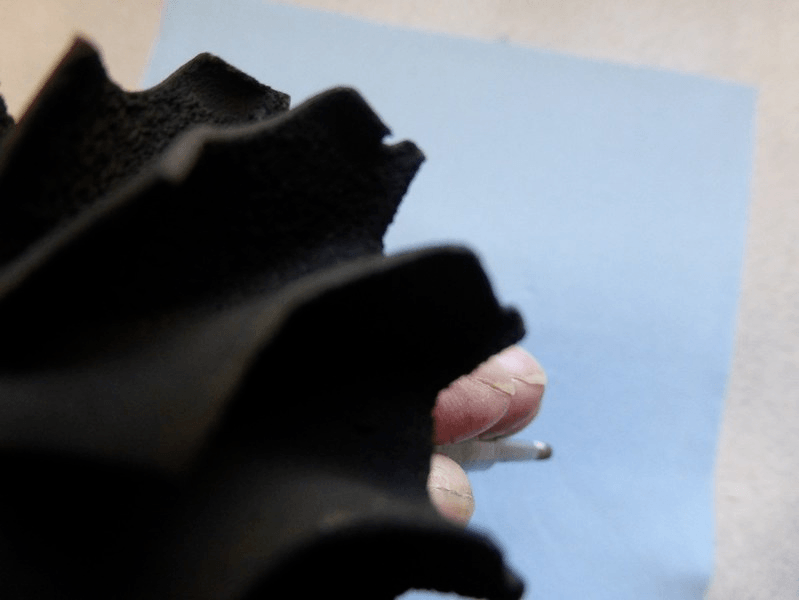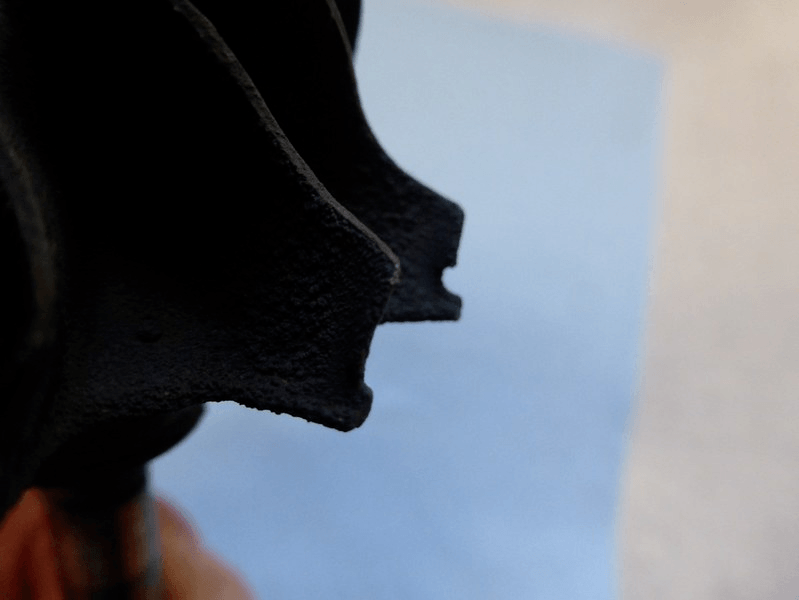 We got on the blower to our engine supplier, EFI Express and they soon had another core sent out. This one turned out to be fine. The other good news is that the bad turbo was never on our engine, it was just one of many EFI Express had on the shelf so whatever did the damage almost certainly did not pass through our engine. PHEW. Can't wait to get the refurbished turbo back now.

While that was all playing out we reassembled our belt tensioner. These are NLA and ours had a bad bearing. We sourced and new bearing but had to make our own rivets to put the pulley back together around it, followed by a lick of paint of course.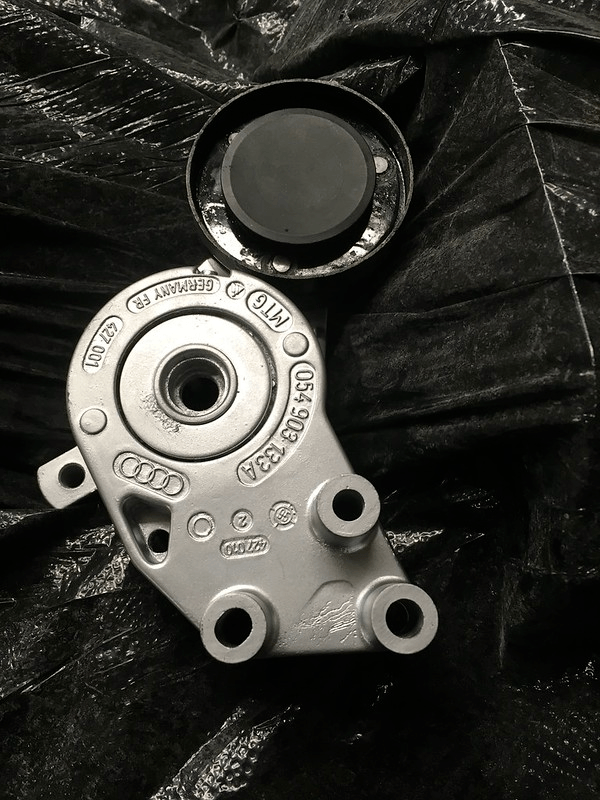 We also continued to work on our dash mounted fuse panel design. The original works cars had three fuse blocks holding ceramic fuses mounted through the center removable panel. We want to use three similarly sized panels but with more modern blade fuses. You'd think that would be quite simple but it's proving quite difficult. We can find side entry versions but our wires have to come in from the rear.

Group B fuse blocks:



The collection of candidates we have assembled so far: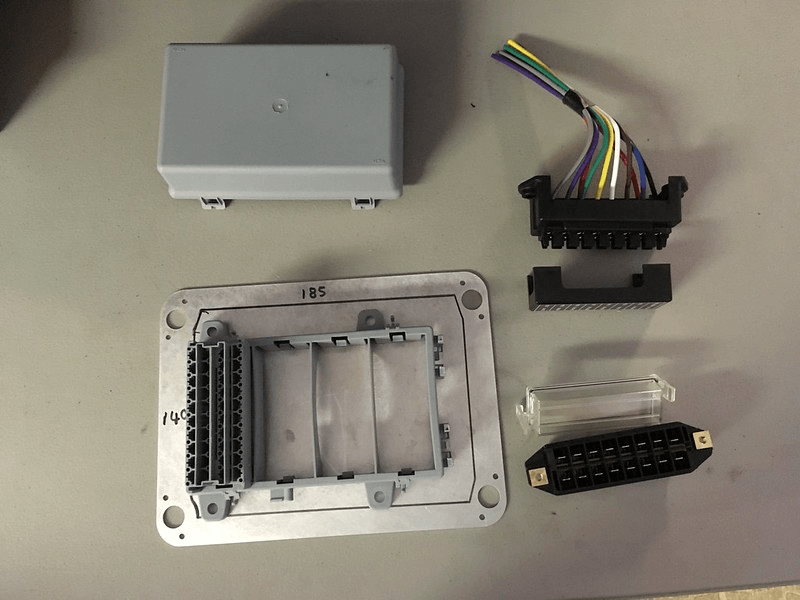 The one on the bottom right would be perfect if it held 12 fuses instead of 8. You'd think that were available wouldn't you. Nope. We may have to compromise.

Now we have the wheels on the car the only thing stopping us putting it on the ground was the lack of springs. That and a good reason to actually do so. Undaunted we installed the springs.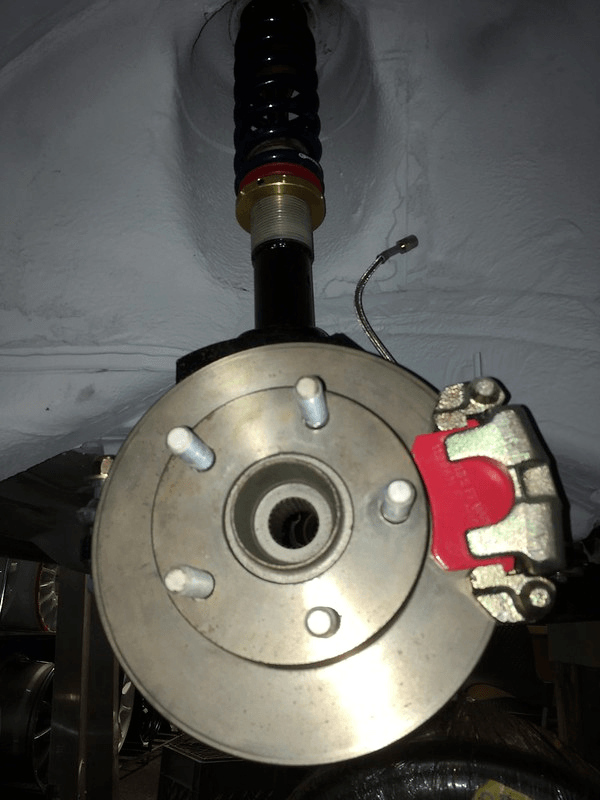 7-4-19
-----------------
Quattro Rally Build - More Engine Bay Work

More distraction this week but look at it! Wouldn't you be distracted?




Some of this is for the engine refurb but some has been holding up some ancillary stuff so we got busy. We installed the wipers (can you spot the long awaited plated parts?)




This piece of automotive jewelry holds the blower motor resistor!




Alternator fan (that's engine related)




Power steering rack fittings.




and the front left tie rod adjusters.




We even got our anti-roll bar clamps back.




So we got to cross a ton of stuff off the list; all be it, little stuff. Still, it's all progress, right? Got to keep moving forward.


7-11-19
-----------------
It's Time to Get Serious - Cold Side Engine Reassembly

This week we started on the serious reassembly of the engine. We'll try not to get distracted. We started on the intake side as that has the most shiny bits ready to go. First up the modified alternator mount:




Then the coolant adapter. We were advised to get a straight one in metal for better fitment:




Then we installed the alternator, power steering pump and belt tensioner:




We still need to find a shorter accessory belt but that's not what's stopping us completing the intake side of the engine; we need an intake manifold solution. Because the radiator on the UR Quattro sits the side of the engine, the AAN throttle body would interfere with it because that is located on the center of the AAN intake plenum:




We either need to modify our stock one or source an aftermarket version with the throttle body on the front. We favor the aftermarket options from BST, Wagner or whoever else sells one. Unfortunately finding one is proving troublesome as they are basically NLA. Let's see what we come up with.

Hey, look, we didn't get distracted. Next week's topic will depend on what shows up first: a refurbished turbo or a cool intake manifold.


7-18-19
-----------------
Refurbished Turbo - Hot Side Engine Reassembly

The turbo won. Turns out it takes longer to find a unicorn aftermarket intake manifold than it does to refurbish a turbo. Well it does if you are a professional outfit like G-Pop Shop https://gpopshop.com/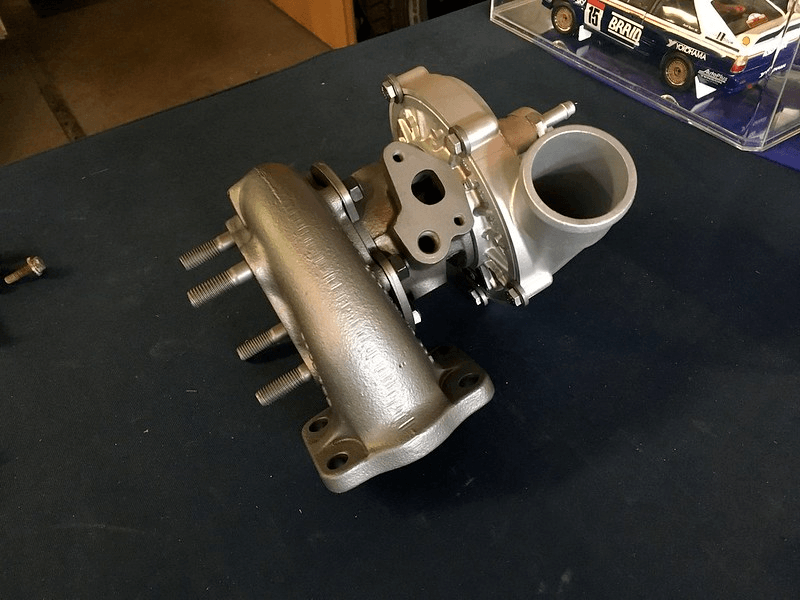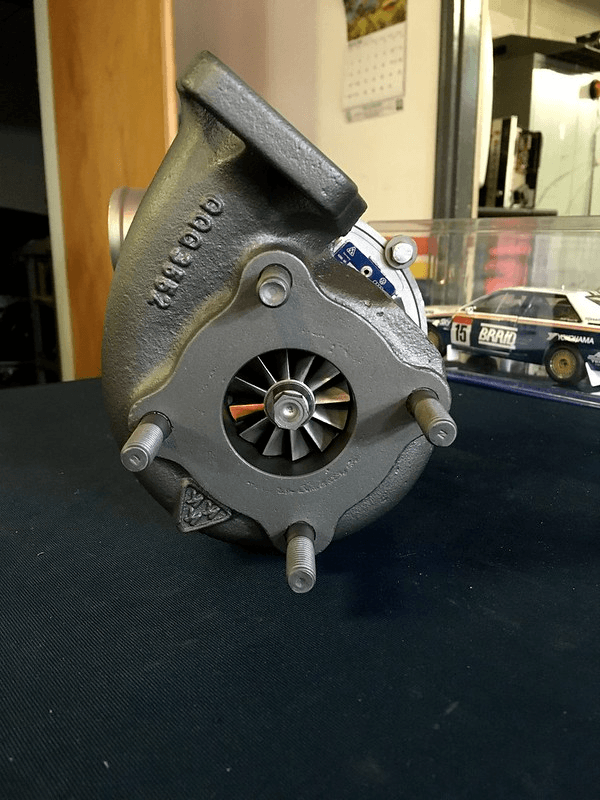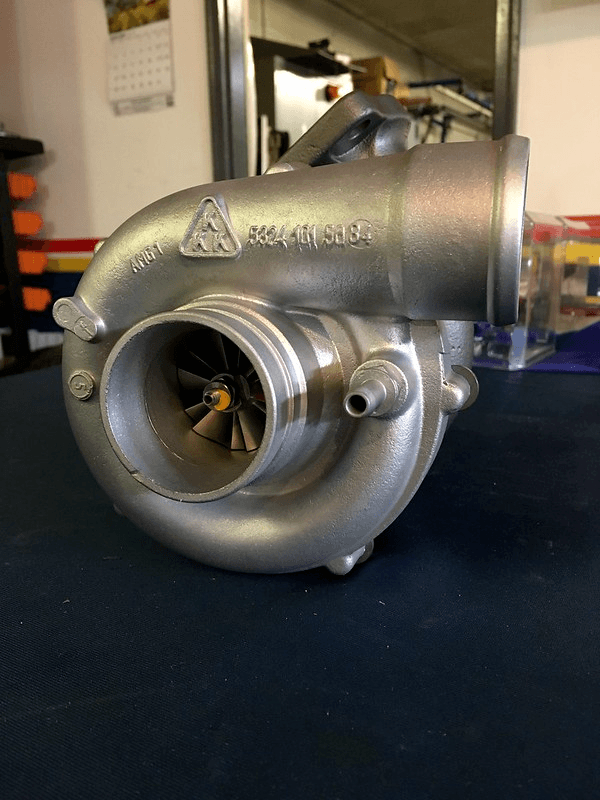 So we're going to assemble the exhaust side next. First we'll need a heat shield: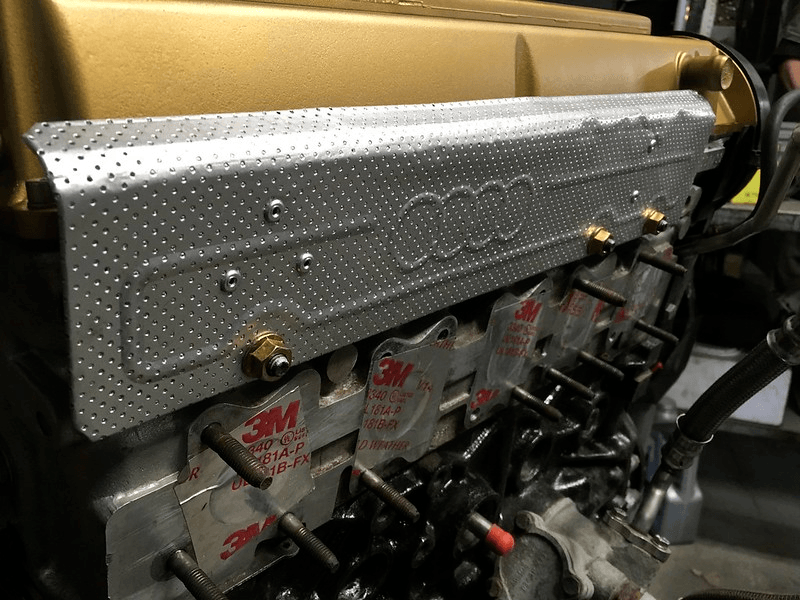 Our new exhaust manifold fit well but we did have to shorten some studs to get the nuts on.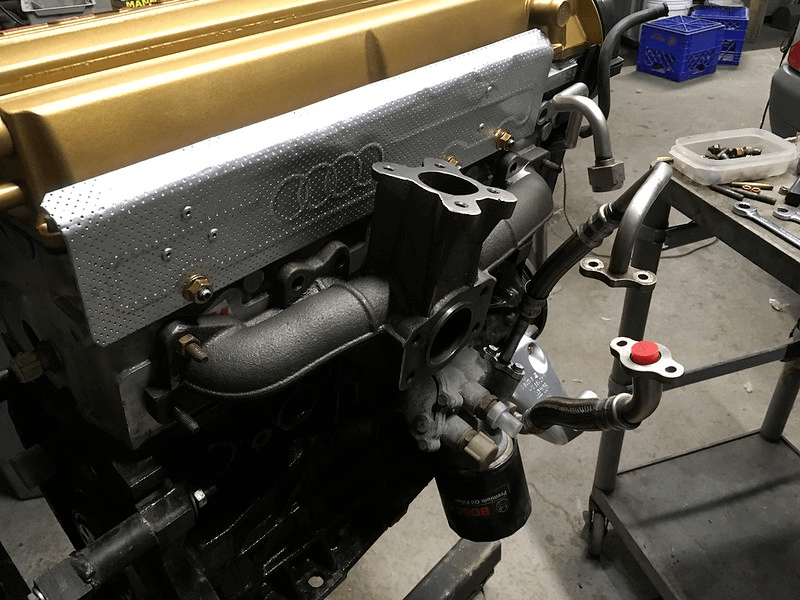 The rest was easy bolt on stuff. New gaskets of course.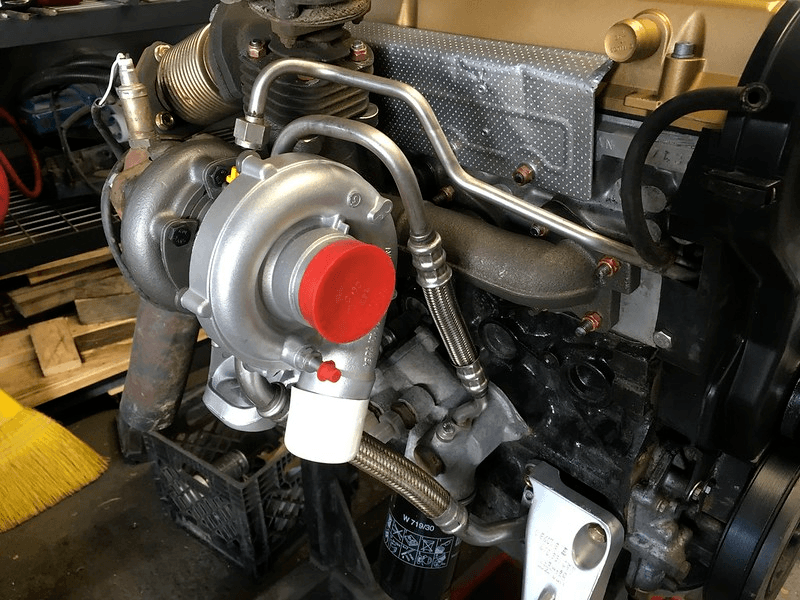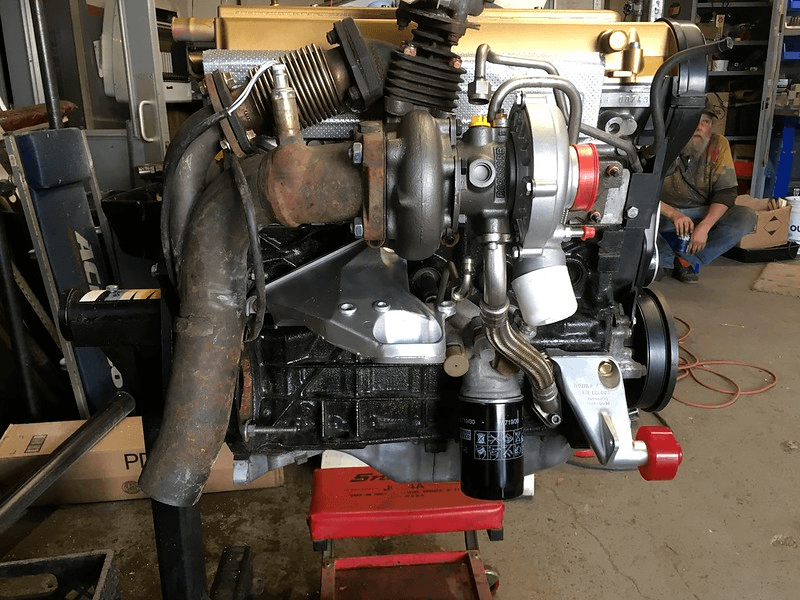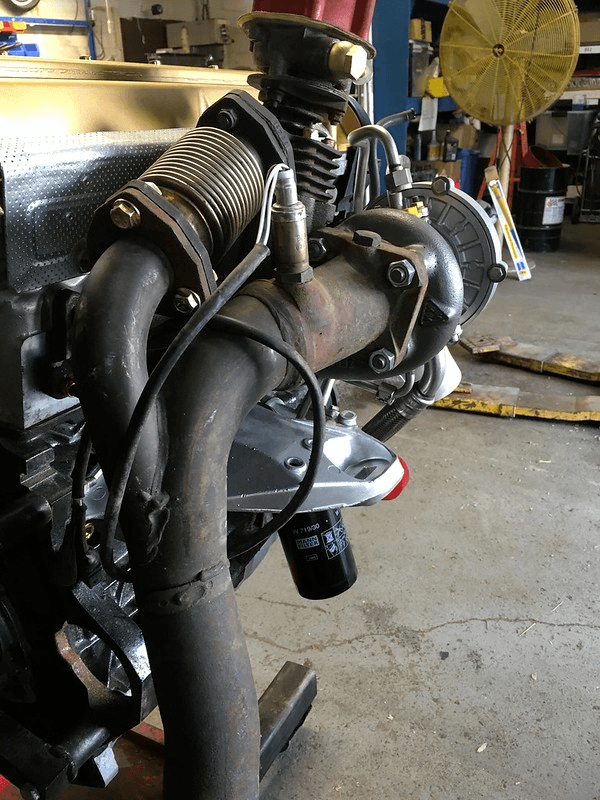 And we think we've found an intake manifold. Subscribe if you want to find out what kind.



9-12-19
-----------------
Solving Intake Manifold Challenges

We found an intake manifold!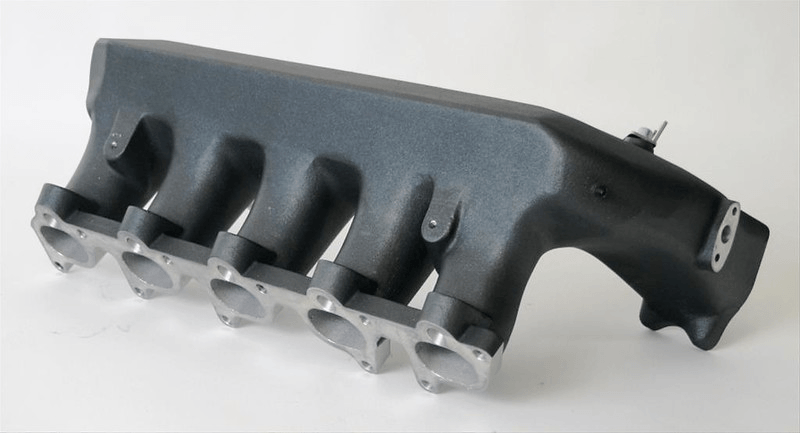 It's a new old stock from Wagner Tuning. A fellow Audi nut had it in his stash and no longer had plans for it. We do! This thing should be plug and play and make moving forward very easy. We test fitted it with the 034 Motorsport phenolic spacer kit and it fit perfectly! Trouble is, nothing else would fit to it. Firstly, the throttle body and power steering pump now want to occupy the same space: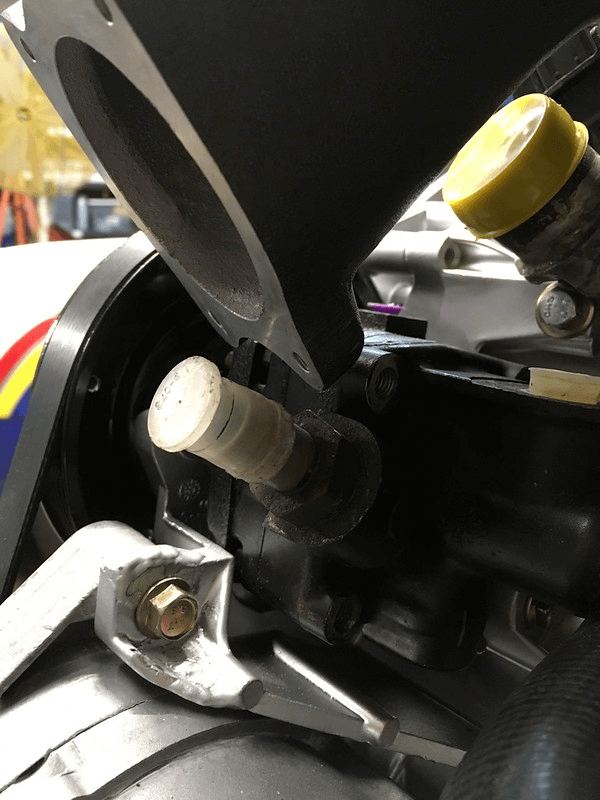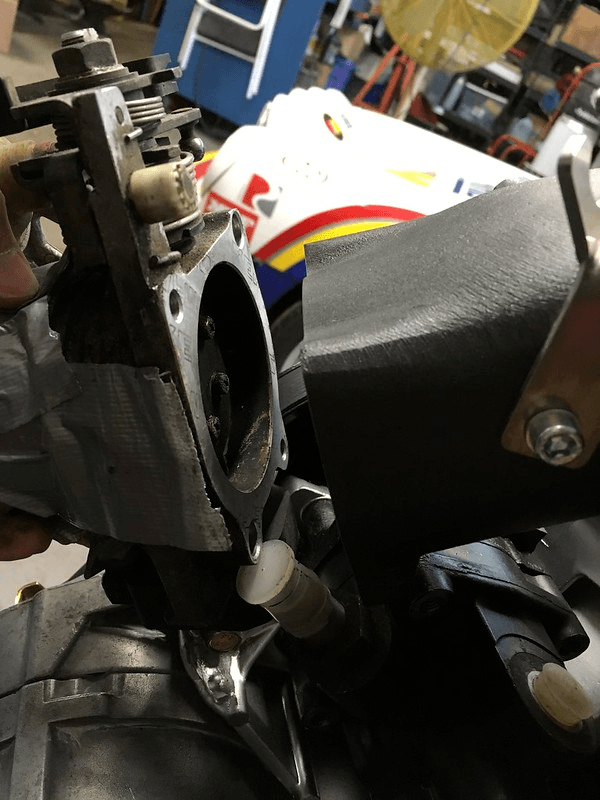 And the fuel rail won't fit and has nothing to bolt to. At least the injectors line up with the injector holes and there are no inserts to source.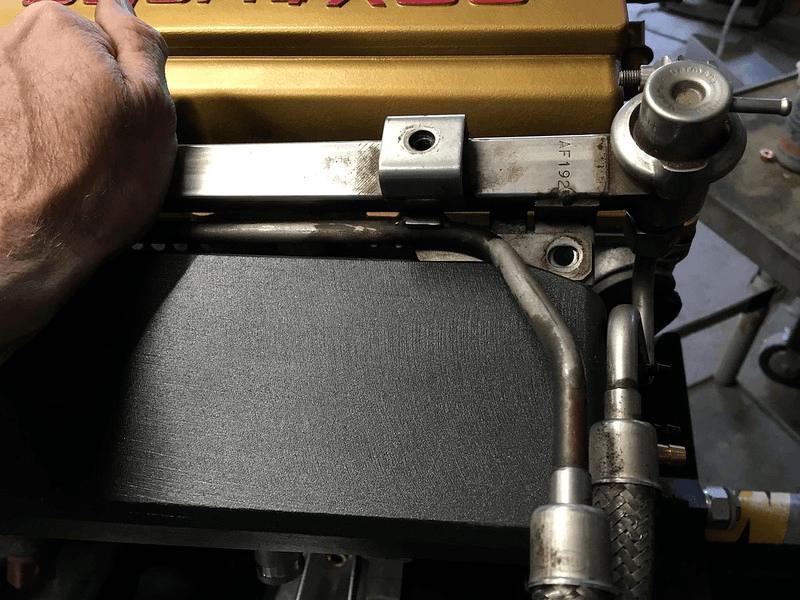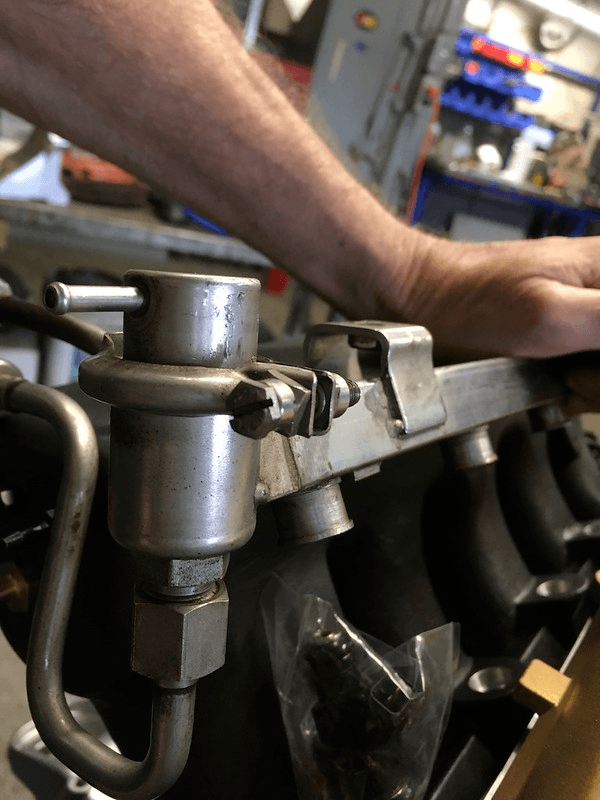 Time to get creative……….



9-26-19
-----------------
Solutions for our beautiful intake manifold

Last time we conversed we were reveling on the beauty of our aftermarket intake manifold and despairing at the frustration that nothing would fit around it. Now we think we have solved all these issues. Read on:

First we made a throttle body adapter to place the throttle body above the power steering pump: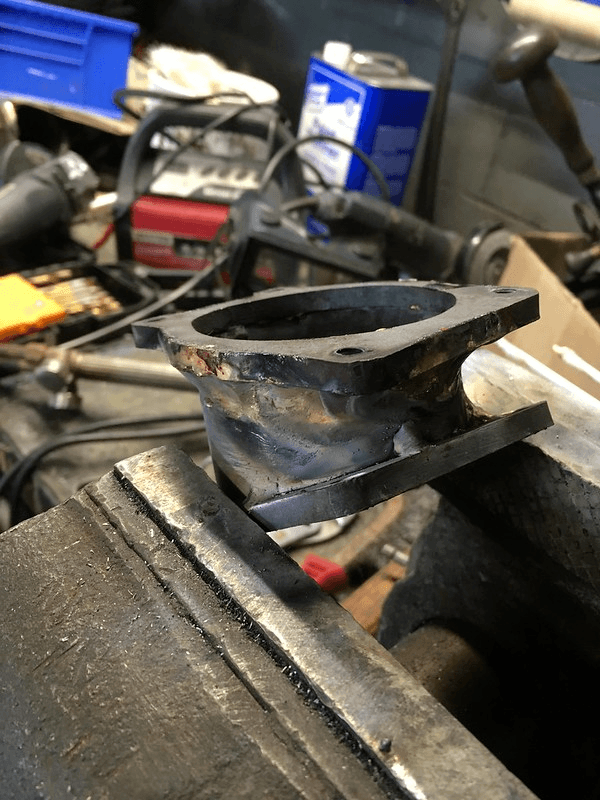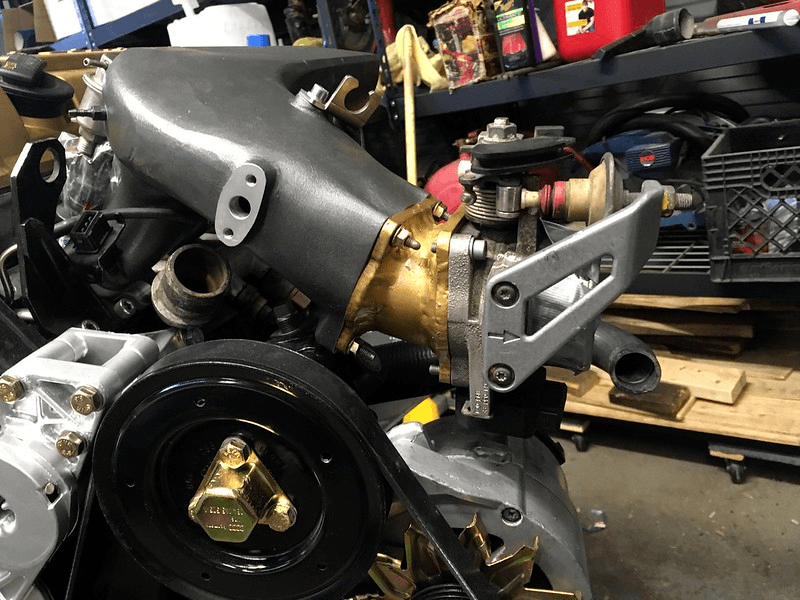 Then we started to hack up the OE fuel rail. We stripped off all the brackets and fuel lines to verify that we could use it. The injector holes lined up and the rail snuggled up nicely against the intake runners.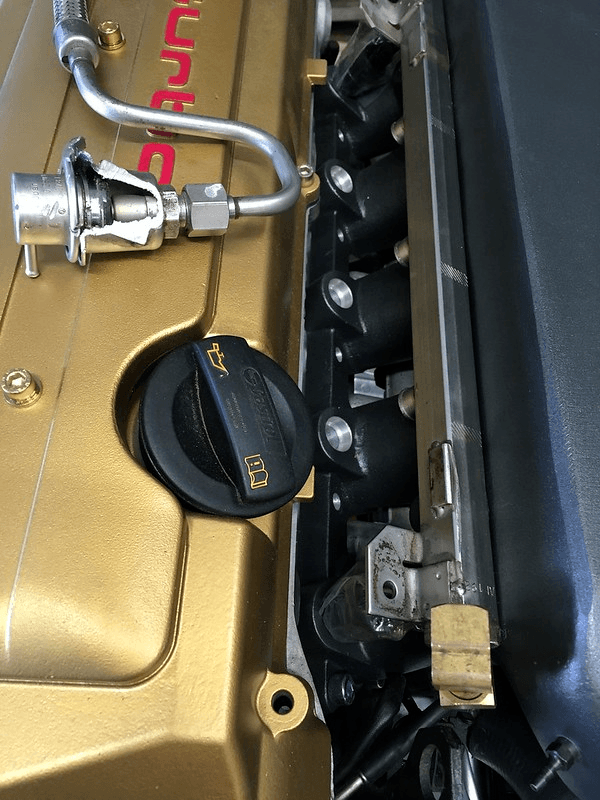 Then we created fuel lines and incorporated an aftermarket fuel pressure regulator, a fuel pressure gauge and even a fuel sampling port!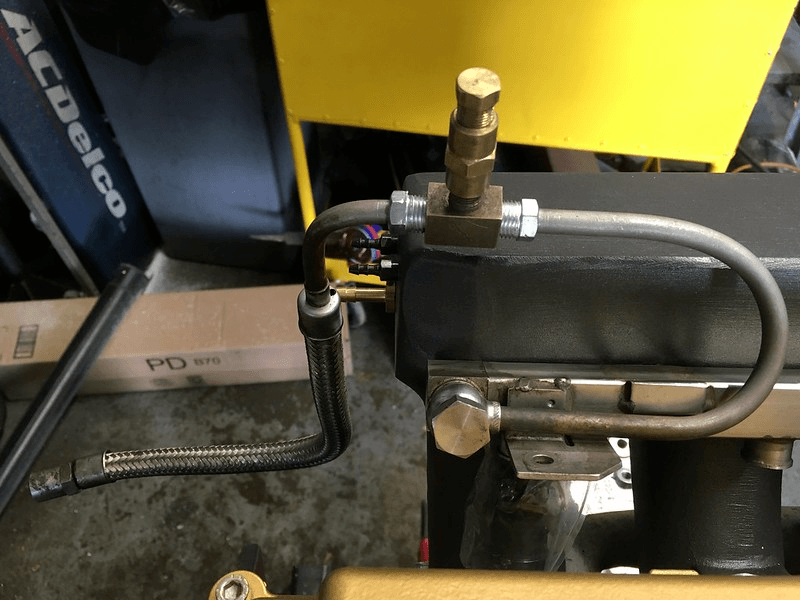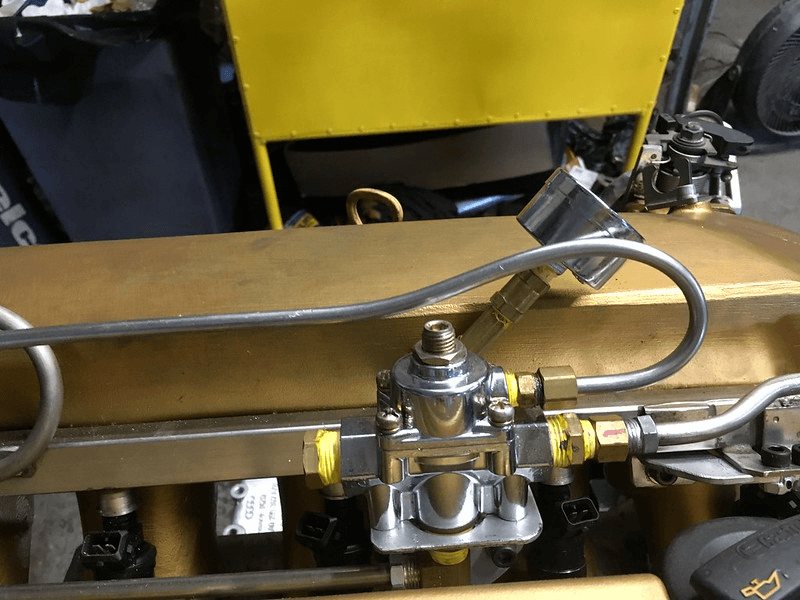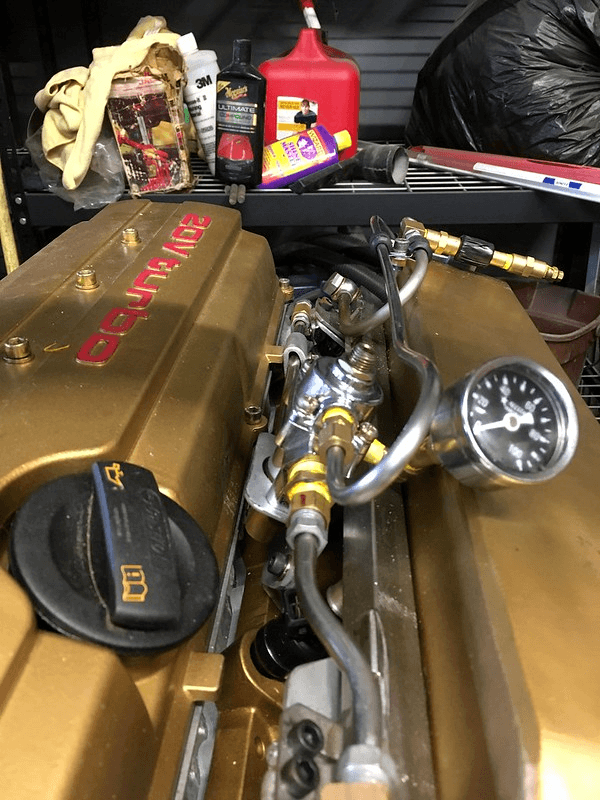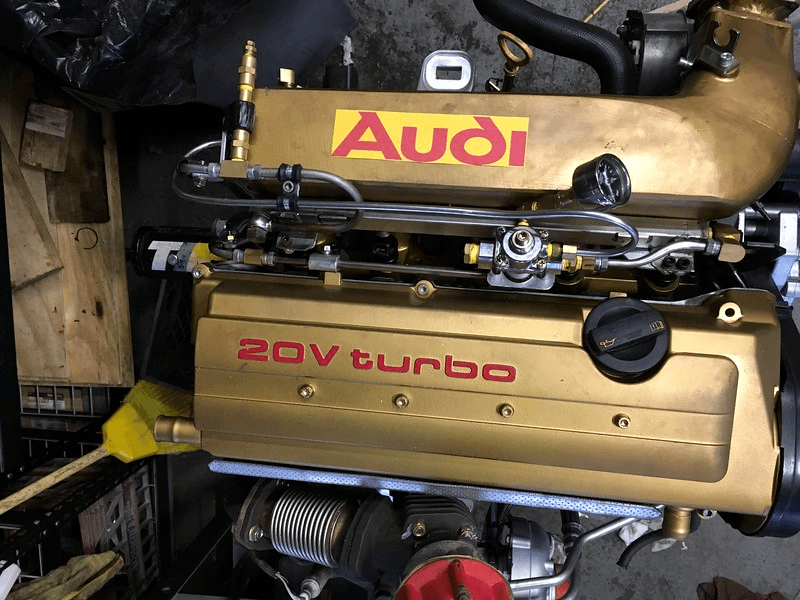 And somehow during this process the manifold itself got painted gold to match the valve cover.

We also came up with a way to secure the now floppy dip stick tube.


We feel quite good about solving these problems. Of course there are a few minor details to work out such as the throttle cable angle of attack and mounting of ancillary items but they should be easy to figure out. At least now we feel it is time to introduce the engine to it's new home so they can get acquainted. We do need to run brake lines and a few other bits and bobs around the engine bay before we bolt it in but it's nice to have the engine out of the workshop.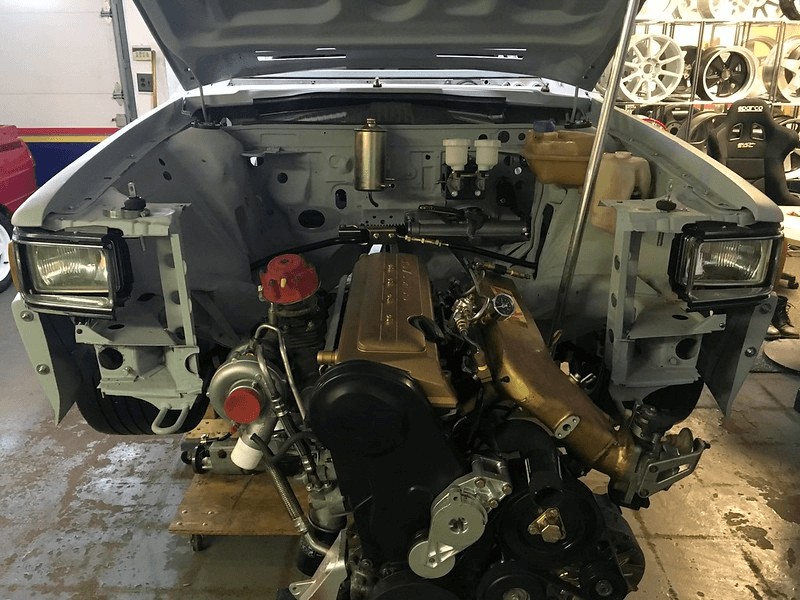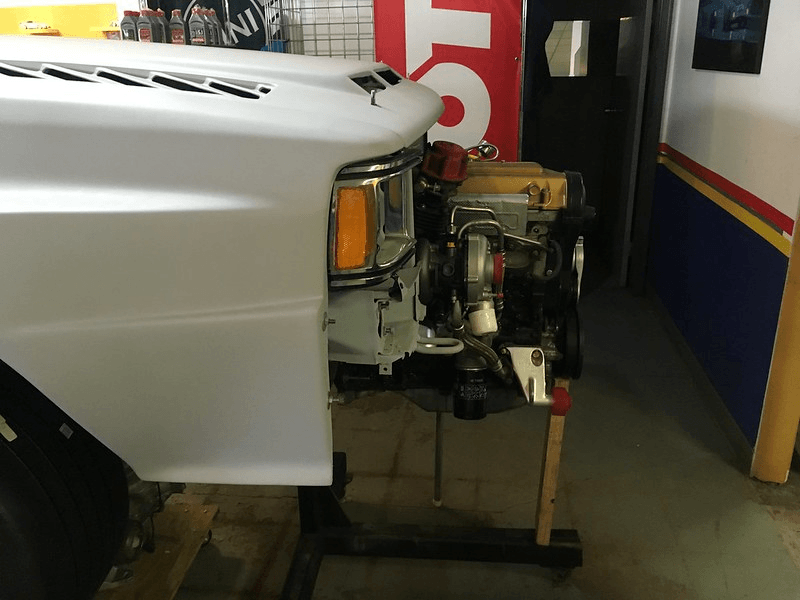 10-10-19
-----------------
We finally have a center console!

The saga of the OE center console is over! This piece took a very convoluted path to get to us from Germany but it arrived via (Friend returning from a trip to England) courier and couldn't wait to install itself under the dash.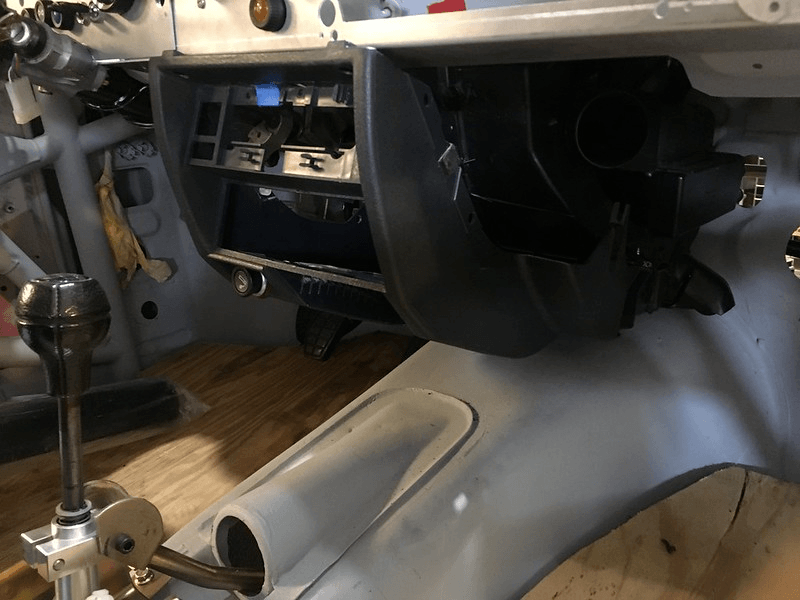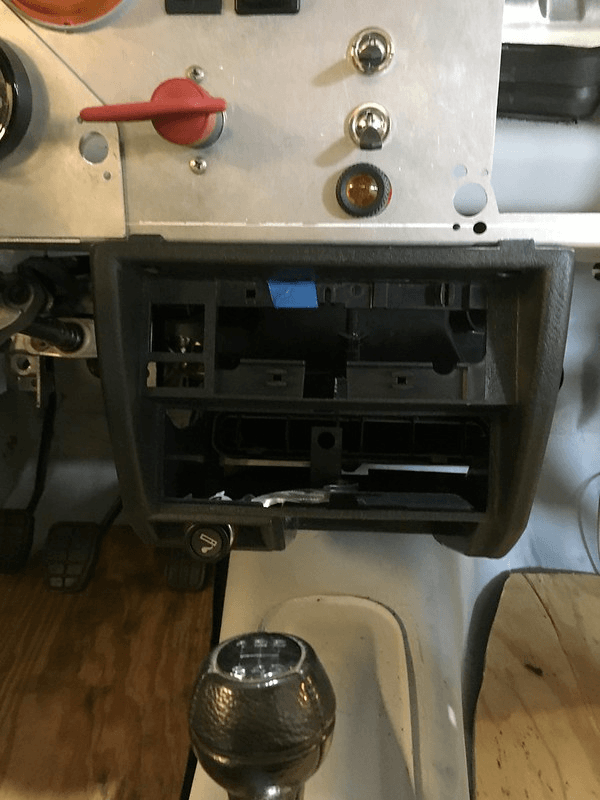 This is the same piece used by most if not all the works cars and comes off lower spec cars not sold in the USA. We could have chopped off the lower half of the UR's console but we really didn't want to ruin one and it would never have looked so tidy.

The upper bay will house the OE heater controls, if we can find them again, while the lower bay is still up for grabs. We could install the OE cubby for storage, which would be useful as we've lost our glove box, but it might end up being home to the brake bias knob and USB ports. As a bonus, it does come with an accessory socket so there's that!



10-24-19
-----------------
Proper Gravel Rally Wheels!
We ordered more BRAID wheels for the car. This is the third set! We sold the first set including the tires. We have a problem. We justified this set of gravel wheels by ordering them double drilled so we can also use them on our 911 rally car. That car now has five sets of wheels yet only does about 300 miles a year. Did we mention we have a problem? Anyway, we think they look really cool.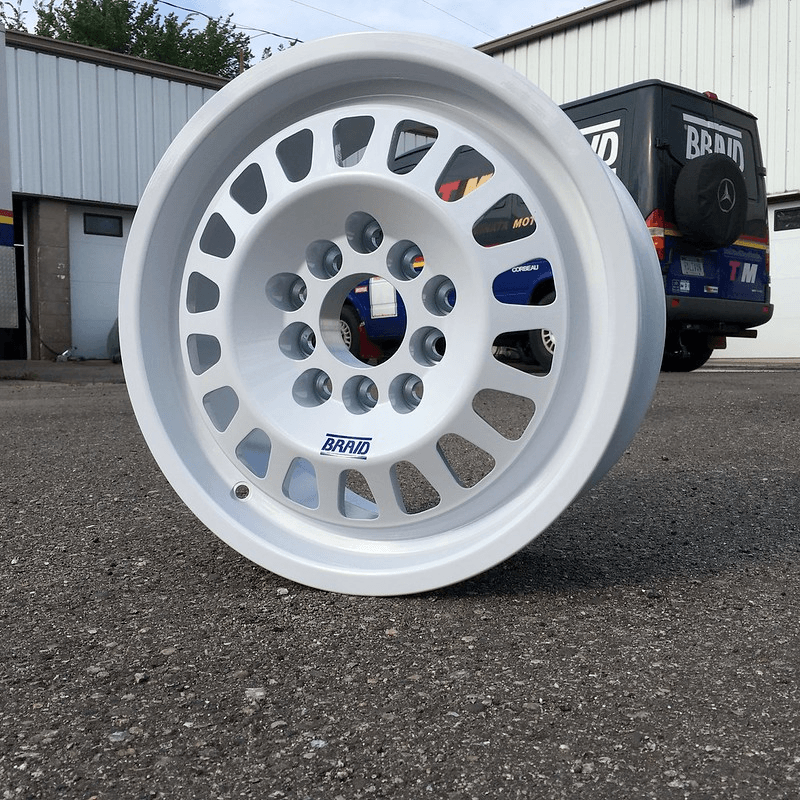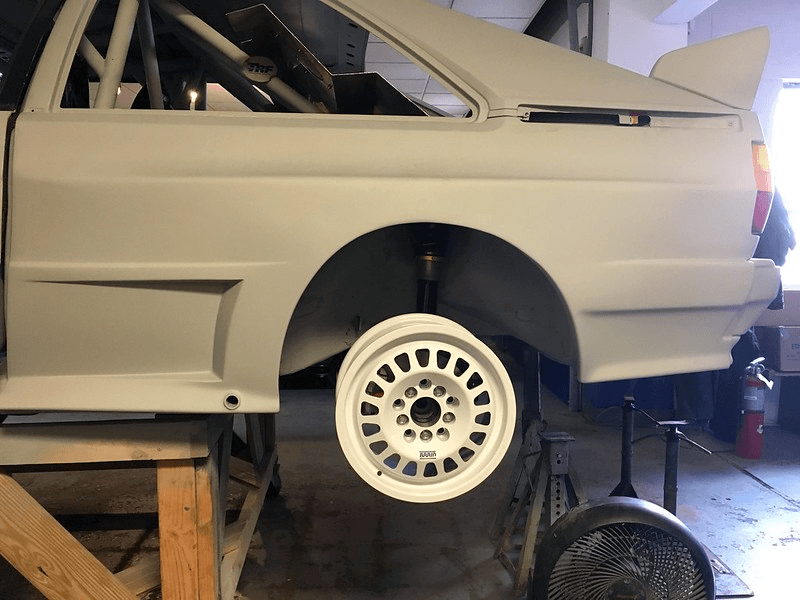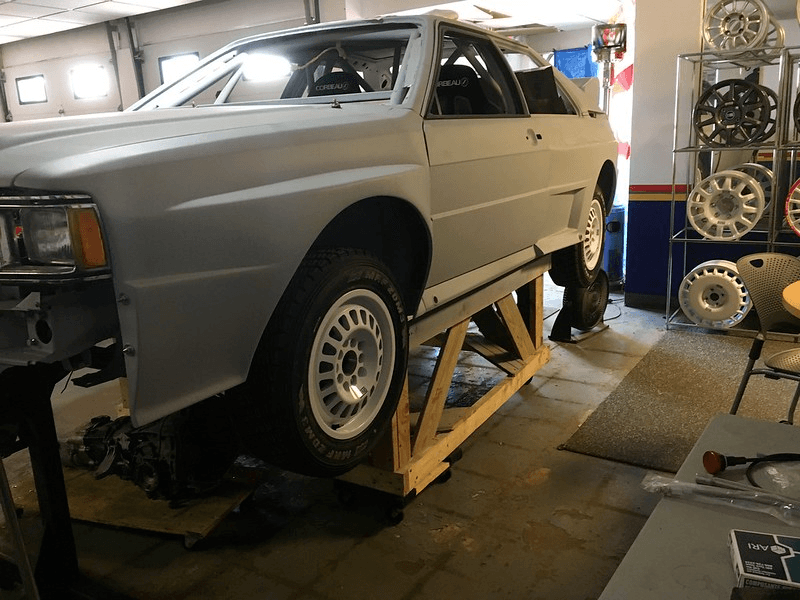 Even though they are ET20 they still sit pathetically inboard of the wide body fenders; as they should. LOL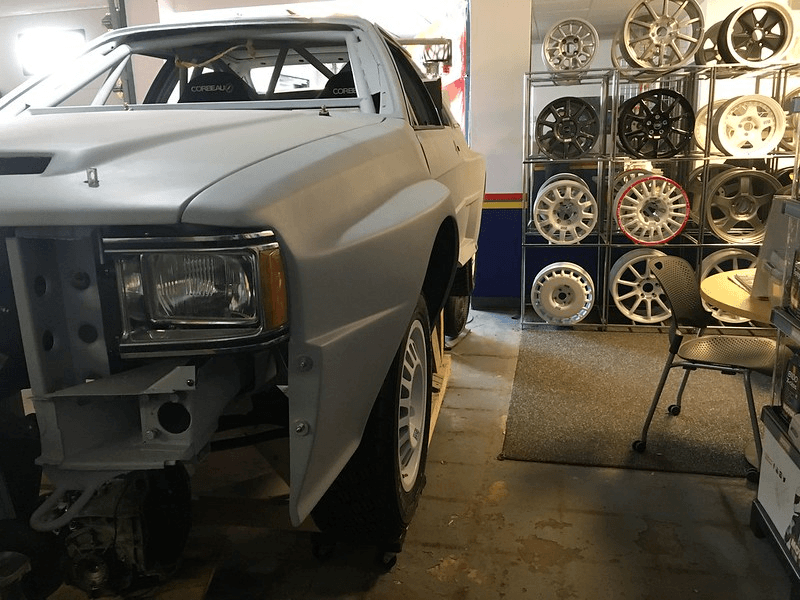 These are a classic BRAID gravel wheel in 15x7. Let's hope these MRF rally tires don't age out before we finish the car!

11-7-19
-----------------
THE ROAD TO RADWOOD - Part 1

"The best laid schemes o' mice an' men……….." Robbie burns said that, way before Quattros were invented. Still applies today.

When we left you we had just installed our center console and were about to start working on installing brake lines before we put the engine in. Well that plan got blown up as the car got invited to Radwood Detroit, the car show for 80s and 90s stuff. So our first thought was "Nah, It's not finished" but then someone suggested that if we got it on its wheels and put the engine in it would still be cool and people would love to see it. So that's what we did, or tried to.

So this was our starting point, with the engine on a stand and just shoved into the engine bay and the car still on the wooden build table.




We didn't have a plan for getting it off the table but thought it would be a dam site easier if the engine was still out of it. But first we had to prep a few things. Chiefly bolting the front tie rods onto the uprights. We hadn't sourced nuts yet but realized some lug nuts of the correct thread would do for now:




And that we'd also need a steering wheel in order to manipulate it around.




We temporarily installed the rear firewall (again):




And rigged up the door strike pins so the doors would stay closed:




We also bolted down the Corbeau seats as best we could. Some adjustments will be necessary before final assembly:


Next time we'll mount the engine and transmission together and get it bolted to the chassis.


11-21-19
-----------------
THE ROAD TO RADWOOD - Part 2
We thought we should mount the transmission as well as the engine only has two engine mounts. We figured the whole package would be much more stable mounted together. We don't yet have a flywheel or a clutch but neither of those are necessary just to bolt the two lumps together.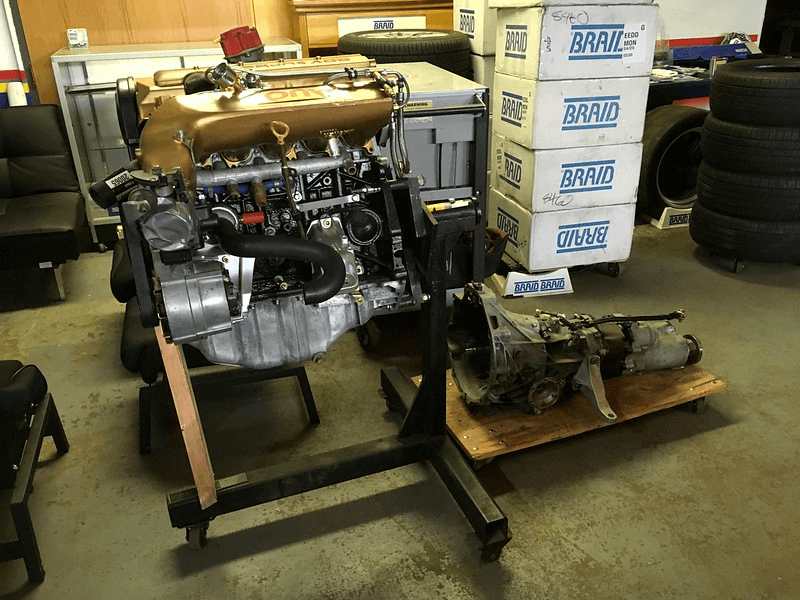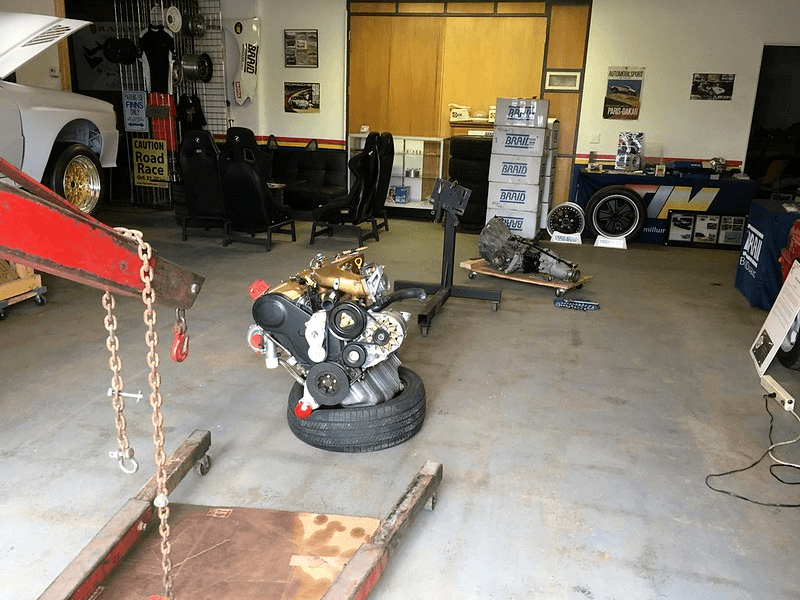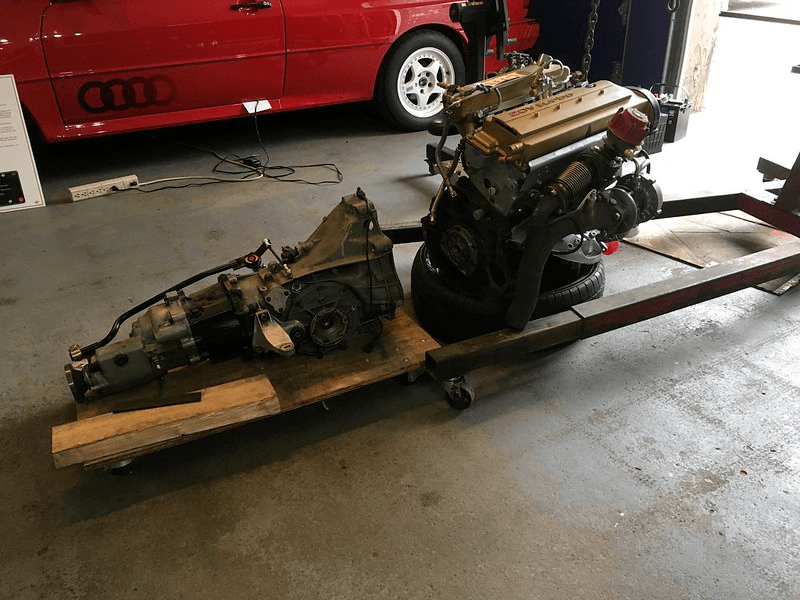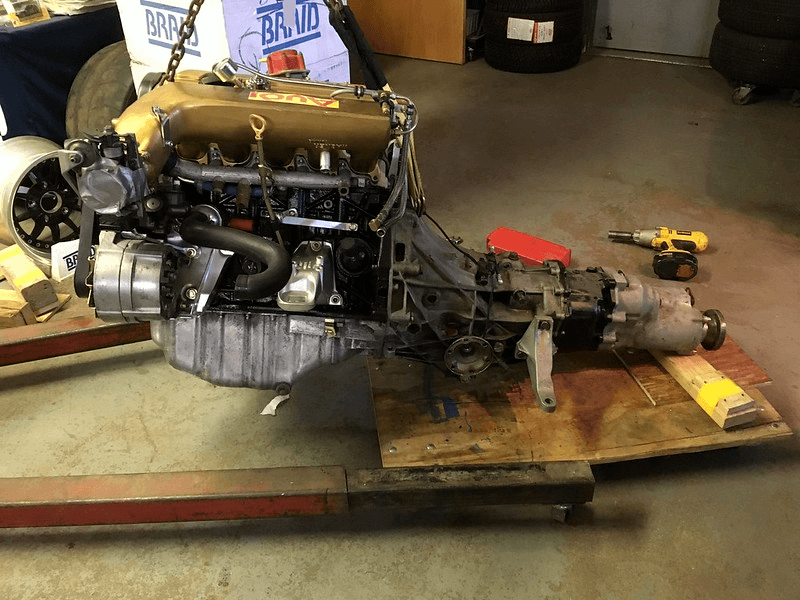 We recently sourced some pin stands from Motamec in England so our plan was to lower the car onto these initially as that would only mean dropping it a few inches. Plus, the screw jacks we planned to use at one end of the car were to long to allow the wheels to reach the ground in one go so it would have to be a two-step process anyway.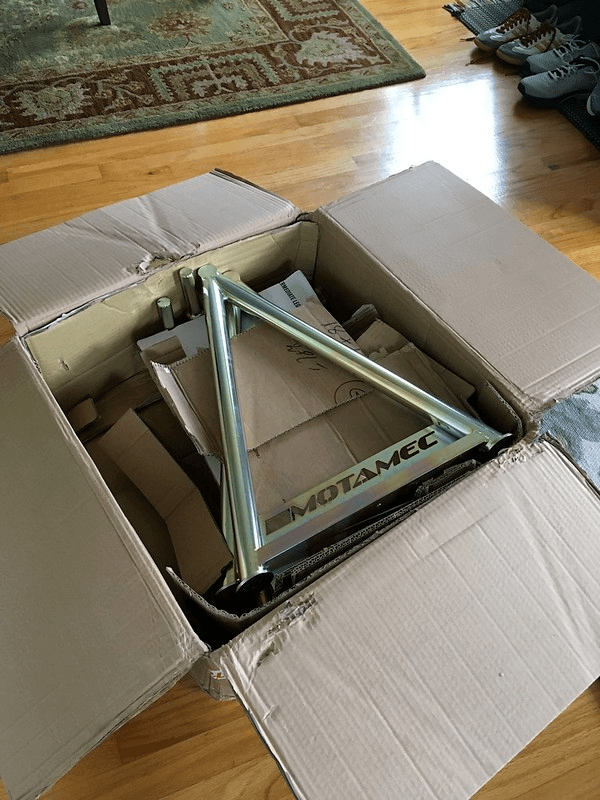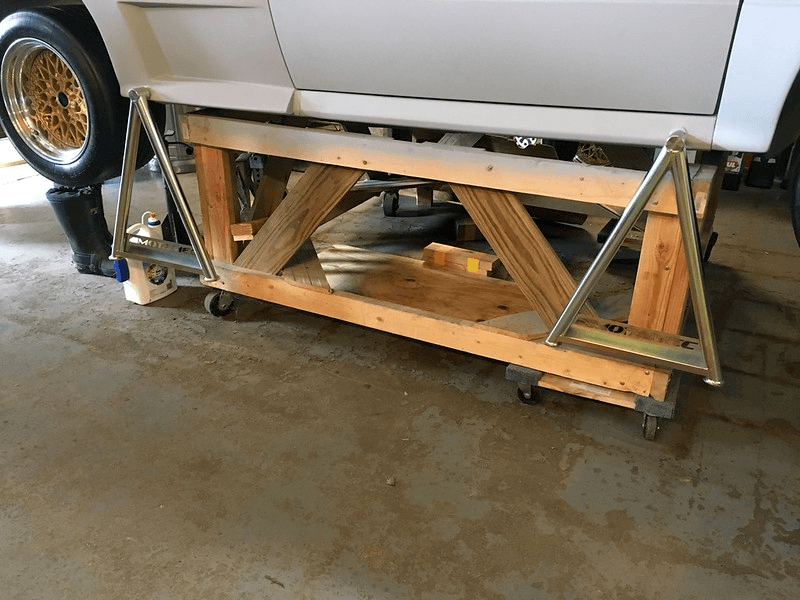 So our plan was to lift the rear using screw jacks on the subframe, as far apart as possible and the front using our engine stand. Once we could slide the table away we would incrementally lower each end of the car onto the pin stands then off those using our high lift jack. This is how it went:
That's the first time the car has been on the ground in about fifteen years!
Now the easy bit, throw the engine in and put it in the trailer. How hard could that be with no front on the car: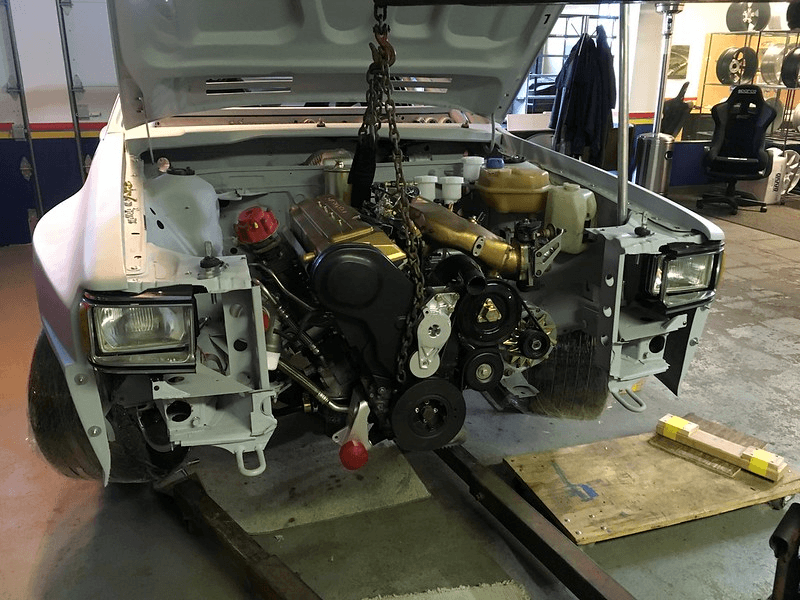 But wait, what? Who knew the AAN engine brackets wouldn't line up with the Quattro engine mounts? Oops.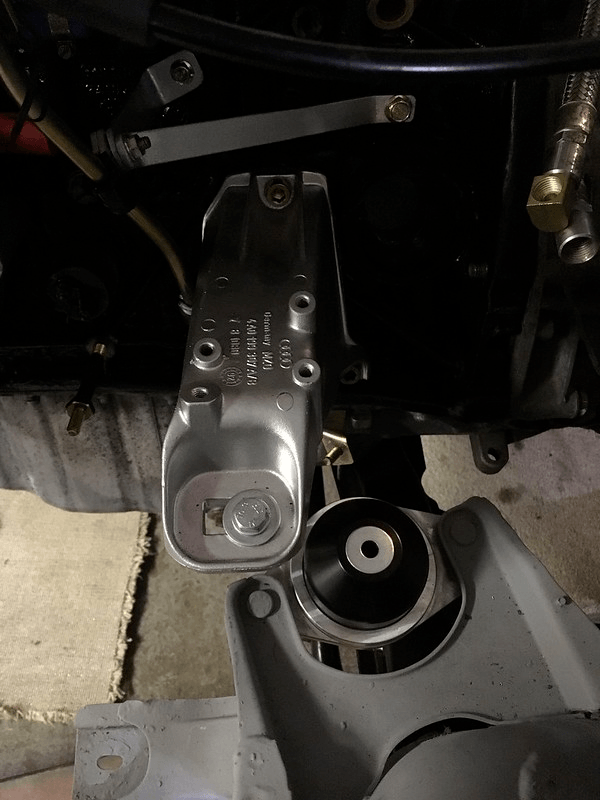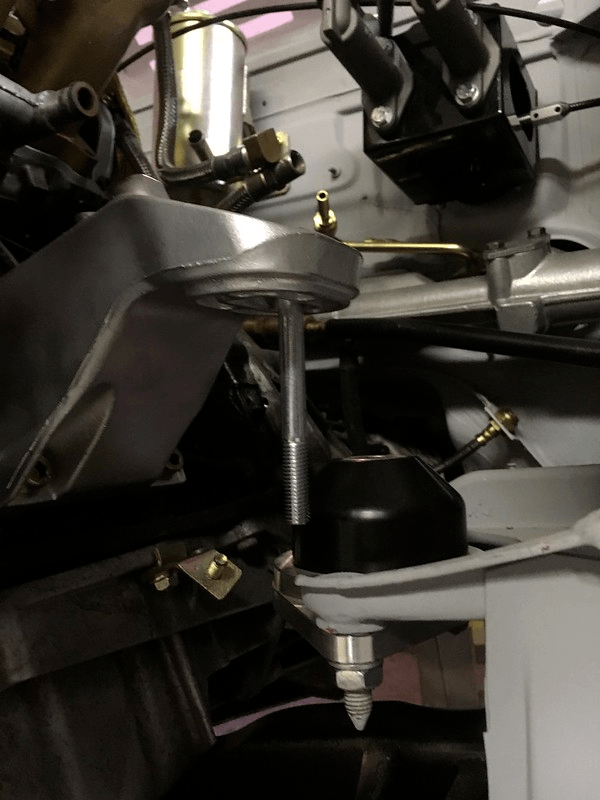 A quick swap to the 10 valve units and we were back in business:
But what's this? Now the hood won't close!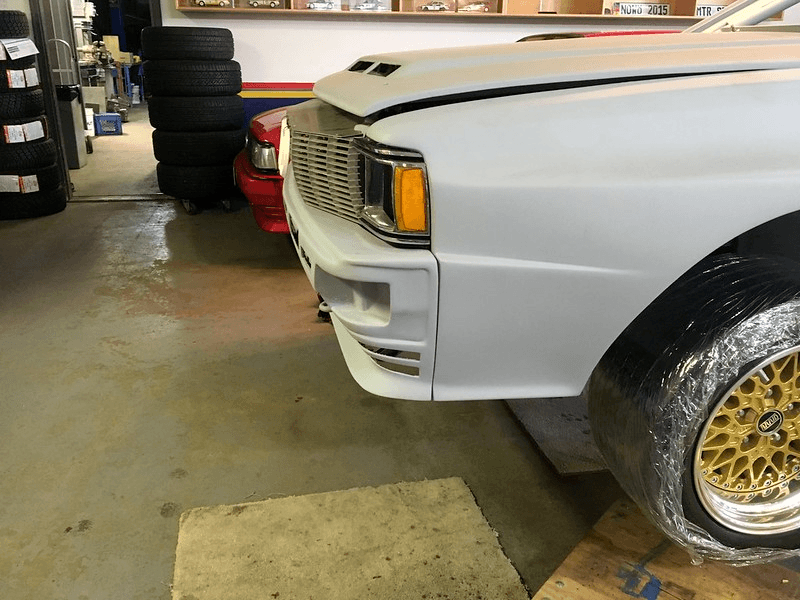 Will we make it to Radwood after all? You'll have to wait to find out.

12-10-19
-----------------
We Made it to Radwood!
It turns out this super easy, bolt on aftermarket intake manifold just keeps giving……………us problems. Now the engine is in the hood hits the throttle body, even after we built a custom adapter to stop it hitting the alternator! Well, we soon realized we didn't need a throttle body to push the car into the trailer so we took it off and adjusted the hood pins so it at least could be locked down. We'll figure that out later.
So we pushed the car into the light of day. The first time it has rolled on wheels for fifteen years or so. It was during this process that we realized an eyeball alignment is not really accurate and properly aligned wheels make pushing so much easier! It wasn't bad in a straight line but with the slightest amount of steering lock and it became very difficult. Still it looks pretty good in the day light.
And In. Yes, we used the trailer winch.
The car was very well received at Radwood and look resplendent parked alongside its stable mates.
We must admit, getting the car in the public eye inspired us to push harder to get it finished. We might even have a deadline now!