Builds
1970 Camaro. Project "Cindy" by iregret
By diyauto
You must be logged in to rate content!
13 minute(s) of a 206 minute read
1970 Camaro. Project "Cindy"
Compliments of iregret @ http://nastyz28.com
2-20-2008
Project Cindy...lol That's funny! When I brought my car home, my wife started calling her Cindy for some reason!

Anyhow, I figure its as good as any other project name...

I'm starting my buildup thread. I am so glad that there is a dedicated place for these threads now! I had asked about it earlier, and it was suggested to me to use cardomain. Well, since I think cardomain, is full of preteen losers, showing off the cars that their parents bought them, I am glad that I wont be doing that. Another suggestion was to start my own website. While that would be cool, I would just rather post up in a build up thread for everyone to see!


Anyway, I just wanted to start out saying "Thank you!" To whomever was the person that made this happen...

Here we go...

My first car was a 1980 Camaro. It was my Grandmother's car. Every year we would go on trips up and down the west coast. Specifically, to visit Crescent City California. When I turn 14 I got my fist job. At 15, after 2 summers of work, I bought the Camaro. The Camaro, was all stock, gold in color, with sagging leaf springs. Complimented with a Buick 231 V6, and a TH350 Buick transmission. I drove the car around like that for a couple of years. I had some dumb friends, that didn't like my car, and tried to convince me to get rid of it, and pick up a thrid gen. At the time, I didn't know allot about cars. Convincingly, they made up a list of what was "wrong" with the car, and I tried to convince my mother i needed to sell it. Well, from that, I decided that I better build a new engine for the car at least. When I graduated high school, I convinced my Grandmother to buy me a complete black interior out of an 81 Camaro. My car had tan. In hindsight, I should have stuck with tan, again, I was stupid in that regard as a younger man. So I started reading. Reading, about how to build a small block Chevy. First I was going to go buy the Napa small block, and be done with it, but that's not really how I operate. Nothing is all that simple for me. Plus, it didn't hurt that my uncle managed 5 parts stores. What came of that combo was, instead of a mild small block 350, I had started to build a full roller, 6500 rpm, 450+ horse power engine. Hooker Super Comp headers, Berry grant "speed claw" carb, Edelbrock Vic Jr intake, Sportsman II heads 202/160, steel crank, "pink" rods, forged pistons 20 over, and a 4 bolt main block, out of a 74 blazer.

...then i got married...

...then i joined the military...

...then i deployed to Afghanistan (it was at this point when I finally joined the nasty)...

...then i came home from deploying...

...then i went back to Oregon, to put my Camaro together...

So, the engine has been built and sitting for a couple of years at this time. One of the first things I bought for the Camaro was a TCI Transmission. It had been sitting in the Camaro waiting... A friend of mine was going to a local
college for automotive studies. He, and a few friends, rebuilt the rear end for me. Changed from 2.73 open, to 3.73, Lockrite locker. I had 30 days of leave saved up when I made the trip back to Oregon. My wife and young son didn't come with me. She wouldn't have it. I completely assembled my Camaro in 2 weeks, and drove back almost straight (36 Hours), to make it home on her birthday. When I was asleep, she went and filed for a divorce.

...then i got divorced...

...then, i went "Palace Chase", and joined the reserves...

...then i moved back to Oregon (2004)...

The Camaro still sits like this to this day. The thing only has 4000 miles on it. Most of the time, it was brought up to temp for a short while. But, honestly, its just sat there, wasting away. Until finally, my parents asked me one
day what the plan for the car was. They asked what I was going to do with it. They wanted me to sell it. I said, I had intentions on restoring "Granny's" car, and that I could never get rid of it because of how much it would piss off my family. They responded by telling me, "Who cares what they think? Its not even the same car now." I was kind of shocked, and asked if they were serious. They were.

So I decided that I was going to build my dream car. A 70-73 RS Camaro...

I looked for a while. I worked allot. When I finally became serious, I posted up a thread on this site.

Here..
http://www.nastyz28.com/forum/showthread.php?t=94904&page=5
First the bad: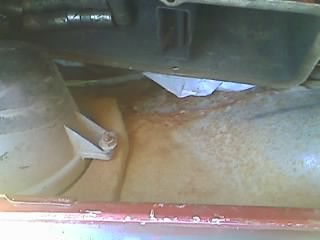 Minor rust around the taillights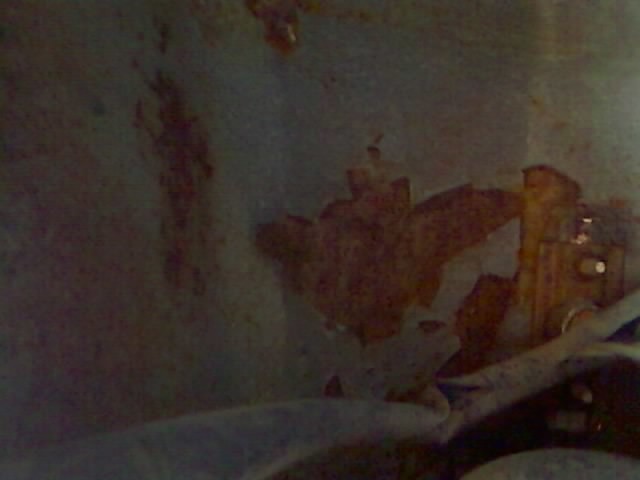 Rust around inside rear quarter marker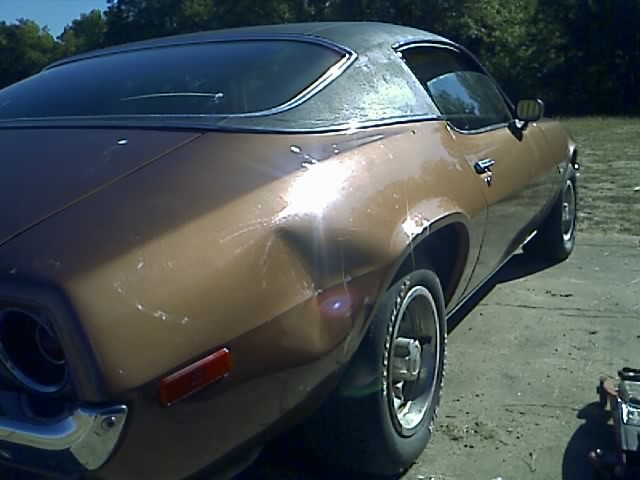 And from the other side.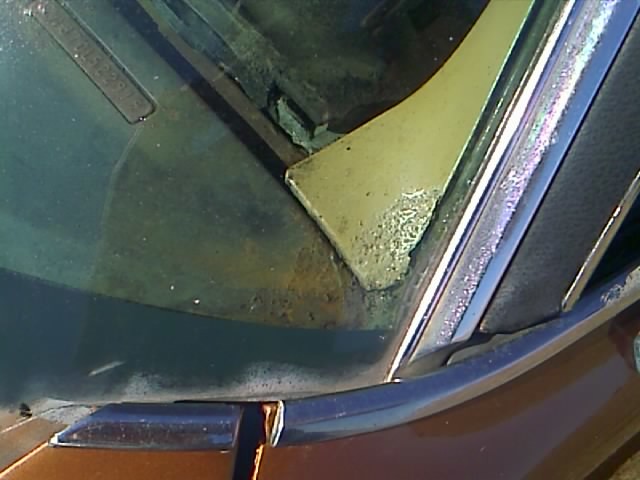 Minor rust around the front windshield

The Good: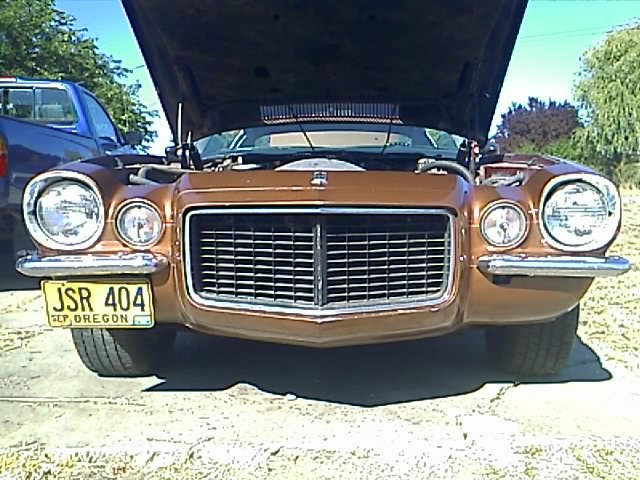 ORIGINAL RALLY SPORT!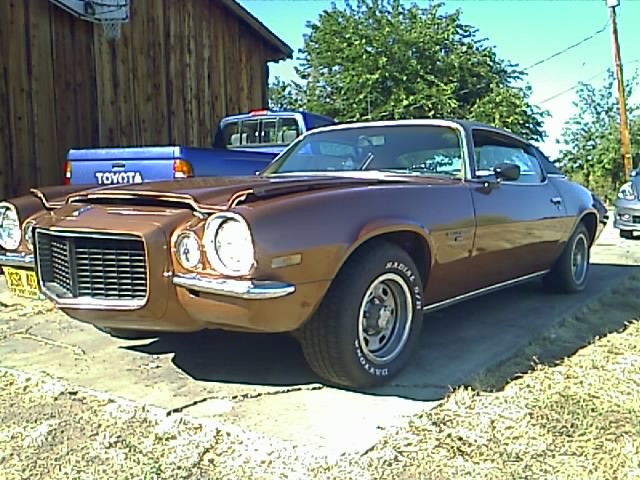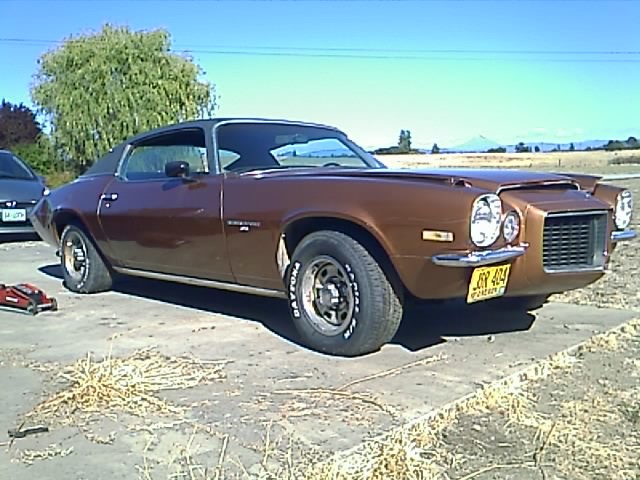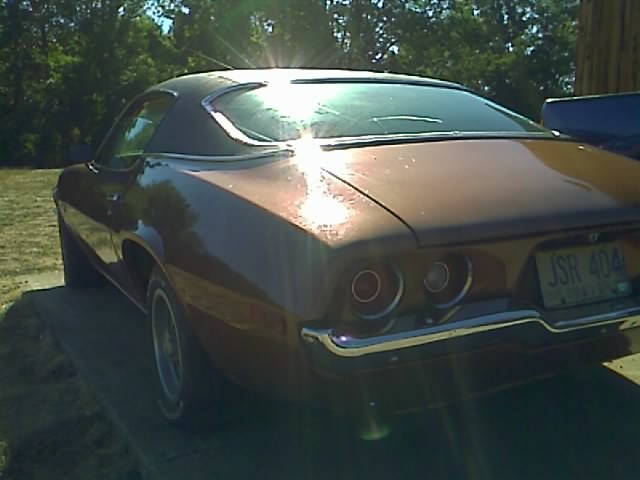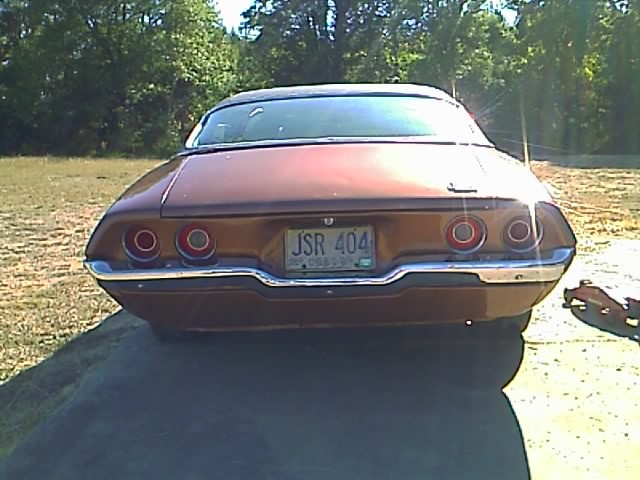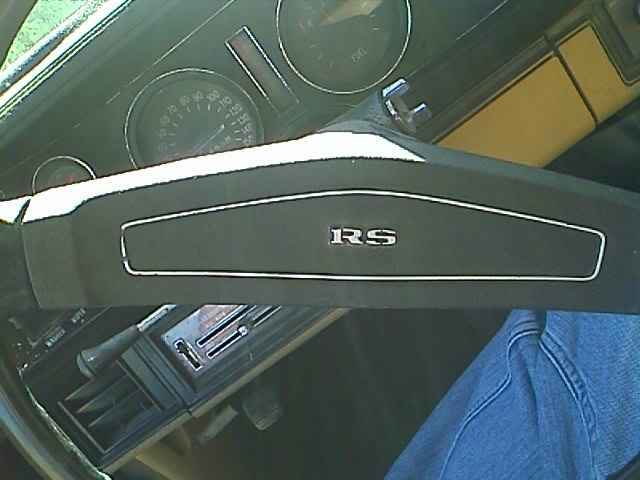 Here is an email he sent me:

the camaro started as my project about
20 years ago. I do not know much history before I
bought it. When I got it it had what I believe was the
original 350/2bbl motor. It came to me in a faded red
color. In 1994 I had it painted,"classic copper" This
color is a true G.M. color.The dent is behind the
passenger side rear tire, from some slimeball that
didn't leave a note. The vinyl top is original so I
don't really know of any rust under it. I replaced the
motor with a crate motor from blackbird. It had about
7,000 miles on it when it cracked a head. I have been
unable to finish the restoration due to some health
problems. As you may know, these camaros are notorious
for rust problems. The only leak that I am aware of is
a windshield leak on the drivers side. The car is a
very nice driver if thats what you are looking for.
Some things that the add didn't cover is that it has
factory air and the door hinges have been re-built so
they open and close like new.

Yeah! Factory air! He stored the car ever since 1997 after the head cracked. Unfortunately, the rebuilt engine is now shot because he took the heads off, and rust developed. I don't know if you could save it or not. He also through in some 202/160 double hump heads, and original intake, and air cleaner. The interior needs some work, and the paint needs to be stripped down. The car has been painted 3 times in its life...
That was August 07.

Meanwhile, a little contest developed at work. Me, and two of my friends, had agreed to build cars, and run them at the drag strip. One friend, is building a Mustang II, with a Chevy 307 (don't ask lol), and another is big into Honda's, and is planning on building a 93 turbo hatchback. Well recently, the Honda guy was fired for not being able to show up to work on time...


I am building my Camaro. Although, I don't want to build it as a straight up drag car, I want a responsibly handling Camaro, more along the lines of "Pro Street".
I like research, lots and lots of research.... I still have a bunch of questions, but have managed to break my Camaro down into 4 major stages.



Stage I 350.00 - 950.00

Harmonic Balancer DONE
Fix Oil Leak
Battery DONE
Tune Up
Fuel Pump DONE
Exhaust
Engine/Drivetrain Swap
Speedometer Cable
Gauge Cluster Swap
Shifter Swap

Let me explain stage I. When I put together my engine years ago, I was mistakenly given the wrong harmonic balancer. After much frustration with the car not starting, we figured out that the timing was off, because the marks on the
balancer were in the wrong spot. So, that should be replaced.

After sitting for a number of years, my engine developed an oil leak. I need to figure that one out. The battery is bad, but I have an extra yellow top left over from another project.
I originally used a Holley "Blue" fuel pump. Man that thing is annoying! I want to switch to a mechanical fuel system.


Stage II 2700.00 - 3000.00

Suspension
17" Wheels 60each 240.00
Tires 420.00
C5 Brakes (all4) 750.00

SPC Adjustable
Upper controlarm 425.00pr
Howe Tall upper
Ball joints 170.00pr
Del-a-lum bushings 170.00pr


Racing Suspension Kit 789.00
Solid Body Bushings 089.00
G-Brace 159.00
Drive shaft Loop 052.00
Perforance front end rebuild 339.00
Competition Control Arms 259.00

HydroBoost

I am still unsure what route to go with on the suspension. On one hand, I like the idea of supporting the "little guy" so to speak. The problem I have is that everyone likes that Hotchkis kit so much! I would like some feed back from people concerning this. Hotchkis VS ProtouringFbody


I was all set on getting the steel wheel setup. Custom backspacing, any size I wanted, and most importantly...CHEAP! But, then after searching around, I came accross these:
So, when the time comes for wheels, I will be getting ahold of John, if I can find him... Looks like I just expanded my budget at least 1200.00!lol

Recently I discovered American Racing's Torqlite wheels.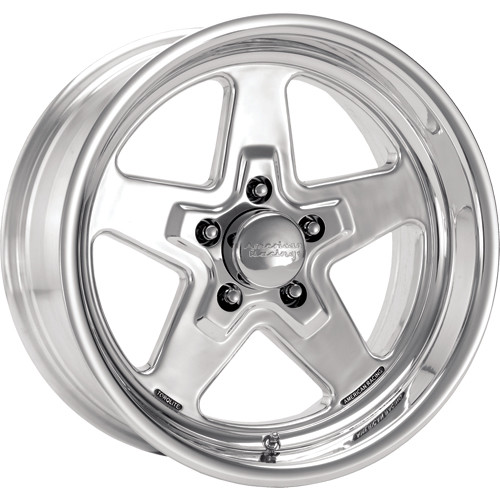 Here are some pics on a big bumper Camaro. I might go this route depending on the price I get quoted from John when I get a hold of him...
Stage III 1200.00 - 2000.00
Alarm
Cowl Hood
Front Spoiler
Rear Spoiler
Interior

As far as Stage III goes, I have a bit of a dilemma here... I have been talking to anvil1 about a complete Carbon Fiber Setup. I really like the idea of having Carbon Fiber RS Stripes! The big problem I have with this the fact that I really looked hard to find an original RS Camaro! I am struggling with the idea of taking all the RS stuff off of my Camaro, and replacing them with Carbon Fiber. If it was originally a nonRS car, then it wouldn't bother me. There are just more of those cars in the world...



Stage IV 800.00 - 1500.00

Vinyl Top Replacement
Tail Light Panel
Paint/Body Work

I am not a big fan of the Vinyl Top. But, my wife is. So since she likes it, and the car came with it, we're keeping it. I was also swayed to go with the short spoiler. At first I really wanted the tall spoiler, but after really
looking into it, I think that I like the one piece spoiler better. It makes the car look more "60's" to me for some reason.



Online Finds (craigslist, nastyz28, protouring, ebay)

Coreabu TRS Seats, new 500.00
K&N Filter
+Billet Hold down
+Holley Mech fuel pump
+Dipstick Tube = 200.00
Seat Mounts 50.00
Hydraboost bracket 130.00 (SOLD)
Fluid Dampner 130.00
CPP Hydroboost kit 600.00
Notes

SPC A-Arms from summit
http://store.summitracing.com/partdetail.asp?autofilter=1&part=SPS%2D94340&N=700+400885+115&autoview=sku
SC&C
http://www.scandc.com/index.htm

Hotchkis Kit on Ebay
1079 + free shipping

Front End Rebuild

Herb Adams Mod

C5 Corvette Brake Swap Questions

Front: 17x8" 5" Backspace 255/40WR17
Rear: 17x11" 5.75" Backspace 315/35WR17


FROM:
http://www.nastyz28.com/forum/showthread.php?t=97994

Cragar Soft 8 (steel truck wheels)
17x8 in the front with 255/40ZR/17 Sumitomo
17x9 in the rear with 275/40ZR/17 Sumitomo
Sumitomo

Ultimate c5 brake reference post
http://www.nastyz28.com/forum/showthread.php?t=74546

C5 Parts List(Front)
OEM Frt. Brake Pads 12530681
Ceramic Frt. Pads & Hardware 88909667
Frt. Left Caliper (Black) 12530683
Frt. Right Caliper (Black) 12530682
13" C5 Rotor (Passenger) 10445856
13" C5 Rotor (Driver) 10445857
13" C5 Rotor (Cross Drilled) 88926732
13" C5 Rotor (Cross Drilled) 88926731
C5 Caliper Abutment (RH & LH) 12455799
C5 Caliper Abutment Boot (2 req'd) 12530703
C5 Caliper Abutment Pins (2 req'd) 12530697
C5 Caliper Bolts (2 req'd - included w/ caliper) 14067559
C5 Caliper Banjo Bolt (2 req'd) 22163795

C5 Rear Caliper Info
CADILLAC XLR (2004 - 2008)
CADILLAC XLR PLATINUM 2008
CHEVROLET CORVETTE (1997 - 2008)
CHEVROLET CORVETTE 427 LIMITED EDITION Z06 2008
CHEVROLET CORVETTE Z06 (2001 - 2008)

Subframe Connectors Plans
http://www.nastyz28.com/forum/showthread.php?t=10965

Direct link to plans:
http://www.mass-pc.com/camaro/subframe1.jpg
http://www.mass-pc.com/camaro/subframe2.jpg
http://www.mass-pc.com/camaro/subframe3.jpg
http://www.mass-pc.com/camaro/subframe4.jpg

Exhaust Info
carcarft

Flowmaster Kit

Thrush Kit

Pypes Transverse Kit

Ford Nine Info

length Year model

57.25 1957-1959 Ford, Ranchero, Station Wagon
57.25 1965-1966 Mustang
58.00 1966-1977 Bronco
58.00 1964-1965 Falcon
58.00 1977-1981 Granada/Versailles
58.50 1977-1981 Versailles
60.00 1958-1960 Edsel
61.00 1964-1971 Ford Full Size
61.00 1949-1951 Mercury
61.25 1957-1972 Ford F-100 Pickup
61.25 1960-1964 Ford Full Size
61.25 1971-1973 Mustang
61.25 1967-1973 Torino, Ranchero, Fairlane
63.00 1970-1979 Ranchero & Torino
63.00 1972-1979 Ford Full Size & Intermediate
63.50 1967 Fairlane
65.25 1973-1986 Ford F-150 Pickup
65.25 1978-1986 Bronco
65.25 1973-1986 Ford Van 3/4 Ton
68.00 1972 Ford Van 3/4 Ton
69.25 1977-1986 Ford E-150 Van

Chevy Widths

Drum to drum

OutsideWidth Year Model

57.75 1962-1964 Chevy II/Nova
57.75 1965-1967 Chevy II/Nova
58.00 1978-1988 Chevy Malibu, Monte Carlo
59.50 1968-1982 Corvette
60.00 1955-1964 Chevy Car
60.00 1967-1969 Camaro
60.25 1968-1979 Chevy II/Nova
60.50 1984-1995 Corvette
60.50 1964-1967 Chevelle
62.00 1955-1959 Chevy Pickup
62.50 1968-1972 Chevelle
62.50 1970-1981 Camaro/Firebird



Second Gen Camaro Axle Width
Axle flange to axle flange == 55.25"
Rear track width = 60"