1970 Camaro-Purpose Built Auto Cross by Mac&Otto
By diyauto
You must be logged in to rate content!
1970 Camaro-Purpose Built Auto Cross
Compliments of Mac&Otto @ http://www.lateral-g.net
12-5-2013
Another 70 Camaro auto cross car. I thought I would share my build hoping everyone that contributes to the site will have some helpful insight. I'm building this car specifically for auto-cross, yet it will be street legal. I purchased the car nearly a year ago from Roger Lee at Ironworks and had it shipped home to start the build. Since then I have slowly repaired concerning spots in the sheetmetal and collected several new go fast parts. The car is getting the full Detroit Speed suspension treatment(complete front Hydroformed stub and quadralink) along with DSE cage, firewall block off plate and mini tubs. I plan on running the GM performance LS3/525 and I have already ordered an M22-W from AutoGear. I just received my 3rd member from Competition Gear and Transmission in North Carolina and am awaiting my new quictime bellhousing. I just finalized all my wheel dimensions with Jay @ Budnik(Thanks Jay) and will pull the trigger on those as soon as the suspension is bolted under the car for the last time. I have lots of other details but will stop here and provide some photos of my progress. I was able to make it to SEMA this year along with the last Goodguys in Scottsdale, the competition seems to be growing rapidly and I look forward to joining in. Thanks, Cal.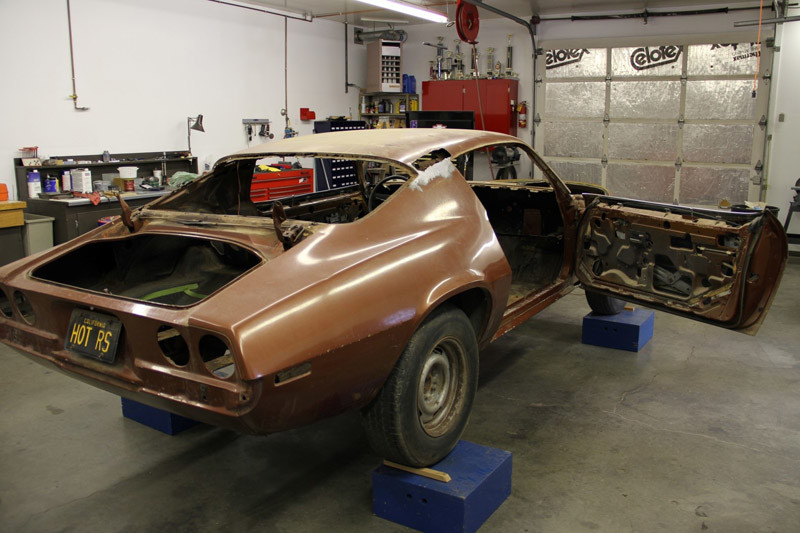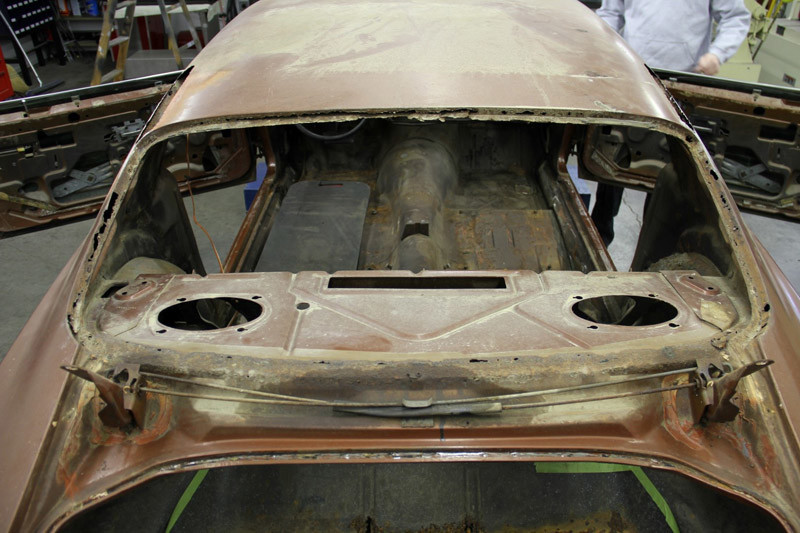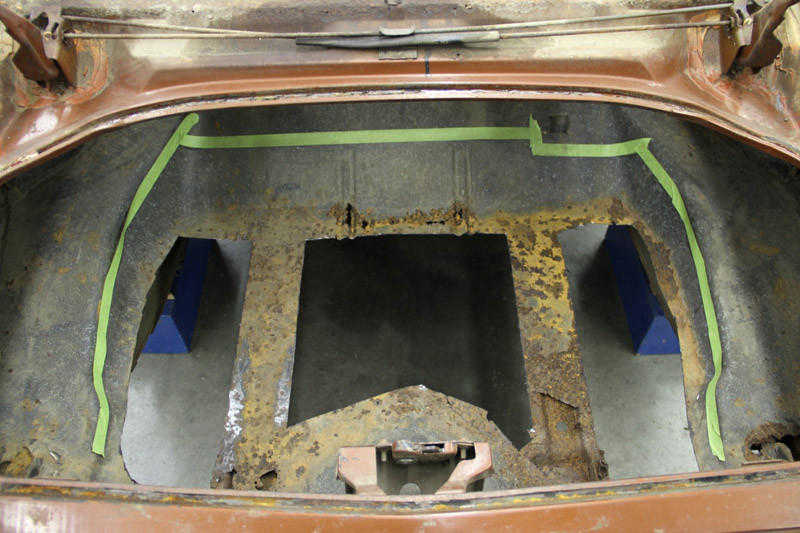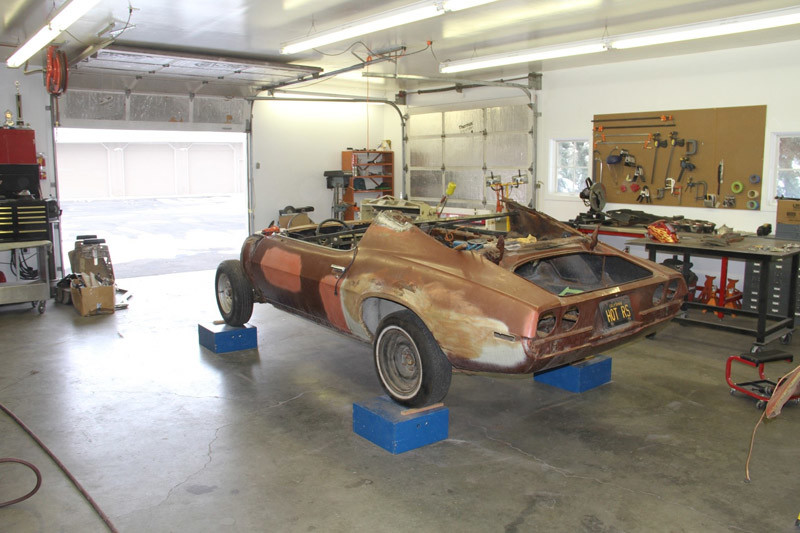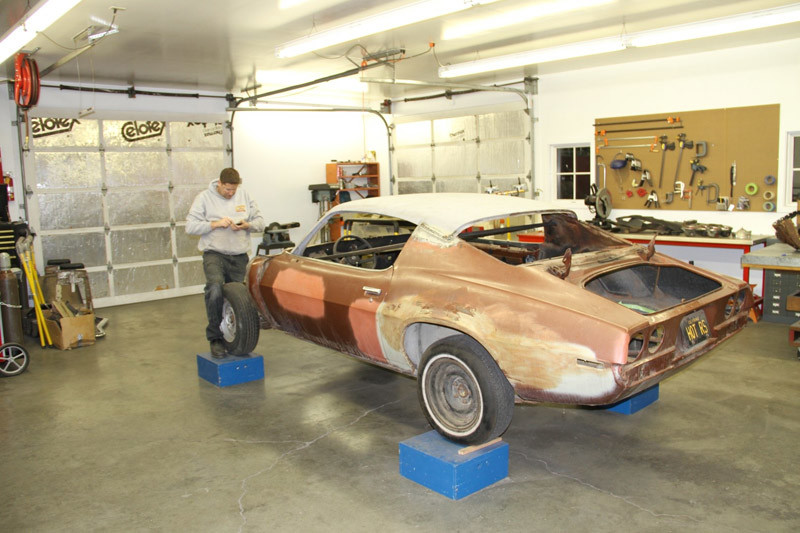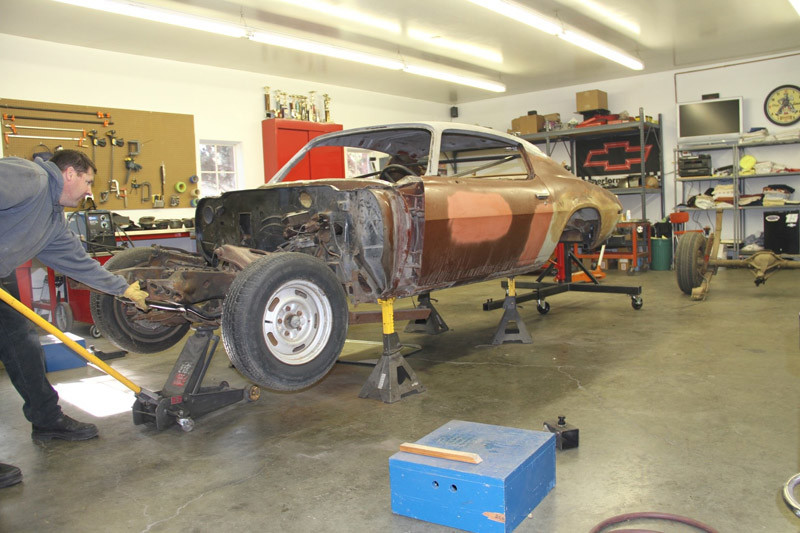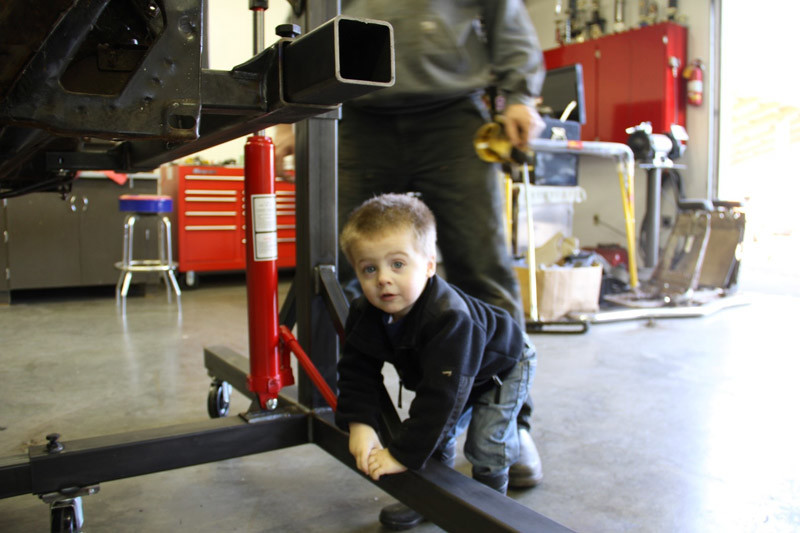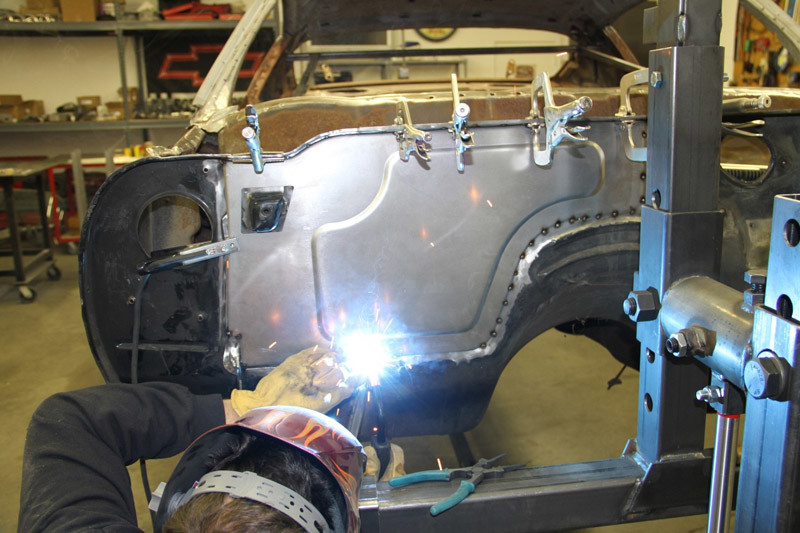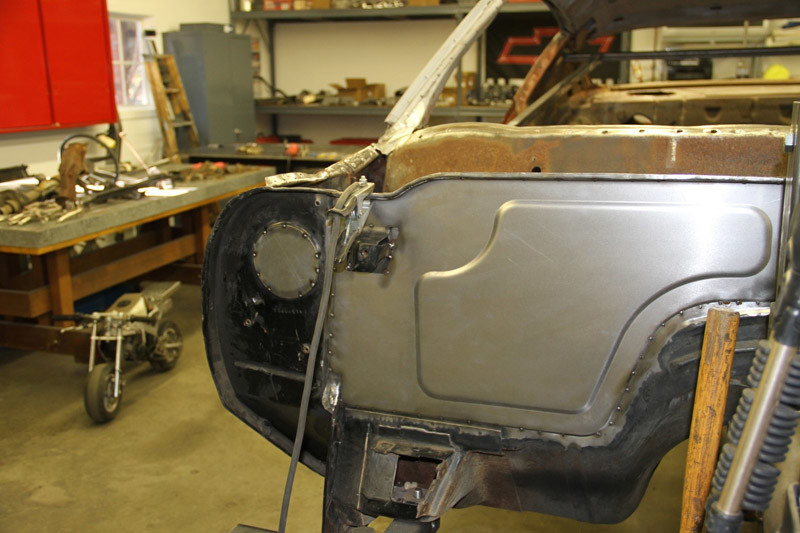 12-9-2013
Here are some pis of the car after blasting. I replaced the passenger side rocker, built a small piece for the bottom of the quarter and replaced the drivers quarter skin. The trunk is in and window opening(verticals on sail panel) is also in but needs welded up. I wil post more pics this weekend.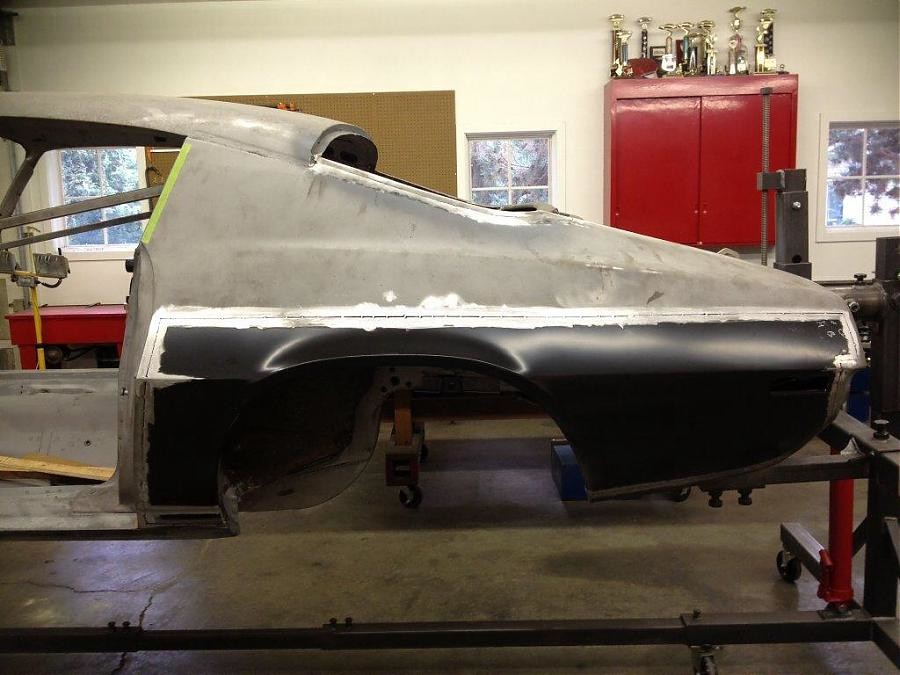 The rocker was fairly easy but these small patches in front of the wheel open were more work than expected. It's layered and has a heavier gauge inner structure that also ties in to the wheel well lip.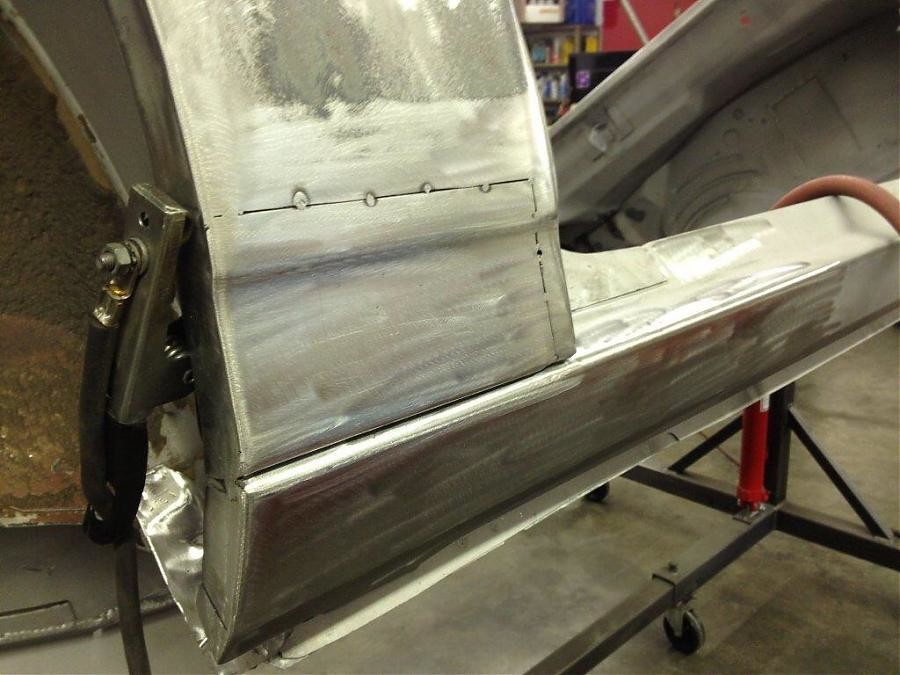 The quarter wasn't too bad except, as everyone knows, the aftermarket panels are never a perfect match and trusting reference points on the panel to make final cuts is a little time consuming.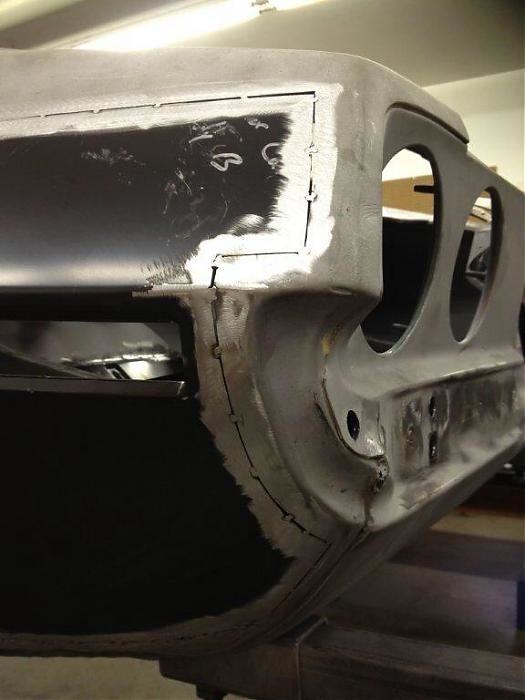 One more.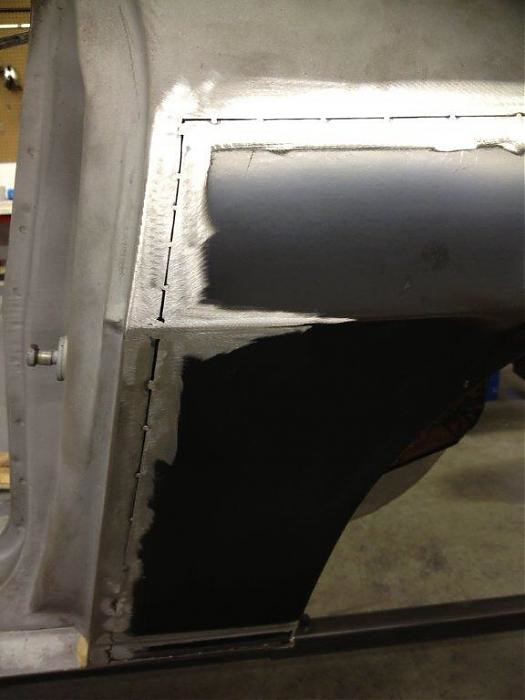 12-13-2013
I just came in from the shop and here are some new photos. I put in a 10 hour day today and it seems I didn't get anything done.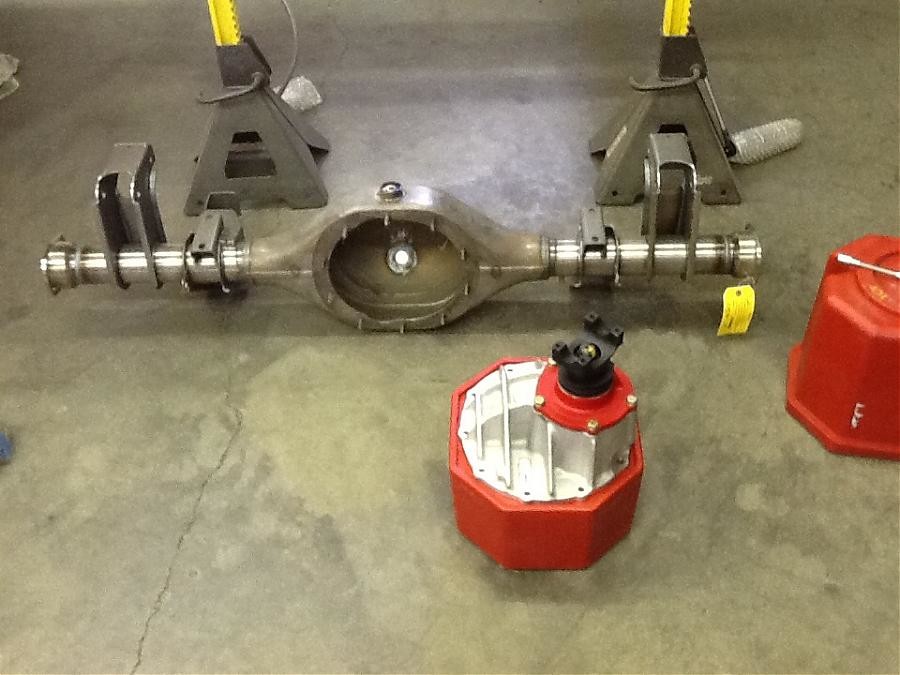 The front stub is assembled just received my third member.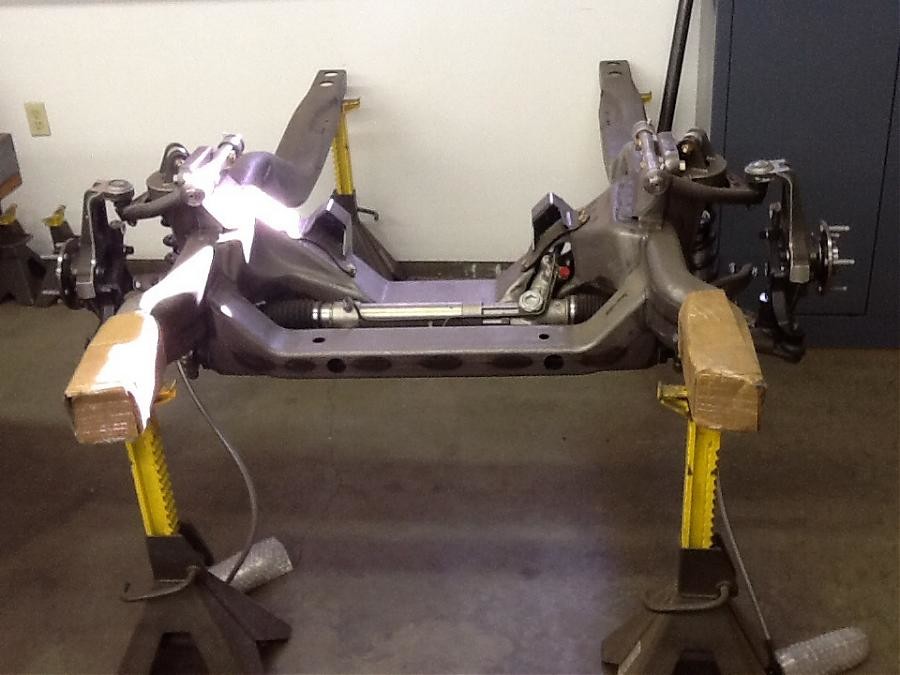 I installed all the cage mounting plates and got the back half all tacked in.i also finished the passenger side flange for the wheel tub and plan on finishing up the drivers side tomorrow.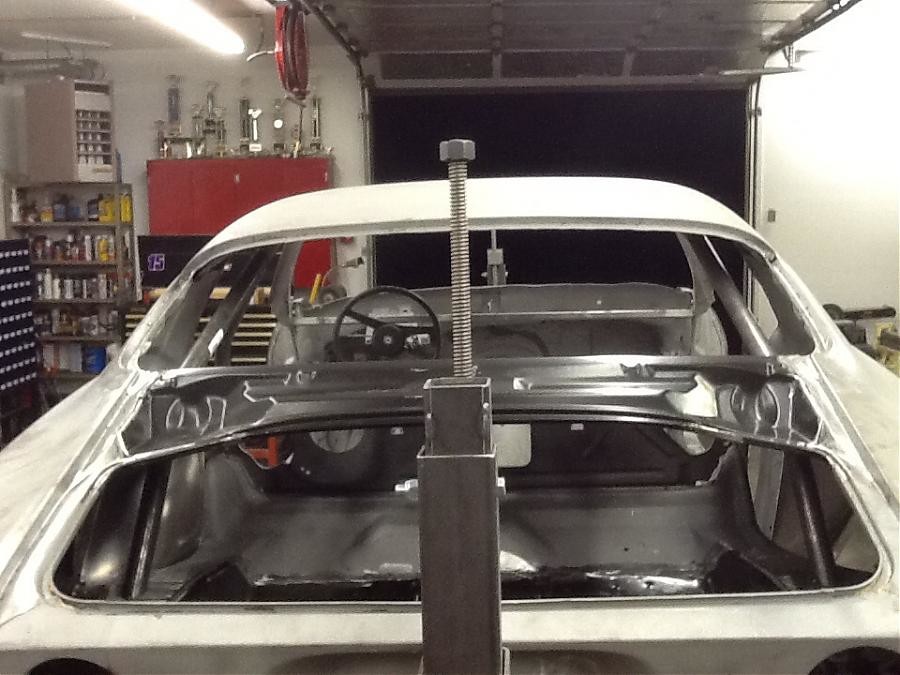 The drivers side tub is in and fit but needs to be removed and the interior flange needs welded in. I also have the cage plates plug welded to the frame rails.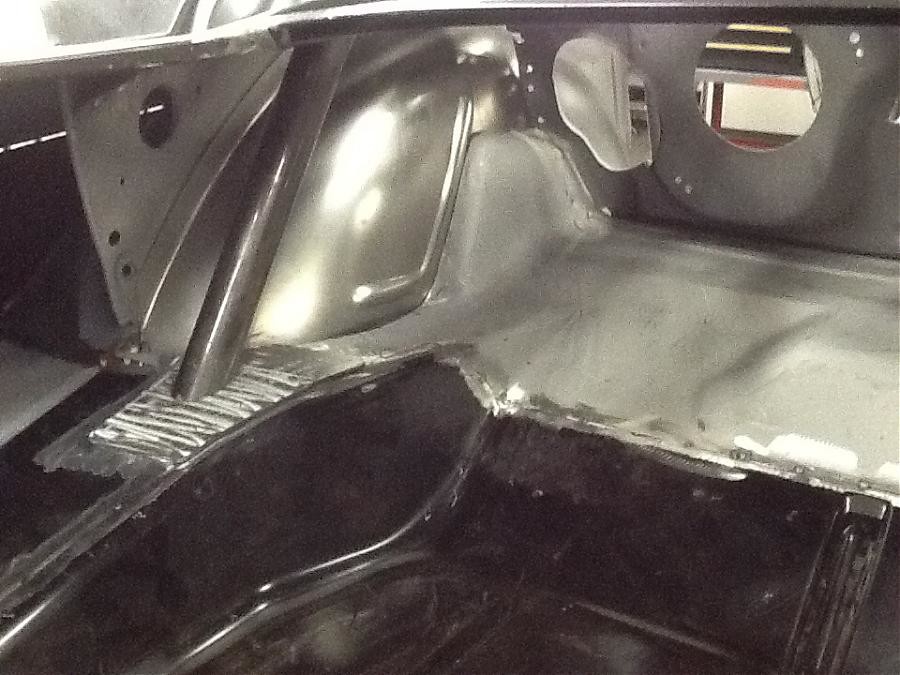 12-20-2013
I was reading my initial intro and I thought I would share a little about myself and why the camaro. First, I've been around cars, bikes, boats, etc. my whole life thanks to my dad(Phil). I'm also lucky to have a dad that is an amazing craftsman, mechanic, fabricator, you name it, he can do it. I've been through lots of projects and he's had his hands in on every one. He still runs around with his hot rod buddies from high school and I run around with their sons. All of them still very active into cars. Now, the reason for the camaro. I met my wife nearly ten years ago and before I met her parents she told me of her dad's camaro. I pretty much DIDN'T listen to her, what girl knew about cars. Then I met her parents and eventually that same day her dad(Paul Alderman) asked if I wanted to look at some cars. HOLY CRAP, Paul had and still has some amazing cars. Just look on DSE's website and look at his 69 and 70 camaro's. Don't think because DSE built these that he doesn't get dirty, he is very active on his on builds and wait until you see his 72 chevy truck he just finished. Paul has an eye for cool cars , technically is a wizard and it seems the older he gets, the faster he wants to go. So, eight years later, several hours in the shop, several more discussing how to go faster, the Camaro was born. So we decided to call DSE(Big Thanks to Kyle and Stacy), cut out all the unnecessary weight, add some of our own ideas, apply both of our skill sets and build a autcross car. Don't worry, my dad will be getting dirty too, he likes to act like he's not excited to get in on it, but he is. I won't leave out the wives, they support all of our crazy ideas and as long as Goodguys keeps putting on shows near a shopping mall, we're good. I have had lots of support from other friends that I will list later in the build but thought I should at least explain the start.
12-27-2013
We'll the Christmas week didn't allow too much time for working on the shop but I did manage to get the DSE tubs in and some welding on the cage done. As I talked before, I also was able to grab a few pictures of paul's latest project.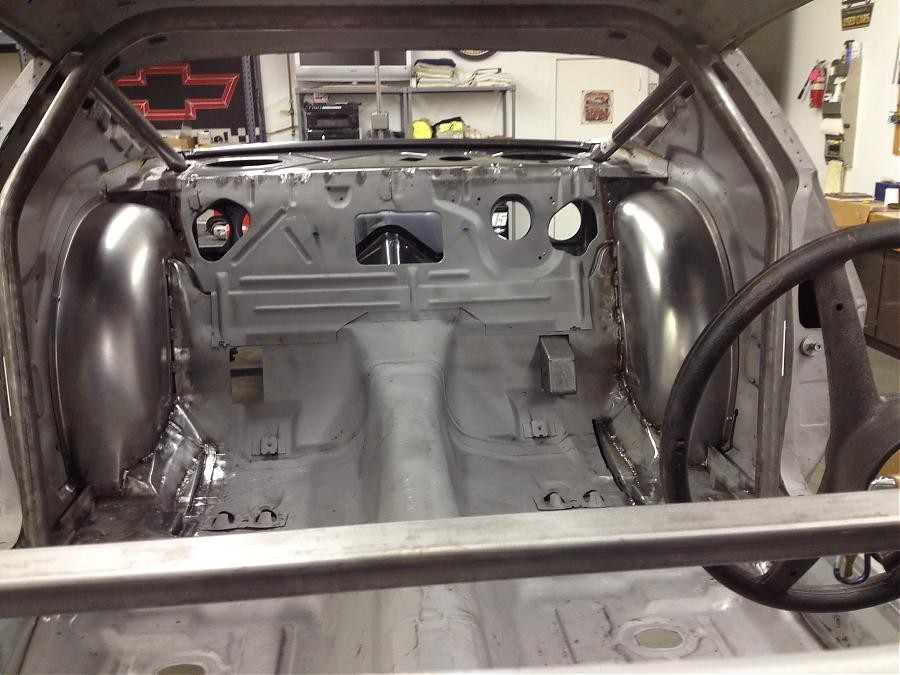 Here's a couple of pics of Paul's latest project. It was a completely stock truck except the motor when we started. It's completely done and runs and drive great.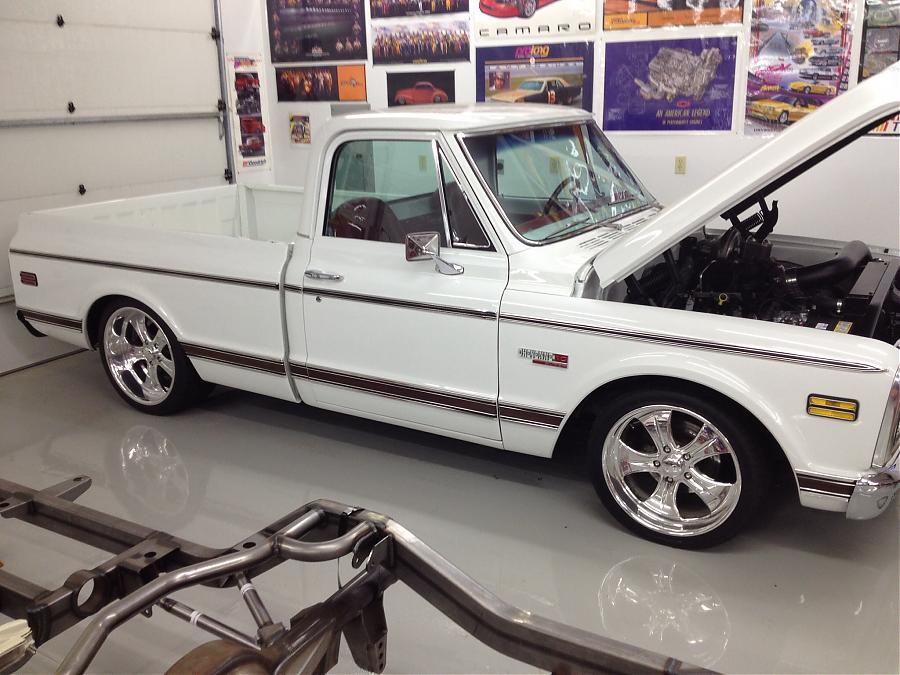 Here is the reworked dash. I cut a dash out of another 71 at our friends wrecking yard(Pasco Auto Wrecking) and used pieces to reconfigure our dash to accept the flat screen and vintage air controls.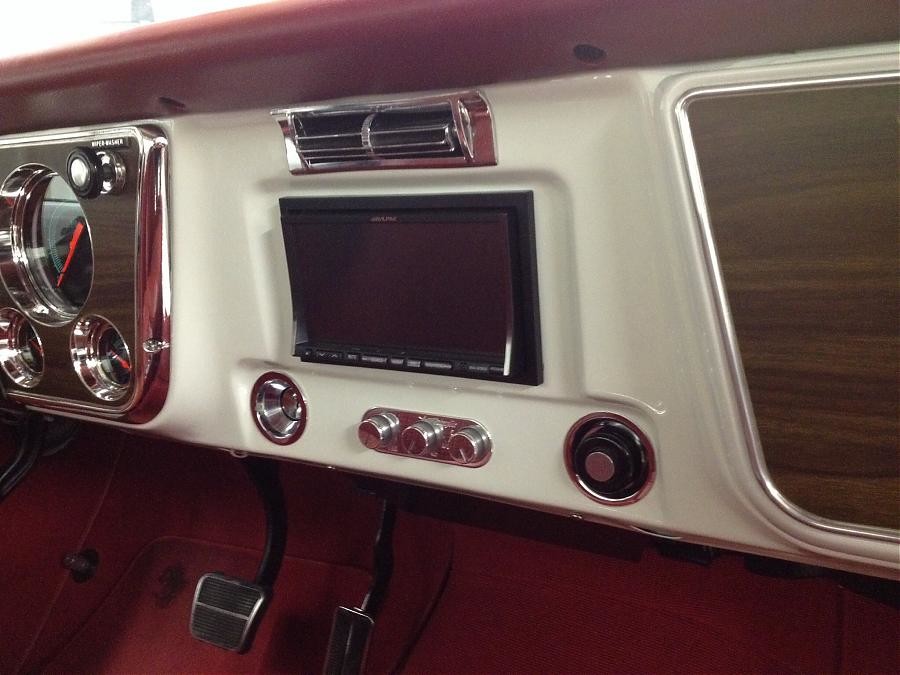 Here is the engine bay equipped with a new LY-6 with a Mast cam and controller.i smoothed the firewall and completely reworked the core support, removing those pinch welds on the top and filling about a hundred holes. Paul built a new radiator mount that completely hides everything.
1-24-2014
It's been a while since I've been in the shop but here is some photos of new goodies and progress I made today in the shop. A good friend of mine has taken three days to help me install all the rear DSE quadralink, finish wheel tubs and button up a bunch of miscellaneous fab work(Thanks Shad). We made some good progress today and plan on working two more days with hopes of having the car on its wheels and tires by Sunday night.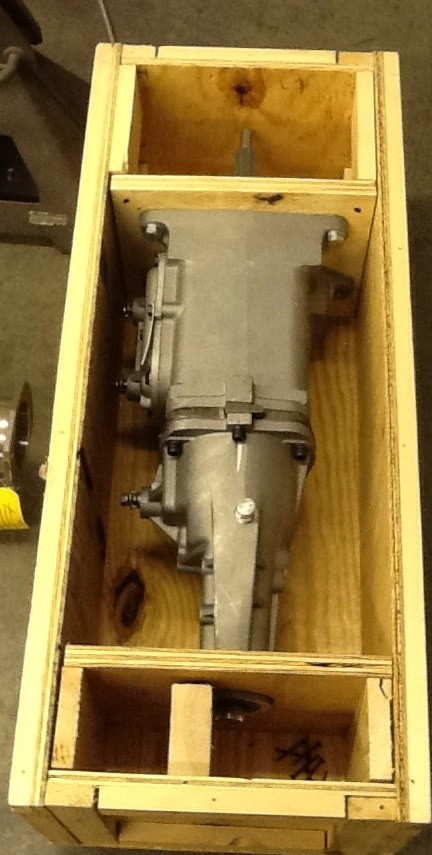 I just received all Brake pedal assemble, master cylinders and bias bar adjuster. I'm hoping to have them mached up by Sunday.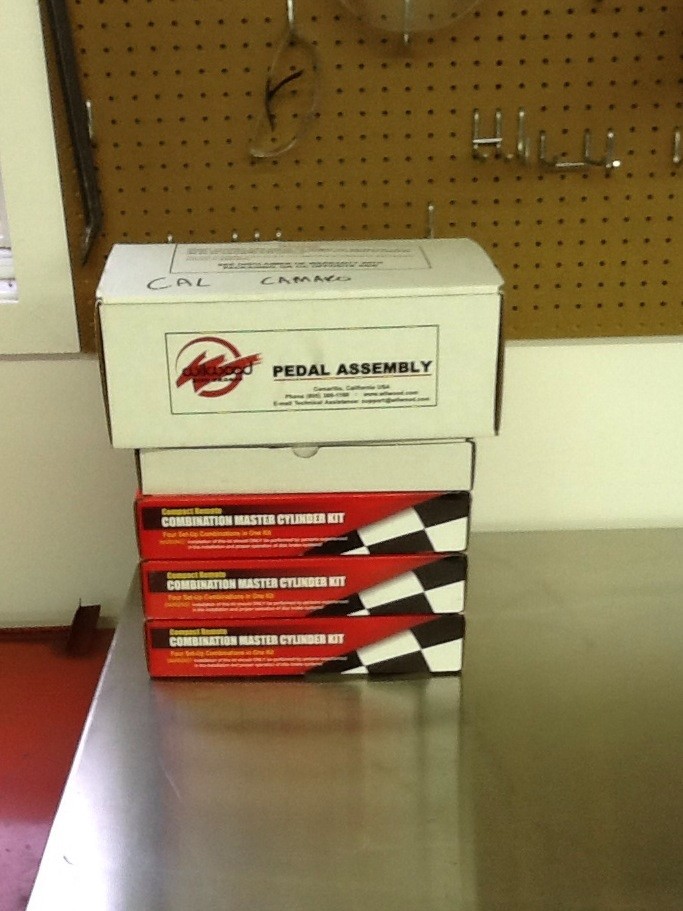 Here are a couple pics of the quadralink mounts all tacked in.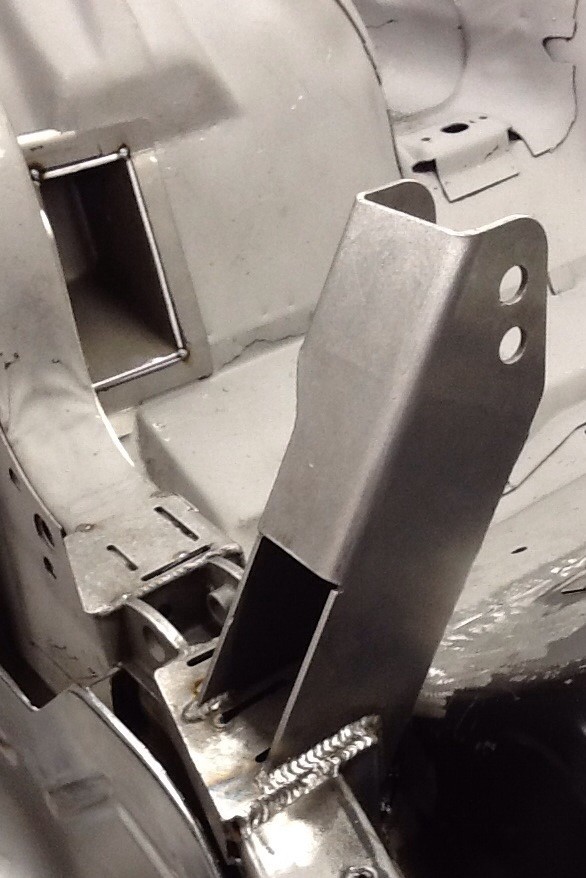 Passenger side.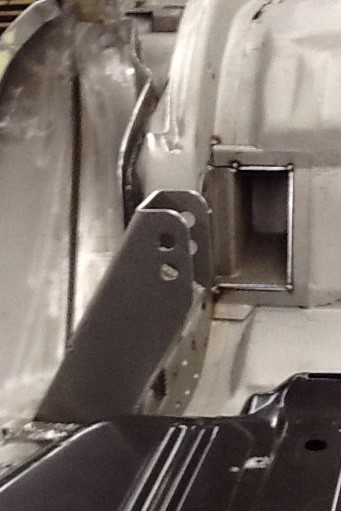 Drivers side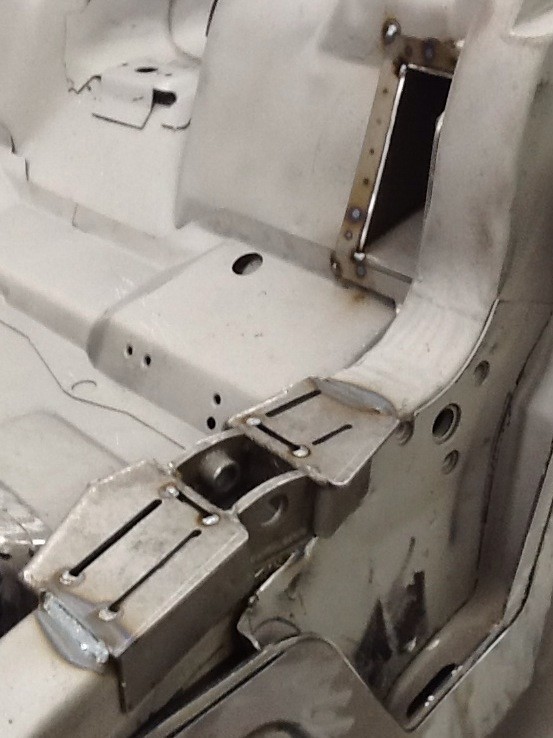 1-25-2014
Here is some pics of the progress today. Doesn't seem like much but there is a ton of welding.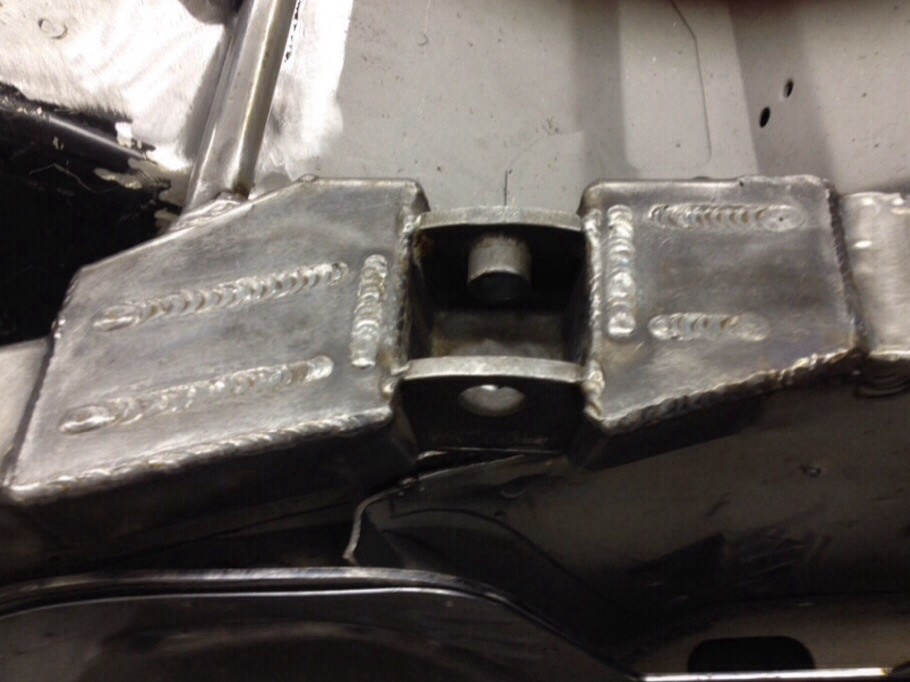 Here is the upper link pockets from the inside.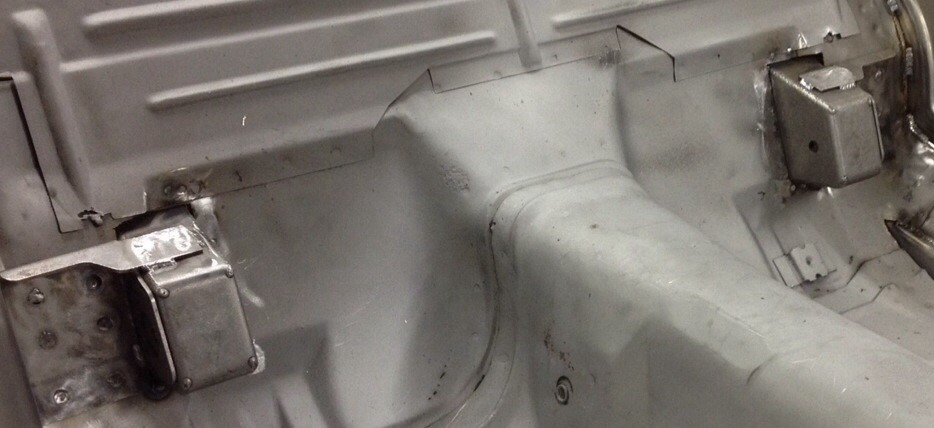 Drivers side frame rail doubler.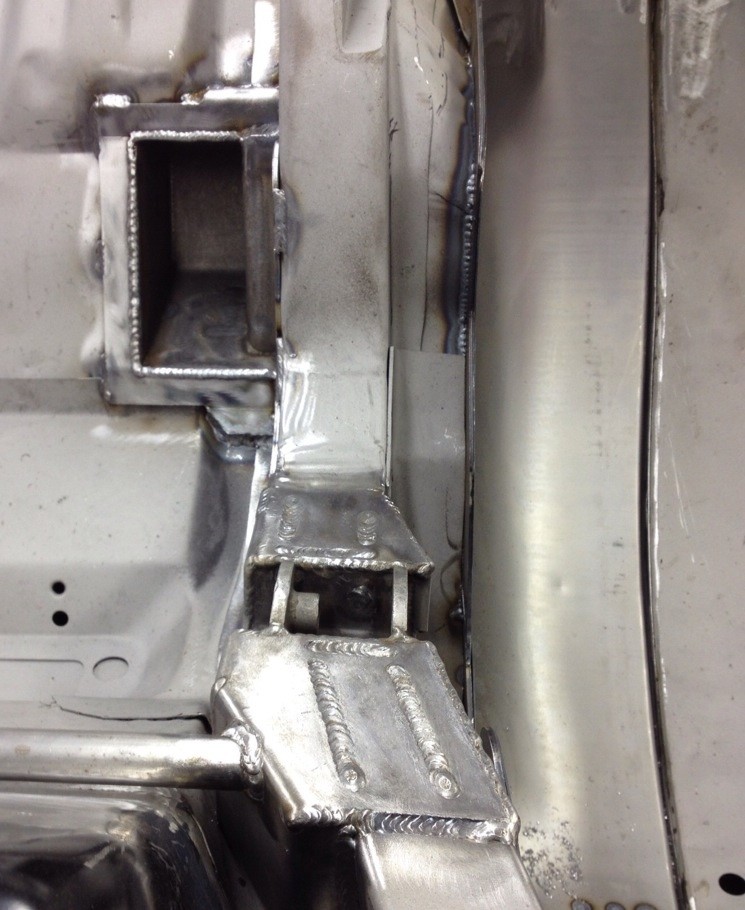 Track bar support and clips. If it's not installed correctly now, I might as well crush the car, because there is no way you could dig this stuff back out.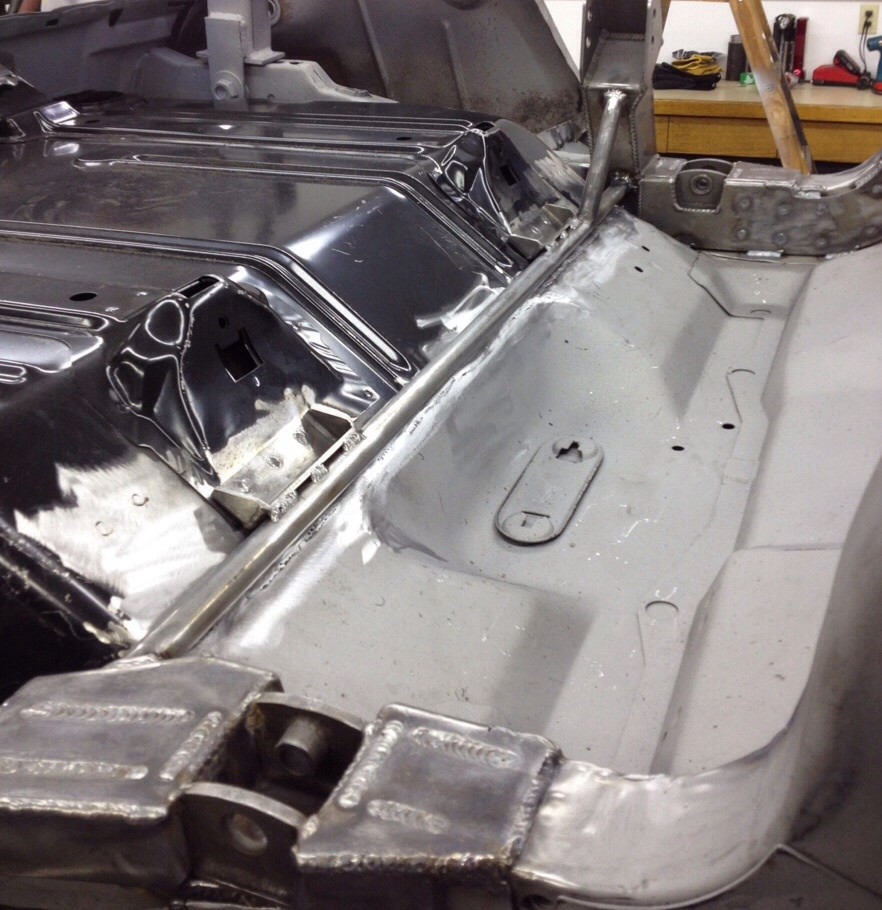 I thought I would also post a pic of my shorty I have for sale. It's a 78 Heavy Half pretty much completely loaded. It's only missing power windows and door locks. It's 99.9% rust free and runs and drives great. The only thing missing is a wheel opening molding and the jack that mounts on the passenger side inner fender. I'm asking 5800.00 and it's located in Pasco, Washington. PM me if anyone wants more info or pics. I was going lower it, wheels and tires and swap a 5.3 in and it but have too many cars going right now.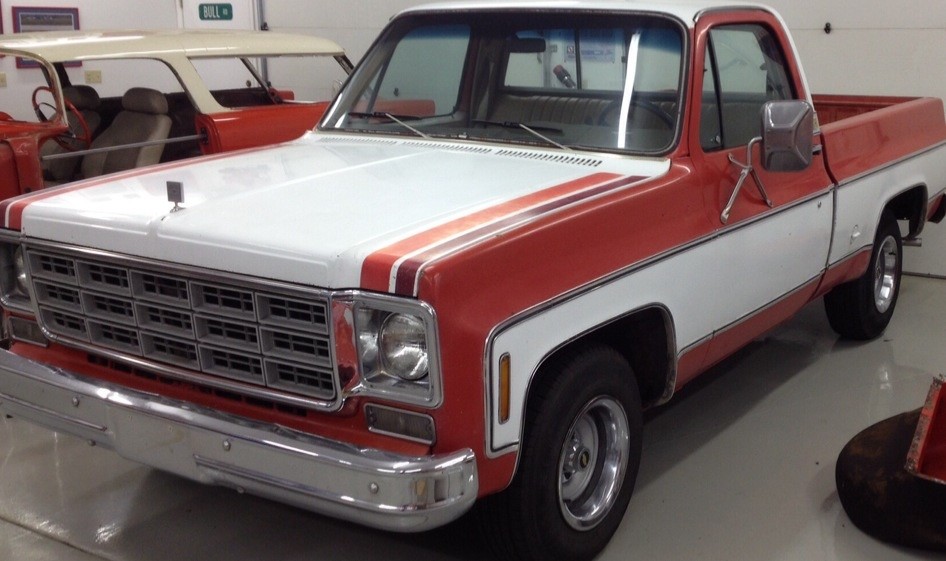 2-21-2014
I managed to put some time in on the car today and hopefully Some more Saturday and Sunday. I finished welding in the lower 4 link pockets this morning and those of you that are familiar with DSE's quadralink know you re-use the original spring pocket as the new mount. I bolted on the front stub and almost finished the rear of the car. I also dropped a plumb bob from several points on the car and squared up the front stub. Tomorrow I'm cutting in the frame connectors, installing the 3rd member and axles, bolting on some rollers and getting it on the ground. I'm shooting to start the remainder of the cage on Sunday.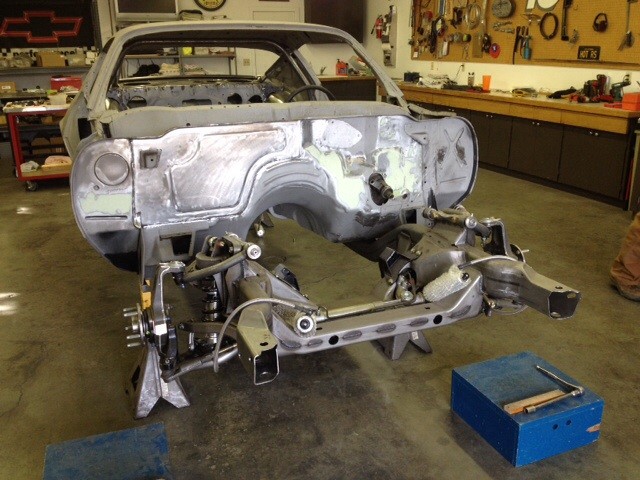 I know these are pretty standard pics but this project is tough when having limited time and resources. I'm only short a bellhousing and motor at this point but plan on getting those on the way soon.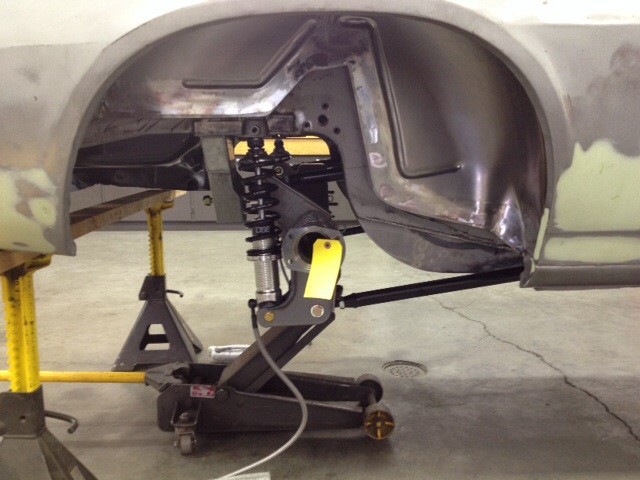 One more. I will post more pics of my progress tomorrow.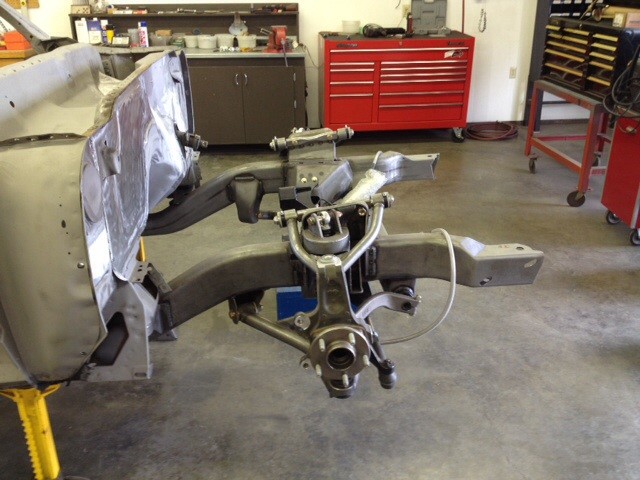 2-22-2014
Finally on wheels.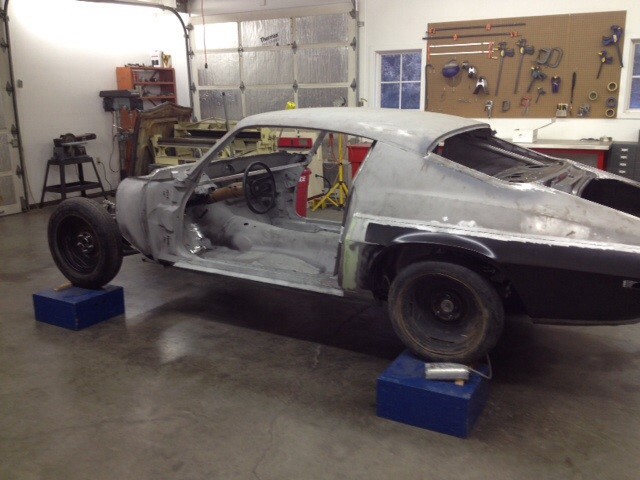 The frame connectors turned out pretty good.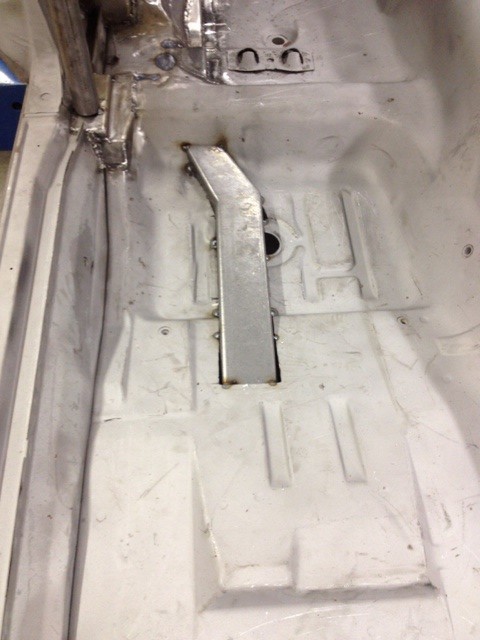 The tie in from the connector to the front stub also turned out slick. Lined up fairly good just from the dimensions DSE provides.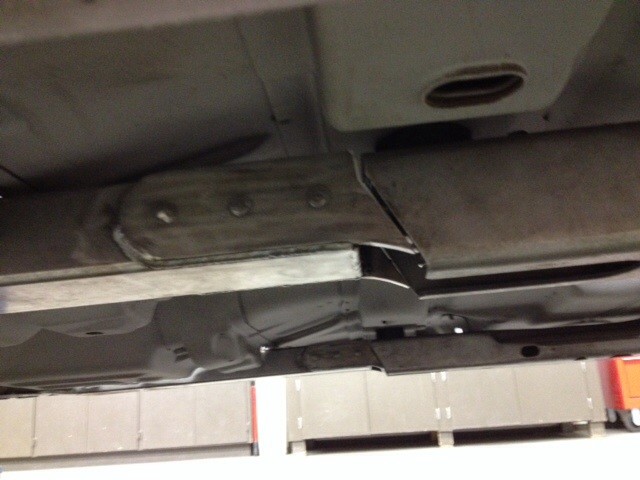 I also was excited to stuff in some of the shiny stuff. A little show metal always makes things look more complete than they really are.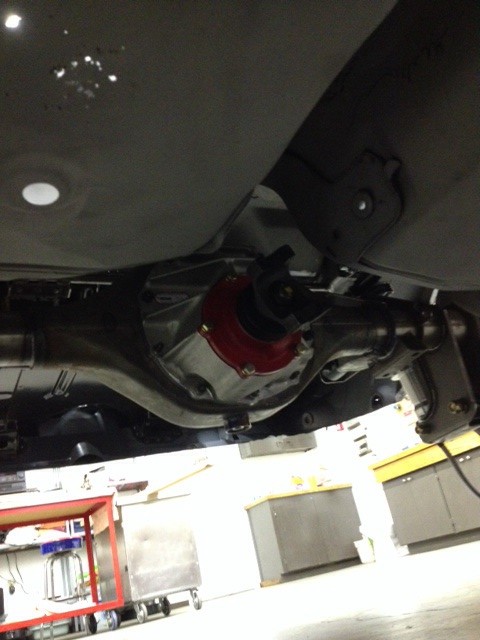 I know these pics are pretty basic, but it's excitingly see things finally fitting up. I'm headed to Palm Springs and Scottsdale for the next three weeks and then the Portland Swap meet to unload left over parts from all our projects. I won't get back to the shop until the first weekend in April, kind of sucks, I'm pumped to get the cage finished. Oh we'll, it will give me time to get motor and wheels here.
2-28-2014
The Radio Flyer used to be what I napped them in when they were in the garage. Now we modified it a bit to get a little extra speed out of it. Handles pretty good to.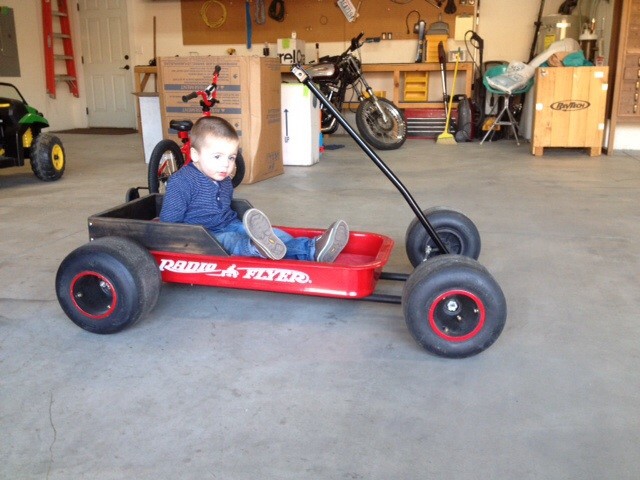 I figured if they're going to be in the garage, getting in the way, might as well start them off right. Those are real bead lock shifter cart wheels and the steering is all stainless rod and hiem joints. The next one I build will have a motor.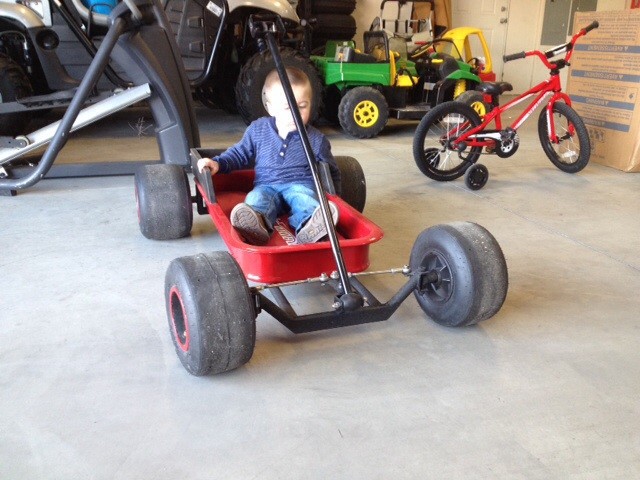 3-5-2014
Anyone out there have a nice set of seats for my camaro? I'm looking for a low back style seat that has some side support that keeps you in the seat and accepts harnesses.I'm not a fan of the typical high back racing style seat that tend to get real wide around your head and shoulders. If anyone has a used set or any suggestions, let me know.
3-21-2014
Back at it today. Here are some pics of the progress.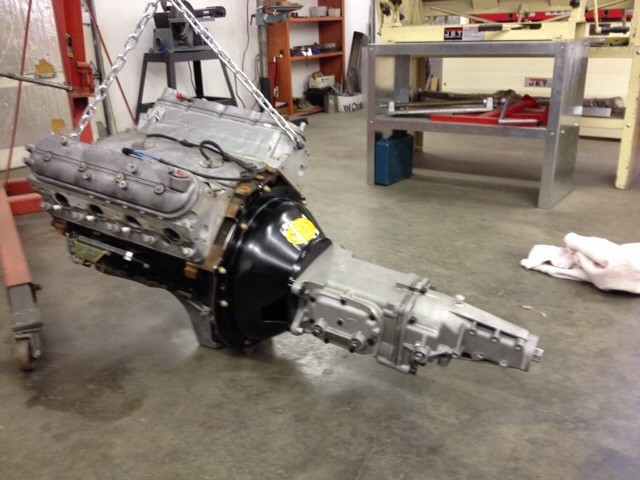 Motor installed with the header on. Everything is fitting up nice.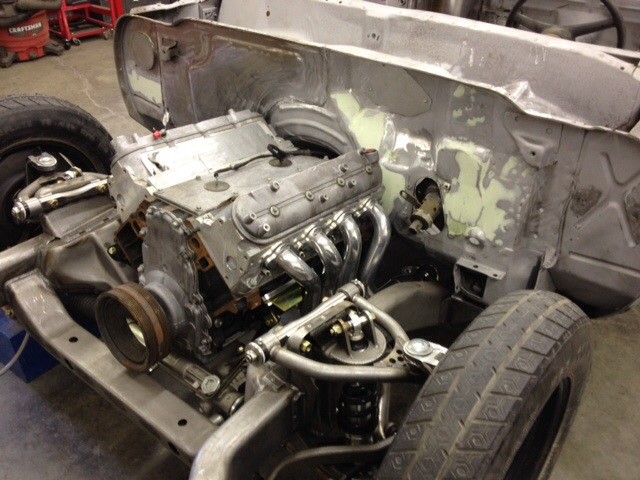 Headers tucked up fairly tight considering I bought them for another project.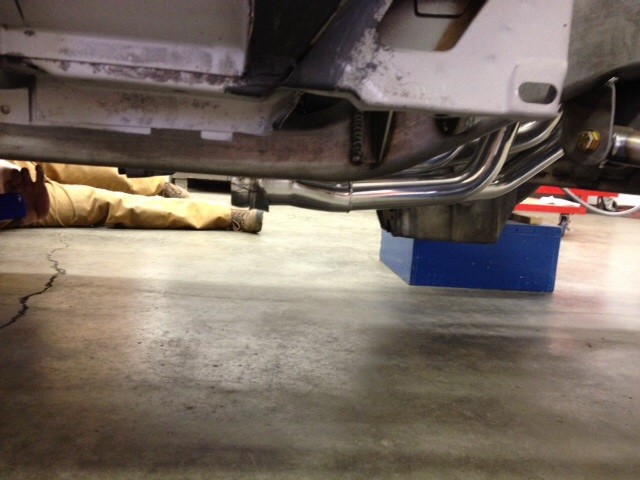 This is the first time the car has been on the ground with all the current parts on it. Tomorrow I'm hoping to do some work to the floor and some install the bulkhead fittings in the firewall for the cage.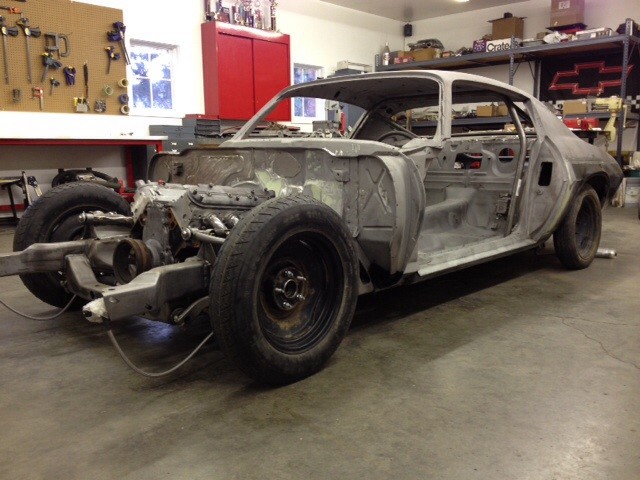 I've started weighing the car every time I add parts or finish something. It's fun trying to strategically place weight or shed weight in order to get the final result I'm looking for.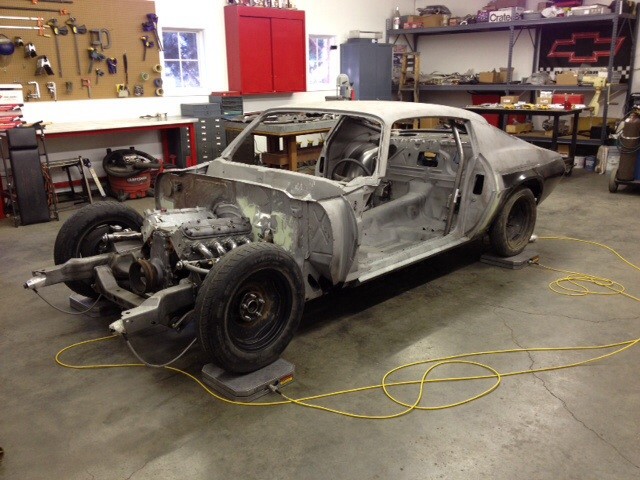 Here are the results so far.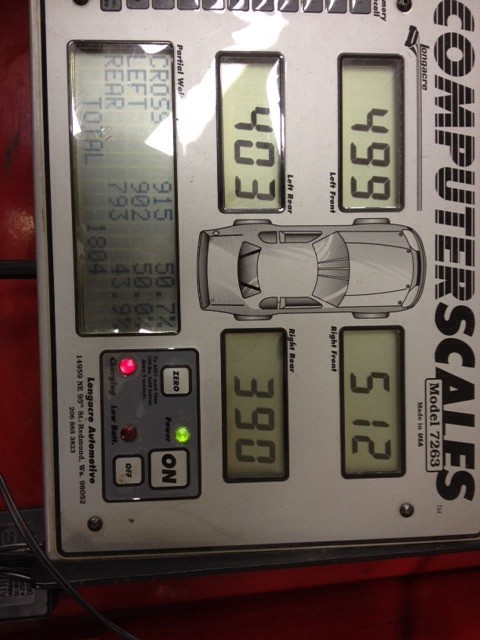 3-23-2014
Spent all day in the shop yesterday and it was a little slow going. It seems like nothing got done but, there's was lots of lay out and pattern building that eats up lots of time. Here is a couple of pics of the progress.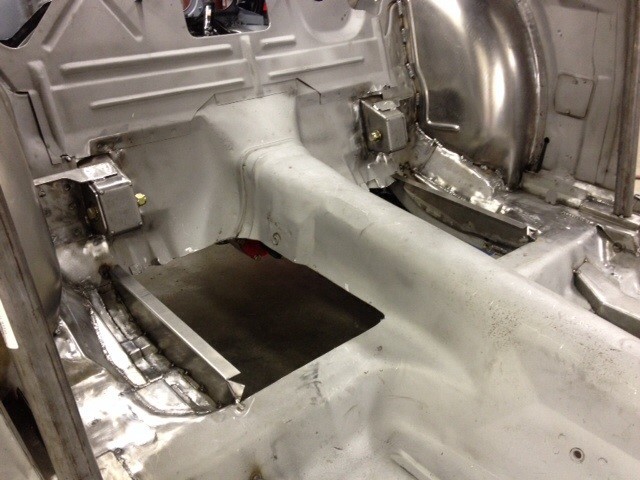 I also got the bulkheads cut in and tacked.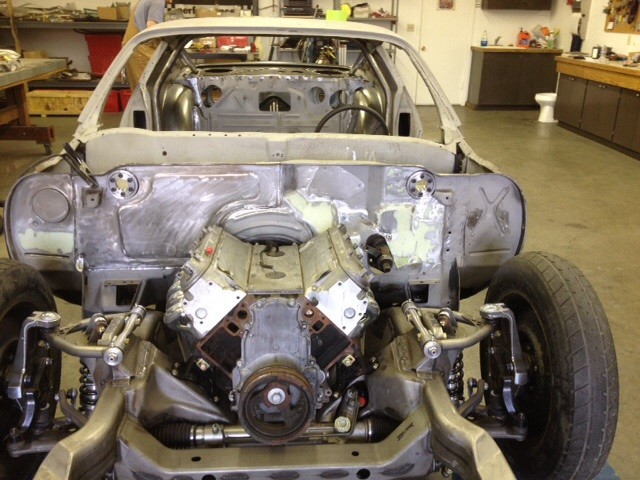 9-15-2014
I'm back on the car again after a lengthy break to work on my father in laws 55 Nomad(it's really nice). I recruited a friend of mine to help finish the cage this last week. He borrowed my bender a while back and became quite handy with it so why not recruit him. It turned out fantastic(thanks forest) and the next coue of weeks will be focused on finishing the sheetmetal and prepping to hang the fiberglass.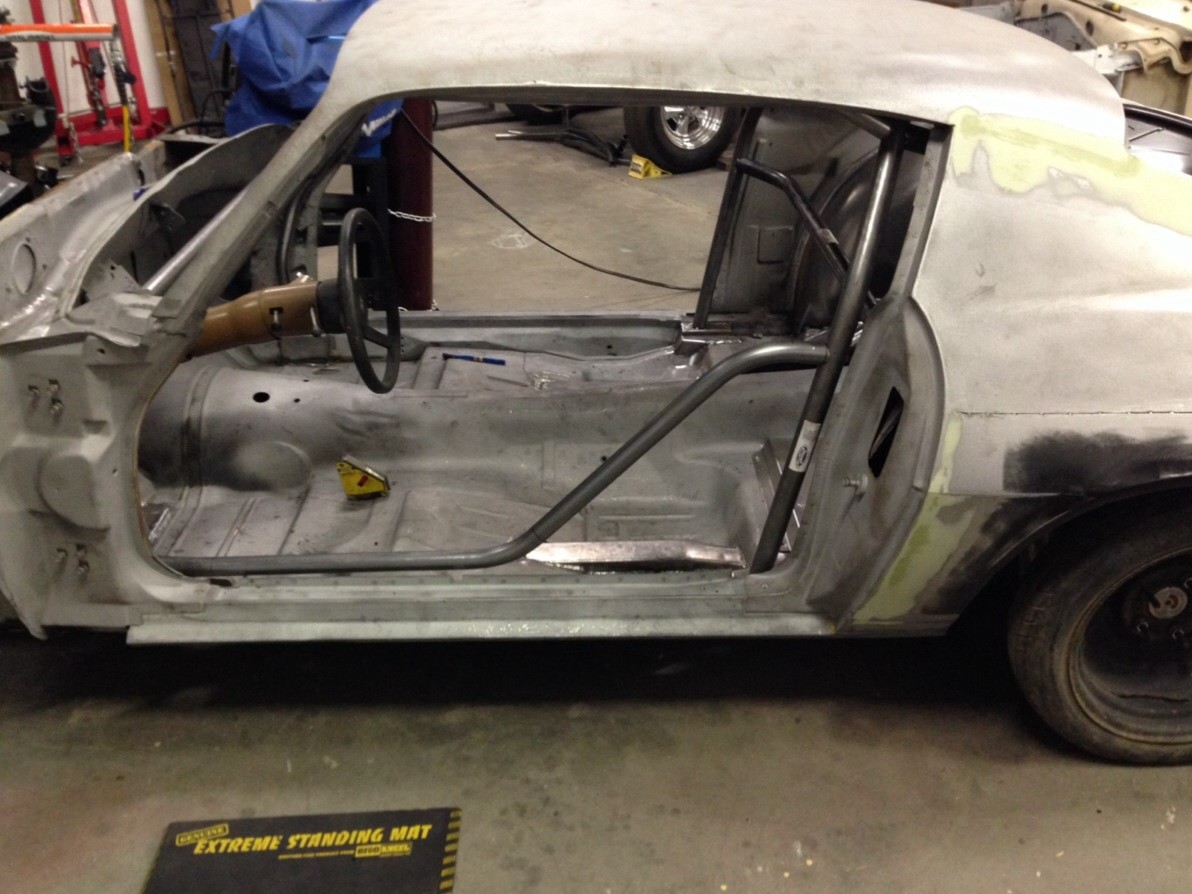 My JD2 tubing bender is pretty easy to work with. Especially now since it's hydraulic.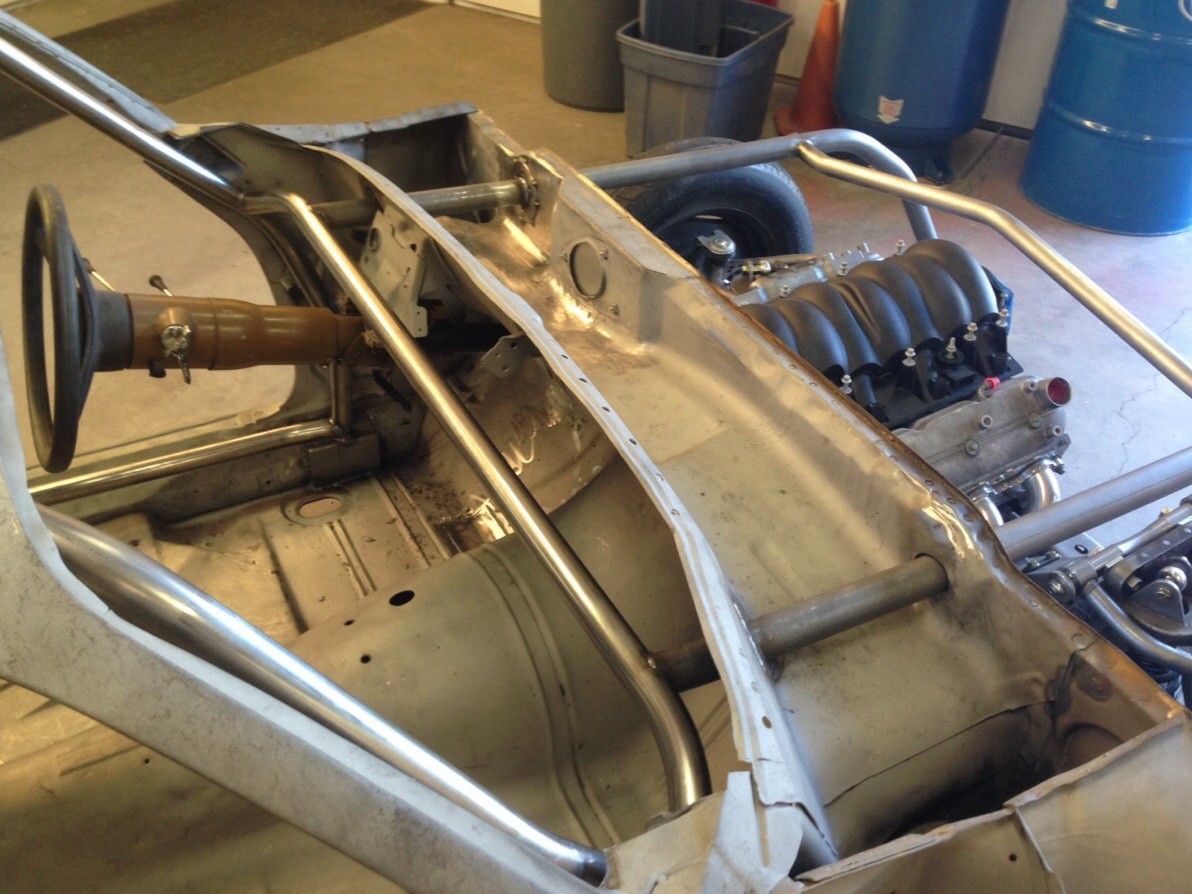 Here is the coupler I had machined by a friend of mine who owns a machine shop.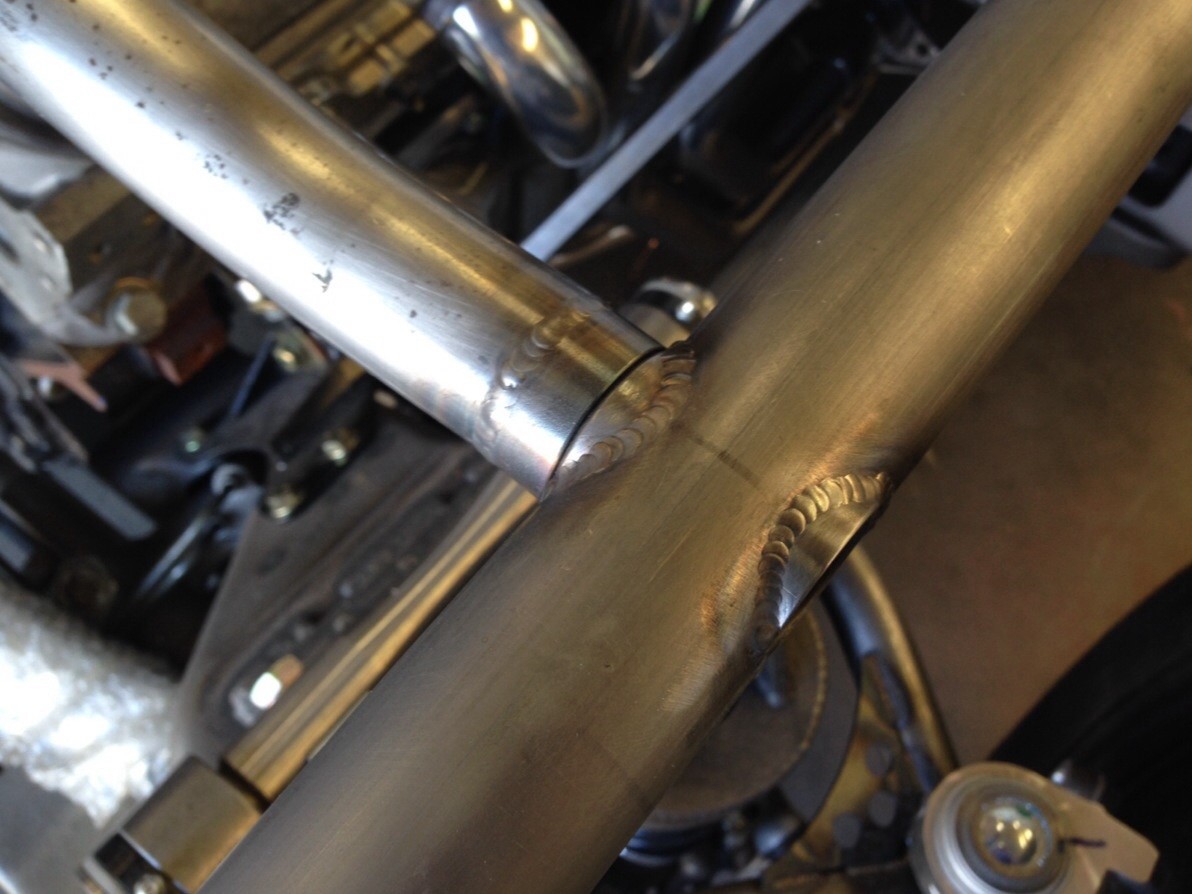 Lots of tig welding. Forest does nice work.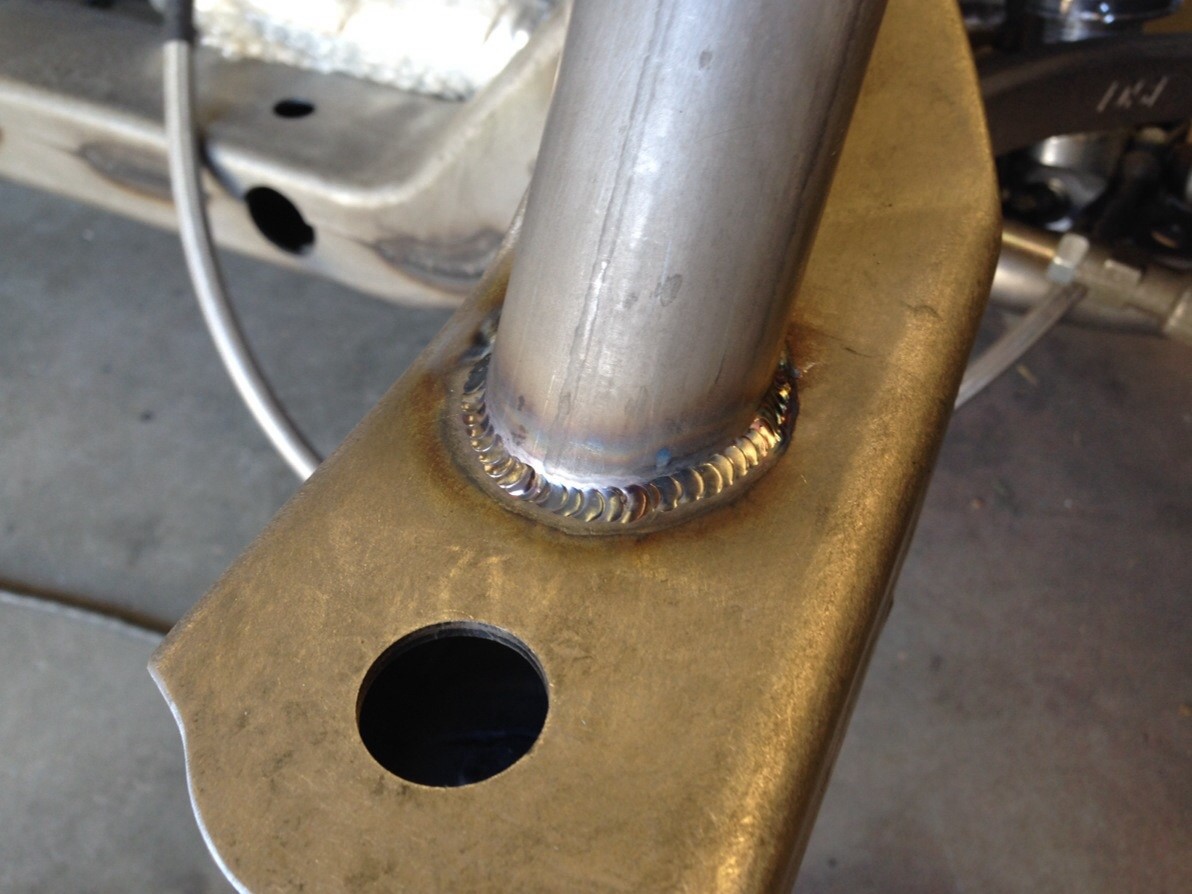 From here I can see the end. My wheels are here and tires are mounted. My brakes are here from Kore 3(thanks Tobin), all I have left to round up is an LS3. I'm buying a one from GM and will use the Mast upgrade to 550HP.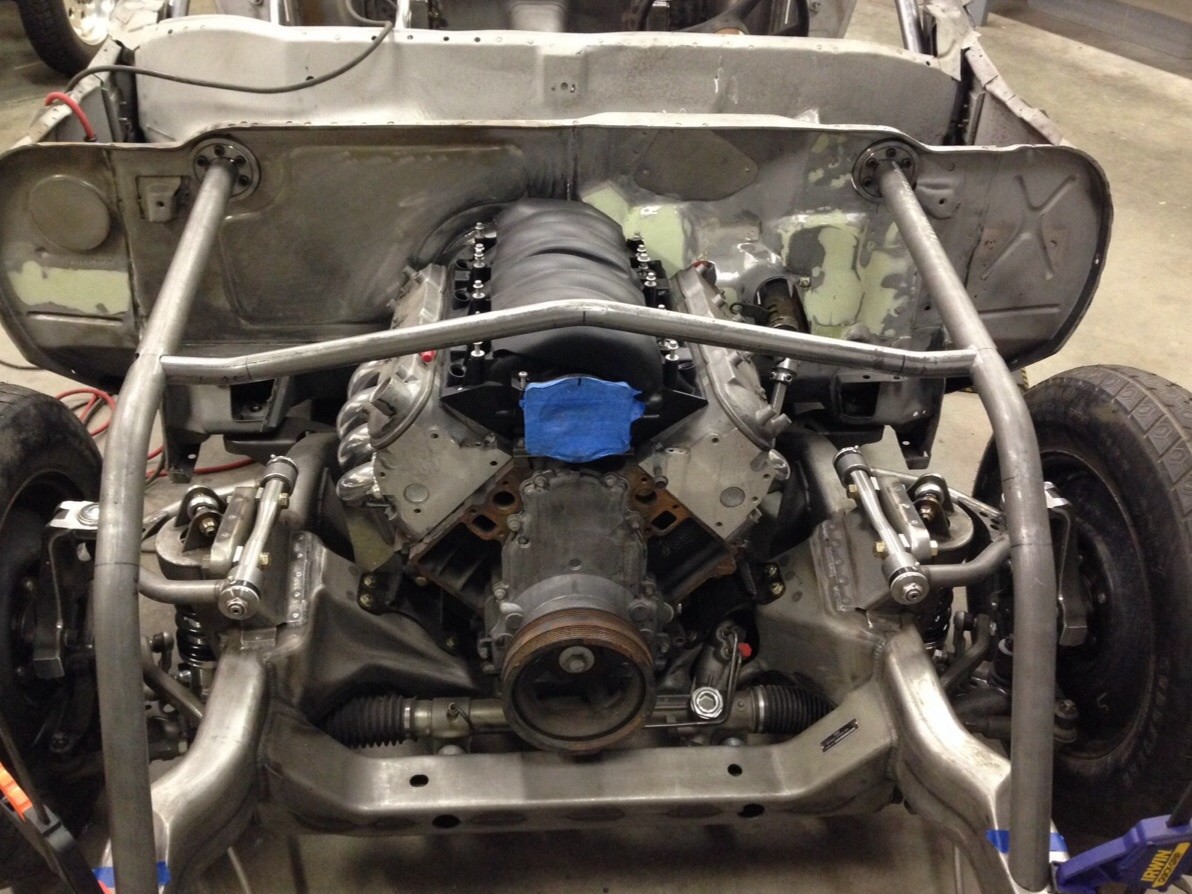 9-16-2014
Headed to prime.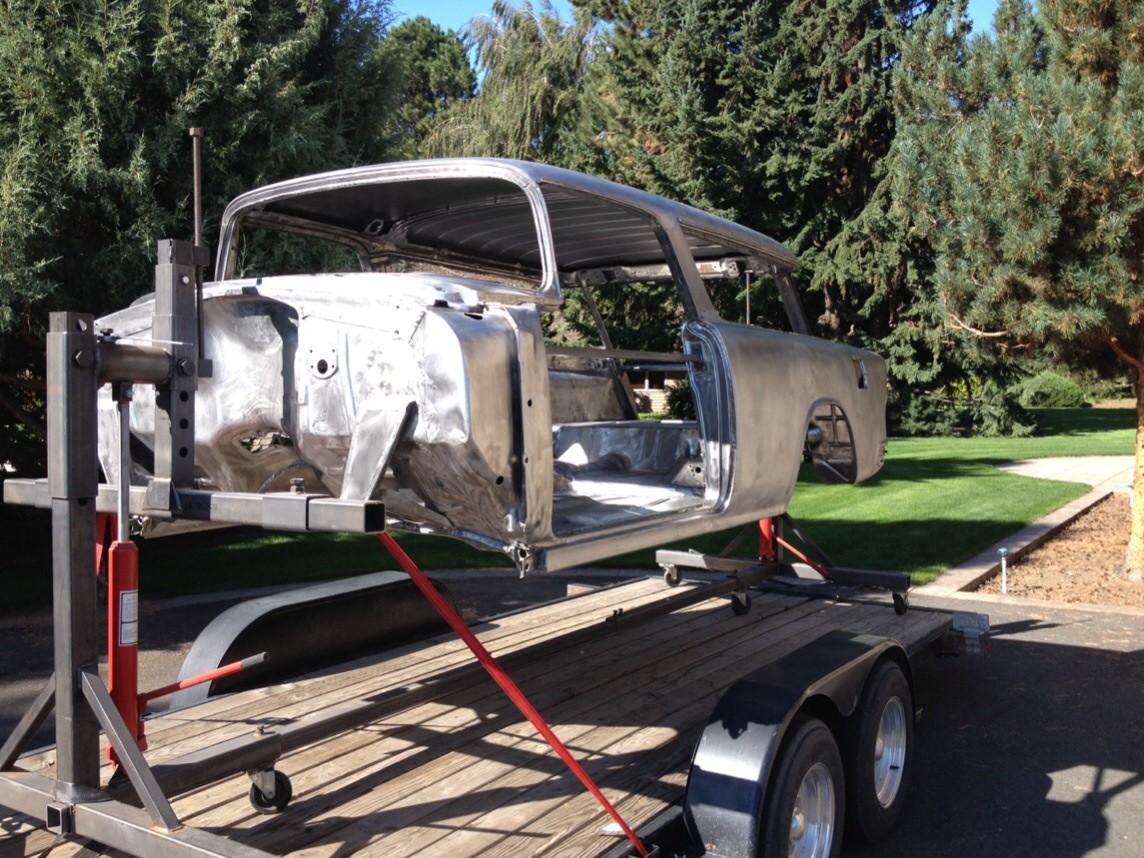 Art Morrison, LS3, 4L65.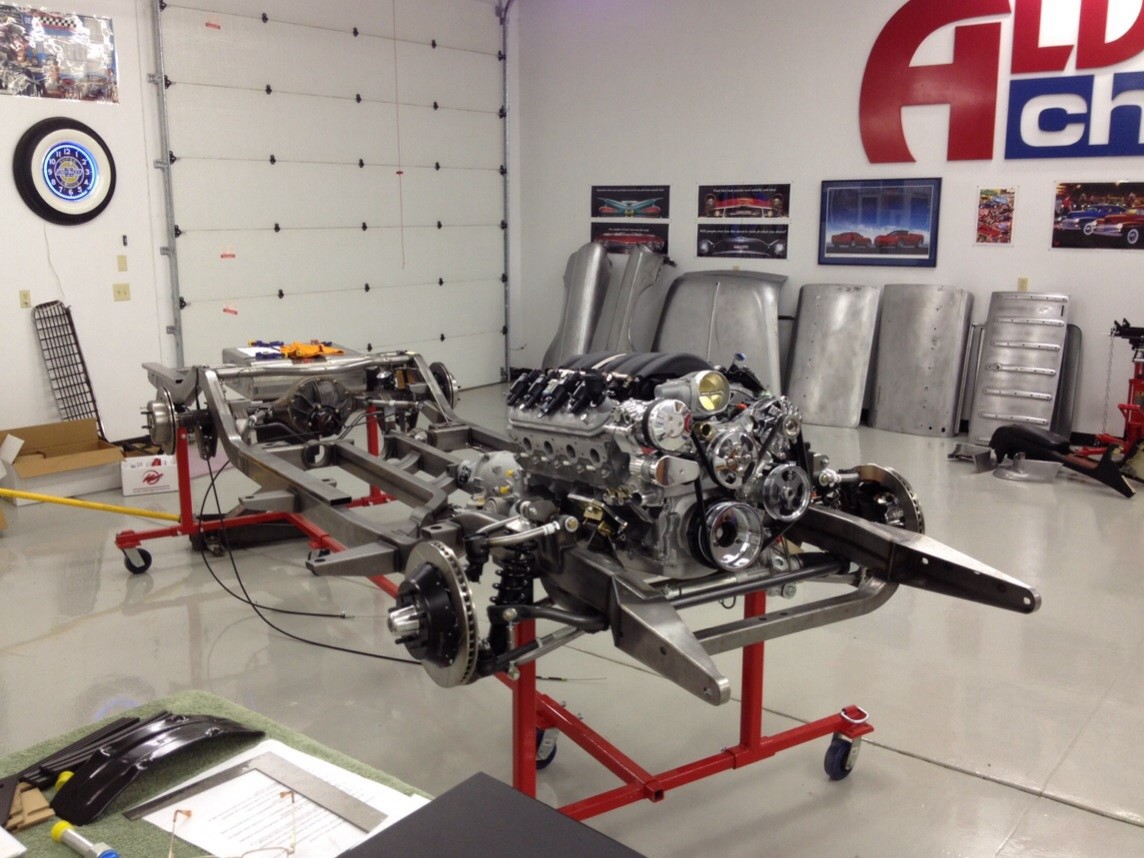 There is one thing I need to start thinking about and that's a clutch, pressure plate and flywheel. I would appreciate any input I can get. Just remember the primary use for the car is Autocross. Thanks again.
10-2-2014
Here are some more pics of the recent progress. As soon as the cage was finished I dropped the car off at Rockets Garage in Outlook Washington, just an hour west of me. Riley Morris is the owner and his shop does quality work. I was struggling for time with the Nomad build and Riley had an opening in his shop. They did some sheetmetal fab, some patch panel stuff and welded up everything I didn't finish. They did a great job and I'm glad to be over the hump. This will allow me to start hanging fiberglass components and then on to prime.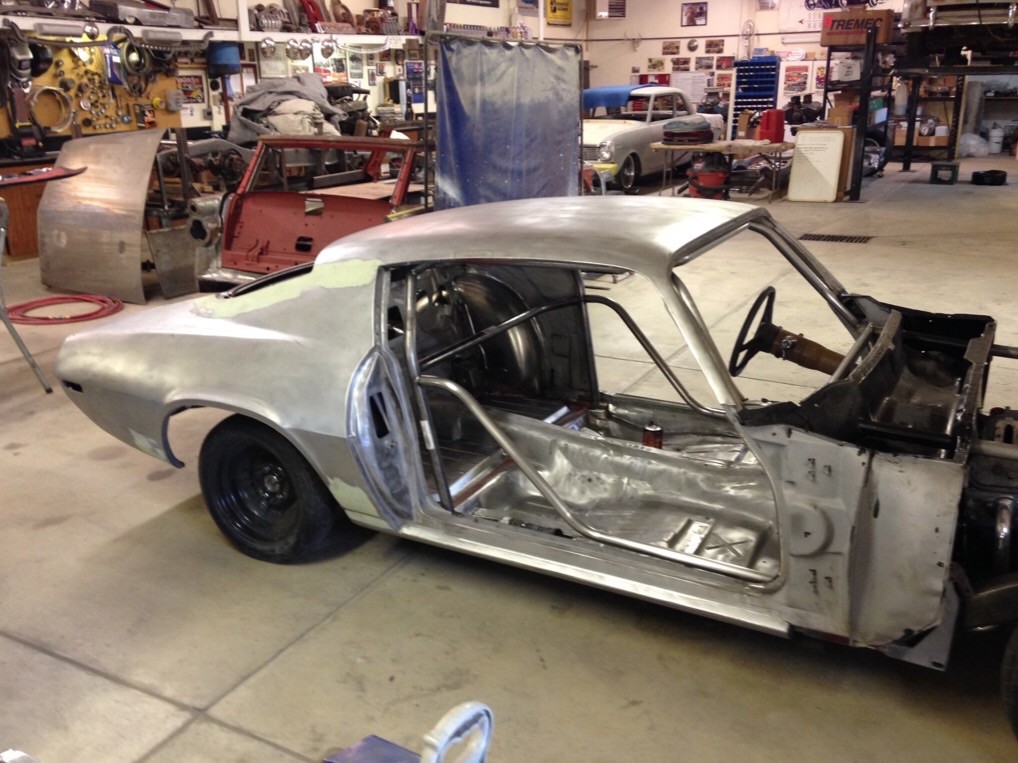 Raised the floor to tuck in the exhaust.
The fit and finish of these panels turned out nice.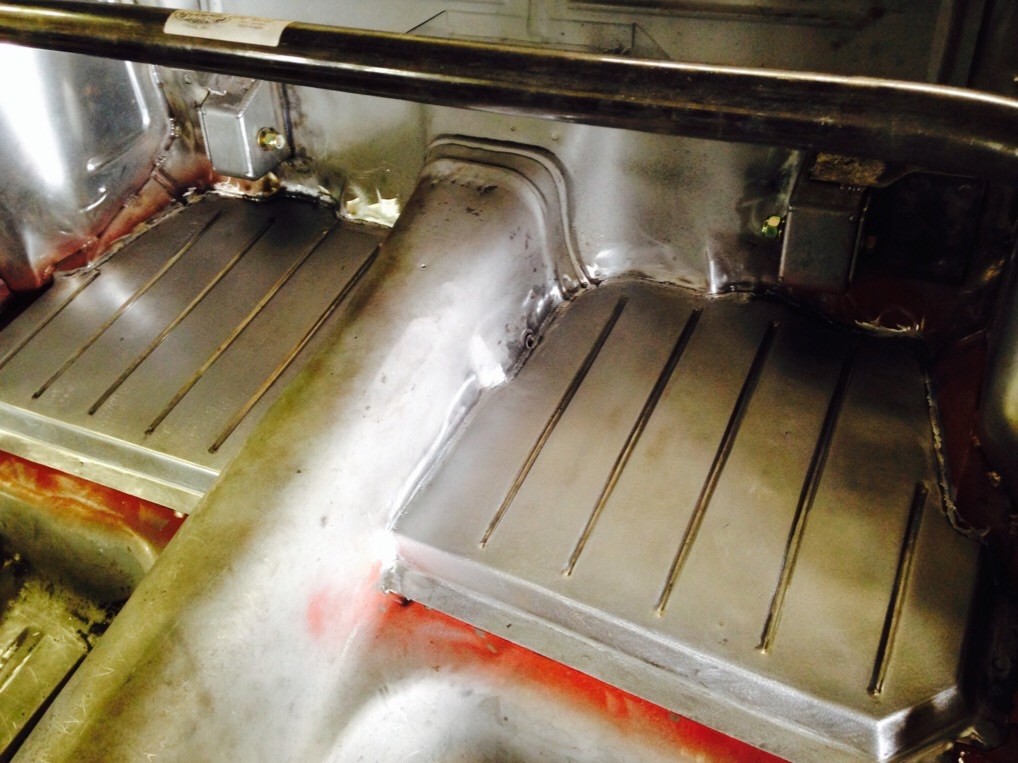 The cowl is all buttoned up and painted now.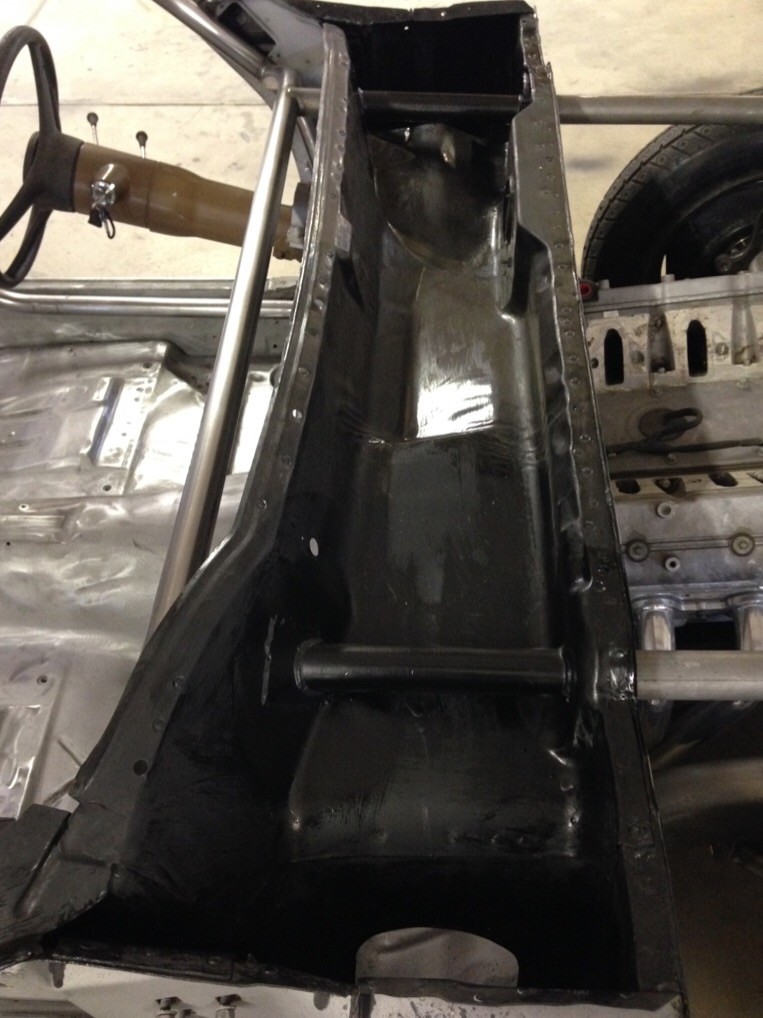 Bulkheads are all finished up. These were a pain. I tucked them up,tight to the cowl flange and there is several layers of metal in that area that sometimes make clean welding a little difficult.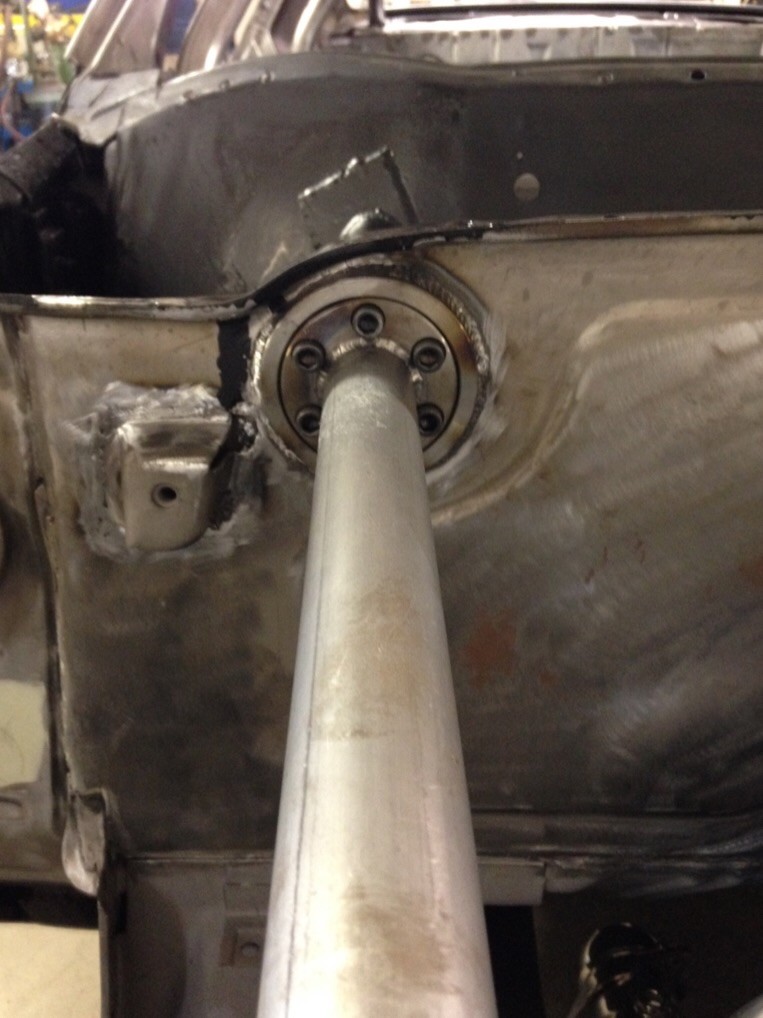 Tomorrow it will go back on the scales to see how much weight I've gained due to the cage and having the cowl finished up. I will post some more pics then.
10-3-2014
Cowl is all buttoned up.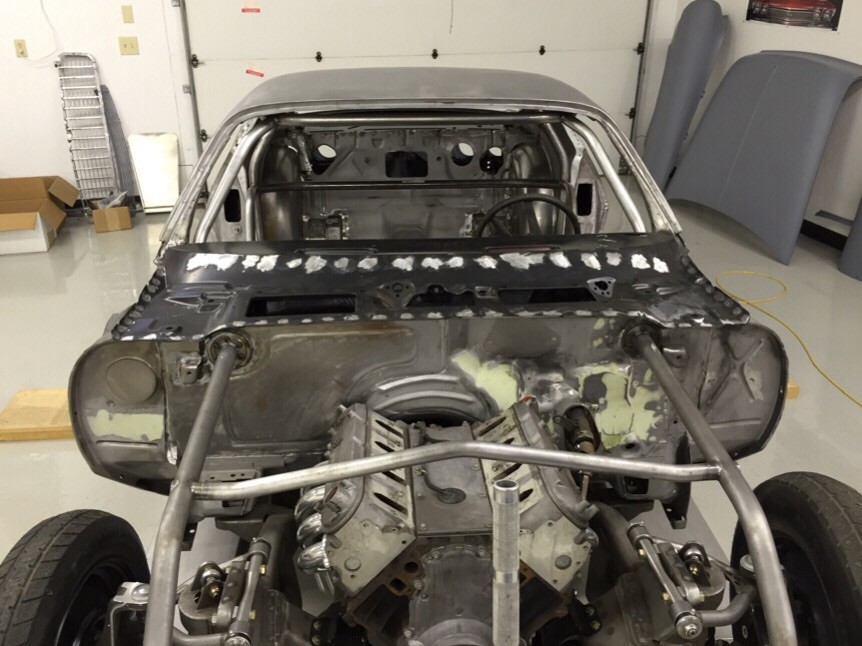 Car is on the scales and between the cage and the cowl I gained a 120 lbs. I'm right at 2000 lbs.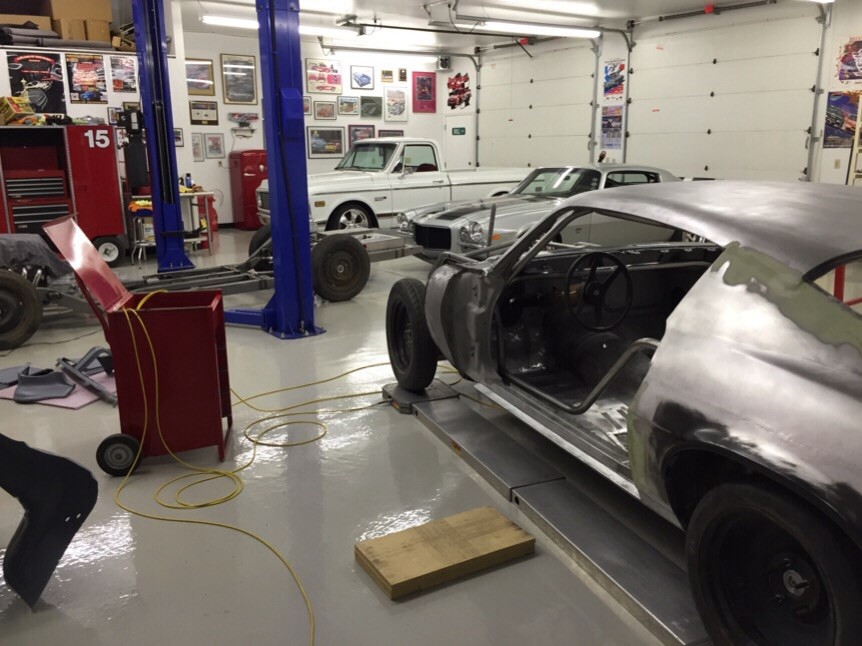 It's all coming together. I Have to thank all the people that have helped me. What's great is there either family or friends.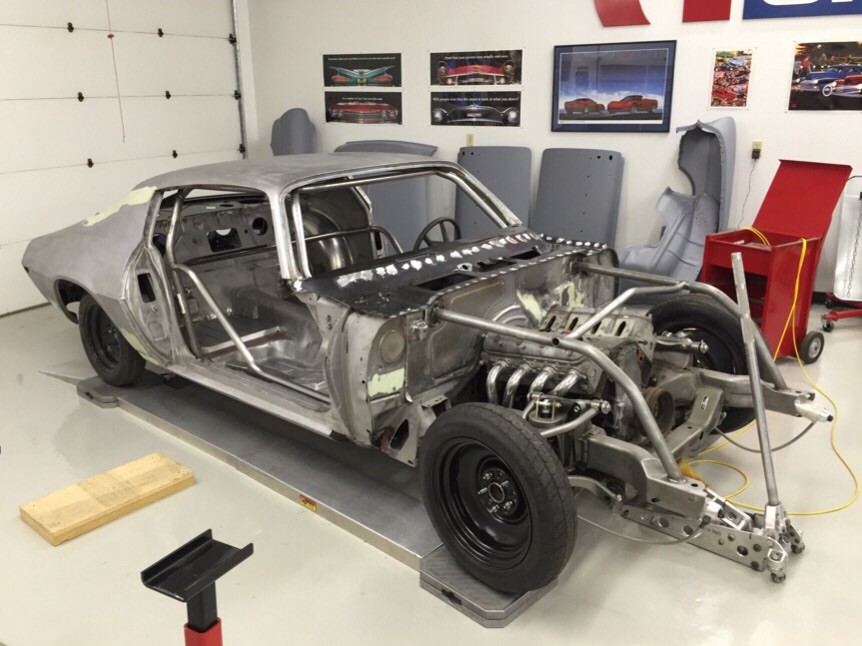 If anyone remembers, this was on the car when I got it from Roger Lee. Vince was very fond of it. but I'm still partial to it because it's the only thing I haven't had to work on.
10-4-2014
Bolted on the wheels today as I promised. I have the car setting up in the air because the pan on the Mach up motor is incorrect and it won't go on the trailer. They are Budniks and I have some shakedown BFG's on them right now. Jay at Budnik was great to work with and I appreciate the time, effort and patience he spent on the deal. I will be buying more Budnik wheels.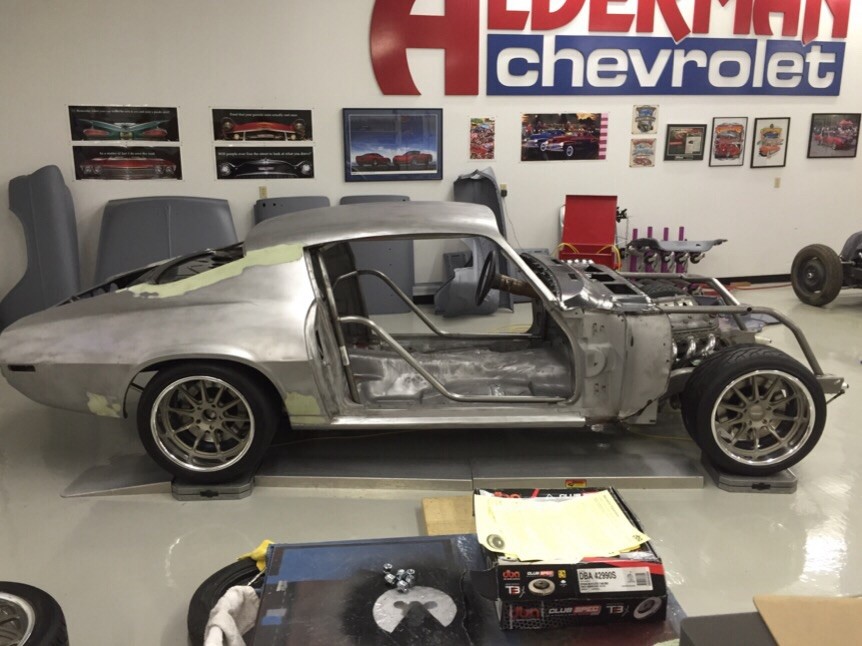 Next week I'm hoping to have some of the nose on the car. It will finally look like a camaro again.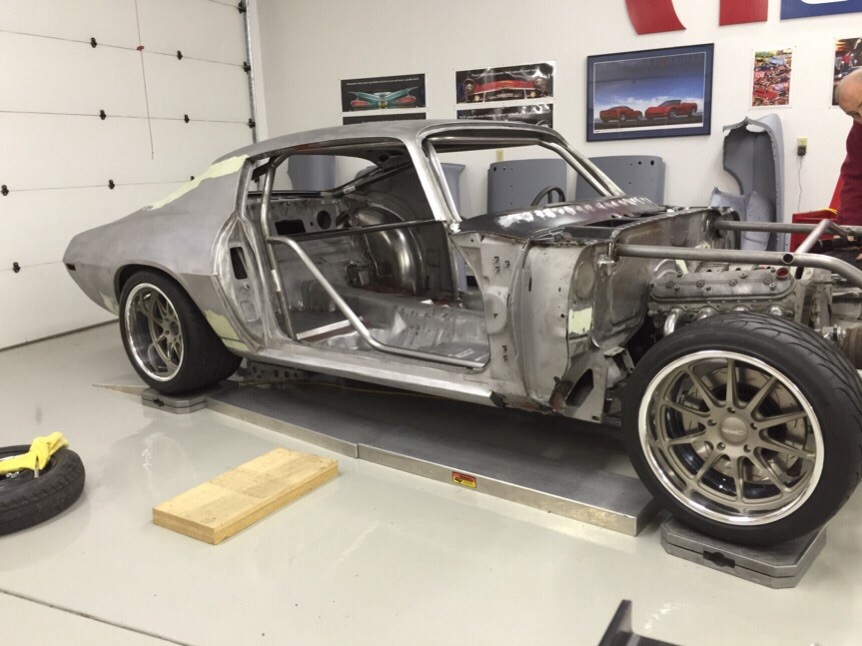 5-1-2015
It's been a while since I've really made progress on the car. I'm working pretty regular again on it and have made some progress. Today I received my new JRI coil overs supplied by DSE and springs supplied by Ultiimate Performance. I decided to change out from the AFCO's. I got everything assembled and back on the car.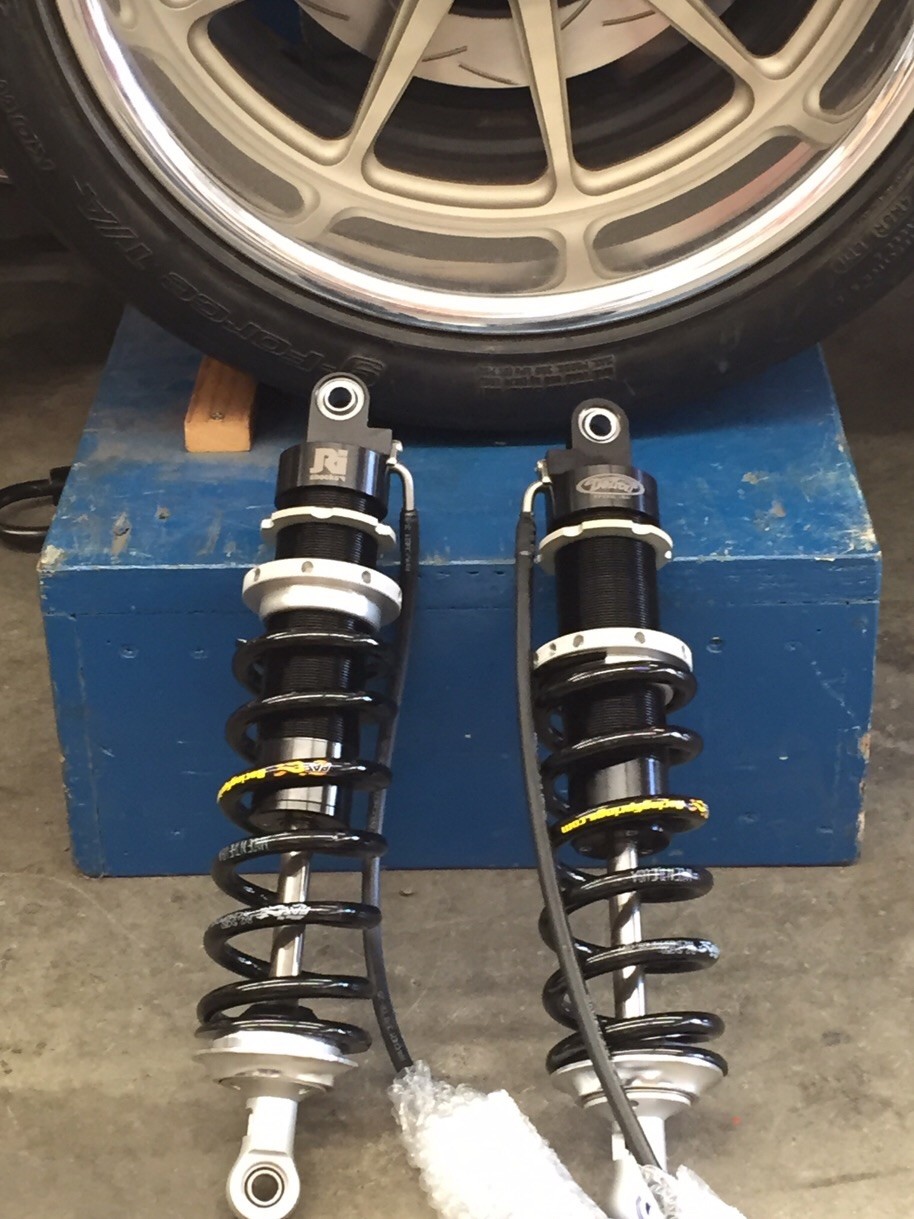 I also sent my front wheels back to Jay at Budnik to have them re-hooped. I went back and forth regarding wheels and tires and finally decided to make the jump. Now they are 11" wide and I will modify the front fenders. Budnik did an excellent job and Jay convinced me to brush finish the hoops as well. I like it. DSE provided me a set of Kyles take-off 315's for fitment and they have some runs left in them. Thanks guys.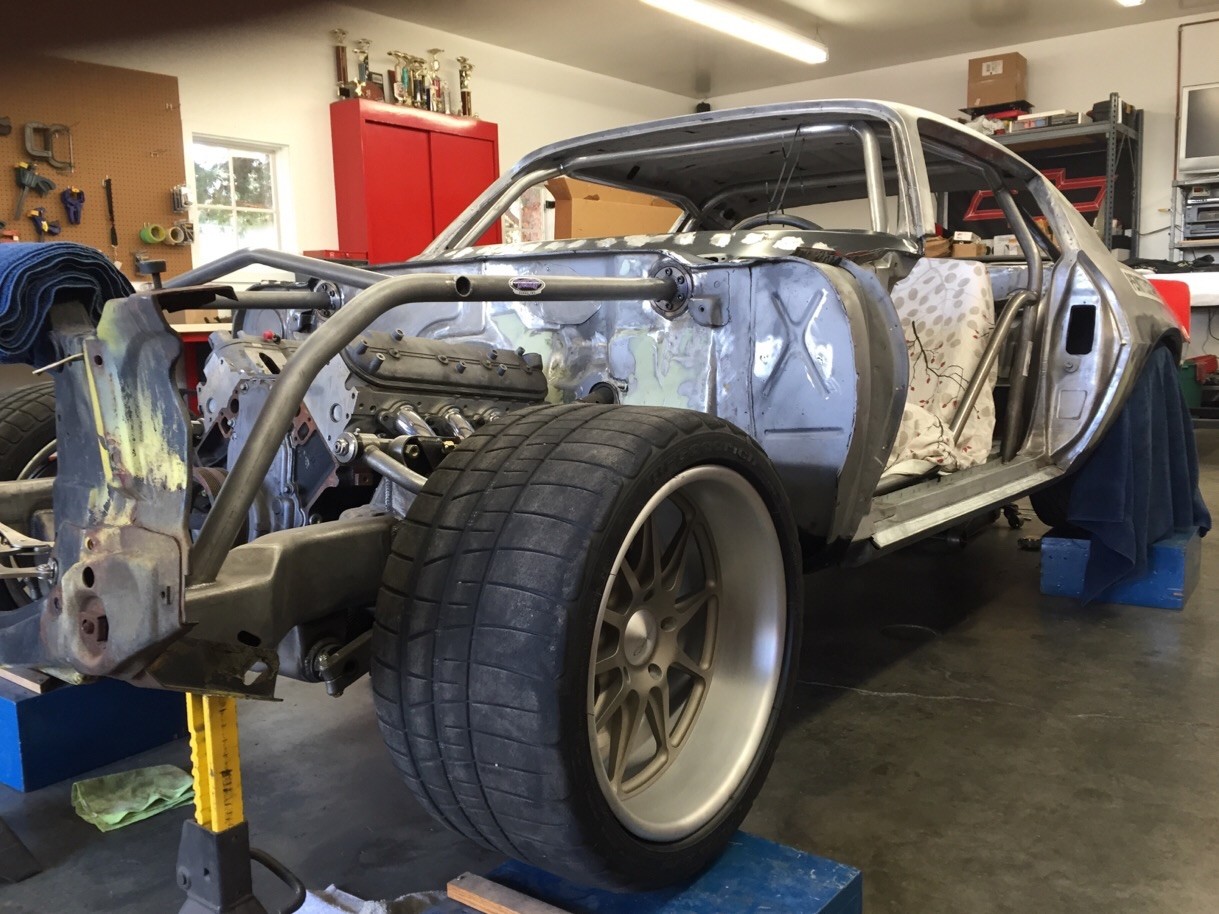 Thanks Jay.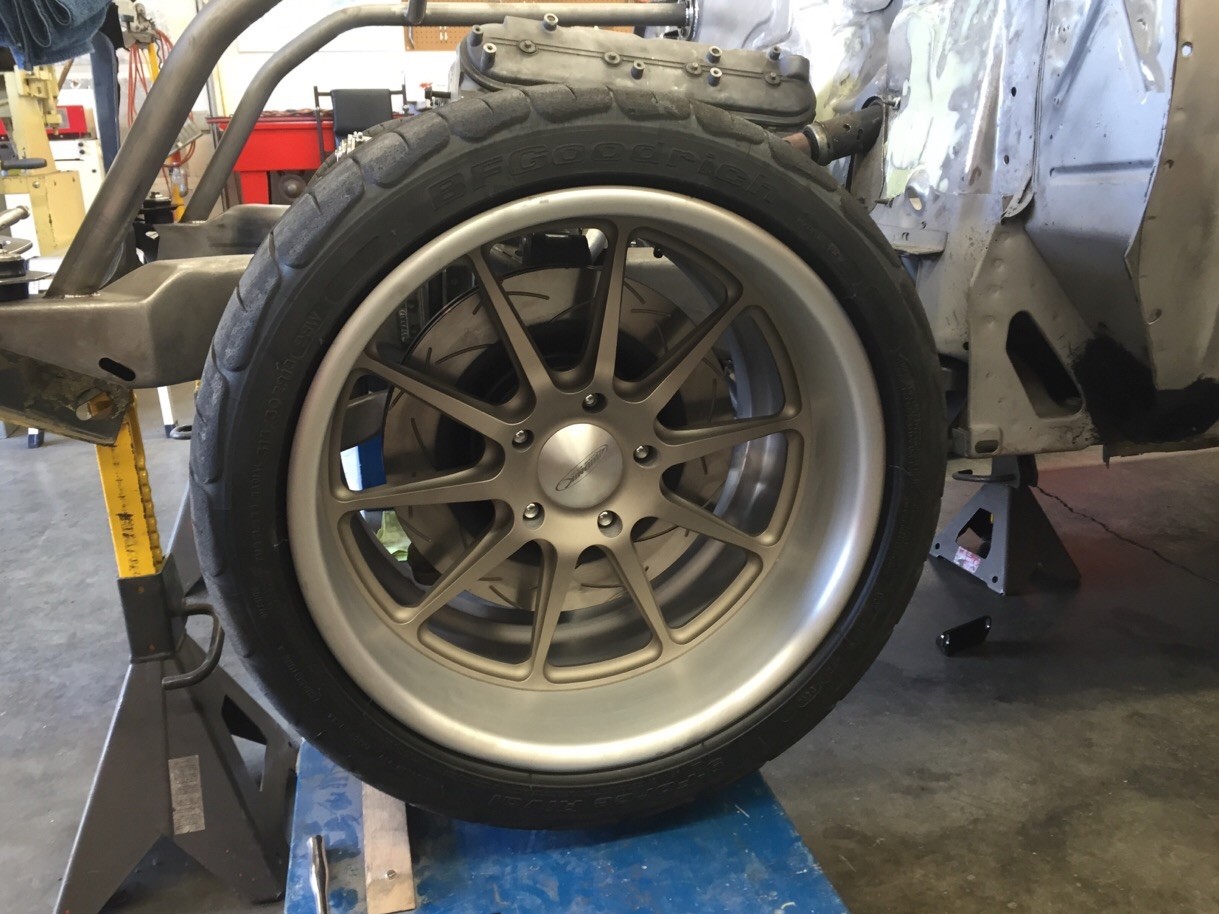 Tomorrow I will finish up the trans crossmember and finish up the gas tank straps. If you look to the right you will catch my father in law(Paul Alderman) helping me out. For the guys that know him and see us at car shows and autocross events, you usually see me somewhere near, under, on top, loading or unloading his 70. He's working for me today(lol). I will post more pics tomorrow.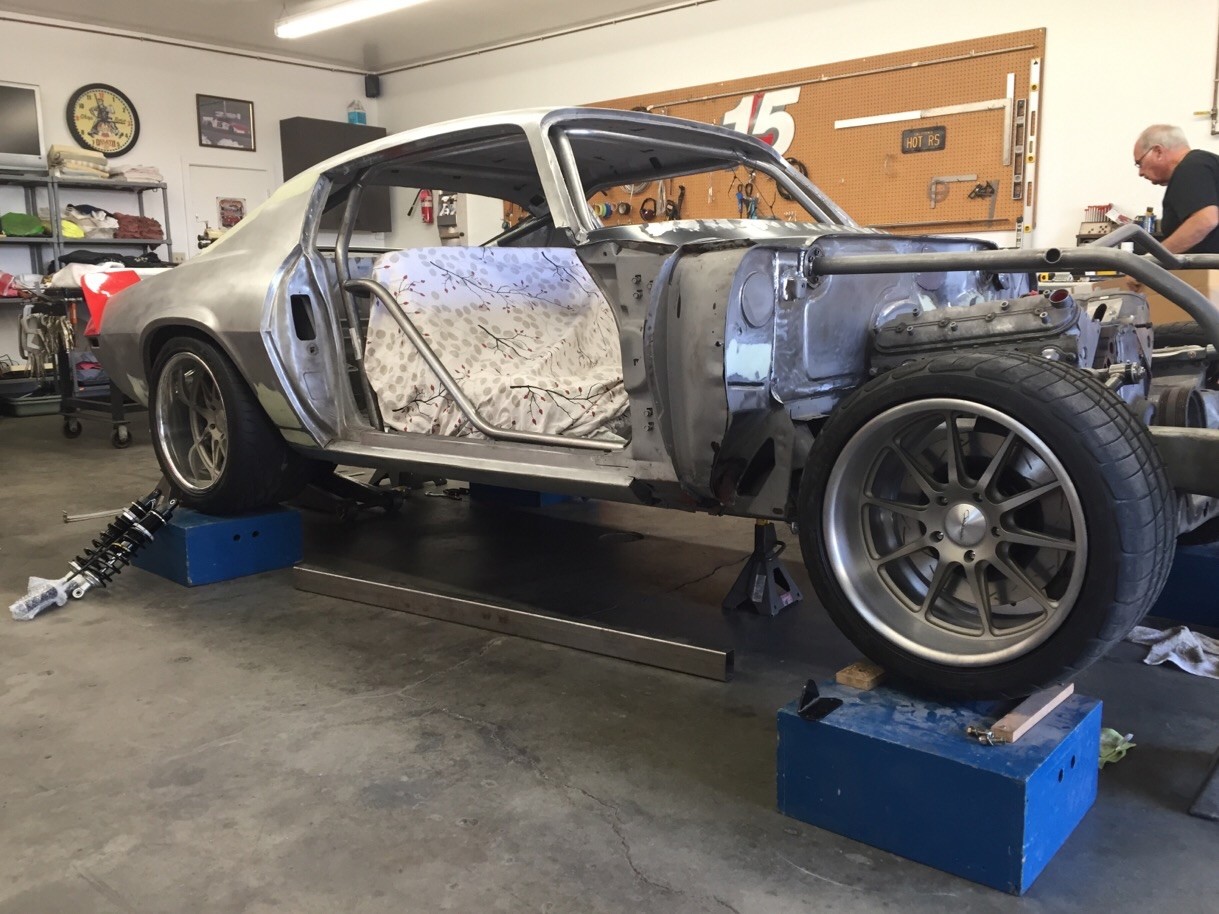 5-2-2015
Here is a couple pics of my progress. Had to build new tank straps.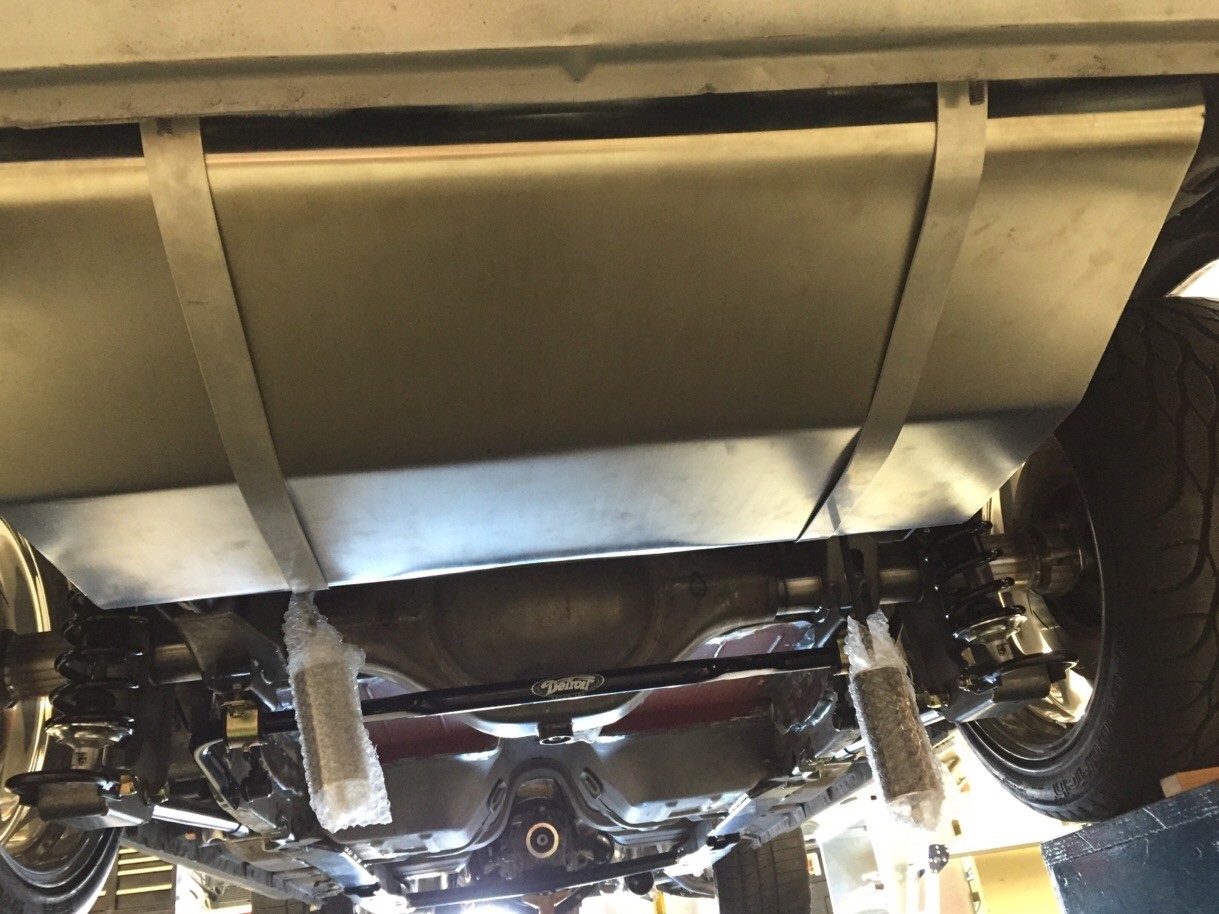 Seats are in and done. The wife can even drive comfortably.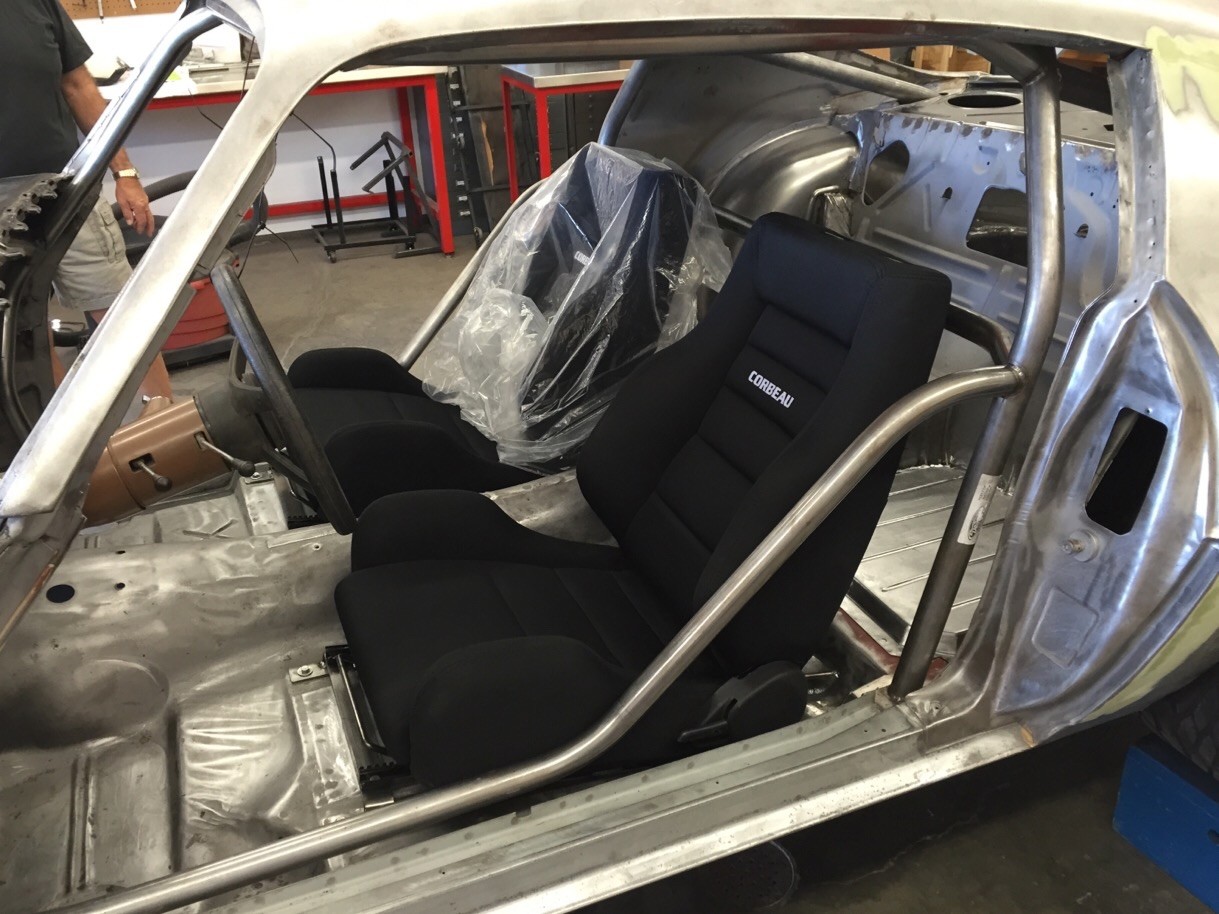 The list gets smaller.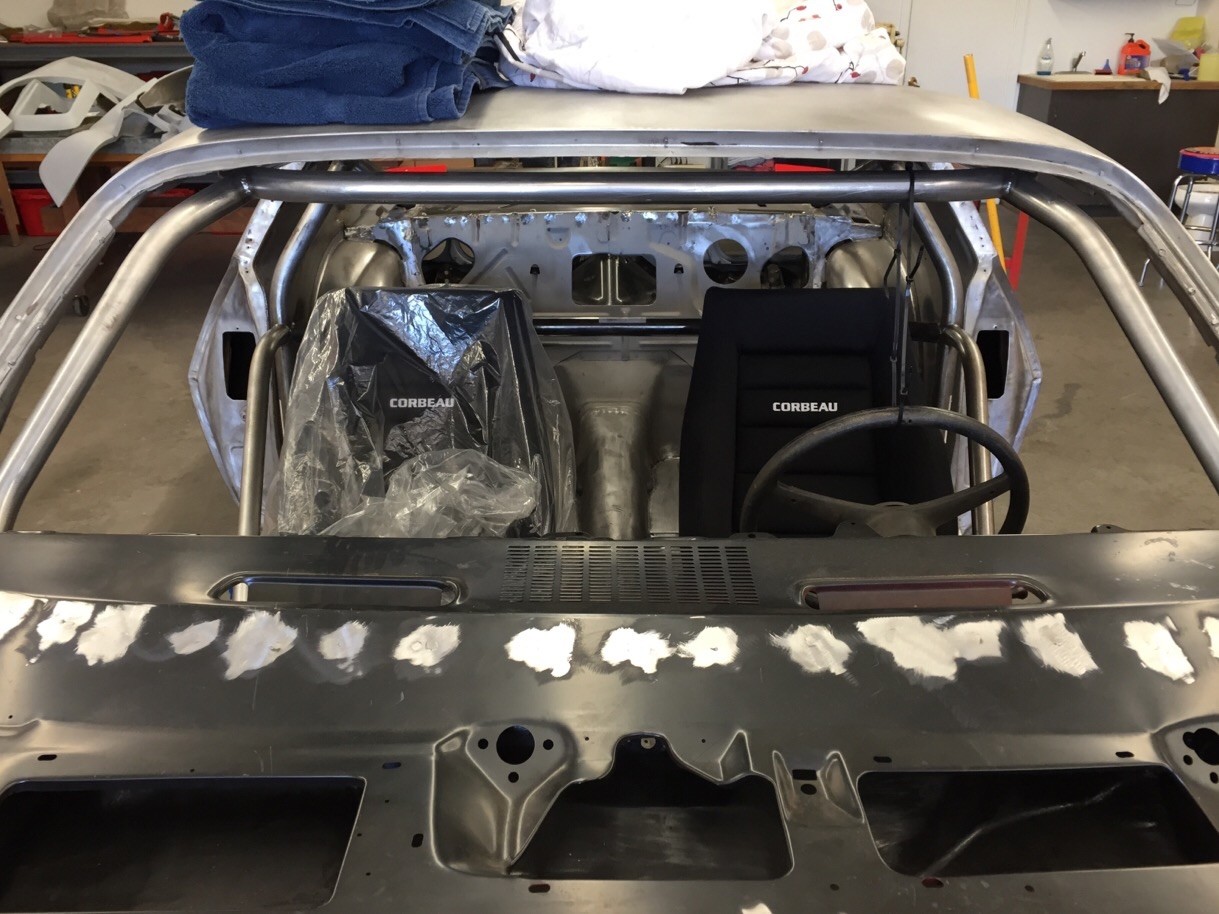 There's s good story behind the sign. It will take some explaining. Theses types of signs were pre wife.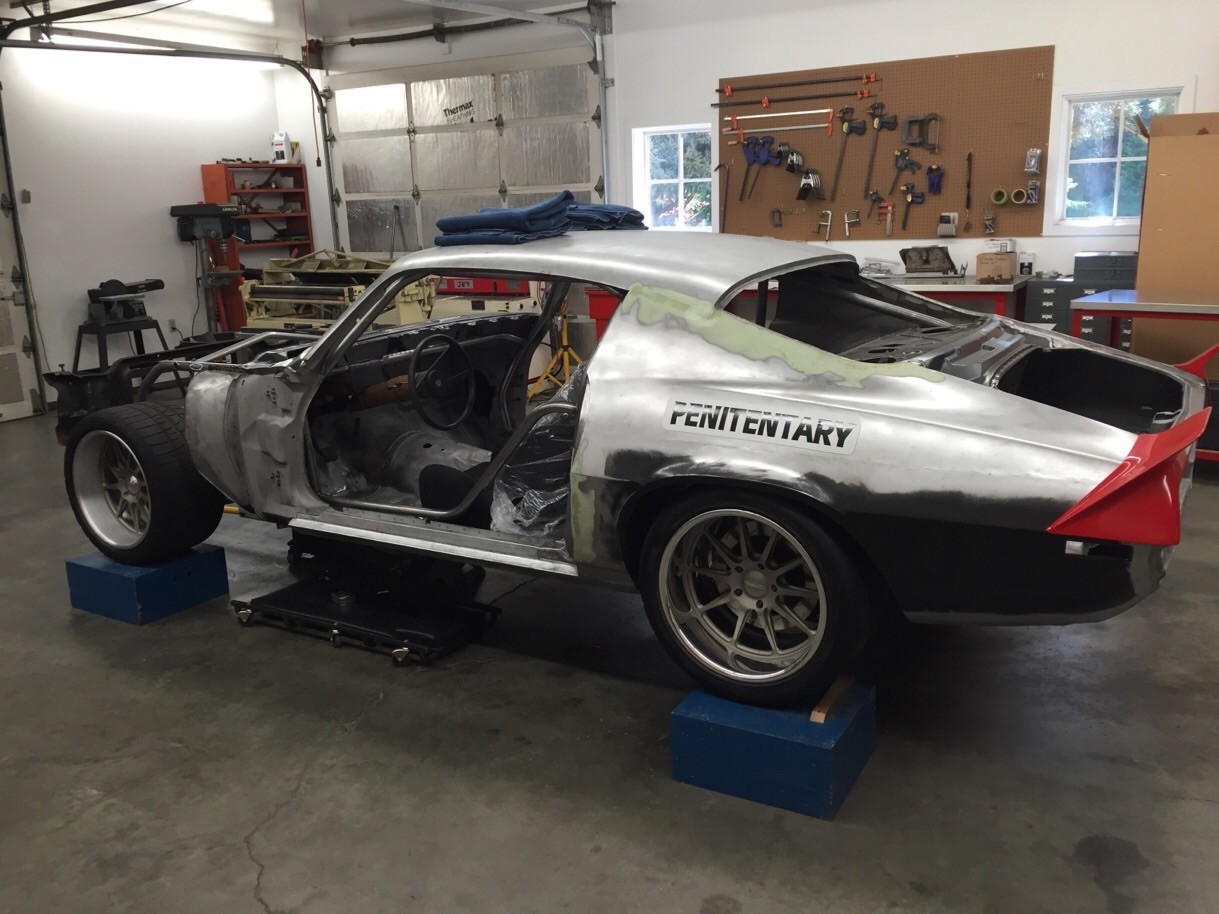 5-24-2015
I found another weekend to work on the car. I decided to run a booster so I ordered one up from DSE and went back to using my stock pedal assembly.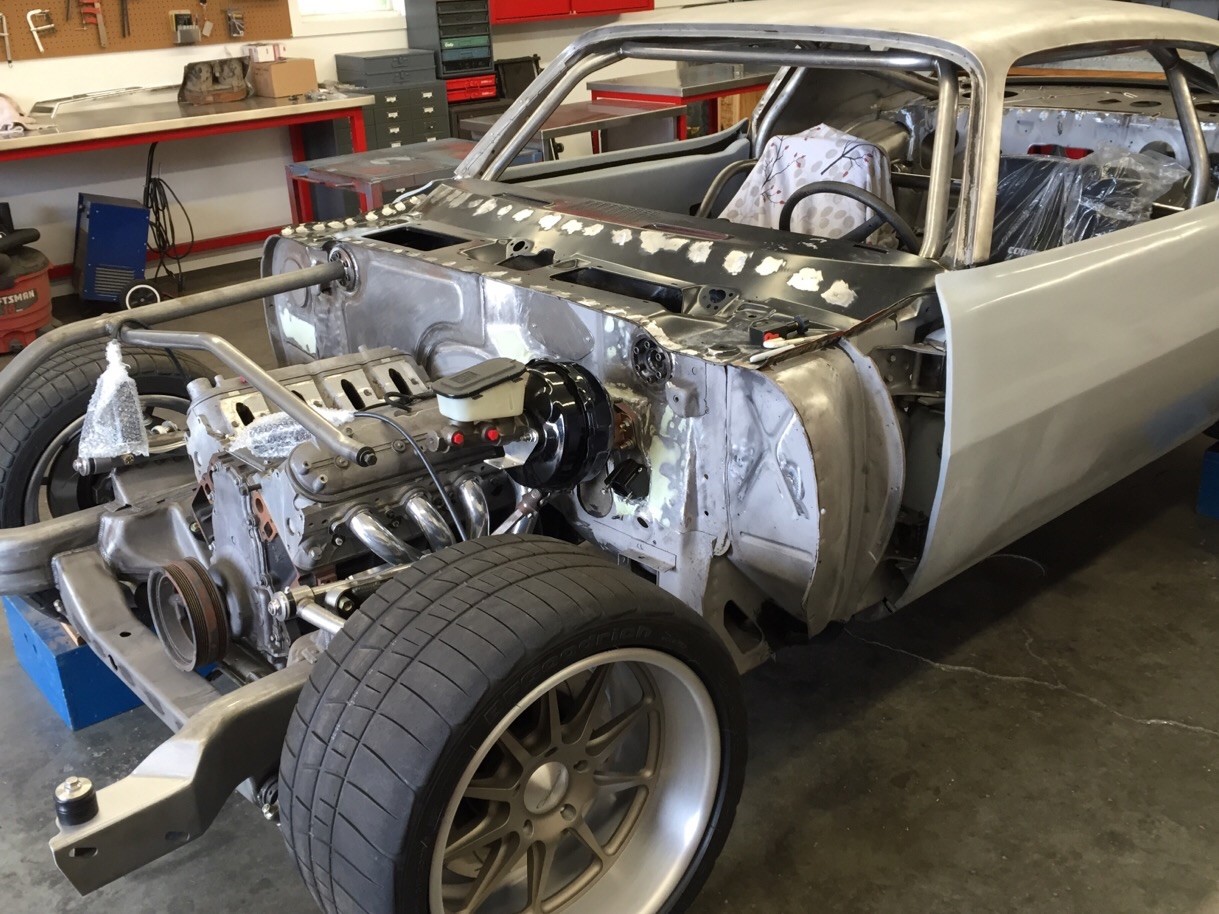 I was also able to get my door hinges rebuilt and both bolted on. They need some fitting but are pretty nice for fiberglass doors.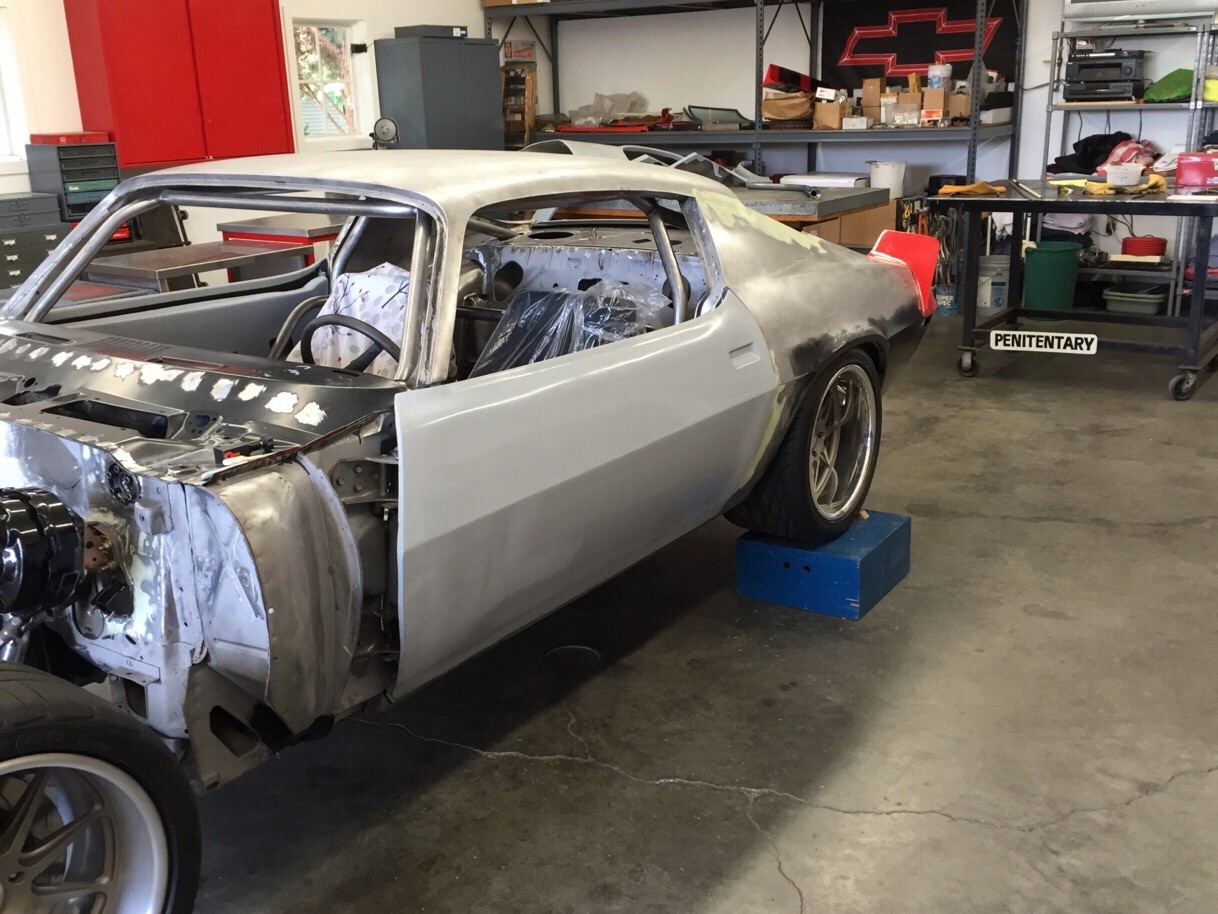 I'm pretty impressed with the doors. Not sure if I just got lucky on the quality and fit but I don't have much work to do on these. And I caught Paul in the background again working away. I have him figuring out wiring and plumbing now.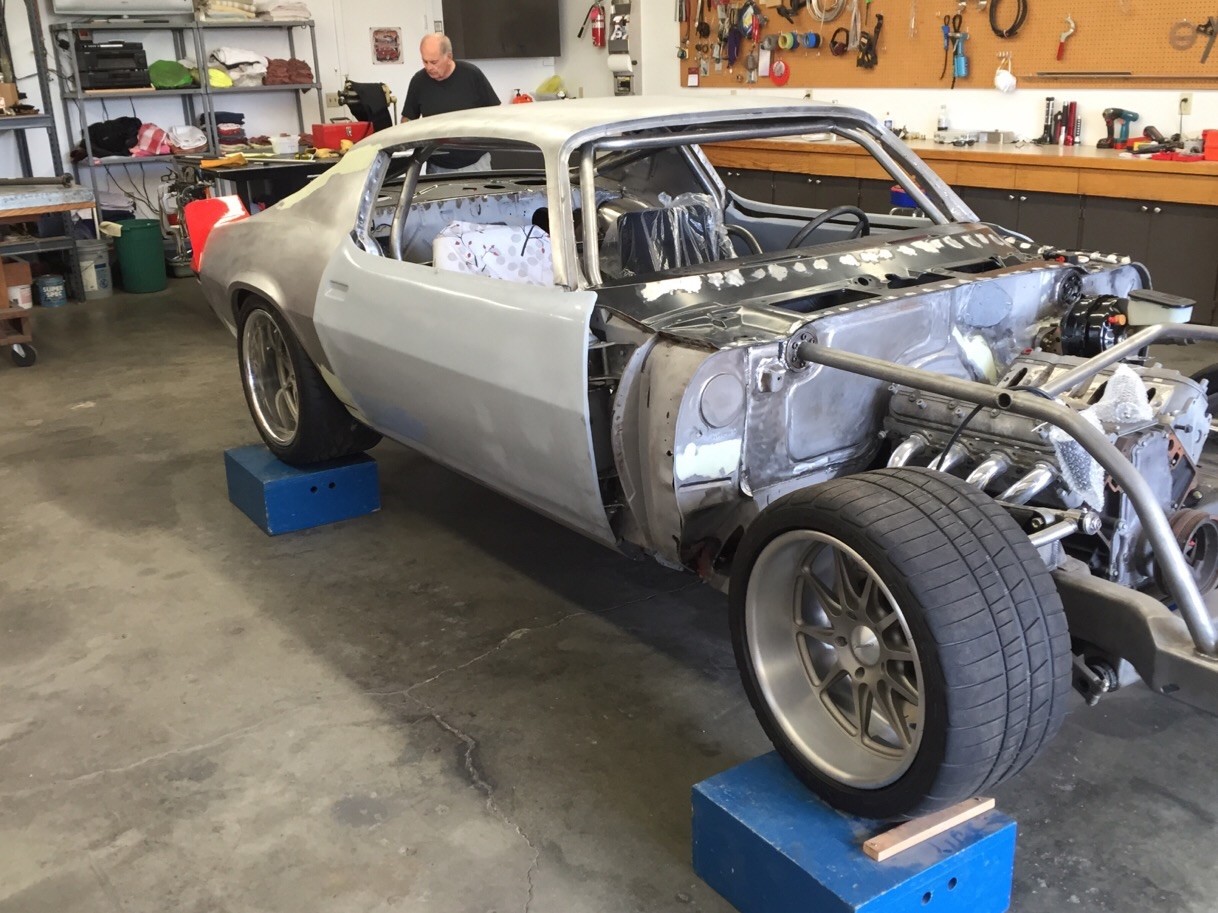 Paul and I also had some help this weekend. Pretty sure there are several tools, bolts, washers and nuts hidden all over this car. I caught Otto shoving a washers in the end of the subframe. At 3 yrs old, I'm proud knowing he likes it in the shop.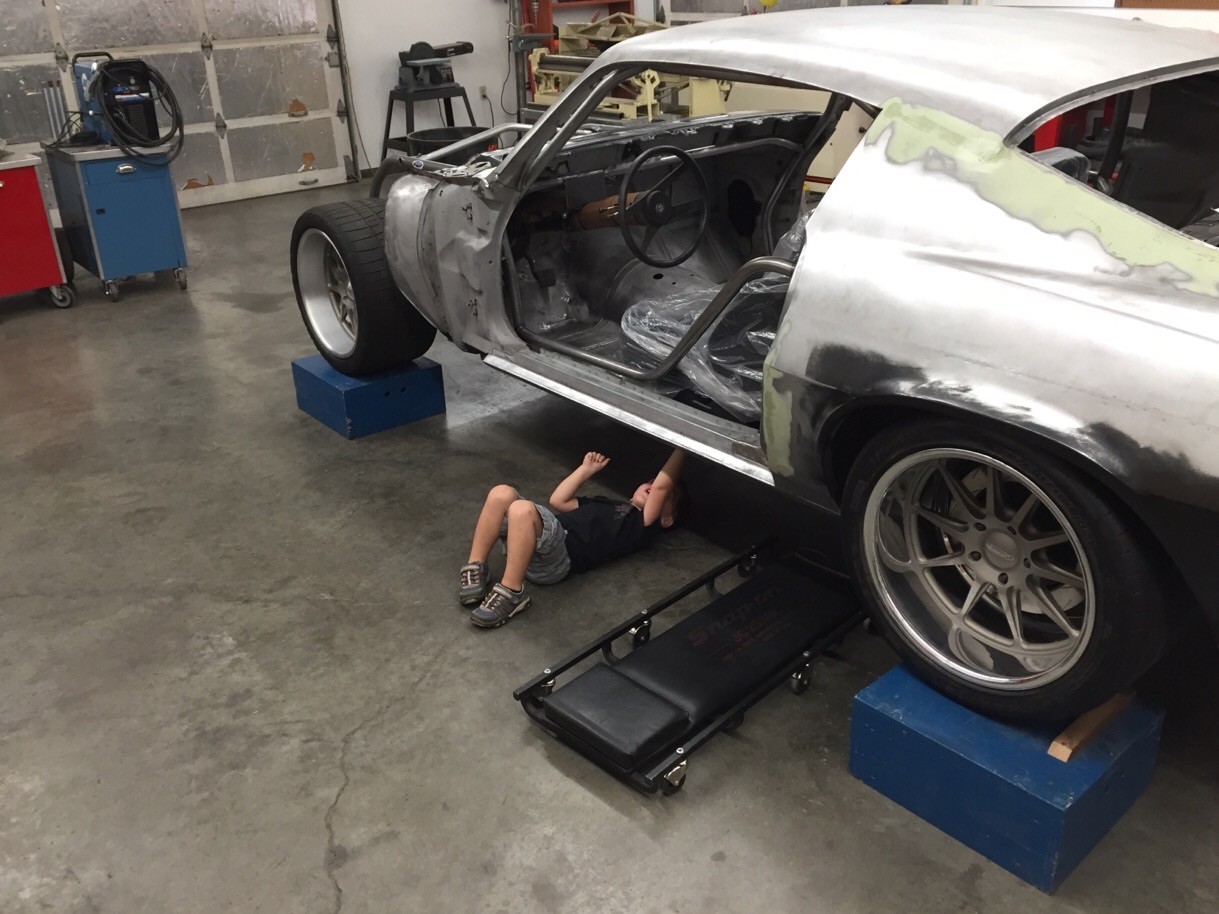 6-28-2015
Well, I managed to get a little more time this weekend to work on my car. I installed new door latches and strikers, installed my new Hurst super shifter built by David West, took final dimensions on my driveline and installed the front runner on my motor. Everything worked out fairly good accept the balancer, I have to order a new one as it doesn't line up with the Corvette front runner. Outside of that, it doesn't look like much but it was progress.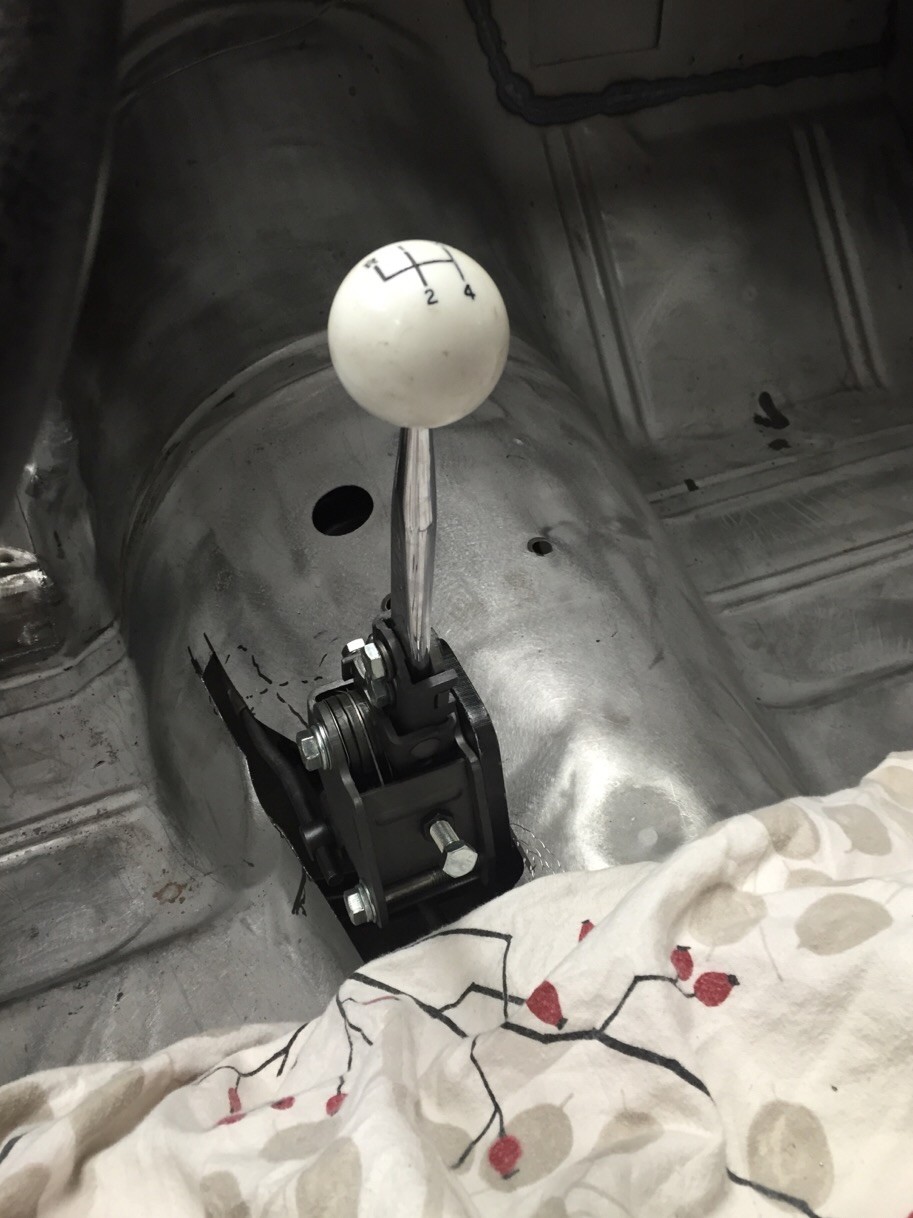 I had David West build me a complete shifter assembly. I went with a Super Shifter and I'm glad I did. He put together the shifter, mounting bracket, linkage and pre assembles it on another trans for you. Ready to bolt on when you get it. It's a flawless piece and as he said, fit perfectly when I got it.
One of my more favorite tasks this weekend. I assembled the front runner and started getting familiar with my Mast harness.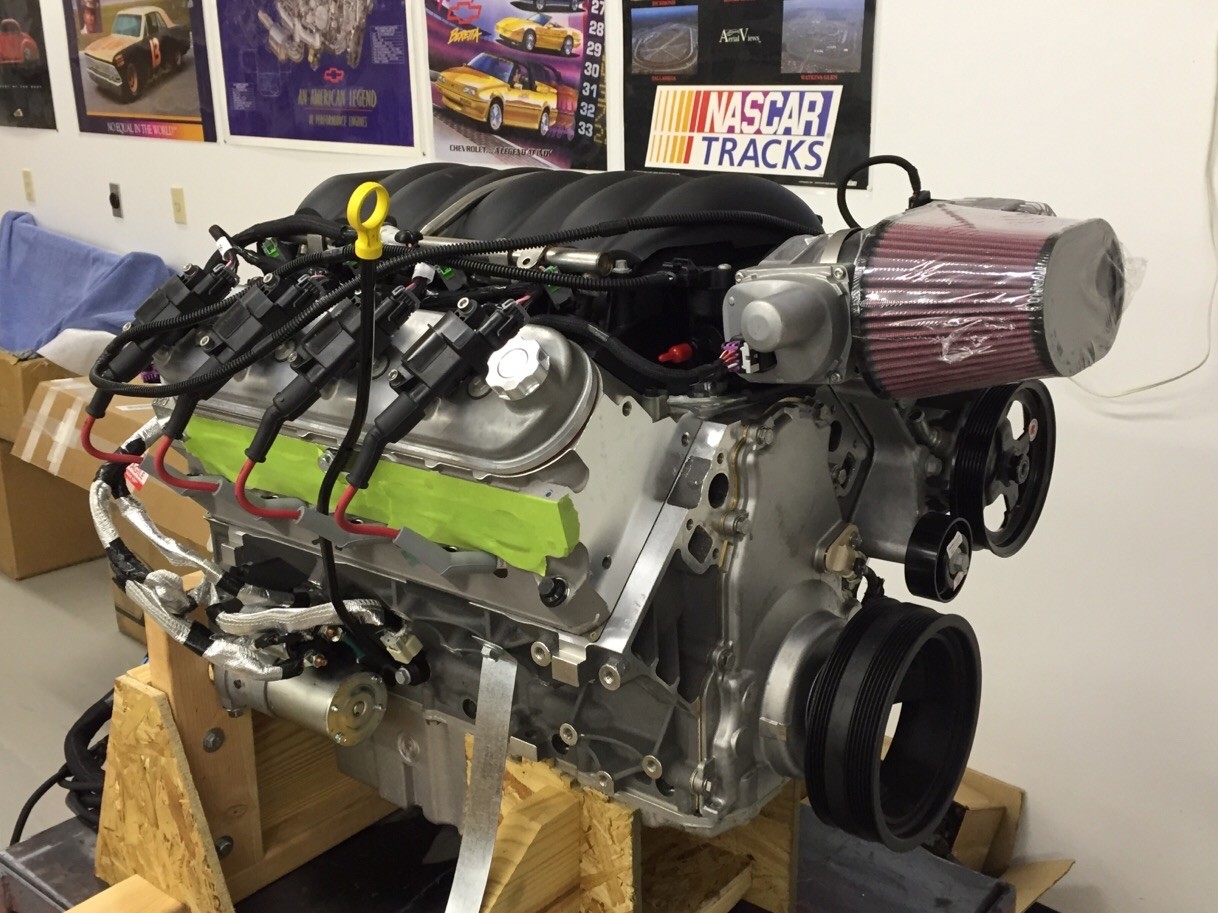 I also received and started bolting up my clutch, pressure and flywheel. I used Modern Driveline out of Idaho and they are extremely knowledgable and helpful. I used a superior Kevlar clutch, chromoly flywheel, pressure plate and tilton hydraulic bearing and master. The service was fantastic and I suggest talking to them if your in the market. I measured up the driveline and will send the info to them on Monday.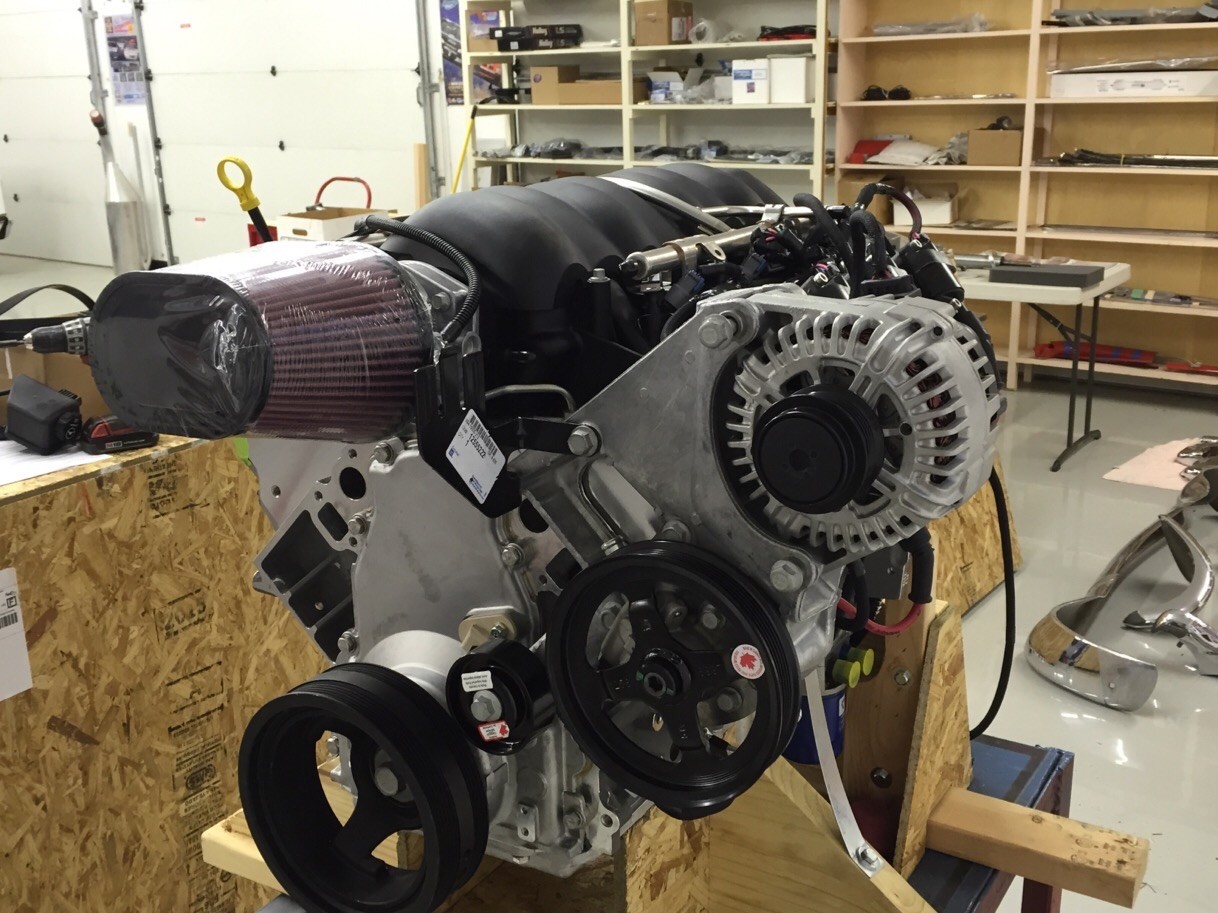 I'm moving the car next week to build a skeleton to mount the nose, radiator, etc. on. I will take it to my friend Forest Fincher and we will use our bender to build the mounting skeleton for the nose, rebuild the bay bars to miss the booster and tidy up a couple small fab items. Then it is tear it down and start body and paint. I can feel it.
8-29-2015
Well, ive found new life and some time to work on the car again. I brought the car home, the whole nose is here and I just got my dash. I had a friend in Spokane pick up some chromoly tube and we're going to build a skeleton to mount everything. I unloaded it this morning so hopefully in the next month I will have it ready to tear down and start prepping for paint.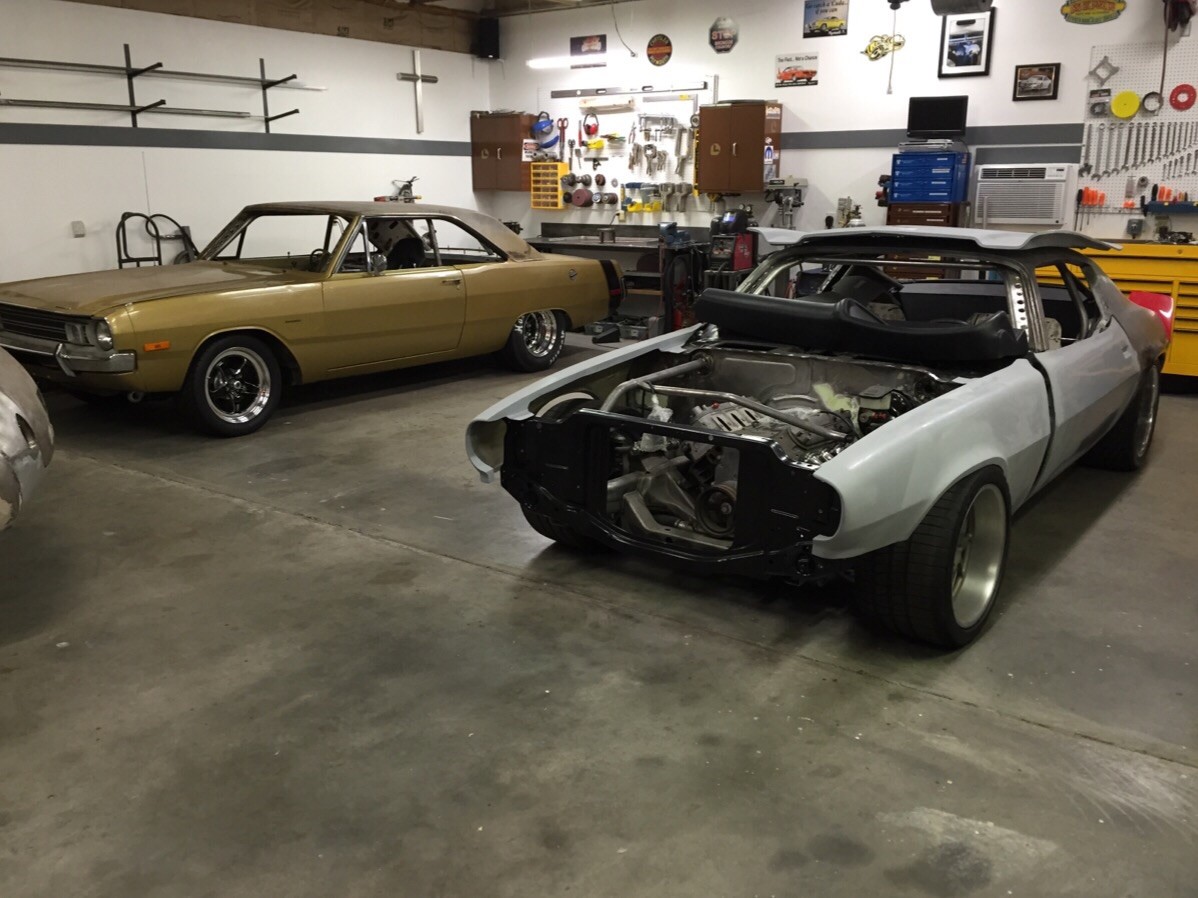 7-23-2016
I'm pretty sure I will make this the longest build ever!!! But, I've managed to get some time in on the car and it always gives you a momentum boost when you see progress. I've spent many hours fine tuning the Ultimate Products fiberglass just so I can bolt pieces down and open and close doors!!! It's not terrible but it's been fairly labor intensive getting things to fit. Never the less, I've made progress and hope to push on.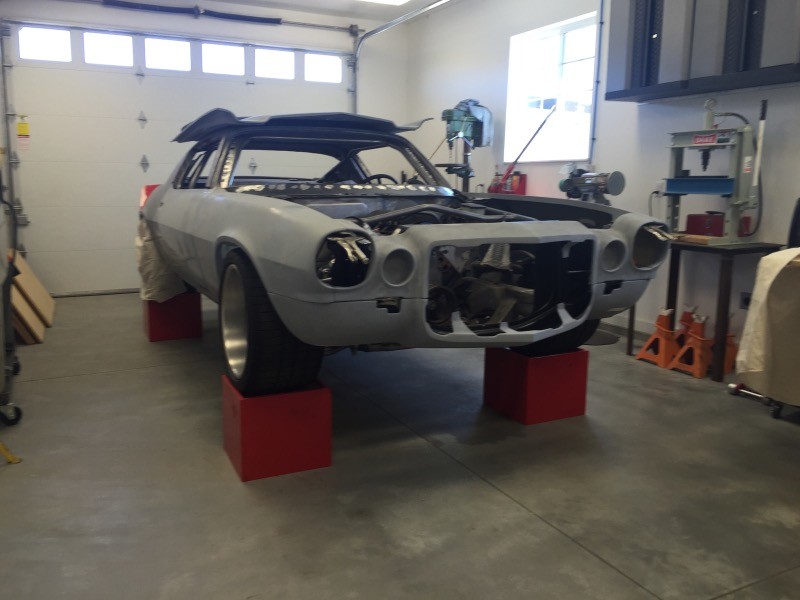 Body lines aren't bad!!!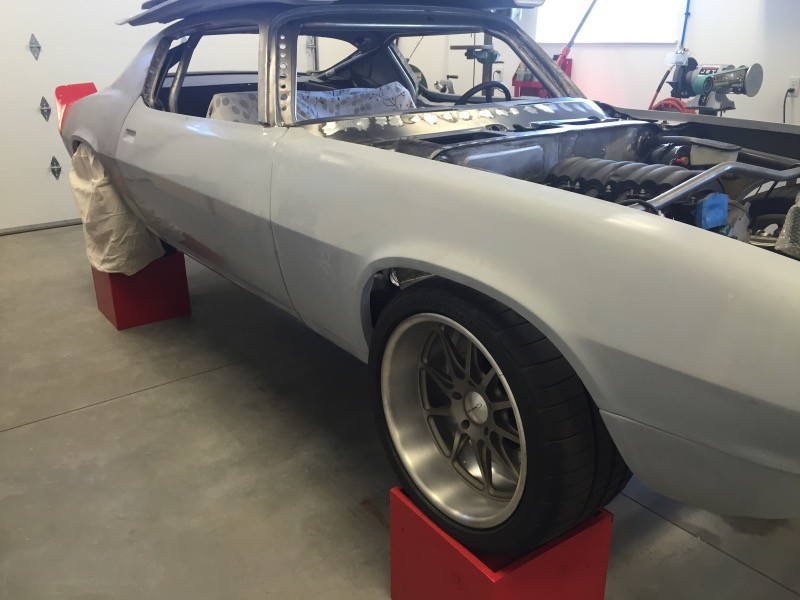 Hood looks like it will fit with some massaging as well.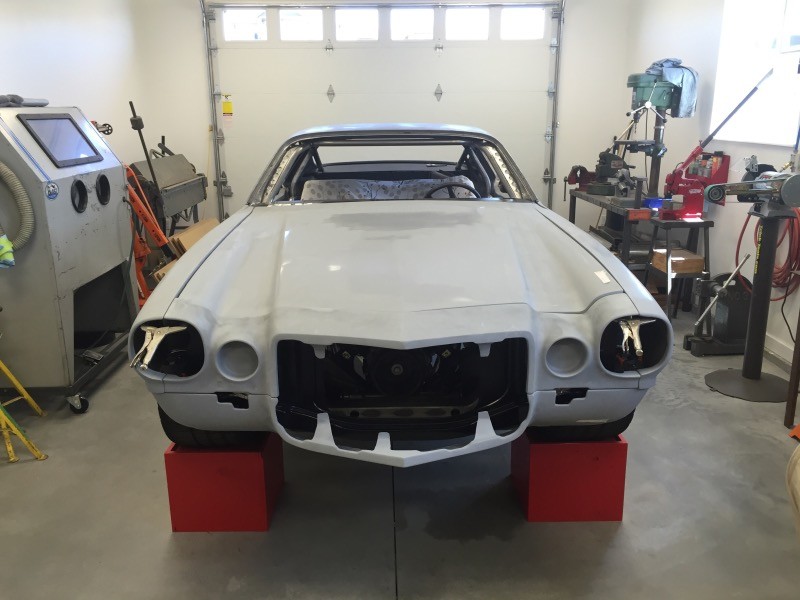 12-3-2016
Hey guys, not to change the thread focus but I thought I would share a couple pics of my latest project. My father in law and I suffer from lack of focus and this is another project we had to have. I will start another thread with the build, should be cool!!!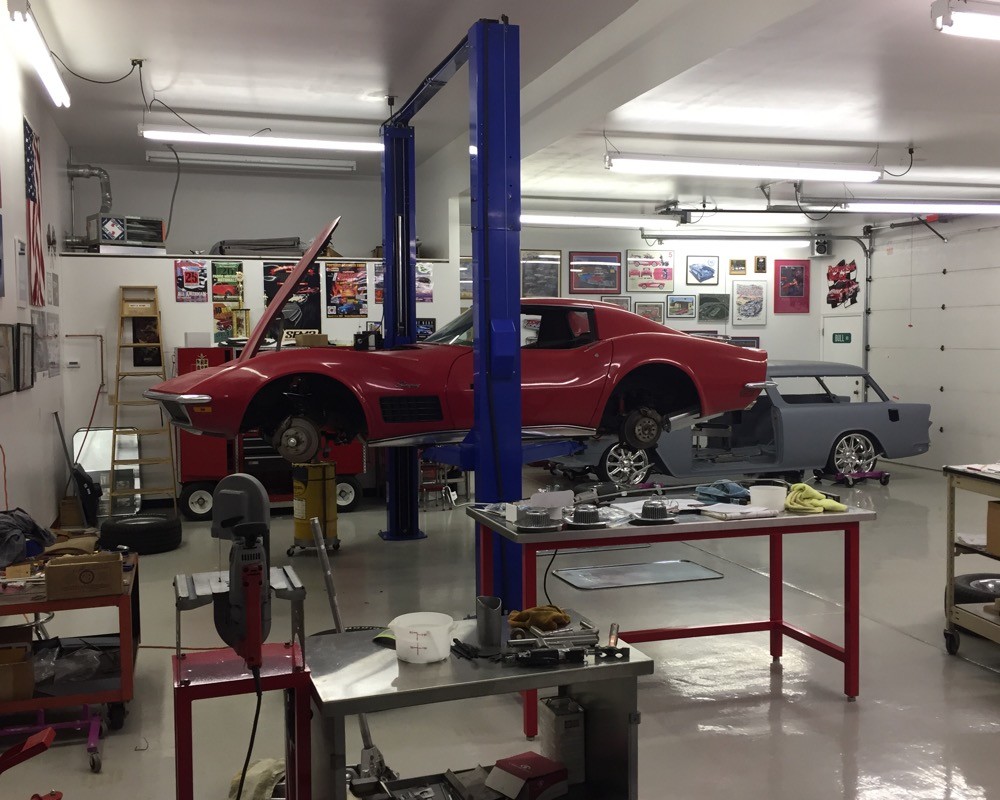 I'm thinking autocross/street car!!!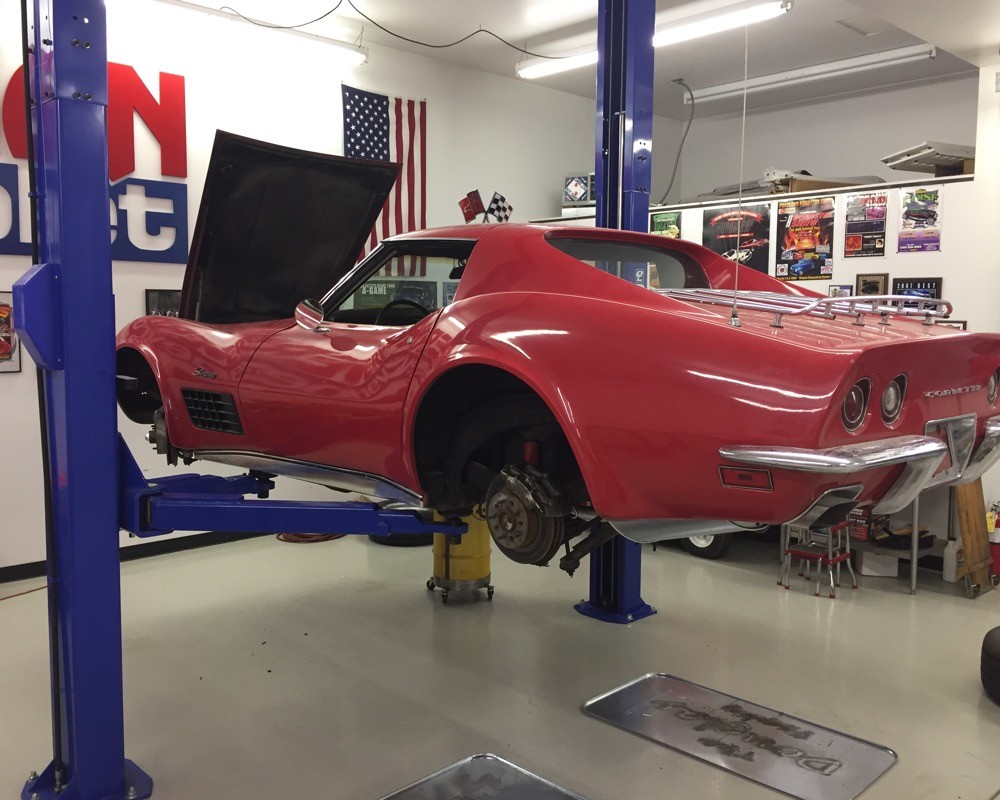 Fender Flares coming soon!!!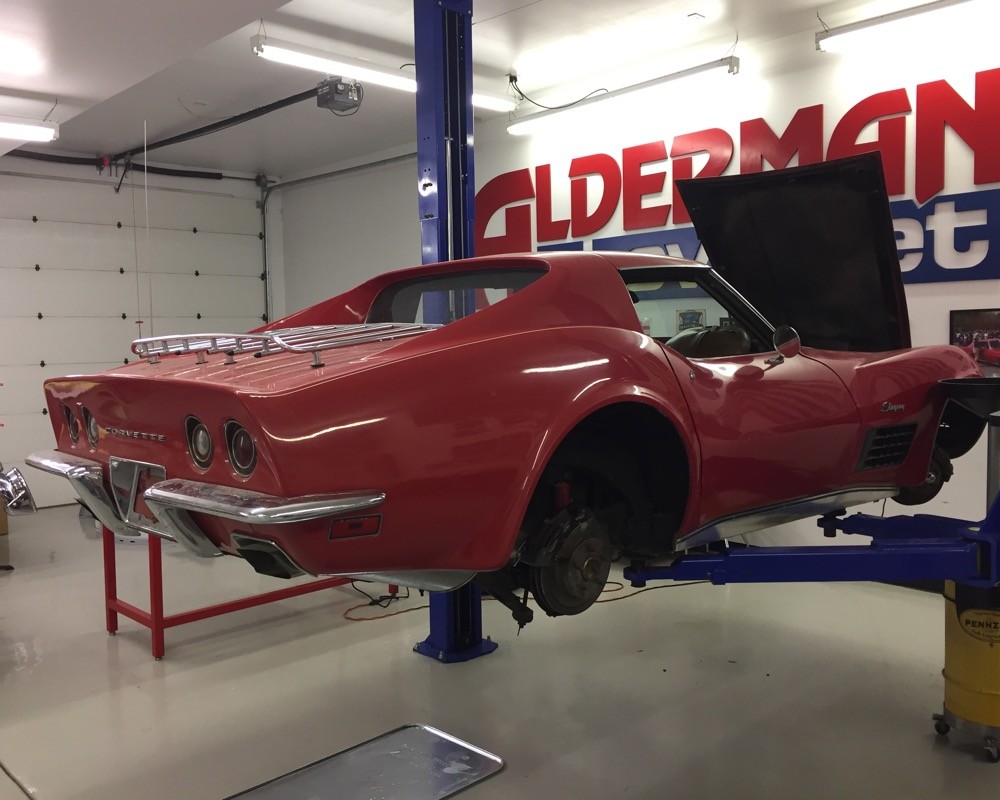 12-4-2018
I'm back!! I'm tearing it apart now and sending it to the painter. I'm going to get the interior painted, the bottom coated and the firewall painted. Then I will hang all the suspension and install the drivetrain. Should see some updated pics soon. I'm near completion on the Nomad Ive been working on and had to finish up a couple projects including a dirt track car for our local area. Sorry for the delay but it took me a while to catch up.
12-9-2018
I'm not sure if anyone remembers the Nomad my father in law and I have been building, but here is a couple pictures. Earlier in the thread, there is a couple of pictures of it in bare metal. A good friend of mine, Shawn McNally, in Nampa, Idaho painted the car and it's beautiful. He has a full paint shop and does fantastic work. This has ate up all my car time but is headed for interior in 2 weeks. Now it's back to the Camaro!!