Builds
4x4 Chevy HHR Panel
By BRATXL
You must be logged in to rate content!
9 minute(s) of a 51 minute read
12-20-20
-----------------
DRAFT
This is the story of combining a 2008 Chevy HHR Panel with a 2000 4x4 Chevy Blazer!
After completing the V8 Subaru Brat (see BRAT XL build) I decided to do another project while waiting on my wife to join me in retirement in two years. Not a lot to do anyways with the covid pandemic in full swing. I started the build Dec 2020 - so this is a live build story and will be updated until completed!
A friend of a friend told me on social media that someone they knew had a decent 2000 4x4 Chevy Blazer for sale cheap 15 miles away that only needed a little trans work. Questions were sent up the line and a couple days later I was looking at an add on marketplace. Seen it before and passed it over - nothing remarkable, but it was a friend of a friend that knew somebody - more of less - and they really, really wanted it out of their yard, so I contacted them. They were sick of it - just spent $1800 on repairs a few months ago and now the transmission was slipping! We've all been there - when you fall out of love with your ride - maybe she betrayed you - maybe you found another....for whatever reason, it is over. So I offered $600 if it would drive to my house (was not 100% on starting another Blazer based project).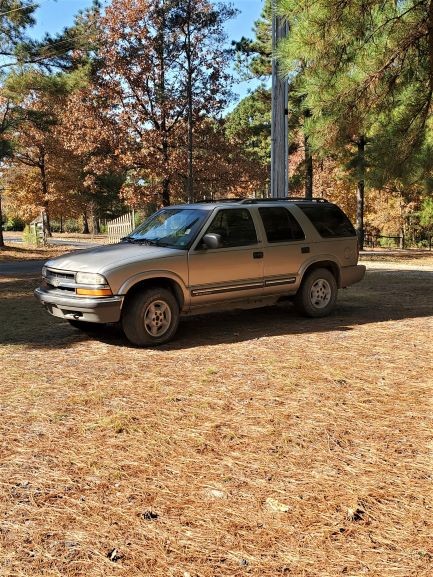 The next day - I hear an engine racing struggling to make it up the slight hill to my house - she was home - just barely made it - burnt transmission oil smell! It also stunk inside, the driver's window had been left half open for weeks. No matter. The capet was crap, seat recliners broken, passenger door sagging a full inch, cracked windshield, crap may pop tires, etc, etc - no matter. But the engine ran good - no ticking - no codes. 4x4 worked. It moved itself OK in first and reverse. I see fresh water pump, belts, hoses, sealant squishing around the intake to confirm injector cleaning - clean oil, clean antifreeze, tight front end - she was beautiful - perfect.
So - my project would evolve around another 4x4 Blazer. At first I looked at 50's cars and trucks - shocked to see rusted out junk with a $5K and up price tag - no way. I looked newer and newer - cheap counted - that meant another 4 cycl - like the Brat was! PT Cruisers kept popping up, cheap, but no, not interested, there was something about them. Then a PT panel conversion popped up - never heard of them? I liked the mini panel look. The $2K PT conversion kit was way out of what I wanted to spend but the panel was interesting! And then a couple days later on Marketplace - I spied a HHR Panel! Yes, that would do!
I searched days for a cheap one but HHR Panels are kind of rare. A cheap one that was not wrecked or beat up - very rare. Finally found one - near Huntsville, AR. The guy said it would drive the 100 plus miles to my house. $1900 - five hundred more than I wanted to pay - but I went and got it.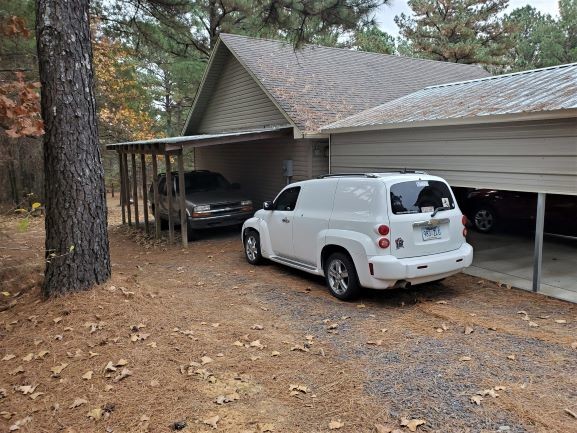 It did drive to the house. I was so happy to find one my judgement lapsed I overpaid (yes buyer's remorse!). D/S fender bent - minor dents scattered around. It was full of trash. Rear door panels missing, 444,000 miles! Got a bill of sale with a promise note a title would be mailed. Red flags were popping up everywhere - and I made a rookie mistake and ignored them all! I got a new fender, door, and front bumper cover from the junkyard. Cleaned out the trash. She drives around the yard. Still no title....sigh.
Soon after I found another one in Tulsa, Oklahoma - $1500 that was in great shape except for a blown engine - that I don't need anyways. I rented a uhaul dolly (had to tell a small white lie to qualify my tow vehicle) and did a 50 mile practice tow with the first HHR - I call HHR1. It worked - so I headed out to bring the sweat little thing home!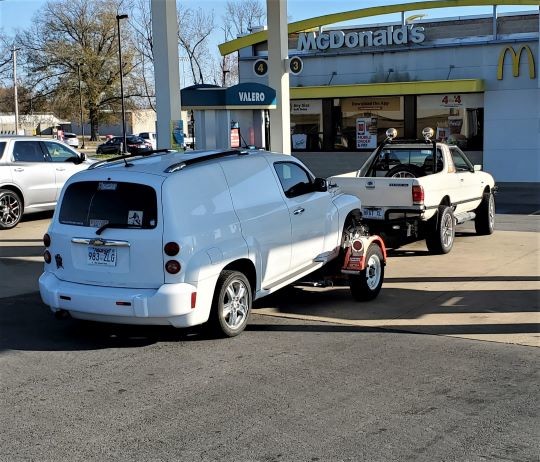 Here we are on the Muskogee, OK Turnpike concession area...the 300hp V8 Brat tows like a big boy!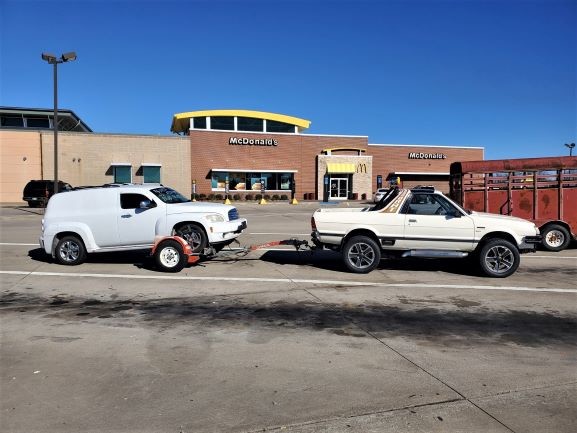 Made it home! No red flags - title in hand - in great condition - no body work needed. Only issue was a torn seat cover and I knew just where a nice matching seat was at the junkyard!
She is waiting for the Blazer chassis work to be completed. A good honest buy - both parties happy. I call her HHR2.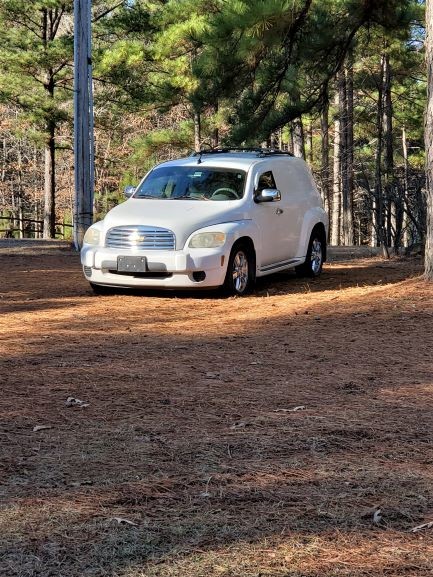 So now that Phase I, the acquisition phase, was completed - time to begin actual work with Phase II. The 4 door blazer has 107 inch wheelbase - the HHR 103.5 - they are practically the same width. Rough estimate - I have 1.5 inches to spare if I keep the Blazer V6 and go to electric fan. Not sure about distributor clearance at this time. Time to chop up the Blazer - I did this before with BratXL - but this one was a little different - gas tank in the middle. Initial cuts - carpet stinks!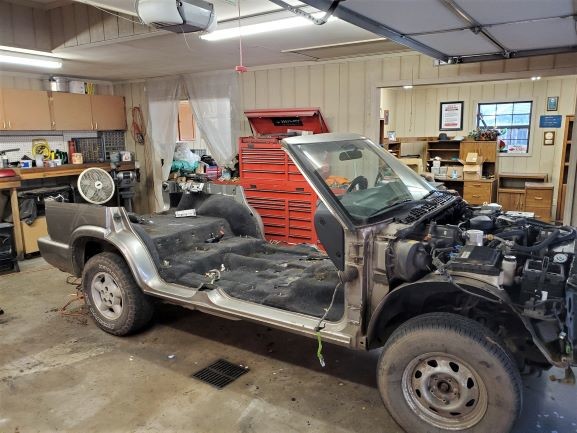 Marking cut lines - a guess what might fit in the HHR - I need the Chevy nooks and crannies and humps to fit over the Blazer transmission and transfer case. So HHR floor and half firewall will be cut out later.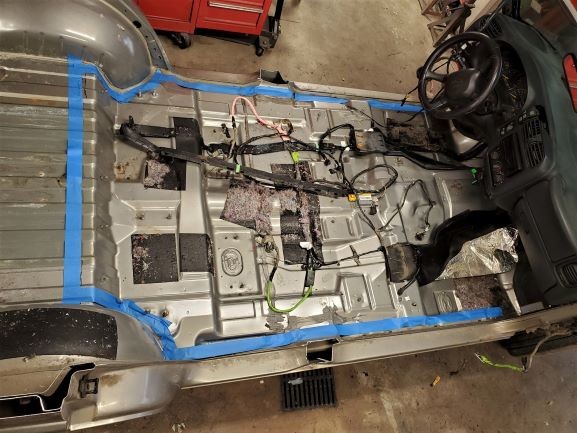 Cutting more - it still drives - transmission works better with less weight! Final drive as a Blazer.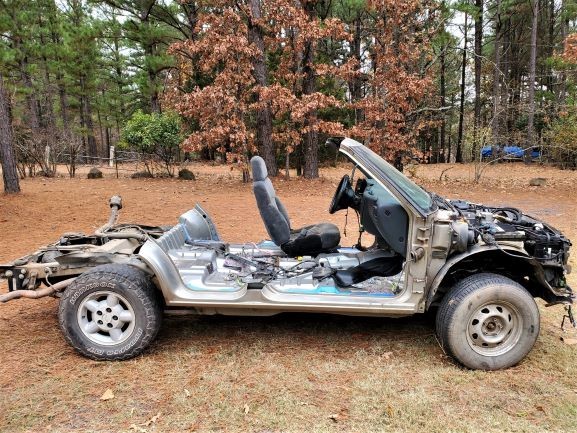 20 years of hidden dirt and grease gotta come off!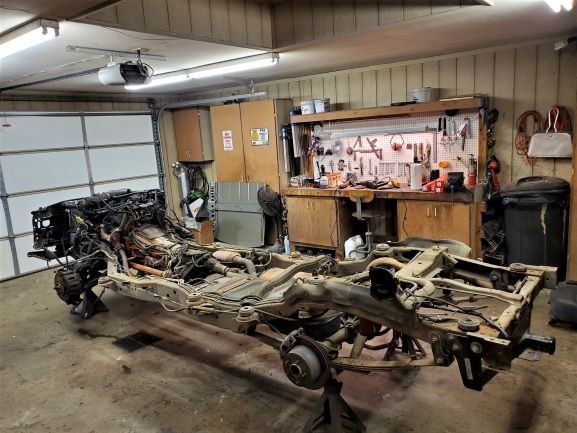 Wiring deja vu - one of the hardest things is to simplify something herds of engineers have worked years to make as light as gas efficient as they can and still meet production costs. So I delete stuff - and only keep what is essential. It is not an improvement - only something easier to wrap my head around. I suspect some of the $1800 work PO mentioned was a blown water pump - by the rust stains...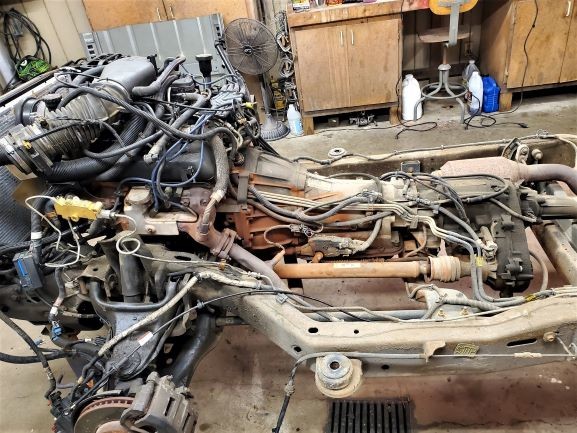 The offending transmission - much easier to remove with no body!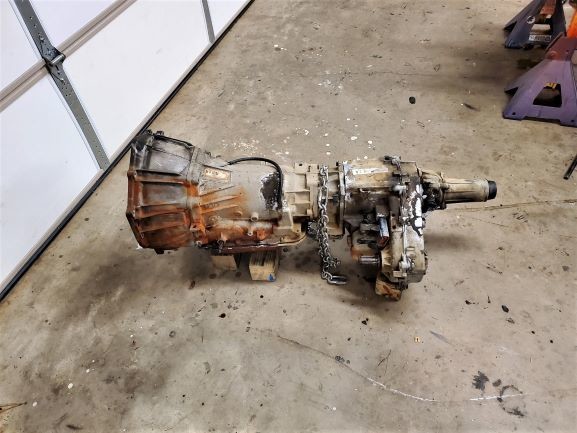 Power washed four times - a nasty job!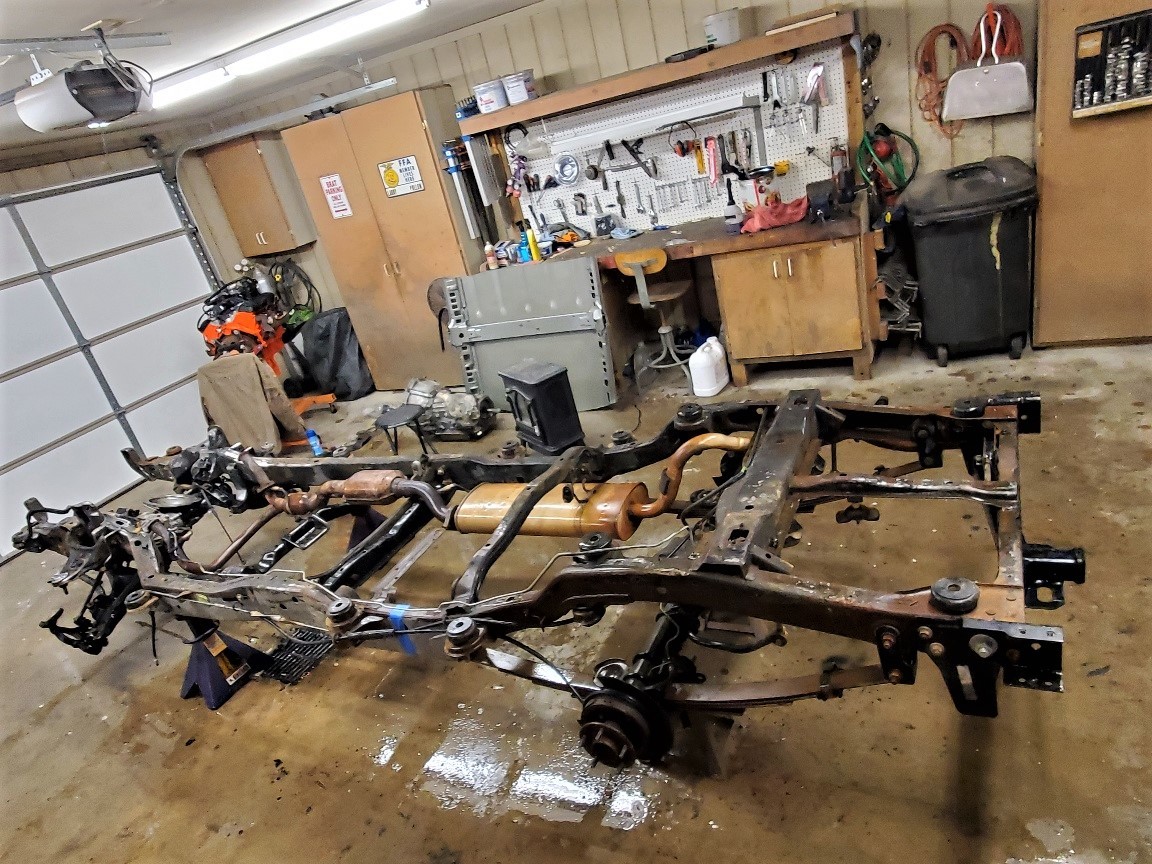 4.3L V6 "restored". HHR means Heritage High Roof - so I painted the V6 Chevy heritage colors - I have not seen that color in many years!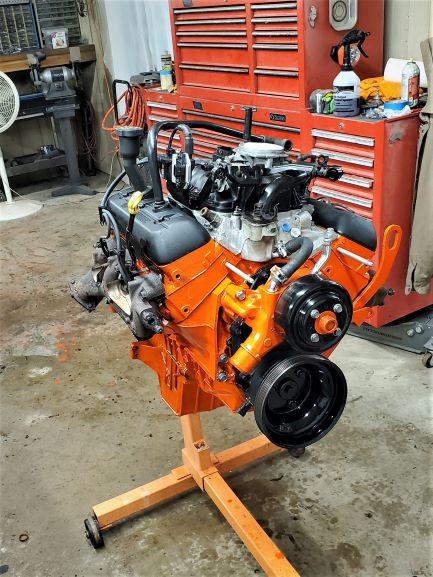 Stuff removed from the chassis.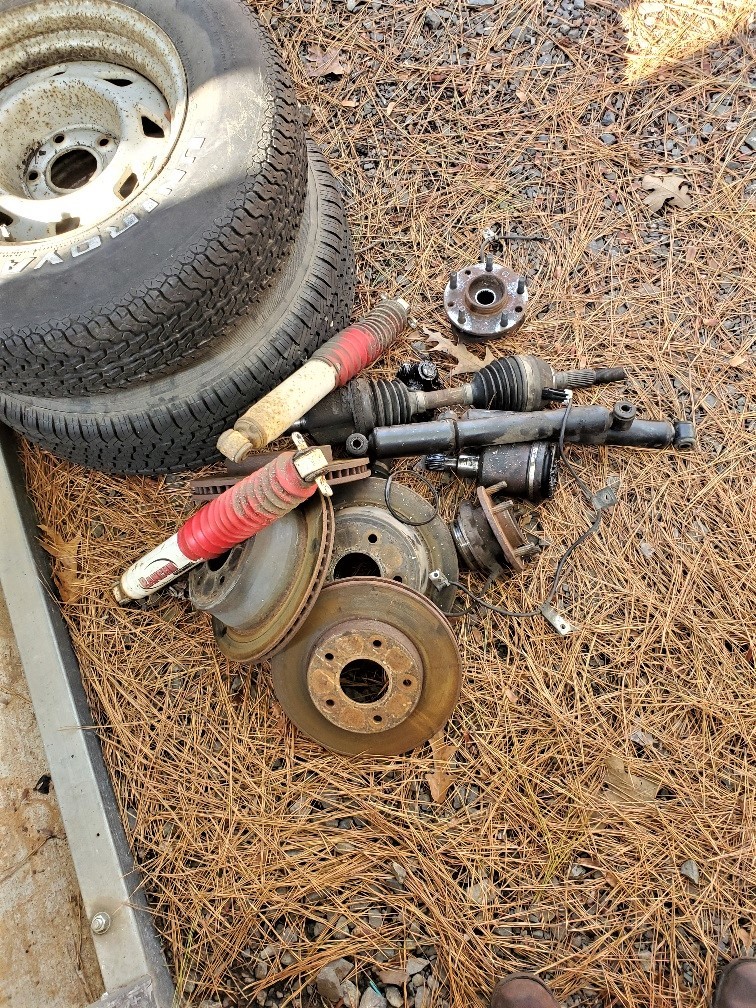 Dang - dropped the gas tank right on the drip pan from draining the differential - cold stinking 90 weight oil - bah. My bad! Will try to use the HHR gas tank and plumbing - need to cut the frame right where the tank is.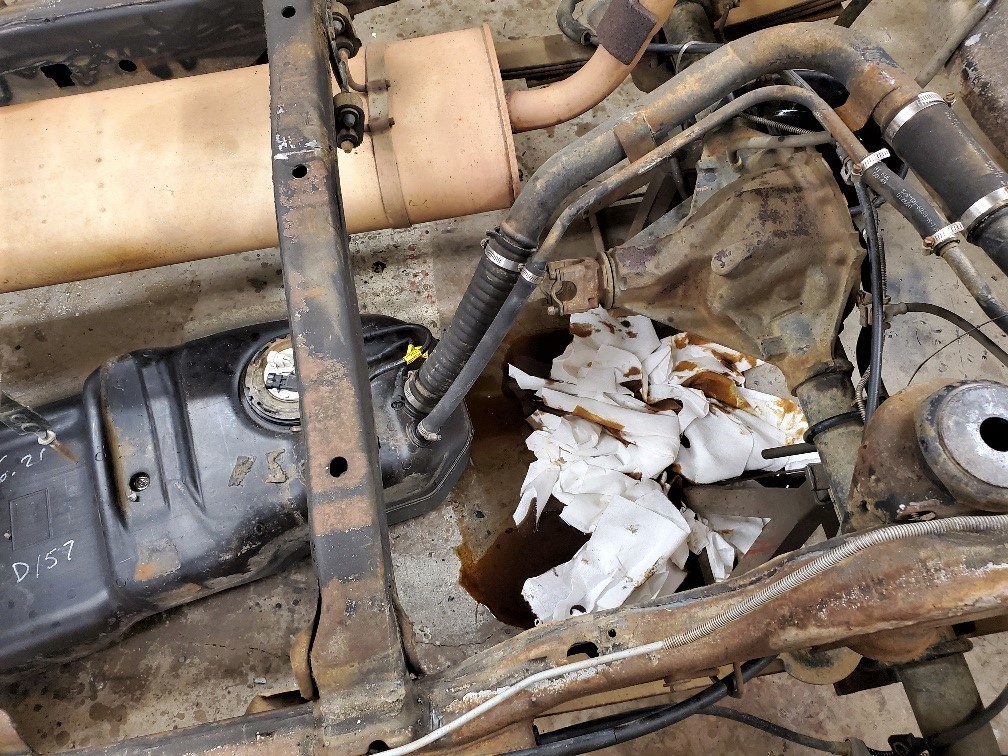 I am trying a gray frame - just for grins. Didn't know it would be twice the work of black! Right now - not a fan - but I have to give it a couple of coats and paint the black bits before final judgement! The last time I did this I completely overhauled the chassis - it was not necessary - so I am only replacing what is needed.