1934 Dodge Full Body Off Restoration by Ian_Greenlaw
By diyauto
1934 Dodge Full Body Off Restoration
Compliments of Ian_Greenlaw @ aaca.org
9-30-2012
After learning that Pat ( Landman ) started his thread well into his restoration I'd thought once I reached a certain point of mine I'd do the same.
I figured that hopefully everyone would be alive by the time its finished ( including me !) which later upcoming threads I'll explain that one.
After watching a neighbour many years ago rebuilding and old Whippet I always wanted to restore a vehicle and admired many at passing club runs and shows.
Finally I decided that the look of the Ford 34's had beautiful lines and loved the shovel nose grill. I'm not sure overseas but in Australia these were very popular with hotrodders and a lot of these guys had deep pockets. An unrestored one would sell for $15,000 and upwards. I looked at a number of Makes and haven't given very much thought to the Dodge brand until I saw an add in the paper. Dodge 1934 Sedan 6 Wheel Equipped US Body $3200 ono.
This looked interesting and after talking to my wife I set off to have a look at it. Cost also played a big part as we had just bought a business, new car and three small children but having a project like this, I would be at home incase I needed to look after the kids. The date was 6th May, 1998.
Anyhow, when I arrived at the house to look at the Dodge all I remember seeing was that big Grill looking at me. The owner had spend 5 years stripping the car in a tiny garage and then it sat there for another 20. The only thing still on the chassis was the front wheels, body shell, 4 doors, rear mudguard and a running board. He also painted a lot of parts in Bitumen Paint. The owner said it was approx 95% there ( more like 80% ) and it was a good solid body ( got that part right ).
With a walk around his yard ( where the panels were ) and inside the house ( where the rest of the car was in boxes ) We agreed on $3000. He also had the original 4 digit plates but wanted $3000 for those. I didn't have the money but was happy with the car and couldn't wait to get the 3 trailer loads home and start sorting. Looking back it is probably easier if you pull the damn thing apart yourself....at least you know where everything goes and can label everything.
Over the next lot of posts I have to scan some of my old photos ( prior to our digital camera ) and I'll try to explain what order I did things in.
Hopefully it will make interesting reading for anyone thinking of restoring a car. As I dont have some of the technical skills like Bernie or Pat who can turn their hand at almost anything which I admire, I'll try and make up for in photos etc..
10-2-2012
Thanks Pat. I've got receipts and a book that shows what I've spend ( maybe not a good idea ! ) and dates so hopefully it will be fairly close.
I hired a trailer and on the back of my new Grand Voyager ( Dodge Caravan I think ) picked up the Dodge. First time it had seen daylight in 20 years.
The previous owner ( Harry ) had a tiny garage so he could only work on one side at a time which is why a rear guard and running board were still attached.
All the panels and seats were put in the car through the roof so it looked like the car had its own swap meet inside it. Harry had parts in every room in the house and he was trying to remember where everything was. I made sure things like headlights, differential, gearbox etc. He assured me he would keep looking once I took everything and he would contact me if anything was found. He did just that and we still contact each other. The rear diff was removed and a free wheeling axle was fitted in its place so he could still move the car with the diff out. I loaded crates under the car and in the back of my new car and eventually made 3 trips to get everything. The car would be at my mothers house while I worked on it as we lived at the back of our business and really had no garage to speak of. Harry also gave me a folder with hand drawn diagrams of how things were removed and various other information he collected along the way.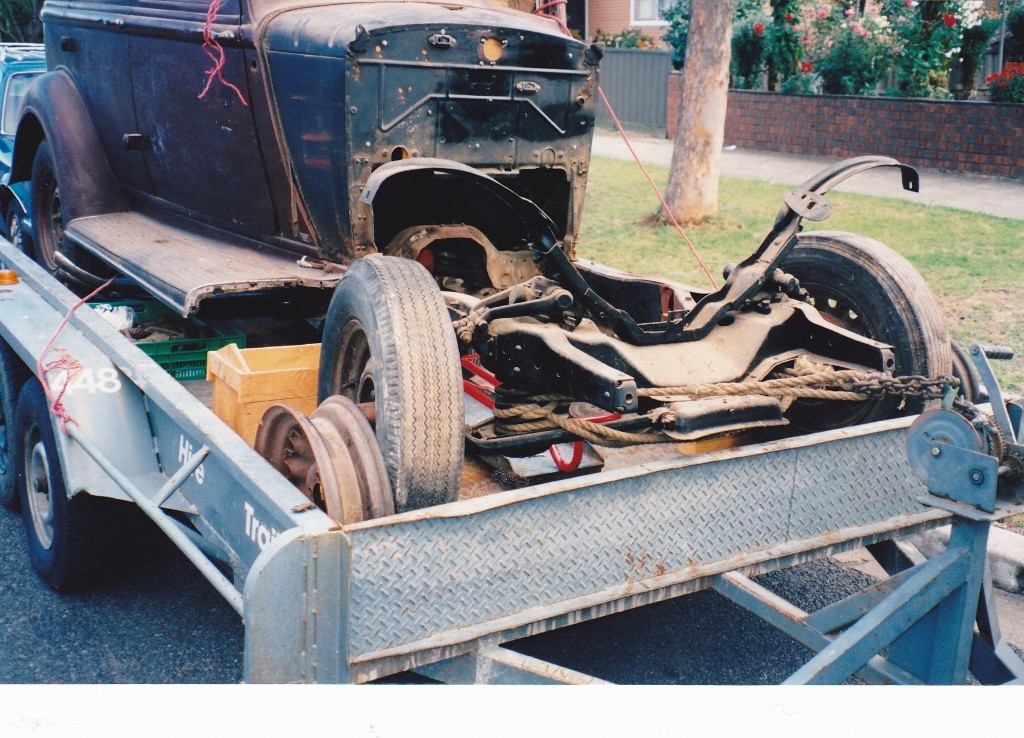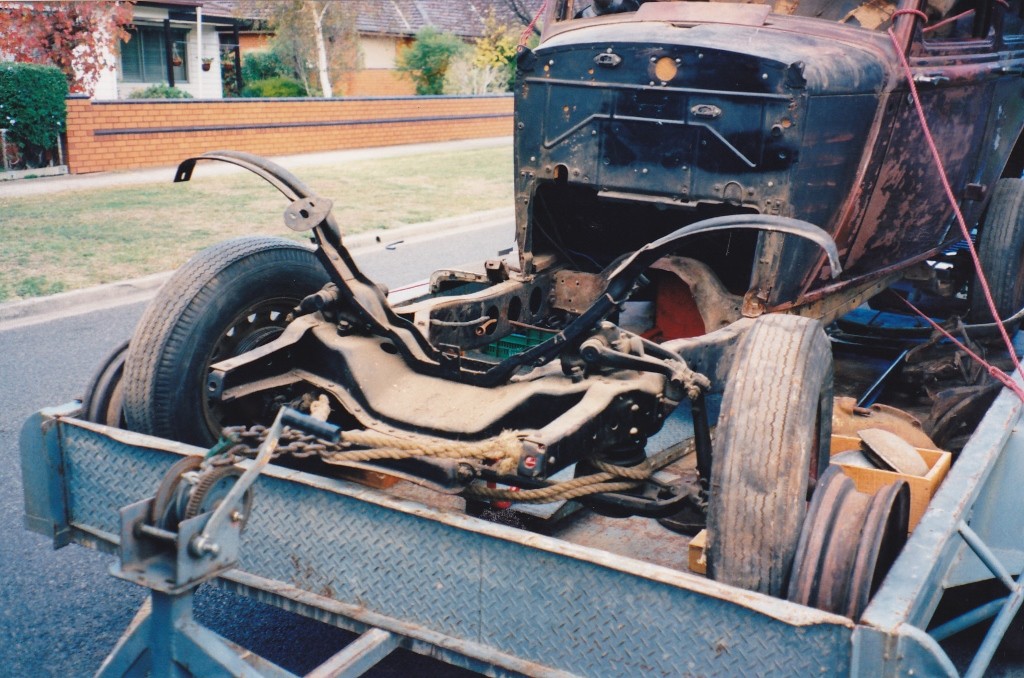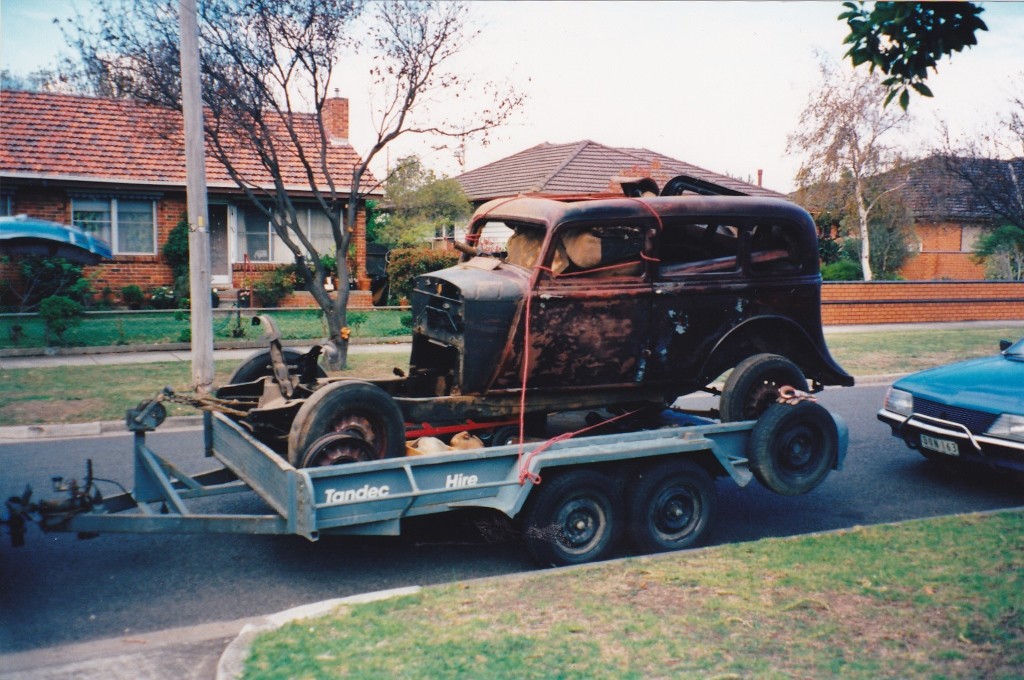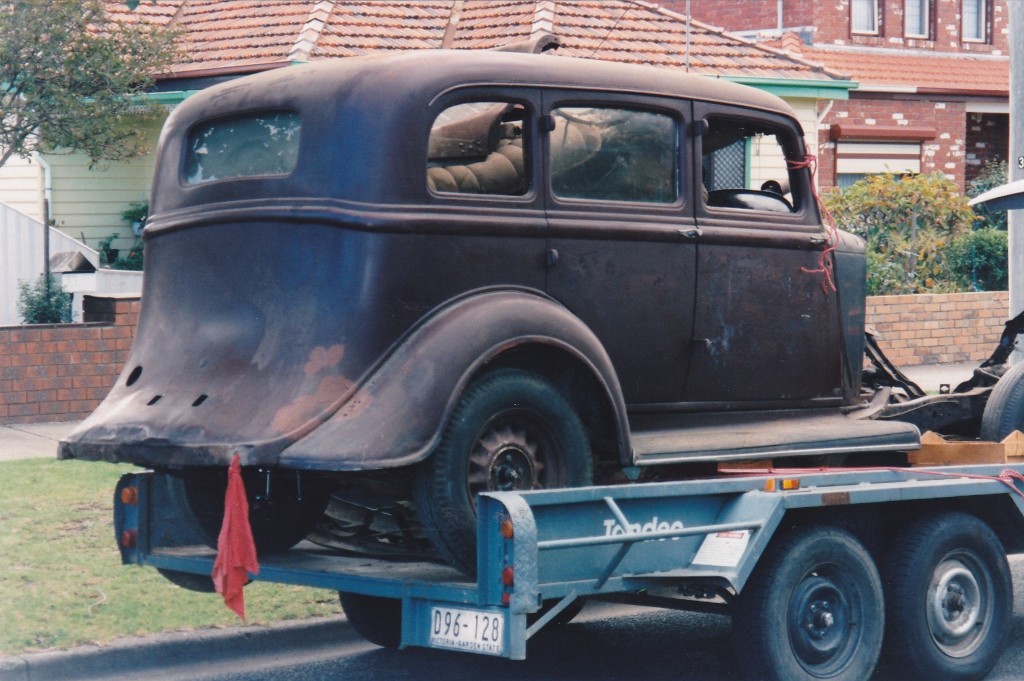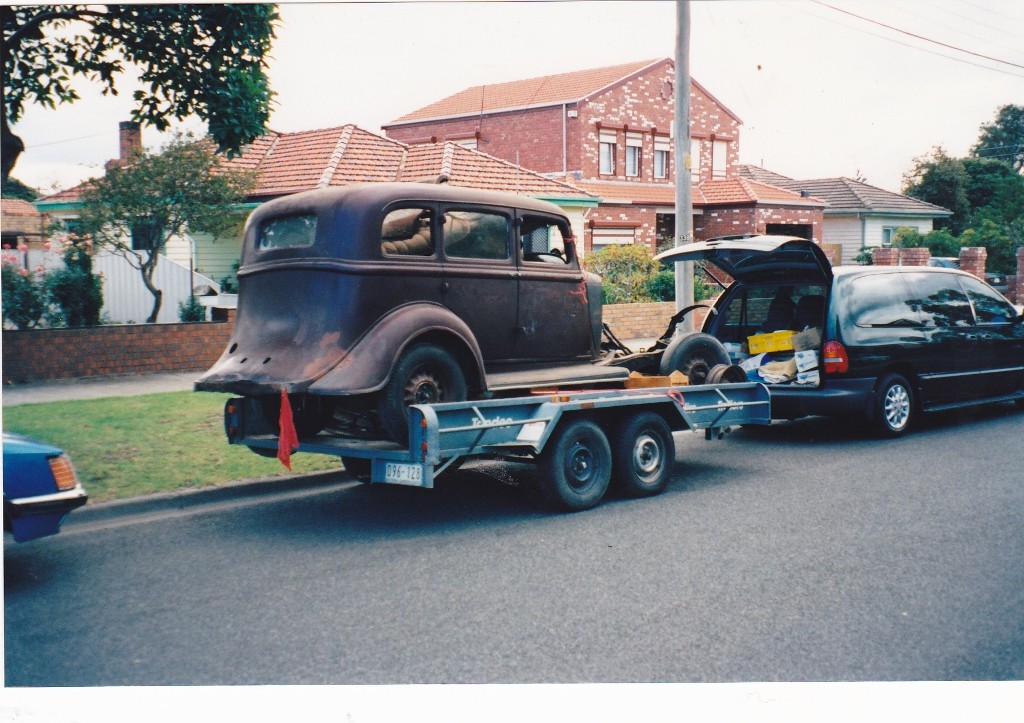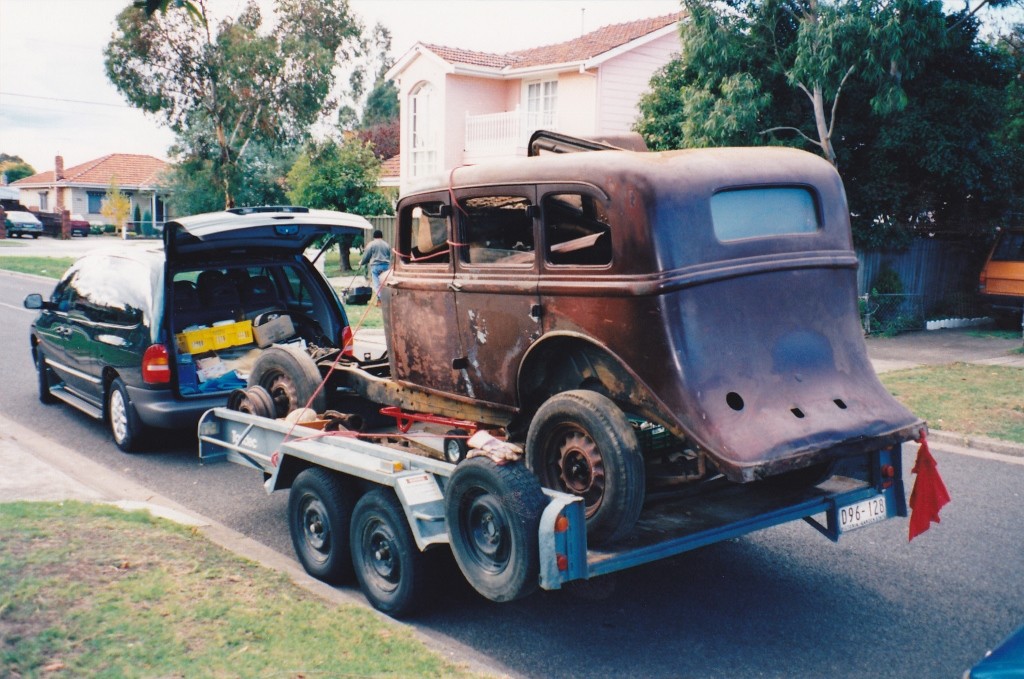 10-6-2012
Got the car in the garage still with all the stuff thrown in the top and started to pull everything out. Removed the remaining running board and rear fender, removed the rear seat ( front one was already pulled out ), pulled out the front metal toe baors ( covered in bitumen paint ....yuck ), took off the front fender support. The upholstory was in bad shape so just ripped it all out but kept the backing boards for patterns later on. When I pulled the back driver side panel off near the back window there was, in white paint, " EMP MAR RH DR" . I knew the Model is a DR and that RH was for Right Hand but couldn't work out the other bit. My Mum came out to see where I was up and I showed her the writing. She took one look at it and said thats probably the colour...Empire Maroon. Never ceases to amaze me what people retain ! So now its down to the front suspension, gearbox crossmember and the four doors. I thought I'd leave the doors on as this would give me something to do while the chassis is at the blaster / powdercoater and I could "bag and tag" all the parts I toom off it.
Cheers
Ian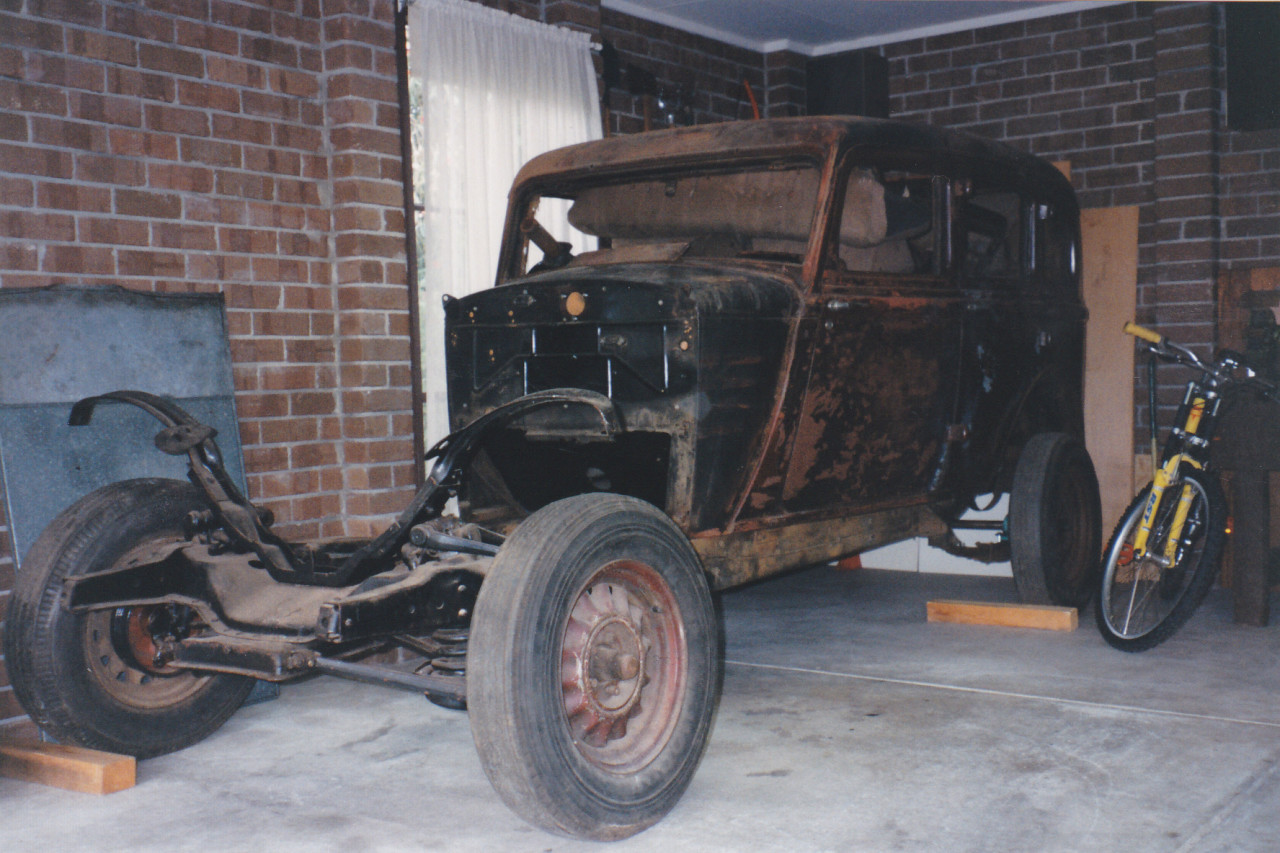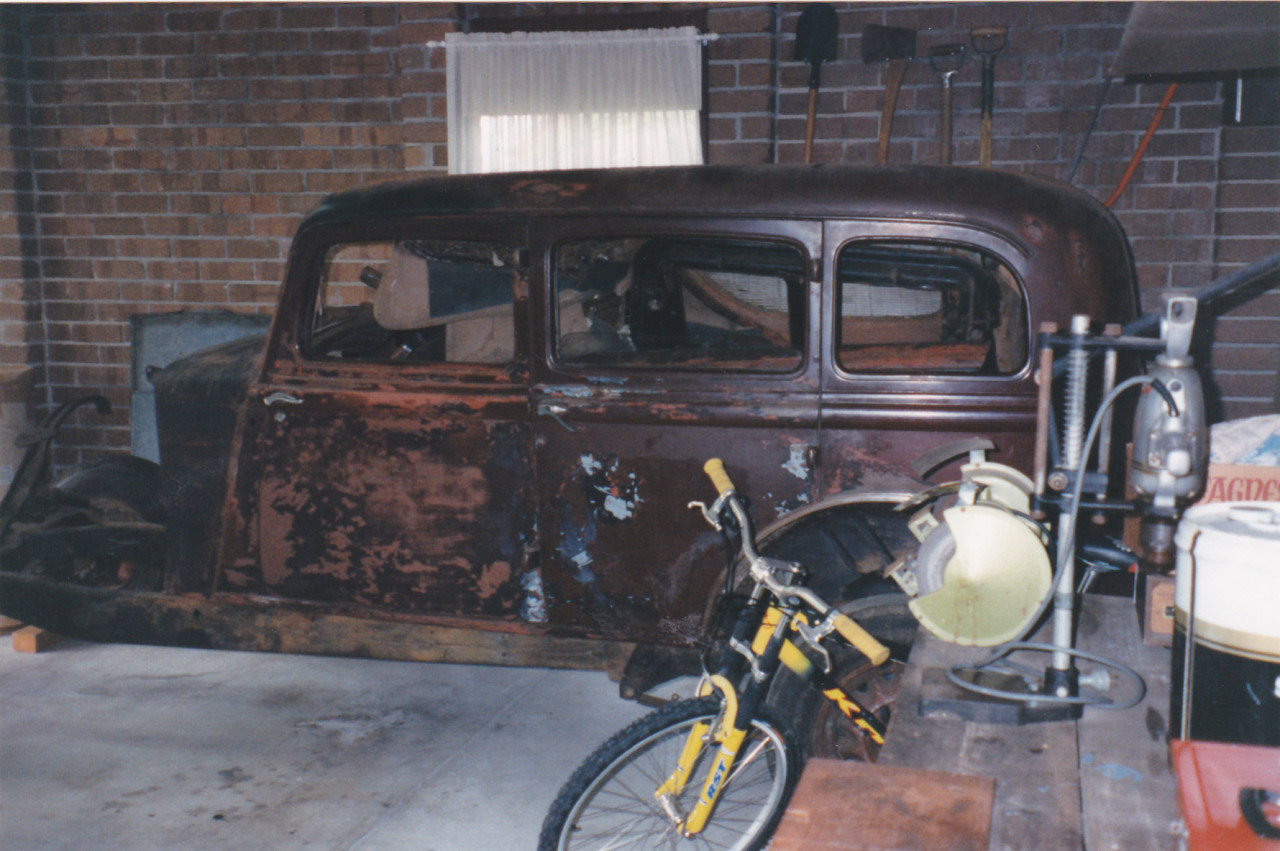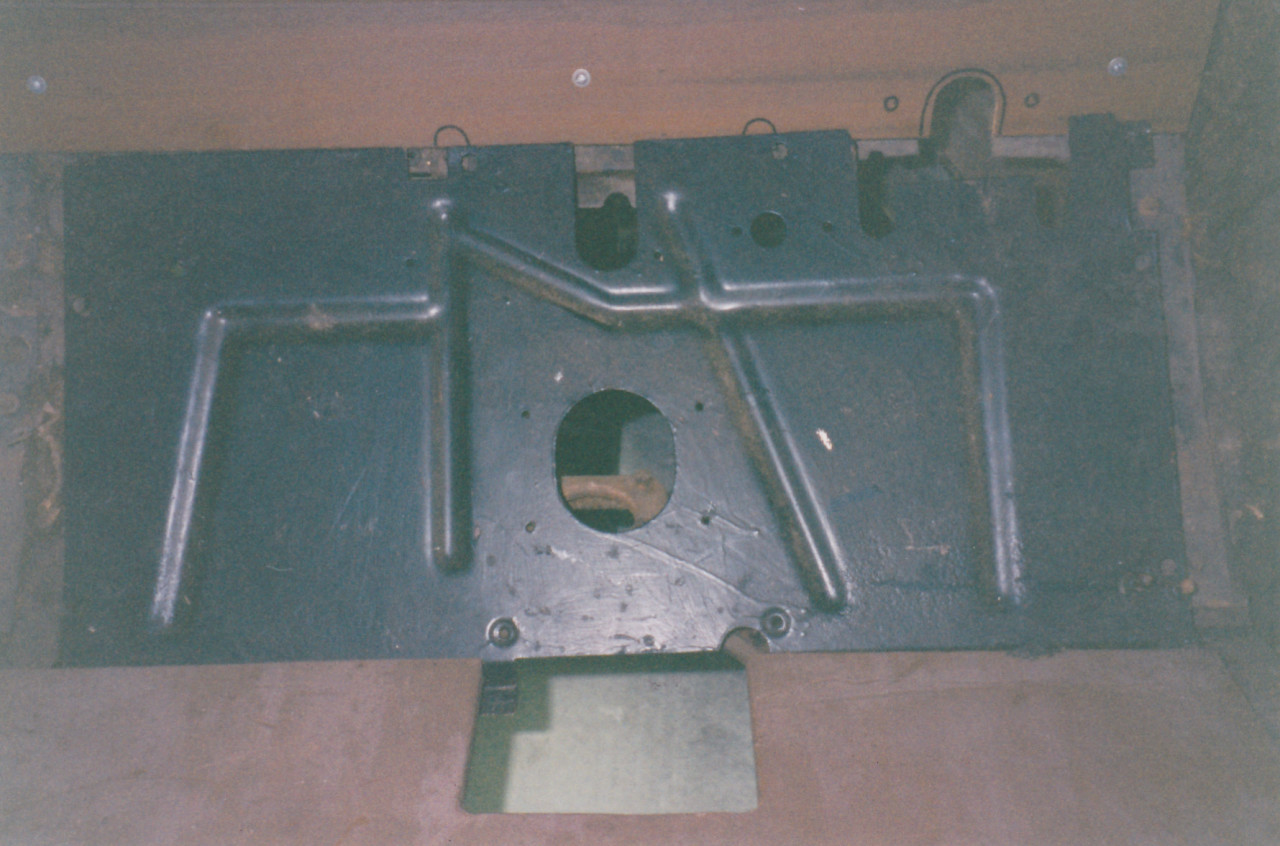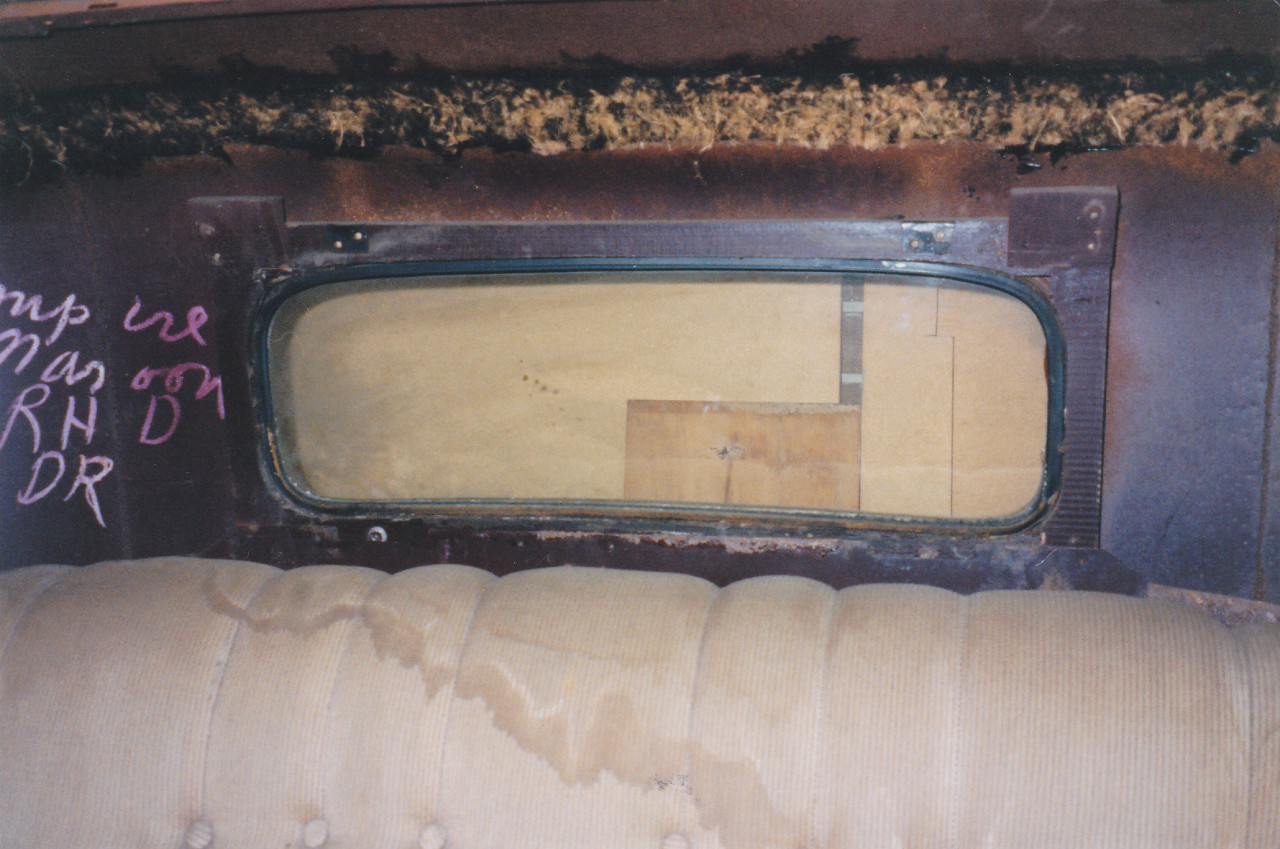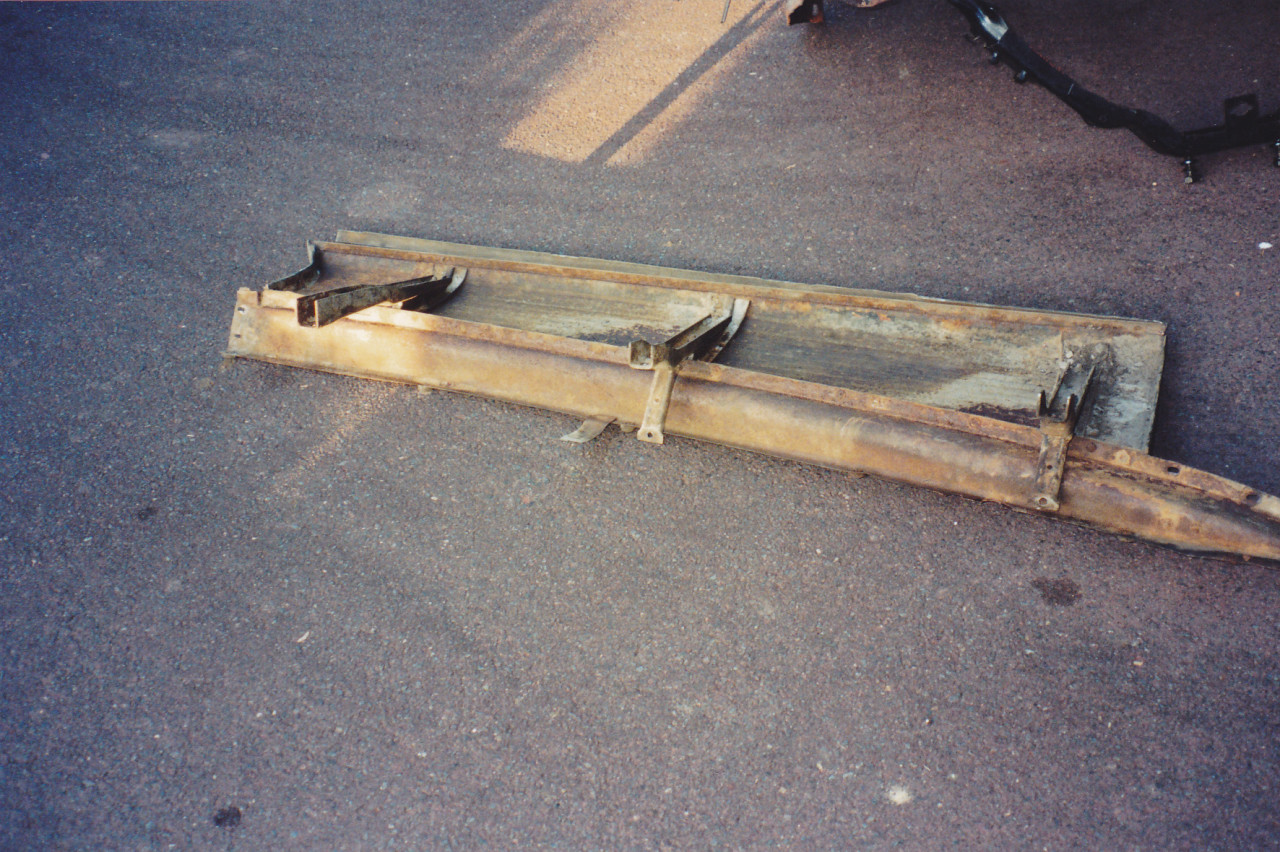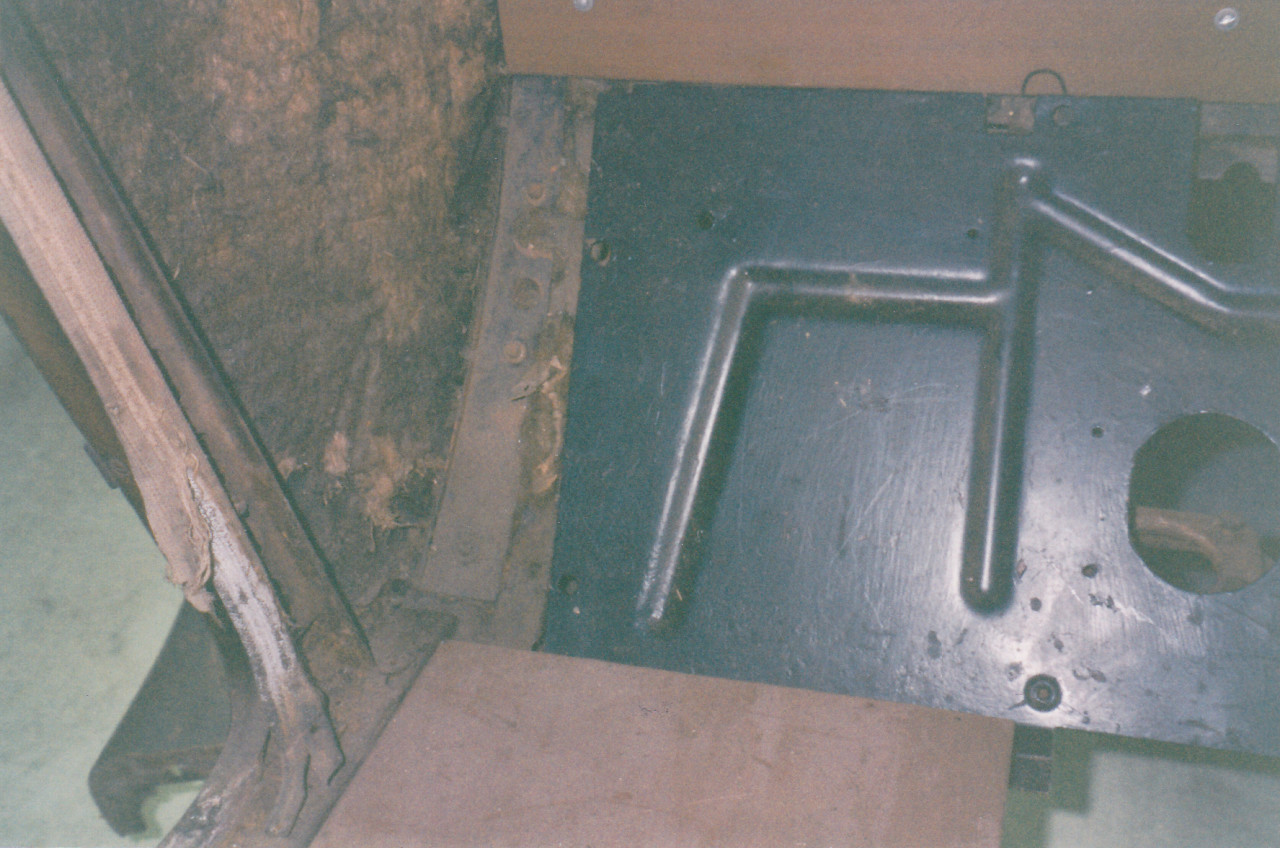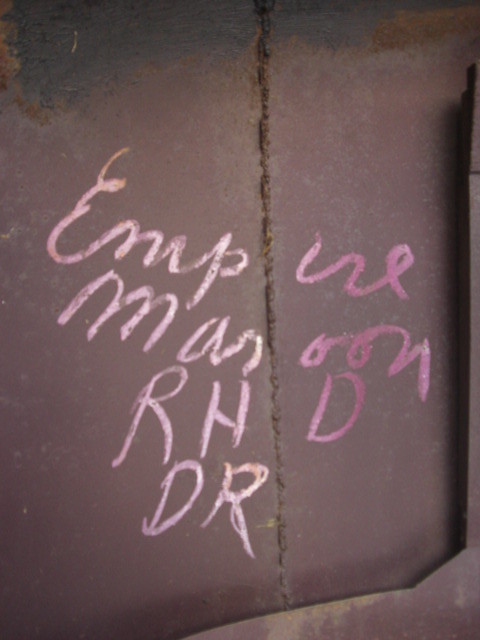 10-10-2012
Started pulling the front independent suspension off an found a lot of bitumen paint again. Also tackled the gearbox crossmember and did have a fight with one of the bolts but I won that round. Once all this is done I'll send the chassis, crossmember, running board brackets and as much as I get get hold of to send to the blaster and then the powder coater. Next step the battery support brackets and the body. I'll start pulling the small stuff from the body once the chassis has gone to the powder coater.
Cheers
Ian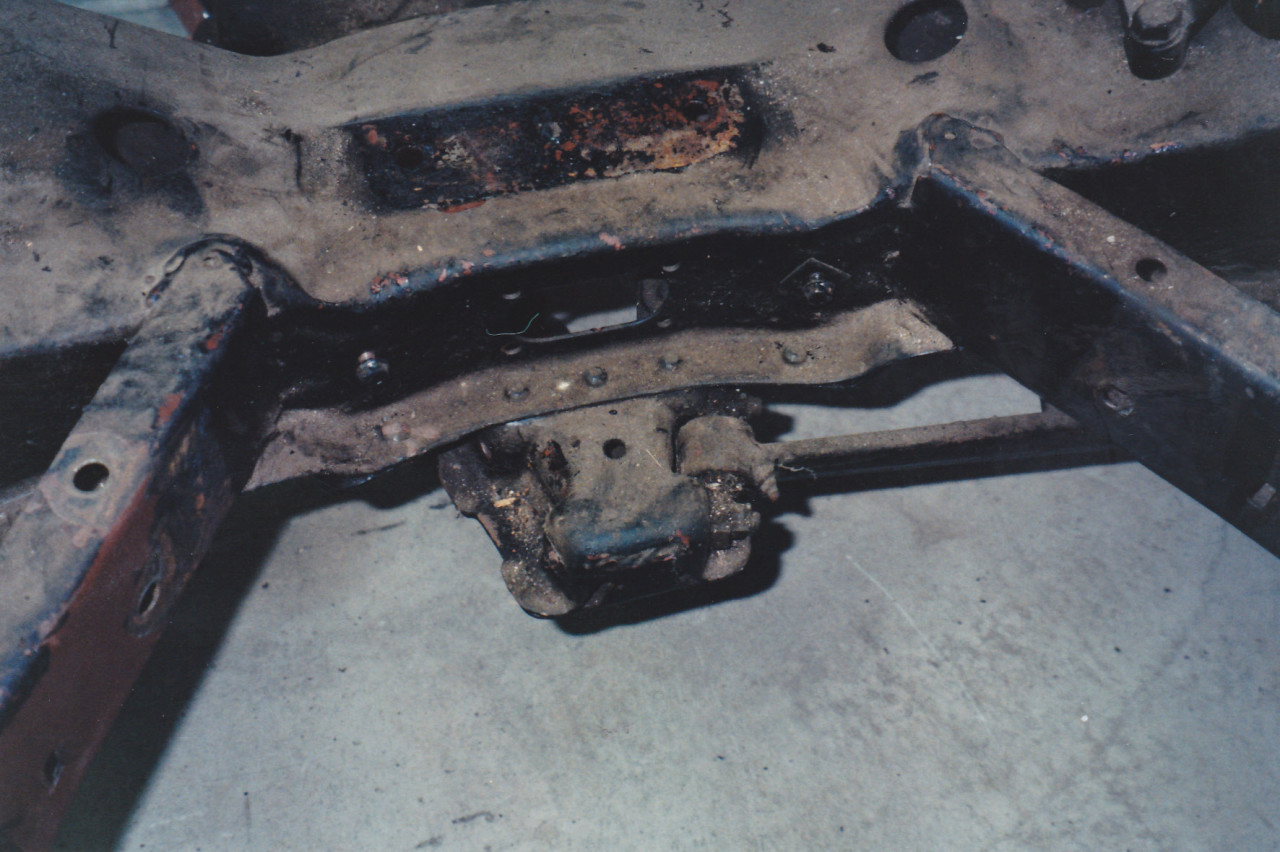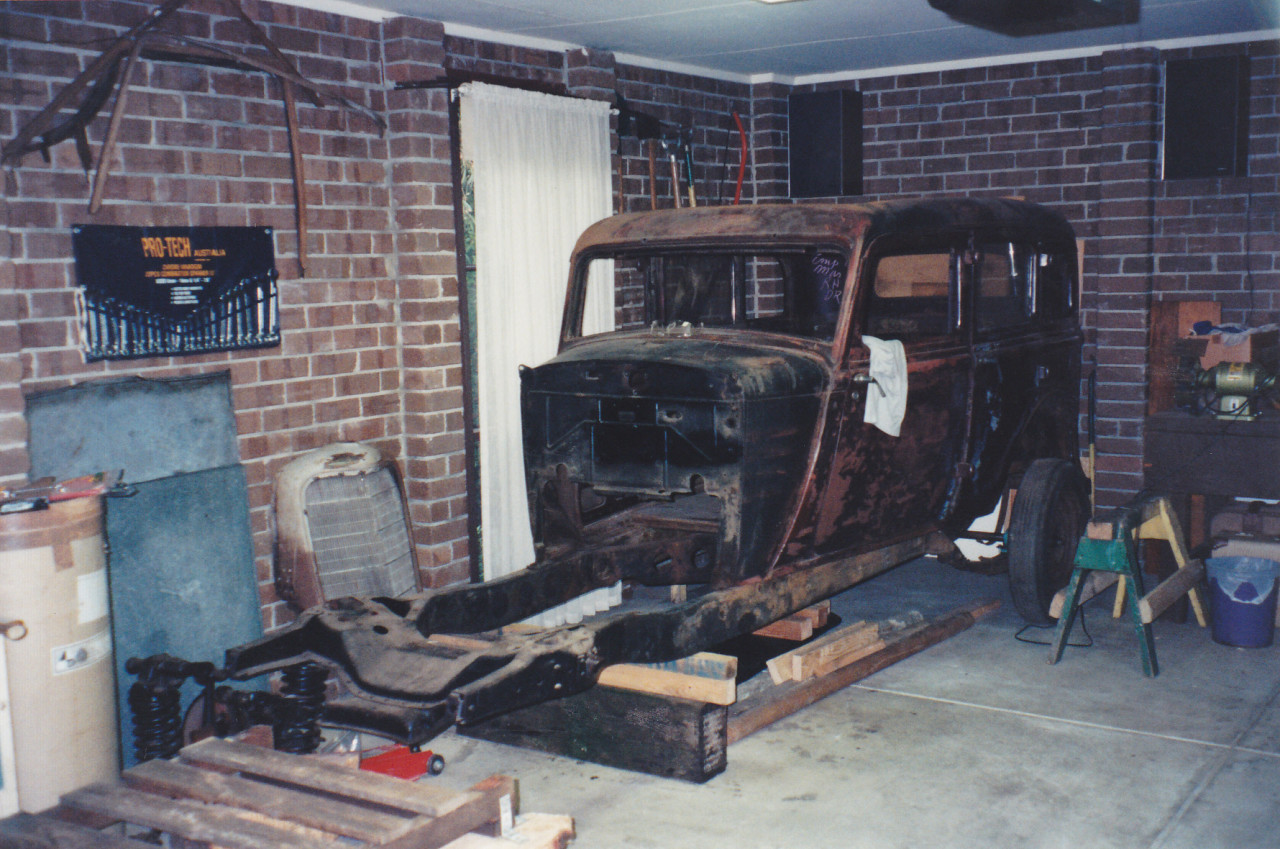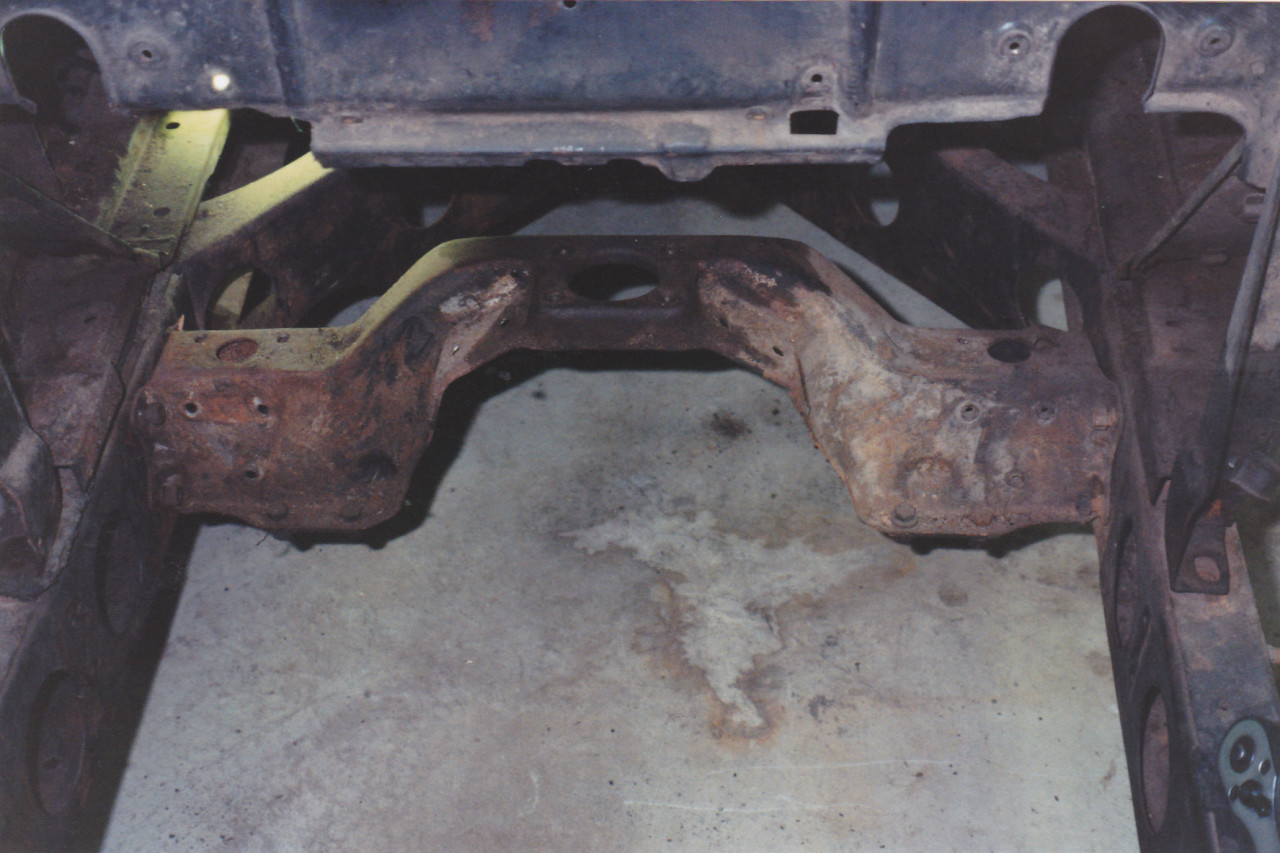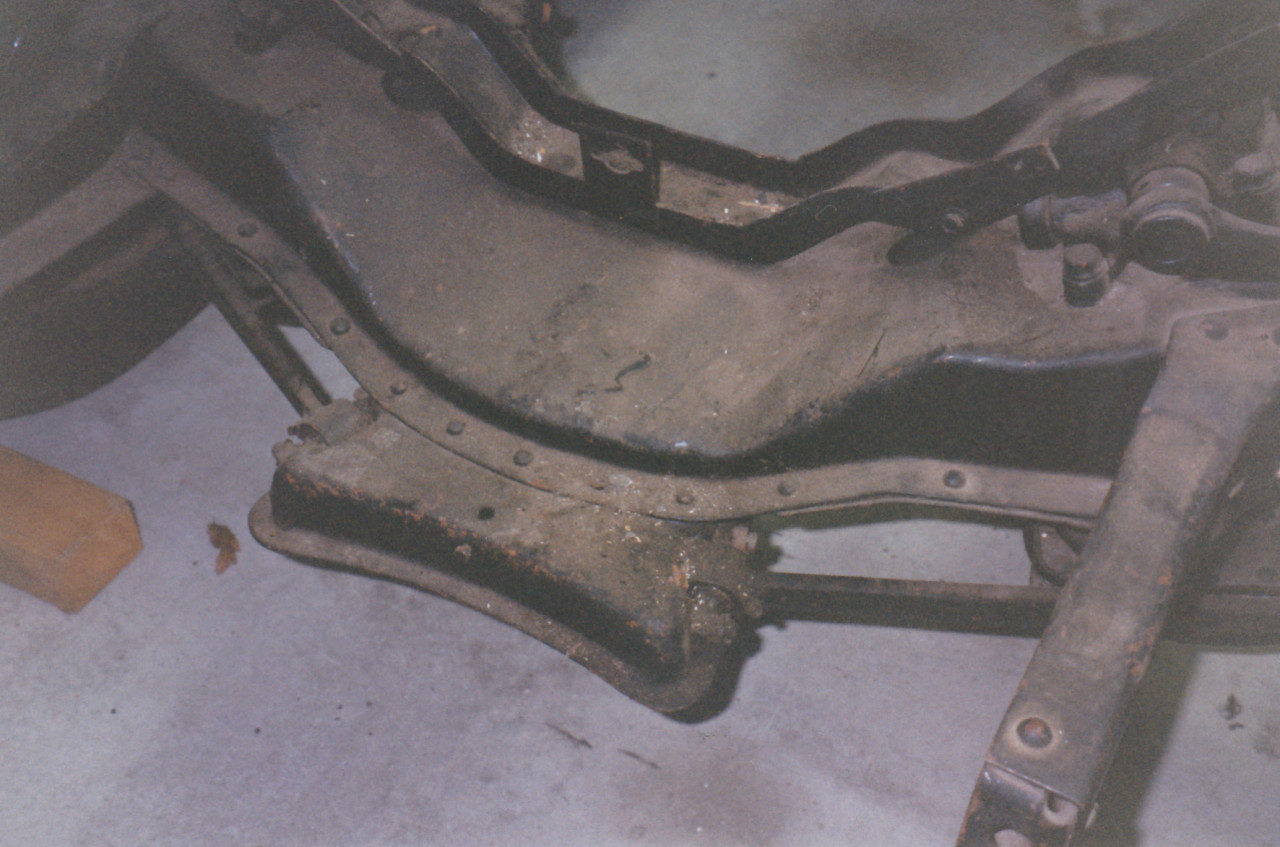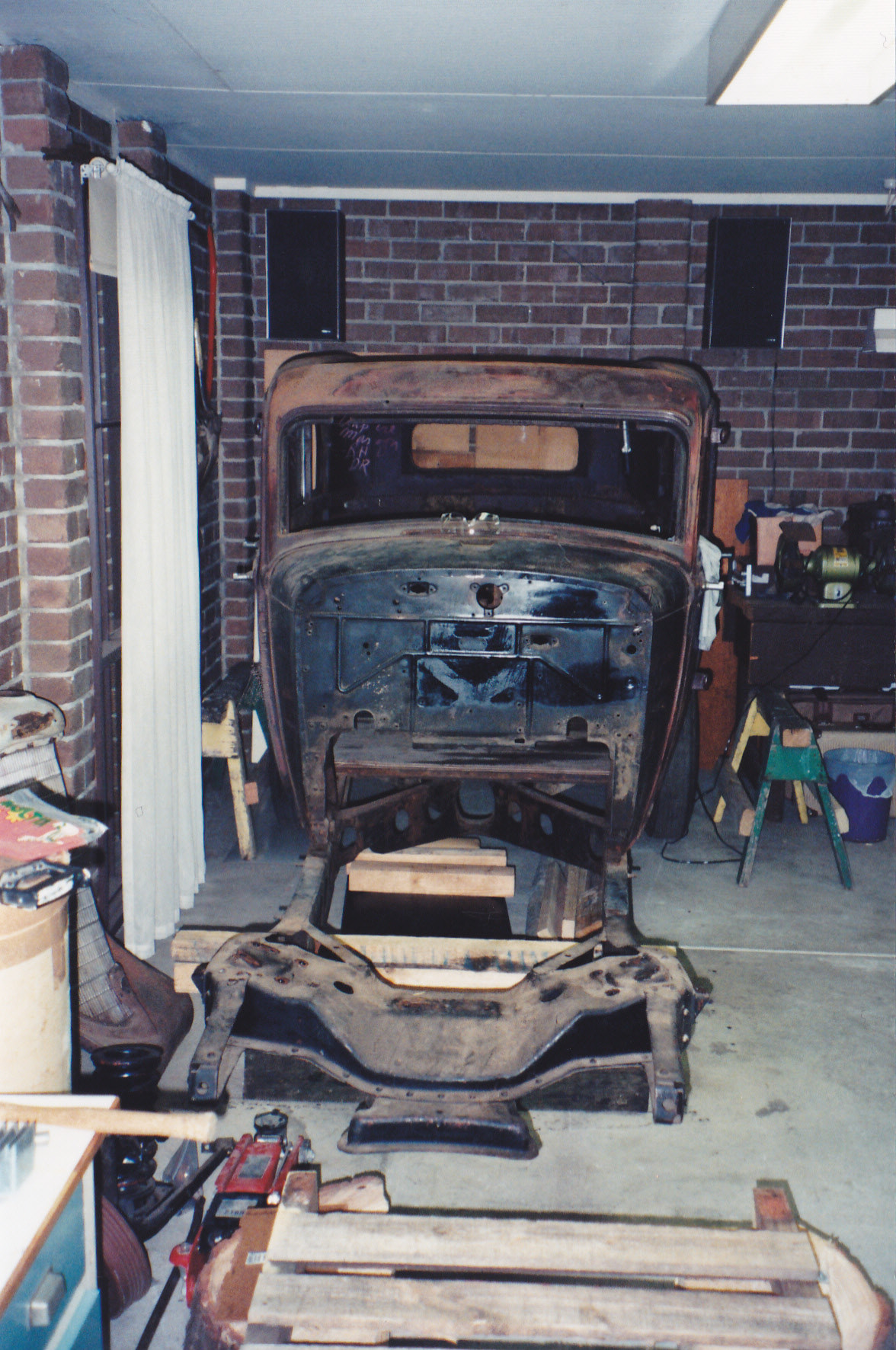 10-16-2012
Ok, so I sat around long enough pondering "what the hell have I done" and thought that its time the body came off the chassis. I figured I didn't have that much to start with so I might as well start with nothing ! Used a heap of Penetrene and suprisingly the bolts undid fairly easily. Put two saw horses on either side at the rear and jacked up the back then slid a piece of wood under the main body. I had already built a frame made from pallets and four wheels which will keep the chassis low enough to fit under the raised up body. You can see the amount of muck stuck around the rear spring hangers but was confident that a trip to the blaster would fix this. Once the body is off I'd thought I would have better access to the rear spring so planning a bit ahead I'd remove those next and also the battery case support brackets.
Regards
Ian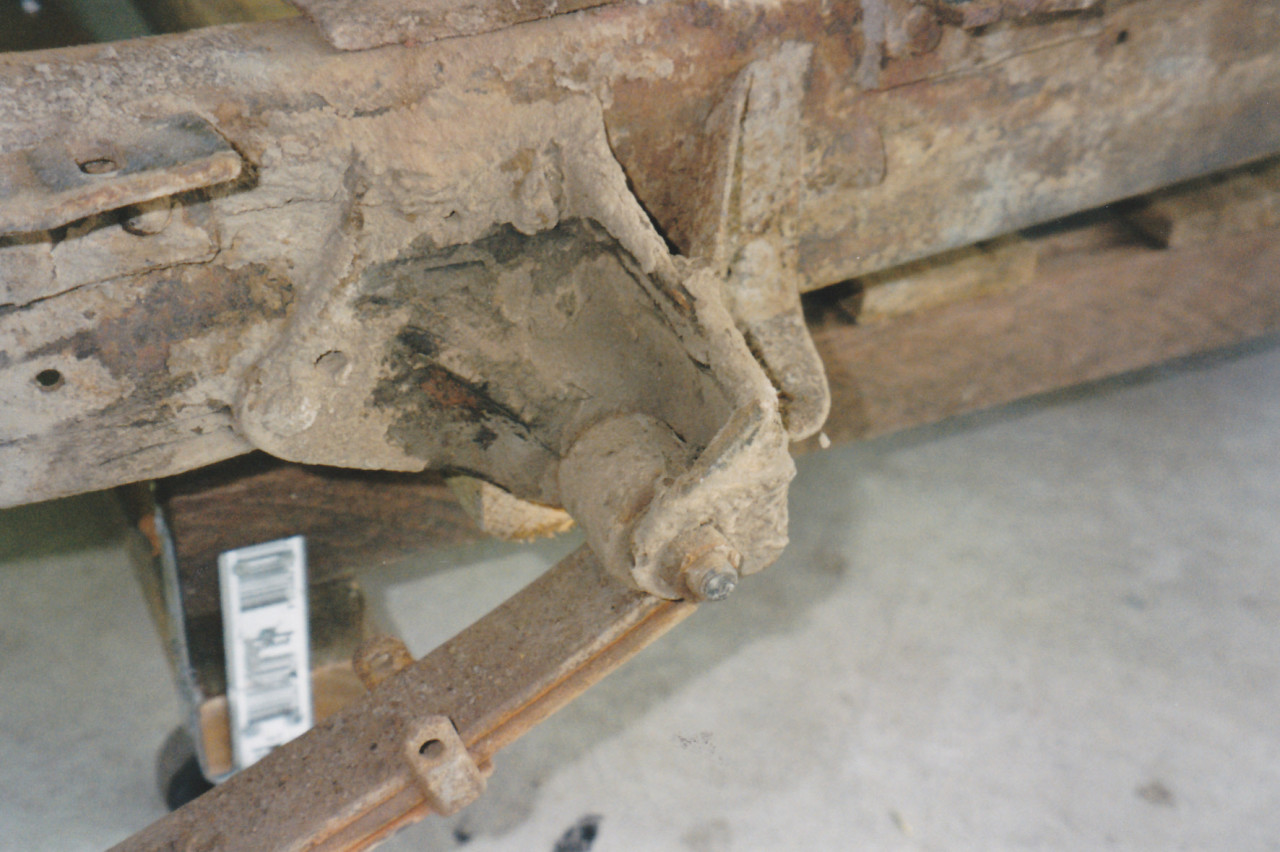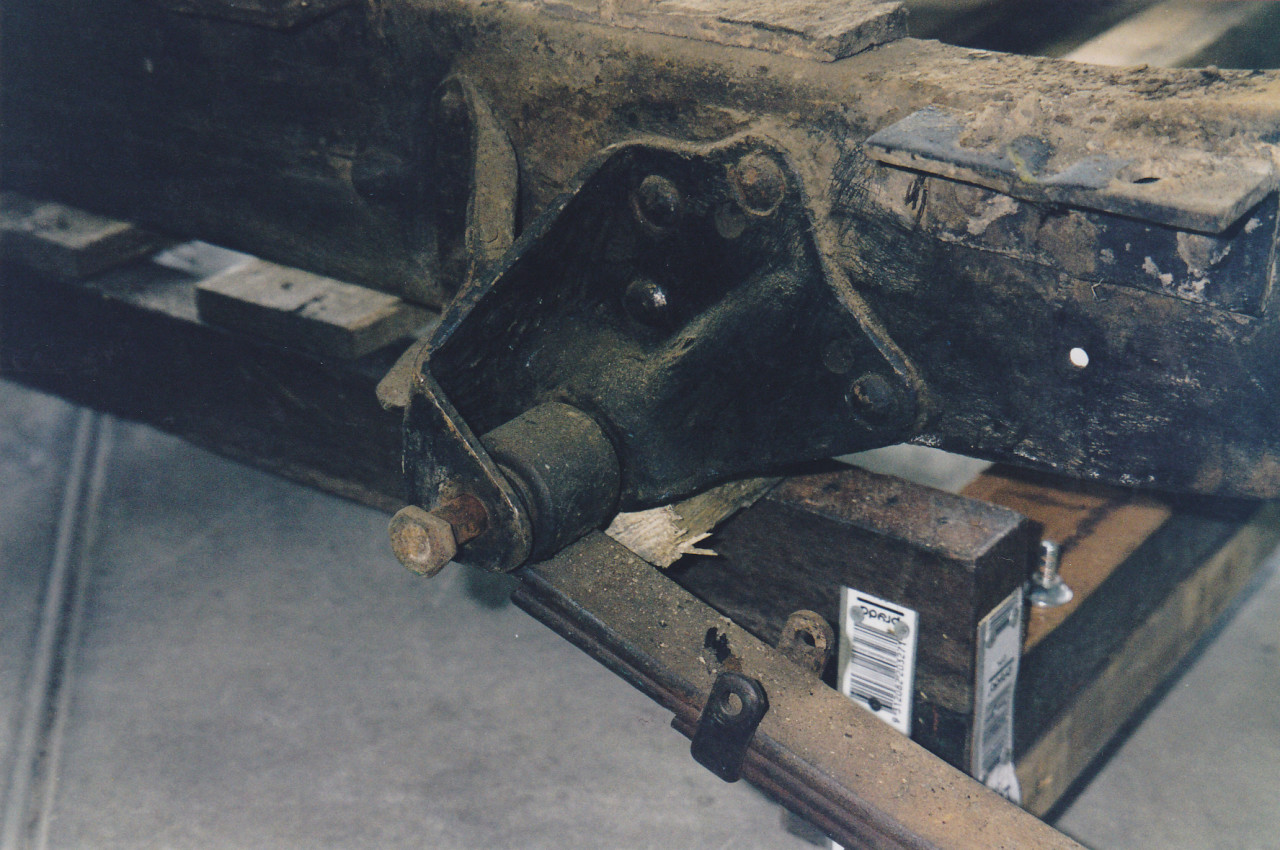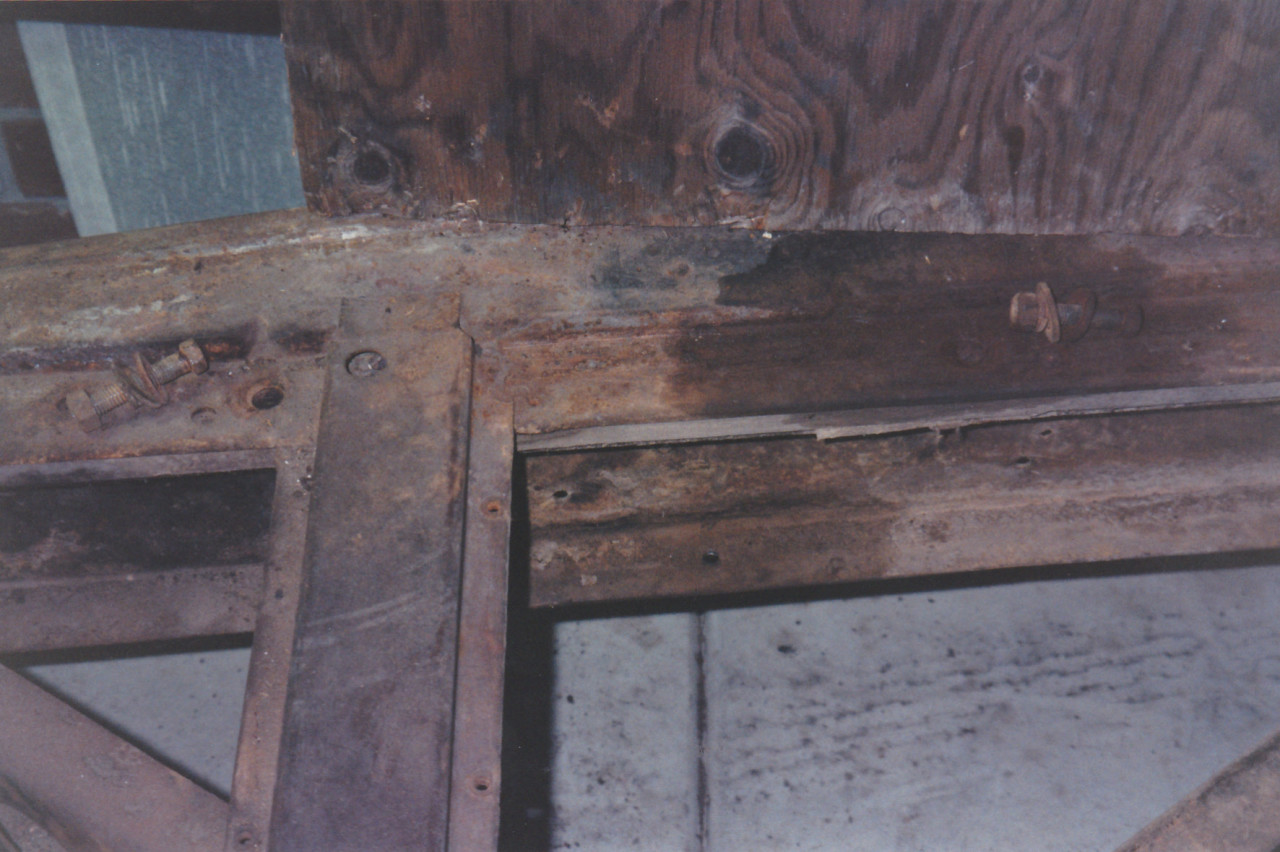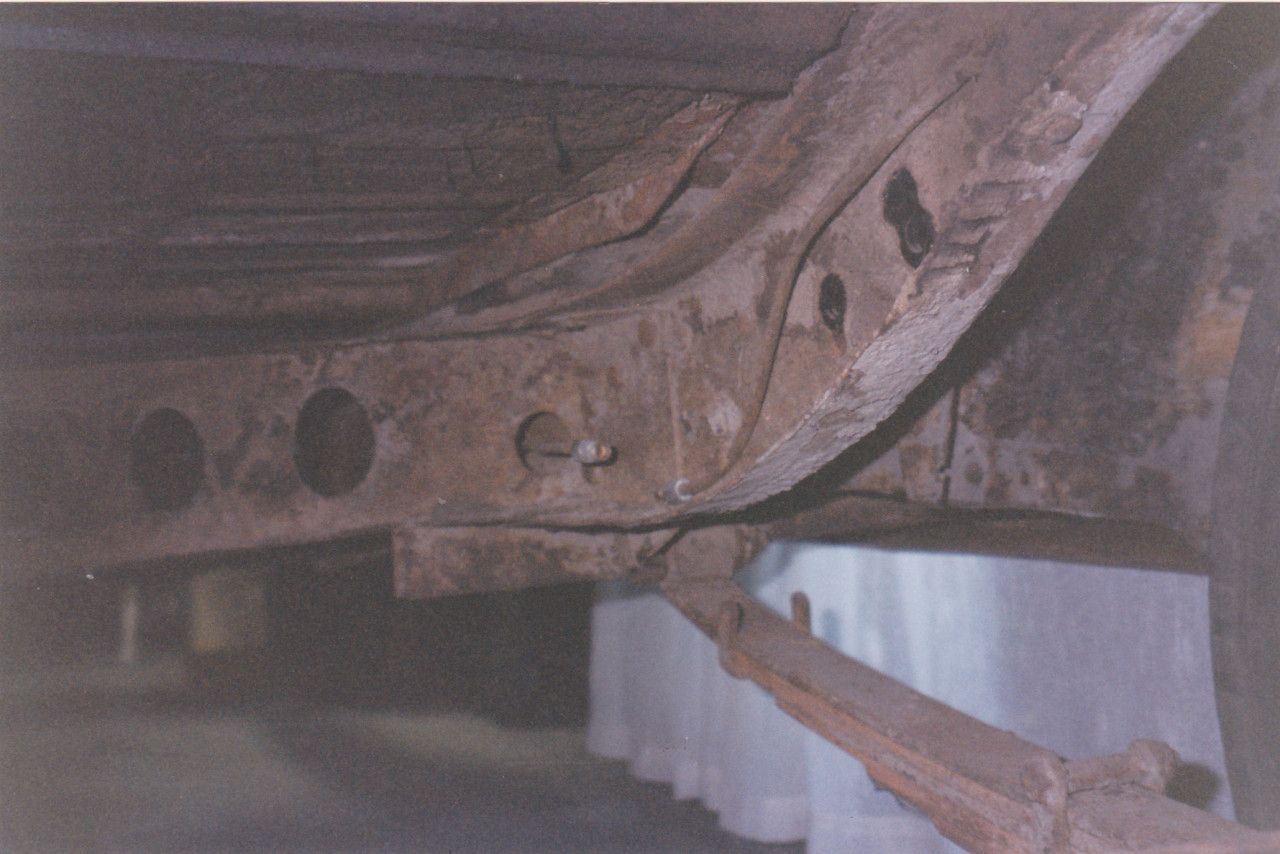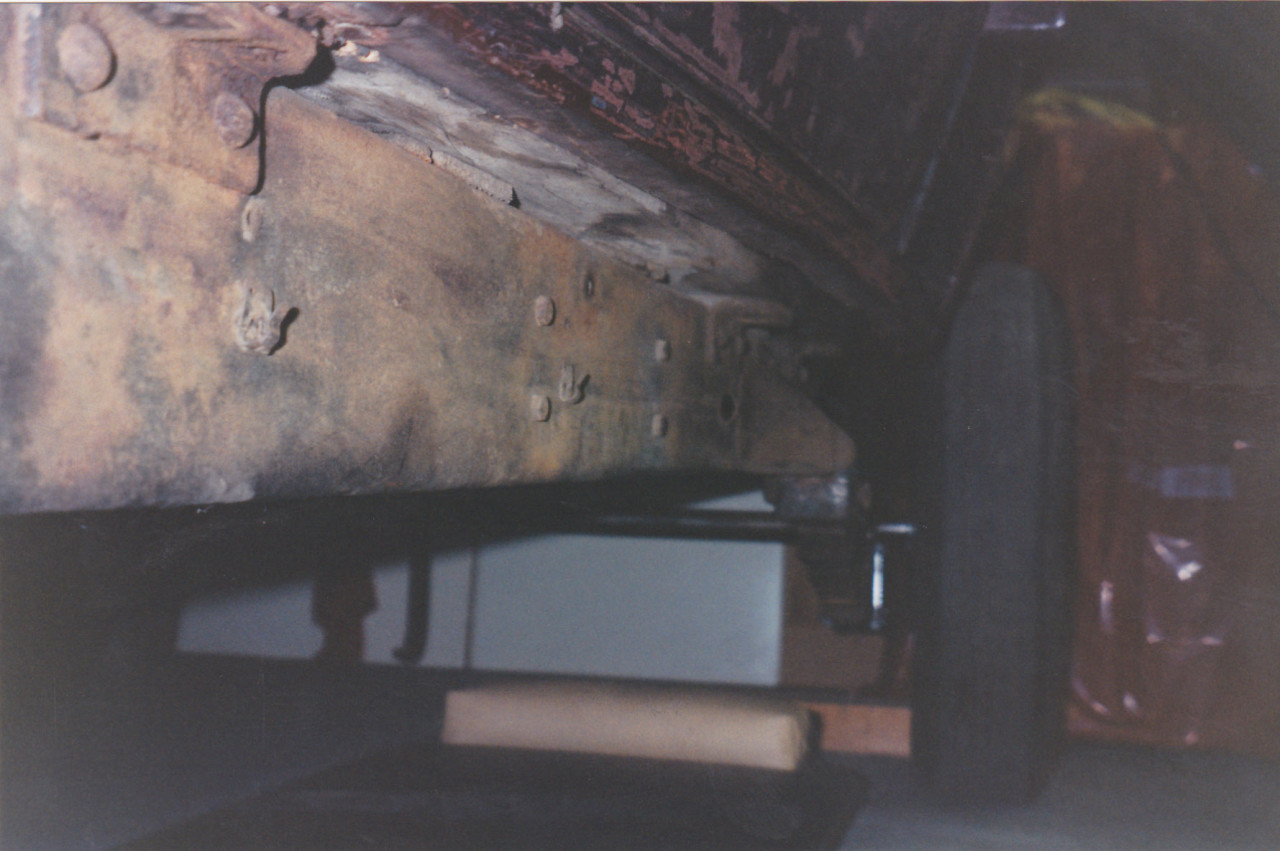 10-22-2012
Hey all,
With the body off the chassis I was able to get to a few other brackets that I had seen under the car and remove and tag those. Also removed the battery holder and springs. Found a sort of foam buffer around where the petrol filler tube goes into the tank. You can tell by the rusty chassis that there will probably be a bit of pitting in the frame. I'll send the chassis off the the powdercoater as well as the running board brackets and that should be a good base.
Cheers
Ian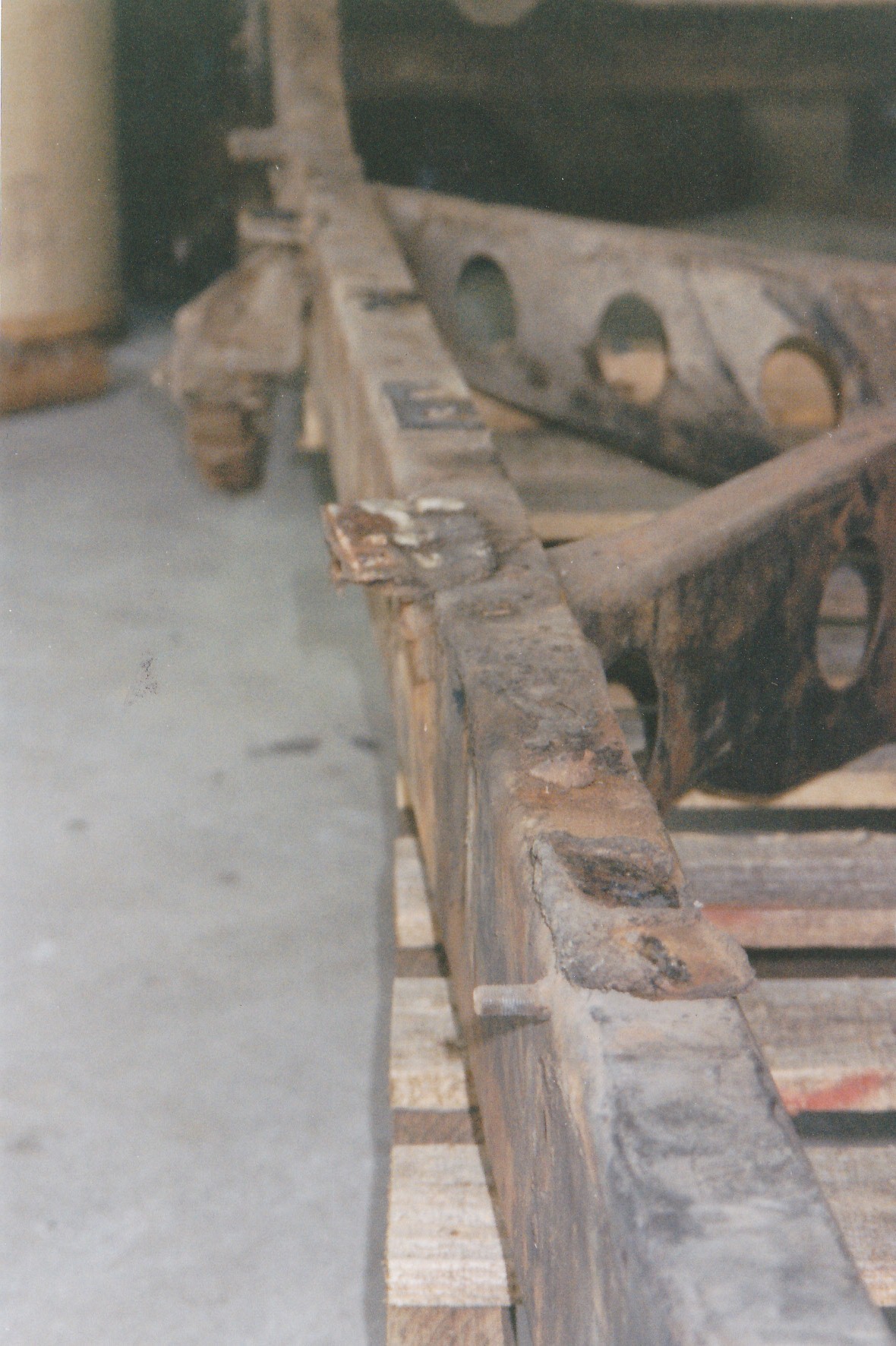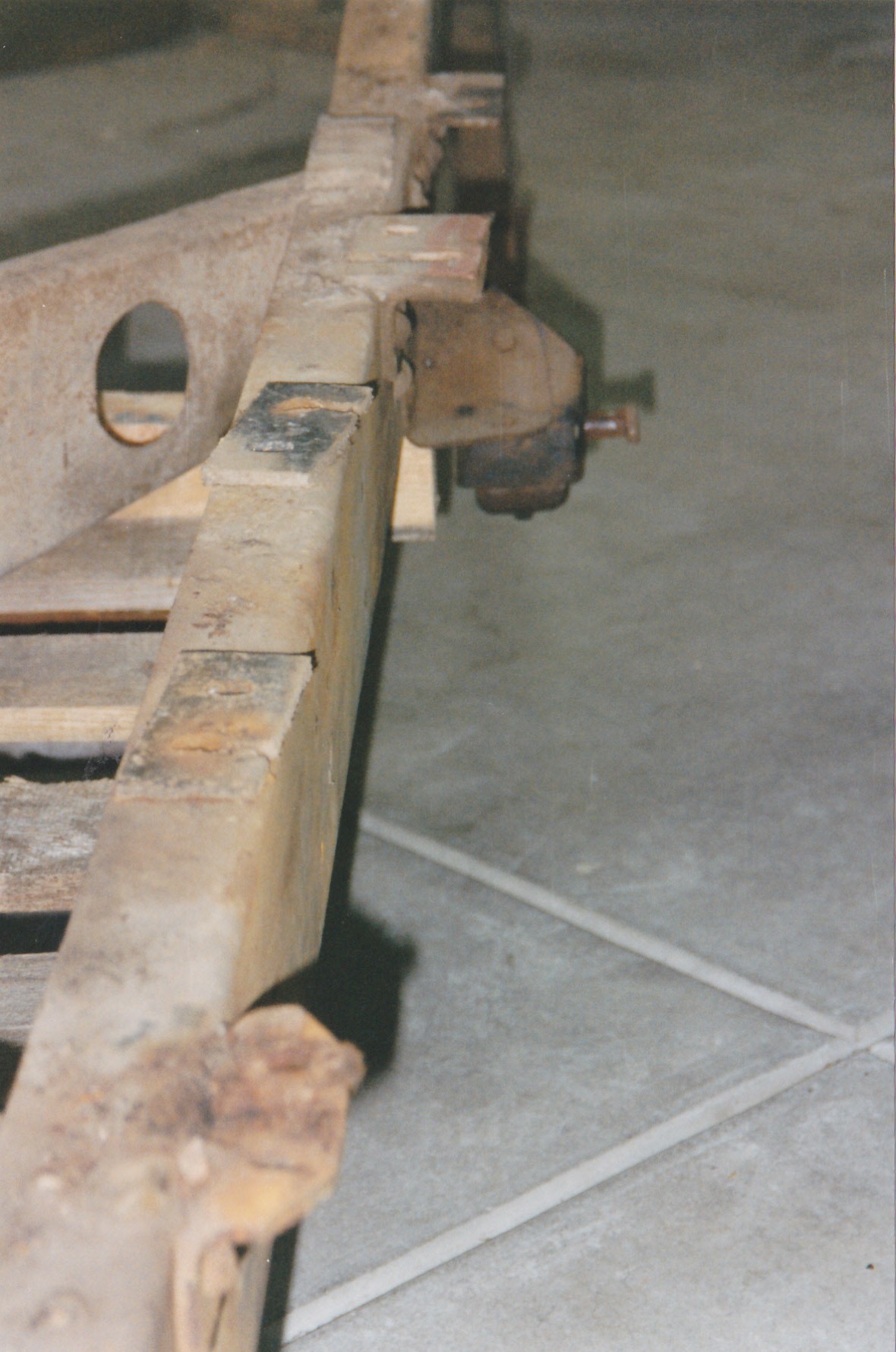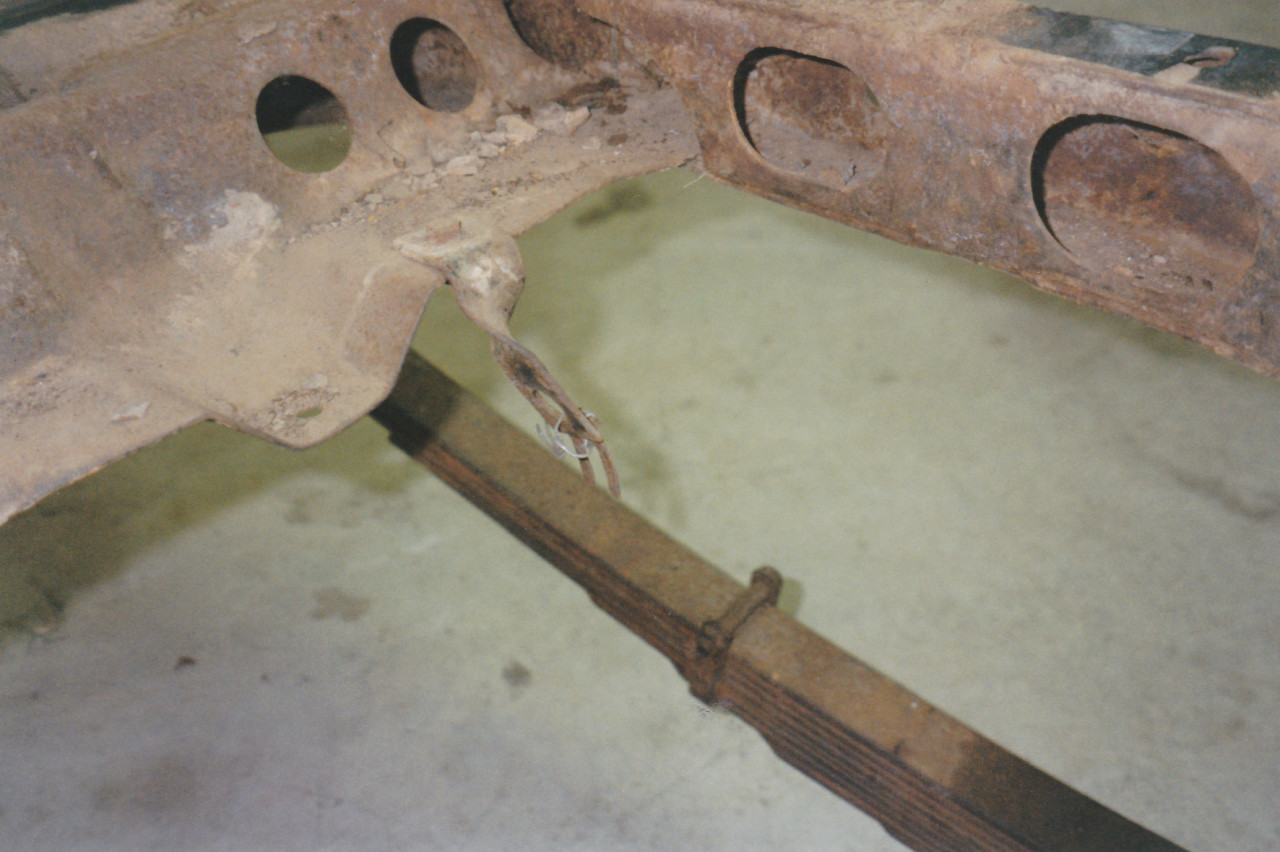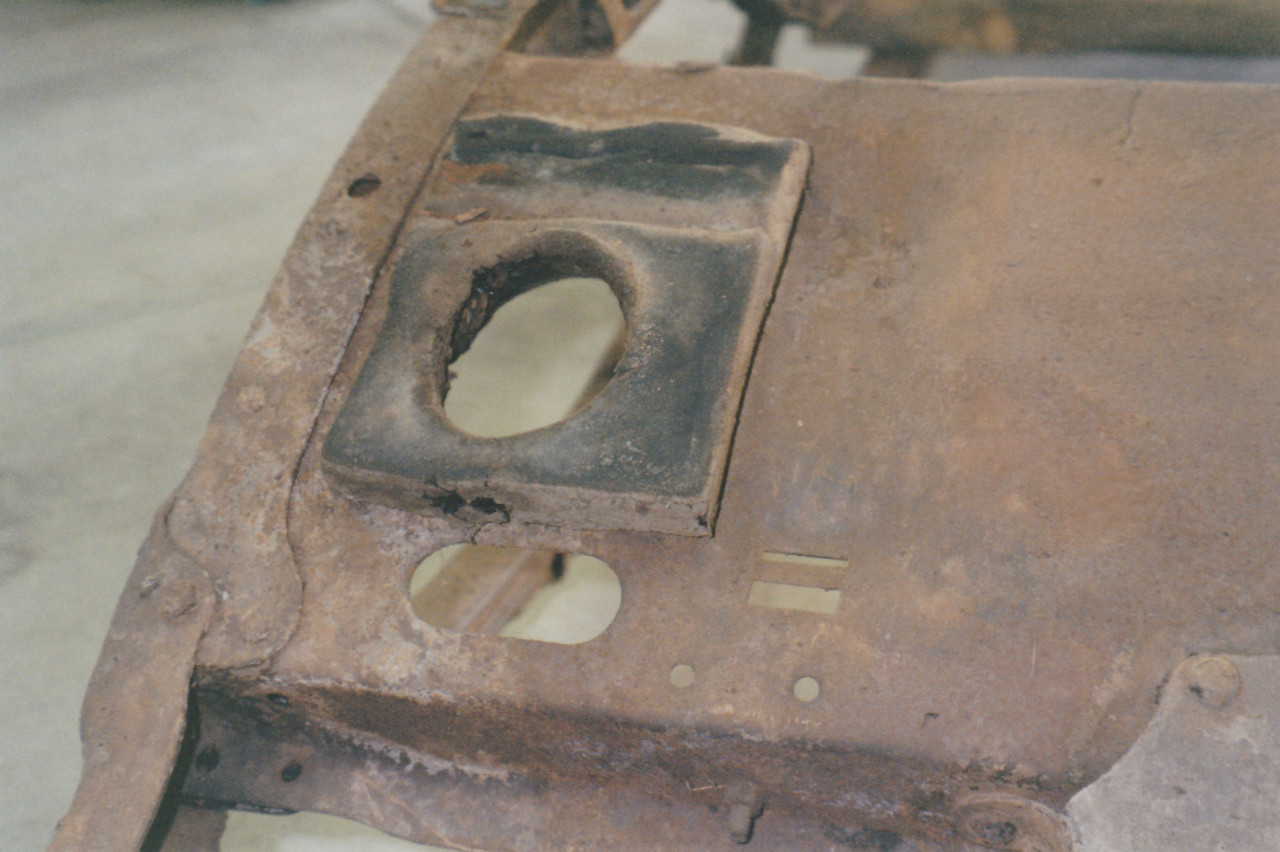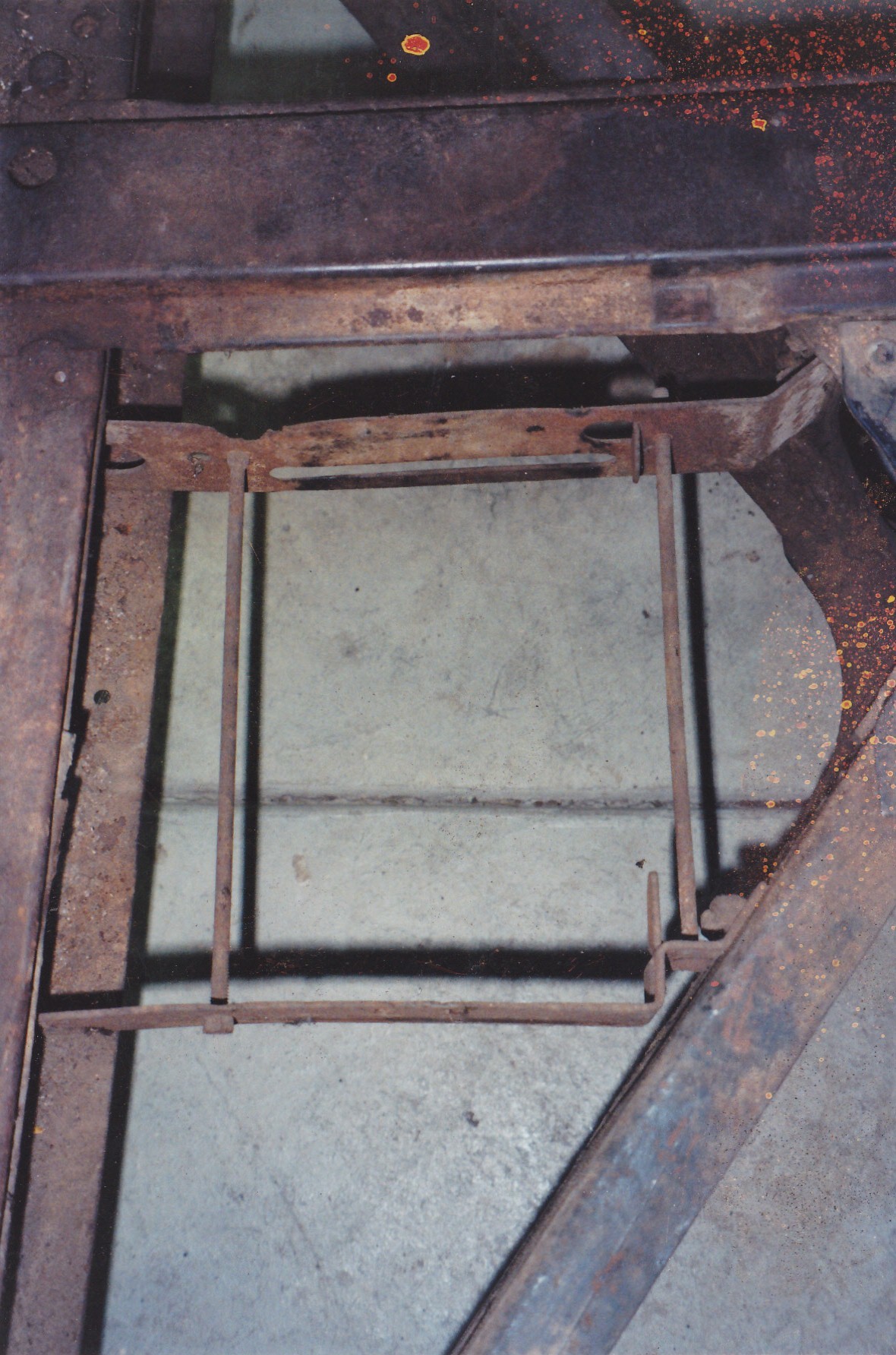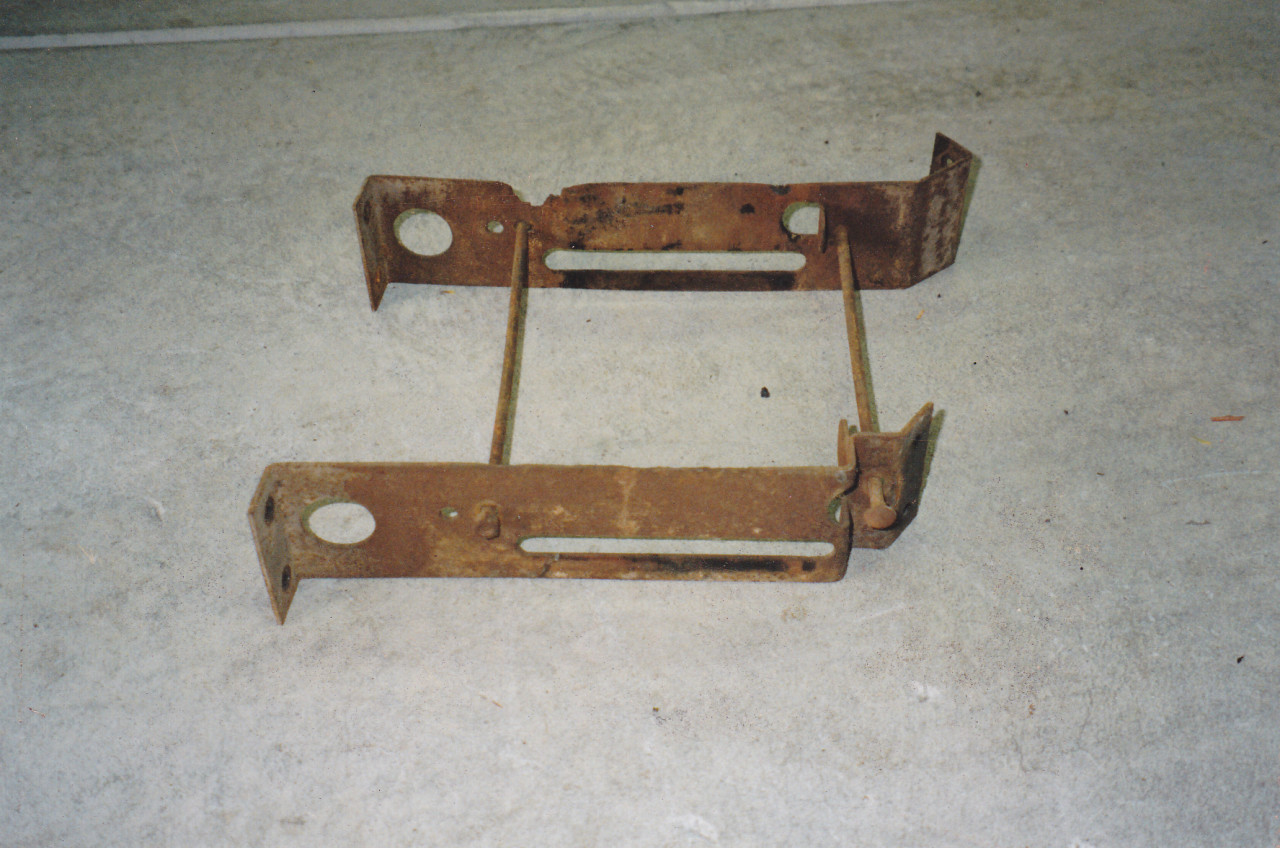 10-23-2012
Hello,
When I had to make this decision I did have conflicting opinions about which way to go and I can see the merits of both. When I got the chassis done it was basically two times. i.e. the blaster went over it twice, the etch primer twice and the coater twice. So far I haven't had any issues ( like Keiser ) and no problems with bolt holes. It is good however to hear what other members say and experiences they have had along the way. Plesae keep posting as everyone learns along the way......especially me !
Ian
David,
I intend to coat the front suspension components, bell housing and gearbox with POR15.
Ian
10-30-2012
Hey all,
With the chassis off to the blasters I made a starthaving a good look at the body. The back ( where the luggage rack is or should I say was ) is all bashed in from reversing into anything and everything. The doors look in pretty good shape and as far as rust goes, rear wheel arches, bottom of front cowl and front inside where the timber floors go. So not too bad in that department. I took a few shots inside the car to get an idea of what it looked like and proceeded to rip out the old lining completely. Pulled out the windscreen hinges and rear seat hinges. Found the rear window winder but the other side is ceased up and I may have to rebuild it. Got some good shots of the rear bump stops for the doors too.
Cheers
Ian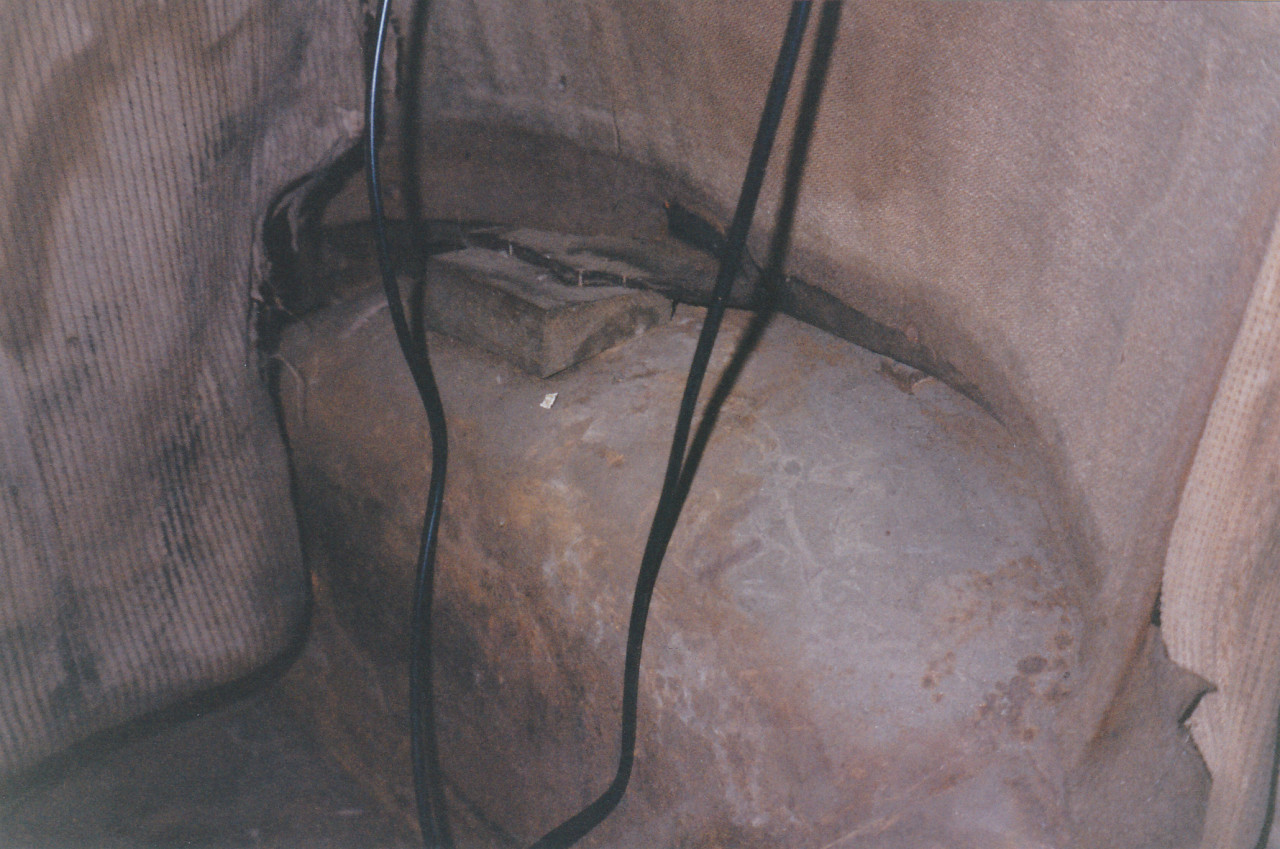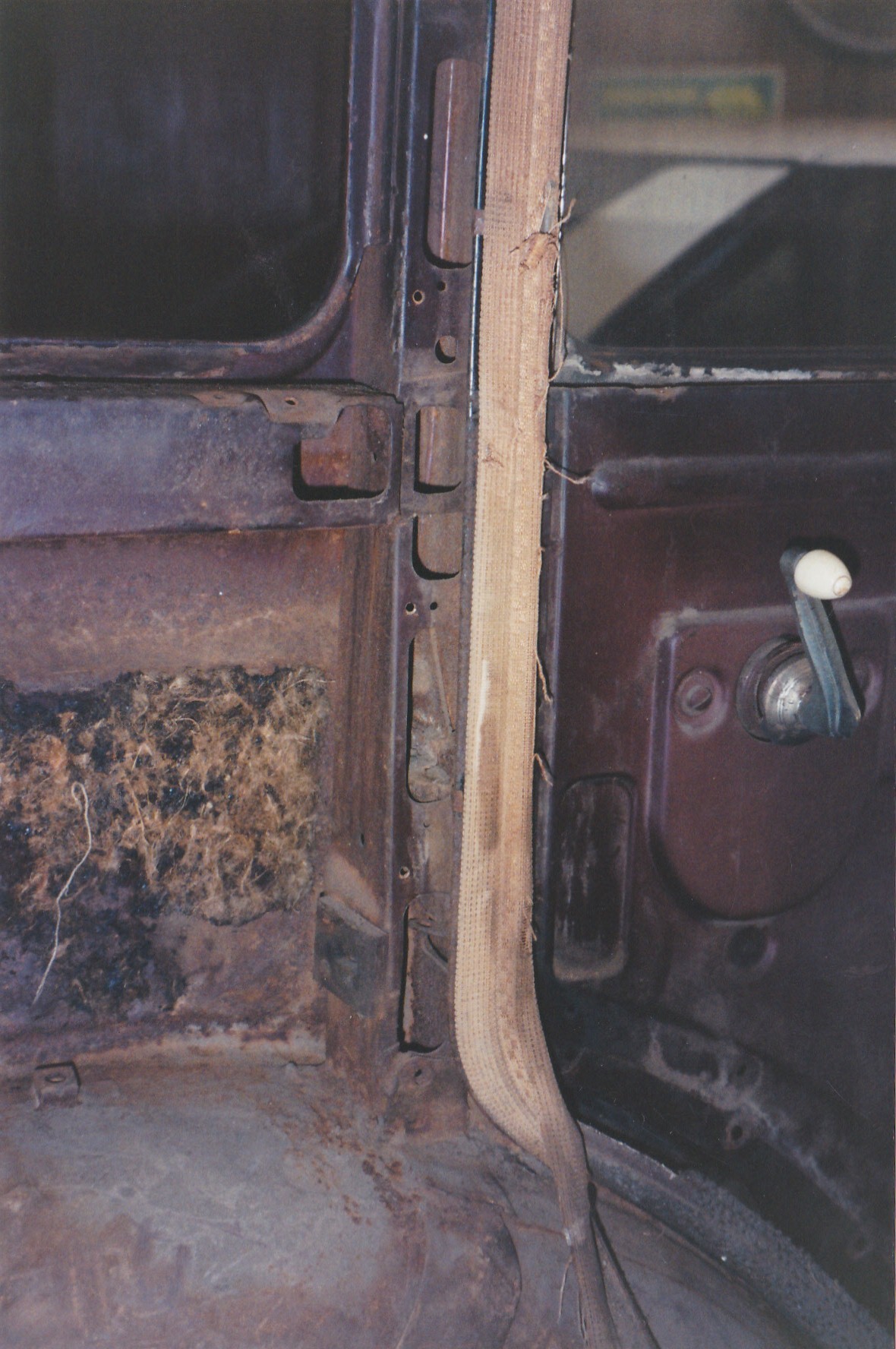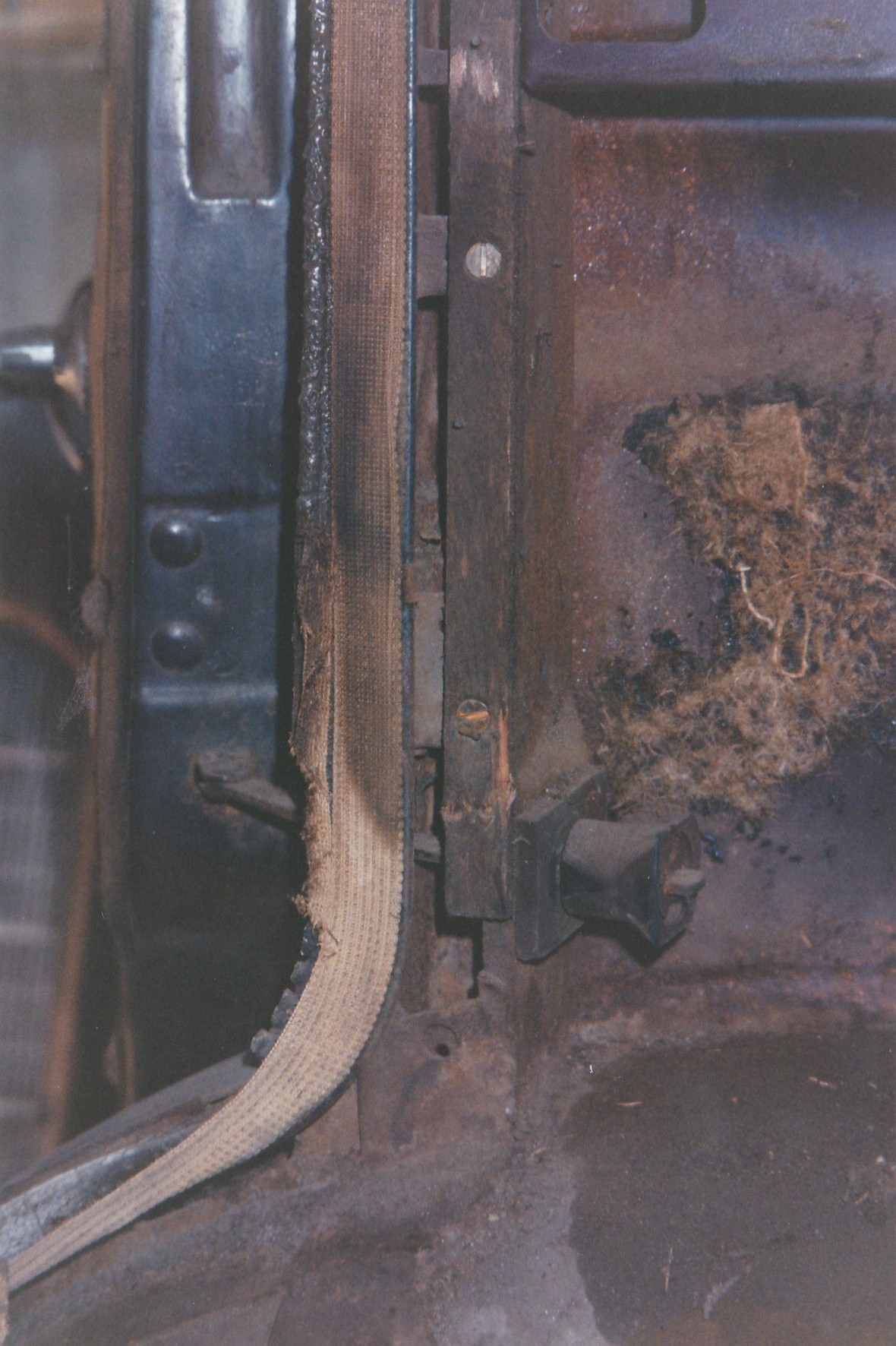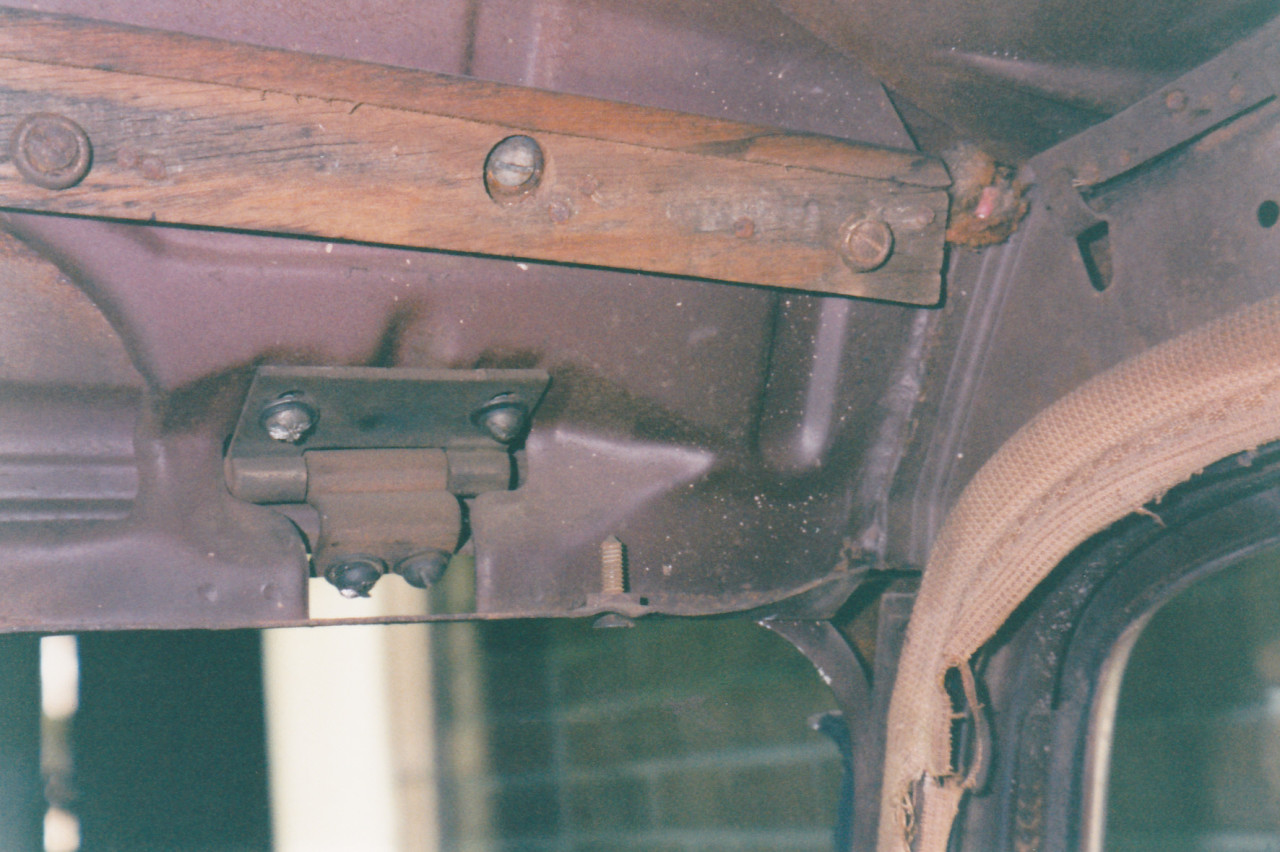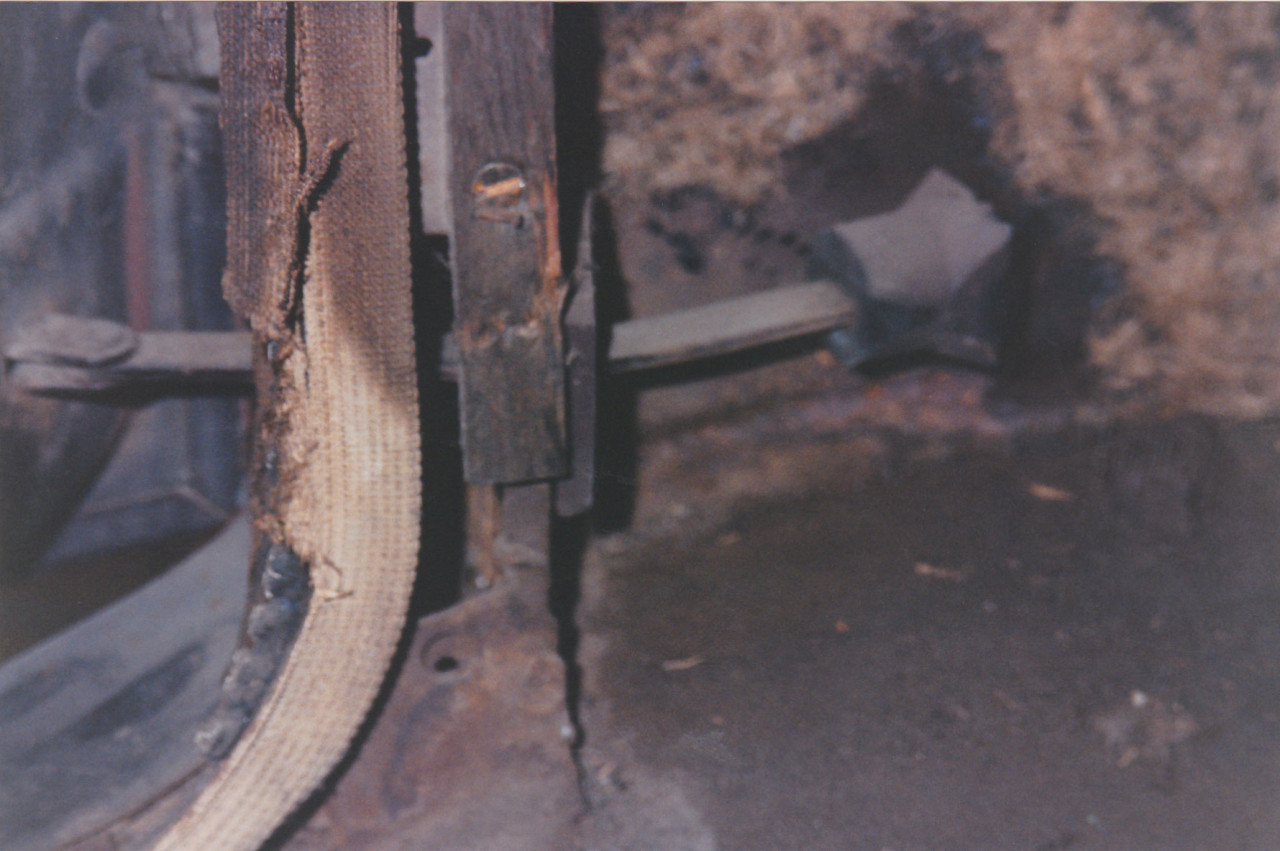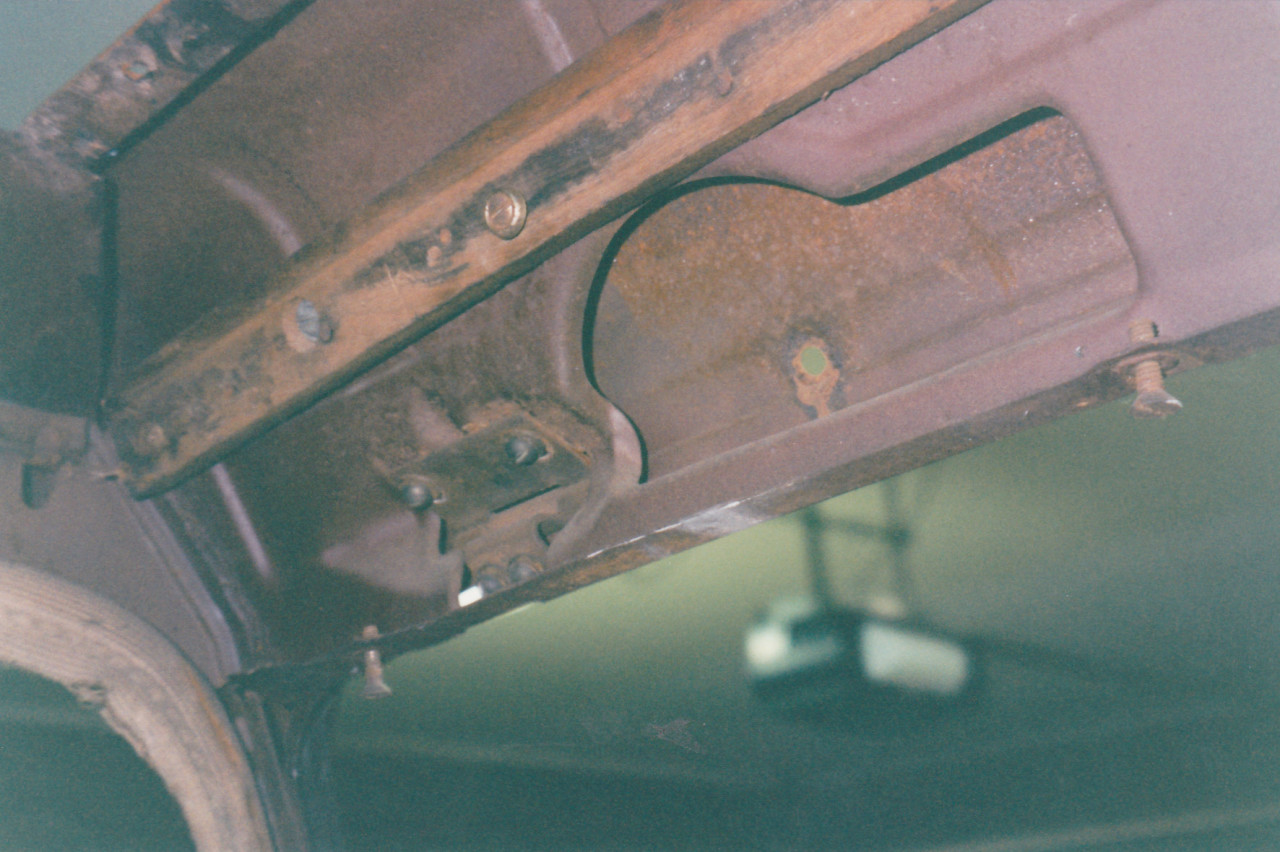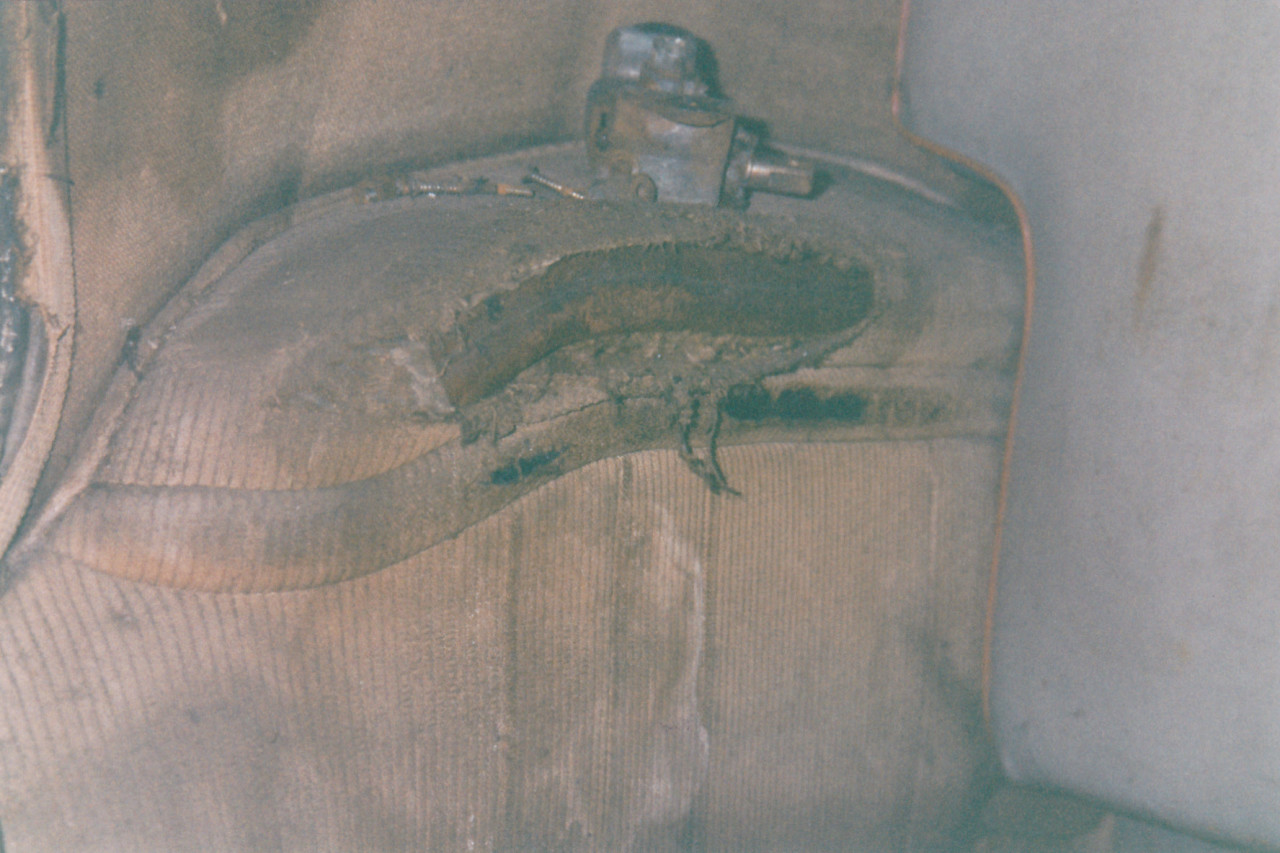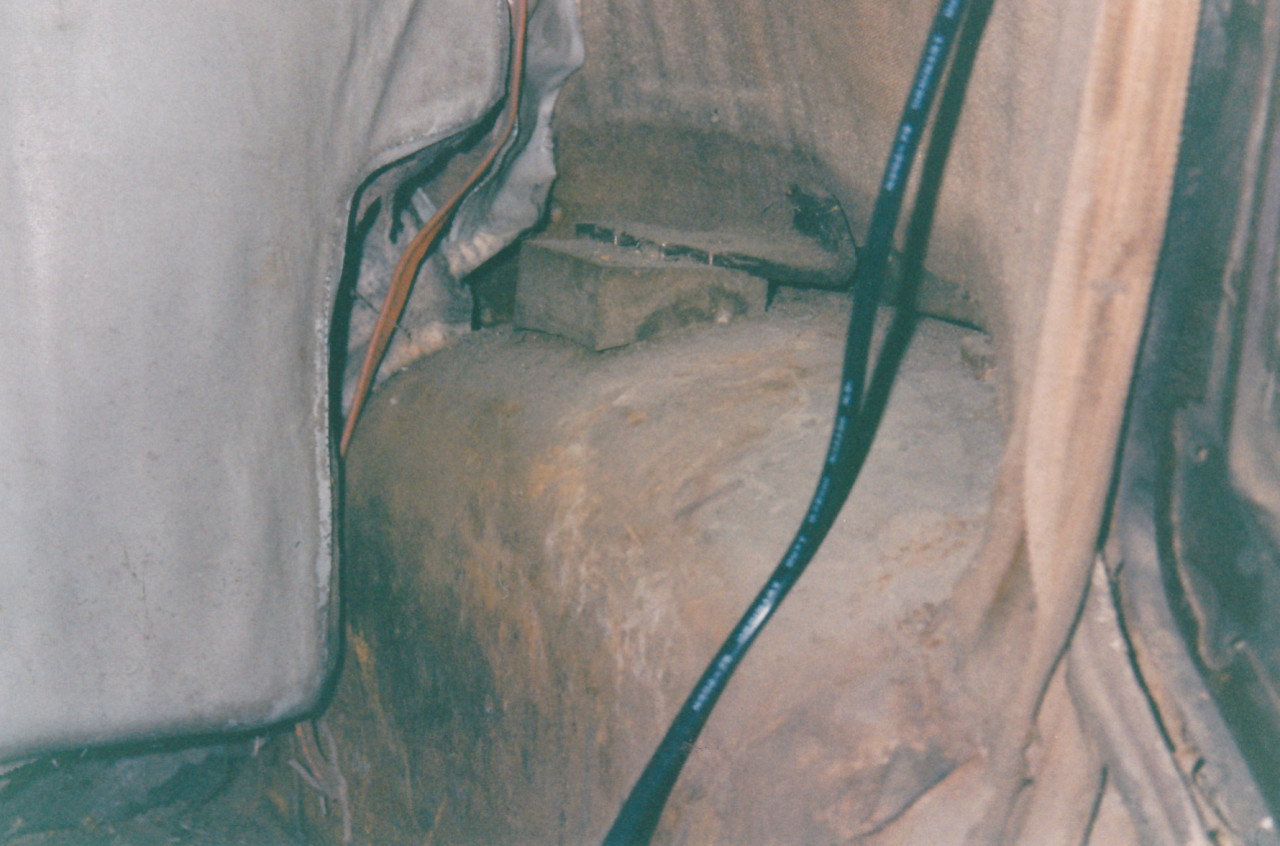 11-4-2012
HI everyone,
Received the chassis back and I must admit it has come up really well. It amazes me how much pitting rust does cause even in a chassis. Given that the chassis is suprisingly light and my brother and I can pick it up quite easily. All the other brackets I sent came up looking really good too ( gearbox crossmember, running board brackets, chassis extension and spare wheen carrier brackets ). I also got the brake drum backing plates done at the same time. I wirebrushed the rear springs and front suspension parts and coated the front suspension parts with POR15. The POR15 does come up a treat on uneven surfaces but you do have to be careful not to have any grease / oil left of th parts otherwise it wont stick at all.
Till next posting
Ian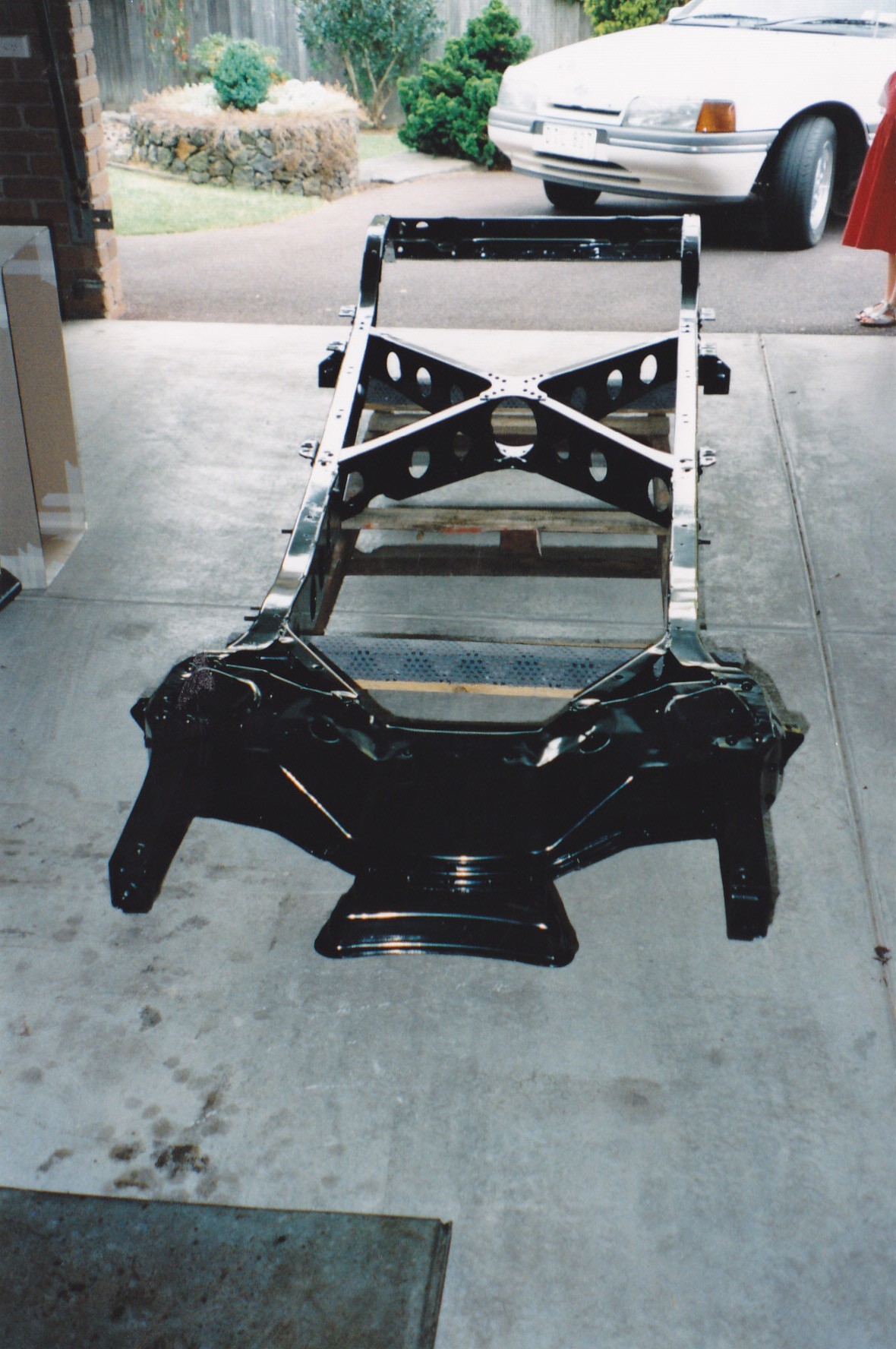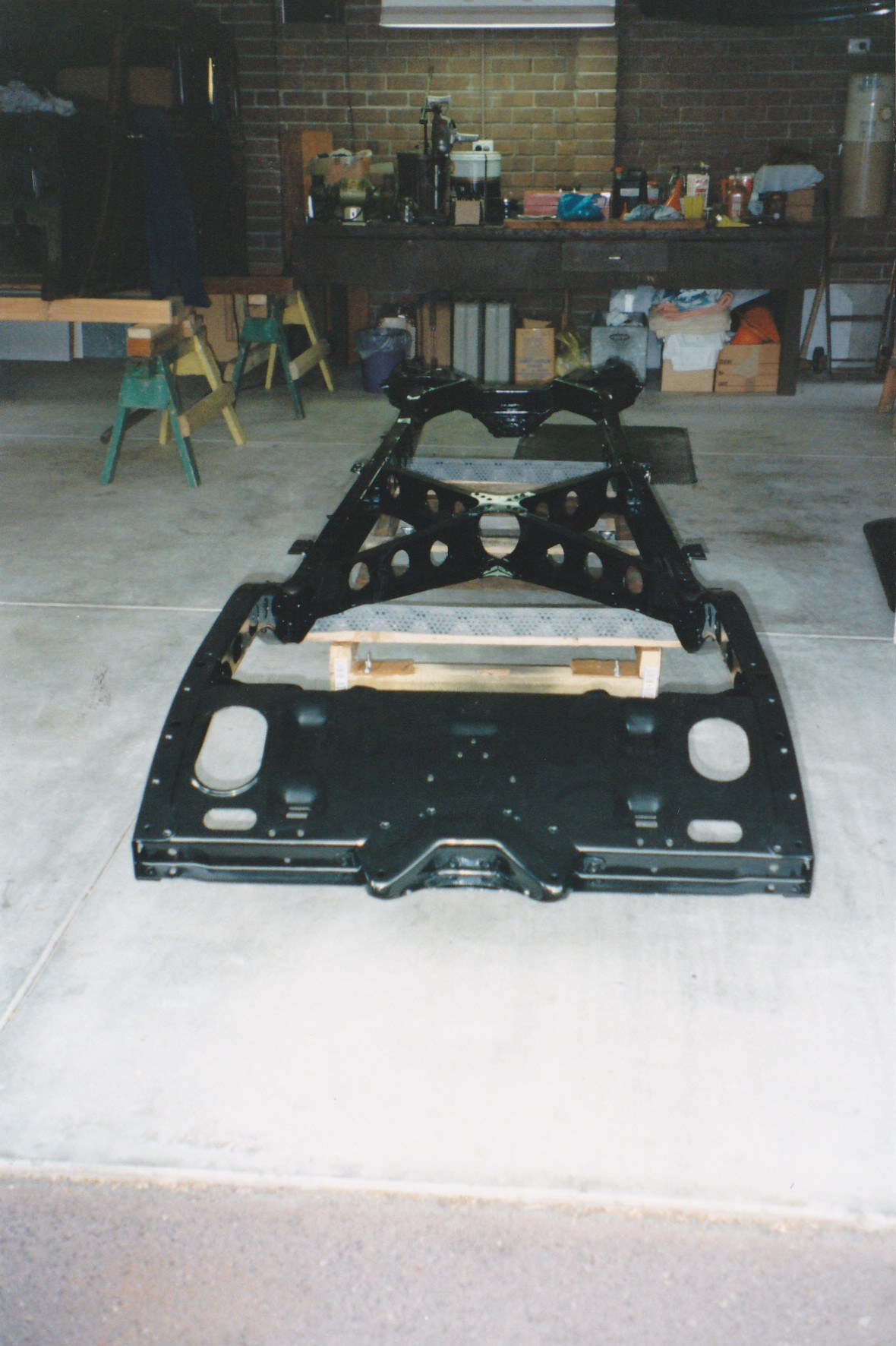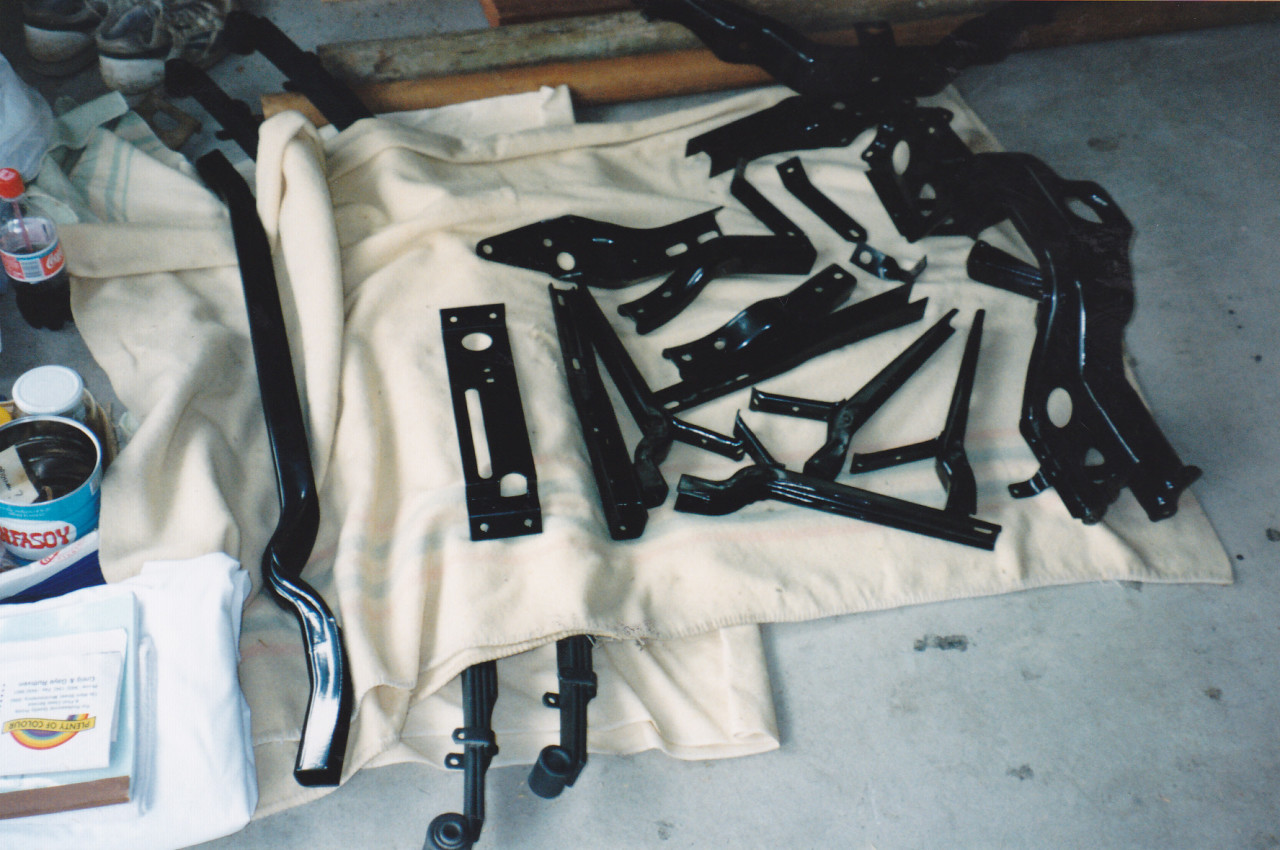 11-16-2012
Okey Dokey,
I wire brushed both wishbones and then painted with POR15. I did buy some new springs but have since replaced them as they sat offside. Checked at the bushes etc and this is the photo of me mounting the left side in place. I was the only way I could think of to get enough tension. I've seen people use spring compressors and I've also seen the damage they have done. This was the first photo taken on the progress after we built our house. I made sure I had a garage bay for the Dodge. When we designed the garage, I opened the car doors and measured from door to door fully open and then allowed a width of a person as well. It has worked very well and I am lucky and have a large amount of room.
Regards
Ian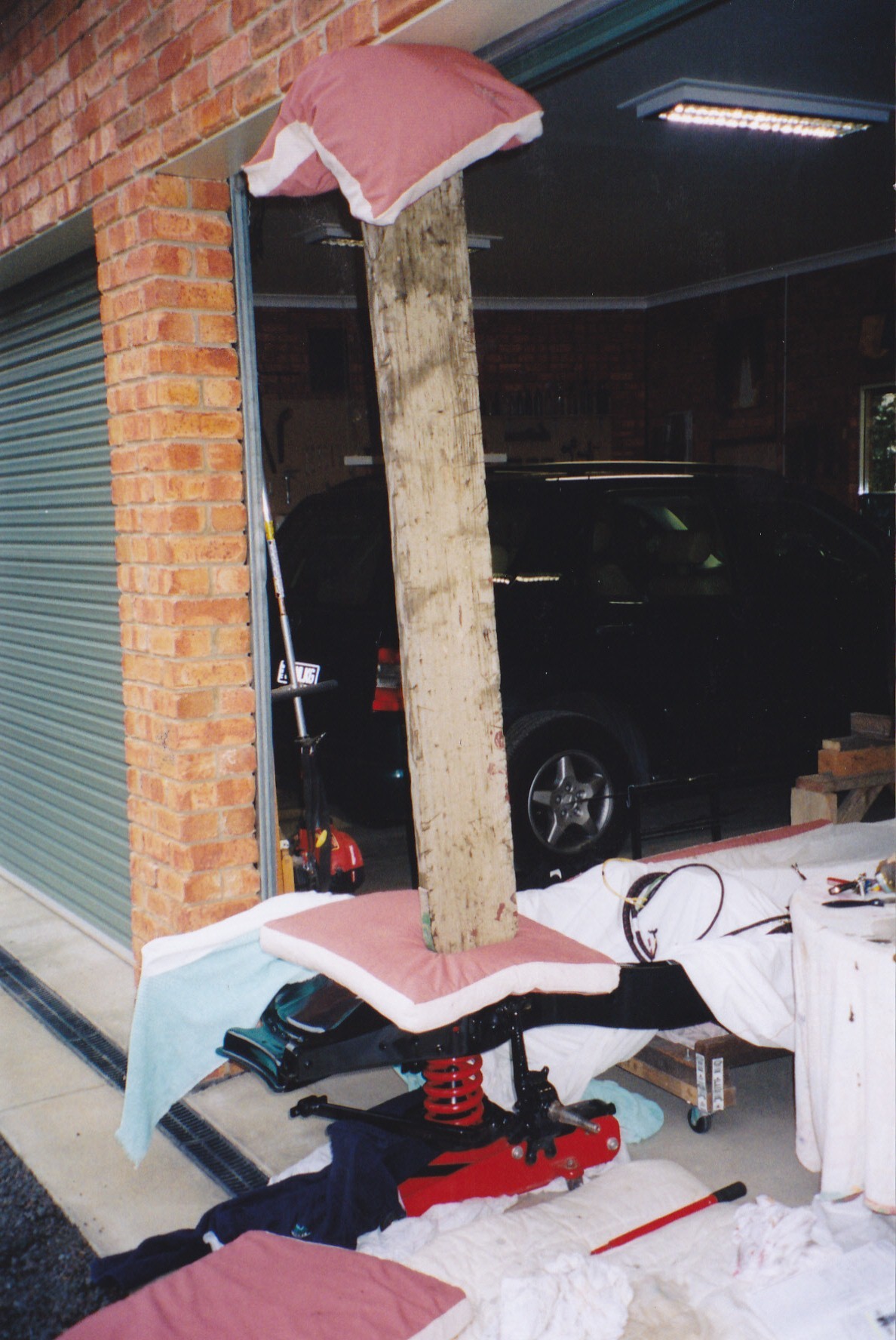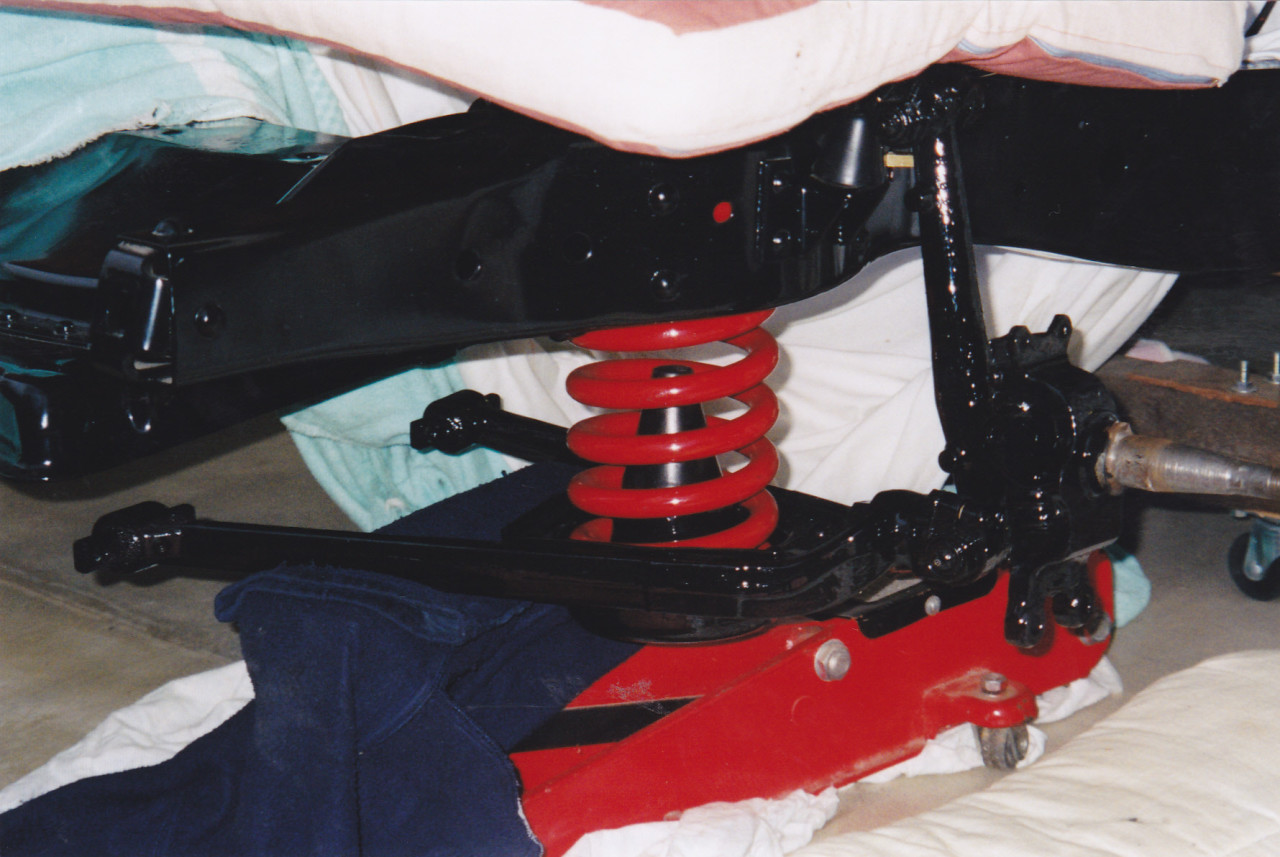 11-24-2012
After receiving back the brake shoe backing plates I also have all the shoes relined and the brake cylinders resleeved in stainless steel. I bought new boots and also new felt seals which I had rivited to the backing plates. At the same time I remode all the brake and fuel lines. I wire brushed the outers of the drums and had them all machined inside so hopefully will give good braking for a number of years. At the same time I went to the Ballarat Swap Meet ( for our overseas friends if you ever come to Australia, go to Soverign Hill in Ballarat and experience the life during the gold rush, it keeps getting better and better ). At the Swap I picked up brake and petrol line clips, 2 hubcaps, high tension lead wire, 12 volt condensor for the distributor, crankhole cover and a few other odds and ends that may come in handy down the track. I was also lucky enough to pick up an original 1934 Dodge instruction book from an add in the local paper.
Cheers
Ian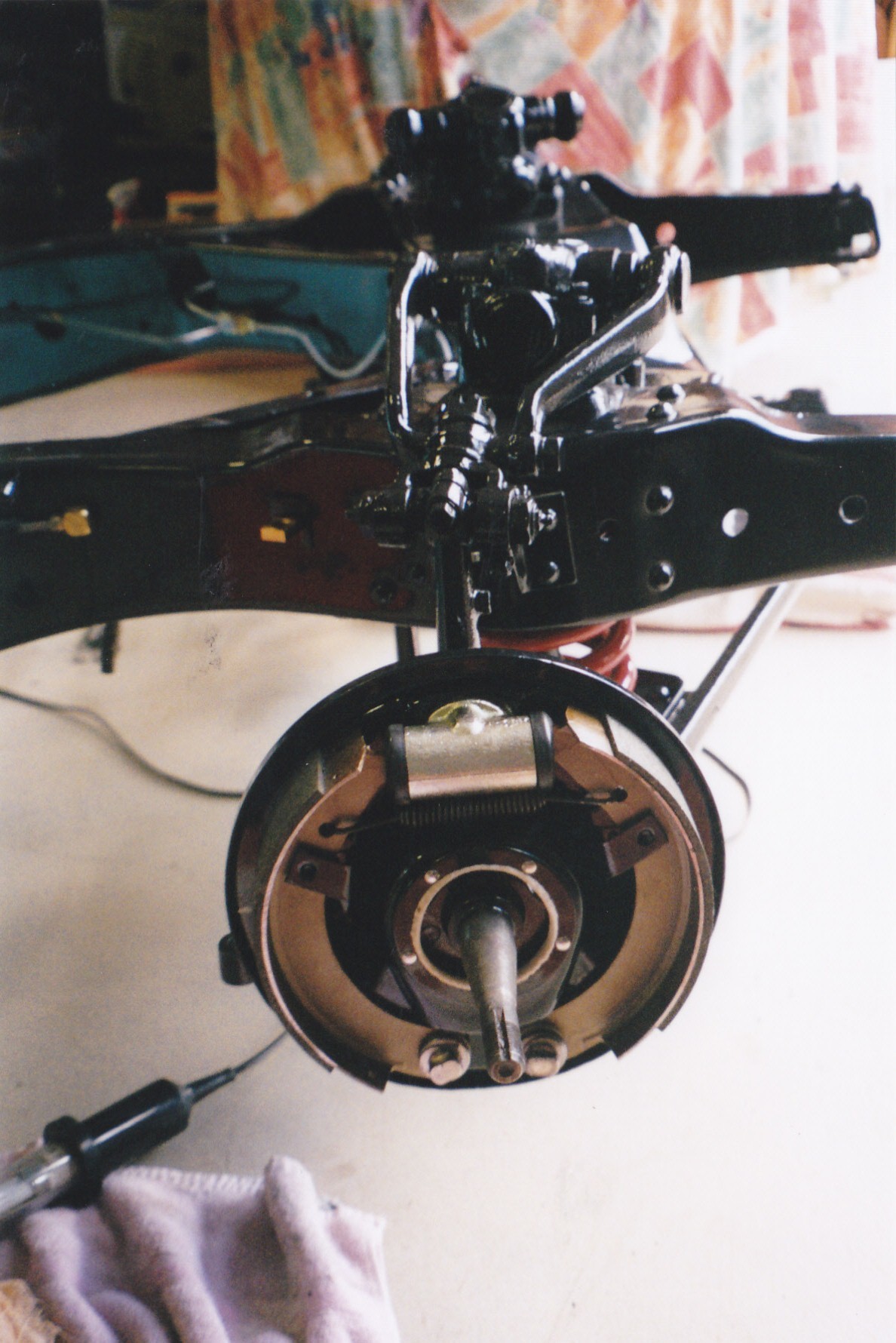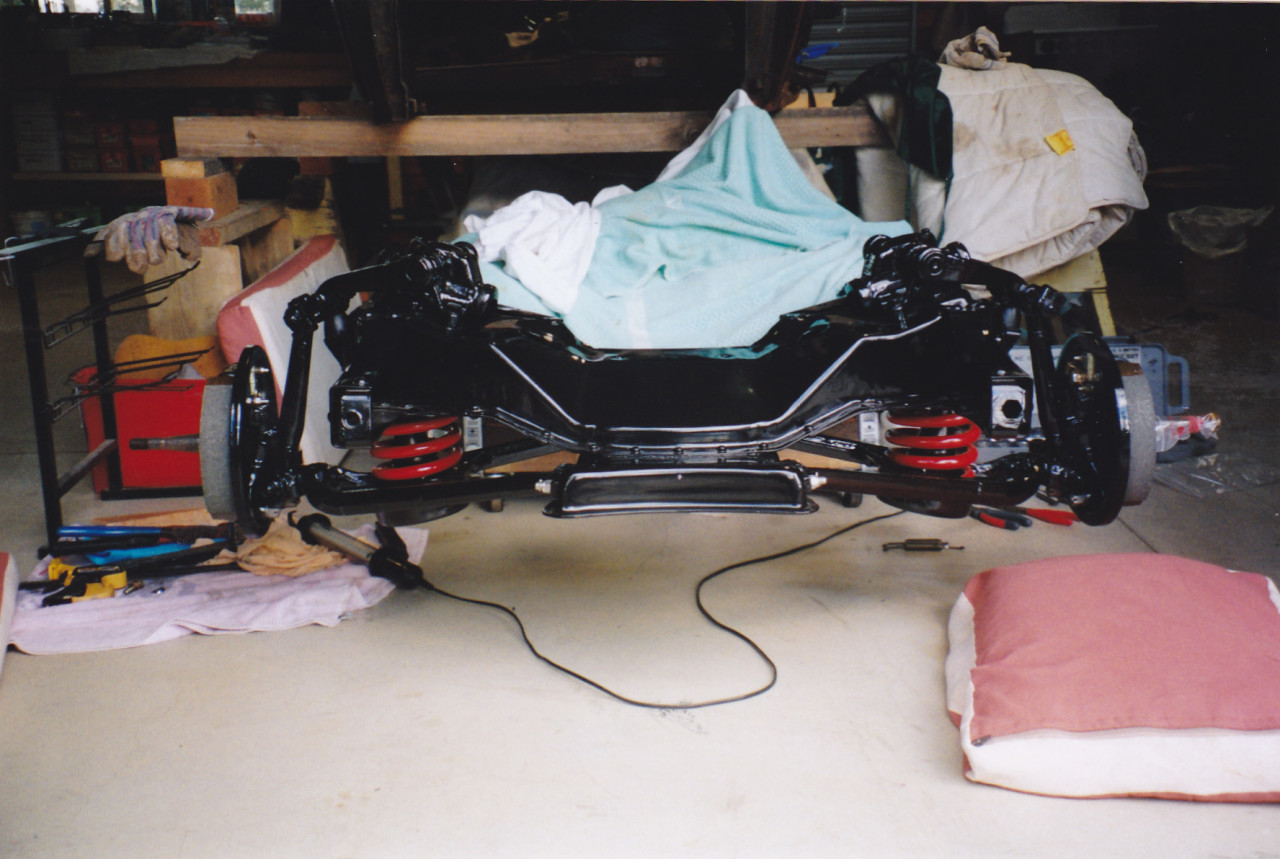 11-27-2012
Hi Ben,
I know that in 1934 Dodge started using independent front suspension but due to the higher cost I imagine went back to a single beam axle. This went on for a few more years but I'm not sure of the exact dates. I know there was a thread that one of the other guys had the dates but I imagine your thread you mentioned relates to all makes in general. Anyhow when I find it I'll post it here for you.
Ian
12-6-2012
Hi Jim,
I'm glad the pictures help. If you look at the first couple of posts you'll see the car on the trailer. There was basically nothing from the front of the firewall forward apart from the front suspension. Inside the car was nothing either. Everything was dismantled or pulled apart. Even the engine was in 500 pieces. If you ever get stuck on anything, or where something goes just drop me a line and I'll be glad to help where I can. I'm still asking questions as I put thing back together and whenever I catch up with anyone with a 34 I always take photos which I often printout, carry out to the garage and fit that particular part. Can you post some photos of where your at with your project and when you bought the car ? We all love photos !!!
Cheers
Ian
12-8-2012
At this point I was talking to a few members of the club I belong to about restoring a car and the thing that seemed to be constant was that they often worked 12 months ahead. In other words, for example, even though your body isn't finished start looking for the windscreens etc.. This was good advice as I then starting to sort through things and look for parts / bits I didn't have. Little did I know that 5 years later I would still be searching for those hard to get parts.
Any how a club member put me onto this chap who makes Windscreens. My rear vent windout windows were broken and the frames rusted into tiny fragments. I took what I had to have them remade. When I arrived at his workshop he was in the process of hand making a new windscreen frame for Himler's Mercedes ( the third reich ) which eventually cost the owner $25,000. I showed him my bag of pieces and he said he had done some before and still had the patterns and has the pattern for the main windscreen. I decided to order them on the spot as his work is impecable. I also went ot a swap meet and found a few original sales brochures which I often enjoy reading and looking at. I also ordered a new wiring harness from Vintage Wiring Harnesses in Sydney. They had the setup for a 34 Dodge Sedan which I had modified for horns and indicators. This also, when arrived, was something I was amazed at the quality of work people do. This was cotton braided and had little tags to designate where each wire went. I didn't have a set of horns yet but as my frient said start looking now for 12 months in advance, so I started looking for a pair of horns to suit my 34 Dodge......not an easy task.
I got a phone call from my Windscreen man and the rear 1/4 vent windows were ready to be picked up, but the front Windscreen would take a few more months as he had a lot of work on at that stage.
Ian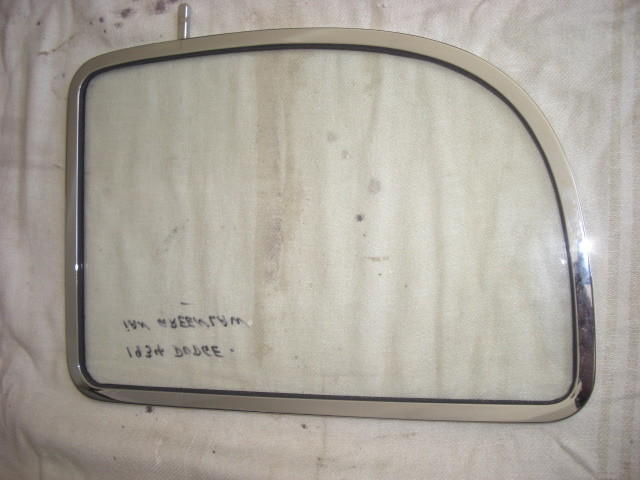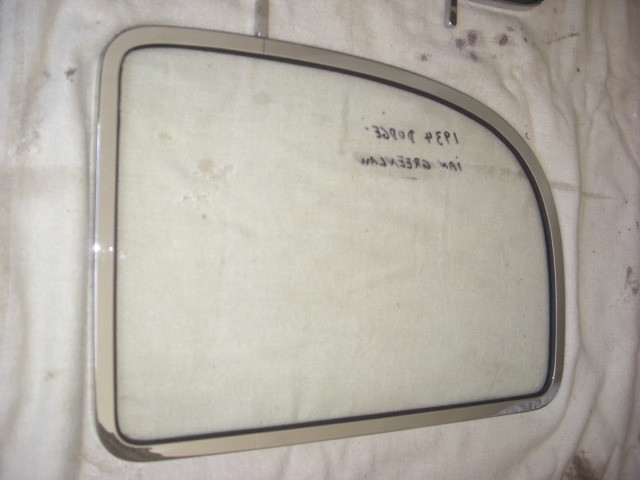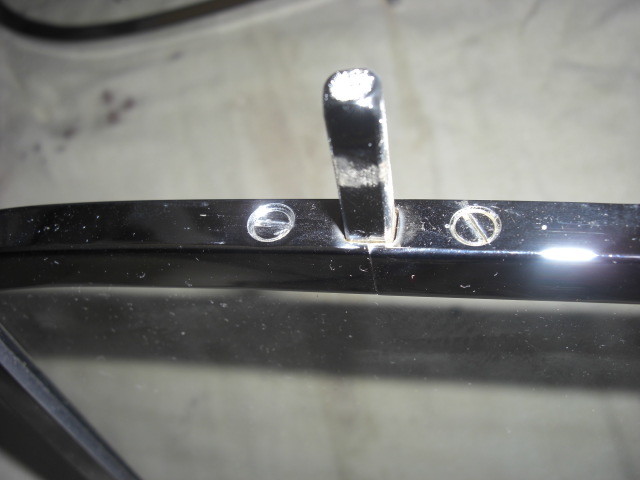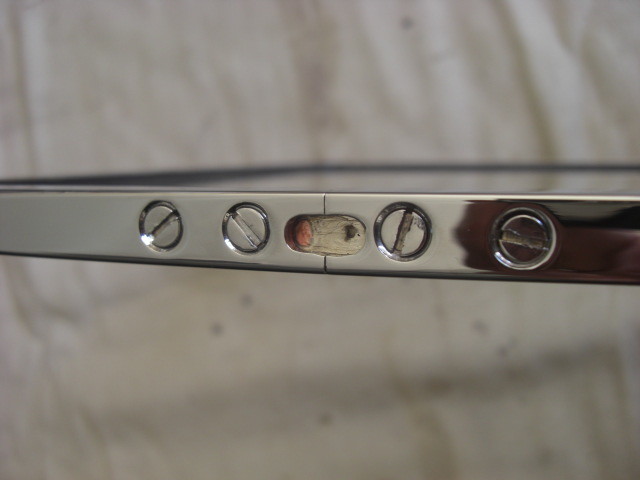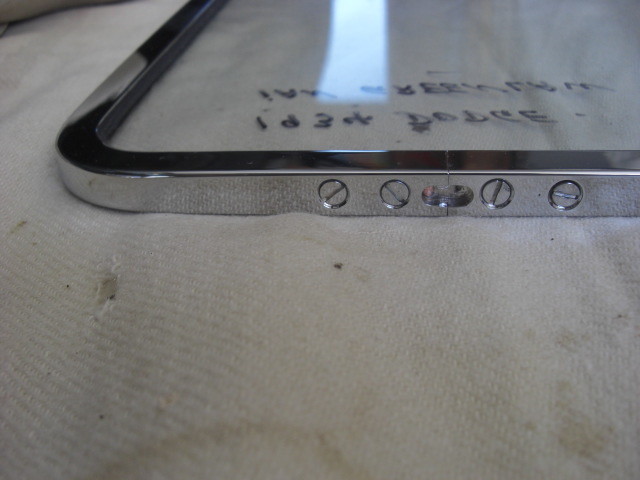 12-29-2012
Hey all,
Now Christmas has now finished and the family have gone to all the sales I can continue with the forum.
I've attached a photo of the wiring harness which when thinging about it did a fantastic job. It has little numbers at the ends of each wire and a sheet of paper explaining what each wire is for. Th efront windscreen was also finished so I picked that up and put, lying flat and covered, on the top shelf in my study. I found the rear window winders in a box of bit so I checked them out. I found one was broken so I set about repairing it as I has two broken spares ( from the previous owner ). Ground off the spot weld joins and pulled apart. Replaced the offending cog and reassembled. I took it to a friend of mine who spot welded the joins again and it worked ! I regreased it and wrapped it up....another small job done. The diff was also pulled apart by the previous owner and he also had a lot of spare parts for both the diff and gearbox. Again as I didn't pull it apart I took both to a specialist who had experience in rebuilding them and advised me the correct method of installing in the housing. What he didn't tell me was that it could go either way around. I had a photo of a friends diff so I mounted mine the same way. When I temporarily mounted the axles ( again of which I had 5 spare ones ) I couldn't quite figure what was wrong. Yep you guessed it I had it upside down so when I wanted to go forward, I would have done backward ( 3 gears of reverse and one of forward ). I contacted the guy I had the photo from and his was fine so I rechecked mine and the alignment and everything aligns up now and I will be able to go forward in 3 gears ! I was also lucky enough that the previous owner also cleaned out the fuel tank so I rechecked it and gave it a coat of fresh paint.
Cheers
Ian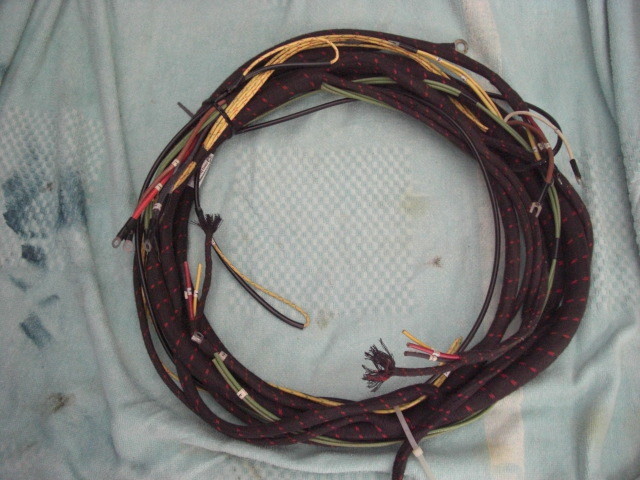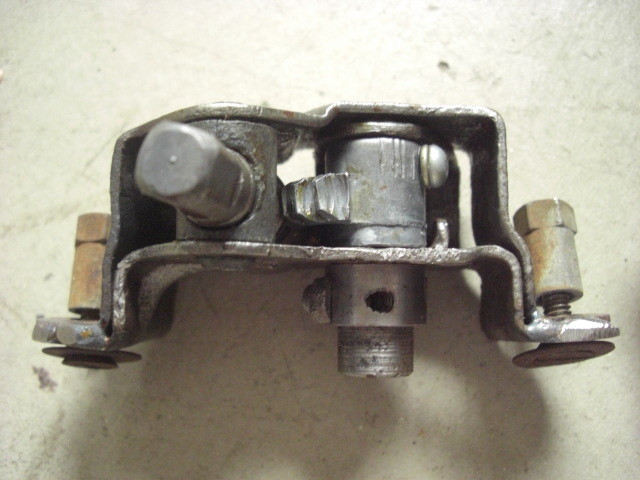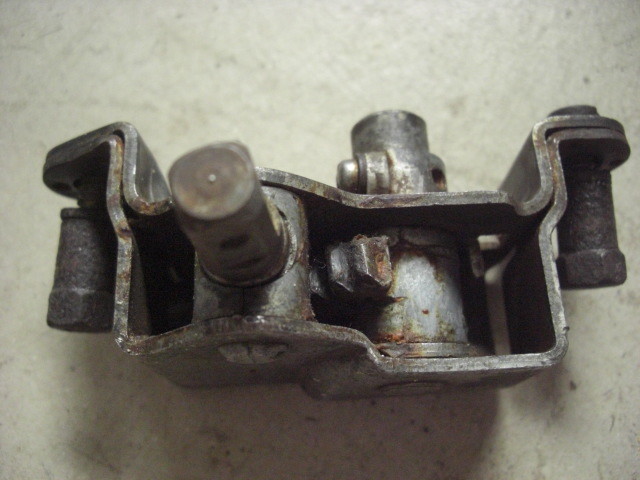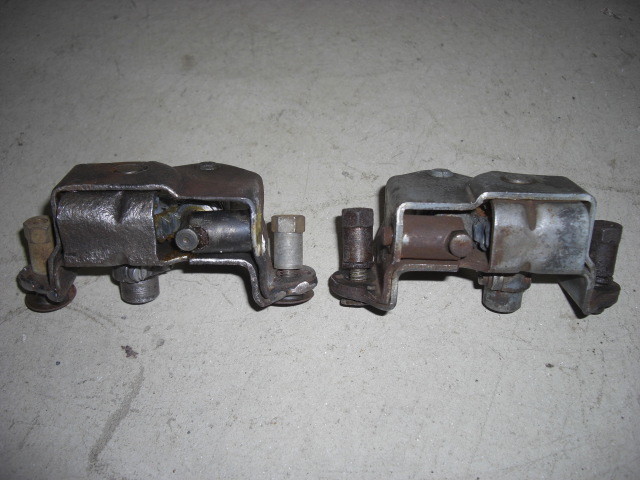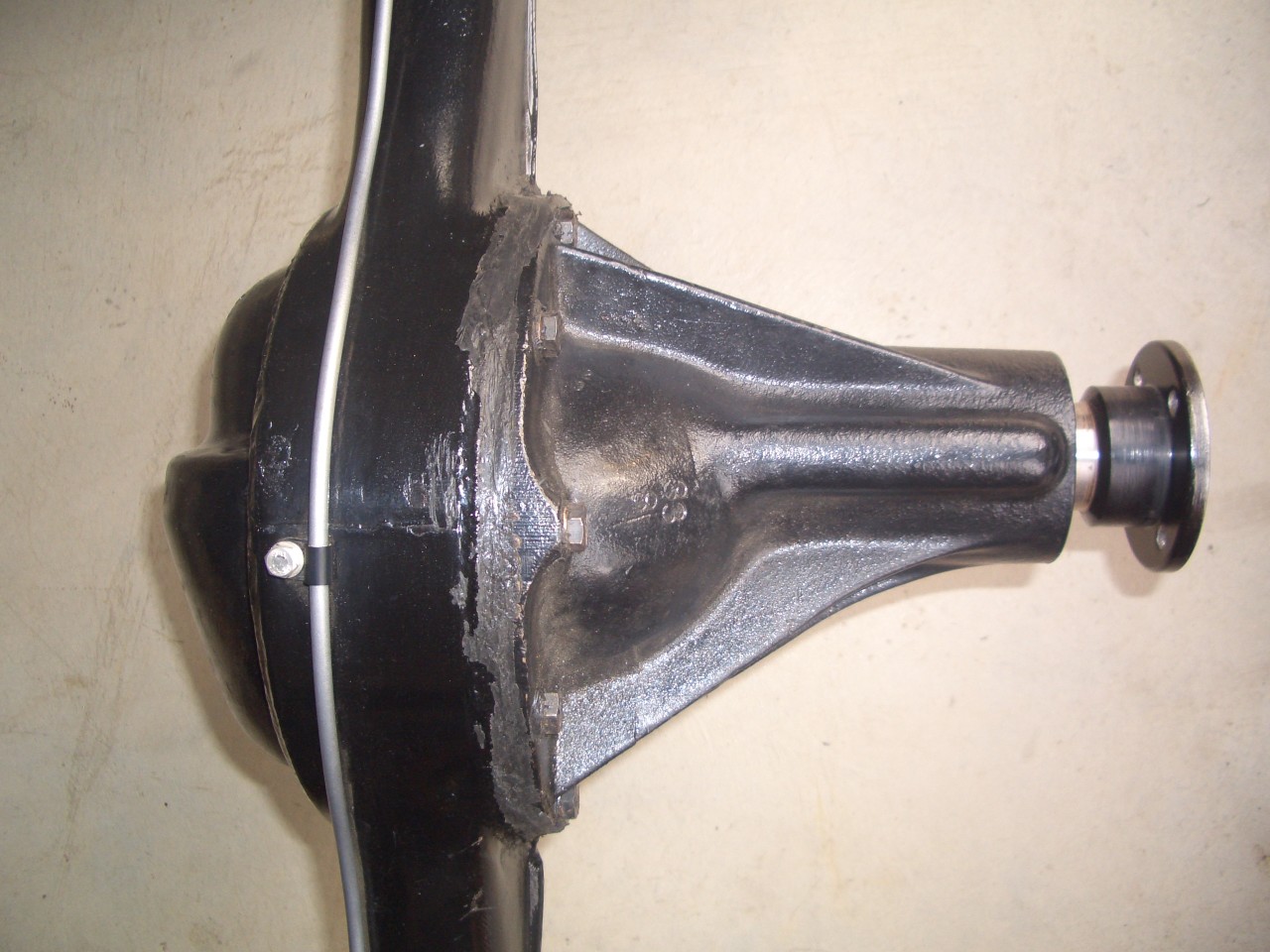 Hi Keiser,
I know it sounded a bit dumb but I stood there and thought which way does the engine turn. Then I looked back at the diff then back at the front and the more I looked the more I wasn't sure. Finally I had a break and then it all seemed to make sense. I thought to myself....you prawn what was I thinking.
The joys of restoration and confusion.
Someone else said to me once.....there are never any problems only answers ( obviously never restored a car ! )
1-5-2013
Hi everyone,
I pulled the radiator out from under the house and checked it out. The top oulet was completely rusted away however the previous owner had made a new one from Copper. I took both parts to the local radiator shop who had done some older cars before. They advised that the two tanks would be reused as well as the side mounts but the core was beyond repair. They replaced this, pressure tested it and sprayed the entire radiator black. Interesting thing is I temporarily fitted it to the housing and it fitted right in, with only one hole needing minor adjustment. Again a competant tradesman I wouldn't hesitate to recommend.
Cheers
Ian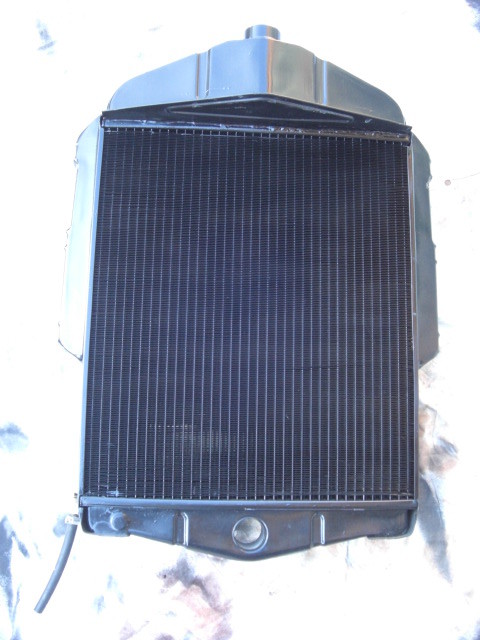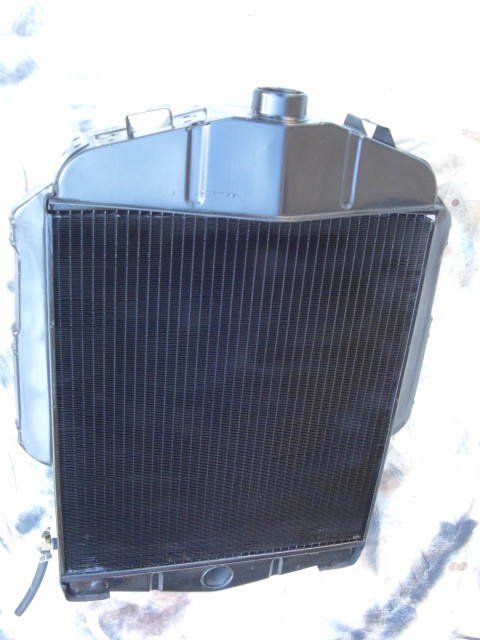 Oh yeah, you may ask why I didn't get the original honeycomb pattern for the core. Probably as it was triple the price of the one I got !
hi Pat,
happy new year to you too.
sometimes you have to compromise just due to the cost of things, but others you have to bite the bullet.
i try to get as close as I can but doesn't always work out that way.
as a side note my niece is in Banff at the moment and I showed her the photos of you pushing your car body back home after being painted. she's since sent some photos and jeeze it looks cold there. then again it got to 43 here on Friday ( about 110 in the old scale ). I just wait till it passes then back to work on the car.
ian
1-27-2013
Hi all,
Just up the road from where I work part time is a little factory that specialises in restoration of shock absorbers. I have been recommended a number of time to these people and took along mine. Within a few weeks I got a call that they were finished. They completely refurbished the internals and painted them black as well. Effectively ready to bolt on, which is what I did as soon as I got home. So with the fuel tank mounted, the diff in place and the new brake and fuel lines also in place things started to look like a rolling chassis.
I aslo bought a pair of horns at the swap meet incase I couldn't find a pair of original ones. I figured, at that stage anyway, that at least it would look the part. I'm still not sure what they are from but they certainly are nice horns. I also needed to find some type of indicators as these are required to get the car registered in Australia. I also wanted to find some that, as best as I could, would match the large bullet headlights. You can see in the two photos what I found.
I also took my old speedo cable to a shop that specialises in the restoration of guages and cables and they made me a new one as the old one was showing a lot of wear.
Next I'll get the guages checked.
Cheers
Ian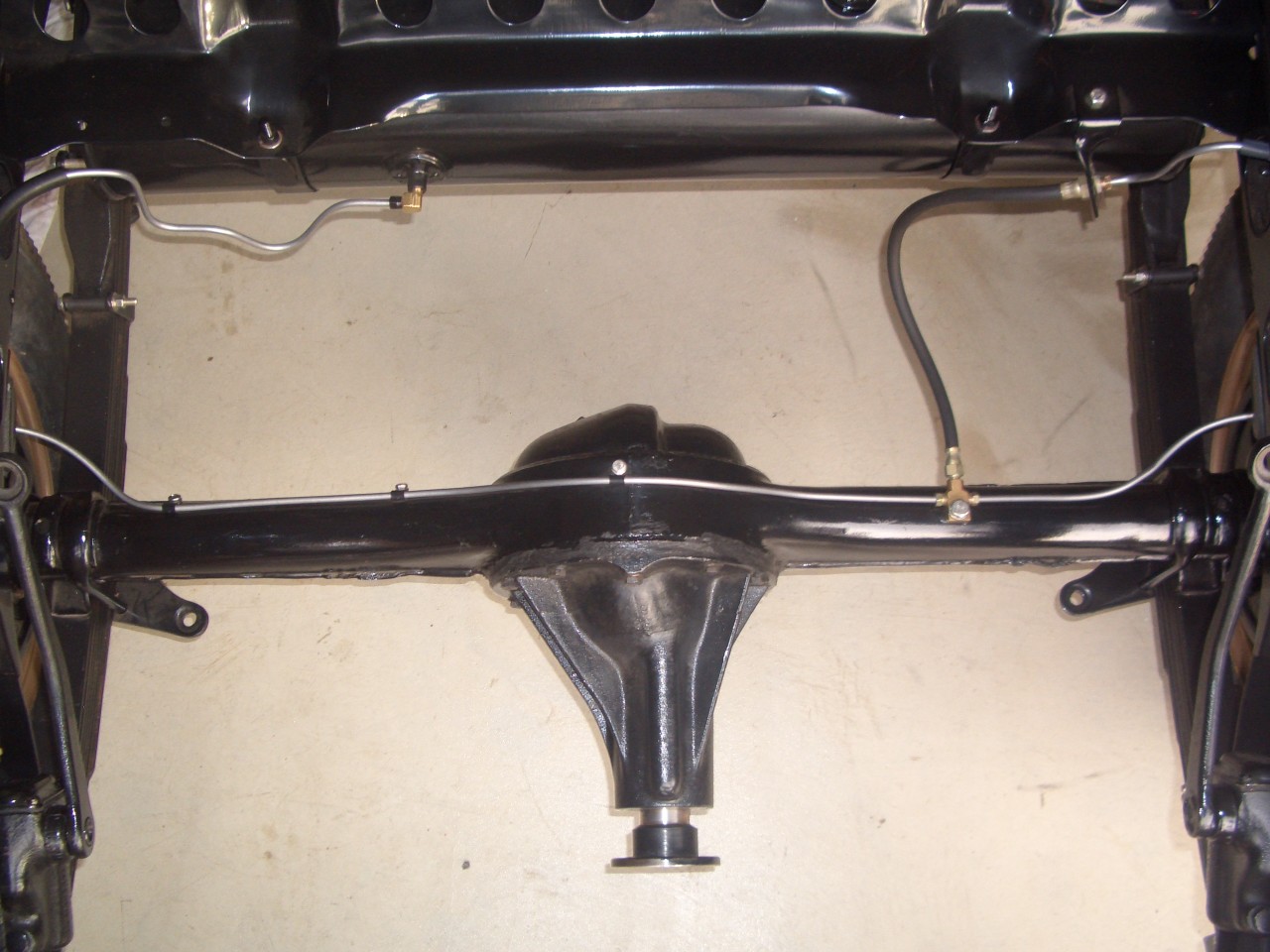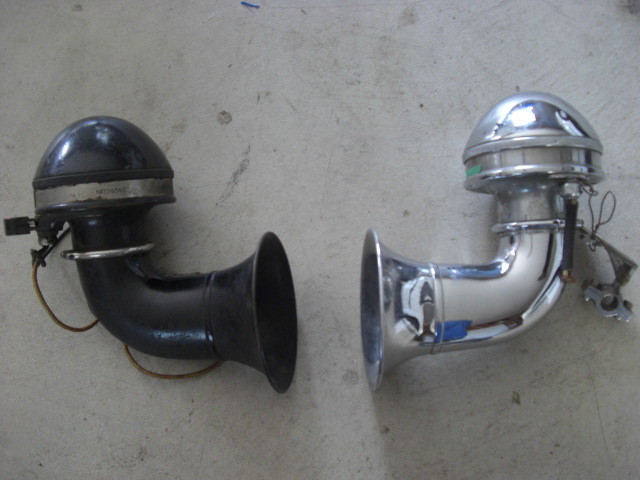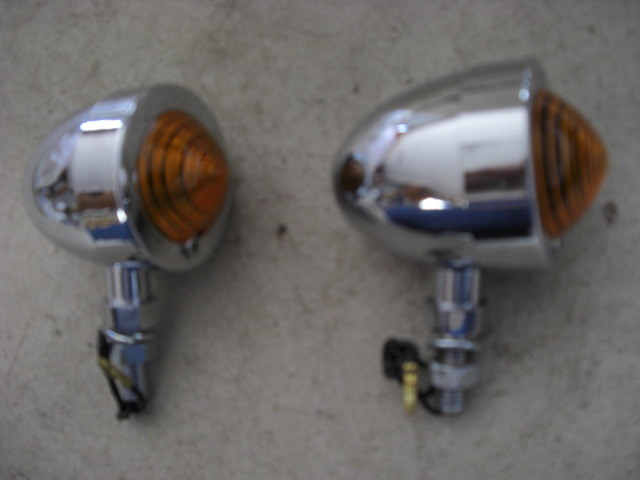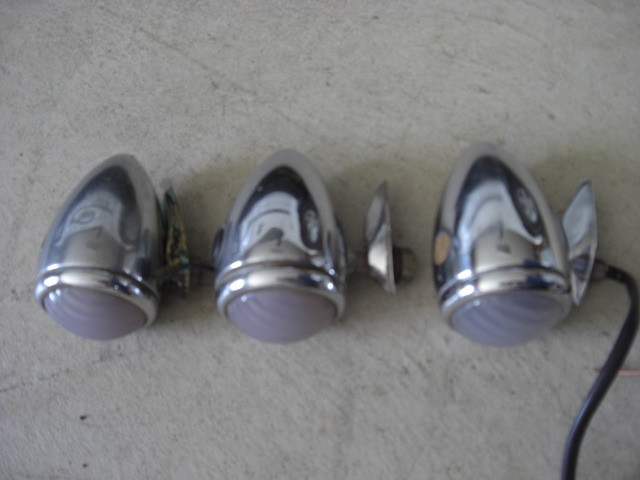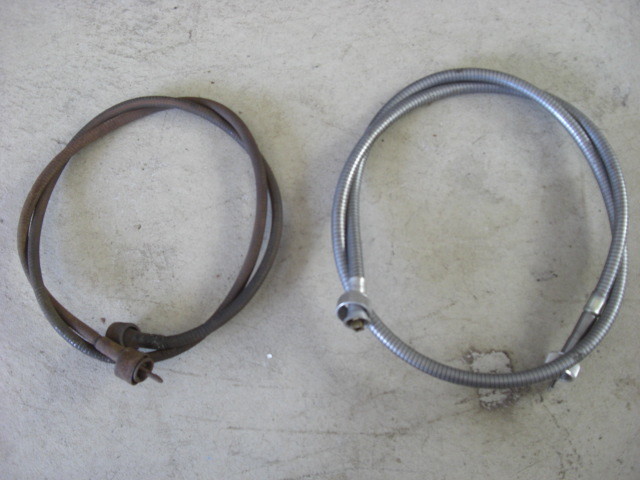 2-13-2013
Hi all,
Took the instrument cluster to a specialist and he reconditioned the speedo but just checked the other guages. Finished off the brake line for the front of the car and fitted them. Got another company to make up a couple of fuel lines. One from the chassis to the fuel pump and the other from the fuel pump to the carby. Not sure if that length is right or not but hopefully will sort that out later.
Not sure what takes place around the world but in Australia ( Victoria ) you can buy personalised plates providing they are no more than 6 characters / numerics long. Also the less amount of letters / numbers you have the more you have to pay for them. This entitles you to keep them and at a later date register a car and use these plates ( another fee applicable ).
I decided on DODG 34 ( as other combinations were not available ), searched to see if that combination was available and bought them. I dont know if I mentioned this in previous posts but I did have the opportunity to buy the original plates but he wanted $3000. You know when you look back 10 years later and think to yourself I should have bought that ? Well we didn't have the money at the time and a young family so I had to pass. The original 4 digit plates are now worth approx $50k. Glub.... oh well can't have everything.
I also decided I'd put in an electric fuel pump and filter hidden in the chassis rail alongside the shock absorber. This should be handy in case of vapour lock or priming issues. Again we'll wait and see.
Cheers
Ian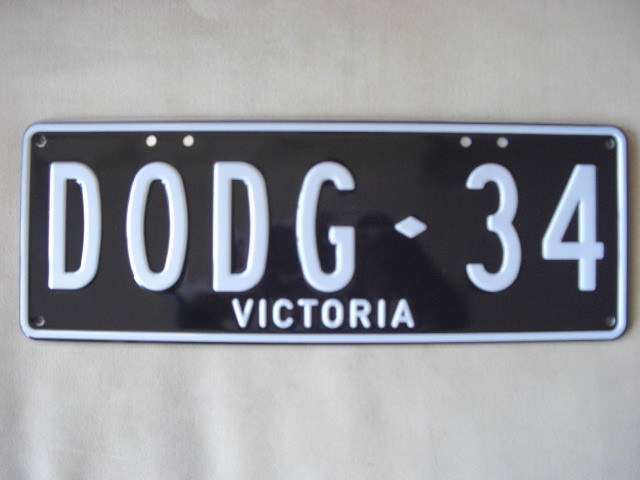 3-9-2013
Hey all,
This was about the time I started to look at the motor. The previous owner had stripped it and put all the pistons and internals etc in a can full of diesel. I had an engine rebuilder come over and have a look at it and basically said it would cost a small fortune to restore it. I spoke to another friend of mine a little while after that and he said he'd thought he'd heard of a guy not far from me who had a Dodge engine. After a few phone calls I traced it down to being 10 minutes up the road ! I went up and saw him and a chap that owed him money went broke and gave him this "restored" engine as payment. I took both engines to my rebuilder and he proceeded to strip the second engine down. He said it was in good condition and he could rebuild it for a third the cost of the old one. I decided to go for that option and he stripped everything down. I didn't hear much for a while and I went over and saw him. He'd stripped completely the engine and was working on it when I arrived.....looking good.
A few weeks later I returned only to find his wife there sorting things out. I asked about my engine and she said her husband only last week found out he had cancer and was closing the business. I took the trailer over and collected all my bits ( hopefully everything was there ! ) and returned home
I spoke to the chap who was going to do my body work and he knew of a motor restorer. I took the trailer to his workshop and let it with him in the hope of having a good engine job done. I did call in once and he had ordered a new set of seals / gaskets and was well under way.
Hey all,
This was about the time I started to look at the motor. The previous owner had stripped it and put all the pistons and internals etc in a can full of diesel. I had an engine rebuilder come over and have a look at it and basically said it would cost a small fortune to restore it. I spoke to another friend of mine a little while after that and he said he'd thought he'd heard of a guy not far from me who had a Dodge engine. After a few phone calls I traced it down to being 10 minutes up the road ! I went up and saw him and a chap that owed him money went broke and gave him this "restored" engine as payment. I took both engines to my rebuilder and he proceeded to strip the second engine down. He said it was in good condition and he could rebuild it for a third the cost of the old one. I decided to go for that option and he stripped everything down. I didn't hear much for a while and I went over and saw him. He'd stripped completely the engine and was working on it when I arrived.....looking good.
A few weeks later I returned only to find his wife there sorting things out. I asked about my engine and she said her husband only last week found out he had cancer and was closing the business. I took the trailer over and collected all my bits ( hopefully everything was there ! ) and returned home
I spoke to the chap who was going to do my body work and he knew of a motor restorer. I took the trailer to his workshop and let it with him in the hope of having a good engine job done. I did call in once and he had ordered a new set of seals / gaskets and rebuilding was well under way.
Cheers
Ian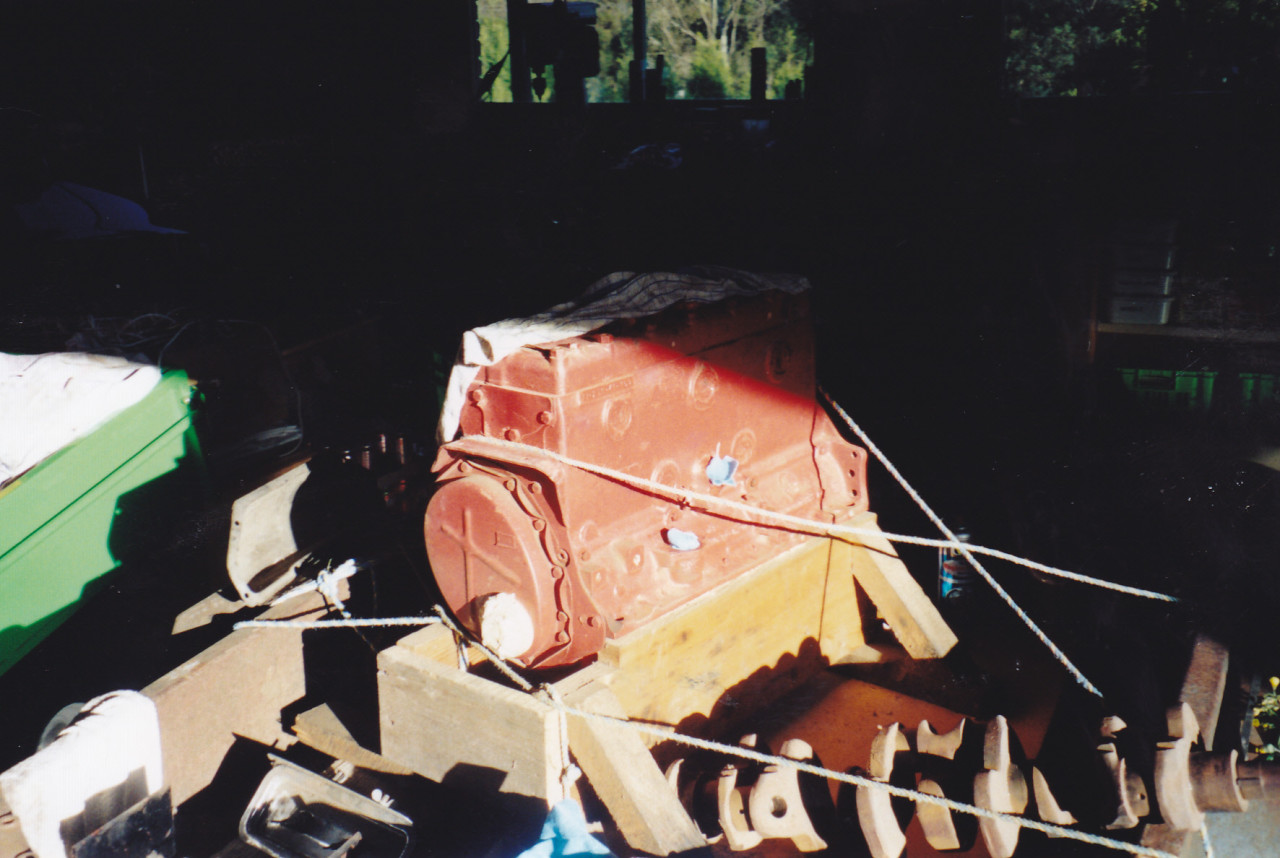 4-9-2013
Hey guys,
After I received the engine back from the rebuilder I had the flywheel resurfaced to get an nice even surface after I cleaned it up. The previous owner had bought a new clutch and pressure plate. I had some parts from an old Dodge engine he dismantled and I was able to find a main drive gear to use to align the clutch plate.
At this point I also bought some various rubber products from a local supplier. He made quite a number of things for various makes and I was able to get the gearbox dust seal, new engine and gearbox mounts, spare wheel grommets etc. Unfortunately he moved to an Island in Westernport Bay and had a few health issues and I was never able to get in contact with him again. To this day I still don't know what became of him. He just seem to have disappeared off the radar.
As this engine didn't have two steps in the sump ( which went around a support bracket for the spare wheel carriers ) I had to get the bracket modified, repowdercoated and I installed that in its place. I also bought the nifty dry seals for the spark plugs from a guy in America. I had a few other various brackets, valve covers, fan blade, oil filter bracket chromed as I like the look of a clean shiny engine. I think that came from my younger years when I had a show car ( Holden HQ Station Wagon ). I had the air cleaner blasted and painted as well as the oil filter base.
Cheers
Ian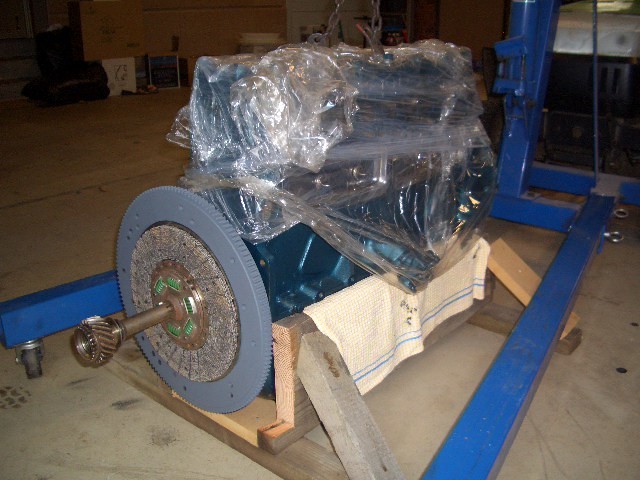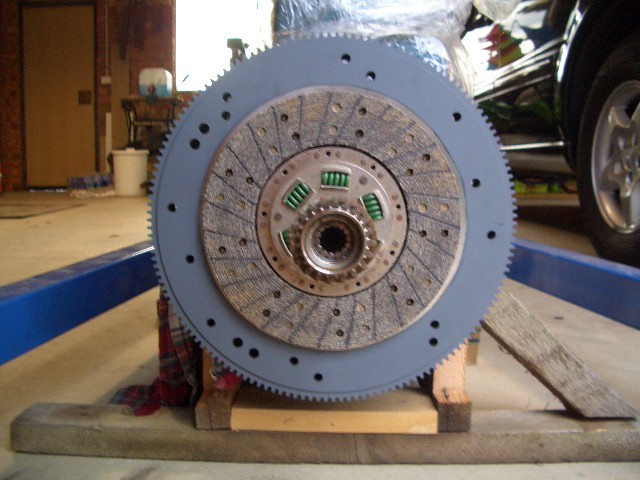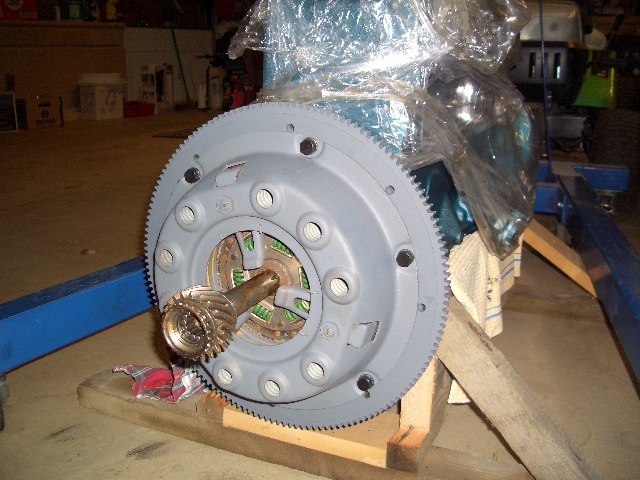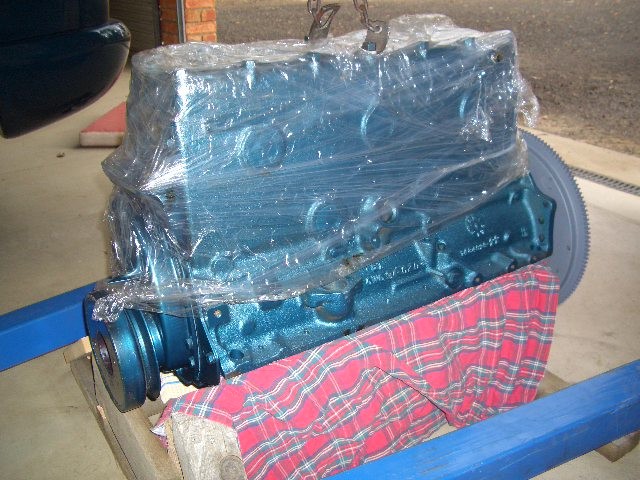 5-11-2013
Hi everyone,
With the help of my brother, I was able to get the engine mounted. I got the original water inlet and the base was slightly pitted. I spoke to a friend of mine and he said to get wet and ry paper and sit it on a sheet of glass and keep rubbing until the pitting is gone. Well that worked a treat and I was able to get an excellent seal to the engine head. I also mounted the exhaust and inlet manifold that I cleaned up and painted in 1200 deg paint. Also maounted the steeing box and rod and the carby that I also had rebuilt. AS the previous owner shaved a small amount off the bellhousing to house a more modern starter I found a guy who modified a starter motor so it would bolt straight onto the bell housing.
Cheers
Ian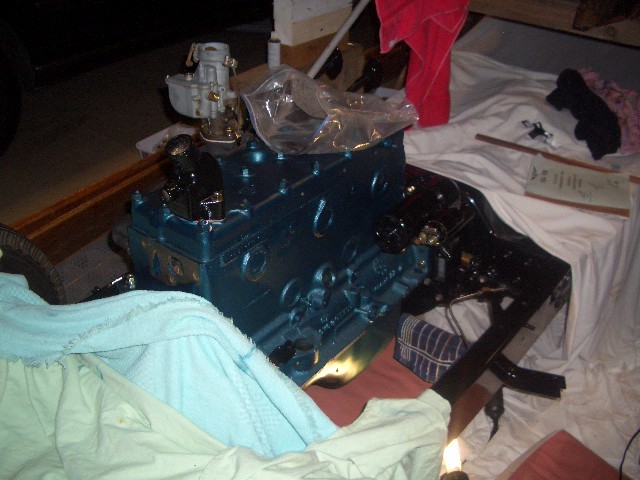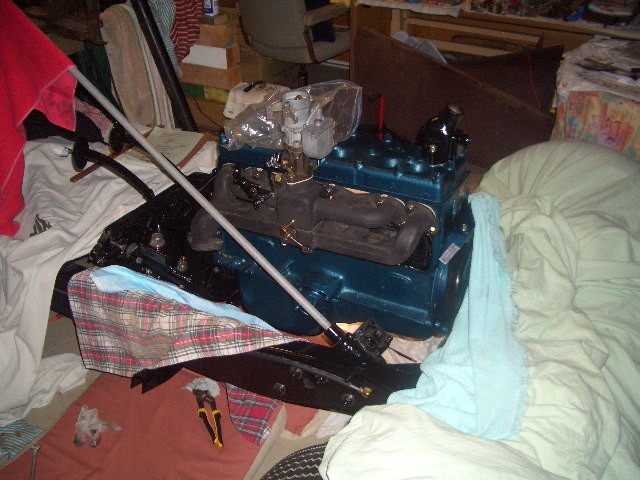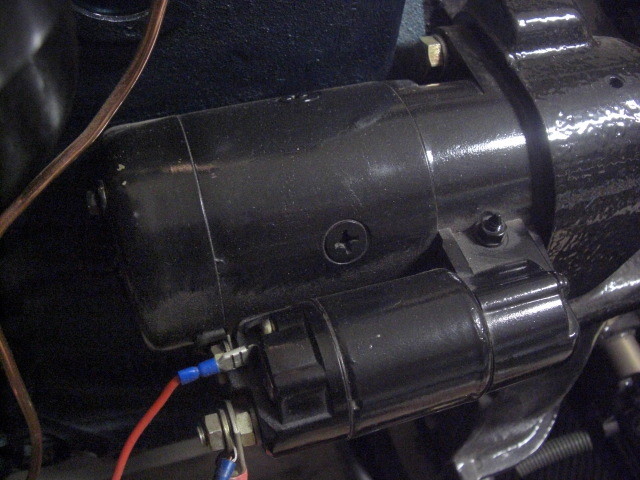 5-12-2013
hi Pat,
he did tell me he had it shaved but he was going to use a Toyota Crown starter motor. I must admit he has been very helpful when I contact him for information....or at least what he can remember. he even told me as a kid they use to pinch parts off it when it was parked in the street....how's that for karma ! Sometimes I'll ask him say about the roof and he seems a bit vacant with what happened to the timbers but then he'll give 5 bits and say that's all he had....so I don't know what happened to the rest if them.
Ian
5-17-2013
Hey all,
Attached the fuel pump which I had rebuilt and the fuel line between the chassis and the fuel pump. I had them done in braided stainless to hopefully give them a bit more shielding from the heat. I also had a the fuel line made for between the fuel pump and carby so temporarily connected up that one as I'm not 100% sure where I'll attached that one yet. I also bolted on the fan pully and fan blade. I had that heat treated as a safety measure. I also cleaned up, repainted and attached the accelerator / choke linkage to the carby. The oil filter cannister I had repainted and the engine breather top chromed and the base repainted. The generator I had rebuilt to 12v specs so I attached that as well as the chrome attaching bracket. The water pump was rebuilt by a local guy that specialises in them. He puts new bearings in them as well as an improved impeller that helps with the water flow. I also attached the bypass pipe as well. The top of the oil filter I had polished so now I have to make the lines from the cannister to the motor.
I must say this was an enjoyable part as I had most of the items completed and was able to bolt a lot on the engine in a few days.
I also took the radiator surround to the body shop as I wanted this plated. He knocked a few small dints out of it at the bottom and had it copper plated to start hand sanding back to a smooth finish. Looking forward to seeing the end product.
Cheers
Ian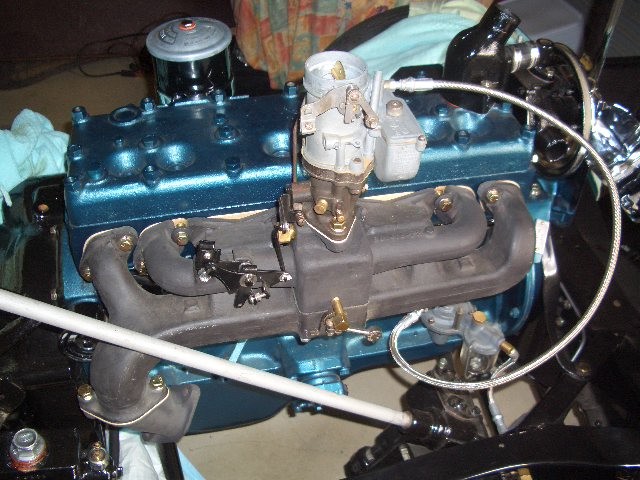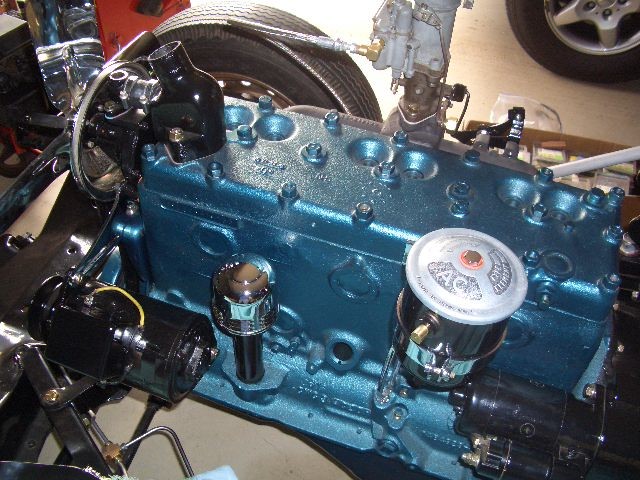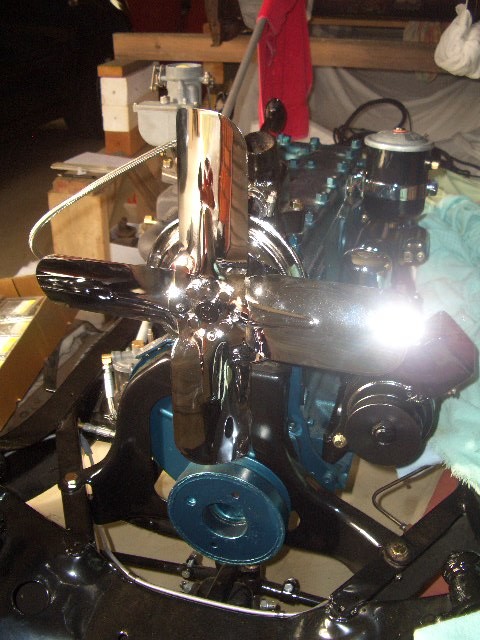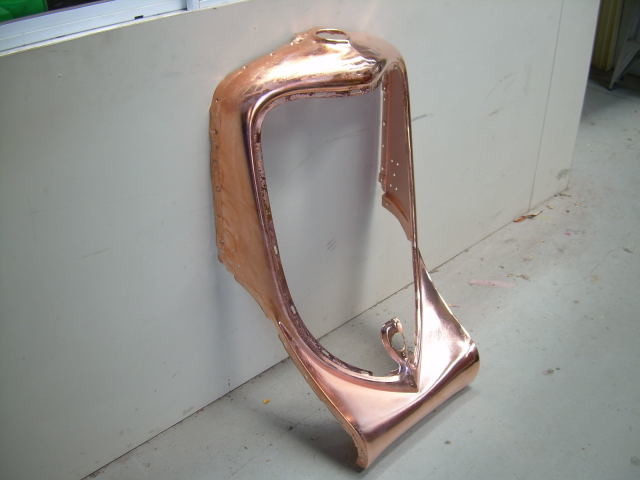 5-21-2013
Hi everyone,
I've posted a few closeups of the Generator, Breather cap and oil filter. I rebuilt the distributor and cut the hight tension leads for the correct length. I bought some water tight spark plug covers that the high tension leads go into. I mounted the High Tension Lead "spreader". I also had the base of the air filter painted and got the top chromed. I made the copper tubing for the oil filter and distributor and got some "P" clips to hold them in place on the engine. I also made up a temporary ignition set up with a switch for the ignition, starter and fuel pump and I ran new battery cables from the battery to the starter and earth. I also temp mounted my new coil and an oil pressure guage. When the radiator surround returns, I'll mount the radiator fill it with water and test it. Hopefully it wont blow up in my face ! I also had the gear lever chrome plated so thats why it looks a little dodgey ( hahaha.....dodgey !!! ). Sorry.....its been a long day !
Cheers
Ian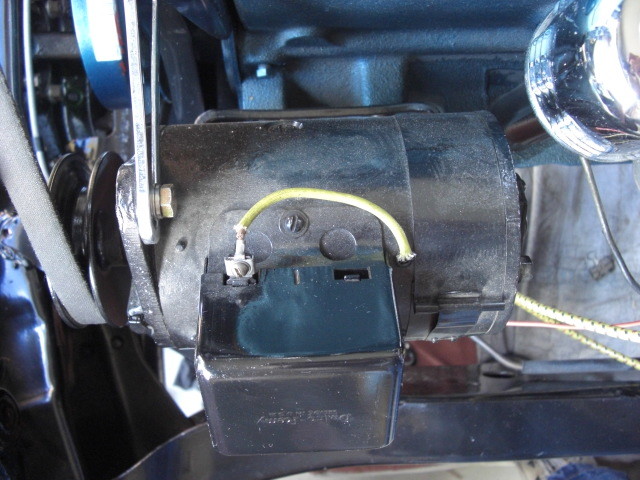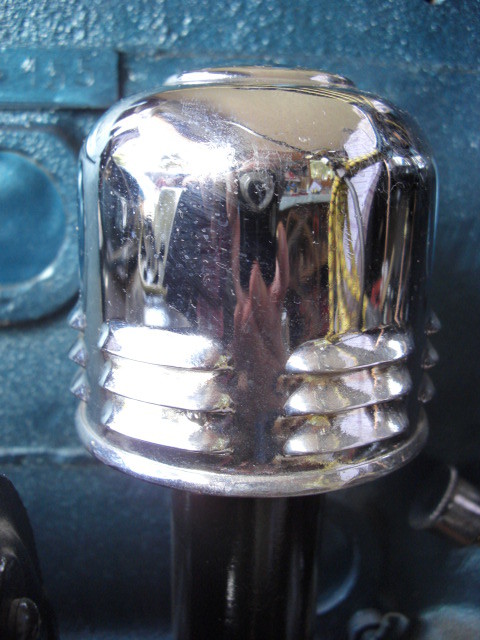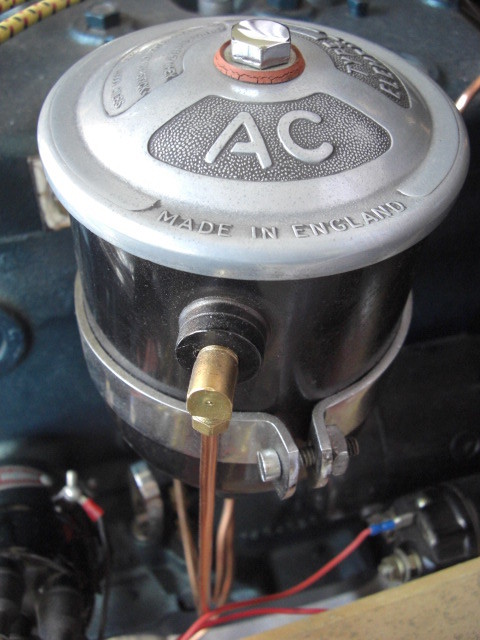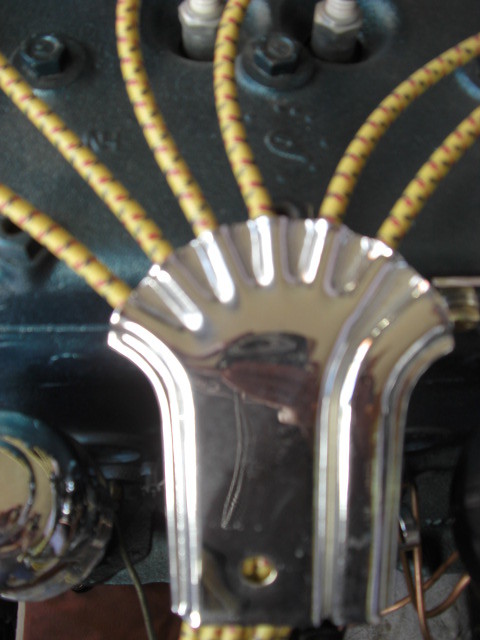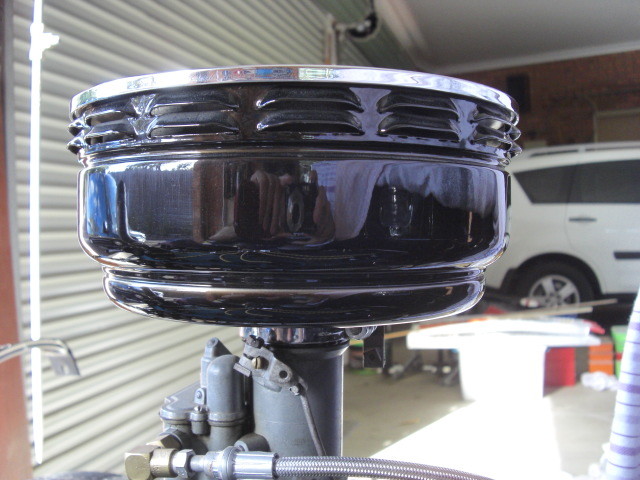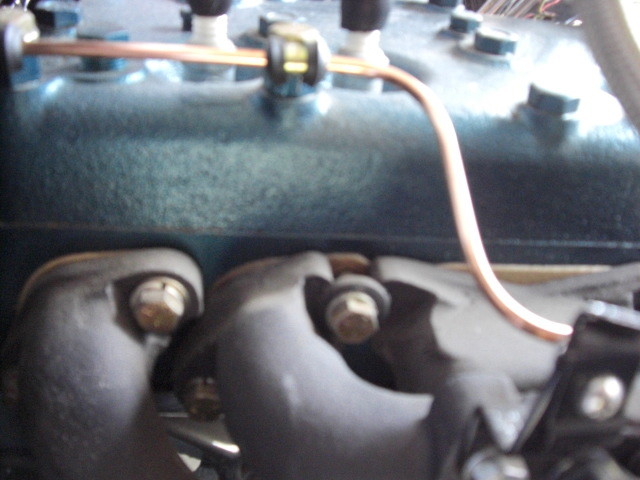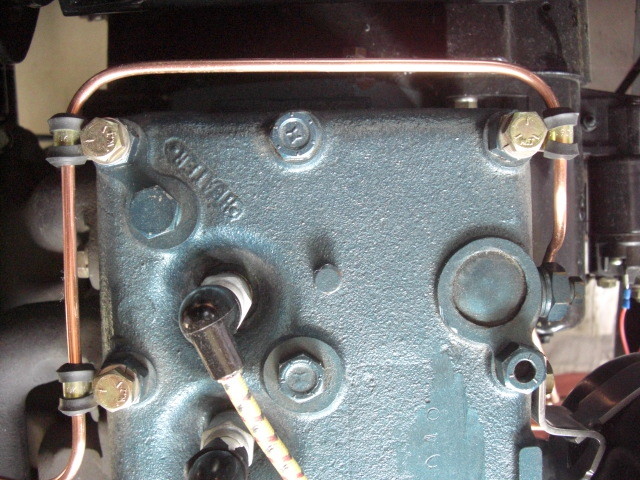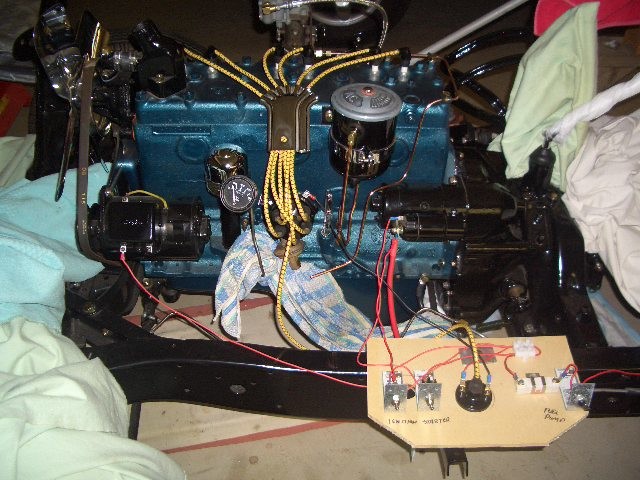 5-24-2013
Hi all,
Got the radiator cowl back and he did a brilliant job. ( mind you it hurt the bank balance something fierce !! ). I'll decide later if I'll leave as is or I'll get the front part painted as it forms a point at the base where the crank hole cover goes. Mounted the crank hole cover and I found a guy in central Victoria that redoes the glass enamel emblems. I sent him my original but he said it was too far gone so he said he'd keep an eye out for one for me. Two weeks later he found one and he restored it to original. The skills these people have ! I've attached a photo but this is a 1933 emblem so mines a little different but you get the idea of the quality of work he does. Installed the radiator into the surround and mounted on the chassis. Connected up the radiator hoses. I also put a little extension hose on the drain tap of the radiator so if I did drain it, I wouldn't get radiator fluid everywhere. This hose just pops out below the chassis. Also had the tailshaft fitted with universal joints and balanced and I installed that as well. I bought an Optima red battery as they tend to have a long life when not in use as much. Only thing now to do is start her up and see how it goes. I'll have to wait until a friend drops by as I promised I'd wait until he came over.
Cheers
Ian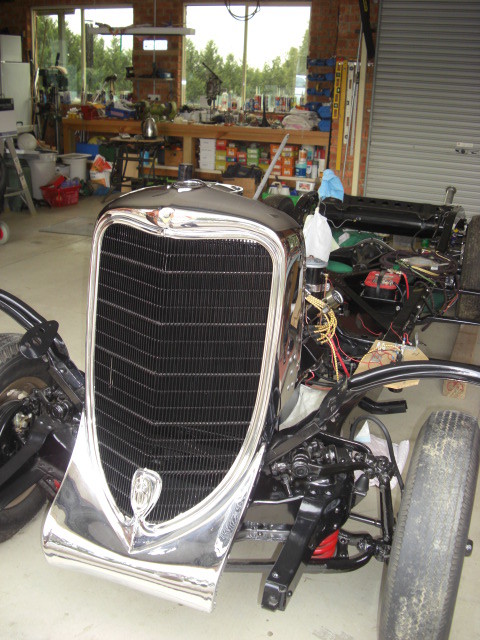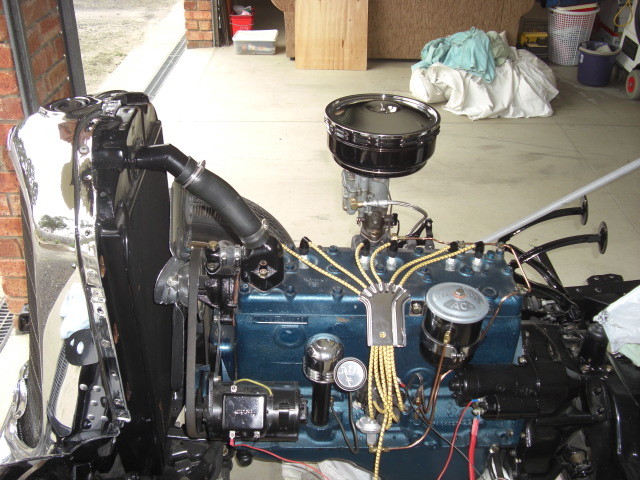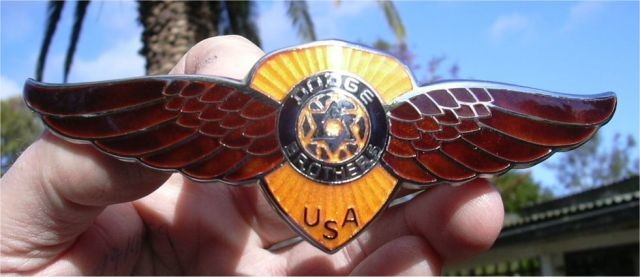 6-22-2013
Hi everyone, Went to start the engine and couldn't get it to fire. Had excellent compression and turned over nicely. No fuel in the fuel bowl. Checked the fuel filter I installed and there was fuel in that and all seemed to be ok but still no fuel in the fuel bowl. Decided I'd pull off the short fuel line between the outside of the chassis and the fuel pump and these was the problem. When they made the fuel line they didn't drill a hole in the end for the fuel. Good one ! Drilled a hole, reinstalled the line and she coughed and spluttered a few times and finally ran like an engine should. Holding good pressure too so at least everything worked. Did a few adjustments and left it as it was so I can start it once a month as suggested by the engine rebuilder. After searching for a few years and pair of original Dodge horns came up on Ebay so I decided to buy these and I'll restore them later. No cheap but well worth the look to have original horns. I took my original running boards to Graeme my body shop guy and he had a good look at them. He said that to repair the rust, blast and replace all the surface metal as well as rerubber them the cost would be quite high as they are labour intensive. I spoke to a few people and was recommended Buckeye Rubber and two other people in Australia also wanted new boards. Graeme, my body shop guy for his 34 Chrysler ( as this has the same pattern as the 34 Dodge and Kevin who has a TJR Body Dodge in Portland Victoria. Graeme suggested I contact a friend of his who imports Mustangs from the States and all I had to do was to get them from where they were made to California. All seemed to work out reasonably well and the order was placed. All I had to do was pay the money, wait and hope they look good when they arrive. Cheers Ian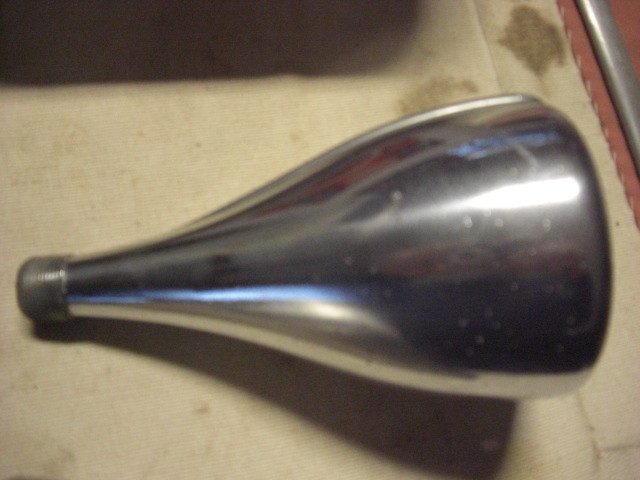 6-30-2013
Hi Ron,
I have the history of the car from about 1936 onwards. Unfortunately ( and not for the lack of trying ) I haven't been able to find out who it was originally sold to. I even applied to have the original build record sent to me and mine was missing. After a bit more probing I found there was a gap of approx 280 vehicles on the microfilm build sheets. One thought was that these 280 were marked for export and sent off around the world. One of the other members of this forum did say that records of exports were not kept, only locally sold ones. I don't know how many landed in Australia but again, only guessing, that a few were used as demonstrating models and when you ordered one you got the Richards Body. I haven't found anything promoting the Richards Body in a 34 Dodge so I wondered if you were thinking you got an all steel body and ended up with a Richards Body ? On the firewall mine does have RH and a number stamped on it so the body maker kept tabs on the body numbers but not the builds.
One thing I've learn't on this forum is the more you dig the more you find. I dug quite a bit but basically there are no records as to exports. Food for thought anyway.....makes interesting reading though.
I do keep searching when I get time and read as much as I can so maybe one day I'll find my answer.
Cheers
Ian
7-1-2013
mine is definitely a US built car as it is an all steel body. I've compared it to its Australian counterparts and there is a huge difference between them both structually and finish wise. the Aussie ones also had 3 hinges on the doors and mine has two.
where was the book you looked at located. interesting to be able to find it. I'd love to be the custodian of that and help other people locate their cars.
7-17-2013
Hey all,
I finally received the running boards ( all 3 pairs ) and went out to an outer suburb to pick them up. Didn't realise they were that heavy ! The guy there said he slid them under a couple of mustangs he was importing. When I went to settle the bill he asked me what I thought it was worth in freight to bring them in !!! I didn't have a clue and i was expecting $500 to $600 ( $200 a pair I thought was reasonable. He said make it $140 cash for all of them ! Couldn't believe it, paid, collected and drove off as fast as I could before he changed his mind. You have to win sometimes I guess. A friend has since told me he was looking at paying $500 for one pair to be freighted in.
Next job was to have a look at the mascot....another fiddly job. Underneath the emblem were four lugs and a tapped hole in the centre. The only way I though of doing this was to make a brass plate that would lock into the lugs, drill a hole in the centre and somehow bolt the radiator cap to the brass plate before tightening the centre bolt. I measured the opening in the radiator and after emailing a few people on ebay I bought a few 1929 Packard ( as it was advertised ) radiator caps. You'll notice a raised middle circular section. I had to flatten this down so I gently tapped it flat. I made up a brass plate and drilled four holes for the lugs to go through and a large hole in the centre for the main bolt. I tapped the sides so they looked more rounded and put on the radiator neck and put in the lock position. This gave me the the centre point that the ram needs to face. I then drilled two holes through the brass plate and the radiator cap and bolted the two together. I checked that when this assembly was bolted to the underside of the ram it would be off centre. I put a stainless bolt in the underside and bolted the assembly to the ram. The whole rams sits sideways when first placed on the radiator and when in the lock position it faces straight forward. Glad it worked first time. A lot of checking and rechecking but look the part.
Cheers
Ian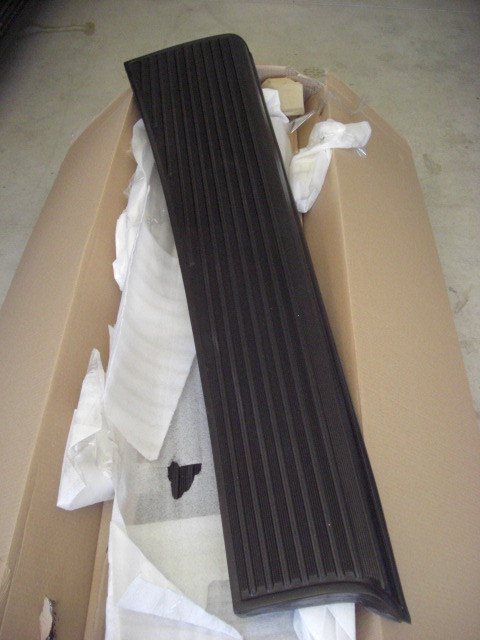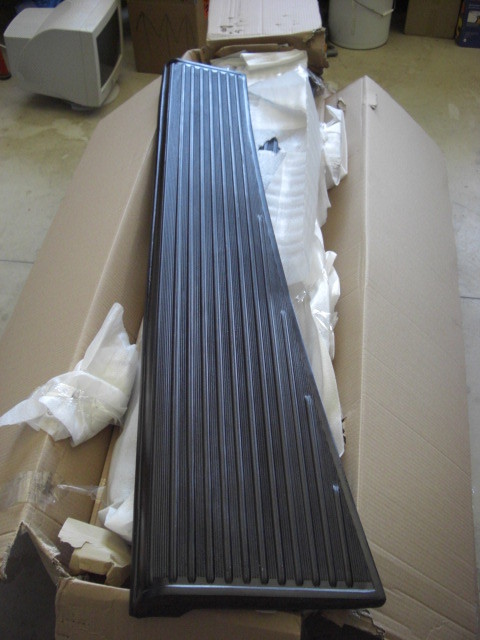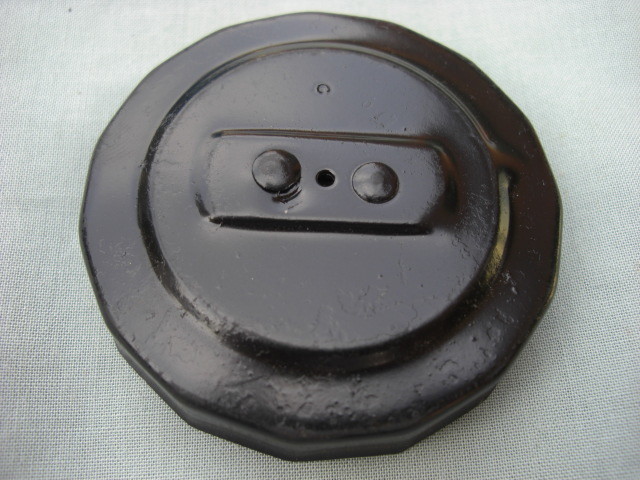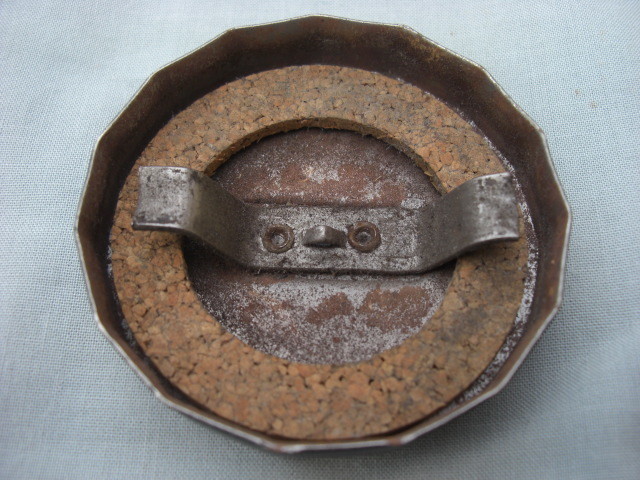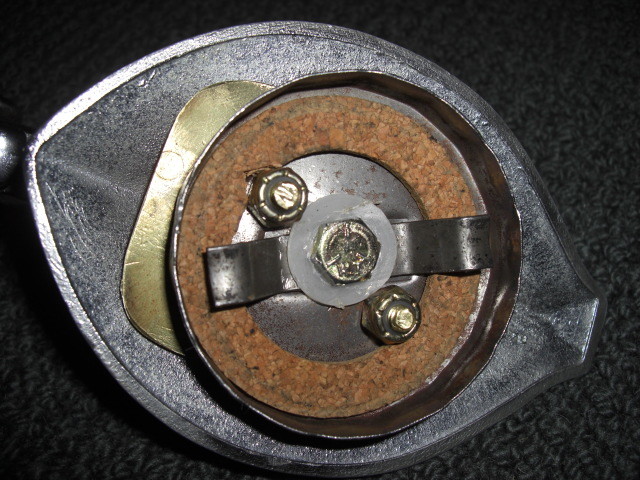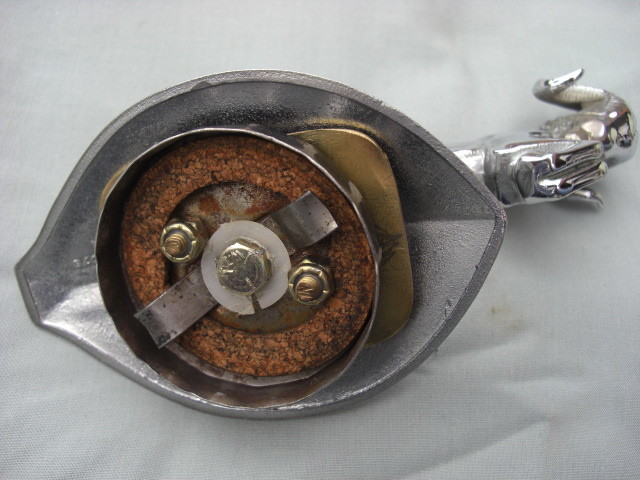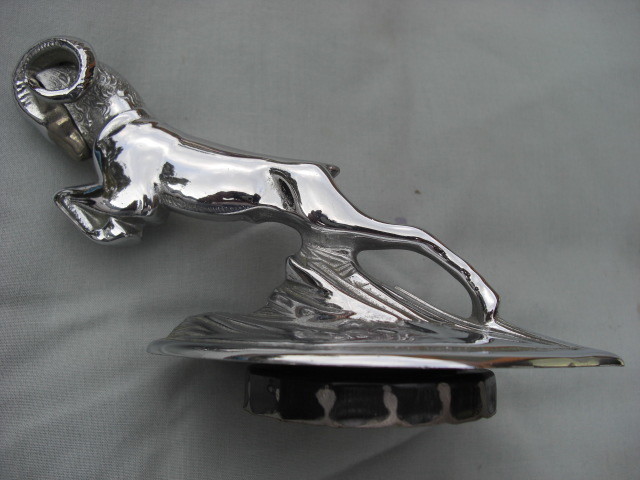 8-17-2013
I started to pull the horns apart and found the screws a little tough going. I'll replace them down the track with stainless steel ones so a friend of mine was over and we decided to pull them apart. He held them and I got the screwdriver onto them. Then.......disaster struck ! The threaded end literally dropped off one of the horns. Bugger ! Anywho as my daughter says ! We both looked at each other then kept on going and removed all the screws. Closer examination revealed metal fatigue probably from vibration over rough roads put an end to this I thought. It probably took me 3 months of asking people and mucking around with them until someone ( can't remember who ) came up with a brilliant idea of how to fix them. Only problem was he'd have to cut the thread ( which we assumed was ok at this stage ) off the good horn to match the other one. What we did was to make a tapered sleeve that would fit inside the horn with a smaller reverse thread sticking out the end. A threaded collar would then be made with a matching thread on the inside to match the tapered pieces thread and a larger thread on the outside to match that of the elbow that sits below the horn body that this bolts onto. The end result is that you'd have a thread that looks identical to the original and at the same time is stable to hold the horn trumpet in place. That cost a few hundred dollars but I bit the bullet as the other scenario of losing a horn on the road wasn't very appealing. Hope this all made sense. The next job is to find a way to get them replated. Cross that bridge a bit later.
I also bought a big box of strip and clean discs as the guy who is doing my body work suggested that I do the panels by hand and blast the inside of the panels. I guess I'll be tasting dust for the next few months while I do that job.
Cheers
Ian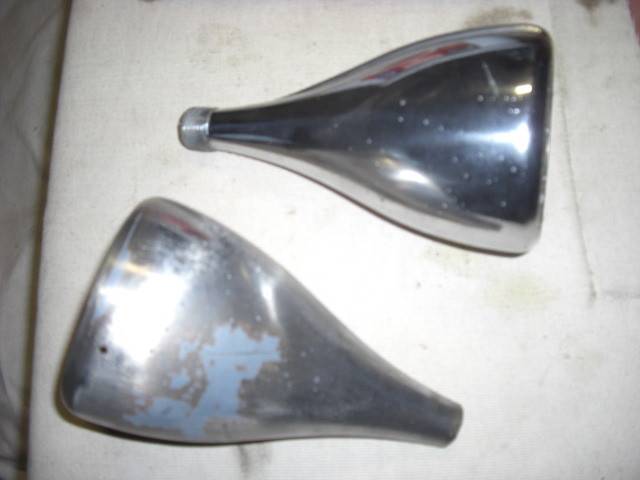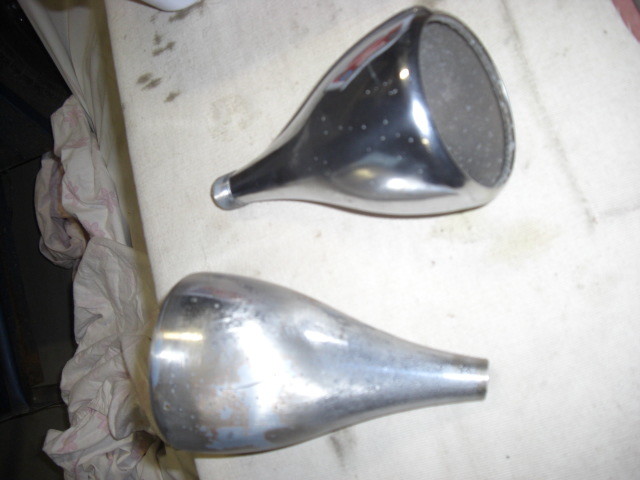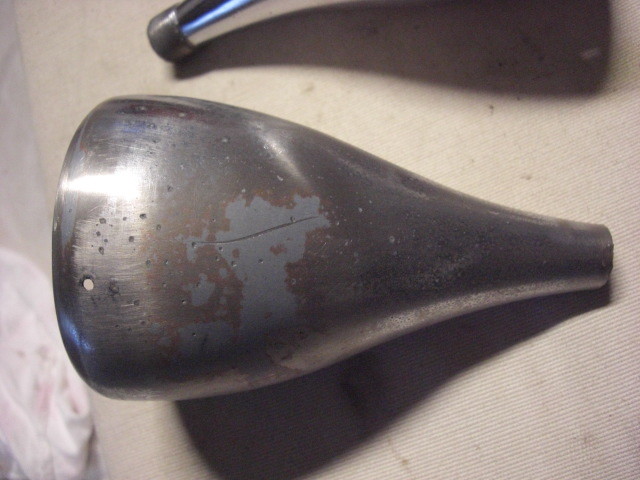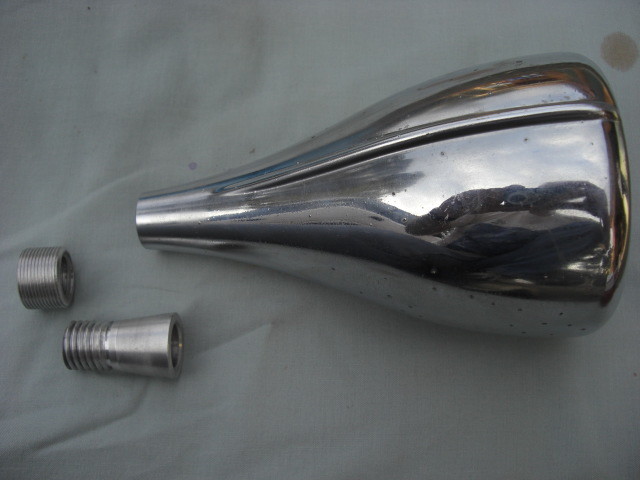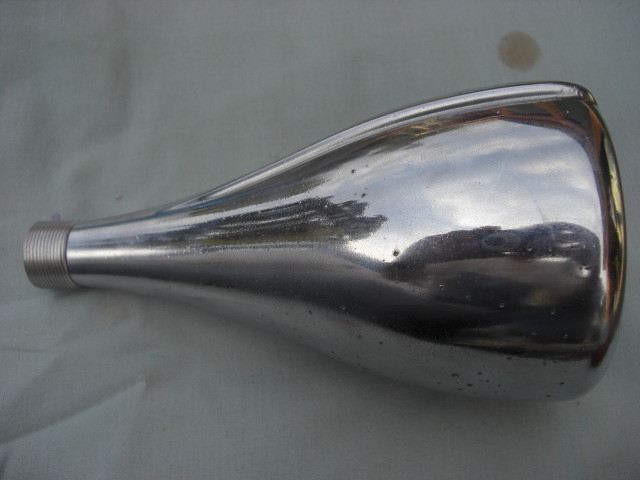 10-31-2014
Sorry guys its been a while since I posted and have been working furiously on the car trying to get it finished but looks like the finances took a hit and it will hopefully be next year.
The next phase was to hand strip the body panels of all paint. It was suggested I do the outside but hand which is a lot gentler, but the undersides I should get them bead blasted. So commenced the entire body of painting with paint stripper and using a "strip and clean" disc on a polishing machine I was able to do a reasonable job. I used a wire wheel in a drill to get into the hard and tricky areas. One interesting this was that after nearly 80 years, not one spec of rust in the doors. The other problem I had was that the rear of the car was belted in as through whoever drove it last regularly reversed into everything they could find. This would have to be replaced once at the body shop. I actually enjoyed the stripping as you could see the weld seams and the car actually became to look a consistent colour ( polished steel ). I then coated the bare steel with WD40 to prevent rusting. I did uncover some rust areas in the lower cowl and wheel arches but nothing major at this point.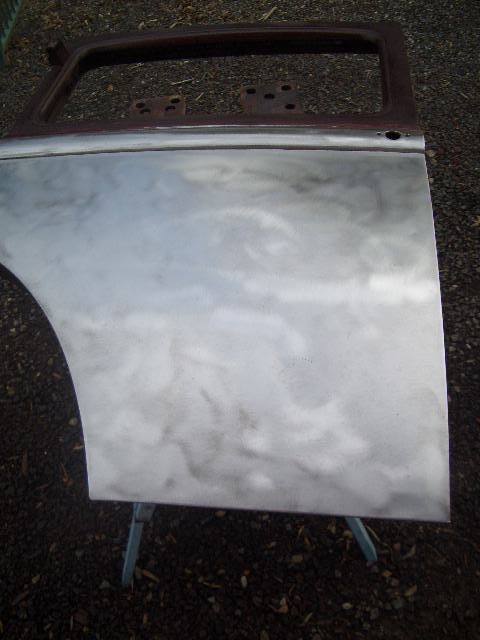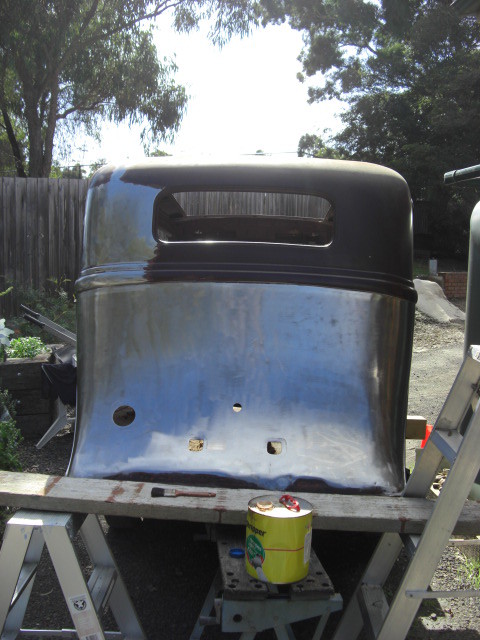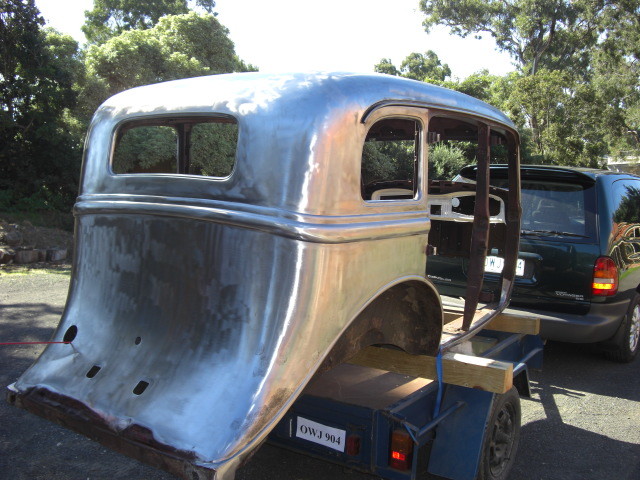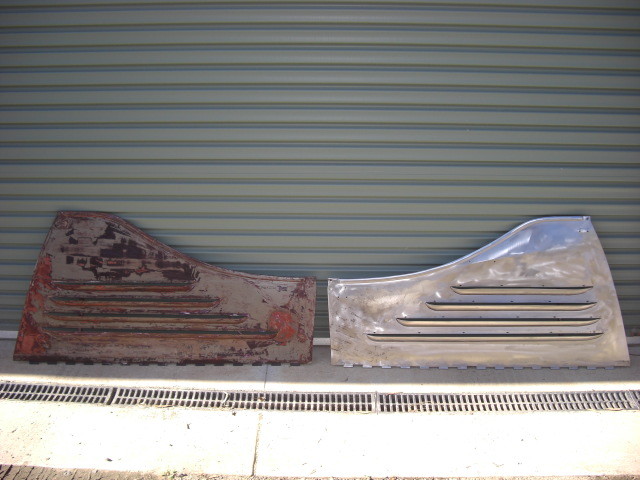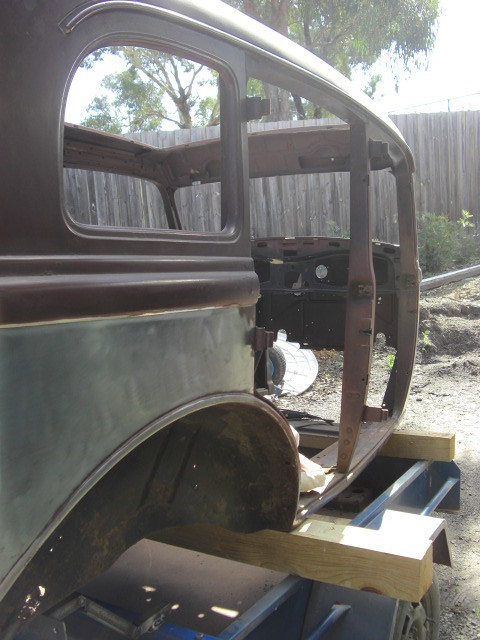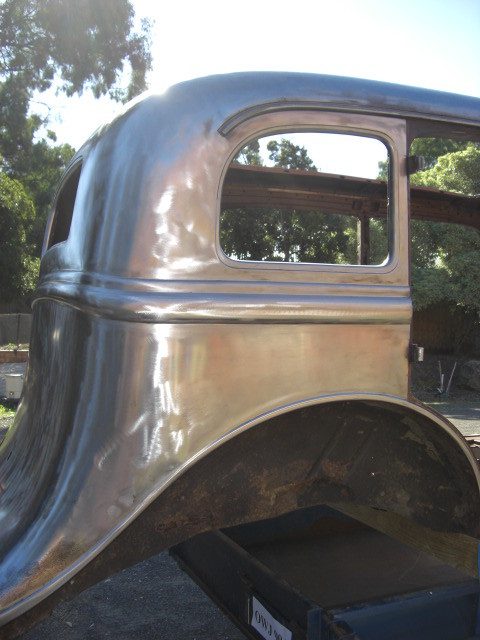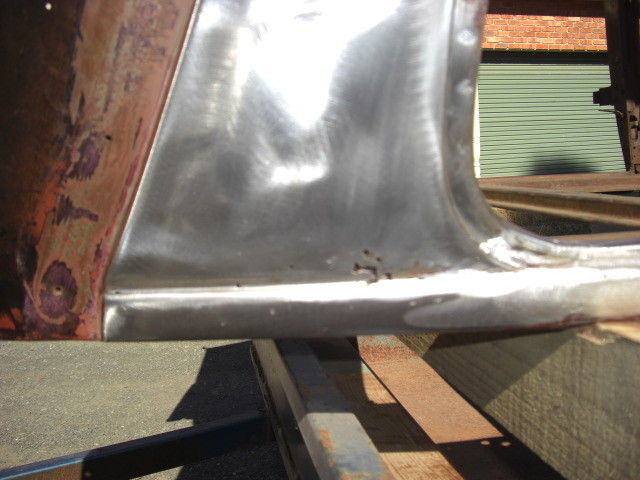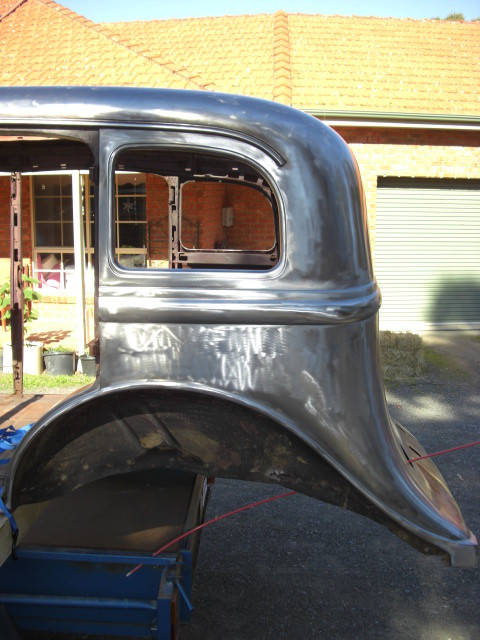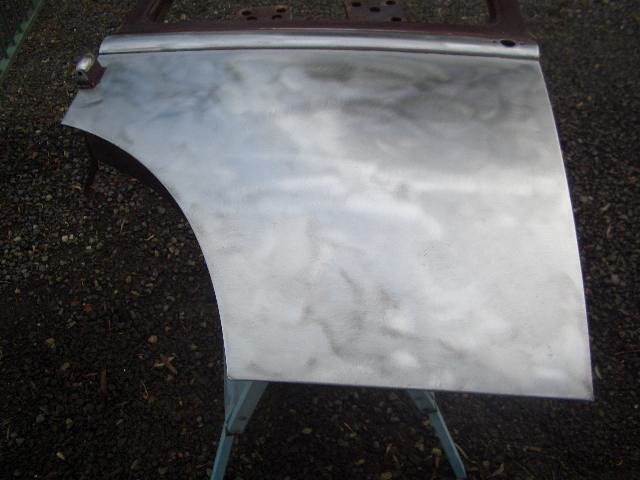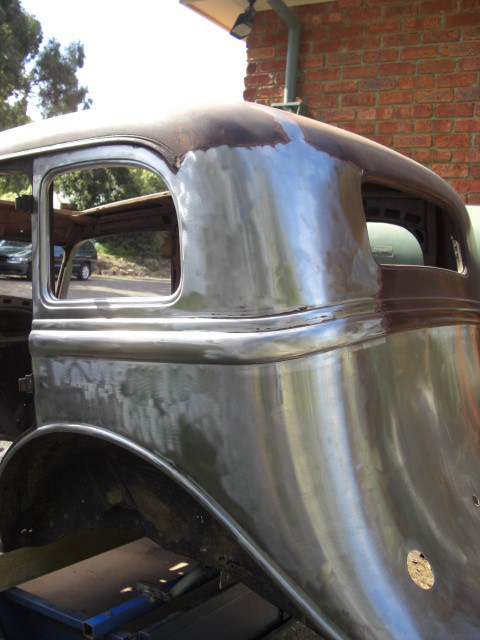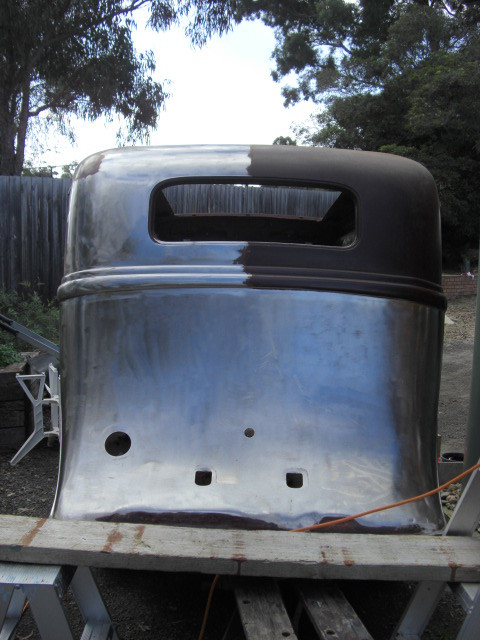 Oh I found these photos of the rear section and you can see what I mean't that someone reversed into things ! Maybe the reverse camera ( wife ) wasn't working ! ha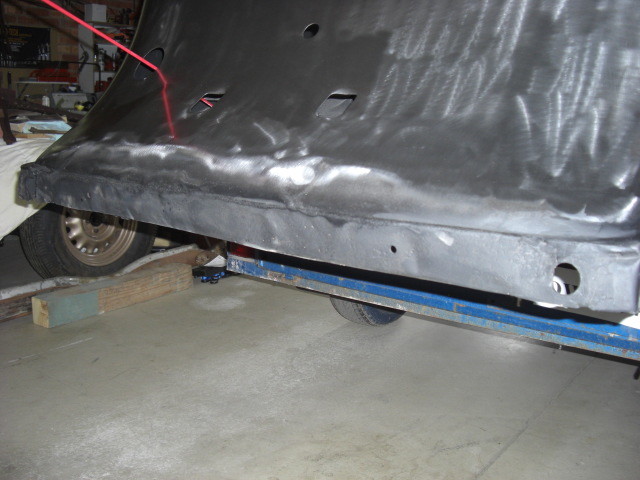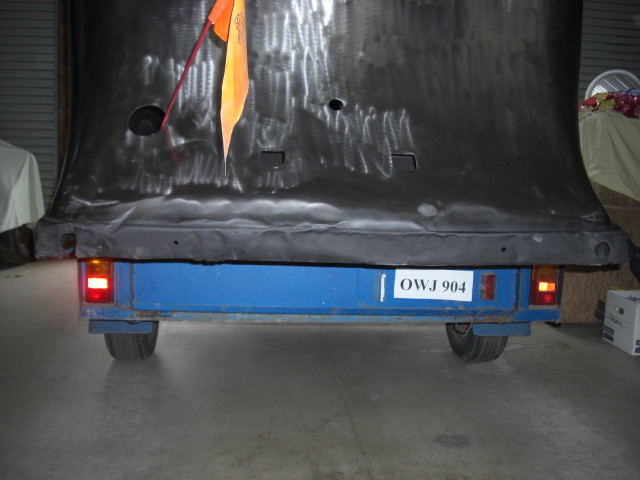 It is more noticeable on the passenger side isn't it. The hole where the rear bumper bolt goes through was completely torn open which probably explains why the rear bumper looks a little worse for wear and the bumper irons are bent upwards.
11-7-2014
Ok, so after I finished all the panels I took one load at a time to the sandblaster to get the inside of all panels blasted and etch primed. I didn't take many shots of the panels but have a nice one of the inside of the main body ( before and after ). The blasting did reveal some rusted areas that require repair so when I send it off to the body guy we'll attack each one in turn.
Cheers
Ian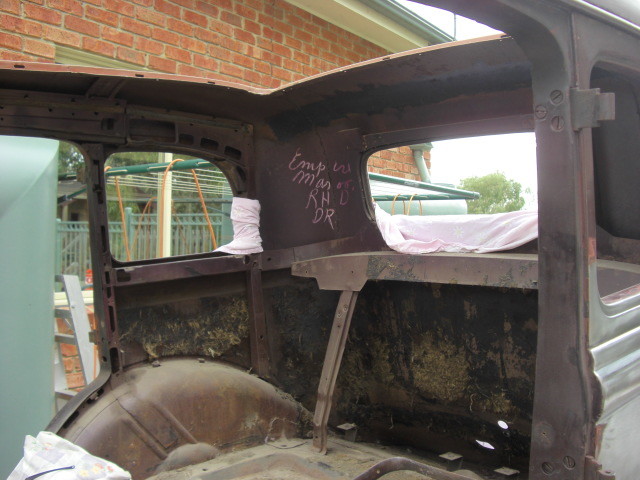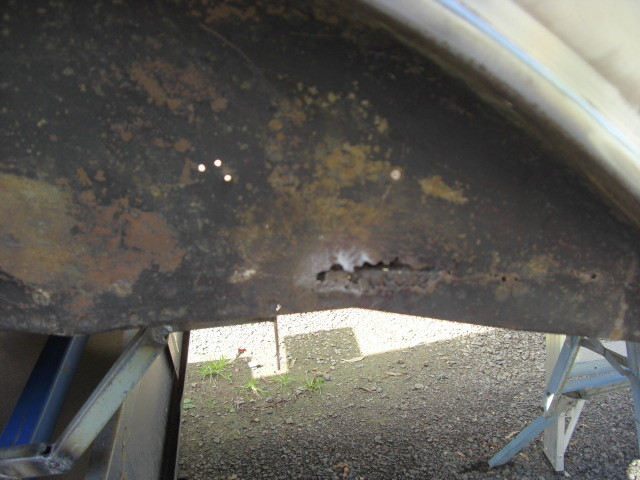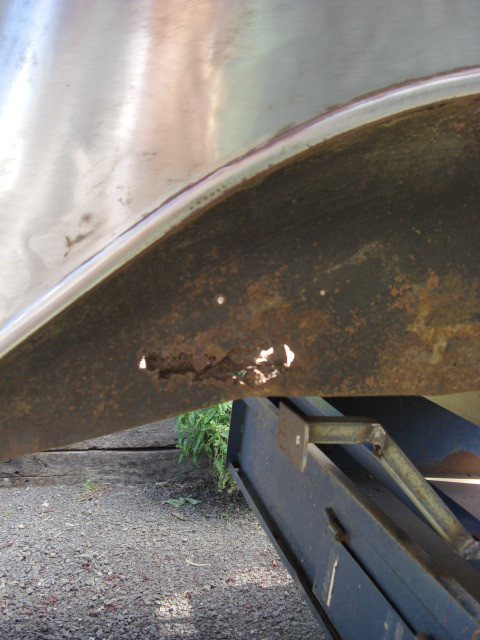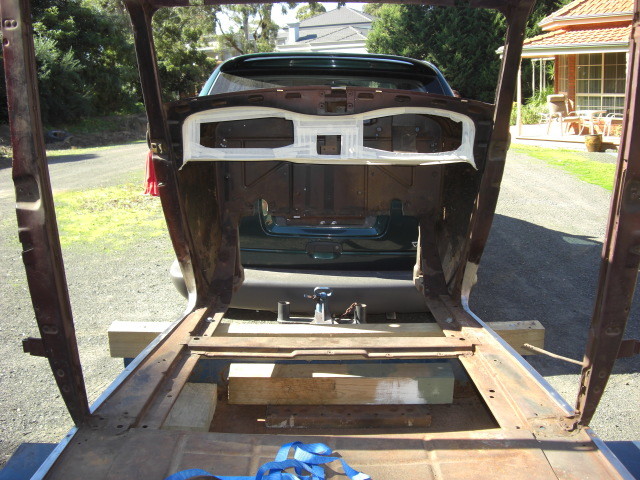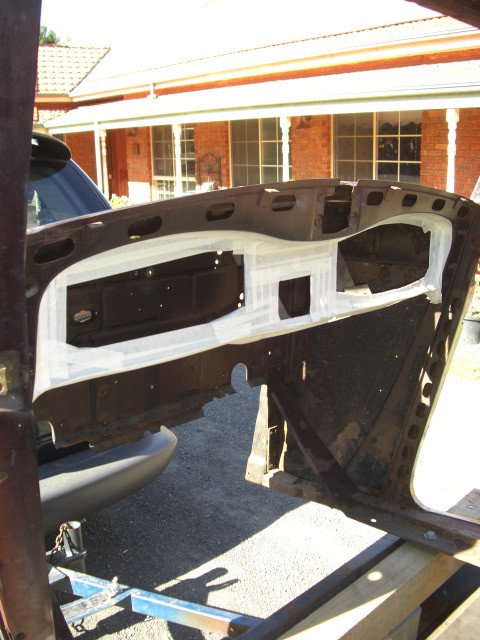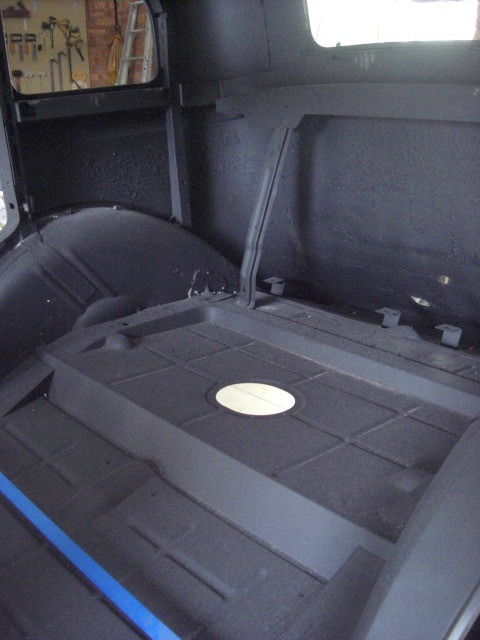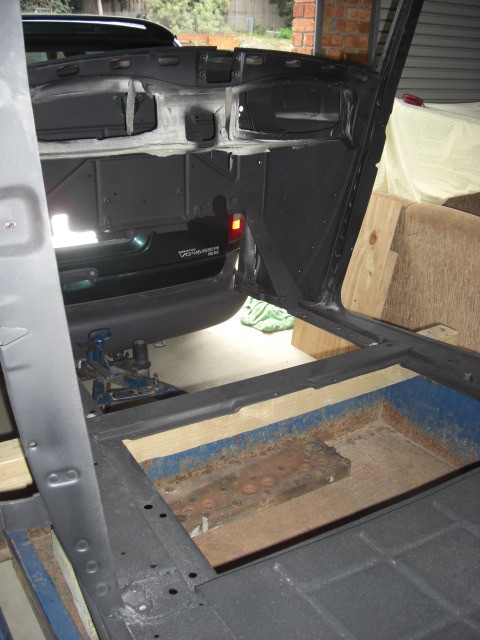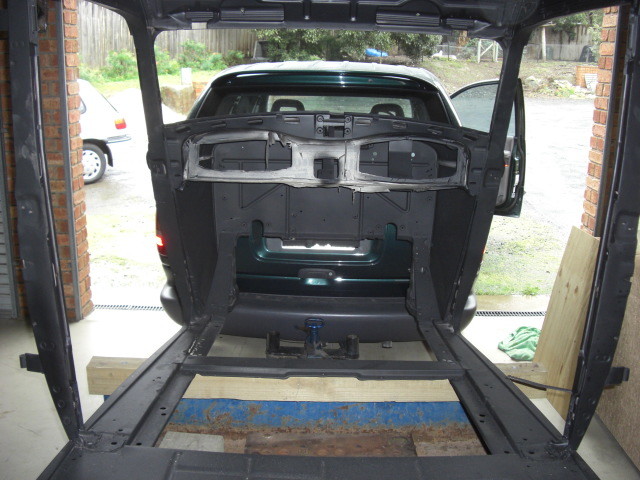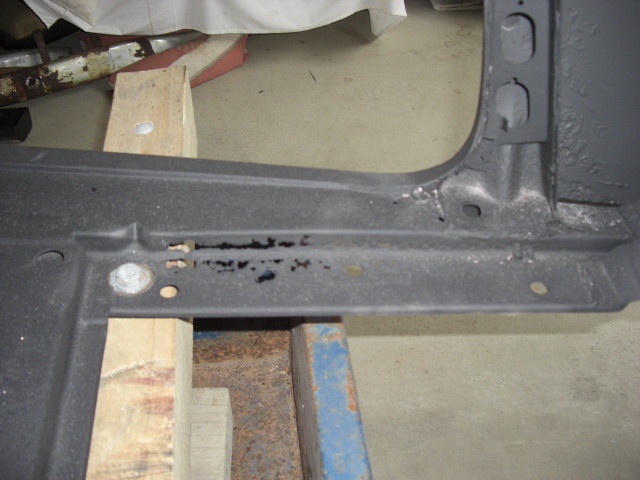 11-20-2014
Bit more progress, got the bonnet back from the body shop which had to have a bit of mild work done to it so I temporarily fitted the new hinge that I got on Ebay and even without the paint it came up looking really nice. A this point also I sent off the steering wheel to a company that specialises in them. They put a very faint smoke in it but happy with the result.
Cheers
Ian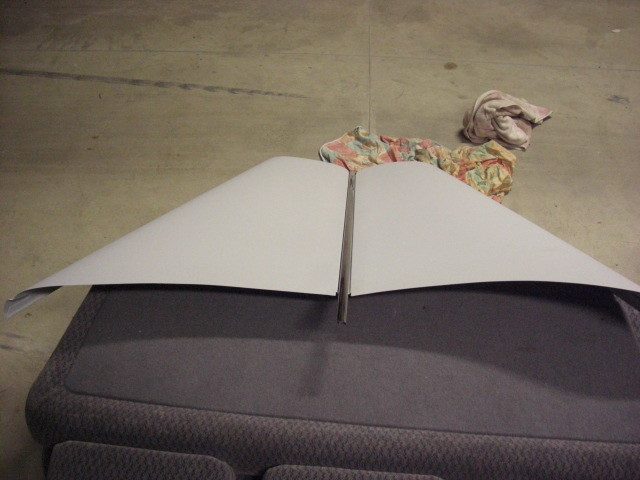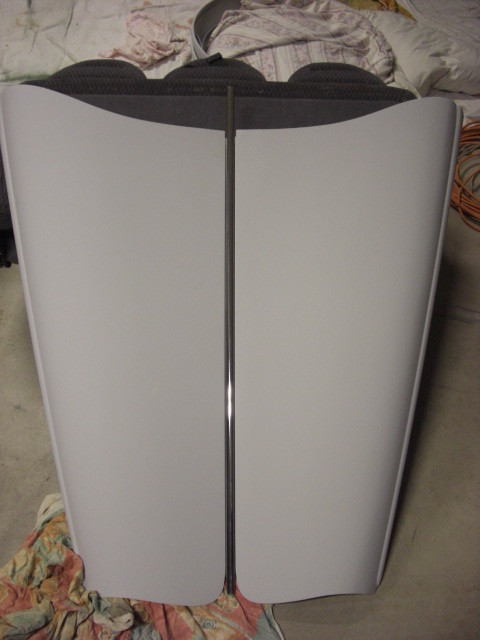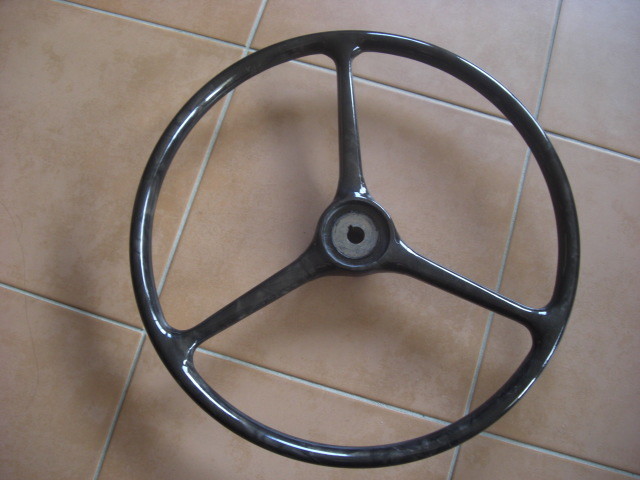 12-17-2014
Hi All,
I shipped all the panels to the body shop now that all the grinding and blasting has been completed. The first job tackled was the banged up area at the rear of the car. The inner panel had to be cut away and repaired and while that was off the banged up area was cut and a new piece made ( well above my pay grade to do this type of work ! ). Ive posted a before and after shot. The was also a hole in the middle of the rear of the car probably used for the rear spare tyre mount and mine had a push in plug. This was removed and steel filled.
Also some of the rust in the rear wheel wells was cut out and repaired. Another interesting thing was the wells for the spare wheels in the front guards. When he lifted the guard up it fell on the ground. We decided to put extra welds on both sides just in case. Imagine driving down the road and the spare tyre in the front guard giving way !
Rust also in the cowl at the front had to be repaired. There were also a few sections in side the car that needed repairing.
I was sort of running a relay at this point where once a panel was repaired I took it to the painter who put a protective coating on it in a two pack primer and then I returned it back to the body shop and it was put into storage until all panels were completed so he could do a temporary trial fitting.
Cheers
Ian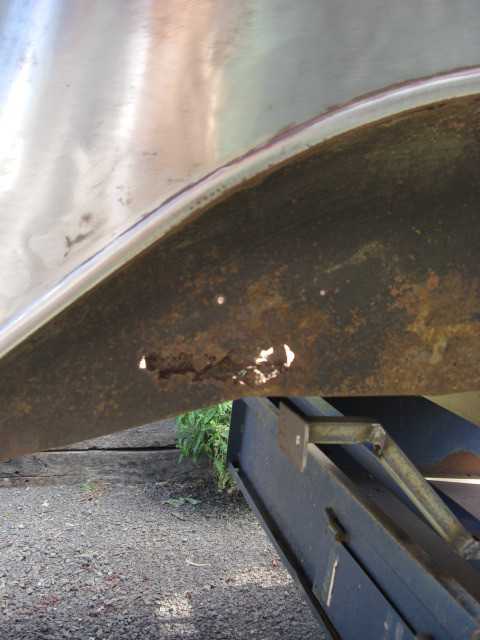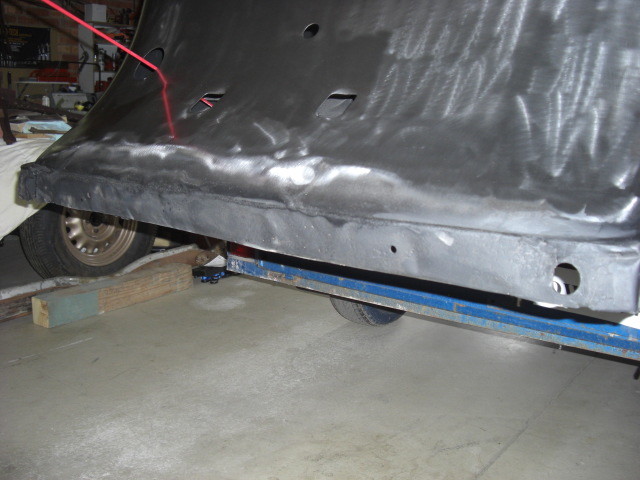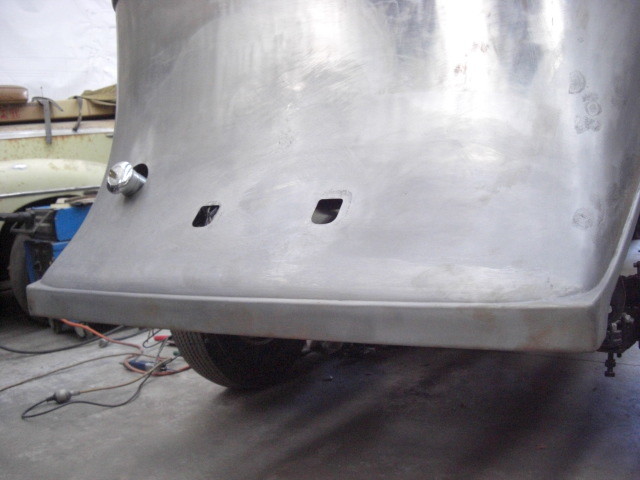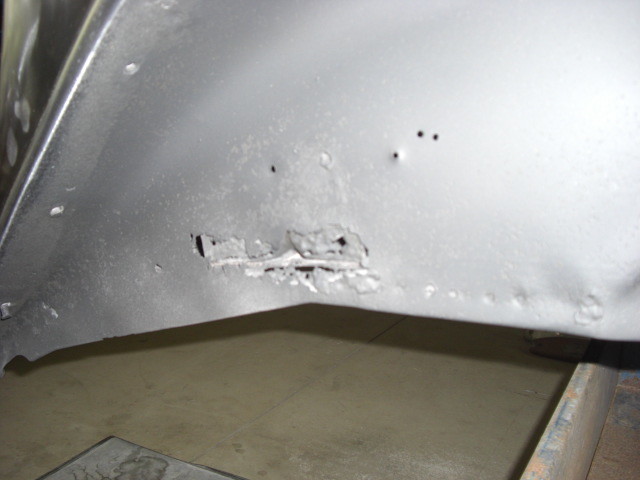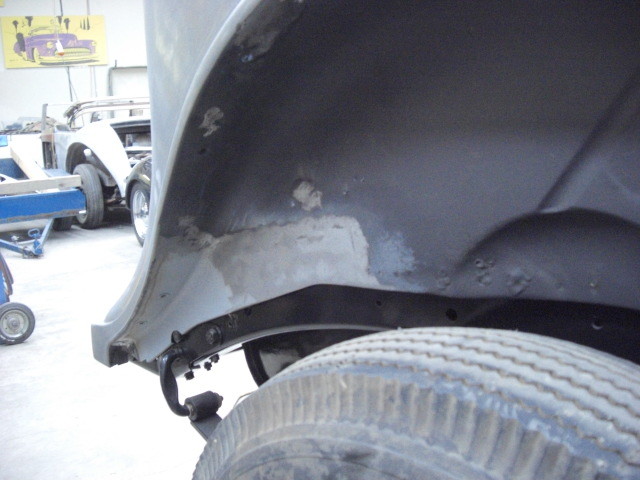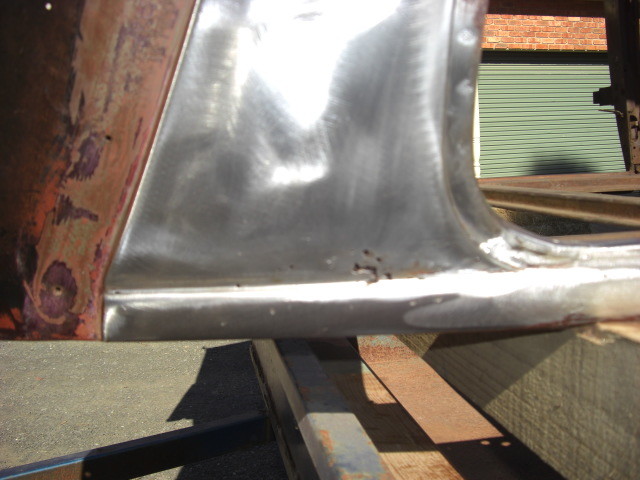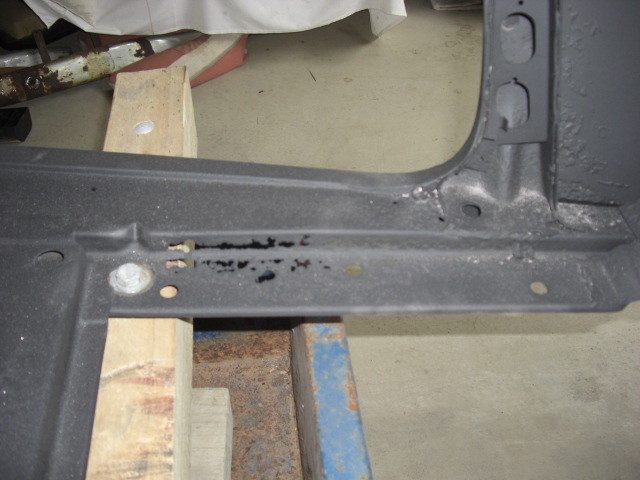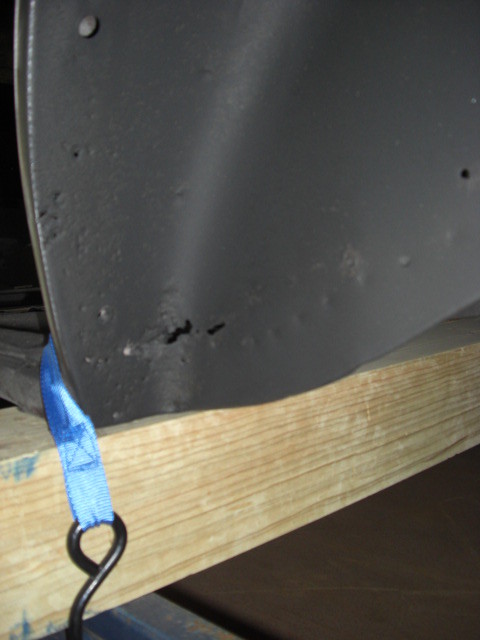 1-24-2015
Hey all,
A bit more repair work on the rear body bolt holes where rust had eaten away a few small areas.
At this point I brought the chassis over to the body shop and we sat the main body on to get a good idea of the fit. Seemed to fit reasonably well.
Next stage is to get all the panels on for the trial fit. Once done then the main body has to go off and get its two pack undercoat done.
Also received a new accelerator pedal in the post ( my original was very well worn to a point it looked melted ! )
After a long wait my front winged emblem also arrived in the mail which had been completely restored. Done in the traditional Cloisonné method....very happy with that one.
I volunteered to go on a school camp with my daughter to Soverign Hill which is a replica gold mining town and we had to get dressed up in period clothes. We had an absolute blast.
Cheers
Ian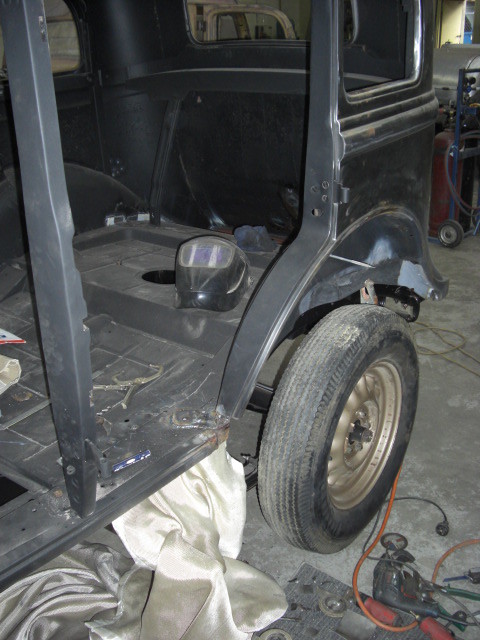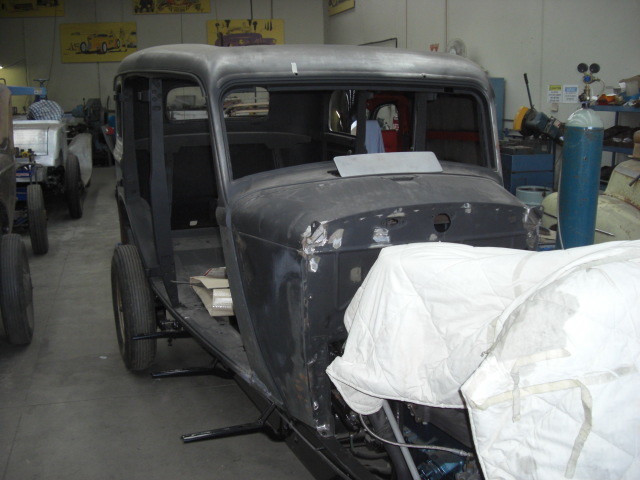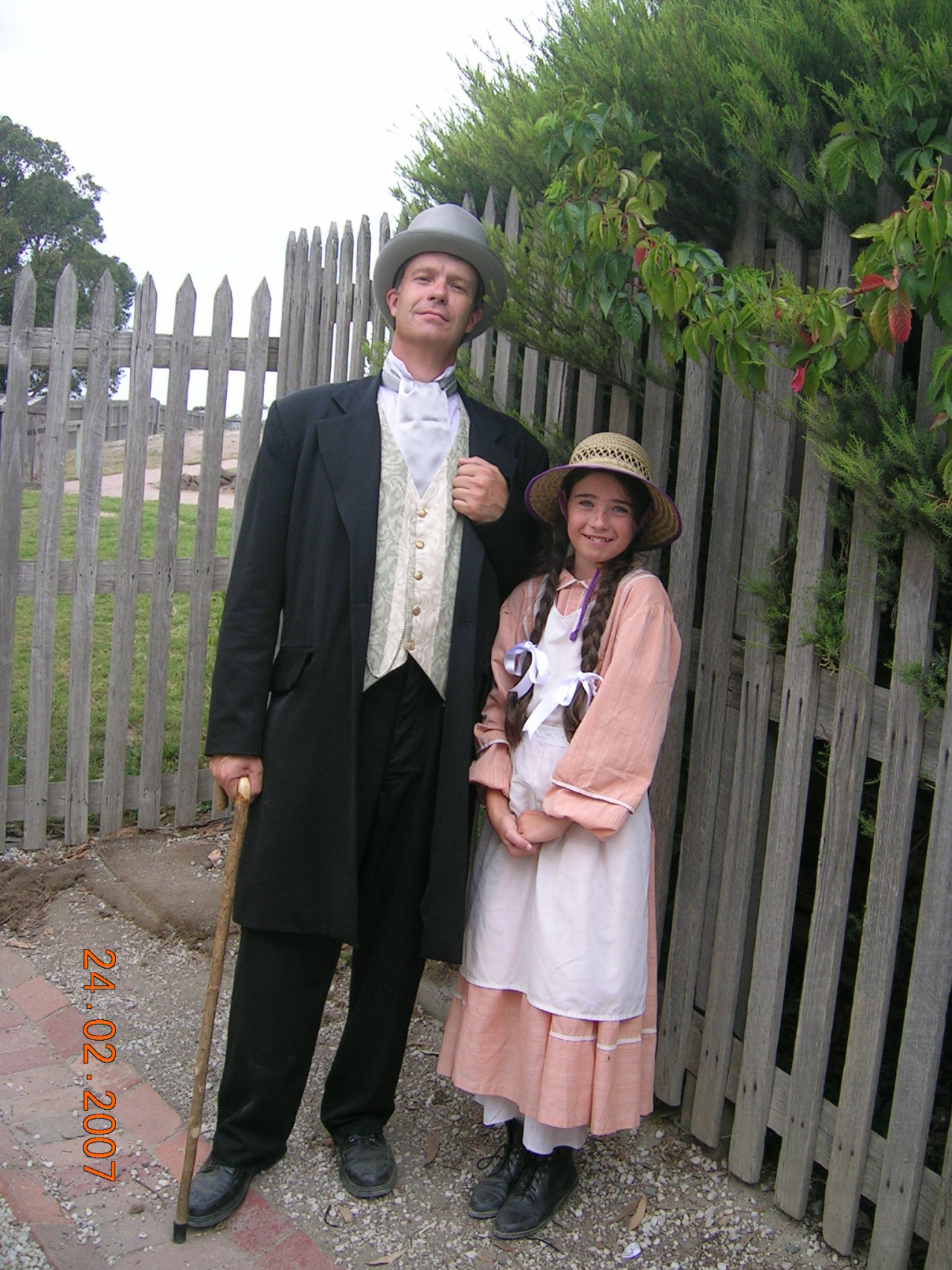 1-28-2015
Hi Pat,
For school "camps" at Soverign Hill they actually have a full wardrobe area and supply everything. even the pocket watch. I wasn't allowed to wear my normal watch. I also had to interact with the public ( visitors ) and how to all the ladies etc...it was great fun as this is a reproduction full functioning gold mining town. Google Soverign Hill Ballarat and gave a look. While I was there I also gad to make a spoke for a wagon by hand ( needed help with that one ) My daughter had to attend the school there for a few days which nearly killed her because of the strict discipline. ha....I tried it when I got home to no avail !
2-28-2015
Ok the moment of truth arrived.
A trial fit of the panels to make sure everything looked and sat properly.
All panels were attached to the body and the new running boards did need some minor adjustment but overall everything sat fairly well.
Ah no....not so simple is it !
When the front bonnet sides were attached the gap is uneven between them and the front of the radiator cowl.
One side sits well and the other has an I 1/4" gap. Cannot move the radiator that much to compensate for it.
We put it up on a hoist and found the measurements between certain points on the chassis were out.
Got it down and ran a string line from the centre of the rear window to the centre of the radiator and its out just over an inch.
Somewhere along the line the car has been in an accident and the chassis is bent. Great !
The guy who is doing the body work has a friend with a hydraulic Ram that can bend it back.
So the chassis and engine are sent off and the chassis corrected.
It never occurred to me to check the measurements as I didn't believe the car had been in an accident.
Anyway the guy who bent the chassis back said it was one of the toughest chassis he's bent....so that's good.
Next step once back is to get all the panels back on again and see how we go.
Cheers
Ian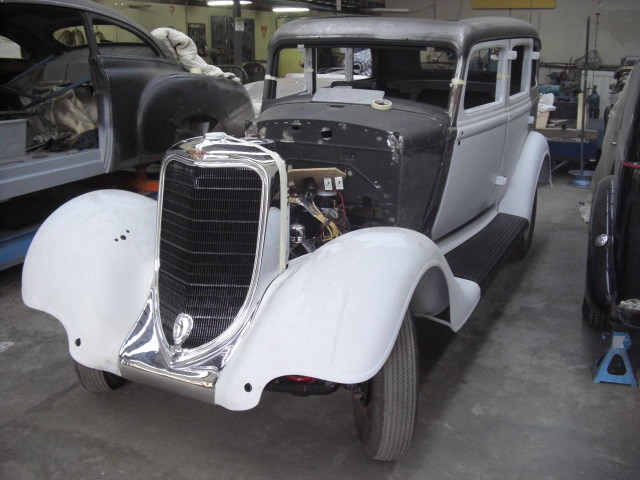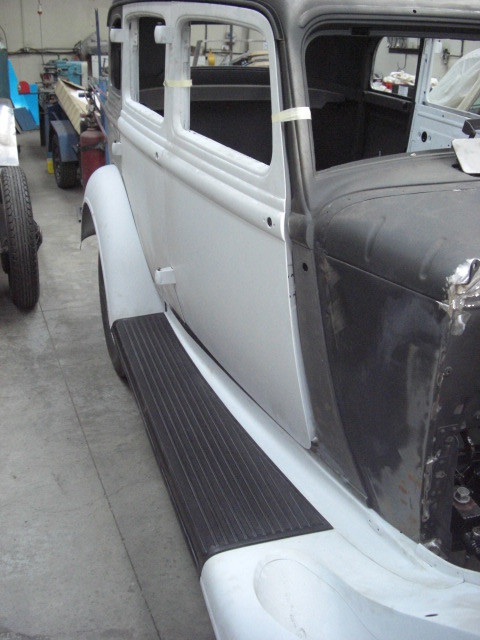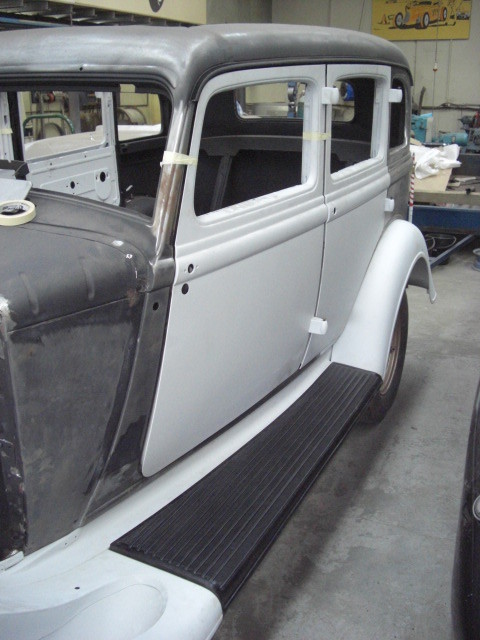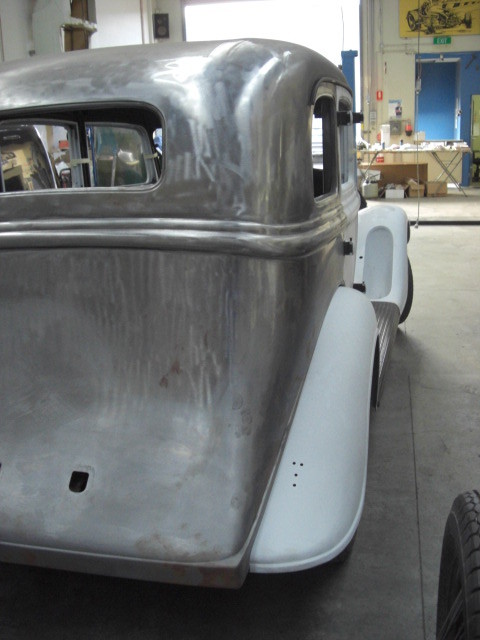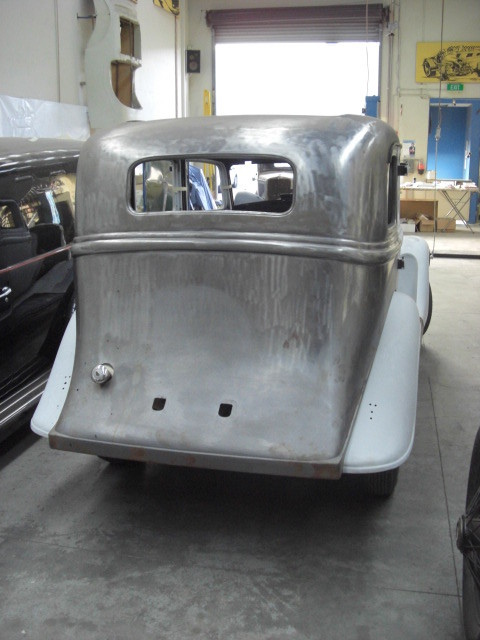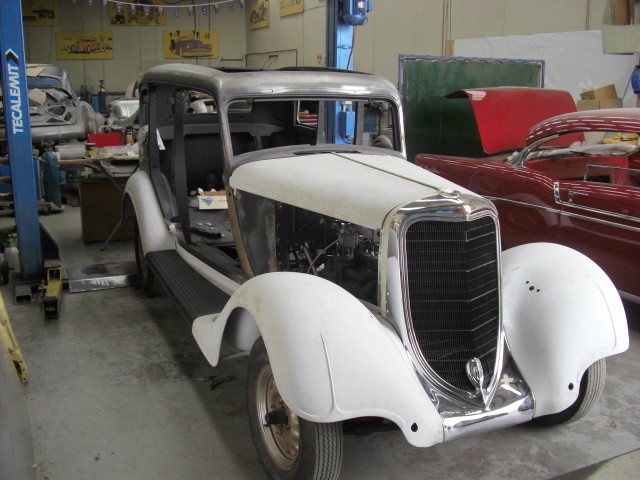 3-1-2015
Hey Ron,
On close examination there did seem to be some sort of repair, very well repaired that even the body guy had to look twice to see it, on the chassis. So we figured that must have been it. All good though as the panel on a quick refit came within the right gaps we'd hoped for.
3-12-2015
Hi Dave,
One thing I was able to do when I first bought the car was remove the body from the chassis. This was probably the only thing that had never been touched on the car. The Dodge has two lengths of wood running under the body from the rear door to just under the metal toe board. someone on ebay was selling new ones at one point. I had to have mine remade as they were falling apart. Width wise, opening the front door, they went from the other side of the wood floor panels to just under where the sill cover would go. In addition to this, rather than rubber they used a tough fabric compounded pads on every bolt hole along the chassis. The body with those lengths of timber then sat and bolted through these pads. I'll post some photos of when I removed the body and you'll see the pads as I left them on the chassis to take a photo. Again a lot of these were a little worse for wear so when I replaced them I used rubber pads that was made from the same martial that is used in gyms on the floor under the weight lifters floors. The stuff when the weight lifters slam their weights on the floor, this stuff was sitting on the floor to protect it and the weights. These we approx the right size and could be cut easliy with a hacksaw.
Ian
5-28-2015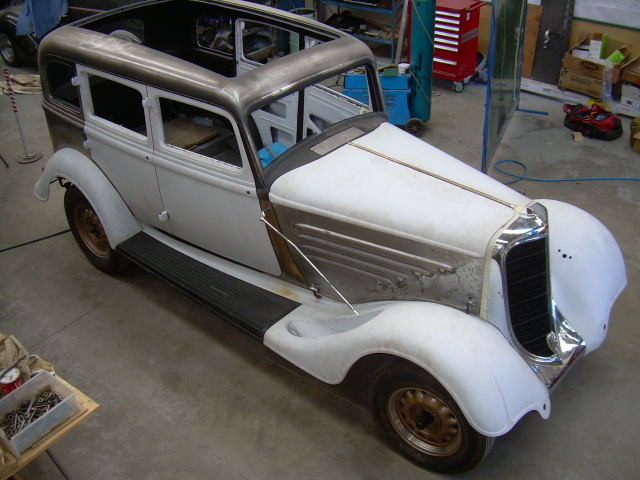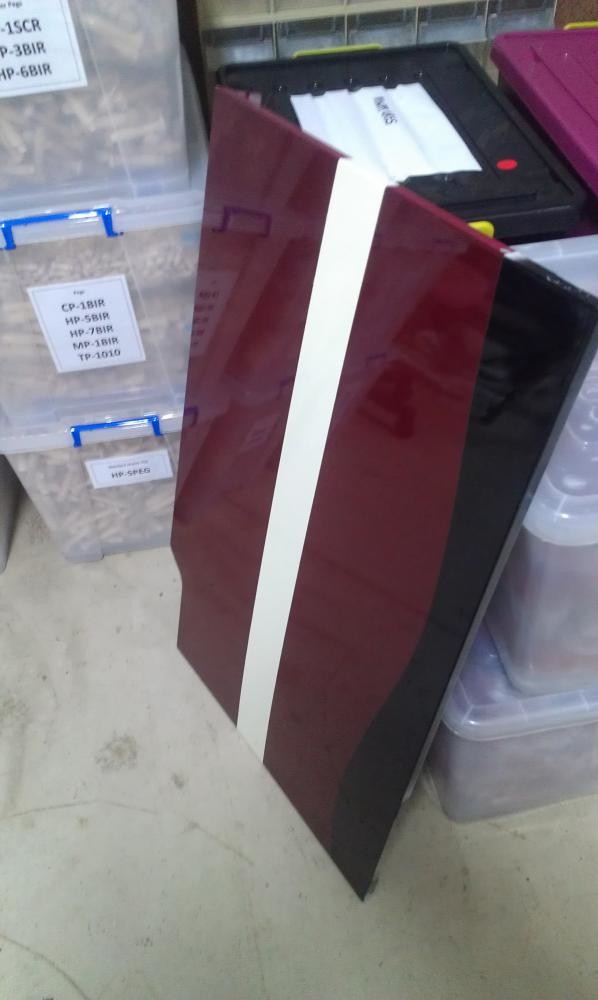 Ok, so the chassis back at the workshop and the panels back on the car and the gap on each side is even now. That's a relief !
Finally able to get the whole car and chassis back home again and next I'm off to see the painter. This guy paints a lot of Cobras and many old cars have passed through his spray booth. In fact "Oldcar" who posts here regularly, Bernie, had had a few cars painted by him. I called in to see Dave and he's one of those guys you like instantly. After discussing the colours and bringing his paint samples home we decided on Black guards, Maroon Body and a Packard Ivory swage line, as many Australian 34's had swage lines painted rather than pinstripes ( at least that's what I've been able to find out ).
Dave painted up the side of a dishwasher for me to take the colours home. Only issue I have is it changes colour in the spray booth, to inside his shop to outside in the sunlight. He said he would also paint under the body and inside all the panels which would also protect the insides from stone chips.
While also doing this I received a package back for the trumpet horns that I was getting Chrome Painted as plating would have been too difficult. I got them back and was not happy with the finish, so I sent them off again to be redone.
The rims for the car also needed rounding and rerolling so they are also at the shop.
Cheers
Ian