Builds
More GTO look, EFI, AMG supercharger, Supertrapps and Magnaflows by bert308
By diyauto
You must be logged in to rate content!
15 minute(s) of a 114 minute read
More GTO look, EFI, AMG supercharger, Supertrapps and Magnaflows.
Compliments of bert308 @ ferrarichat.com
8-6-2008
Now that I have your attention...
There are several older threads I started about my car, 1980 GTSI US converted to GTO look. Conversion took 3 years and I drove for 2 years with pleasure in snow and sun, until one morning at 4:15 on the way to my job on an empty new highway (speed adjusted accordingly) along the woods at the german border, a fox crossed my way.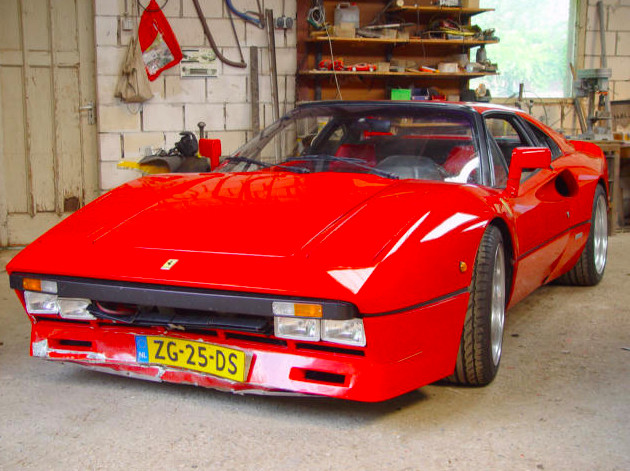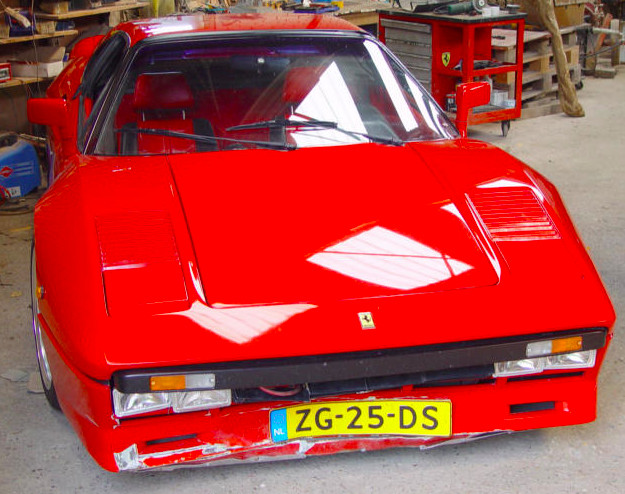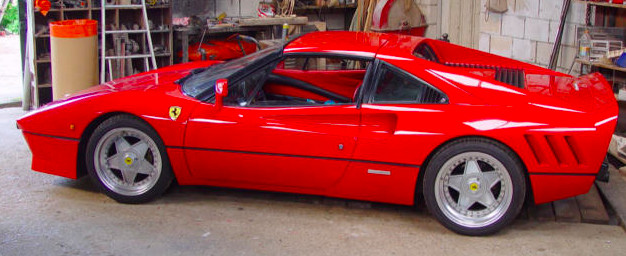 The insurance adjuster agreed to pay me the price for a replica GTO spoiler and grille from Italian Design (Butch Hooper?) and a few hundred for mounting and painting. Ok. Instead I put an order for this money at Superformance and order new suspension bushes, their uprated springs, the quick steering rack and some small stuff.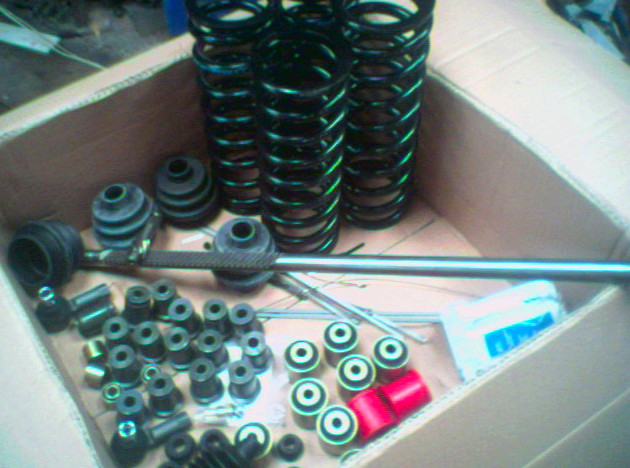 I wasn't satisfied with the color my 308 had, Porsche Indisch Rot that I found to bright, so I decided for a full respray and some more work. I started to make a GTO style rear lid.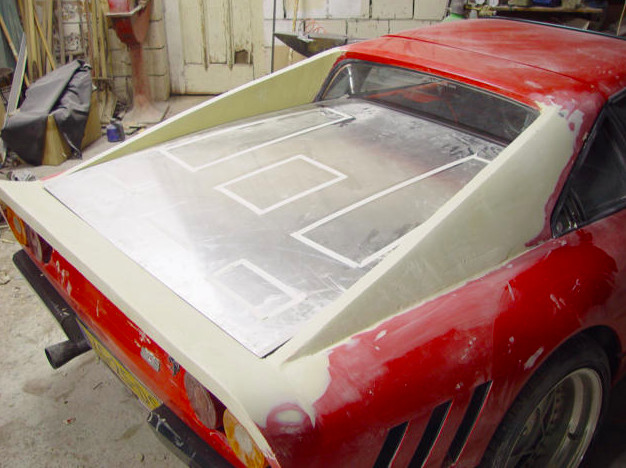 Since I was at it, and I had the new suspension bushes, why not go all the way? These things in the pictures are paperweights...shaped like 308 rear suspension arms but if you would actually mount them on a car, the rear wheels would sit 60 mm to far out and 60 mm to far to the back of the car...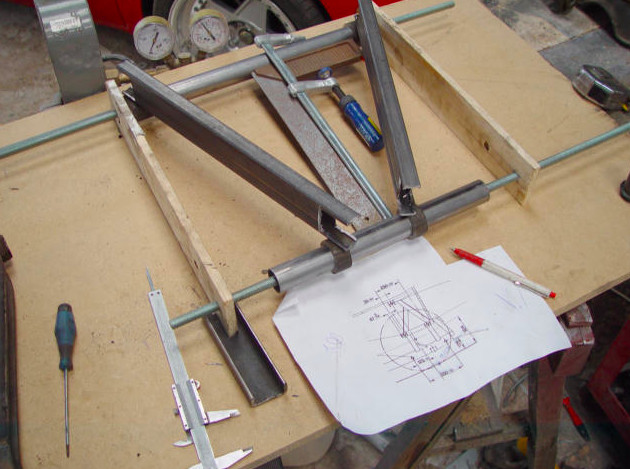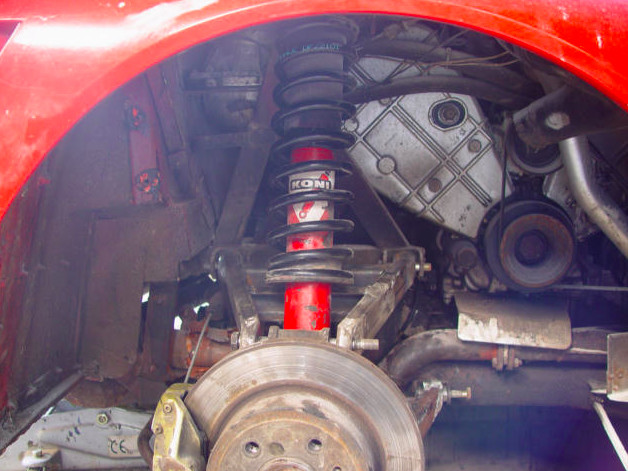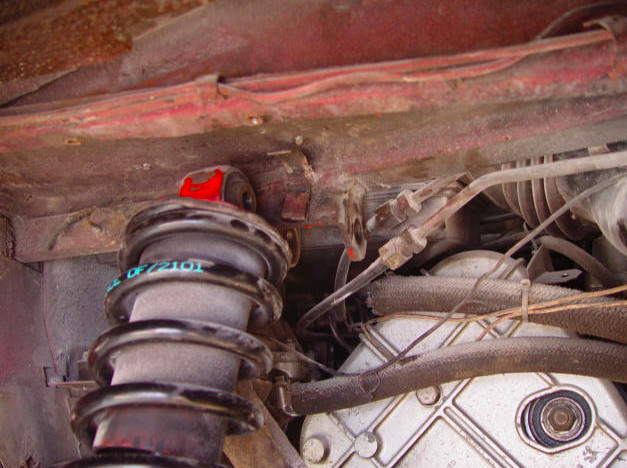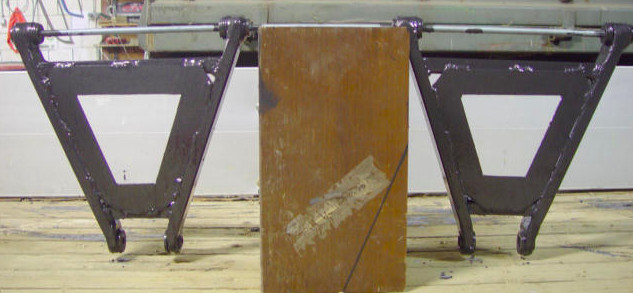 I decided to fit these paperweights to my car anyway, of course then the fenders would be in the way.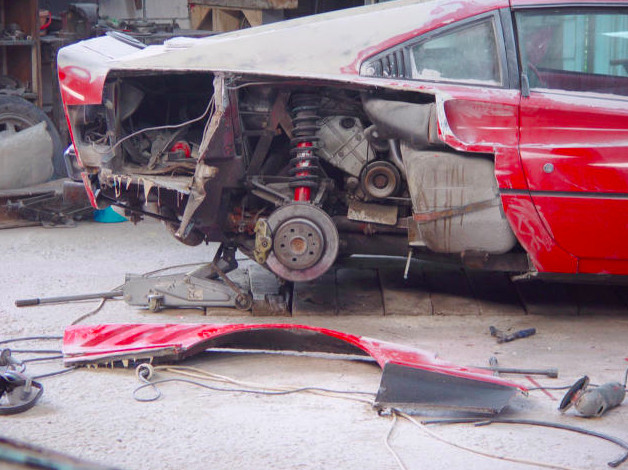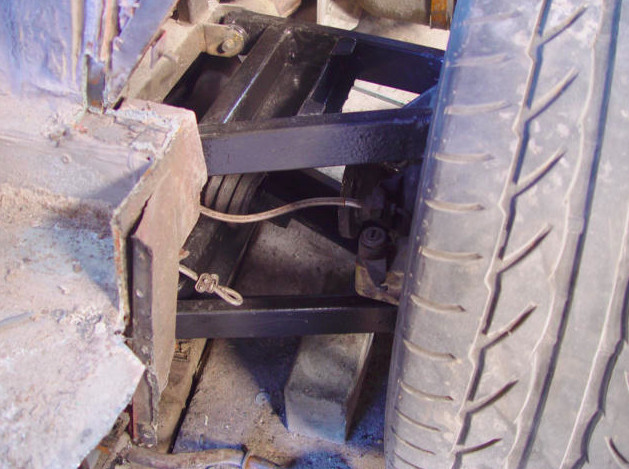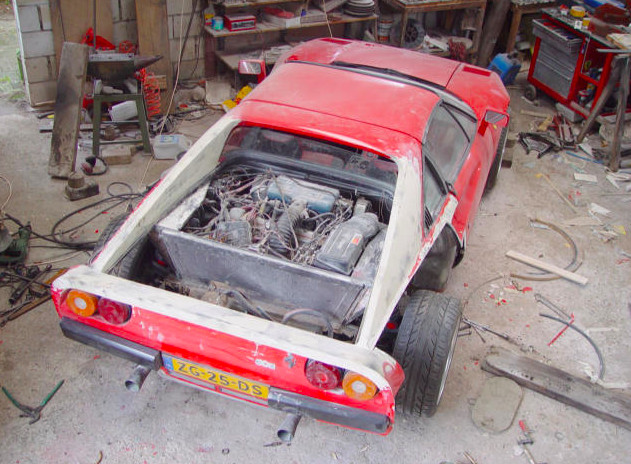 Started making new fenders, second pic: That's more like it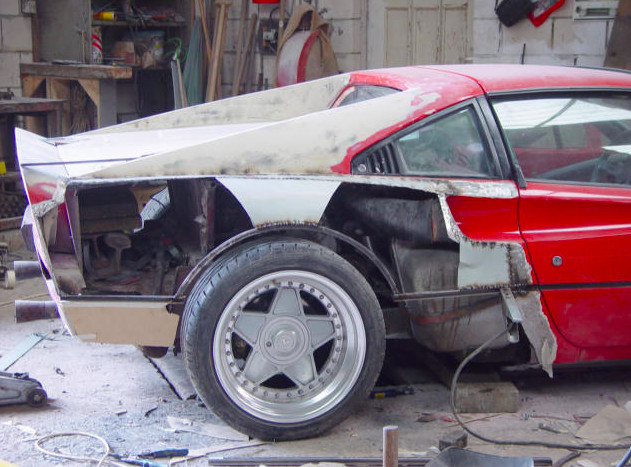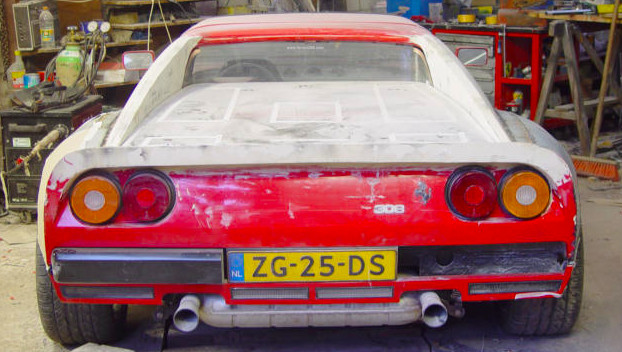 Bought new bushing for the A-arms. Also made new front fenders, I made extensions for the front wheels suspension just for size, will have to make new a-arms. ALso bought a damged 328 front hood grille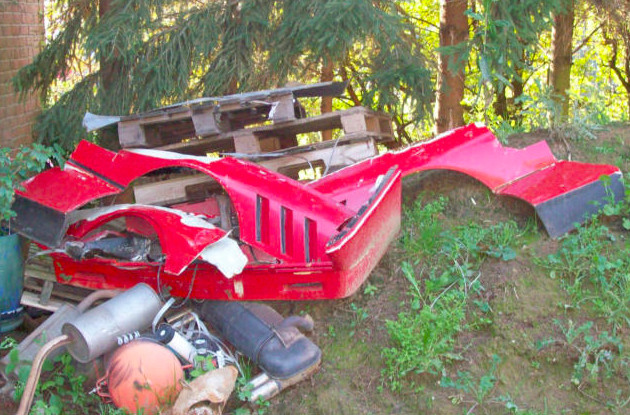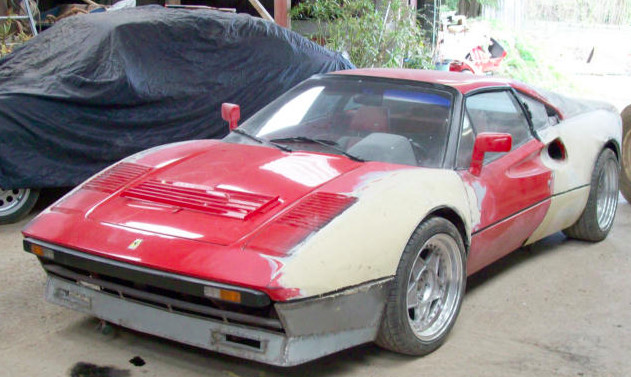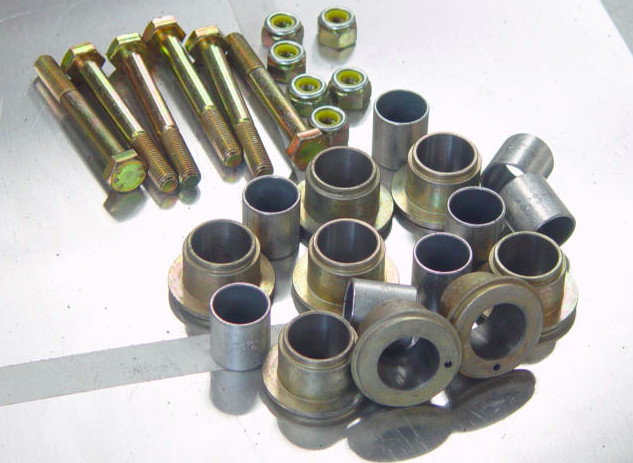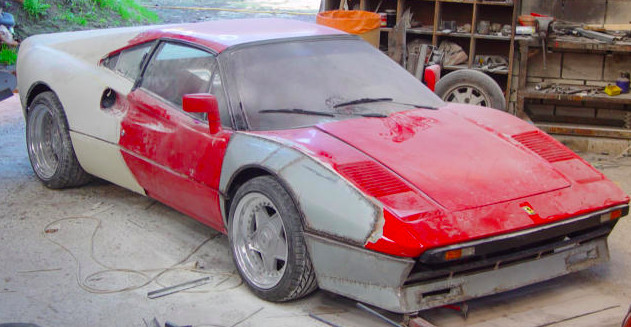 Work continues on the rear lid.
The construction of the hinges took a lot of trying and retrying, it won't open if just hinged from the front or rear, the GTO has a ridge around the lid making the actual lid smaller, 2 movies:
http://www.youtube.com/watch?v=hymdc9yKZrA

http://www.youtube.com/watch?v=mo90ke51ck8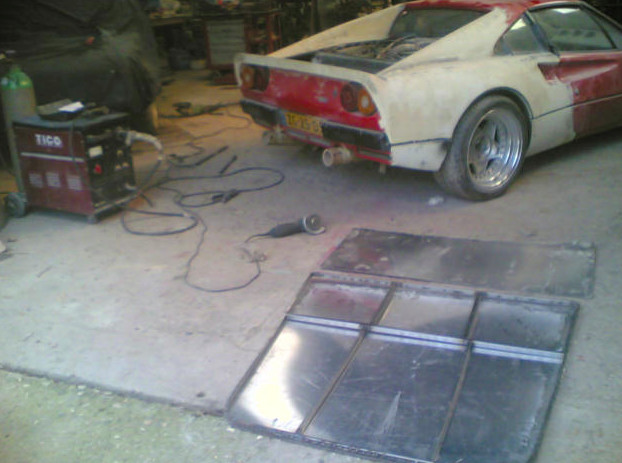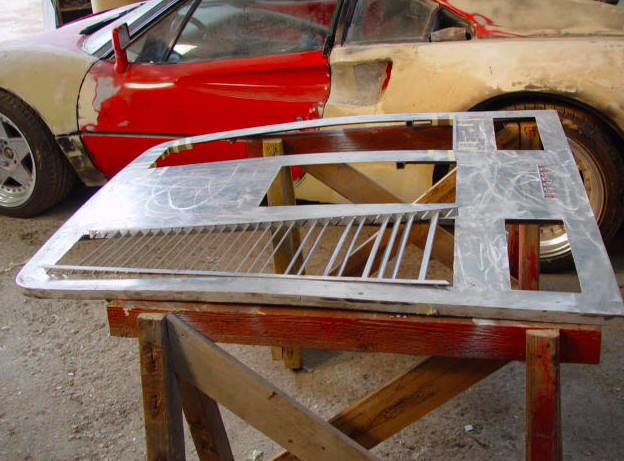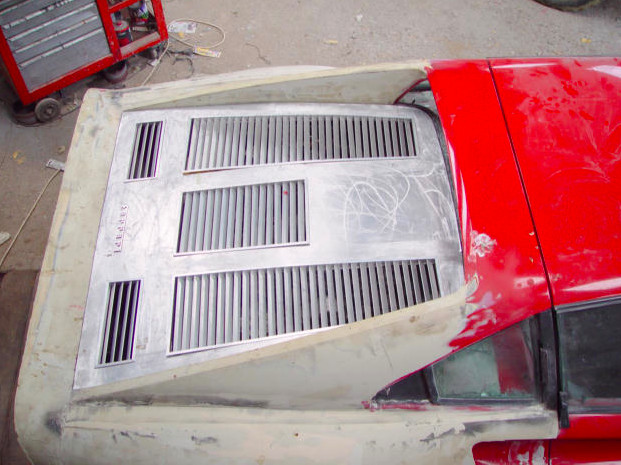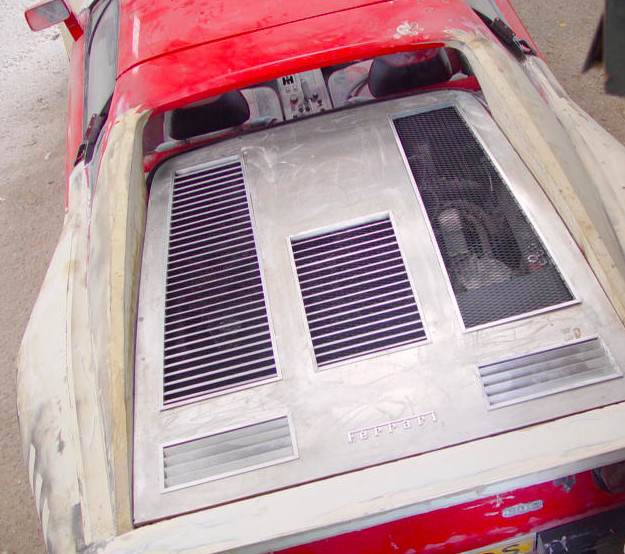 Also made a new front grille. Looked at many GTO pics and my models and somehow never noticed a GTO has 4 horizontal bars and not 3...not gonna change it though, the 4th bar would sit invisible under the bumper unless one kneels down before the car.
Also I always thought the GTS spoiler lip above the front screen ugly, removed.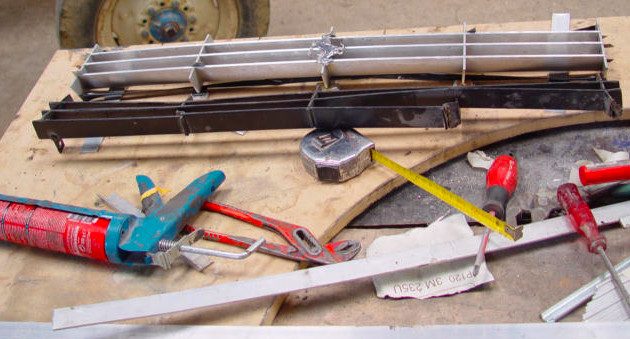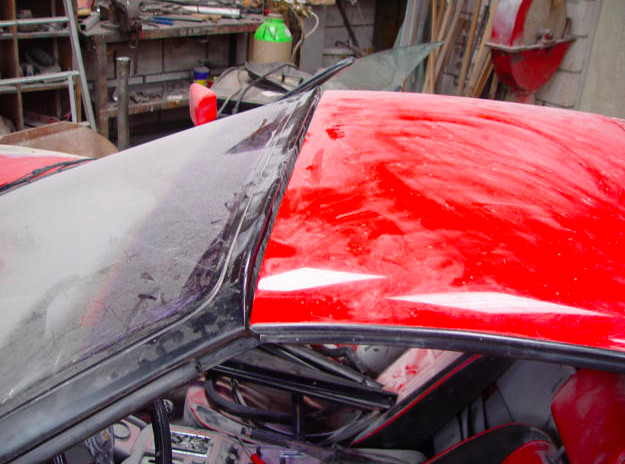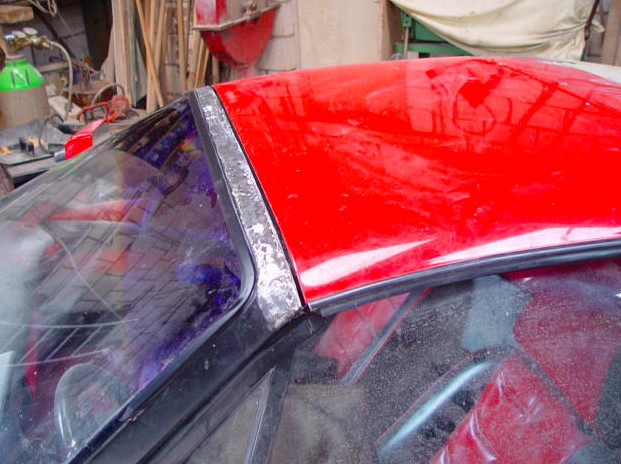 An order from Summit USA came in. Supertrapps (I got the idea from "PAD") and magnaflows. PAD has only the Supertrapps but that seemed a little loud. I now have a full dual system that passes the "pingpongball test", the ball could go through the exhaust. I thought about hooking up the ignition and fuelsystem to test but everything was dirty including timingbelts so I better didn't. Am curious though!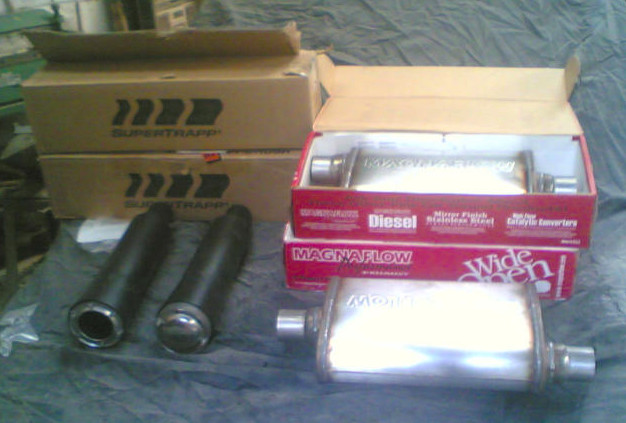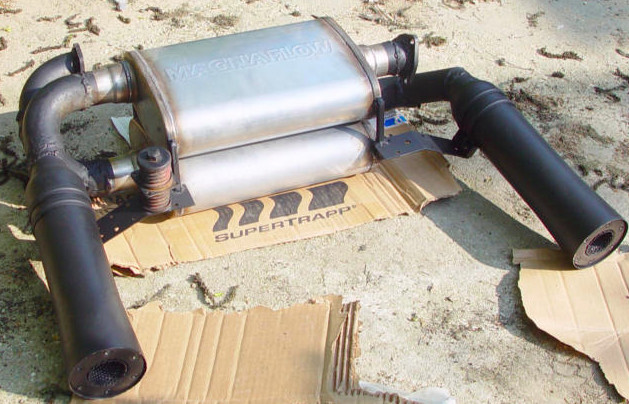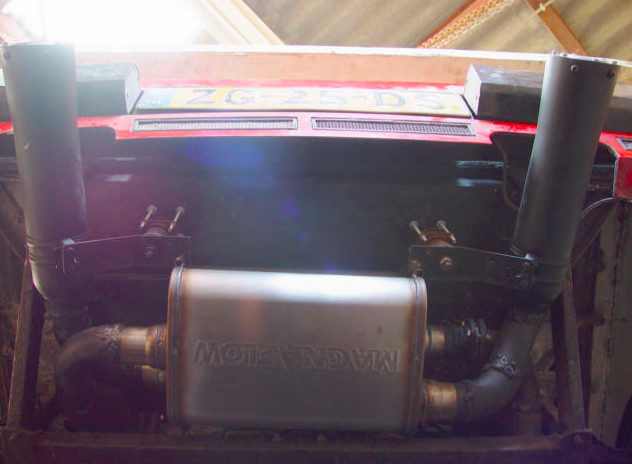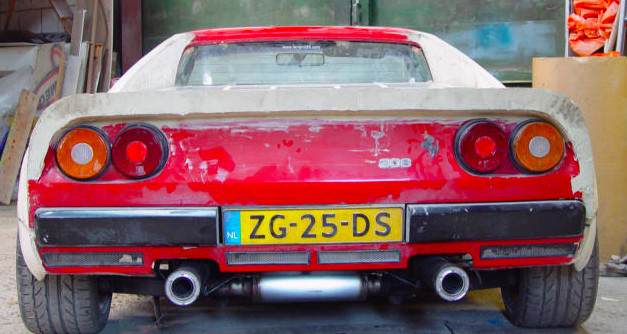 Fitting the 328 grille. Not as easy as I thought because the spacing is different from the grilles behind the headlights (that a 328 doesn't have) so I had to make new sides.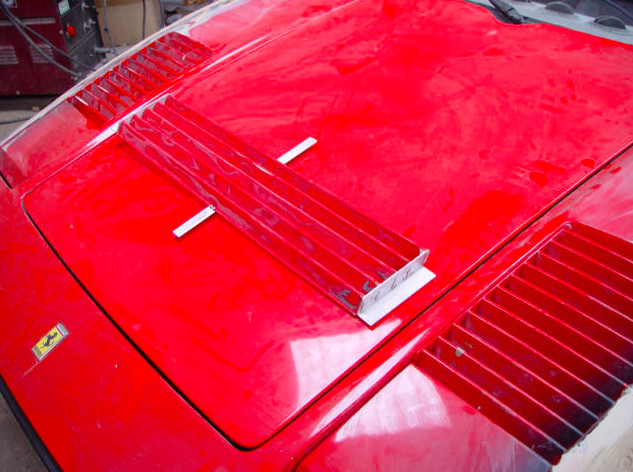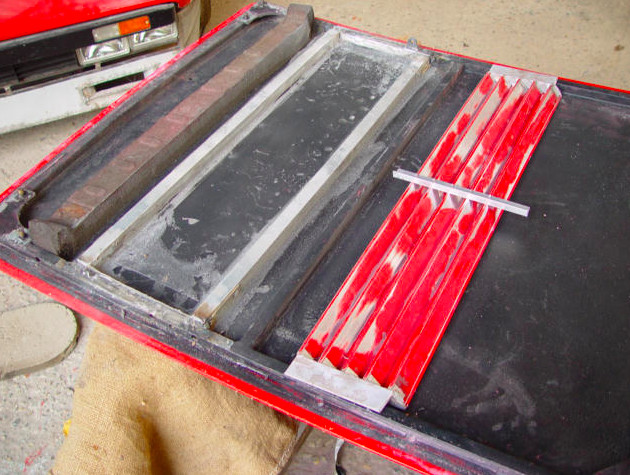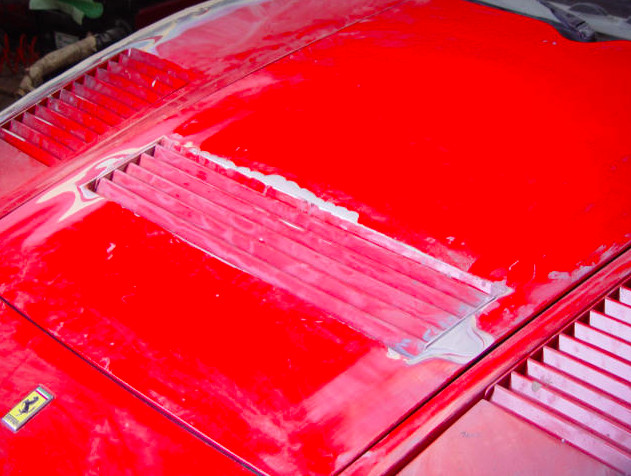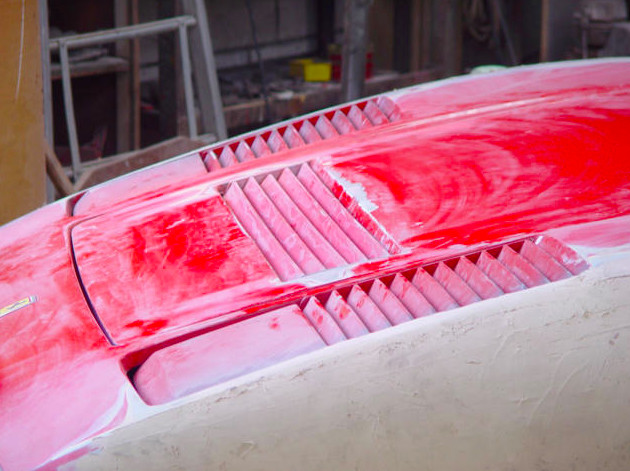 more work, fitted the original rear lid locks, new trunk floor. Now what is that piece of paper?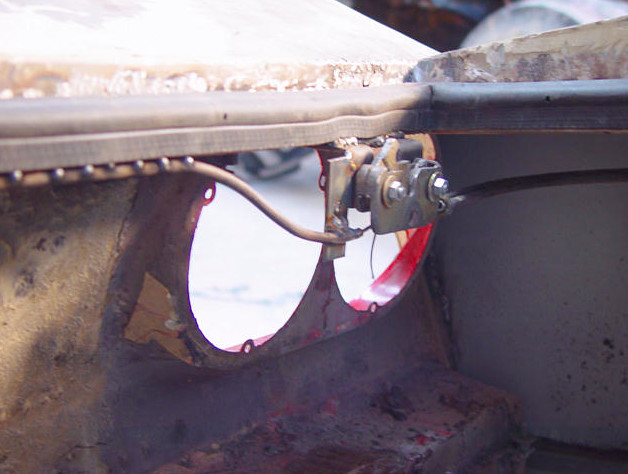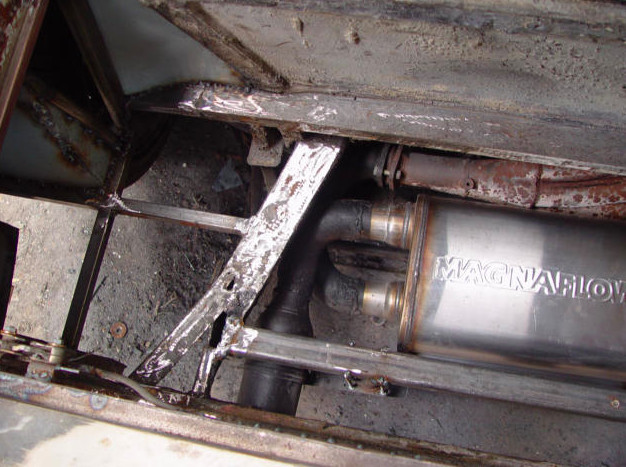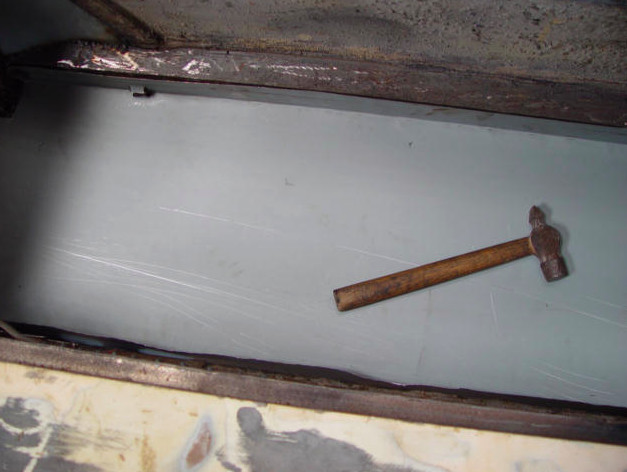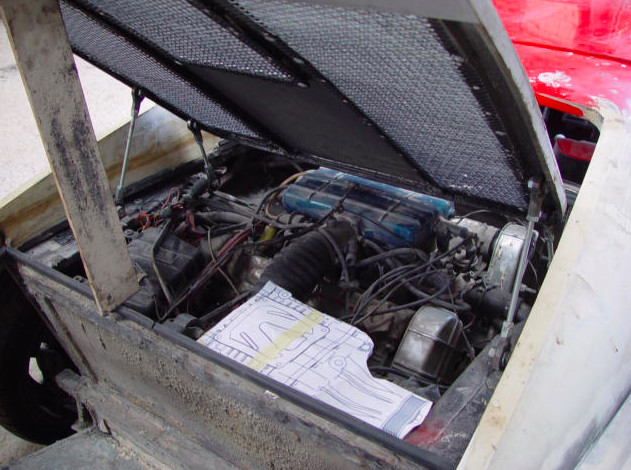 All my work this spring/summer was being watched by this "red-chest" little bird, who had it's nest right above my car. It raised 2 youngs between all my noise making.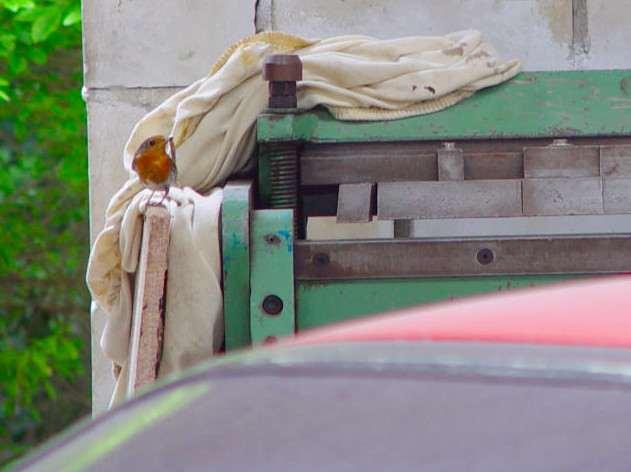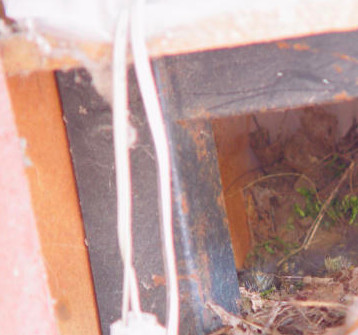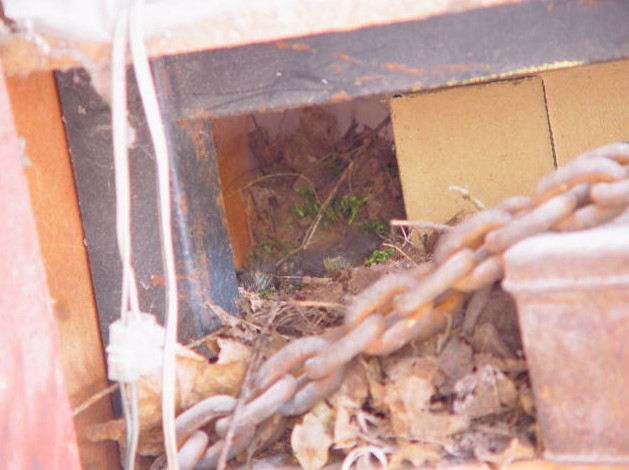 Time for thinking. While looking at my dirty engine, and all the removed dirty old ignition and Bosch Kjet stuff, I thought, am I going to put that back in, all these wires and plumbing hanging loose. I decided to go EFI and after researching ordered a Mega Squirt II. This will be combined with Ford EDIS 8 distributerless ignition, it needs a trigger wheel installed. EDIS 8 module and wheel sourced from the USA (we don't have V8 Fords on the wrecking yards) the ignition modules and spark plug cable plugs I scored locally from 4 cylinder Fords. The sensor is mounted on the front valve belt cover with room for adjustment.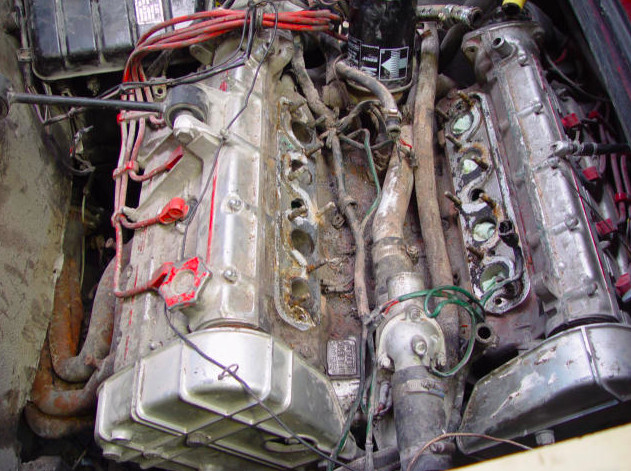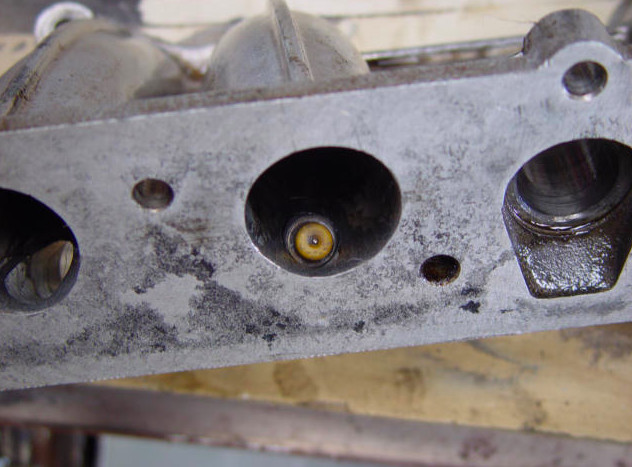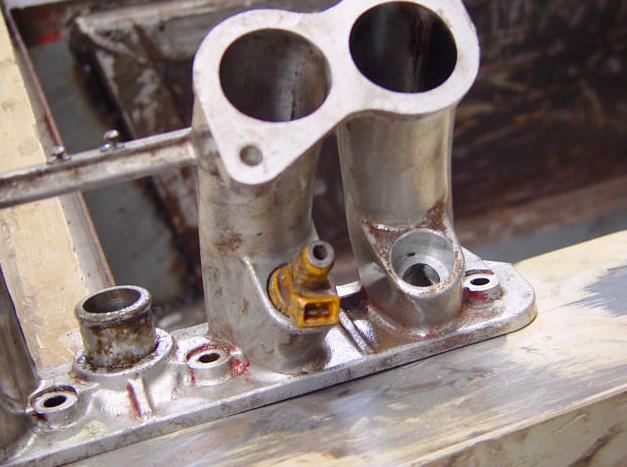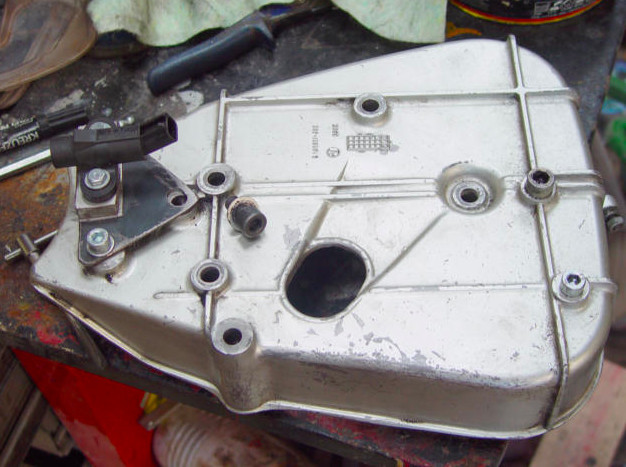 Installing the "missing tooth" Ford trigger wheel. It seems I cannot complete a single job without loss of blood.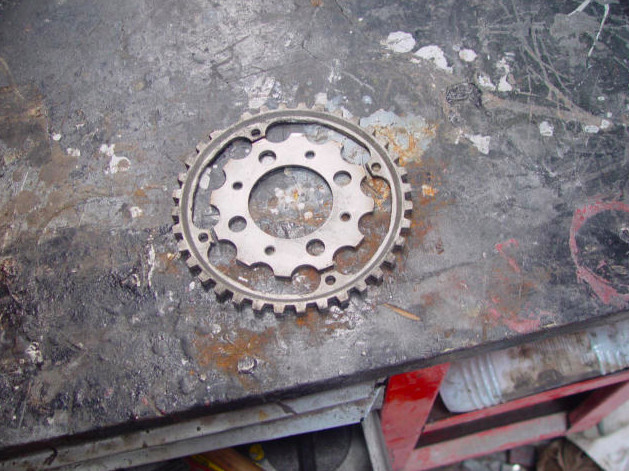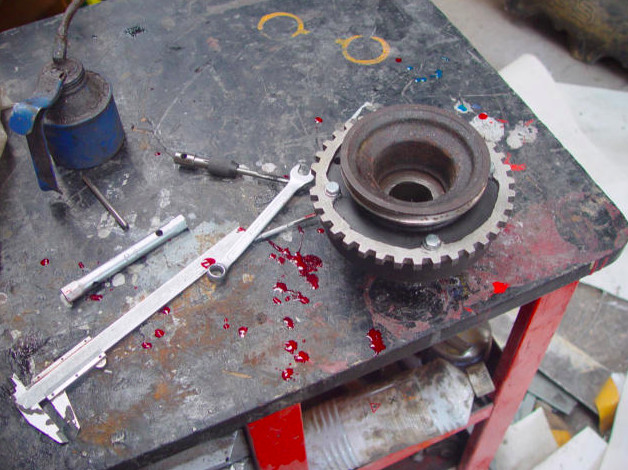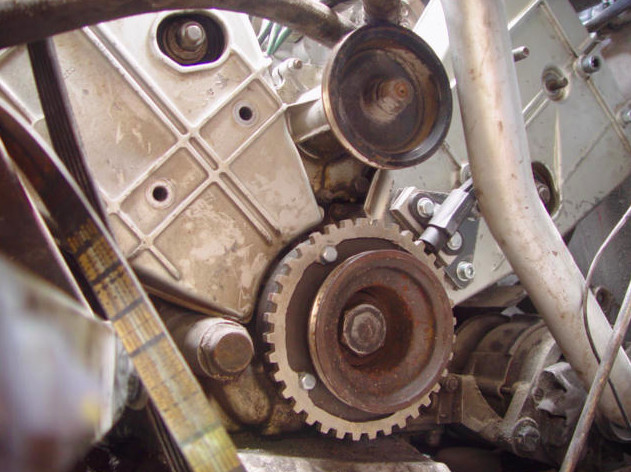 I was thinking, with the Bosch fuel distributer out of the way, I can plan in a supercharger there for the future. A used Eaton M90 (like MarkE had on his first setup) cost only a few hundred. Then I looked further and inquired to the Lysholm company for dealers or importers, they didn't had any and didn't want to sell me one directly. Then I saw an ebay ad for a new unused Mercedes SL55 AMG supercharger for a price a bit less then the Lysholm, Opcon or other screwtype superchargers. After 1 day considering I bought it...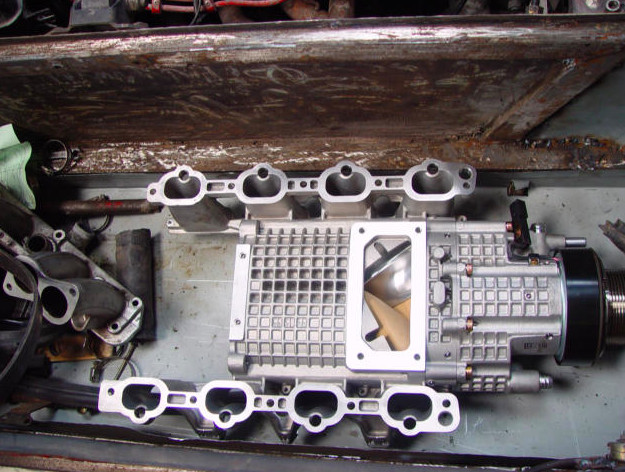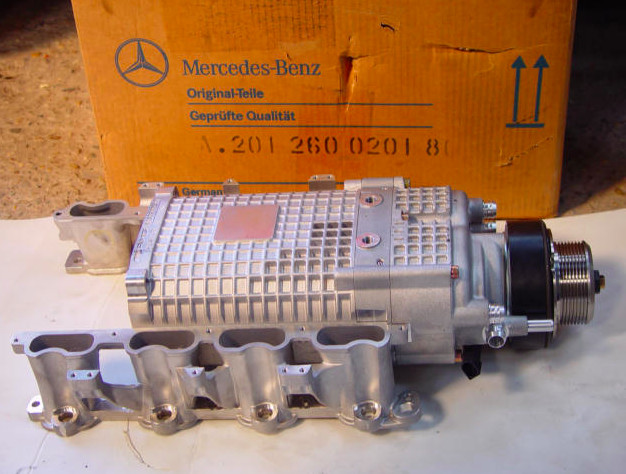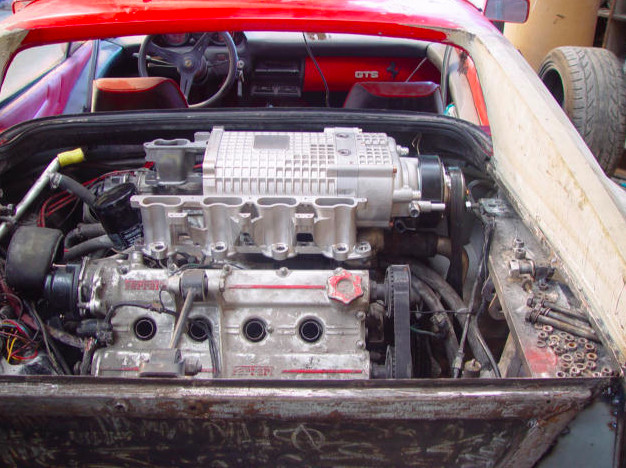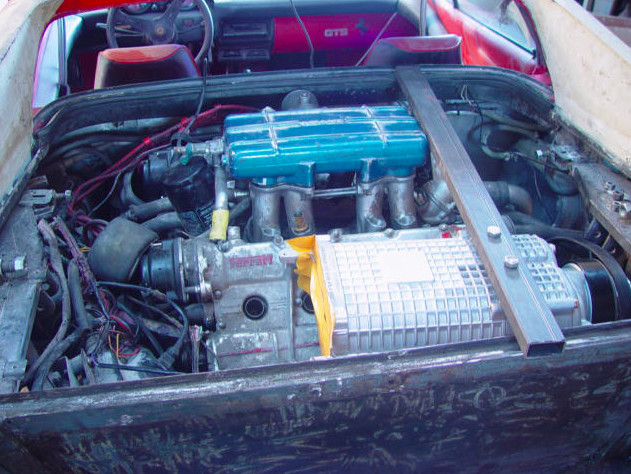 I will not mount it on top of the engine, I can't build my own manifold like MKE or wildegroot so it will be mounted near the rear fire wall. I also plan 2 intercoolers, horizontal "GTO-style" air-to-air, maybe not the best solution technically but it will look cool! Ordered 2 Audi S4 ugrade side mount coolers for that.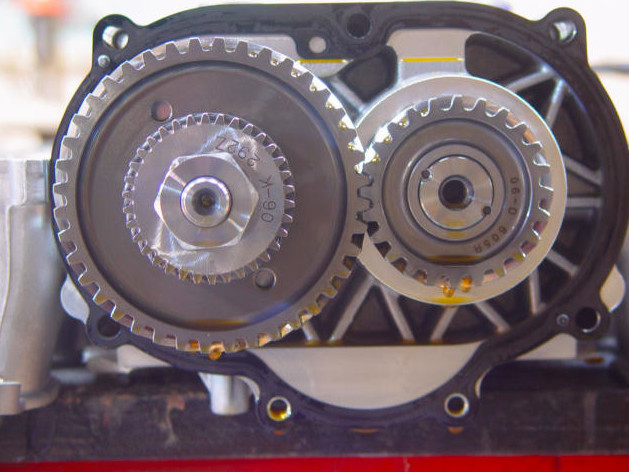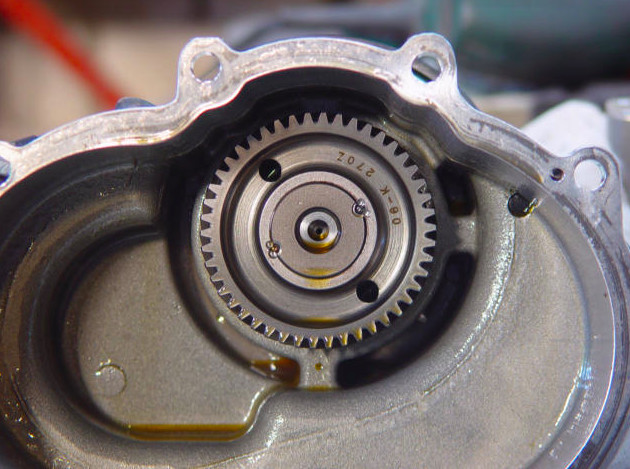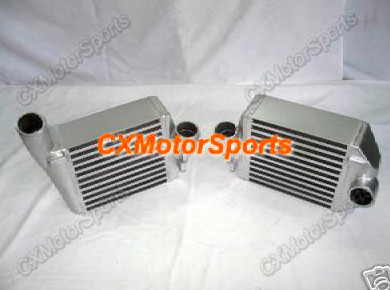 I forgot, above pics, the AMG charger has internal gearing, 46x34. I found some Ford 6 groove pulley and belt to test fit, it is 13 cm and with that I have a final drive of 2:1 so the thing will spin 14000 rpm at 7000 engine rpm and the other rotor will spin even >23000 rpm. This last number was mentioned in some Mercedes documentation for the 55AMG, with mention of kg air/hour and I calculated the Kompressor must be a 2 ltr unit. But, I have seen 3 types, a smaller one for the 32AMG, mine that is longer by 2 "squares" (the grid on top of the blower) and I saw a picture of mine on a G class 55AMG, but the SL 55AMG has a blower that is yet 1 square longer. And then there is the SLR mcLaren that has also this supercharger (and up to 700 HP). Documentation on the web is not found, I only found out the unit is made by IHI Japan. So, I'm still figuring out what I have and what pulley to use, I will start conservative. My youngest brother works at a place that sells industrial drives so I asked him to see what proper 8 groove pulleys and belts they have, the AMG has the 8 groove "8PK" type.
The AMG (I will call the Kompressor AMG from now on, shortest) had this Merc specific side air channels, output is on the bottom, then it goes through watercooled intercoolers through the channels cast to the AMG (in the original setup). I cut of the Merc specific stuff, ha. Also it had these four strange outlets on the drive side. But that seemed to be only waterchannels for the intercoolers, was afraid for a monent the AMG needs it's oil from the engine system. Of course I spilled the prefilled oil when I opened up the thing. I used these water channels to make mounts, cut a thread in them with a sliced bolt.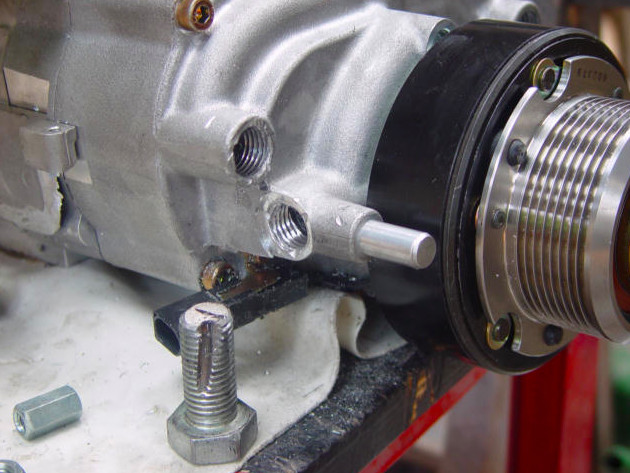 Well, this shiny new AMG, new intercoolers, and all the stuff from my engine removed, I decided I might just as well remove the engine for a good cleaning, painting and so on. Also I realized I have the original exhaust valves (sodium) and cast pistons. They were good enough for years to come if I just drove the thing, but for performance I need better. So the heads will come of and I will see what needs to be done. ($$$)
Engine room is cleaned by now (forgot to take pics), made a new rear alu wall.
You can see the new position of the rear suspension tops relative to the old ones.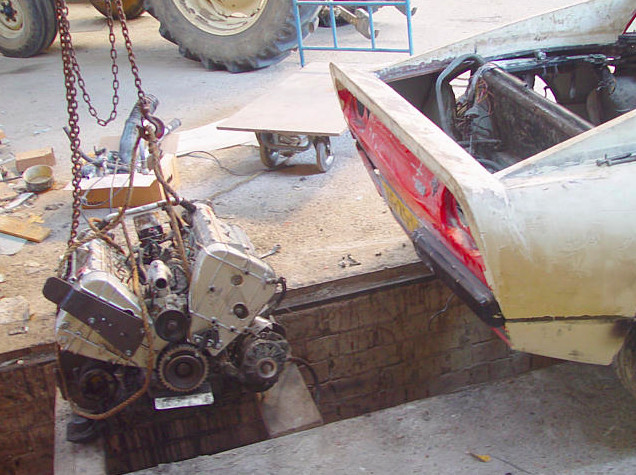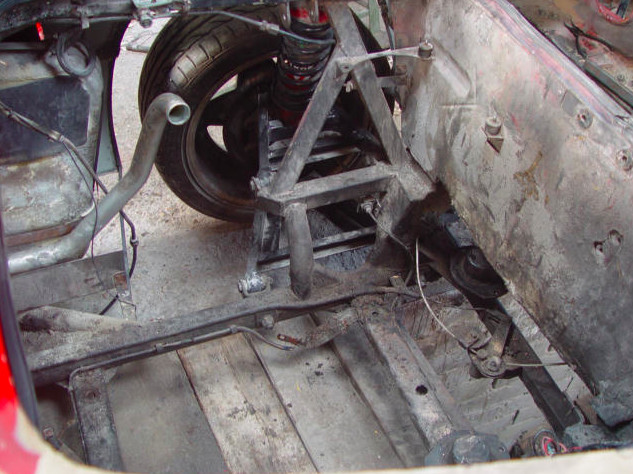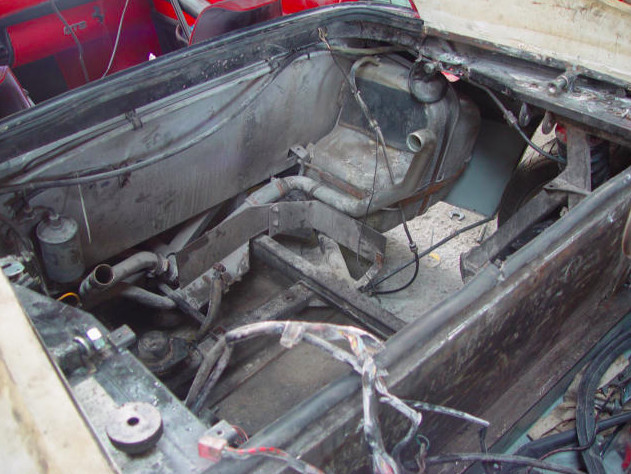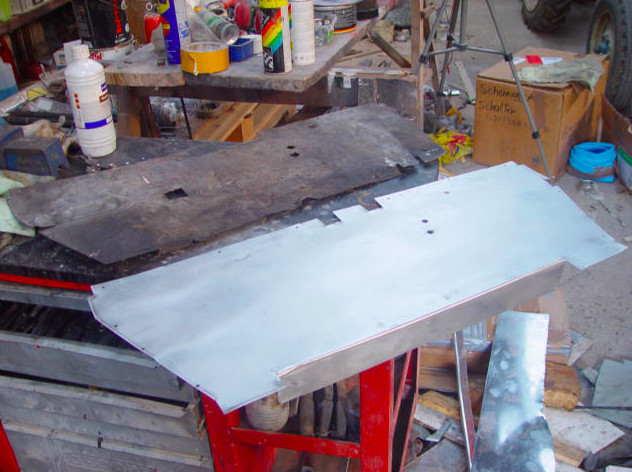 Made strong mounts for the AMG, yes it looks a hack job but strong it is and once evertything is painted black and in the car it looks better, also then the vertical struts won't be visible. The idler for the belt is just a try, it will need to be stronger with a wider pulley.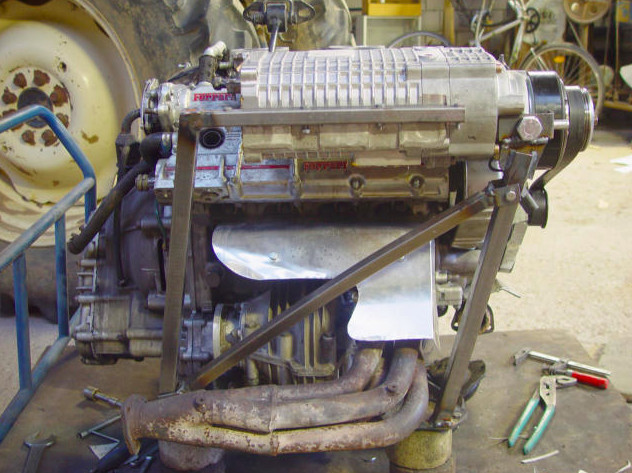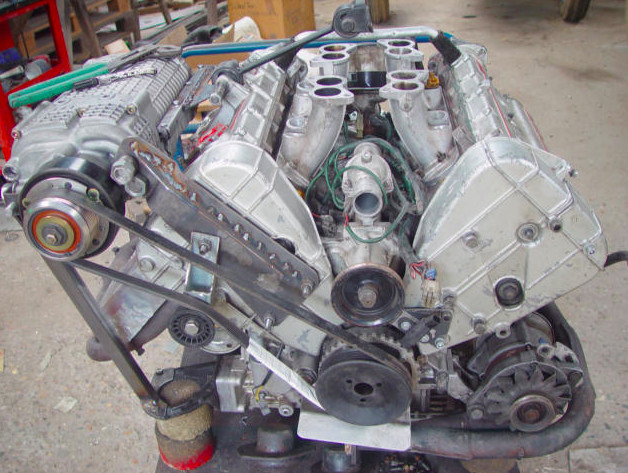 The megasquirt with Innovate LC1 wide band controller arrived (after being at the Dutch customs for 3 weeks) and also the longer drive shafts. This is a nice story, I called around local places what to do about the drive axles, they can only lengthen large diameter hollow axles (like for a small truck that gets a longer wheelbase). Then I remembered from this forum the 308 has the same CV joints as some VW bus and I found that also the Porsche 911 turbo (930) has these. So I thought maybe some VW or P has the right size axle for me. And guess what, the off road VW baja-beach-buggy-boys used these 930 CV on their aircooled VW based vehicles and as a result these axles are available in any size up to enough to create a 3 meter wide thing. Unfortunately the 2 sizes closest to the ones I need were either on the lower limit or upper limit, I ordered the longer ones but they can easily be shortened by 15 mm and then cut the grooves for the retainers, 2 per side. That i did today but took no pictures.