Builds
2003 Wrangler Sport, 4.5" RE Lift, 33" BFG KM2's and a never ending wish list by jeepinjeffrey
By diyauto
You must be logged in to rate content!
11 minute(s) of a 77 minute read
2003 Wrangler Sport, 4.5" RE Lift, 33" BFG KM2's and a never ending wish list
Compliments of jeepinjeffrey @ jeepforum.com
1-9-2012
Well I guess its about time I start a build thread
Here is how the story begins:
May 2009: Every kids most anxious birthday is there 16th birthday when they have the opportunity to learn and start to drive. Just like everyone other teenager I couldn't wait until I turned 16. The day had finally come and I could now receive my drivers license, I was so excited!! After receiving my drivers license my parents gave me the privilege to drive our 2003 Jeep Wrangler! I have always loved to be out exploring new places and a jeep was perfect for that, I was so excited and I couldn't ask for anything better!
Here was me and my Jeep just after I started driving it.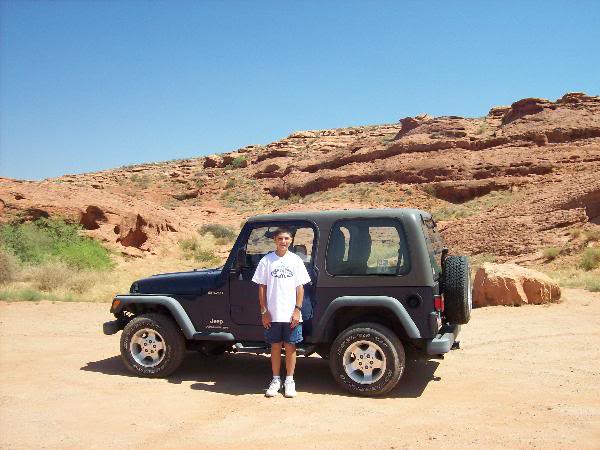 My First time out stock wheeling with some friends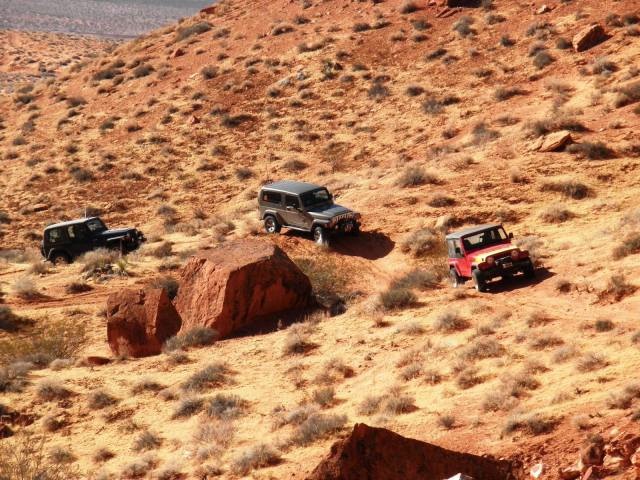 I started driving my jeep to school as soon as my junior year started. My best friends would always joke around and tease me on how small and stock it was so after some convincing I started to look around for some new tires. I found a deal on some new 31 10.50 r15 BFG All-Terrains and that when the addiction hit

I headed down to Las Vegas with a friend of mine the next day and we picked them up. My friend was the auto shop TA at our high school so he mounted and balanced my new tires for me.
Of course on my way home from school I had to take it on a mini 10 minute drive and test it out. Here is my Jeep with the new 31" BFG AT TA's on our drive.
I love my new tires and they were a huge improvement over the stock 235 70r15 Brigstone Dueler AT tires. I was so excited to take them off road for real so that next weekend by buddies and I headed out for a days adventure of Geocaching and off roading. We go to the third cache and I got out and heard a hissing noise coming from under my jeep, I looked around and yep you guessed it a nice 4" long stick was right through the sidewall of my brand new tires. That was the start to a really bad day! Seeing that there was nothing we could do about it in the middle of nowhere we put on my stock spare and found one last cache to at least end the trip on a somewhat happy note as headed back to the main road. We got out to look for the last cache of they day and yet there we go again this time a much louder hissing noise from the back tire. What do you know to my wonderful surprise another nice fat stick through another side wall. Of course they went in the middle of the tirebecause that would be easy to patch. So we headed slowly to my friends house stoping to pump air back into the tire as we drove. We got to there house and called around only to find that the sidewall is unable to be patched. Without any money to replace the tires because I spend my entire spring breaks earning on these tires in the first place we went to Walmart to get some tire plugs to at least let me drive back and forth the 5 minute drive to school. Just when I thought the day was as bad as it could be with the patched tires back on the jeep I went to put it in drive and the little plastic holder to the wire for the center automatic shifting unit snapped off. OH JOY! I called up our local jeep dealer and they talked me over the phone how to remove the cover and reach down and manually pull the metal pin and get it into gear. At leased Its all fixed now
My Next upgrade was a CB to use with my friends when we hit the trail. I ordered a Uniden Pro 520XL with a external PA mic. My next step was to find a way to mount it. I looked around at many many different mounting options and I decided to go with a CB mount bar from arizonarockroad.com, with there rear tire antenna mounts. I installed them the day they came and I love how it looked! I have always been interested in law enforcement so I purchased a Uniden Bearcat 15X Scanner that I mounted right never to my CB on my mounting bar. I ran all of the coax cords between my roll bar padding and the roll bar, and all the power cords I ran through my bar mount and then down the windshield side panel to my battery. All the cords are hidden and I am really happy with how it turned out.
Here is my CB and Scanner on the mount from arizonarockroad.com
A Good friend of mine has a Jeep LJ that had a 2.25" Old Man Emu suspension lift that he was upgrading from to a 5.5" Lift so I bought his old lift from him and he helped me install it. I was SO excited! Every jeep you hear about has a lift and now mine was finally getting one! My jeep was growing up slowly in the world of Jeeps. I headed to his house and we put my new lift on in his garage. This was the first job that I really did hands of with my jeep and it was lots of fun!
We swapped out the new shocks, new springs, new steering stabilizer, added a track bar relocation bracket, and bam! All done!
Here is my 31" BFG AT with the new 2.25" OME Lift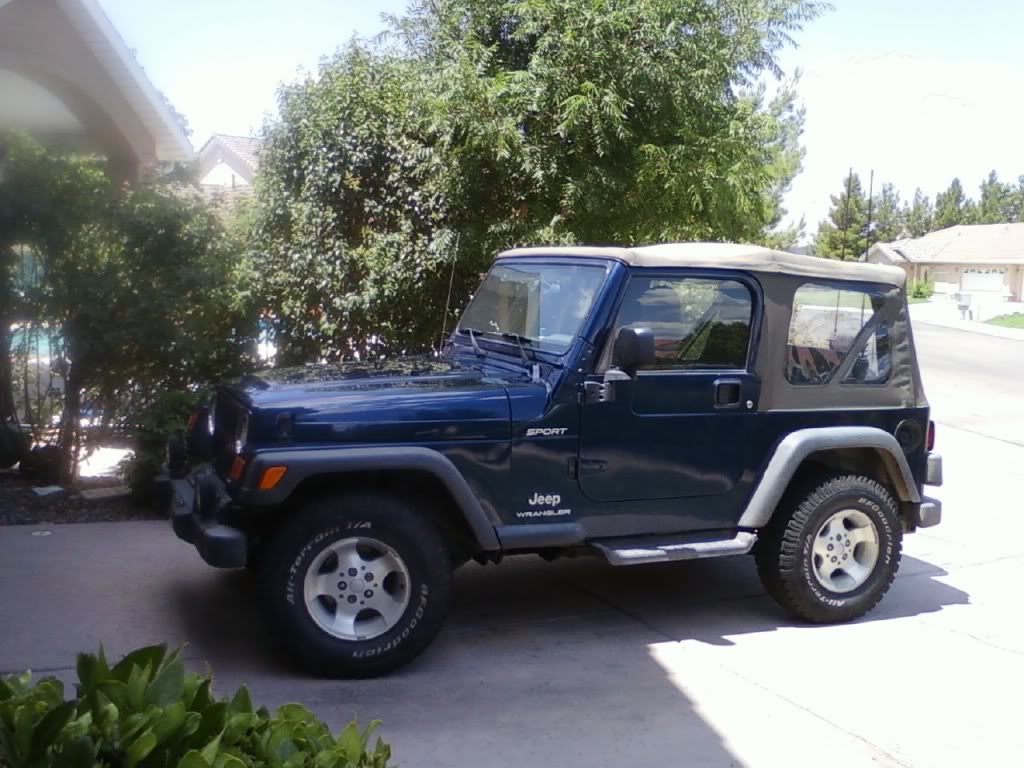 The 2.25" alone didn't last long because the addiction had already hit! A few months after that I added some 2" Spring Spacers all around and added a transfer case lowering kit just to be safe as well.
A Resent Rain Provided a great reason to test out the new hight! I don't think the gas station enjoyed my muddy mess

too bad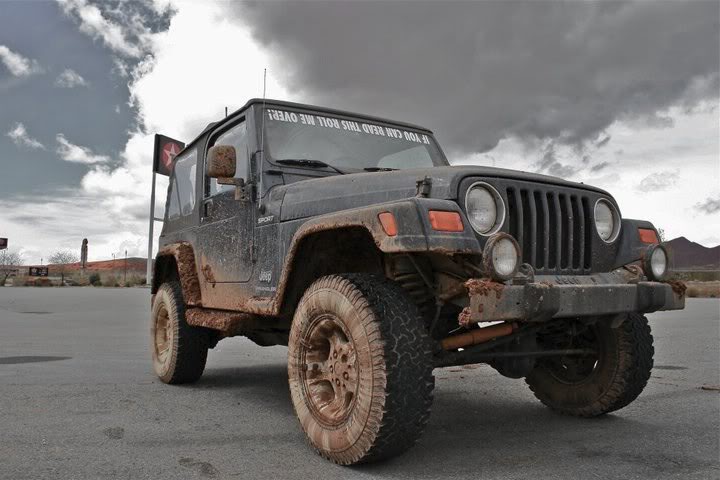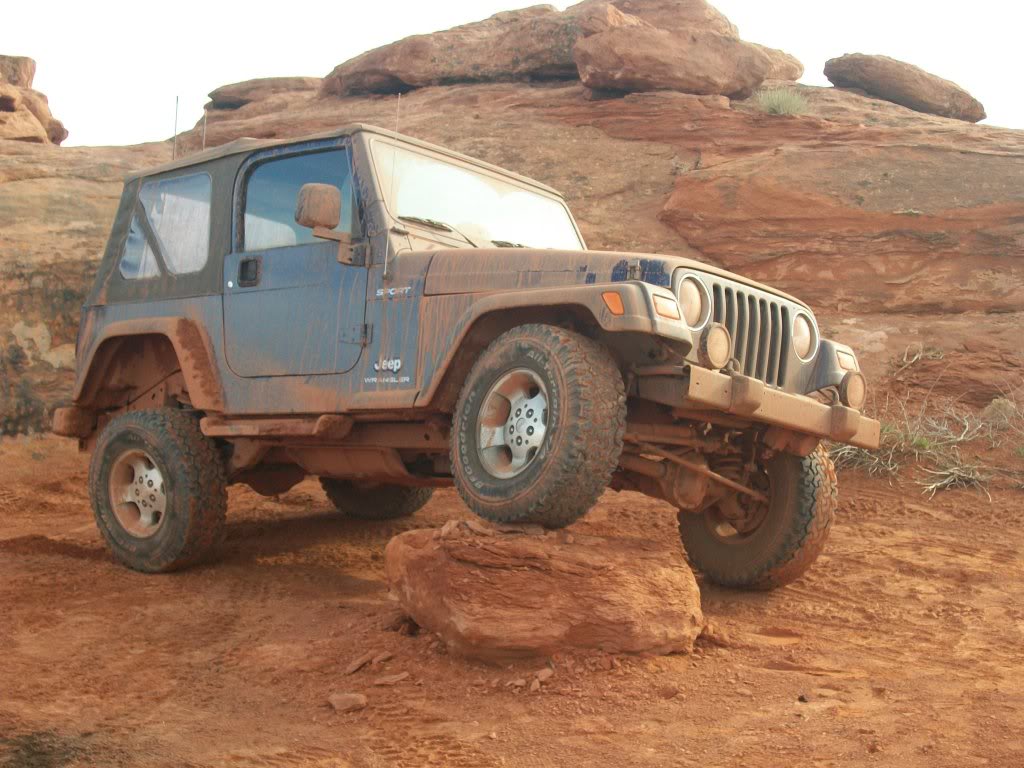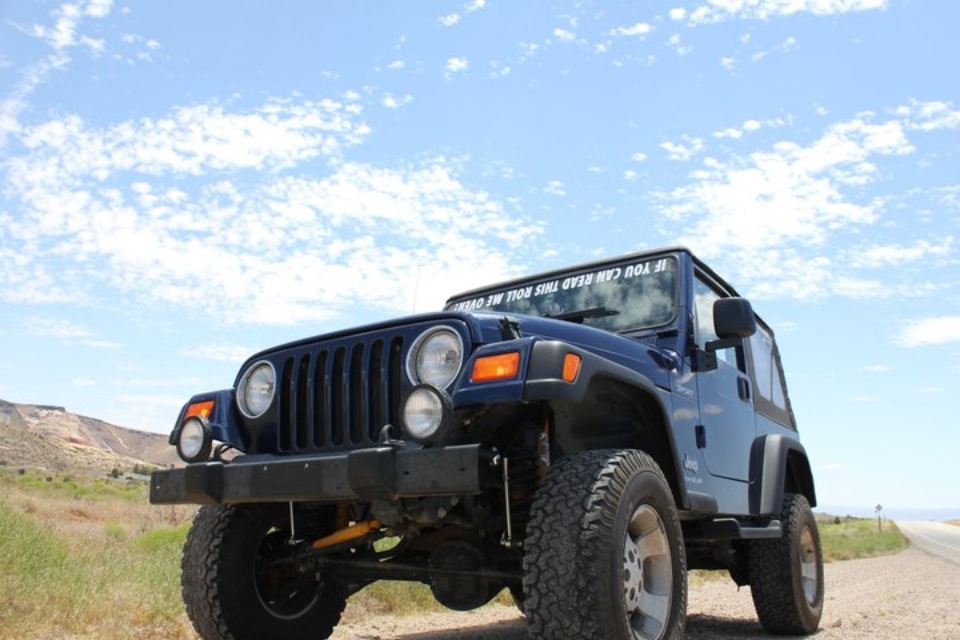 The next thing on my list that I wanted was a winch, but obviously as a high school student that was far beyond my budget. So I did some research and got a highlift Jack that would work if I needed it to until I could afford a winch. I looked at many different ways to mount the jack and I found these hood mounts that I can lock the jack on that I liked the best.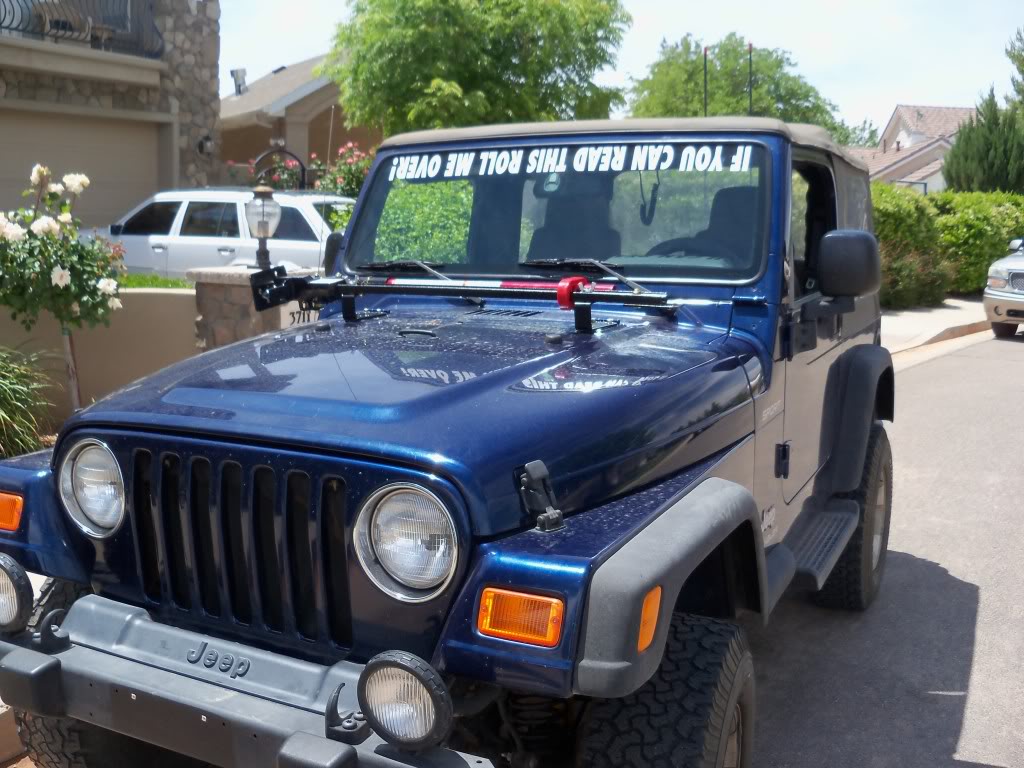 Being a 03 in the hot desert sun of Southern Utah, my poor stock fender flares were looking very faded and sad so while my friend was rhino lining his XJ rocker panel protectors I rhino lined my fender flares, and running board steps. That made a HUGE difference!!
BEFORE: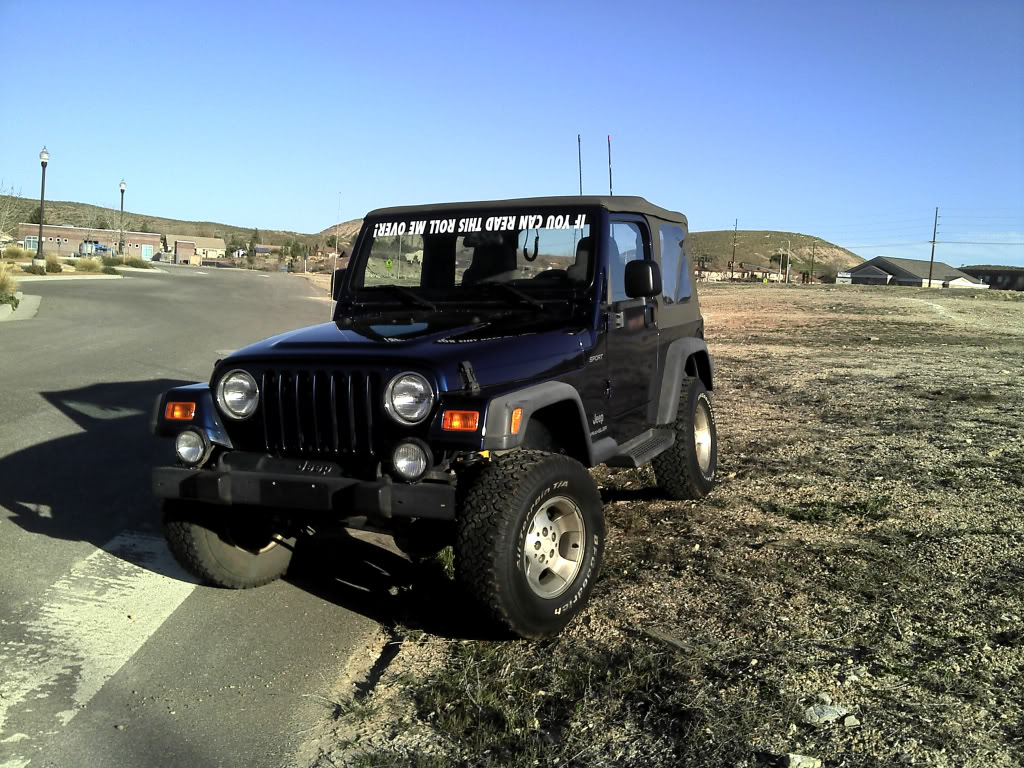 AFTER: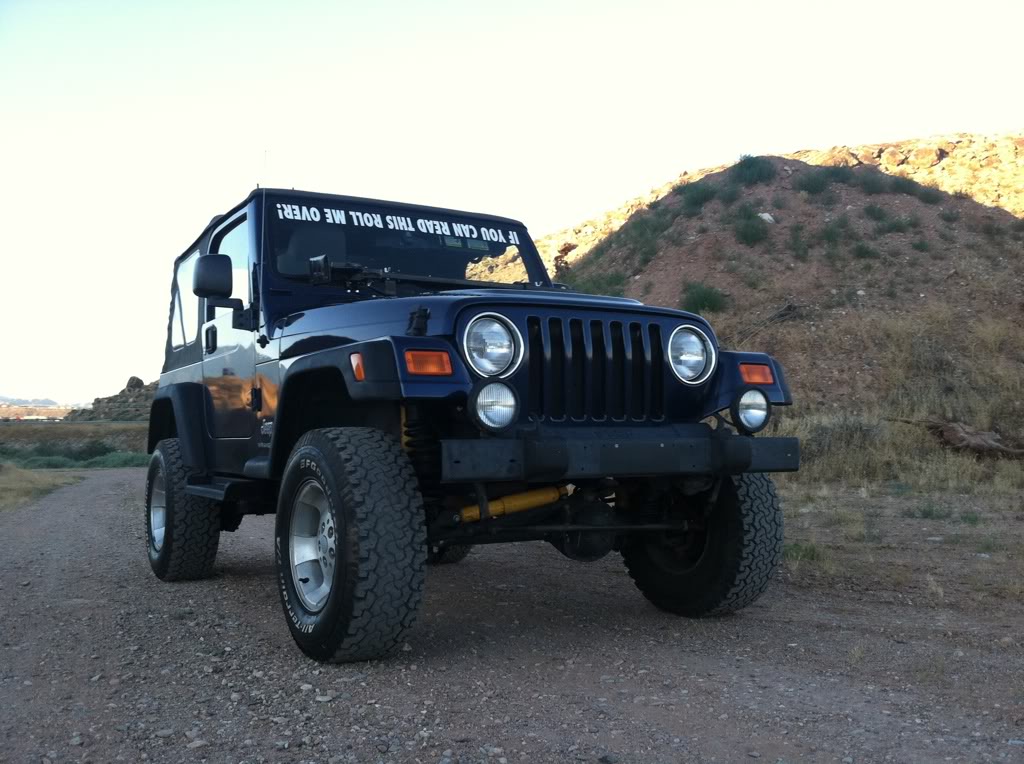 I was out enjoying some trials near southern utah with a friend of mine and we started to heard a weird rattling/smacking noise as I drove. It turns out that with the added lift and the hot desert sun on the rubber bushings I snapped one of my stock disconnect, What a perfect time to upgrade to some sway bar disconnects!
BEFORE: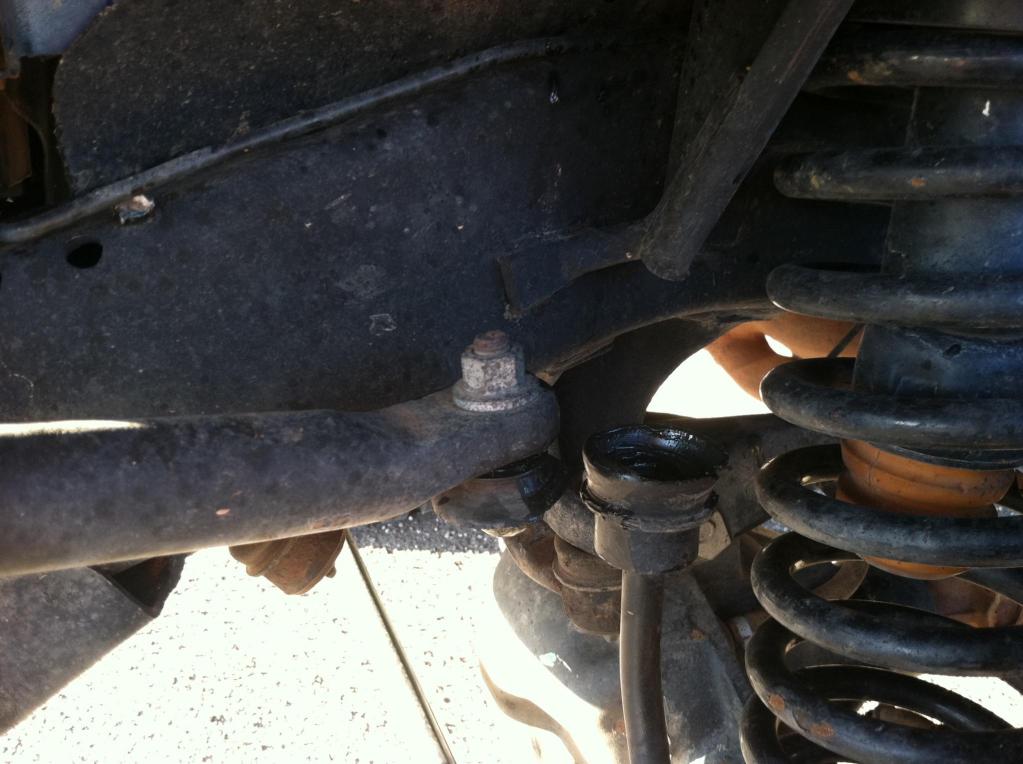 AFTER: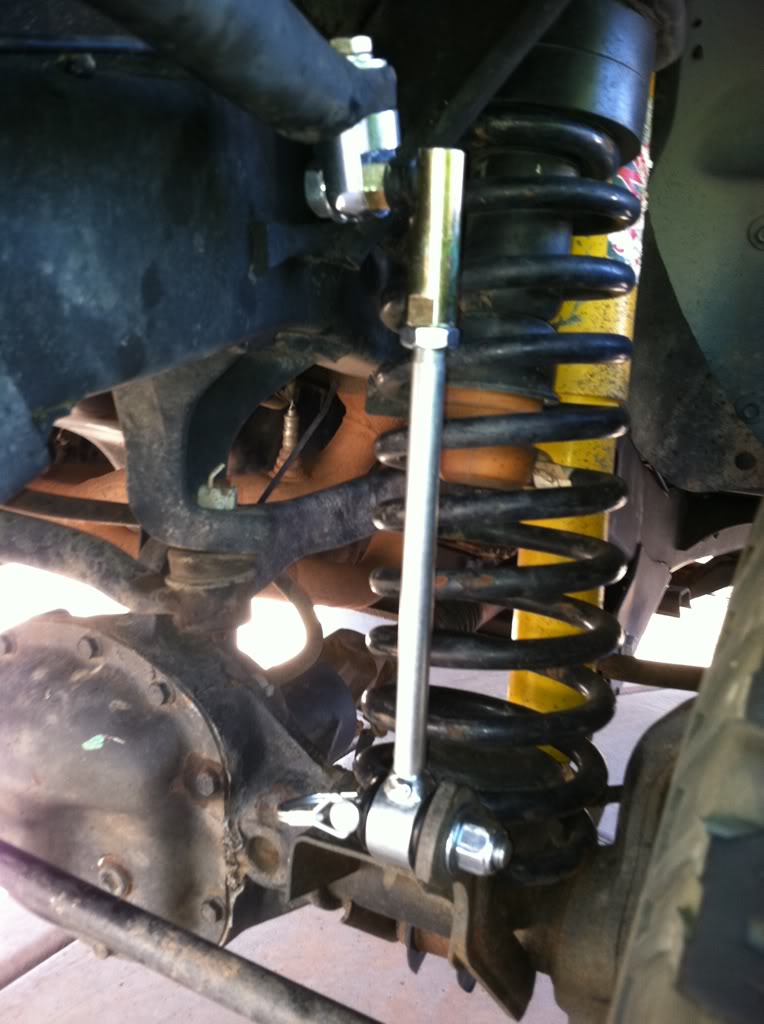 Now with a total of 4.25" of lift those little 31's were looking a little small, and with three of the four with plugs from off roading I decided it was time to switch to a thicker sidewall. The problem is that in order to get a BFG AT tire with thicker than a C load range sidewall rating you have to swap to 16" rims.
I like the look of a 33 much better on a 16" rim then a 15" rim so I wasnt mad. I found some ION 174 rims that I really like so I ordered them from jcwhittney.com and then found some cheap used BFG AT tires on craigslist that I put on to work untill I can afford some new tires.
At The tire shop! Bye Bye 31's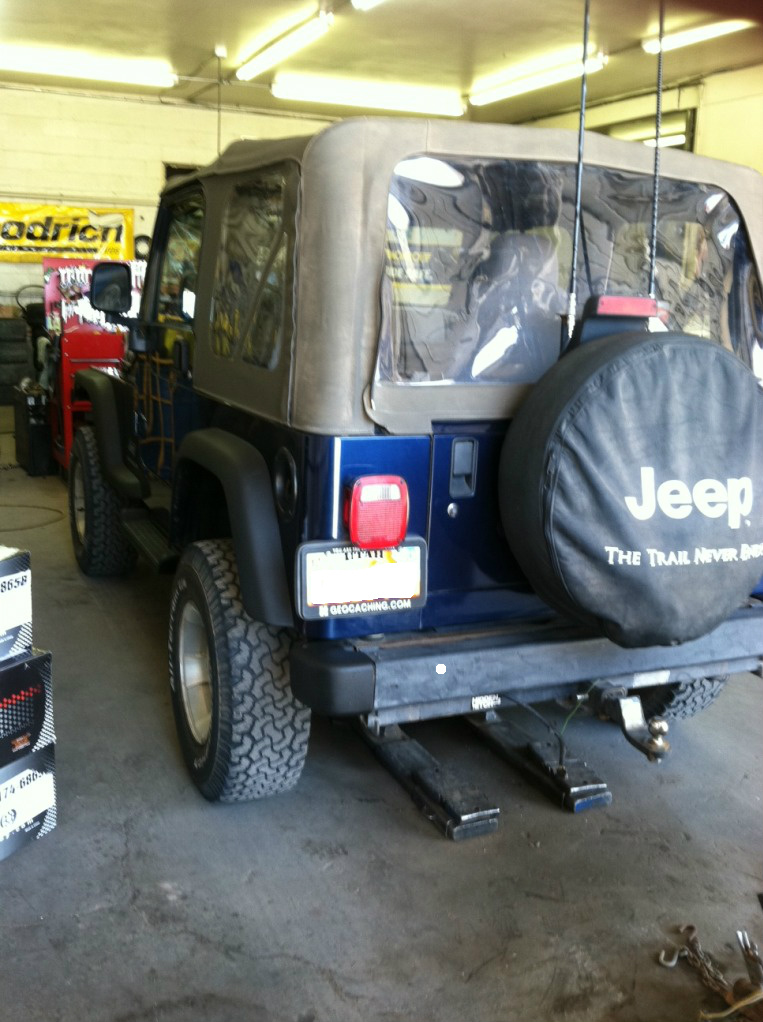 Heres the rims in the box.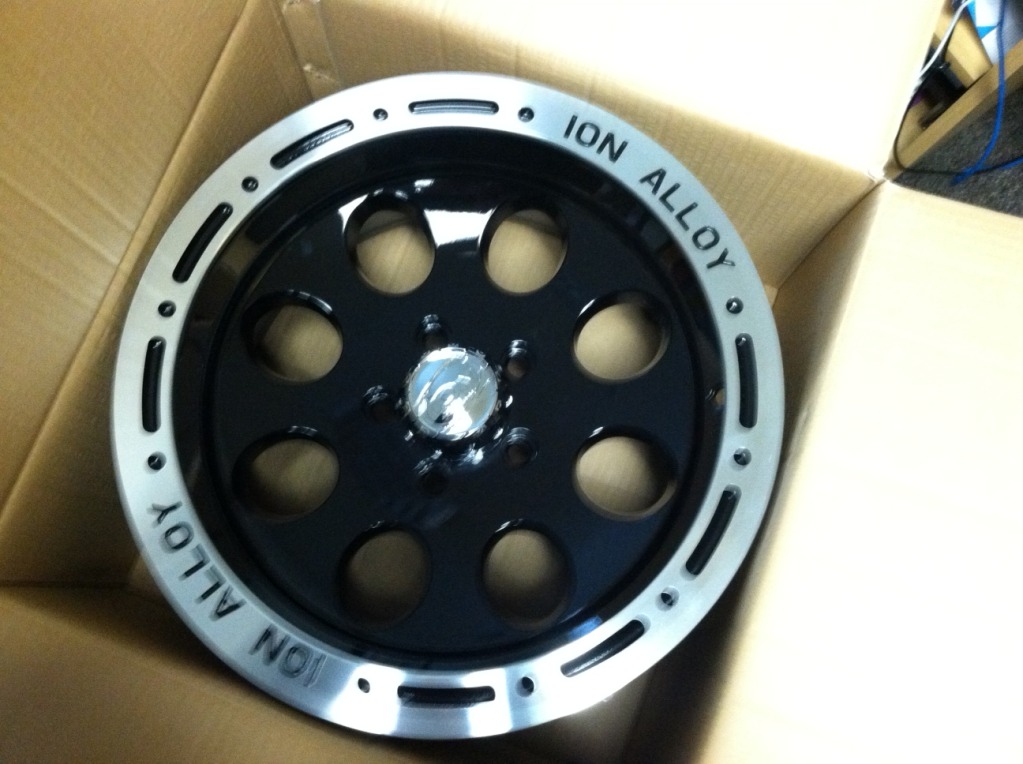 Heres is my Jeep as soon as I got home with my New rims and the used 33's I got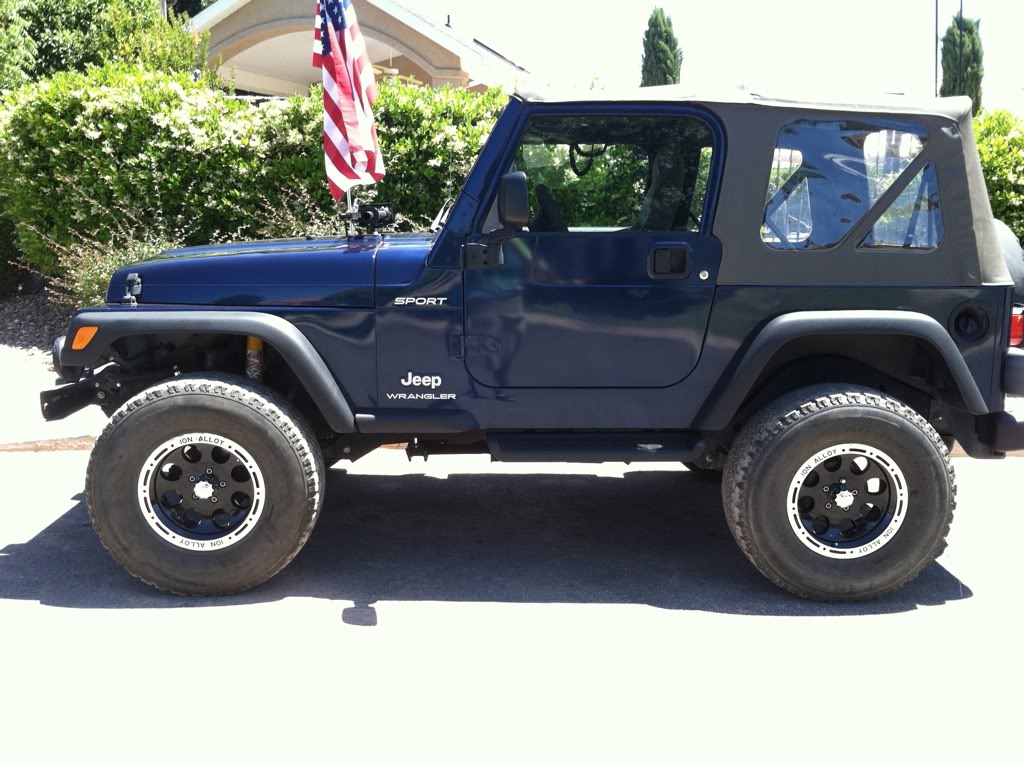 After graduating from high school and getting a summer job at a local screen printing shop, I earned enough money to add some more upgrades. My jeep at the lift it was at was just on the border of needing to swap all of the relocation brackets and lowering kits and go for the real things so I replaced my now sagging 2.25" OME lift & 2"spacers which now were probably only around 3" and shocks and added some fun upgrades along the way. My compressed sagging springs had gotten so bad on the passenger side that when I would change lanes on the freeway my entire weight of my Jeep wound rock from one side to the other and that wasnt the funnest feeling going 75mps down the road. So I replaced my old stacked OME lift and spacer with a full short arm suspensionlift that I put together with all my favorite brands and parts that I could afford.
Rubicon Express 4.5" Shocks
Rubicon Express 4.5" springs
Daystar Adjustable front upper and lower control arms,
Adjustable JKS front and rear

track

bars
Slip Yoke eliminator with an
Extended CV style drive shaft
Clear Marker Lights
Tint
JVC KD-R720 stereo
KC Lights
Rocker guards
Rocker Panel guards
Smittybuilt XRC-10 winch
BFG Mud Terrain KM2 33X12.50 Tires!
Well there went all my savings haha.
My best friend and I put all of these upgrades in together, it was a LOT of work but we had a good time!
Well all of the parts had to be delivered to my dorm here at college until I could get home to put them all on.
The mail desk sure hated all of my heavy boxes

especially the winch and rock sliders hehe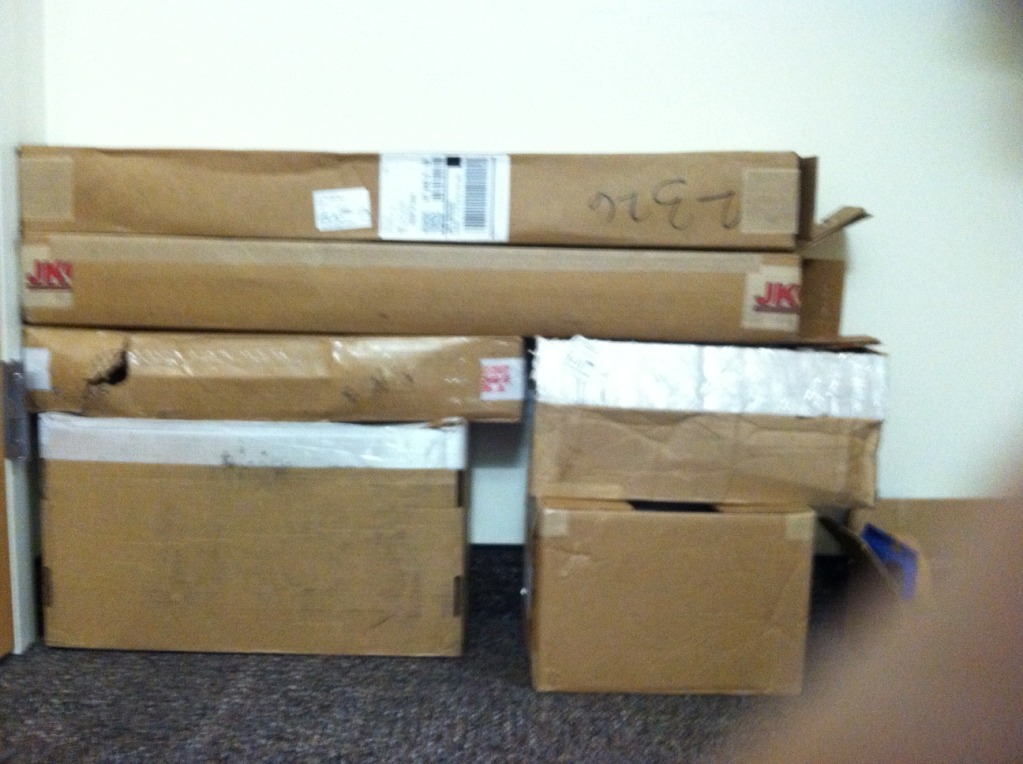 And those are just a few of the boxes!
I couldn't wait to finish my finals and get home and start working on the jeep!
The day after I got home I headed over to my friends garage after he got off work and we started the project!
It took almost a full week working only a few hours after he got off work each day but we completed it!
Swapping out he control arms/shocks/springs/brake lines