90 yj frame swap and build up by lovett86
By diyauto
You must be logged in to rate content!
90 yj frame swap and build up
Compliments of lovett86 @ jeepforum.com
11-3-2012
started a new build thread
picked up a frame for 100 bucks, guy threw in a plastic tank with it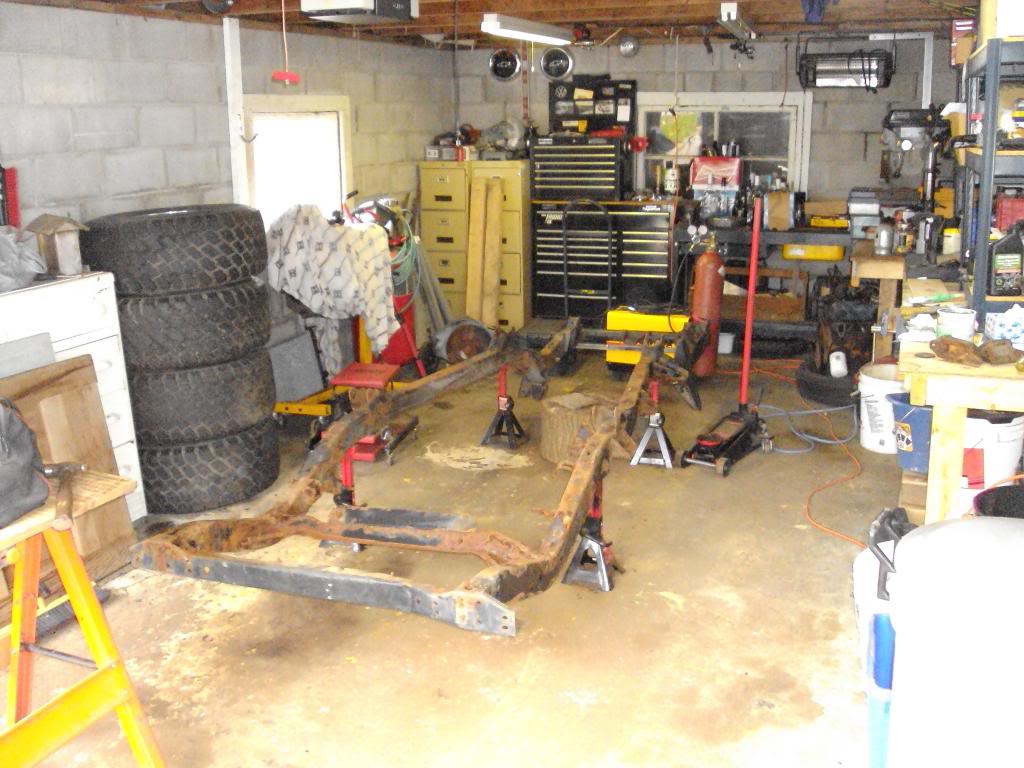 went back a couple weeks later and picked up a cj dash and speedo, cable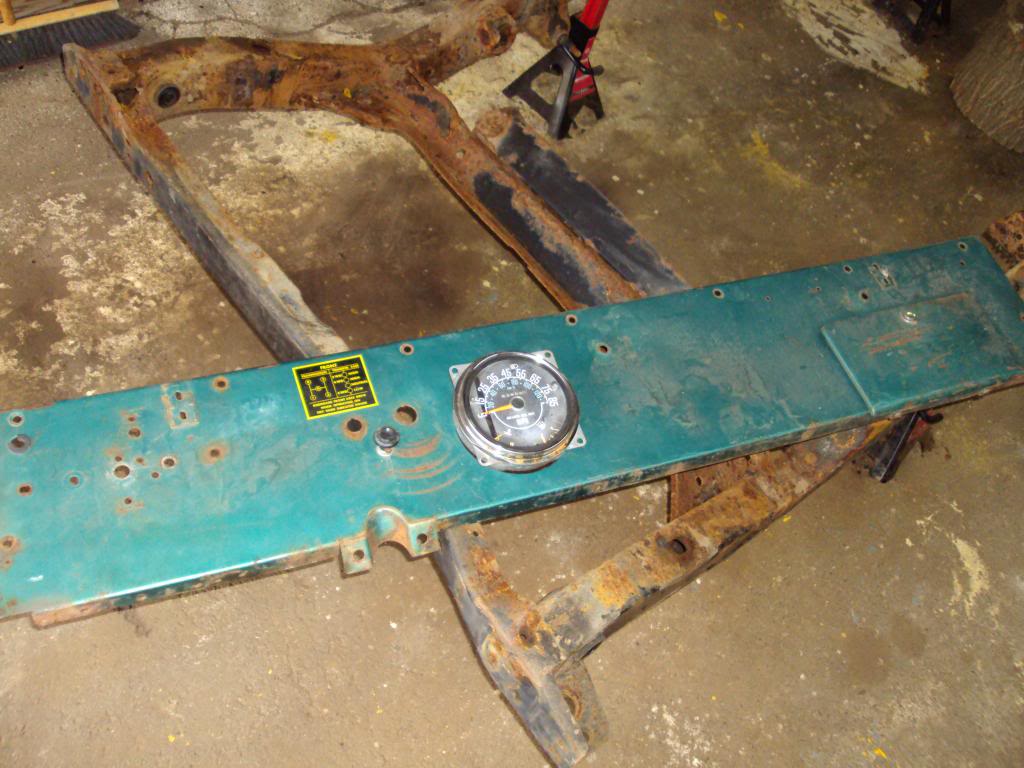 this is the jeep as it is sitting now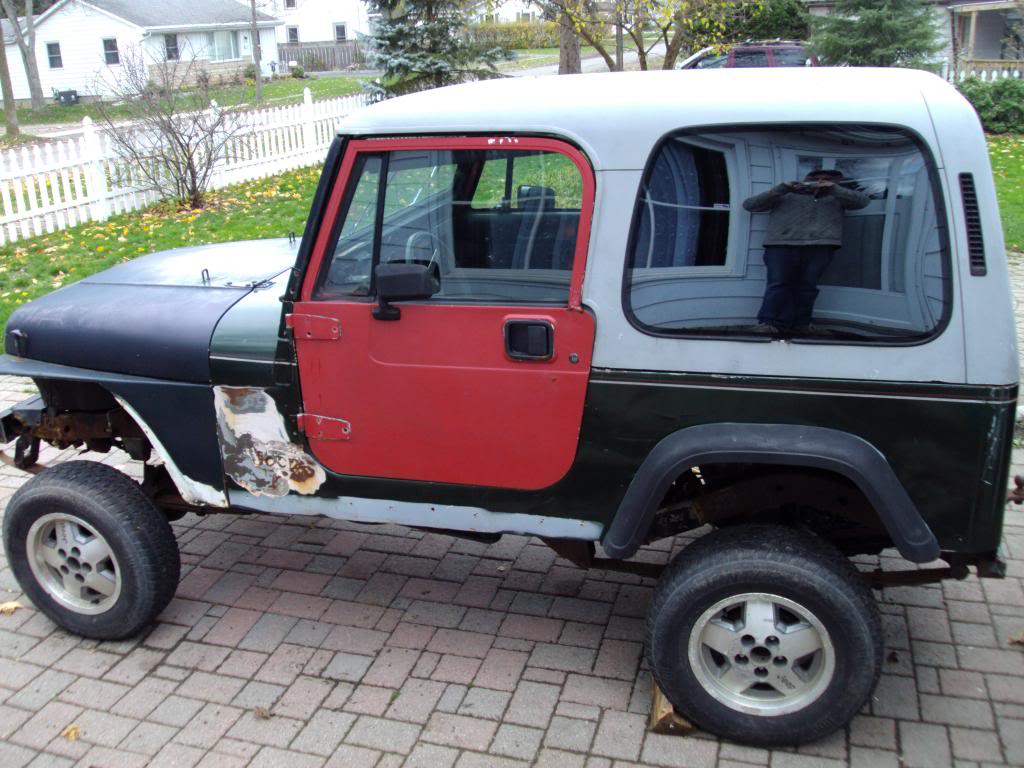 the frame does need a bit of repair at the passenger rear rail, will post pics after its repaired
found a 2nd bad spot in the frame after i took a hammer to the hole thing so i fixed it first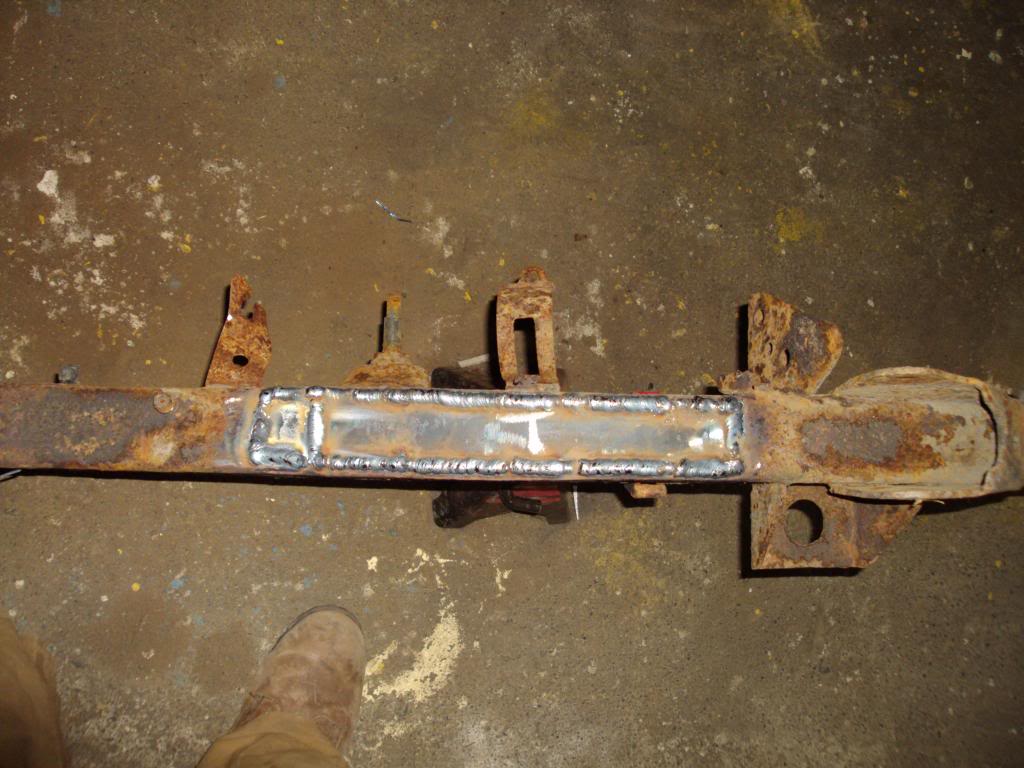 this is the passenger side rail, still needs a bit of work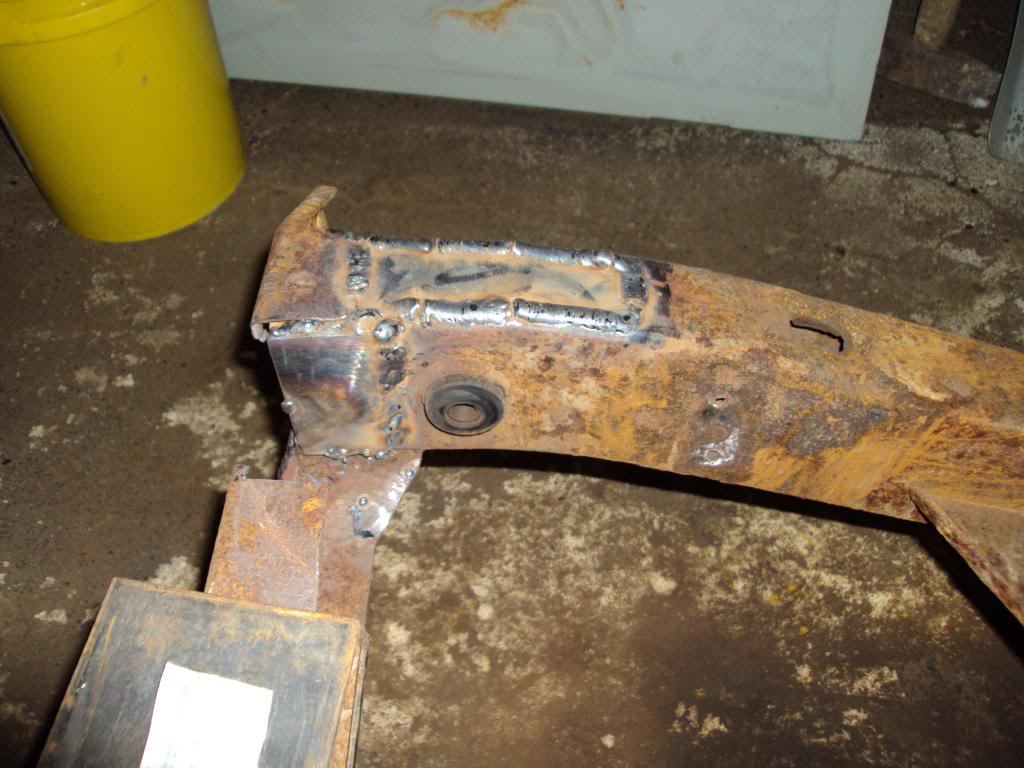 11-5-2012
a bit more work on the frame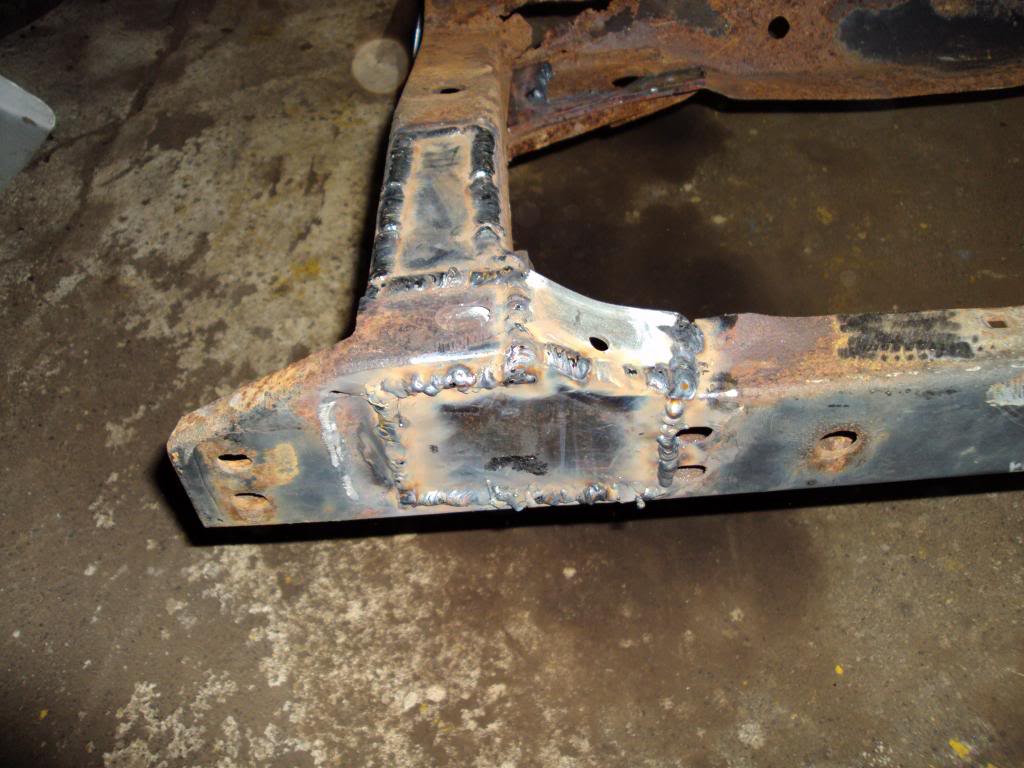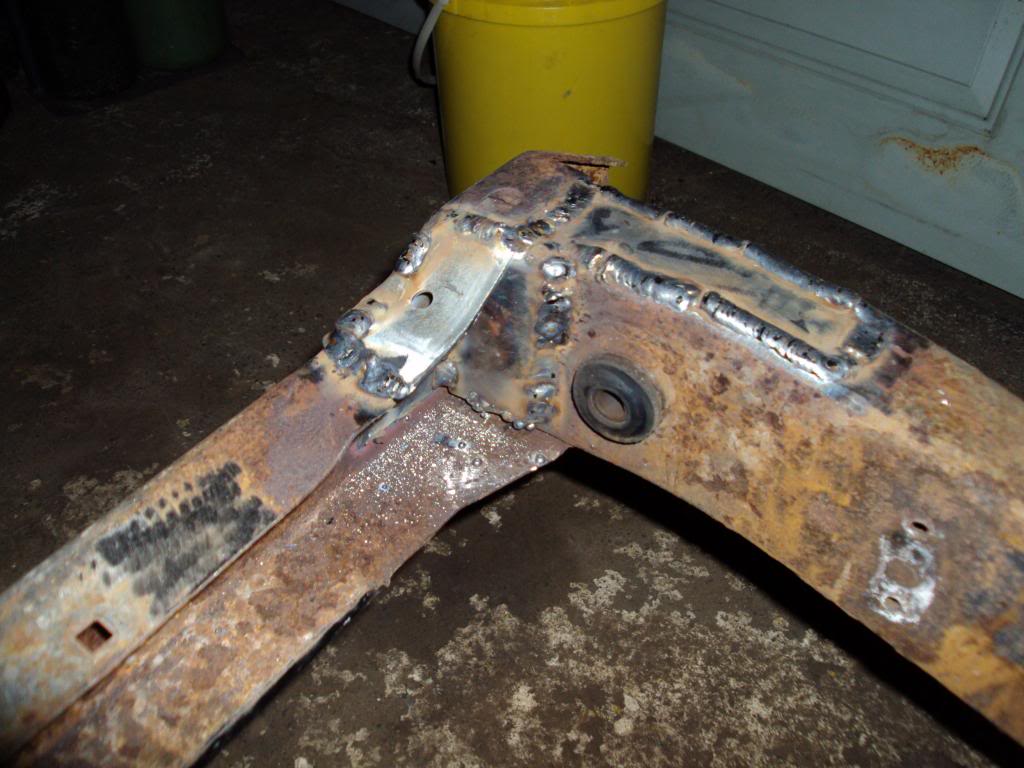 found this little guy too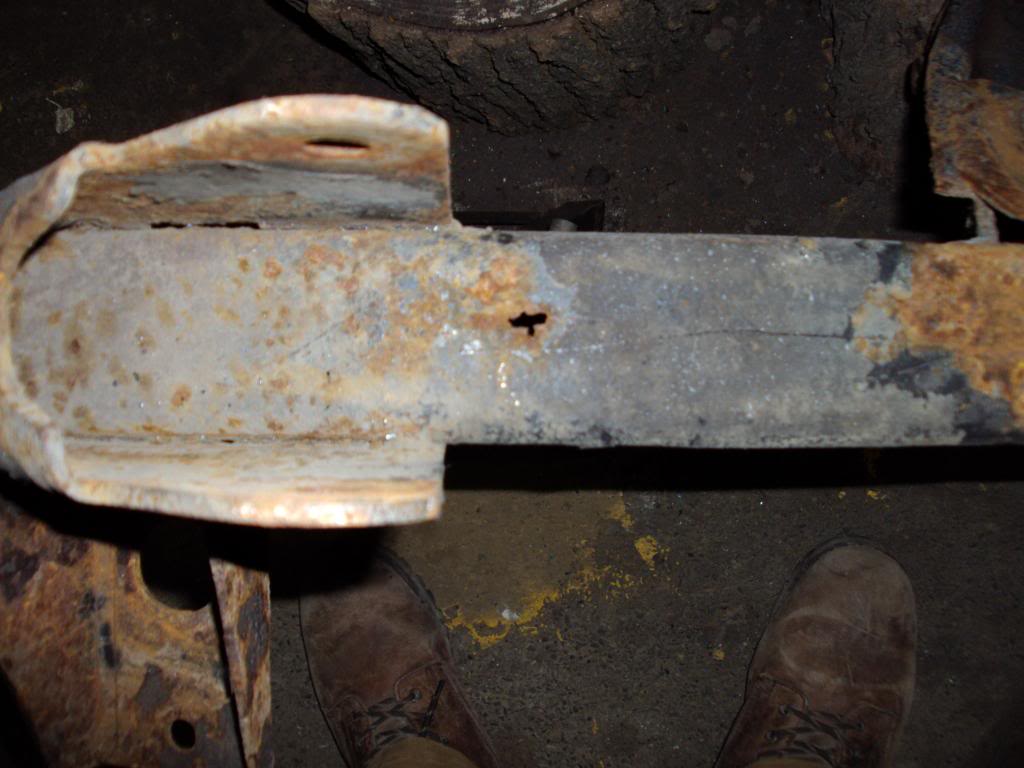 11-10-2012
left side of cross member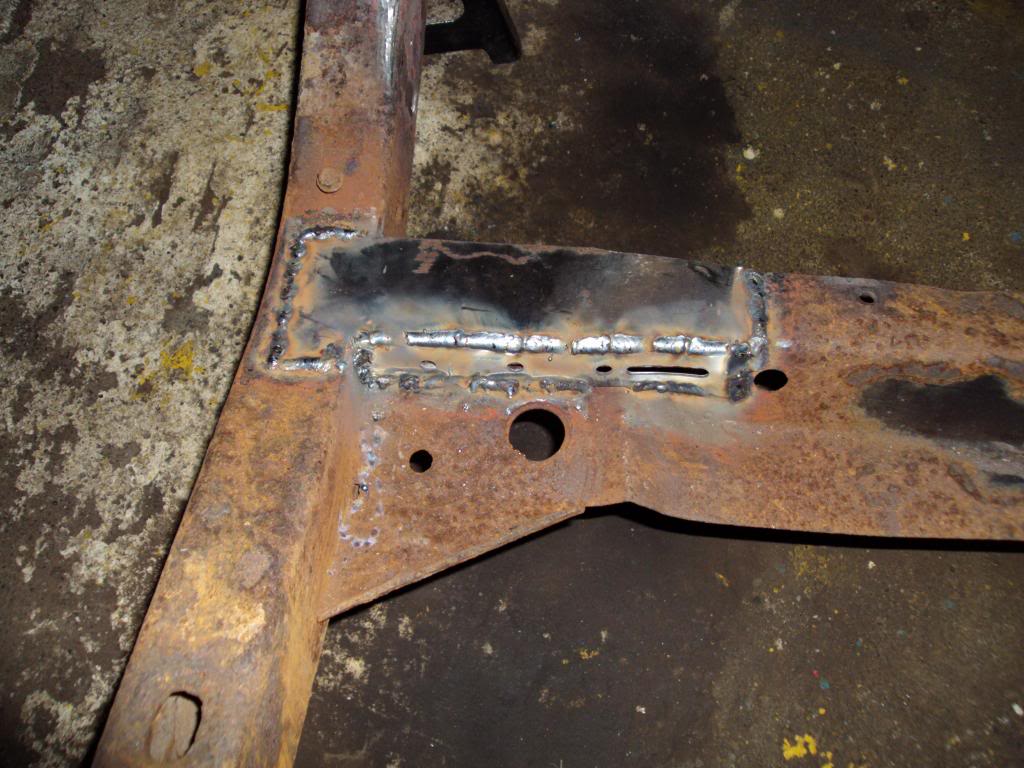 right side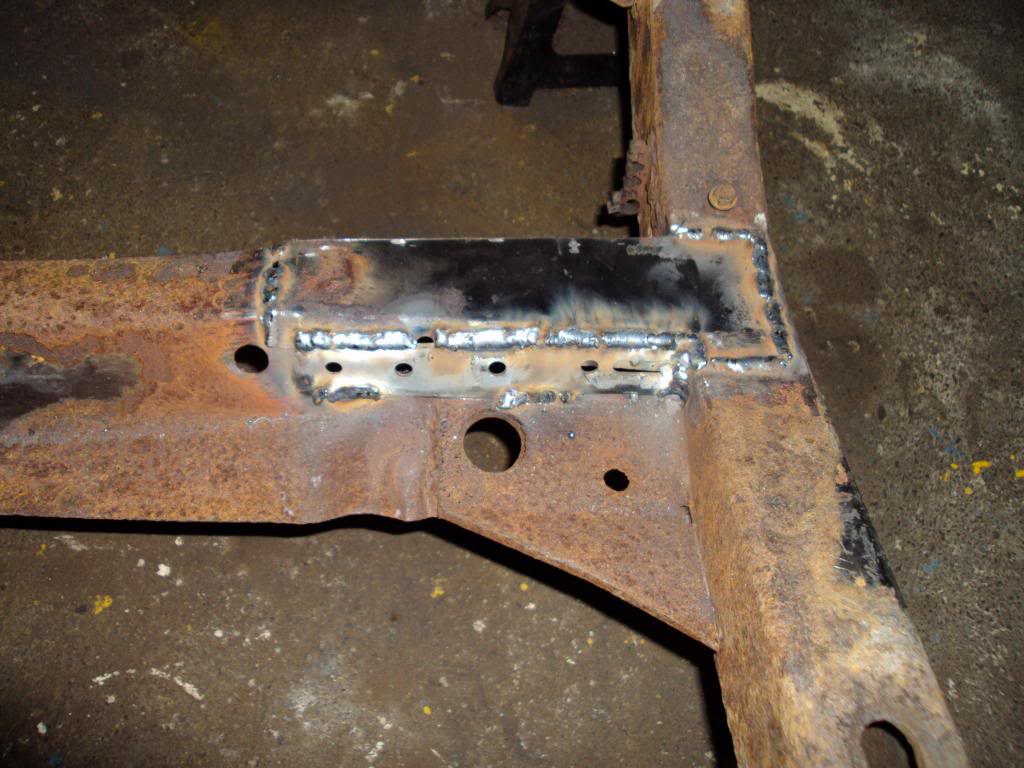 rear all fixed up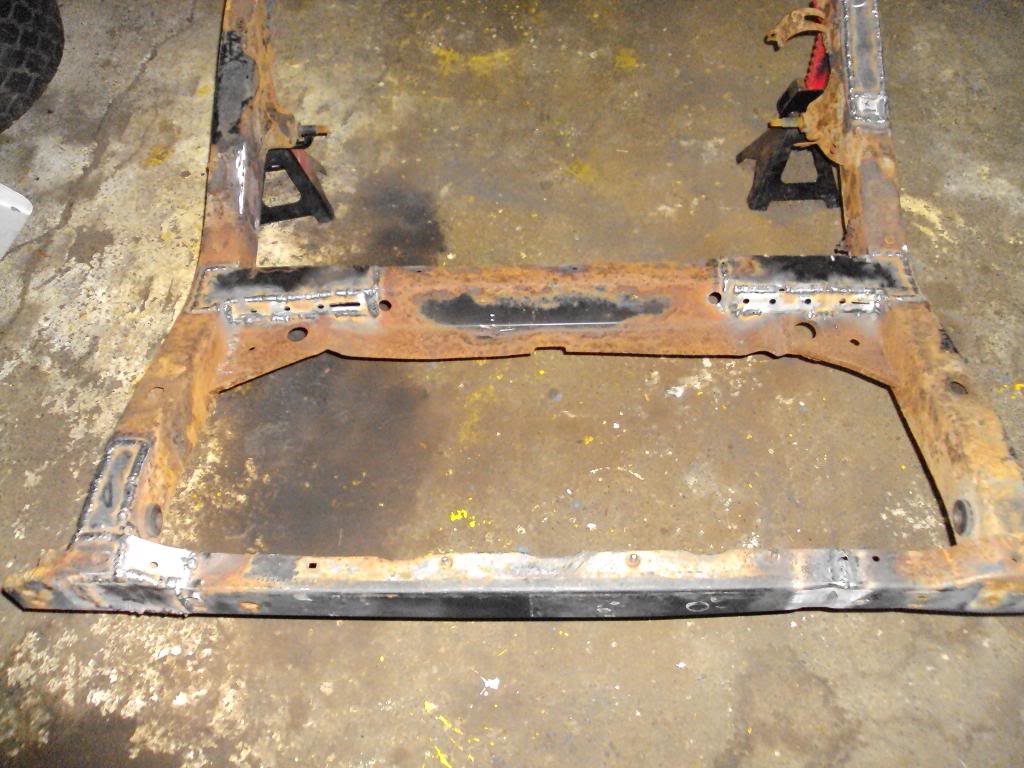 little hole patched up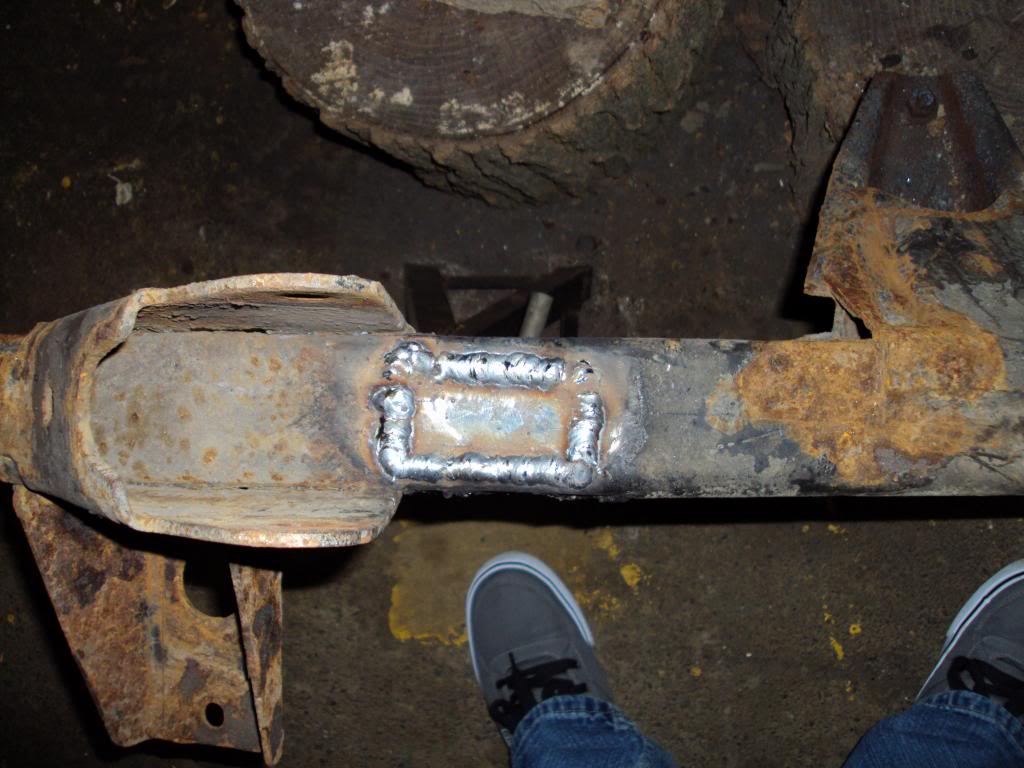 rear track bar mount ground off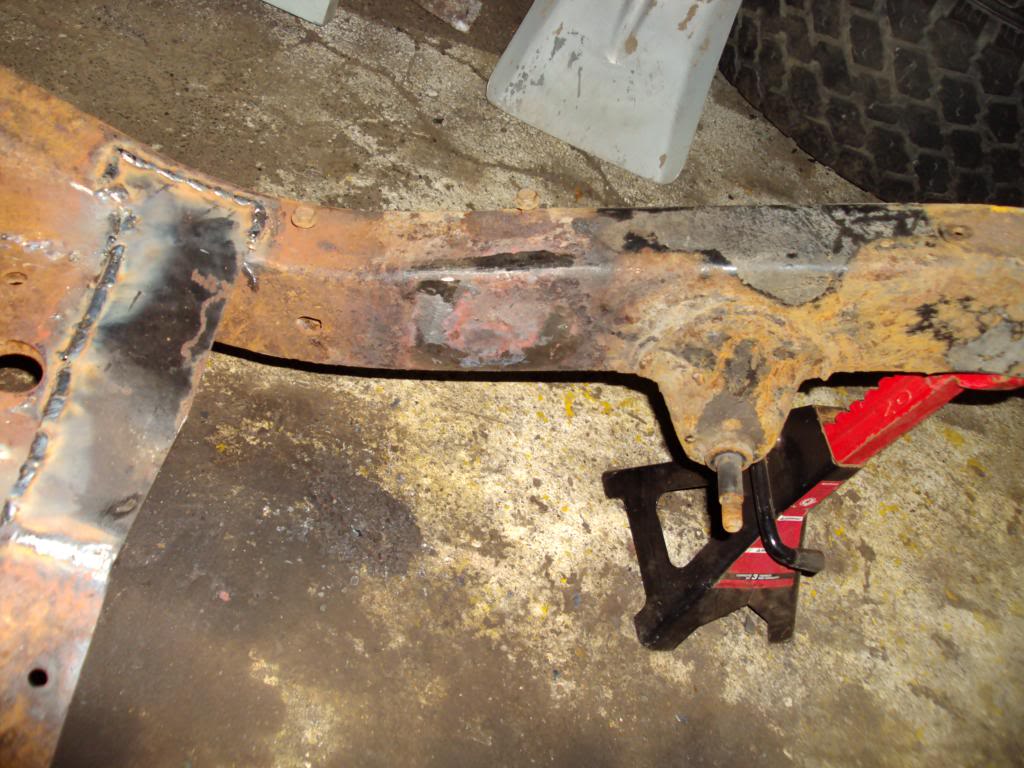 front track bar mount ground off
i just have to clean up the threads in the frame for the skid plate and then grind down the frame and paint it
11-21-2012
got alot of grinding done on the frame, hoping to have it primerd next week
1-10-2013
finally got some primer on the frame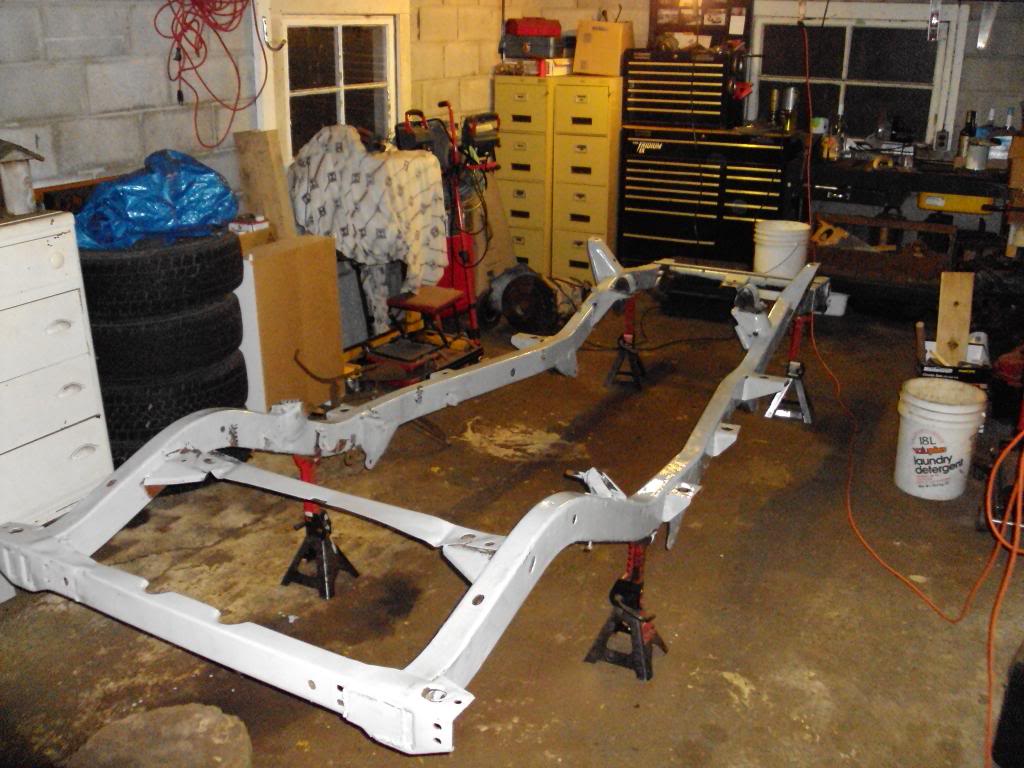 2-3-2013
New frame is painted and ready for swap. Body is off the jeep and ready to go. Will have pics tomorrow
2-16-2013
no pics yet, but the whole drive train is stripped down to nothing
2-21-2013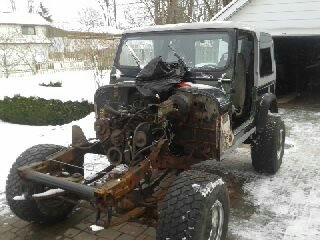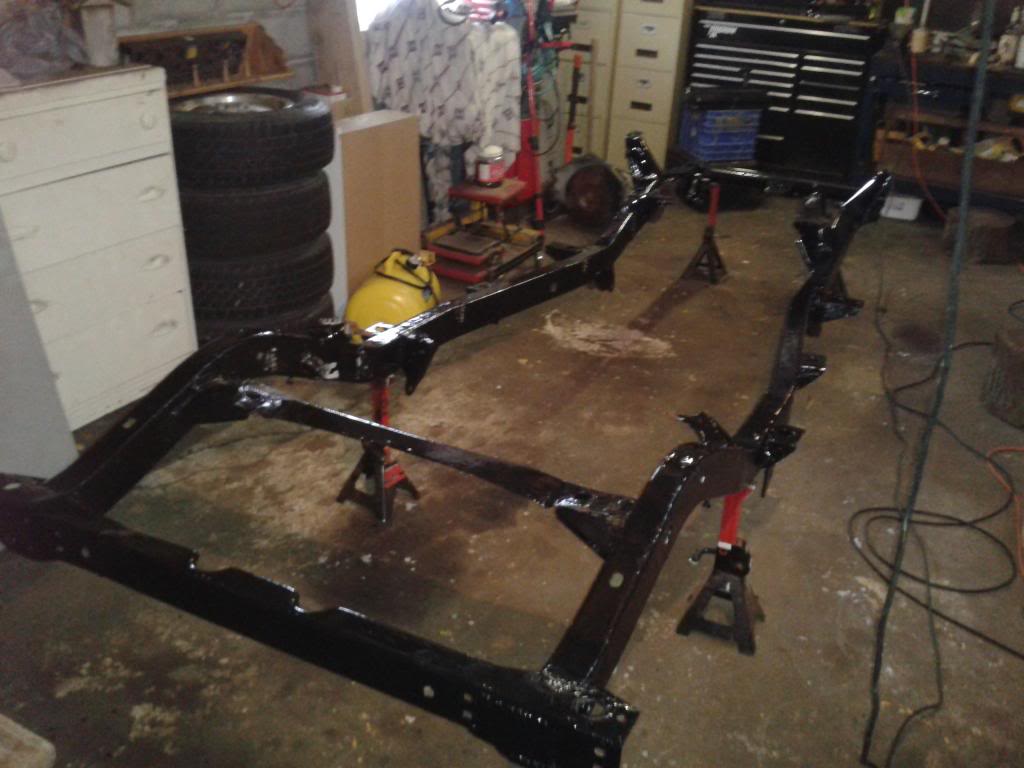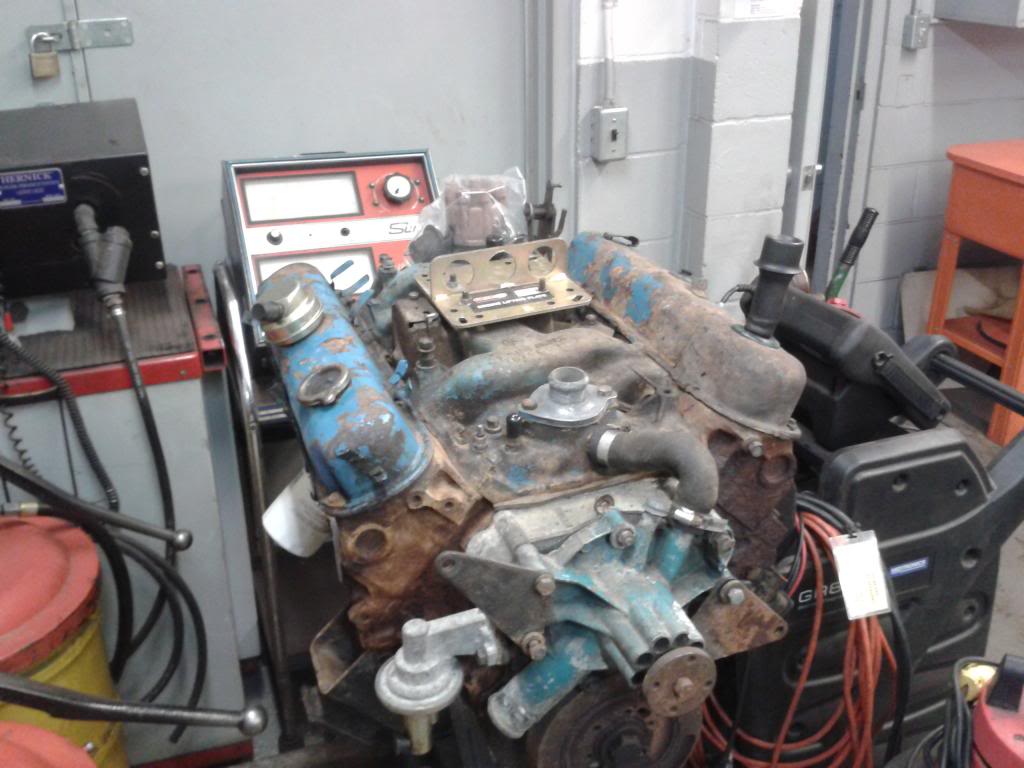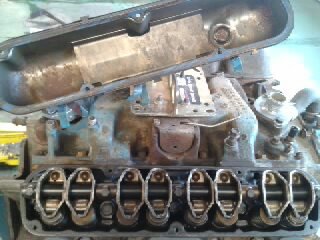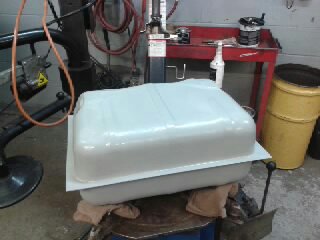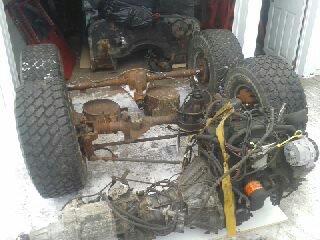 have the jeep stripped rite apart for now, will be assembling on the new frame soon, have cleaned up and painted a bunch of parts, the engine i thought was a 318 is actually a 360, super clean on the inside too
4-21-2013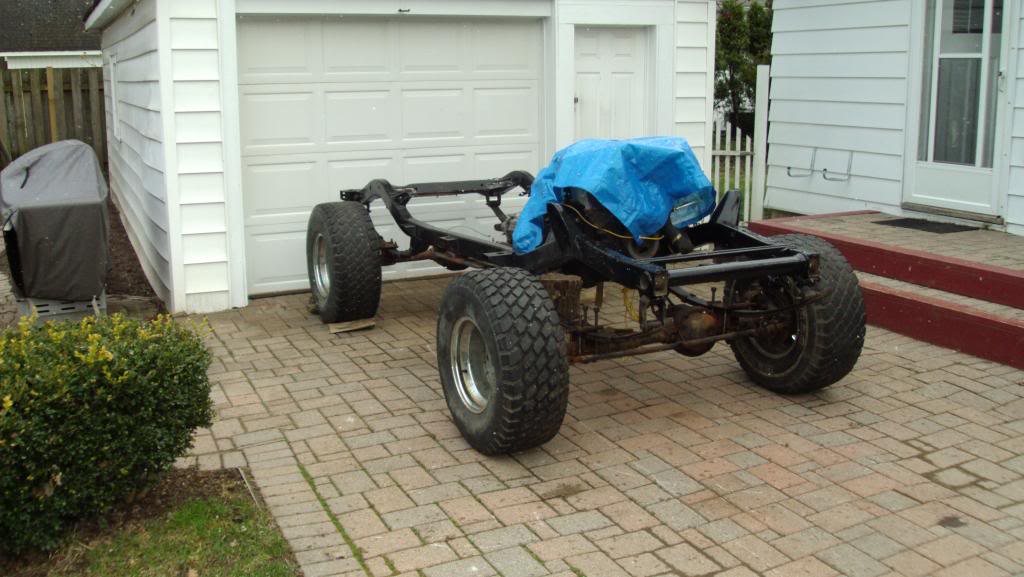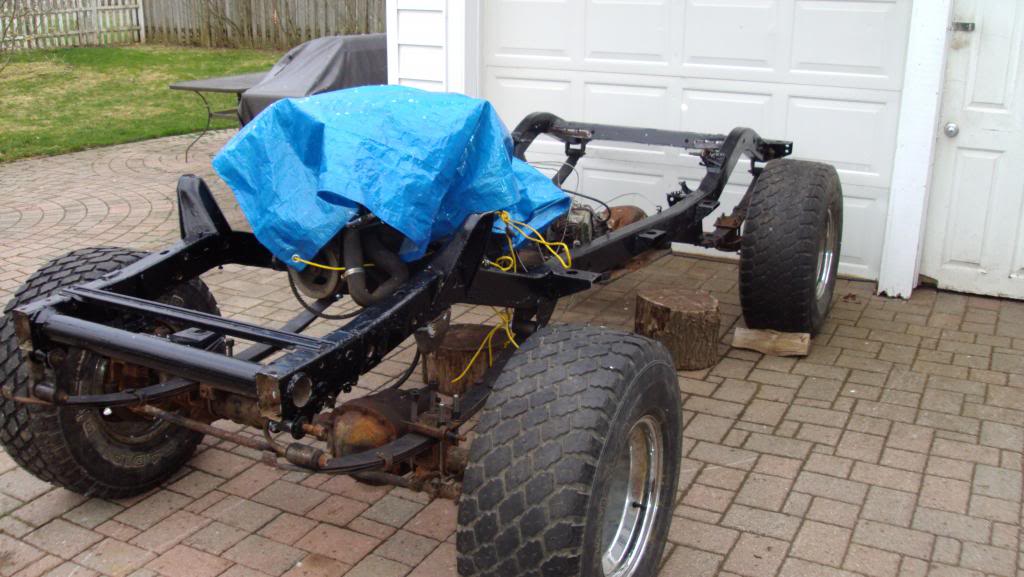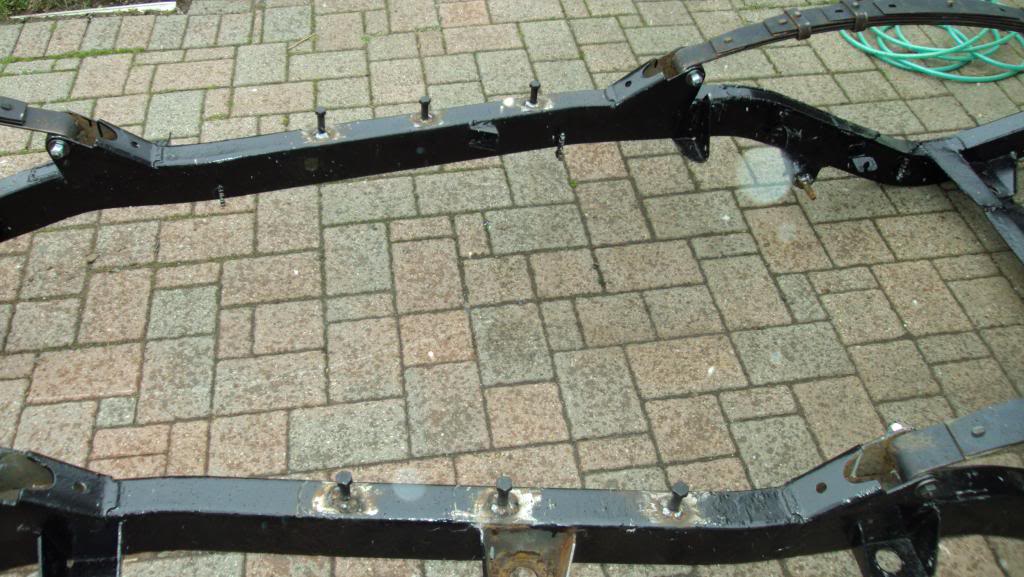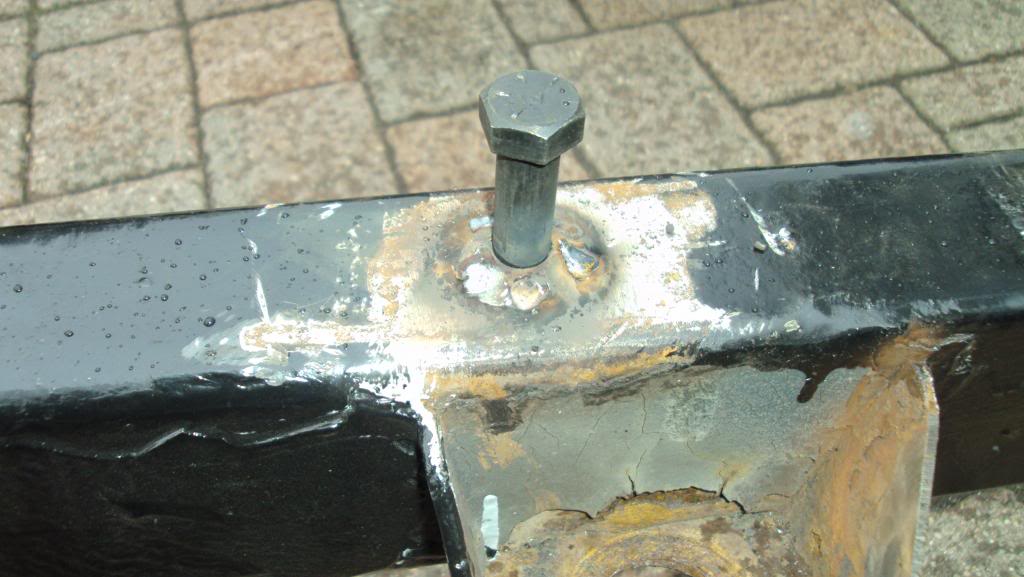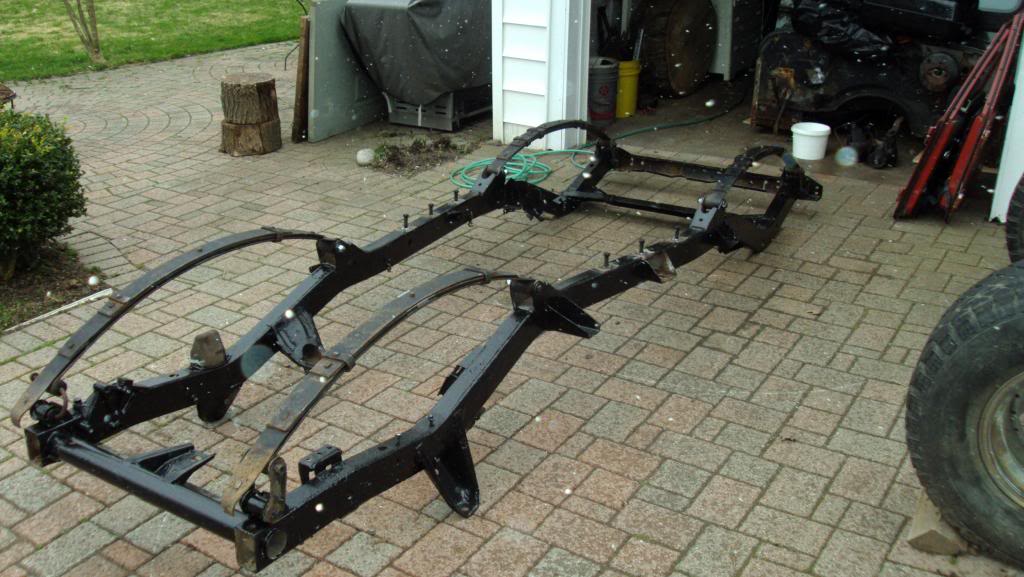 welded in some new nuts for the skid plate and i still have to tighten up some of the u bolts and i forgot a couple shackle bolts at work, but its all most a complete rolling chassis again
7-20-2013
no pics yet, but getting an 8.8 with 4 10 gearing , disc brakes and limited slip for free soon, just have to pull it out
have the body rolled onto its side, has the typical weak spots under it, new it needed work when I bought it so I wasn't suprized when I started cutting out the rot and started tacking in the new pieces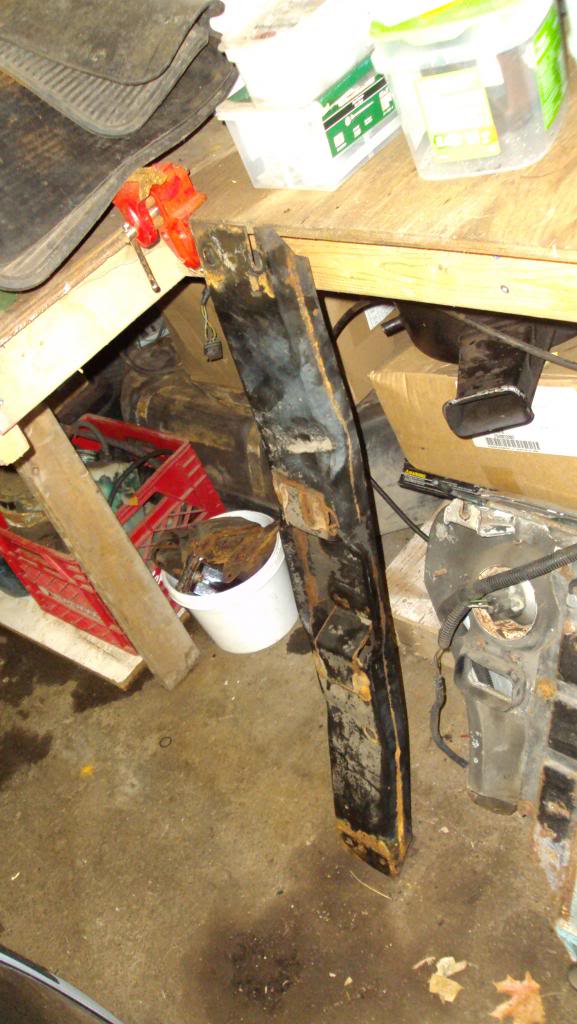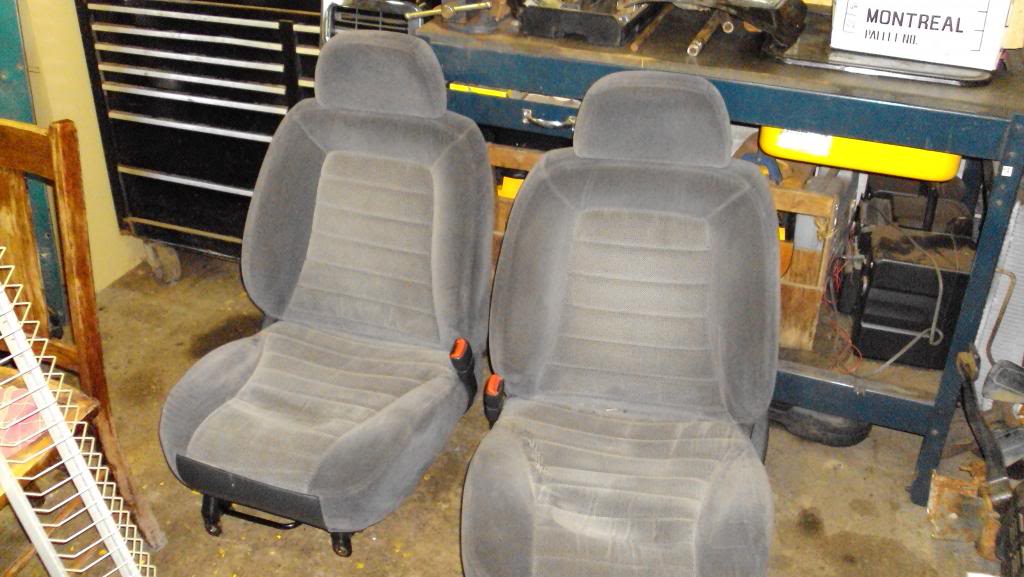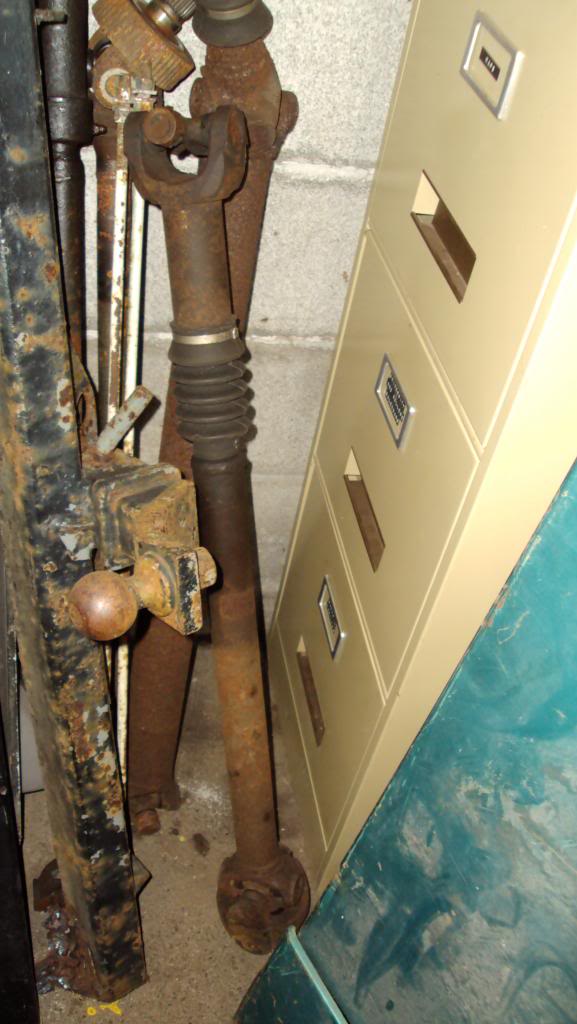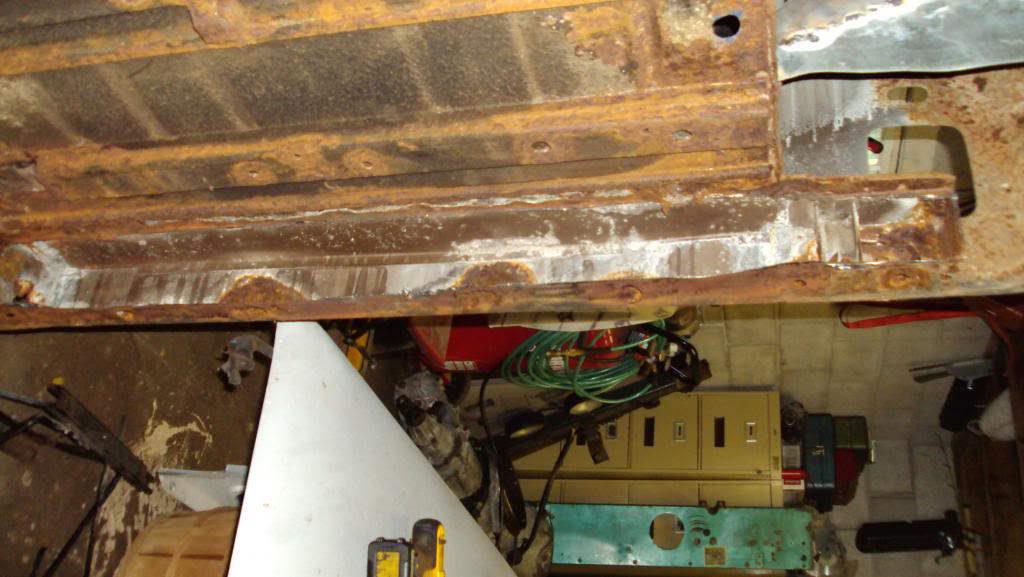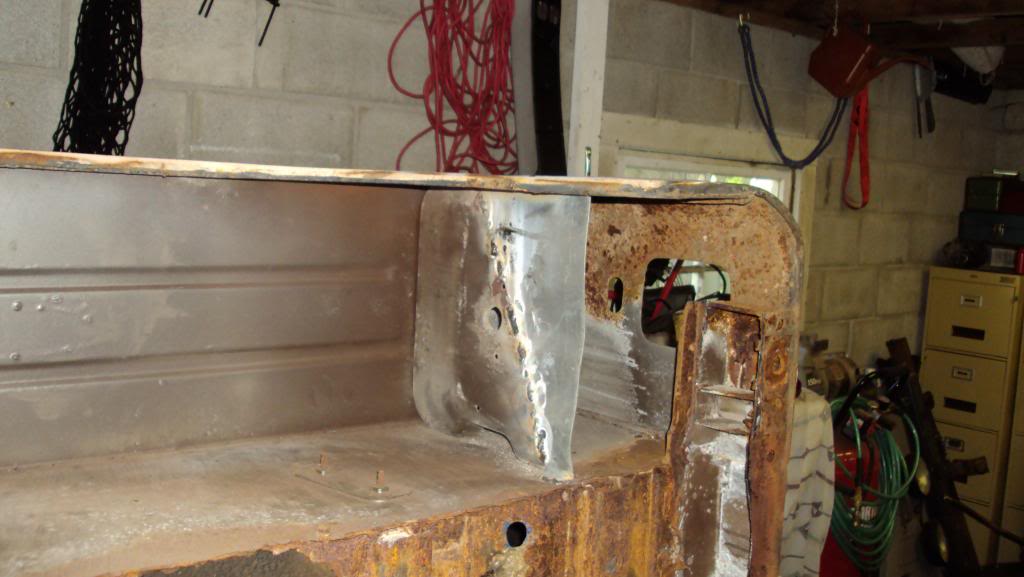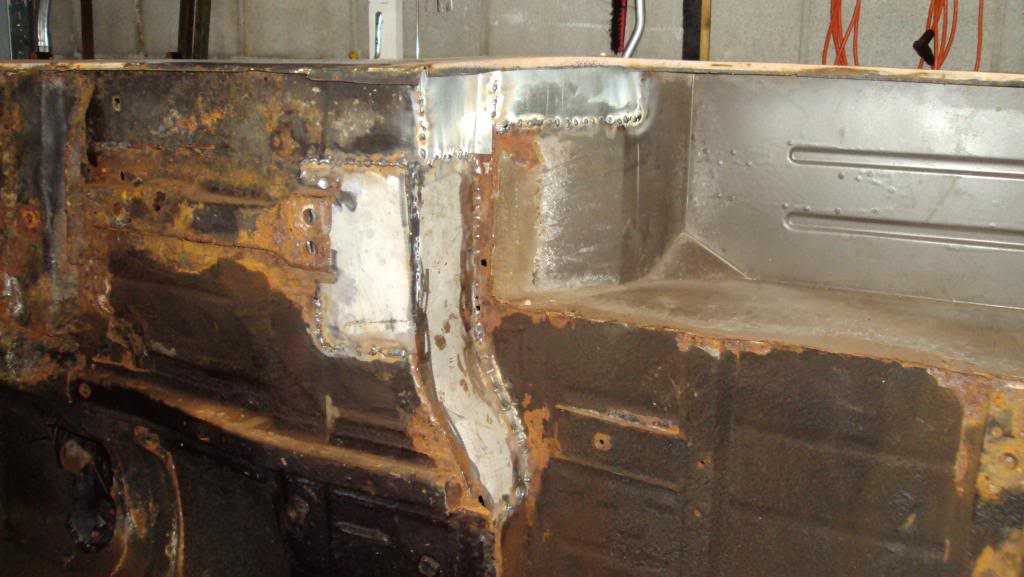 I also have a Cherokee for parts that I robbed the front drive shaft, seats, auto tranny and transfer case, shifter, rad, and a few other parts, will be pulling the front diff out of it before it goes to scrap, im also getting my parents explorer for parts that im taking the rear diff out of and a few other parts from it soon to
7-24-2013
picked up a complete used 1 inch daystar body lift, was used to assemble a jeep, then guy parted out his jeep
7-27-2013
pulled both front axle shafts, hubs, steering knuckles and tie rod arms off the Cherokee then hauled it off to scrap today, on way home stopped at a yard sale and picked up a nice timing lite for 5 bucks, my father dropped off his explorer yesterday, will be pulling the 8.8 out of it soon
8-13-2013
made some more progress on the floors, my wife surprised me with a brand new runva 12500 lb. winch, just have to get a winch plate for it now, looks like I need to kick it in high gear and get the jeep together so I can use it
9-26-2013
have made a lot of progress on it, will post a few pics soon
11-16-2013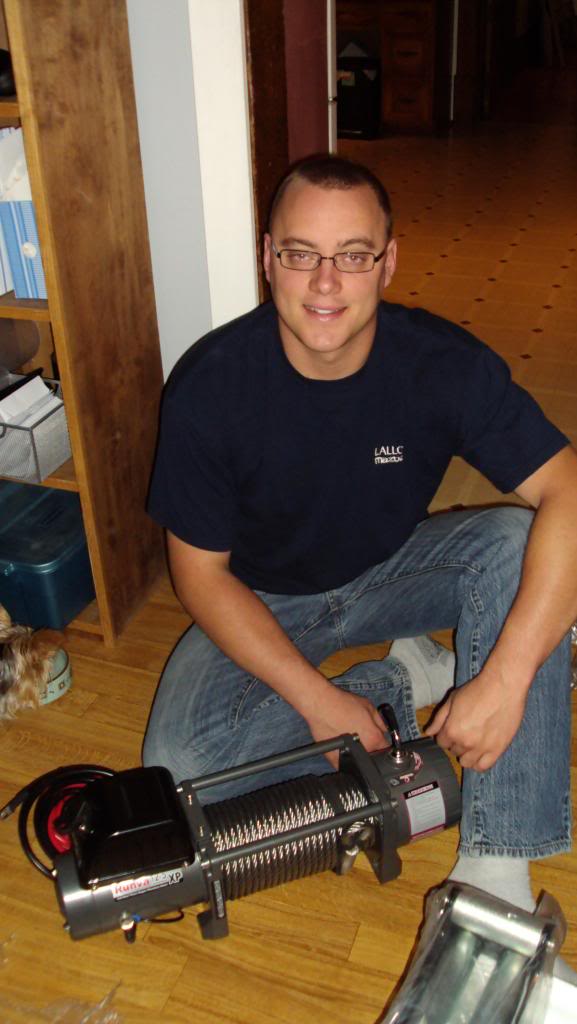 new winch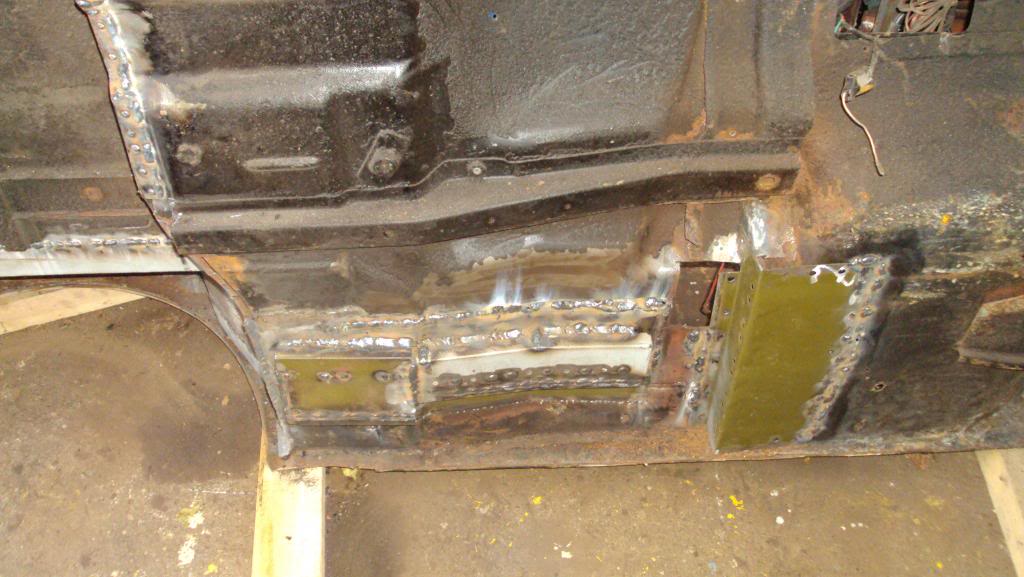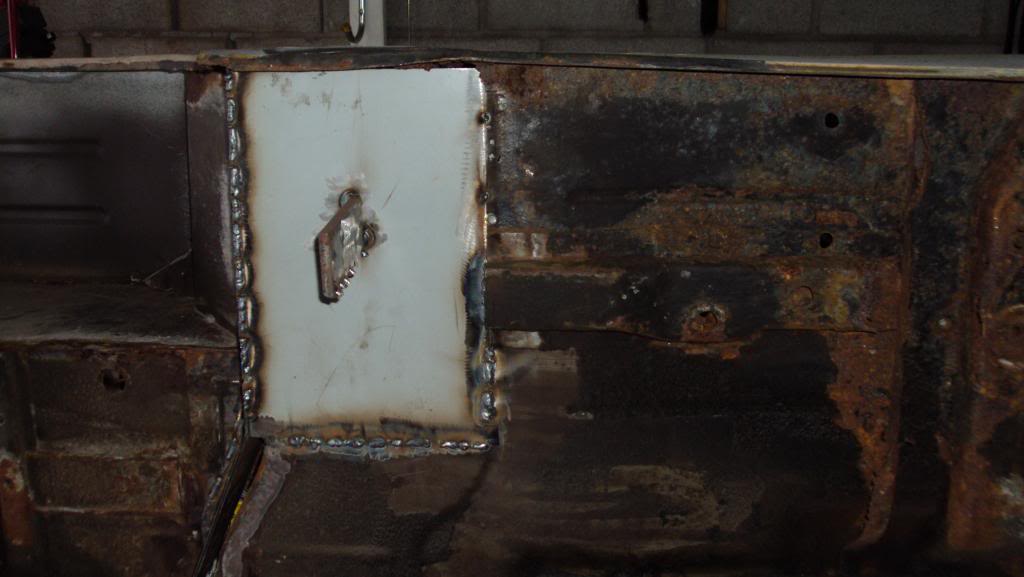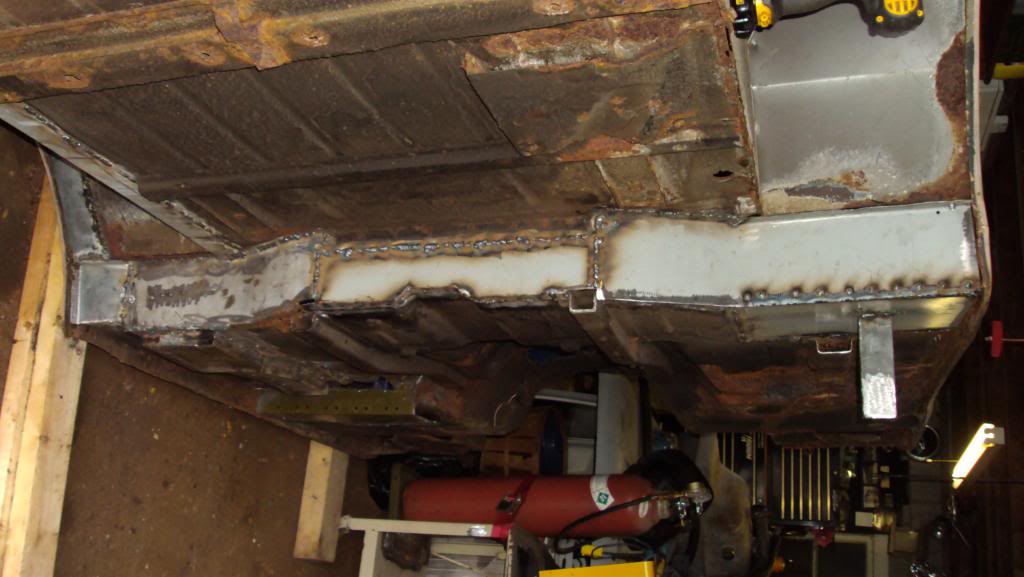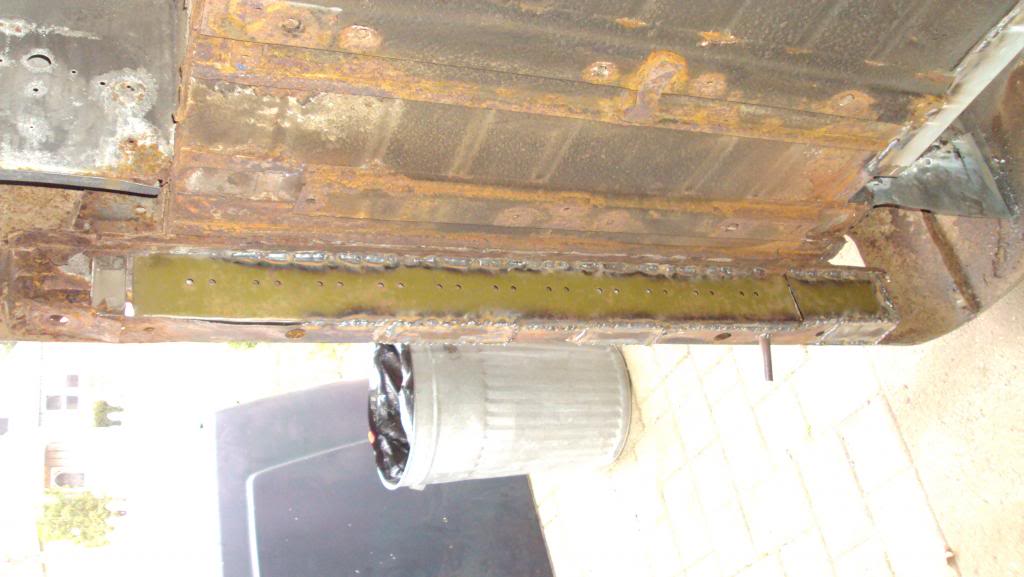 still have lots to do, gonna boat side the rockers while the bodys off, hoping it will be back together some what and running in the spring
11-19-2013
made more progress on the floors tonight, will take more pics when i get more done
11-30-2013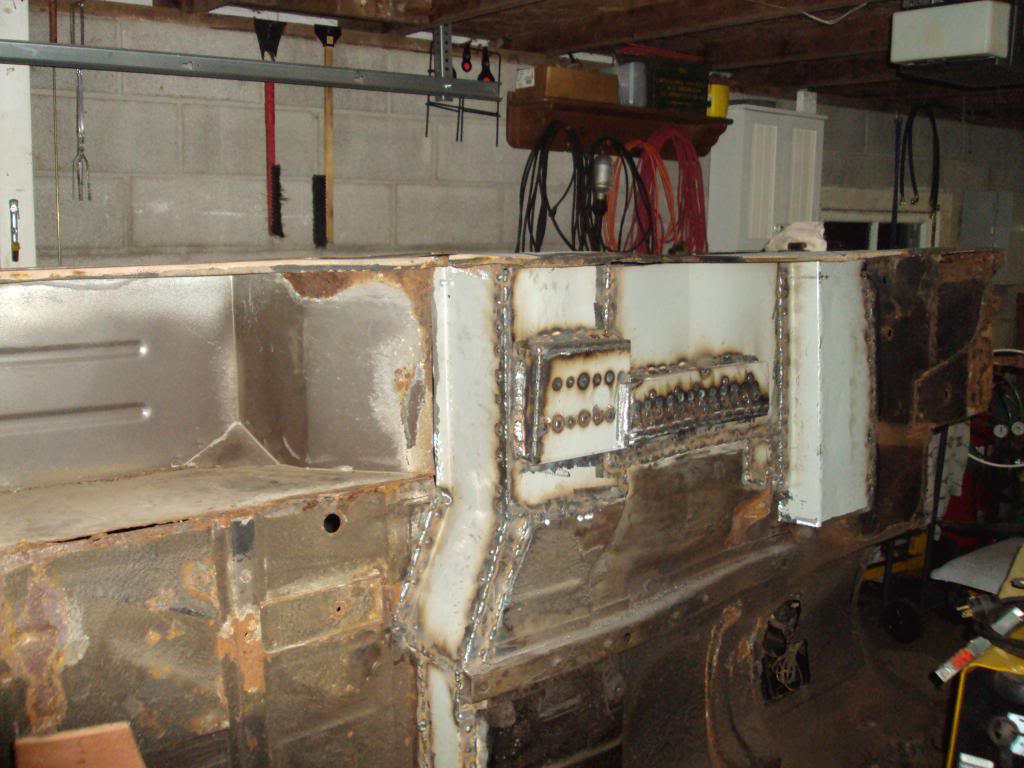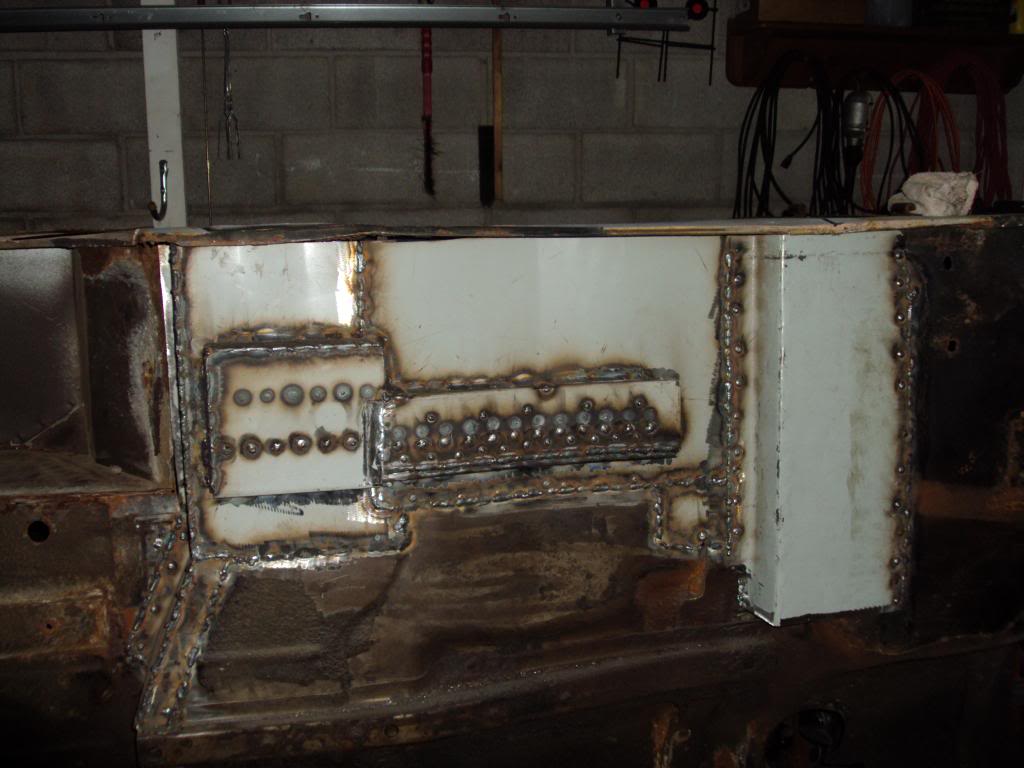 some more floor work, picked up a new winch plate last week for the jeep too, hoping to order a sye kit after xmas
1-12-2014
got a bit more work done on the jeep, we had some bad weather and ice storms for a bit, coldest it got was -49 with the windchill, finally warmed up this weekend to get a little work done again, until my welding helmet died on me, took some pics will upload when i get some time
1-26-2014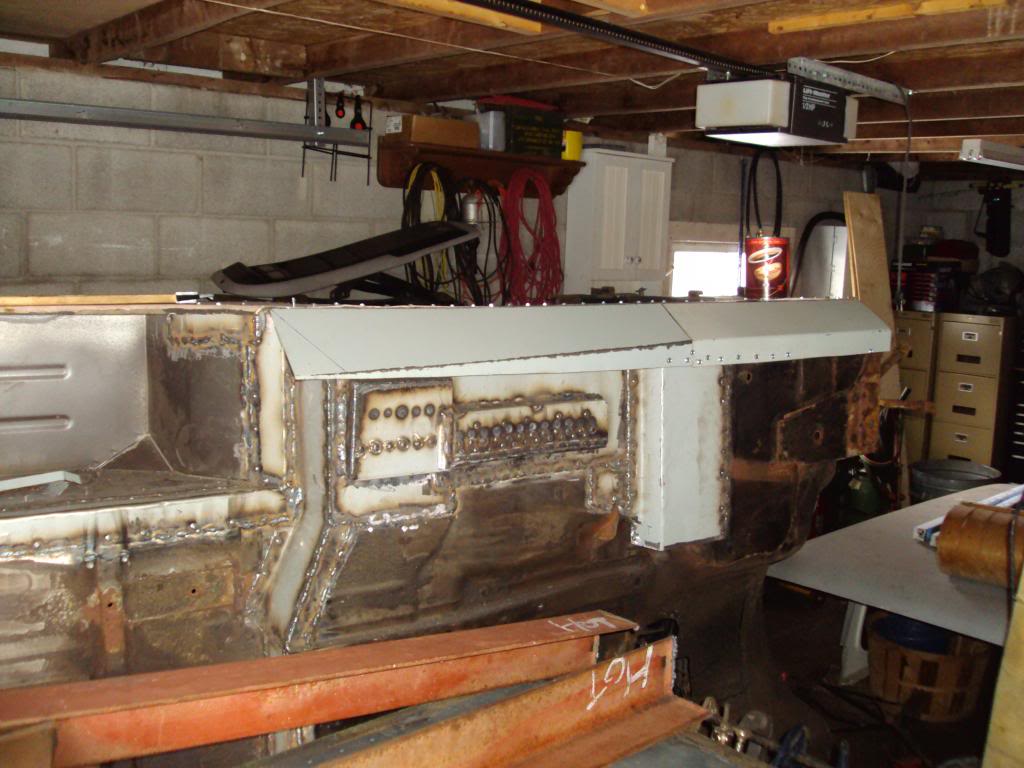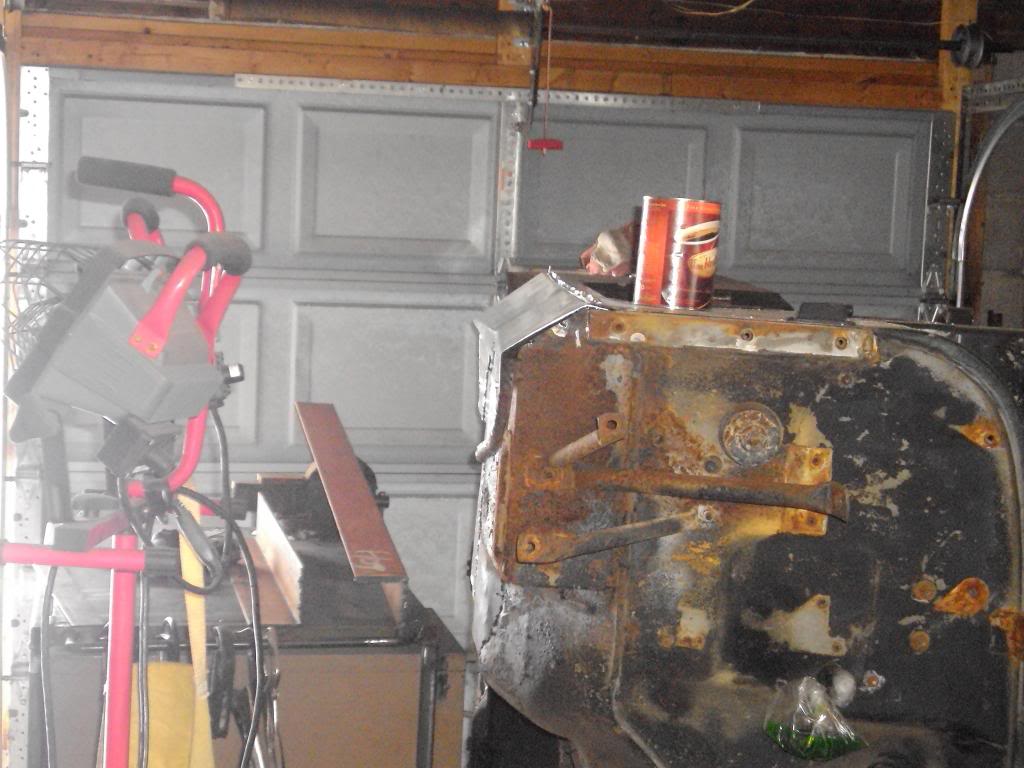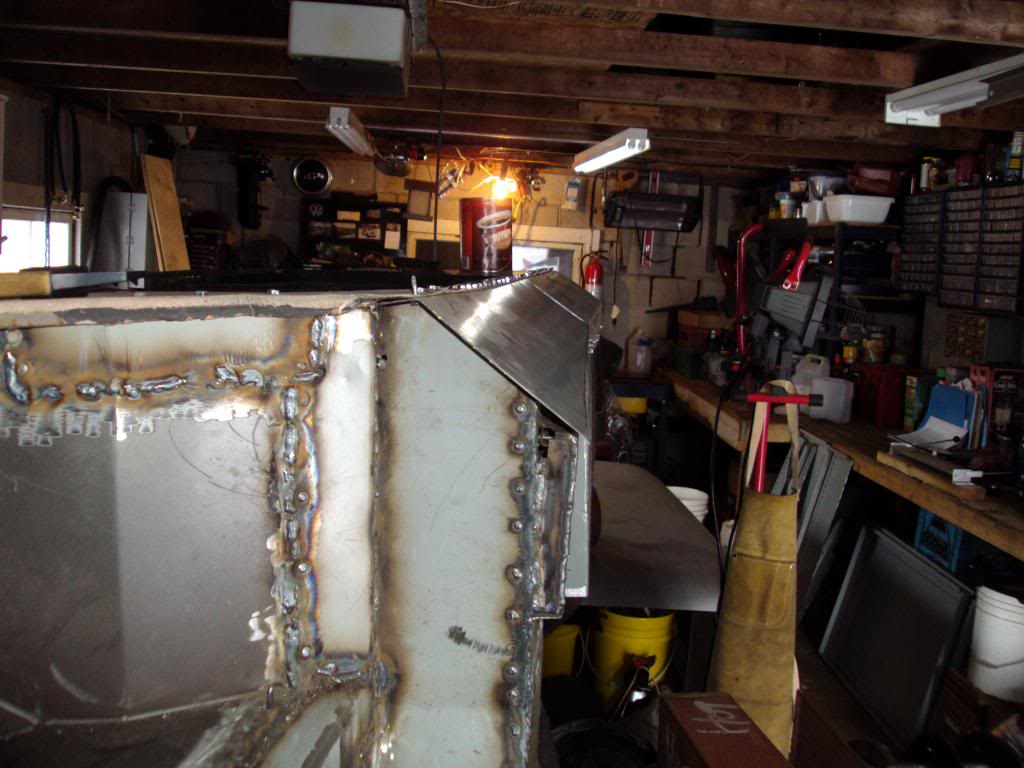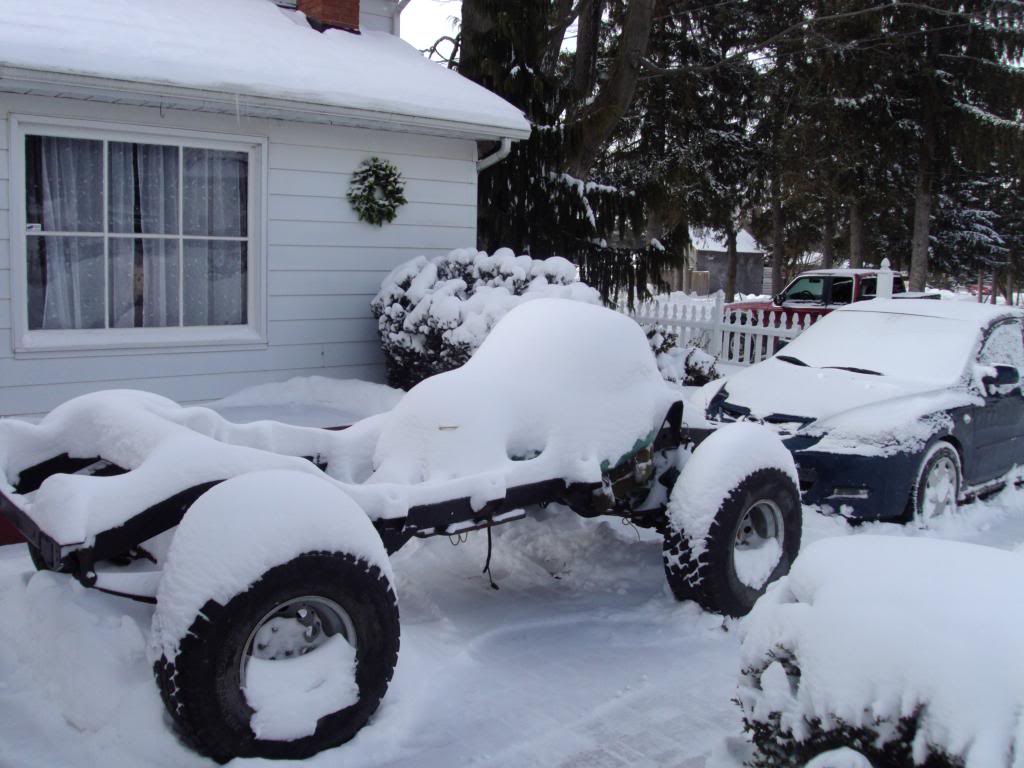 started boat siding the rockers and doing some more floor work, got a huge dropping of snow last night too
2-2-2014
picked up a 4wd 727 auto from a 86 dodge 1/2 ton, was bolted to a 360, should work great for the jeep, i kept the shifter, cable and bracket form the parts cherokee so i think i can make the cable shifter work on the 727, still have to get the sye kit for the transfer case and im gonna see about getting a 6 pinion planetary and a wider chain for the 231, i already have a front shaft from a cherokee so i will just have to get it shortened once its all together
3-1-2014
more boat siding today,should have my camera back next week for some progress pics
3-9-2014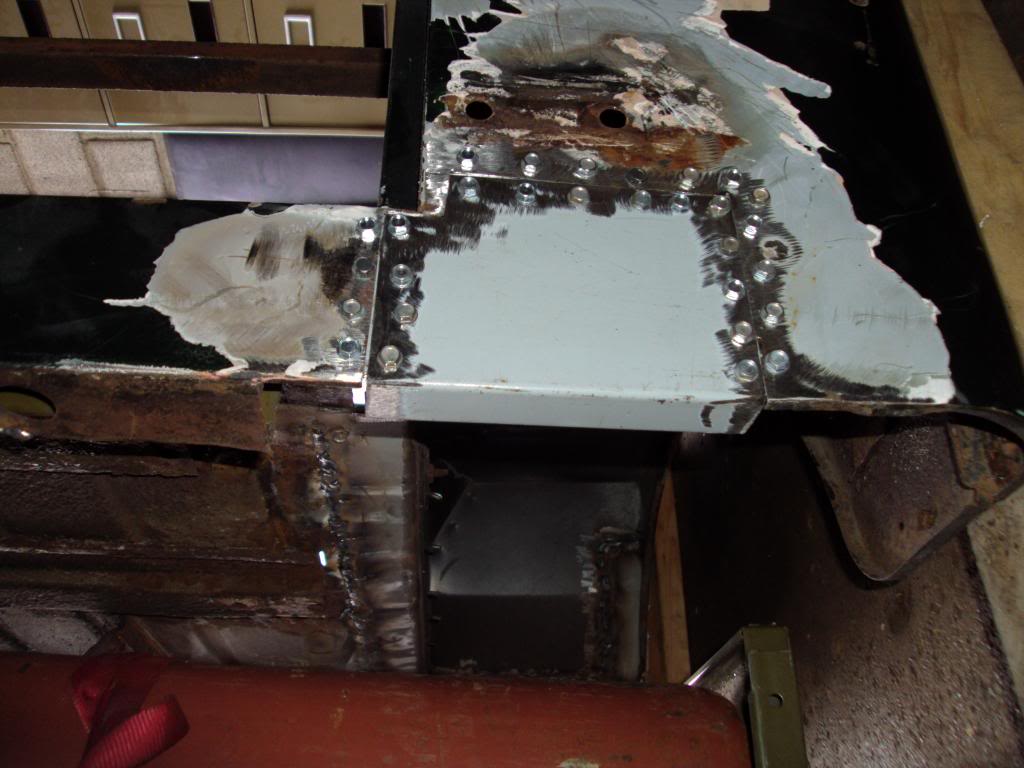 patch i made on the passenger rear side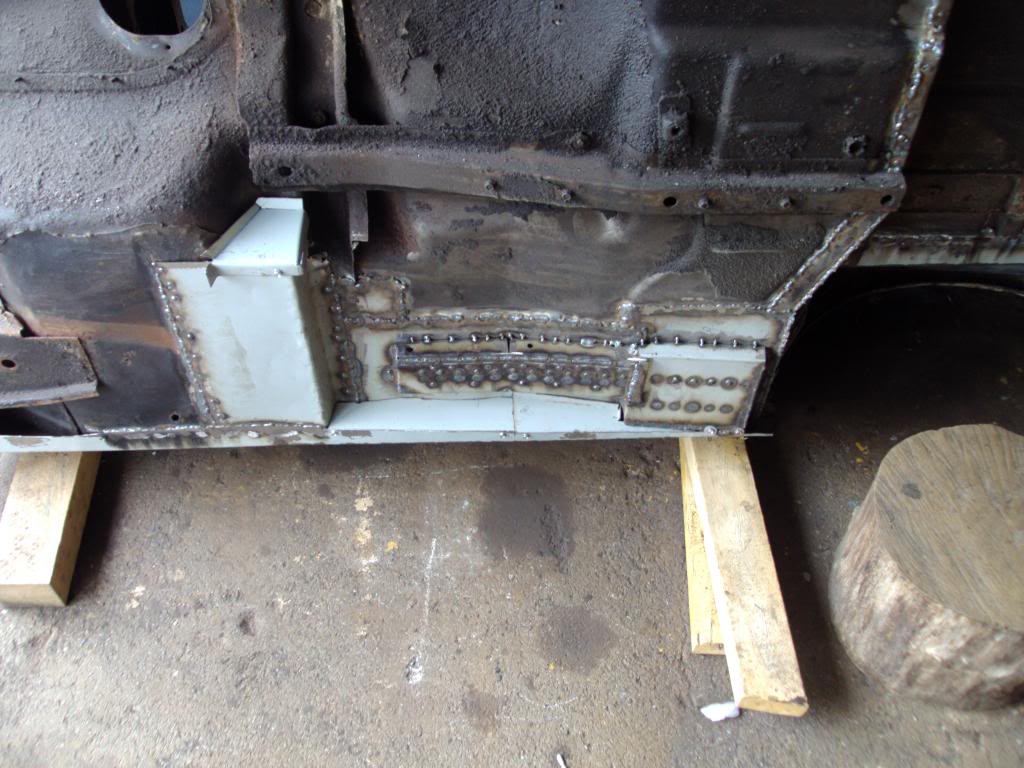 started making peices to filll in the holes from the boat siding on the passenger side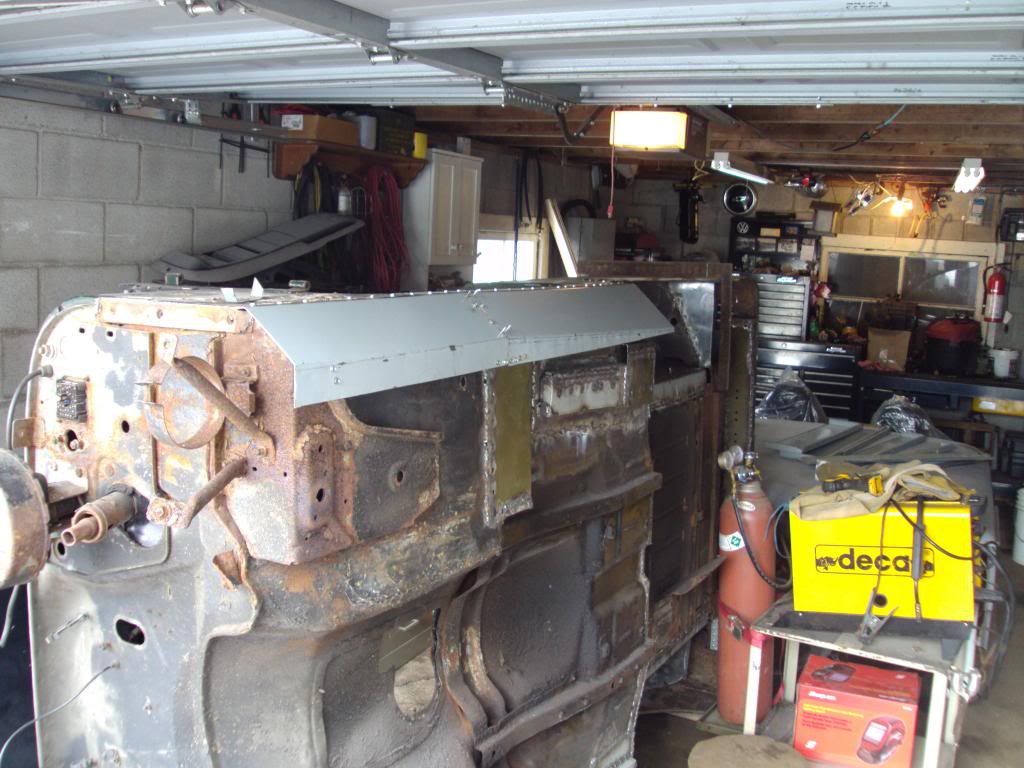 drivers side rocker panel, i think it turned out okay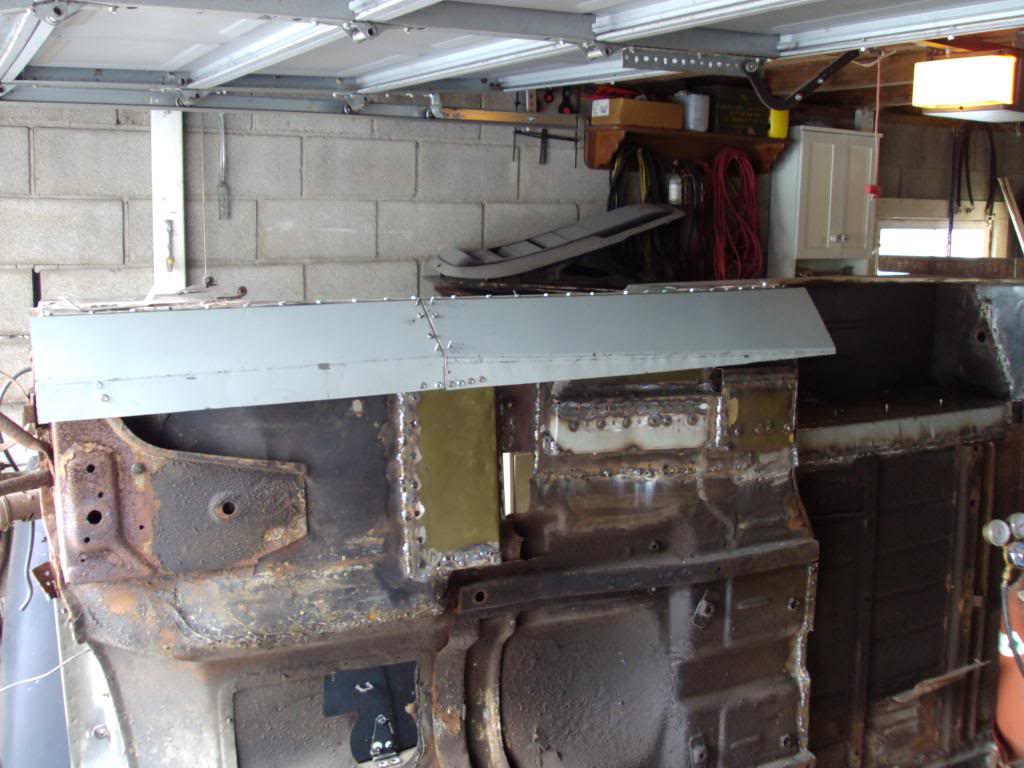 still have to weld every thing up and grind it down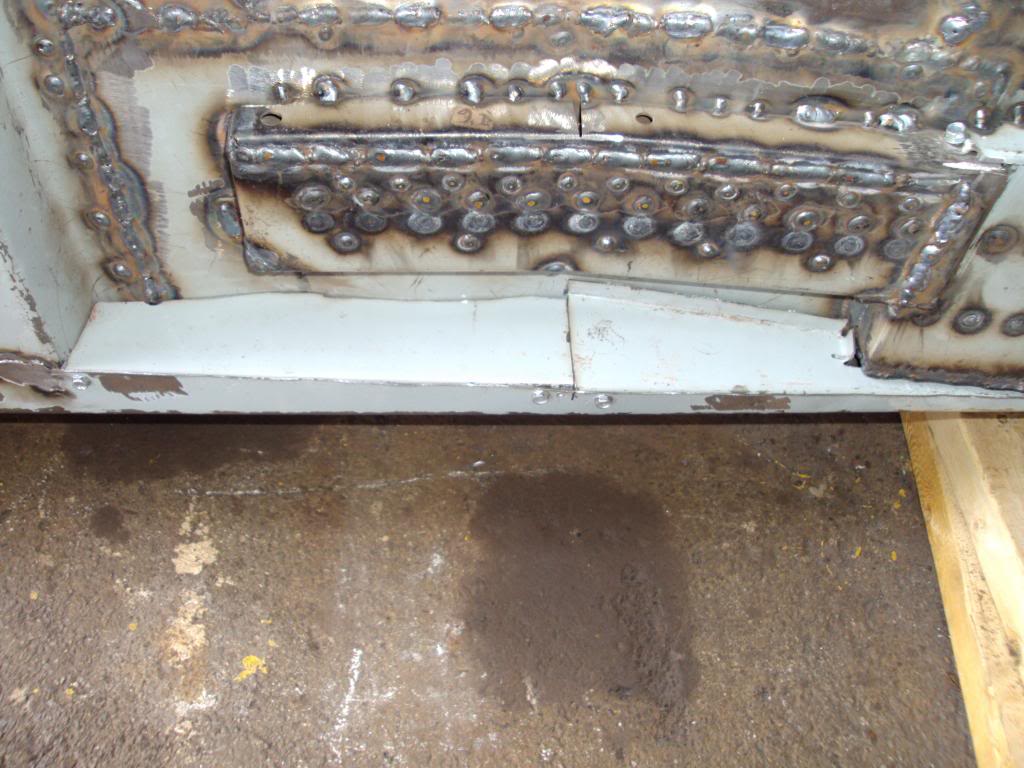 4-27-2014
had to take the last 6 weeks off from the jeep, only four of those were due to medical reasons, but im back too work tomorrow and back to the jeep build as well, i do have a few progress pics that i never put up either that i forgot about t
i can still remember when it looked like this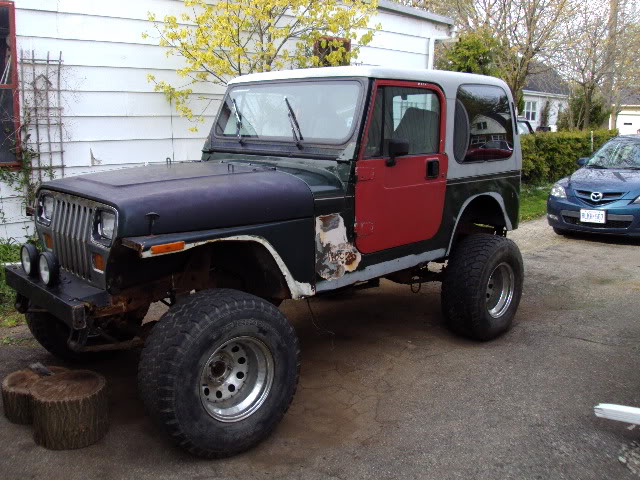 4-28-2014
i had this piece welded up before, didnt get any welding done today but i did get a couple small pieces made up for it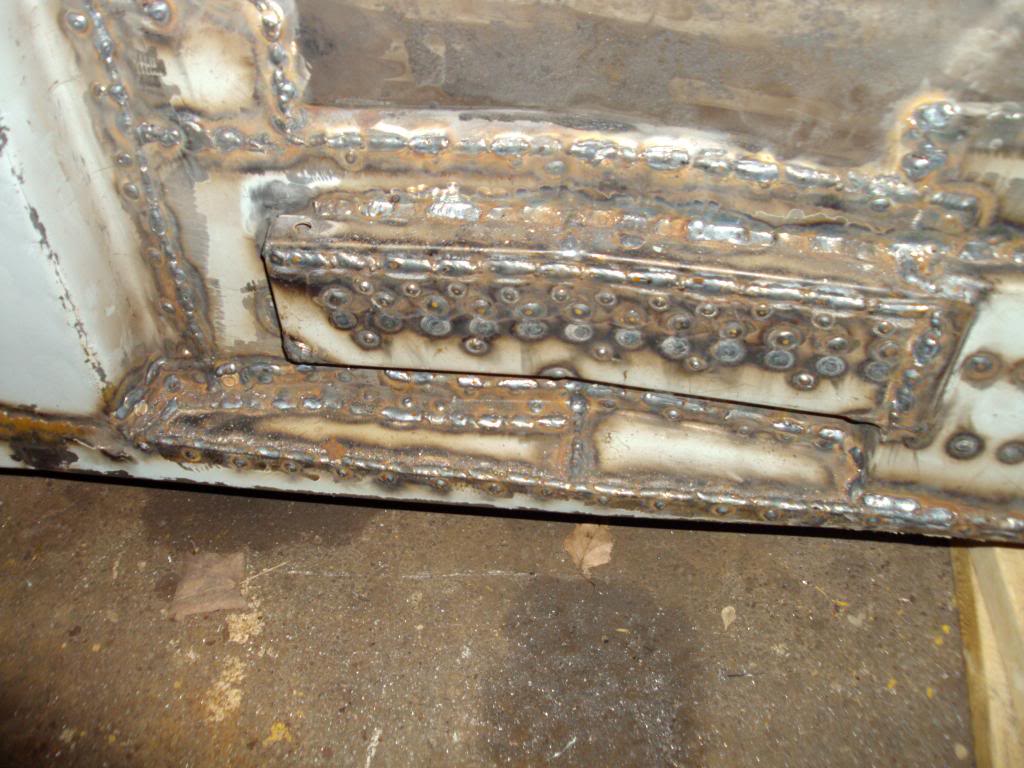 4-30-2014
no work on the jeep tonight, but the last 2 nights i made some good progress on it, tonight i put a new rf wheel bearing and an engine belt on my brothers 03 liberty
5-19-2014
been pretty busy around here lately, have made some progress here n there, bought some thing for the jeep, its a gonna be a surprise for later for anyone still following this build, no pics of anything yet unfortunately
6-8-2014
so i haven't gotten very much work done on the body, other then putting primer on the spots i have repaired so far and i sat the body on the frame for now, had to get the chassis out of the drive way for now, having a bbq soon for my dads retirement party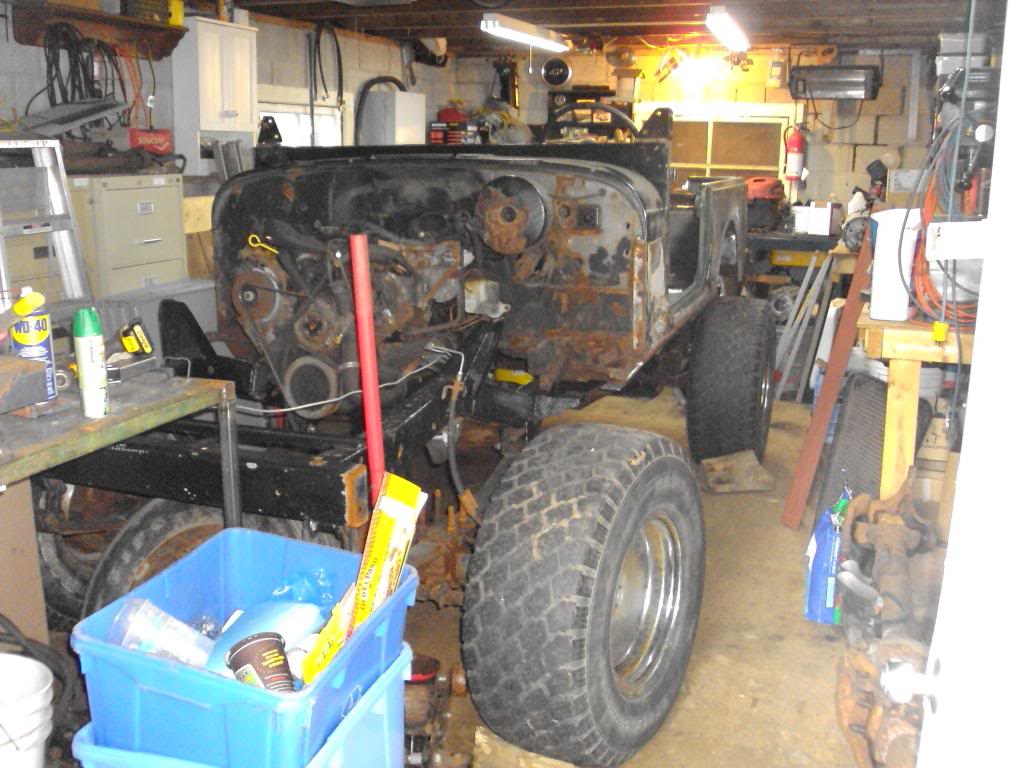 body is just sitting on the mounts for now, gonna pull the 4cyl out and start mocking up the new mounts for the 360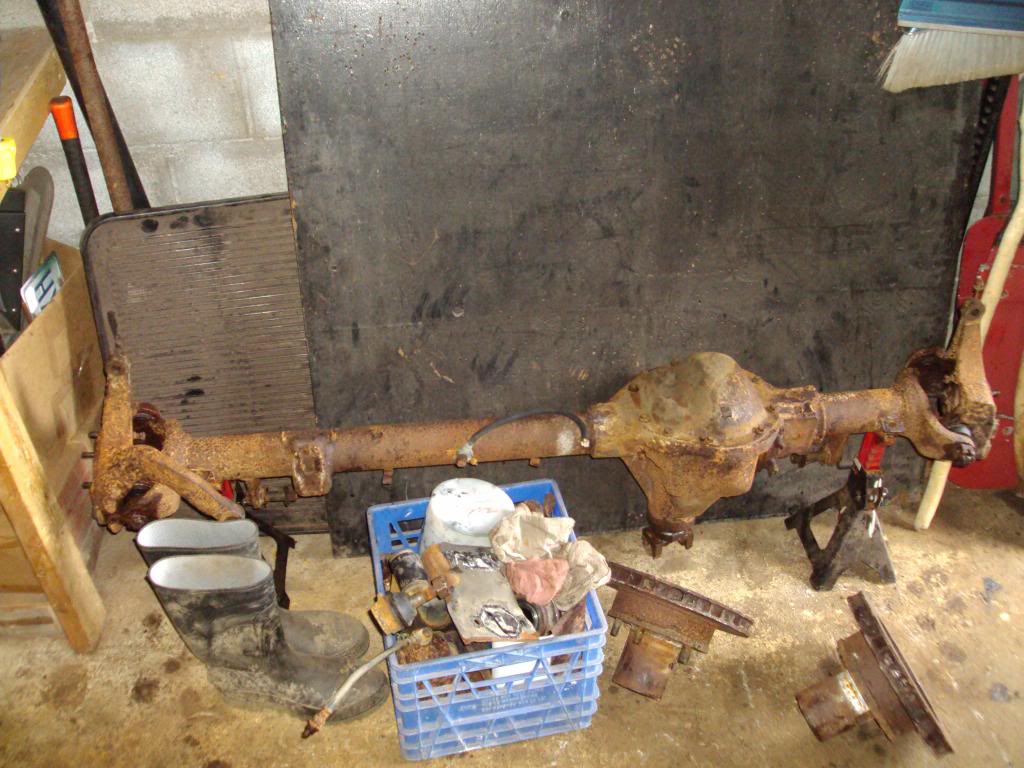 picked up a dana 44 from an 84 dodge, has the one piece axle shaft and auto locking hubs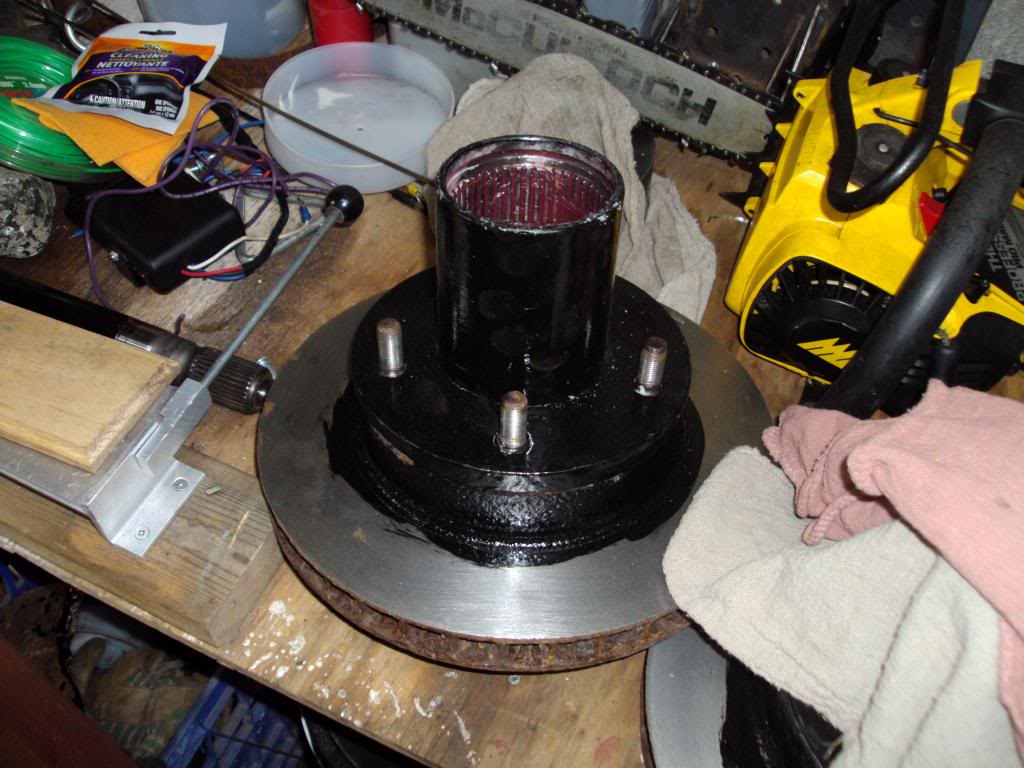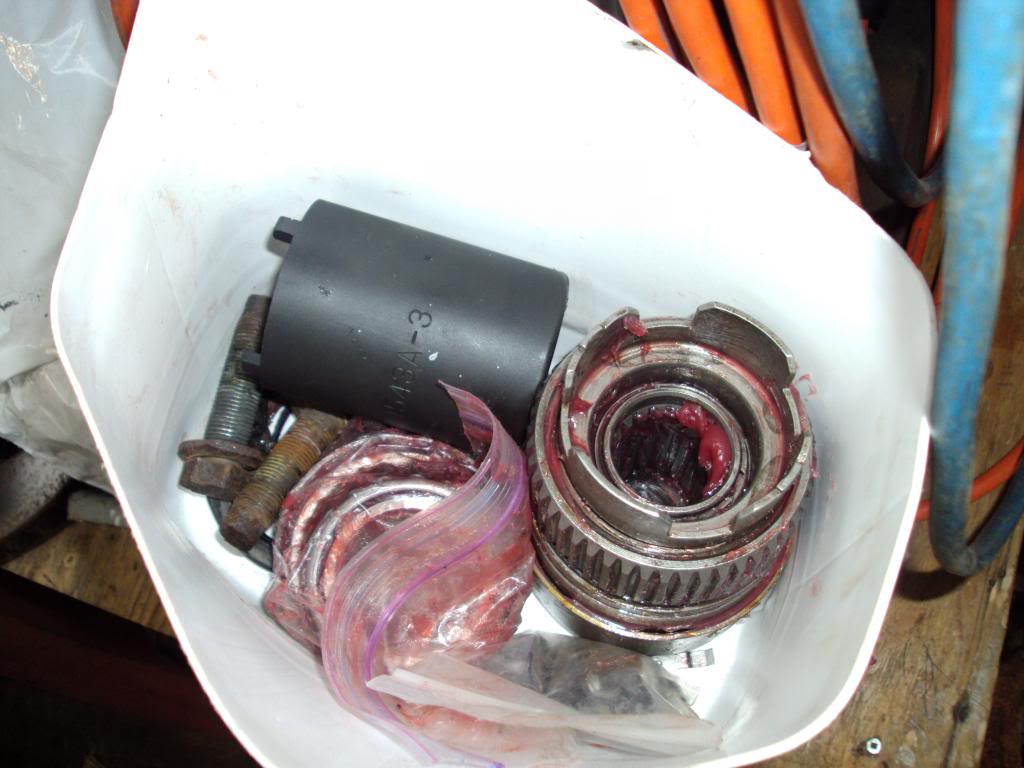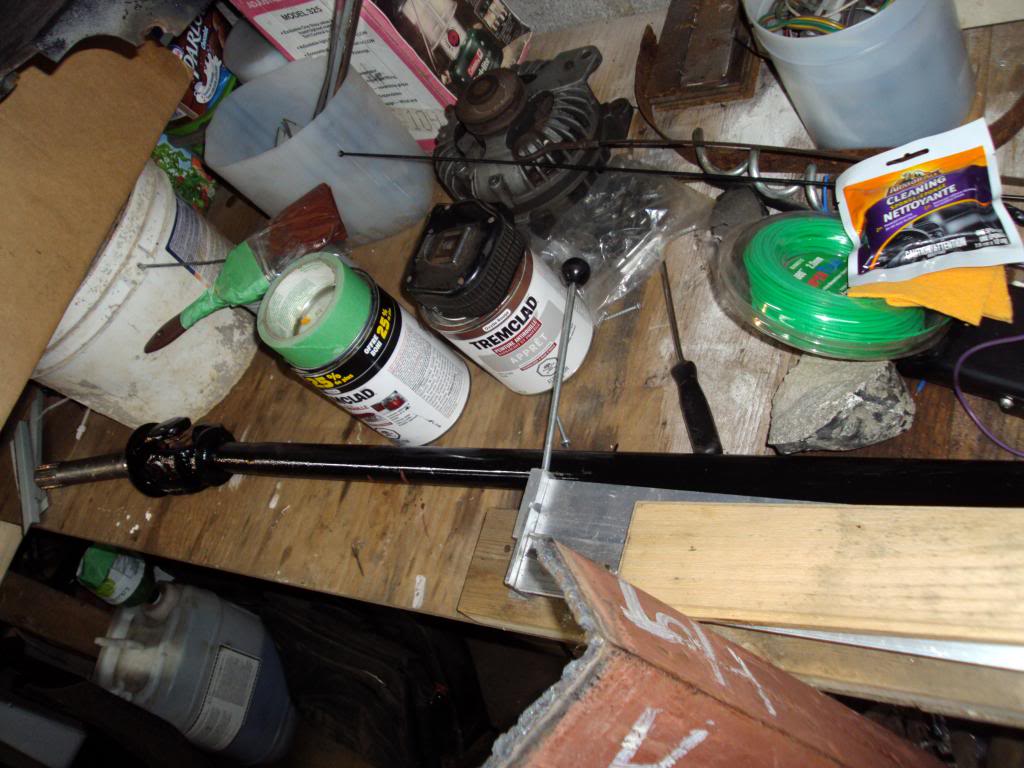 machined the rotors for now when i was at work, disassembled the hubs and cleaned and repacked everything, have to get new seals, ball joints, tie rods, u joints for it, im not gonna worry about getting new brakes until its at the point of being drive able, i think my brother in law still has a couple of 9" rear ends, if so i will be getting one for the rear, if not i will get what ever i can find, i have all the stock axles and drive line parts up for sale, so hopefully i can get some cash out of that for some new parts, since the new front axle is passenger drop i was thinking of getting a dana 300 with twin sticks for it
i also picked up a cb radio and a 20ft chain all for 8 bucks at a yard sale
6-19-2014
as it currently sits with out wheels again, at least its inside this time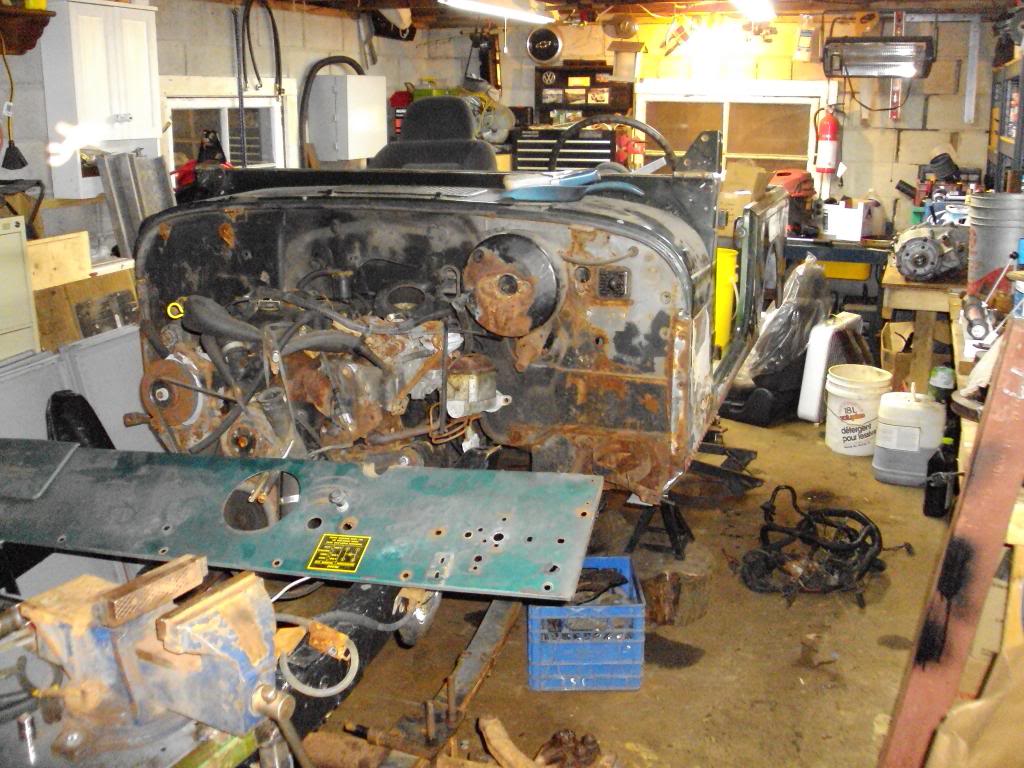 sold the stock front and rear diffs, front dana 44 is some what in place for now, i will have to out board the springs before it will be properly in place, talked to my brother in law kevin and he has a 9inch ford rear end for me, i may have found a passenger drop transfer case for the jeep, hoping to sell some more stock parts so i can keep getting more stuff for the jeep
6-21-2014
definitely lots of rust up here, lol, it seems like i work on it in short bursts, it try to find time for it but other projects come up first, i'm trying to sell some of the unneeded stock parts so i can buy some of the little things like front end parts, brakes and gaskets for the engine, they are what seem to eat up the most money
6-23-2014
made a little progress after work today, started on some seat brackets, the mounting points on the cherokee seats im gonna use arnt as wide so im making a few brackets out of some 1/4 steel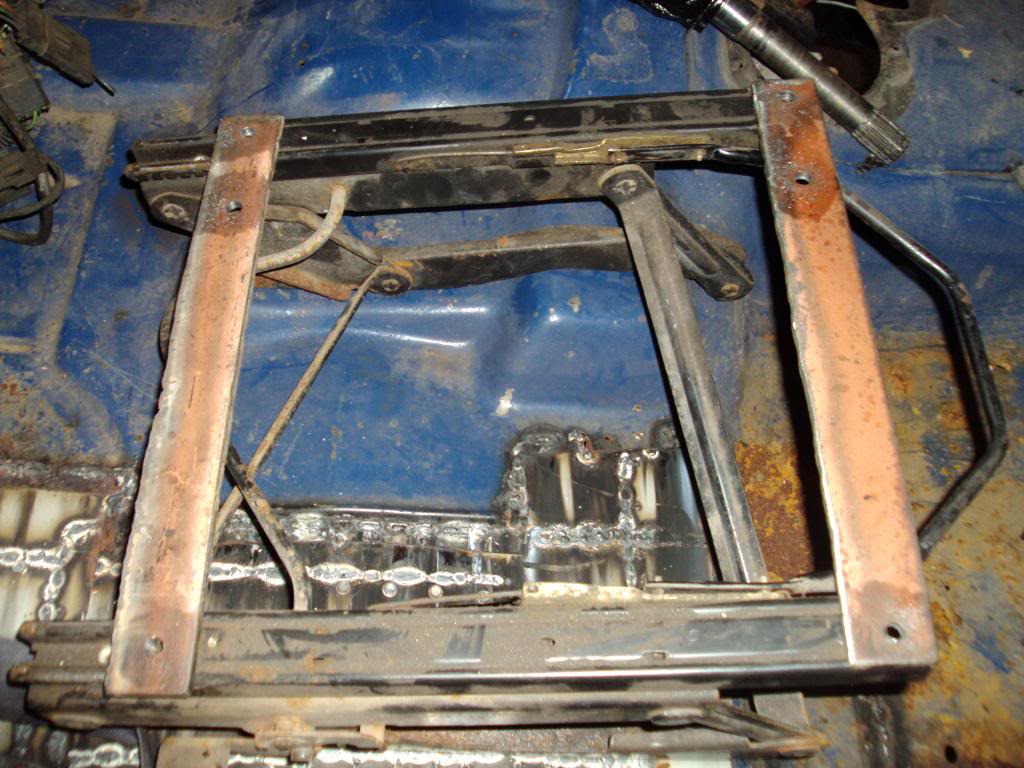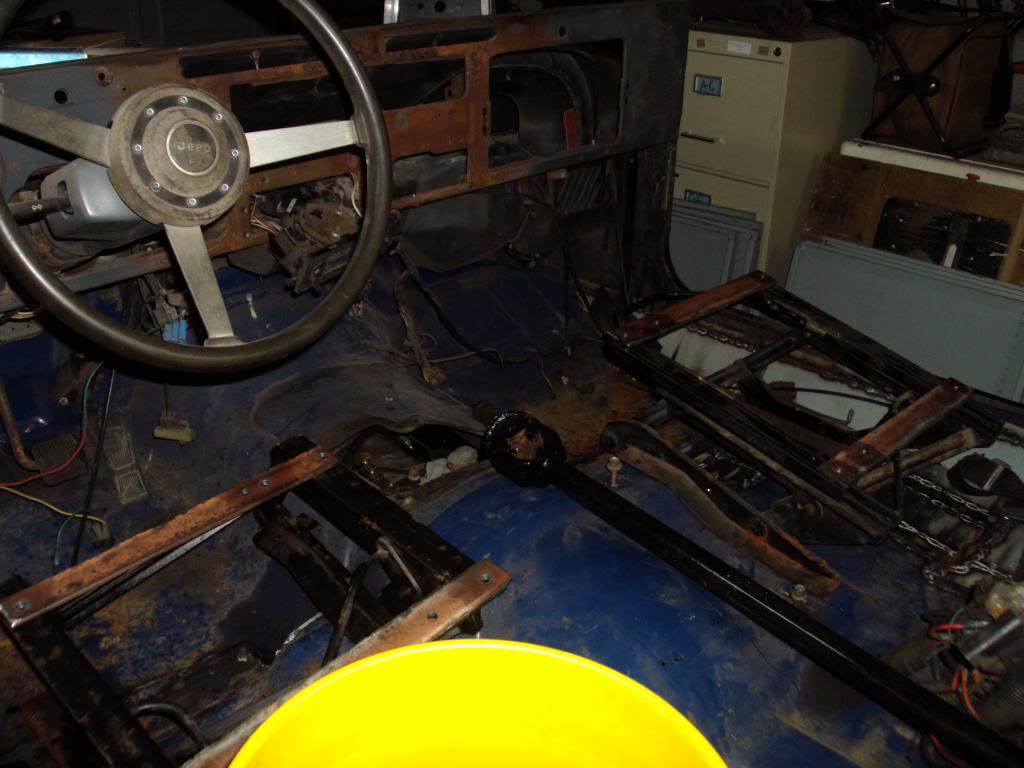 and dont forget to measure twice and drill once, i may have forgotten that on one
6-28-2014
picked up a 9'' for the rear, dana 300 with twin sticks and a cj hood, will have pics soon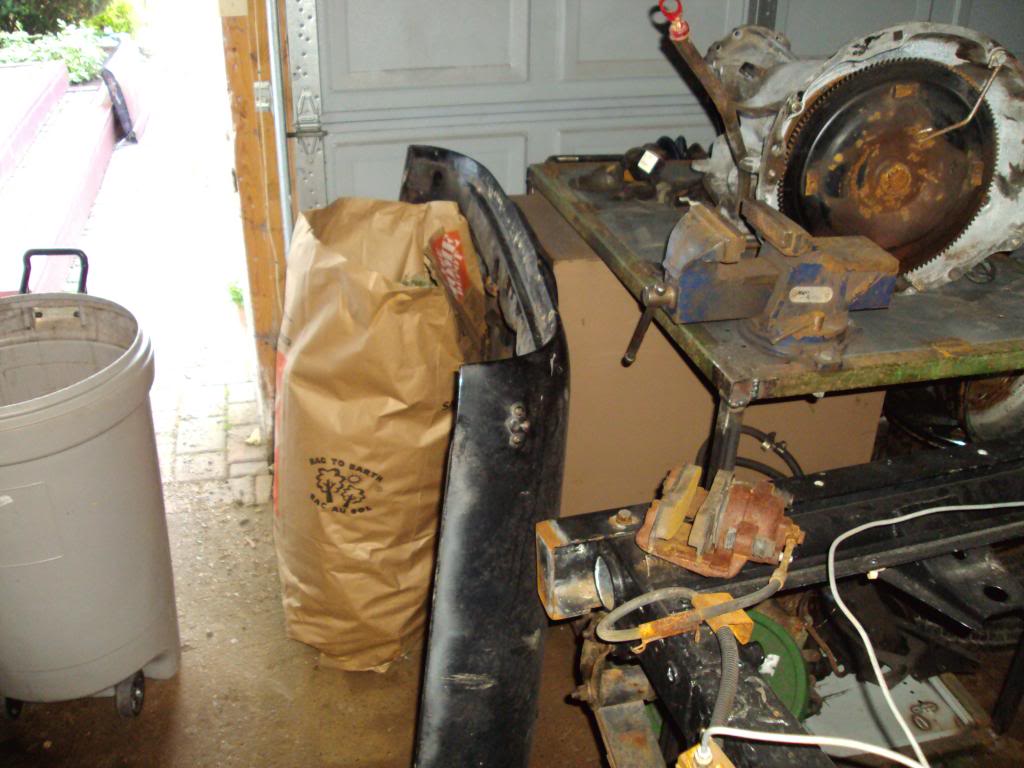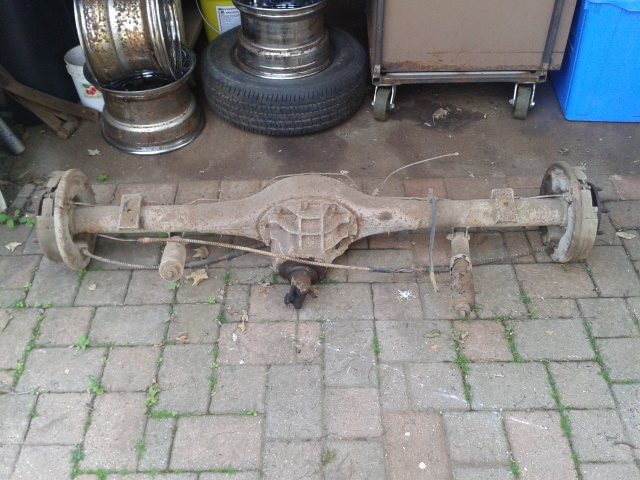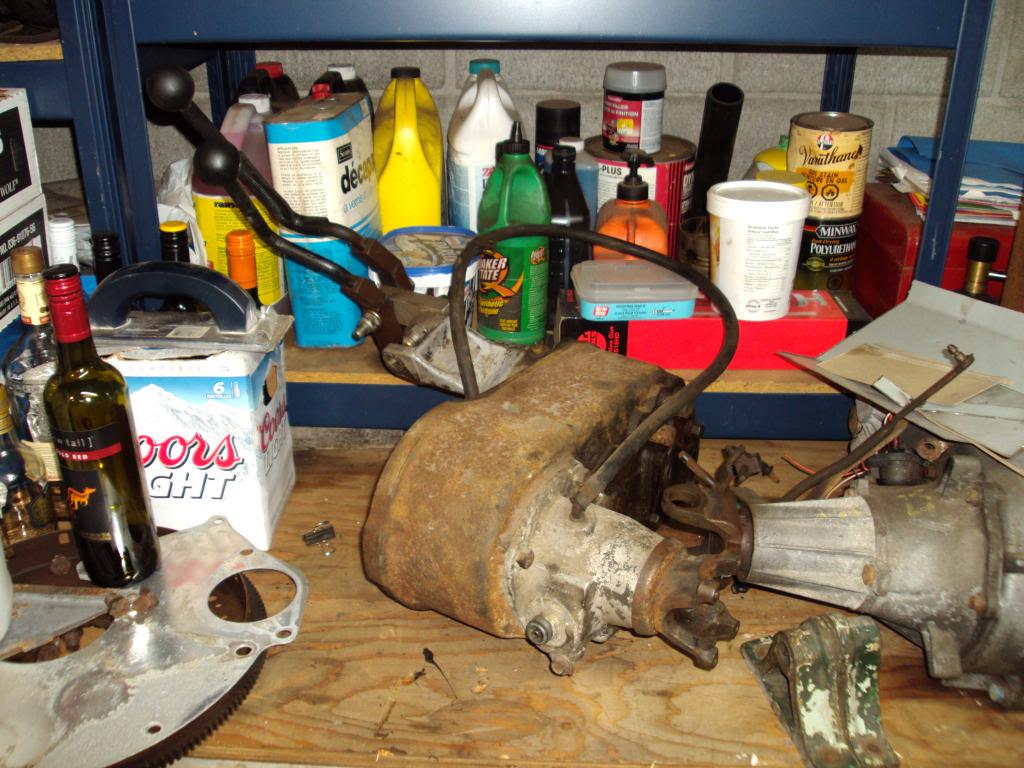 6-30-2014
picked up some 15x8 rims from my father in law, they are older chrome rims from his old ford pickup, gonna sand them down and paint em black, i pulled a tree stump out of the back yard today too, i looked in the garage and thought to myself, i really need to clean this place up
7-1-2014
thank you, progress has been slow, but i have lots of parts to keep me busy for a while now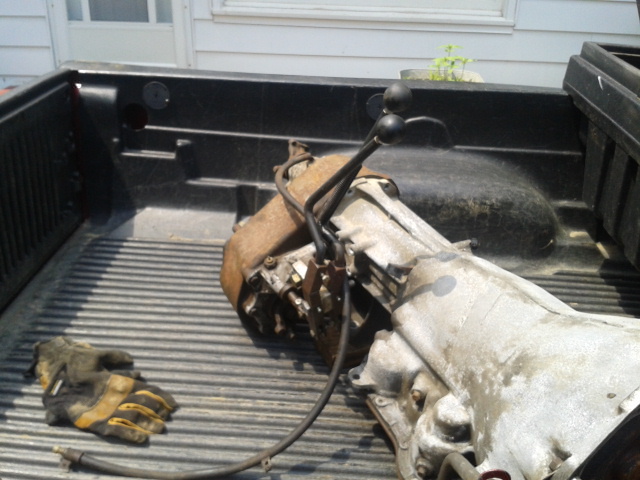 just a pic of the trans transfercase together

i just talked to my brother in law and he has another centre section for a 9 inch and another set of gears for a front dana 44, so i may be regearing the axles soon
7-27-2014
new to me cj grill, wider front fender flares and a pair of front fenders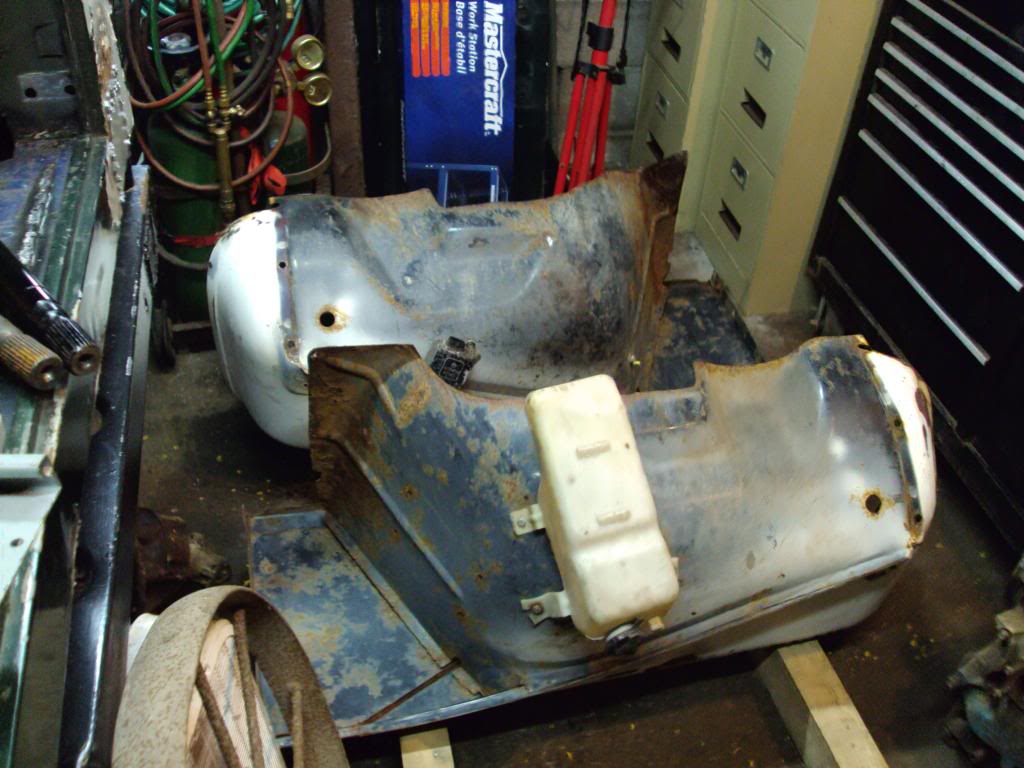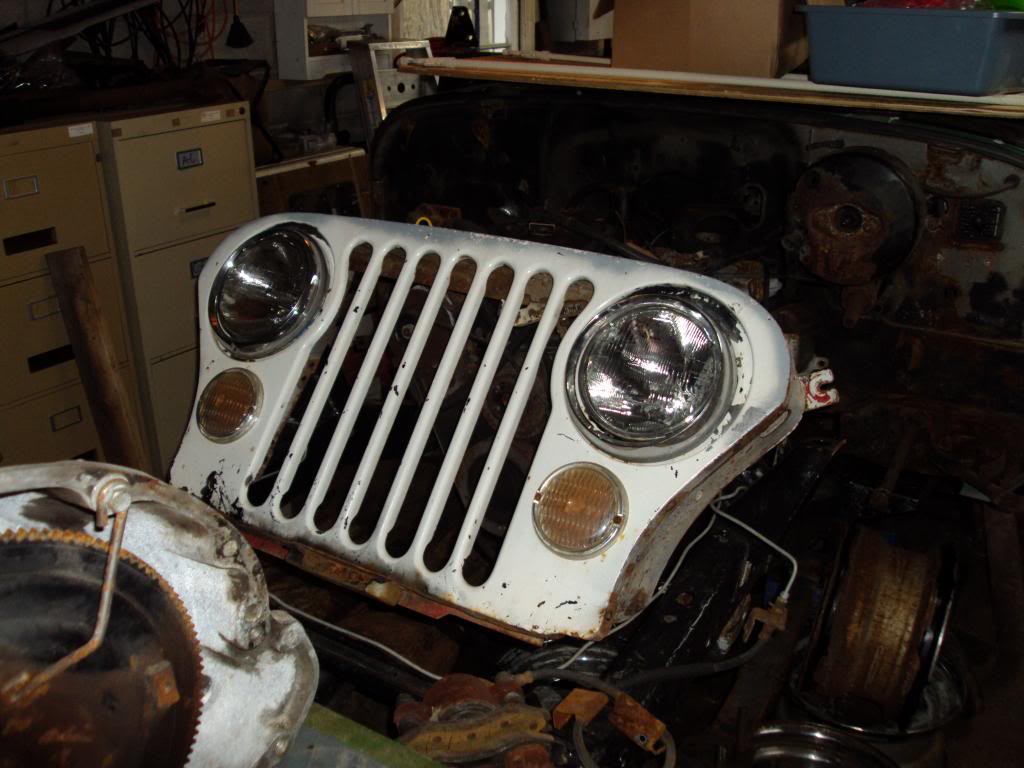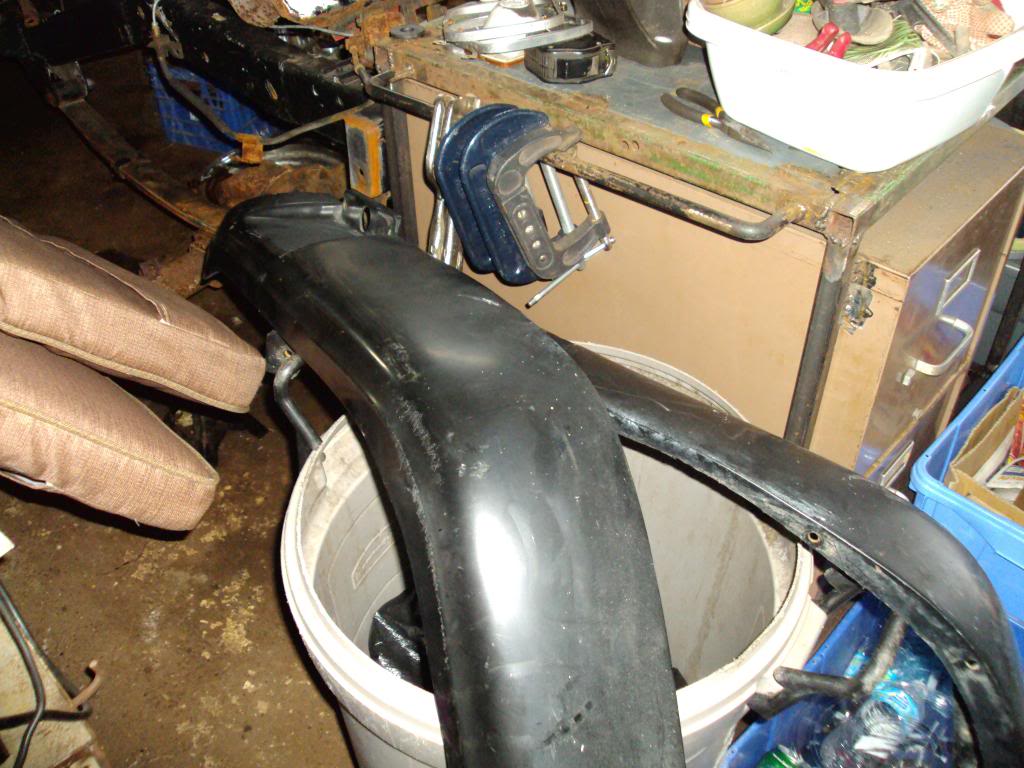 i also made a scrap run yesterday to clean out the garage and get rid of any parts i cant use or didnt sell to make some more room in the garage again
8-16-2014
got both my front seats mounted up today, will get some pics when i have time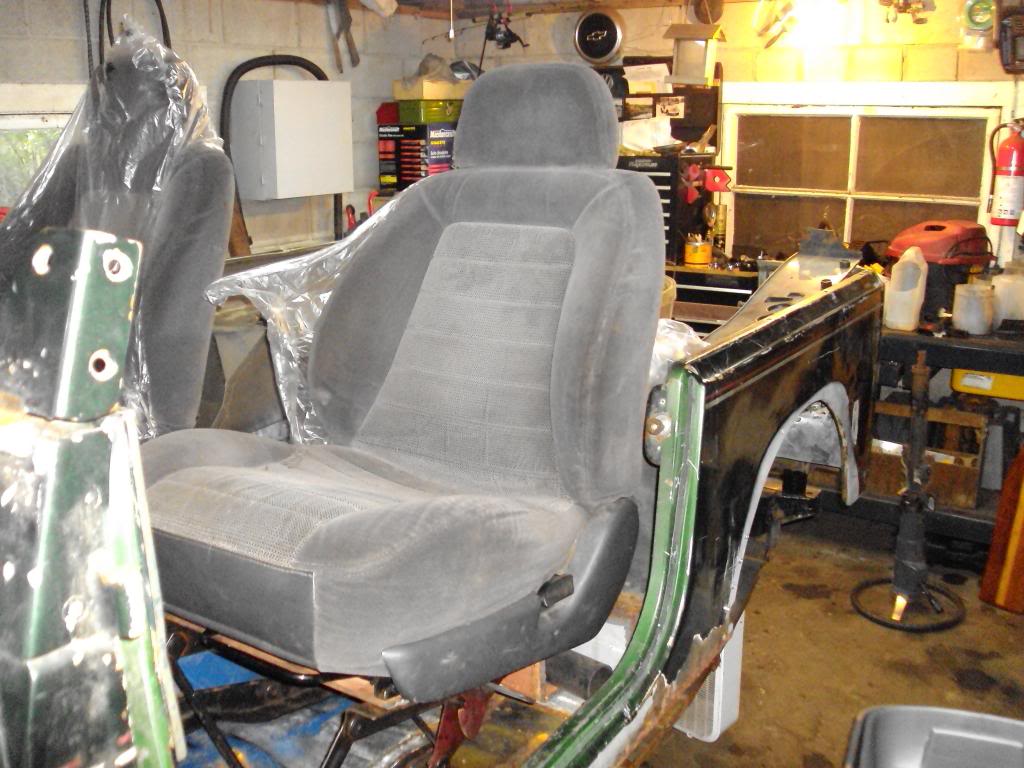 new seats, they are out a cherokee, i had to make some brackets for them to work with the yj seat mounts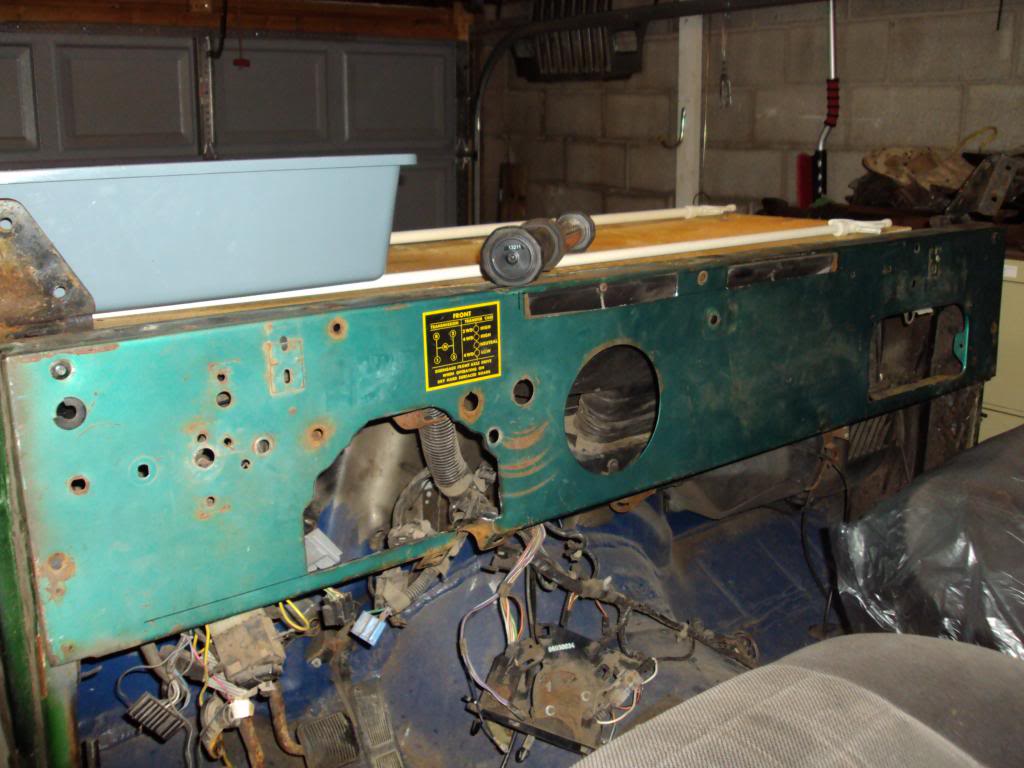 new dash, i had to cut out the hole for the steering column and the defrost vents
8-24-2012
Got the 9" in the rear today, cut the perches off and moved them inward, haven't welded anything yet, found out that the spider gears are welded solid or there's a locker hiding inside of it, I have to pull the center section out anyways to swap in another one with matching gears for the front so I will know more when I do
9-12-2014
I haven't made much progress lately on the jeep, I did put a new roof on the garage, tore out a bench that was way too big and replaced it with some shelving, and spent the last 2 weeks after work trying to get the garage cleaned up and the jeep cleaned out. It seems that in between working on the jeep it gets filled up with all sorts of random things. I did however pull the 4cyl engine/tranny out for the last time today, now that its out I can work on the front suspensionand get the front diff installed. Unfortunately I probably won't make it back out there till next month with Xmas in a few days, but I have lots of parts to keep me motivated and moving forward,

I hope everyone who is following along has a merry Christmas and a happy new year
1-5-2015
I managed to get the drivers side arm off the knuckle, pulled the studs out and cleaned up the rust, gonna paint it tonight, my cousin has my passenger side knuckle and is gonna see if he can machine it for me at his work
1-11-2015
ive been working on out boarding the front springs lately, came in to take a break from the cold, i have the drivers side mounts cut off and every thing ground down, i started making my brackets to move everything outwards, i will post some pics later when i call it quits for the day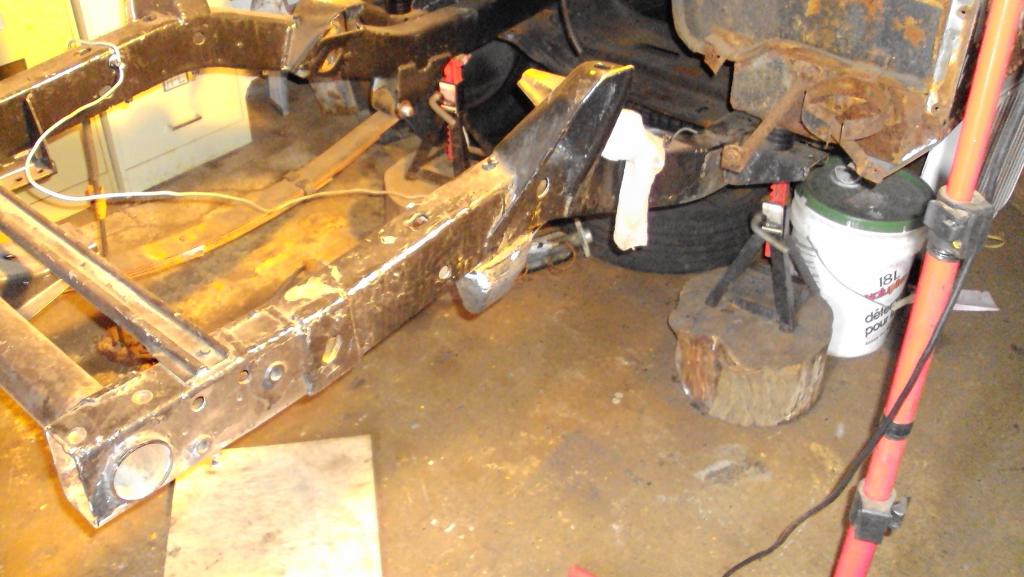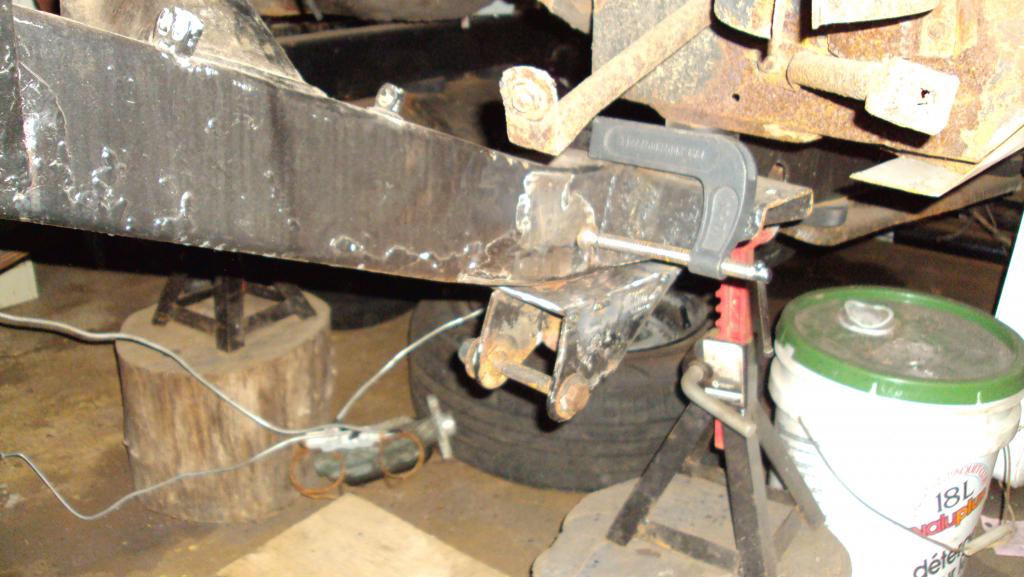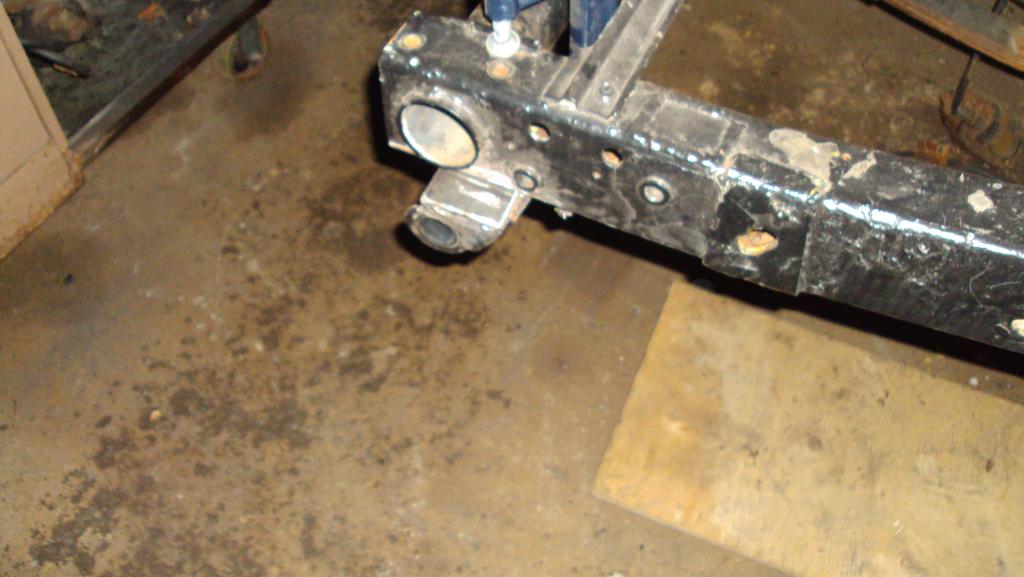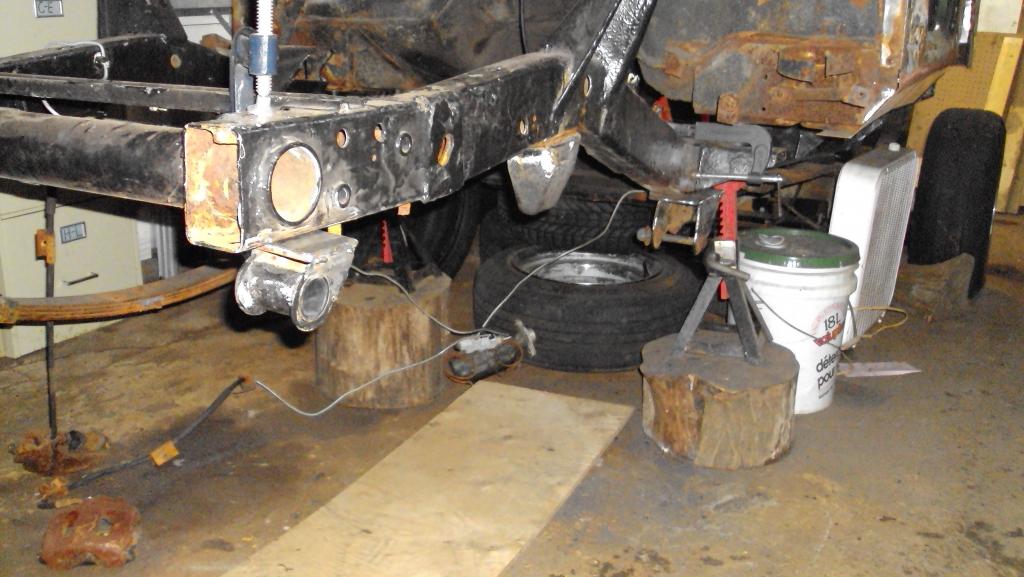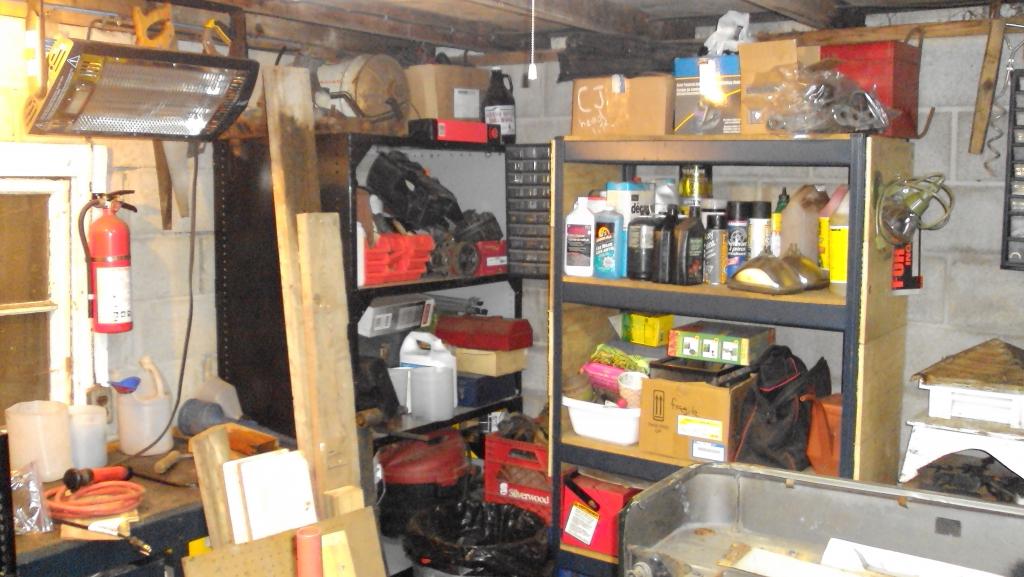 mounts are only tacked together until everything is in its proper place, everything will be reinforced and beefed up and a pic of the new shelves i made to get ride of the huge useless bench
1-31-2015
made some progress lately, not alot , but some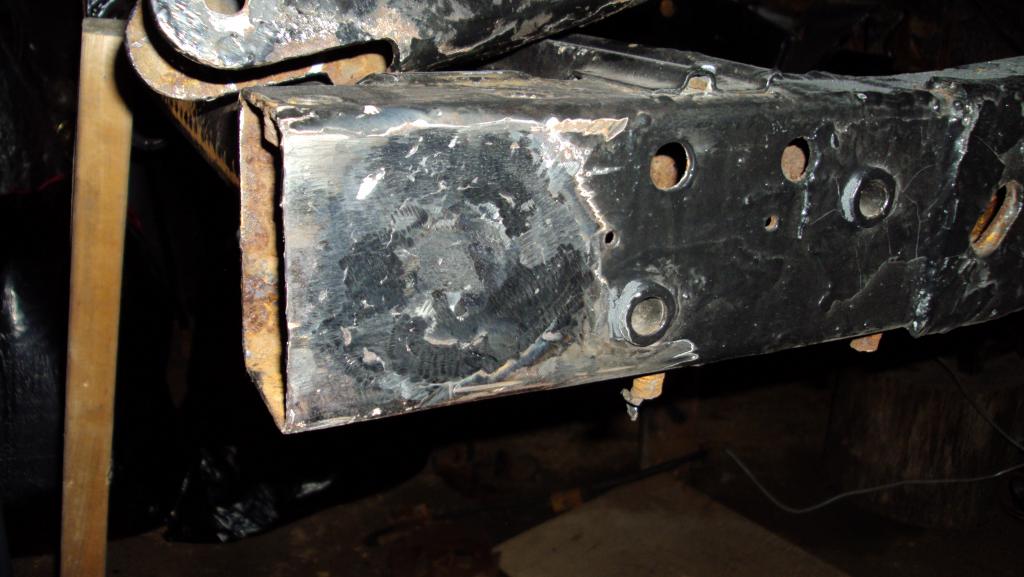 filled in the tube and ground it flush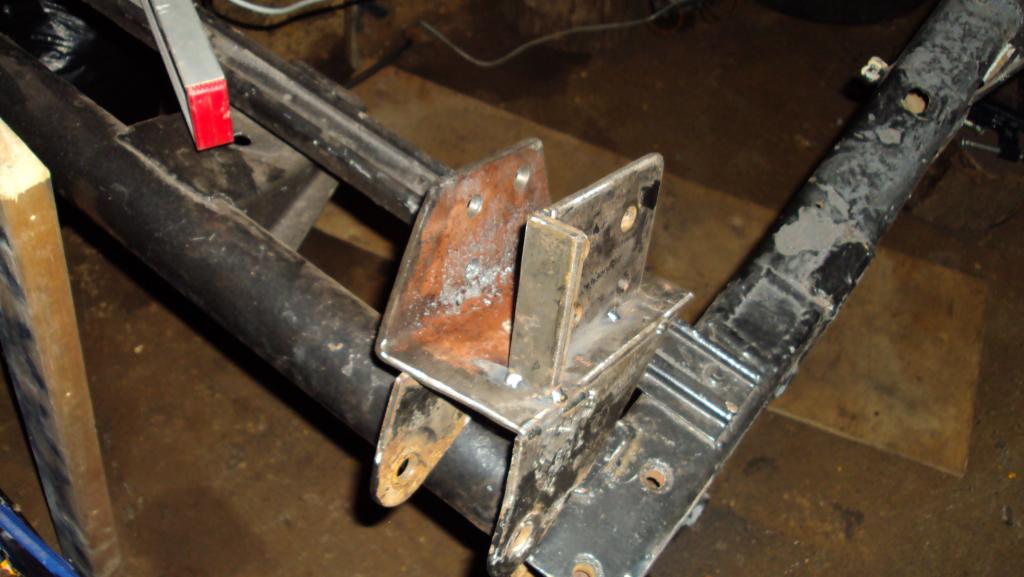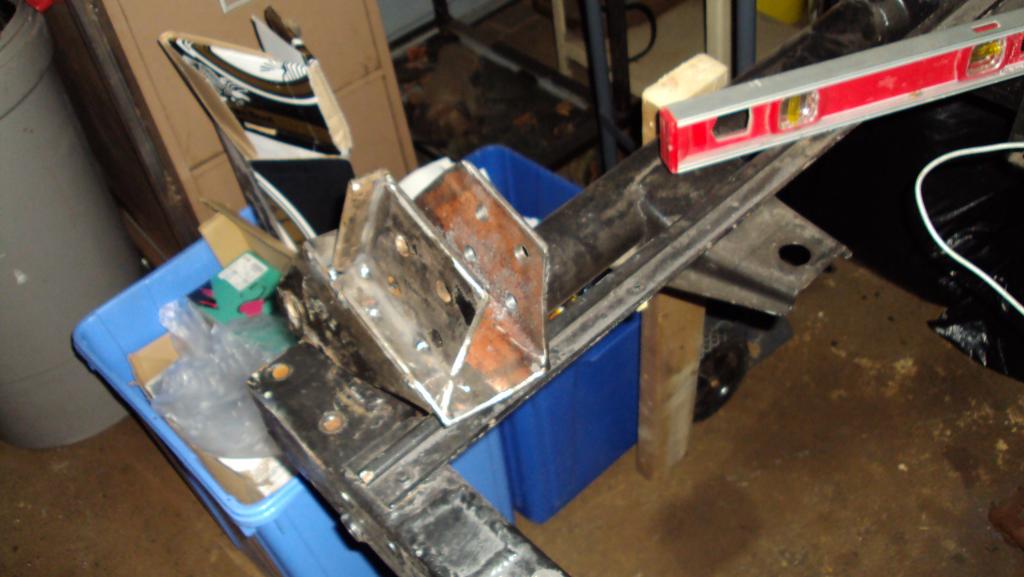 some more pics of the rear bracket, im going to drill threw the frame and sleve it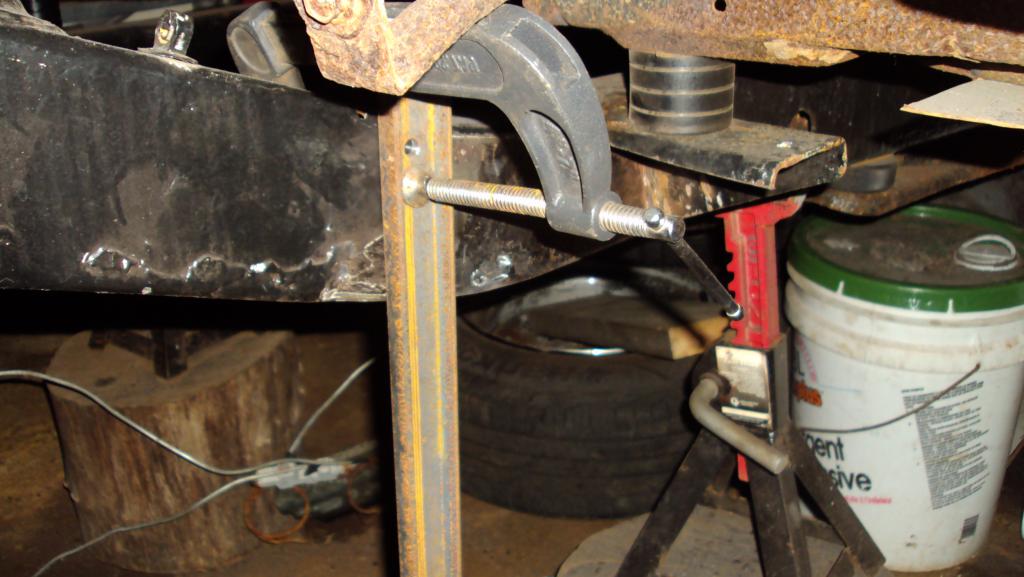 getting it ready to drill
4-5-2015
Got a little more work done on the jeep this weekend, haven't been out in the garage much this winter, will have some pics up once I get some more work done again, gonna try and get out there at least once a week from now on, the wife may be getting her father's old Camero, its a 78 with a 350 auto in it, its been sitting the better part of 15 yrs in storage, so may be doing some work to it to get it on the road for summer, also just ordered some new turkey calls and some camo for the spring turkey hunt coming up
4-13-2015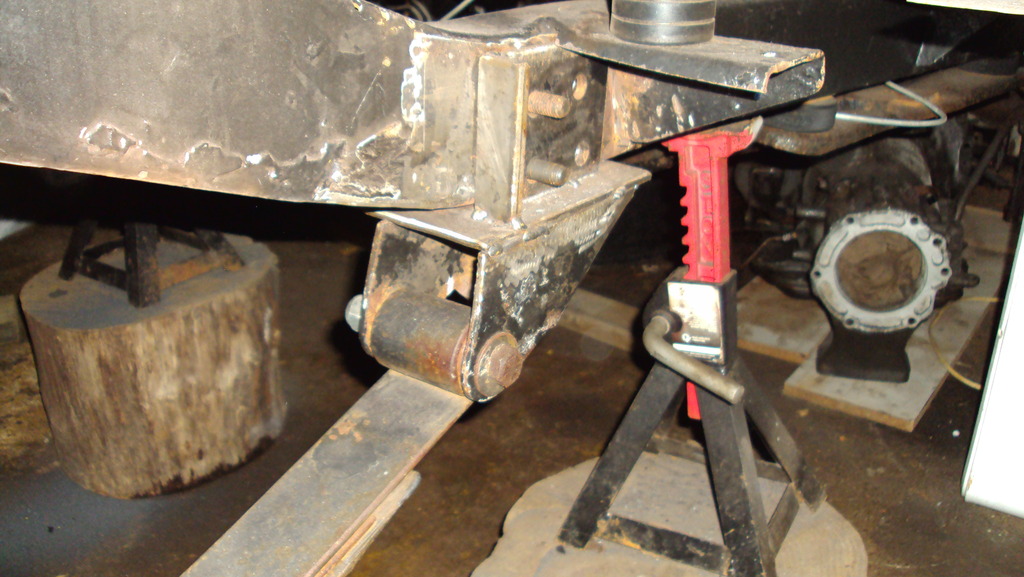 rear spring bracket in place, still not fully welded and i still have to sleve it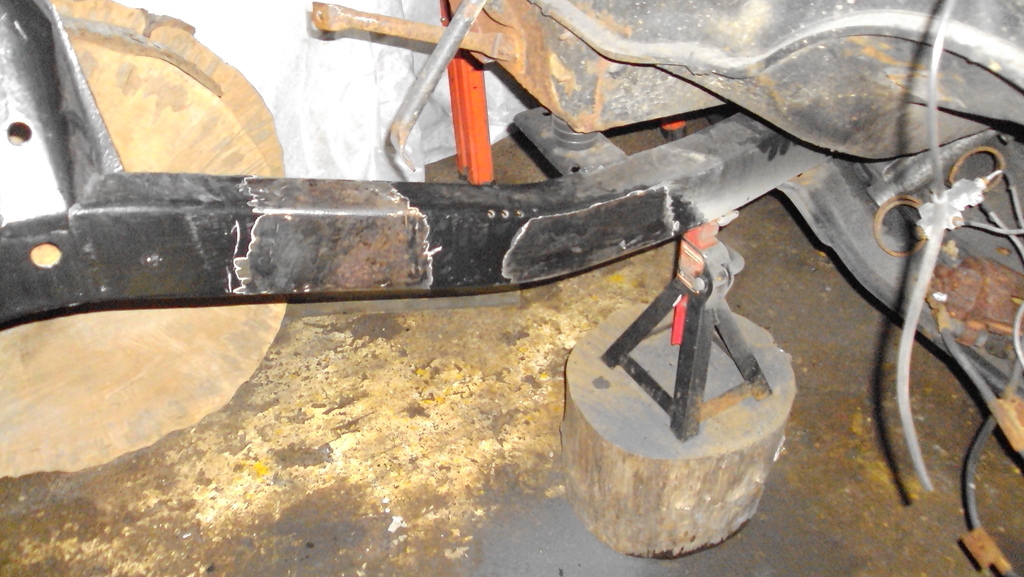 i did get the passenger side spring mounts cut off and both of the engine mounts cut off, every thing is ground down and cleaned up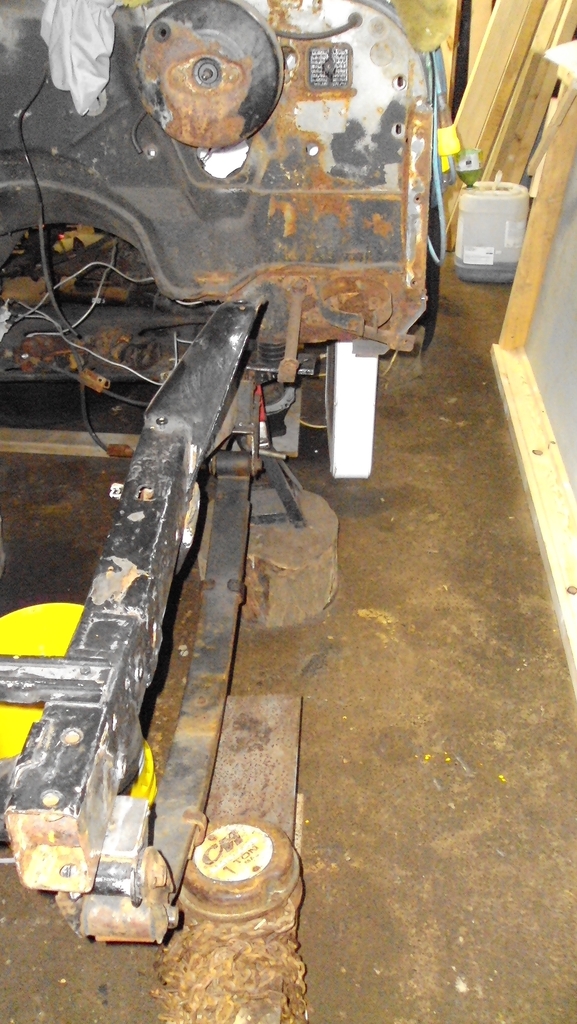 drivers side tacked in place until i get the passenger side done and make sure everything is in its proper place before final welding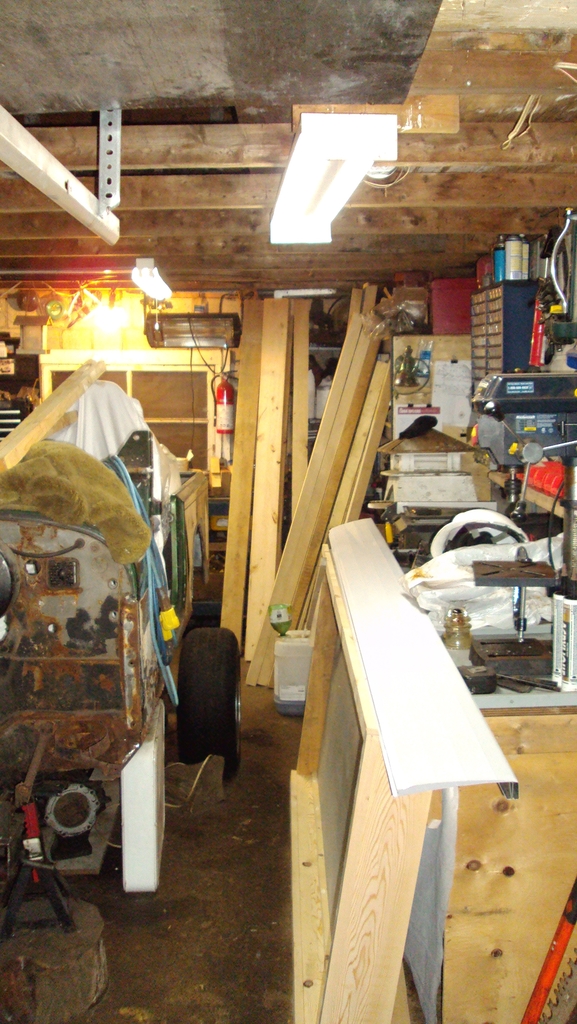 i have a small shed on the back of the garage, were gonna tear it down and re build it, this is some of the wood and the door for it, all the wood came from my father in laws farm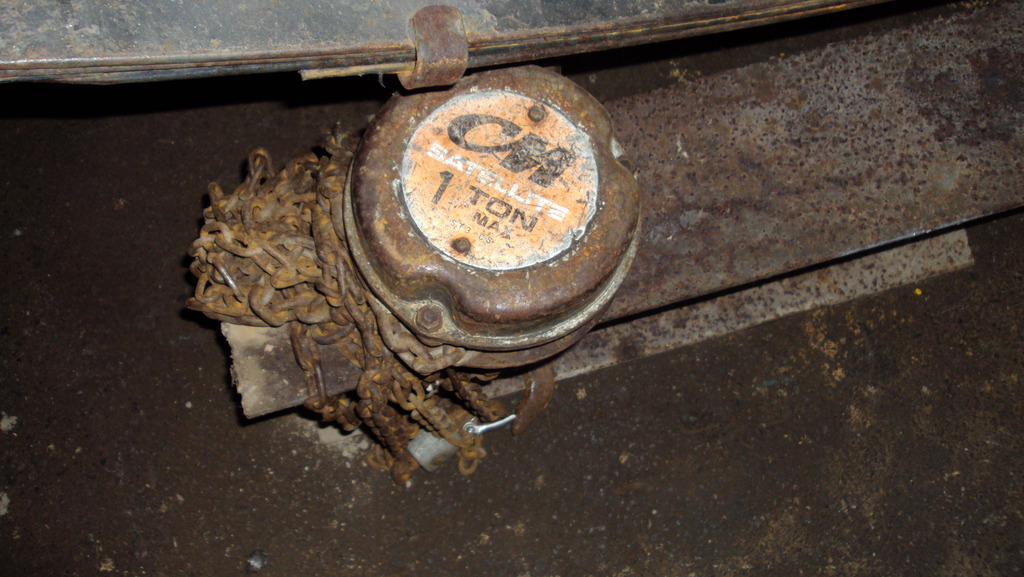 free 1 ton chain hoist i was given from my father in law as well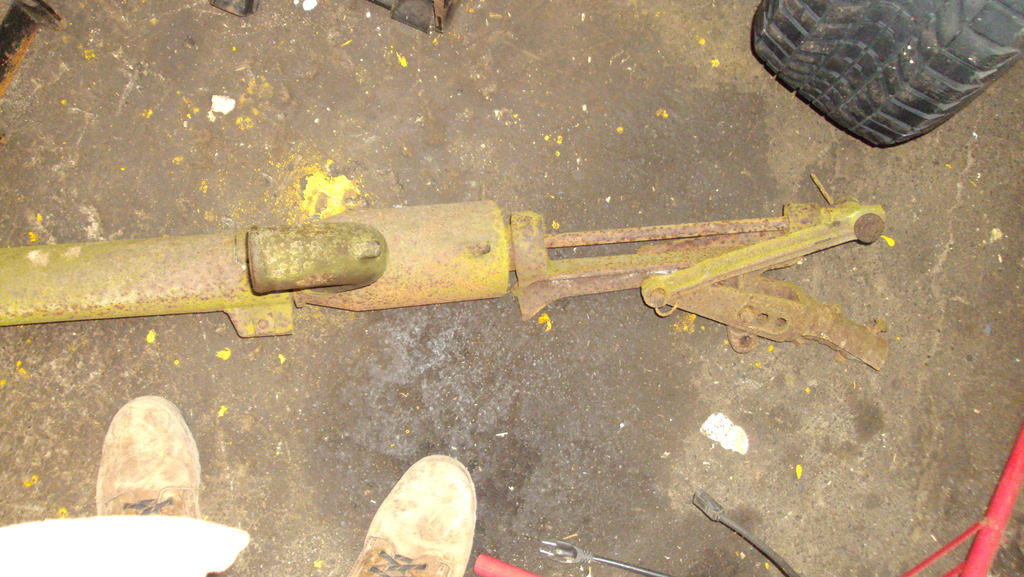 this is an old hand operated well pump i just picked up too, it was actually made about 20 minutes from the town i live in now, its gonna go in our garden this summer
6-13-2015
Managed to find some time here n there between turkey hunting and work to get a bit of progress on the jeep. The front suspension is all tacked together and the front axle is sitting under it, I'm waiting on new u bolts and plates for the front and rear axles, should be getting new ball joints for it soon too, once it's sitting on all 4 wheels again I can start too mock up the motor mounts and finally get the 360 in it. I also managed to pick up an old 1979 Honda atc 110 at an online auction, it doesn't run but the engine isn't seized so if I can get it running for cheap I may keep it
6-22-2015
i have all the new u bolts for it, my neighbor cut me 4 new plates for the u-bolts, i just have to drill them, i already started on two of them. i also got my steering knuckle back from my cousin, he was unable to do anything with it, problems with machines at his work, i gave both steeringknuckles to my neighbor and he is going to machine it down and drill/tap it for me, he also says he can make me both steering arms for, big bonus there, he will be getting some beer for that, once i have them back i will order the ball joints and it will be rolling again
6-27-2015
i was able to get all the new u bolts and plates installed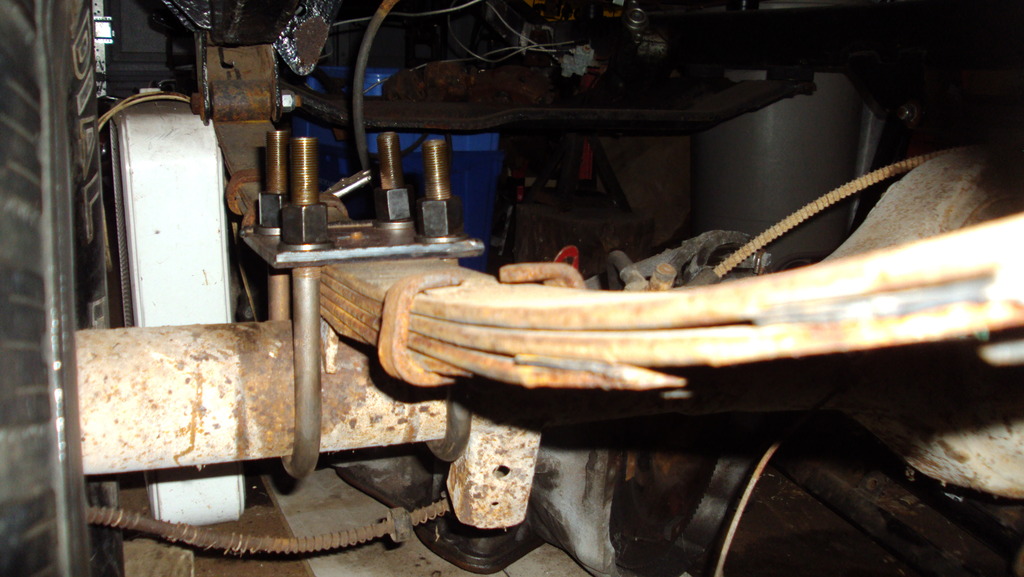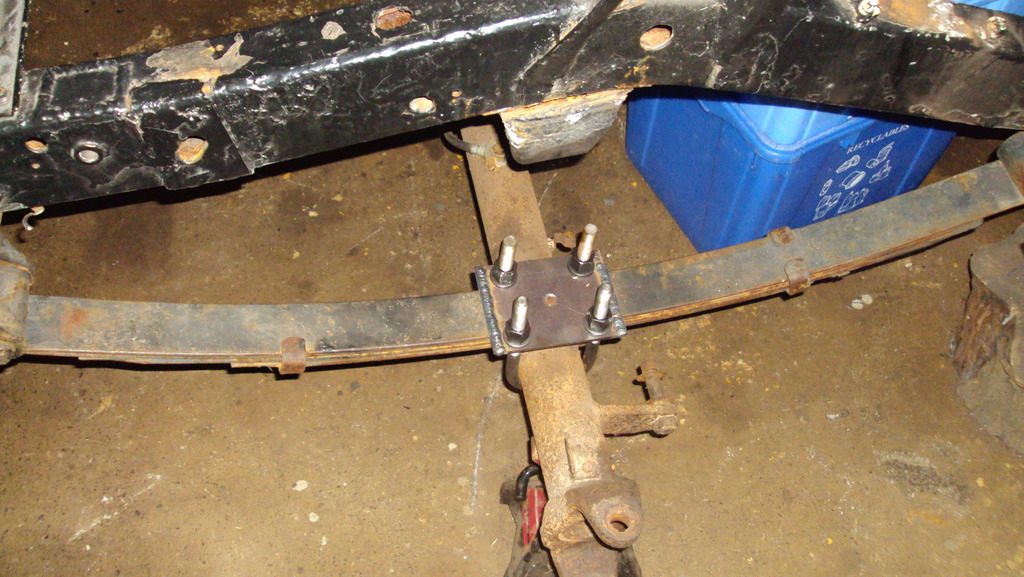 these are the plates i made, i cut the ends and bent them up and then welded across them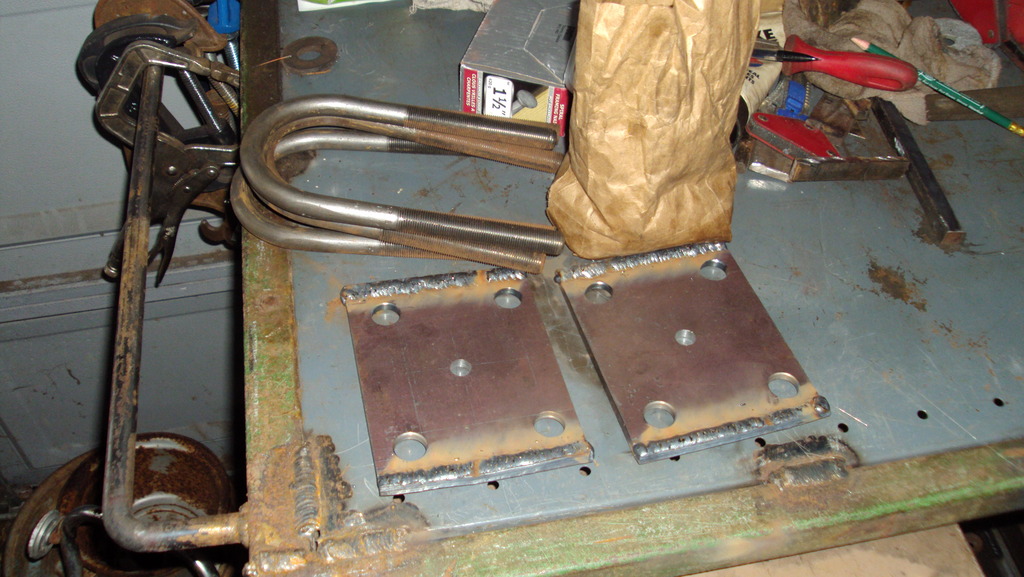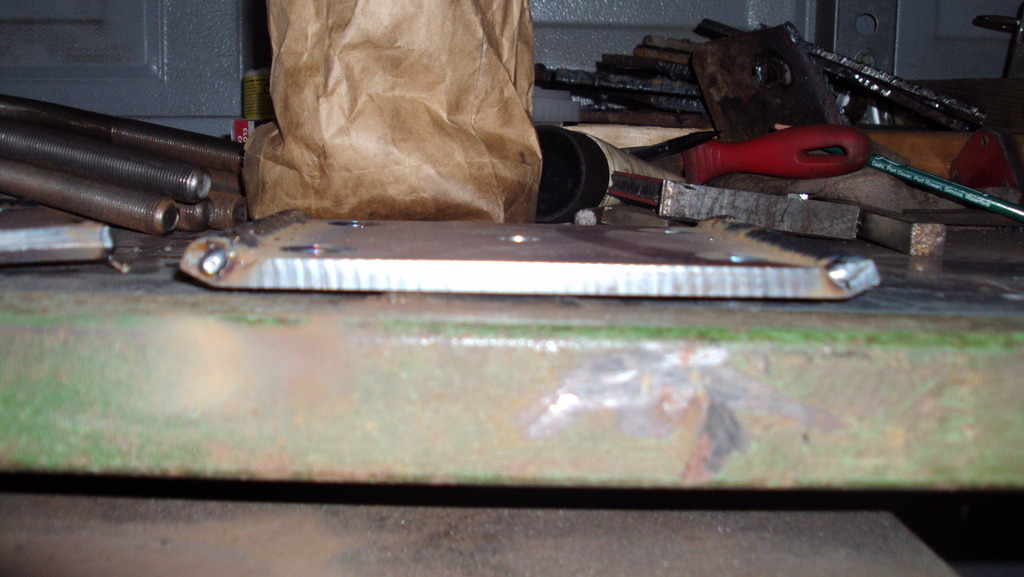 i did get all 4 of them made, i just didnt think i needed pics of them all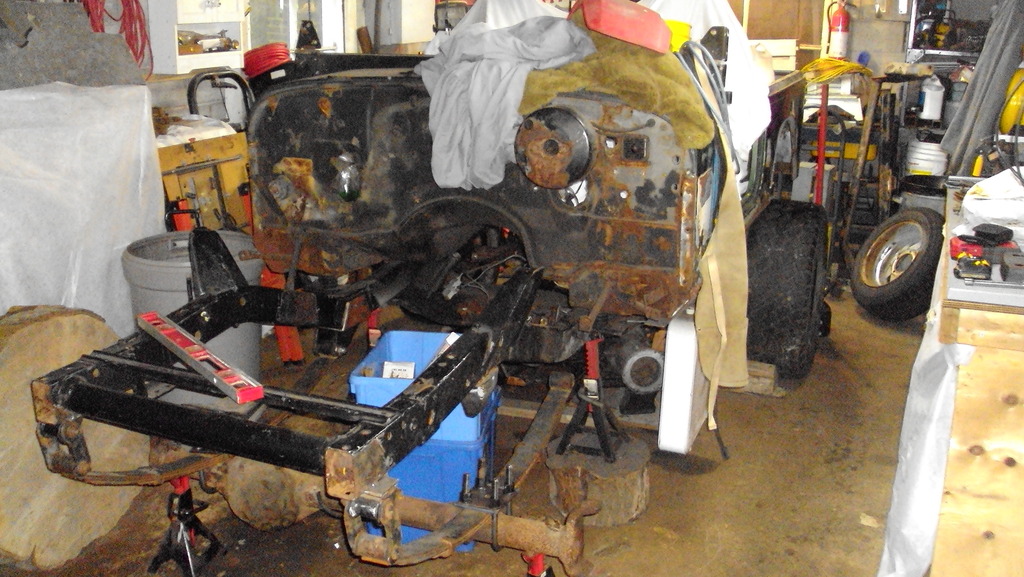 thats all for now
8-1-2015
i wasn't able to go with my neighbor today, but he was able to machine my passenger side steering knuckle for me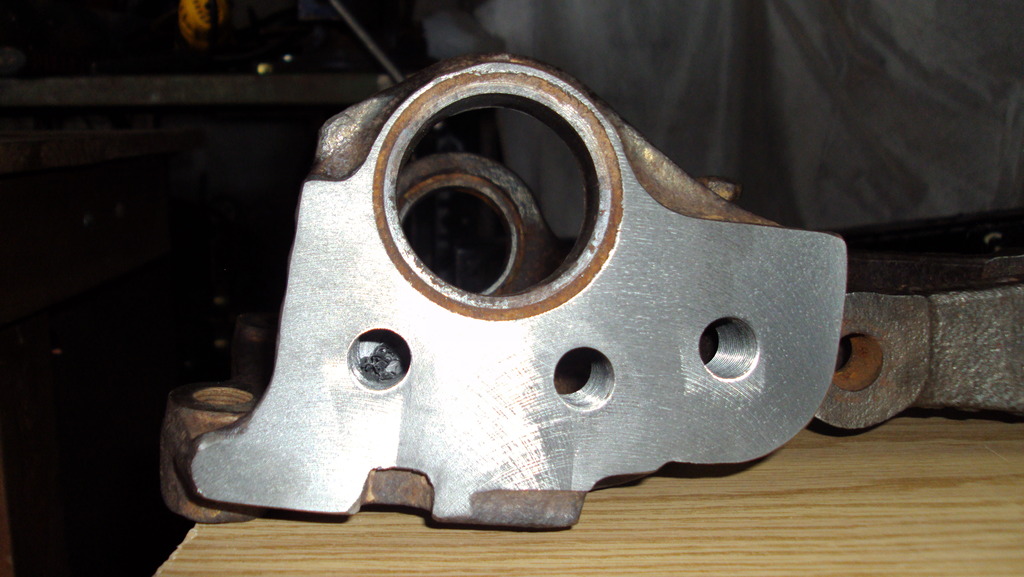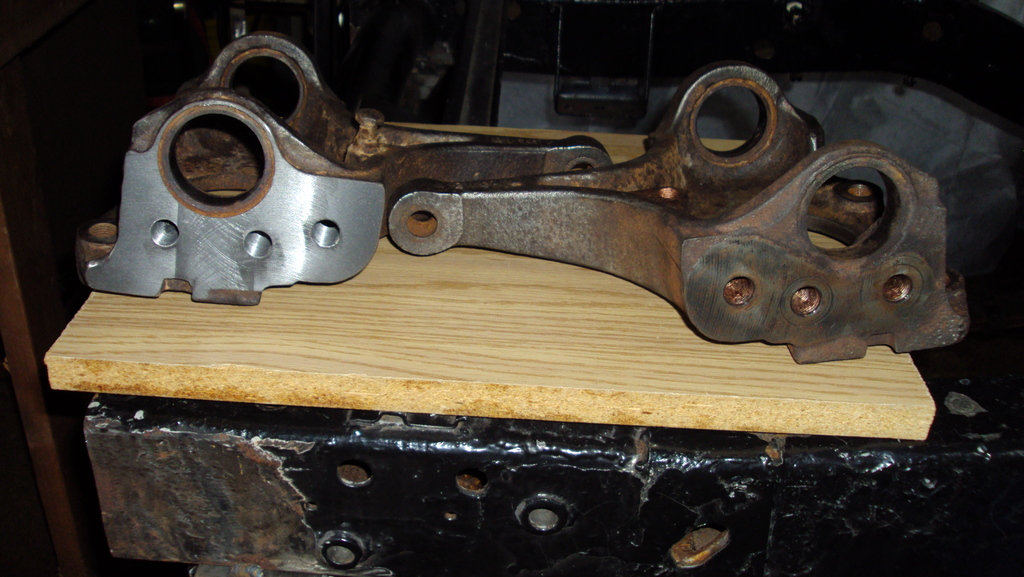 i took the tail housing off the 727 yesterday, im going to cut it down at work to shorten it and my neighbor is going to weld it back together for me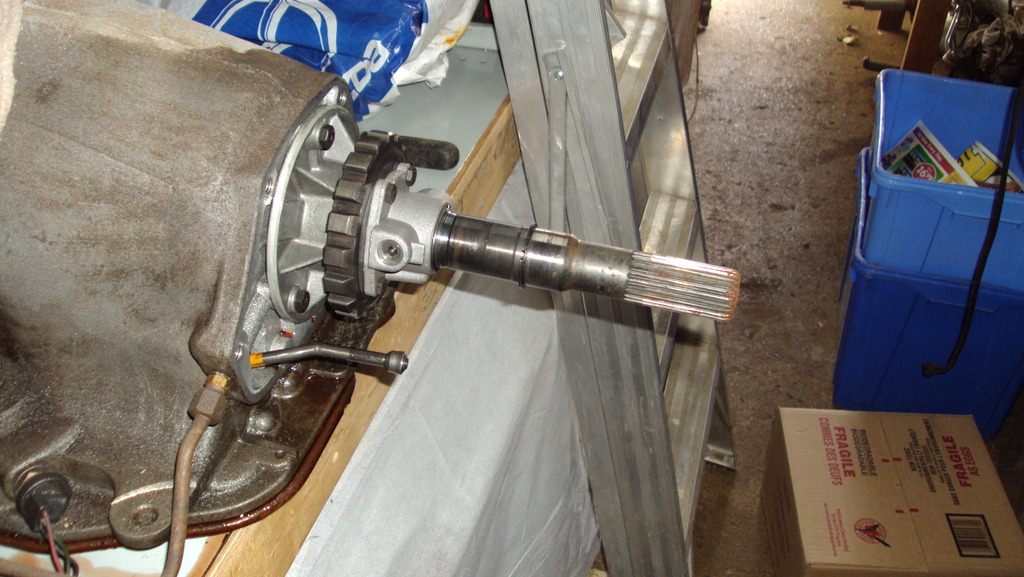 the next few pics arnt the greatest but i have the frame sleeving almost done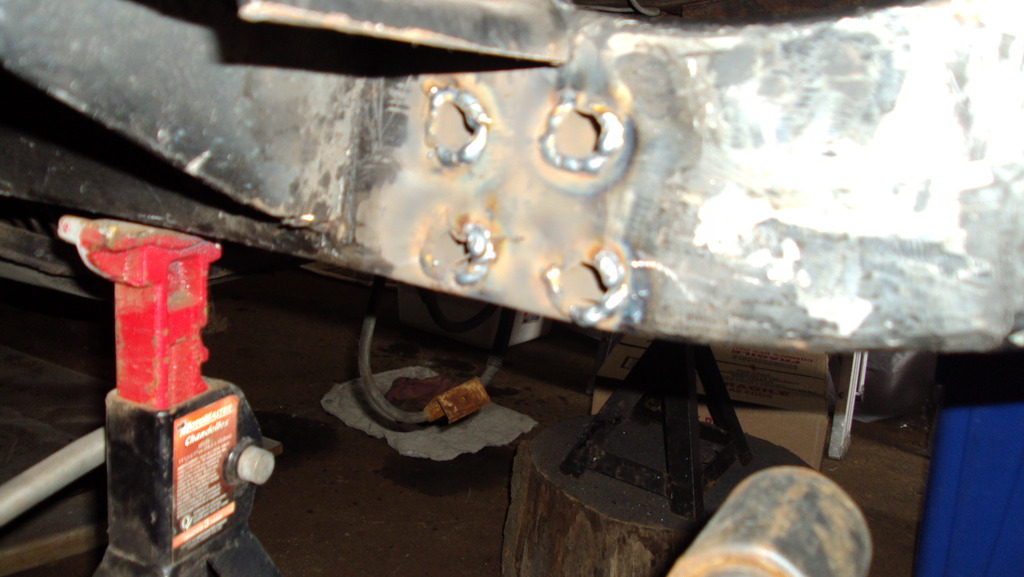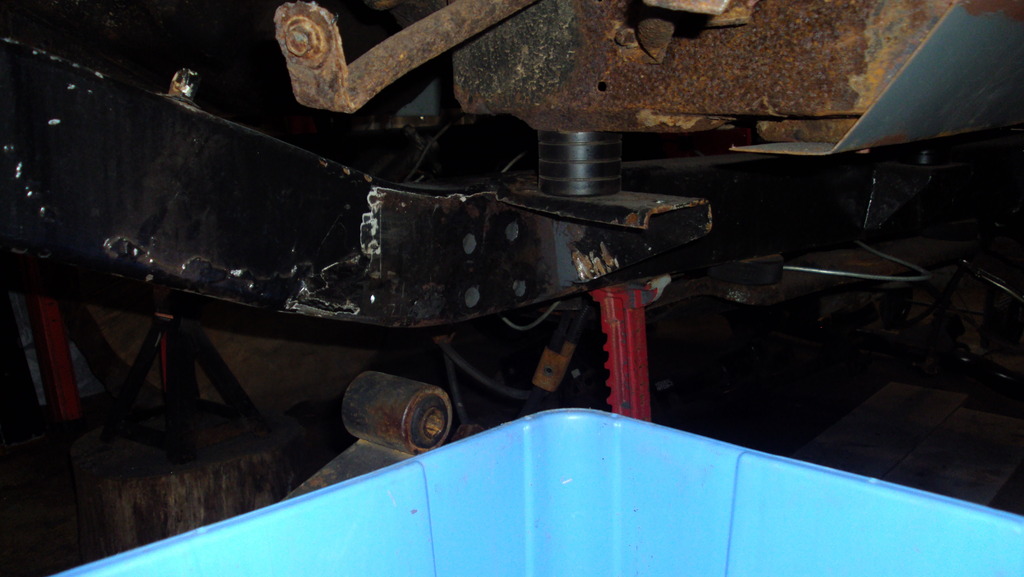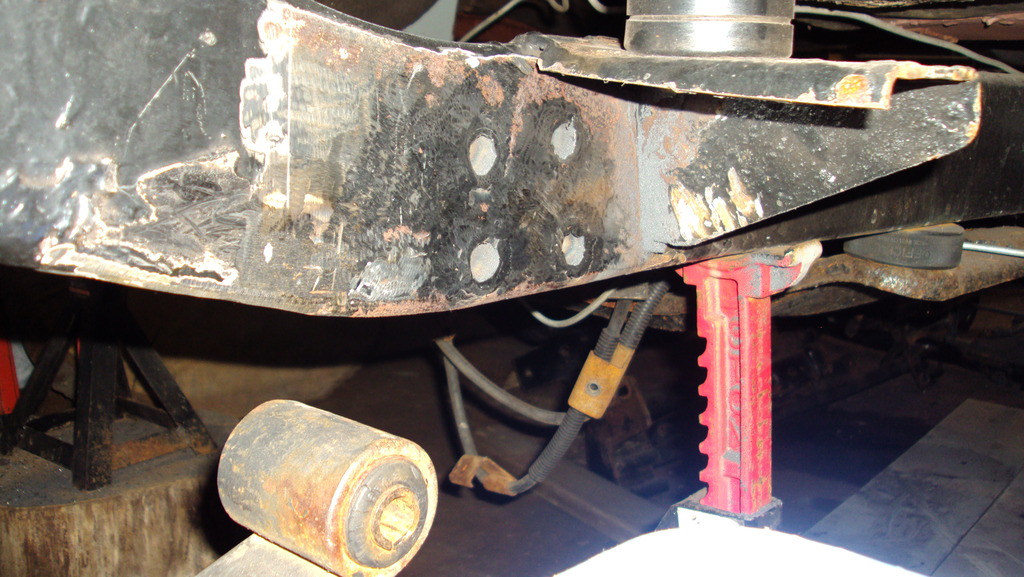 i picked up a few of these little led lights im going to use on my dash for different things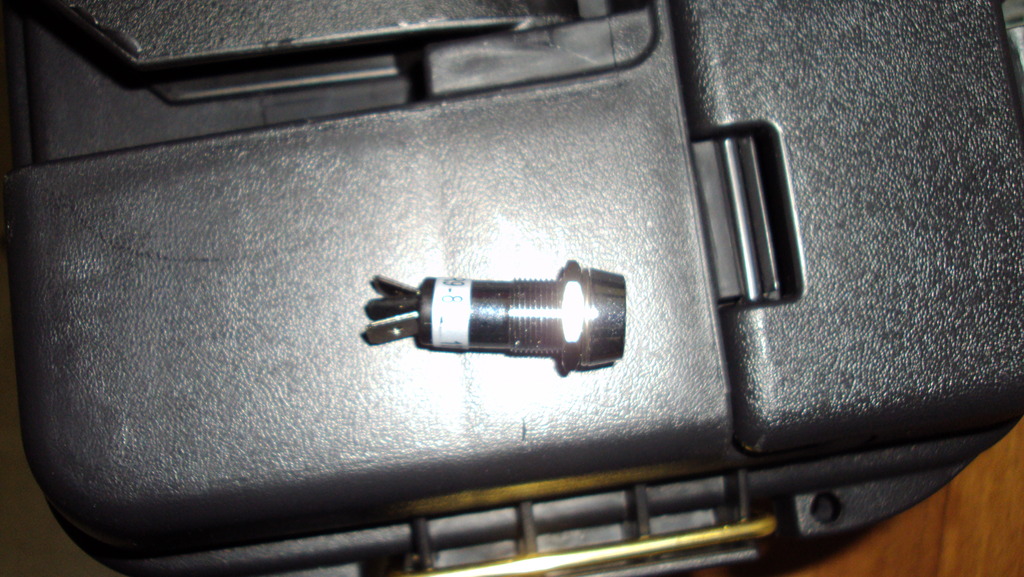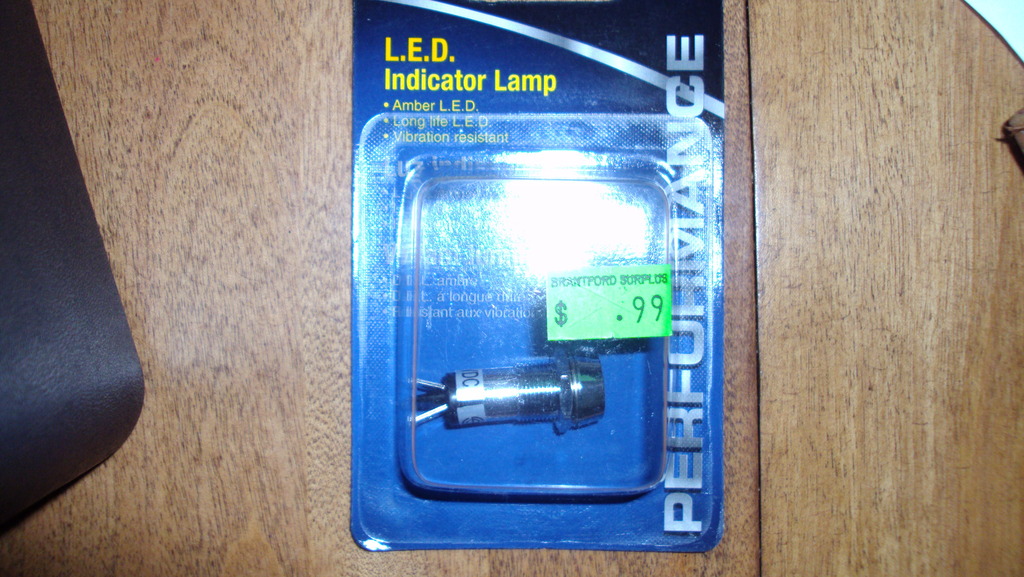 i still have to pick up the new ball joints before i can put them on and i still have to make the high steer arms but things are still slowly moving forward
8-11-2015
was away this weekend, went rafting down the Ottawa river, on the way up we stopped at a yard sale and i picked up a muffler for 5 bucks and a compass for hiking and my wife bought some plates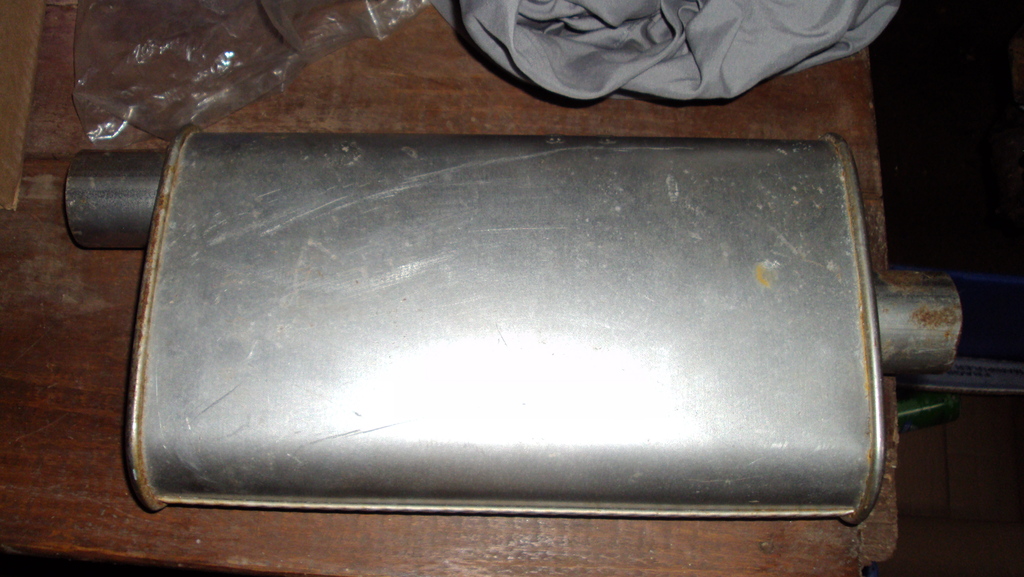 10-2-2015
rear housing has been shortened and a new plate welded on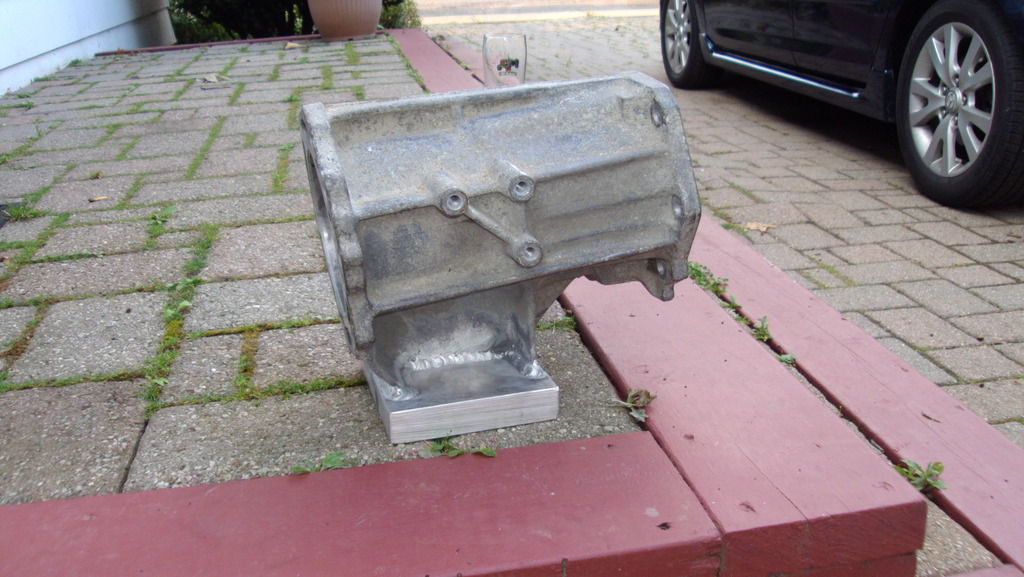 picked up some new ball joints for the dana 44, if i have enough time this weekend it may get put back together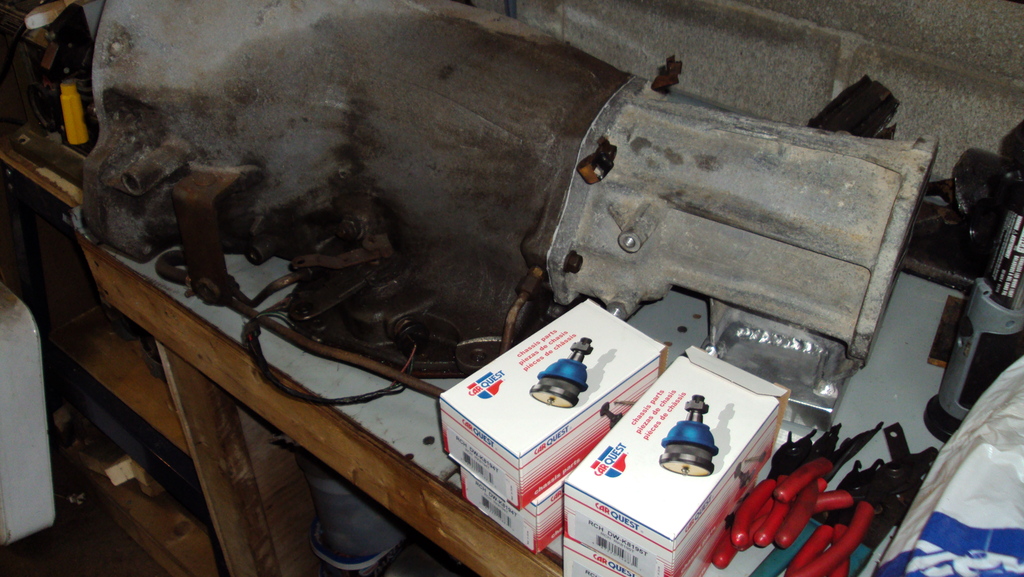 10-14-2015
The drivers side of the 44 is all together again and the jeep is sitting on 3 wheels, won't be long till its a roller again
10-20-2015
Passenger side of the 44 is almost back together, just have to clean out the caliper mount threads on the spindle, bolts were getting pretty tight so I figured they could wait one more day
10-25-2015
pics aren't the greatest, but its rolling on all 4 wheels again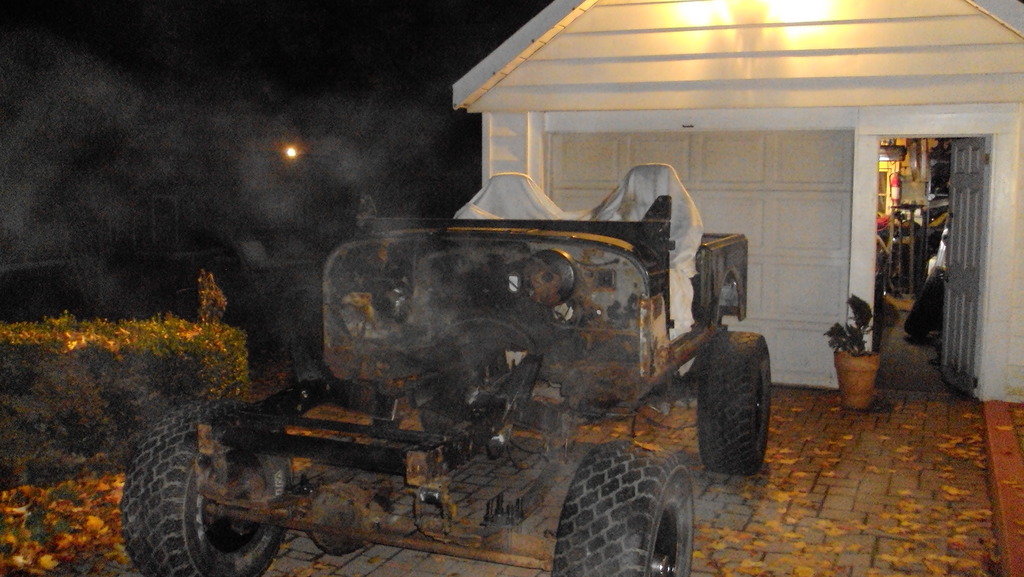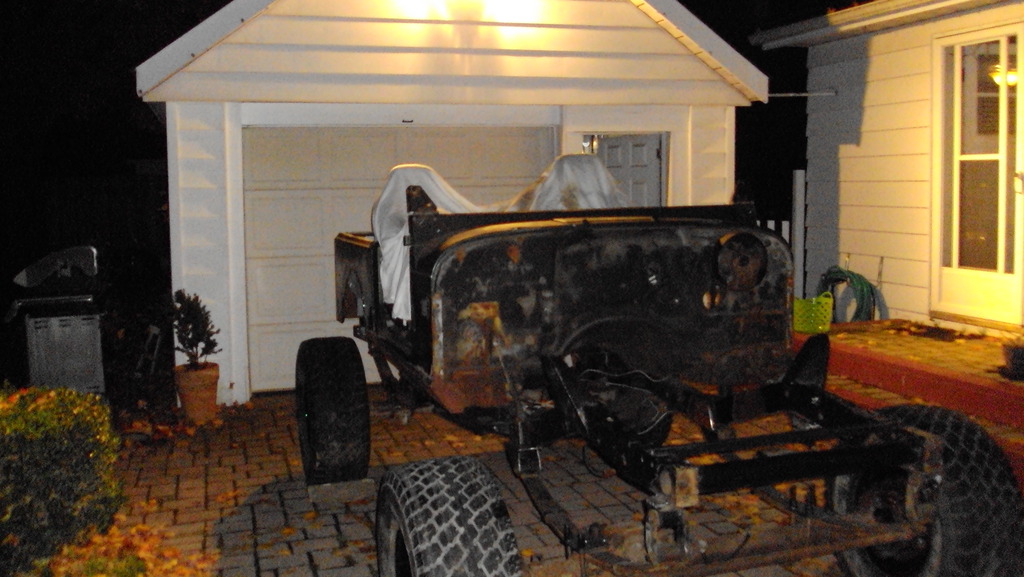 11-21-2015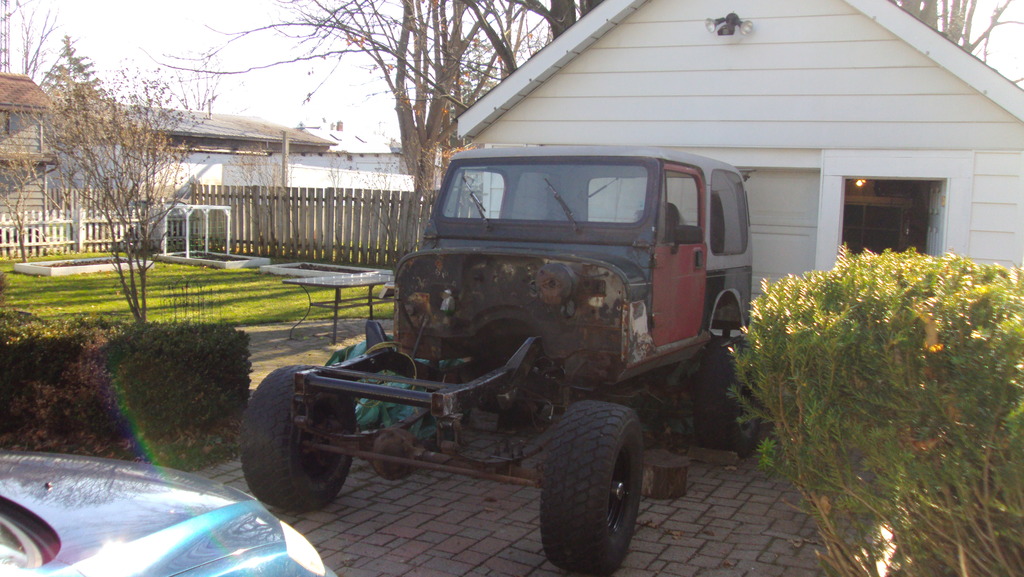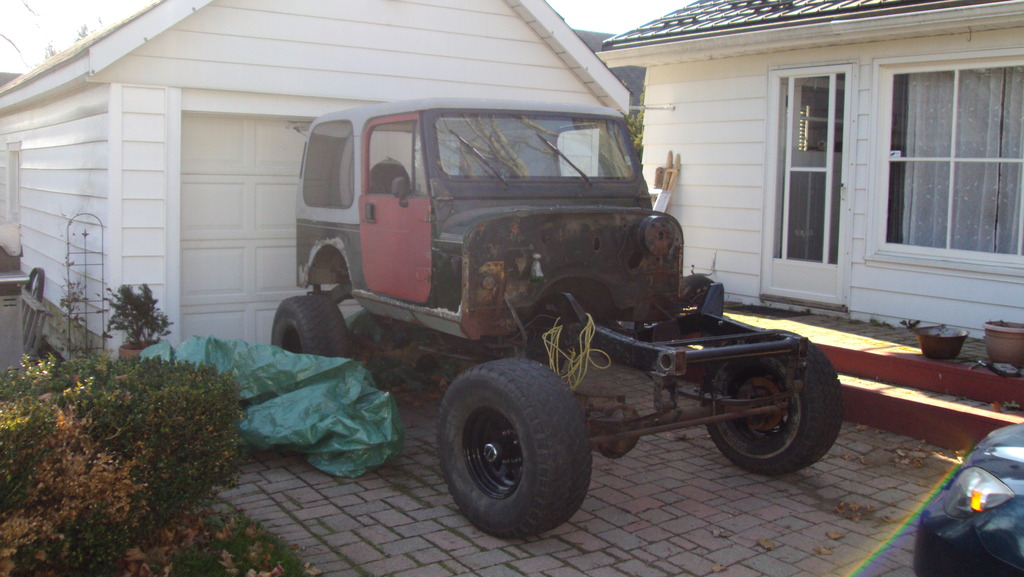 hard top, doors and windshield are back on. I will be bringing the engine home from work next week, if i can get the engine and transmission mounts ordered that I will be using then it will have an almost complete drive train mocked up.
1-17-2016
Went outside to do some work on the jeep, I removed the old skid plate and wanted to start mocking up a new skid plate/cross member for it. Problem is that the angle iron i wanted to use on the two side rails for it are only 1 1/2" wide and I need 2 1/2" wide pieces. So now i have to buy 2 pieces for it which is no big deal, i just wasn't able to do what i wanted today. I was able to dig out my transfer case and load it up into the explorer to take to work tomorrow, i'm going to swap the rear output yoke with the double cardon yoke I stole off of a parts transfer case and re-seal 2 of the covers on it that are leaking a bit

I also did some research on my 9" rear end, it has the 2 ribs and an 'n' in the center section which means it should have the 31 spline shafts and the bigger bearings in it, also may have a locker in it, I'm still skeptical on the locker though, axle came out of an old farm truck so its possible the spider gears were welded at some point, not a big deal if they are, I have 2 spare centre sections and one of them has the matching gears for the front axle I have. Just need to pull it all apart some time and see what's in there
1-18-2016
re-sealed the 2 covers on the dana 300 today at work
1-23-2016
engine and transmission mounts are ordered and will be here monday
1-24-2016
Pulled the 9" out of the rear and cut the shock mounts off of it. The mounts were in the way of the axle sitting centered under the jeep. Rolled it back under and centered it. Started going threw my boxes and containers of parts and bolts, found my flex plate bolts, starter bolts, starter and flex plate shield to get the engine/trans bolted together for when it goes in the jeep. Found out that my flex plate is wrong for the transmission I have. Mine measures 11 1/4" and I need a 10" one. Hopefully I can find one soon
1-25-2016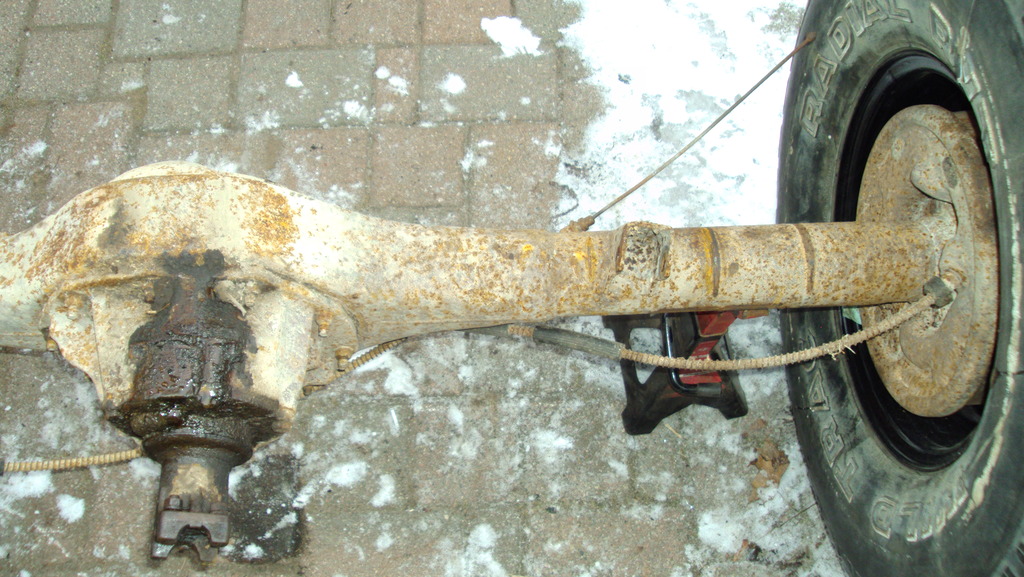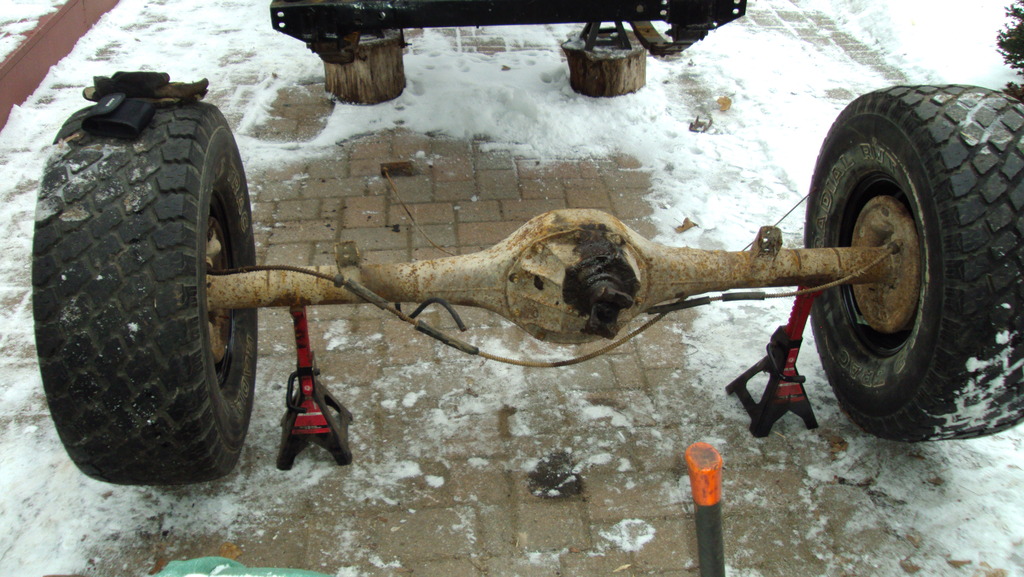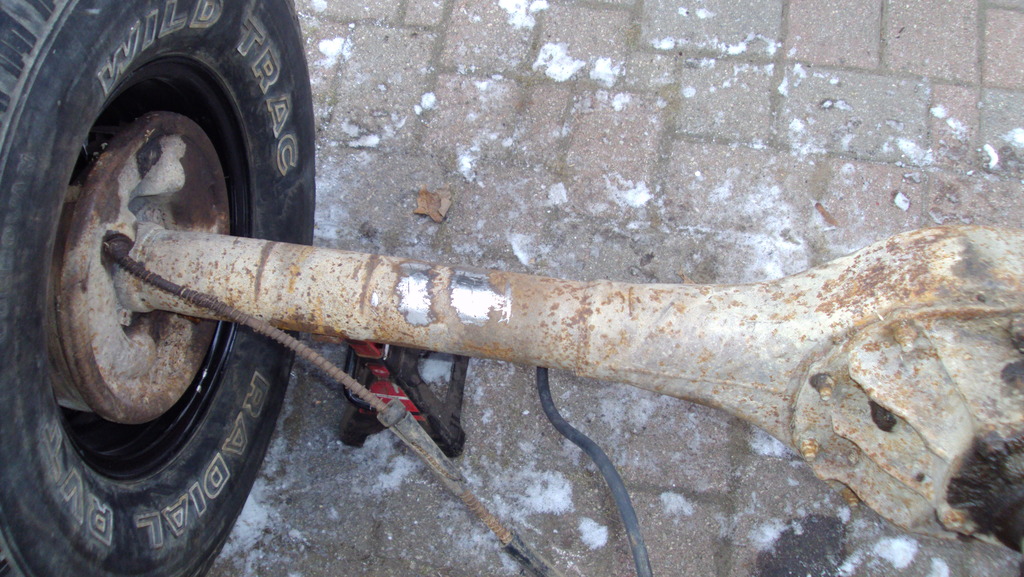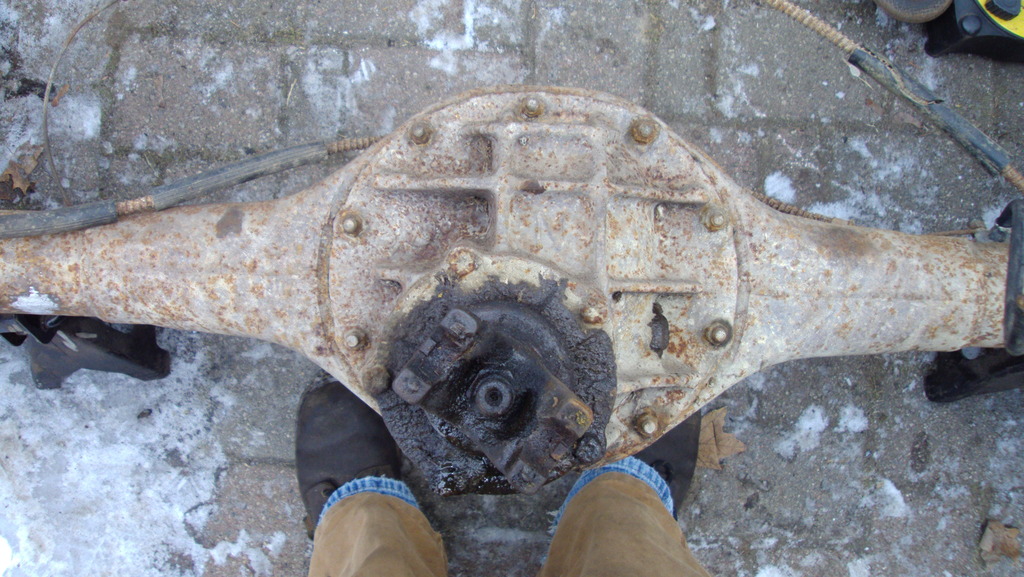 from what I have read online the double rib and the "N" stamp means it should have the big bearings and 31 spline shafts, no idea until I open it up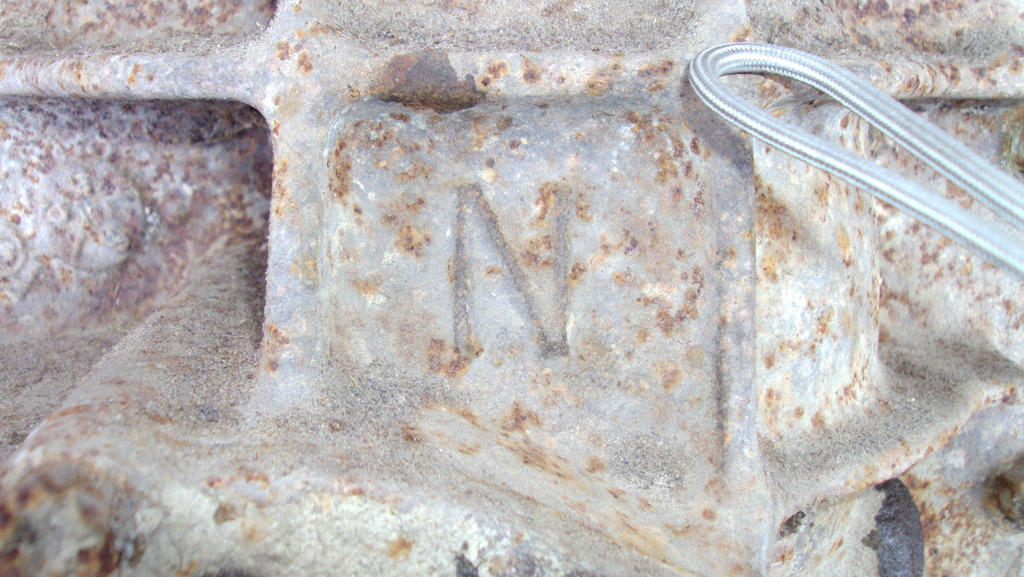 I also found the right flex plate i need, a friend of mine had one sitting in his garage
1-31-2016
Did a few little things today in the garage, cleaned up my work bench and found the studs and nuts that go in the transfer case that bolt it to the transmission. Found a few more containers of nuts and bolts. Found my tool for priming the oil system. Didn't get a chance to pick up my mounts, will hopefully get them this week.

I have two different air cleaners for the engine, one came off the 360, one came off a 318, the one from the 318 has the valve system on it for letting in hot air from the exhaust manifold shields on a cold startup. I have a couple different exhaust manifolds and can't remember if they still have the hot air shielding on them, if they do I will see if I can make it all work.

So maybe in the next few weeks if the weather isn't bad I may have the drive train finally set in place.
2-7-2016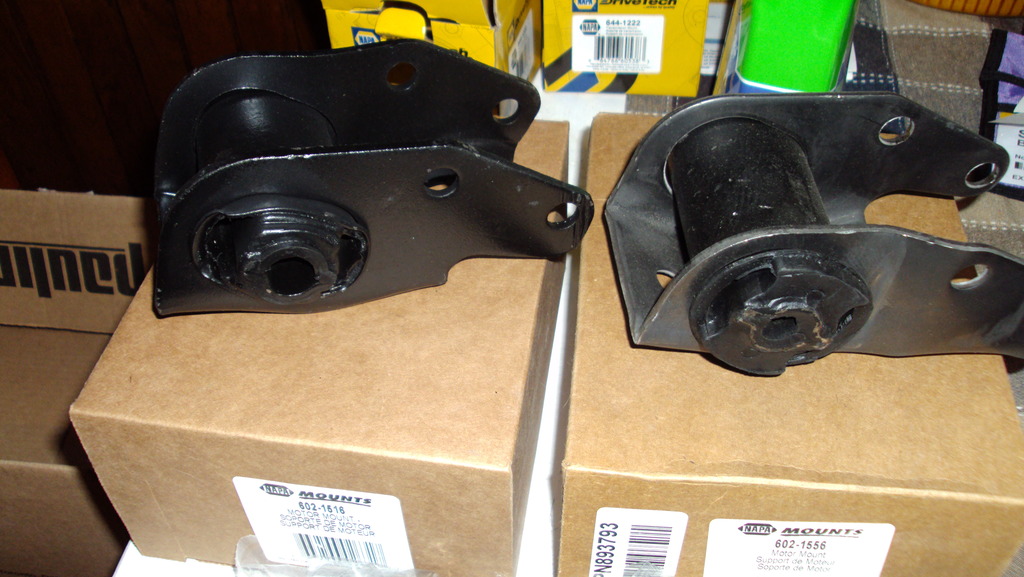 engine mounts
2-27-2016
Bought some metal today to hopefully work on making the trans cross member and engine frame mounts tomorrow
2-28-2016
Have the trans crossmember mocked up, no pictures because the batteries were dead in the camera. I also installed the new mounts on the engine and started figuring out what I need to do for the frame mounts
4-24-2016
here are some pics so far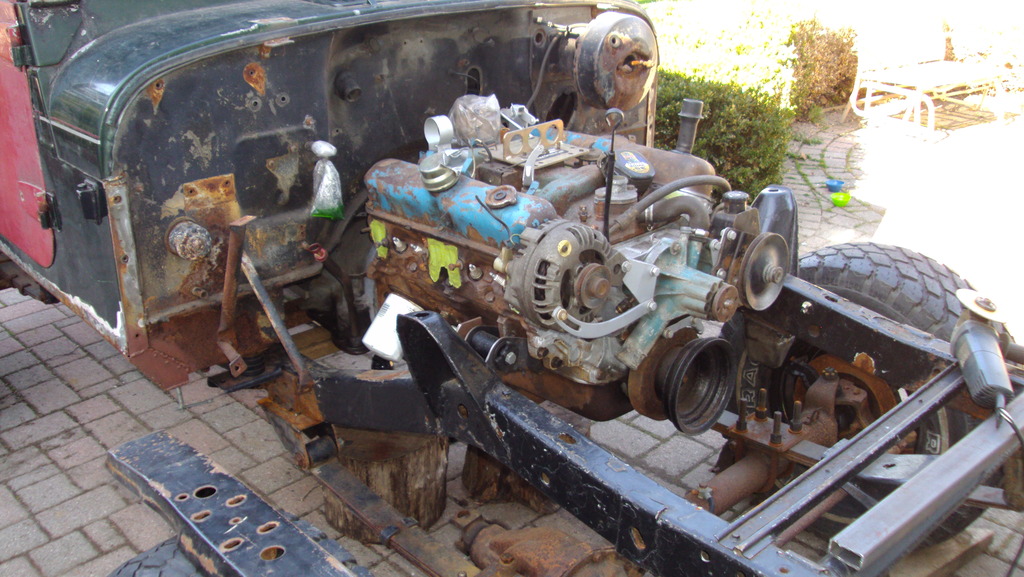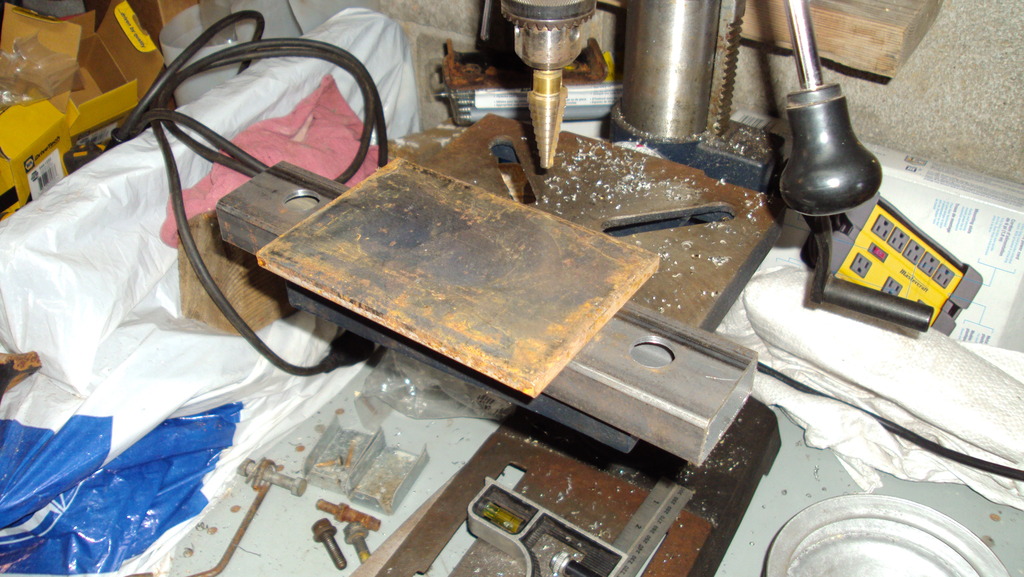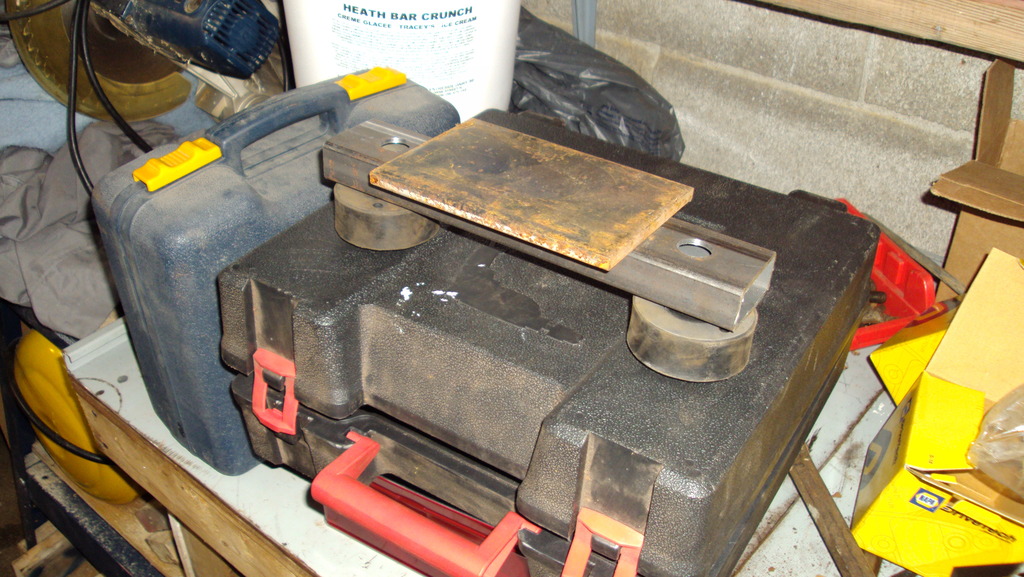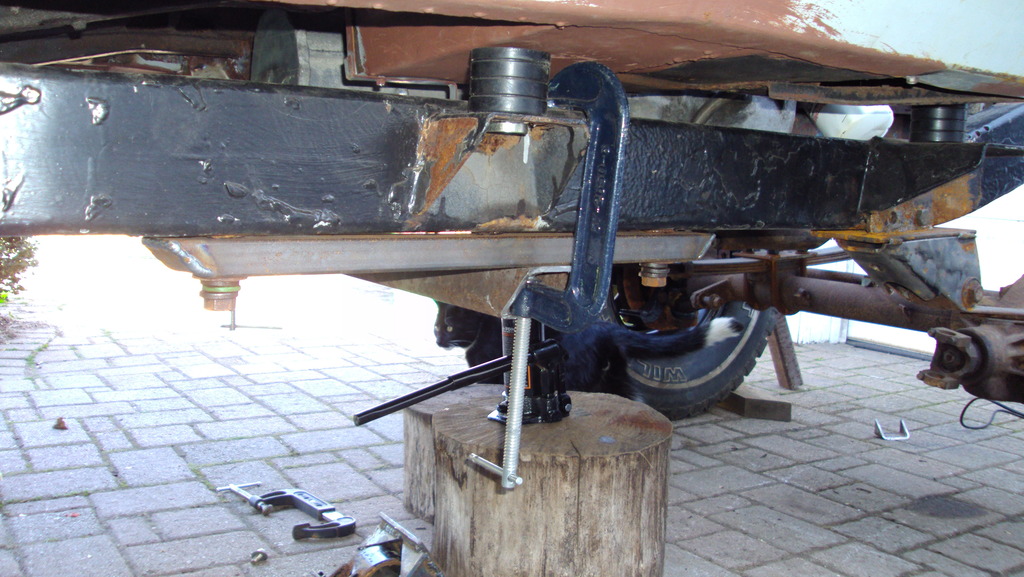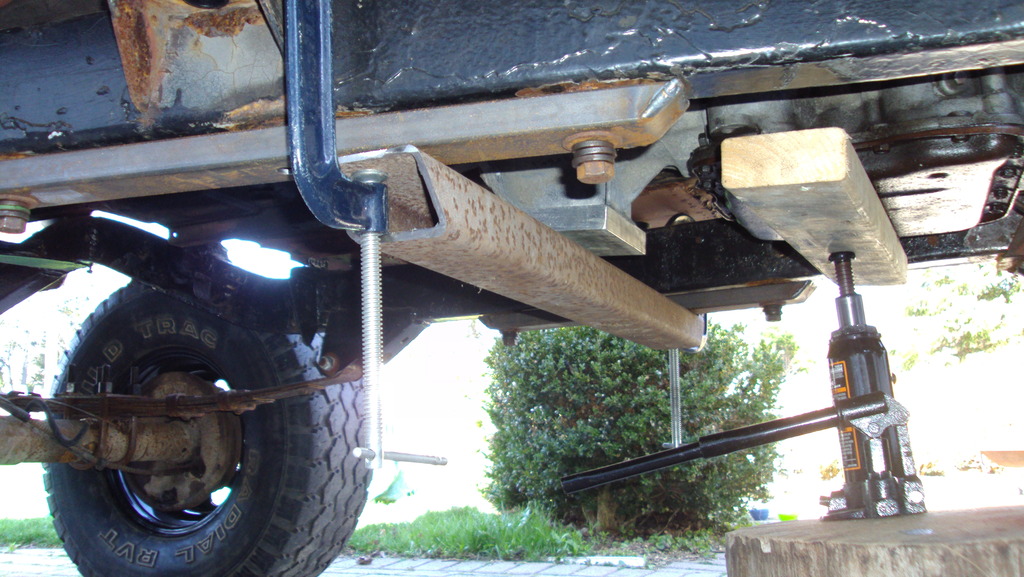 When i first mocked up the transmission crossmember I was going to use the one I took off my brothers cherokee, but it was still to tall so i'm making one using the ram charger isolators I bought when i ordered the engine mounts, after looking over where I placed the engine I may cut off the mounts and move them back an inch, since i'm using the CJ front clip i'm going to need all the extra room I can get
4-30-2016
Today I put the CJ front clip on the jeep. I wanted to see if the engine was going to have to be moved farther back or not. I still have to put the rad in and the fan on the engine before I will know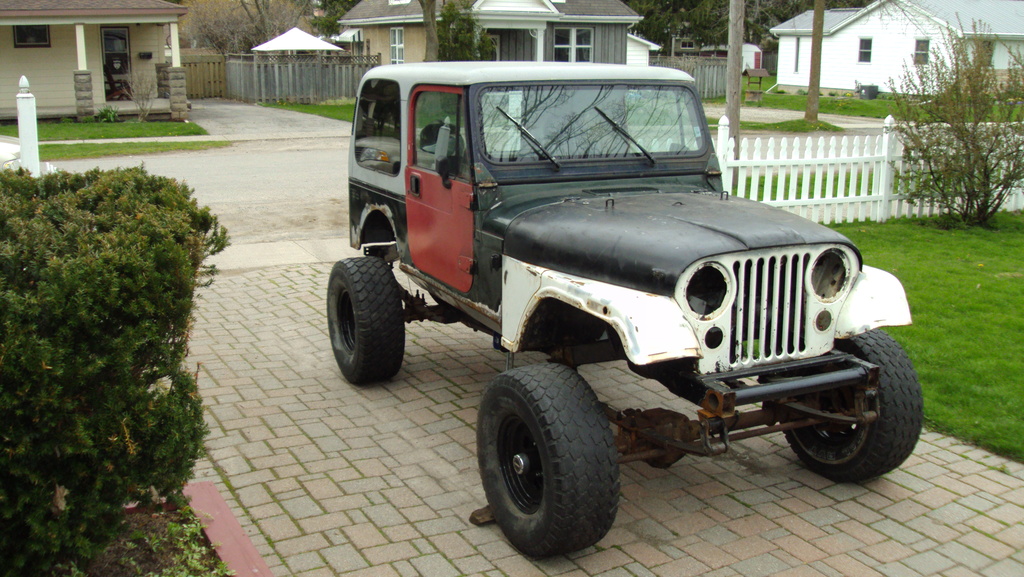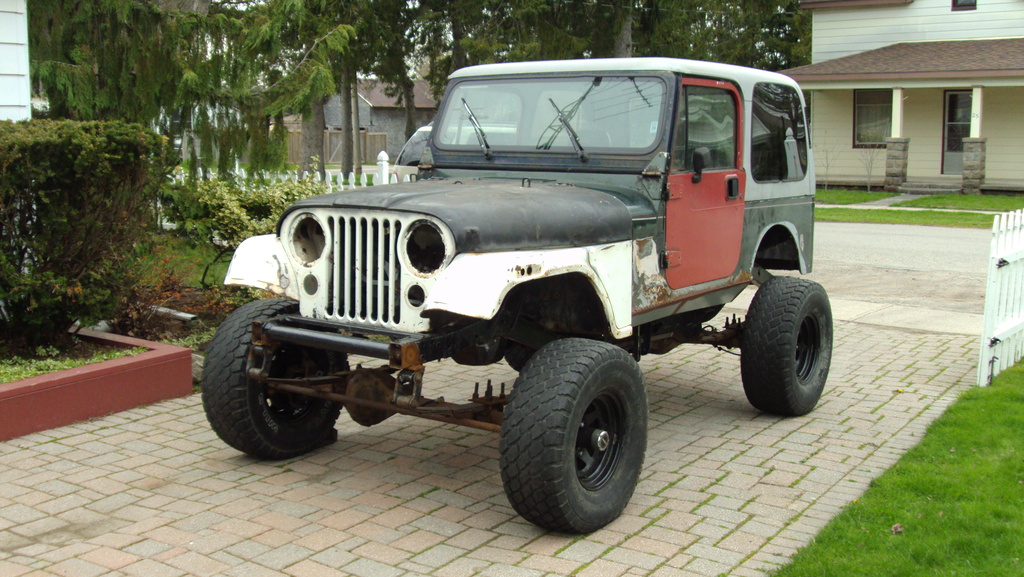 You can see where I am going to have to modify the fenders for the boat siding I did on the rocker panels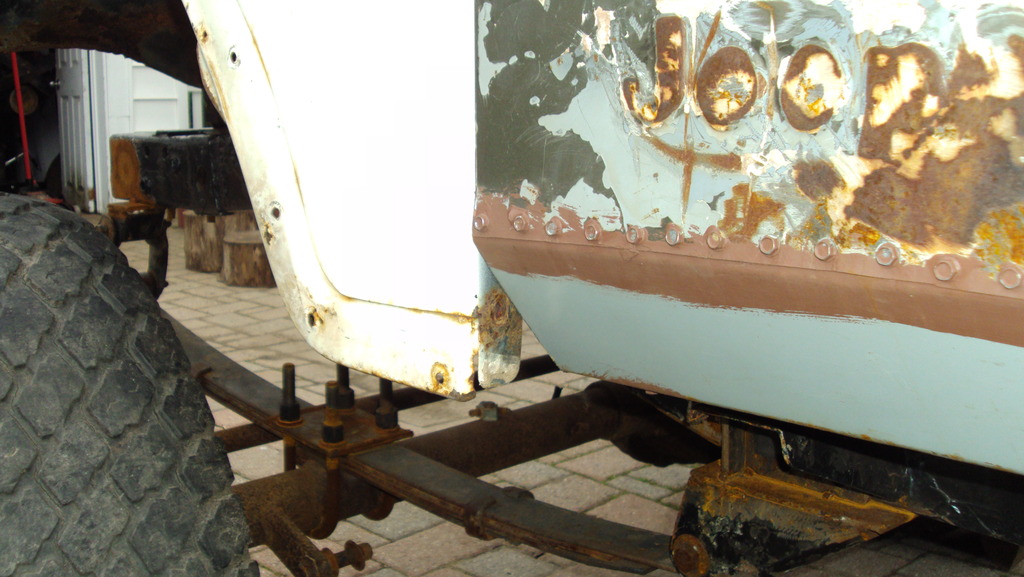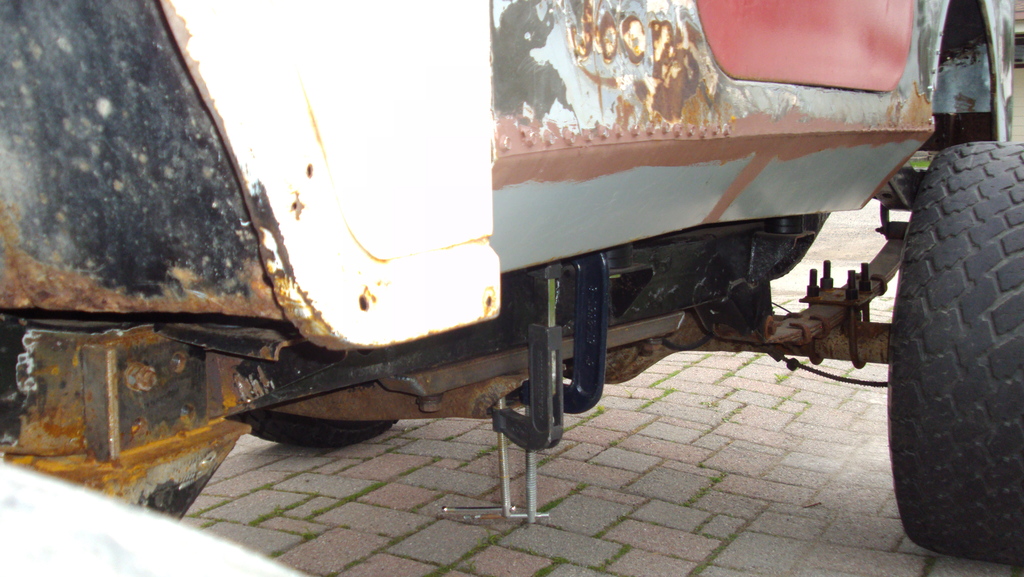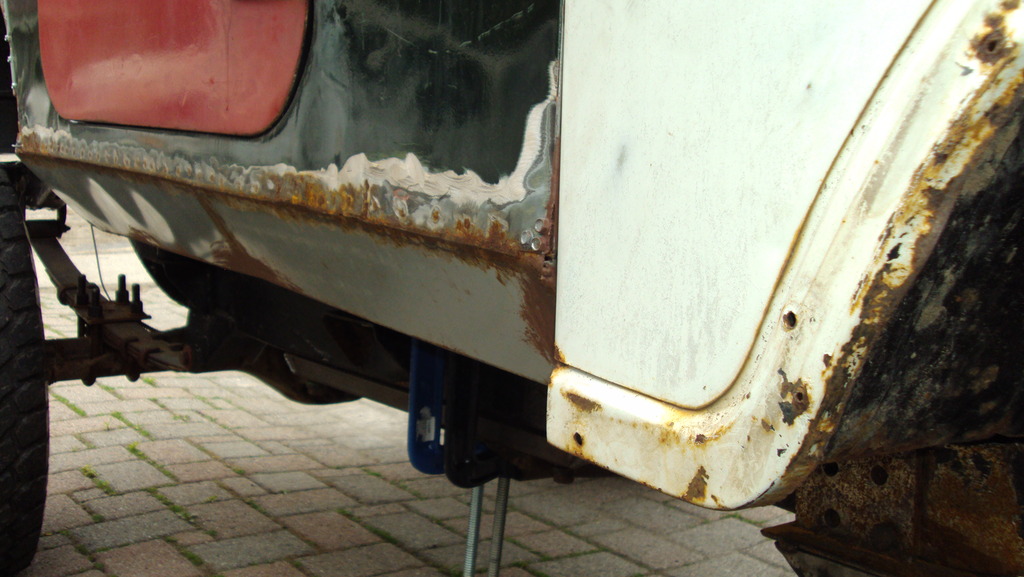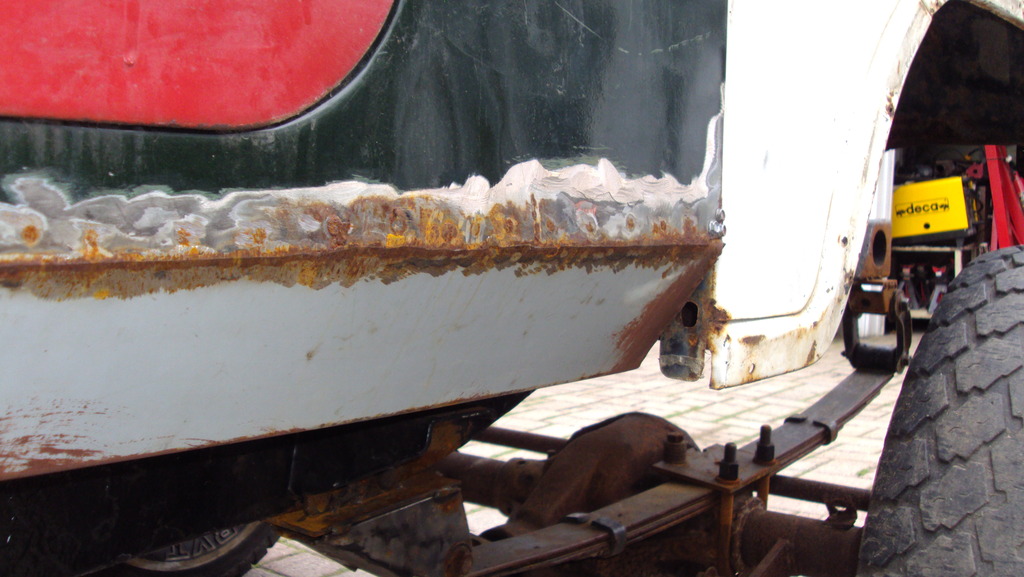 5-9-2016
Checked clearance between the rad and engine, I originally had the rad bolted outside of the grill, I'm going to have to trim the brackets off of it and mount it in the grill instead, will post up some pics once I get back to it


5-27-2016
Thanks, progress slowed down because of Turkey season, but that shouldn't be an issue now, my next step is to figure out what I'm doing for a rad then see if I need to move the engine back a bit more or not
7-20-2016
Moved the engine back 2 more inches, needed the fan to rad clearance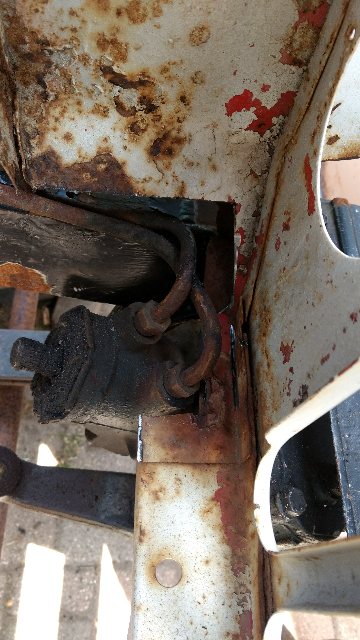 Also Installed the steering box and modified the cj grill to fit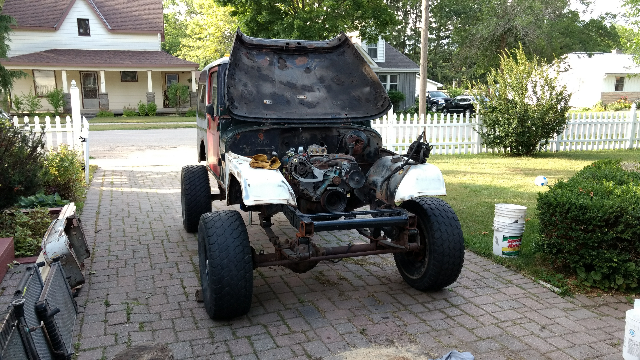 8-5-2016
Haven't worked in the Jeep lately but I think I'm gonna hit up the pic n pull and see what I can find for a fuel injection set up with the harness/computer system and all the pulleys and brackets
8-22-2016
Spent some time at the wrecking yard to see what they had, I was already there getting a door for a friends car. Thought I found the perfect truck but it turned out to be a 5.2 and not the 5.9. I've been looking on Kijiji at vans and trucks, seen a few but nothing close enough to me
11-27-2016
Bought another dash and a rad for it, the jeep is taking a time out for a while, will still be collecting parts for it. We have a new edition to the family and a my wife got her dream car from her dad. So the Camaro is going to be first on the list of things to do
1-29-2017
No progress on the car or jeep, but the other day at work I put a 2 1/2 skyjacker lift kit on one of our parts guy's jeep, it was a 2013 wrangler
4-22-2017
Sold the original engine today and used the jeep as a work bench
7-3-2017
I have my pieces for my transmission crossmember at work and I loaded up some hardware for it into the car tonight. Hopefully gonna at least tac weld some of it together tomorrow
7-19-2017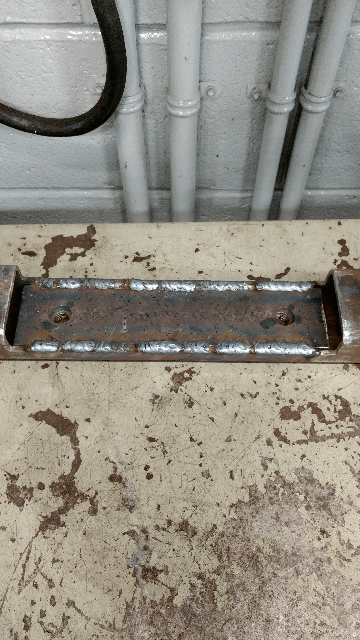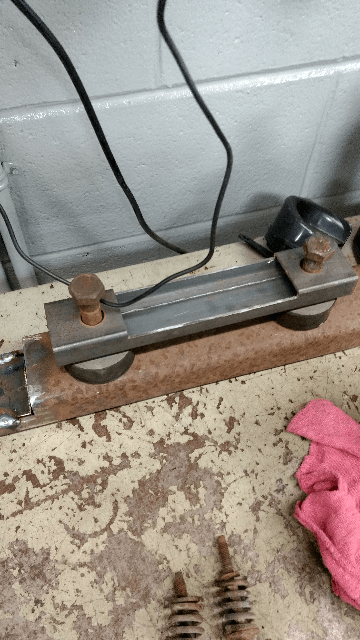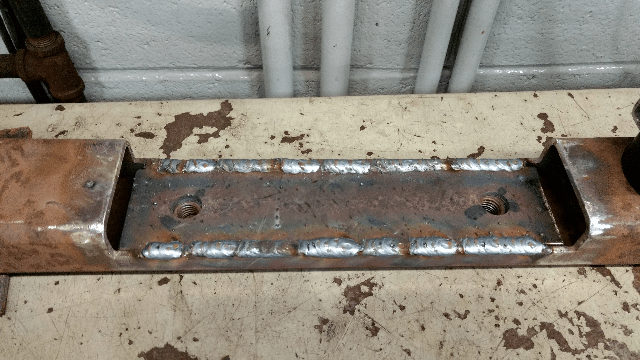 7-21-2017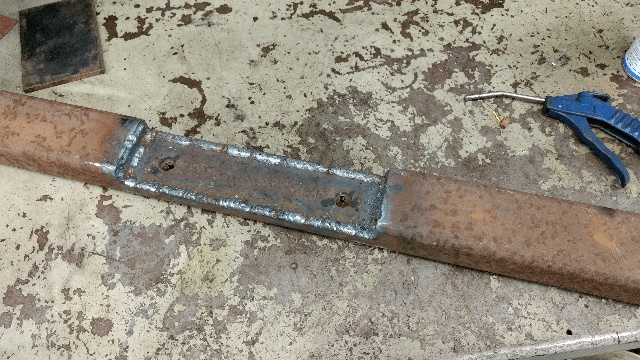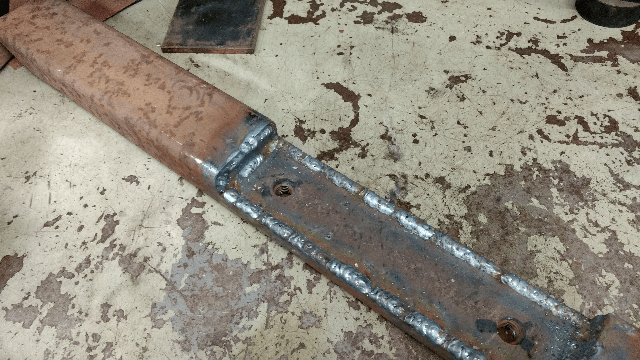 A little more welding done today. Got the 2 inner end peices in place
7-23-2017
I cleaned up about a 1" area around the area I needed to weld. Will clean the whole thing up before I paint it. My phone takes horrible pics
1-10-2019
Haven't really done anything in the last year with the jeep. Just moved it in and out of the drive way. Ordered a gasket kit for the dana 300. Started working on the wiring harness for the engine today and seeing about building a new shifter for it
1-12-2019
Cleaned up and degreased the wiring harness for the jeep at work. Going to start removing all of the unnecessary wiring for the computer since il be running a carb set up. I have Monday off from work. Have to do a couple things around the house then I'm spending some time on the jeep again.

Here's a picture of the wiring harness
mostly cleaned up. I already spliced a new trailer wire harness into the rear vehicle harness as well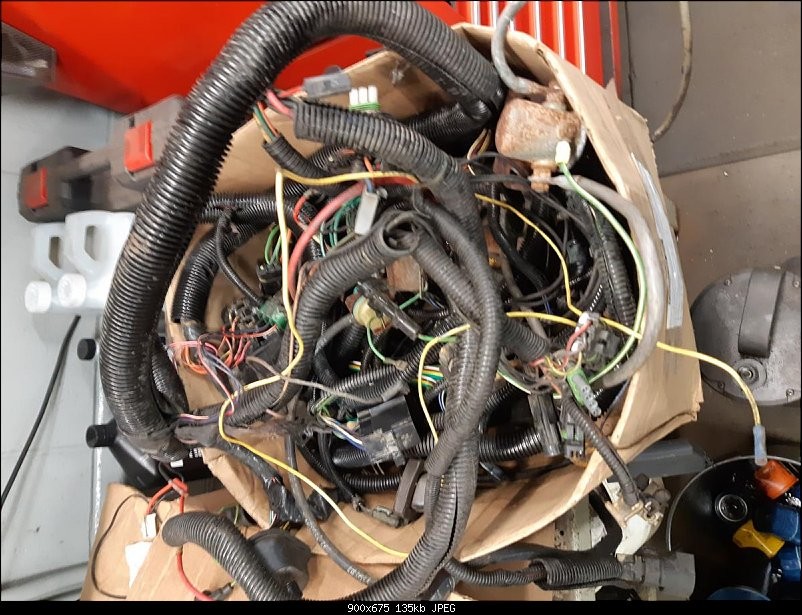 Also just ordered a new lower steering column bearing kit
1-14-2019
Column bearing kit came in today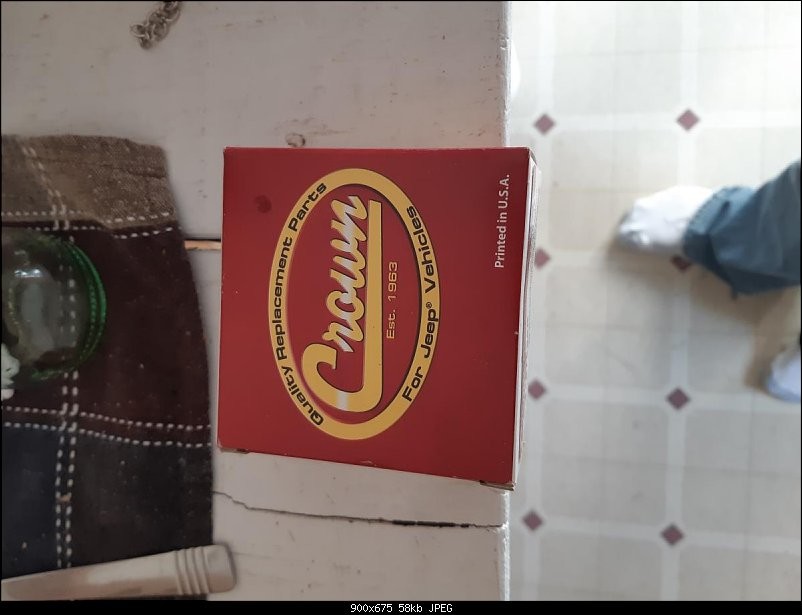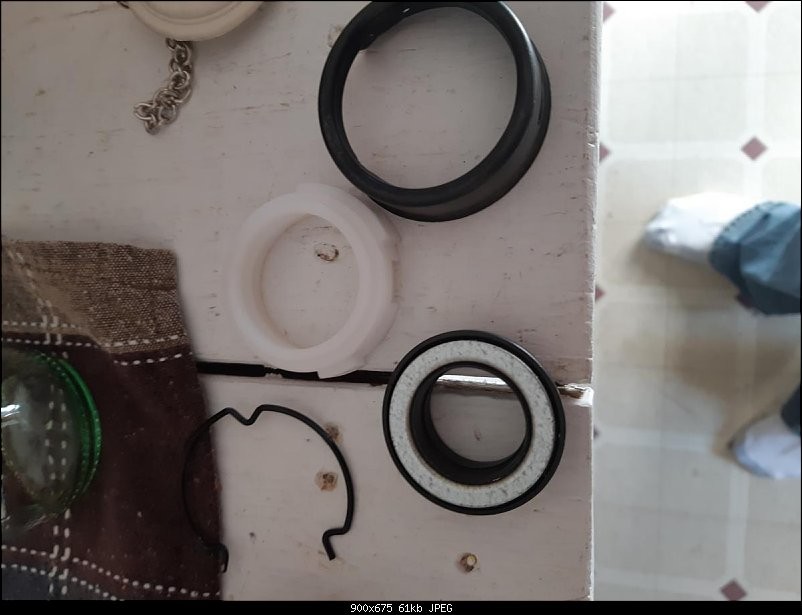 1-15-2019
Did some work on my cj dash. Made a new hole for the yj heater controls. I'm going to make a new switch panel where the cj heater controls originally went. The new switches will be for the extra lights, winch and what ever else gets added. Took a pic of my work bench at work. Brought my jeep parts to work so I'd have something to do since its slowing down at work
Pics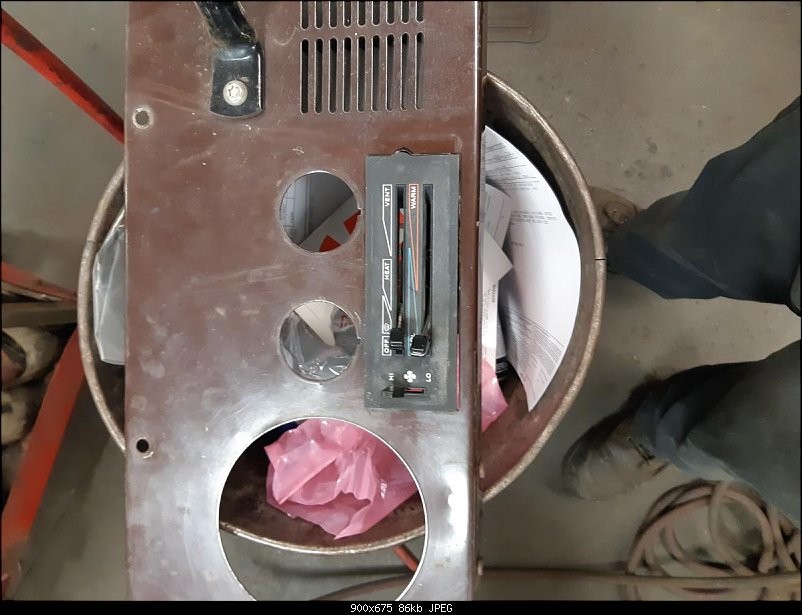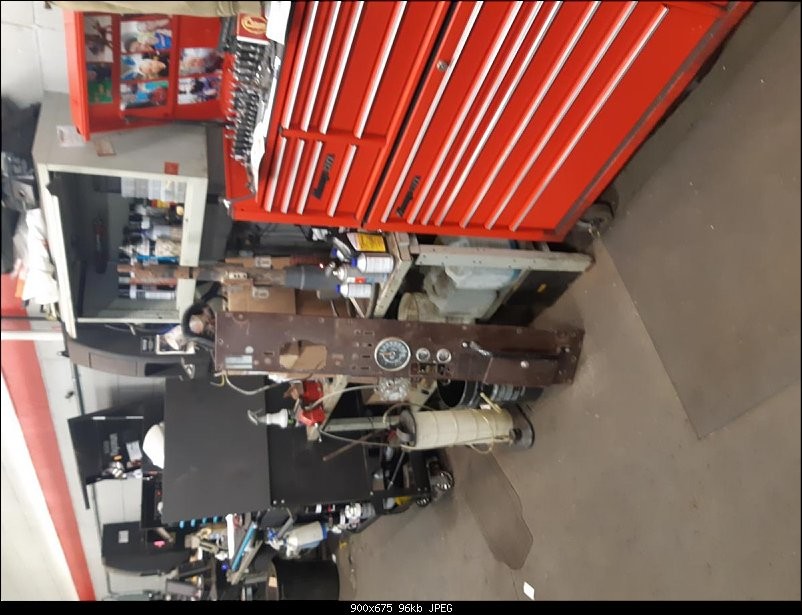 1-17-2019
Painted the lower half of the steering column and installed the new bearing kit. Definitely taking use of the slower time at work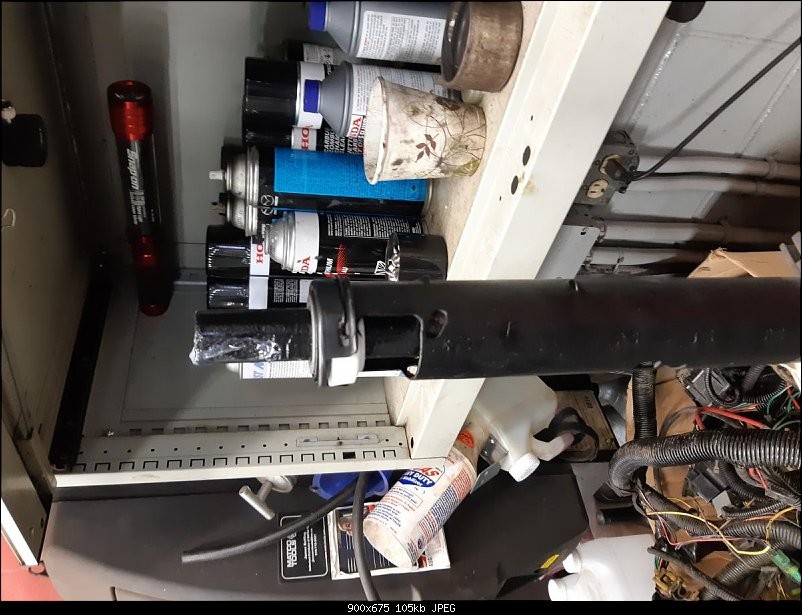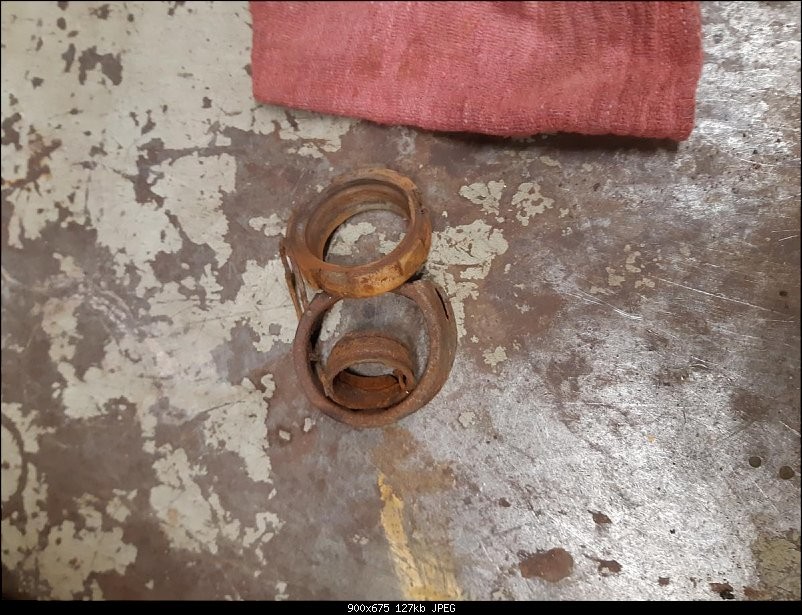 1-23-2019
Started tearing into the wiring harness for the engine. Printed off the diagram for the headlight upgrade. Already have my relays at home somewhere and will pick up some new sockets for the lights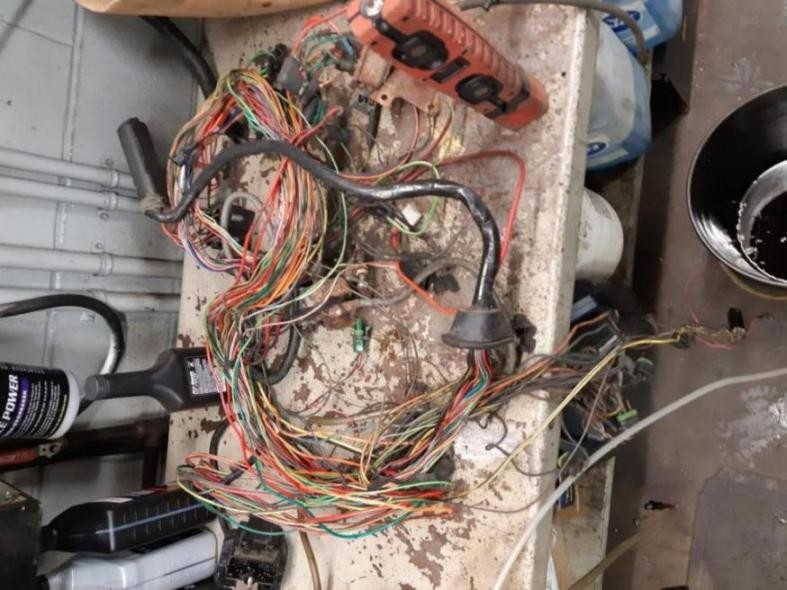 Have it cut down to this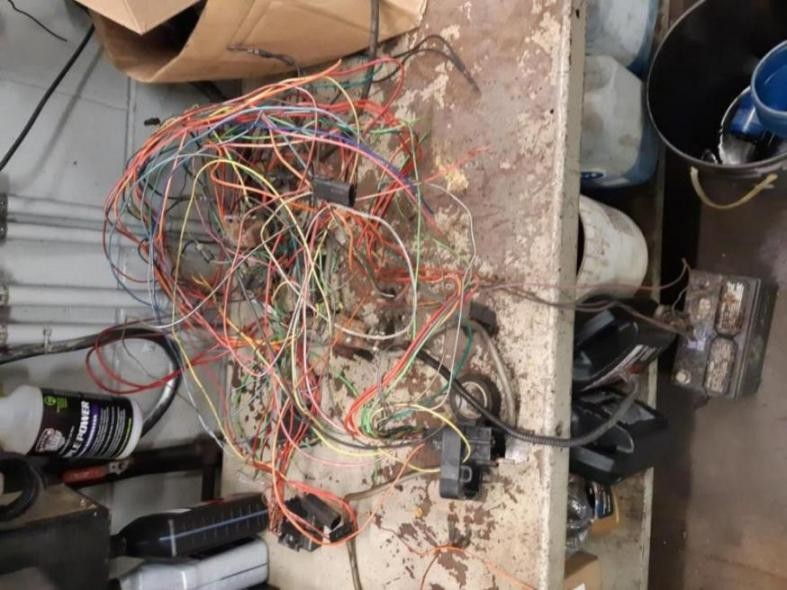 1-24-2019
All zip tied together. Looks like a harness again. Will do more with it once it's in the jeep and the engine is back in. That way I can run all my wires to the proper length and wire up the different sensors for it. Found one relay kit in the garage for the head lights. I will have to pick up another along with the new head light sockets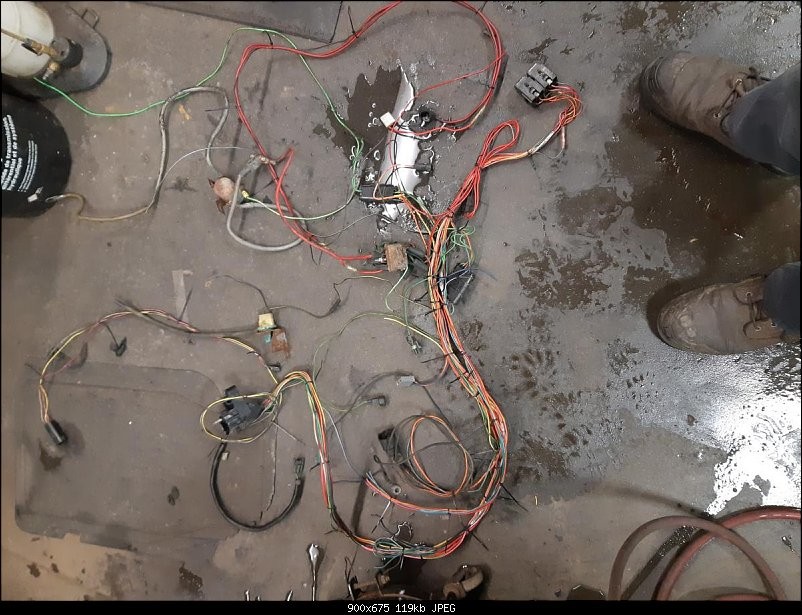 1-27-2019
Didnt find the headlight sockets that I wanted at the parts store so I ordered new one on Amazon along with a new 6 relay,6 fuse under hood box instead of buying another relay with harness. I have lots of relays and fuses. Just needed another relay kit to do the headlight upgrade. Parts should be here in 3 days. Will post pics when they get here.
1-28-2019
Finished tidying up a bit of the engine harness at work between jobs. Then loaded it into the car and will start wiring up the jeep once the weather warms up. -26 this week at the coldest according to the weather man.
1-29-2019
I know this tank came from a yj but I always assumed it was for a fuel injected jeep. I never paid any attention to the wiring before. But it's just 2 wires, 1 for ground and 1 for the level sending unit. Has no fuel pump. So it must have been a 90 or older I'm thinking. I will be running a carbed v8 so I want to buy a new sending unit for it and just need to know what year
of jeep to get one for. Thanks In advance.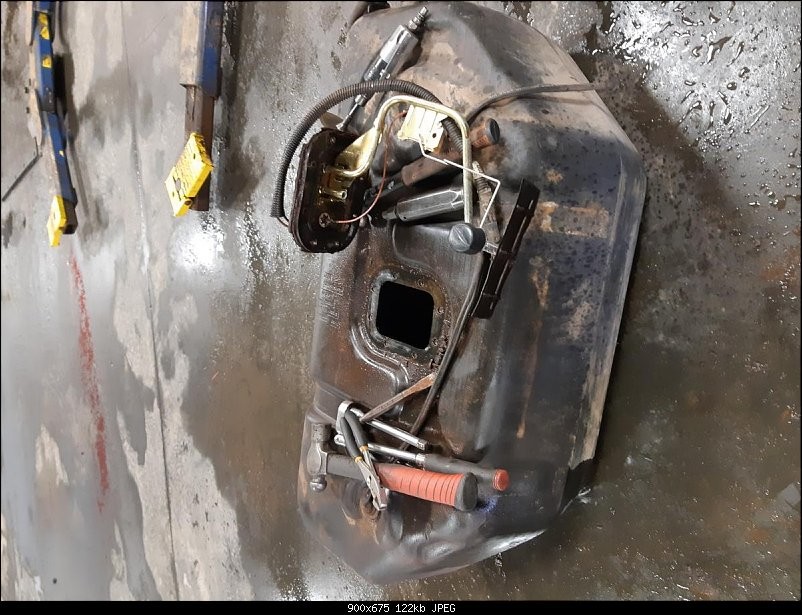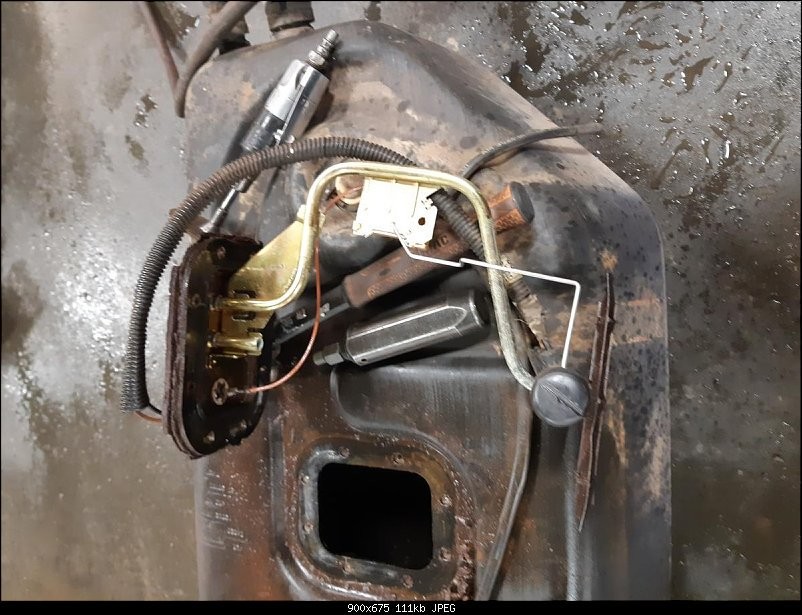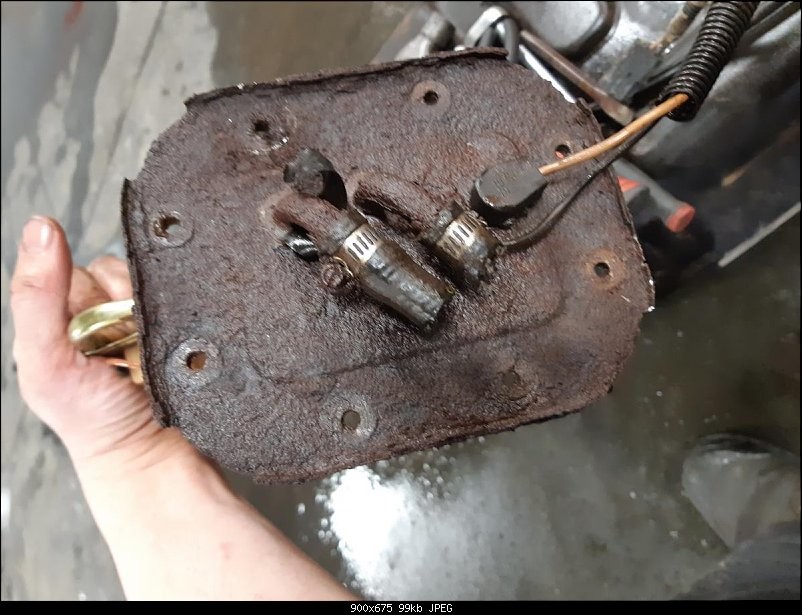 1-31-2019
My head light sockets and new under hood fuse/realy box came in. Just need some warmer weather now. Il be running all new wiring for the head lights except for the trigger wires for the relays. Those will be the old high/low beam wires from the switch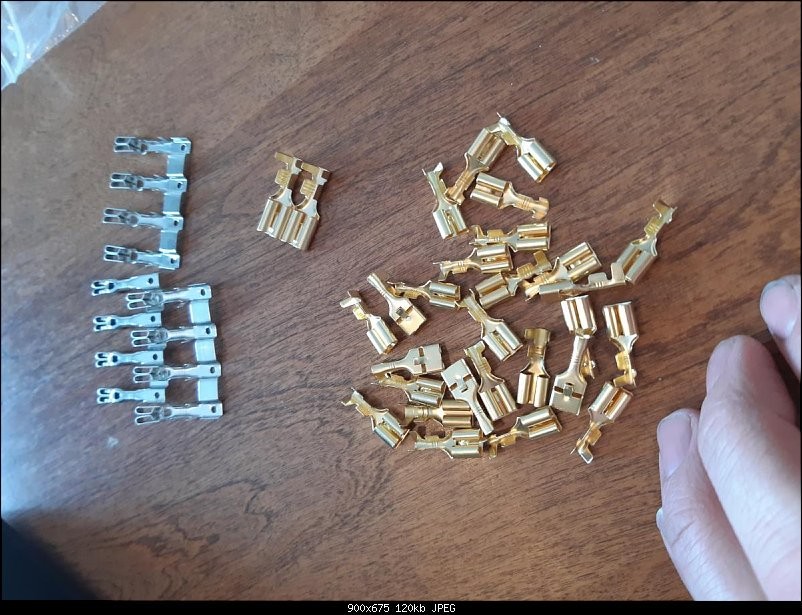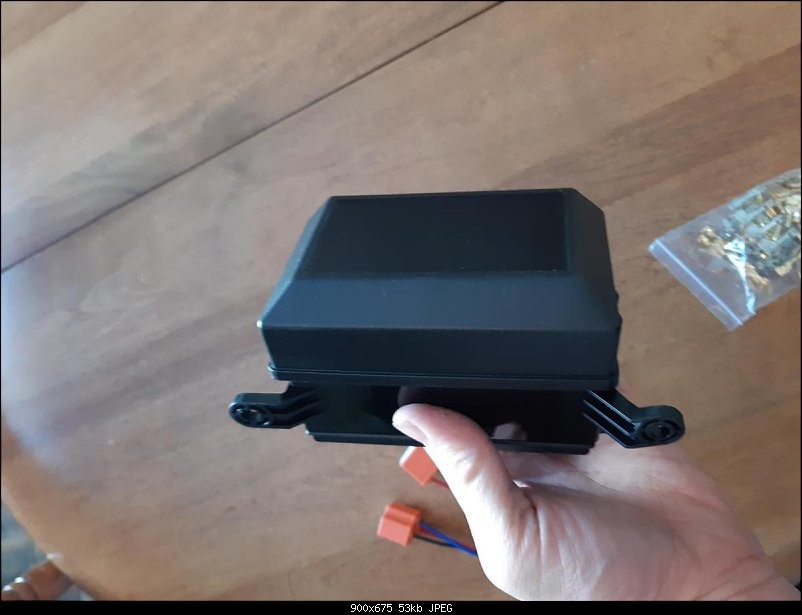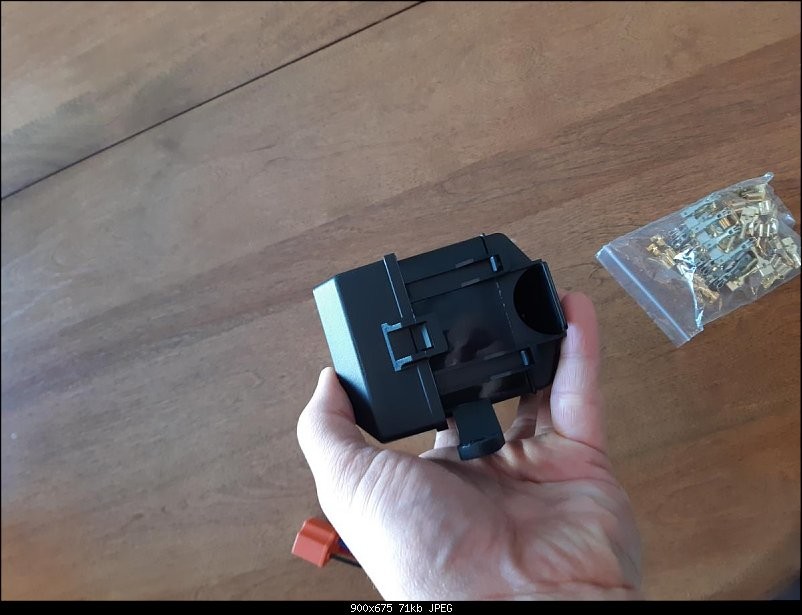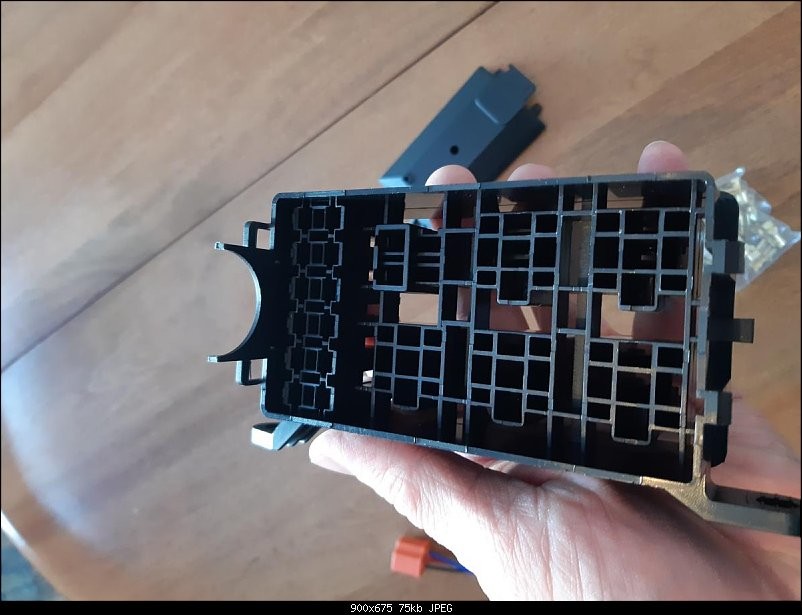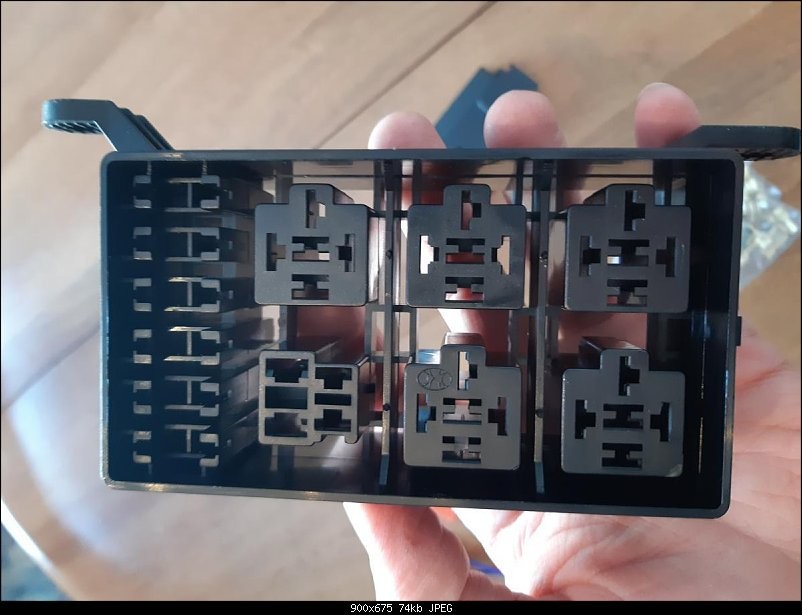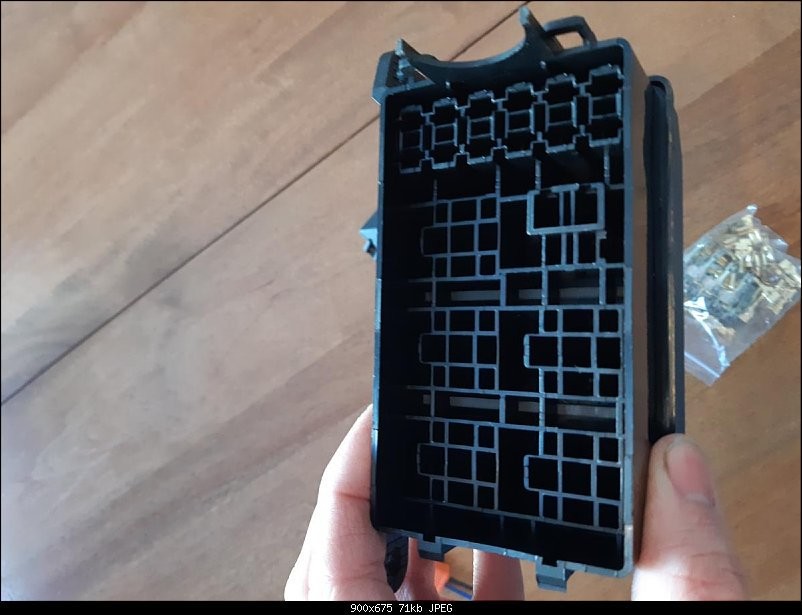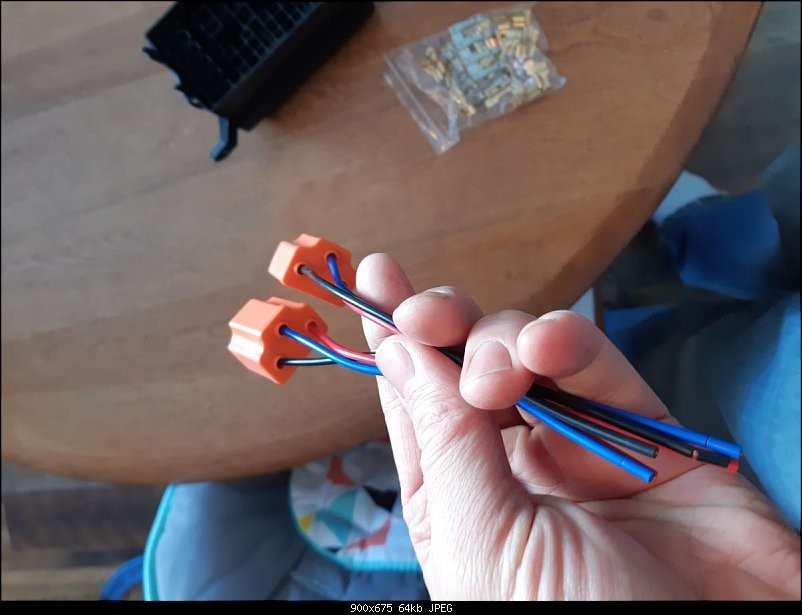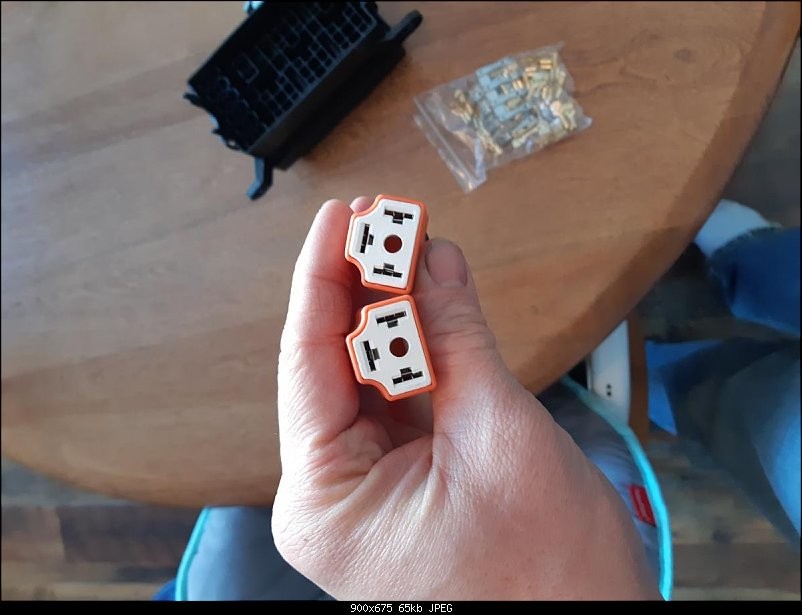 2-2-2019
No updates to report on. It did warm up today. Still in the negatives but my wife's at work so I'm on with our son today. If it stays a warmer next week I may be able to start some wiring on the jeep. I have the new fuse box at work, I'm going to start wiringg up some of the fuses and relays when i have down time in between jobs. Here's the latest pic of the jeep.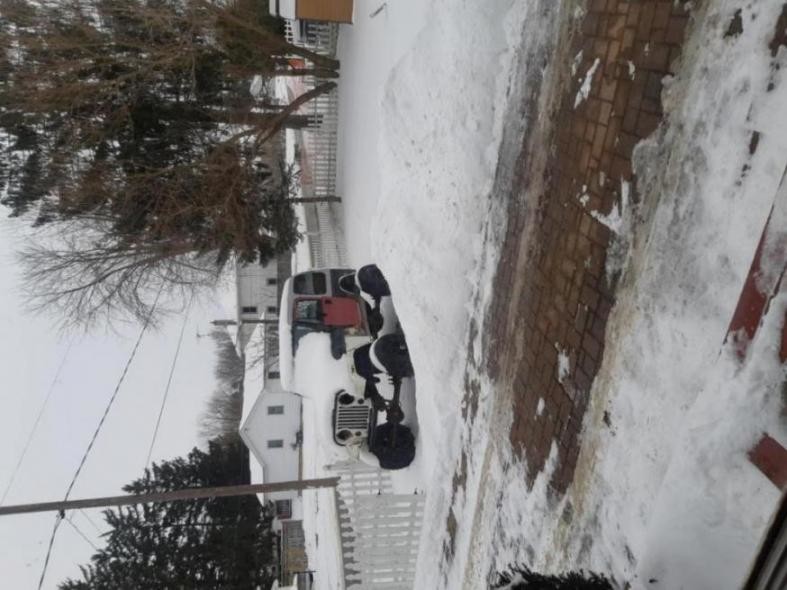 2-4-2019
May have found a rebuilt York compressor with newer clutch and an idler pulley for an Oba setup. My neighbor has s smaller electric compressor that the motor is gone in for me as well. I'm going to rob the tank, regulator and a few other parts off of it for the system
2-5-2019
Wired up some of the fuse relay box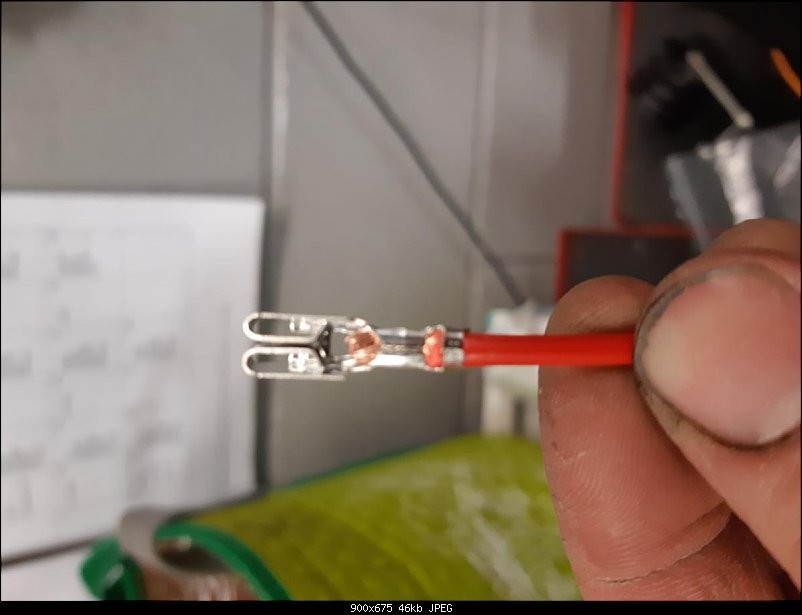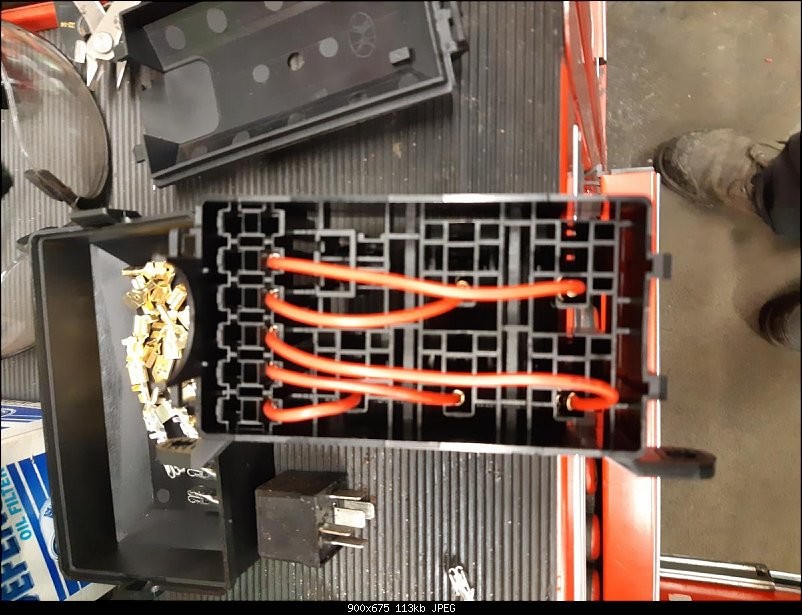 2-23-2019
Hopefully getting some work done to it on Monday. But today at work I finished welding in a drivers floor pan on a 2012 jeep 4door wrangler. I'm hoping to run some of the wiring on the jeep monday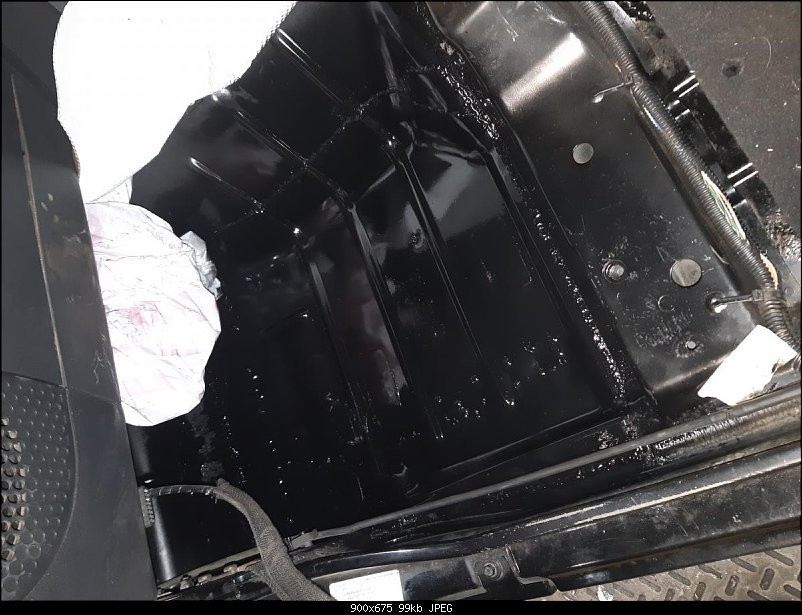 2-26-2019
Didnt get any work done I the jeep yesterday. I was at the pic n pull grabbing some parts for it and by the time I got back the weather was just to cold and windy to work on it outside. I decided to clean up my stock distributor and price together an hei ignition for it. I wanted to just get a complete hei distributor but getting a good one and sticking with in budget wasn't happening. I have a GM hei module and a gm coil with a heat sink on it. I already have a wiring diagram for it and just need to figure out where I'm going to mount the coil. It's a gm style e coil so I can mount it any where.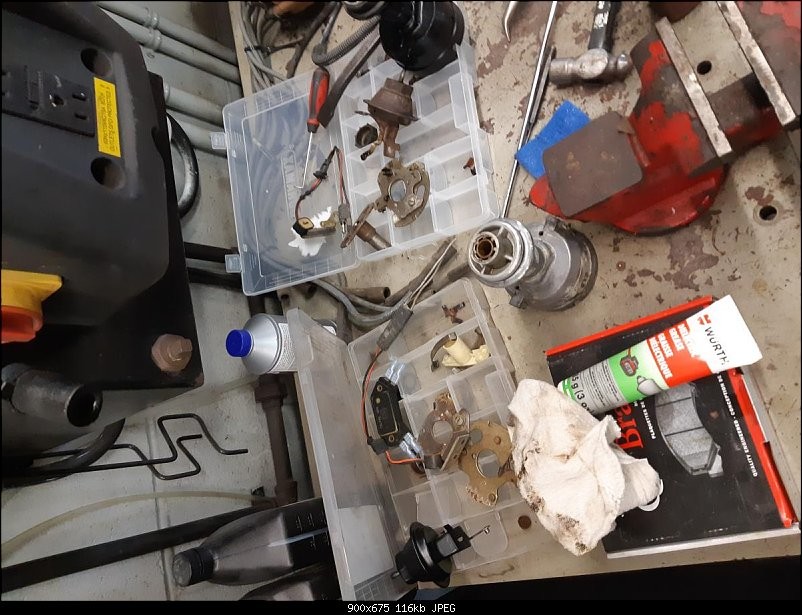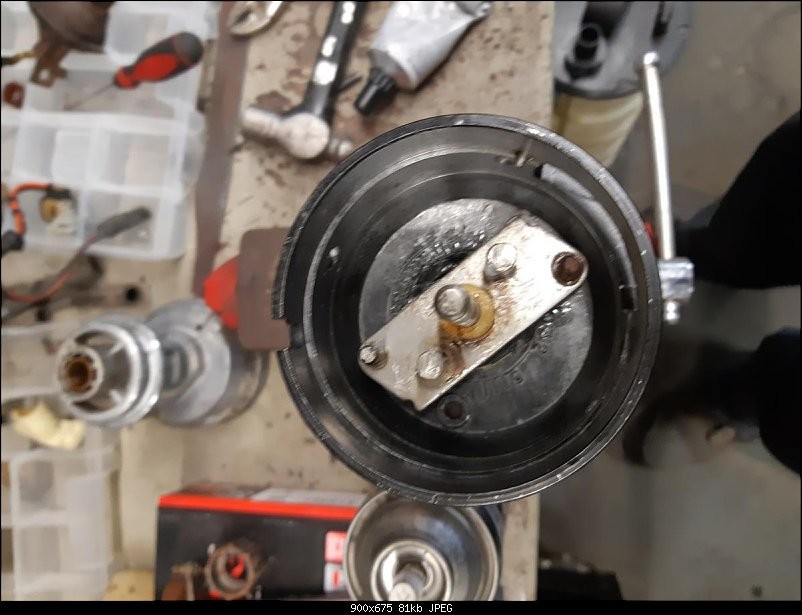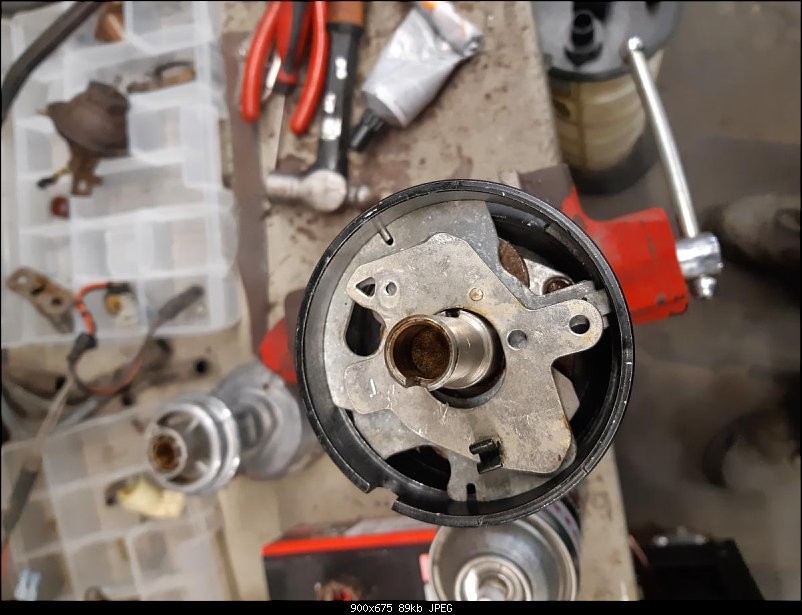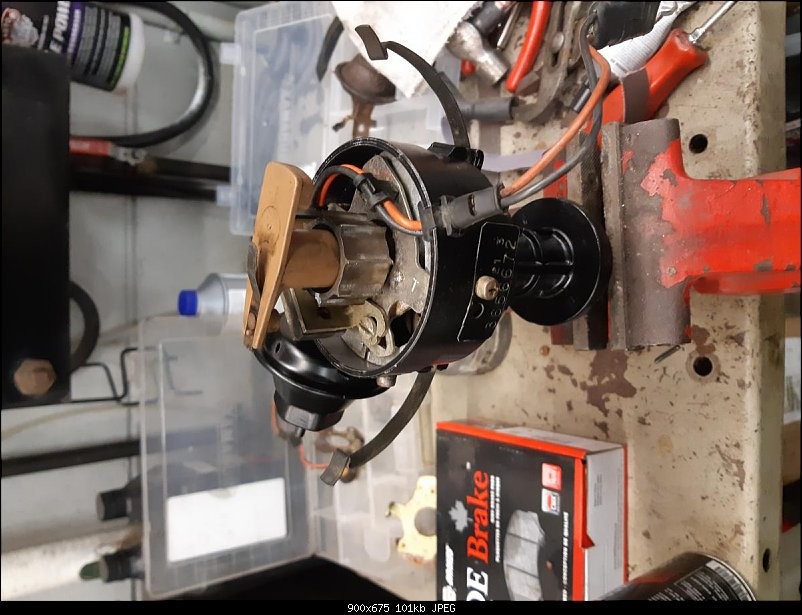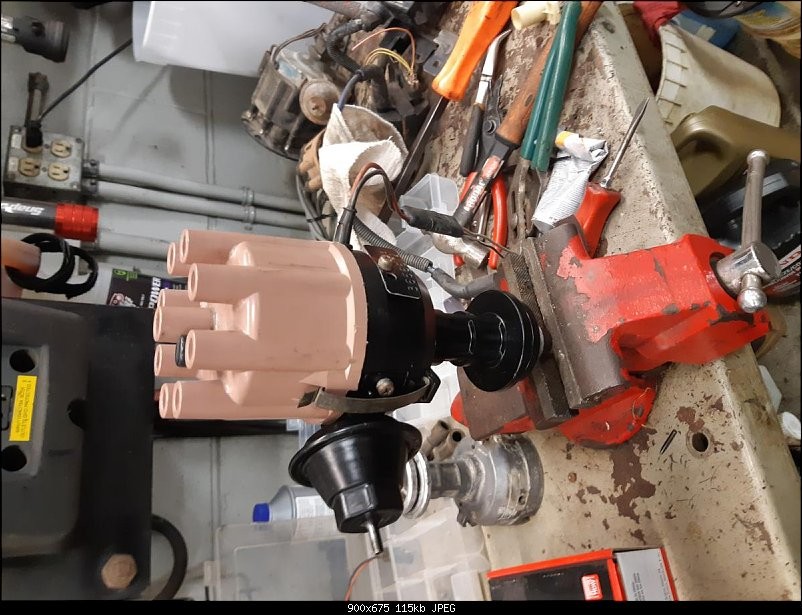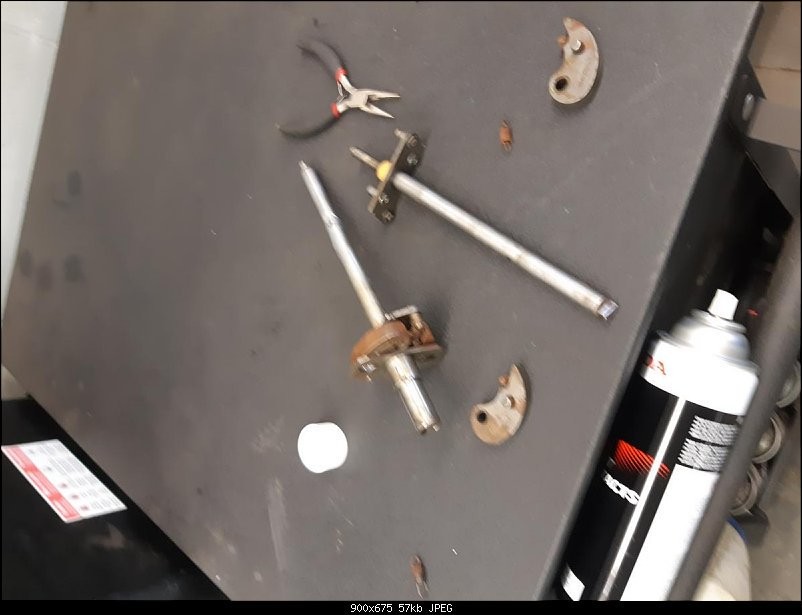 I went threw and made sure the vacuum and mechanical advances were working properly and cleaned and lubricated everything that needed it. The magnetic pickup is gapped properly and is tested with my voltmeter. Every thing should work out okay km hoping. I will also order a good cap, rotor and wires when it's time to get it running.
2-27-2019
This is the coil and module. I will be making a small cover to go over the module to keep it from getting wet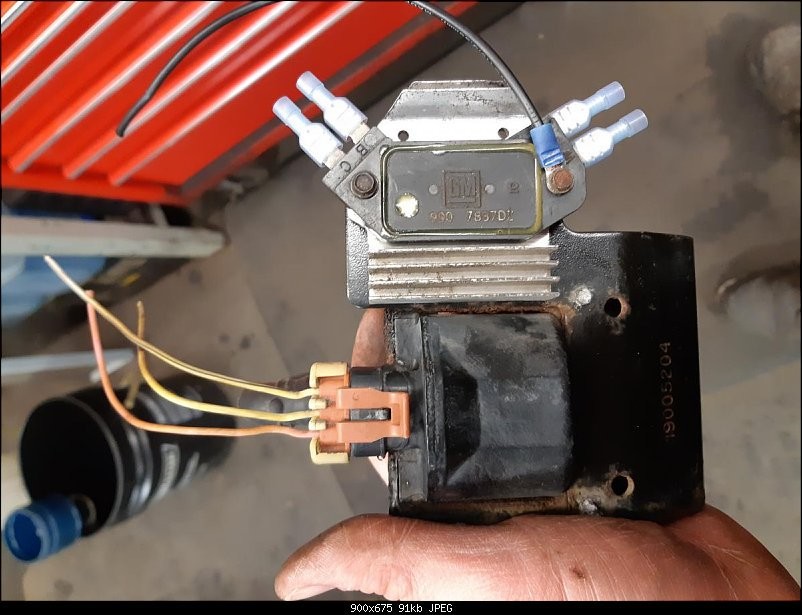 2-28-2019
I have it wired up. I'm going to make a small box to cover the module to keep it dry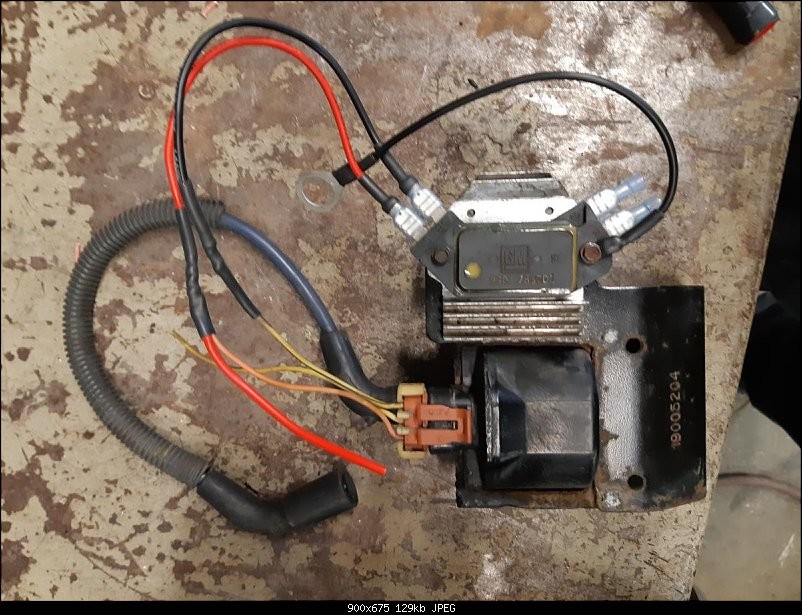 3-3-2019
Had 20 minutes to spare so I did a little bit of work on the jeep. I managed to get the under hood harness attached to the fire wall. That was it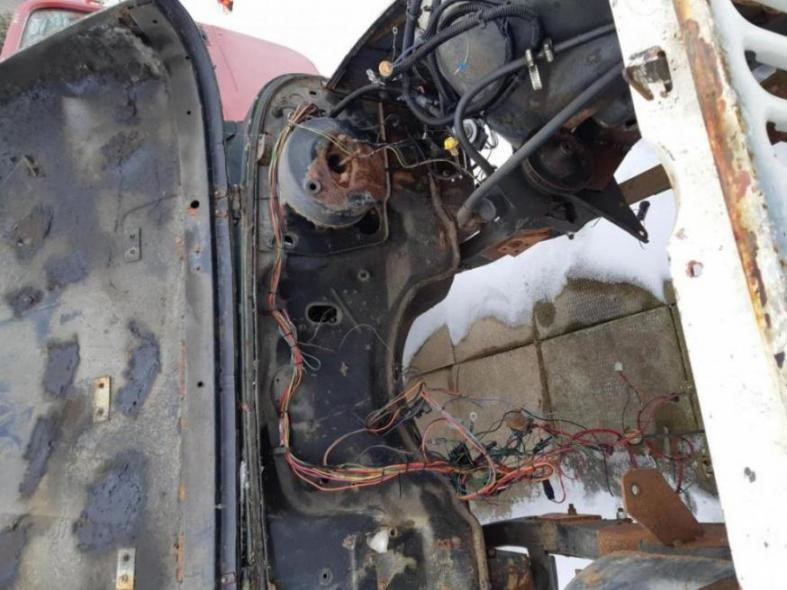 3-6-2019
I've been searching threw my garage for the last 3 days when ever I have time and I've come to the conclusion that when I purged the garage of junk the last time I must have scrapped my carburetor. I had a few different carbs that were given to me for parts. They were all junk, and im pretty sure I accidentally threw out my carb for the 360. I was looking for it so I could order a re build kit for it. Im now on the hunt for a replacement one.
3-8-2019
Talked to a few guys about some carbs. Might be picking one up this weekend or next week after work. Also tested the home built hei set up and it works and I have spark at the plugs.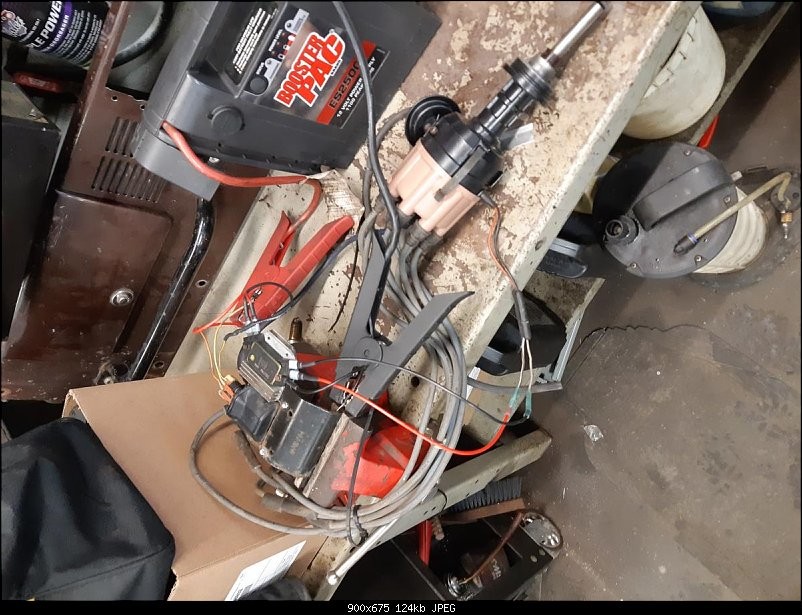 I took a video of me spinning the distributor by hand and you can hear and see the spark on the plugs. A couple of the other guys in the shop thought it was pretty cool to watch
3-10-2019
Picked up a carb this afternoon. It's the same 2 barrel carter that was in it before. Will get a rebuild kit for it and take some pics when I can.
3-11-2019
Here's the carb. It's all tore down and soaking. Gave it all a good cleaning before setting the peices into soak. Wrote down all the adjustment settings before taking it apart. Will order a new rebuild kit this week.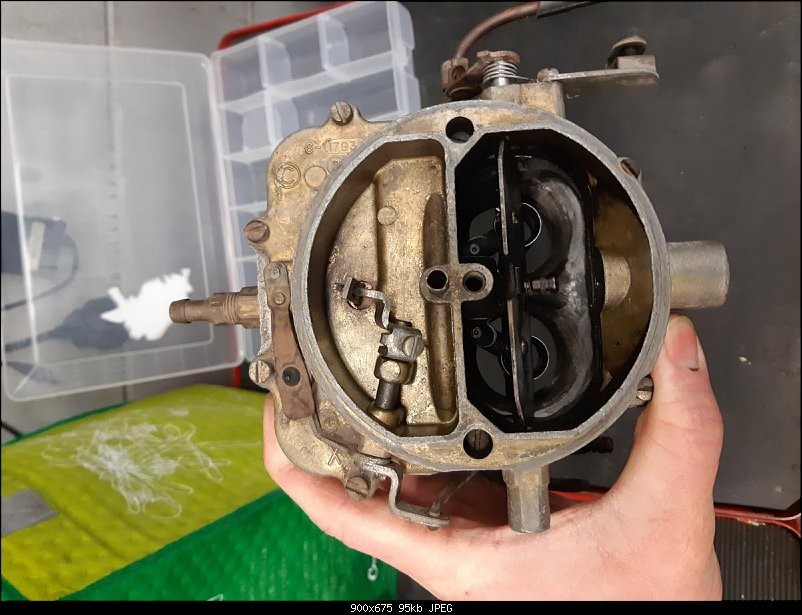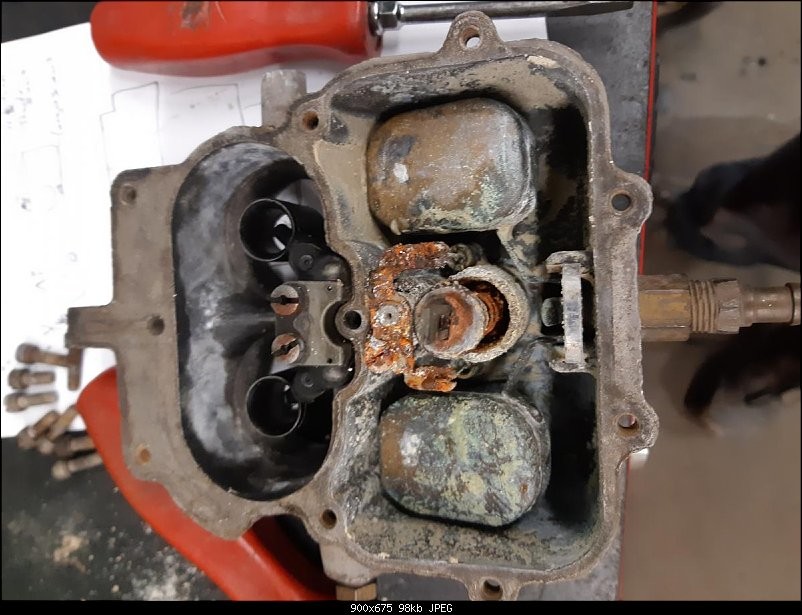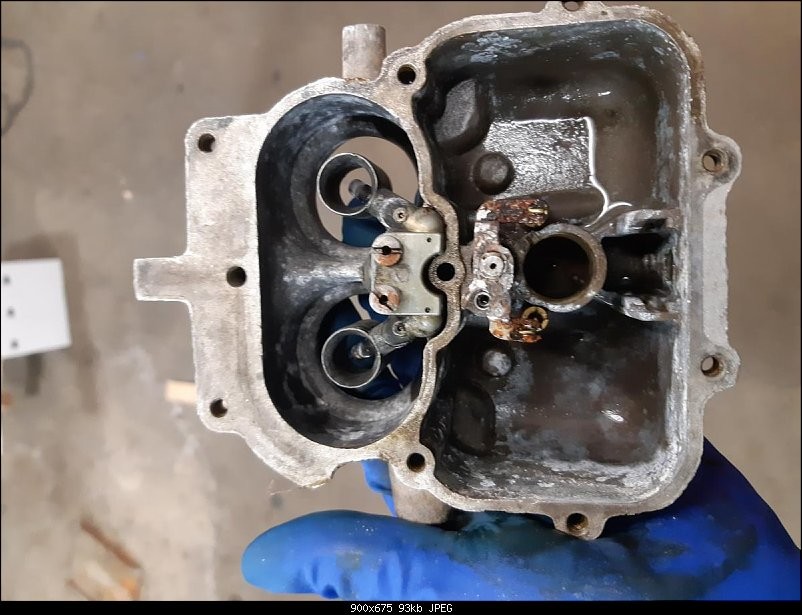 It looks better in person and should work just fine when I'm done with it.