My 93 2.5 low output build by zte87
By diyauto
You must be logged in to rate content!
My 93 2.5 low output build
Compliments of zte87 @ jeepforum.com
10-3-2011
So I got My 93 2.5 yj a couple month ago and want to try to start a build thread on it so here it goes!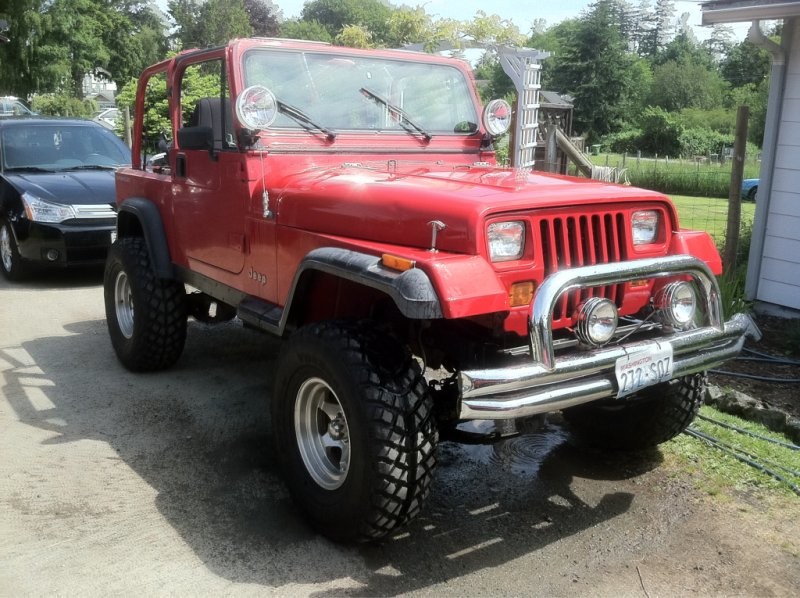 When I first got my yj it came to me with a busted up 4 inch rc lift (Wich had broken springs in it) a 2 inch bl (that was missing a couple pucks) and lots of gay chrome (grill and tube bumper) the first thing I did when I got it home was take the top off and removed the chrome kill cover!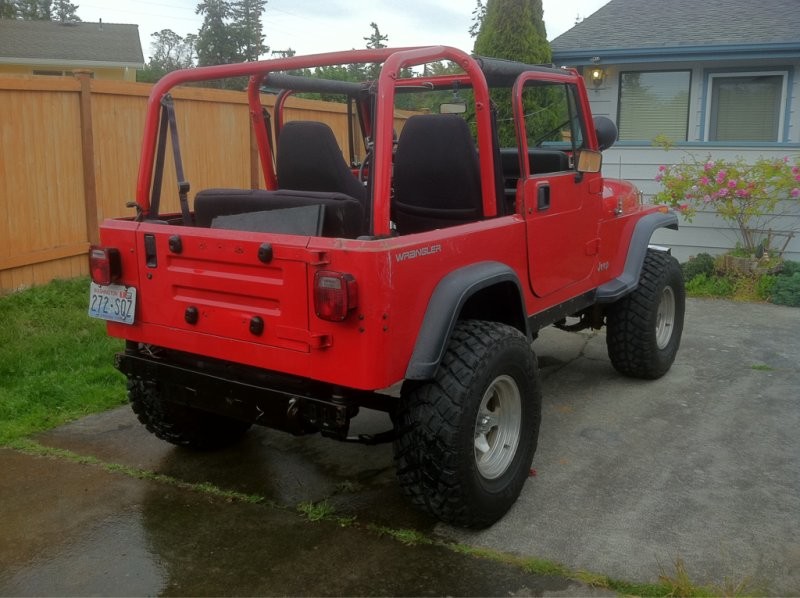 Next I took the rear chrome bumper and the little spare 31 off!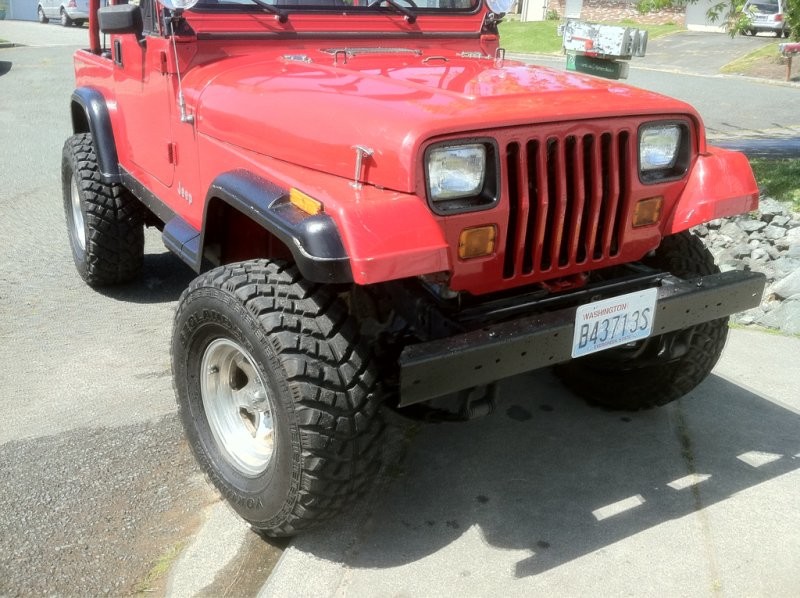 Next I took the unglued front bumper of in favor of a Tj stock bumper and painted the headlight bezels!

sorry the pics are out of order I am doing this on my phone

Sent from my iPhone because I can!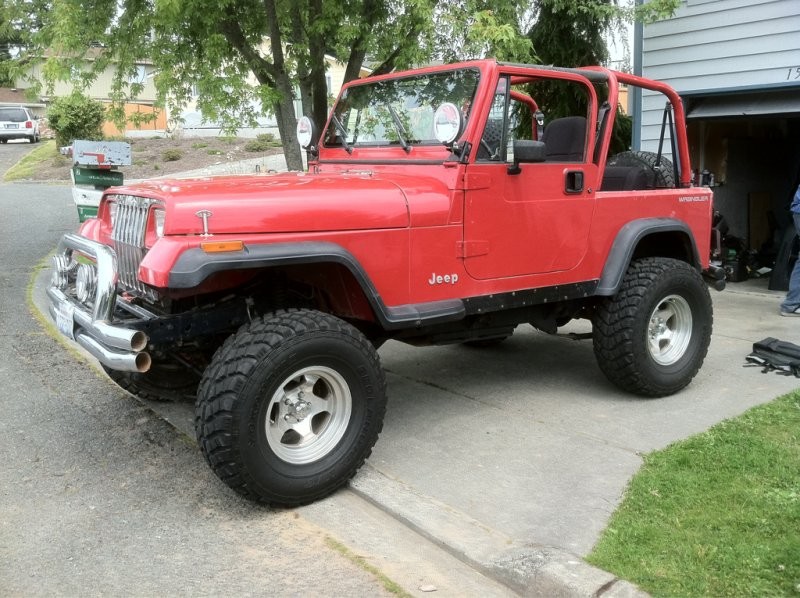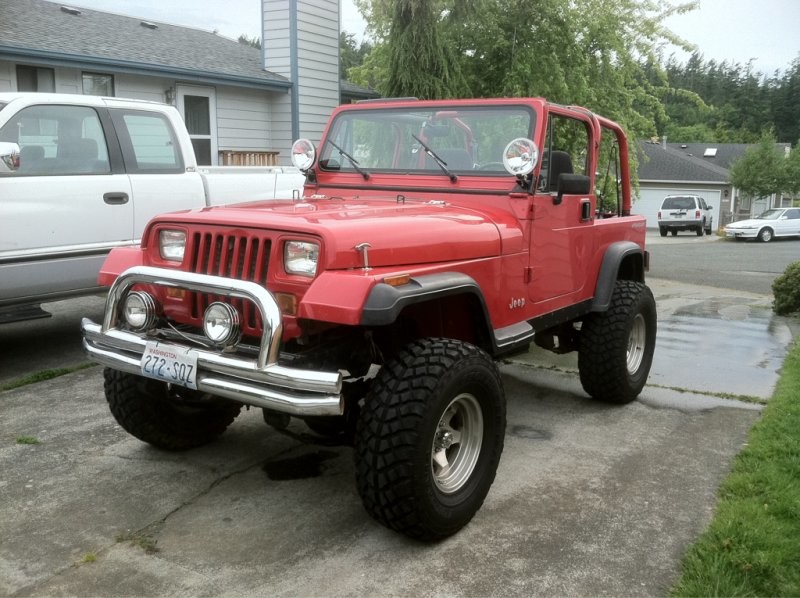 So when I bought it the po said it had 4.10 gear and what he thought was a lock right in the rear 35 scary I know. So I took the cover off to find I had 4.88 and a superior super 35 kit in the rear! I guess the po was wrong! Also when I got it it had a really nasty exhaust manifold leak (in fact it was missing to studs and it was cracked) So I fixed that and since the exhaust was banged to hell the held up with baling wire I decide it was time for a manifold back exhaust! I had a new high flow cat and a fm super 40 installed with all new 2.25 pipe (old exhaust was catless and a cheap turbo muffler dump and was all hanging by baling wire)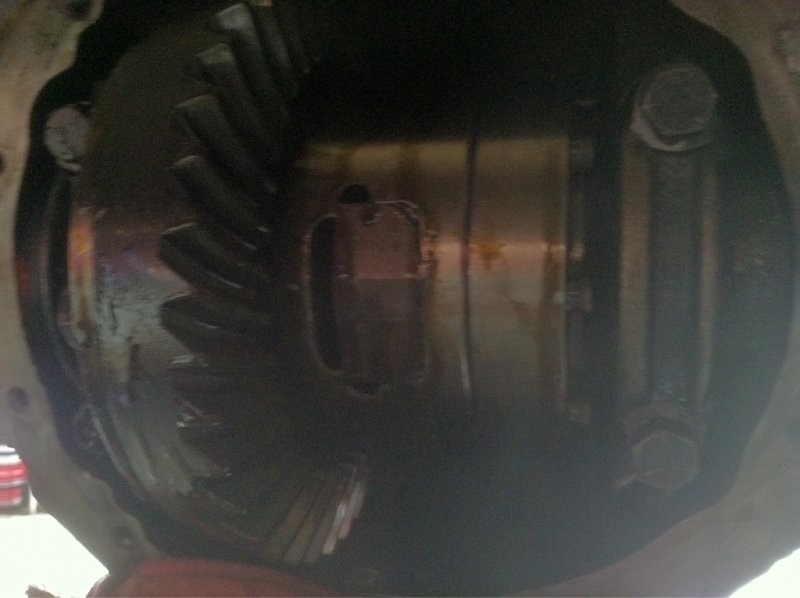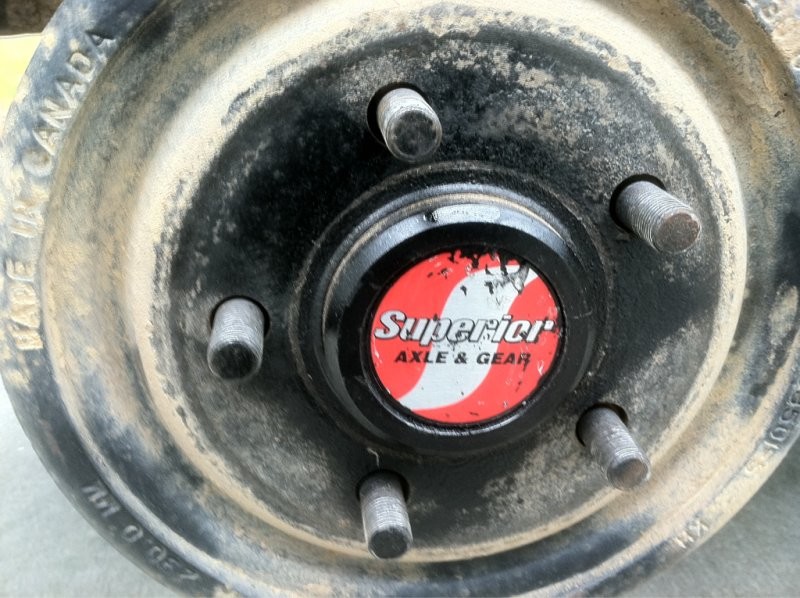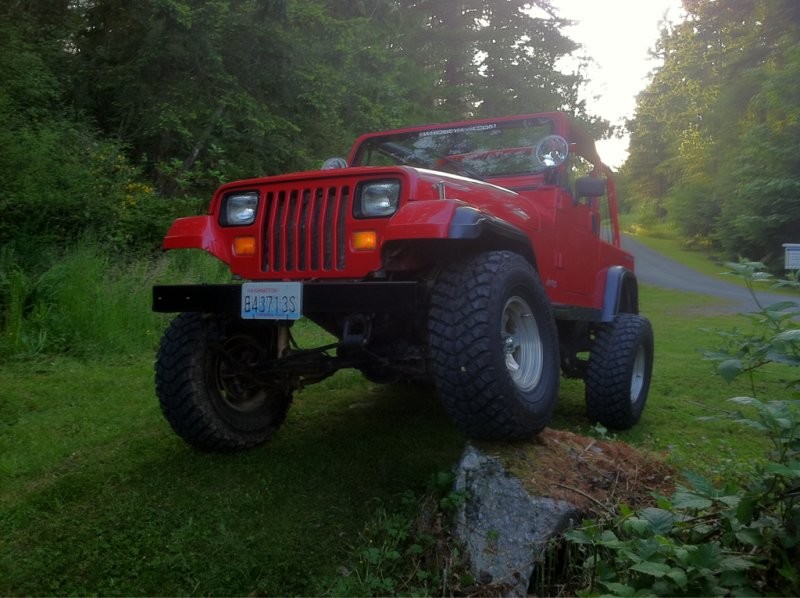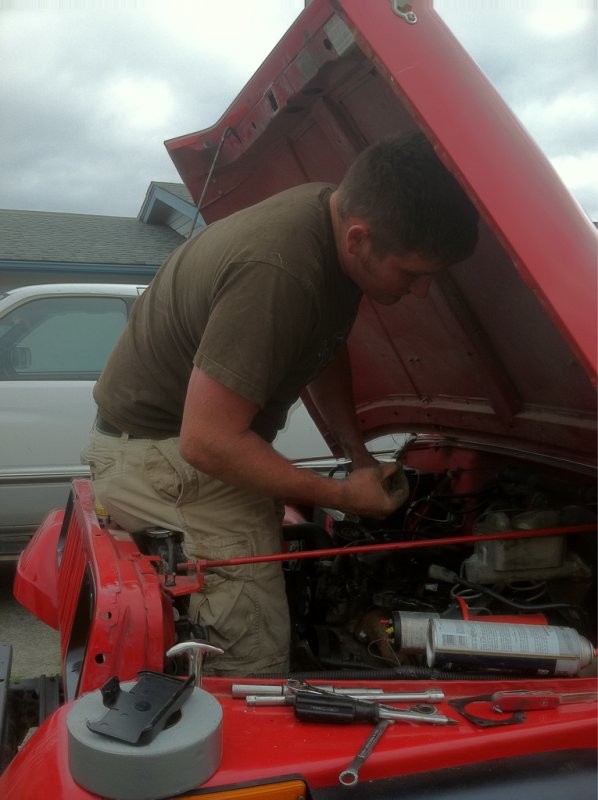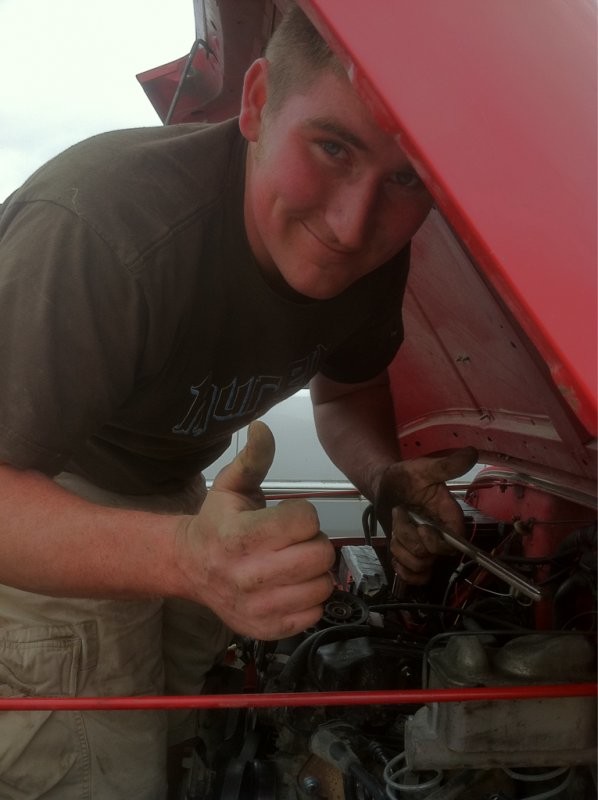 So I decide I want to mount my high lift to my hood and this is how it turned out I like it! about the same time I threw a set of black steal wheels on it and painted my door hinges black to help contrast all the red! then I hurculined my tub!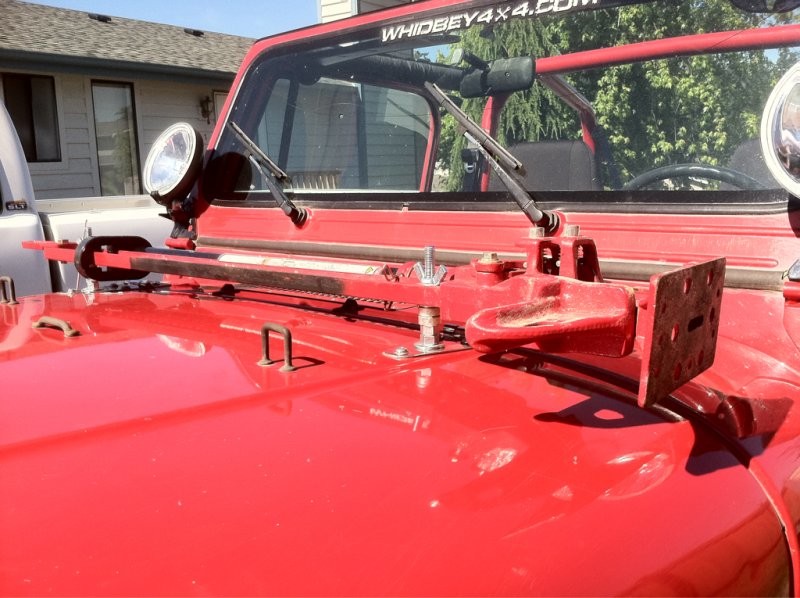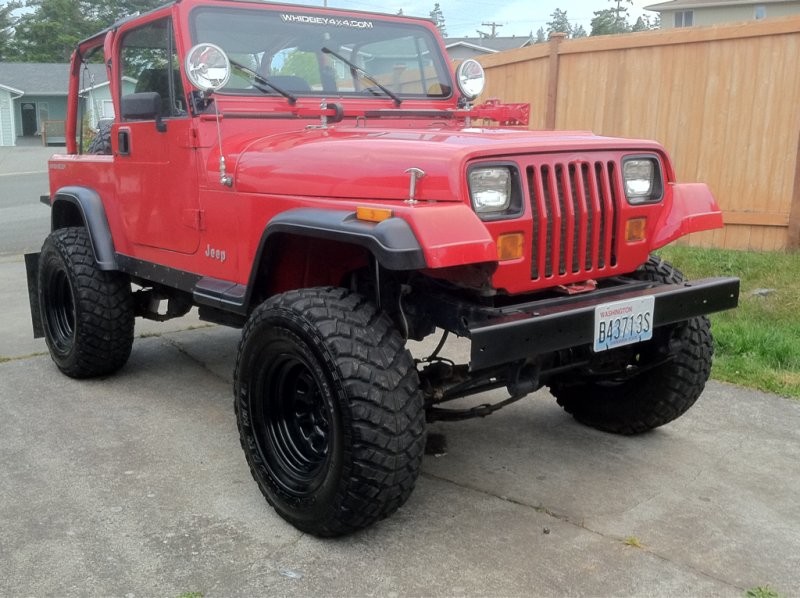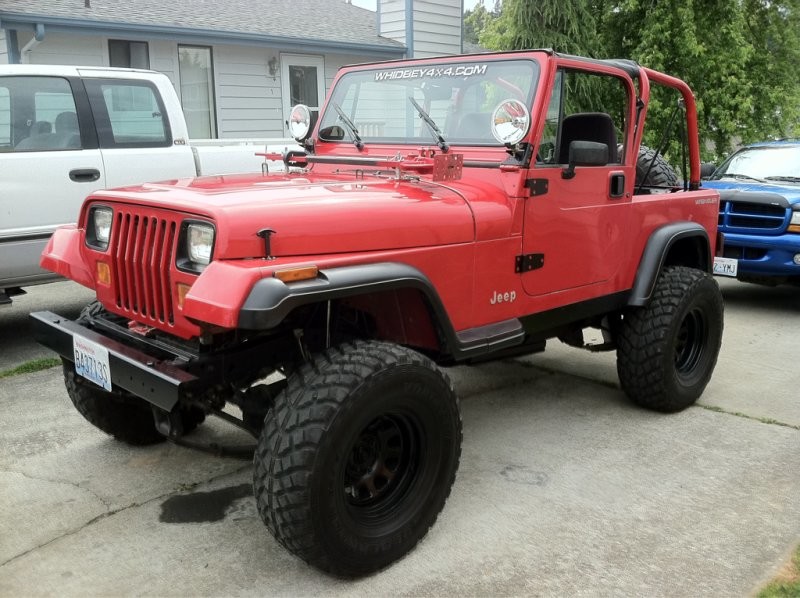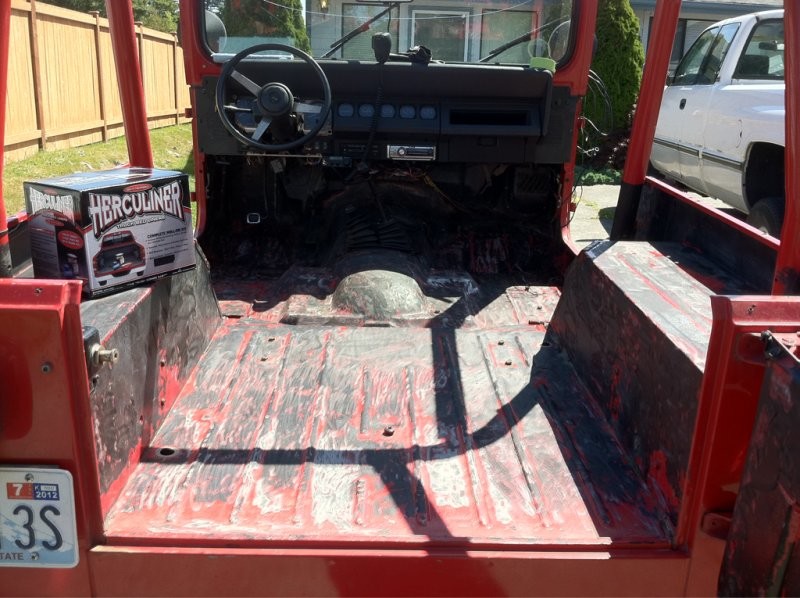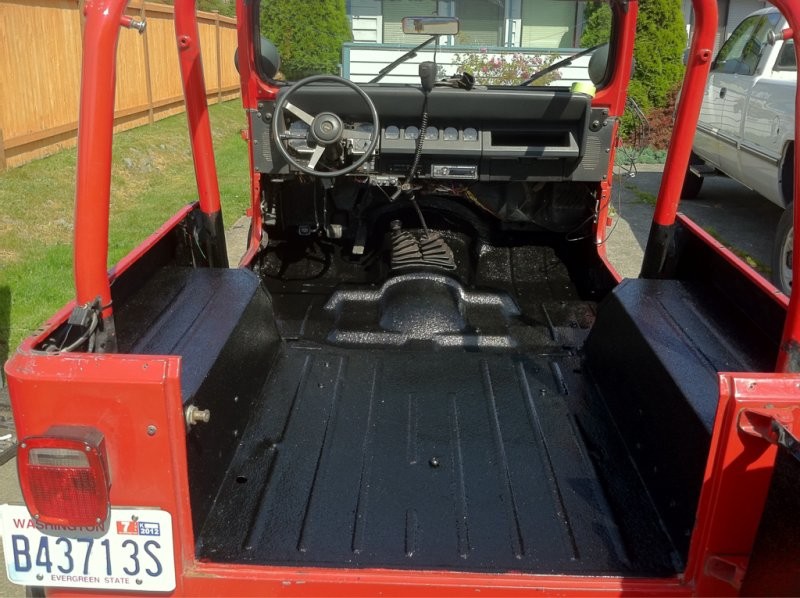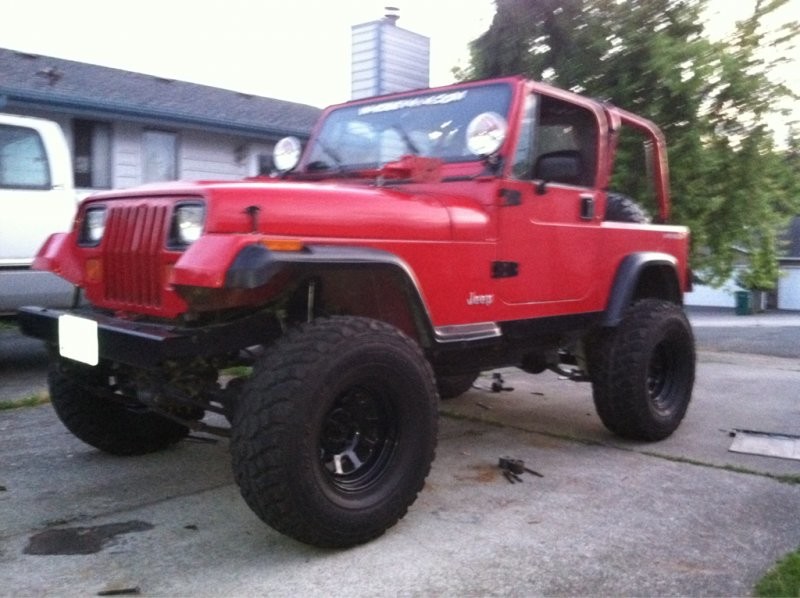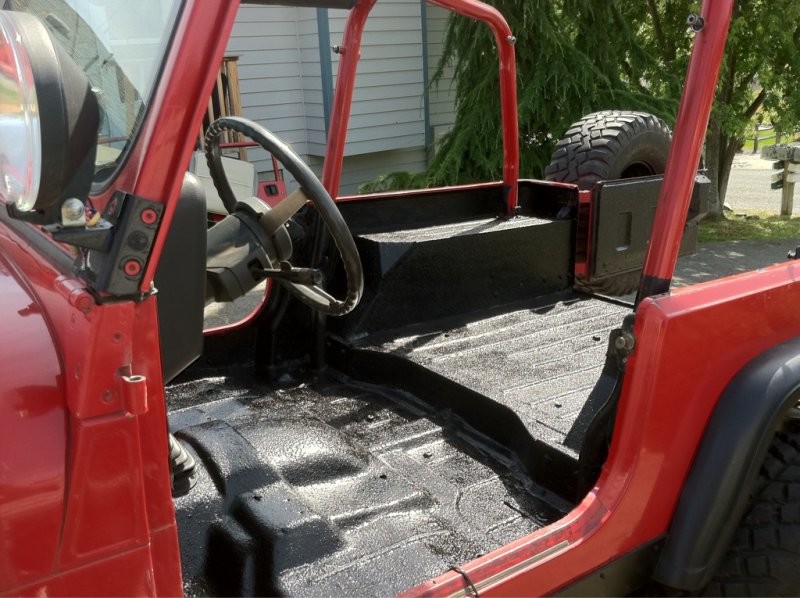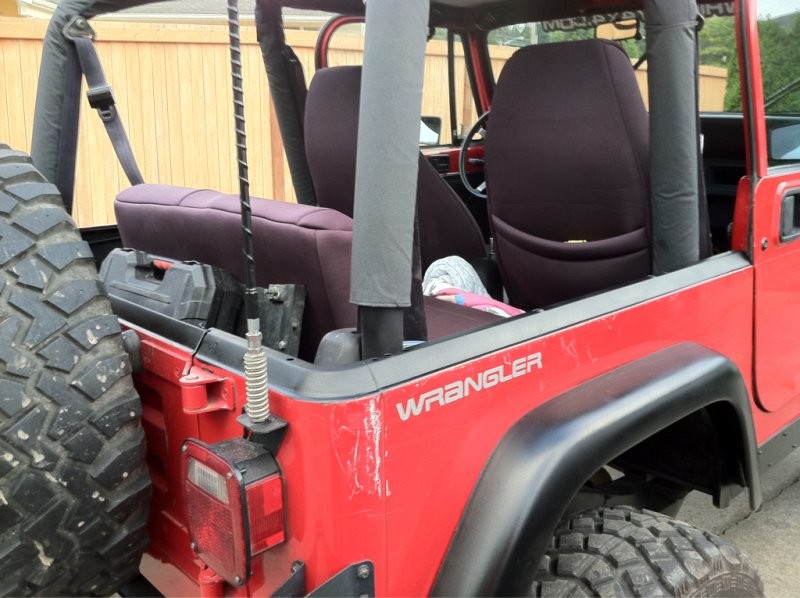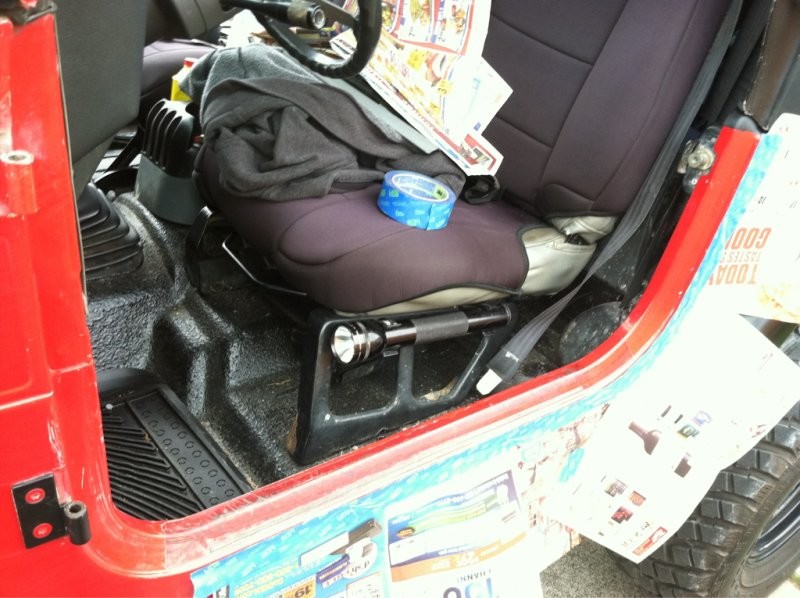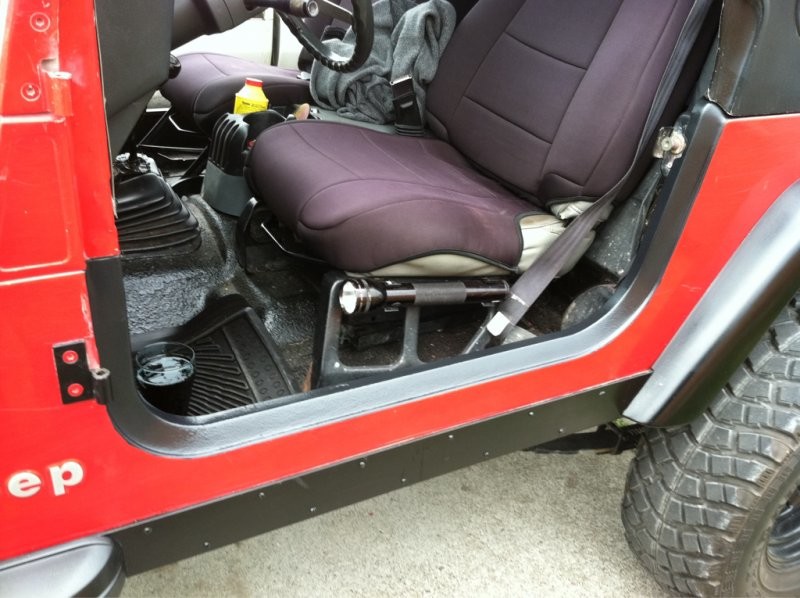 my first time wheeling it and with no doors at that!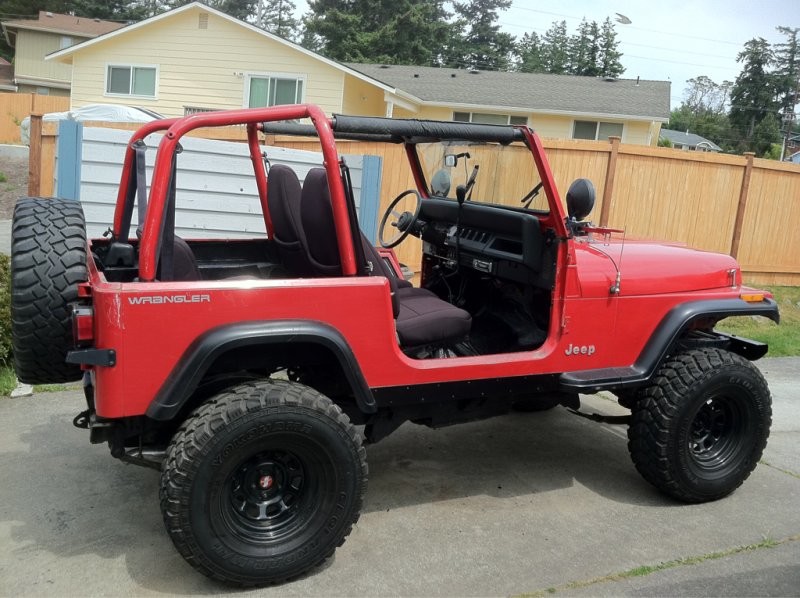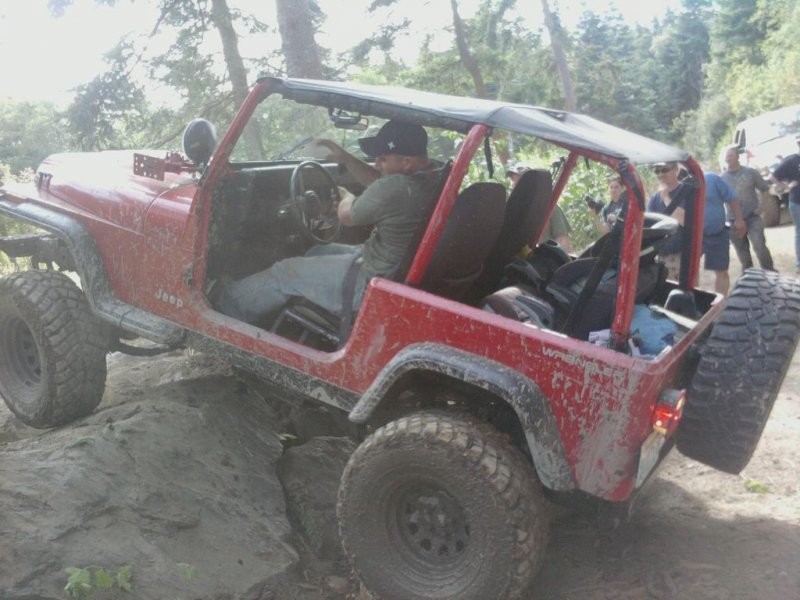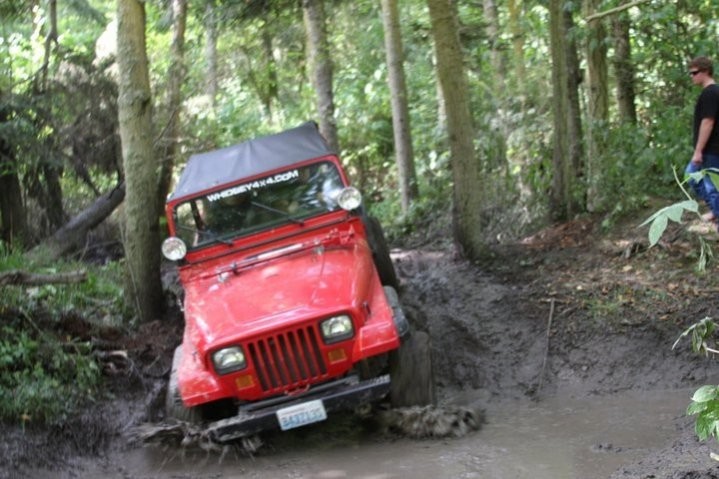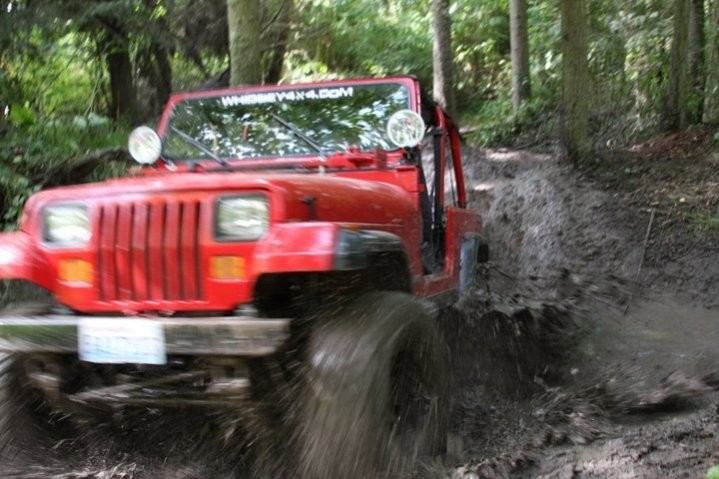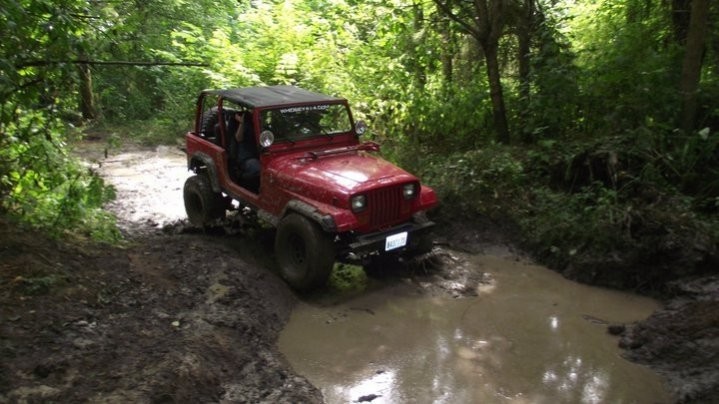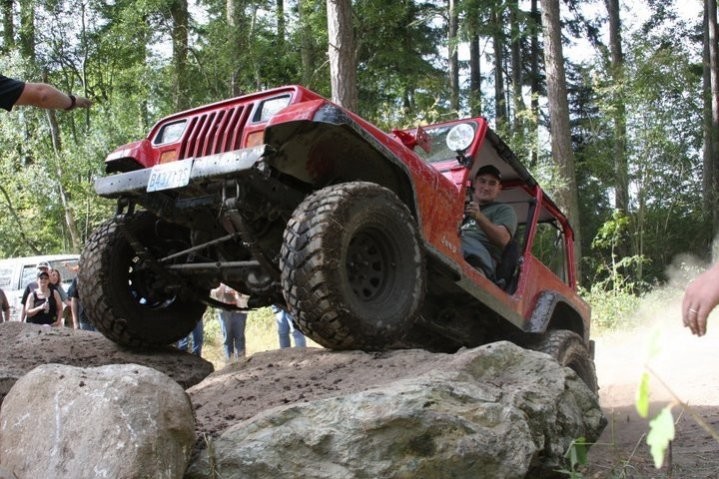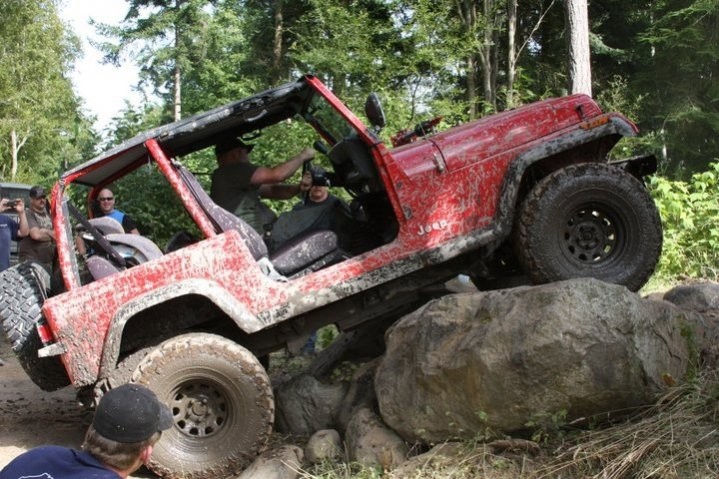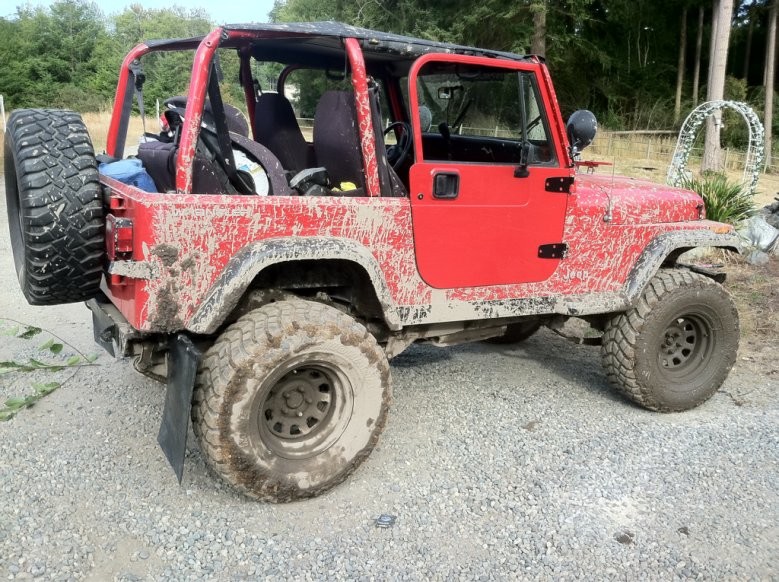 So I decided it was time to replace the worn out sagging broken rc spring So I picked up some 3.5 fabtech springs it was nice not sagging in the rr any more! (also dumped the front and rear track bars) I then had vacj5 on here make me a mount for my cb attena it turned out asome oh yeah I also replace that 2 inch bl with a rc 1.25!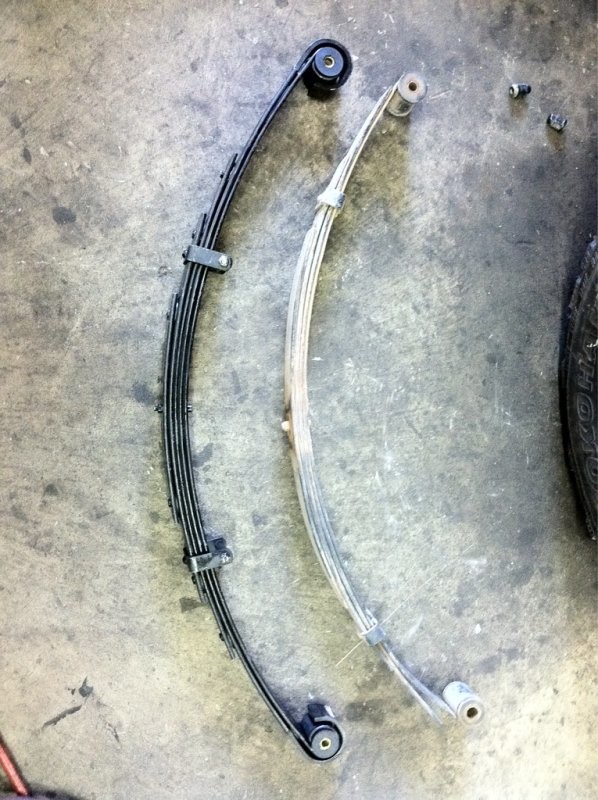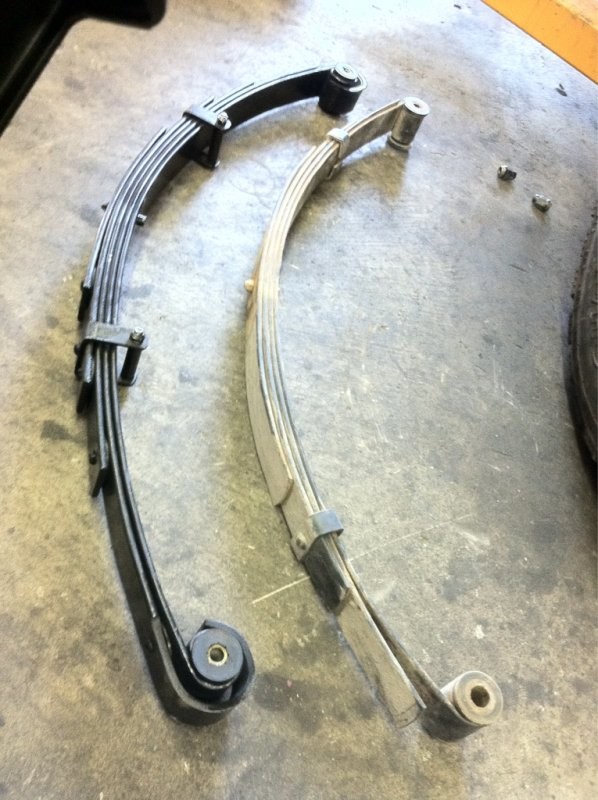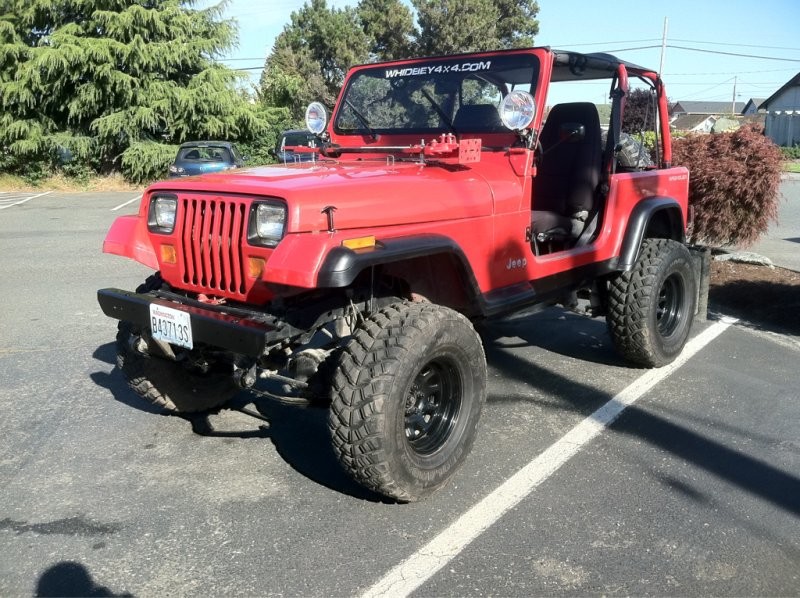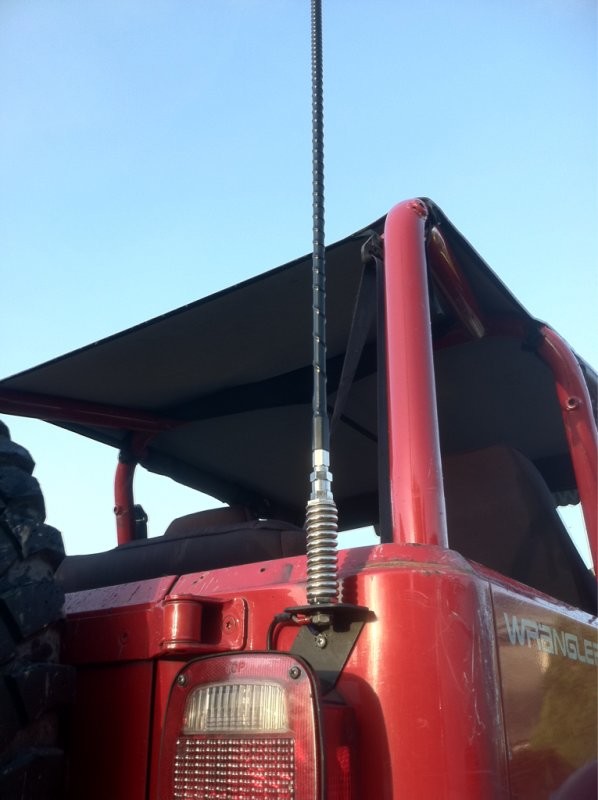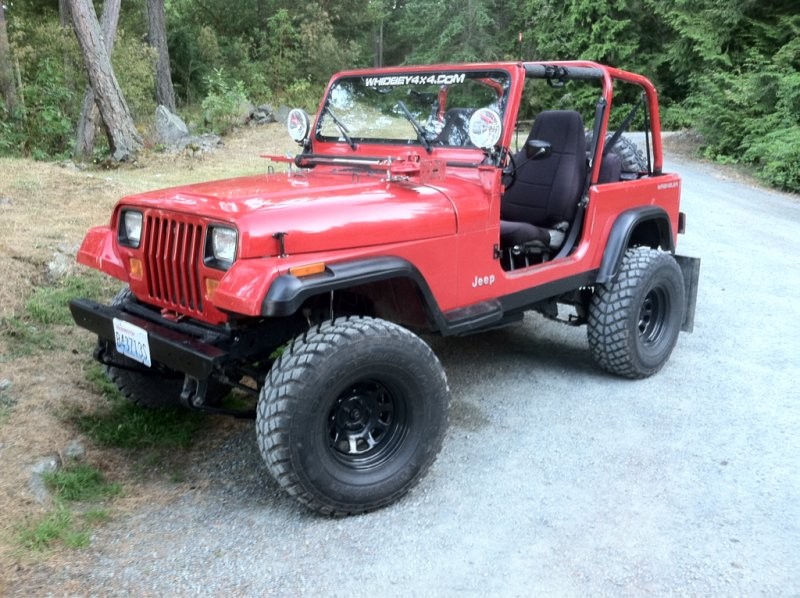 So then I paint the grill black I really like the look and also got some roll bar padding! I was really digging the new springs but with them be military wrapped and time I hit a bump or tried to flex the leaf would kit the frame......... So I have vacj5 make me some 5/8 boom shackles to fix that problem solved!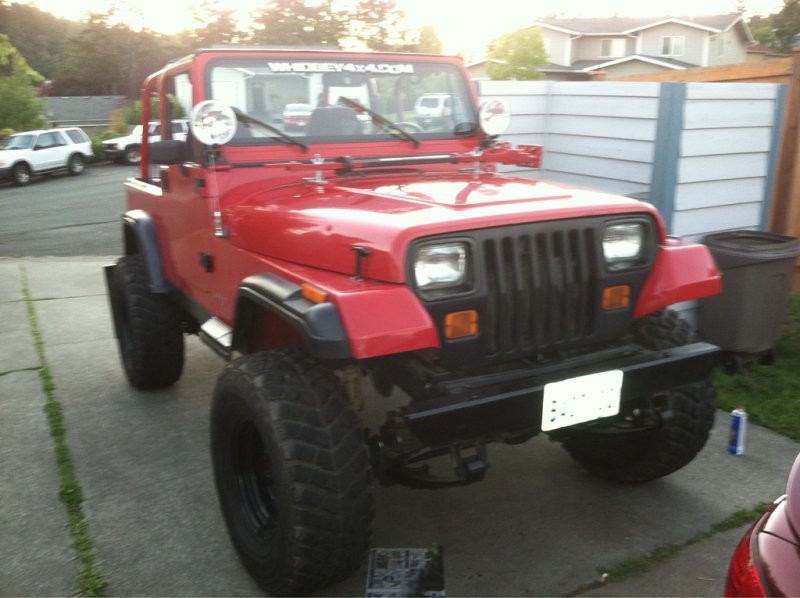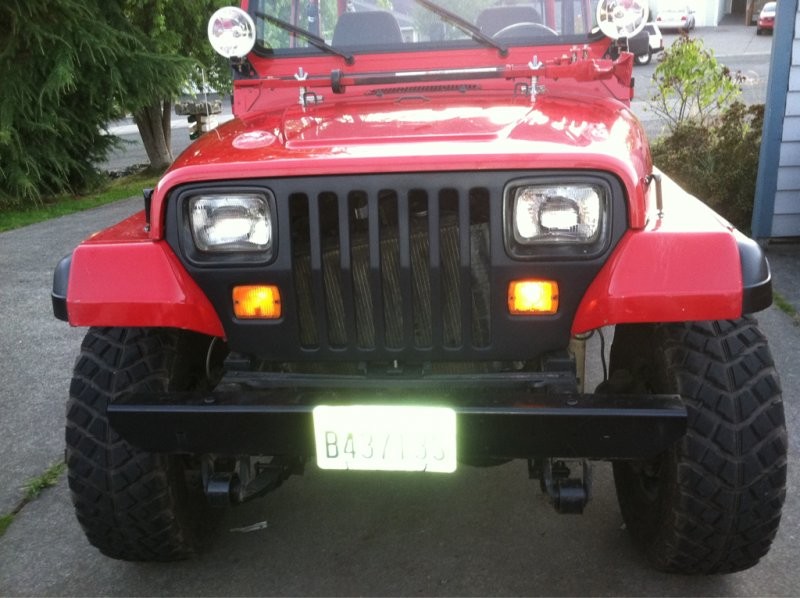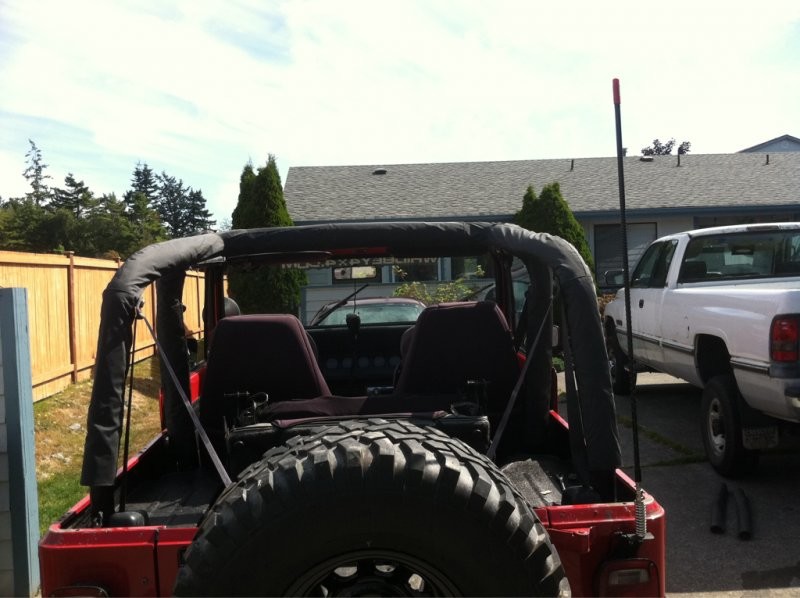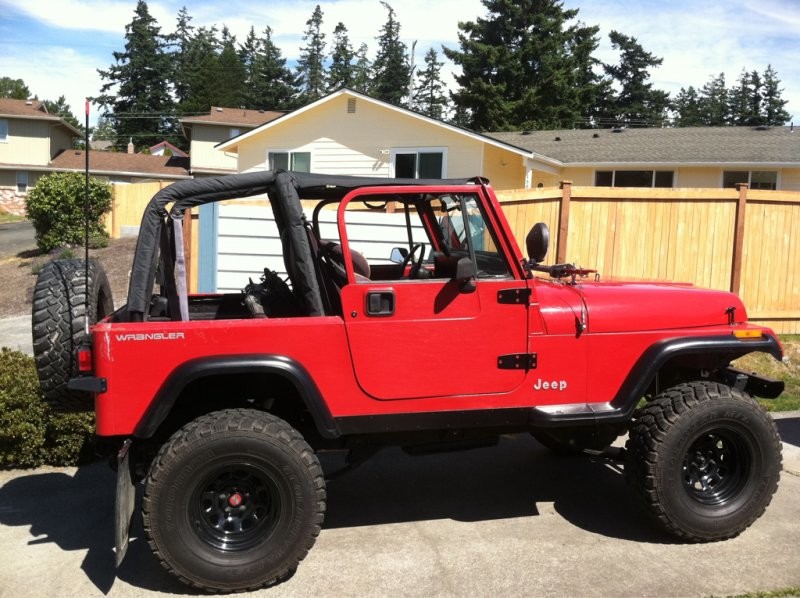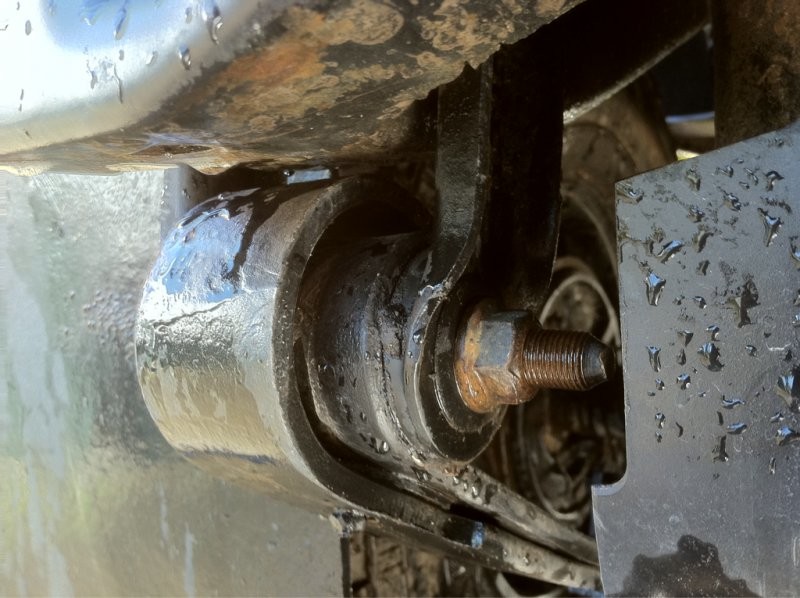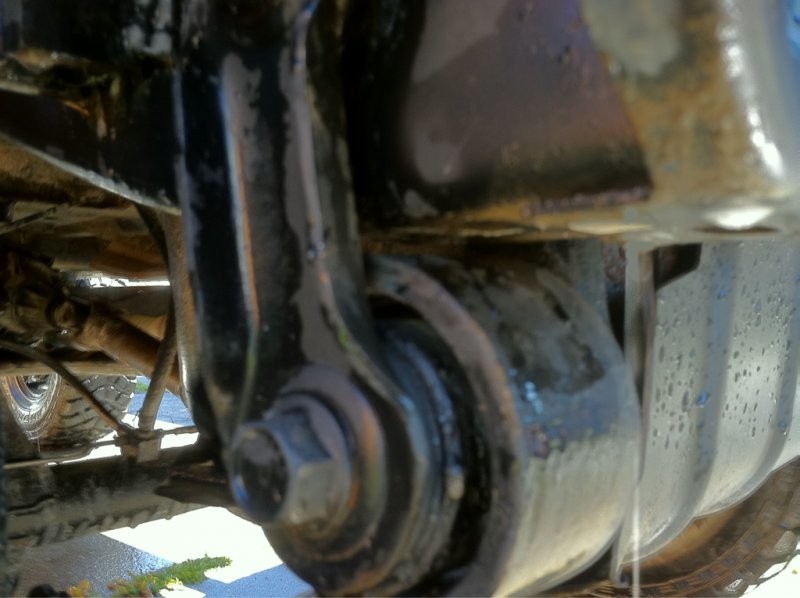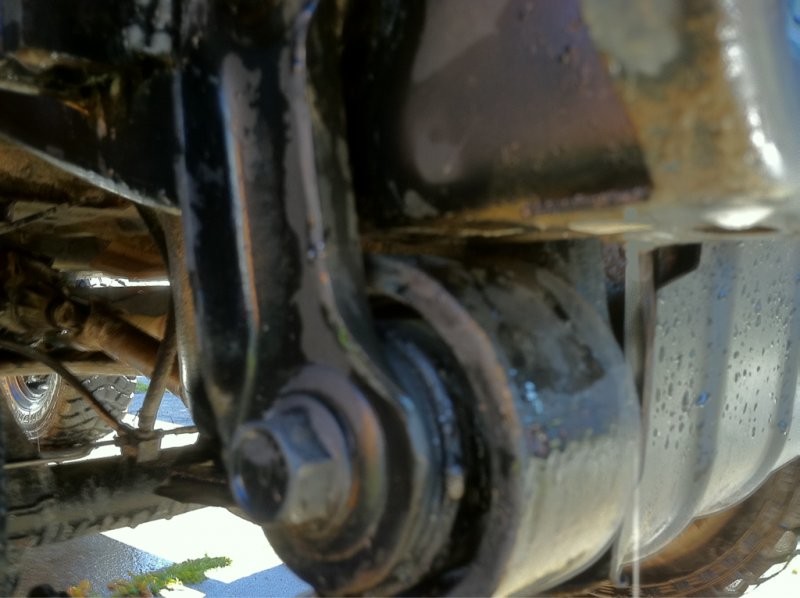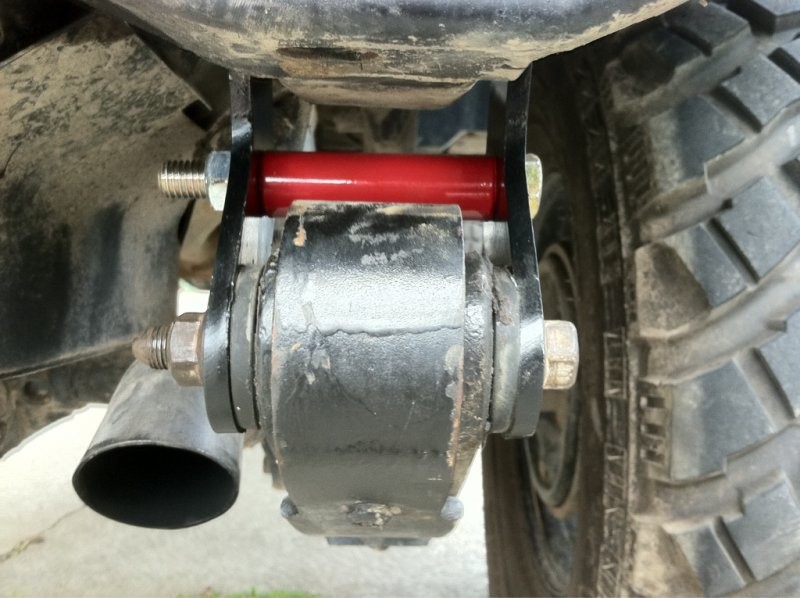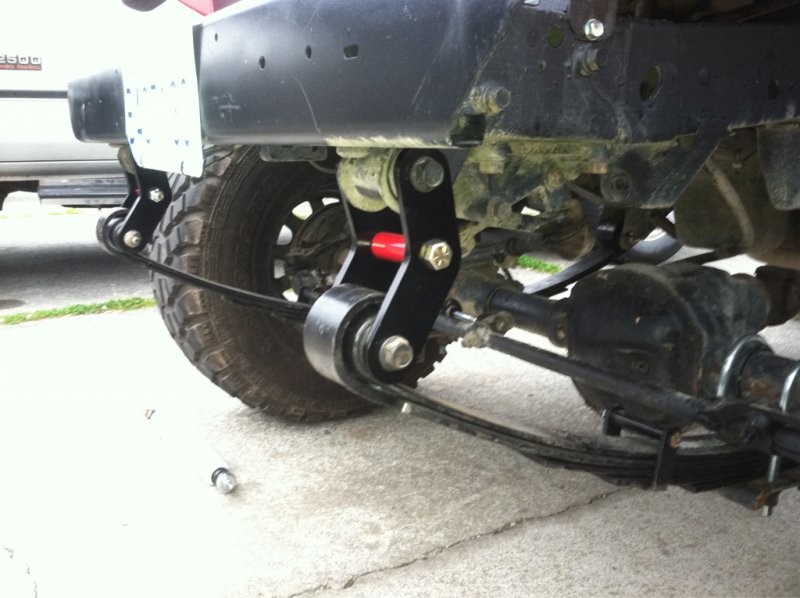 well with my new found flex I was rubbing pretty bad in the rear so guess what time for rear tj flares this made a huge difference in room and now more rubbing!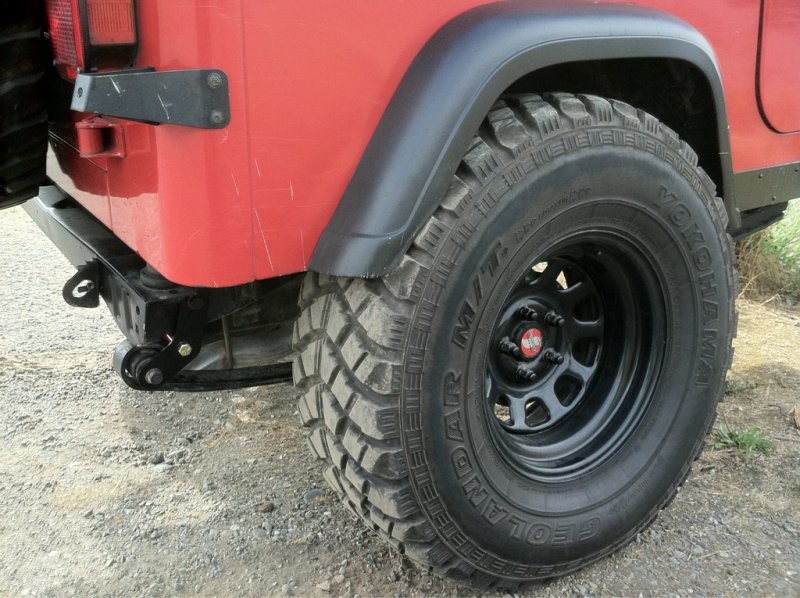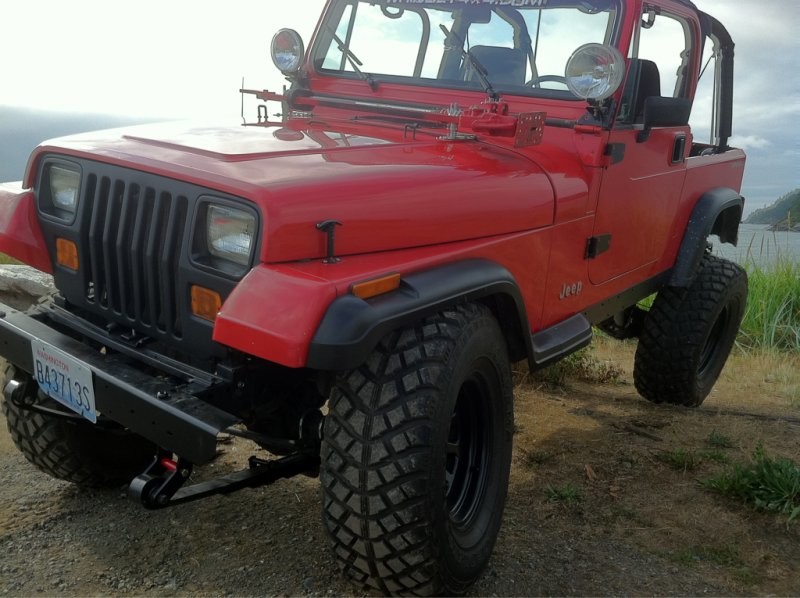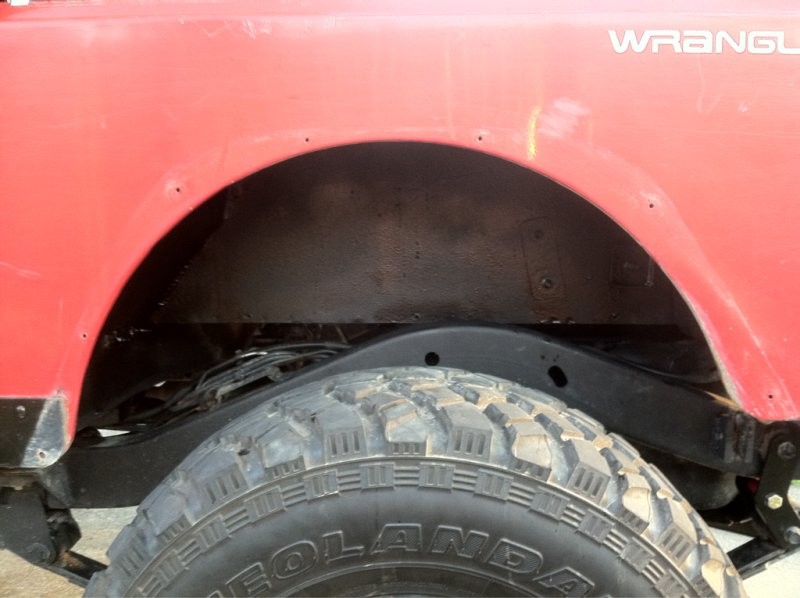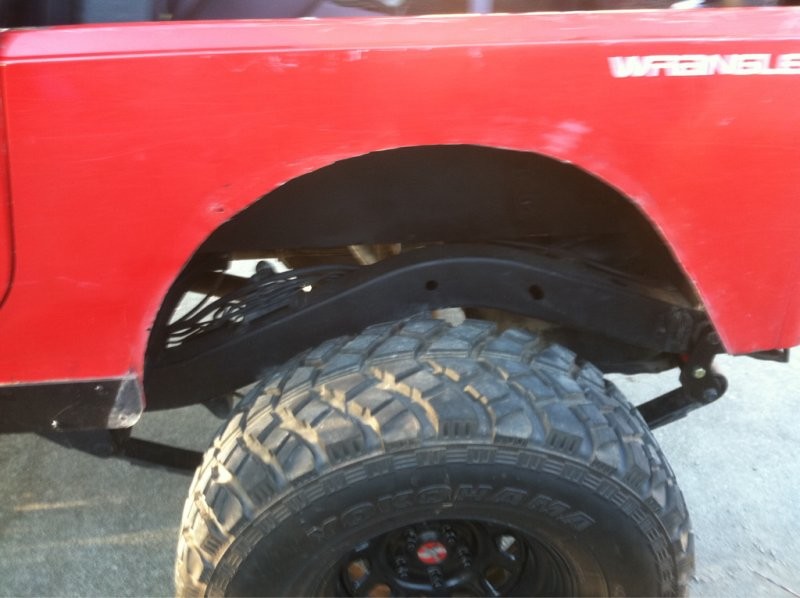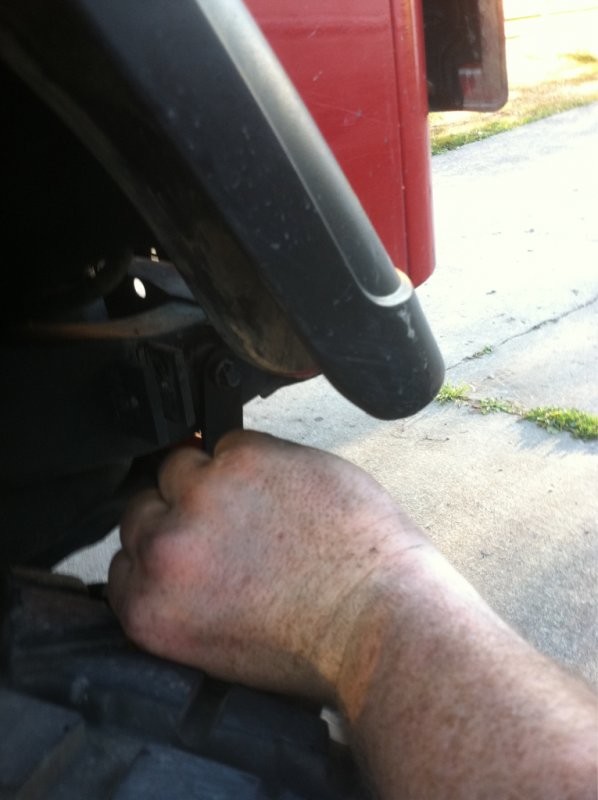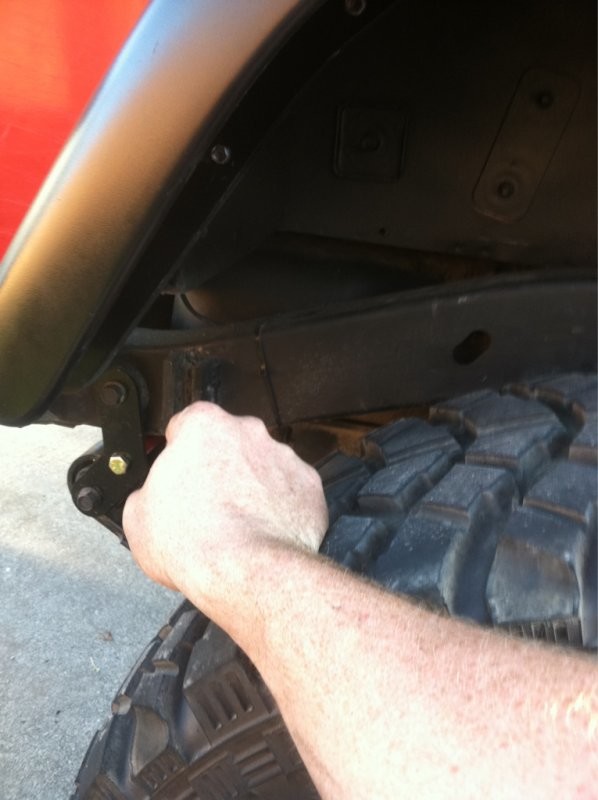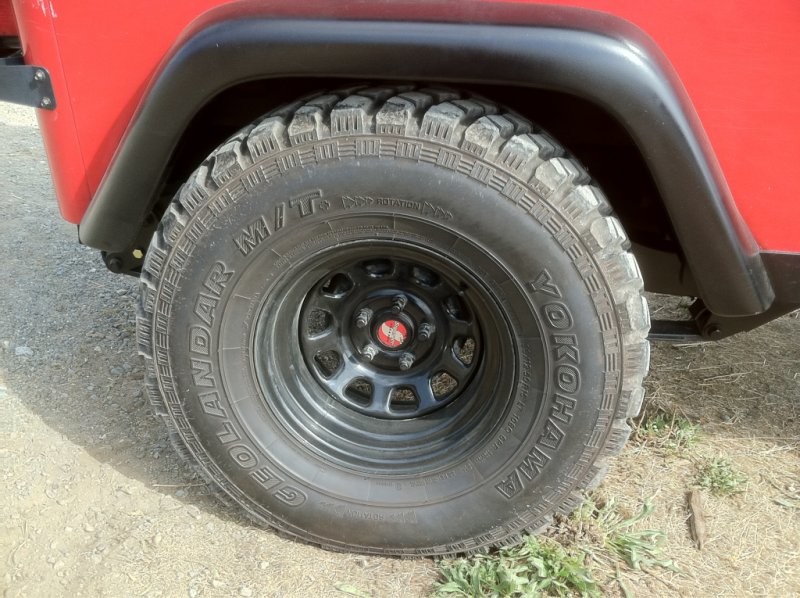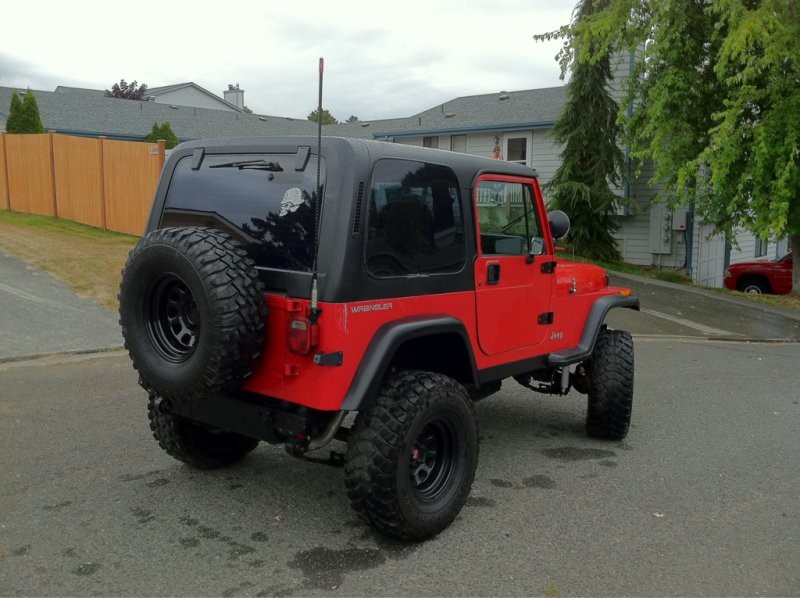 bought and installed mce 3.5 flat fenders these things are great! the only down side and now my 33s look really small. I will be stepping up to 35s next year!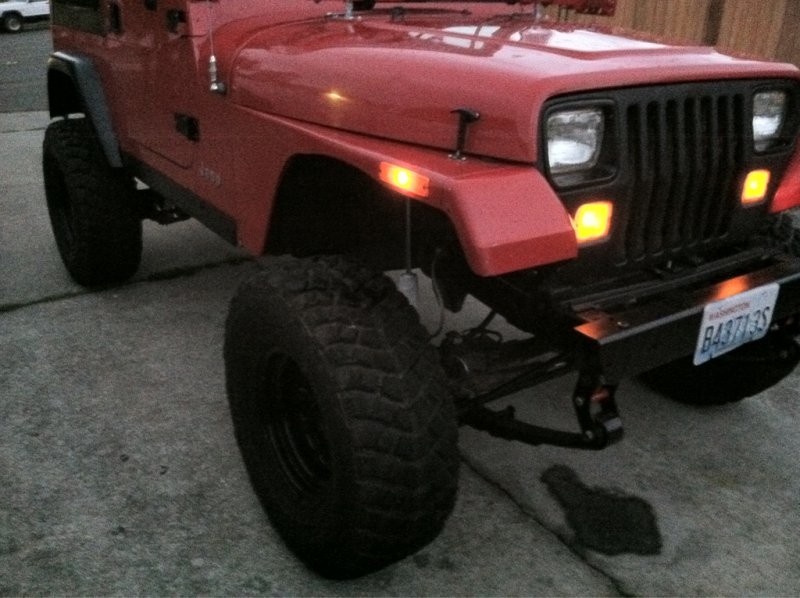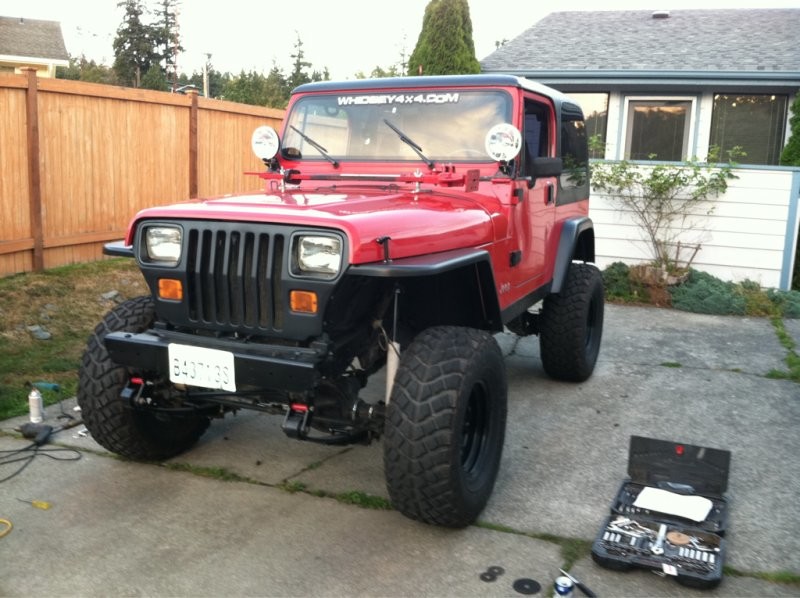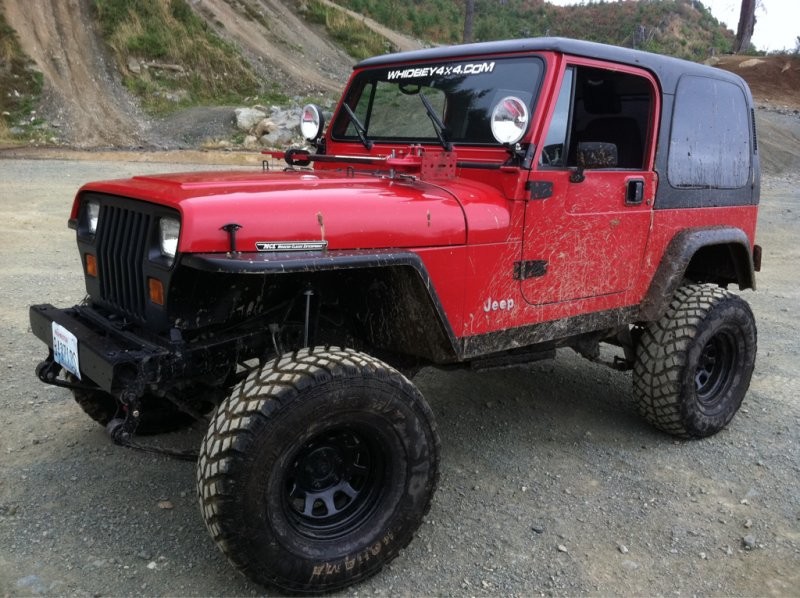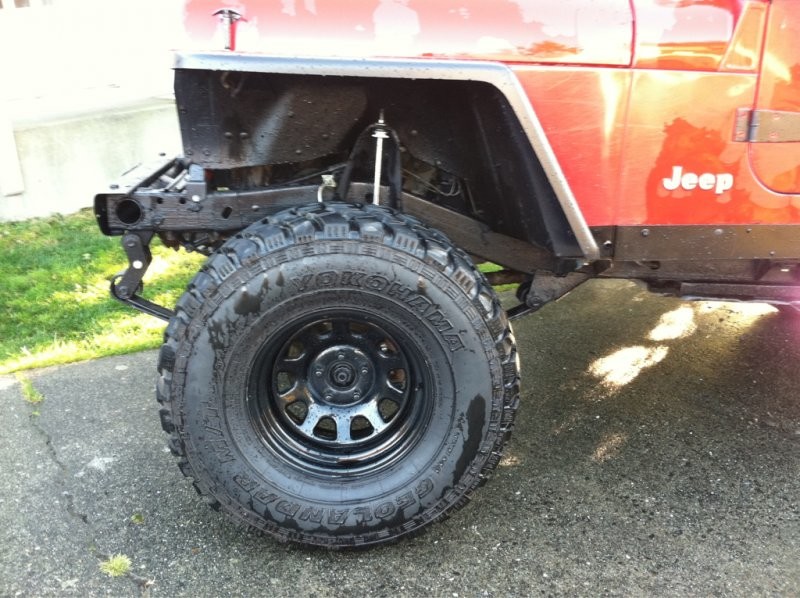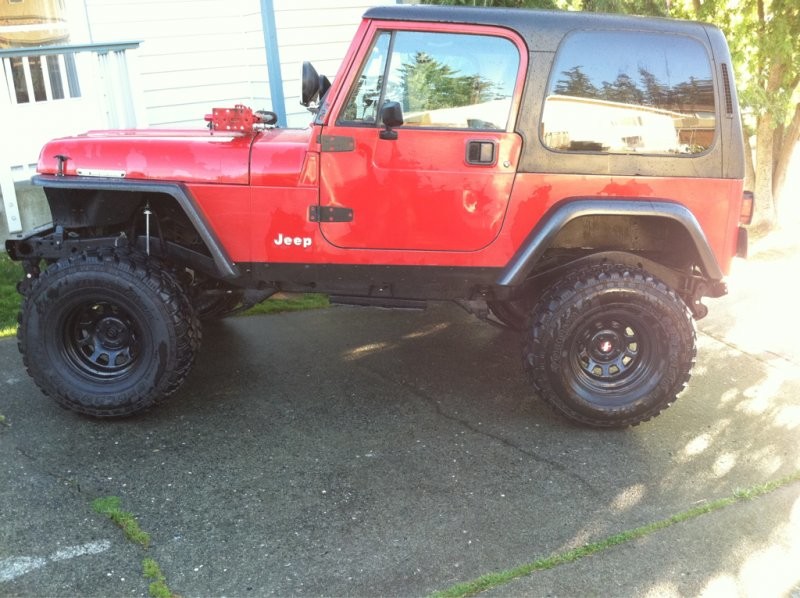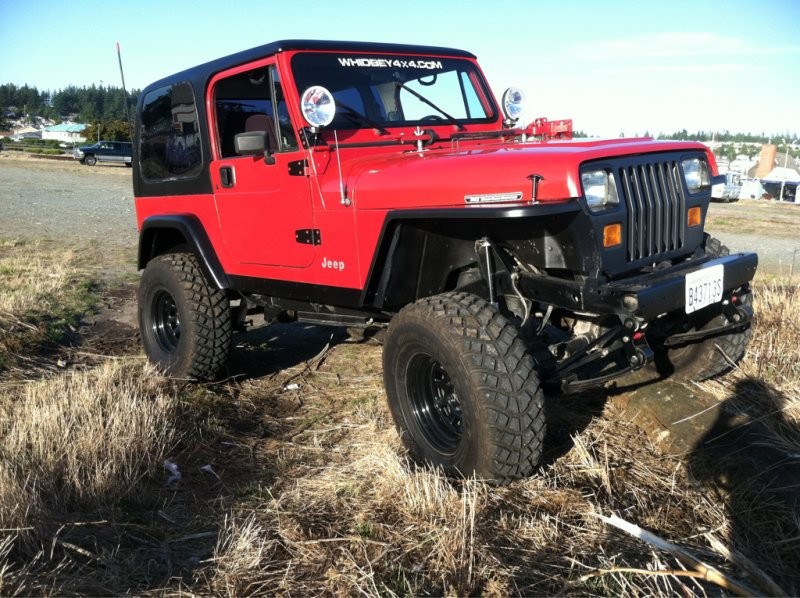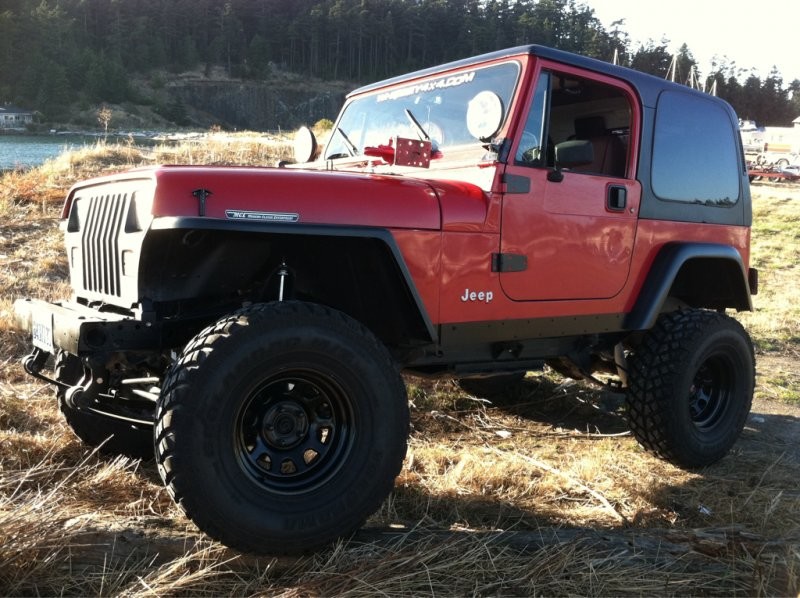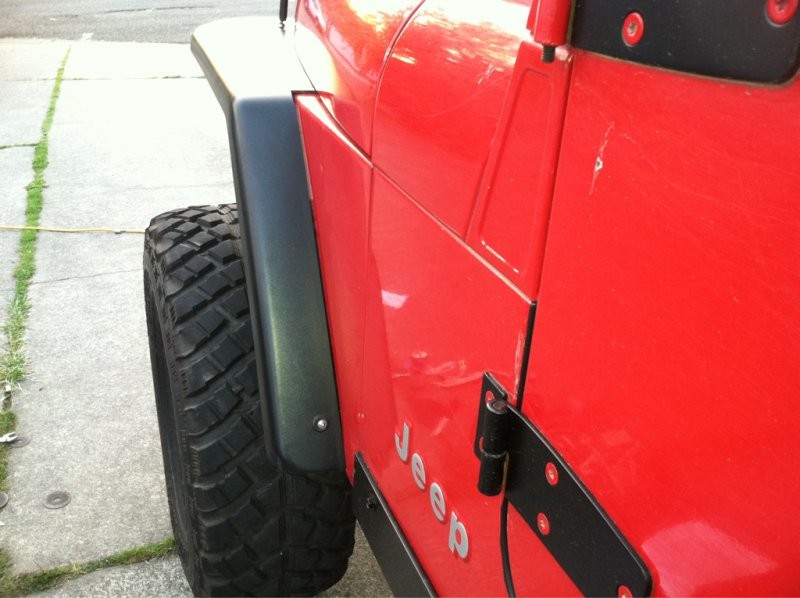 So I went wheeling up at walker valley orv he in WA had a great time hear are a couple pics! I know I missed alot in this thread but it is kinda hard making one on my phone but if you have any question about anything I have done shoot for it!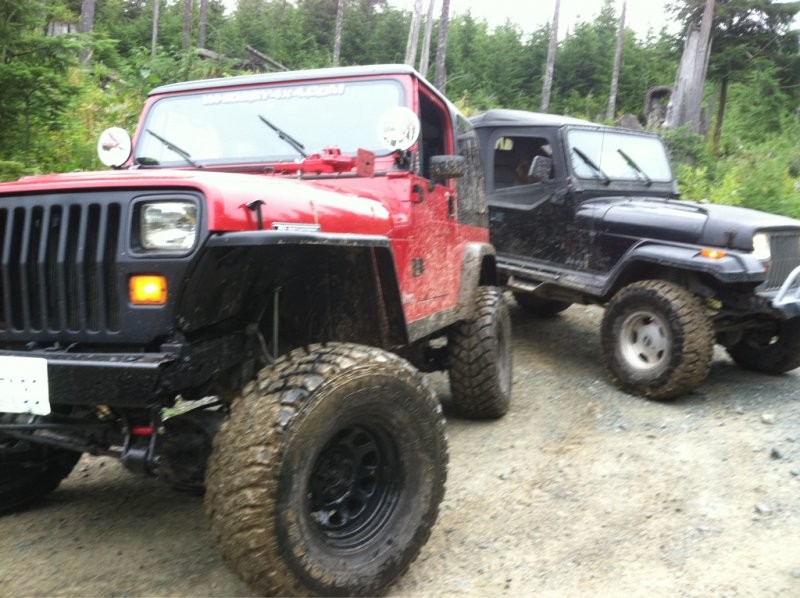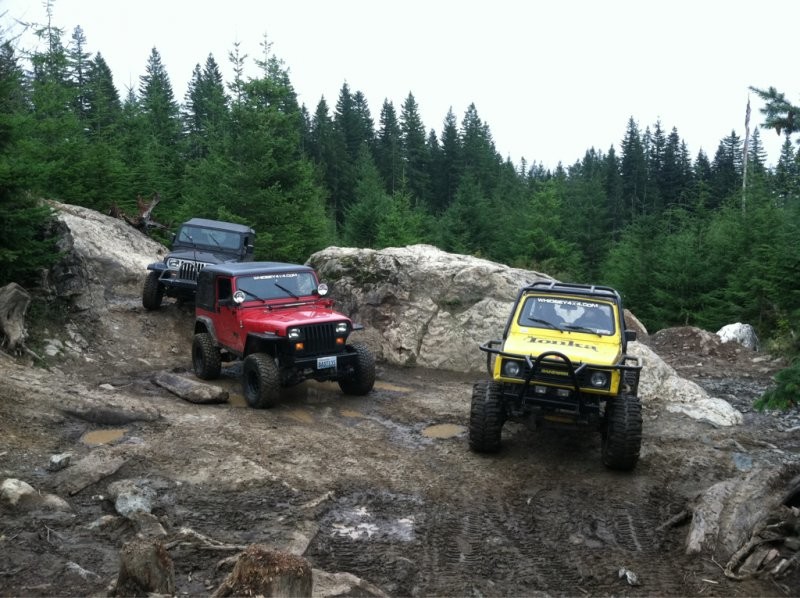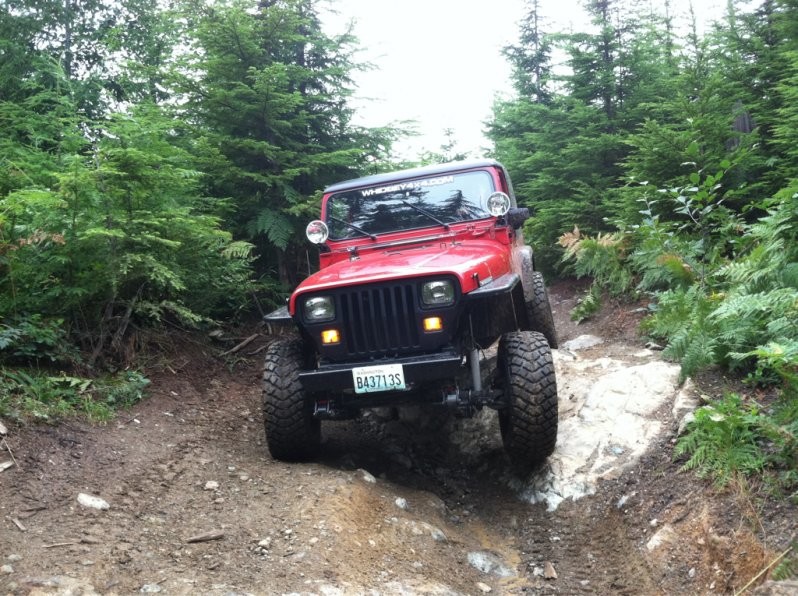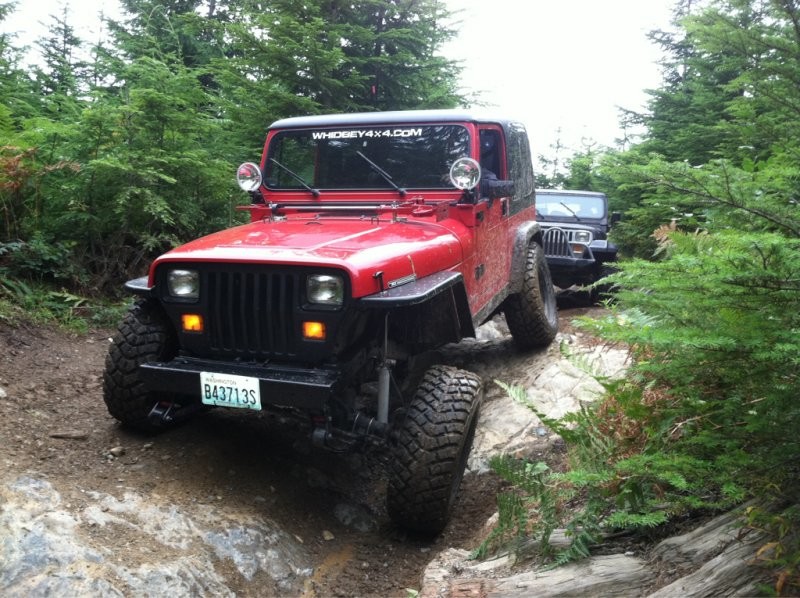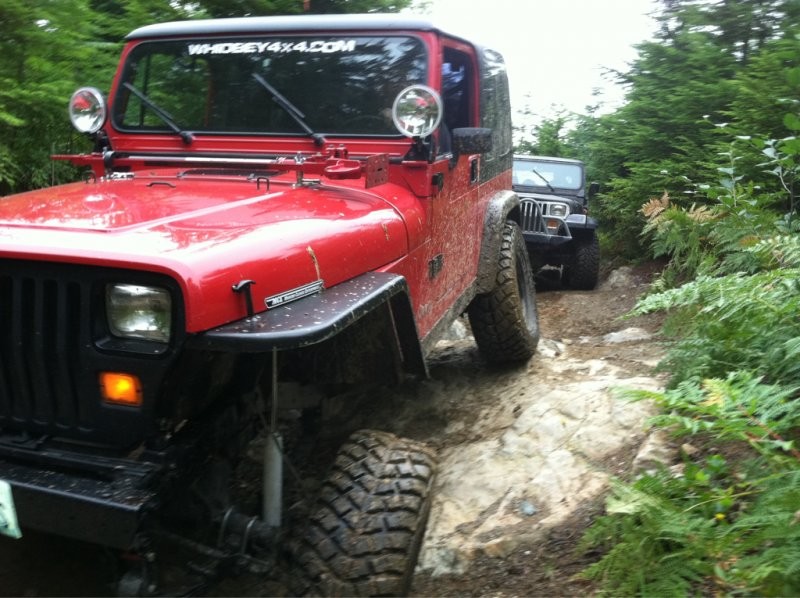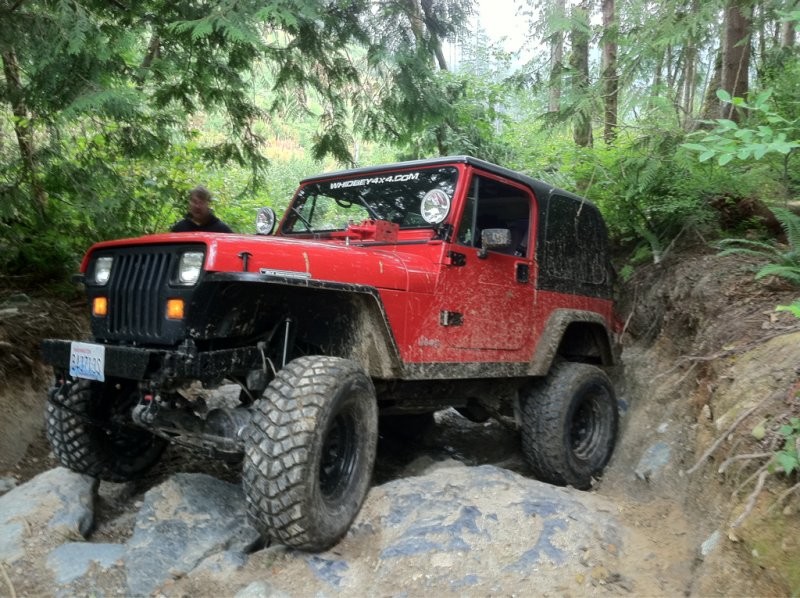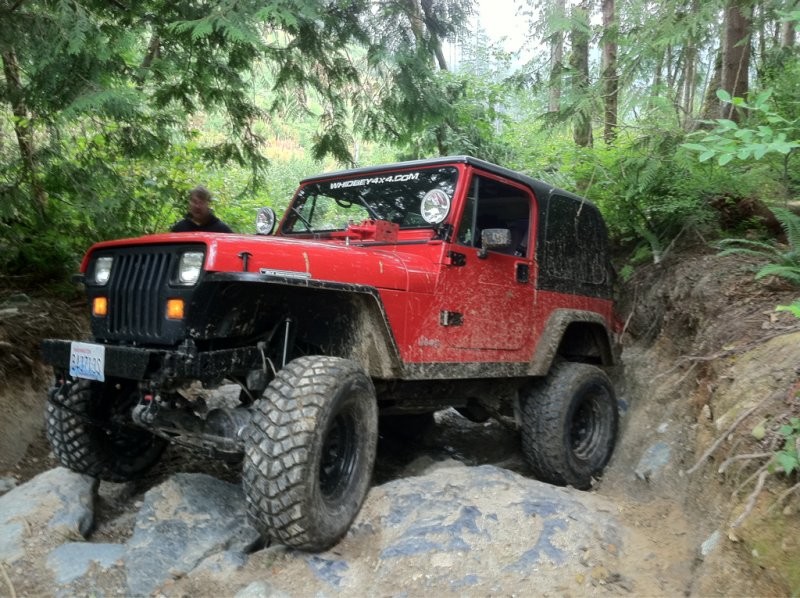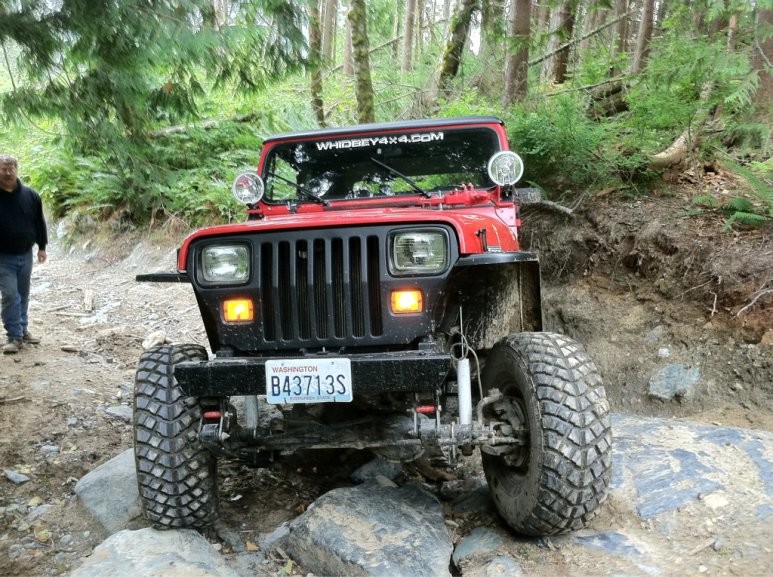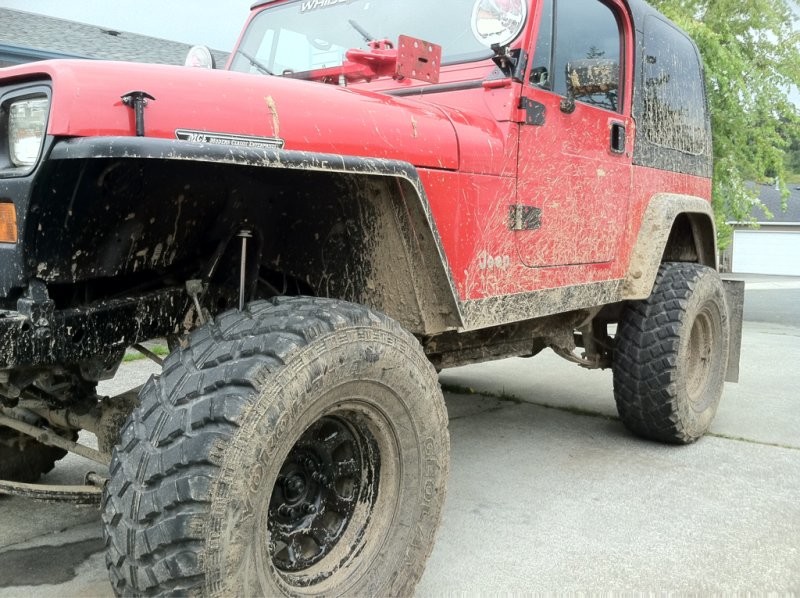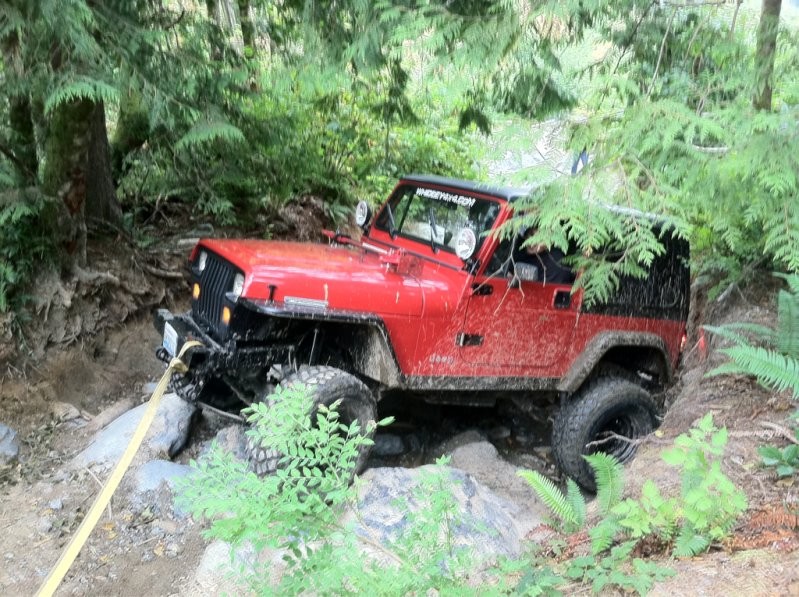 10-10-2011
Thanks you guys! So this last week I ordered a new driver side mirror to replace the broken one that's on there now and also threw my jf.com sticker on my gas tank skid! I know it nothing cool but just wanted to keep my thread up to date! Oh yah I forgot I should be buying my buddy's bumper/tire carrier soon for 300 here's a couple pics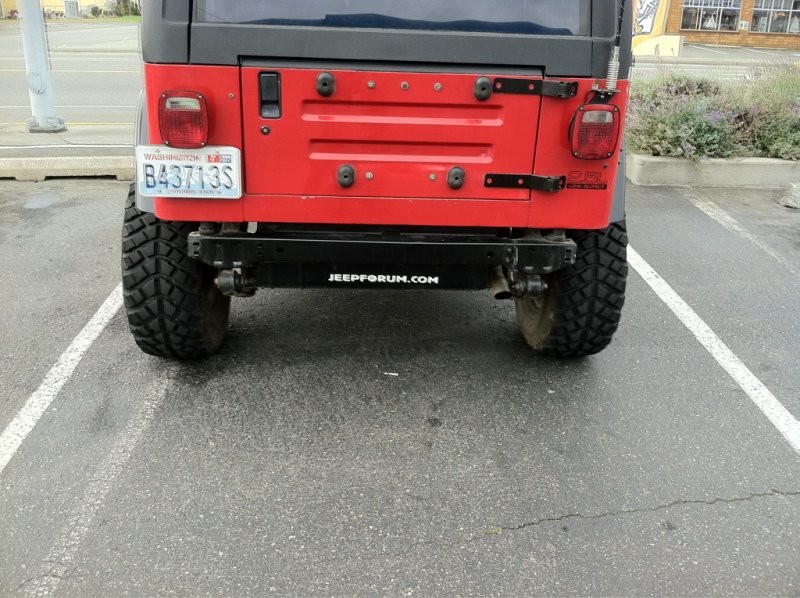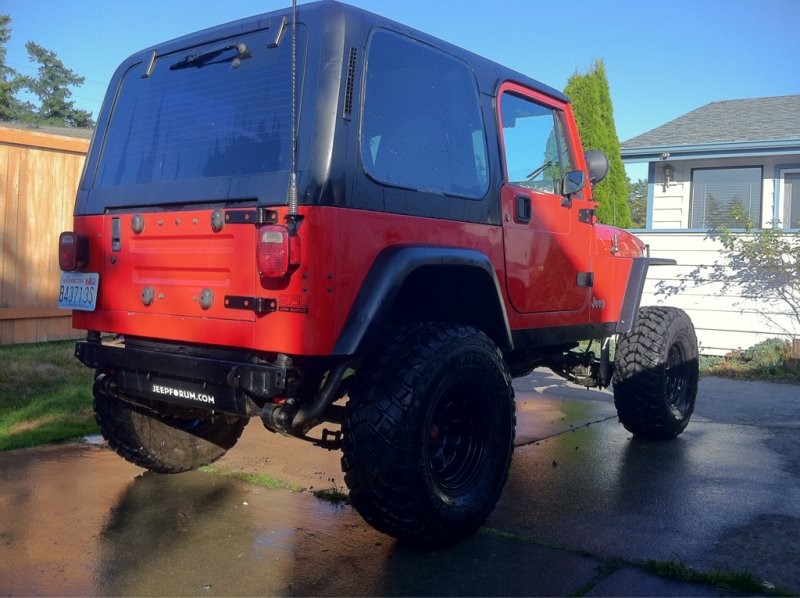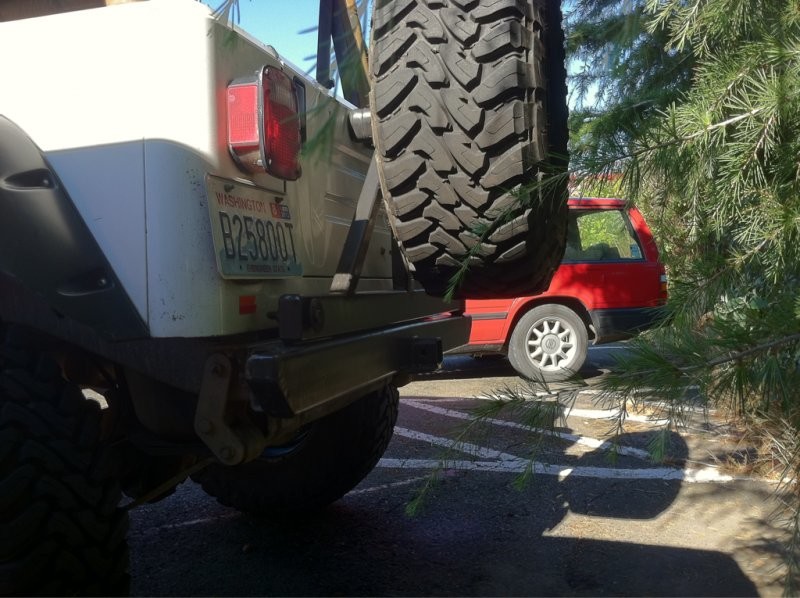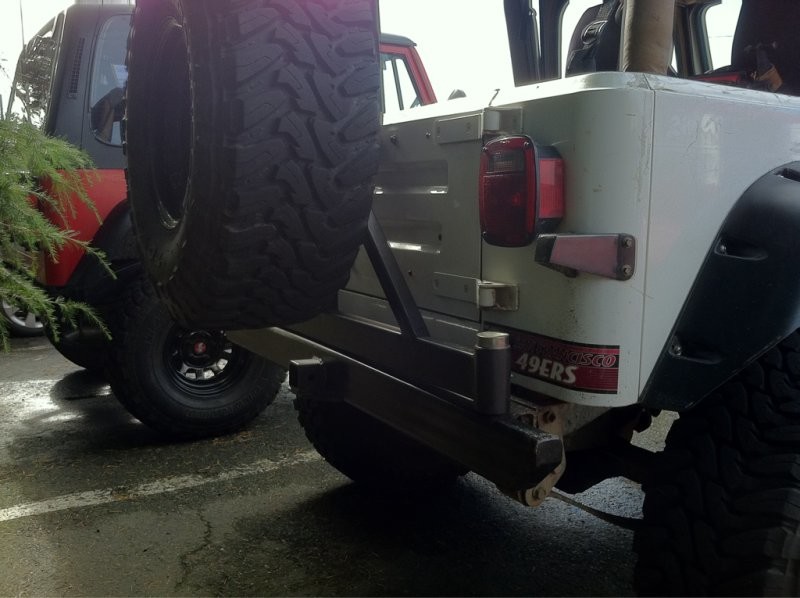 well next up is going to be little stuff like rear bumper, tow hooks, hand throttle. This spring (when I get my work bonus) I am going to be stepping up to 35's, converting to power steering, locking the front axle along with posi lock, I will be also getting a winch and either rebuilding my tranny or look into doing the ax15 swap, and doing a sye at least thats my plan! I also plan on begging my wife for a soft top when we get I tax money!

I will take a couple better pics tomorrow if you would like......just let me know! My wheels are 15x8 with 3.75 bs!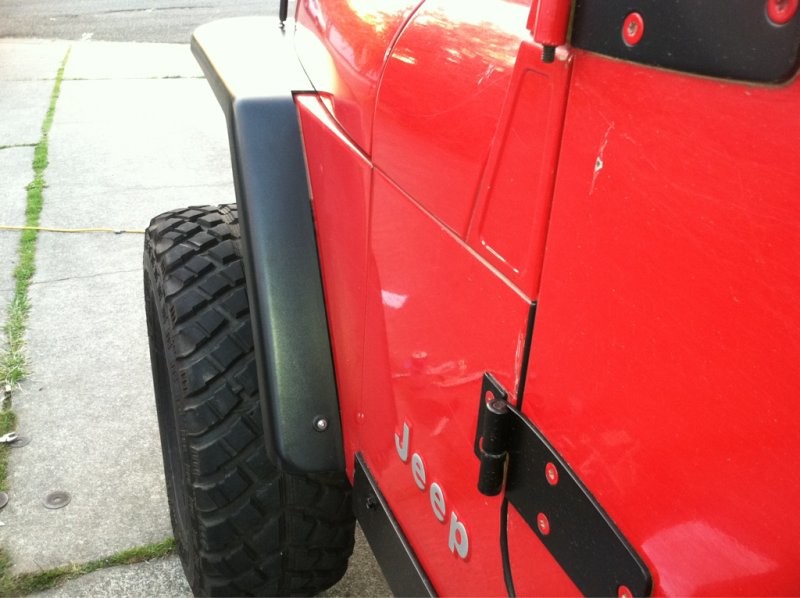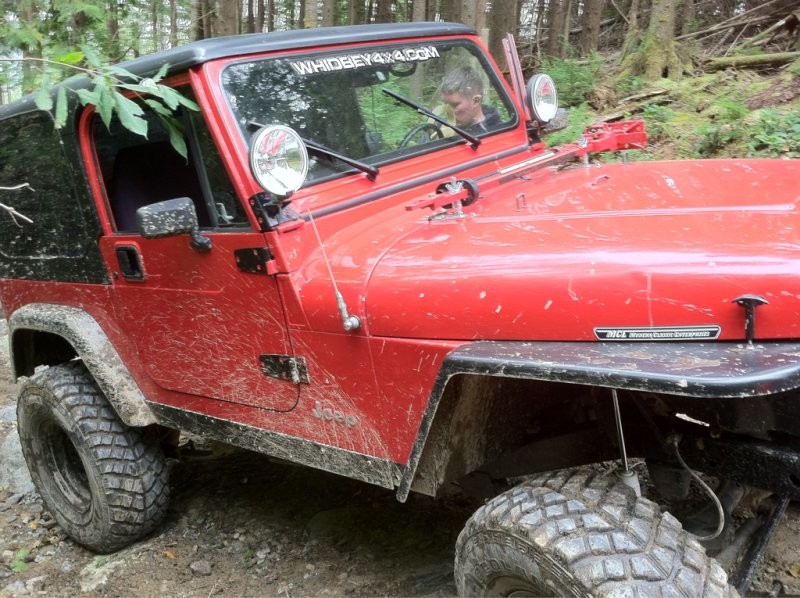 10-17-2011
Just a quick update I took my dad out wheeling for the first time ever and made him a little nervous by getting it tipsy, sorry I did't have any pics of me acting wheeling but all I had was my iphone for pic, Oh yeah I also replaced the burnt out dash bulbs so I can see my gauges at night now! And thanks for the compliments.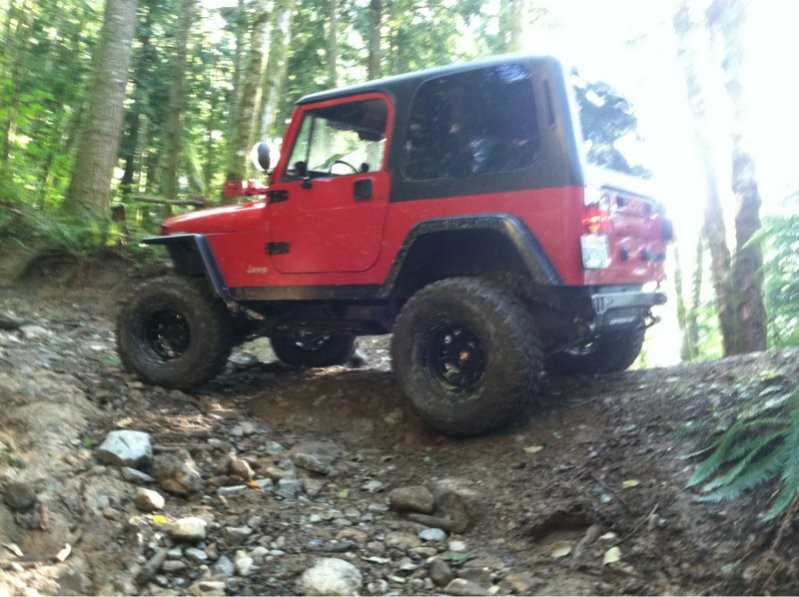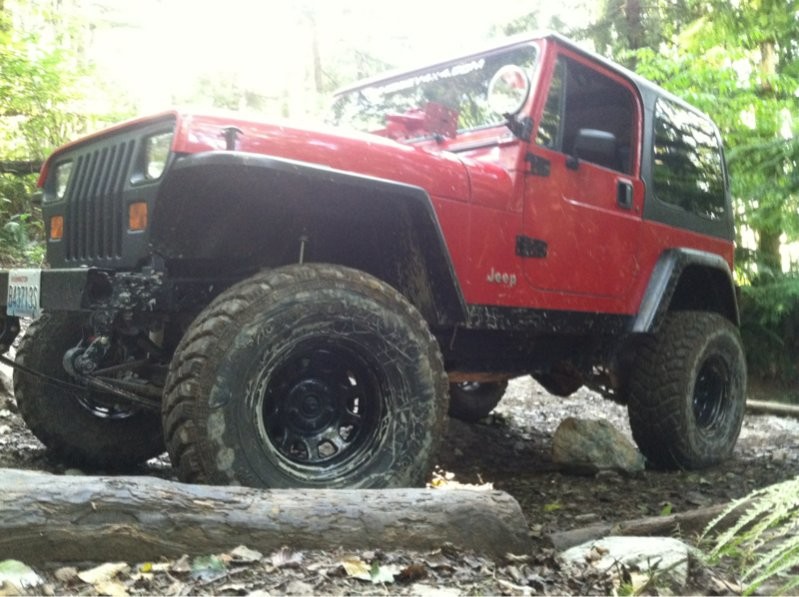 10-20-2011
Just a update I ordered tow hooks for the front and also the Tera flex hand throttle........can't wait for my new goodies to get hear!
10-22-2011
Got my teraflex hand throttle in the mail today now i need to fine time to install it!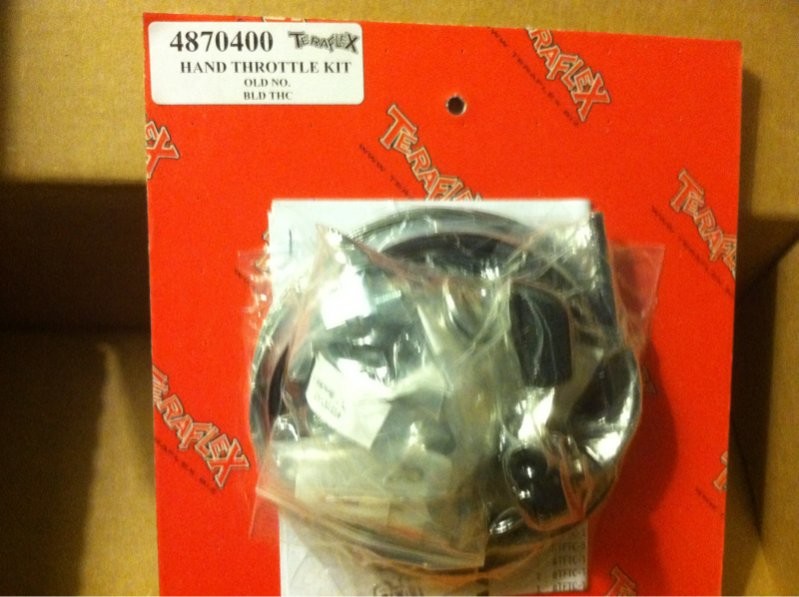 No I will still have my gas pedal. It is there for when you in a pickle on a hill where you need a third foot to work the clutch,brake,and gas at the same time or to keep your rpm up for winching! It will also help for when your driveing down washboard (dirt rds) were you have to fight to keep your foot on the gas you just set the wanted throttle and no more bucking! I don't know if that makes sence or not lol! I got the handle mounted on the shifter tonight!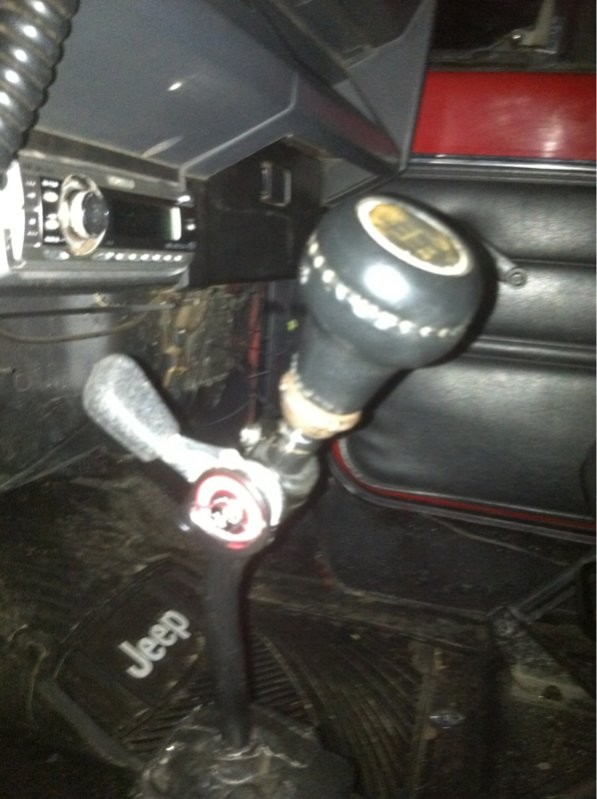 10-23-2011
Got the hand throttle done today and it works great!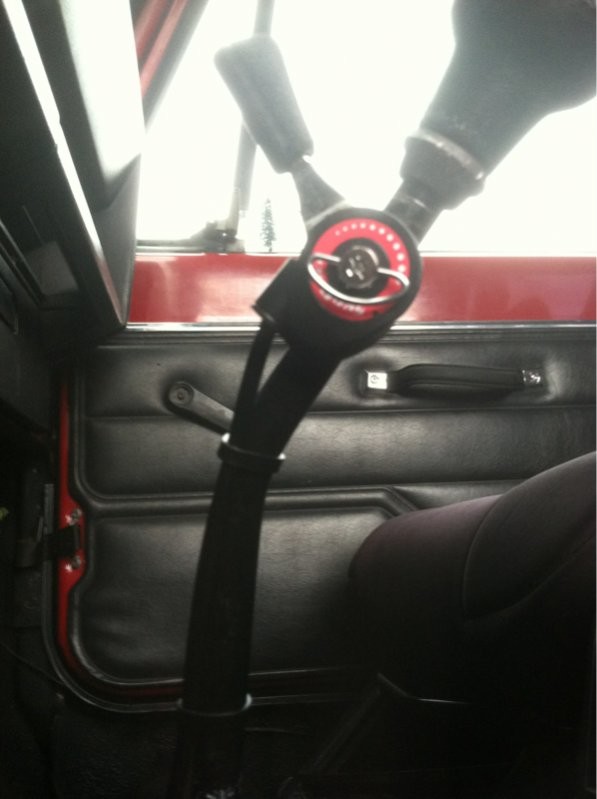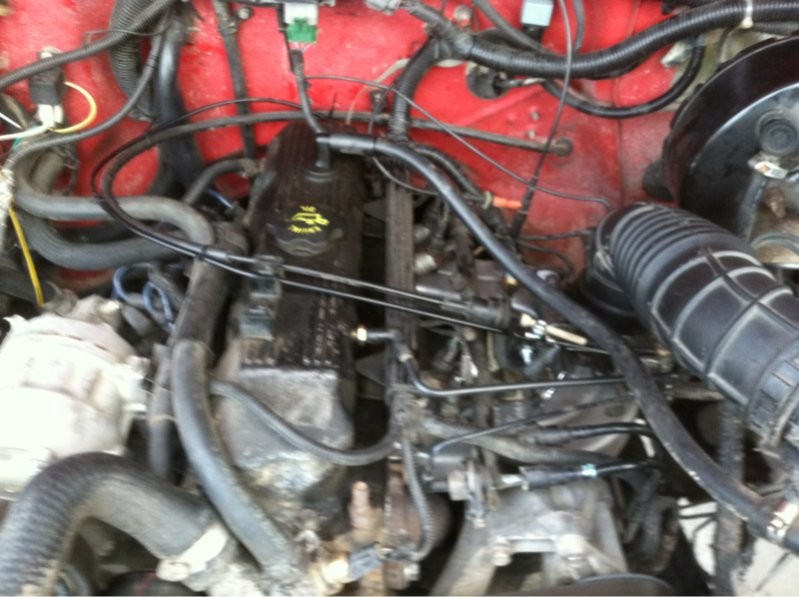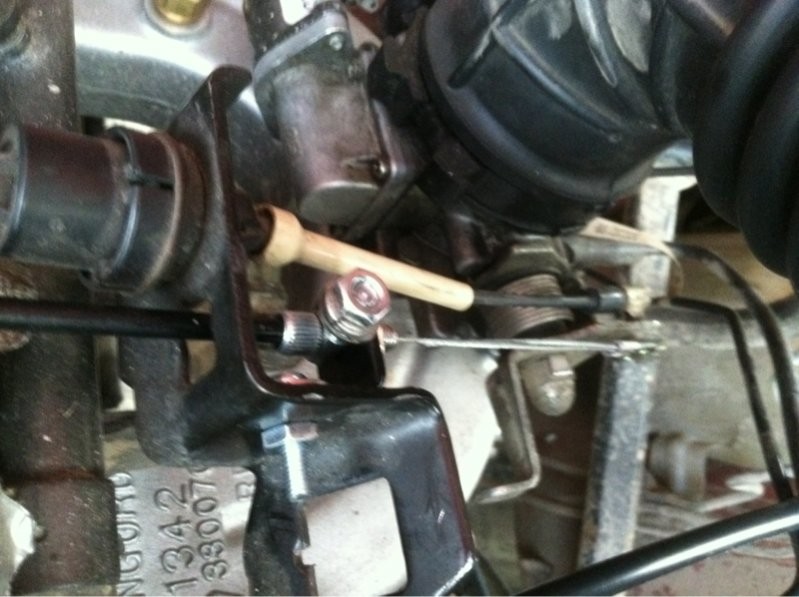 I also got my new rugged ridge tow hooks thrown on!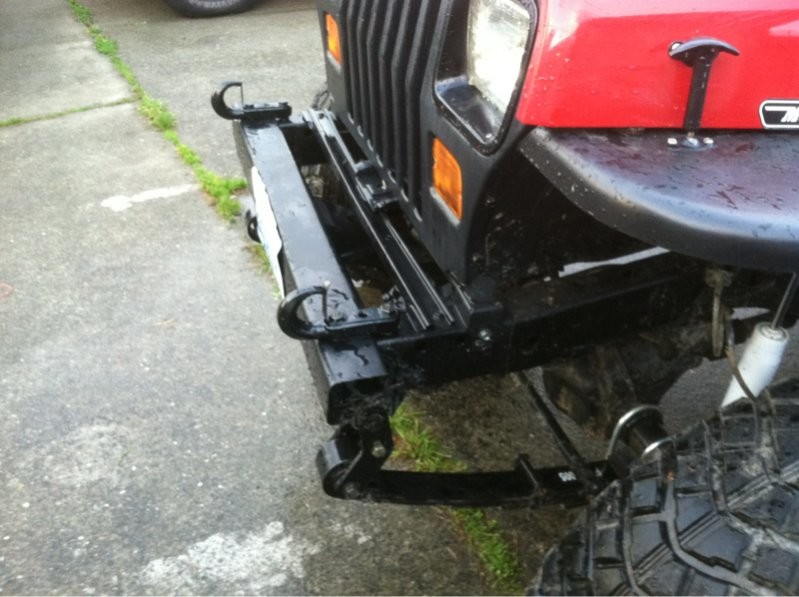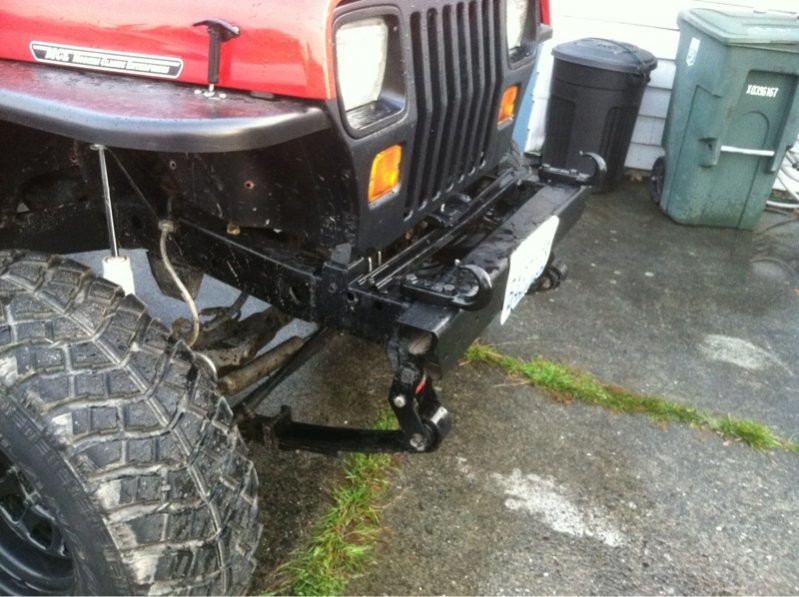 10-28-2011
I know its nothing cool but today I changed the oil on it and made the switch to delo 400 (diesel oil)! just felt like bumping my thread.
Today I replaced my worn out battery with a yellow top 34/78 and also got rid of my zip tie down in favor of a actual tie down.....one step closer to being winched up now!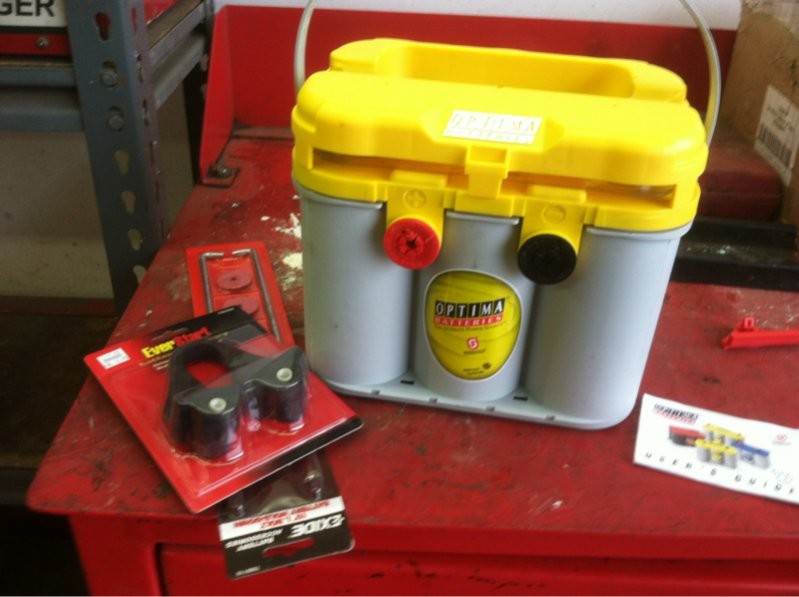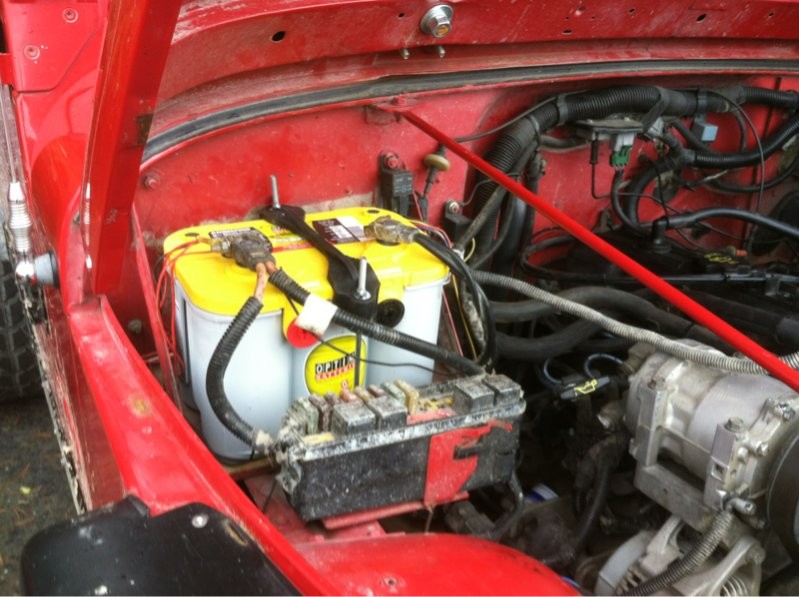 11-5-2011
So today I ordered a vent scoop to try to help keep things warm in the cab this winter and also a holder for my fire extinguisher (the type that straps it to your roll bar) now time to play the waiting game for the new goodies!
11-7-2011
went out to walker valley and did some wheeling today with 91BoD (erick) we did't get to cover to much ground today due to the cj7 in the group braking a axle shaft and pulling both ball joint out of the steering knuckle. I still had fun and hope to get to wheel with 91Bod again sorry the only pic my wife got with your yj in it was a pic of my boy! lol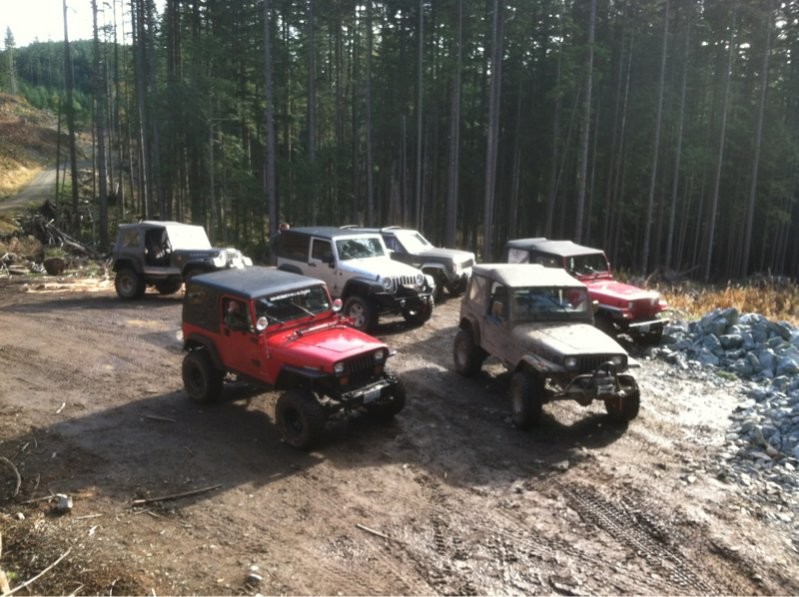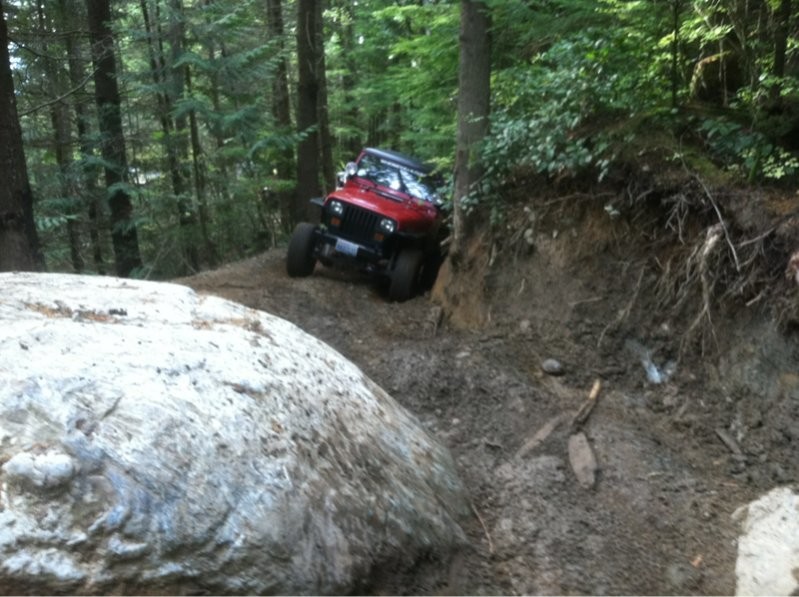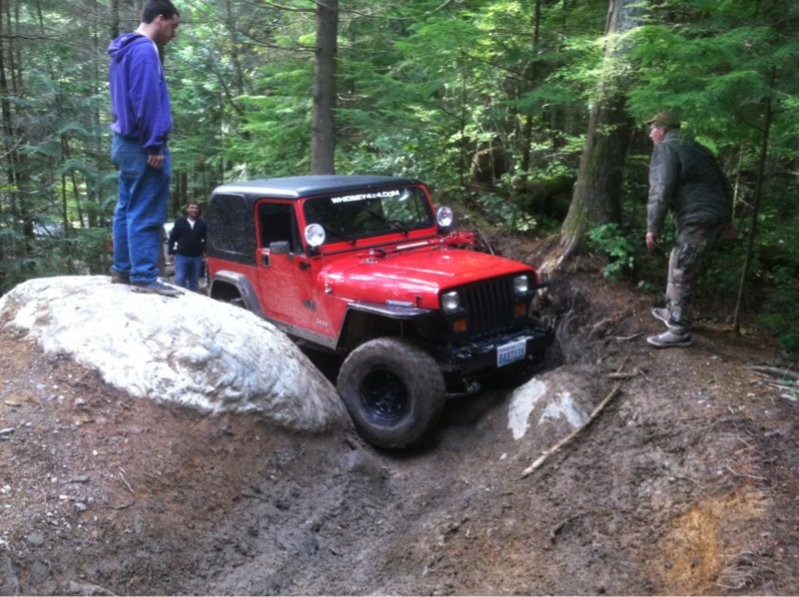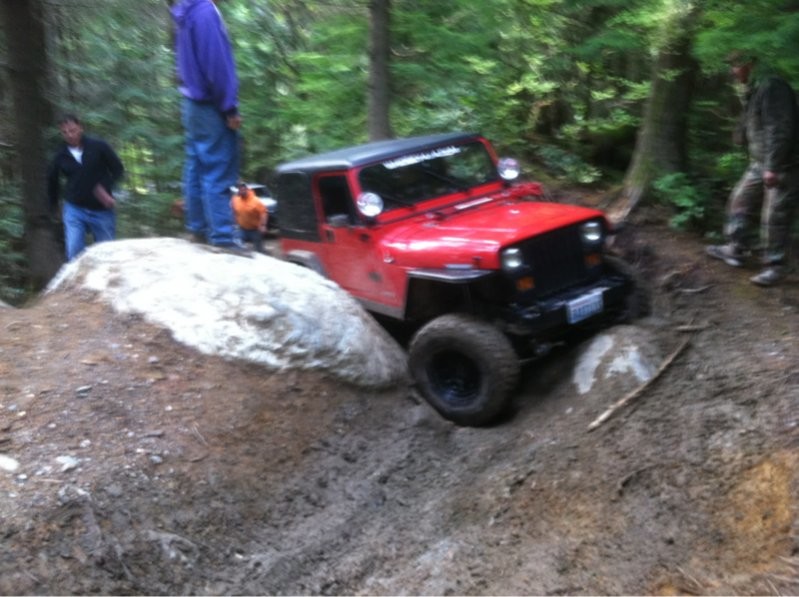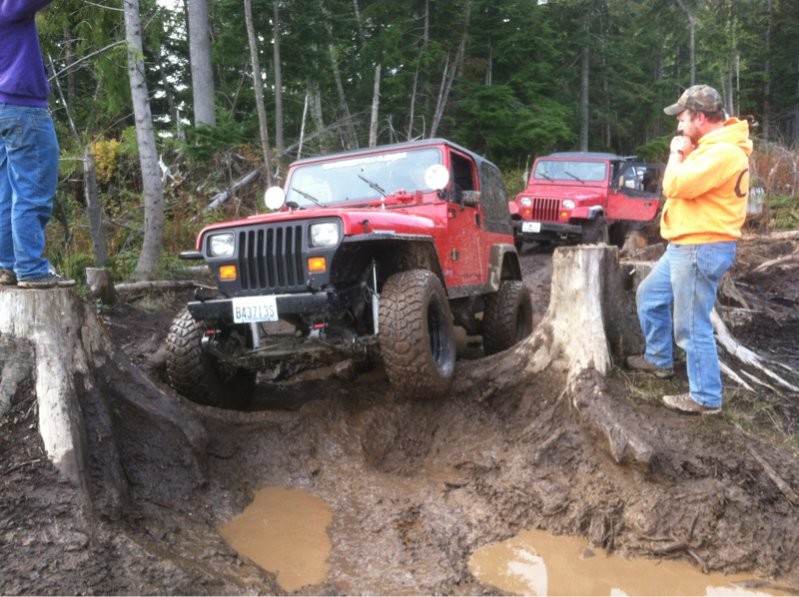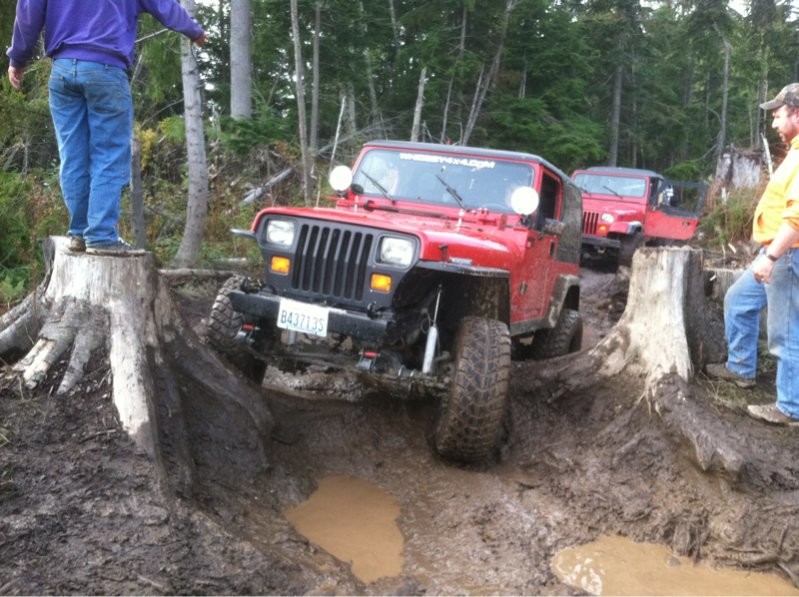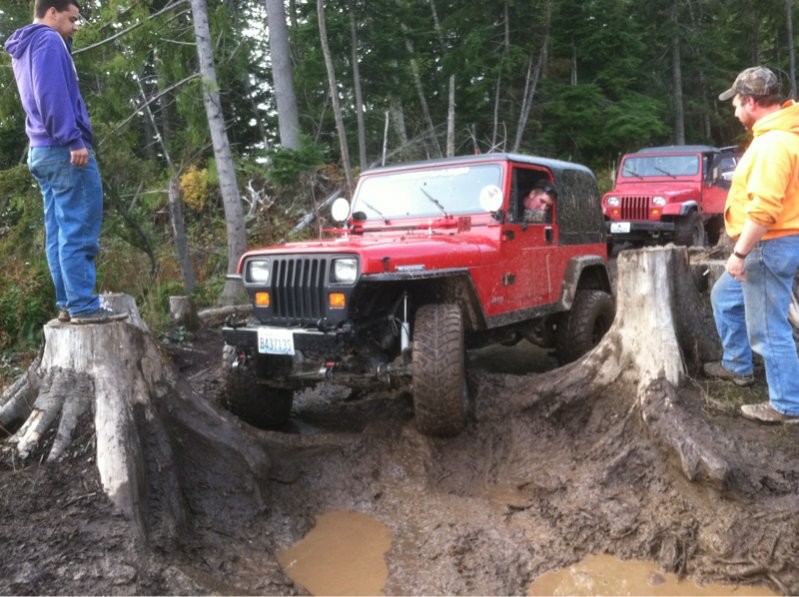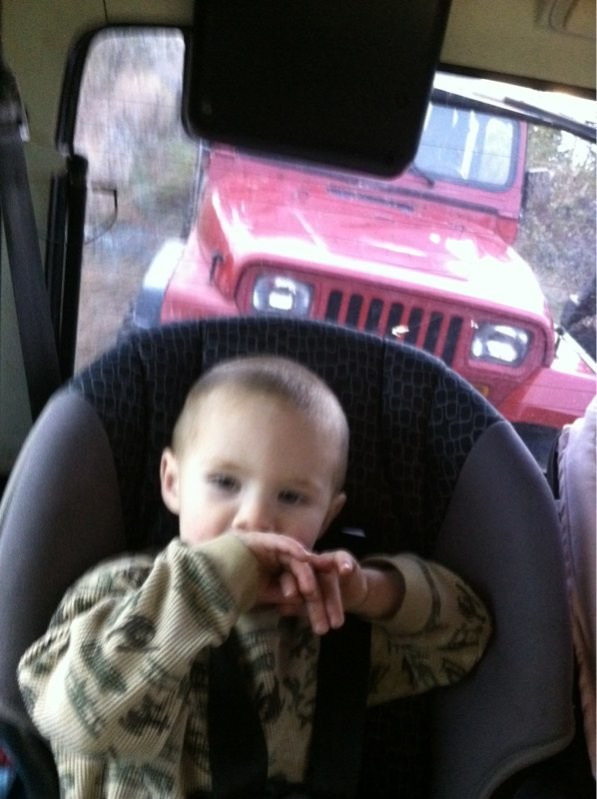 11-8-2011
Small update I just got a badland 12000 pound winch today. ordered a winch plate from rough country tonight and should have it by the end of the week. I will post up finished pic after its all installed.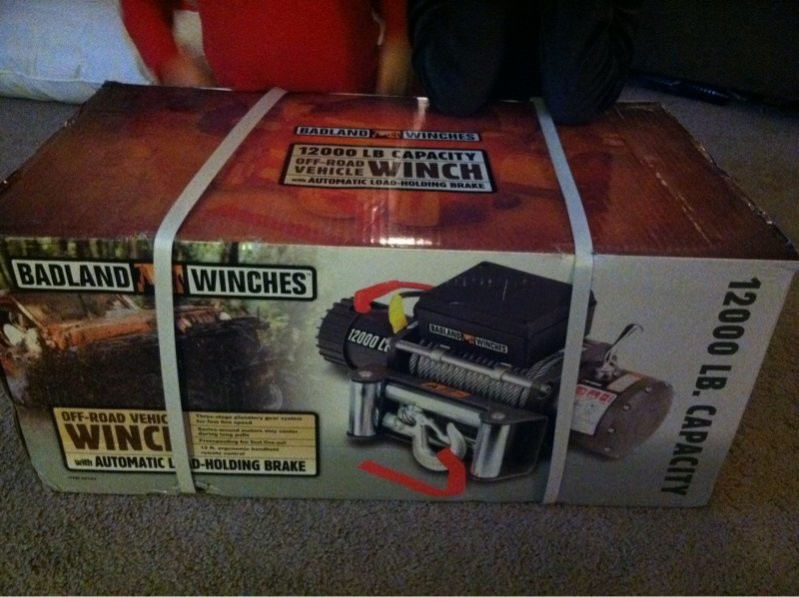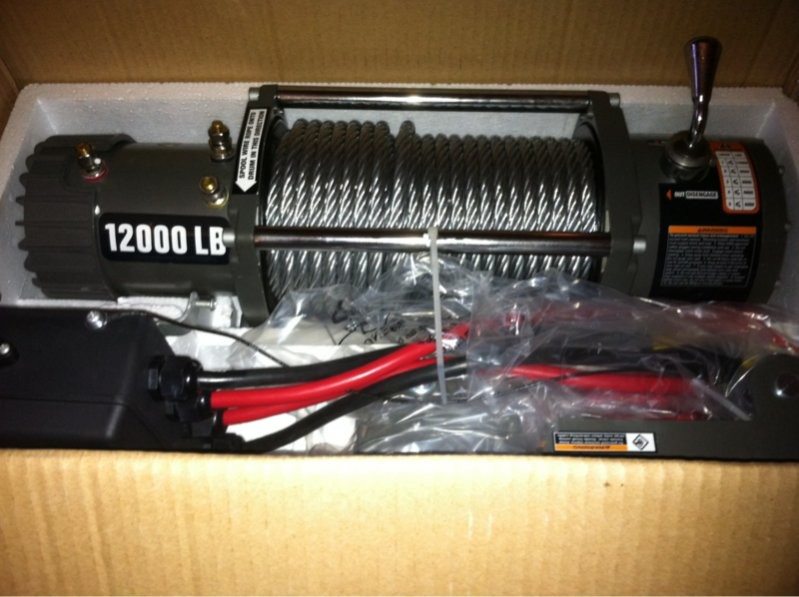 11-9-2011
Threw a shovel on my my high lift it's only zip tied on now does any one have any good ideas on how to Secure it for good?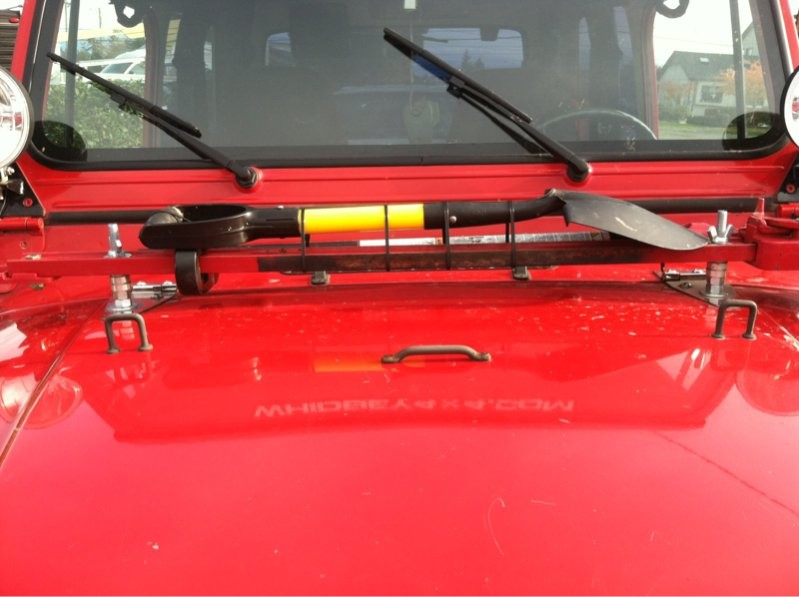 11-10-2011
Almost forgot I got my fire extinguisher mounted on the roll bar now it wount just roll around in the jeep!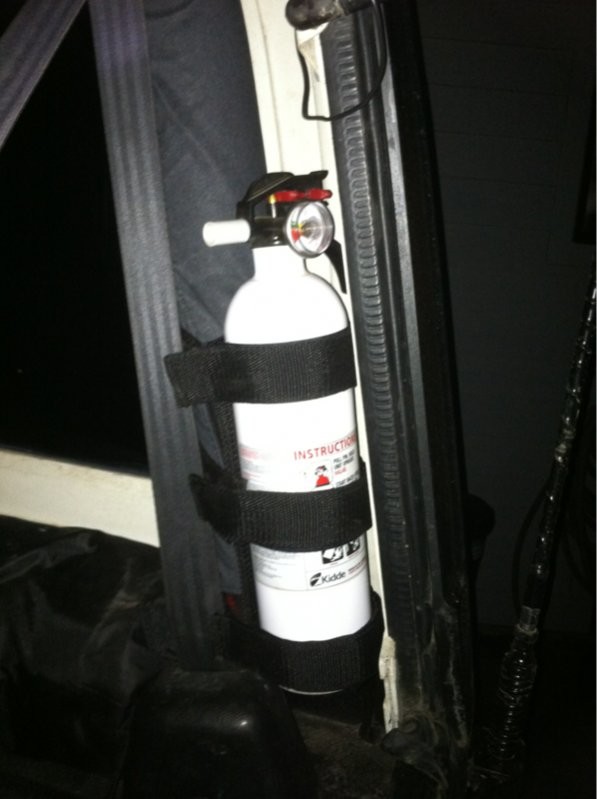 11-11-2011
Today I got my new ss put on the old one had no fluid left in it!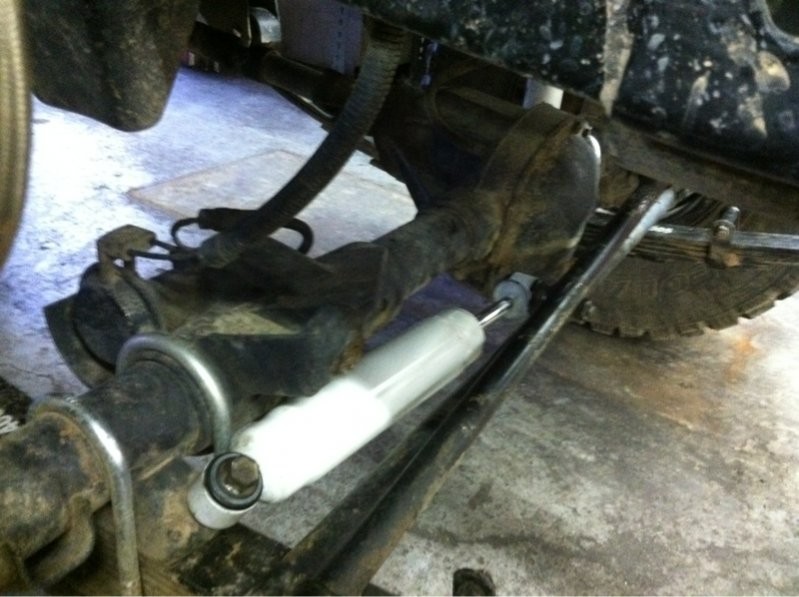 11-12-2011
So my new hood vent thing came today.......I hope I put it the right way I kept reading it's better to face it towards the window! I will post up if it helped with my air volume comeing from the heater!
Oh yeah I also picked up a 6 foot strap today at harbor freight to use as a tree saver!
Sent from my iPhone using JeepForum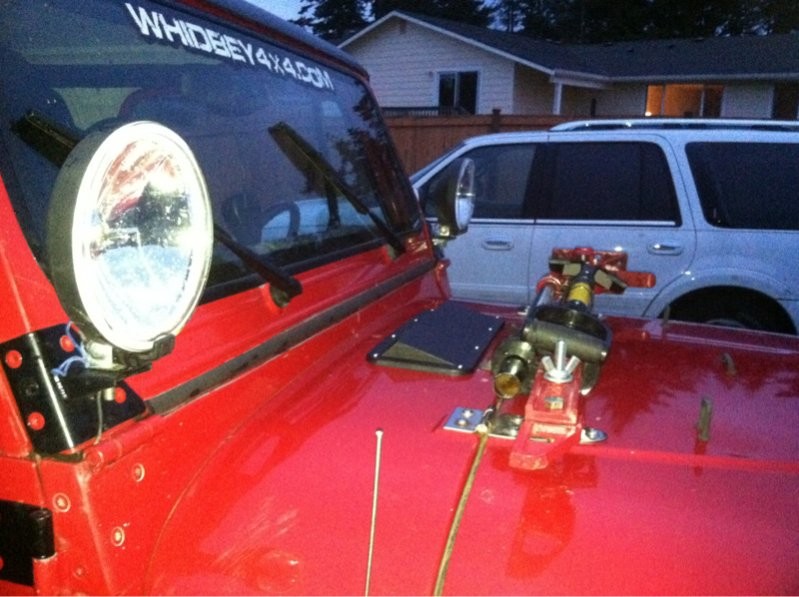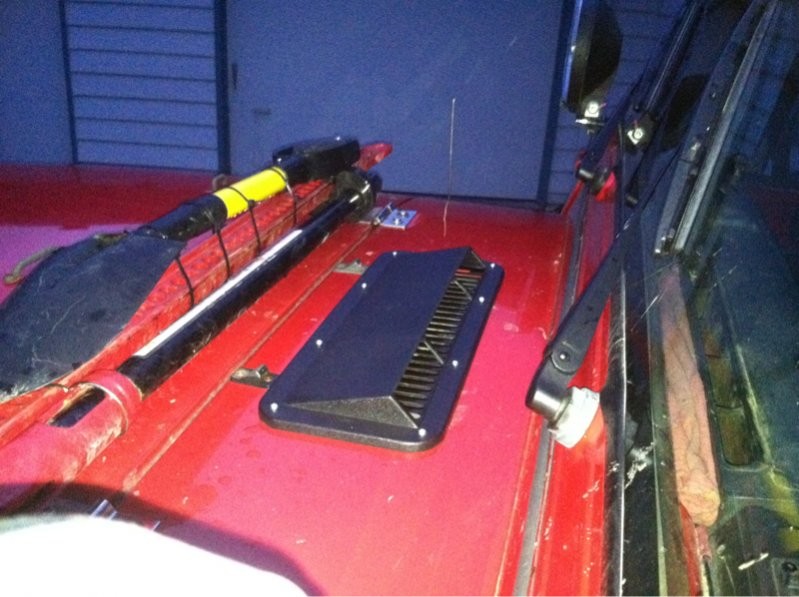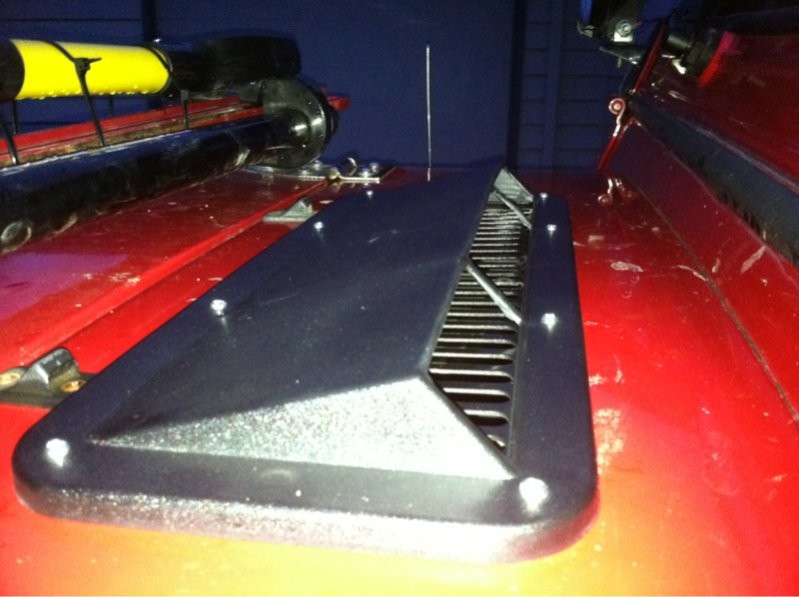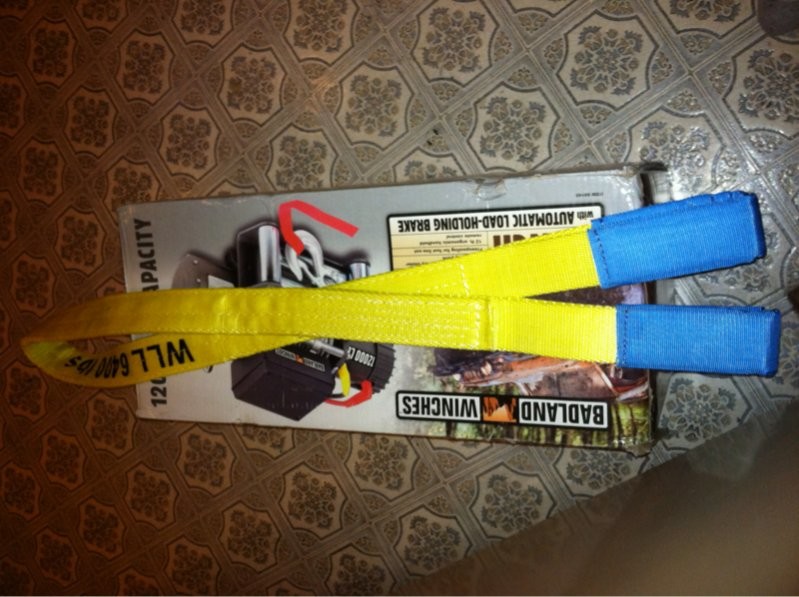 11-14-2011
For those who want to know if the vent scoop really works let me tell you it does. Me and the wife and kids went for a drive and man o man did it heat the cab up I even had to crack the window! It seems to blow harder and hotter if that makes sense! On a side note I finally painted the hood hinges black and hosed the inside and outside off to get rid of all the mud from last weekends trail run!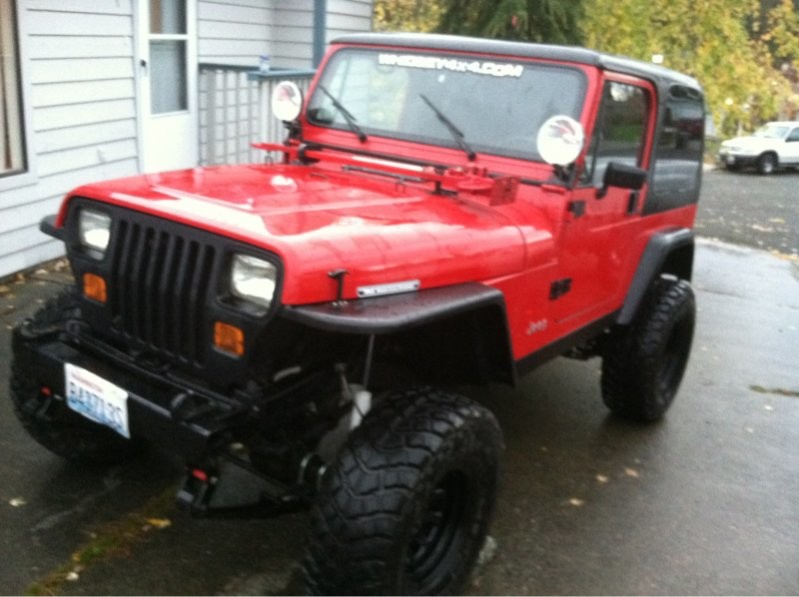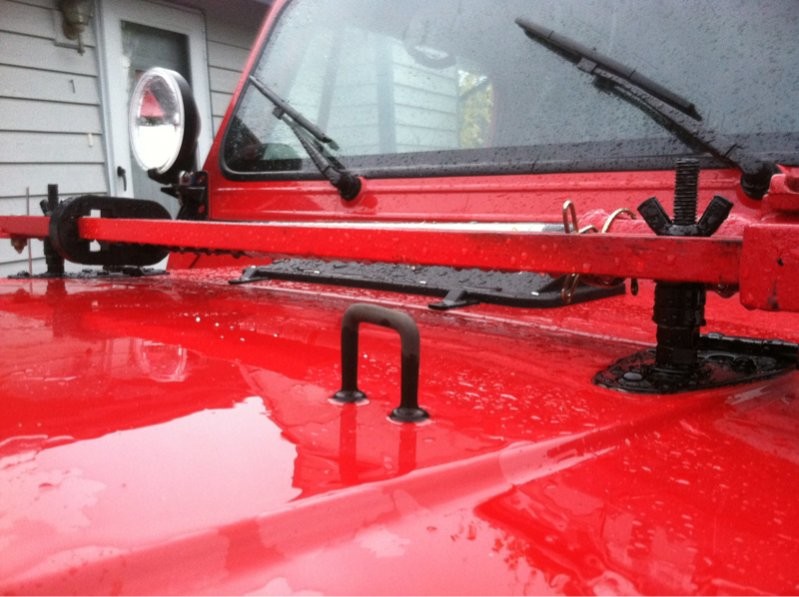 I got my rough country winch plate today and installed the winch! I also painted the yellow shovel red and mounted it to the high lift with valcrow straps it in on the there good and solid, I am not worried about it comeing off in a roll over seeing how that would be the last of my worries!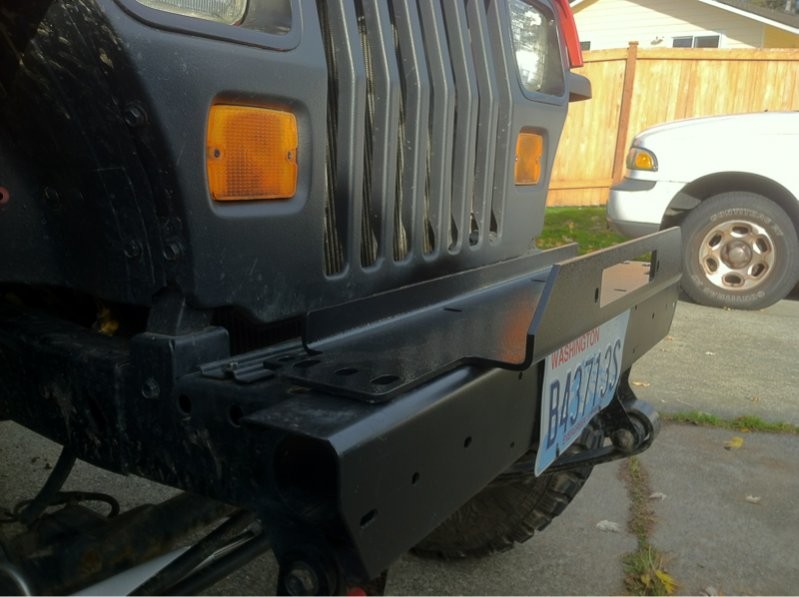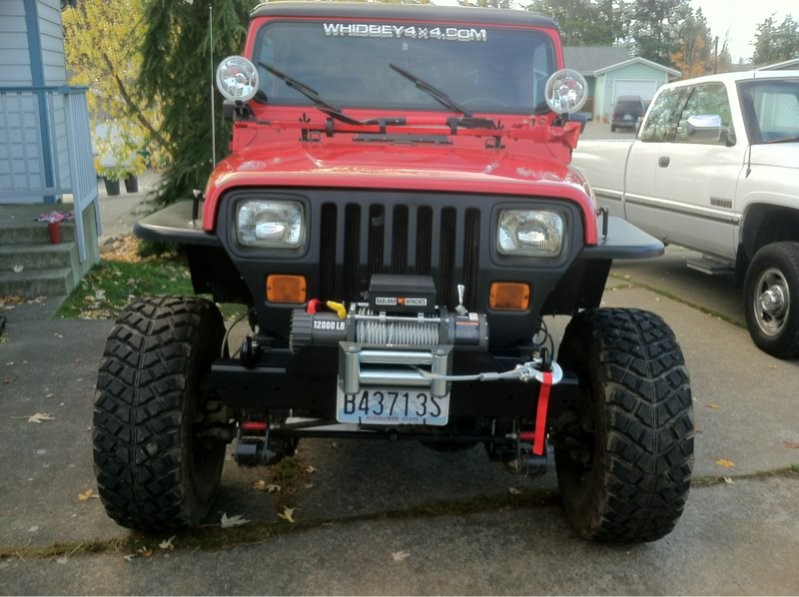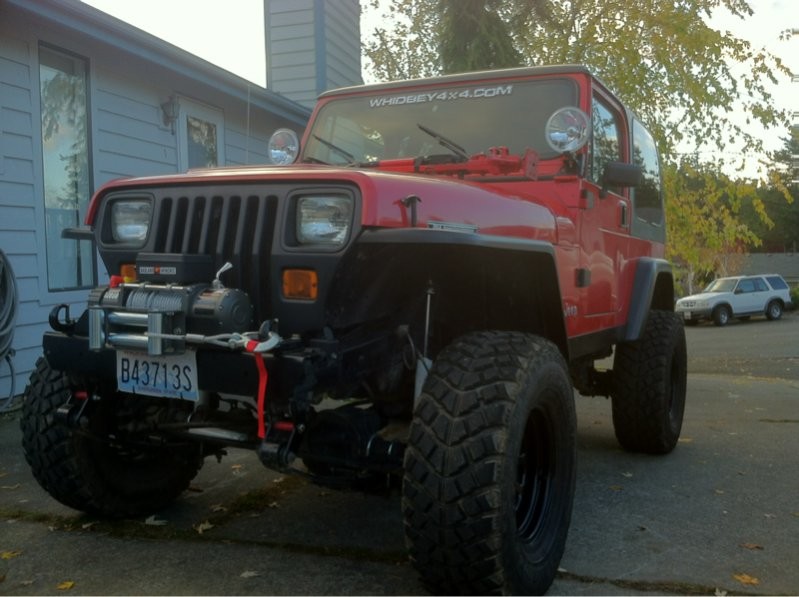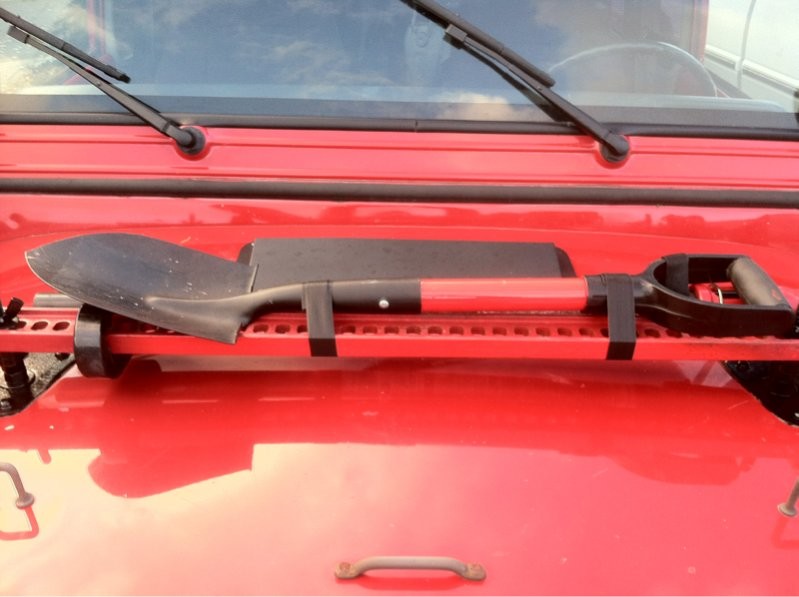 11-22-2011
They ride great but then I don't have track bars or a sway bar! On the side note today I fixed a mess up by the po of my heep when they put the old rc lift (got rid of that crap) they put the wrong size bolt in the springs hanger witch ovaled it out, I found this when installing my fabtech spring but did't have time to fix it. it really drove me nuts because it would sqeek at every bump in the rd (and was really annoying off road) be cause the bolt would walk around in there. so the fix was to weld grade 8 washers to the hanger so now the bolt stays still and no more sqeek!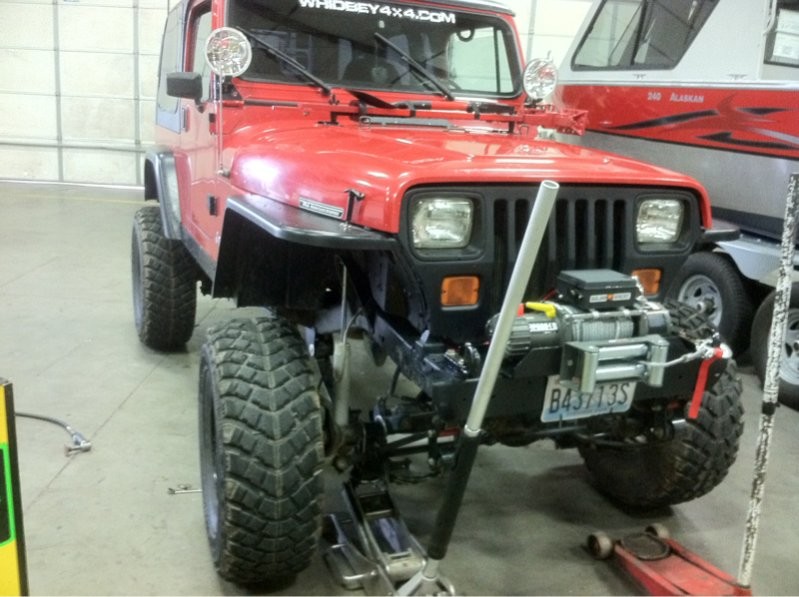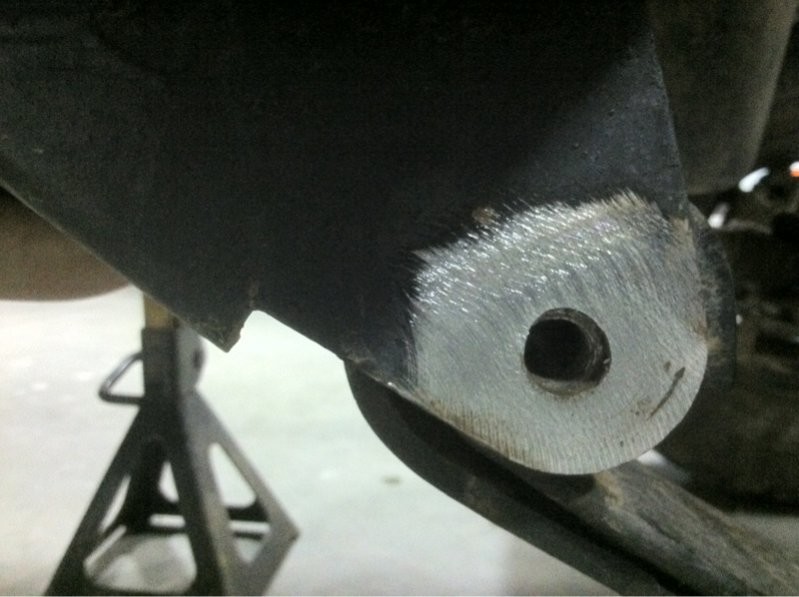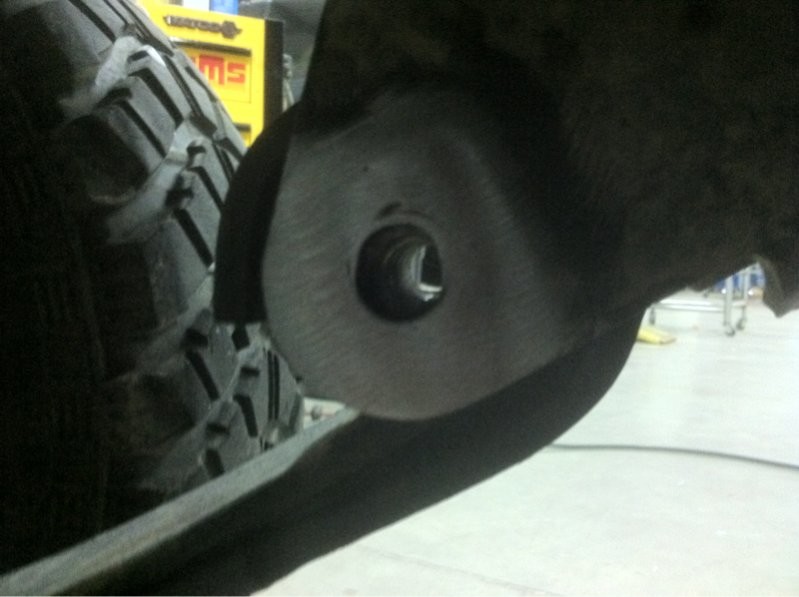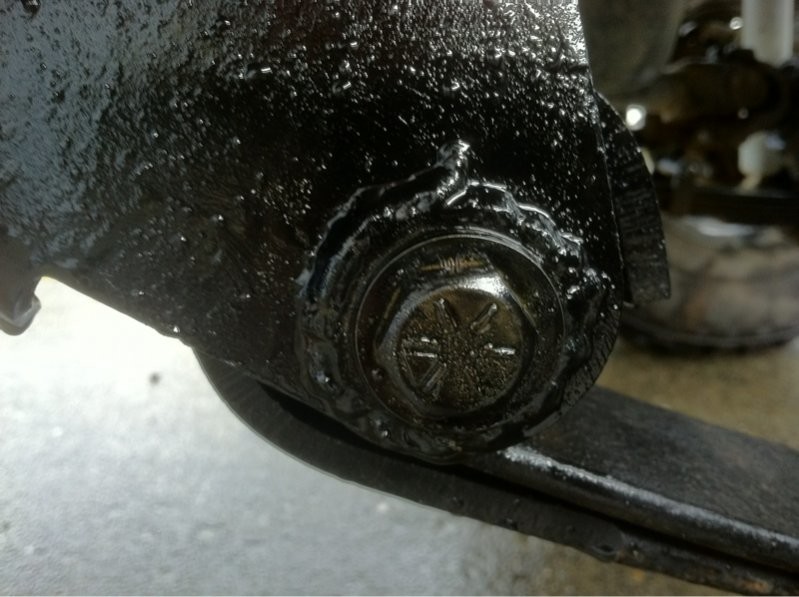 11-27-2011
I traded my Yokohama's for a almost new set of of old style mtrs today! I am starting to start think about staying at 33s do yo guys it would look better if I drop the 1.25 bl and stayed with 33s?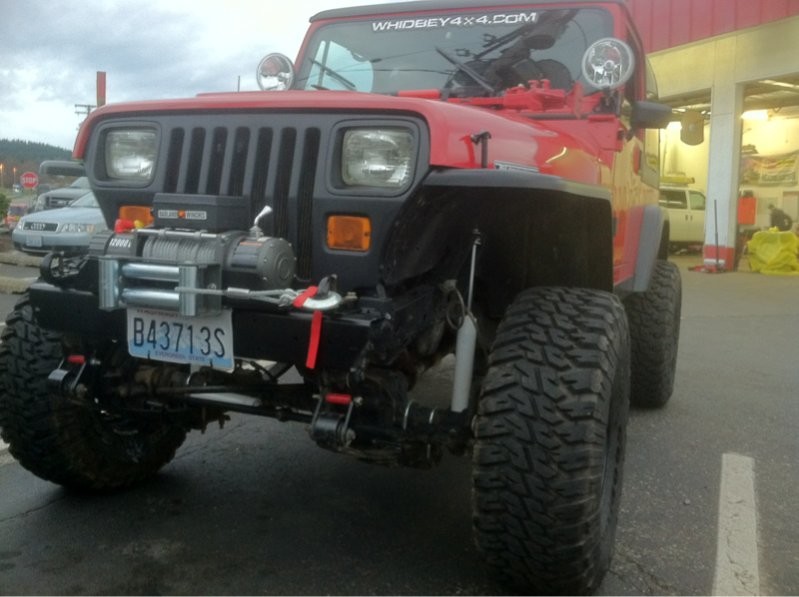 11-28-2011
So today I went wheeling up at walker valley orv park with erick (91BoD) had a great time it was really nasty up there (wet and muddy) so I got to use my winch a little! the trail damage for the day was a nice dent in my skid plate and a rr broke spring! so any way now I am looking into takeing out my almost new broken fabtech 3.5 springs in favor off 3 inch old man emu springs what do you guys think?

and 91BoD if it is't any trouble could you post up so of the better pics of us today thanks man!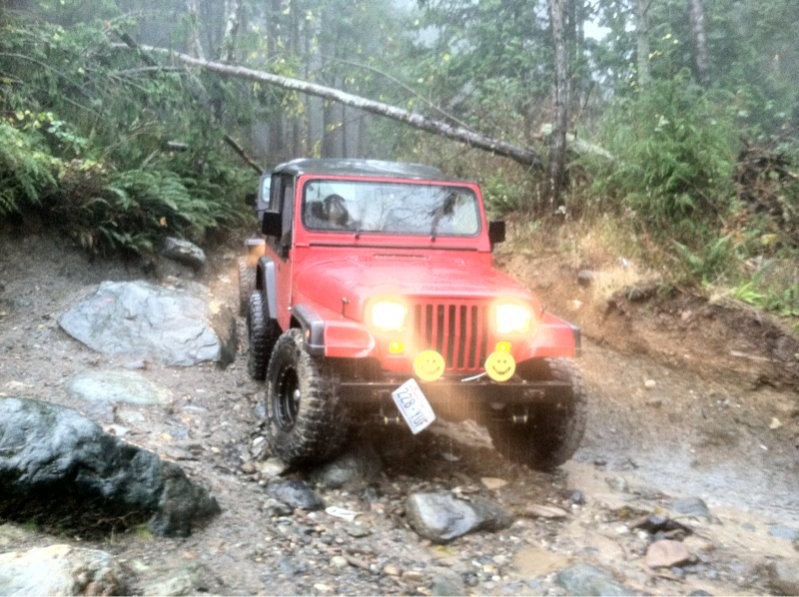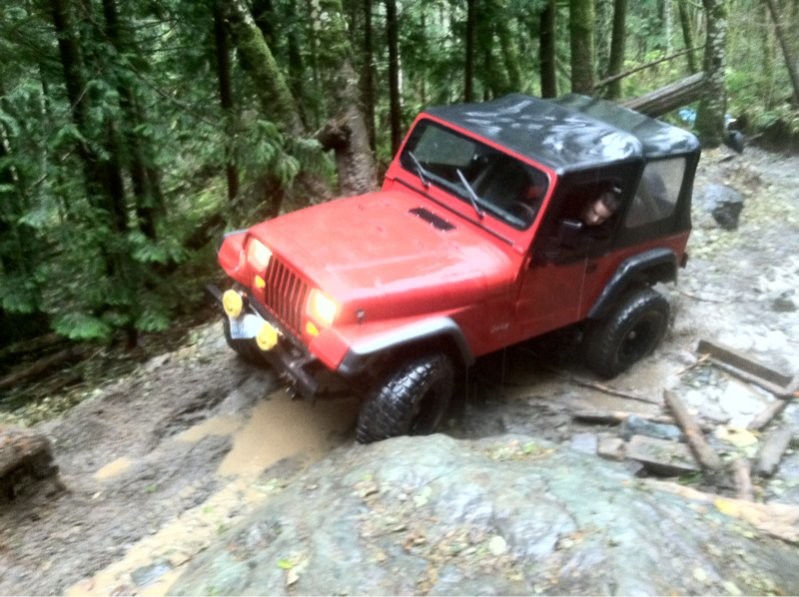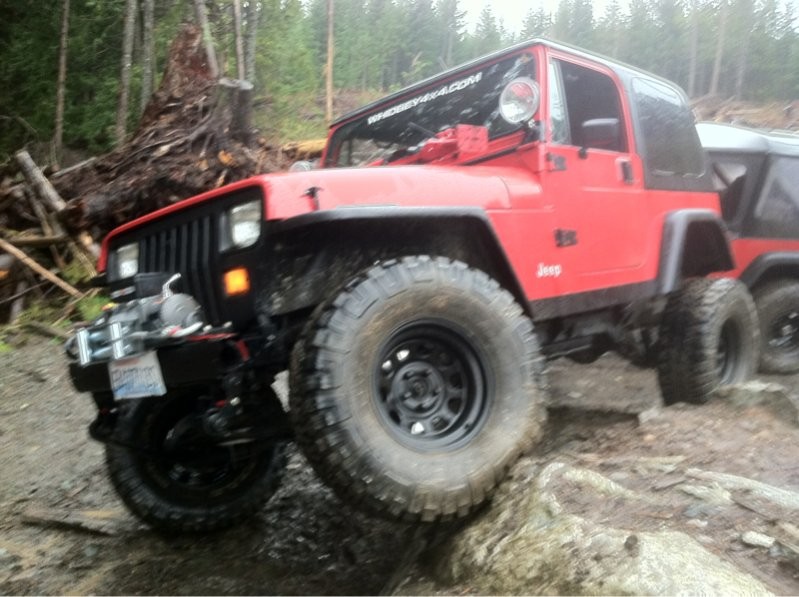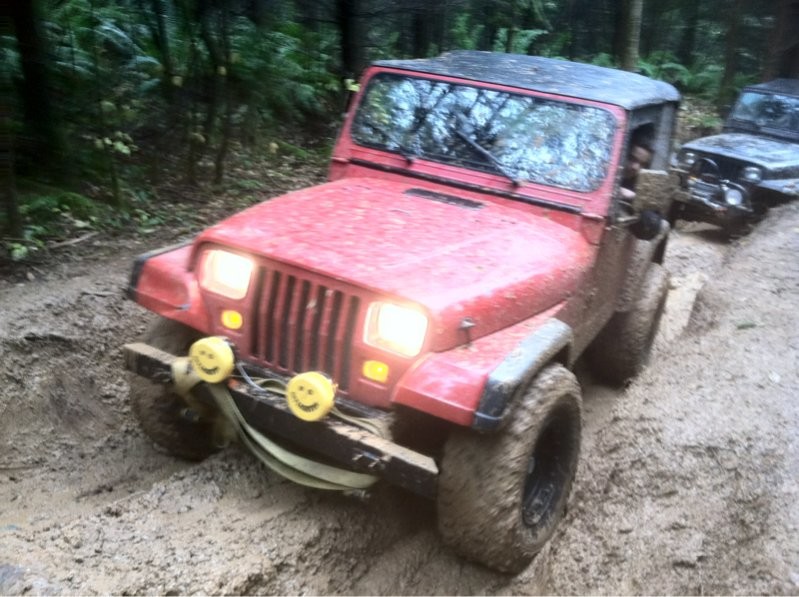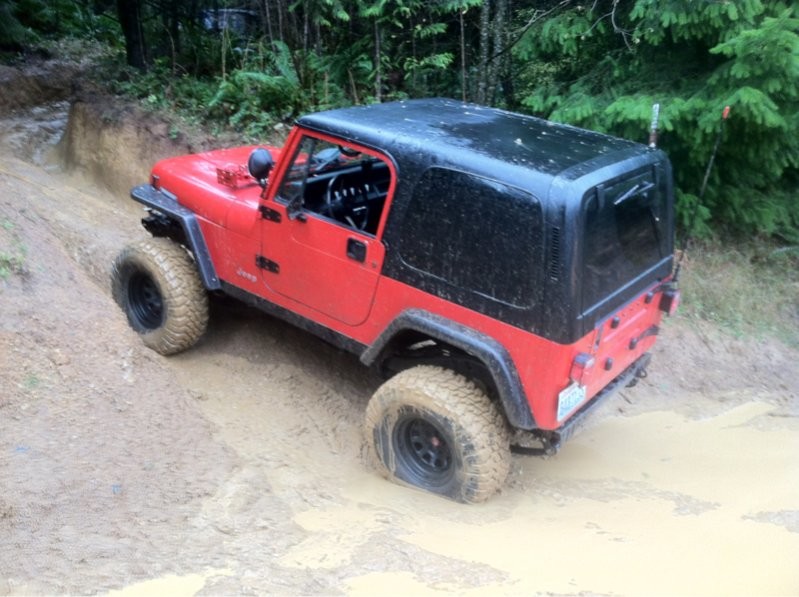 11-30-2011
So I got my new leaf today and also got installed! I love haveing lifts at work! Any way I really need a new tcase skid I am getting really bad vibes now that my skid is makeing tranny sit funny. Whats a good upgrade that can take a little more. Eating than the stock skid?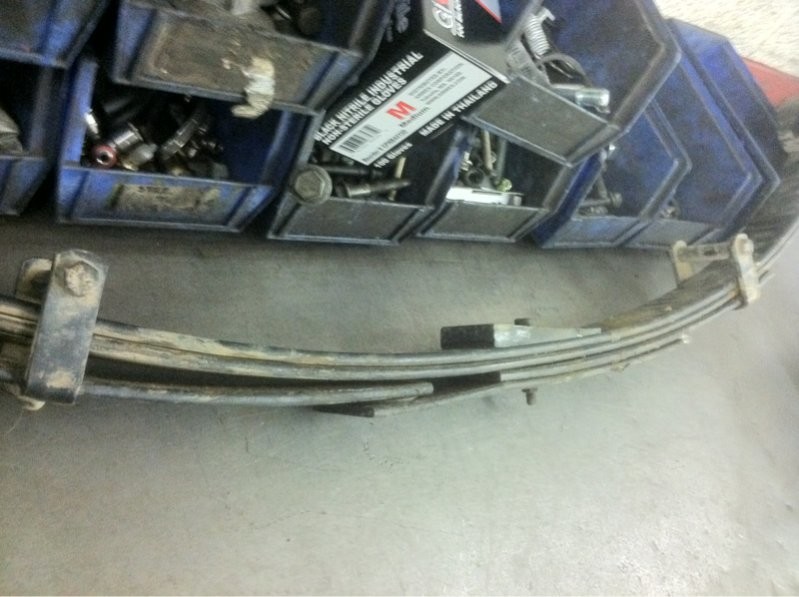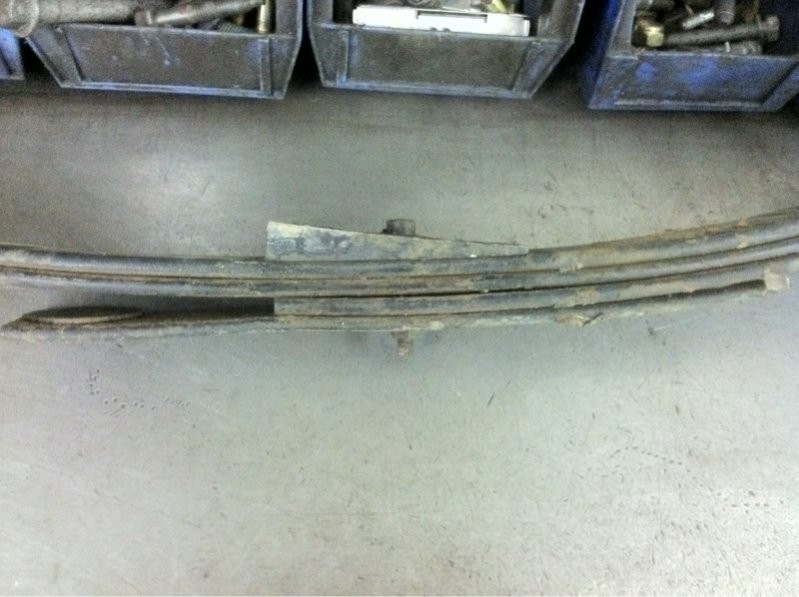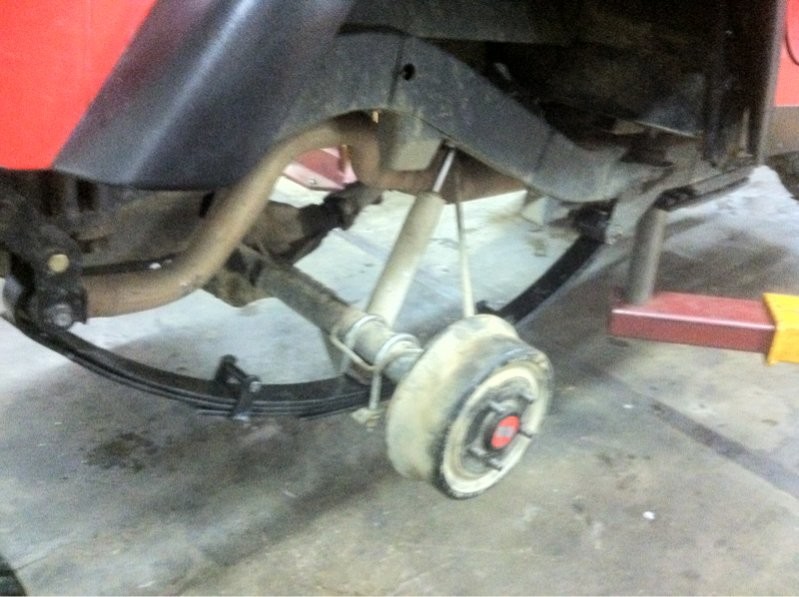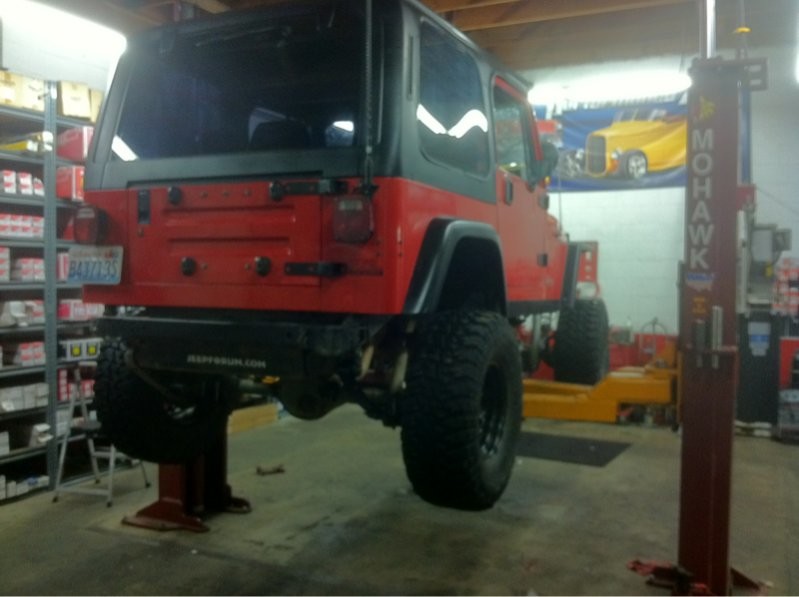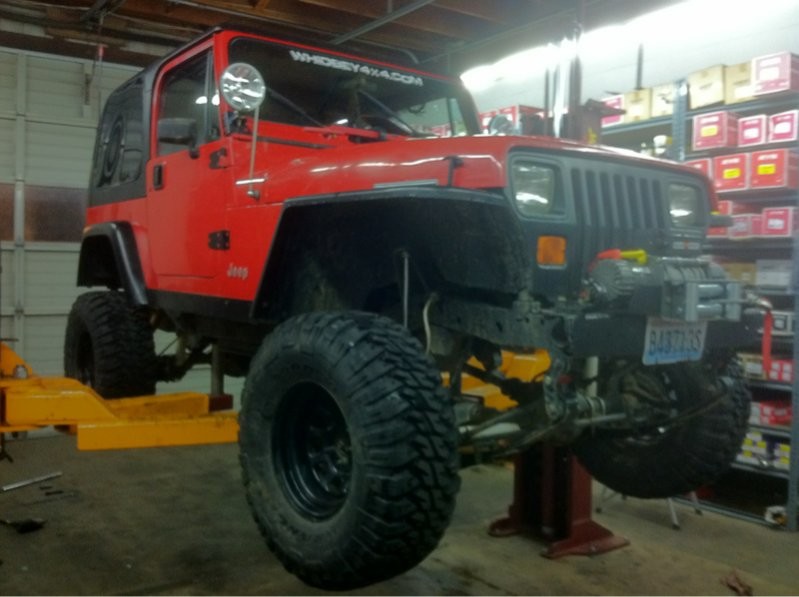 Note really a update but last night I posted my hard top up on craiglslist if it sells I plan on buying the softtopper for the jeep
12-2-2011
So I picked up a new tranny mount and new torque arm bushing now all I need is a new skid plate to finish fixing up the damage from last Sunday! On a side note I will be takeing my bodylift off tomorrow!
I took the bodylift out this morning what do you guys think about the new stance?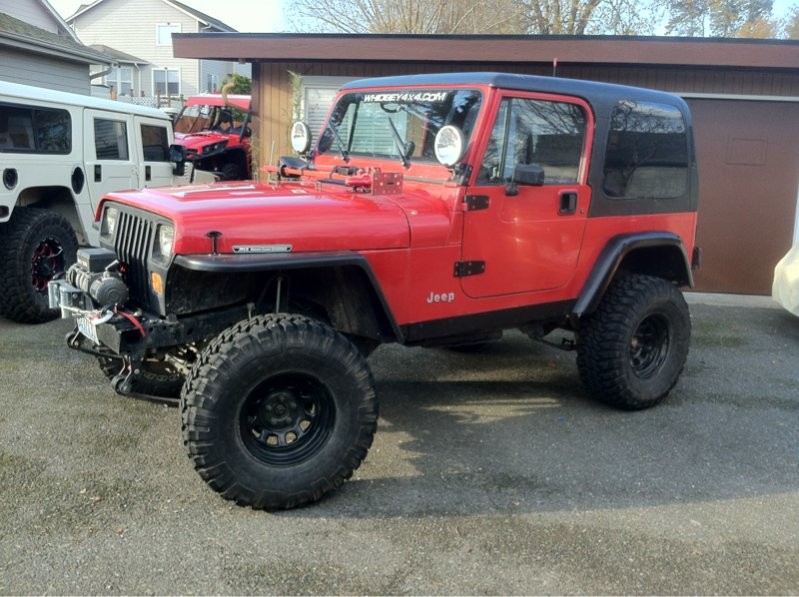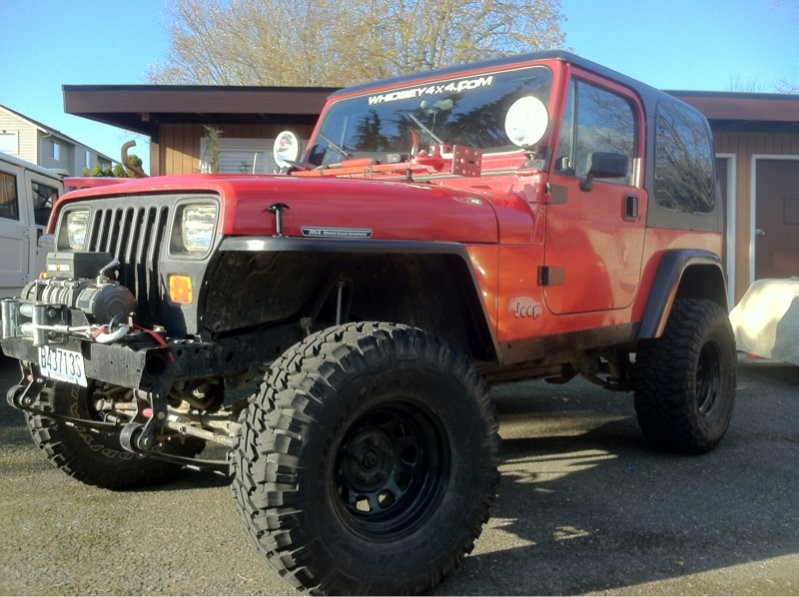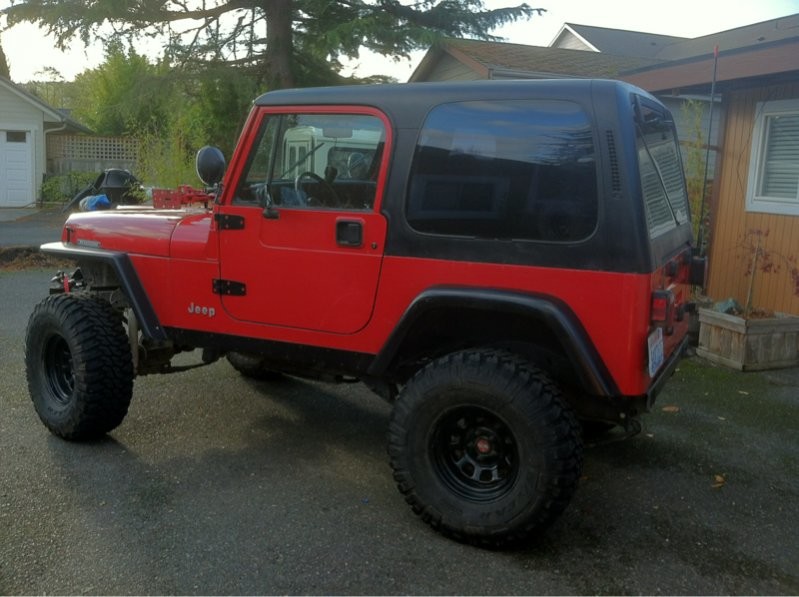 12-3-2011
So besides taking my bl off today I went to a local Offroad shop/wrangler grave yard and picked up a new skid, and a under the hood fuse cover and also the thing that spreads the heat/air at the floor,and currie e-z deflator! I hope to have the skid on tomorrow!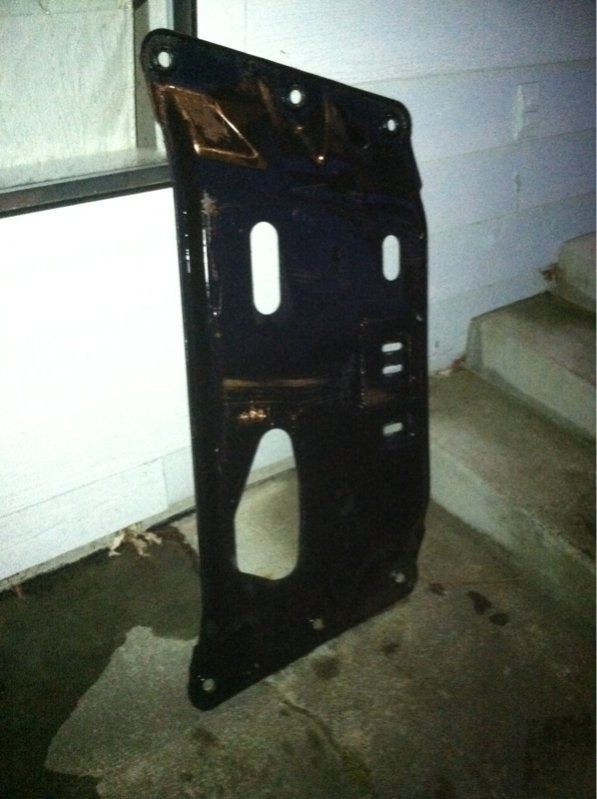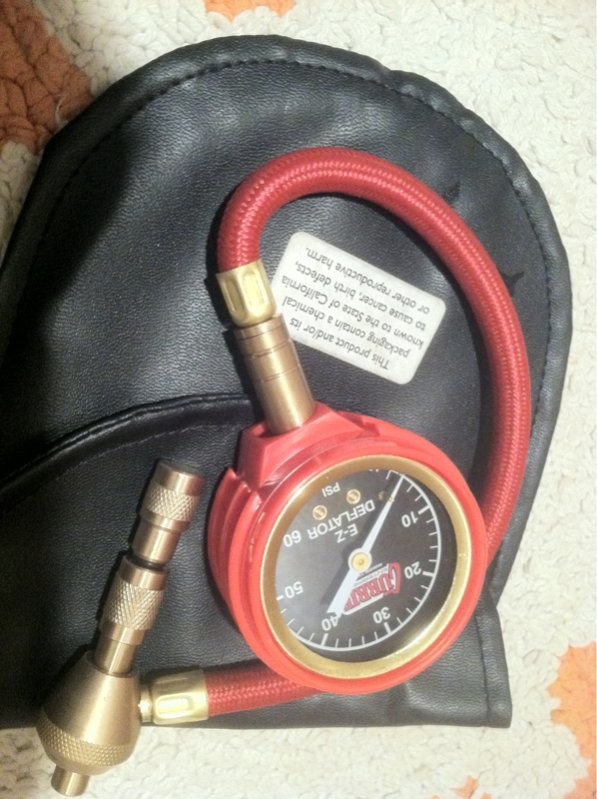 So today I got my new skid plate,tranny mount and torque arm bushings installed so no more vibes......and since it was on the lift at work I change the engine oil, rear diff oil and topped off the tranfercase ATF. After all that I want to see if I am going to rub now with the bl off so I flexed it out with the forklift all in all a pretty productive day!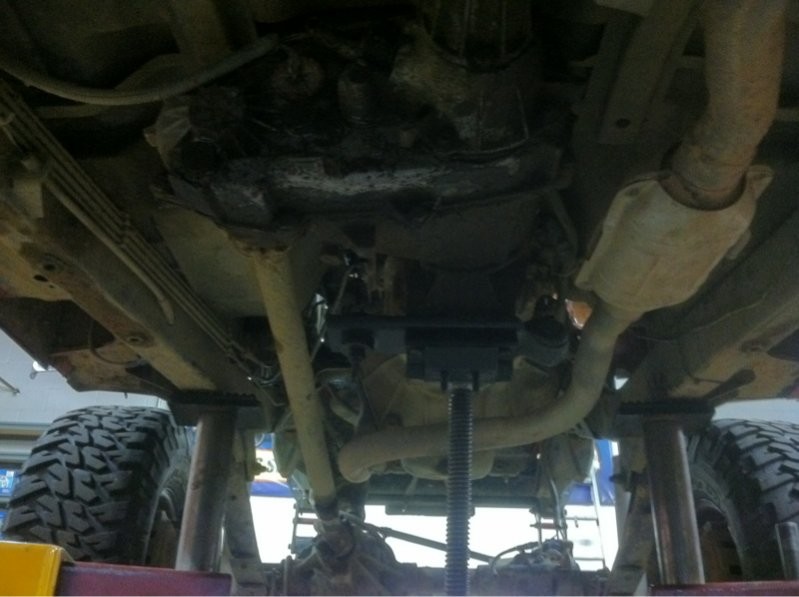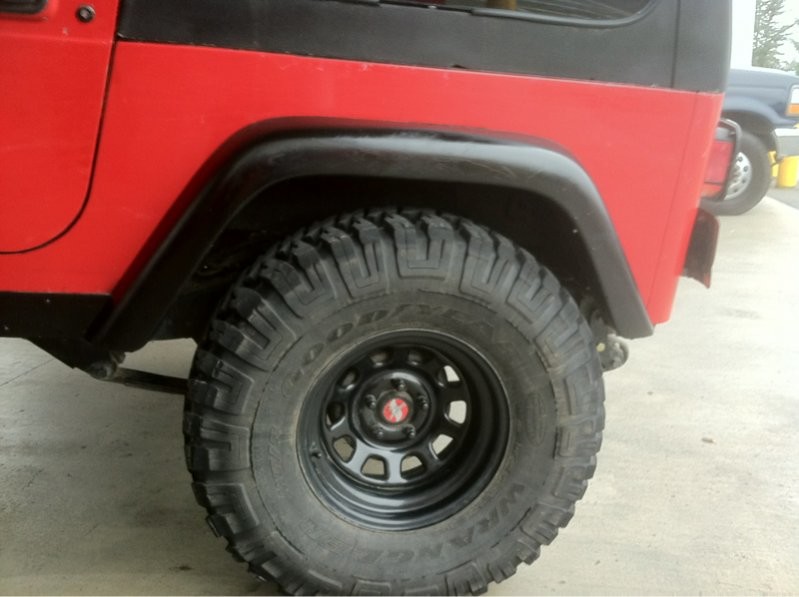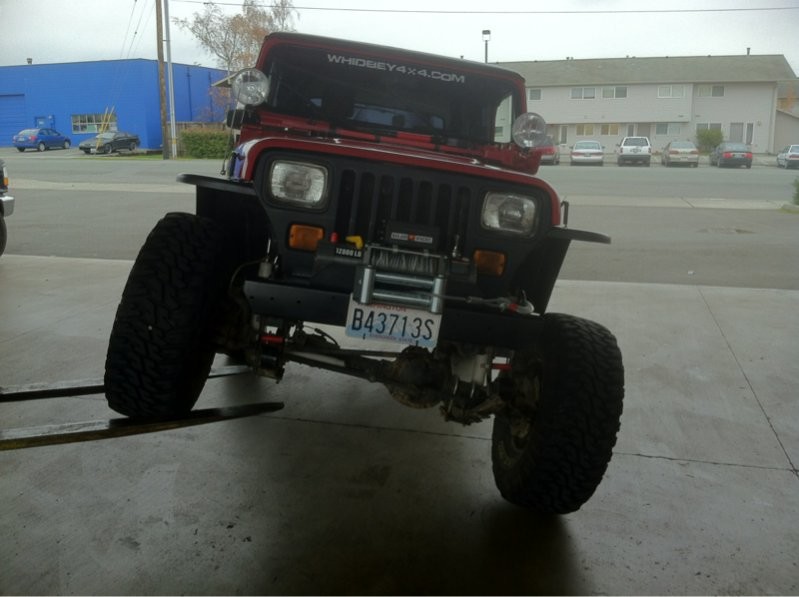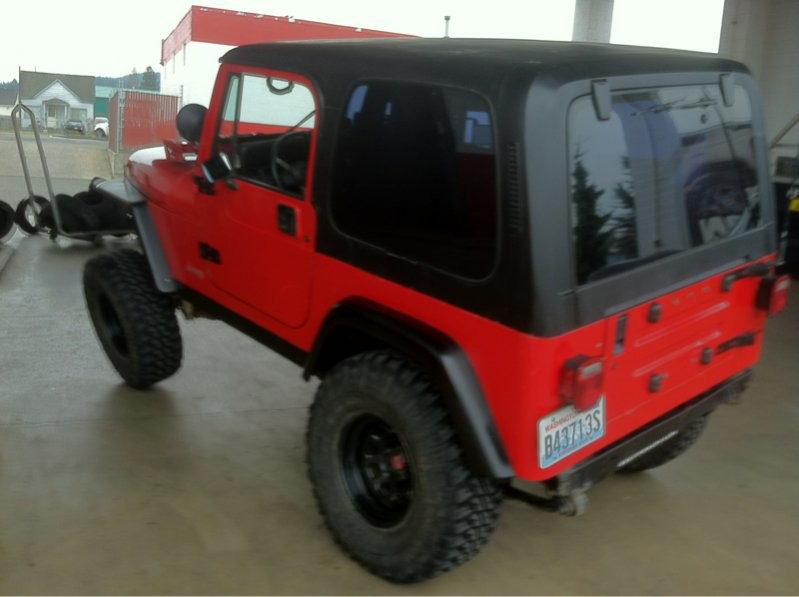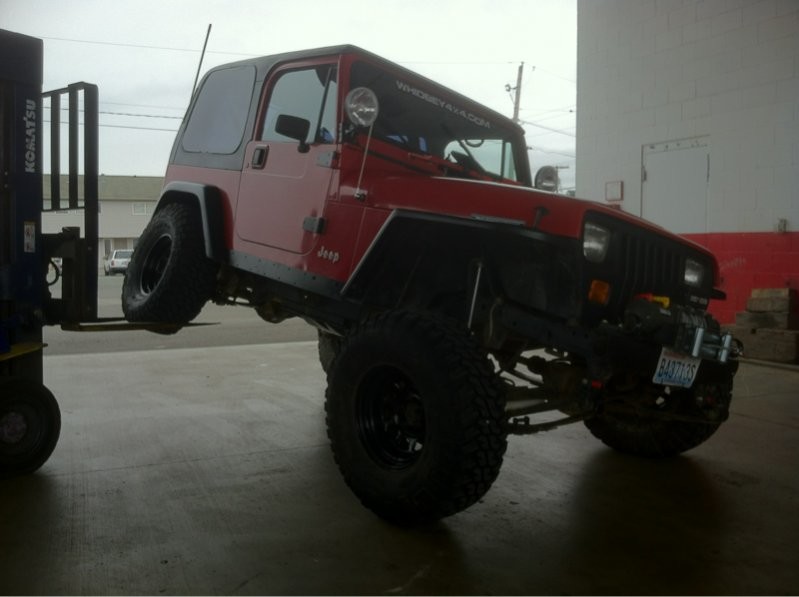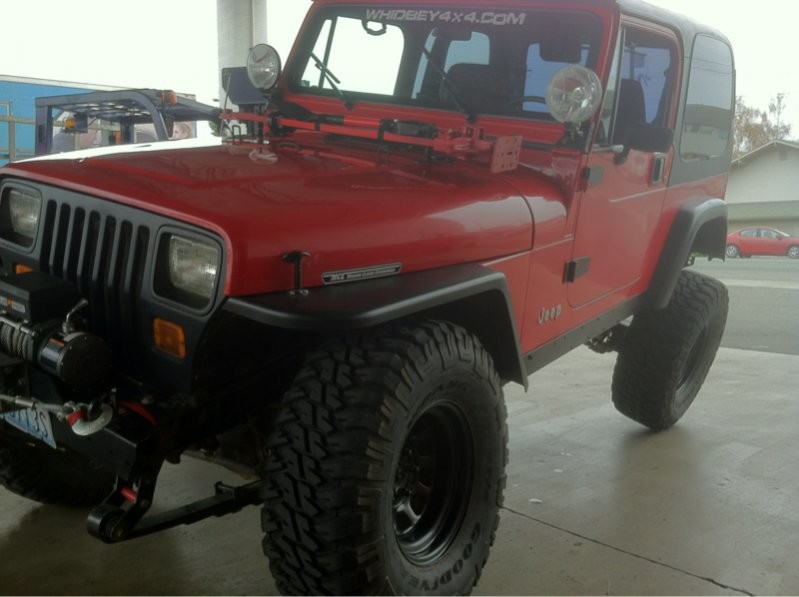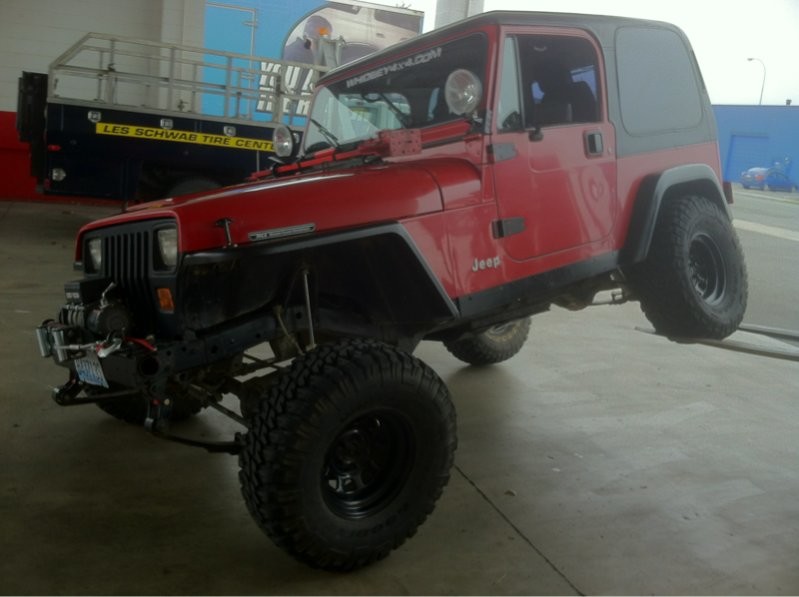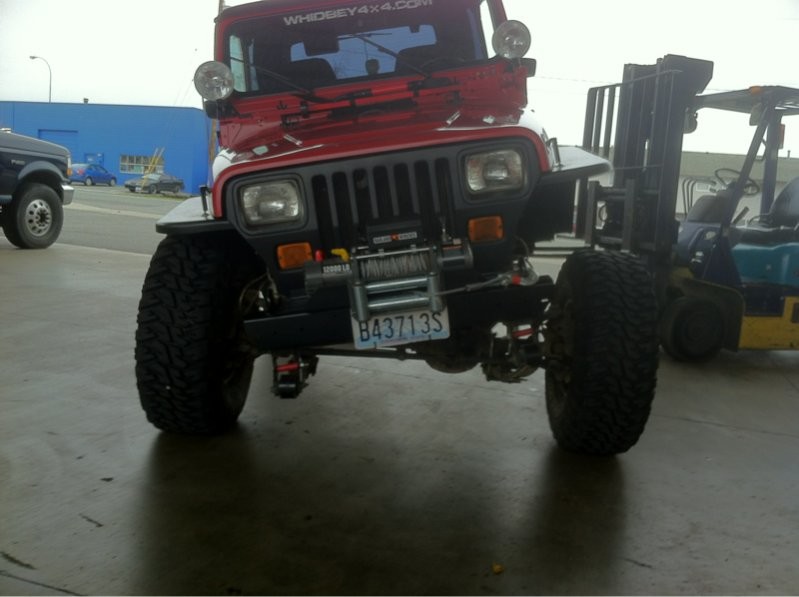 12-7-2011
Thanks! So my update for today is I sold my hardtop today for 550 and I should be ordering a softtopper Friday! And I also changed out my bad motor mount!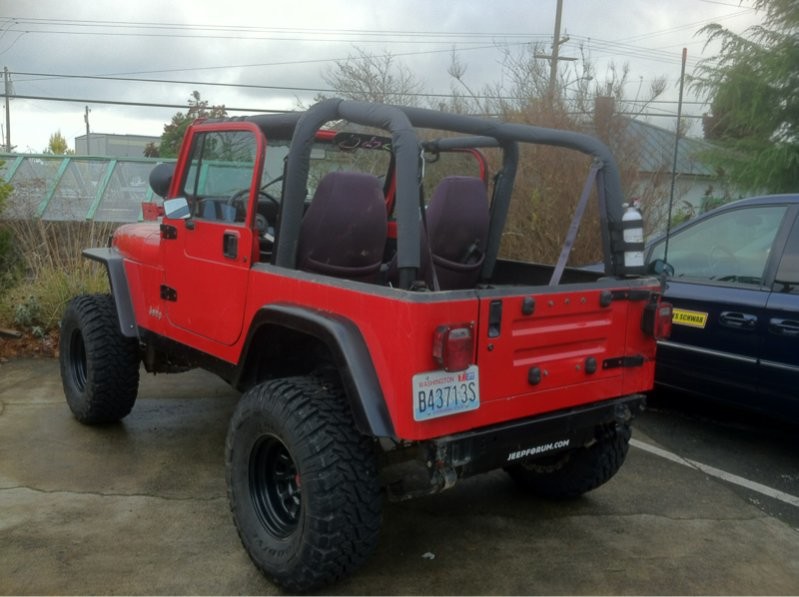 12-8-2011
Today I had my flowmaster 44 taken of my rig and had a magnaflow installed. the fm made my little 2.5 sound to ricey and drone to much for my taste! The jeep reminds me of a wrx how it sounds now!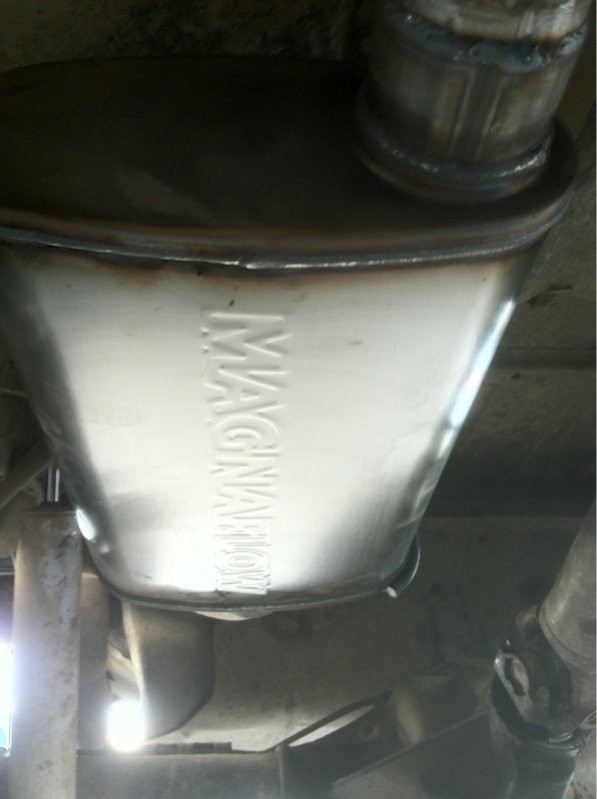 12-10-2011
So I ordered my soft top today I should have it weds!
12-14-2011
I changed out my ax5 fluid today! I had a shop change it out about 4 month ago and was't sure what the put in it. All I knew was it was hard to shift in the morning when it was cold so I change it out for some redline. It looks like it was just gear oil in the tranny Wich from what I hear is a big no no. Any now it shifts a lot better and on the bright side my softtopper should be here tommarow!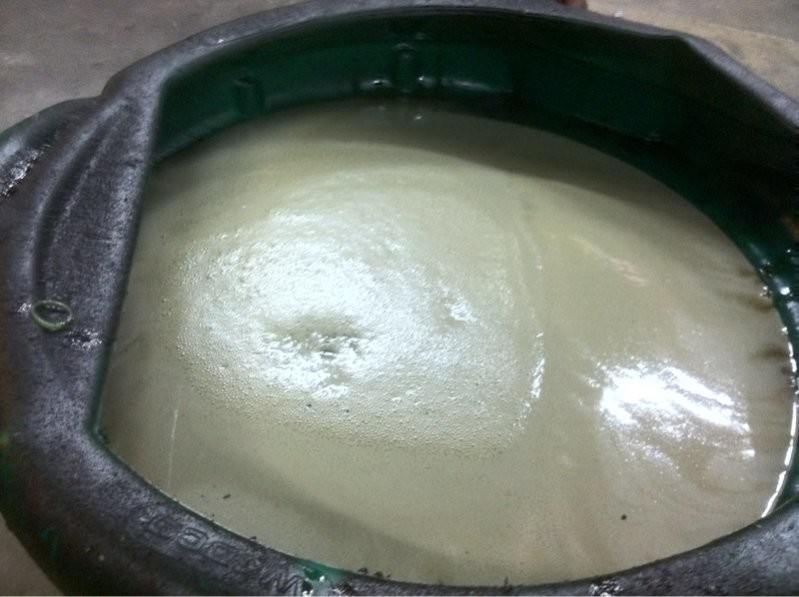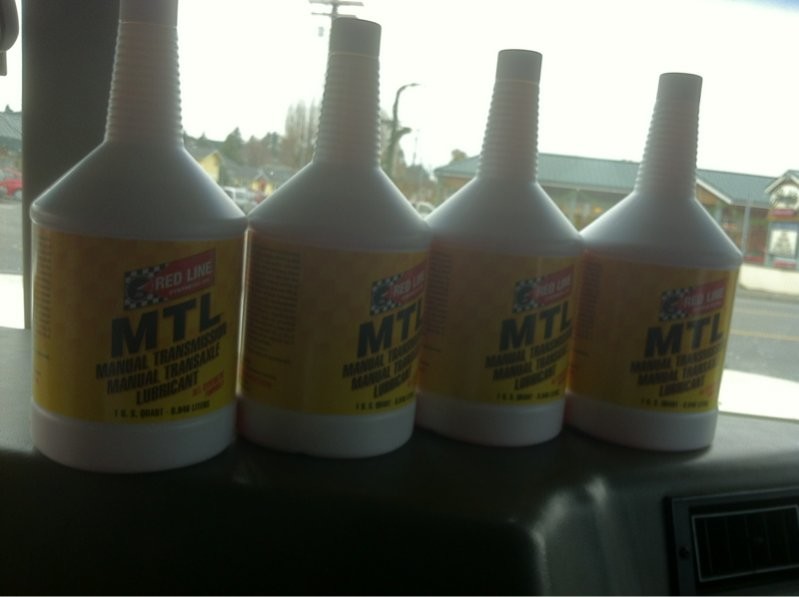 12-15-2011
So I got my softtopper today via ups and got it on for the most part! I still need to do a couple adjustment to it but I really like the way it turned out I will post some pics of it tomorrow because it to dark to take any now! Also I traded my old safari top for this brand new G2 diff cover for my super thurdy five!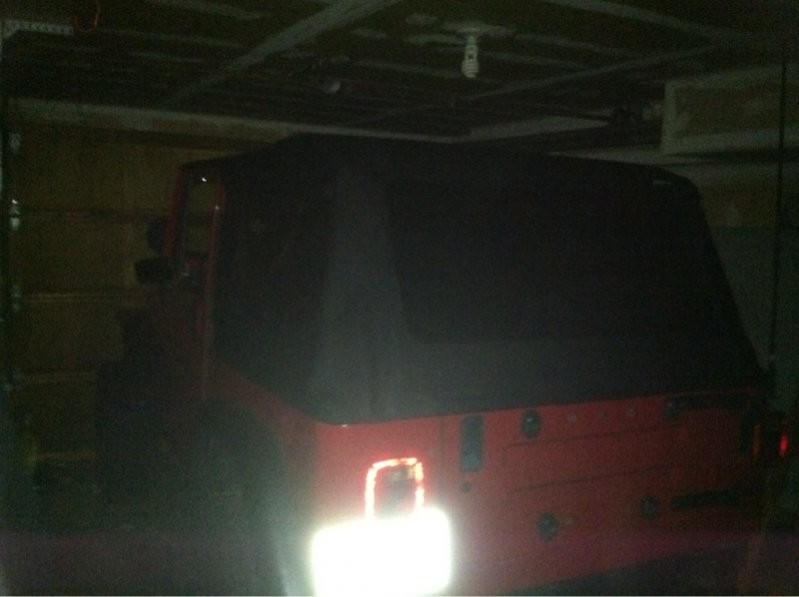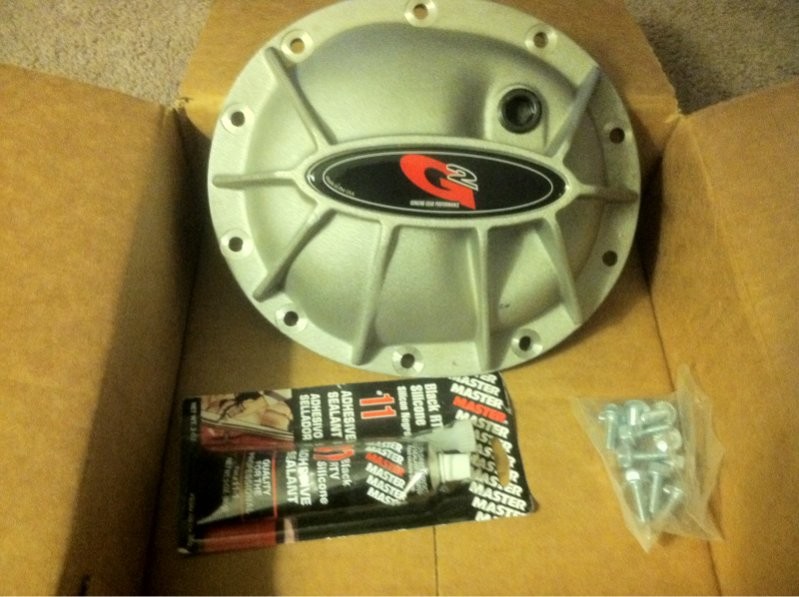 Here are a few pics of the new top! What do you guys think?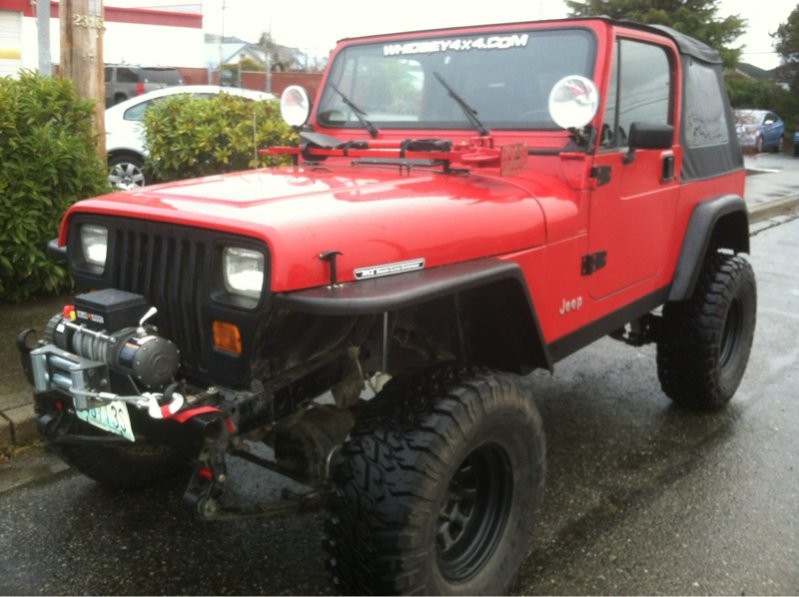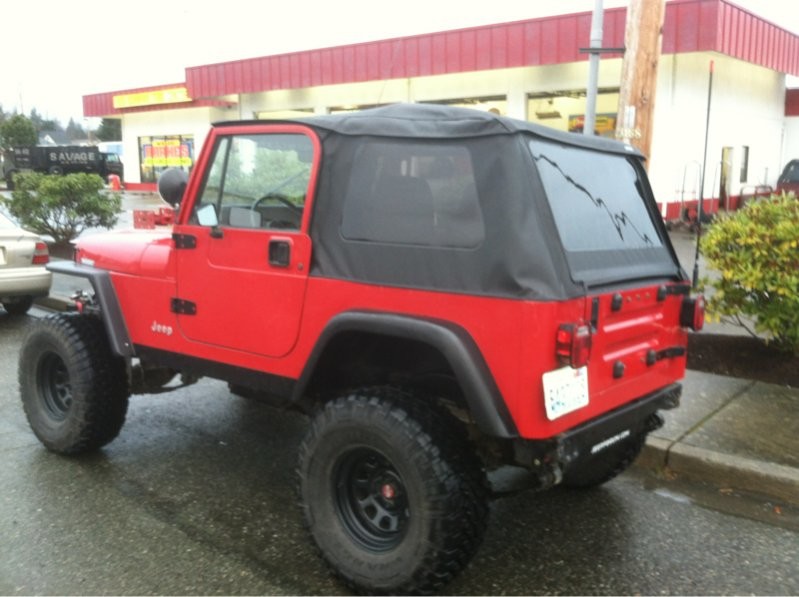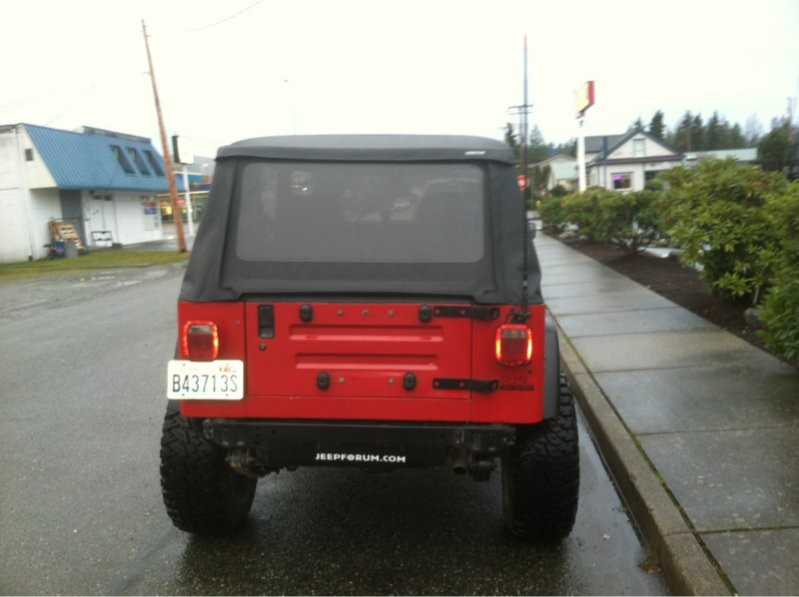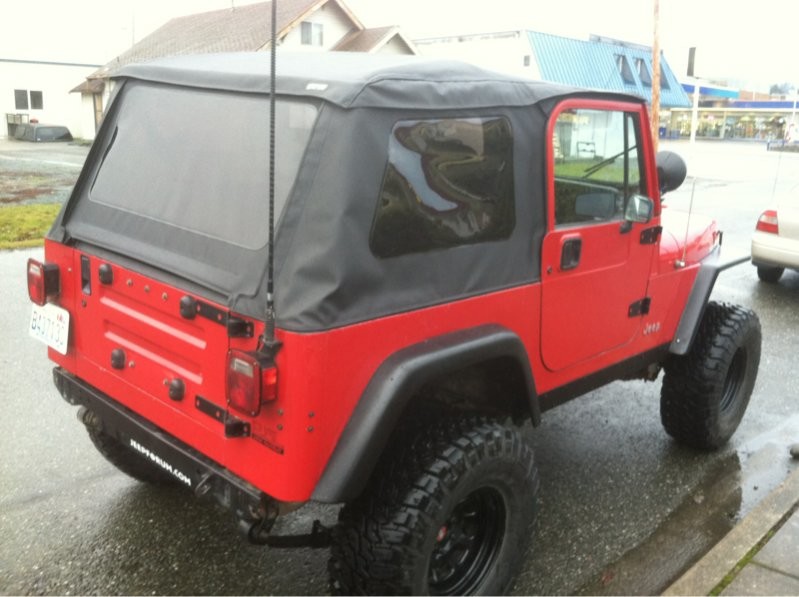 I installed my new cover today on my lunch.....with this cover on it holds almost a quart more of diff fluid in it!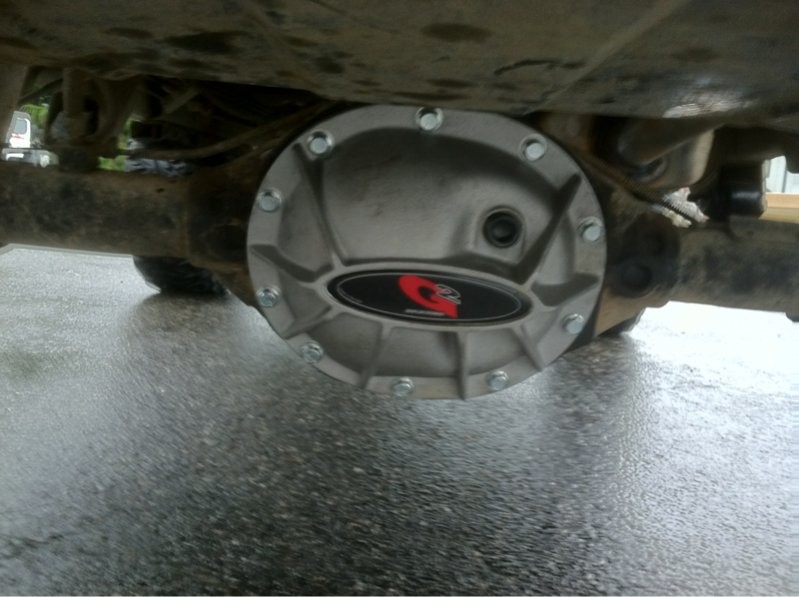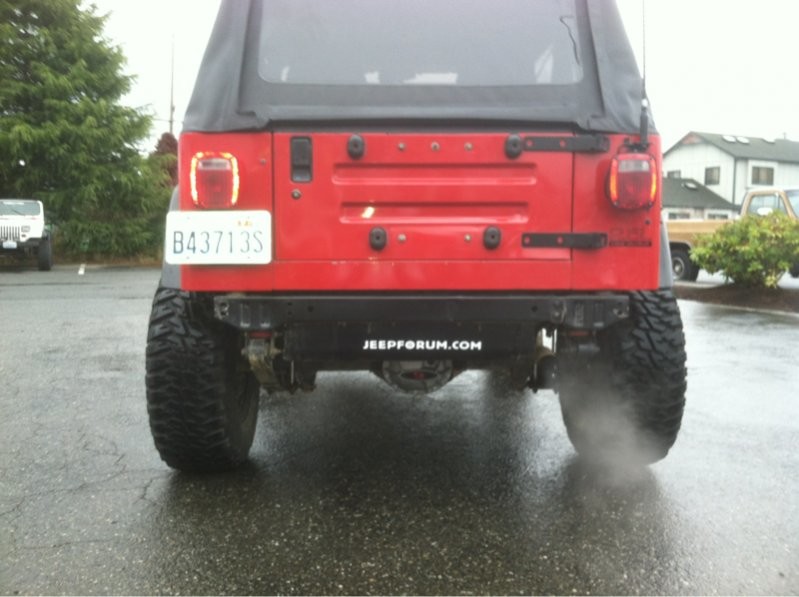 12-16-2011
I got it from softtopper.com and since I went with the dark tint windows the total was a round 570 to my door'
So today I installed some led tail lights and man was it a pain...it took me for ever to figure out why everything was working but my blinkers! Turned out it was my relay so I just swap the blinker and hazard really and all was good! Over all I am real happy with how it turned out.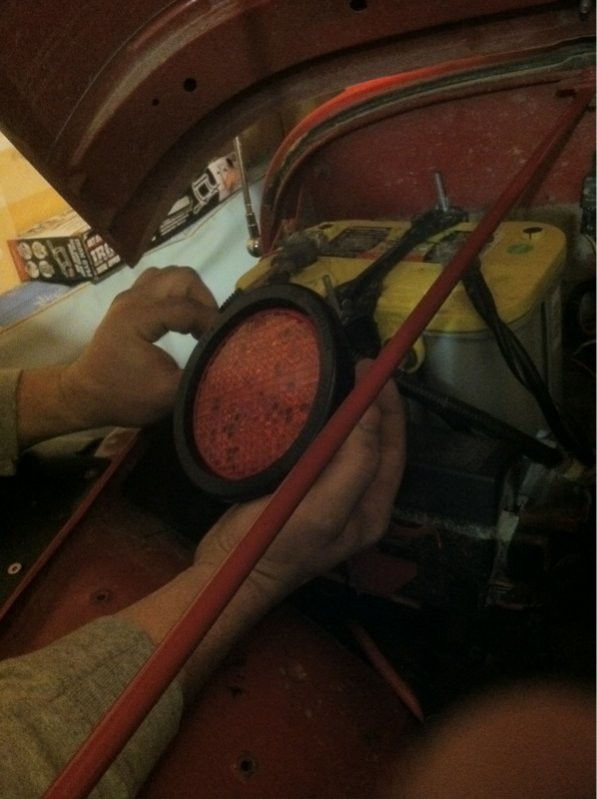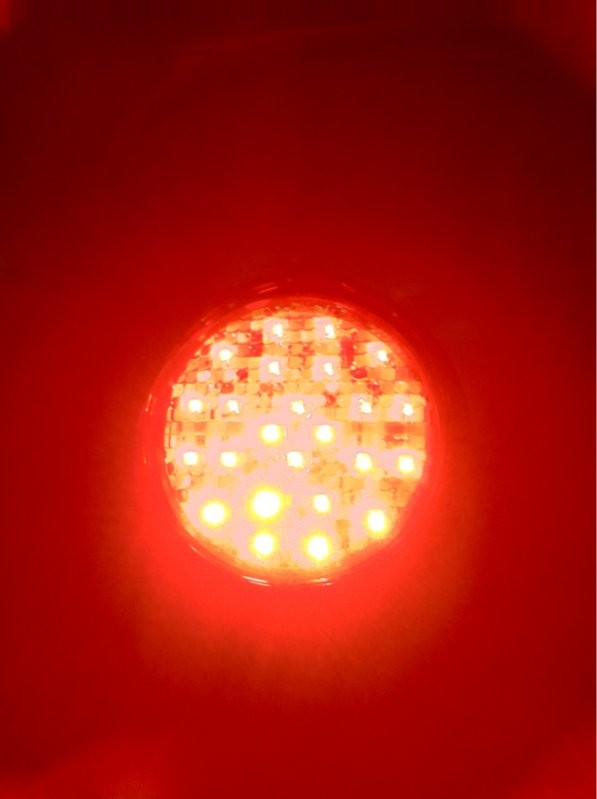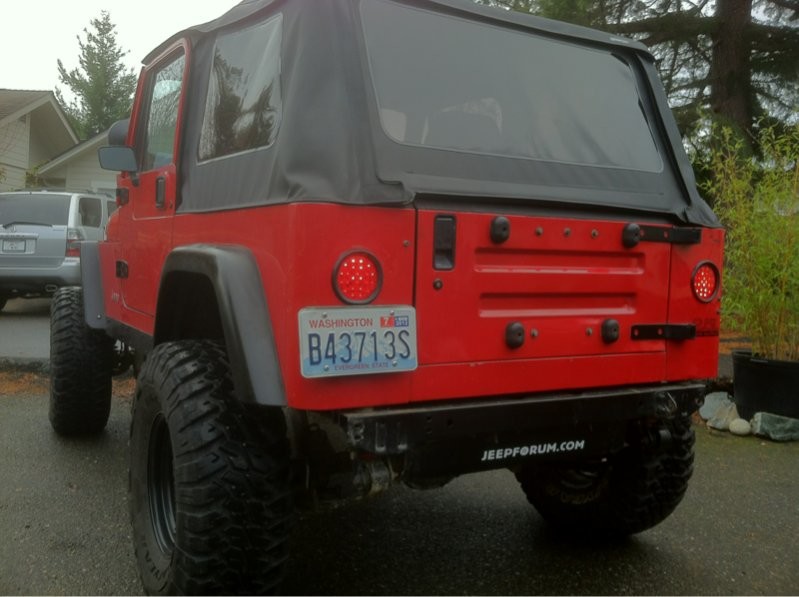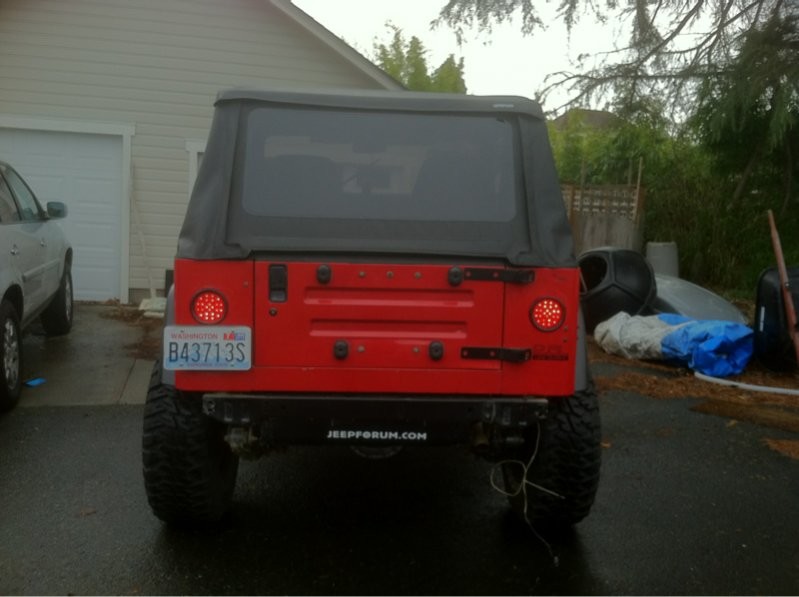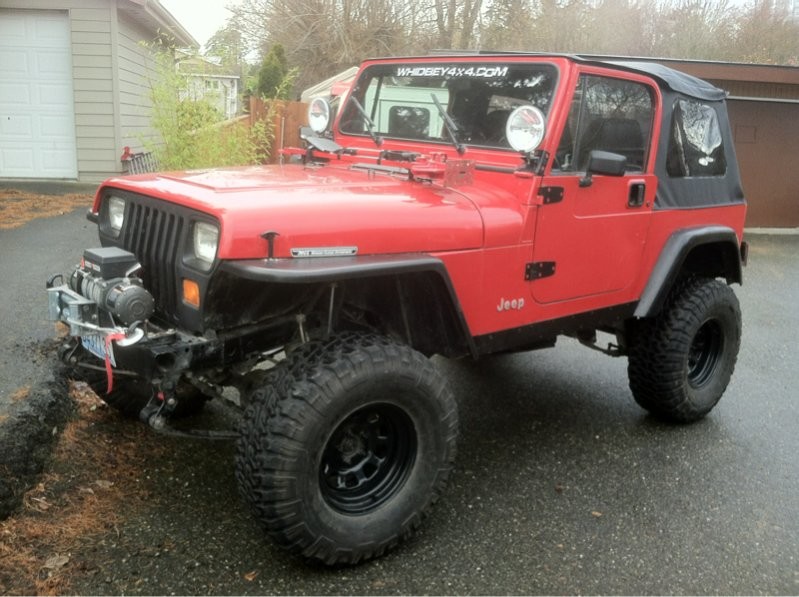 12-22-2011
Yeah I planed on getting some bolt lights....they are only 10 dollars before shipping on amazon! Yesterday I picked up some 2.5 clear flush mount lights to mount next to the tail lights, I don't think they will really help me see when backing up but will At least let people know when I am.
12-23-2011
So today I ordered the light bolts for the license plate as well as some new hood hinges.....mine are worn out and rattling bad!
12-28-2011
I got my light bolts today for the plate what do you think of the out come?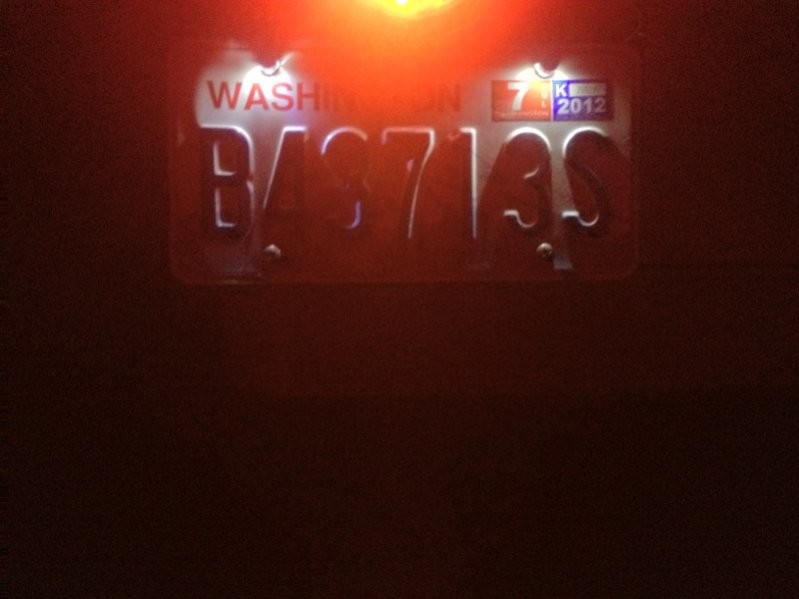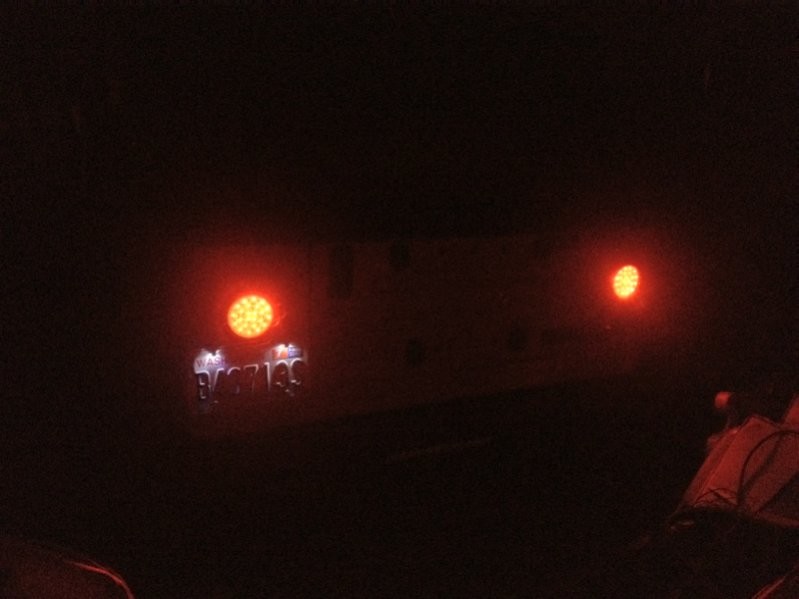 12-30-2011
Put my cb antenna back (mounted on my spare tire stop) yesterday and today I mounted a couple more hella lights on my winch plate tonight....I still need to wire them but will shave that till tomorrow night!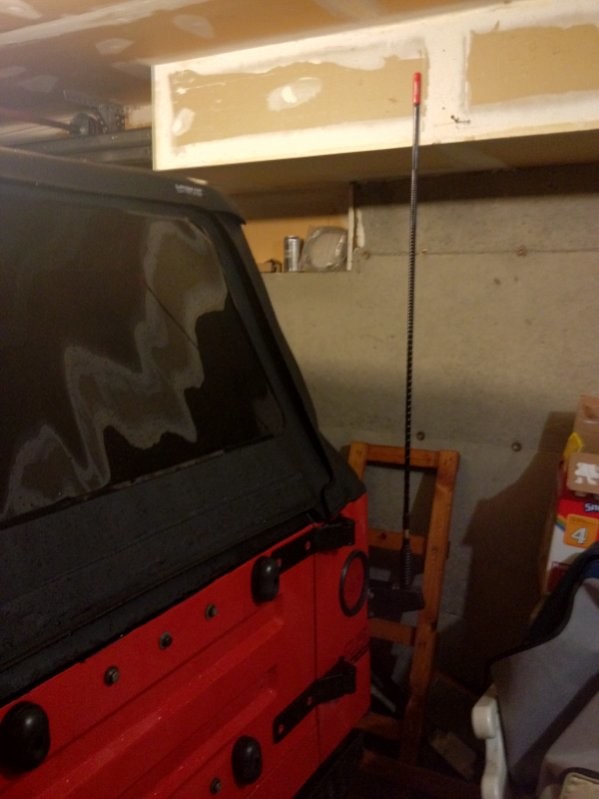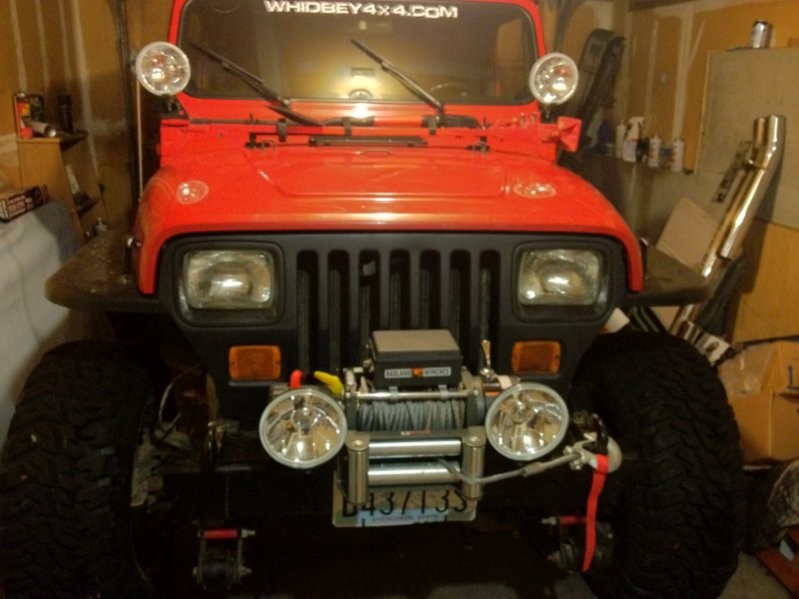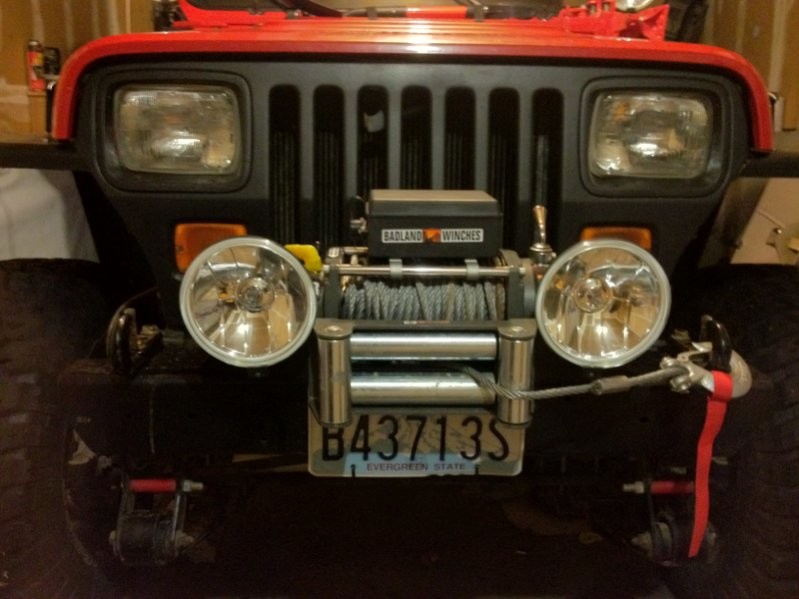 12-31-2011
I today I wired up the new Hellas and washed it to get it ready for the Whidbey4x4 sober up run on the first....I can't wait to get her dirty again!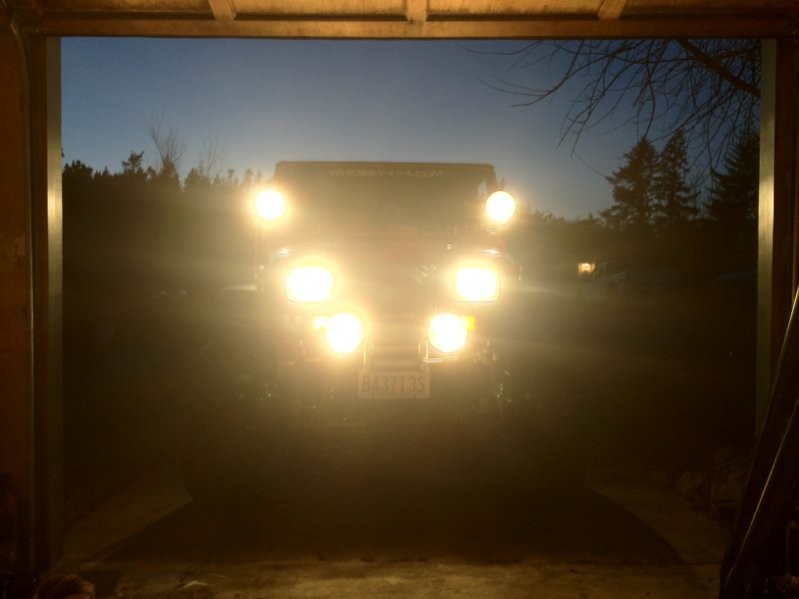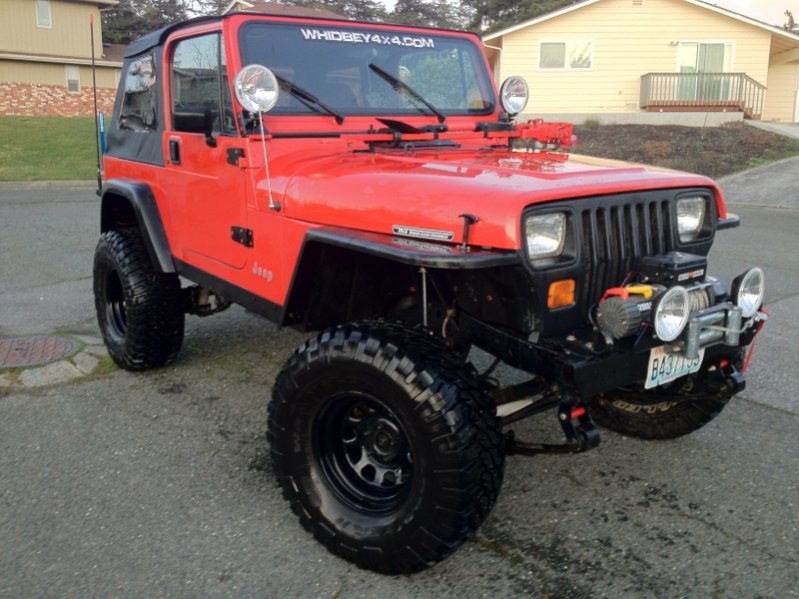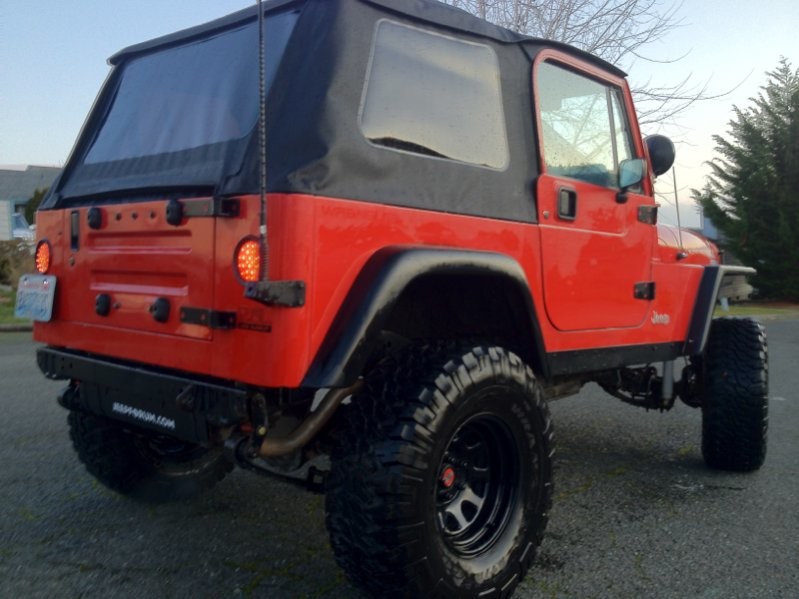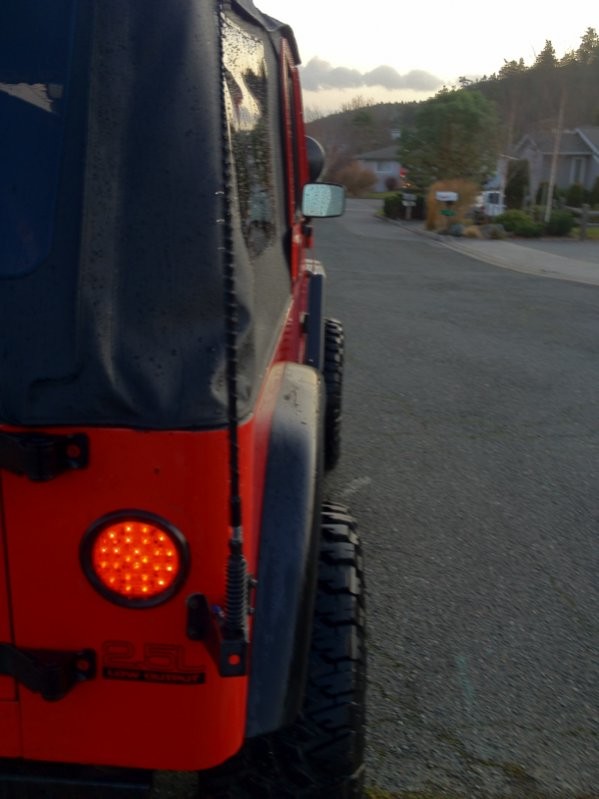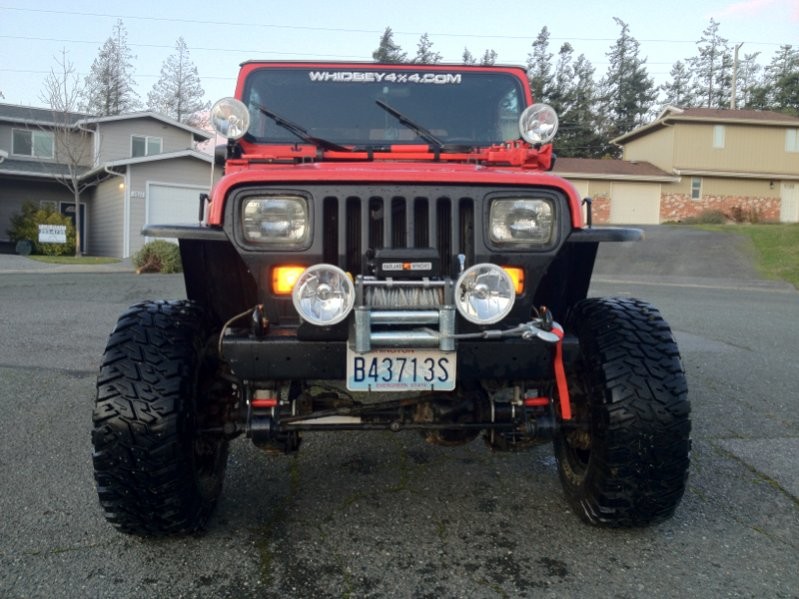 1-2-2012
So today I went out with my local club whidbey4x4 on are sober up run today! I did get any real trail damage today but my front axle is ready for some new u joints for sure and also at of no were my drivers door decide it did't want to open any more. So I guess I will taking my door apart tomorrow to see what going on with that! I will be post up more pics as I get them from every one sales that was taken them.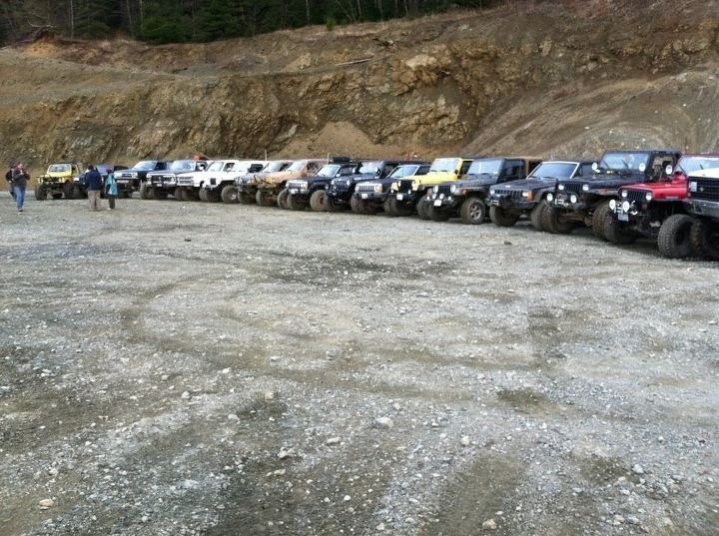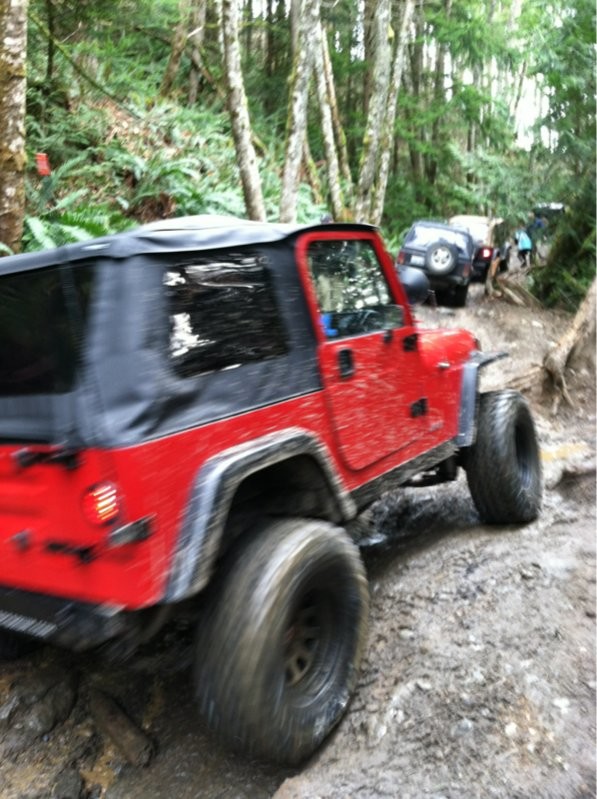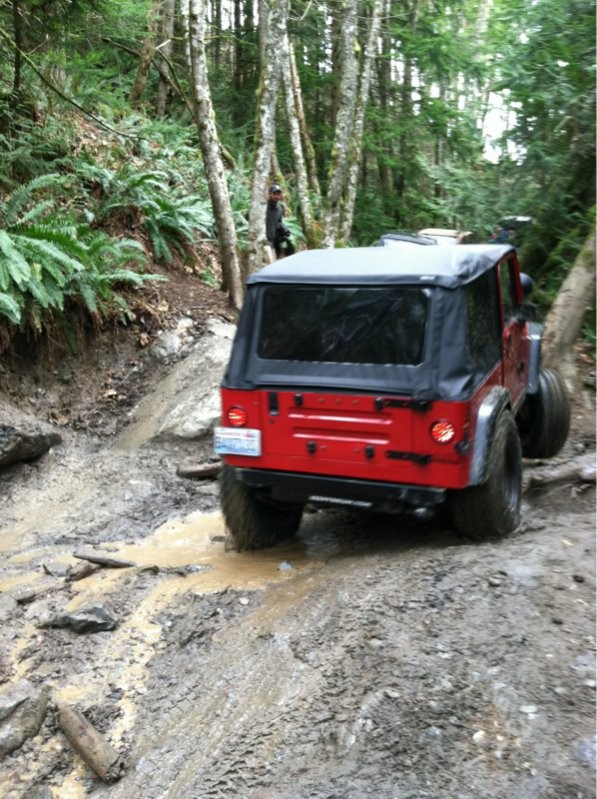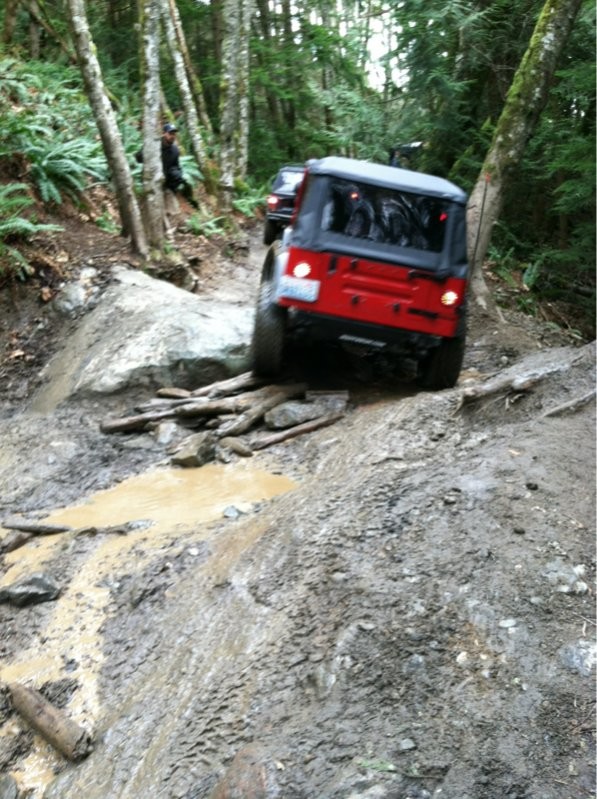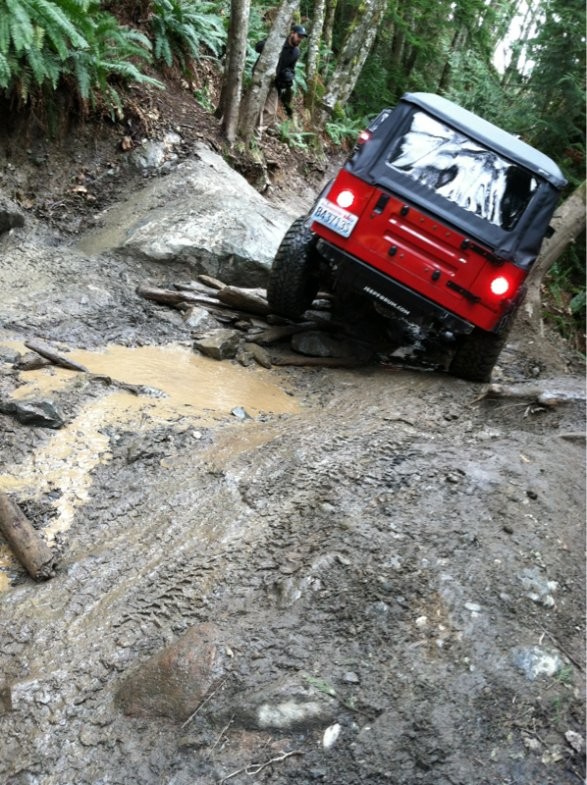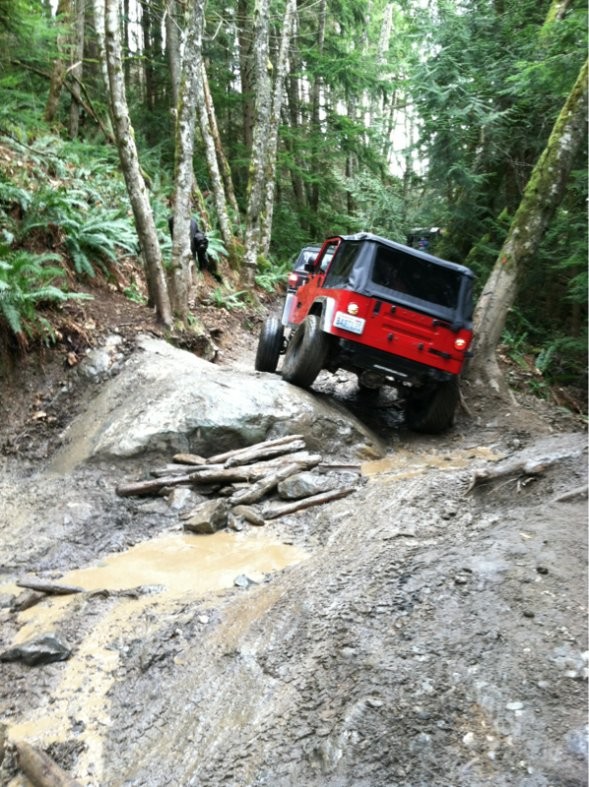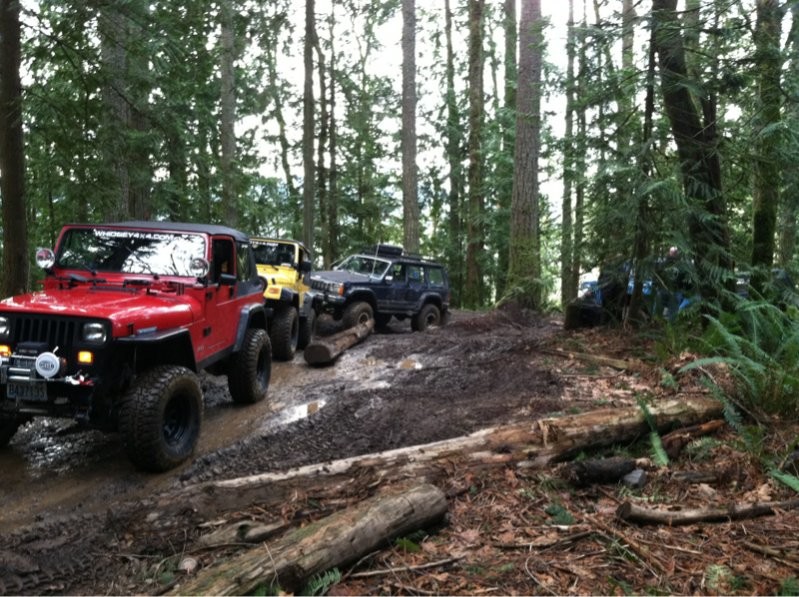 1-4-2012
A couple more pics! Man pics just don't ever do the wheeling spots justice lol.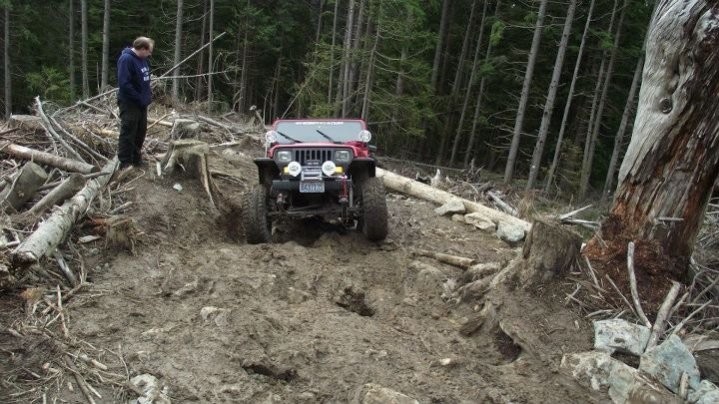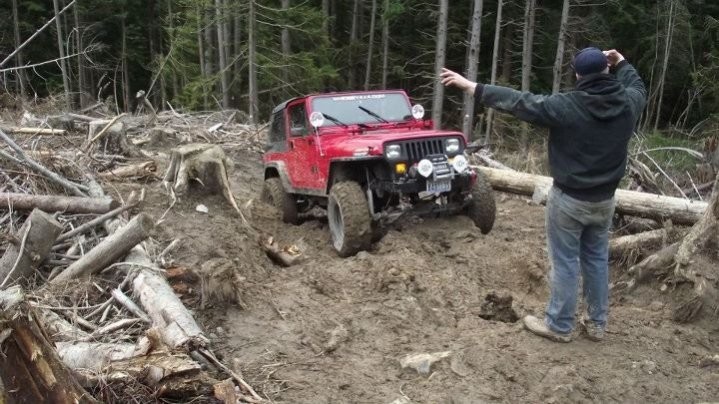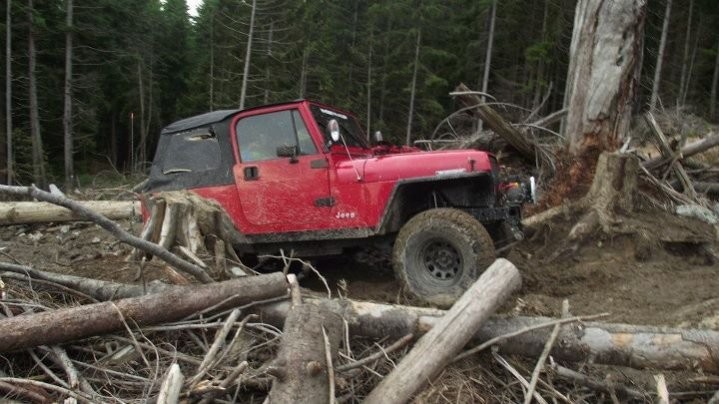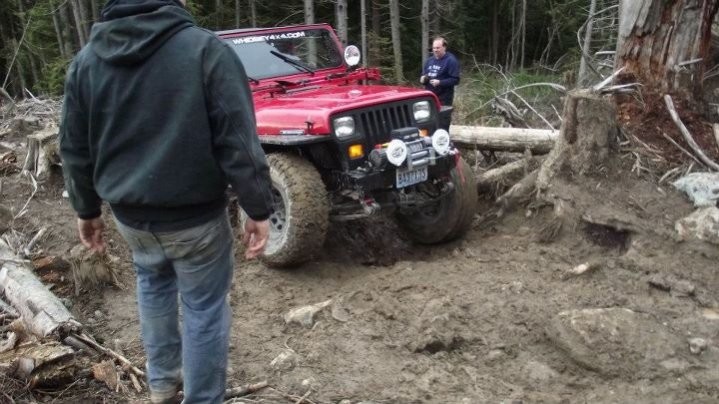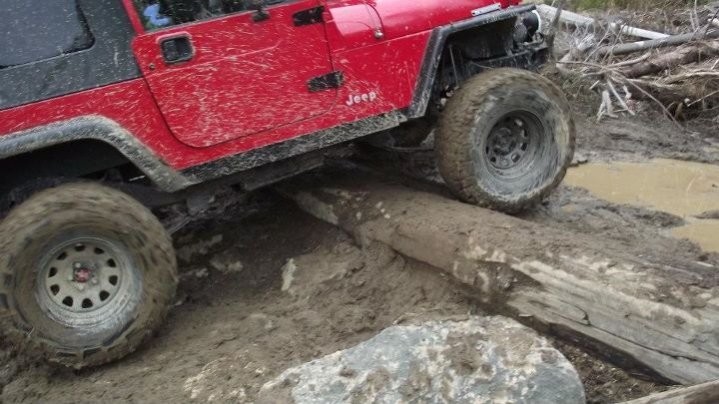 1-6-2012
So just a little update- today I replaced my lf axle shaft ujoint and man was it toast, and I have my front drive shaft at the driveline shop getting rebuilt as we speak the slip shaft part of the shaft was wasted along with the ujoint in it the shop is rebuilding it with a beefier slip shaft then they are rebalanceing it and I hope to pick it up friday! Next month I could be getting a share type of check from work and if this all goes as planed next month I am ordering my power steering setup, a spartan locker for the hp dana 30 and also the axle shafts from iro that come with the 760x u joint and the almost alloy kits installed in them all ready I am so stoked!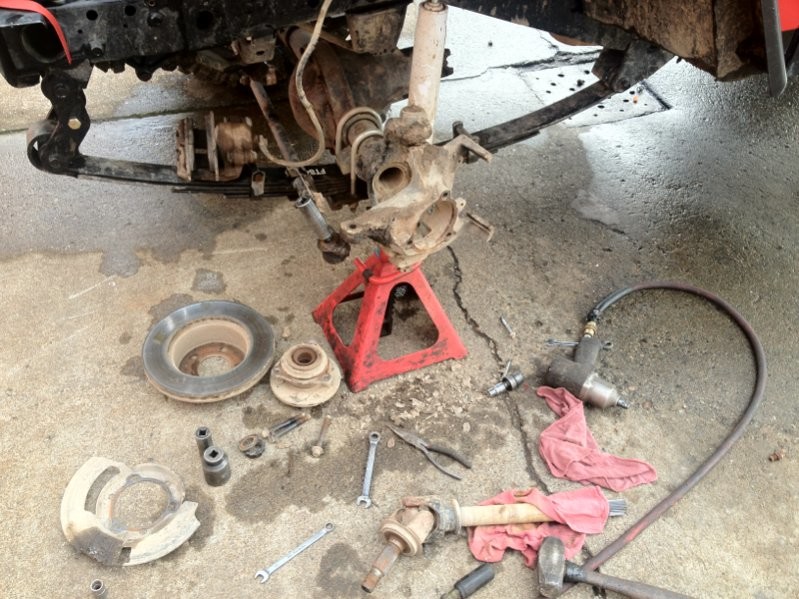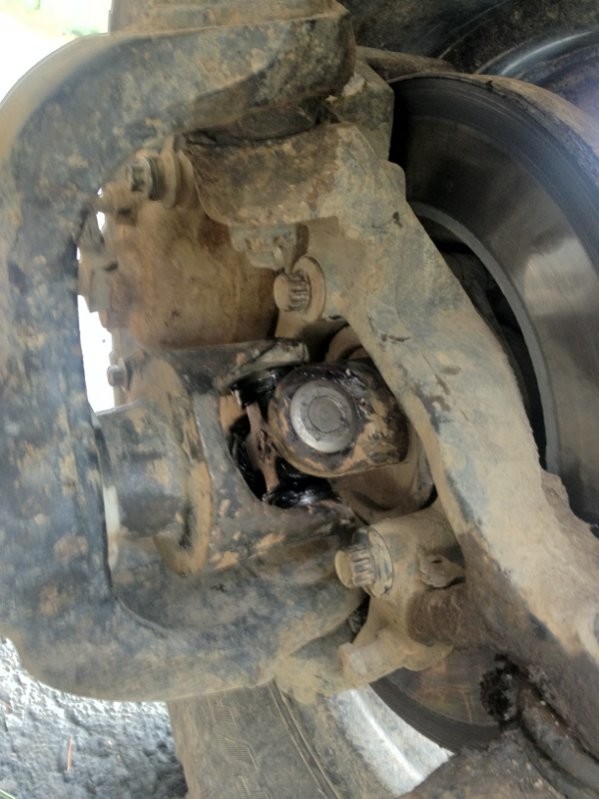 1-7-2012
So I got my front drive line back from the shop to day! It's looks nice and beefy now! They said it was all sorts of out of balance! They cut the old spline off and welded a nice thick one in its place and install new u joints for me I know pretty lazy of me but oh well. tomorrow I will install it on my lunch break, I am stoked now I am ready for the vacuum disconnect delete (solid axle swap) now that I don't have to worry about drive line vibes!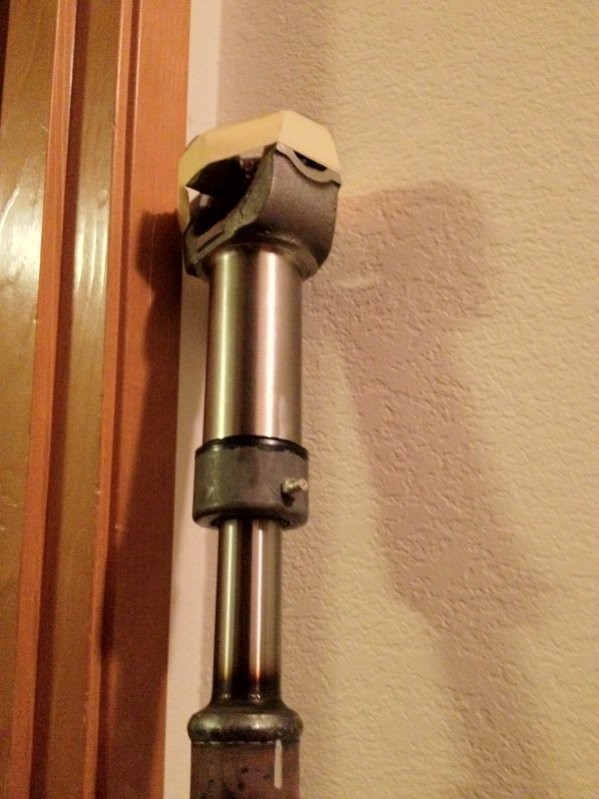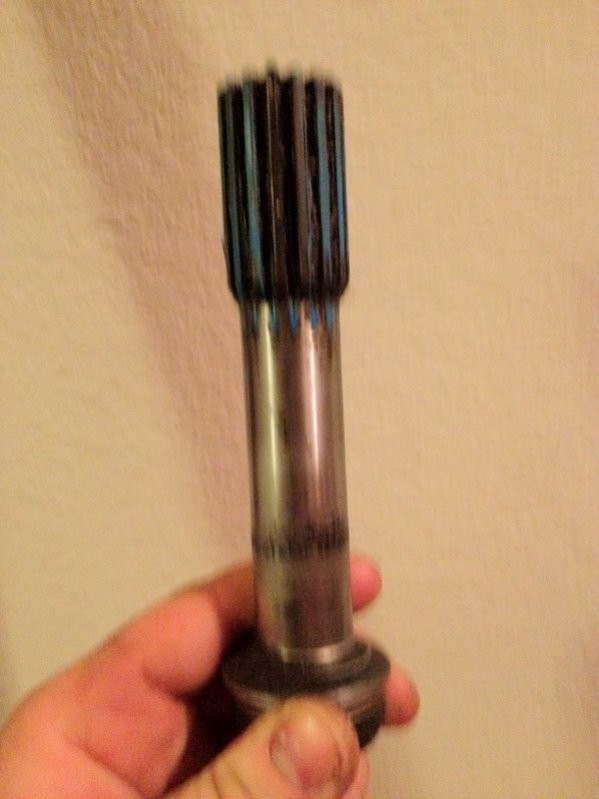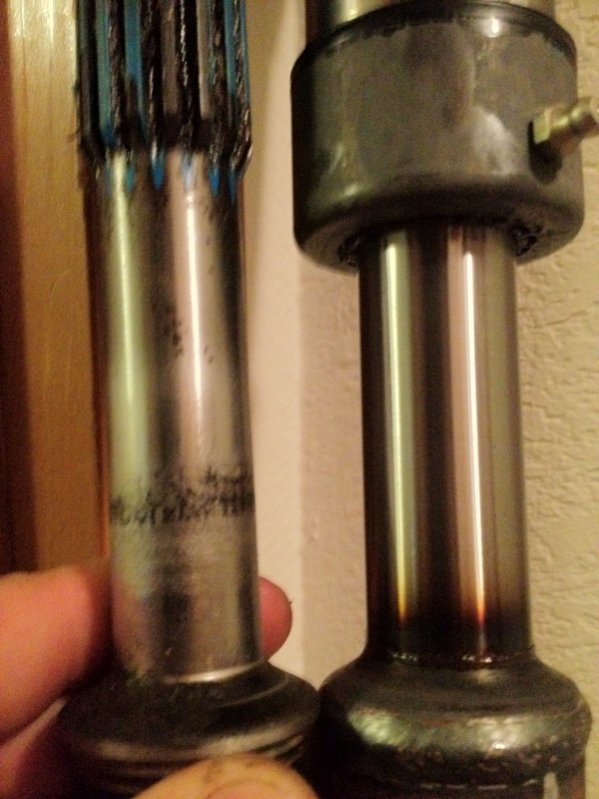 I called up randys ring and pinion to find out some pirceing and if I orded the stuff threw my work the locker will cost me 207 before tax and they said a set of yukon chromolly shaft would set me back 480, I think instead of the iro shafts I may just go with the yukon chromolly shaft up front seeing how they have a life time warranty!
I like my rear Detroit as well! I got my driveline back In at lunch now I need to go get it dirty!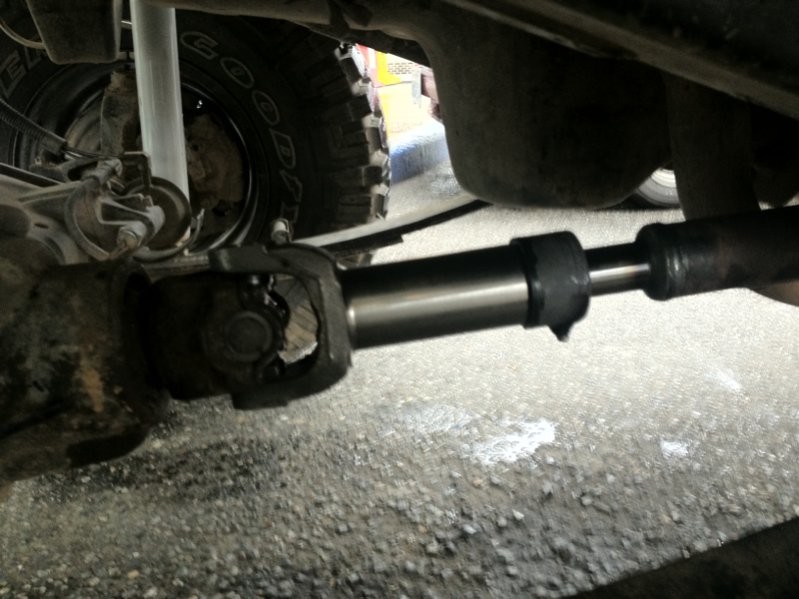 1-9-2012
So I went out wheeling with 91BOD today and had a great time minus the one time I had to pull line ( wouldn't of happen if I had power steering!) should have more pics and maybe some vids later!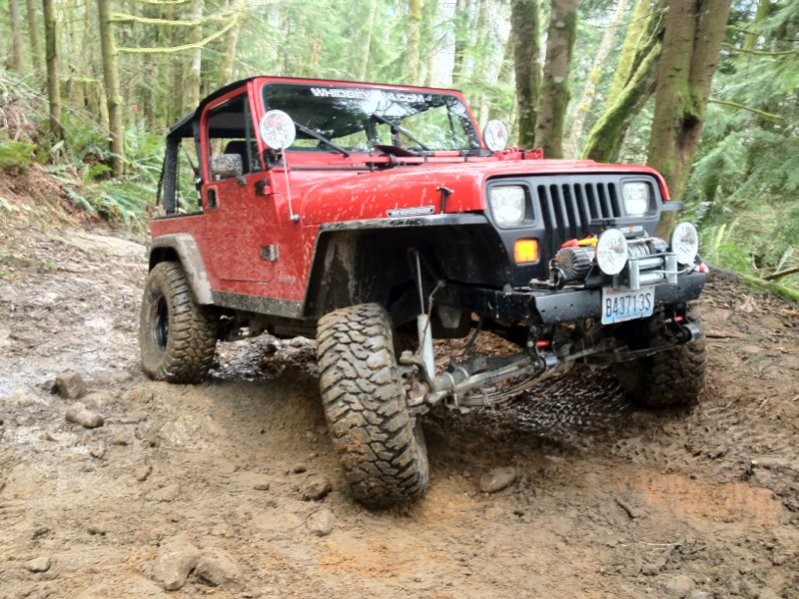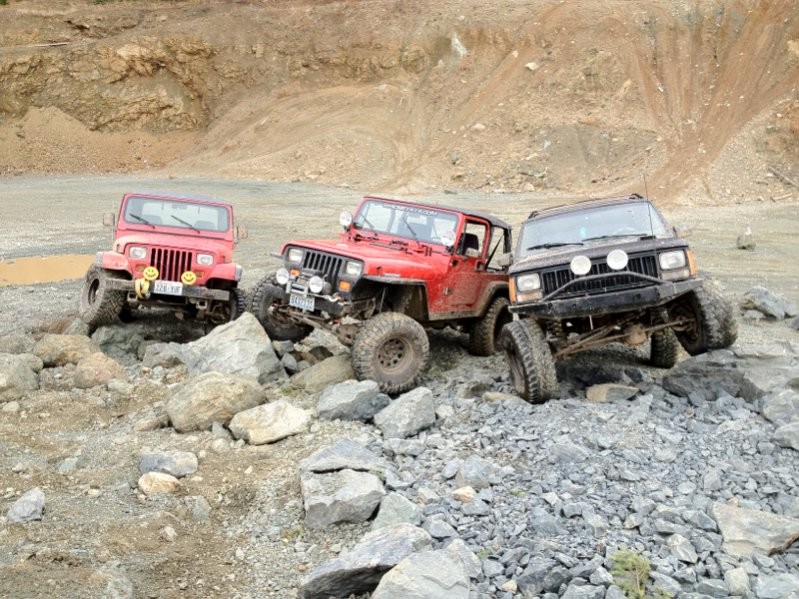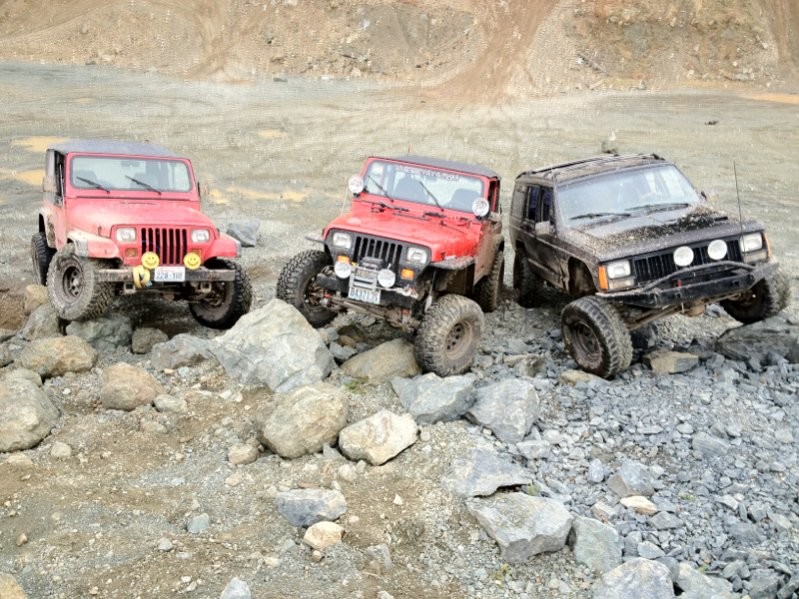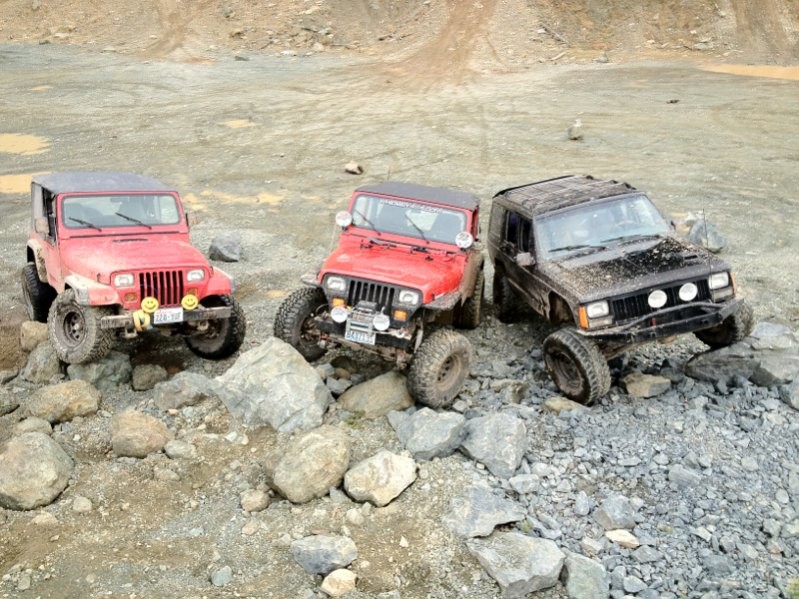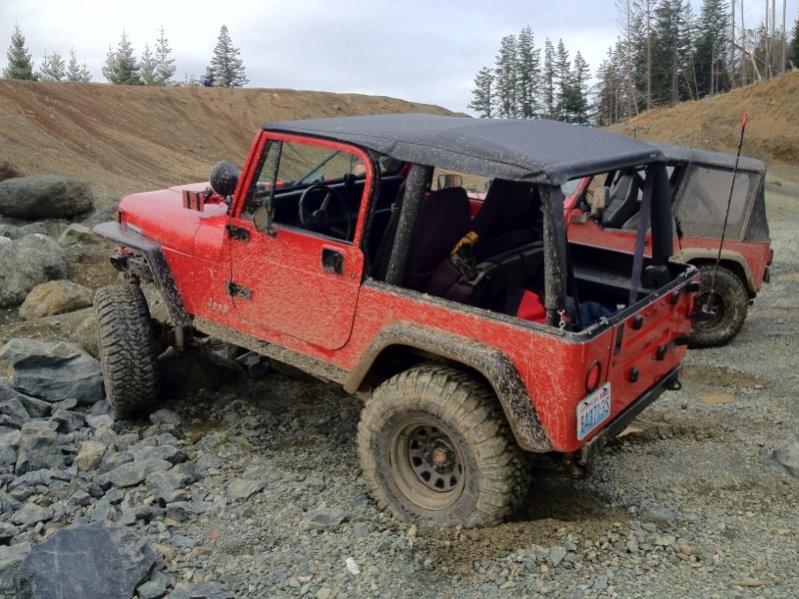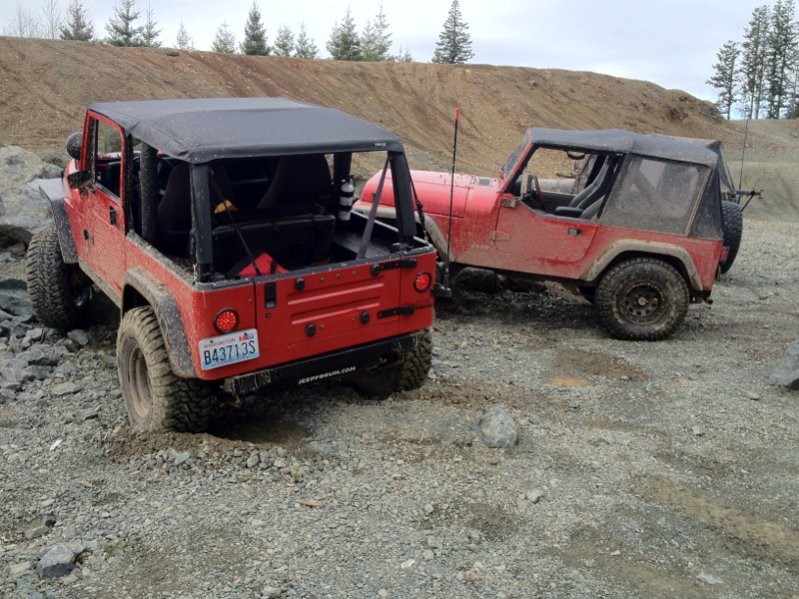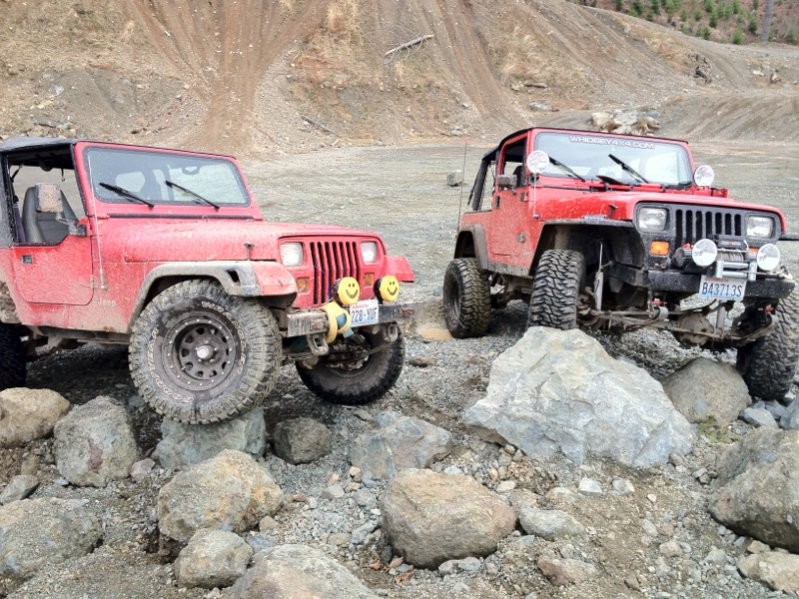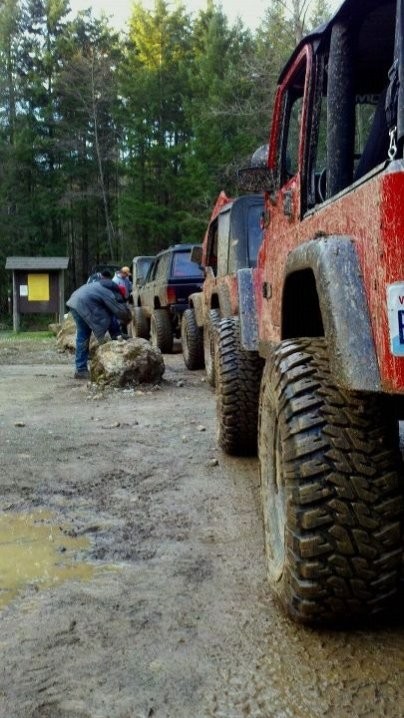 1-12-2012
here is a link of me going over what people call the egg rock....three wheel action baby!
and I also have this vid of me failing to get over this rock (I hade to winch over it hurt my pride) since I don't have power steering every time I almost got it my wheel would jame into the bank and it was almost in possible to man handle the wheel!
and than this is 91BoD taking on the eggrock :P.........
1-21-2012
Not really a updated but today I got rid of the nasty old jeep decals in favor of some new fresh black ones and I all so added some american pride to the jeep!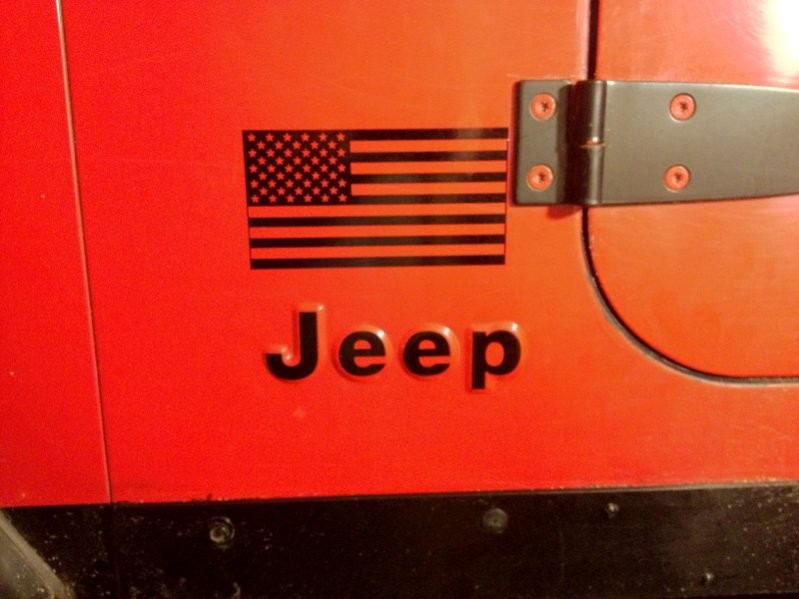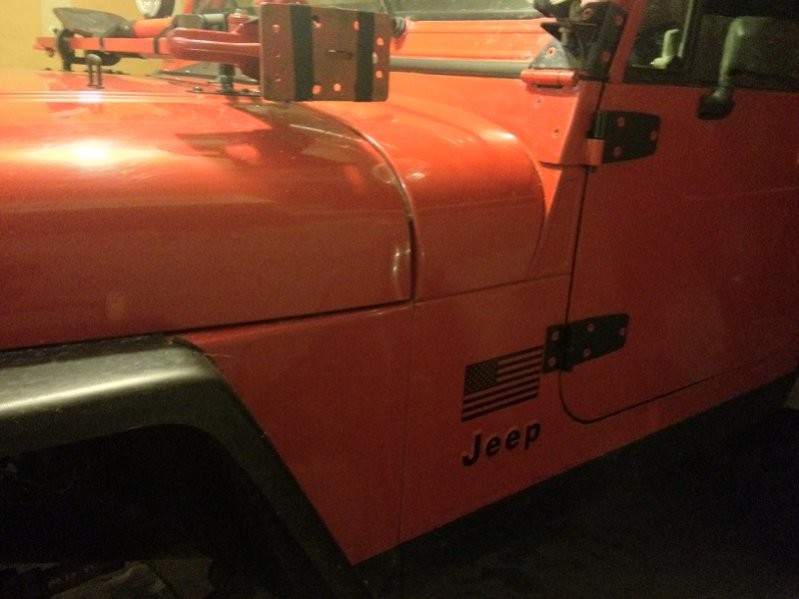 1-23-2012
So I did a little snow wheeling at walker valley today and it was a blast! The only damage to was a badly kinked winch line and I tacoed my exhaust head pipe on a big rock......looks like the tj head pipe mod is coming sooner than expected!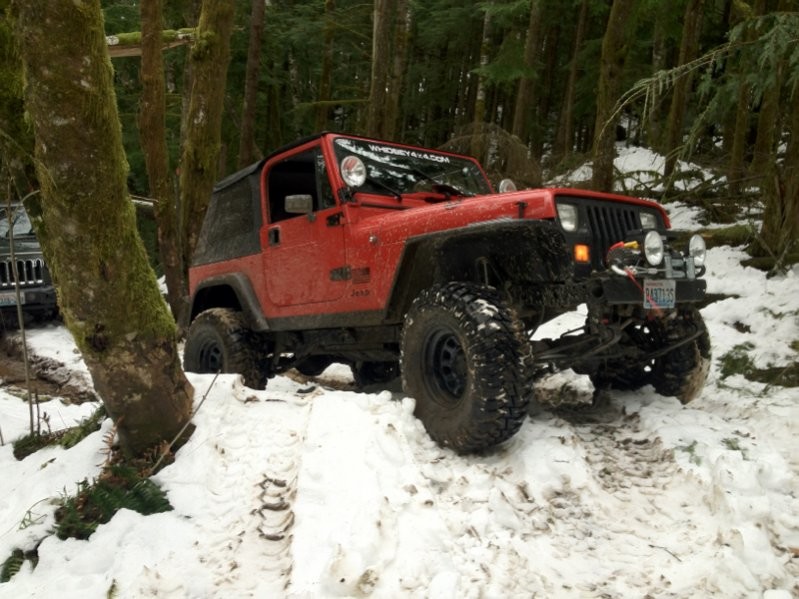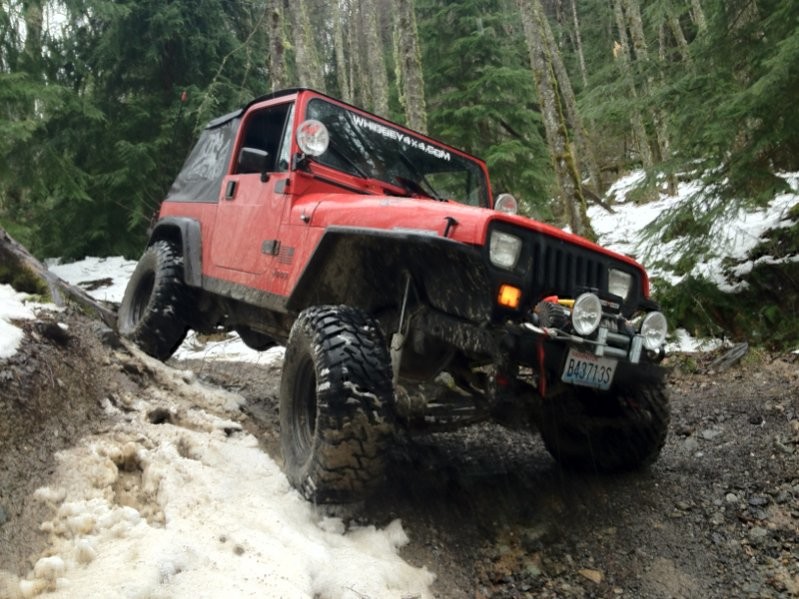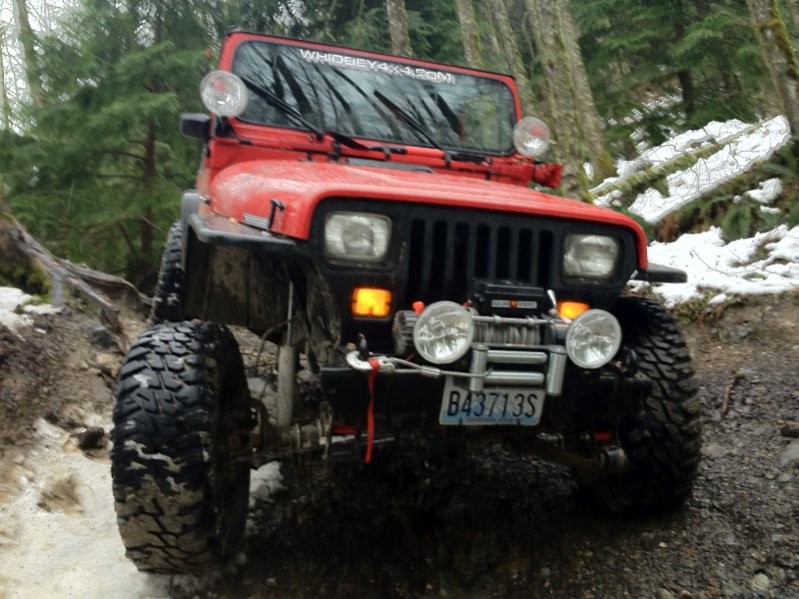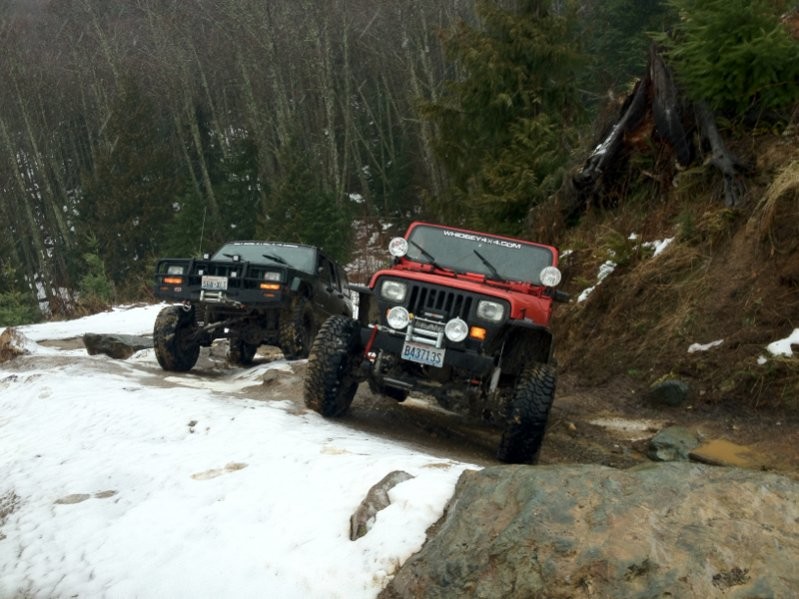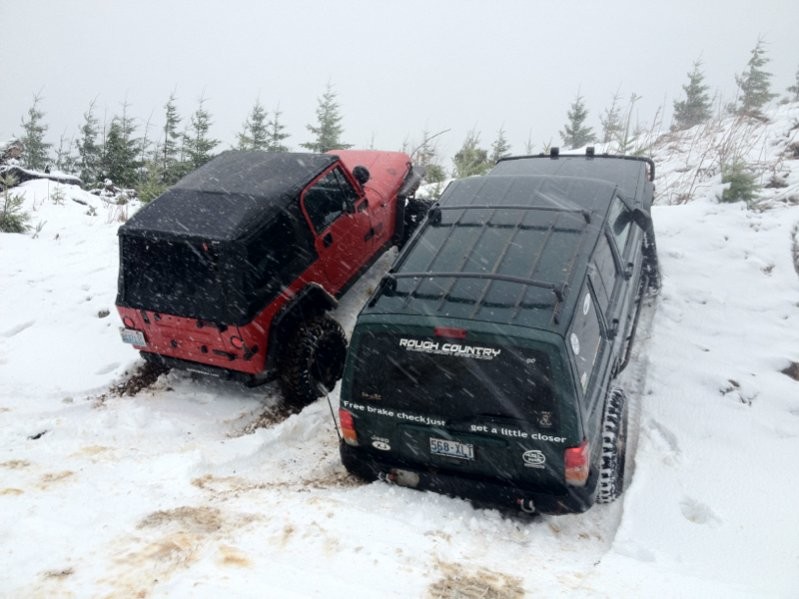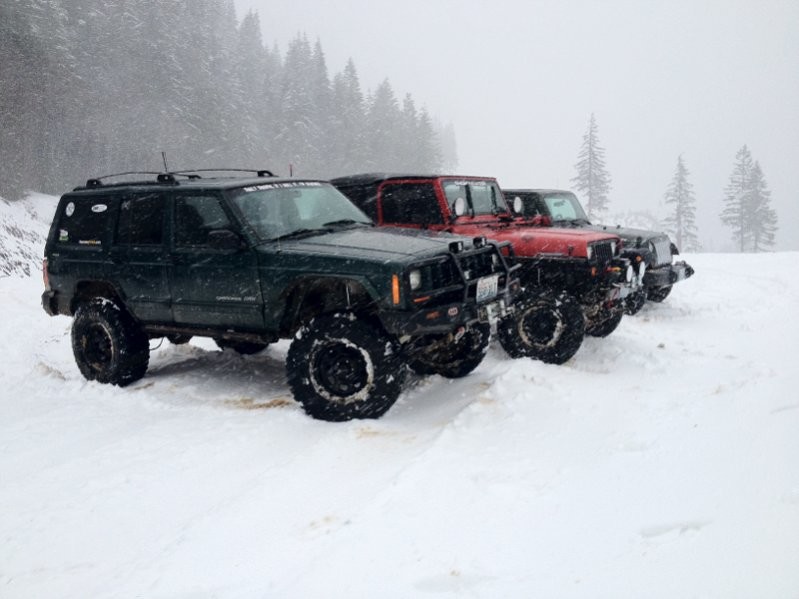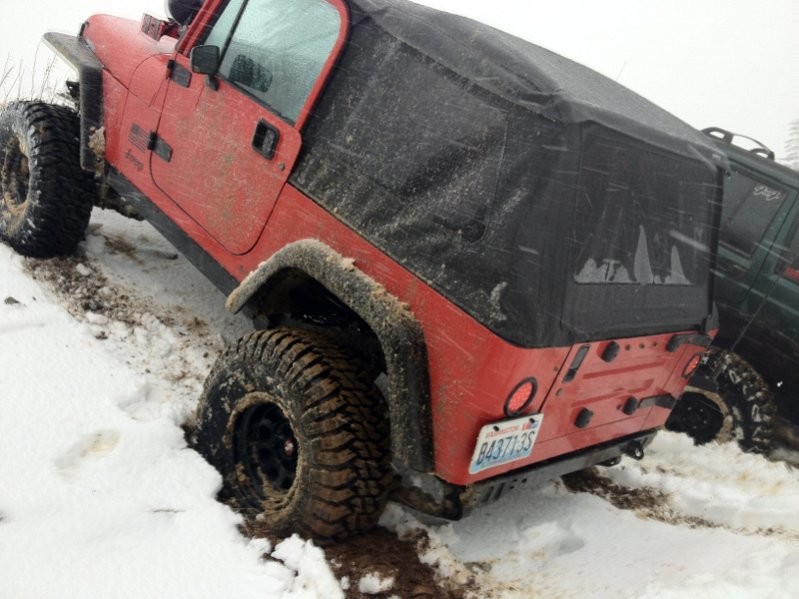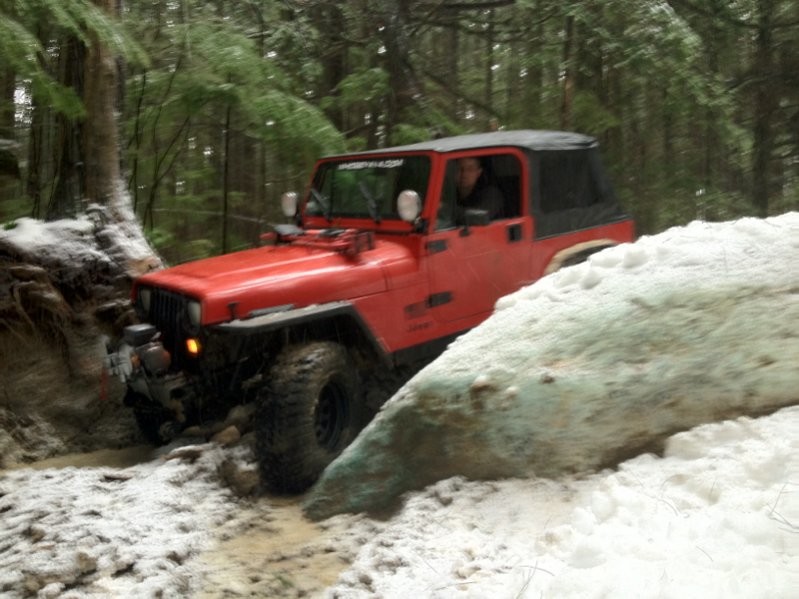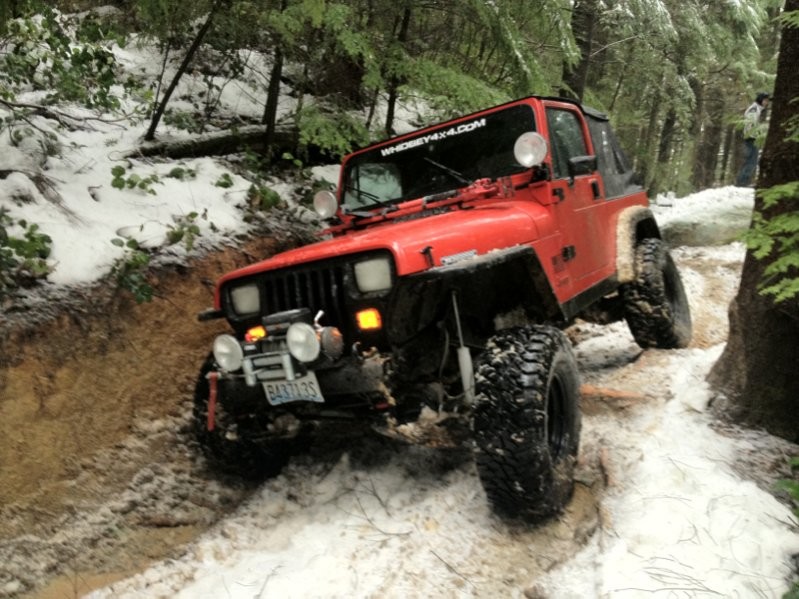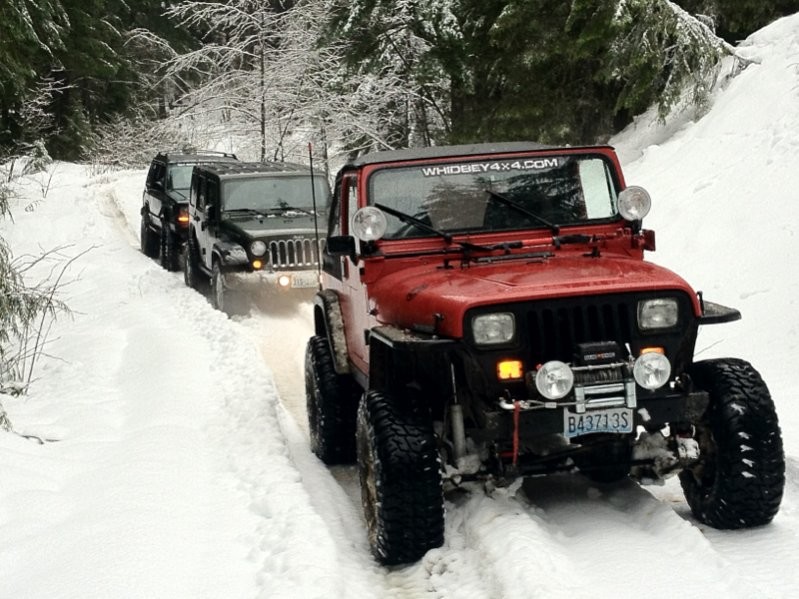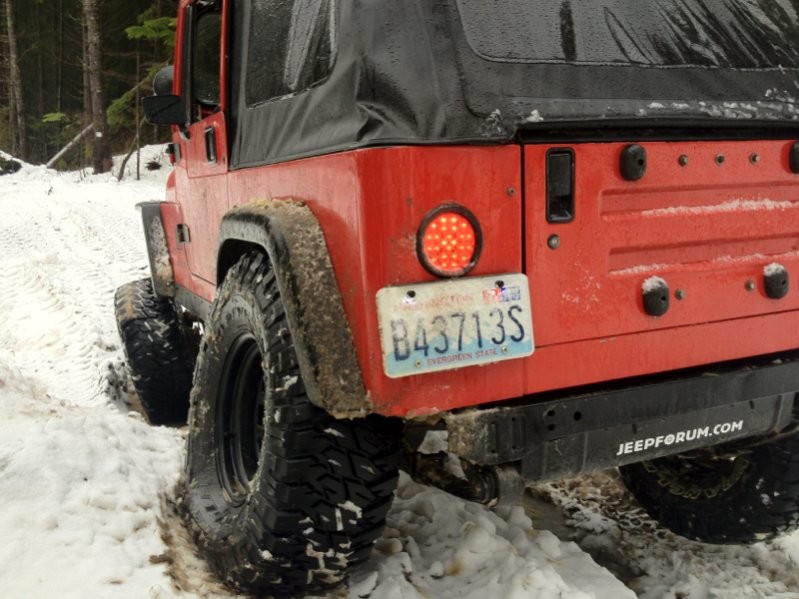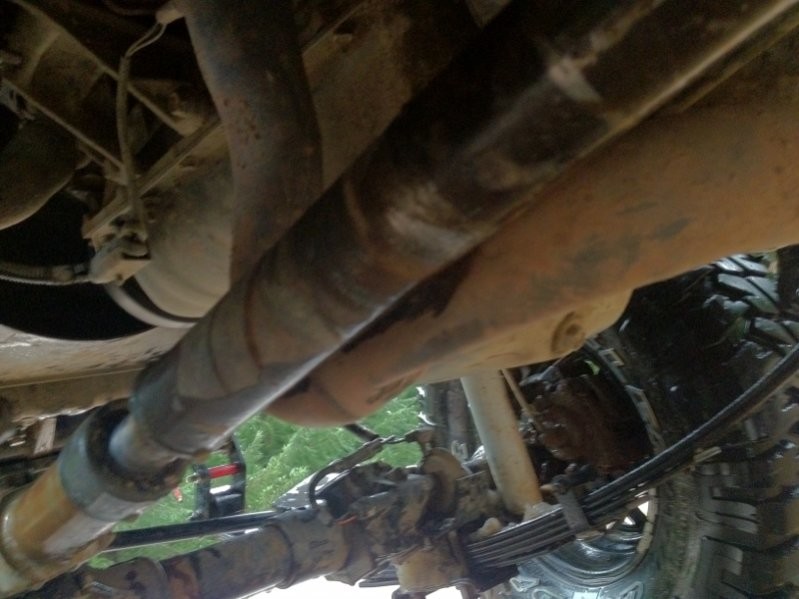 The rubi that was up with us got some pics from yesterday so here are a couple more.….the second to the last one is where I crushed my exhaust and the very last pic is me winching the very high center jk!!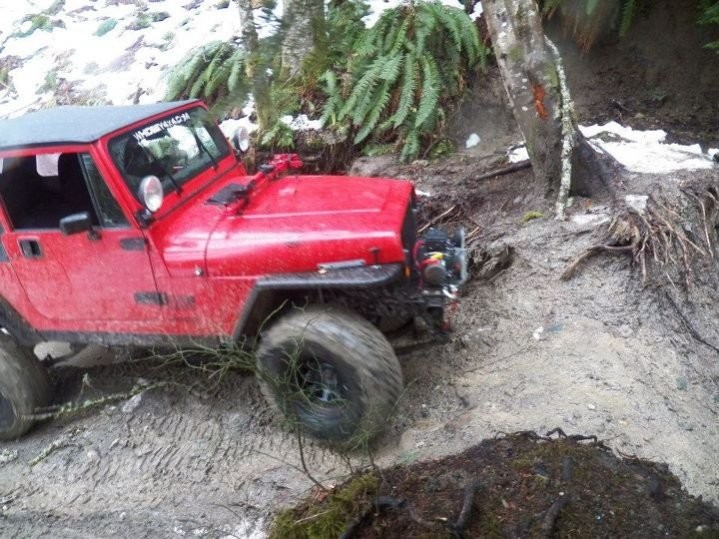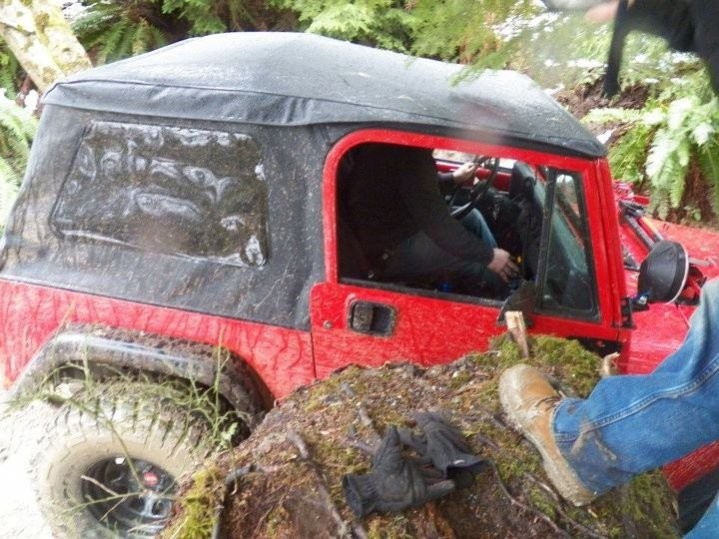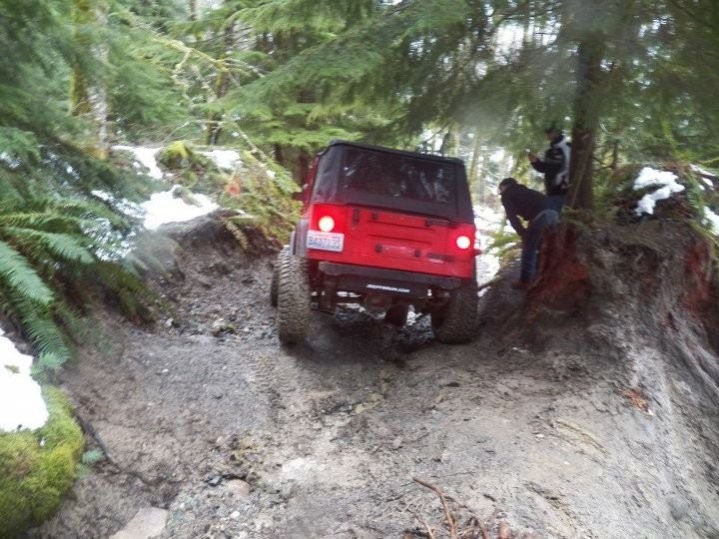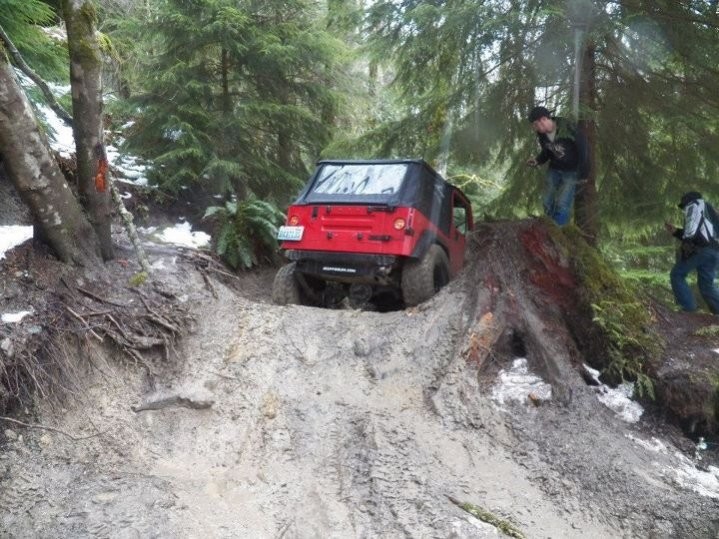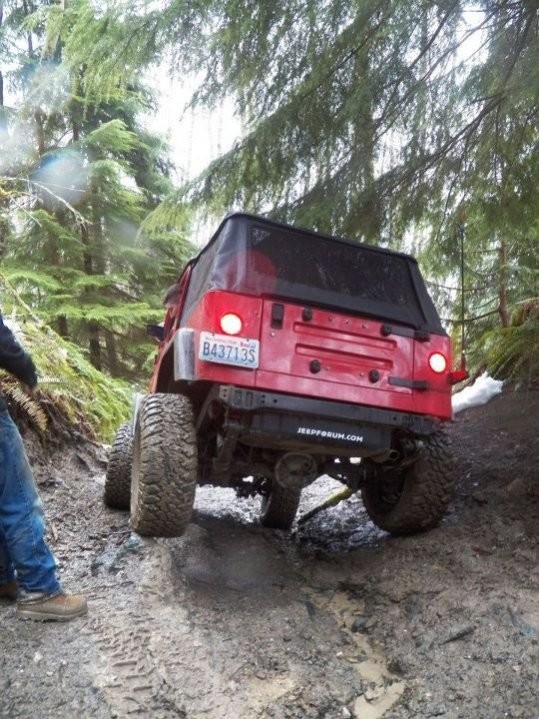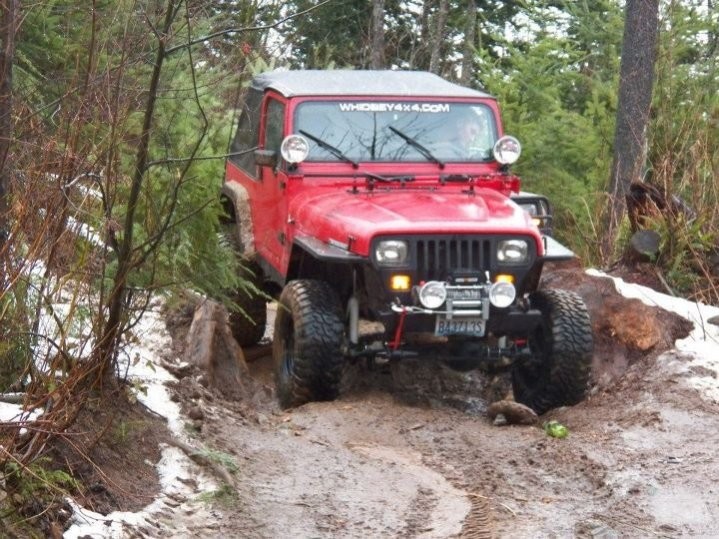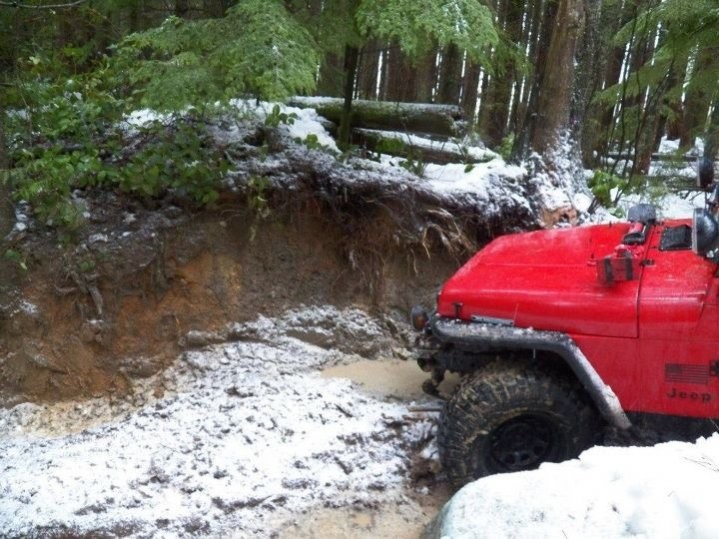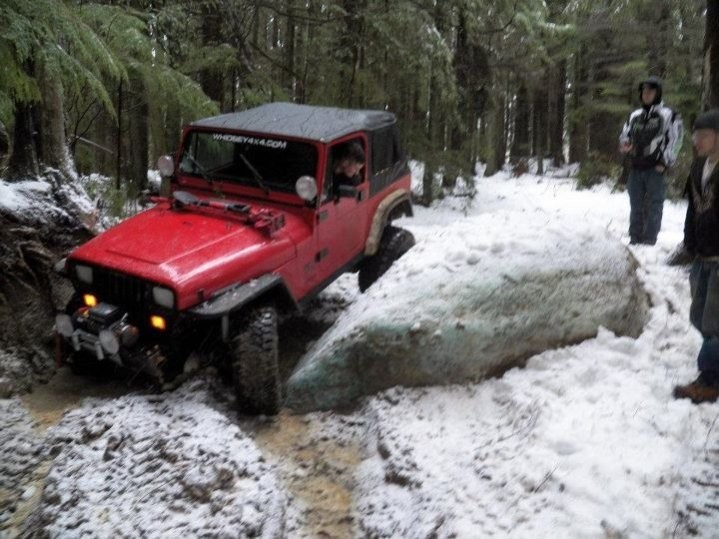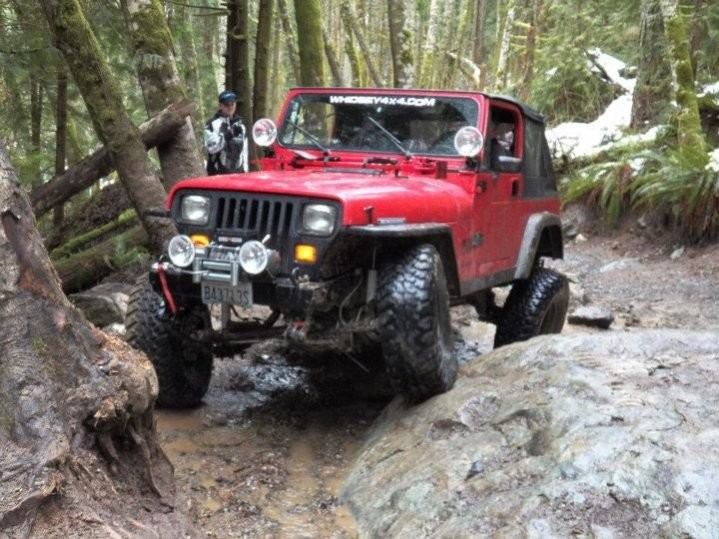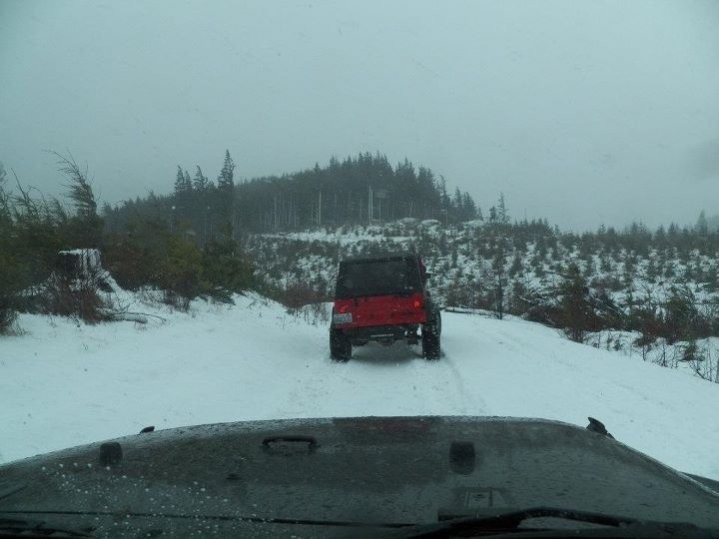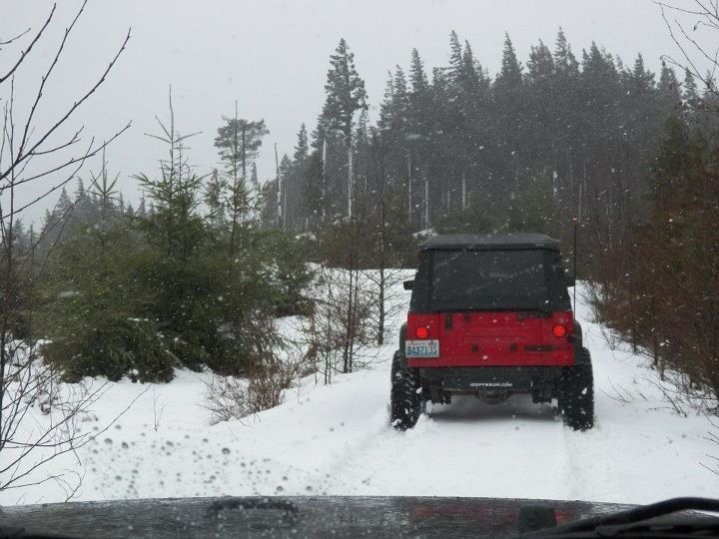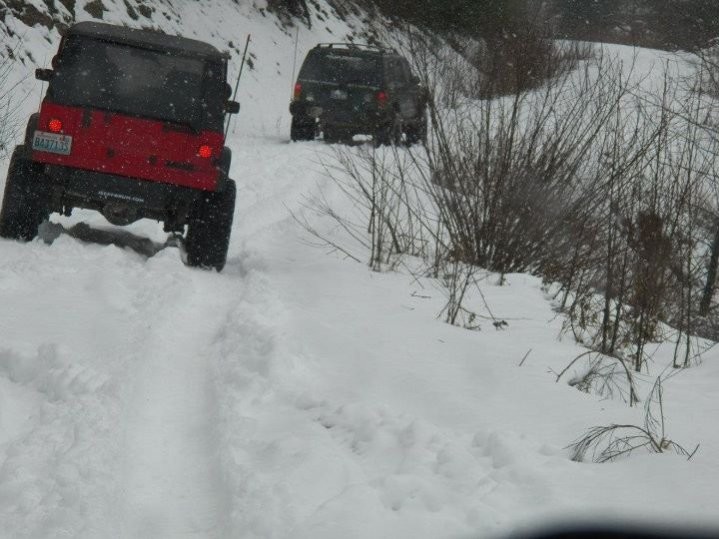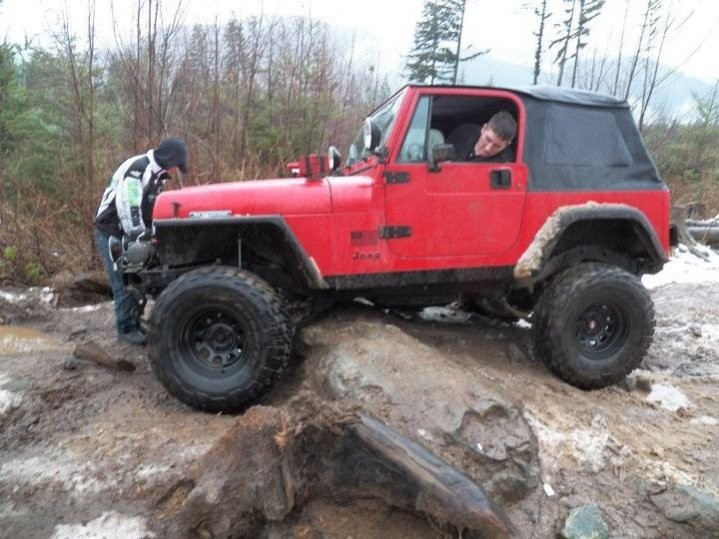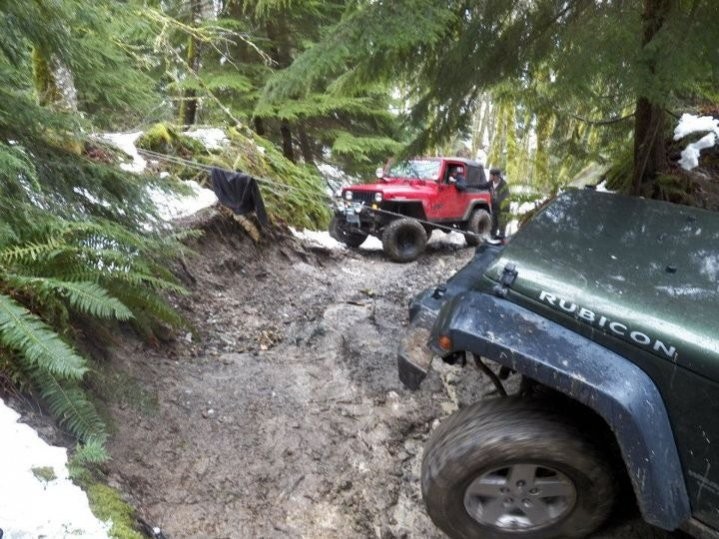 1-26-2012
My exhaust won't be a problem any more but its time for a oil/engine skid! What do you guys think of the new setup?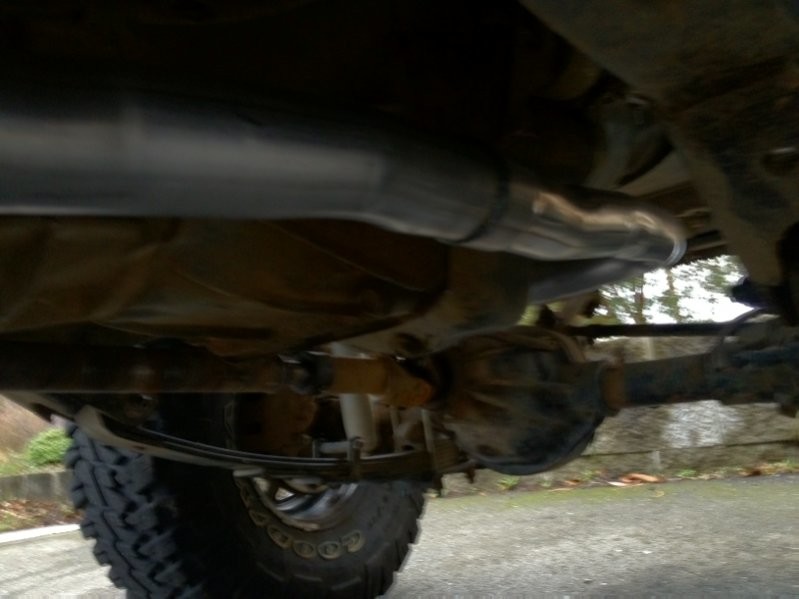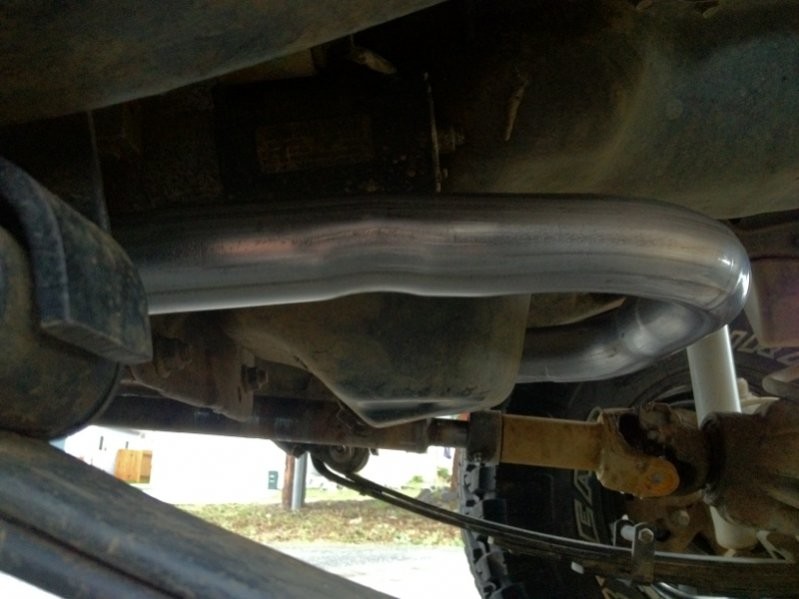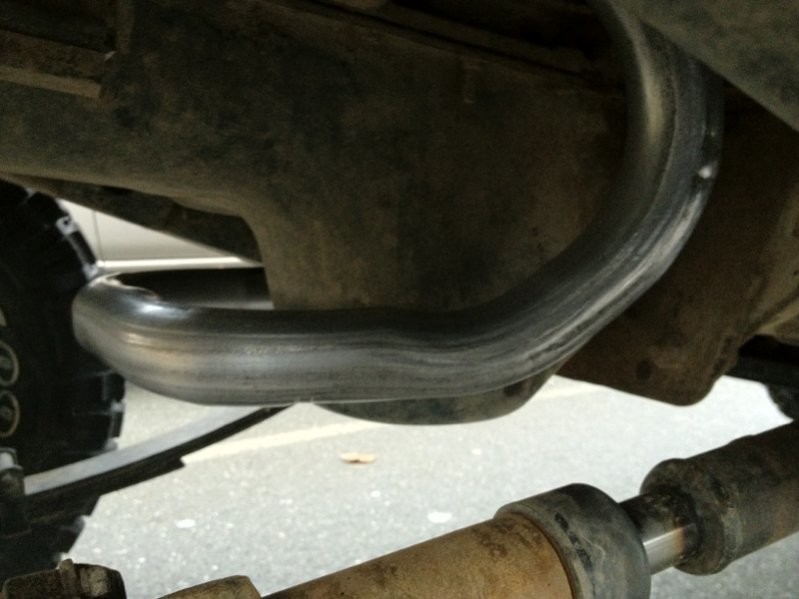 2-2-2012
So all I need is my locker now and new ujoints for my shafts that my Dana 30 will be a little tuffer....who knows what the biggest joint a stock tj shaft can take!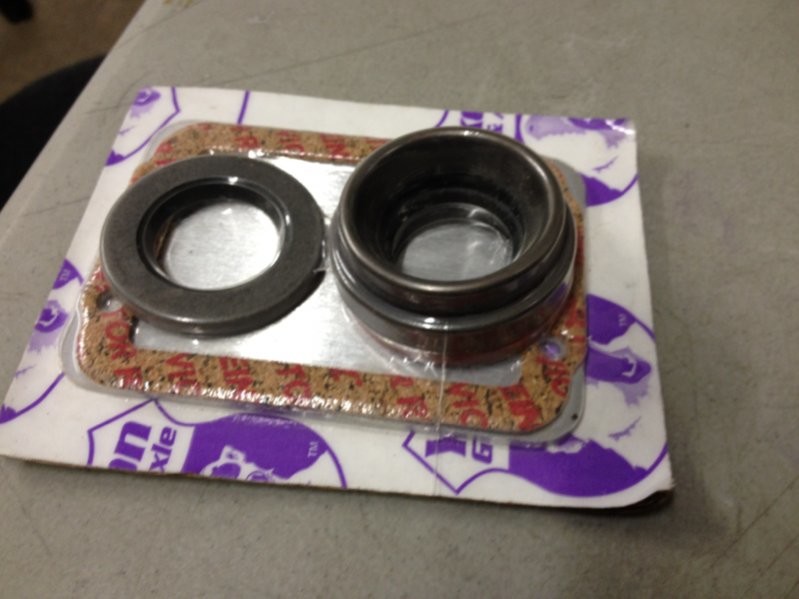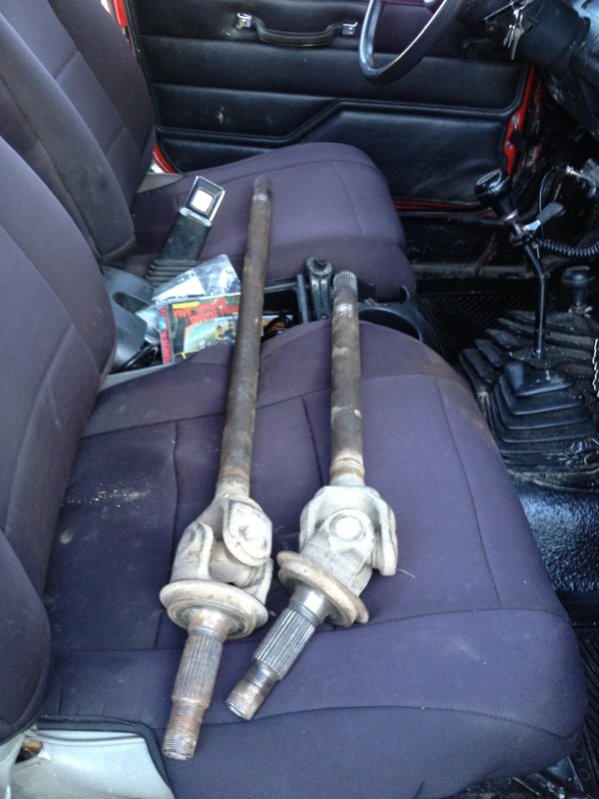 2-6-2012
So all with in the next week I will be ordering my power steering setup, my dana 30 spartan locker, new ujoint for the axle shafts, jcr front stubby winch bumper, stadge 1 weld on sliders, and the rear bumper/tire carrier and last but not least 5 new tires and wheels. I am so stoked right now!
2-8-2012
I ordered 5 toyo mt 33-13.50-15 and 5 black raceline rock crushers, my mtrs and wheels are going on my dads xj!

So quick updated I ordered the bumpers from jcr today and also some new synthetic winch line, hawse fairlead, csi snatch block,my front dana 30 spartan locker, and I also pick up the ujoints for the axle shafts. friday I should be picking up the power steering setup to! oh yeah I almost forgot I also have a diff cover coming for the front axle to!

I am stoked right now!
2-9-2012
So today I installed the new ujoints in the tj shafts (I hate doing ujoints) and change the oil with some fresh delo400 10w30, when I got home I found so goodies had been dropped off today!

I am waiting till he new diff cover shows up to do the locker/and axle swap!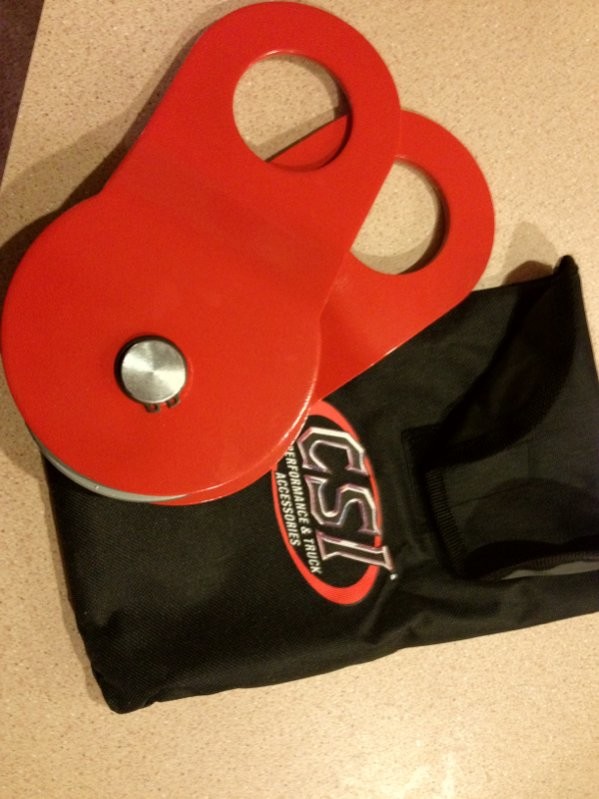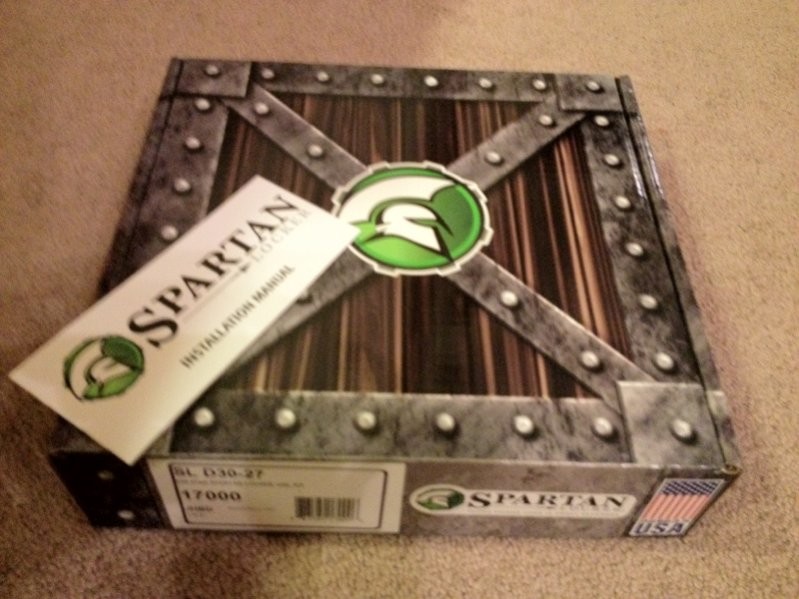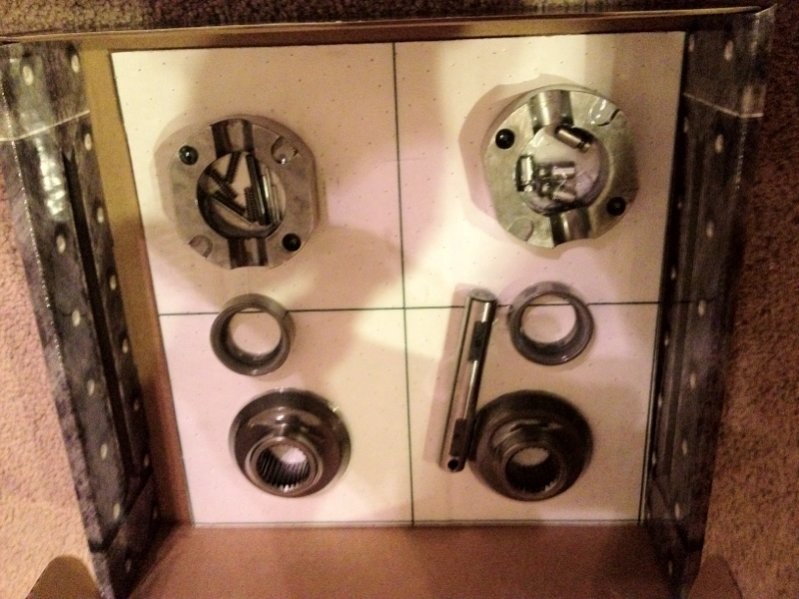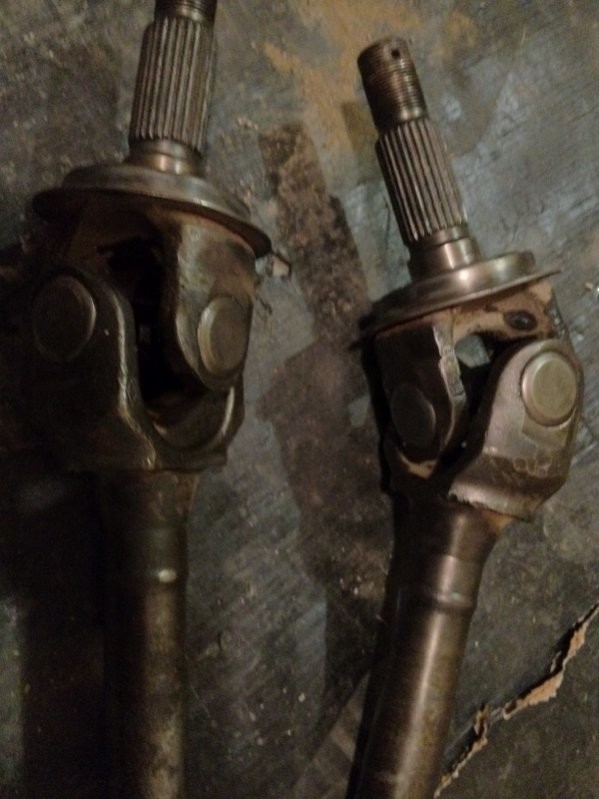 Got the new tires today the wheels should be here Monday! I can't wait!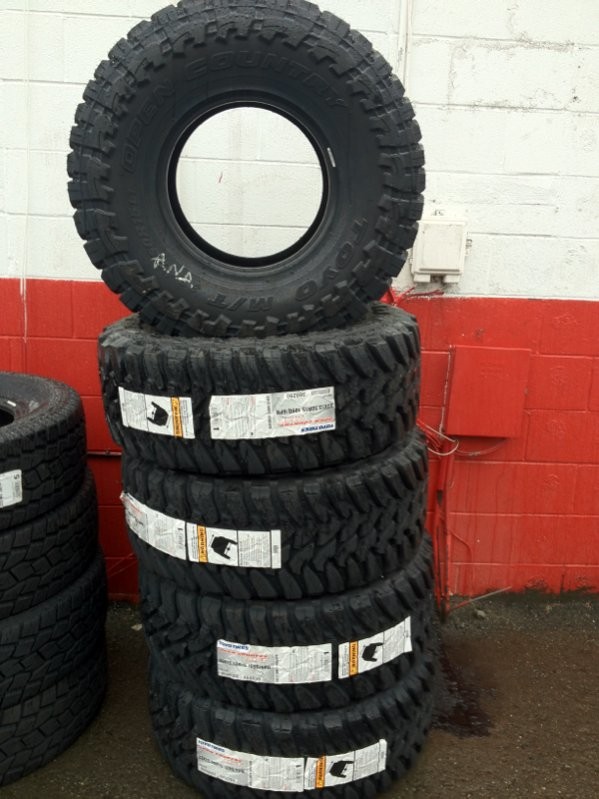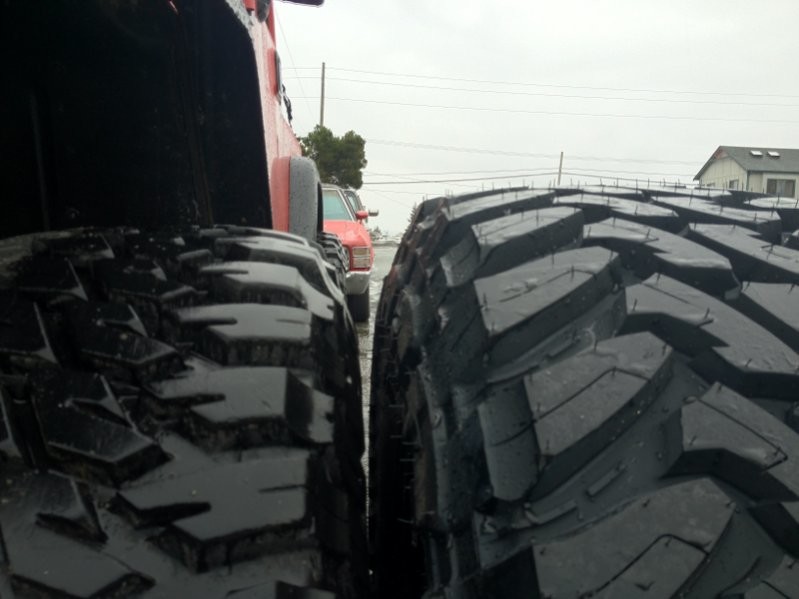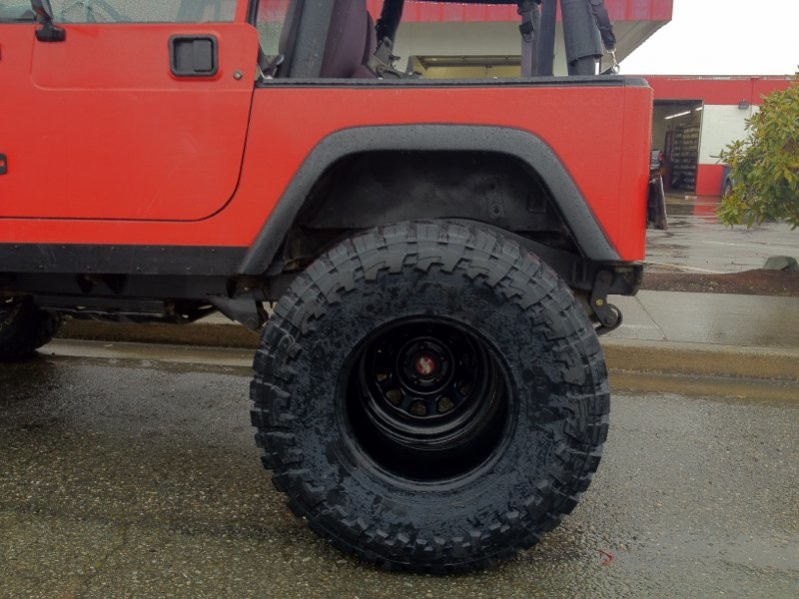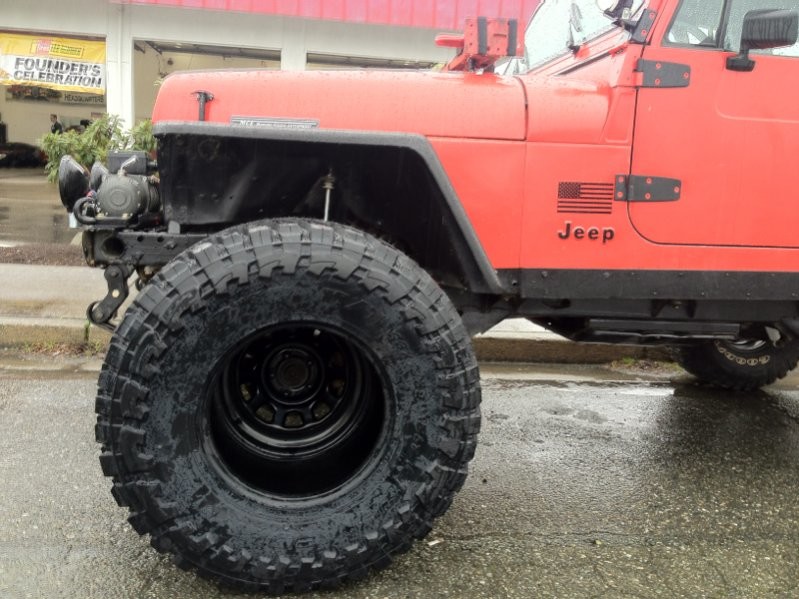 2-10-2012
Here a couple from the other day for you bud!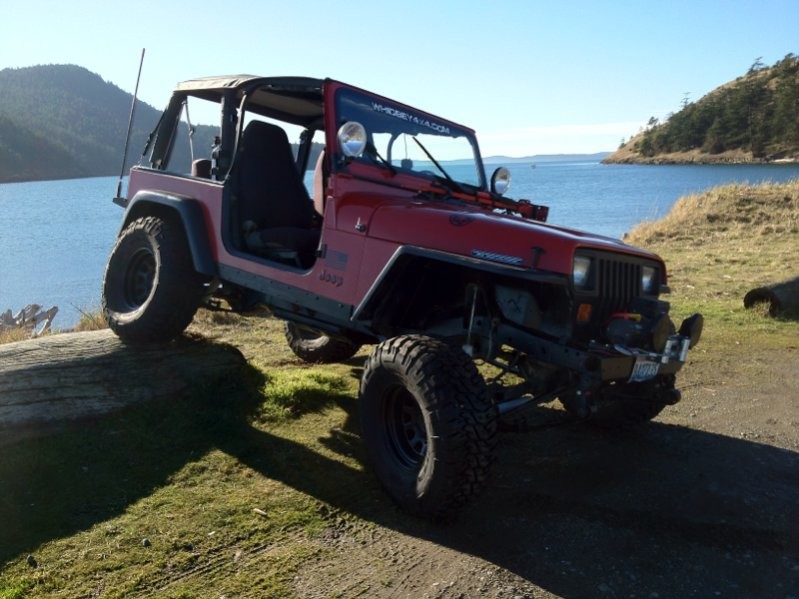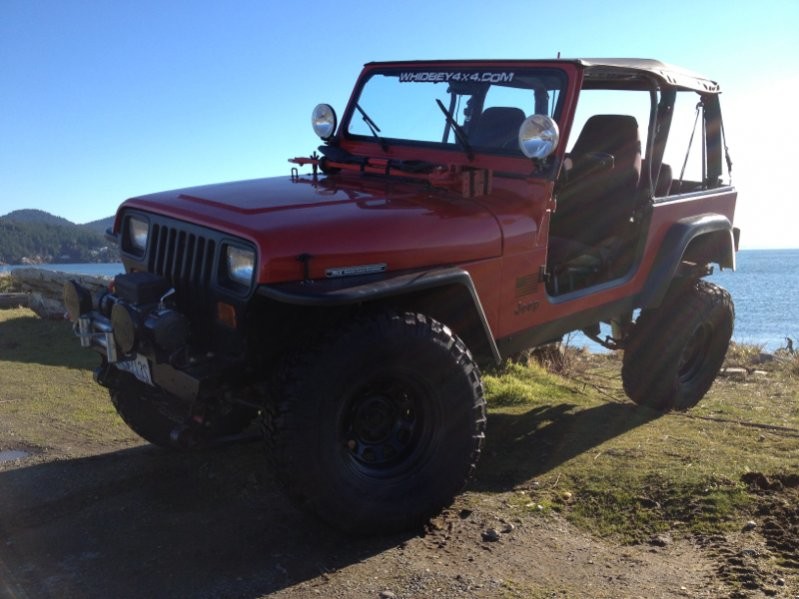 Hahahah no they are toyo mt's 33-13.50.15 the old tires are Goodyear mtr's 33-12.50.15! I don't know why the toyo's are so much taller! The mtr's still have 18 32nds on them and are no where near warn out! And I am running 4.88 with these guys.....I don't understand how people say the 33's and 410 is a good combo!
So here are the tires and wheels guys tell me what you think!!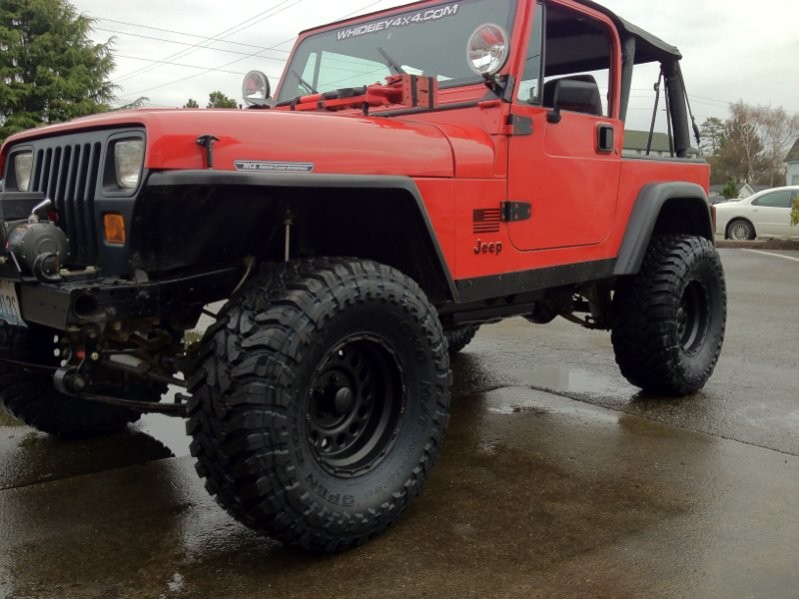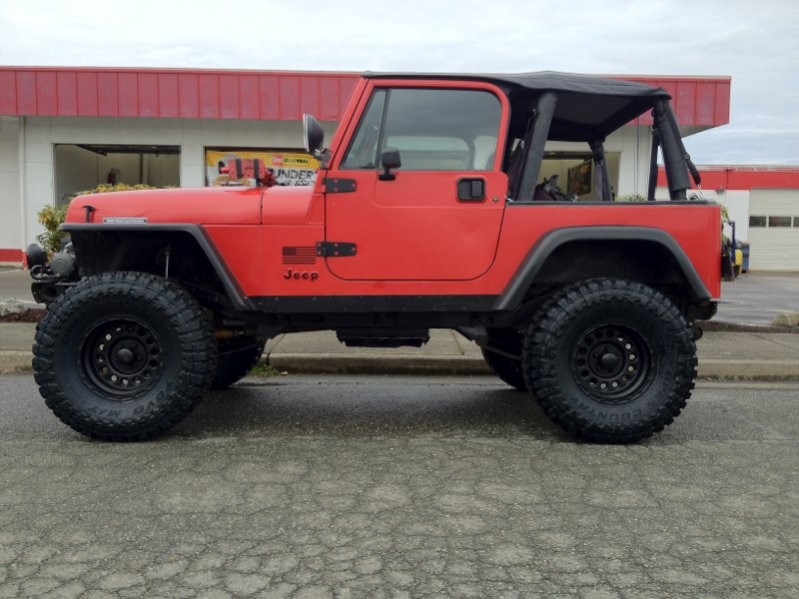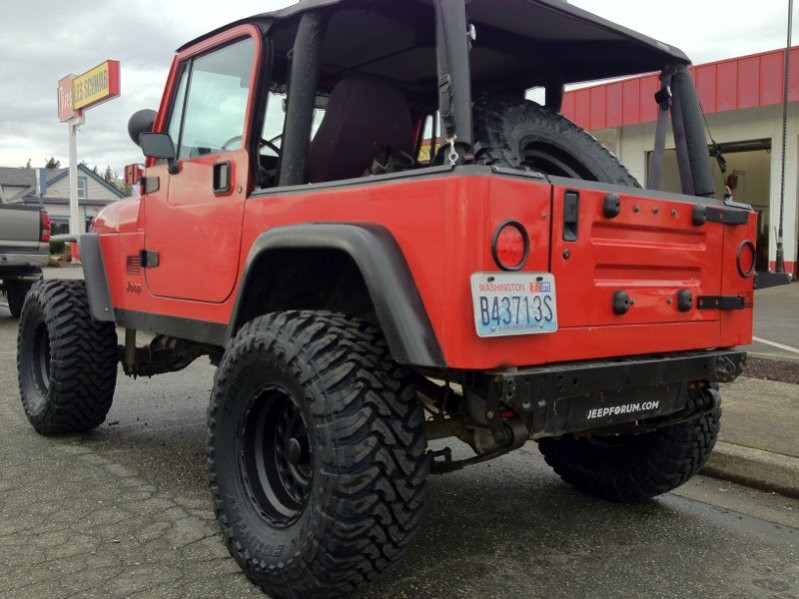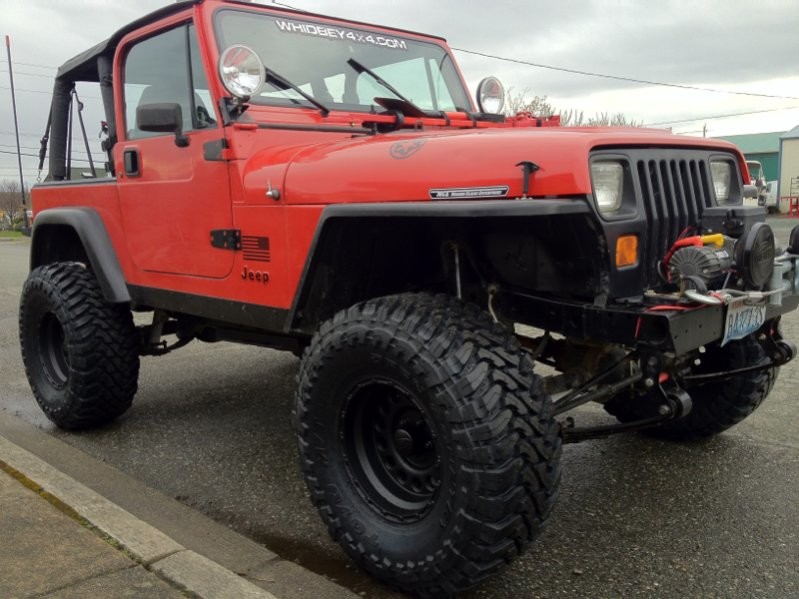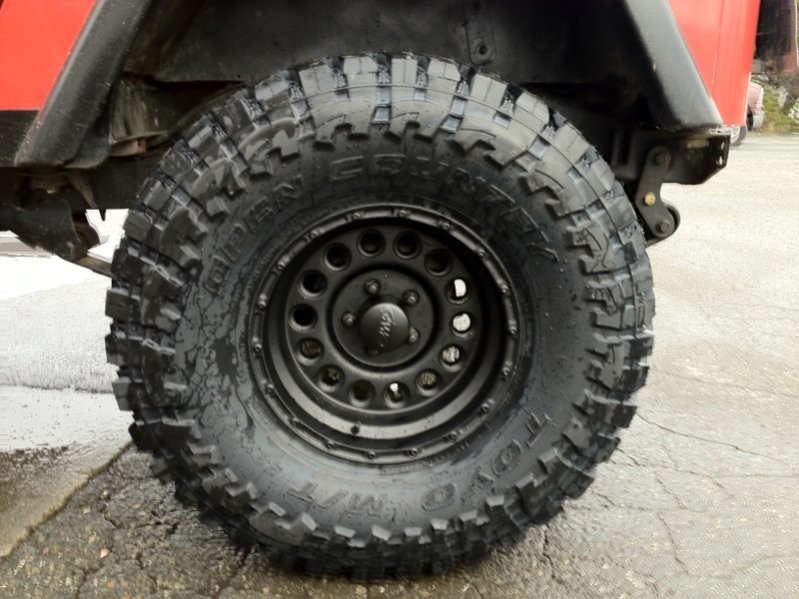 2-11-2012
I now have the power steering setup in my hands! I cant' wait to install it the only down side is my arms might start getting smaller! big thanks to 91BoD for picking it up for me and packing it all the way over to me thanks man it helped out alot!
2-12-2012
So I installed the power steering last night/this morning and man on man it feels like I am driving a whole new rig! I did't take to many pics of the install but I will post up a couple I took, and also I pic of my jeeps new tool set!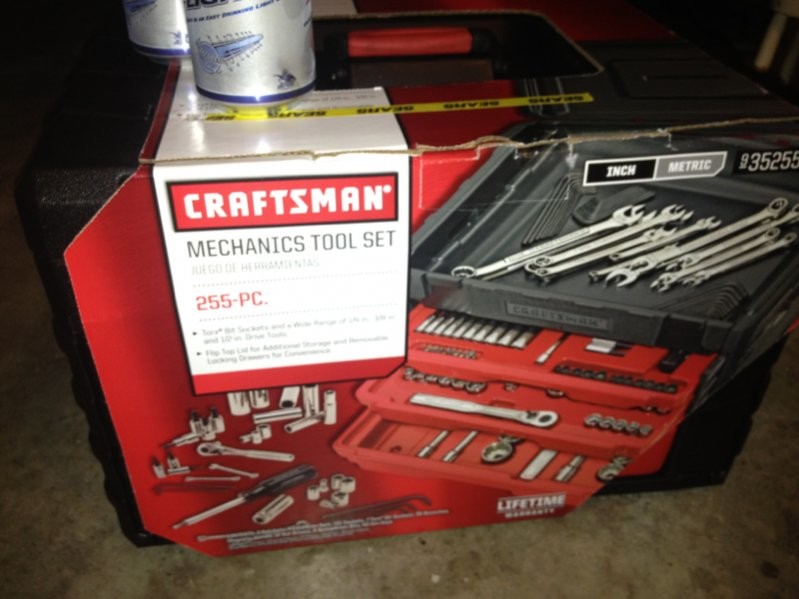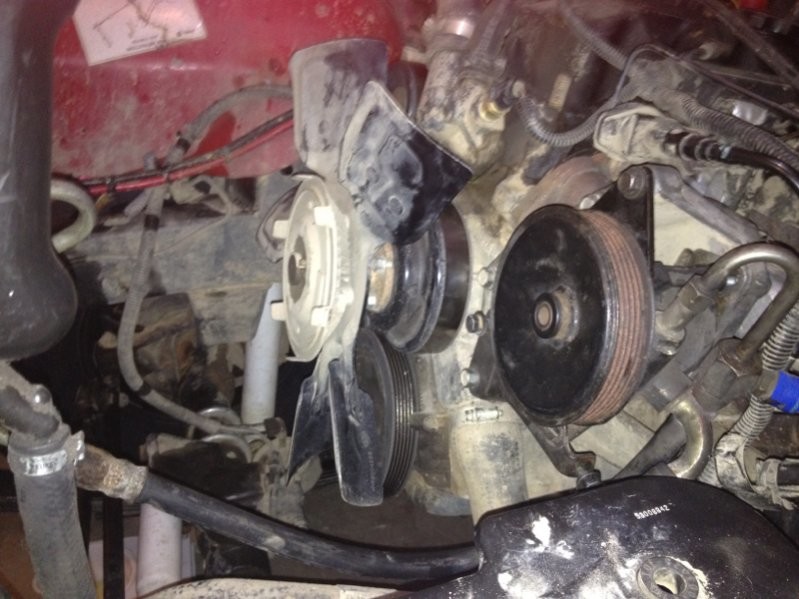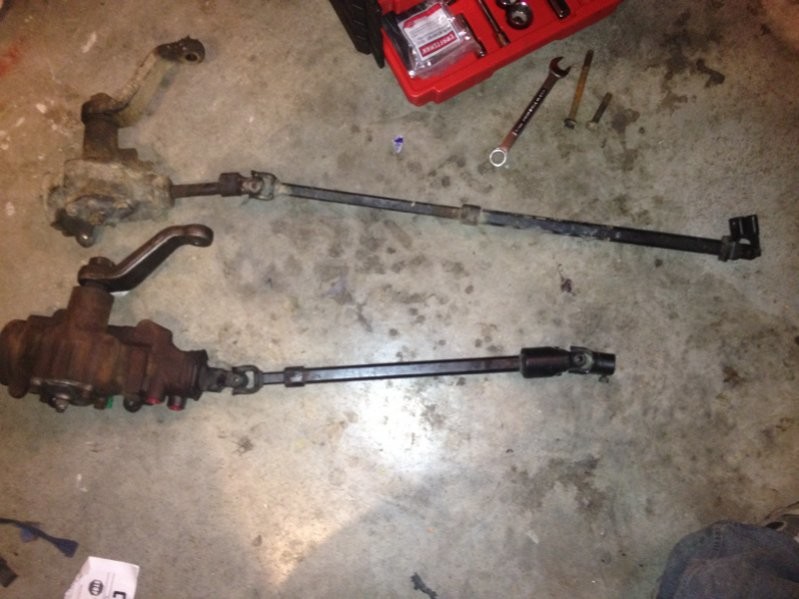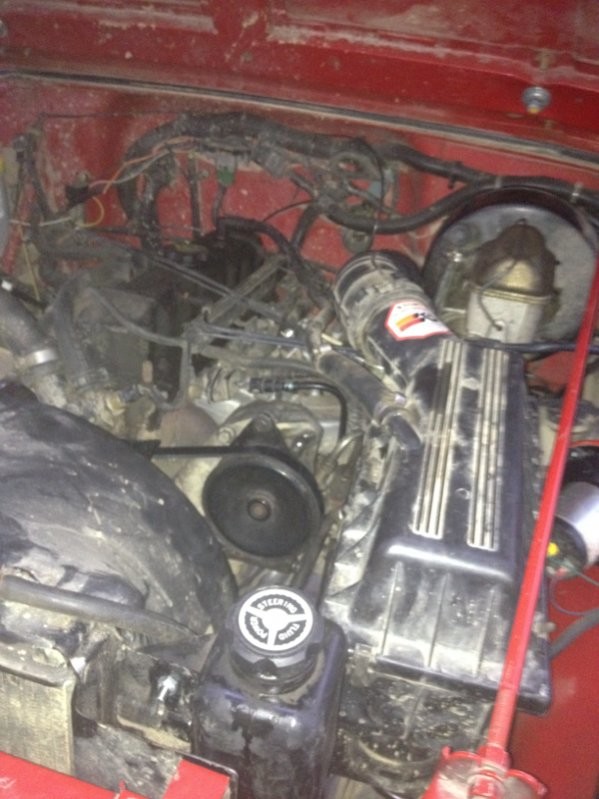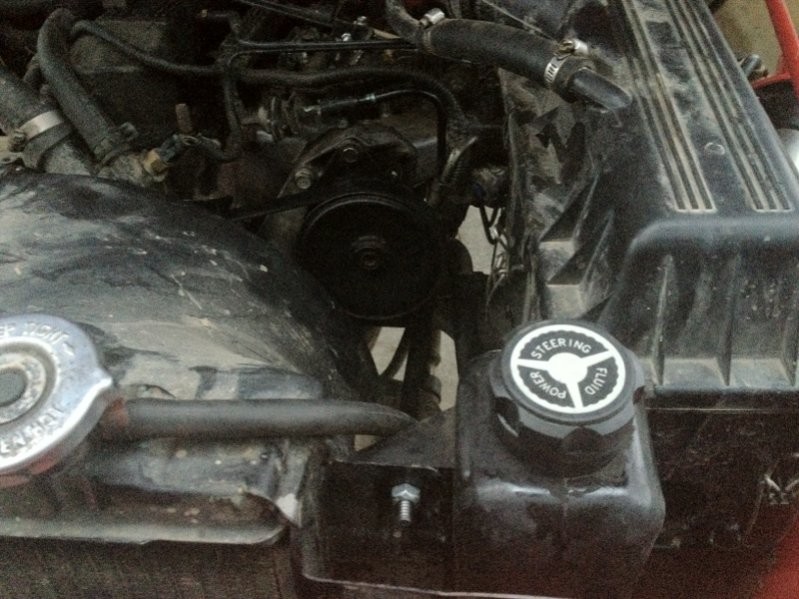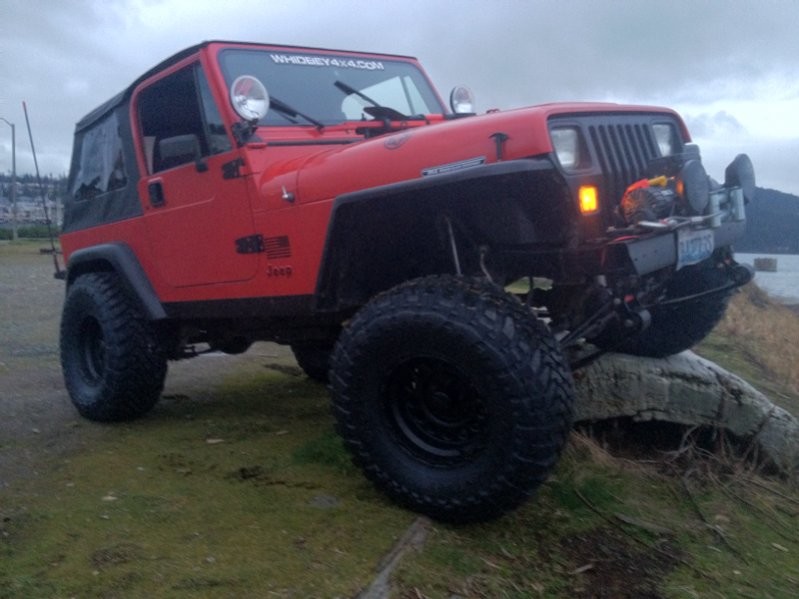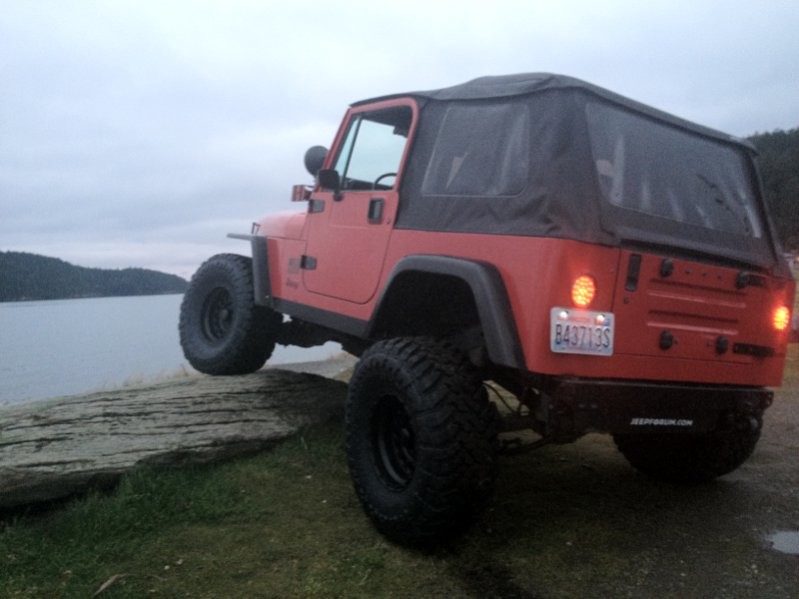 2-14-2012
So I am going to be tackling my front end tomorrow!! I can't wait to be locked front and rear!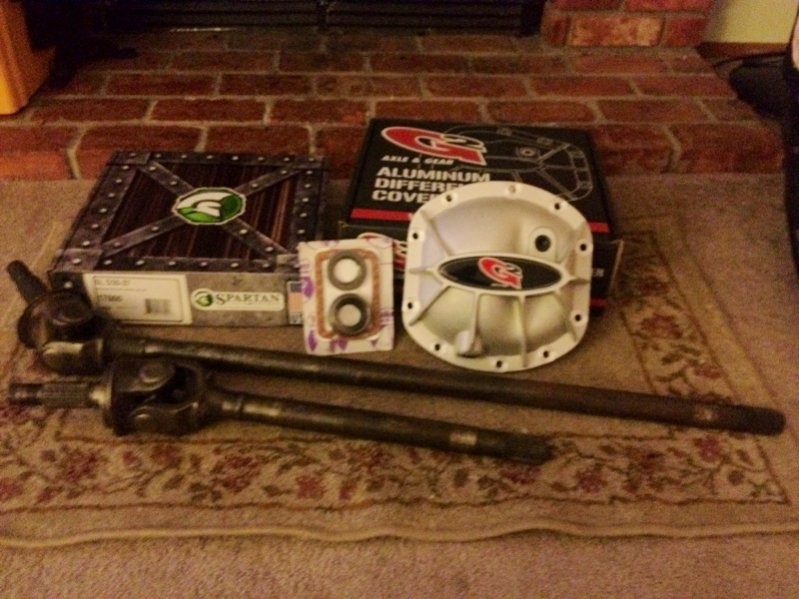 So I tackle my spartan/ tj shaft install this morning it took me about 3.5 hours from start to finish! I could of done it faster but this was my first time removing a carrier and the ring gear! Over all ever thing went nice and smooth and I am loveing it! I drove right up a 3 foot yellow pillar with out any flenching sorry no pics of that but here are a couple from today any way........I really need to get my jeep back in the dirt!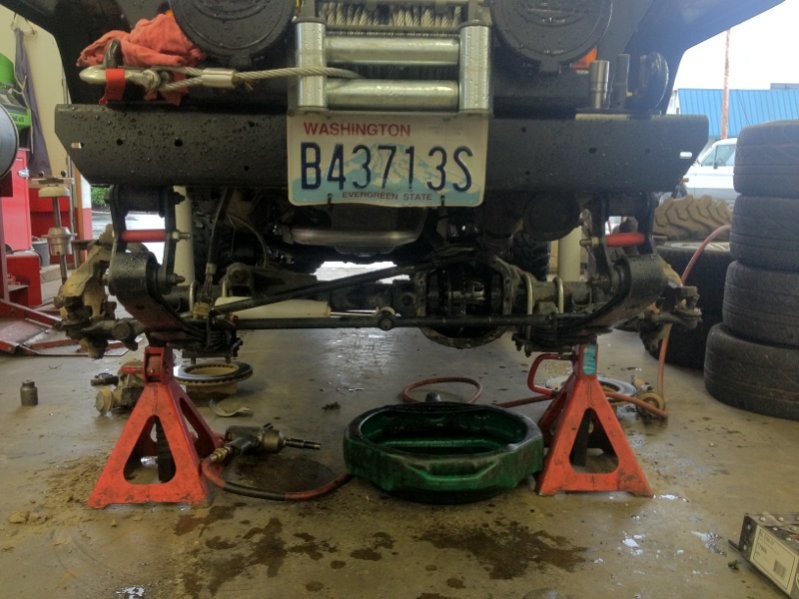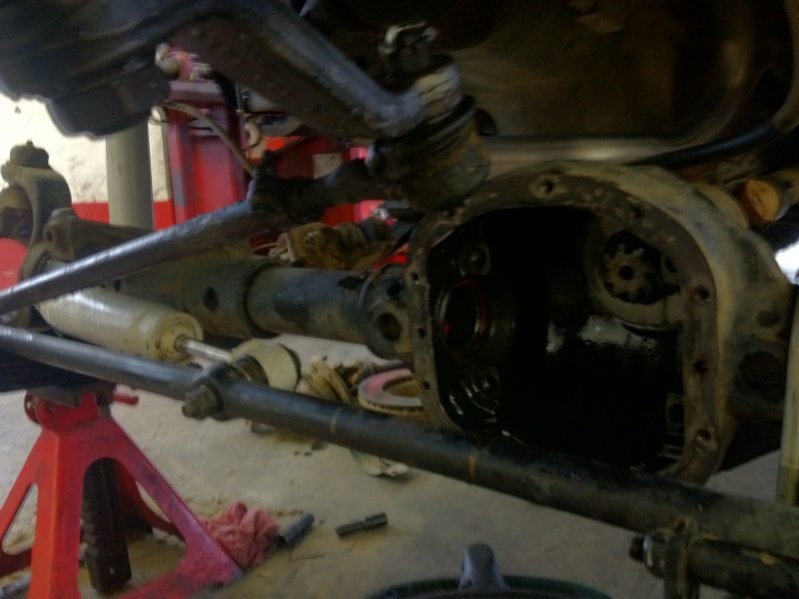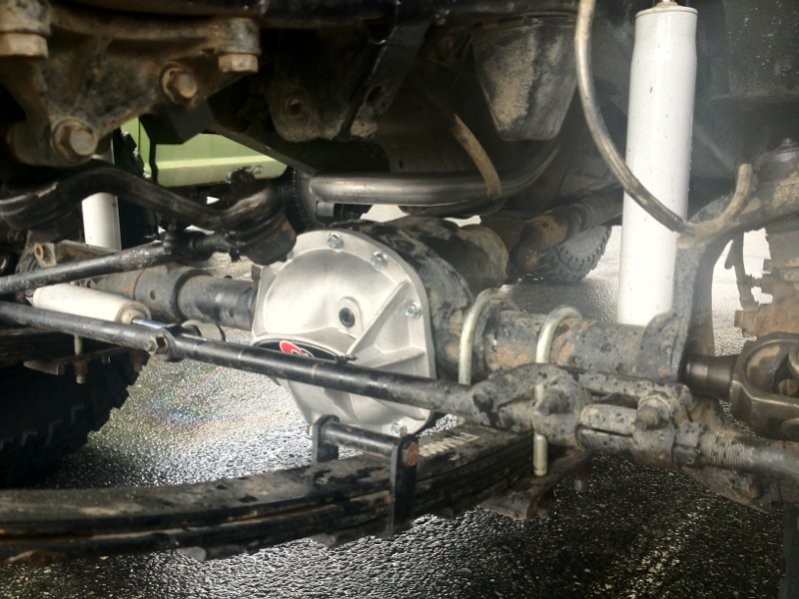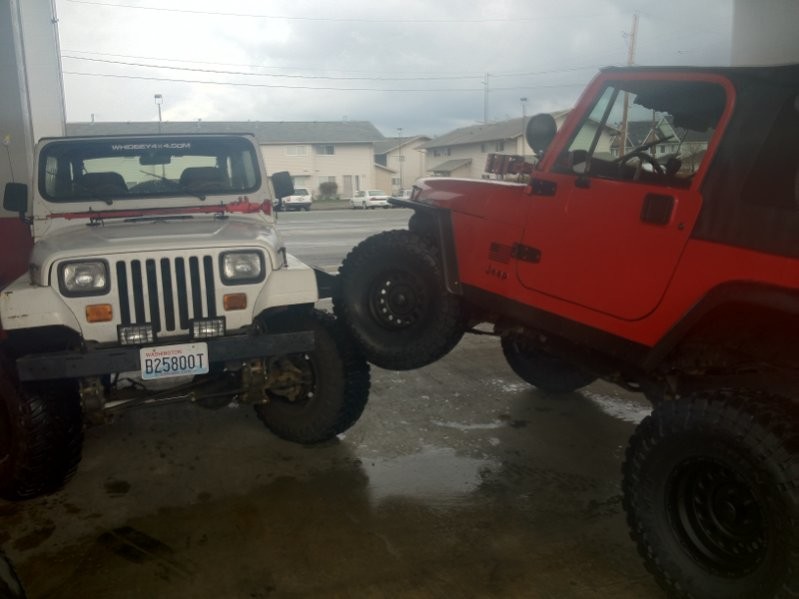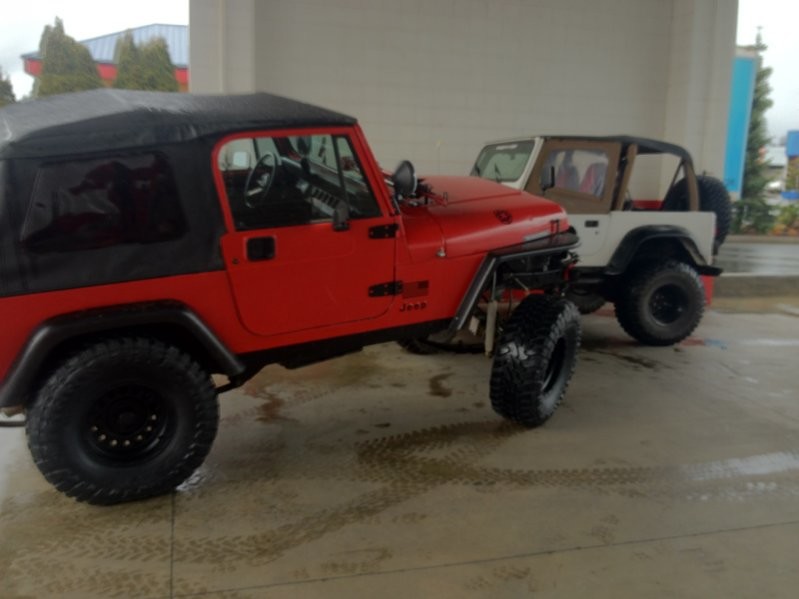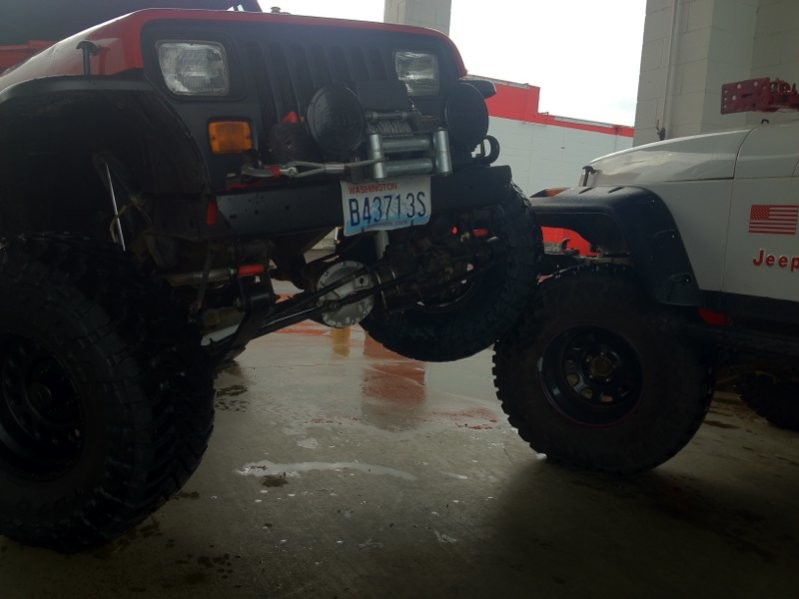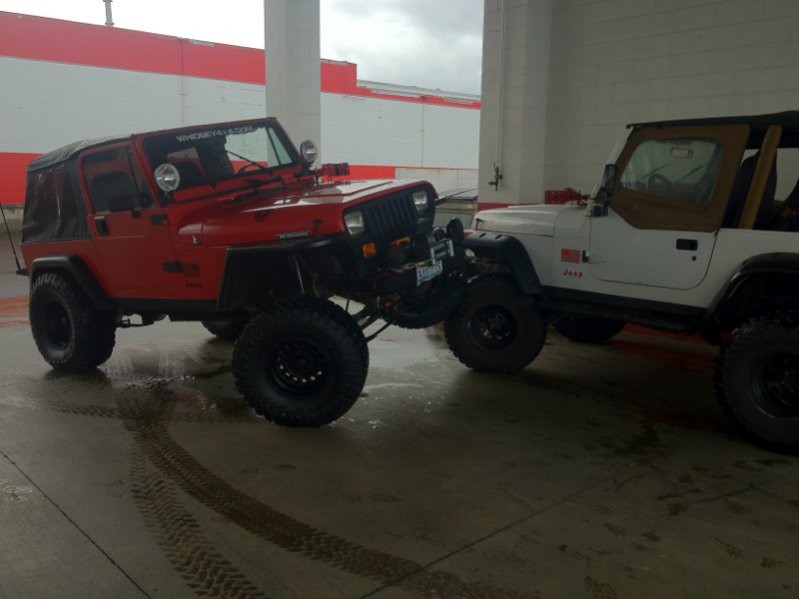 2-16-2012
Just a quick update I picked up a air pump today so I can air up on the trail I know it's nothing cool but I am excited about not depending on other people for air!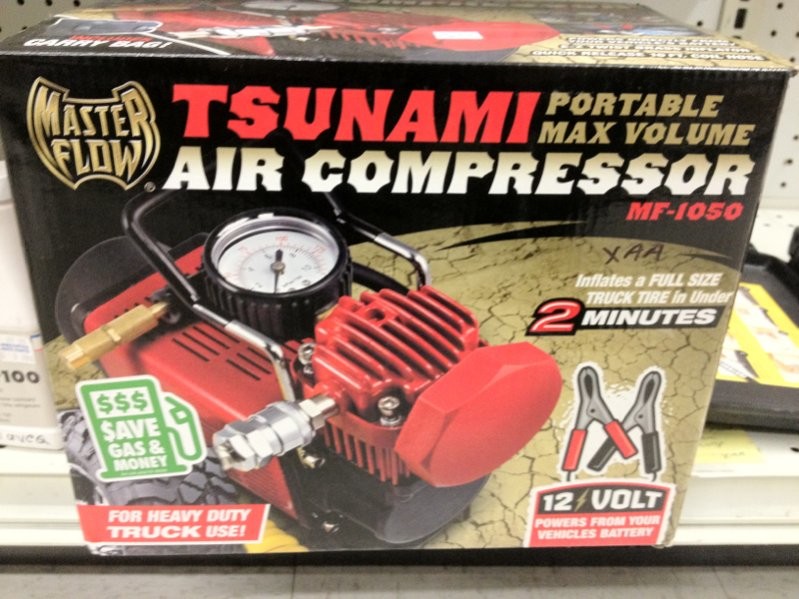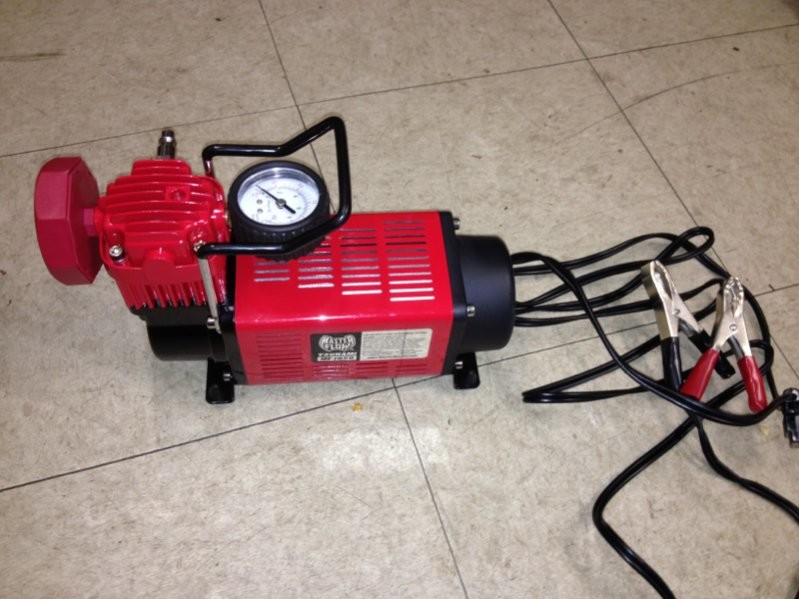 2-17-2012
Thanks man I can't wait to try it out.......I came home to yet another surprise!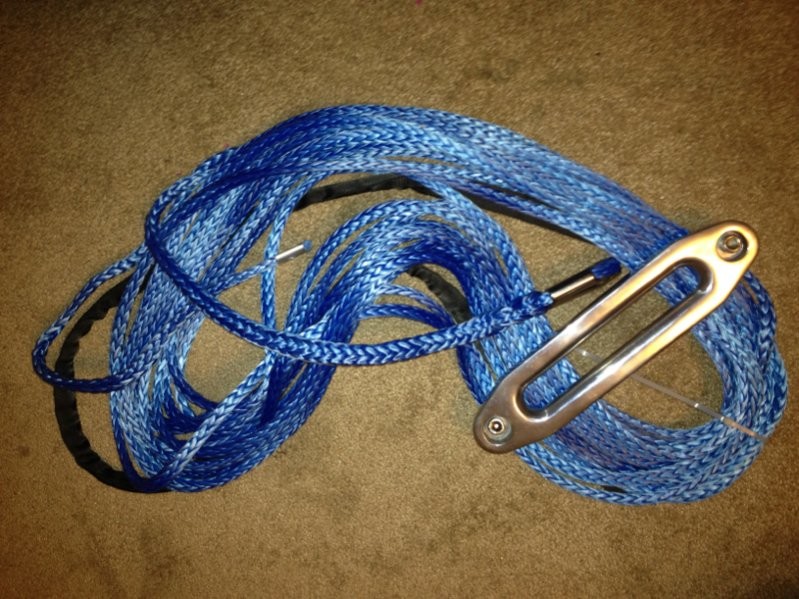 I got my new line on today.....I am waiting on my new bumpers to show up before I put he new fair lead on!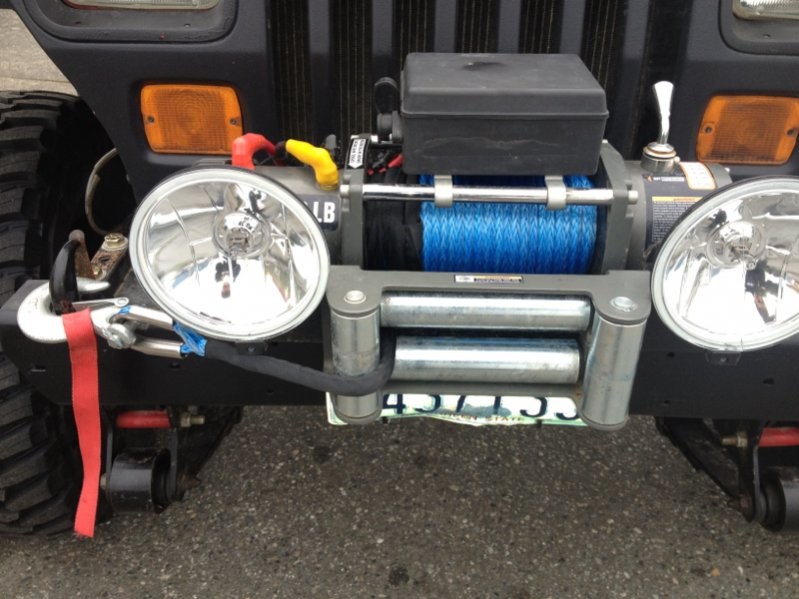 2-19-2012
So today on the way to bestbuy I lost my clutch I couldt shift all the way home.......so I had to replace replace my clutch's mater cylinder boy was that fun! Oh yeah when I went to bestbuy I picked up some new Polk audio speakers for the dash and a new deck!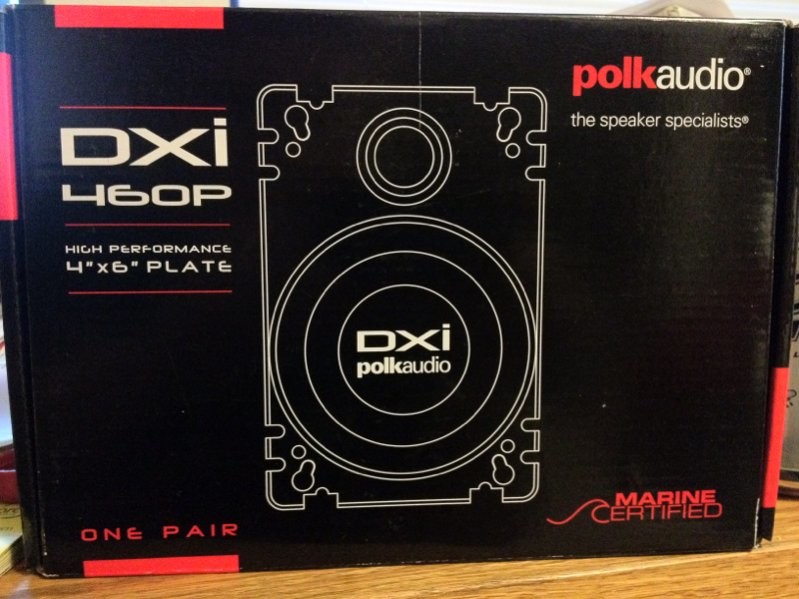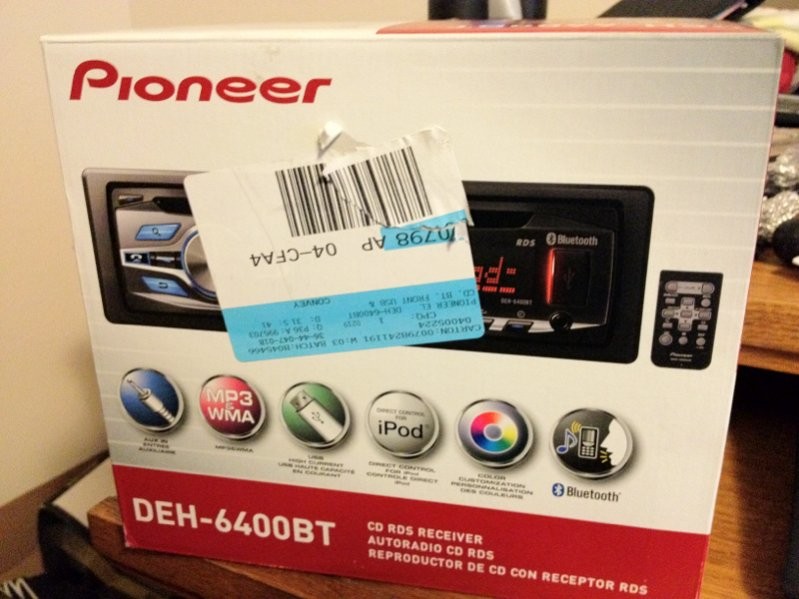 2-20-2012
So I had a great time out wheeling today with my son.....the jeep took every thing like a champ that spartan and power steering really helped out! The only damage today was my windshield mounted hella light but oh well. here are a couple pics!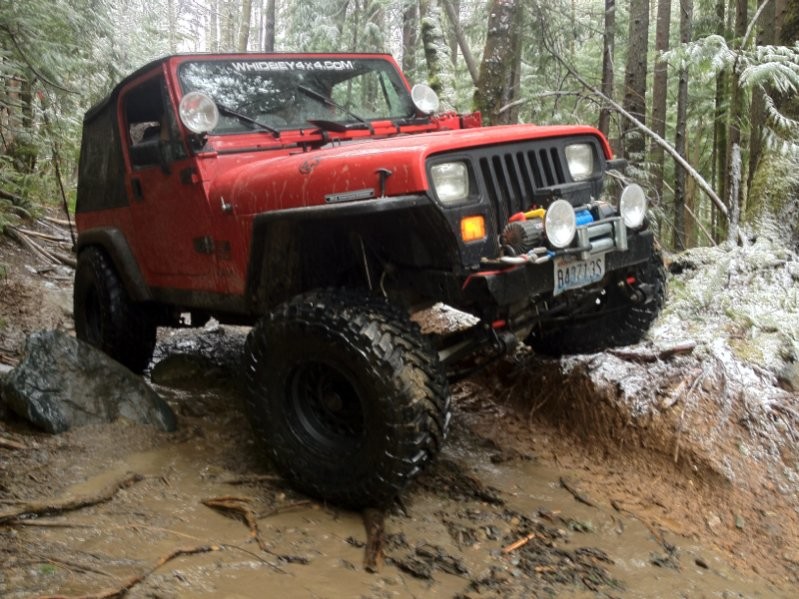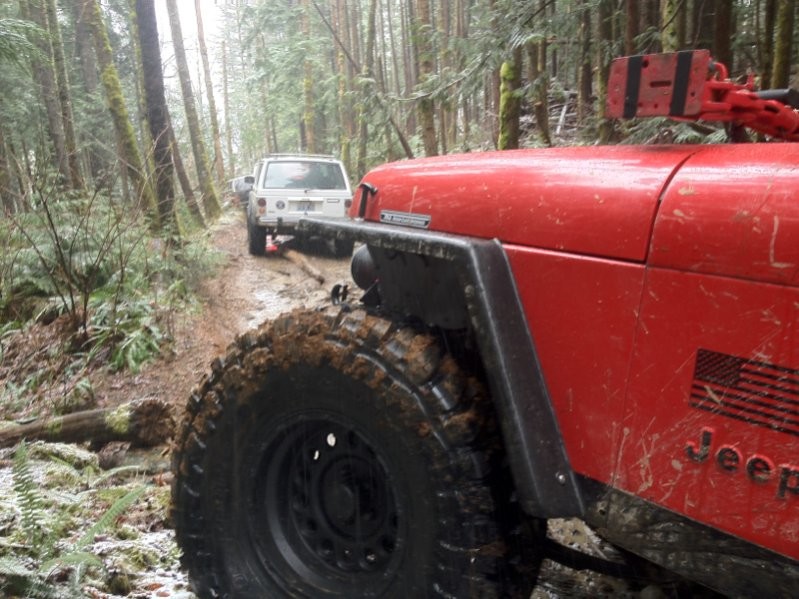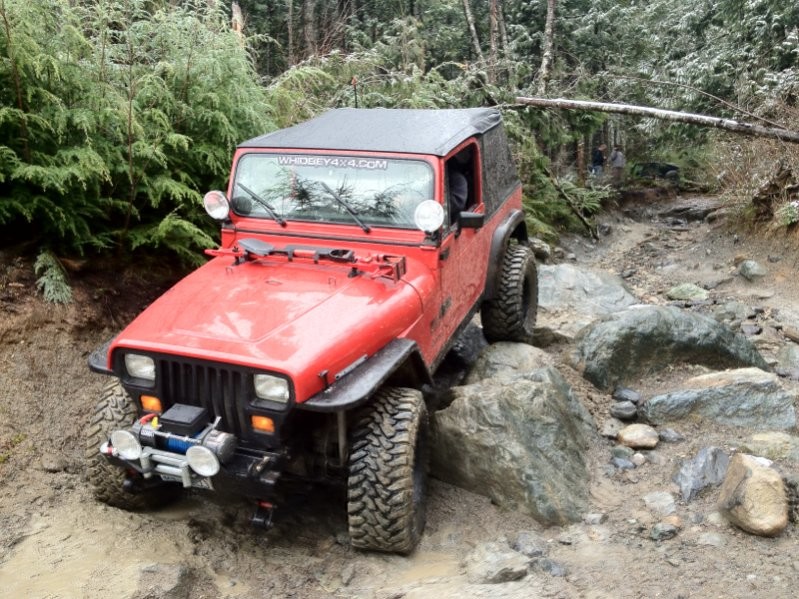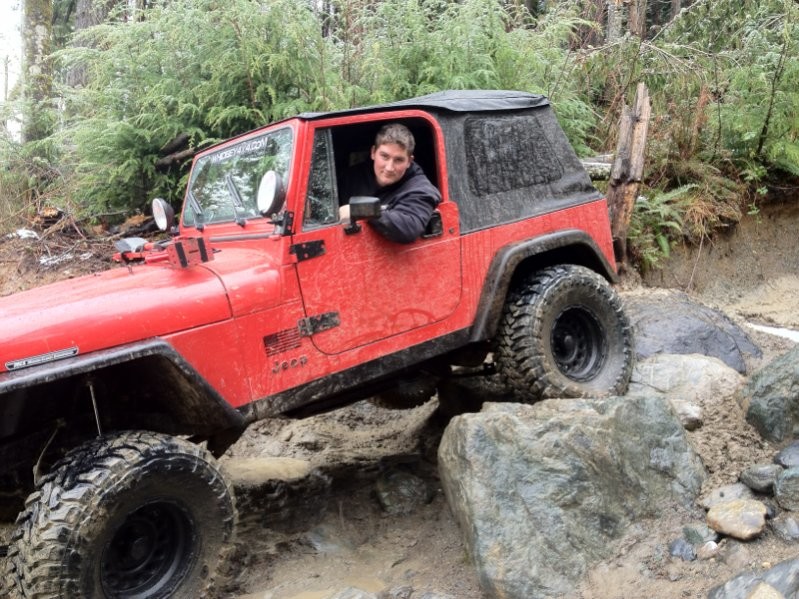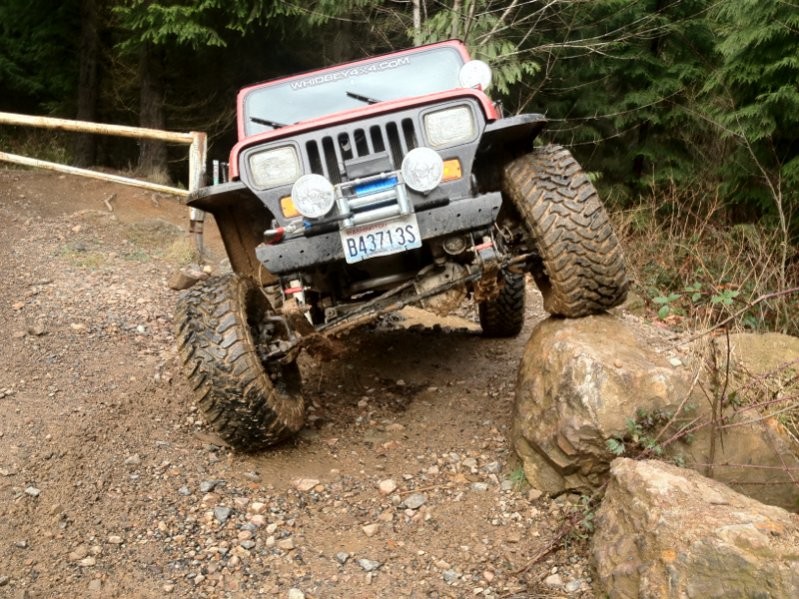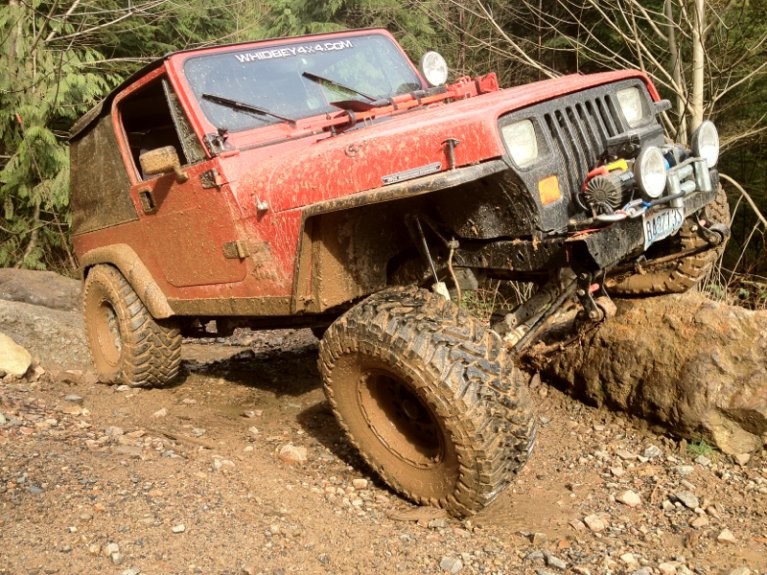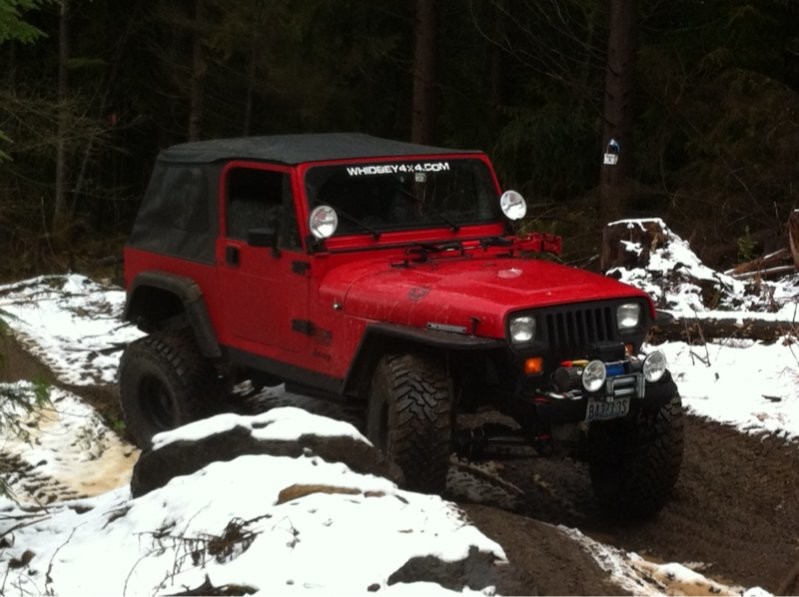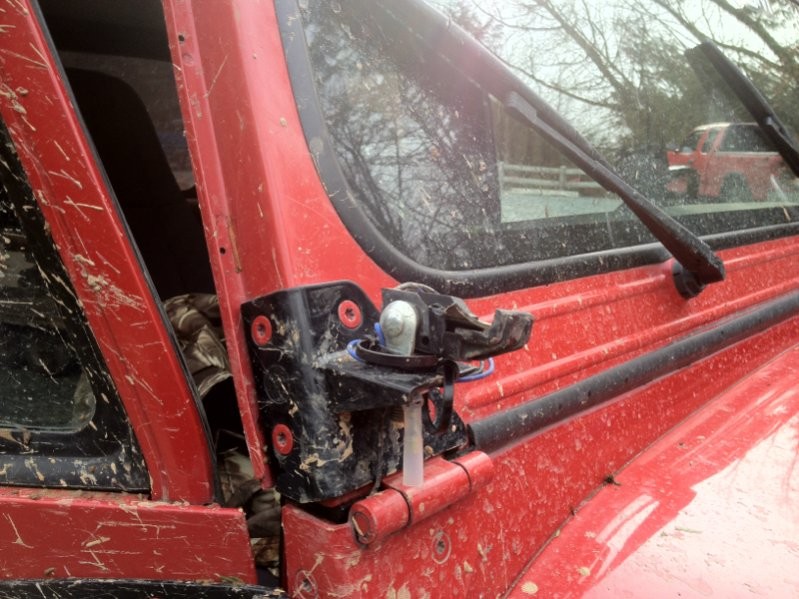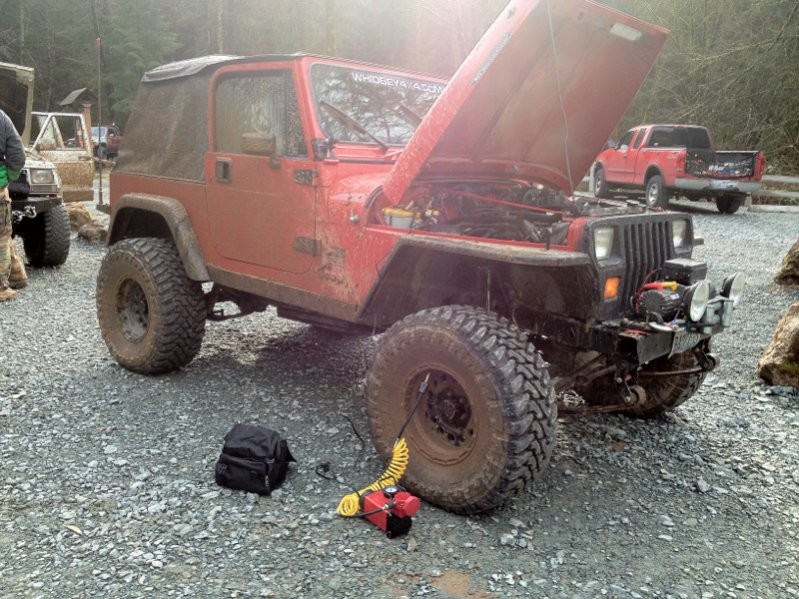 here is the egg rock I always have to fight with!
and here is the rock I had to winch over last time I am sorry about the bad quilty it was filmed with a phone!
I love the herculiner It really cleaned up my interior and I would recommend it.
2-22-2012
So my front stubby jcr winch bumper showed up today so I got it painted and installed.......now I need to find a place for my front liscence plate! What do you guys think?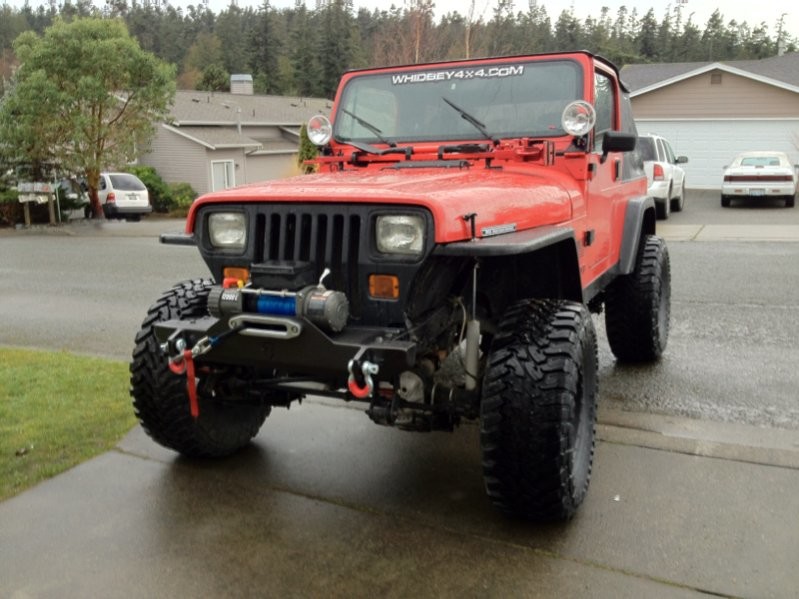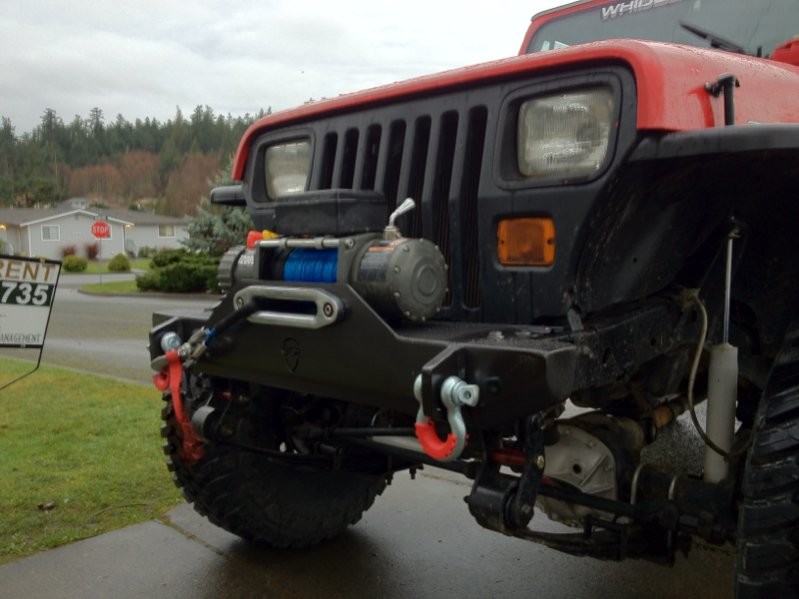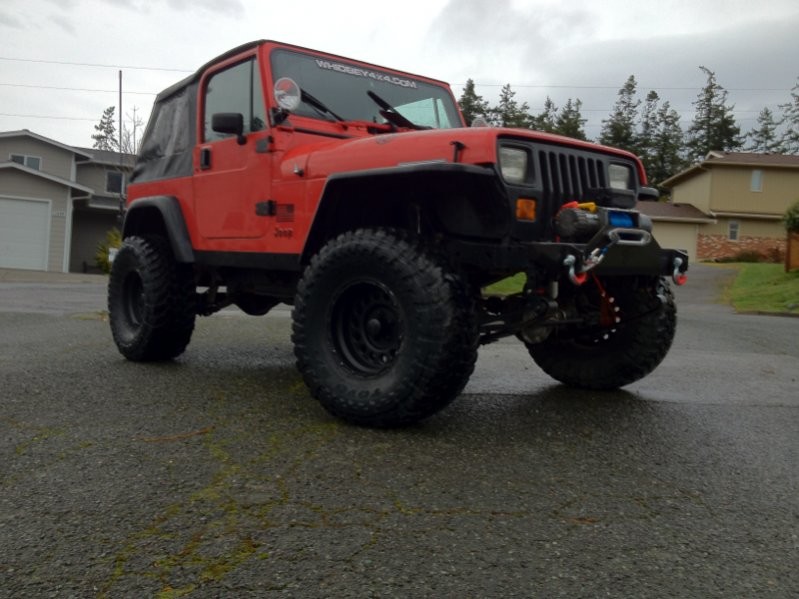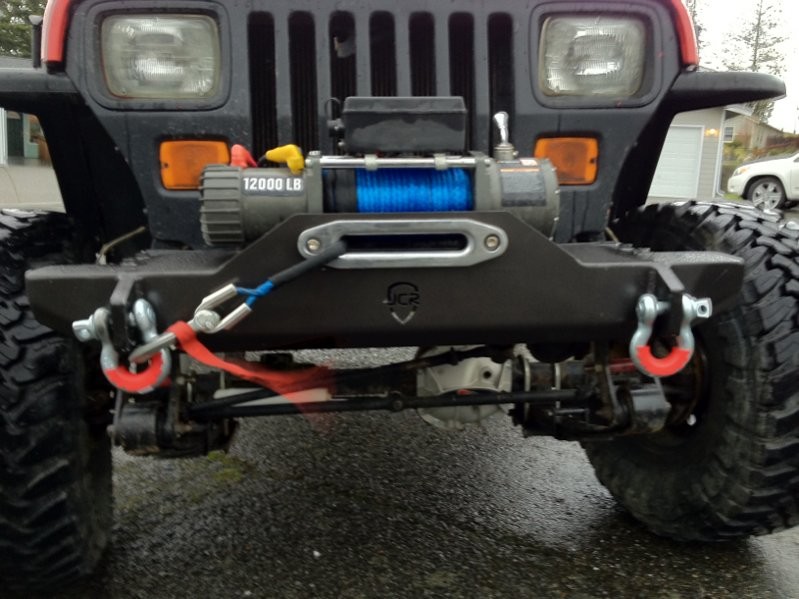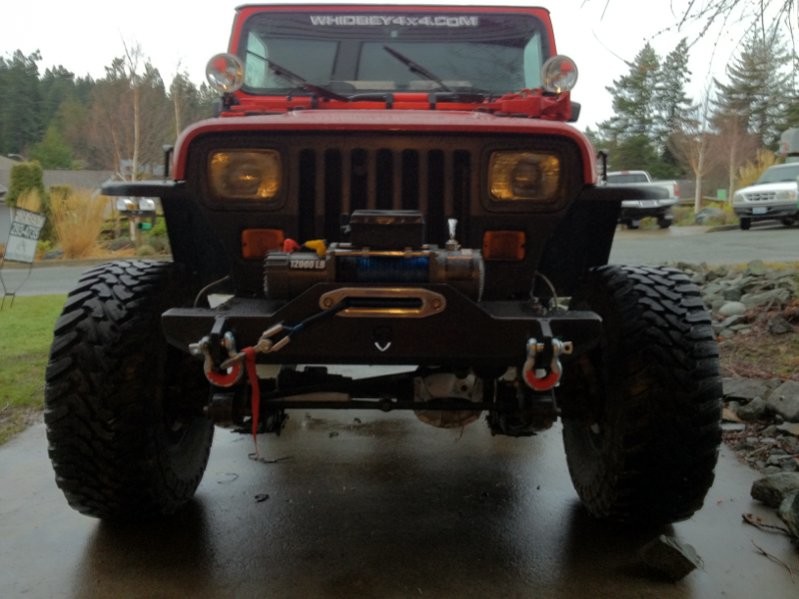 So I got my new sound bar in the mail today and man o man was it a upgrade from the 6x9 I was running!! I think next mount I am going to add either a 8 or 10 inch sub to the system to complete the sound!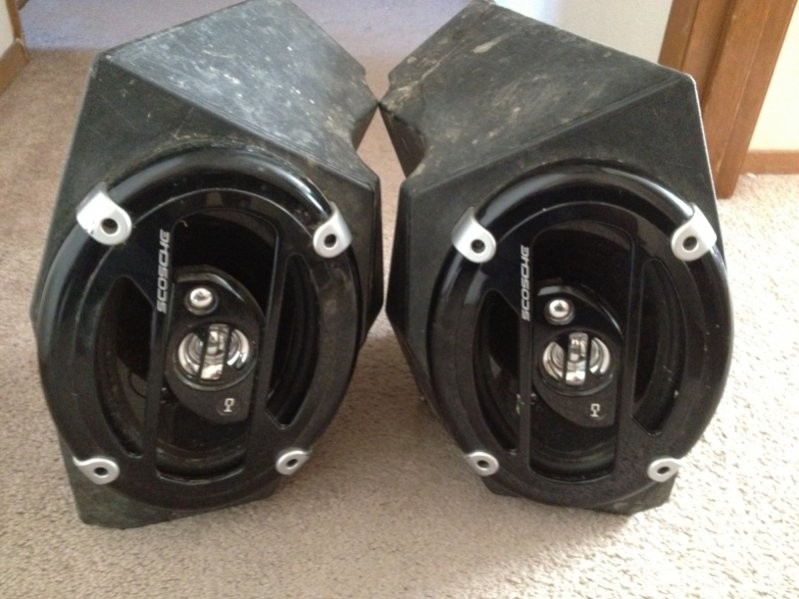 2-26-2012
I love the bumper snow! So the update for today is I got my new rear bumper I stalled I will get better pics In the day light what do you guys think?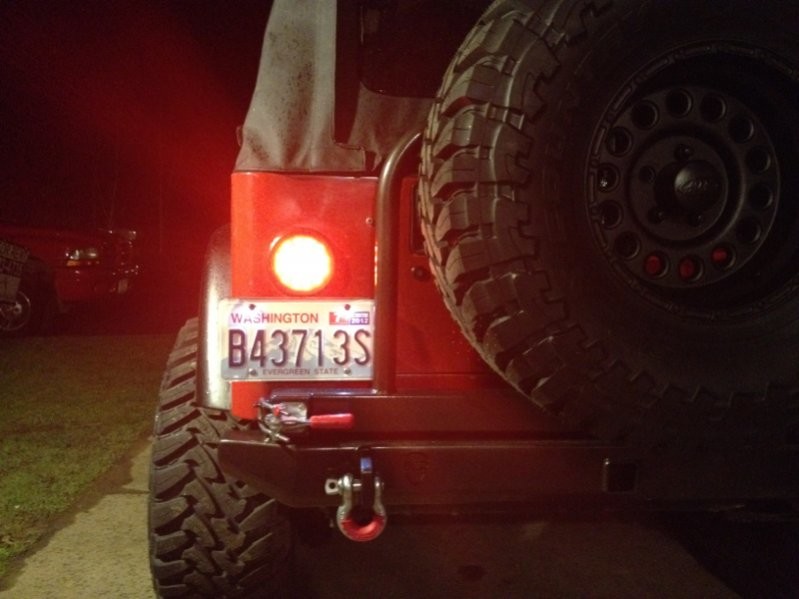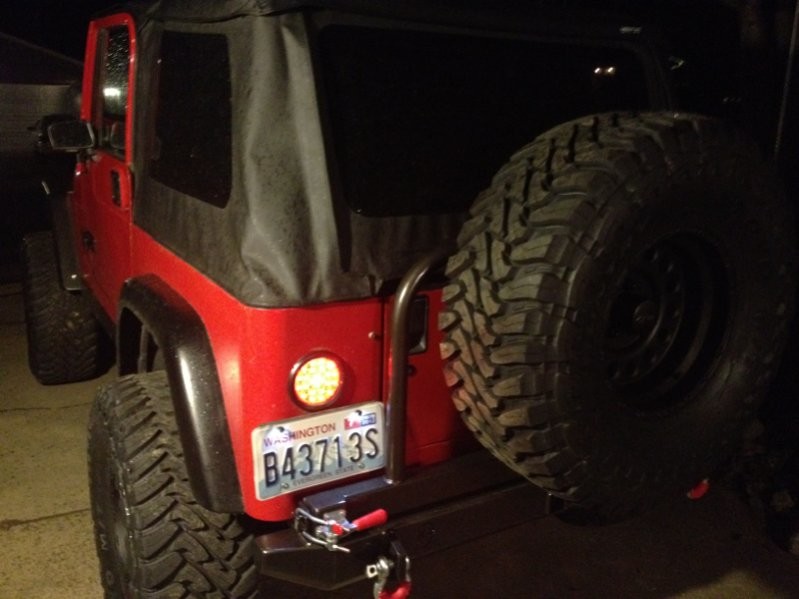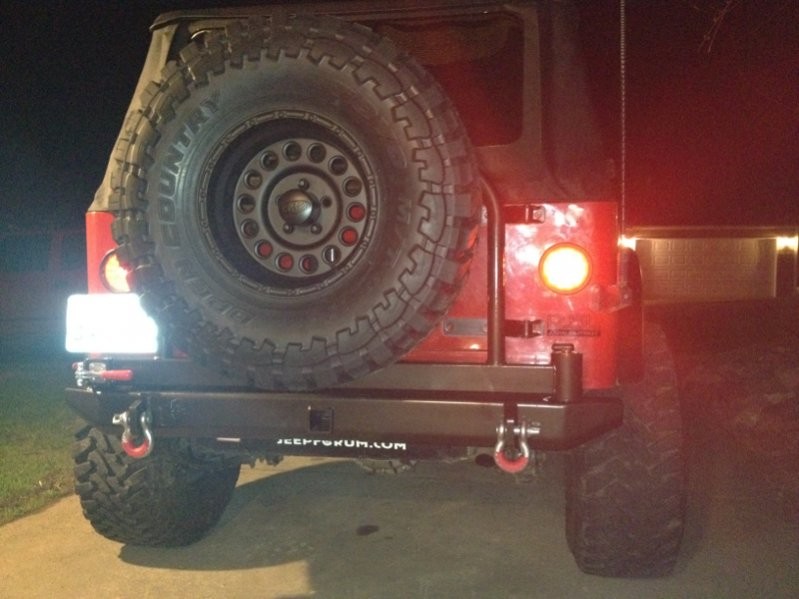 So with the added weight of the spare and bumper the jeep seems to be sagging! So I am going to add a little bigger shackle to level it out.......how much lift do you guys think I need to add to level it out?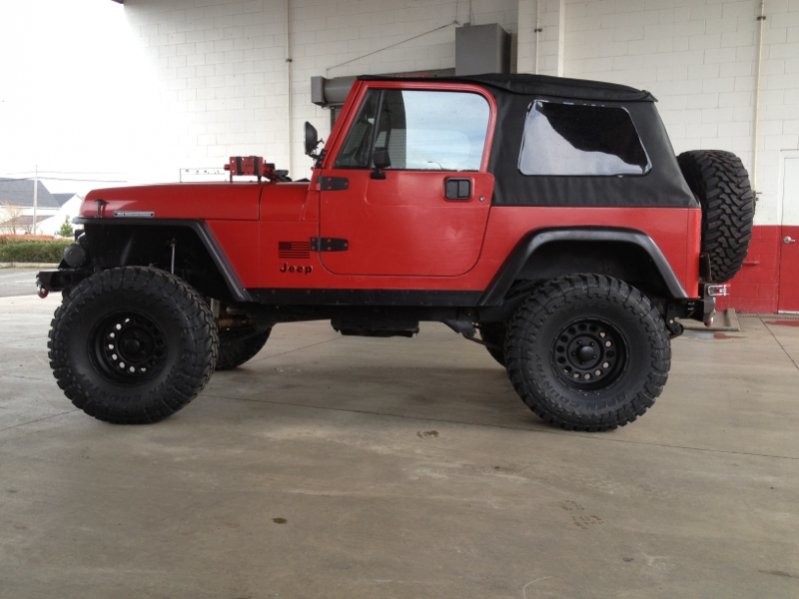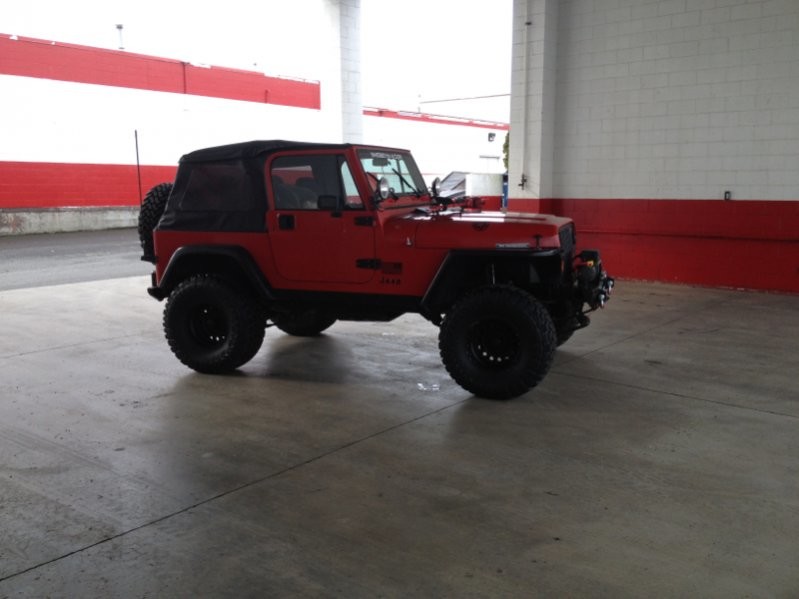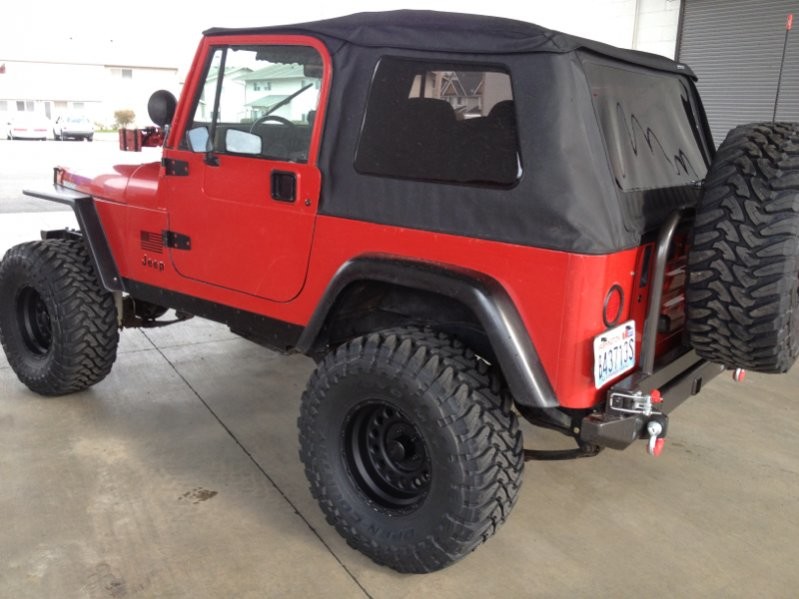 2-27-2012
I am running 5/8 shackles right now because of the military wrap spring! I think I am going too to switch to vacj5 1.25 shackle in the rear! The pics are of the jeep with a full tank of fuel but I dot have my spare shafts and recover gear in the rig or passengers in there hahaha!
I bought the whole ps setup for something like 340 from a local jeep bone yard so I did't really have to dig around for odds and ends, for the drop pitman I just used my old zj stock arm and it worked out great! The only thing that caught me off guard was the bracket that came with my ps pump did fit my setup so I had to strip the old idler pulley setup off my stock bracket and use it to mount it......other than that it was a pretty straight forward swap and well worth the effort

! and thank I love the wheel/tire setup I am glad I went with the 13.50!

3-7-2012
so it's been awhile since I updated my thread so hear it goes, I know its nothing cool but I installed a aem brute force intake the only difference I could feel is that my little 2.5 spools up alot faster I can't say if there was any mpg as of yet! I got my sliders in the mail this last week and should be getting them welded up this Thursday, oh yeah I installed my vacj5 1.25 boom shackles to lever it out!! thats it for now........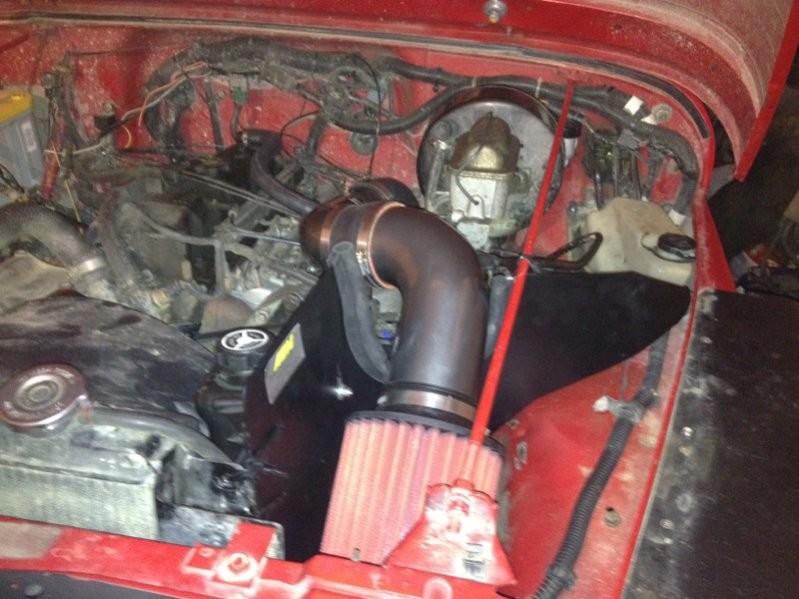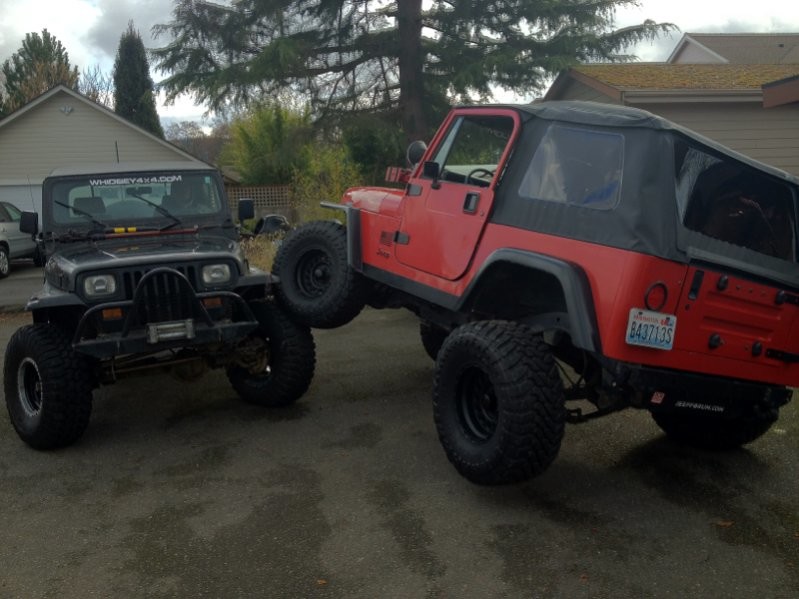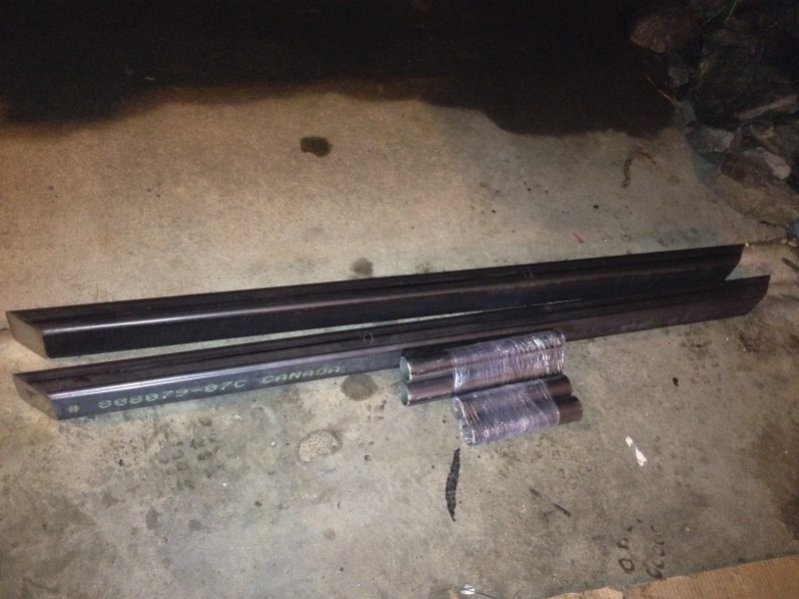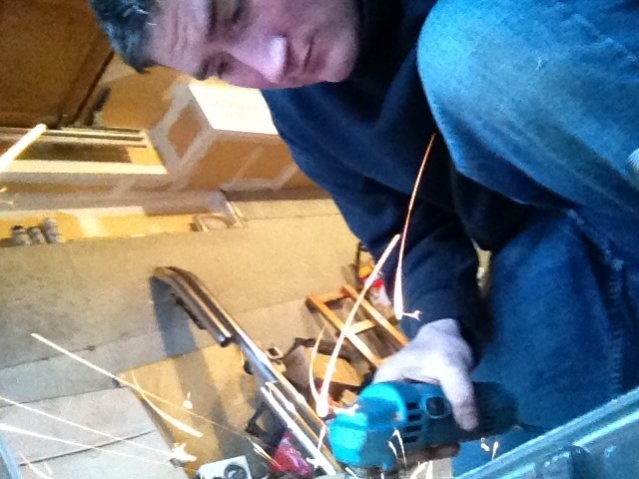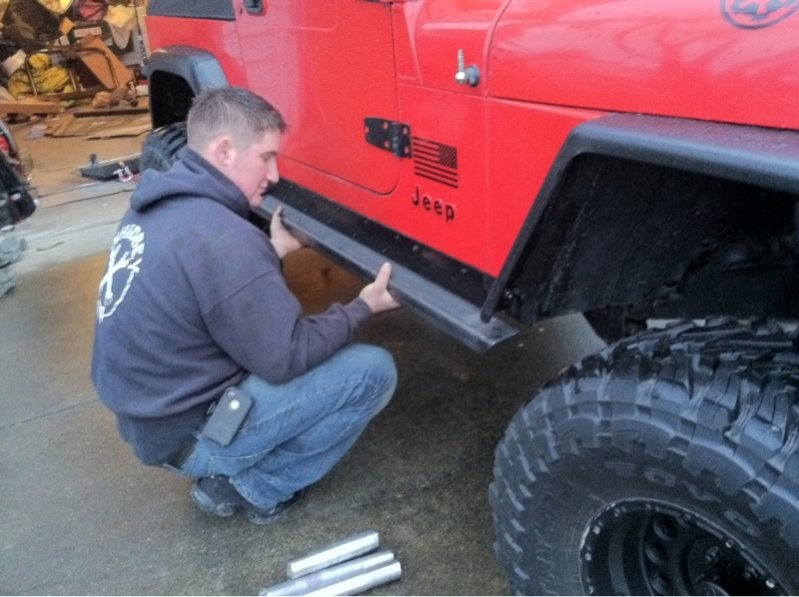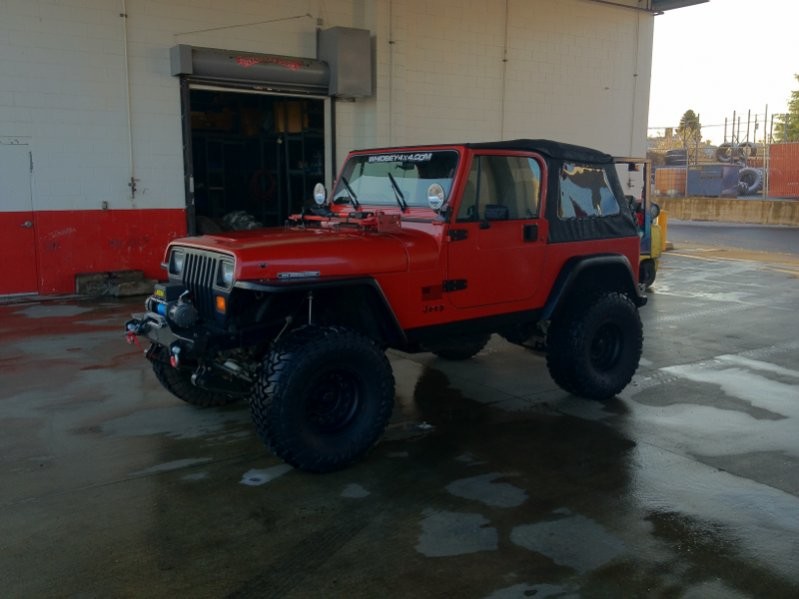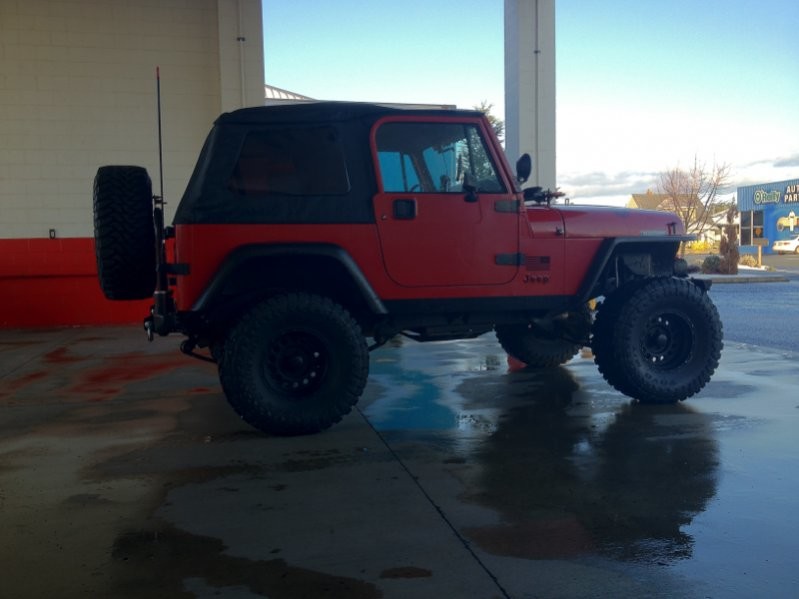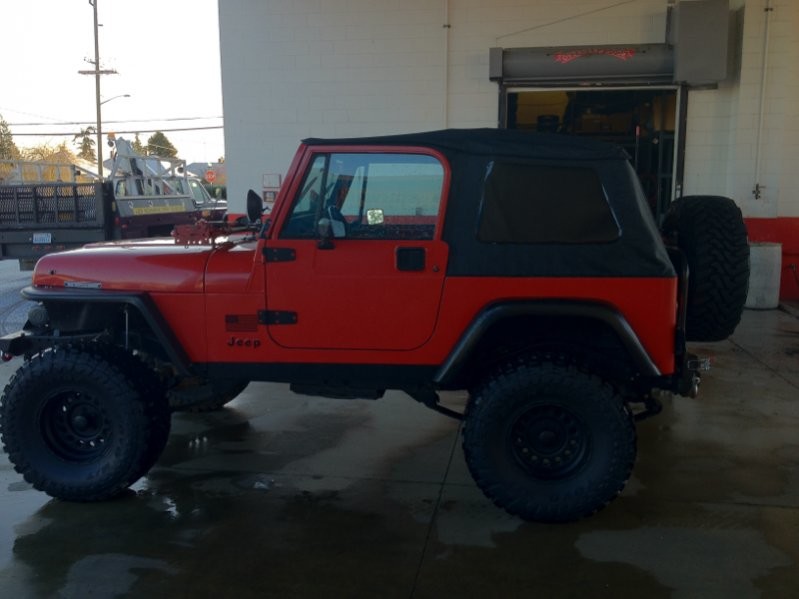 3-9-2012
So today I got my sliders burned in! I will take some better day time pics tomorrow!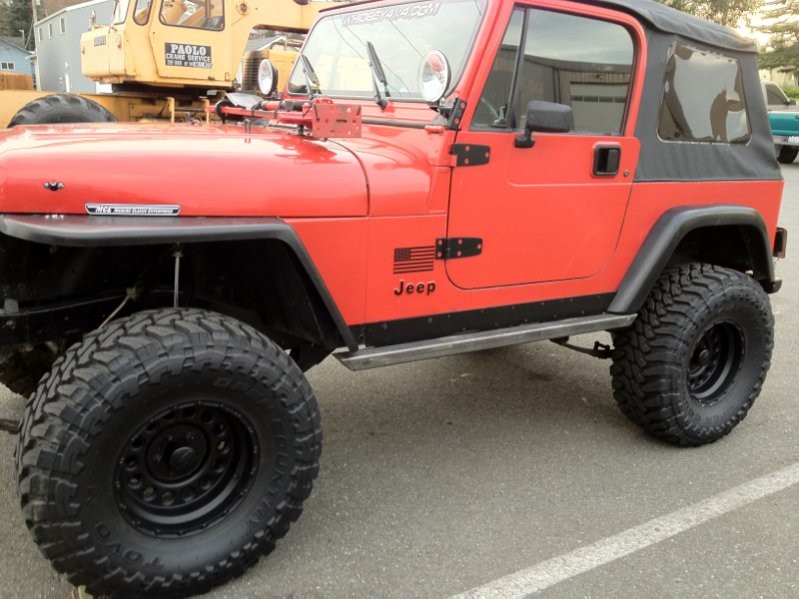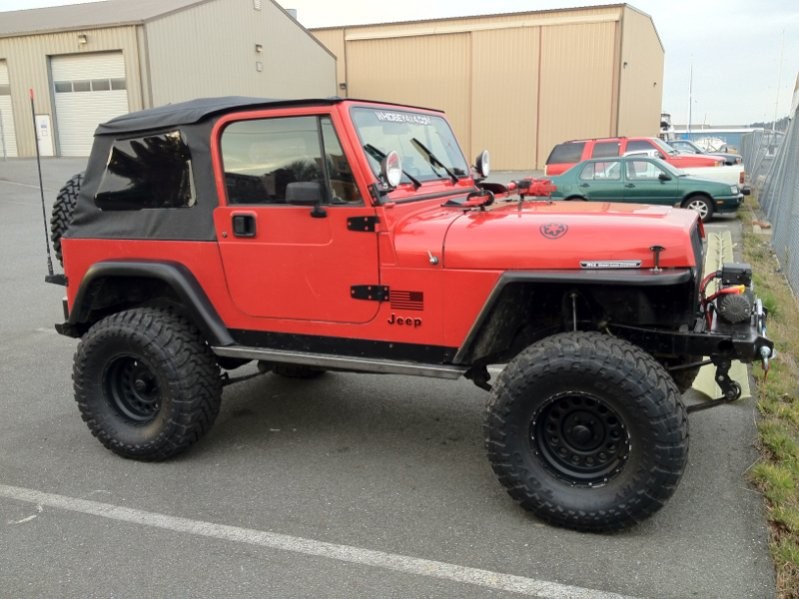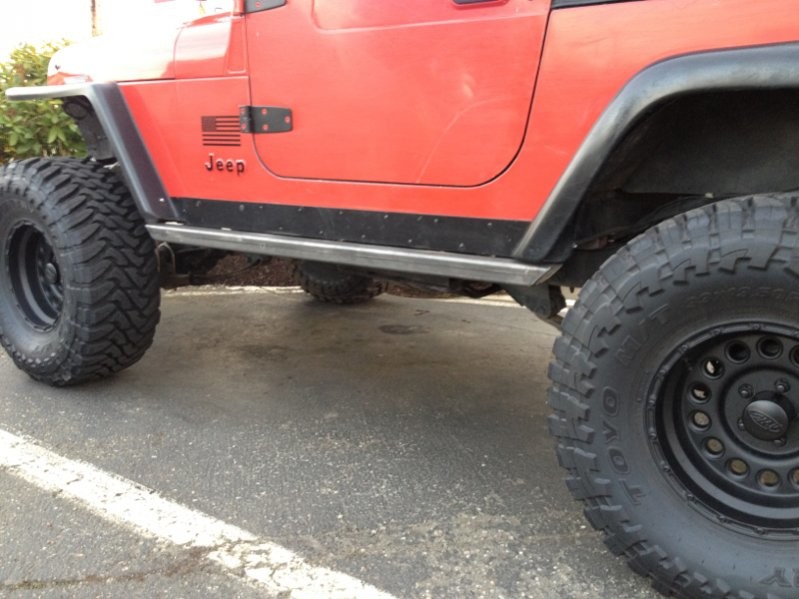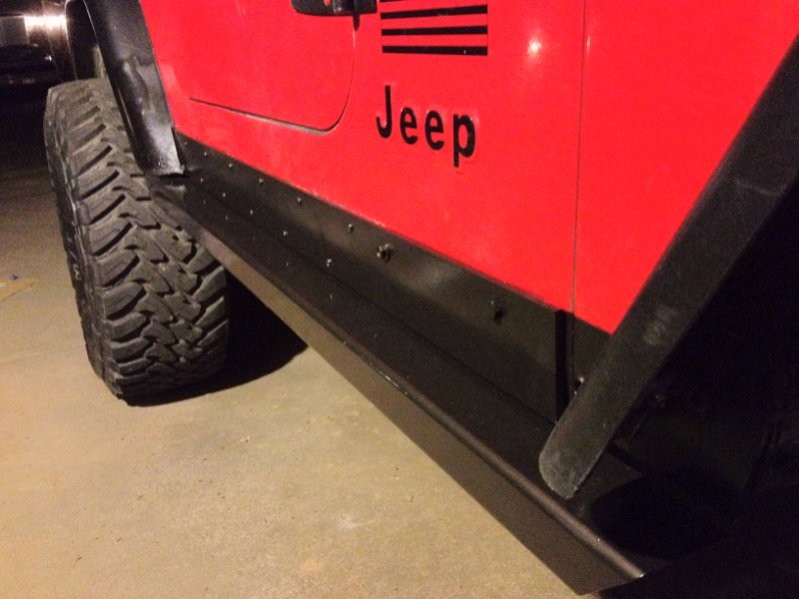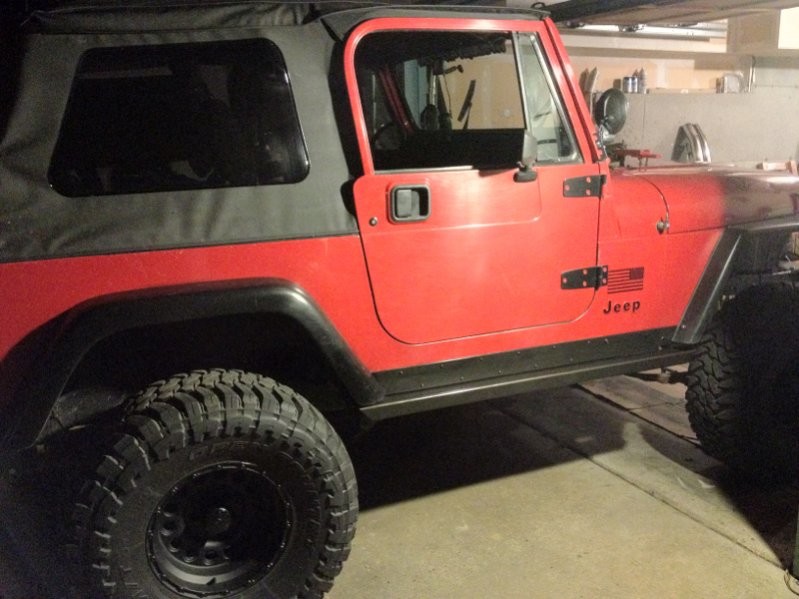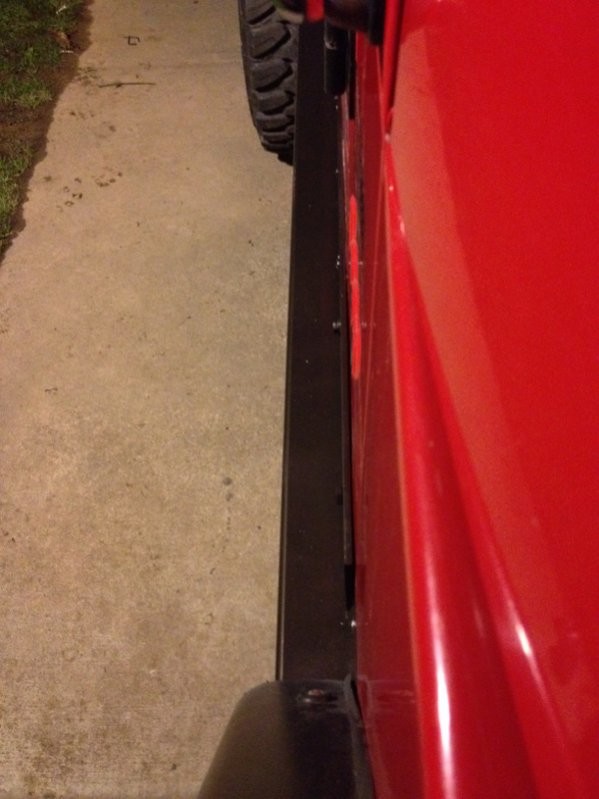 Thanks man there the stage 1 jcr weld on sliders, and here are of some pic of how far the tires hang out man!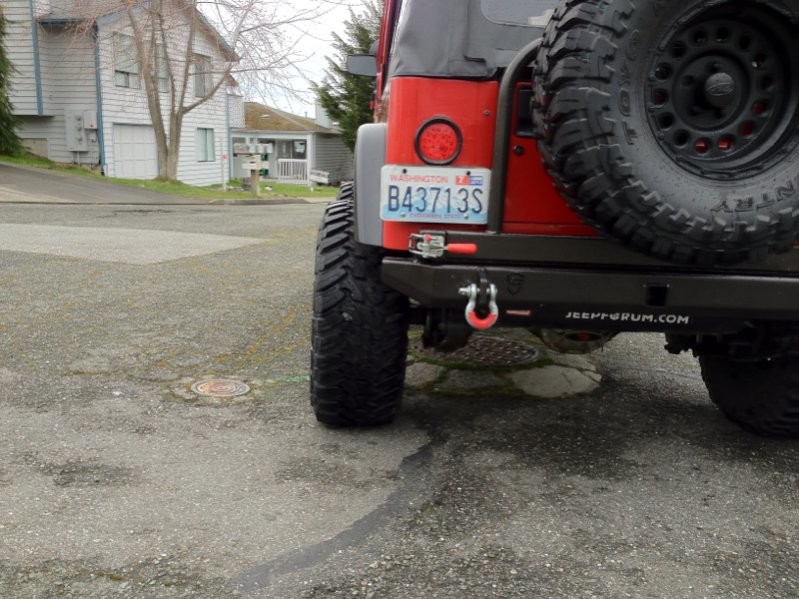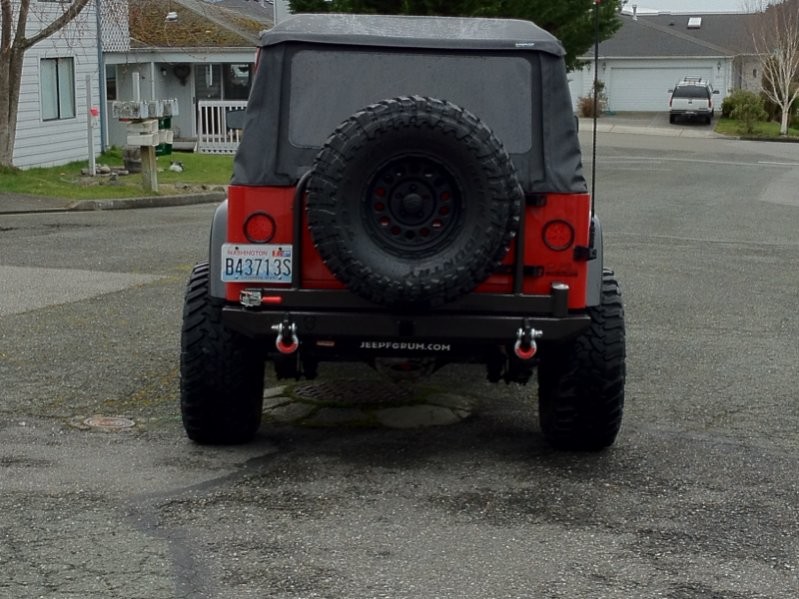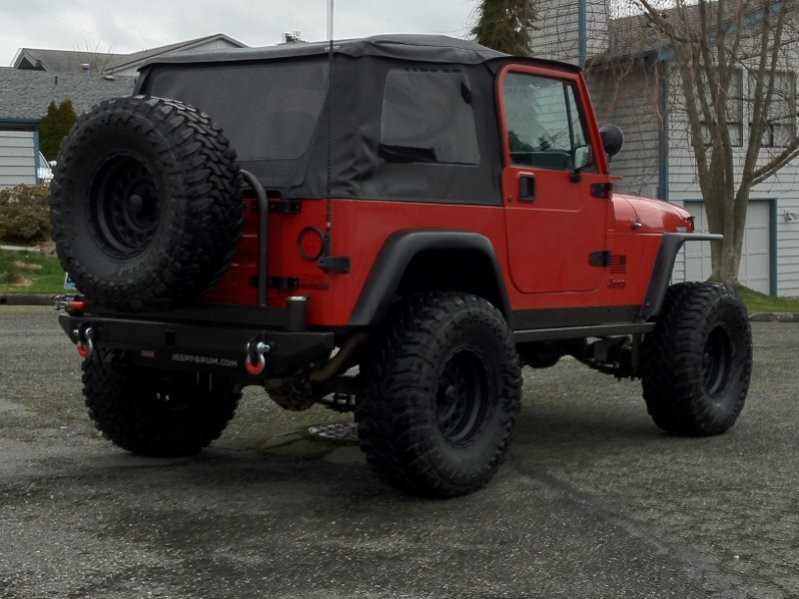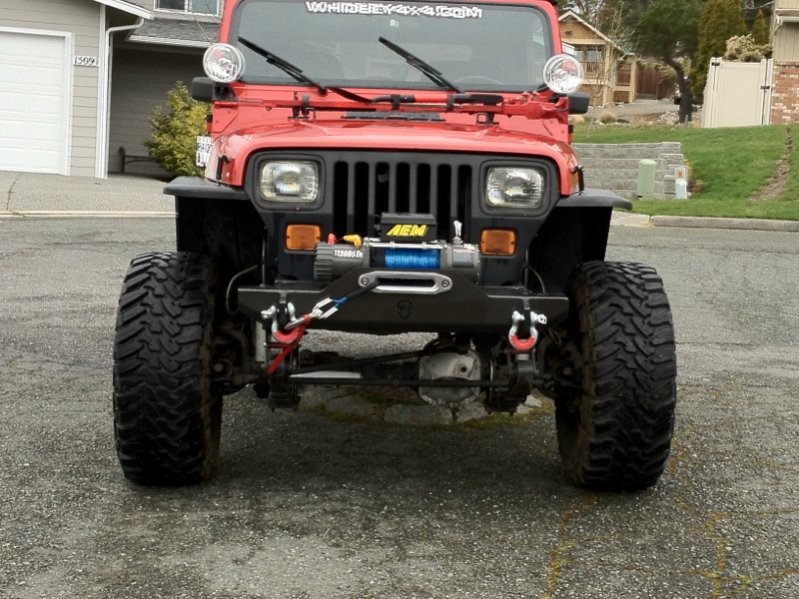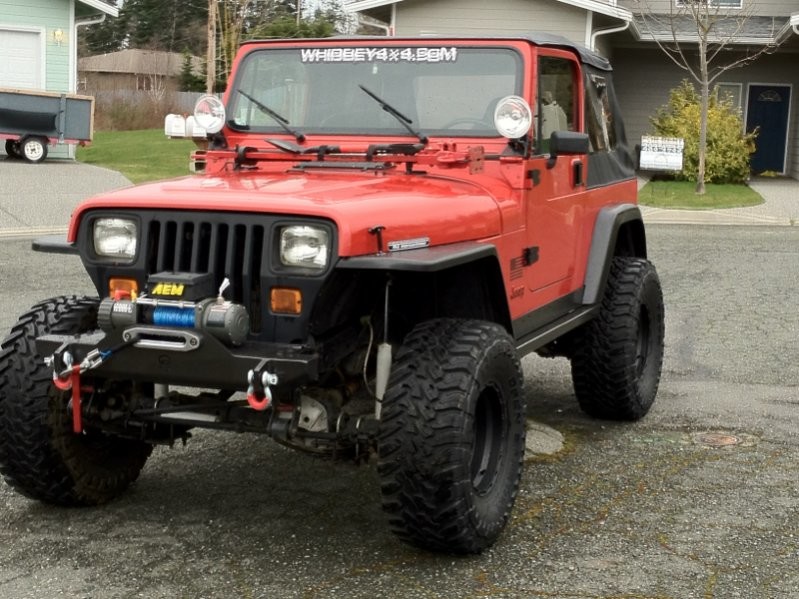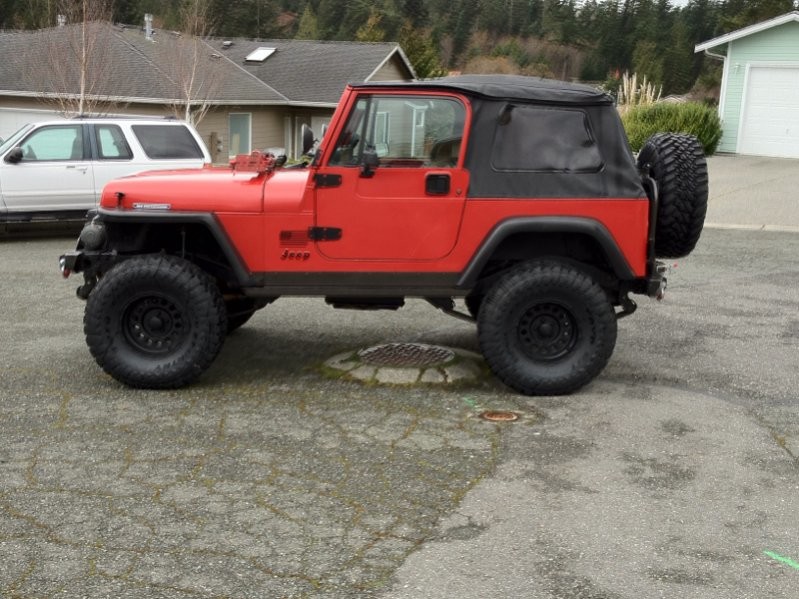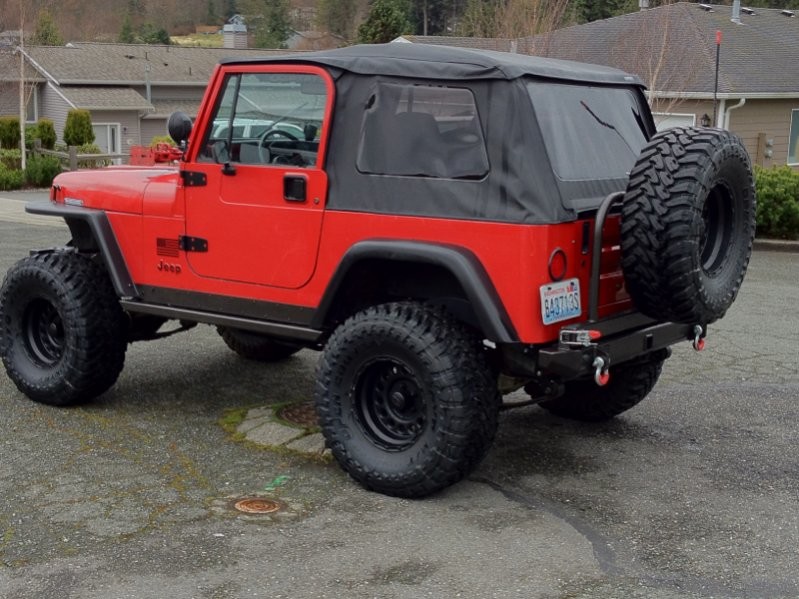 3-16-2012
So quick updated and thread bump, I ordered my sye, driveline, and tereflex 2 low yesterday I can't wait to stop my vibs.......on a side not and not jeep related subject I bought my first gun (gen4 glock 23) I can't wait to go shooting in the yj lol!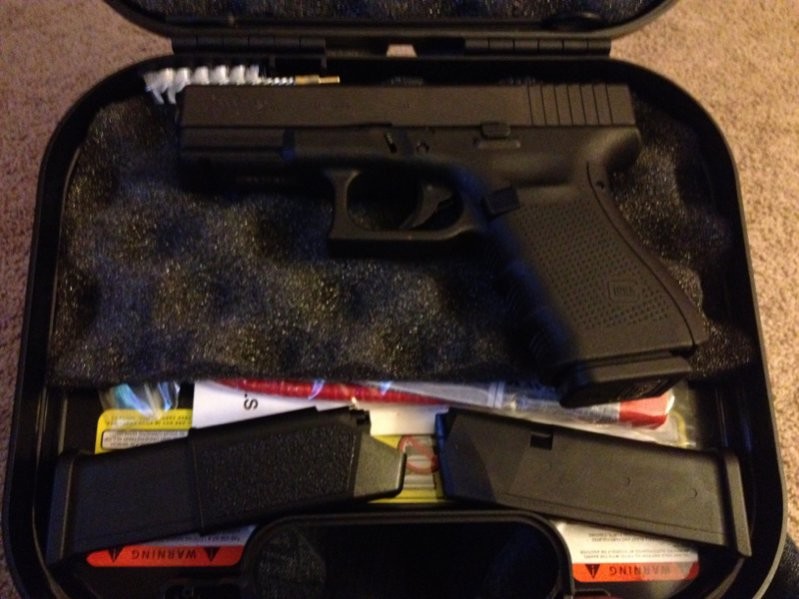 3-31-2012
So quick up date I got my sye/driveline front tattons yesterday but I am still Waiting on my 2low to show up before I tear in the tcase, the tracking number says it should show up the 3rd!

any ways that's it for now!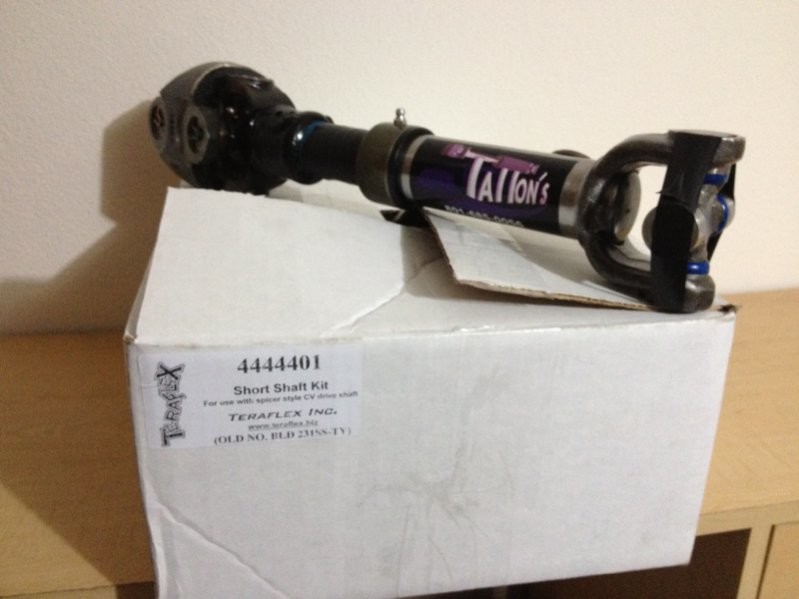 4-1-2012
I just got done ordering a set of bestop elment doors for the jeep and now I am headed out with my wheeling buddy (my 3 year old son tyler) to get the jeep dirty and to test out the new sliders

4-2-2012
Here are a few pics from today!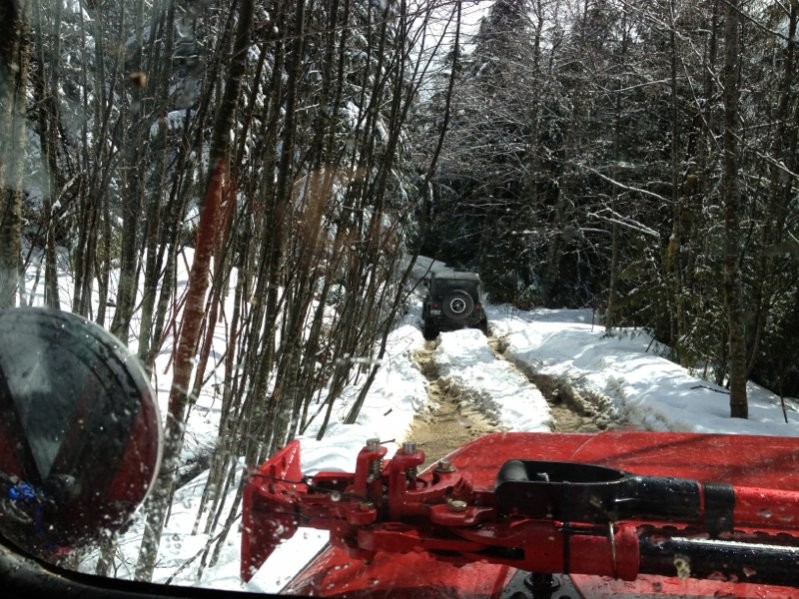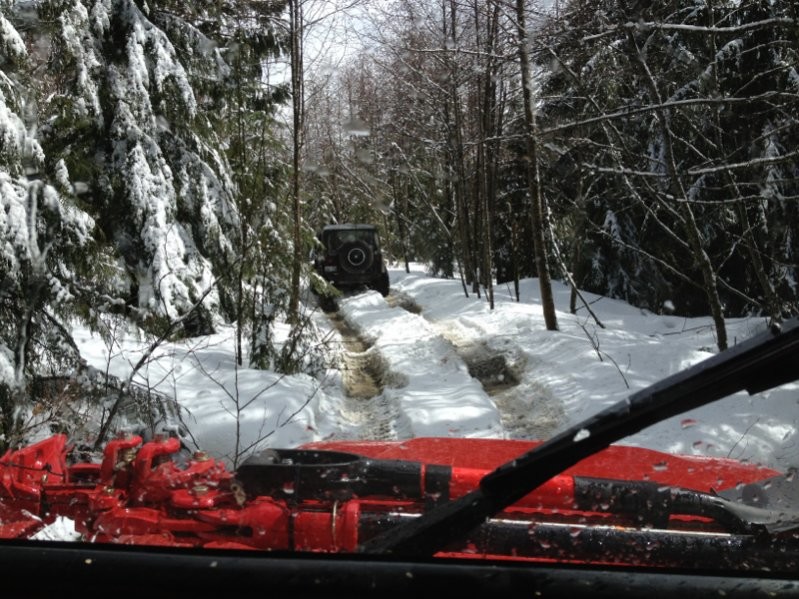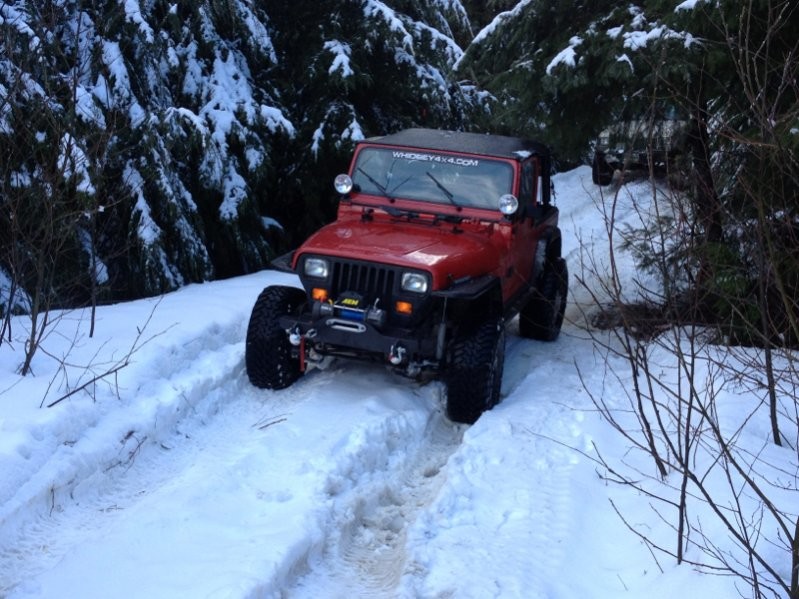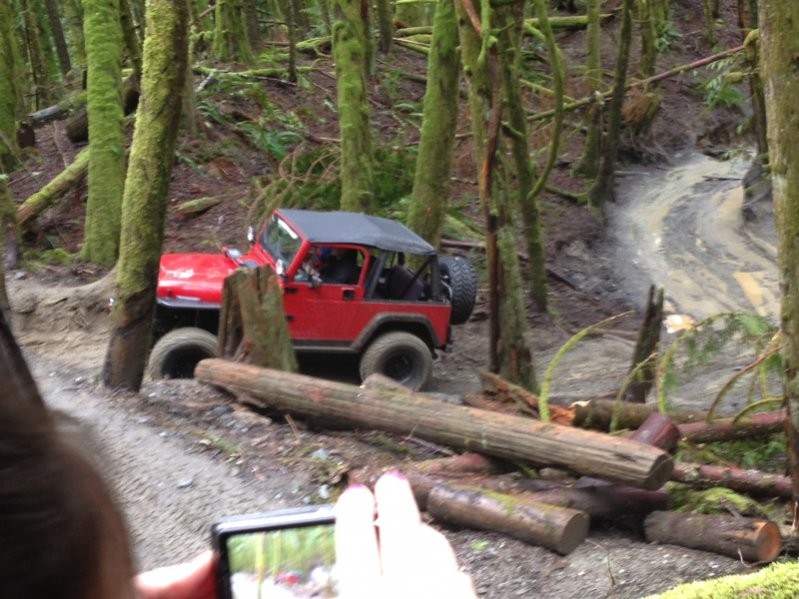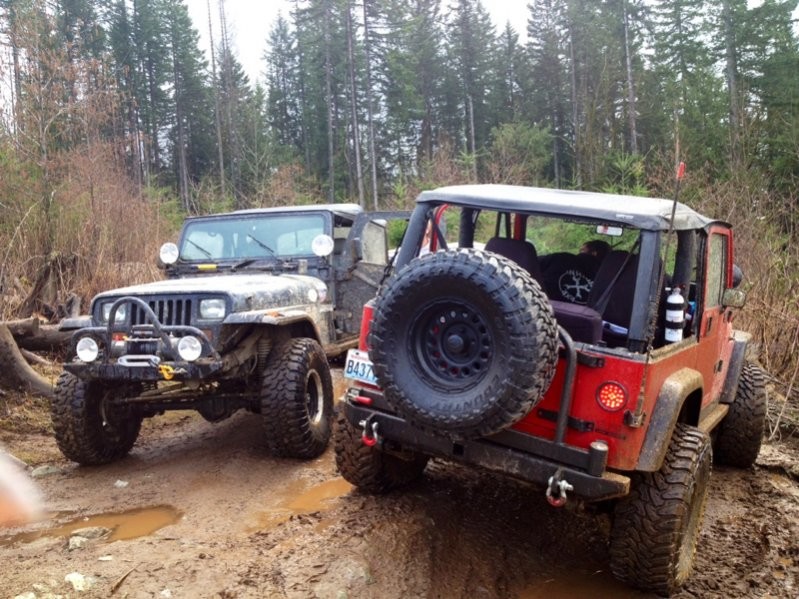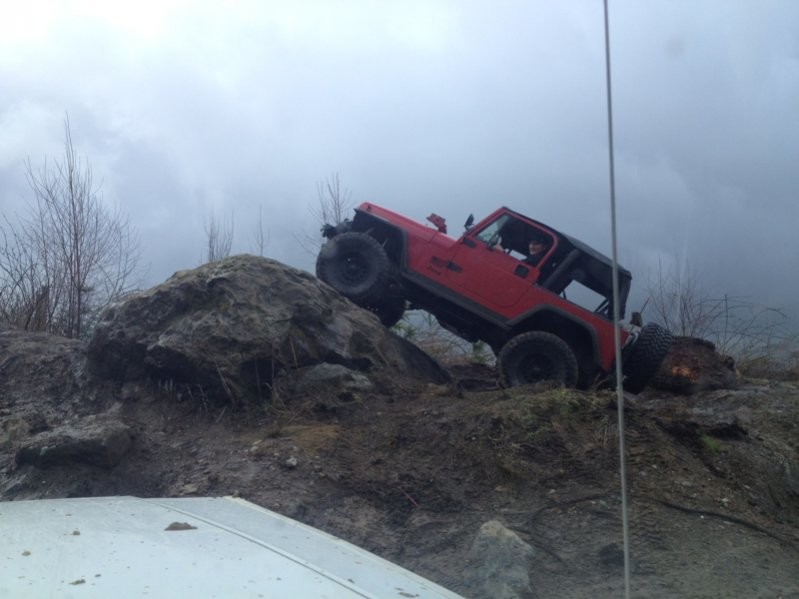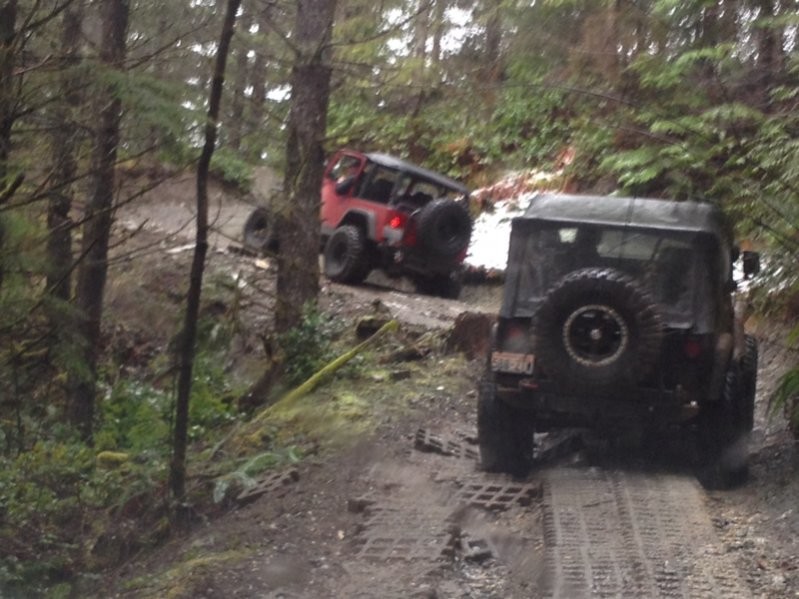 4-3-2012
They were all taken up at walker valley! So today I took off my almost new alloy wheels because I was tired of dragging them over rocks (rock rash) so I installed some steeleies again but this time I went with a 15x10 I think my 13.50s are a bit happier on them! What do you guys think of the new look?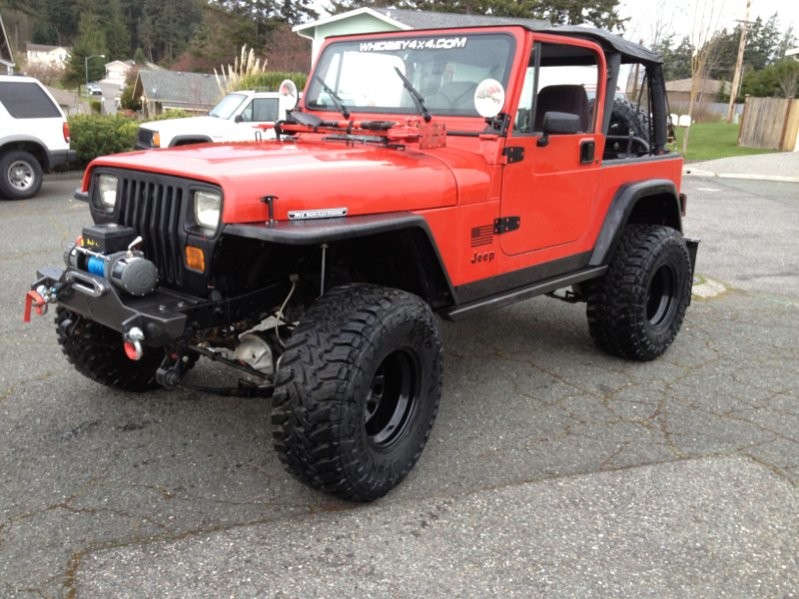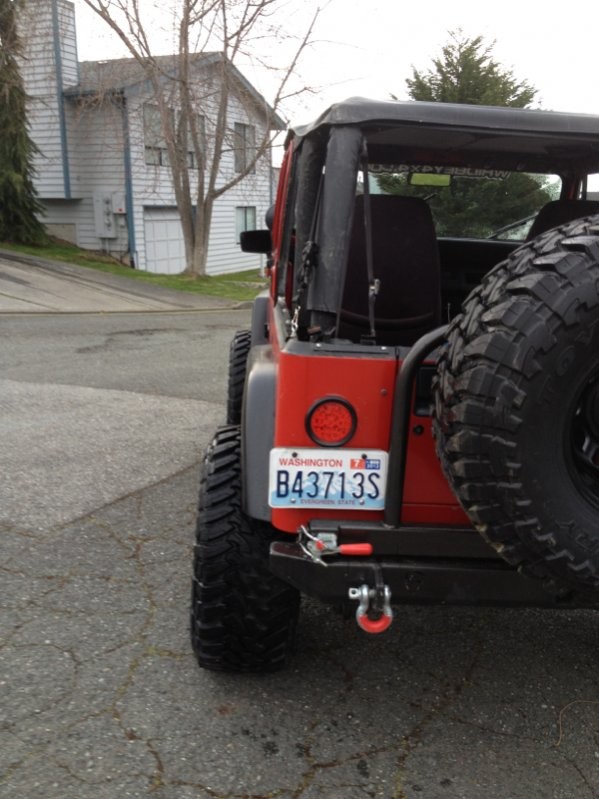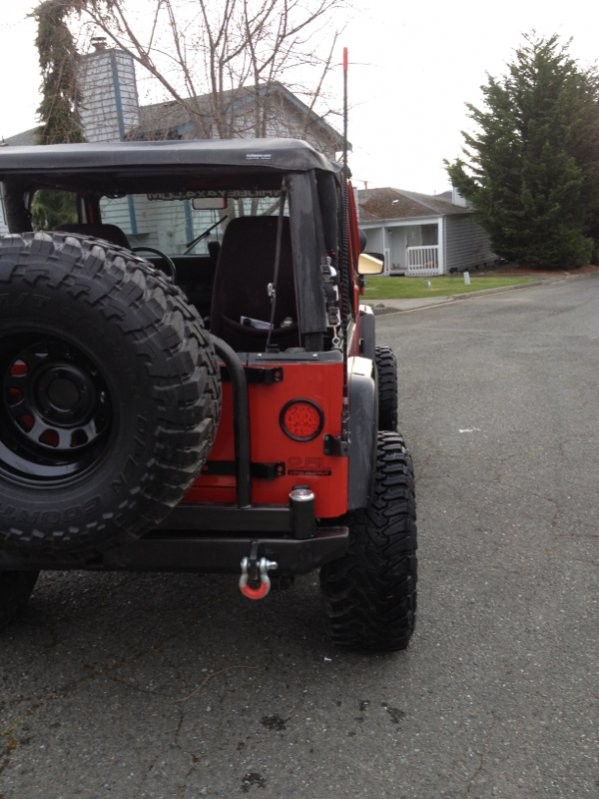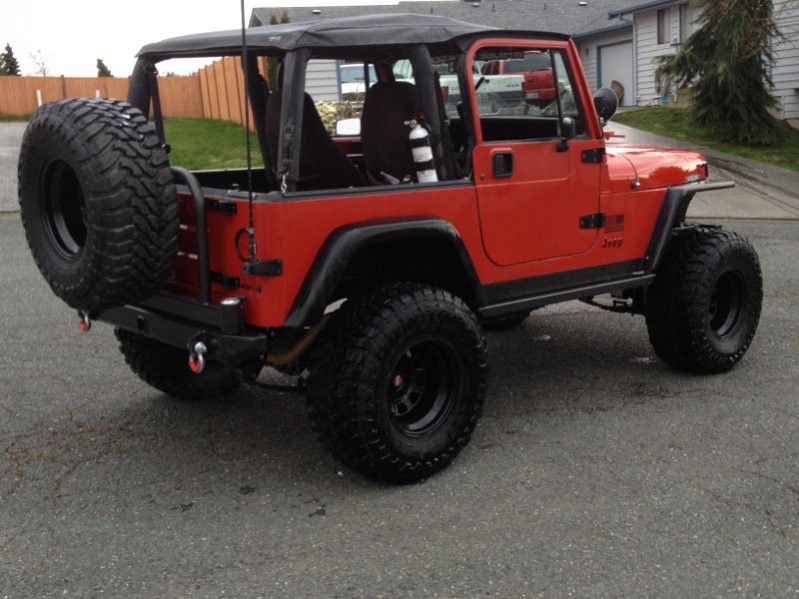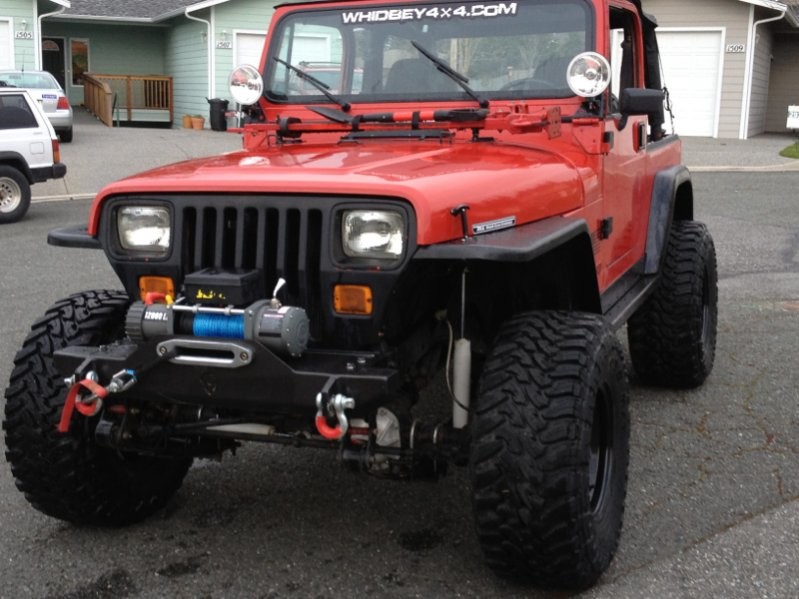 4-4-2012
So Tonight I pulled my tcase so I can get my sye/2low installed and man what a pain in the but it was to drop it hahaha!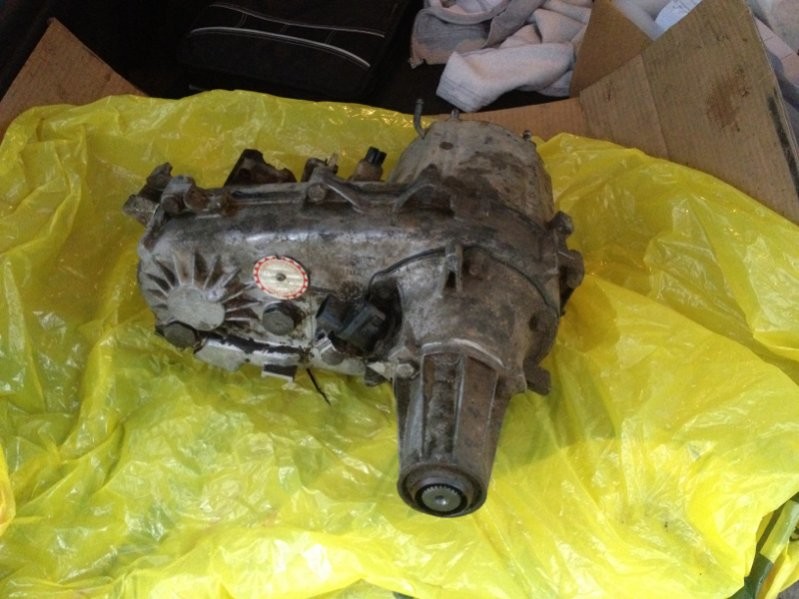 4-5-2012
So I got my sye/2low installed and back in the jeep today! I am so stoked to get rid of that ugly tc drop! I still don't have the linkage adjusted yet but it is moving on its own power!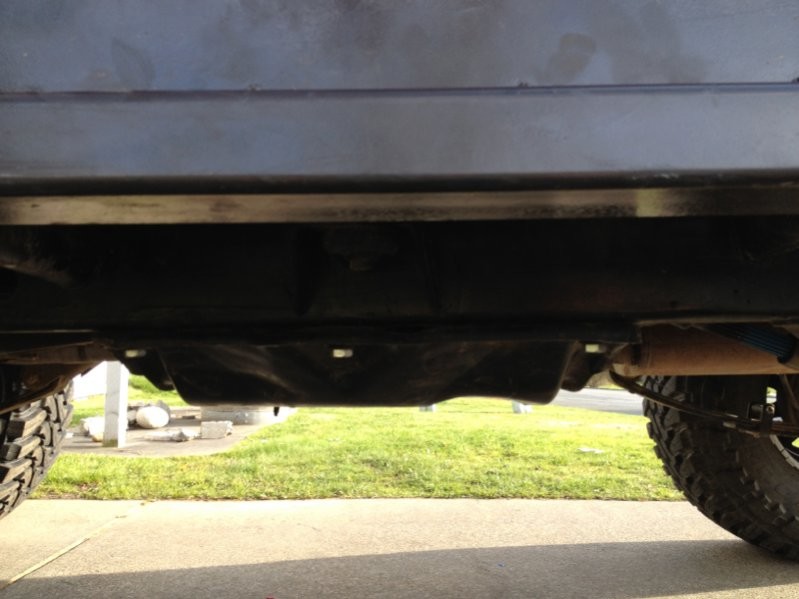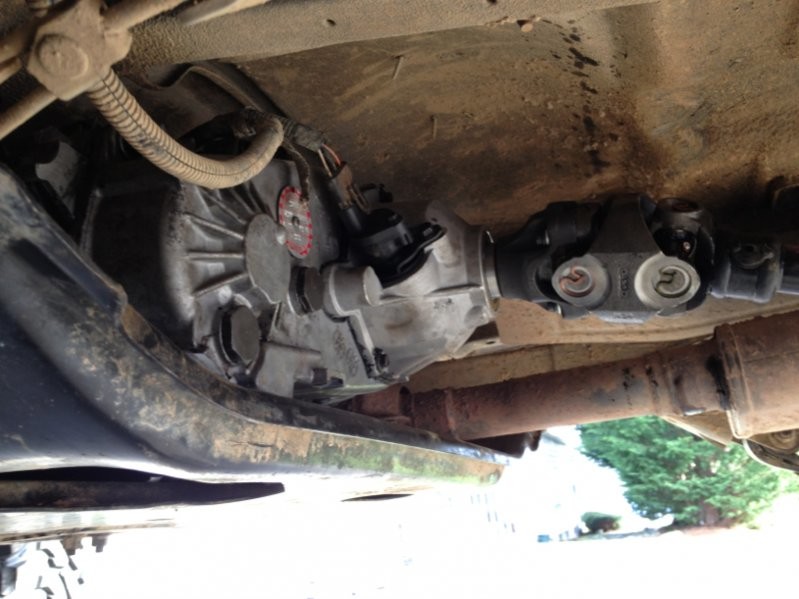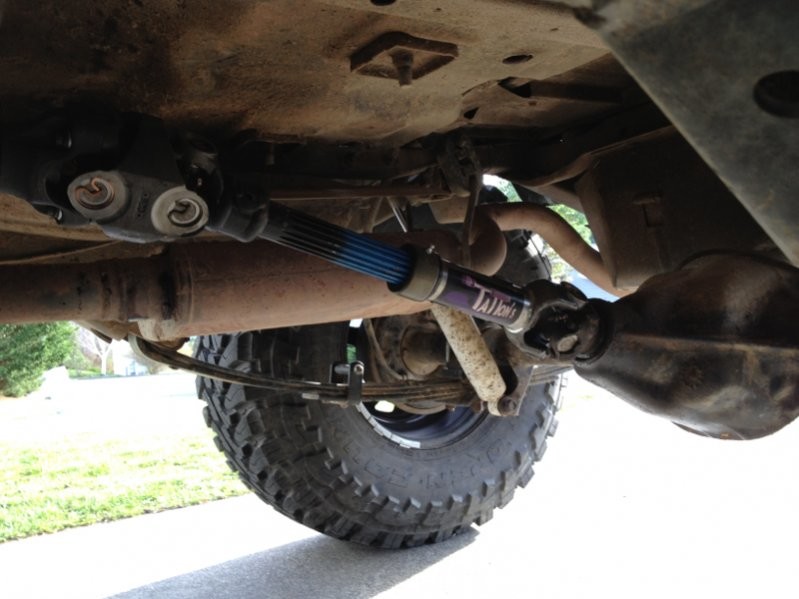 4-7-2012
well we went ahead and open the case back up tonight to find my mode fork was missing its bushings wich was letting the mode cone kick sideways so between that and me hooking my linkage up wrong my jeep is down for yet another week.......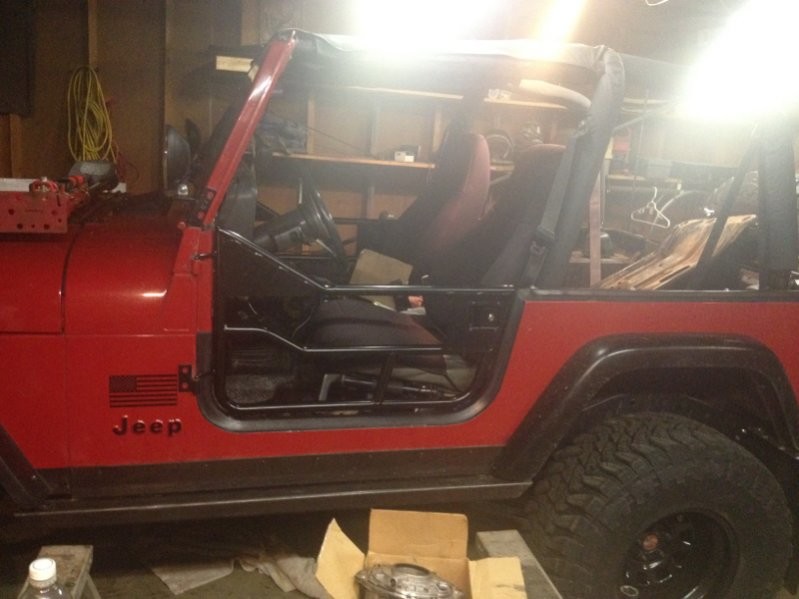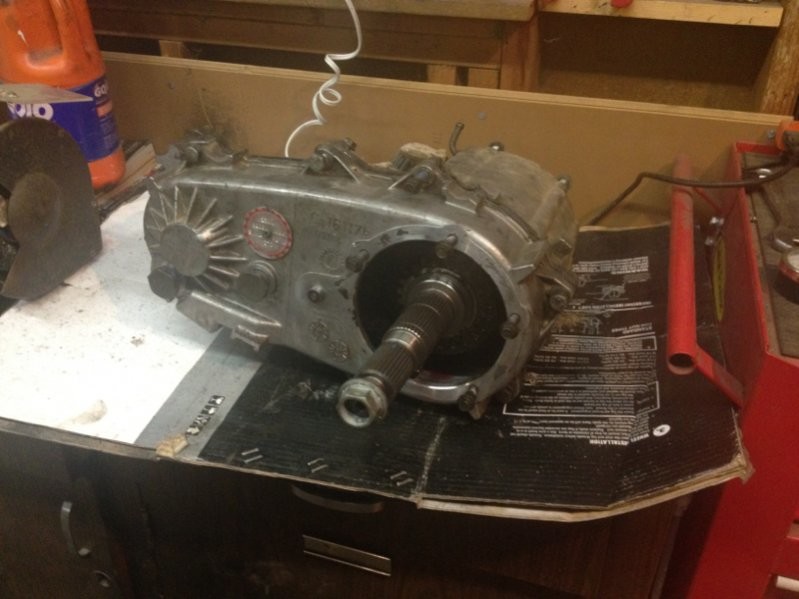 4-8-2012
I sold my brand new tube doors to by a set of factory half doors! So I pay to get them color matched or just spray them black?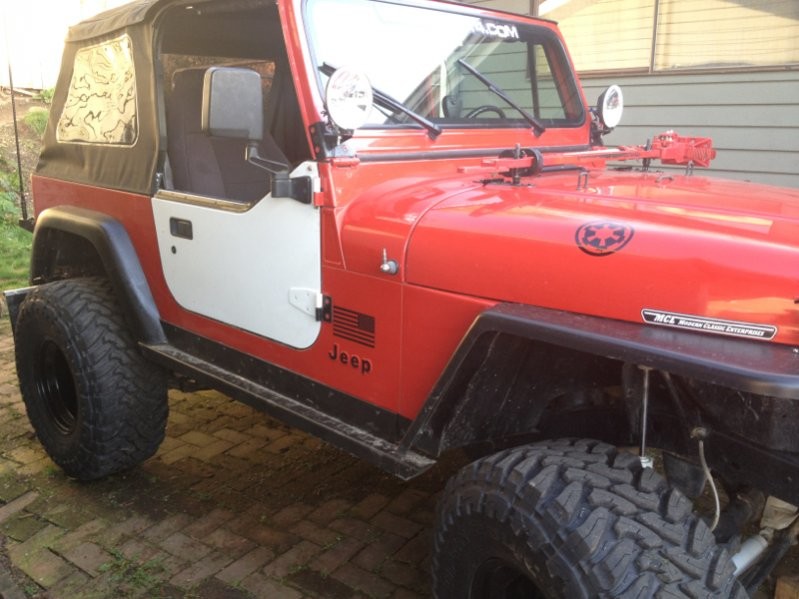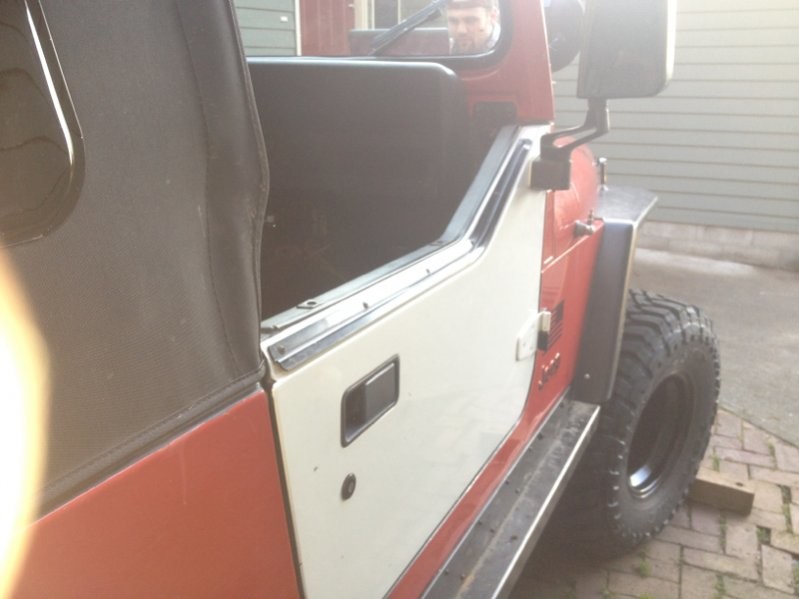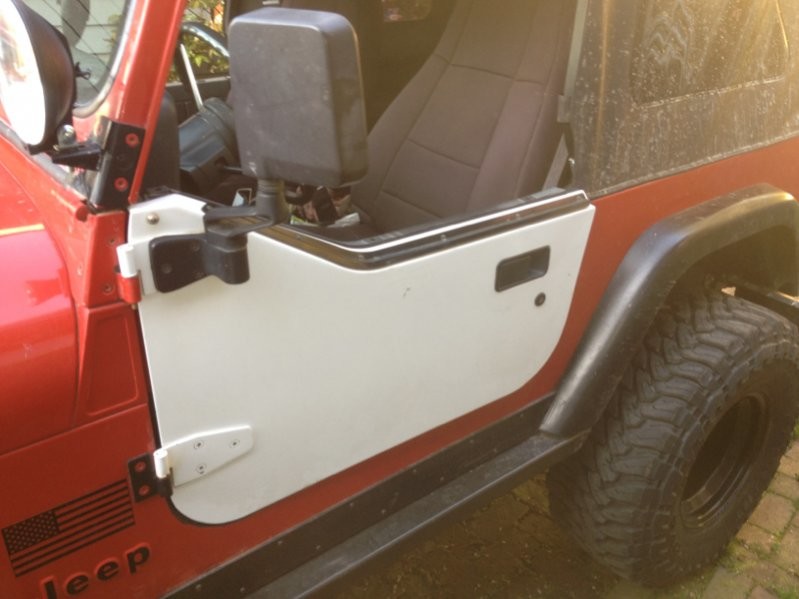 4-10-2012
Oh I forgot to say my new mode fork for the tcase should be here by weds so I should have it back on the rd by the end of the week and as fare as quick update goes I have my new half doors prepped and wet sanded and will be dropping the doors off to get color matched at the end off the week and I also forgot to say that I have a ssl f1200m amp and a 10 kicker cvr in a down fire box to put in the jeep! I can't wait to hear and complete my sound system!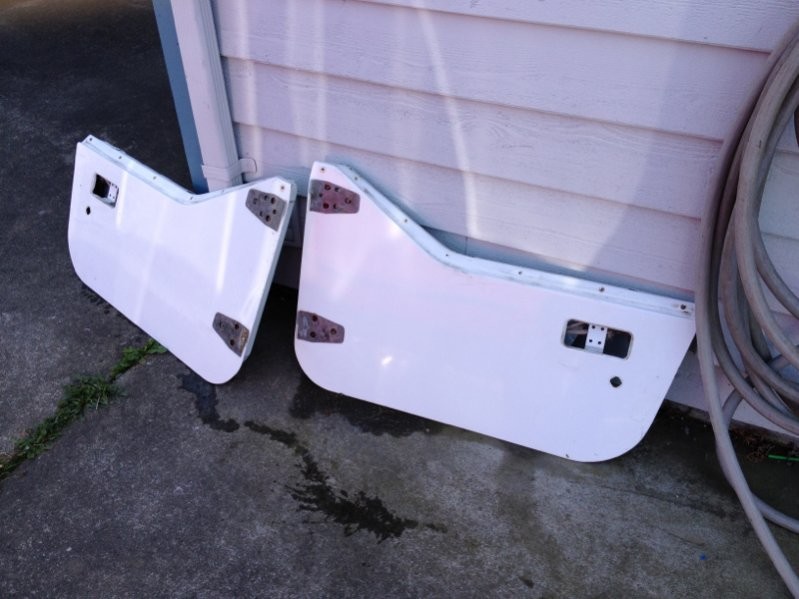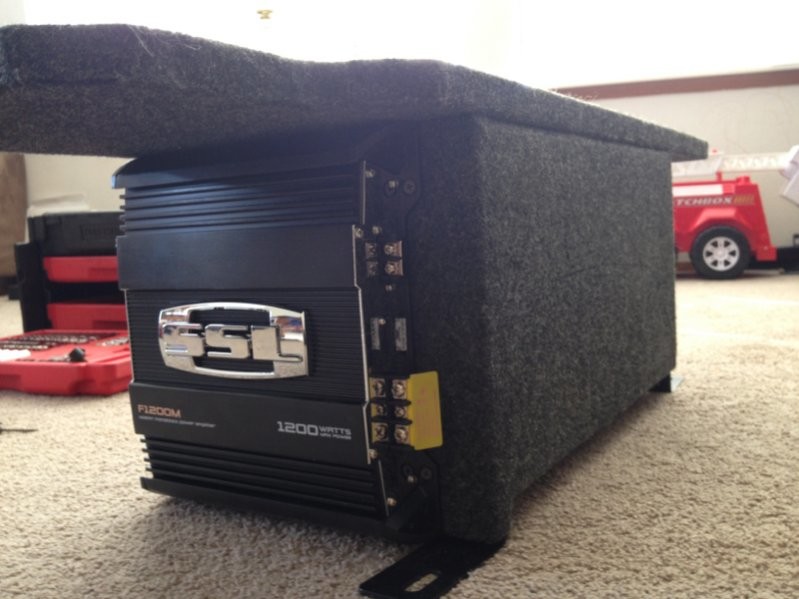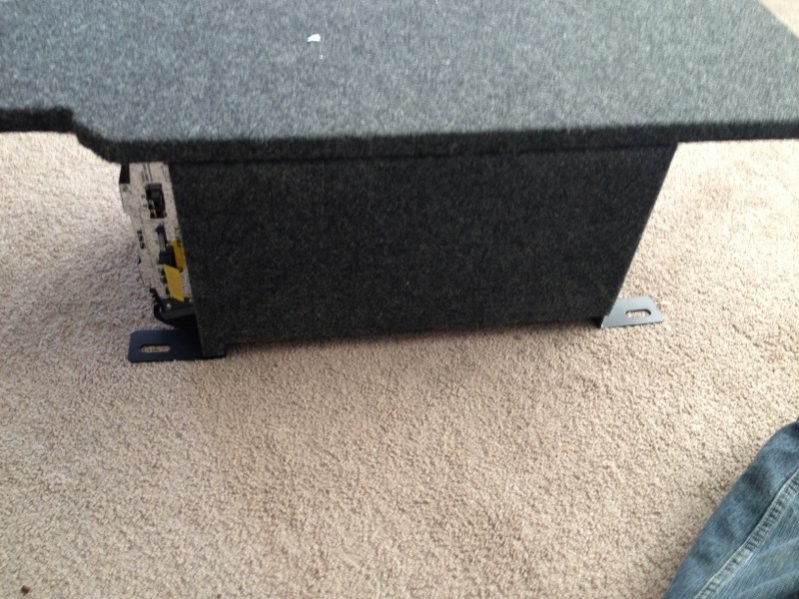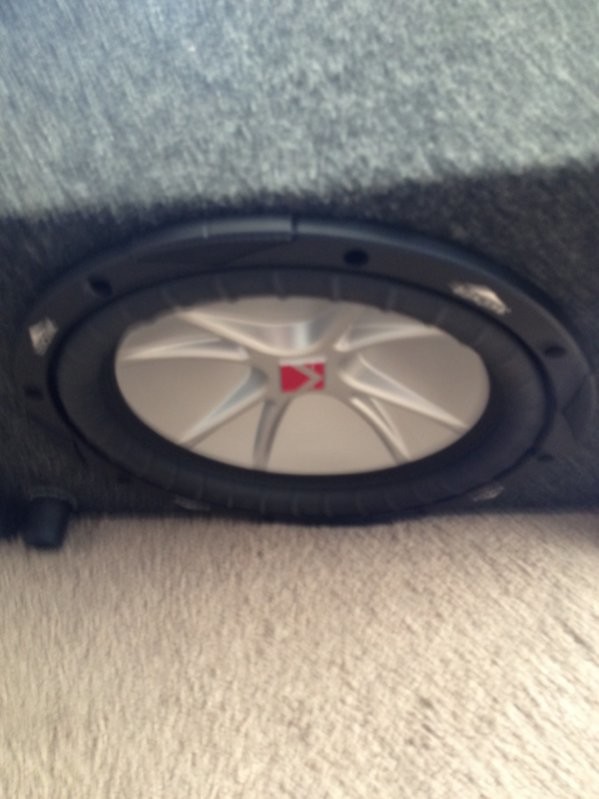 4-11-2012
So I painted my doors today! I was going to have a pro do them but every were I check the wanted 200 a door to paint them, so I went with the 80 dollar option and had the jeep paint matched (jeep flame red) and then had them make me a couple rattle cans with it! I think it turn out ok! It's far from perfect but it is good enough for me anything was better than white or black ! What do you guys think?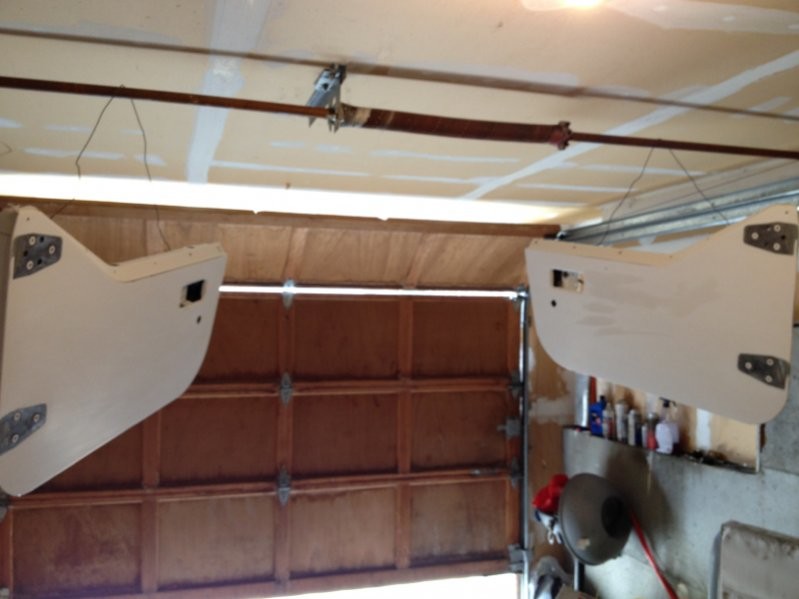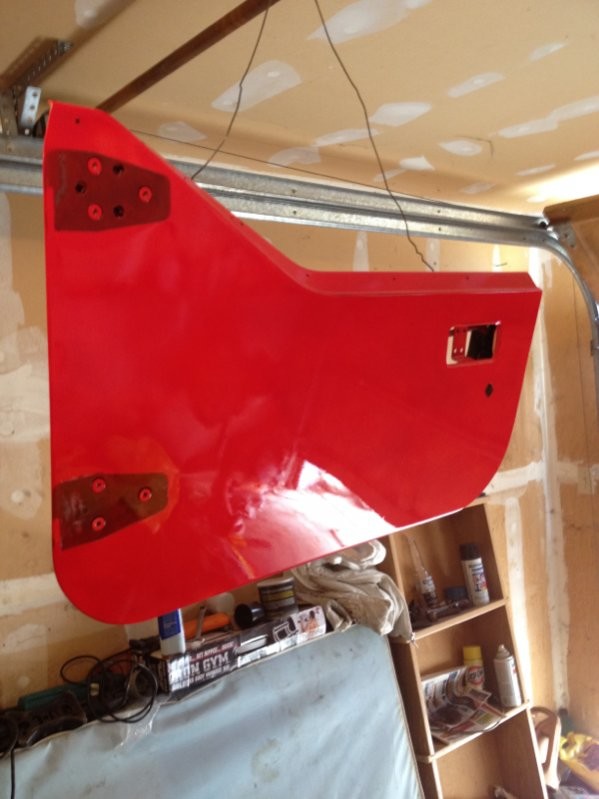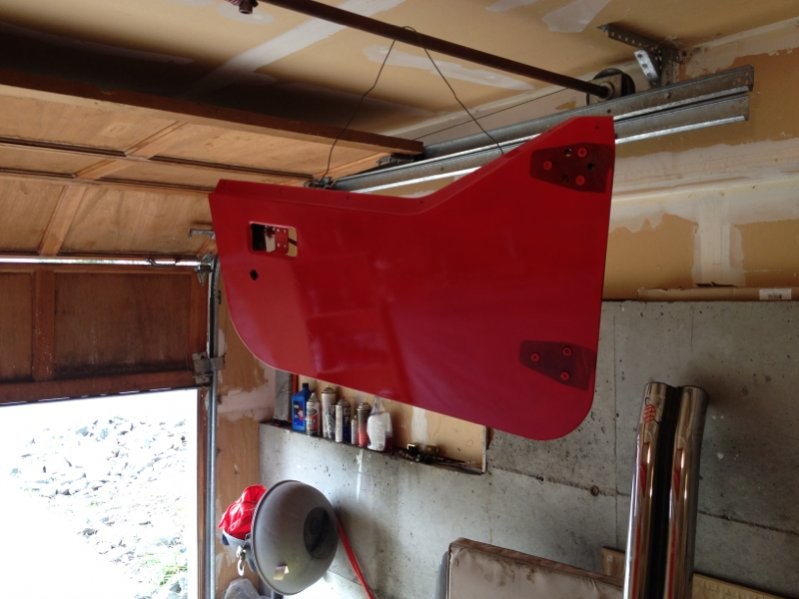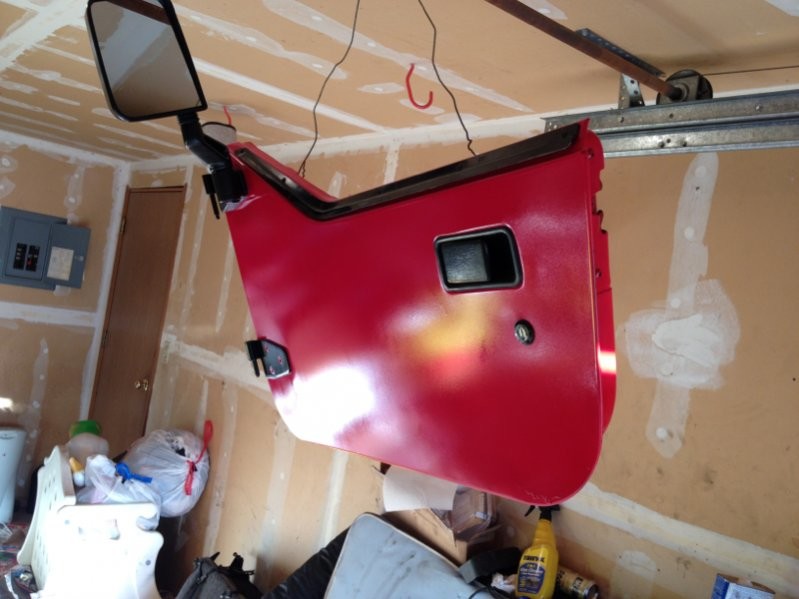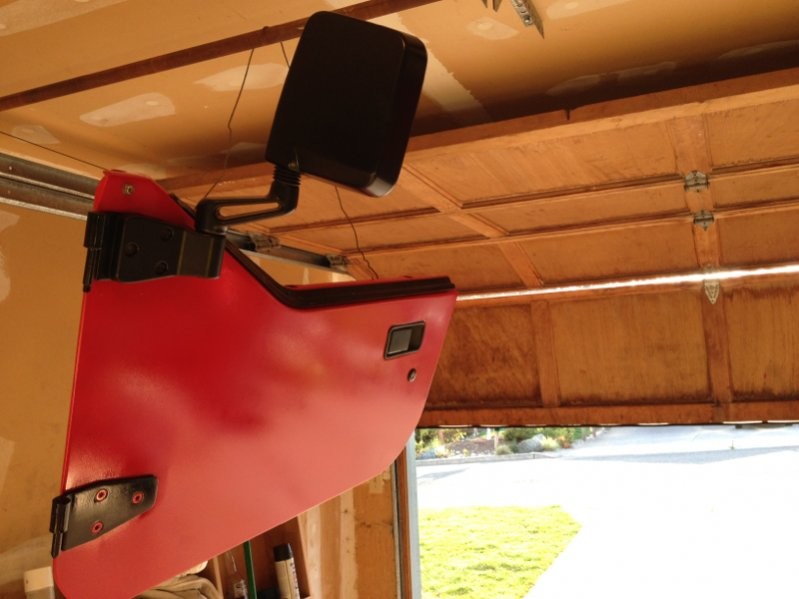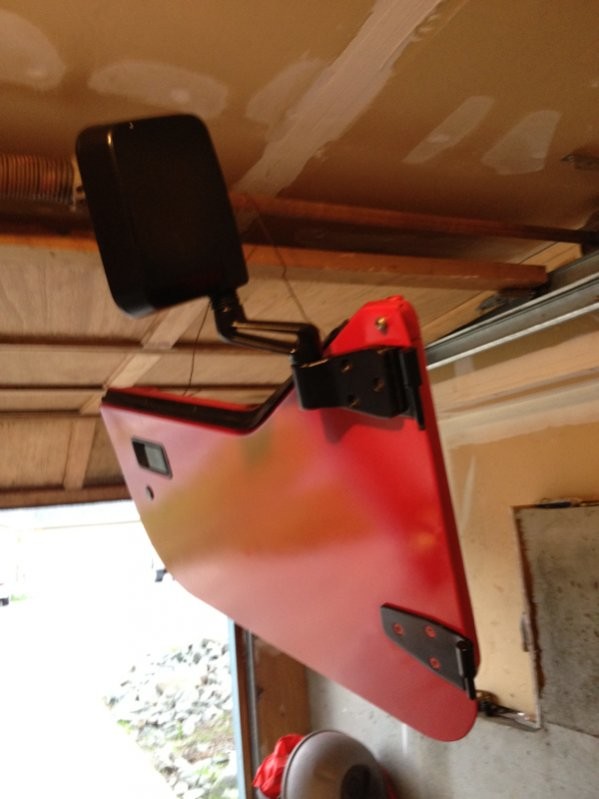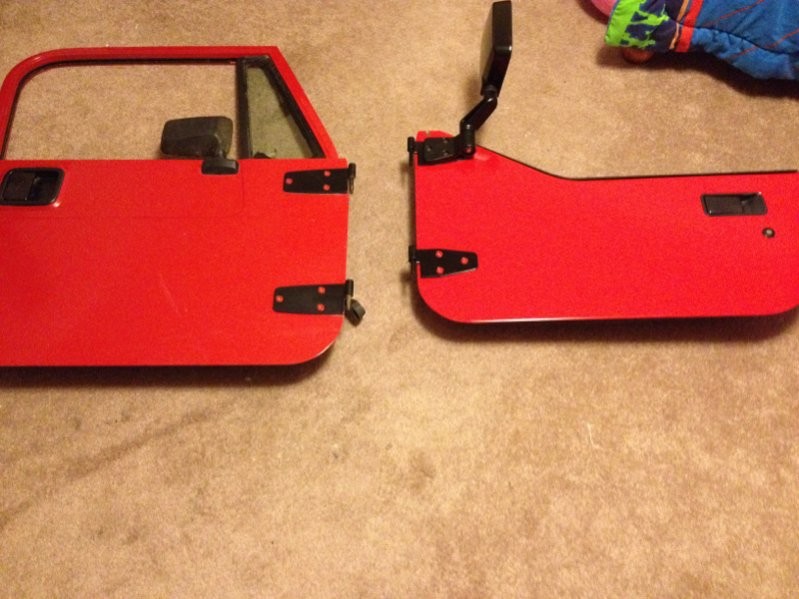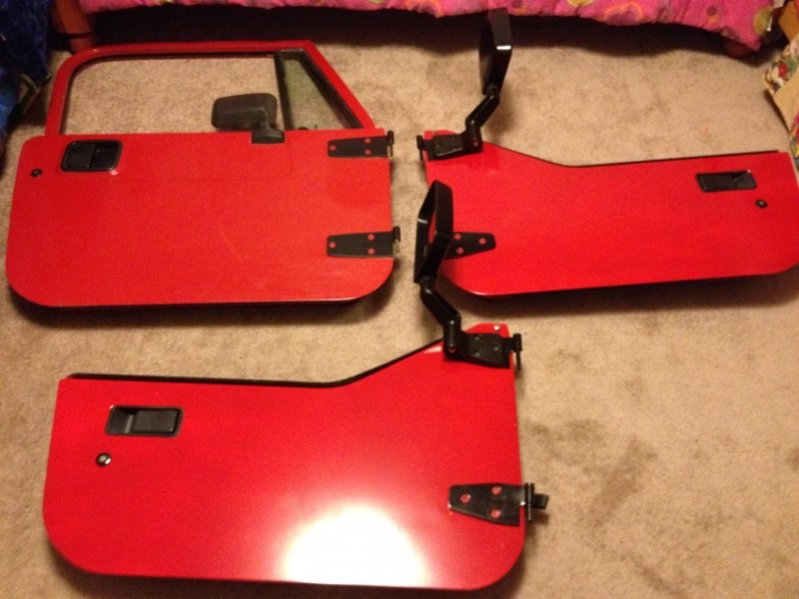 4-12-2012
so I got the jeep back together!

to make the 2low work right we had to trim back the mode fork rod because of it being a vacuum disconnect axle and also had to remove the bracket that make you kick the tcase shifter side to side to get it in and out of neutral! the 2low works great now and cant wait to try it out on sat. I also installed my sub and amp and I love it, it really completes the sound of the system!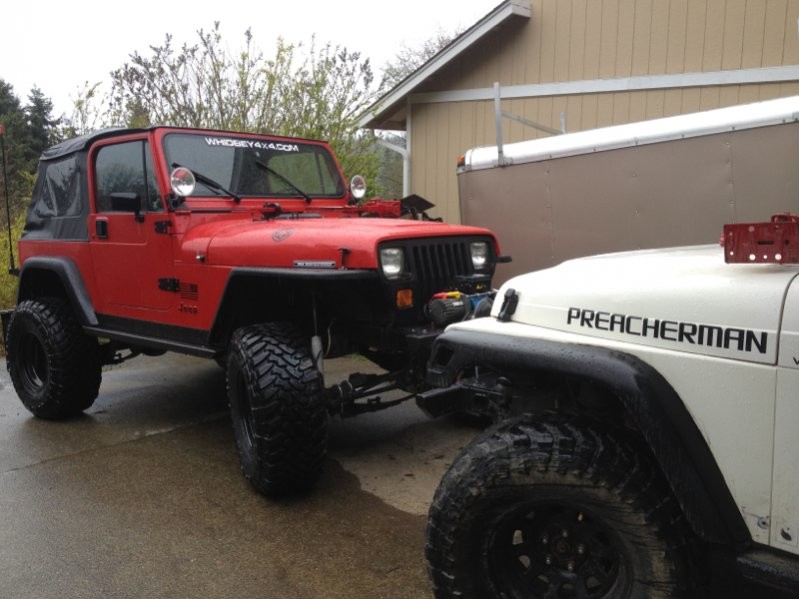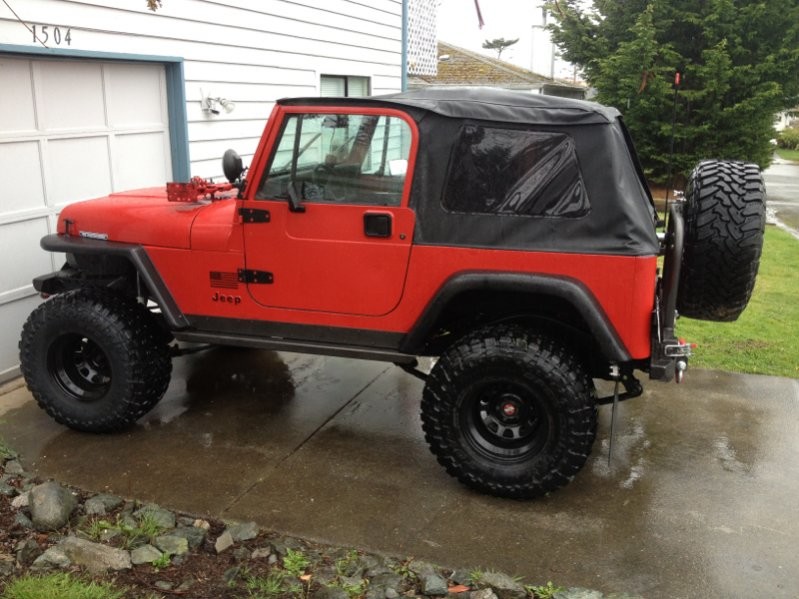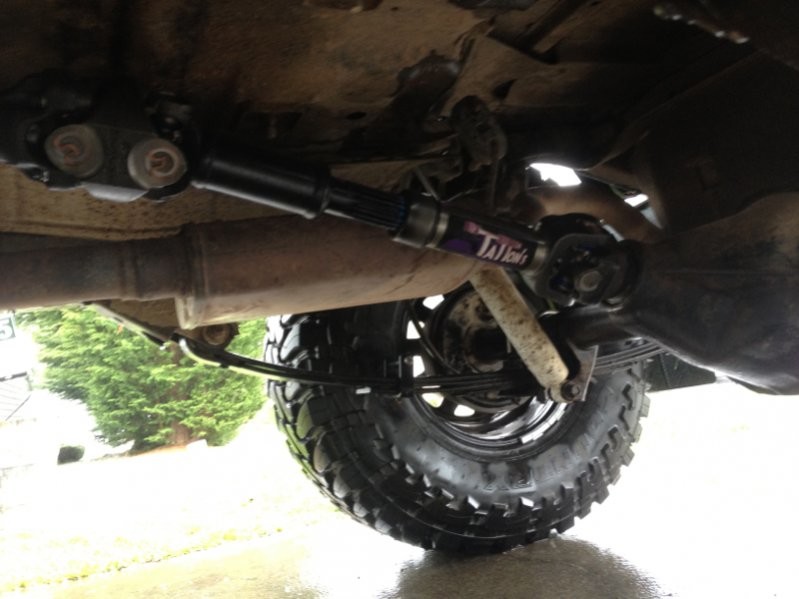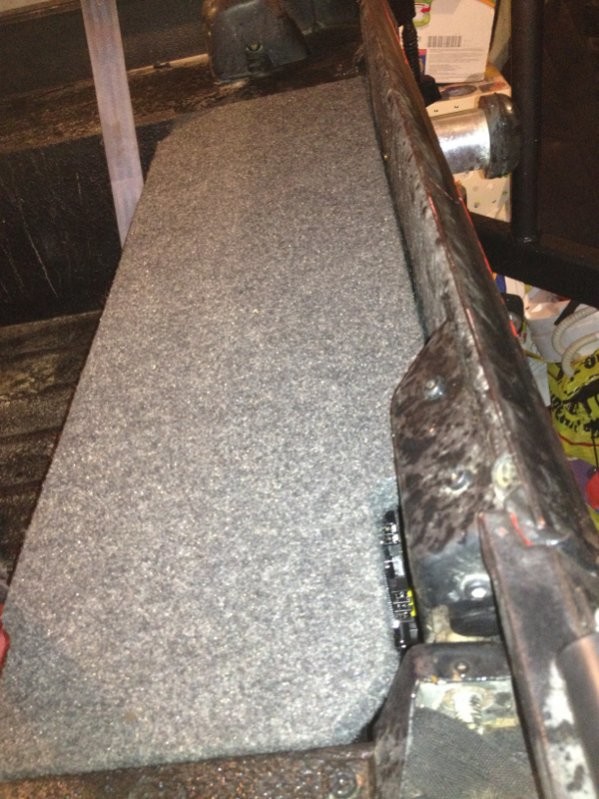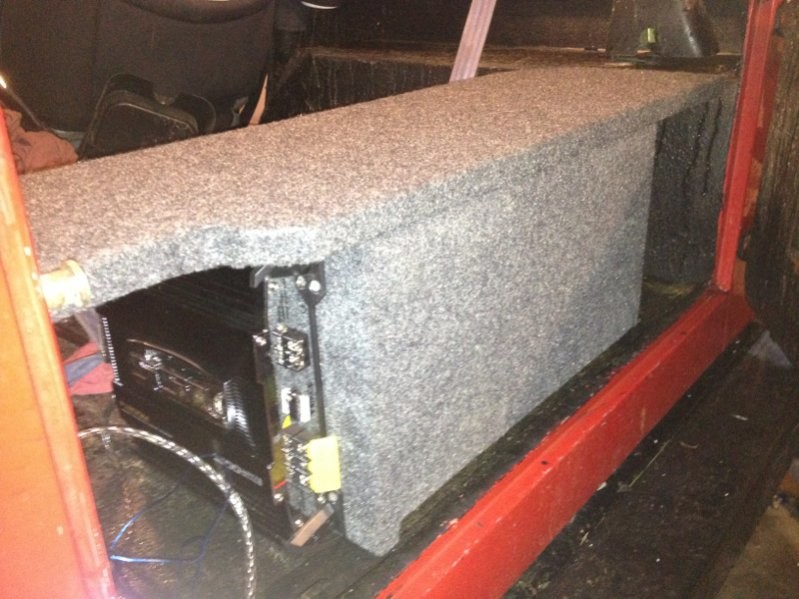 4-13-2012
So after driving it today it decided to start leaking gear oil from the tranny! It was leaking right where the tcase mates to the tranny go figure! So I had to pull the tcase out yet again haha! I threw some rvt there and got her back together we will see tomorrow if that did the trick! On he bright side I can remove the tcase in a hour start to finish and that includes topping off he fluids practice hake perfect!

4-15-2012
So after driving it today it decided to start leaking gear oil from the tranny! It was leaking right where the tcase mates to the tranny go figure! So I had to pull the tcase out yet again haha! I threw some rvt there and got her back together we will see tomorrow if that did the trick! On he bright side I can remove the tcase in a hour start to finish and that includes topping off he fluids practice hake perfect!

so today I went out and wheeled with eric (91BoD) and had a blast, we both gave are winches a work out! the only thing that broke was my seat belt latch and my motor mounts are sqeeking like crazy time for some dog brown mounts

! a couple of the guys were saying I might get a little more down travel out of the front if I switch out to longer shocks in the front so I will be looking into that soon also! here are a couple pic I will have more sooner or later my brother has a bunch on his camera that I need to up load so be on the look out!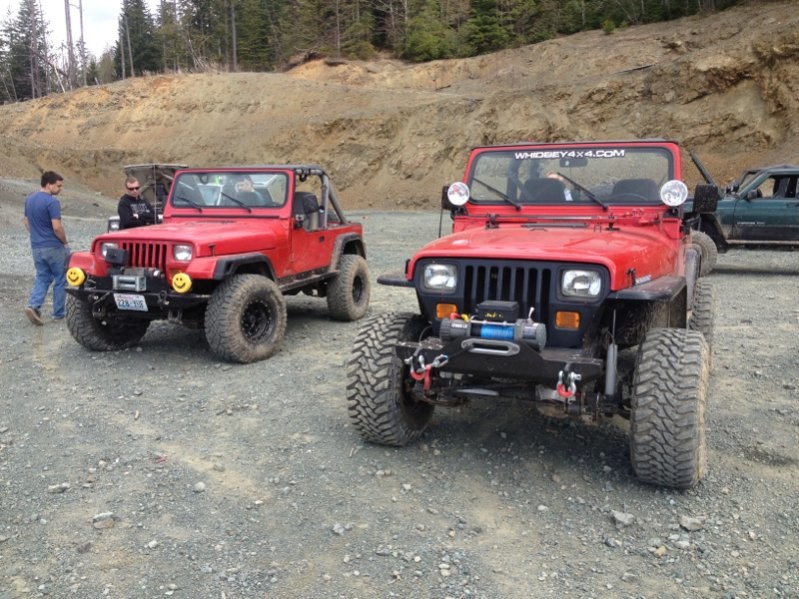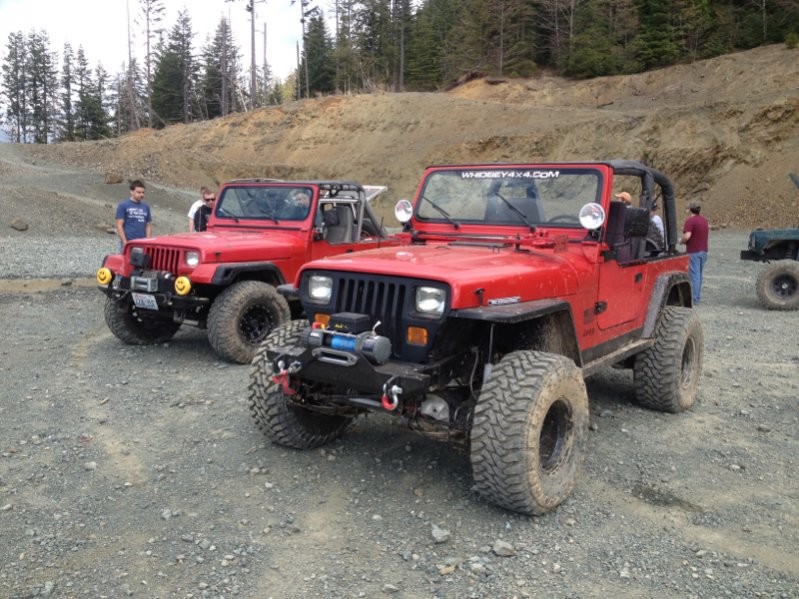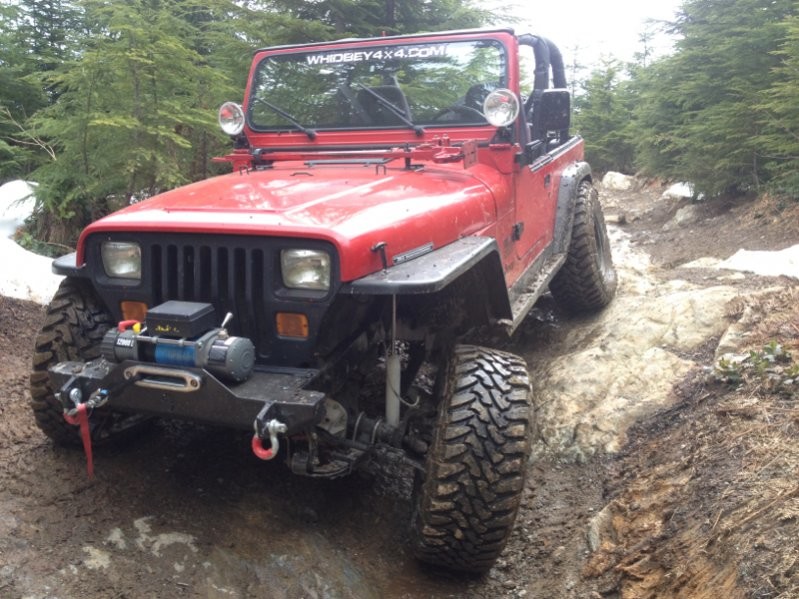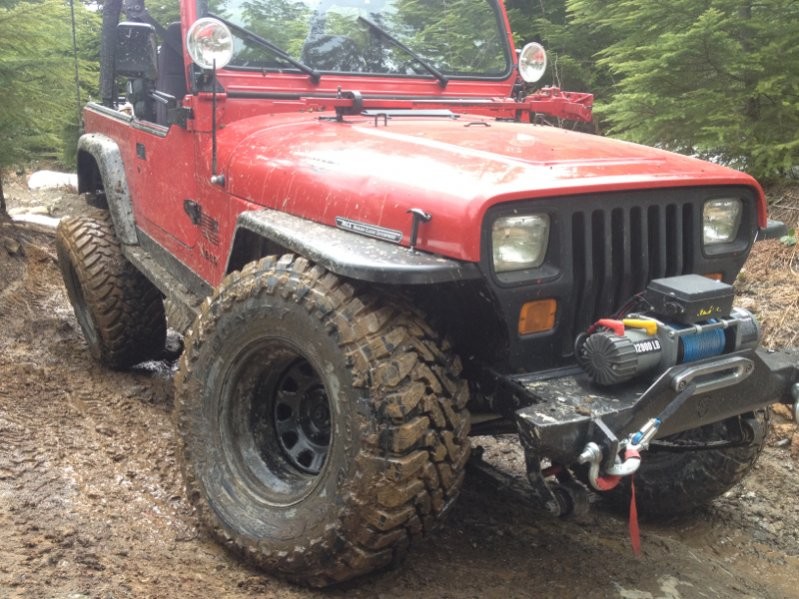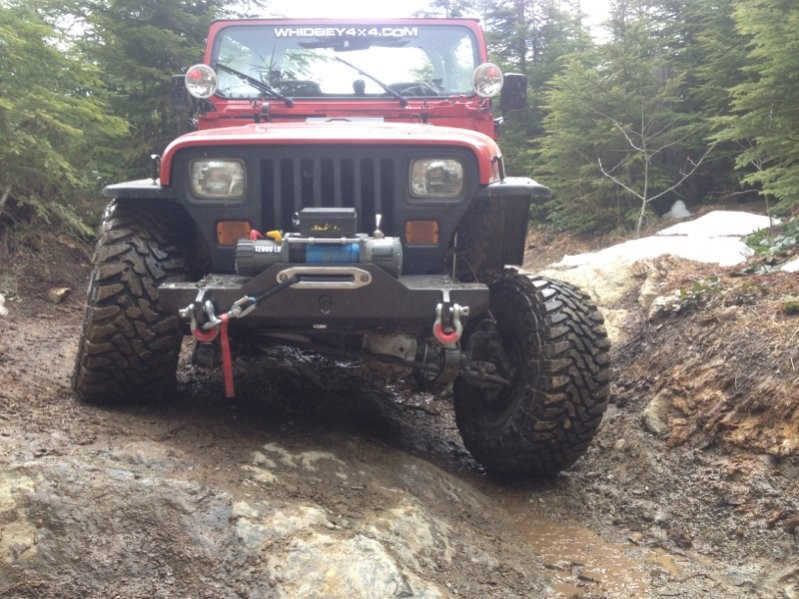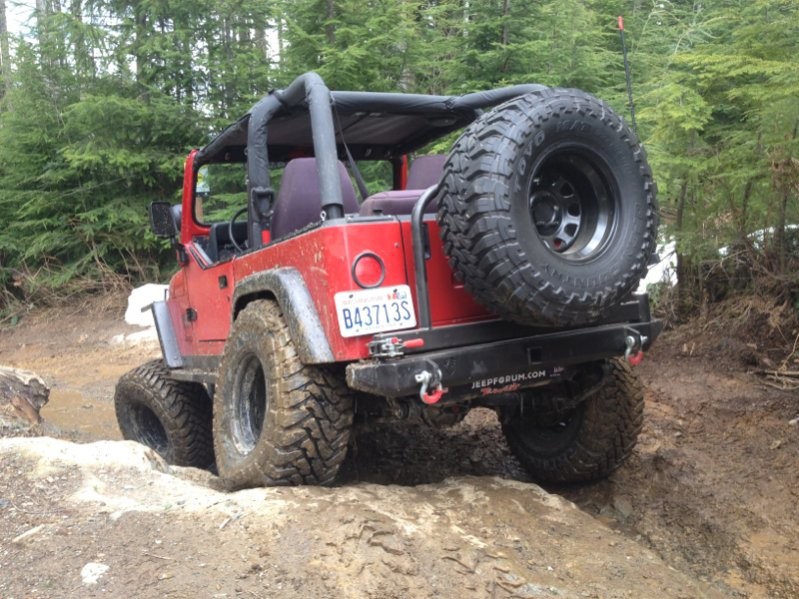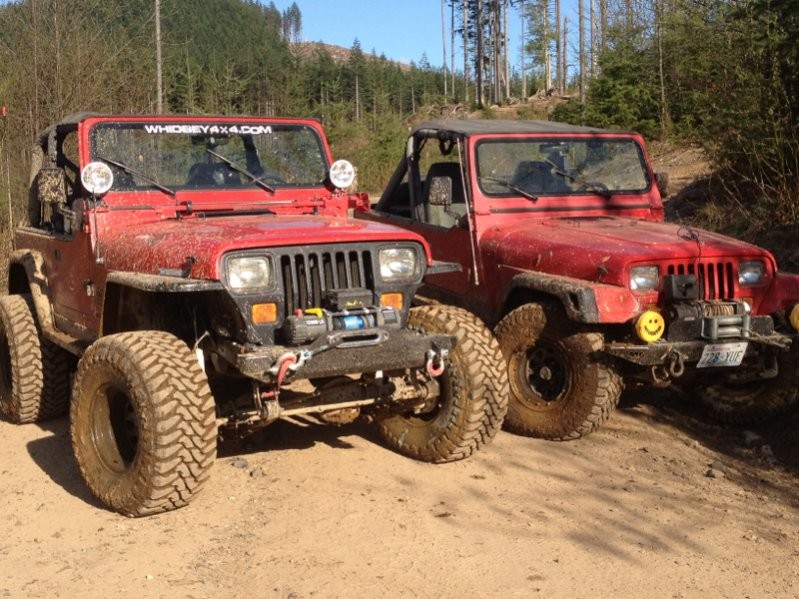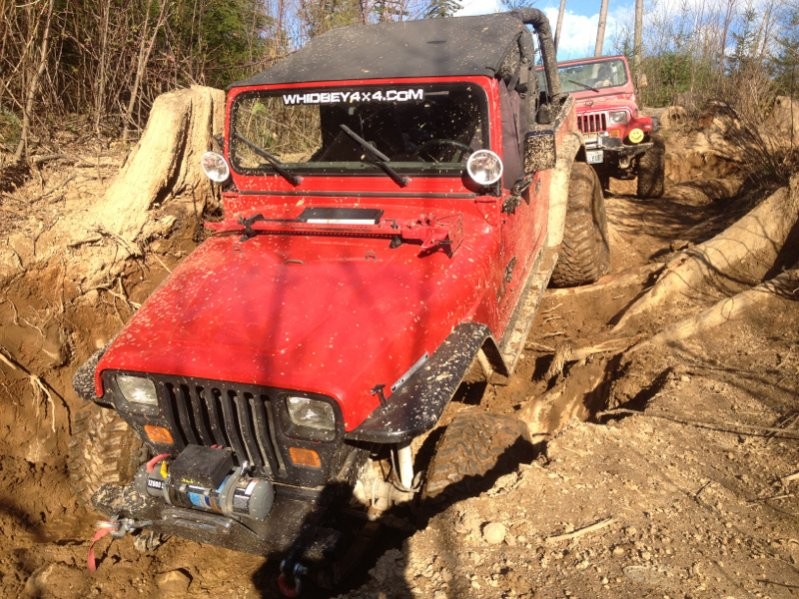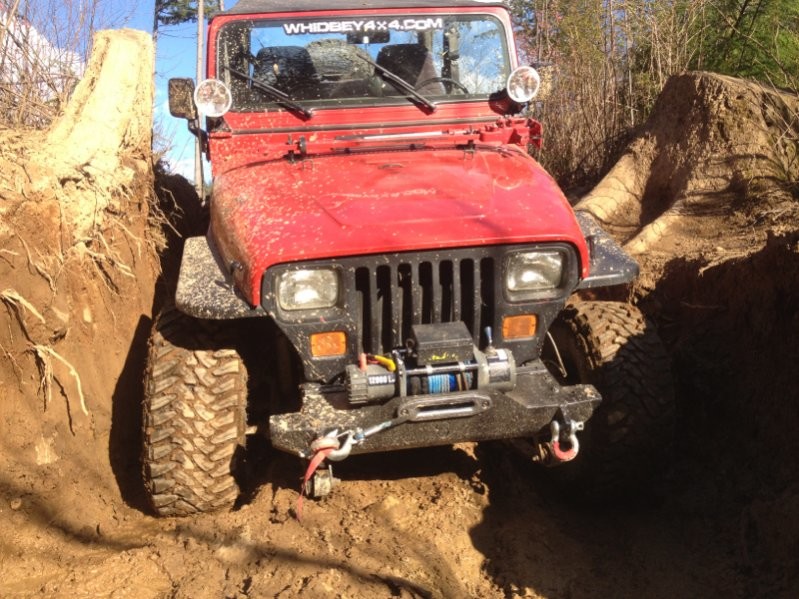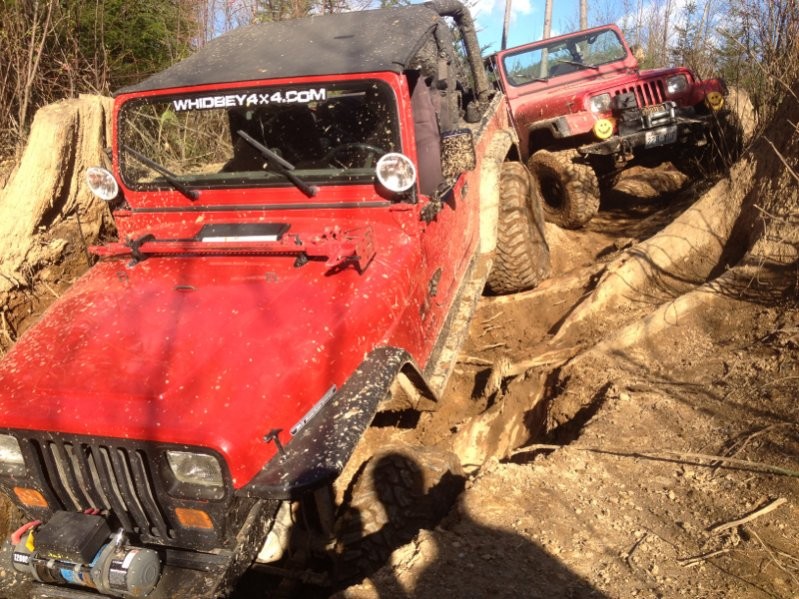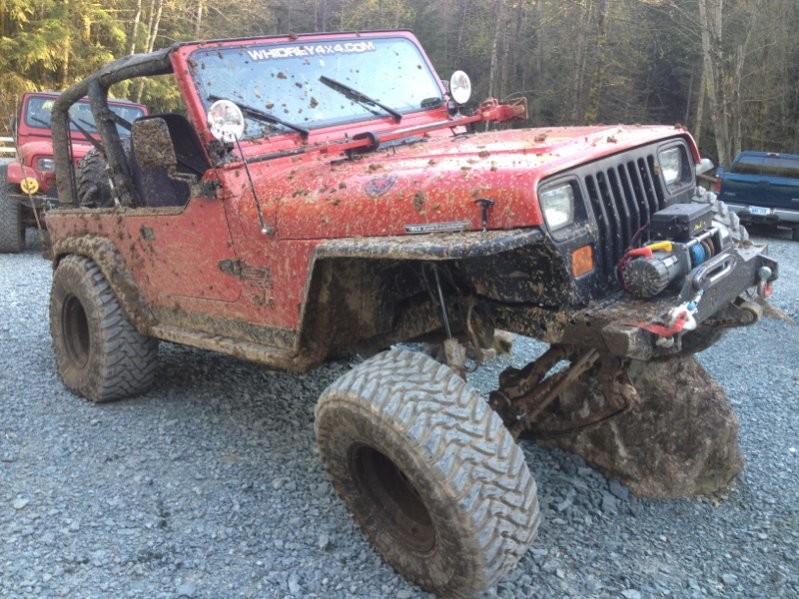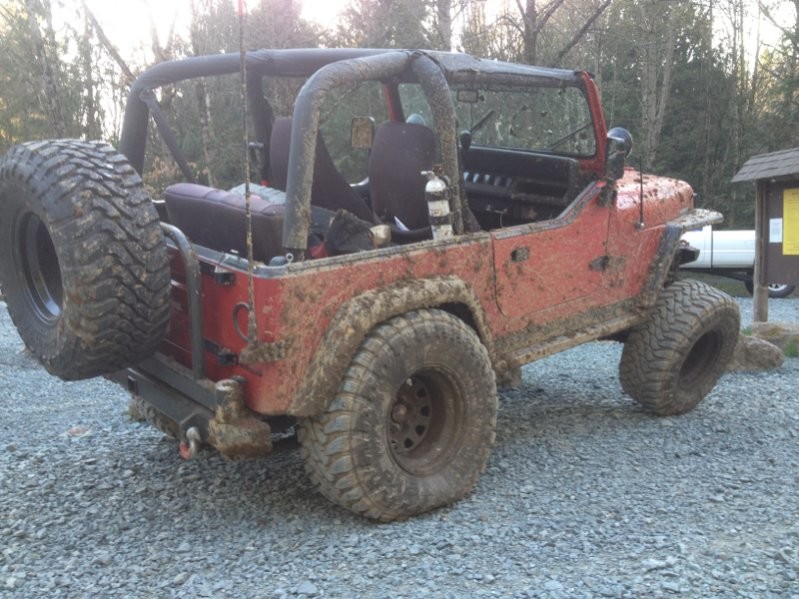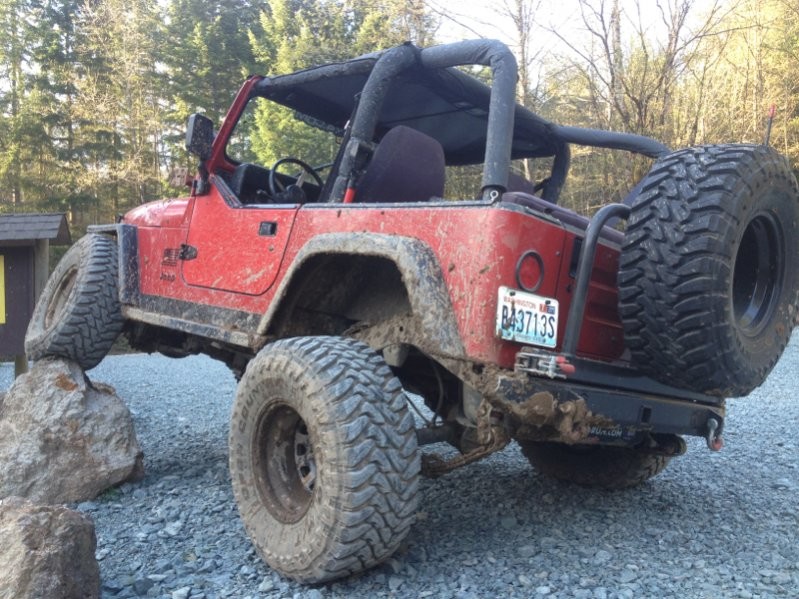 4-16-2012
So 91BoD and I where pressure washing are rigs today and he notice his rr shock mount was almost ripped off so we took a look at mine and guess what? Same story for me makes me laugh :0 knowing when took the same exact damage must of been on the same rock to!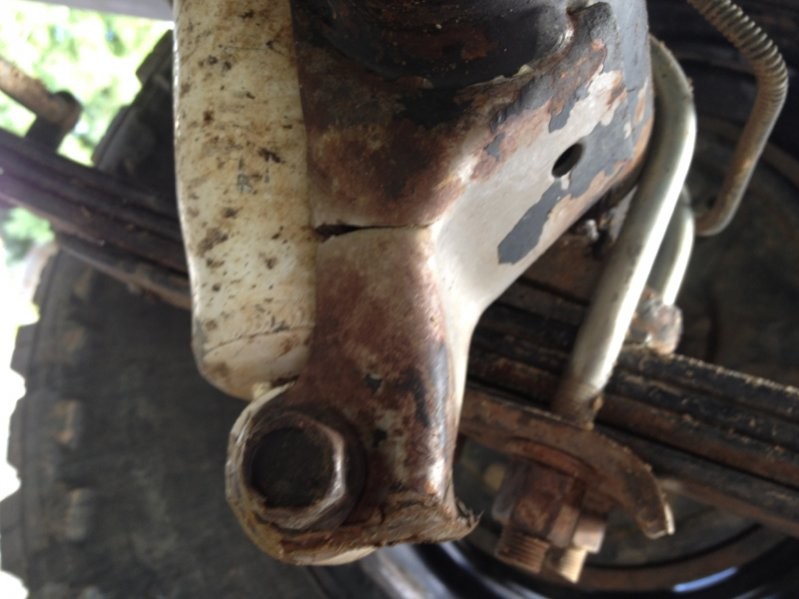 I will look into them metalry I think I am just going to weld it back up and plate it for now! I plan on a 8.8 swap next tax time so I don't want wast to much money on my super thurdy five lol! so I ordered a new seat belt buckle today from quadratec so I don't have to duct tape it closed to me look legal, I hope to get it before this Friday seeing how I going wheeling again then. Don't worry I plan on parking it until I get the seat belt looks like I will be driveing the wife durango aka kid haller for the week

! I also ordered a set of dog brown stock height ultra-flex rubber motor mounts but they told me they are aleast two weeks out, I so cant wait to get rid of my sqeeky wasted mounts! Thats all I have for now!
4-18-2012
Just a couple more pics from last saterday!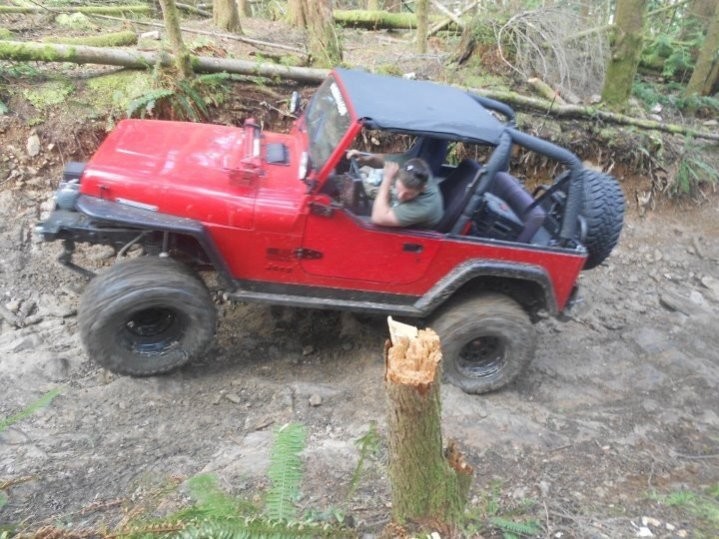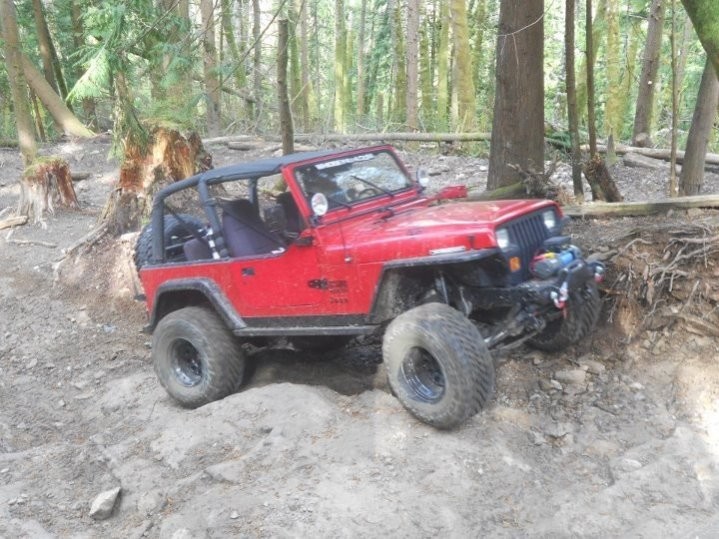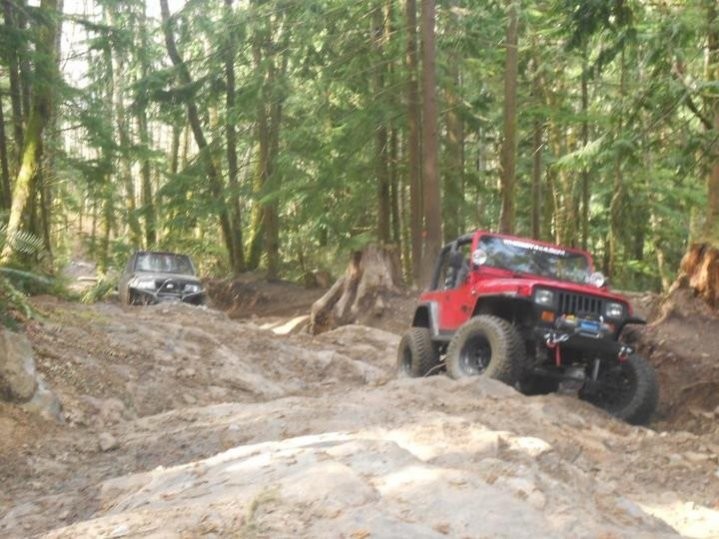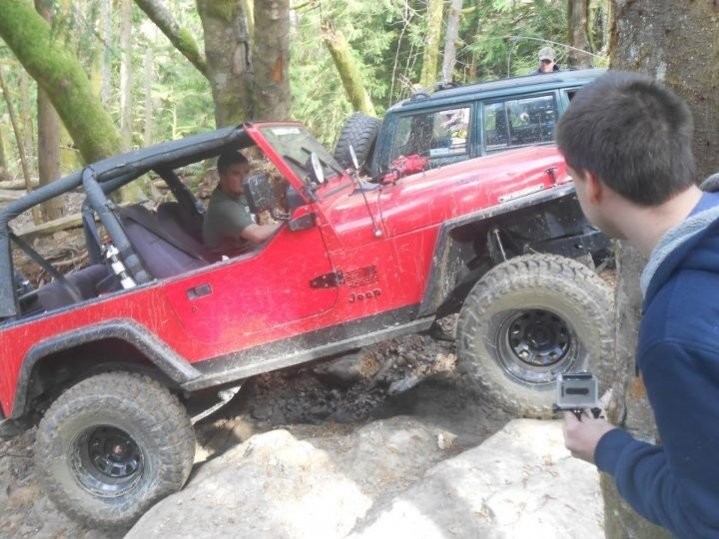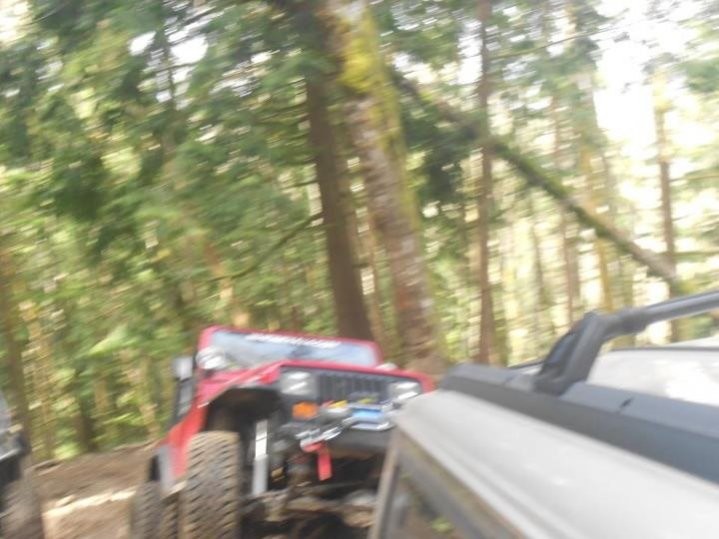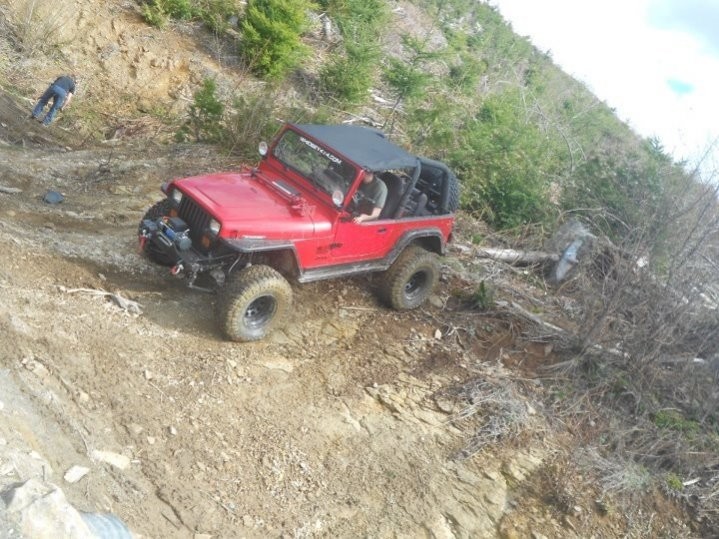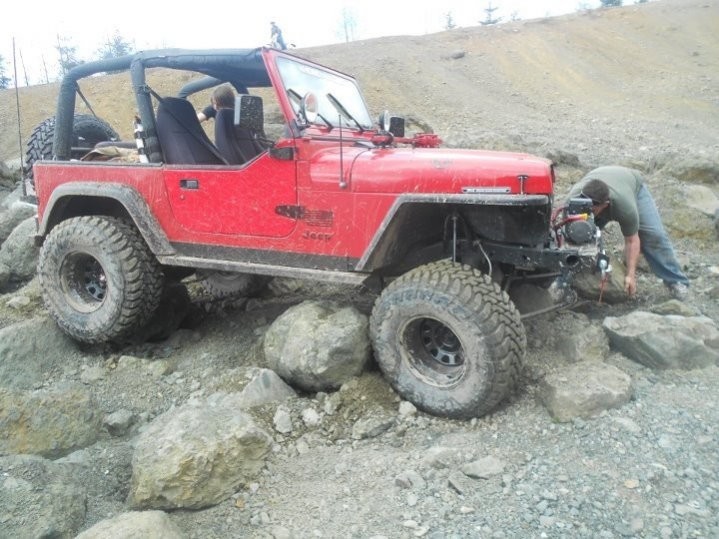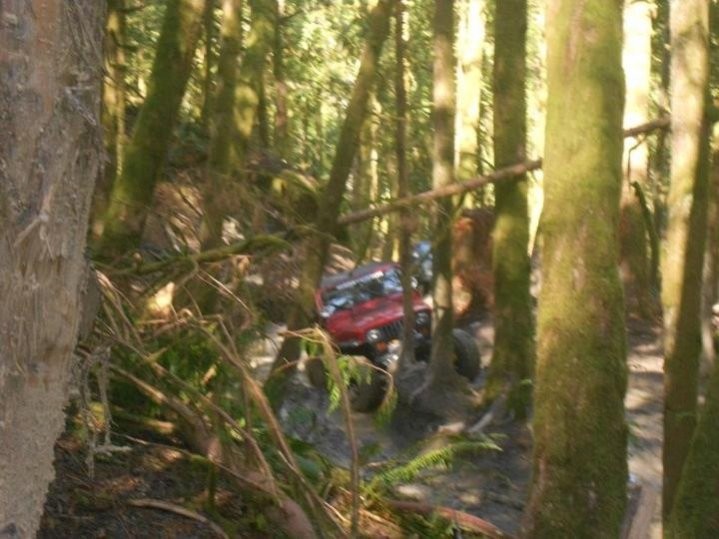 4-19-2012
Here is the fix until next time lol! I know it's not pretty but it better than nothing, there is a plate on the other side to!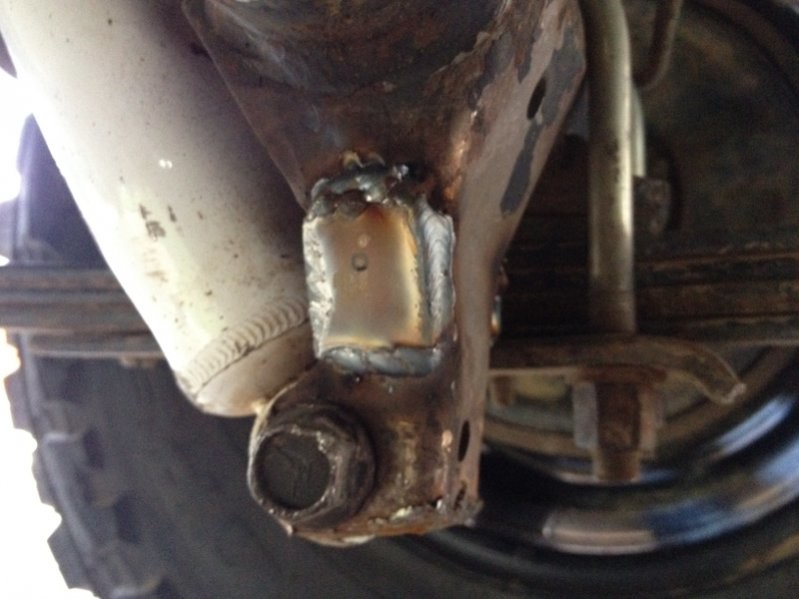 4-21-2012
So today I added some horse power (the glock and wrangler stickers) what do you guys think!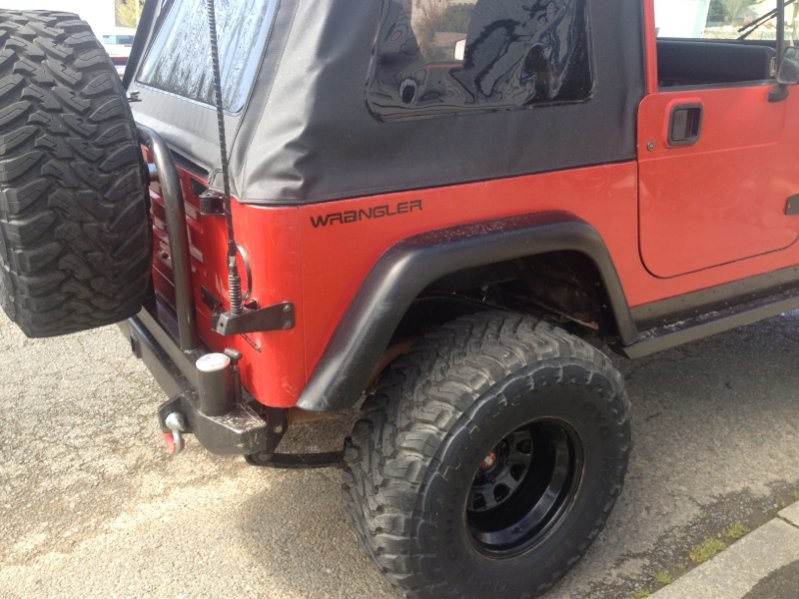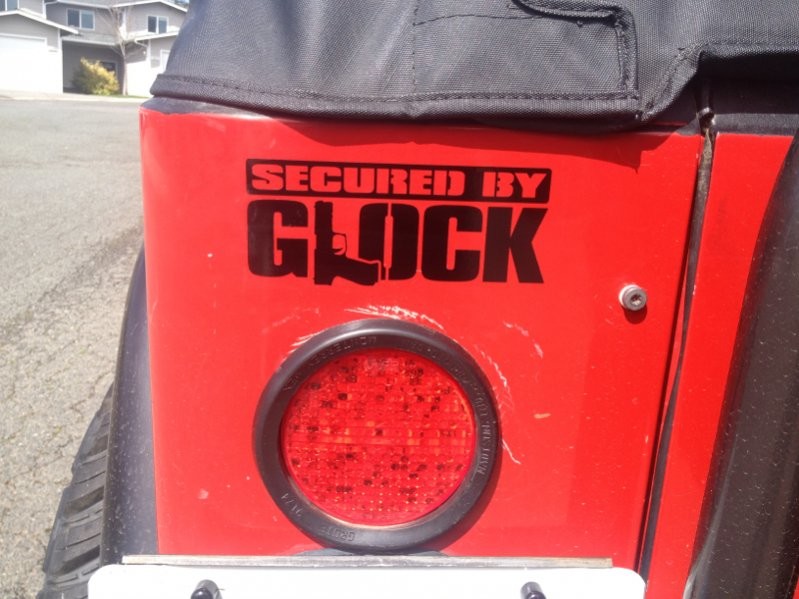 4-22-2012
So for the first time since I owned the jeep I fix the oil pressure gauge! I broke down and spent the 30 bones for a new oil pressure sending unit, the pic I posted are the cold idol pressure and the hot idol pressure what do you guys think of these numbers? the man reason I pushed to fix this today was because this morning when I fired the old pig up it had a nice knock to it (sounded like it had no oil) which lasted for about 20 seconds. It ran fine all day today and has't done it since but it worried me. I thought maybe I had the wrong weight oil in it but I think it was a fluke deal or something (I run delo 400 10w30) I will just have to keep on the look out to see if it does it again!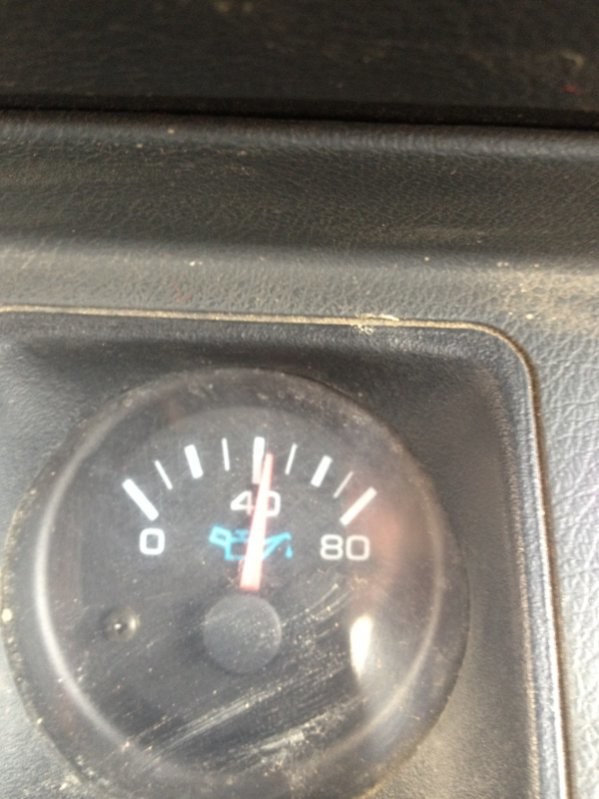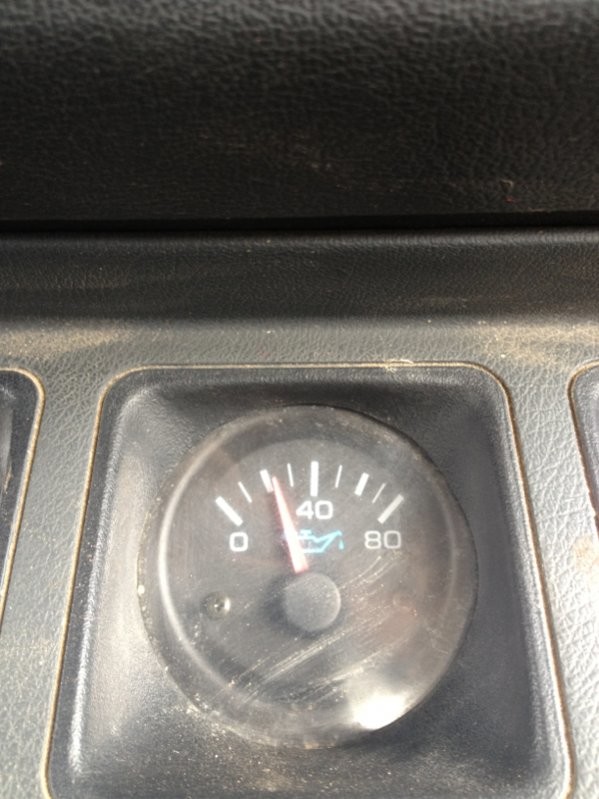 4-24-2012
So I had a buddy give me a old junk Tj upper to you around with and look like they should work great with my softtopper! I am going to buy a nice set from him for 150! I know that last leg needs welded back on but keep In mind this was a text fit! Today I also got my new seatbelt buckle from quadratec so no more duck tape for me! Lol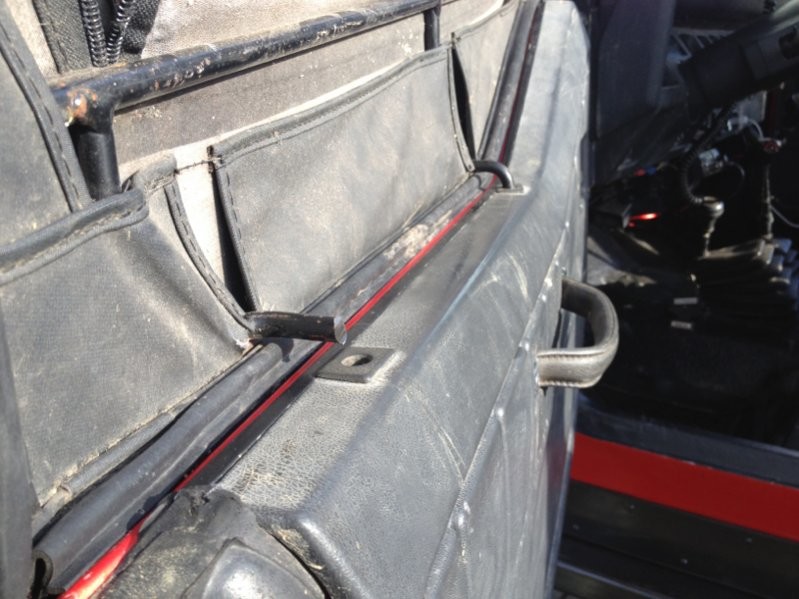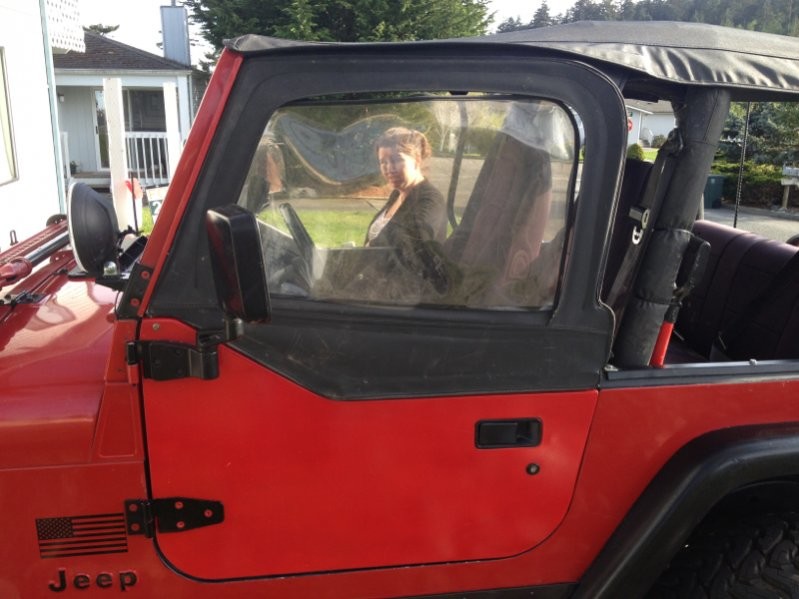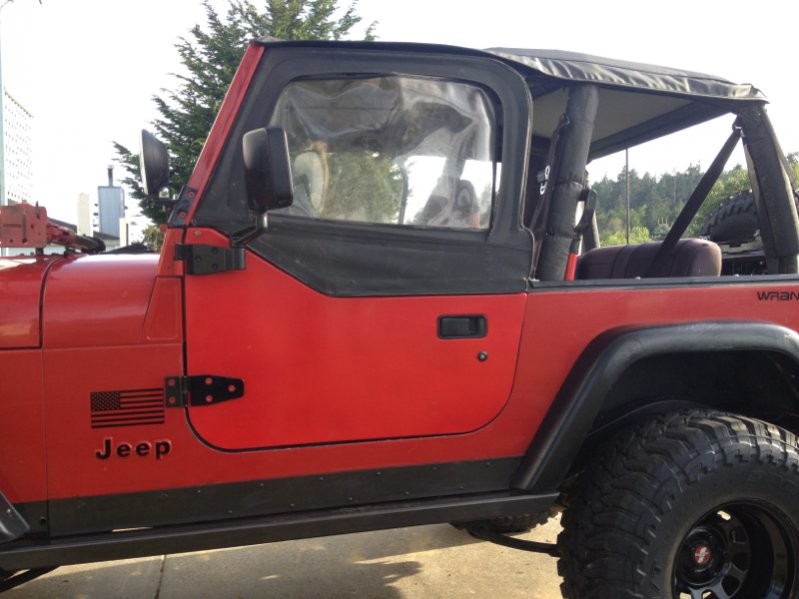 So picked the Tj uppers from my buddy today now I just need to weld the last arm back on and i will be set!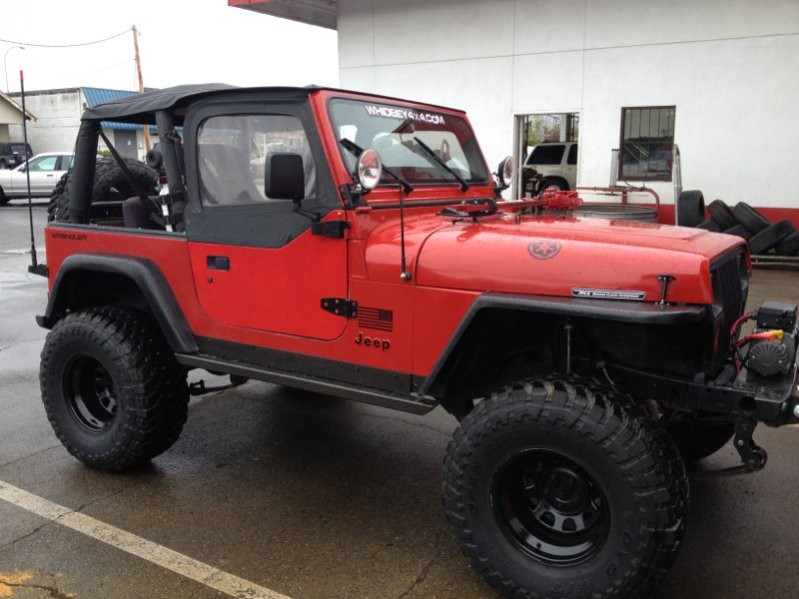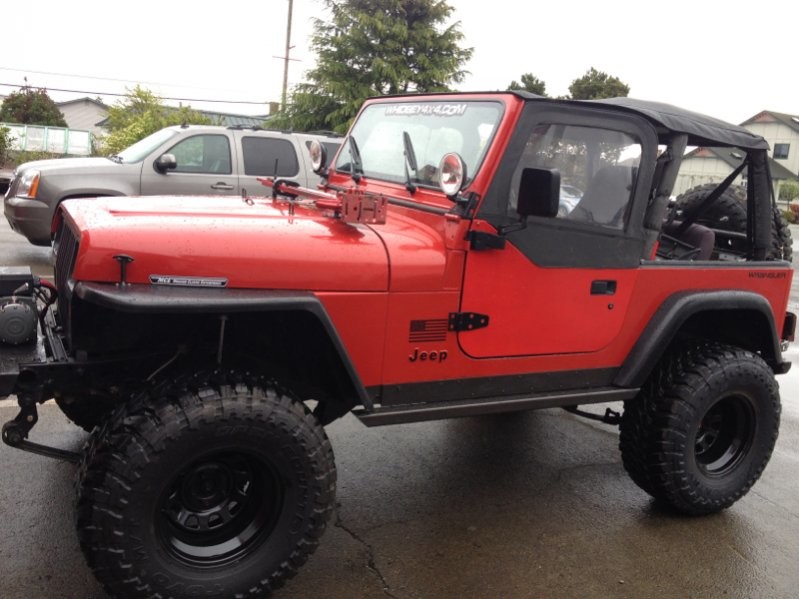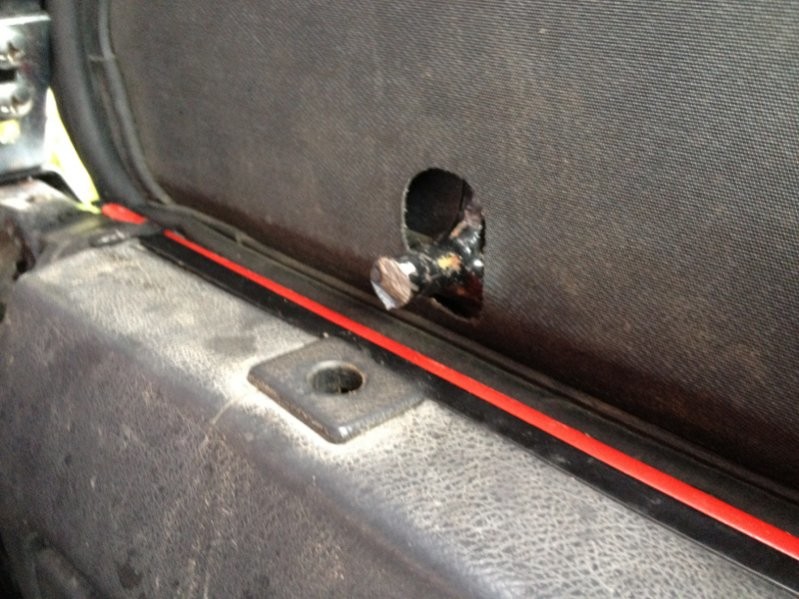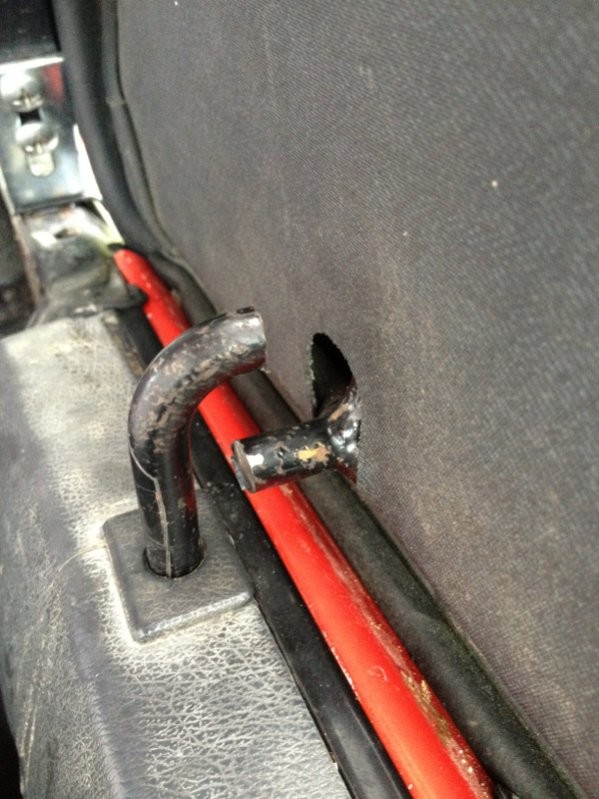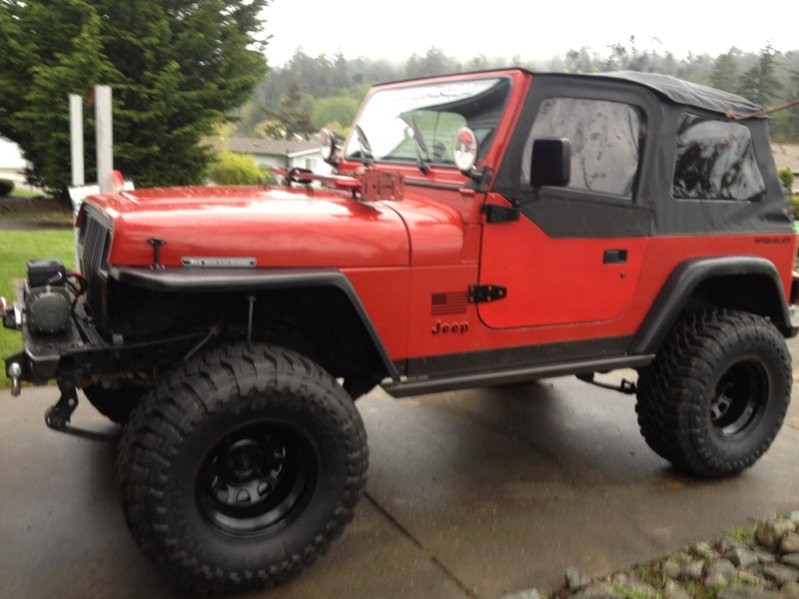 4-26-2012
o I am looking to do a cheap (60 dollars) mod and have narrowed it down to either a steering box brace or a set of gen right hood louvers! I don't even know if add a gear box brace would be worth the time since I am only on 33s right now all tho I am locked in the front, and I don't over heat or anything like that I just really like the look and idea of louvers! so with that said what should I do first lol?

here is a link to the louvers I want
http://www.genright.com/ProductInfo....ductid=LVR1006

and here is a link to the more sb brace
http://www.quadratec.com/cart/cart.php?add0=12590+0521
Thanks for the props woody! I just got the phone with genright and have a set of long black hood louvers on the way (they are on a 2 week back order) I can't wait to cut some holes in my good hood! Also I got a tracking # from brown dog so I should have my motor mounts real soon!
4-27-2012
So tonight me and my buddy got my Tj uppers finished (welded the rear arm post) that's it for tonight lol!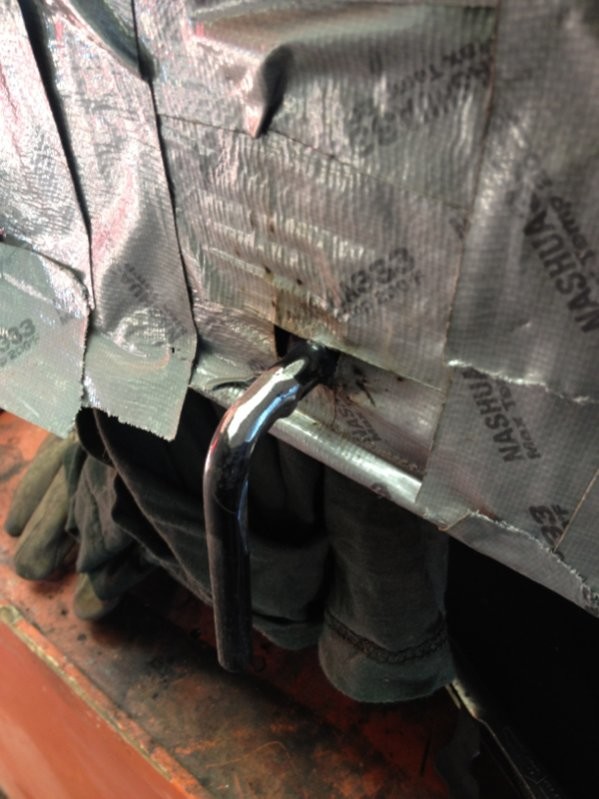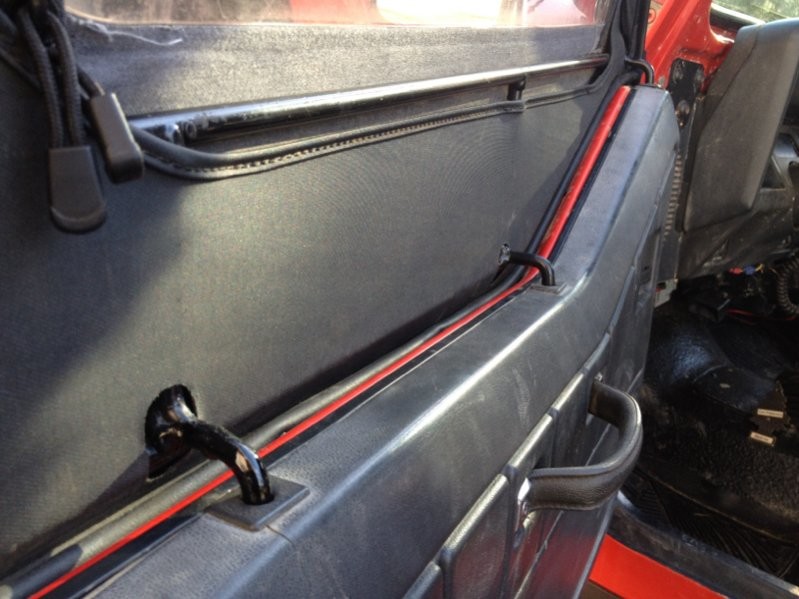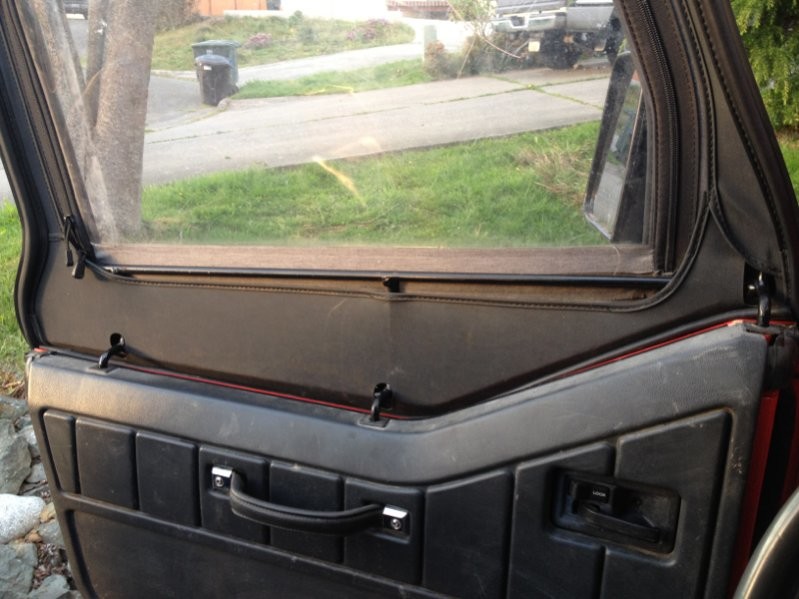 4-29-2012
So my mounts should up today, I got them thrown on tonight since I going out wheeling tomorrow! I over tighten the threw bolts on them and had the rig shackle like a dog passing peach pits (bad vibes from being to tight) so I went out and loosened them up and will see it that helps! So the drivers front mount witch I had replaced a couple of month ago was wasted and the passenger side was the one squeaking and it turns out the metal sleeve was ovaled out so I guess the squeak was the threw bolt rubbing I the wrong way! Lol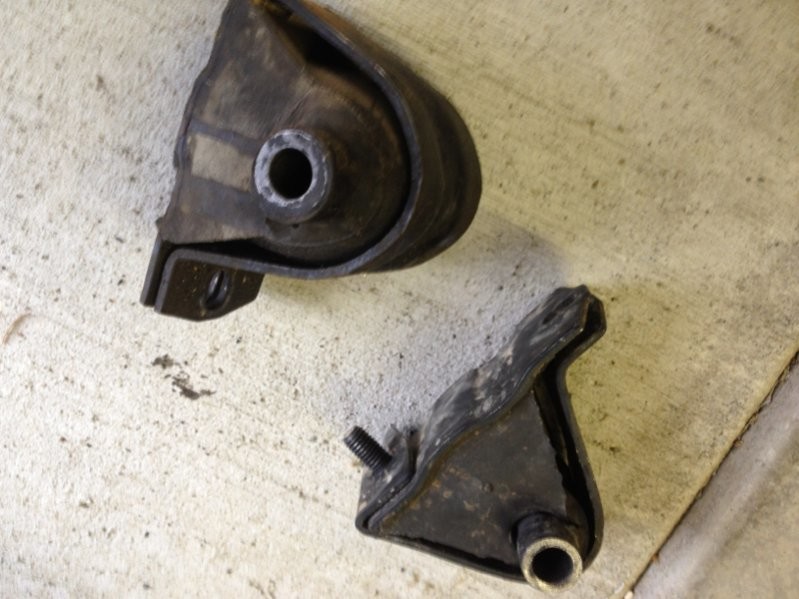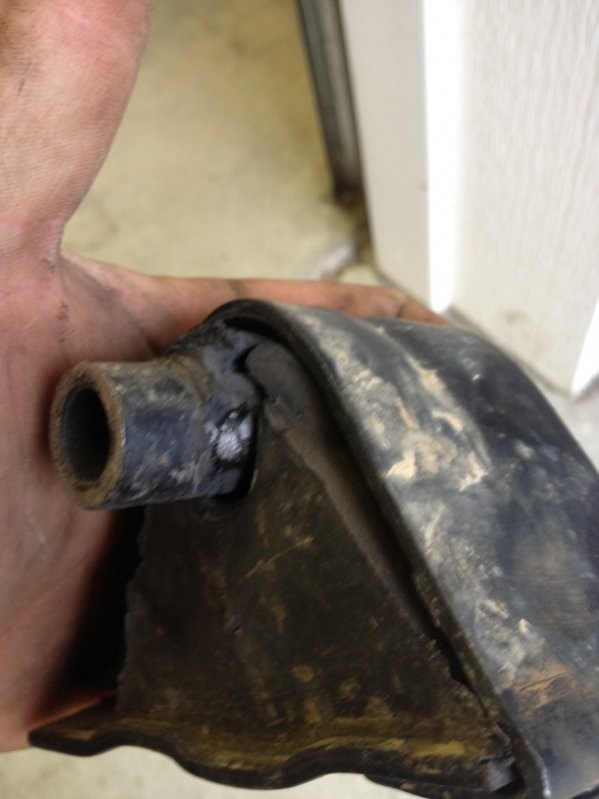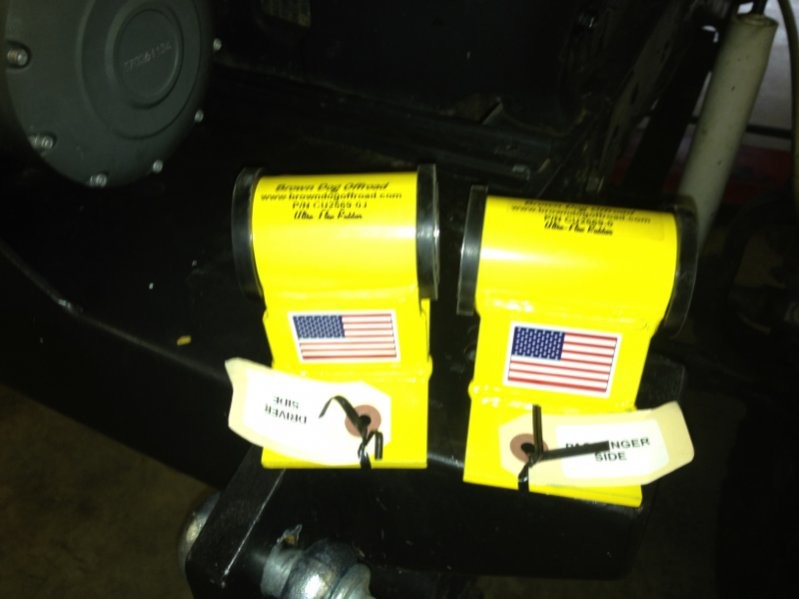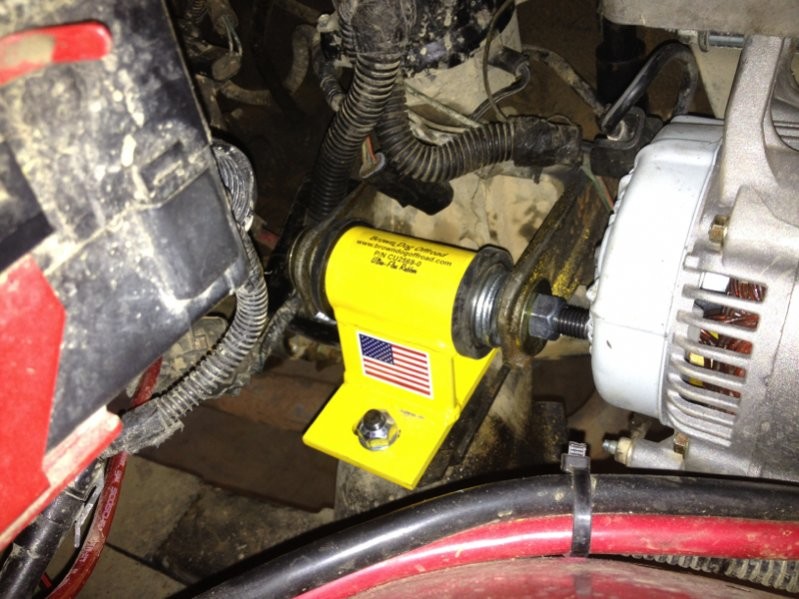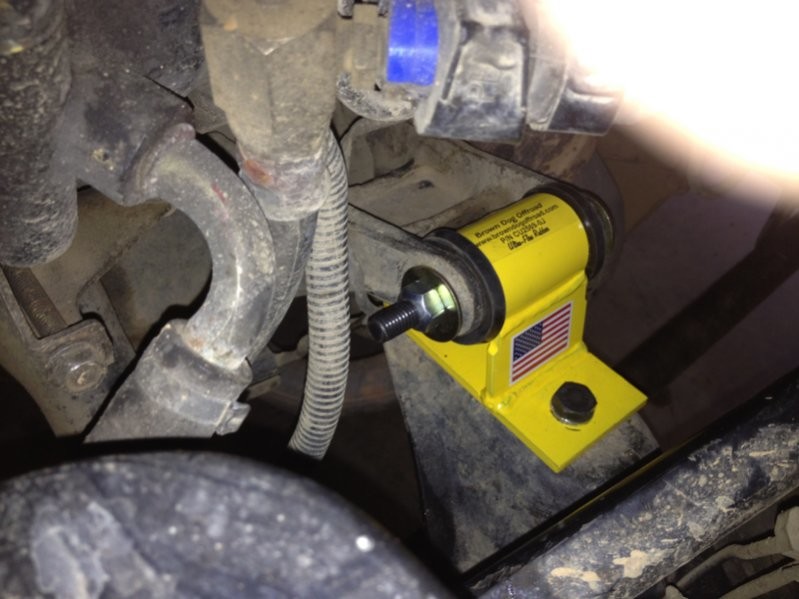 4-30-2012
Went out today to walker valley with 91BoD and had a blast! It was wet and sticky out, so my winch got a really good work out today. I took no damage today but my buddy really tore up his xj all done today he shatter a rear window ,ripped a rear door handle off, tacoed both upper control arms, and a stick came up and ripped his wires off his fuel pump Which ended the day needless to say he got towed home thanks to 91bod!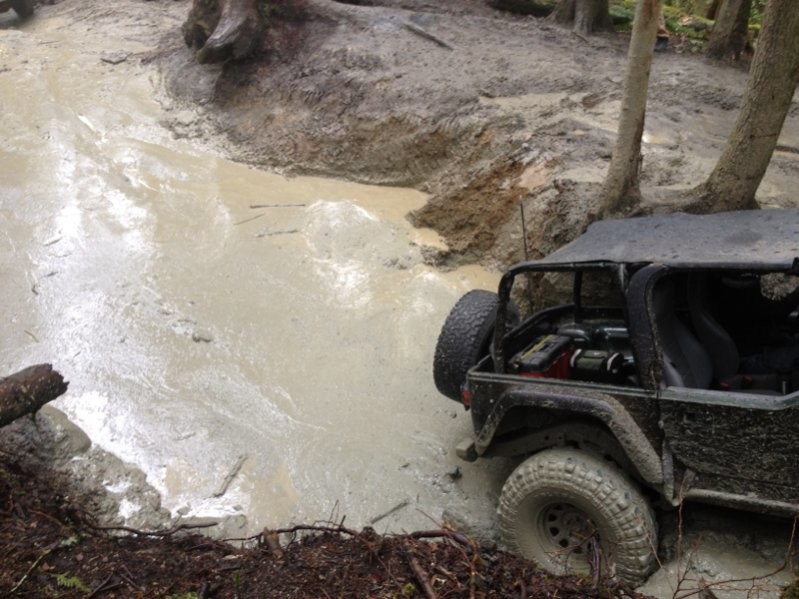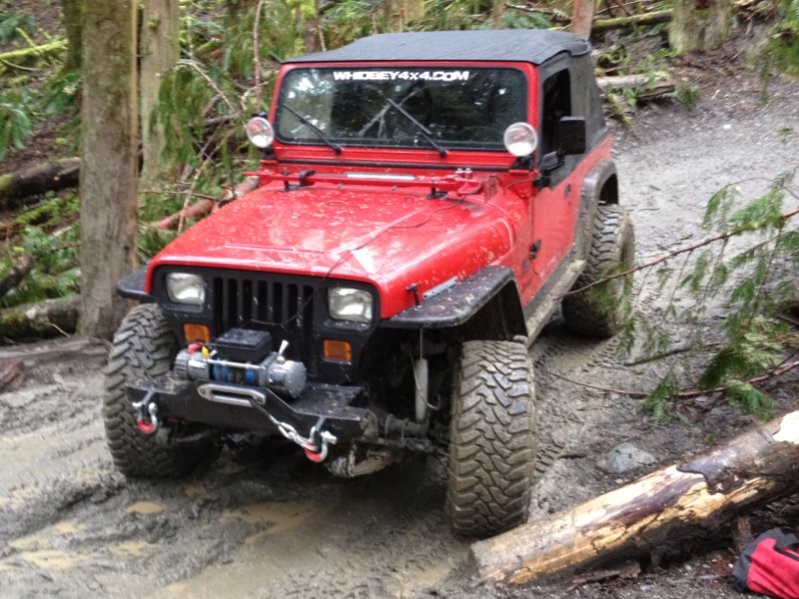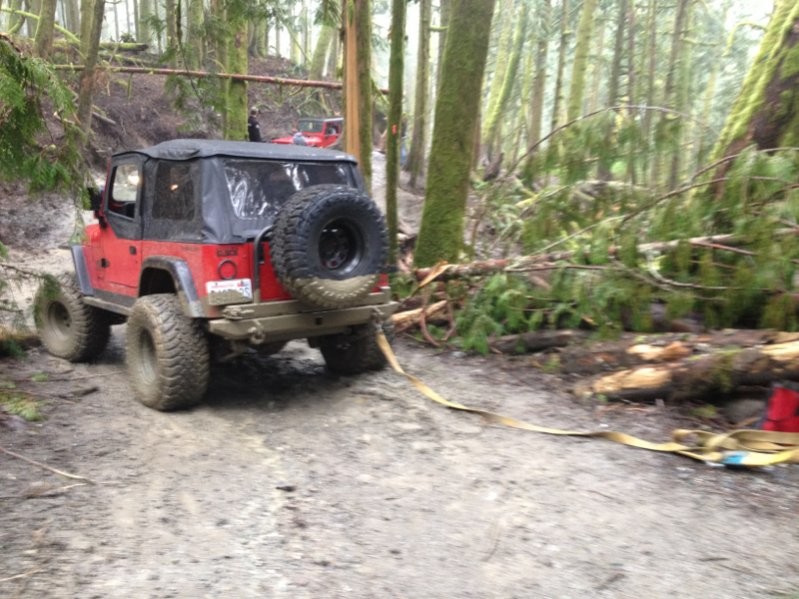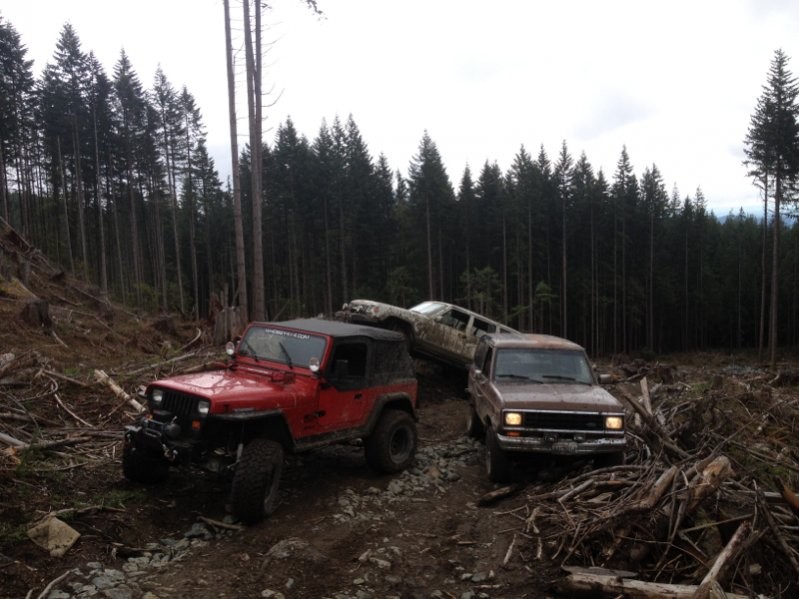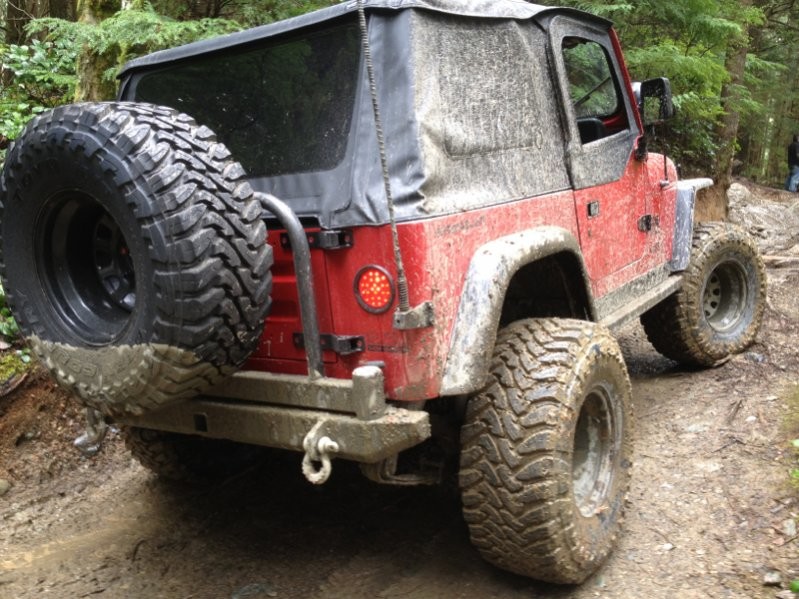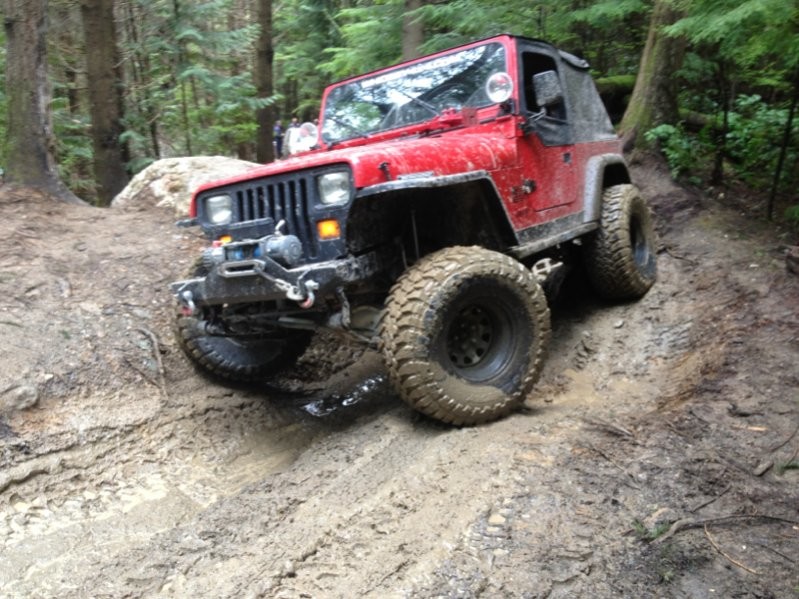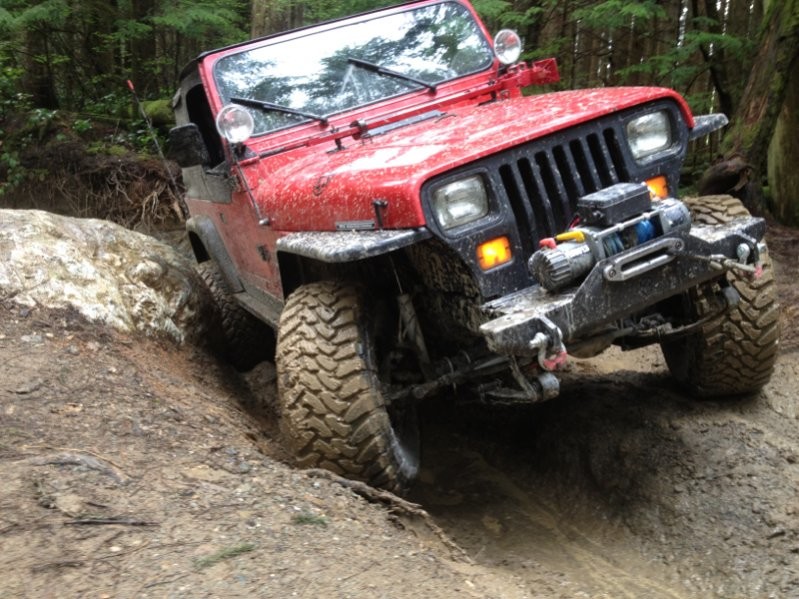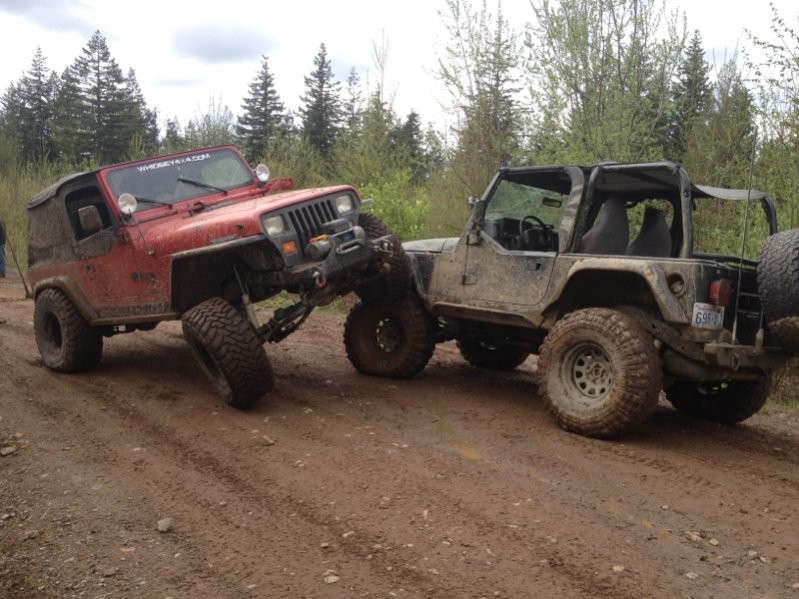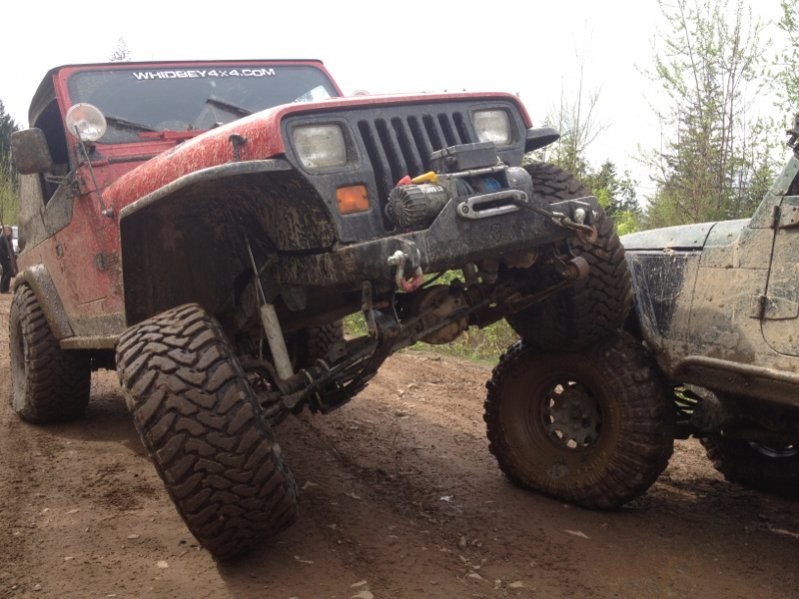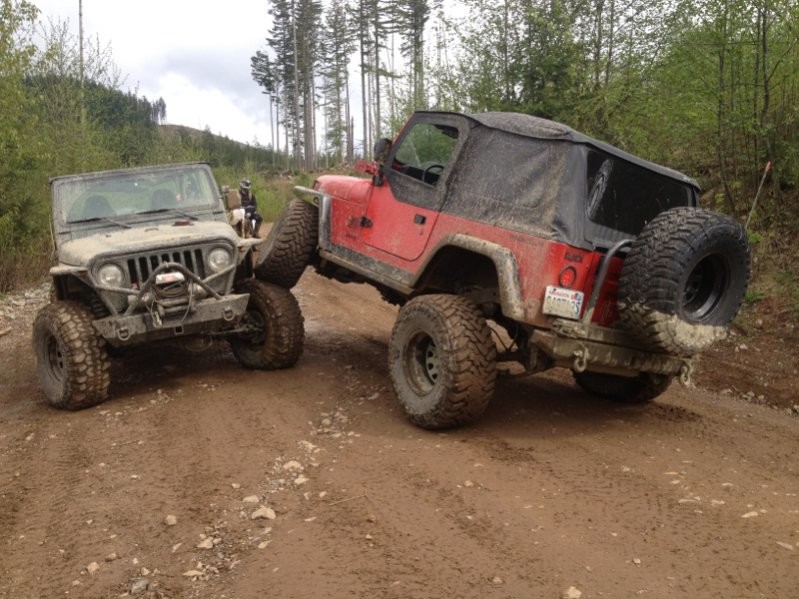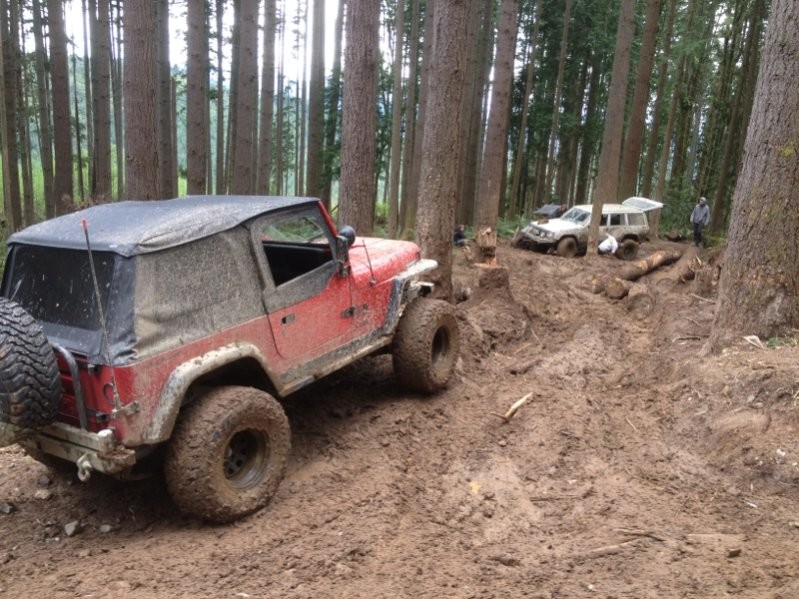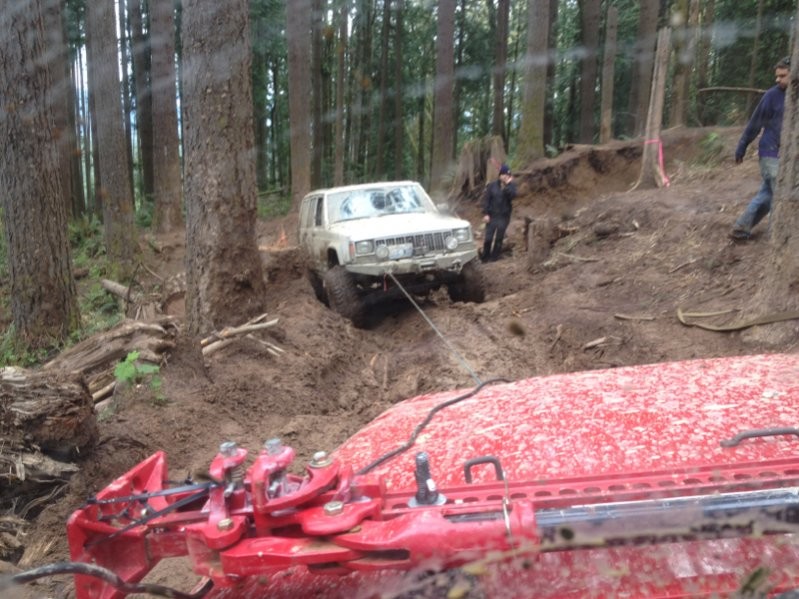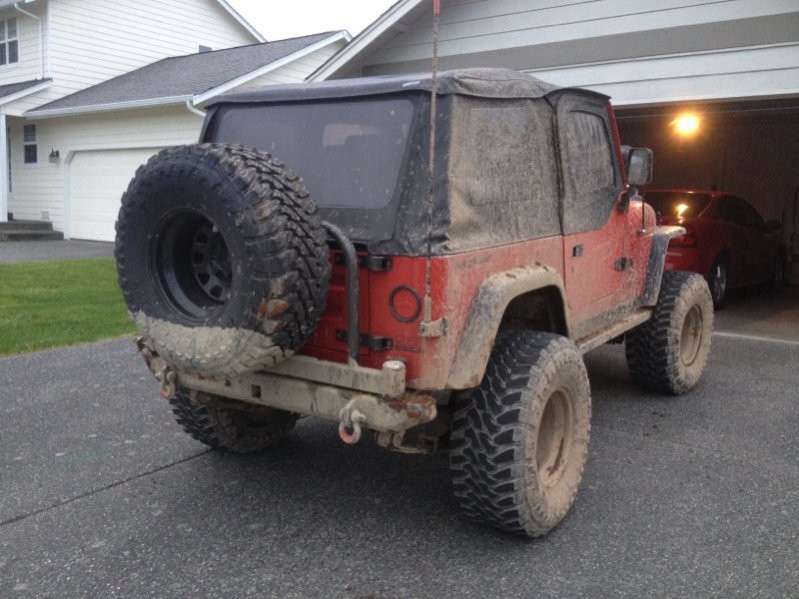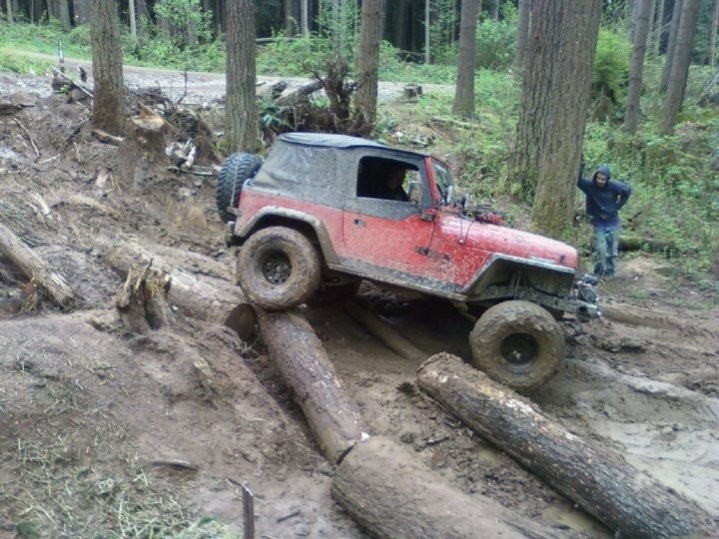 5-2-2012
Tonight I installed a longer set of shocks on the front to try and gain a little more droop in the front! I will almost be able to use all the shock travel on full stuff and hopefully gain a little down travel with the added length from them! I guess it's time to measure my rear shocks to see if I need to order up a set of longer ones for them to, then off to test the flex I will go

! I also pulled of the valve case cover to take care of a little oil leak I had going on and man did the Po ever like rvt! I am take. The cover to work to give it a chemical bath than I should throw it back together tomorrow can't wait to drive it again its been a whole day going on two without driving it and I already miss it lol!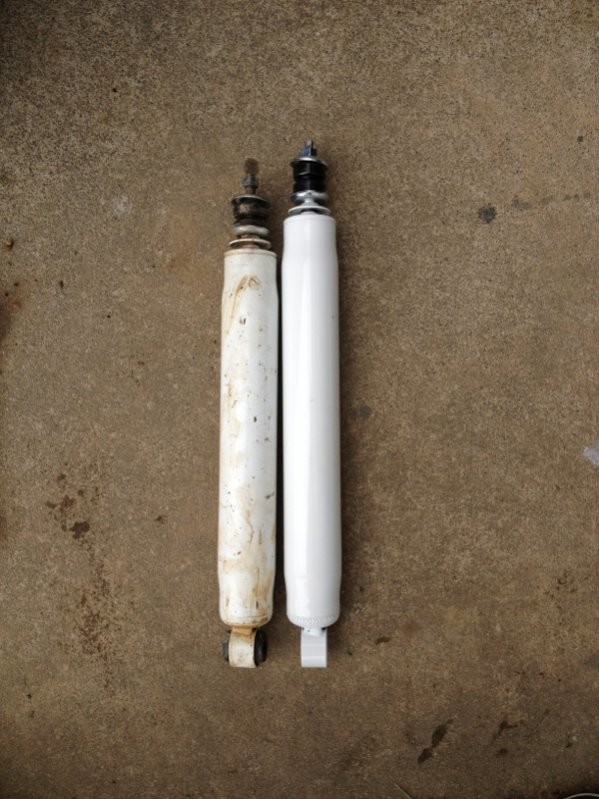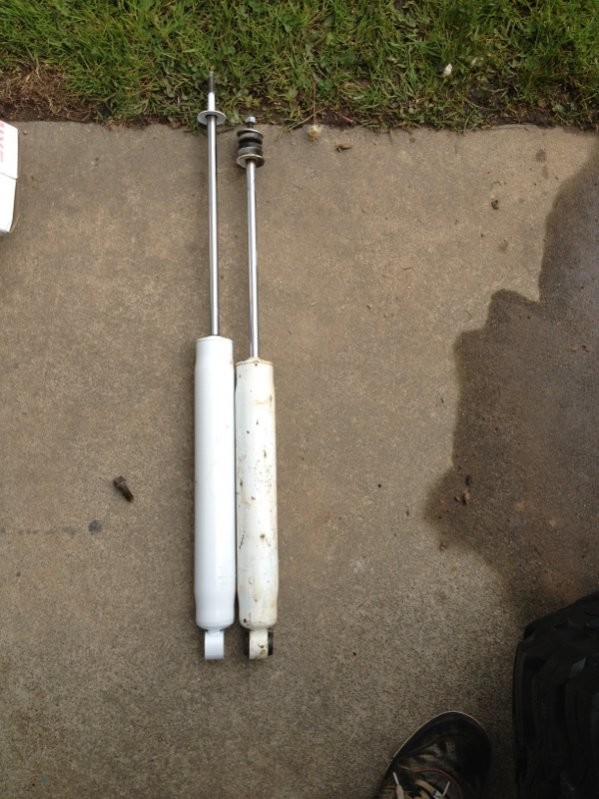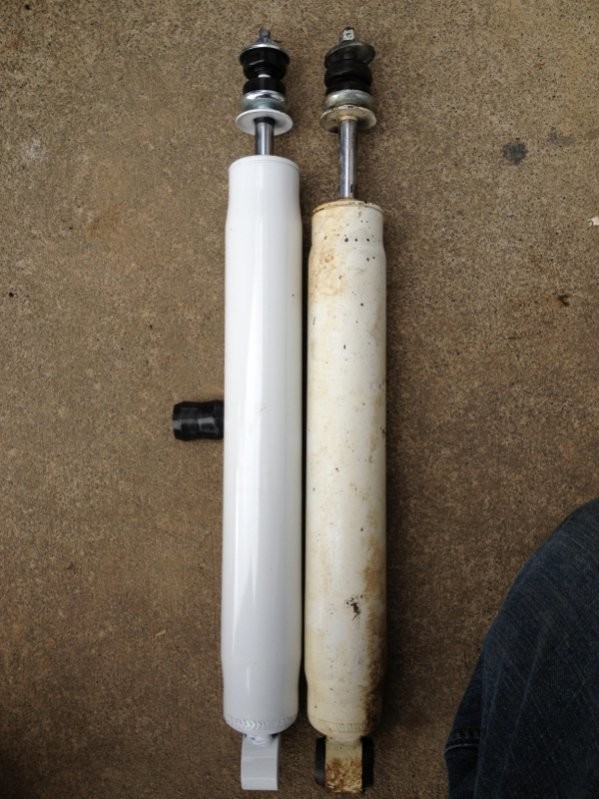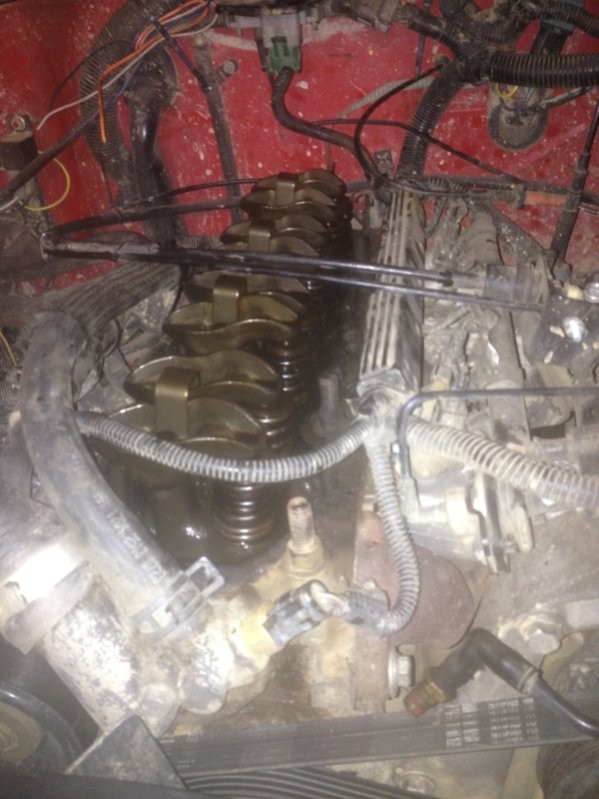 5-3-2012
I got my valve cover cleaned up and put back on today! I used a real thin film of rvt to hold the felpro gasket on hope it fixes my little leak that was there, if not at least it looks better now! I got a tracking number from genright and should have my hood louvers tomorrow so I should be installing them this weekend!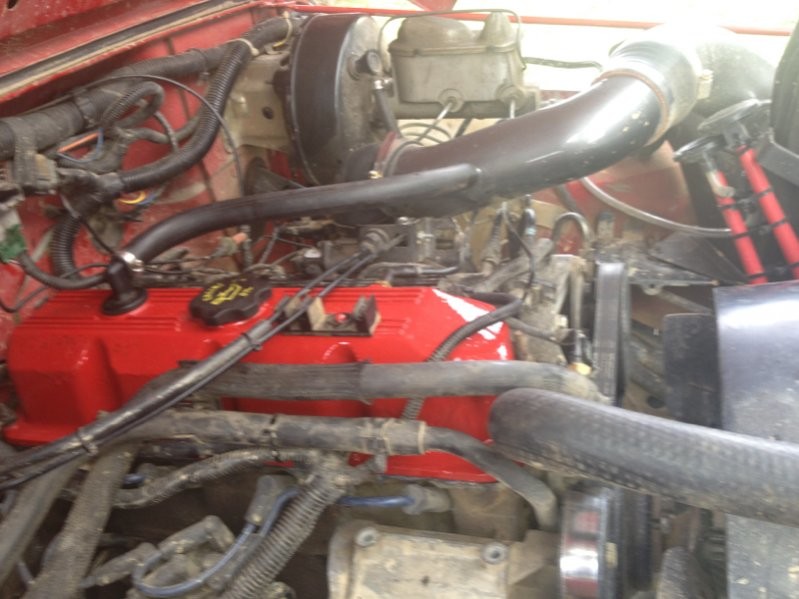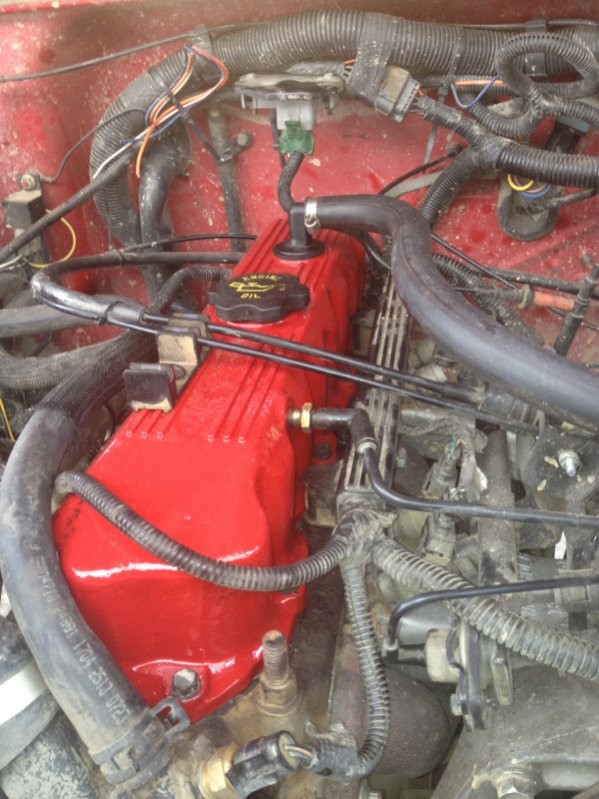 Thanks straightsix! So today on lunch I broke down the beads of three of my tires to clean the mud and bark out and then decided to test out my new front shocks the fork lift!, let me know what you guys think!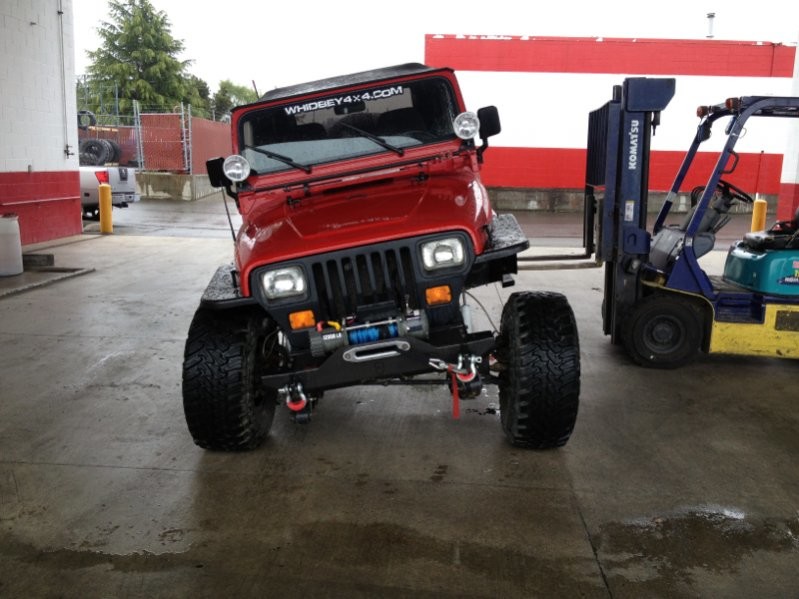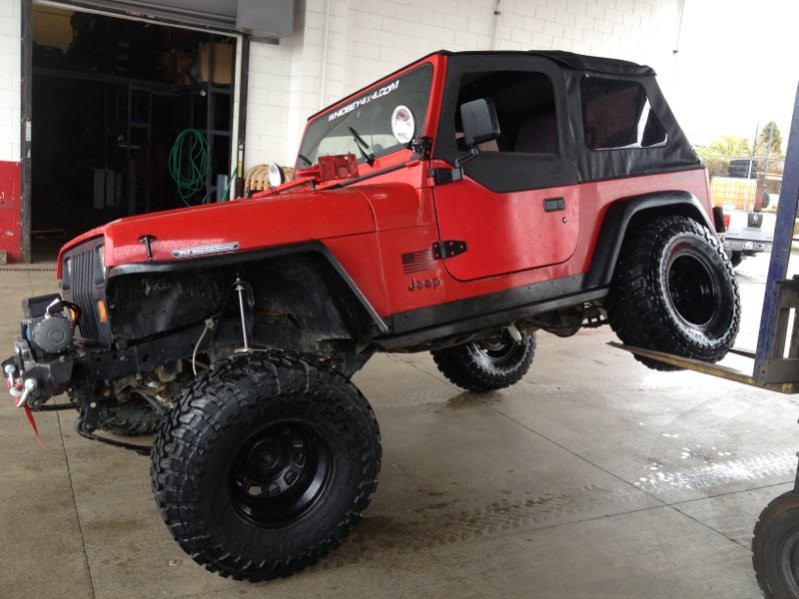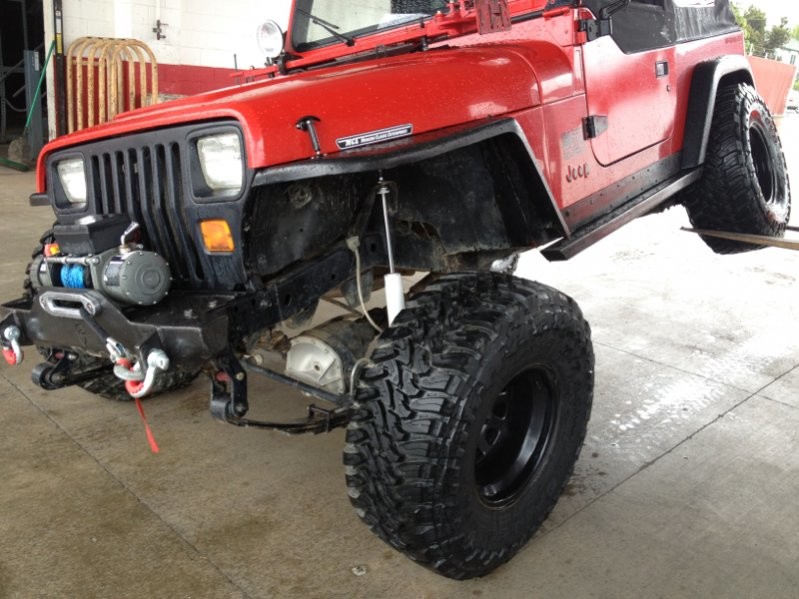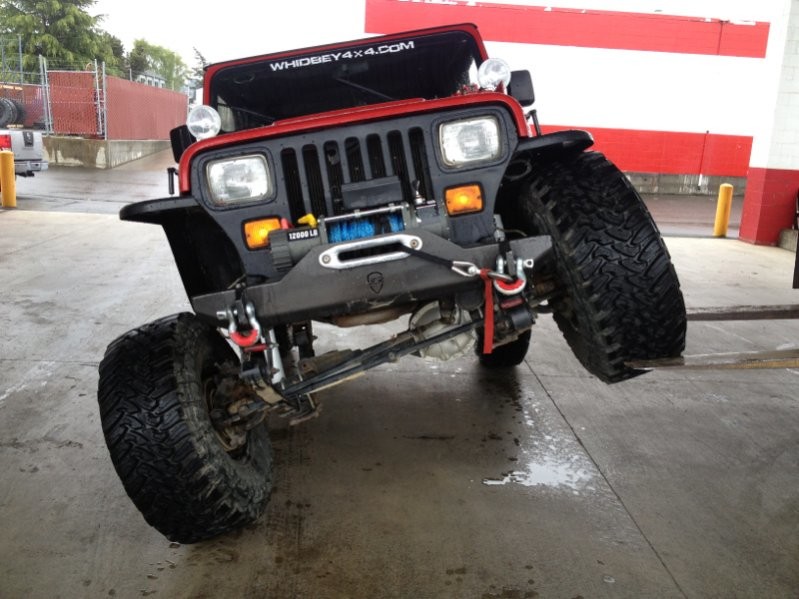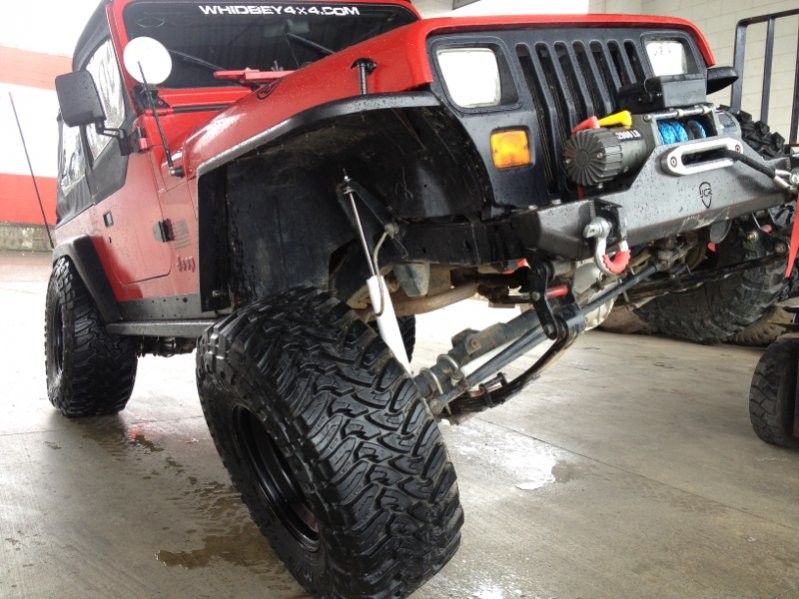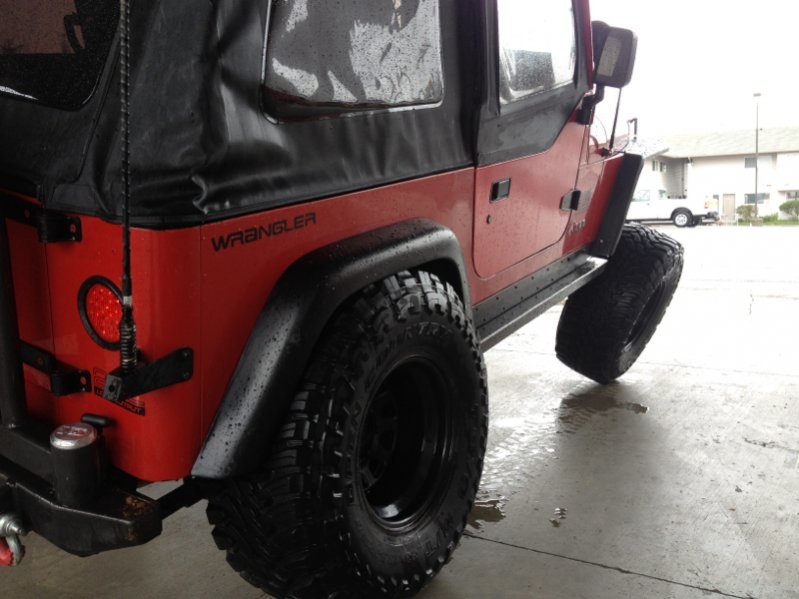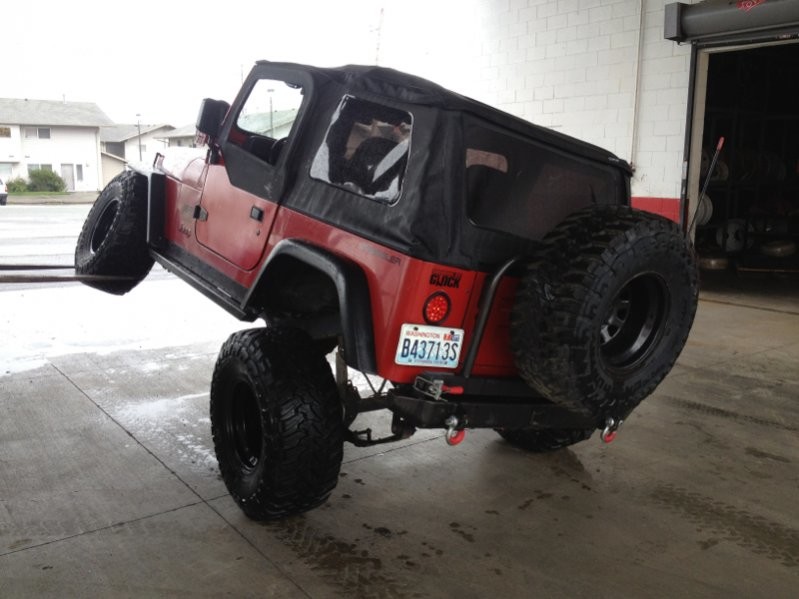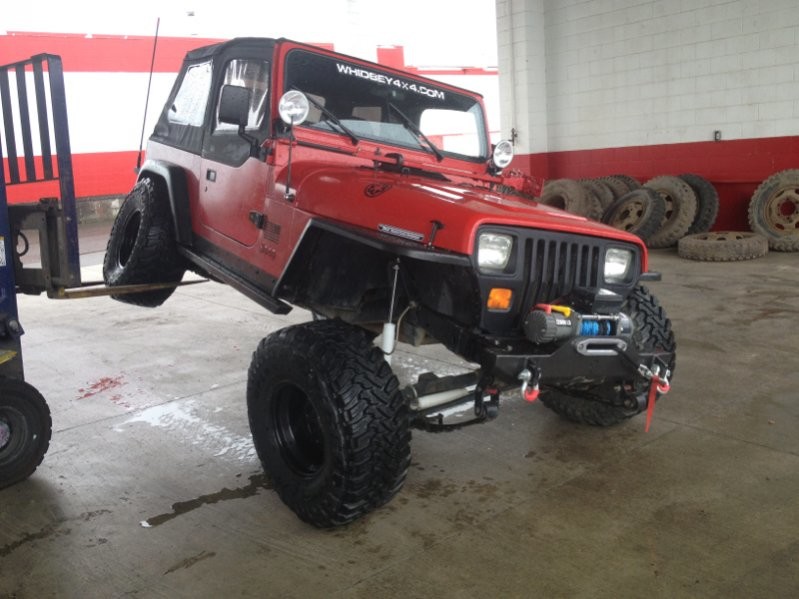 5-4-2012
Yeah it was a great day when I took my bl off all together! So my hood louver came to day and I decided to crack a cold one and install them! Here is how it came out!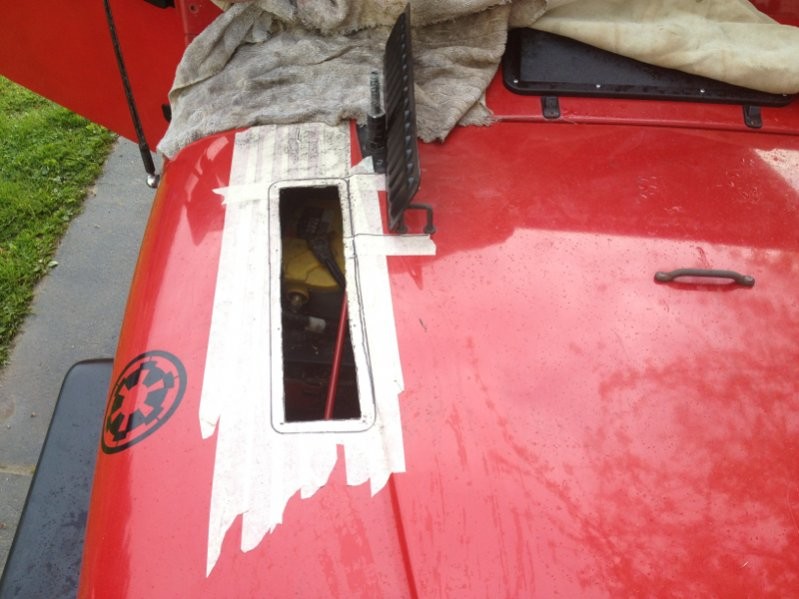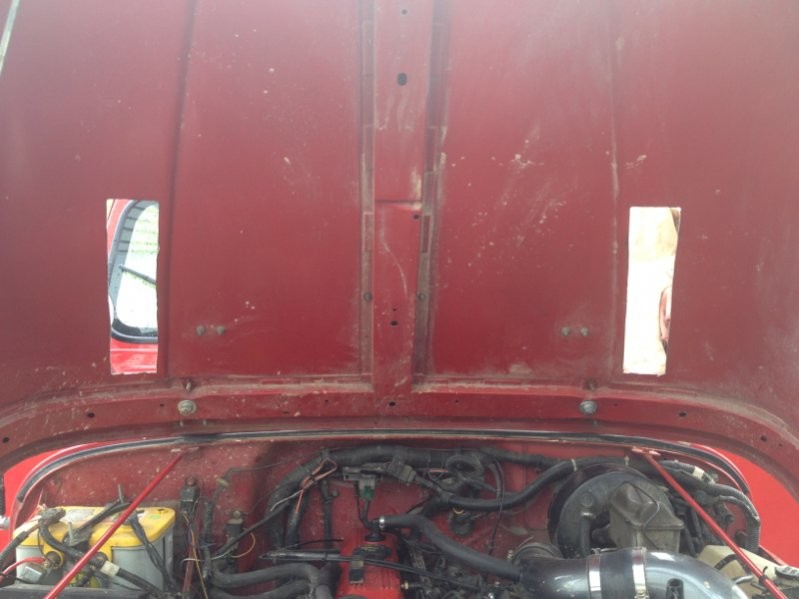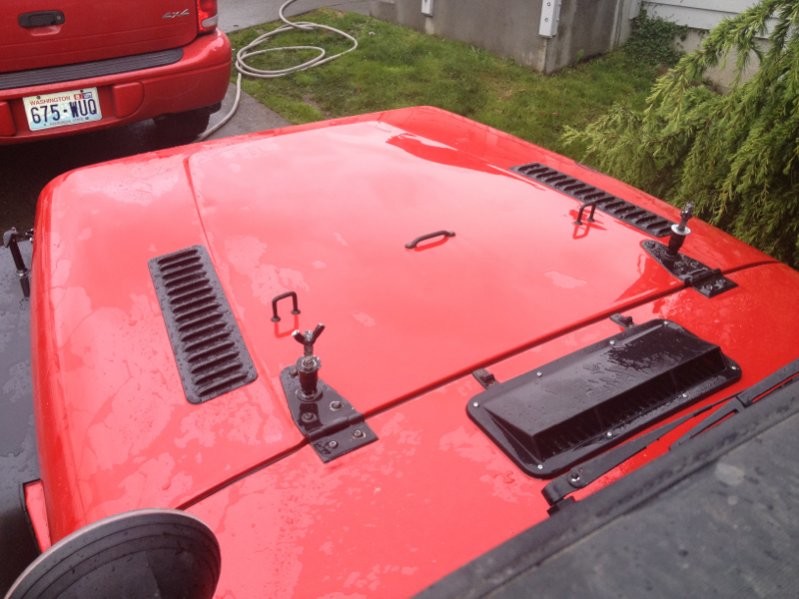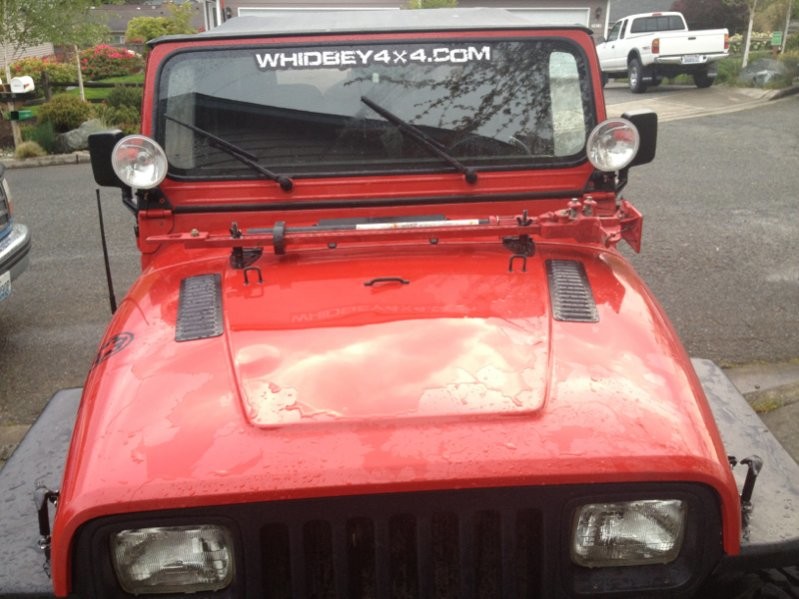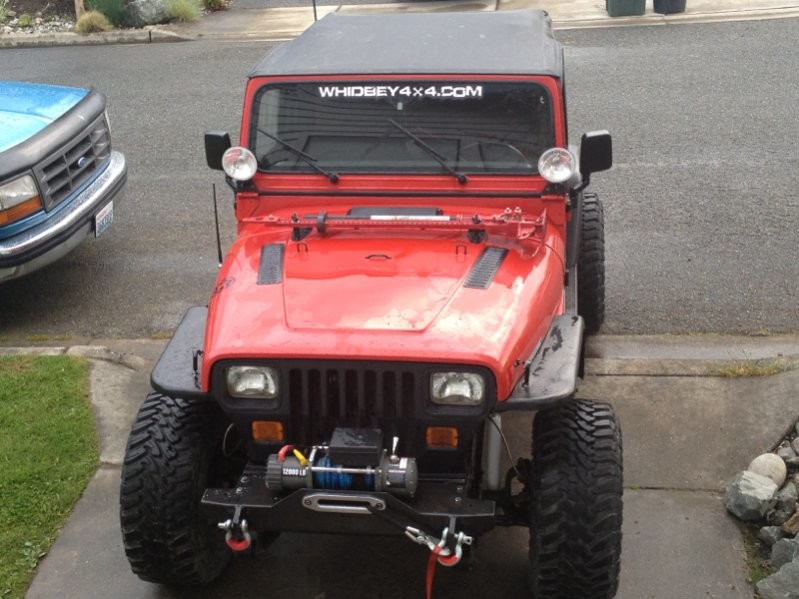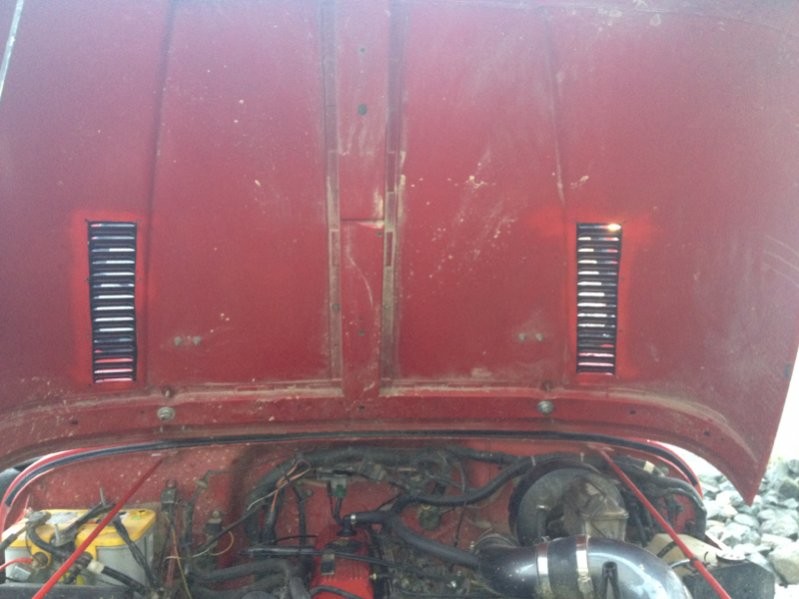 5-5-2012
thanks man

!


next on my list of things to do is a power steering brace and start replacing things like my center console and seat cover and of course start saveing up for a 8.8 swap! I would like to be able to throw a Detroit in it unless I say screw it and do a spool and a super 8.8!

5-9-2012
So I sold my full doors for 800 bucks tonight and now it is time to start buying parts for a 8.8 swap! give me your opinions on how to wisely spend 800 bucks on this axle swap keep in mind the axle is part of the cost!
Yeah I have a 8.8 now I am buying it from 91BoD he said its out of a 97-98 explorer and it is the 3.73 posi setup! I just got off the phone with Randy's ring and pinion and I order a spartan and pinion setup kit, and also the bearing and seals for the end of the axle tubes! I also just got done ordering my ubolts and plates, spring perches, shock mount, and the 8.8 flang adapter ! I am getting a open caierier and 4.88 r&p from a buddy for free he said the only have 1000k or so miles on them and he change his out due to his v8 swap! So he swap is all comeing together now! This is my dd/weekend wheeler witch is why I decide agaist a spool incase you guys were wandering!
5-10-2012
So I picked my freebie gear set and open carrier from my buddy name today as well he is a pic of them! They look flawless and zero wear on them!
So my locker and pinion install kit cam today

! Oh yeah and I also order under cover fabworks diff covers for the Dana 30 and the 8.8 can't wait to start building this axle up!
5-11-2012
So I got home and got to check out the goods! The pile is slowly starting to build!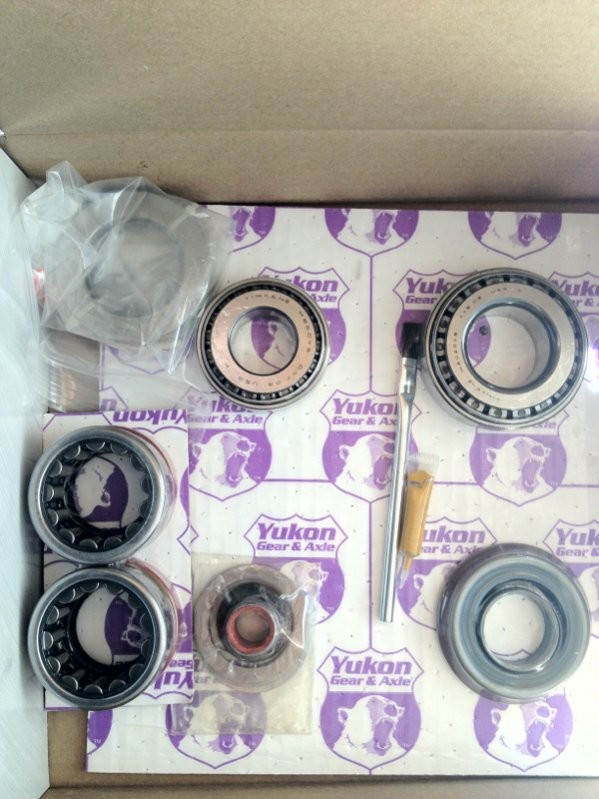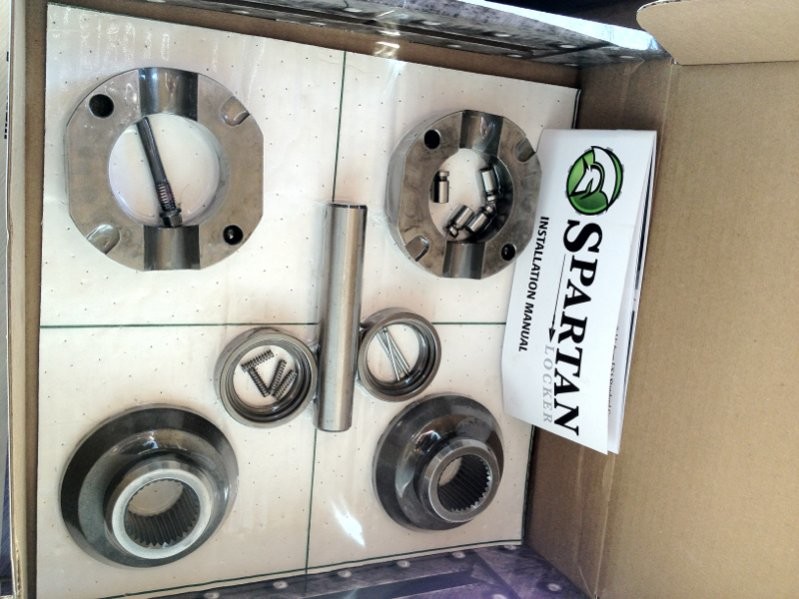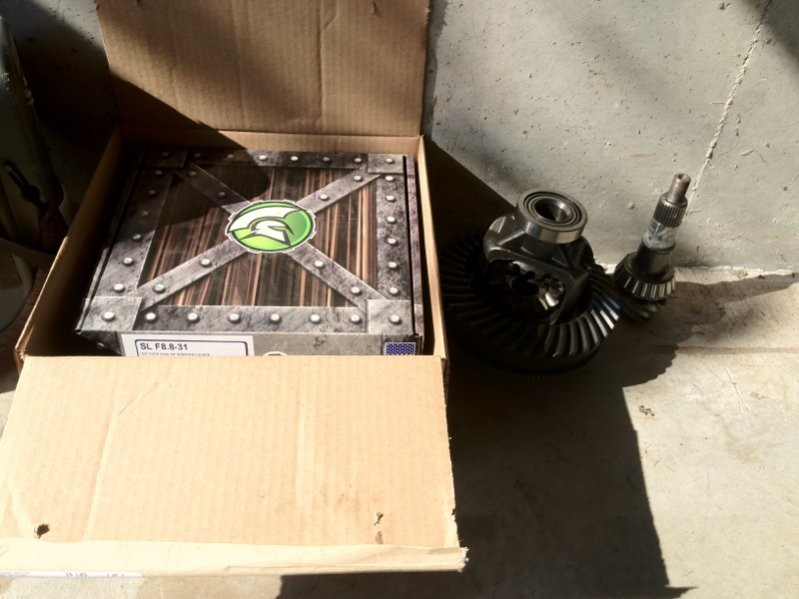 5-13-2012
So I tonight I got the 8.8 and started tearing into it! It is all stripped down minus the e brake shoes and the pinion. The brake pads look almost new on this axle shut the rotors look a little ruff so I plan on taking them to work on Monday so I can turn them! I do need to get some new e brake shoes but that's no big deal. Now I am just waiting on the parts to show up from more Offroad and the diff covers from ucf!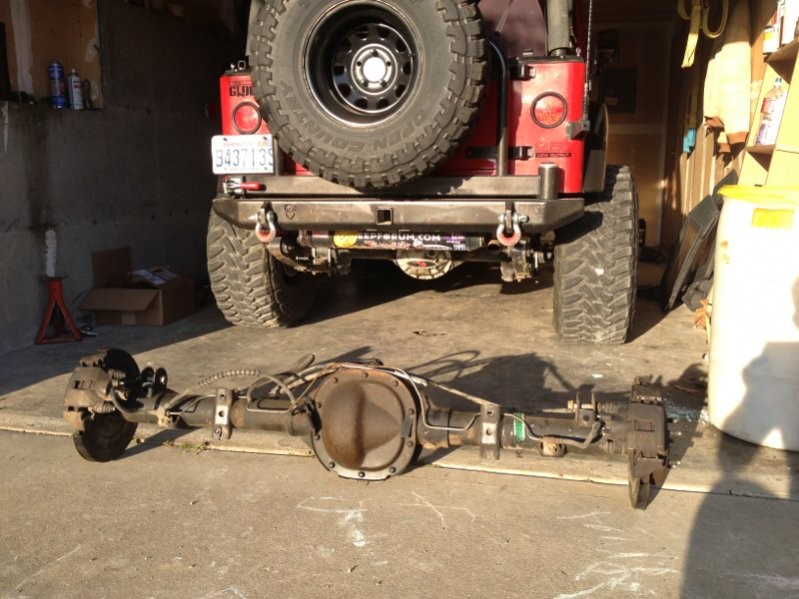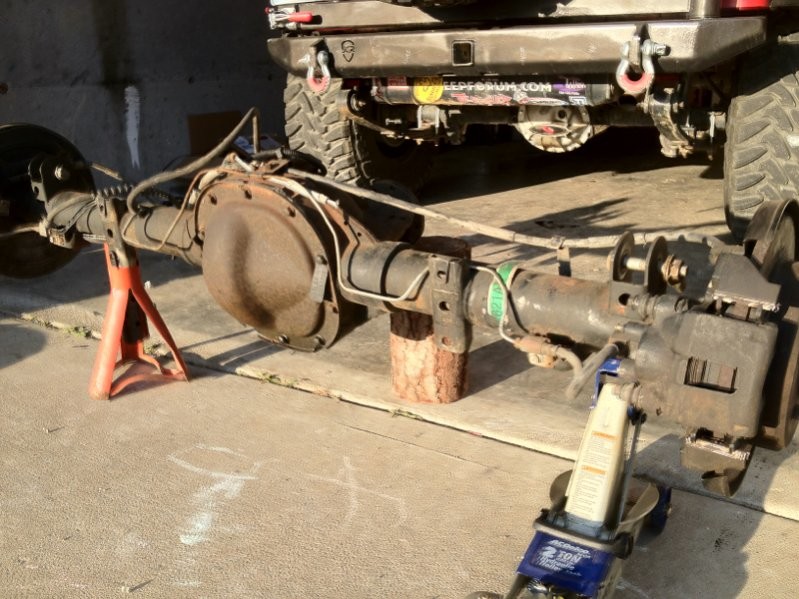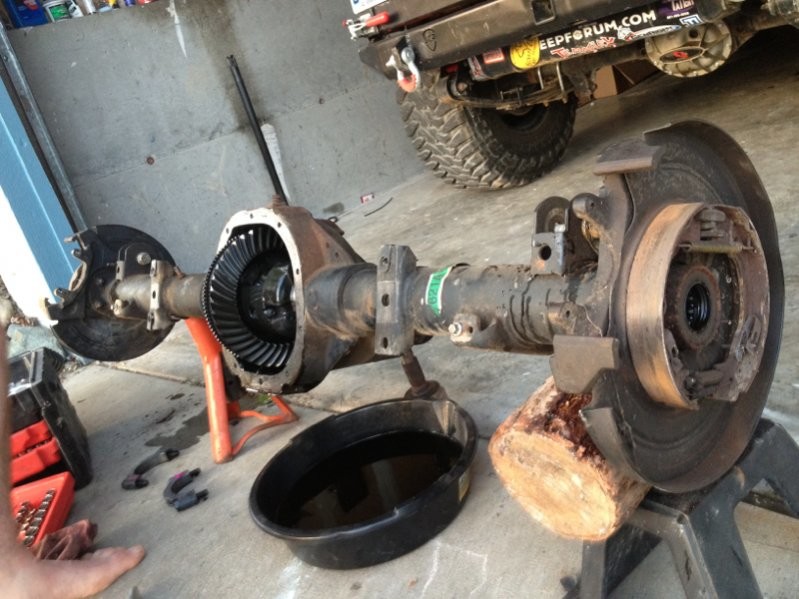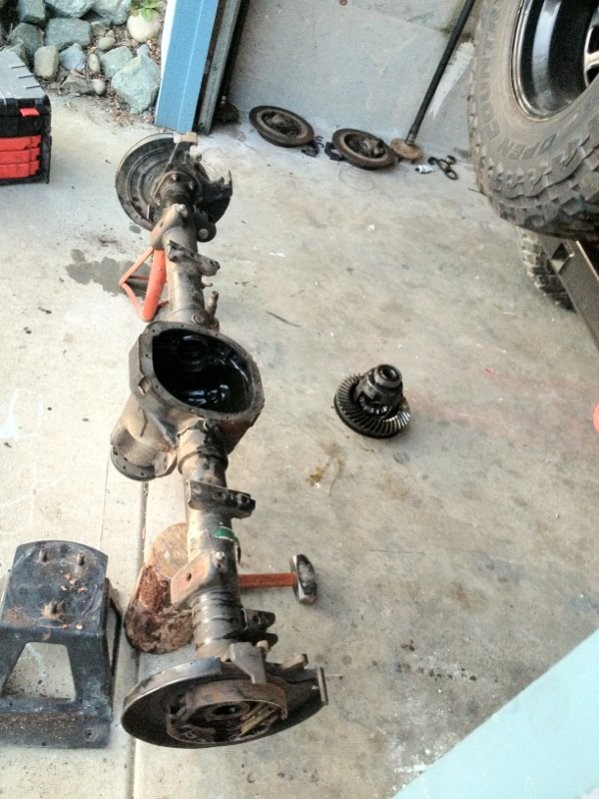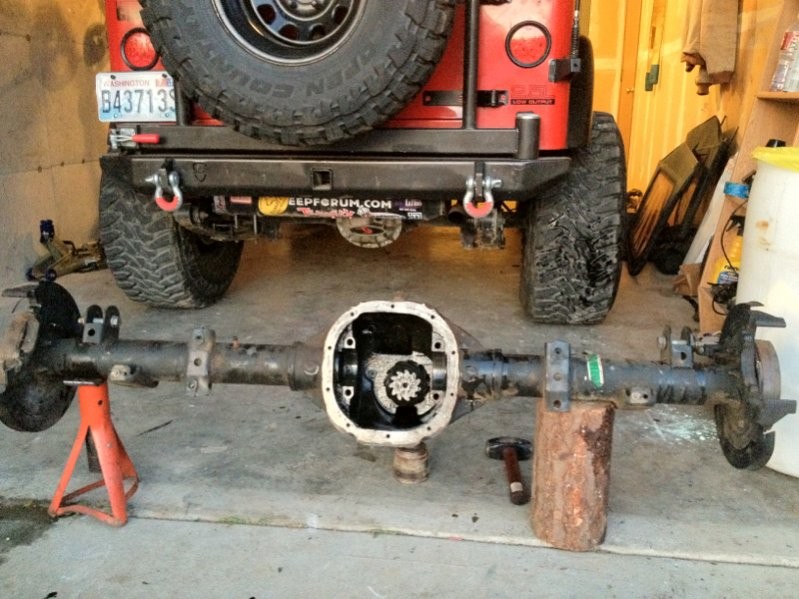 5-14-2012
I got the pinion out but it took the Bfh and alot of anger todo it! I can't wait to get this under my jeep!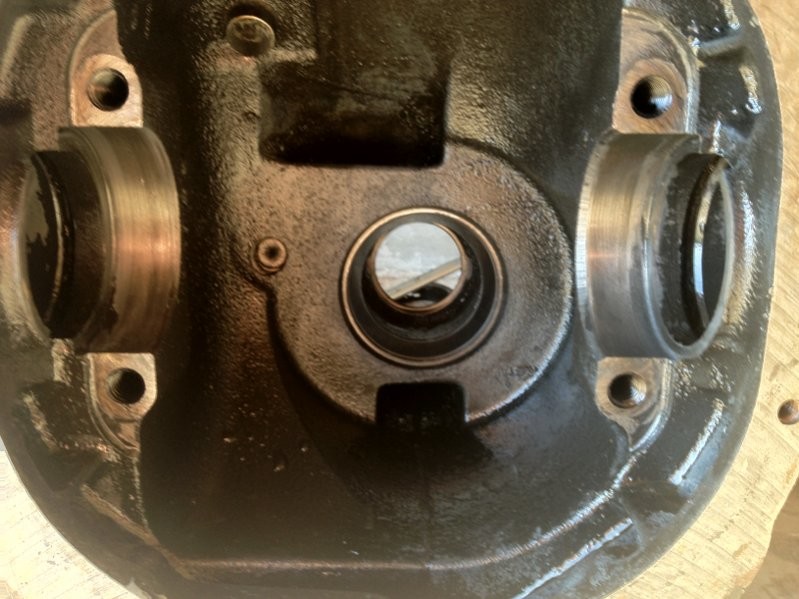 So I got a call from my wife saying I had a package form more off road at home!

here is the quick pic she sent to me of it!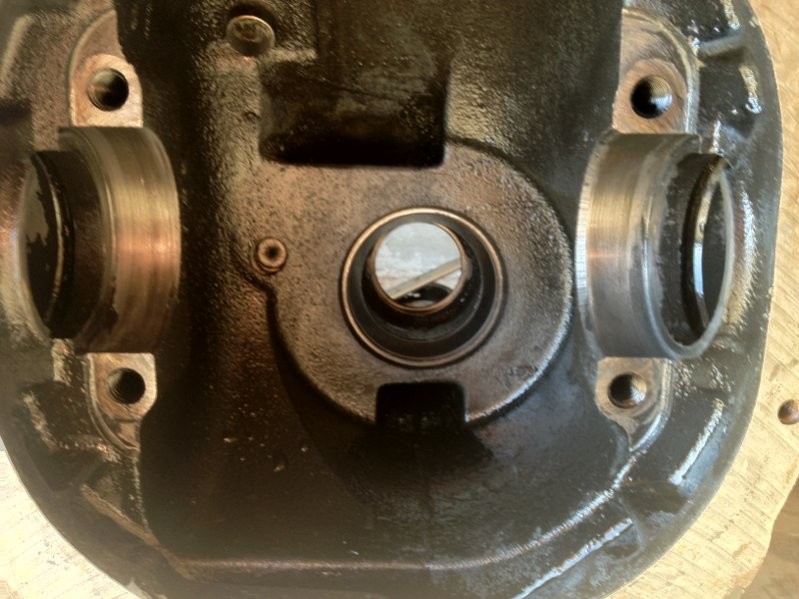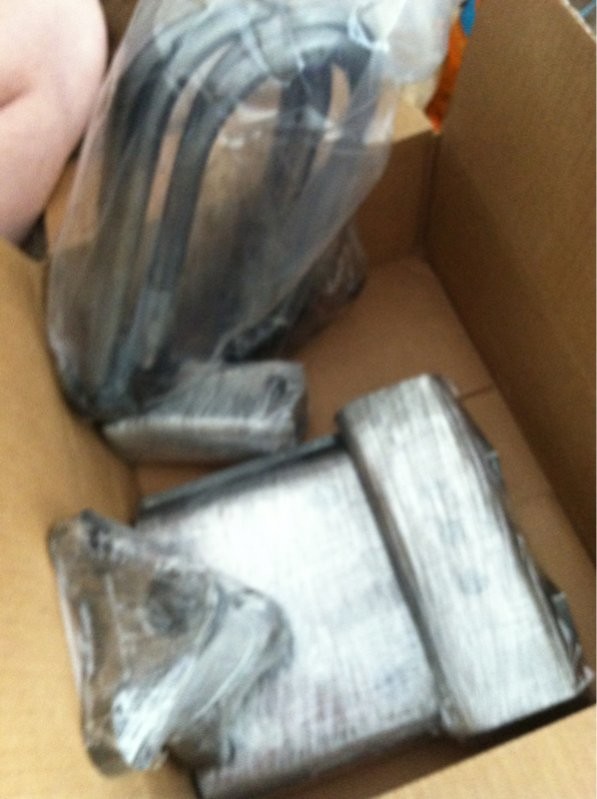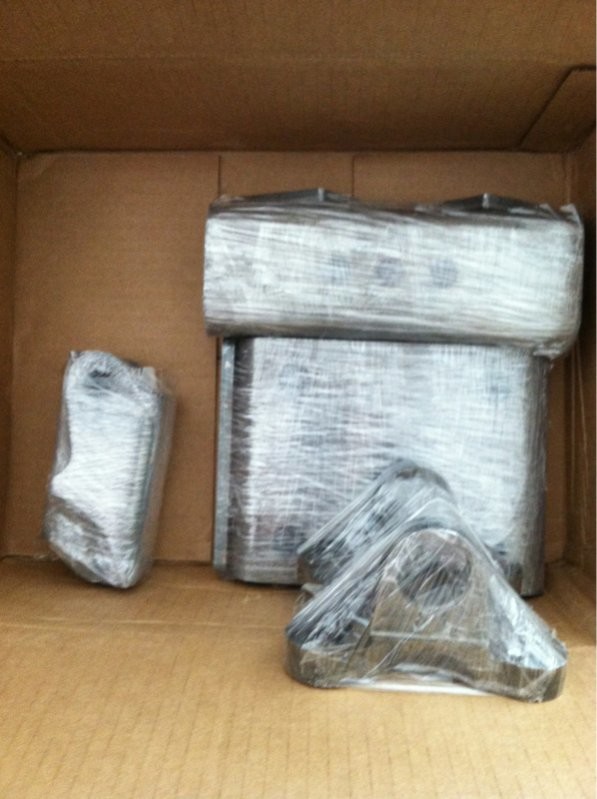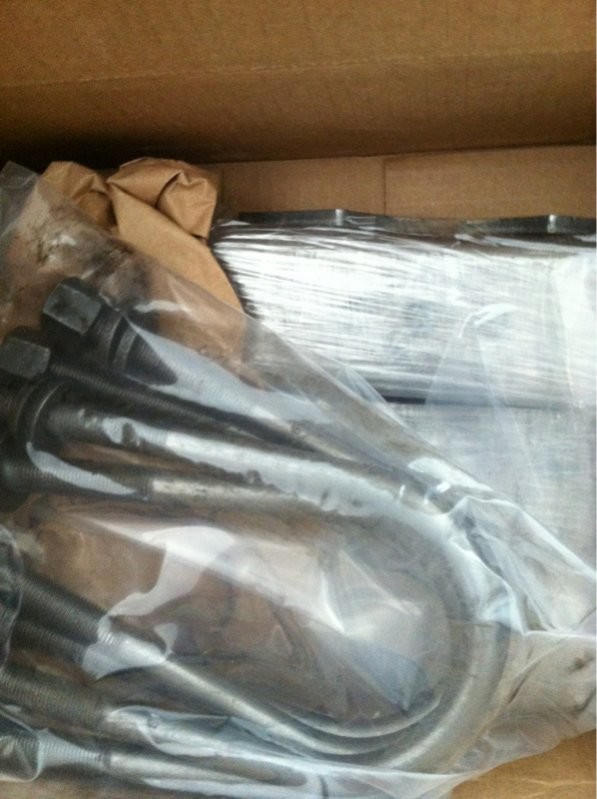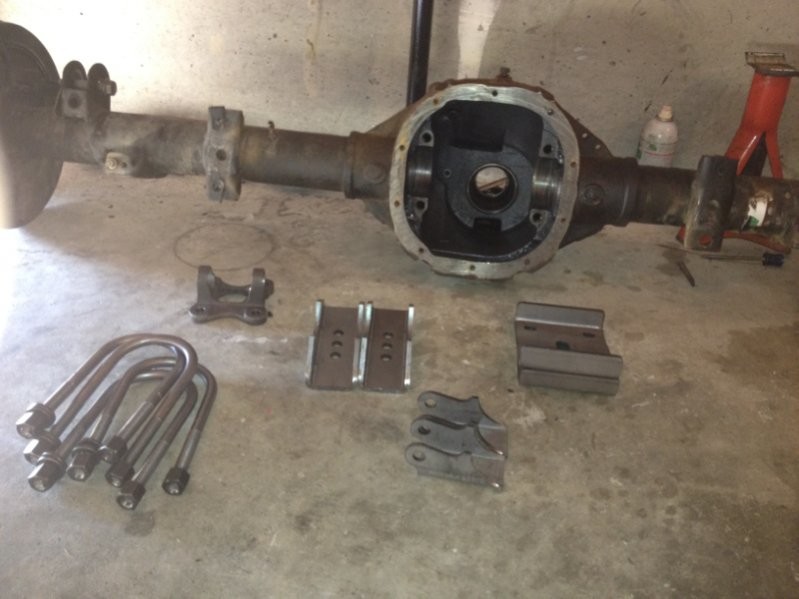 5-17-2012
Yeah I am just waiting on the diff cover now! My super 35 is still in great shape and hast let me down yet so I am not in a crazy hurry which is nice! I am only doing the swap to gain the beef and of course to brag about it! I hate telling people I still have a Dana 35 in the rear! Hahahahaha. I got board today and painted my 8.8 calipers with high temp red so nothing really cool happen today!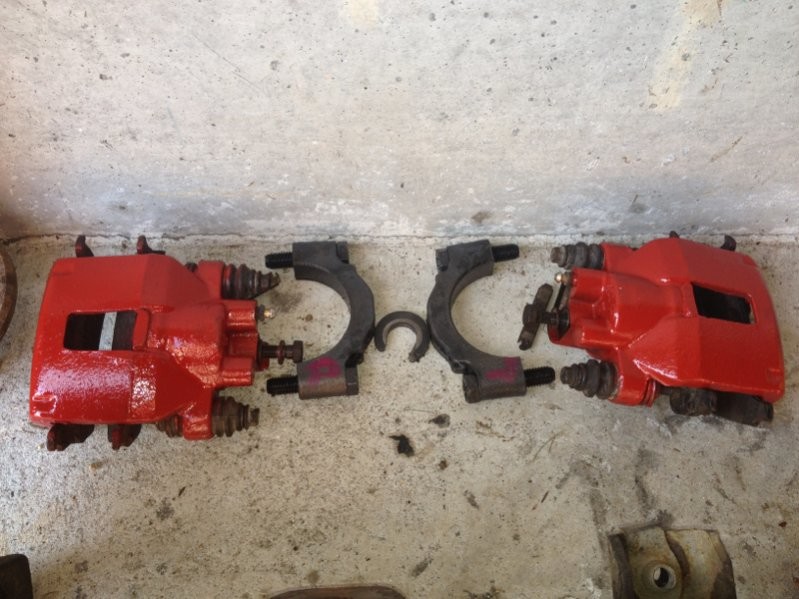 5-18-2012
So today I got my e brake shoes and the rotors for the 8.8 I am almost ready to start putting this axle together! Today I also replaces my front spring frame bushings, it made my steering more responsive which is a good thing! The only reason I replaced them was because when it was flexed out they would tweak real bad and also my shackle were't sitting straight! I think I may go ahead and replace the rears to!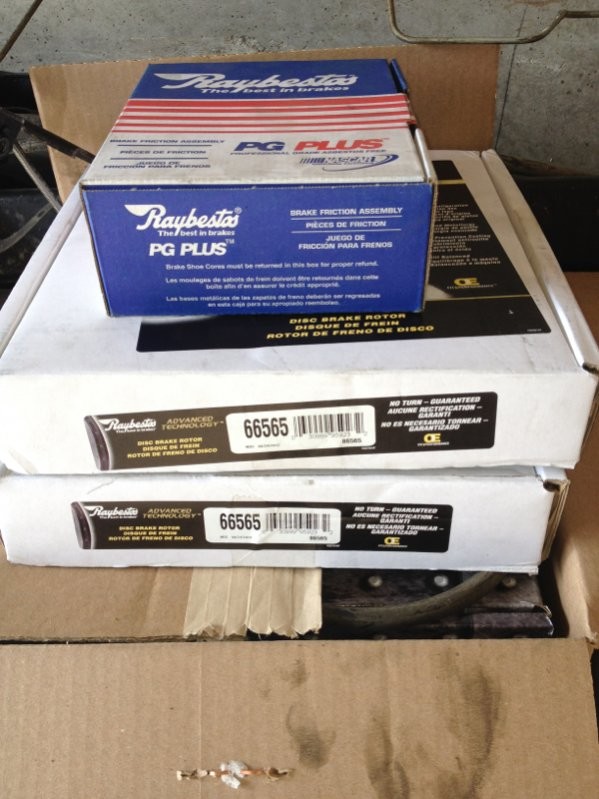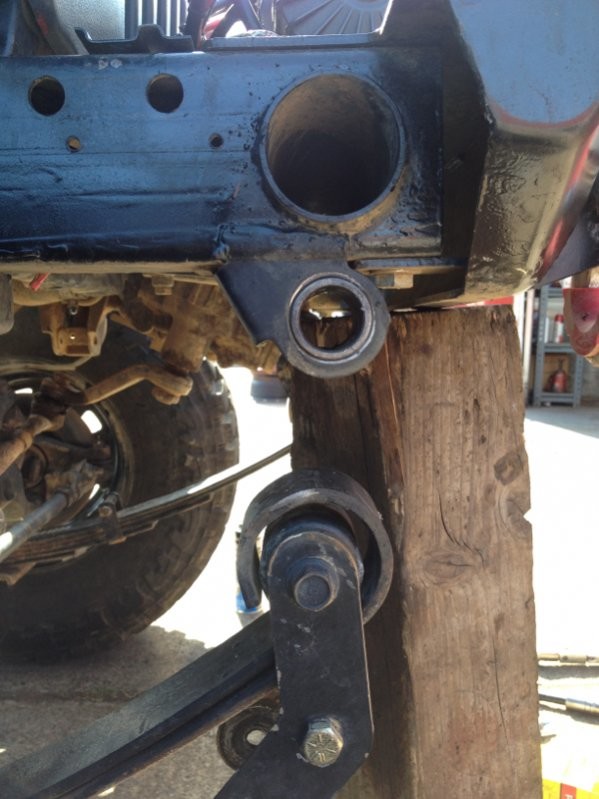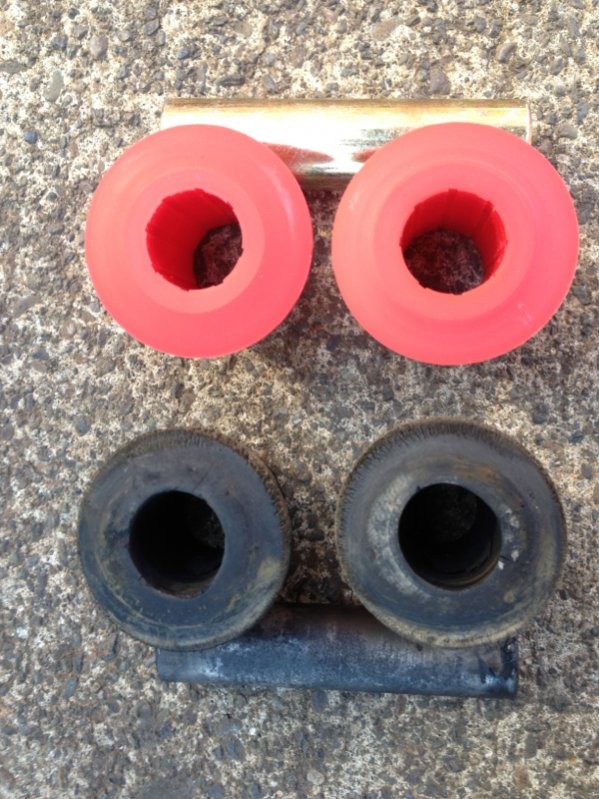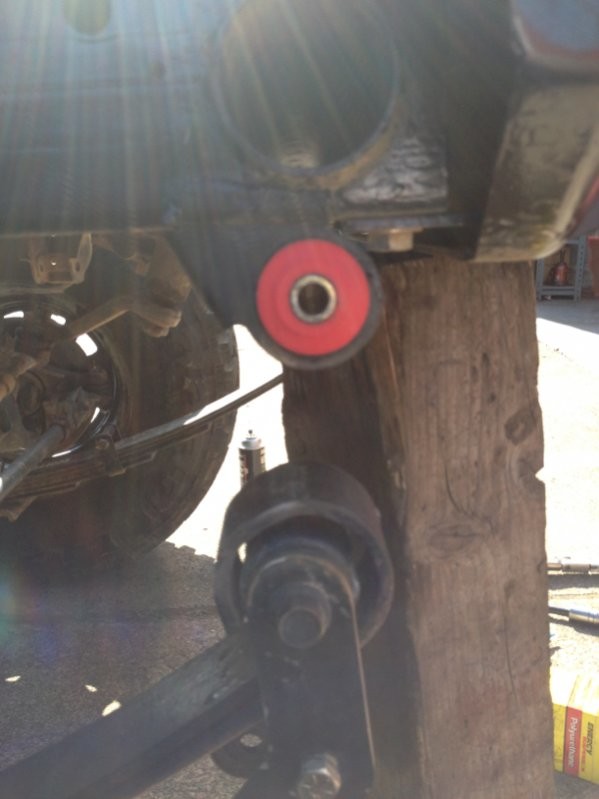 5-19-2012
hey so I go my ucf diff cover today and with the help my my 5 year old daughter painted them up hints the smile face lol! today we also made some for head way on the 8.8 we got the old ford brackets torched and grinded off and welded the tubes to the diff! we should be welding the perches in tomorrow, would it be best to set the pinion angle to where I can ditch my degree shims?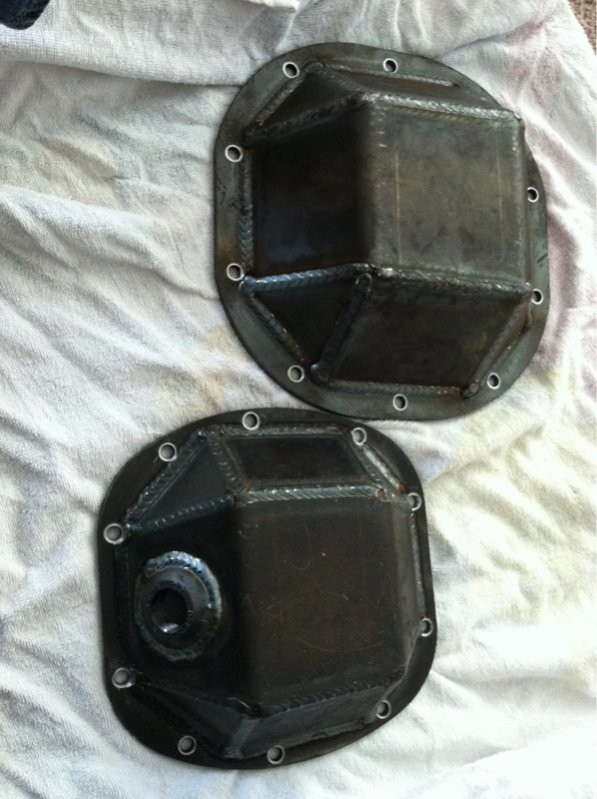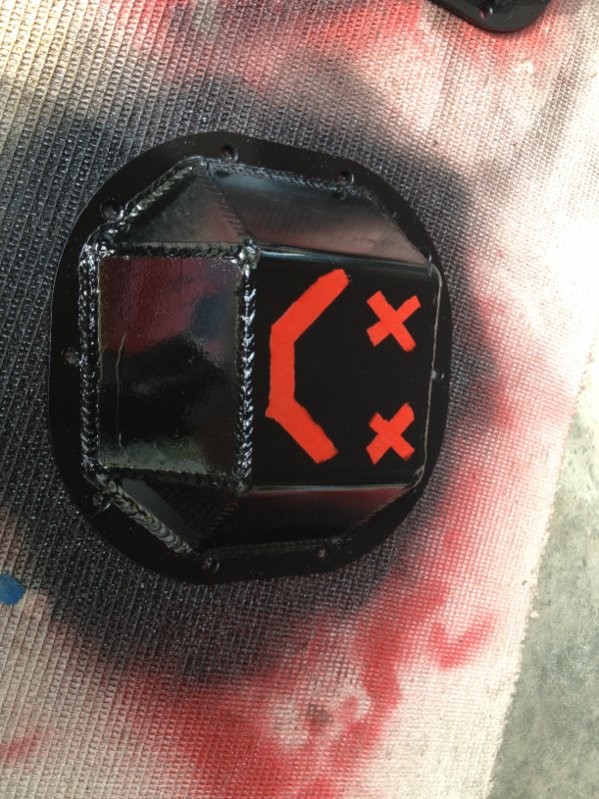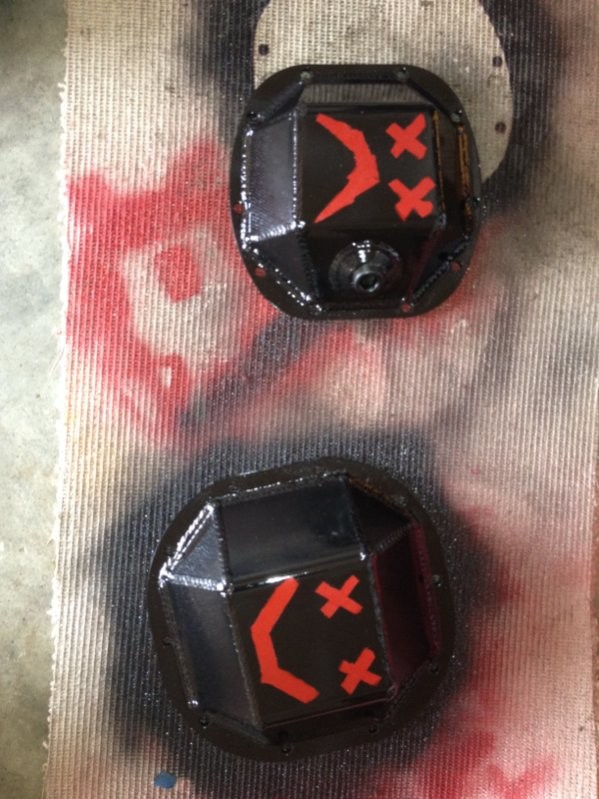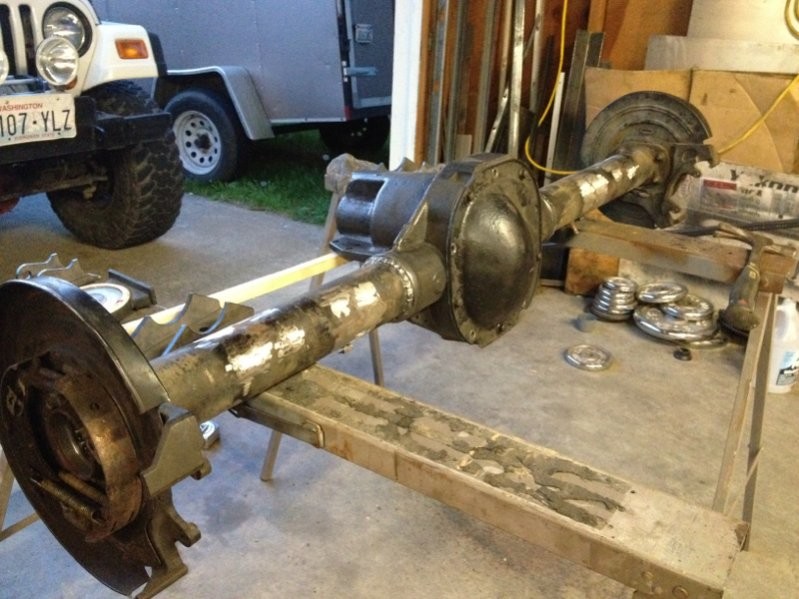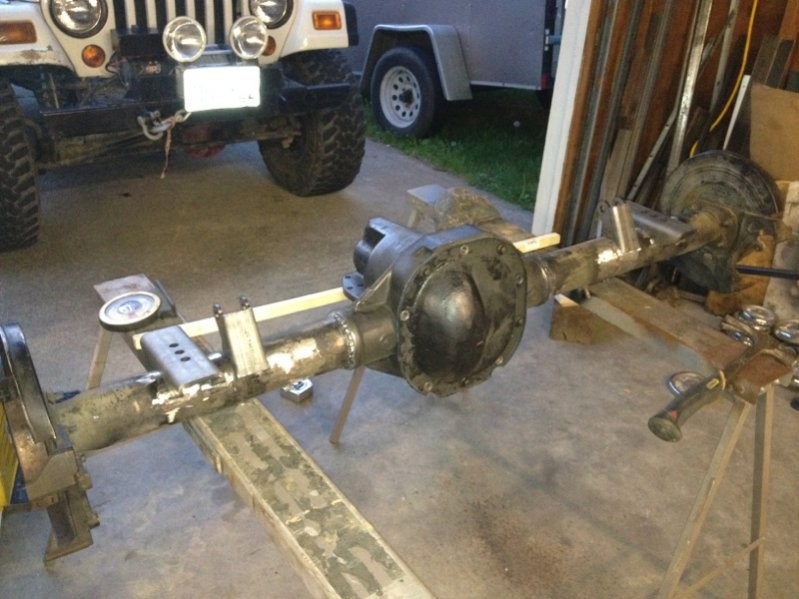 5-20-2012
Got the perches and shock mounts burned in and the axle painted up today should be getting the years setup next week than all that's left is to plumb the new brake line in! We set the pinion angle at 18-19 degrees so we can hopefully get rid of my degree shims!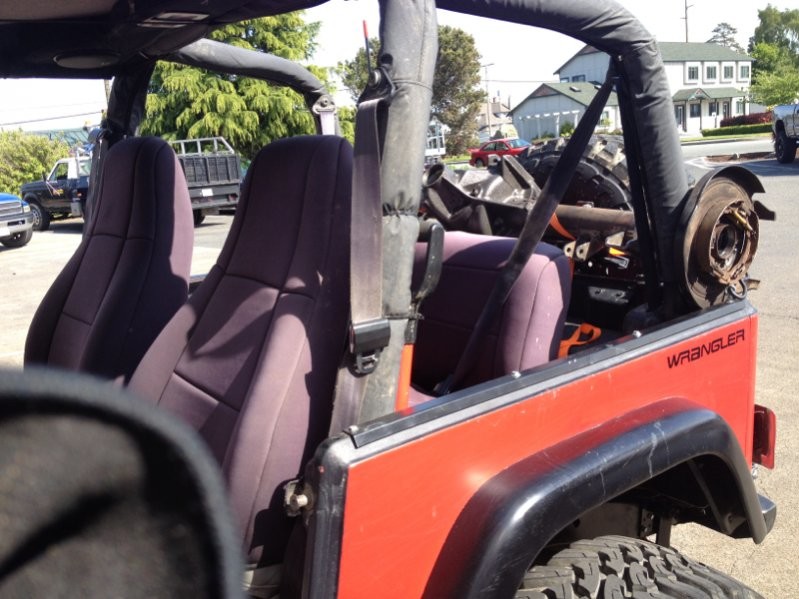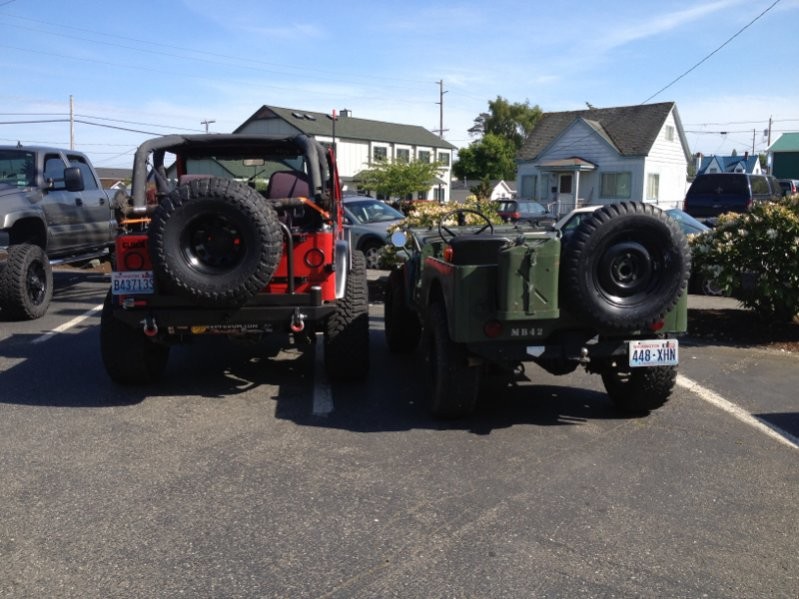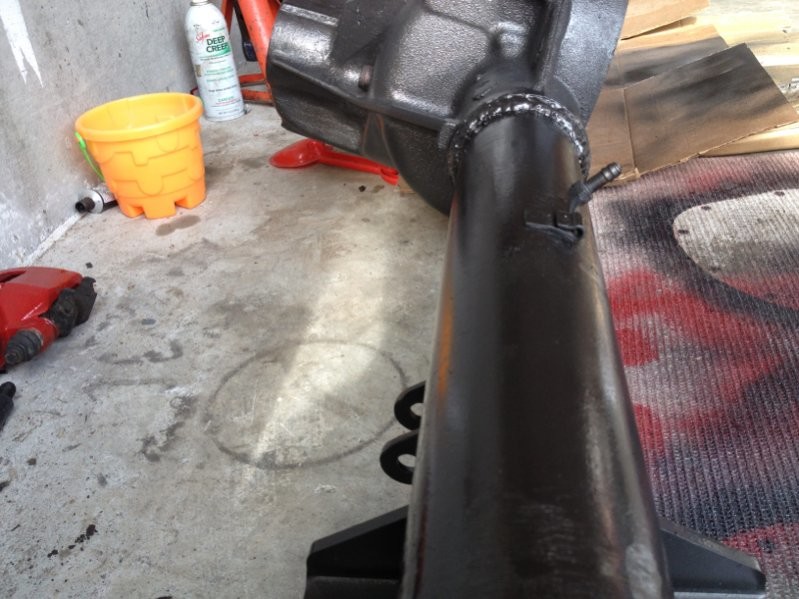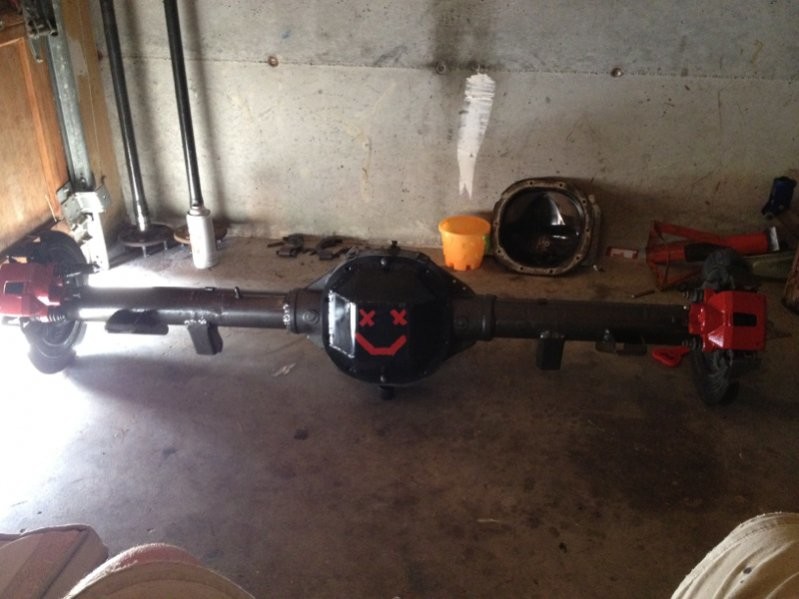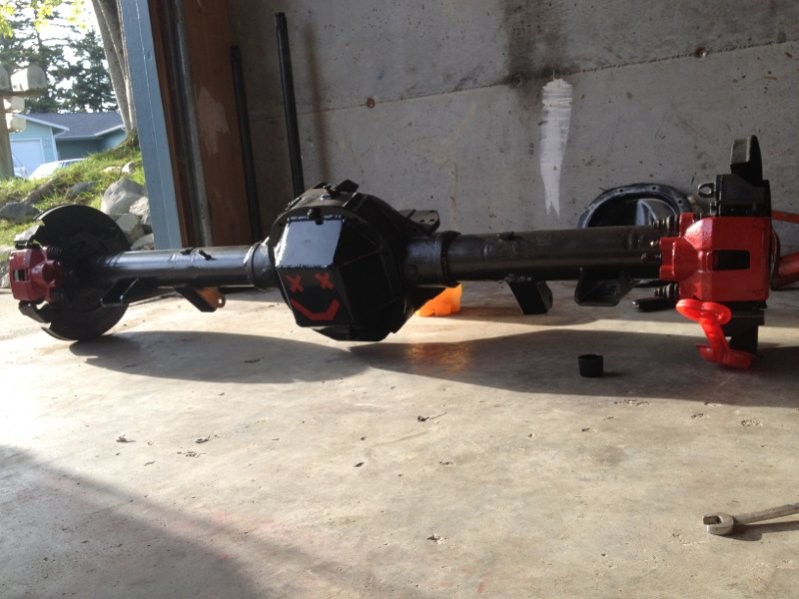 So this morning before it started raining I took the wife out to get breakfast topless/doorless it was great, than a little later decided to go do some light wheeling haha and ended get getting crossed up in a bad place I the I did't get any pics of the other side of the jeep but it was a lot worse than it looks lol! I also got a chance to test out my new longer front shocks and must say they did help a bit!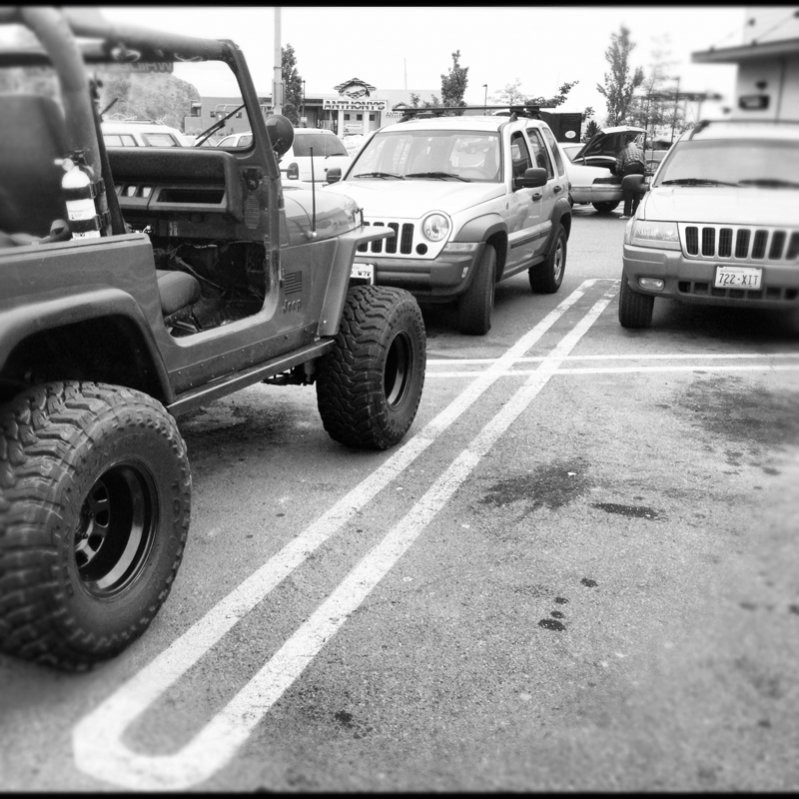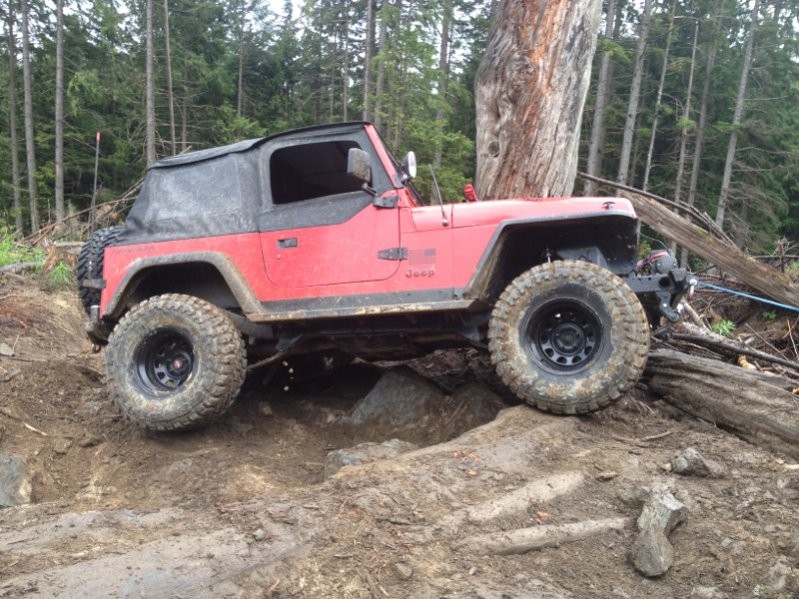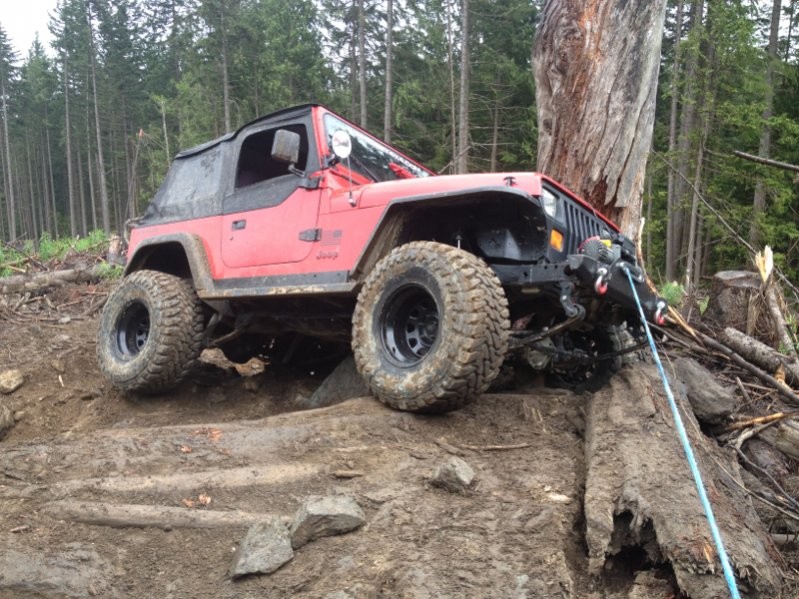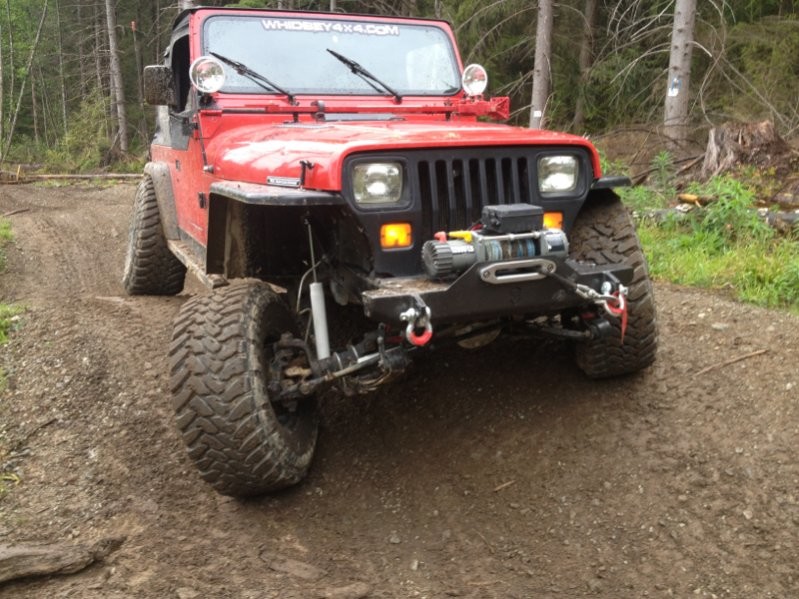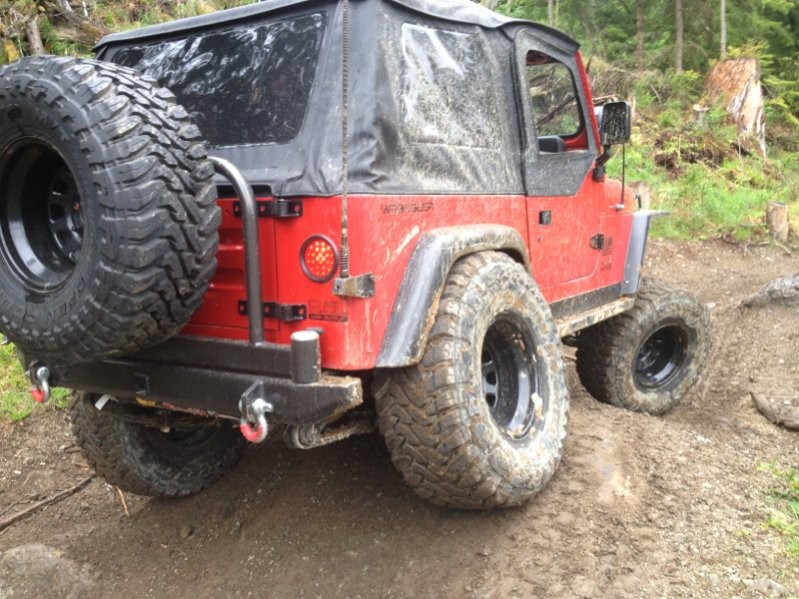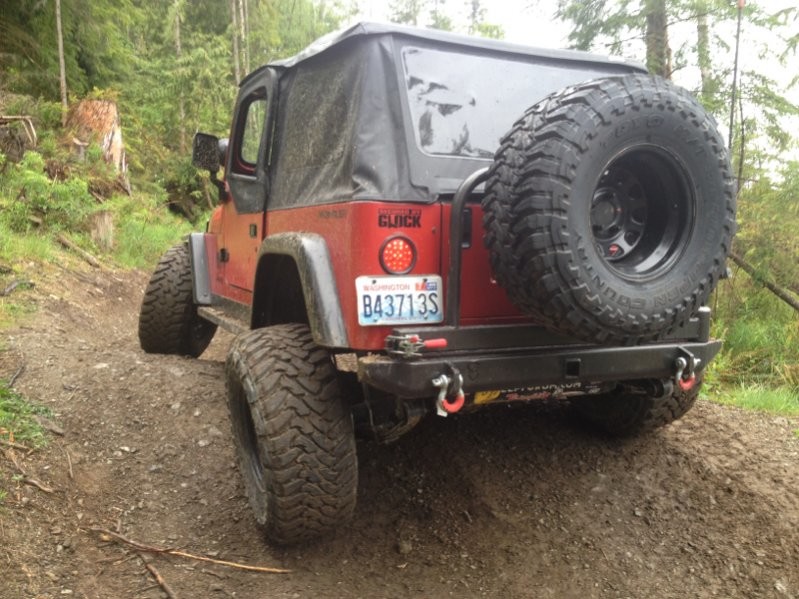 5-21-2012
Yeah I have yet to have to be trailered home yet fingers crossed! So today I installed my spartan in place of the stock spider gears! I had to grind down a tooth on the ring gear to clear the cross pin! (randys ring and pinion said to do this) and also pressed the old pinion bearing off! So it looks like I will be setting the gears up this coming Monday (memorial day) than all that is left is the brakes lines! I can't wait to toss this axle in! Oh yeah I also installed my front diff cover today and inspected my front spartan ever thing looked great all tho the fluid was pretty nasty all ready!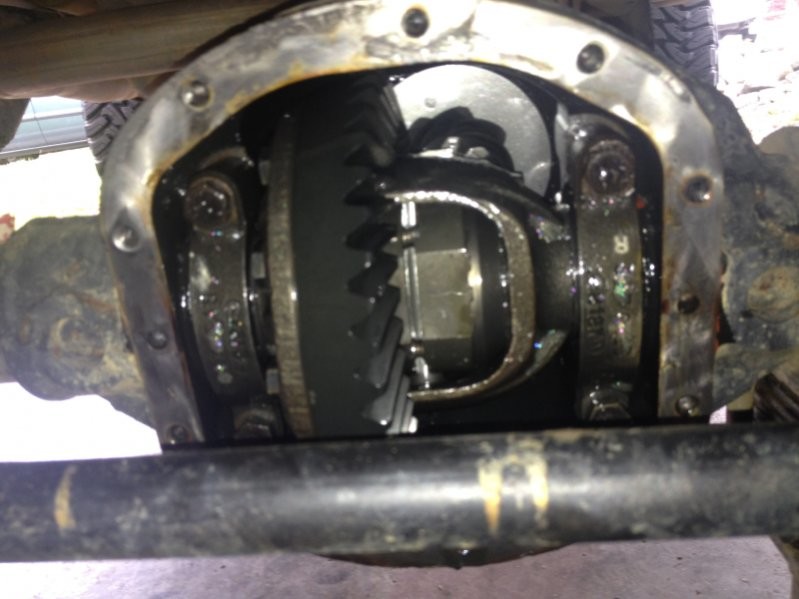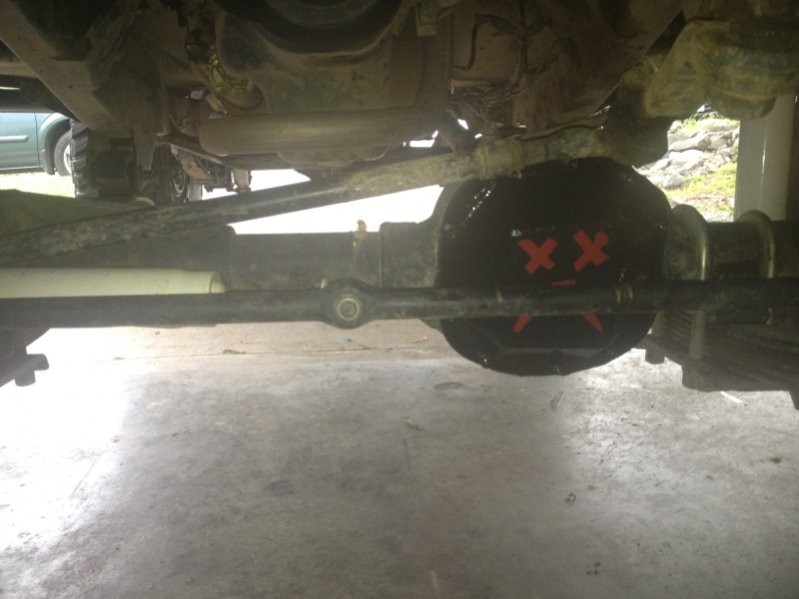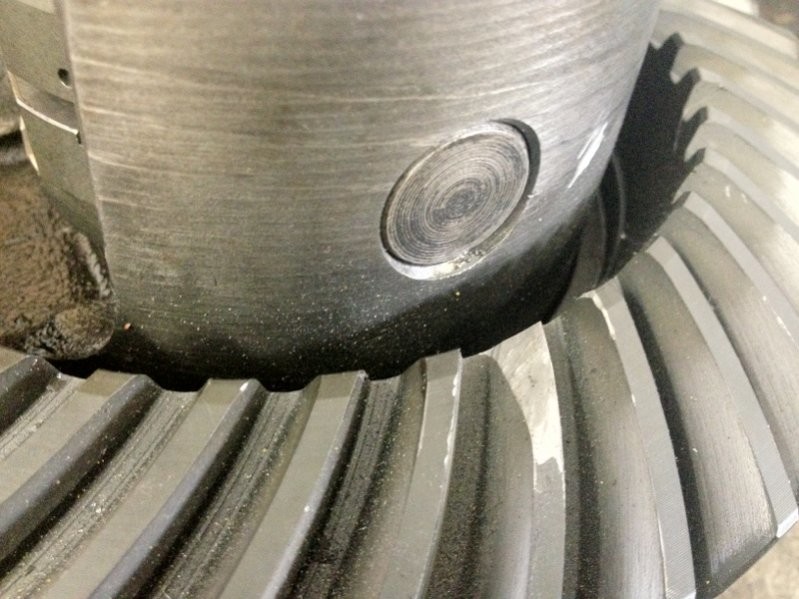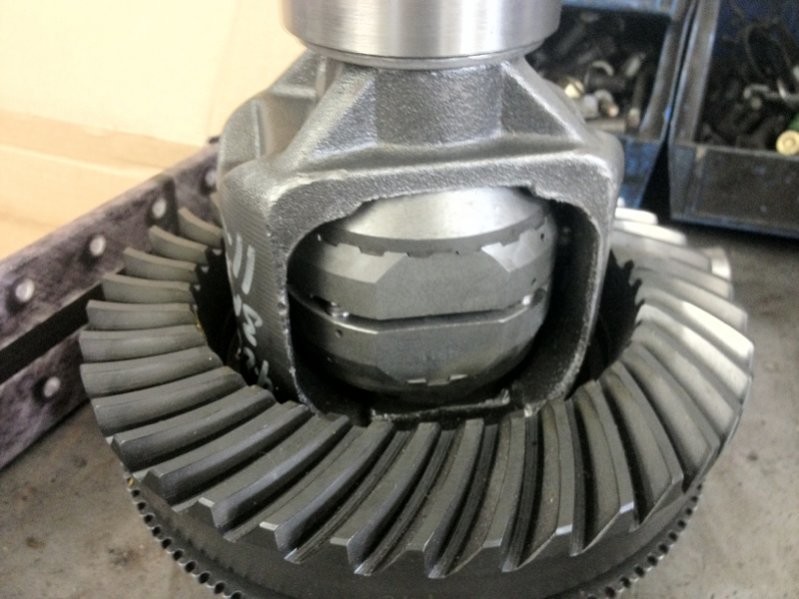 5-23-2012
So I picked up a Lr 8.8 soft brake line today since the stock one was't going to work with my extended steel breaded brake line so now all I need is to bend new hand lines and the brakes will be done aside from the ebrake! I also decided to cut the front military wrap off my front fabtech springs, they always seemed to be limiting my flex so I said screw it and cut them off they look like the Rubicon express spring now! I would say it made a big difference now that my spring can separate more which equals more droop which what was killing me before! when I was flexing out I found that my rf axle seal is leaking does any one know the part number for that seal keep in mind that I deleted the two piece shaft in favor of the tj shafts? Lol 91BoD just talked me into cutting the rears to haha!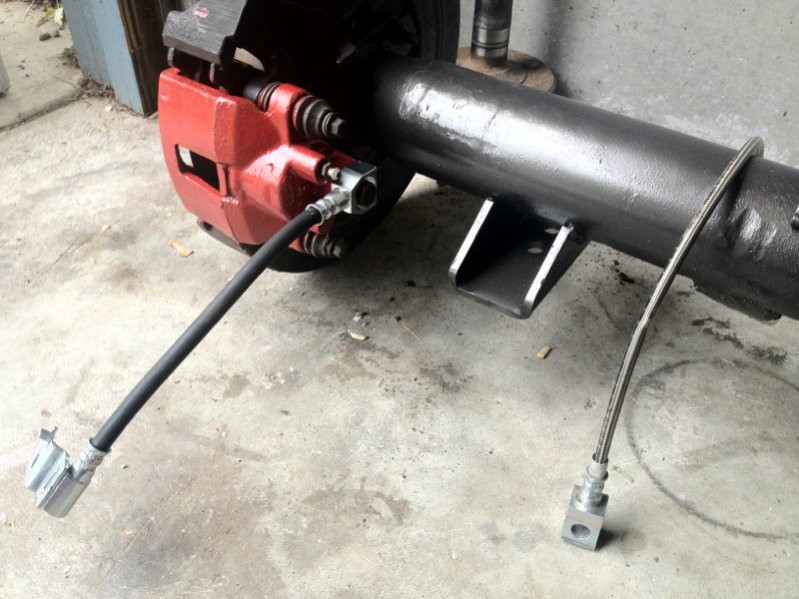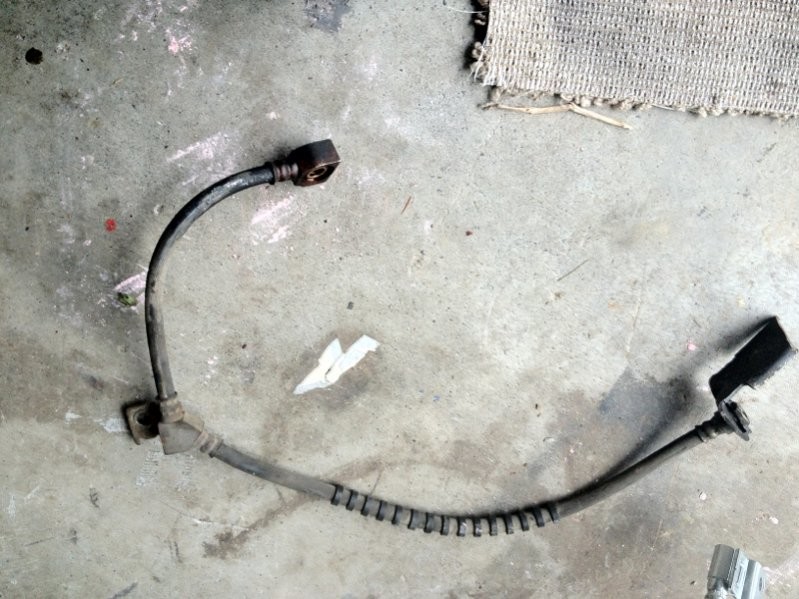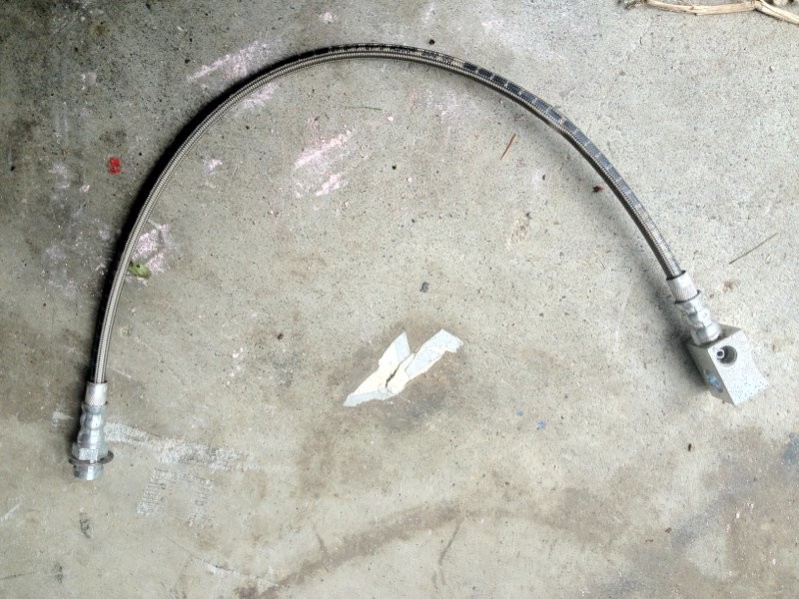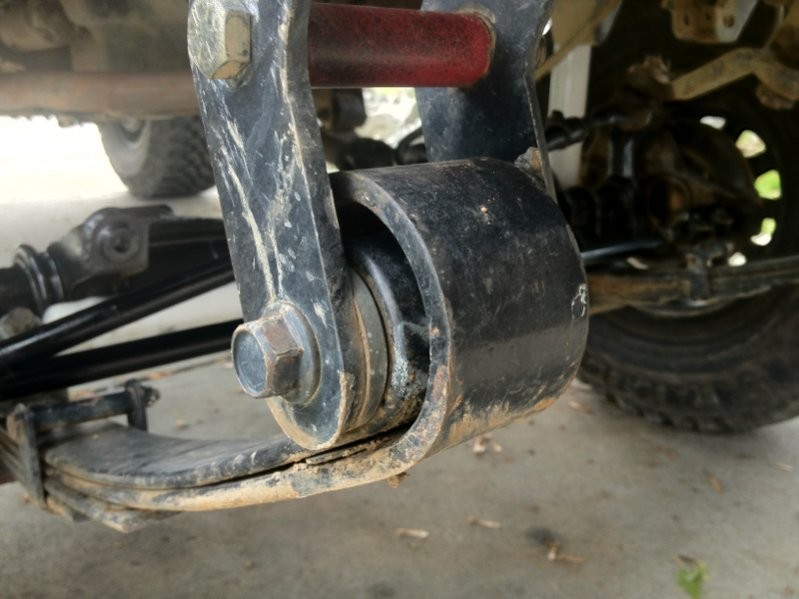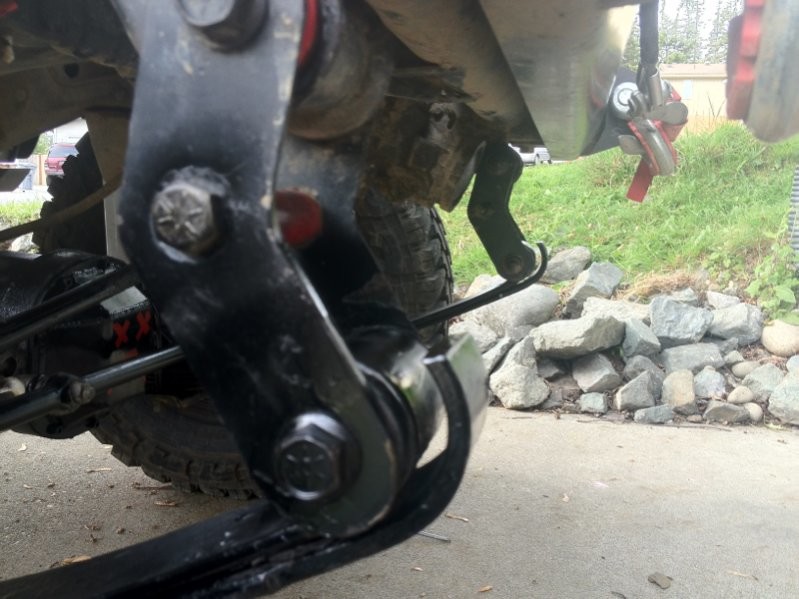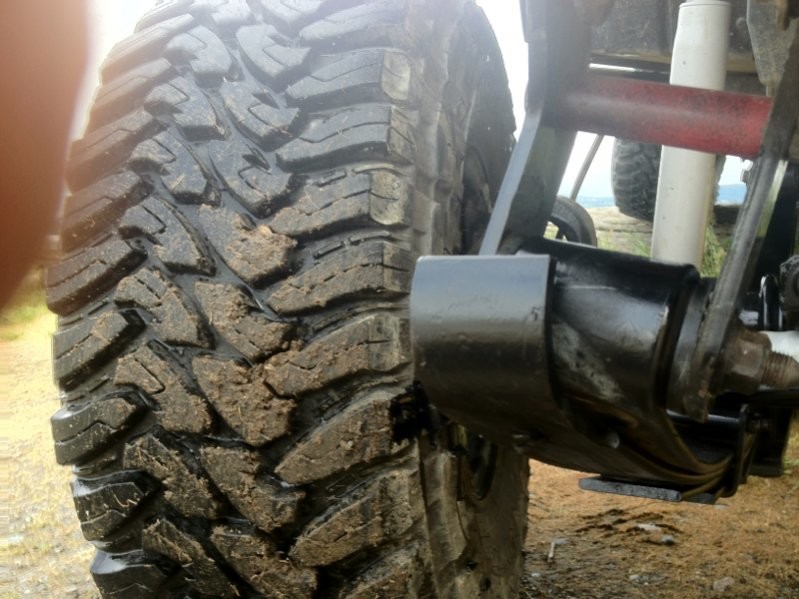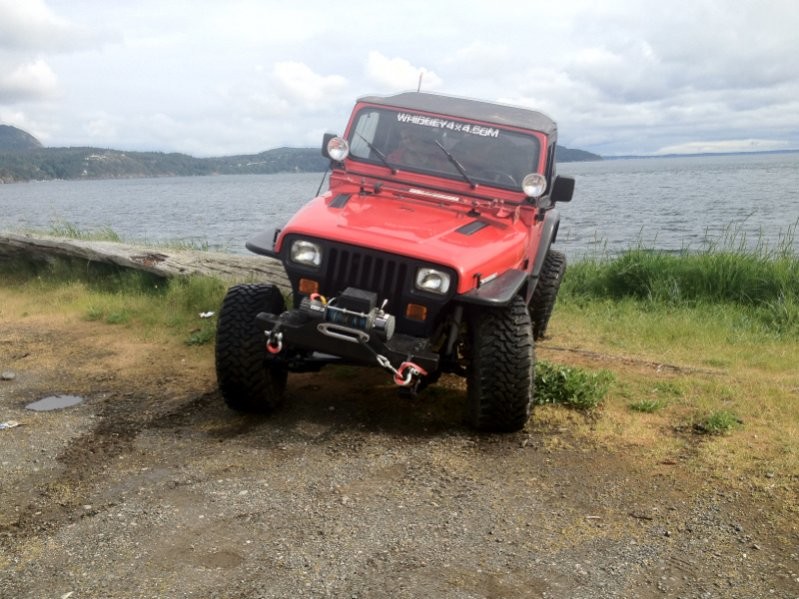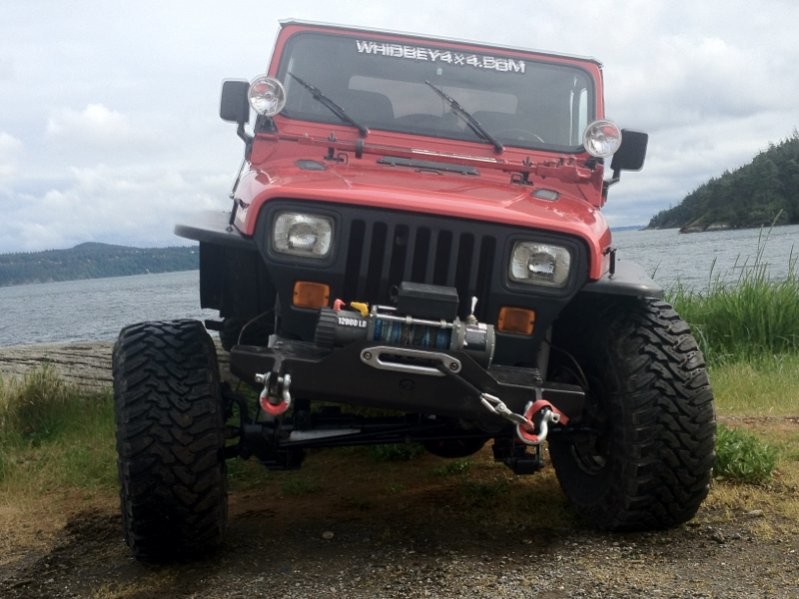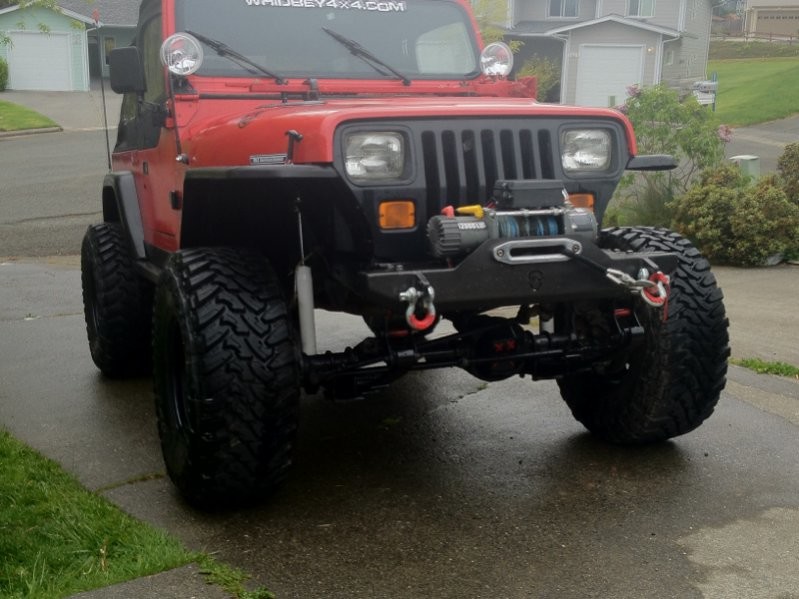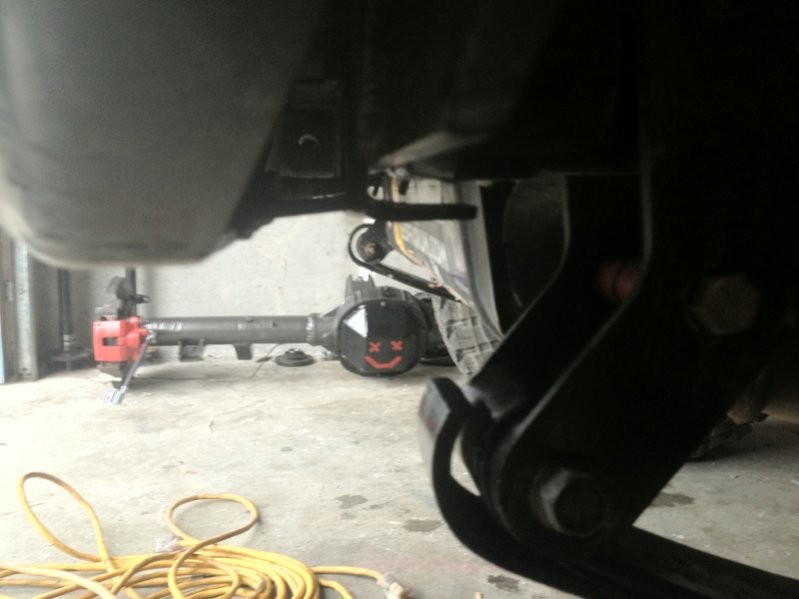 5-24-2012
Today I flex it out with the fork lift at work to see if having no military wraps help any and it did

! I use a online calculator to figure out that I am scoring a 835 on a 20 degree angle! My wheel base is 94.5 (don't ask me how) and I can go up 27 inches in the front before my tire is ready to leave the ground. I didt check the rear score only the front!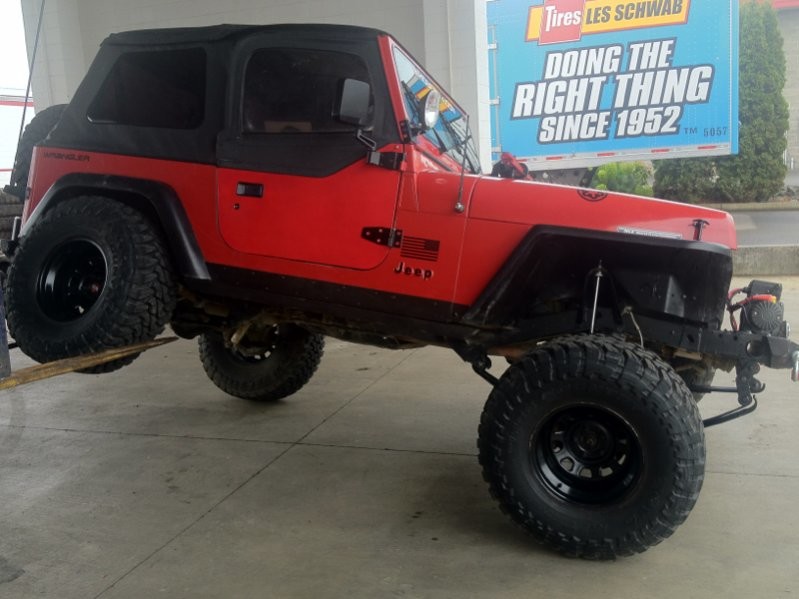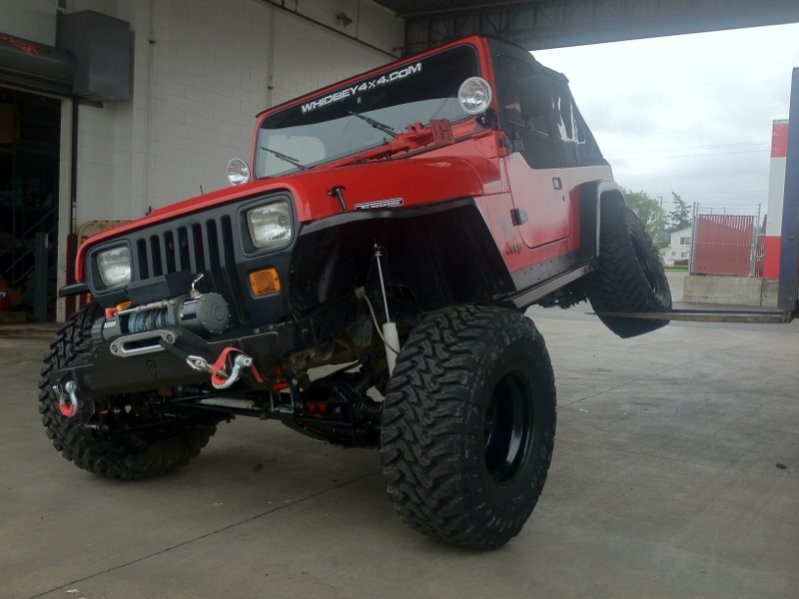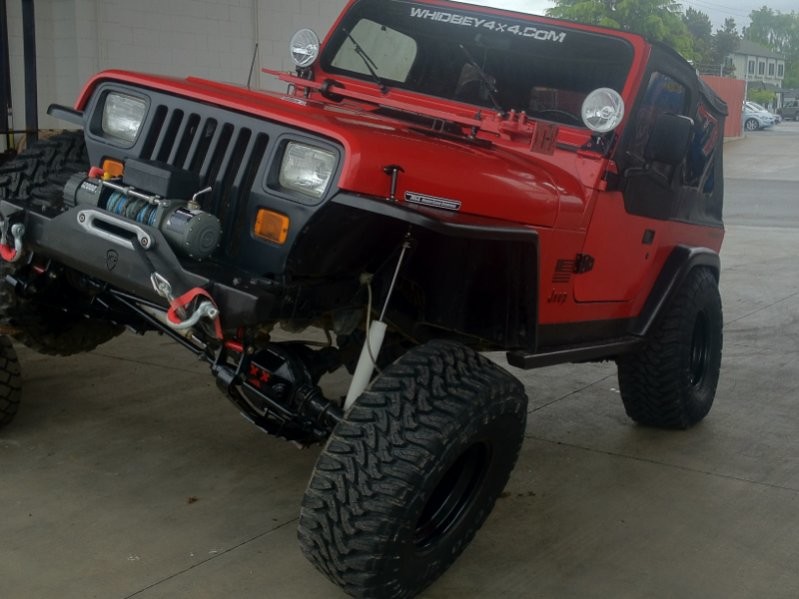 5-27-2012
So I was going to go wheeling on Monday but I was doing my pre wheeling run down and found that the cast stock mount for the motor mount on the right hand side has broke

so no wheeling for me now, looks like the brown dogs replacement bracket it 100 bucks and I won't have money to fix it till next payday! On the bright side my gears are going in the 8.8 on Monday...... I might be installing the axle on my next day off which is Monday! And I got to go on a cruise with the family today and that's always fun!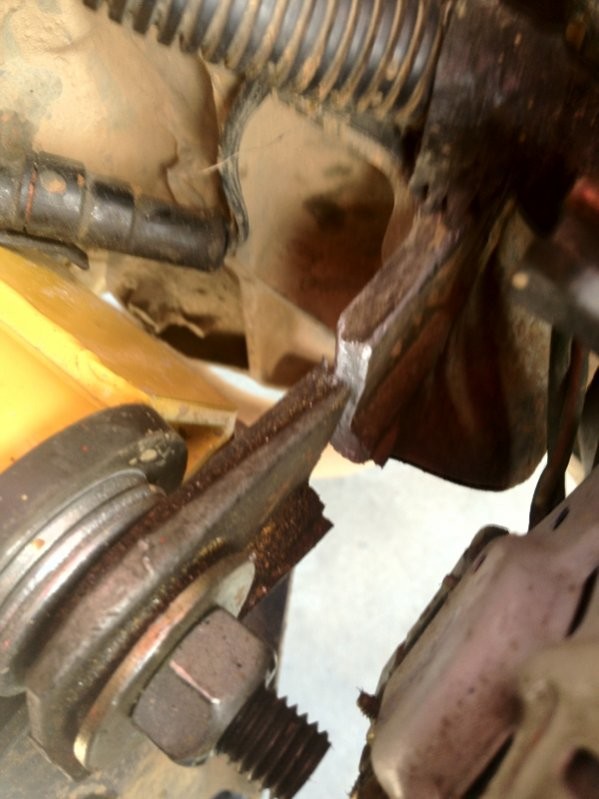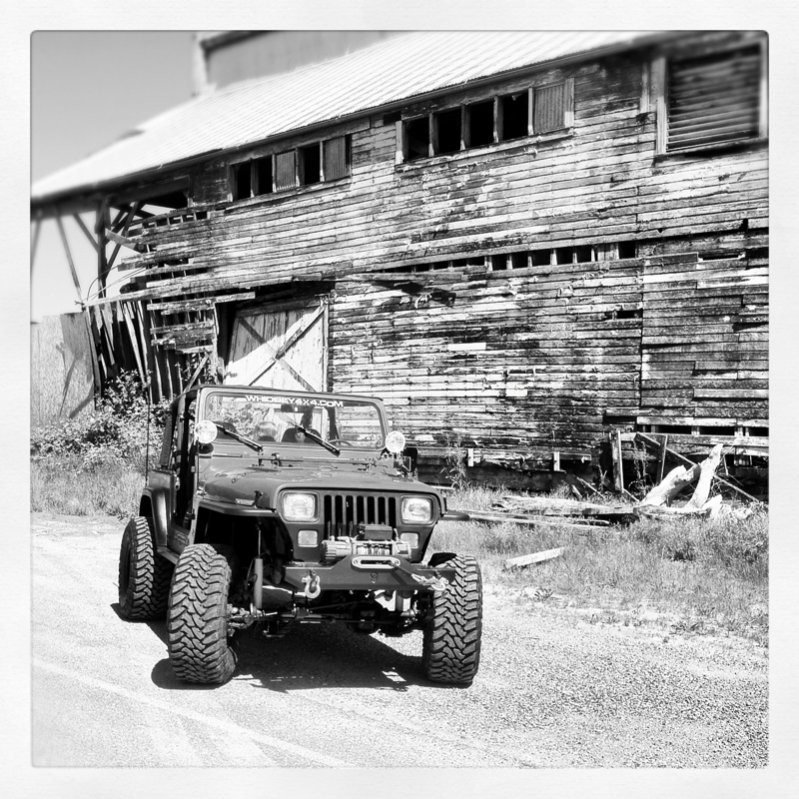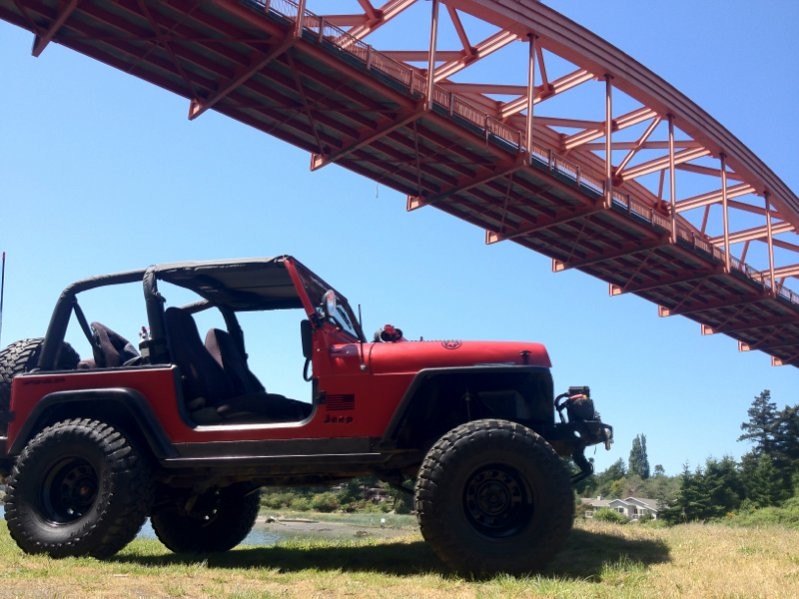 5-30-2012
So since my 8.8 will be finished this week and since my jeep is broken (motor mount) I decided to yank the super 35 out, I also took the degree shims off and replaced the center pins. I don't know why the old center pins got so bent out of shape.......maybe the Detroit??


wow my phone got those pic all sorts of mixed up haha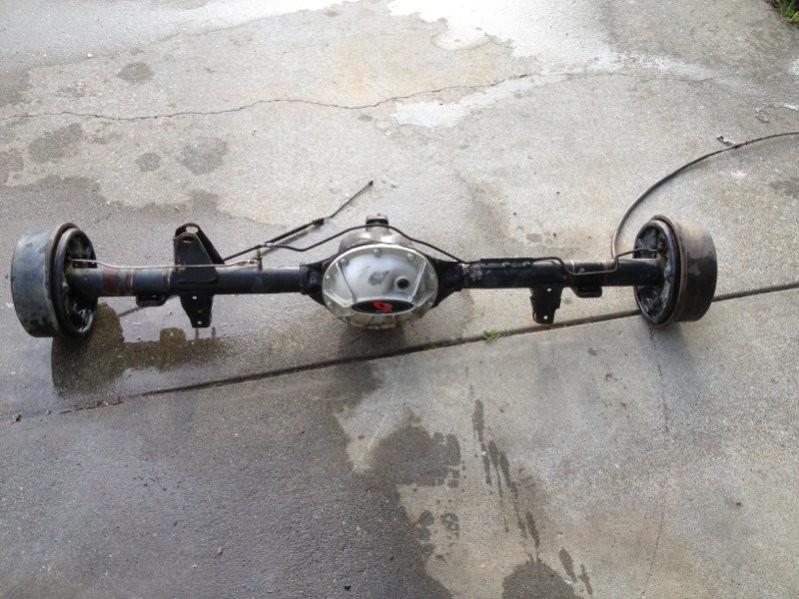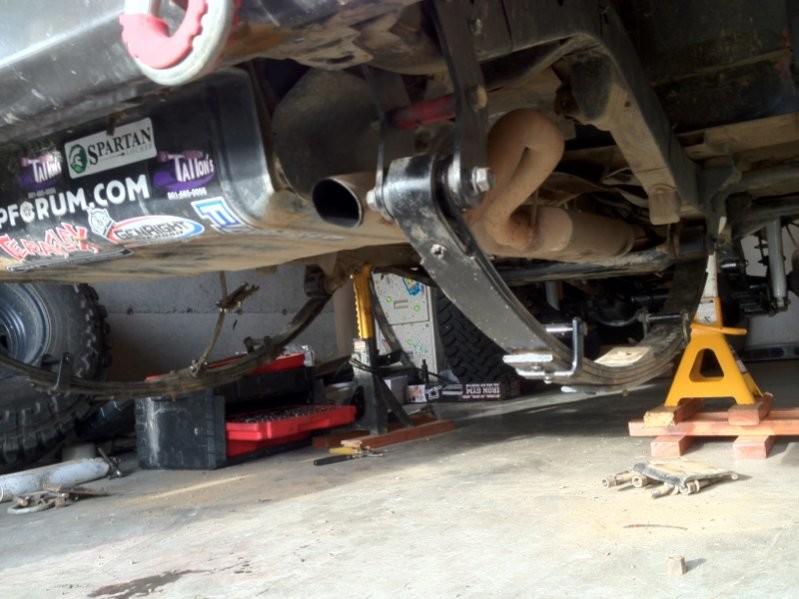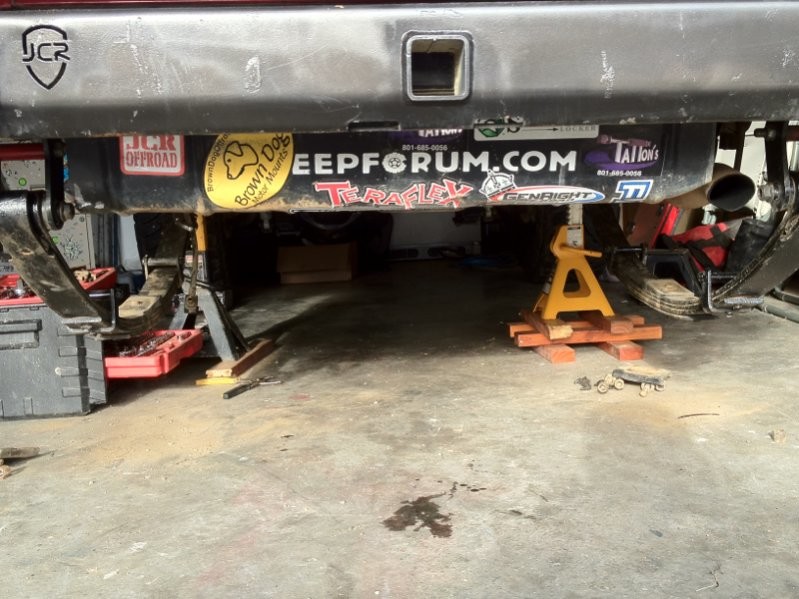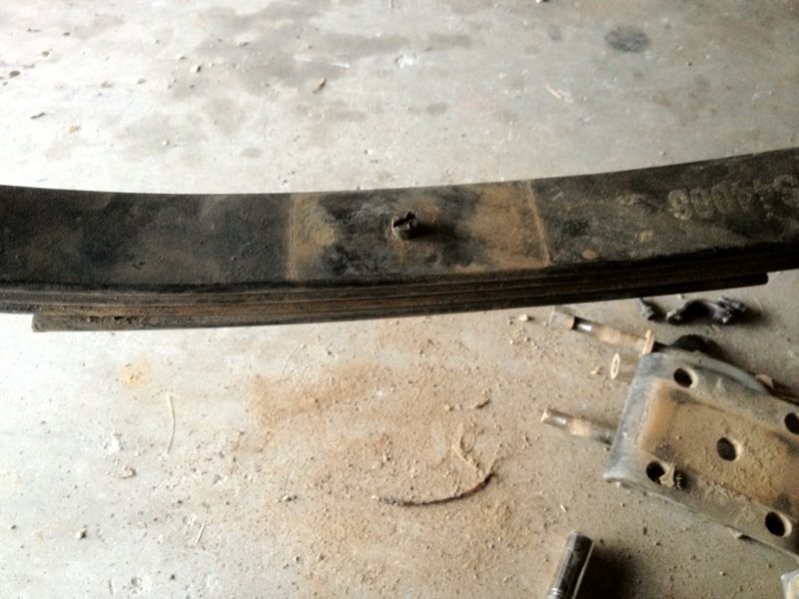 So today I decided to order some spring frame bushing for the rear since I had it apart any ways so I went ahead and pulled the old ones out and man were they bad! I also was really board and decided to paint my shocks red (thanks for the idea 91BoD) my buddy will be done tonight or tomorrow night with the ring and pinion install I can't wait! Almost forgot I installed the flange adapter on my driveline also today!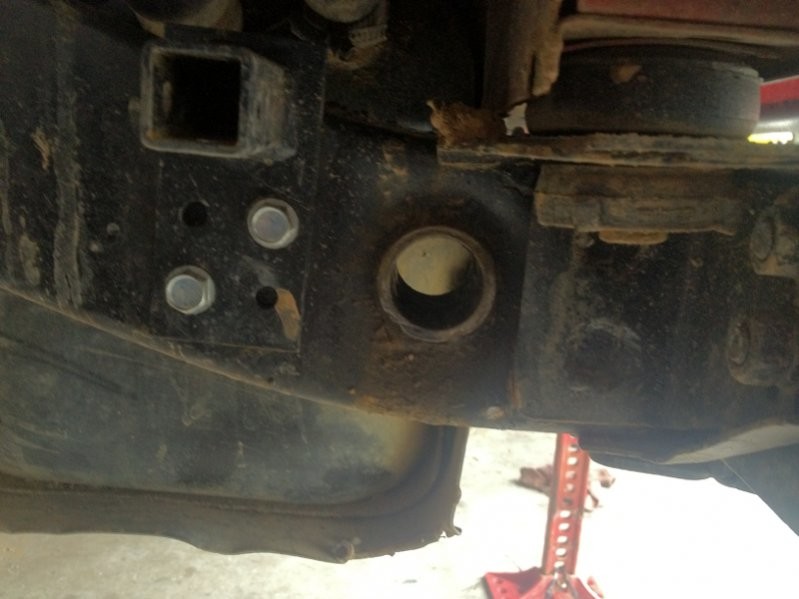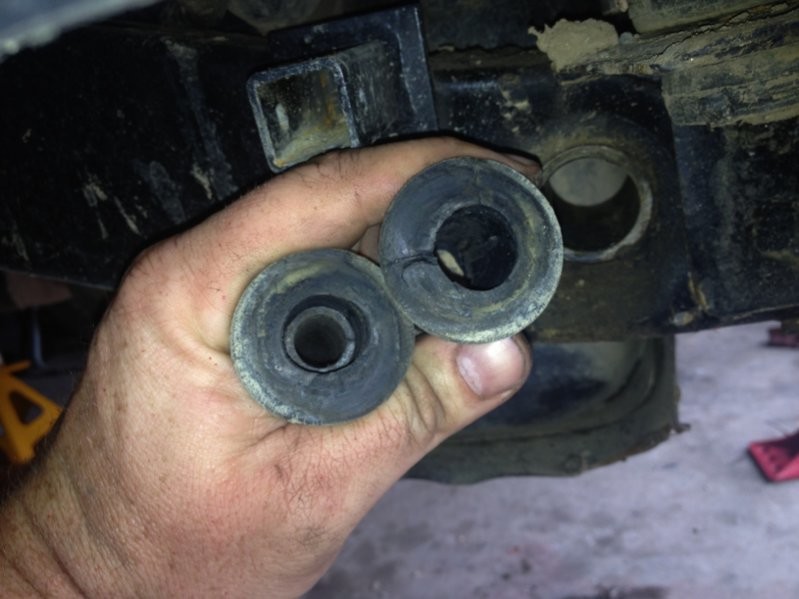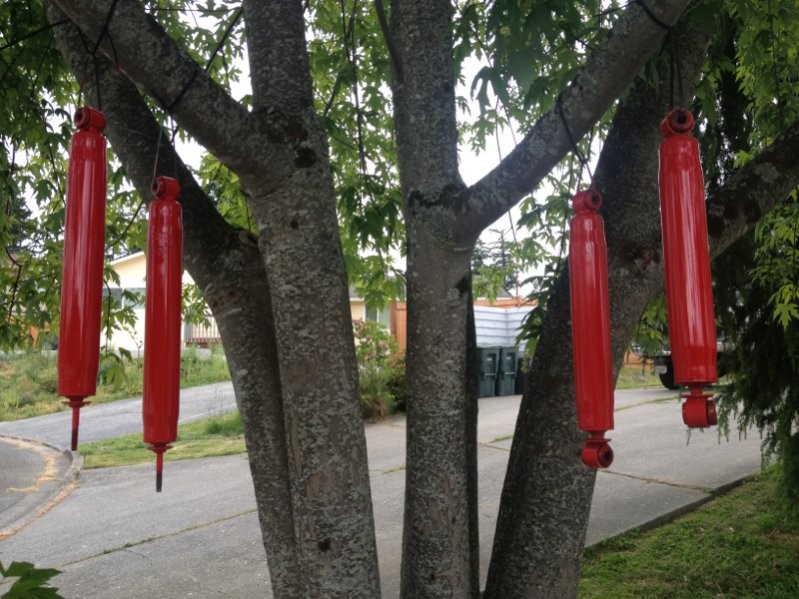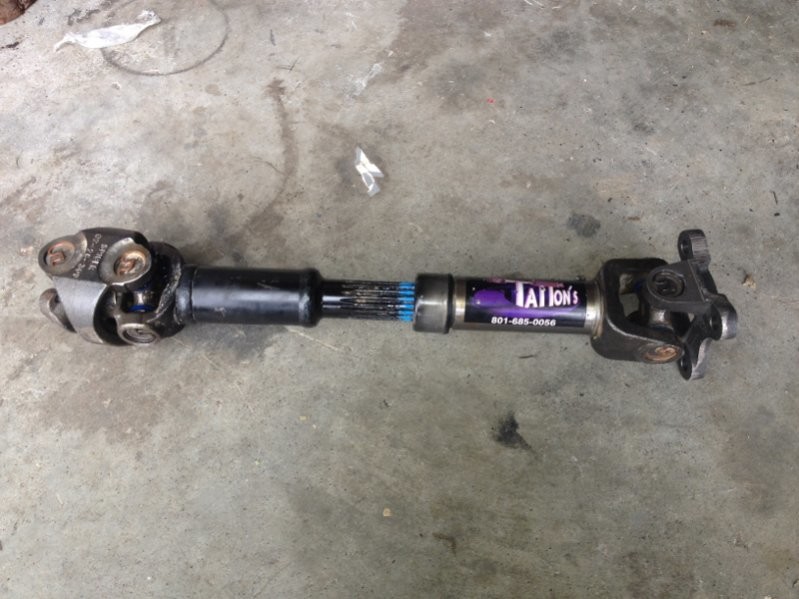 6-1-2012
So I picked up my 8.8 from my buddy's house (he set my gears up) and got it thrown all back together and man were those clips a pain to get in the locker! I put the driveline in place to see what the angle would look like and I think it turned out pretty good (I have no move degree shims) and another note worth noting I got a new asr winch line can't wait to get in spooled on! Left to do on the axle is finish hooking up the brakes and bleed them, figure out a ebrake setup, fill the diff with fluid and torque everything up!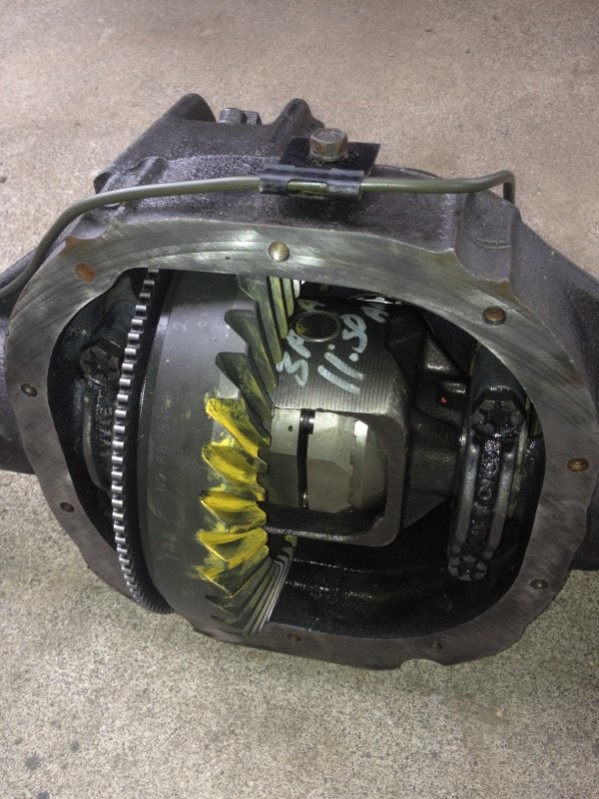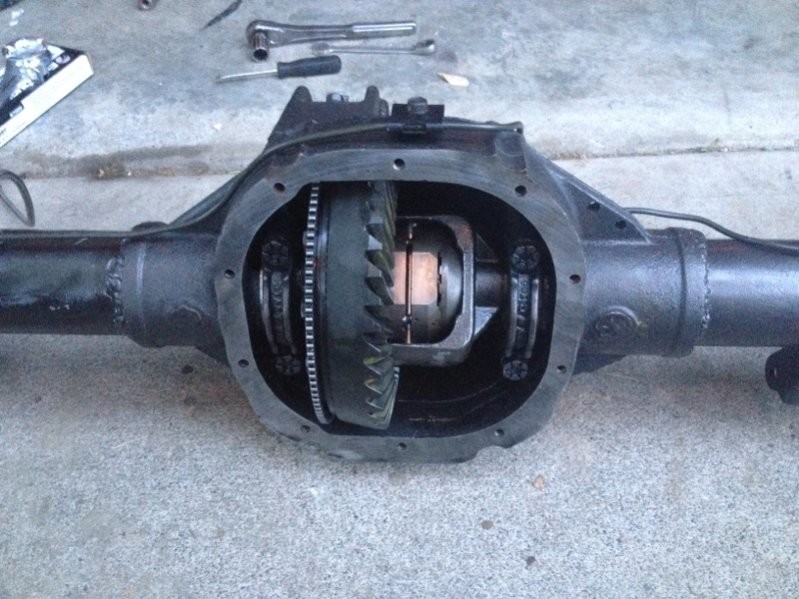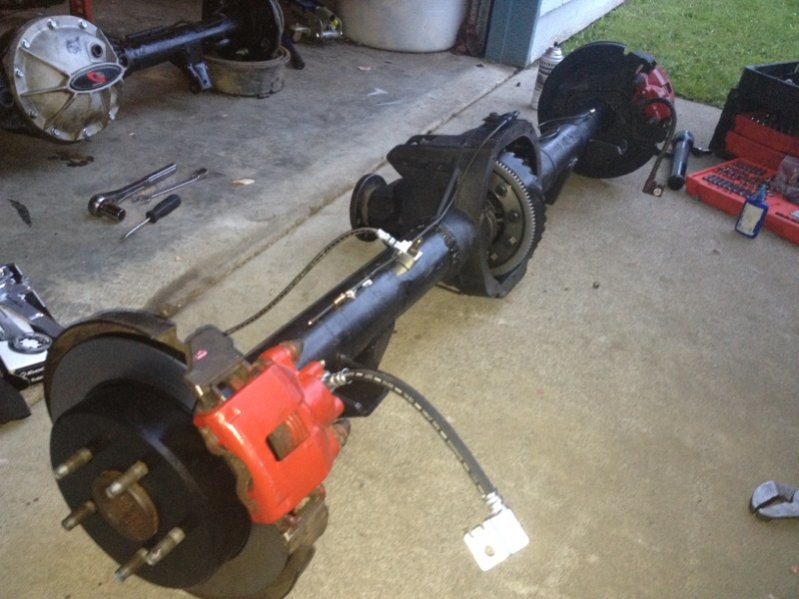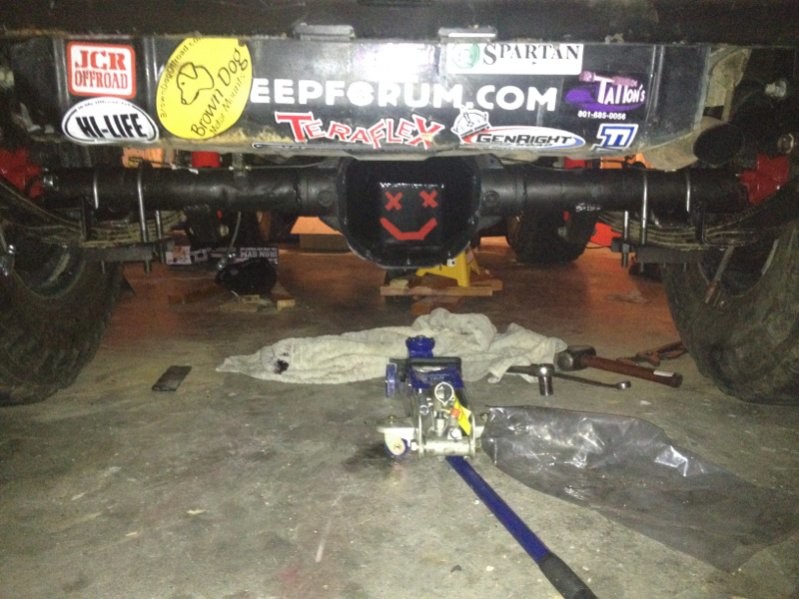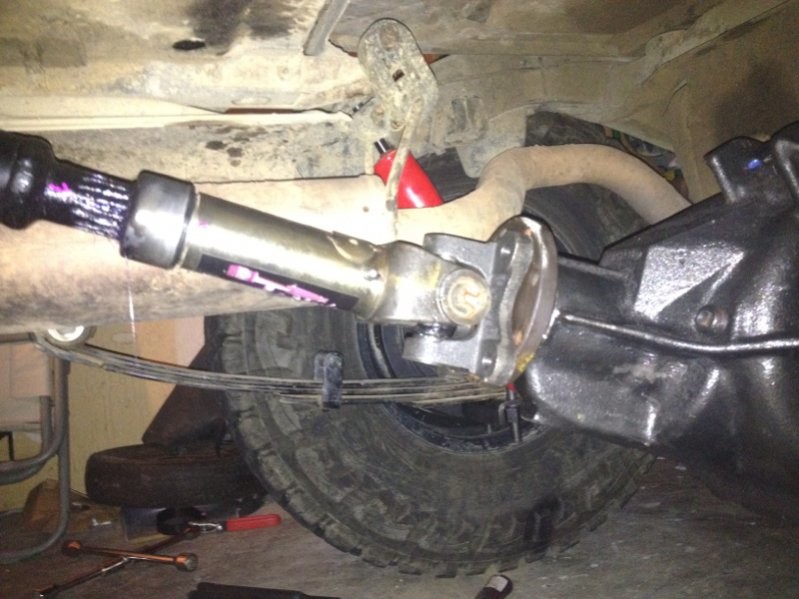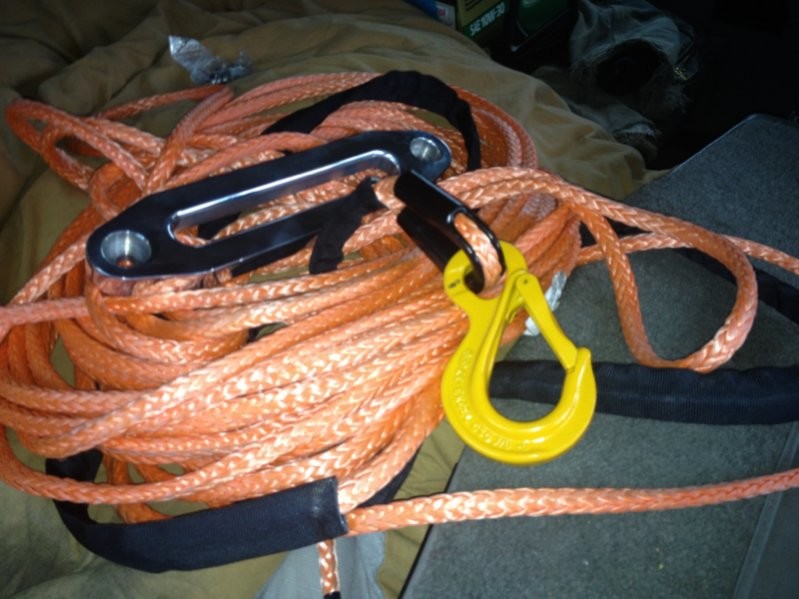 No I have it sealed up and full of fluid now! If it goes out than I am out a free r&p set and that just means time to upgrade again! So I woke up and went straight back out to work on the jeep before work! I got the brake line all together and the brakes gravity bleed, I got the driveline in all the way, fill up the diff with gear oil, and torque the shackles to 45! When I get home I am going to have the wife help me bleed the brakes and I will get the ubolts torque than I can go on a test drive! Look past my working mess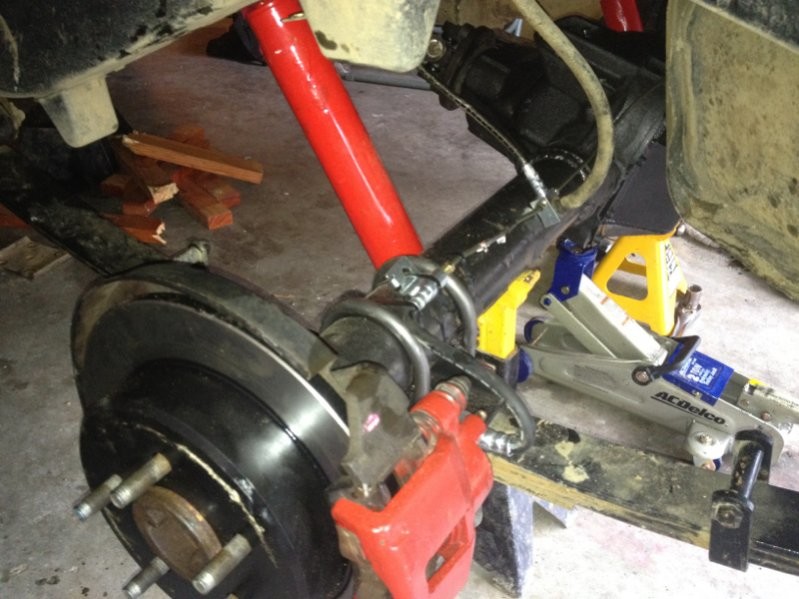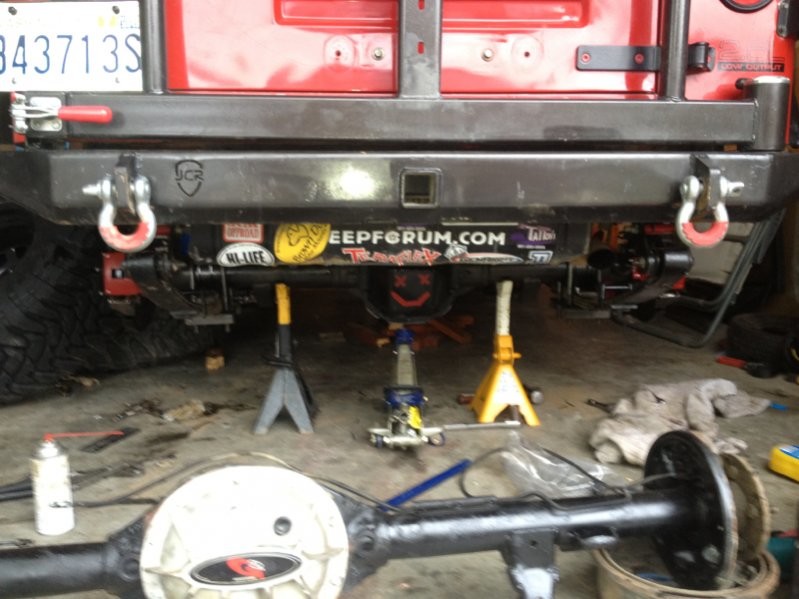 6-2-2012
So I got my jeep rolling again 8.8 complete

! I had zero vibes from the drivel line, the locker is alot noises than my old Detroit but I heard it should quit down after in wears in some! Today I also got my mirror relocation brackets and mirrors mounted, I also installed my new asr winch line! As some as I get the motor mount fixed I am hitting the trails!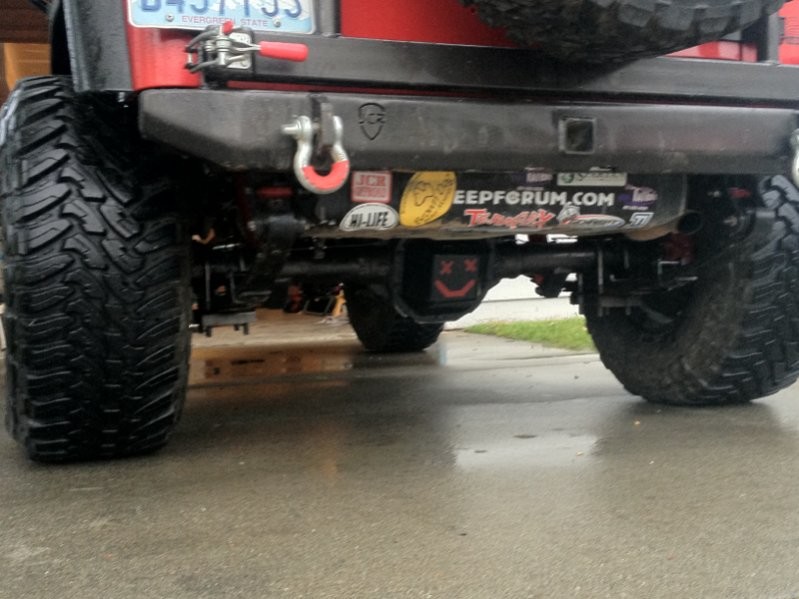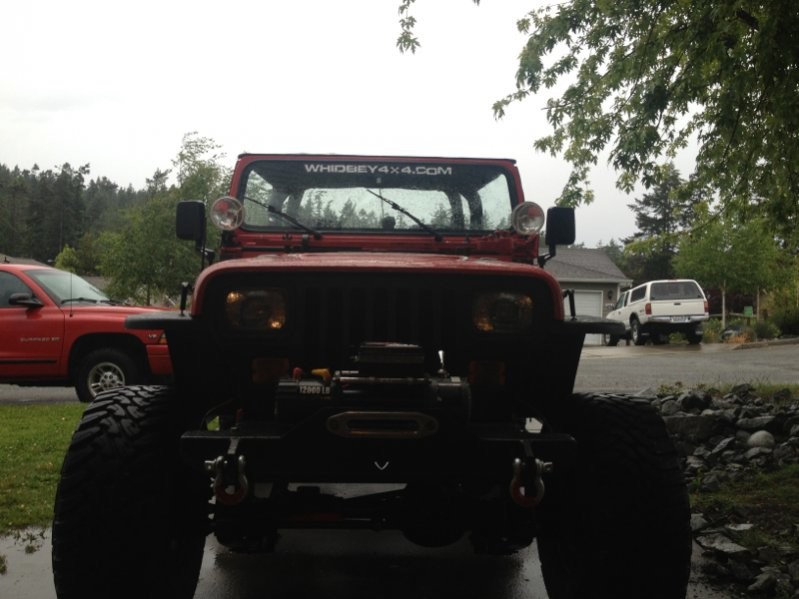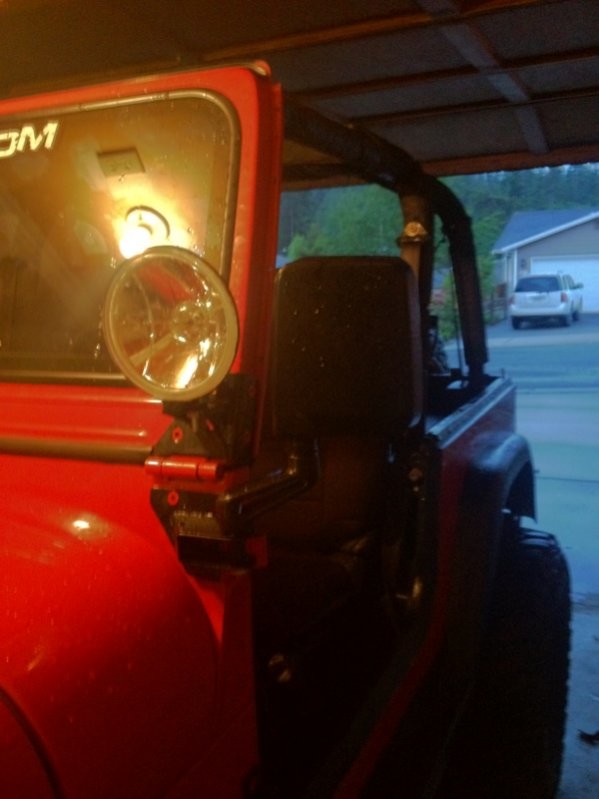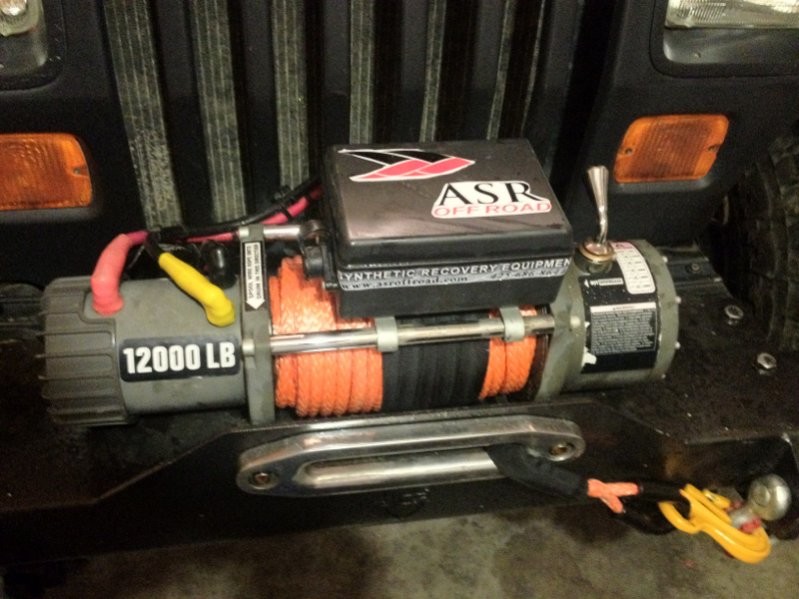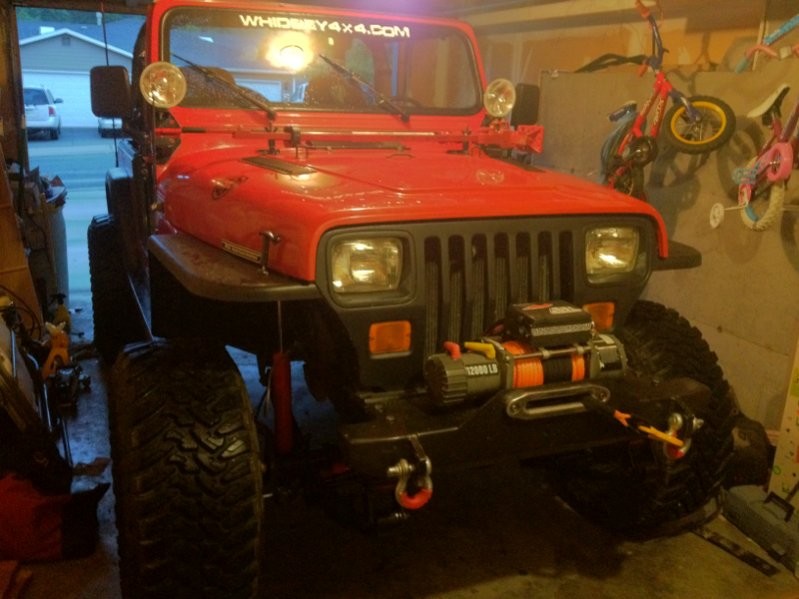 6-4-2012
So I got the e brake set up today, I should be selling my old super 35 at the end of this month and I am either going to order rampage frameless top (I like the design better then my soft topper) or pull the trigger on 1 ton steering with the money what should I do??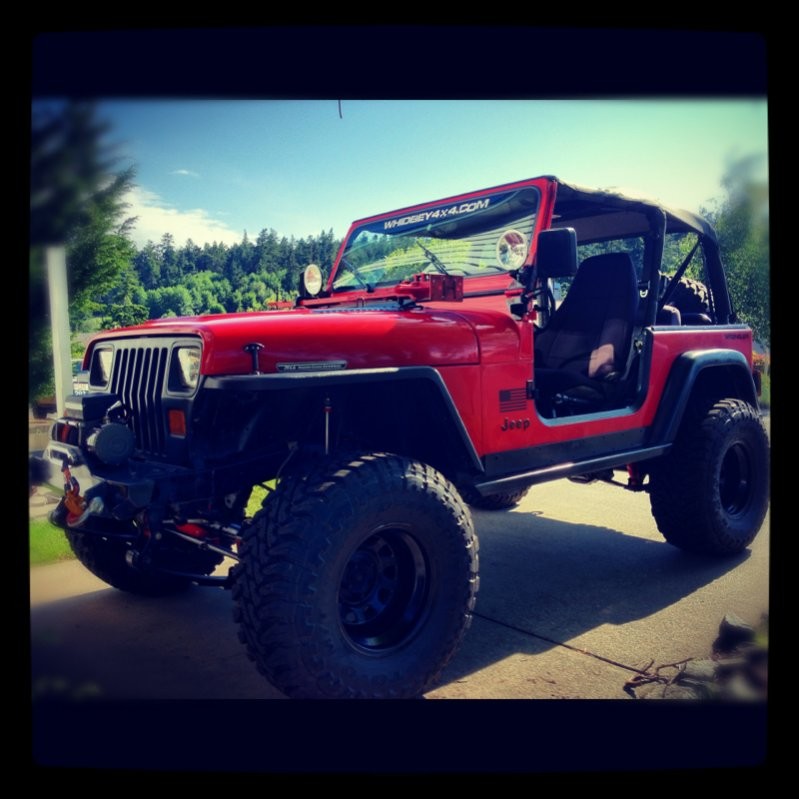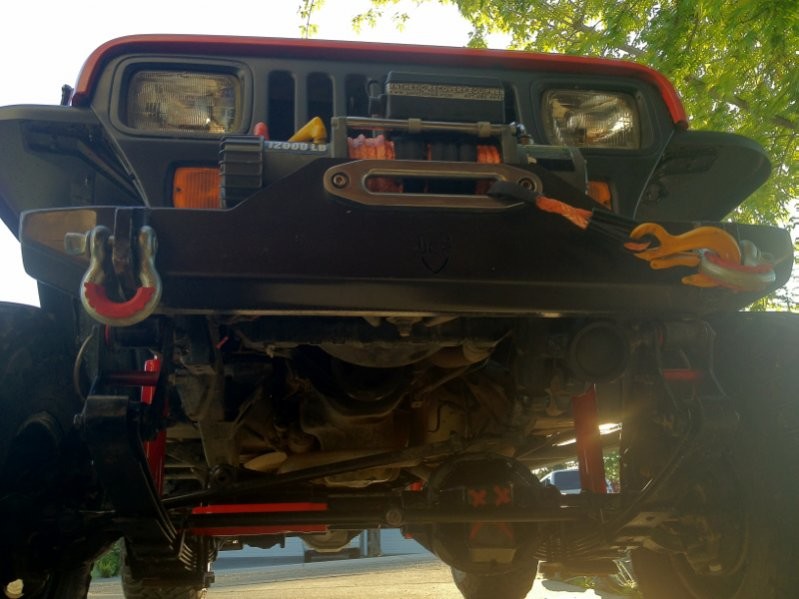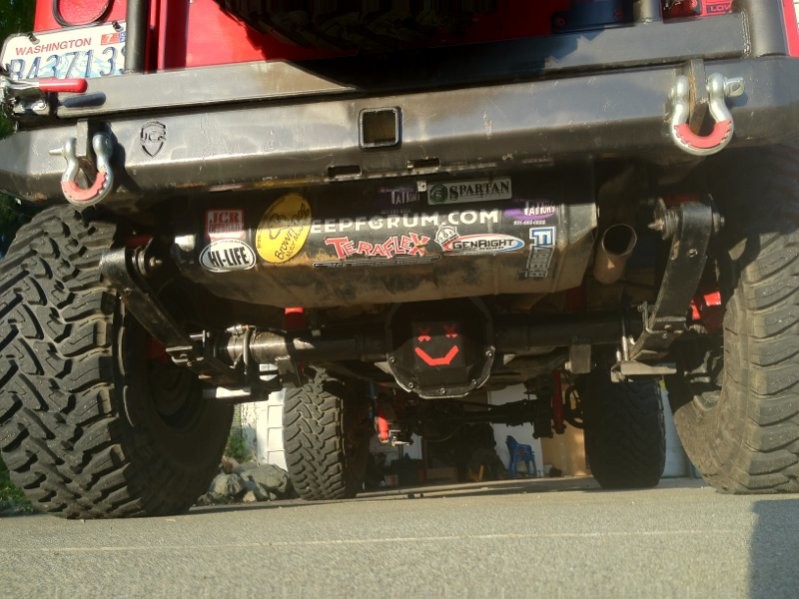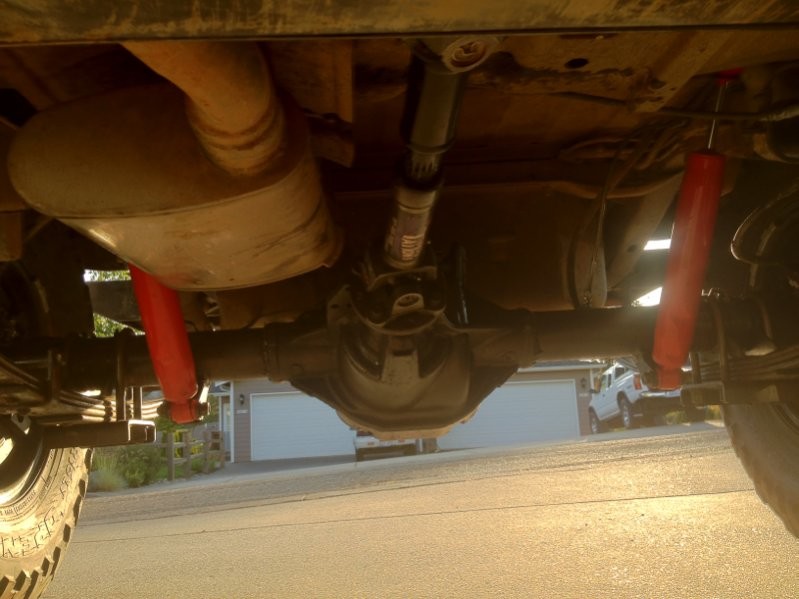 6-8-2012
The only recent update is I got my brown dog motor mount bracket to replace my current broken bracket! I hope to get it installed this weekend so I can take the jeep out wheeling!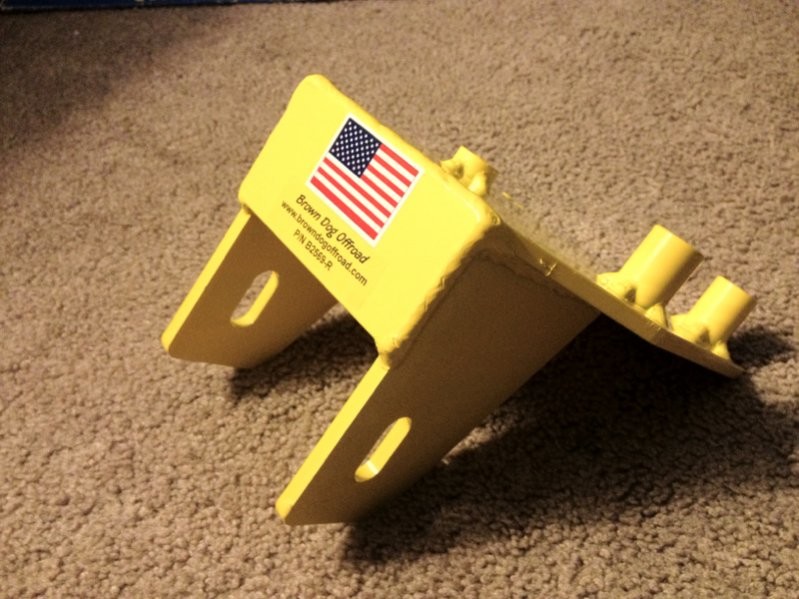 6-9-2012
So I got my motor mount bracket installed after work today and got my jeep and my buddies jeep ready for wheeling tomorrow!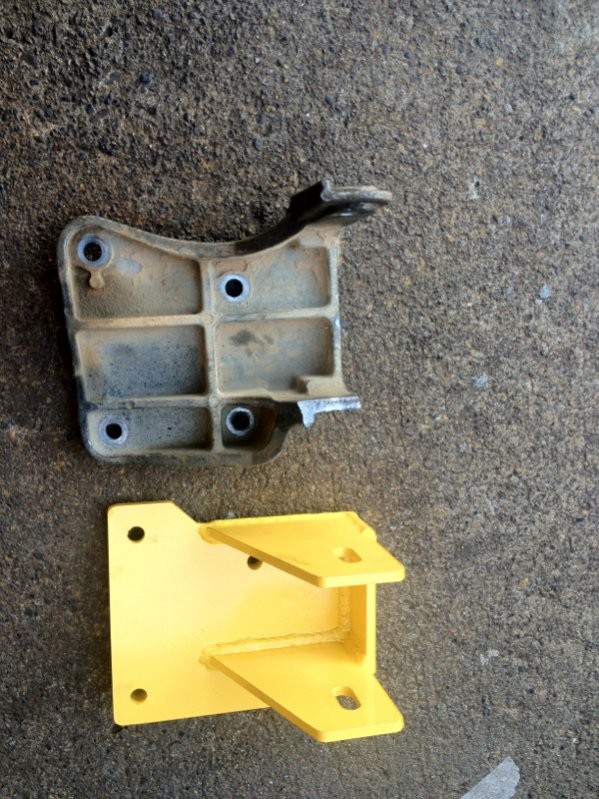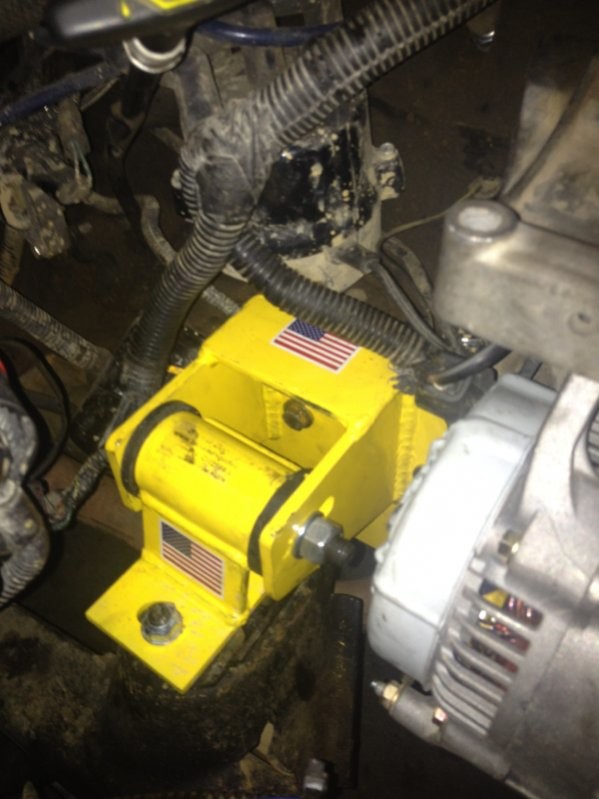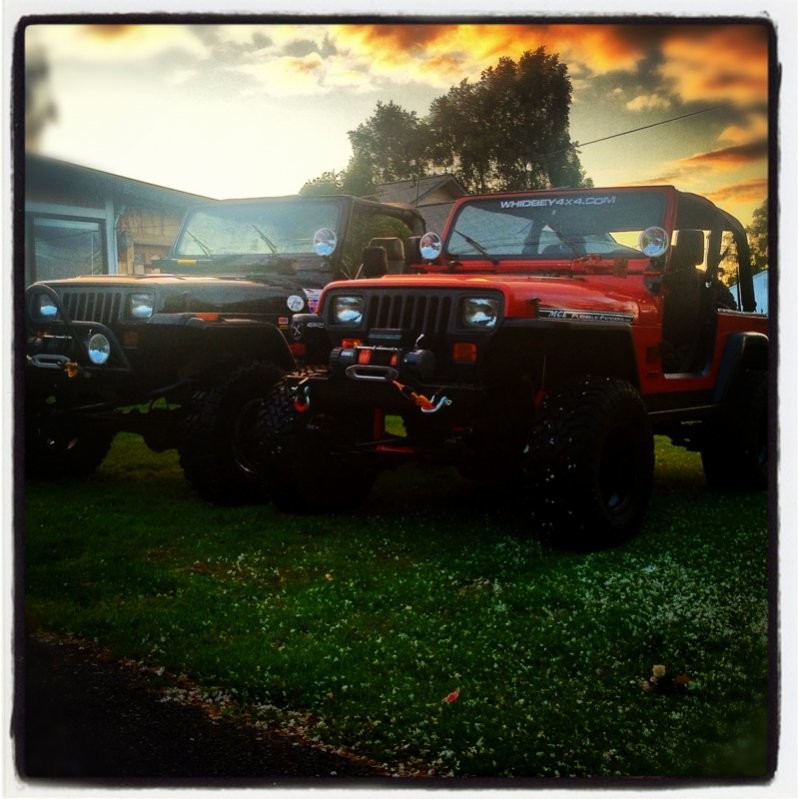 6-10-2012

thanks man! Today a couple friends and I went out wheeling and had a great time no one took damage or broke anything! I plane on selling my wheels and tires now so I can order up a set of 15x8 steel wheels and 35 inch bighorns tires after I may do a daystar 1 inch bodylift! Here are a couple pics from today more to come!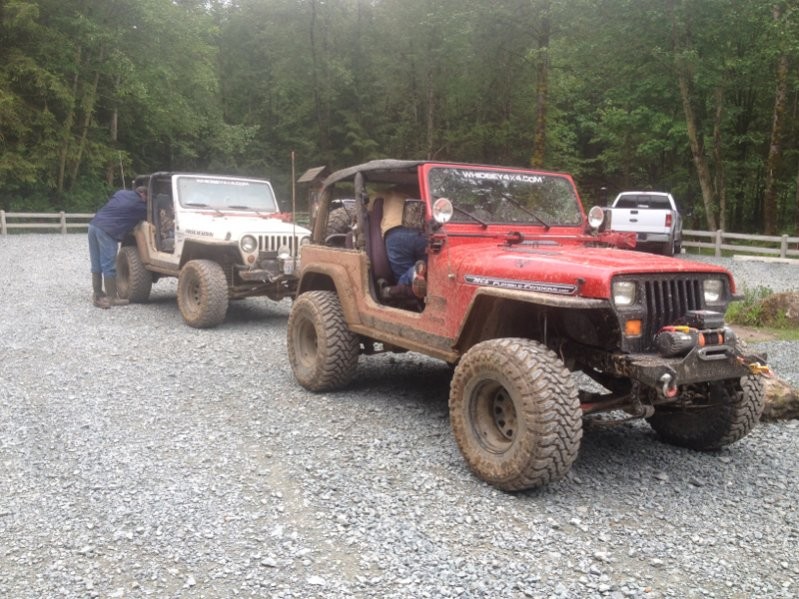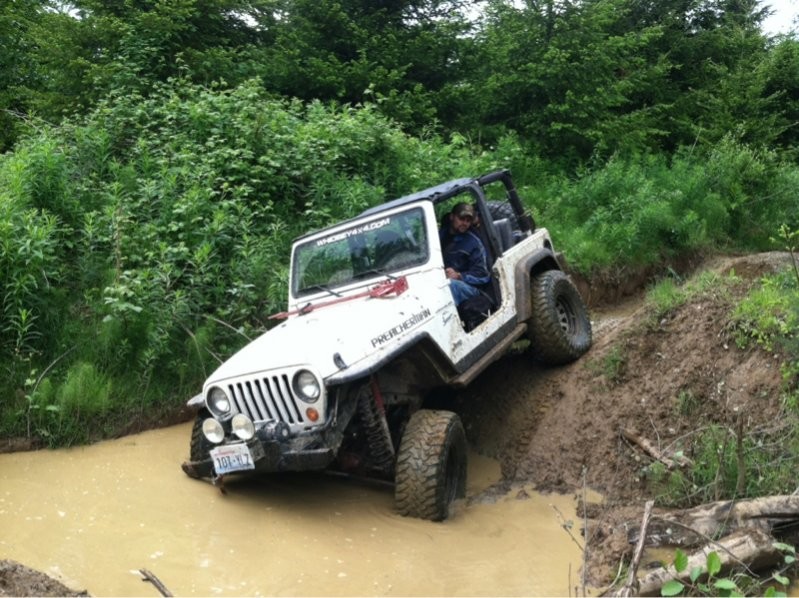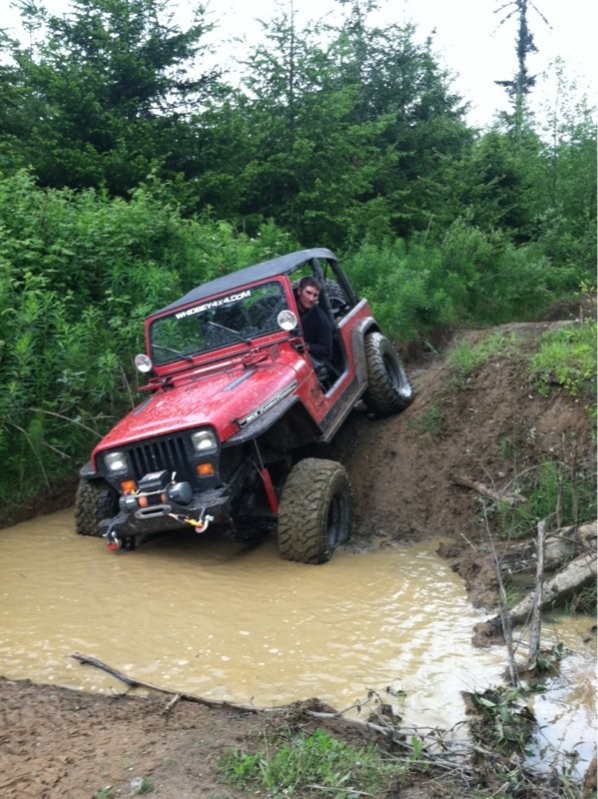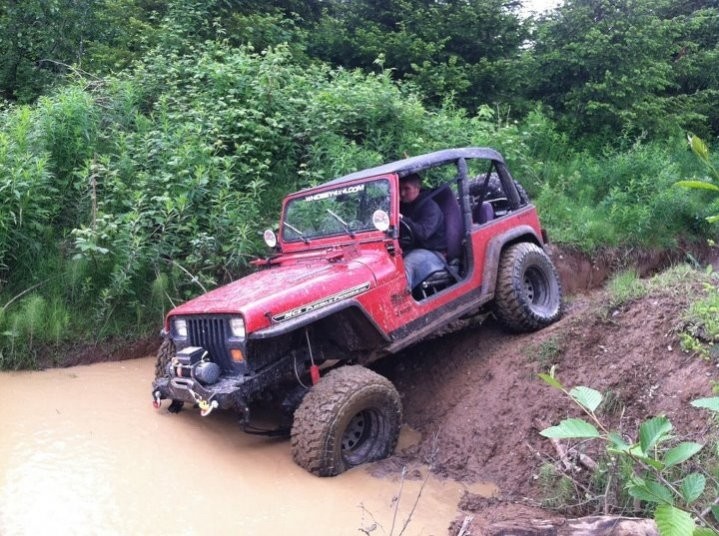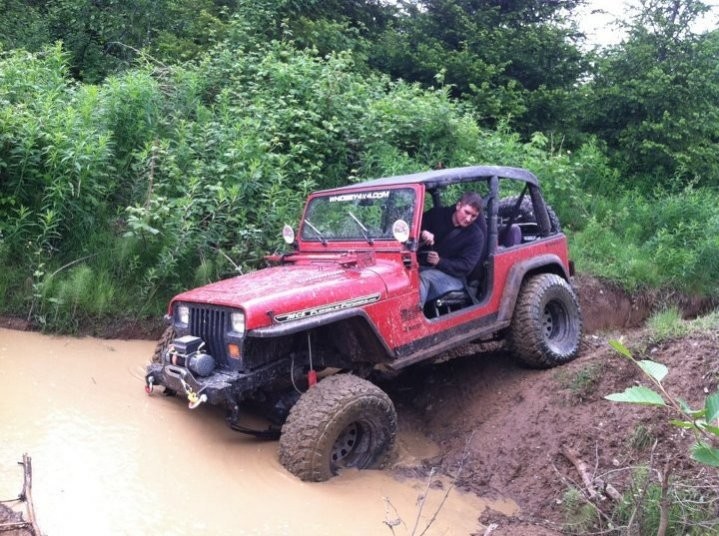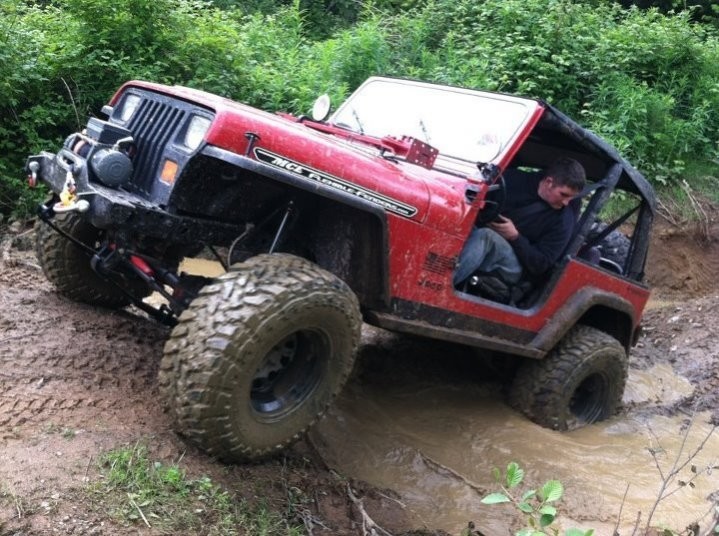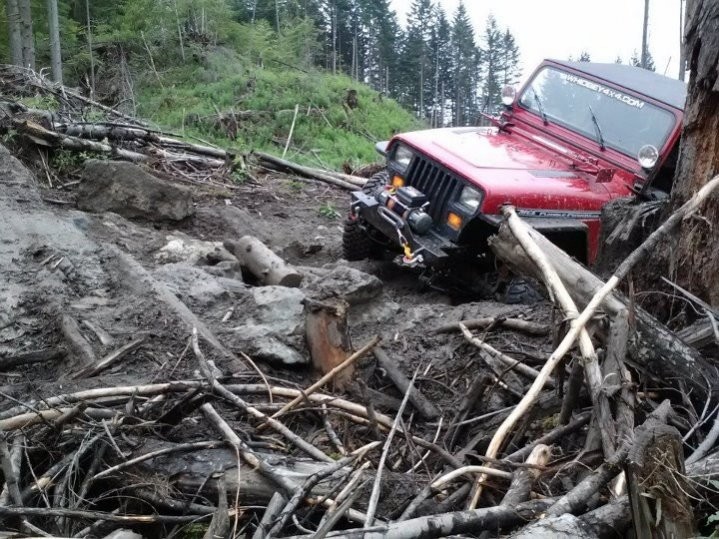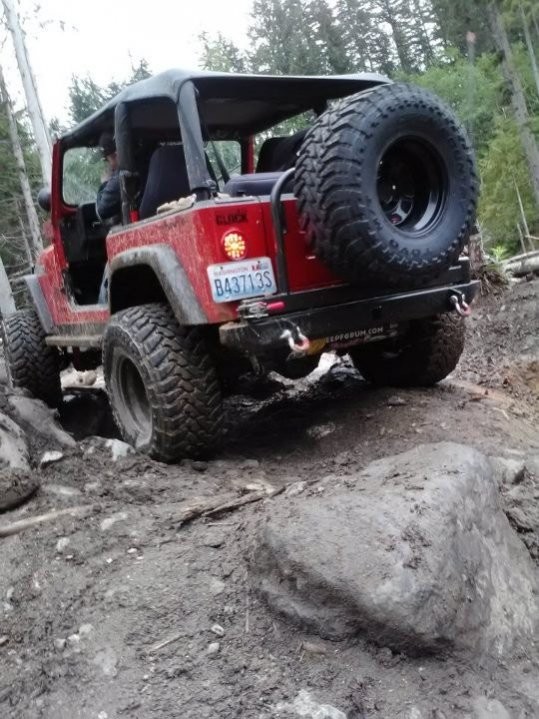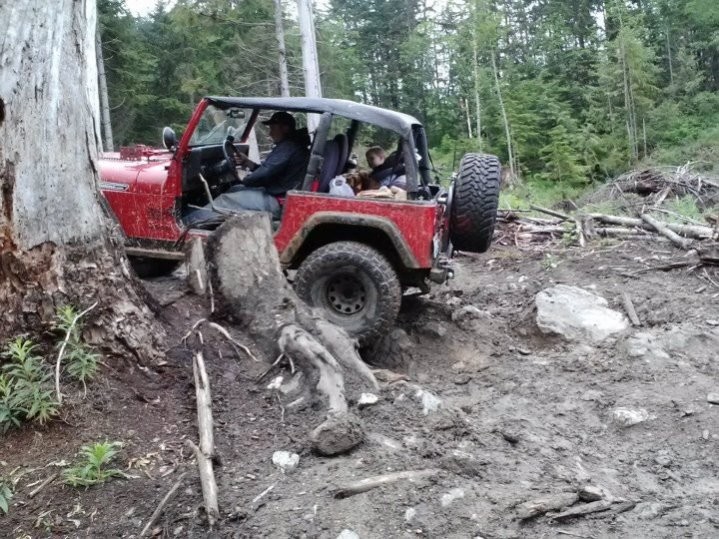 6-14-2012
Thanks jd do you have a build thread? So today I tossed my old 1.25 bl back on to get it ready for 35s I would say with some bump stops I should have room to spare!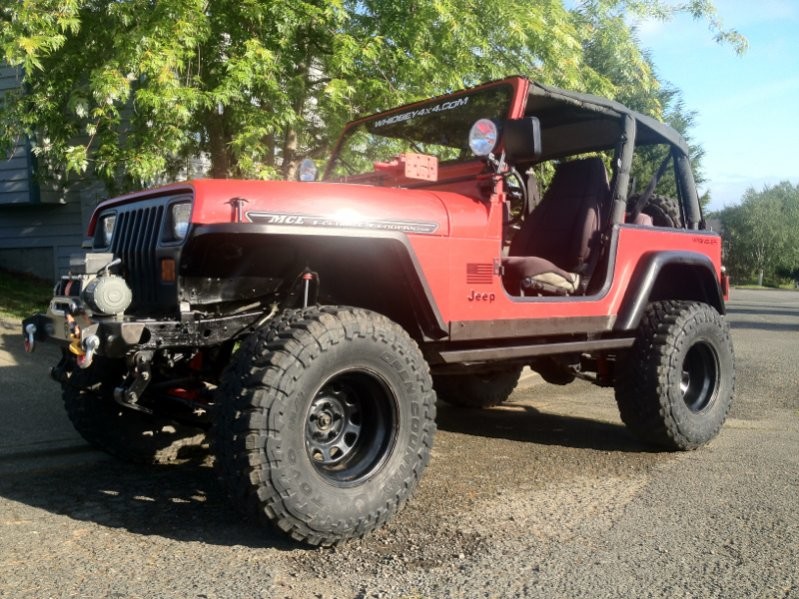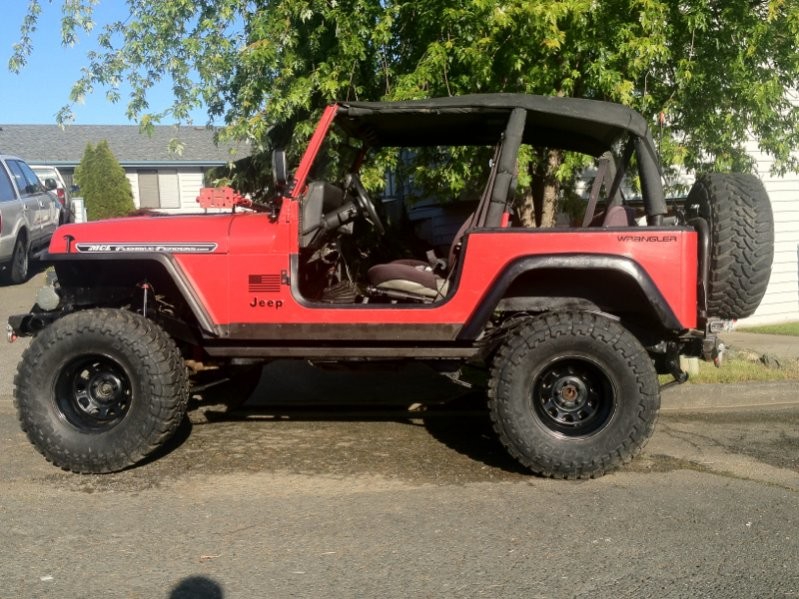 6-22-2012
I was rubbing with the 33s before bl so I think I will still need bump stops haha I flex out pretty well for a yj! So I sold my old s35 today for 450 and instead of dumping that back into the jeep I bought a new dd (1987 Subaru dual rang 4x4) now I don't have to worry about dd the old girl and can make it more of a toy!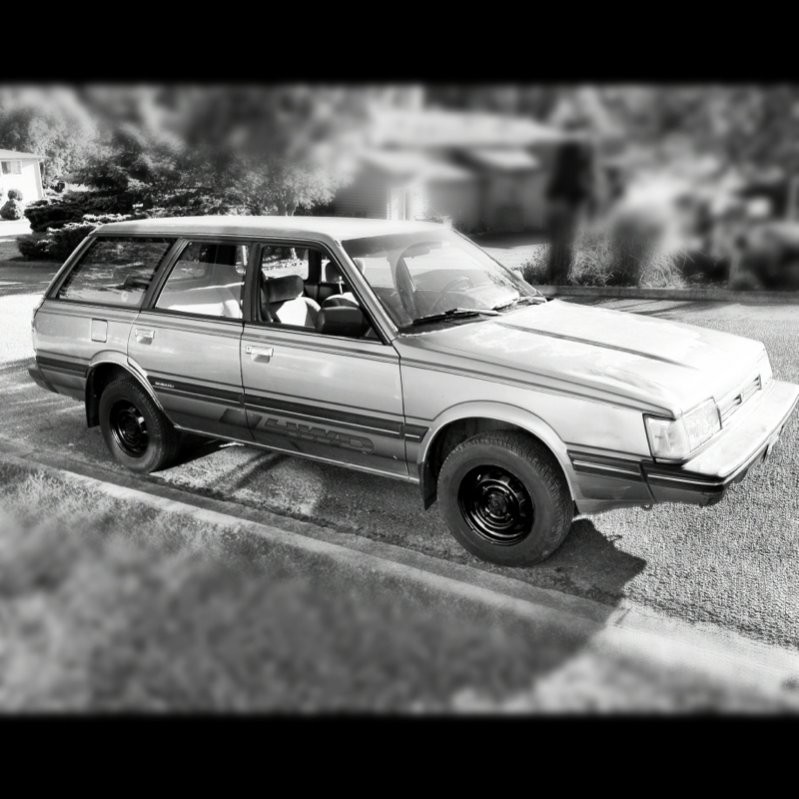 6-26-2012
So I am going out wheeling weds with 91BoD and should have some new wheeling pics then

I can't wait till then here are some bad vid clips of my last trip out! And sorry no real cool build updates haha I did tint my turn signals tho!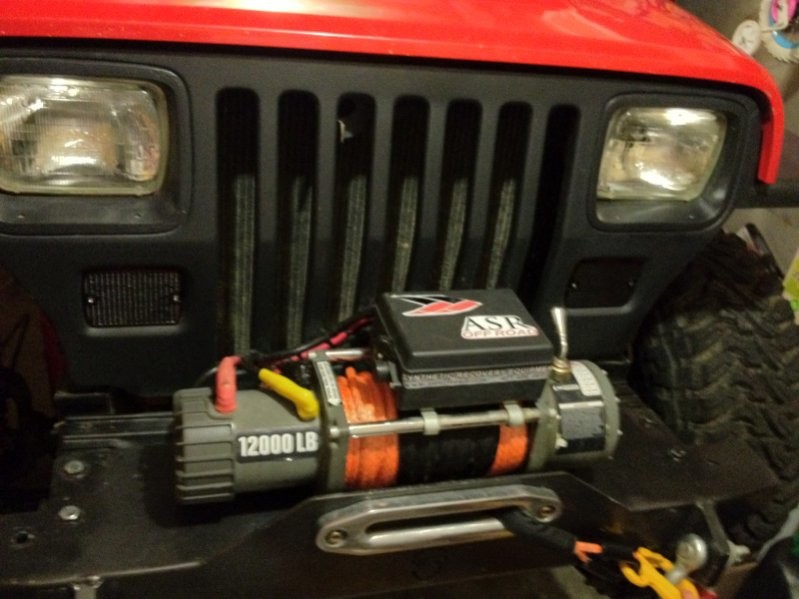 6-28-2012
So like I said I was going wheeling with 91BoD today and everything went smooth for us leaf sprung yjs

all tho on the second trail of the day my buddy with a toyota twist/broke his rear drive line which ended his day and towards the end of the day of friend with a coil over yj broke his LF radius arm right off his axle, but all and all it was a great day out! It was fun watch BoD wheel with a front locker, I had to have him pose on my tires ahah! sorry there aren't more pic (action shots) we did't really have to stop at any obstacles because we are a group of pretty capable rigs!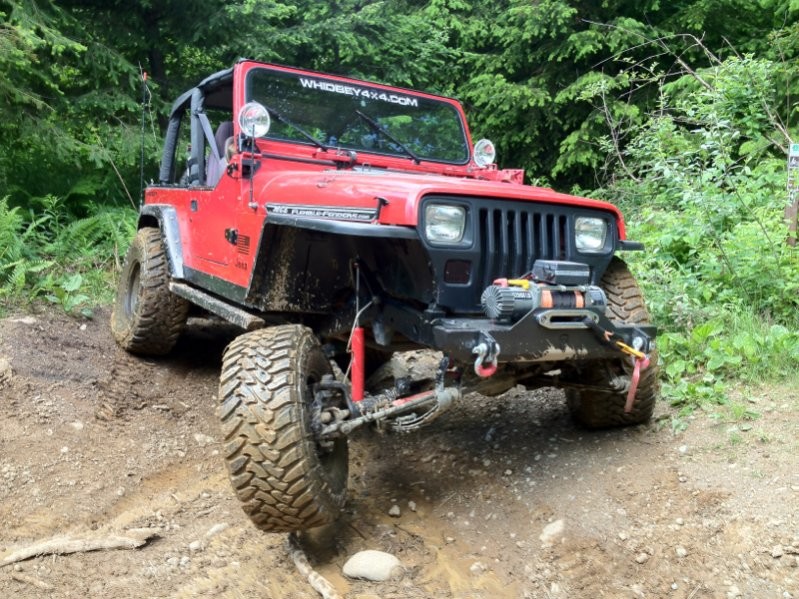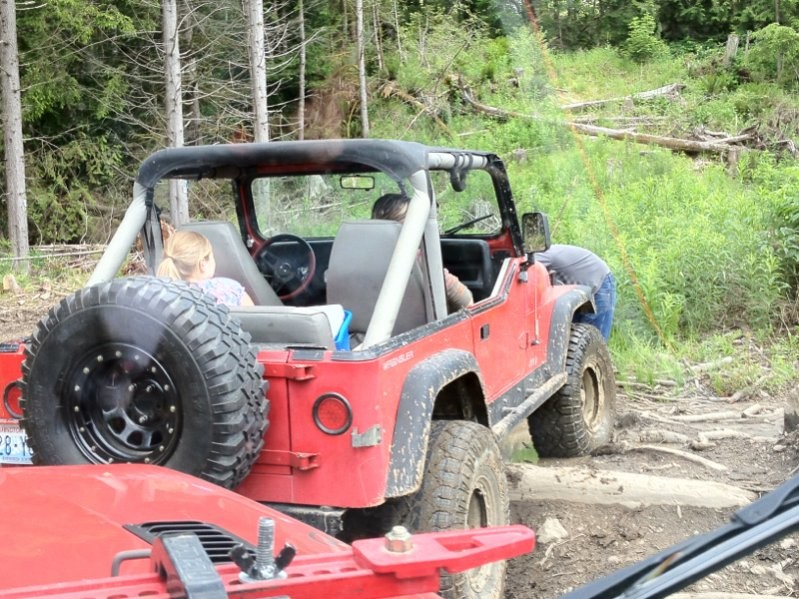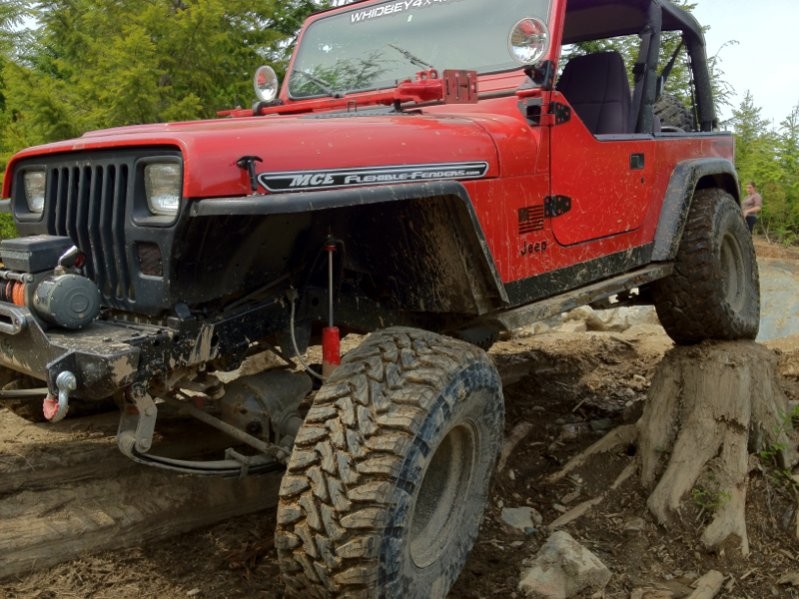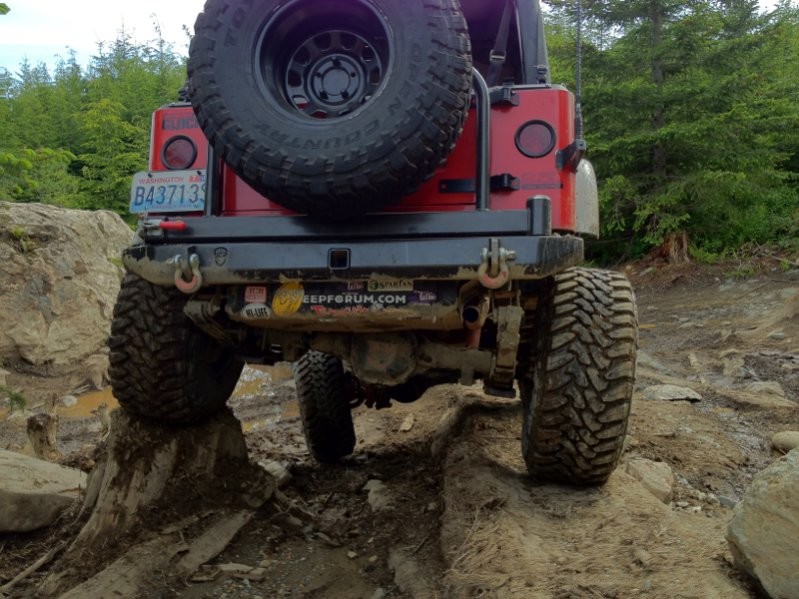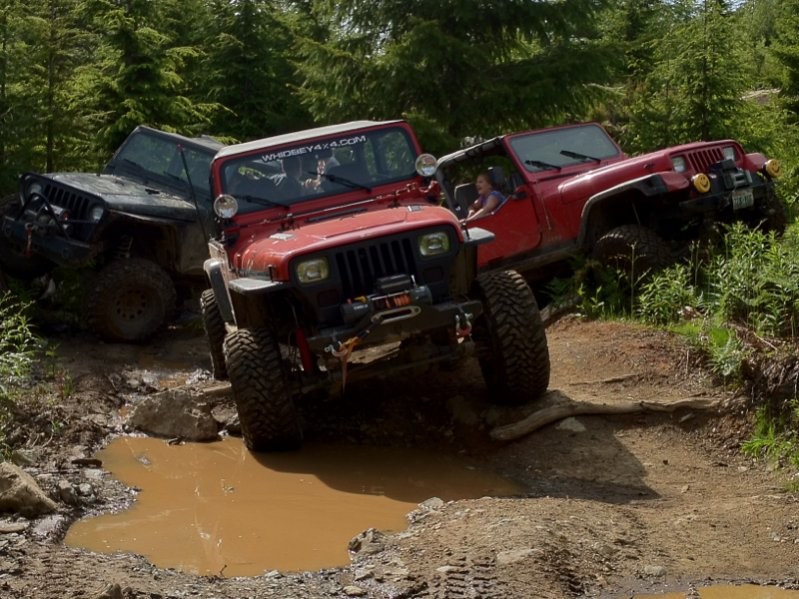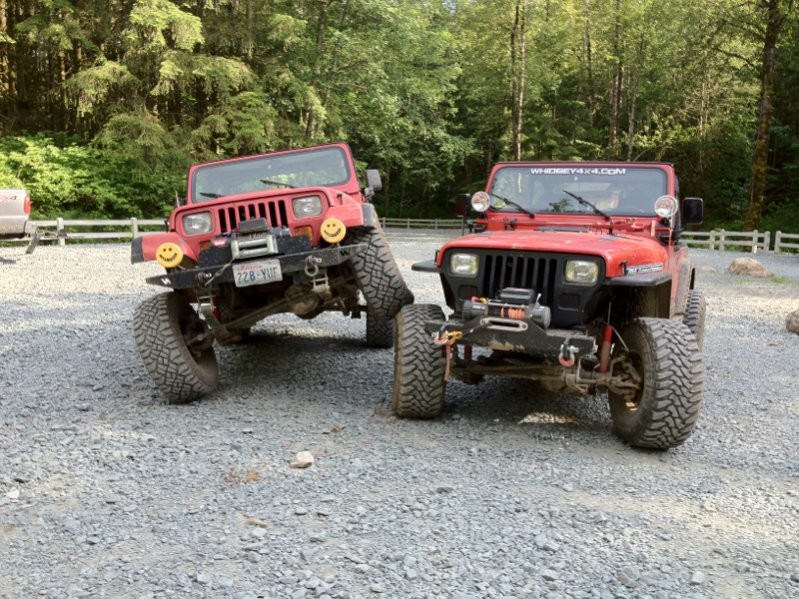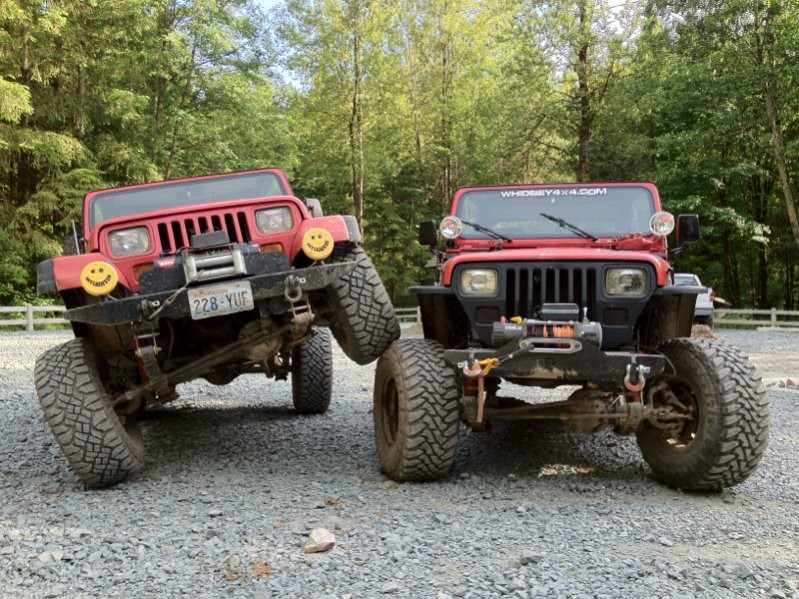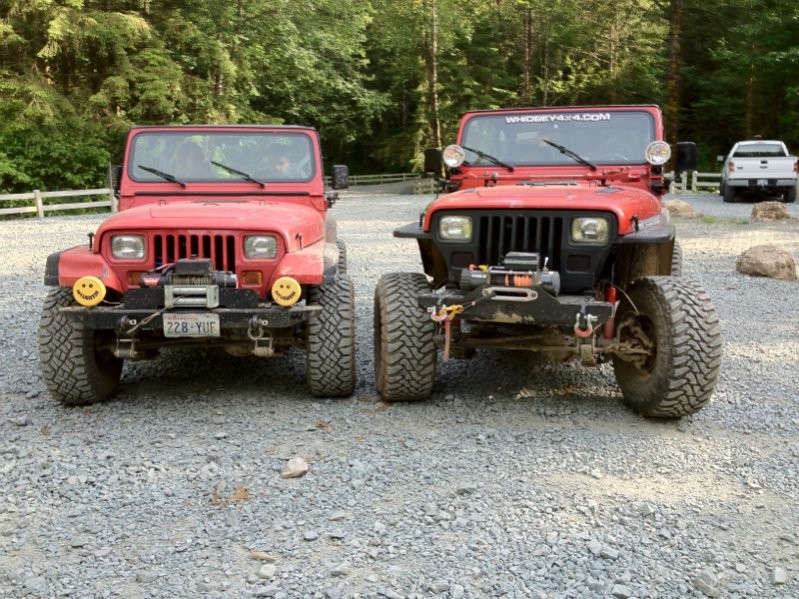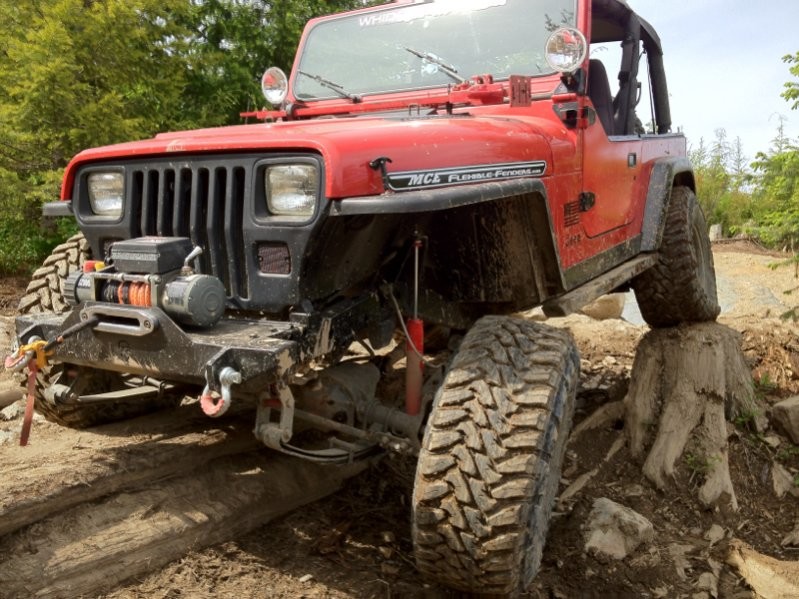 7-11-2012
So I have't done a whole lot lately to the poor jeep besides wheel it, but in the last month I have been pulled over 3 times for my tire hanging out to far so I went ahead and put some 8 wides wheels back on it! They still hang out a little but not half as bad! I also ordered a rf tierod seeing in how mine is wasted, and I also have a new axle seal and gear oil for the front axle. As soon as the weather goes south i will start some tlc on it!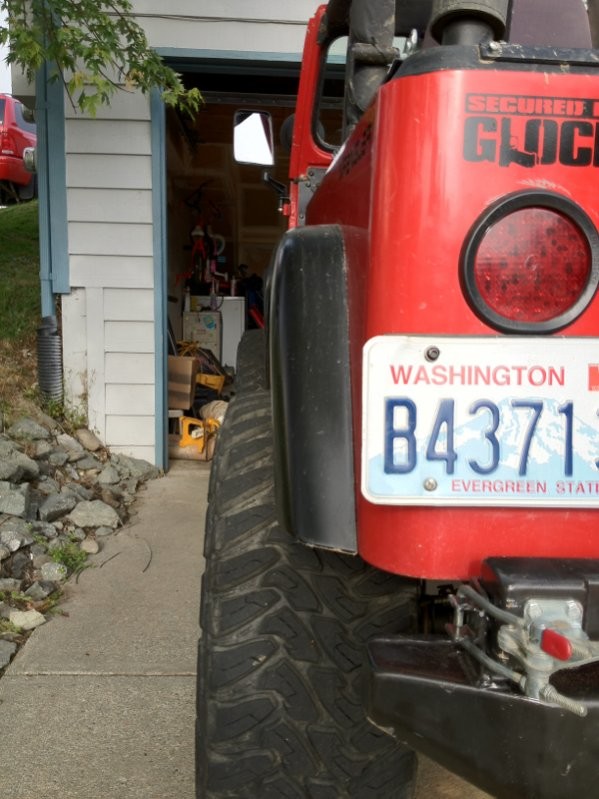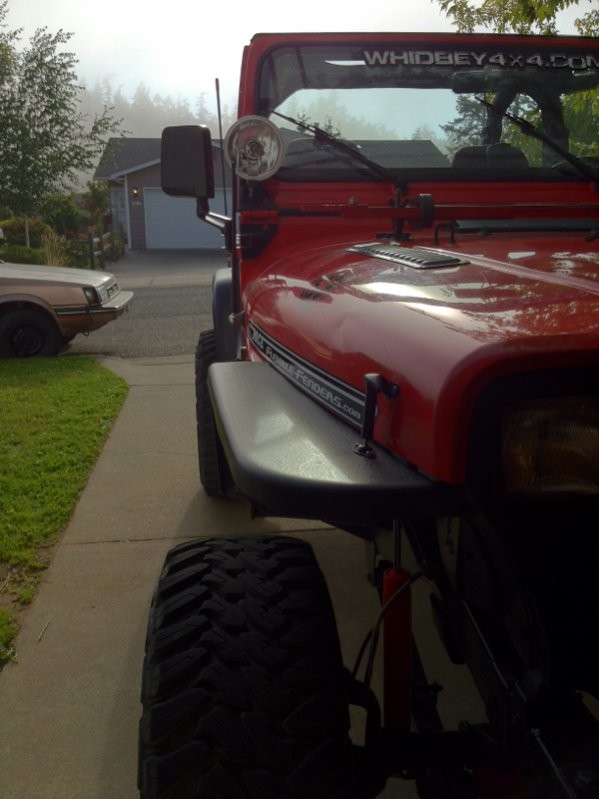 7-15-2012
So I took out my sister wheeling today (the reason the doors where on) and had a blast! I did how ever bend one of my brand new wheels, and gave my rear of my tub and my drivers door some rash! Also when I was pressure washing the jeep I notice that my rf upper shackle bolt lost its nut and was almost walked out of the shackle........I am glad I found that before jumping on the hwy with my wife and kiddos!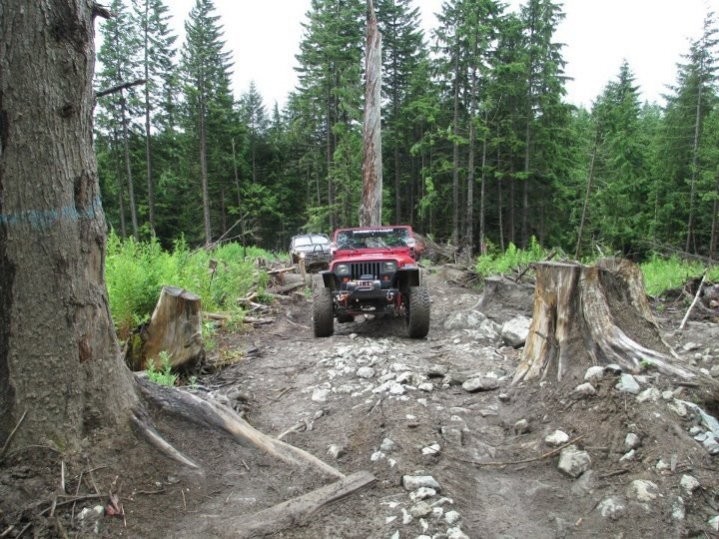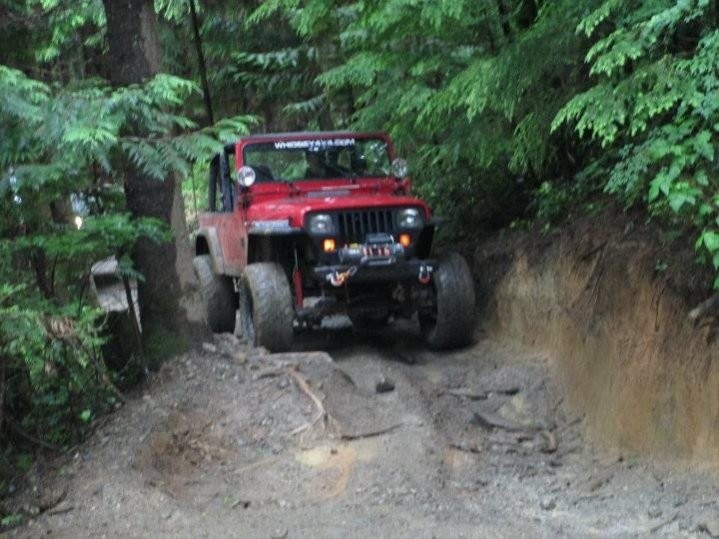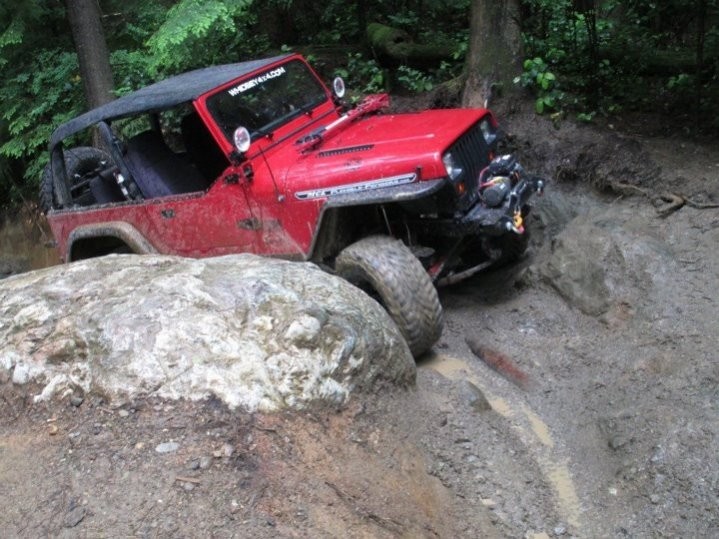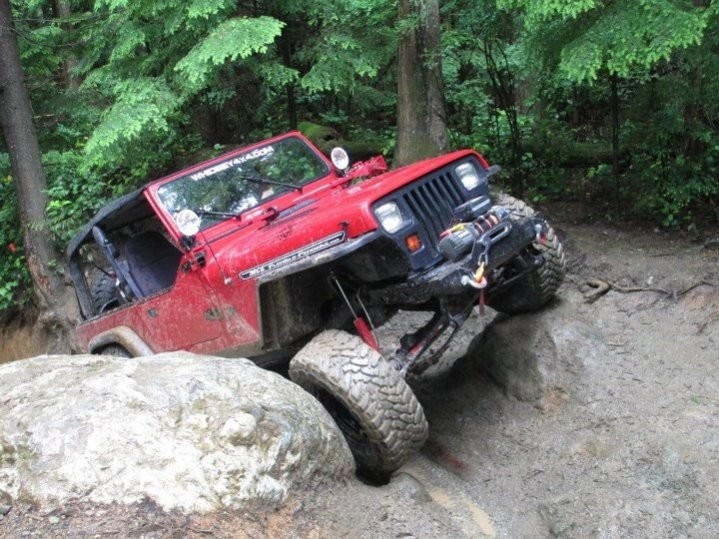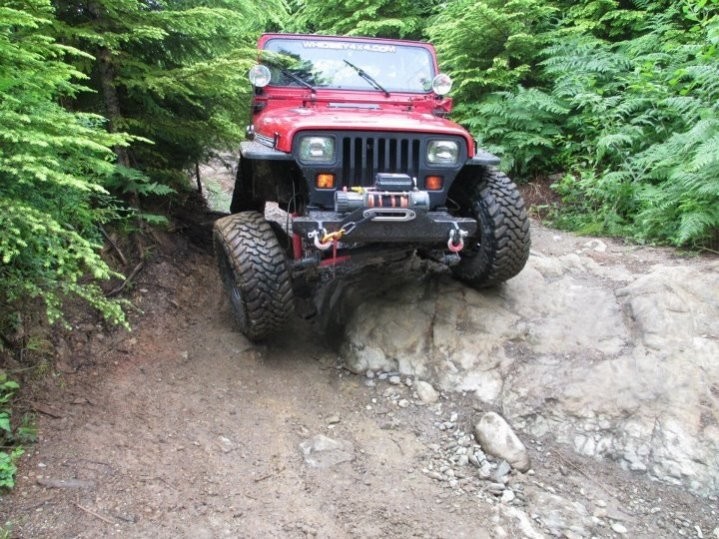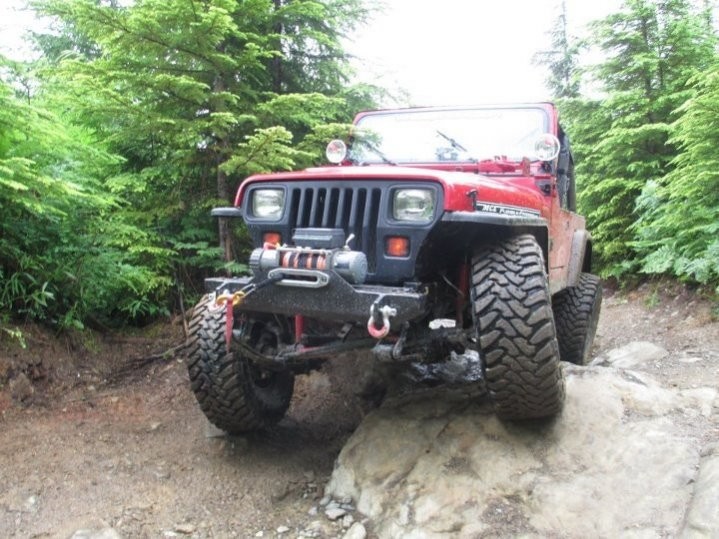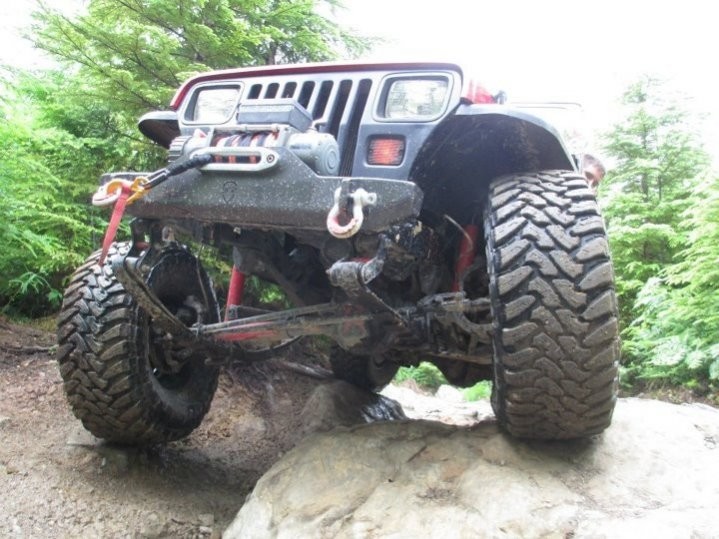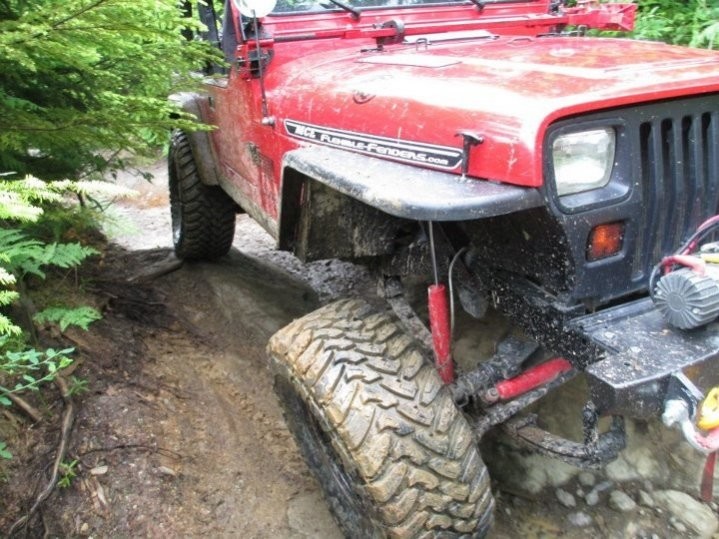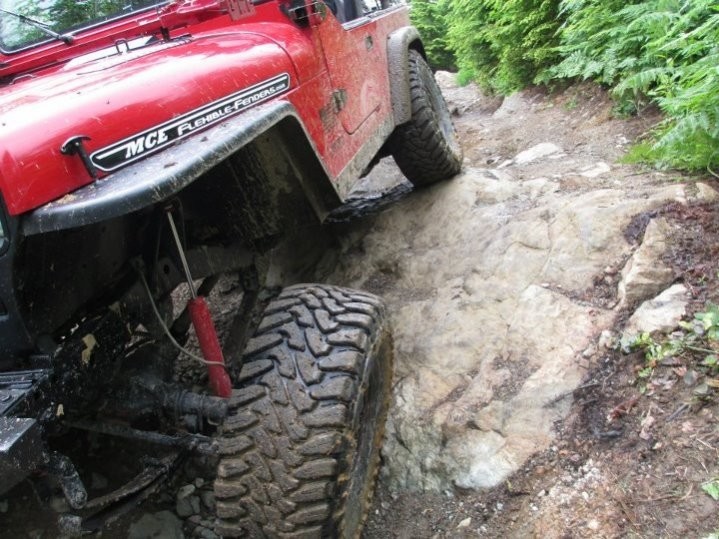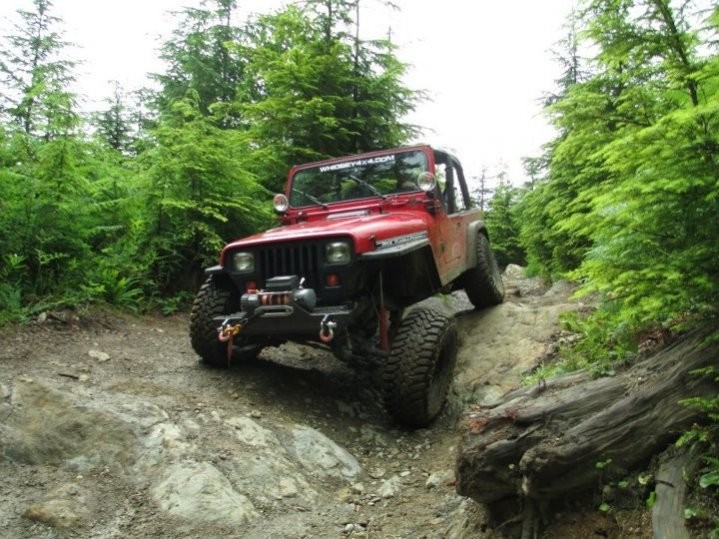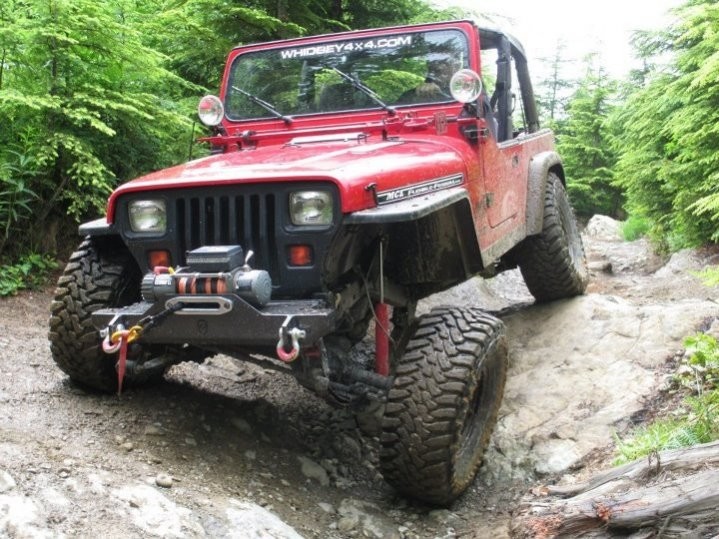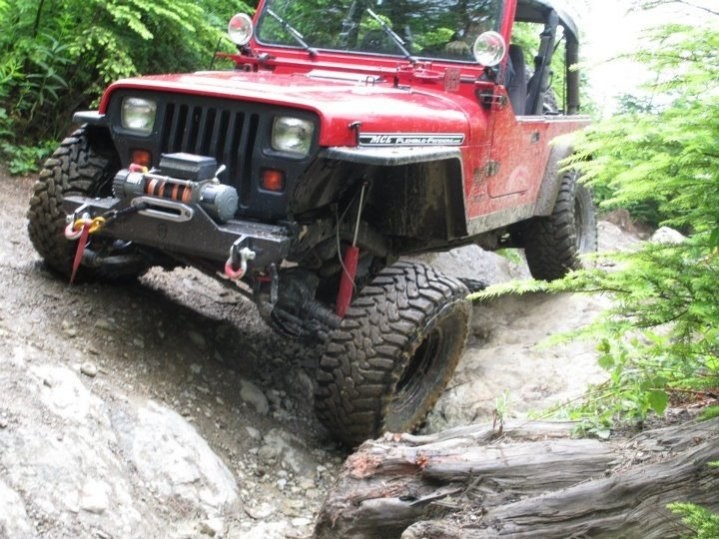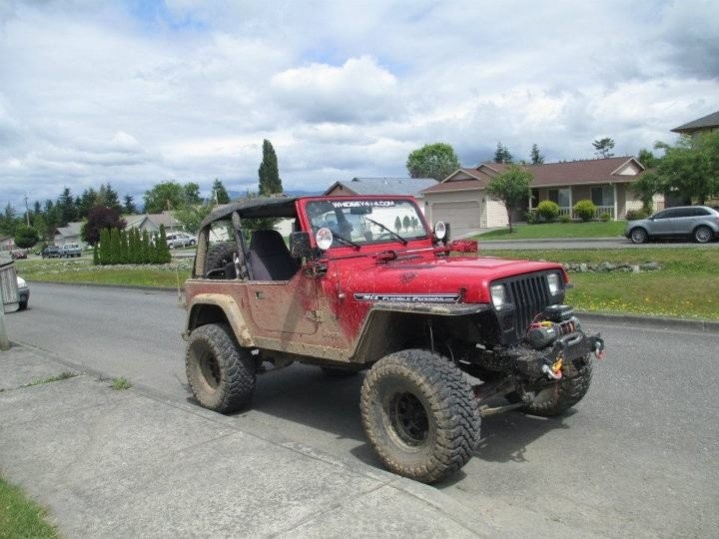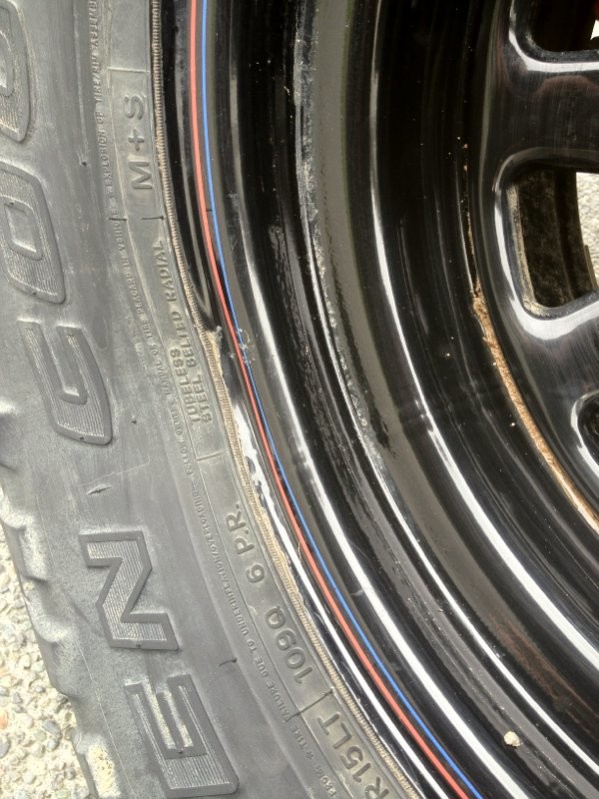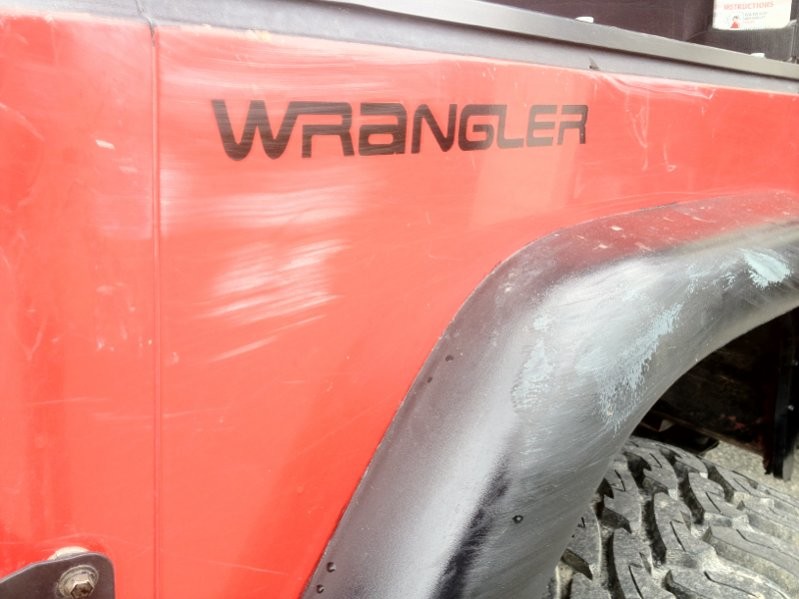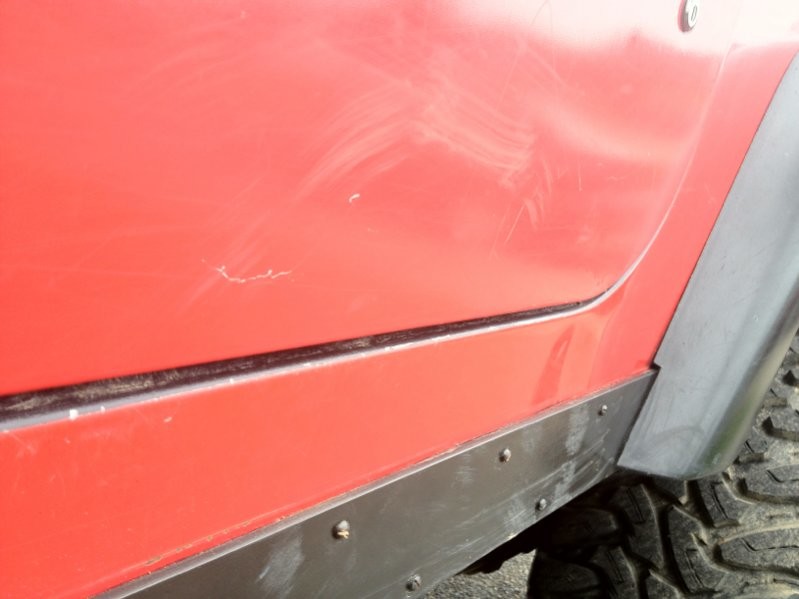 8-6-2012
Wow it's been awhile since I posted in this but not much has been going on with the jeep, I have been really low on funds being I have my third and final child due oct 2 lol, but as of today I took my high lift off my hood and mounted it to my rear bumper but over all the jeep is the same with very little change.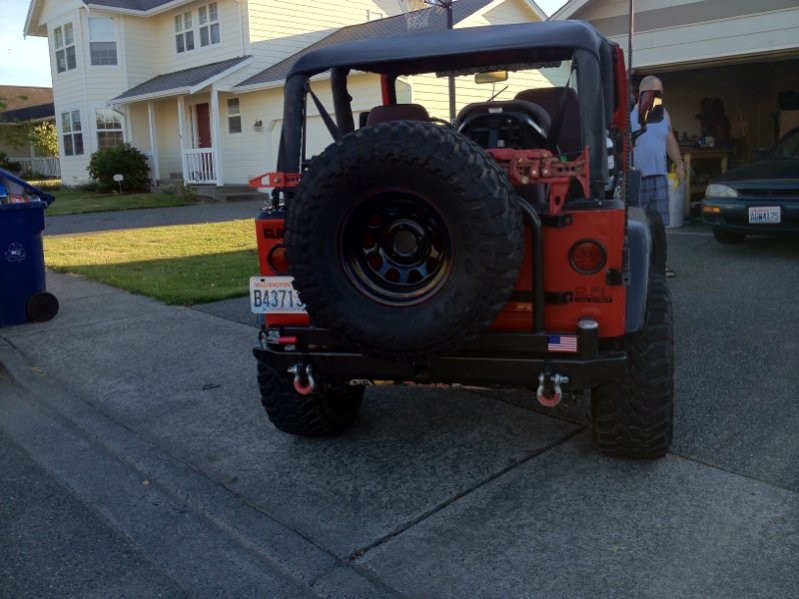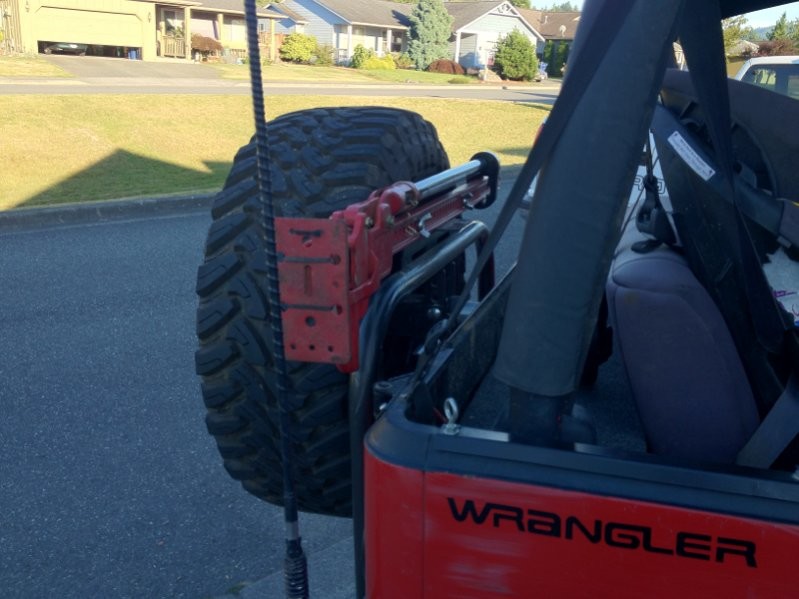 8-9-2012
I am glad you had fun, I was going to say at the very least you should visit pikes place and we are not all that friendly hahaha! So again no cool up dates but I did mall crawl today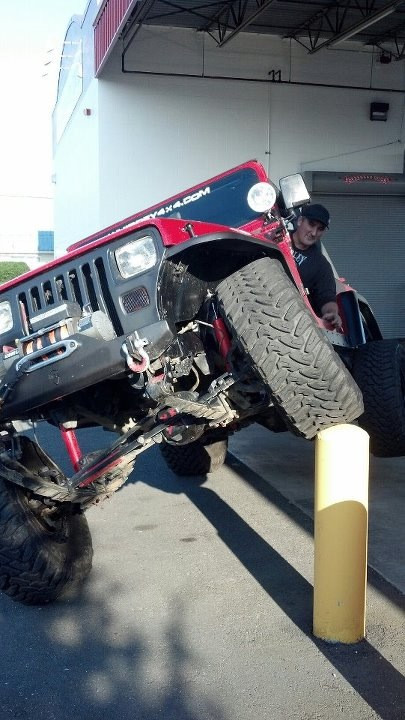 8-11-2012
Today I tackled my leaking axle seal in my front diff. I have been putting it off for awhile because I just did't feel like there the Dana 30 apart hahaha god I am lazy! I installed two napa 11800 into the rf side and it seems to of worked great, we will see how they hold up after this weekends wheeling outing!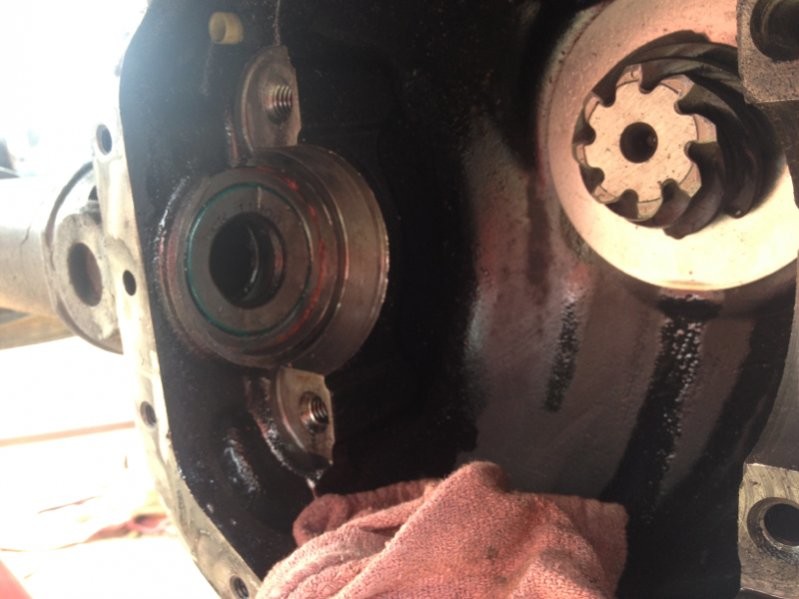 Here they are!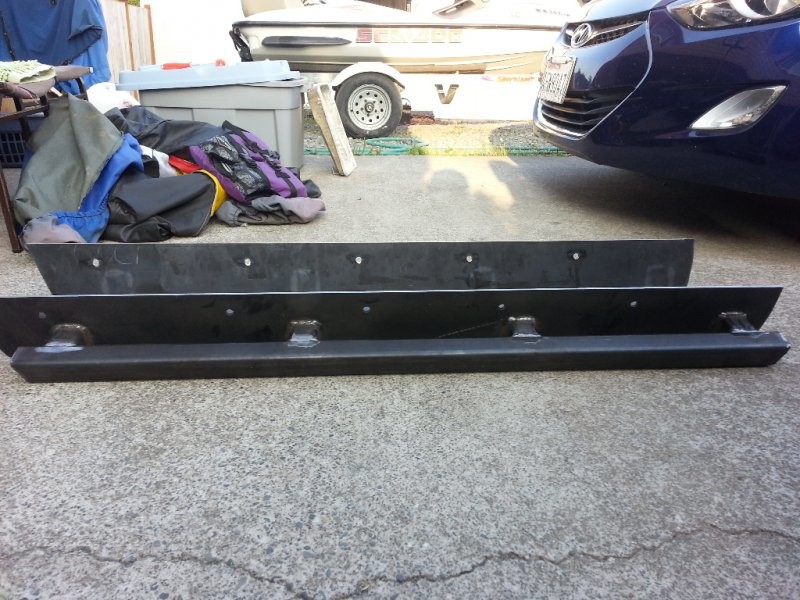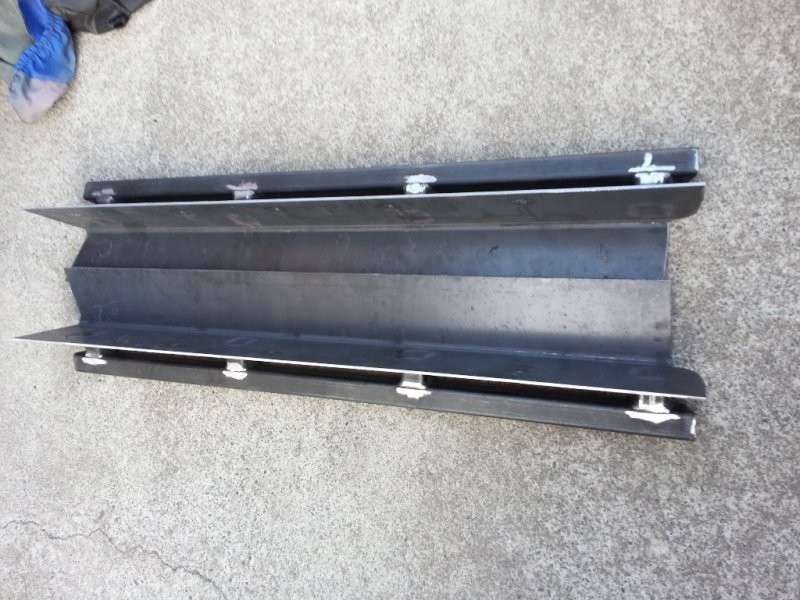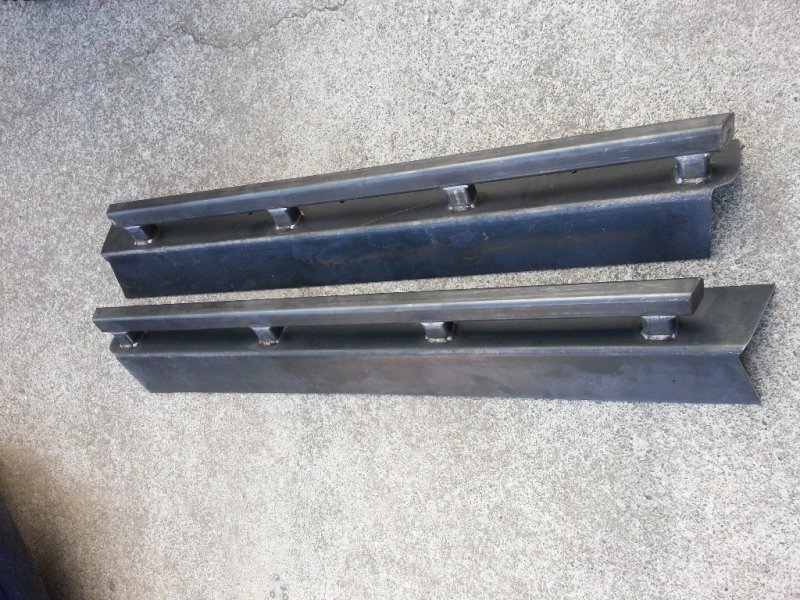 8-12-2012
Well I picked up those sliders from 91BoD and let me say I am super happy with them, I will be testing them off tommarow

what do you guys think......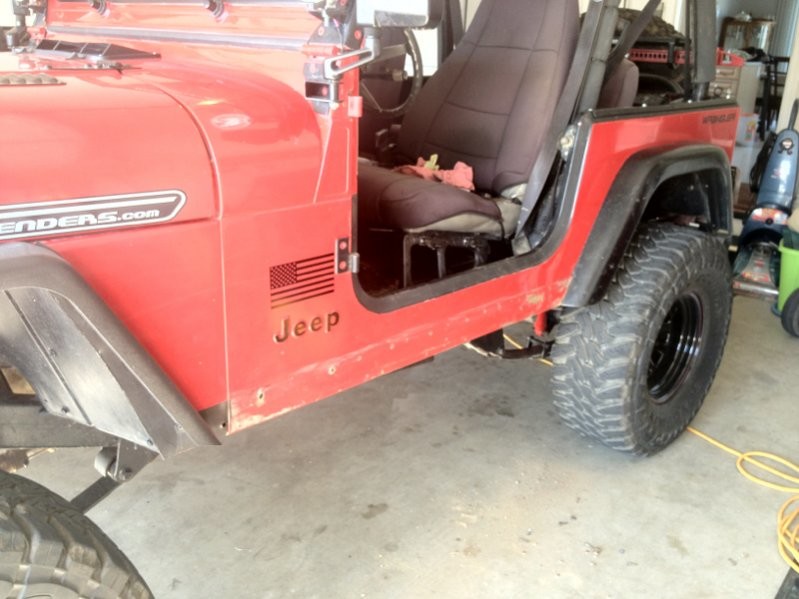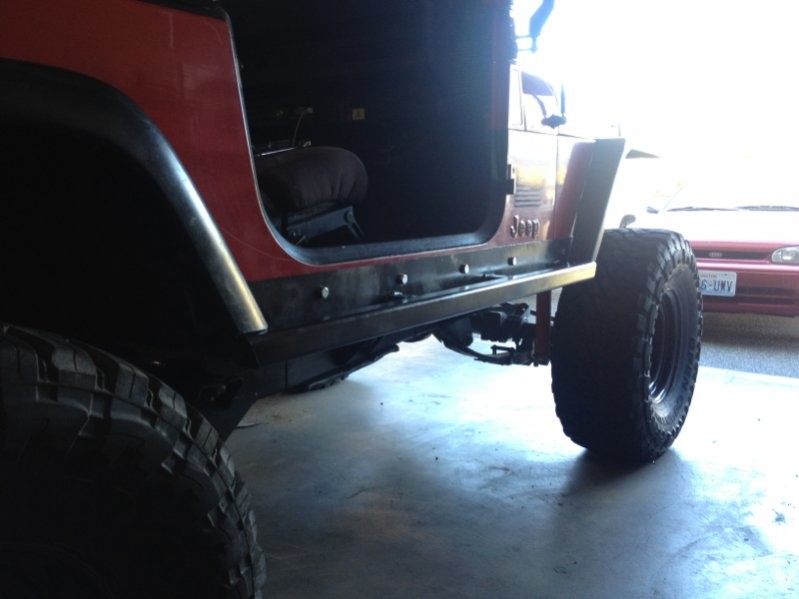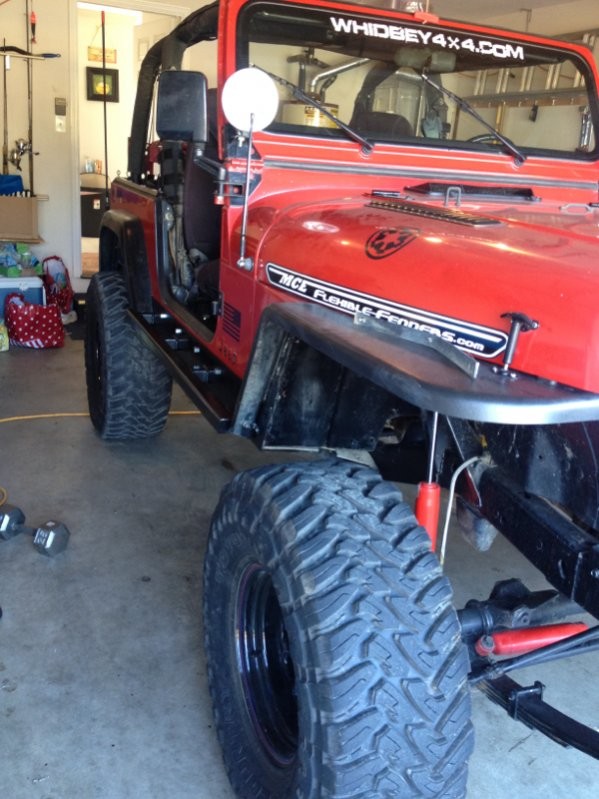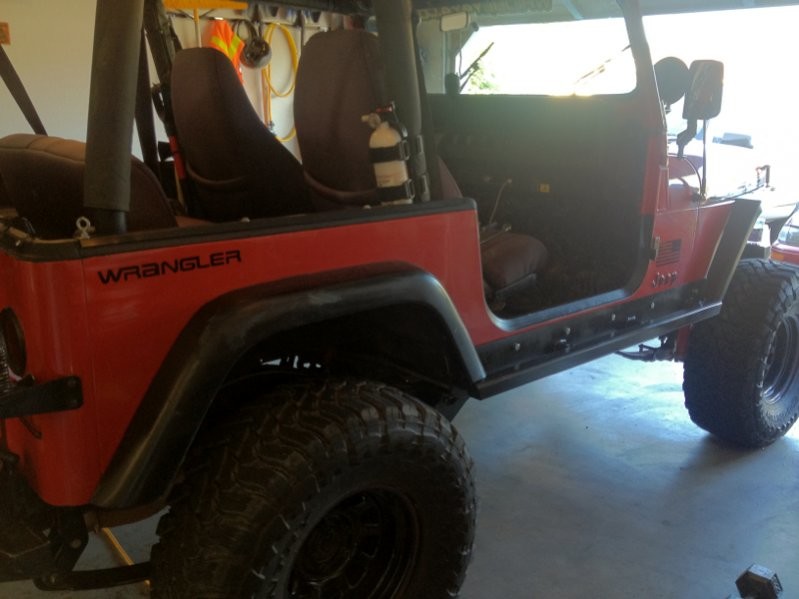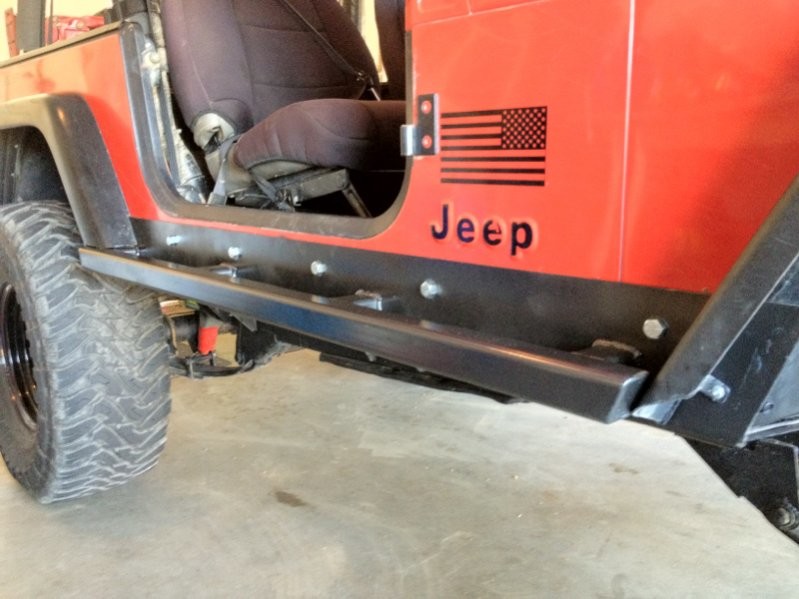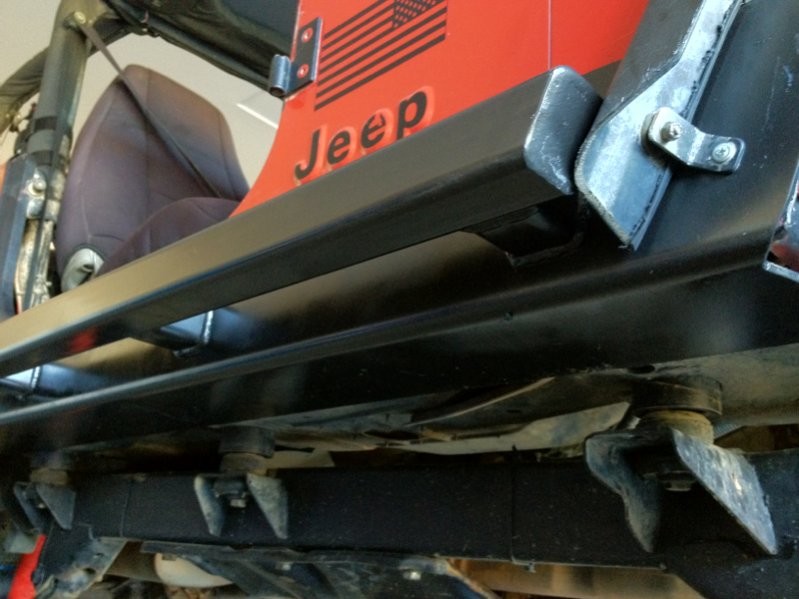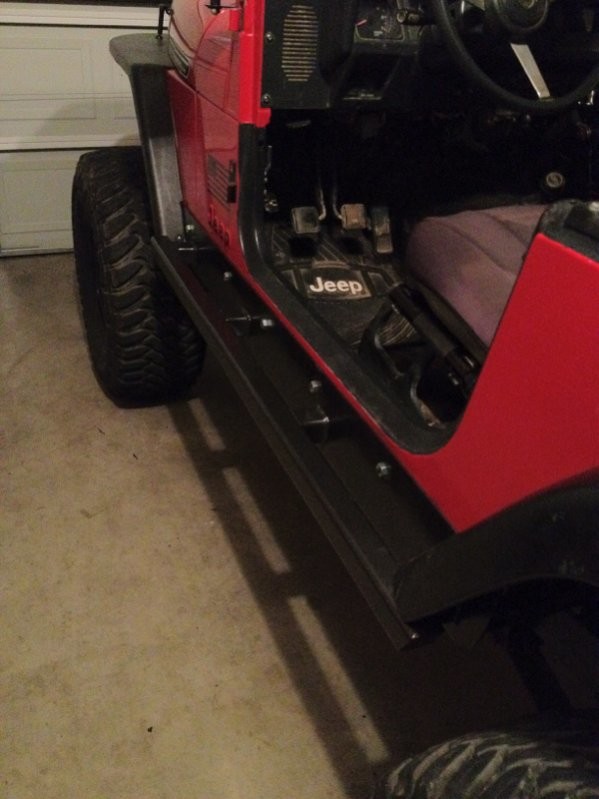 I cut up my old sliders up and plated the in side of the tub! Look past the dirty tub it been a while since I hosed it out!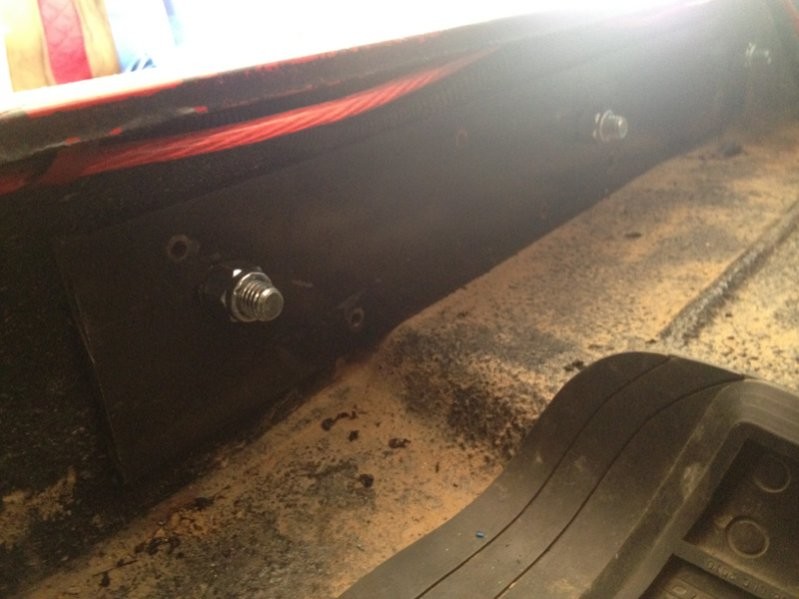 Took it out for some doorless/topless wheeling

and a great time with zero breakage!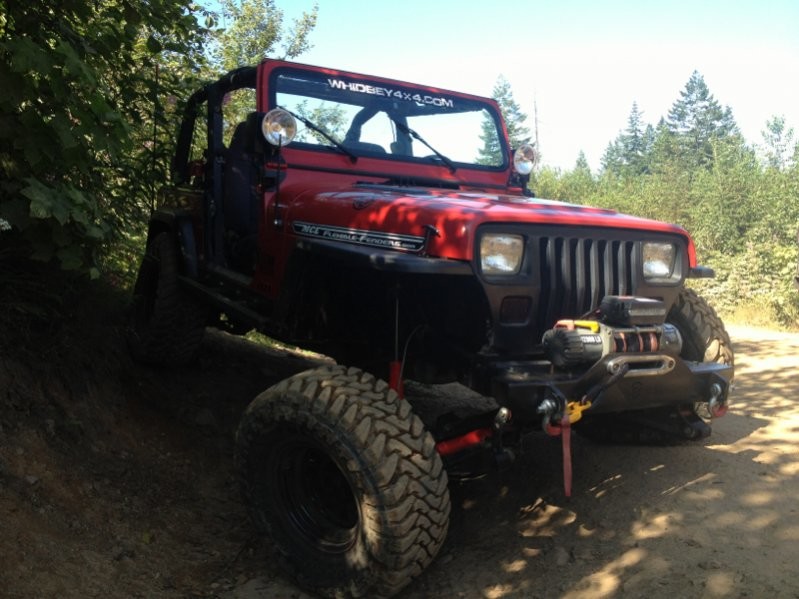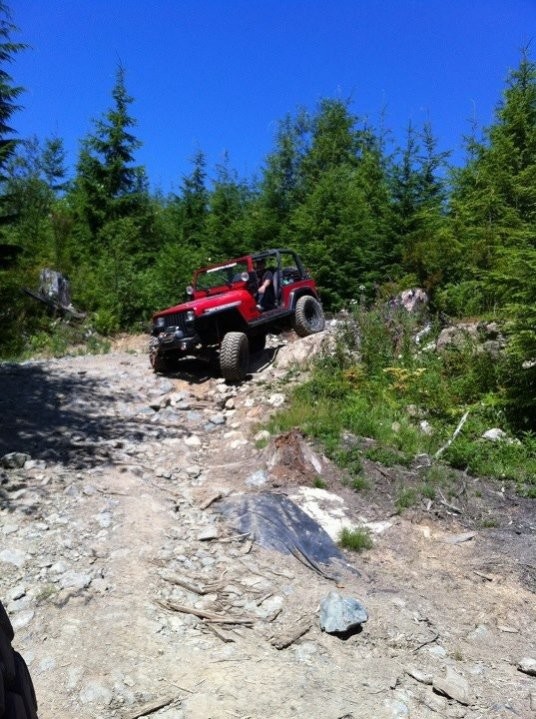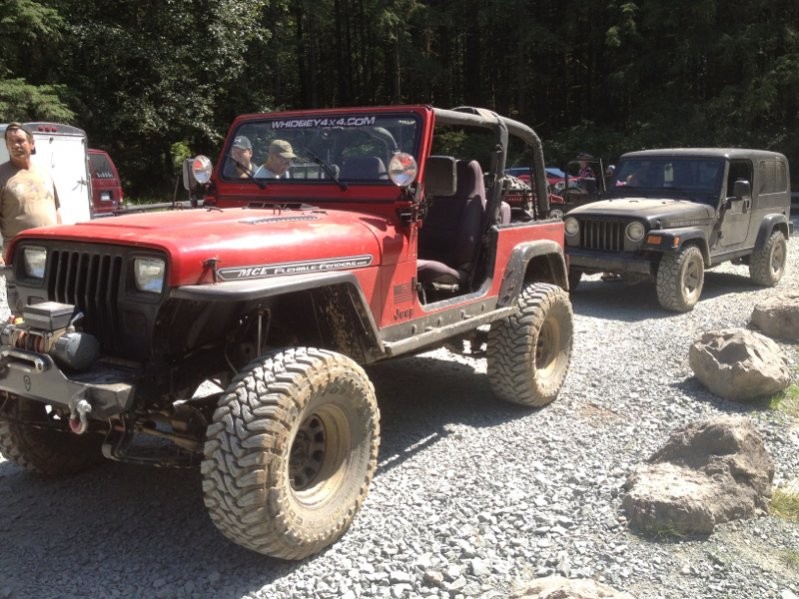 9-1-2012
So when I did power steering swap I used cheap house brand fluid and when I am out wheeling my ps fluid seems to get hott which thins out the cheap fluid and makes it really noisy and and had to steer. So I am flushing the ps fluid with synthetic amsoil ps fluid and I am also adding a cooler to the ps system! I hope it helps I plan on installing it this week end!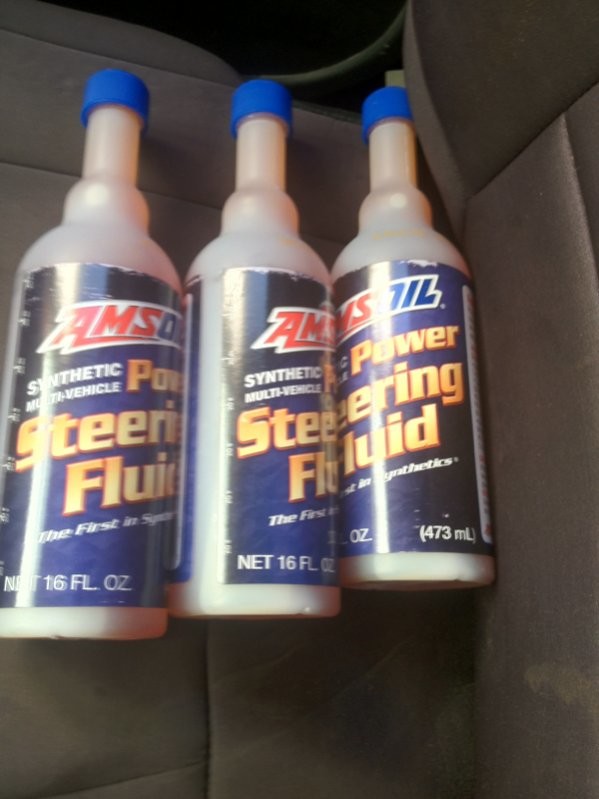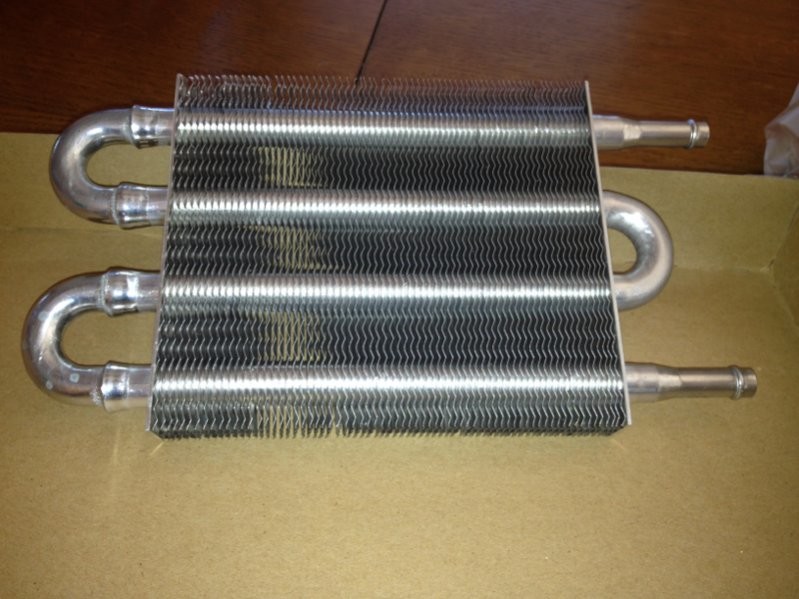 9-2-2012
So I wheeled it today and also install the ps cooler and flushed the ps system I will get to test it out Monday!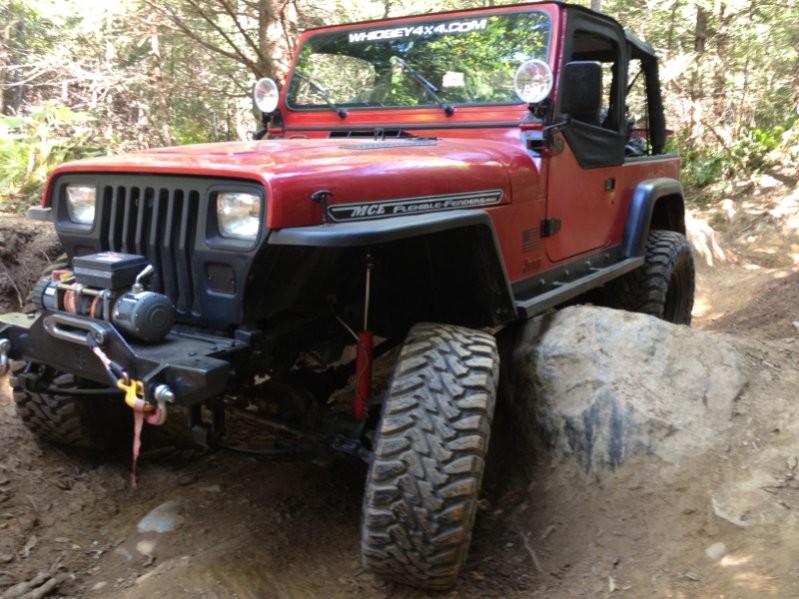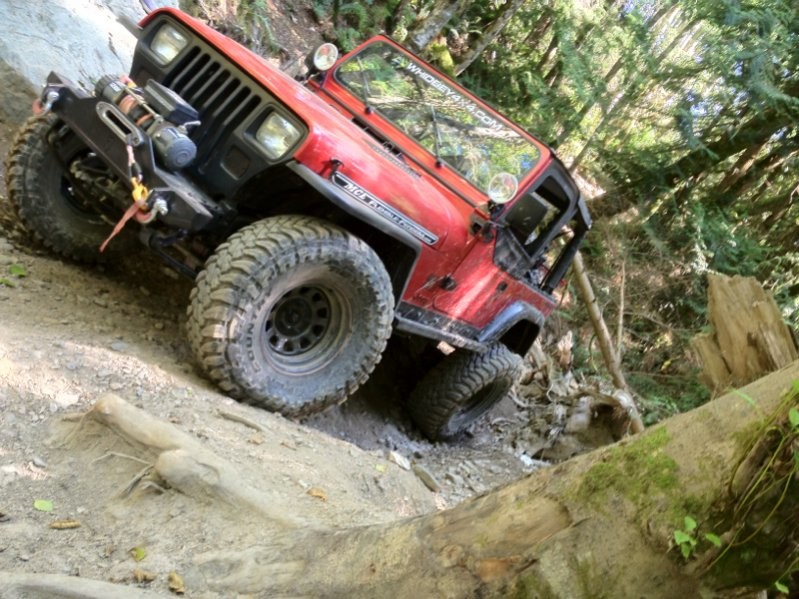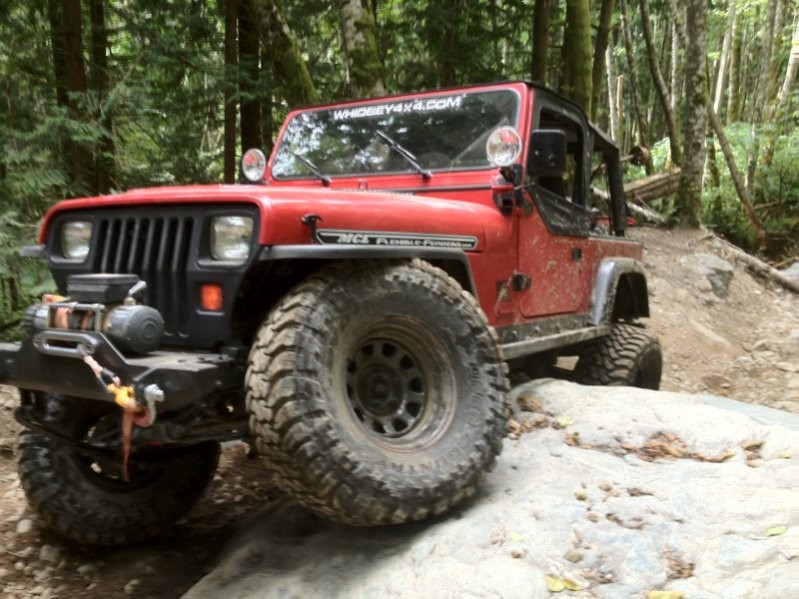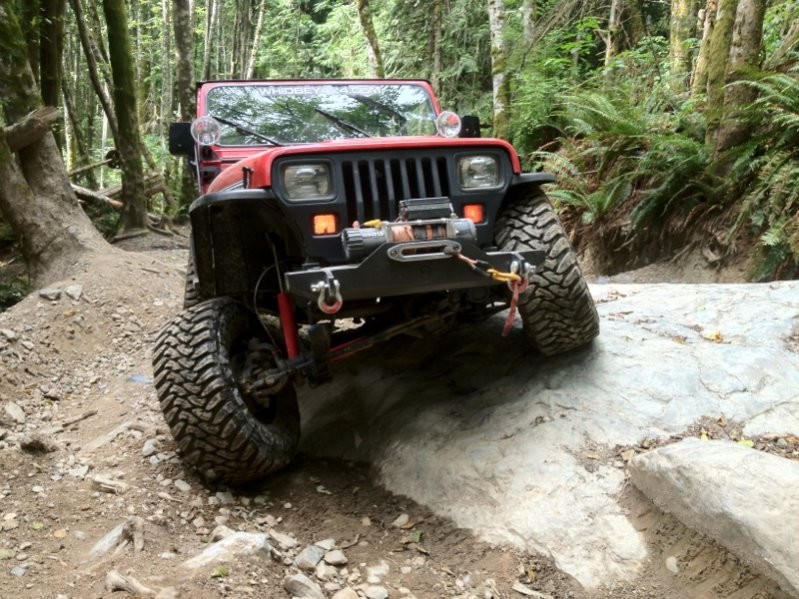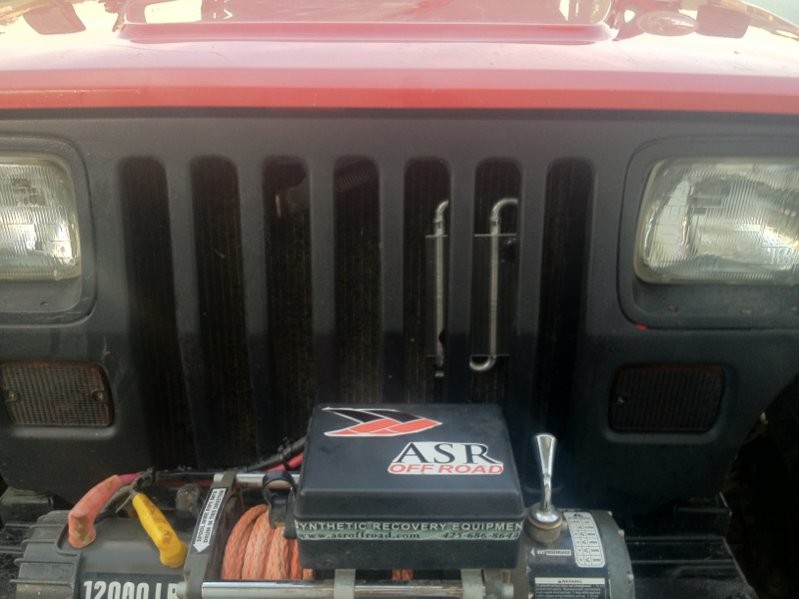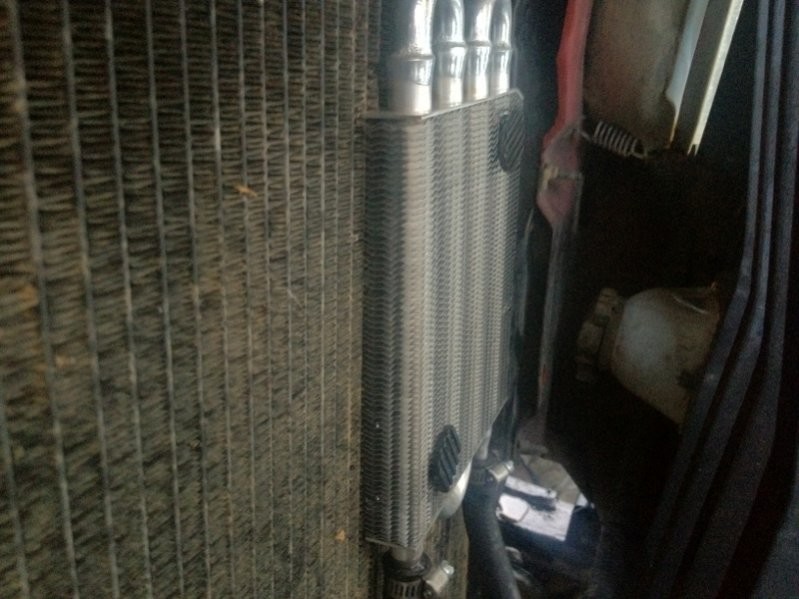 9-3-2012
So I am going to be going soa this coming spring. I decided this because I am tired of getting hung up on my spring plates and the lack of flex I get from sua, I am planning on doing the soa with a set of new oe springs and I need to address my steering setup any way (tierods are getting worn bad) So I plan on buying the teraflex high steer setup! I will need address the axle wrap that comes with territory of soa but don't even know where start looking for a pre fab setup for a traction bar! What do you think of this plan guys?
9-4-2012
Yeah it flexes ok for sua but it could be better

I think I will try wheeling with out a traction bar bar at first and go from there! I like the idea of having a whole new knuckle vs modding my current knuckle! And I went wheeling again today and wanted to say that my ps cooler worked great, I never heard my steering getting hott once.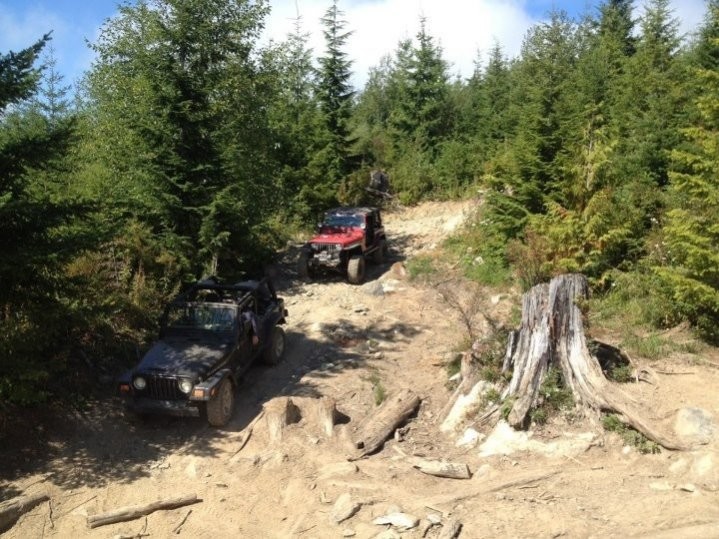 I just bought a tranny cooler from the parts store it only set me back 26 dollars and not only did it come with the cooler it cam with everything it you needed to install it! I installed it on the front of the radiator with the supplied fasteners! I mounted in front of the radiator because it said it will cool the fluid at 100 percent compare to being mounted behind it (on the fan side) which it said would cool it at 60 percent! As far as installing it goes it was super easy you just remove the low pressure (return hose) and hook it to one side of the cooler, than hook the supplied hose to the other side of the cooler and run the slack back to the reservoir! I will try and get pics of how the lines are ran for you. like I said it really helped my rig out and it was well worth the 30 mins it took me to install it!
9-5-2012
Thanks for the props

! sorry melary I did't even take the jeep out of the garage today so I did't have enough light to get you any pics of how the ps cooler is plumbed up I will drive it to work tomorrow and can take some pics then! So I have develop a nice exhaust leak of my manifold some where and I am hoping its just the gasket, I think that if it is the manifold gasket that could be part of the reason my jeep runs so lean. I figure if the exhaust manifold has a leak the intake manifold must have a small leak some where as well. So to fix the problem I just ordered a remflex rf10-002 gasket and that should take care of that. I am throwing the idea of adding a 4.0 throttle body to it at the same time since I will have the intake manifold off which is a perfect time to match the intake hole to the same size as the new tb, do you guys really think its worth swapping out the tb????
9-9-2012
Hey thanks for the link, I tried to get some pics but it's pretty hard with it already installed in all but here is what I got hope it kinda helps :/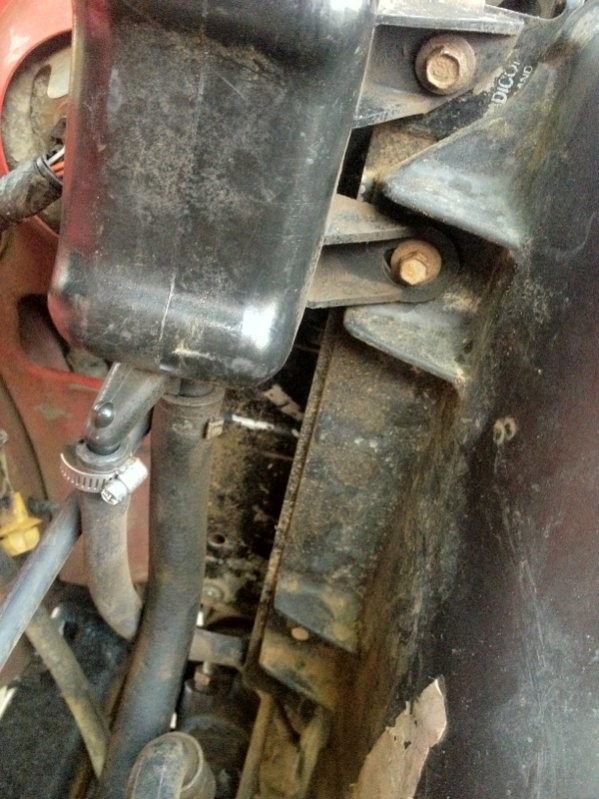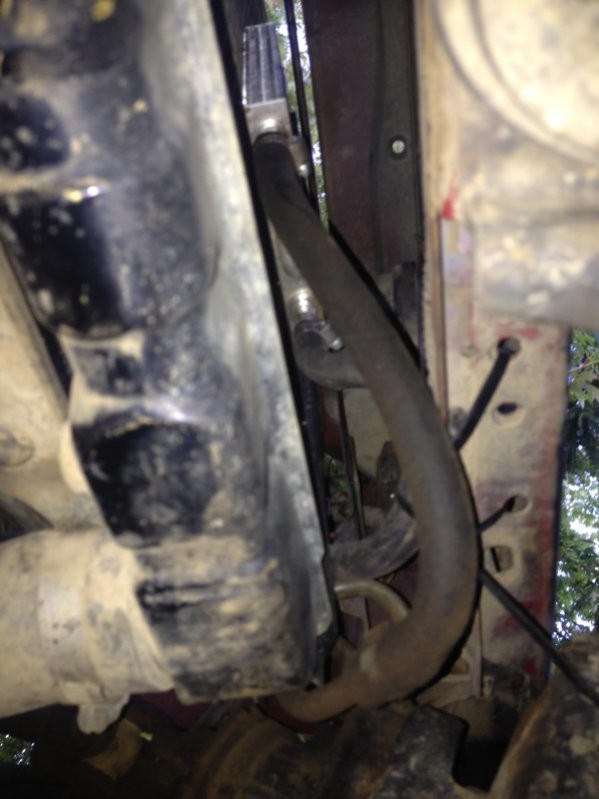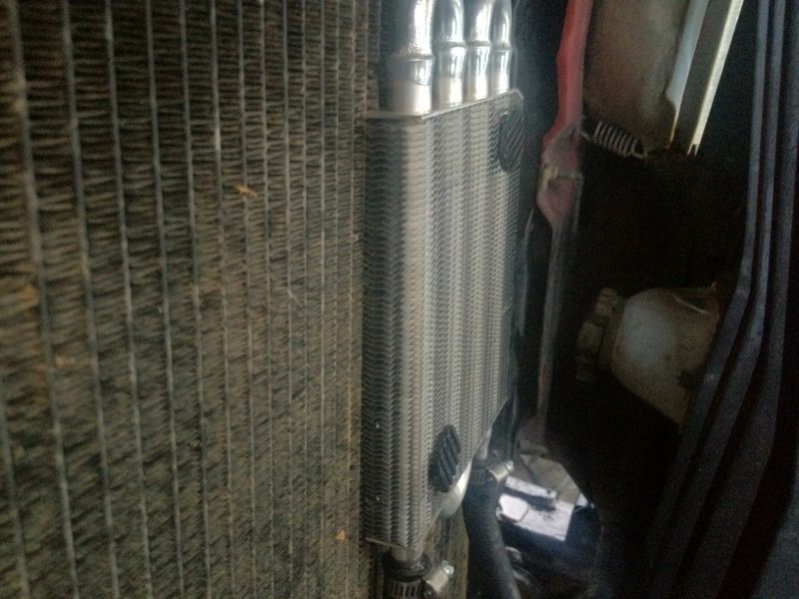 So over the last two days I installed my stock height booms on the front, and replace my intake/exhaust manifold gasket. turns out my leak was coming from the egr block off plate which I didt have a gasket for, so I put some copper high temp (700 degree) rvt on it I hope it holds I will find out in the morning. The good news is I can take everything apart and have it back together in under 1.5 hrs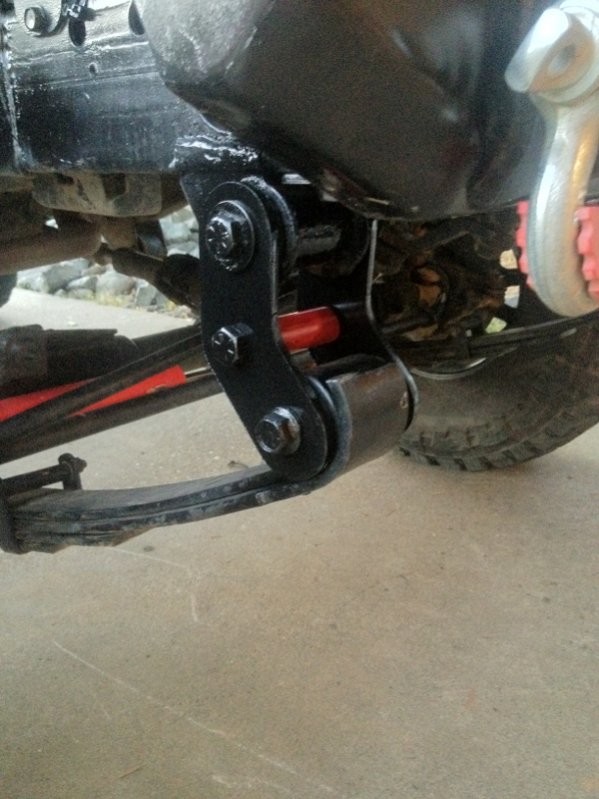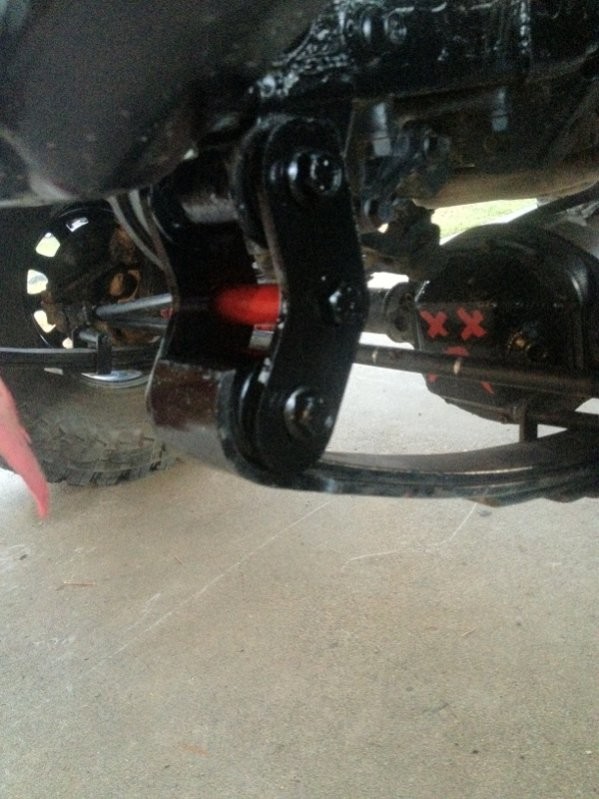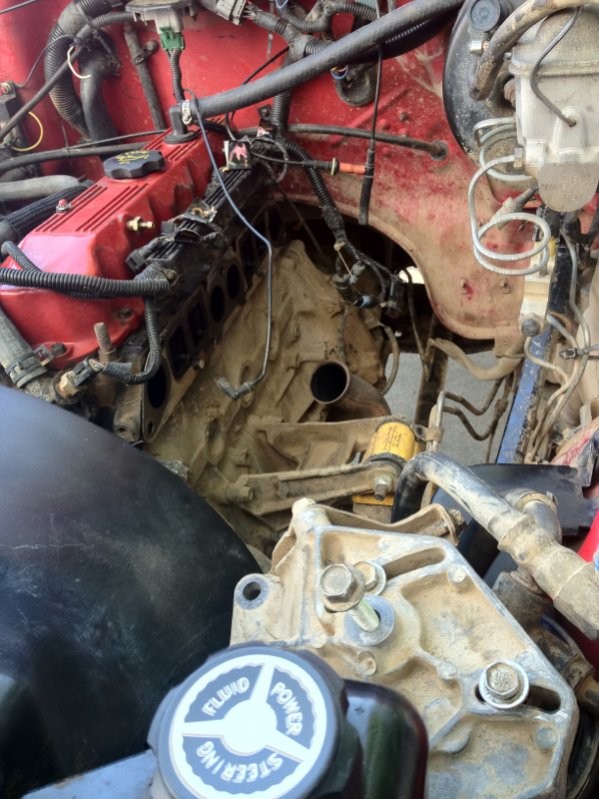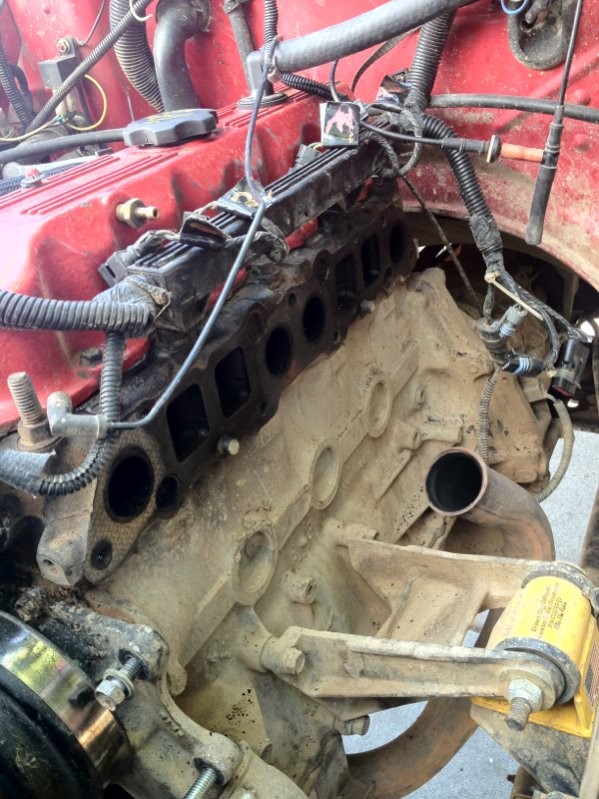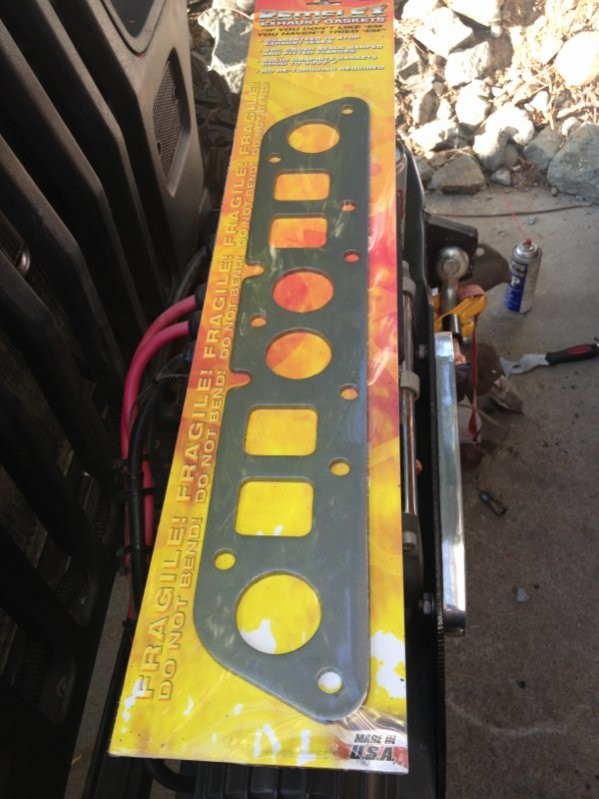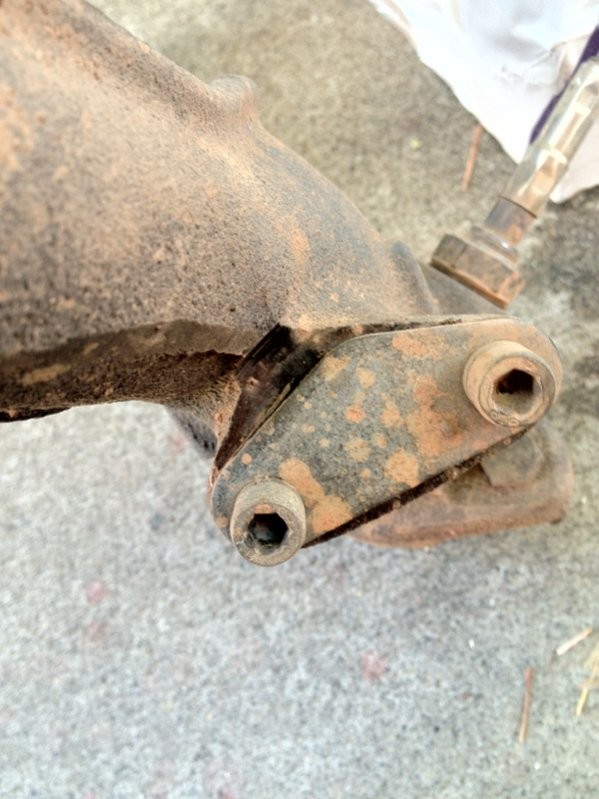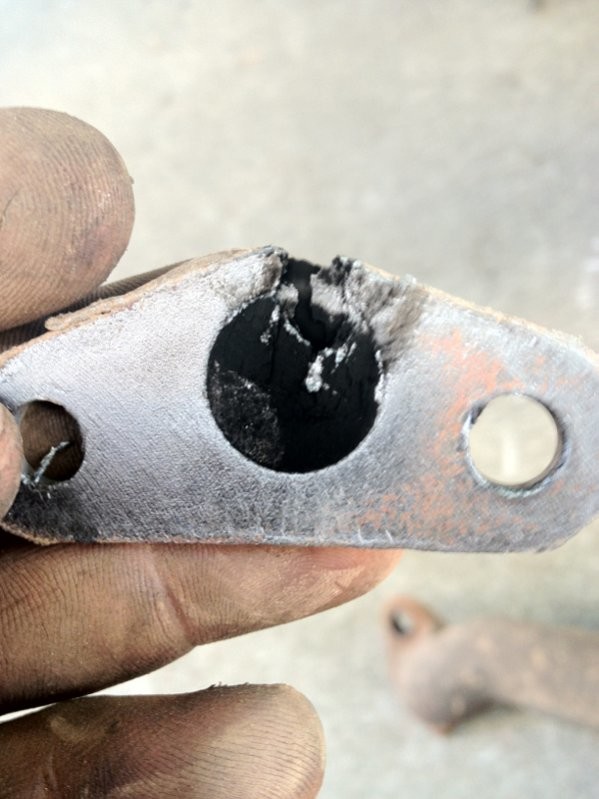 9-10-2012
Pretty stoked I now have a way to record my wheeling outings!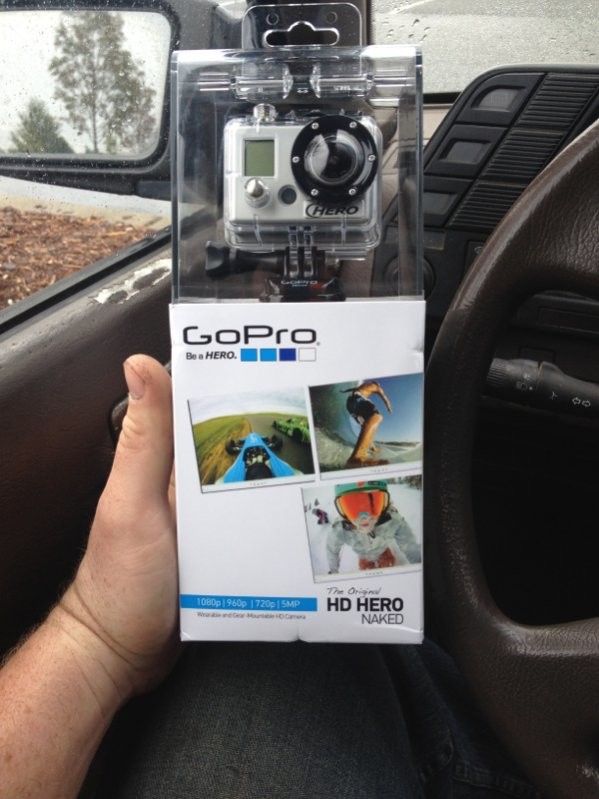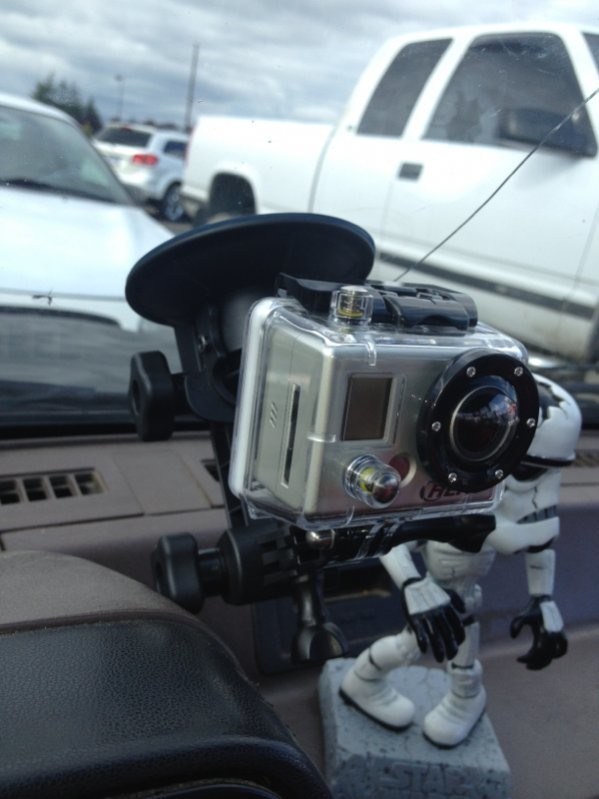 9-14-2012
So nothing to cool but a small update any way, I replace all of my tie rods today and aligned it. My old outer tie rods where really really bad. My jeeps steering is now really tight and responsive!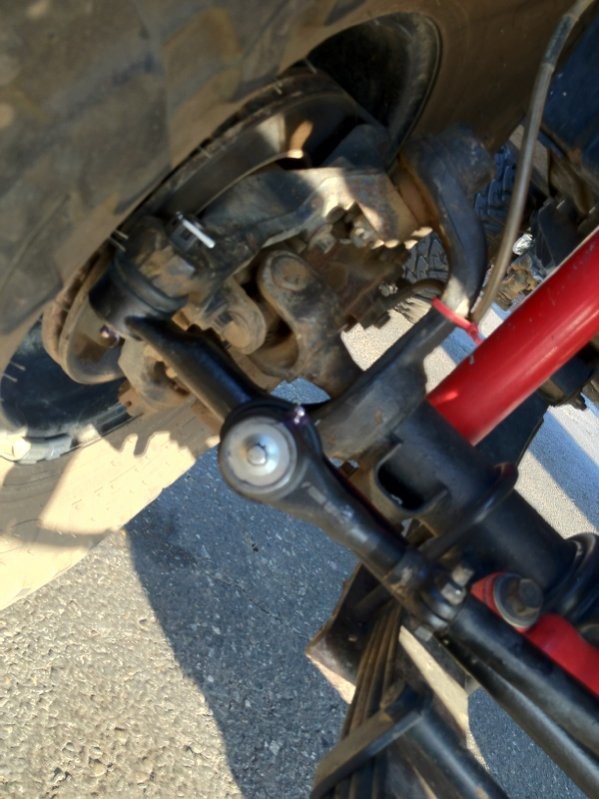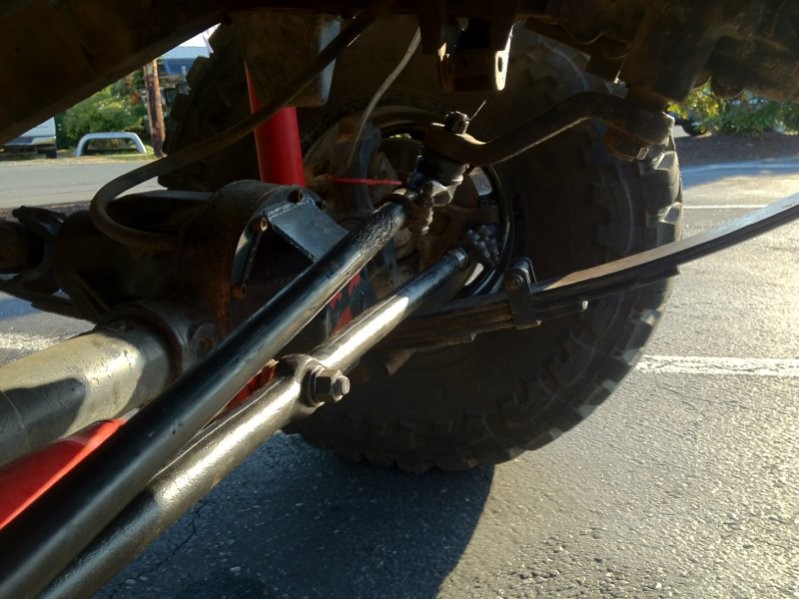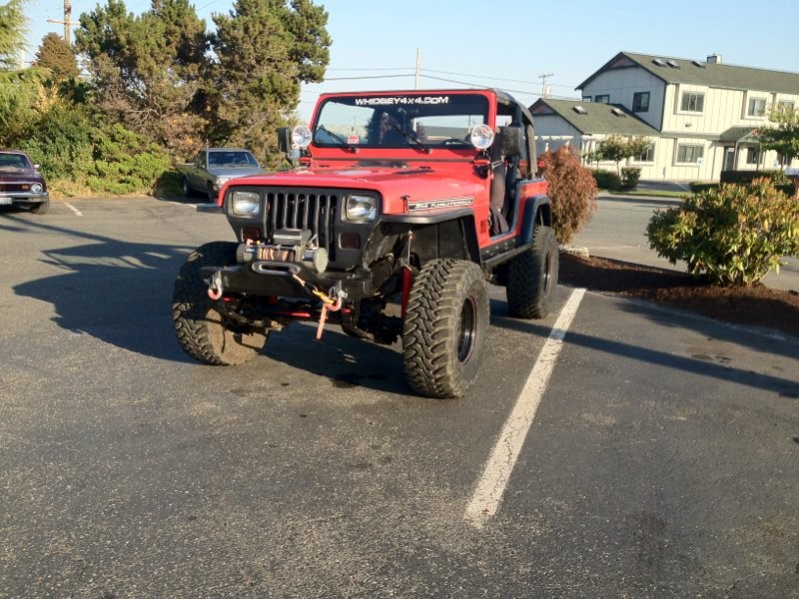 9-16-2012
Went out wheeling today to test out the gopro I got decent vid footage but I don't know how to edit it! He are the only pic taken today!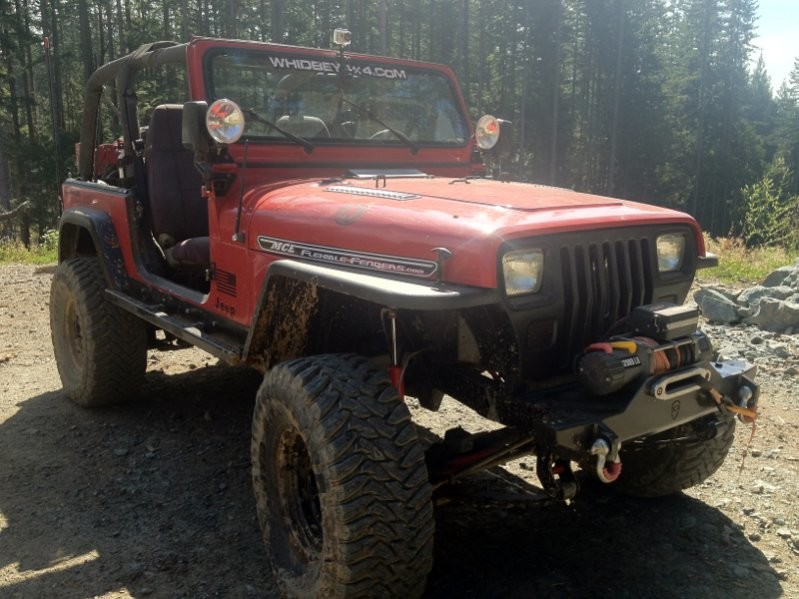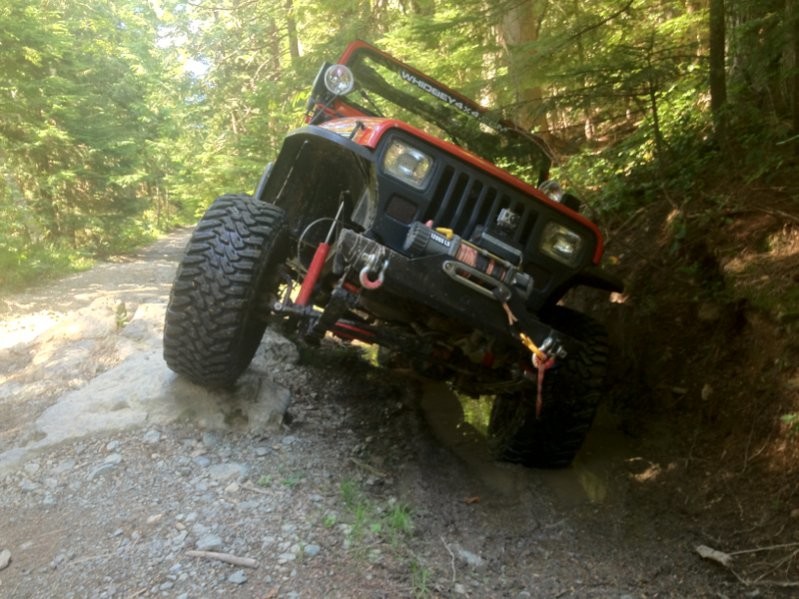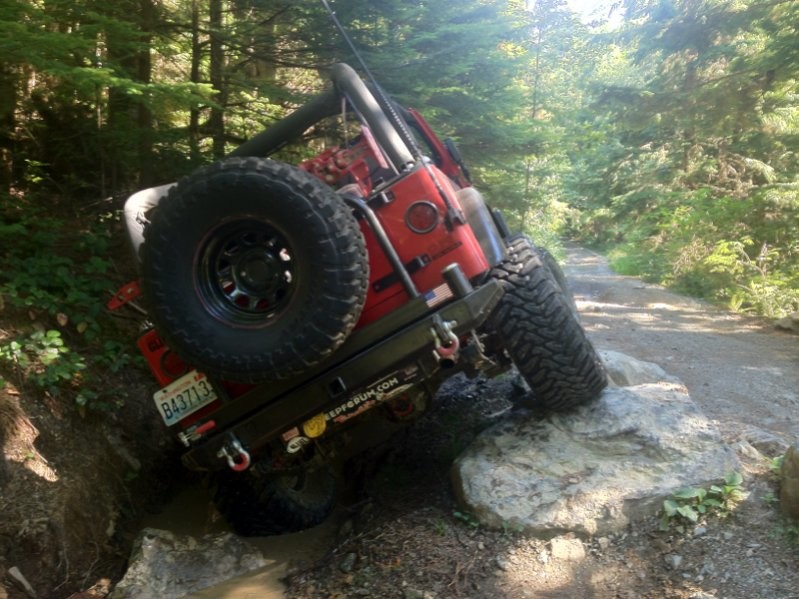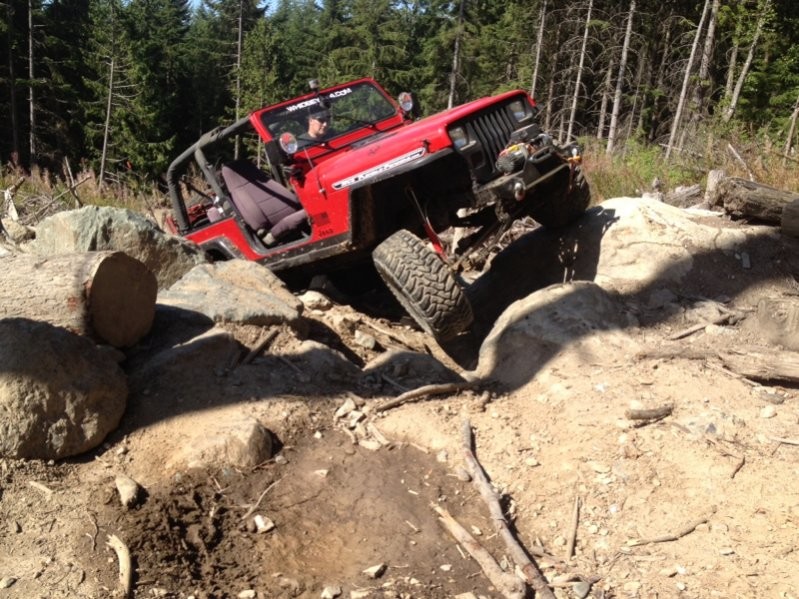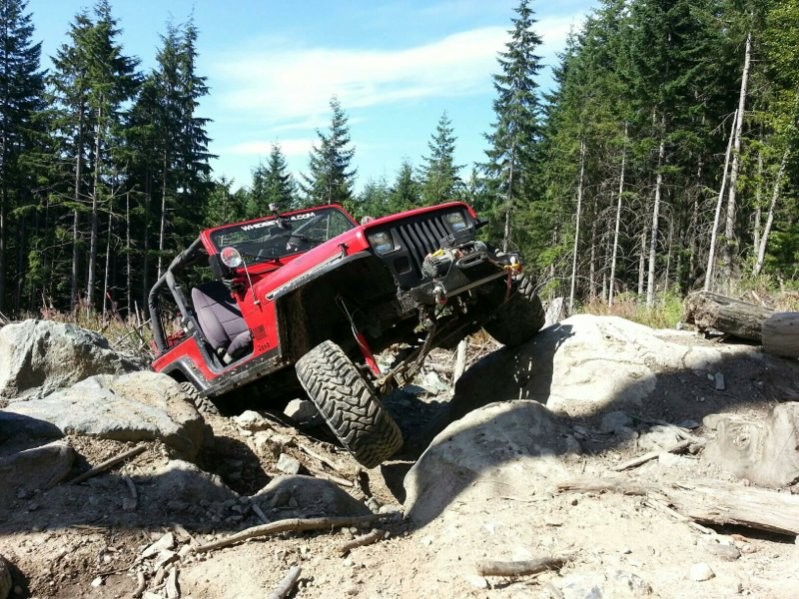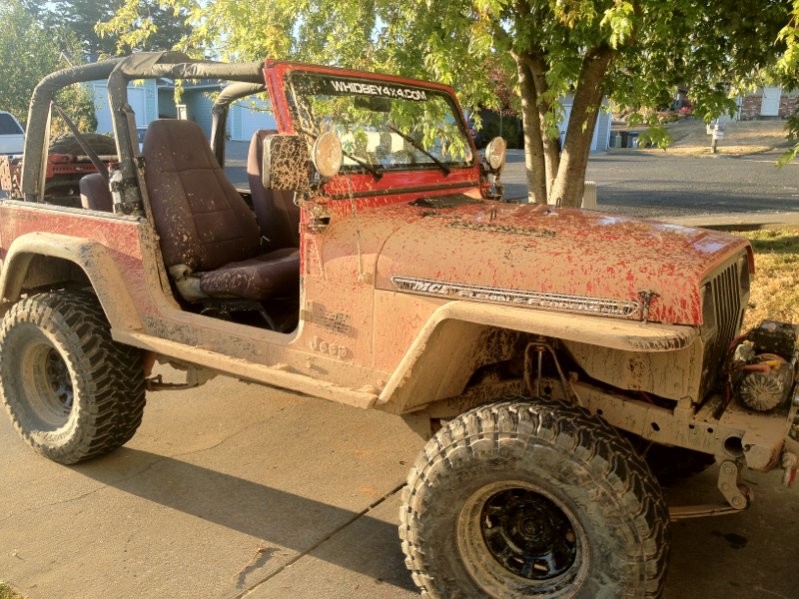 9-17-2012
So when I was washing my jeep today found some trail damage........I bent another wheel and rearrange my skid plate again and also found this.....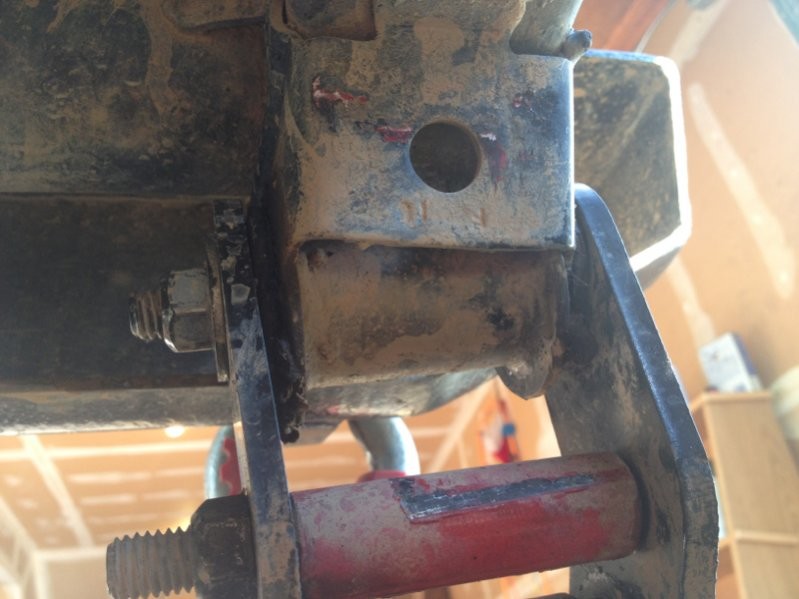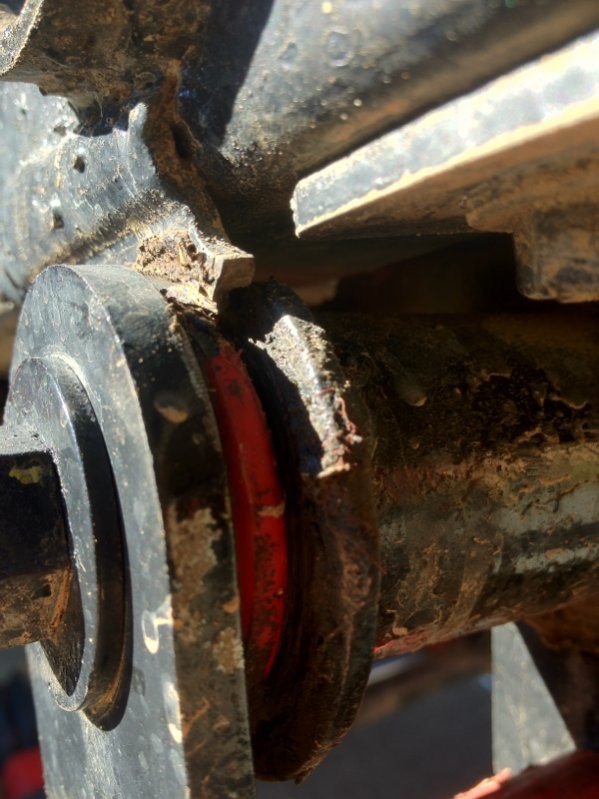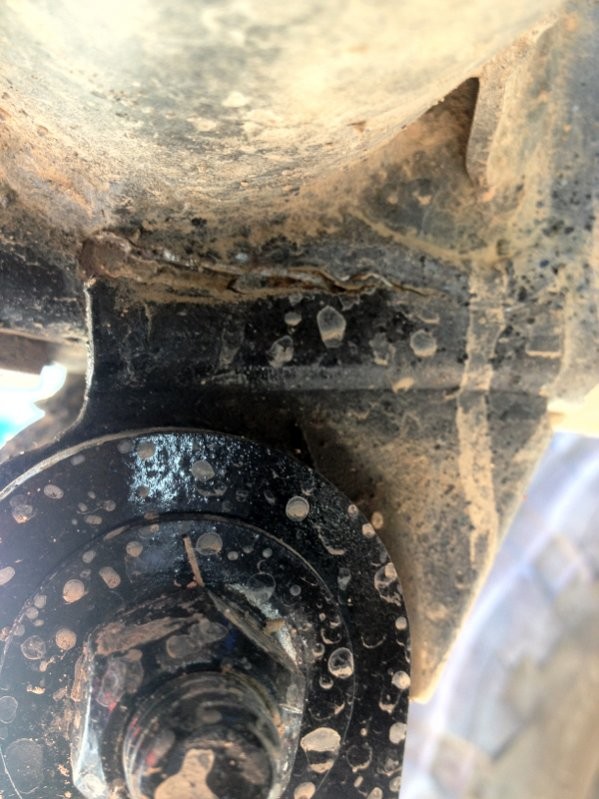 Lol thanks for the video, yeah that the rock that killed my last skid to :/ it was a lot smaller then tho haha!
9-21-2012
So I got my ruff stuff mounts in the mail today and got them I stall these things are way beefier than the stock ones but here's a pic of the new set up!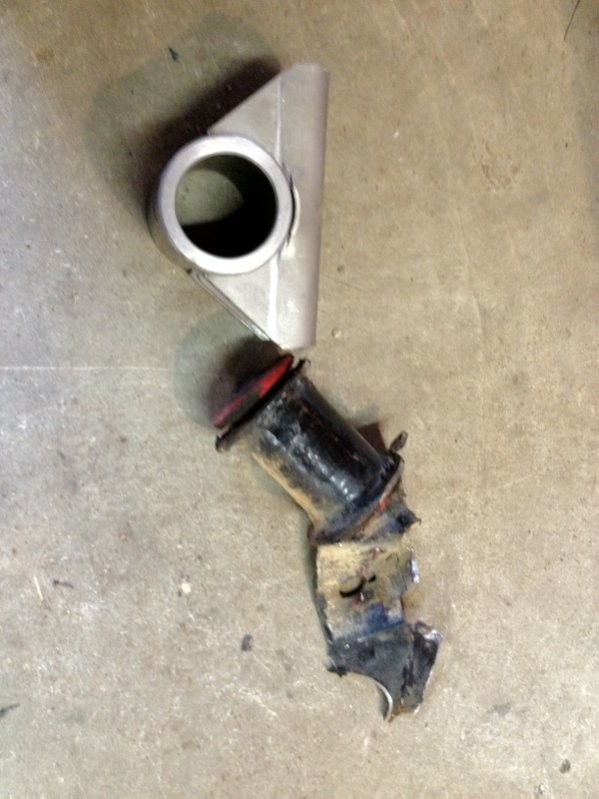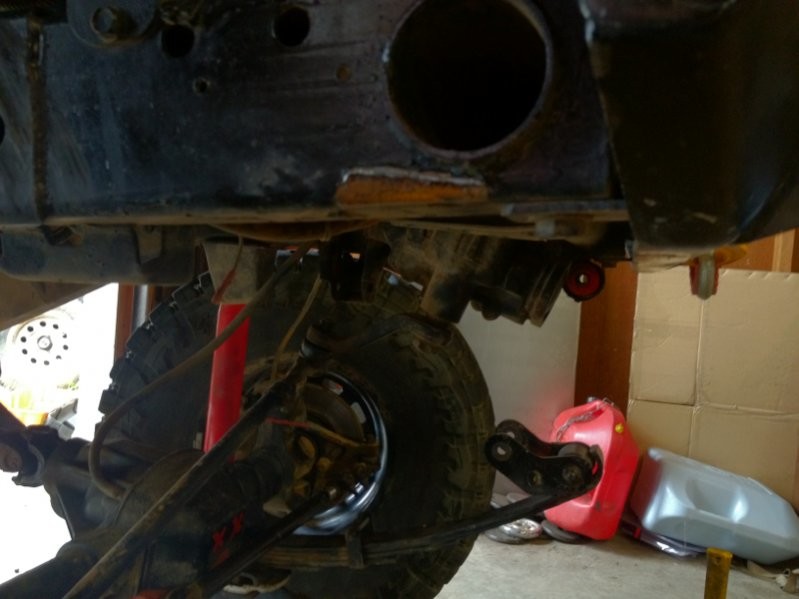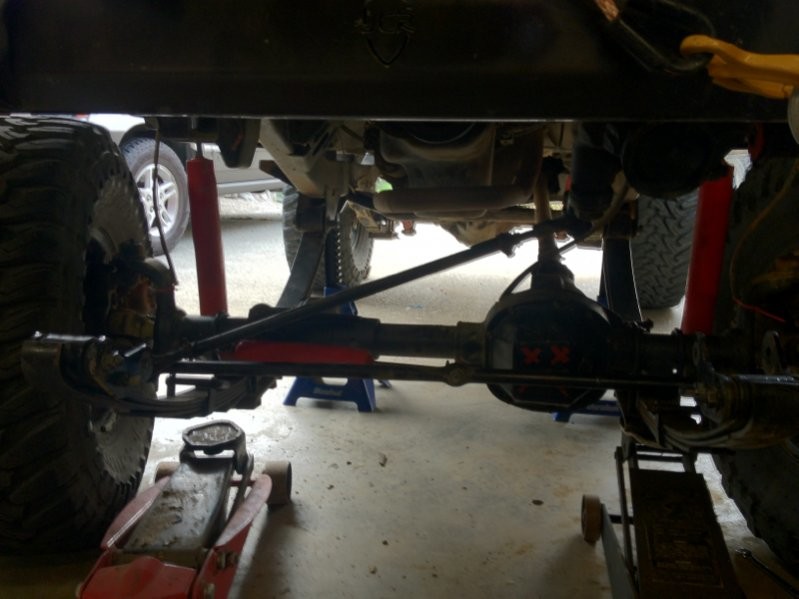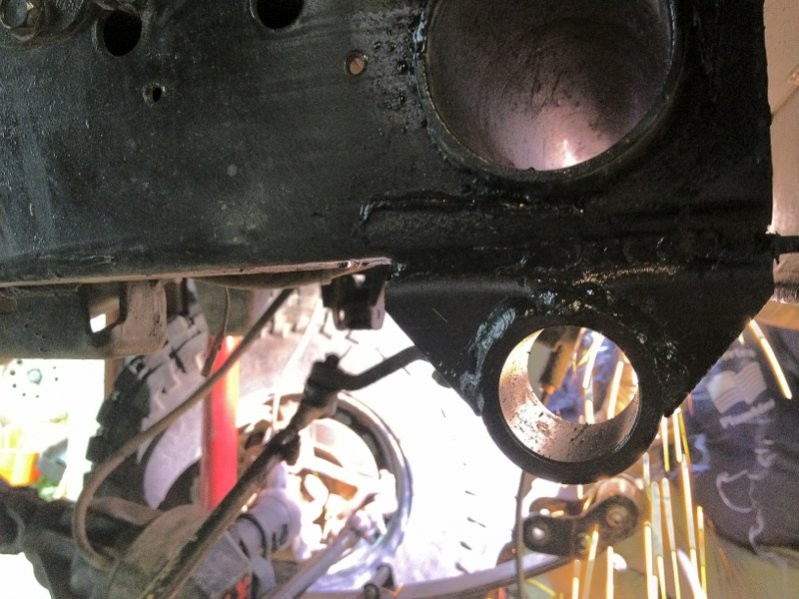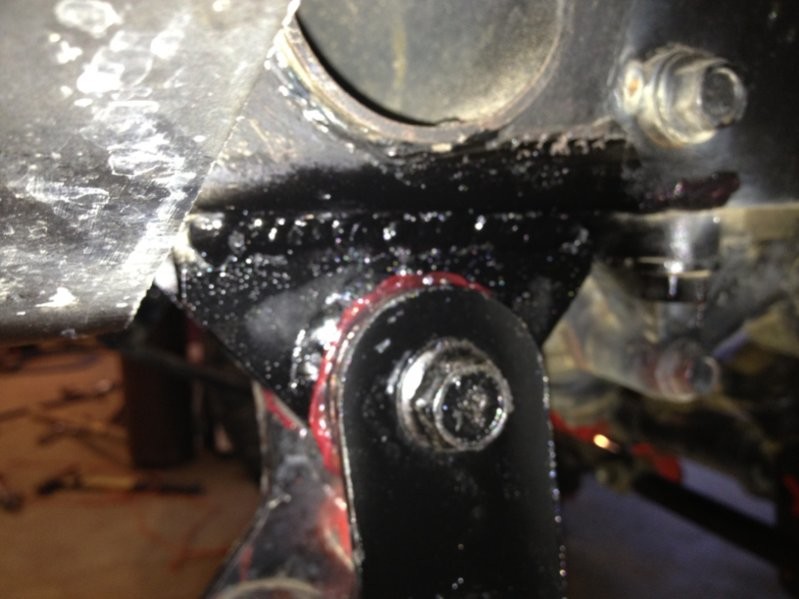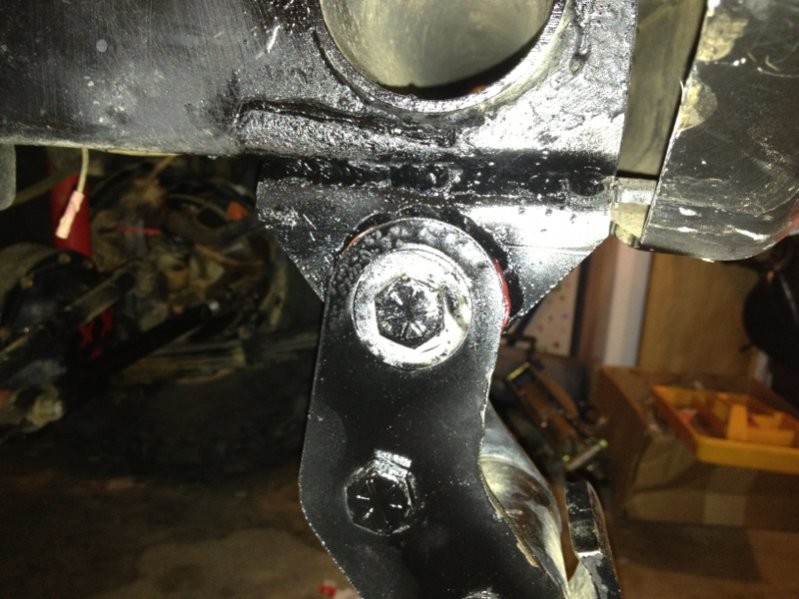 9-25-2012
Yeah it's crazy how easy those came off really! So I got to play on some rocks and in some mud at the clubs (whidbey4x4) BBQ and boy was it fun well at least until it was time to wash it!

this was also the last time I will be able to take my whole family wheeling with me.........my 3rd and final child is due oct 1 and we all know a family of 5 won't fit in a wrangler!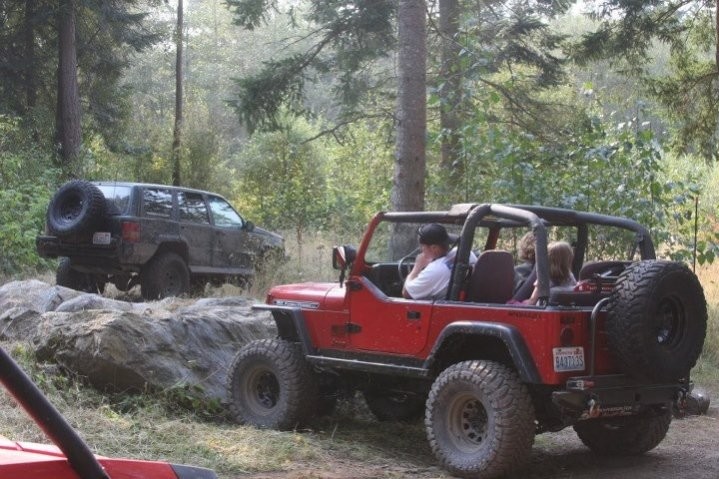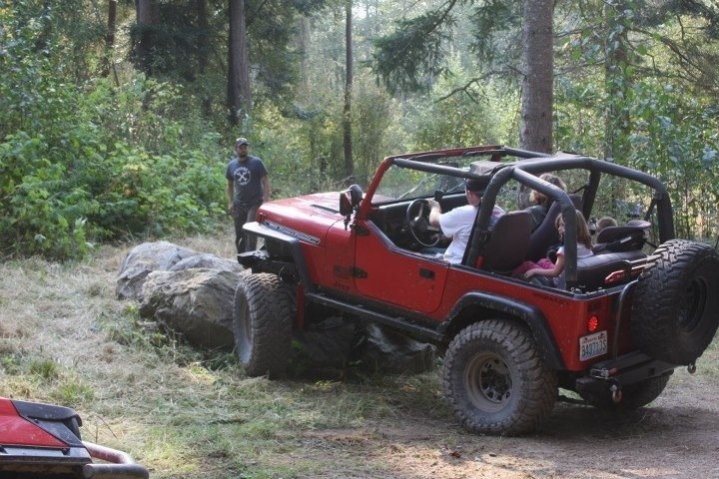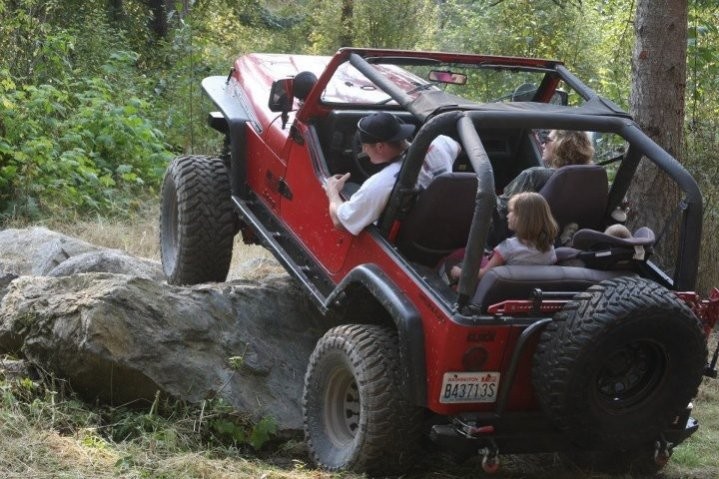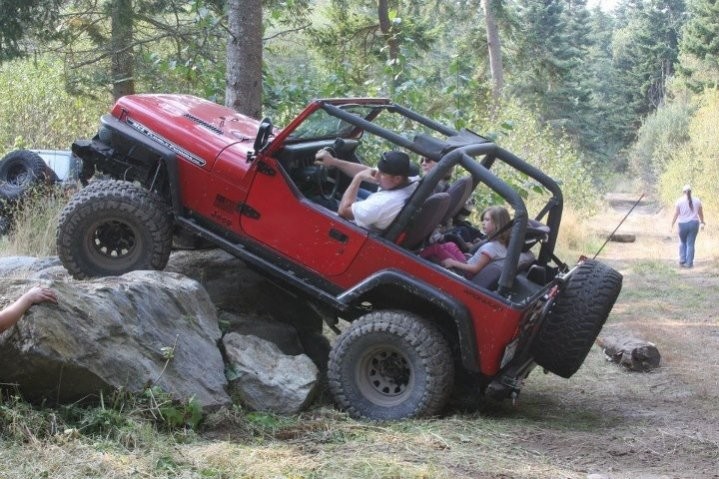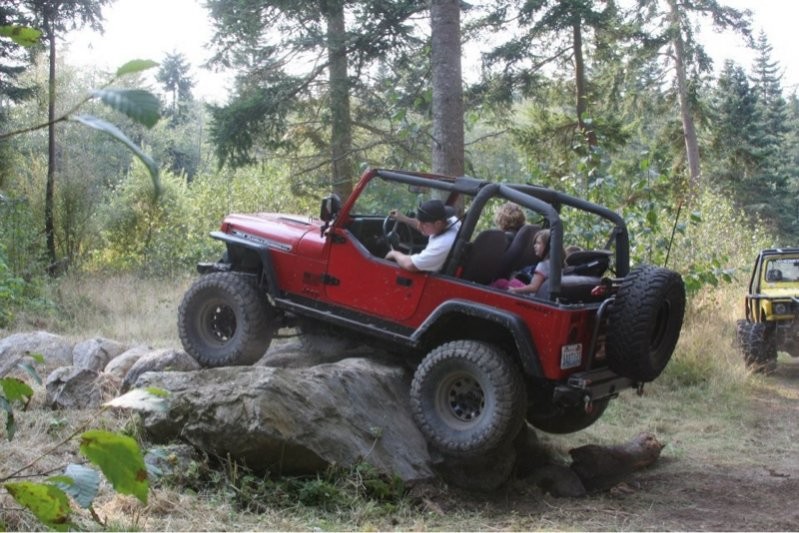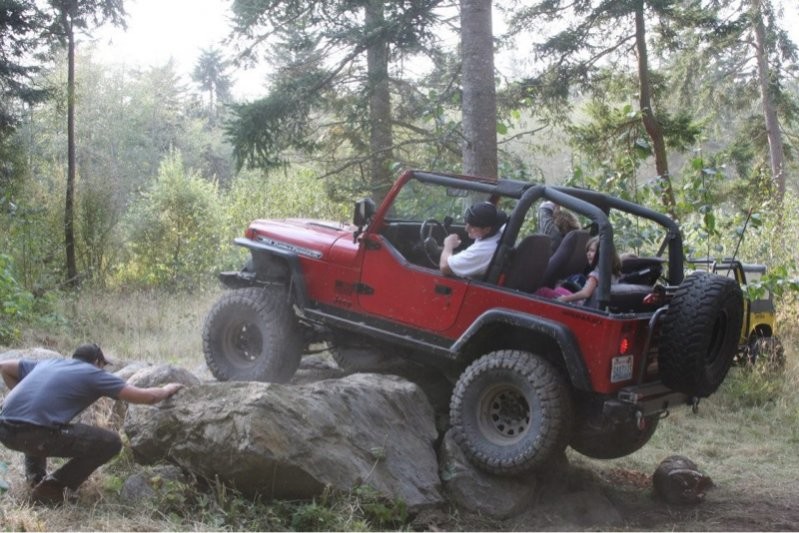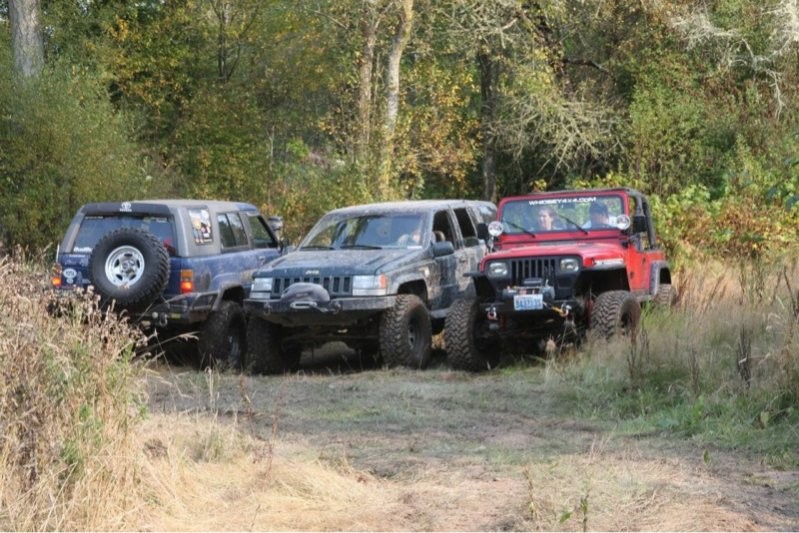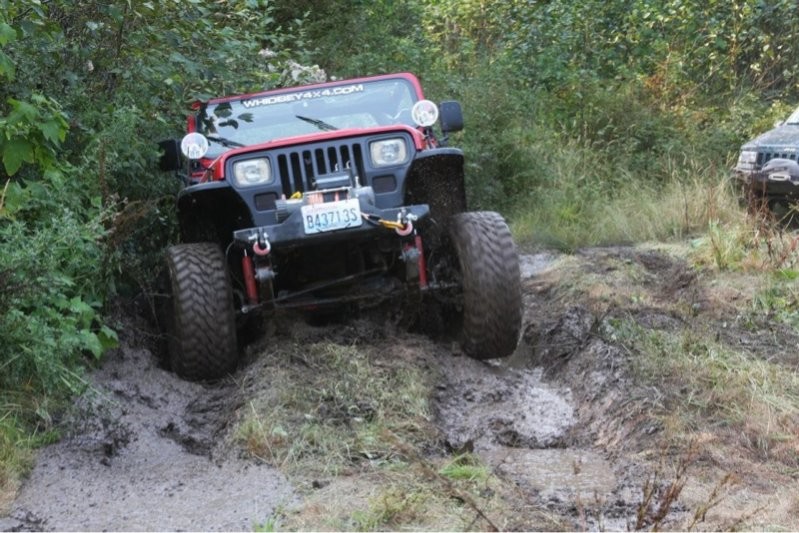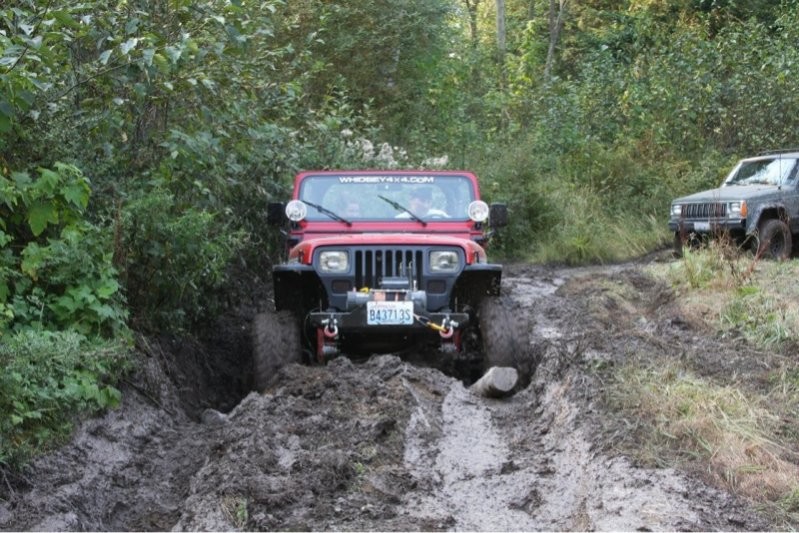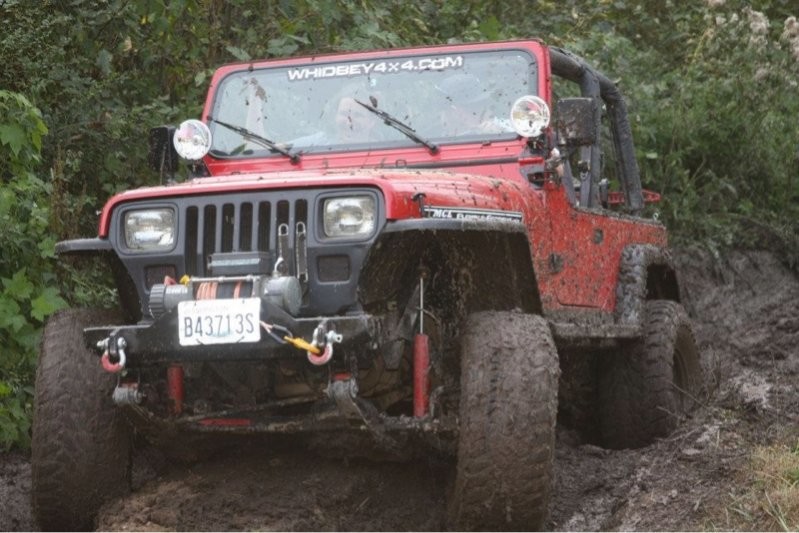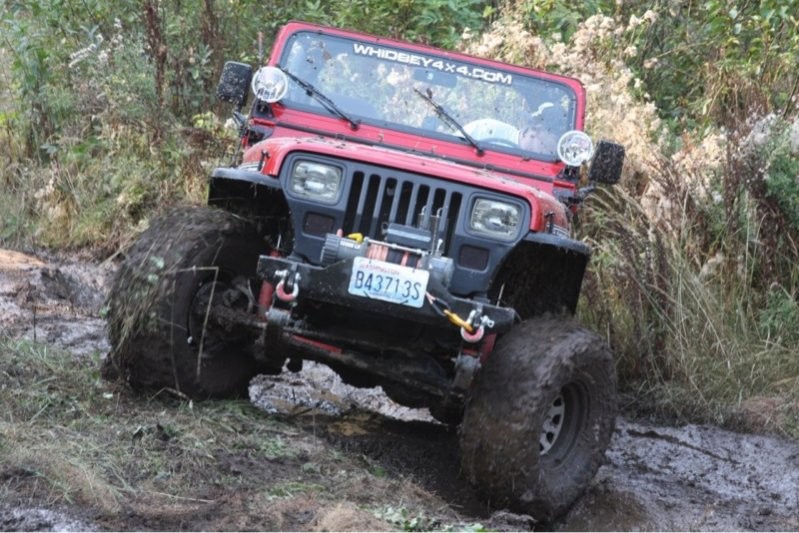 9-27-2012
So I don't know if I had mention that I plan on adding to my cage or not but I am going to do it around the same time as my soa. what do you guys think of the btf sport cage? http://www.bluetorchfab.com/Product/...-Cage-Kit.aspx I would be doing this for the front and adding one of these to the rear http://www.jeeptubes.com/shopI was trying to show you guys the rear spreader bar!
10-15-2012
Not much going on with the jeep lately

I am dropping it off to get the exhaust worked on yet again, now that I re arranged my skid plead my cat is rattling on my skid plate really bad and I can't get my collector to to seal. I am having them fix all that and also having them add a small resonator/glass pack to my system to tone it down! And today I entered I. The yjotm contest for the 3rd month in a row....... I won't give up till I take a title! Lol
Yeah yours sounds a lot better then mine did I love how are jeeps sound like tractors haha! I had the glass lack added today, they also lifted my cat away from my skid play and had to remake the flange on my collector......I guess it was squished and leaking from that. Any way my my jeep sounds 100% times better it border line perfect to me! So I am running a Tj style Down pipe to a 8 inch glass pack than to a magnaflow cat then out to my 14 inch magnaflow muffler then out the back all 2.25 pipe! I am loving the tone now.....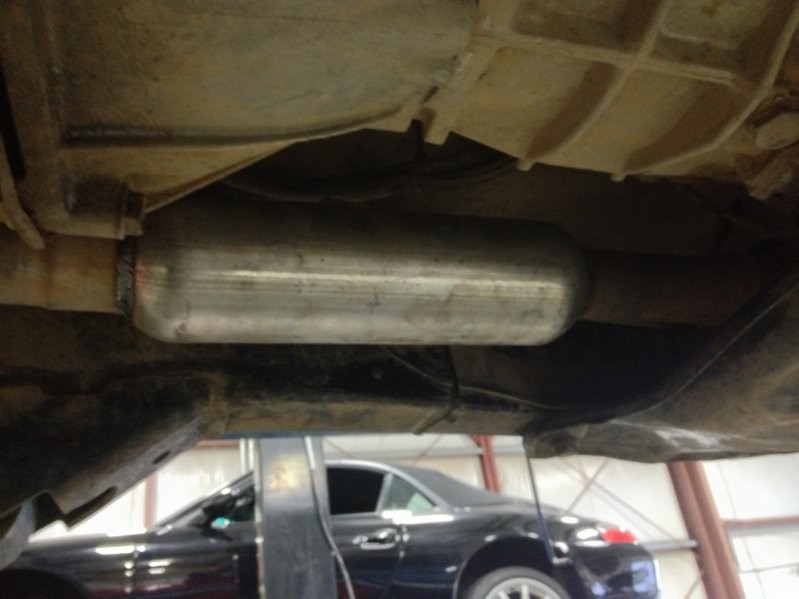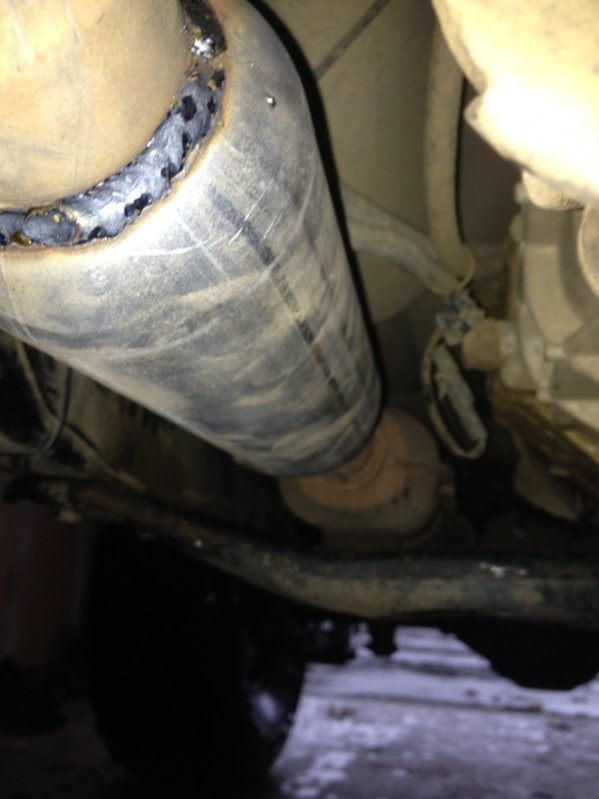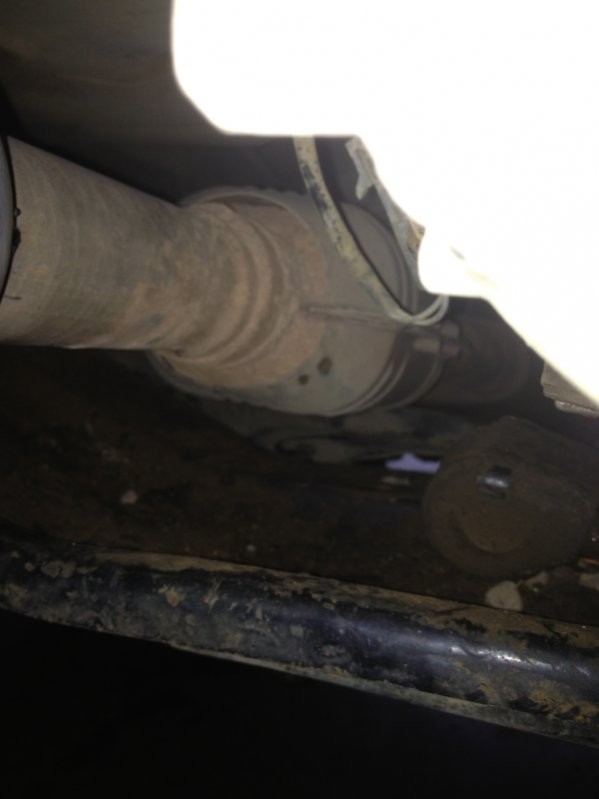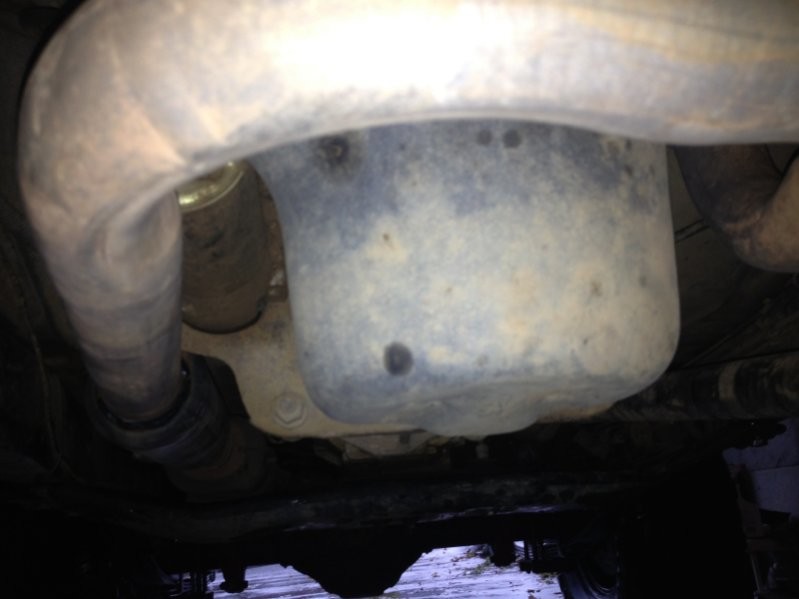 10-18-2012
Getting ready to sell my 33s, 35s here I come!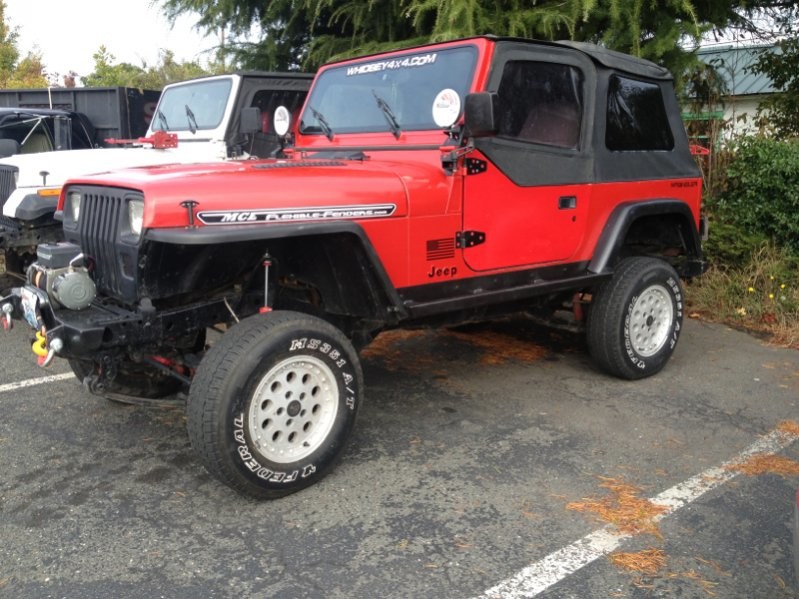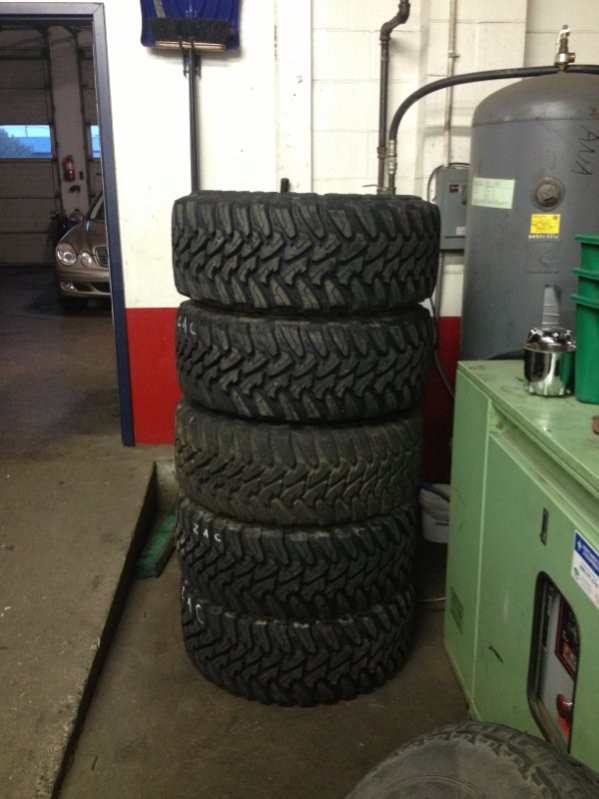 10-19-2012
So I got my 35s on today and love how the fill the fenders out (time for bump stops) looks 100x better imo. The 4.88 are working great with the 35s on the street so far but that is just around town driving it really doest fill must different to me! He are a couple pics of them on it I will work on getting some better ones!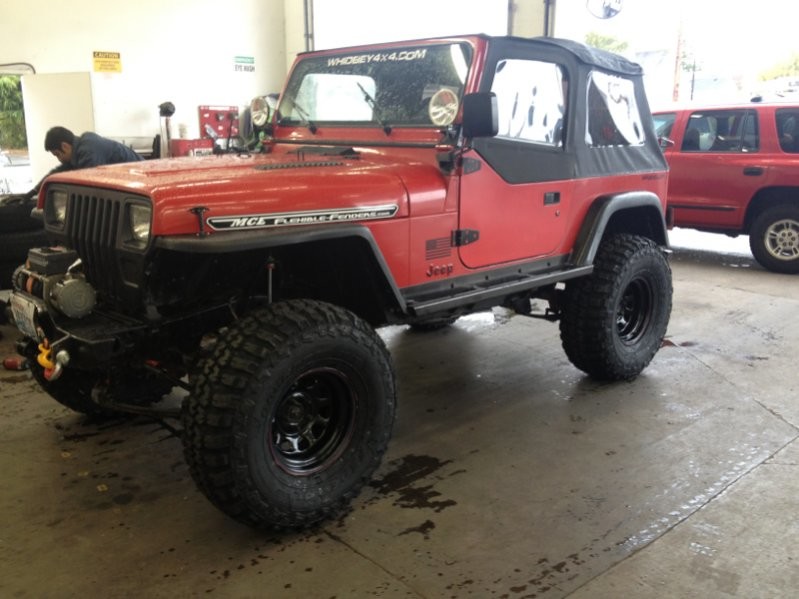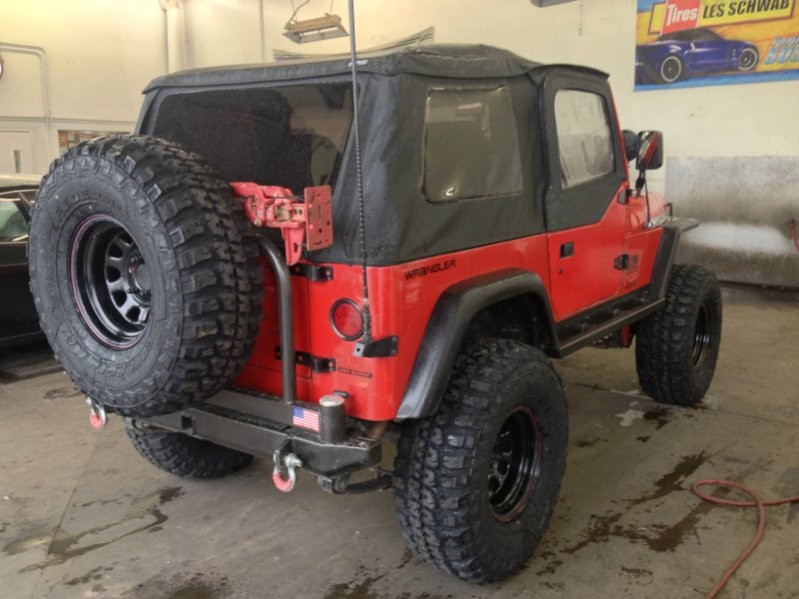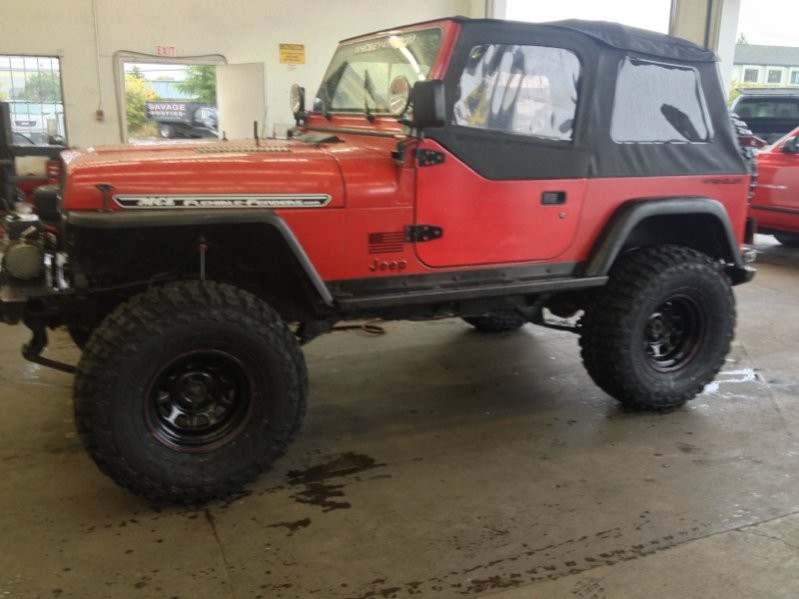 10-20-2012
Today I change out my stock front bump stops for these! Now it's time to see if they work!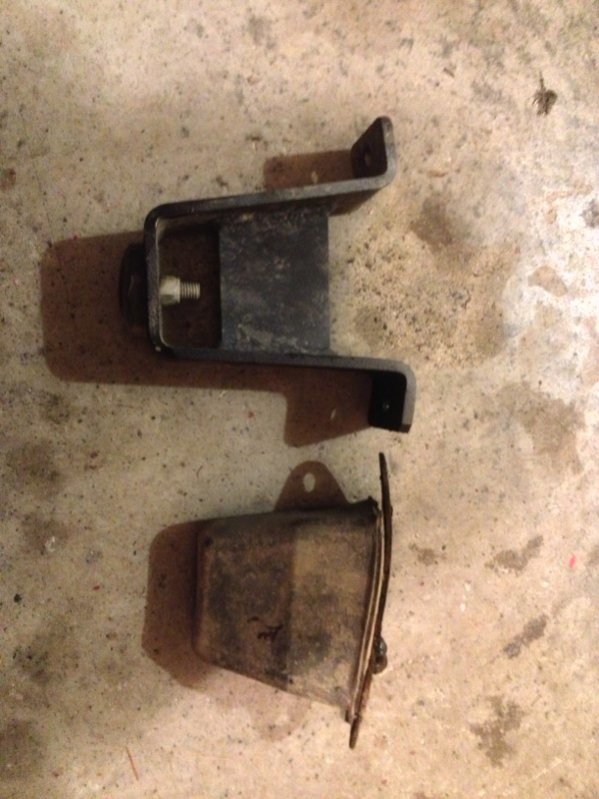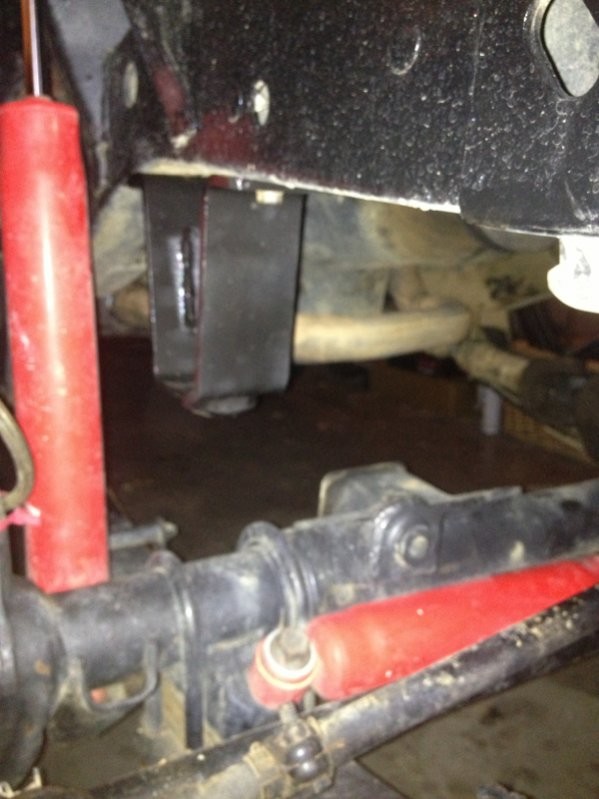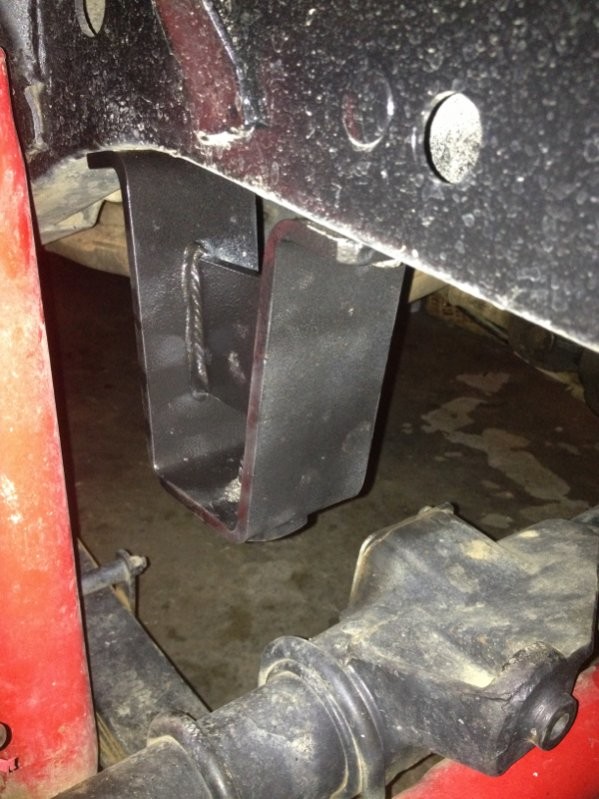 Installed a aal leaf in the rear of the jeep and tree my 5/8 booms back in the front to level it back out. I also tried out my front bump stop's but the are still a hair to short!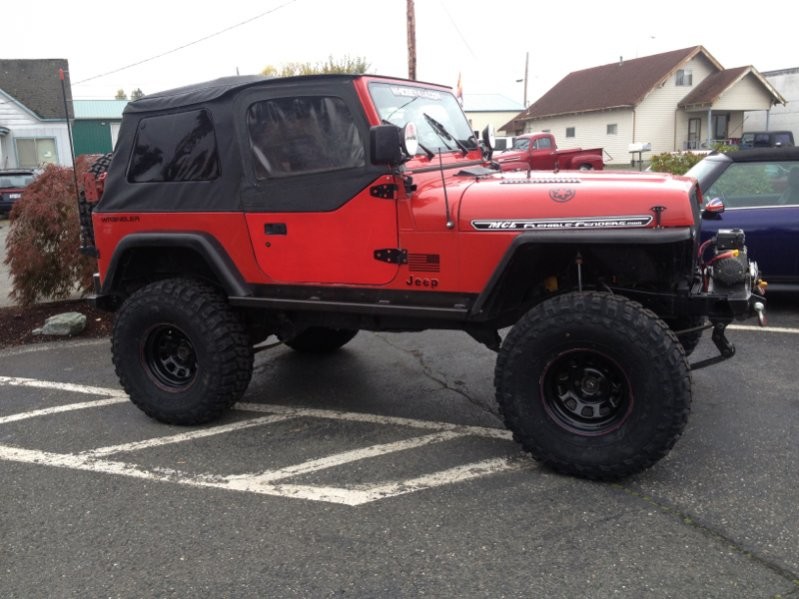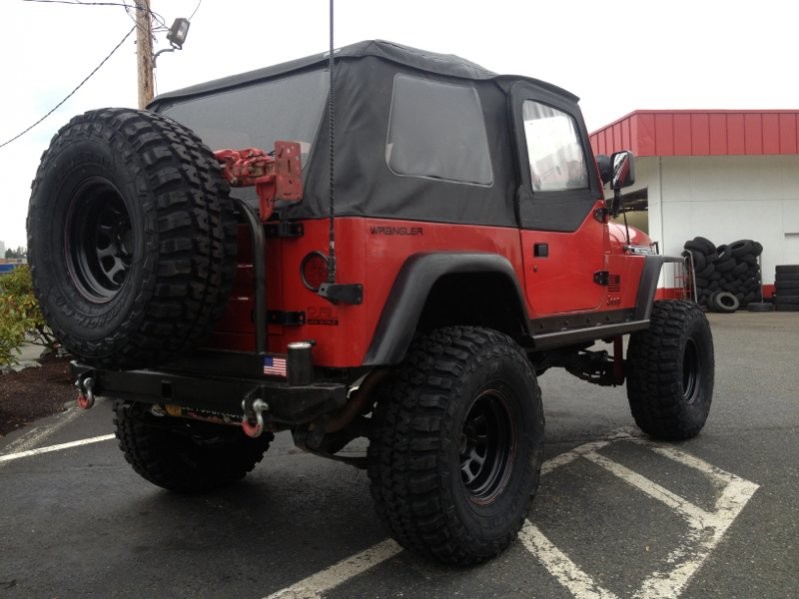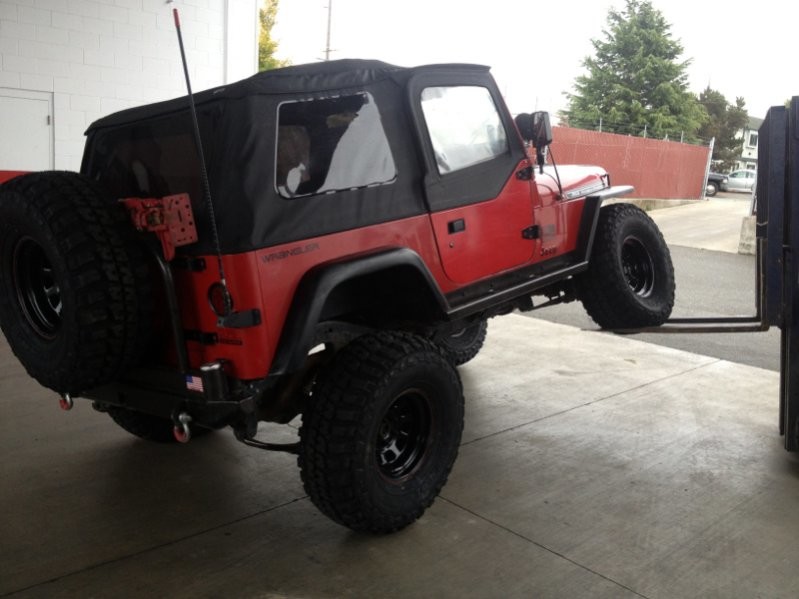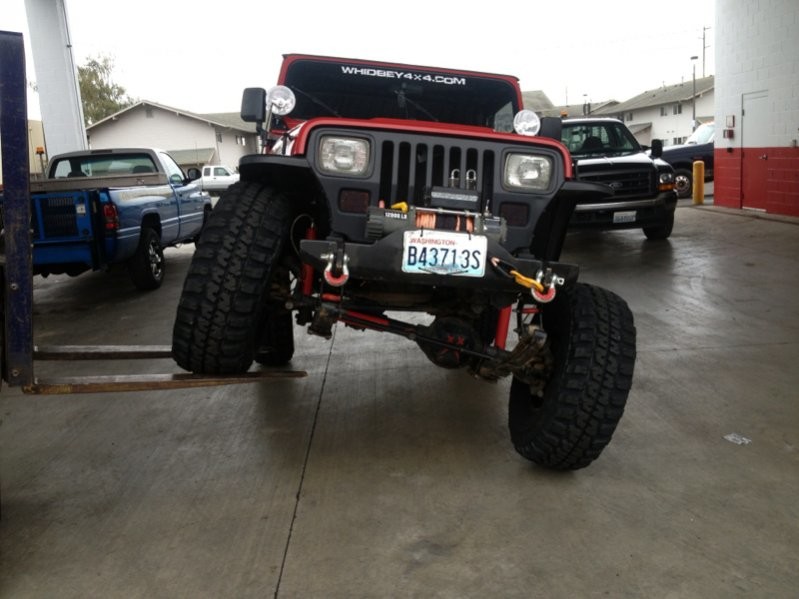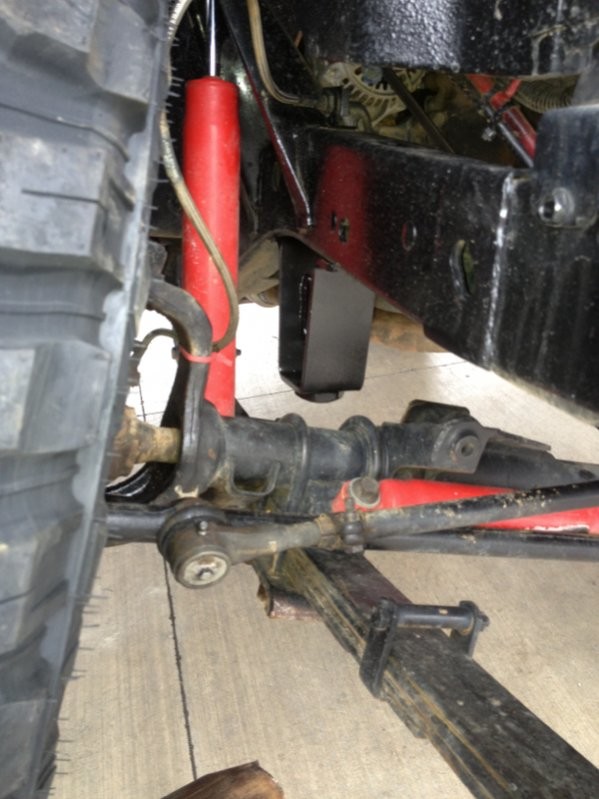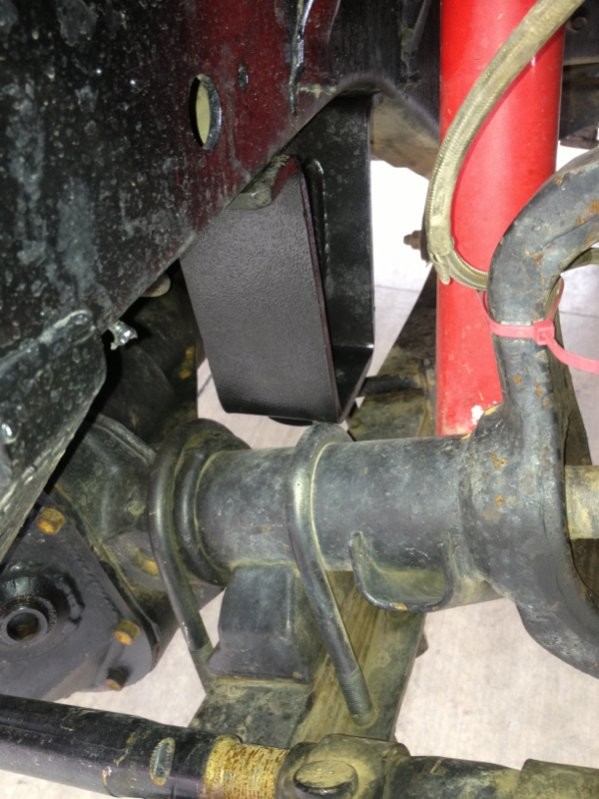 10-21-2012
I am running 3.5 fabtech springs, rear tough country aal, rear 1.25 boom shackle, front 5/8 boom shackle, and 1.25 body lift. My rear springs have sagged out really bad with the bumper/tire carrier, full size spare, high lift sitting back there than there is the loss of lift from the 8.8 lift. So total lift is around 5.25 ish! And I traded a buddy my front stock stops for the ones I have now I don't know who made them!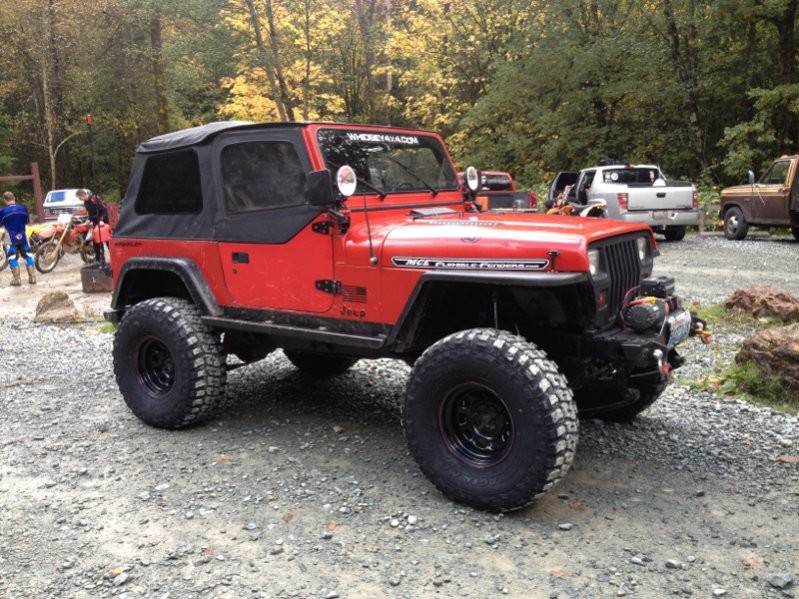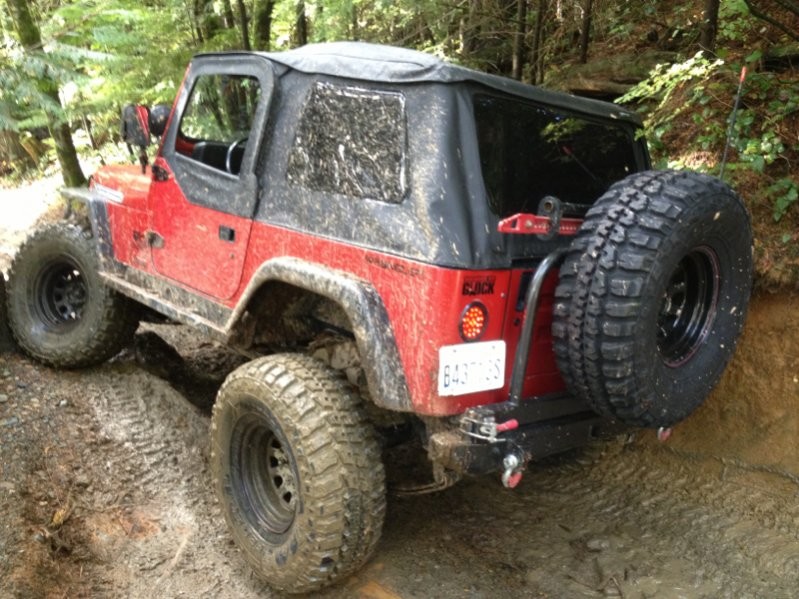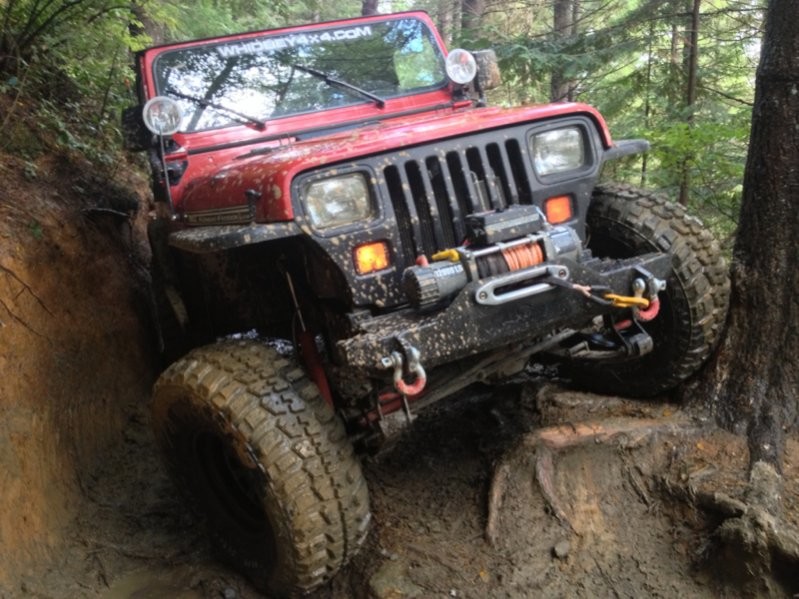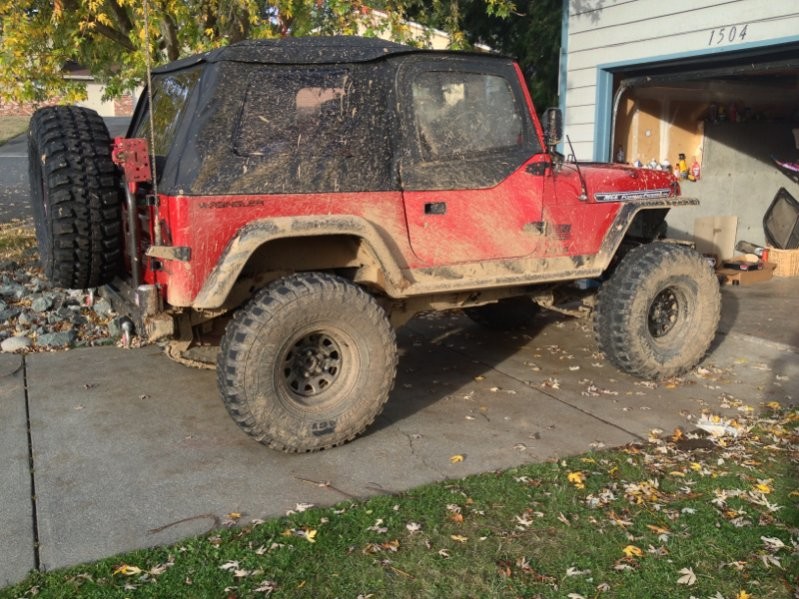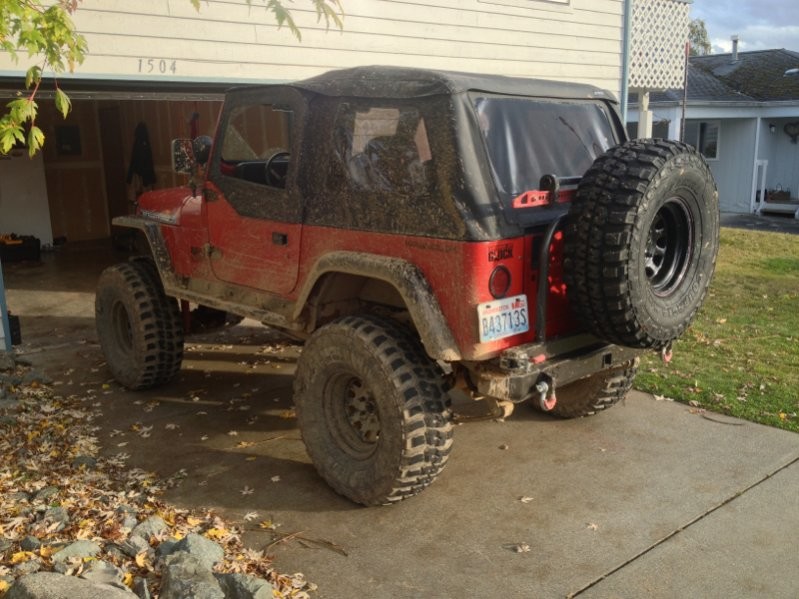 10-23-2012
Yeah I fit but the top rubs the garage door as I drive in haha, And so far I love the 35s! I am on the fence on my game plan for the jeep as of right now. I know for sure that I am going to add to my cage. But now I am not sure if I want to go with a soa or just buy a new sua lift. I am also un decided on if I want to do a motor swap or just stick with my 2.5! I am kinda leaning towards staying with the 2.5 and adding the Teraflex 4.1 tcase, if I did do a motor swap it would still be a year or two out and I would't waste the money on the 4.1 since I couldn't use it in the swap. So help me make up my mind guys!!!
10-4-2012
Yeah I have taken the traction bar and steering into consideration while thinking about the soa. I am just worried about sitting to big on 35s. I want to say coils are out of the picture as of right now maybe later down the road haha. The only things keeping me on the fence between soa and sua is the ride and flex difference between the to. Quick update on the jeep I pull the ecu out to look for bad connections and found two pins bent pins, I tried to straighten them but needed up replacing the ecu with a new reman one. It idles better but is still running like poo (popping threw the intake, and wot rev past 4k)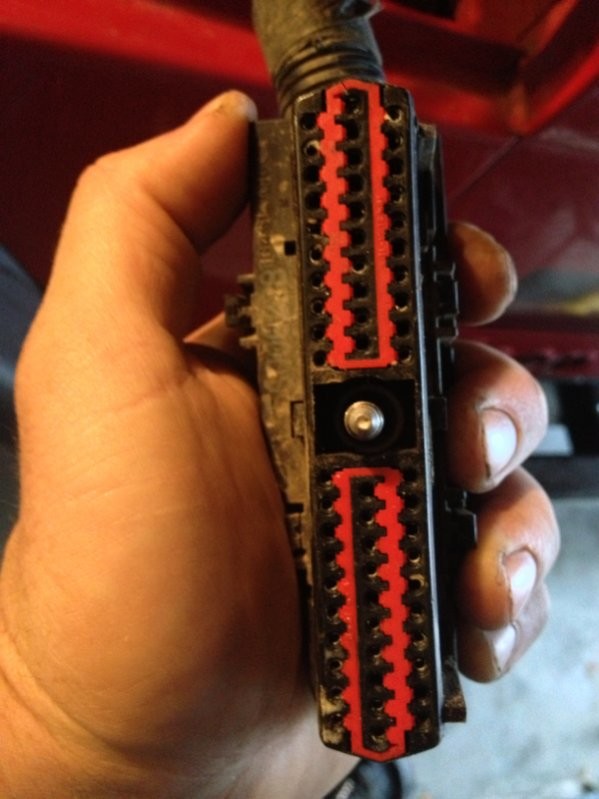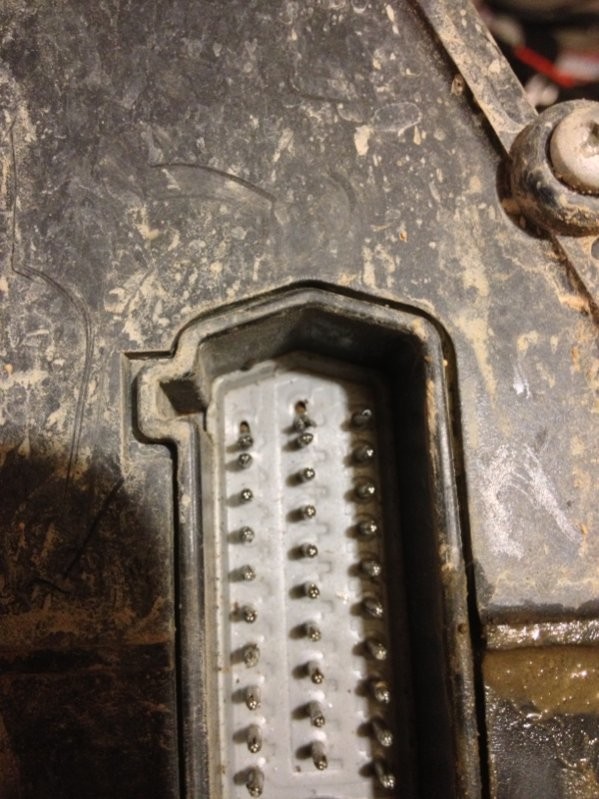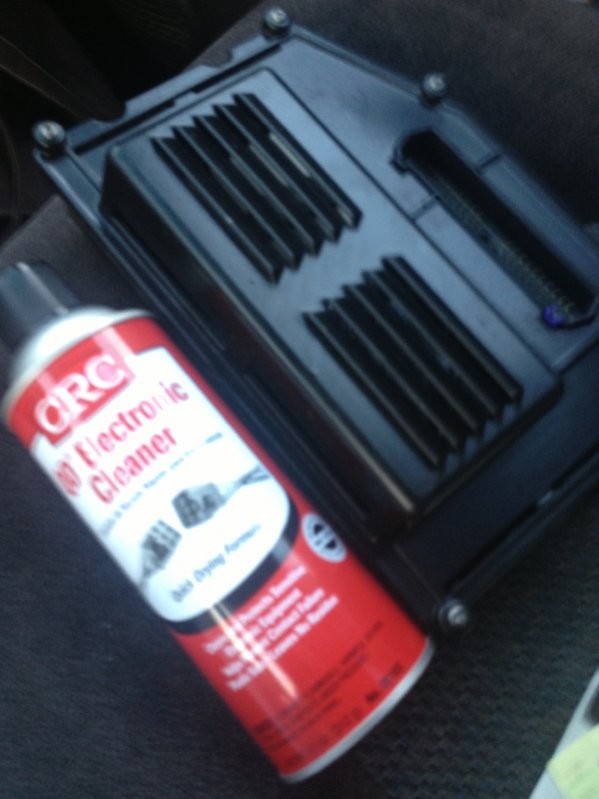 10-30-2012
Lol the poor little ax5 seems to be holding up to my abuse well besides the synchro's going out but hat been like that since I got the jeep. I don't really understand the different t case ratio's and how they work I just know I will have more grunt in low range with the teracase....... Any way I went out will a couple friend for some Sunday wheeling and had a very long day. My buddies Xj lost his lf axle shaft, upper and lower ball joints, and his rear drive shaf in less then 5 seconds haha took us 3 hrs to get him going again lol. Sorry I didt get any good wheeling shots. Almost forgot I put a nice dent in the .120 wall slider tube this weekend Ahhh fun times!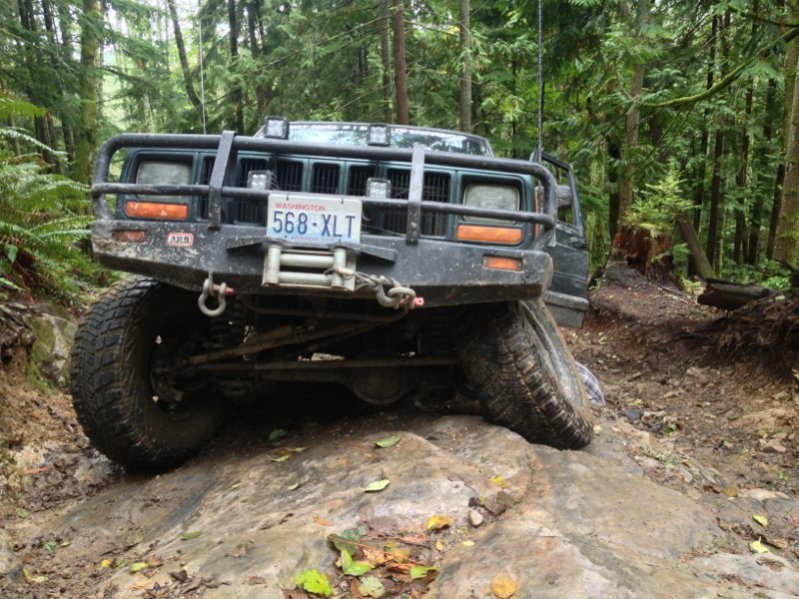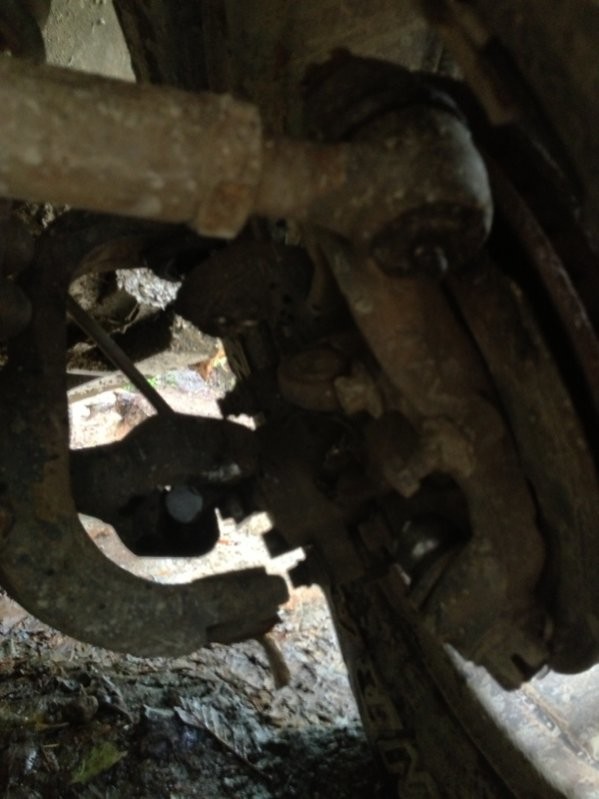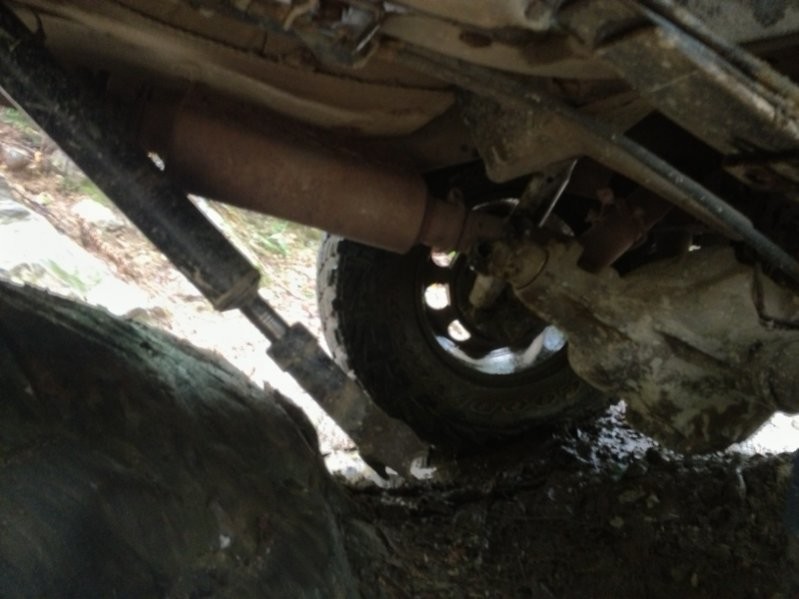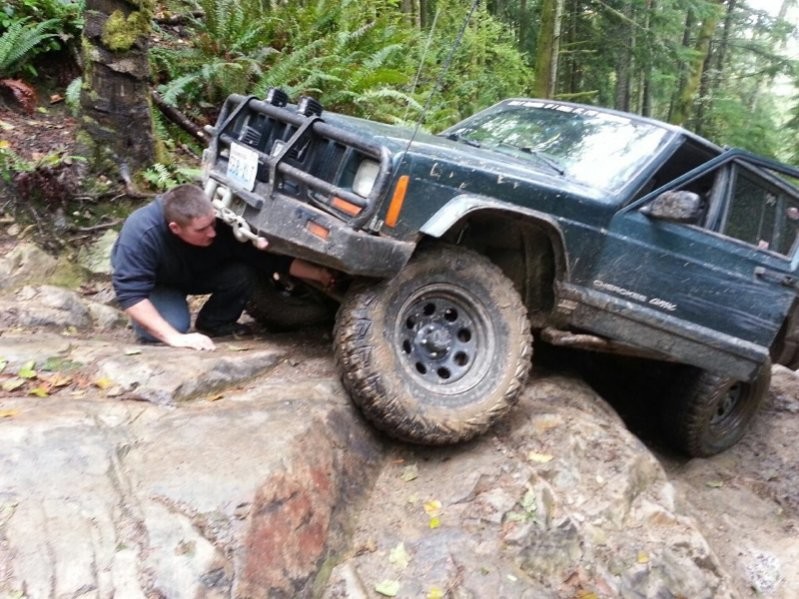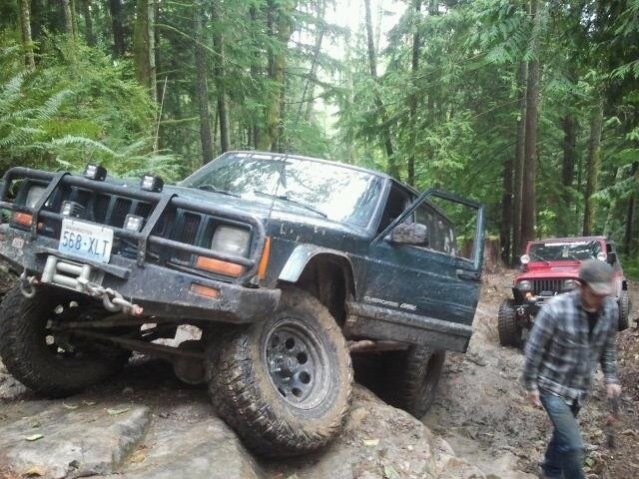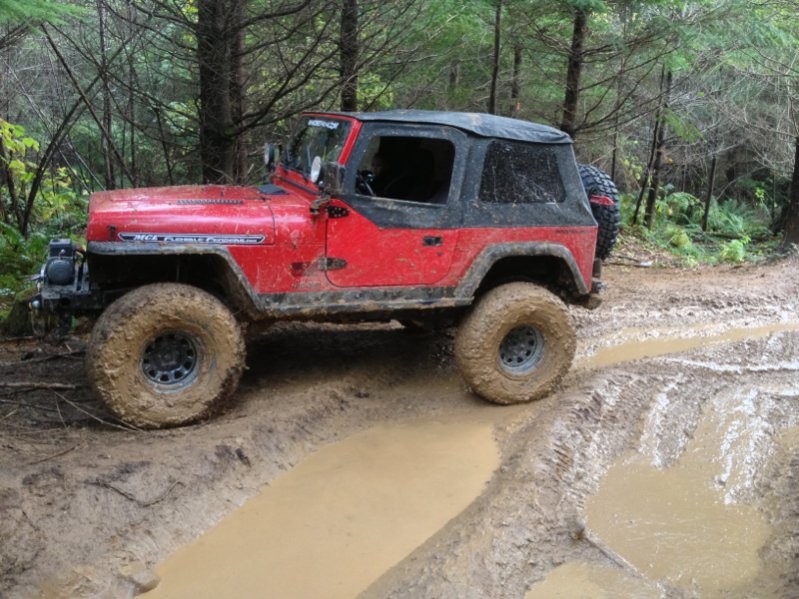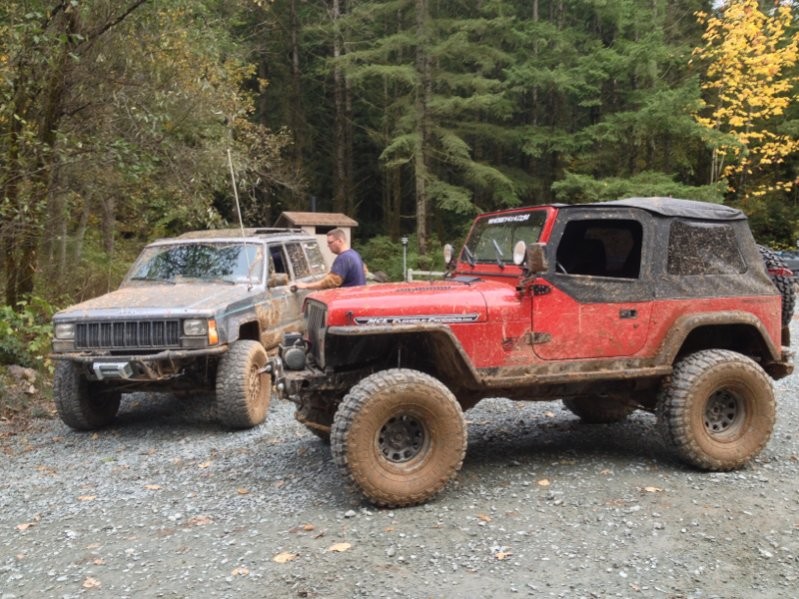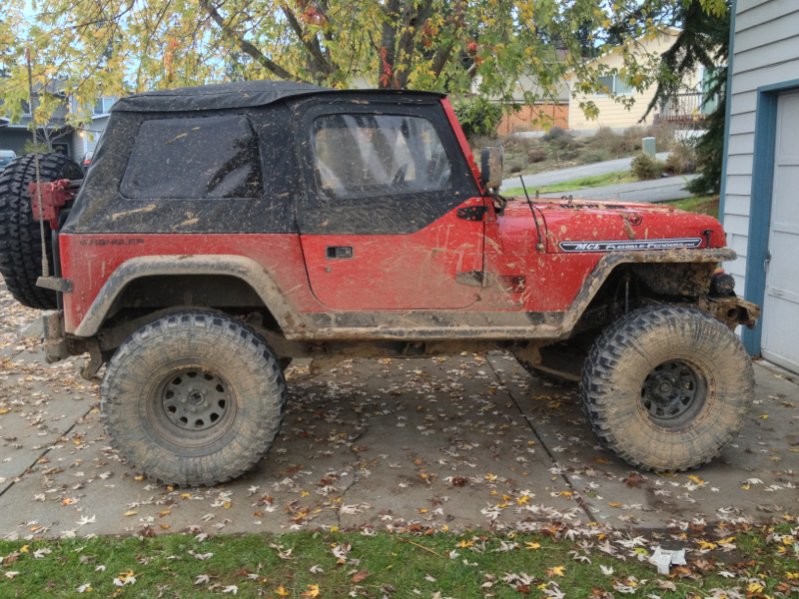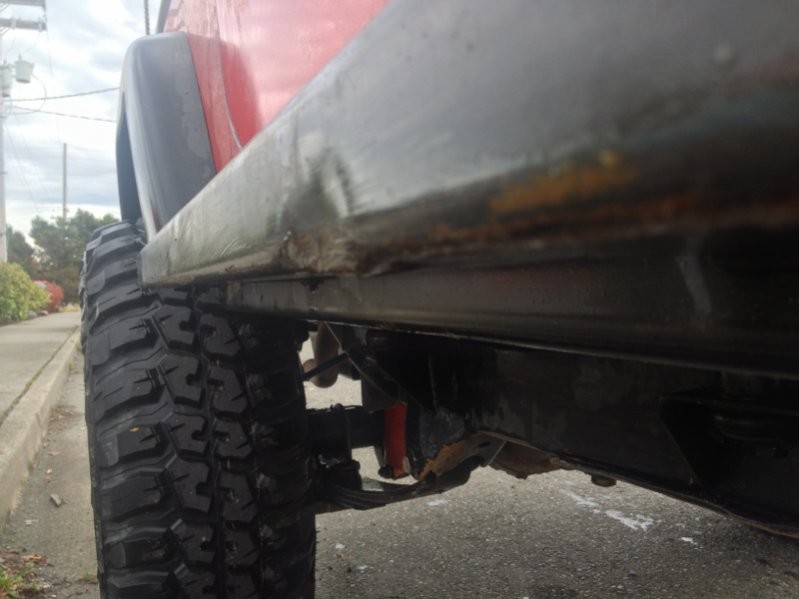 10-31-2012
Some more pics from Sunday!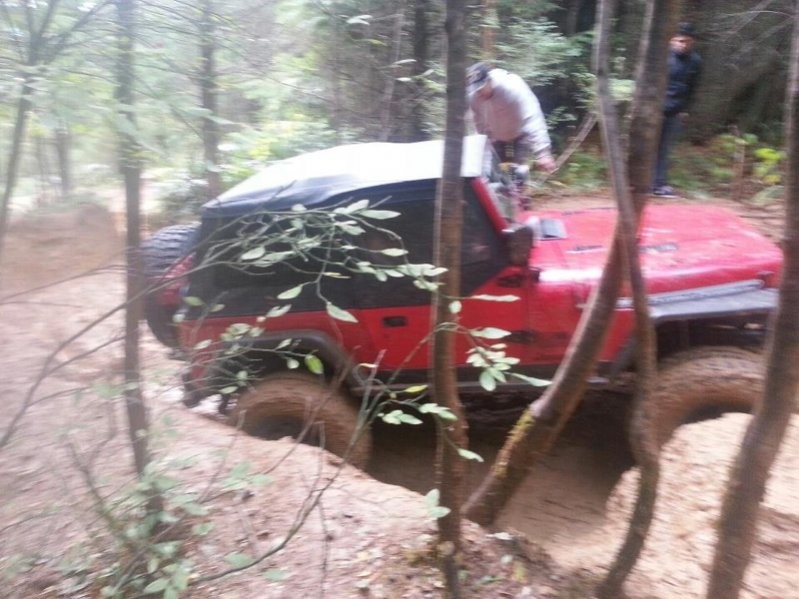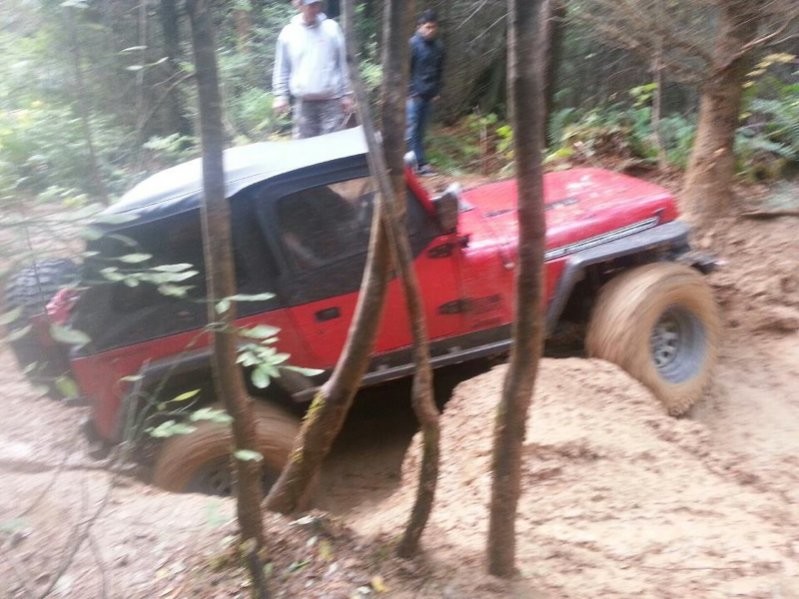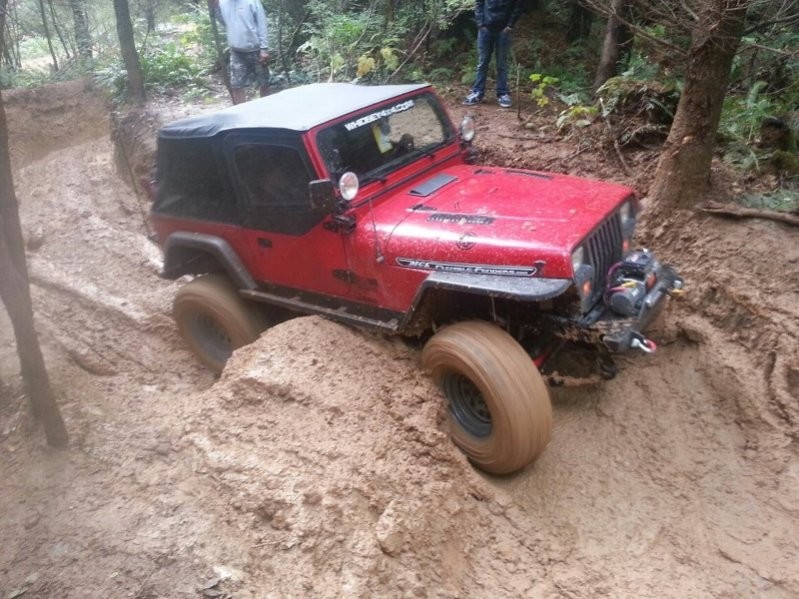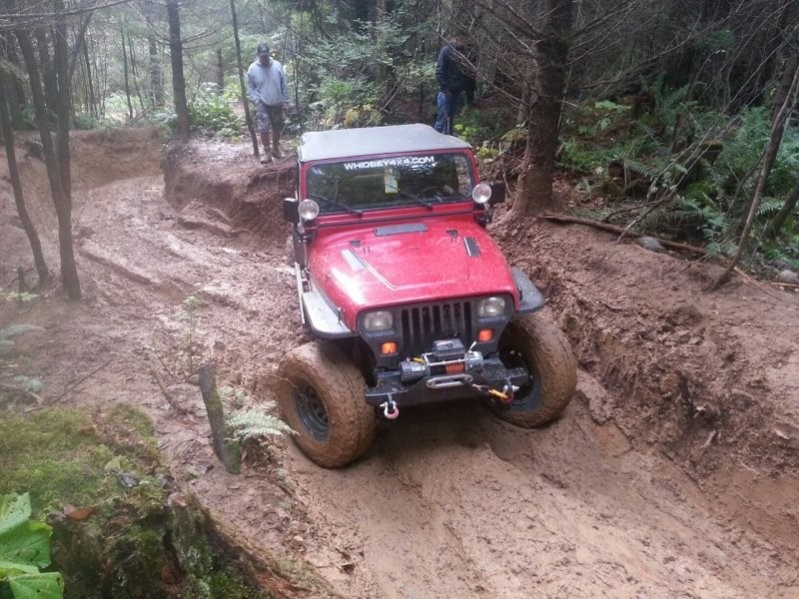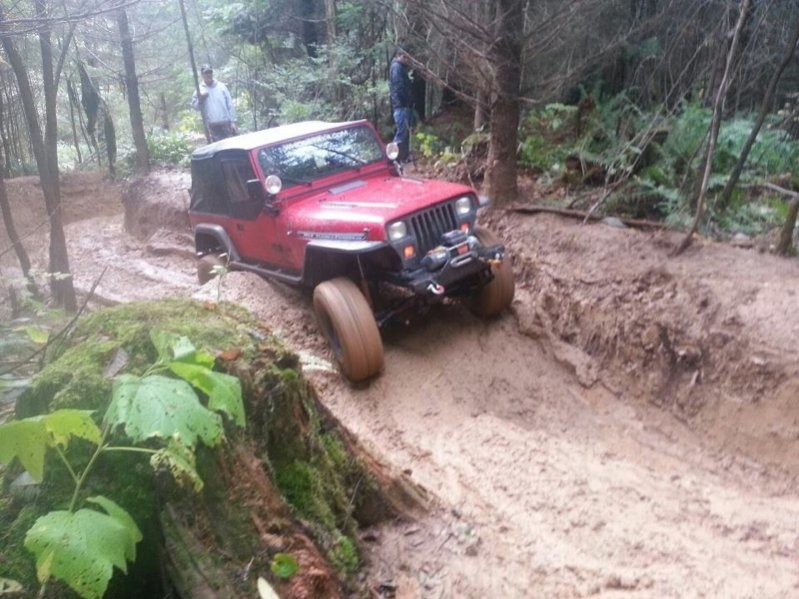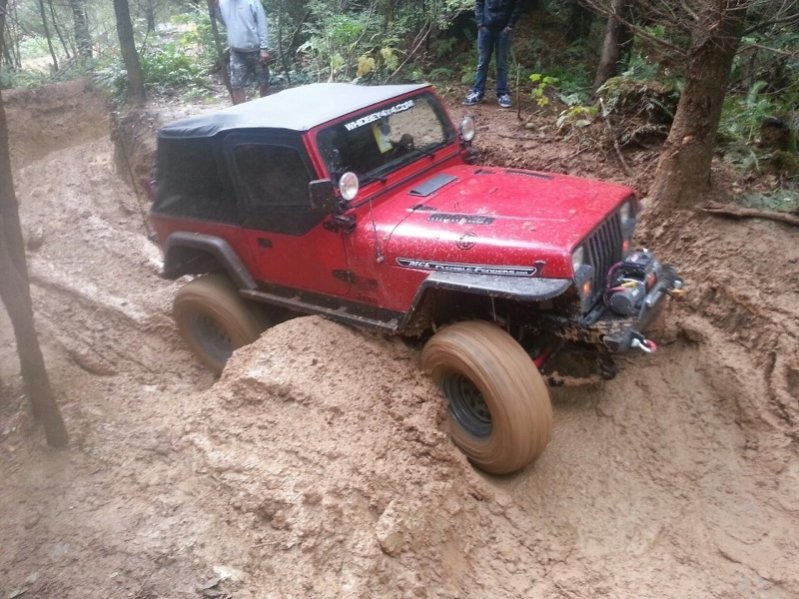 11-1-2012
Yeah it the 12k bad lands winch with asr synthetic line, it has work flawless for me so far and for the price you can't beat them! and no most of my pics are from walker valley orv in washington!
11-10-2012
So I am making a list of stuff I am going to do to the jeep with my work bonus which I get march 15, so fare on my list is going with full metal cloak amor (front arched fenders, sliders, rear quarter armor, and f&r 6 inch flares) toyo mt 37-14.50-15, front chromo shafts and dana 30 truss, and also I will be doing my cage with my tax returns which is around the same time! Also is I can swing It I am going to get the Teraflex 4.1 tcase and bds 2.5/3.5 springs ? I am note sure on which springs to go with!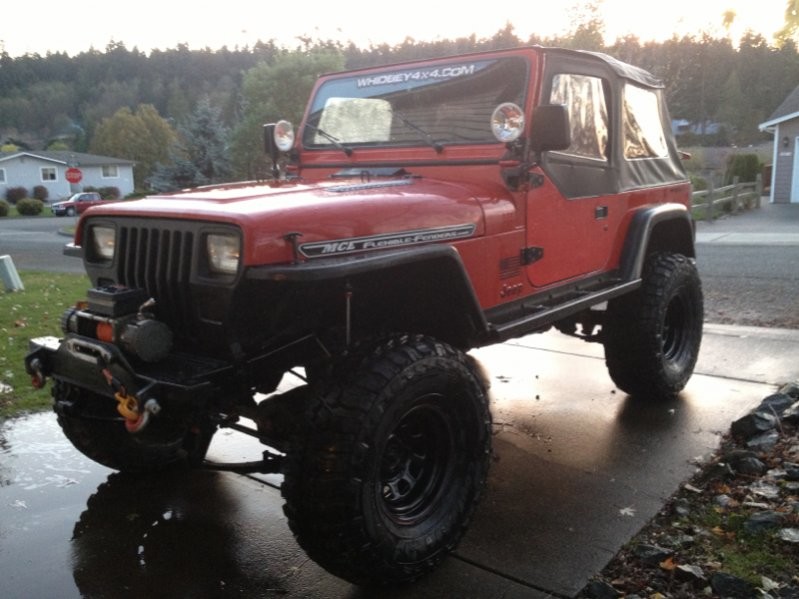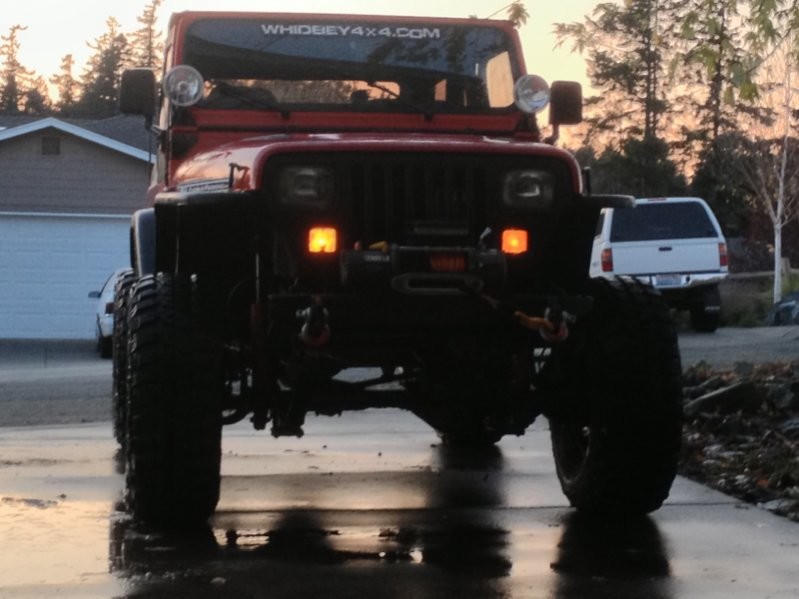 11-11-2012
Nothing cool but I changed out my front axle shaft u joints ah how I hate that task!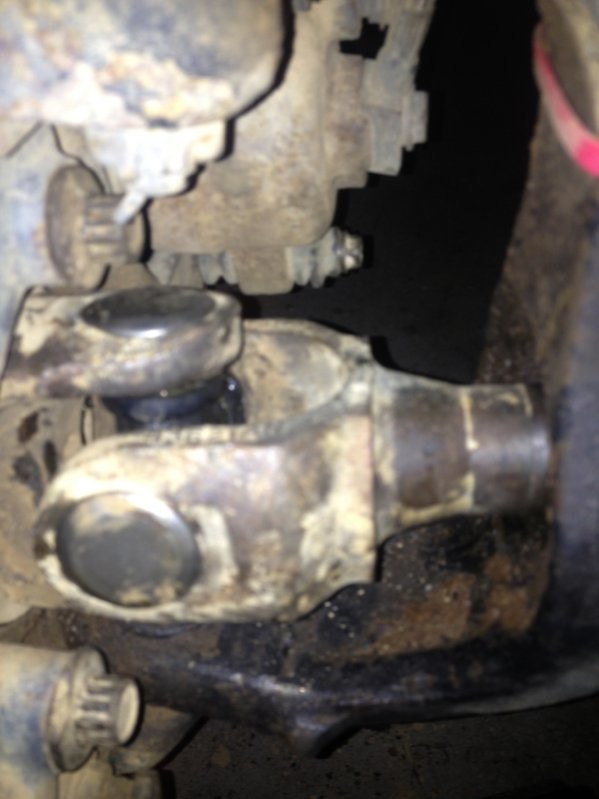 So I finally took a recording of my exhaust so he it is!
It's not half as ricey as it used to be, I like how it turned out now no where near as raspy and vtec sounding as it once was lol


and just for fun I found this lite guy and had to get a pic of them together!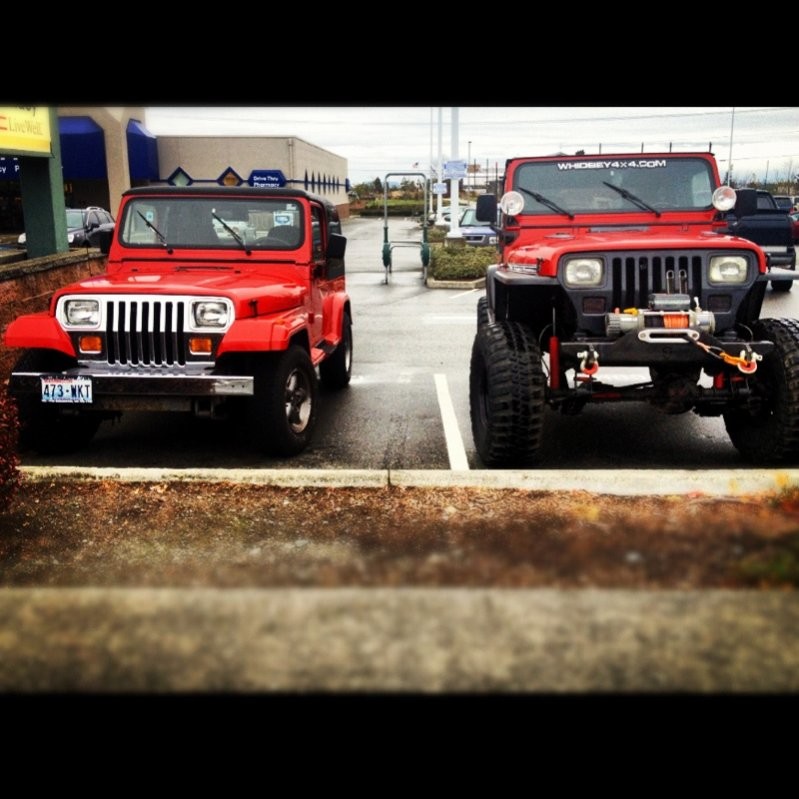 11-16-2012
So it looks like I may be selling my glock here soon to a friend which will add 450 to my jeep fund. I am planing of ordering up the btf front sport cage link-http://www.bluetorchfab.com/Product/...-Cage-Kit.aspx , I also plan on buying some stuff from jeep tubes to add to the cage as well (grab handles for the front of the cage, and rear spreader bar, and two spreader bars that will run front to back) link-http://www.jeeptubes.com/shop. I am pretty exicted about the cage all tho I will be broke after ordering everything so it will be awhile till I can have some one burn it in. any thoughts on this setup?
11-18-2012
Well I had a blast out at walker valley today, I am not one to brag but I owed that orv park

zero break which is a good day in my eyes!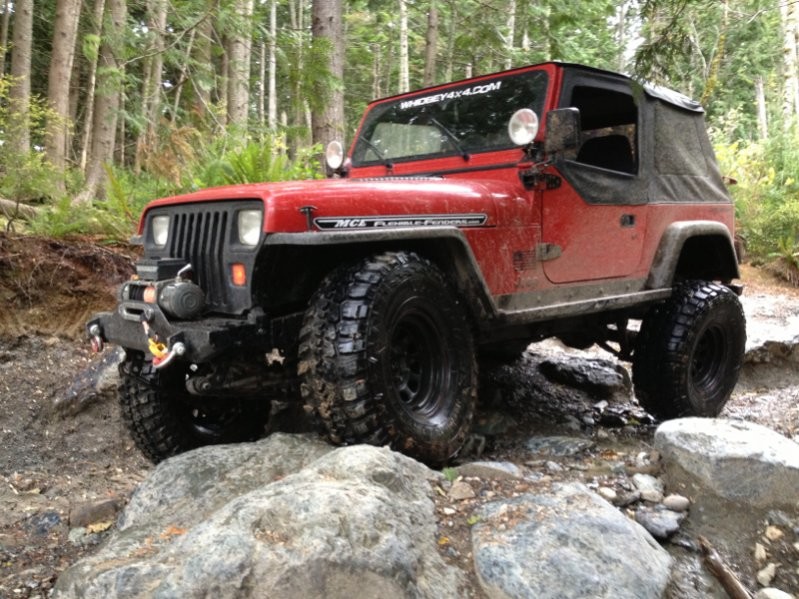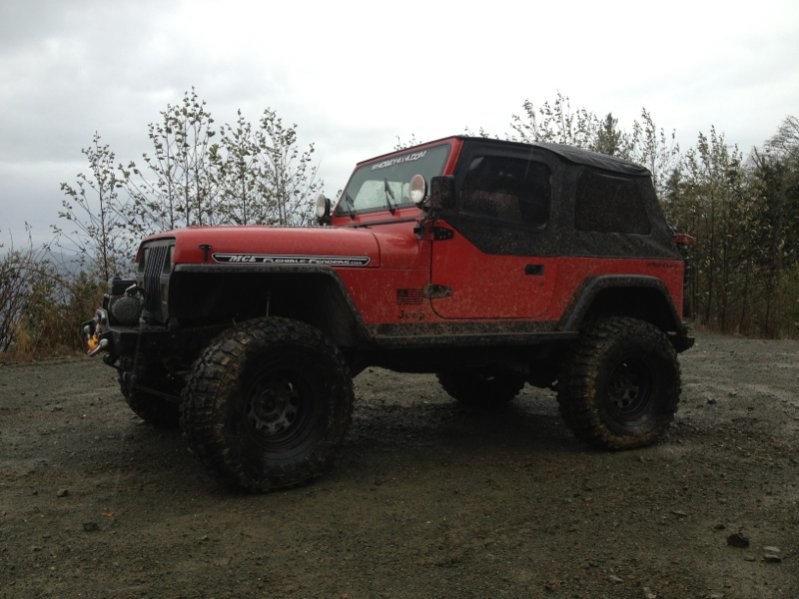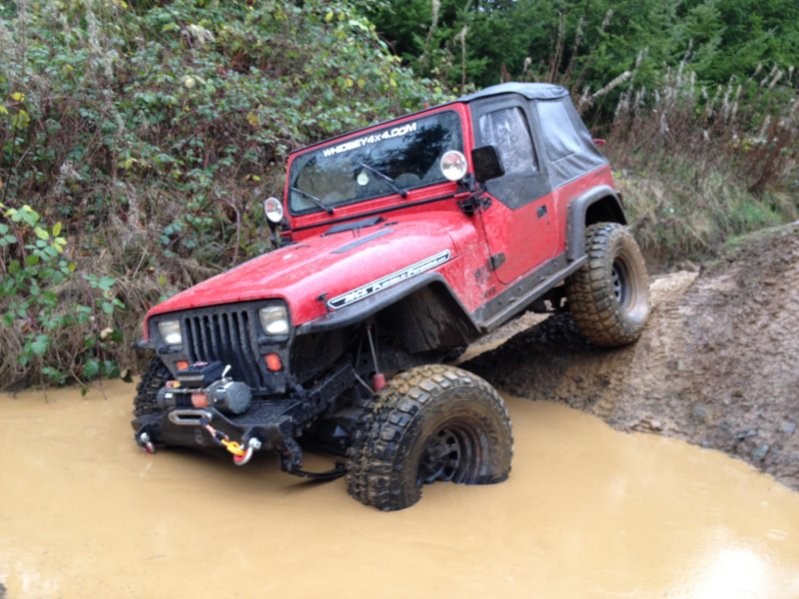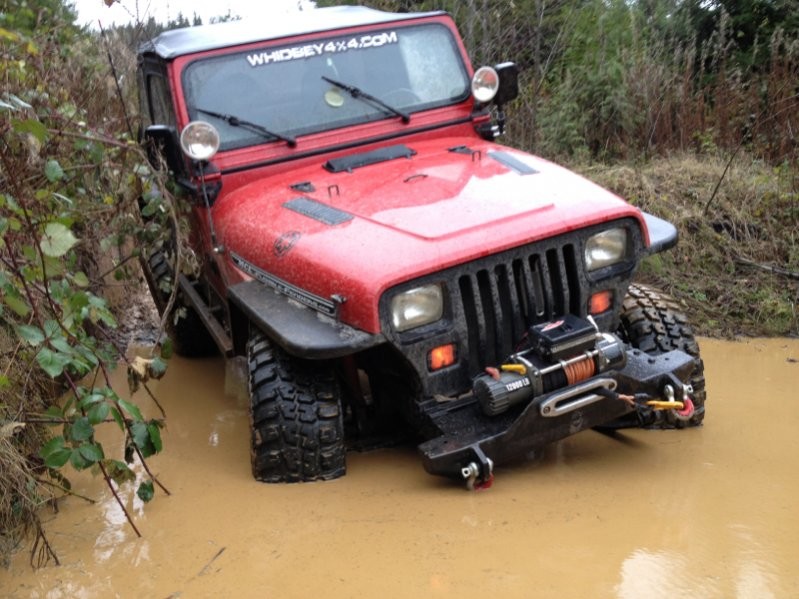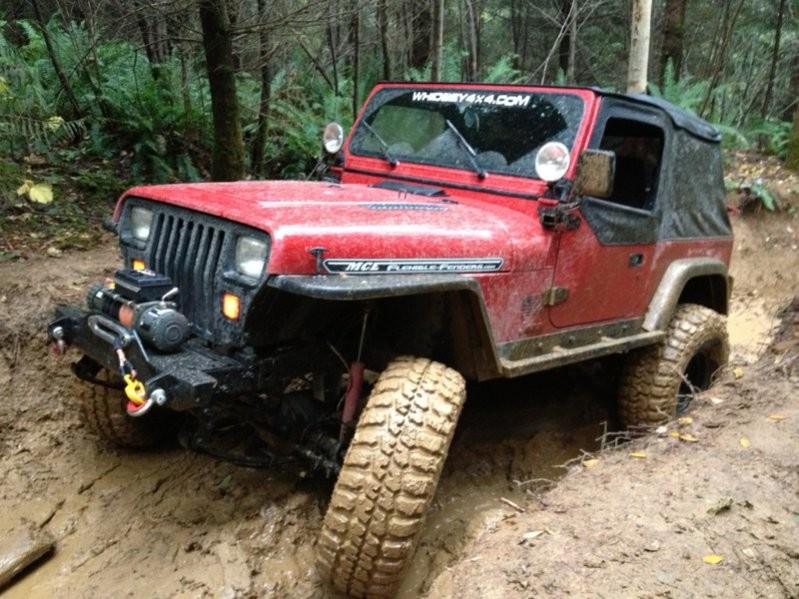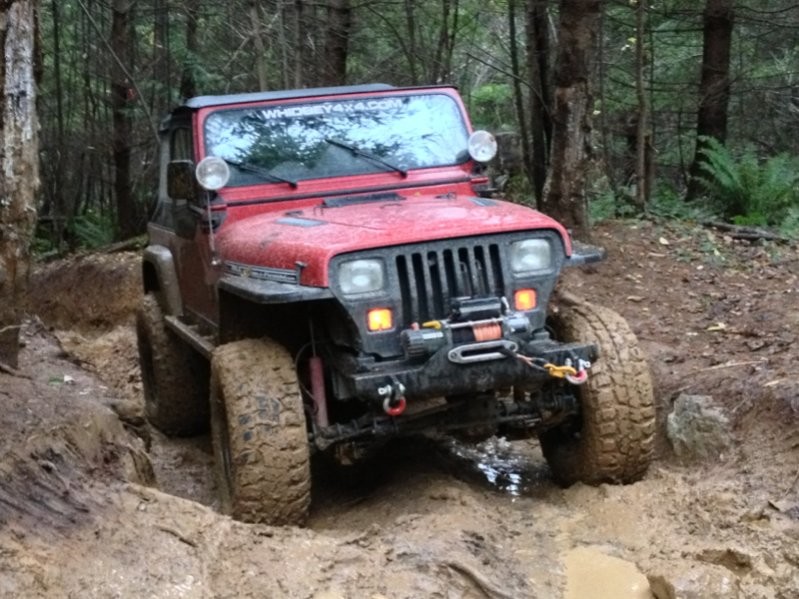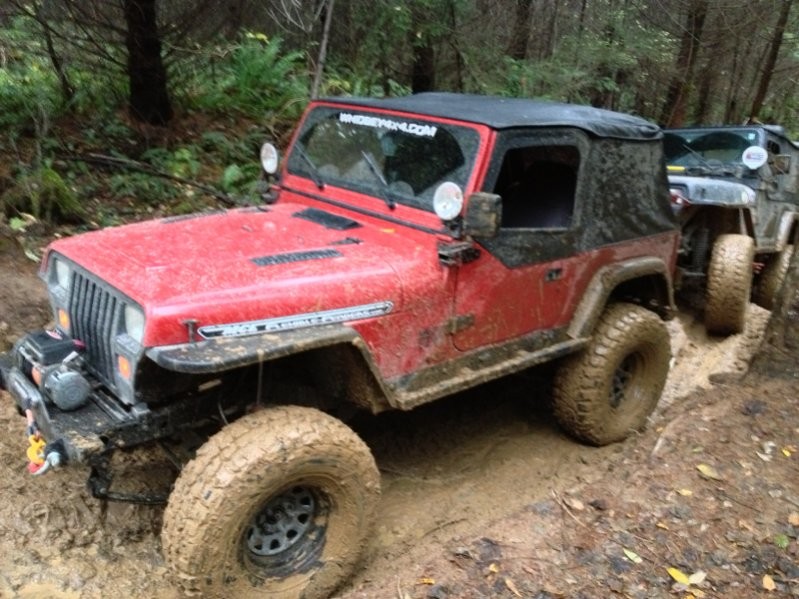 11-22-2012
just a quick update I placed my order on a trail-gear sports cage, I went with this one over the btf cage because of shipping cost haha it was 50 dollars less!http://www.trail-gear.com/jeep-roll-cages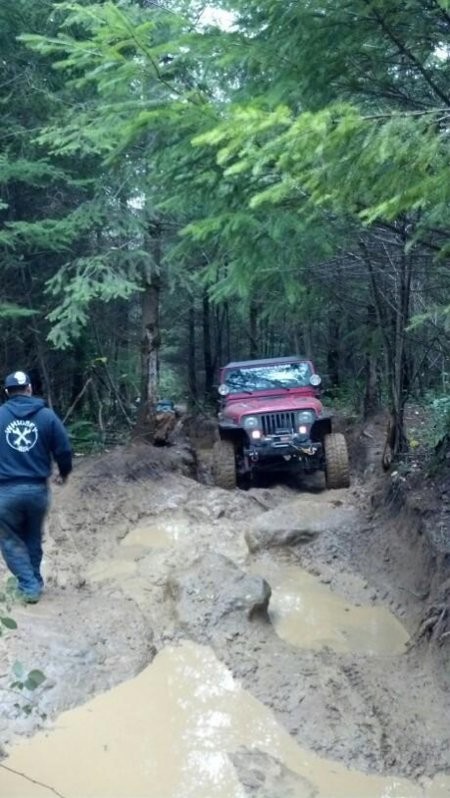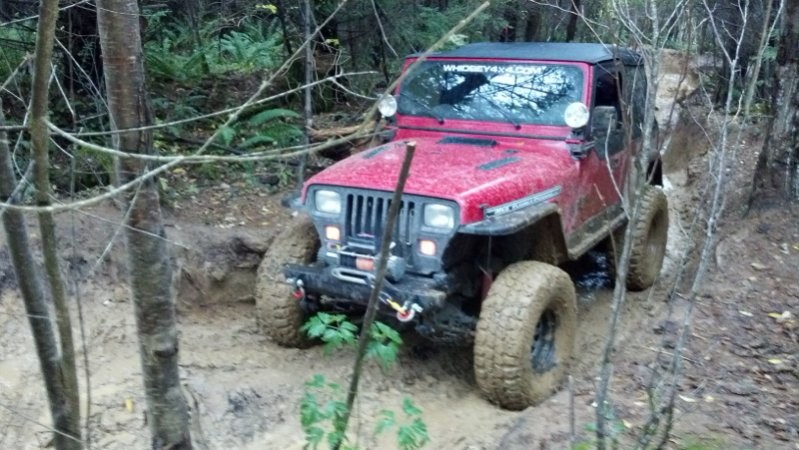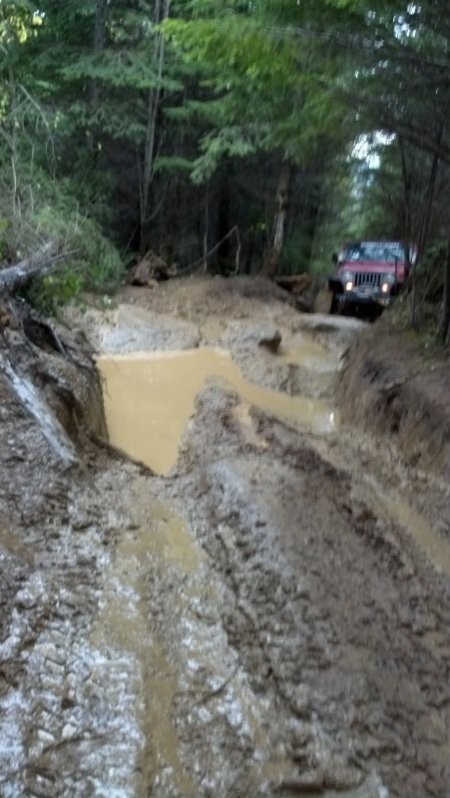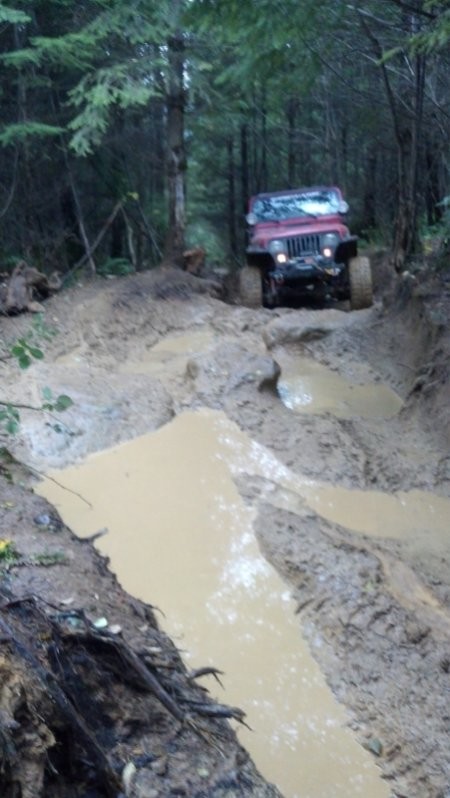 11-24-2012
I just got done putting in a order for the rear tera- flex shock bar and lower mounts, I hope to get a little better wheel travel with this setup and also correct my current shock angle. When we welded my lower shock mounts we welded them little to far towards the diff which is putting a bind on the shocks!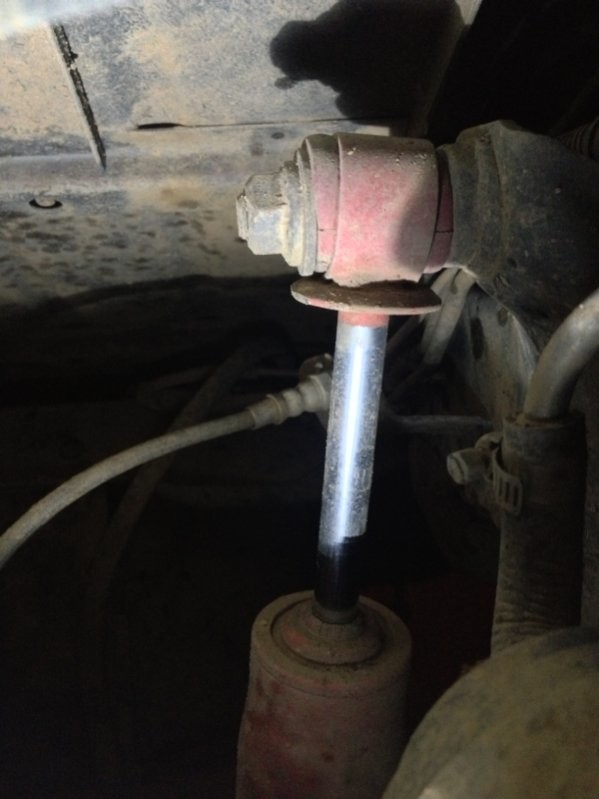 11-28-2012
Look what showed up today, I can't wait till I can get it installed!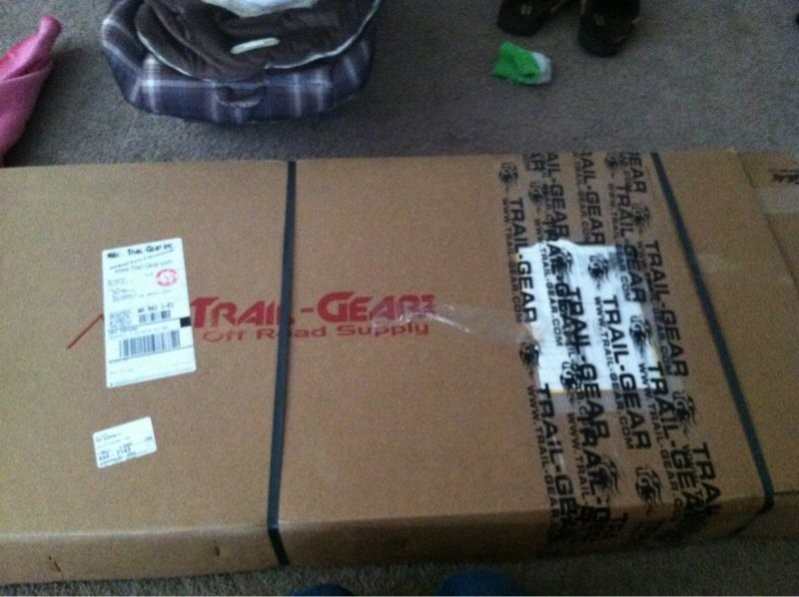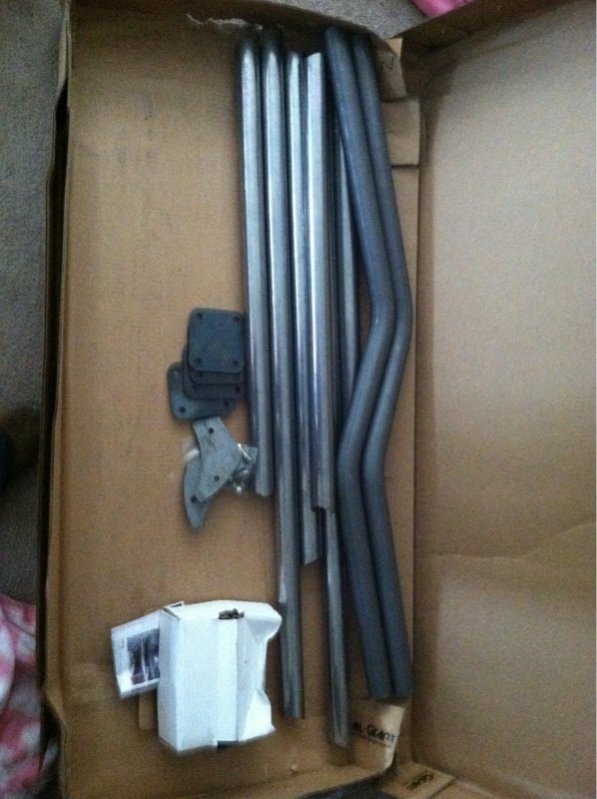 11-30-2012
Small update my teraflex shock bar came in and I got it installed tonight, over all I am happy with how it turned out but am a little down because I had to chop the tail pipe off to clear the shock and now my exhaust sounds nasty haha!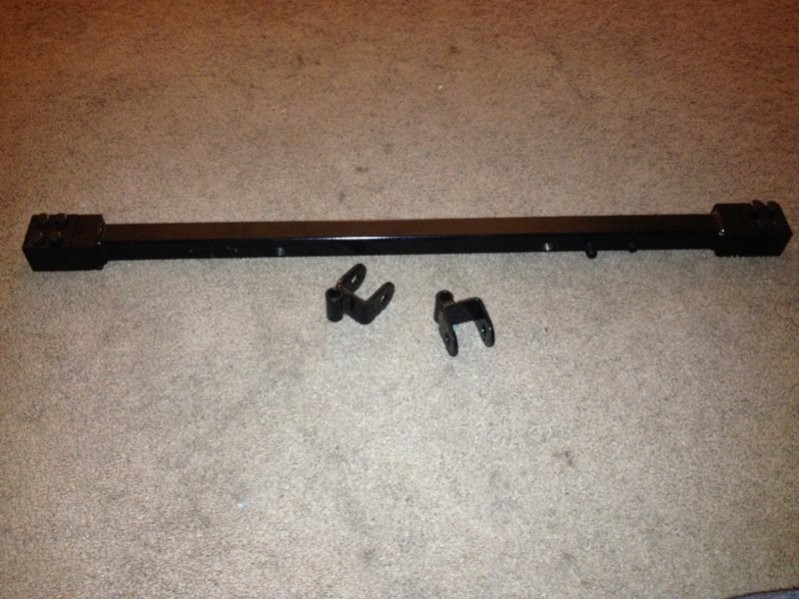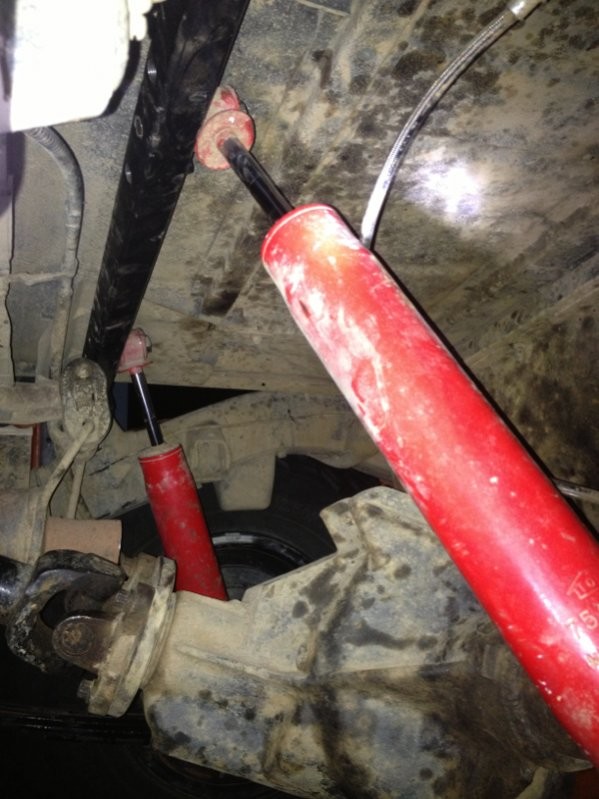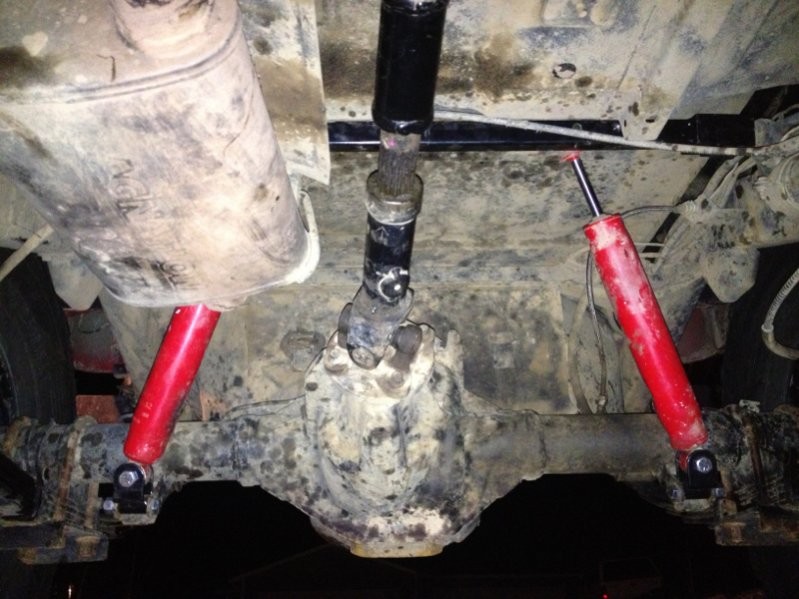 12-1-2012
Yeah what BoD said, I mainly did it to fix my issue with having the lower shock mounts being out of alignment. With the amount I wheel my jeep and the angle/binding the shocks where in I actually bend the rr upper Mount forward which made in stalling the shock bar a pain! My ride does seem a lot nicer to me and I gain a lot of flex (down travel) from it. Now when I use the fork lift to flex the front out my other front tire leave the group long before my rears. I will try and get a pic of this !!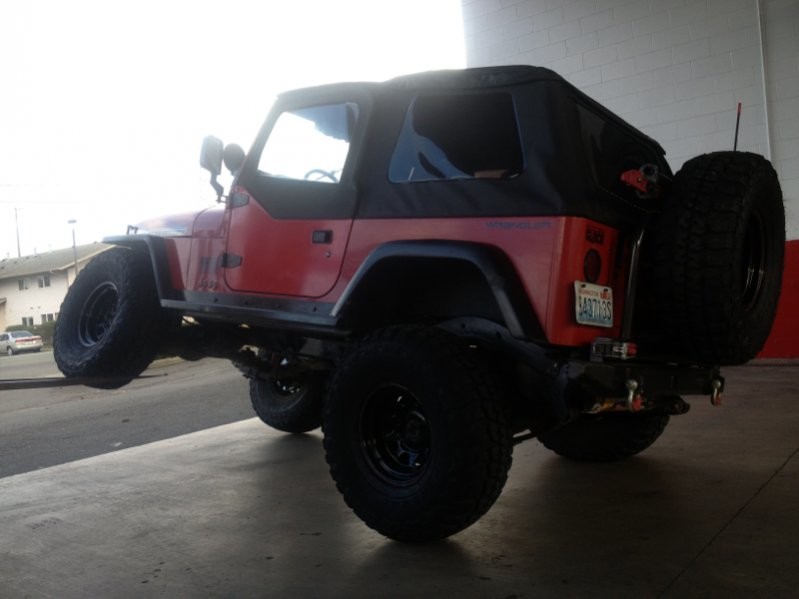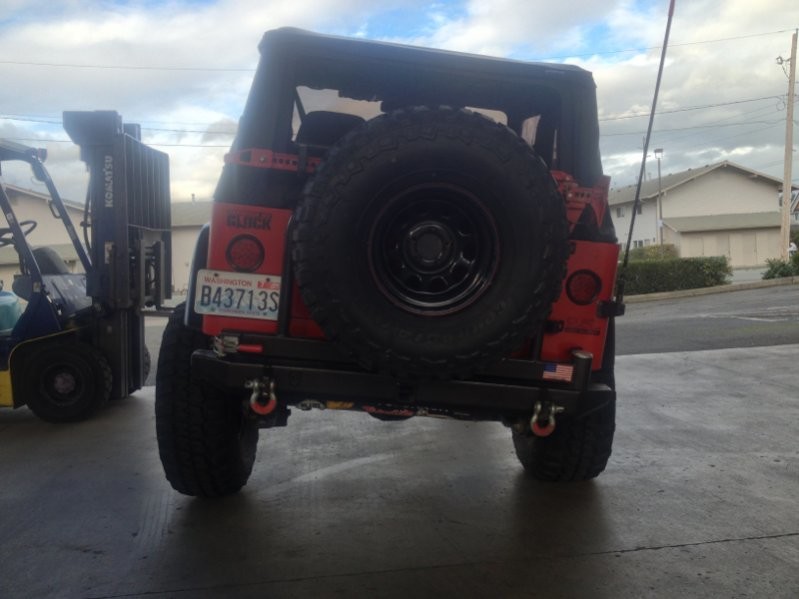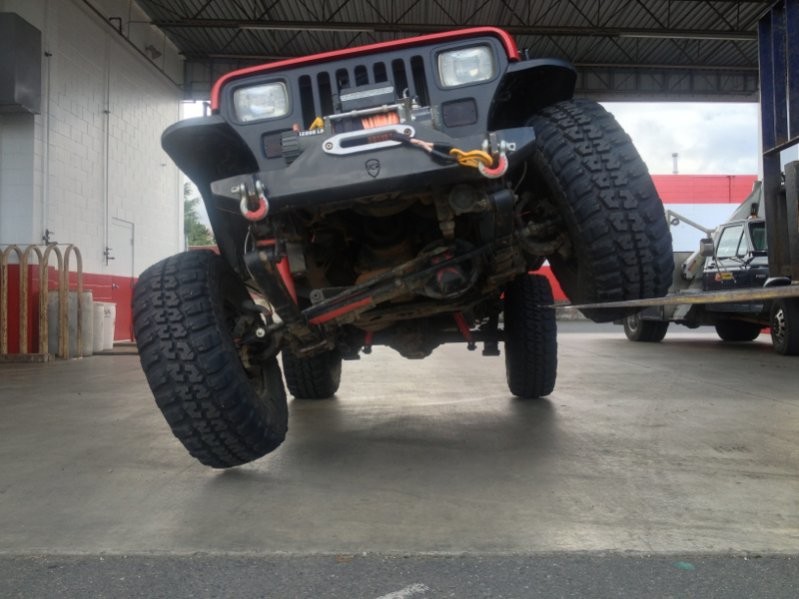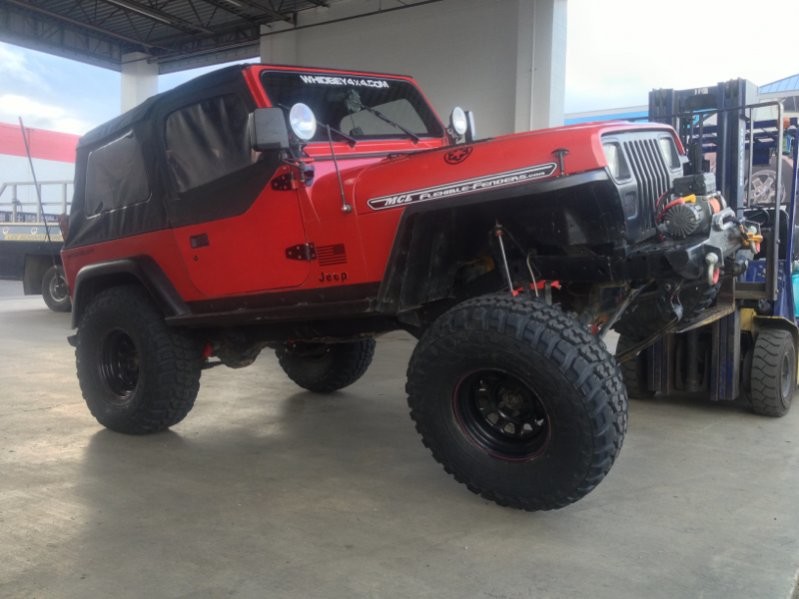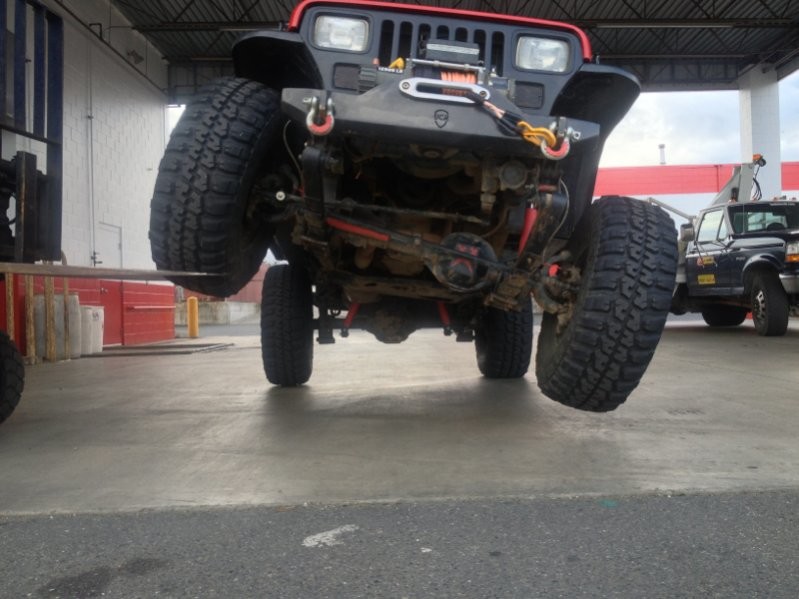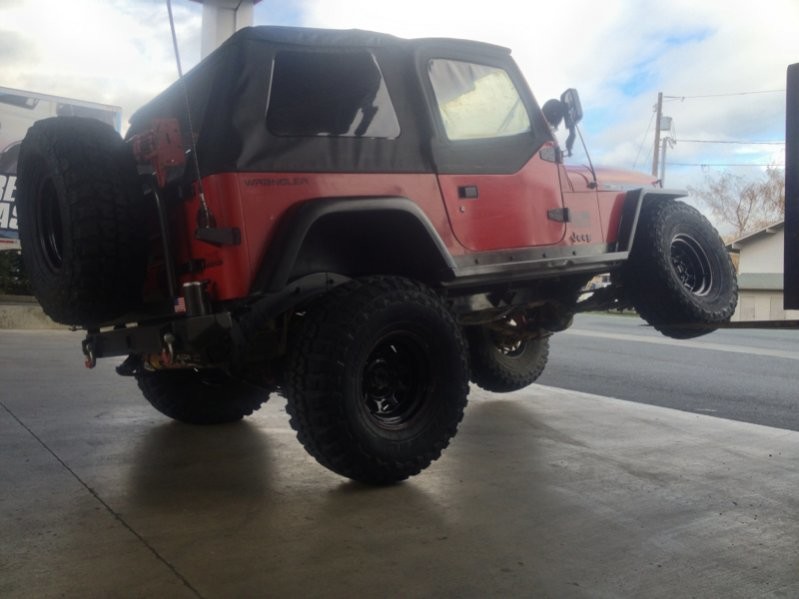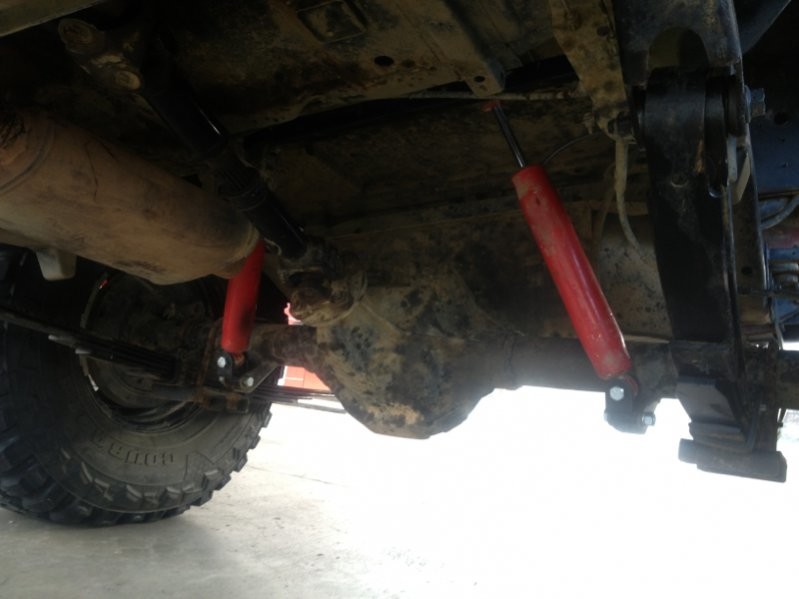 12-3-2012
So toady I had a a tail pipe installed I didt run it all the way out the back since I almost always smash my tail pipe when I am out wheeling it is now up and out if the way and it sounds great yet again IMO! One more small update I got be cage all primed up, now It's ready to burn in.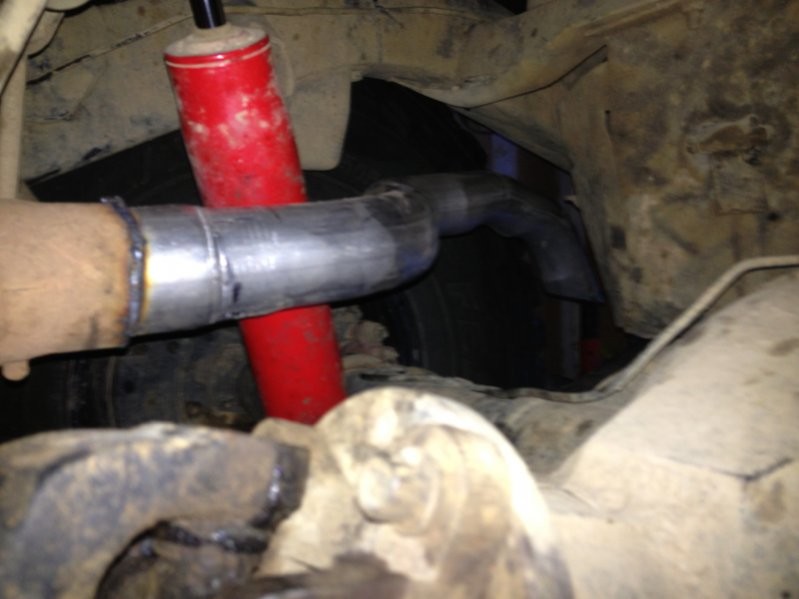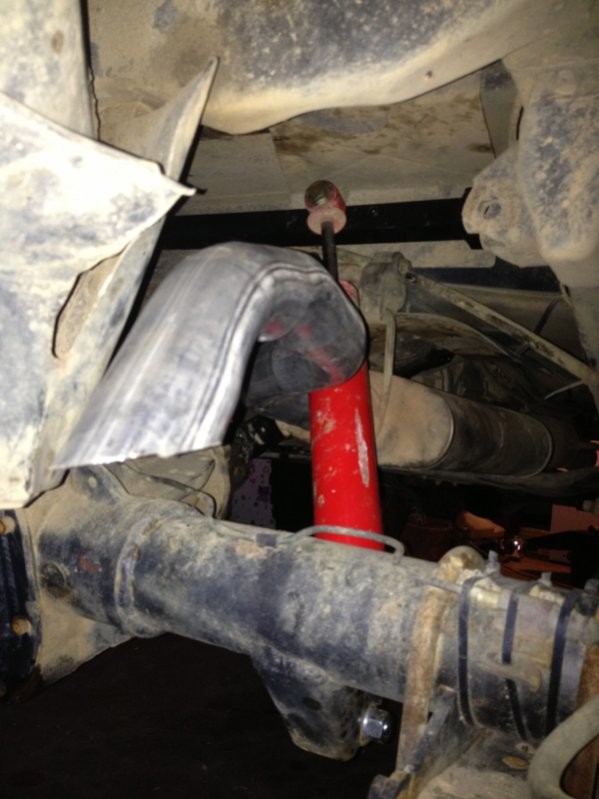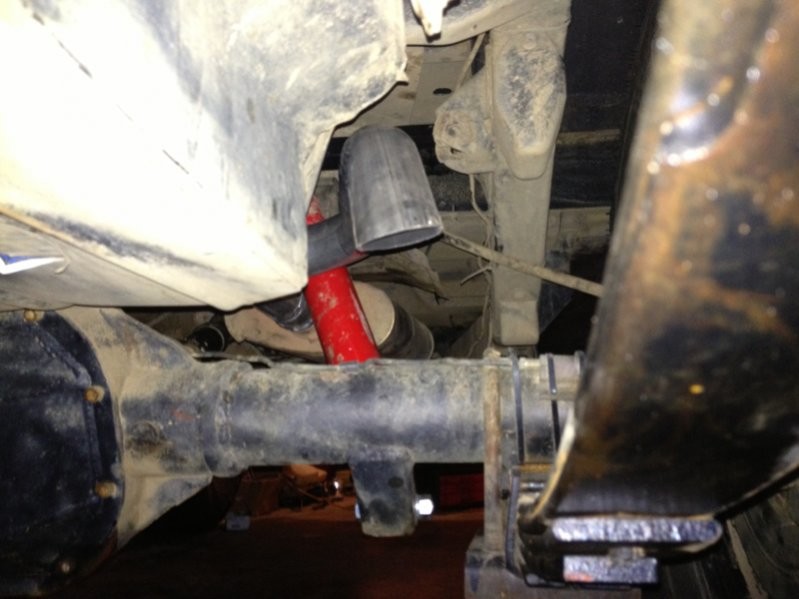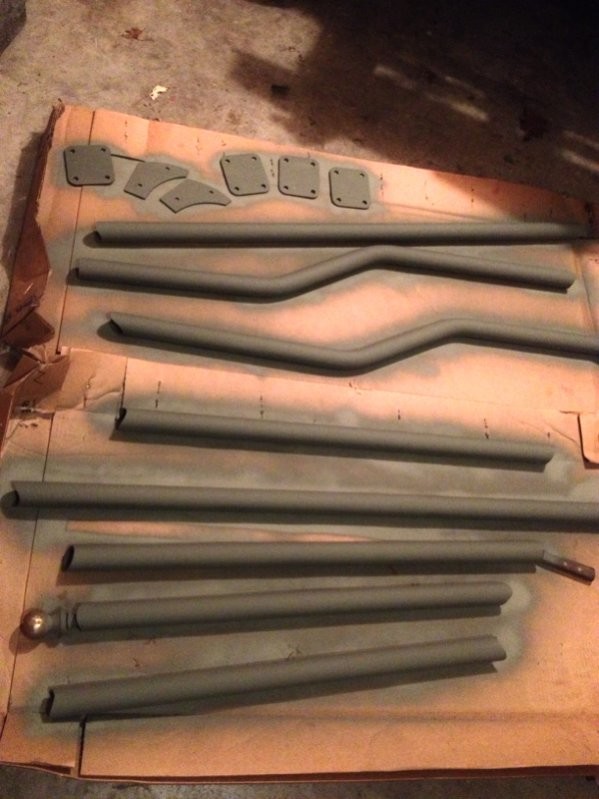 12-7-2012
So I was pricing tires today and can't decide for sure on what tire to run with, I was going to just get a set of 37/14.50-15 but am thinking I am just going to stick with a 12.50 wide. I am looking at either super swamper irocks or pitbull rocker's in the 37/12.50-15 flavor............. What do you guys think?
They could be a option as well, no matter what I will be going with radials. I am planning on running my current 15x8 wheels and I don't think the 36's would be super happy on those wheels. The only way I will get new wheels 15x10's is if I go with my default toyo's I can get 5 toyo's/ 5 15x10 wheels for 1900 threw work which is about what just the irocks/rockers would cost alone for just the 5 tires! Why is life so full of choices......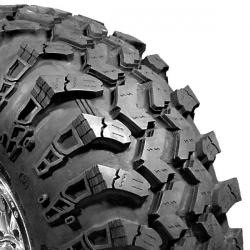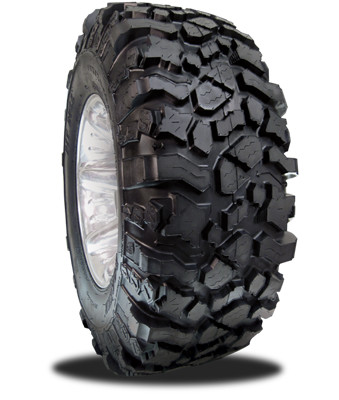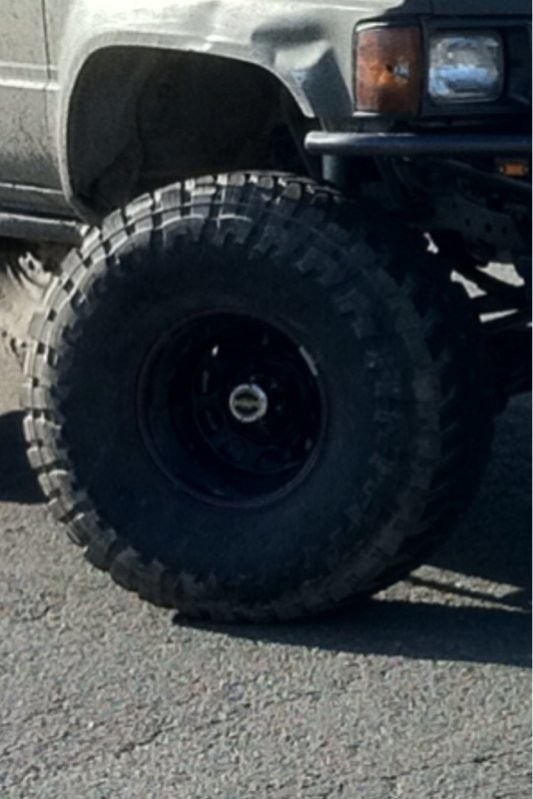 12-10-2012
It all comes down to where you wheel really, I would't trade my locker for anything! Sure you where going the same place the locked Yj was going but I am guessing you had to have a lot more wheel speed and momentum the bye did? Out here in the PNW you constantly have a tire in the air which is where it is really nice to have lockers! Plus they allow you to do stuff like this!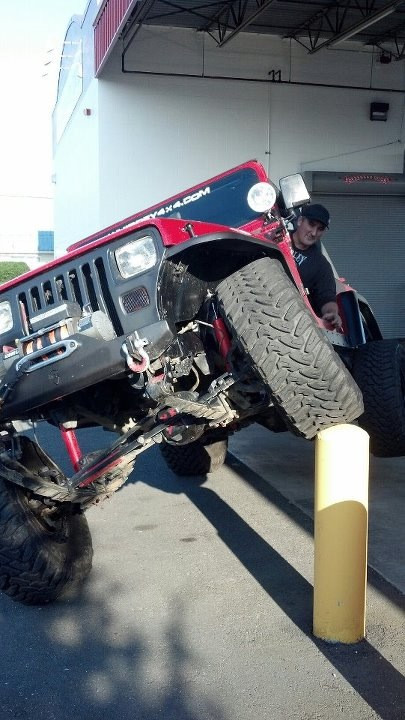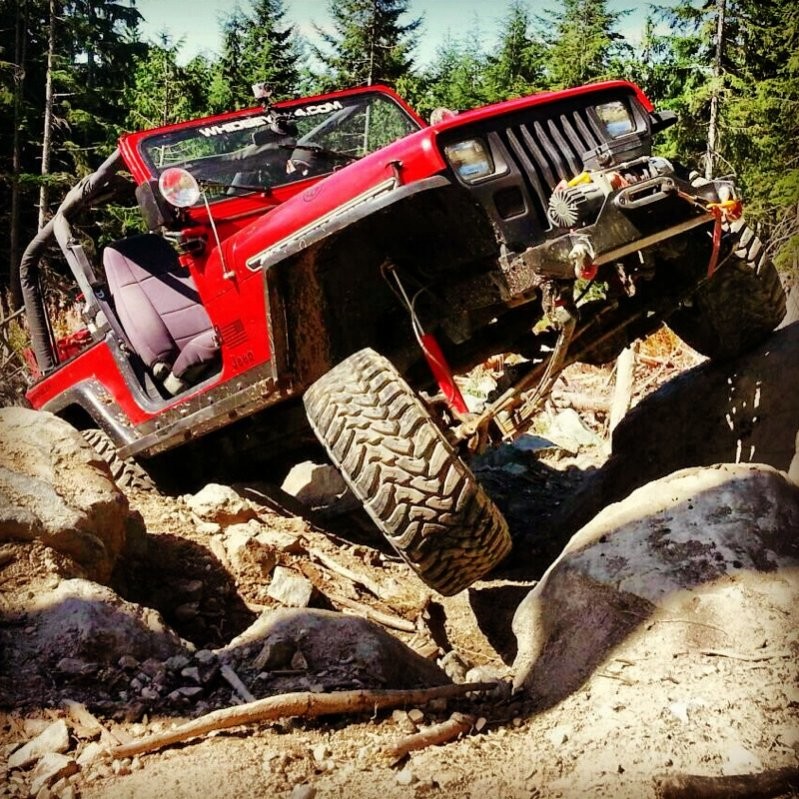 12-14-2012
Nothing to cool but a small update none the less, I installed a early Christmas present! Hood blackout decal and grab handles!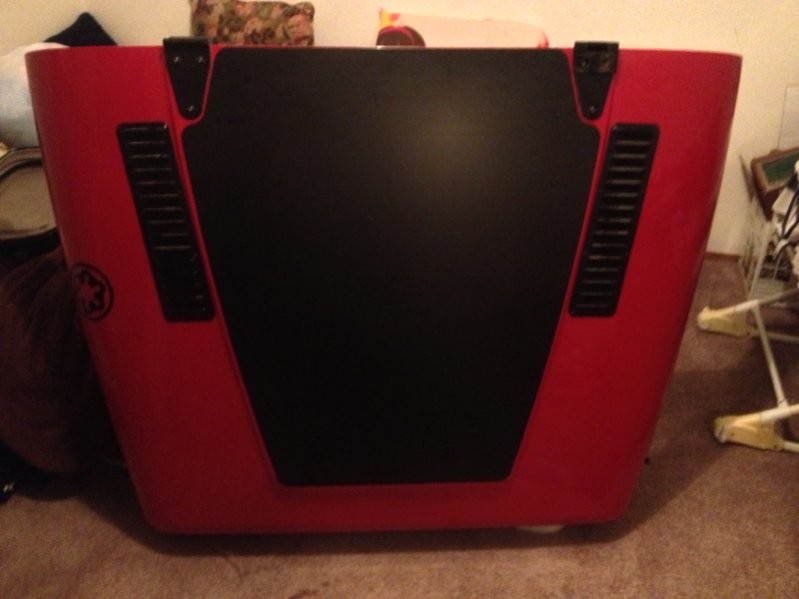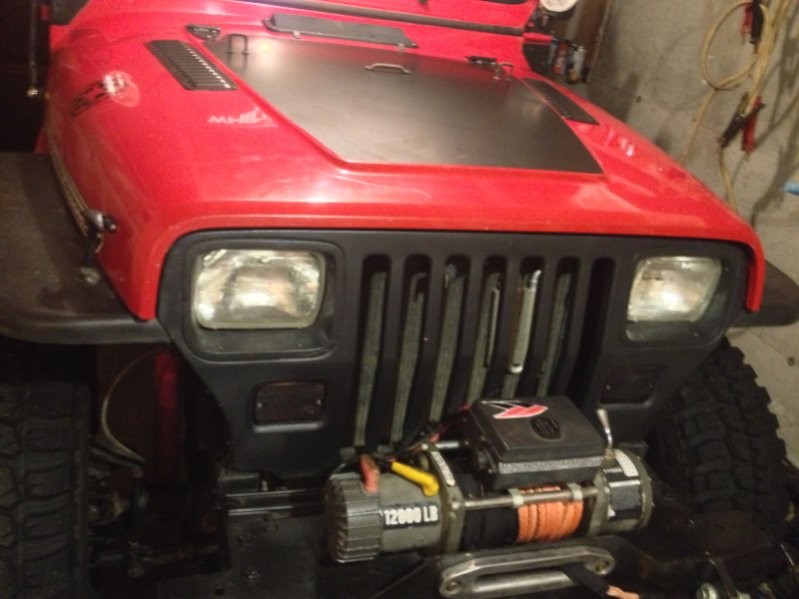 12-18-2012
So out of the blue I decided to take my boy up to walker valley orv to play in the snow to day, we had a blast! there was plenty of snow to play in and lots of mud down low. So here are some pics from today, not the pics of me driving in the water is the deepest water I have ever driven in with the jeep (I need to check to see if my diff took on any water) it was deep enough to swallow my 35s and also to start filling my tube with water lol!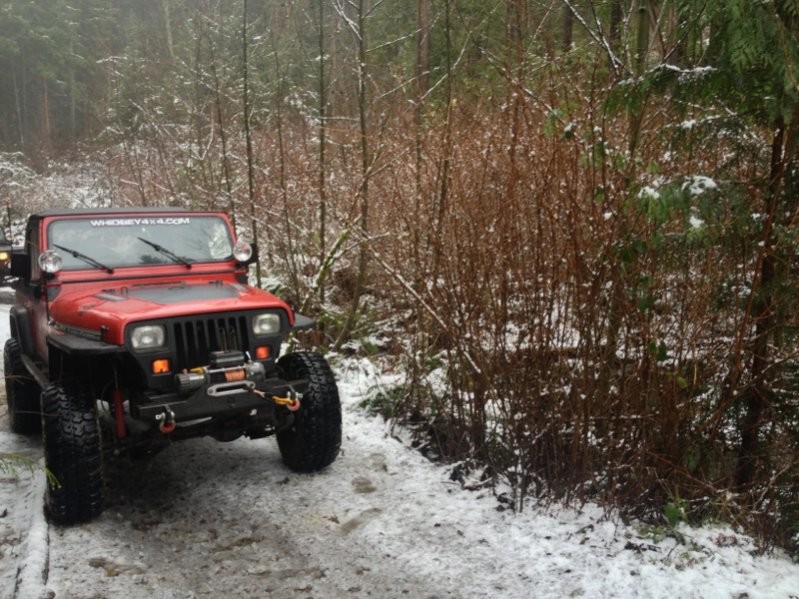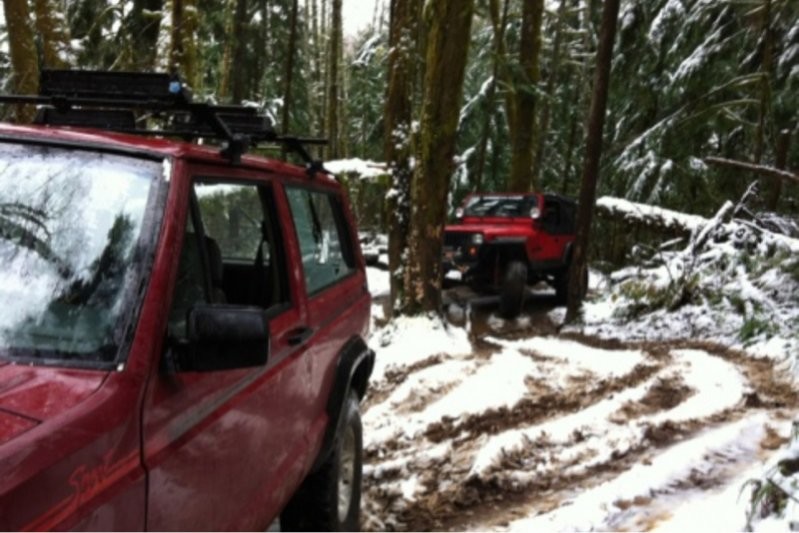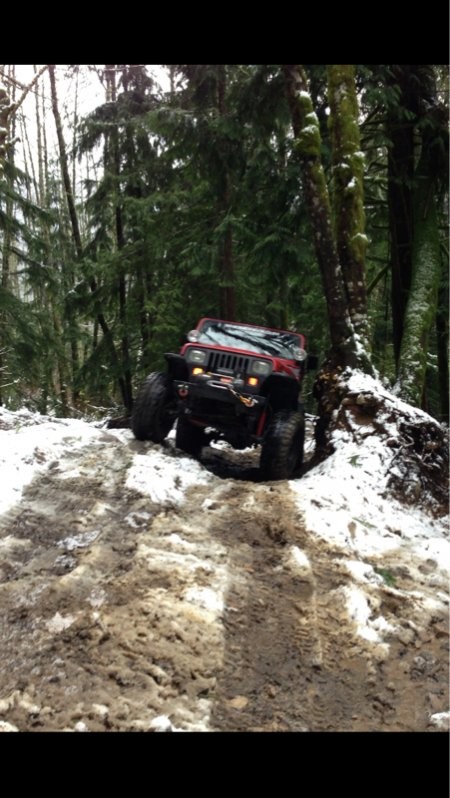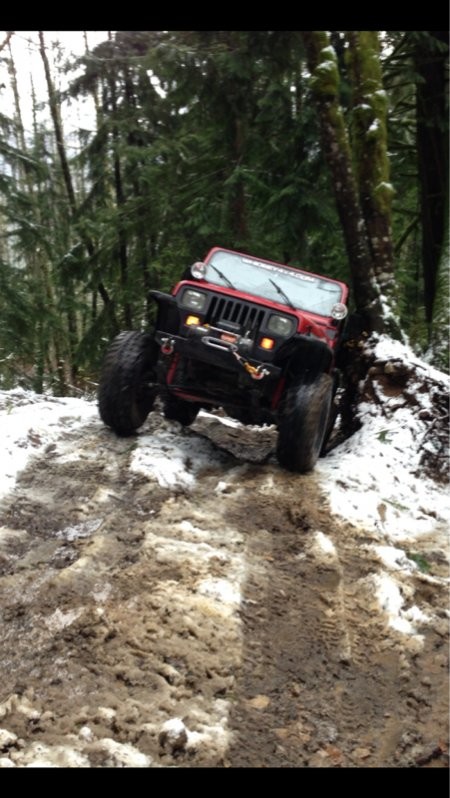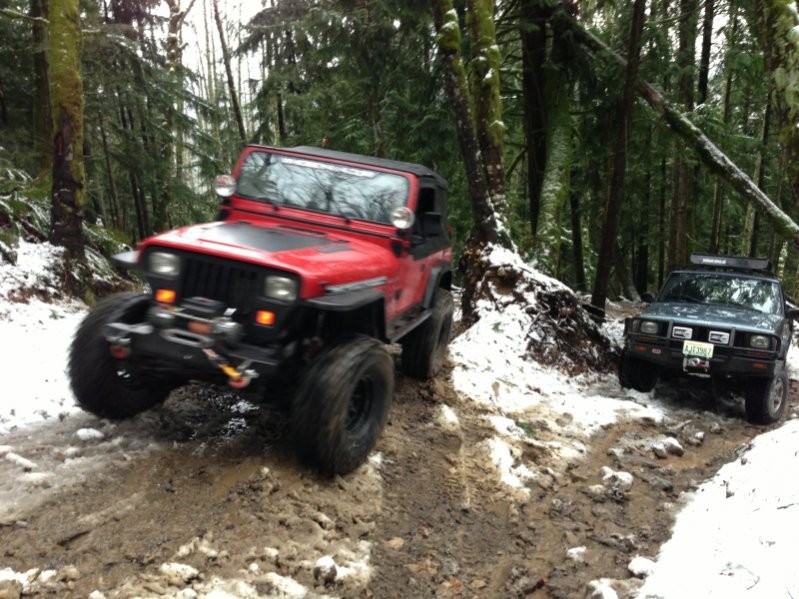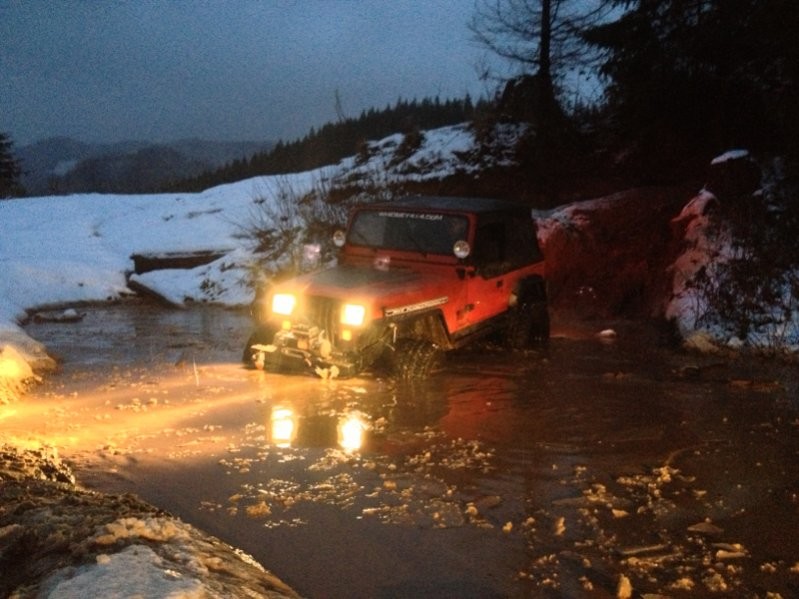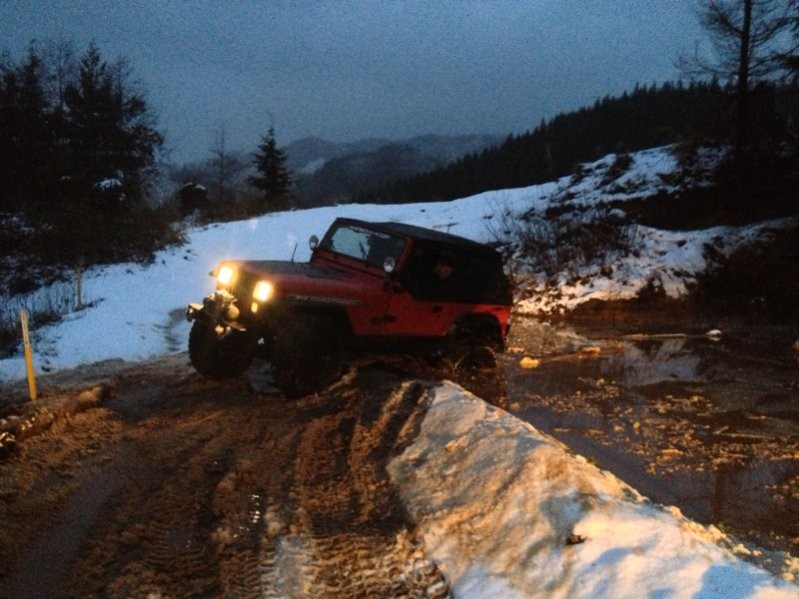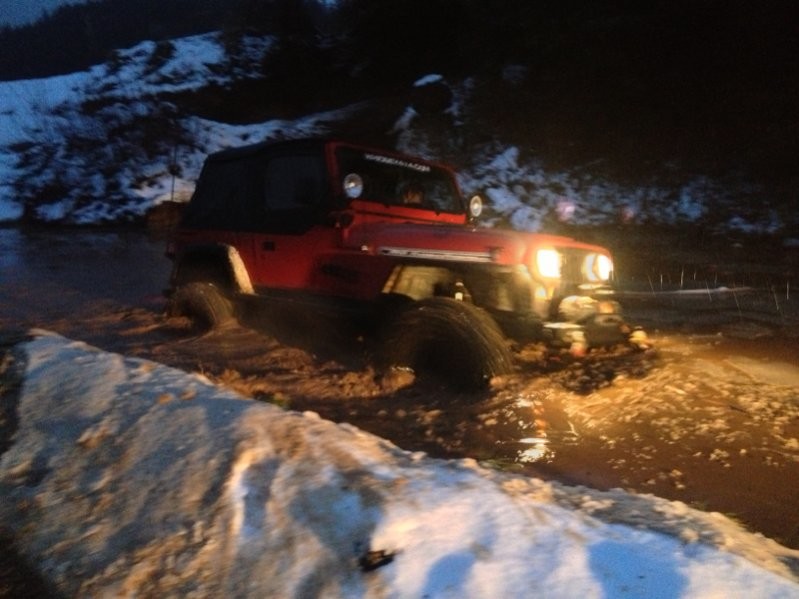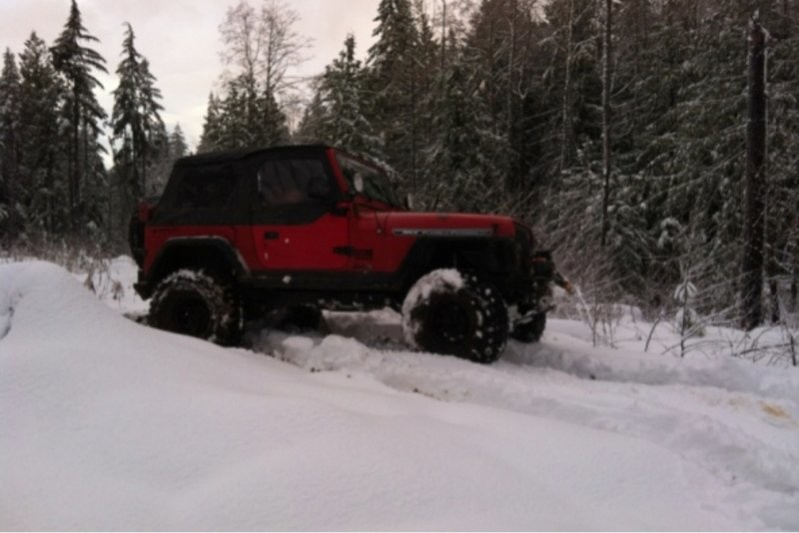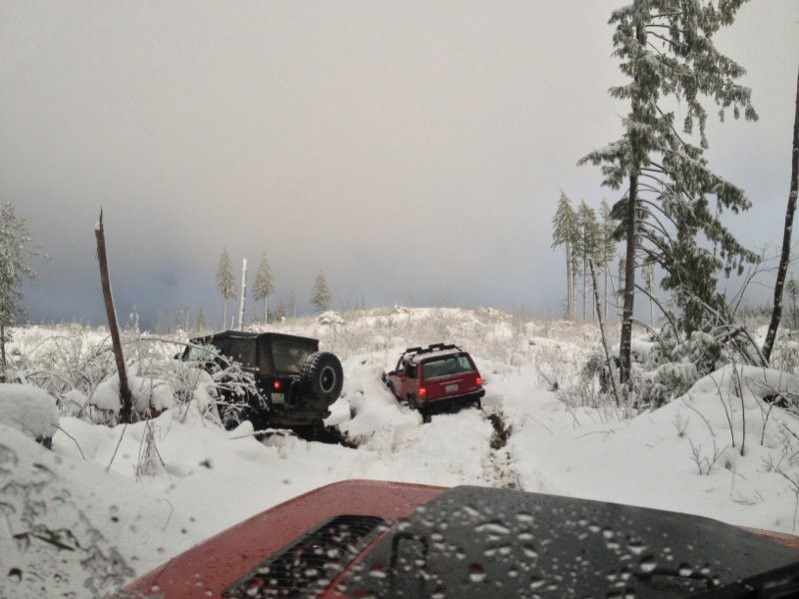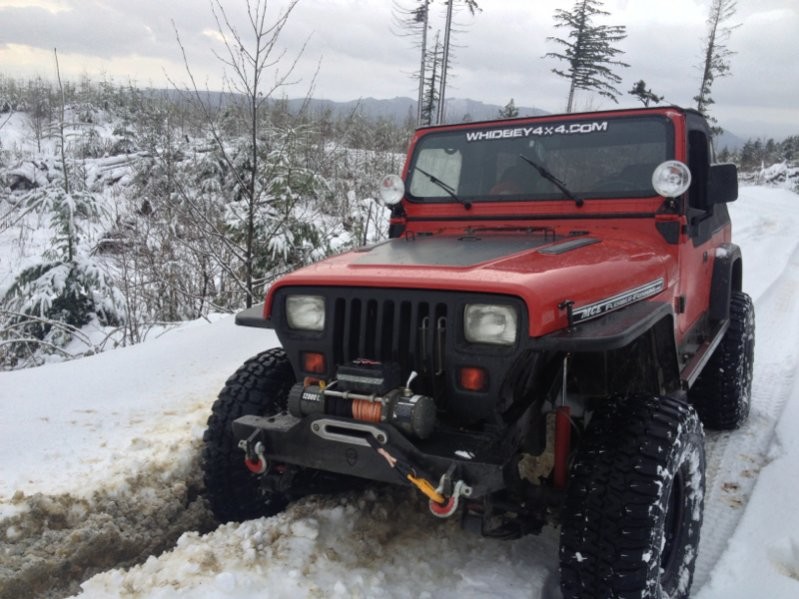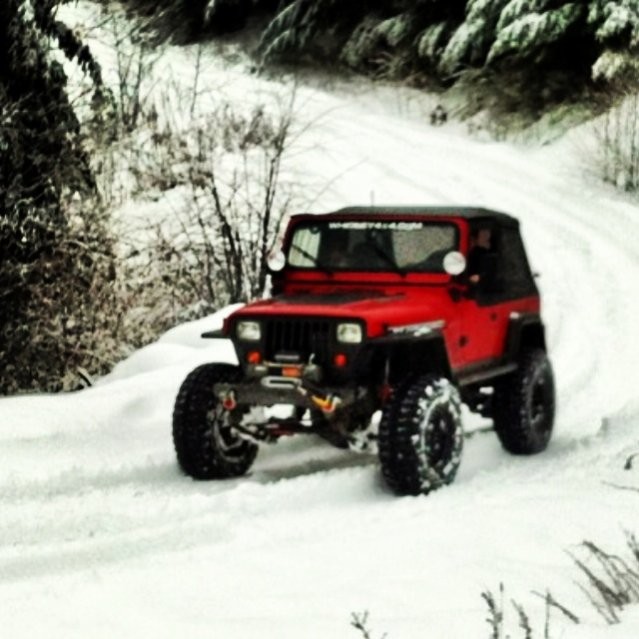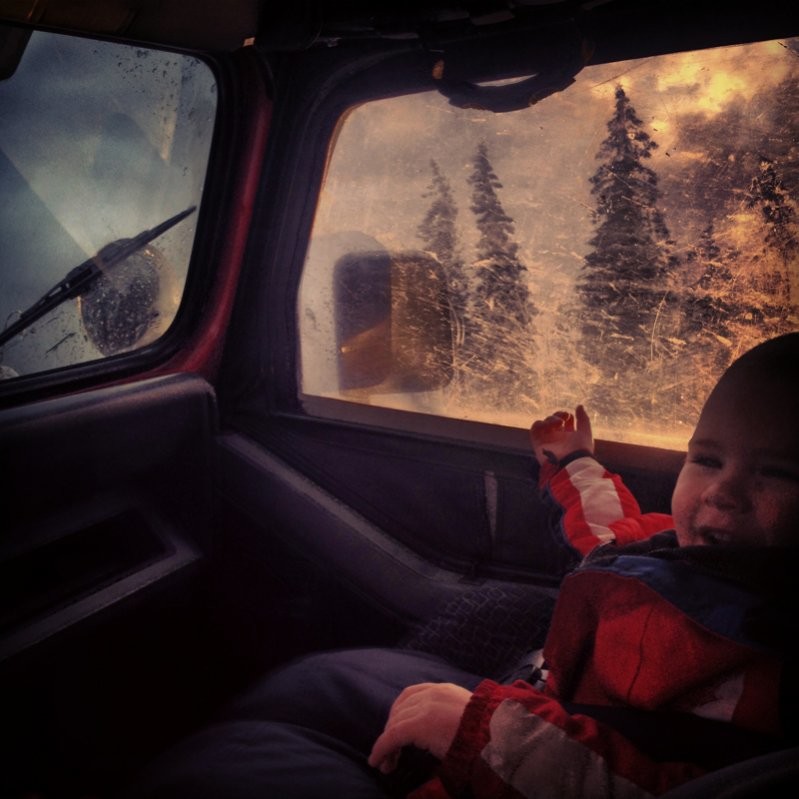 12-23-2012
well I decided it was time to clean the inside up a bit to get ride of the dirt stained look on the bed liner so I went to town at it with simple green and a scrub bush.........she looks brand new in it again! Since I had the door and side window I decided to take a little drive with it (40 degrees out) and man I can't wait to summer so I came keep it that way again I hate hate hate doors and the top! On a side note I let the wife drive it for the first time today..........mistake number 1 lol I think she in joyed it and may steal my keys ever now and again!
12-27-2012
How bought this for a update?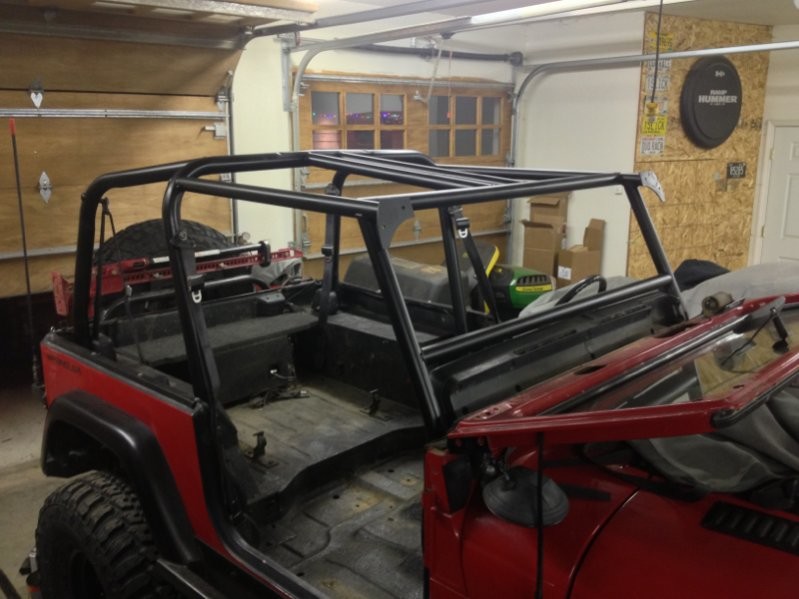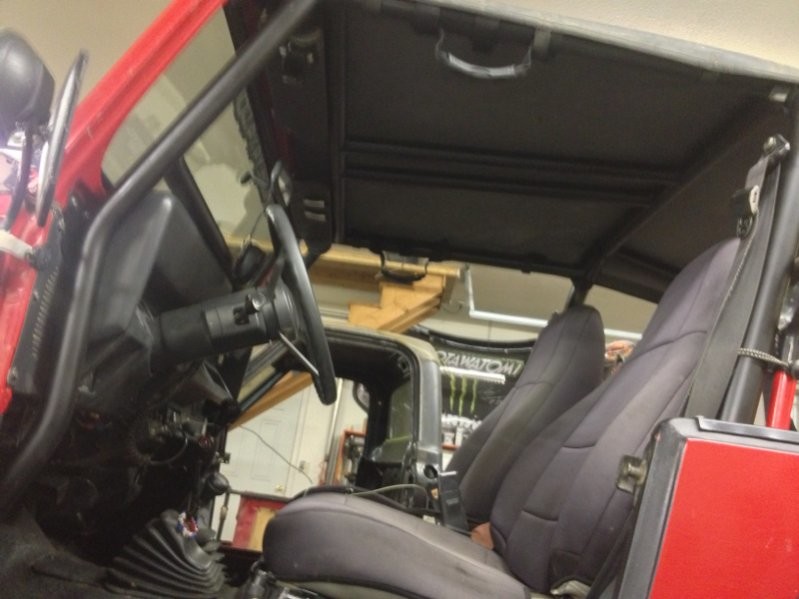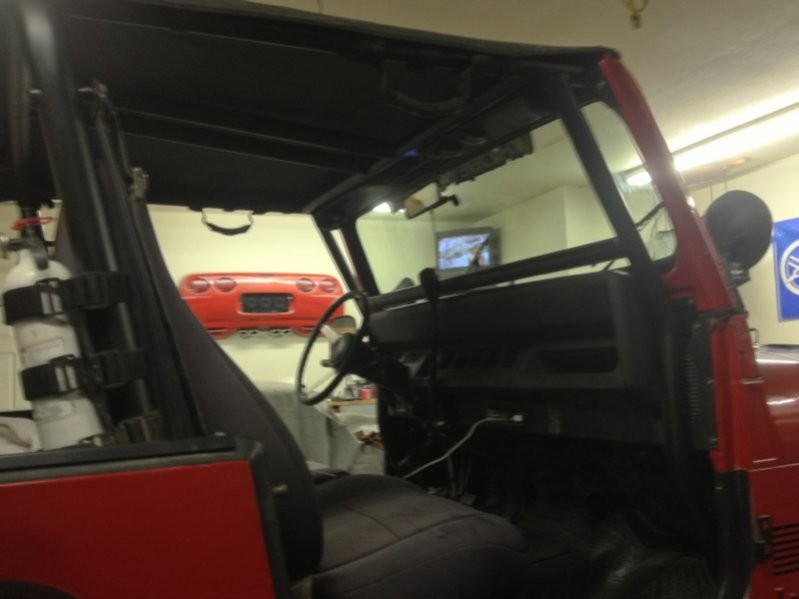 12-28-2012
So I had to persuade the door back a hair along with trim back the panel but I now have the doors back on. The driver side door went on with out any mods, which is because the leg mount at the floor was pushed closer to the clutch to clear the ebrake!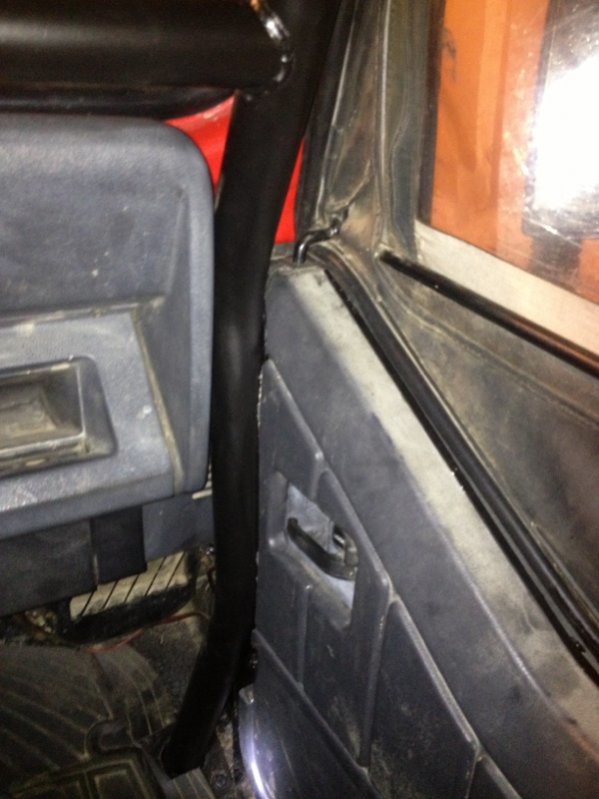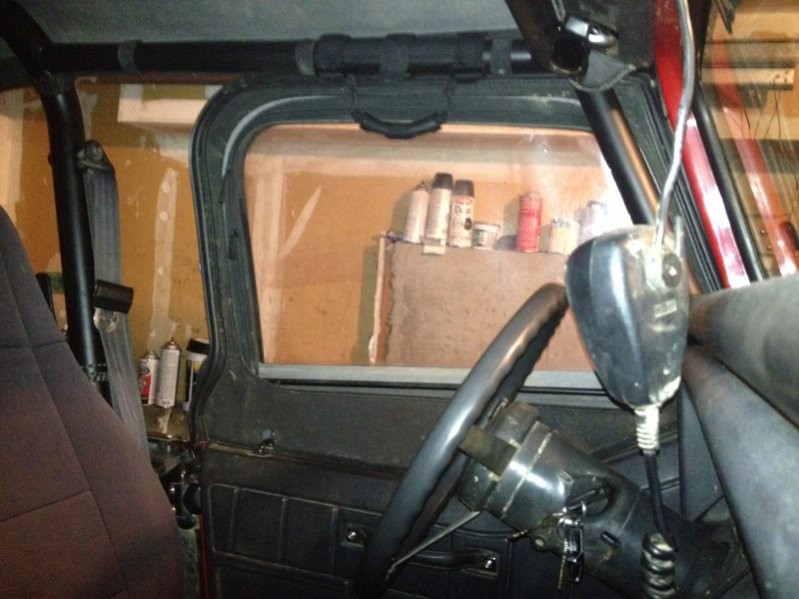 12-29-2012
No I went with the trail-gear rock defense sport cage!
12-30-2012
The quality and and fit meant of he cage is great, I was going to go with the btf to until I saw the shipping cost! The trail-ready cage was 270 to my door which was a steal compared to the btf cage. I would recommend it to any one!

On a side note I am wheeling in the morning, going doorless with a high of 40 degrees and plan to play in some snow! Pics to fallow!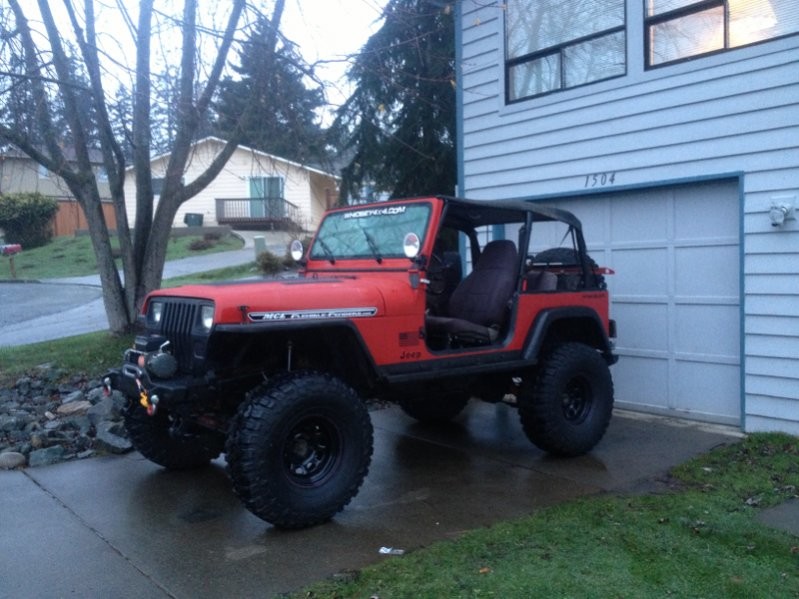 12-31-2012
Couple pics from today!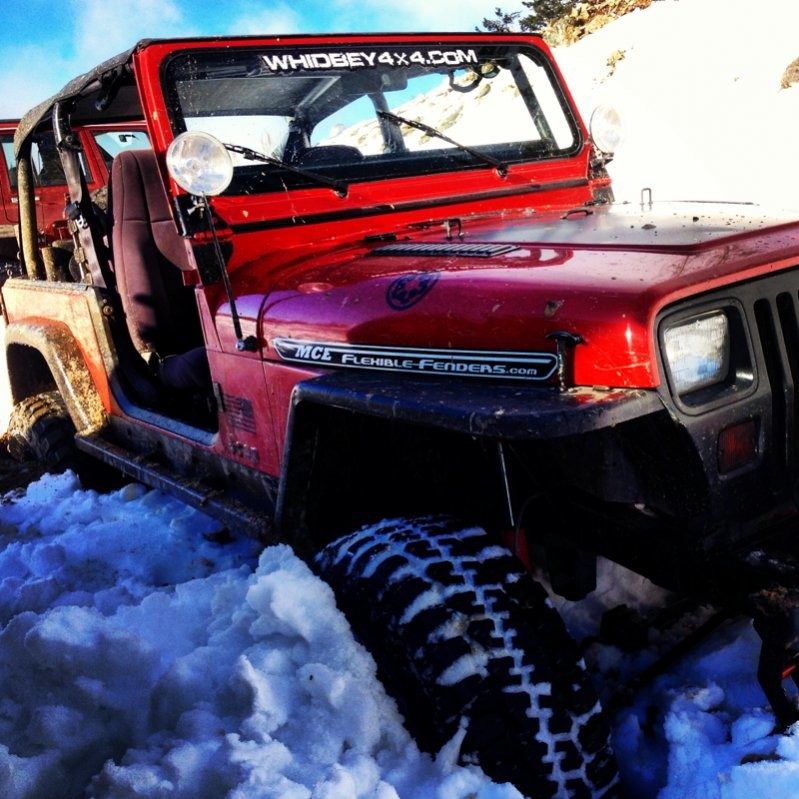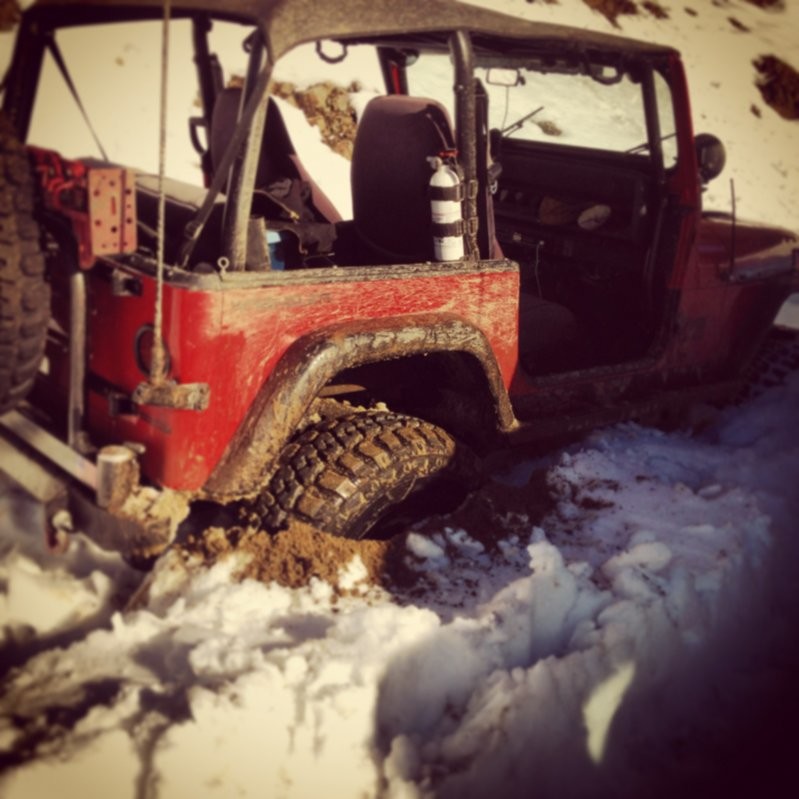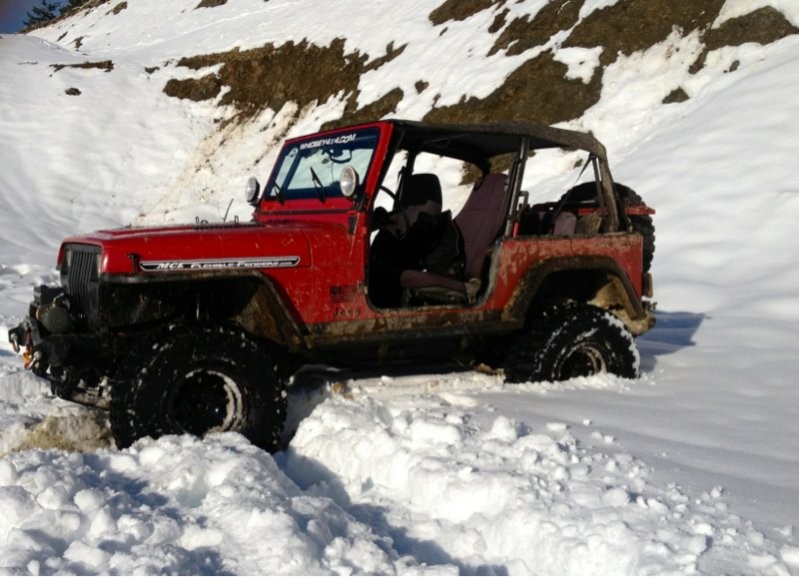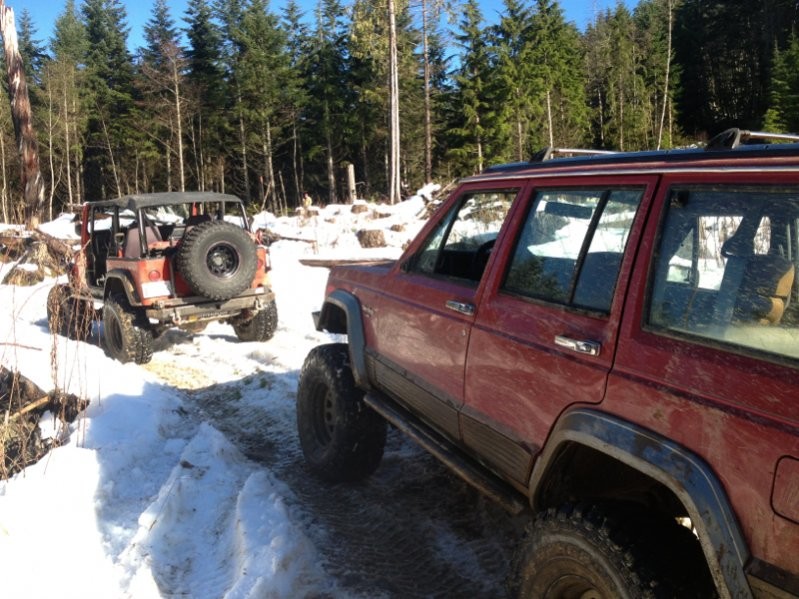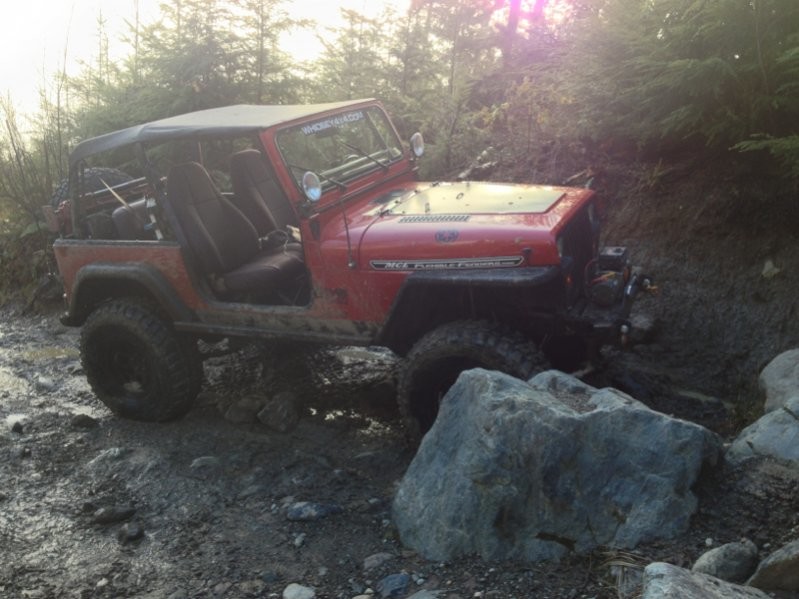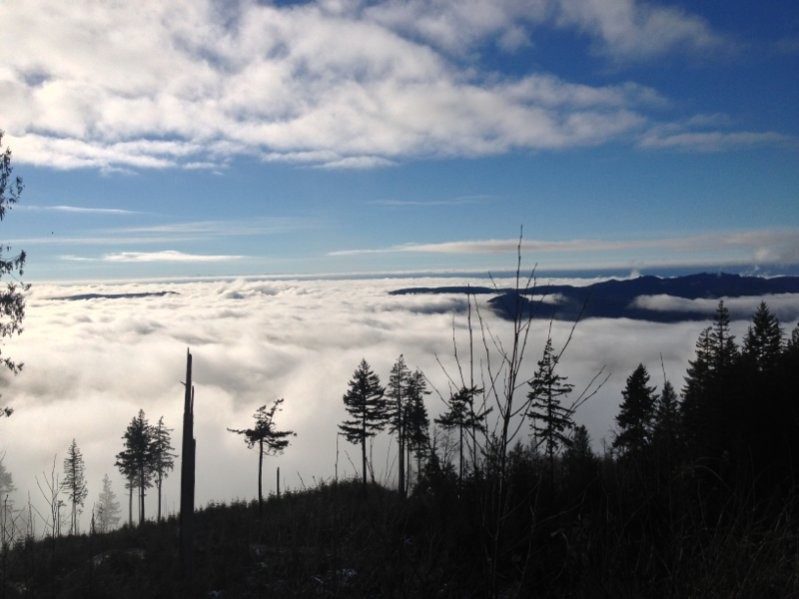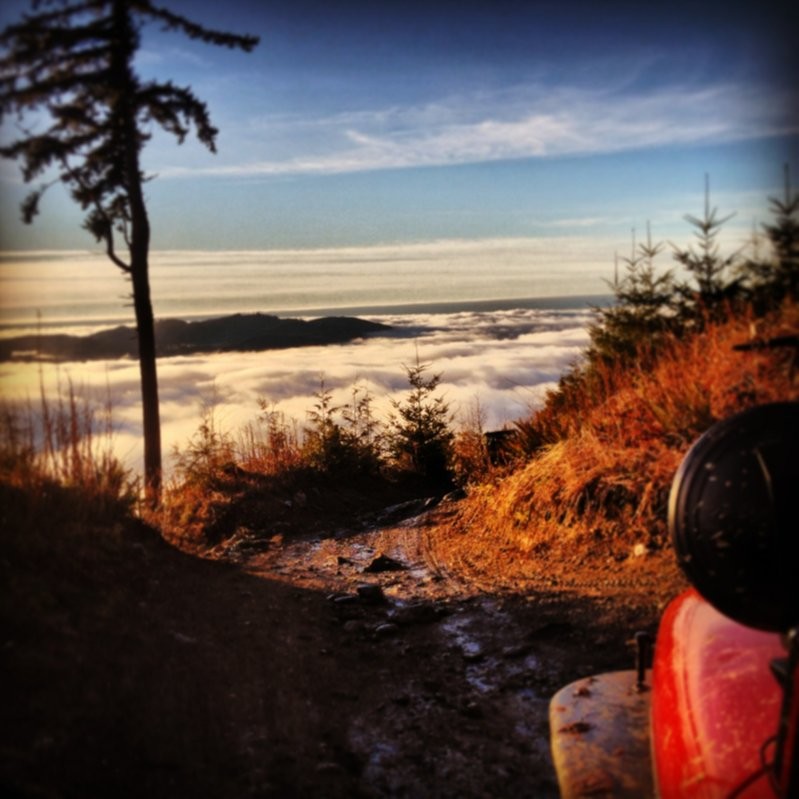 here is a tiny vid we took yesterday with my gopro I no its nothing cool but this is all my little brother (camera man) took!
1-2-2013
So I had a blast out on my clubs sober up run yesterday. We had enough snow to bury the k5 on 40s in are group

the only crappy thing that happen to me yesterday is I a guy slid down a steep icy hill at what felt like a least 10 - 15 mph right in to the back of me! He bent my tire carrier which suck but I will try and bend it back some. On another note I got to pull and winch lots of guys yesterday, it seems ever one had the when in doubt throttle out mentality when it should on been when in doubt crawl it out. I didt get stuck once running 8psi and 1-2 Gearow range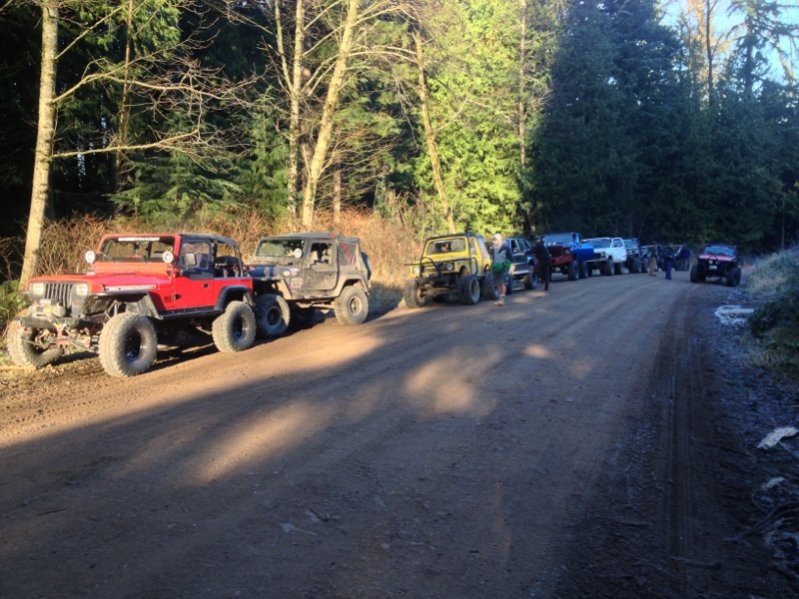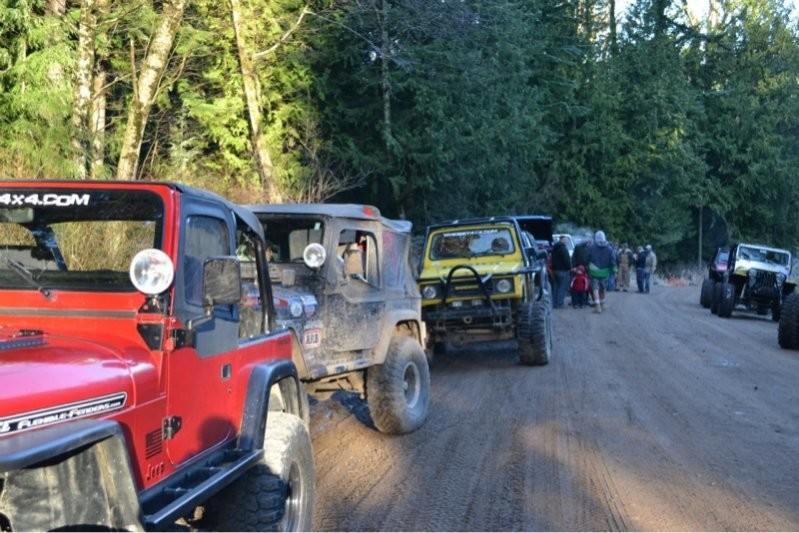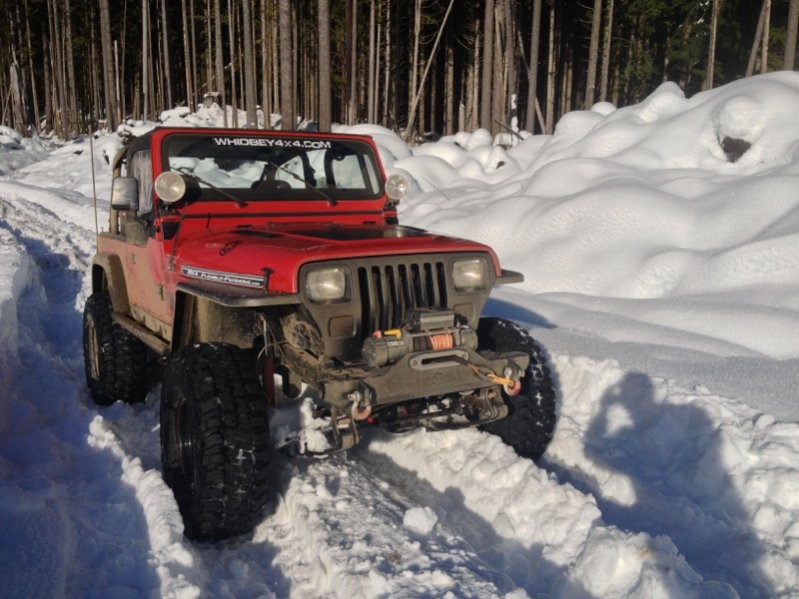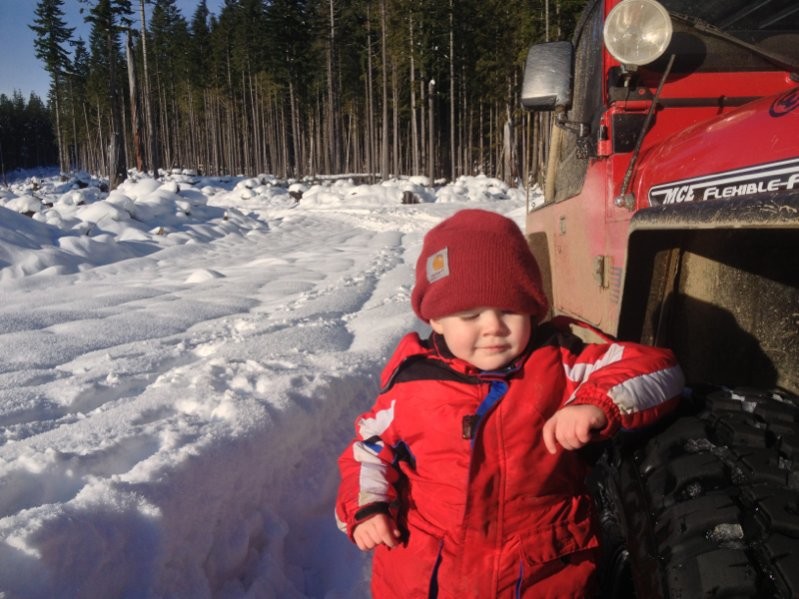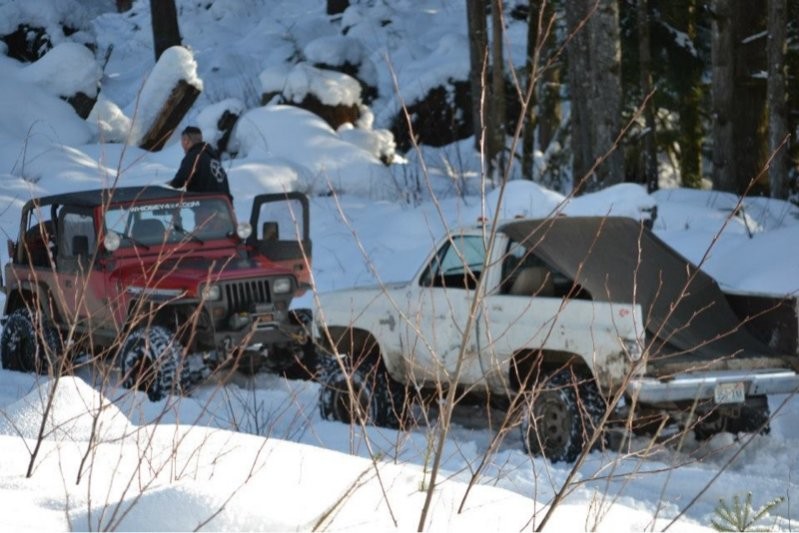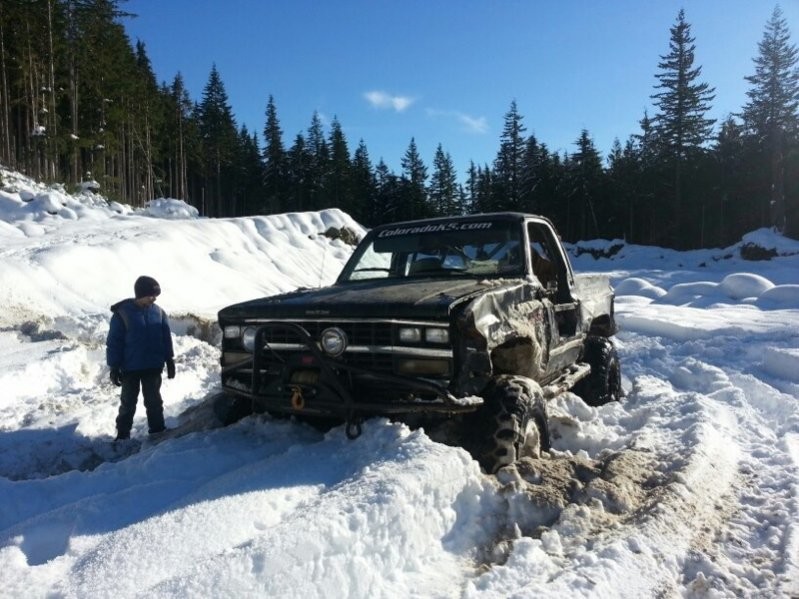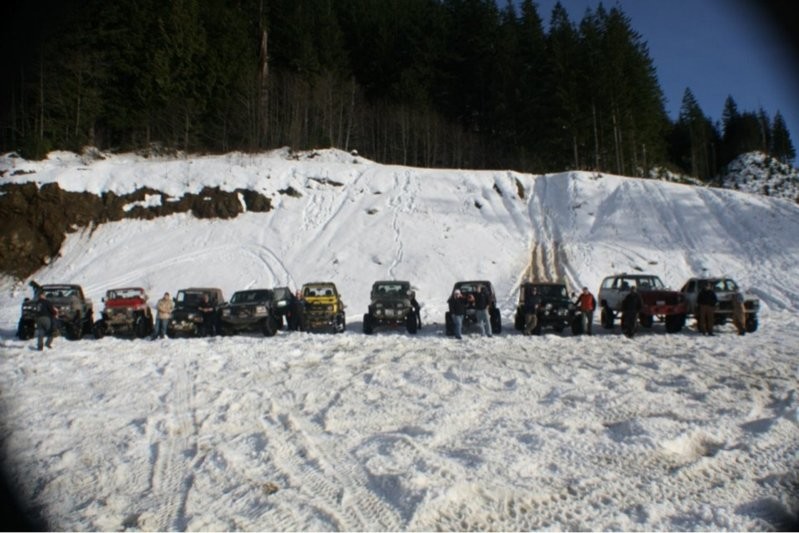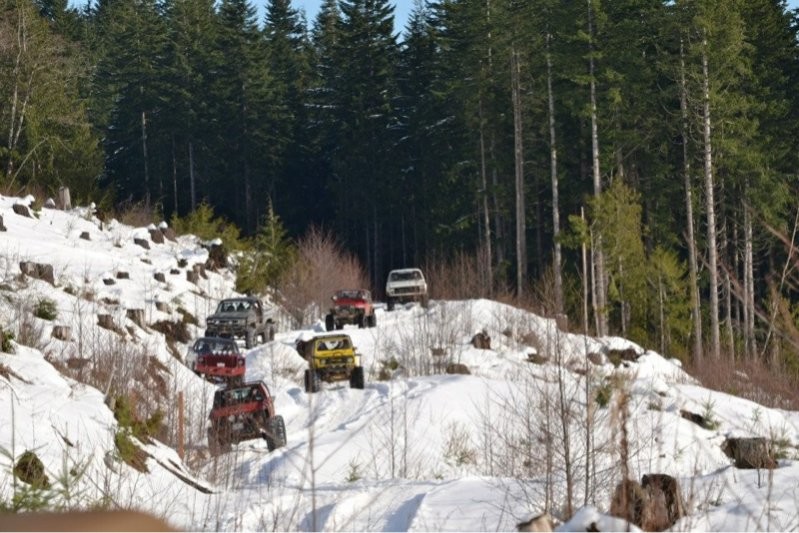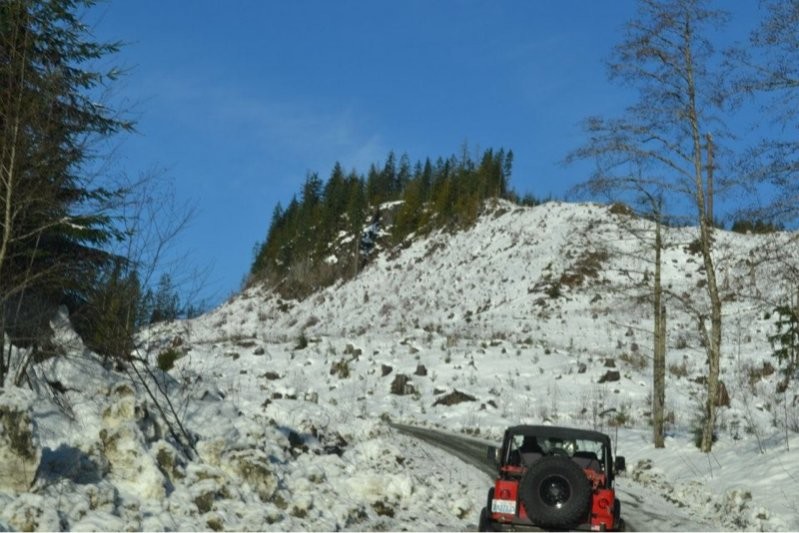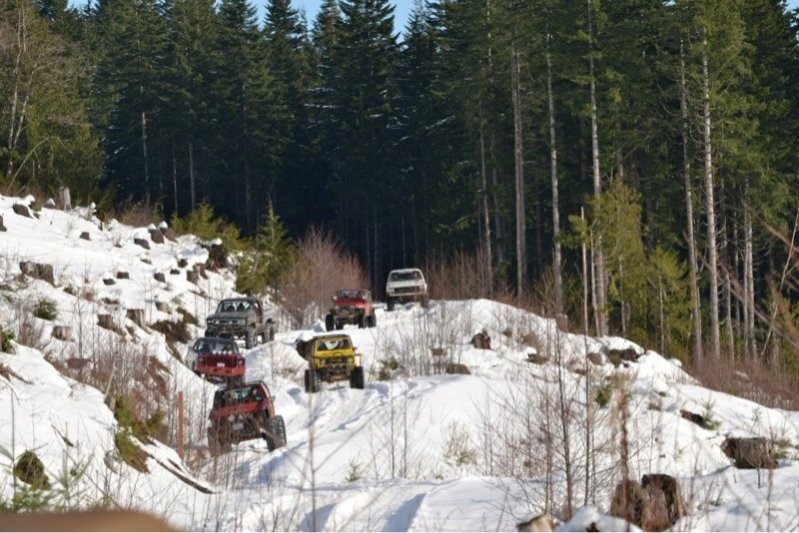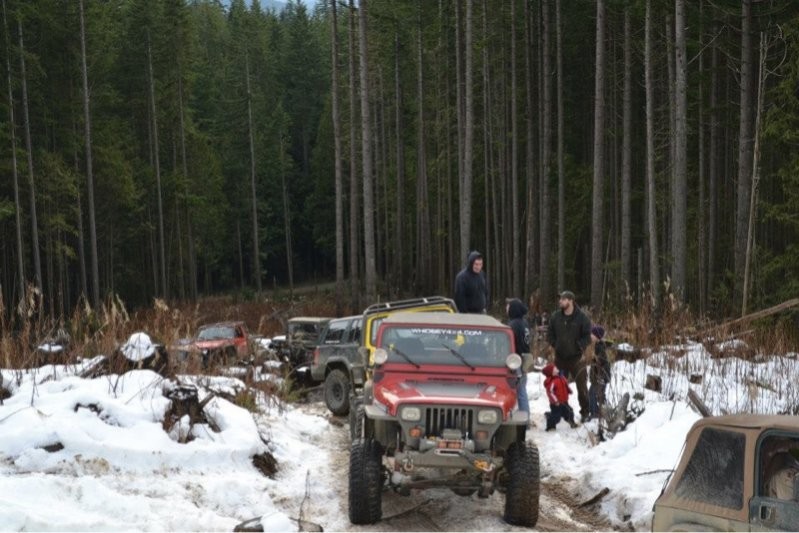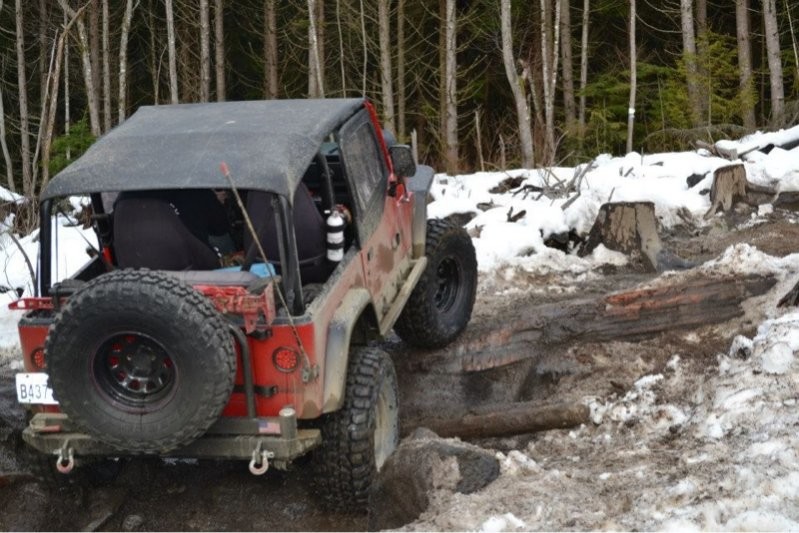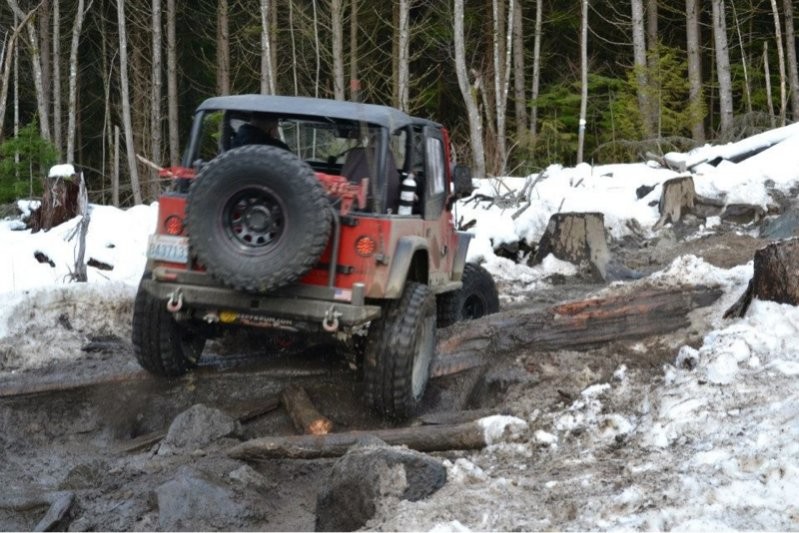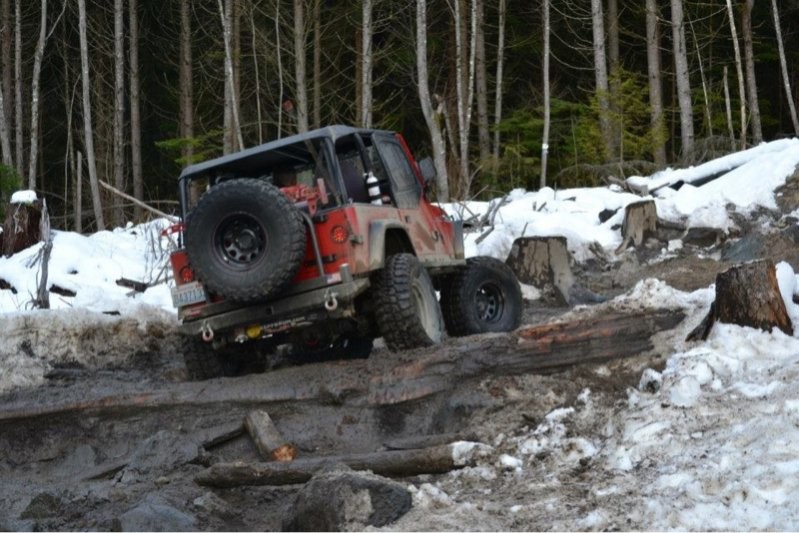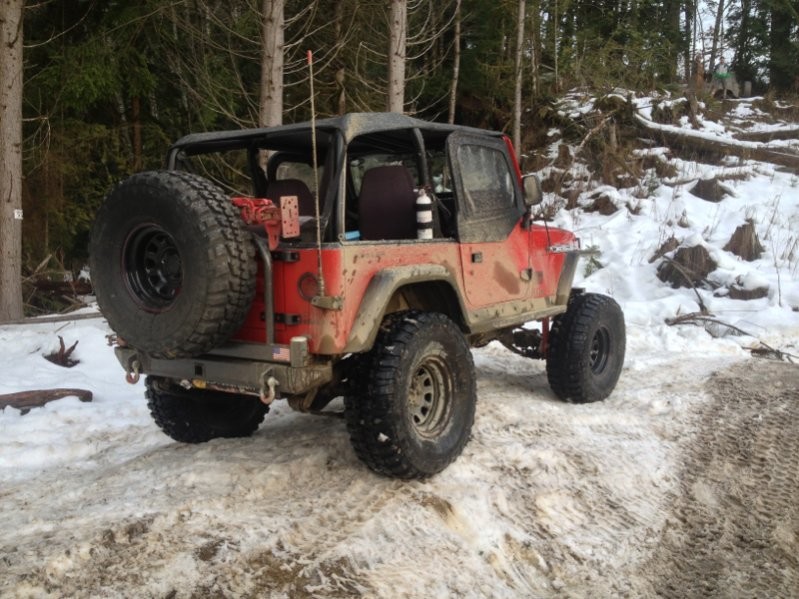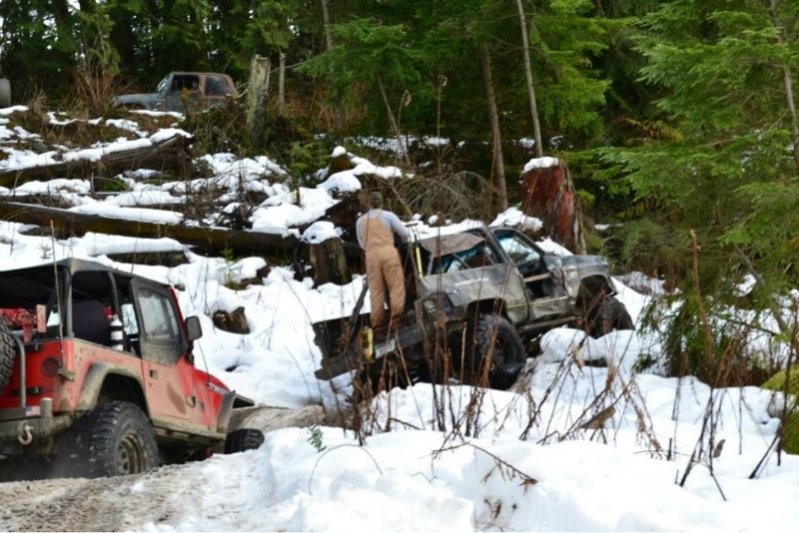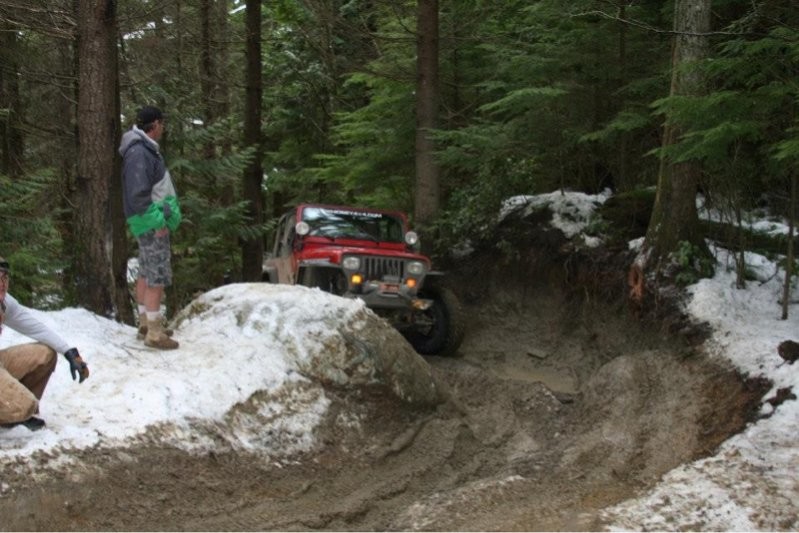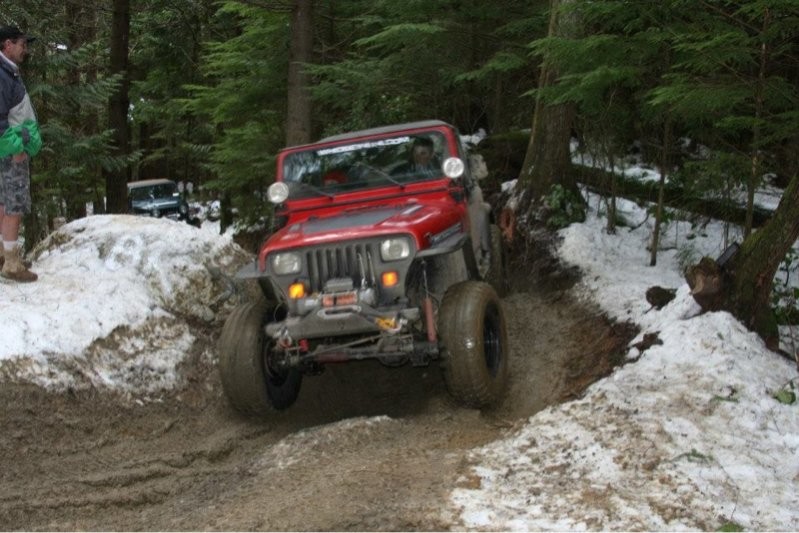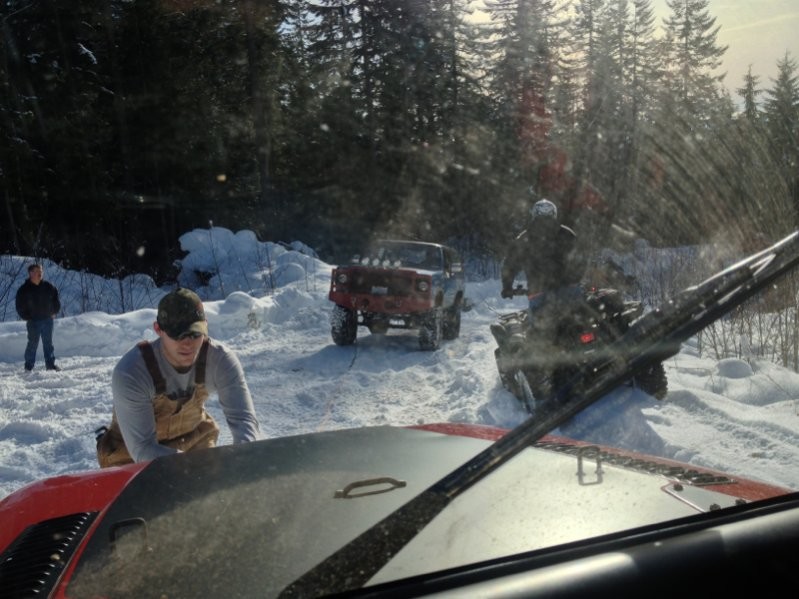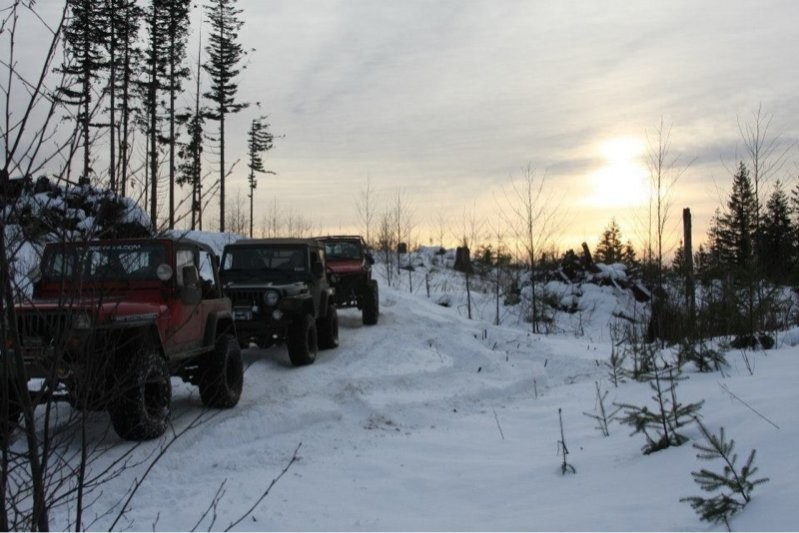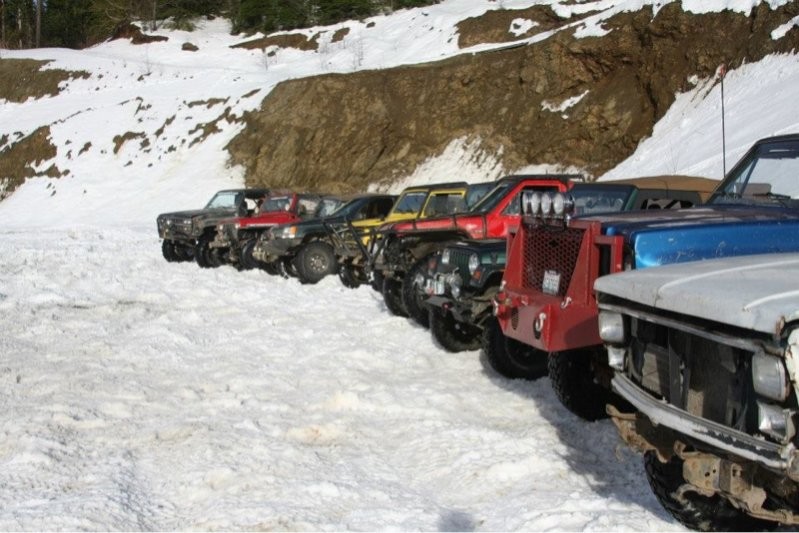 1-9-2013
So today I replaced my frame side leaf spring bushings because my jeep seems to be eating the fabtech bushings I bought for it a year ago lol, I consider these moog bushing a upgrade when it comes to quality I don't plan on changing out the shackle side bushing because the are still in good shape and I believe that design will yield better flex.
Today I also installed a new alt that was under warentty do to the bearing to the bearing going bad on it, I delete the pic of it but the back half also had a crack across the case of alt I have no idea how that happen.
Lastly I flex it out just to find that my shocks are limiting my down travel still, what do you guys recommend for shocks up front I need something with a little more down travel???? I am thinking maybe going with this setup that way I would fit a bigger shock.........http://www.mountainoffroad.com/_e/Sh...ront_Upper.htm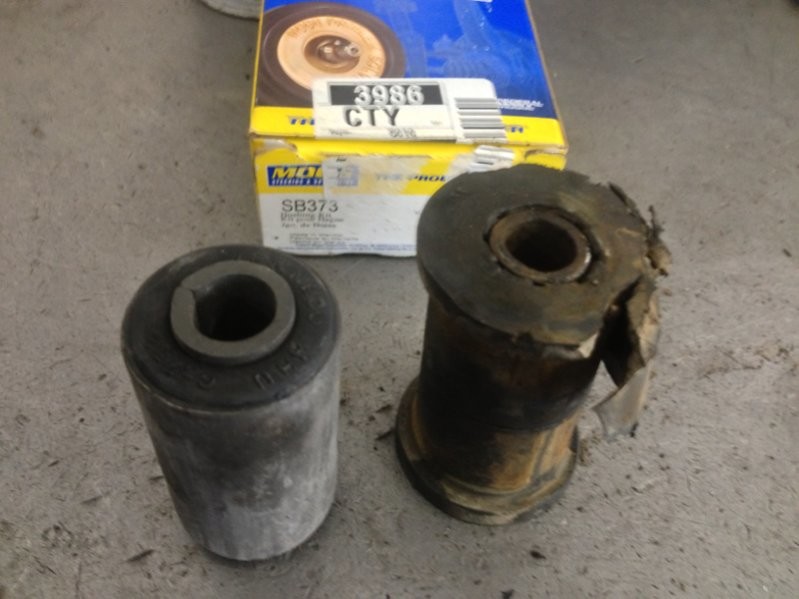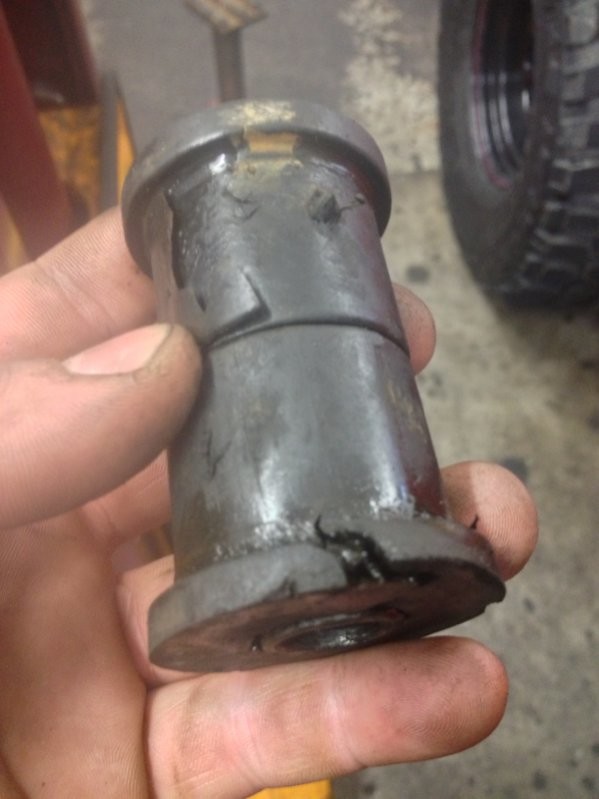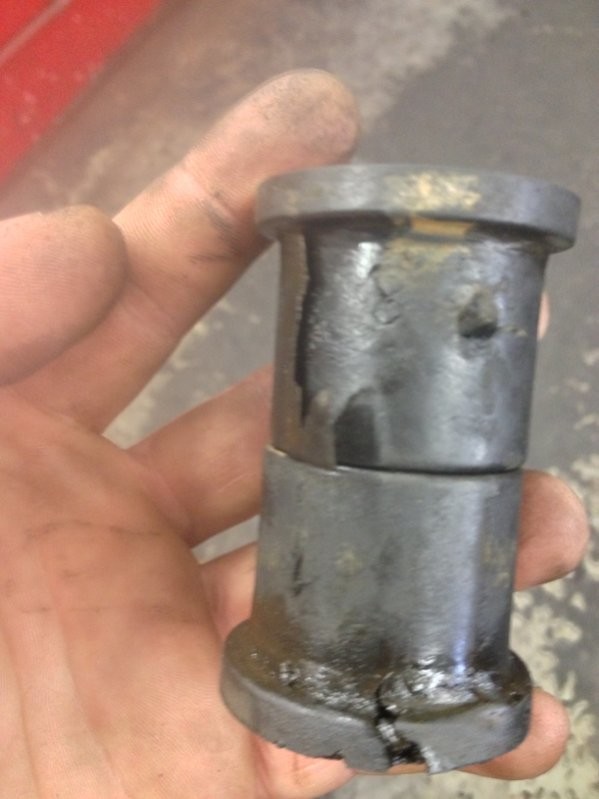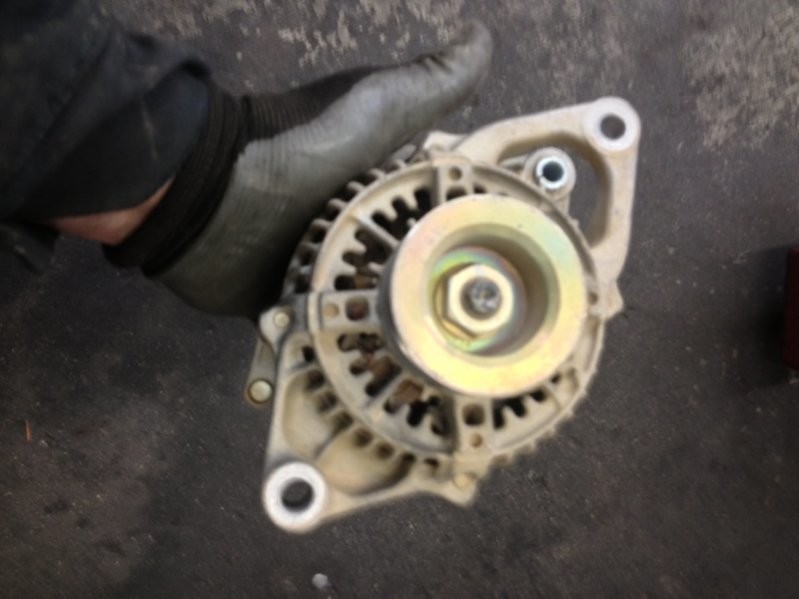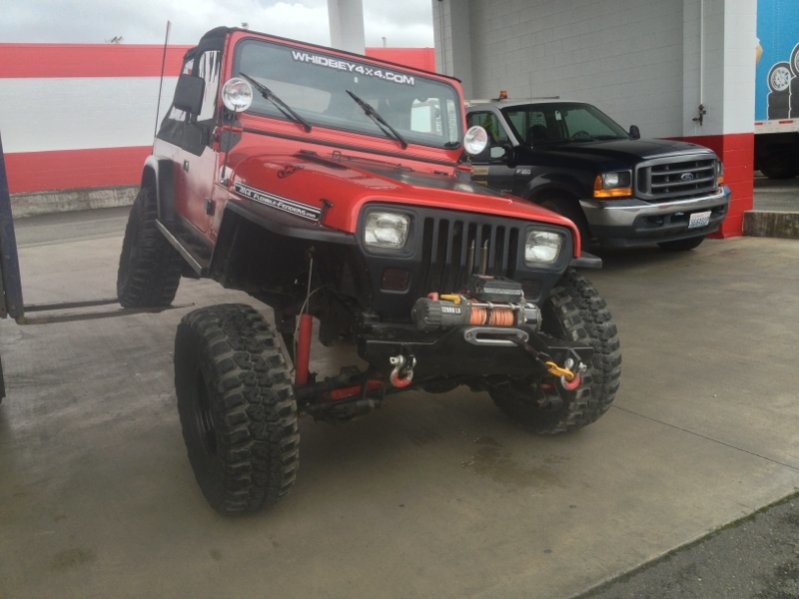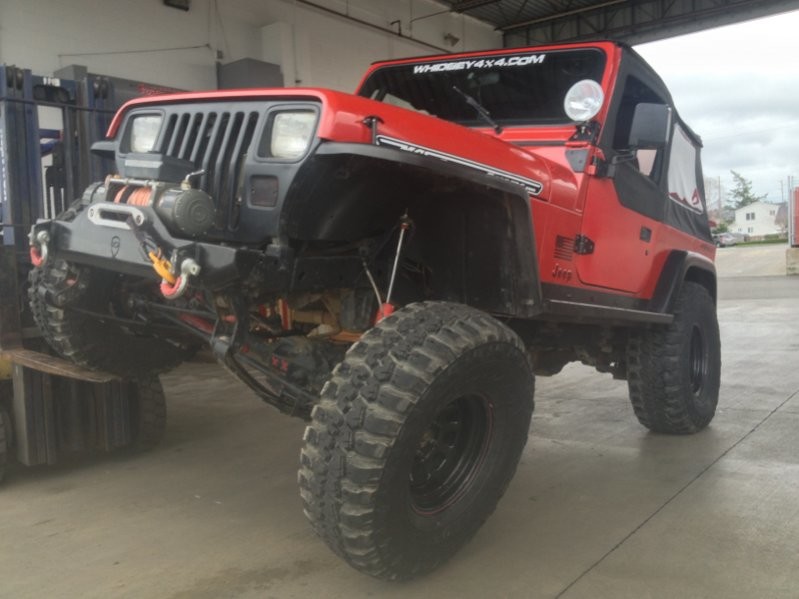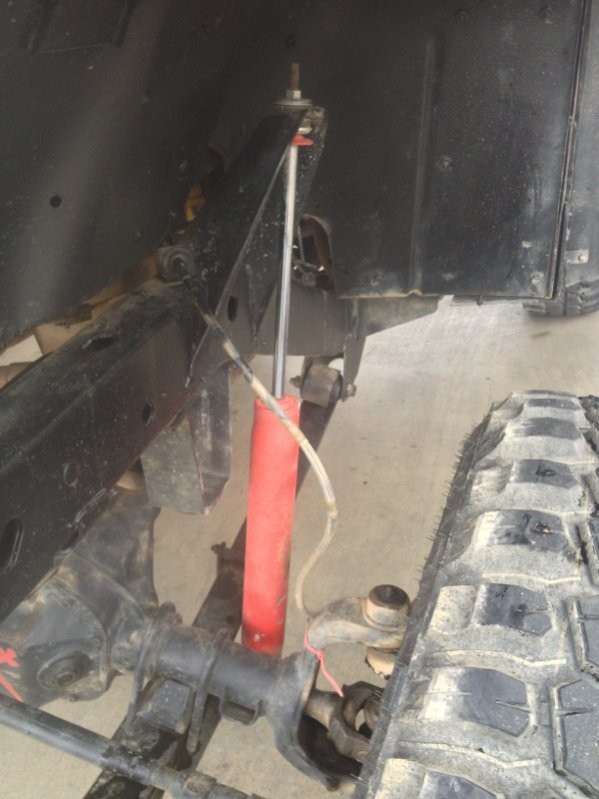 1-10-2013
So today I replaced my frame side leaf spring bushings because my jeep seems to be eating the fabtech bushings I bought for it a year ago lol, I consider these moog bushing a upgrade when it comes to quality I don't plan on changing out the shackle side bushing because the are still in good shape and I believe that design will yield better flex.
Today I also installed a new alt that was under warentty do to the bearing to the bearing going bad on it, I delete the pic of it but the back half also had a crack across the case of alt I have no idea how that happen.
Lastly I flex it out just to find that my shocks are limiting my down travel still, what do you guys recommend for shocks up front I need something with a little more down travel???? I am thinking maybe going with this setup that way I would fit a bigger shock.........http://www.mountainoffroad.com/_e/Sh...ront_Upper.htm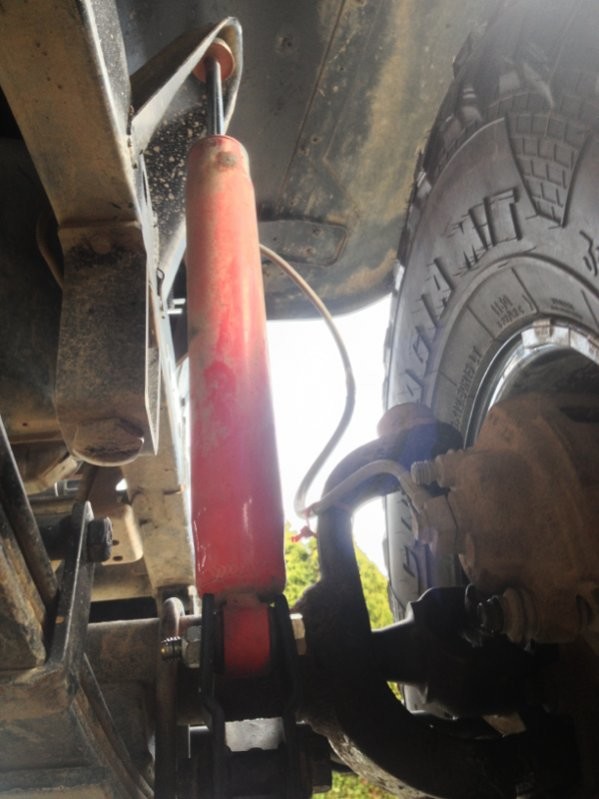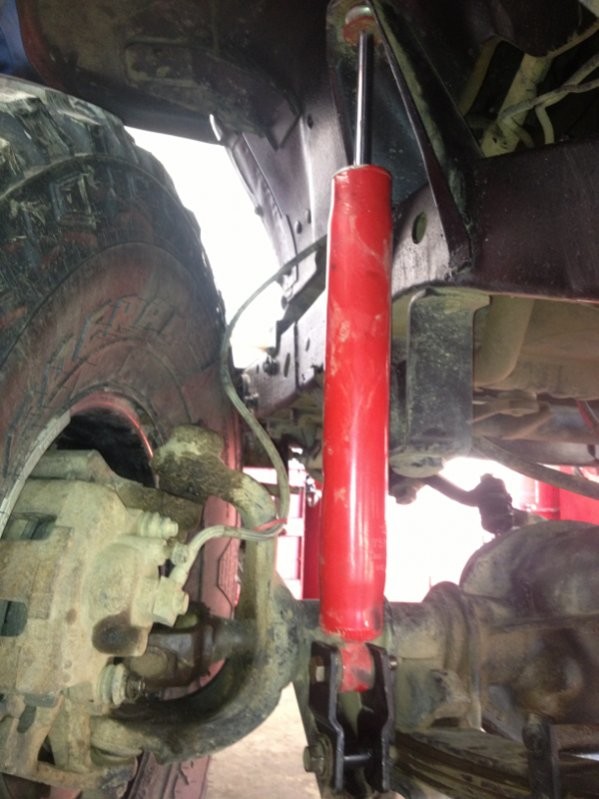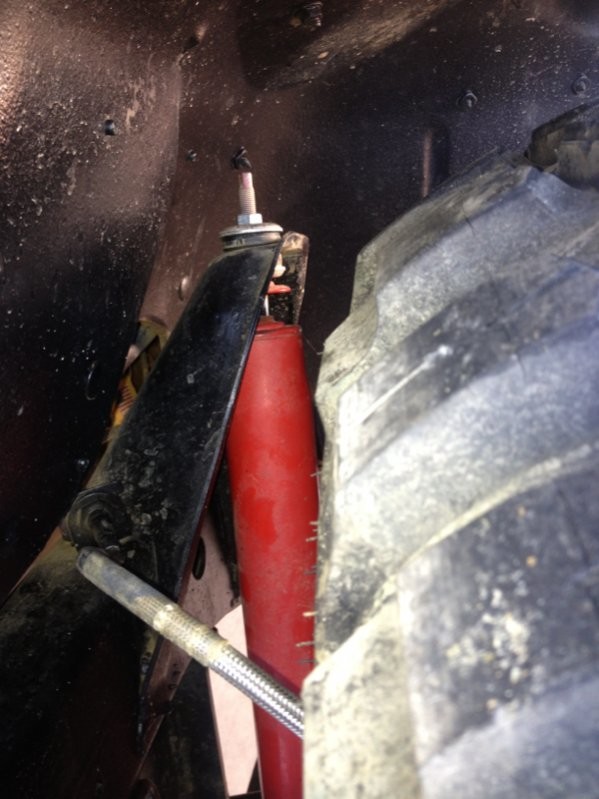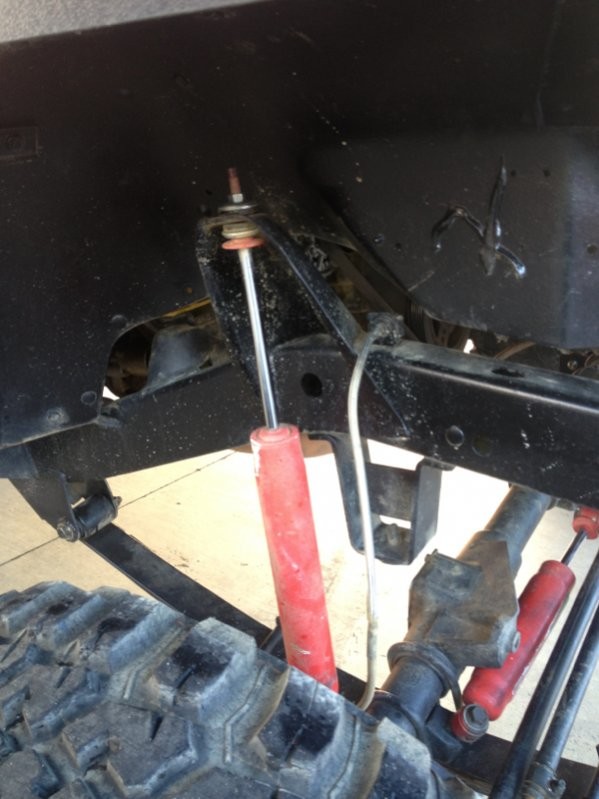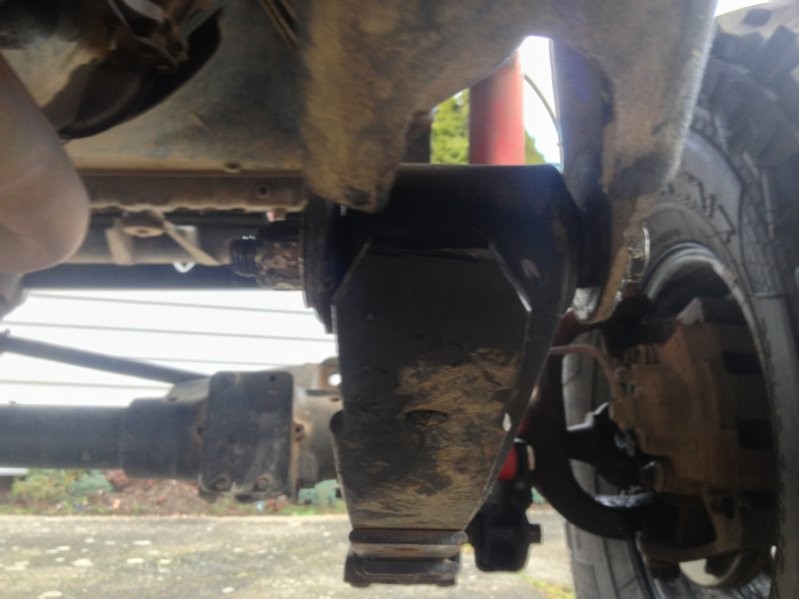 1-14-2013
So after having these little back up light sitting in my center console for almost a year I decided it was time to do something with them. They are more or less just for letting people know I am backing up on the trail, out of parking spots etc. they do give a little light offs high is welcome and I am glad I for have to see them sitting in the jeep any more!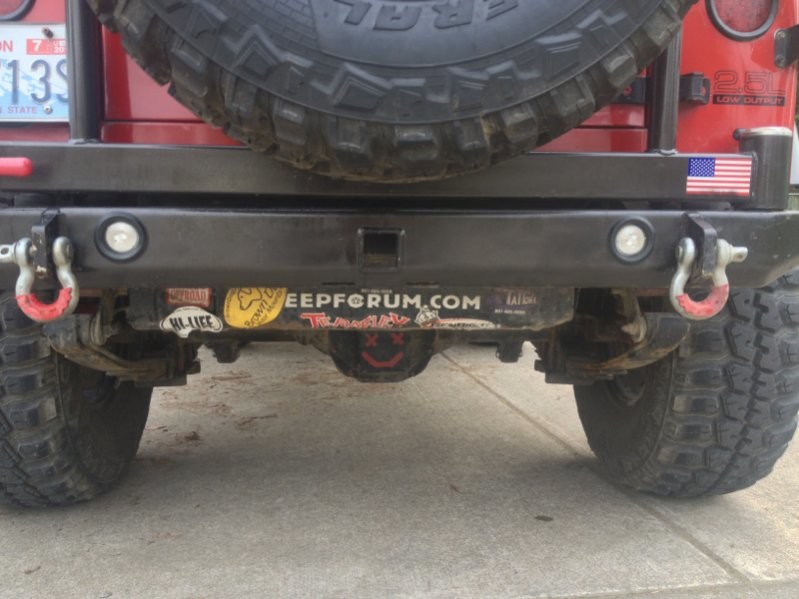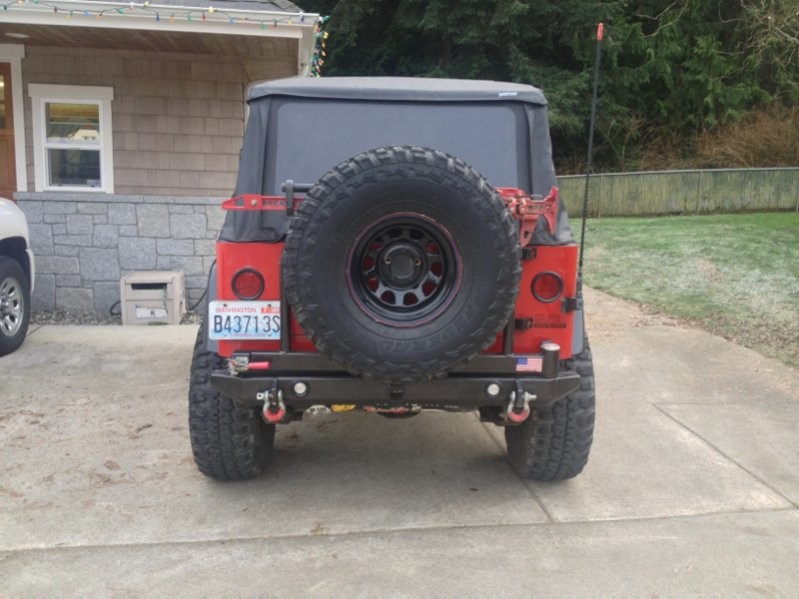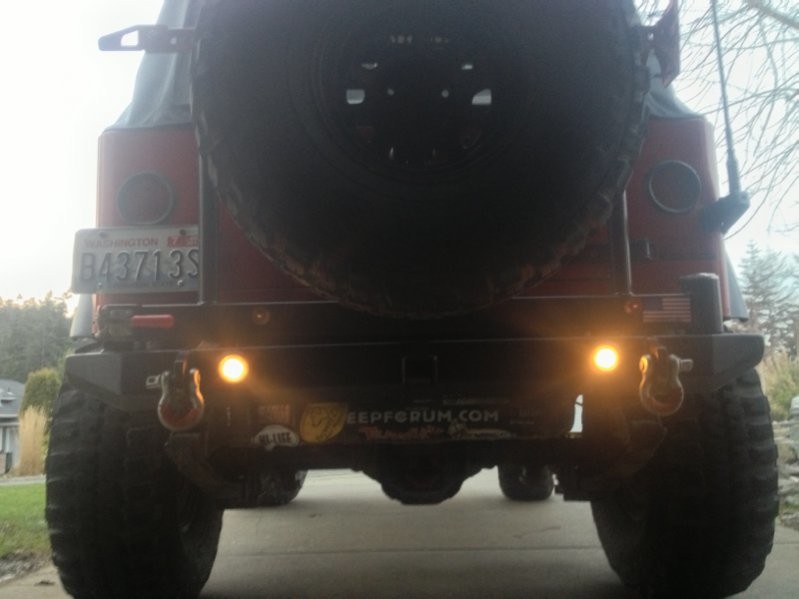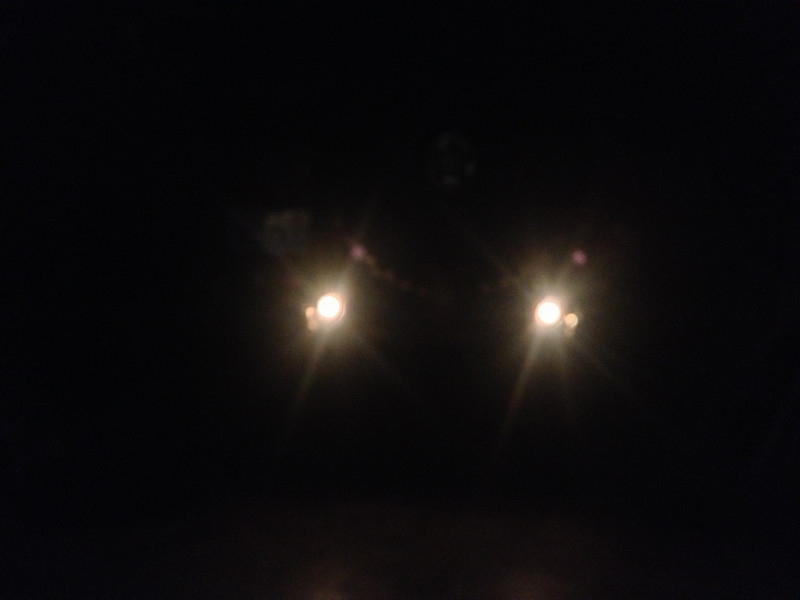 1-16-2013
So I am going to make a little list of what I am going to be getting/doing to the jeep in the next couple of months!

-front dana chromo shafts, gusset the c's, alloy usa axle tube seals, and maybe a truss.
http://www.ringpinion.com/b2c/Produc..._Gear_and_Axle

-rear chromo shafts/c clip eliminators, and maybe a full spool (undecided on this)
http://www.ringpinion.com/b2c/Produc..._Gear_and_Axle

-tera 4.1

-metalcloak full armor (front fenders, sliders, rear quarter guards, and 6 inch flares)

-37 I was aiming for pitbull rockers but just found out they are back order with no eta on them so I might just end up with toyo's on 10 wide wheels!

-I also plan on finishing the rear cage!
1-27-2013
So today me and my tow older kids went out wheeling and had a blast. We managed to lay the jeep on it side (on a bank not flat ground) but no damage done from that, but we did take some of the bank with us

. Here are some pics from today!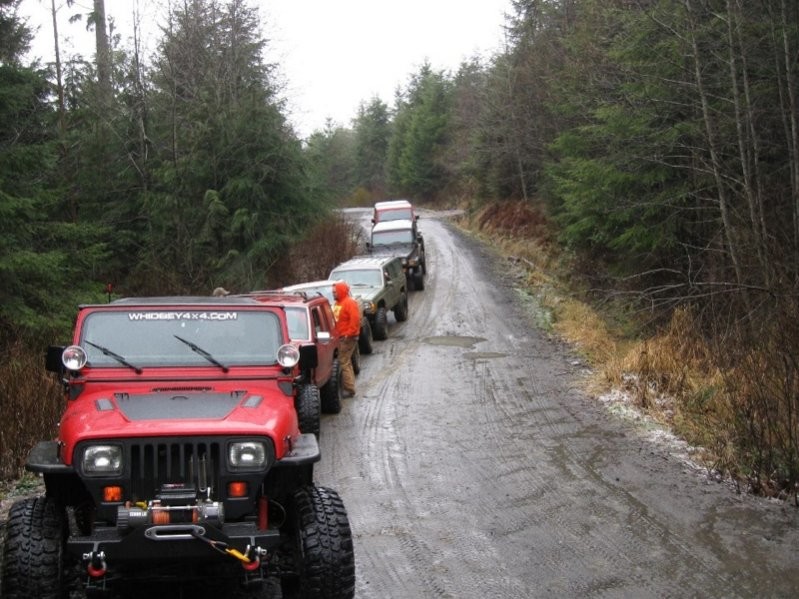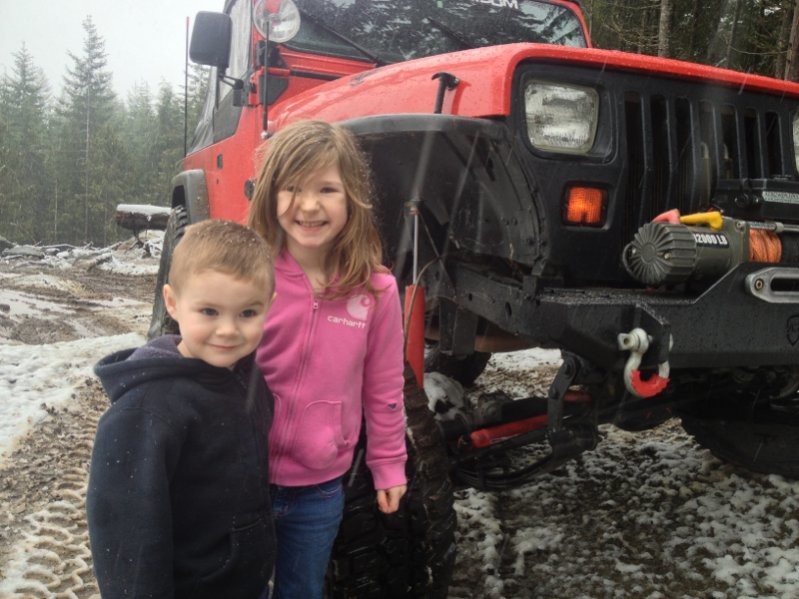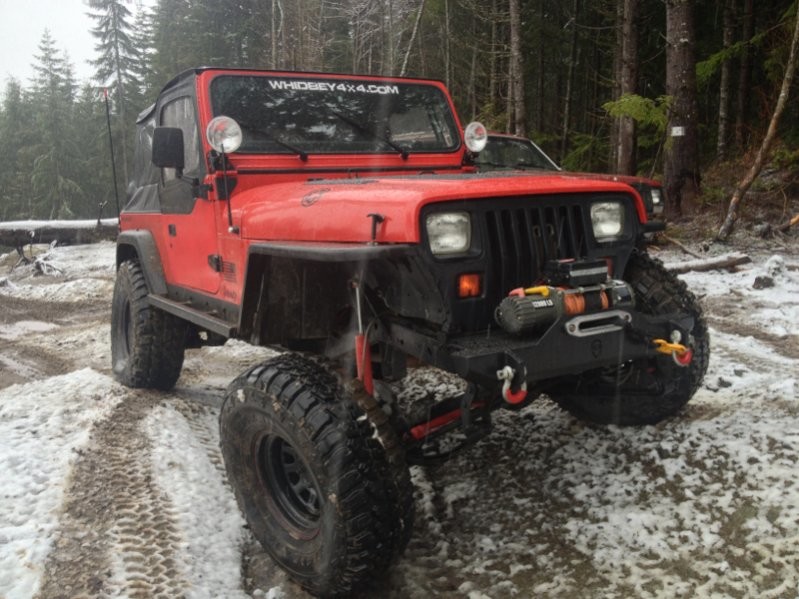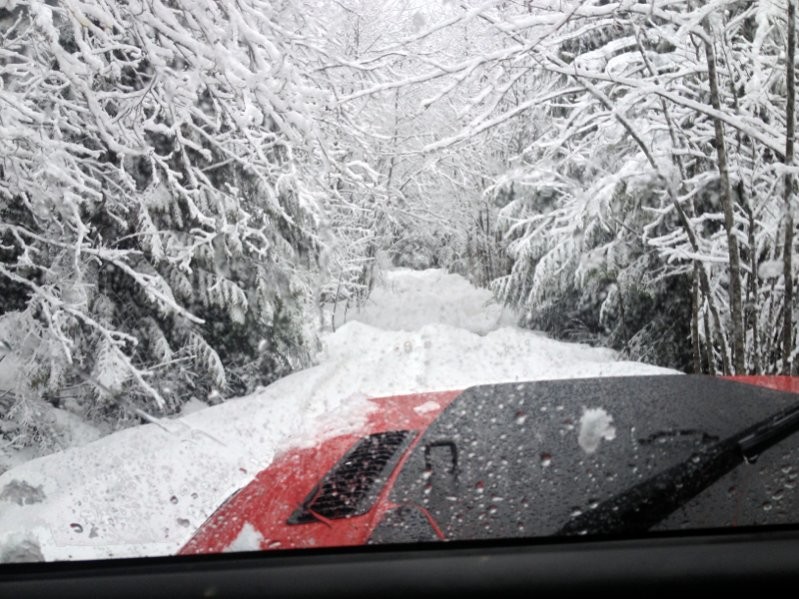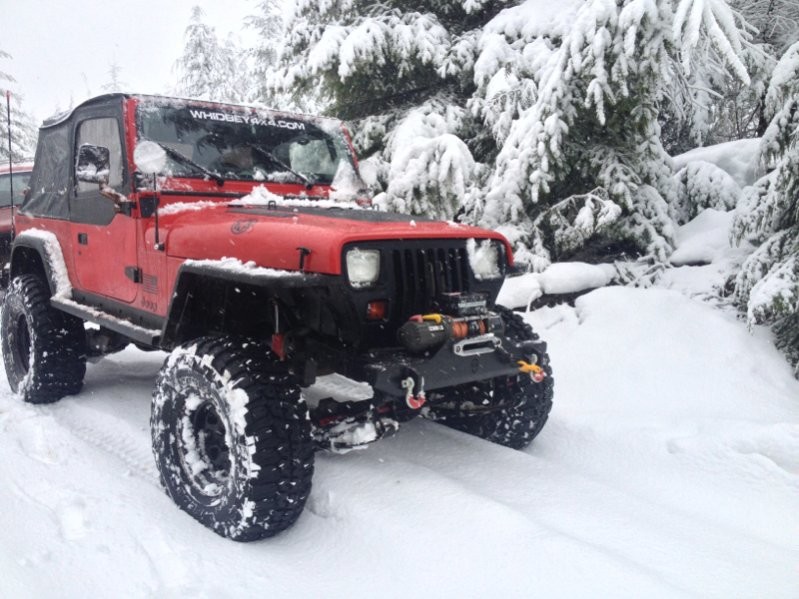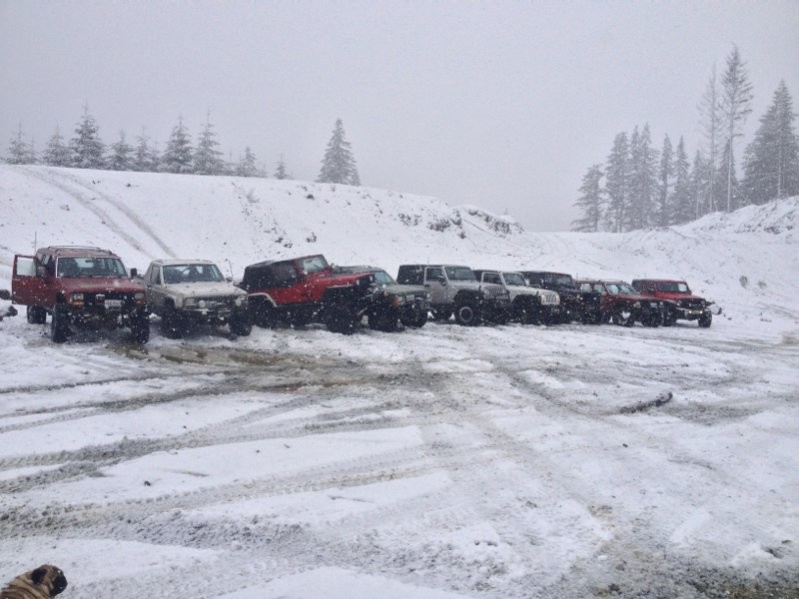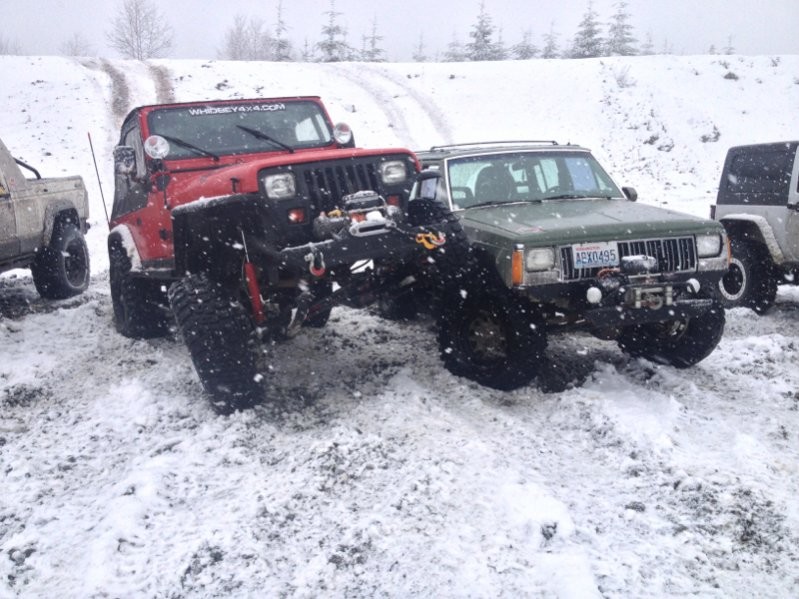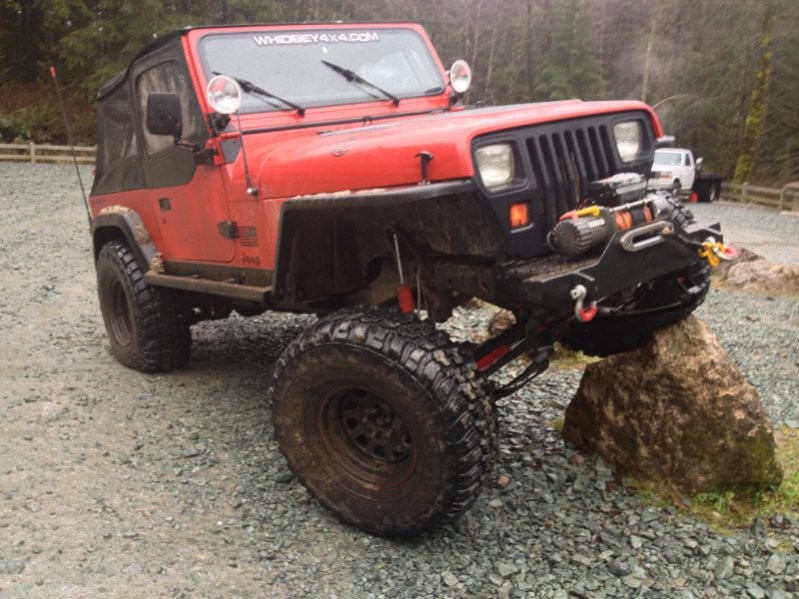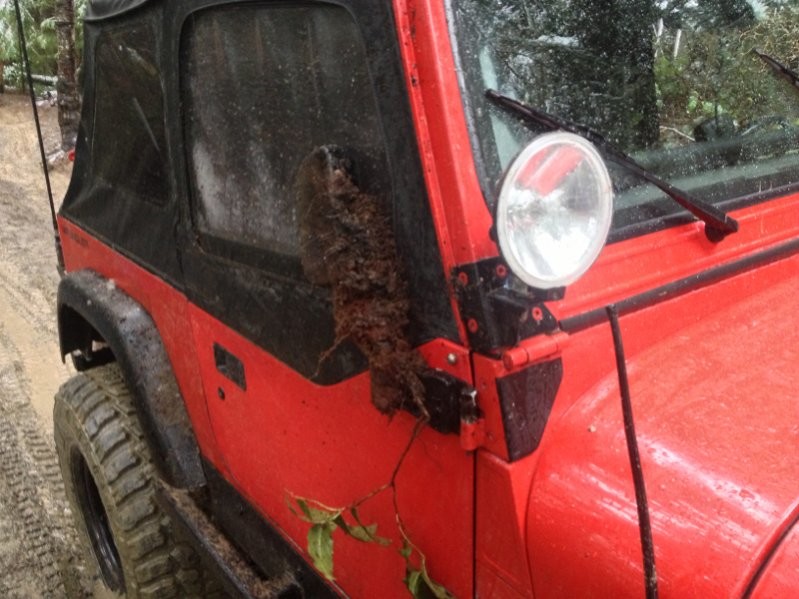 Oh yeah forgot that yesterday me and my boy painted the bumpers/slider satin black (it was gun metal hammered black) and also removed my big Mce stickers off my hood to get it ready for the cloaks!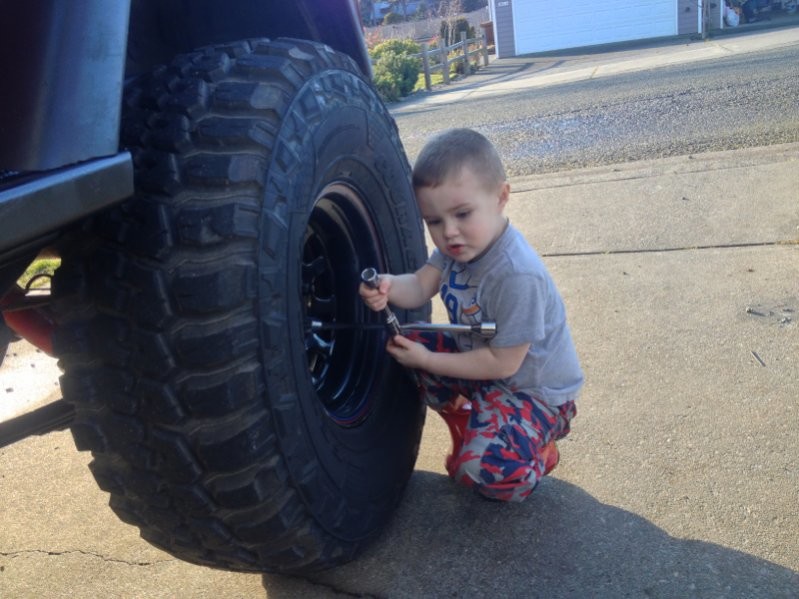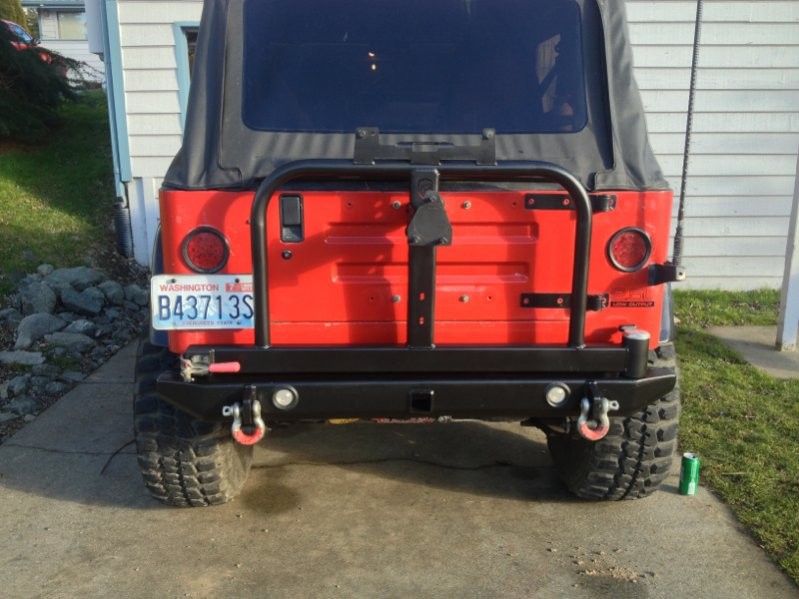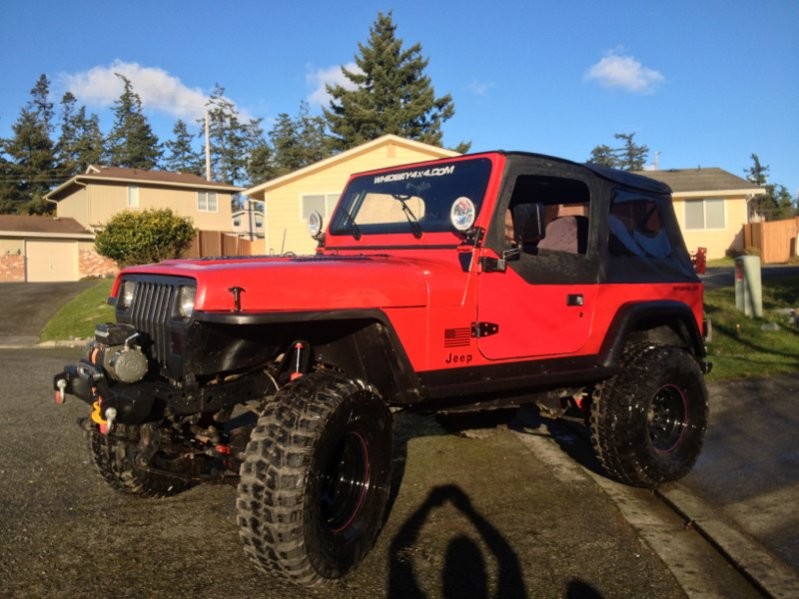 1-29-2013
So I got the wife to agree to new seats as well for this year so I need some help picking out a set! I can't spend any more the 600 ideas? I am thinking corbeau Baja rs seats thoughts?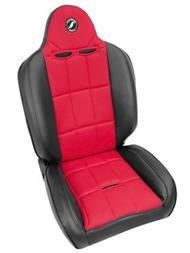 My drive shaft problem!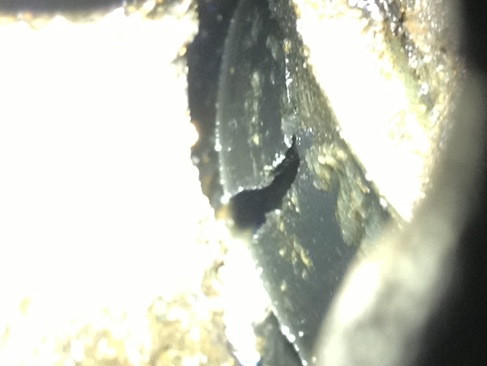 1-30-2013
No worries I got a new dd today so the Yj is aloud to take a brake, it will be nice when I am working on the jeep with no dead line..... I picked this 98 chev 4x4 with 162k miles and a vortec 5.7 for 2k 1500 under blue book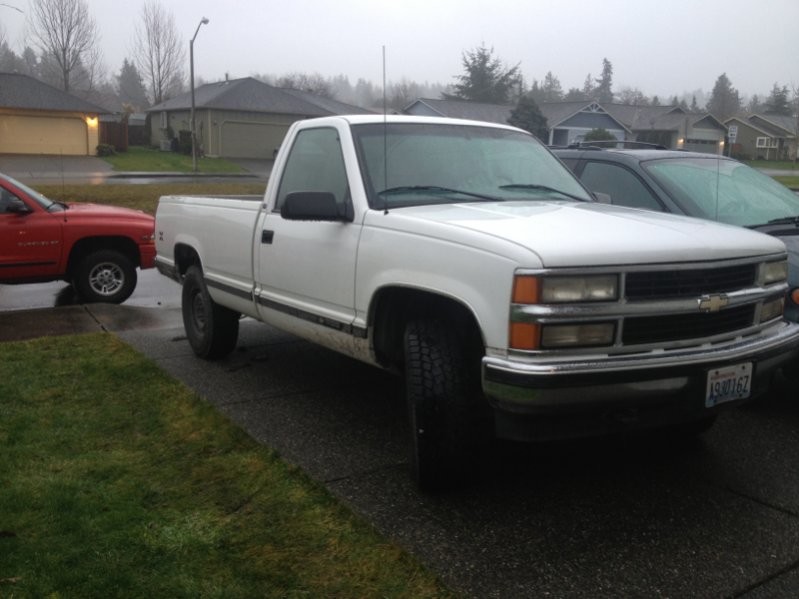 1-31-2013
Tonight I pulled the front fenders, sliders, and rears flares off tonight.......one more step closer to cloaks!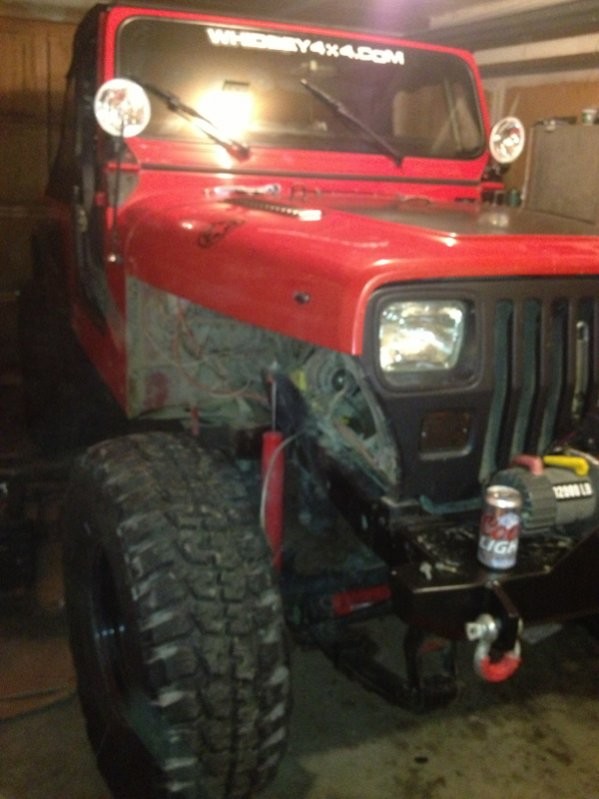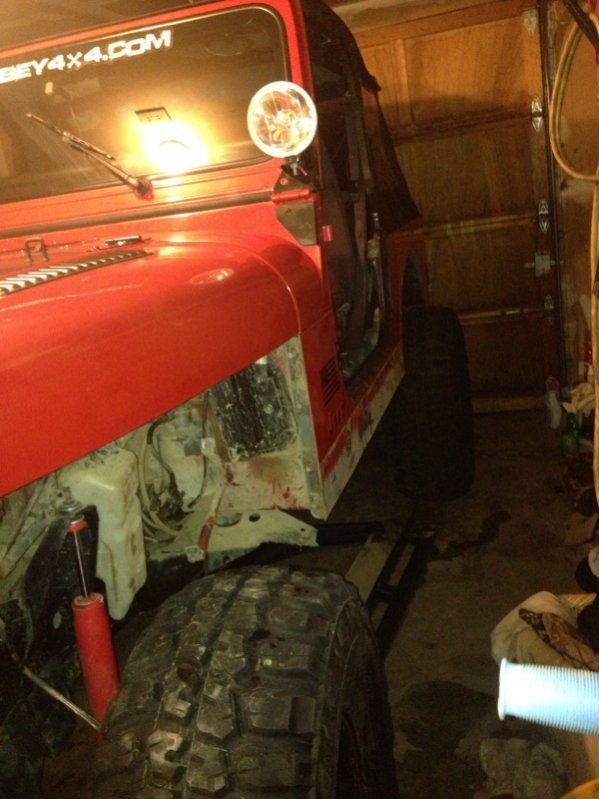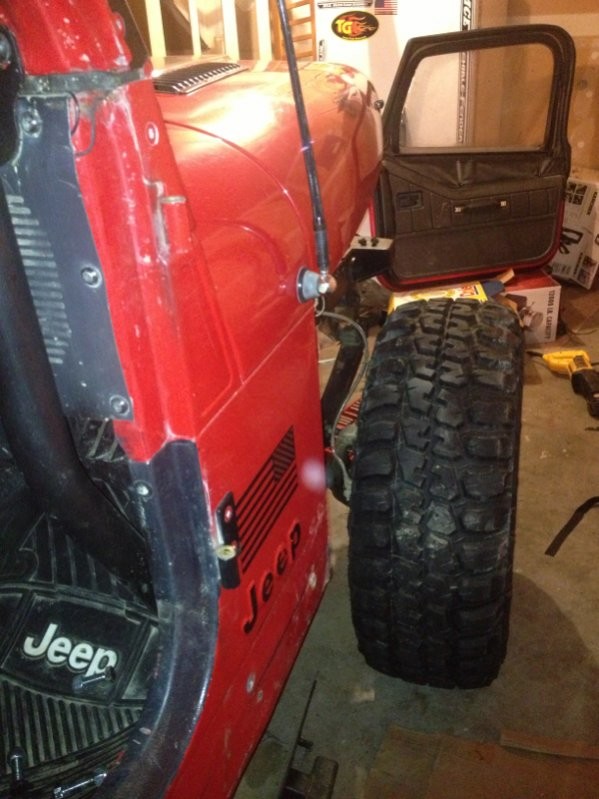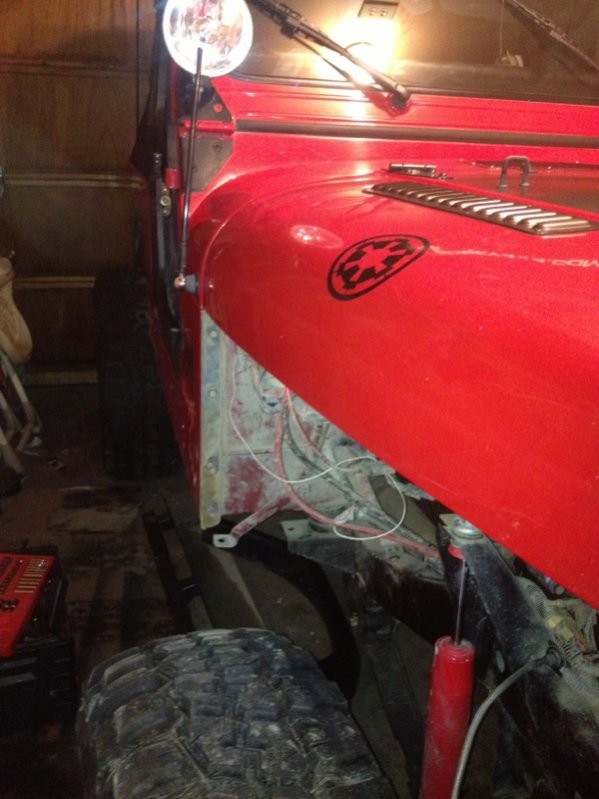 2-4-2013
Hahaha she got washed up today and is sitting in her hole awaiting money!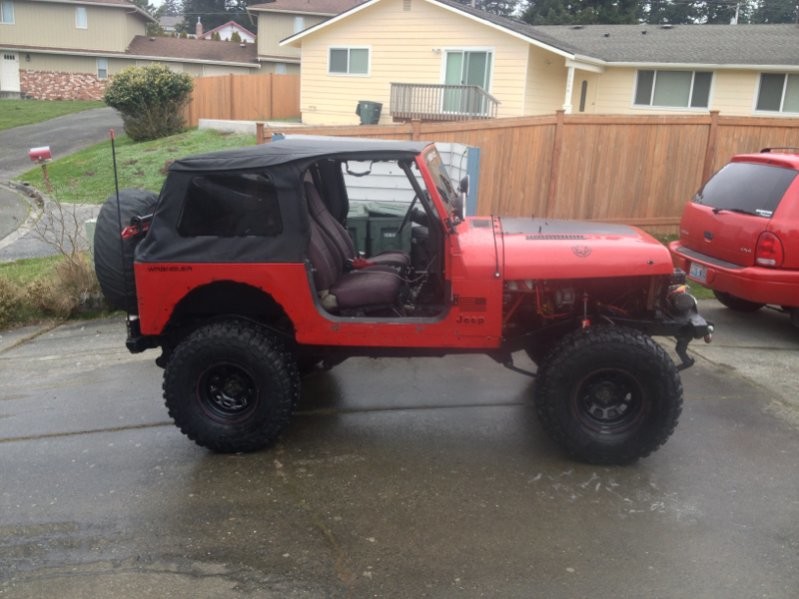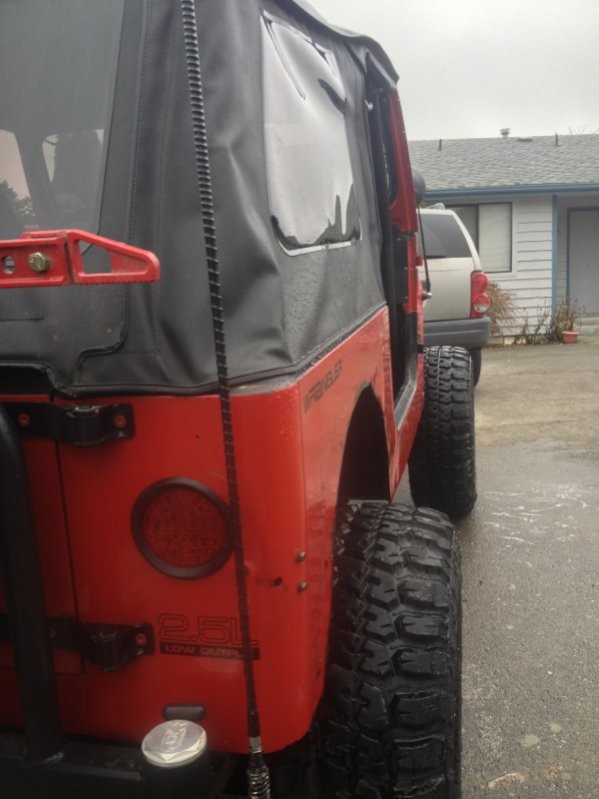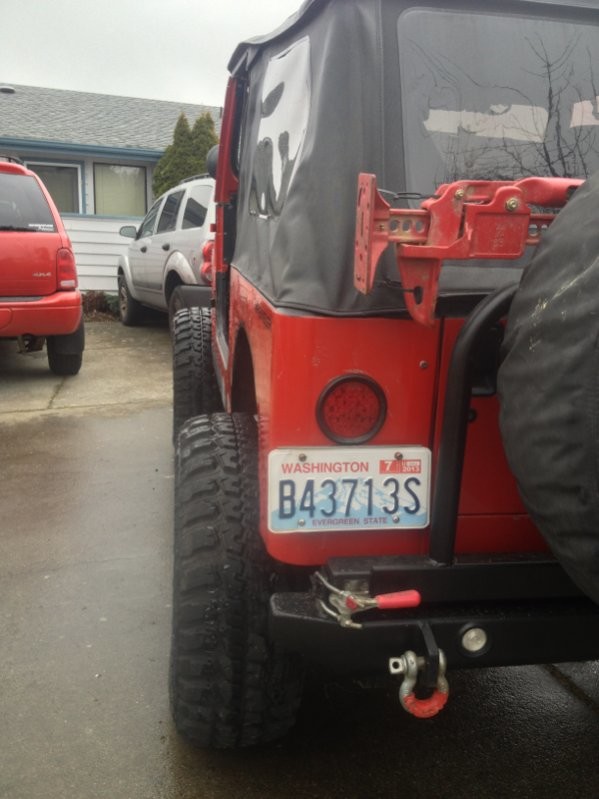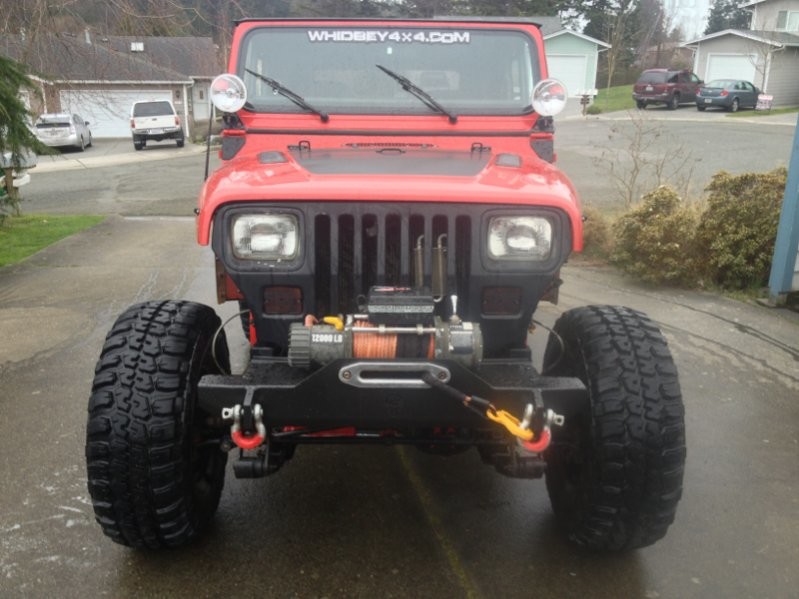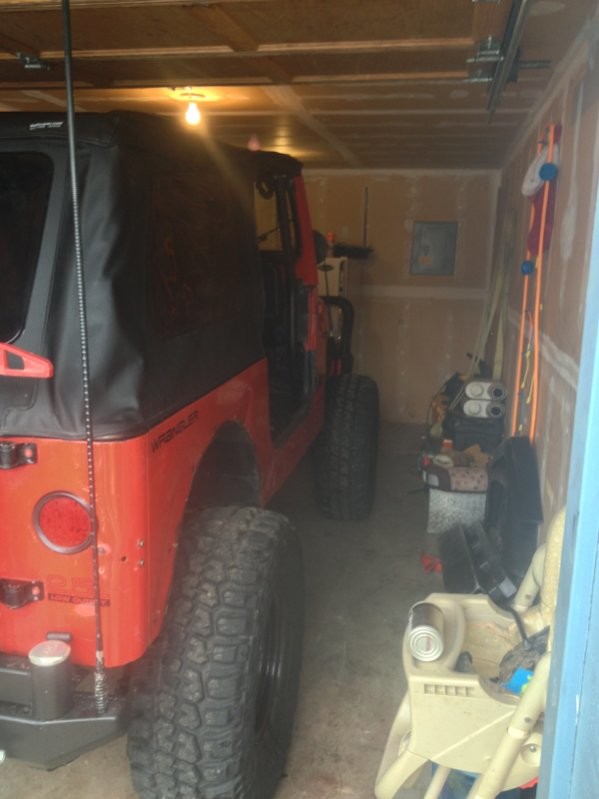 2-5-2013
So quick little update I am getting a set on DIY beadlocks in part trade for my 35s just thought I would share!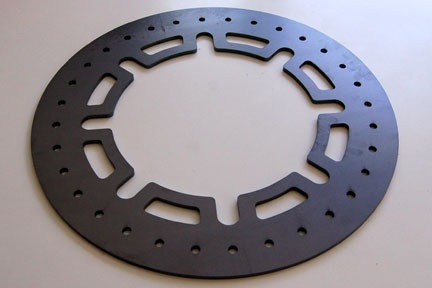 2-6-2013
So I got my rear driveline pulled out, and the top removed and also started painting the cage red (but I ran out of paint) that is all.......lol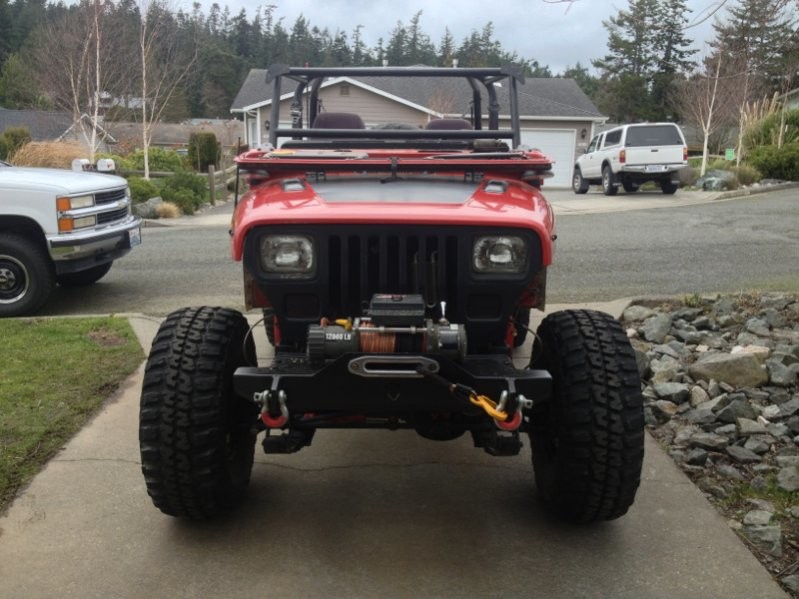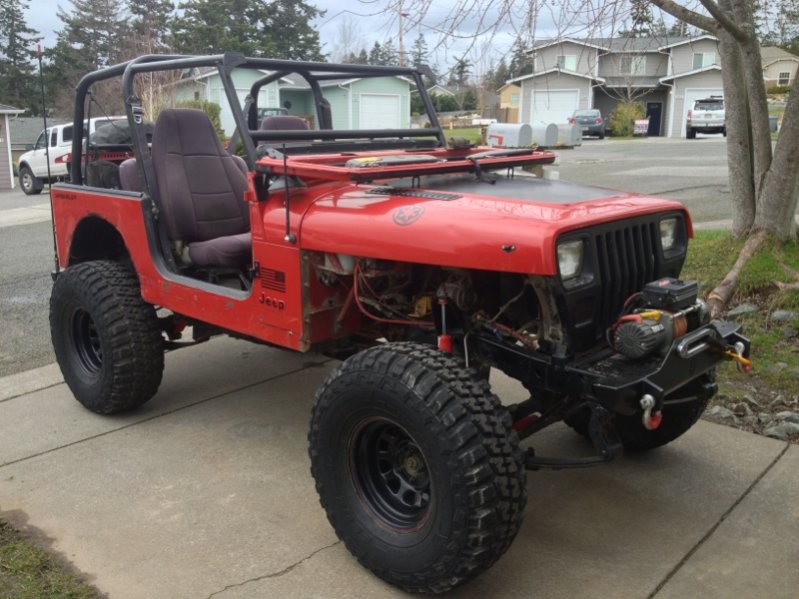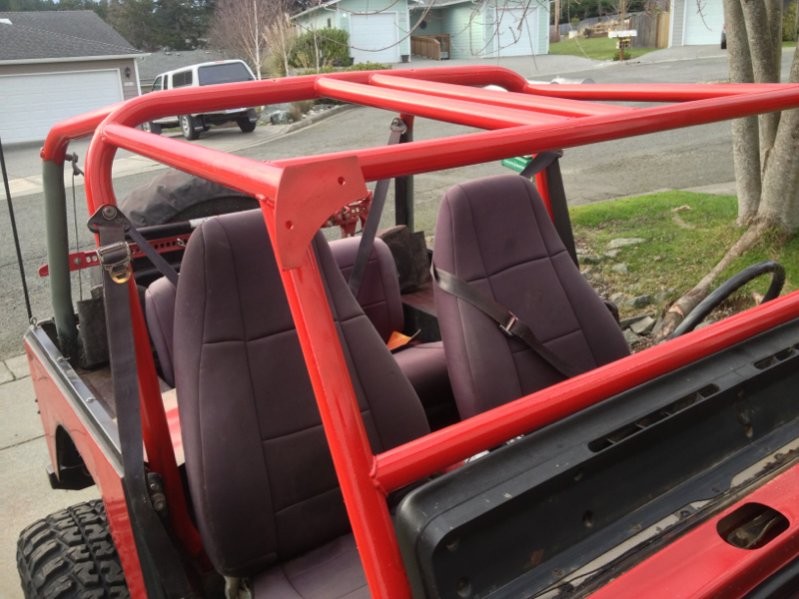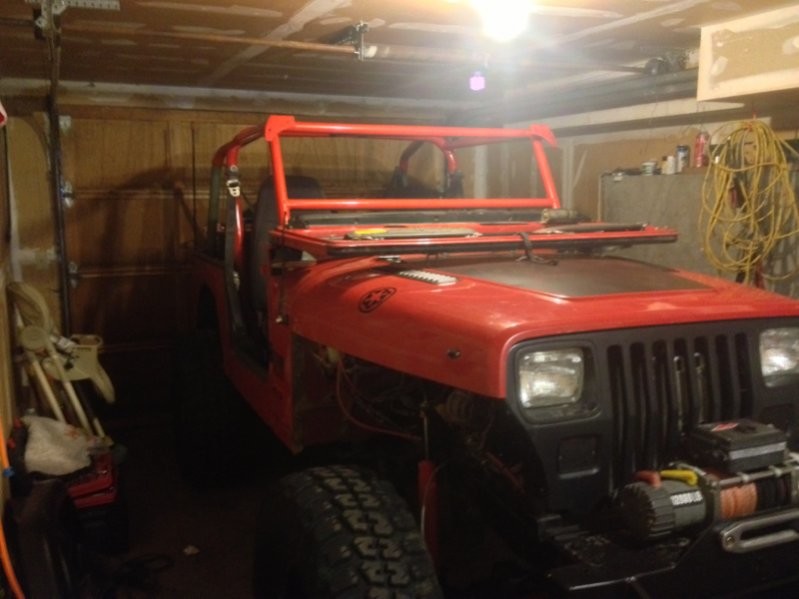 2-7-2013
I got the cage all finish (painting it red) ........I hate painting! On the bright side I am ordering my cloaks on the 15th!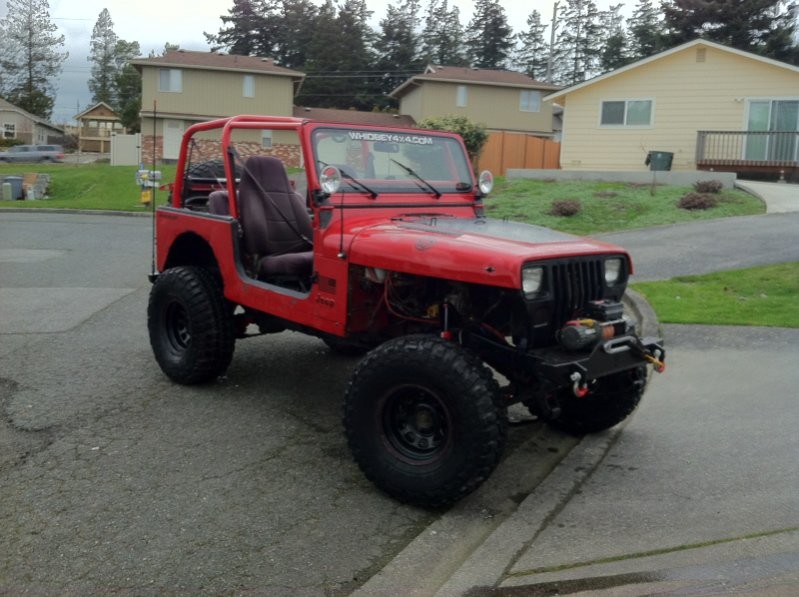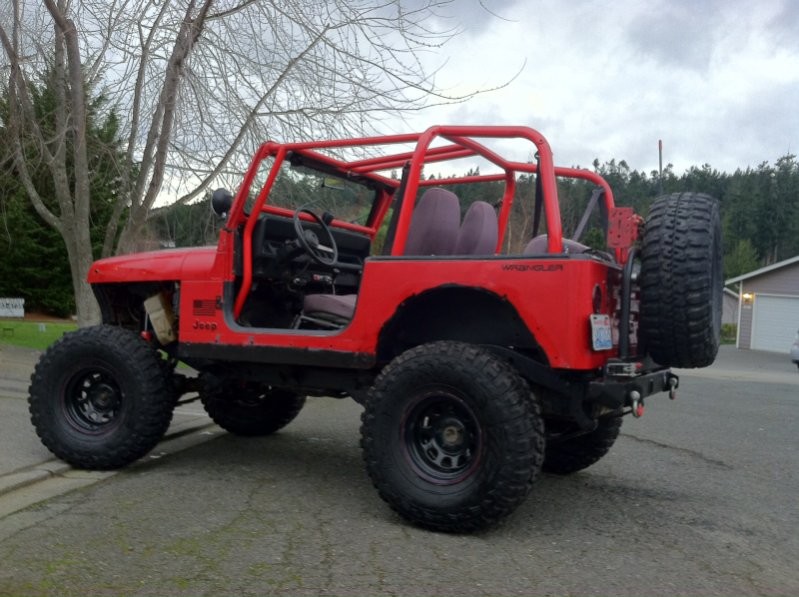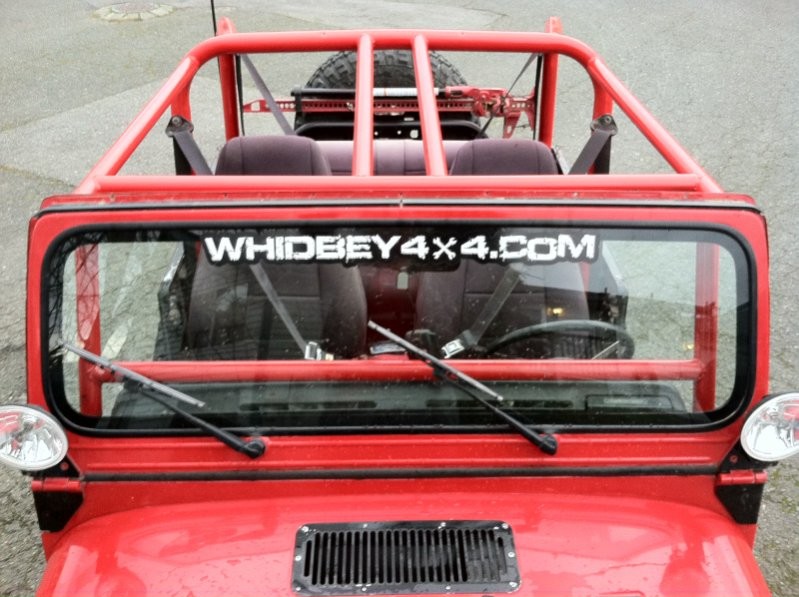 2-13-2013
So it's update time.....I took my 1.25 bl lift this weekend, I also threw some roller tires on it since I am pretty sure my 35s have sold. I also decided that I am going with the cloak rear stretch quarter amor so I went a head and stretched the rear out a little more I am now at a 95 wheel base and am needing to figure out how to clearance my gas tank some!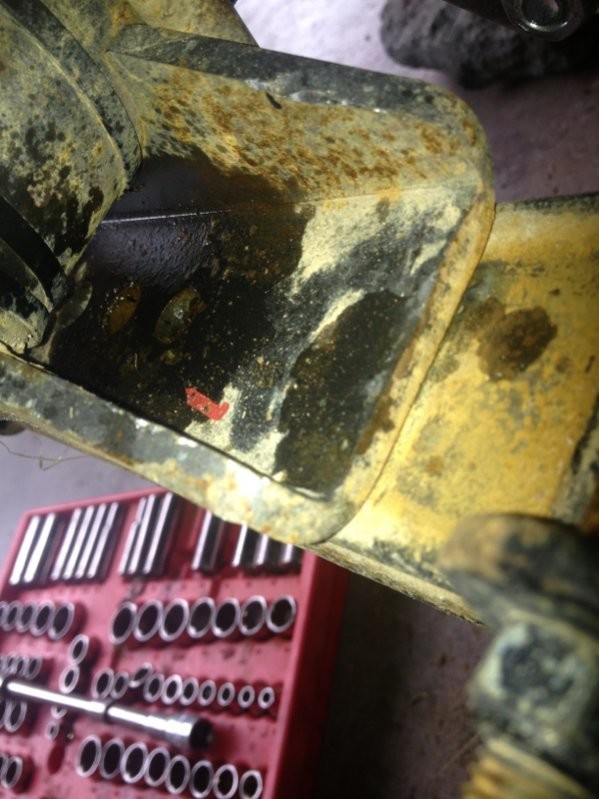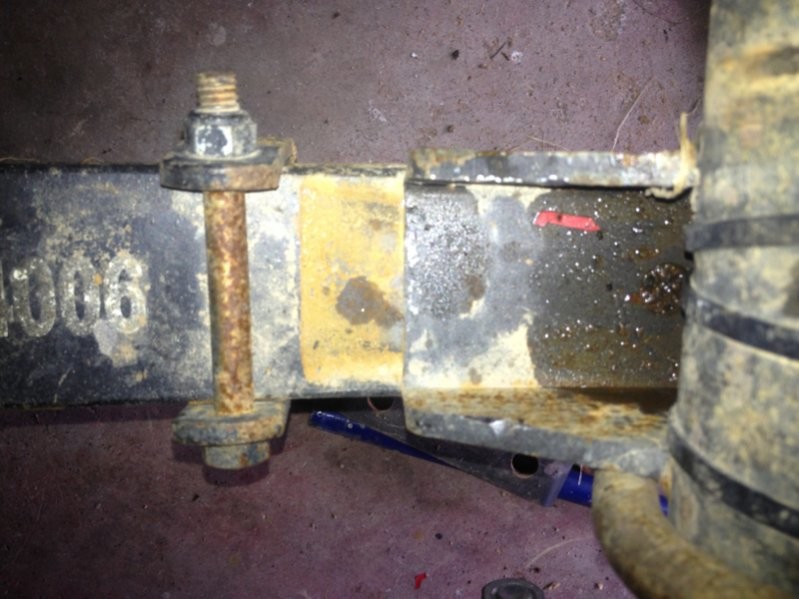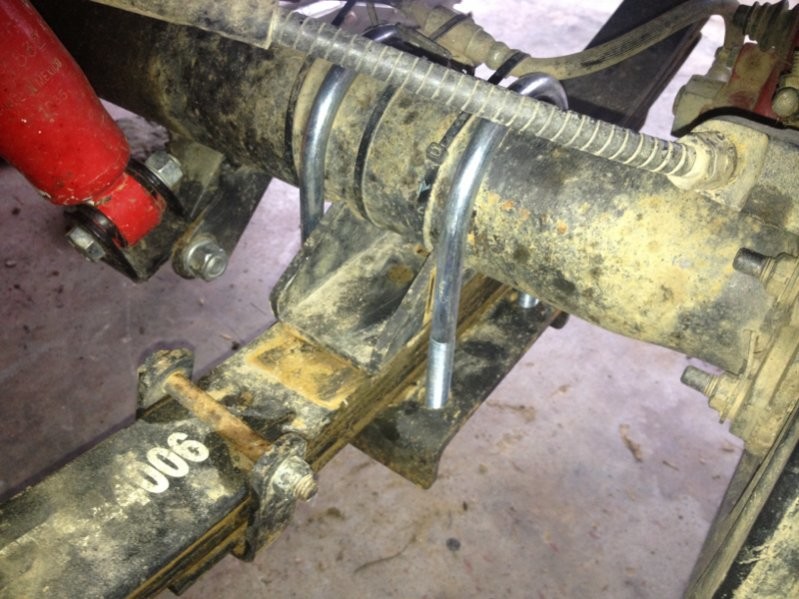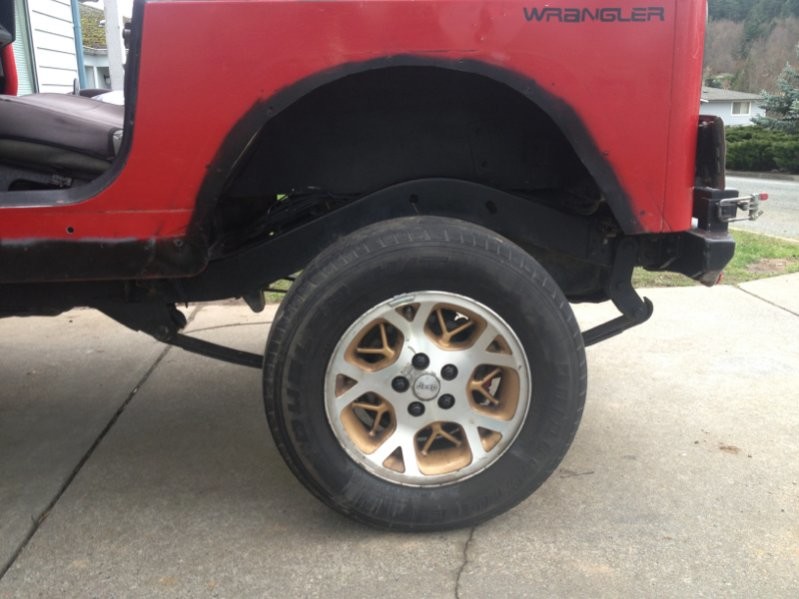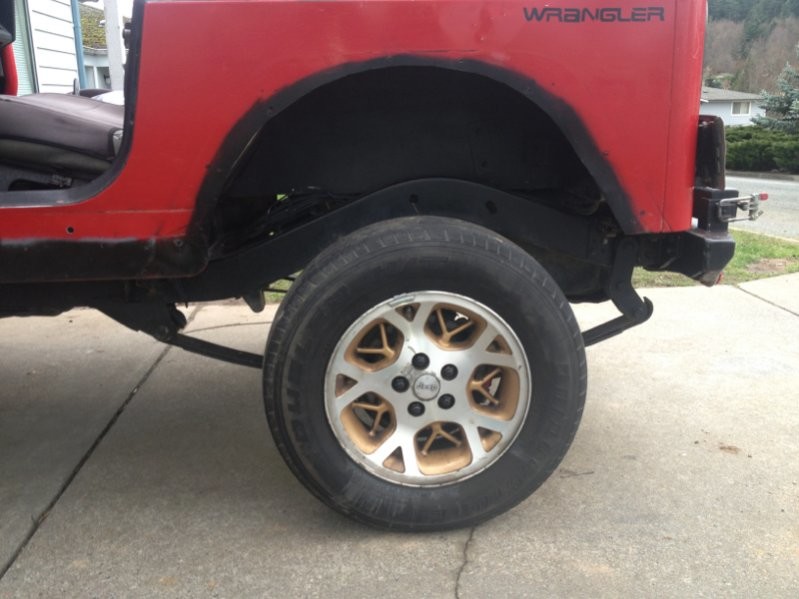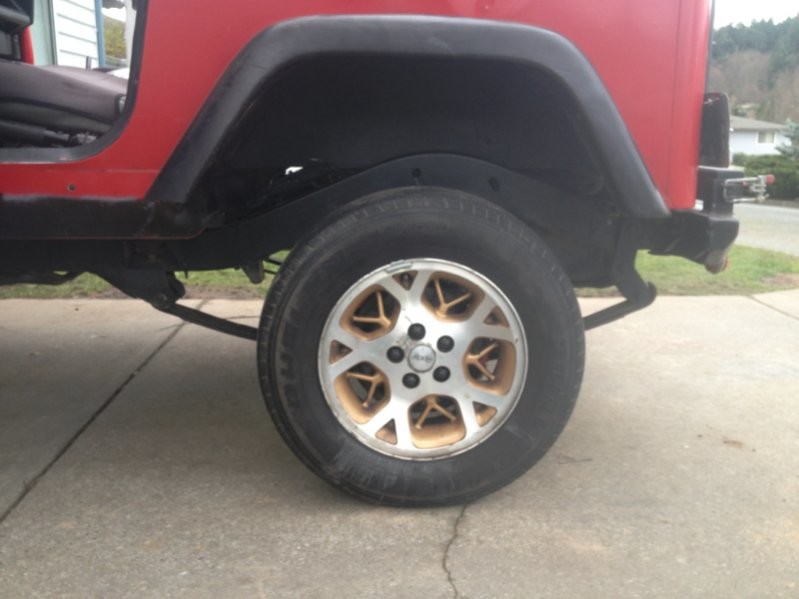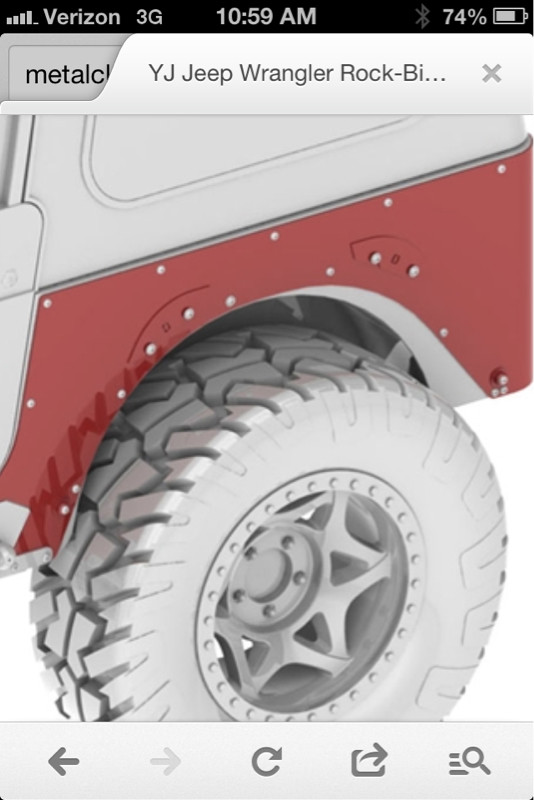 2-15-2013
Thought I would share I order f&r chromo shaft, lube lockers, and riddler diff covers today! I am changing out to the riddlers because they are less bulky than my current cover.....I can use all the help I can get out back clearing the gas tank skid haha! That is all!
So my shafts showed up today via brown Santa and I also lowered the jeep another 5/8 tonight via shackles I have no pics of this since it was so dark but will get some sone. I think with dropping this thing 2 inches and going with wider tires/wheels it should handle like a sports car!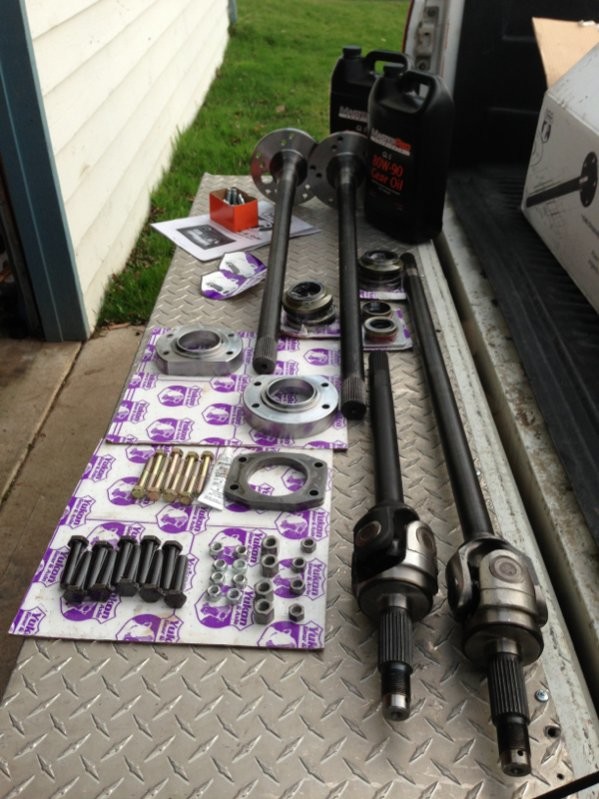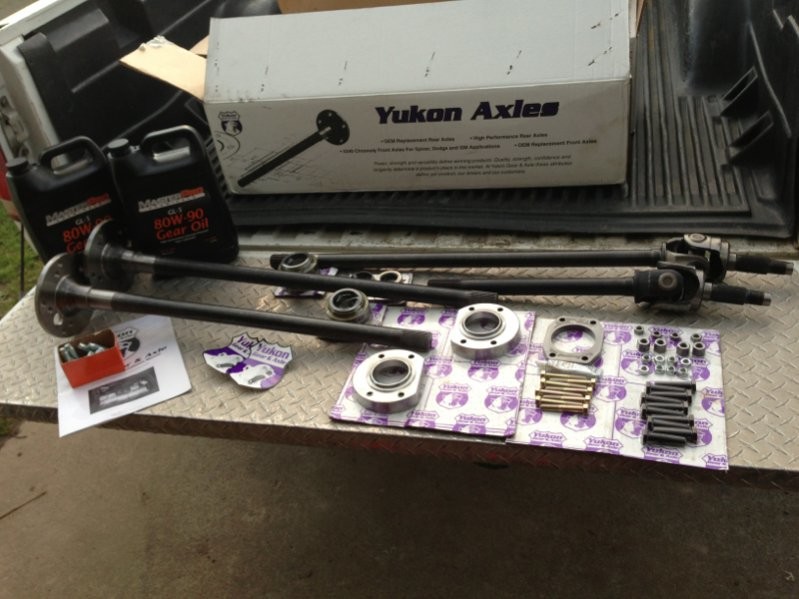 2-18-2013
So I picked up a DIY beadlock kit from preacherman and got the other rings painted up and laid one on the tire to see what it would look like what do you guys think? I don't have anti conning rings for them as of yet I may try to run them with out them what are your guys thought on this?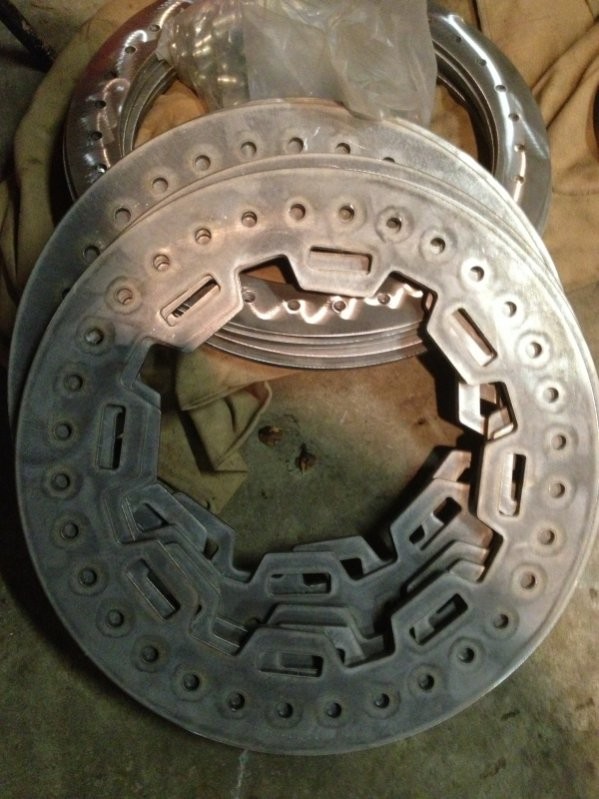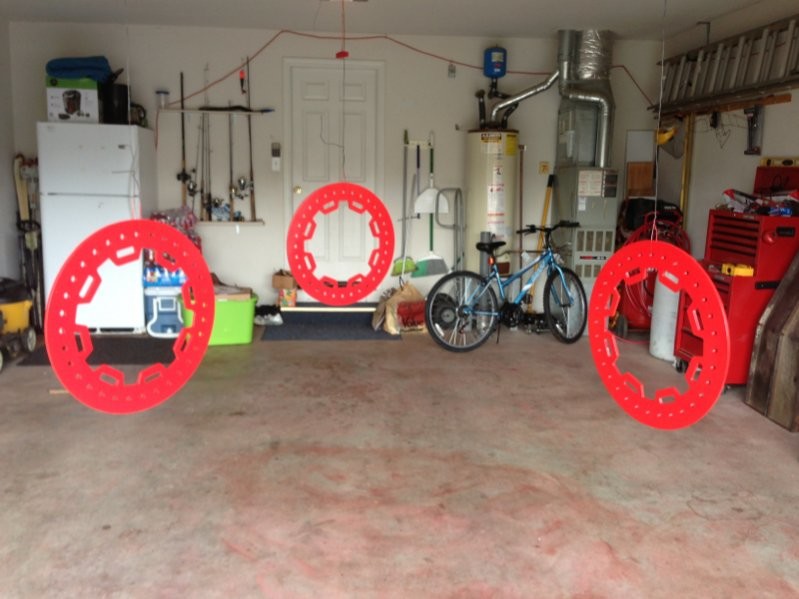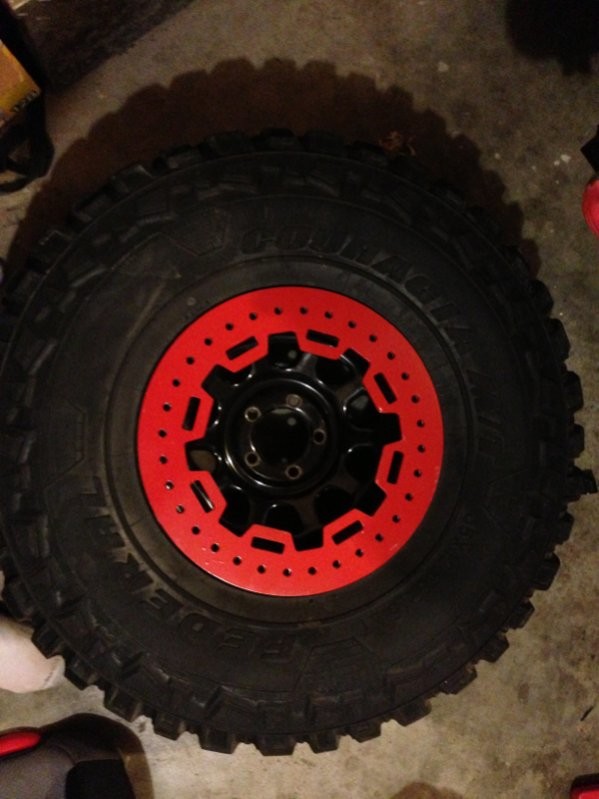 2-19-2013
I got my new beefier/longer/serviceable woody shaft and installed it! That is all!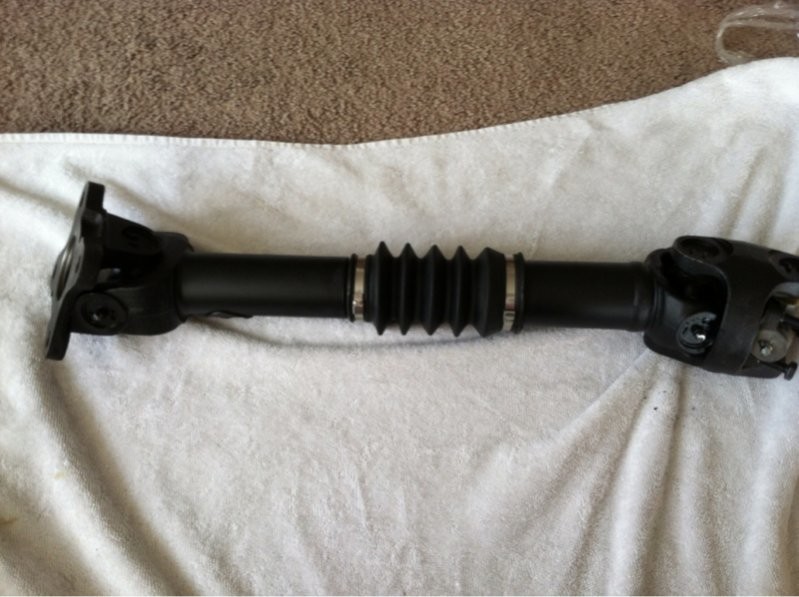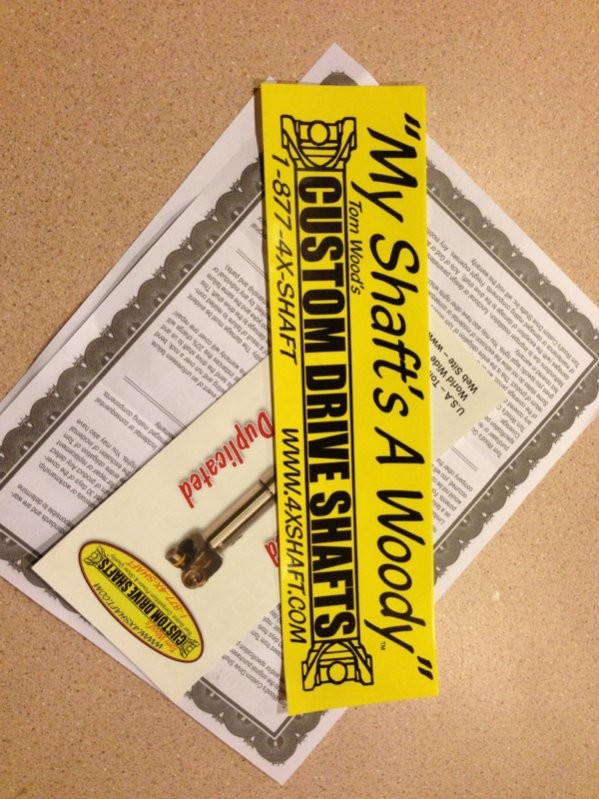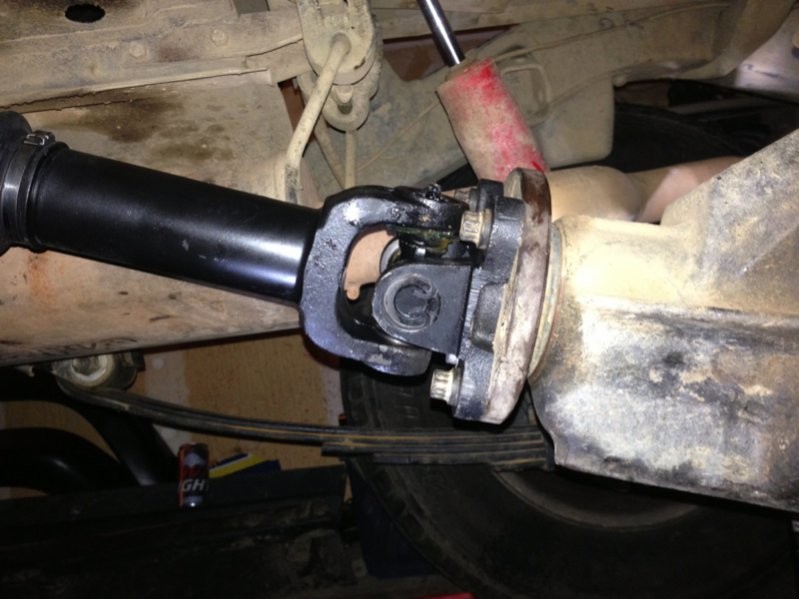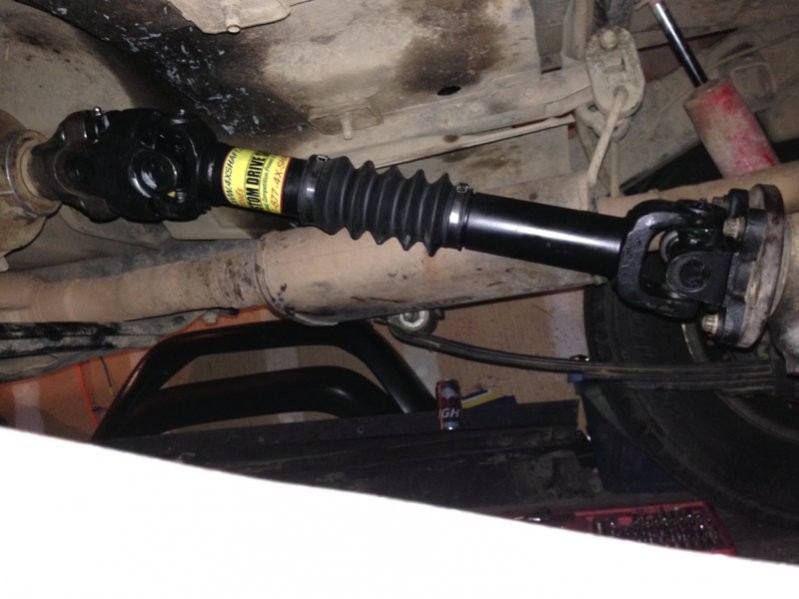 I got the Yukon ultimate 8.8 kit installed to day and I must say I am digging the new rear track width I gained from it!

. On a side note I decided to check the ring gear bolts and every one of them was hand tight

I got them all torqued down to spec along with the bearing caps glad I caught that now before I toasted toasted a r&p. can't complane tho since I didn't pay my buddy that set them up! On a side note I bought to new unit bearing to go with the new front shaft that way my trail spares have there on set of bearings on them which will make changing them a piece of cake on the trail! I plan on ordering axle tube seals for up front tonight!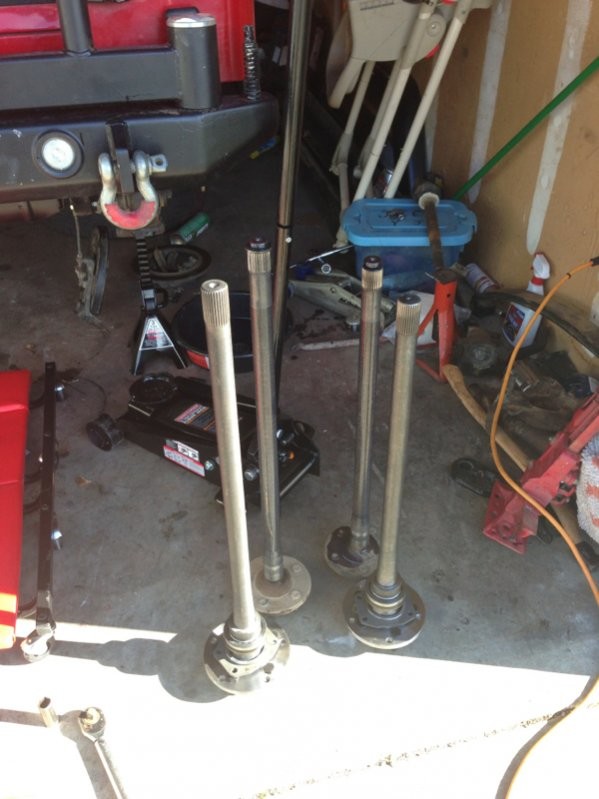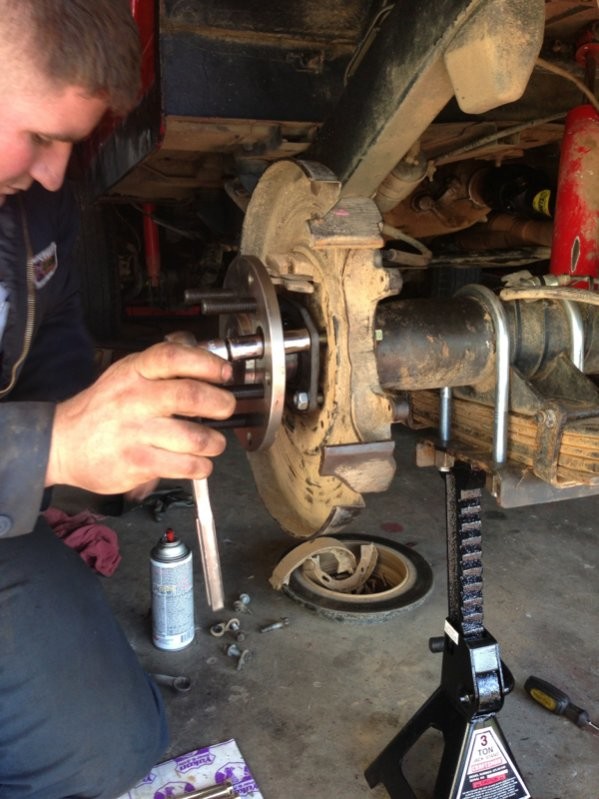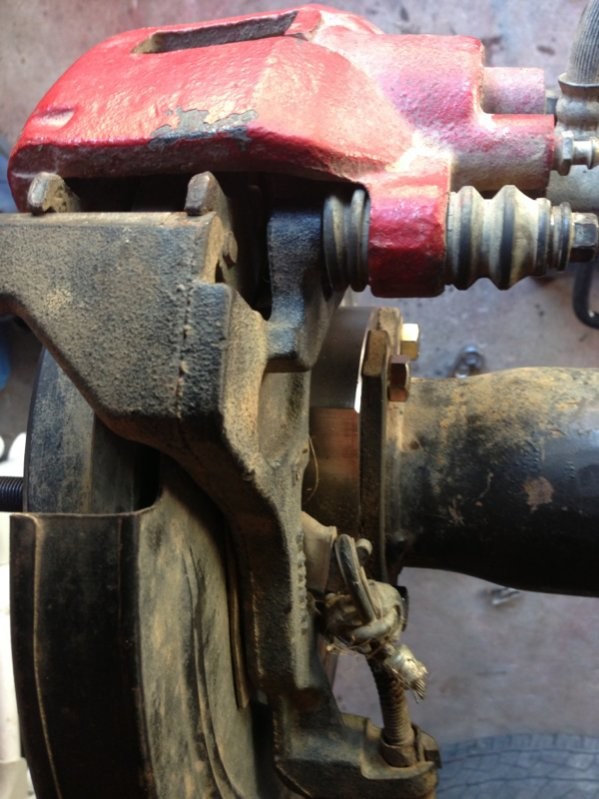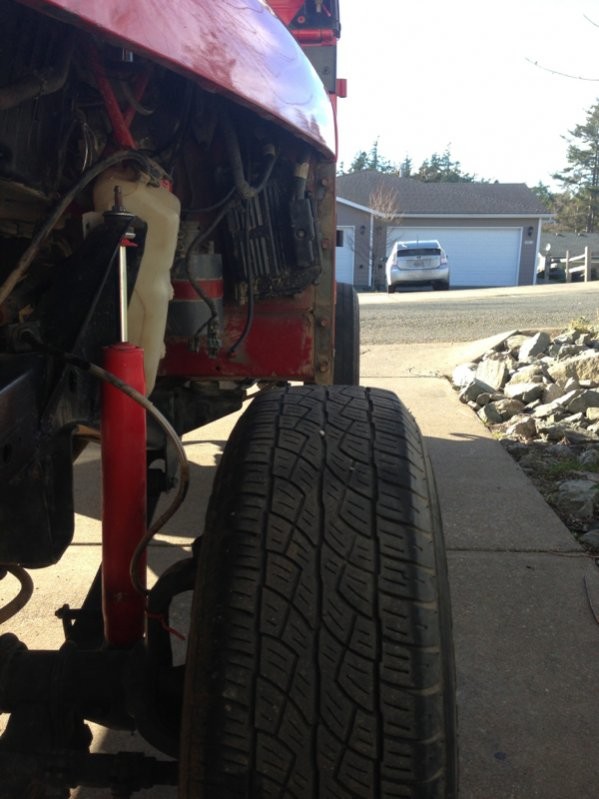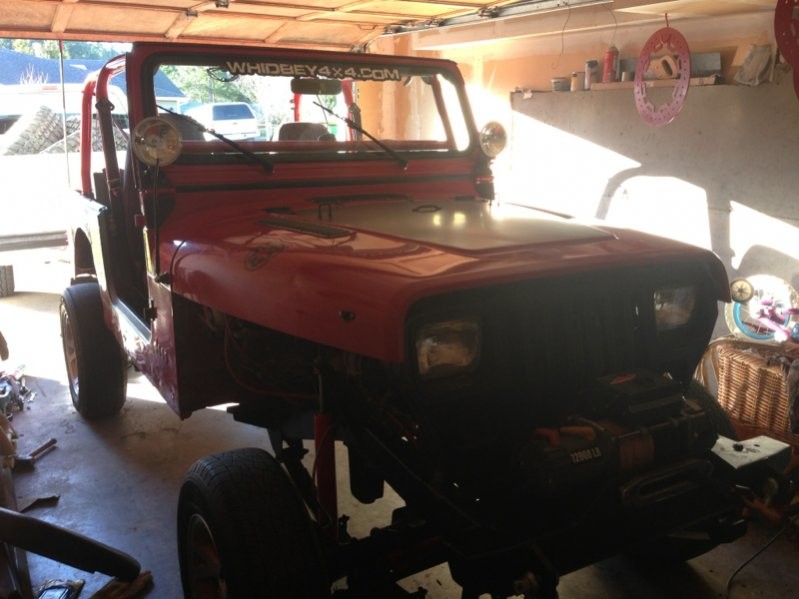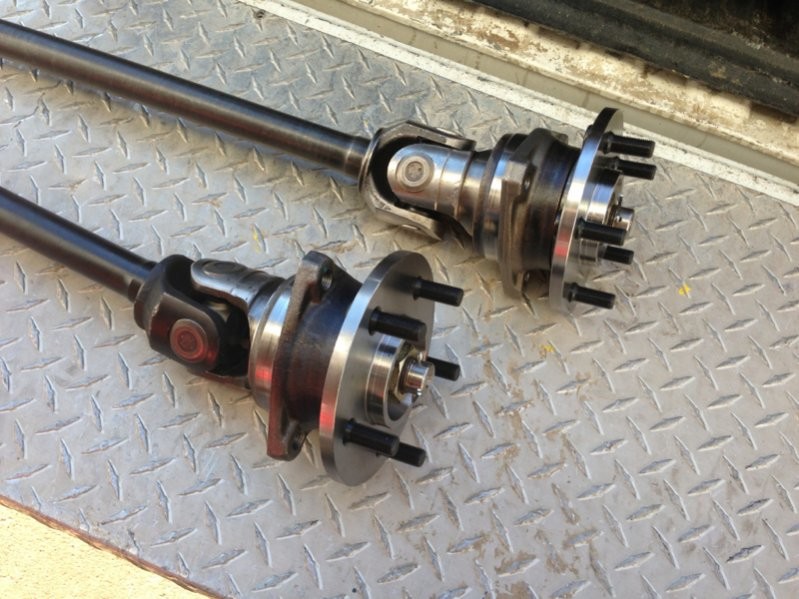 2-22-2013
So I got the revolvers today and installed them, I also tore down the front axle and replaced the rf axles with two napa 11800. I am still waiting for my axle tube seals to show up before I can toss the new shafts in. oh yeah I need longer shocks for sure now!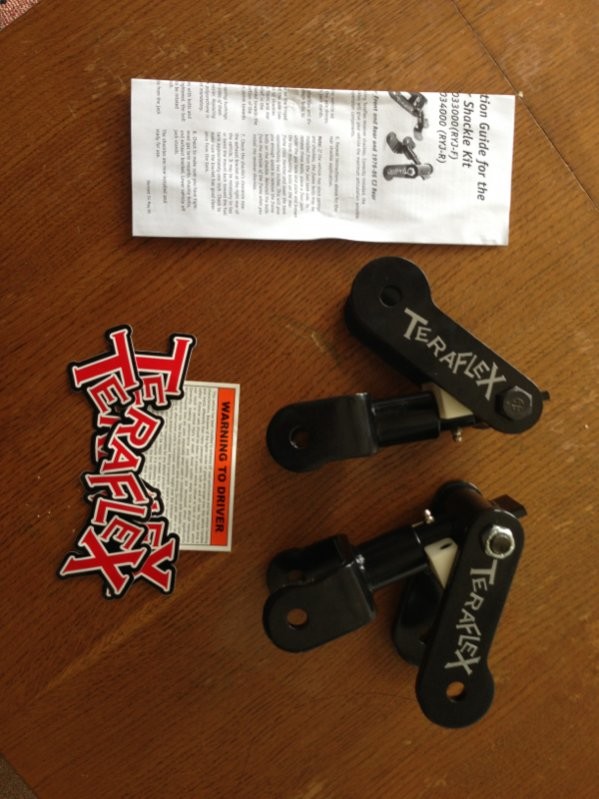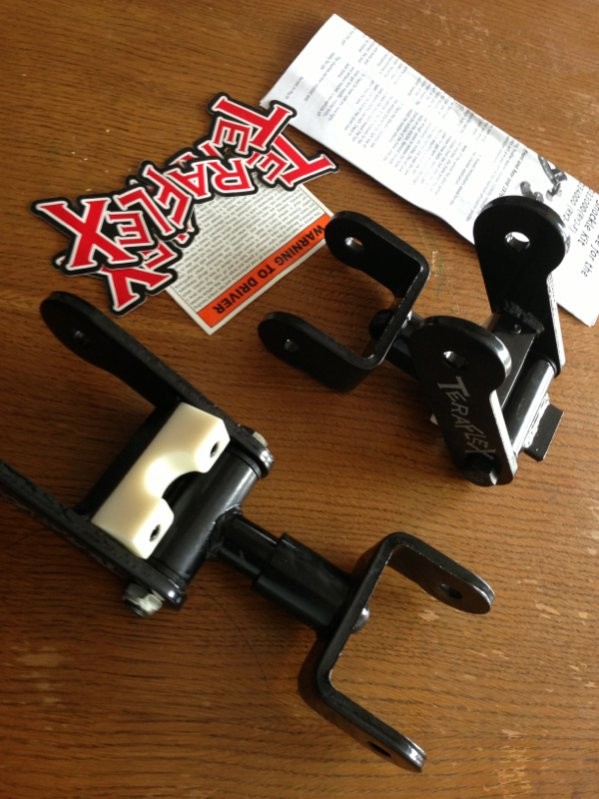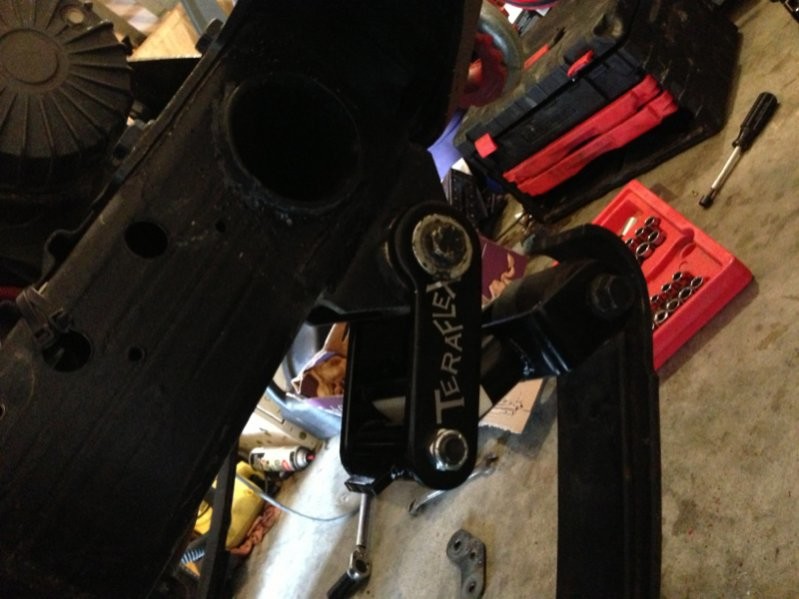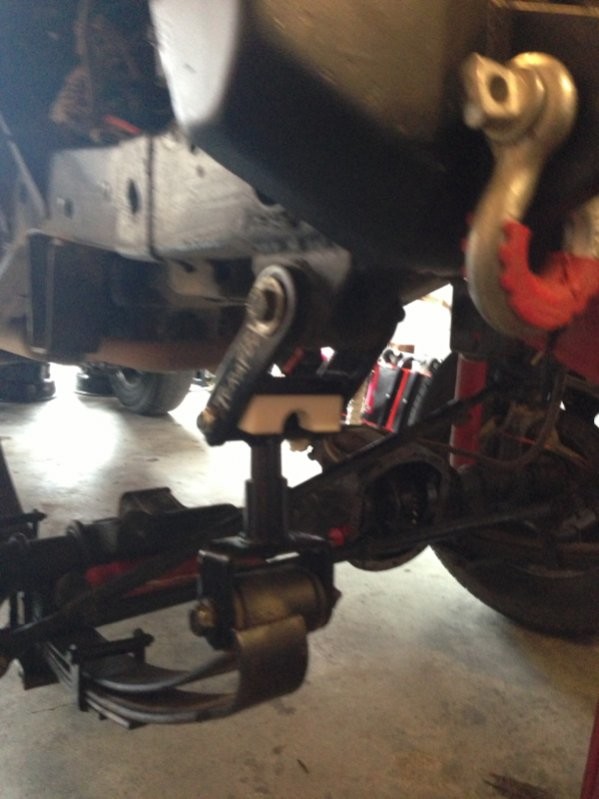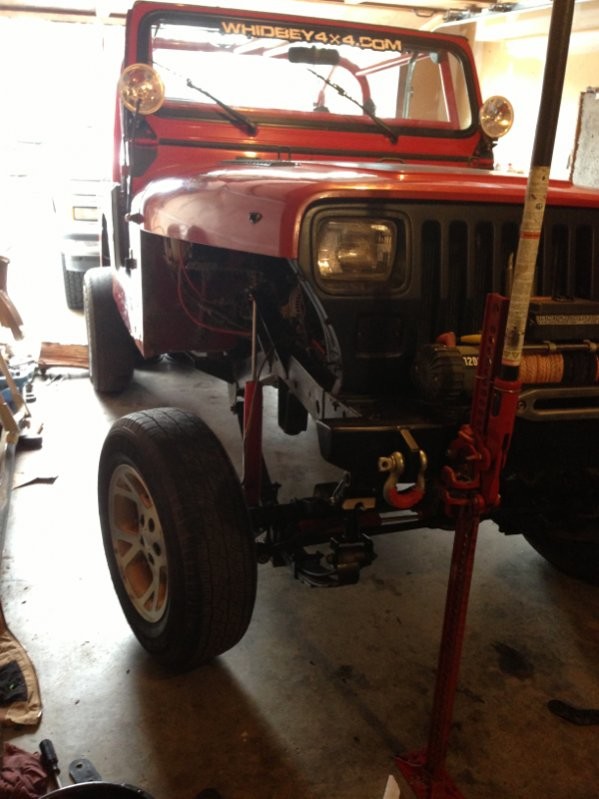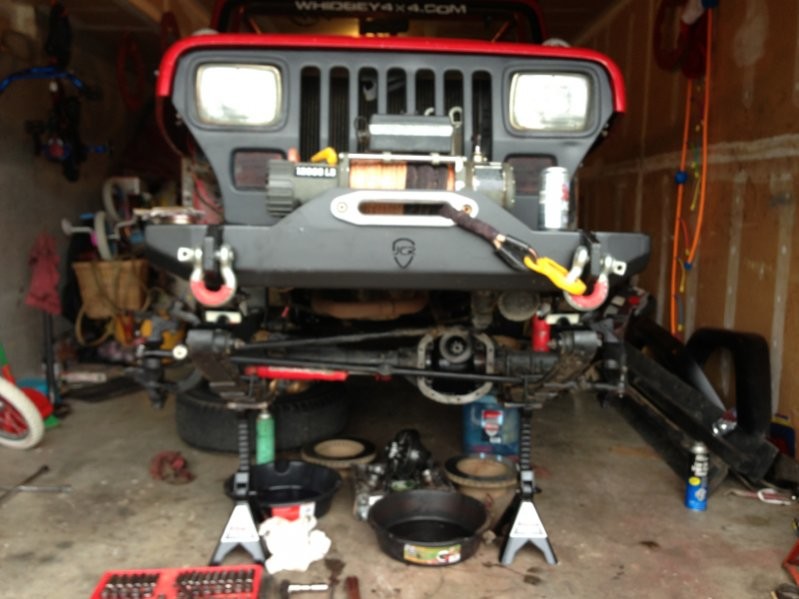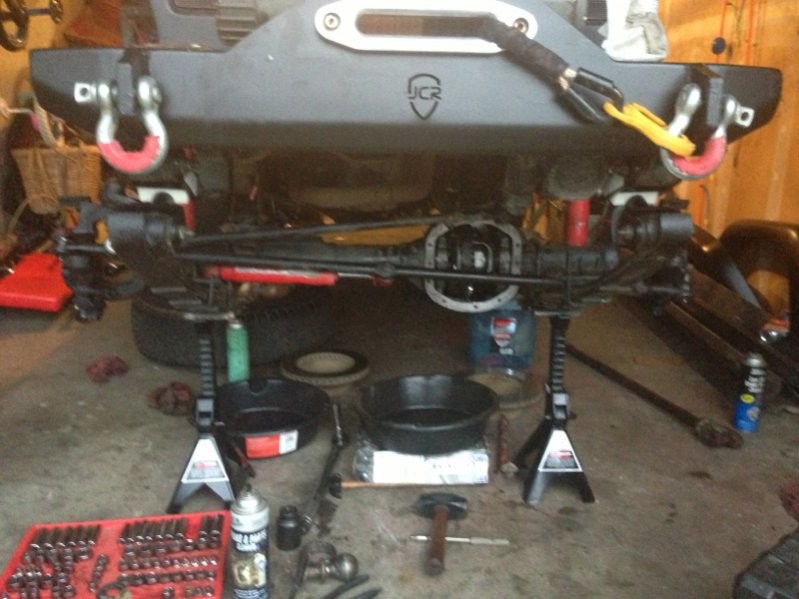 Brown Santa stop by yet again! Still waiting on the front cover tho (it's on back order) I plan to toss it on tonight and at least fill the rear diff back up with fluid! And yeah I was planning on getting the Moore hoop with how lacking my fab skills are!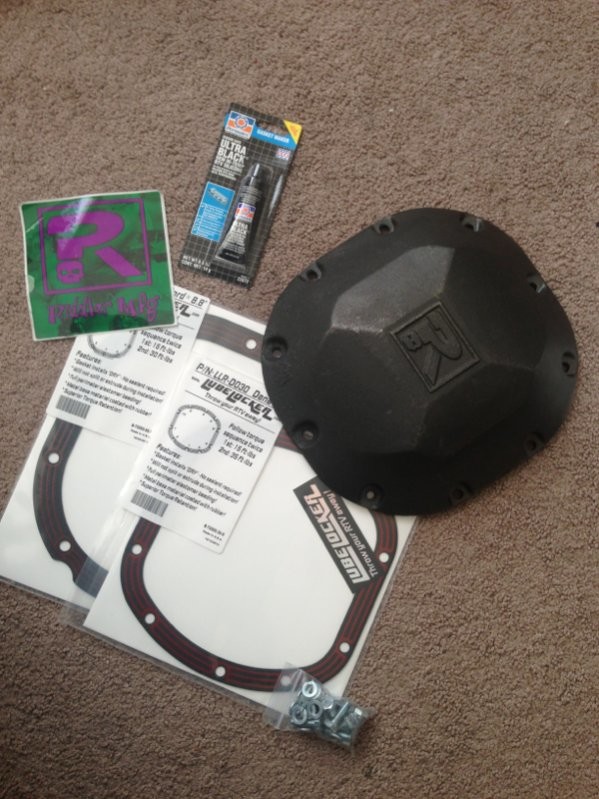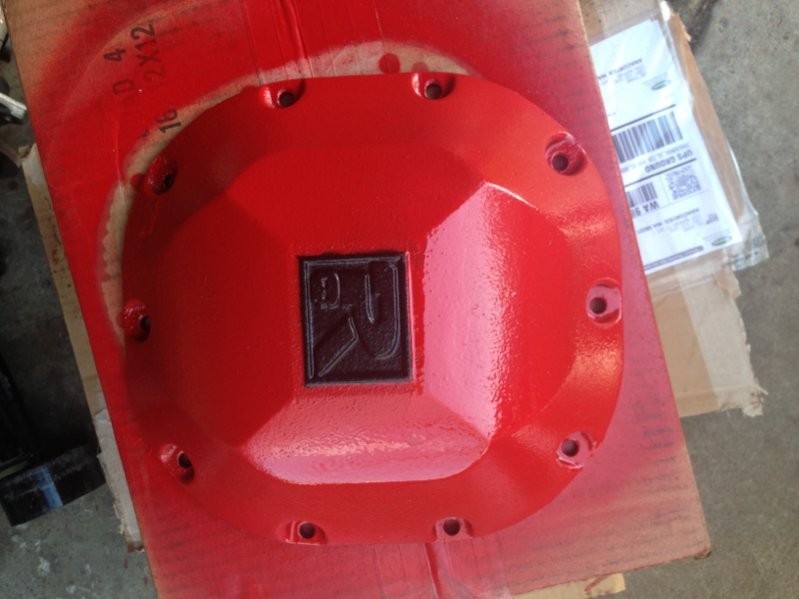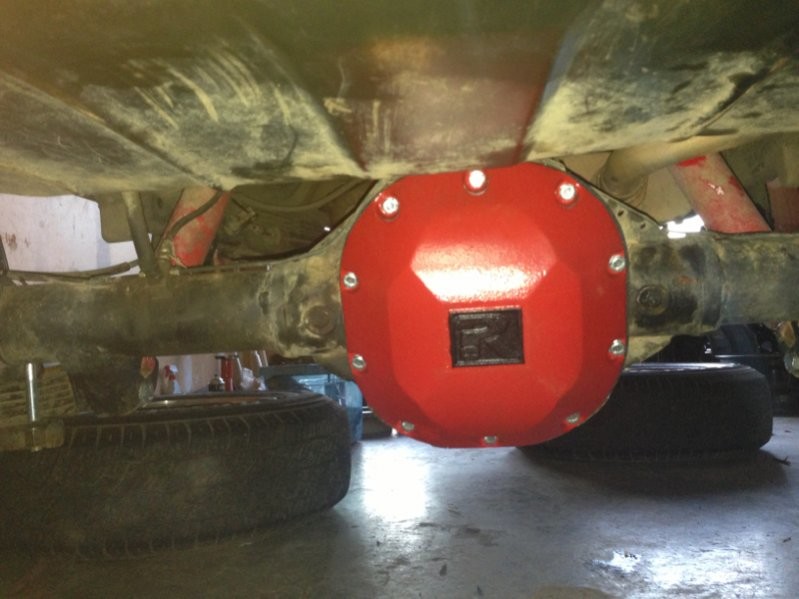 2-23-2015
My wife just sent me this pic and said look what showed up today lol, I don't get to see them till 5 tonight!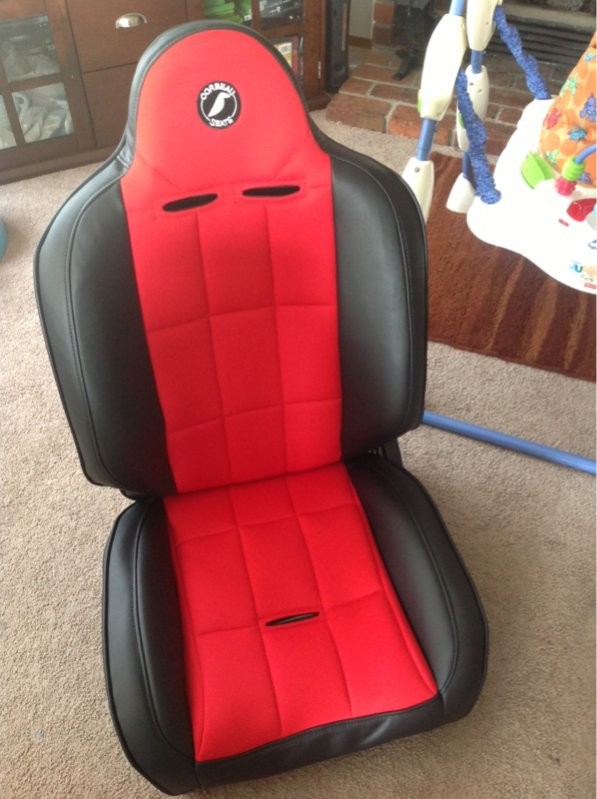 2-24-2013
Lol I was told they showed up right at the end of my lunch! Any ways I ran home and threw the drivers seat in but have to head out again to go to the daddy daughter dance! Lol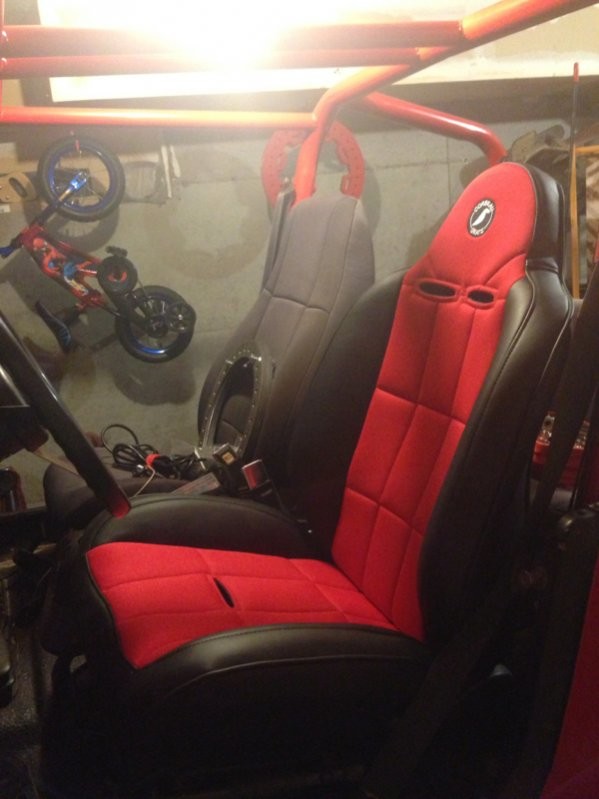 I got home and installed the seats only negative I have for them is I need to locate a tilting steering column now! Lol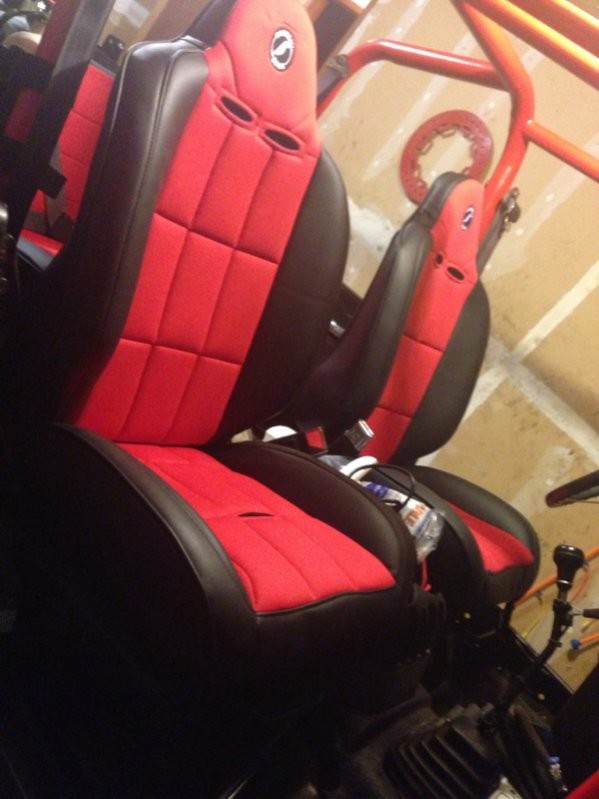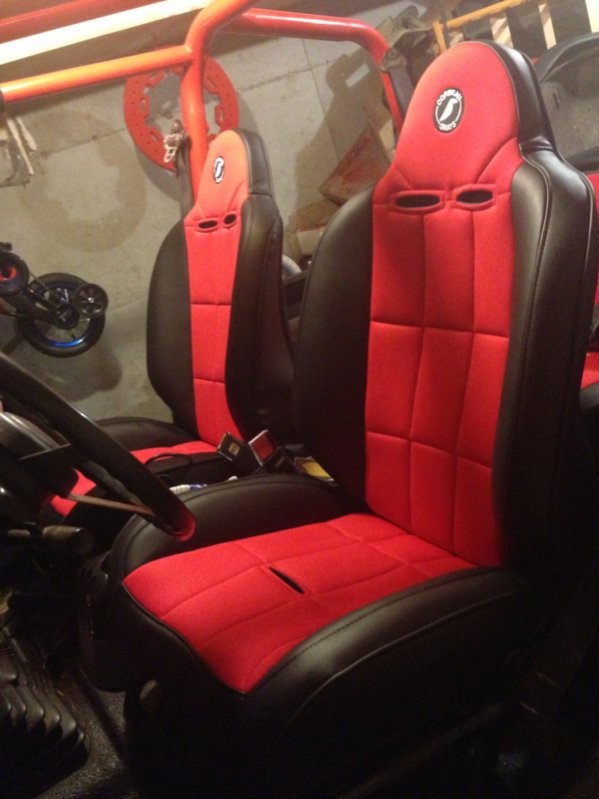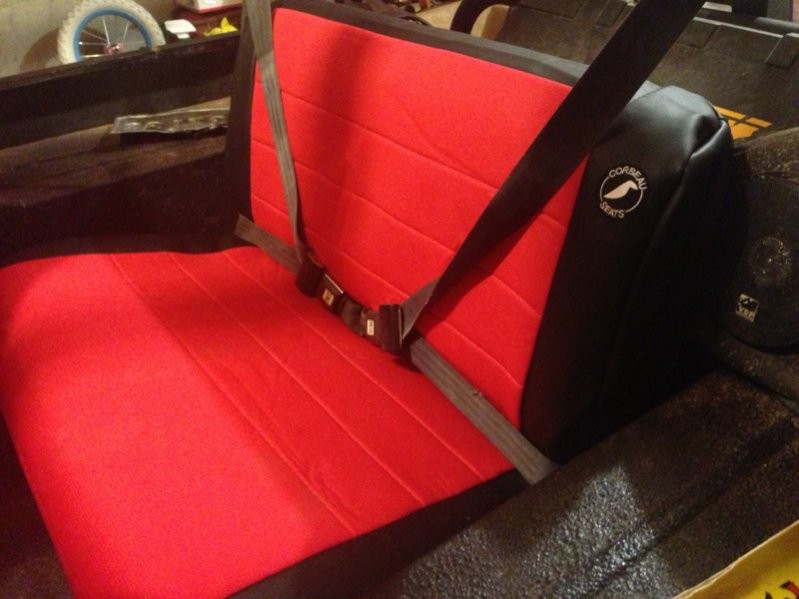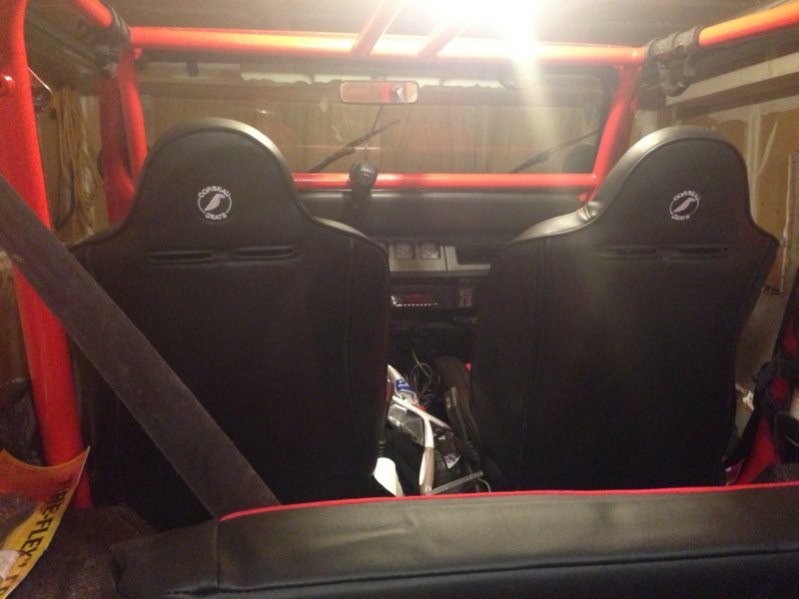 2-25-2013
So I went out to 91BoDs shop today and got the beadlocks welded up, big thanks to Eric (91BoD) I also got them painted up now all I need is tires and they will be thrown back on the jeep!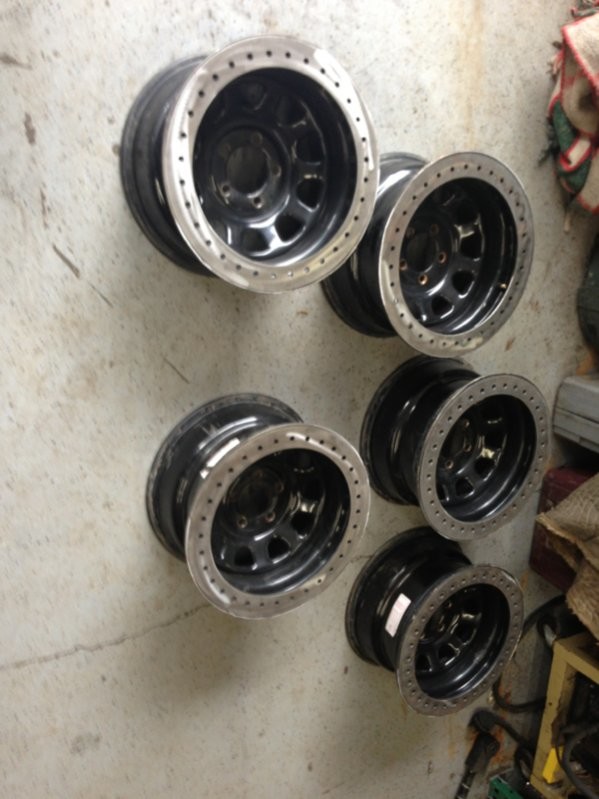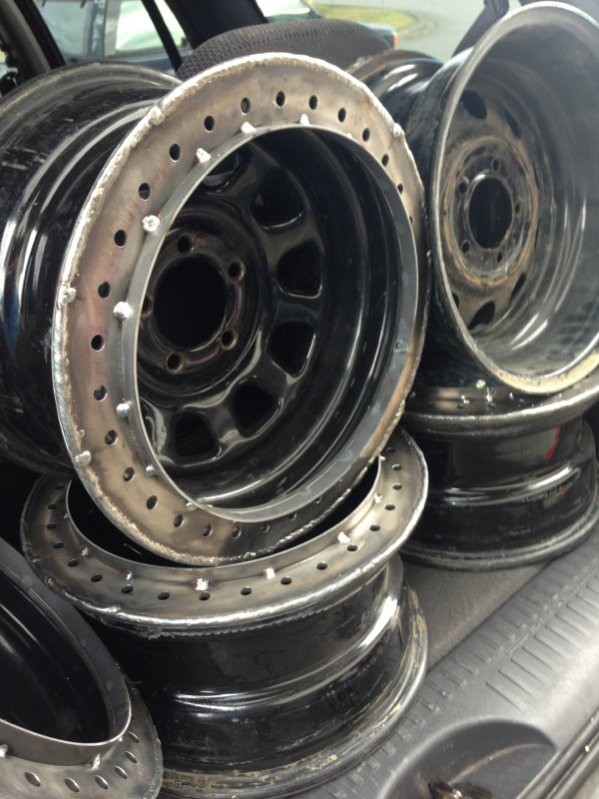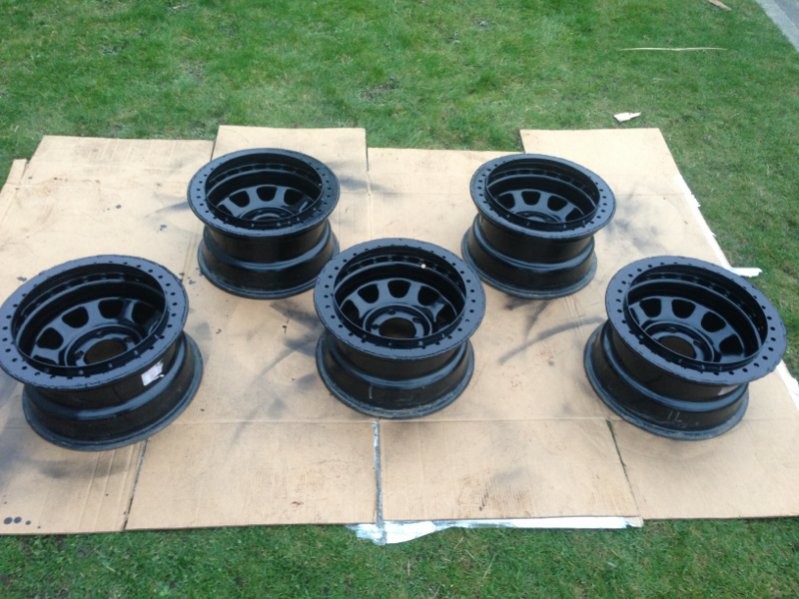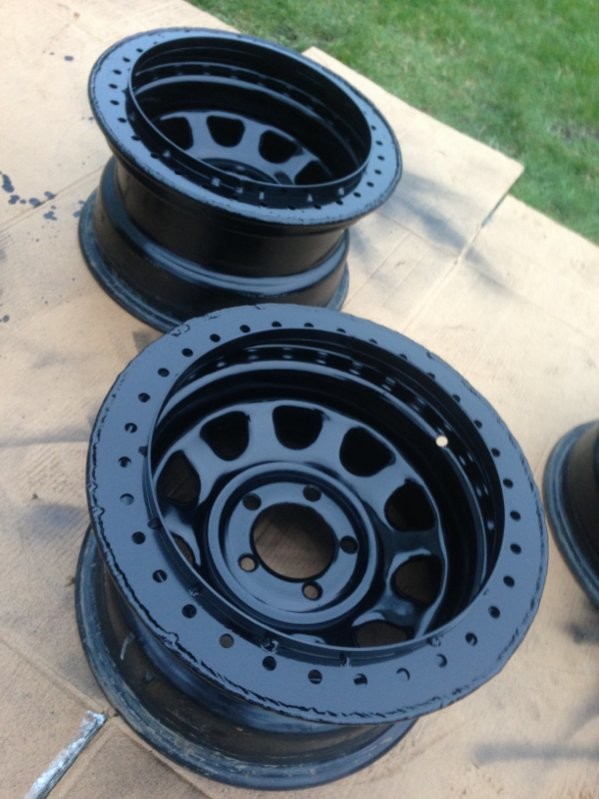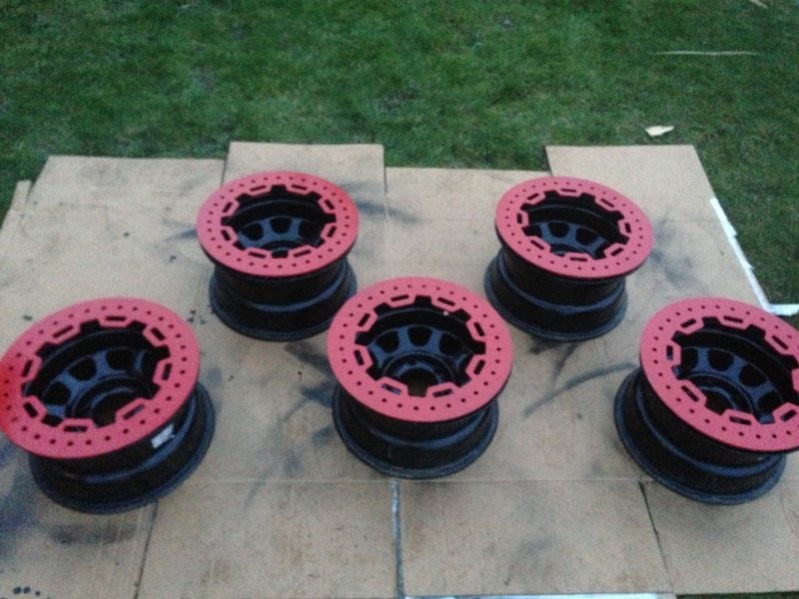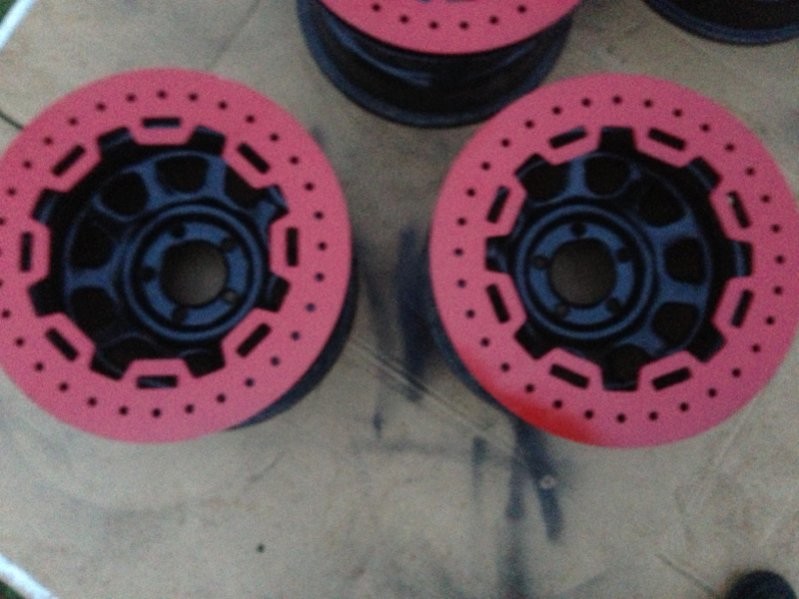 2-26-2013
Got my uv protectant in the mail today and got it applied to my seats and added some hp!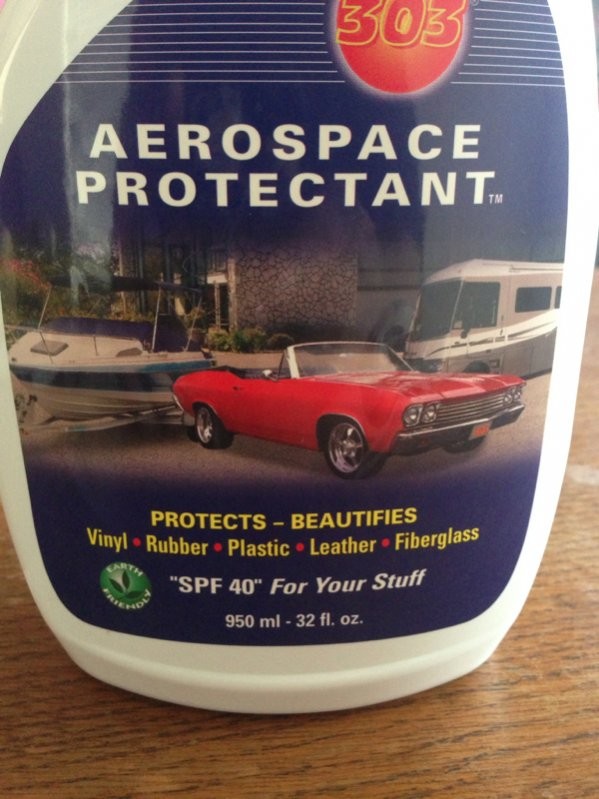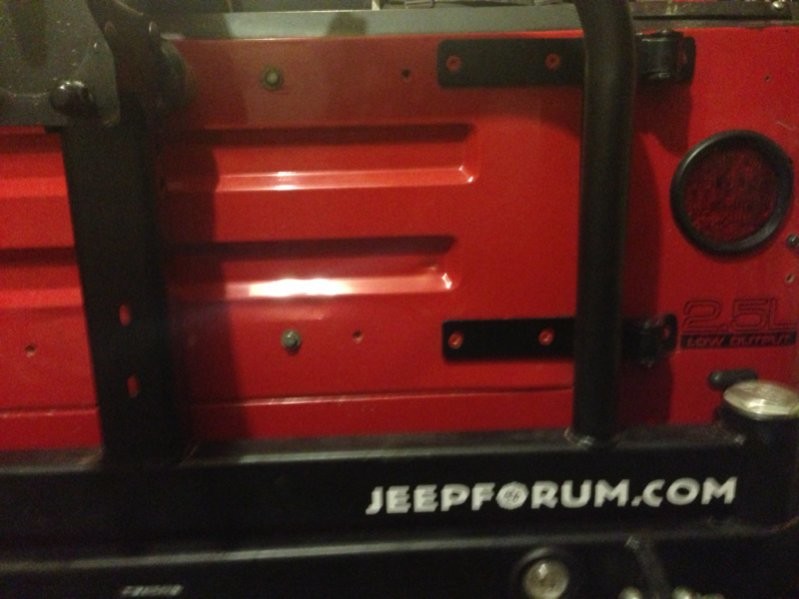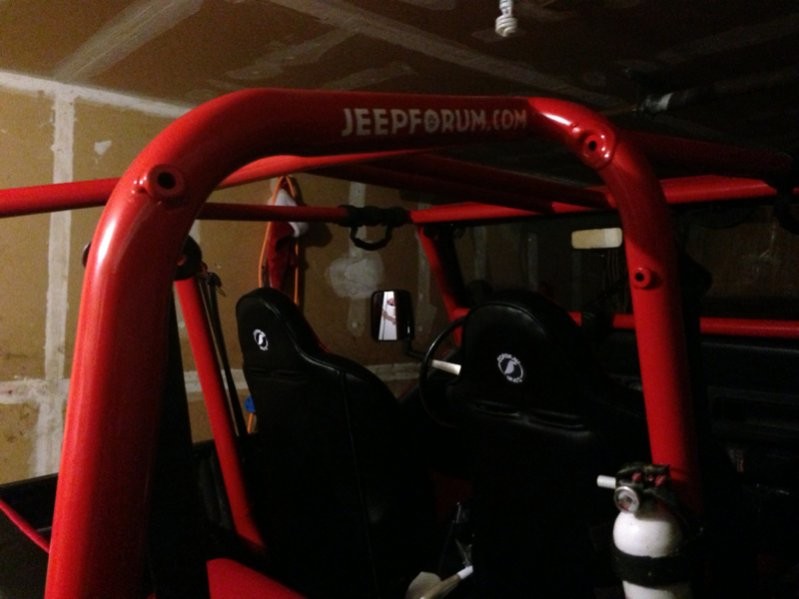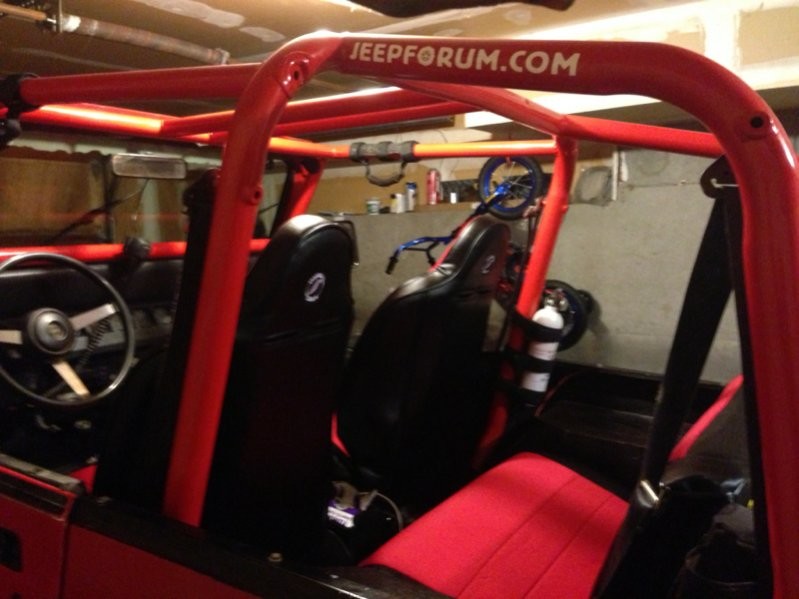 I will be ordering tires on the 3-11 and should have them mounted up that weekend. I ordered some valve stems threw work today for the wheels and also some dynabeads to help balance the out! Besides I have tires on it.......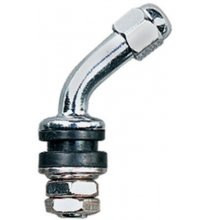 2-28-2013
So the fronts are painted and installed, the rear flares are also painted but am waiting for the rear quarter armor to show before installing them, I still need to paint the sliders. Almost forgot installed the rear axle tube seals and the front chromo shafts!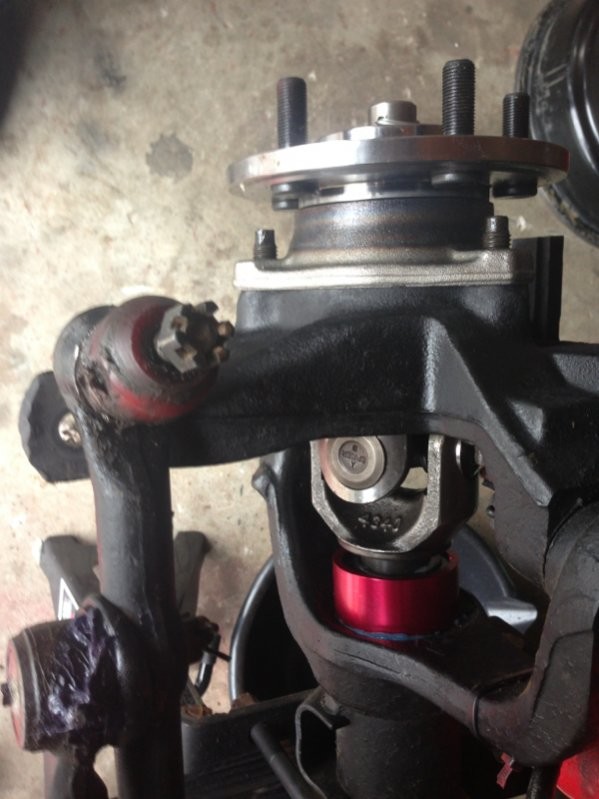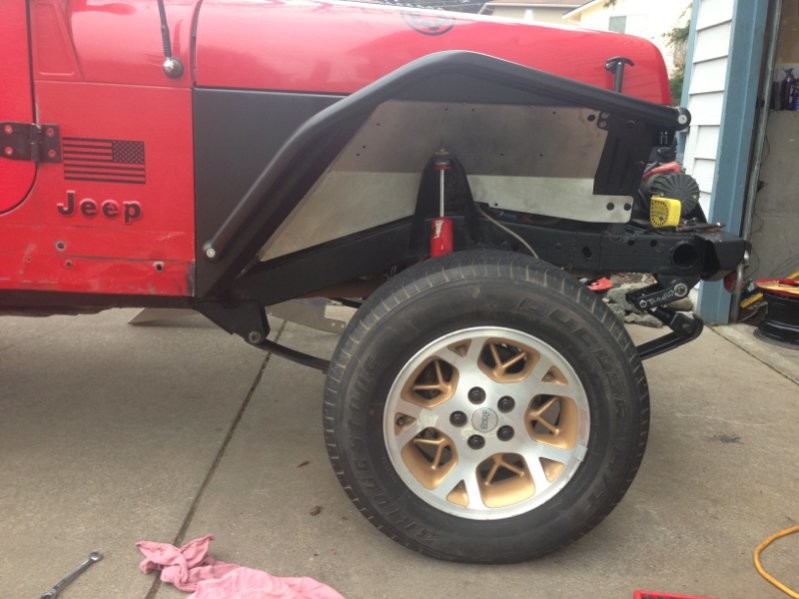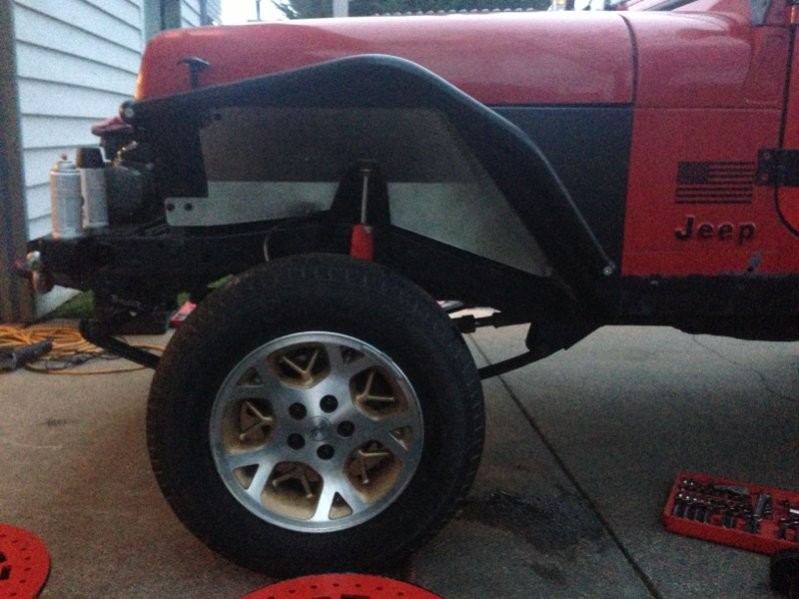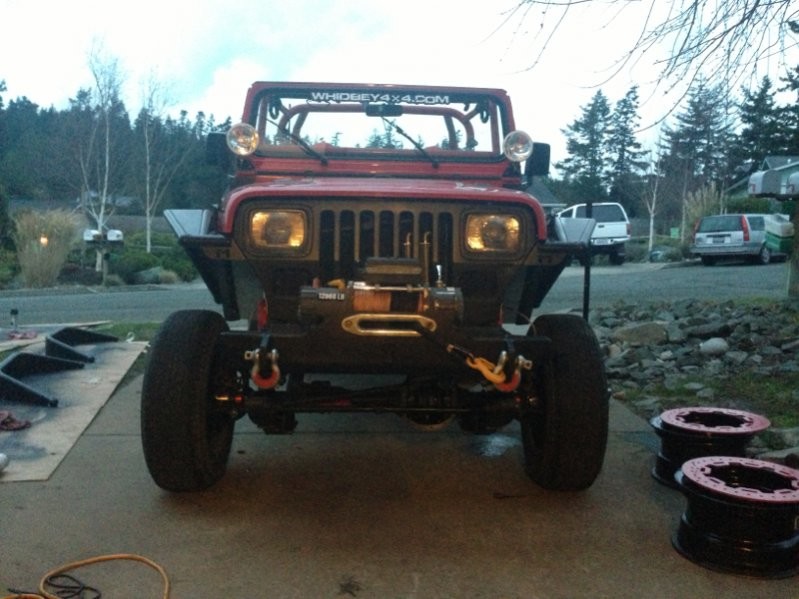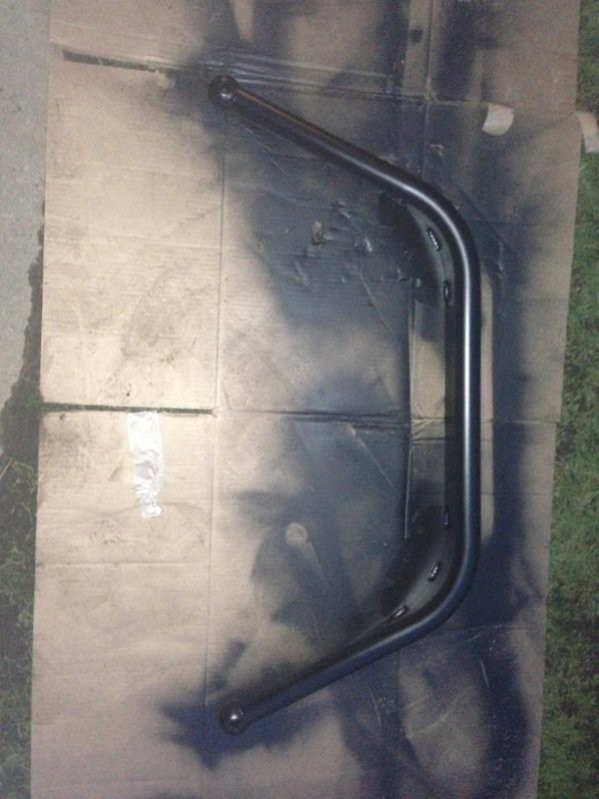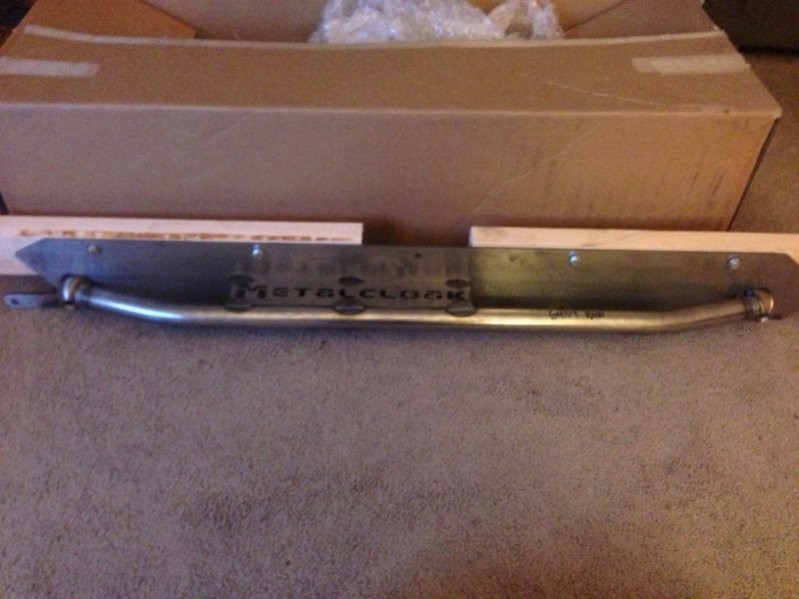 3-1-2013
So I got my valve stem installed in the locks today, I also order a new smaller steering wheel for it 13.5 inches compared to the stock 14.75 (making some extra room for my ham hocks haha)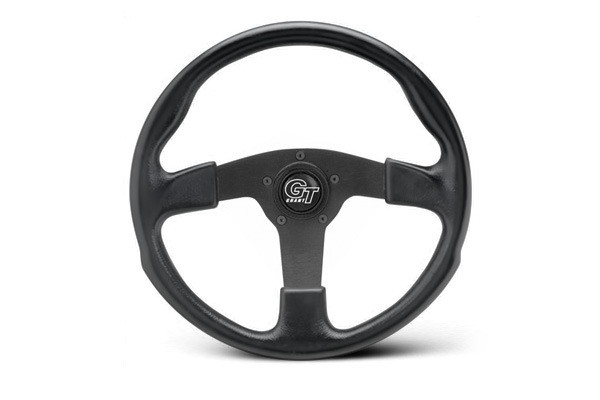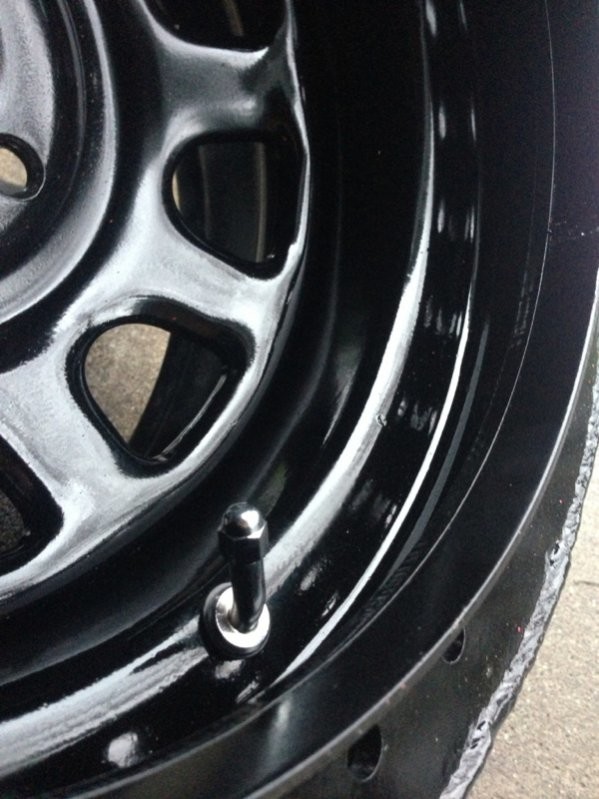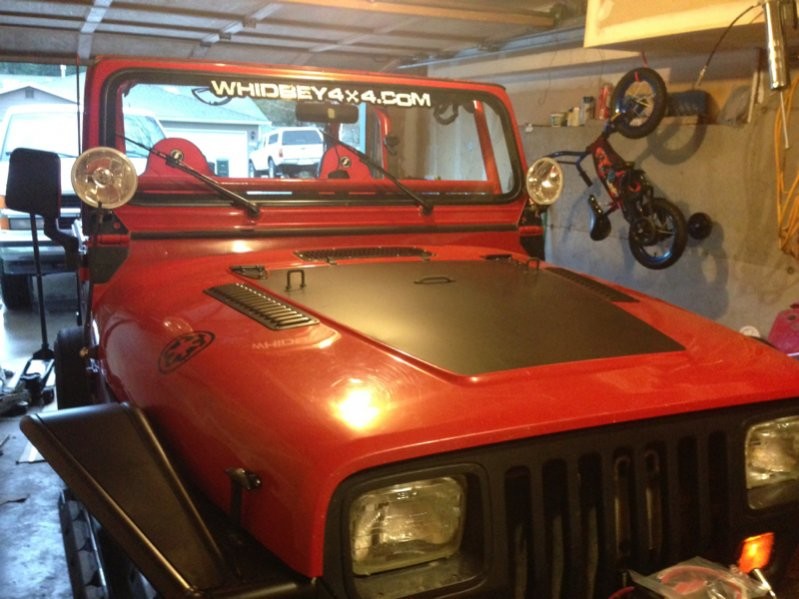 Got the sliders painted up now it just a waiting game till the rear quarter armor gets to my house!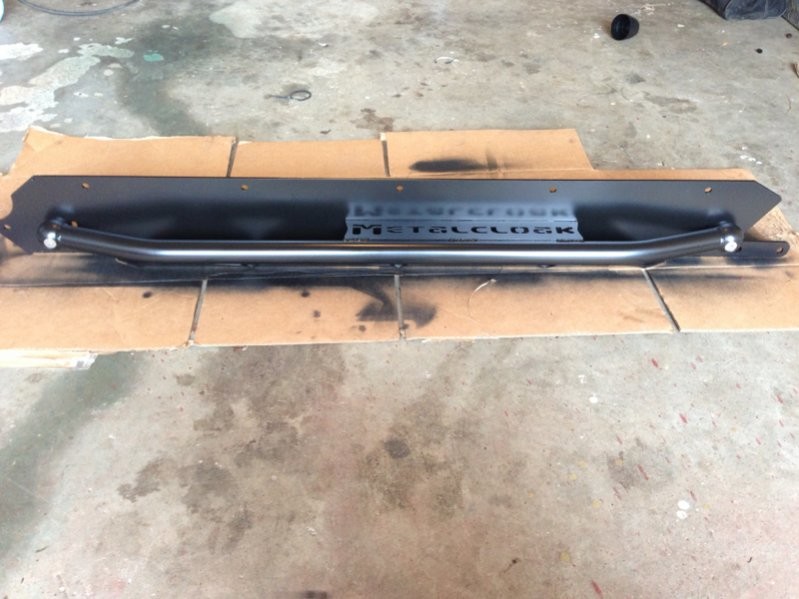 3-2-2013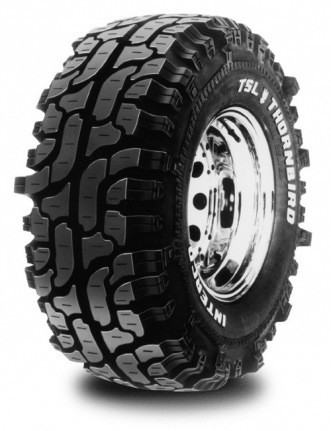 I traded my soft top for a tan hard top! Going to paint it black and either run it in the winter or flip it!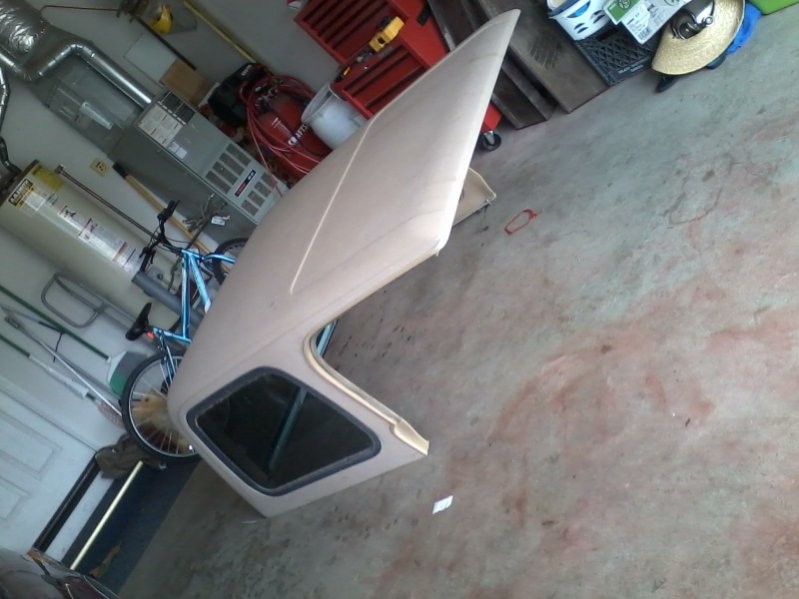 3-3-2013
Yeah it must be a aftermarket top, I need to figure out what to use for the piece that attaches to the wind shield header they use some kind of plastic and its only half there! :/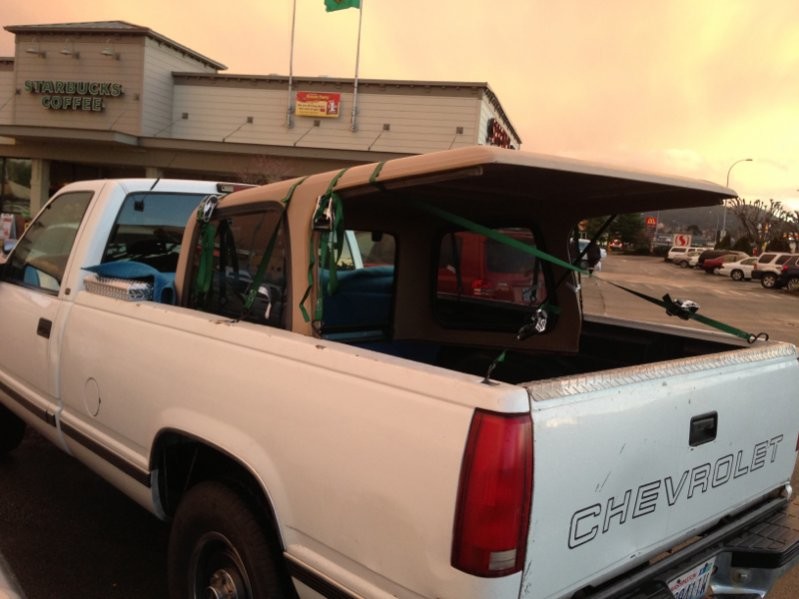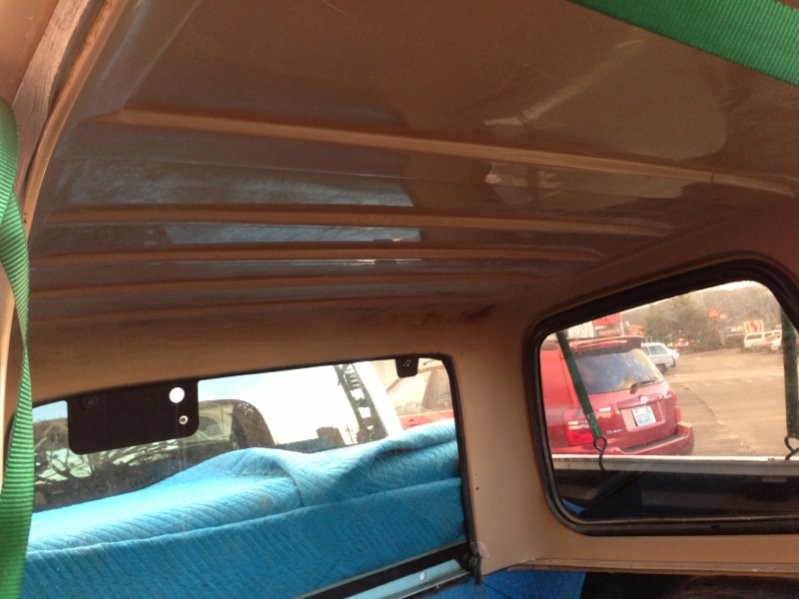 Got the top sat on the jeep, I need to move my windshield back to make it fit right :/ but that means cutting and reselling the windshield spreader!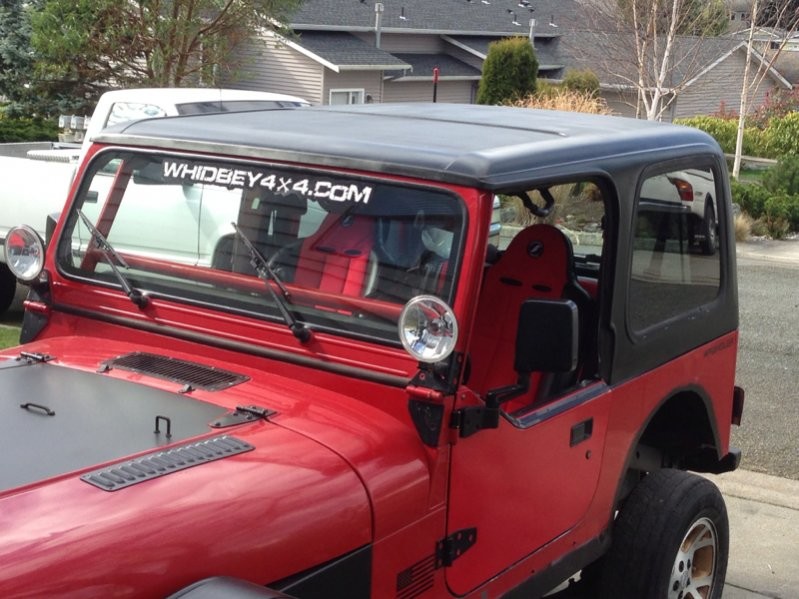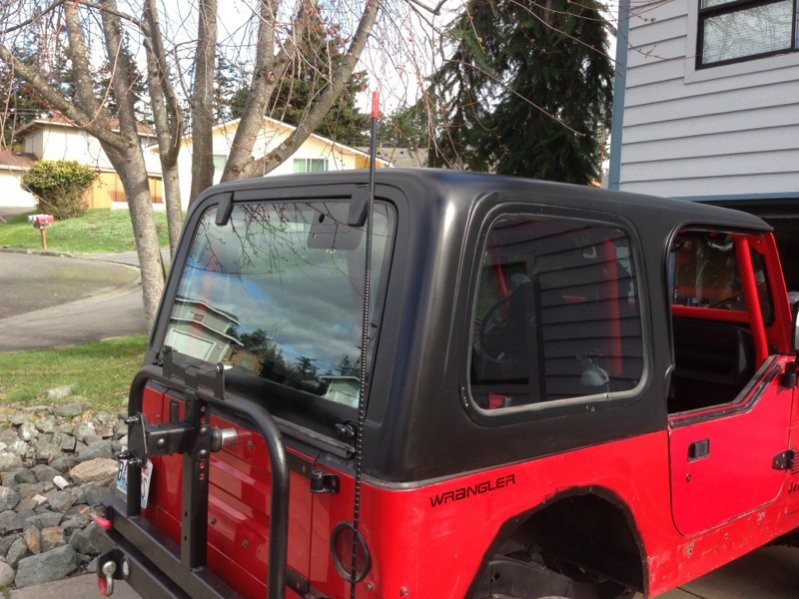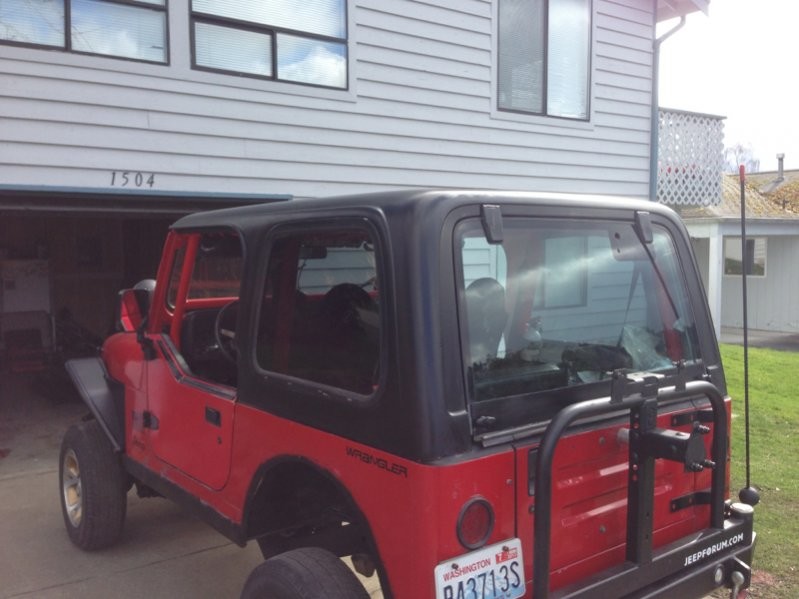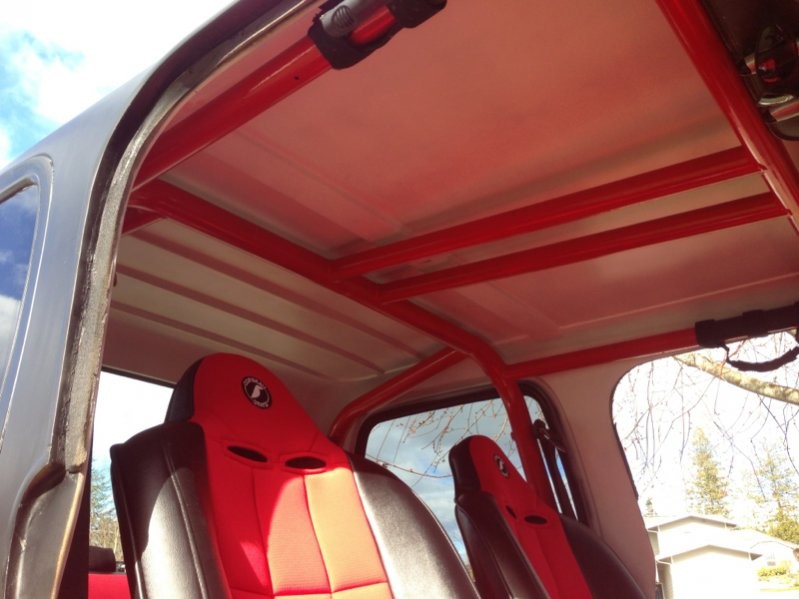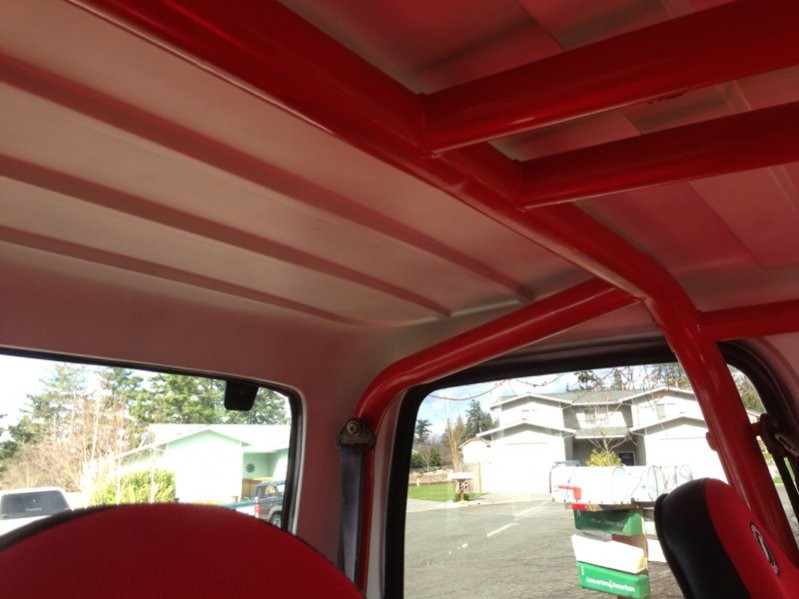 3-5-2013
The brown Santa dropped off my balancing beads and my front diff cover I am not done painting the cover yet tho!

Ok it's done being painted and is drying now!!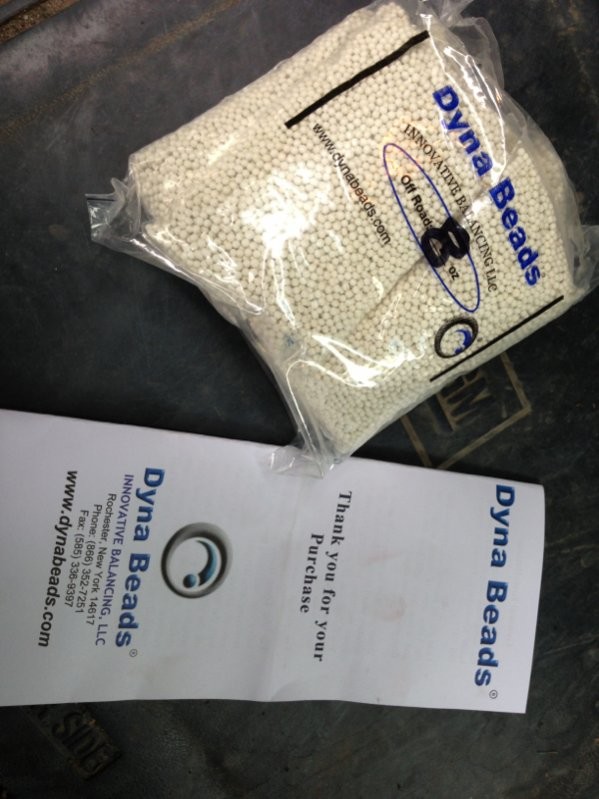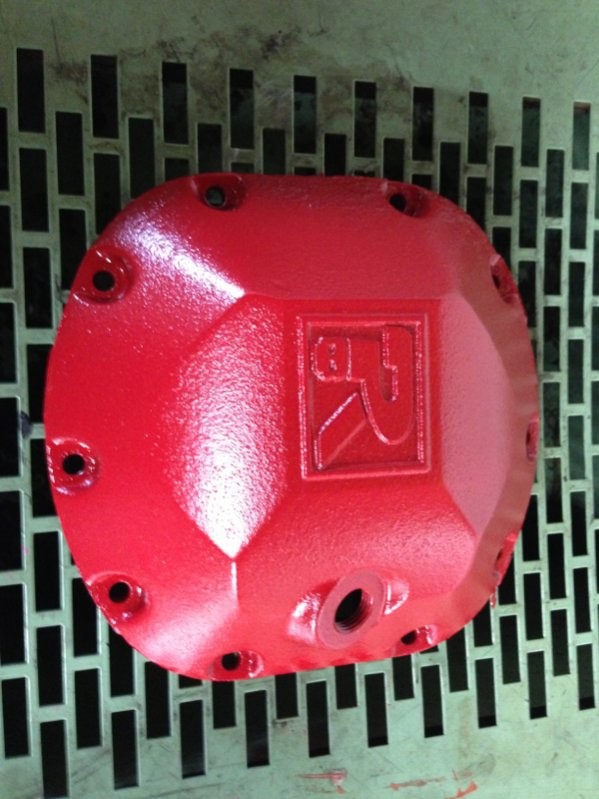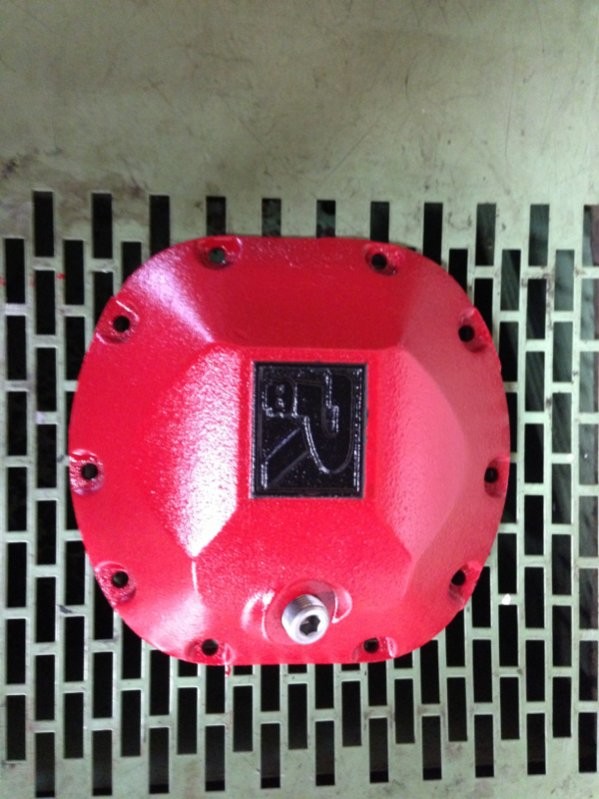 3-6-2013
Cover and lube locker are on and diff is full of fluid final! She is almost ready to start driving again!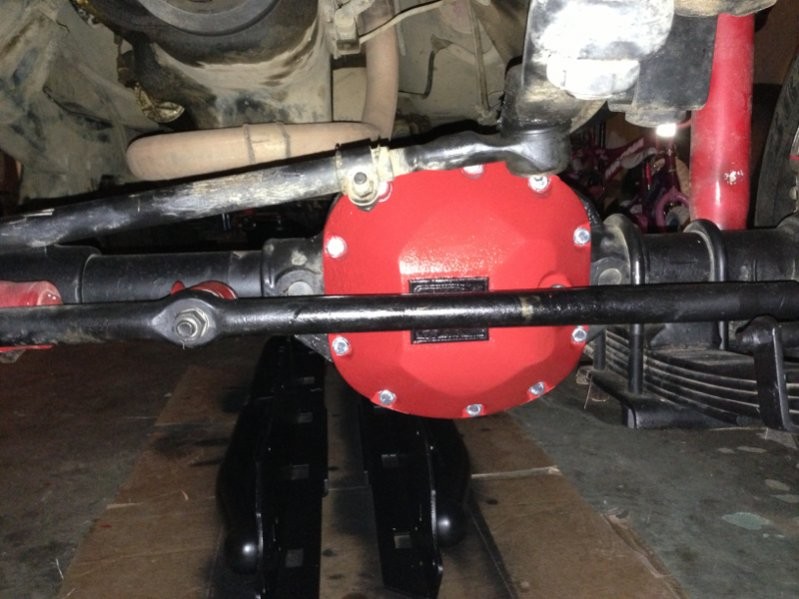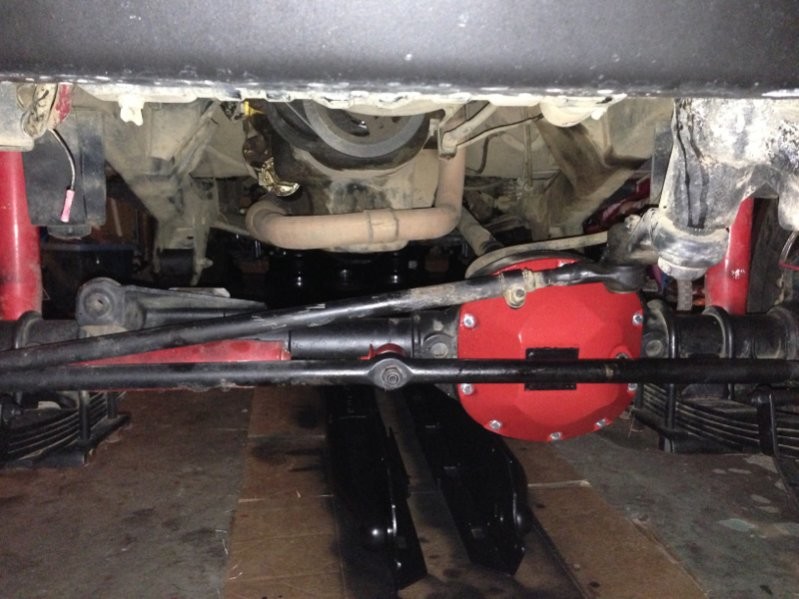 I flexed it as much as I could at my house but I am faaaaaaaar from full droop. I plan getting some shock hoops and the proper length shocks after the 15th!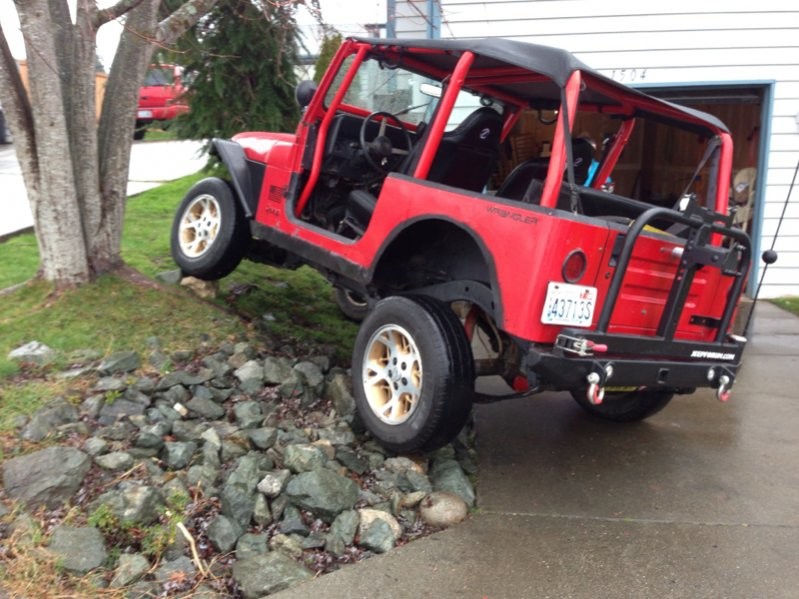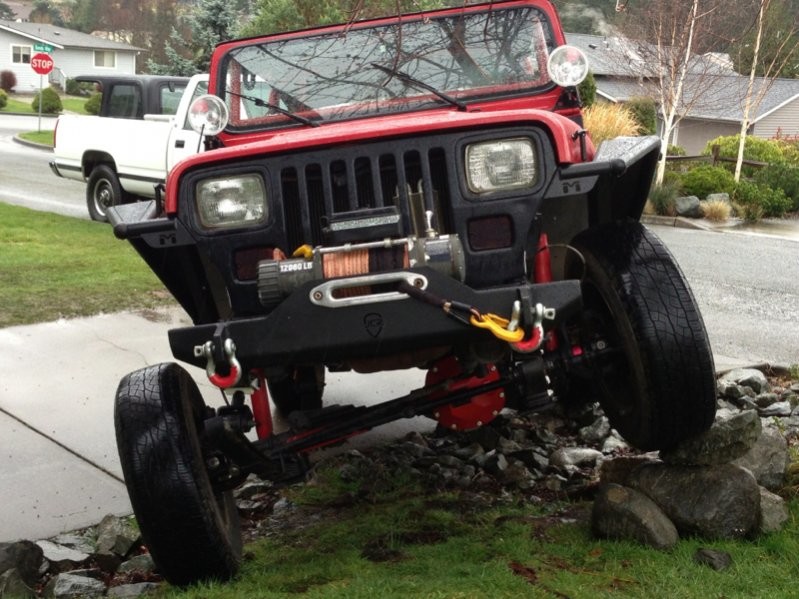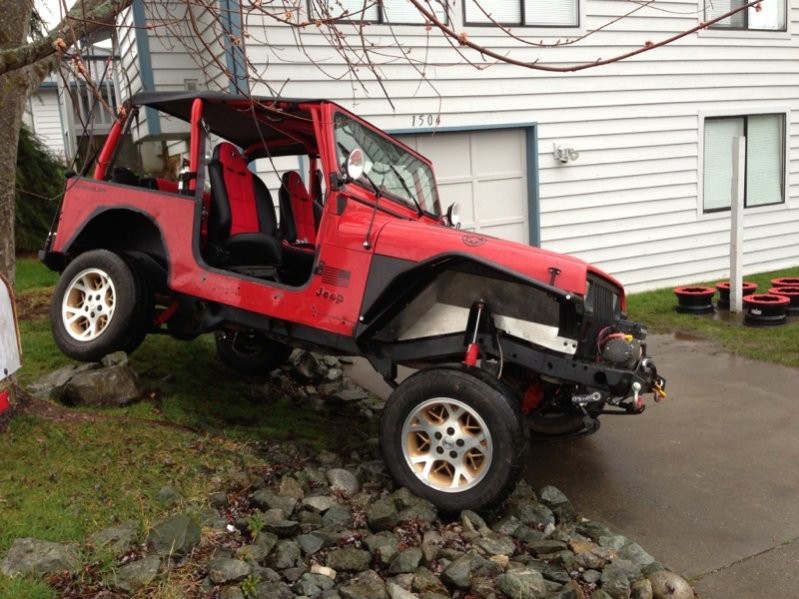 3-7-2013
True story, the truck being a 4x4 with the vortec sbc I am getting 15 mpg in town with it which is better that the jeep haha!
Almost for got I took the steering wheel off in prep for the new wheel!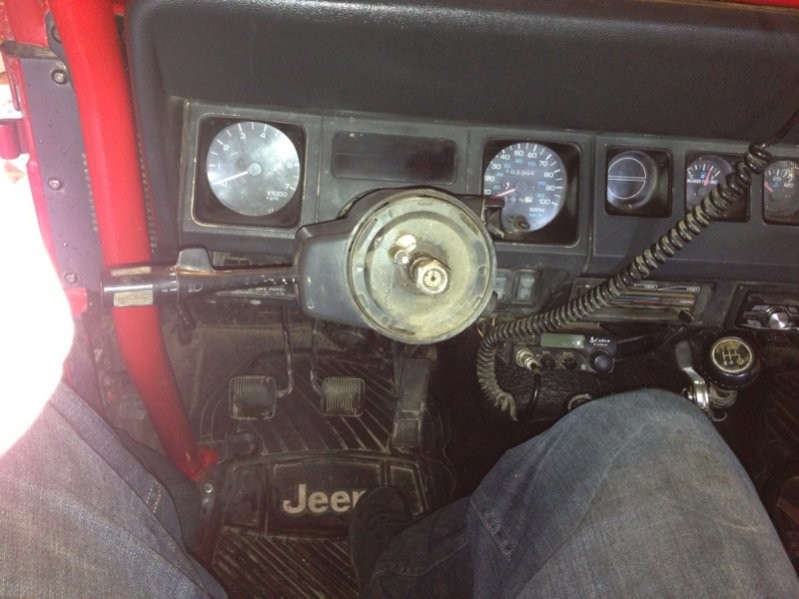 Brown Santa dropped my corner guards off today!! I got off early so I decided to cut out the tube to fit the new corners, in case you guys missed it I ordered the rear stretch Conner guards since my tube was all ready cut out for tj flares! As you can see I didt have to cut a whole lot more out! Any ways the paint is drying on the guards and I will be installing the gurds/rear flares/ and sliders saterdays!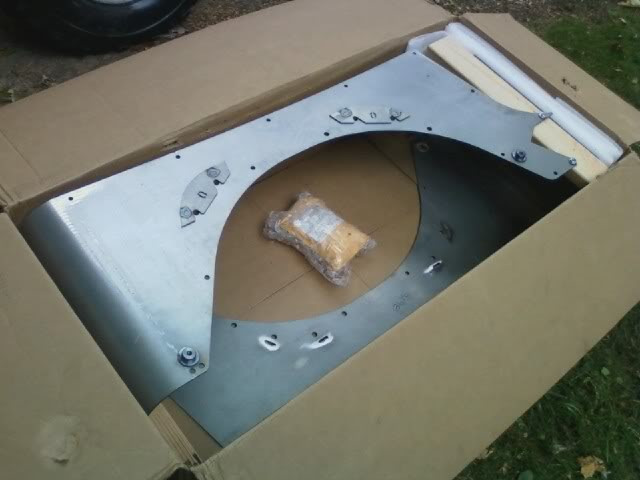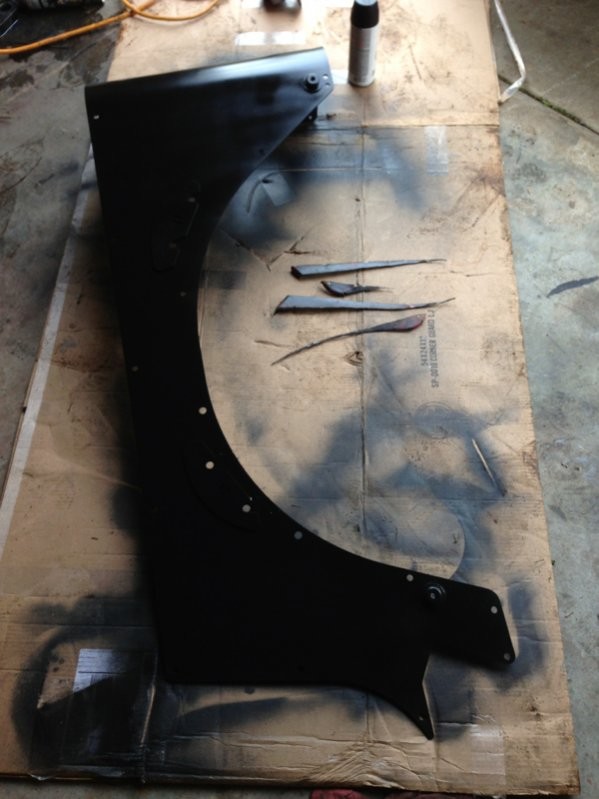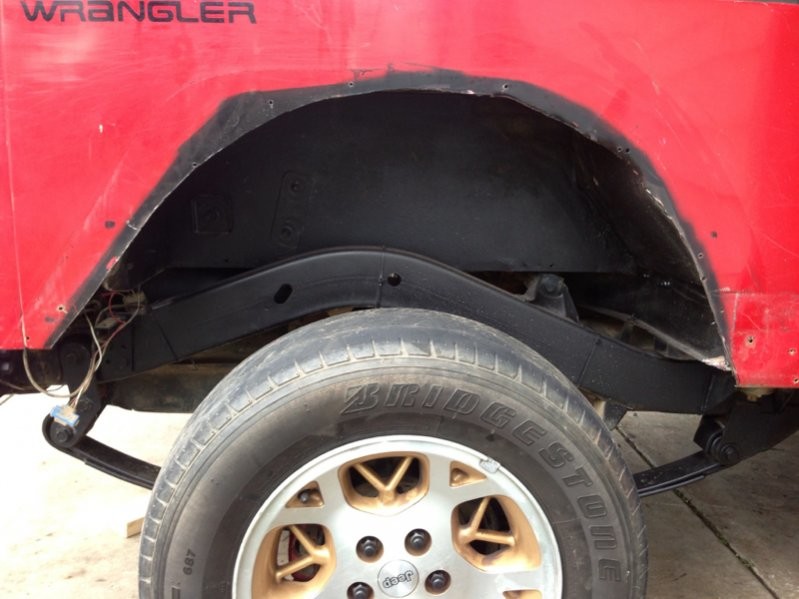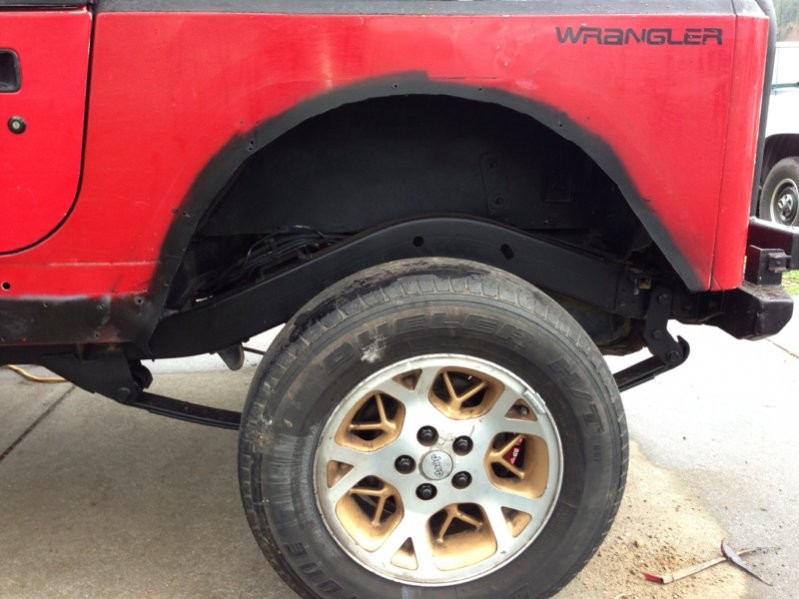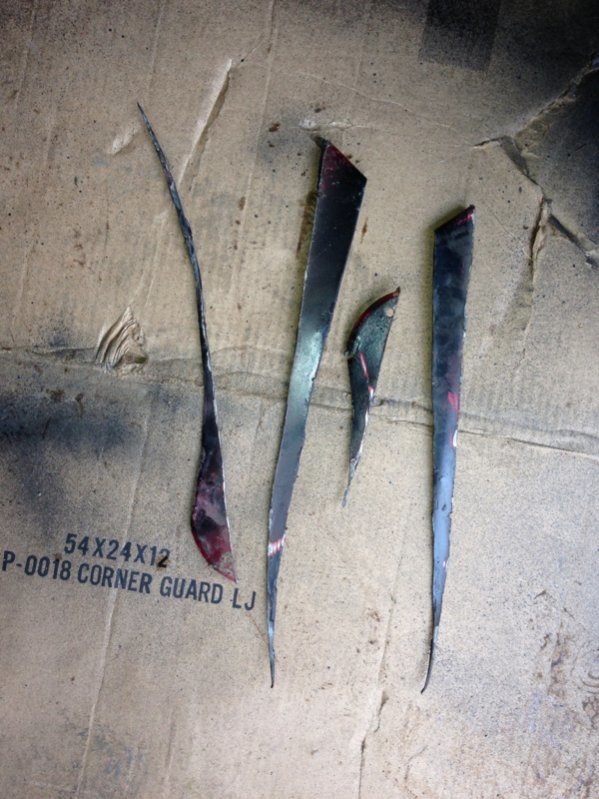 3-8-2013
Picked this up this morning!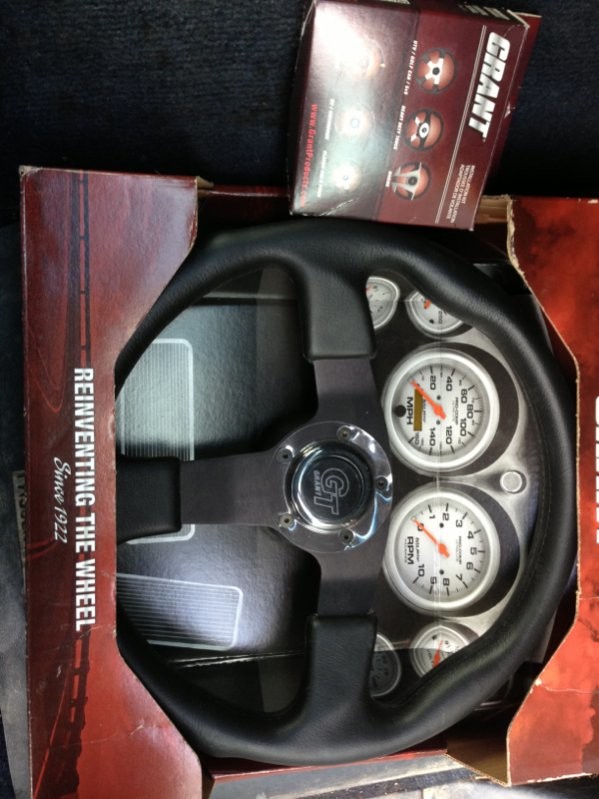 3-9-2013
I got the armor installed minus on of the rear tail light haha, I burnt threw the hole saw on the first side I will pick up another saw in the am to finish that up!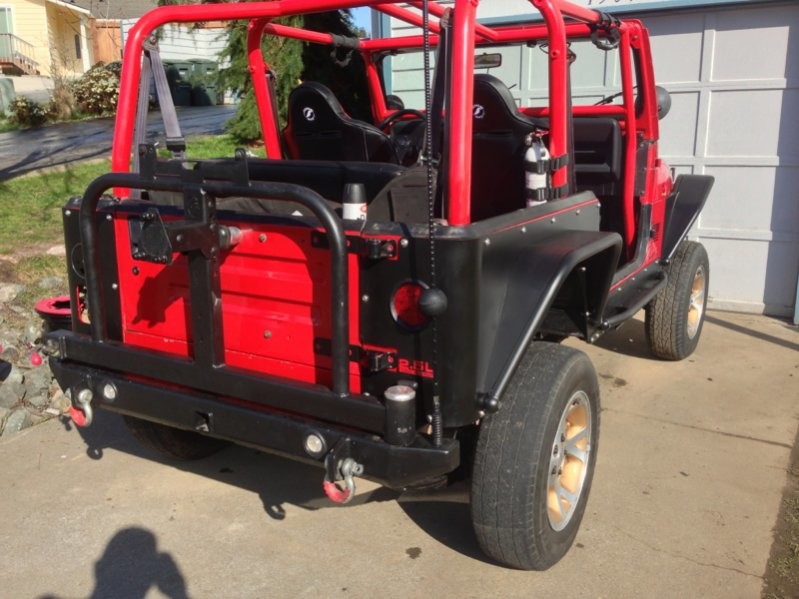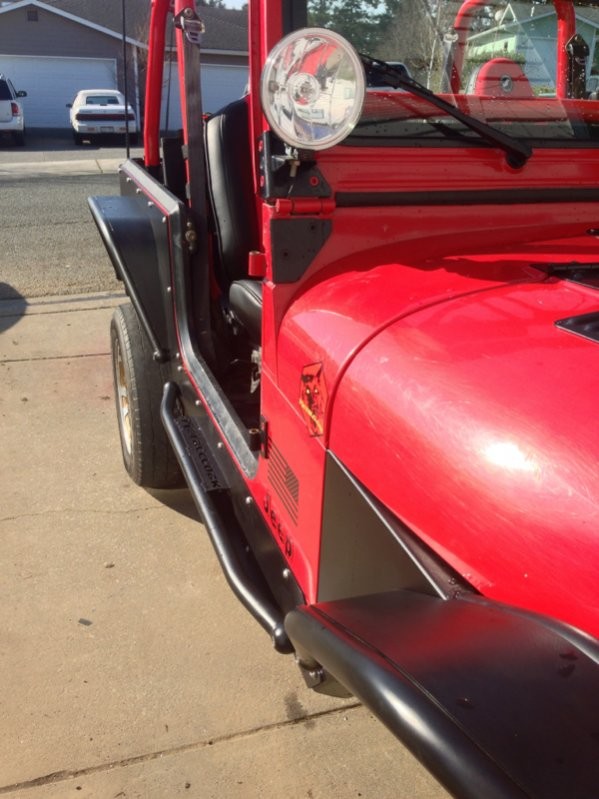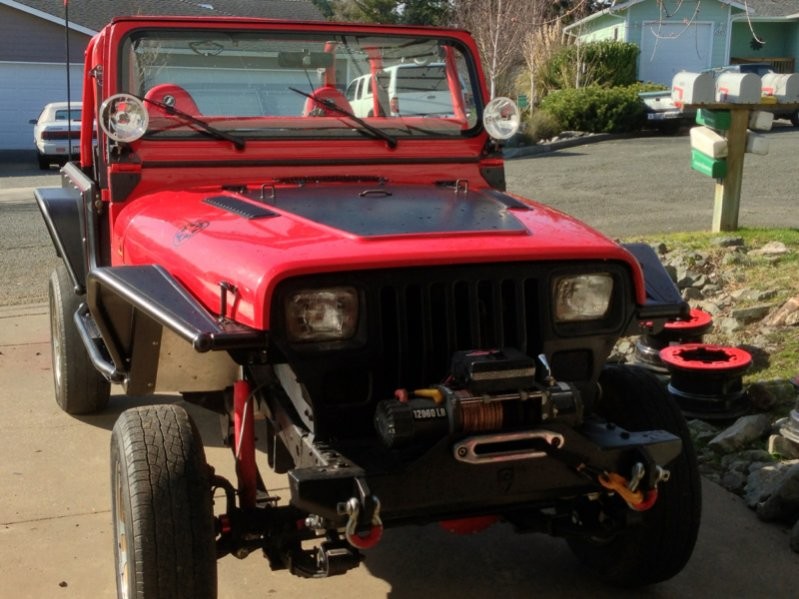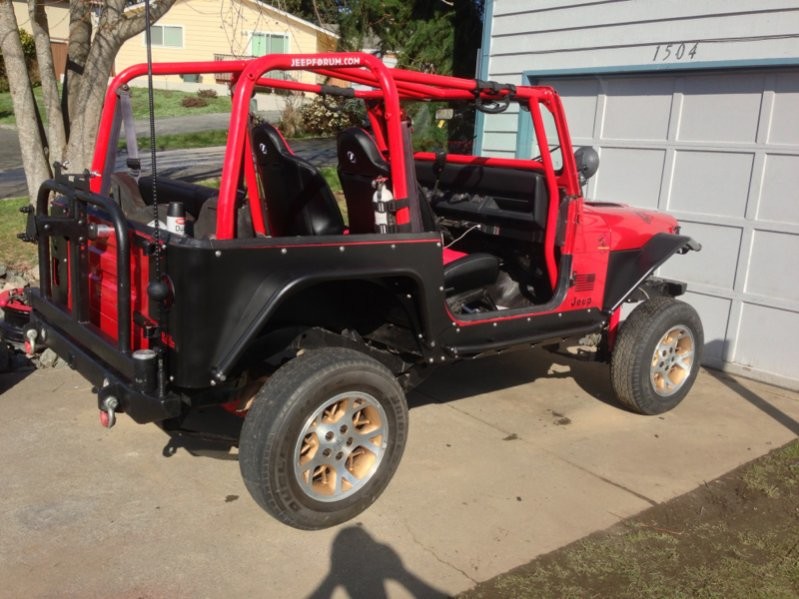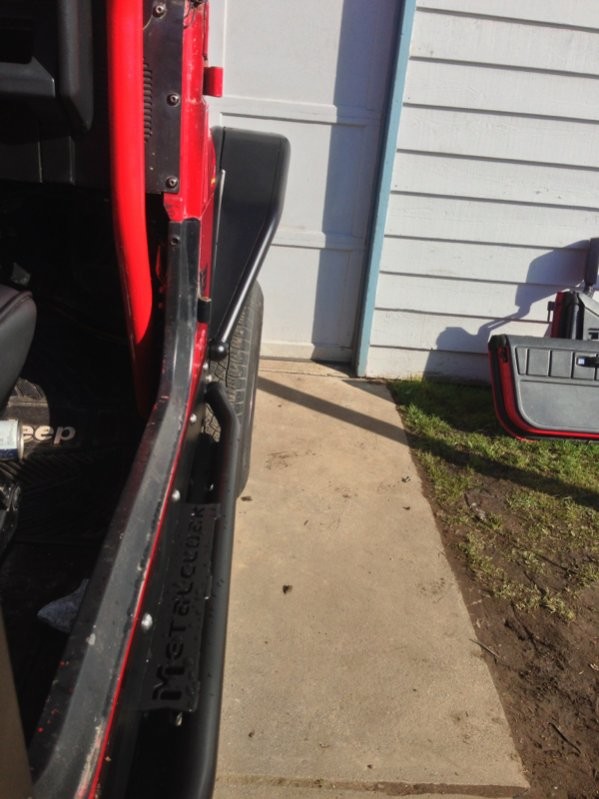 3-11-2013
Tail lights are in (quarter inch steel is a bear to cut threw) along with side marker lights!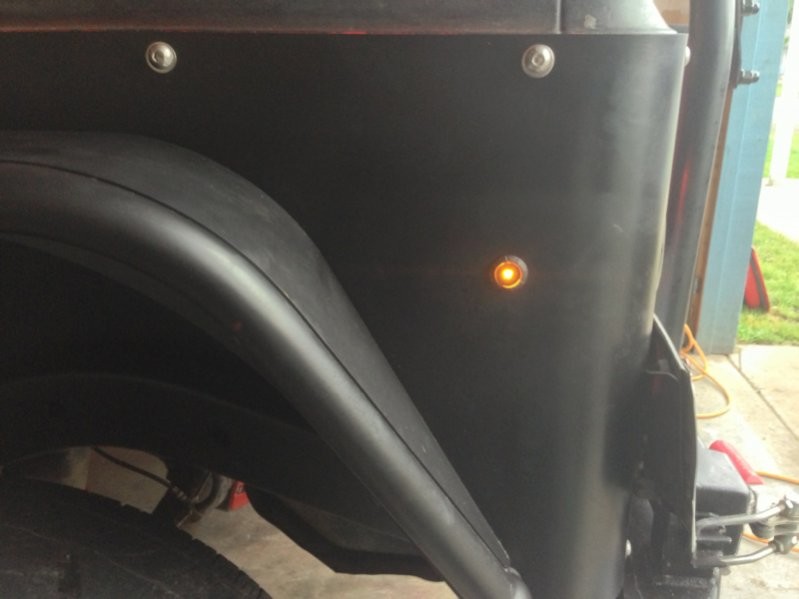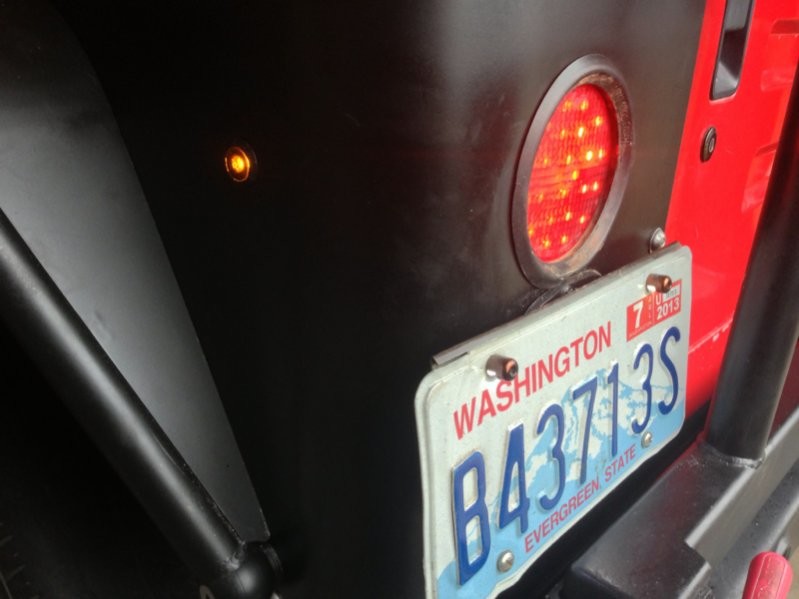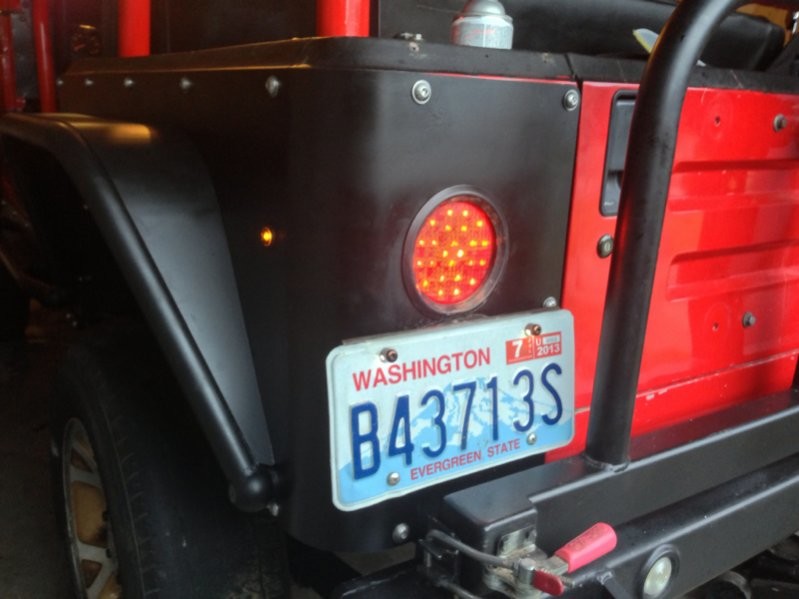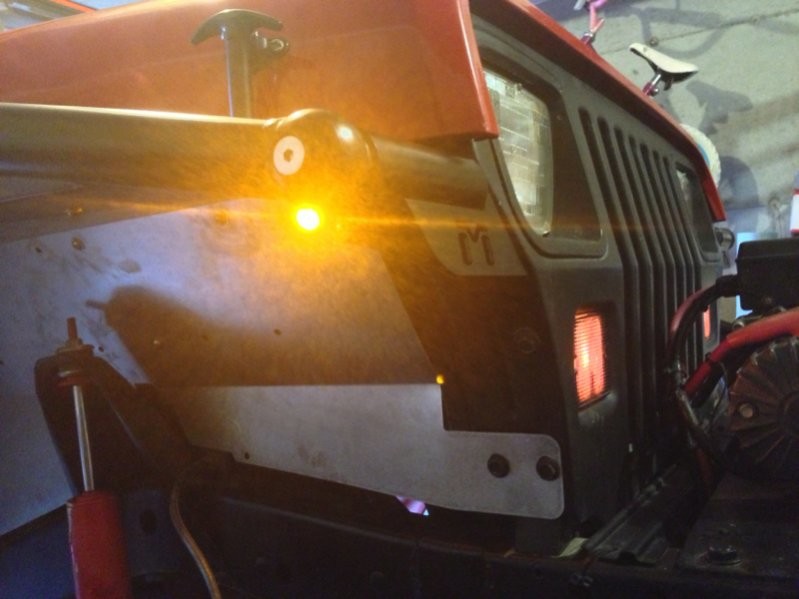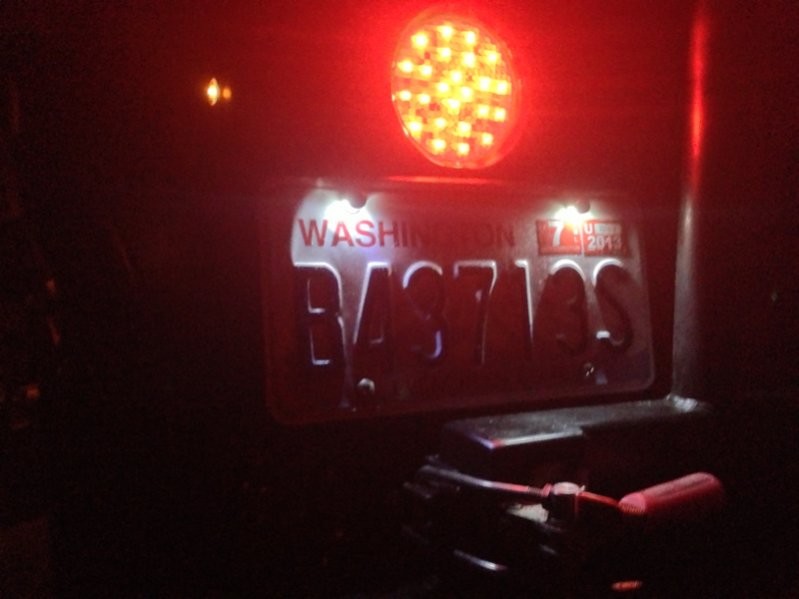 Update today I ordered both led lights for the dash and also a 1 inch day star bl, I also moved my jack back to the hood..........that is all!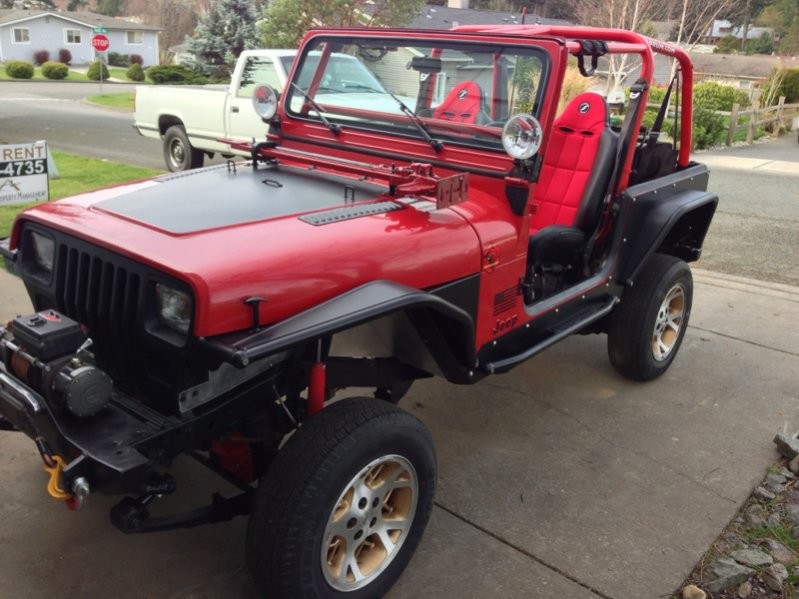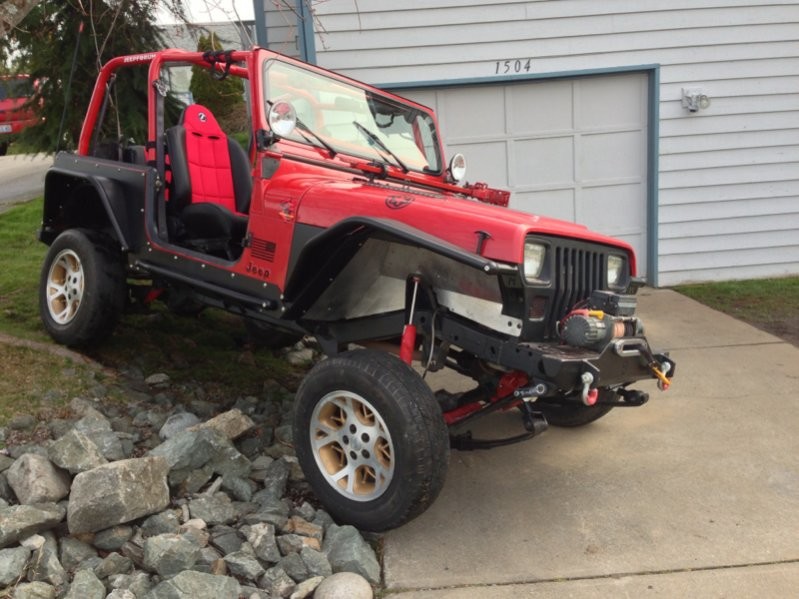 3-14-2013
Got the summer mirroirs on (thanks preacherman) and also installed the daystar kit, I think the 33s should fit nicely!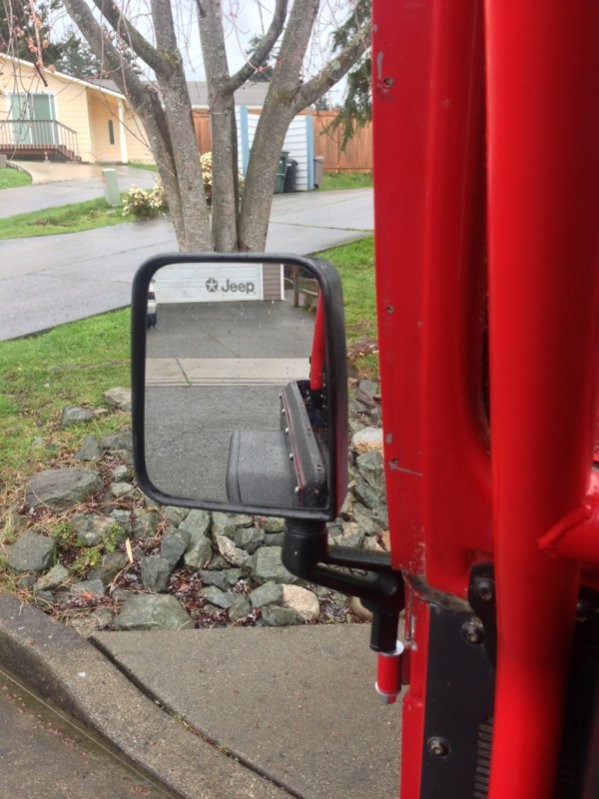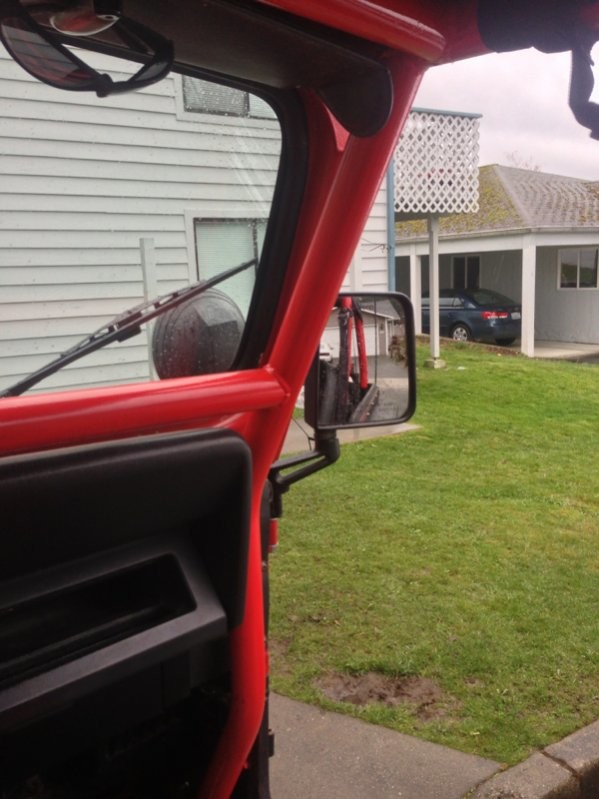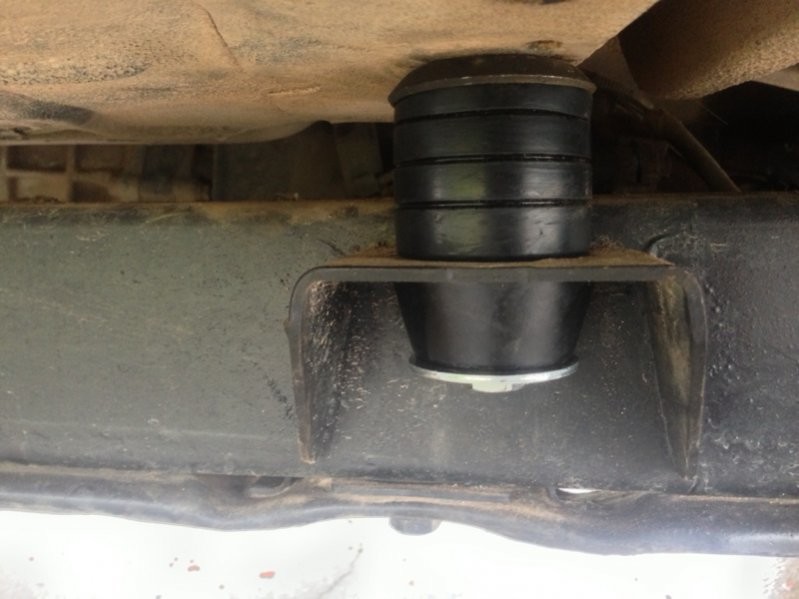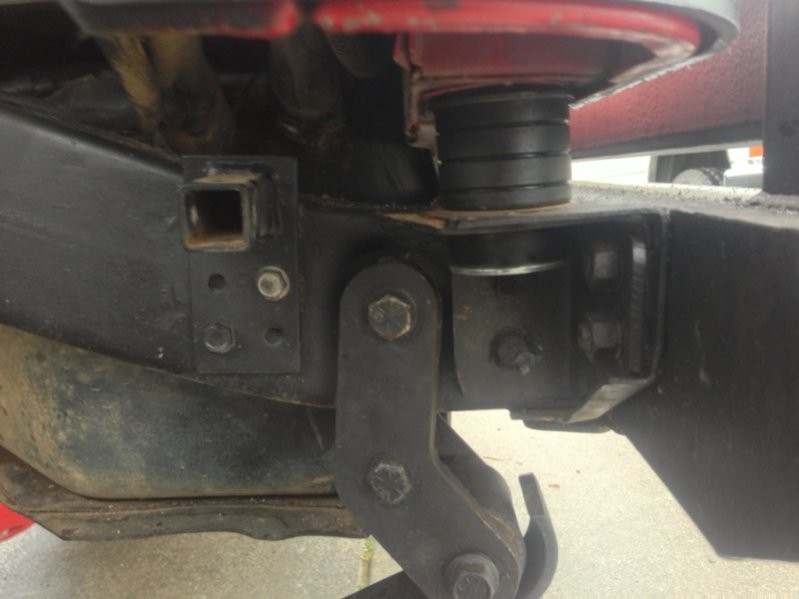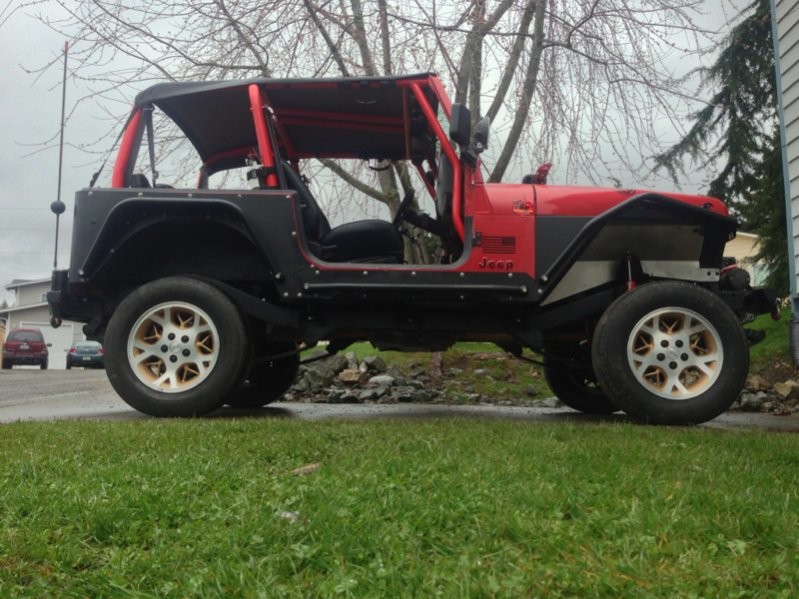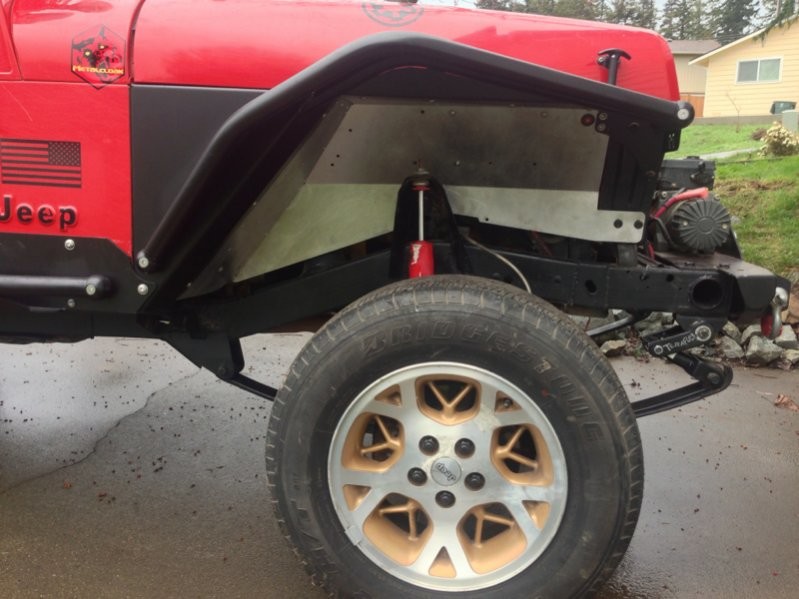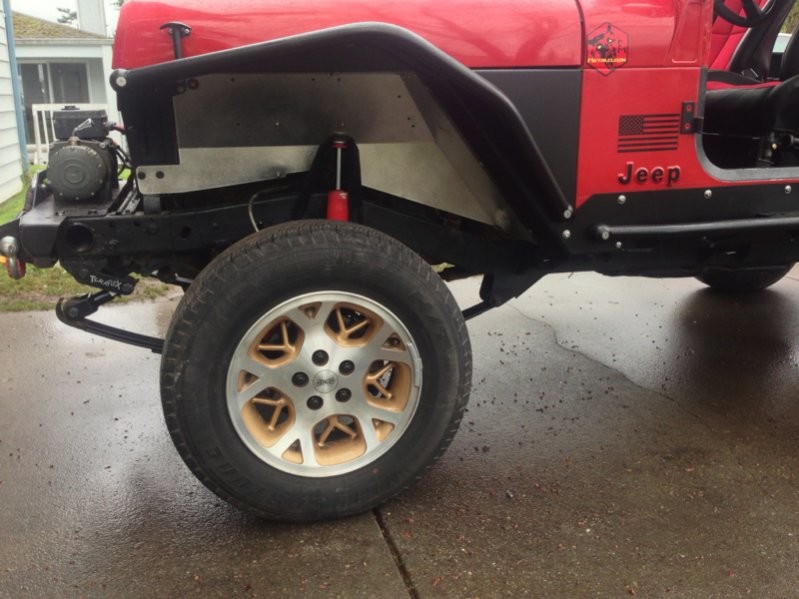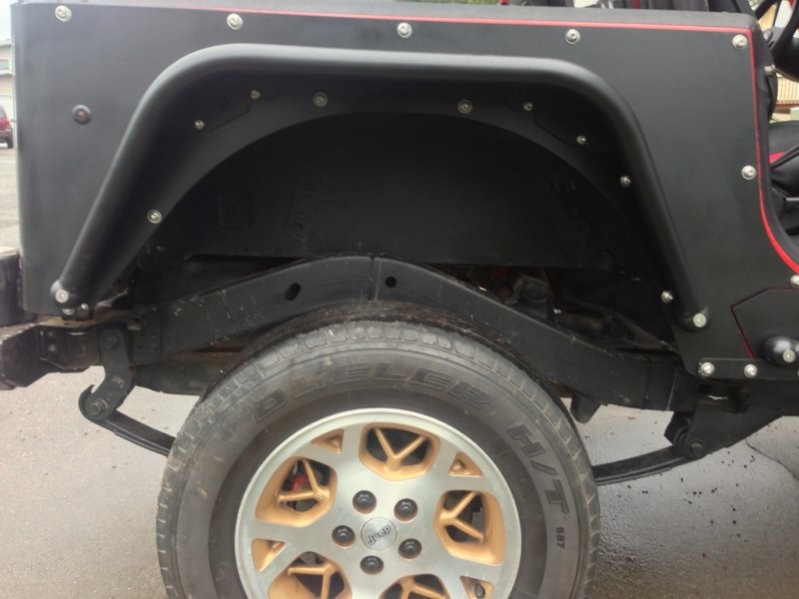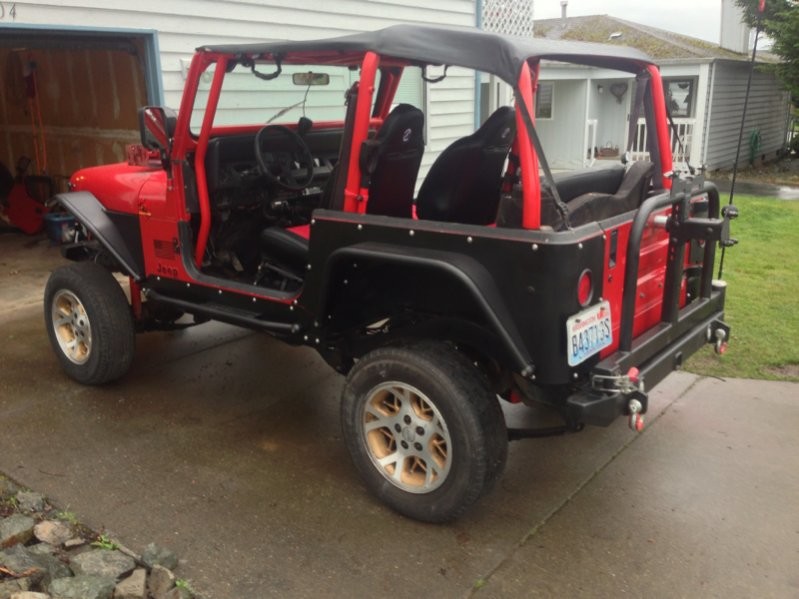 3-15-2013
Nuff said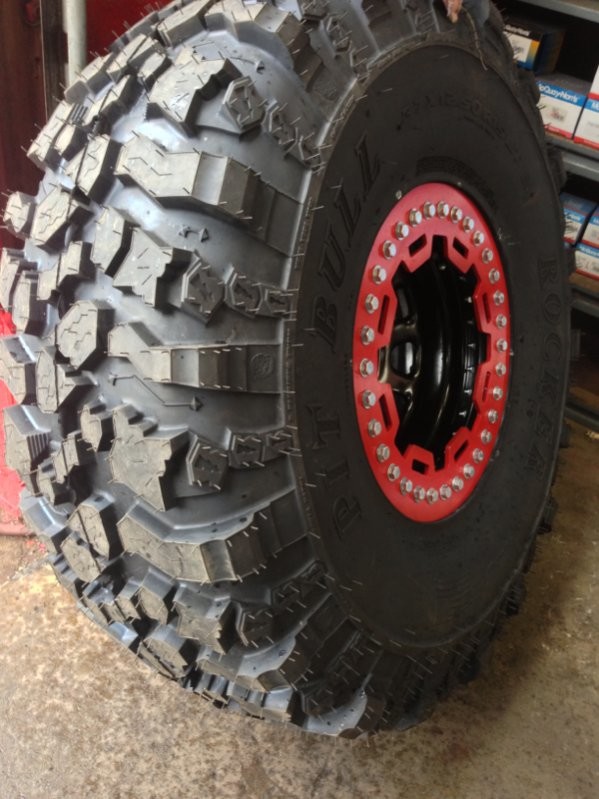 No....12.50!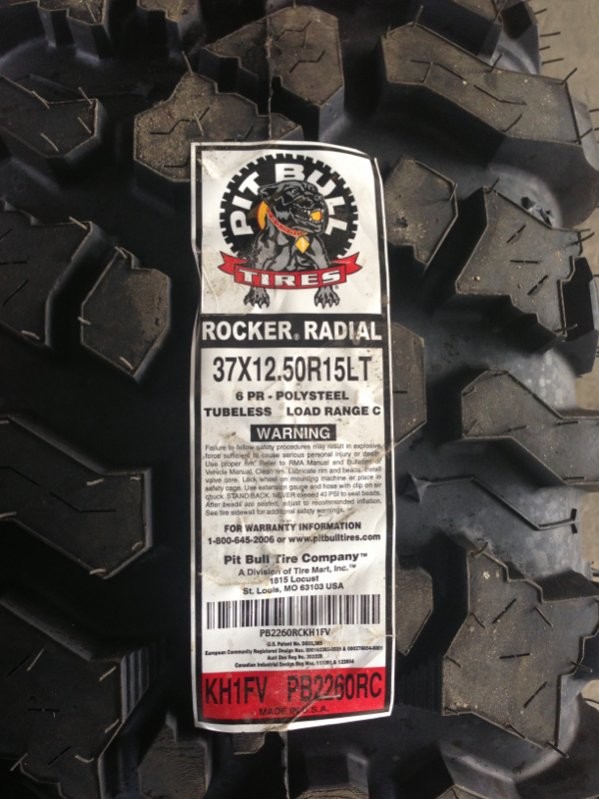 I threw the one on and I can say I am clearing them with room to spare up front!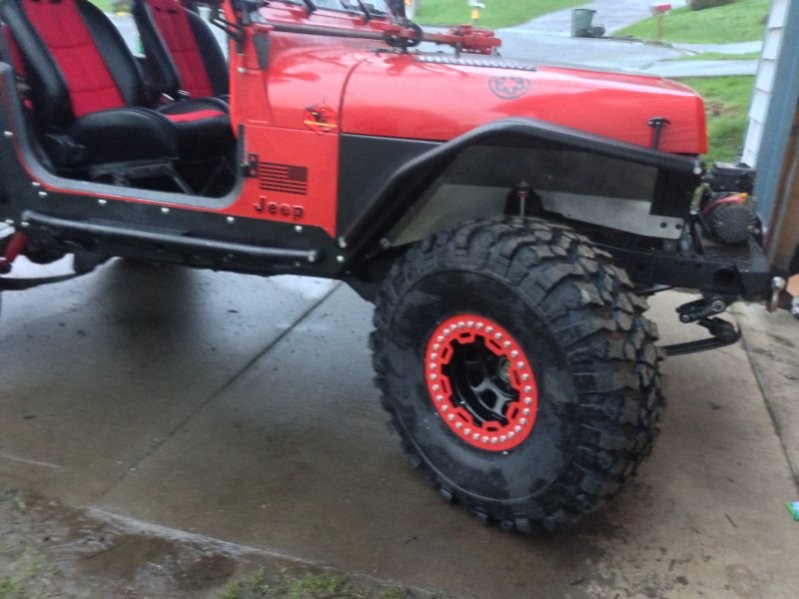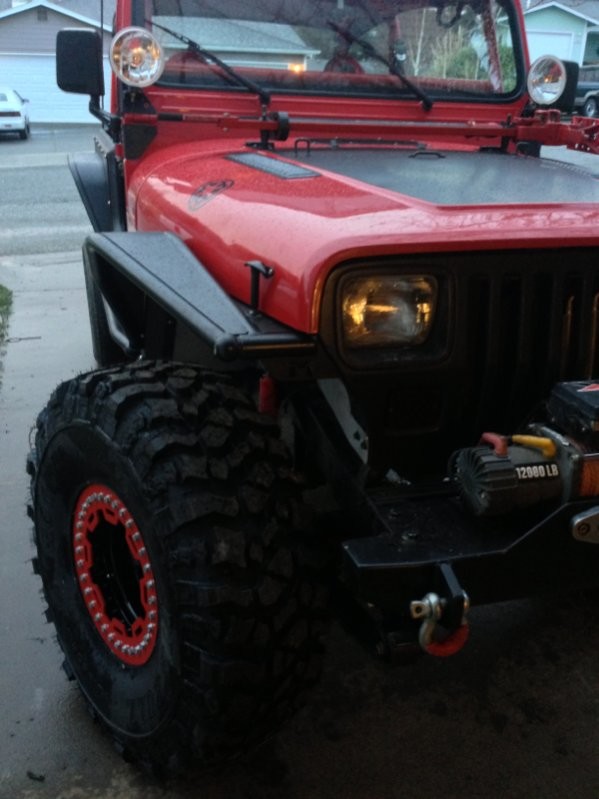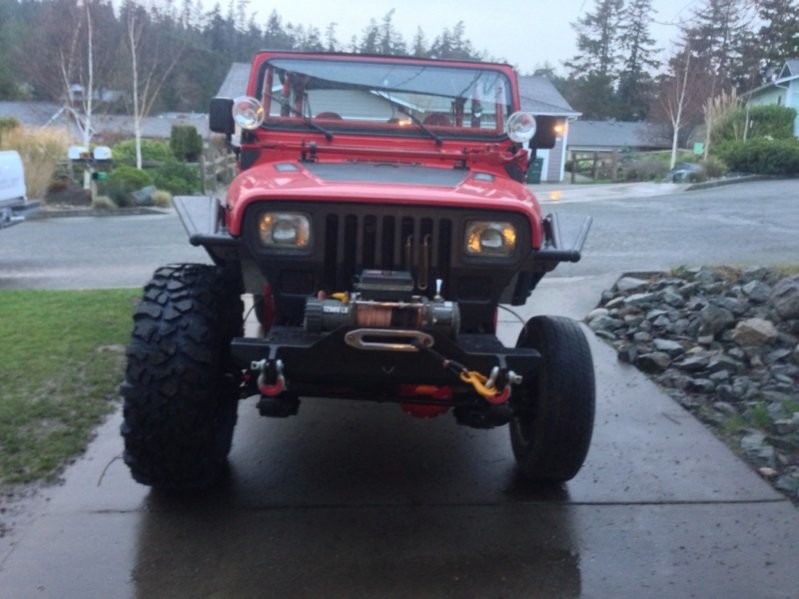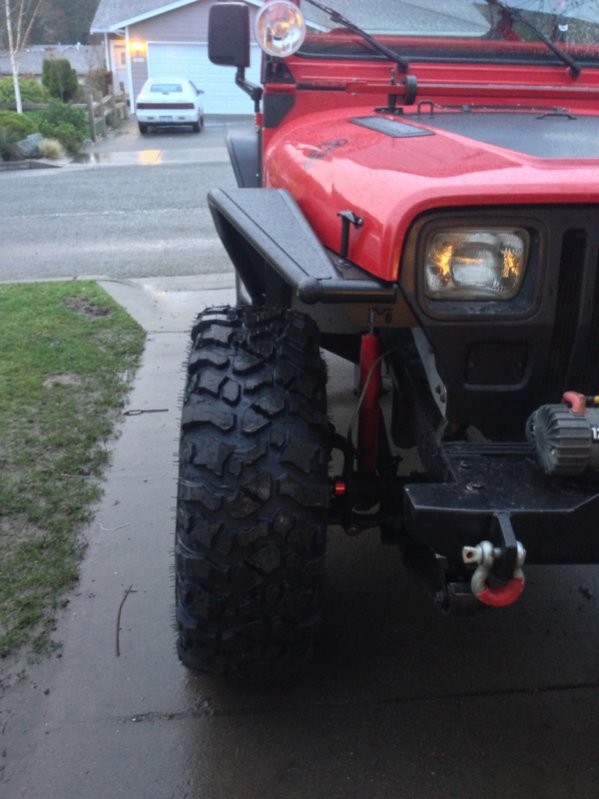 Installed the LEDs for the dash the blue lights I ordered for the blinkers where the wrong size oh well lol!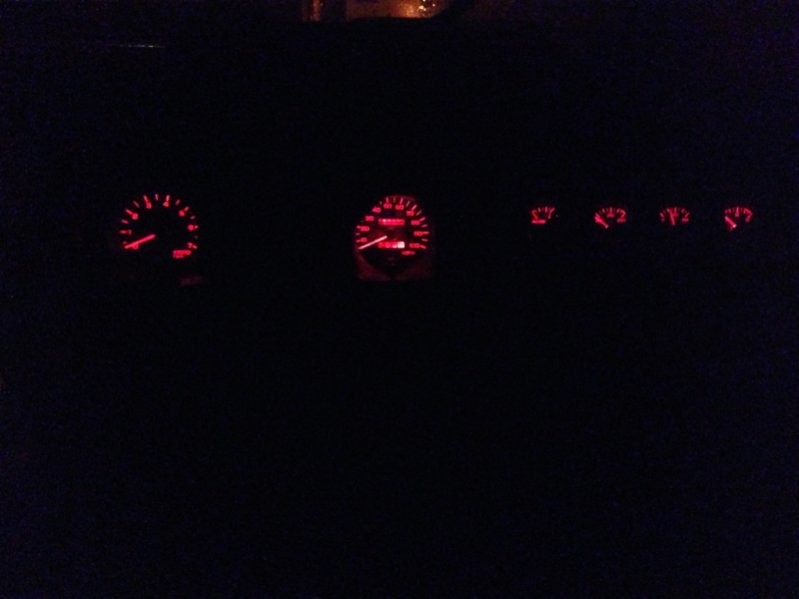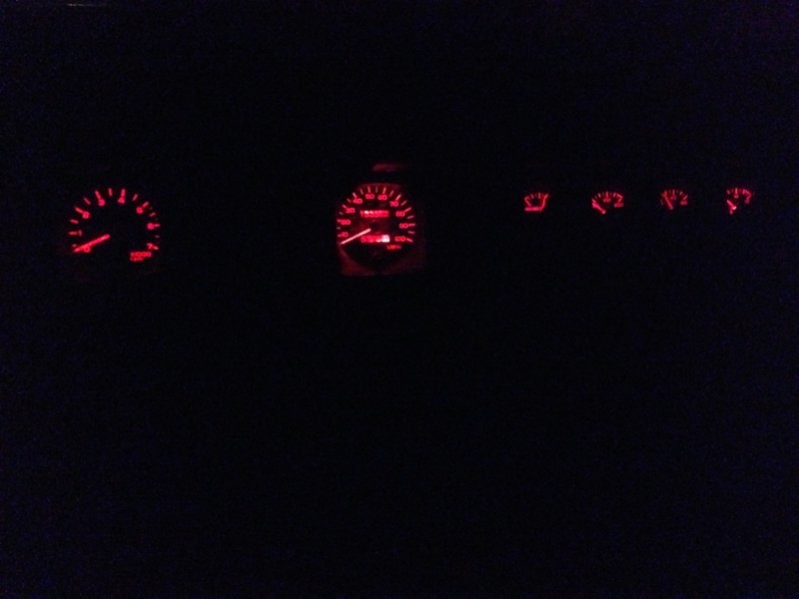 3-16-2013
Mounted three more tires only one more to go here's the new stance minus the spare! 4ish inches of lift and 37s......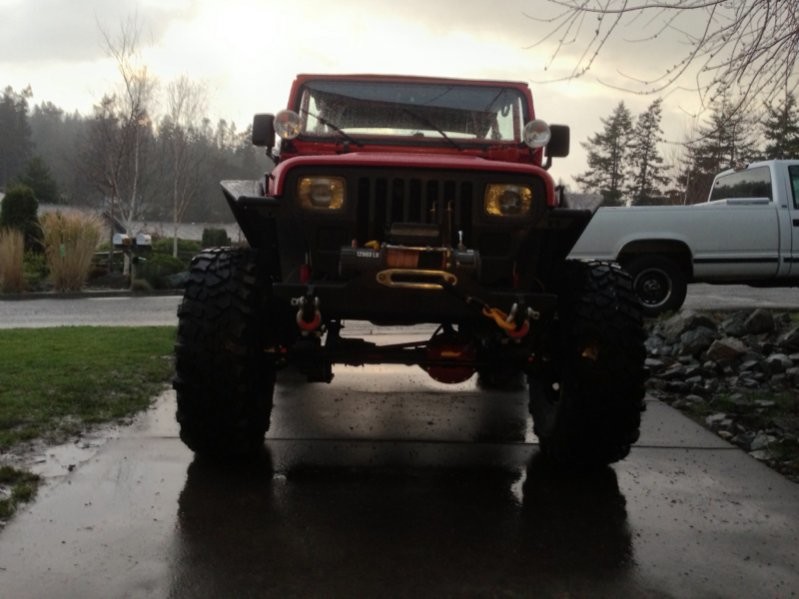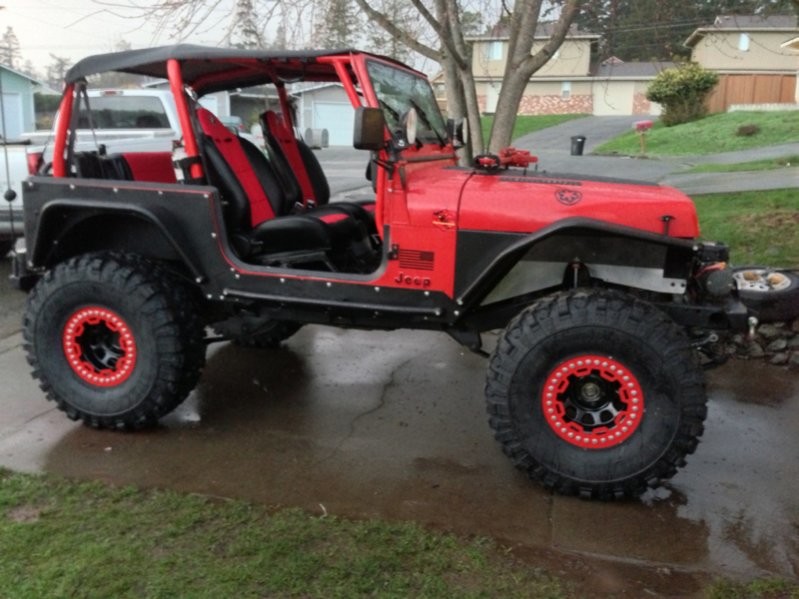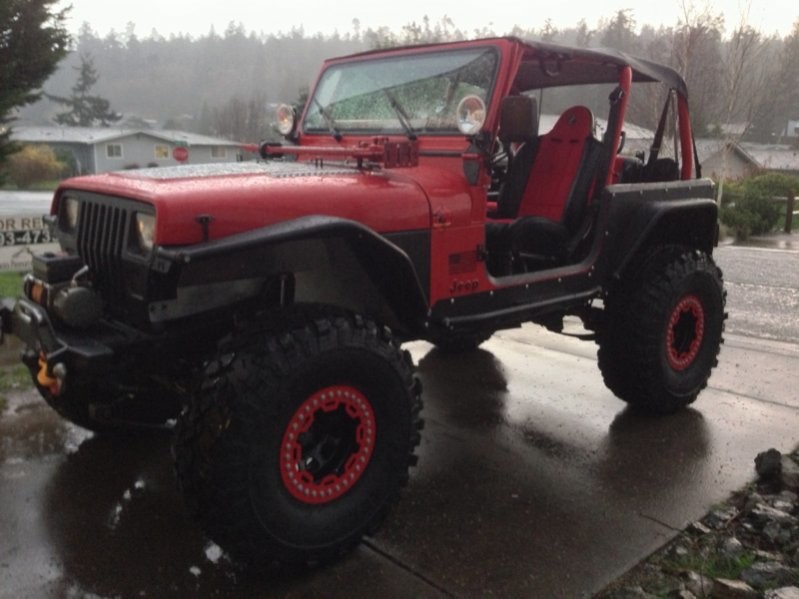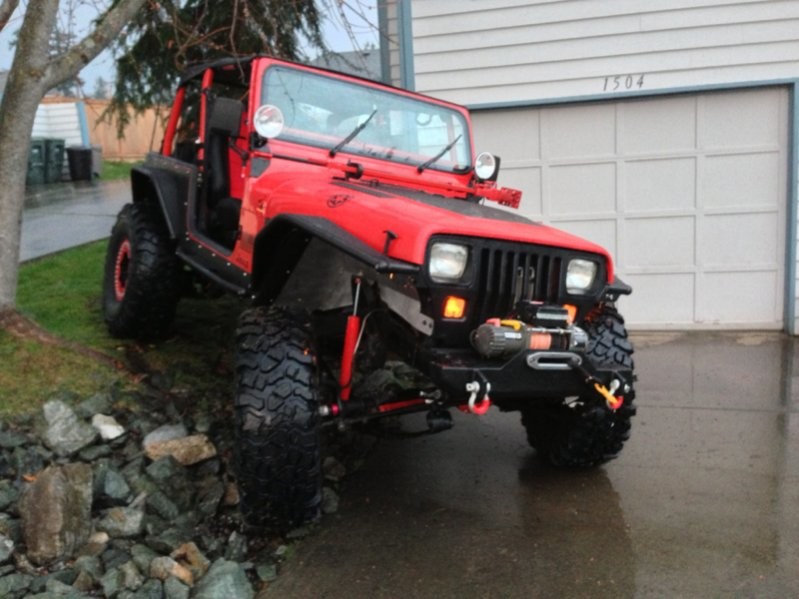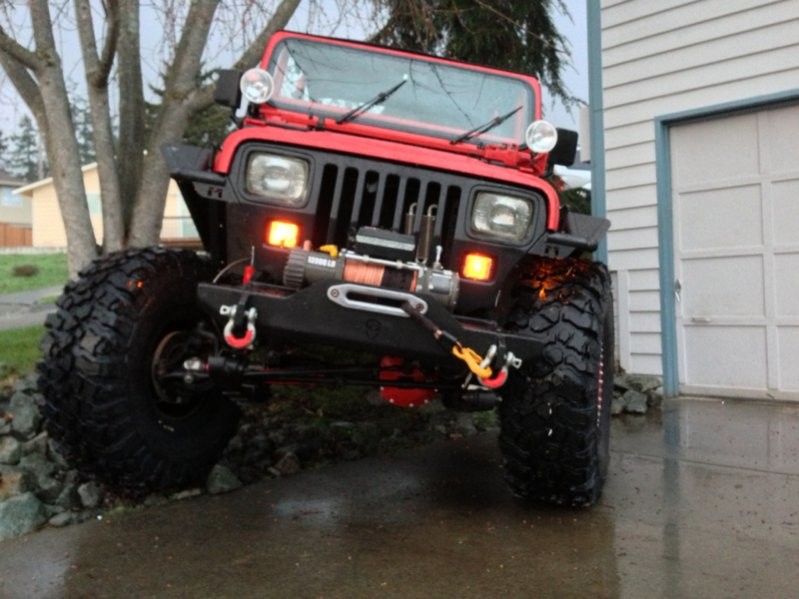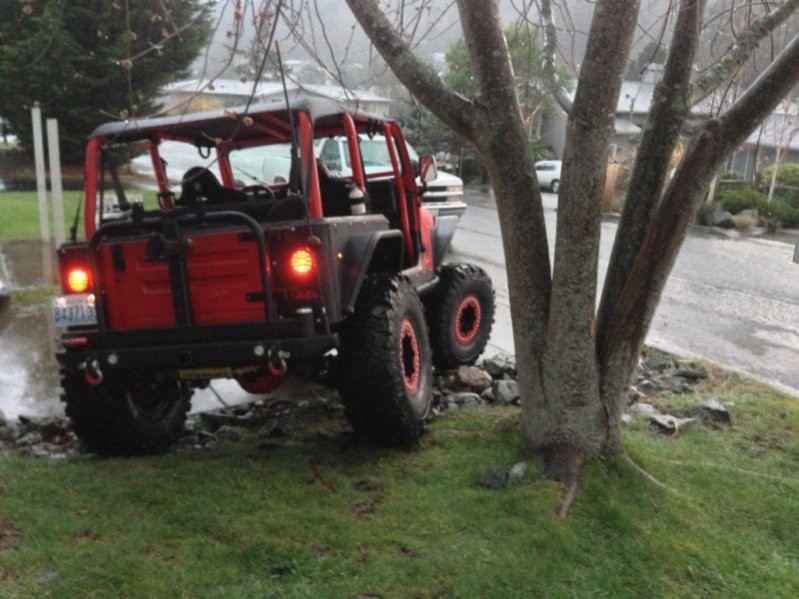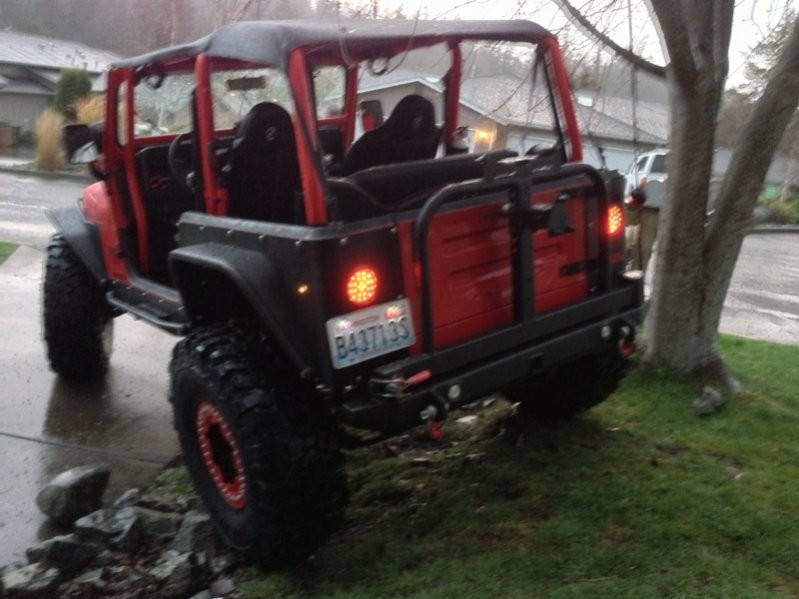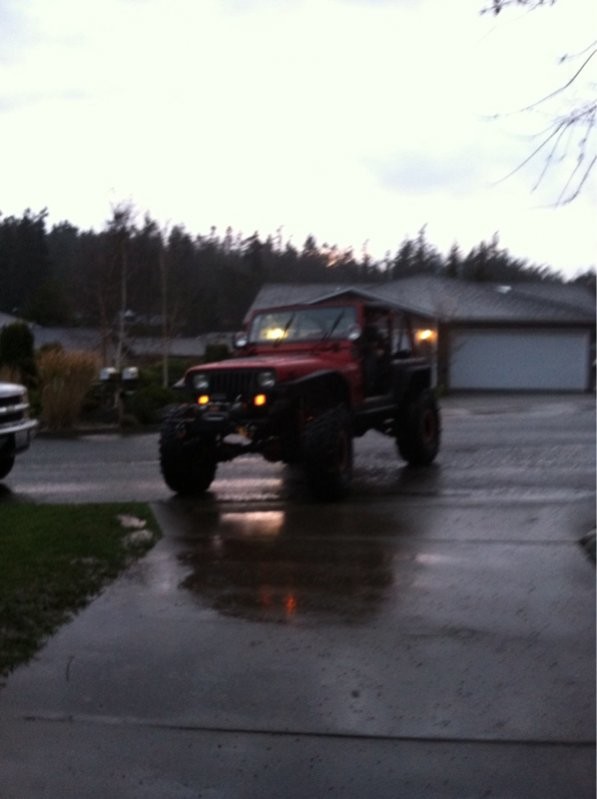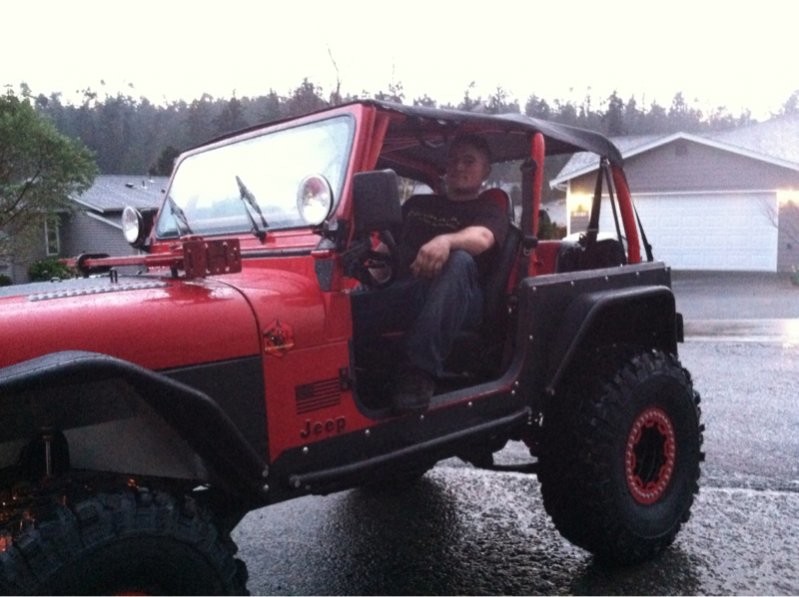 Ordered shock hoops and a ps brace for it this morning and also threw it back on the insurance! Oh yeah and took some poser shots of her.......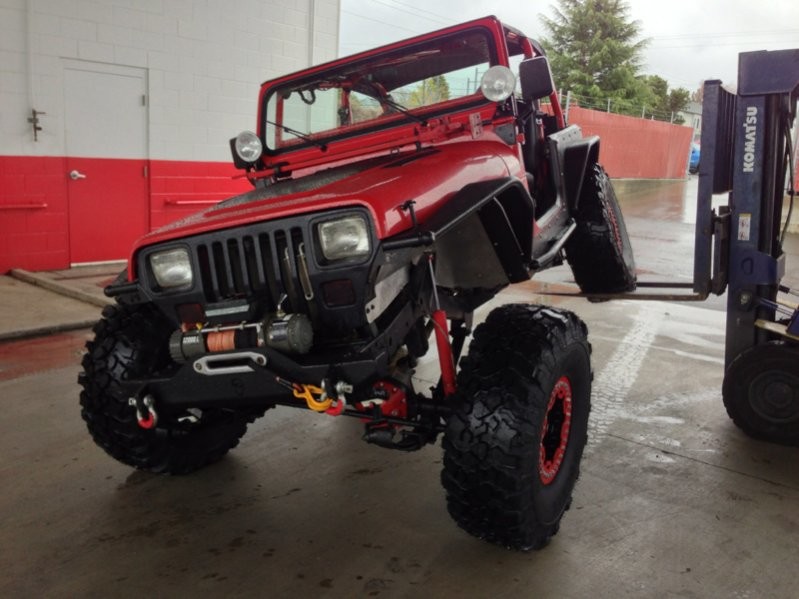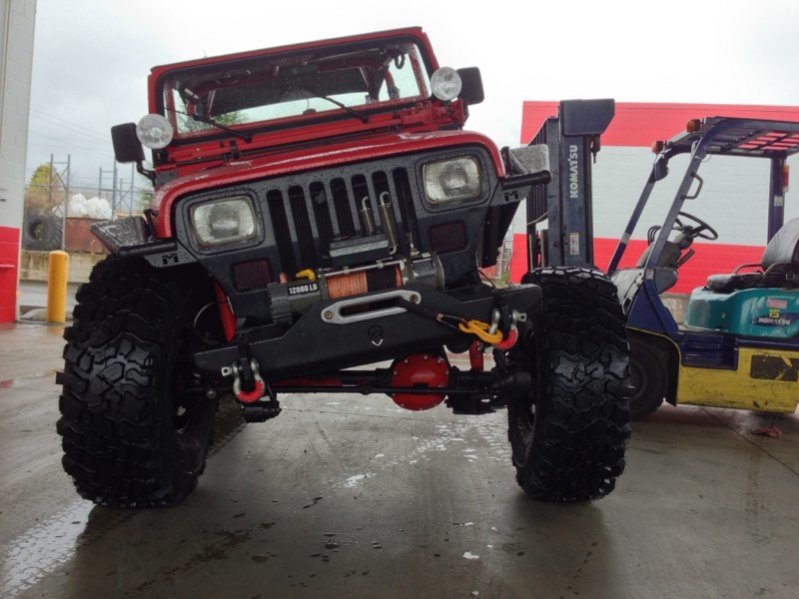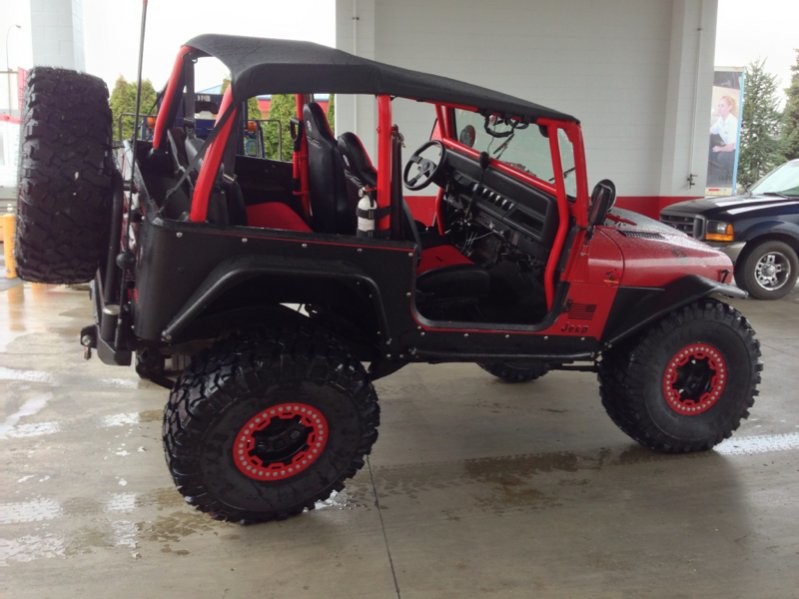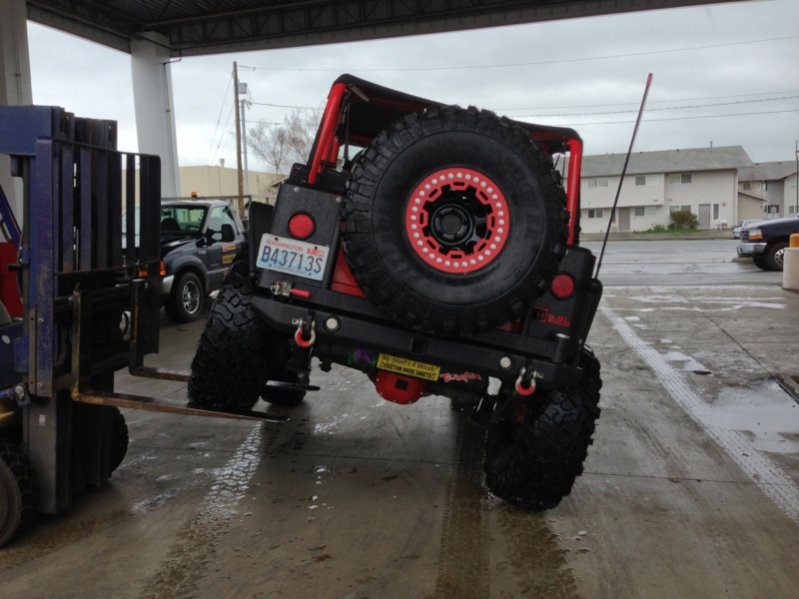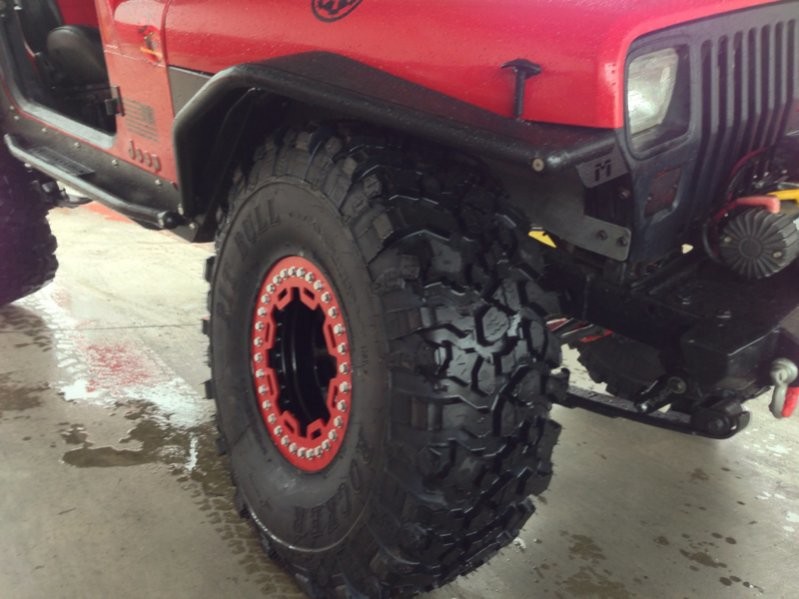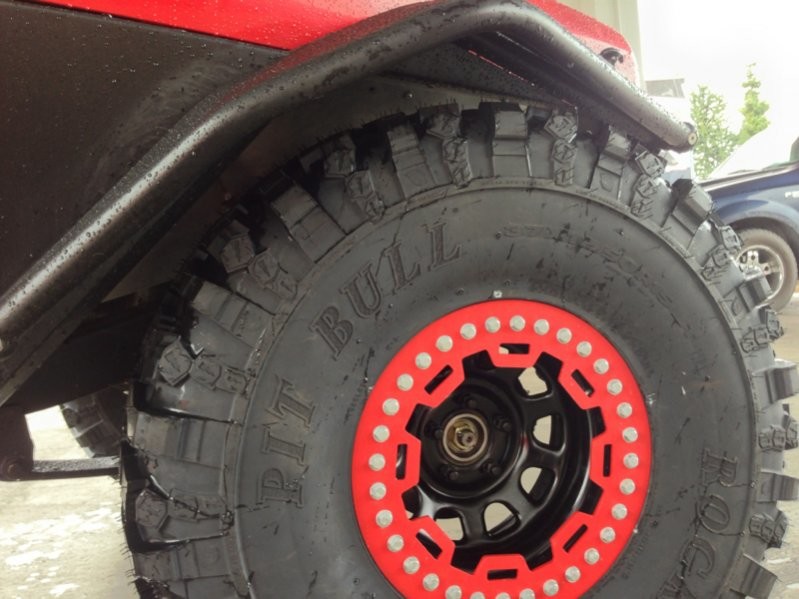 3-20-2013
So I finally caved and brought the jeep to the shop to have it hooked up to a 7 thousand dollar scan tool that gives you live feed of what the sensor are doing. I have been dealing with the jeep running like poo for over a year now, any way the cel says that the tps, and map where either to high or to low of voltage...... The scan tool said that everything was working except the the iac now matter what they did the sensor stayed the same. They said that this bad iac could cause the map/tps to go crazy doesn't his make sence? They also told me my o2 sensor is a little lazy and I should think about replaceing they!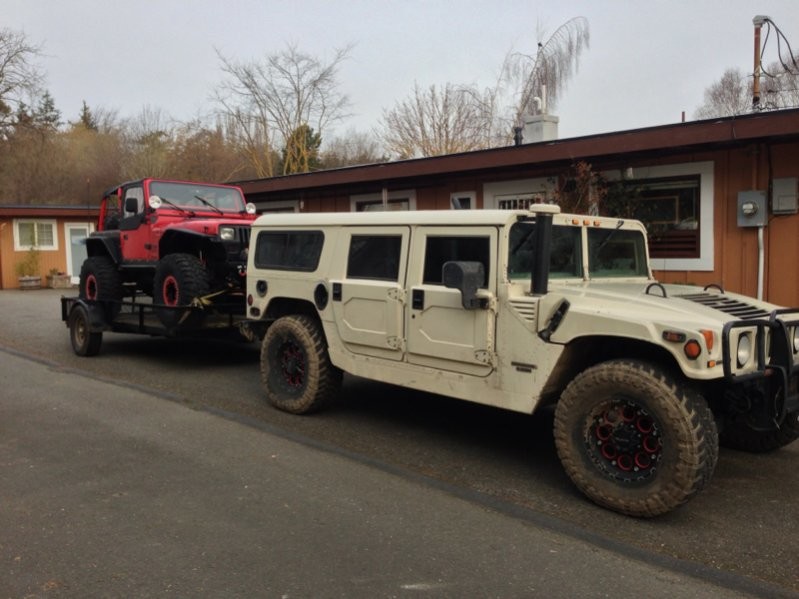 Lol that's a friend/fellow jeeps rig, this is his coilover Yj!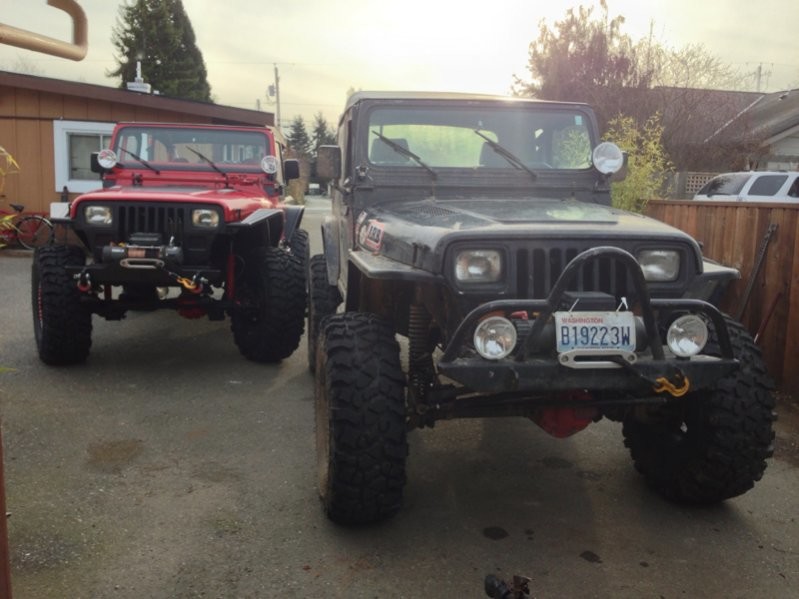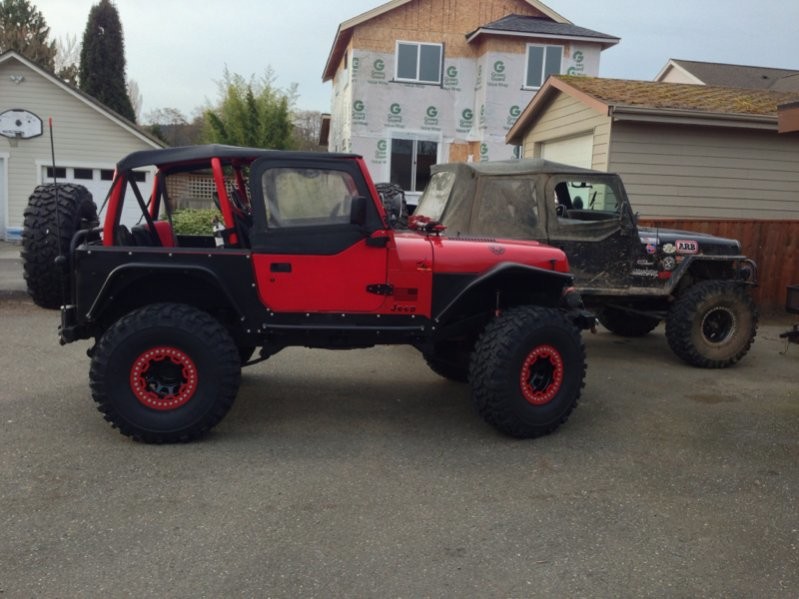 I will take pics tonight but my new front daystar bump stops, and m.o.r.e shocks hoops/steering box brace showed up via ups! I also bought a new iac and o2 sensor before starting work this morning so I have a couple small projects to knock out of the way he next couple of days. I plan on measure for the new front shocks tomorrow on my lunch break!
3-21-2013
He are some of the new goodies!