BN Sports Blister Kitted RX7 (Daily) by Kruizer
By diyauto
You must be logged in to rate content!
BN Sports Blister Kitted RX7 (Daily)
Compliments of Kruizer @ www.rx7club.com
9-20-2012
When I was buying the bumper and skirts for the RX8 this kit became available, fell in love with the yellow one that Powervehicles had sold a few years back so bought the kit and threw it into the shed for next year to build a daily.
However as things transpired one of my mates decided to break his 1997 Bathurst Model FD3S and since I knew the car from previous owners and its history I decided to take the plunge now. It has been fully Polly bushed, tein coilovers, red carpet and most of the interior (no seats). There is no running gear in this so I will be looking at fitting something reliable but with enough poke not to let the car down.
On the shopping list down the line will be wheels, running gear, seats and paint. For the moment I have been looking at 1UZFE's (4.0 V8) and M3's as a power plant however there seems to be a lot of grief converting the Toyota lump to manual. Don't expect regular updates on this project as my main focus is still on the SRX8 and I want to get a few bits done with the KP61 while its above in John Stones.
Never realised the sheer size of the kit but soon figured it out :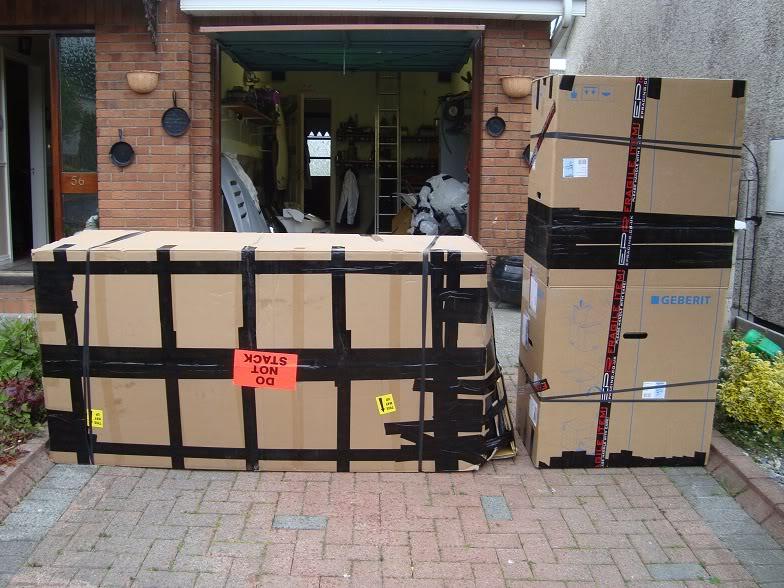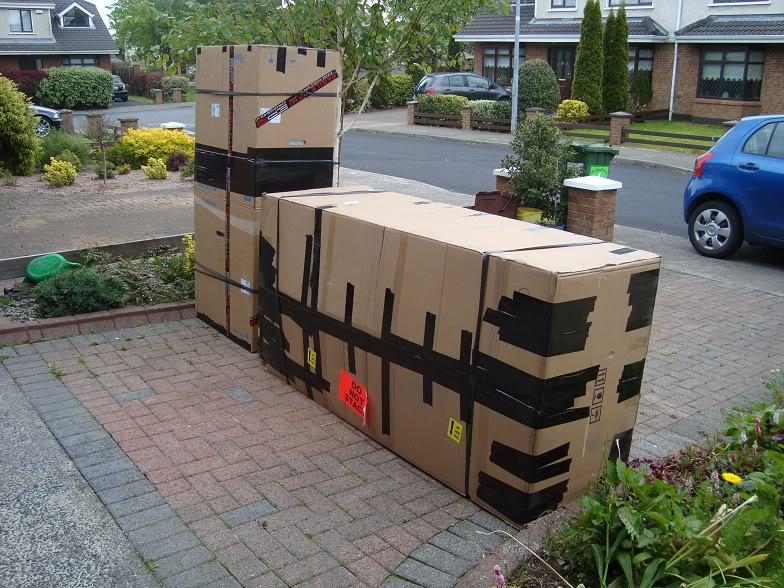 Unpacked it and threw the Works under it for a giggle :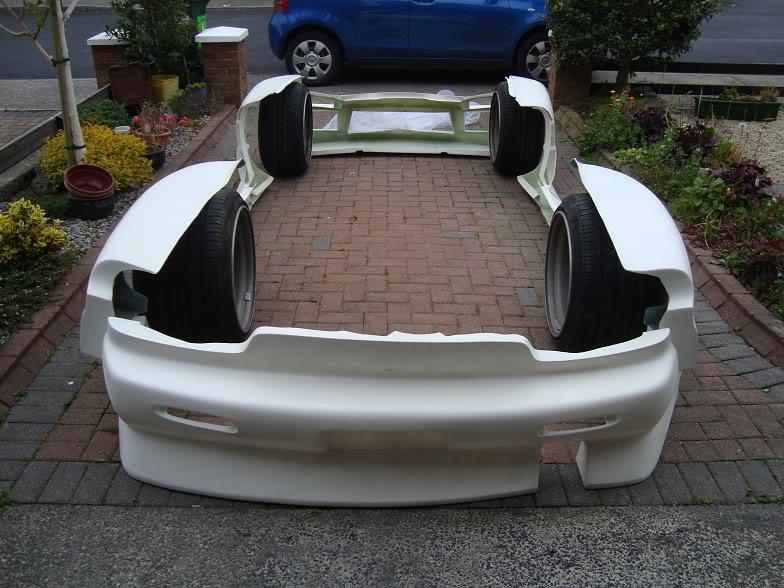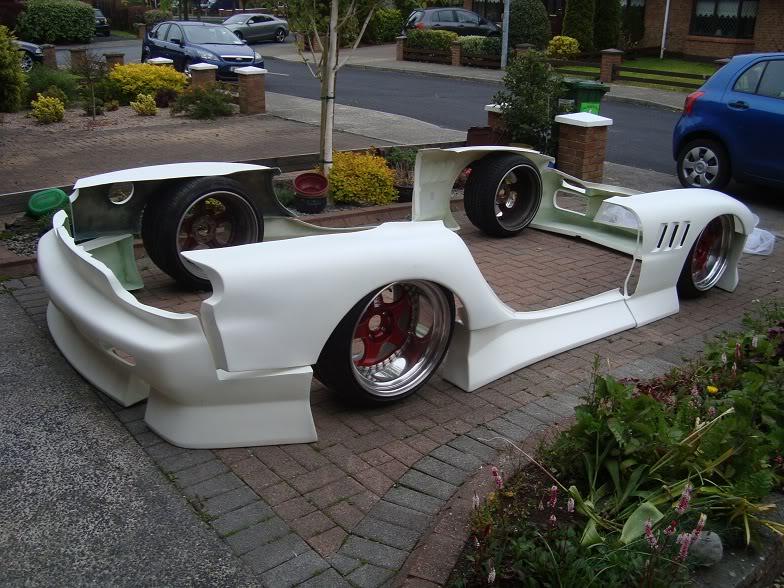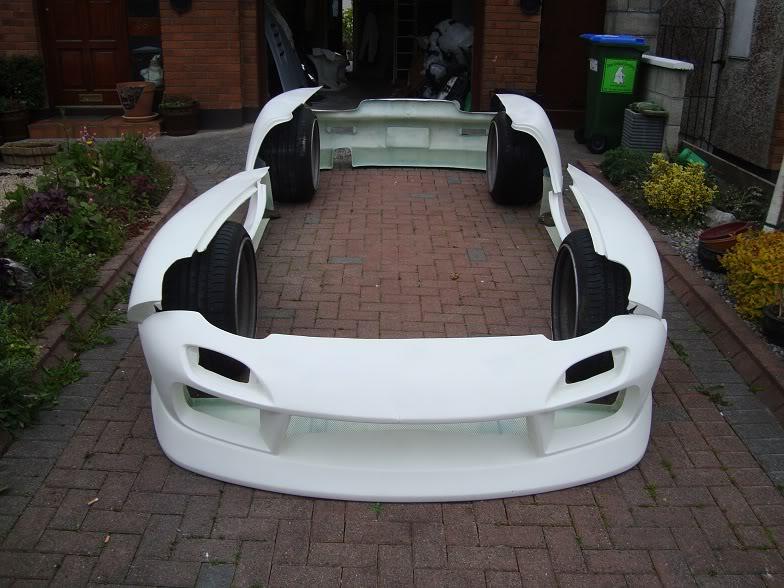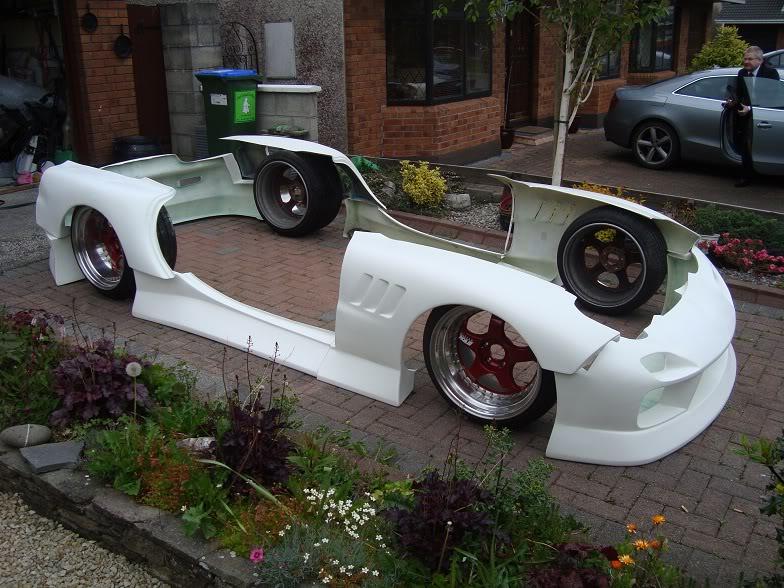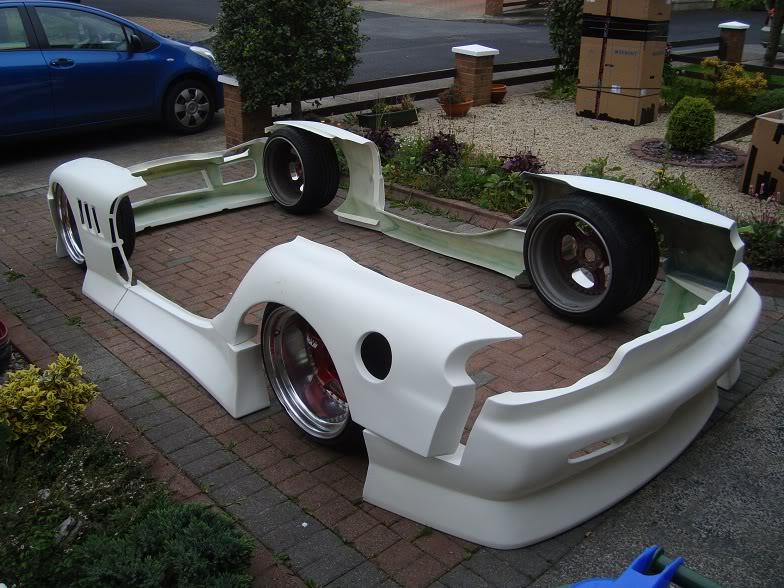 As close as Ive been to drifting the past year :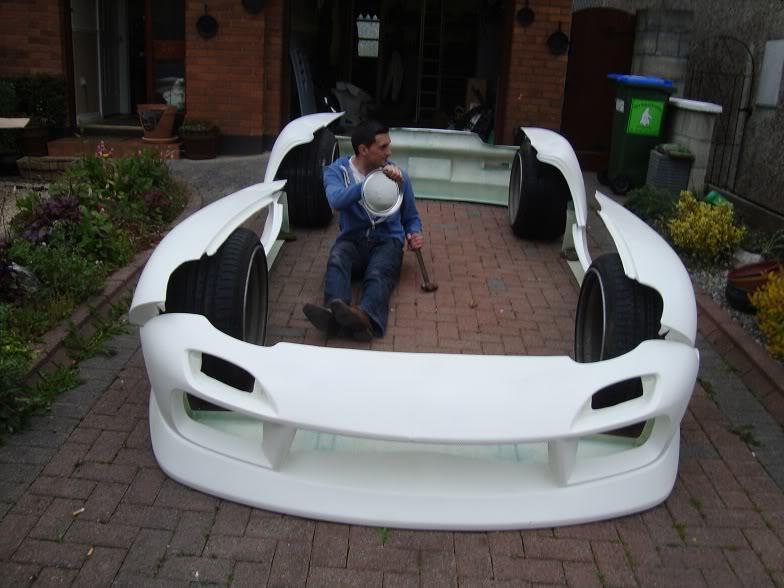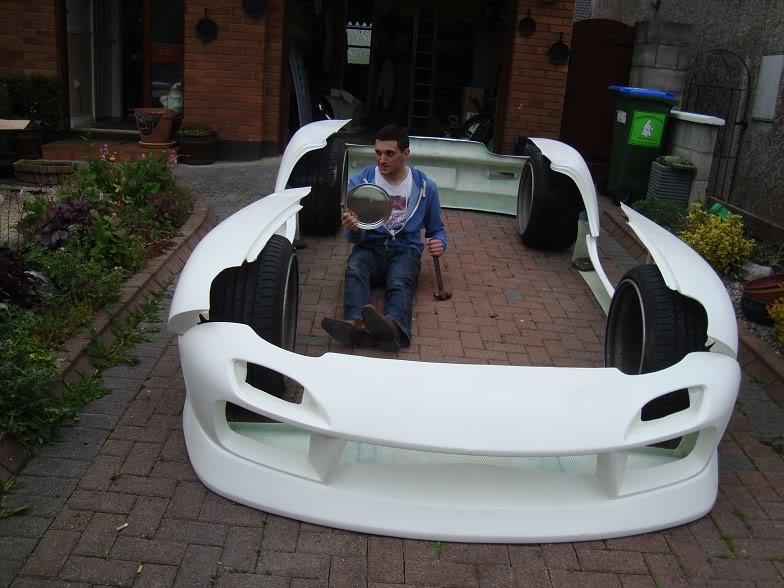 The minty shell :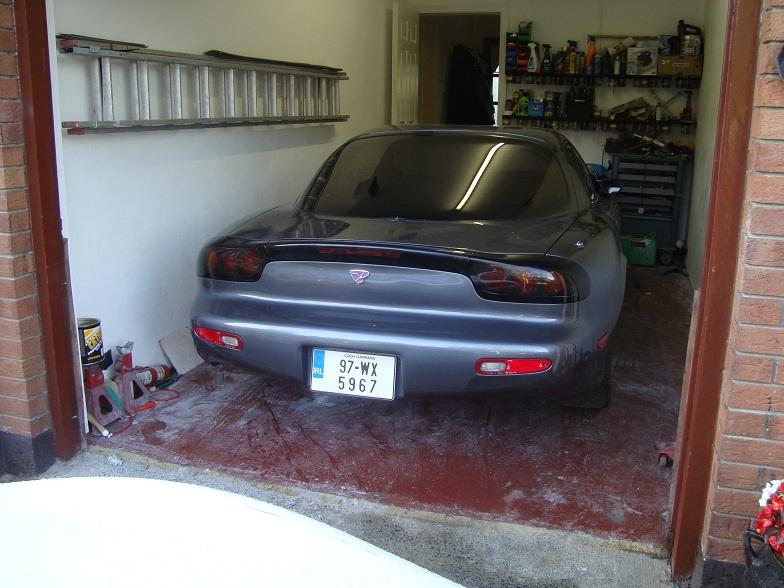 Picked up yet another vent from Mr. Driftkits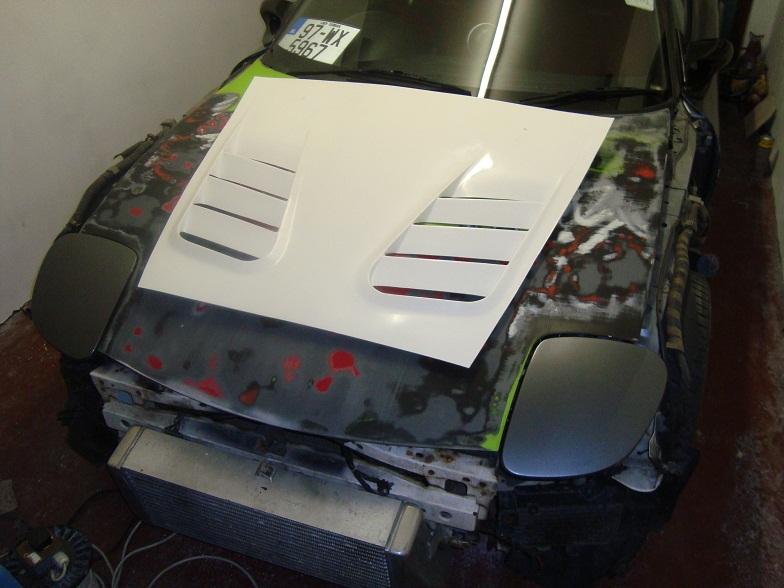 Got my hands on a BGW from damo86 so I plan to cut it, extend it and wrap it in carbon and have some legs made up :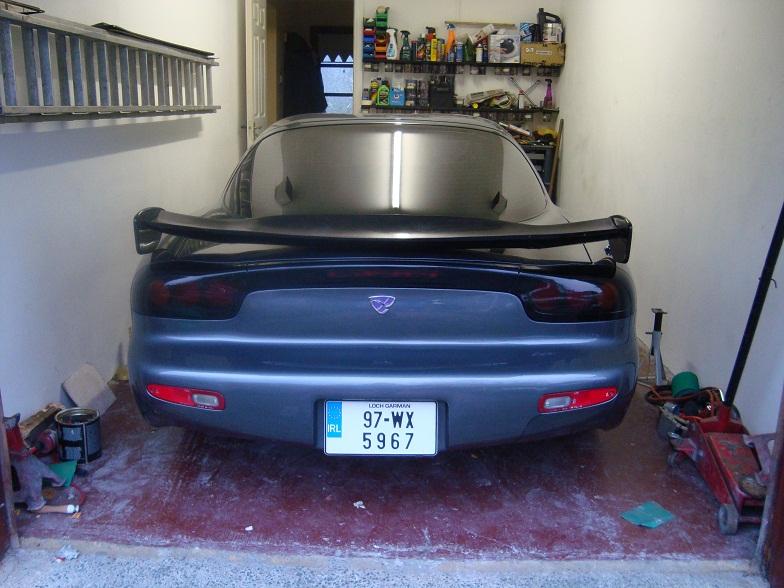 Since Im getting a lot of bits off Brian he added the Team Chihuahua logo into the vent, it is actually between the layer of fibreglass, I think it looks pretty cool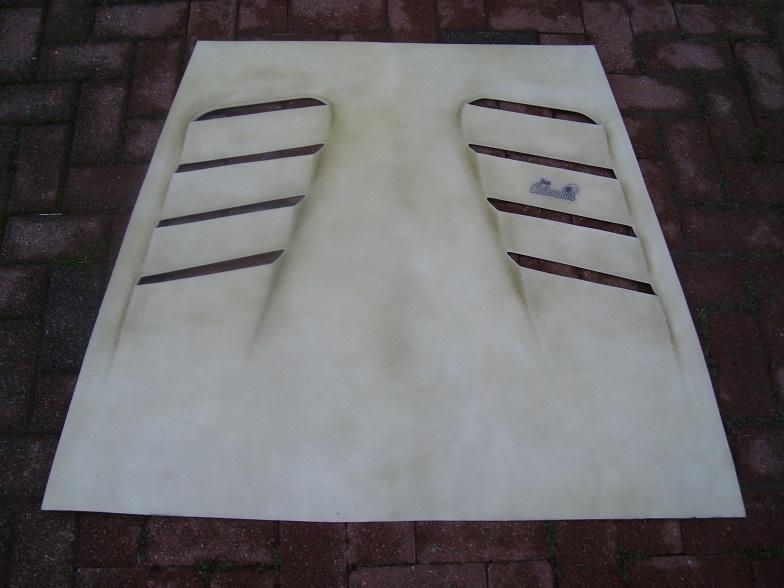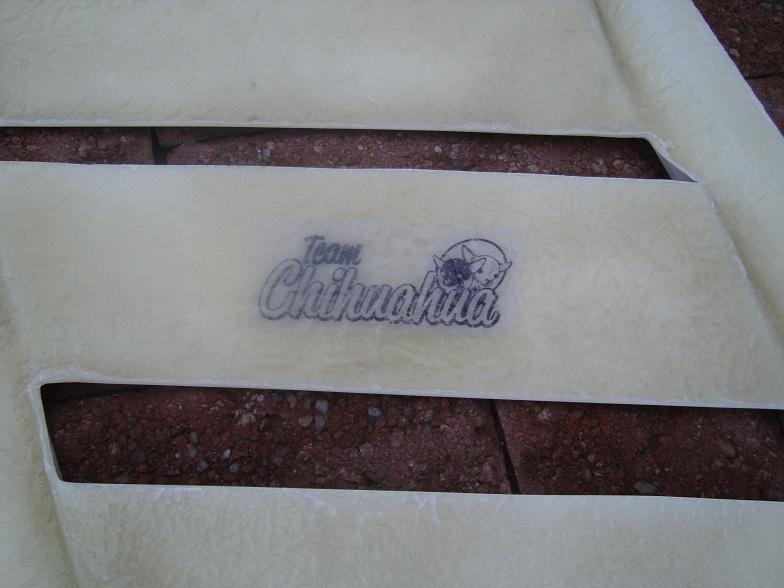 Test fitted the quarters and it fits in the garage, fit is absolutely brutal but it just means a few more hours work and that the quarters will never come off once fitted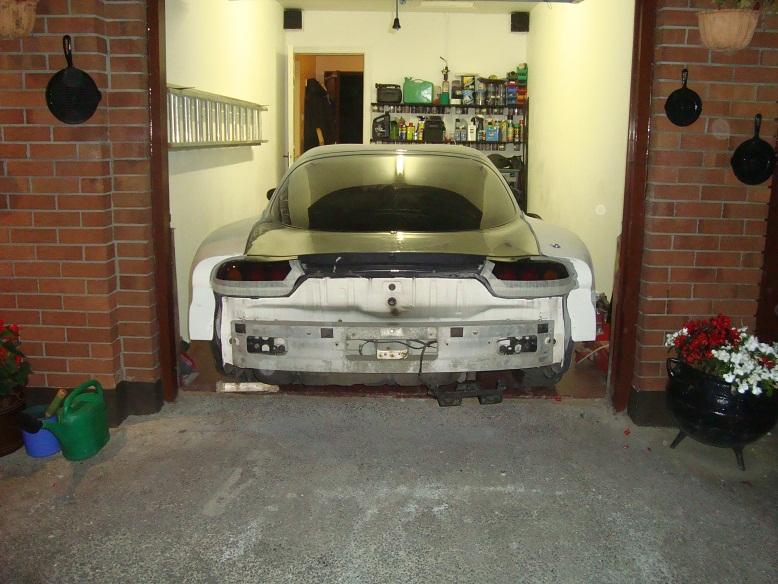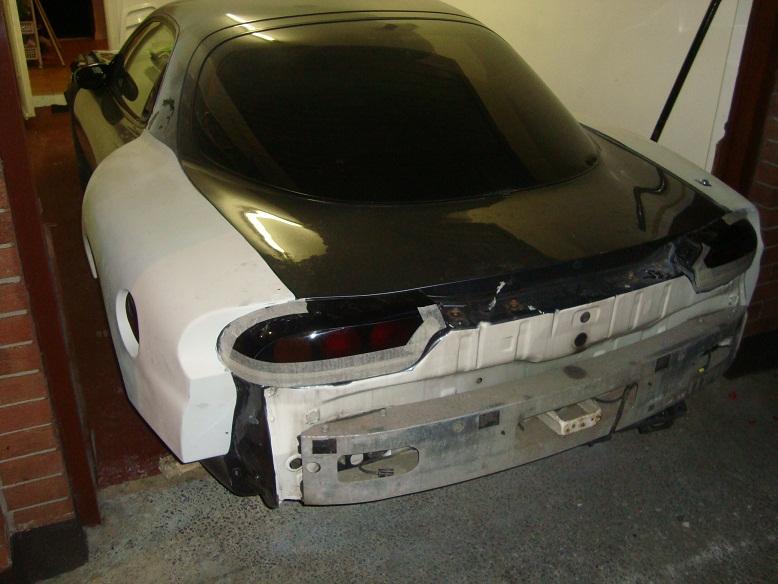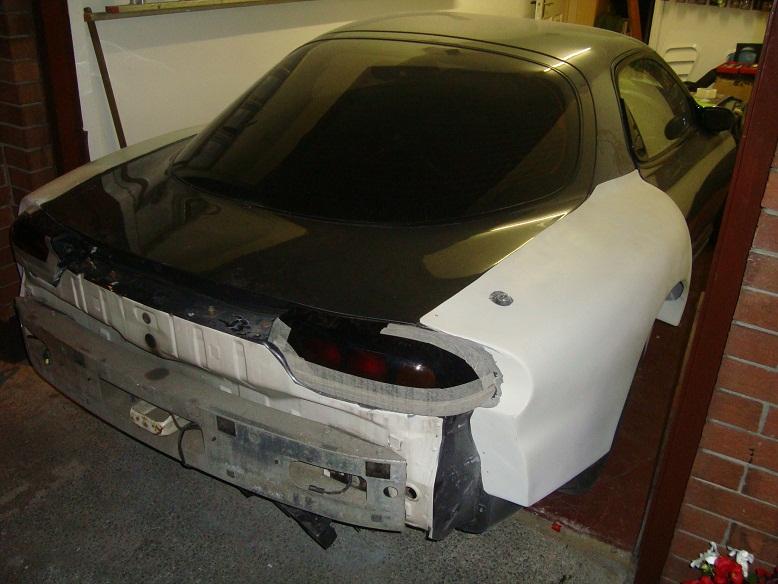 So I broke out the the Meisters and I'm shocked, they have actually been tamed ha, ha...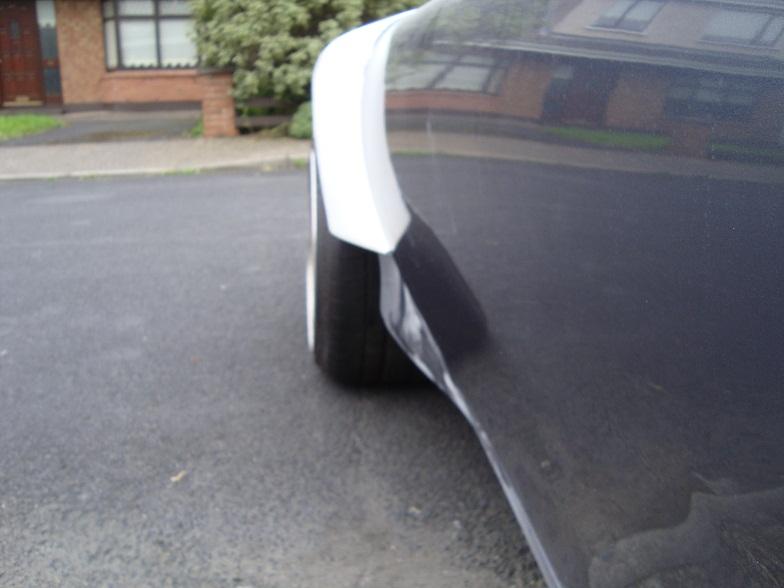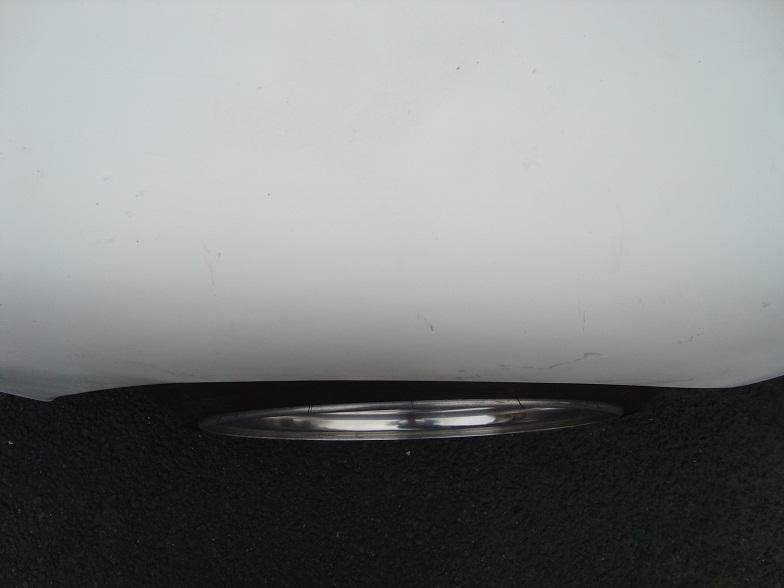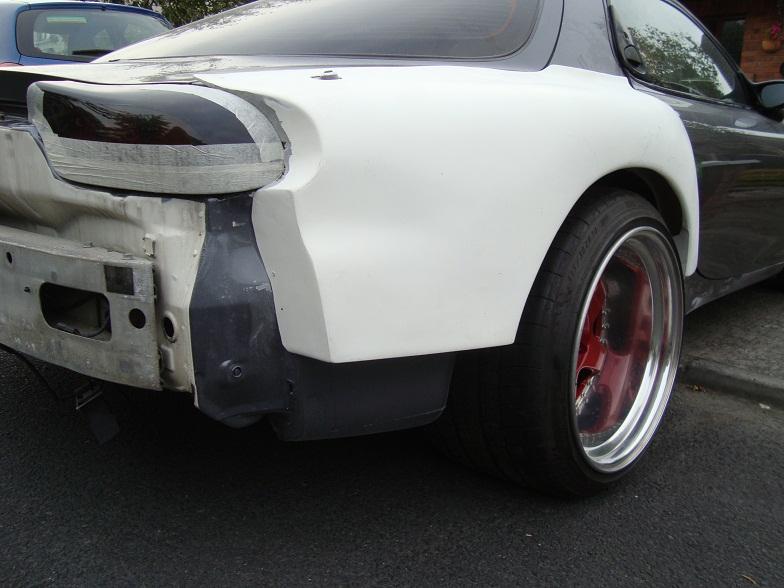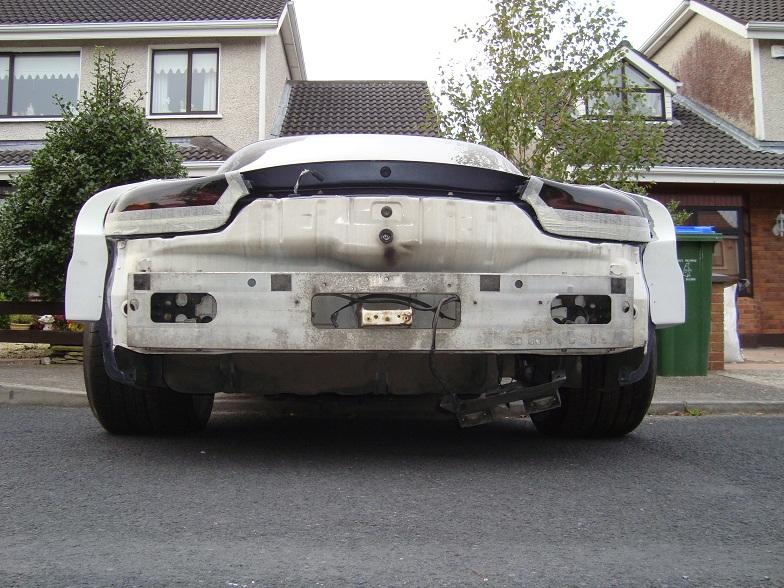 They will not be staying on this, they are for the RX8 but dam they look sweet...
So before I started cutting the quarter panels, I wanted to make sure the widearch panels were placed properly. That they would align with the skirts, front wing and rear bumper. To be fair the fit is brutal

So this will just save me time down the line.
Sideskirts really do step out from the car and even at this height are only 4.5"'s from the ground, car is to be dropped at least 2" yet...
Wings will take a full day each to get right at least :
Try go at the quarter panels with the grinder next and get them ready for welding...
For the latest updates on any of the cars as usual just check out :
https://www.facebook.com/#!/teamchihuahua2012
Had a bit of time free so decided to sort out the clearance for the wheel, will weld it up Monday when I get a chance but happy enough for now :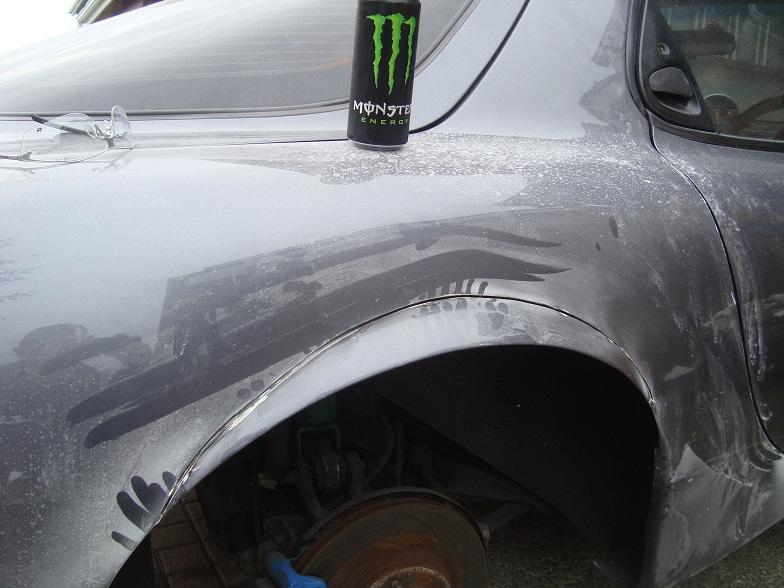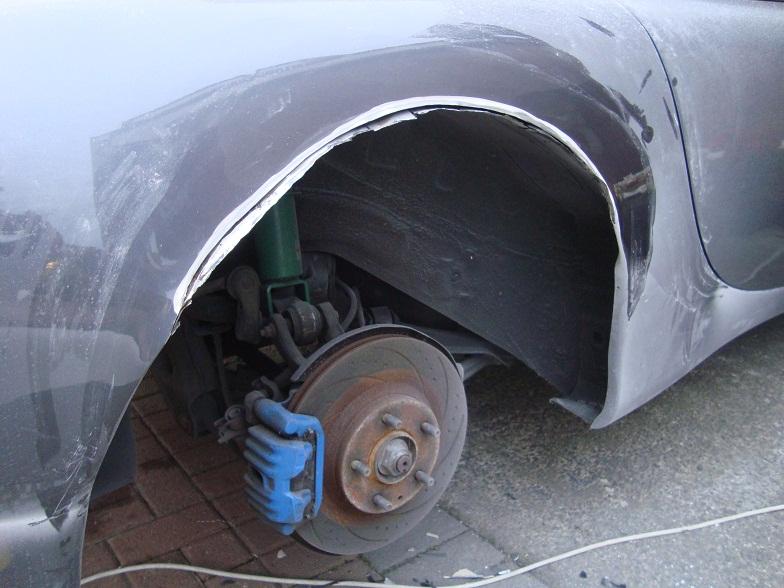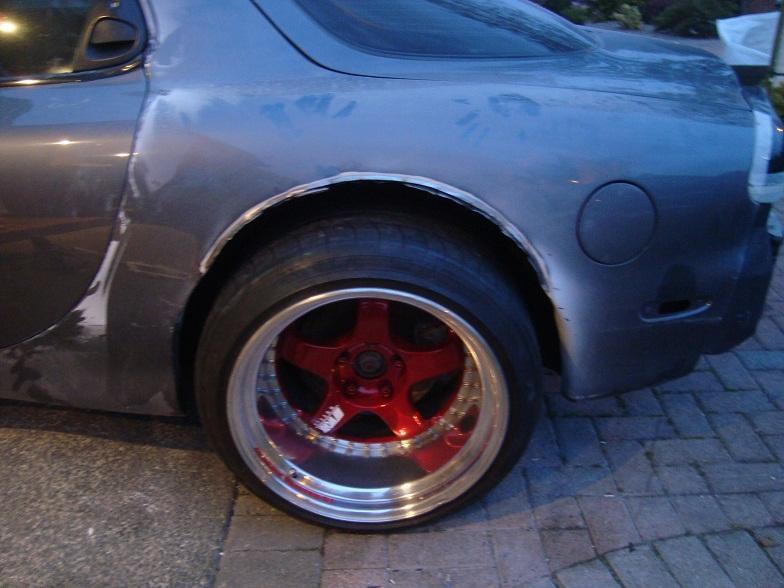 2-18-2013
Be a while but hopefully this year.
Well I have been up the walls with work the past few weeks but I have a little update, I finally bought an engine for this pony, I decided to stay with what I know, Nissan. The new power plant is a forged RB25, spec below :
RB25DET Spec 1
Head Polished with Gasket Matched (Westward Precision Engineering)
HKS Camshafts : Intake 254 / Exhaust 264 (Spec'd By Garage D)
New Mahle Forged Pistons (1mm Oversized)
New Eagle H Beam Rods
RB25 Crank Balanced (Westward Precision Engineering)
New ARP Head Studs
New Spool Head Drain Kit
New ACL Race Bearings
New Nissan Full Gasket Set
New Metal head gasket
New Nissan Belt Set
New Nissan N1 Oil Pump
New Nissan Water Pump
Anodised Blue Lightweight Pulleys
New Nismo Low Temperature Thermostat
Garrett GT3037 Turbo Dynamic's (Turbo Dynamic's)
Japspeed Manifold
Metal Exhaust Gasket (Summit Racing)
Custom Downpipe
Z32 AFM (Japanese Performance)
Nistune RB20DET ECU
New Crank Case Breather Kit
SARD 280LPH Fuel Pump (Japanese Performance)
New Fuel Filter
Turbo Blanket (Turbo Dynamic's)
Custom Intake Pipe
RB25 Gearbox
Custom Prop-shaft
HKS Twin Plate Clutch
In the car :
On its way up to Gripfab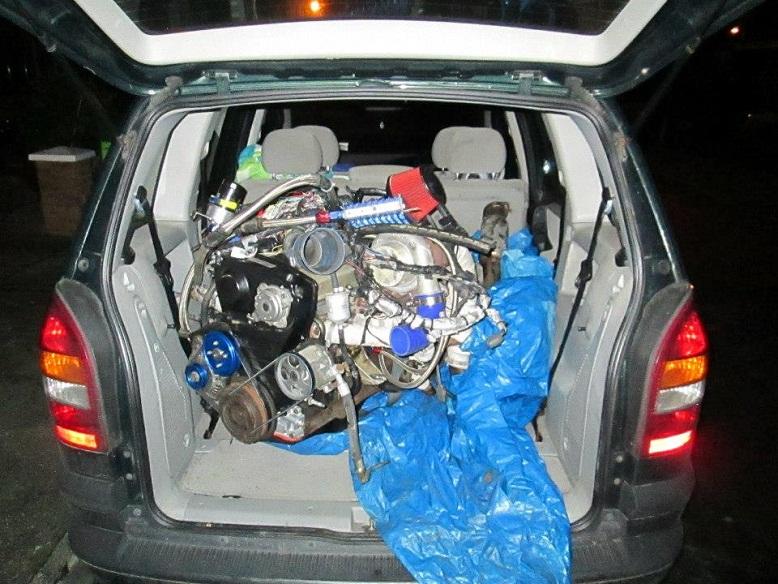 I want to change the injectors from 550cc to something a bit higher and replace the standard intake manifold, have it looking more like the engine below :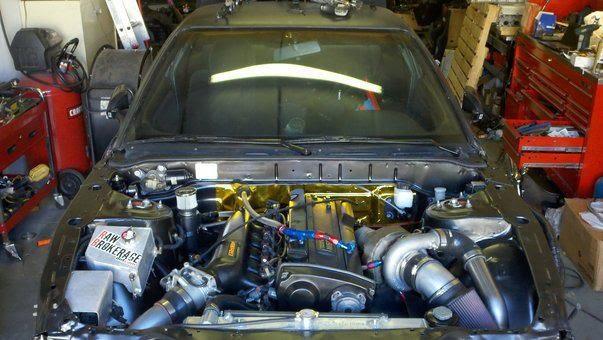 The aim is for a comfortable 500bhp without pushing the engine too hard.
2-27-2013
Will try...
So I offered up some Racing Harts I had out in the shed, 18 x 10JJ and with a 50mm spacer I think they'll be minty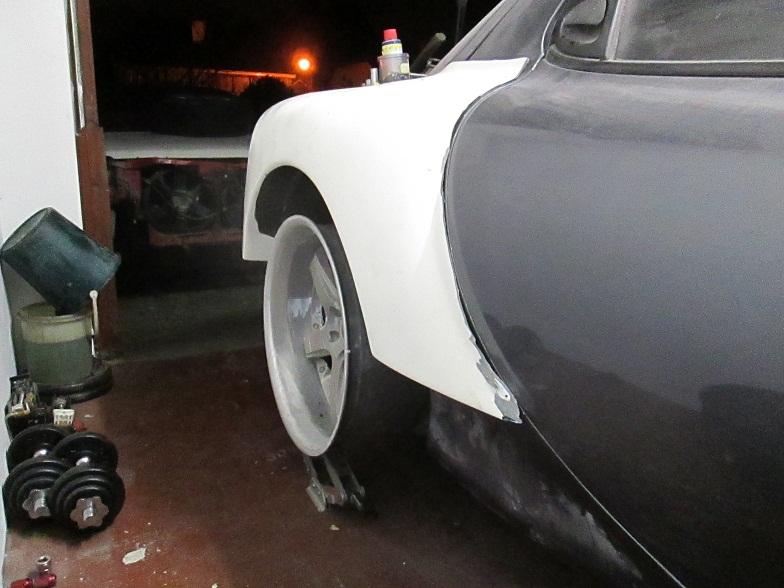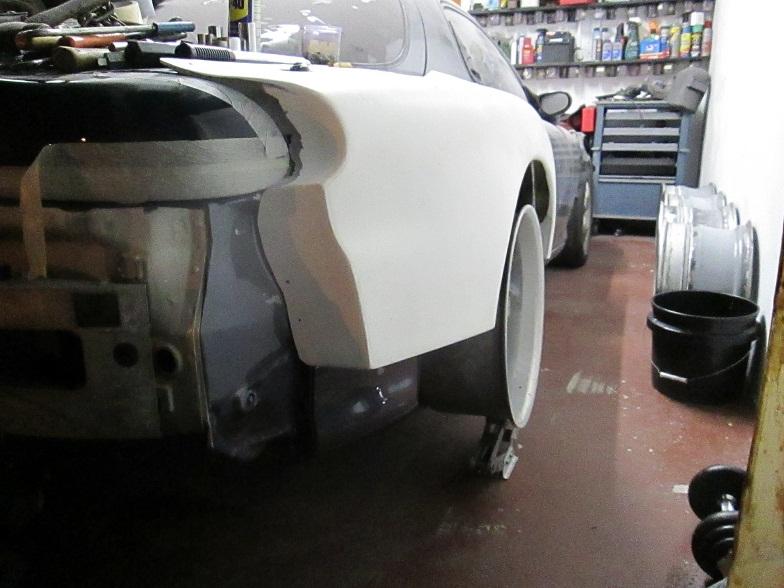 4-22-2013
Cheers fella...
Poor car is feeling neglected but hopefully she'll be heading up to Gripfab soon to have some fab work done :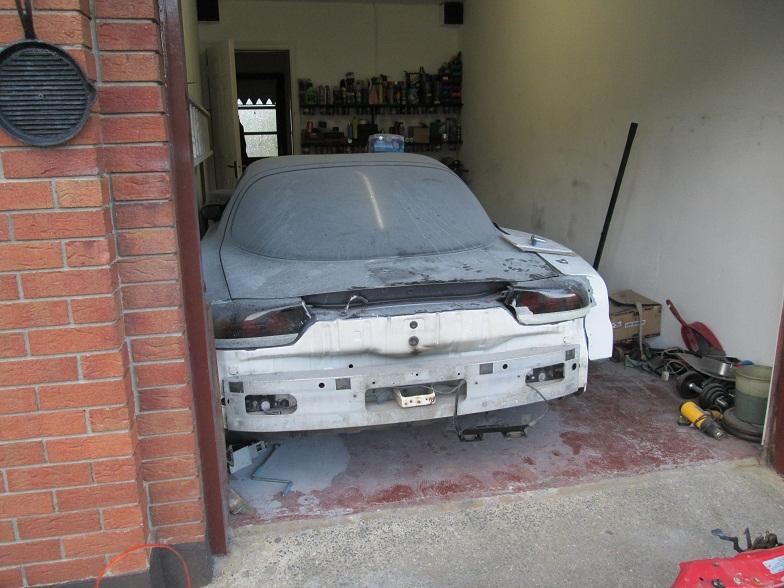 But at least its good for storing wheels :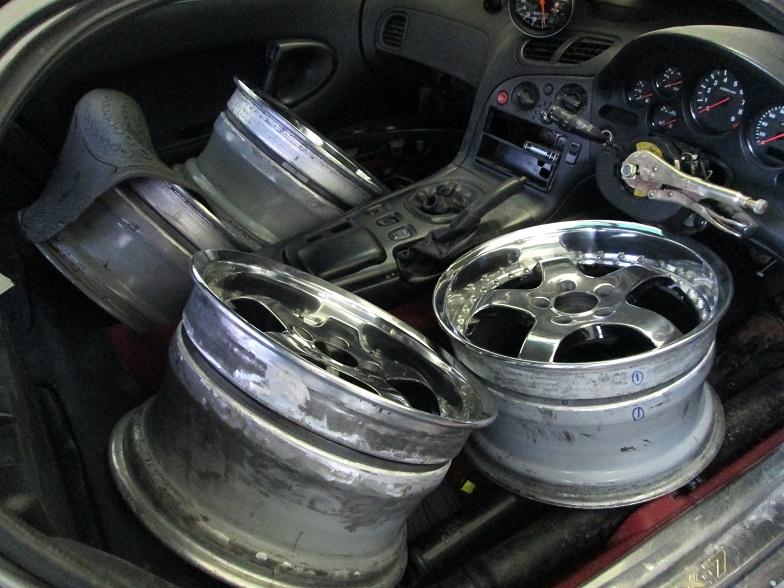 And here are some shots of the Racing Harts :
Front 18 x 8.5JJ offset +5
Rear 18 x 10JJ offset 0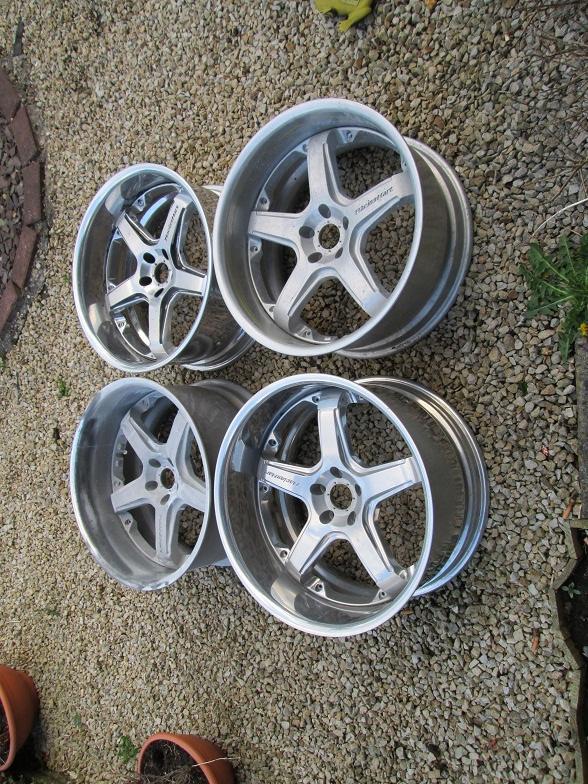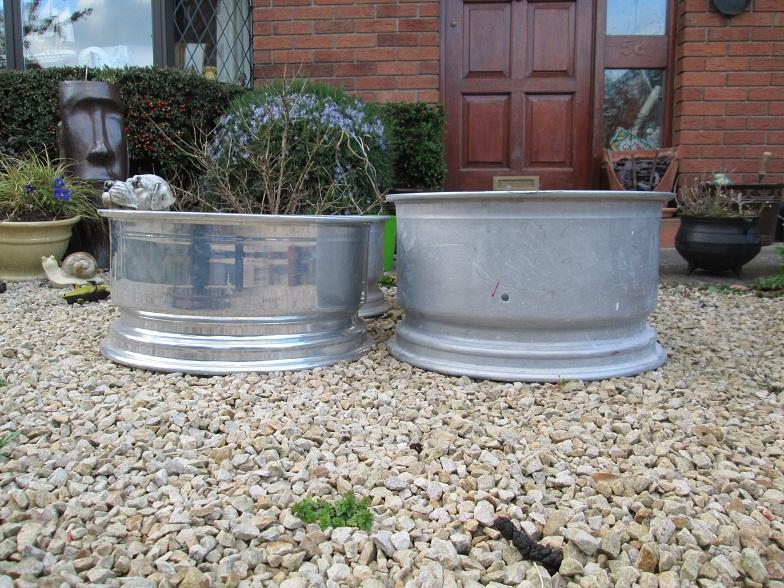 Rear dish 4.5"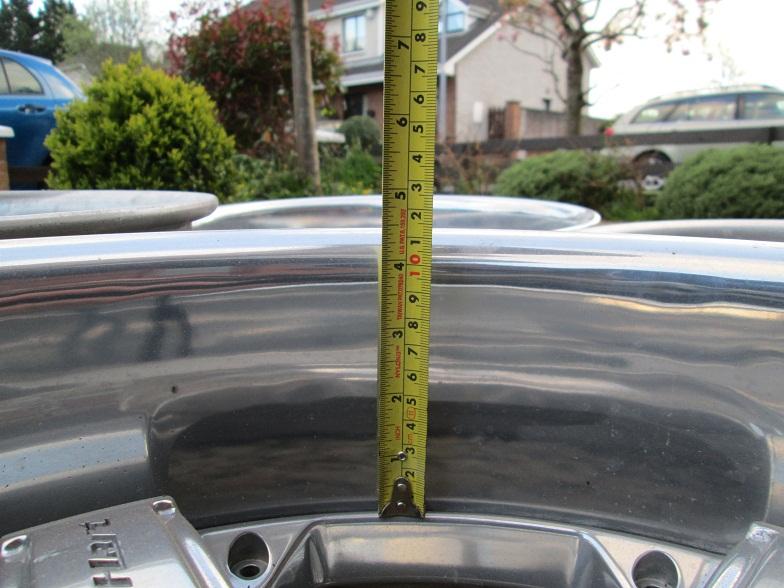 Front Dish 3.5"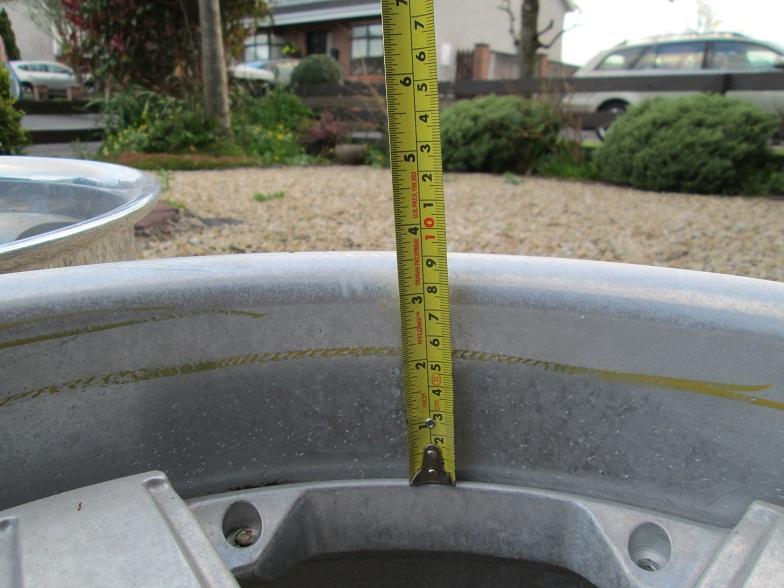 5-21-2013
Be careful who you trust to build your engine, so called built RB25, ran for 30mins, opened her up to have a look and found sand in the oil and the so called machined head wasn't exactly right ?! Real pro at work here, good job I didn't trust him and had a proper mechanic strip it down to inspect it. Now she needs some head work, new acl race bearings, polish the crank and oil wash the engine before rebuilding it properly !!! Rant Over...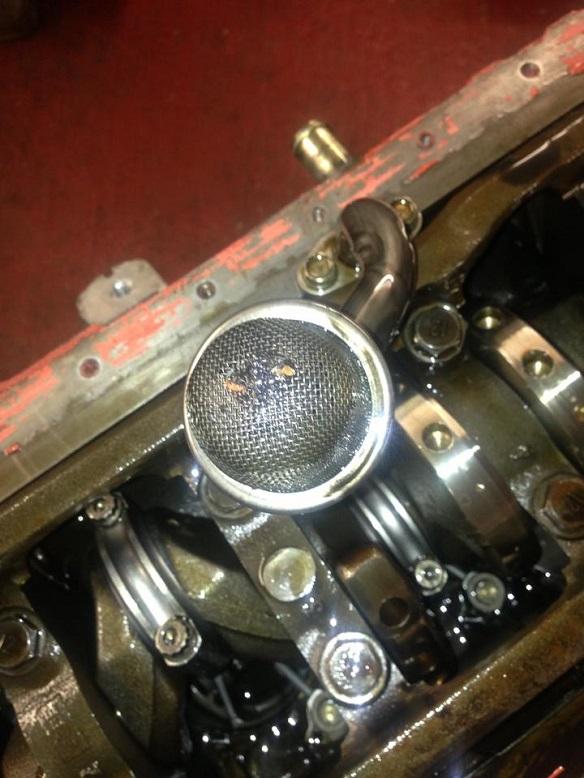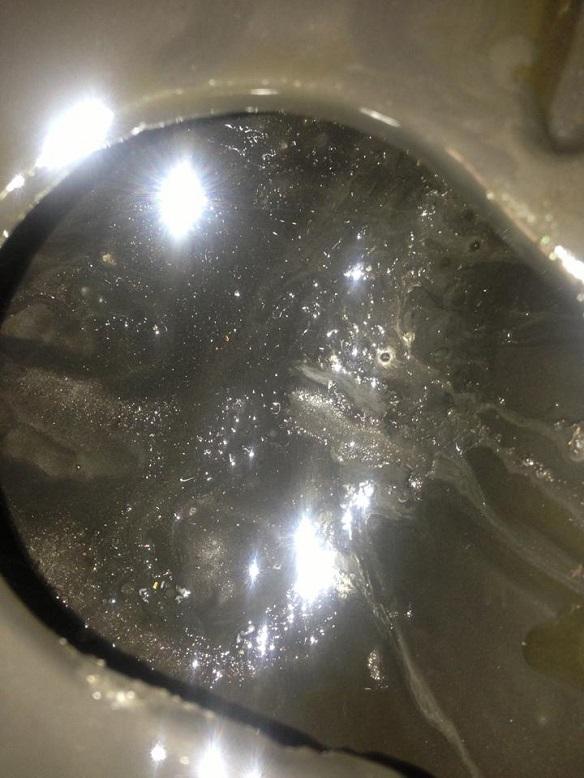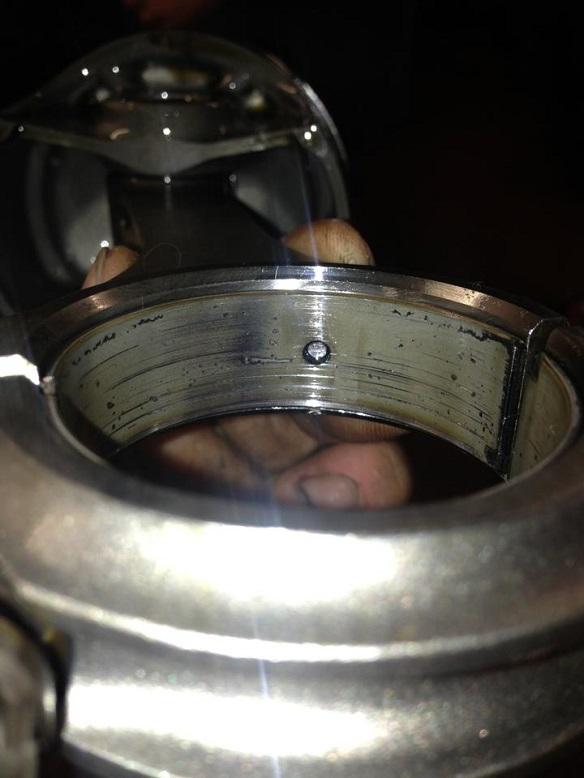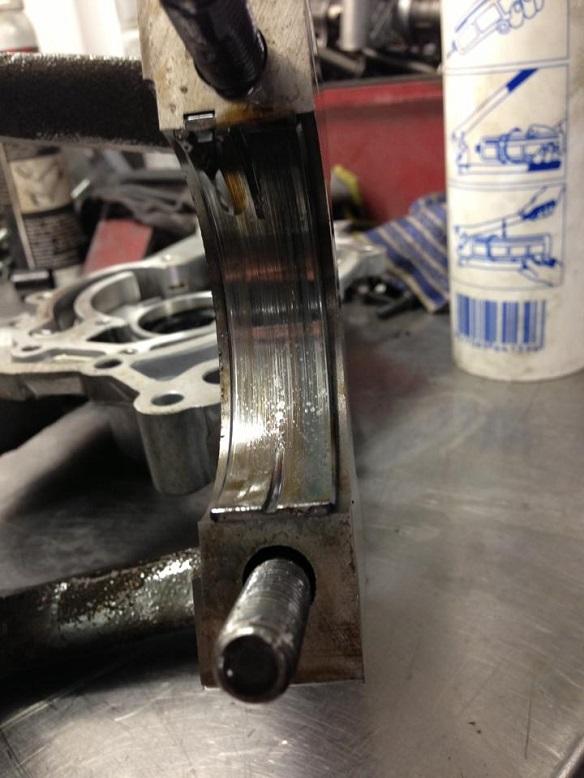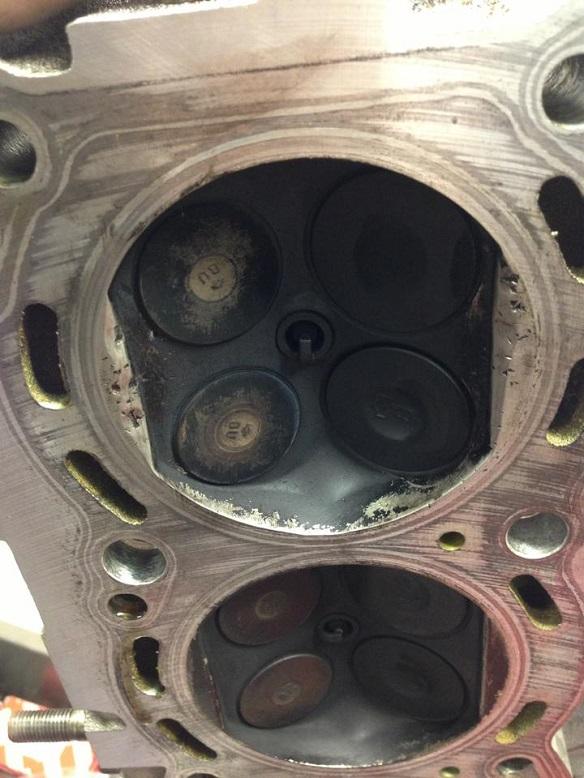 5-30-2013
Another small update :
GTR Style Intake Plenum arrived from Garage-D :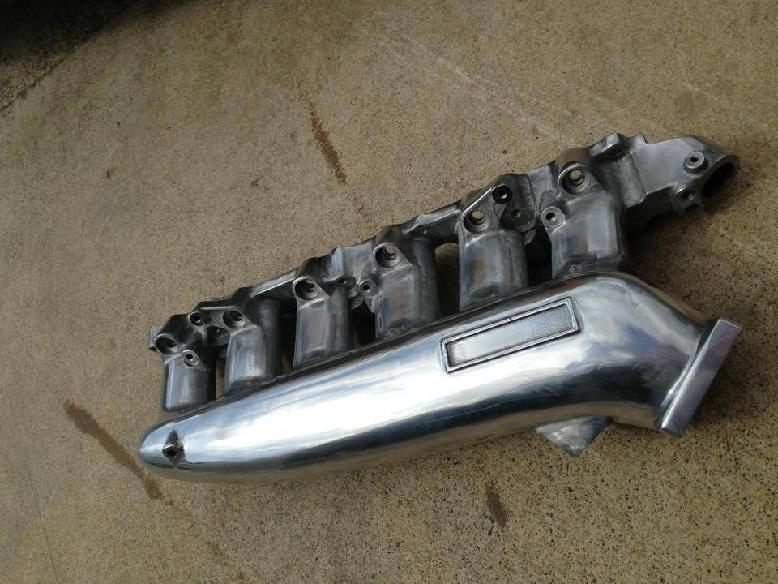 ACL Race Bearings and Trust Washers arrived from the states, posted them up to Gripfab :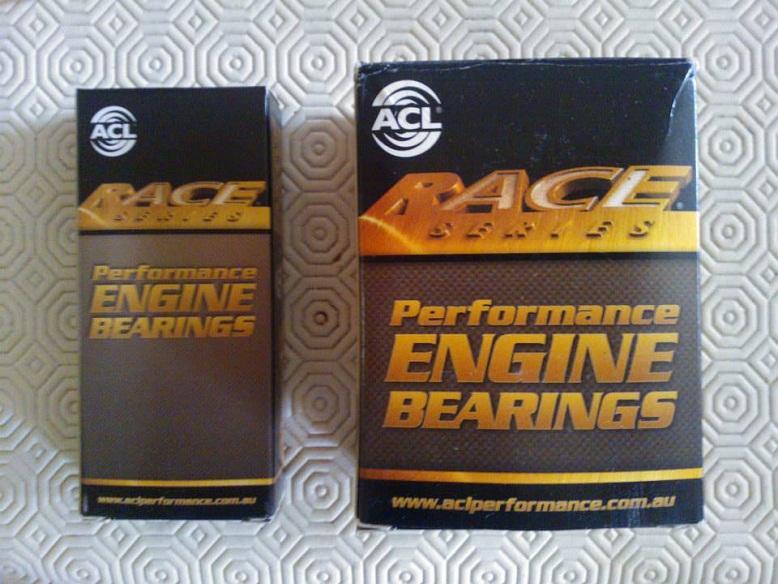 And I decided to clean off my wheel polishing workbench :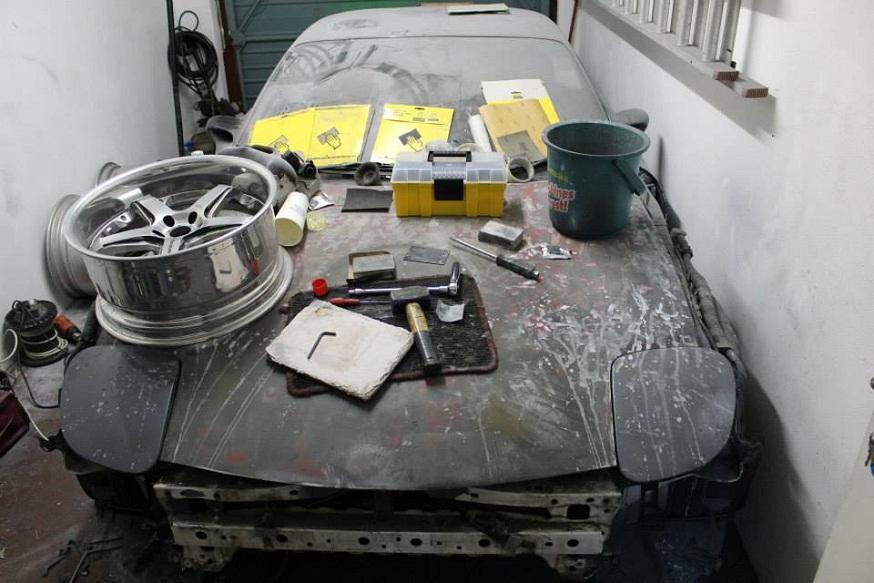 So she is all powerhosed down and ready for 6 cylinders, should be going up to Gripfab next week as the RX8 is coming home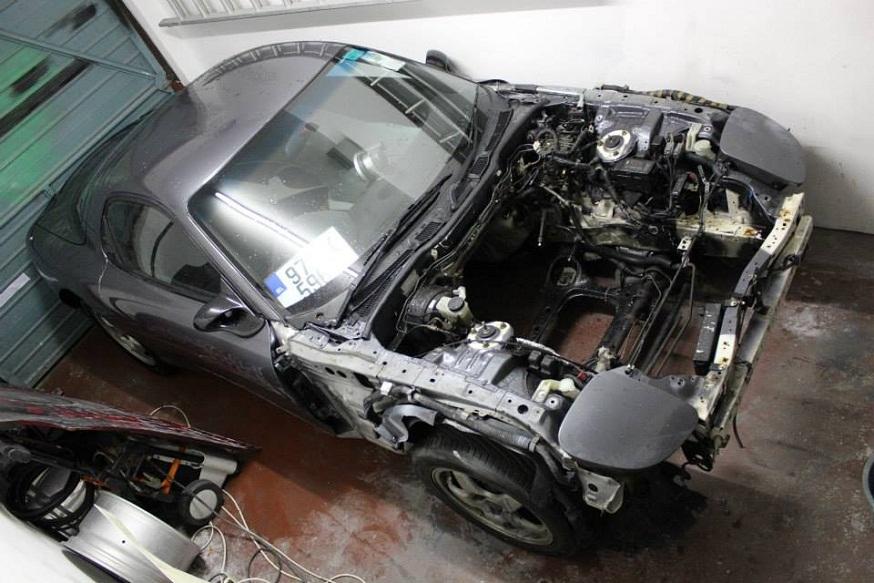 6-5-2013
Pulled the S13 shell out of the driveway, RX7 out of the garage and got them ready for their trip to Gripfab last night :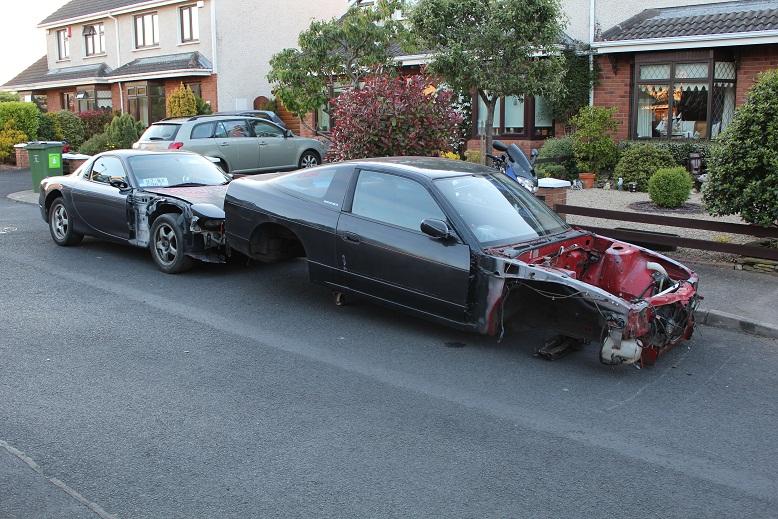 Should be seeing more of the RX7 come the end of July middle of August, plan is to rebuild the engine, fit it and get her going. So now off she goes :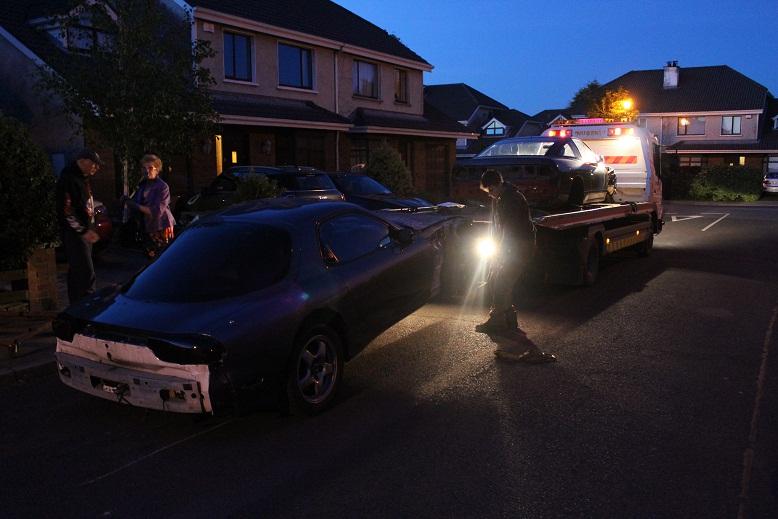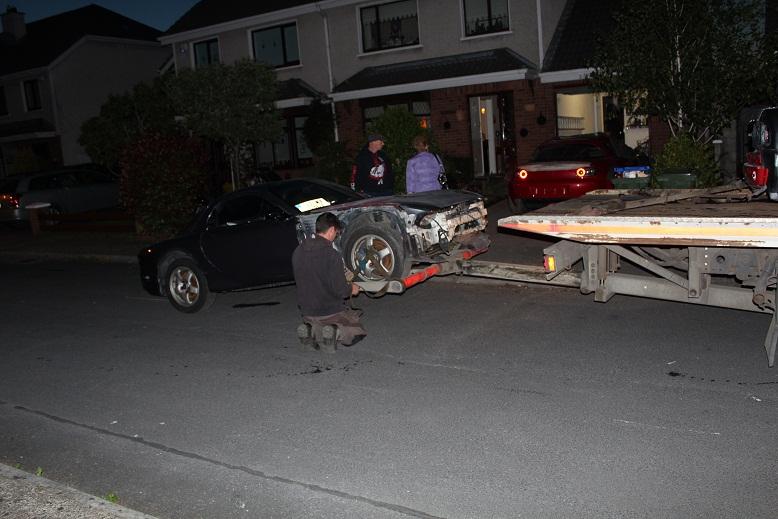 In the meantime looks whats back in the driveway to keep me busy

6-25-2013
So the rebuild is well under way, a fully forged RB25, what do you think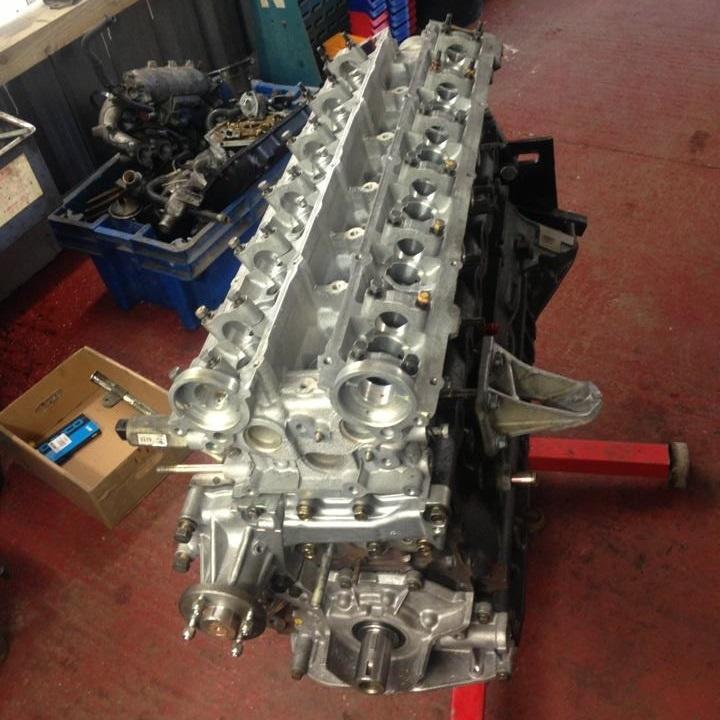 6-27-2013
Agreed but straight 6 will do for now

Small engine update, said while it was all apart may as well freshen up the engine so the block has gone black and the covers super white, looking forward to seeing her finished now

May polish up the turbo housing now too.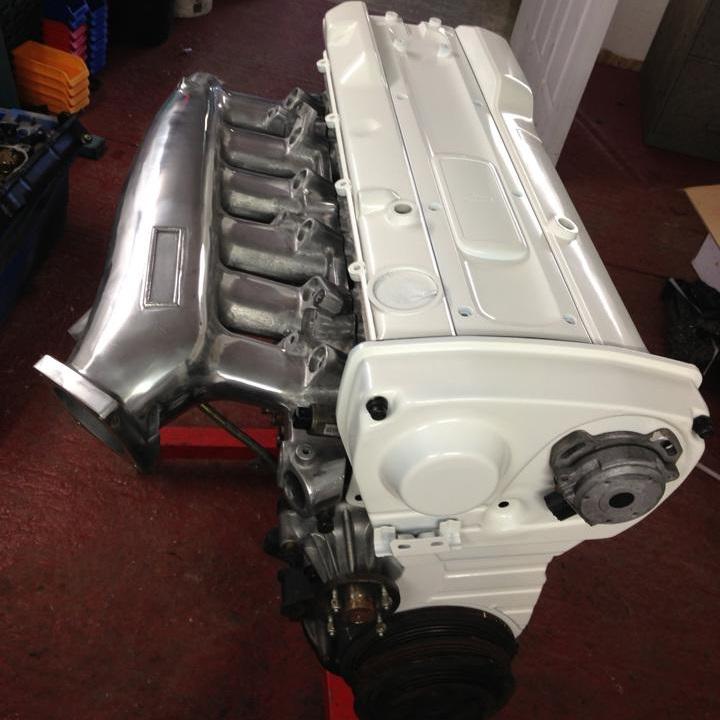 10-15-2013
Well I haven't posted an updated on the RX7 in quiet a while so I thought it best to check in

Realistically it has been issue after issue with the build but these are the joys of going custom. As you all know the bearings were in sh*t so the freshly built engine had to be rebuilt. As the piping wouldn't allow the bonnet to close I went for the GTR style intake plenum which has brought along its on problems as it faces the throttle body directly into the back of the light motor but there is a fix being worked.
What took a while to figure out was the placement of the engine and we learned that the RB25 sump just wouldn't cut it regardless of how it could be modified so Brendan S. sourced an RB30 sump however it was too deep and would hit the road so that had to be modified also, arrrgggghhhh....
So yesterday the engine bay got a fresh lick of paint and now it should be going back together, its been a long journey but getting all the mechanical side of things sorted first was key and we're on the home stretch. All this would not have been possible without the aid of Gripfab so massive shout out to John, Brendan and Bryan, cheers lads for converting not only the RX7 but the RX8 and sure we've a KP61 to go at yet

More updates to follow over the next week or two. Tis good to be on the way back with this one, it will be the weekend bus after all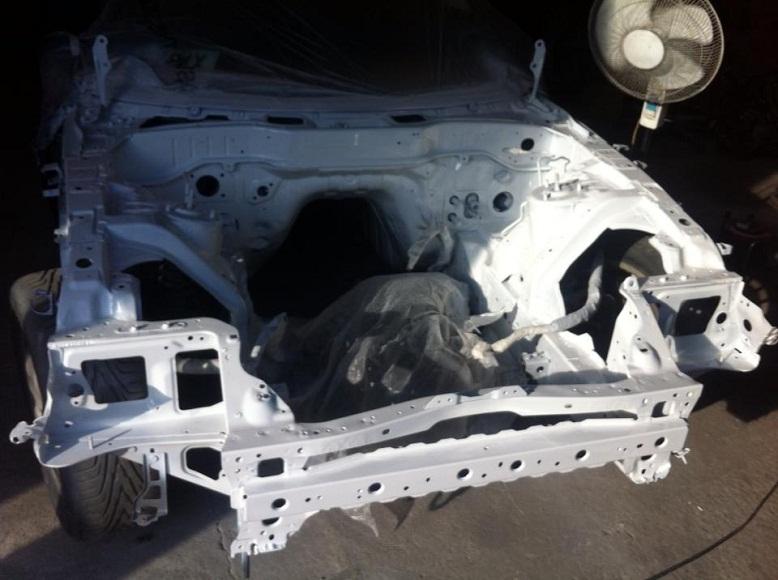 10-19-2013
Cheers dude, not far off...
Bit of an update :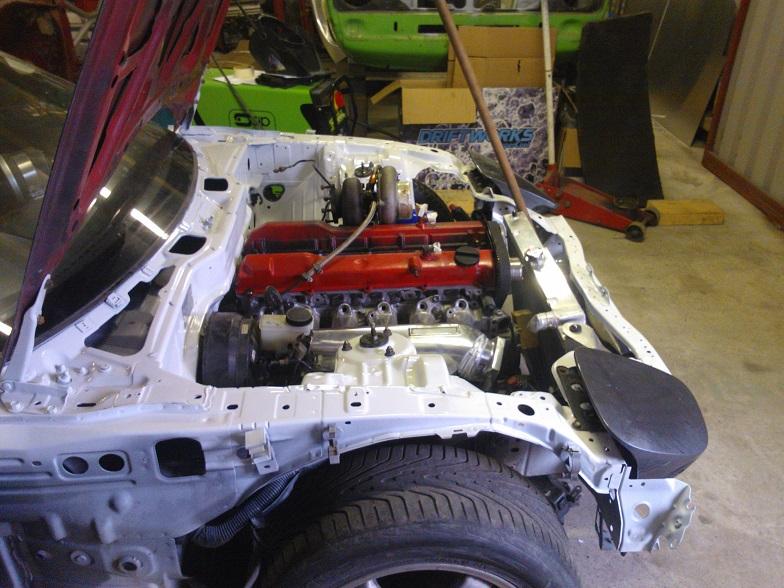 Nice and snug against the bulkhead :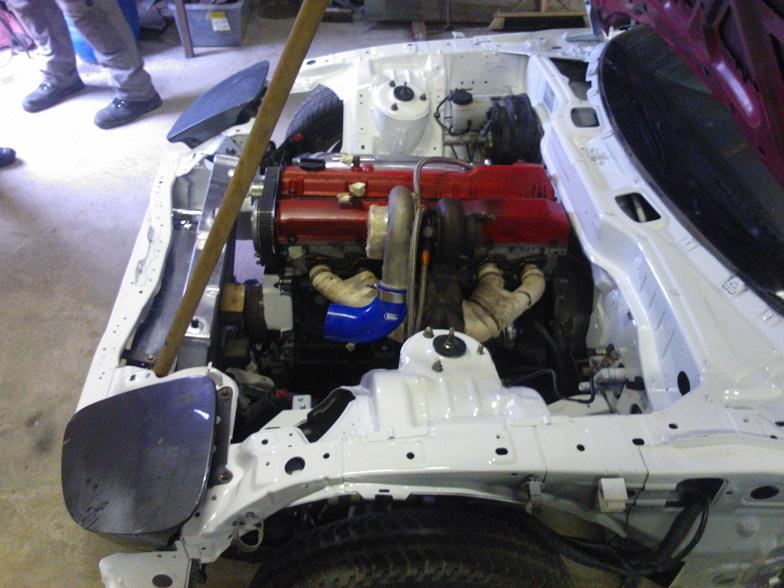 Turbo manifold has to be modified as the turbo sits too high :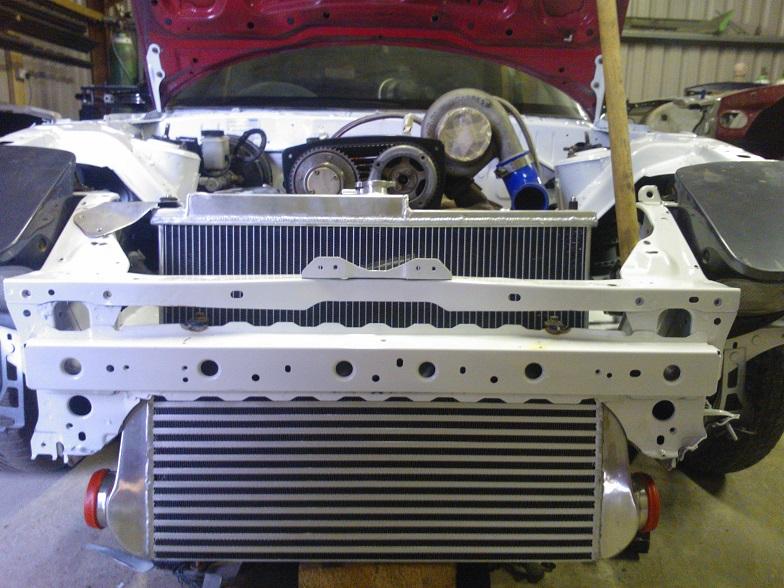 But she looks at home in the new white bay, mock up rockers on to keep the white ones clean for now...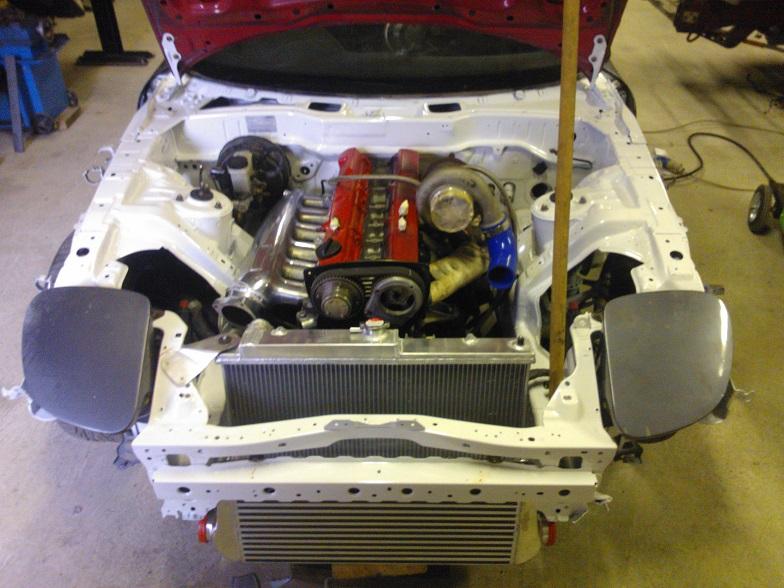 Intake plenum had to be chopped and modified as it pointed into the back of the headlight, adapter is being made up now for the throttle body as we'll be keeping all the piping 3"...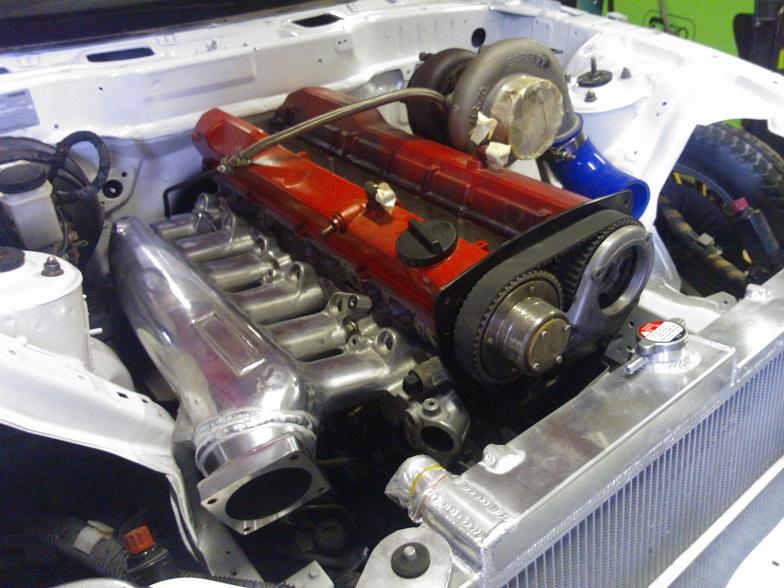 Top mounts for the rad and intercooler are made, next up the bottom, hence the wood

More next week

So John dropped the bonnet and cut it so it would close, first run looked like this :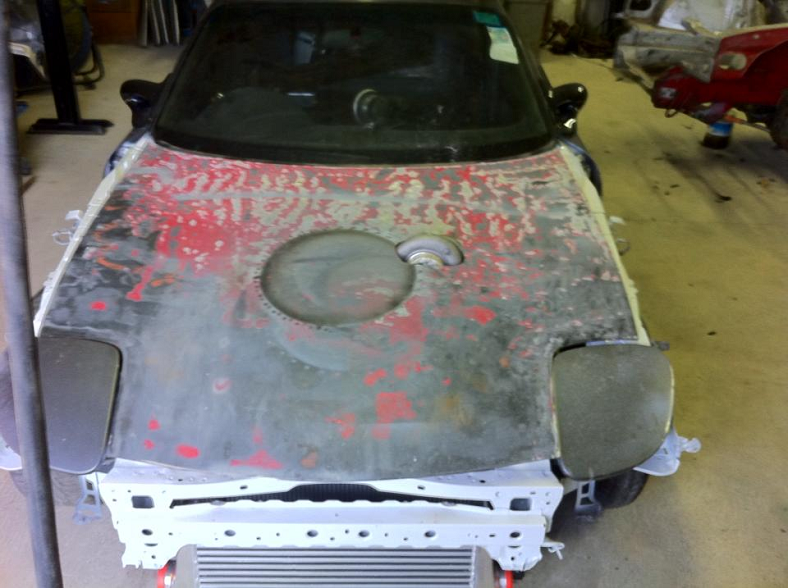 So that wasn't going to work, the only way around it was to chop the exhaust manifold in multiple places and basically make it work better, John did an awesome job cause I still wanted a bit of turbo to say hello

So this is where we are at, I was going to build a hump into the bonnet but I may just polish the housing and tidy up the cut line, getting excited now to see her done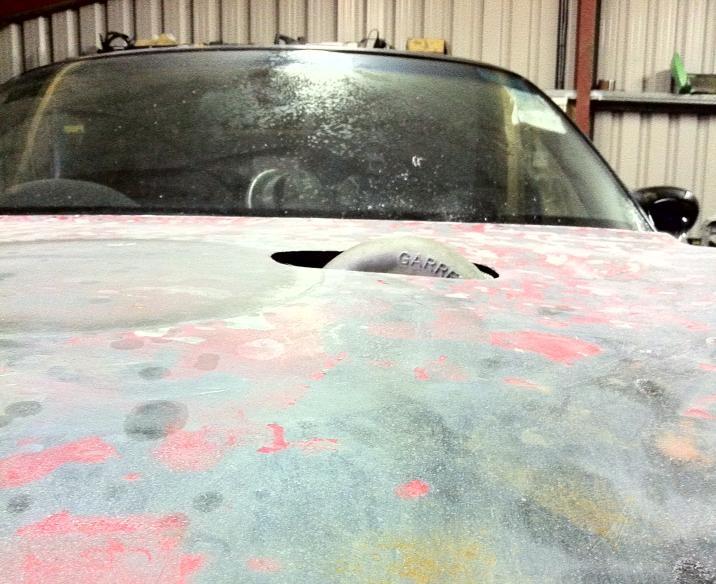 11-23-2013
Best of luck with your build dude...
So while herself is watching X-Factor I'll throw up a few pic's, took a trip up to Gripfab today while on my way to Dublin.
There was alot of this :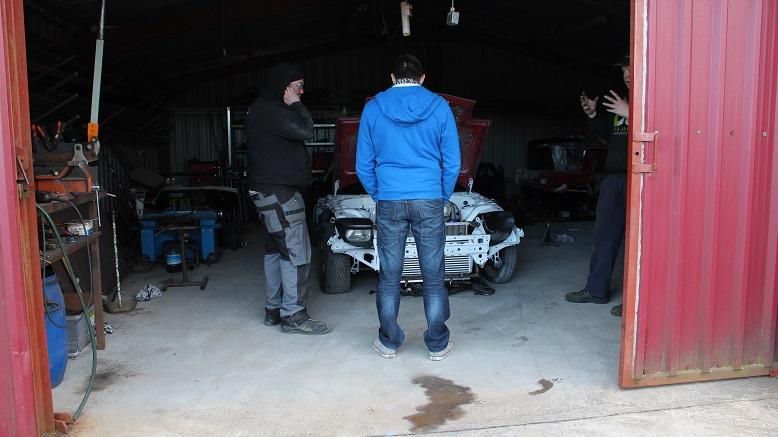 Ice white :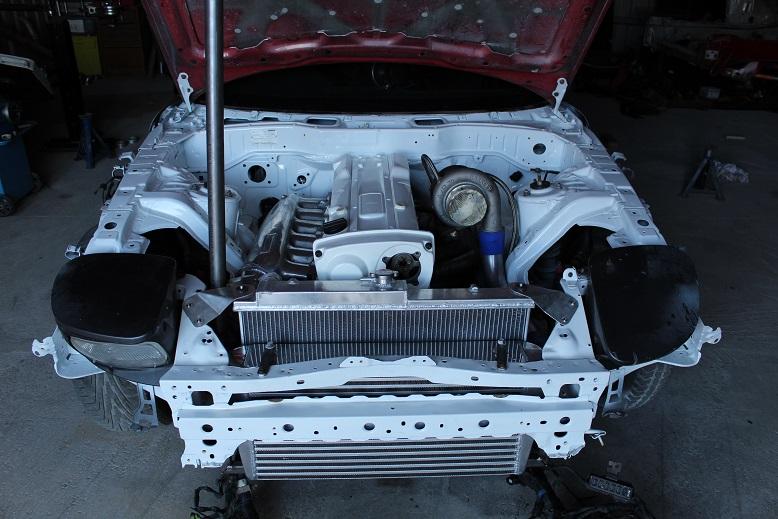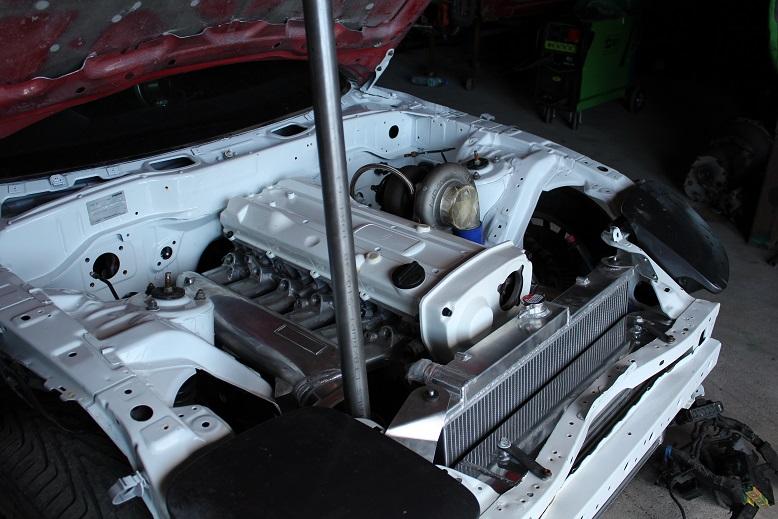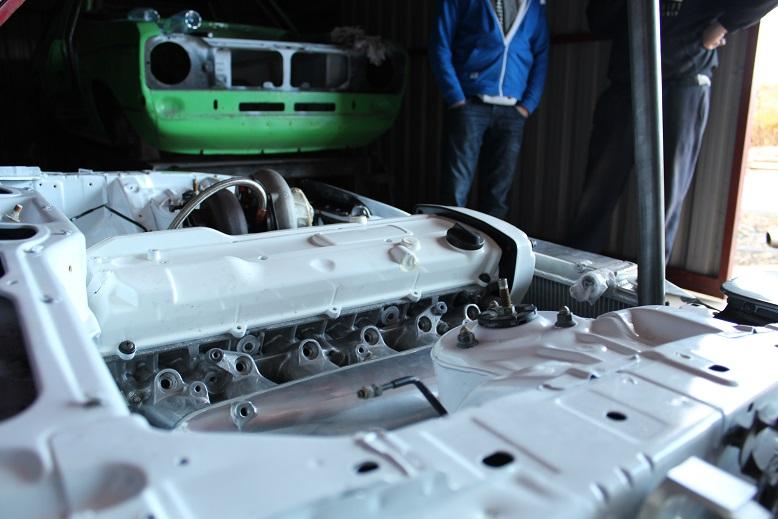 Is it just me or does the manifold look like spider legs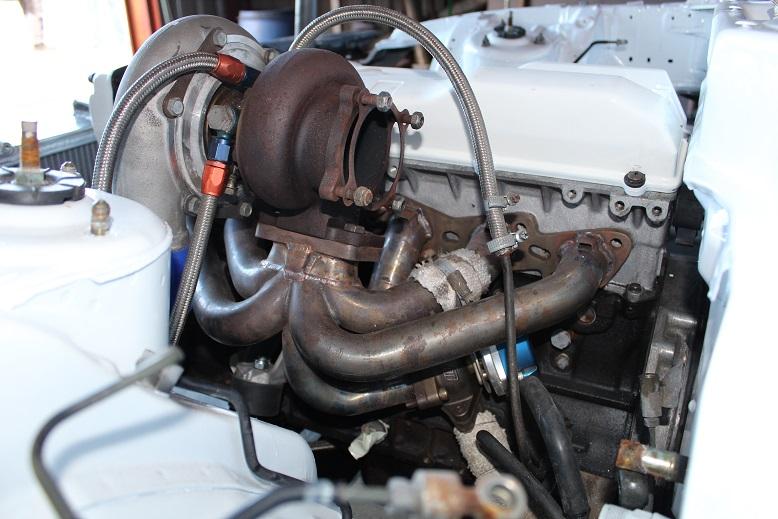 Pipes have worked out really short :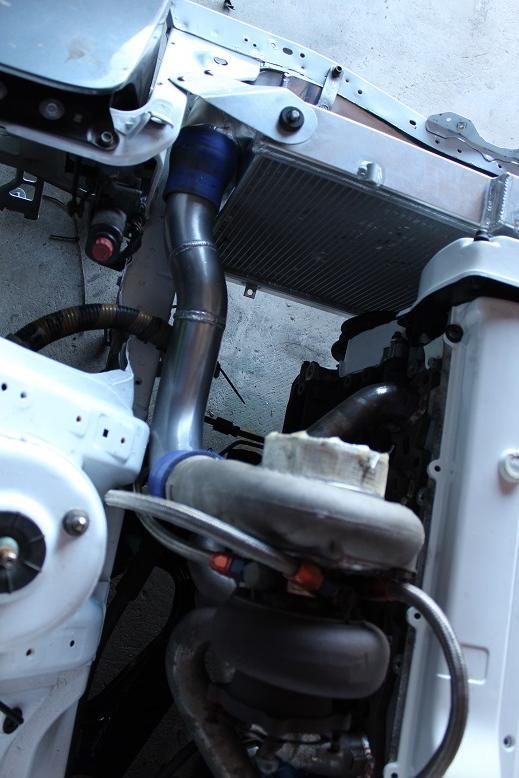 The throttle body still has to go back on so the pipe will be about 3inches LoL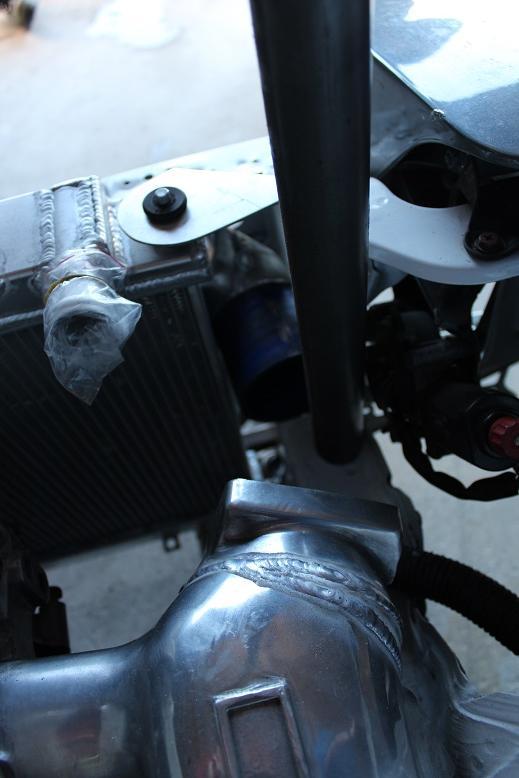 Hello beasty :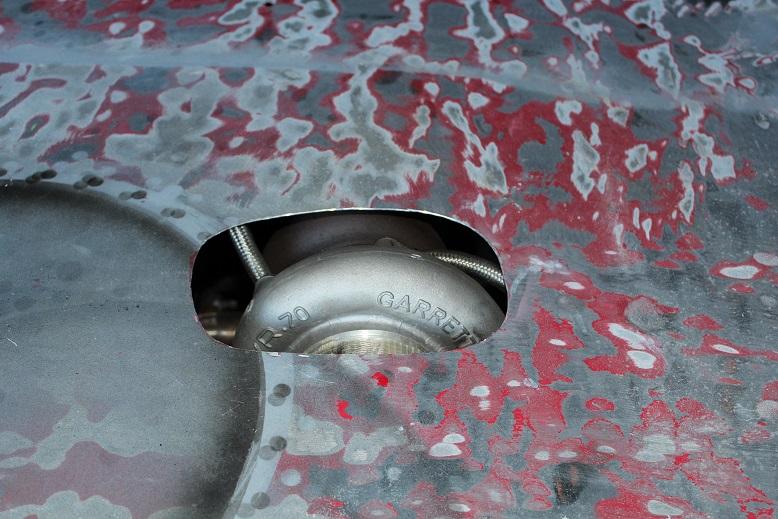 Should be back in the next 3-4weeks, the wiring is going to be a nightmare.
2-9-2014
My two projects up in Gripfab, its known as Kruizer's Korner at this stage LoL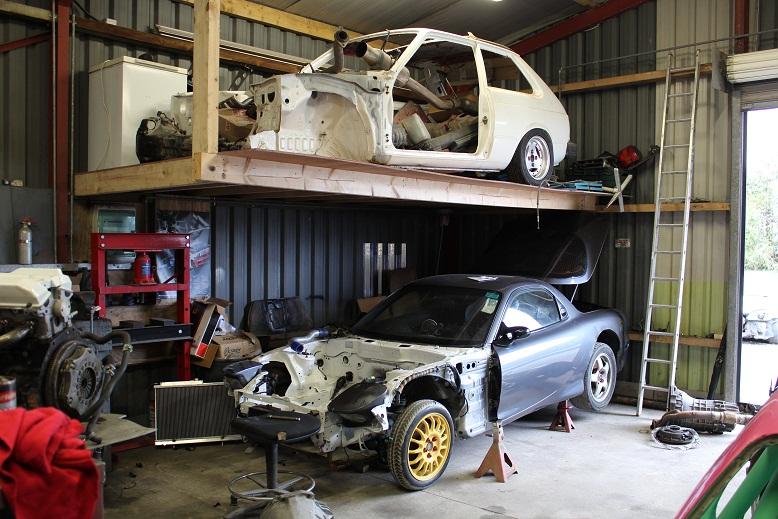 As you can see the wiring now goes on the outside of the front panel, sounds simple but is far from it, you can also see the subframe and how it holds the engine :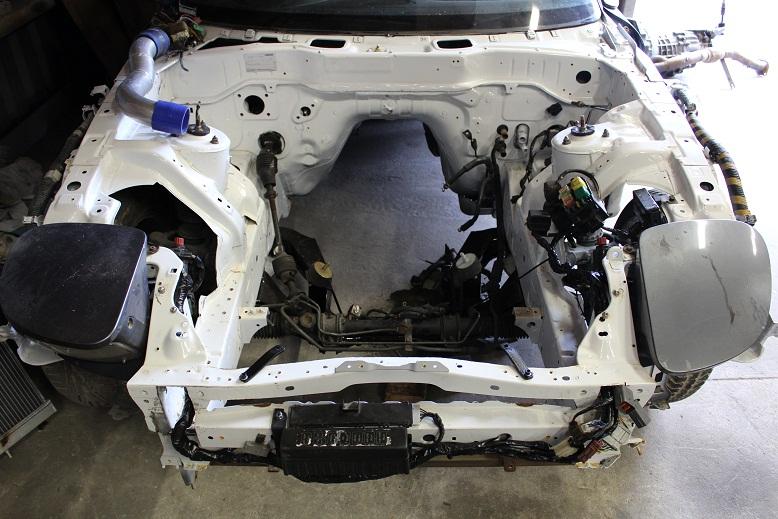 Manifold :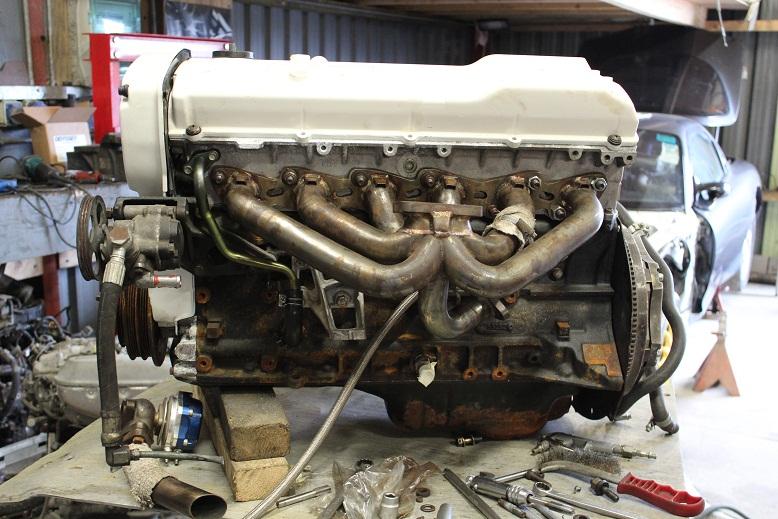 A nice look at the HKS clutch :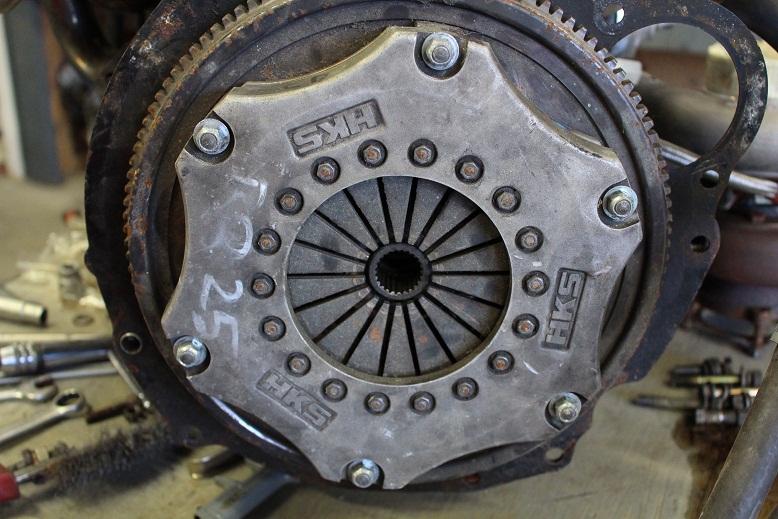 Car should be back in Limerick next week with some luck.
3-6-2014
So not a whole pile to update since my last post, have had a few issues with the wiring and the previous cowboy that worked on the engine but nothing Gripfab can't handle, should be ready for transport back to Limerick very soon

John got to make up this interesting section for the exhaust cross over :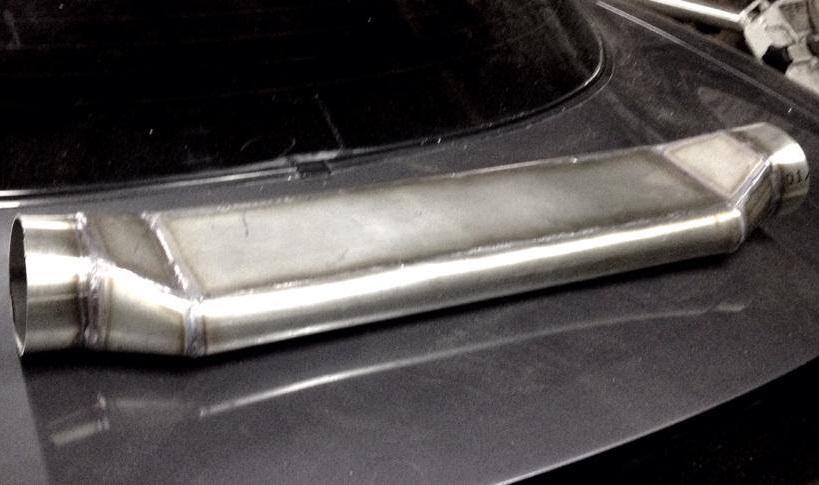 And Dave in JDM Distro sent me on a few pic's of my wheels now that they are ready to leave Japan, will be 8 weeks before they arrive but I'm sure I'll be able to keep myself busy until then with the other cars, anyway enough talk pics :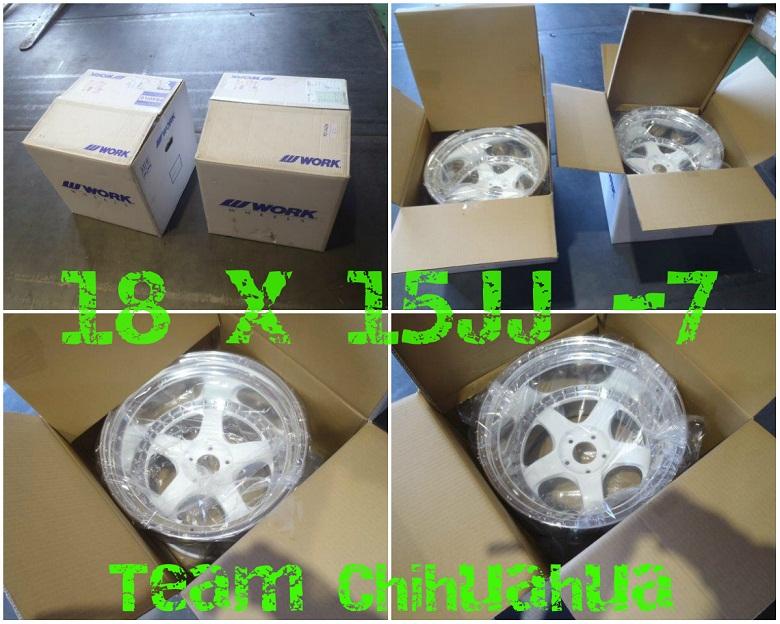 3-12-2014
Right so after a very long time away, the beast is home, arrived late last night, needs a few niggle little bits done before I can get it mapped but nothing major. For the next few months it will be all bodywork and getting this beast looking as phat as possible, even Romeo came out to have a look, trying to find in the two of the pic's is like a game of where's wally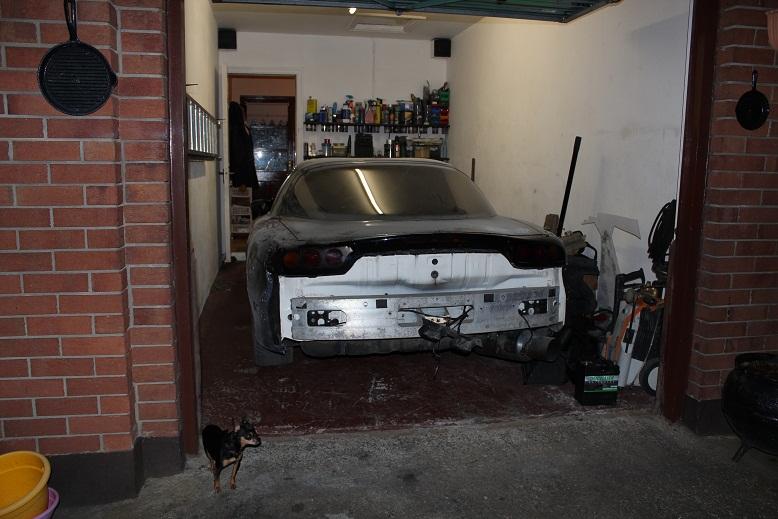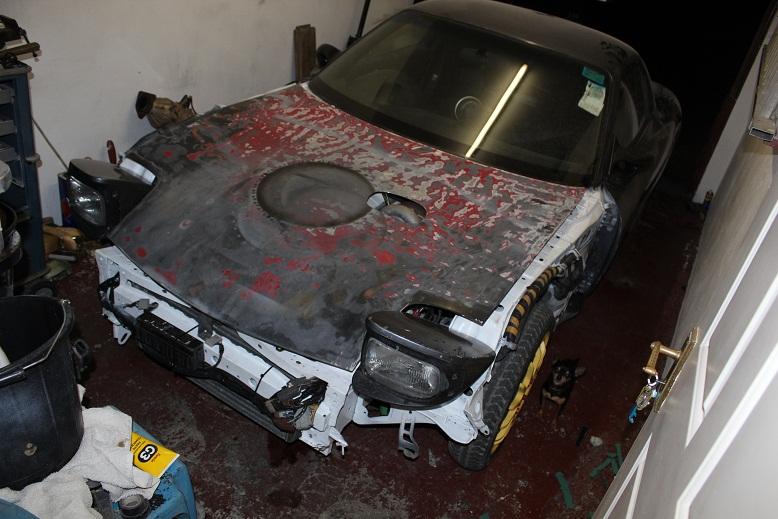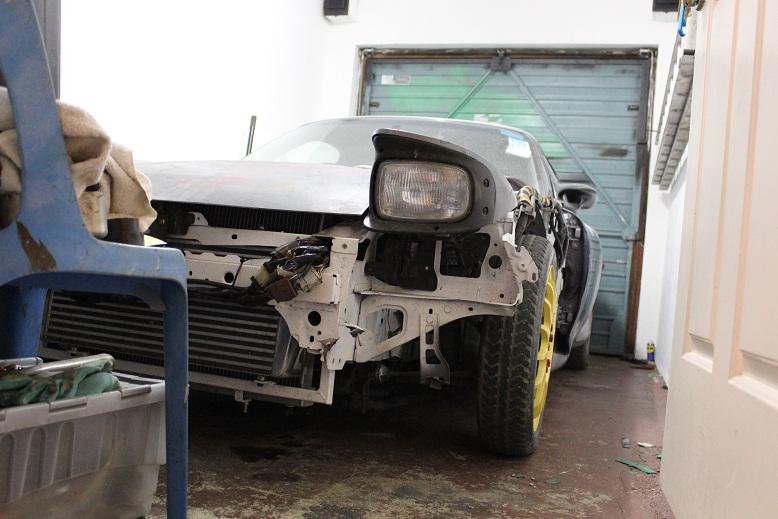 So I wanted to know how wide it was cause I have forgotten and this was the out come, not too bad. Thinking of keeping the standard bumper with a big ass diffuser.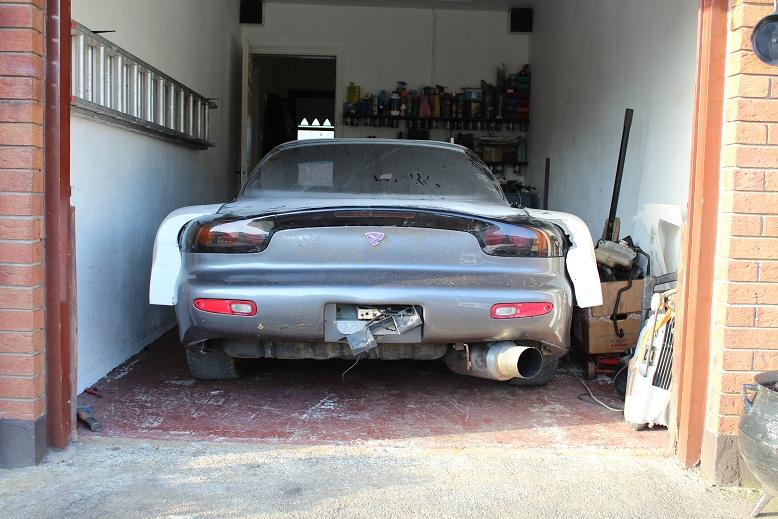 Wing is pretty low to the ground. Just a measuring tape on its side.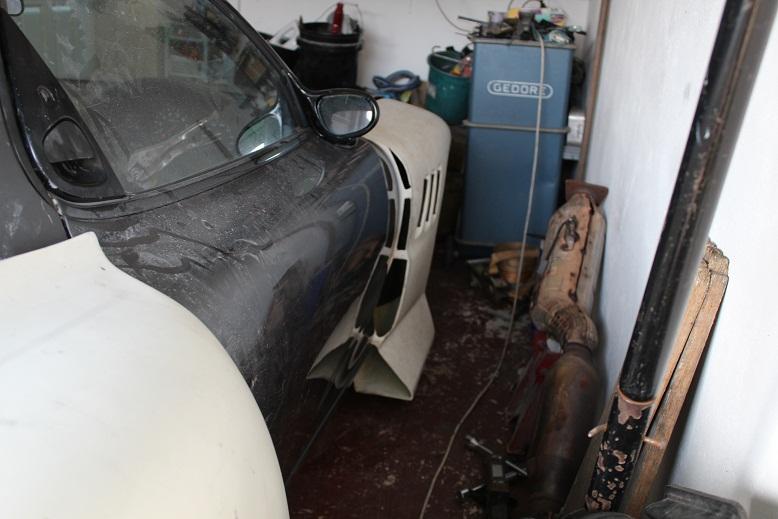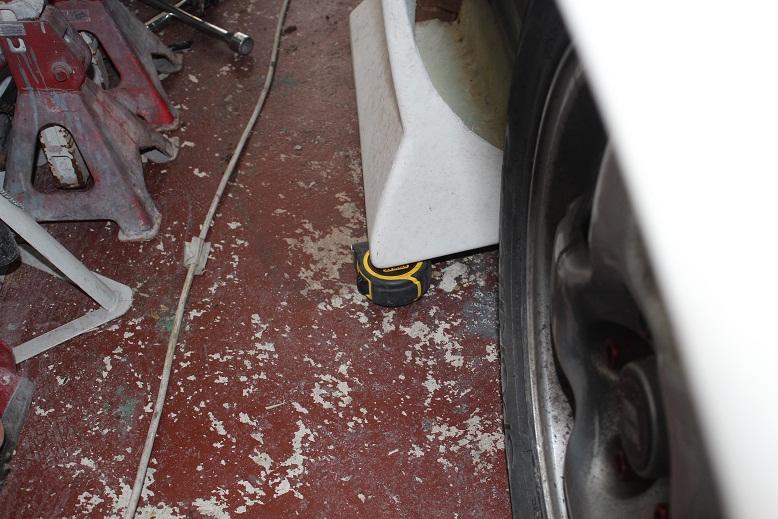 Engine looks at home

Oh and its first start up, I think ya need headphones cause it sounds off through my laptop speakers.
3-14-2014
So back to fibreglass, as said much earlier the fit is shocking however with a few bolts here and a heat gun burning the arse out of the kit it started to come right if only the wings it was a step forward.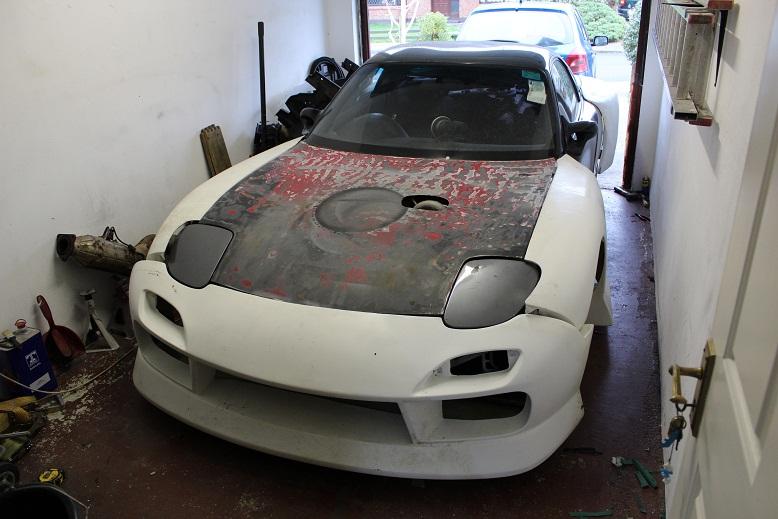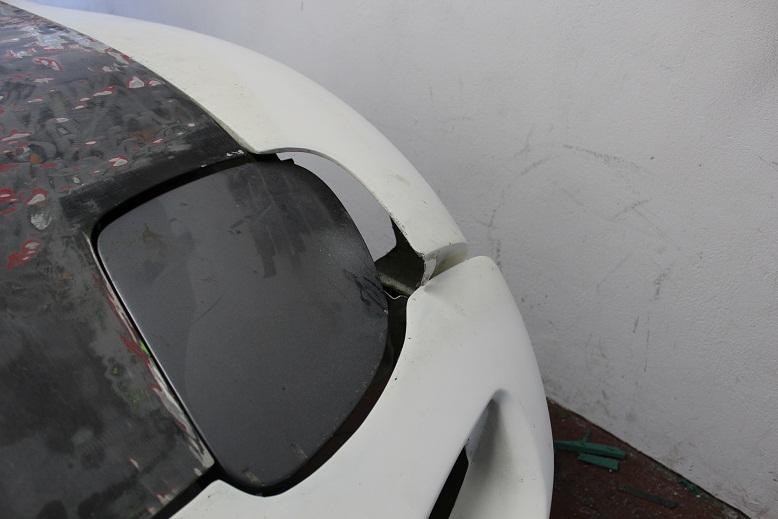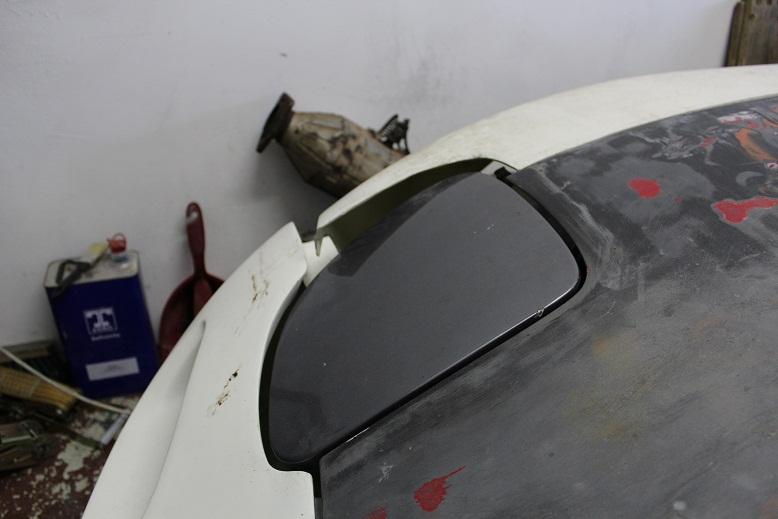 Only took 2 hours to get the wings to fit but looks alot better.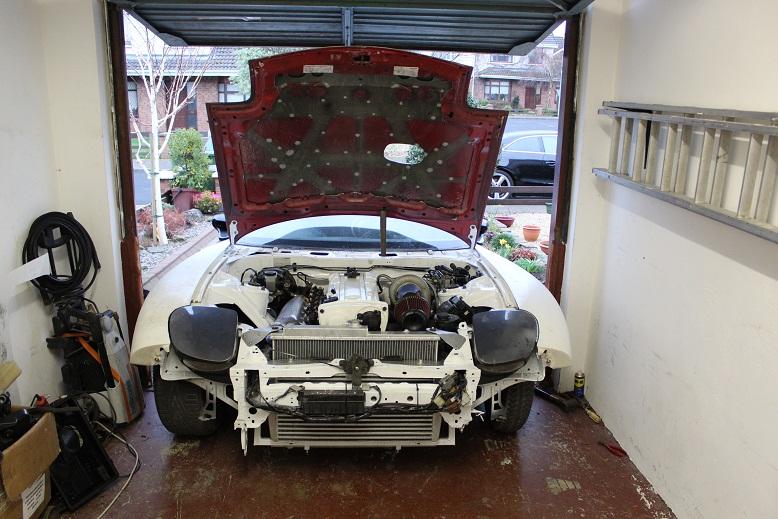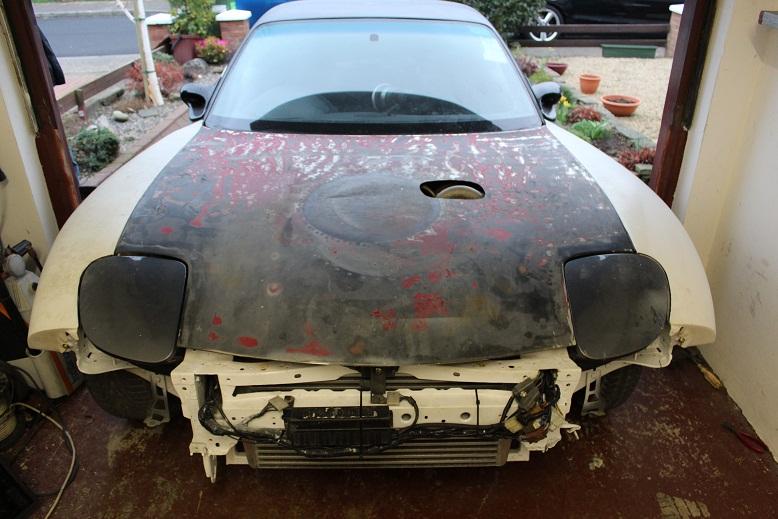 I have to do some trimming around the lights, adjust the hinges for the bonnet, move the power steering fluid bottle and the gaps should be some bit better. Screwed on the quarters too but again they need alot of work, be a while before its all sorted...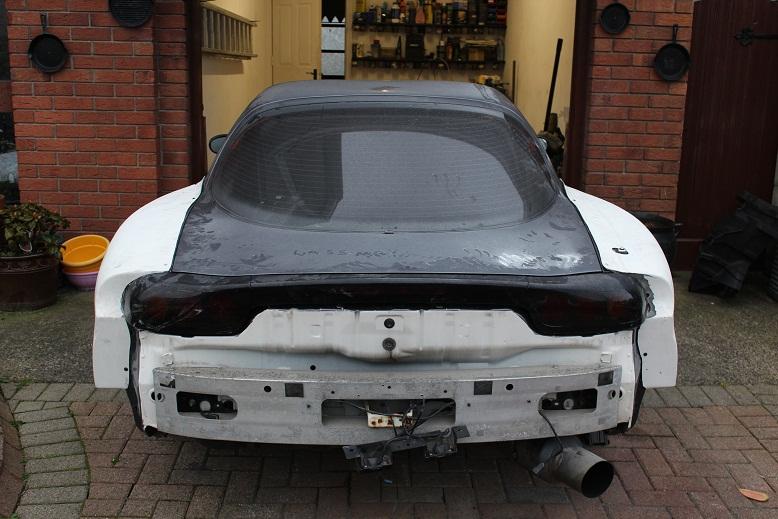 3-19-2014
So I had a spare hour and decided to see what way the skirts would line up to the wings and quarters, suprise, suprise, shocking was the answer, there seems to be a pretty decent gap on both sides, now it is even however I don't know whether to cut the skirts in the middle and move them forward to close it or leave them as is, there is strain on them already and I'd be afraid of the joint cracking tbh.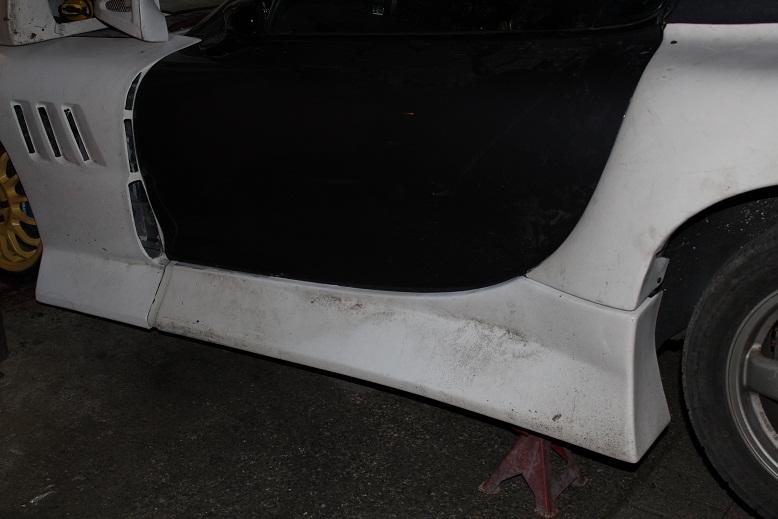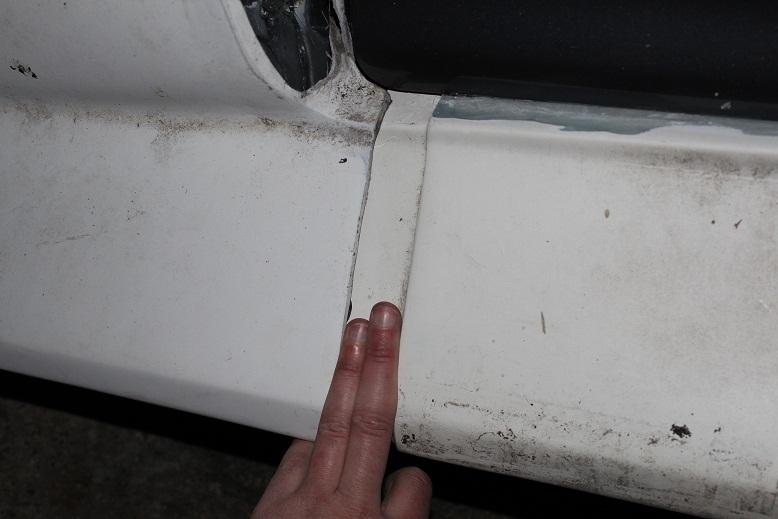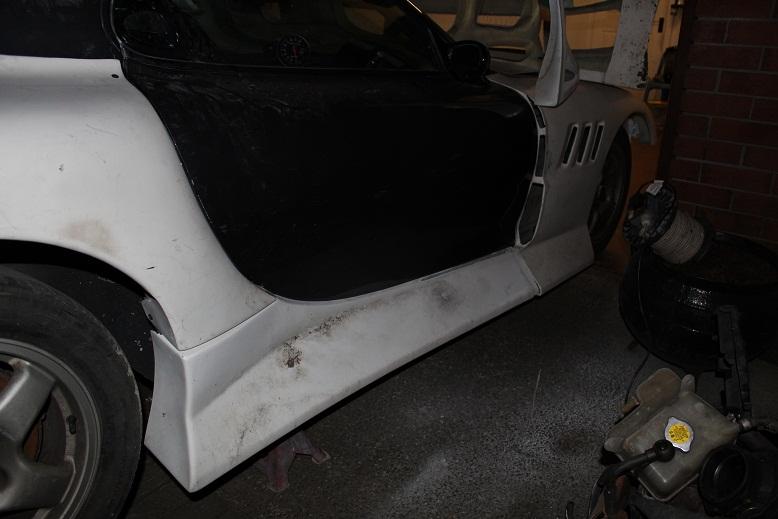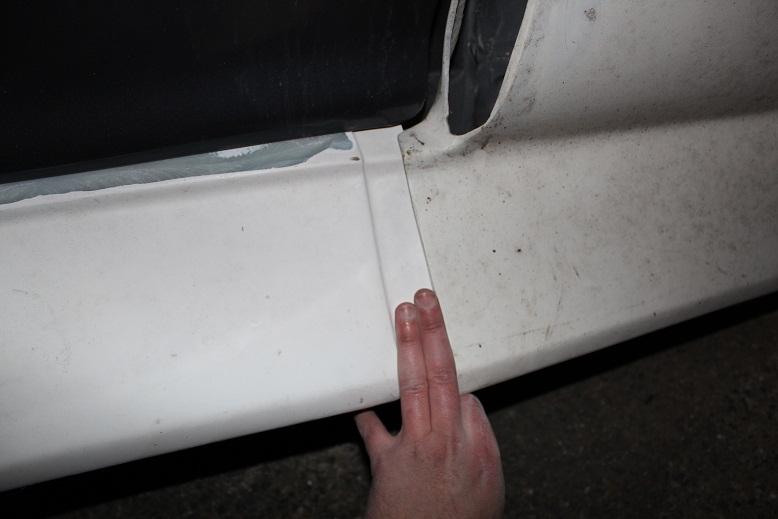 I reckon the easiest thing to do is use filler to build up the recess however still leave a joint and that should prevent the stress of making the skirts longer without cracking... So I then threw on the rear bumper, worse fitment than the front but I was hardly shocked, was thinking of binning the whole kit until I pushed it back in the garage, the presence of the car in the garage sold me, its going to be a long few months of work but I reckon it'll be worth it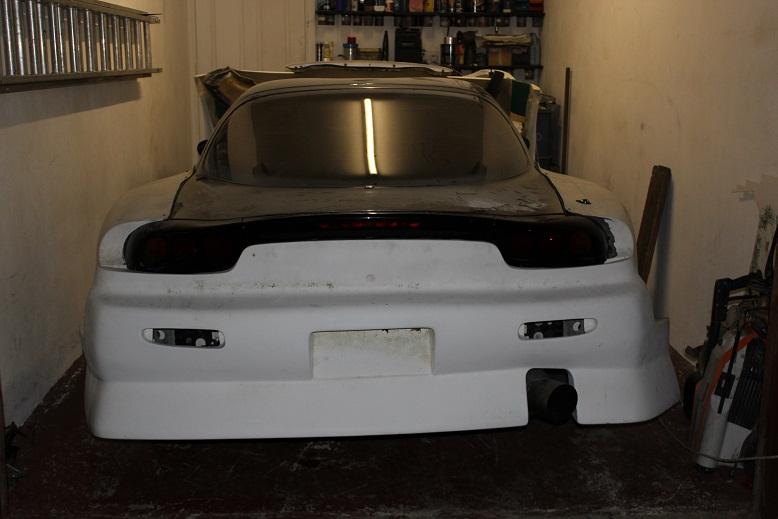 3-20-2014
So I spent an hour or so heating and twisting the bumper :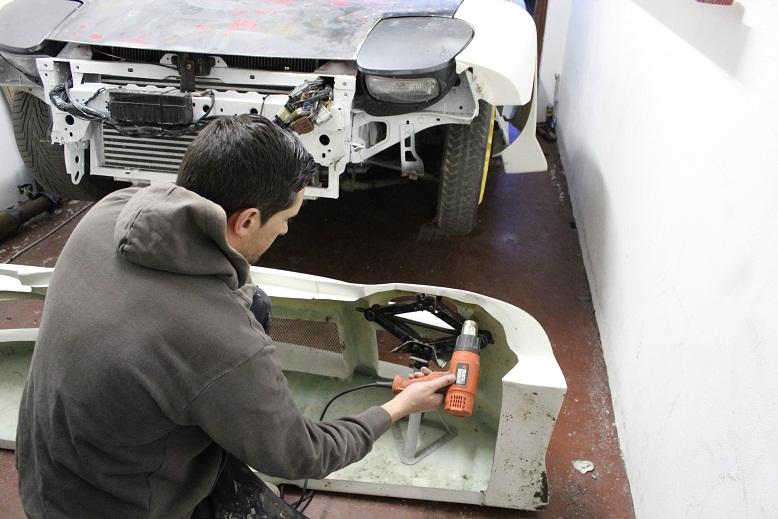 First issue was the bonnet line, the bonnet wouldn't close, anyone who has fitted an aftermarket from bumper to an RX7 knows that the bonnet line is the hardest to get right :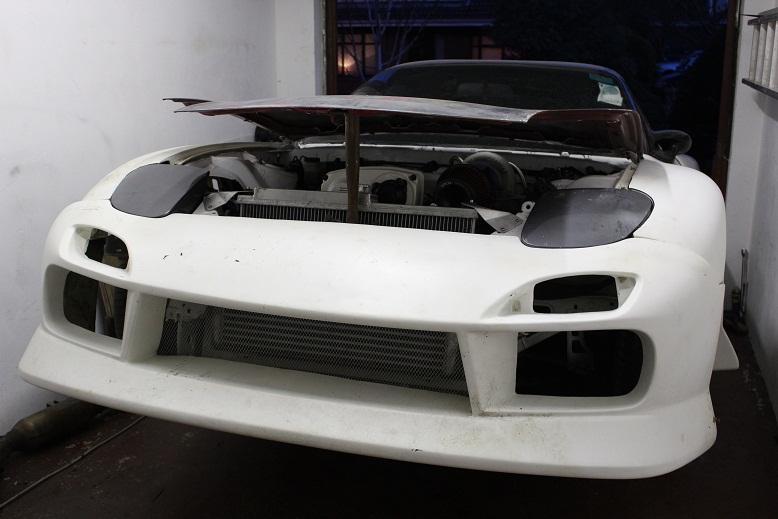 So ground back the front of the bonnet just a shave, pinned the bumper back from underneath and finally ground back the bumper just enough, the wings aren't lining up to the bumper at the sides yet but 3hrs was more than enough of looking at this thing :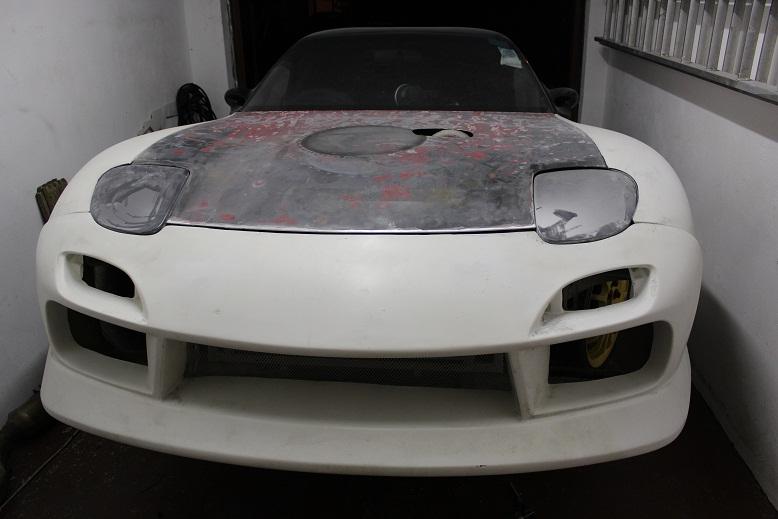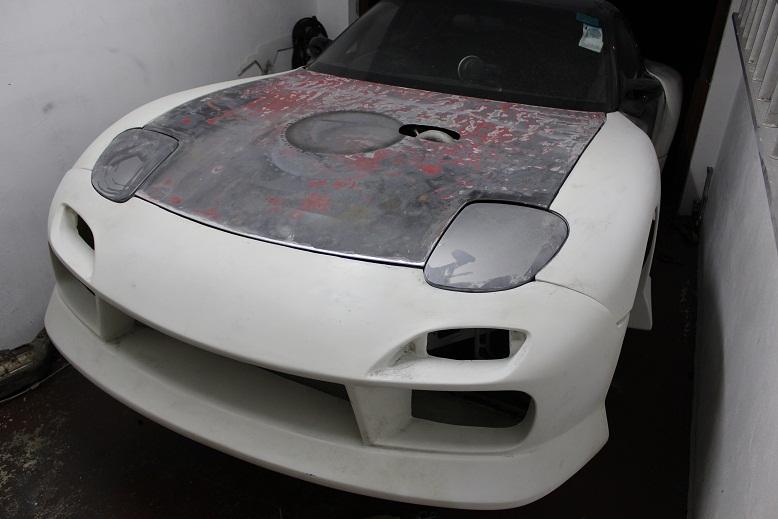 6-5-2014
Anyways I got some good news yesterday, the Meisters have arrived from Japan, the baked beans diet is nearly over ha, ha... Collecting them in 2 weeks so should be interesting to see the fitment under the BN Sports Kit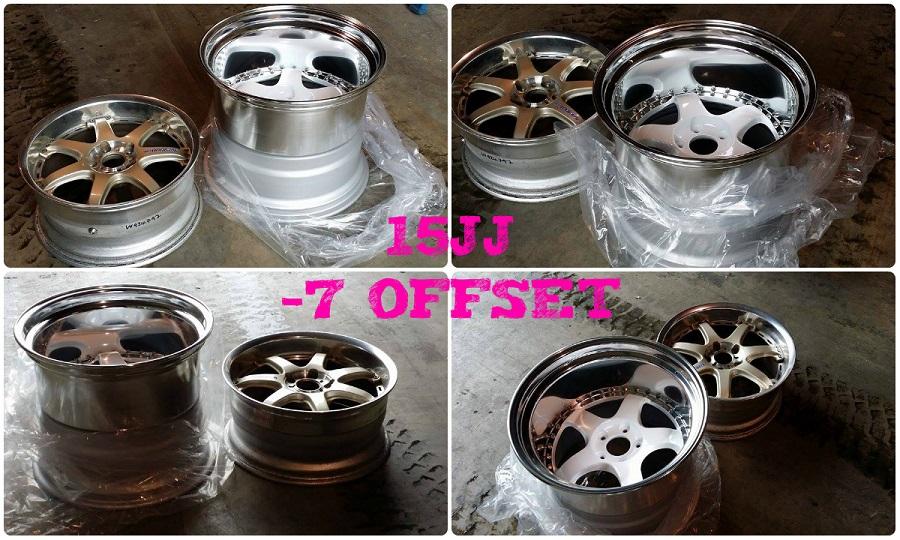 6-28-2014
So finally got some time to go up and collect the wheels but Romeo wanted to play hide and go seek instead :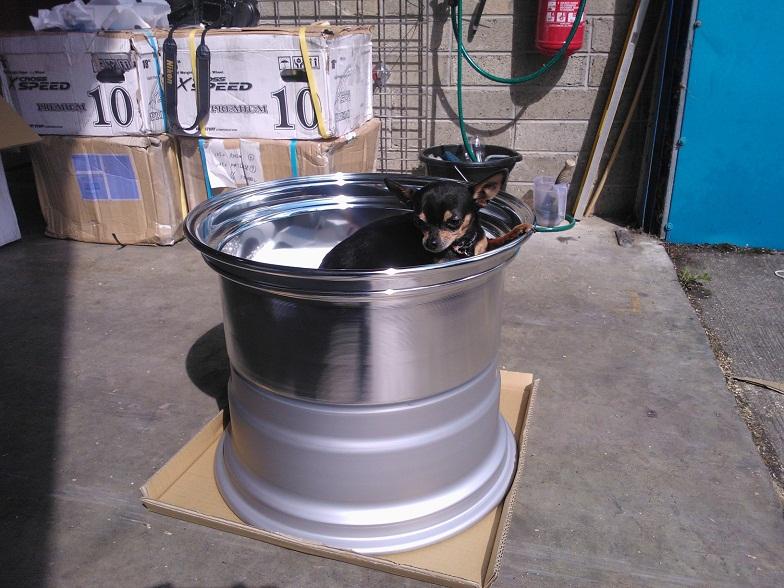 The thing is I bought 11jj's for the front but beside the 15jj's they looked crap so we put some 13jj's in the middle, so now I have 13jj's for the front and 15jj's for the rear

Bye, bye 11jj's :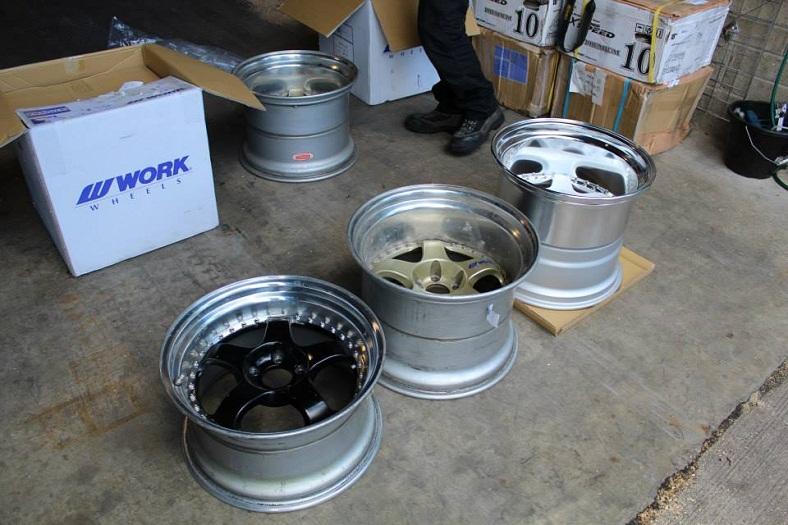 Phoebe whose Caesar's girlfriend jumped in for a quick pic

: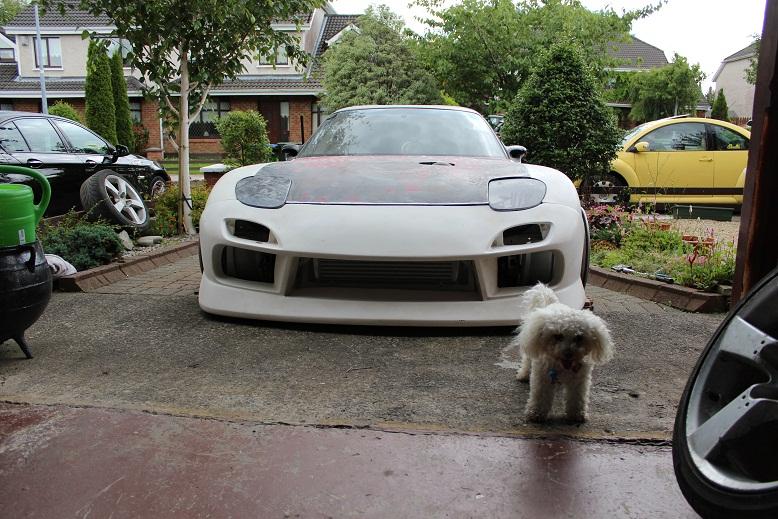 And here she is, 13jj up front -34 and 15jj on the rear :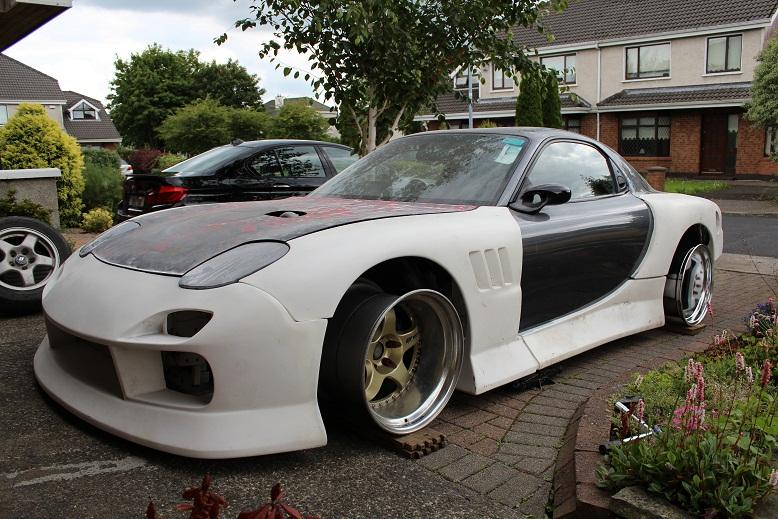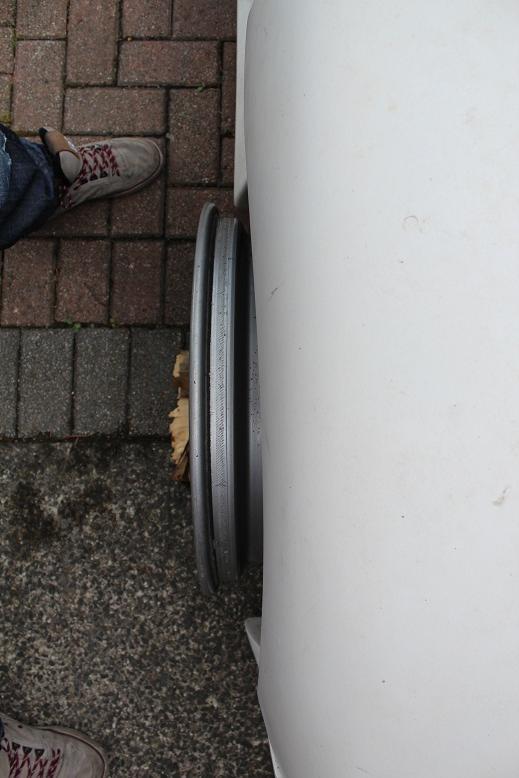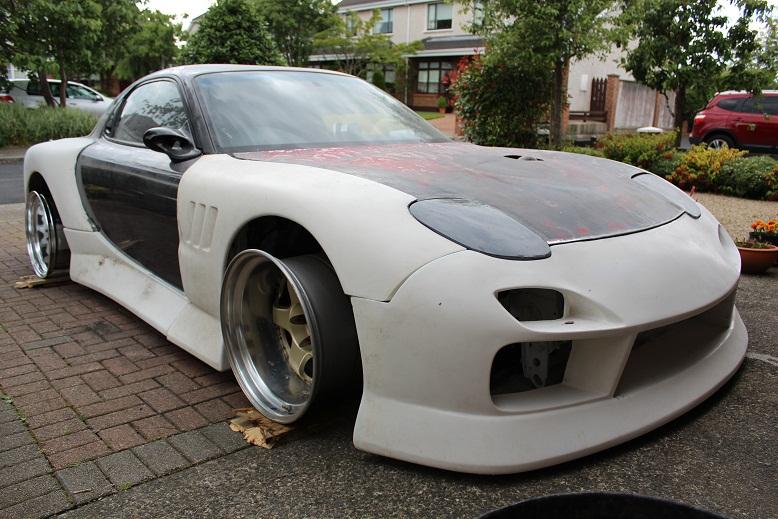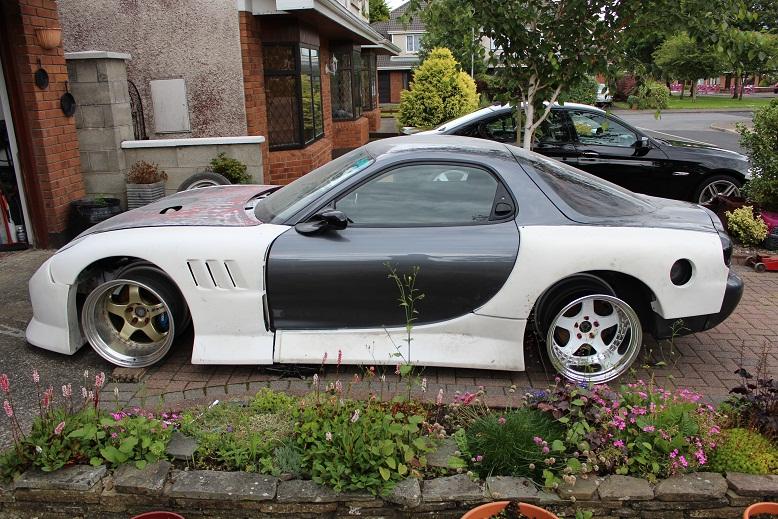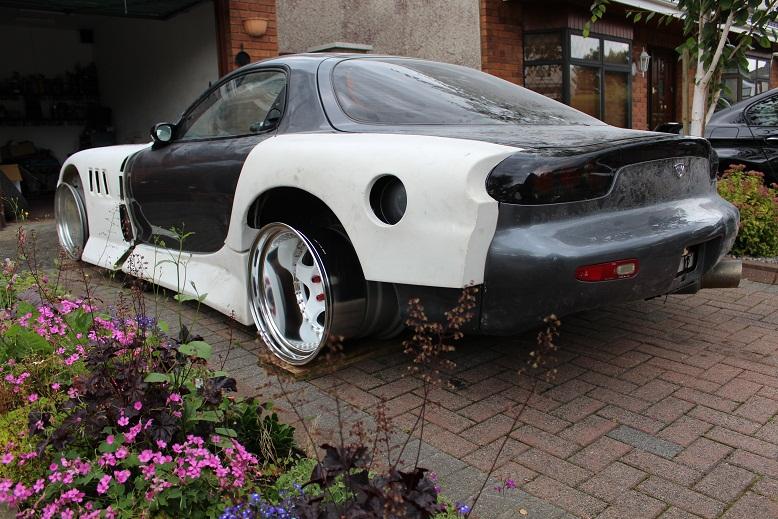 THAT *** !!!!!!!!!!!!!!!!!!!!!!!!!!!!!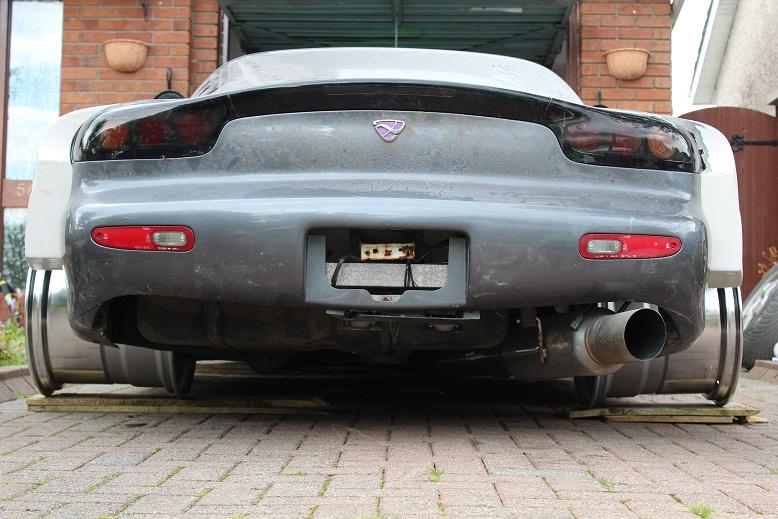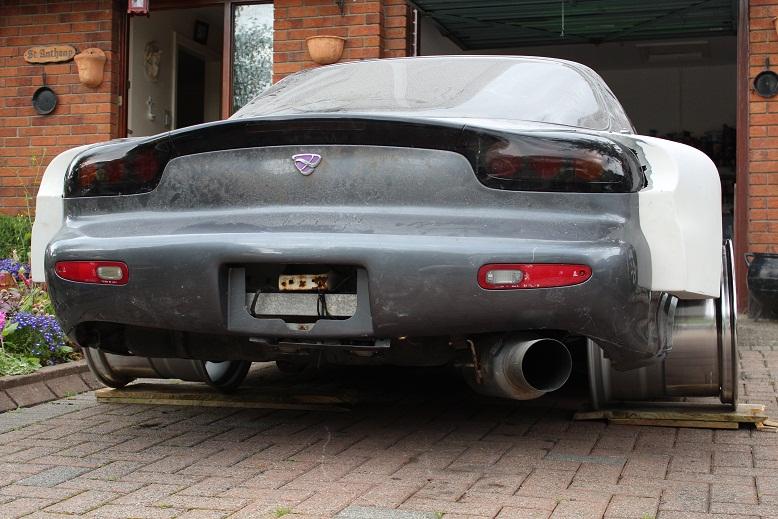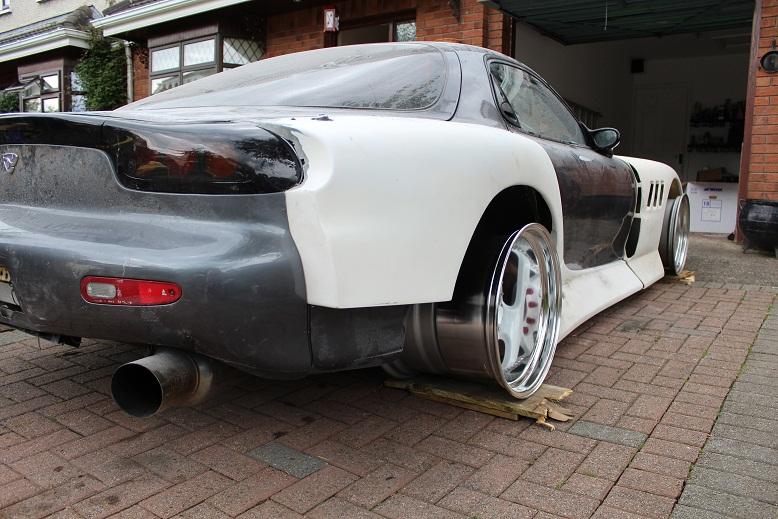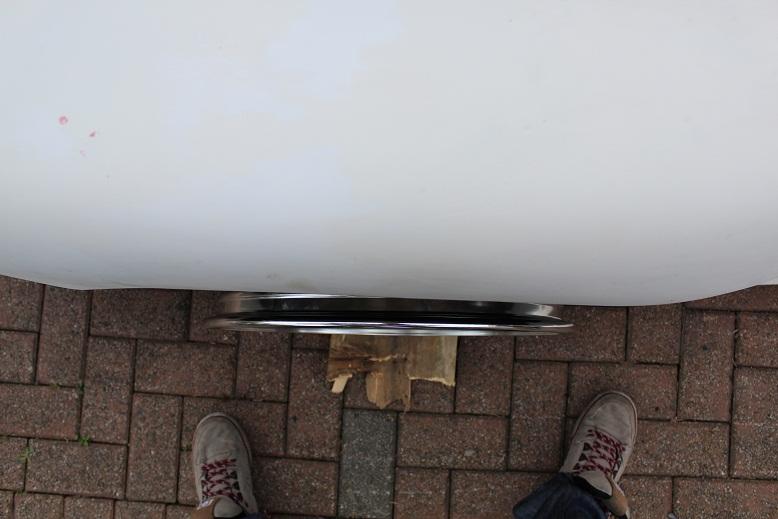 1-15-2015
So here they are, tyre ****, 18x13JJ Fronts running 295/30 ZR18 and 18x15JJ Rears running 335/30 ZR18. Check out the Fuel Rating, Handling Rating and DB Level

Found out they are for the Lamborghini Murcielago, never seen 4 wheels wider than a car before

Massive thank you to Midwest Tyres Limerick.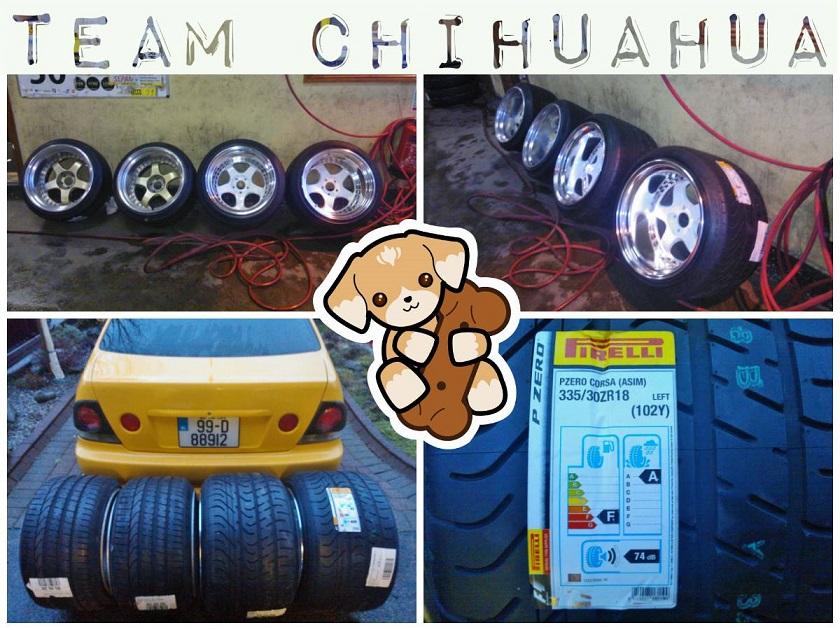 1-17-2015
Ya its a bit mad...
I need a bigger garage, so I needed the RX8 wheels off the RX7 for another car, weak excuse but I got to fit the Meisters, I need to make the kit wider, let me know what you think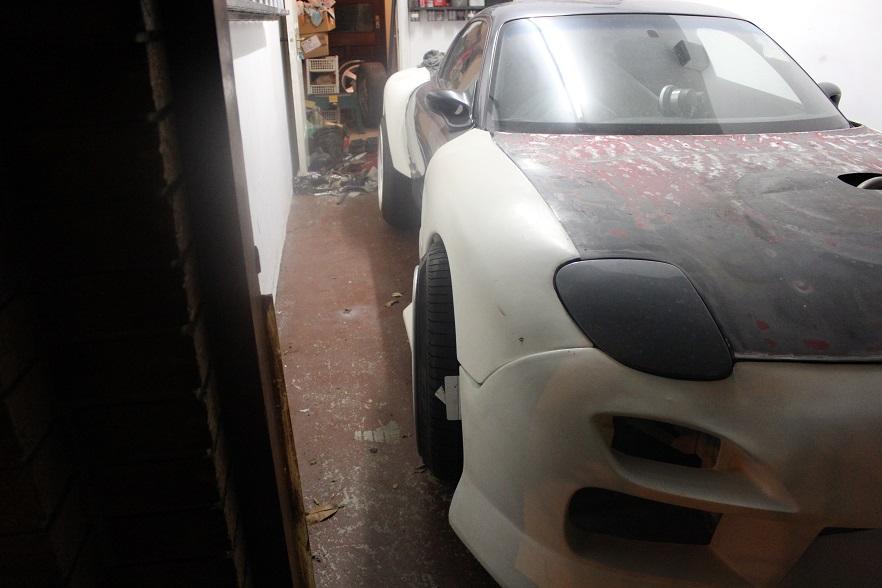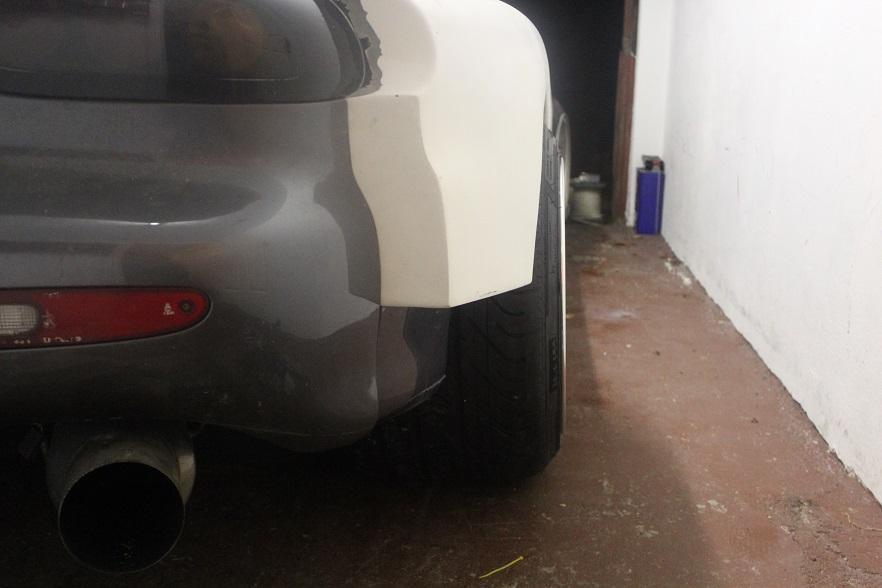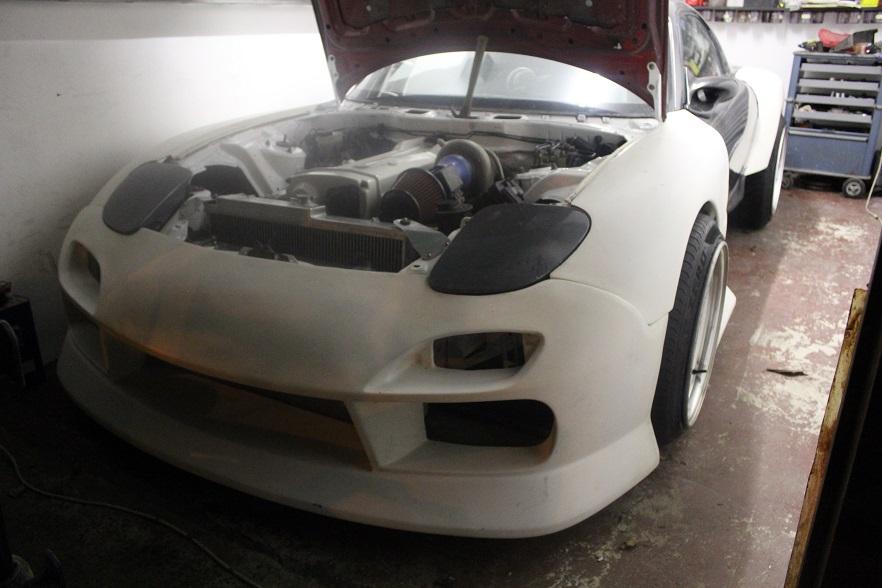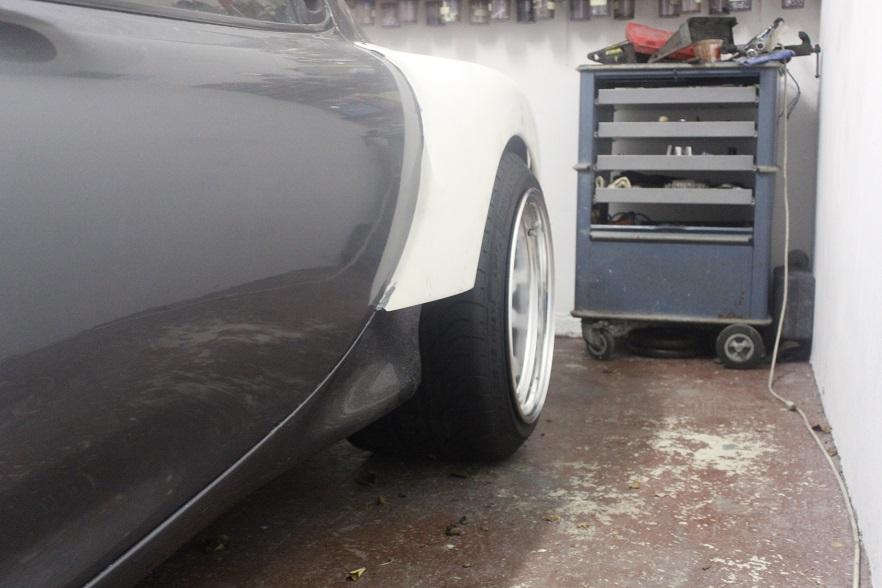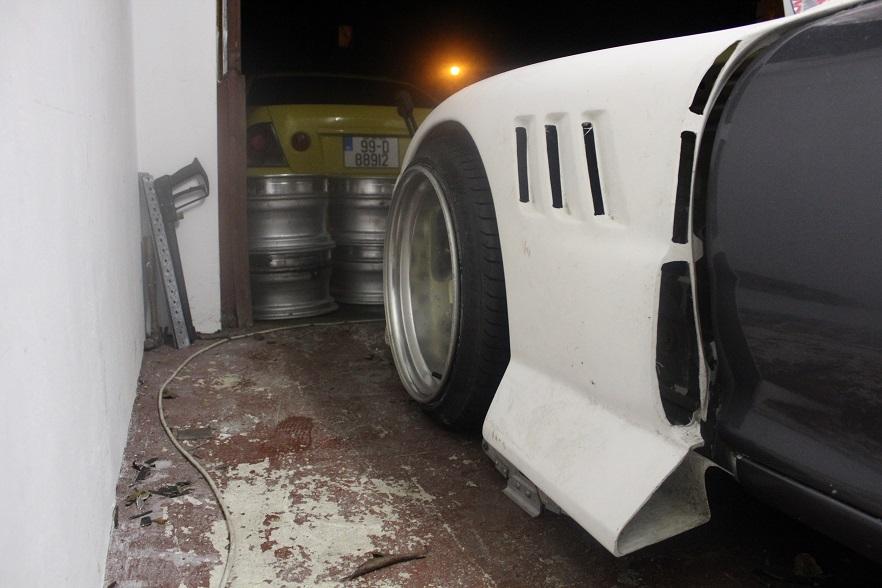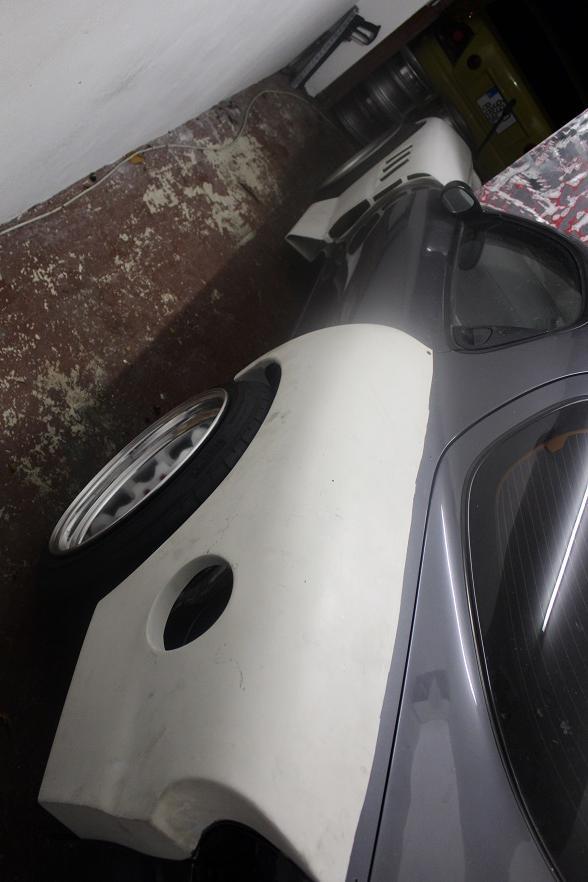 And just a shot to remind you its not all about looks :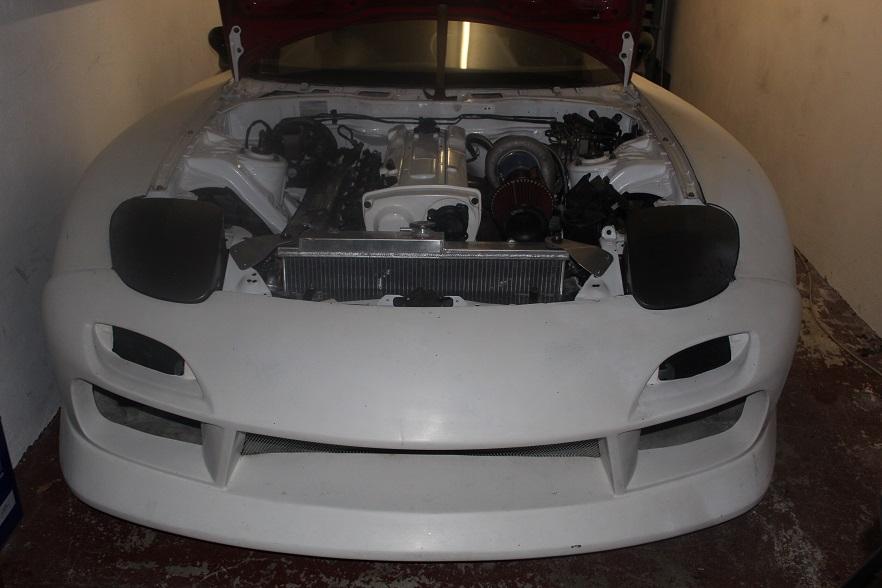 1-21-2015
Picked this S14 Rocket Bunny Spoiler up last night, chop it up, reshape it and it should look boss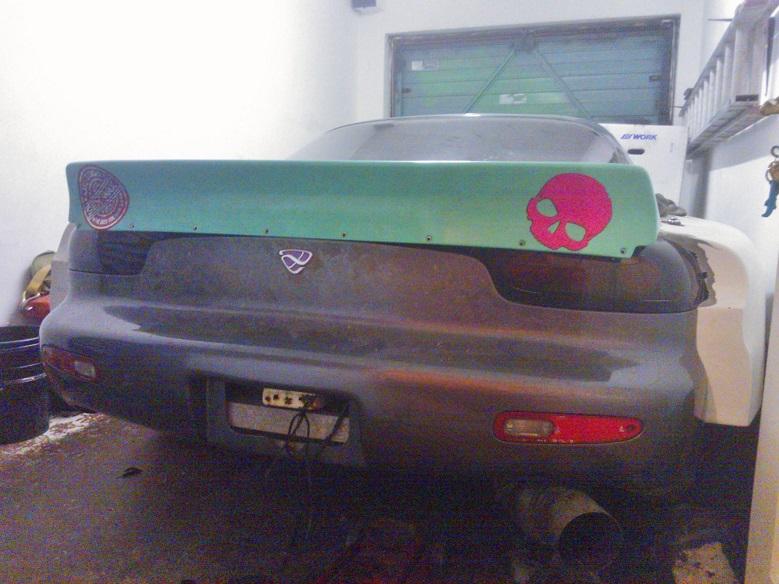 5-7-2015
Hey fella, the firment was a challenge but yes all custom mounts, then the exhaust crossover and spaced the steering rack to compensate. There are no shops making up custom manifolds here in Ireland so it was a case of chop to fit, I actually want the hole in the bonnet but I will reduce the size so its a neat fit

Not much of an update I'm afraid, flat out with both jobs atm however I did manage to get myself a Nardi Personal in black with red stitching and a some Brides

A reclinable Bride Brix 2 for the queen and Bride Zeta 3 (Sparkle Back) for me, I hope to start the bodywork on this next week as I have to have the car done for the first weekend in July so no pressure at all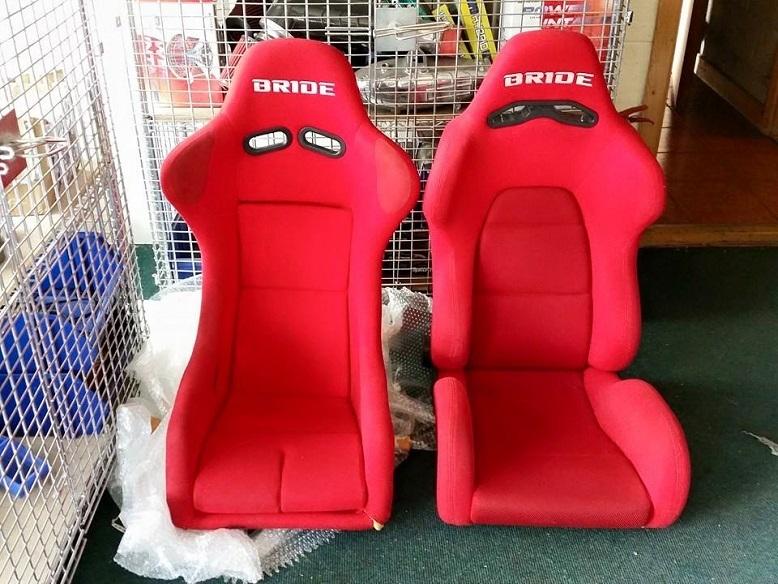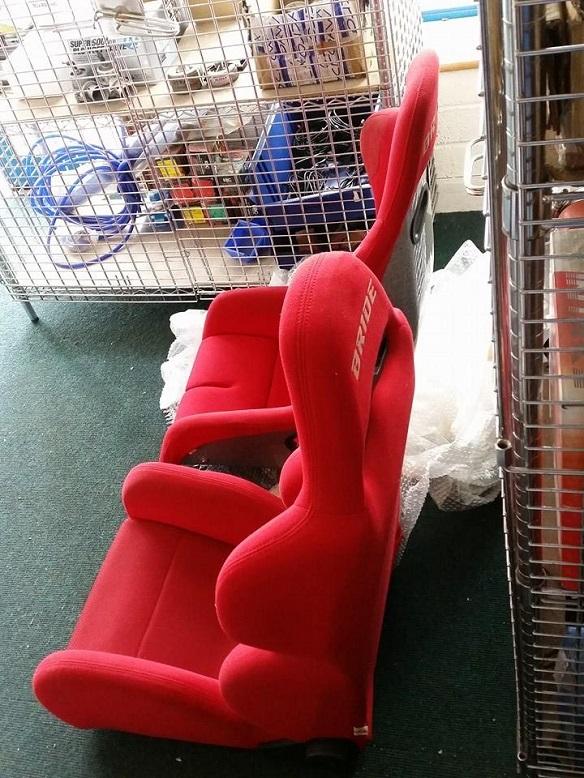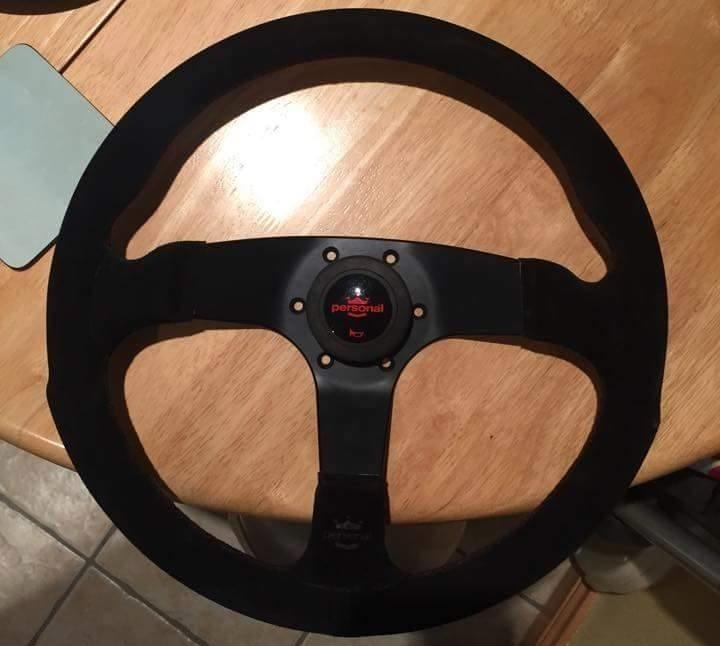 5-14-2015
Welcome

So I got the bits to prep the quarters and bond them on so it was time to pull the car out of the garage and strip her down to build it back up, gonna be a fun few weeks but at least I will be making progress I suppose.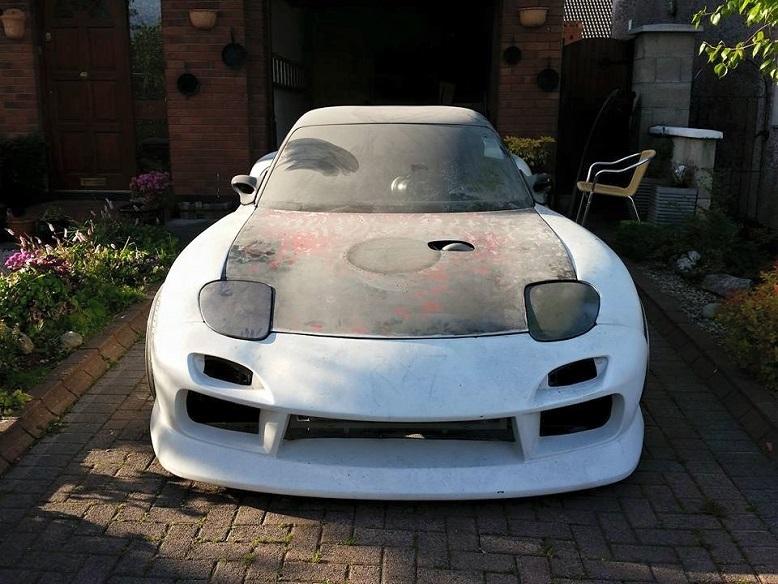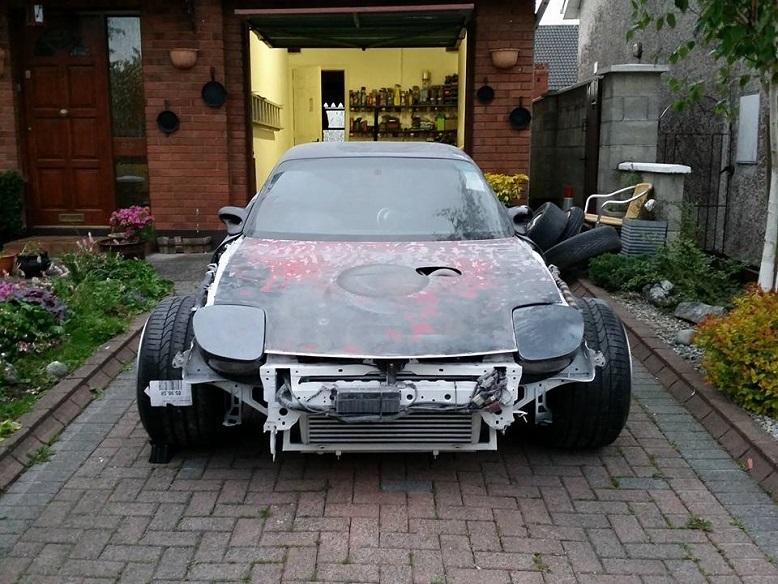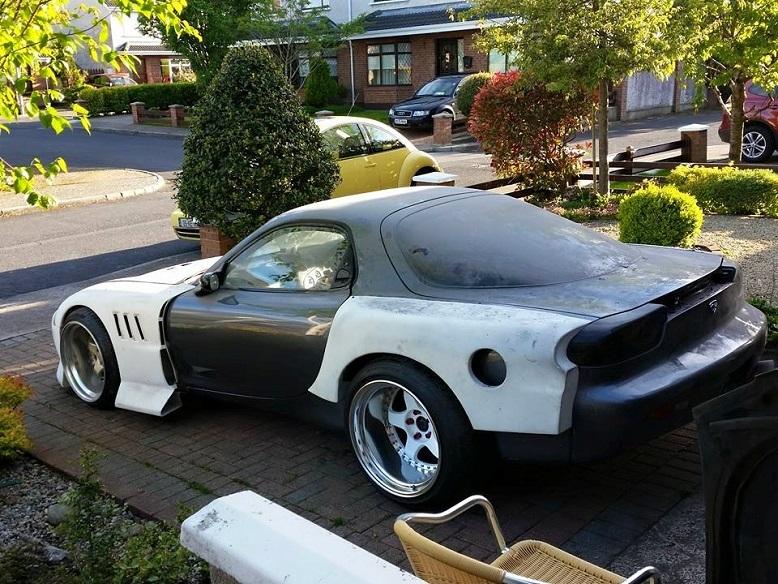 335/30 R18 versus 205/50 R16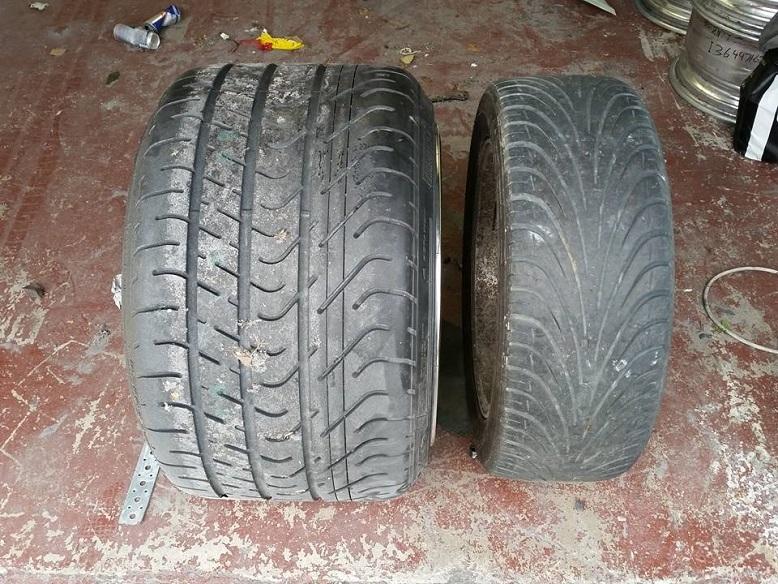 Romeo giving his seal of approval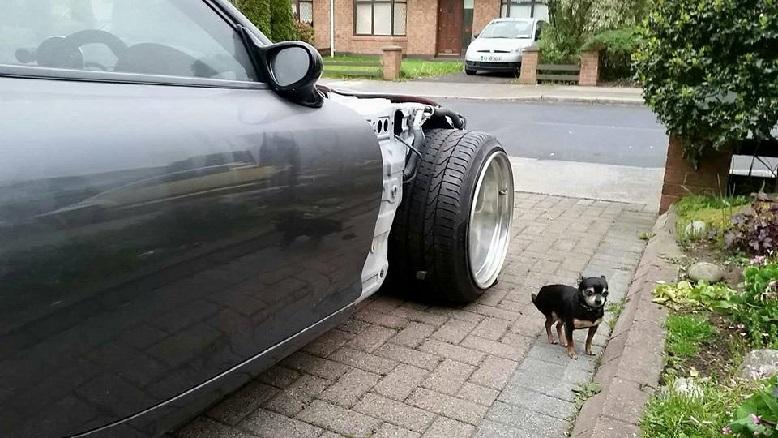 Looks a lot less cooler now LoL
6-26-2015
I am happy to announce that Team Chihuahua will be rocking a full Rocket Bunny tra_kyoto kit, diffuser and led set for its revised look, so not only will it have an RB Engine but an RB kit not too, the monster Meisters in 18x13jj front and 18x15jj rear with some nice red brides holding me tight

Big thanks to Dave fromJDMDistro let the countdown begin

I'm looking forward to cutting it up and making it wider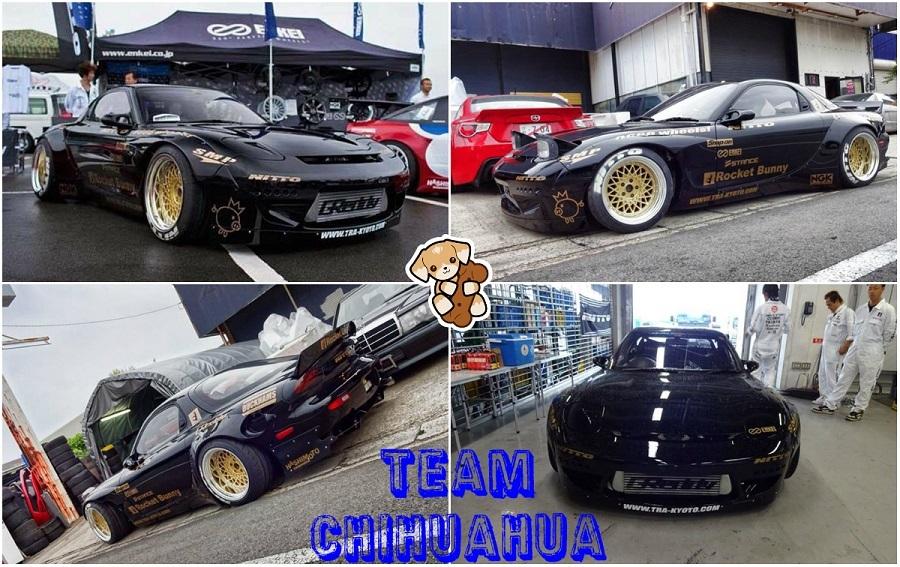 11-13-2015
Haven't updated this in a while, container landed yesterday with the Rocket Bunny Kit, just have to sort some time to collect it, the Bride Seat rails also landed in, have a few small bits left to order but we are getting there so for now here is a pic of the car being dropped off to Stone Motorsport where we will test fit the kit before it goes for paint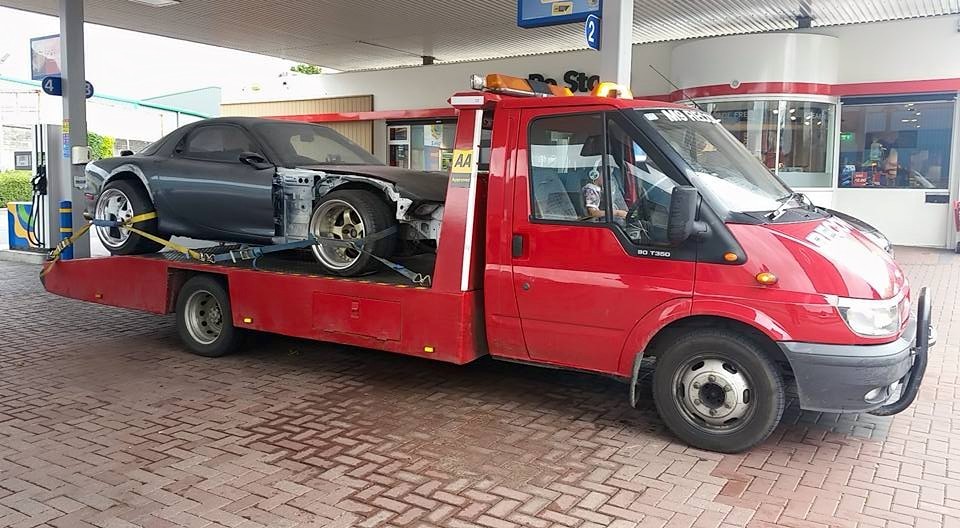 11-16-2015
And its landed, happy days, big thank you to JDM Distro who took care of everything for me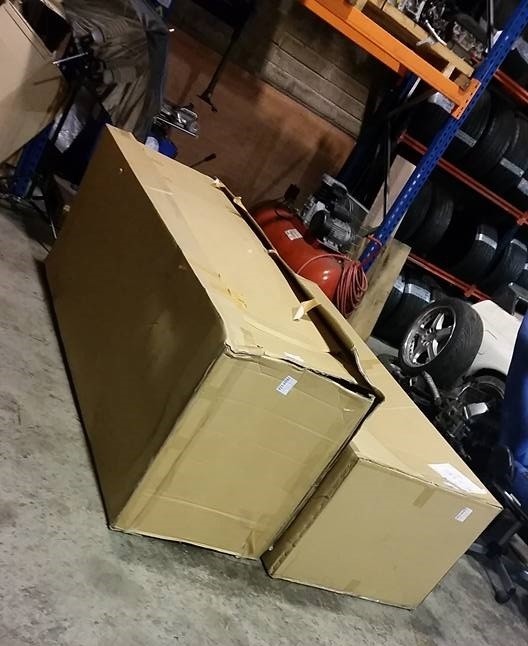 12-4-2015
I have to say the kit was worth every cent, quality and fit is factory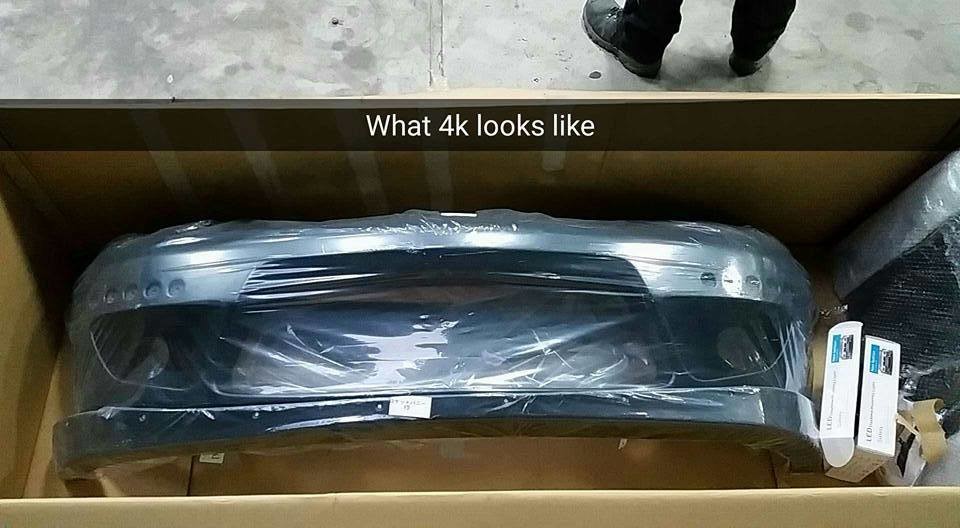 Got the optional LED kit and LED recessed front bumper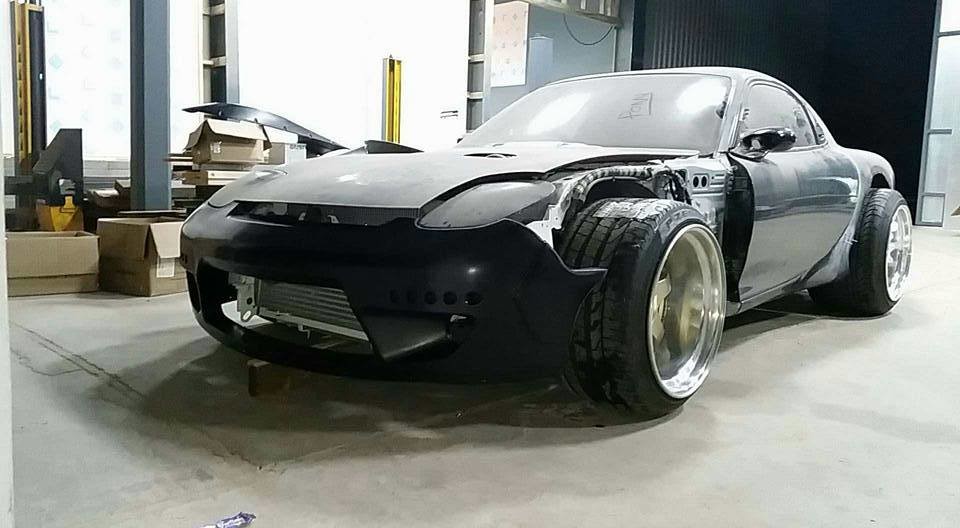 The spoiler everyone wants for their RX7, again fit is just perfect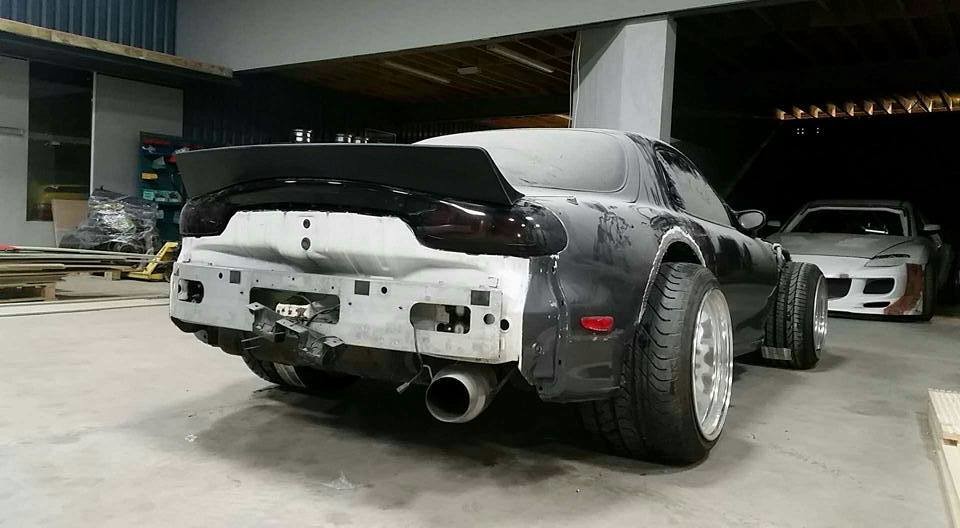 Got dish ?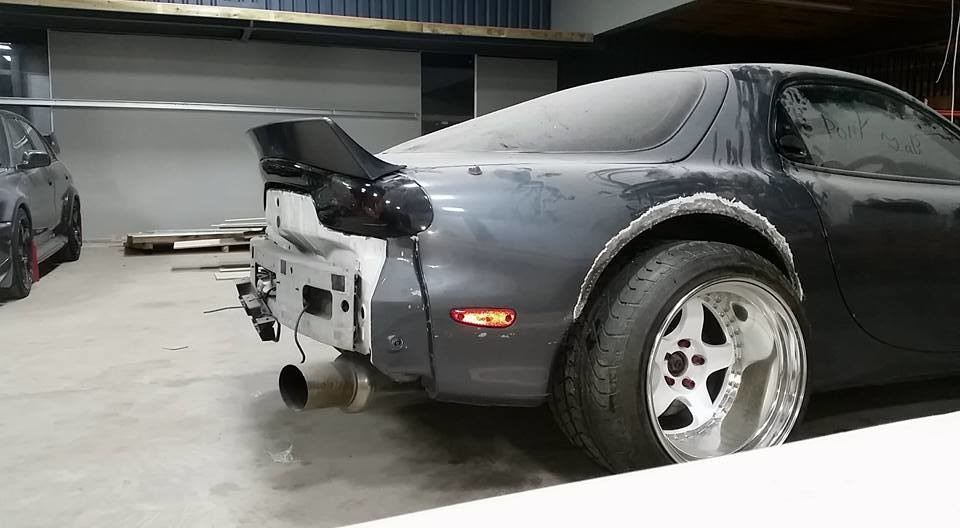 The offset wasn't negative enough so we swapped the centres from front to rear and she sits much better now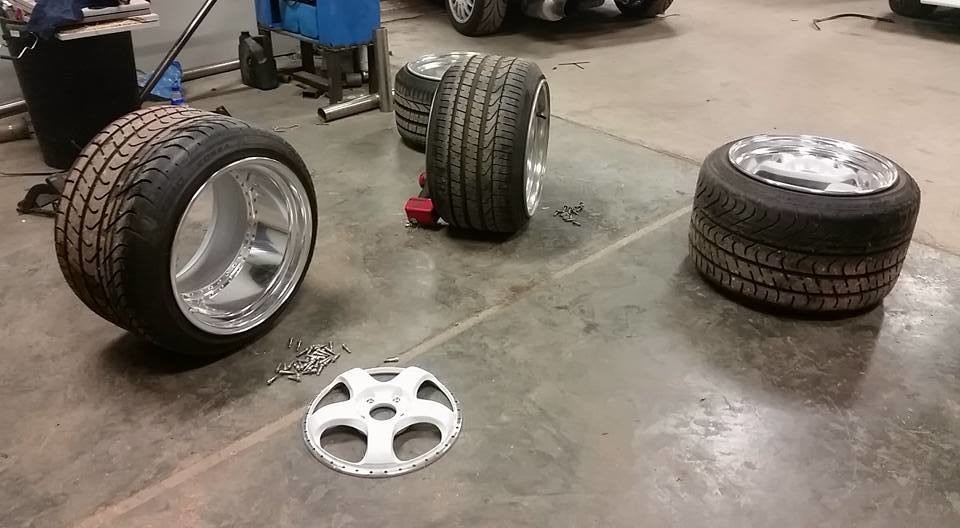 Car only arrived 2hrs ago and Mark is already stuck in, cant wait to see the outcome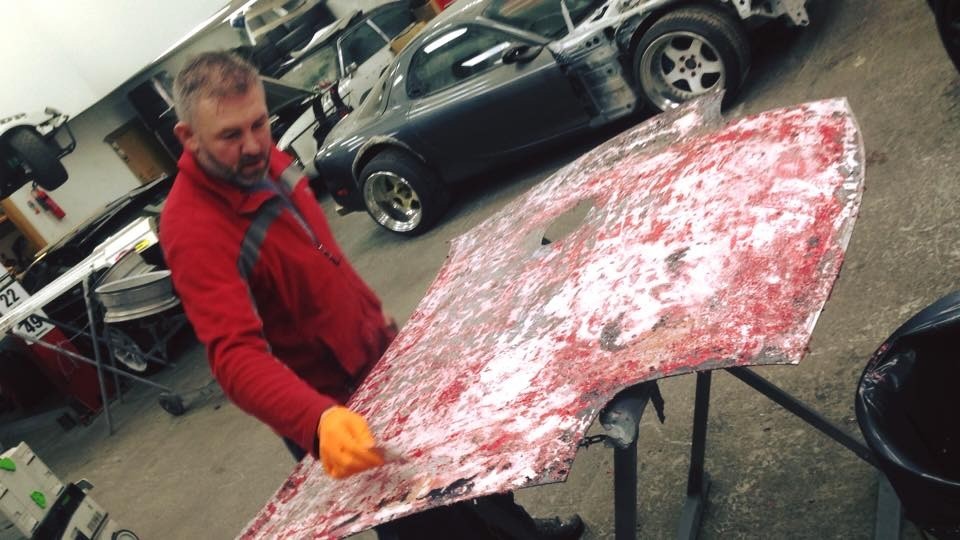 12-12-2015
Within no time, Mark had the bonnet stripped and started levelling it out :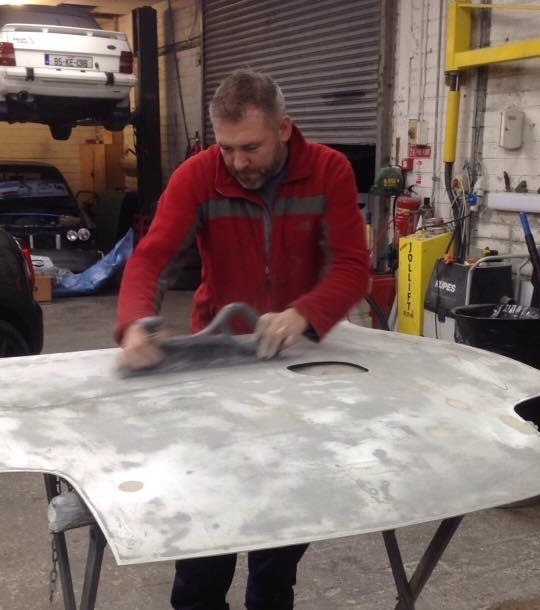 In the mean time I went off and sourced to standard wings and dug out the rear bumper :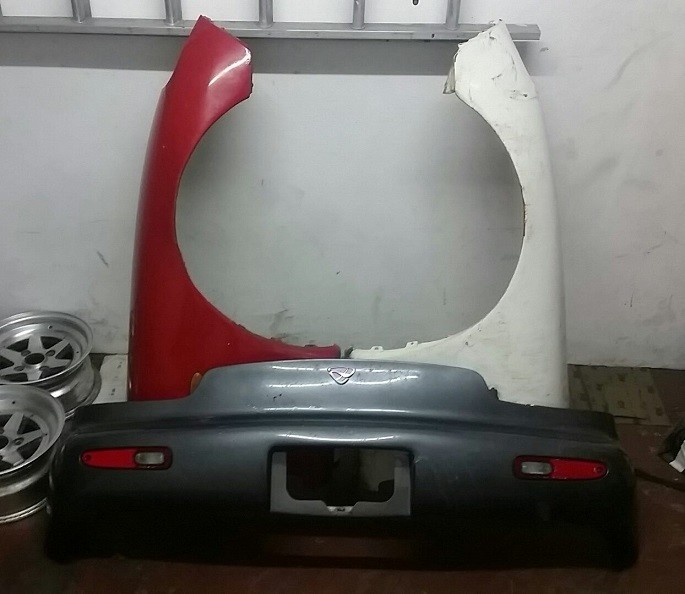 Dropped them off and it was nice to see Mark Snr.'s RB26 SB15 and Mark Jnr.'s BMW drift car :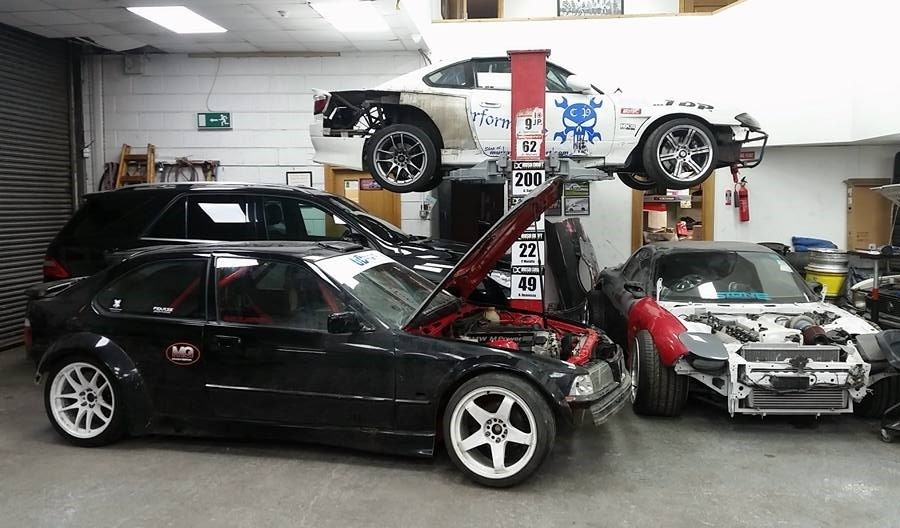 Doesnt look too bad at the thread pattern for the over fenders but when you look at the wheel itself you can how wide it really is :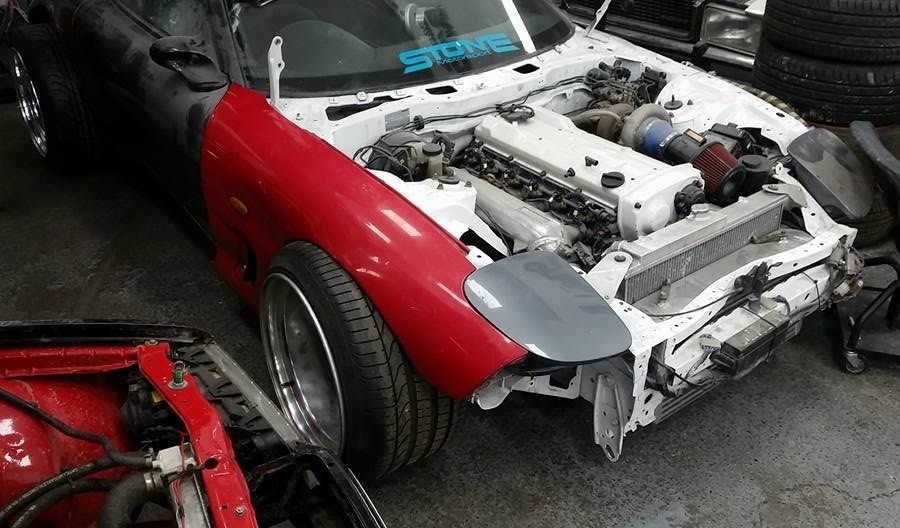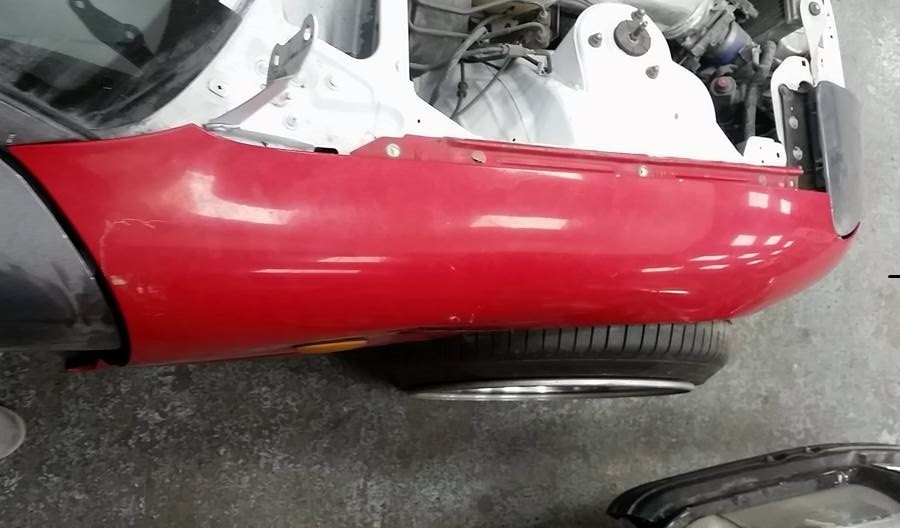 1-7-2016
Finally sorted a petrol cap and it had to come from the UK ffs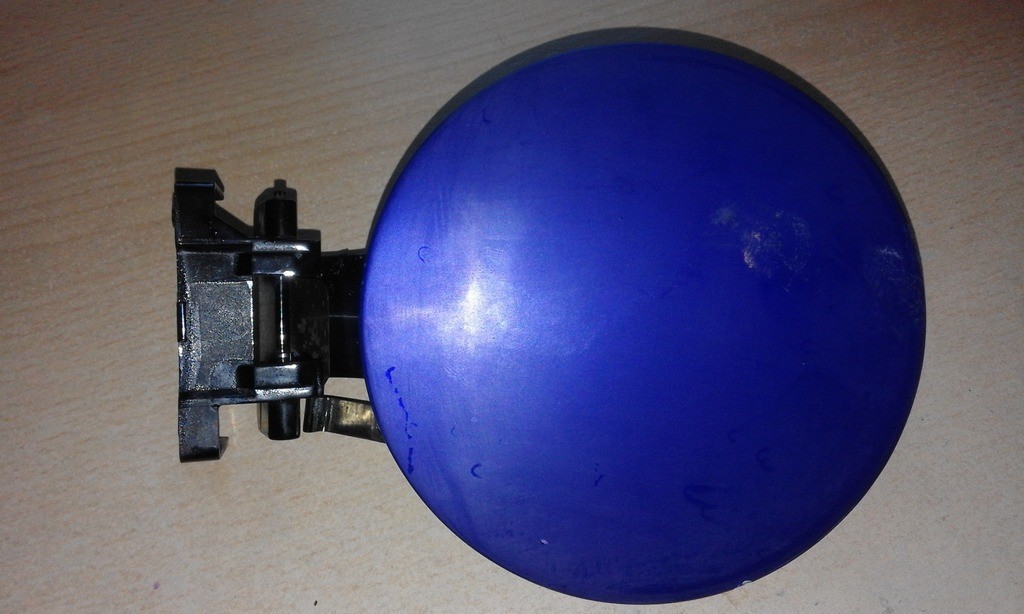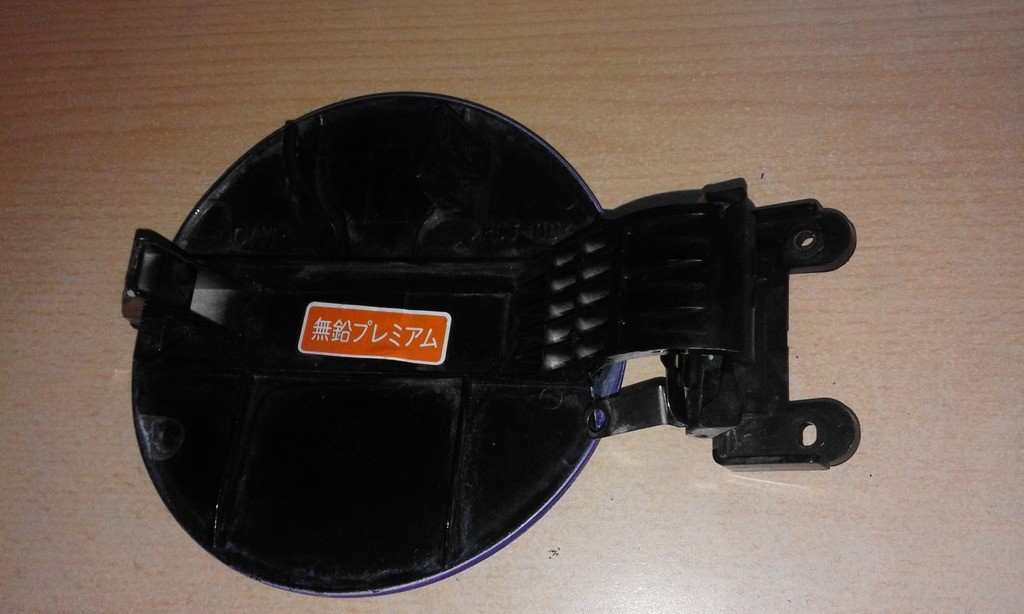 MG Crash Repairs have started on the kit, sanding it down and getting ready for primer, quality of the kit is the best I have ever seen or owned.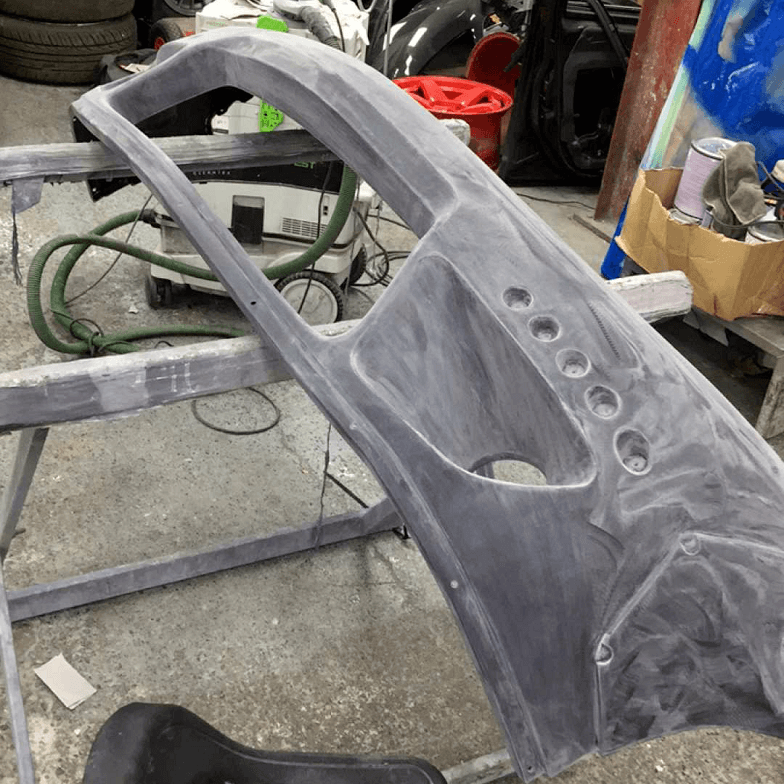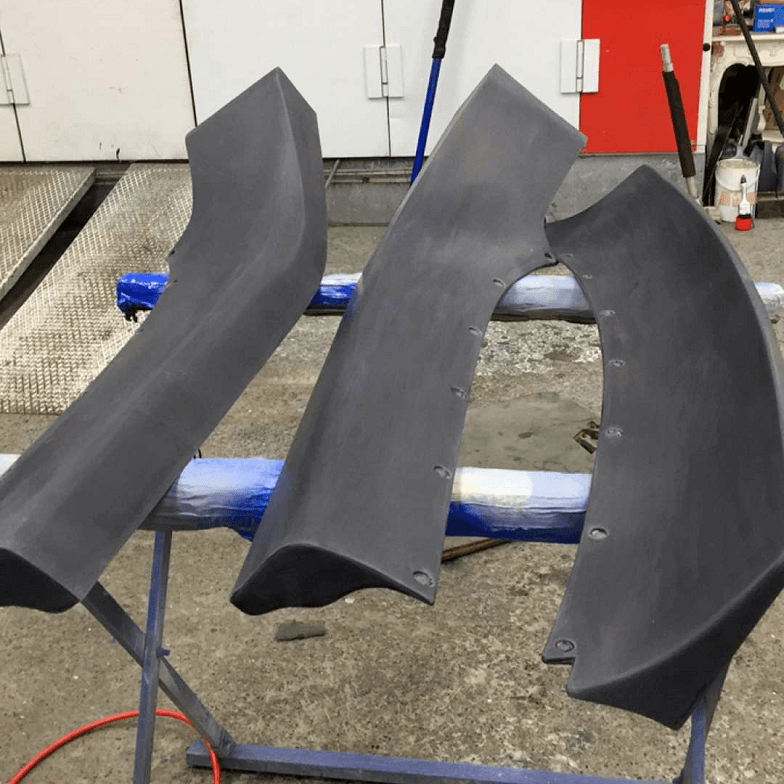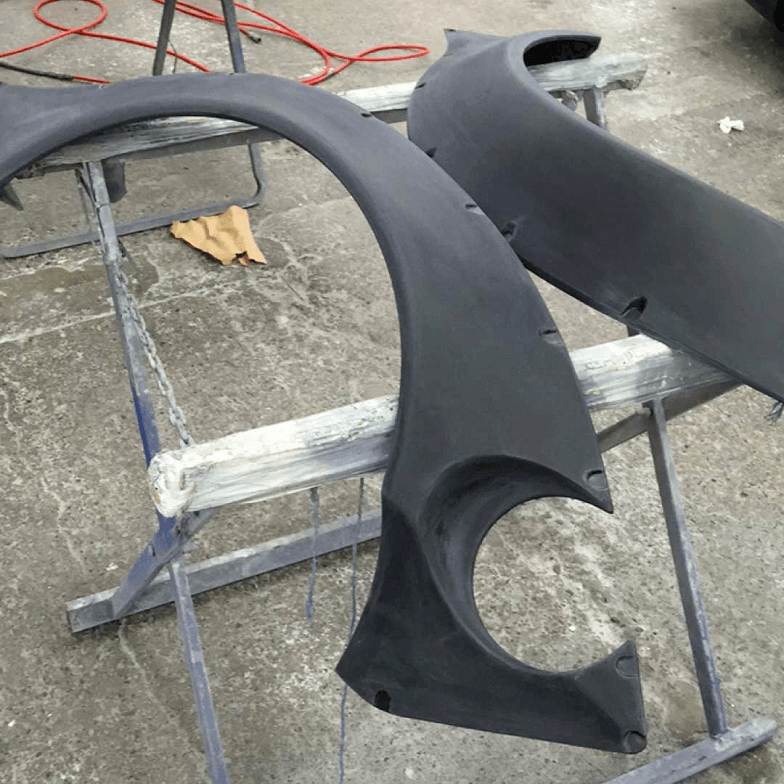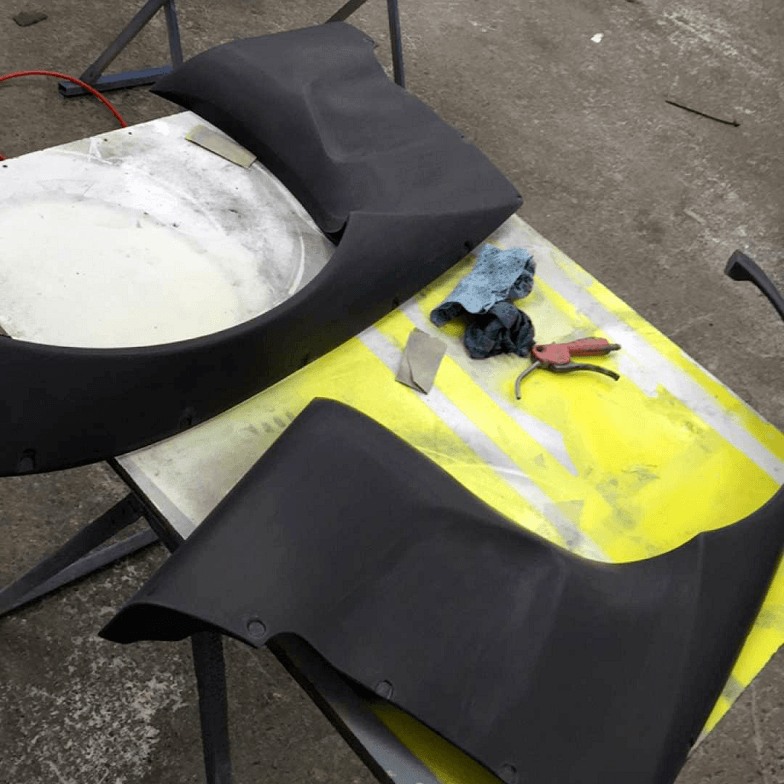 All prepped and ready for primer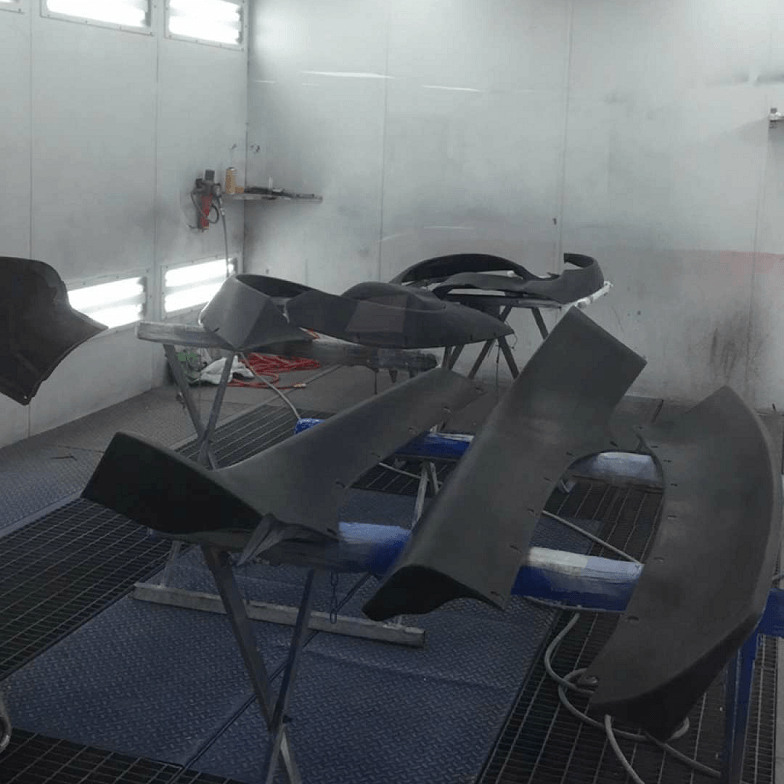 Mark doing his thing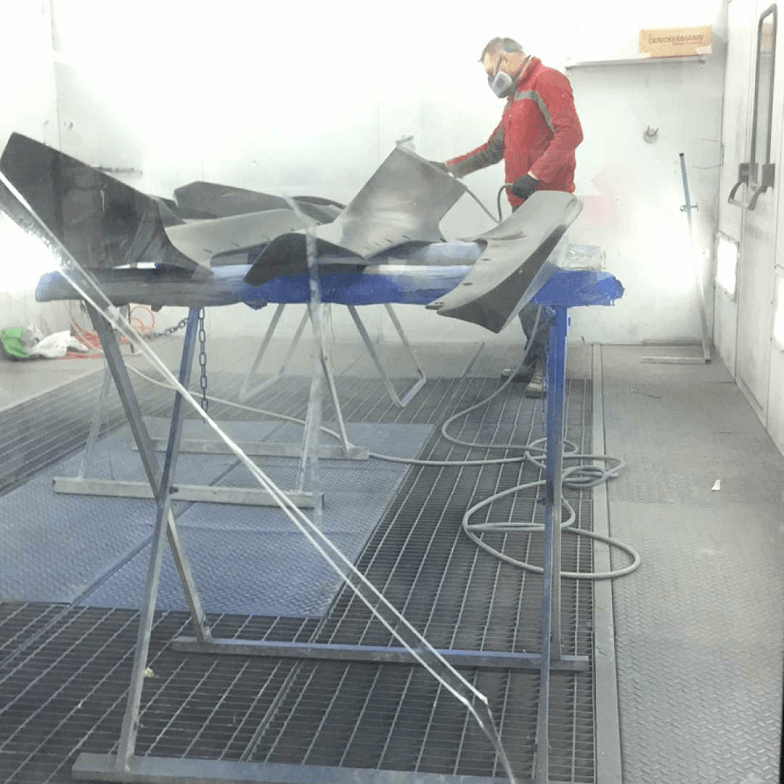 The result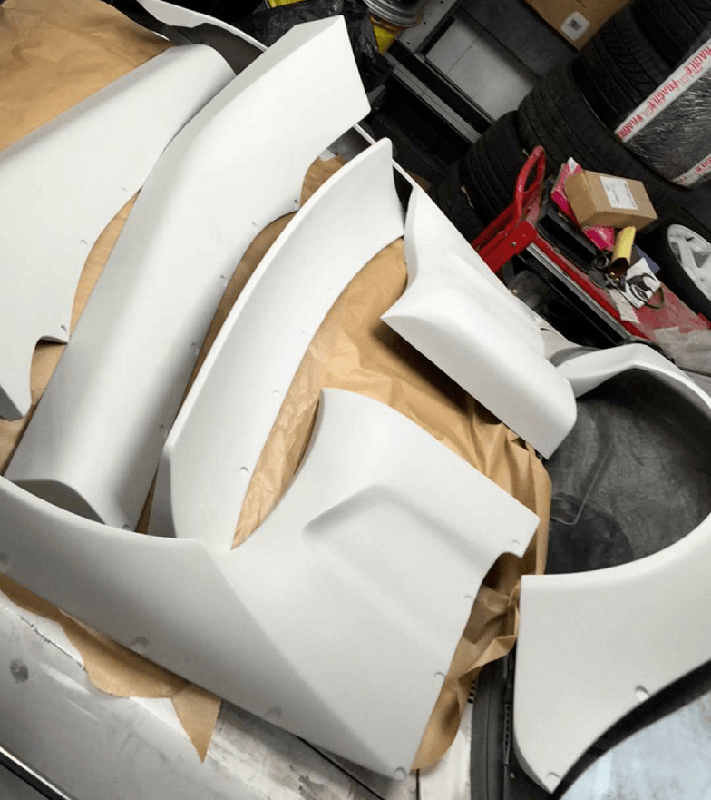 And then straight into the body, very happy with the progress and will make sure to keep yee posted, expect to have the car finished this month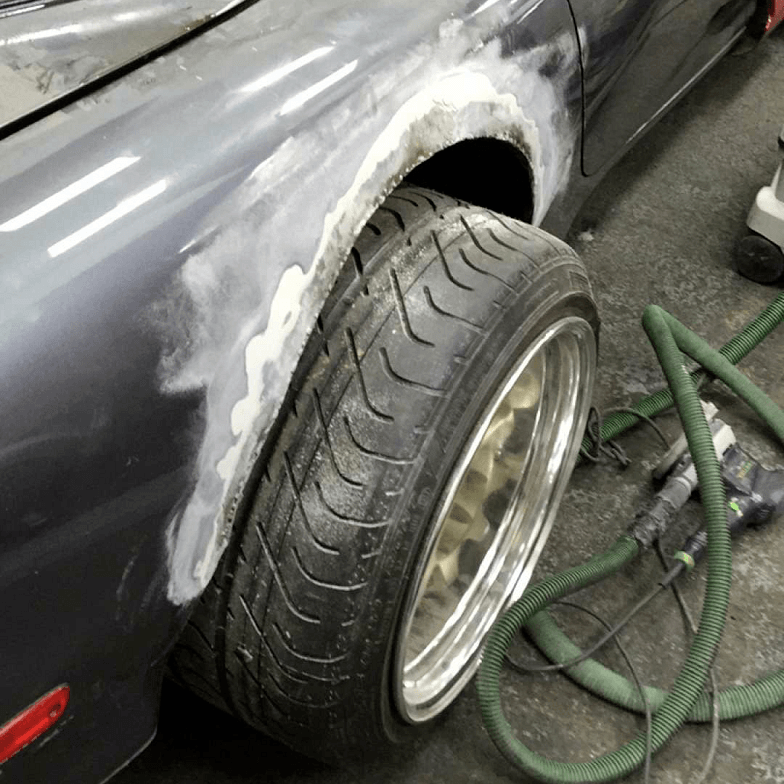 1-8-2016
Thank you Johnny, appreciate the reply

Picked up a sleek headlight kit today and the rear bins vertical section for the interior, this car is almost fully done parts wise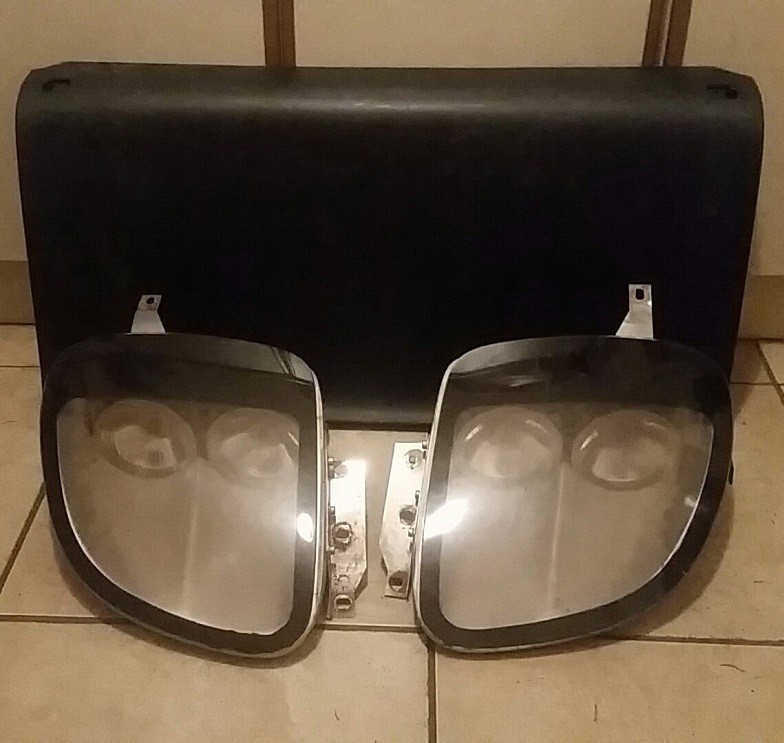 2-28-2016
Dropped into MG Crash Repairs yesterday to check up on the car and Mark is making good progress, thankfully he is as fussy as me so that should make a great build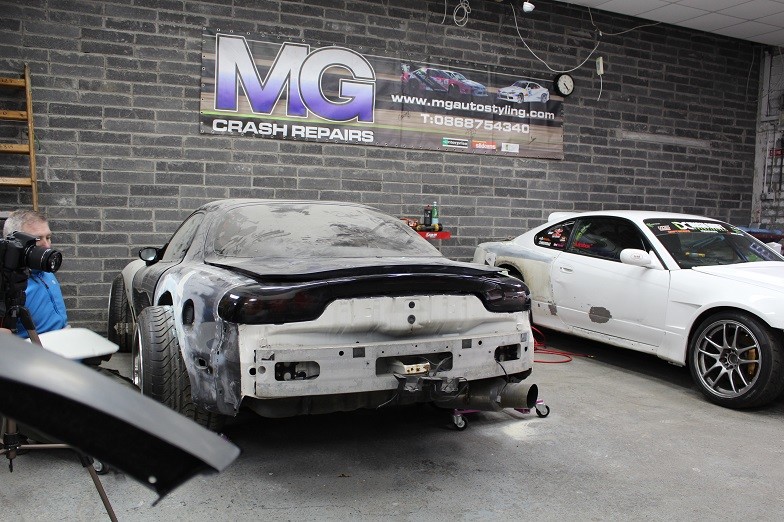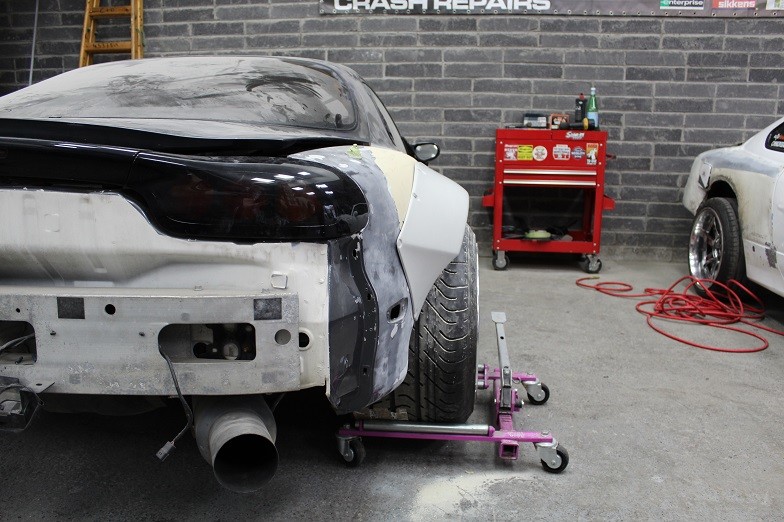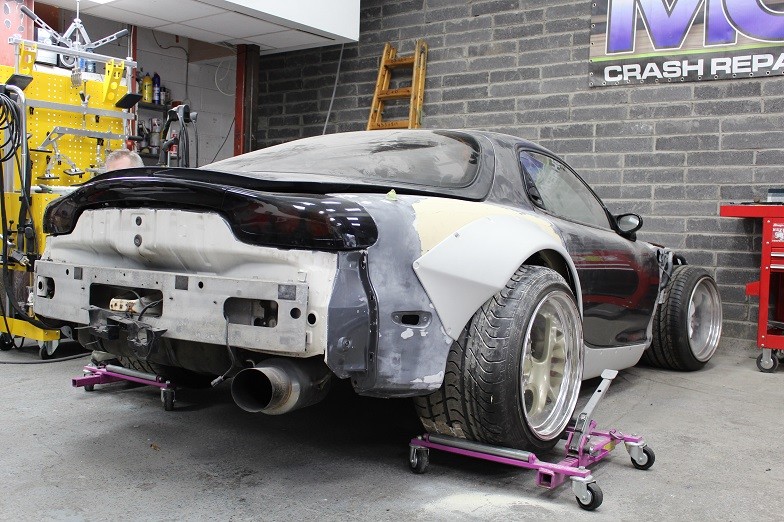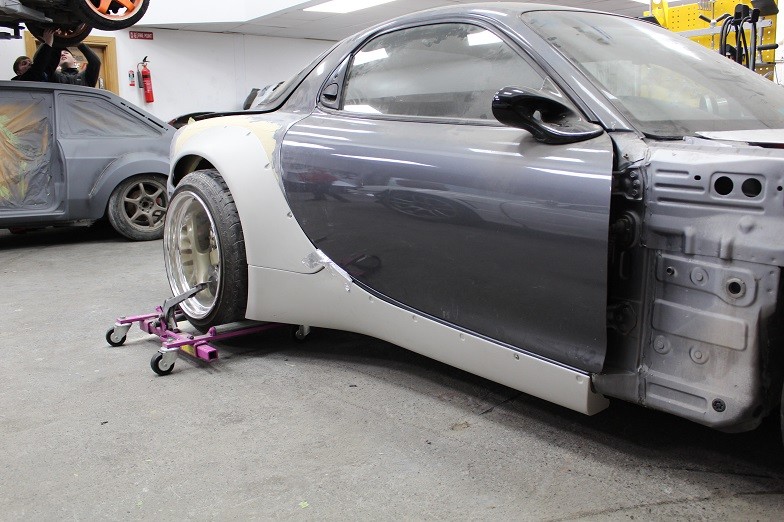 This is without a doubt my favourite pic, showing my son Reese how the car was being put together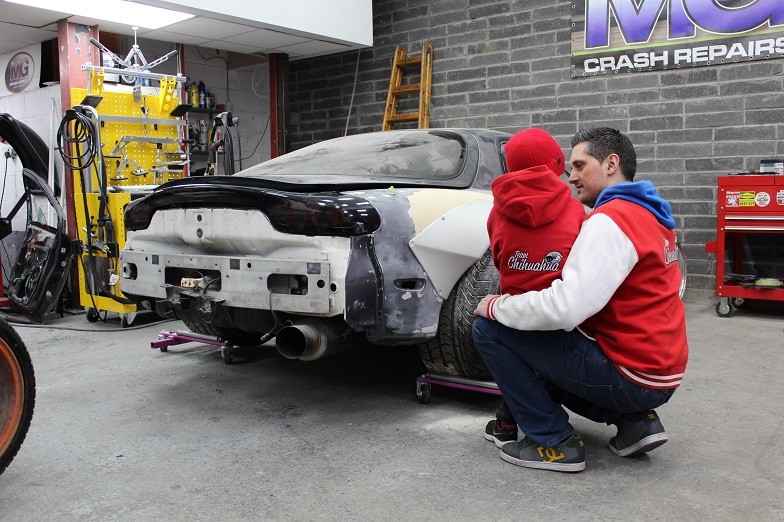 3-24-2016
So I will try to keep regular updates coming as the car is coming along now, Mark has prep'd the standard quarters so if someone sneaks a look under the arch its still clean and tidy looking. The standard front wing have been fitted to be cut, the passenger one has a little damage so that is being repaired also but so far so good and the car is starting to take shape

More updates to come, after paint the wheels need to be refurbished, brides fitted, engine mapped and then the test spin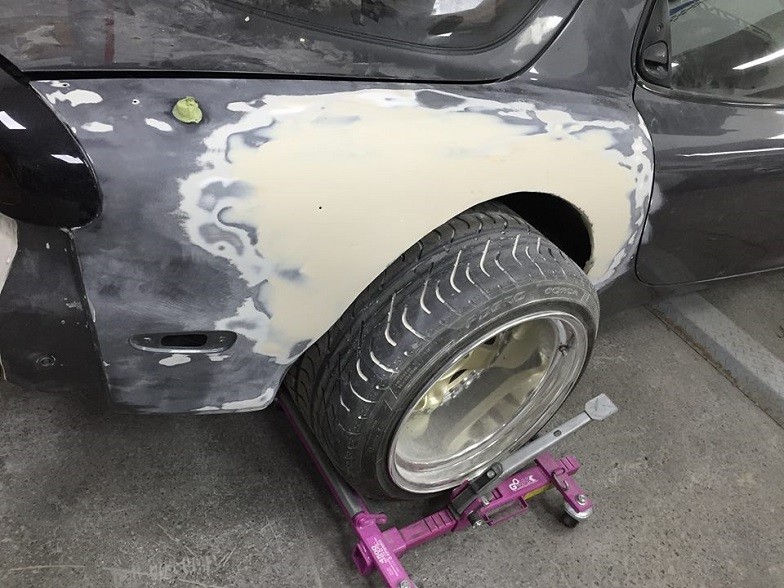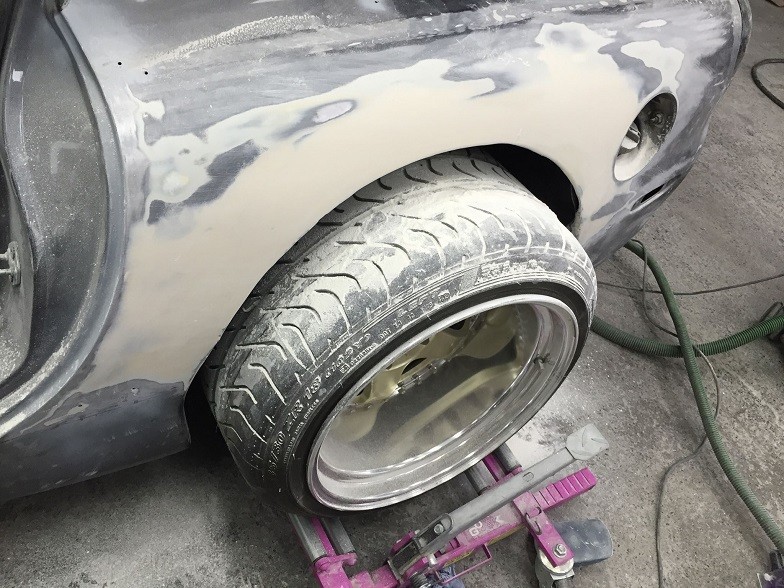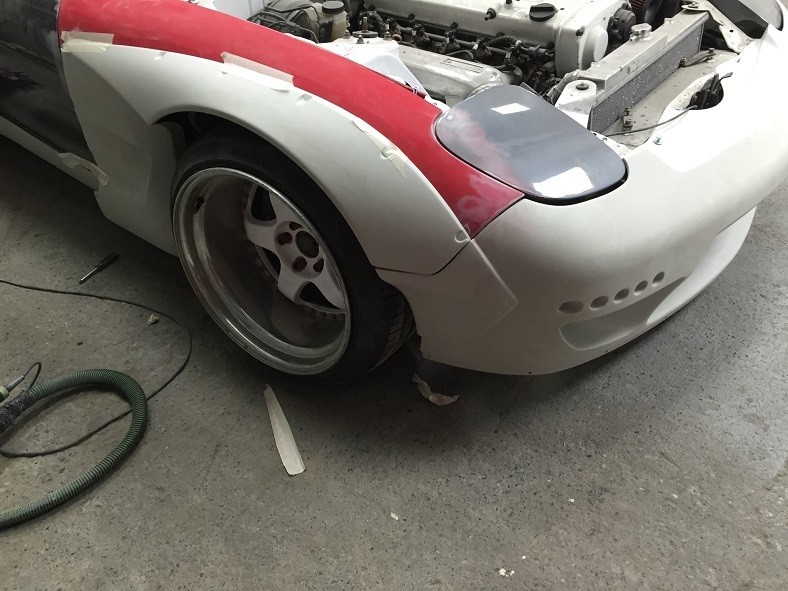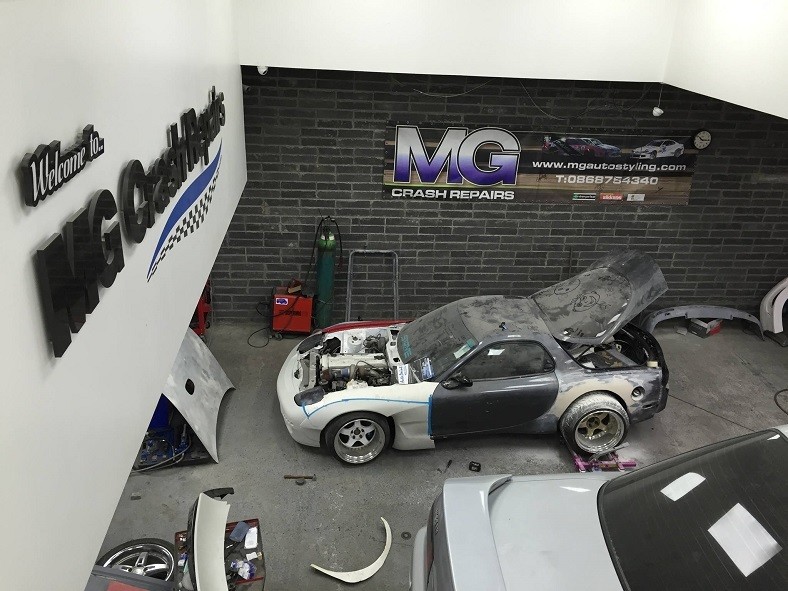 4-18-2016
So Mark has been hard at it, I had to get rough second hand wings as they were the only ones available, he has been repairing the sections that are being kept and working on the shut lines to the best possible outcome given the choice of paint we are going with.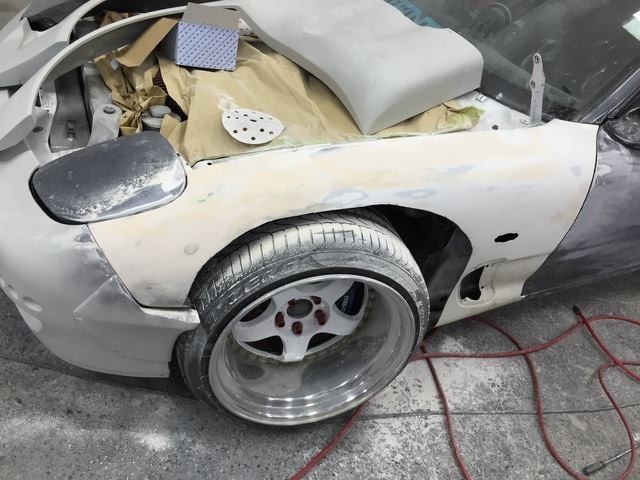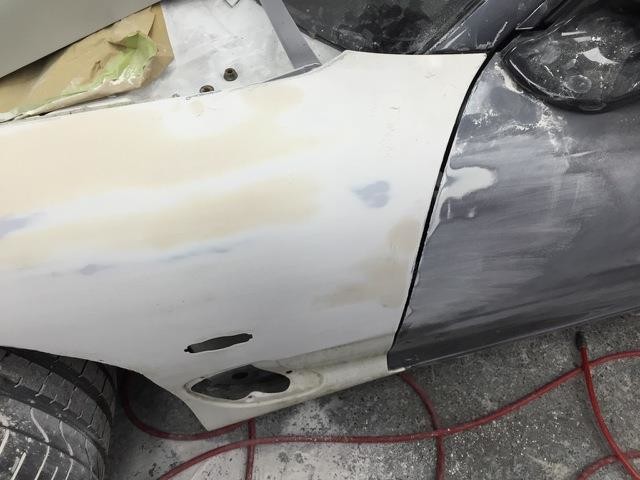 He has also gone OCD on the quarters both on the outside and on the inside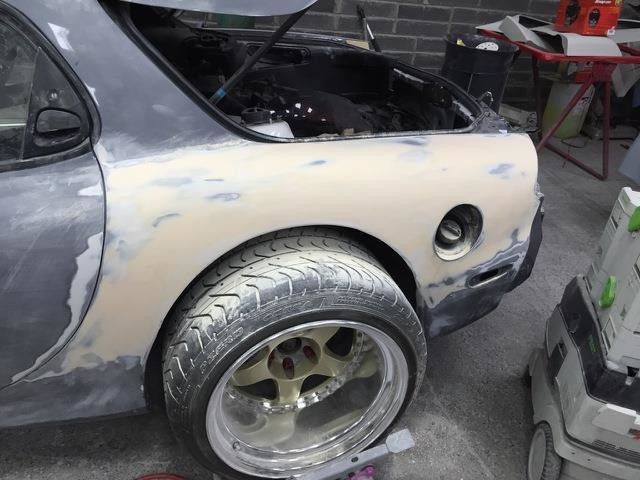 We also remove the factory aerial and thats all welded up now too so we are in good shape for primer.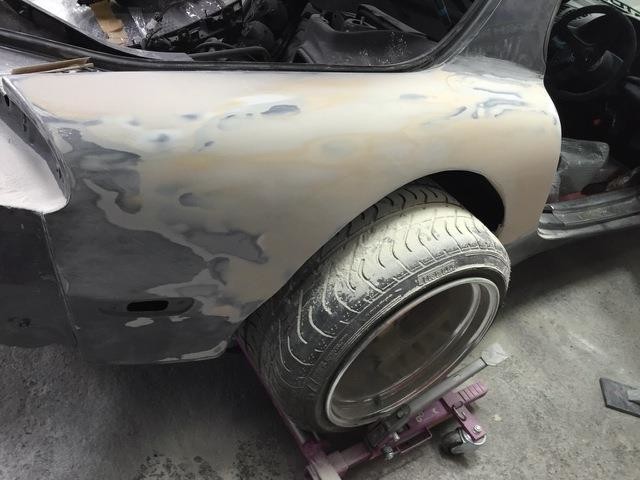 With IDC Round 1 coming up this weekend there wont be any work done on the car this week so you can expect mroe updates next week and maybe even see the car all one colour ha, ha, ha.