Peugeot 505 Turbo Project
By diyauto
You must be logged in to rate content!
Peugeot 505 Turbo Project
Compliments of d00zer @ http://www.505turbo.com
5-1-2007
Hello 505 fans!

Have been visiting this forum for a time now, but never register. The summer is coming and its time for spend more time with our 505 project.
So I decide to register and write some lines about our cars and our projects.
When I write our i mean me and my father.

My father purchased his first 505 for like 17 years ago (!). For like 3 years ago we got a phone call from a 505 owner, and told us that he had two
505 for sale. One of this two cars had been modified, the old owner told us it had a engine at 250 - 300HP. No questions about it, we bought
the two 505. That was the kickoff for our projects. For 2 years ago we purchased another 505, this 505 had less rust and is in good condition.
For the moment we got 4 505s, and our backyard looks like a car park ;-)

I have put up a gallery with all our cars. My plan is to update the gallery when we make progress with our project.
505 Gallery


Project 1
Year: 1987
Engine: N9TE

First step is removing rust and repairing chassie. Many parts have been sand blasted and painted.
The first step is work in progress at the moment.
After the first step we gonna start with the engine. Plans for the engine; bigger turbo, intercooler, new injectors, bigger exhaust pipe,
"bigger" fuel pump (for more pressure) , etc.

And for the exterior; we are planing to put on 17 rims and maybe new paint.
Project 2
Year: 1986
Engine: N9TE

This car we purchased for like 17 years ago. Last year we did a engine swap.
The new engine have some minor modifications; more boost, ported intake manifold and
cylinder head. We are planing to putting in bigger injectors and add more fuel pressure.
Project 3
Year: 1987
Engine: N9TE

First the hard work with removing rust and repairing chassi, no further plans at the moment.
This project gonna be active when project 1 is finnished.
Junk
Year: 1986
Engine: NT9E

Spare part car. When the car had been completely stripped we gonna take it to the junkyard.
The car is now scrapped.
5-2-2007
Thanks!

The old owner told us that it was modified and had about 250-300hp, what the have done was;
* Modified ECU
* Other camshaft
* Other cylinder head
* More boost.

I gona look up what the camshaft and the cylinder head is, there was no documentation with the car when we purchase it.
Only that I know about the cylinder head is that we have to use small sparkplugs (sparkplugs thats fited to motorcycles). If that can help to give a hint what the cylinder head is.

Picture of cylinder head
9-22-2007
Time for some update!

The Junk car have been stripped down and we send away the chassi to the junkyard. So now we "only"
got three 505s. My father have bought a new car, a Renault Laguna. So now we got another 505 project car to build on.

Check out the cars here at our gallery

But for now we building on the Project 1 car. This summer we haven't done so much work. We are planing to get it on wheels before the snow comes, and start working with the engine during the winter.

Today we borrowed one 18'' rim with tier (from my friends Nissan 200sx). We are building adapter so we can
fit rims with 4x114.3 bolt pattern.
The ET on the Nissan rim was to much, but it was just a test. And i think the 505 looks good with black and silver rims.

On Monday we gonna purchase 16'' rims to the project car so we can start to fit the adapters.

What else have we done with the project car? Mounted the back wagon, suspension on the front (all part have been sand blasted and painted). And I have cleaned the interior, the past owner had a dog and i think the dog have left all his hair inside the car... But after some hours of vacuum-cleaning I manage to get it away


Look at the project 1 gallery for pictures what we have done.

Thats all for now
Thanks!
Soon as I get the new rims i will upload some pictures and write down the specifications.
The borrowed rims is from my friends Nissan 200sx. We borrowed them just to test the temporary adapter
and how black/silver rims will look on the 505.
http://www.xcarclub.se/forum/garage.php?mode=view_gallery_item&type=garage_gallery&image_id=80'>Picture of my friends Nissan 200sx
10-13-2007
Drilling new bolt pattern - PART I
Today I and my father was to my fathers work (he works as mechanic). At his work they got the right tools to do the drilling of new bolt pattern for the project car.
One of my fathers colleague have custom made a center spacer and a spacer, the spacer is milled from a Hyundai hub (4x114.3). We used the center spacer and the spacer as a template when drilling.
The drilling went well. Have some minor problems when squeezing on the bolts, but manage to get i right.
Today we manage to drill all four hubs and finished one hub (drilling, spacer and bolts). We test fitted the finished hub on the new rims and it fitted very well and we are pleased with the result!
Tomorrow we going back and try to complete the 3 remaining hubs.
And some bad news. The server where I have all the pictures in a gallery have died. Due a hard drive crash.
I will try to talk with my friend that own the server to fix the problem so i can put up the gallery again.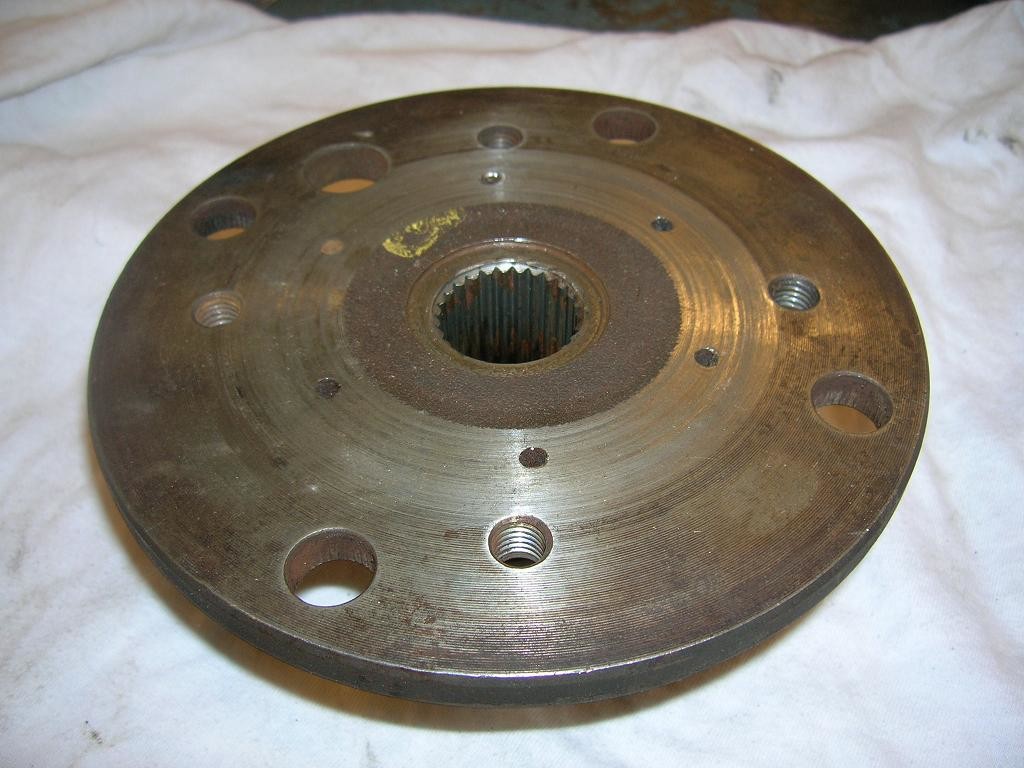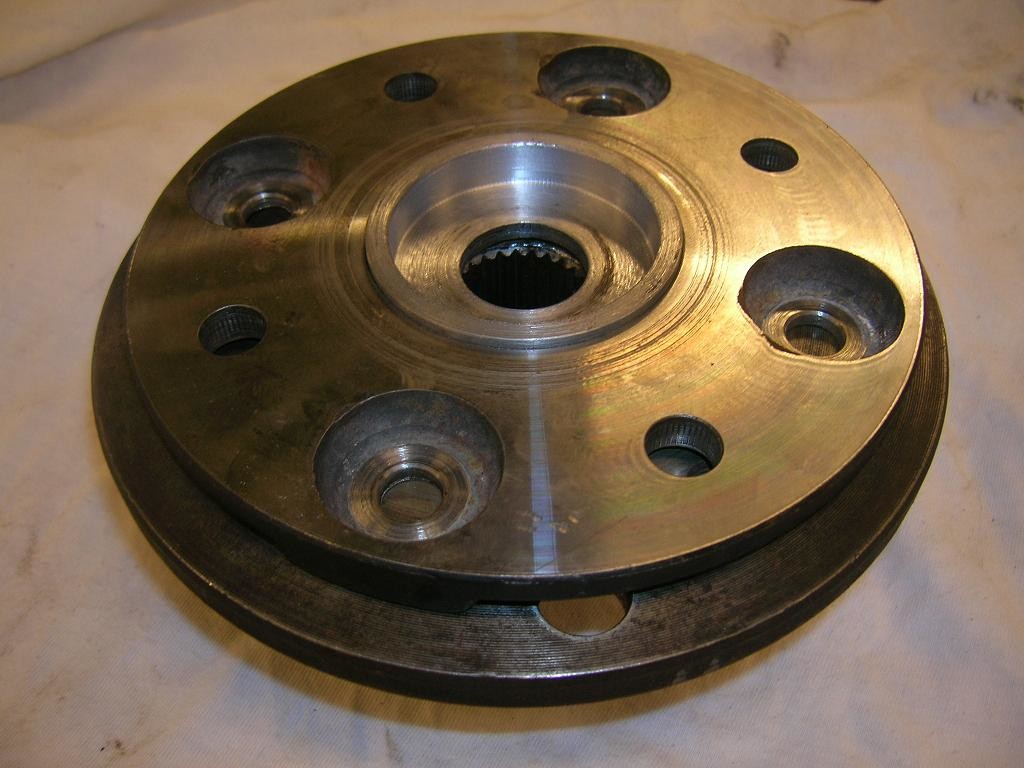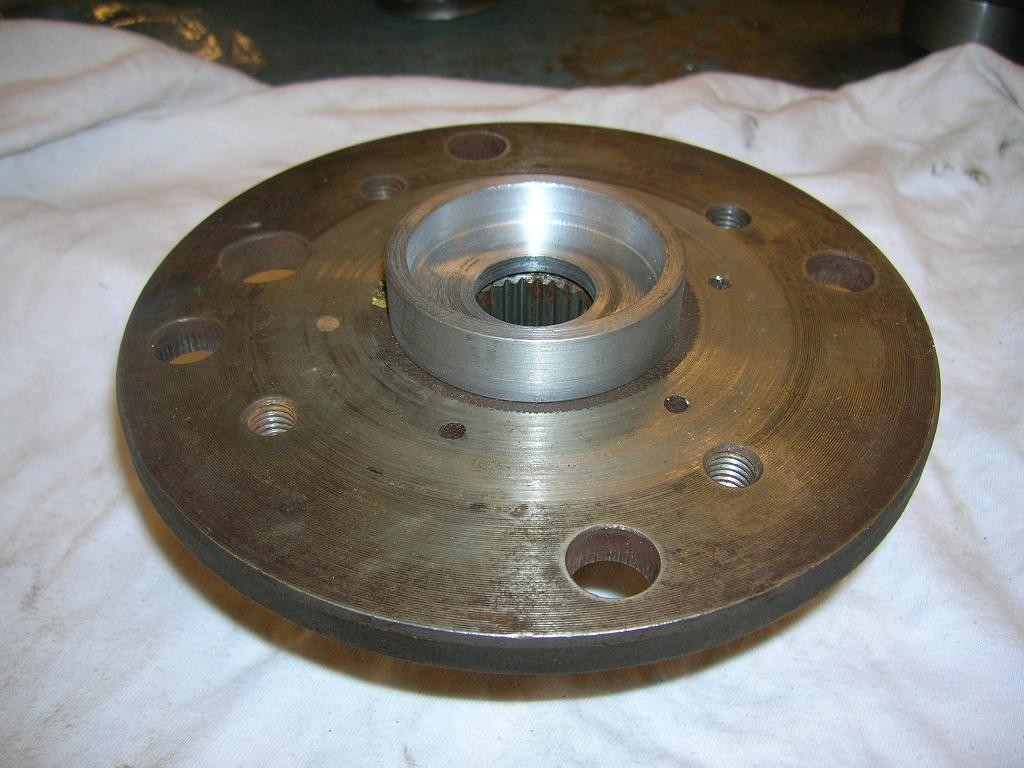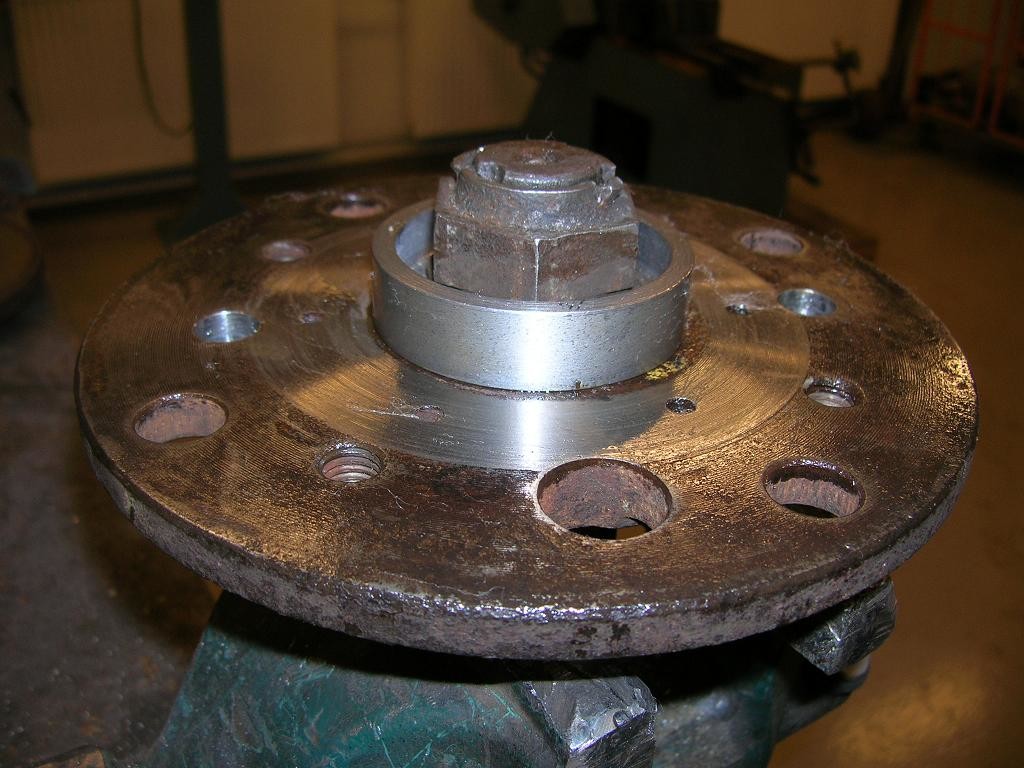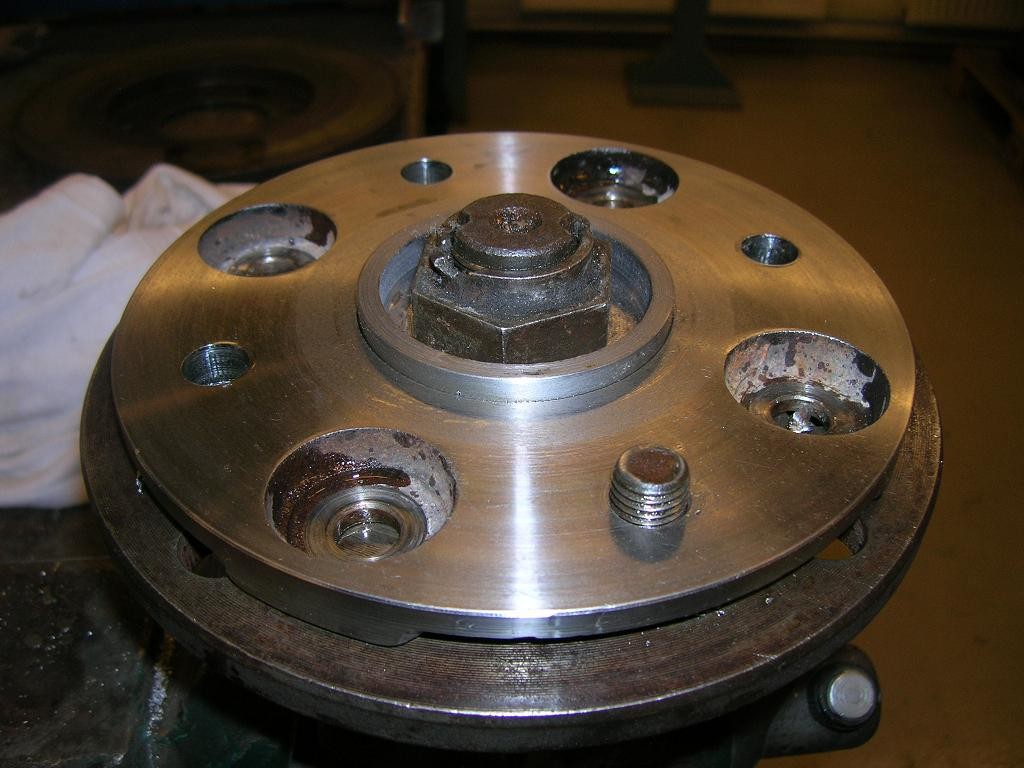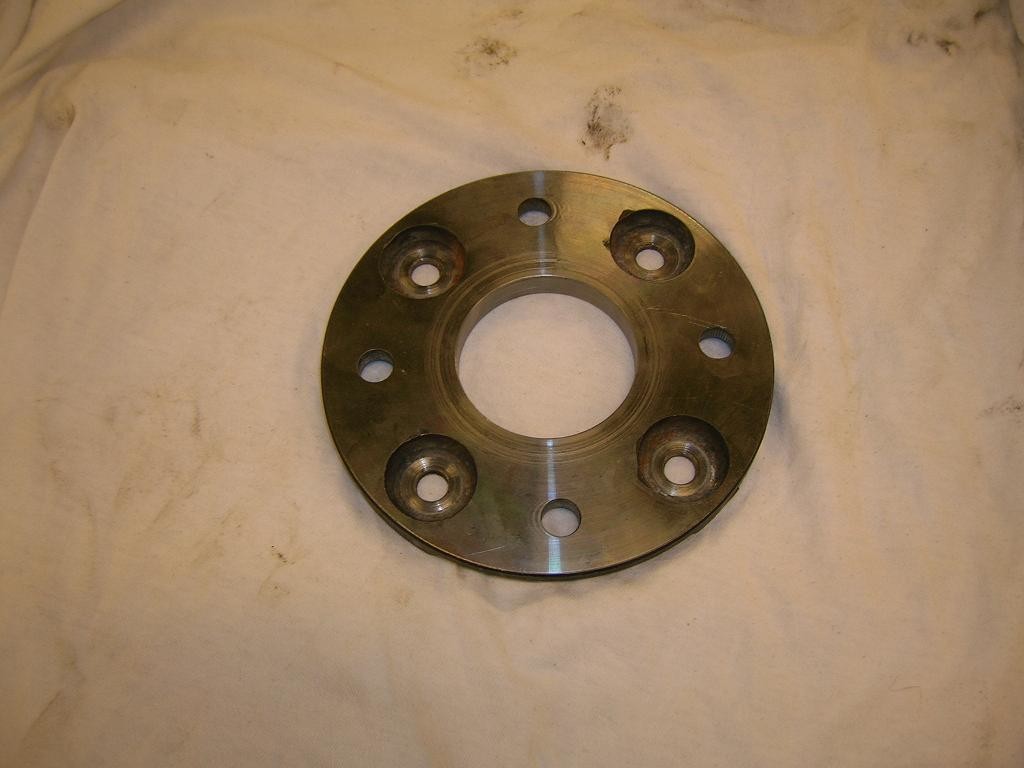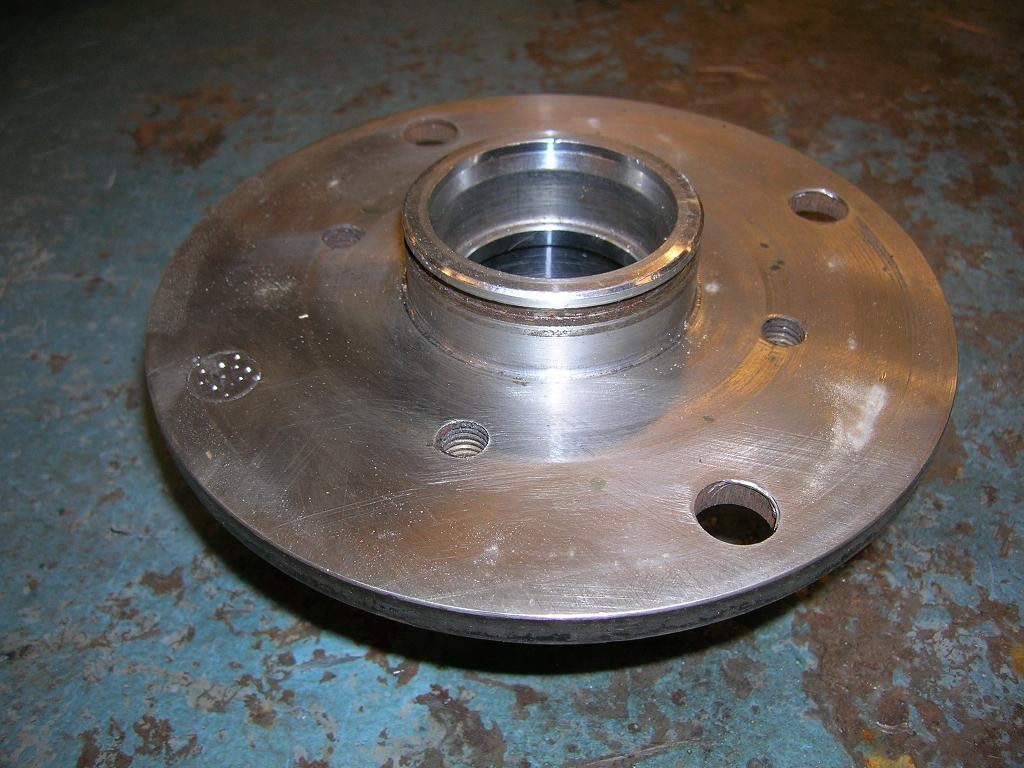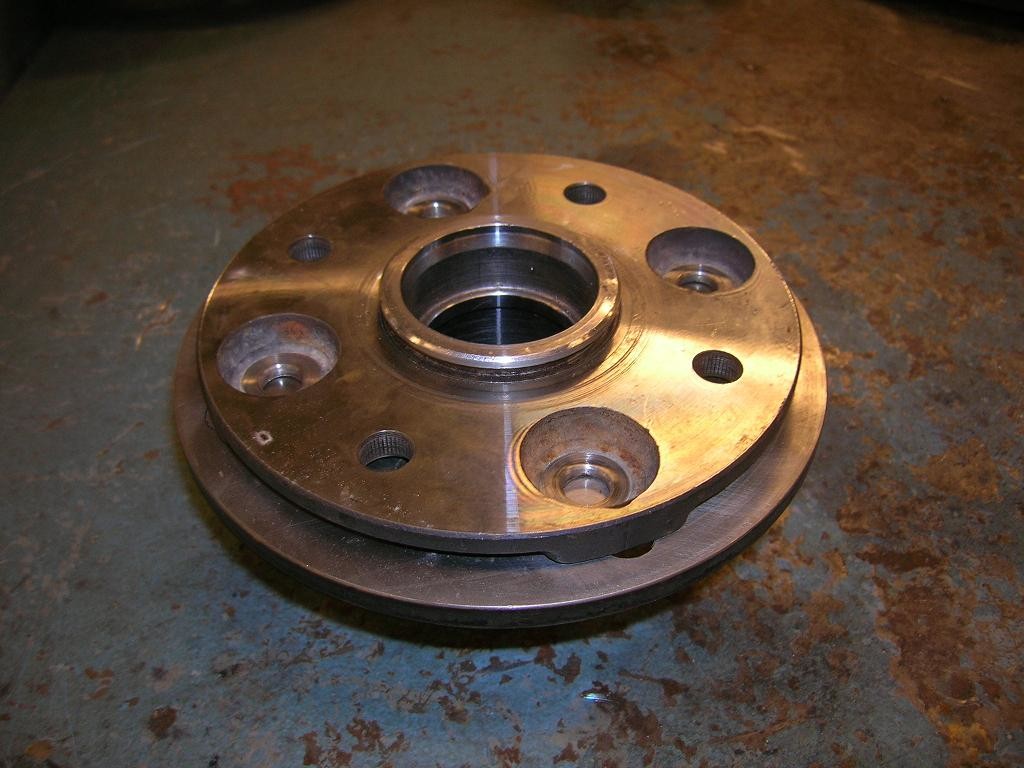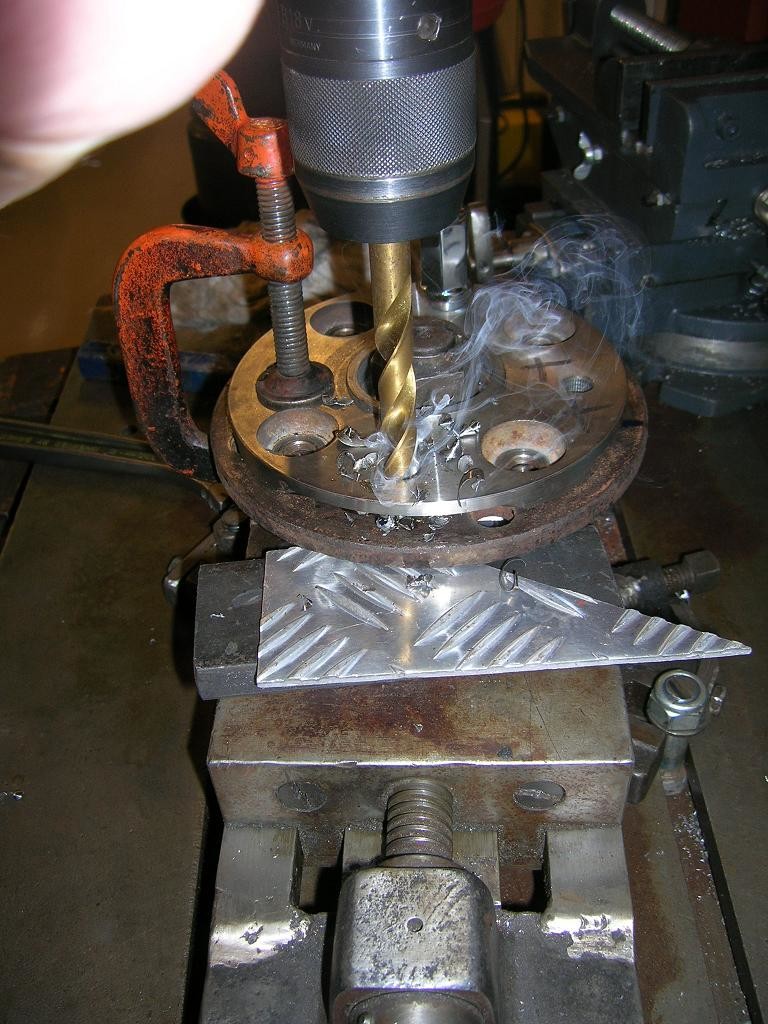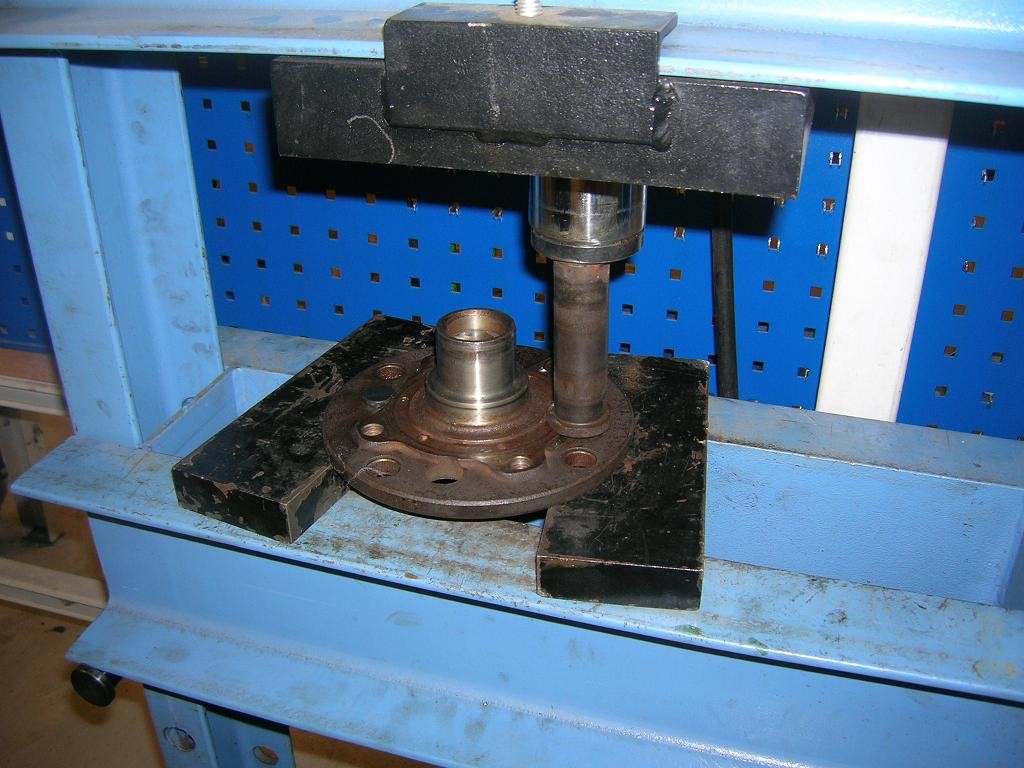 10-14-2007
Thanks!
The rims is 16x7.5 (ET30).
More specification are coming, to tired now. To many hours in the garage to day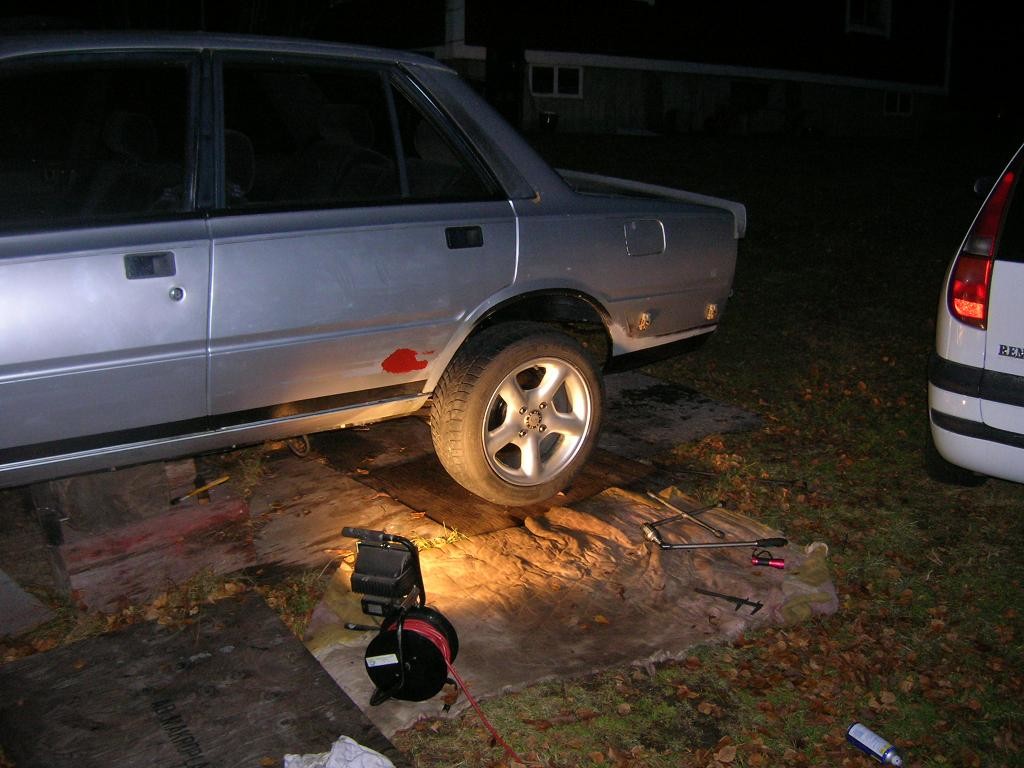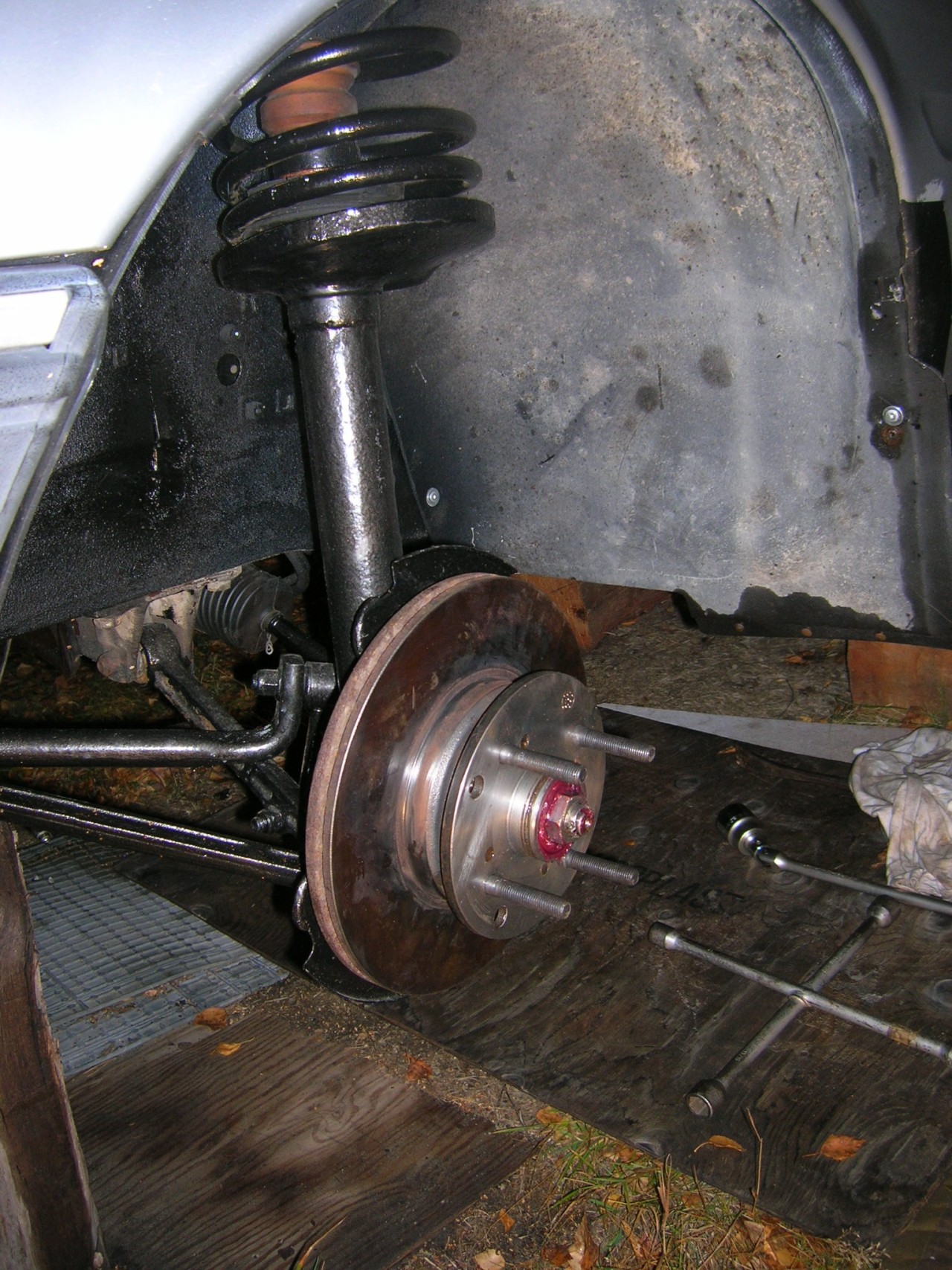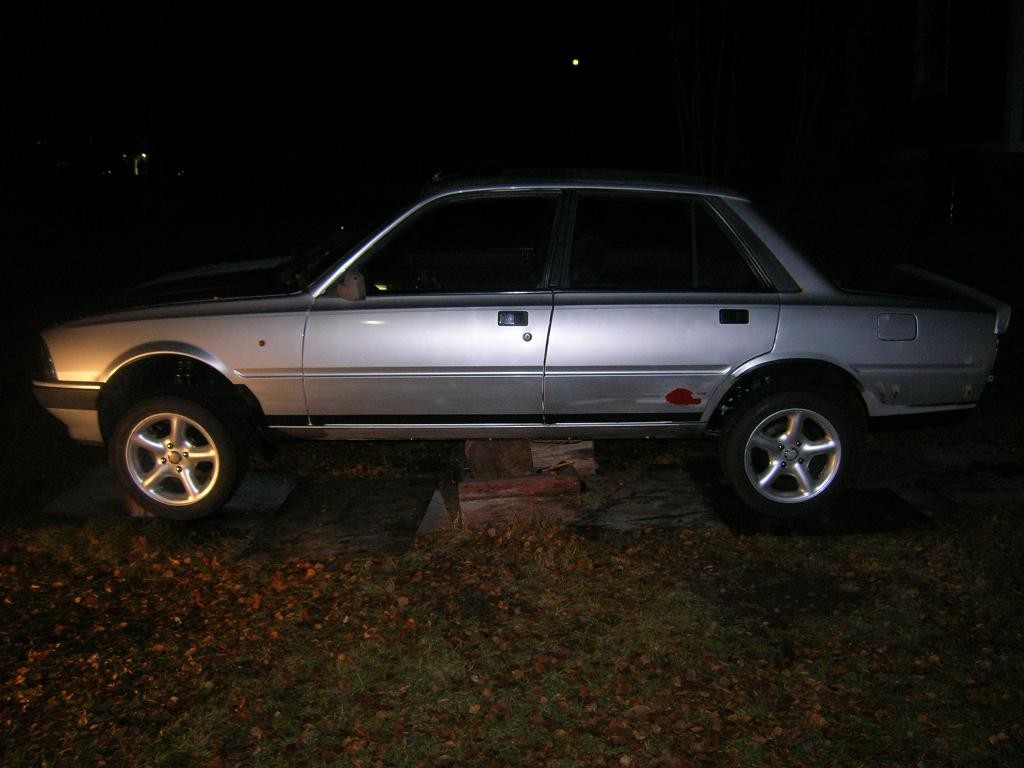 10-20-2007
More updates!
Today we get the project car on the ground. So now the car is ready for the winter. Gonna cover the car with
a tarpaulin during the winter.
Whats next? During the winter we gonna start assemble the engine. We have plans to add a new turbo, custom made exhaust manifold. More info as we make progress during the winter.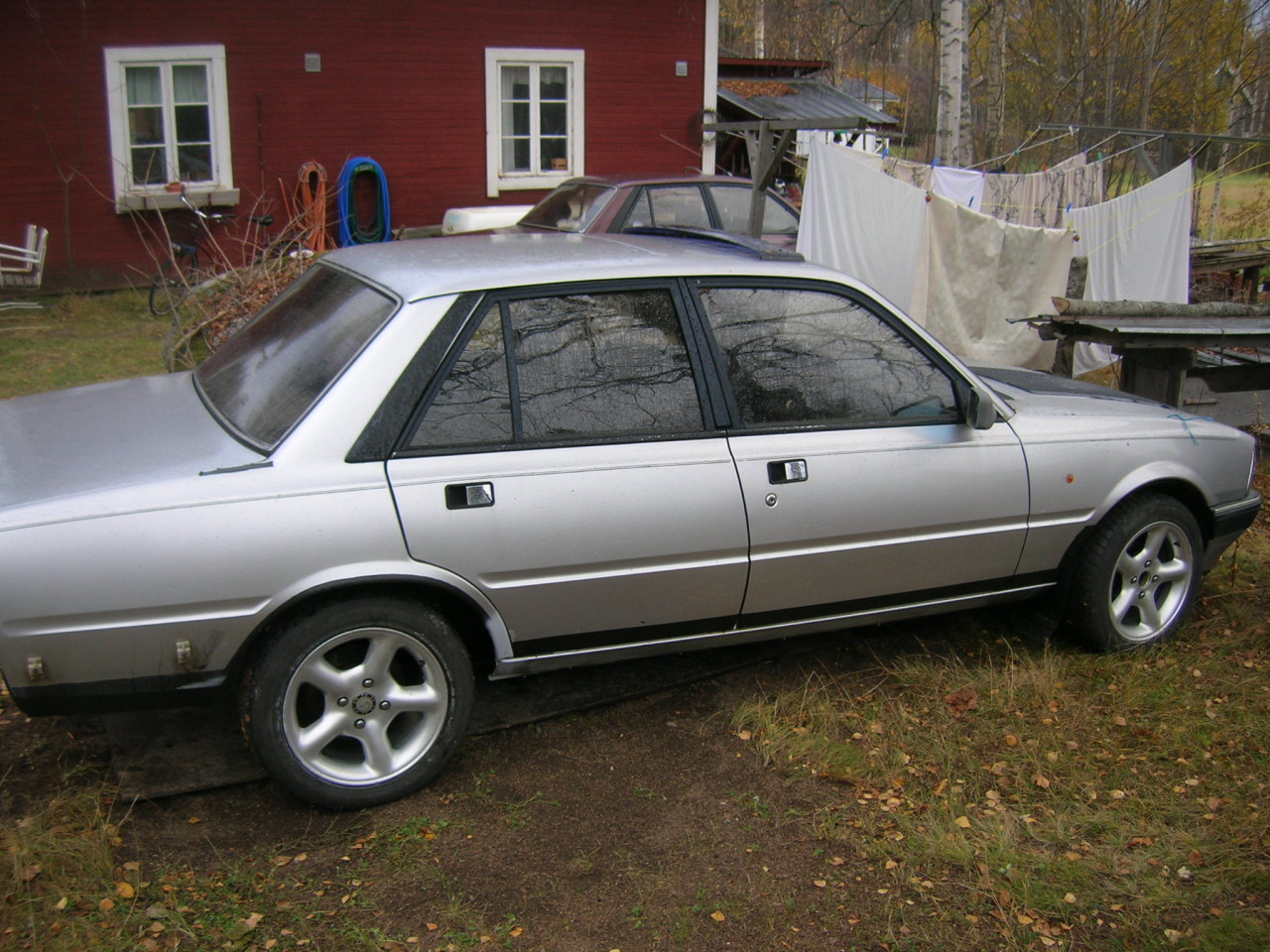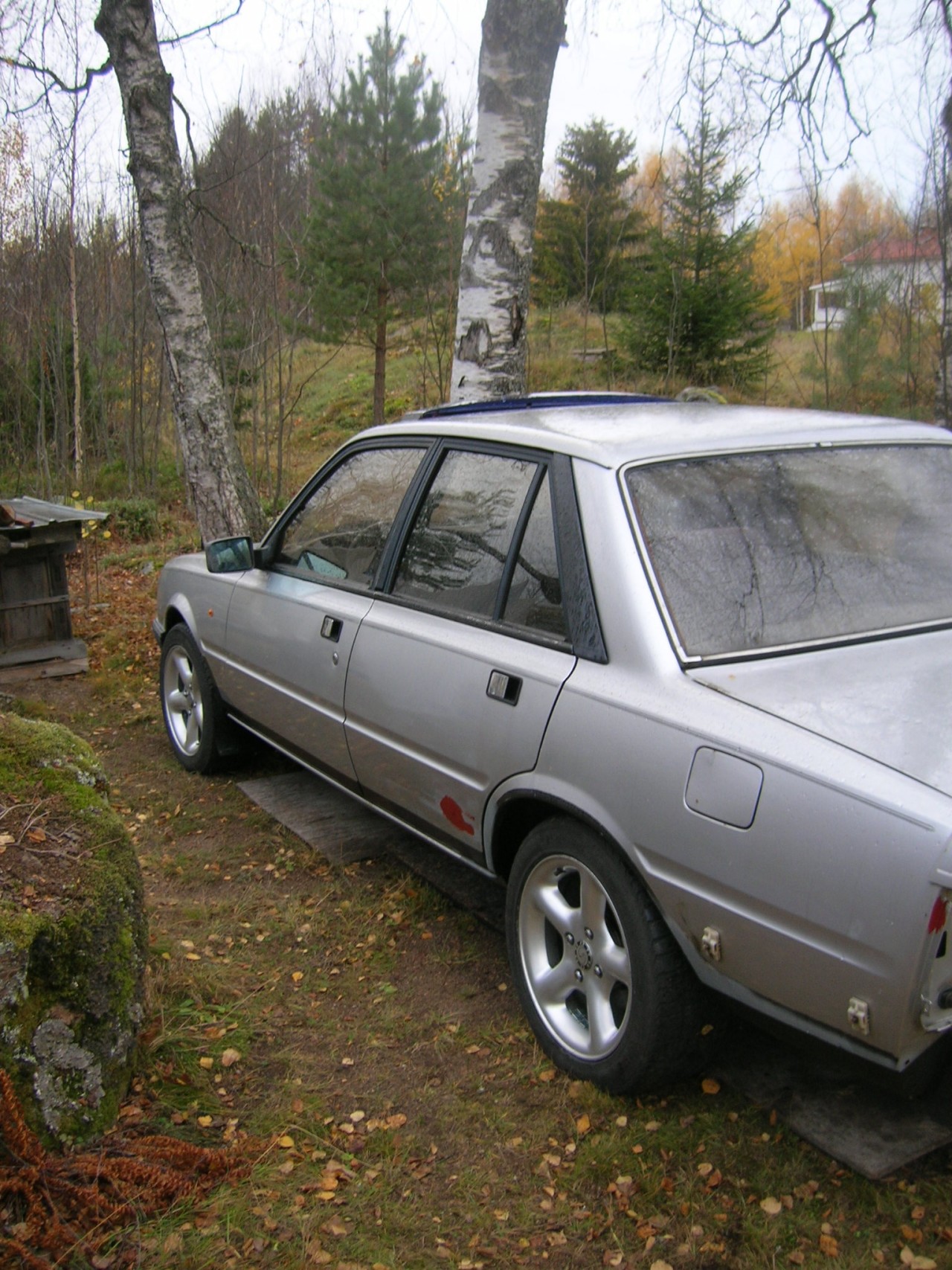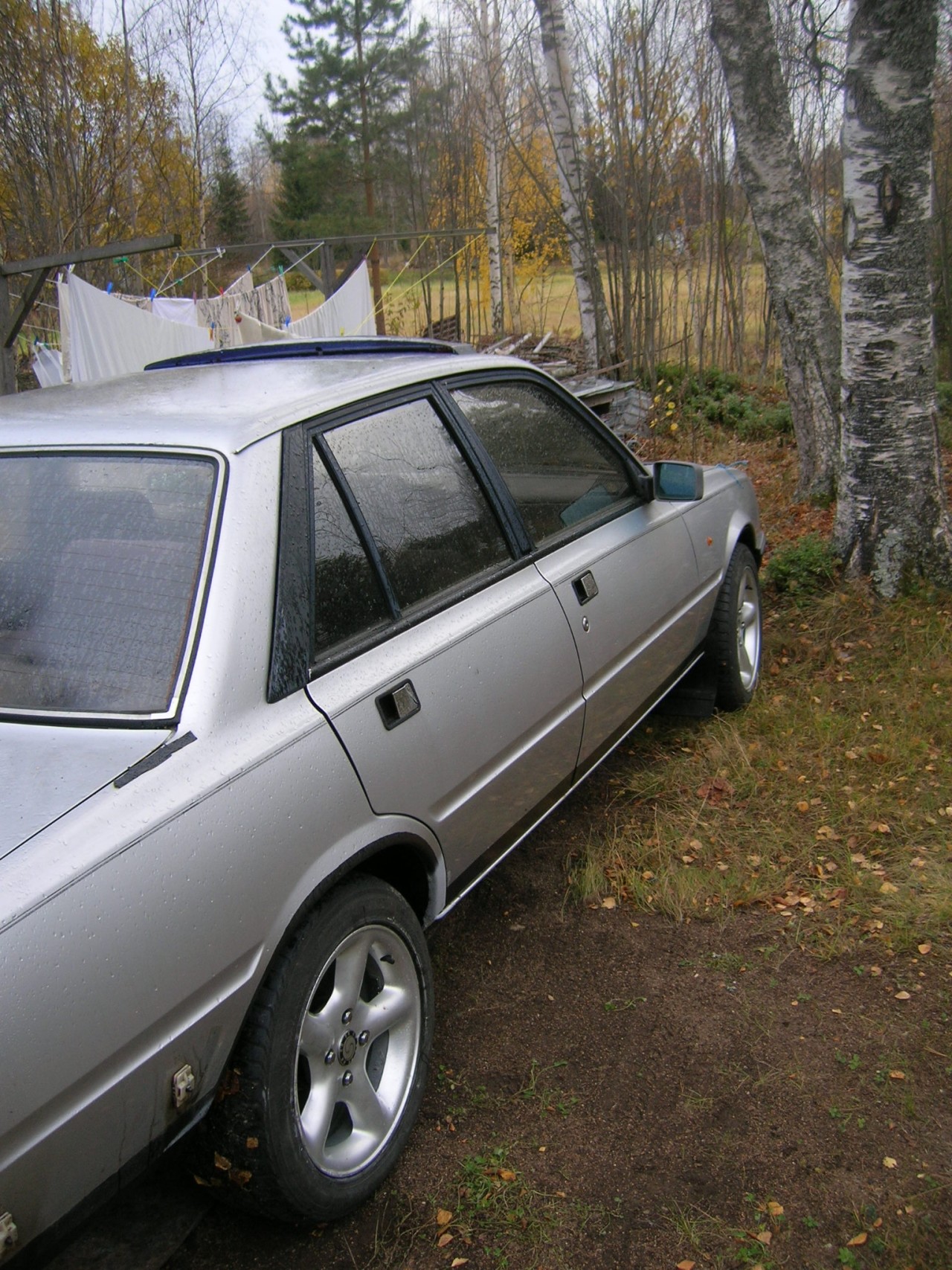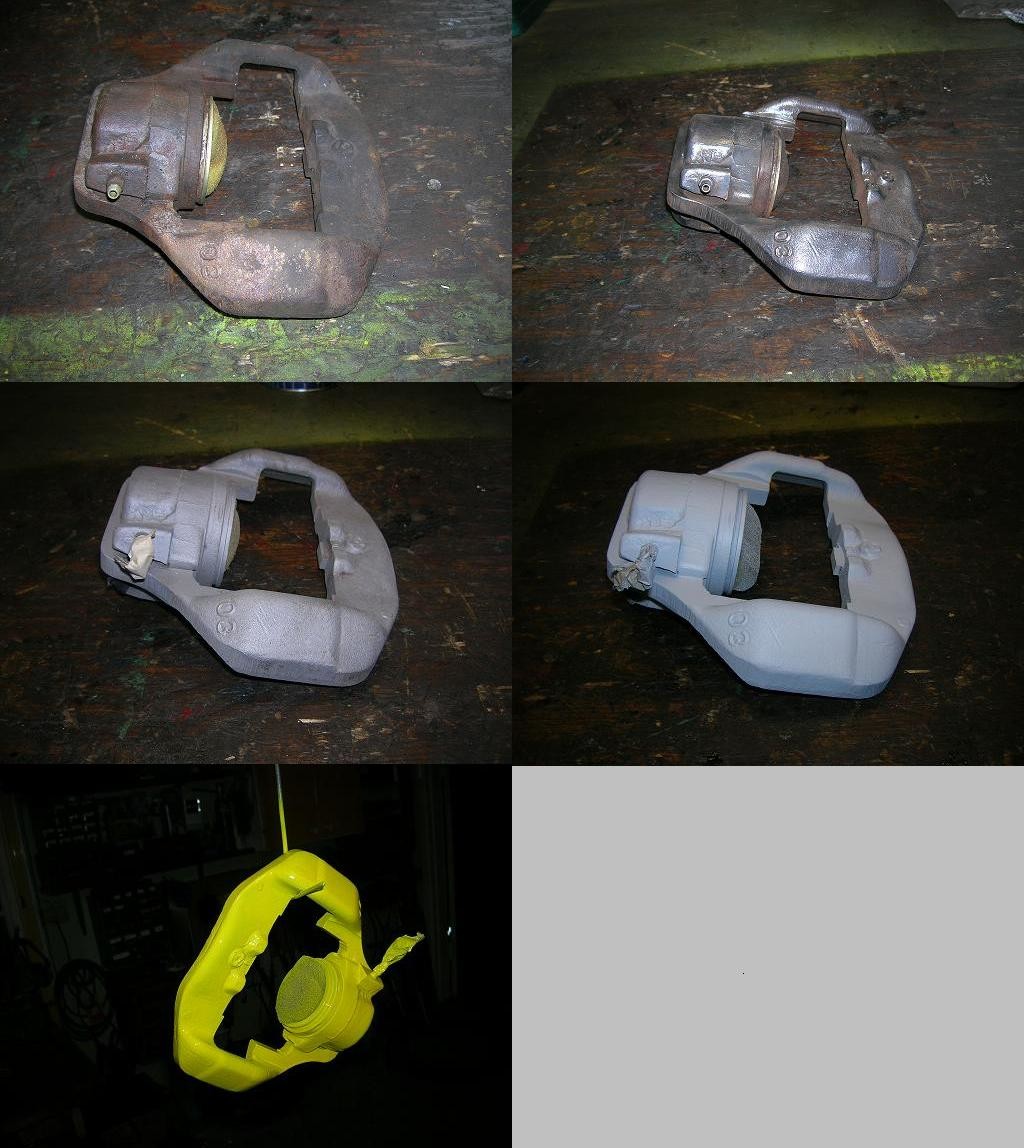 10-22-2007
Bean & august: The orginal hubs in the front have been turned down about 2mm and we use 16mm spacers. But we gona use 15mm spacers from Volvo later. I got some pictures at home that shows the space between the rim and the front strut.

We are also curious how it handles, but have to wait to the summer when the engine is assembled

If it handles good we maybe gona make another set for the project car 3, but thats far away in the future.

I will upload the pictures when im home from work.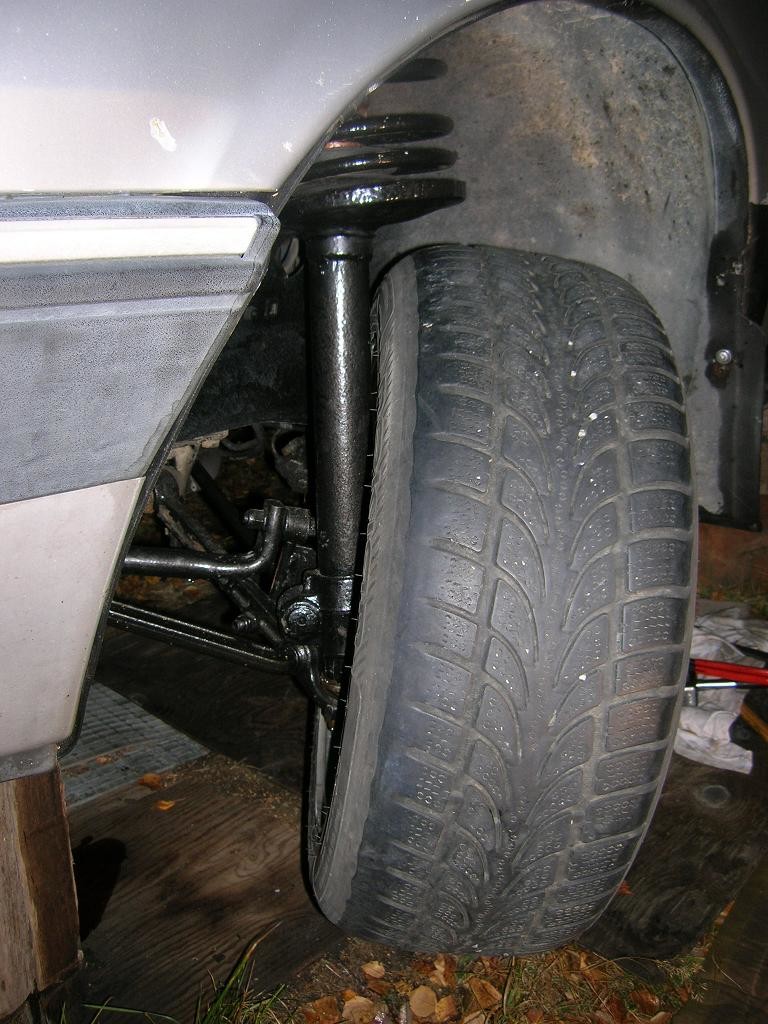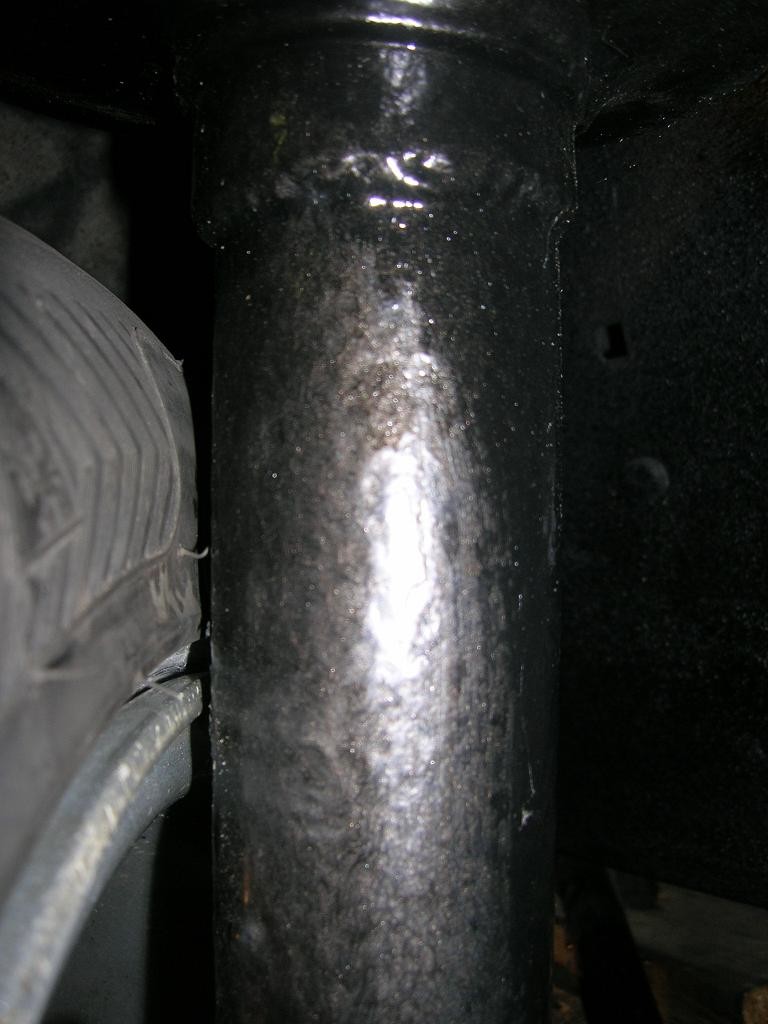 Thanks for the comments!
I hope the new offset will work with no new alignment of the struts.
Bean: What offset does the BMW have?
Gonna work hard with the engine assembling so we can test drive the car when the winter is over. But have much to do on the engine and now the project is starting to cost much money
11-11-2007
Some minor updates.
We have order pipes for the exhaust manifold and starting to figure out how we gonna construct the manifold.
The pipes have a diameter of 48.3mm and 2.6mm thickness.
Interior styling with Sparco sportmatts (rubber).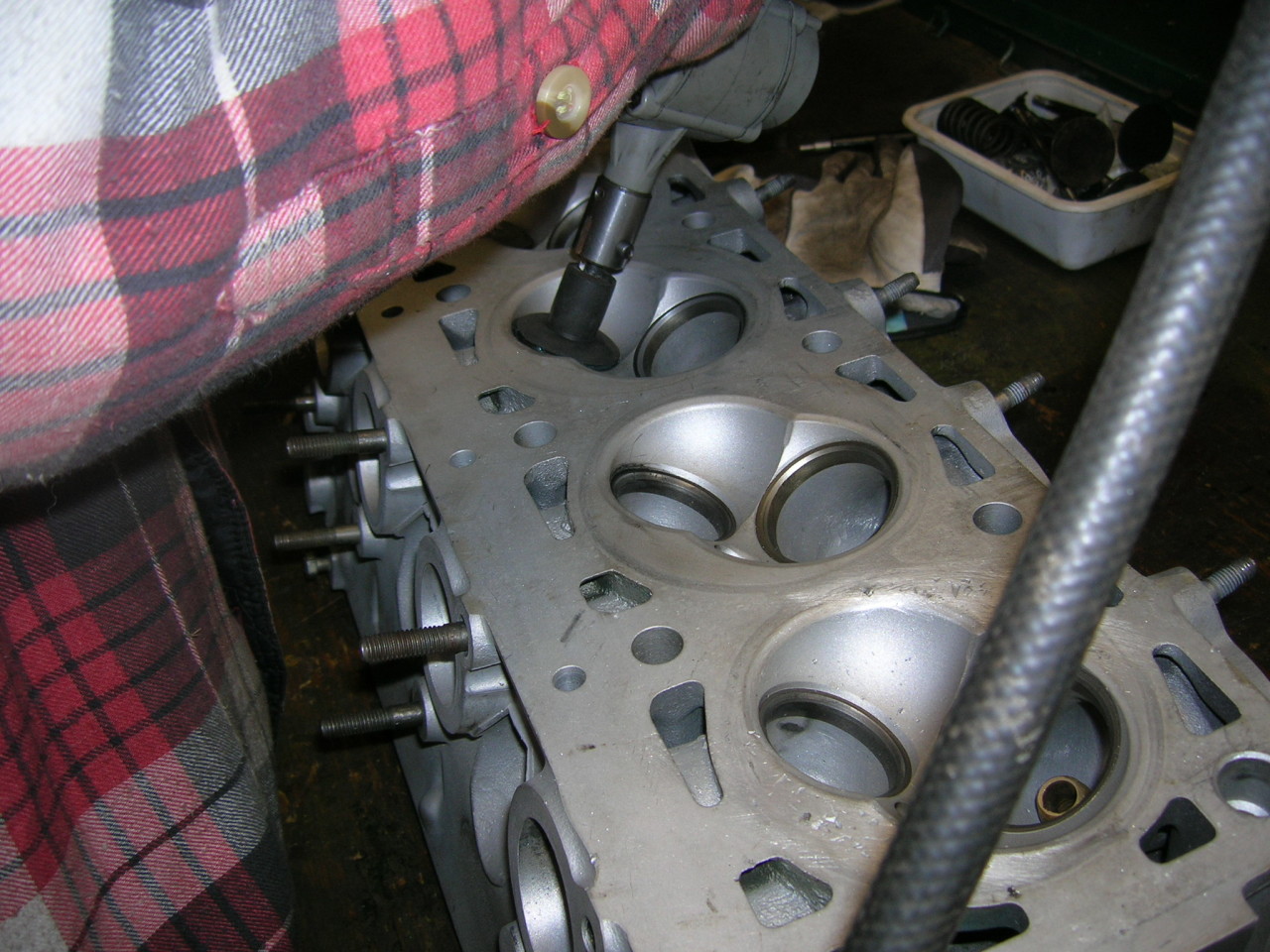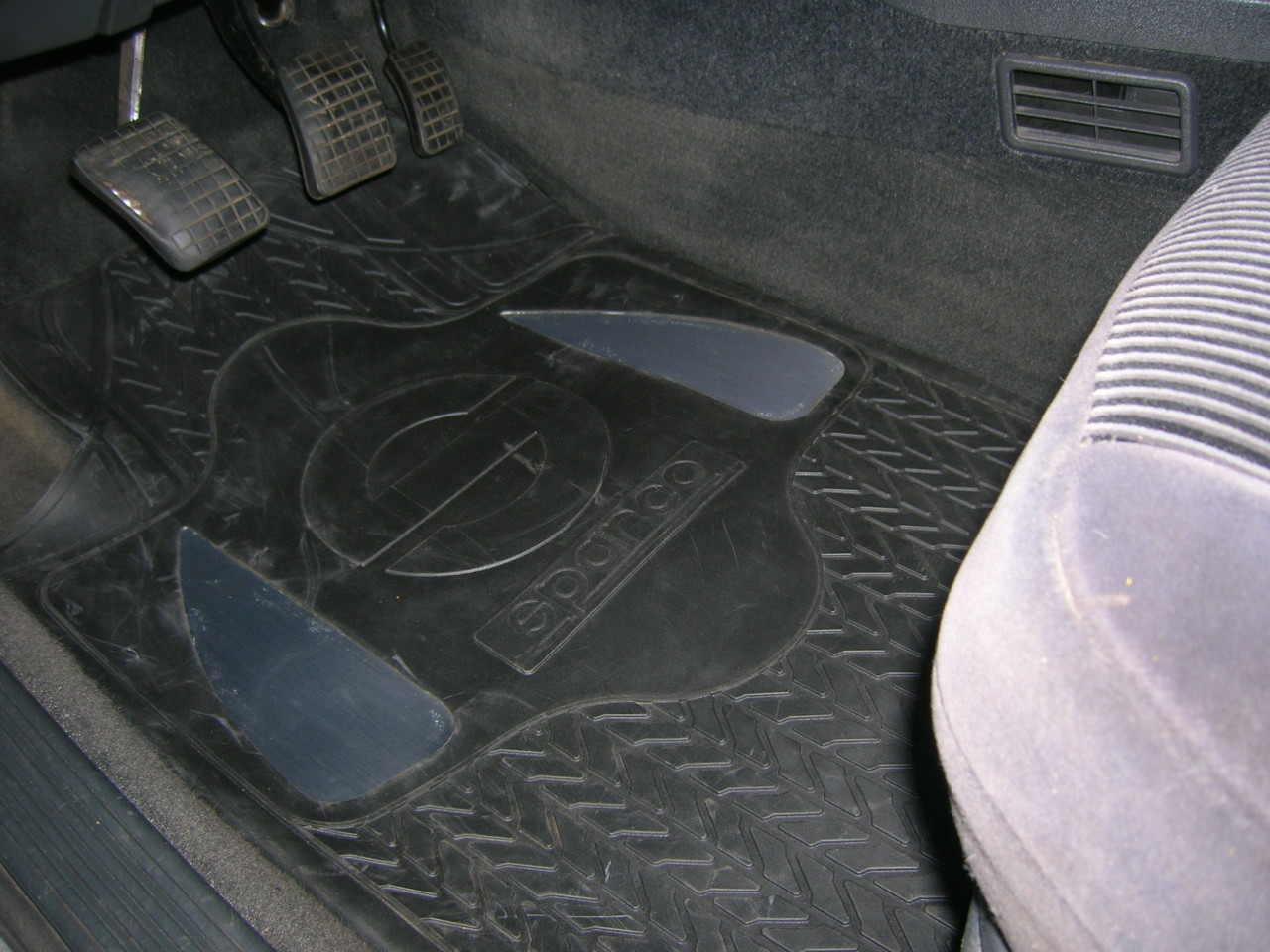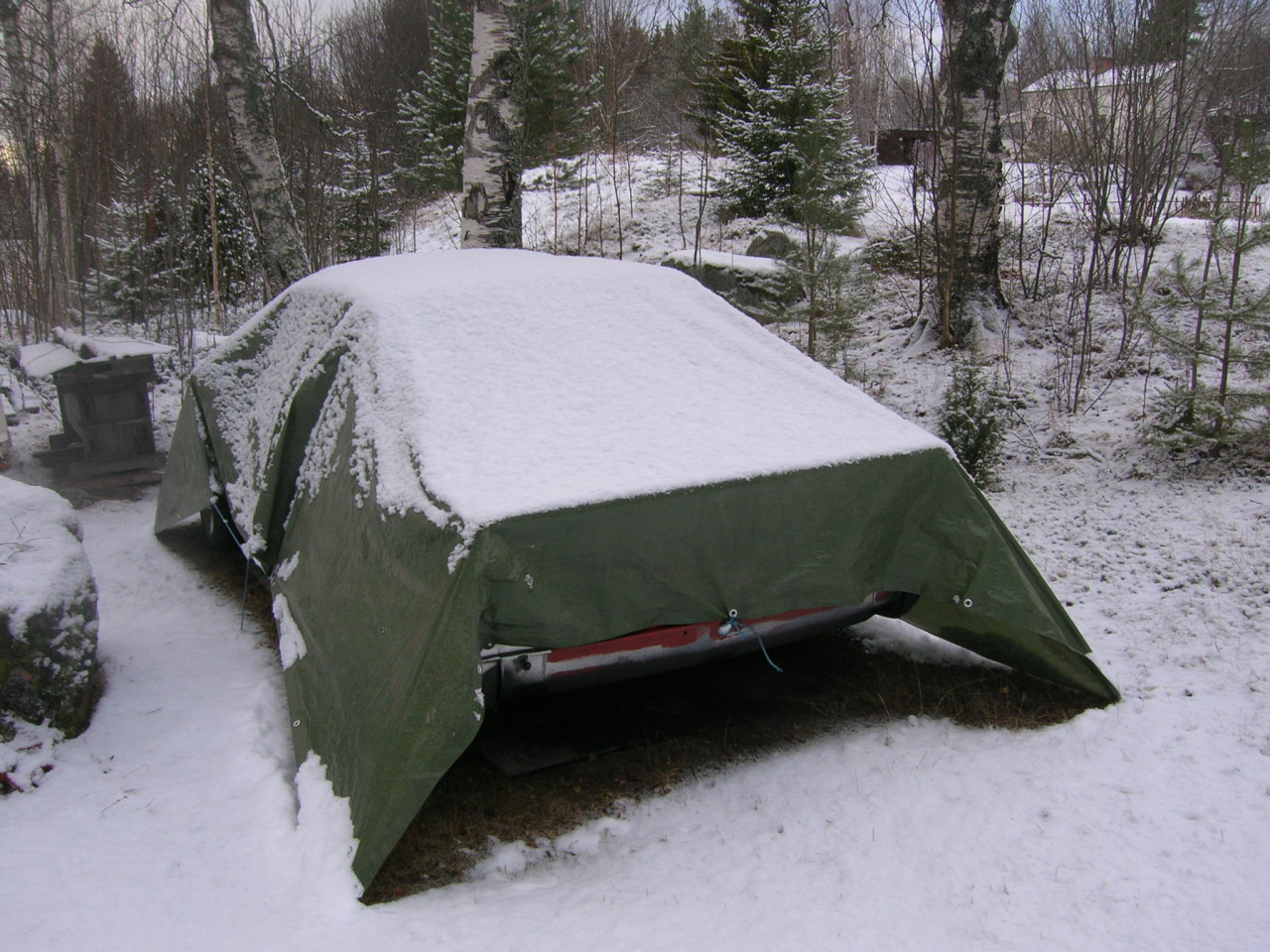 11-24-2007
Me and my friend was bored today so we decided to do some work with our cars.
My friend own a Audi GT and he have order a Audi Urquattro tail light and the tail light needed some work.
So I put the engine assembly aside and did some work on one of the 505 tail light to.
First we wet polish the tail lights with 1000P and 2000P wet sandpaper and painted it with two component clear coat.
Check out my friends homepage (Swedish only) www.klomark.se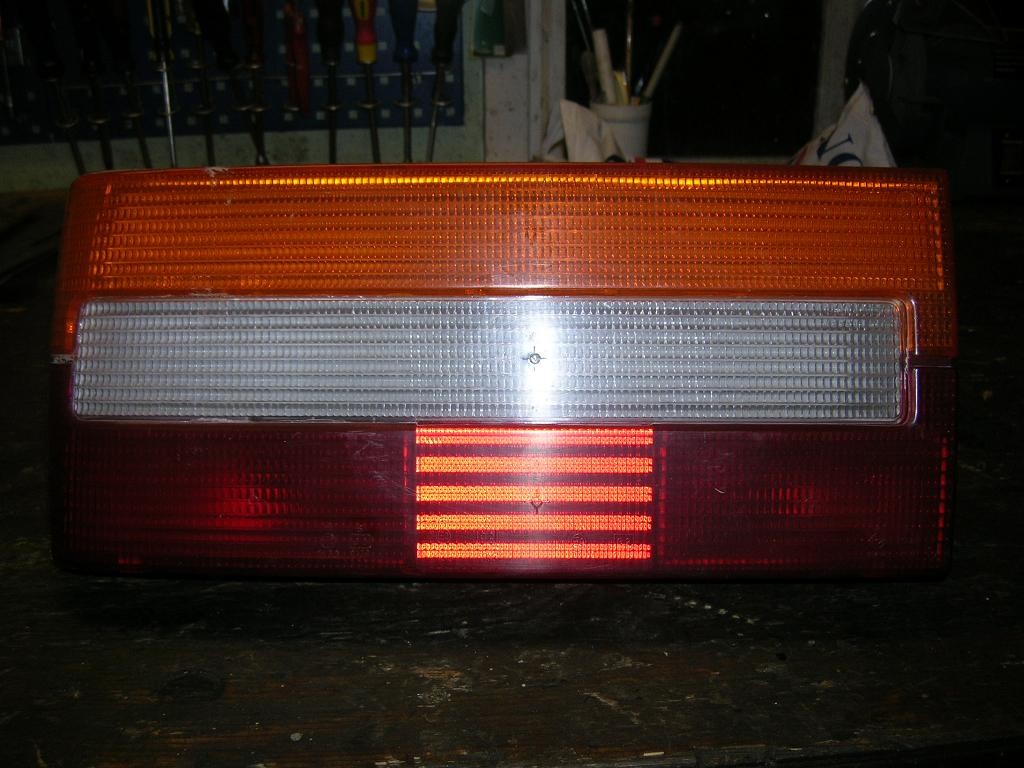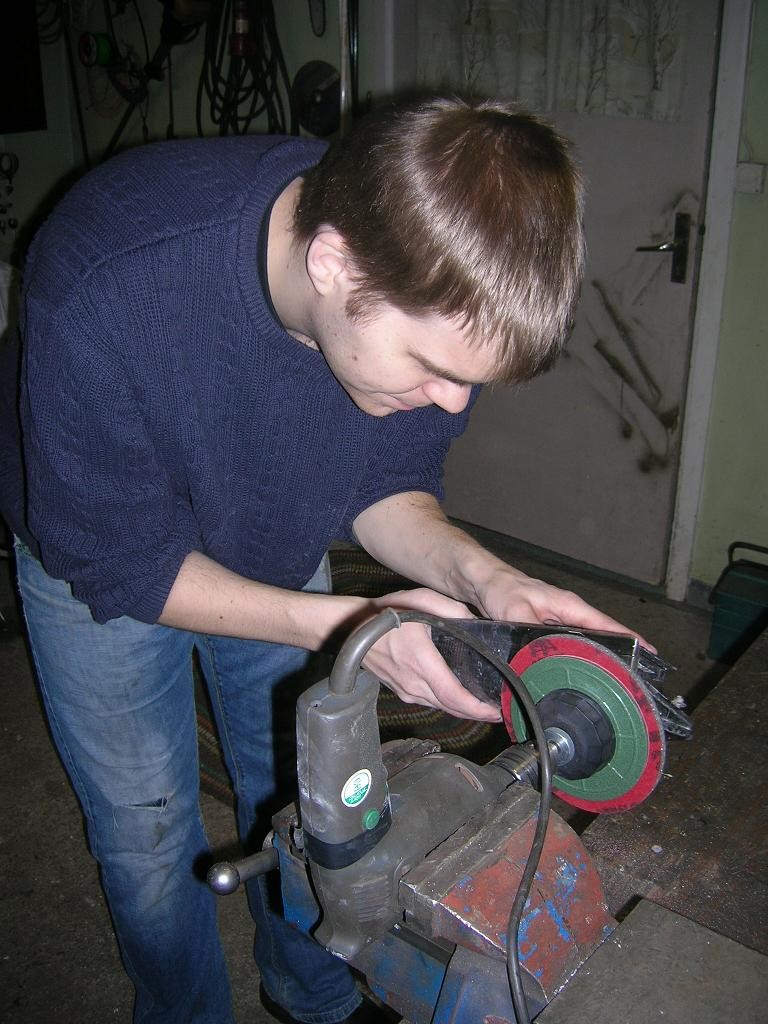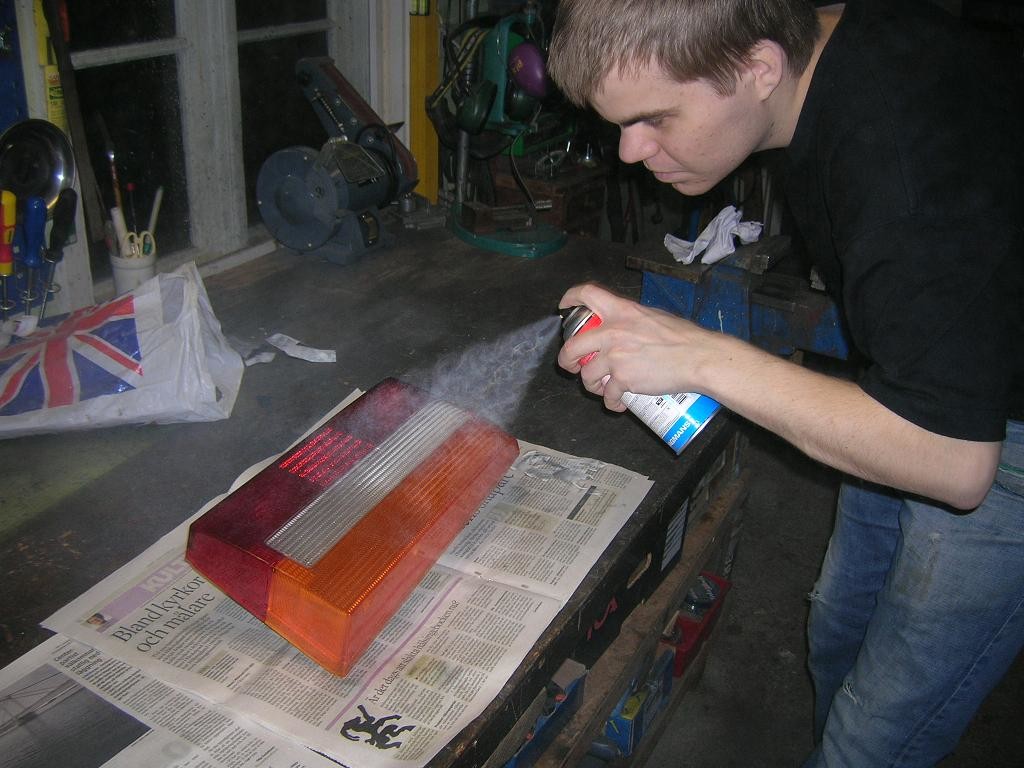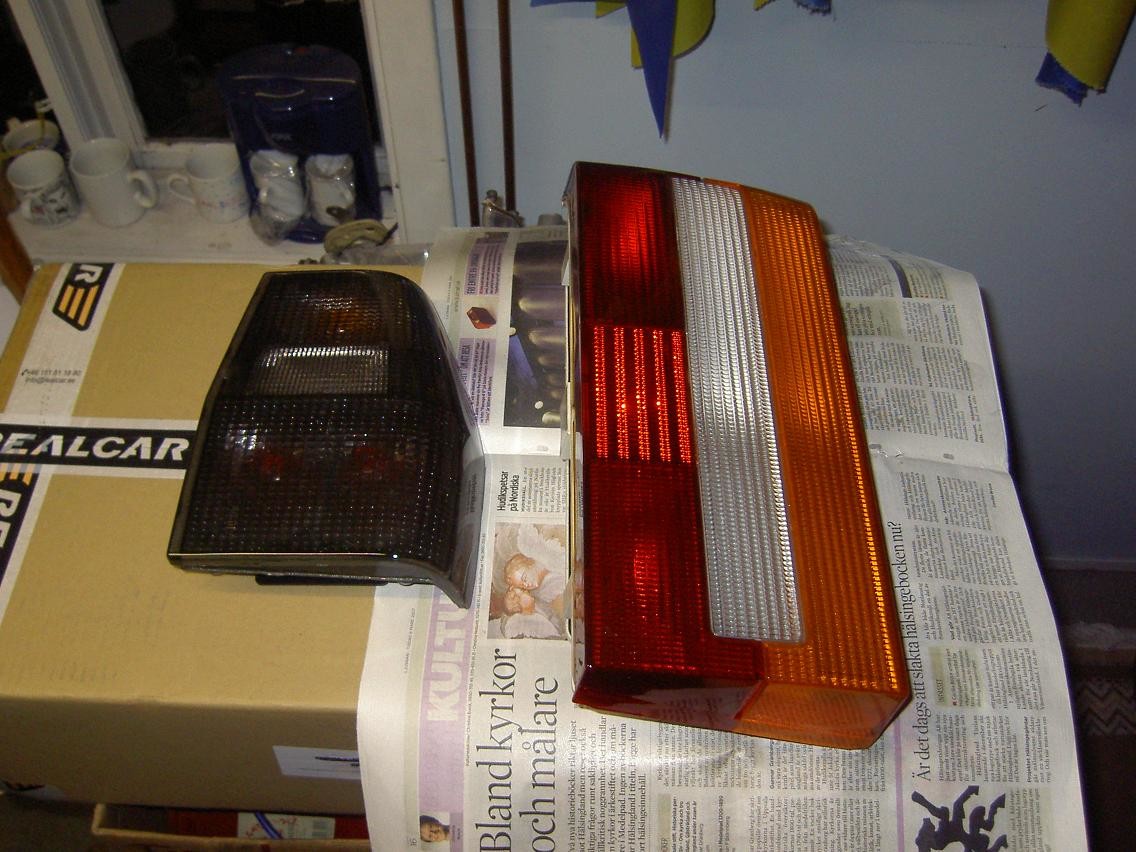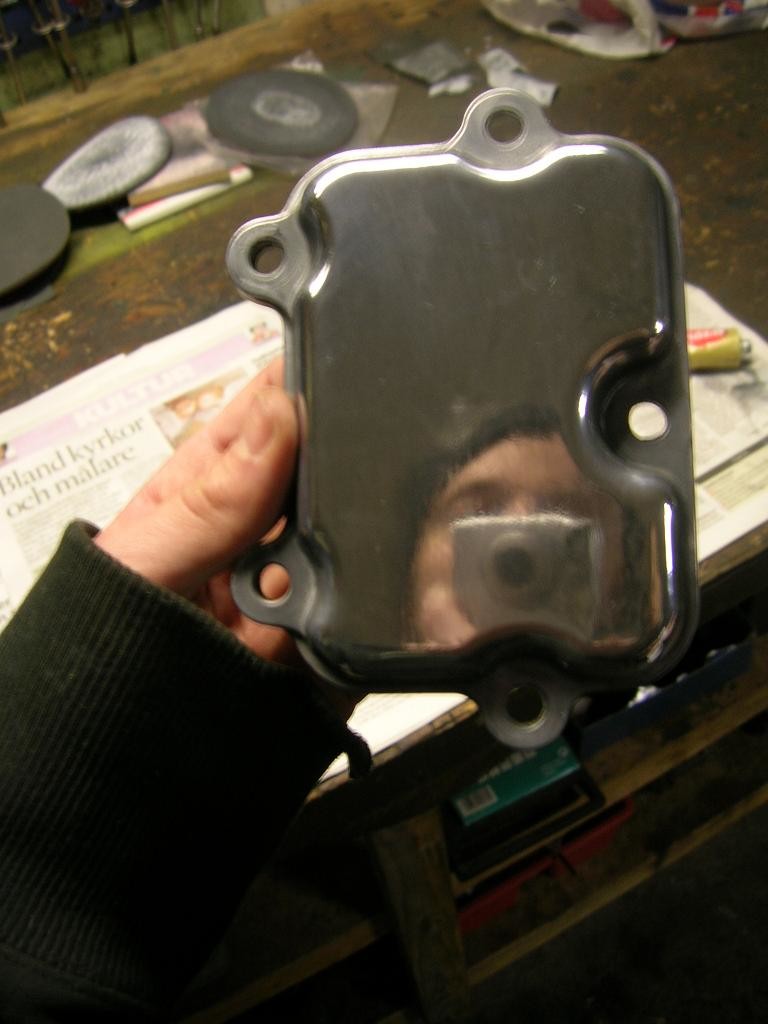 11-28-2007
Thanks
I don't know the right word, did a quick googling and found "Clear coat".
Think the right description for the "paint" we used is: Acrylic Lacquer Clearcoat.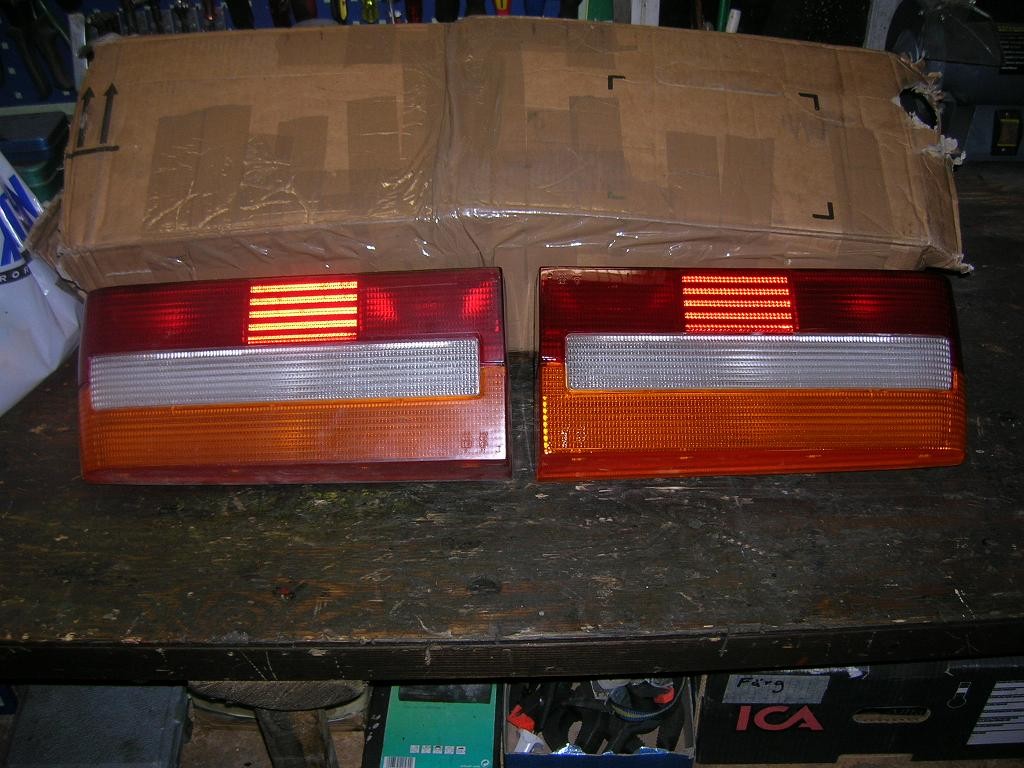 12-29-2007
Engine styling
After me and my friend have finished the tail lights we got inspired to continue with some more polishing. We started to do some research how to polish aluminum. Found a lot of resources on the web, found a good Swedish homepage about polishing aluminum (link). We order some tools and equipment that we needed.
I started to polish the thermostat housing. I have polish the thermostat housing for about 10 hours. It was a good learning experience and I'm pretty satisfied with the result (I could do some more ground work before I started polishing with wet sandpaper).
Here some pictures.
Next project is to polish the valve cover.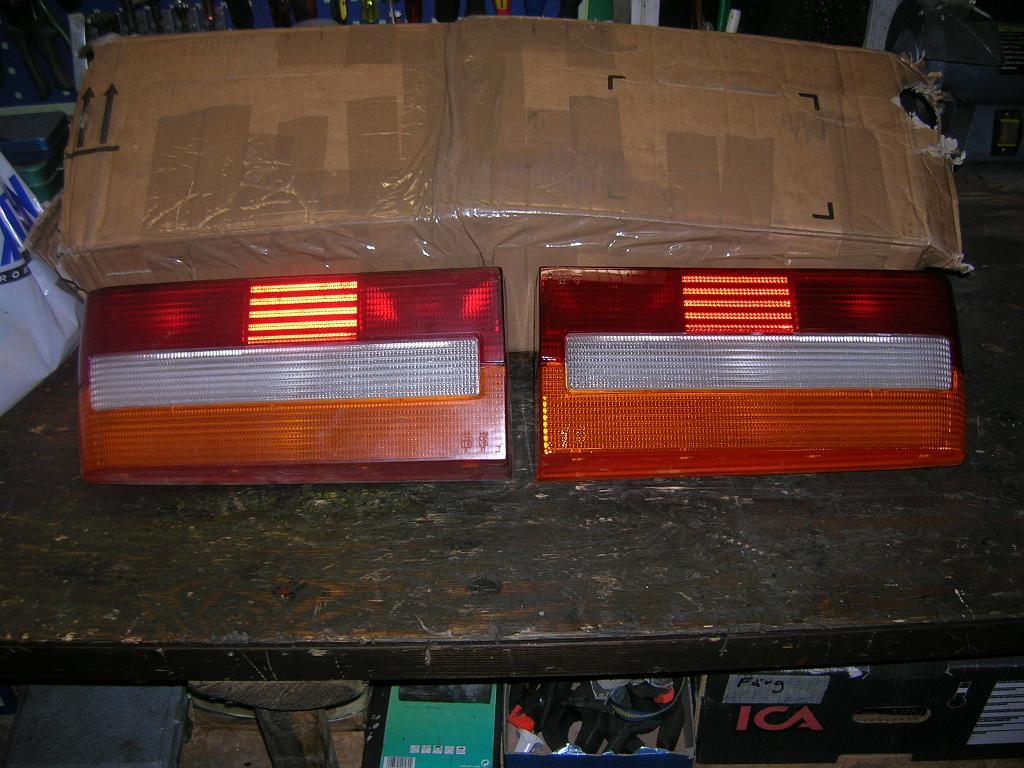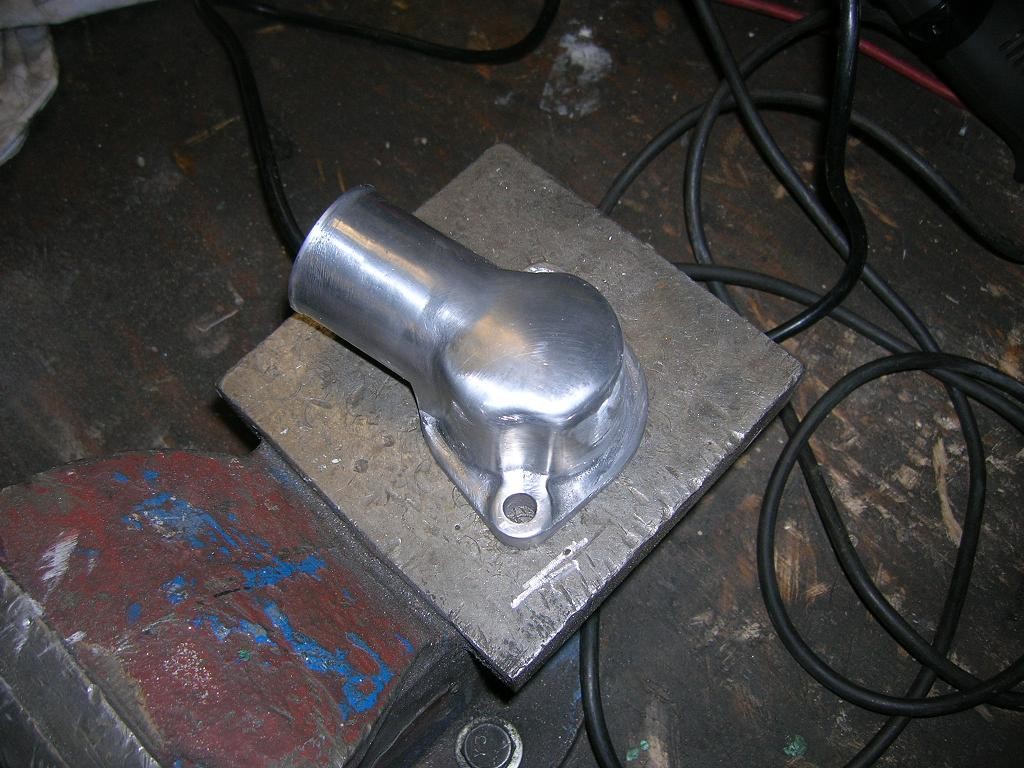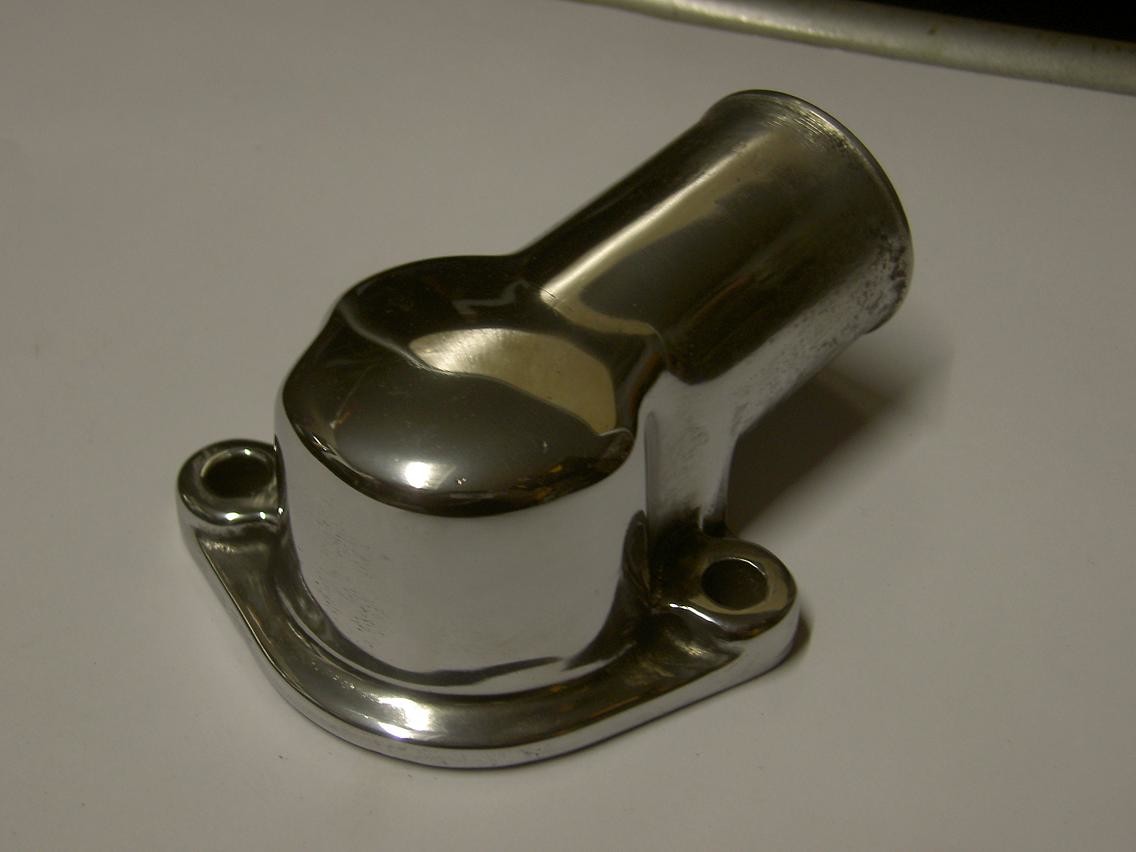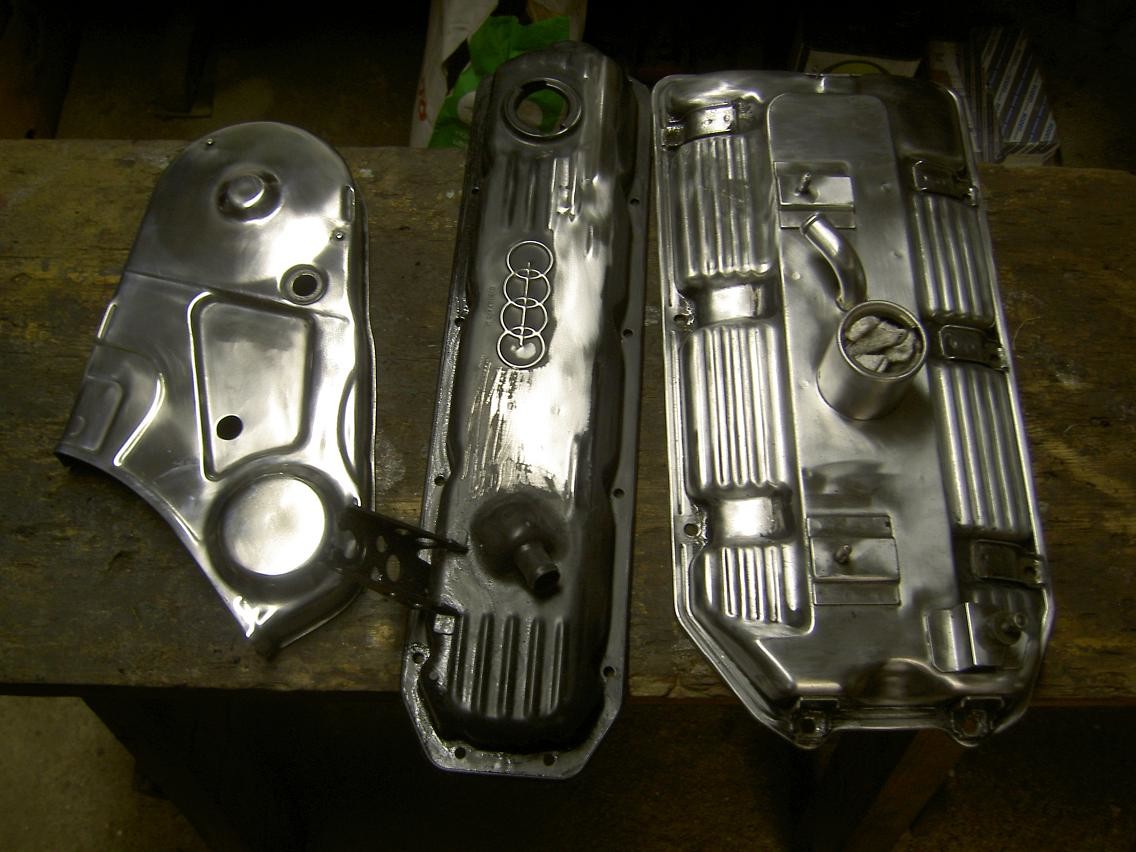 4-13-2008
Engine modification
We have started to plan the exhaust manifold modification, order pipes from KL-racing. The pipes have a inner diameter of 48.3mm, the gods thickness is 2.6mm and is made of black steel (ST37).
It took some time to came up with a good solution for how do fabricate the exhaust manifold. To get best performance the pipes to the collector should be the same length. Our exhaust manifold the pipes is almost the same length. We gonna test with this solution if it dose't work we have to rethink the design of the exhaust manifold. We have to to some modification for the engine holding to fit the exhaust manifold.
We also have bought some parts for the engine modification:
* T25 Flange
* T25 Gasket
* End pipe (3'' to 4'')
* Linear fuel pressure regulator
* Recirculate blow of valve
(The two last part will be tested in our other 505, gonna purchase better parts for the project car)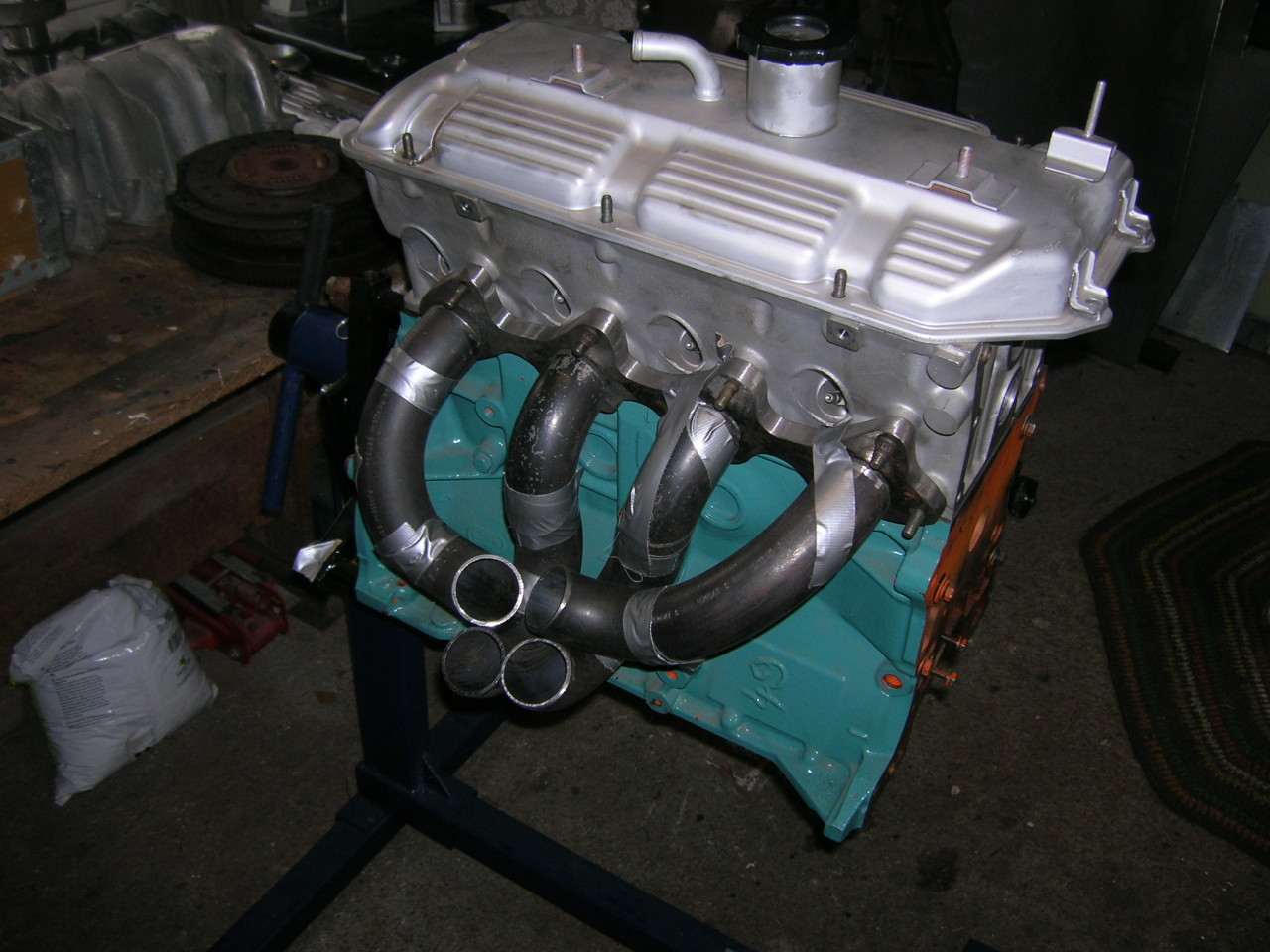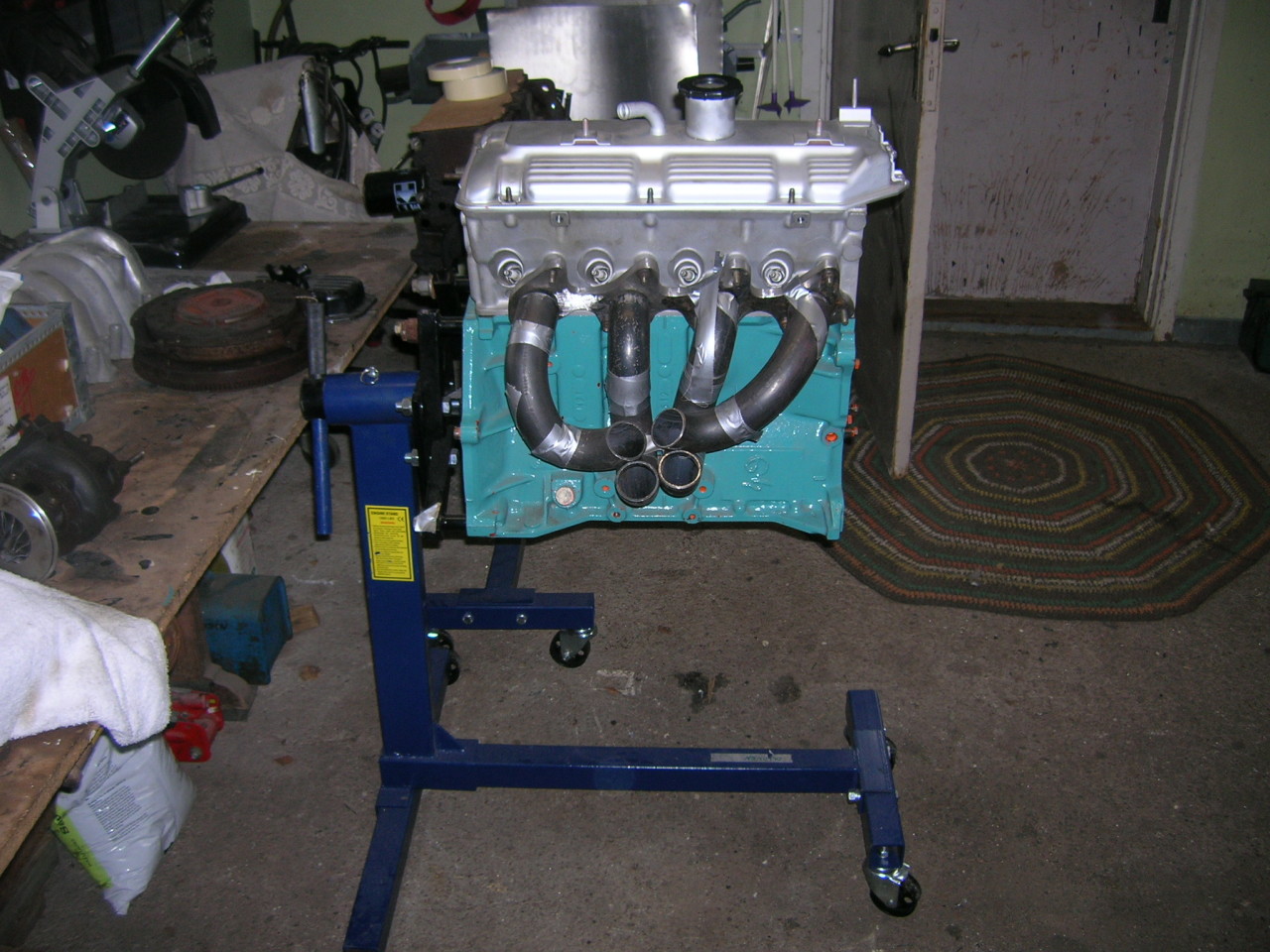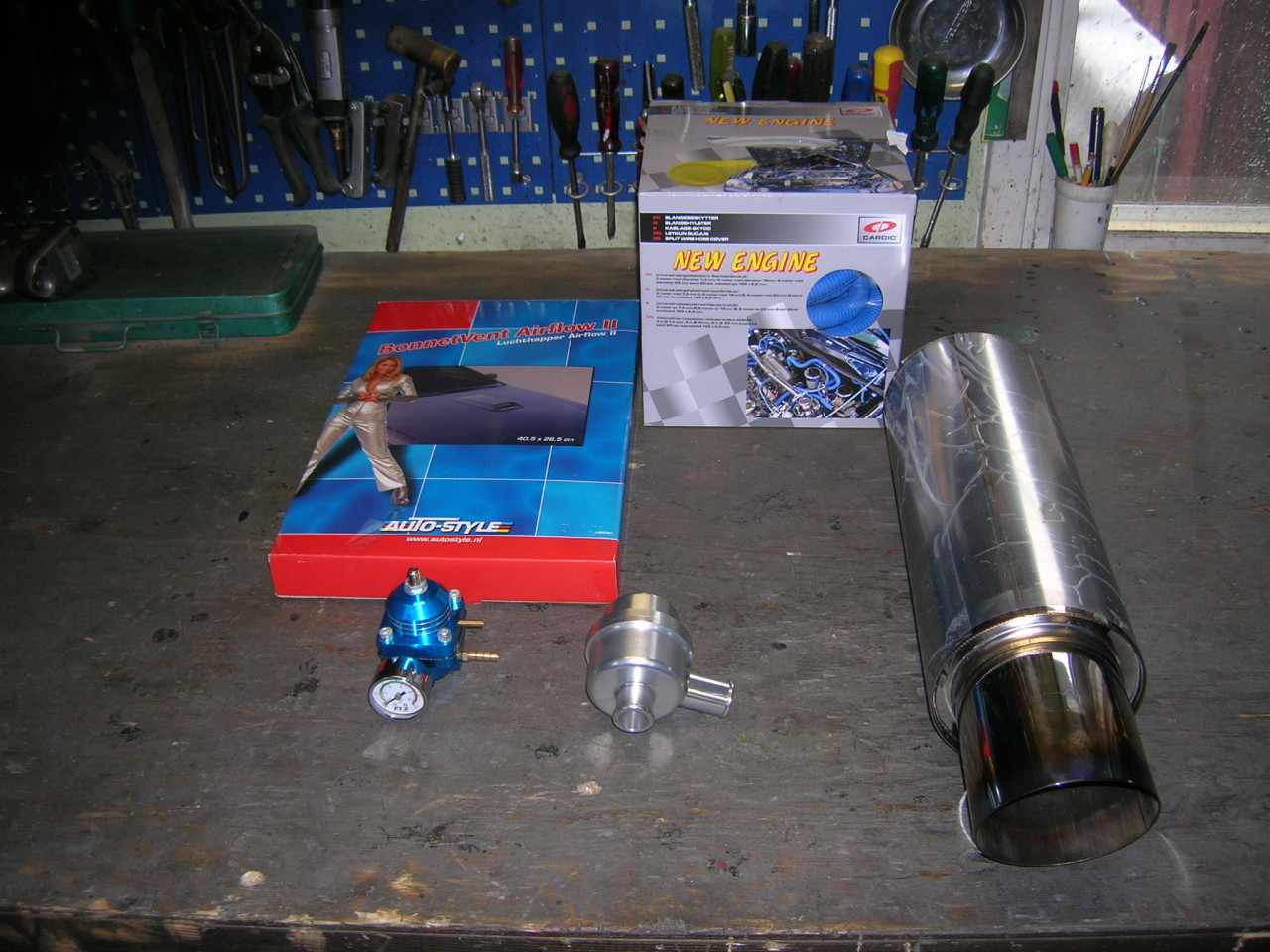 "Bonus" pictures of ours 505's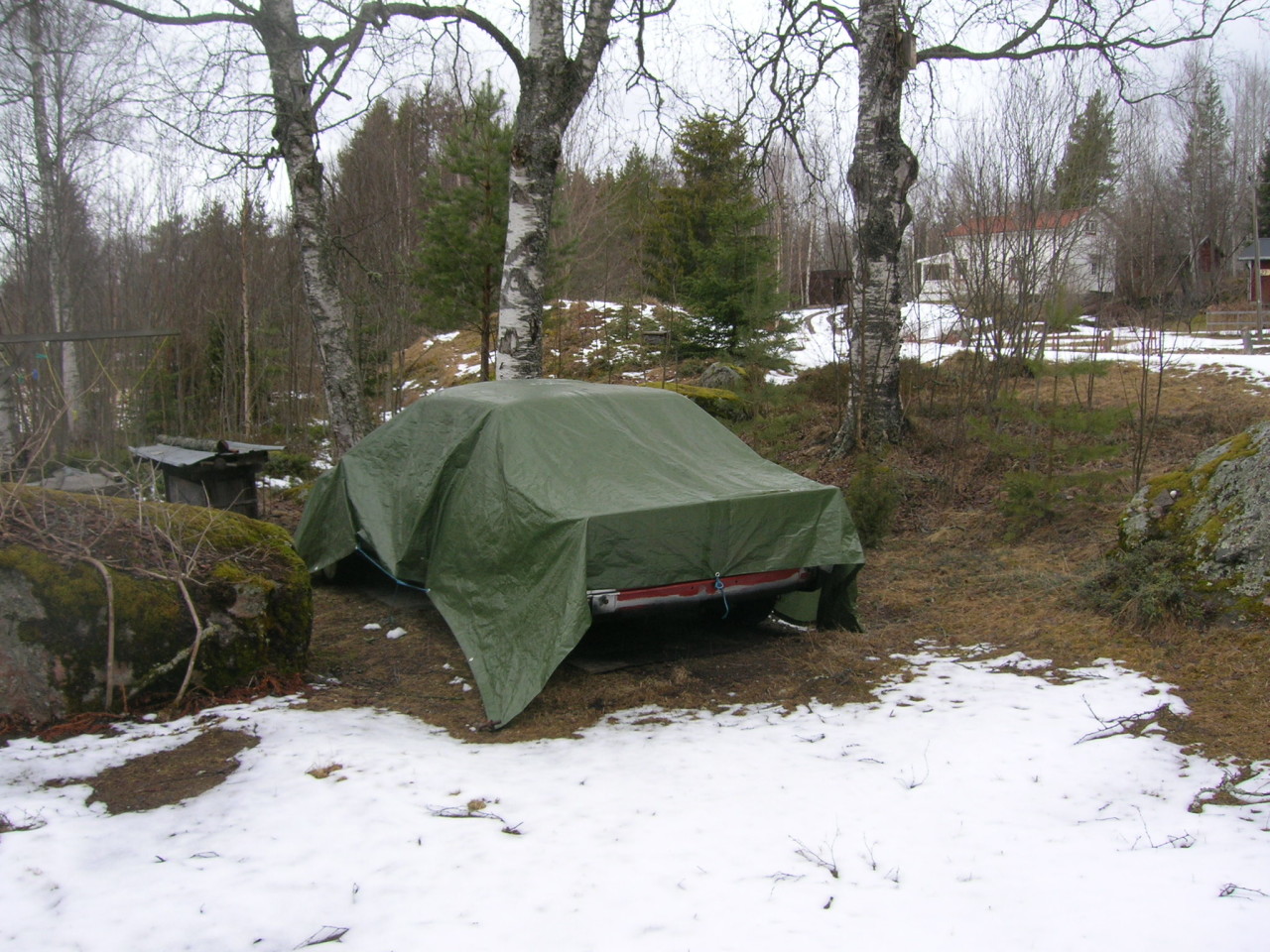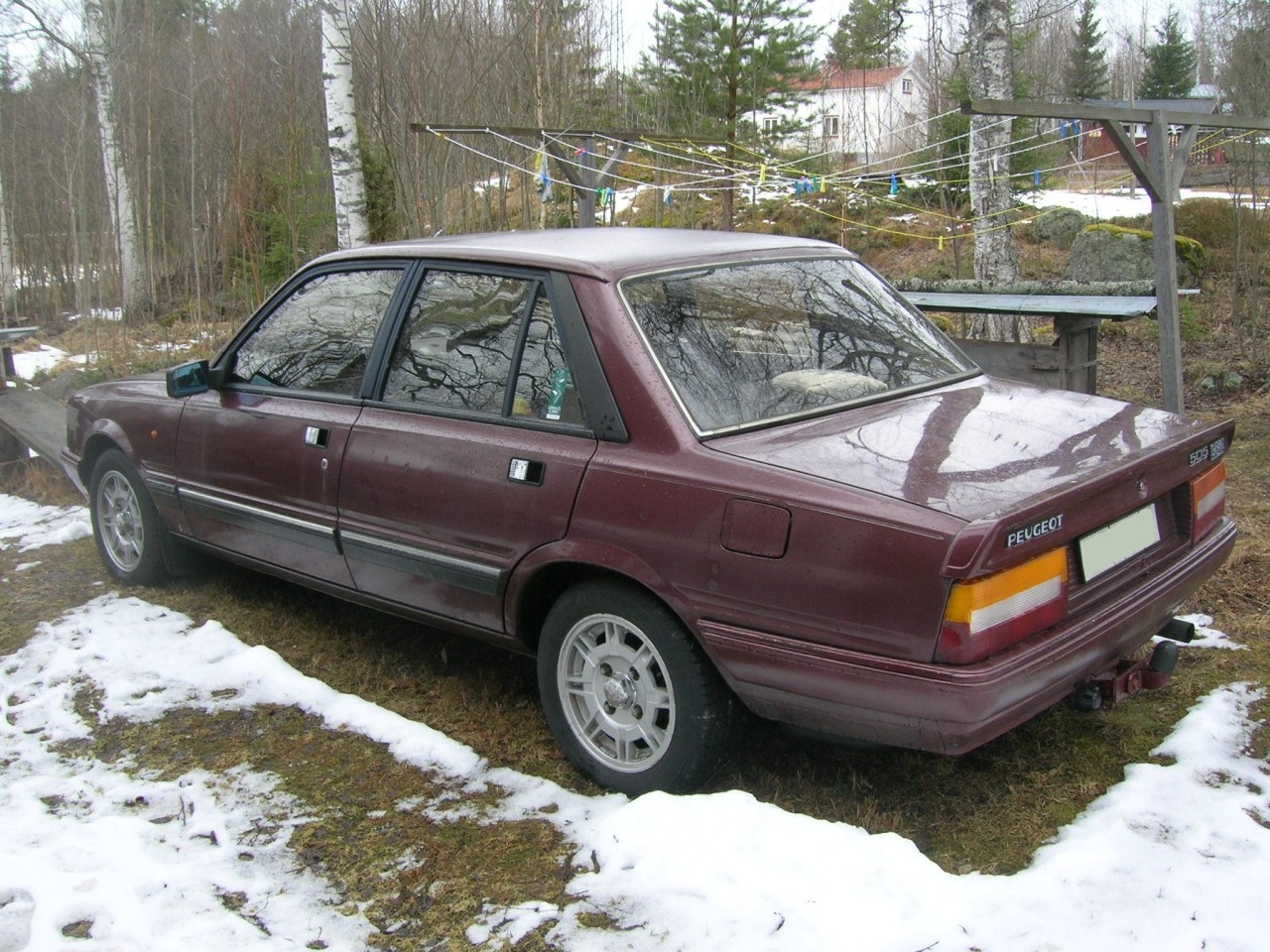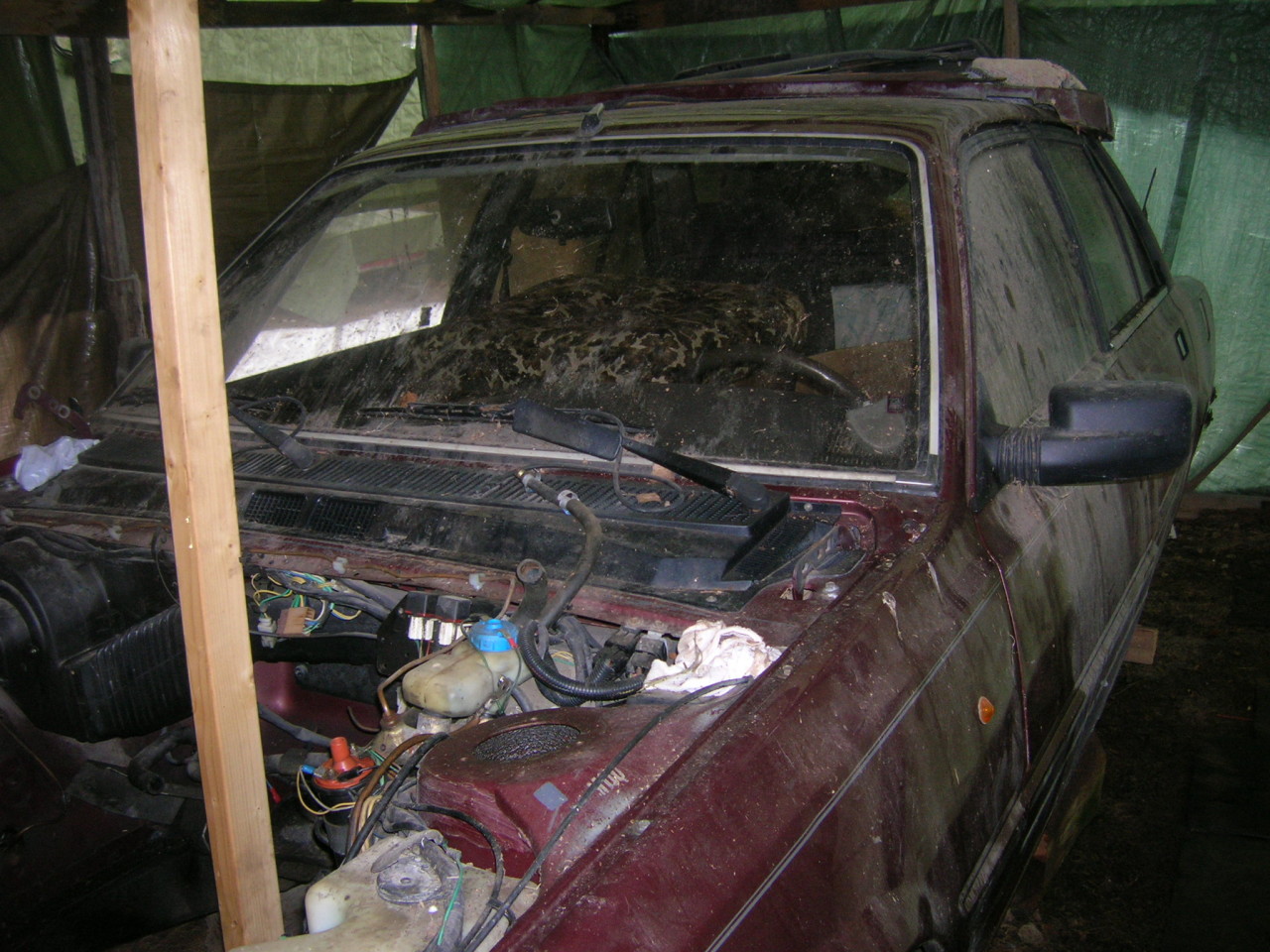 Now the hunt after a turbo will start, does anyone have a suggestion what turbo we can use?
We have discuss to use one of this following turbos: Garrett T28RS and Garrett GT3071R.
4-21-2008
The past weekend it was great weather and i spend some time working with my 505.
Checked if the previous summer rust repair have been worth all the effort and have survive the Swedish winter. I also removed the front spoiler and gonna start with some rust repair.
My father did also do some work with his 505. He replaced the water pump due a leakage and replaced the Bosh BOV and replaced it with a open BOV. We did a test run with it and it sounded nice
(I filmed the test run, but the quality is poor. Maybe I will upload it later)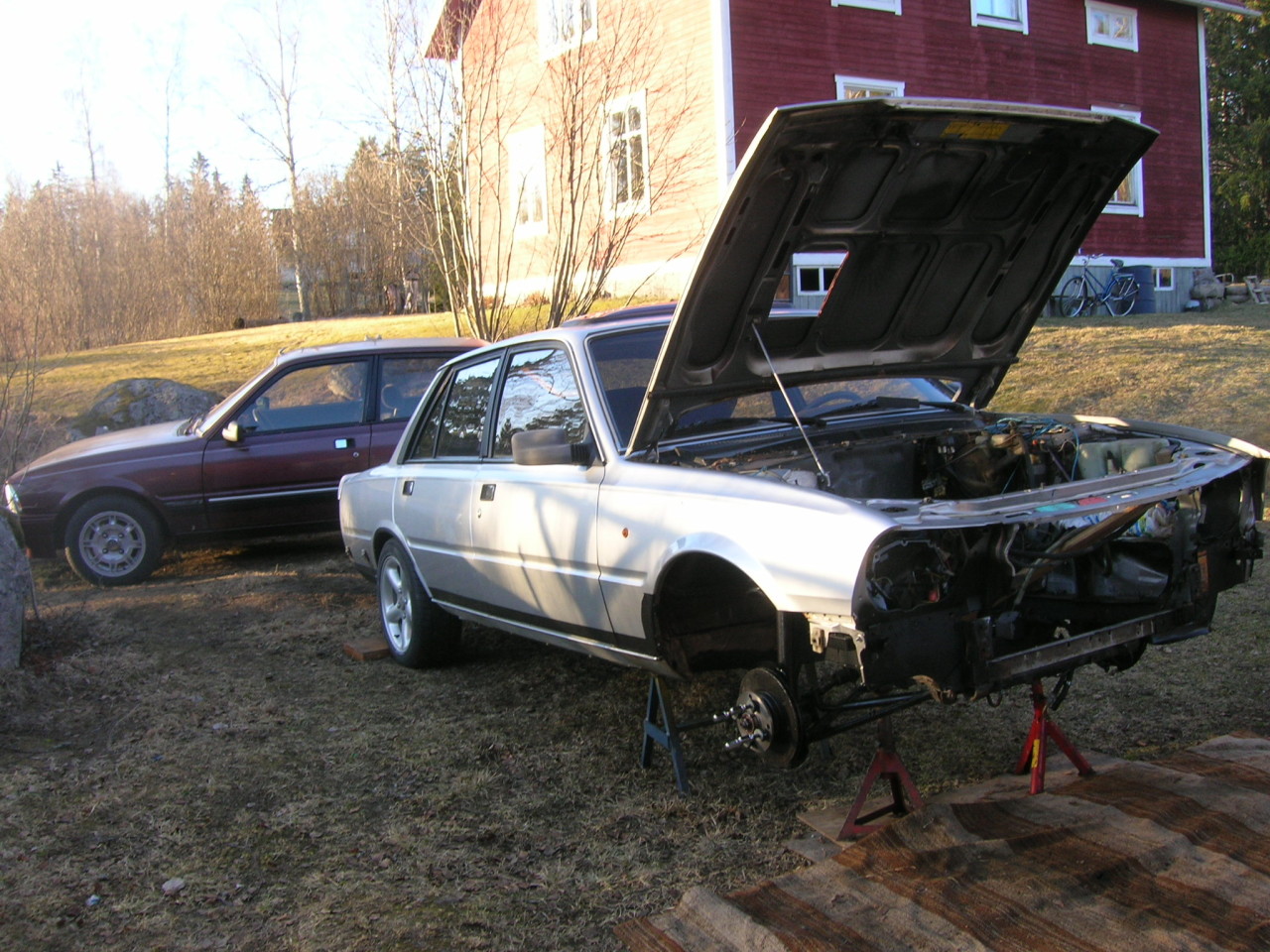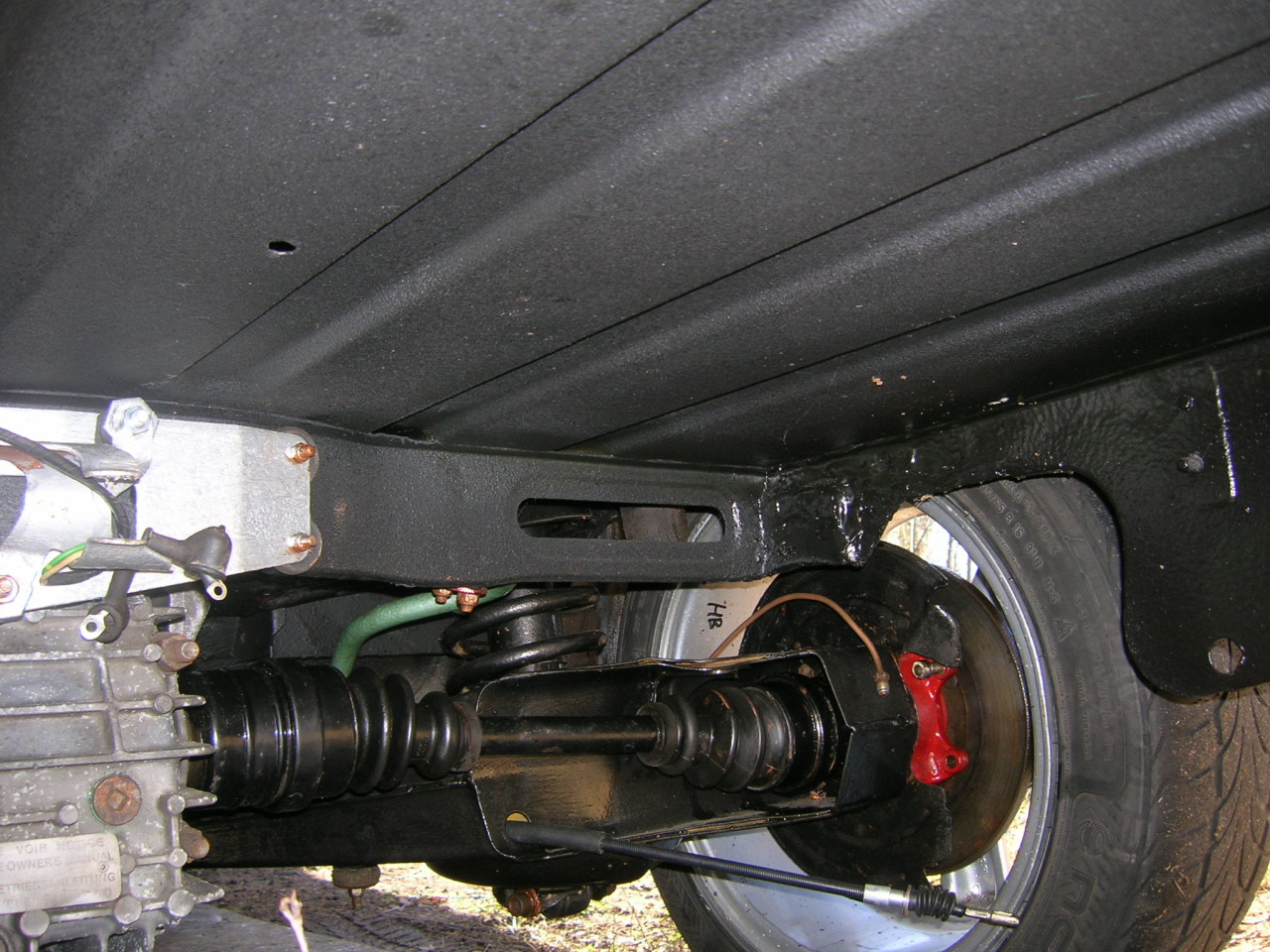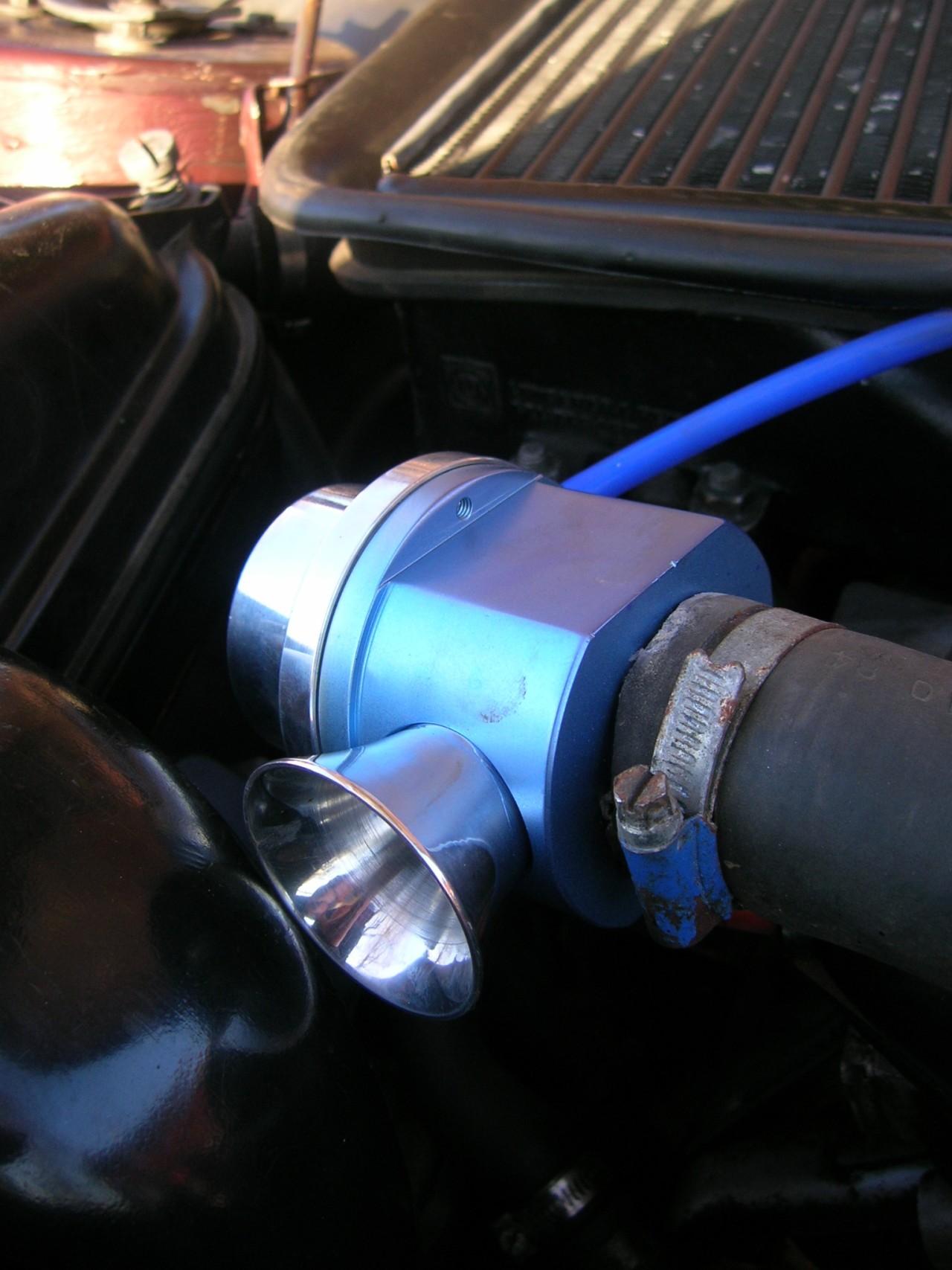 6-8-2008
Updates
Have done some rust repair on my car; grinding, sand blasting and painting. I want to complete the rust repair asap so I can start to do the fun part, building the exterior and finish the engine building. But it's gonna take some time to complete the rust repair stage.
But my father have done a lot of work on his 505; front mounted intercooler (from SAAB) and open air filter. The plan is using his car as a test platform before we starting doing modification for my car.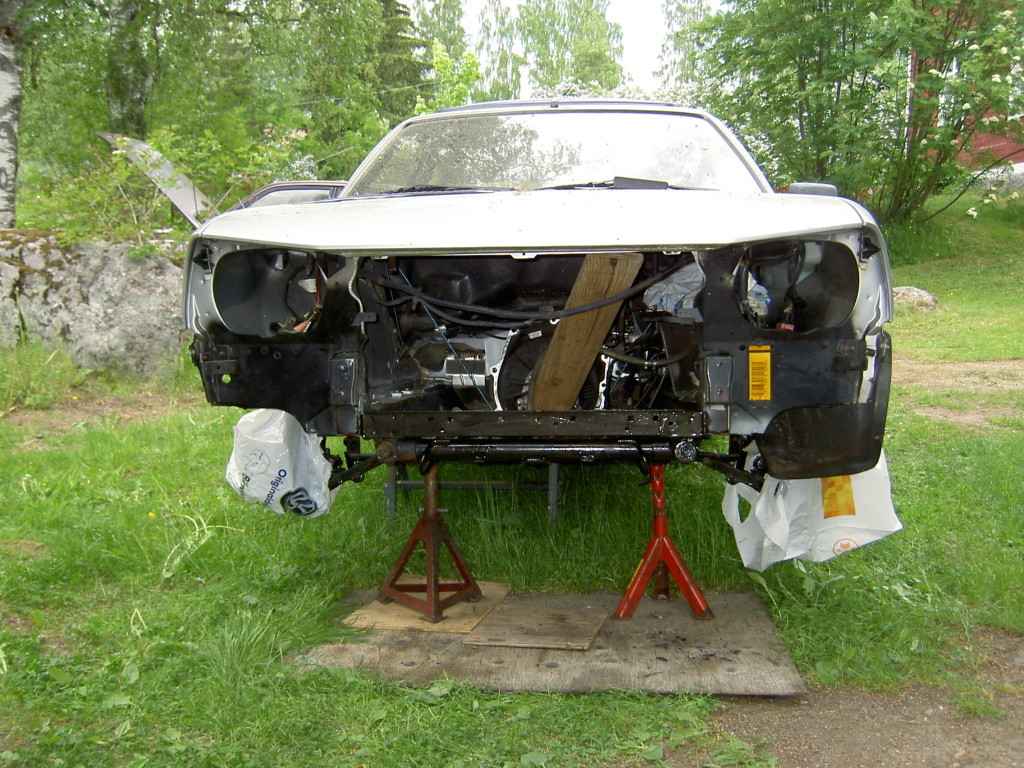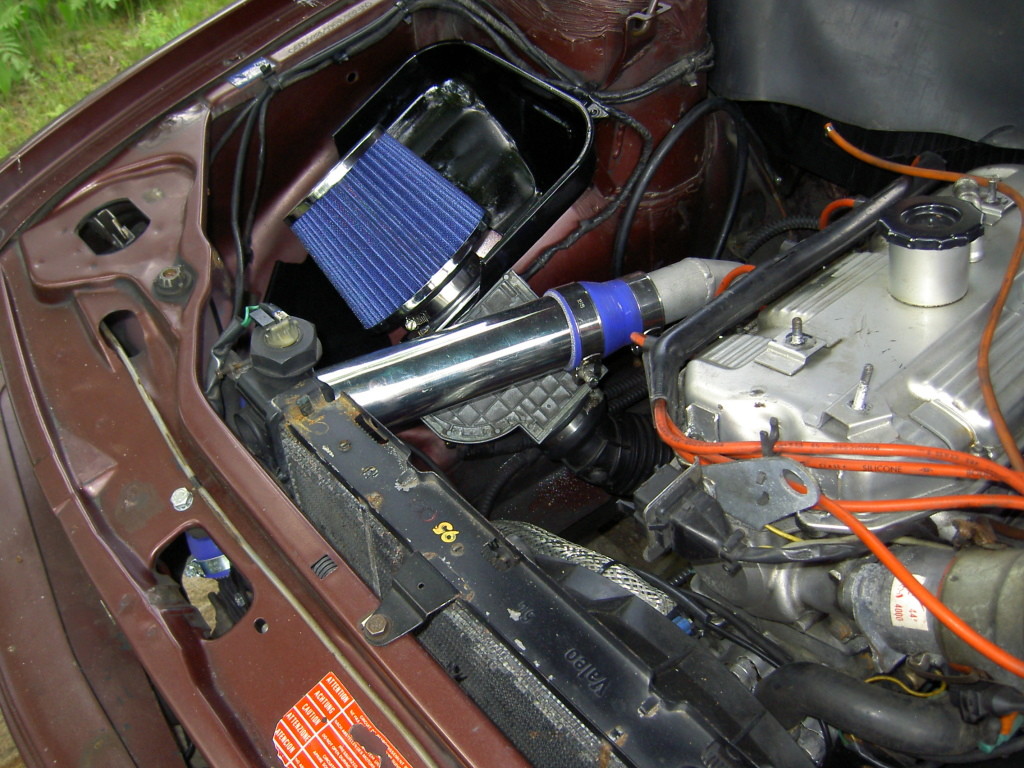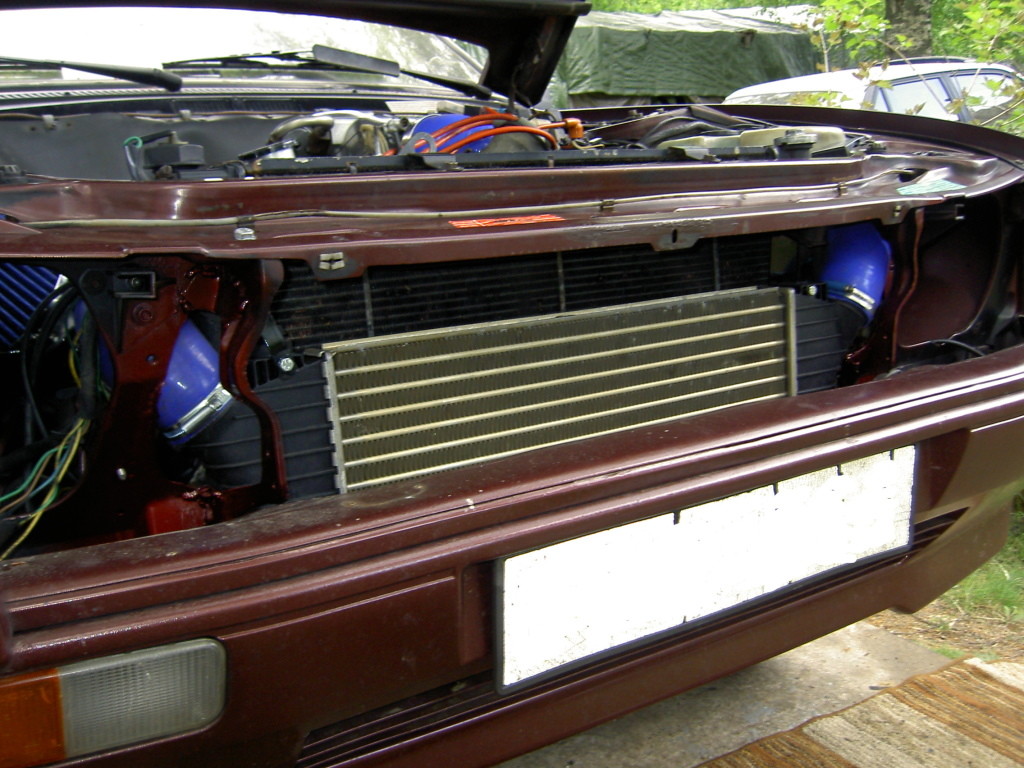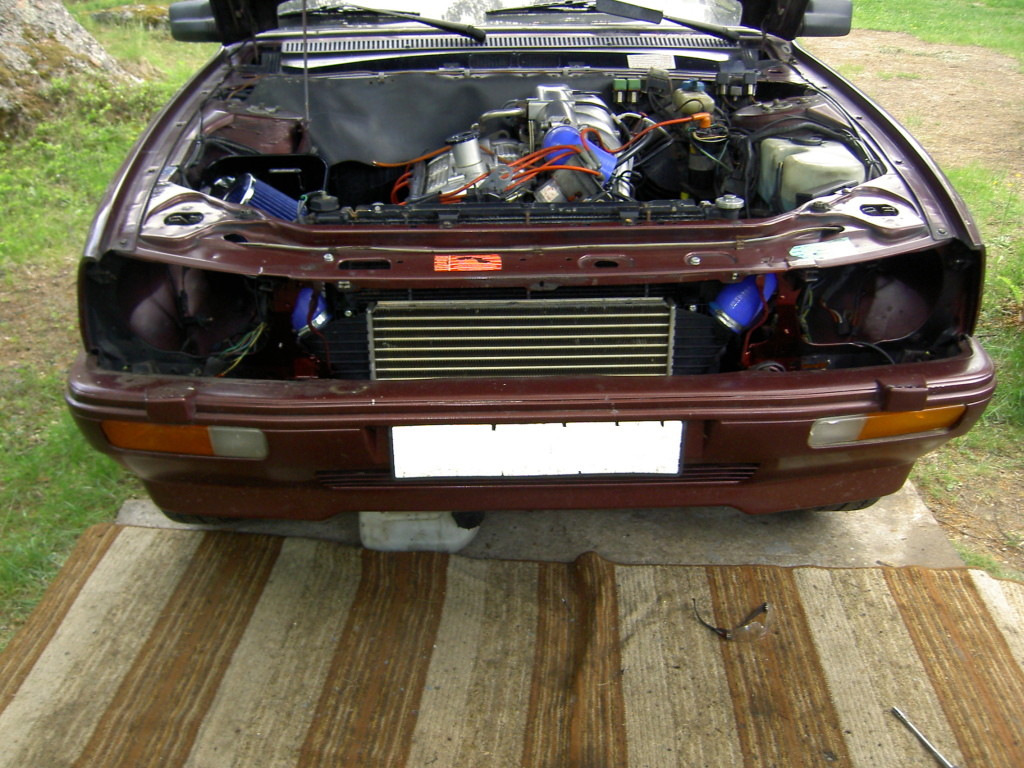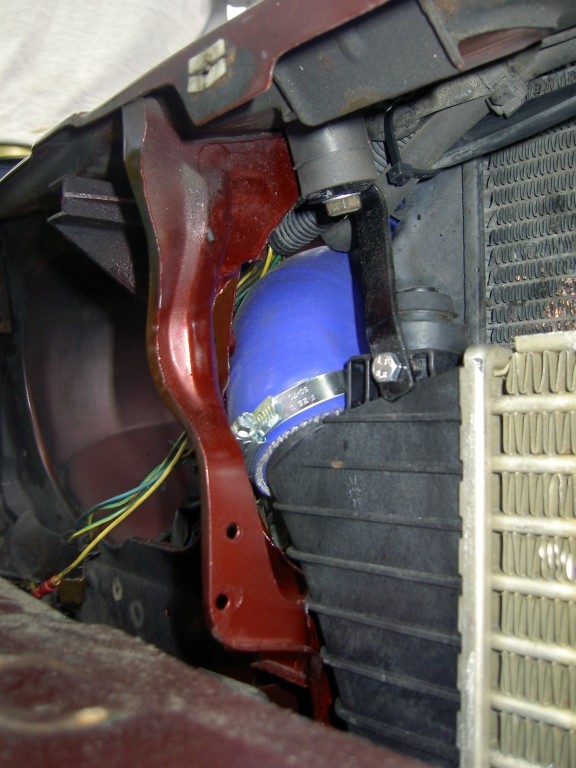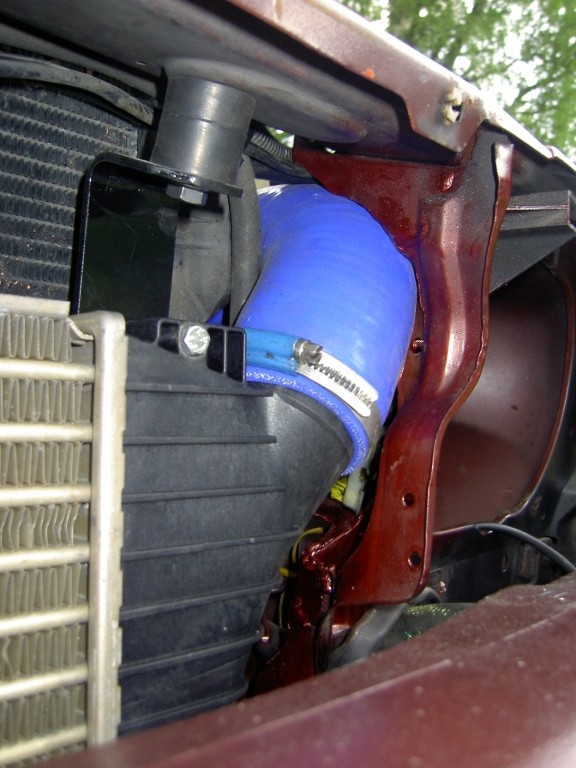 6-26-2008
Bean: Thanks! We are not planing to open up the bumber at the moment. The next plans with my father 505 is to replace the two last stock muffler on the exhaust pipe with just one muffler, gona replace it with a aftermarket muffler. Just as a test if we can increase the exhaust flow and gain some preformance.
We have test driven the car and it works exellent, mabey a slight diffrent in the spoolup and the boost have increase a bit. The acceleration is fantastic
In two days my vacation starts and I got 5 weeks of vacation and the plan is to to as much work possible on my project car.
Most of the work I gona do is to get work on the exterior, rust fixing and painting. To get the exterior in good shape.
I can reveal that i have purchased sideskirts from a BMW E36 and we have done some test fitting and it looks good. We have also order stock paint so we can paint the sideskirts. We have plans for another color for the car but stock will do for now, need to save up some money for a total new paint and the paint jobb.
One other thing that I have start working with, what it is I don't gona reveal now, but I can say it involves plastic and hard work. I will upload pictures if the final product comes out good...
6-27-2008
Good guesses guys! Bean is closest to the right answer
But I don't want to reveal anything for now, as I said in previous post I will upload picture if the final product comes out good. Want it perfect if I can.
The length of the skirt is perfect, don't need to to any modification on the length. But some modification have to be done to not make the skirt stand out to much from the car. I will upload pictures when we have mounted them on the car.
For like 2 years ago I helped a friend to mount a front spoiler on his BMW E36, then I measured the length of the skirts and is exact same length on the 505.
I have a small movie clip when we test driving my fathers 505, but that movie is when we have just mounted the BOV. See if we can do another test run now when we have mounted the front mounted intercooler.
My fathers 505 project gona be on hold for now, we gona work with my 505 now. Have to finnish the exterior this summer and maybe start with the engine. We have to send the crankshaft for grindning and get it balanced. But need the clutch before we send it away; I have email some retailers in sweden and ask for aftermakret clutches to the pegeuot 505. But most retailers dosen't sell them. But stylingkompaniet.com told me that they have Sachs preformance clutches, and they have a clutch for the 505. Have to email them back and ask for more specification.
Have anyone test the SPEC clutches for the 505? My friend have tried one SPEC clutch for his Nissan 200sx and it diden't work well, the stock was better. 034motorsport.com sells SPEC clutches, mabey I will order clutch from them.
Thanks for all the comments, keeps us motivated!
6-29-2008
Update
My vacation have started and time to do some serious work on project car 1.
We have removed the right passenger door for rust repair and welding, due bodywork damage. And we have also start removing parts from the engine room, not so much rust in the engine room but we need to remove almost everything cause the engine room gonna get painted. Same gray color as before (I don't remember the paint code).
Tomorrow we going to the junkyard and get some parts to the project car, maybe a new hood and front windshield.
More updates tomorrow!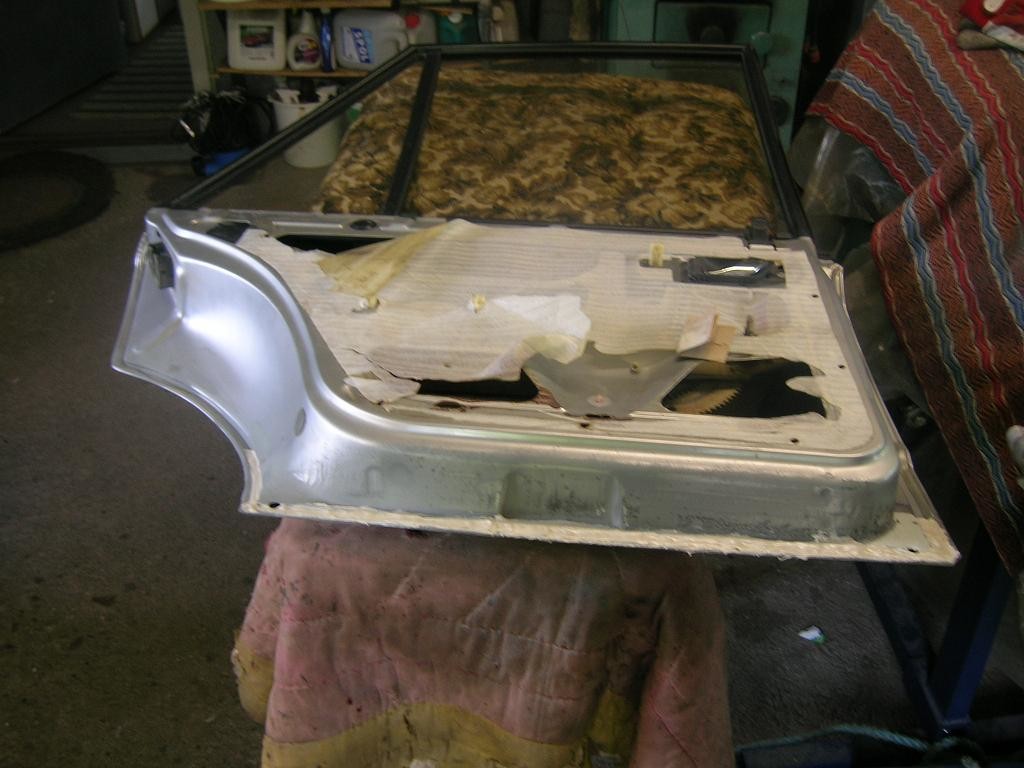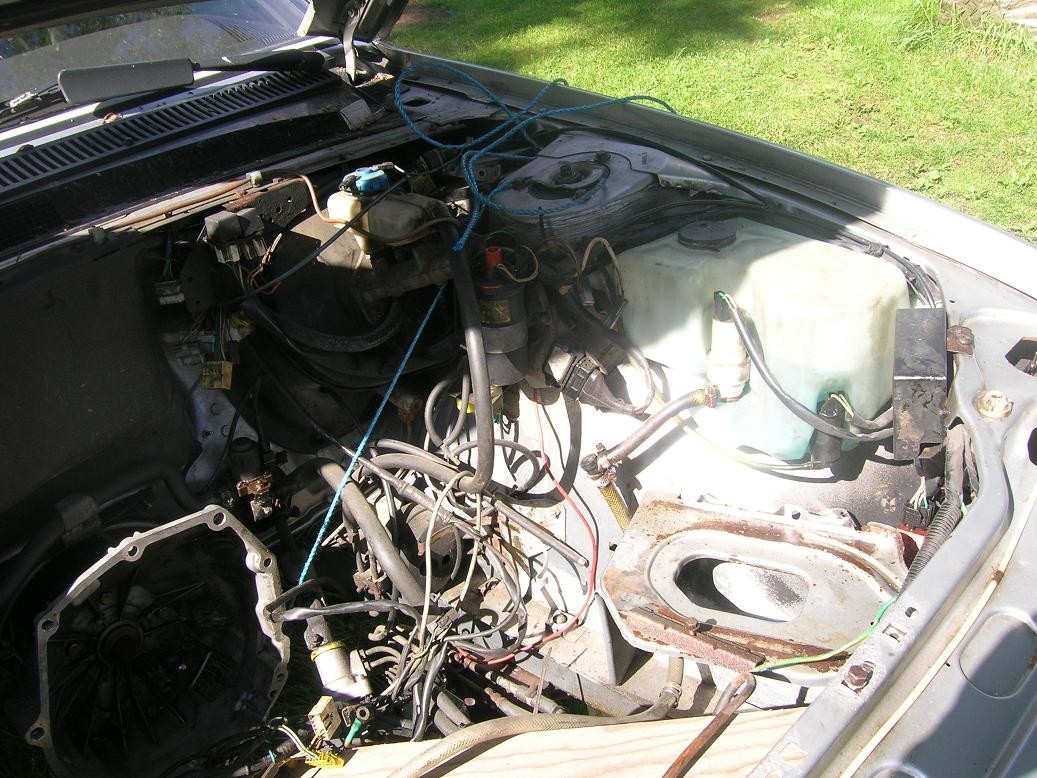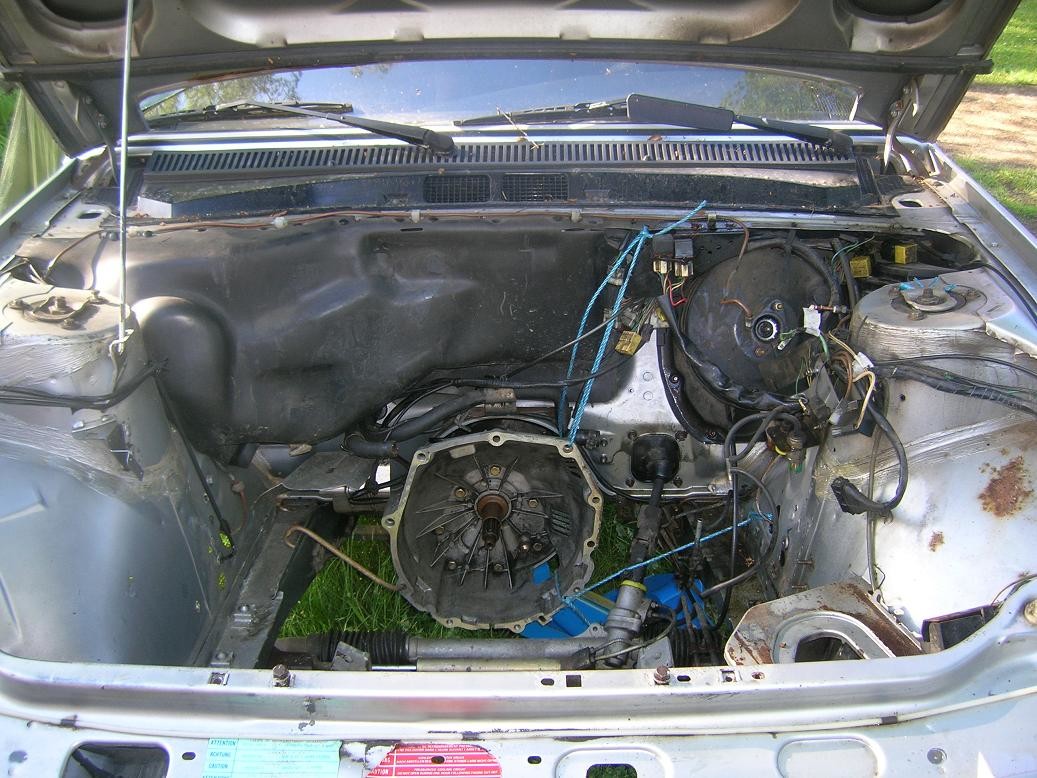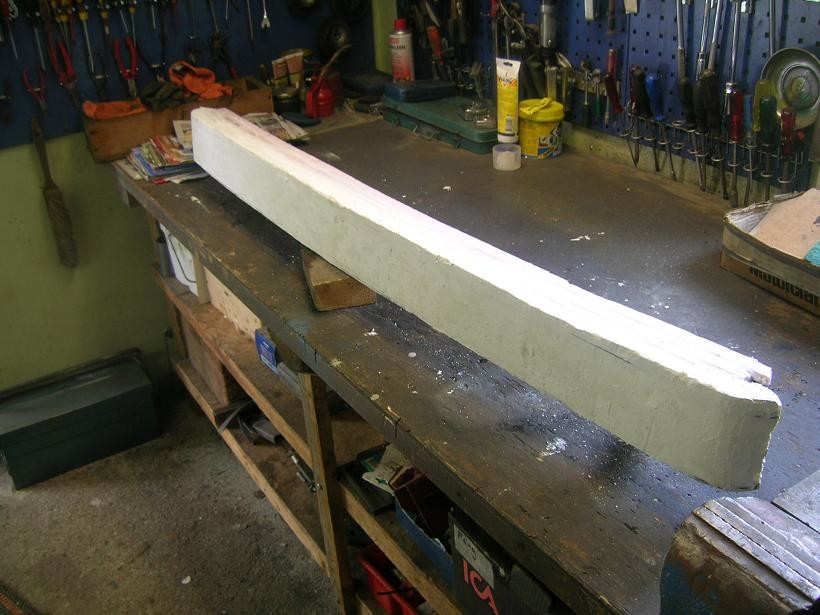 6-30-2008
Update

Rain, rain and rain - Today we went to the junkyard to get some parts to the project 1 car . But the weather was not one our side. We didn't bought a new windshield and hood, instead we bought cable from a BMW so we can place the battery in the trunk and battery holder from a Nissan Premiera. And then we did a really good find. Rear bumper and side skirts from a Peugeot 405 MI 16 - 1990. The side skirt my father gonna use for the project 3 car. The rear bumper we gonna use for project car 1. Is the rear bumper lower part we gonna use. We did some test mounting to day and don't to much modification have to been made for making it fit well.

As I write before, the weather was not good today and we was not able to do any work on the car (I want a garage!)
Here some pictures from today: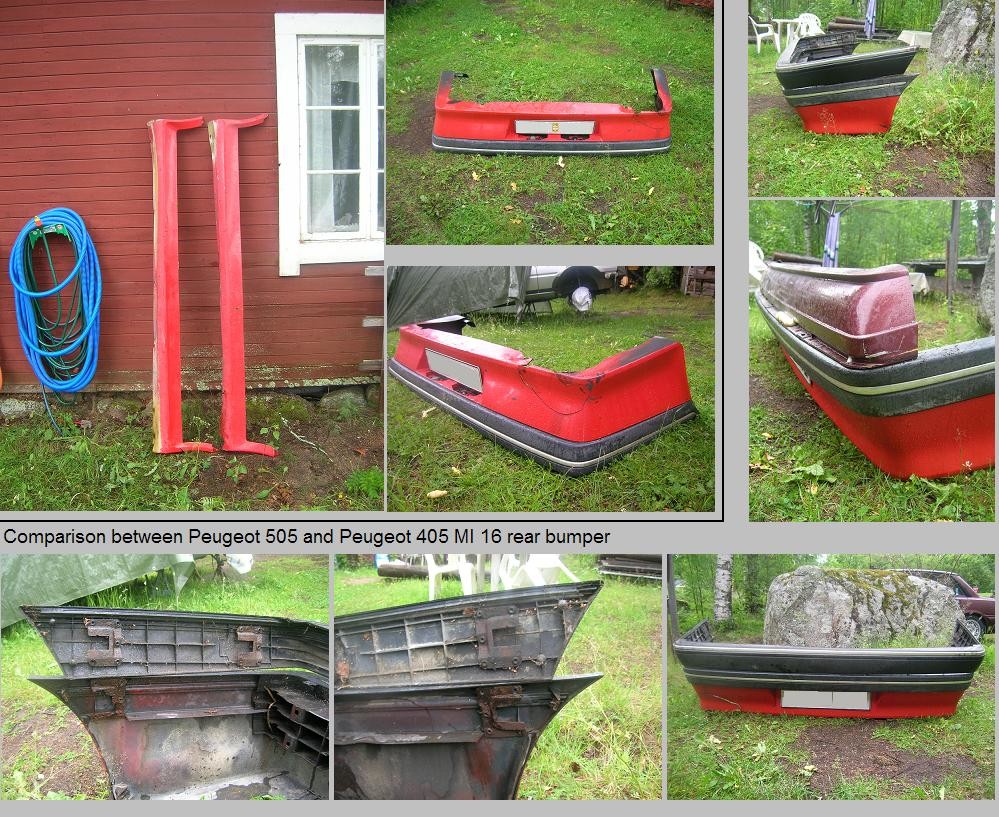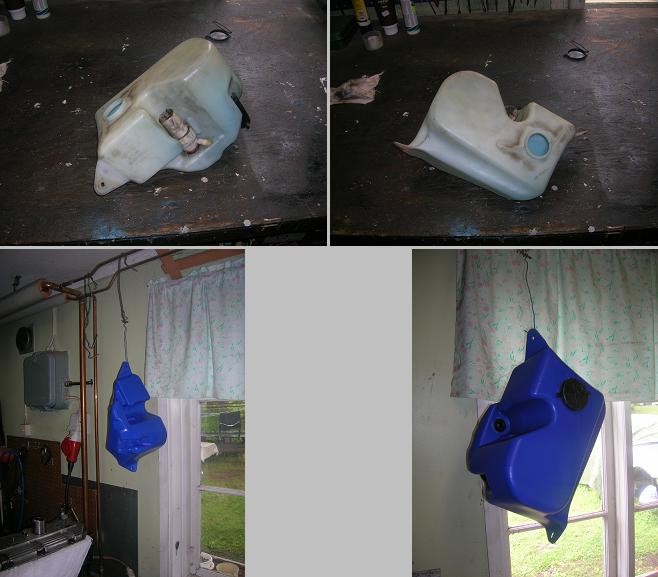 7-1-2008
Mini update
Few hours spend today with the project car. The weather was good today so we manage get the engine room ready for painting, still need some cleaning, rust fixing and masking before we paint.
I worked with the Peugeot 405 Mi16 rear bumper, removed the lower part of the bumper and I will make it to fit with the 505 bumper. I can reveal the plans i have, gonna use the 505 bumper and the 405 lower part. I'm making a mold of the 505 bumper which i gonna mold together with the lower part of the 405 rear bumper. I hope it will give the 505 a discreet and more modern look.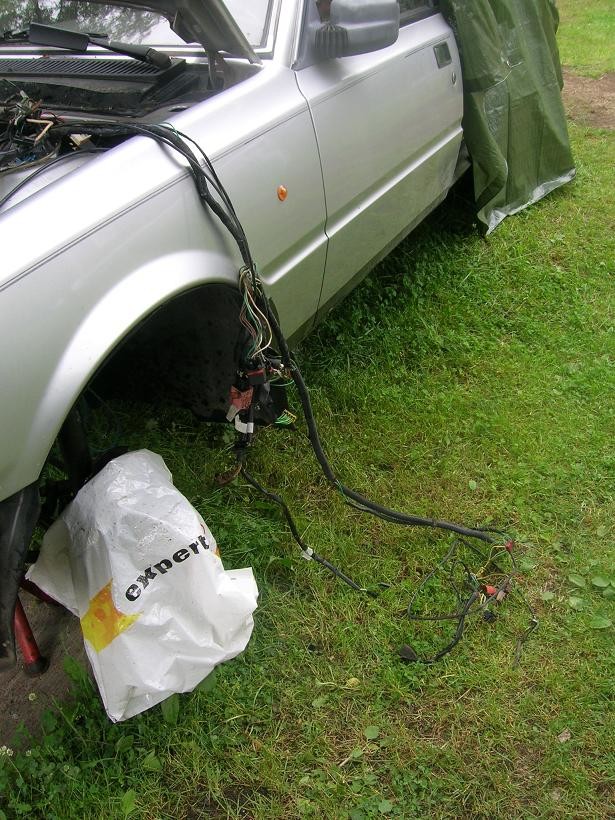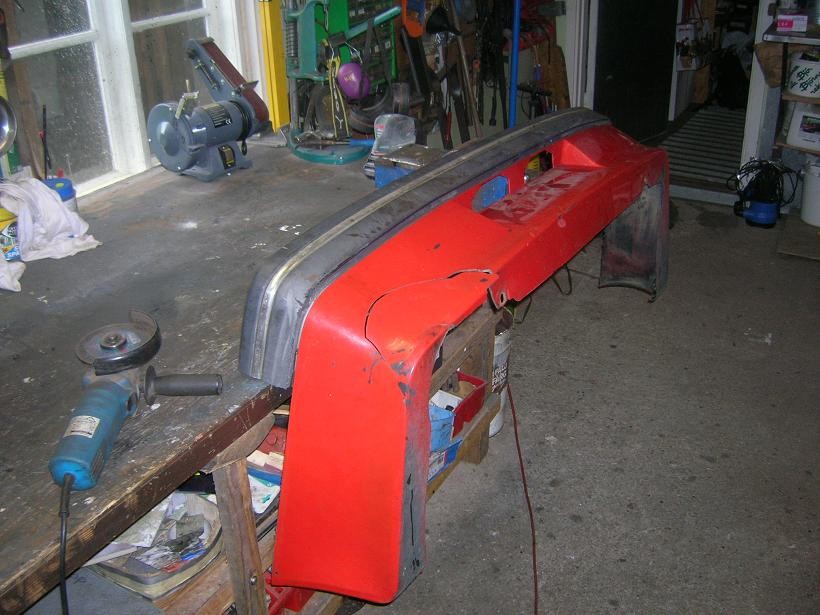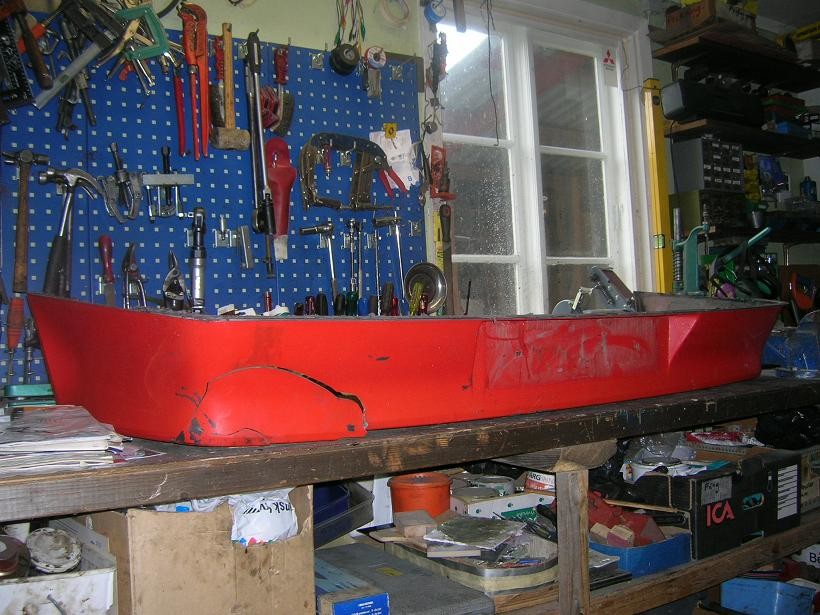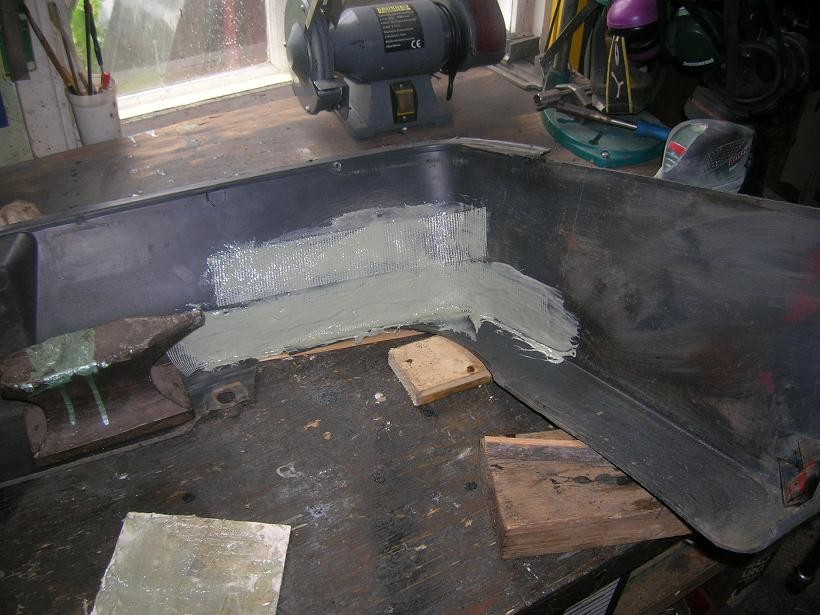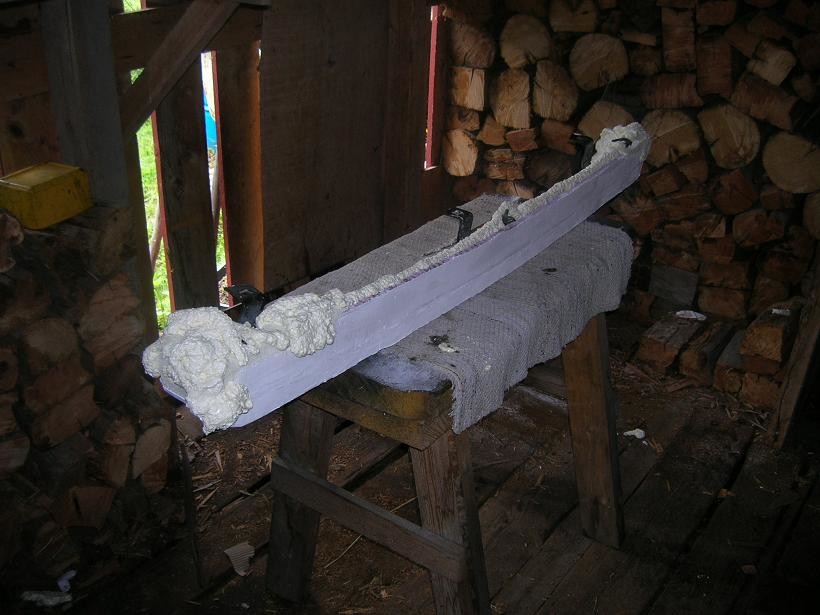 7-7-2008
Mini update
Home from a small vacation in the northern part of Sweden and Norway. Time to do more work on the
project car 1!
Today I have worked with the rear bumper form, test mounted it on the car and need to do some changes to it to fit well. When its done i gonna cast fiberglass over it and attach the Peugeot 405 MI16 lower part to it.
Gonna work with the car tomorrow and maybe do a test run with project car 2. I will not forget to make a small movie clip of the test run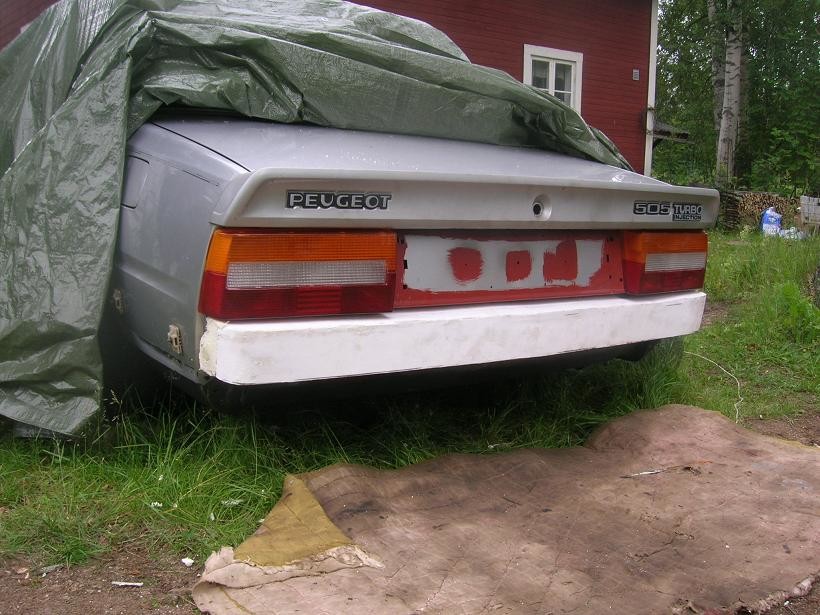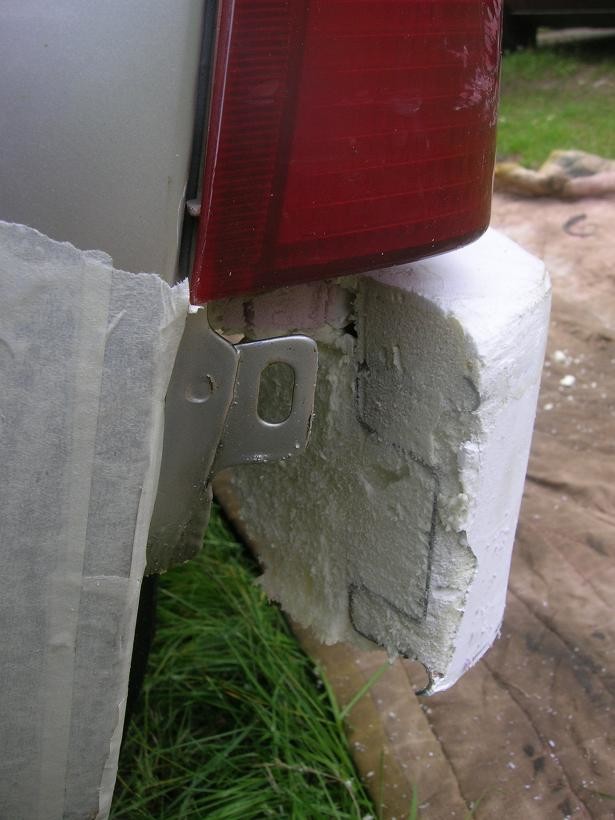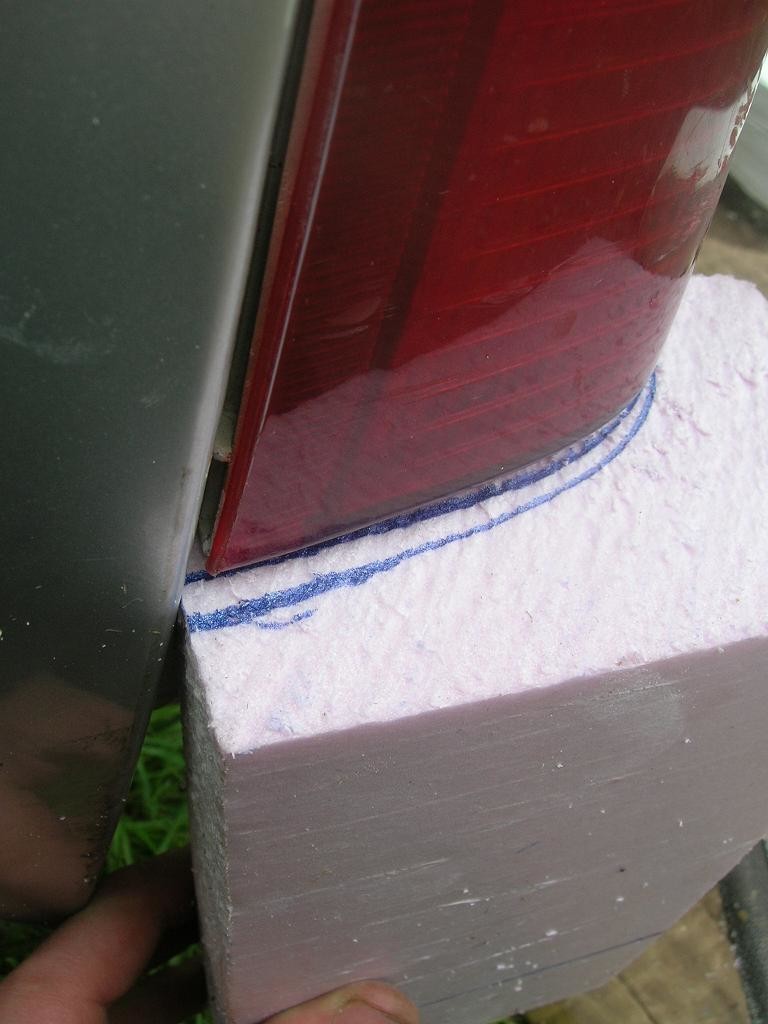 7-15-2008
Mini Update
Done some work with the project car 1; replaced a broken door handle, add a air intake on the hood and I'm still working with the rear bumper. Have to do some improvements before I cast with plastic.
Picture from today and pictures on project car 2 engine.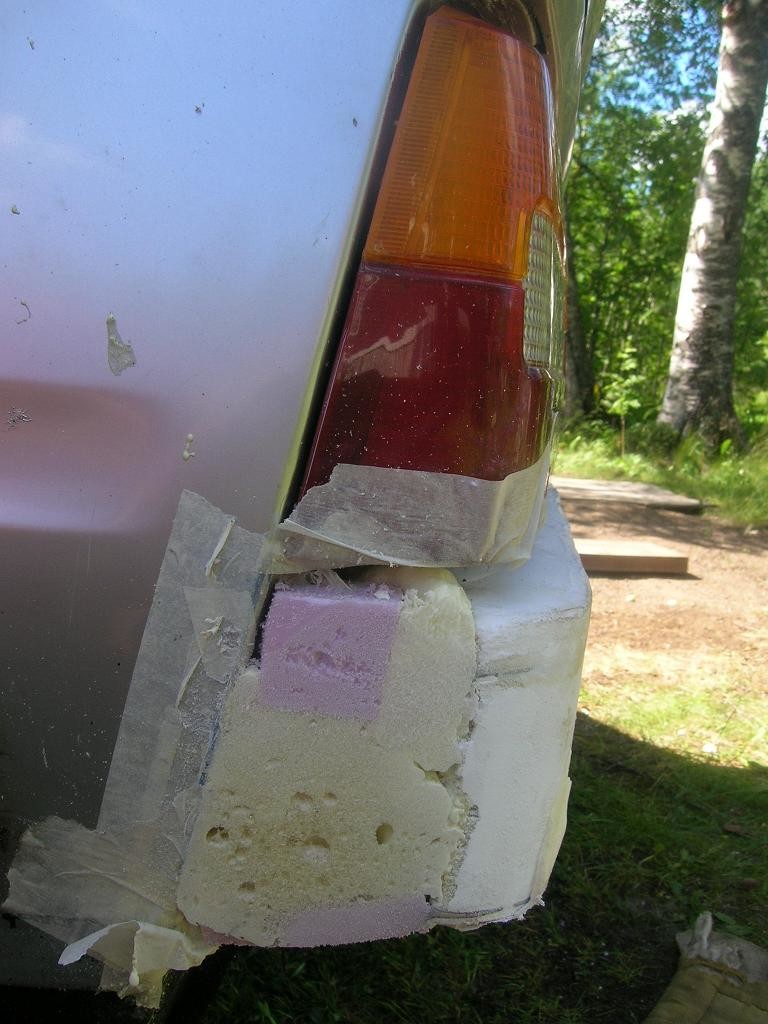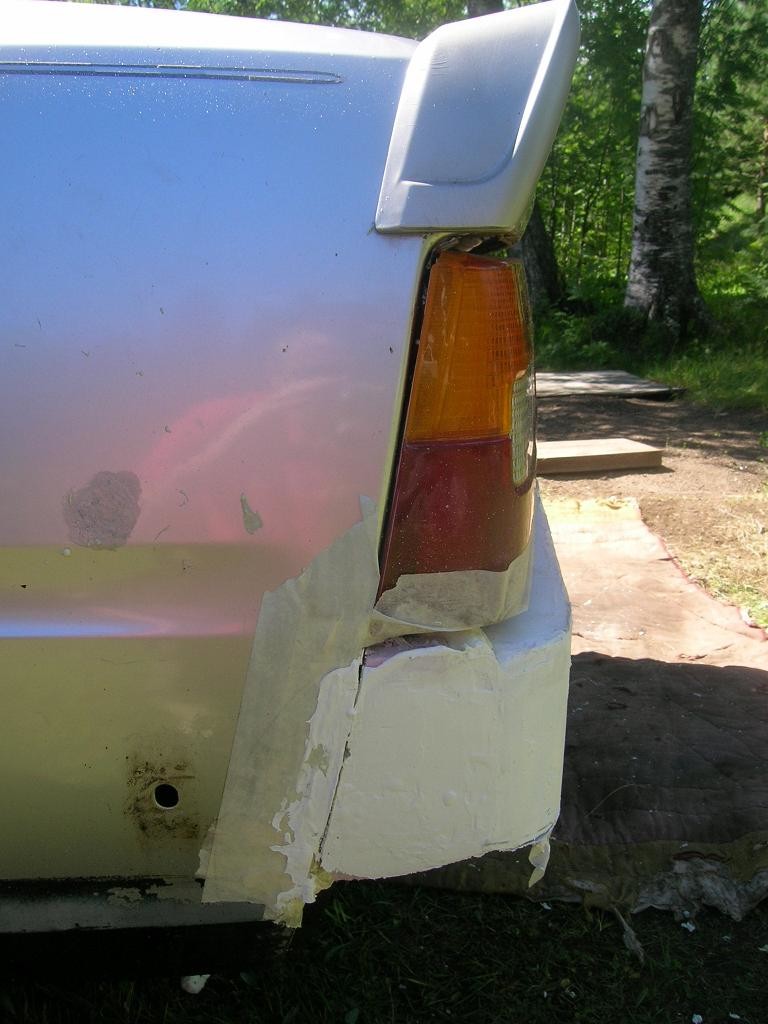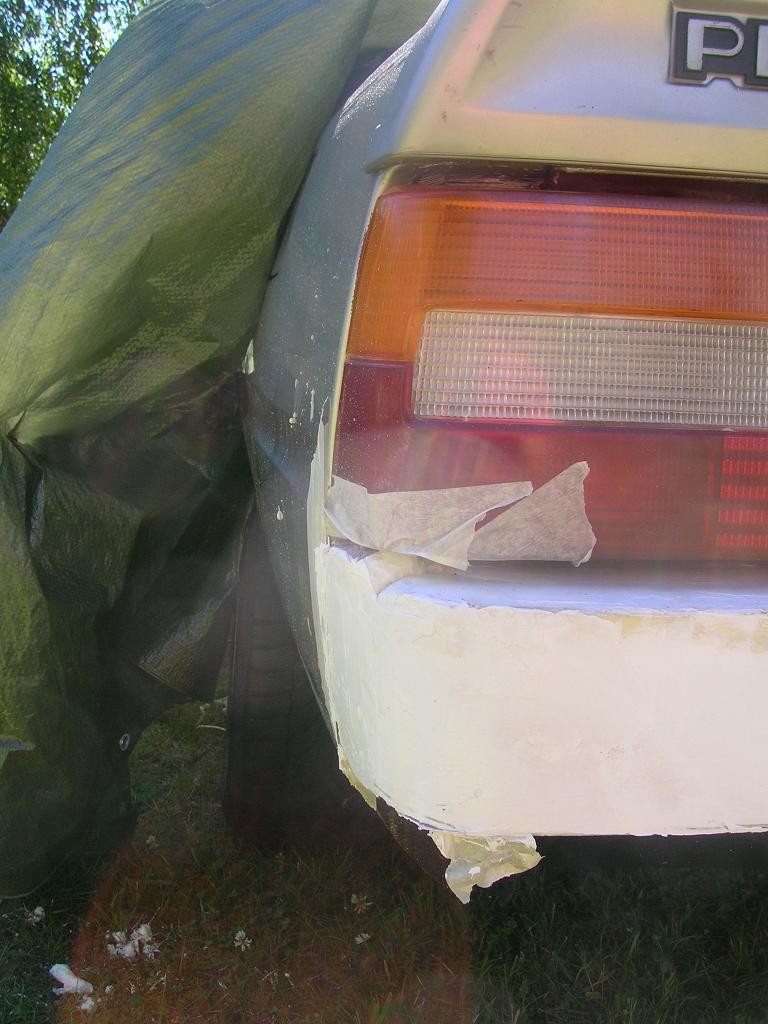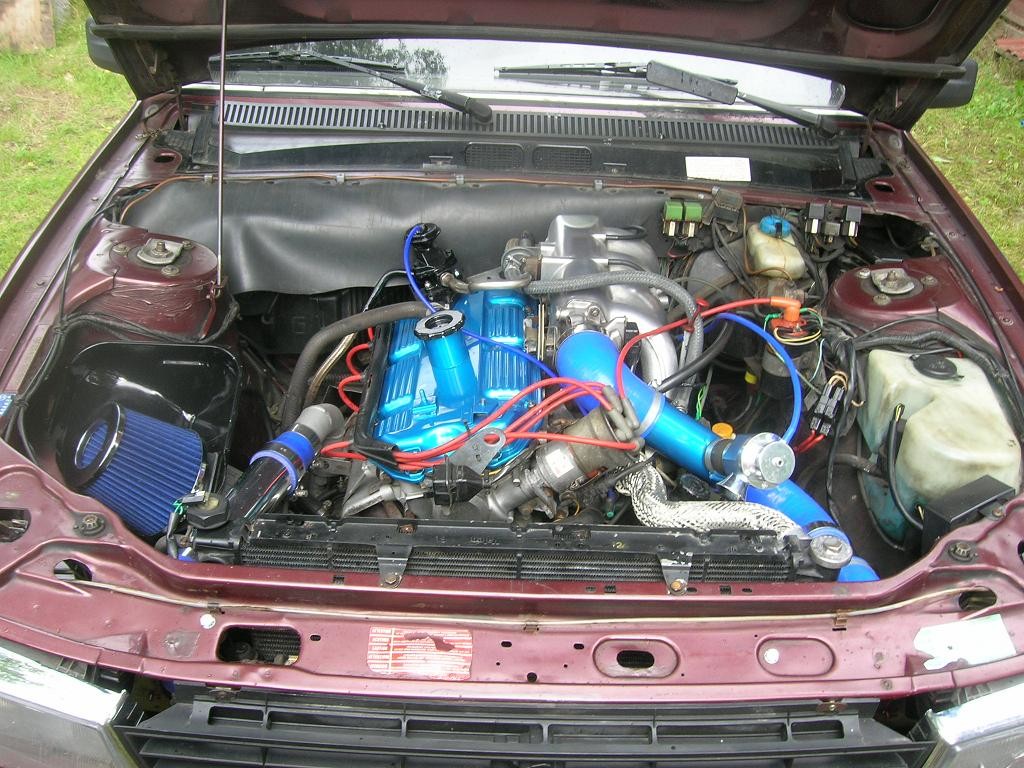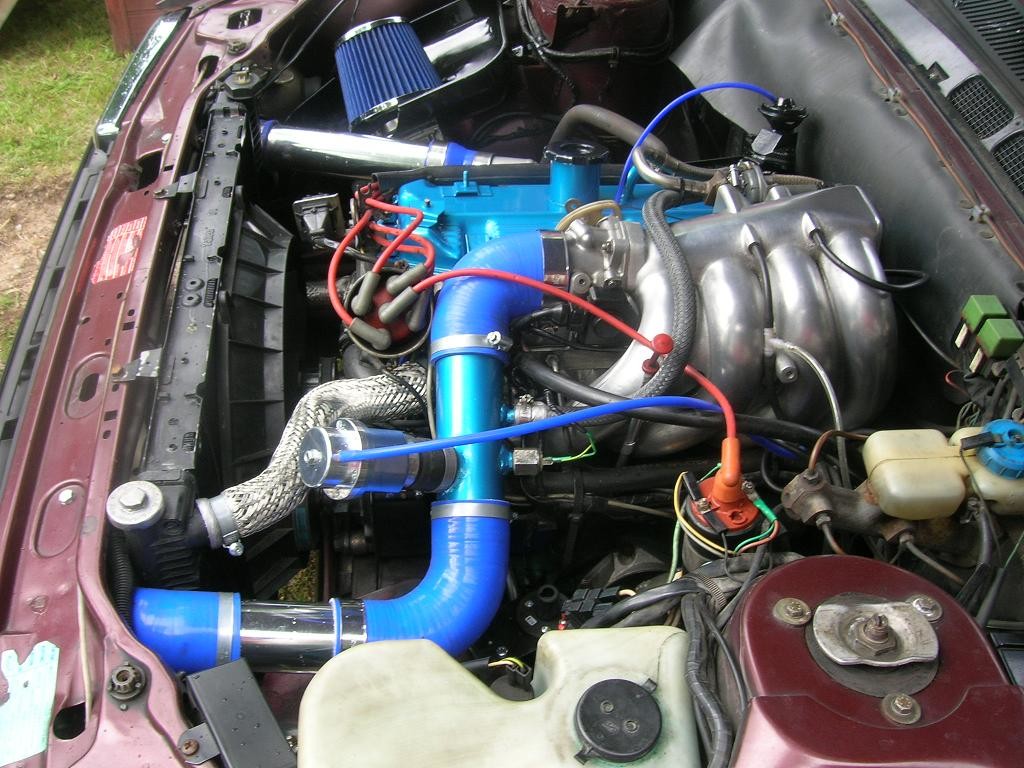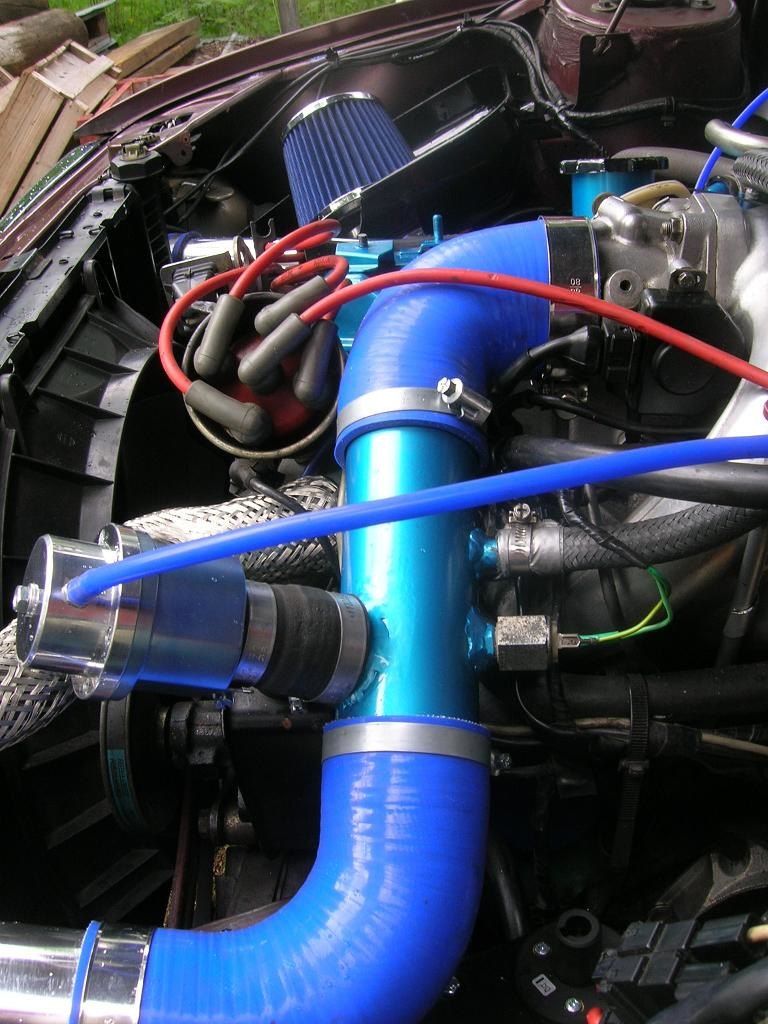 8-24-2008
Update
We have removed all rust in the engine room and painted it. The hood have been painted also and we have also mounted a hood scoop, but we don't gonna use that hood later when we gonna get the final paint on the car. Don't have any pictures on the engine room and the hood, gonna take some picture later.
Sideskirts have been modified and mounted, we test mounted the BMW sideskirts and it didn't look good. So we modified the Peugeot 405 Mi16 sideskirts and mounted them and it is much better. The Peugeot 405 Mi16 have to been extended 4.5CM to fit the 505. We remove the trim beneath the doors and mounted the sideskirt in trim standard screw holes and we also used strong glue to fix the sideskirts. And we fabricated holds that we mounted under the car that also fix the sideskirts.
The bumper mold is finished and I have mold plastic on it. Now I need to do some more work on it to get a smooth surface before I paint it.
First time ever for us to do work in plastic, so it have been a good learning experience
We have been out and test drive the Project car 2 and I borrowed my friends digital video camera. I have edit a short clip (3 minutes and 20 seconds) from the test drive but I got some difficulties to compress the video, I will try to find a solution asap and upload the video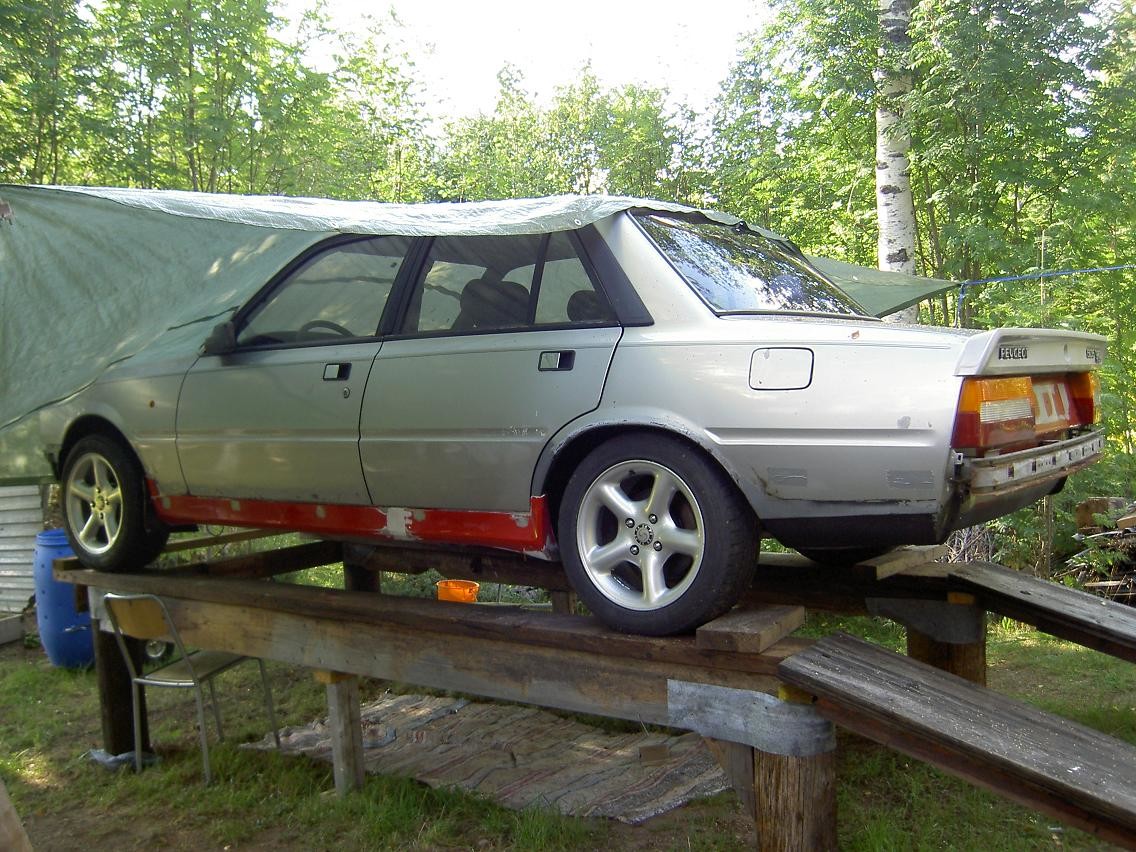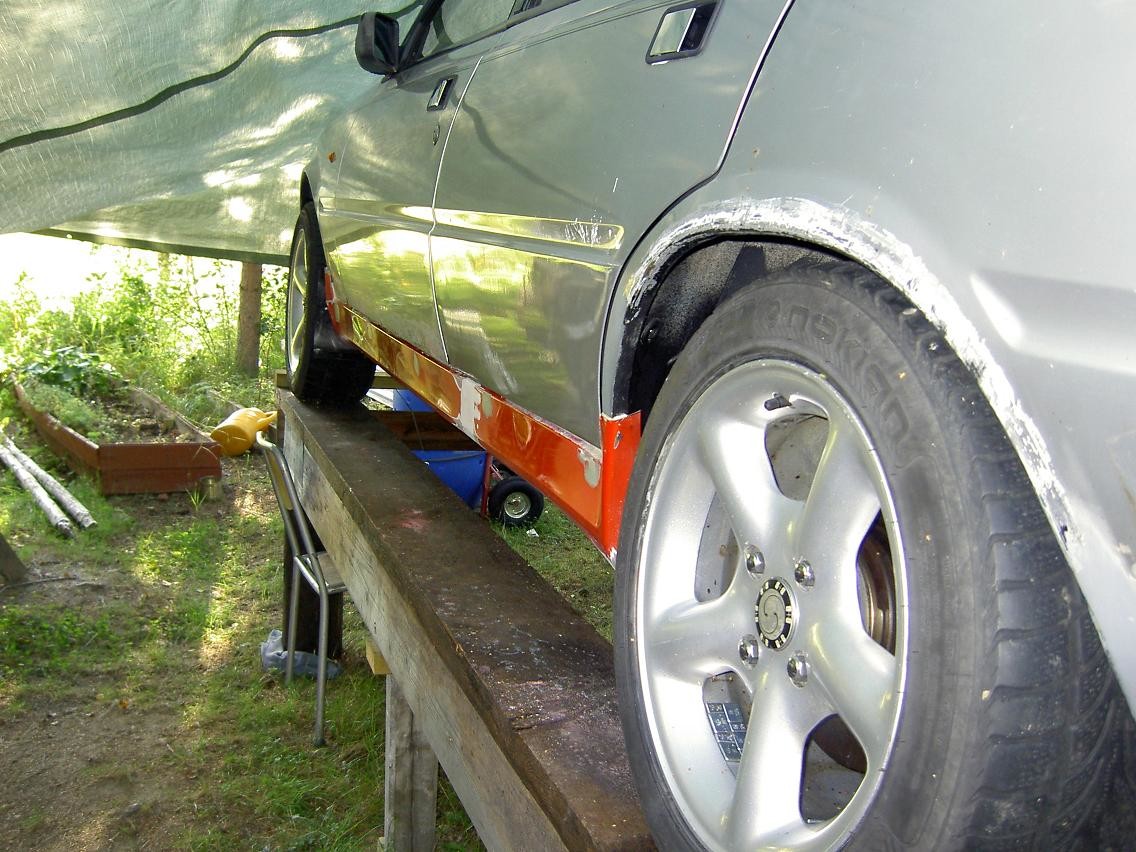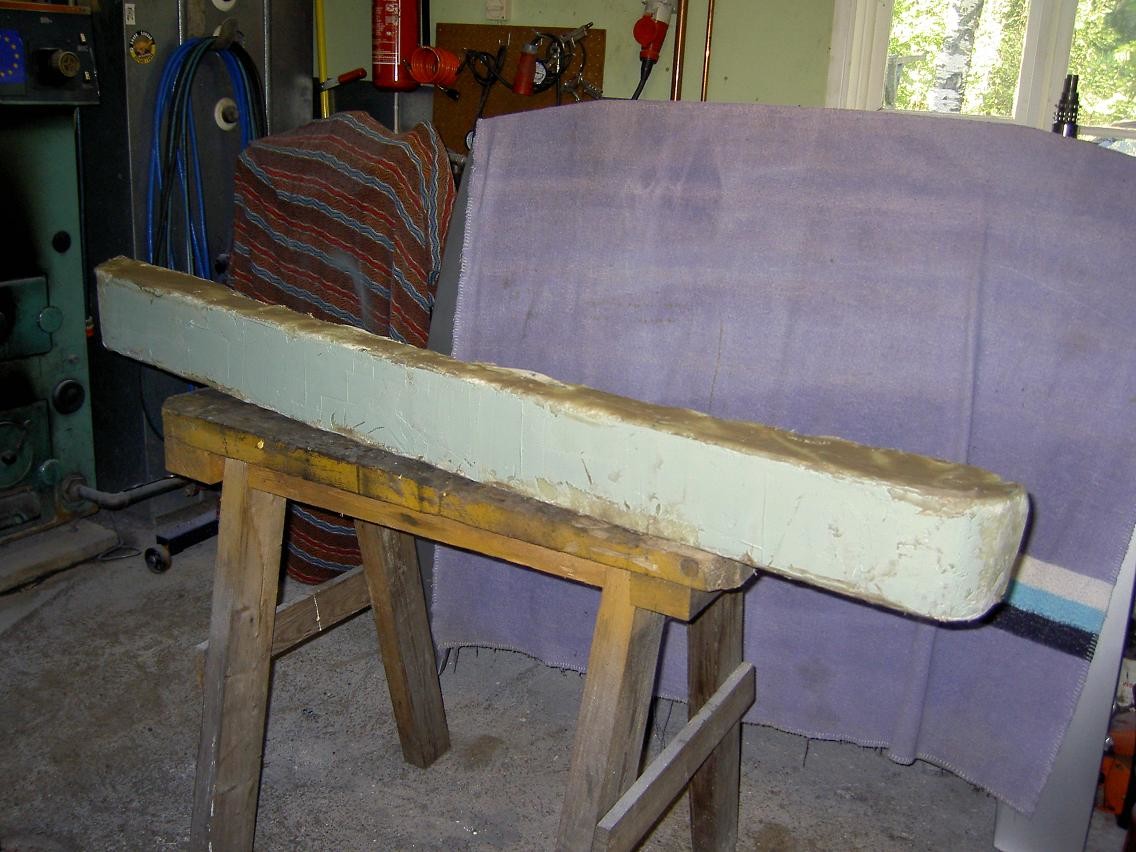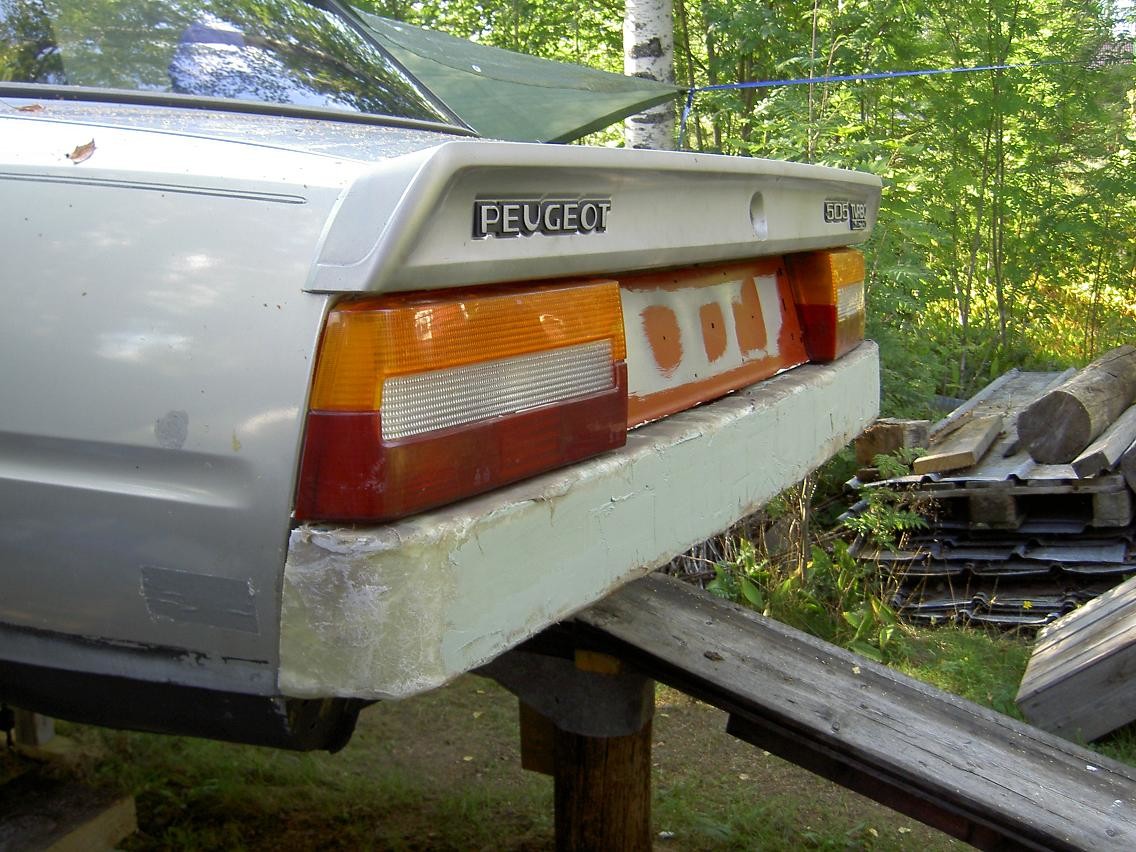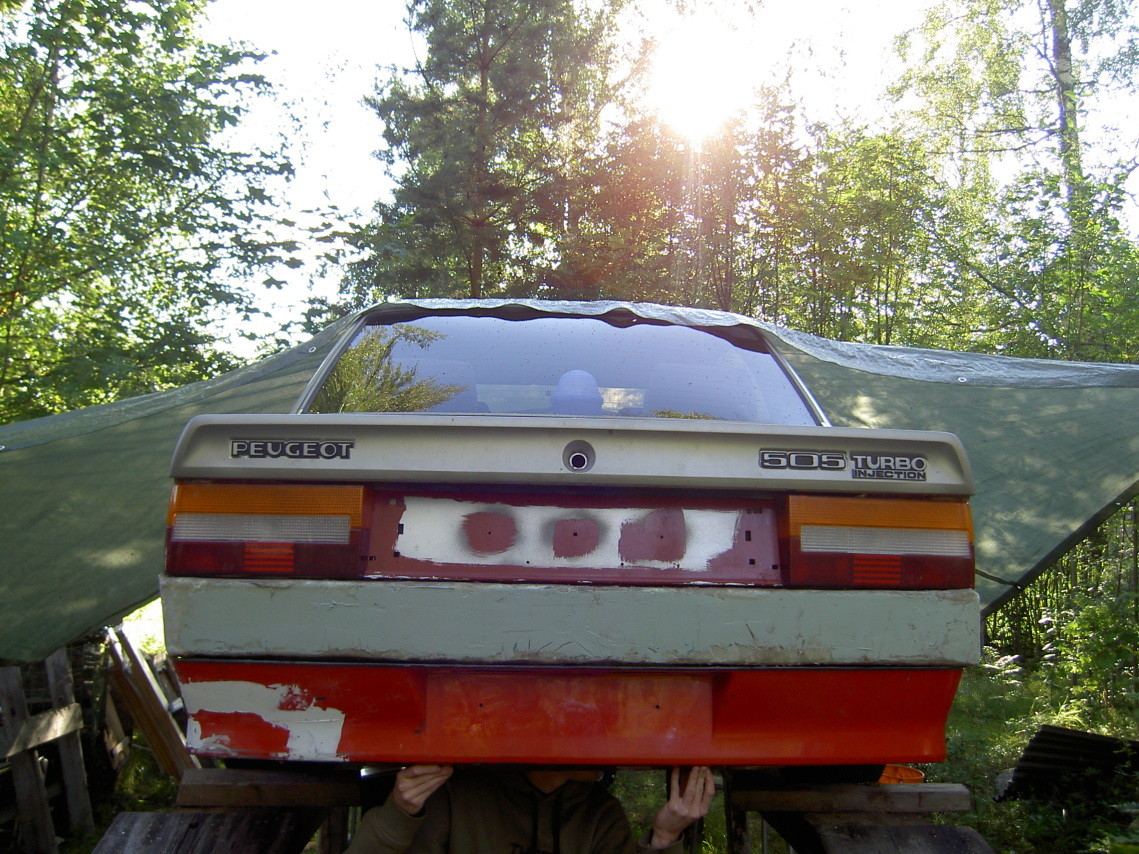 9-28-2008
Update
We have finished the build of the 2.5'' exhaust on Project Car 2, the new exhaust system got two mufflers on front and one end muffler. The test run went good and it sound a lot more now

We are waiting for some custom parts for the project car 2 now, we gonna get it delivered this week.
So next weekend I maybe can update with picture of the new upgrade.

I have worked on the project car 1. Working with the rear bumper, slow work to get the custom rear bumper a god finish. Have take picture of the new painted engine room.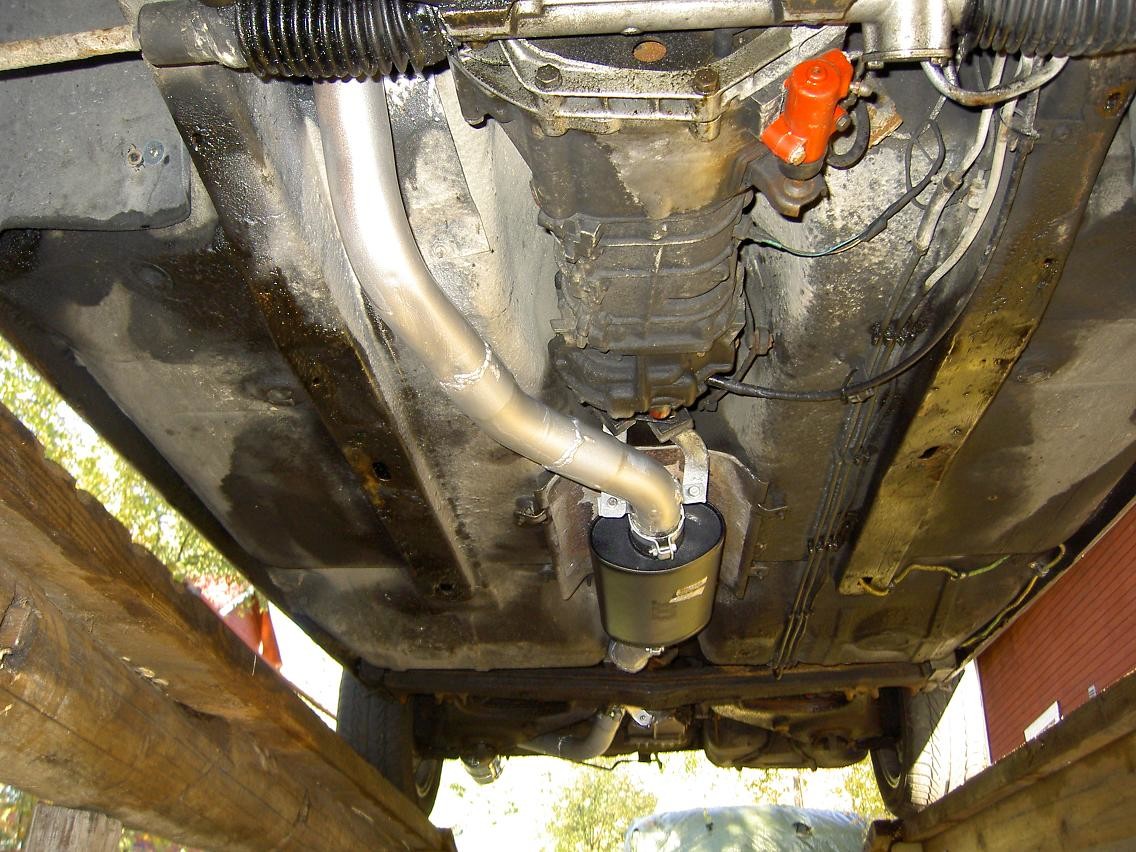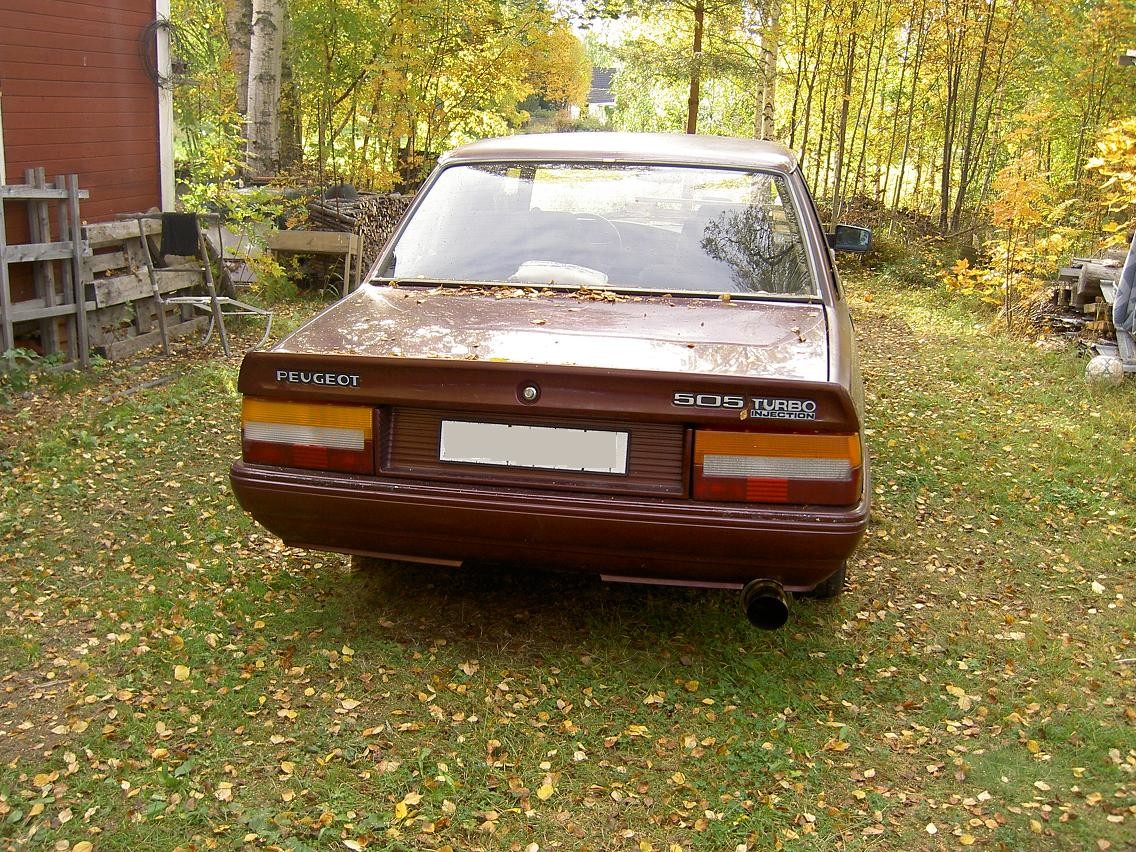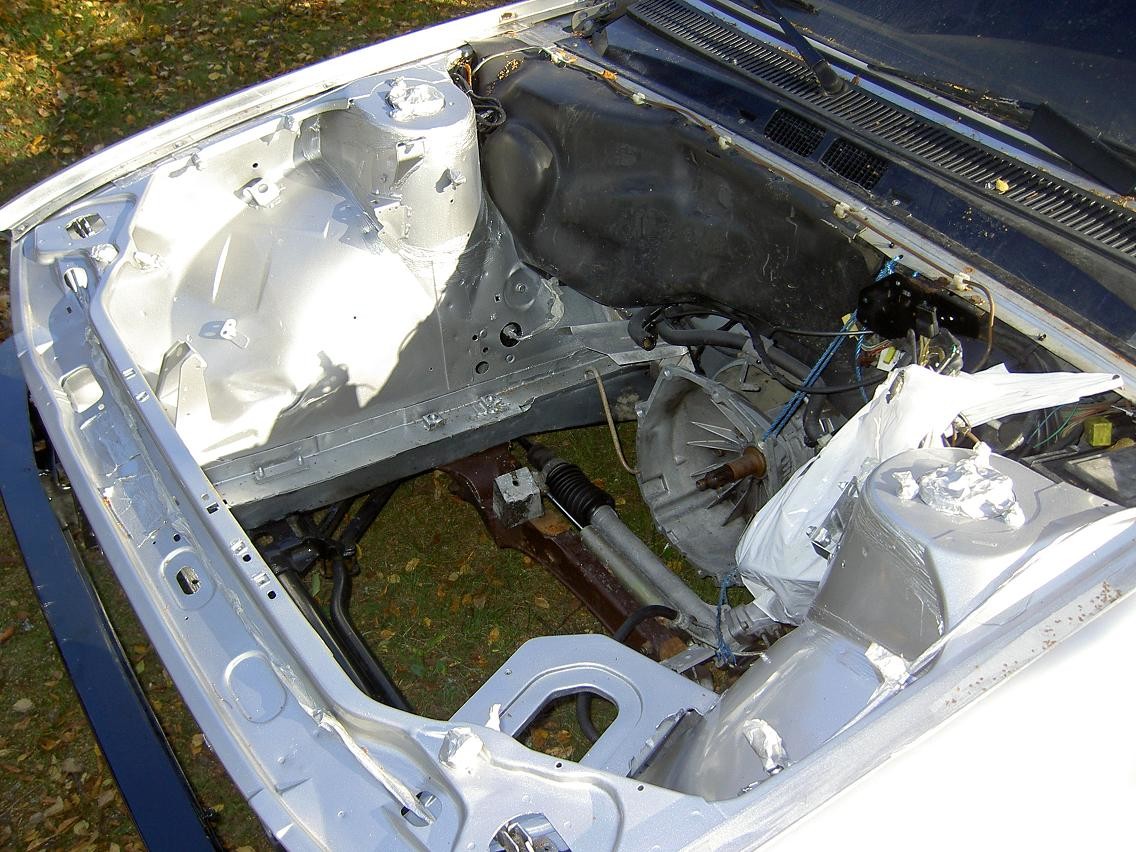 10-11-2008
Teaser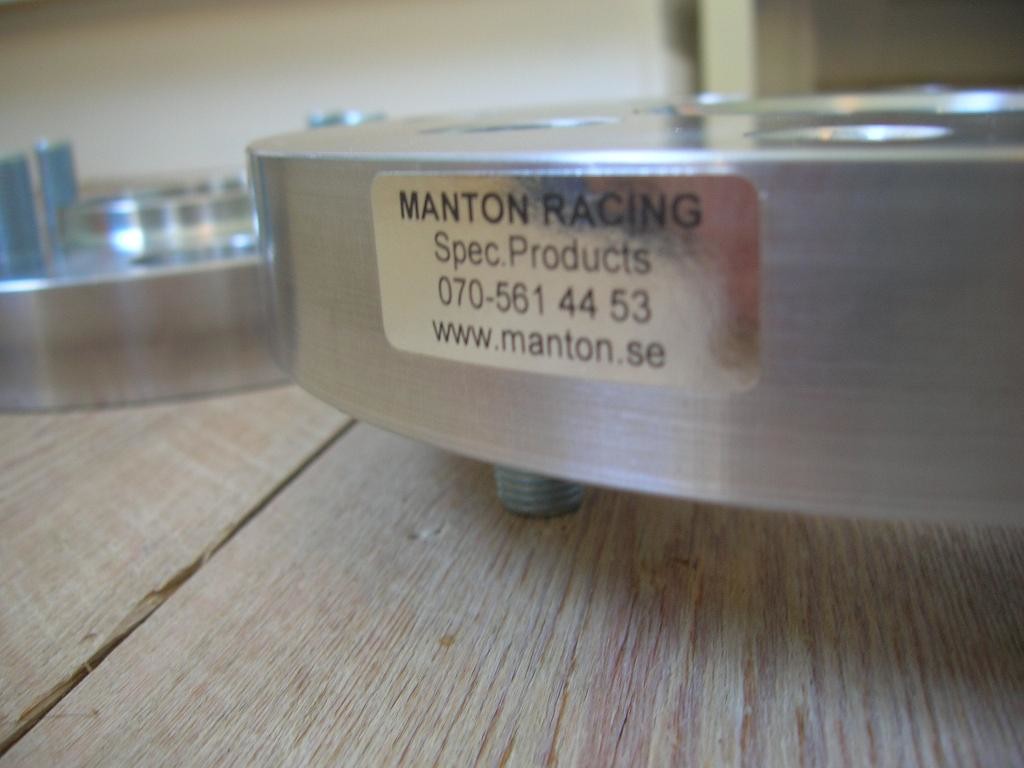 Update tomorrow...
10-12-2008
Update
That's wheel adapters. They are custom made by Manton Racing. When we order the wheel adapter we send in rear and front hubs so the could use the hubs as a template.
Specification for the wheel adapters is 4x140 to 4x114.3 each wheel adapter is 25mm thick.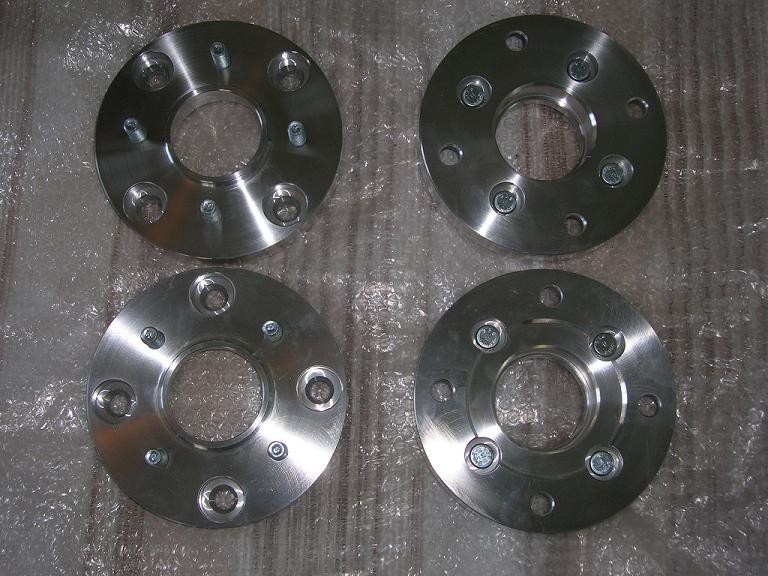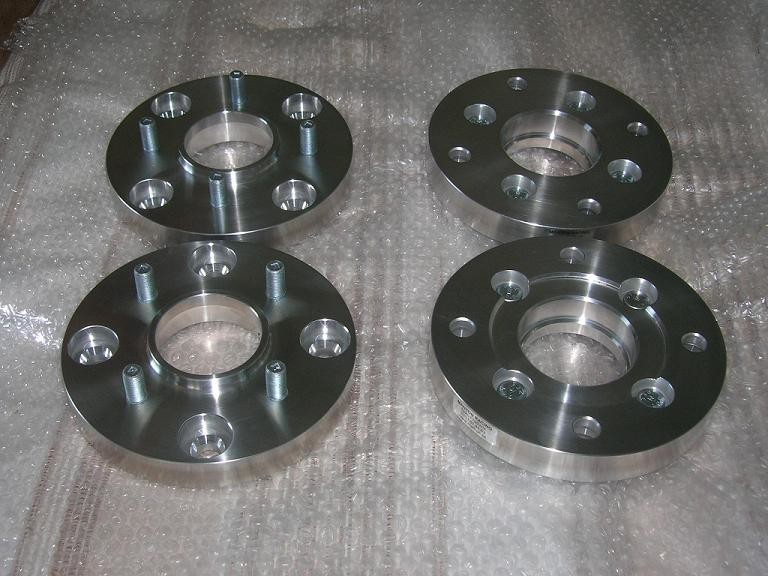 We have also purchase new rims and tires from Molway AB.
Specification for rims and tires:
* Bellini BELLA Hyper Black 17 x 7,0 (ET40)
* Sumitomo HTR50Z ZR 205/50 x 17
The hard part was to find rims that will fit nicely on the Peugeot 505 and with the wheel adapter that not widen the car to much. We think we did the right decision for the rims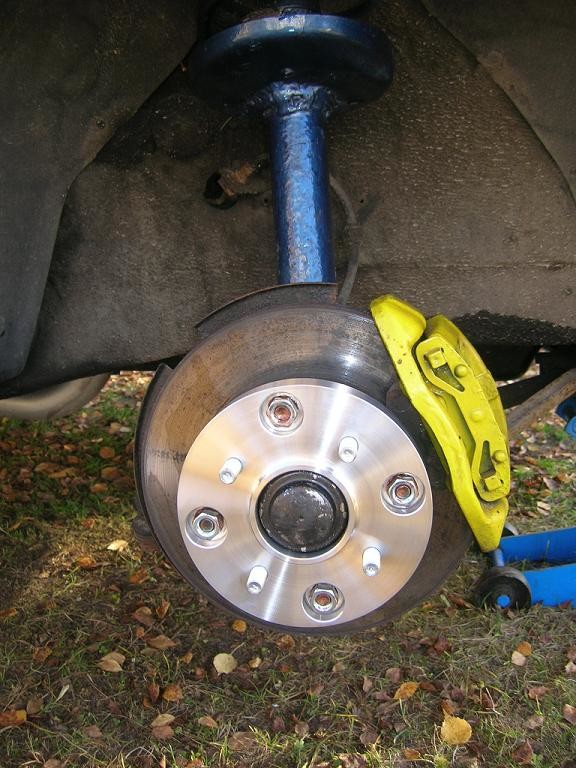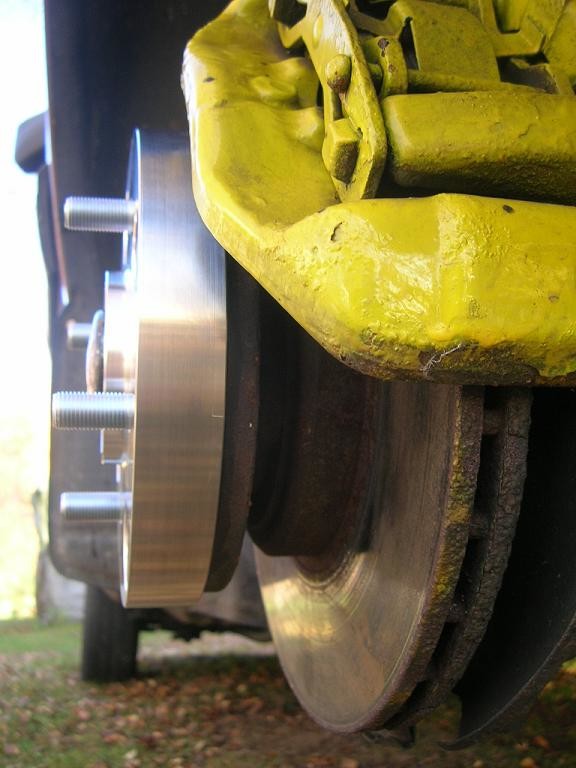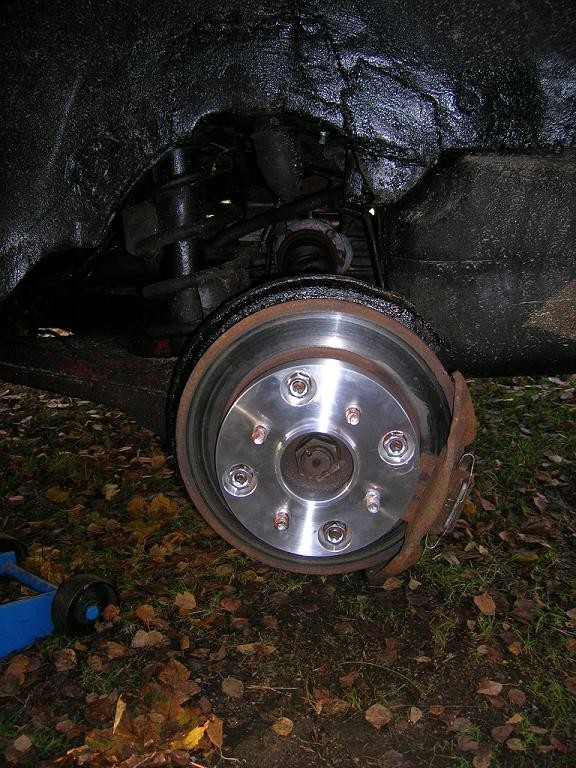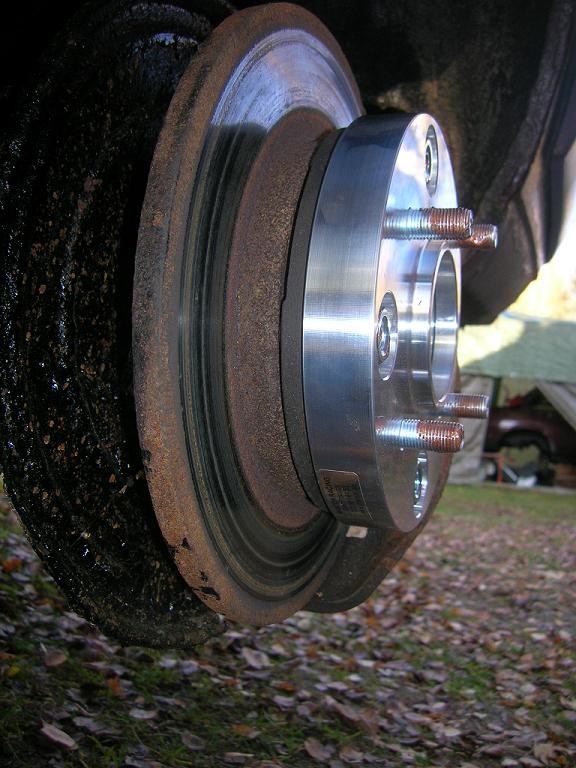 And the final result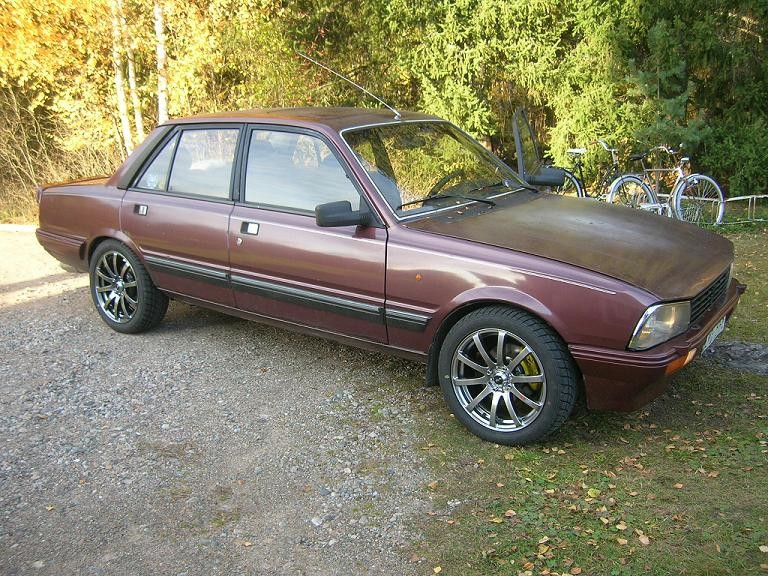 10-14-2008
Alignment settings, have to adjust the toe in and maybe the camber. When we test drive it my first reaction was that the road noise was reduced, its runs more silence on the road now.
Now we have tried 2 option of changing the bolt pattern (not test driven the re-drilled hub yet). We can see what option that we can get the best result from. If this 2 option doesn't work well there always other solution, we are researching on another solution for changing the bolt pattern.
Next step for the Project Car 2 is getting other injectors and another fuel pressure regulator. But we let the project car 2 rest for now and working with the engine for project car 1.
I have contacted a dealer near us that fabricate custom exhaust manifolds, and I asked them if they could fabricate a collector for us and the could and for a real good price. After we have order the collector we gonna start fabricate the manifold. I hope, the engine gonna be finished this winter, but can promise anything
Thanks. I think I have pictures that you wanted, if not I take some more pictures this coming weekend.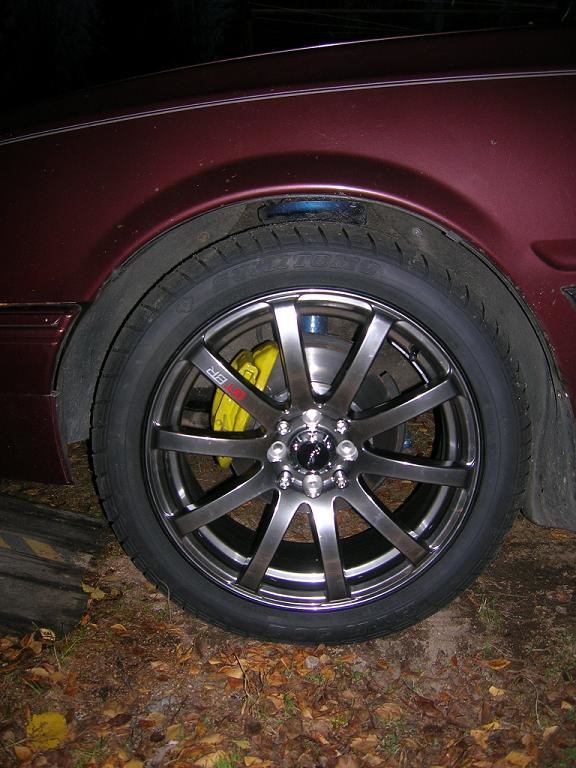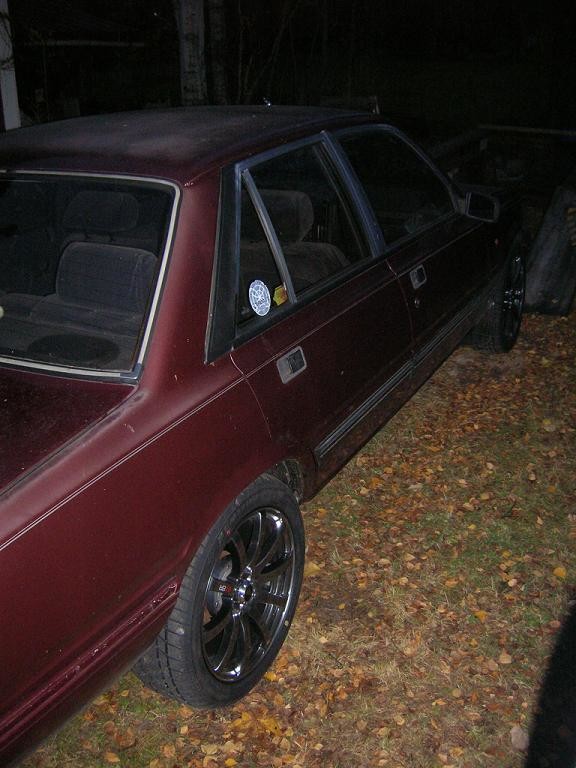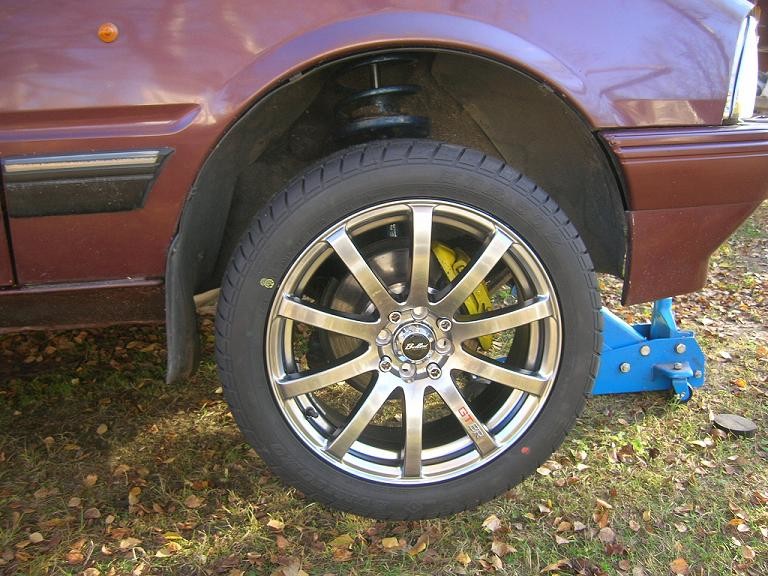 10-19-2008
Requested pictures
Hope this pictures will do, you can see the spacers between the spokes. There is about 5mm of the spacers that is visible between the spokes. This differ what kind of rim you use, or you can paint the spacer black to make them more invisible
We gonna leave them like this cause there is so tiny bit of the spacer that are visible, maybe paint them black.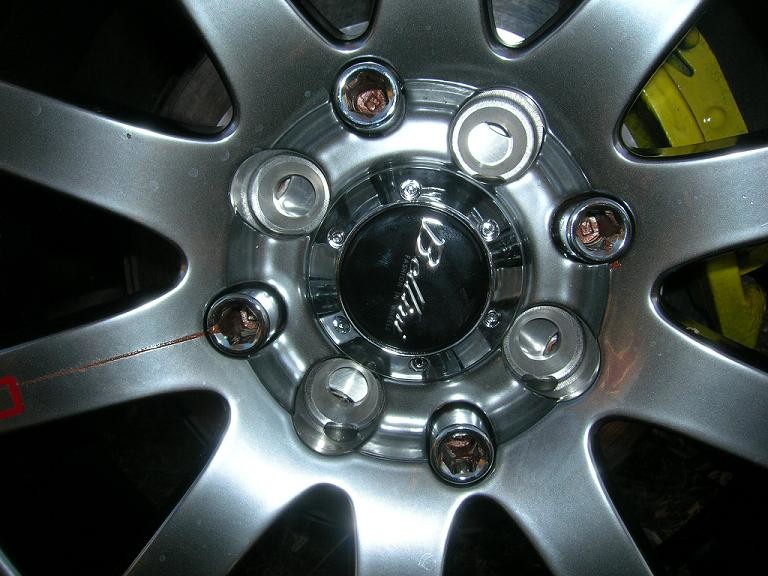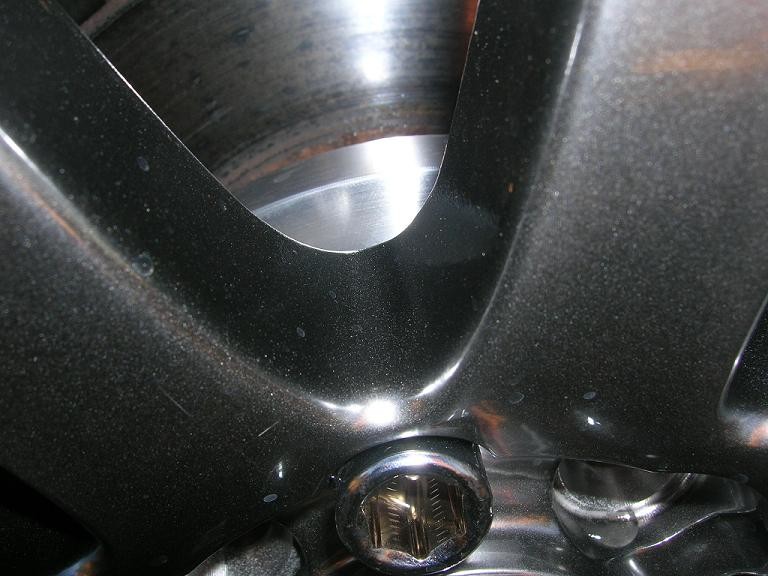 10-21-2008
The only way to test the strength of them is to test drive them really hard, but we haven't get the opportunity to test drive the car on a track or similar. But for now we are note concern about the strength and the company we bought them from told he have build bult-on spacers for V8 cars that are used for racing.
The bolt-on spaces are indeed well construct and feels very solid, I think it takes alot of HP and hard drivning to destroy them


But I will let you know if we have some problems with them.

If you guys have missed the movie I made I post it again (its also located in Resources > Pictures & Videos)
Edit 1: deadlink
Edit 2: Updated link to test run clip (36Mb).
Edit 3: Video uploaded to Youtube
12-24-2008
Mini Update
After rebuilding the exhaust system on Project car 2 we wasn't satisfied with the end exhaust muffler so we bought a new one. When installing it we also rebuild a part of the exhaust system at the end. The exhaust system is 2.5'' in diameter but on the end when the exhaust pipe goes over the rear axles we mounted the stock exhaust pipe, cause the 2.5'' was caused vibration on the chassis. But its only over the rear axle we have the stock exhaust pipe and don't think it will affect the exhaust flow to much.
The rear muffler is: Black Series NOOZE Black Muffler.
Merry Christmas and a happy new year!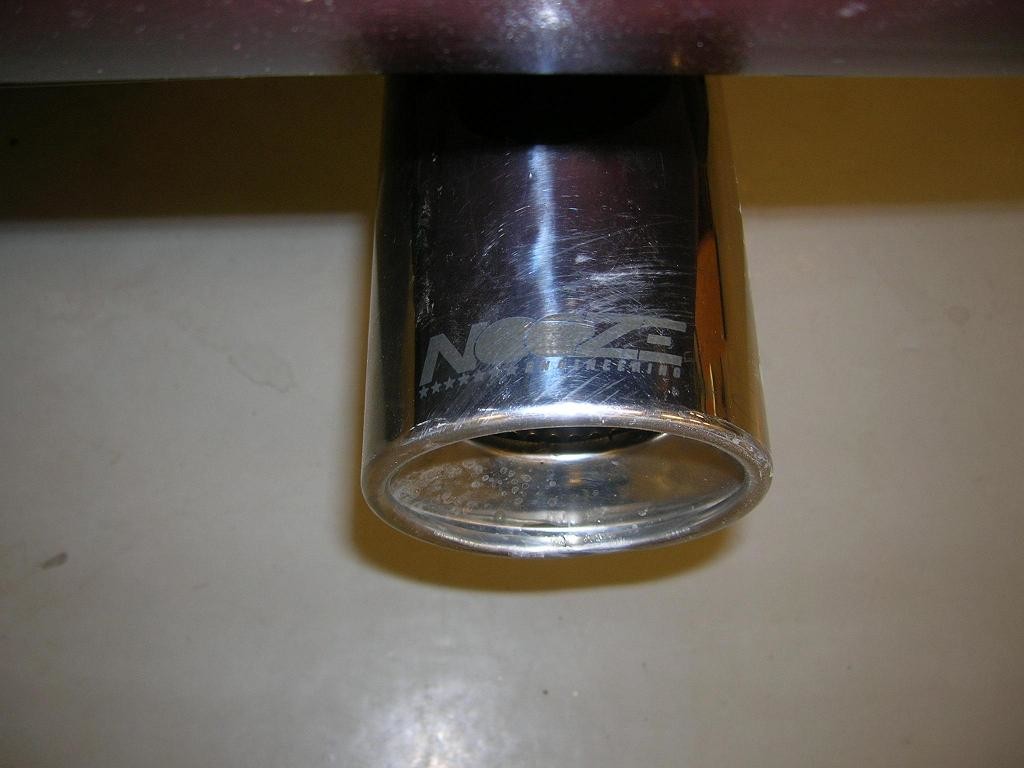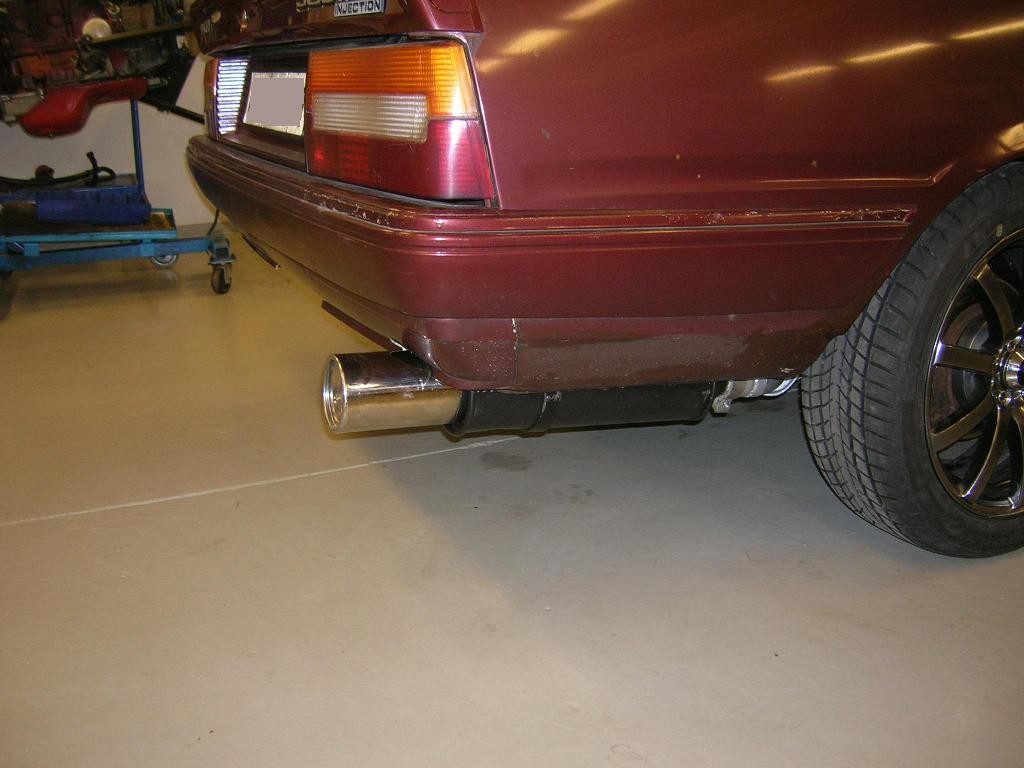 12-31-2008
Collector from Customparts service
Yesterday we recived the collector from Customparts service, the result is fantastic. This is a local shop near where I live, my friend picked the collector from them cause I was at work. I told my friend to ask Customparts service if they could fabricate a custom exhaust manifold for the Peugeot 505 and they could and the price was reasonable (315EUR excluding collector). I have to e-mail them for more information.
So maybe we will order a custom exhaust manifold if the budget allow it. It would be very time saving and better to get a exhaust manifold fabricated by the professionals.
* Price for the collector 53EUR
* T25 Flange
* Dimenson of the pipes 42,4mm (good for 800hp according to Customparts service)
Happy new year!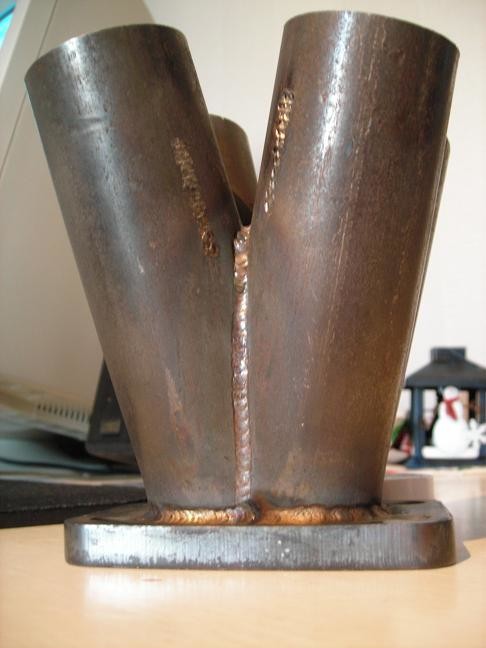 1-18-2009
Parts
Pipes for the custom made exhaust manifold and I bought a late Christmas gift to my father a BOV, more expensive BOV and prehaps better than we got now on the Project Car 2.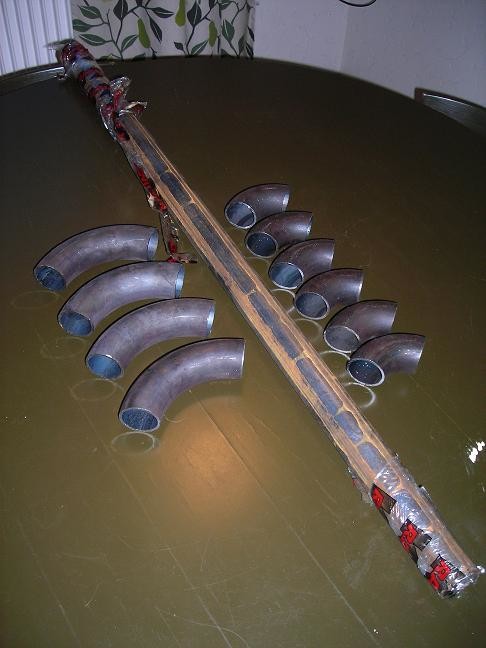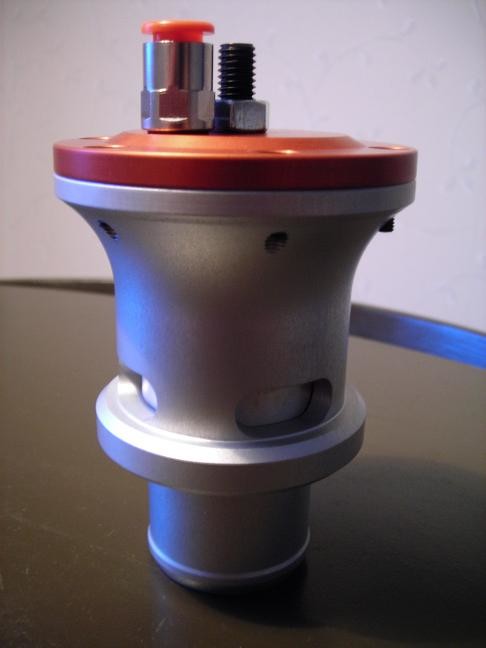 3-22-2009
My friend offer some web space on his server. Due limited space on the server the video clip have been more
compressed and the quality have been reduced. But is better than nothing
3-26-2009
Exhaust manifold
One milestone on the engine build is reached, the custom made exhaust manifold.
The exhaust manifold have a collector that cp-service have build with
a T25 flange and the runners are 42.4mm in diameter. Rest of the exhaust manifold are build and welded by us. We have wrapped the exhaust manifold with exhaust bandage. As a side note we have to custom made a engine mount on the exhaust side (OEM will not fit with the new manifold).
Next step in the engine build is the bottom end; grind and balance the crankshaft. But before we to that we have to find a reenforced clutch, the option we have is to purchase a Sachs or Specc clutch kit.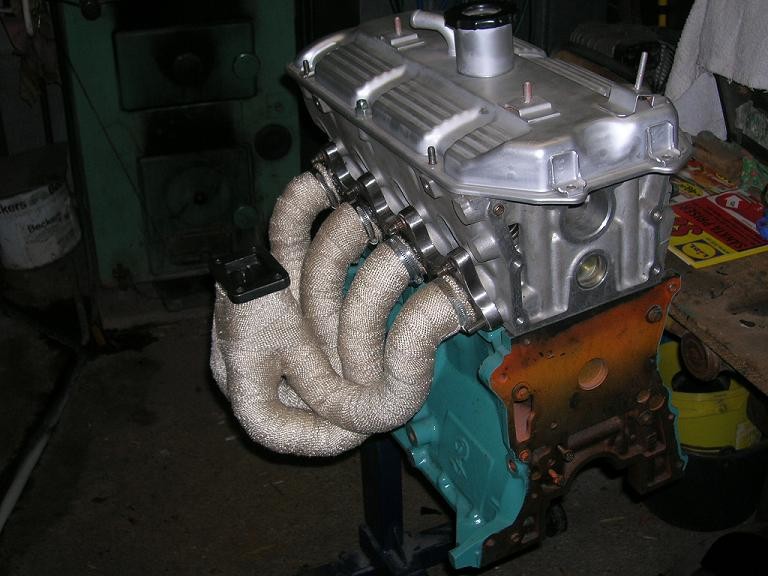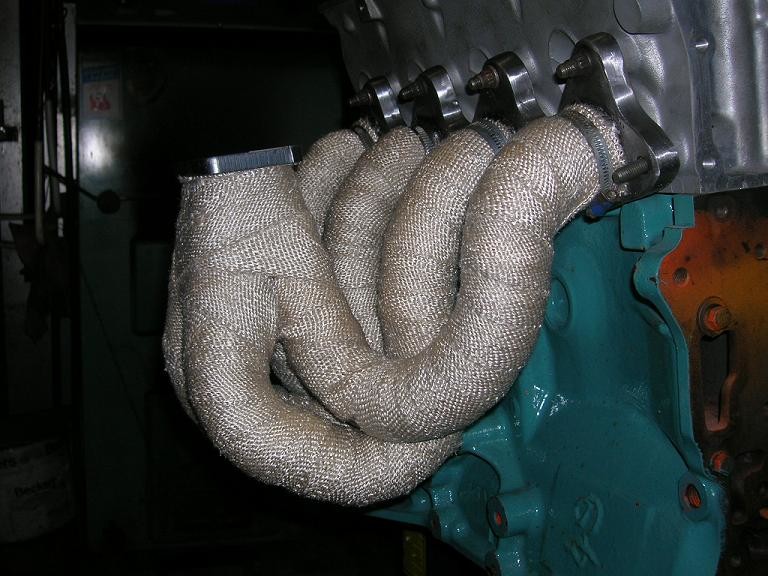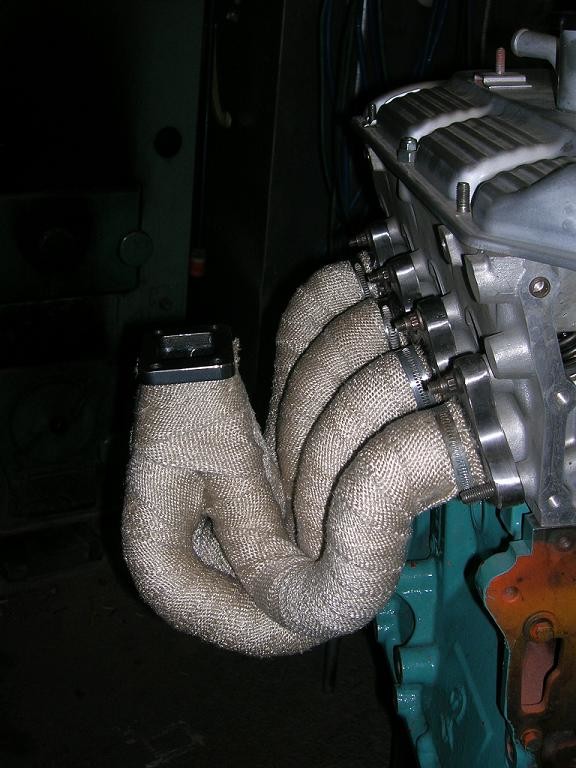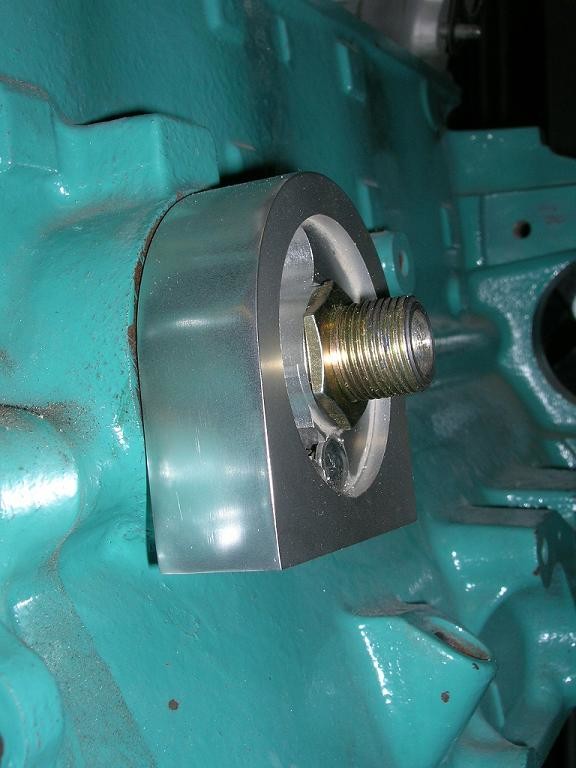 3-29-2009
Intake manifold
As you all know all performance car has either the valve cover or intake manifold painted in wrinkle paint and
their logo in printed on the detail. So why not do it on ours performance car to?
I polish the intake manifold where the Peugeot lion is placed. My friend did the stickers with the Peugeot lion, then I painted whole intake manifold with wrinkle paint. After the paint have dried I remove the Peugeot lion sticker.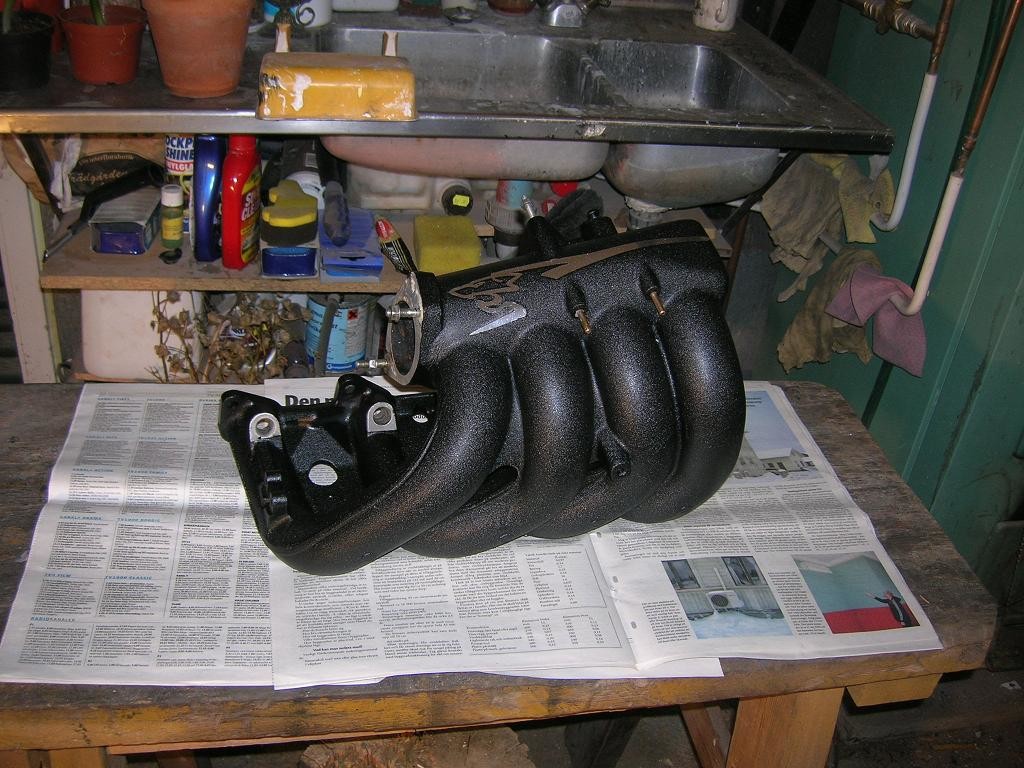 6-27-2009
Long time since I updated... I have been quite busy with my new job and only got 2 weeks of vacation this year. Its only 4 days left to I get my vacation and during the vacation I will spend a lot of time working with the car.
I will write more about the car project progress the next weekend.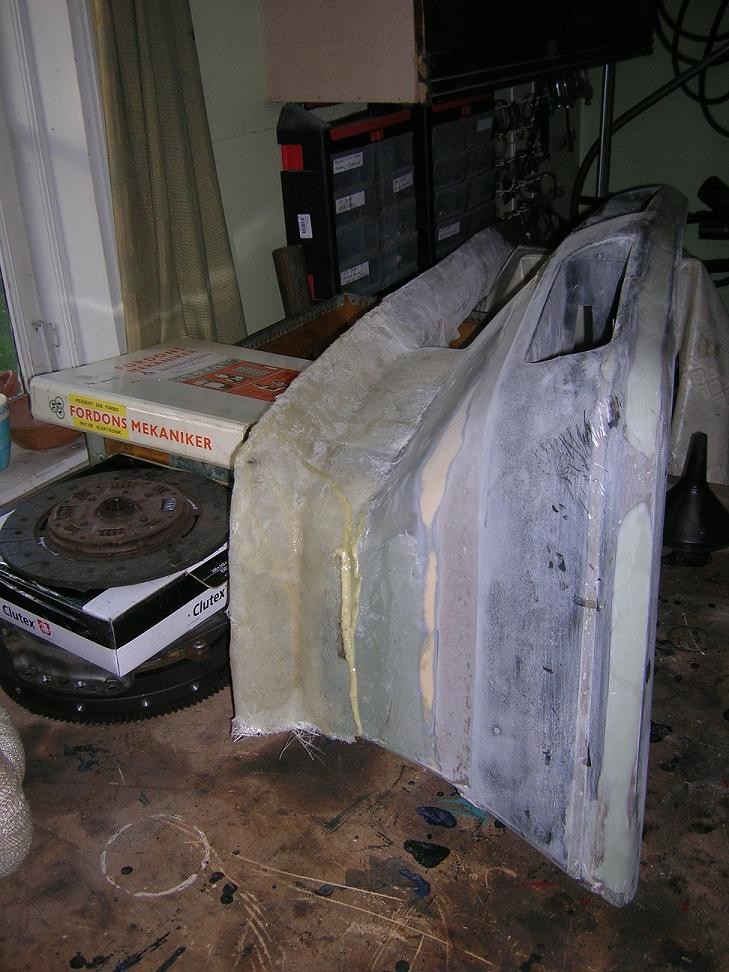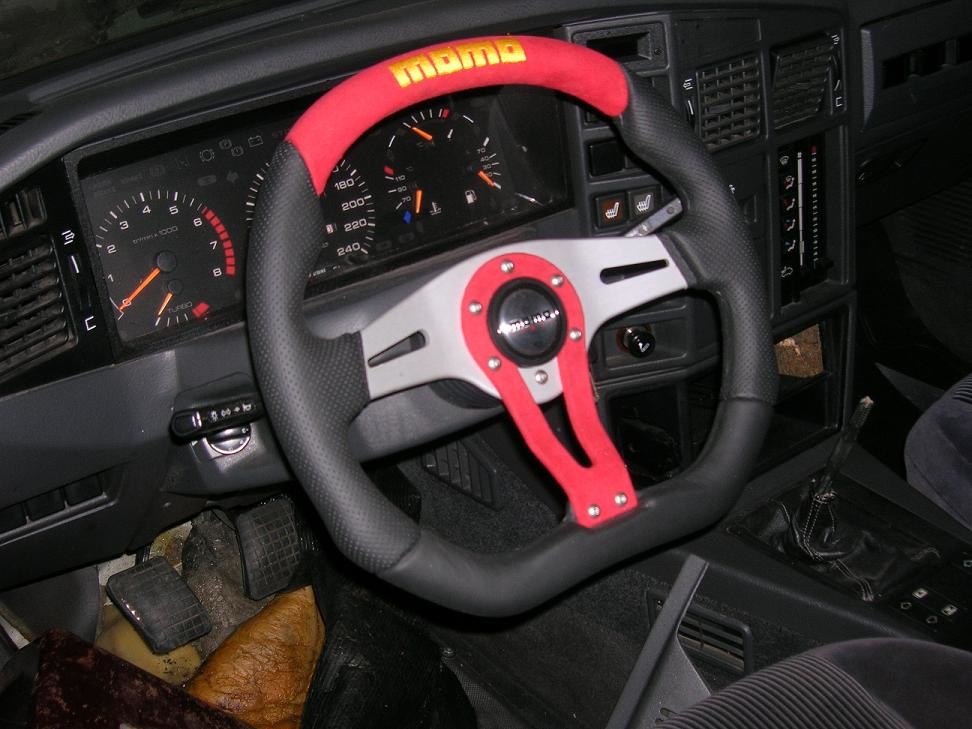 8-12-2009
Update
Project car 1 - I'm working with the front spoiler. Think its about 2-4 work hour left on it and we can start to paint it. My father have painted the side skirts and some details on the car. Today we roll out the car from the tent and I think the side skirts turn out really good!
Well its some details that have been fixed to get it perfect, but this is just a test before we paint the whole car.
The engine is almost assembled, we are waiting for starter engine (we gonna get them delivered next week) then we can put in the engine in the car.
Project car 2 - Today we did some test driving (tested a new BOV). But we have some problem
At high RPM and when boost is at it maximum peek the engine sounded like it was only 3 cylinders that was working. But when slowing down it starts to work normal. We think it was the BOV so we replaced with the one that was installed earlier. But same result. We also tested to install a recirculated dump valve, but same problem.
We haven't drive so much with the car during the summer. Under the winter and summer we have have started up the car under and let it
idle for a while. This have been done regular.
We gonna check the spark plugs and do a compression test tomorrow. Any more suggestion what we can check or upgrade?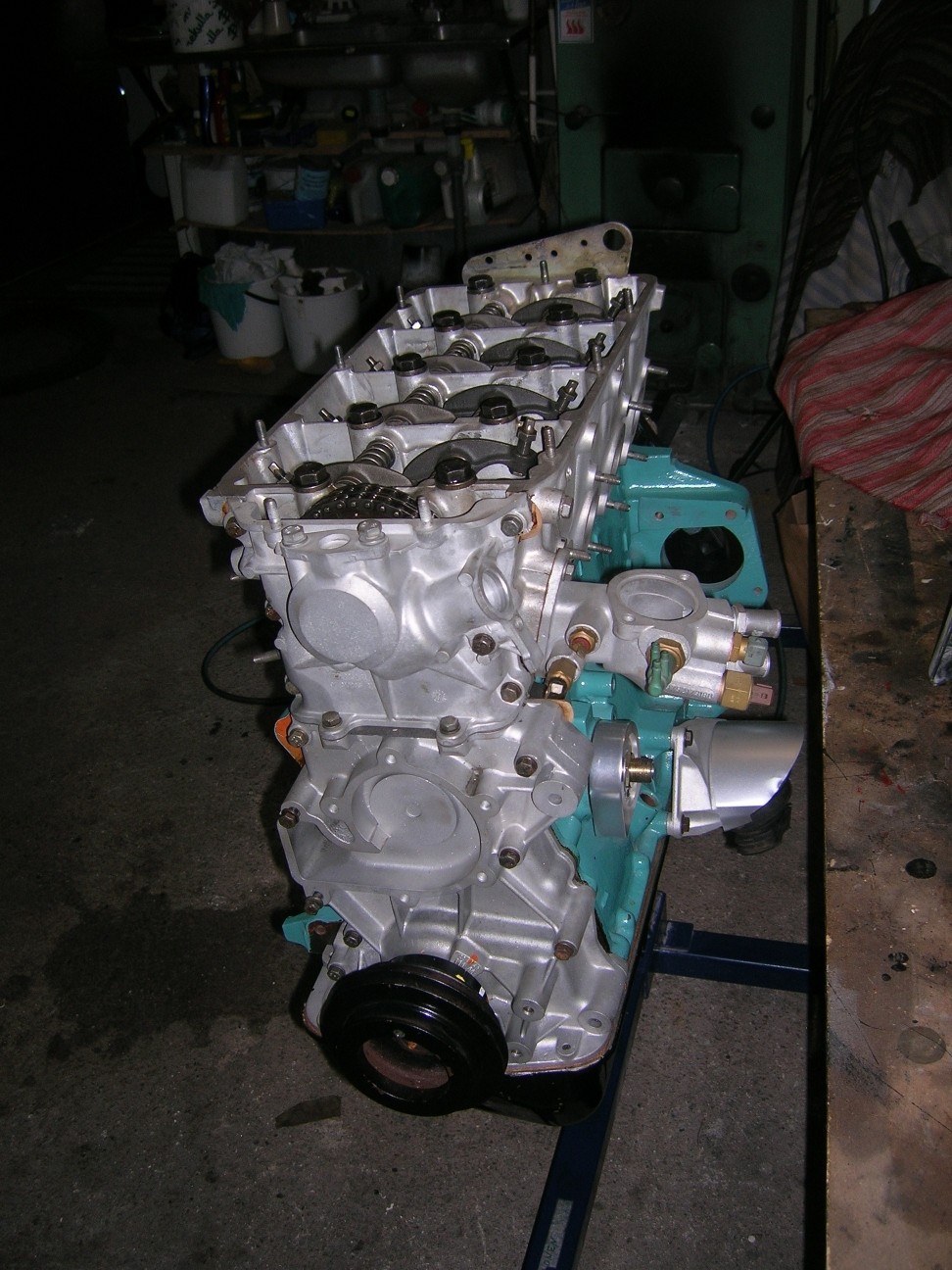 8-13-2009
Project Car 1 - To day we mounted the rear bumper. Think it look pretty okay, but have to do some more modification to get it better.
Or Is just me that only notices the small details that look wrong. So this is not the final result. But we are close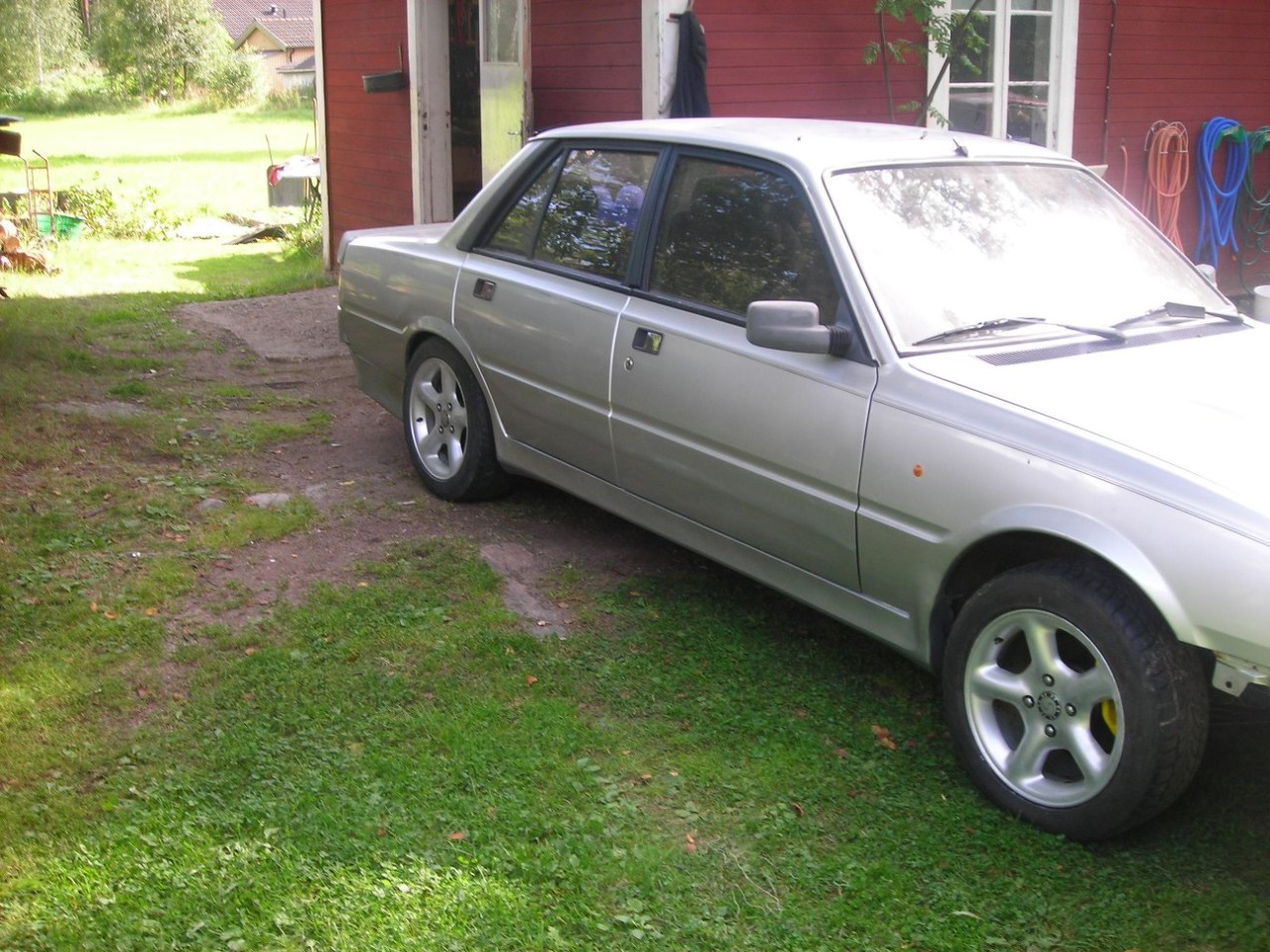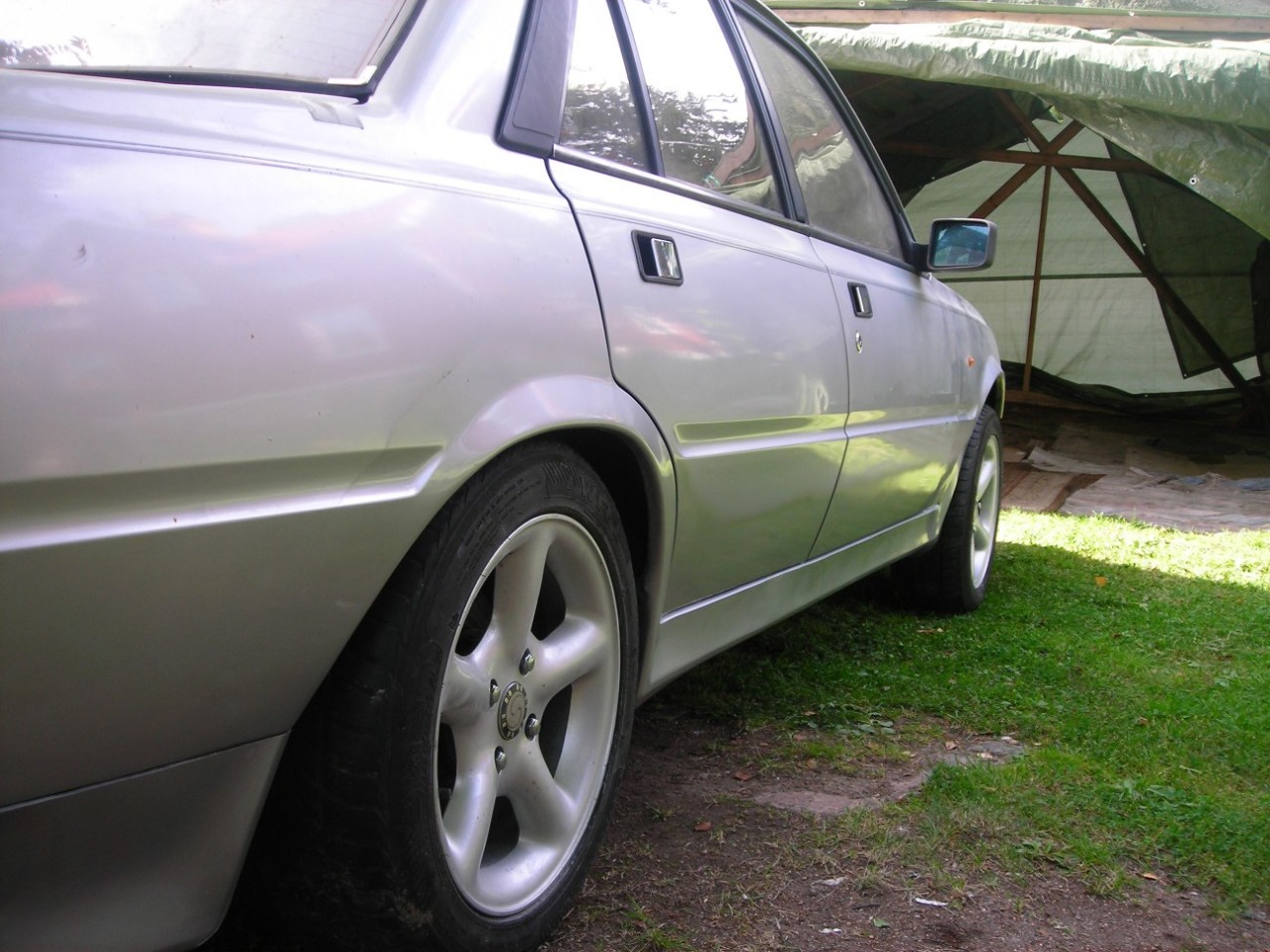 Project Car 2 - We suspected that was something wrong with the ignition. And Bean you have absolute right it was the spark plugs
and the coil. So today we did a compression test, and the result was fine. We mounted Platinum spark plugs and we had a other coil home that have slightly more output energy compared to the stock one. After the part have been mounted we did a test run... and now I can't stop smiling
The car run absolute fantastic, even under high RPM and boost pressure at 1.0Bar. The car have never run this good (since all the modifications) !
It's a good learning experience to modify cars and a big thanks to you Bean!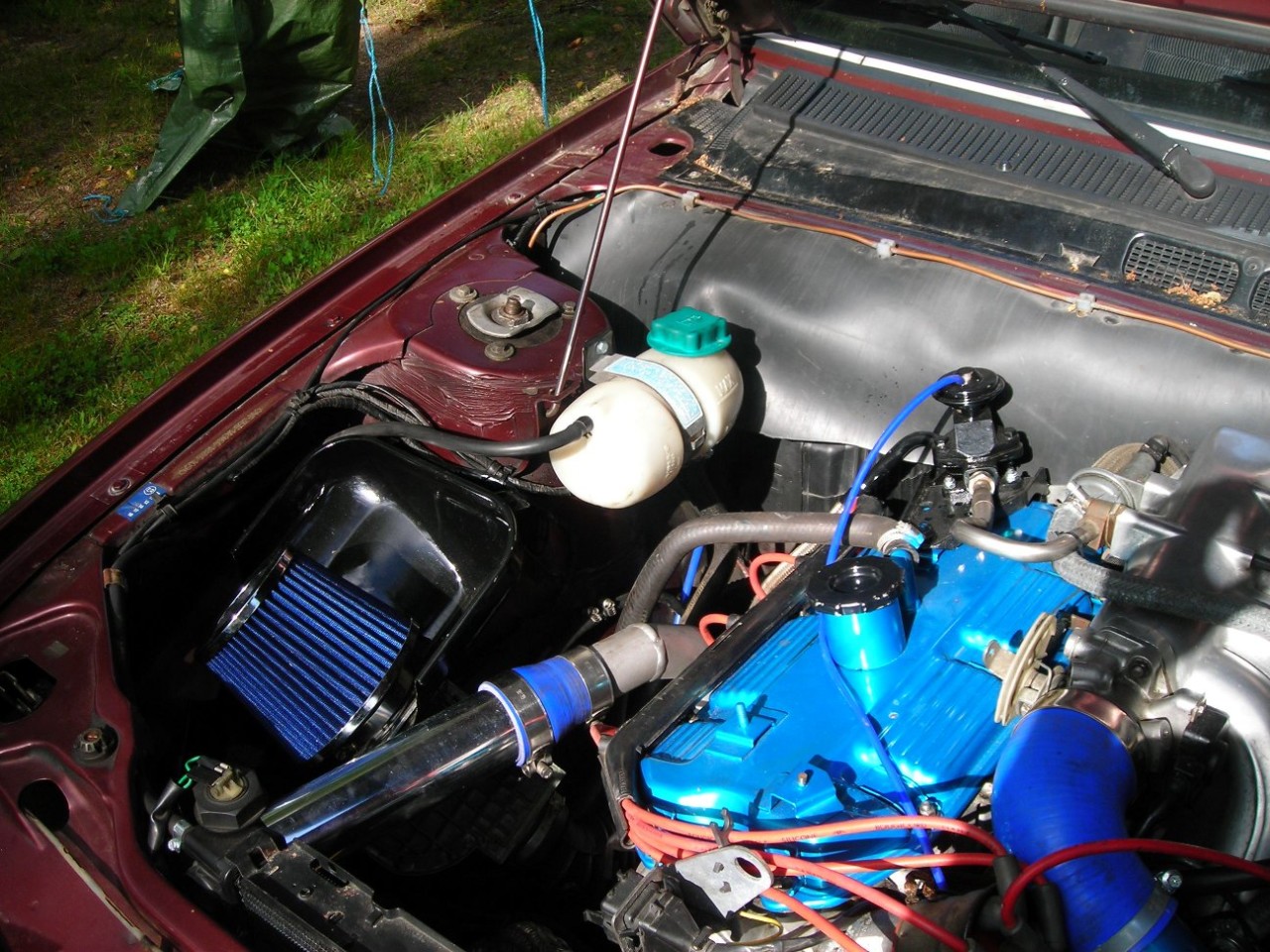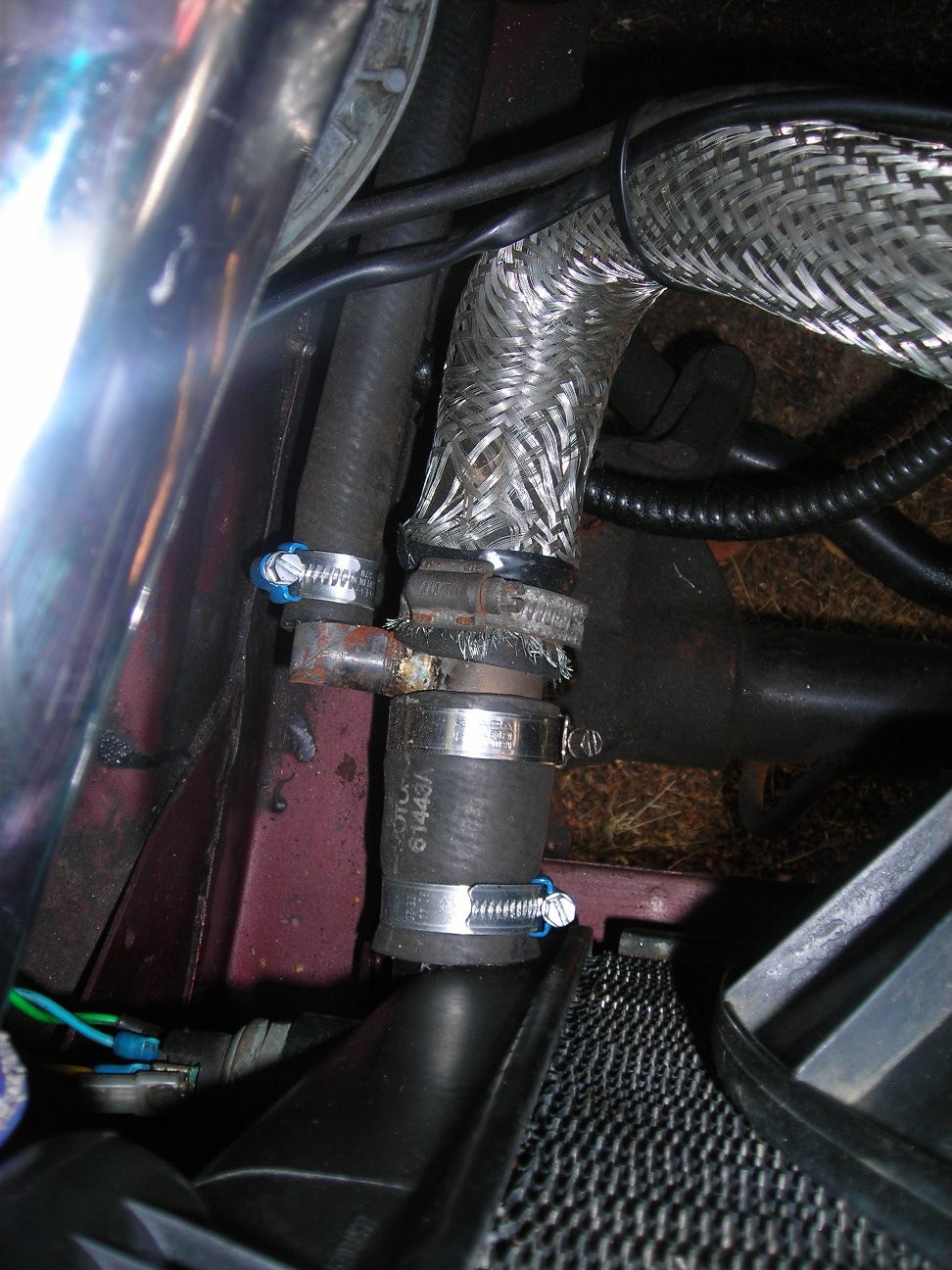 Pictures shows the modification of the expansion bottle, the last modification we have done on the project car 2.
8-29-2009
Thanks for the help and feedback!
I gonna relocate the plate. The oem plate holder is just there temporary to i find a solution that fits better.
We gonna cut a hole in the rear bumper to fit the end muffler. I have purchased a NOOZE DTM rear muffler picture I think it will look nice with my DTM style front spoiler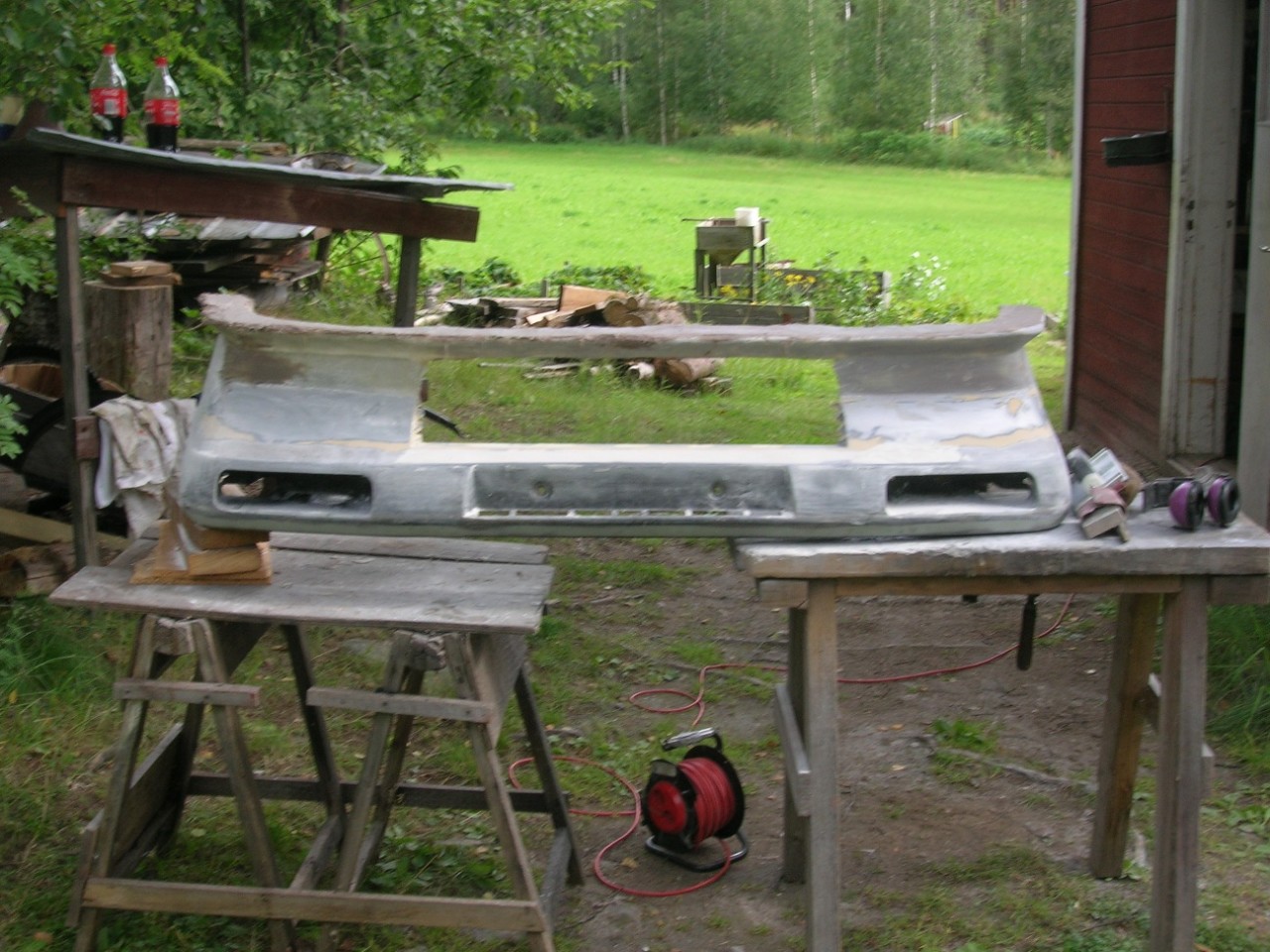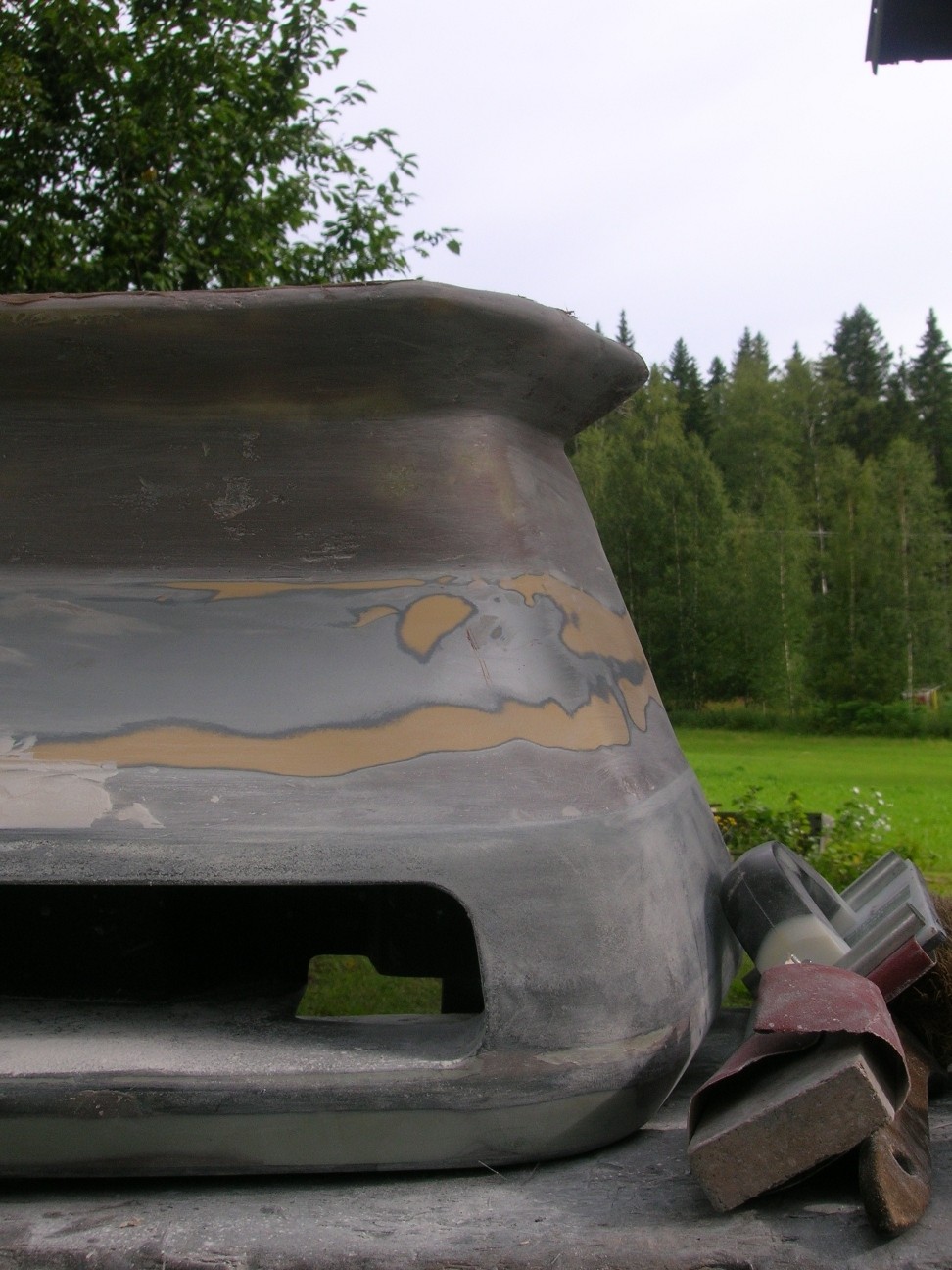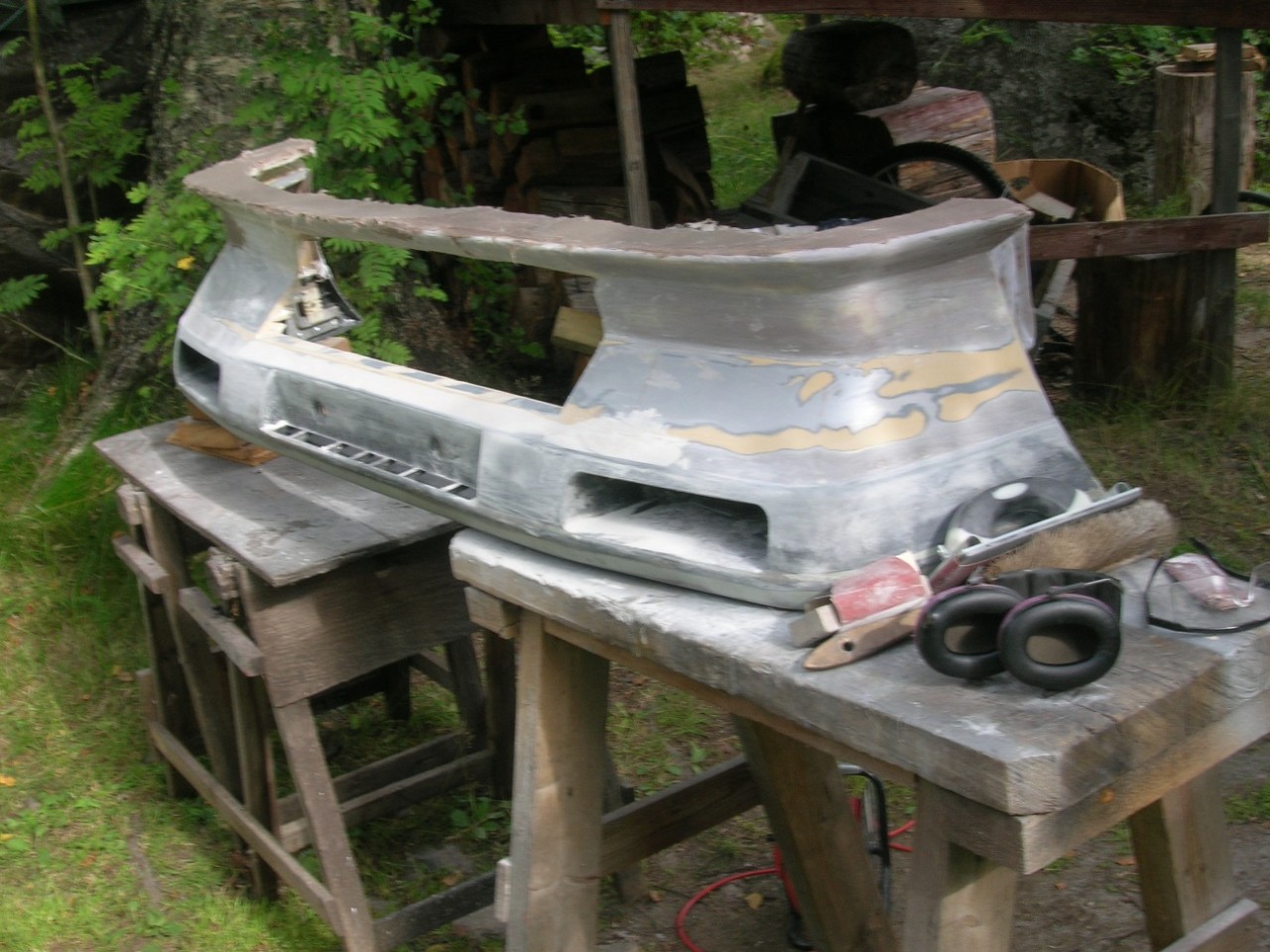 Getting pretty close to finish the front spoiler, old pictures haven't any picture how it looks atm.
10-17-2009
Frontspoiler test mounted
Today I test mounted the frontspoiler. Is not painted yet and not corrected mounted (just mounted it fast, gona adjust it better when the frontspoiler is finished). I have painted the grill black and the trims around the headlights and the frontspoiler gonna be in same color as the car. I hope the black grill and headlights trim will make it look more aggressive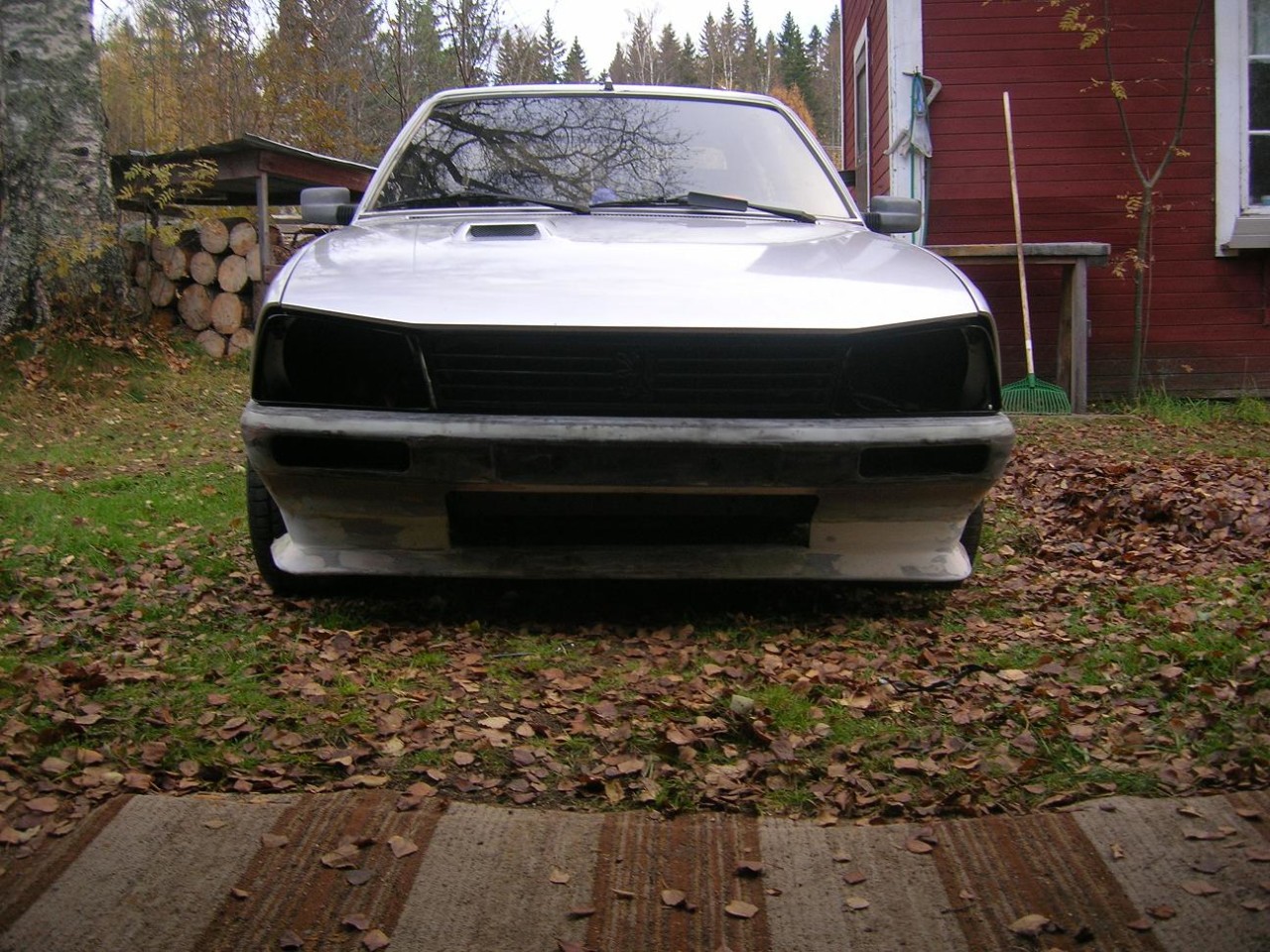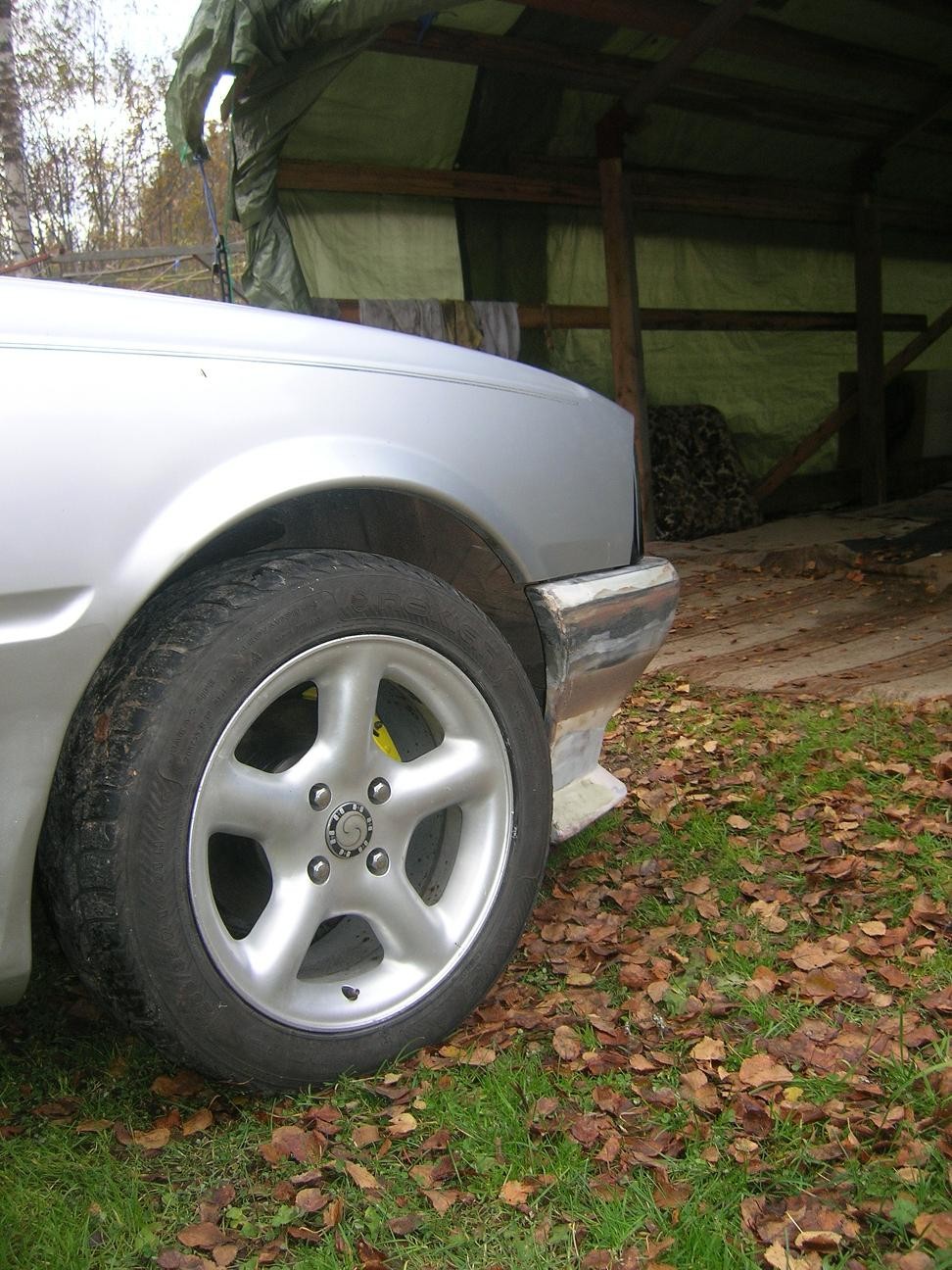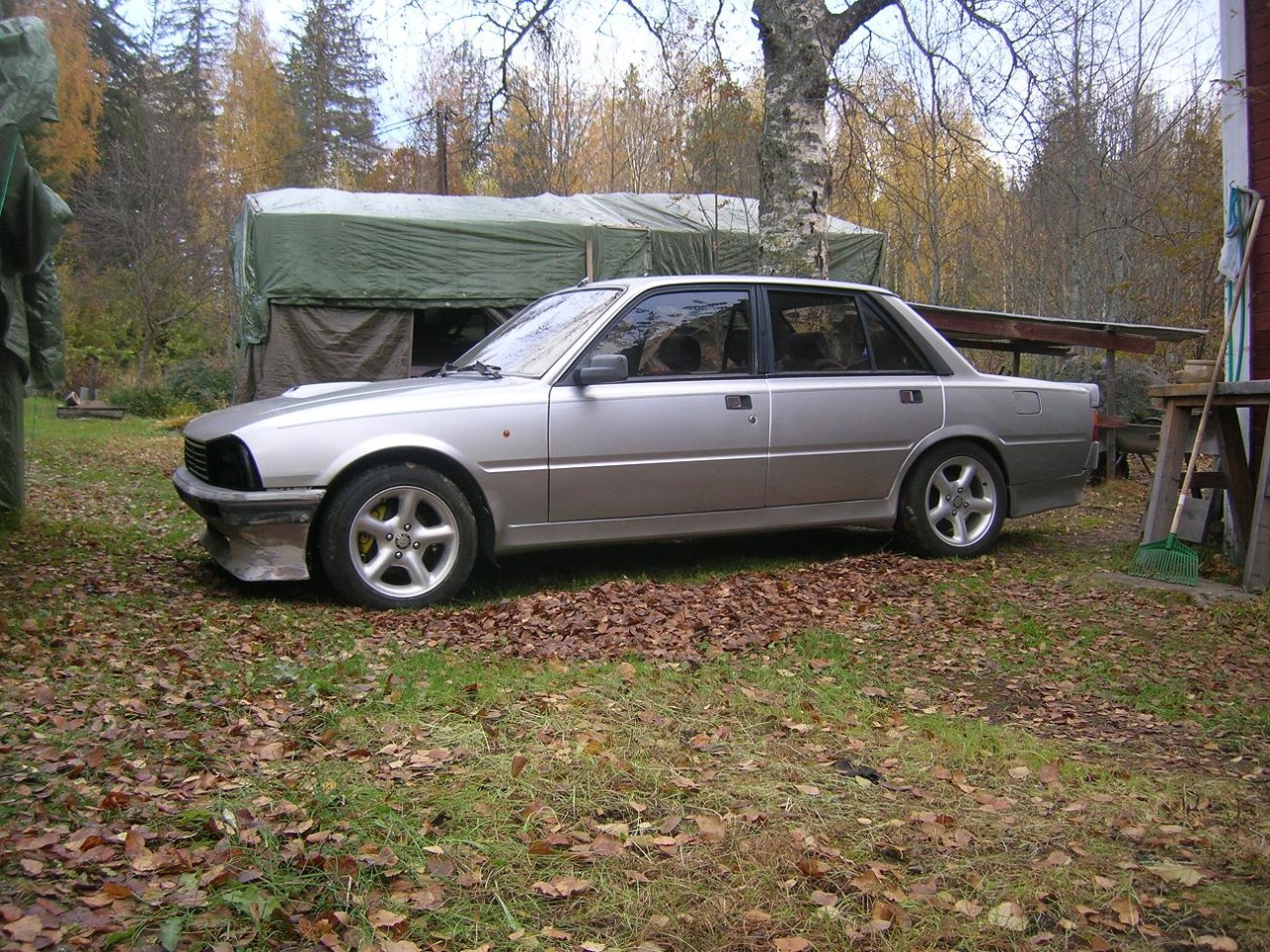 3-22-2010
Sorry for no update during the winter.
I lost my job in October 2009 and got a new job for 3 month ago. And I'm hourly-paid at the new job so it's hard to spend some money on the project. But for 1 week ago, my boss gave me more time of work and new work tasks. Feels good and maybe when the next payslip comes it will tell me to spend more money on the project
Project car 1 - Shopping list written
Project car 2 - We have just taken out the car of winter storage. The car run good, but still problem with the clutch. Clutch skids - time to put on a better clutch disc (sinter). Pictures of winter storage and latest modification: fuel pressure gauge.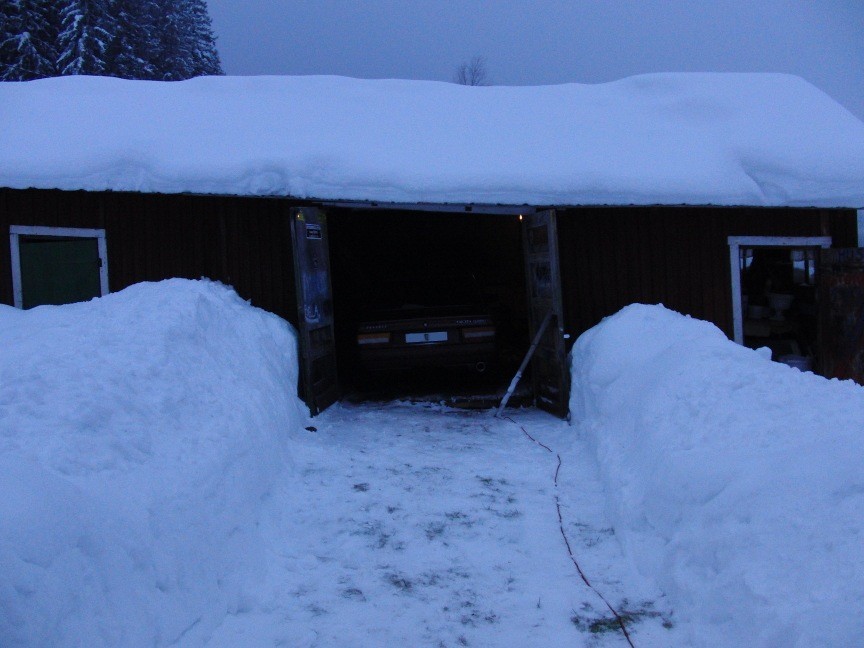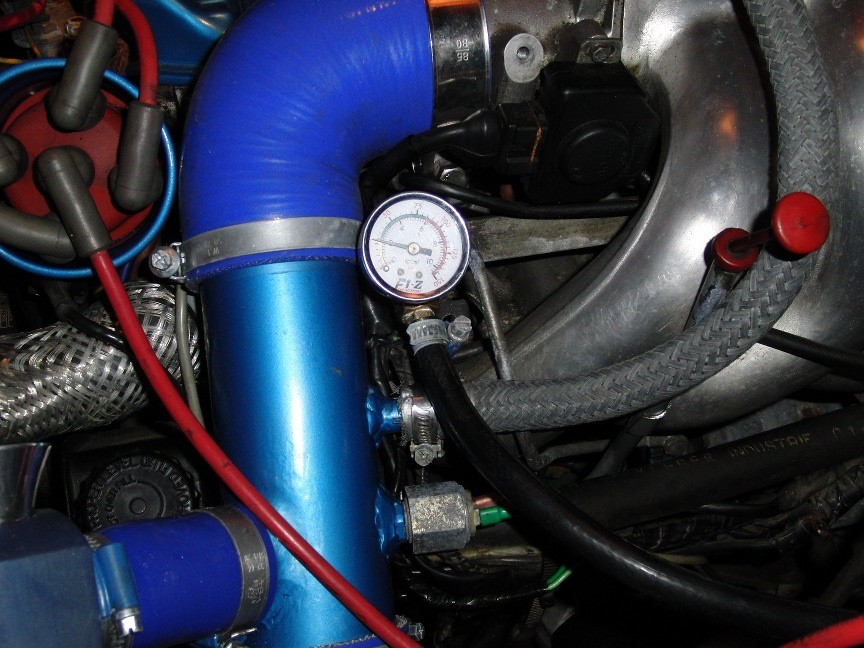 4-2-2010
Mini update
Did some work today:
* Water pump mounted
* Valves play adjusted (0.30 and 0.20 intake/exhaust)
* Valve cover mounted (with new gasket)
* Spark plugs and ignition cables mounted
* And some work on the front spoiler (the never ending story...
)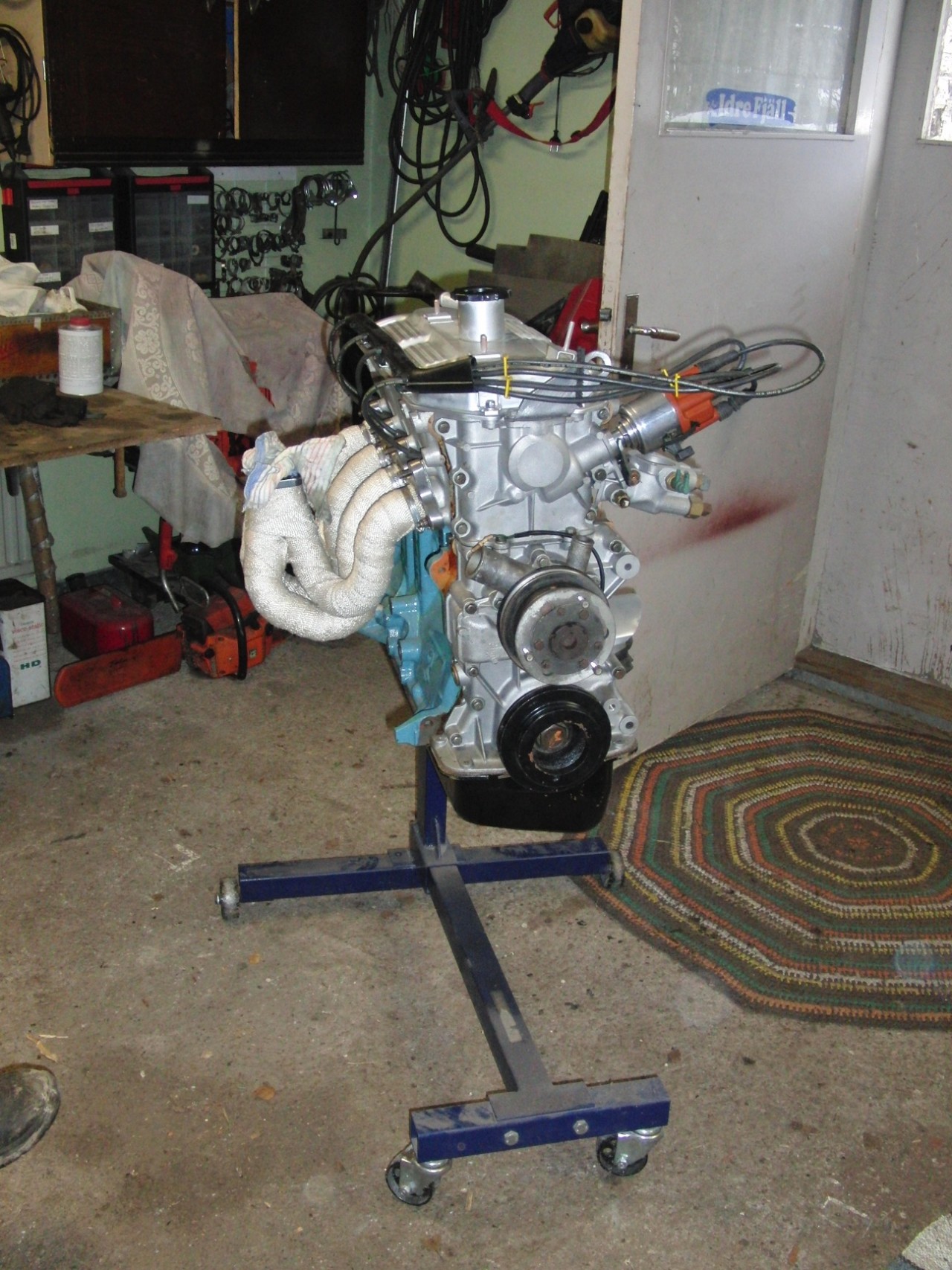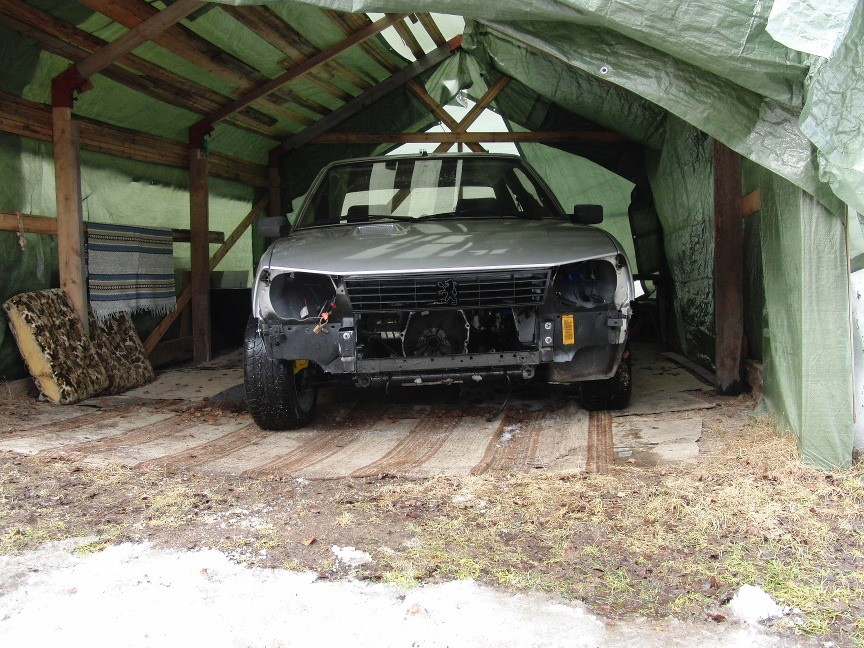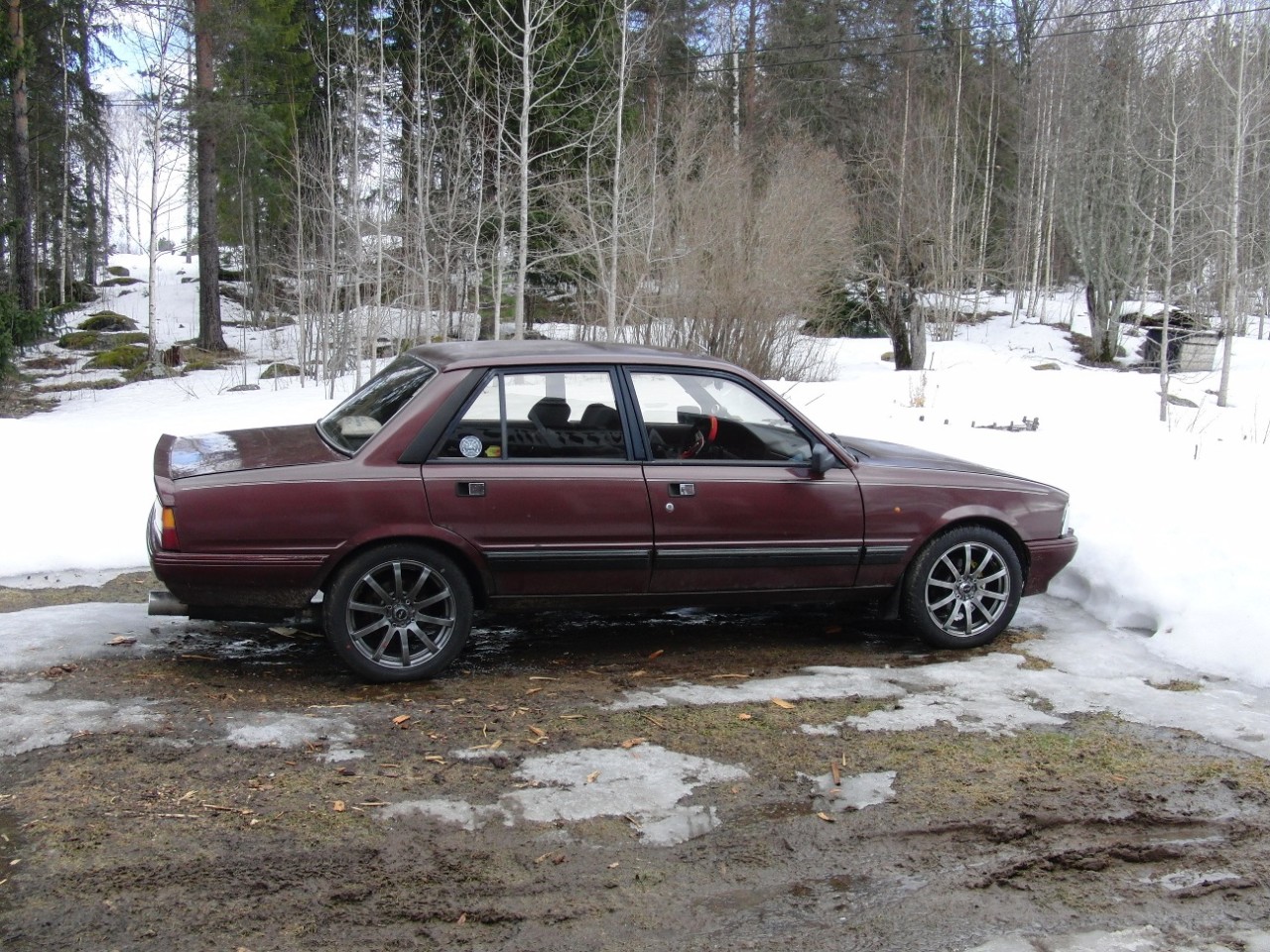 4-12-2010
Update
V-M: Thanks for the suggestion. We have talked to a local tuning company and they gave us same suggestion and they will call us and give us some pricing for a turbo.
The engine is now in the car. We had to modify the engine mount on the exhaust side (see pictures, the engine mount is from a old Ford Granada). The clutch disc is from BMW (Getrag), just some minor modification to make it fit on the 505 splines (source).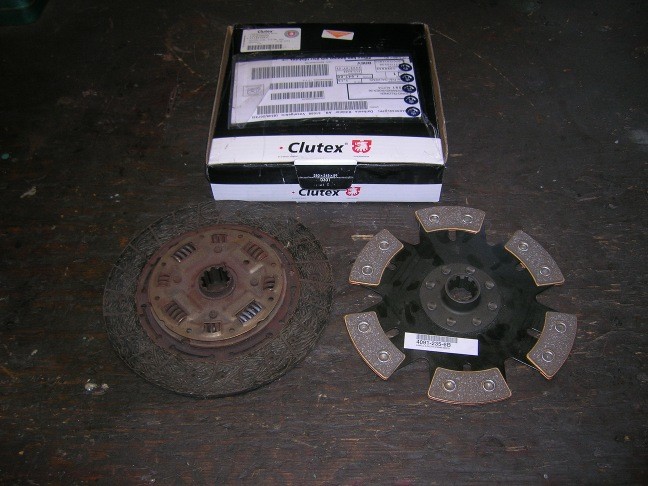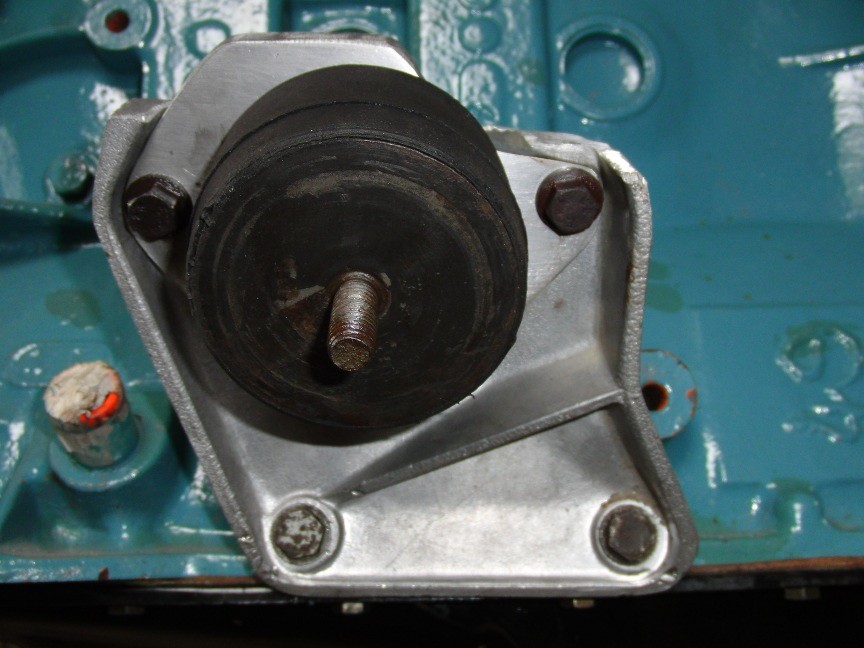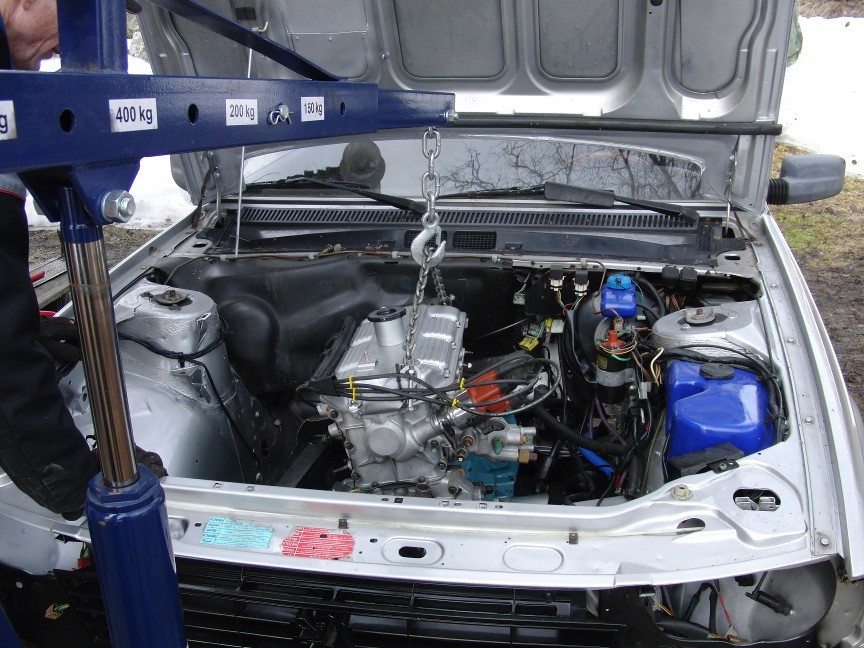 4-27-2010
Update
* Intake manifold mounted. With fuel pressure regulator and Volvo green injectors.
* Bochs 044 Fuel pump
* Audi RS4 fuel filter
* 8mm inner diameter fuel lines
* Adapter on exhaust manifold (T25 to T03 flange). We gonna run with stock turbo first as a test and when
the budget allow we gonna purchase bigger turbo.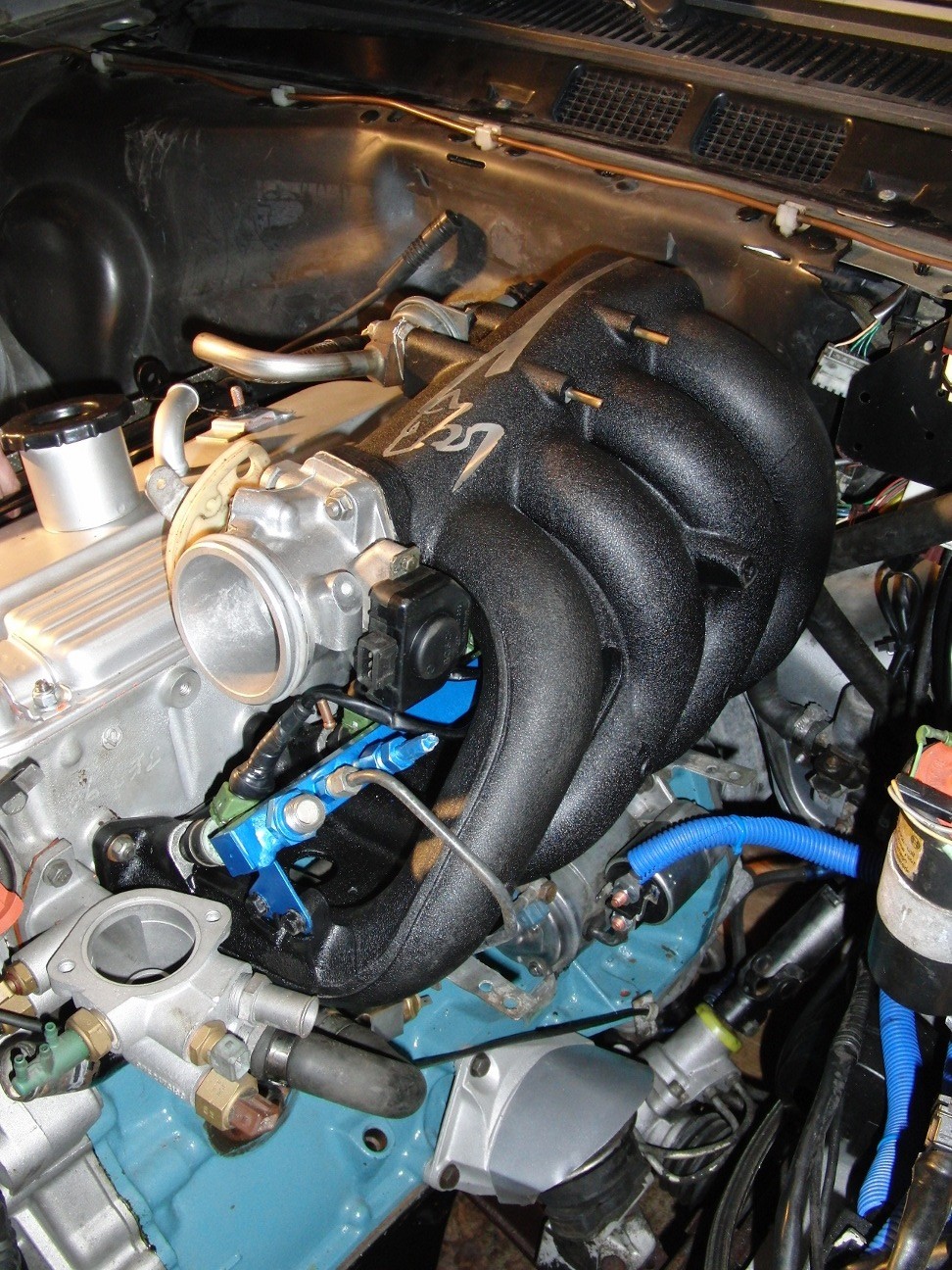 5-3-2010
Pictures - Project car 2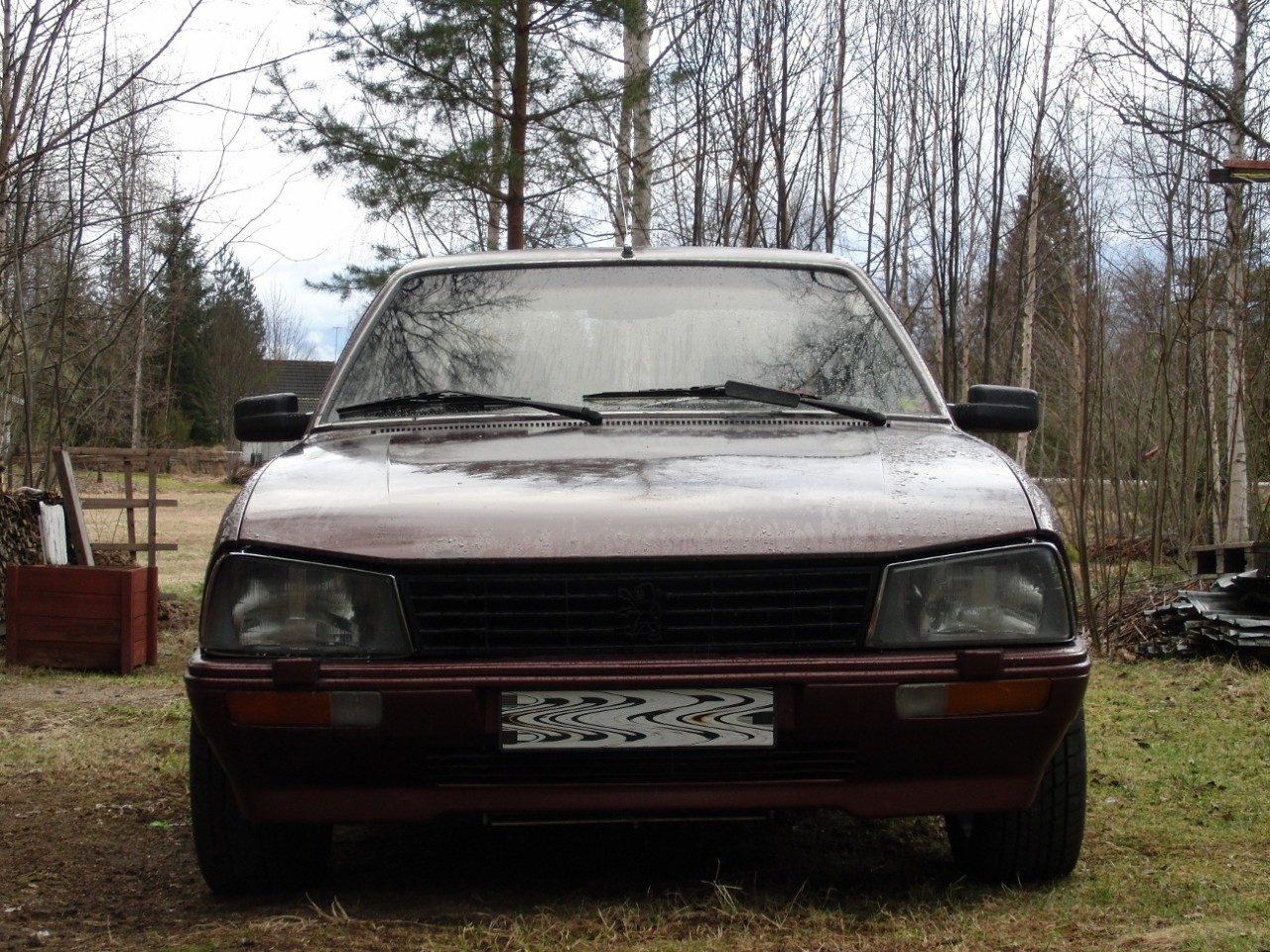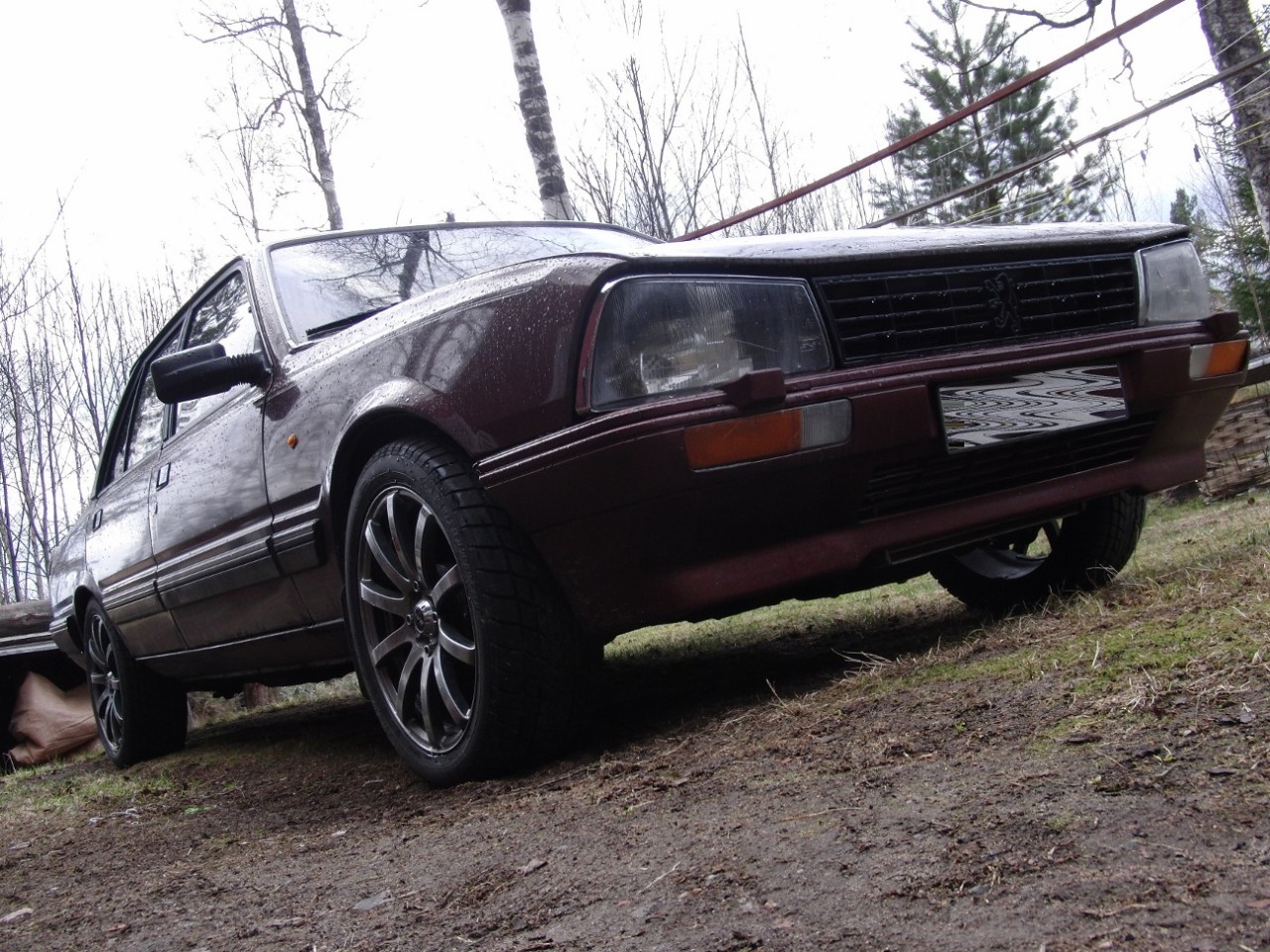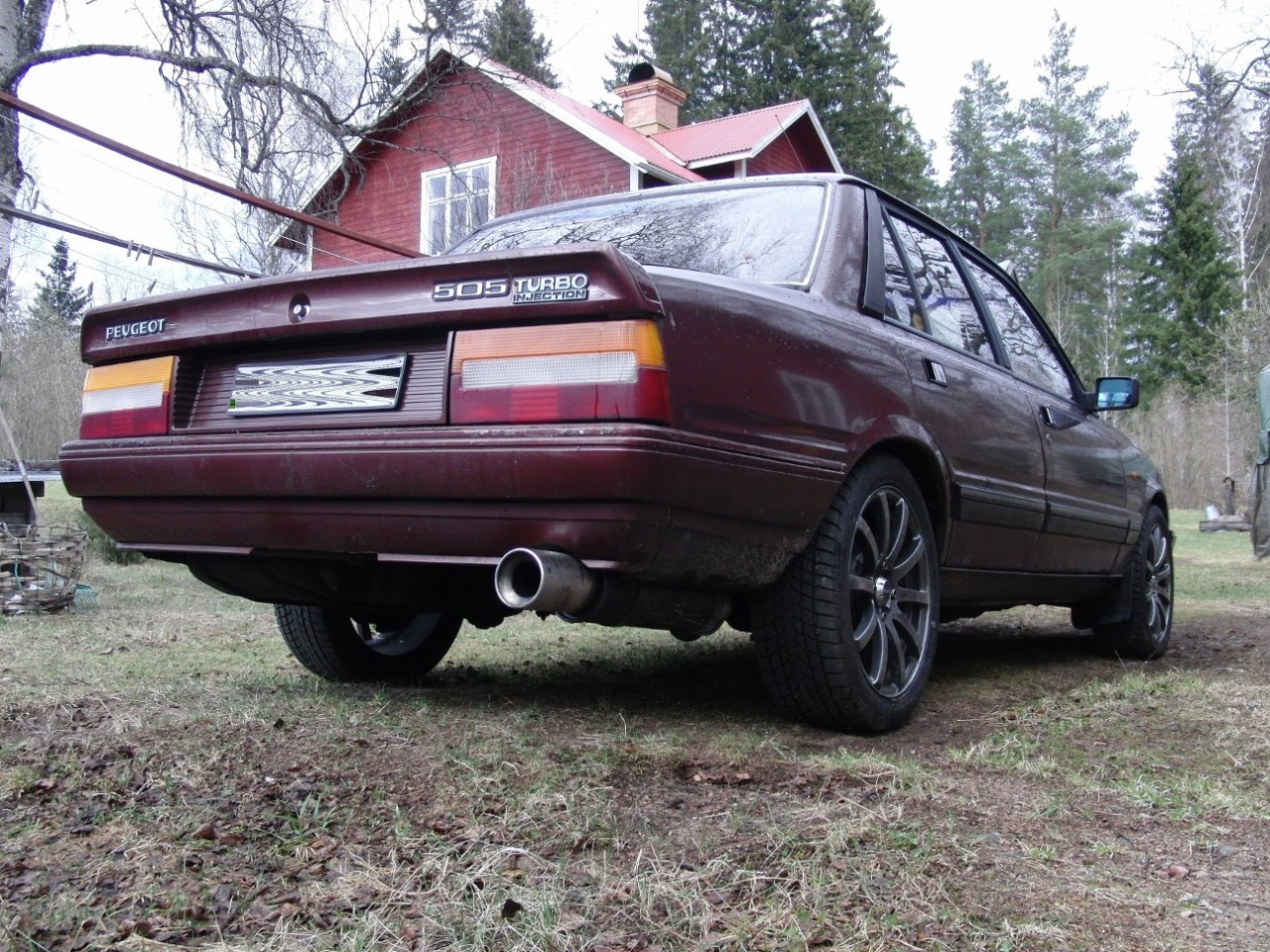 6-20-2010
Update
Thanks for the info about the turbo. We gonna run with stock turbo now (at this stage), a new turbo is a must
in the future. We have done alot of work on the car; exhaust system, intercooler plumbing, radiator from a BMW, mounted fule pressure gauge, front spoiler modification (to fit the intercooler), relocated the battery to the trunk. And the list goes on. We are working to start the engine in about 2-3 weeks
* Exhaust
We have build a downpipe from the stock downpipe, it goes from stock diameter to 3''. We have one big muffler in the middle and a DTM style end muffler.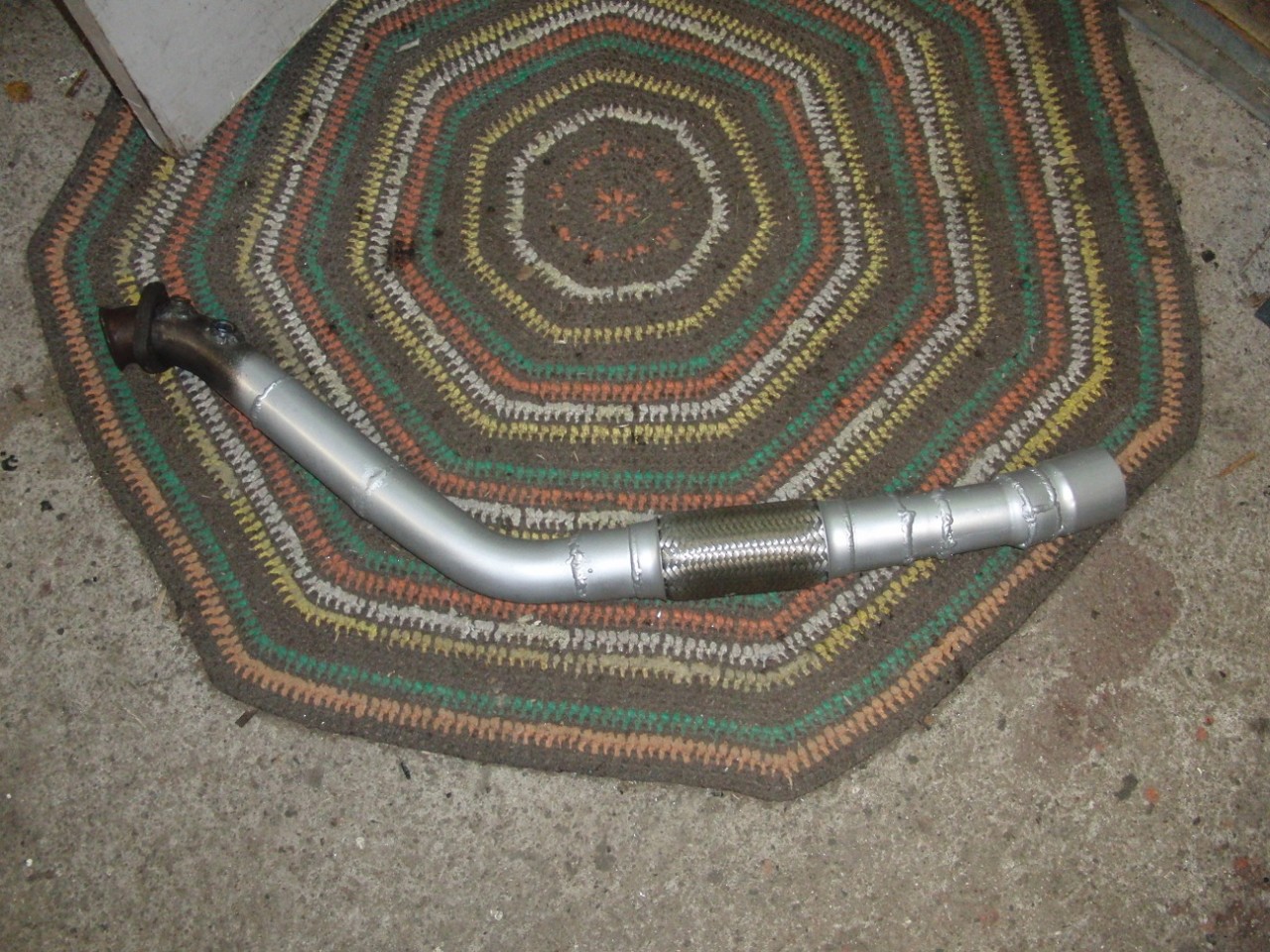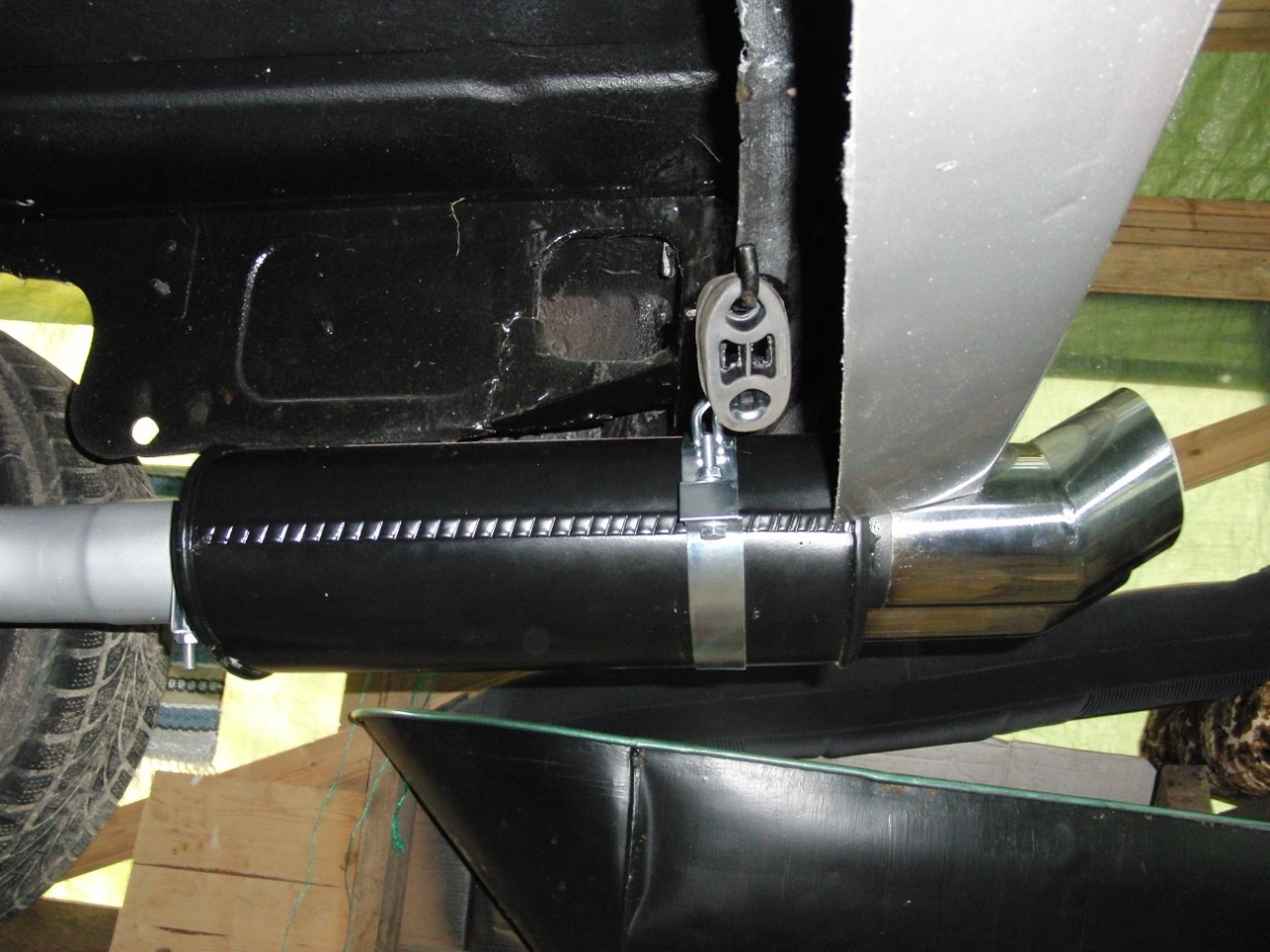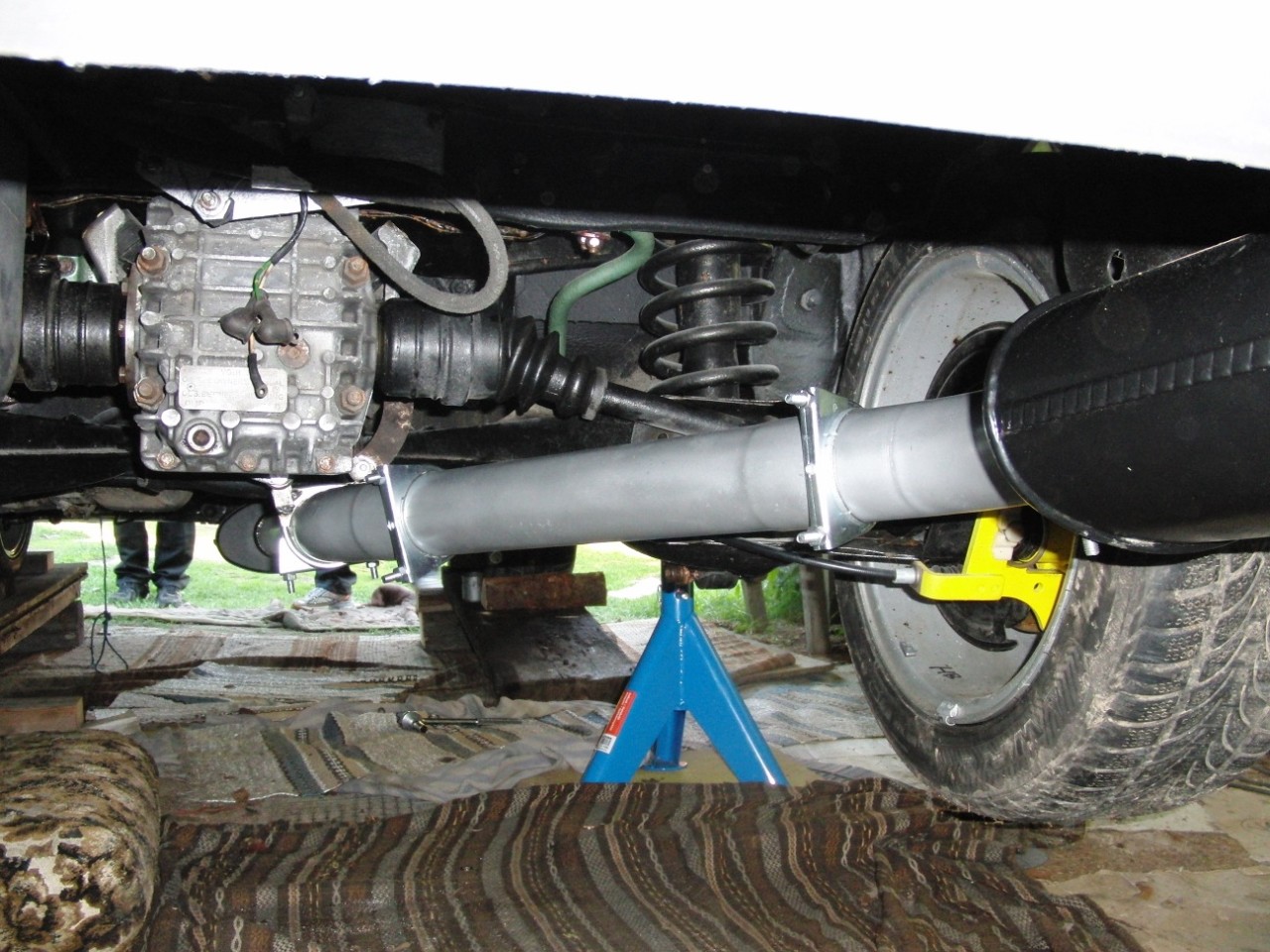 * Radiator
The radiator is from a BMW.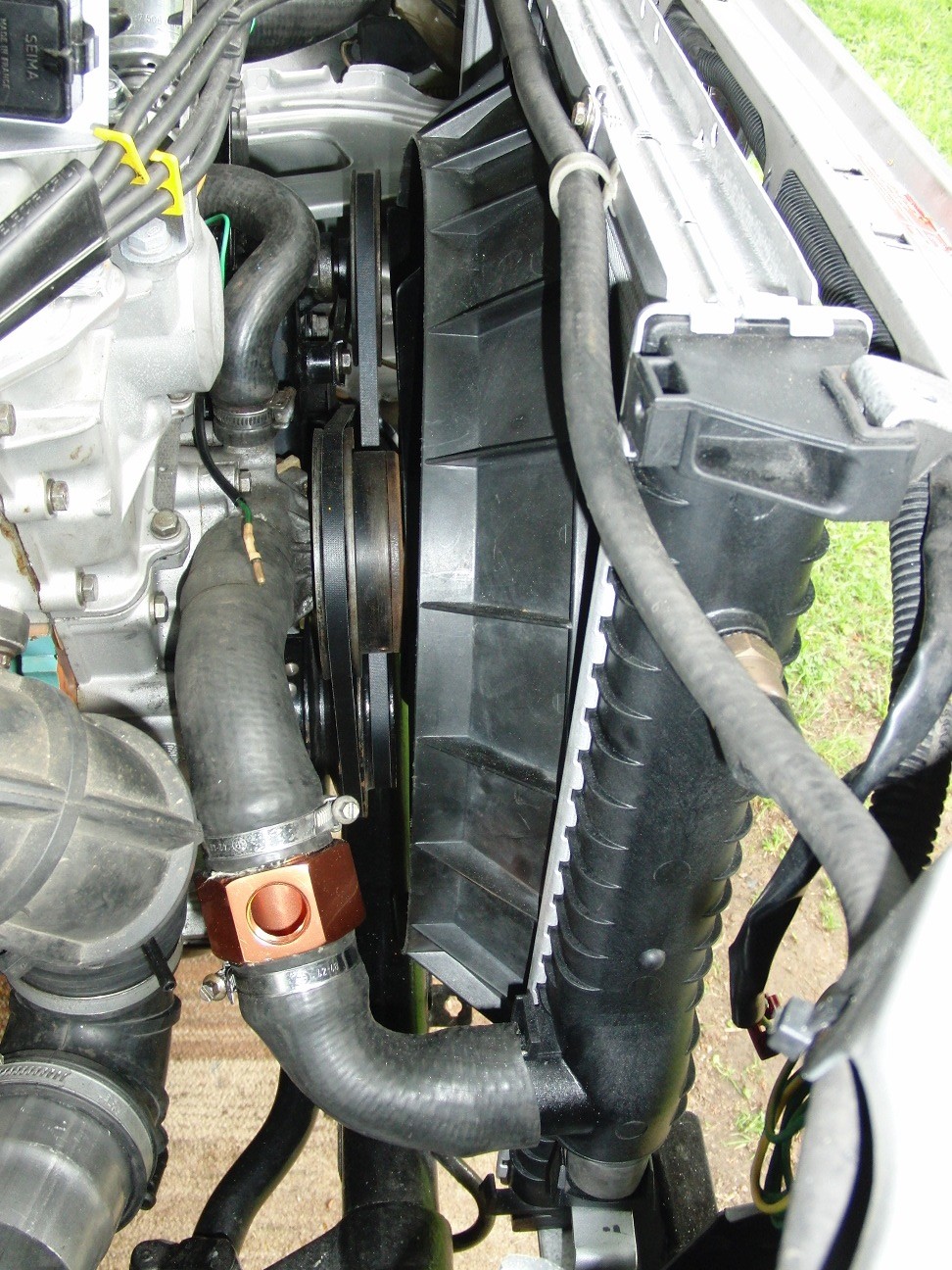 * Intercooler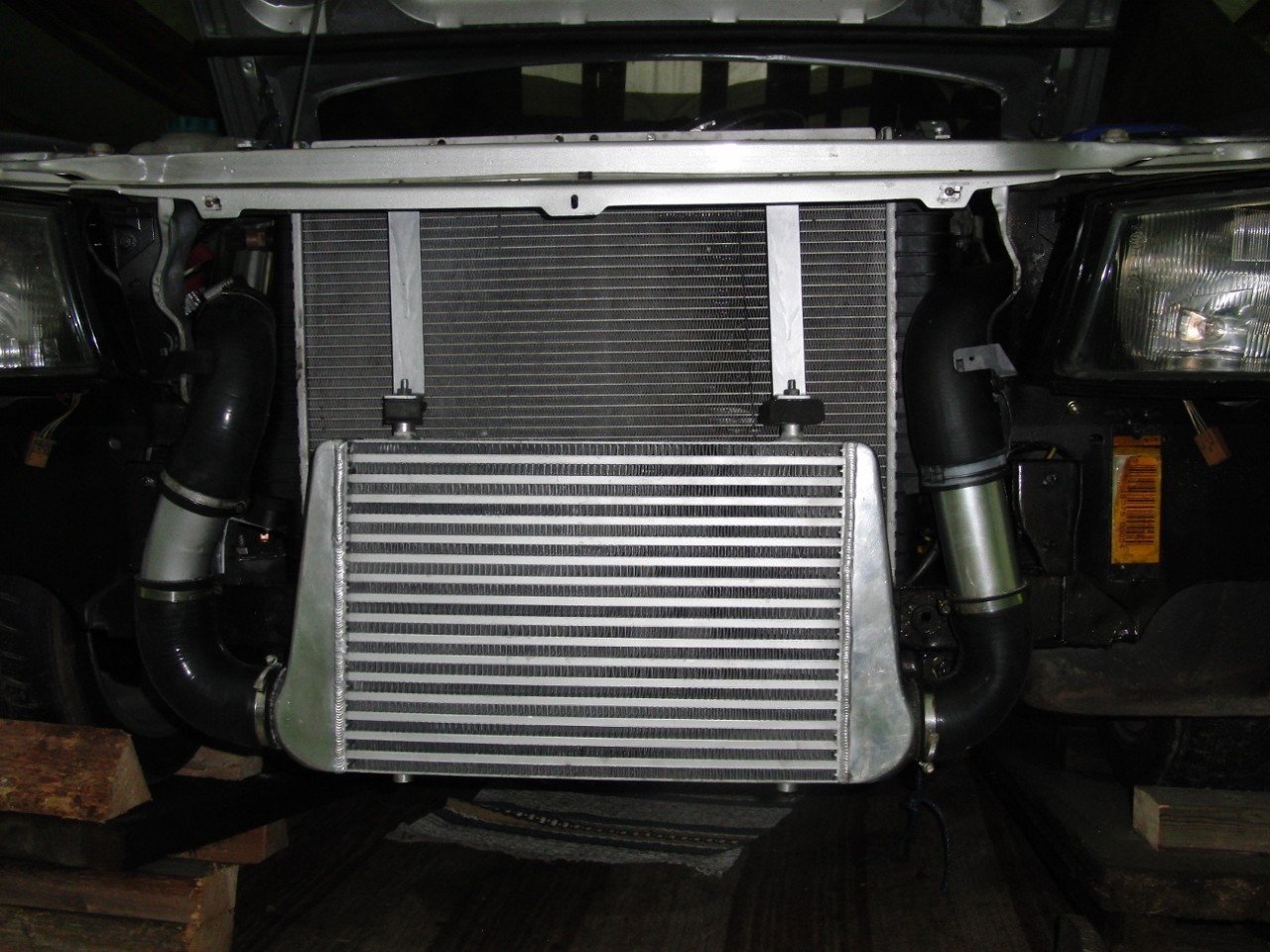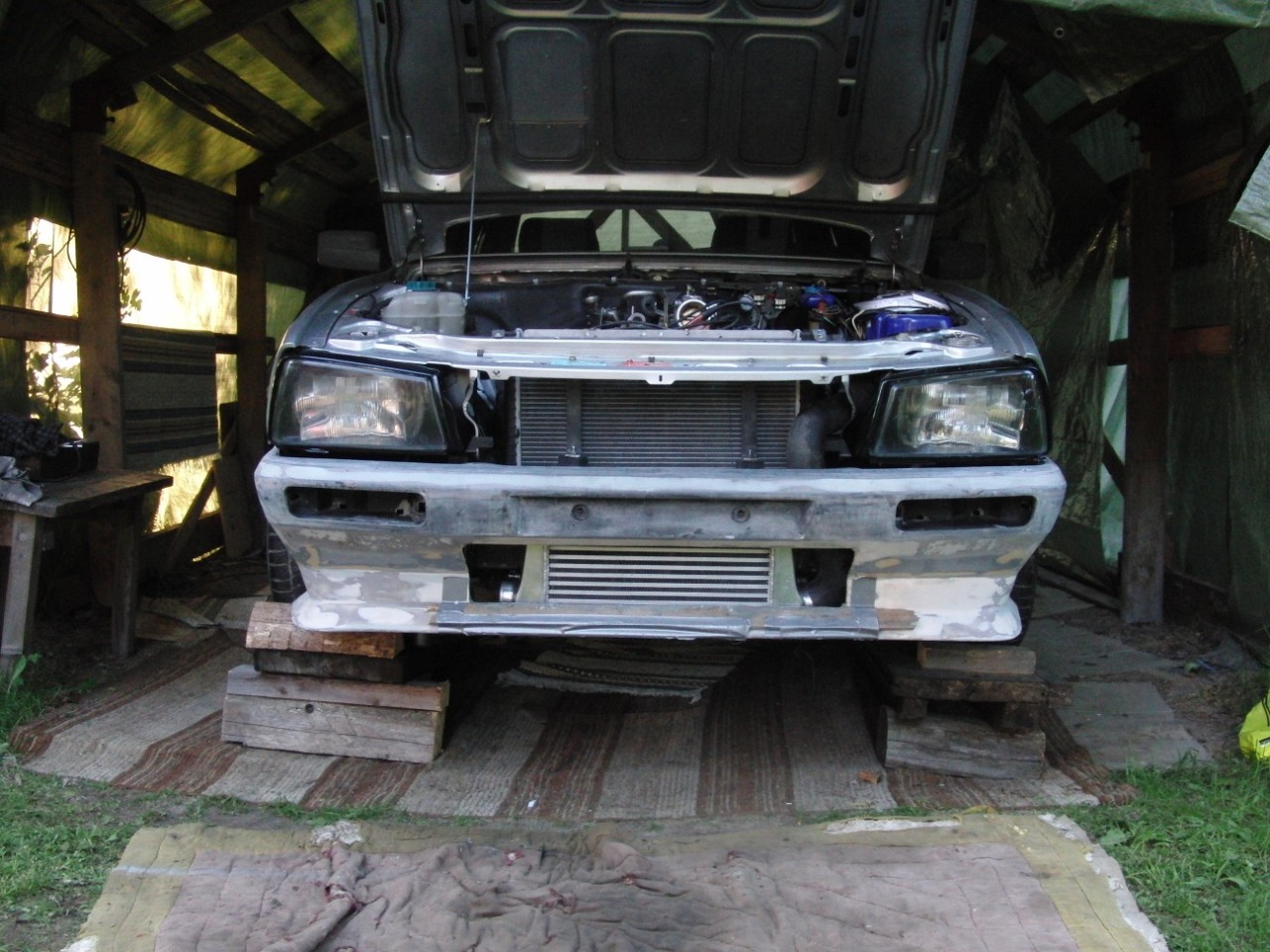 7-12-2010
First start up attempt
On Friday we did a start up attempt, but we run in some trouble. First we got leakage in a fuel line (a connection in the fule line was damage), but we repaired it quickly. Then we did some more tries to get the motor started, then the second problem appeared. The strobe lamp that we have to adjust the timing of ignition broke. We have bought a new strobe lamp and gonna do some more checks and try to start it up soon.
7-18-2010
Update
It runs!
We run into some more problem with leaking fule connection but we fix it. The main problem why it diden't start the first time was some electric issue and we diden't have a working storbe lamp. We have to do some more checks before we can do a test drive. Check oil pressure and ignition timing when boost is added.
8-2-2010
Preview
I have been busy working this summer, but my father has vacation and have done lots of work on the project car. More pictures later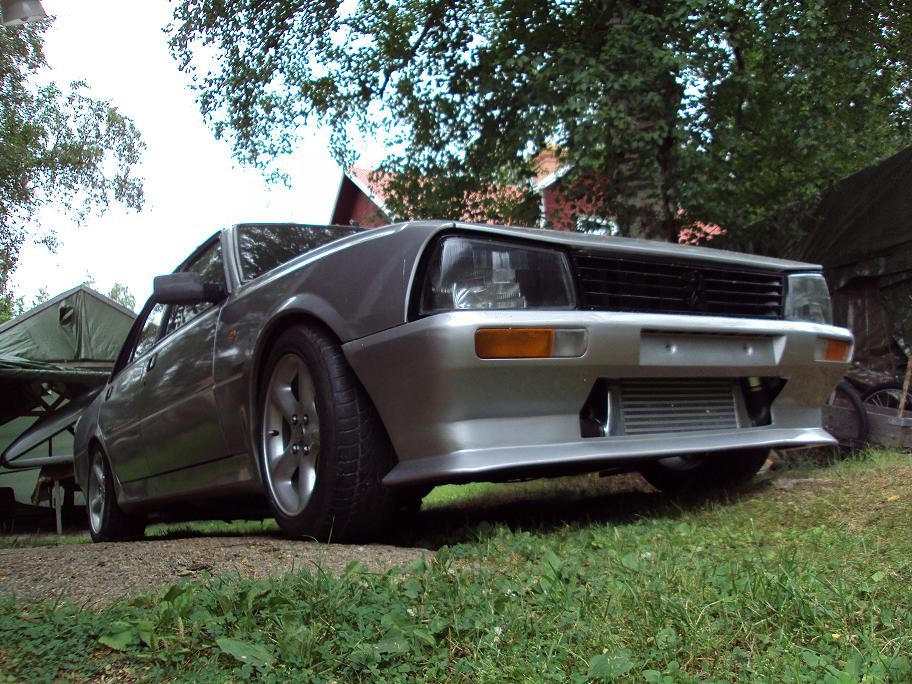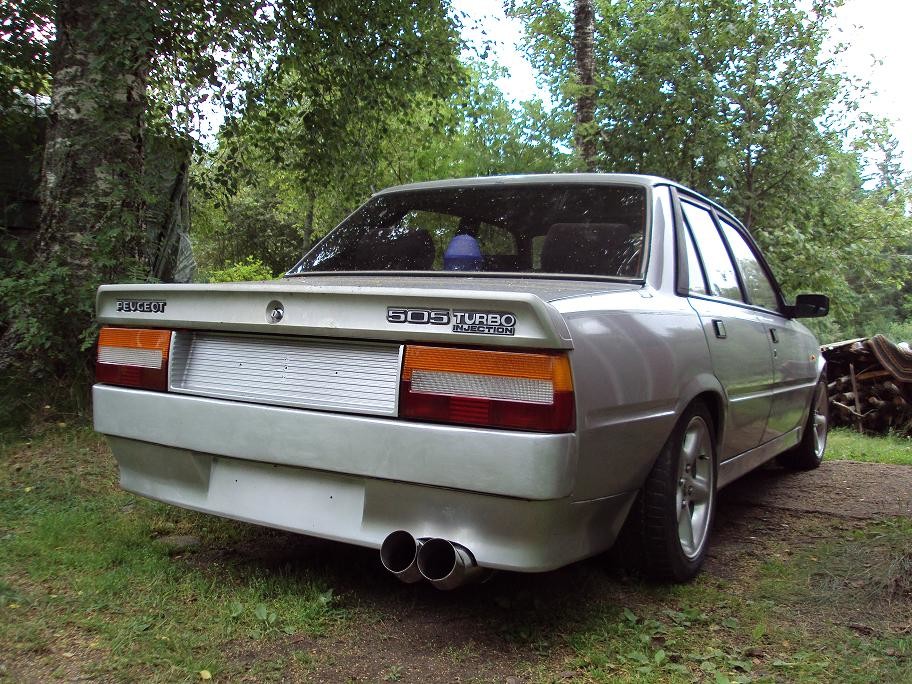 8-23-2010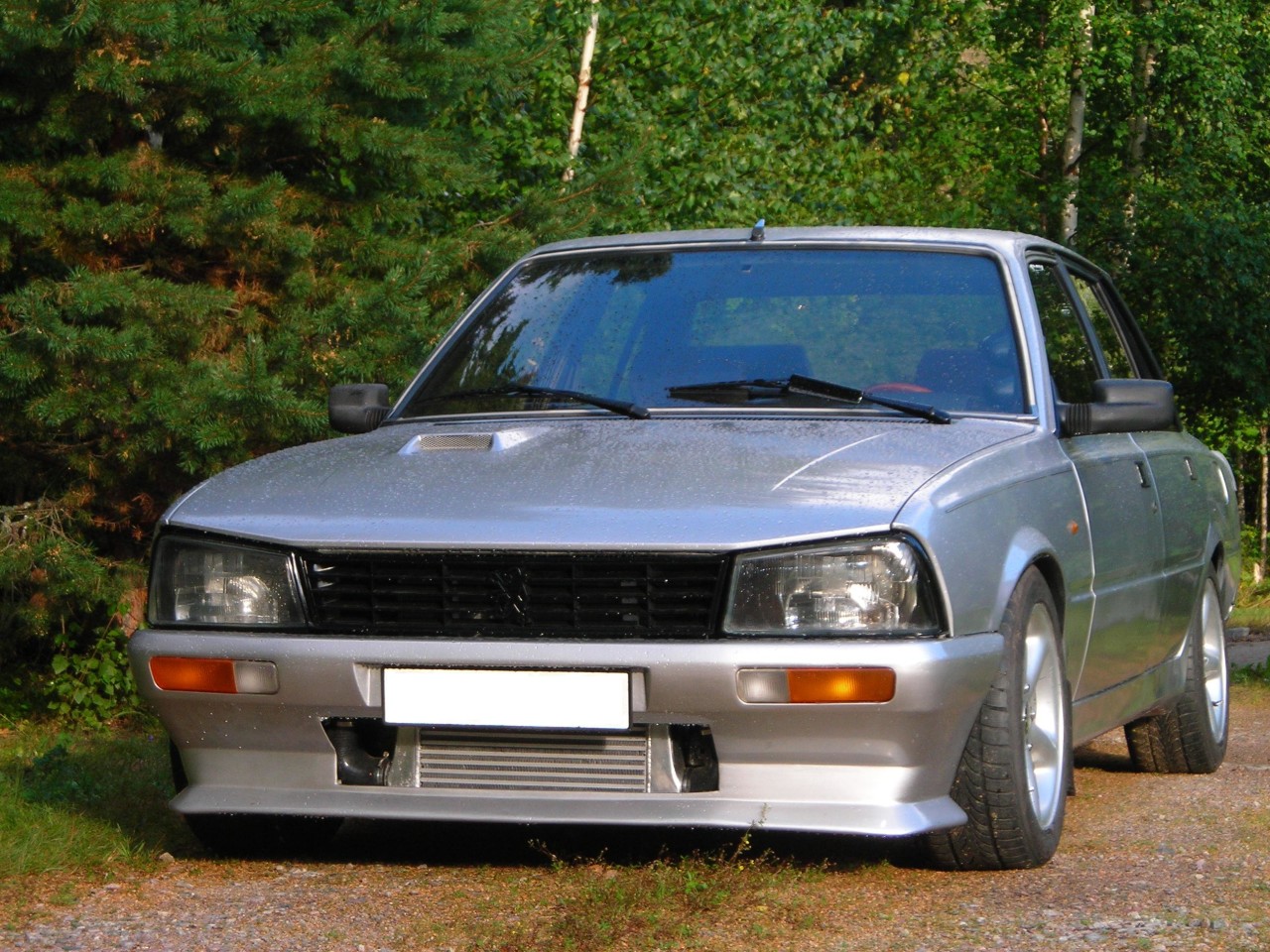 No test drive yet, have to rebuild the exhaust system... the car is to low (front exhaust muffler is the lowest point) and the OEM turbo is leaking oil.
So we decided to modify/rebuild the exhaust system and purchase a new turbo. We won't risk any thing and
test drive the setup now.
9-17-2010
We was not so wise...
After building the car for 3 years and now when it's driveable we couldn't resist, so we test drove it...
So we fixed the problem with the exhaust system, the front muffler was repositioned so we have higher ride height under the car.
The main concern we had was that car would be unbalanced, due the change of bolt pattern in the hub. And this was the most exiting part in the test drive, have we done a good job when re drilling the hub?
When test driving it, the car didn't give any signs of unbalance and the handling is awesome! First time I have to yell at my father to slow down when is pushing the car really fast at a small and curvy road
The lowering springs makes the car handle very good on the road and it felt very stiff compare to our other project car with the original suspension.
The engine have good response, the acceleration is great. When we did the test drive we run at 0.6Bar of boost.
0 - 170 Km/h didn't take long time...
We have installed a 6-pucked sinter clutch, at low speed it can be a bit tricky to handle but at higher speed it's no problem. When the clutch gets warmer it grips better and better.
We are very pleased with the test drive and the car!
And now we know we did a god job with the hubs and the engine have good performance and we go further to get more performance (bigger turbo, 3'' down pipe, ...)
Feel great that we have come this far with the project and we gonna still work with it, we got more plans...
2-6-2011
Haven't done any work on the car for month nows. Still hunting Mazda RX-7 calipers for a affordable price...
Found some picture from previous summer when I did some work on the trunk. New fabric on the panels and
a picture of the boost gauge (Prosport-S).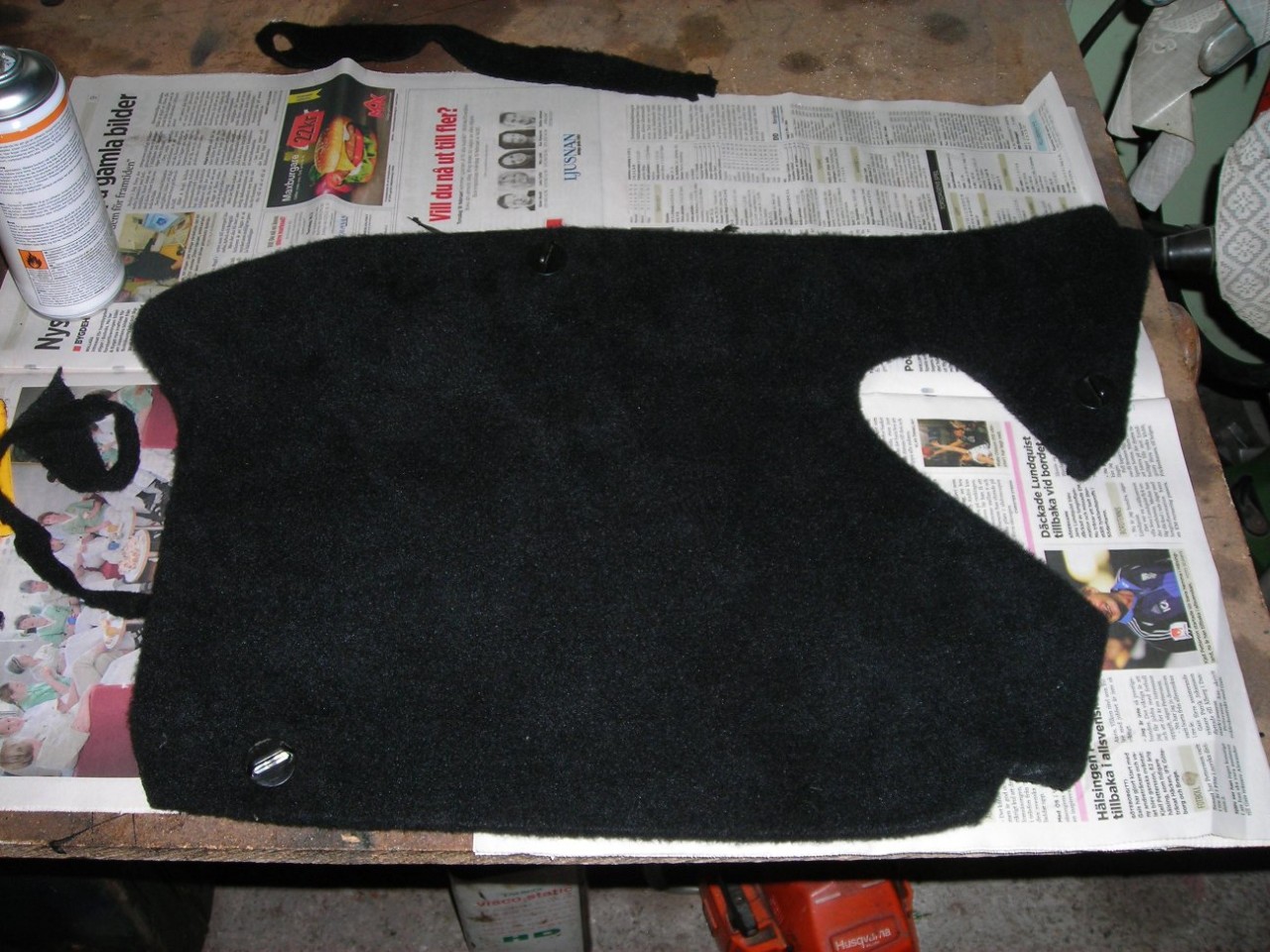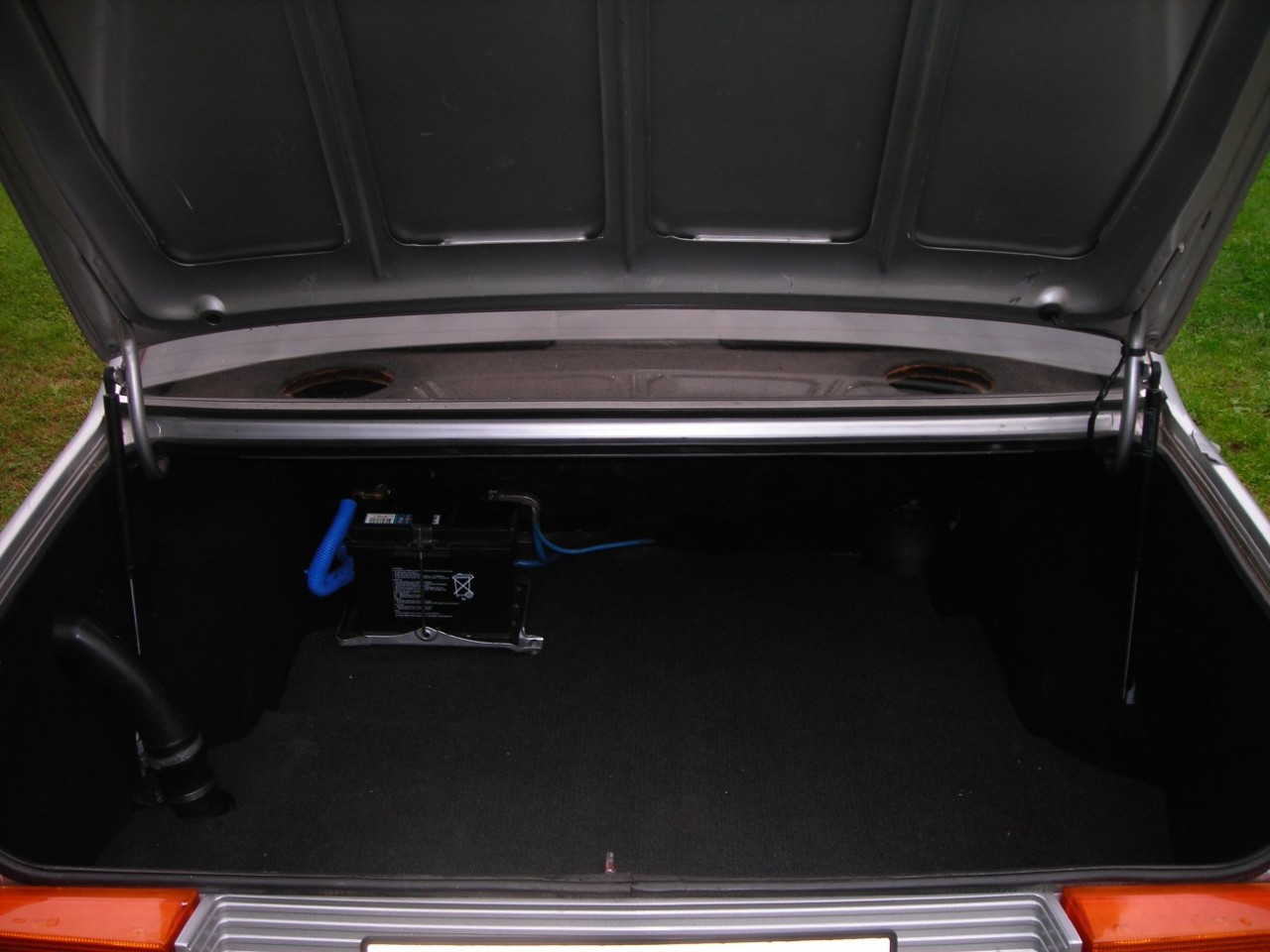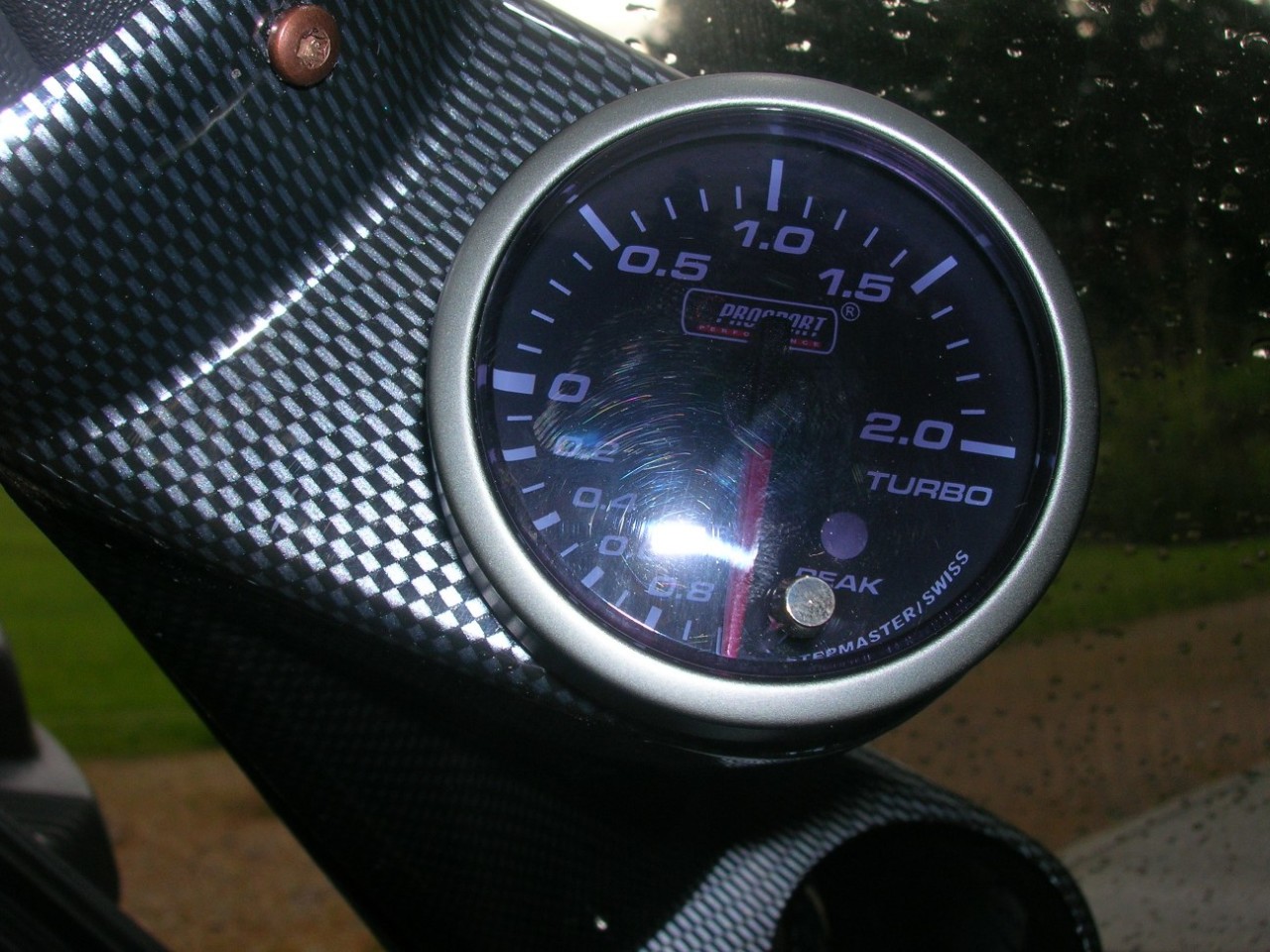 7-7-2011
Long time since a update.
Haven't done so much on the car this summer and I'm gonna move to the capital of Sweden, Stockholm. Got a new job as a programmer (development of PHP/MySQL web applications).
Thats make it hard for me to work with the car, but my plan is to save money and work up a budget to purchase parts for the project cars. I will try to go home
to my parents (where the cars are located) and work as much as possible and update on this forum.
Have done some work with the car, one front strut and hub have been grinded, sand blastred and painted. This will make the job to upgrade the front breaks
easier and more fun (it's not fun working with rusted parts
). Have been hunting Mazda RX-7 front calipers here in Sweden, but the price is to high, so
I gonna purchase a set of calipers from eBay next month.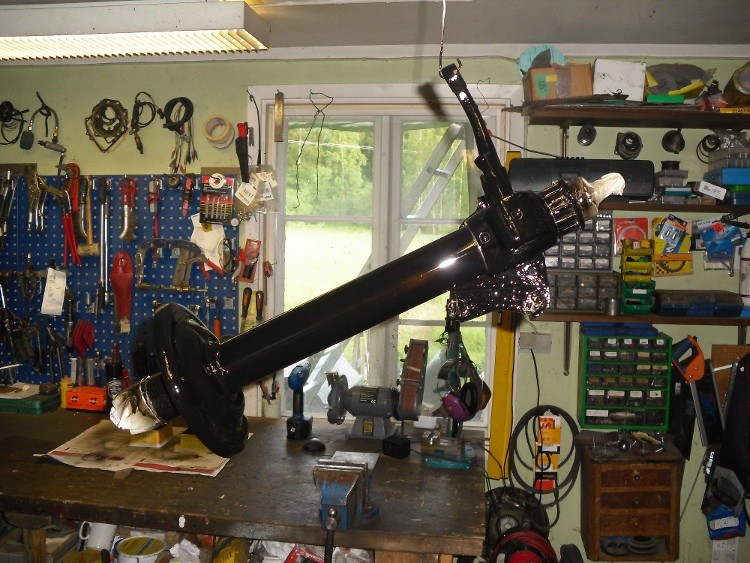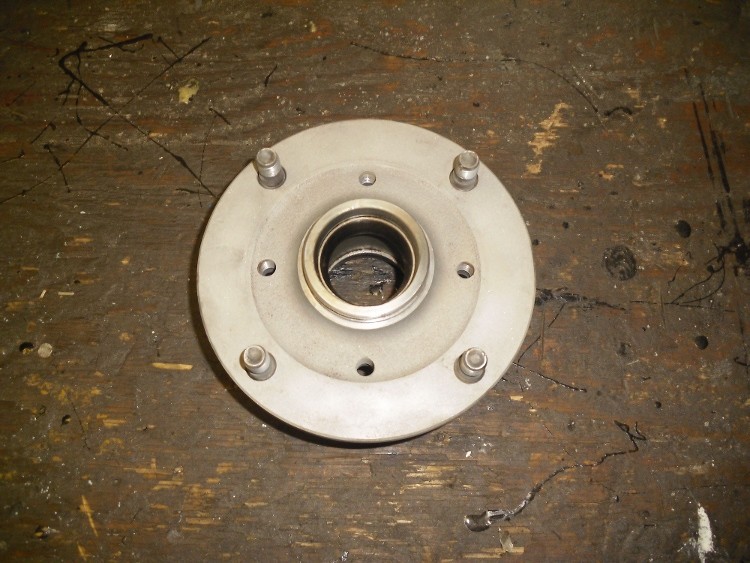 8-15-2012
Hi,

Long time since a update, but the project is not dead!
During the easter I wen't home to my parents and did some work with our project cars.

I did a proper cleaning of the interior on project car 1 and check if any rust have appear during the winter storage.
It have manage the winter very well, but a warm storage should be a advantage. During the winter we have started the car
periodically and had it running warm.

My father had started with the project 3 car, it's a ton of rust repair (sandblasting and welding).
The plan is to keep it stock but some exterior and interior modifications. The first exterior modification is side skirts,
the side skirts have been made by a metal shop, we had them fabricated for some time ago and during the easter we mounted
one on the project car.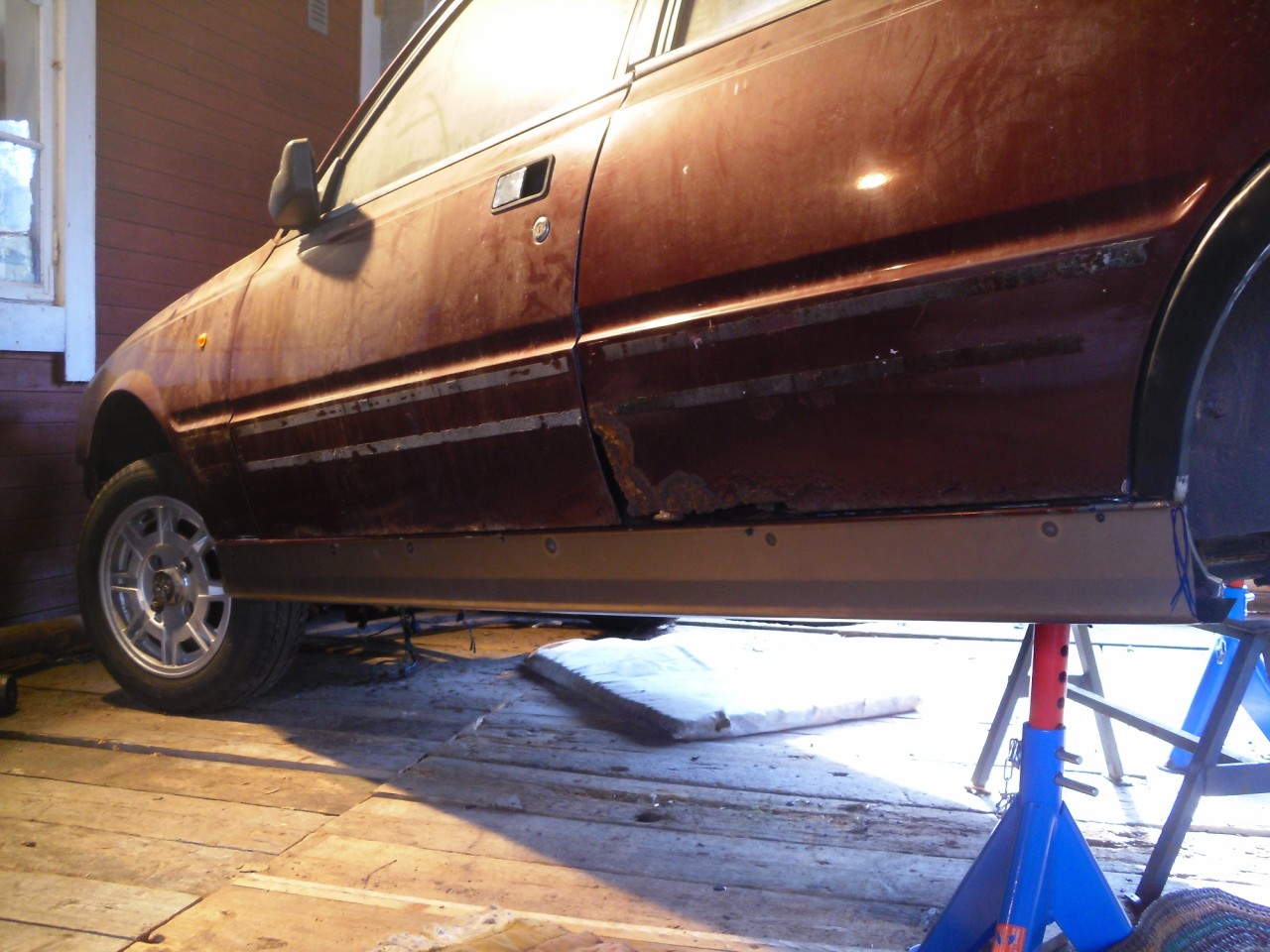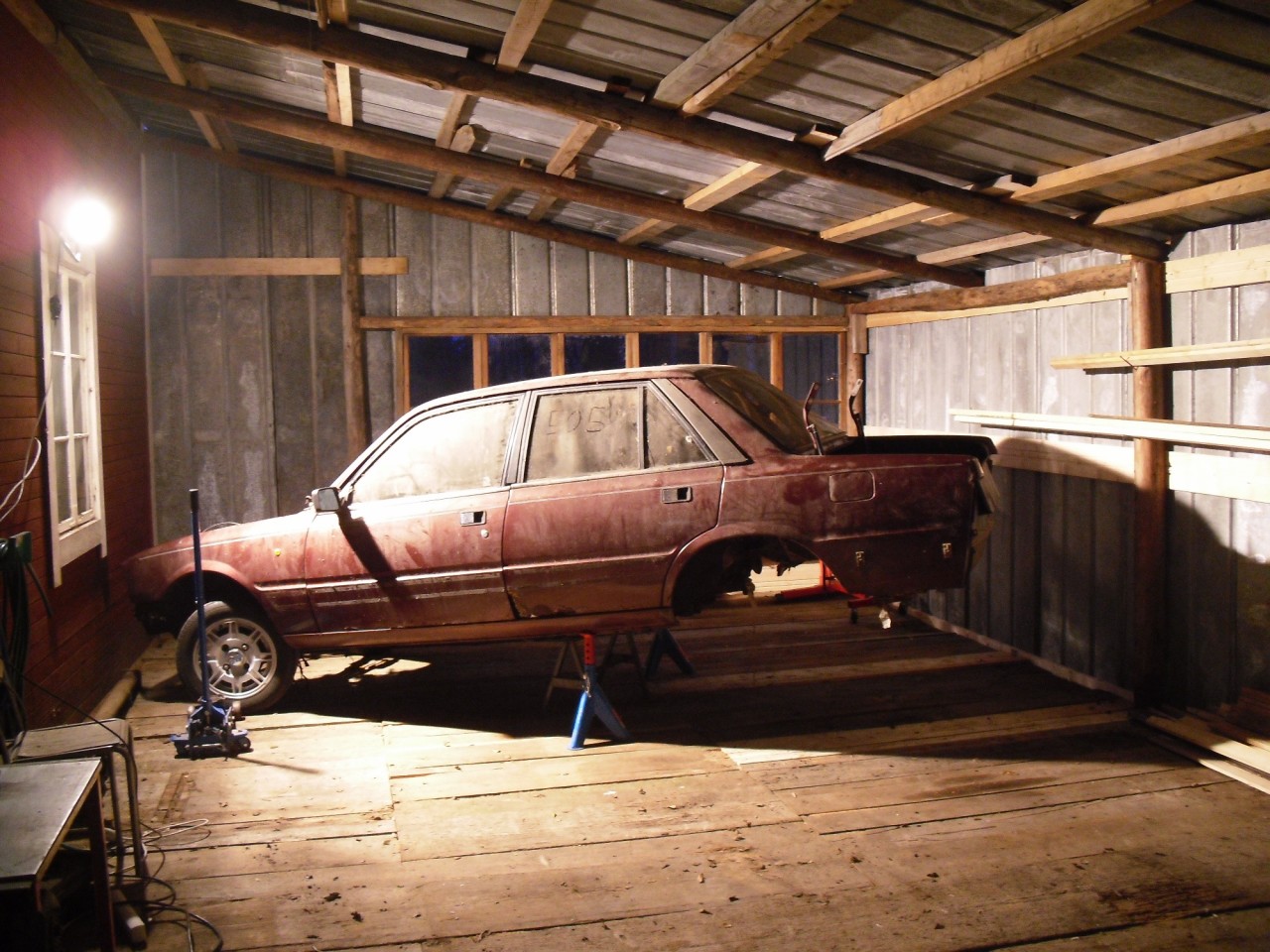 Two fresh photos of the project car 1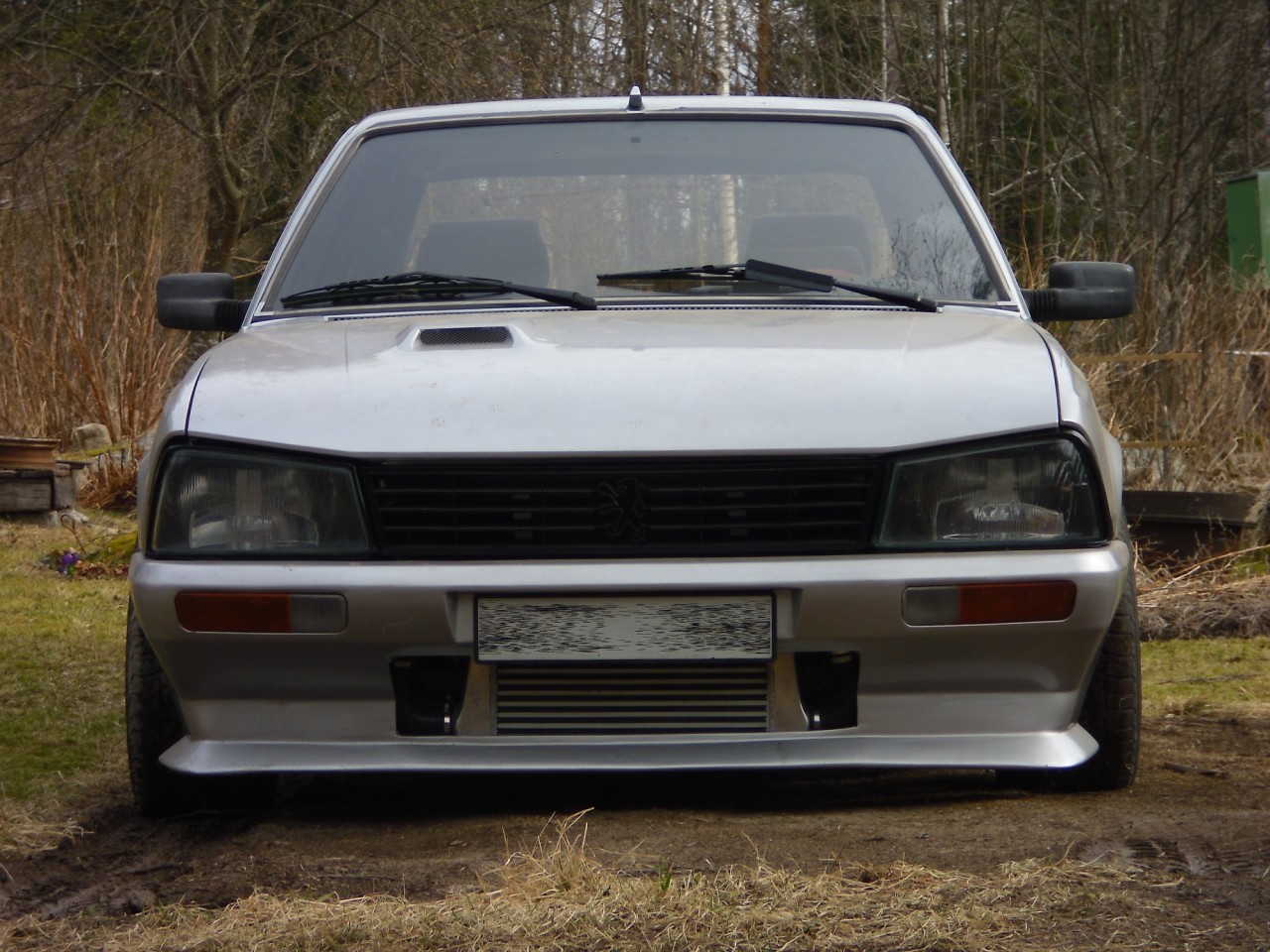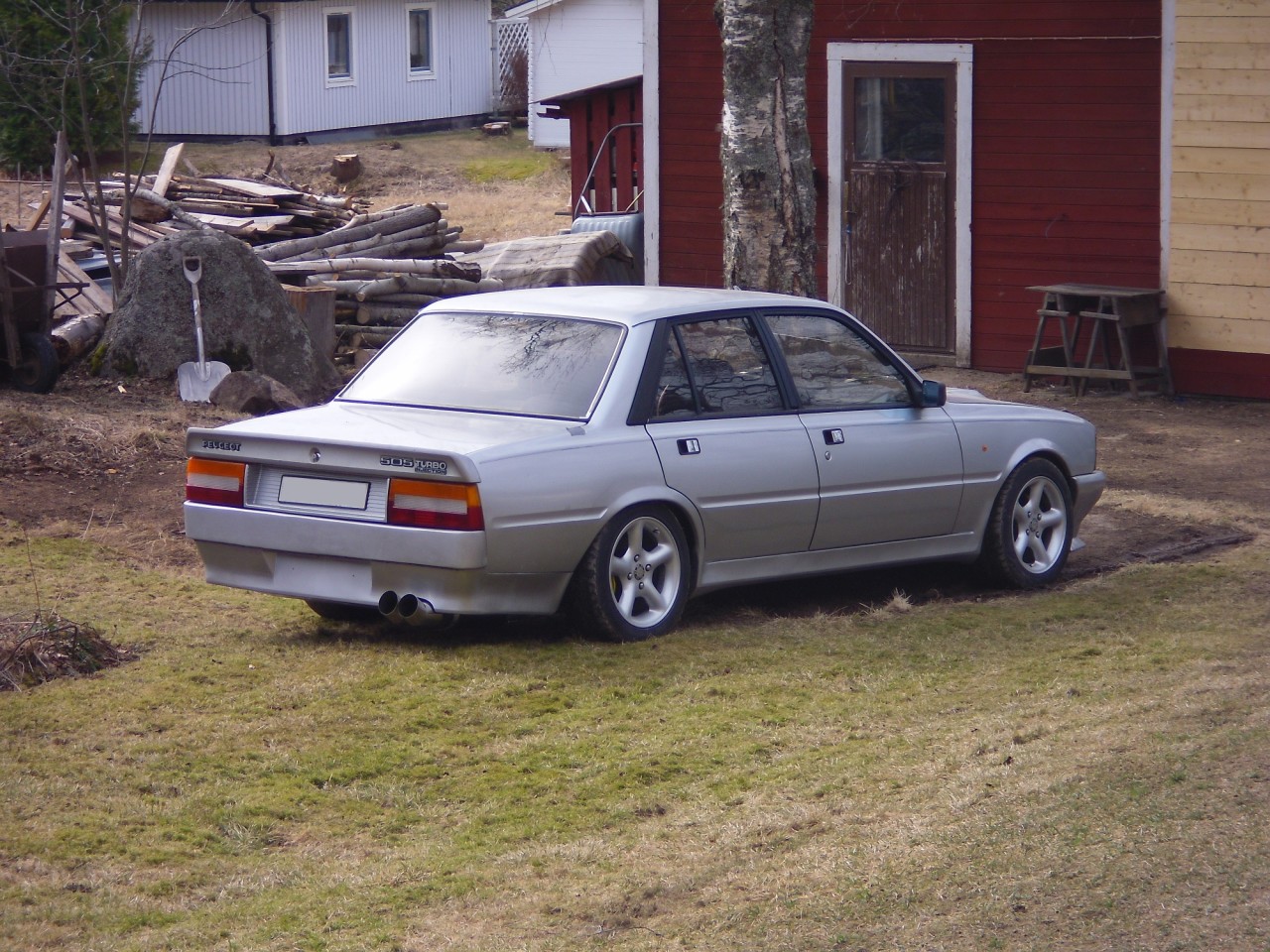 9-22-2012
Hi,
To show some kind of activity I have uploaded some build pictures.
The pictures can be found here:

10-23-2014
Hi,
Dropping in and writes some line to show that the project cars is not dead, we still working with them
Have done some minor work on Project car 3 this summer. Cleaned the gear box, rear diff and removed rust from the drive shaft and painted them.
Also removed rust under the car where the trunk is and also painted it.
http://www.505turbo.com/forum/index.php?/gallery/image/436-rear-diff/
http://www.505turbo.com/forum/index.php?/gallery/image/435-gearbox/
http://www.505turbo.com/forum/index.php?/gallery/image/438-rear-diff/
http://www.505turbo.com/forum/index.php?/gallery/image/439-rear-diff/
http://www.505turbo.com/forum/index.php?/gallery/image/437-img-0803/
Regarding project car 1, the plans remains that we gona buy a new turbo and rebuild the exhaust system.
Only new thing for this car is that we bought braided break lines for the front breaks.
10-11-2015
We are still working on the cars but very slowly.
This summer we got side tracked with project car 3, fixed the drivetrain and mounted it.
And we got yet another Peugeot 505 for free. It's an old turbo diesel, we needed some spare parts for the project car 3 and most of my vacation was to disassemble the car to save what could be saved.
My father have finished the interior of project car 3, only modification we have done there is other seats from an Ford.
Have also updated the gallery with more pictures and updated dead links in this thread.
6-3-2017
Couple of month ago I purchased a turbo, the turbo is an Garrett GT2860RS.
Also order all the necessary gaskets and an V-band adapter for the exhaust housing. The down-pipe will be 3'' but we must redo the rest of the exhaust system, an lower car with a full 3'' exhaust system is not practical.

What do you guys use for boost controllers?
I have been looking at an electronic boost controller, the GFB 3004.
It seams to have good feature like over-boost warning/cut (since we are bypassing the 505 own over-boost protection).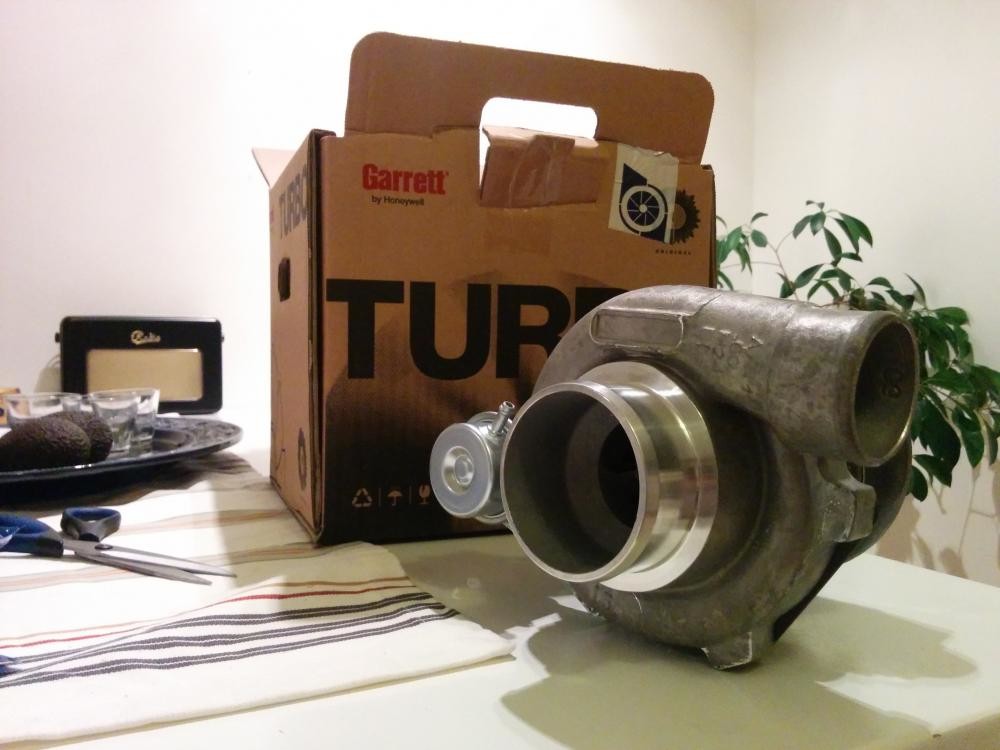 6-4-2017
Forgot to mention that I have also purchase and WBO2 sensor (Innovate INN-3796).

The right way is to go with an stand alone ECU to get full control, but since we are slowly professing with this build,maybe it will be in the next iteration of this build.
But have reading about stand alone ECU system, try to learn more about them and what they can do.
Found an Swedish company that makes three different ECU, have looked at there entry level ECU called MaxxECU street.