Builds
422 LSX Solid Roller, TFS 245's, Billet Wilson & Twin TC78's from KYTP by 98Z28CobraKiller
By diyauto
You must be logged in to rate content!
5 minute(s) of a 66 minute read
422 LSX Solid Roller, TFS 245's, Billet Wilson & Twin TC78's from KYTP
Compliments of 98Z28CobraKiller @ http://ls1tech.com
11-18-2009
Here goes another build thread. THIS IS NOT MY VEHICLE. I am posting and will be maintaining this build thread for LS2Formula. I'm sure he will be involved and will pop in regularly.

Here's a run down of the major components:
LSX 422ci
TFS 245 6 bolt heads 70cc
Custom JE Pistons
Comp Cam 24x/24x .6xx/.6xx 11x Solid Roller
Jesel rocker system
Billet Wilson Intake
KYTP Custom Twin TC78 Kit

A2W Custom KYTP Intercooler

Rossle Powerglide fully upgraded
FTI Converter

9" Rear w/ 3.7x:1 gear

Nasty Performance Fuel system
Aluminum sumped tank
Twin Magna Fuel Pumps MP-430X

AMS1000 w/ CO2 Boost Controller

Big Stuff 3 from EPP
The KYTP Kit arrives on the truck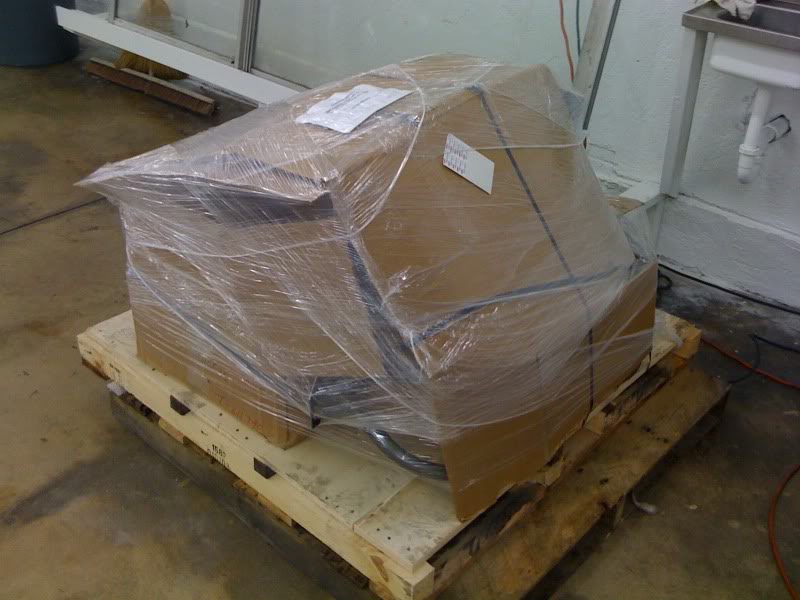 Here's what he got minus the water tank and pump that should be arriving shortly on UPS per Josh.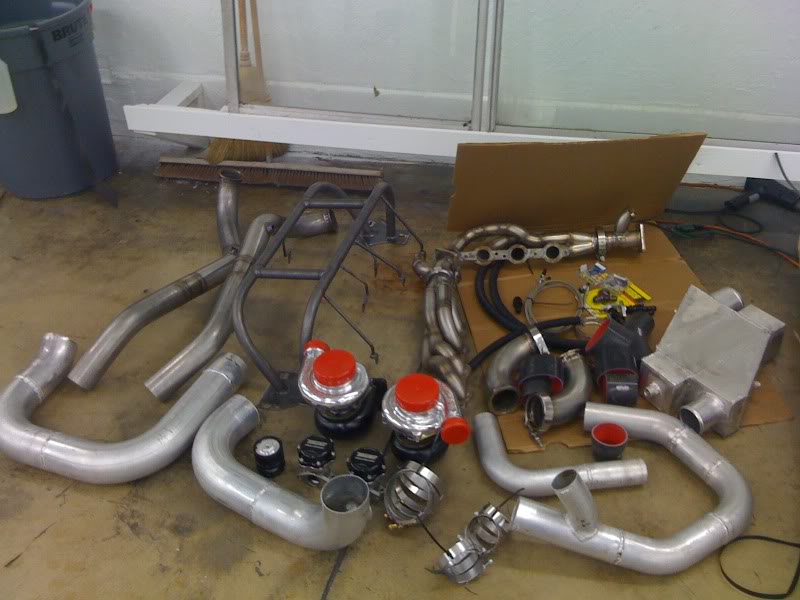 We picked up the motor last night also from Total Engine Concepts. Mike @ TEC builds all the Mosler supercar engines from mild to wild. He builds all of ours also. We rushed home to start throwing **** together.
Here's a shot of the engine bay (on the lift) minus K-member with the BS3 Harness in place.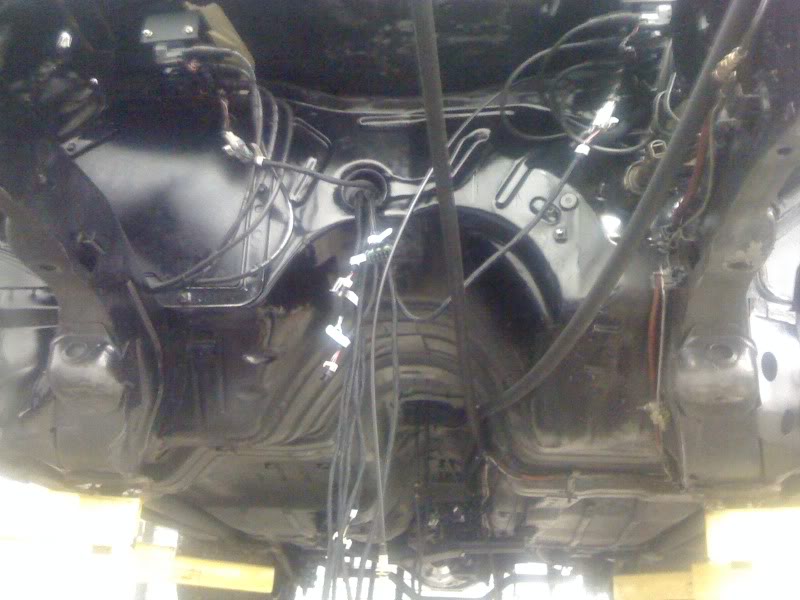 Then the motor on the Kmember with the transmission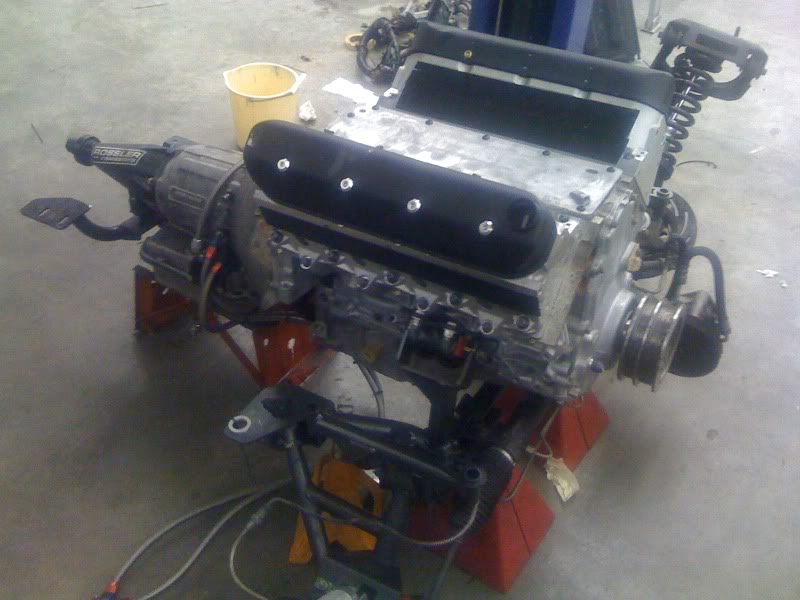 While Steve (LS2Formula) was wrenching away, Joe (BonnarLS1) and I took a ride down the road to our very handy friend's house (Dave) to get the nipples cutoff the Griffin radiator and get some pimp style AN fittings welded on.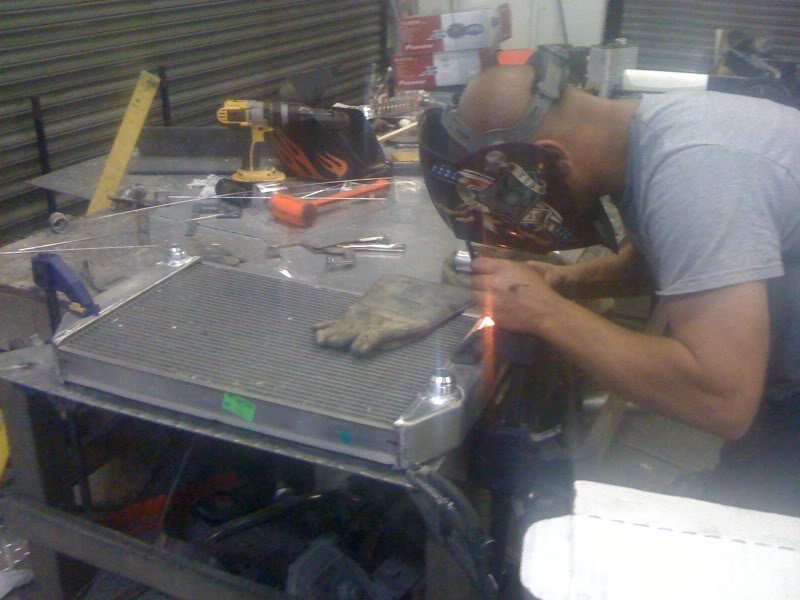 While we were out, Steve was making some progress back at the house.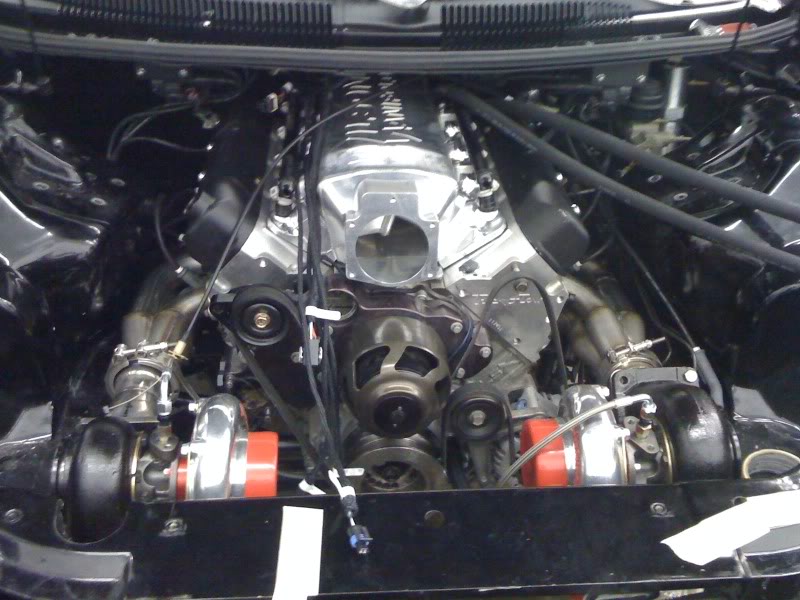 His initial intention was to mount the radiator under the radiator cross support up front with notch for the radiator cap. This had the potential to look really good and clean but unfortunately, in an effort to make progress, we didn't test fit the turbo kit with the radiator in place. Here's what we found when we go back to his place with the radiator.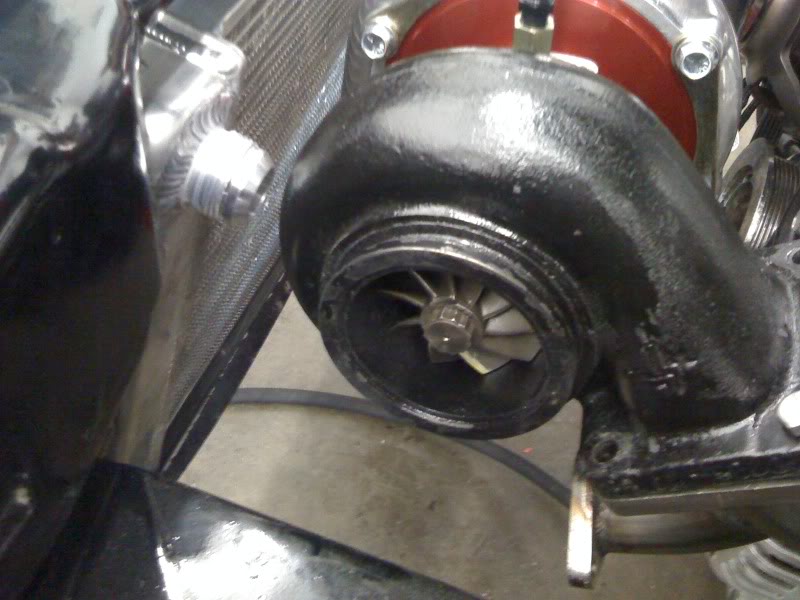 FAIL!

So it appears that he will be completely removing the cross support so that we can tilt the radiator as far forward as possible. This will also allow us to go up 2-3 inches which should give us enough space for an AN elbow to get the upper radiator hose to the water pump.
I'll take it. LOL
He was running pretty consistant 8.80's in the low 160's with this motor at 12.5:1 compression with a nitrous shot of just under 400 hp.

After tearing the car down 3 times because we had water leaking from between the block and the heads, the problem finally made itself visible in the form of a split deck. Each time we tore it down the heads had to be milled because one of the surfaces would be bad.

We sent the heads back to TEA and they determined that one of the castings was defective. Their solution was to replace the one casting that was bad. We explained to them that we had to cut on them 3 times and spent many labor hours (the top center head bolt on these 6 bolt heads is a HUGE pain in the ***) and over $1K in machining and headgaskets as a result of their defective casting. All we wanted in exchange was a SET of new heads. They refused and Steve got tired of fighting with them. He ended up paying for the second casting and they CNC'd it and swapped over the hardware from his other head free of charge. I was very disappointed with their handling of this situation and we told them that this build thread would be high visibility. I guess it didn't matter to them so here it is. This whole thing took several weeks to resolve as it seemed that Steve spent lots of time talking to an answering machine. If he wasn't so deep into those heads, he would have switched over to something else. But, it is what it is. Hopefully there wont be any more issues and all will be good from here on out.

So to answer your question as to the goals of this car, we are hoping to run bottom 8's. A high 7 on drag radials would be sweet. We shall see.