Builds
Taking the plunge: LS3 into '64 Tempest. Need help with shopping list. by b-man
By diyauto
You must be logged in to rate content!
6 minute(s) of a 224 minute read
Taking the plunge: LS3 into '64 Tempest. Need help with shopping list.
Compliments of b-man @ pro-touring.com
10-4-2008
It's time for me to start planning my LS3 engine swap, the car I'm using for my project is my '64 Pontiac Tempest 'sleeper' that was powered by a mild 455 Tri-Power engine. I have owned a 2002 WS6 A4 convertible since new so I know just how great these LSX engines are, my 100% stock 5.7 T/A is 1/2 second quicker in the 1/4 than my 455 Tempest.

My Tempest is NOT a hard-core Pro-Touring car. Link to car details:http://www.pro-touring.com/forum/showthread.php?t=25799

I want to keep it low-key and continue the sleeper theme. The bench seat and column shifter will stay, with no changes to the stock dash/gauges. I already have oil pressure, trans and and water temp gauges under the dash, I'll add other gauges if needed. I won't need a tach, the trans will be programmed to shift before the engine redline. But if it seems like a good idea to add one, I will.

Having the power of a new '08 Corvette should make it a lot more fun. I won't add aftermarket engine dress-up items, add an engine cover, move the coil packs off the valve covers or anything like that.

Knocking a good 250 to 300 pounds off the front end with an all-aluminum V8 should do wonders for handling. Plus a new fuel-injected 6.2 engine should give me close to a 130 HP boost (hoping the stock LS3 with headers/2.5" mandrell-bent exhaust will be close to 460 HP) and reward me with close to double my current fuel mileage (9-10 city, 12-13 highway with 2.56 gears).

My low-compression (8.2:1) 335 HP 455 wasn't the most fuel-efficient engine, but it was dead-reliable and put together with all stock Pontiac parts. It easily yanked the 'ol Tempest (3780# without driver) into the high 13s in the 1/4 (13.899 @ 101.85), using 1st and 2nd gear only, I'm sure knocking off some weight and adding 130 HP will knock over a second off my ET.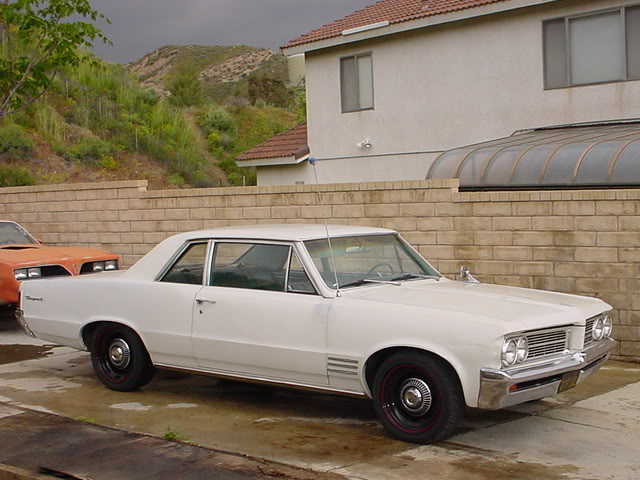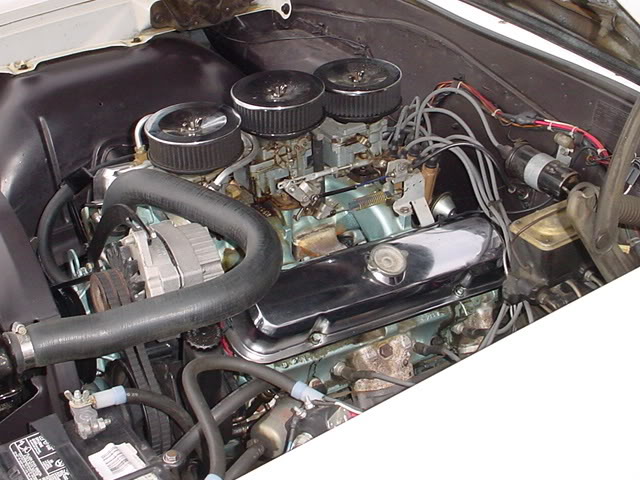 I want to install a new LS3 430 HP crate engine, the only mod to the engine will be a set of headers and a tune. I want to keep it a reliable, smooth-running and fuel-efficient package, so no big cam or other mods. I plan on buying the wiring harness from GM that's made for the LS3 crate engine, unless there's a better or cheaper alternative.

I will be running an automatic trans of some kind, and it's very important that I keep the trans mounted in the stock location as I want to keep the factory column shifter and linkage. I don't want to run any conversion mounts that will jack up the engine/trans or move them forward or back from the stock location.

I'm hoping to find a combination of mostly stock GM accessory drives that will work with my plan of keeping the engine/trans in the stock location. Same thing goes for the oil pan and header selection. I'd prefer to run a factory pan of some kind (good luck, maybe the LH8?), but if I need an aftermarket pan of some sort to provide crossmember to pan as well as tie rod to pan clearance I'll buy one.

Right now the way the car is set up, I'm using a TH400 trans with the original ST300 2-speed auto shift linkage, the steering column and shifter detent have been modified (column slots lengthened for more travel, new low-gear detent step welded on) in order to select all 3 gears.

I'll either add a Gear Vendor OD to the existing TH400 (freshly rebuilt) with tight 10" Continental 3200 converter (also spankin' new) , or go with a 4L60E or possibly a 4L80E. Not sure if I want to deal with electronic auto trans control or not, but with the DBW LS3 engine it may be the best way to go.

Cruise control would be nice. I'll put the TH400/10" Continental in one of my other cars and go for a modern GM OD auto if that's the best route, hopefully without too much hammering on the trans tunnel. My column shift should be adaptable, I'll let the new 4L60E do all the shifting after I pop it into either Drive or OD with my lil' Granny column shifter.

Air conditioning is a must, a Vintage Air setup or whatever will be installed, so I'll need to accomodate an A/C compressor in the accessory drives.

I would like to run an in-tank fuel pump. Would any of the aftermarket Chevelle stainless steel tanks adapt to the Tempest/Lemans/GTO? I know the filler necks are different, perhaps the Tempest neck could be added to one. I can mod my stock tank if that would be a better way to go.






The rear end has been changed from th 2.56 open rear that was original to the car to a 3.36 posi. It is a factory 1966 GTO 8.2" 10-bolt so I hope it will hang in there a while if I don't thrash it too hard, this isn't a drag car with sticky tires so it should be okay.

Any help with putting together a shopping list for engine mounts, oil pan, accessory drives, headers (again keeping in mind the trans needs to stay put in the stock location) along with a fuel system and any electronics/wiring I'll need to buy would be greatly appreciated.

My apologies for the long-winded post, I tried not to leave anything out.