pete25r's bugeye progress by pete25r
By diyauto
You must be logged in to rate content!
pete25r's bugeye progress
Compliments of pete25r @ www.clubwrx.net
12-16-2012
Short story:
2002 WRX Sedan
Mods:
3in TBE exhaust cat welded in downpipe, Borla muffler
wrapped upipe
silicone inlet
silicone afta MAF
COBB SF (short ram)
PNP TD04
Deatchswerks fuel pump - DW200 / 255LPH
Kartboy Short Shifter
tint
radio & speax (kenwood HU/pioneer sp)
DIY aluminum radiator shroud
DIY aluminum air box
Kartboy Front and Rear Endlinks
Whiteline Adjustable Swaybars - 24 front on softer and 22 Rear on middle (might adjust stiffer later)
Konis and RCE Black(7-23-13)
Hacked Splitter
Grimmspeed TMIC
Grimmspeed IC Hose
OEM JDM Bugeye hood scoop
Stock:
everything esle
Long Story:
I'm a Subaru fanboy. I've had 3 80's models, loved each one. I wanted to get a turboed car so heck, I'll go find myself a WRX. Here's what I found (Feb 2011) License plate is photoshopped, dealer tag was there and ugly.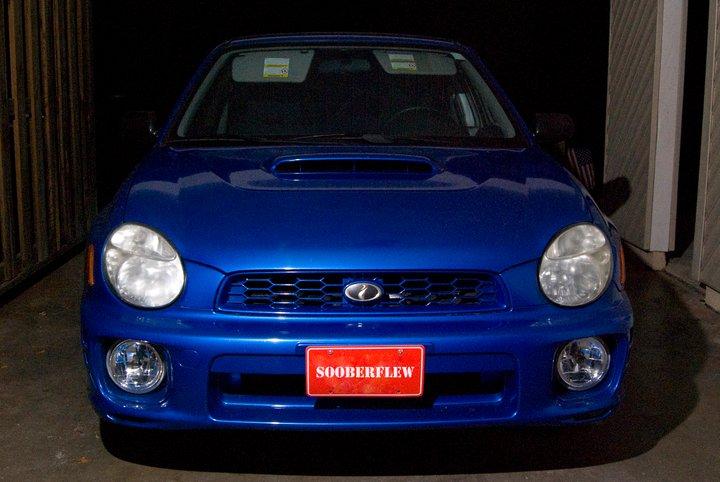 Underhood - TurboXS atmos. BOV, COBB SF with beatup, dirty filter, exhaust leakS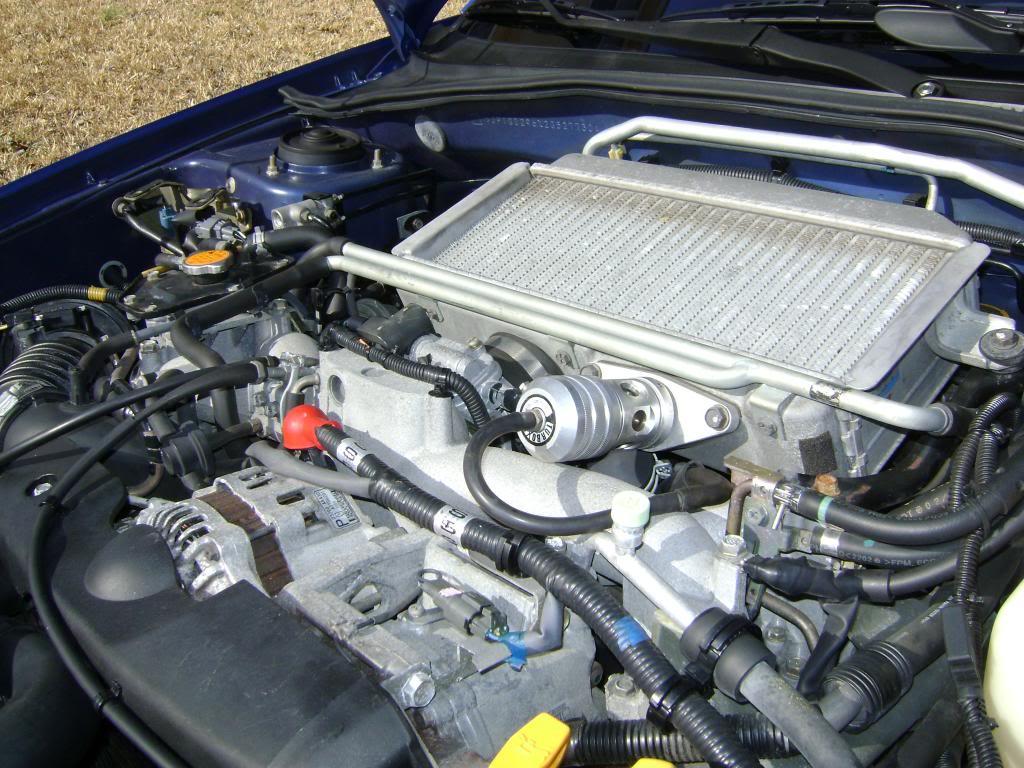 yeh, filter was supposed to be blue...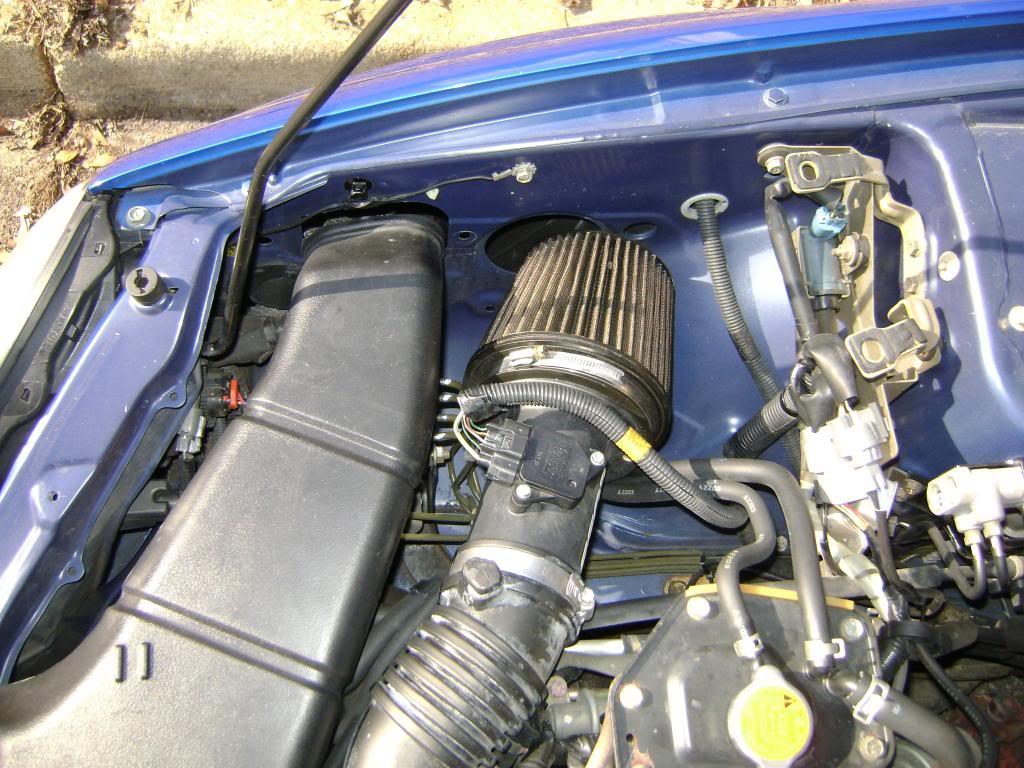 A week after I brought it home I replaced the air filter with a K&N that was longer. I stuck a piece of old tshirt between the filter and the inner wall so it wouldn't rub the paint off since is was touching. That didn't help all that much... And yes those are legit JDM zipties relieving some strain on the intake tubing. And notice the silly STI stick-on came off.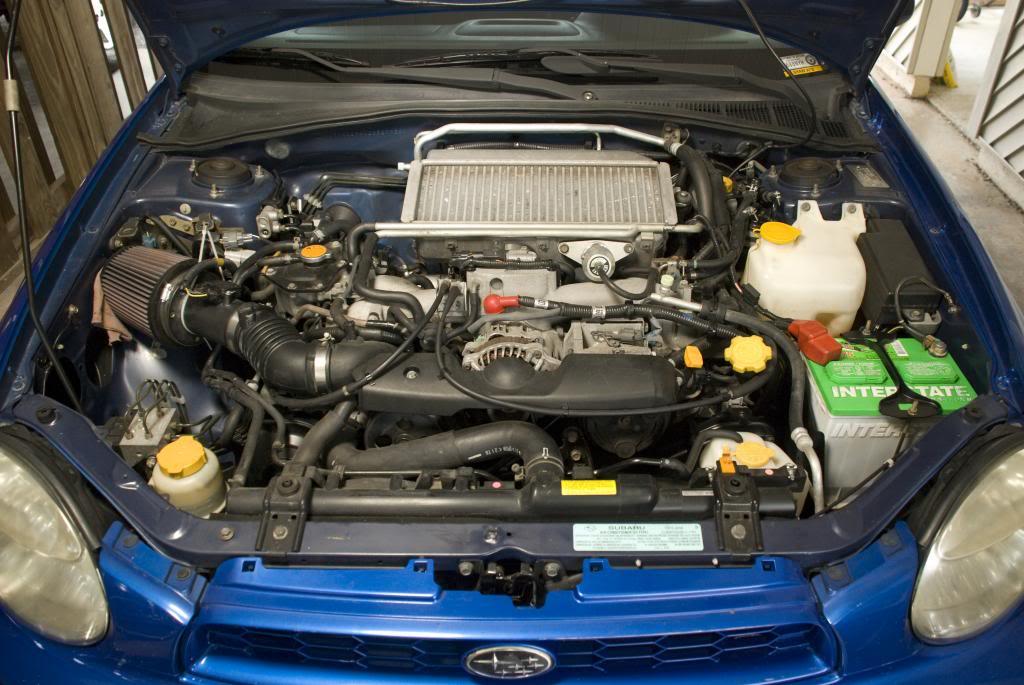 So you wanna see some wierdness? Someone welded a largish cat on the 3" downpipe. You might not be able to see in these pics but man-o-man them welds ain't pretty. The welds are structurally sound looking but more of the "bigger the blob, better the job" category.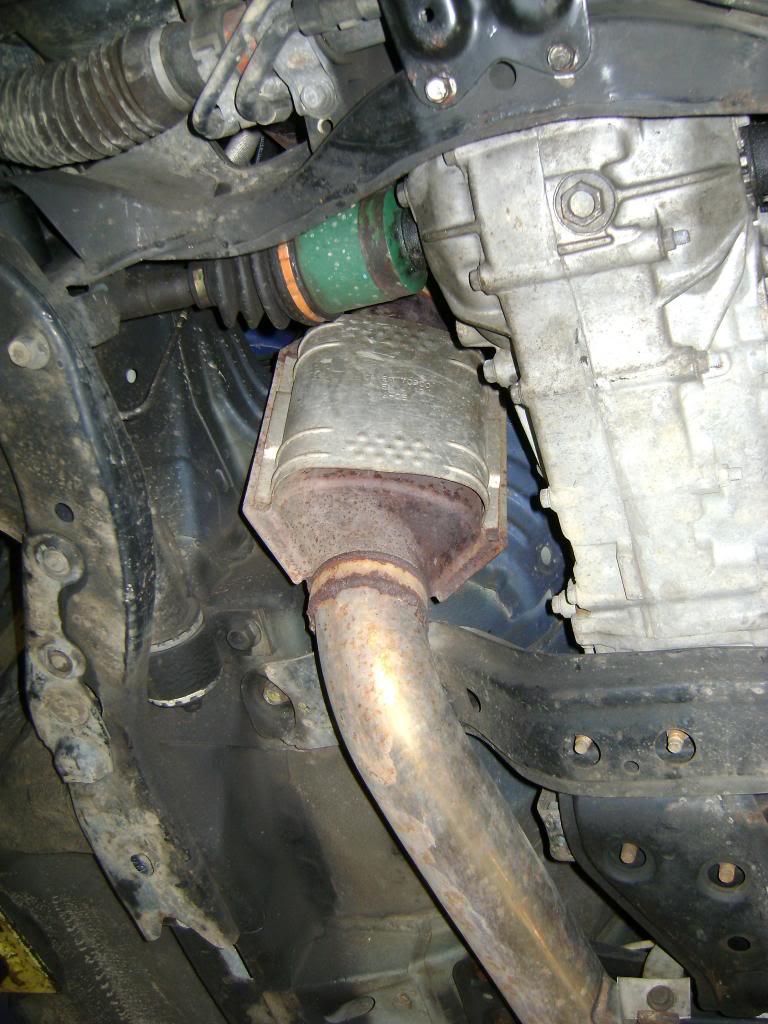 From the downpipe back its 3" and looks like Borla, resonator in midpipe and dual tipped Borla embossed muffler. Sounds good, not to loud but sounds like it has a pair.
Paint looked good, somewhat fresh. Interior was ok, carpet was beat up, wholes under floormats. It was missing the clock, had a stock 6disc/tape radio, stock speakers, no guages, stock fog lights, wholes drilled in most of the "blanks" by the cruise switch. There was also an off brand remote start unit in it, still wired up just no fuse in the 12v+ line. There were also some other various rat's nests wired in under the dash. When I took it on a test drive I noticed there was a Cobb AP USB dongle-thing on the OBD-II port, no AP though.
I didn't know this until I went to a meet but it's got a short throw shifter with a kartboy sticker on it under the boot. And the boot trim has an STI on it and doesn't quite fit right, it's always falling down off the part that's supposed to hold it up.
done?
Here's what I've done so far...(not in order)
replaced the radiator with an aluminum CX racing one (ebay special)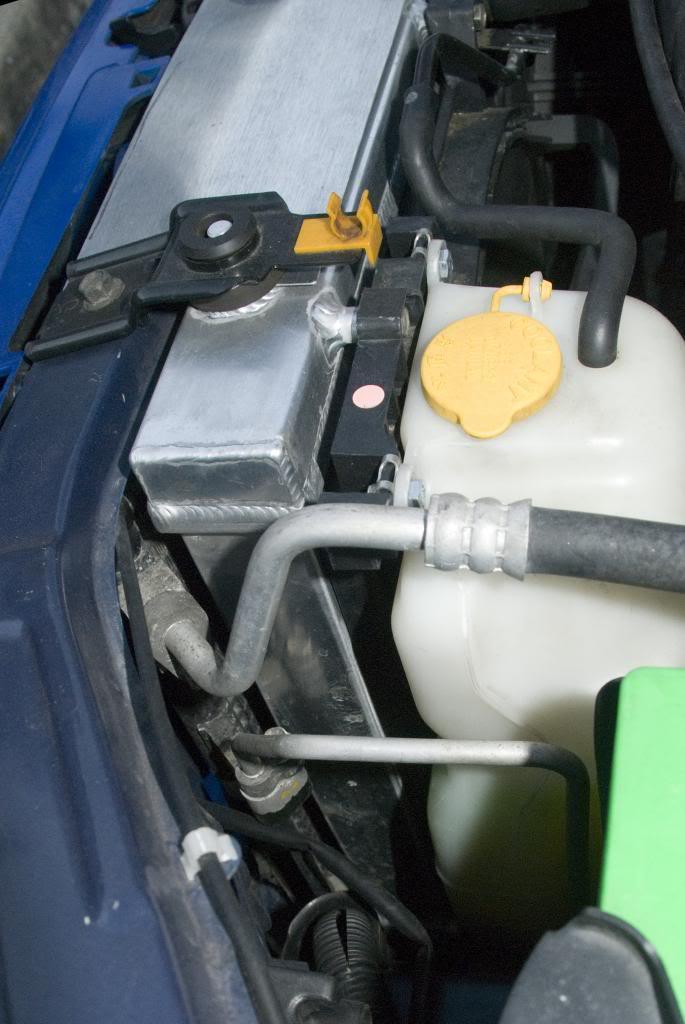 replaced TurboXS BOV with stock BPV - wasn't for me hated the backfire on shifting
cusco turbo heatshield, don't think it helps all that much but I got a deal on it and bling!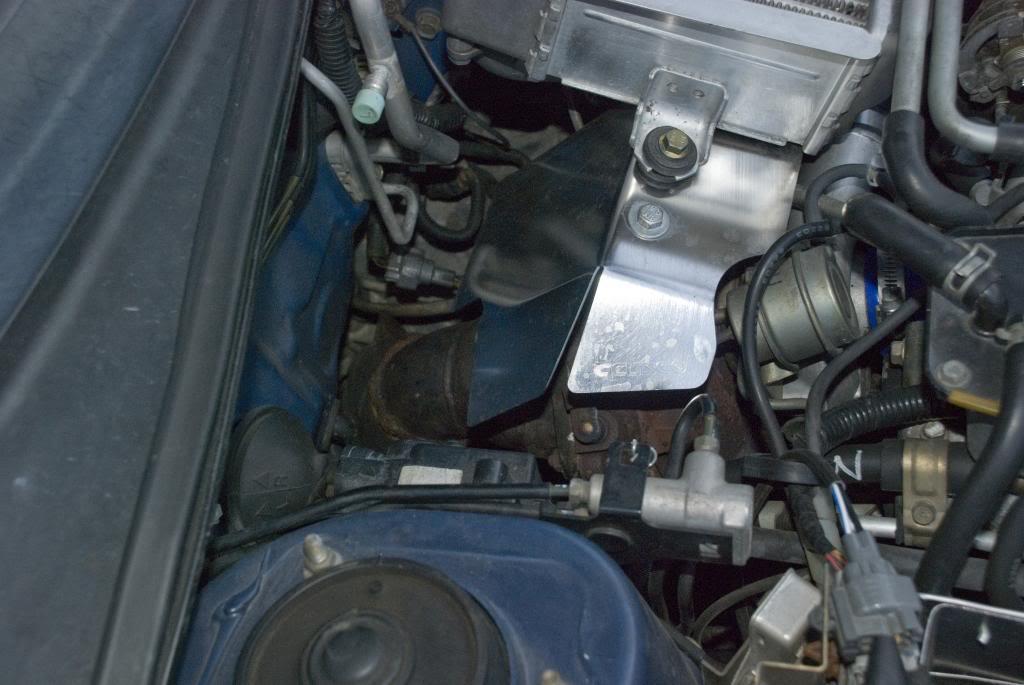 silicone between Cobb SF and TD04
CD/MP3 headunit (Kenwood?) and some pioneer speakers - they sound a good bit better than stock but not awesome enough to go into detail
installed sound deaden-ing material in front doors (doing back soon), used fatmat. its ok, it did cut down a good bit of noise
Logged, logged, and read some, logged, read more.. and tuned my ecu a little. It had a map that wasn't stock on it when I bought it. Didn't know anything about the tune that was on it, who did it what were they trying to do.... I'm OS tuning it now. Got it running ok, got some knock that I think is bogus but need to do a little more logging and looking, then I'll push it a little.
tinted the windows 35% front and rear - that sure did help in the SC heat
I made two things out of a sheet of aluminum for under the hood. A radiator shroud cover, that was easy, and an airbox, not so easy. The airbox didn't turn out exactly like I wanted it too but I'm sure it helps a little as it blocks some of the heat coming off the engine. When I go to remake one I'll make it a little taller so it can have a lid or something put on it and also find a way to move cool air into it, fan or route the under hood air diverter thing.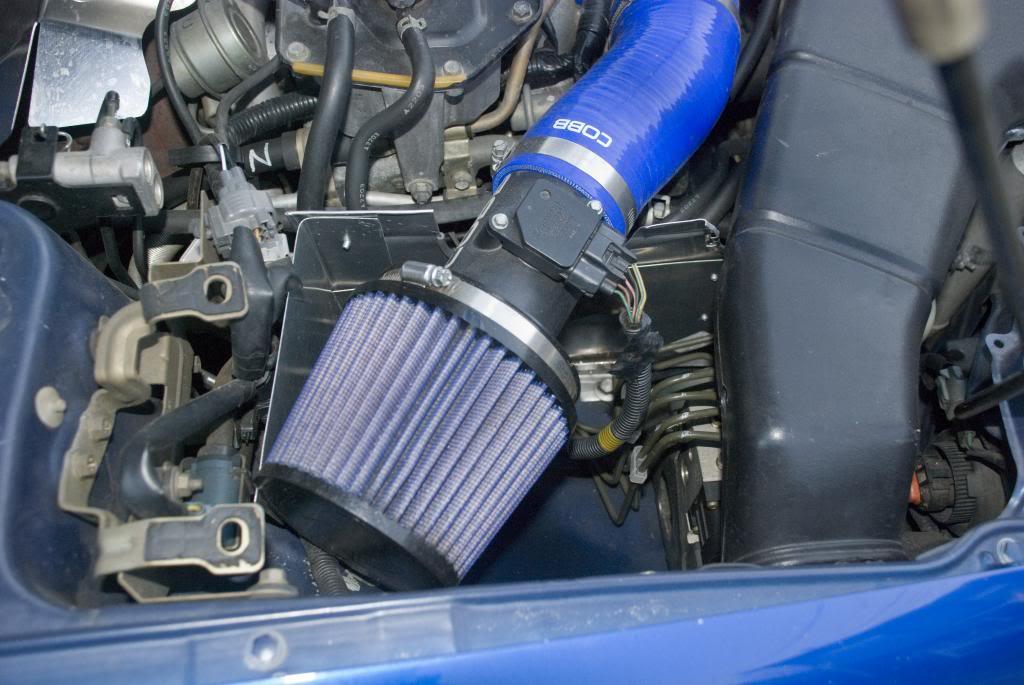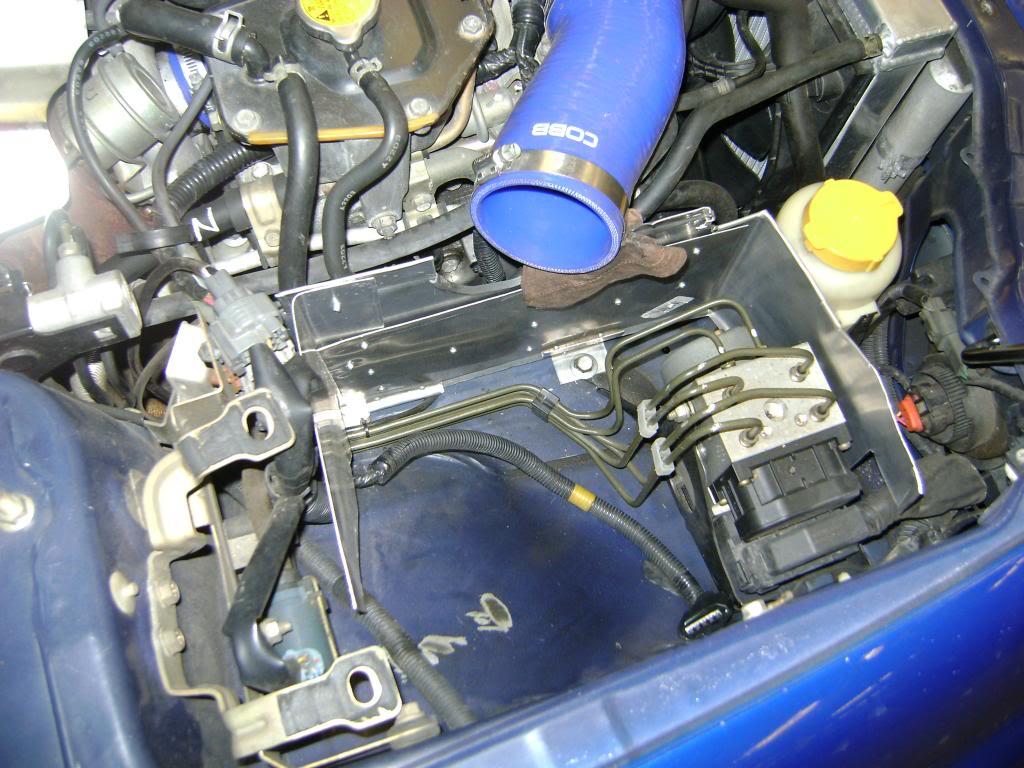 I also made a switch to make reading/flashing my ECU easier. When I get un-lazy I'm going to install it in one of the pre-drilled blanks near the cruize button...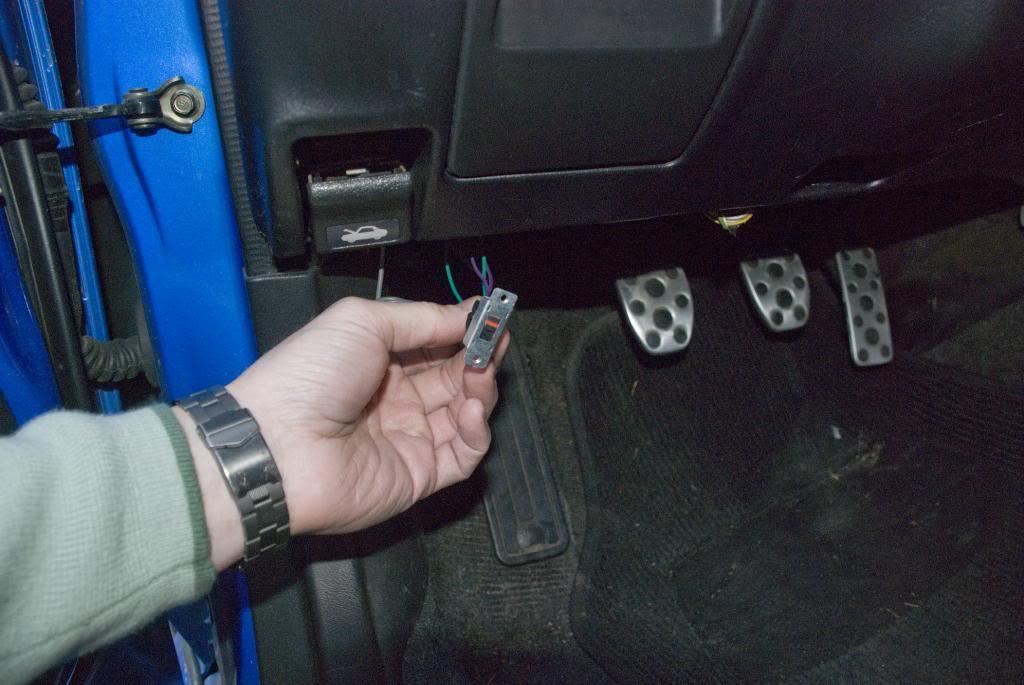 A couple of weeks back I installed a Deatschwerks DW200 (255lph). --One tip, for noobs like me, on the install process is after everything is plugged in and dropped into the tank, bolt and cable everything up BUT the fuel delivery line running to the engine. Get a piece of vacuum tubing or whatnot and attach one end to the fuel delivery coming out of the take and run the other end into an empty container that can hold fuel. Secure the tube to the container, you don't want fuel spraying all in your backseat do ya? Turn the car to the "ON" position, no need to start it, just want to turn the pump on. Turn to "ON" once or twice just to make sure its pumping. You should hear the pump whir and spray in the container. That's called priming I believe.
--another side note, I put the DW sticker that came with the pump on top of the access cover for the fuel tank pump assembly, the piece in the trunk. I wrote the date I installed it on, on top of the sticker so if I ever loose my mind and sell/trade it dude won't have to dig in the tank to know what's in there.
12-19-2012
Goals
What I want to do with the car is have a fun, reliable DD.
I haven't really set a horsepower goal.
Plans
injectors 650-720 depending on turbo I choose
VF39 or similar - I want a quick spooler, haven't done all that much research. It'll be a little while before I drop a bigger turbo in.
I have some TD04s that need some TLC, well one is need of a new turbine shaft and other parts so it's just a compressor and turbine housing donor. The other is in good shape except it needs a rebuild. I've gasket matched and cleaned/polished up the broke one and working on the rebuild one's housings. I'm going to pick the better of the two and rebuild then swap with my stock TD04. I know I won't be making mad HP but I needed a fun project.
Pics of the first TD04
DSC_7027 | Flickr - Photo Sharing!
DSC_7019 | Flickr - Photo Sharing!
DSC_6994 | Flickr - Photo Sharing!
DSC_6993 | Flickr - Photo Sharing!
1-7-2013
One of the bearings on the for the timing belt has gotten rather noisy.
I've got a Gate's belt kit w/pump on order. When I was dropping my headers(stock) to replace the gaskets I noticed a couple of spots where there was some oil seeping out of the camshaft areas. I've got some new camseals on order too figured, hey while I'm there....
I'm also contemplating swapping out my stock TD04 for a DIY rebuilt, DIY PNP TD04.
1-12-2013
fix one, find two...
Today I changed my timing belt and pullies. Took me a while, cleaned parts as I went. It wasn't that hard though. Search on youtube and NASIOC for Meaty/Meatball's howto. It rocks.
Got the belt changed no probs. I found out that I have a tear in my front pass. CV boot. Grease on my cat/downpipe too. Sux.
Either my A/C tensioner pulley or A/C's clutch has gotten quite noisy. Hopefully it's the pulley. Sounds kinda like plastic scraping/rubbing on metal.
2-3-2013
Fixed the A/C tensioner, horrible noises stopped. Also got the C/V boot fixed. The boot was quite easy after I found a little clip-wire was holding the shaft in the part that mates up to the tranny.
Been trying to find a good time to put this PNP(mildly) and rebuilt TD04 on. My current TD04 is no where near eating itself yet but I want more spool and needed a DIY project.
The gaskets on my ride look horrible. The only set I haven't replaced yet is the turbo up and down pipes. And I"m missing a stud on my installed turbo.
2-4-2013
It was pic heavy to start. I'll get more pics up. Not much has changed though. Didn't want to bore anyone to death with nothing fun to look at.
Maybe a shot of how clean my timing belt cover is? hmmm....
not really a pic but here's a video of me playing with the PNP TD04.... took a shop vac and blew in the up-pipe flange...
TD04 (off of a Subaru, 13T) - YouTube
making the airbox was one of those I need a DIY project things. I get that itch every couple months. Same with the radiator shroud thing. The radiator shroud was way easy. I found a piece of cardboard to pre-fab/measure and then transfered it to the leftover sheet aluminum from the airbox.
Next up I'm swapping my TD04 for the rebuilt PNP one. I'll post up some pics too just for making it heavy's sake.
2-5-2013
COBB intake? well the part that has the MAF in it was on the car when I bought it, it's called an SF intake or somecrap. It's like $130-something on COBB's site I think? The MAF to inlet tube was like $75. Stock one had some cracks.
Some details on the airbox I made.
I picked up a sheet of aluminium from an ACE hardware, it was something like 28x28. I fabbed up an airbox out of cardboard (pizza boxes work well). Made adjustments to the cardboard until I was reasonably happy with it. Measured cardboard and the cut and bent alum. sheet to fit. For bending it I made a metal brake out of 2 large C clamps and 2 pieces of 1x3 wood, using a rubber mallet to get some decent 90* bends. I cut out another piece of alum to double up on the side that was next to the engine, doubled up for better heat deflection. I took the smaller piece of alum and C clamped it to the main peice and drilled some holes in both pieces. I put some washers inbetween the two pieces as I was pop-riveting them together. A good side effect is that it made it a good bit sturdier. I also cut some pieces to attach to the bottom so I could bolt it down to the frame.
Anyone attempting this will probably want to have these tools on hand...
2 largish C clamps - for brake
2 1x3 boards - for brake
rubber mallet - for using brake
sharp box cutting knife - to cut large/long portions of aluminium
metal snips
drill with metal bits
pop rivet tool with rivets
washers that will fit over rivets
sheet aluminium - steel could be used but would be heavier and harder to work with
dremel with some grinding bits
cardboard and tape for pre-fab
*SAFETY EQUIPMENT* eye protection and gloves are what I'd recommend, don't poke your eye out!
I took me an afternoon and a few hours after dinner to complete. A lot of time is used getting it to fit well. I wish I would have made mine a little taller, the intake/filter is on the high side and is probably still sucking in hot air that accumulates just under the hood. I was planning to make a lid for it but couldn't find a clean way to pull it off. Also didn't want it rubbing the underside of the hood.
2-8-2013
one of my buddies that did an engine swap on his Toyota Tercel, yeh he dropped a turbo engine in it - dude is crazy, anyway he suggested I add this video...
I had some exhaust leaks. I seafoamed my bugeye to find them. The smoke doesn't show up so good on camera but this really helped me track down the bad gaskets.
2-15-2013
hands smell of grease and coolant.. and lava soap...
Got my PNP/rebuilt turbo installed tonight. Wrapped most of my up-pipe too, it has one of those flex joints on it.
Installing the new-ish turbo resolved some exhaust leakage too. Her rumble sounds even sweeter now.
98 more miles of break in on the turbo then its GAME ON!
here's some pics of the practice PNP I did on a questionable TD04, I did a slightly better PNP job on the one I installed. Practice makes perfect.
photo's note- I was using an LED flashlight to shine down in the cavities of the hotside and broke out the flash and all that for the compressor, that's why the lighting looks all weird.
Next time I'll set up the flash(es?) from the start.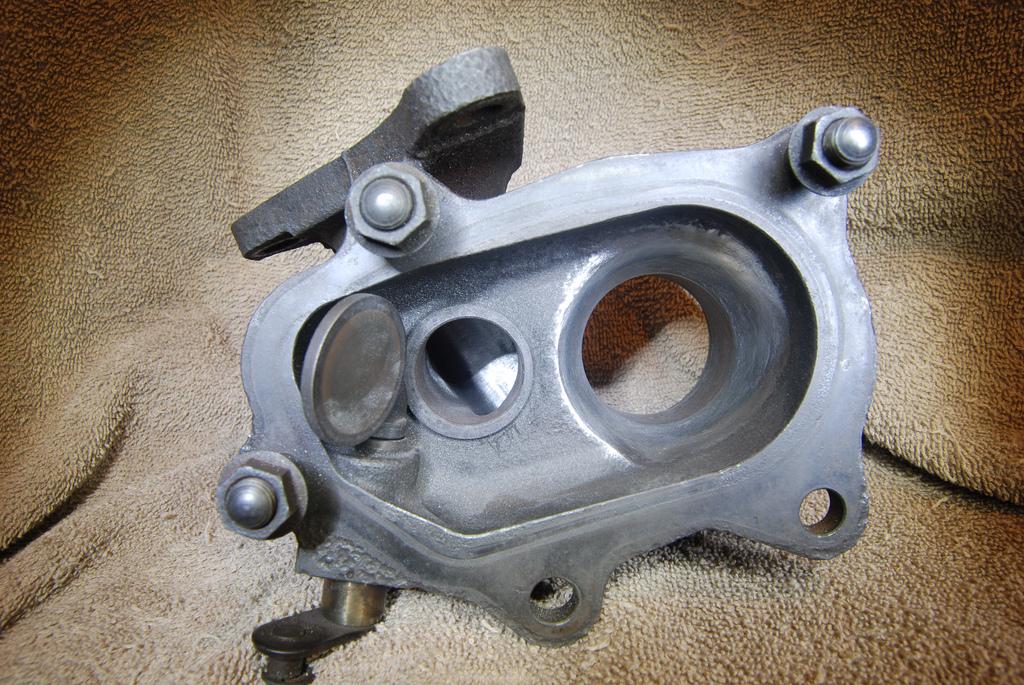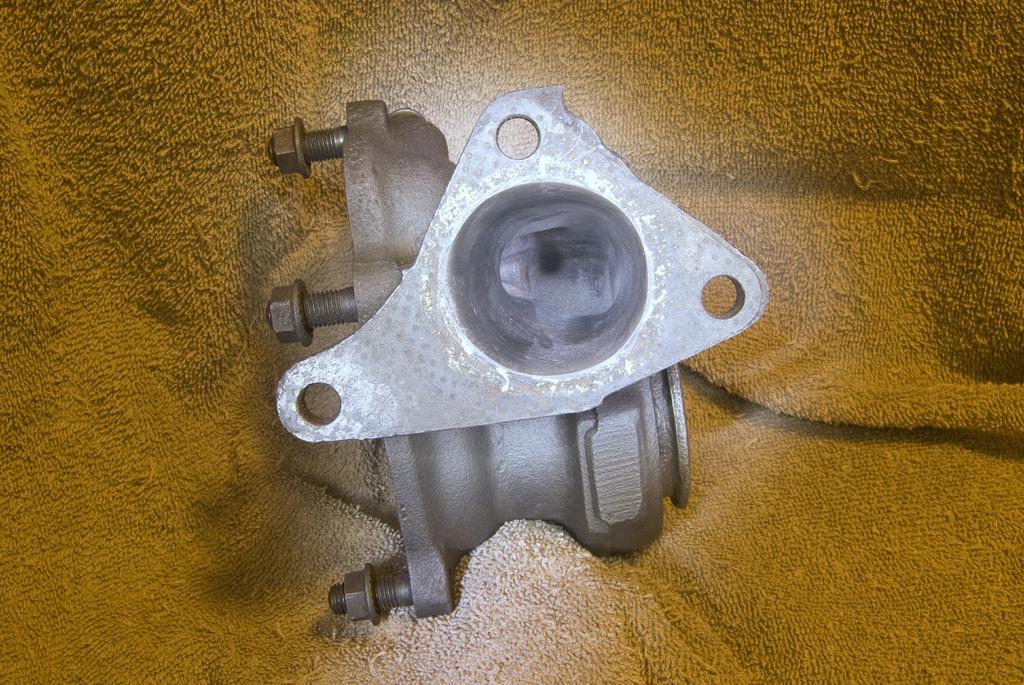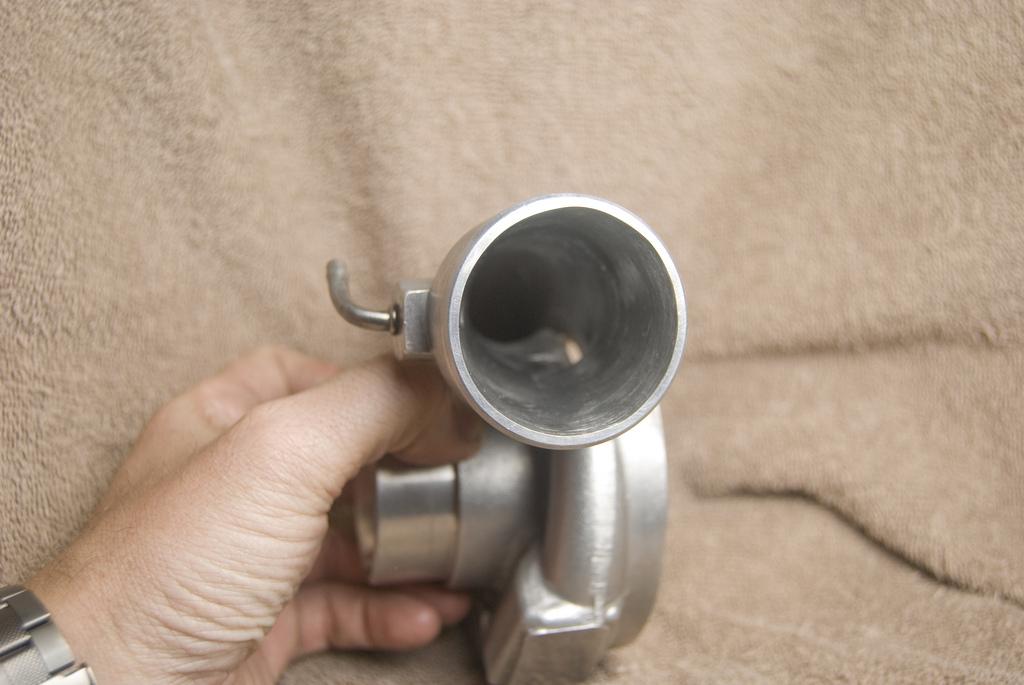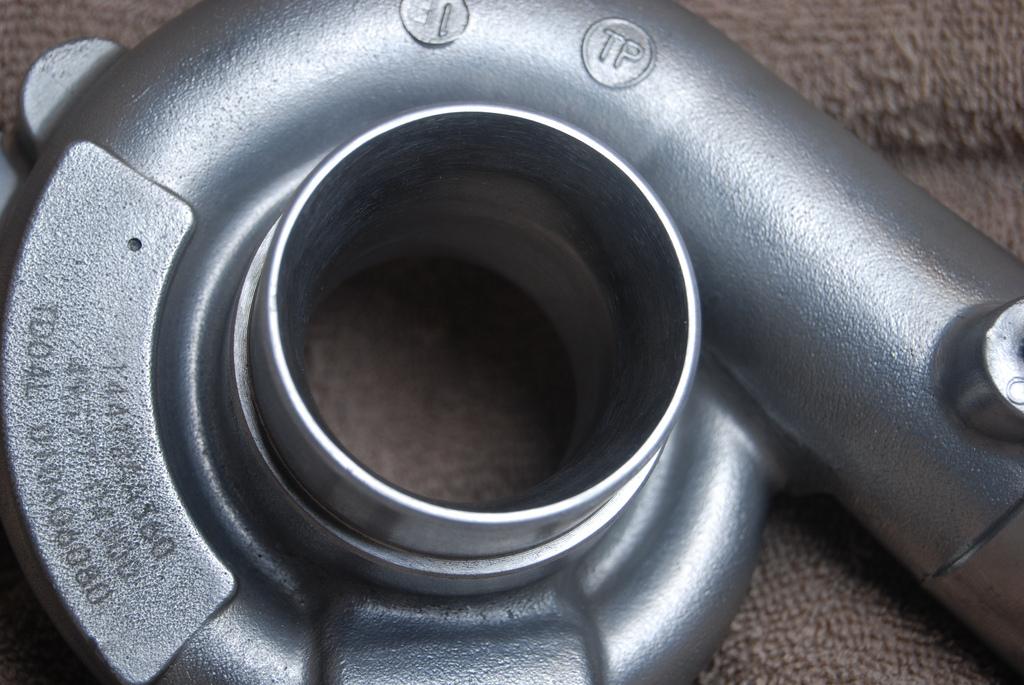 These pics are the newds of the TD04 I took to the first DFH meat. I'm bringing the second one I did for show and tell, just will be a little harder to see...
2-17-2013
halfway there...
I think jestr meant 1st gen stateside. Congrats on finding a WRX with nobody else's funky mods.
Here's an update...
Went for a Sunday drive today. Kept it under 3k, wasn't easy, that VW rEALLy wanted me to pass it. Swapping the turbo gave me a chance to fix some exhausts leaks, new gaskets, new stud to bolt downpipe on with. When I first let it idle I thought I stalled, its so quiet now, I can hear my transmission or CV joints when I use the engine to brake.
50 miles till Boost-city...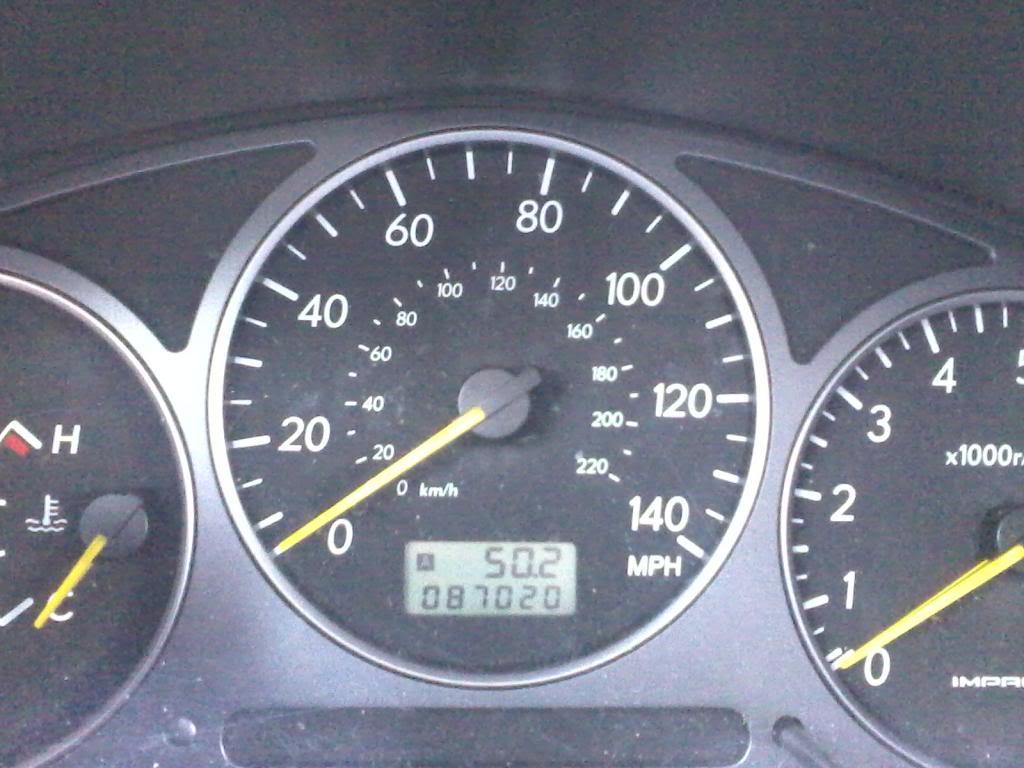 2-20-2013
completed break in miles Tues. Need to get some logging done did. Apparently I went back a revision on my OS map. I fixed my timing scaling but stupid me didn't save it or flashed to wrong map. I'm good as long as I don't do any pulls.
I've got a fixed map, saved it twice. Just need to do a couple of logs, bounce off of new map for a sanity check and rock n roll with the new map.
No logs with PNP turbo yet but the butt dyno approves.
clicky-clicky
sways and endlinks ordered...

Next on the agenda is suspension. Nothing crazy just tightening it up a little.
Ordered - Whiteline adjustable 24mm front and 22mm rear and some Kartboy endlinks.
this will be done over time so don't hold your breath...
Planned - bushings (TiC bush refresh), Tokico D-Spec, tophats group N flavor
the main purpose of my car is a DD but I want it to handle a little better. any suggestions or advice is welcome.
2-22-2013
sway bars came in today. They got home before I did.
Ordered latenight on the 20th recieved afternoon of 22nd. That's pretty quick for large-ish items. Turn In Concepts rocks.
torque wrech - check
not dropping sway on my fo-head - crossed fingers.
I'm waiting on the endlinks to show up. Can't wait.
Today on the way home from work I was going through an intersection's left turn green arrow and there was a white hatch WRX going the other direction, I had some mad-body roll going on as I chucked dueces. I bet I looked like the biggest dork. ..eh...it was fun.
I peaked under my hood after my ride home. Some of my turbo nuts were loose. Luckily it was the ones on top of the up-pipe. I torqued them down though. I re-torqued them to 30lbs, 22.4 is what the manual says. I'll check them again tomorrow after errands and whatev, in a couple of days too. I used PB blaster on them to help break them free when I did the swap. I figured all that would have burned off by now.
2-24-2013
it finally got nice enough to bring the camera out. that and I had a brief moment of "unlazyness" this weekend...
bad photo of wrap (it was hard to get any kinda angle)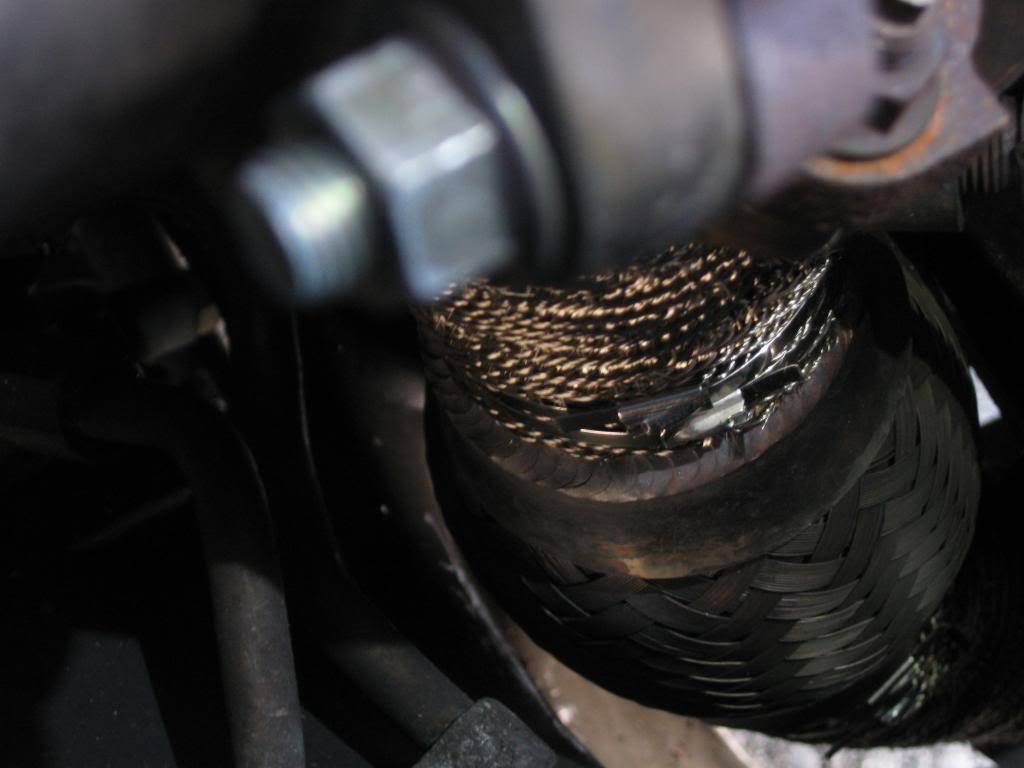 PNP TD04, notice I'm missing a bracket. There was a bolt missing on the bracket. Well there was a bolt on the engine block side of the bracket but it didn't fit. Pulled it right out with my fingers. Left the bracket off until I could find a bolt.
Also missing is the heat shield. Wanted to be able to eyeball the oil return line for a little while.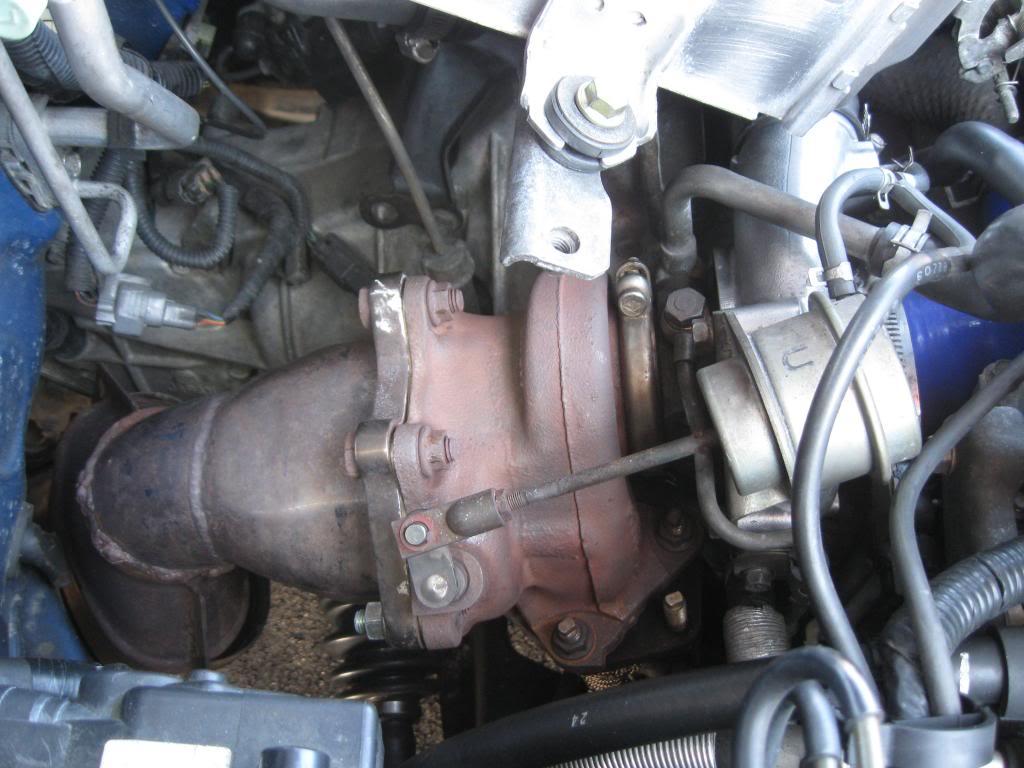 Also did some logging and tweaked my tune. Still trying to get my timing nailed down.
2-25-2013
good news, bad news...
bad news.. yeh you get that first

-"updated" ecu flash on netbook (tuning laptop) and now my Tactrix cable doesn't work on it, works on other laptops though
-couldn't get torque wrench on suspected leaky coolant line on turbo -got it good-n-tight with box wrench
-can't install my new parts for a few days...
good news

-fixing tuning laptop, halfway done
-car is running great
-and below...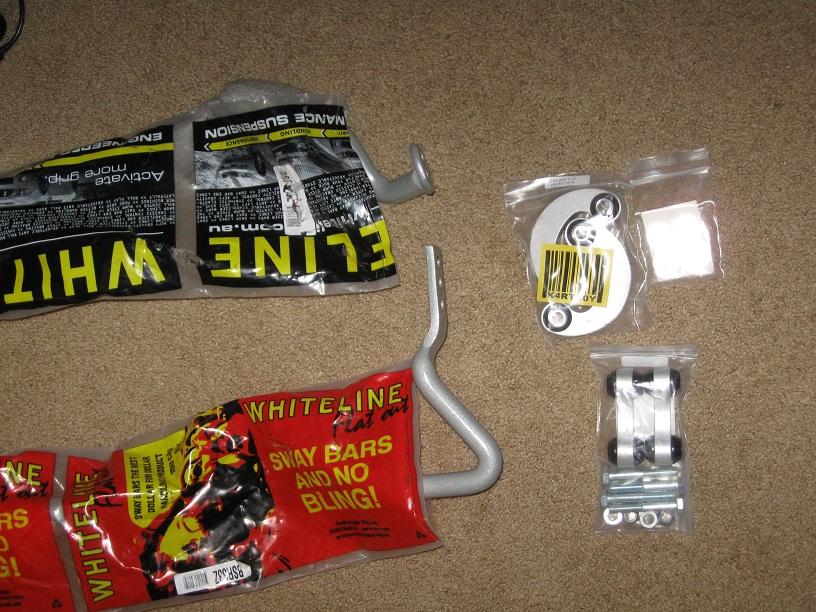 STICKERS!
...probably going to give stickers to my kids. they can put them on their bikes or something.
3-2-2013
got it done son!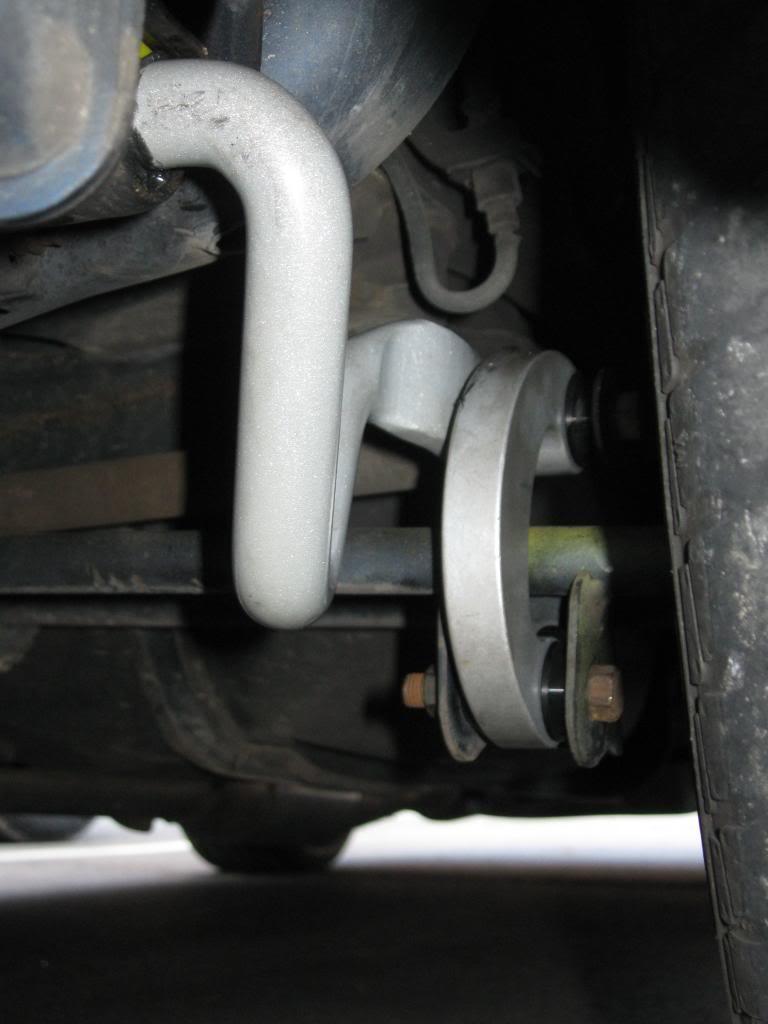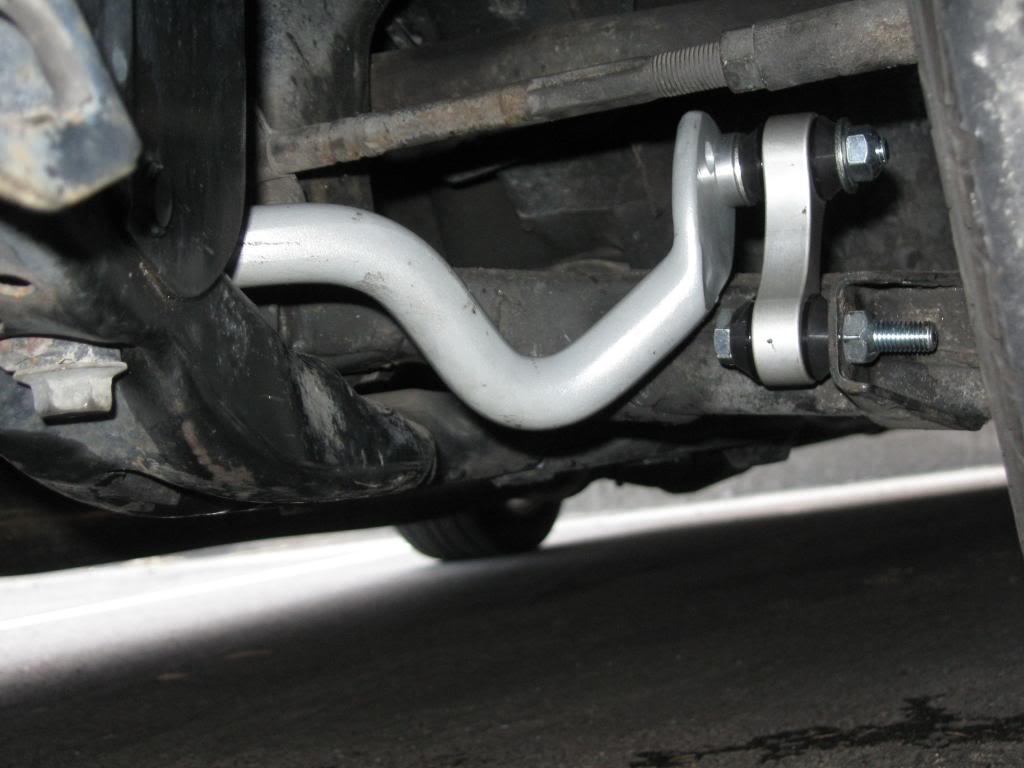 Had a clearance problem with the front. The bottom bolt would have scraped/bumped on the sway if I wouldn't have taken out the washers. I need to find some thinner ones or put one on the outside just to play it safe.
The rear was a cake walk. The front gave me some headache because of difficulties getting to the bolts. I highly recommend ramps. I went to the Auto Skills center, a DIY - rent a lift/bay place for Military peoples, and they didn't have a lift available for a good while. I took a bay, that meant jack and jack stands. That slowed me down quite a bit. It was hard getting under there to torque everything down too. I'm just whining though, it wasn't that bad. But ramps, if you are smart ramps.
I haven't really driven it anywhere but home from the shop. It did feel about 10x more awesome. If I could find a corner I could swing through at a safe speed under the speed limit that rating could jump up.
Looking at my tires, I need new ones and an alignment.
3-4-2013
yeh buddy
I highly recommend swaybars and endlinks to anybody thinking about it. My car handles sooo much better now. Corners say "gimmie some more" Busta Rhymes style. Just driving around chill mode feels a lot tighter, more responsive.
Finally got the tuning netbook running well. Its the one I use to flash and log. Win7 Ultimate, Rom Raider 5.6, Learning View 1.0, and Ecu Flash 1.44.3721 all run very well.
I even found a cool background
and a quick teaser a clubwrx member persauded, ah-hem, beat me over the head (yes I'm that stubborn) and got me to flash a map off the Rom Raider site. The back of my seat feels good. Nice and firm. Gotta a little touching up to do, MAF maybe some hot spots on the timing. Also gotta tighten up my exhaust. I fixed all my leaks but I guess I didn't torque my driver side header to head down enough, sounds like it's leaking a bit. It comes and goes as it heats up and cools down though.
3-13-2013
finally got some new tires, the ones that were on there when I bought it were the budget flavor and can be found at Wal-Marts. Not the best traction when it was moist out. Also had an indecent with a pothole and my sidewall.
got 4 Bridgestone Potenza RE970AS Pole Position, so far they feel good. I drove straight home from tire place so not many miles on them yet.
3-19-2013
COBB SF, silicone afta-maf and inlet, is this my build thread? hehe...
the scaling was really close to stock when I did it the first time. I've been playing around too much to remember which map I have that on. I'm a sloppy technician, need to take notes and all that.
I did make one or two short scaling runs before I flashed the testes map.
On LV the AF learning looks ok, 5 or under in all blocks. I'll post it up here tonight just to show you guys.
What I was seeing in my logs is that when AF Learning #1 jumps to -10 sometimes -25, I'll have knock. Once when it jumped to -25 I had two incedents of knock, pulled 2 then 4 degrees. That's what's got me worried.
Still think I have an exhaust leak. I tightened everything but the bolt under the turbo/downpipe, the uppipe to turbo bolt - I did get the other two they were torqued good when I went to re-torque.
I might seafoam it again to find the leak. The is so fustrating. My WRX has had exhaust leaks ever since I bought it. Starting to sound normal too me. I should have had zax or somebody at the MEAT listen to it for me.
from today heading to work...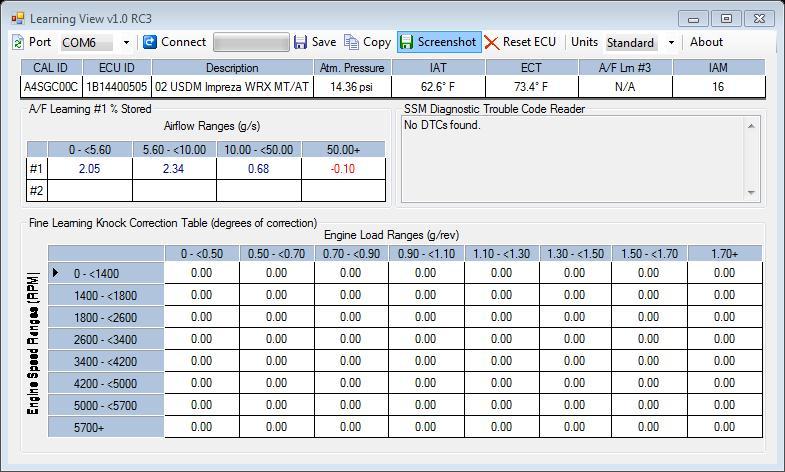 from 2013-03-15 heading to work...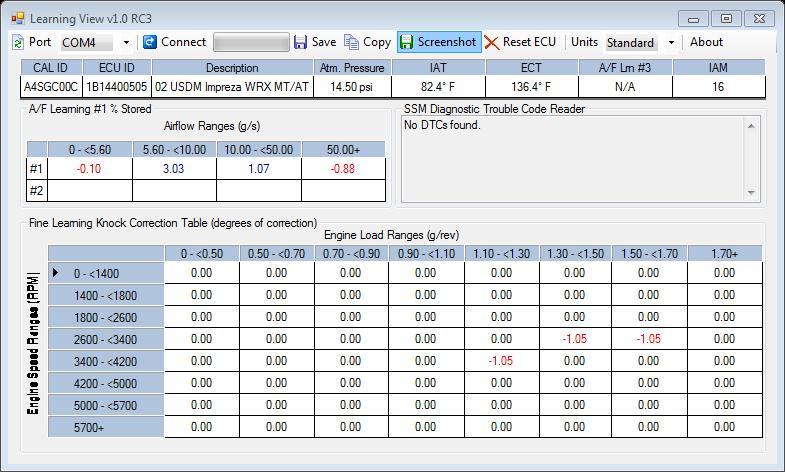 the last one was before I pulled some timing in those slight knock areas. 16 IAM, that's what the initial value is so it's not dropping.
also did some slight scaling between the latest one (top) and the earlier one (bottom)
4-3-2013
I've been pulling timing here and there to squash the knock. No joy.
IAM dropped to 8 this morning. Arg... Need to look at fueling now. Think I have issues with CL/OL transition. Gotta find my thinking cap...
yeh well this is what she said...
this guy is a little frustrated because of this and I kicked

my tactrix cable one too many times just before is does this...
and yes IAM initial value is set to 16 on my current map.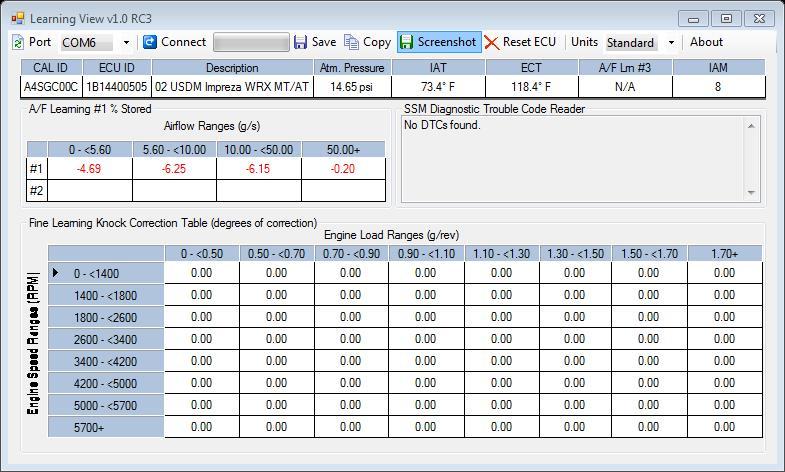 4-4-2013
I was logging to and from work mainly because that's the majority of my driving. I logged for a few days and compared the logs. I didn't pull timing for the random ones, just the ones that occurred on at least two logs.
Easily repeatable? Didn't try that. But the multiple logs taken in roughly the same conditions on the same route might count for that.
Ordered a new Tactrix cable. Got the OBD extension too, don't want to karate chop another one. Current Tactrix still works, just dropped connection a time or two on a logging run. USB connector is bent. Don't wanna brick me ECU with a dodgy connection...
Once the new one comes in I'm re-flashing the base map EJ257 pointed me toward. I fudged something up on it and didn't take notes.
4-6-2013
ugh...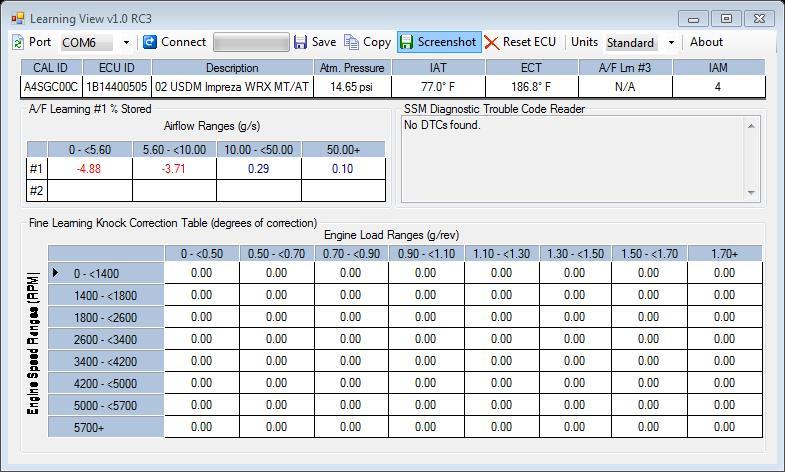 4-7-2013
I am about to start pulling my hair out.
Might as well pull out my spark plugs and look at them first right?
I've been on top of my maintenance. Plugs have like 10k on them at most, oil gets done before 4k, all exhaust gaskets are fresh, nothing is loose that I know of. I cleaned my air filter(COBB) then my MAF a couple of days later.
enough.. to the toolbox!
dug around my engine bay for a while. couldn't find anything loose or leaking. pulled a spark plug and it looked ok.
my new tactrix cable came in on Sat I didn't even check the mail or the tracking number...fail.
anyway flashed it back to my old map. It never dropped IAM on me. I'm going to do the work and back log a few times for a sanity check then off to do some pulls. So next couple of days I should be sorted.
4-8-2013
what heatsoak?
initial IAM on this map is 14 so it climbed a little. HOORAY! I did see a touch of knock on one of my 4 work and back logs. I'm going to keep logging and see where and if I need to pull timing. I think I need to work on fueling too. 10% eth maybe what she's drinking...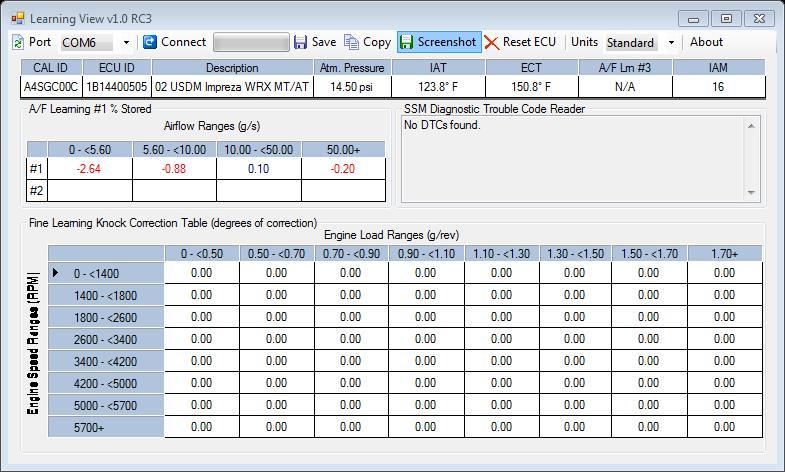 4-10-2013
Still knocking slightly. No IAM drops yet but still getting feedback knock. Tweaked the map a little, scaled the MAF some, knock got better. I think I found the physical location on my log route where I knock. There's a traffic light just before a hill. Zero throttle at light then opening throttle while going up hill. I need to verify that but that looks like what's going on. Knock, just had to type it again. Knockers.
4-13-2013
I'm making progress. Slow but steady. I didn't think I was really getting anywhere but I flashed an older version of my map back on there and ouch. -6 for FBKC Ouch. Yeh the most current/tweaked map got flashed right back on there. Now I'm just seeing -2 at random times. I got my process worked out. Just need to do a few more log and tweak runs.
4-14-2013
I need to just clear out a day and do nothing but tune. Or just get methodical/OCD on my notes. Made some progress but not enough. Now I'm not sure I'm on the right path. I'm not going out like that though. Just gotta start over on my troubleshooting.
In build news... got an LC-1 on order.
4-27-2013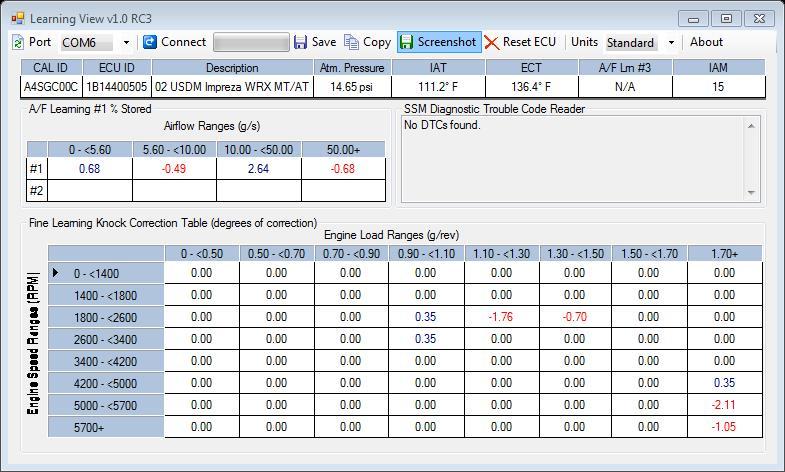 7-1-2013
long time no update, I know, I know...
not much going on though, my trip meter reset itself to zero after I cranked my car for the first time since my three week vacation. probably a good time to get a new battery. no flashing until I get it checked out at least...
I've been itching to do some mods, got one mod parts on hand, two mods parts inbound. so should be some pictoral updates soonish.
7-6-2013
did my first amp/sub install yesterday. needed some bass to round out my audio.
rockford fosgate 150W amp, 12" rock/fos shallow mount in small box. used 6 gauge power wire, ran it all as clean as possible, tucked it in under carpet's edge going down driver's side.
for now amp is tied down to speakerbox which is laying on floor of trunk closest to back seat. going to mount everything more permanent like after I get my hands on a drill. both mine died, well the chargers don't charge the batteries. argh.
pics when its prettier...
got some more parts in, TIC order showed up.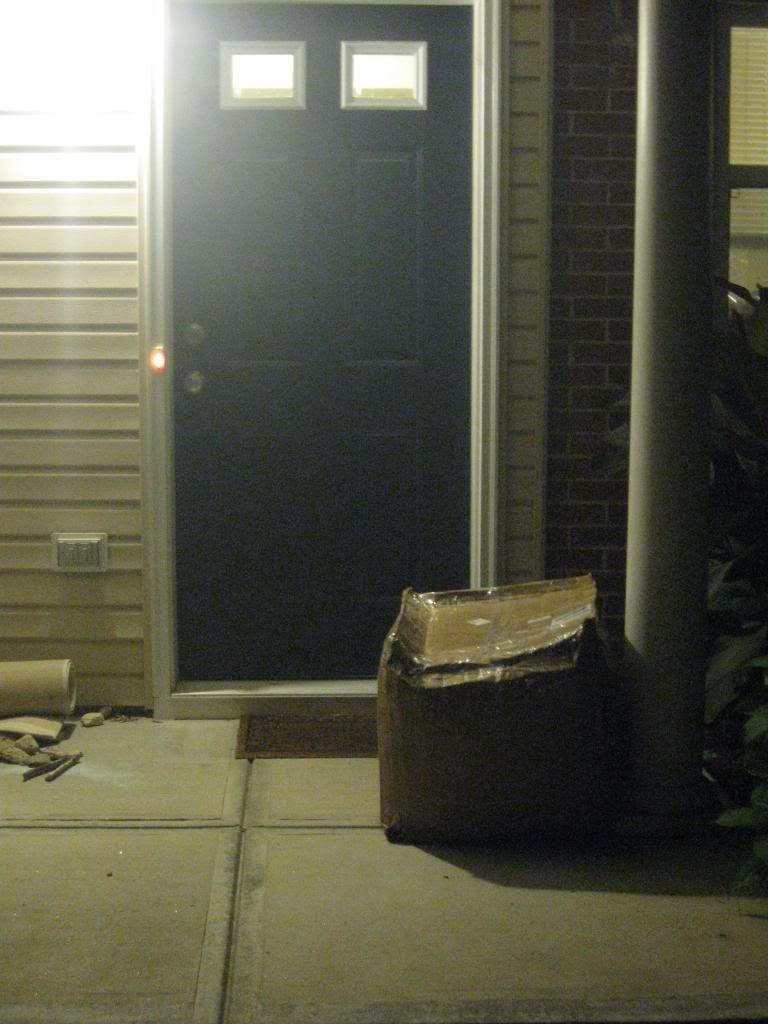 GM boost control solenoid came into. my battery is on it's last leg though. my trip meter resets every couple of cranks. amplifier probably isn't helping either. need to get a new battery so I can de-tune boost and slap the solenoid on and tune it up.
7-12-2013
why I excreted a brick when I changed my diff fluid the other day.
Mark told me about a place that would have a used diff for me. A short-ish but fun road trip up and down 95 later...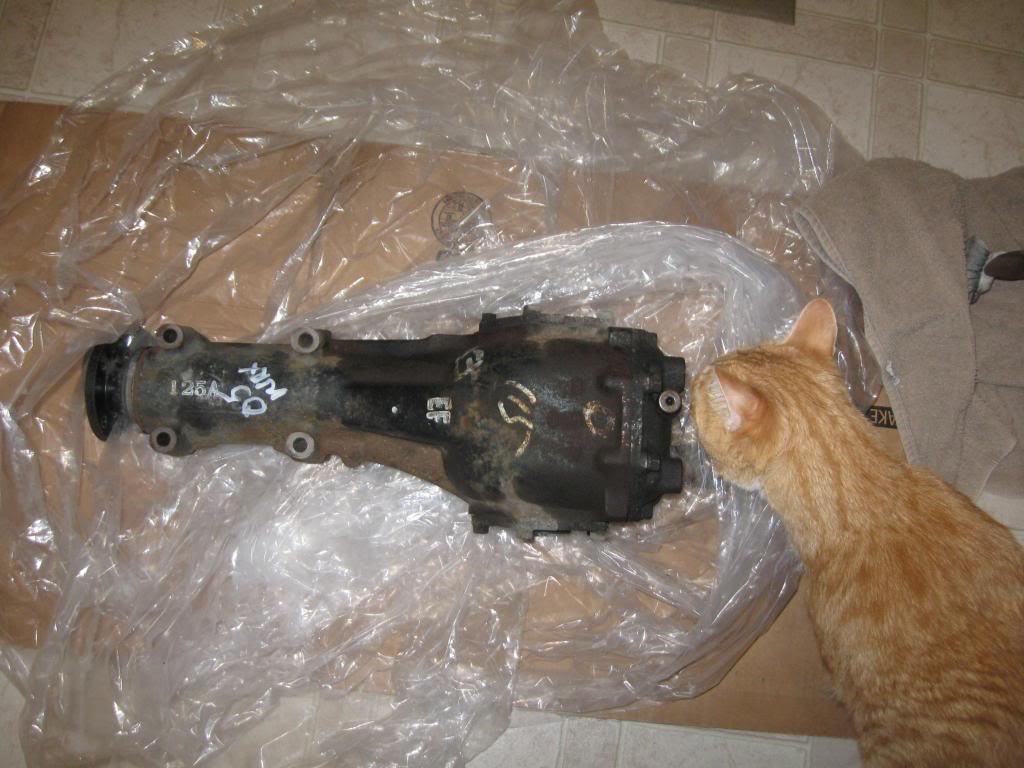 cleaned it up a little, gunna put it on tomorrow.
7-13-2013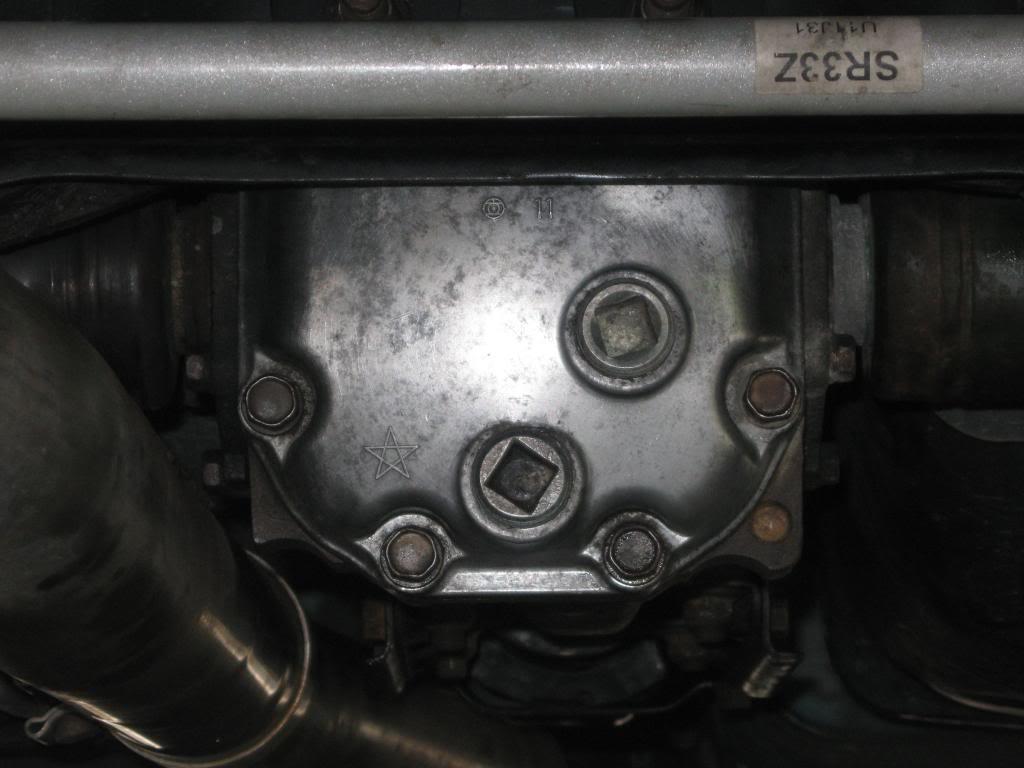 putting it in was so much fun. I have access to a lift, a transmission jack and some other fun stuff. That made swapping the "new" one in easier.
As the story of my life goes I found another problem as I fixed one.
I've got a whole in the top of my exhaust a little before the muffler. Its about the size of a 50 cent piece. Rear CV joint rubs it on bumps and whatever. It looks like it was damaged that way before or the prepared for such scraping by welding on a extra piece of stainless there.
I'm looking into getting some longer hangers and the whole patched. Hopefully that'll fix it up.
7-17-2013
this week-end I have a "fun" install scheduled. Might be a double-fun install if A) my order from TiC shows up soon(always does, they're quick) B) the big items I'm installing don't take me too long.
The items being replaced don't NEED to be replace but hey why not?
info and pics after install
3k views! I feel special now.. or where you guys just eyeballing my rear sway. I feel kinda dirty now....
7-20-2013
went by a muffler shop yesterday and got my exhaust leakage fixed. car sounds so much better now. the man at the shop told me he had to cut out a piece, weld in a new piece and run it the way it was supposed to go. it's a got room now, no more bumpage on the rear axle. oh yeh, kartboy long hangers got slapped on there too.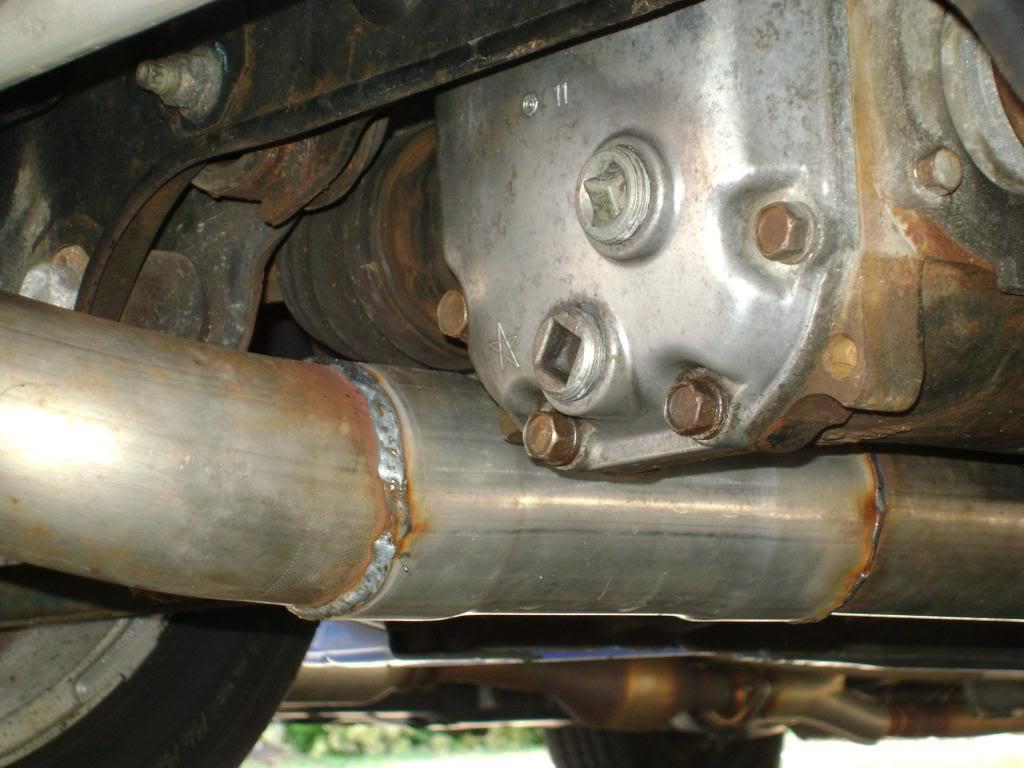 this morning I got my Konis done did. I got the Totally Awesome package deal thing from TIC(see pic in #66 for big ole box). It was all put together, group N tophats and RCE black springs. Install was pretty simple. I can see Mark having no problems doing it since he got that one broken bolt welded. The only problem I had was I had to take the rear sway off, well detach one side of the endlinks, so that my rear knuckles could drop low enough to get the struts out. Well ok I had a minor problem just before that one. Either Superman or Godzilla tightened the two bolts that hold the rear strut to the knuckle. I had to use a big nasty breaker, wired a wrench to the strut, and called on the powers of Greyskull to get them loose. The medium sized impact air gun couldn't break it loose, them dudes was ON there.
front strut - and yes I need to paint over that crappy paint job the PO did on the brake calipers. Hard to see in this picture but it was yellow then painted over with silver.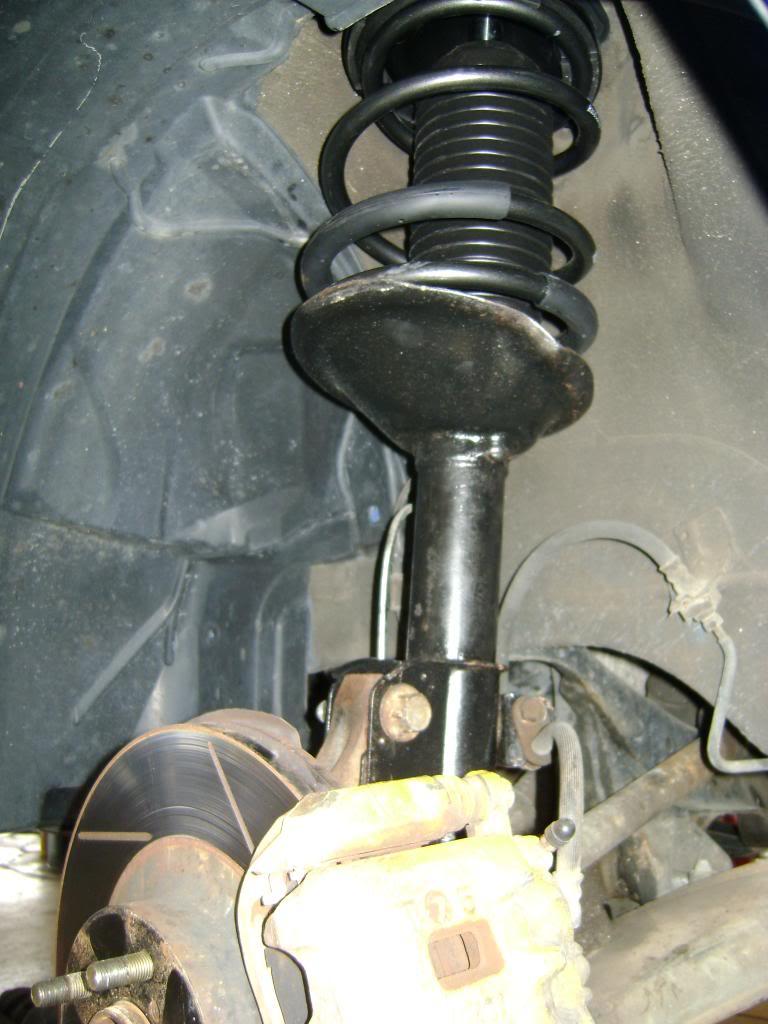 front spring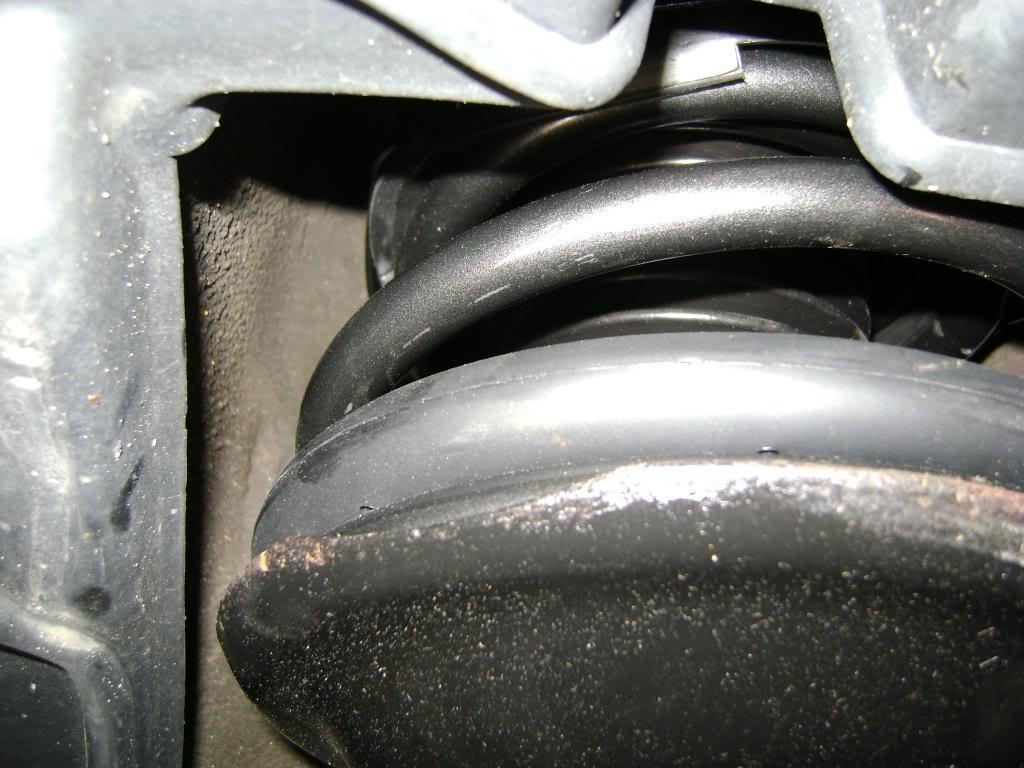 left the rear seats out, well not bolted up, so I can tweak up the shocks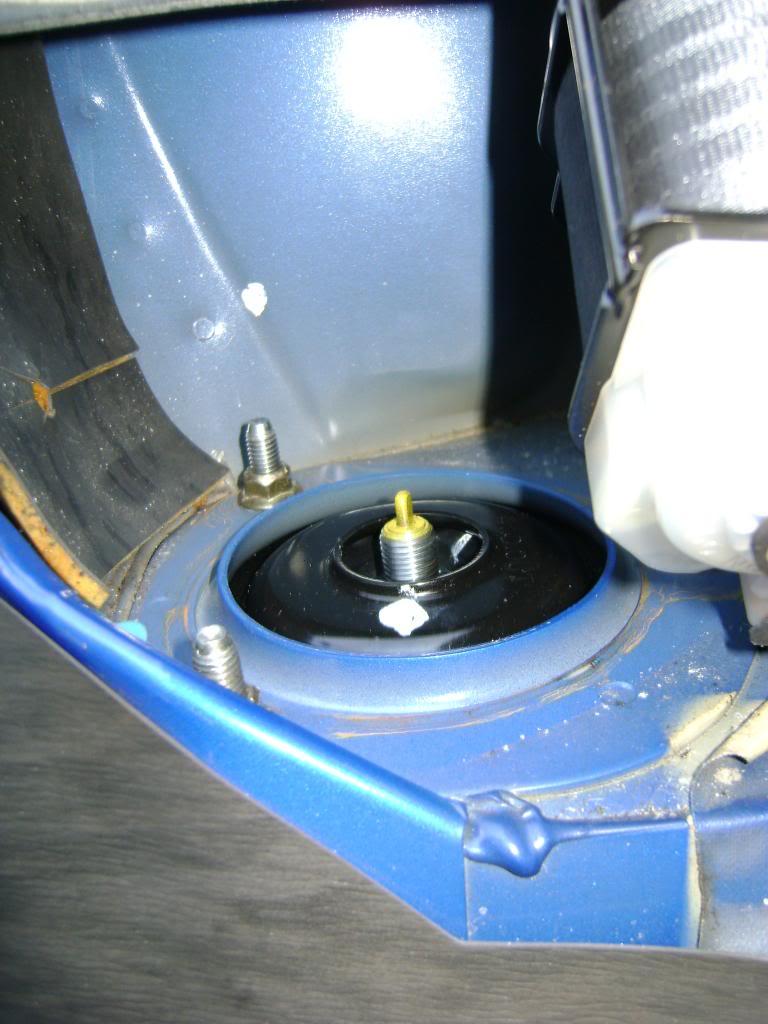 I've driven all of like 3 miles with the new awesome-sauce struts. Got them set to full soft on the front and three clicks (knob bumps) firm on the rear. The rear felt too soft on the way back from the install place. I'll get them tuned up next week.
7-26-2013
the top nuts came loose on my rear pass strut the other day. made a lunch run and in the parking lot I notices some strut sounding clunking. It's not easy to tighten down the nut on top of the shaft of Konis. The damper adjuster doesn't allow for an allen key or nut. You have to "pulse" an impact wrench on it to get it to tighten up. I did that to them yesterday. The fronts snugged up nicely, rears tightened a little then the hole shaft spun. I did get them a little tighter though.
Struts are feeling awesome. Only downside is how lumpy-bumpy-cratered the roads are from my house to work. 10% stiffer springs feel like %45 stiffer with all the poorly filled or 4in deep potholes 'round here.
Side note. If you're a little paranoid about noises, I found out I am, then you might not wanna change your diff and your struts a week apart. Lots of new noises to learn. I haven't turned my radio on for a while. Sometimes diff noises can be heard, sometimes struts make "settling" noises, or wait, what was that? I torqued everthing down to spec best I could, silly rear top nuts. Still paranoia ensues.
7-27-2013
just for laughs
ah how cute.. look at the widdle TD04 spin...

7-30-2013
I've ordered most of my goodies from TIC ( - Turn in Concepts ). They have the best customer support. Problem is they don't have everything one could want. I've ordered stuff from both RallySport direct and Kronos Performance. Both went well so I'd recommend them too, if TIC doesn't carry what you're looking for.
Also the classfieds here and on NASIOC are pretty good. I prefer to use that to buy stuff locally, like contact the seller meet them halfway or whatever then when all is good trade parts and money. I've also had stuff mailed to me. Just use common sense, like the too good to be true thing, and you'll be fine on the forum for sales.
Bugeyemaina, more than half your posts are on my build thread. I feel special.
9-30-2013
as you all can tell, not much going on with my bugeye. been dorking around tightening up some installs, like my amp. Moved it to under the pass. seat (from trunk) and re-wired it a bit neater. Pics after I get some loom on it.
Also picked up an ebay TMIC for dirt cheap. Worked out the slight fitment issues as I installed it, well most of them, no bolts are holding it down but the splitter surround ain't letting it go nowhere. Good news is I got some throttle response out of it.
11-9-2013
got shifter bushings done. hurt ma back so no klunk killer install or pics.
once I stop being an old fart I'll throw some pics up, maybe install some moar stuff to. Gotta have somethin' to talk about at the next DFH meat....
11-15-2013
latest mod
11-19-2013
screen snip from log of new mod. I had to do some fabrication and soldering to get it set up were I could log it, didn't feel like waiting on a cable to show up.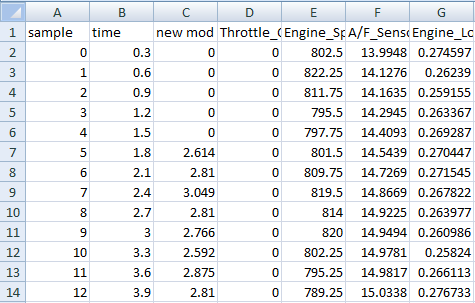 12-1-2013
hmm...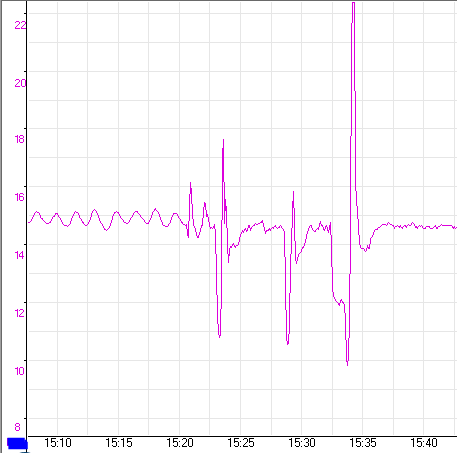 12-17-2013
stupid weather
It's been cold and wet/snowy, with that and my lazyness no picts yet.
For updates sake... Matty looked at my map and gave me some pointers. I am real sporadic with my tuning process, had a tuning laptop meltdown and basically forgot where I was with my tune. Well Matty got me pointed in the right direction, I did some adjustments to my map. I flashed the updated map Monday morning, drove it around. Man it felt more alive. I didn't change that much either. Matty has good eyes or a lot of experience or both.
So this morning, Tuesday, on the way into work, I was getting on the throttle a little to merge with traffic and "pSSSssh"

. One of my hose clamps wasn't tight enough. Limped into work, found clamp and tightened it. Dude in the parking lot asked me if I needed a jump. Was like, thanks but I'm good...
1-8-2014
woo-hoo!
Last weekend I got my PNPed TD04 swapped back in. Had to fight with some worn out exhaust bolts but got it done.
So I was logging my trek home today, had a little fun with the pedal on the right. And yes I was being safe, stayed with the speed limit (barely, but I did) and no one was near me.
went from -0.95 to 16.82 manifold pressure in 2480 milliseconds (2.48 secs)
and yes the log could be prettier. my stupid tuning netbook is acting up again. got everything backed up on dropbox though so no big deal, just the fun of reinstalling all the programs and stuff. I need to stop messing around, get it up and running good and image that sucker.
1-18-2014
been busy...
The wife and kids are out of town for a little bit. I'm home all alone to tinker on some projects. I've worked on my car some, worked on refinishing a table, played some video games. I've got so much "me" time I almost don't know what to do.
But here's what you really wanna see... an update on my car.
before: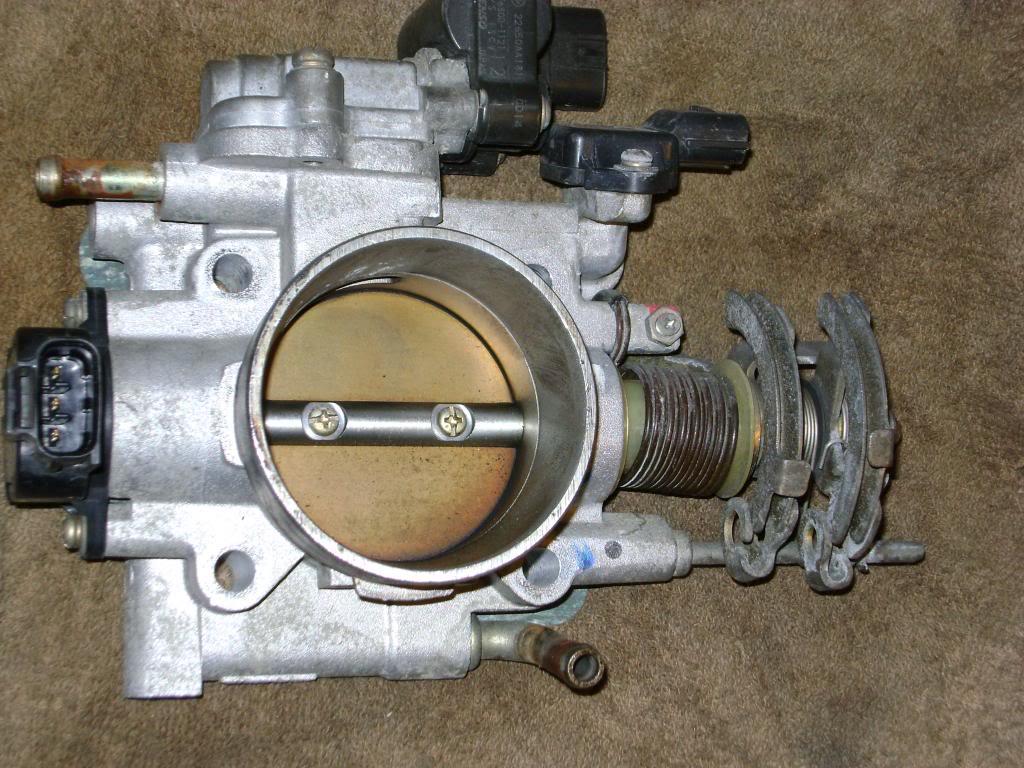 It was a lot dirtier on the inside than shows in the picture. Especially around the IACV
during: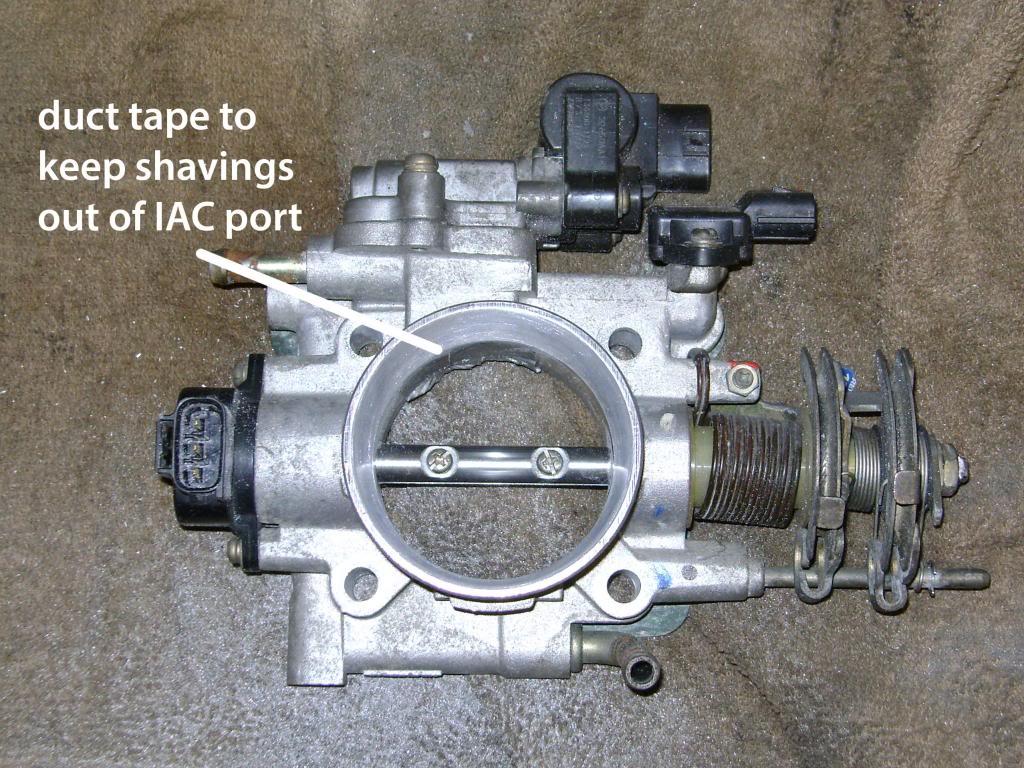 after: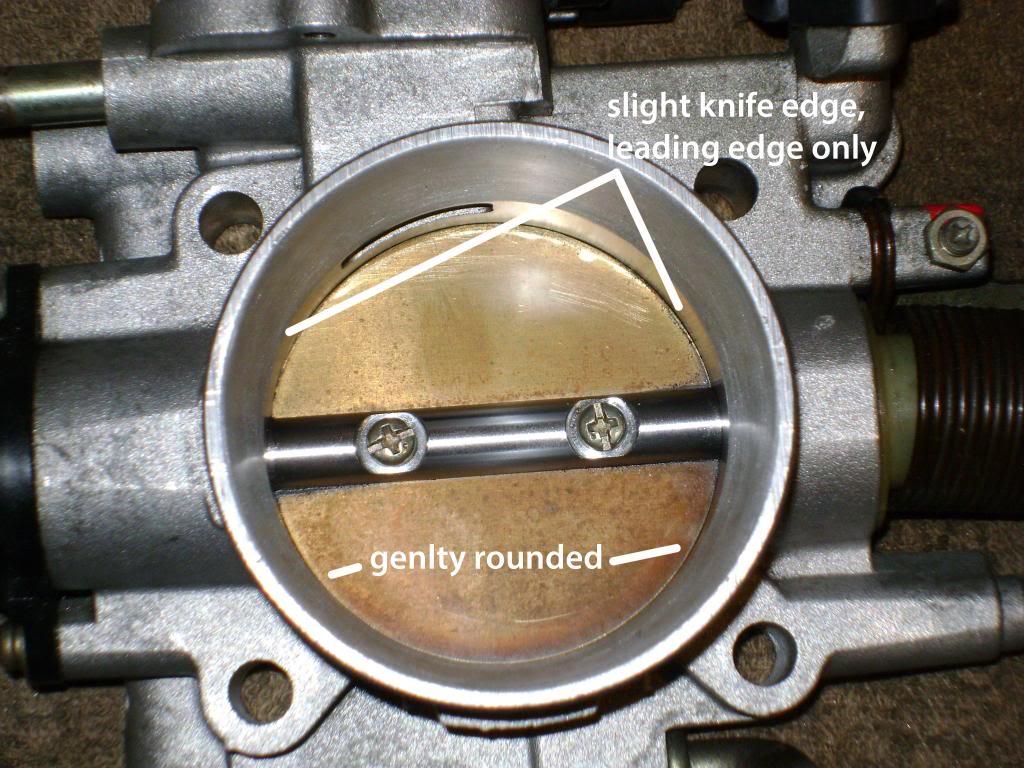 I knife-edged the leading edge on the top and bottom of the plate. Didn't wanna do front and back and screw up my idle, not that it would if it was done. I'm lucky like that so didn't want to chance it.
On the bottom have I pretty much just took the edge off, rounded it over a bit. I didn't take any material off of the circumference area.
I carved it up last night, got it on this morning. When I took it off I went off and did the coolant bypass mod. I was there, had a coupler..why not?
Alright, alright. I'll tell you what it feels like now.
Well, since I did all that sanding and whatnot, I took off the IACV and cleaned it. Dude. That thing was funky. I seafoamed my car about a year ago, but I put it in a vacuum hose on the manifold. I cleaned it with an old toothbrush (it wasn't a used one), a q-tip and some seafoam. All sorts of black oozed out.
So I cleaned the my IACV really well and after my wrx warmed up the idle was beautifully smooth. Like butta!
What the PNP job did was improve throttle response, increased intake noise, and made the accelerator a bit more fun. As soon as I feel the slack tighten out of the throttle cable, I can feel the engine working and pulling the car forward. Under heavy throttle the spool/air rushing through intake noise is a little bit louder.
Engine breaking feels a bit less pronounced, doesn't slow me down as much. I think that has to do with all the crap I cleaned out of the IACV though. Don't really know though.
2-16-2014
flash and dash
So I've been real lazy working on my tune as of late. Been real snowy/icy out too. I have been studying some logs and adjusting my map. I found out why I had so much knock in the lower rpm/load. Lesson learned, double check your work, don't rush and never say "I'll fix that tomorrow.." unless you really will. I get sidetracked to easy for that.. stupid me being easily distracted.
Anyway, polished up my map, flashed it, logged it. Good stuff so far. Only random feedback knock and I know I have a bolt missing on my downpipe. The bolt the holds it to the frame near the tranny dropped up a while ago. Me being lazy again haven't fixed it yet. Need to find a replacement bolt.
Here's a log of my latest map, just for funnzies...
I need to log more. Didn't really drive it through its paces yet. This is just a general errand run log, some around the neighborhood and some near highway speeds. Quite a few stop lights too. Oh the fun...
https://drive.google.com/file/d/0B0dIcUKG9QurUWxtemhkeTNaZ1k/edit
2-25-2014
I did my taxes in late January. I got my return today!
Well most of it. Some of it is held up in the "backordered" process. Stupid IRS, I doubled checked my numbers.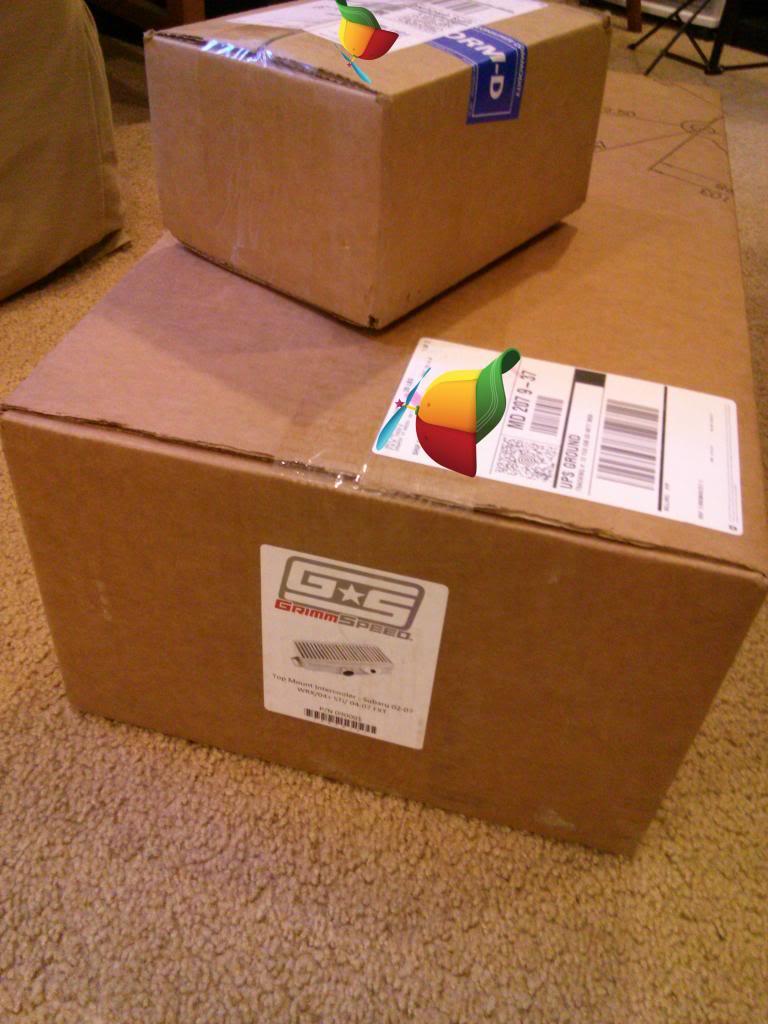 2-26-2014
I cracked open the box to check it out. It was heavy-ish and cold. Shiny.
I had wood for a few hours.
The build quality looks awesome. Only detraction of awesomeness on the build quality was some black residue left over from where they welded the endtankss on. That's being super nit-picky though. They are cranking them things out.
I've gotta wait a little while before I install. I don't have a decent Y-pipe for it yet(backordered). I also have a JDM bugeye scoop coming in. Need to see how good the stock splitter matches up and all that.
What's in the small box in the pic is some front/rear Stop Tech SS brake lines and a rattle can of WRB for JDM scoop.
Install me pile has grown.
TIC diff and outrigger bushings have been collecting dust. It's been to cold for me to get unlazy. Someday soon though. I need to flush my tranny and diff, maybe then I'll slap the bushings on. I do have access to a press so hopefully I won't have to bend up that support bar by stepping on it.
2-27-2014
Sweet!
A nice TMIC and exhaust is what the docotor ordered. Used parts are cool. I couldn't find any and had return money burning a hole in my pocket. I was quite happy with my return this year. I was able to put a big chunk in savings, blow some on shiny parts and earmark some of it for the wife to blow through with her hobbies.
Now we just need some splitters and other smaller parts, some warmer weather and it's game on!
2-28-2014
that's what I was looking at doing to for my splitter. Home Depot, probably Lowes too, has sheet aluminum. I built an "air box" for my short ram, helped a little to keep it cool. I was going to chop up some aluminum and pop rivet the raised portion. Looks like a fun project. Haven't played with aluminum for a minute so I'm excited.
Wedding? ah snap! Wedding funds are a good thing, for sure. Weddings get expensive fast.
Build update: looking to do my brake lines and clutch line(gotta SS one for that too), this week-end maybe next.
3-24-2014
changed my diff fluid the weekend before last. a quarter tank into it and it looks like I'm getting better gas mileage.
hooray fresh gear oil!
4-9-2014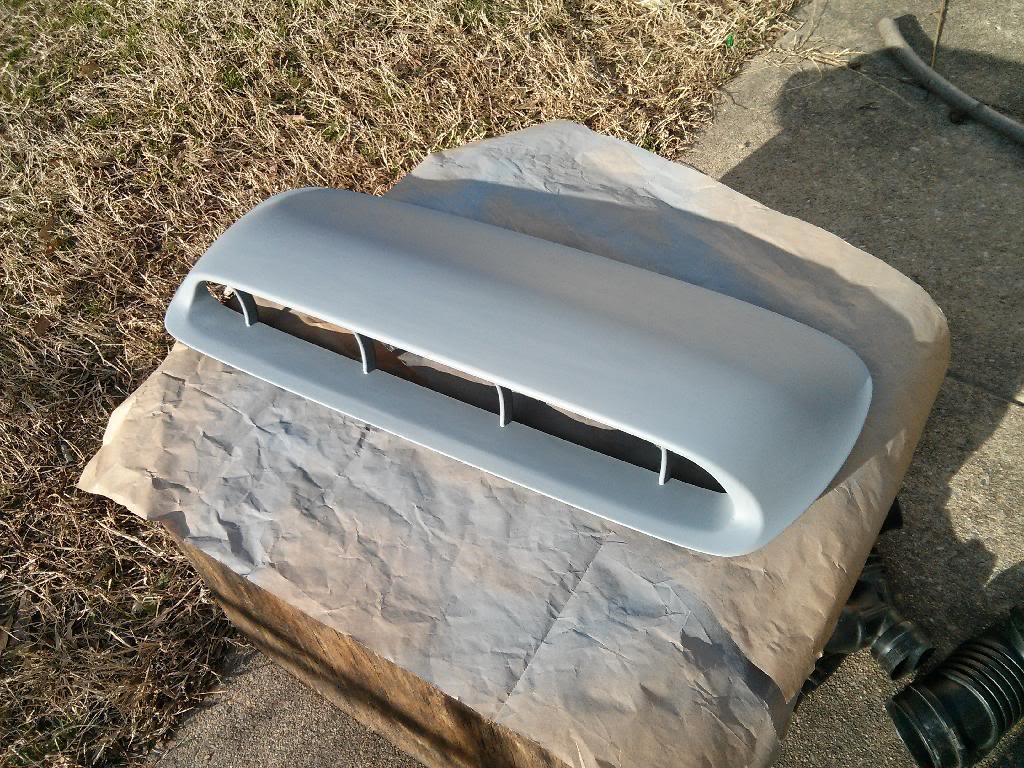 4-11-2014
got some WRB on that primer. its not looking as awesome as I thought it would. I might have to wet sand it some more. I'm gunna spray a super light coat of clear on it and then wet sand it to get a good idea of what it'll look like.
also test fitted the GS TMIC, got the AC line bent out of the way a little. there was like 1/2in(eyeballed) clearance each side of the AC line.
I was test fitting it against the stock splitter and noticed the rubber part "almost" touched on the passenger side but driver side was making good contact. Popped the hood back up and notice a slight tilt to the passenger side. I didn't have it bolted down though. It did look flush on the mounting brackets. Something wasn't right though. I ran out of daylight or I would have found whats wonky on my car.
4-21-2014
update mode
photo from a few days ago, gettin' er done...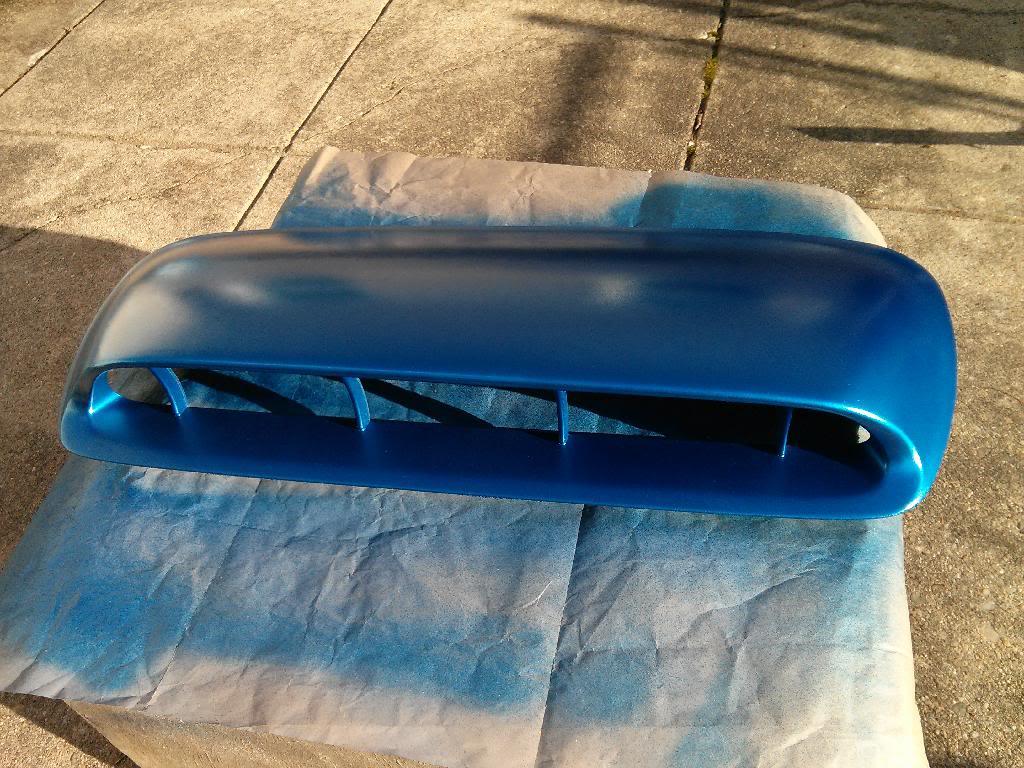 Put a few coats of GS WRB rattle can on there. Looks alright. Nit-pickers gunna pick...
So all day Saturday (19th) I hacked up, "re-engineered", and painted my splitter. It didn't turn out exactly like I wanted it too but it works good so far, isn't damaging anything so I'm good till I get my allowance saved up for a for-realz splitter. No pics of that yet. I'm lazy. I'll get some up though.
So After I got my JDM hood scoop painted and installed with my hacked/painted splitter, I got my GS TMIC installed. I hate recirc hoses. Hate. I don't know what it is, maybe I just suck at installing them. I had a big fight getting the GS one to go on. First it was the Tbolt clamp, how do you get a wrench down there? I need some deep sockets. Then I guess I lubed it up too much because I was trying to clamp it with a normal worm gear clamp and it decide to work itself over the hump on the intake connector. I'll save y'all the rest, but it wasn't much fun for me. Your results will vary.
So GS goodies all installed(TMIC, Y-pipe, recirc). I'm a happy camper.
Throttle response. YES! I haven't really pushed it yet, still got some minor issues in my tune and a missing bolt on my downpipe, the one that secures it near the tranny. Anyway throttle response is awesome. Car feels like it has more grunt.
I owe you guys some photos. I'll get unlazy/unbusy and get some soon.
Here's a quick snap of my installed hoodscoop...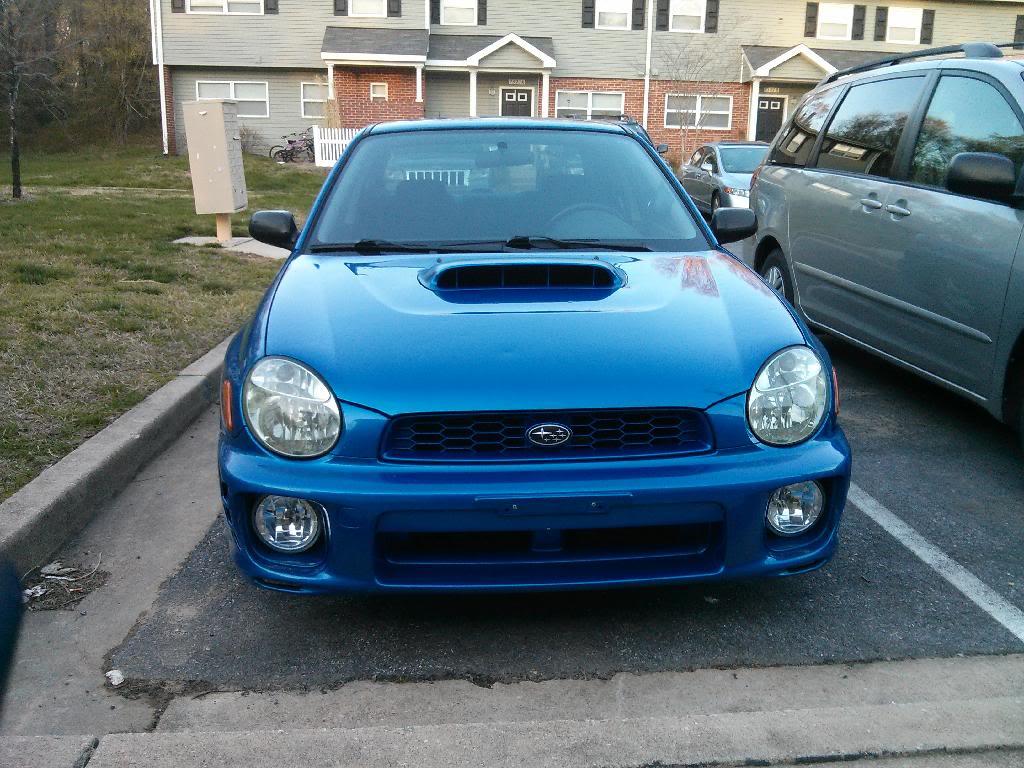 This one is a little closer, you can see the bar and plate awesomeness that doesn't get heat soaked too bad after 5min of idling on a 60-ish degree day.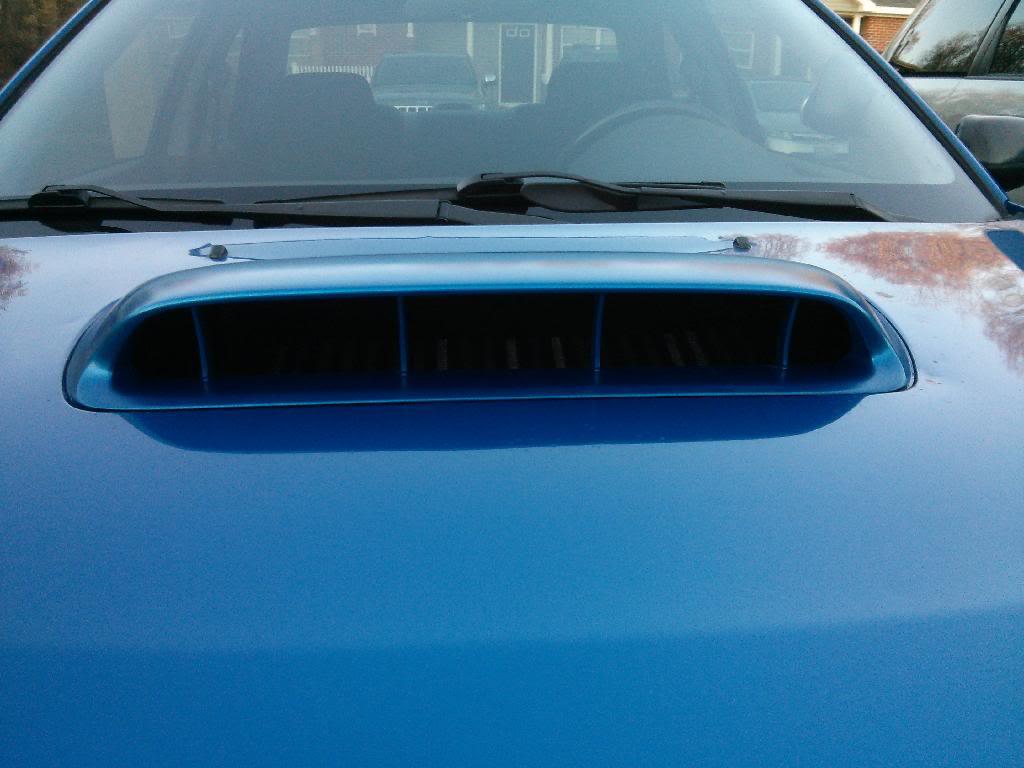 5-10-2014
bolt
Learning View_SS_A4SGC00C_2014-05-01 20 41 03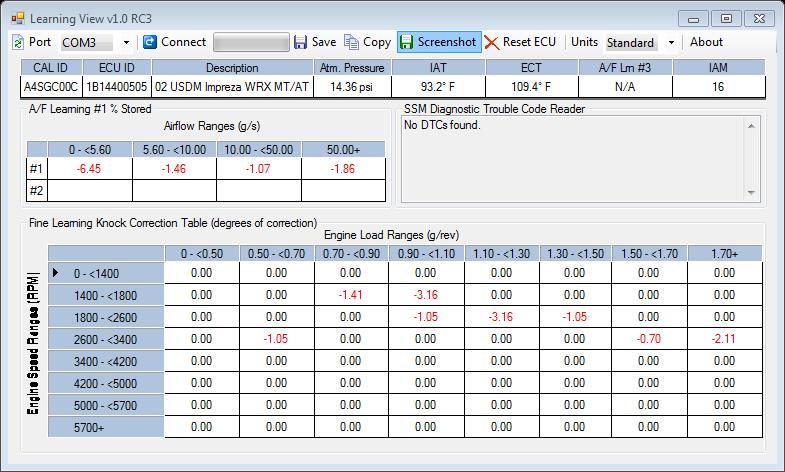 went to this...
Learning View_SS_A4SGC00C_2014-05-03 22 22 02
no map adjustments, no flashing... just a bolt replacement. the one that holds my downpipe to the bracket down by the tranny decided to go AWOL. gotta a new one in there and happy days...
now just need to clean and scale my maf a little better.
5-28-2014
so got back to looking at my tune with the false knock squared away best I could. A little knock was creeping back into my map. Been pulling timing, just a little, to get it out knocky spots.
I'll post some more info after STPR.
6-9-2014
Well, haven't done too much with my tune. Been lazy in that respect.
I did get my rear axles replaced. I got it on a lift, dropped the diff so I didn't have to mess with all those control arm bolts and whatnot. Also I had some diff bushings I wanted to put in. Rear end feels better now, no clicking either.
While I had the wheels off and everything, I noticed how rusty my struts where. I put them on ..um, about a year ago? Well they've been through one winter. Lots of salt and wet-slushy stuff left their mark.
It was mainly surface rust but yick.
I cleaned up my rear passenger, wanted to see how much work it was really going to be. I'll work on driver rear Tuesday.
no before pics, I'll get some of one of the other struts
after wire wheel and brush, soaked it with some rust remover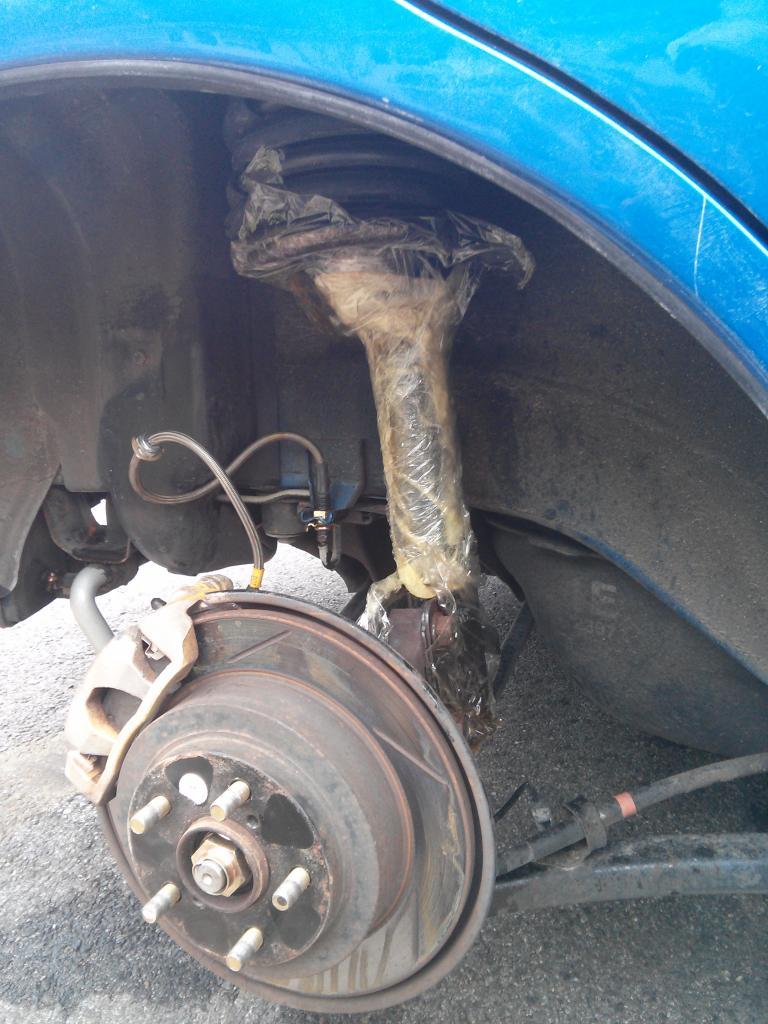 no pics after rust remover either, didn't want to get sticky/goo on my phone...
after painting with epoxy paint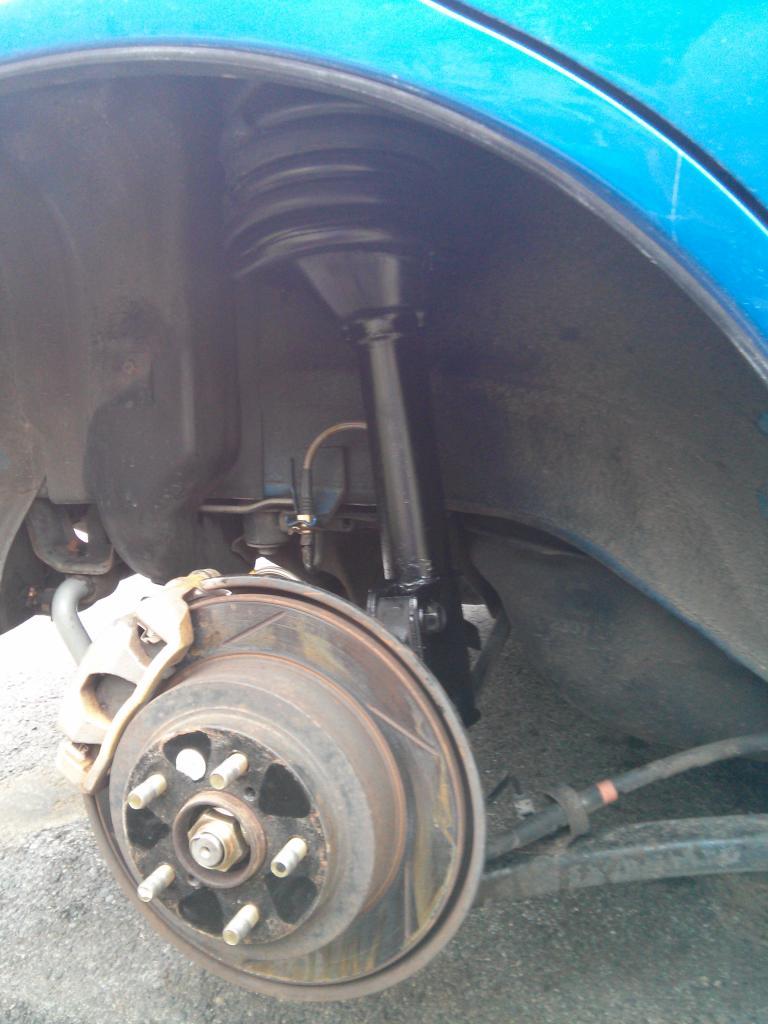 7-7-2014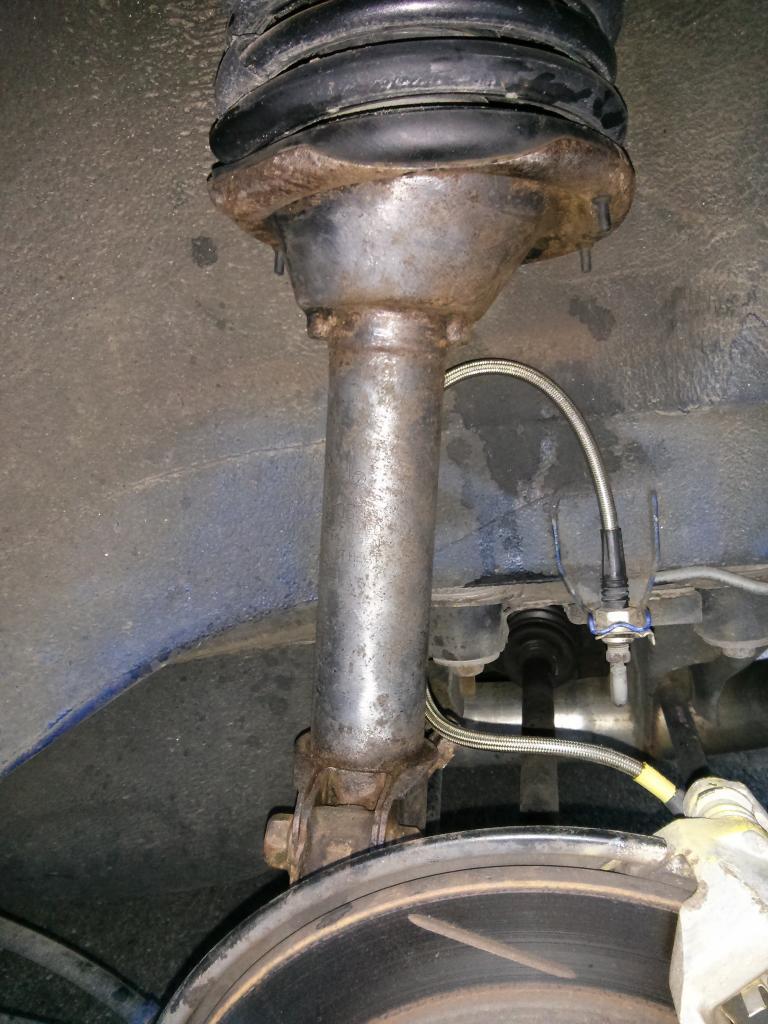 That's what I got my struts to look like before I painted them. There was a lot of surface rust. I've still gotta do the fronts so I'll get a pic of that to show you guys what I was working with.
9-27-2014
I haven't stopped tinkering with my car. Just let the lazy on club-dub happen.
Was slapping a part or two on and wondering why I haven't WTF-ed my tune yet, all that just before I moved. Now I've got some boxes and crap to move so I can tinker in my garage.
11-7-2014
Did an oil change last weekend. Oil filter had black crap on it near wear it attaches to the oil cooler. I thought I might have an exhaust leak. Now I'm certain. Black crap and it ticks under load a little.
Thank God for the long weekend, plenty of time to play.
11-9-2014
So I was able to pull my headers off yesterday to verify and locate where my exhaust leak is happening. Couldn't see any definite leakage sites but could see soot outside the gasket's ring. It looked like if it was leaking it was taking the long way to exit, it snaked around a little.
Last time I put new head to header gaskets on, two of the passenger side studs came out. The holes weren't stripped or nothing, just some rust or something torqued to the nut more than the stud to the block. Got those out and fixed them too. It's crazy how good some stock bolts clean up with a little wire brush action.
Since I had my headers off I did a quick and lame job of polishing the first few inches of the collectors and up-pipe joint. Didn't have gaskets for the crossover pipe or I would have done it up all the way.
Well the exhaust leak tick was gone the first test run around the neighborhood. After I'd been on the highway for a little while it creeped back, not as loud but there.
On that test run my car felt good and responsive again. It was feeling kinda off like it was a more serious exhaust leak.
And today I found out that my order from Grimmspeed that was supposed to come in on the 12th showed up yesterday afternoon while I was working on my car. The arrive sooner than anticipated part is awesome, just wish the wife told me they came in... they were in a cardboard mailer thing so I don't blame her.
PS. Got some rhino ramps from the Kmarts. they had them on sale($45?)
12-28-2014
yep
What the wife got me for Christmas.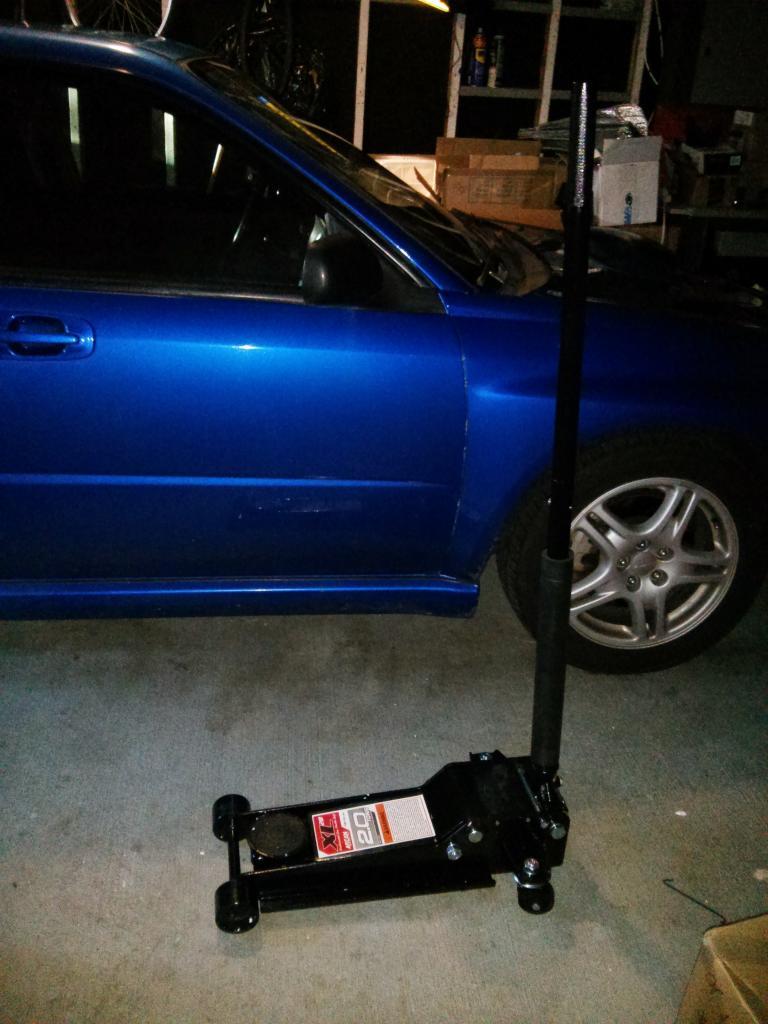 It's a low clearance floor jack that goes up to like 18". It's gunna fun playing with it!
I had and exhaust tick so I decided to use my ramps to pull the headers off and fixorz the gaskets. That worked out pretty good but I found this while I was down there. The other side was worse, worse than it was a month or so ago.
Since it was looking crazy I cleaned it. Before: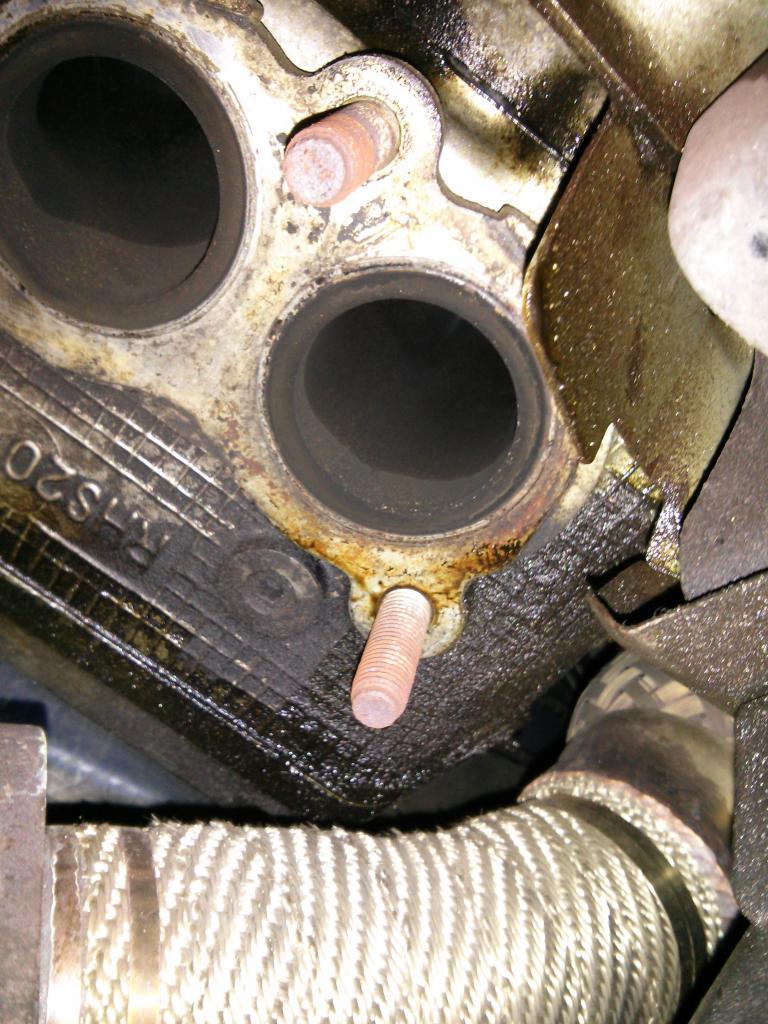 After degreasing, cussing, and scrubbing: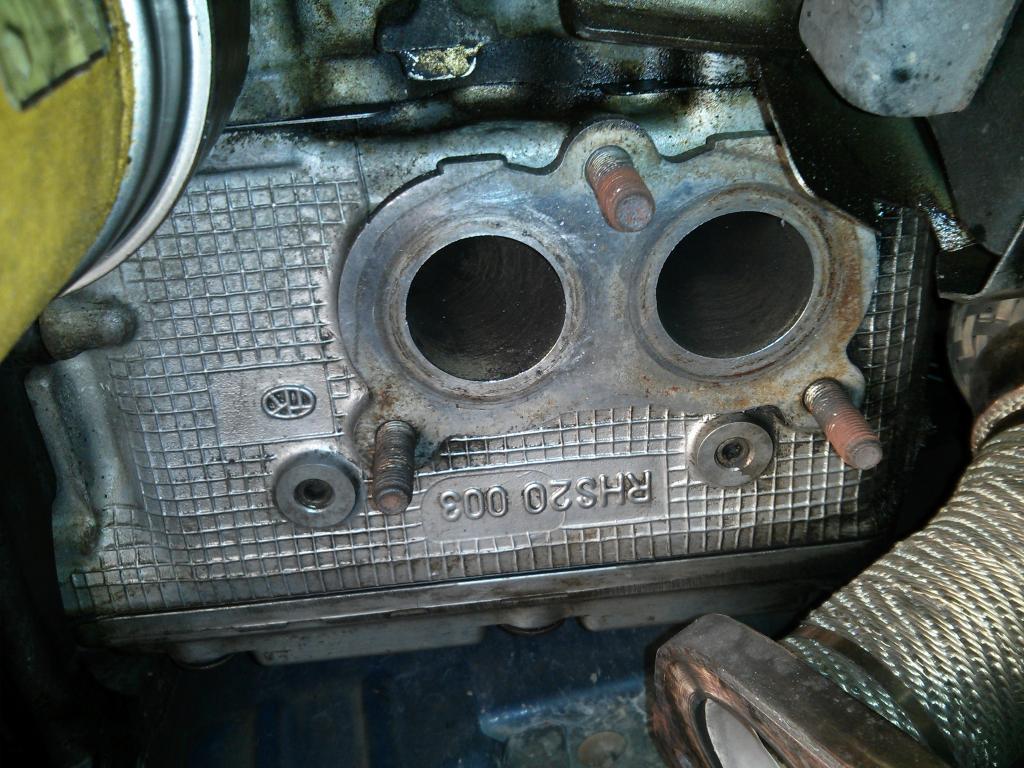 Oh and on the way home from getting a haircut, I rolled into the 100k range. She rolled into 100k just like a good wrx should.. in 5th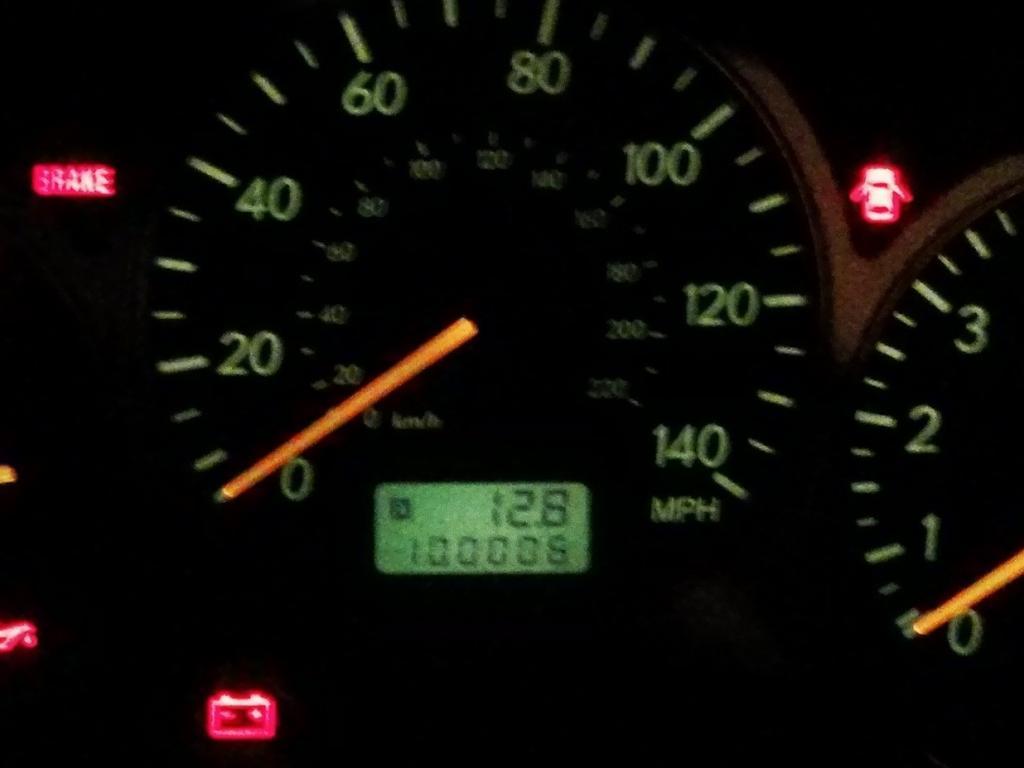 1-9-2015
So what do you guys think about my oil leakage? Head gasket replacement time?
IAG quoted me a ballpark of 2500, which is doable and worth it. I would do it myself but it looks like a painful job. IAG also does the timing belt when doing head gaskets. I did mine at just over 75k because I heard whining noise coming from that area. The noise was my AC tensioner dying but I feel better being safer than sorriest.
1-14-2015
Look what showed up today. To the "install me" pile!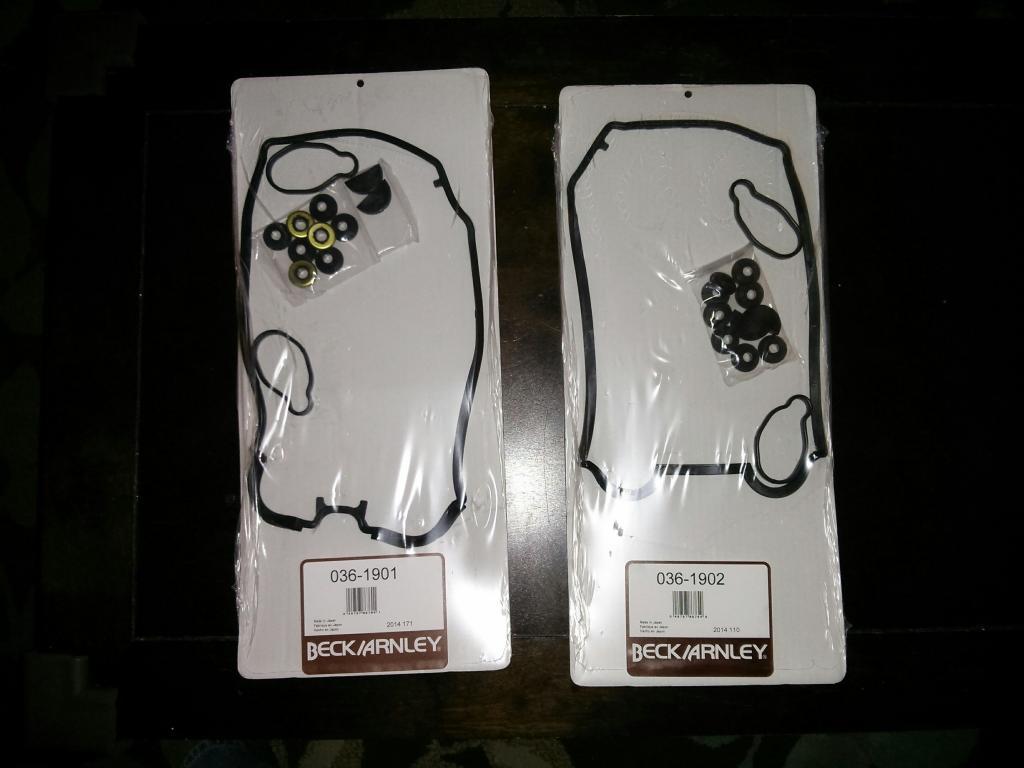 Looks like fun. Hopefully I can get it done this weekend. Doesn't look like that difficult of a job. The torque on the bolts that hold the valve covers on is like 4"lbs or something silly.
1-18-2015
Got them gaskets on. It was a pain because of how tight it is down there.
I had to use a wrench on some of the bottom/back bolts, then contort my arm and hands so I could spin the bolt. Getting them out and then back in wasn't too bad. Just had to be real careful with the gasket goo.
Took me about 4 hours a side. I'm slow and I cleaned as I went. Did it over two days.
Hopefully it'll stop the leakage. Been through a few heat cycles and no noticed seepage yet.
1-25-2015
Well yesterday I was able to get under my hood and pull off some hardware so I could have a looksy at my leakage. Well it appears not only leaving the valve cover's breather hose disconnect for a short run not only let it run funky (air leak) but also it dripped some oil down to the front sparkplug's recessed area. There were no signs of leaks, no oil-slug trails, no oil oozing from the spark plug opening.
UPS man is holding my uppipe for ransom. He hasn't send me a list of demands yet though.
Also been tinkering with my tune. I so forgot were I was on my tune. I need to takes notes as I go.
I need to get some pictures up.
12-29-2015
been playing with tune. still having fun learning how to massage it. Also go a newer tuning laptop, went from netbook with 10" screen to 14" with a proper processor. Performance is good battery life sucks though. With the netbook and extended battery it said it had 7hrs of battery time. was more like 4hrs but hey... this laptop is like one. It was not expensive and is a bit of an upgrade.

need to get uppipe installed. got it wrapped and ready. just need to clean things up a bit under the hood...

need to redo my valve cover gaskets and/or the rubber grommets. something is leaking slowly. Maybe I didn't clean it good enough. arg...
5-5-2016
Still playing with tune. Been taking my sweet time. I'll tinker on it a little one weekend and leave it alone for a while. Making progress though.

I've still got an oil leak I think. I've replaced the valve cover gaskets, found a loose bolt on my TD04's oil drain pipe. I need to get my lazy butt out there and dig around the engine bay for other stuff I can tighten up.

After that is fixed I've got a new uppipe to put on and some diff bushings that I couldn't get in because I ran out of time.

Still haven't blown my share of the tax return. hmm...
6-26-2016
updated the wifey's ride a week or so ago. the CVT is neato but it takes a second to get rolling from a stop.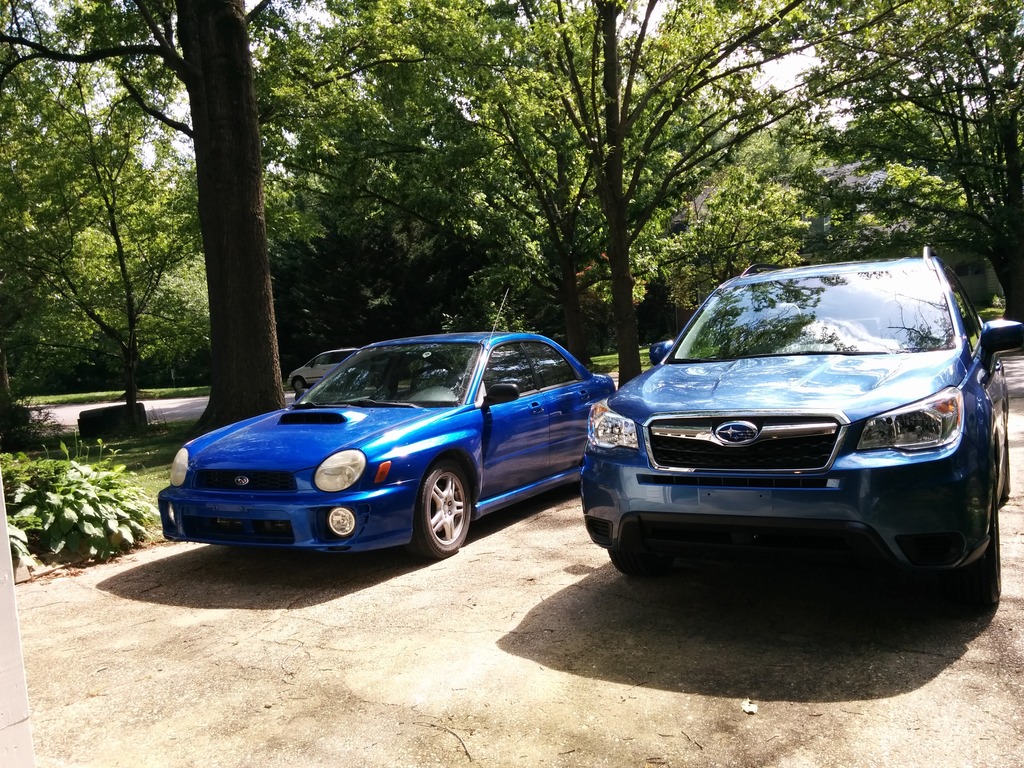 9-25-2016
About a month ago I did the H6 brake upgrade thing. It's nice, stops a little more controlled and quicker.

I swapped out my seats with some less abused seats from an 05. The owner of the 05 seats had them as leftovers from a 818? build. 818 - that subaru powertrain based kit car.

I picked up a stock air box too. Had to find a hose to go from turbo inlet to box. That was a bunch of on, off, and trimming tell it fit. Still doesn't fit all that well but its good, no leakage.

I'm prepping to swap in some injectors I bought a while back. Got turbo plans.

I don't know what I wanna do first. I plan to go ELH and 16G. Both the oil pan and current turbo are leaking oil. The pan has been "seaping" for a while, it's old. On the turbo it's just the drain tube clamps have slid down. Them things are a pain to get on where they are supposed to be.

I got an uppipe I need to put on as well. Probably do that during turbo swap.

So what do y'all think ELH or 16G first? I haven't bought either yet.
10-19-2016
This landed on the install pile today...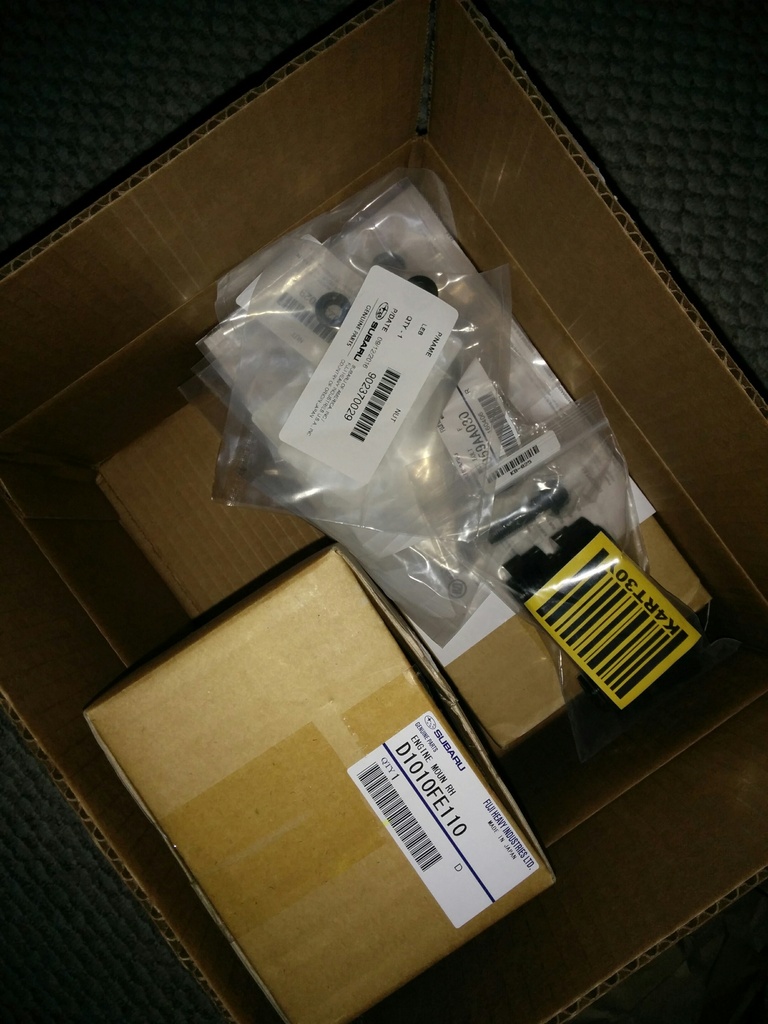 1-13-2017
So me 0, motor mounts 2

I can't seem to get a wrench on the bolts that are on the rear of the engine. The steering linkage and rack are in the way, big time. Almost rounded the driverside, rear bolt. Lots of cursing.

I'm going to give it another go after I find some roll pins and change the front cv joints and ball joints. Ball joints are toast, cv joints aren't gone yet but could use a swap.

Was thinking about buying beater POS car and pulling my WRX's engine, refreshing all gaskets, seals, etc, cleaning it, engine mounts, and just all around go nuts.
That might happen next year.

Still got ELH and turbo plans. I don't have my heart set on a particular turbo. There are two, actually three, I'm torn over. 16G yeh that's textbook awesome on a 2 liter. 19T is pretty sweet too. I wanna do something weird though. Just to be weird.
1-22-2017
Victory!

Group N engine mounts in. I now know some new yoga poses. My favorite new pose is the crossmember hug - under-the-lift - lowering.

Also got new ball joints, front axles, kartboy trans bushings, and a slightly used STI tranny mount in. NVH went up, so did racecar.

Eventful day. Hopefully the new stiffs will clear up the random knock. Old mounts were a bit sloppy.
Photo of STI(top) vs 02 WRX transmission mounts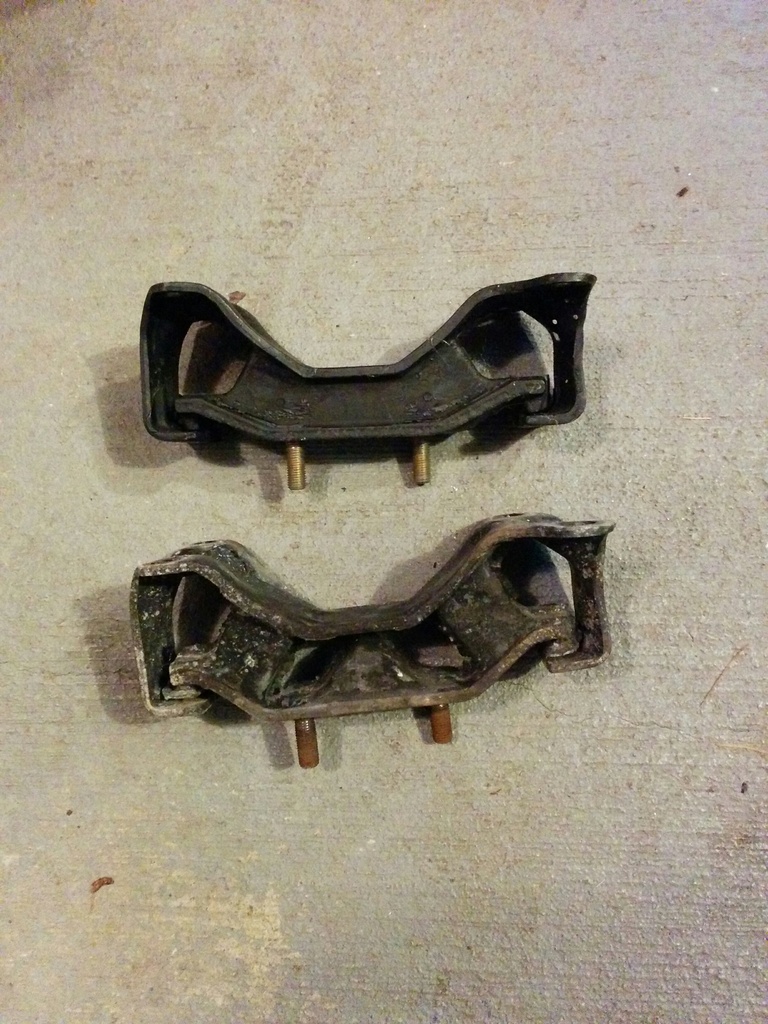 4-26-2017
So I'm away from my ride again. Work seems to like to send me away quite a bit. Do I have bad breath or something?
I'm getting "bonus" pay for being away for a bit. Putting together a list of goodies I can squeeze into my "bonus" budget.

I still got some tuning to do. I might just start swapping out parts, knock sensor, clutch. I'm tired of seeing knock. It's always random too, well randomish. It'll show up in the same "zone" on learning view, sometimes the same box. Sometimes it jumps around. It's been a while since I've played with it though.
9-1-2017
recently got back from a long work trip. AC was out. Sway bars were banging around... gotta little tidying up to do.

I did get the AC fixed. Was a silly little O-ring on the high pressure pipe side of the AC compressor. A fiddy-cent o-ring replacement and refill fixed that.

Sway bars are still banging a little after re-tightening and lock-tighting nuts on endlinks. That's what was loose.
10-24-2017
Still rolling around. Got a neato turbo mod fabricated. Haven't seen one done like this before. Not too cool for school. Just kinda weird.

Pics when install goes down...
11-18-2017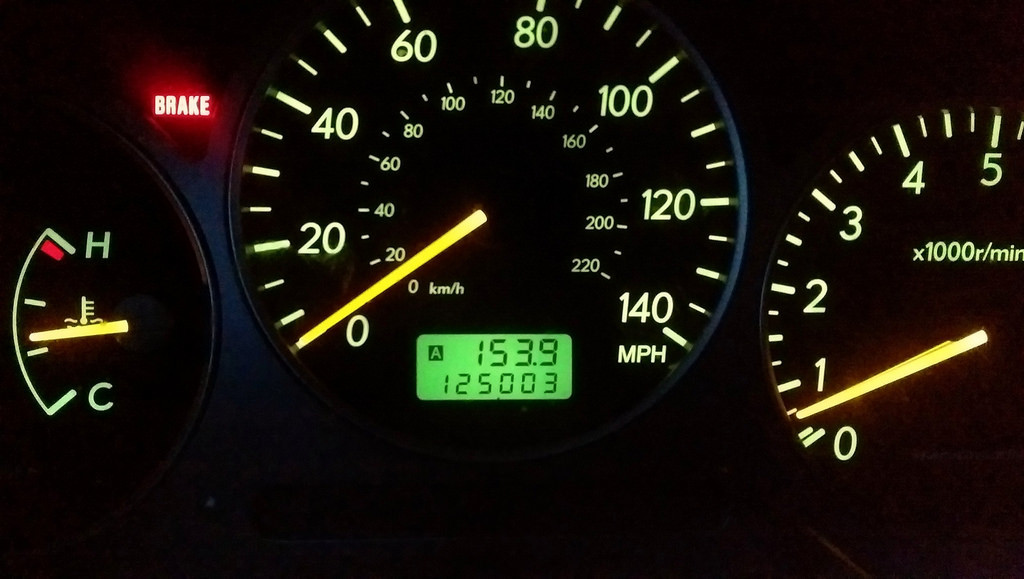 12-2-2017
still lazy. turbo swap project delayed because I'm a wuss and don't like the cold. Soon though. Gotta double check my injector duty cycle though. Should be good though. Stock injectors with DW255? pump. Maxing out at 65% duty cycle. It's log, log, better than bad it's good...
4-5-2018
I done installerated some of dem decapped inJECToars.

I bought some from the back alley of a forum a while ago, a year or more?

Finally got them SOBs installed.

Got them halfway tuned, just gotta tweak the latency till it looks better in dem logs.Got MAAAADDD headroom on the injectors now. Almost turbo time...


And yes decapped injectors are not the best thing out there but A. I was being cheap B. dude that was selling them had a flow chart from witch hunter and the injectors had new o-rings on them.. couldn't resist...
6-30-2018
Got my weird turbo installed about a month ago. Been too busy playing/tuning/life to post.

Also got a turbo blanket installed, got it free its not a good one but anything will help I guess.

Turbo details - I got a TD04L-13T on the cheap, bought a 16T compressor from Kinugawa, disassembled, dropped off compressor and 16T wheel at local machine shop - had to swing by a few times because they "forgot" about the job, re-assembled/rebuilt with machined compressor housing and 16T wheel. I did wait a few months to install, that's usual for me. I guess I like them to age a little before I put them on. I did replace the rubber oil drain tube on the bottom of the turbo, mine was hard and seemed to be leaking/sweating too much oil.

I don't have it fined tuned yet but so far the turbo is interesting. It's slower to spool but seems to flow more. The 16T is only 2mm bigger on the inducer. It pulls about the same as the 13T seems to have more. I'll find some logs worth showing and post them.
The 16T is 2mm larger on the inducer if the compressor, the "intake of the intake" of the turbo. They machined out the intake of the compressor housing and radius-ed it to match the profile of barely larger compressor wheel.
They charged me a pretty penny too. I would not suggest this to anyone that likes money. I did it just to do something weird, employ the guys at the machine shop, and work just have me a "bonus" so I had some extra cash.
12-27-2018
Holy slept through my alarm batman... I haven't been on here in forever.

But yes XJman, the car is running much gooder-er after the fitment of the 16T. I've still been too busy, lazy, whatev... to log and really look at the slight difference it made.

Just hit 140k coming back from work the other day.

Upcoming project. Yank and refresh. I'm tired of little oil seepage here and there, old ornery hoses... I've borrowed an engine hoist and stand, have a Subaru "gasket kit" (even came with valve seals!) . As far as the stupid 9-5, I've got 2 weeks of time off scheduled for when I return from my next trip. Mid-late Jan I'll be dropping fluids and gettin' er dun. I'll take some photos and videos so y'all can have a laugh.

I think I skipped over this parts update but found a guy selling a good ole "re-build me" VF39. He had a good price on it so I bit. Turbine fins were TOAst, looked like they got really friggin' hot then spun too fast. New turbine shaft, billet compressor, some dem o-rang thangs and she's ready to go in after the engine gets its refresh.

I also picked up a 07 Legacy to be my chariot whilst the bugeye is apart. I'll sell/give it to my son who turned 18 a few months ago when I'm done with it.