Builds
pete25r's bugeye progress by pete25r
By pete25r
You must be logged in to rate content!
7 minute(s) of a 83 minute read
pete25r's bugeye progress
Compliments of pete25r @ www.clubwrx.net
12-16-2012
Short story:
2002 WRX Sedan
Mods:
3in TBE exhaust cat welded in downpipe, Borla muffler
wrapped upipe
silicone inlet
silicone afta MAF
COBB SF (short ram)
PNP TD04
Deatchswerks fuel pump - DW200 / 255LPH
Kartboy Short Shifter
tint
radio & speax (kenwood HU/pioneer sp)
DIY aluminum radiator shroud
DIY aluminum air box
Kartboy Front and Rear Endlinks
Whiteline Adjustable Swaybars - 24 front on softer and 22 Rear on middle (might adjust stiffer later)
Konis and RCE Black(7-23-13)
Hacked Splitter
Grimmspeed TMIC
Grimmspeed IC Hose
OEM JDM Bugeye hood scoop
Stock:
everything esle
Long Story:
I'm a Subaru fanboy. I've had 3 80's models, loved each one. I wanted to get a turboed car so heck, I'll go find myself a WRX. Here's what I found (Feb 2011) License plate is photoshopped, dealer tag was there and ugly.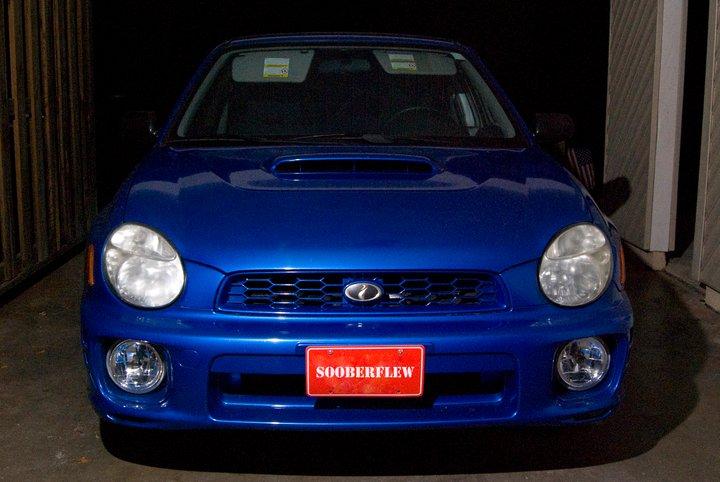 Underhood - TurboXS atmos. BOV, COBB SF with beatup, dirty filter, exhaust leakS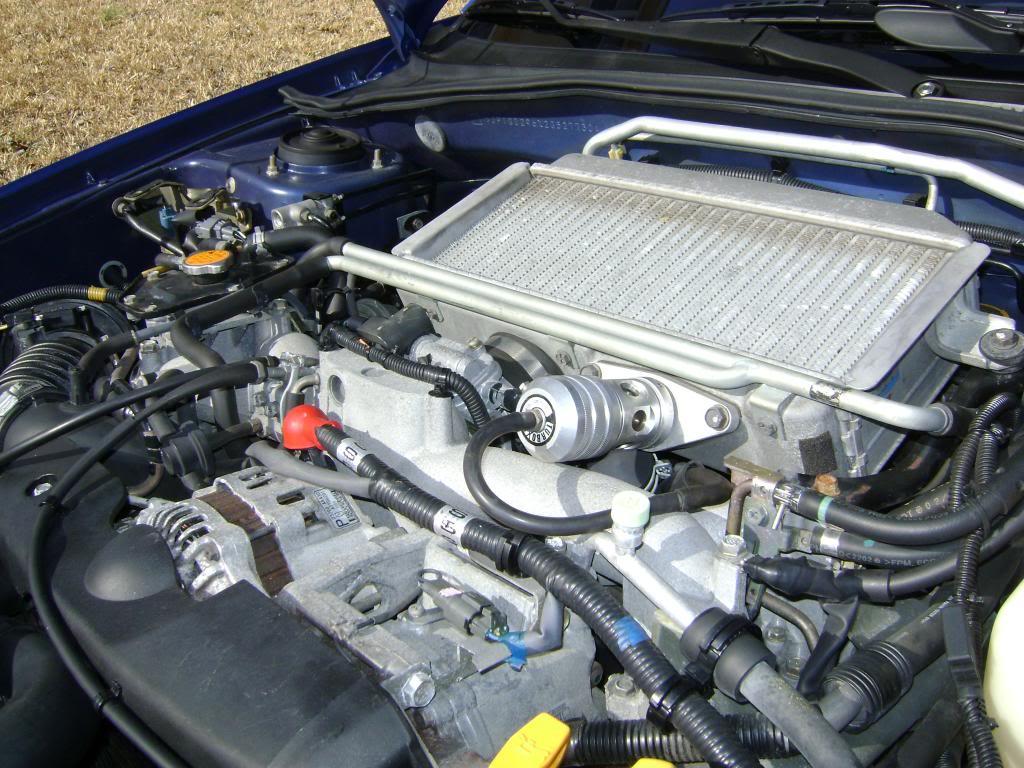 yeh, filter was supposed to be blue...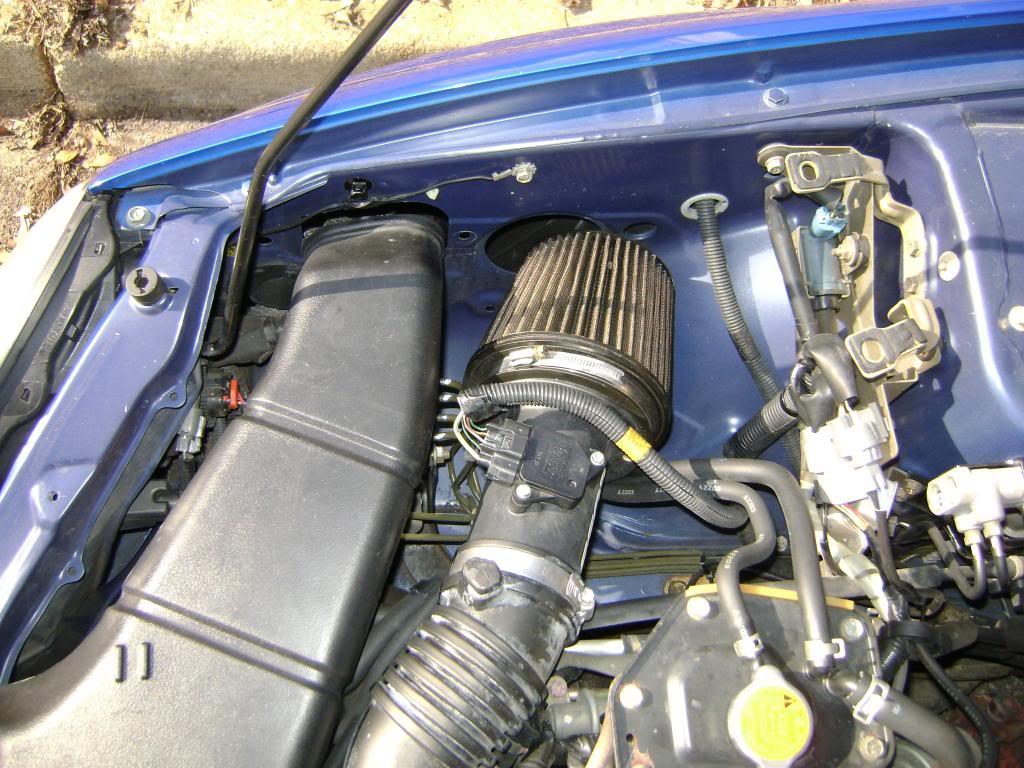 A week after I brought it home I replaced the air filter with a K&N that was longer. I stuck a piece of old tshirt between the filter and the inner wall so it wouldn't rub the paint off since is was touching. That didn't help all that much... And yes those are legit JDM zipties relieving some strain on the intake tubing. And notice the silly STI stick-on came off.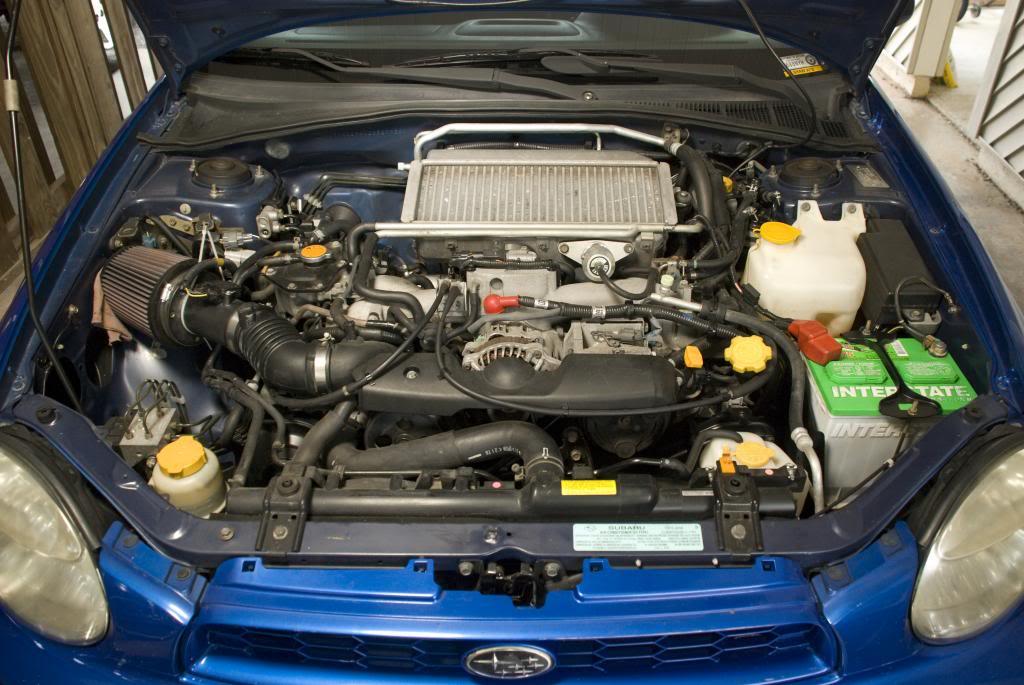 So you wanna see some wierdness? Someone welded a largish cat on the 3" downpipe. You might not be able to see in these pics but man-o-man them welds ain't pretty. The welds are structurally sound looking but more of the "bigger the blob, better the job" category.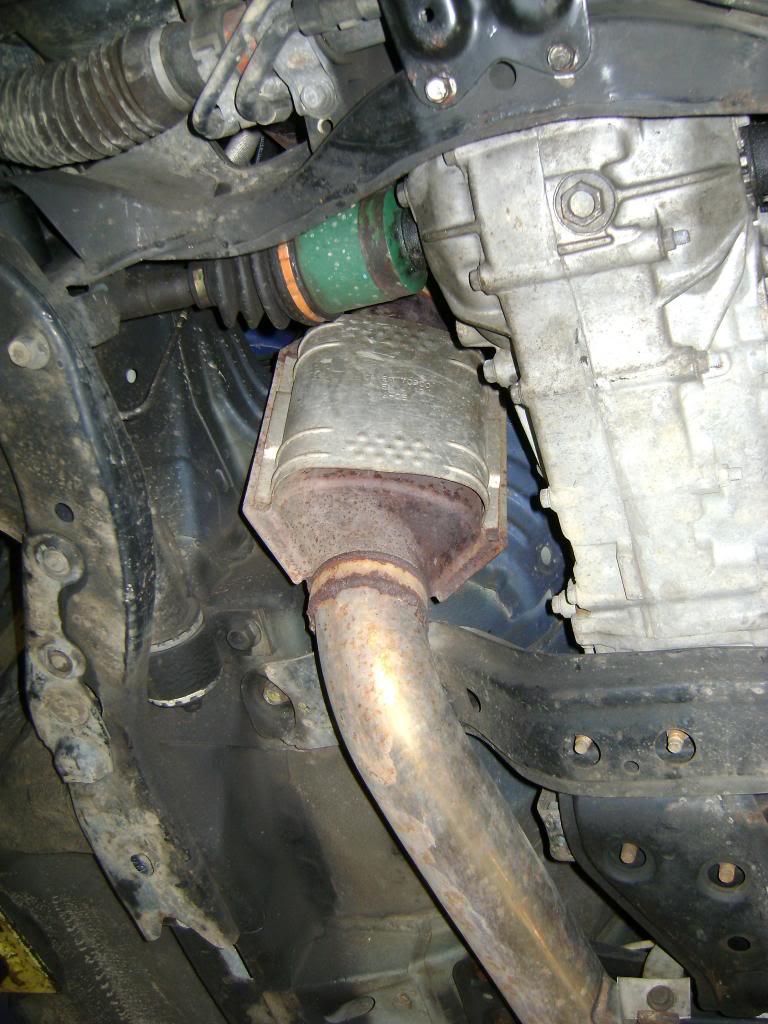 From the downpipe back its 3" and looks like Borla, resonator in midpipe and dual tipped Borla embossed muffler. Sounds good, not to loud but sounds like it has a pair.
Paint looked good, somewhat fresh. Interior was ok, carpet was beat up, wholes under floormats. It was missing the clock, had a stock 6disc/tape radio, stock speakers, no guages, stock fog lights, wholes drilled in most of the "blanks" by the cruise switch. There was also an off brand remote start unit in it, still wired up just no fuse in the 12v+ line. There were also some other various rat's nests wired in under the dash. When I took it on a test drive I noticed there was a Cobb AP USB dongle-thing on the OBD-II port, no AP though.
I didn't know this until I went to a meet but it's got a short throw shifter with a kartboy sticker on it under the boot. And the boot trim has an STI on it and doesn't quite fit right, it's always falling down off the part that's supposed to hold it up.
done?
Here's what I've done so far...(not in order)
replaced the radiator with an aluminum CX racing one (ebay special)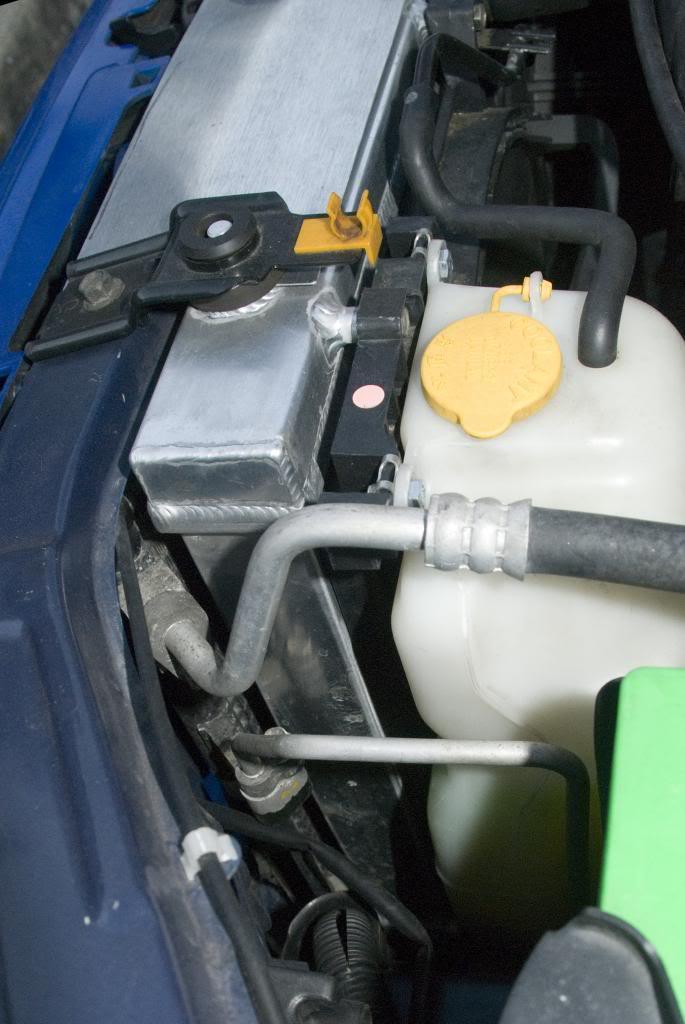 replaced TurboXS BOV with stock BPV - wasn't for me hated the backfire on shifting
cusco turbo heatshield, don't think it helps all that much but I got a deal on it and bling!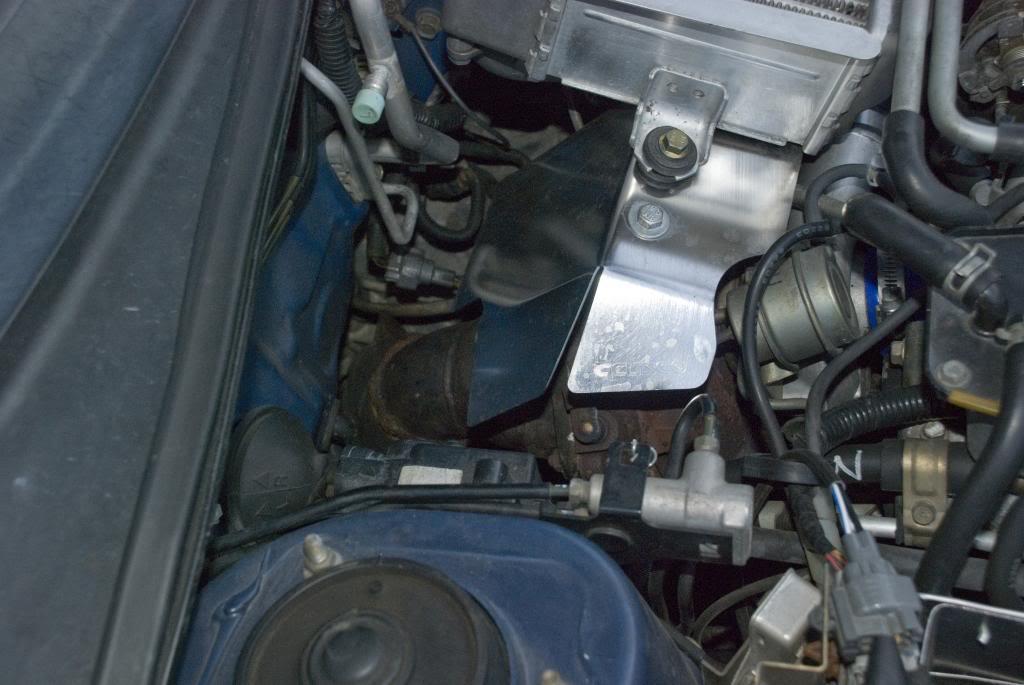 silicone between Cobb SF and TD04
CD/MP3 headunit (Kenwood?) and some pioneer speakers - they sound a good bit better than stock but not awesome enough to go into detail
installed sound deaden-ing material in front doors (doing back soon), used fatmat. its ok, it did cut down a good bit of noise
Logged, logged, and read some, logged, read more.. and tuned my ecu a little. It had a map that wasn't stock on it when I bought it. Didn't know anything about the tune that was on it, who did it what were they trying to do.... I'm OS tuning it now. Got it running ok, got some knock that I think is bogus but need to do a little more logging and looking, then I'll push it a little.
tinted the windows 35% front and rear - that sure did help in the SC heat
I made two things out of a sheet of aluminum for under the hood. A radiator shroud cover, that was easy, and an airbox, not so easy. The airbox didn't turn out exactly like I wanted it too but I'm sure it helps a little as it blocks some of the heat coming off the engine. When I go to remake one I'll make it a little taller so it can have a lid or something put on it and also find a way to move cool air into it, fan or route the under hood air diverter thing.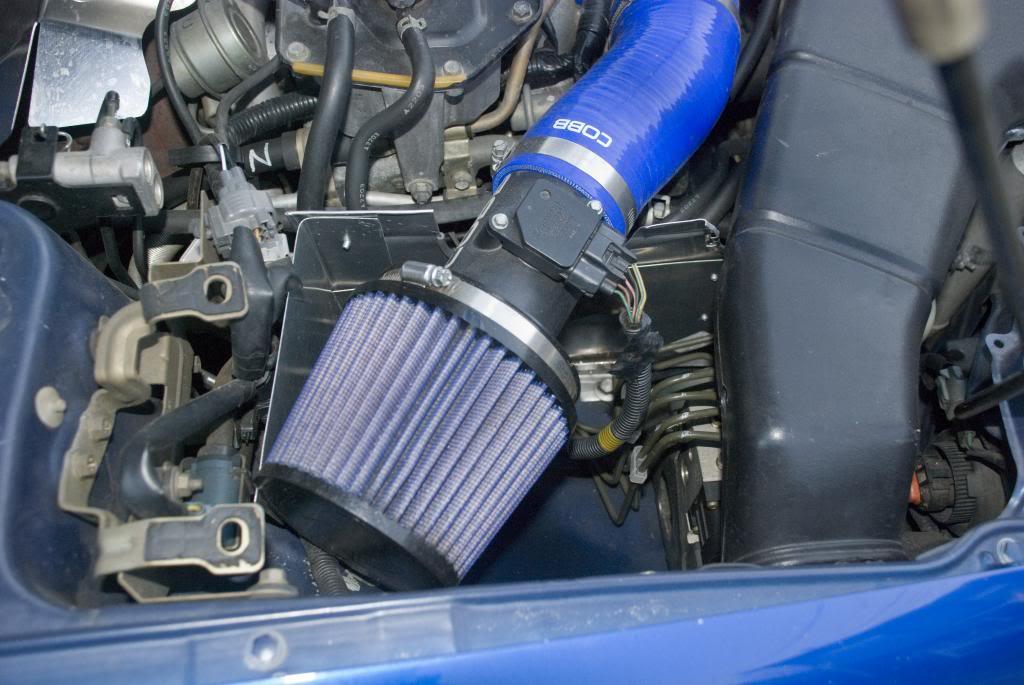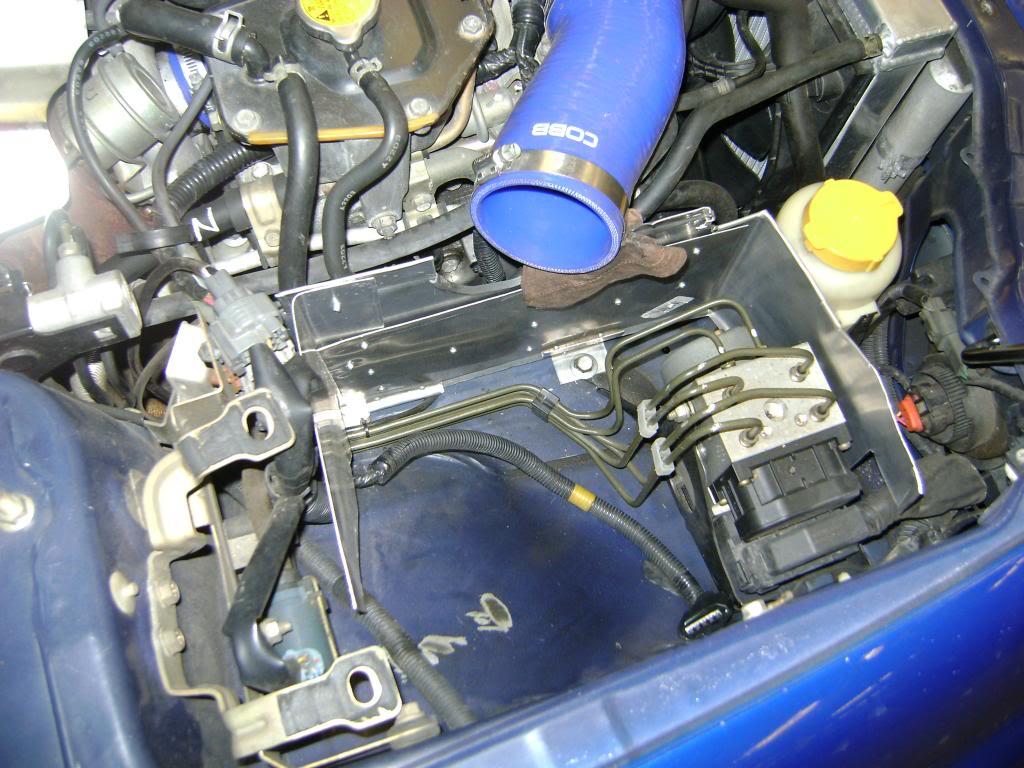 I also made a switch to make reading/flashing my ECU easier. When I get un-lazy I'm going to install it in one of the pre-drilled blanks near the cruize button...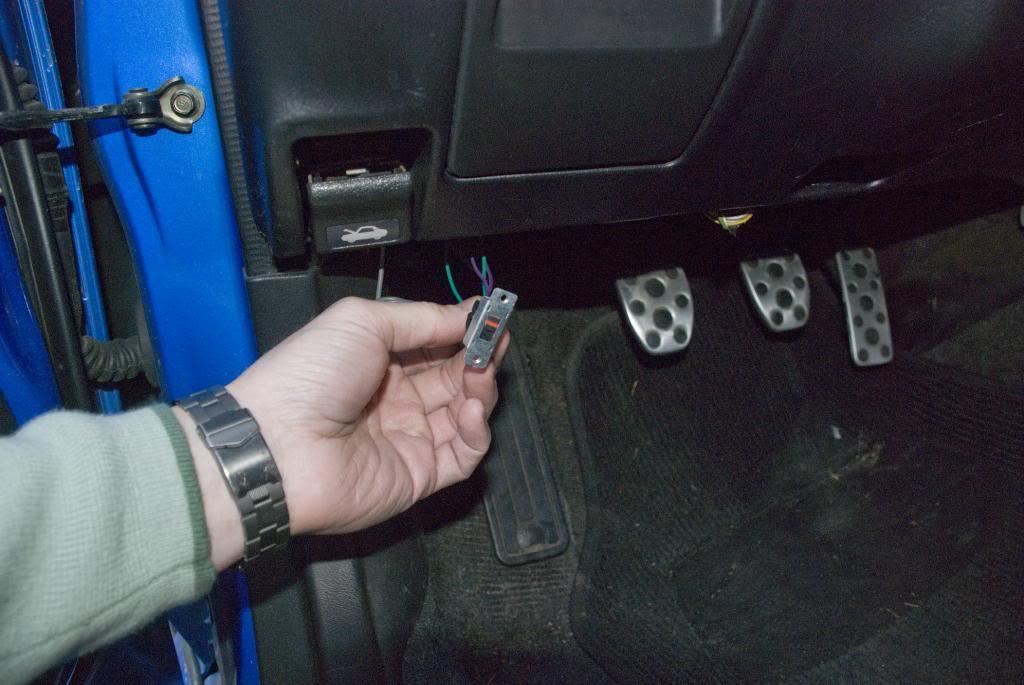 A couple of weeks back I installed a Deatschwerks DW200 (255lph). --One tip, for noobs like me, on the install process is after everything is plugged in and dropped into the tank, bolt and cable everything up BUT the fuel delivery line running to the engine. Get a piece of vacuum tubing or whatnot and attach one end to the fuel delivery coming out of the take and run the other end into an empty container that can hold fuel. Secure the tube to the container, you don't want fuel spraying all in your backseat do ya? Turn the car to the "ON" position, no need to start it, just want to turn the pump on. Turn to "ON" once or twice just to make sure its pumping. You should hear the pump whir and spray in the container. That's called priming I believe.
--another side note, I put the DW sticker that came with the pump on top of the access cover for the fuel tank pump assembly, the piece in the trunk. I wrote the date I installed it on, on top of the sticker so if I ever loose my mind and sell/trade it dude won't have to dig in the tank to know what's in there.